Are you looking for something soft yet spiritual for your next tattoo? Or maybe the first! As we consider Tattoos as lifelong companions, picking up the right one according to our taste and comfort is a must. Choosing the gorgeous Peony tattoo could be one of the best decisions you have ever made.
The peony is not only a beautiful flower but also symbolizes Prosperity, Good Fortune, and Happiness. A Tattoo is a part of what you believe and carry with your inner self. Therefore, if you are looking for something soft and precious, a peony tattoo can be an excellent option for you.
Peonies often come in various color ranges like purple, pink, red, white, or even yellow. If you are going for a colorful tattoo then you have various color options to choose from the peony.
Peony tattoos can come in different compositions. Here we are trying to help you with some awesome ideas and also will be trying to answer some of your questions. Check this out!
      96 Mesmerising Peony Tattoo Ideas
Peony tattoos are worldwide a trendy and all-time favorite. The spiritual, cultural, and historical significance behind this beautiful flower has made it one of the top considerable types of floral design for tattoos.  Here we are discussing several peony tattoo designs and helping you to choose according to your personality.
1. Soft Peony blossom 
Can you imagine how graceful this soft pink peony blossom tattoo will look on your arm? Especially if you have a broad arm then this design can perfectly match your arm shape and represents your inner soft vibe.
2. Blooming Peony on knee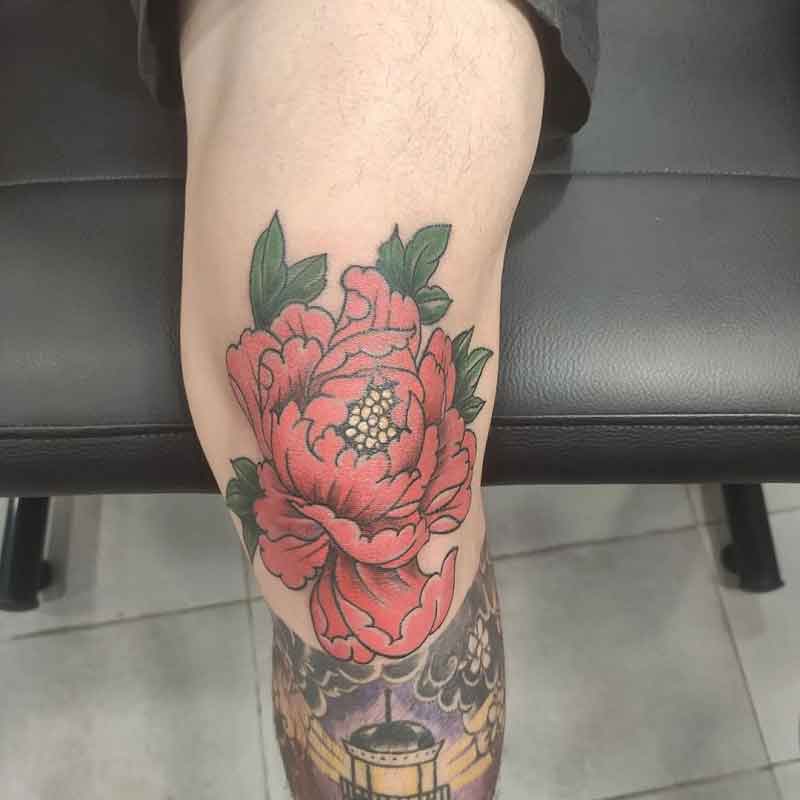 Kneecap is one of the hardest parts of our body. Embracing a blooming peony tattoo can brighten up your body aesthetic to a different level. Who doesn't know that hardness adores romantics the most?
3. Monochromatic & Romantic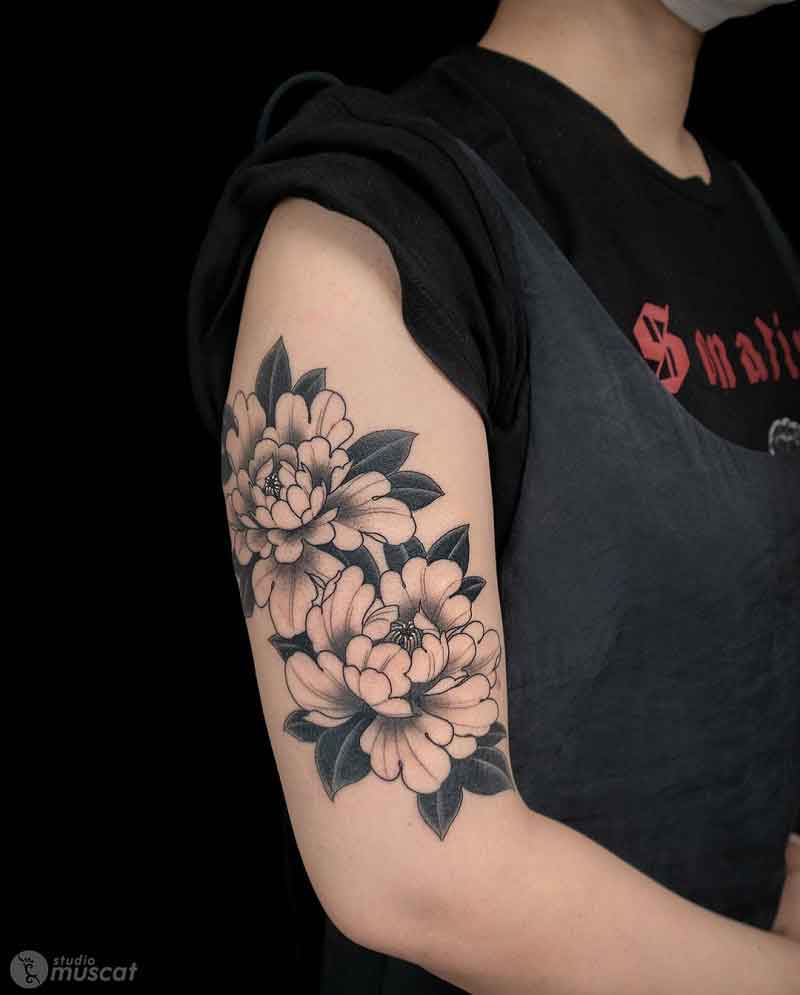 some of us are not comfortable with colors rather than black and white. If your personal style goes with monochromatic designs then you should definitely consider this one to put on your upper arm.
Japanese Peony Tattoo
4. Fear or Flower
Japanese Art forms are indigenous. This gorgeous piece can be blended with your fear, ambitions, spirituality, and so on. You have to be just a little bit brave enough to carry this gigantic piece with peonies on your back.
5. Ogi and the Peonies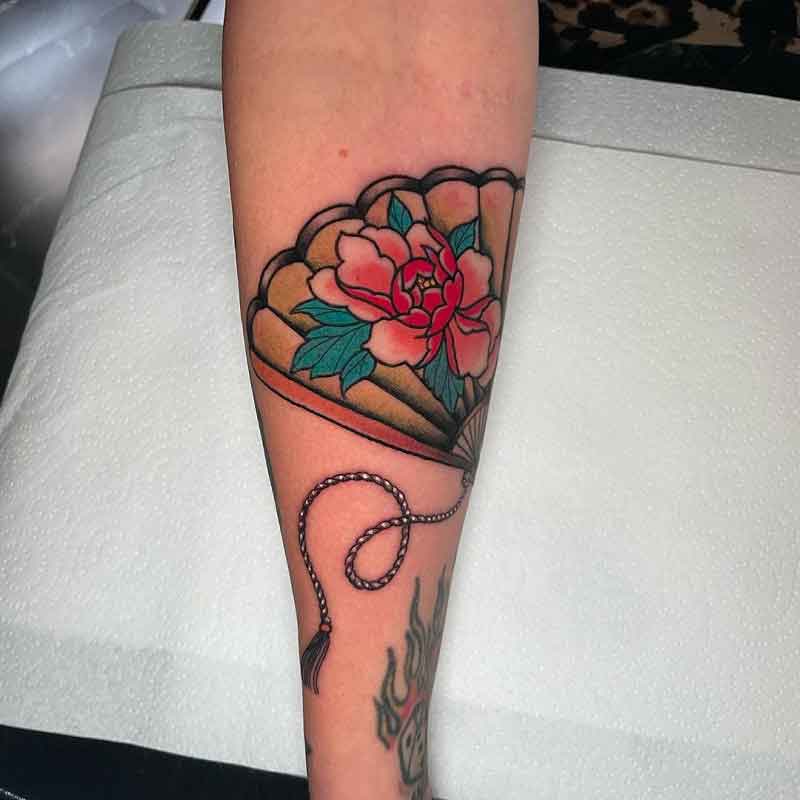 Japanese folding fan which is called ogi, combined with gorgeous pink peonies makes a great piece of art. You can put this pure form of Japanese traditional piece on your arm for a subtle look.
6. Heaven in Hell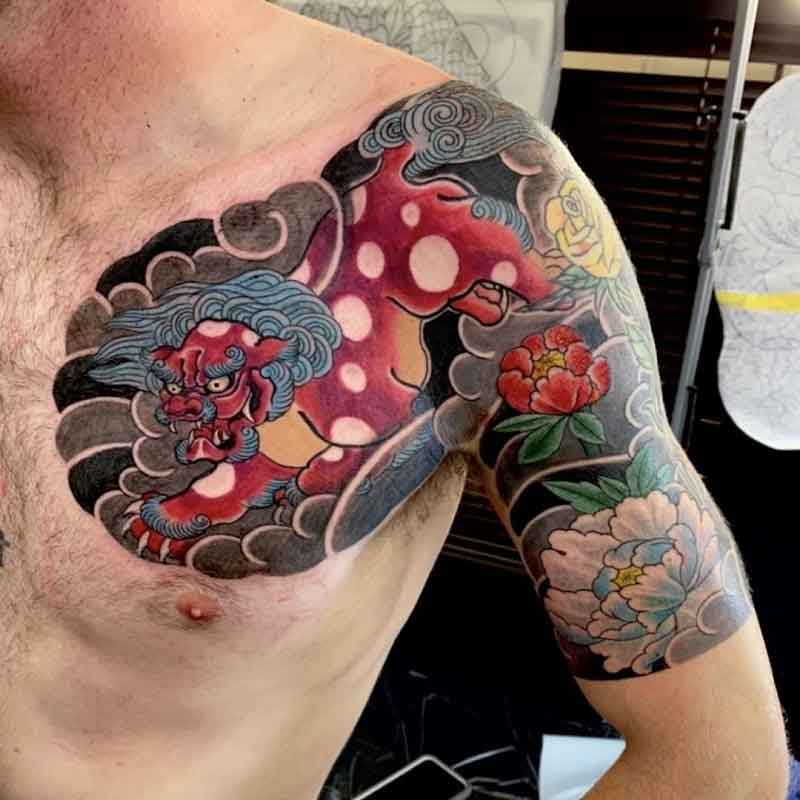 Peony Hand Tattoo
7. Blossom on Hand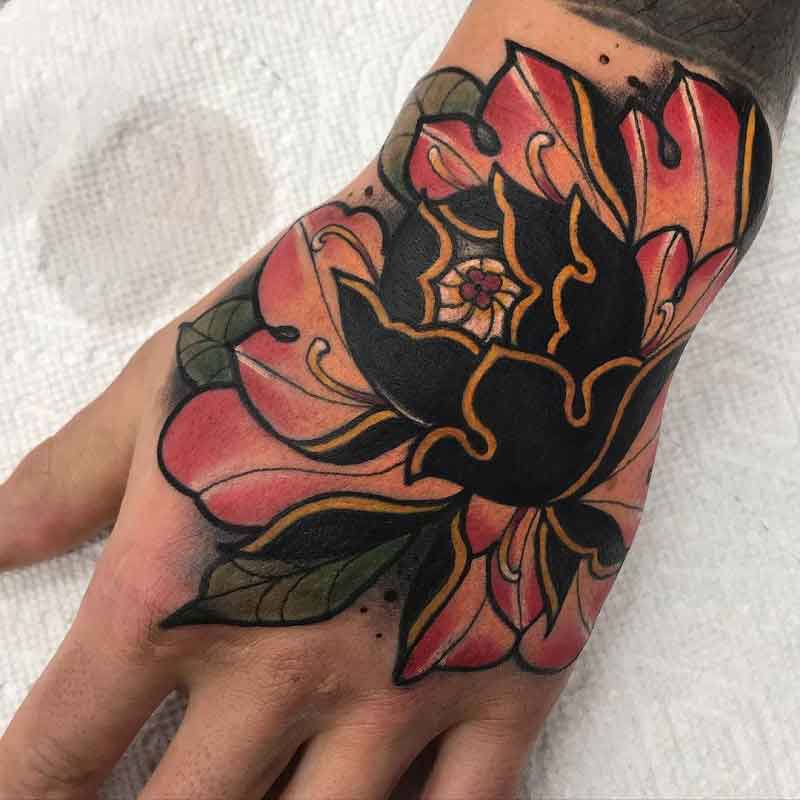 If you want a tattoo that picks up all the attention then why not a peony all over your hand? It will look bold and beautiful at the same time.
8. Alluring as hell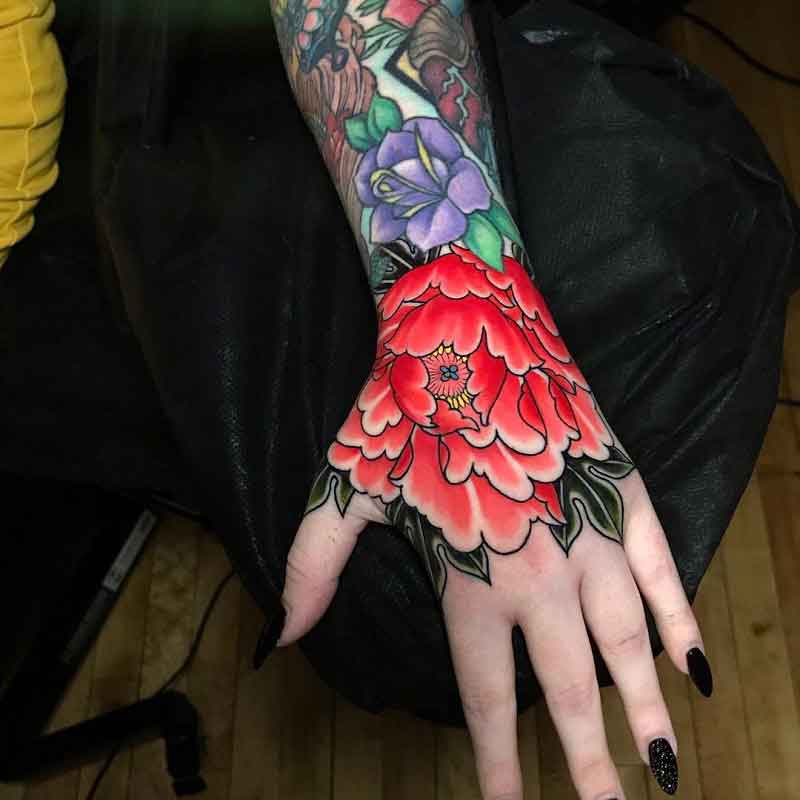 An alluring gigantic piece of a peony tattoo on your hand can change you and your entire look. It can also bring indigenous joy and brightness to your monotonous life.
9. Peony: a dusky tale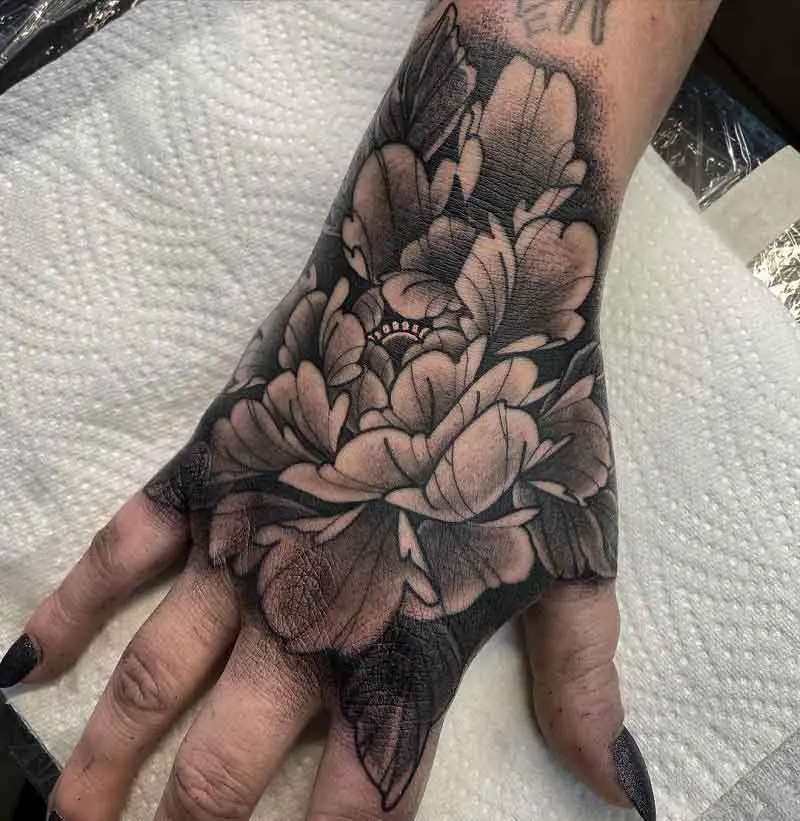 If you are into neutrals and monochrome then you can consider this design for your hand. The dusky and monochromatic appearance of the peony flower has made this design more mystical.
Peony Tattoo Design
10. Minimal beauties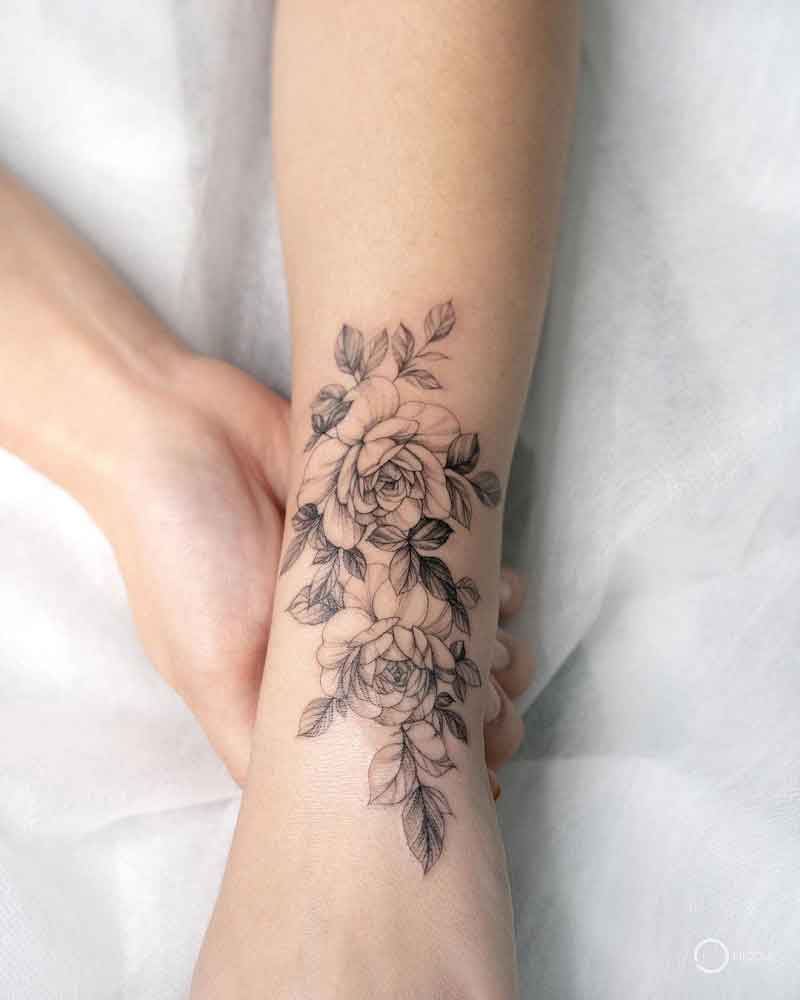 Minimal tattoos are popular and give you a subtle look. This clean and sophisticated piece of peony art can be a great ornament for your hand.
11. Peace defeating wars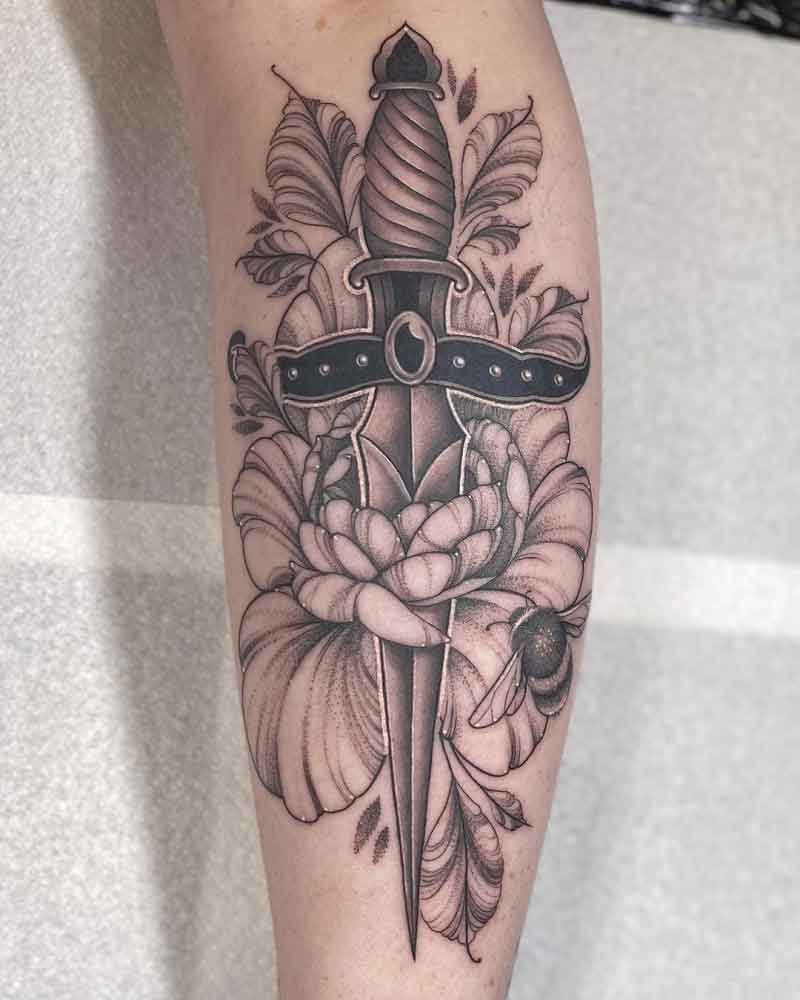 Peony is a symbol of peace and happiness while a sword is a symbol of war, torment, and enmity. Here this design shows peonies are just surrounding the sword which means peace is conquering the world over war. This design can be a great piece for all peace-loving people.
12. Peace in peony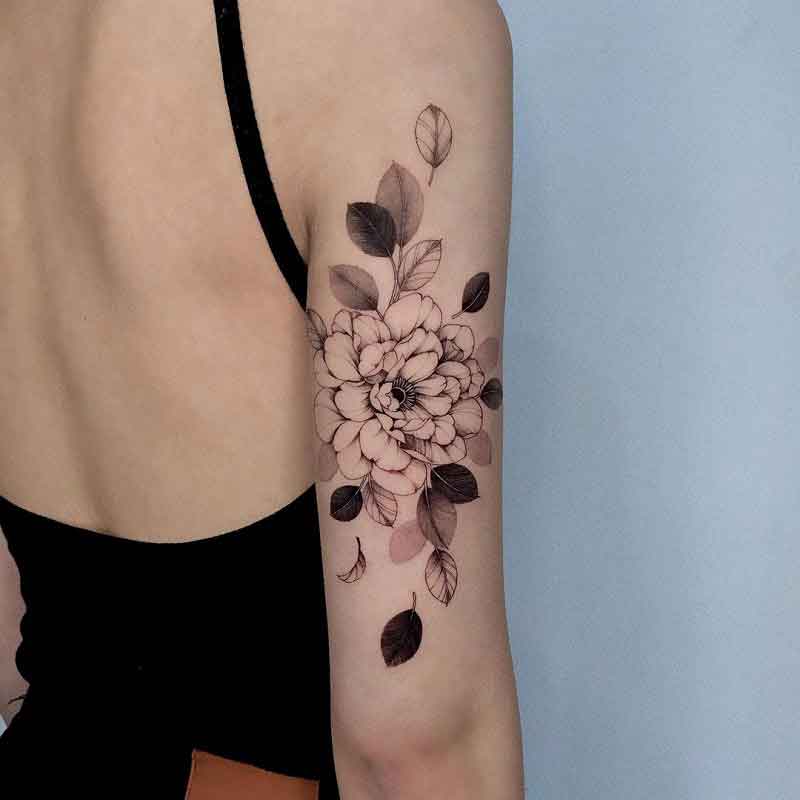 A feminine piece like this one can actually look great and goes with your soft and romantic self. The peony is a symbol of romanticism in many cultures and this particular design proofs that fantastically.
Peony Rose Tattoo
13. Dashing Doodles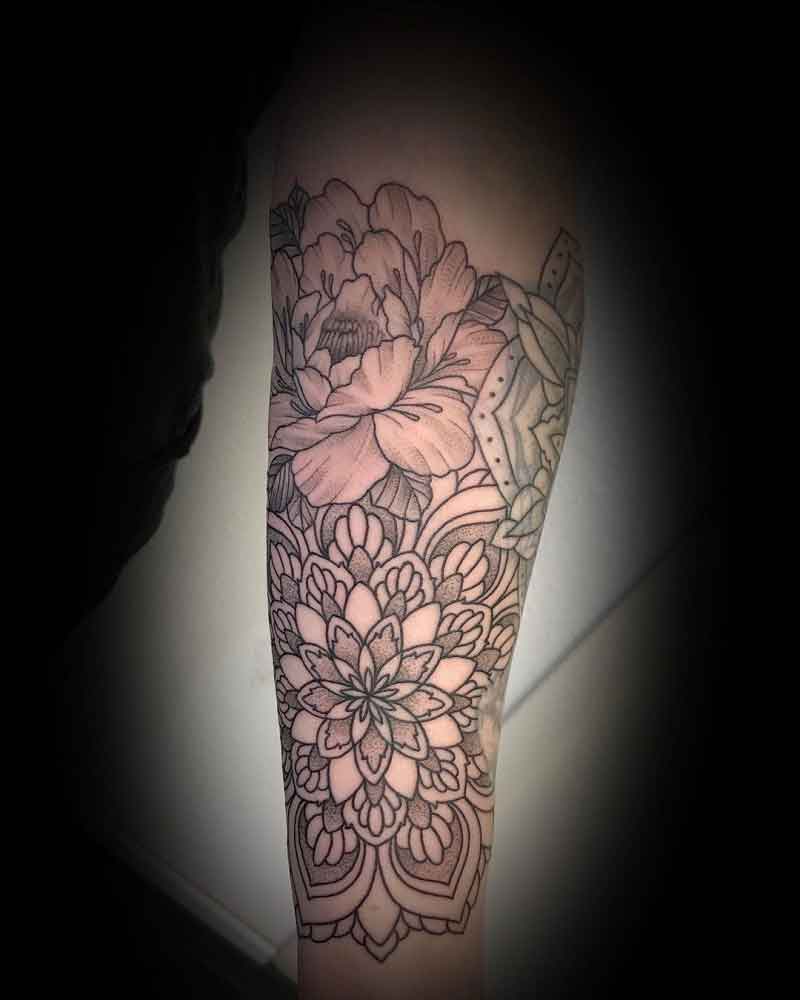 Scribbling or doodling is a worldwide popular art form even in tattoos. If your lifestyle is freestyle, independent, and matches this vibe you can definitely go for a dashing Peony doodled tattoo.
14. Pink Peony Paradise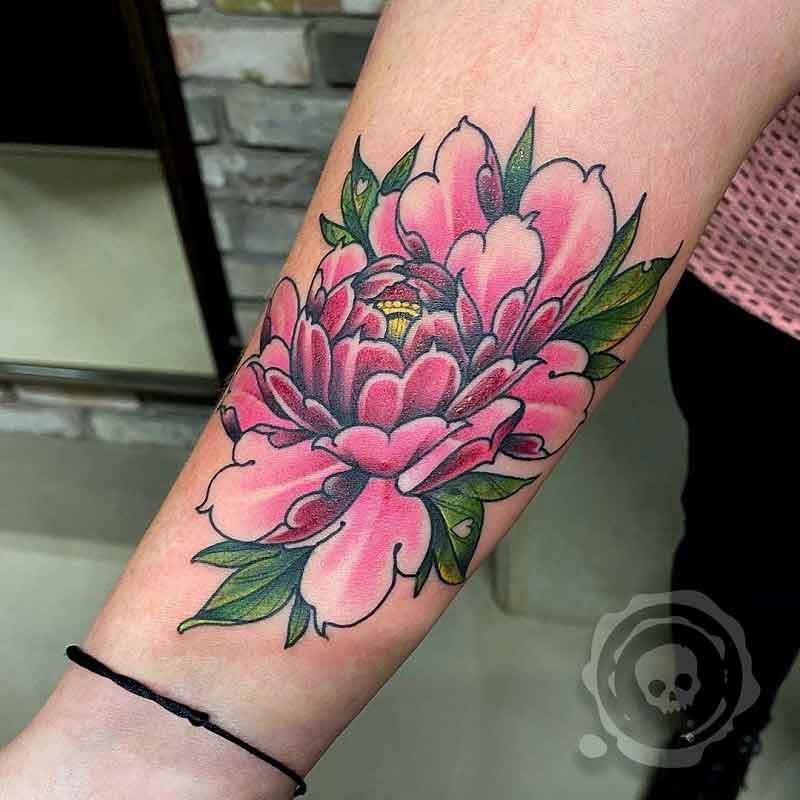 Pink peonies are mythologically considered to be a healing symbol. A wounded person can brighten up his/her body with this bright design to lift up positivity a little more.
15. Simply a Happiness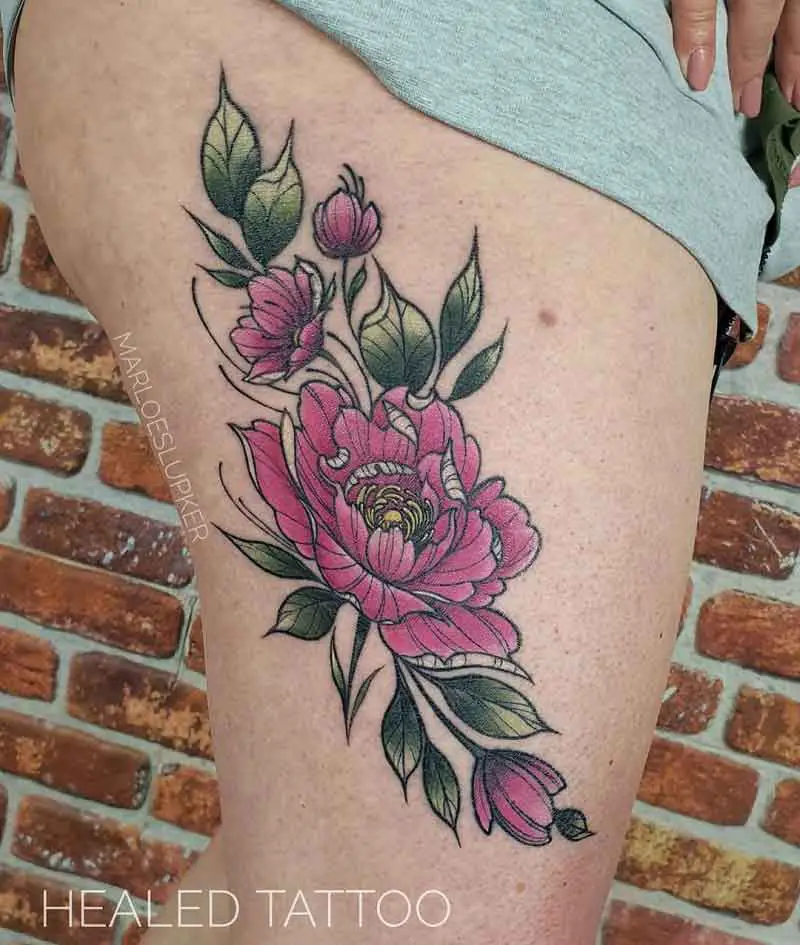 A simple peony tattoo like this one can brighten up your mood and represent you to the world as a person full of positive energy. It will look great on the larger limbs.
Geometric Peony Tattoo
16. Proportionally perfect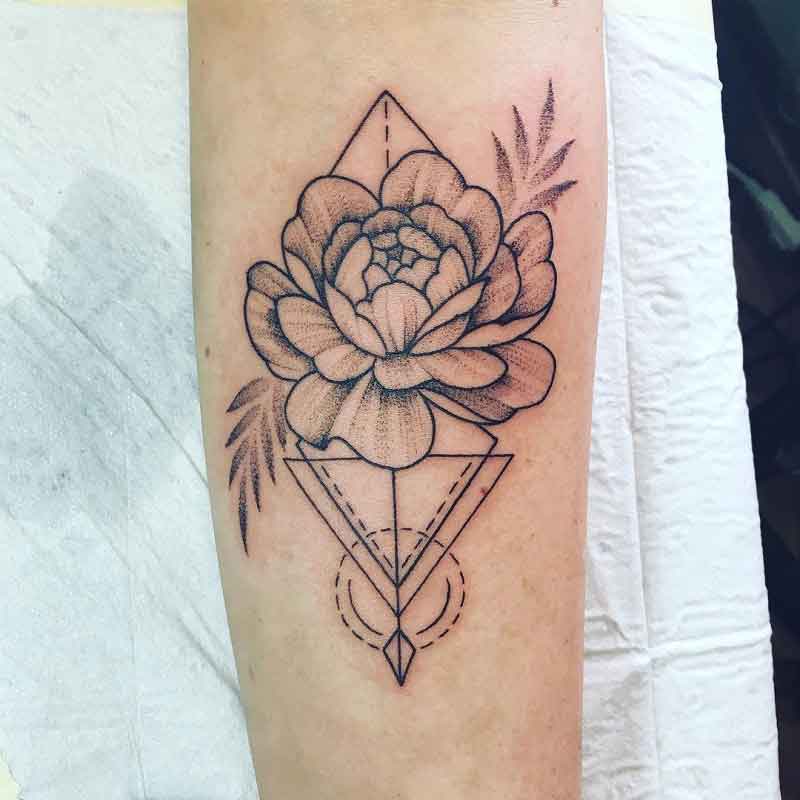 A person who loves everything in geometrical order and organization can choose this design. Peonies are not generally that neat, but if anyone wants to see them with a clean look then why not!
17. Diagonally dynamic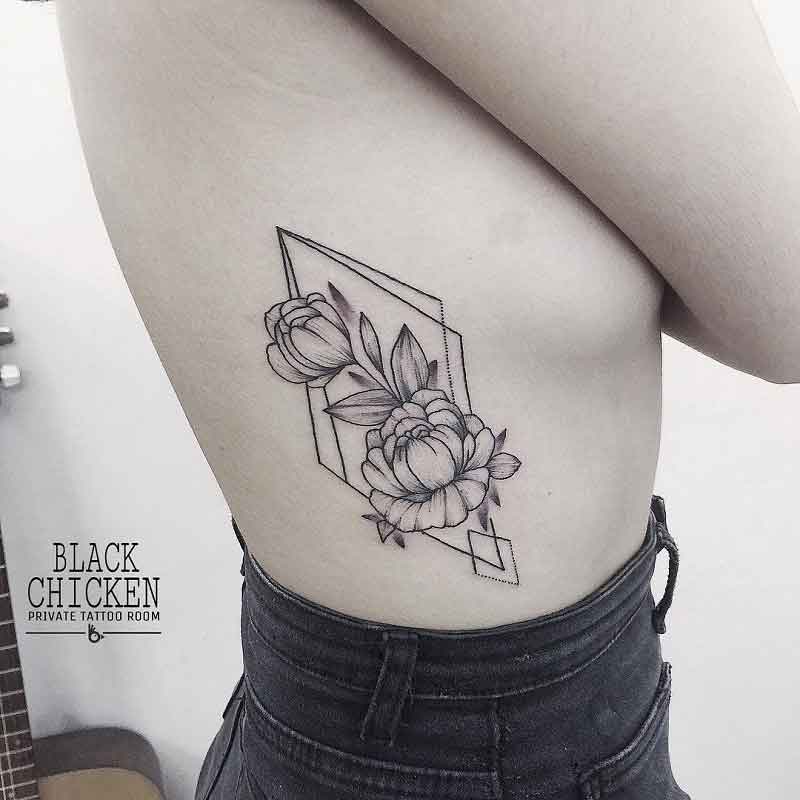 Perfectly designed diagonal shapes look amazing, especially on body tattoos. Peonies in this way can give you a sharp look.
18. Peony Prism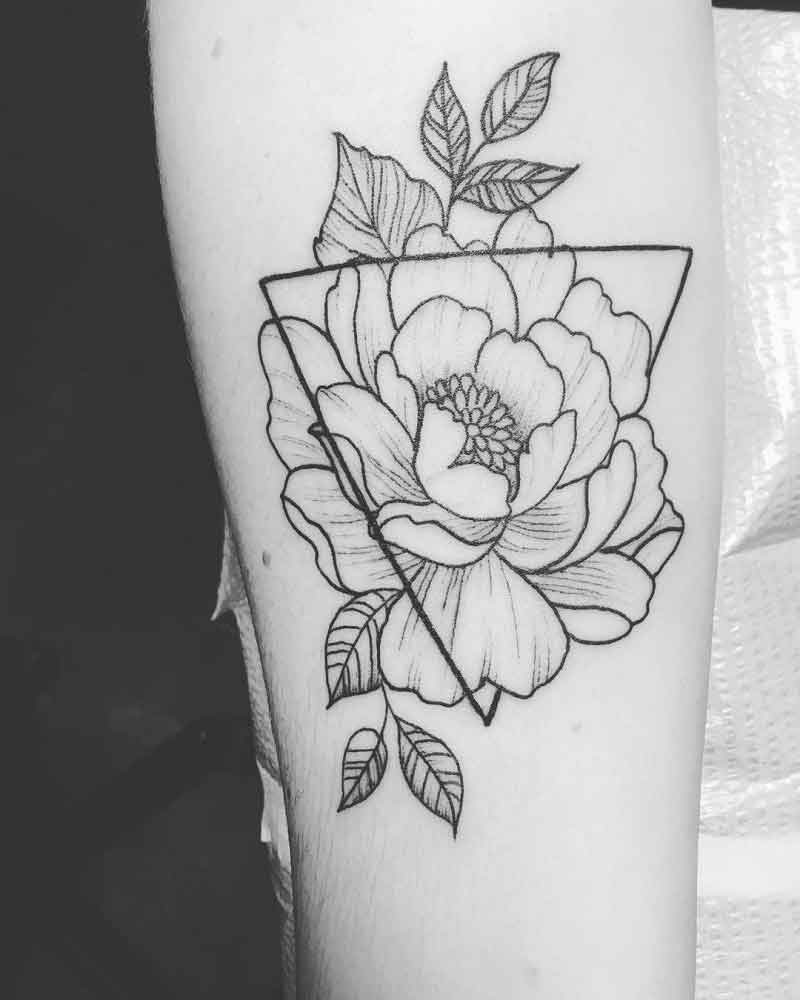 Prism is a magical shape and goes perfectly with the peony flower which is also magical in many ways. This tattoo will look great on your arm or thigh.
Peony Shoulder Tattoo
19. Blossom is Bold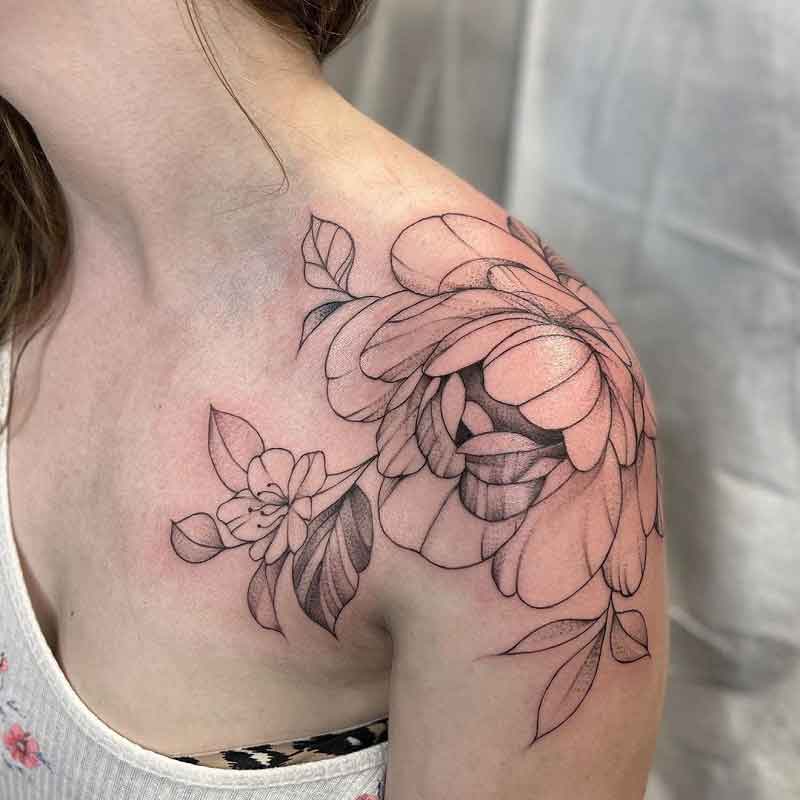 Though peony represents bashfulness in some cultures, you can still make a gorgeous shoulder tattoo like this one breaking all the stereotypes. It will look even more gorgeous on a skinny person.
20. Peaceful Purple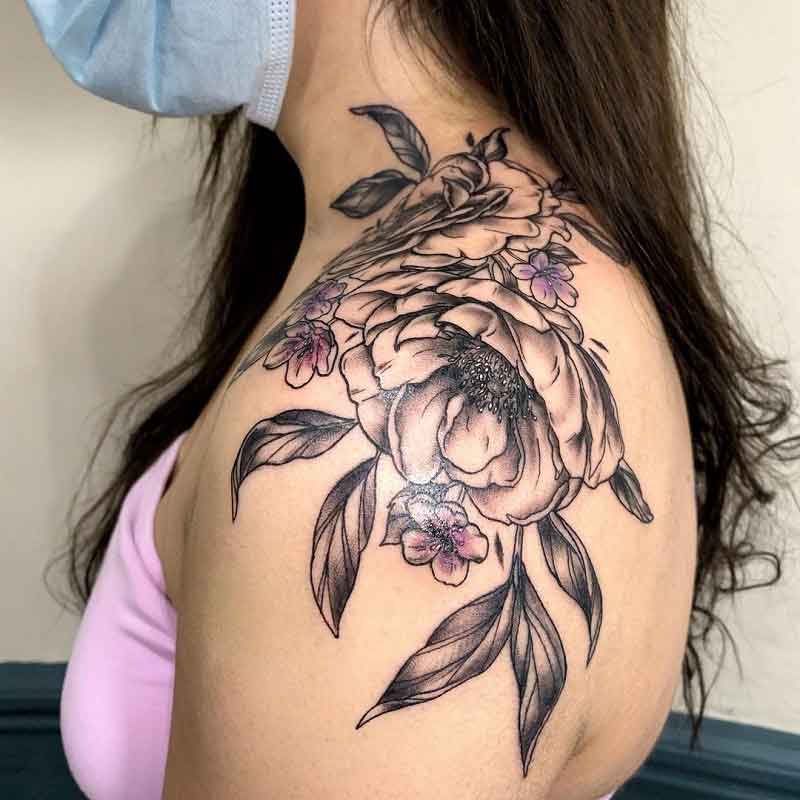 This almost monochromatic tattoo design is allured by a little patch of purple in it. A simple and sophisticated purple peony bush can enhance your both inner and outer beauty.
21. Floral yet Fearless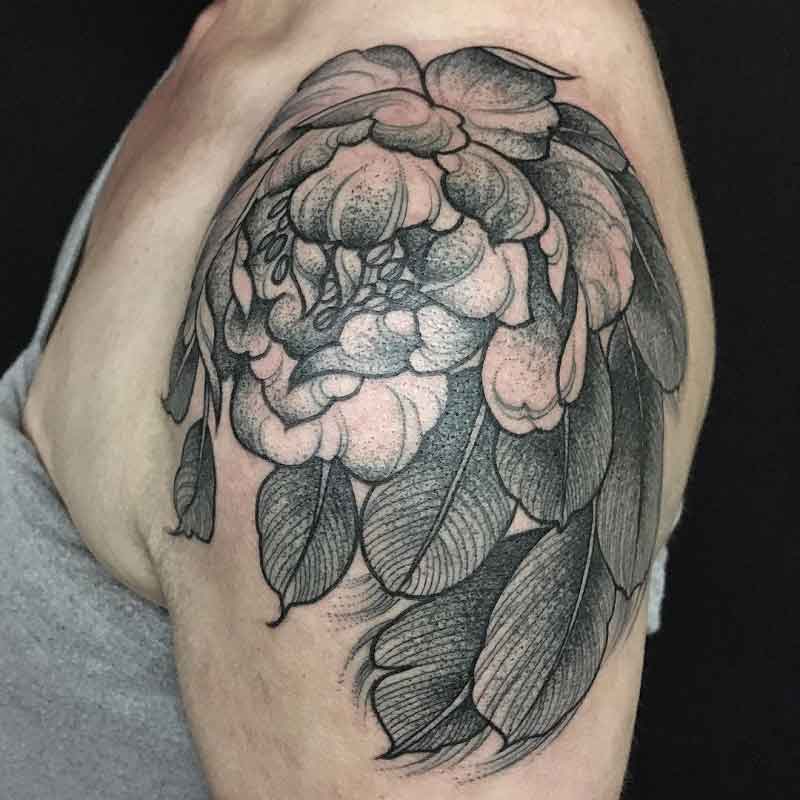 It is a  bold and courageous tattoo design to put on your biceps. It will help you to express your bravery and romance at the same time.
Peony Sleeve Tattoo
22. Chromatic Sleeve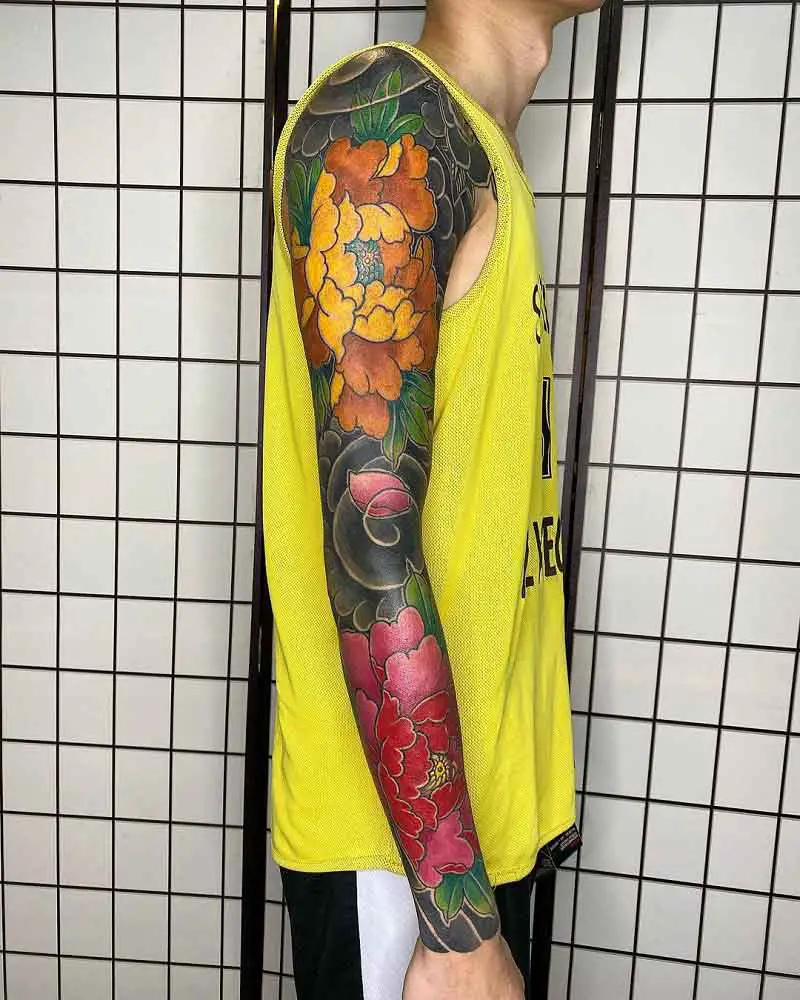 Some people prefer a full sleeve tattoo. Peony comes in lots of varieties of colors so it is a great option to create a gorgeous colorful tattoo with peonies just like this one.
23. Retro Red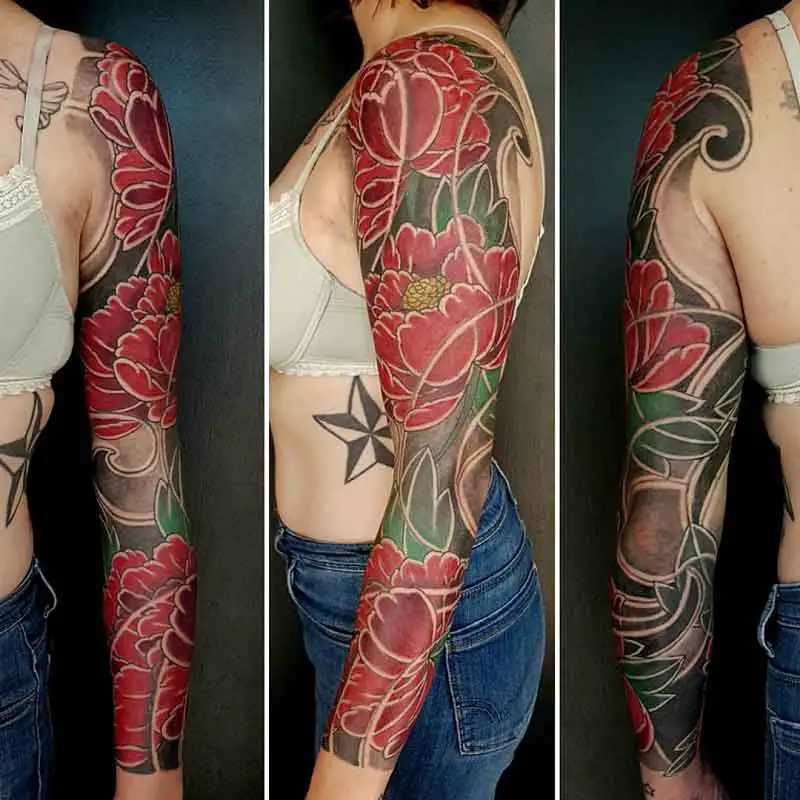 Red is the color itself a simple of love, passion, and bravery. Peony combined with red makes a highly meaningful piece of art. It is a gorgeous full-sleeve design that you may choose to decorate your beautiful body.
24.  Dramatic and Dazzling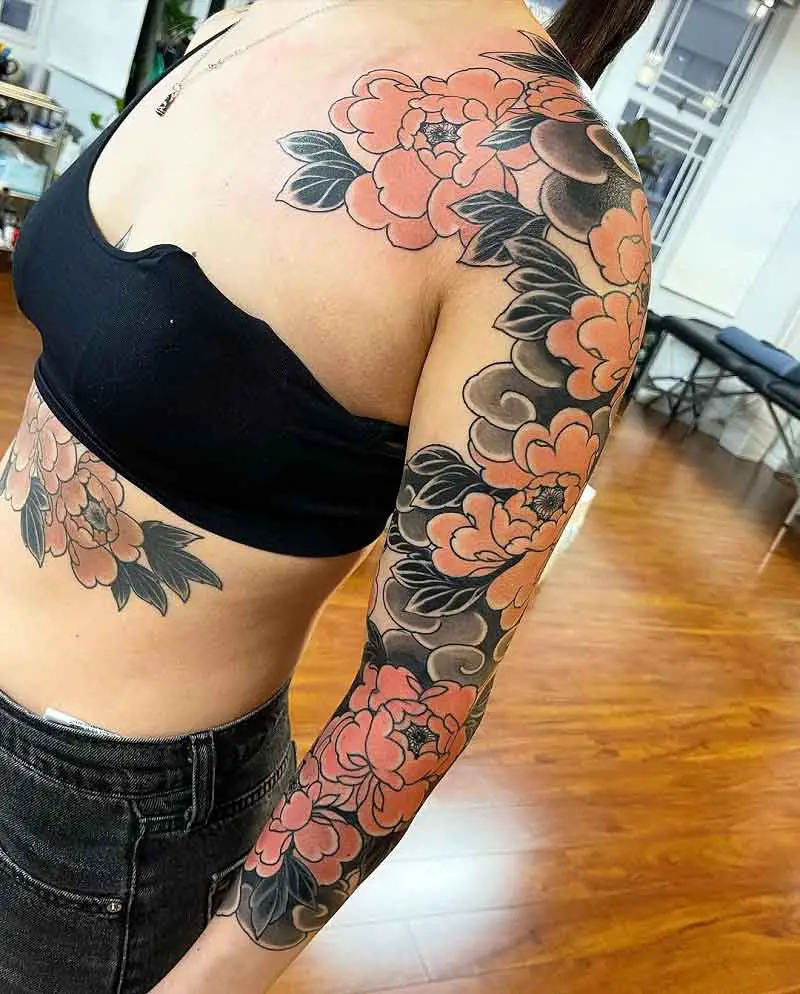 This soft coral-like color on peony makes it more Dramatic, Dazzling as well as soothing to the eyes. It is almost a full-body tattoo that can change your entire look drastically.
Traditional Peony Tattoo
25. Adorable Princess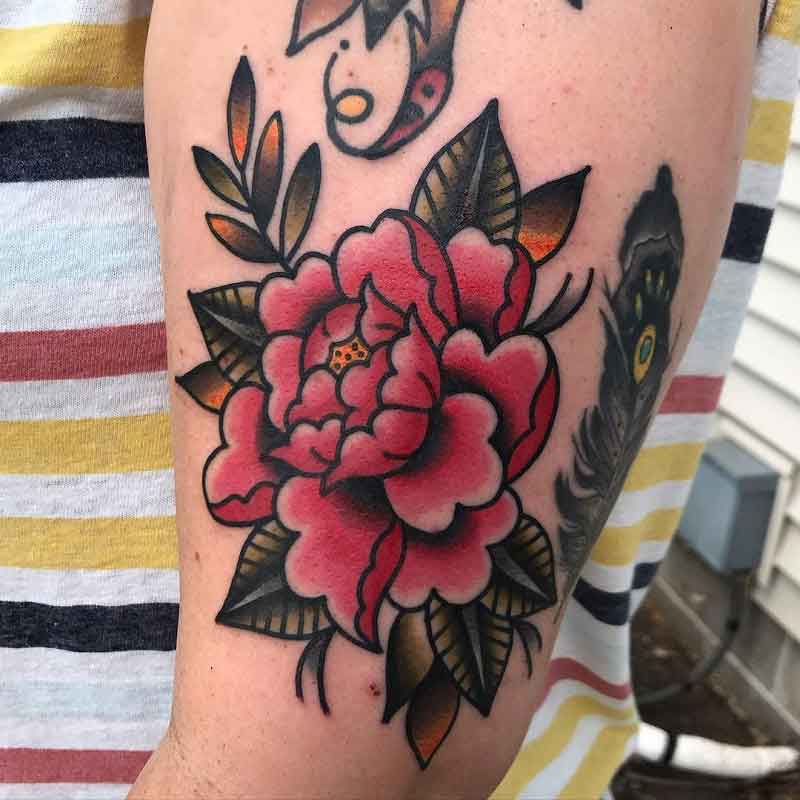 An adorable soothing pink-colored peony tattoo can make you feel like a princess straight out of Disneyland. Daydreamers and sweeties can choose this piece without any hesitations.
26 . Phenomenal Peony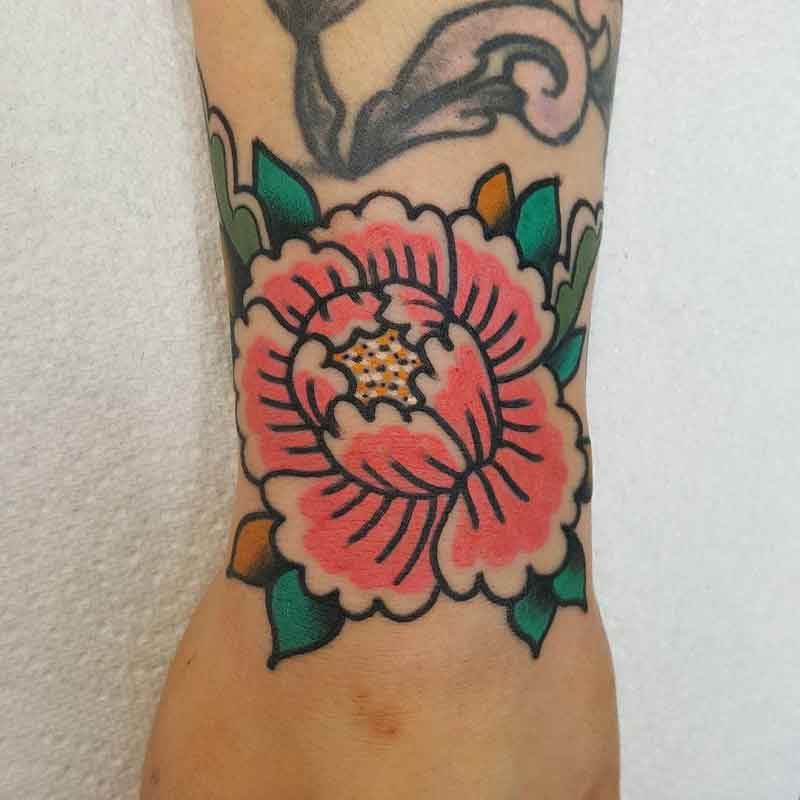 27. Poison or pleasure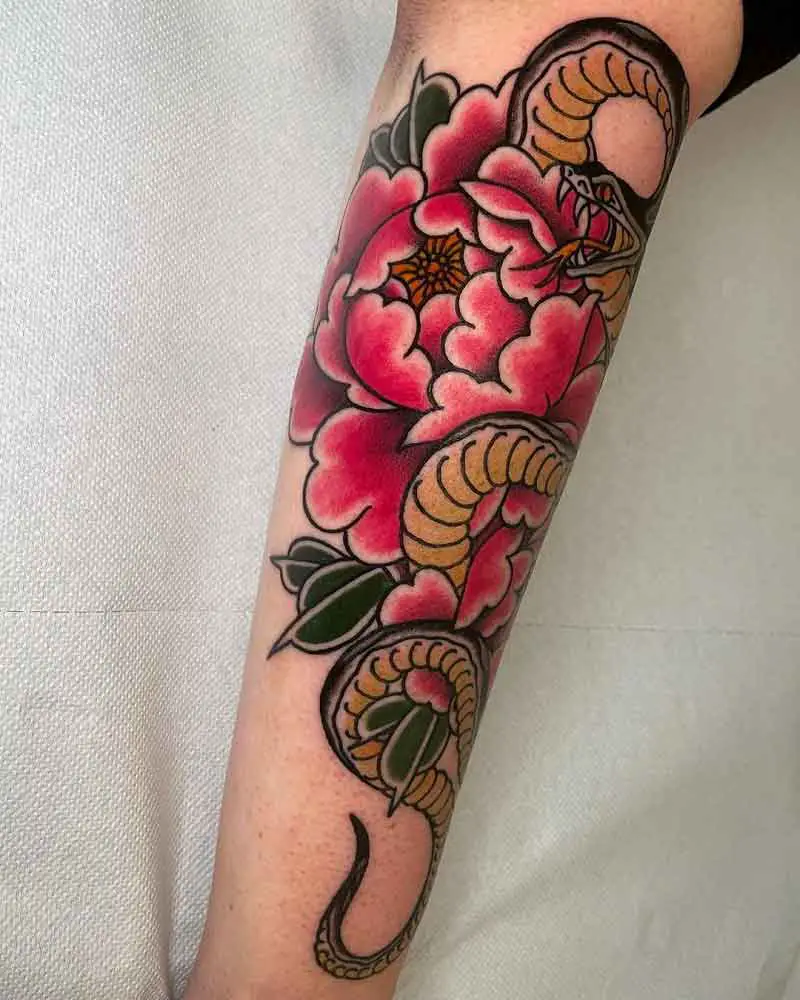 Peony Neck Tattoo
28. Dragon breathes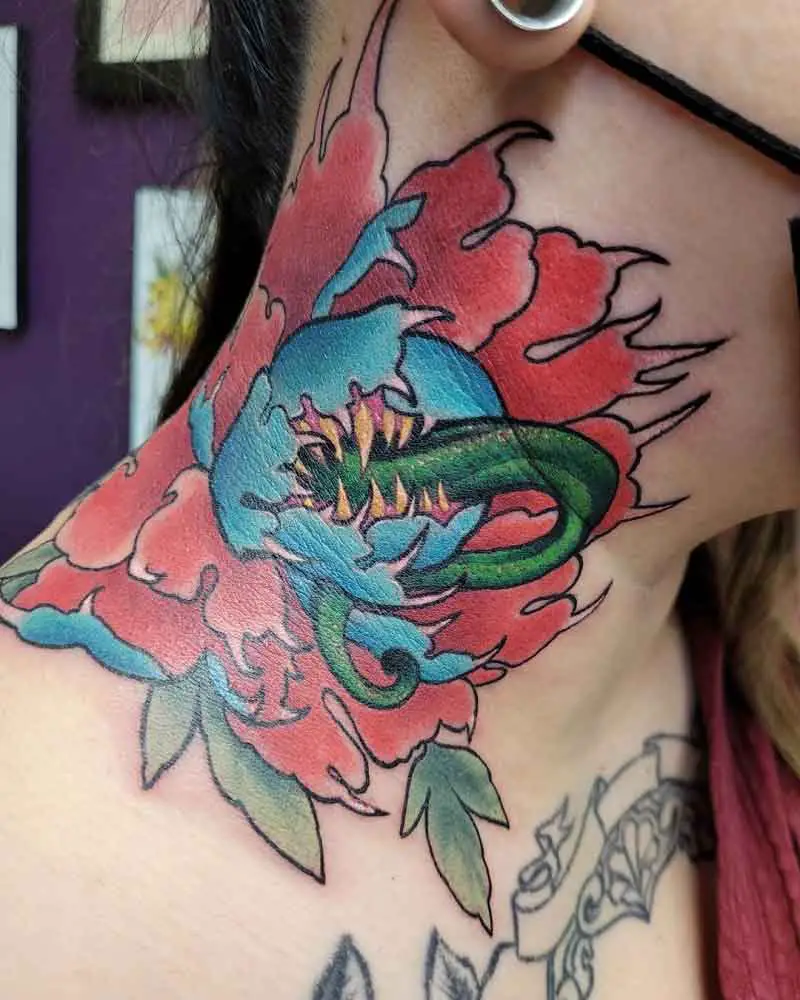 29. Nocturne on Neck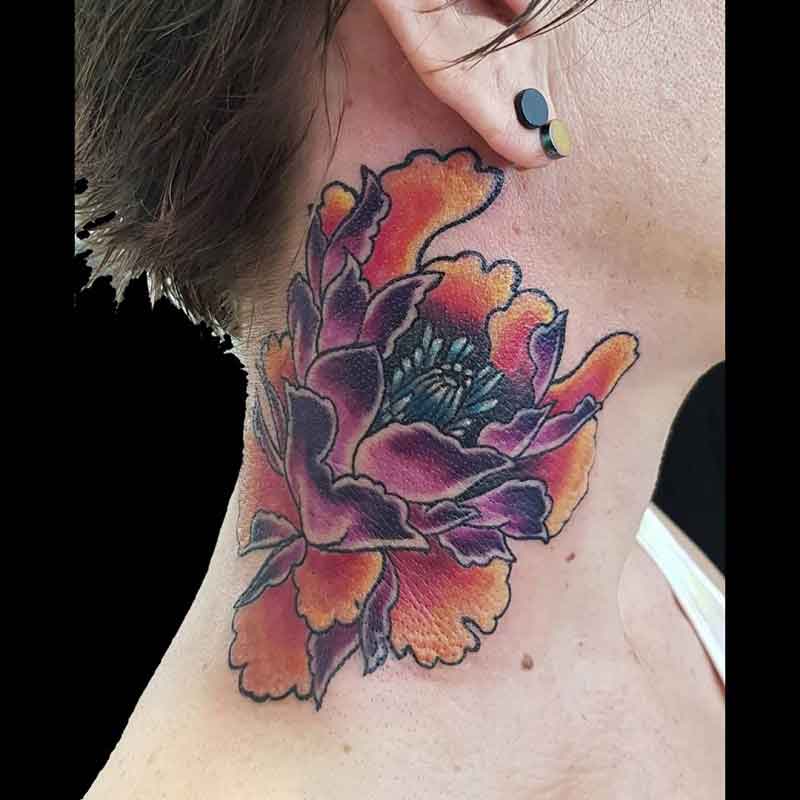 30. Skull from Heaven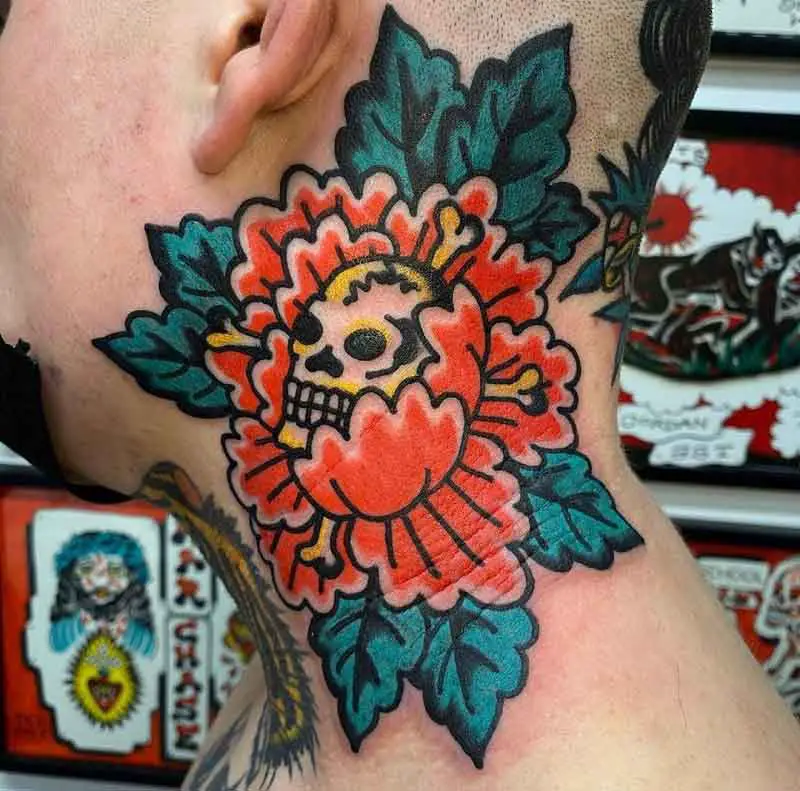 Small Peony Tattoo
31.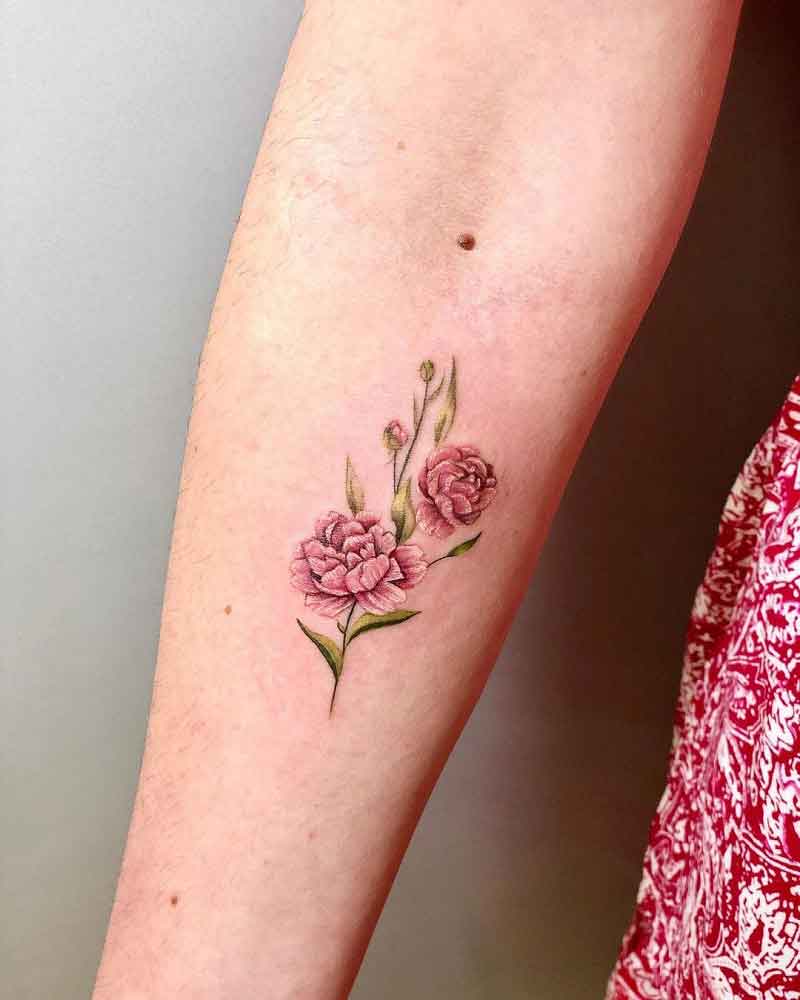 32.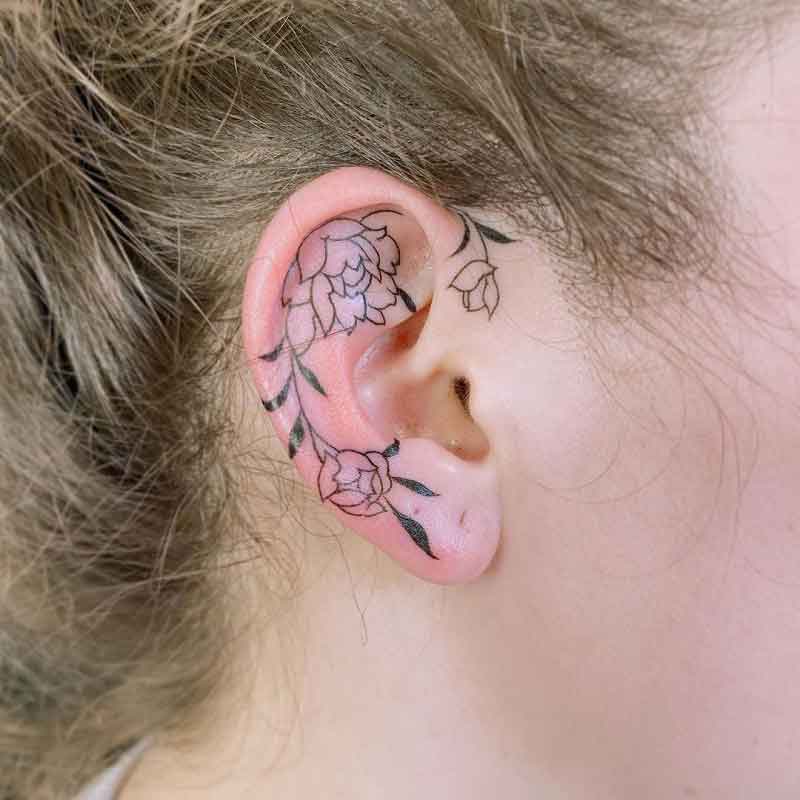 33.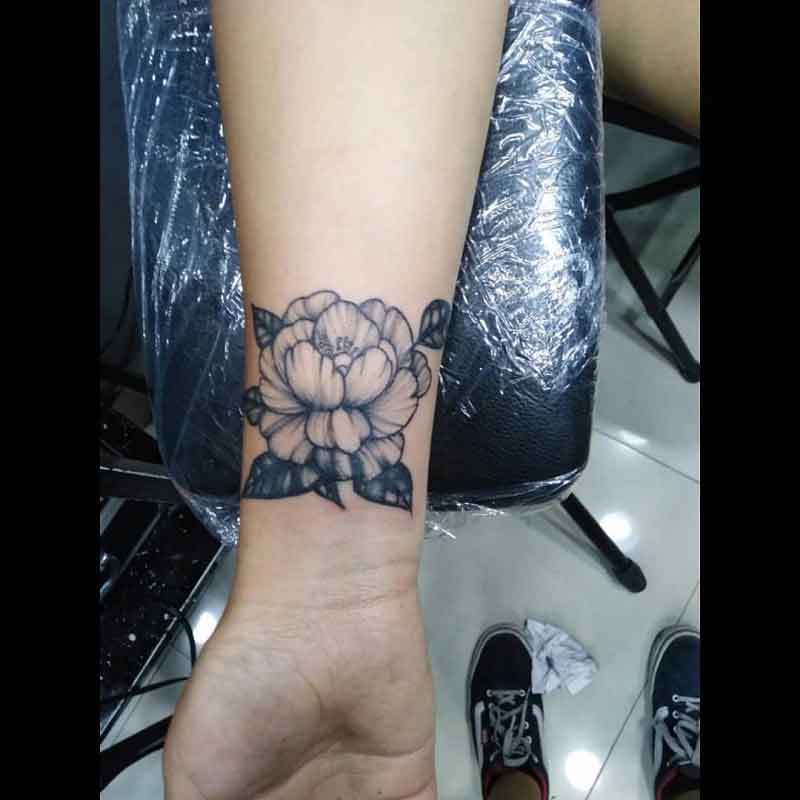 Peony Stem Tattoo
34.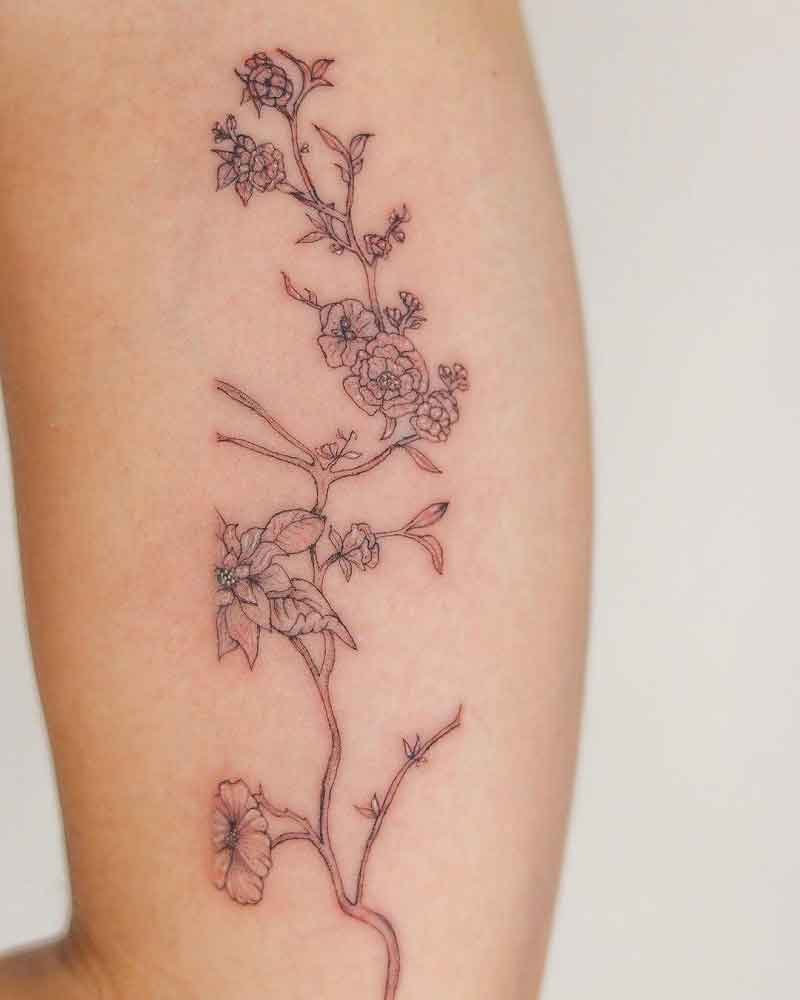 35.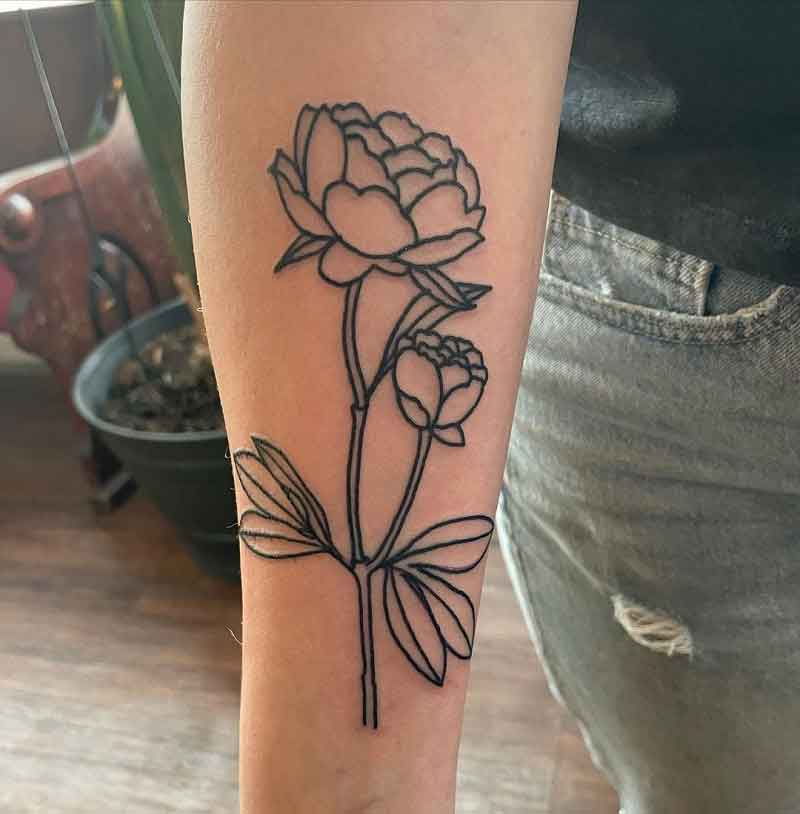 36.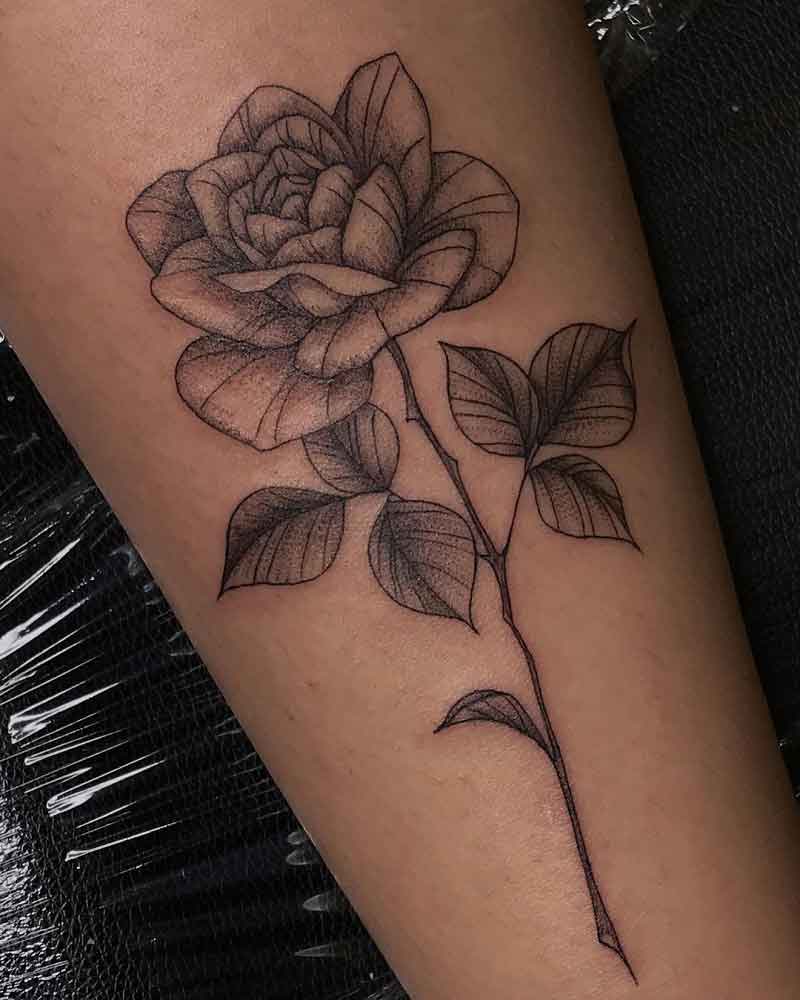 Delicate Peony Tattoo
37.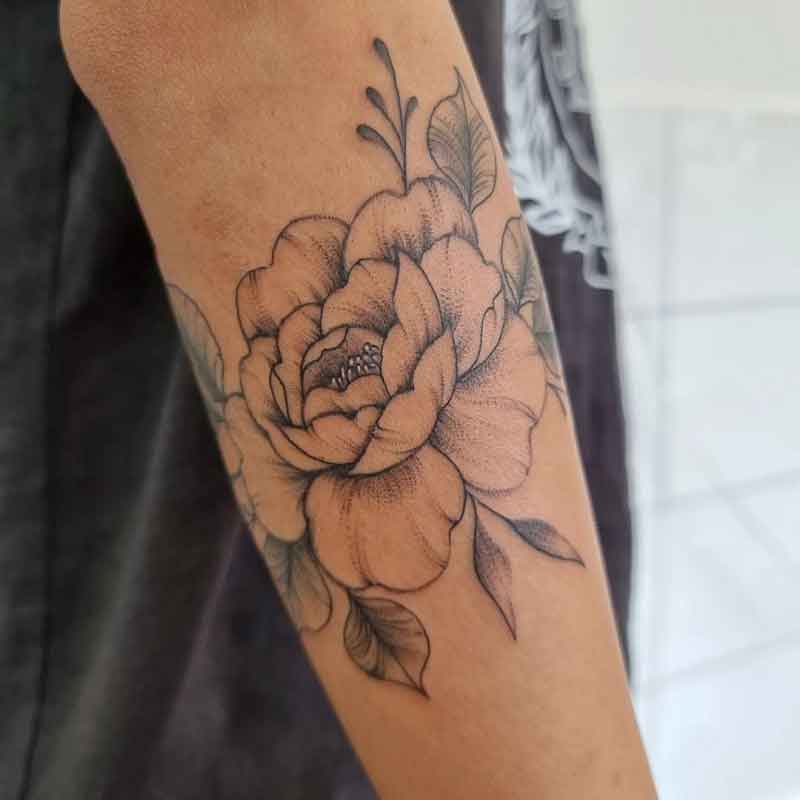 38.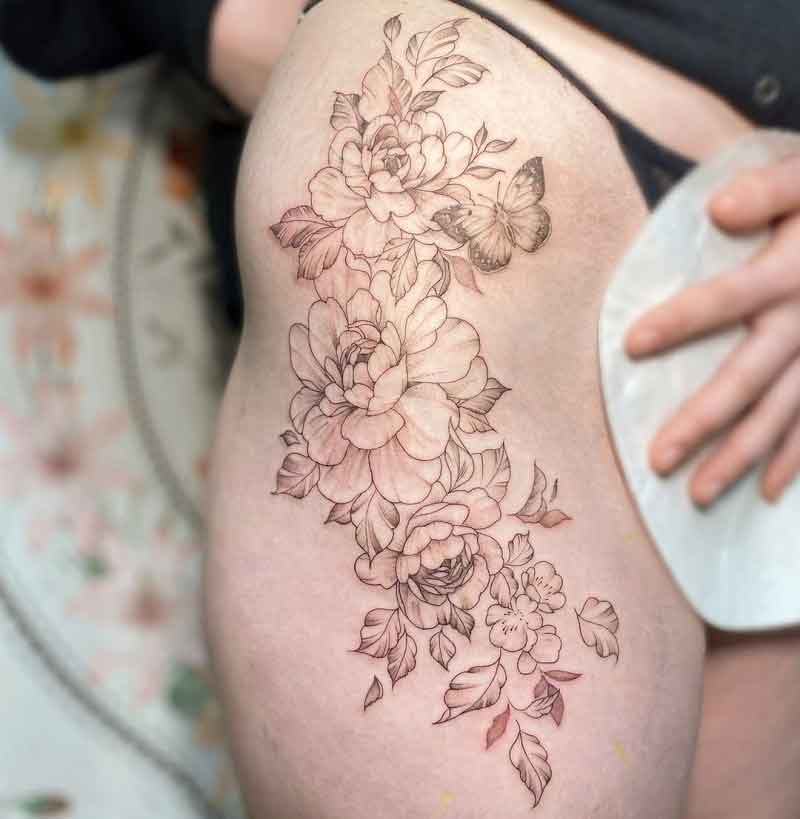 39.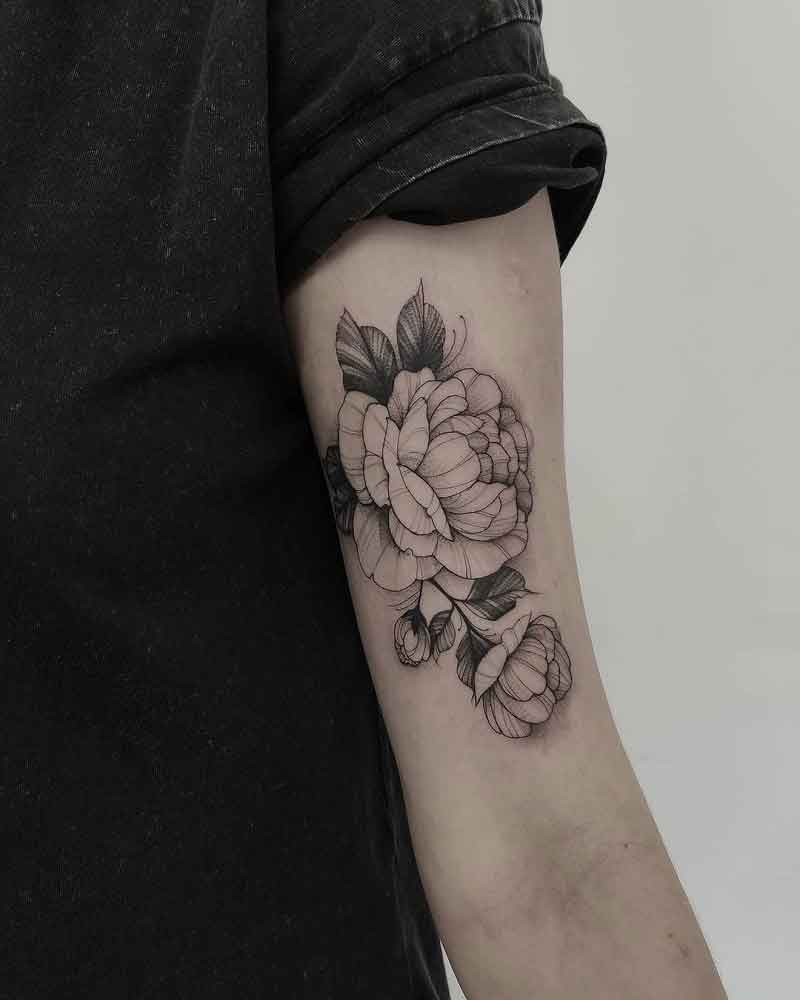 Peony Bud Tattoo
40.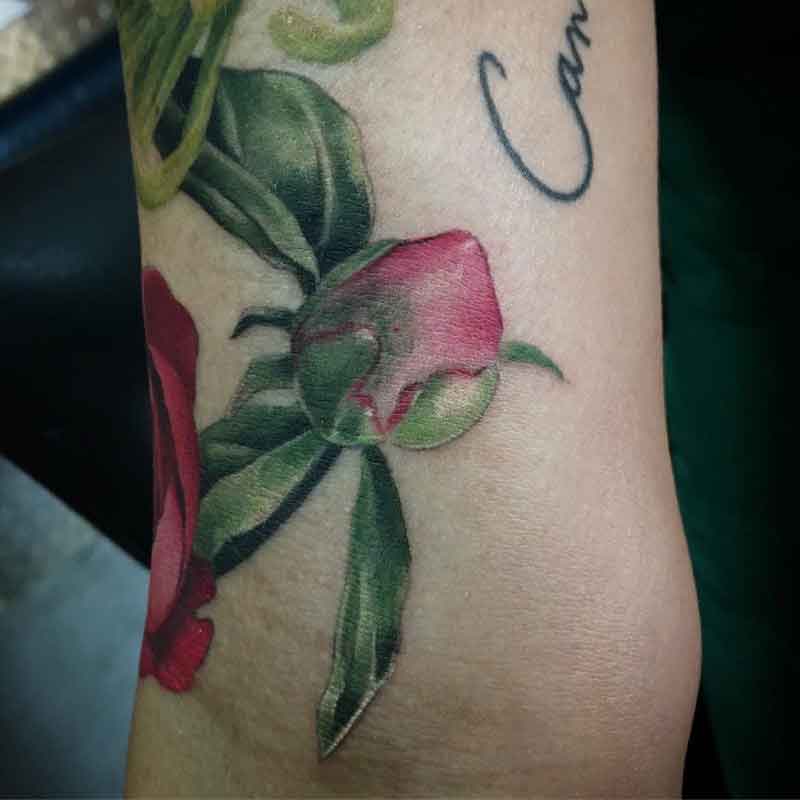 41.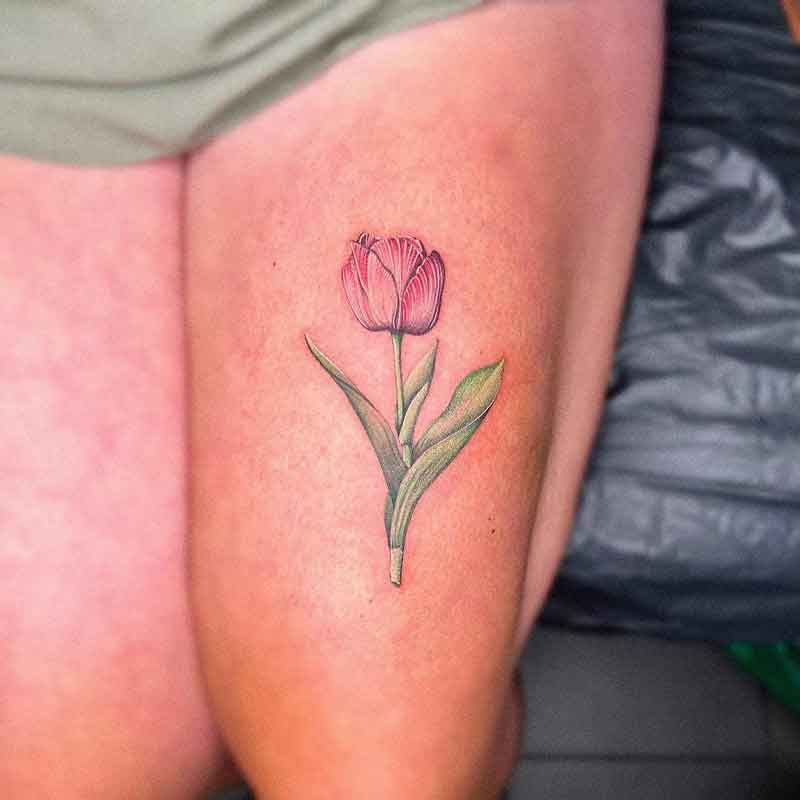 42.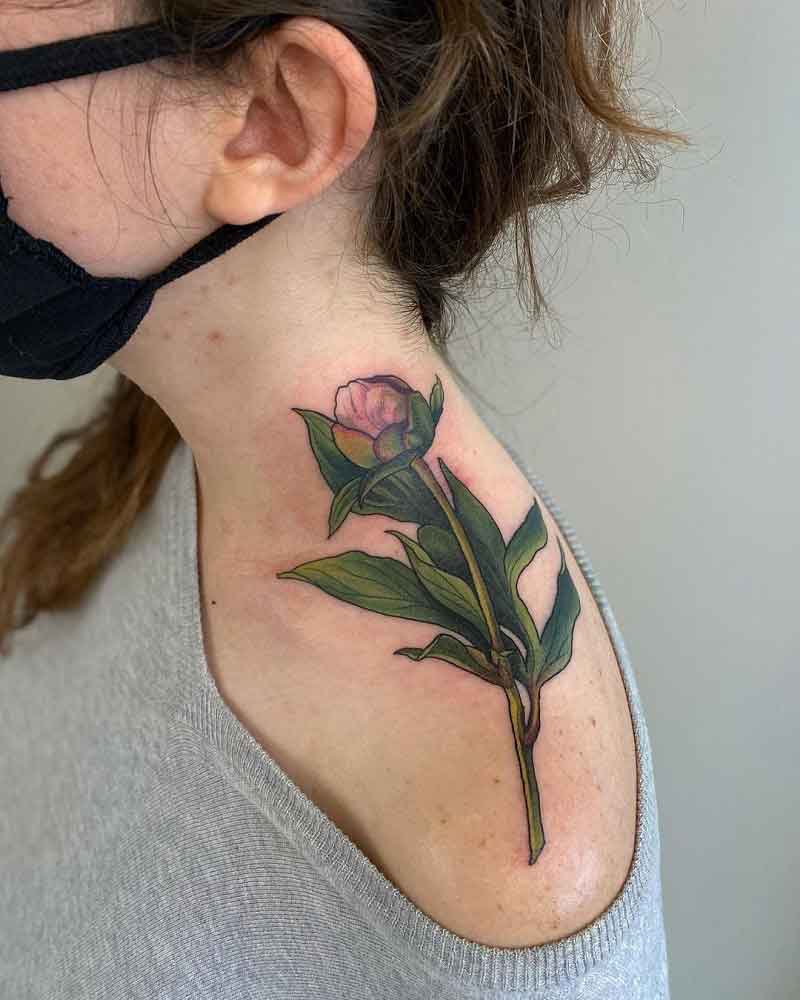 Peony Dotwork Tattoo
43.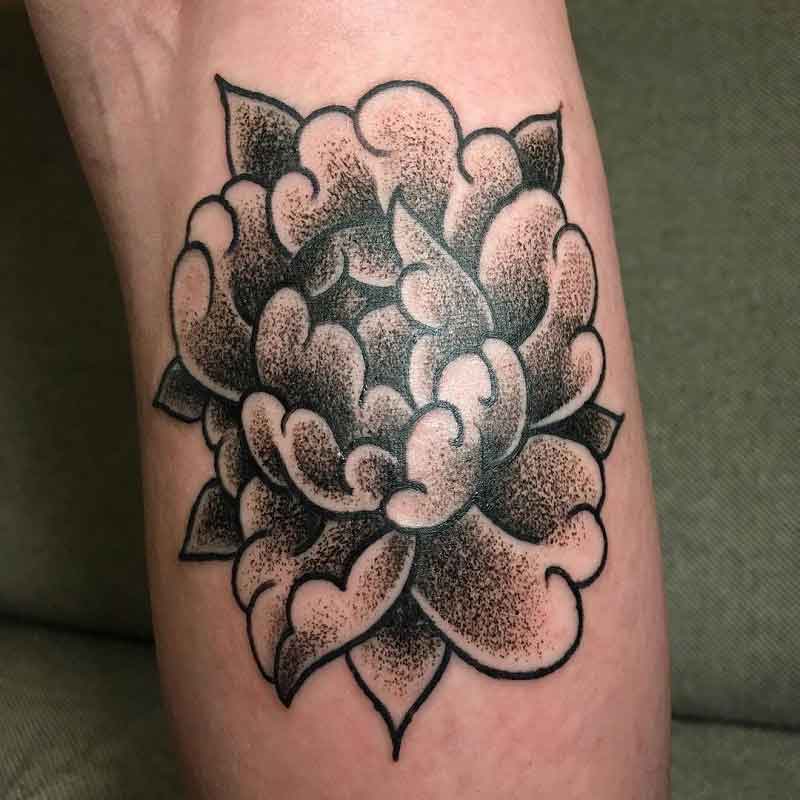 44.
45.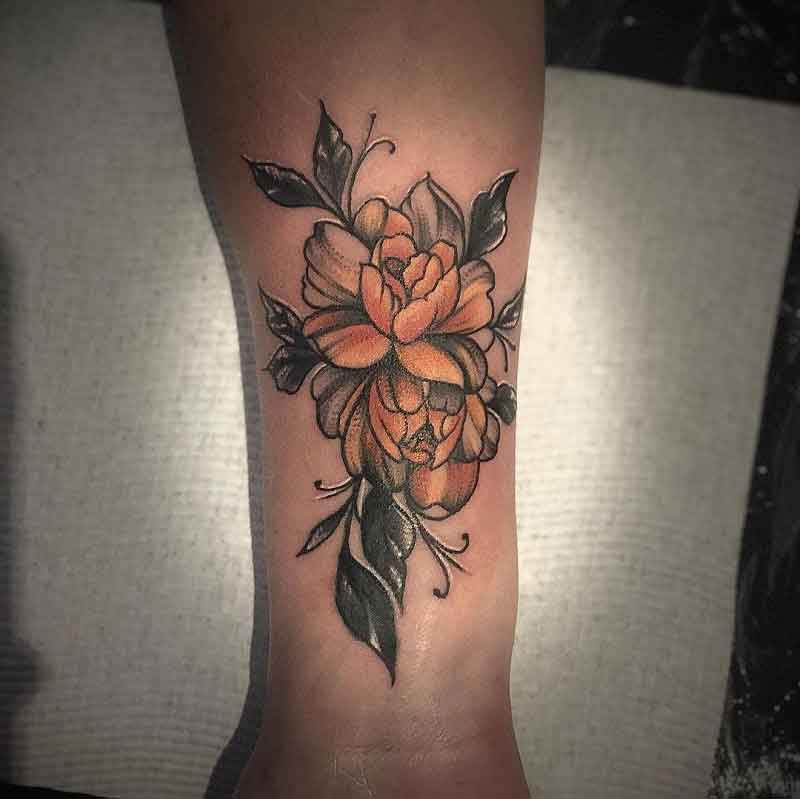 Peony Hip Tattoo
46.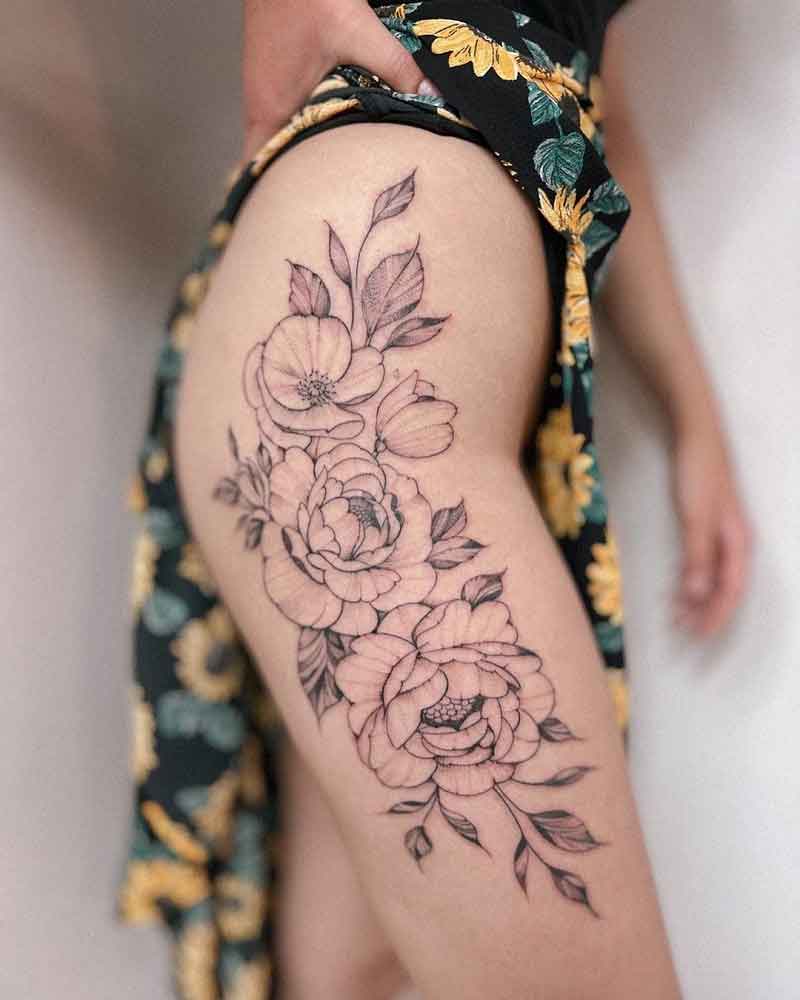 47.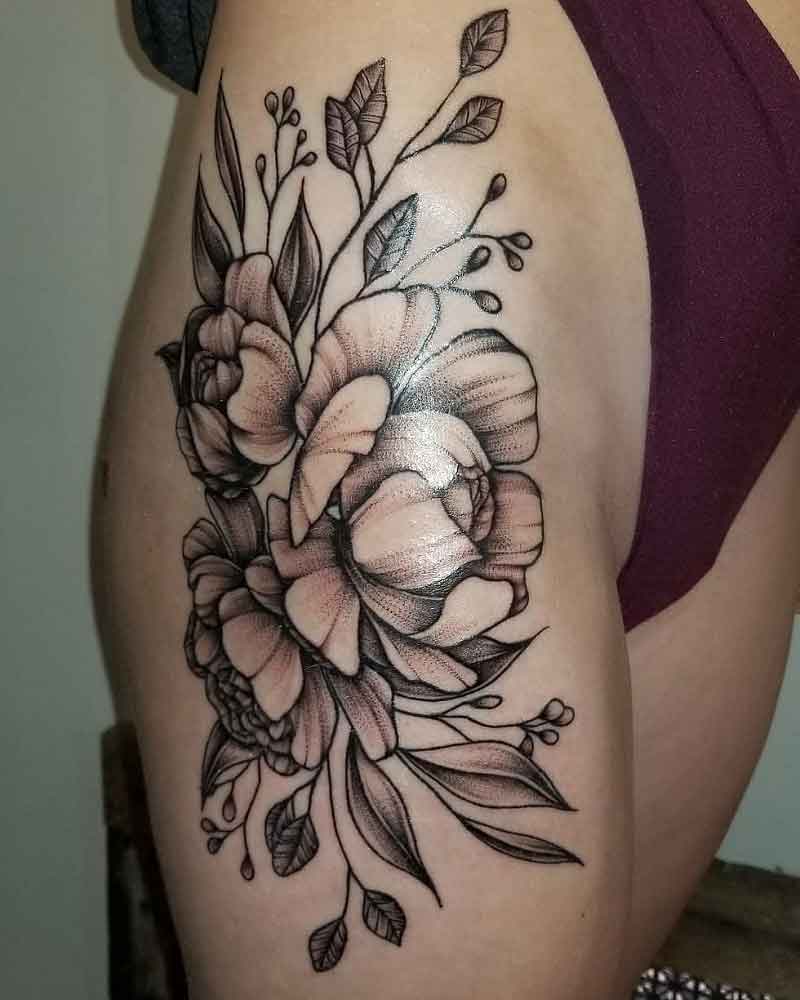 48.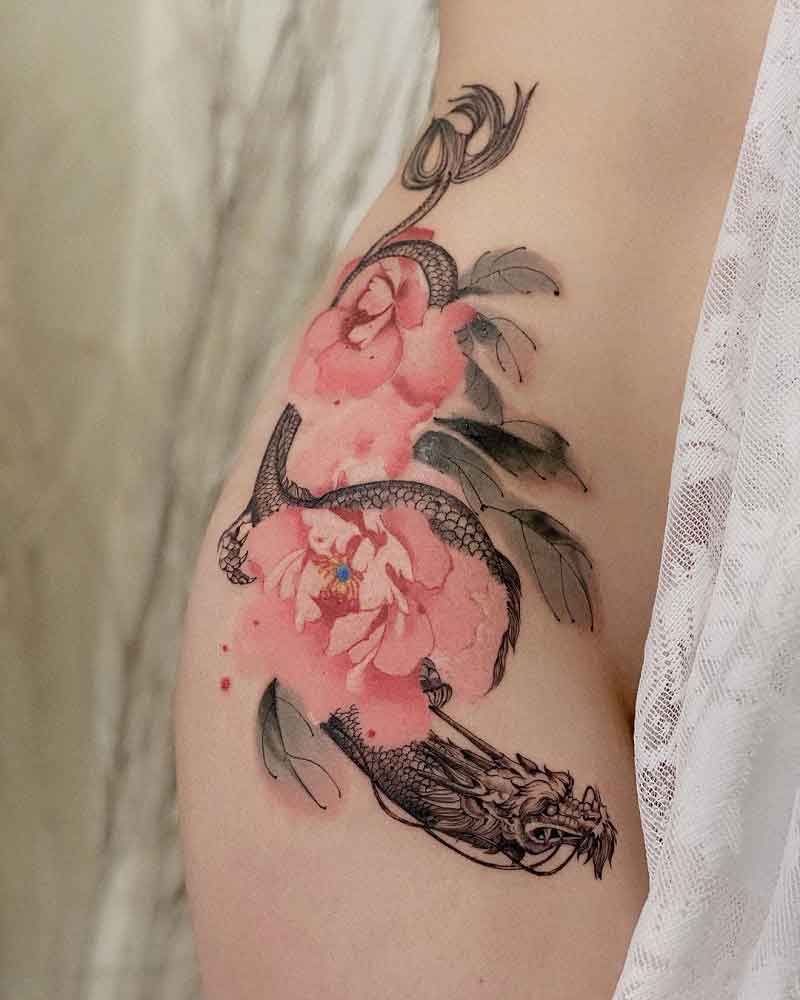 Snake Peonies Tattoo
49.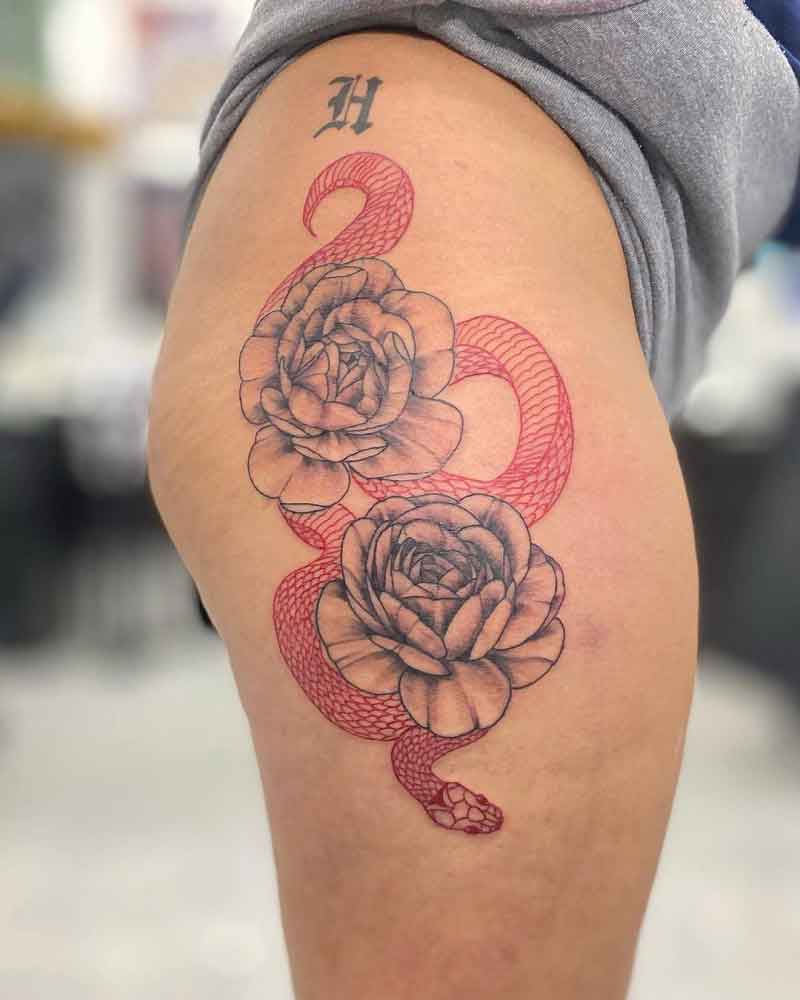 50.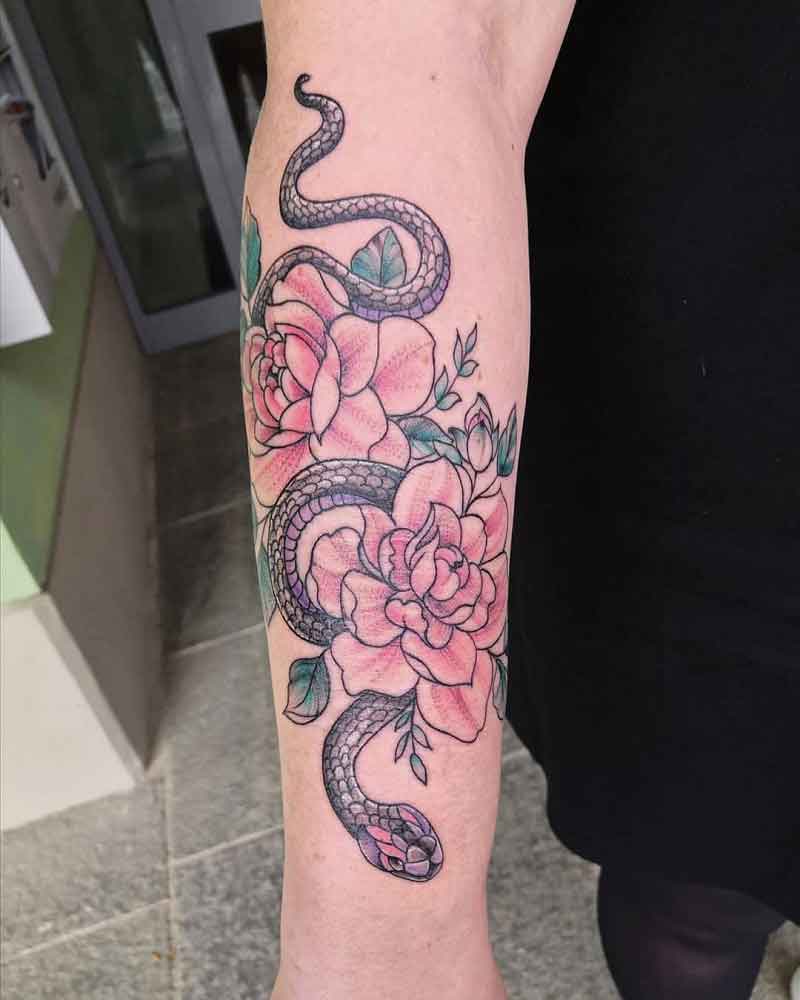 51.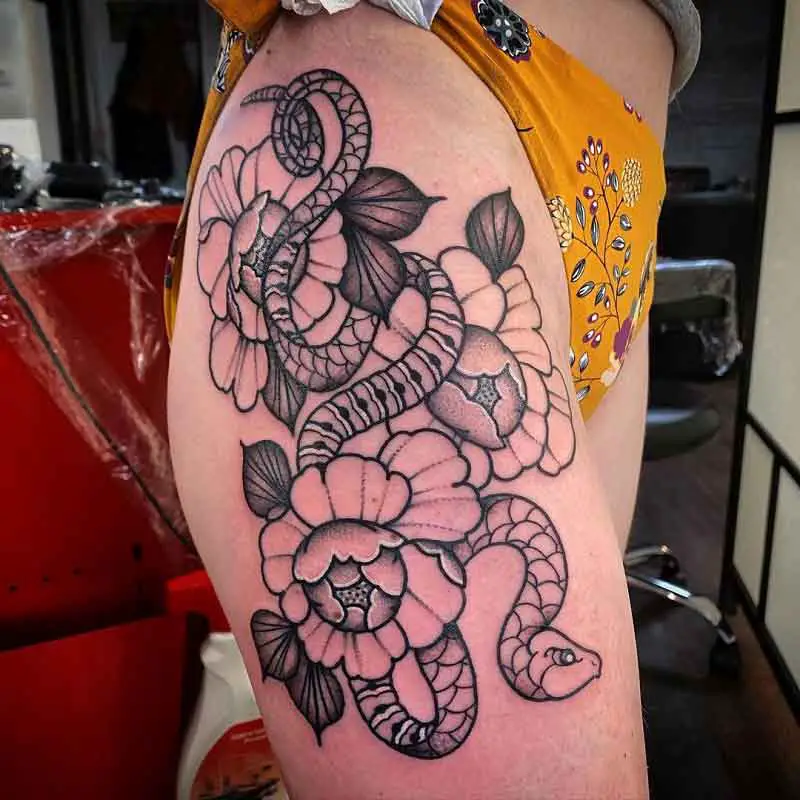 Chinese Peony Tattoo
52.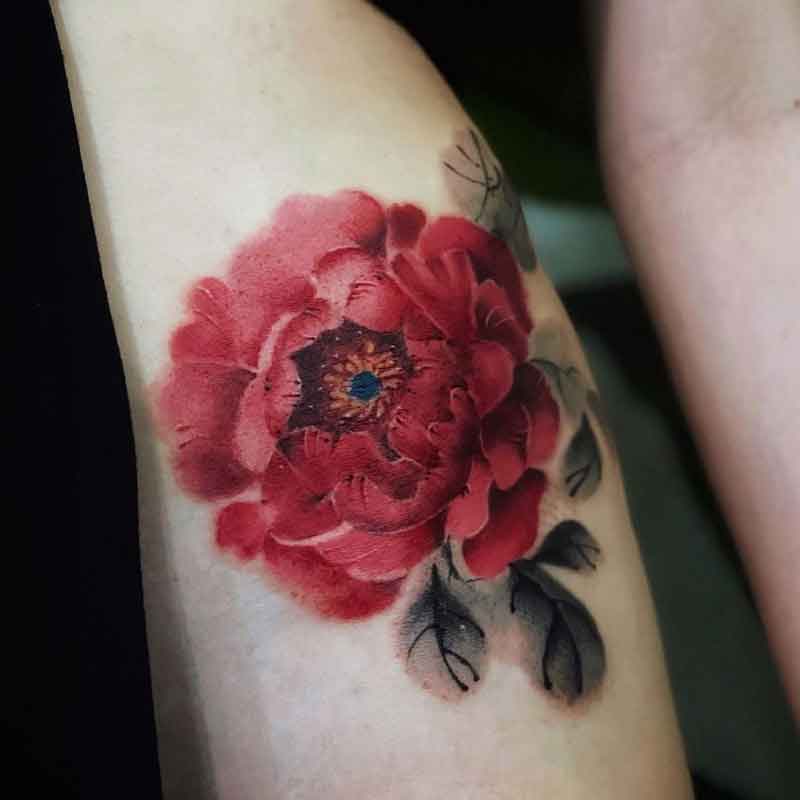 53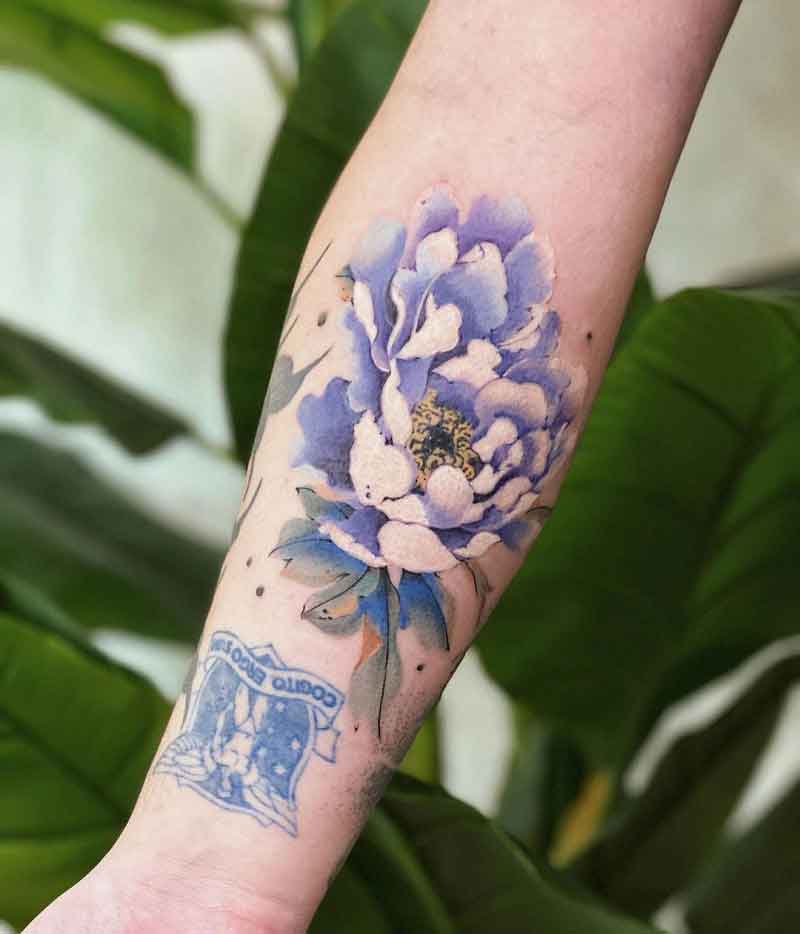 54.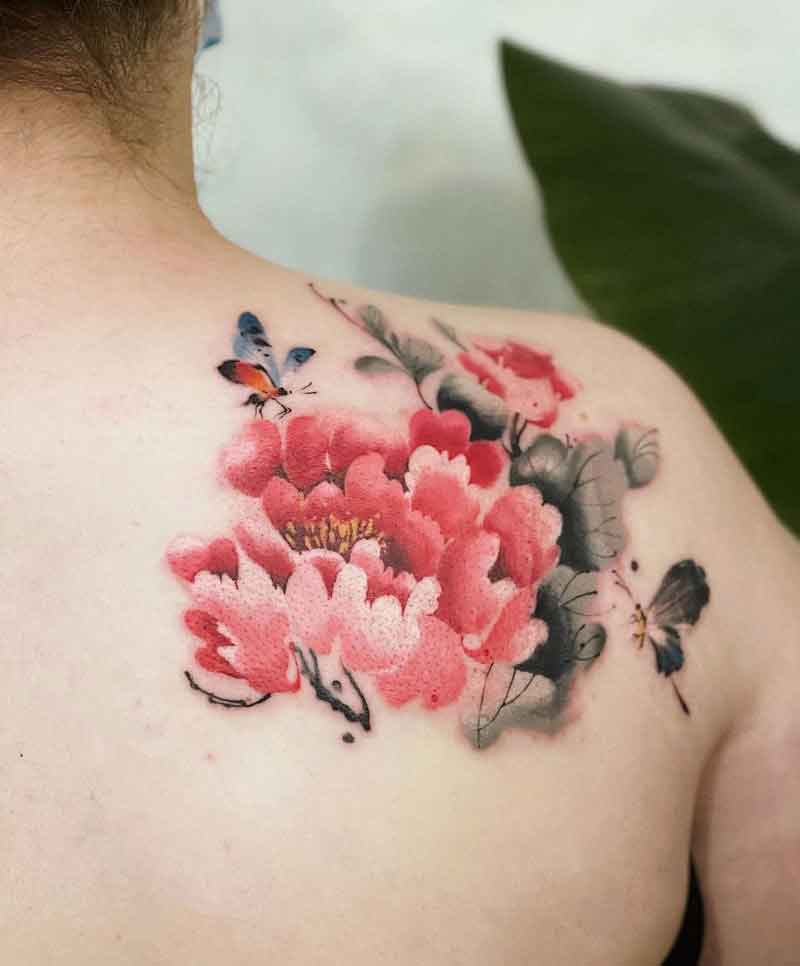 Minimalist Peony Tattoo
55.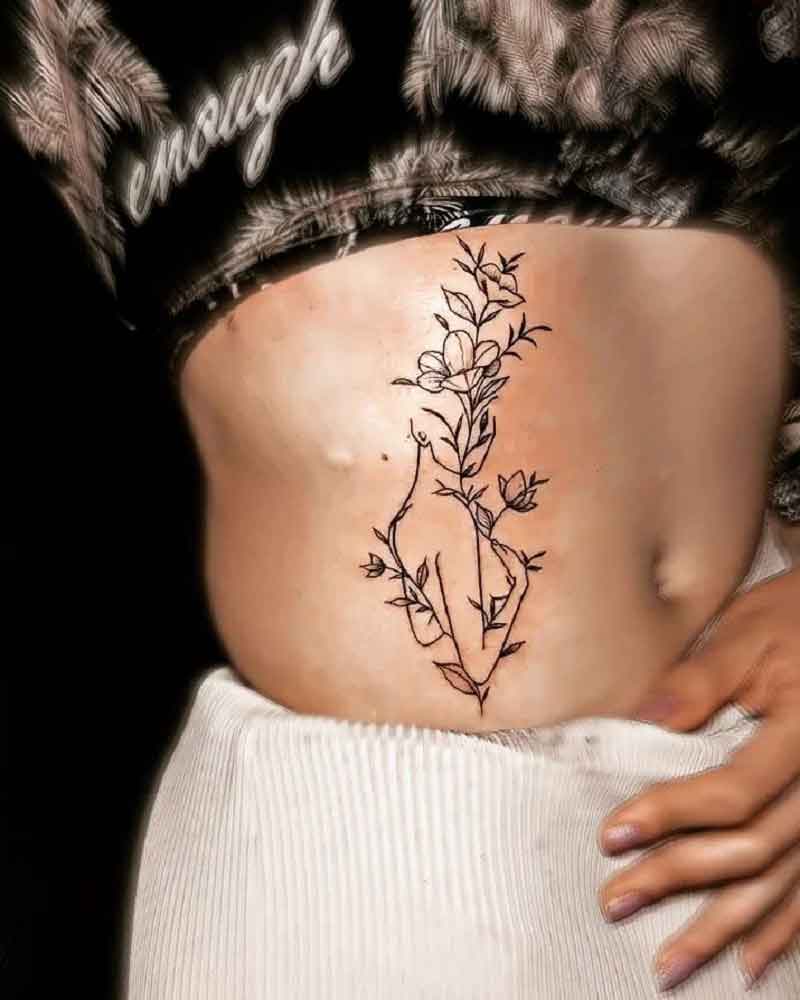 56.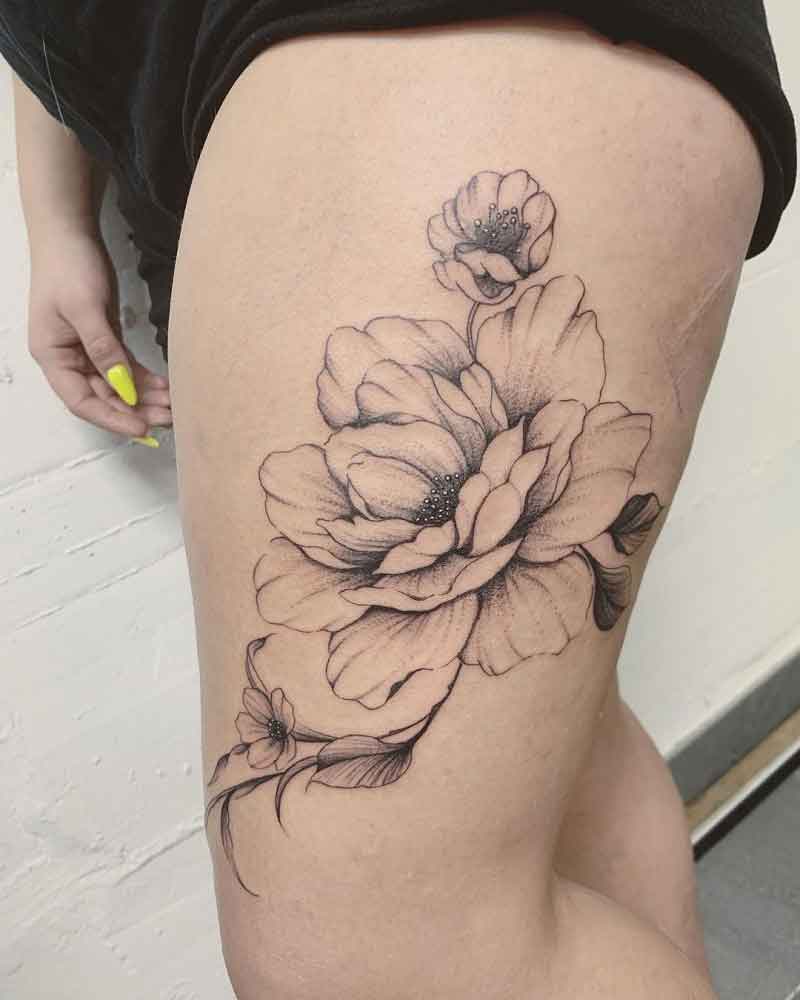 57.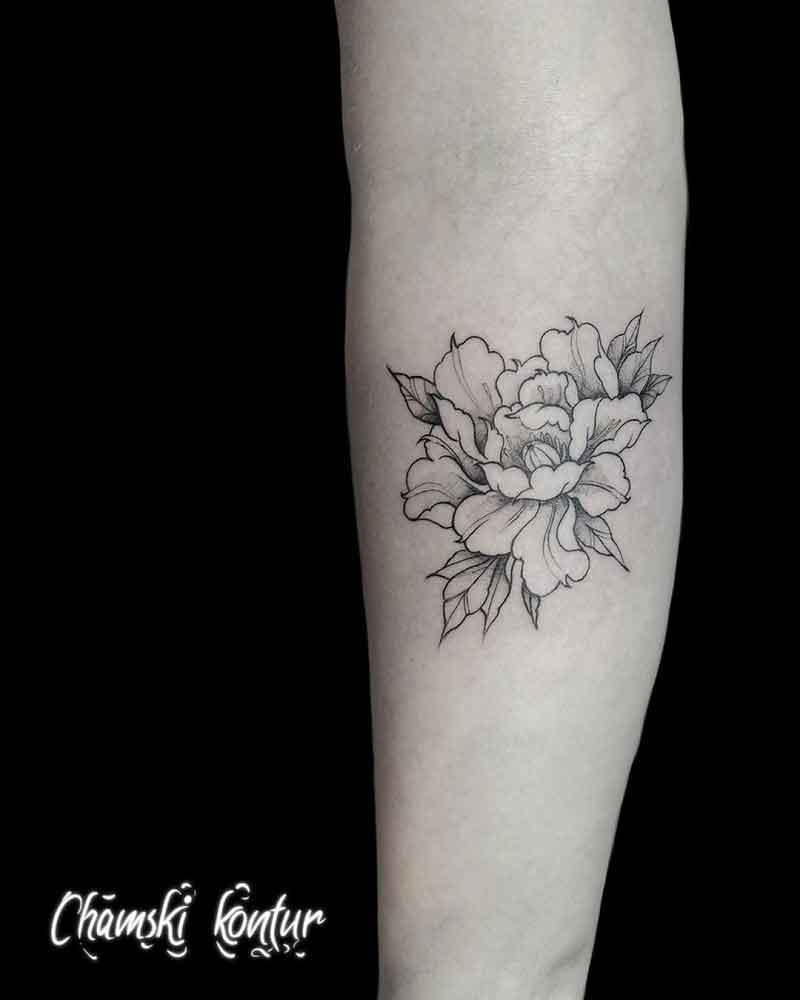 Peony Skull Tattoo
58.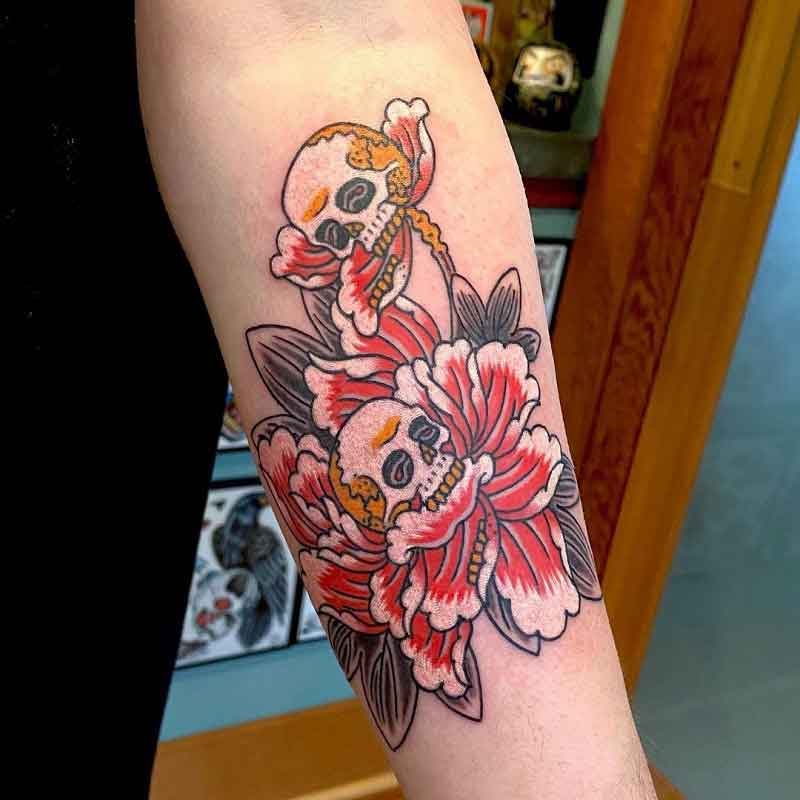 59.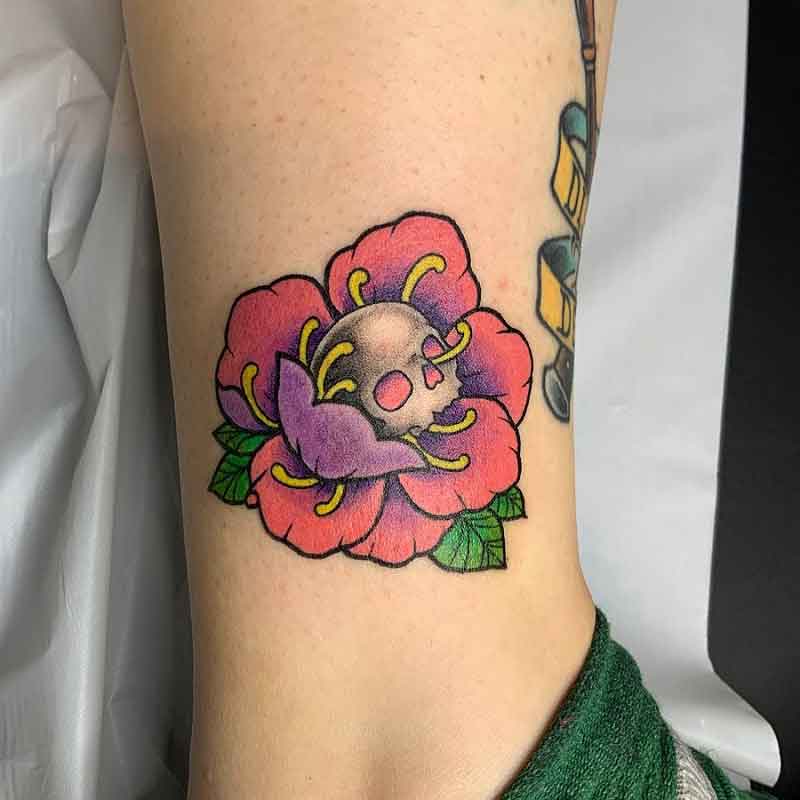 60.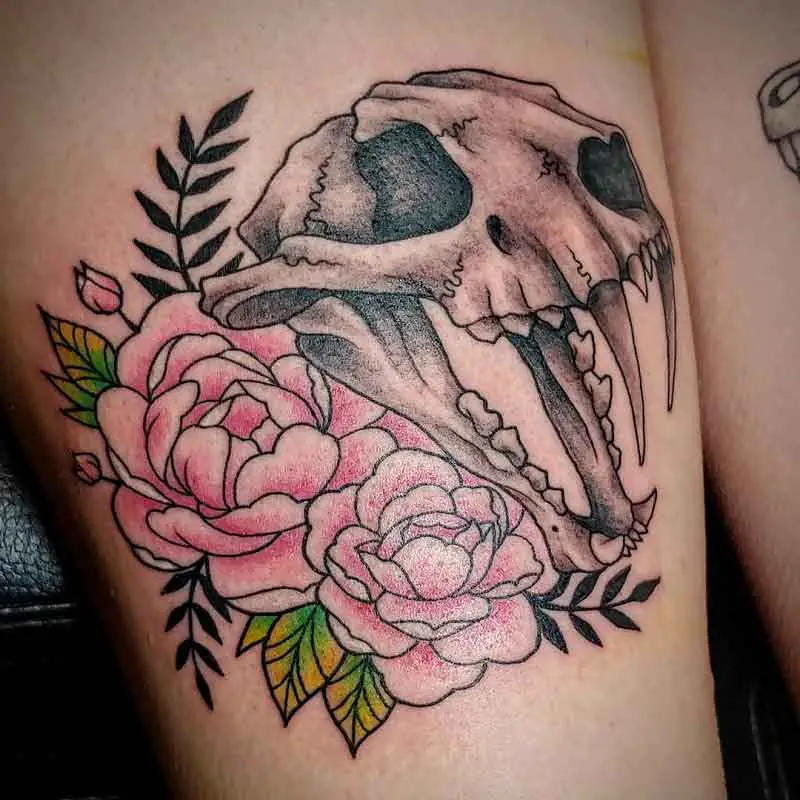 Realistic Peony Tattoo
61.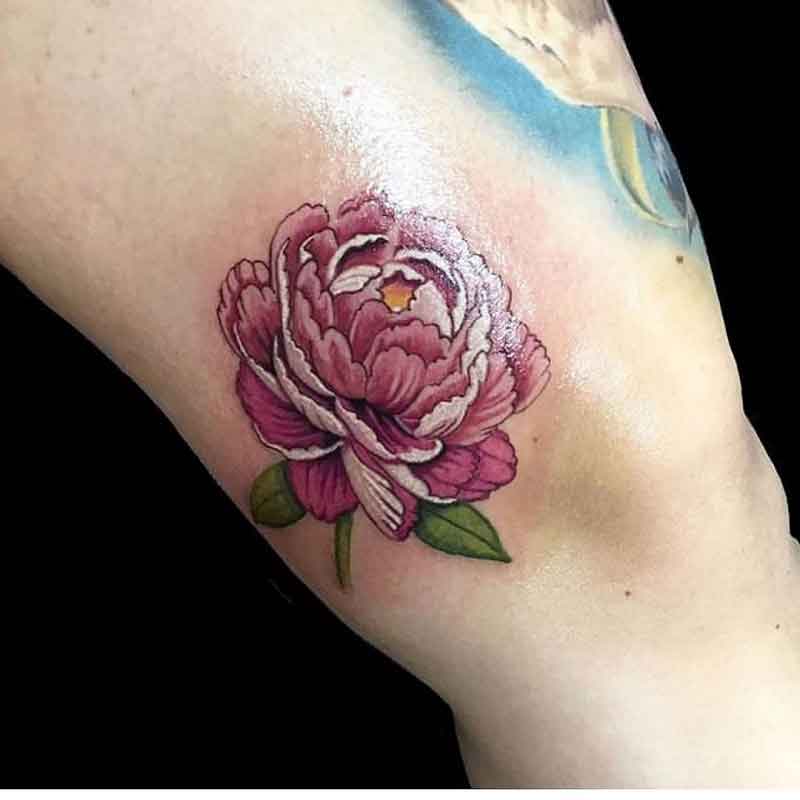 62.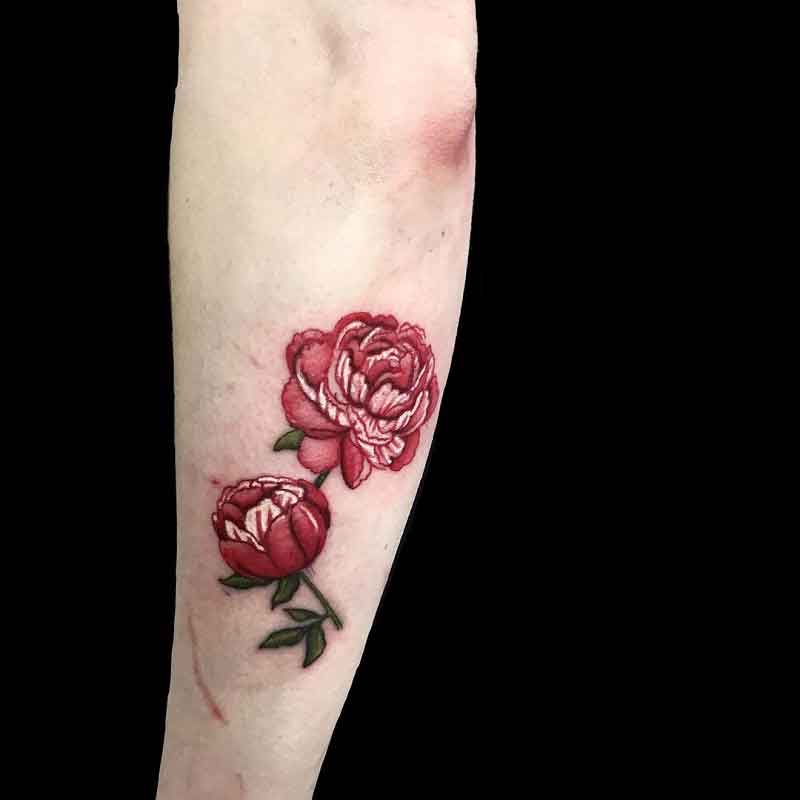 63.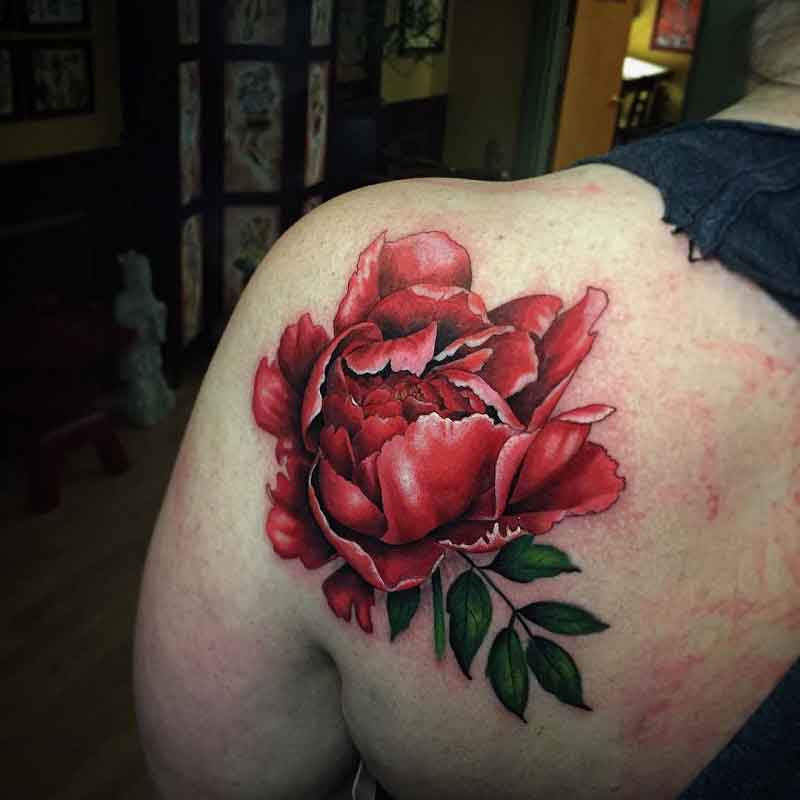 Dark Peony Tattoo
64.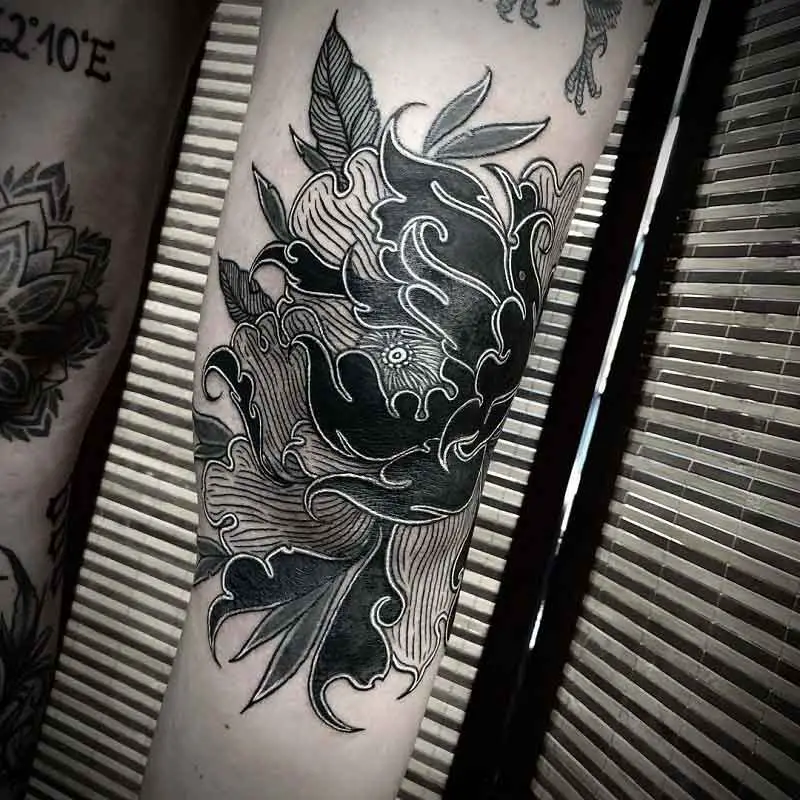 65.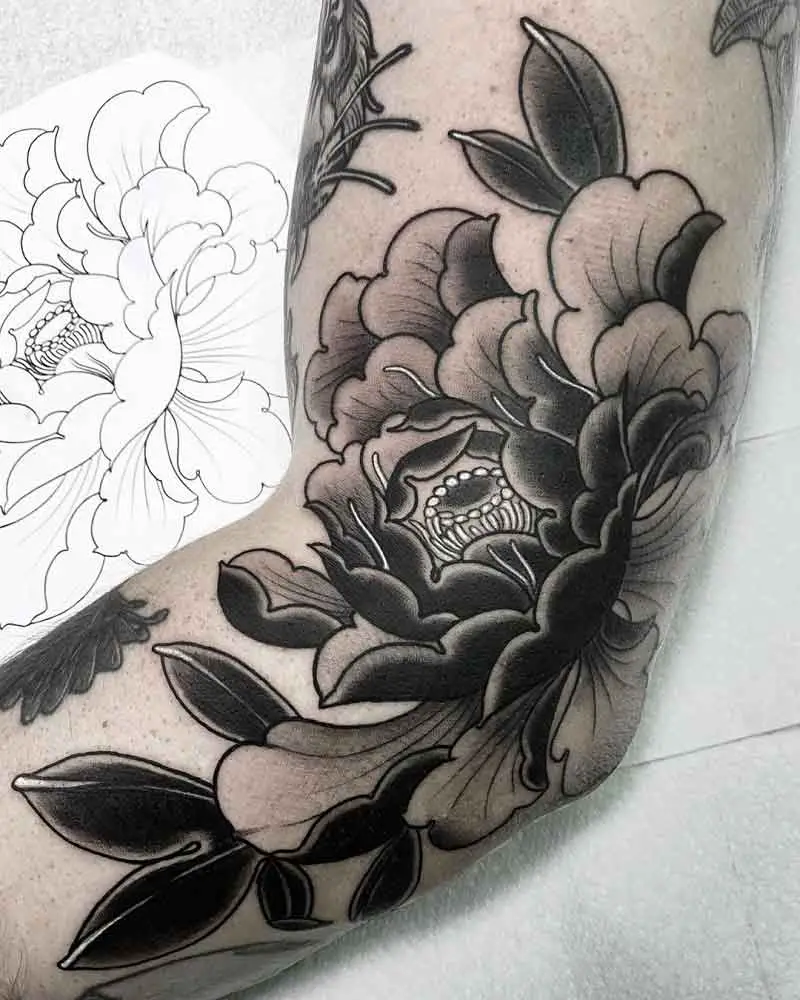 66.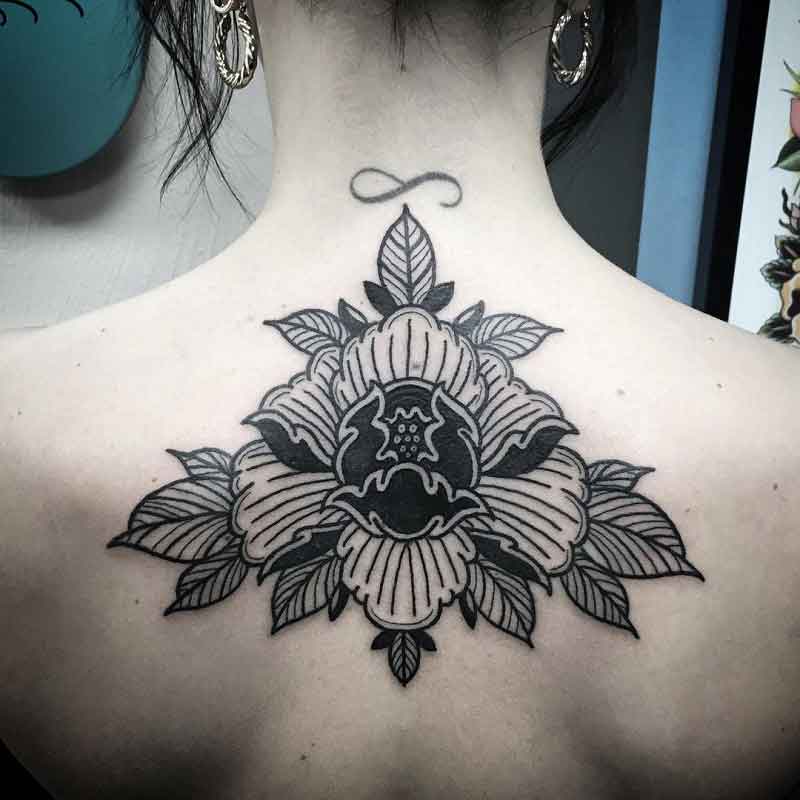 Open Peony Tattoo
67.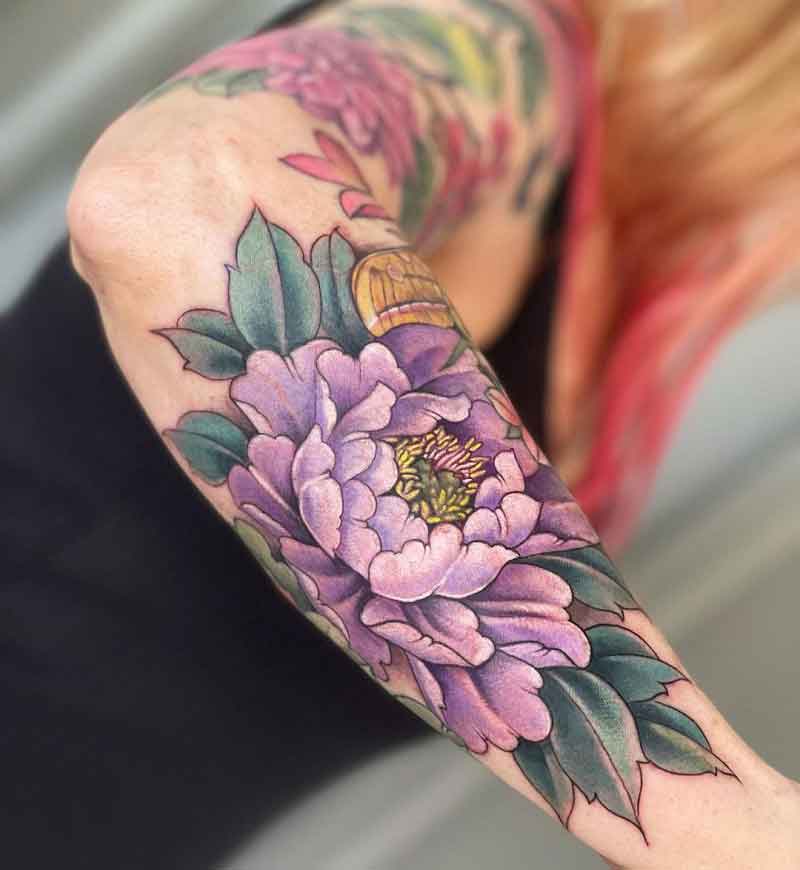 68.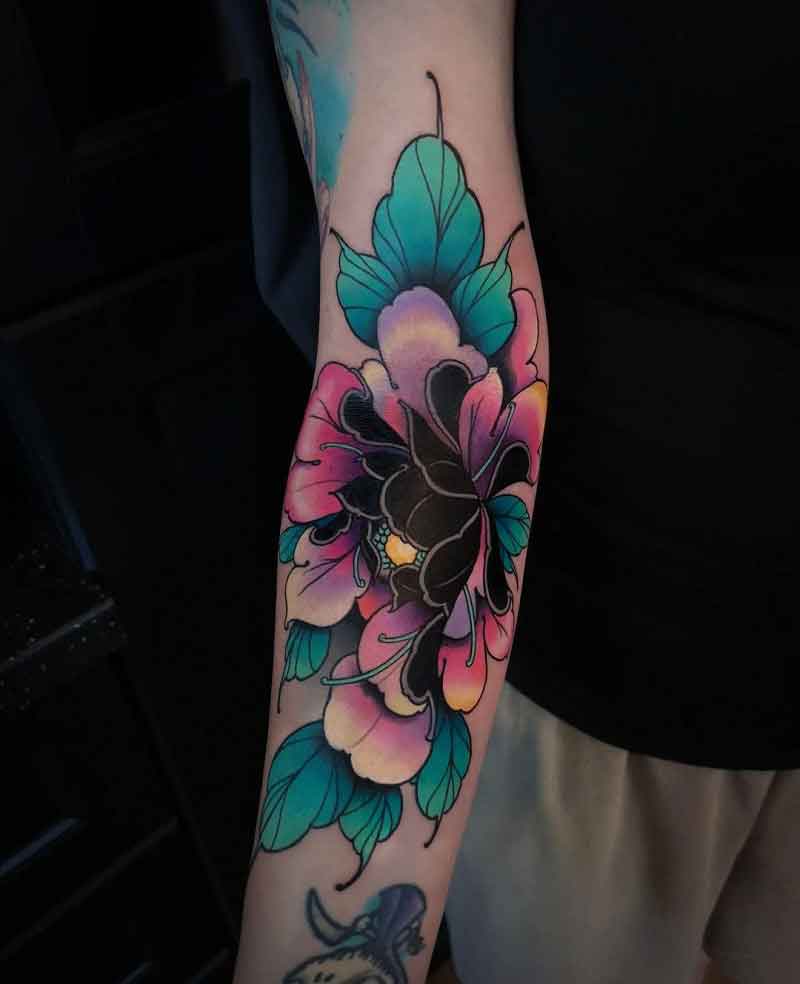 69.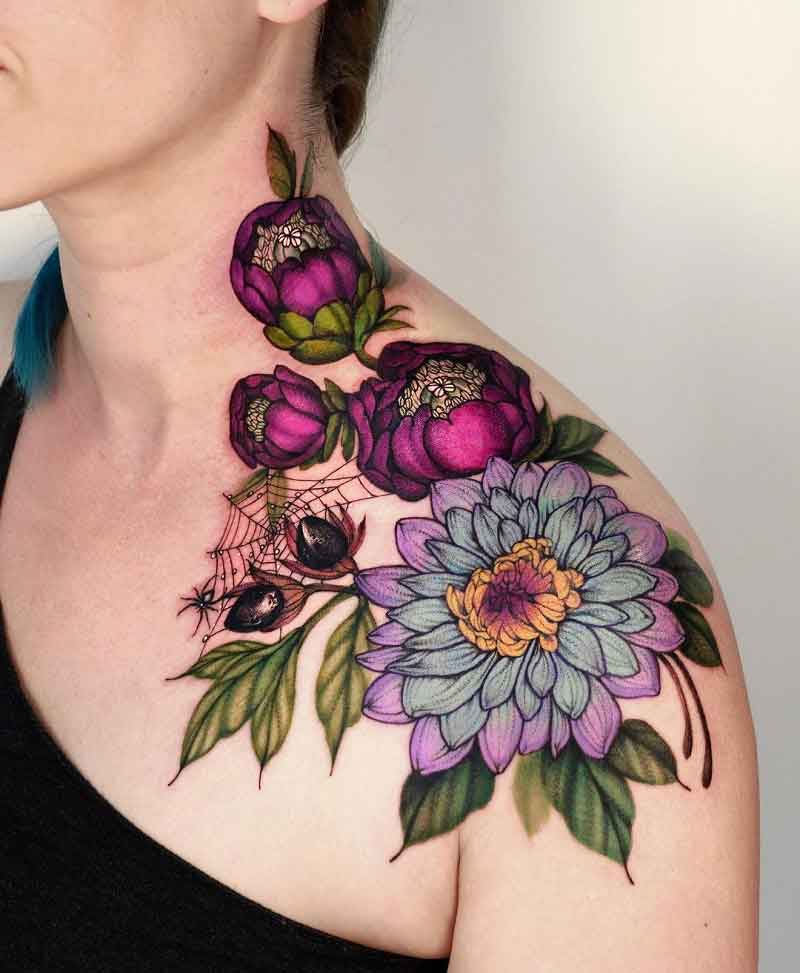 Peony Geometric Tattoo
70.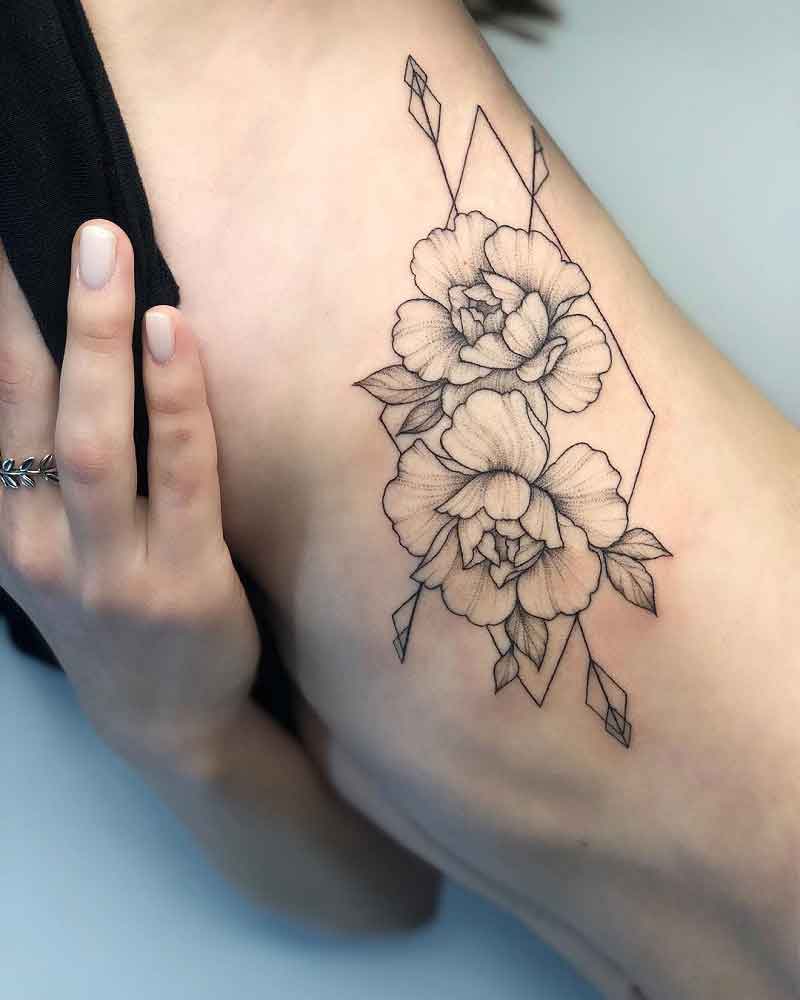 71.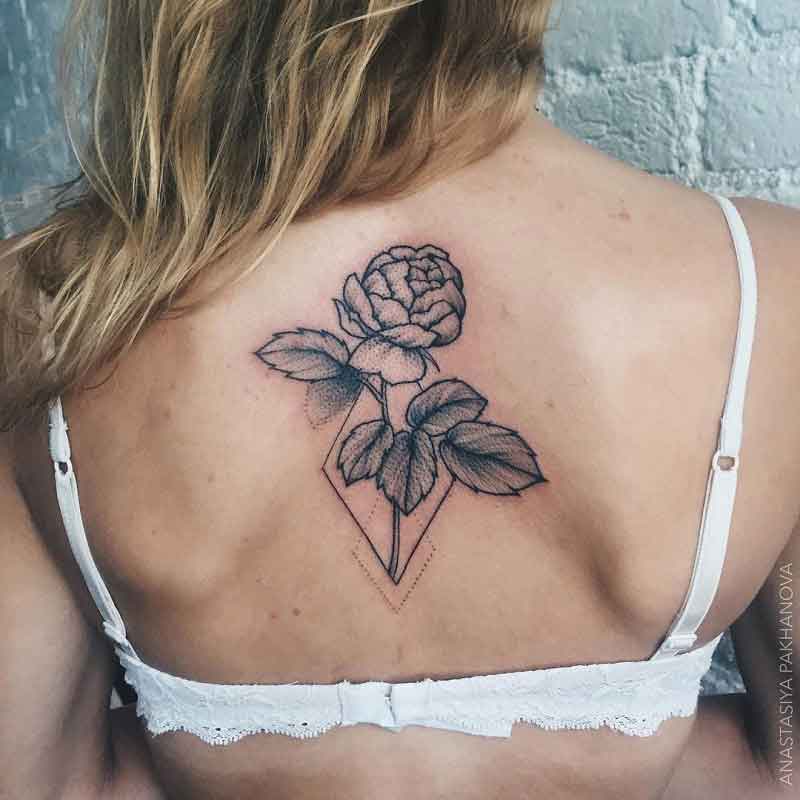 72.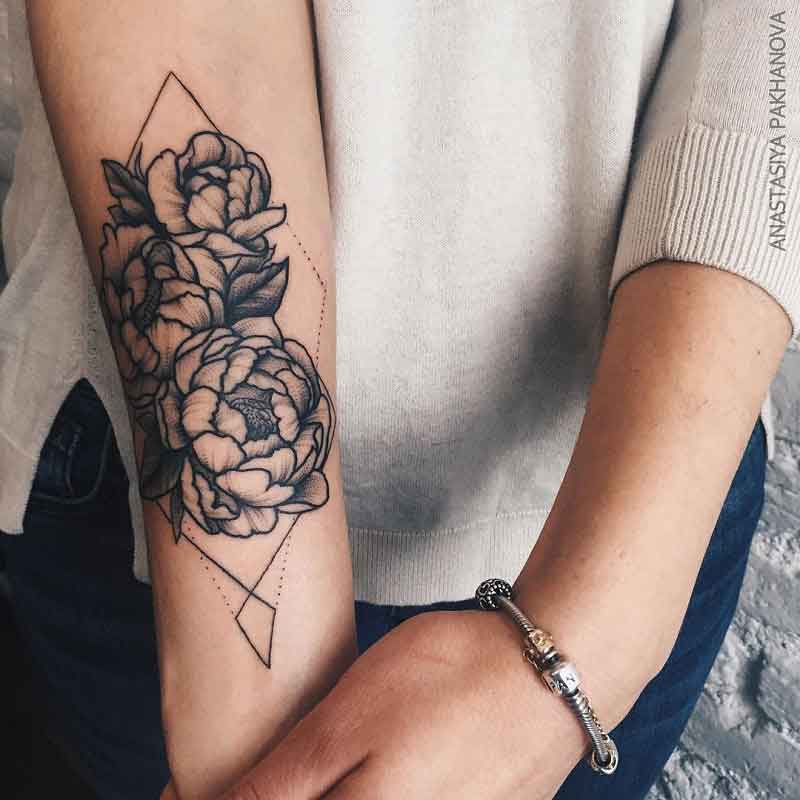 Peony Leg Tattoo
73.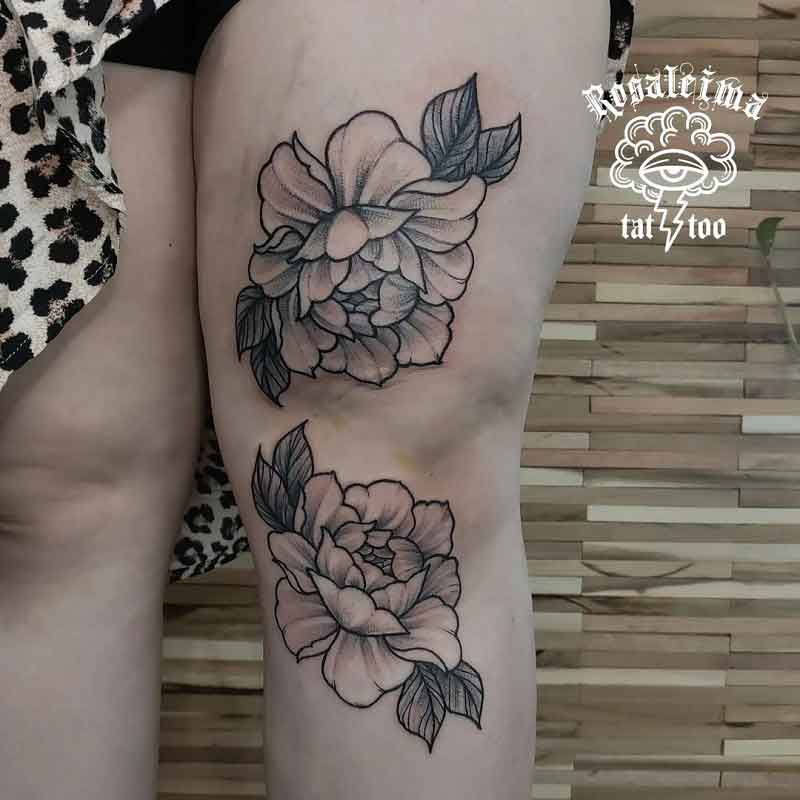 74.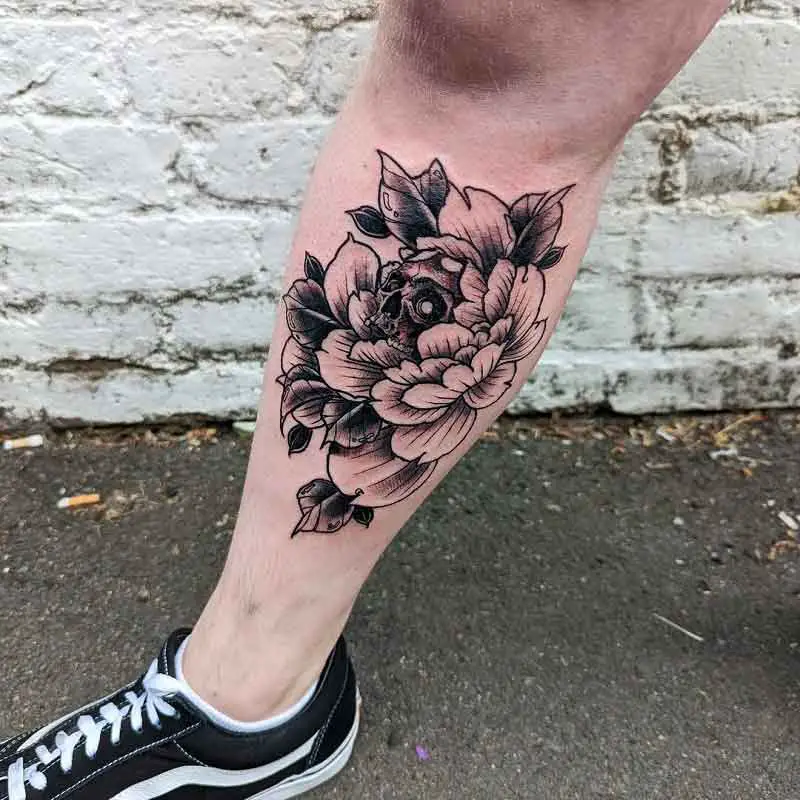 75.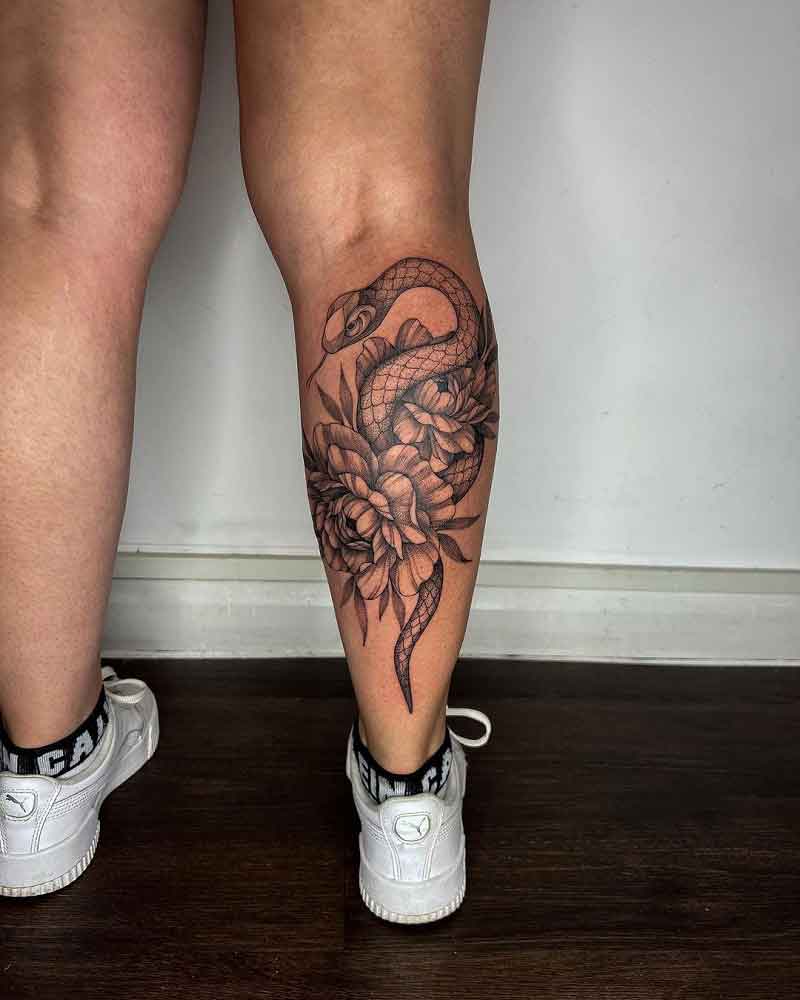 Peony Ornamental Tattoo
76.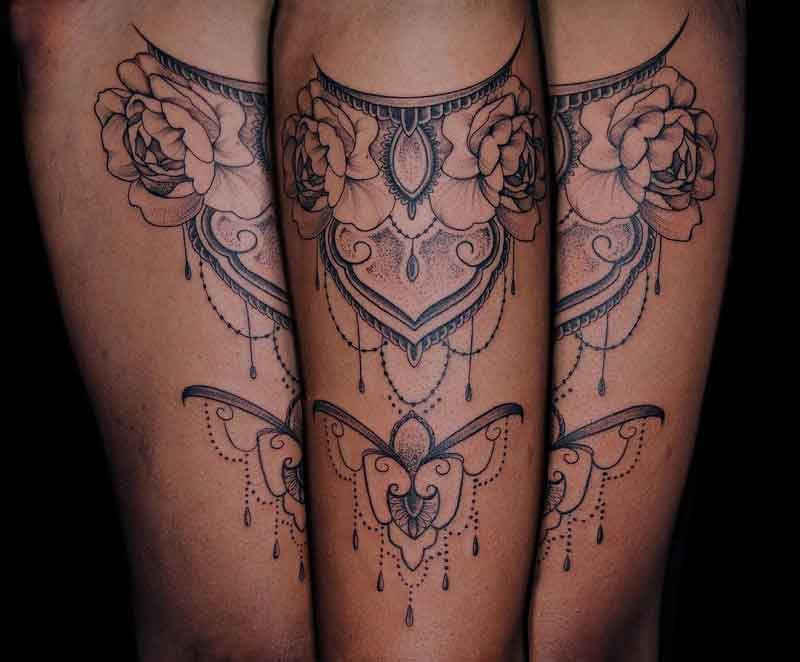 77.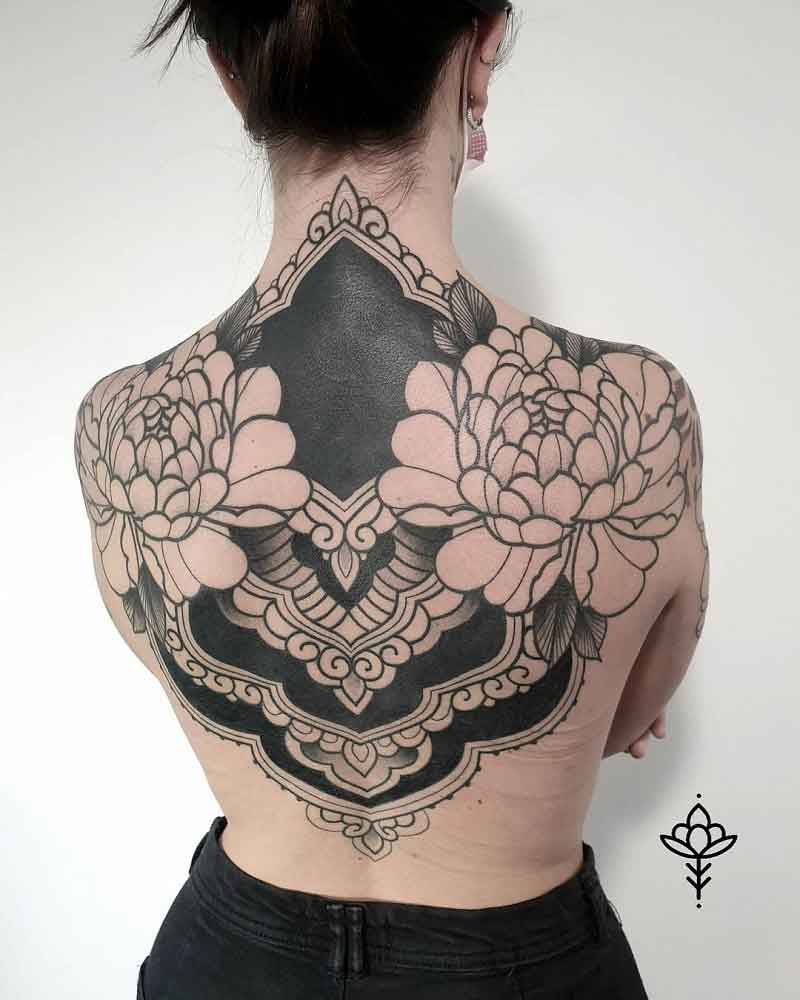 78.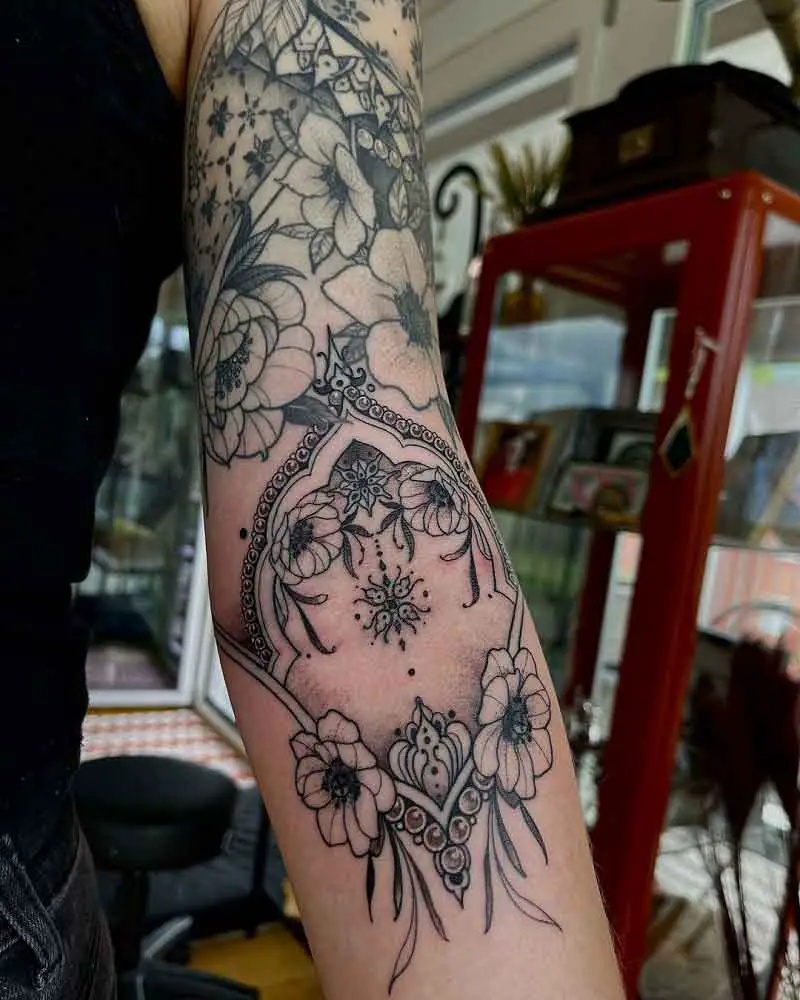 Peony Sternum Tattoo
79.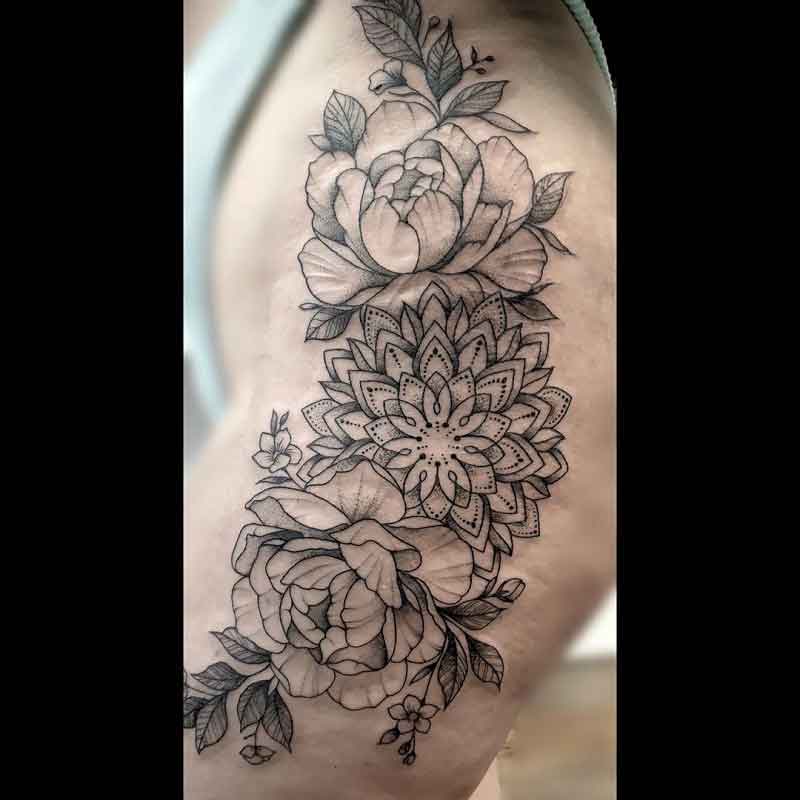 80.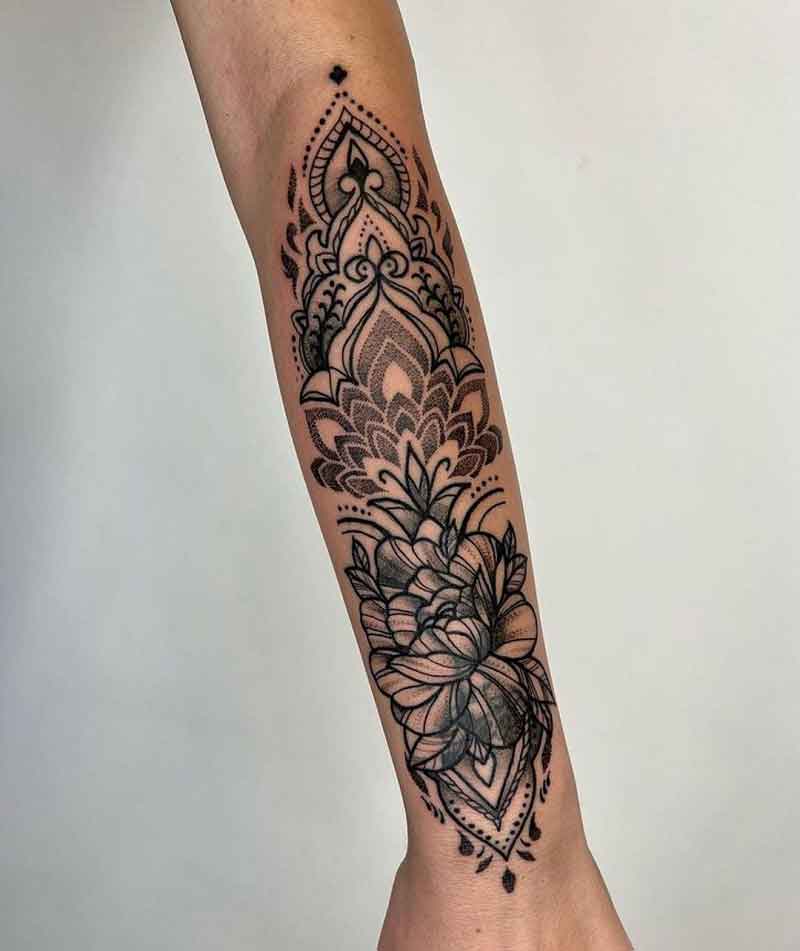 81.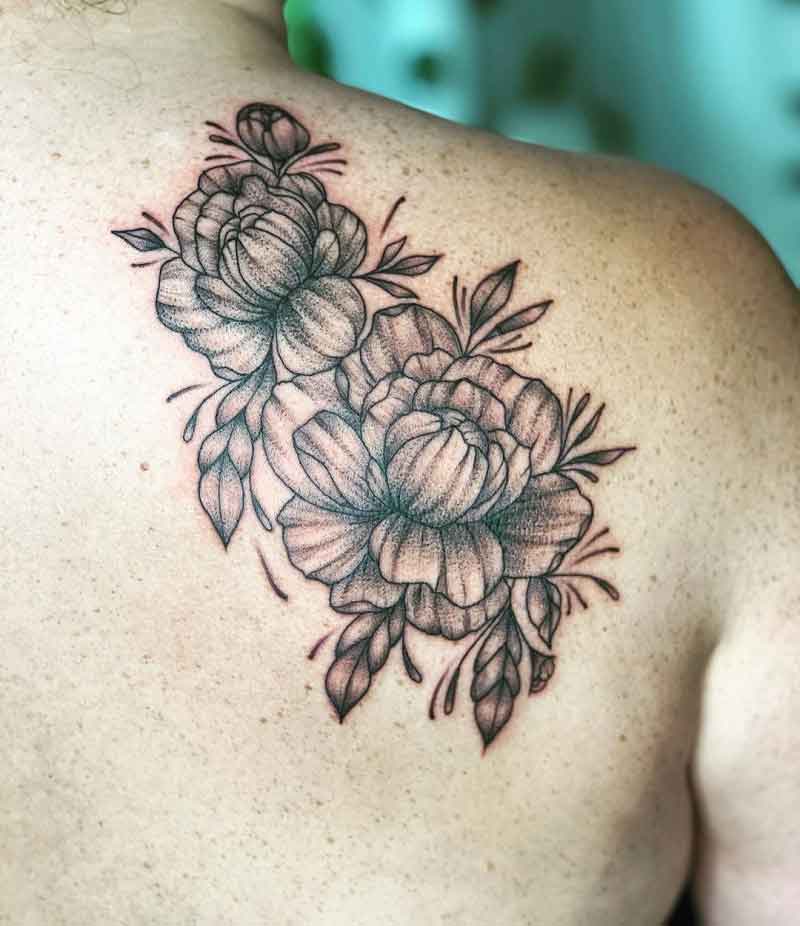 Tree Peony Tattoo
82.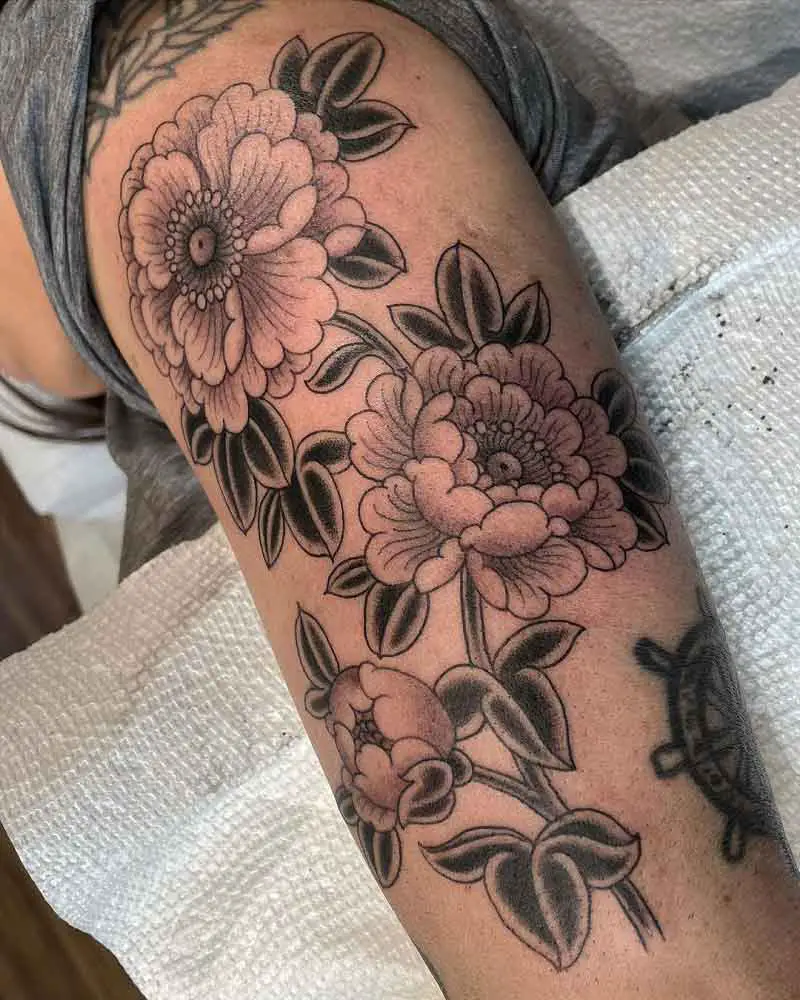 83.
84.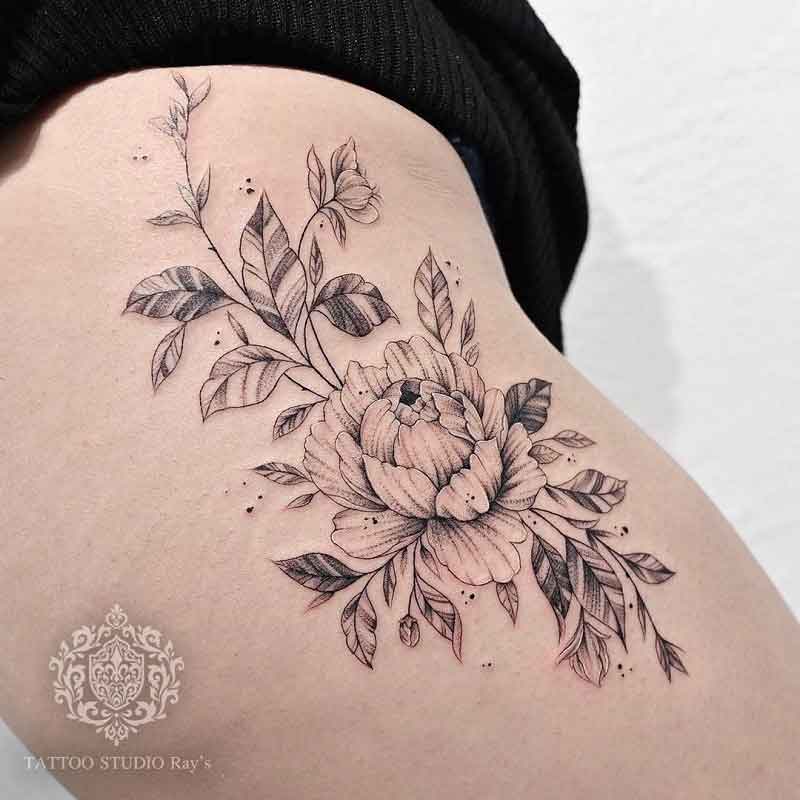 Blooming Peony Tattoo
85.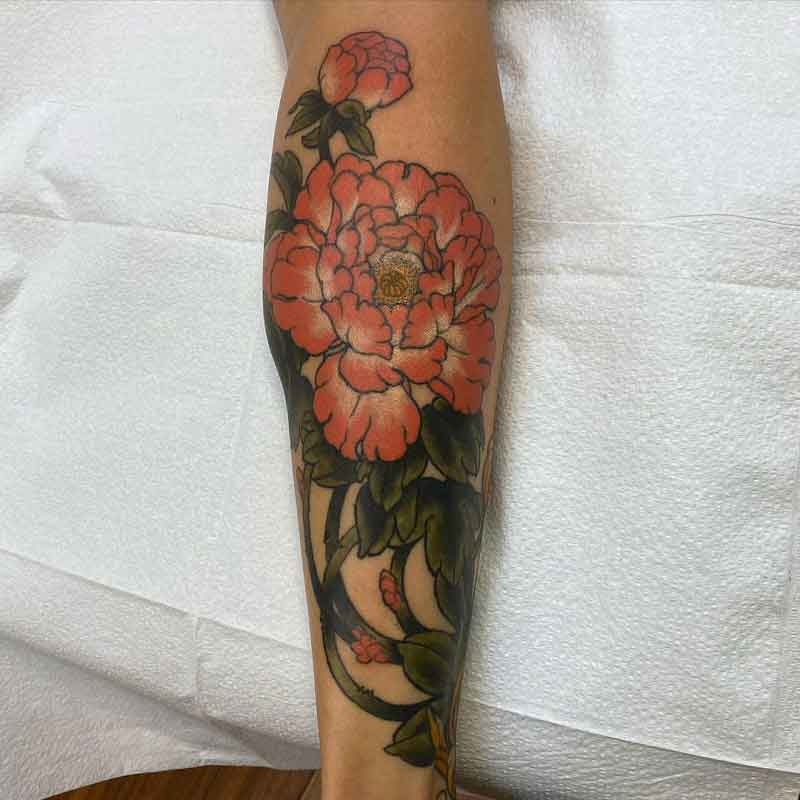 86.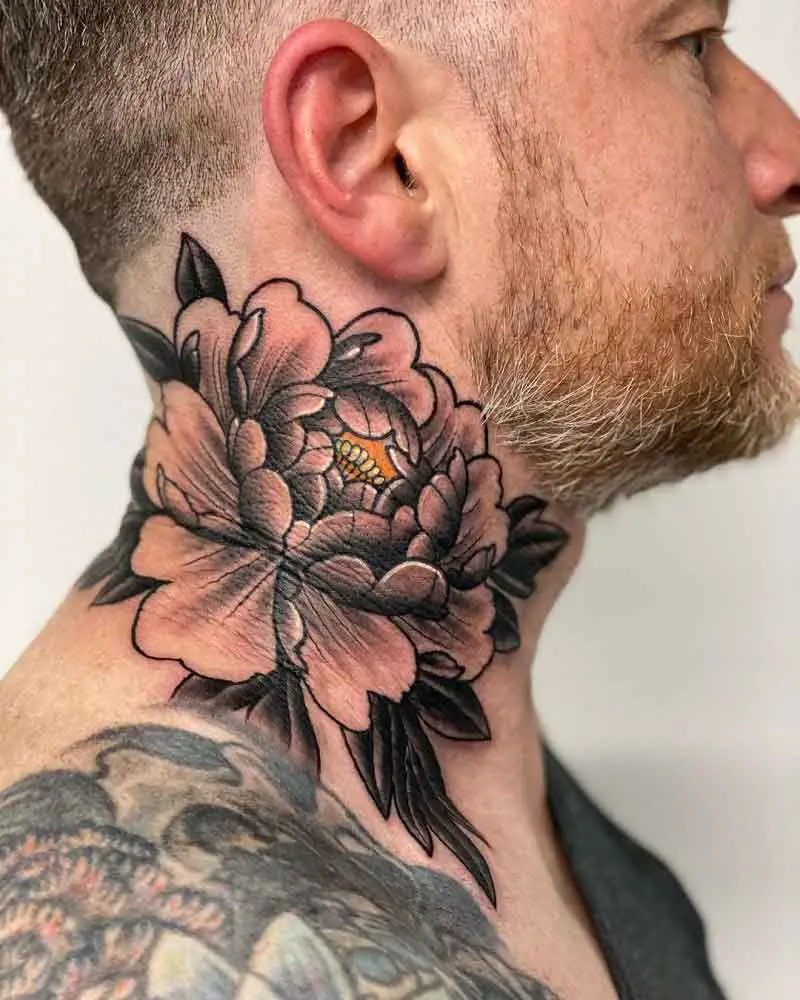 87.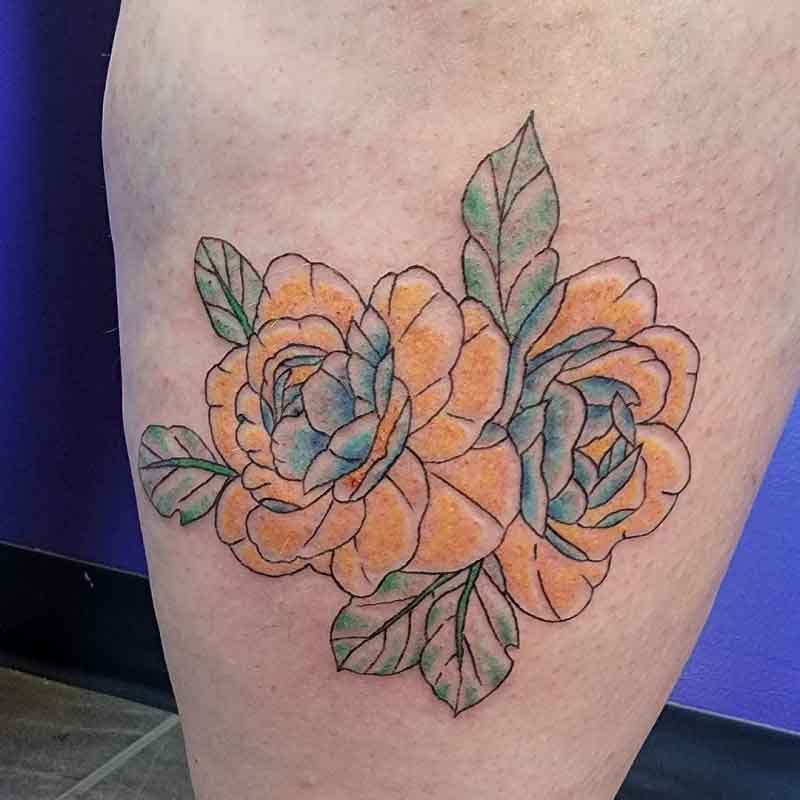 Butterfly Peony Tattoo
88.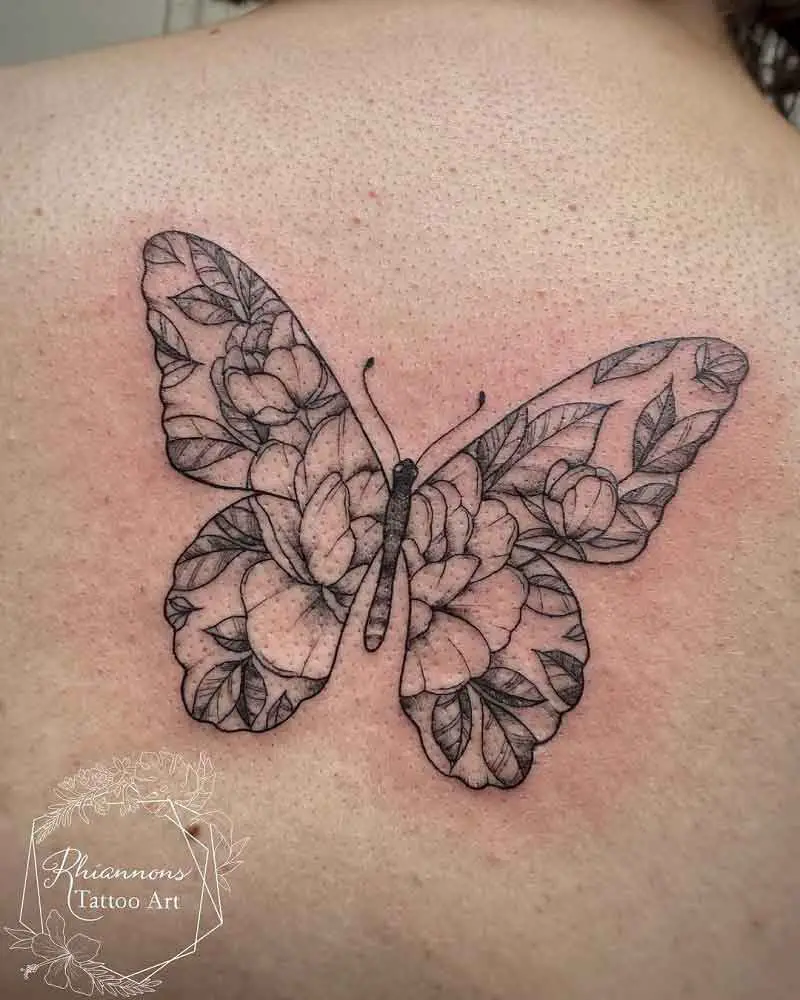 89.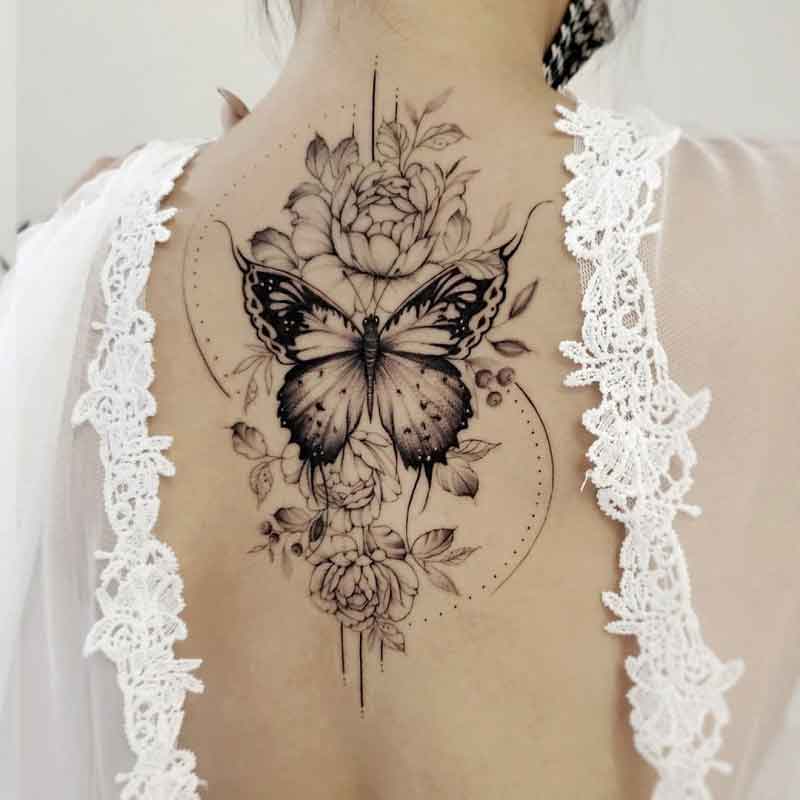 90.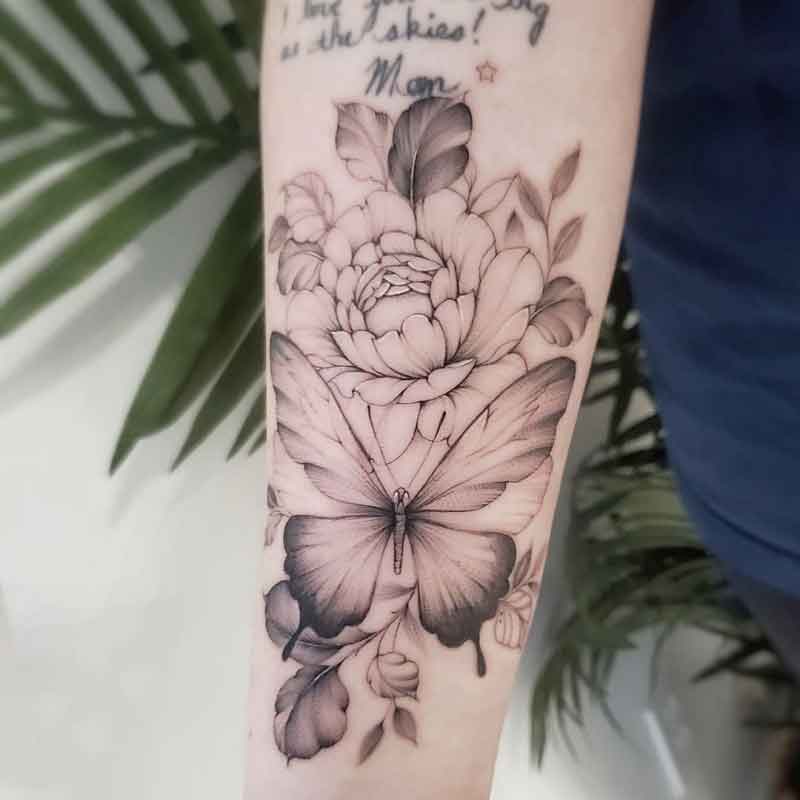 Hummingbird Peony Tattoo
91.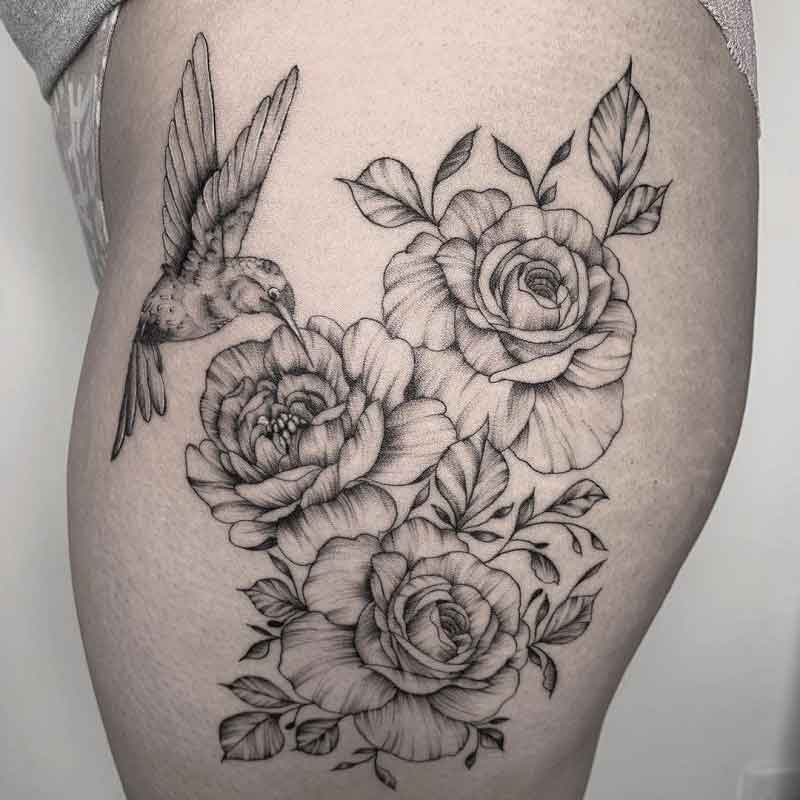 92.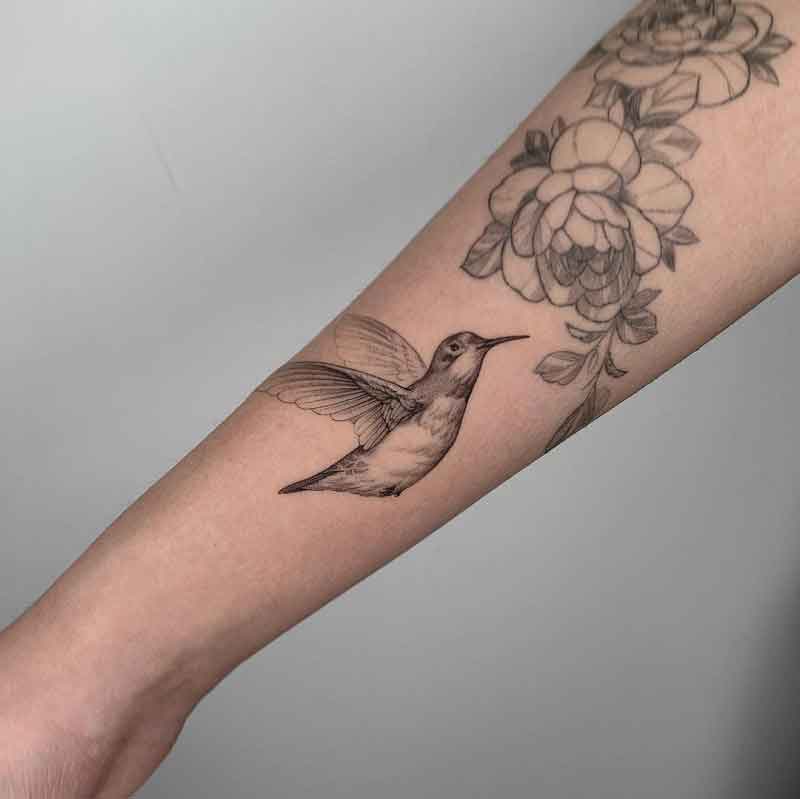 93.
Peony Dragon Tattoo
94.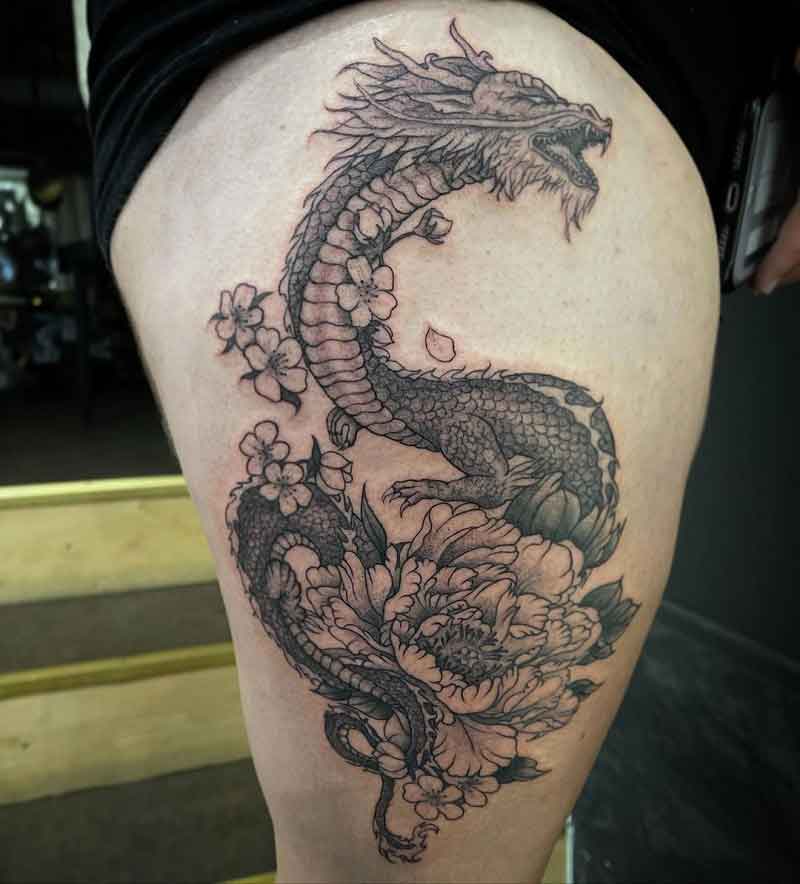 95.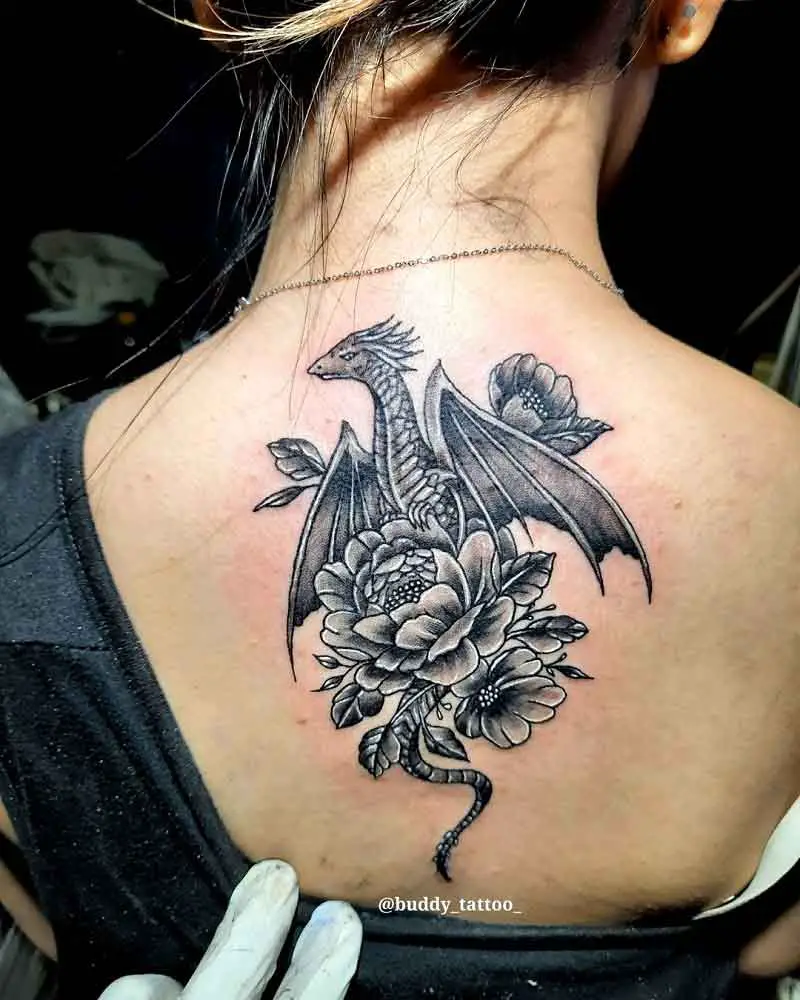 96.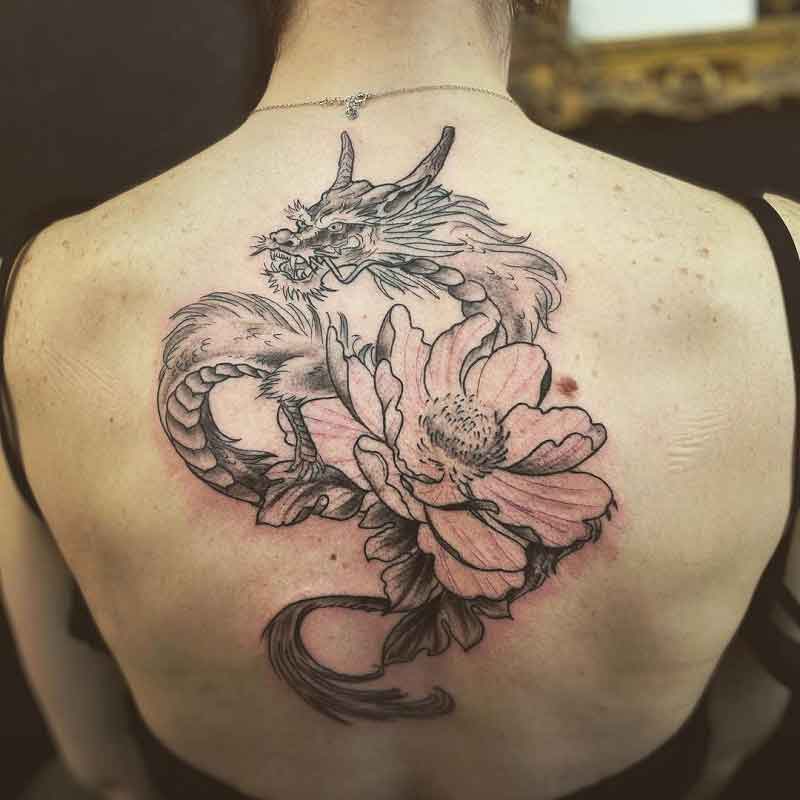 With great symbolic meaning, a majestic peony flower is a gorgeous option for a tattoo. We can hope that these prominent ideas can help you a lot to choose according to your taste.
Frequently Asked Questions
What do peony tattoos symbolize? / What does a peony tattoo mean?
-According to Chinese and Japanese myths and beliefs peony tattoo means good omens like love, beauty, nobility, and honor. In some other cultures, it is also a symbol of prosperity, successful relationships, and happiness.
Why are peony tattoos so popular?
-Peony tattoo has mainly come from Japanese culture. Japanese morals and philosophies are famous and idealized worldwide, therefore this spiritual symbolic flower tattoo conquered the world and became worldwide popular.
What do pink peonies symbolize?
-Pink peony especially represents happy marriage and prosperity. Therefore it is a popular flower in bridal bouquets. People often prefer to put pink peony tattoo as a symbol of happy married life.
What do peonies mean spiritually?
-In many cultures, a peony has been considered a sign of love, happiness, prosperity, and good luck spiritually. There is even a superstition that exists which says a peony bush loaded with flowers is a sign of good luck.
What does Japanese peony mean?
-Japanese peony means bravery and honor. It is also believed that it can bring good fortune to the newlyweds.
Which Celebrities Have Peony Tattoos??
-Famous celebrities like Julia Micheal, Asia Argento, Ashlee Simpson, and Margaret Cho have chosen peony tattoos on different parts of their body.