Women are most likely more sentimental when it comes to body art especially sleeve tattoos for girls. It is a part of her style, her dressing, a fashion accessory that is not just a fad. In fact, sleeve tattoos are one of the most popular and at times controversial choice for women. It is because a sleeve tattoo echoes that you are a tattoo person and you are not afraid of showing it.
EXCEPTIONAL SLEEVE TATTOOS FOR GIRLS
You have all the advantages of having sleeve tattoos; you can hide or show as and when you like; it defines you as a powerful and confident girl who never hesitates to live her heart's way and besides the sexy outfits, sleeve tattoos for girls are another awesome way to create a wow effect.
As for the designs, there are myriad of options available to pick. From dainty ideas such as flowers, quotes, angels, laces, and dreamcatchers to dramatic ones like graveyard, skulls, heaven or hell, you can ink anything upon your sleeve. Moreover, you can also choose if you want a full sleeve tattoo or a half sleeve tattoos for women. To let you get some inspiration, we have assorted 50 exotic sleeve tattoos for girls.
#1: SASSY CHIC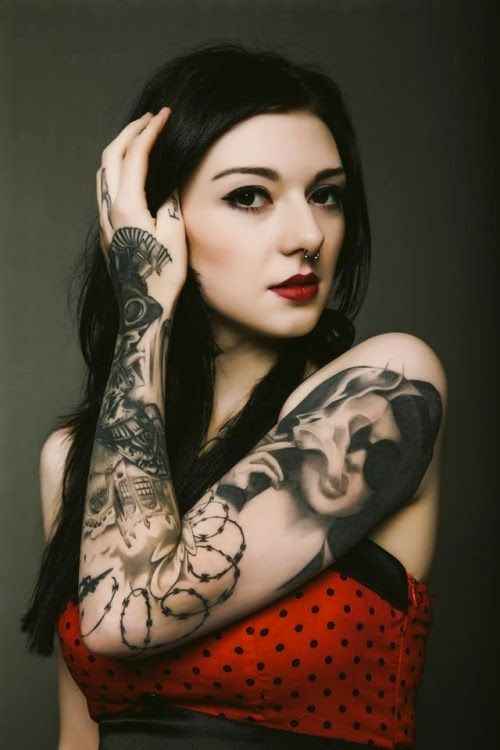 Fierce, matchless personality. She is the girl on a mission, and she can do bad all by herself. Don't you love the smoke details pouring out of her ears and nose? This full sleeve tattoo in black is mysterious and magnificent.
#2: MAGICAL MIX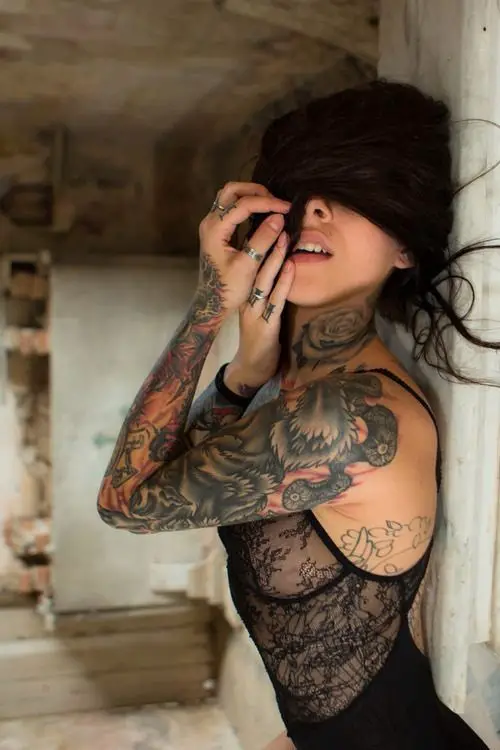 This abstract design is a mix of everything and more. You can have all that you want.
#3: ARM CANDY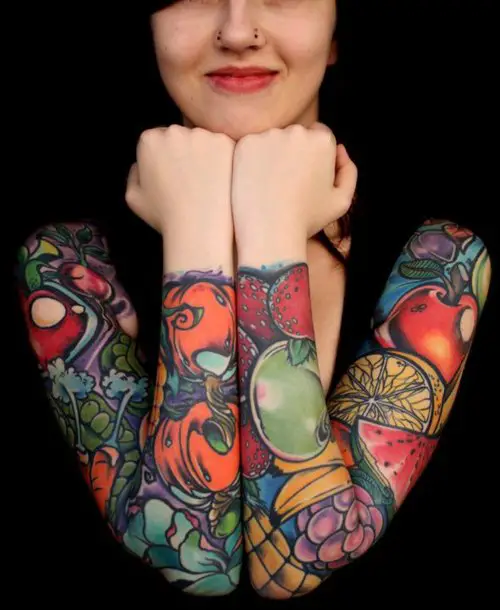 Nice touch for a vegetarian, vegan female. She is not afraid of taking a stand and declaring what she supports boldly. What is not to love about this colorful and adorable fruit basket tattoos on arm sleeve?
#4: OWL IN HOGWARTS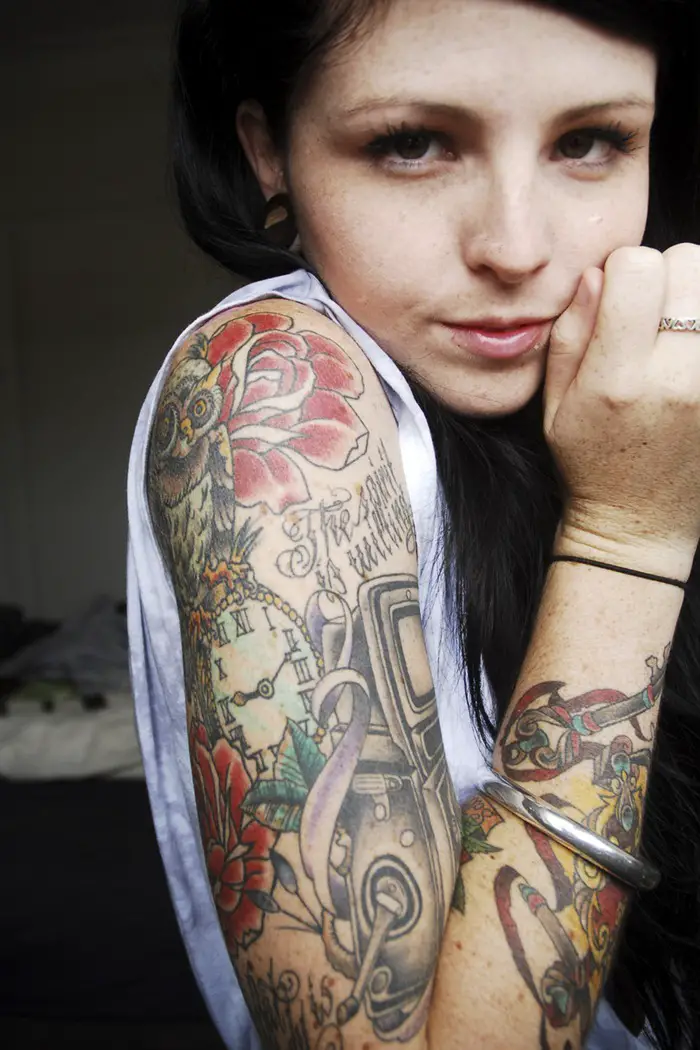 Is it just us, or does the owl perching on a stand, close to a ticking clock, reminding of Harry Potter or shall we say Hermione Granger and her wild magical adventures in Hogwarts?
#5: THE UNDERWORLD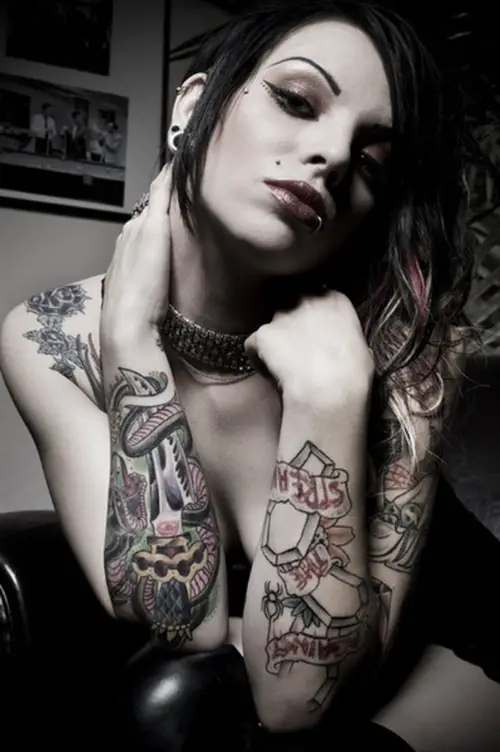 Gothic, surreal 3D rendition. We love that both sleeves reflect the dark reality; a knife with a snake and the graveyard or something. Unconventional and yet so striking.
#6: SUPERWOMAN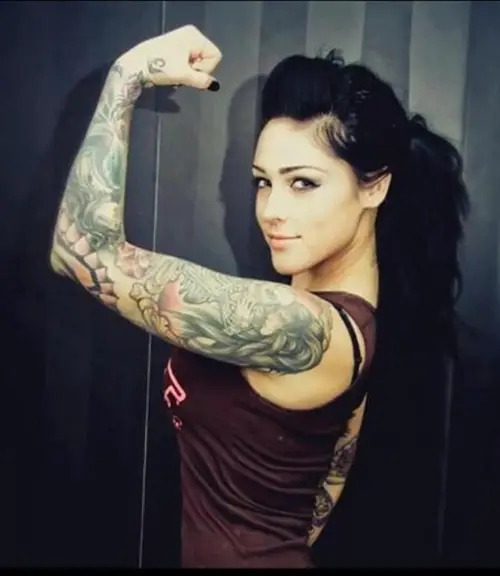 We love her pose. There is so much going on in this design, and yet the artist manages to bring everything together beautifully.
#7: ORCHID GARDEN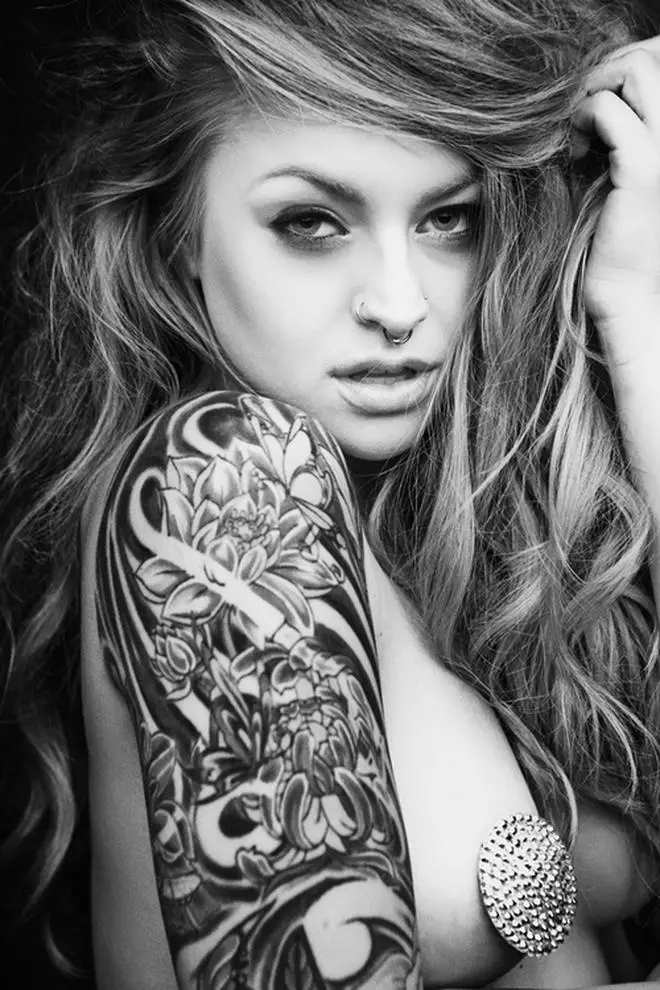 The tattoo artist is a genius. This is amazing. The orchids are so lifelike you could almost reach out and smell the fragrance. Plus, the vibrant black and white colors make it a statement piece of art.
#8: ARIEL SLEEVE TATTOOS FOR GIRLS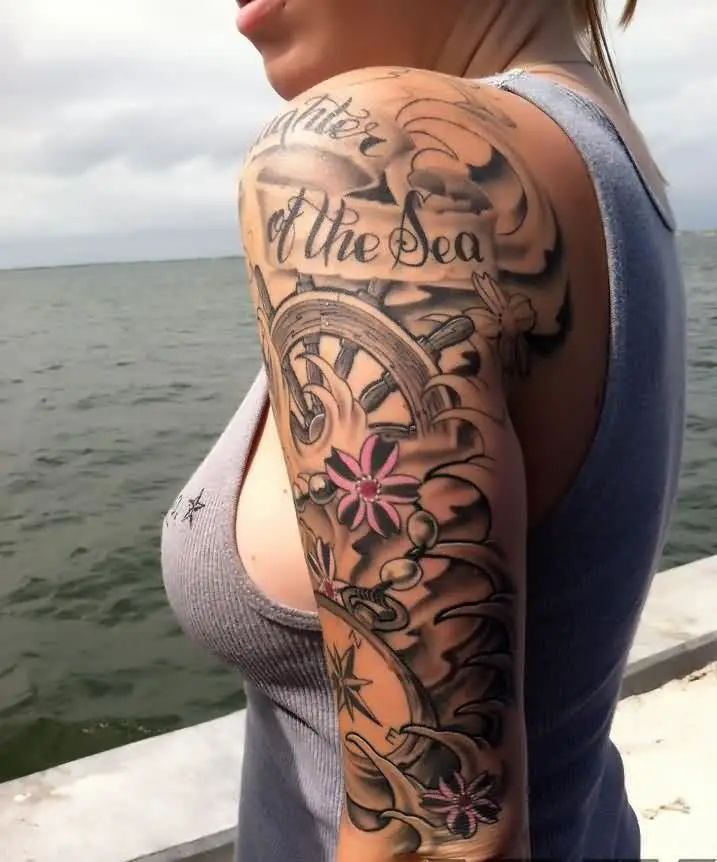 Daughter of the sea. With roaring waves, a compass and other water elements this arm tattoos say everything. It would be perfect for a free-spirited young lady who is not afraid of giving in to the lure of the sea.
#9: CIRCE SOLEI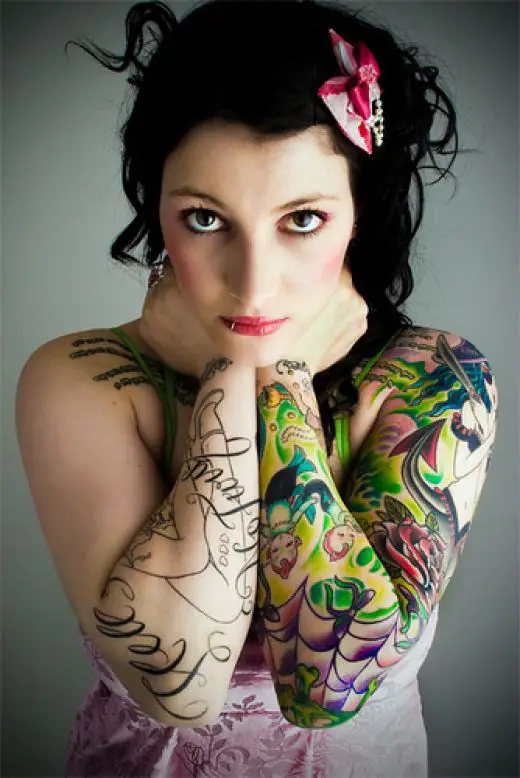 The Gypsies are here! It is like a carnival in here with all the colors and the little beings in the tattoo art. The writing fonts are so Avant-garde and classic.
#10: ROSEVILLE SLEEVE TATTOO IDEAS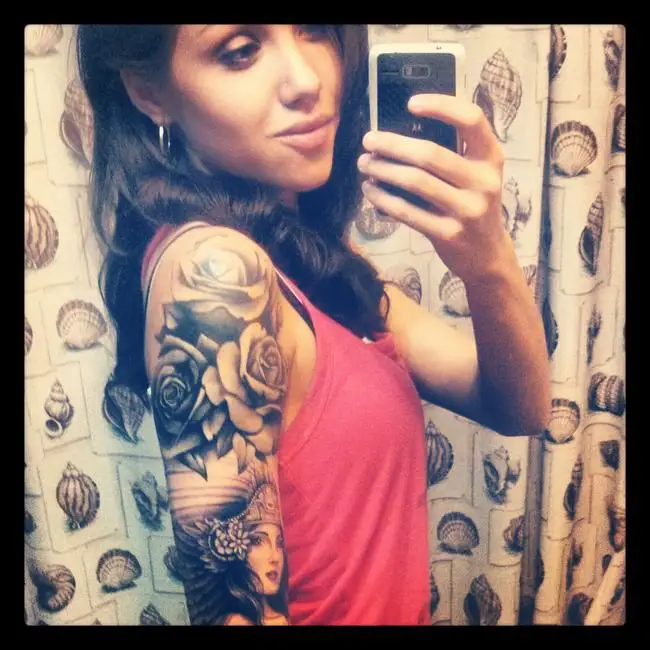 All hail the Queen! Bold, striking, feminine and powerful. For the girl who knows what she wants, and she is not afraid to reach for it. Long live the Queen!
#11: WINDY TRAILS SLEEVE TATTOOS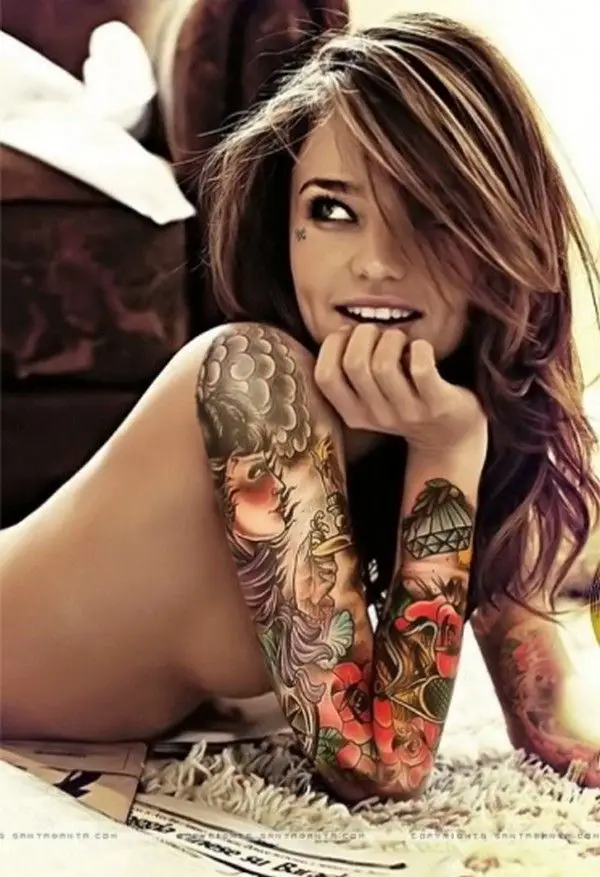 Stirs up nostalgia, the woman on the verge of discovering herself. With the breeze in her hair, the ship in her soul is setting sail and leaving the horizon. She is leaving her zone, for a journey she has never been on. She is scared but at the same time excited about the adventures to come.
#12: ANTIQUE FRAME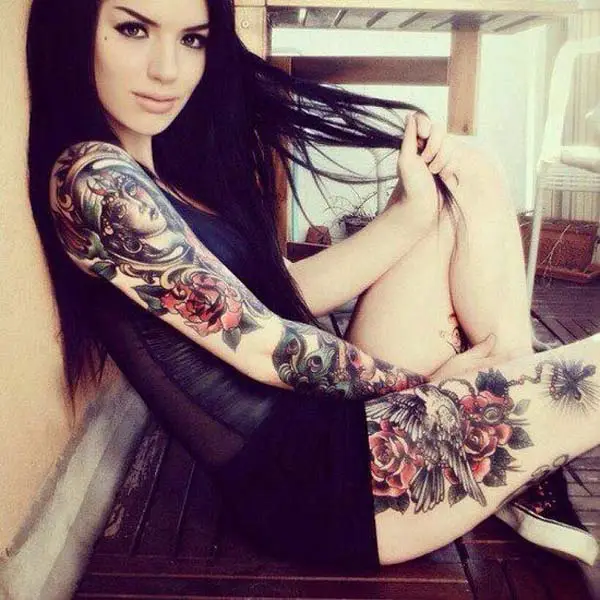 Matching – matching! Love a piece of vintage or antique art and want to take it everywhere? Get this matched tattooed on your skin.
#13: THE HIDDEN GARDEN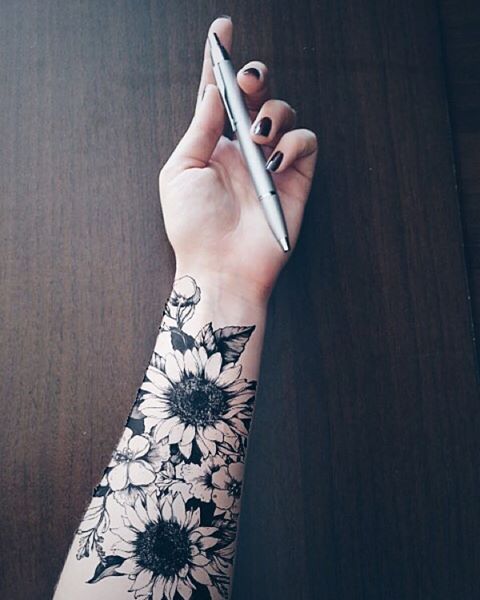 We love the unlikely location of this beautiful sketch of a garden. It is so surprising and delightful; turning up the sleeve to find a bouquet of white and black sunflowers waiting for you.
#14: SELF PORTRAIT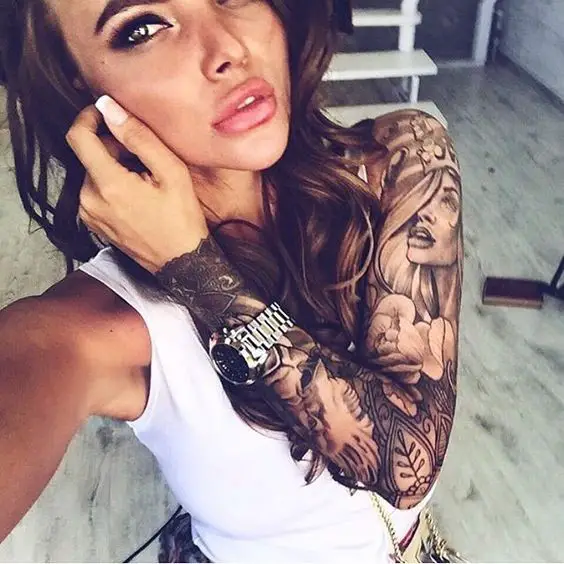 Having a tattoo of yourself on your arm is going to be a great conversation starter. It says 'I love myself and I am not afraid of telling the world'.
#15: FRESH BOUQUET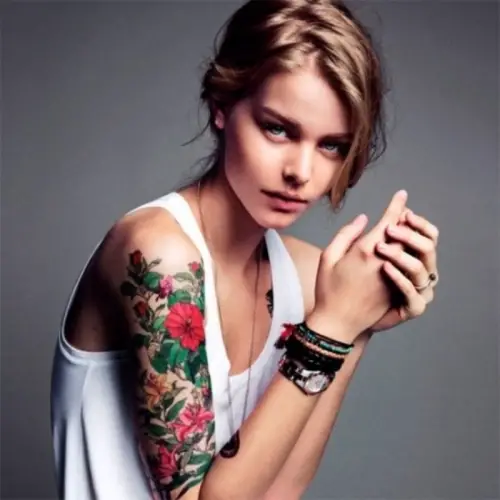 This has to be our favorite of all these tattoo designs ideas, it is so tastefully done and so real. The colors are vivid and realistic. The skin is indeed the best canvas for master artists.
#16: MISS MYSTIC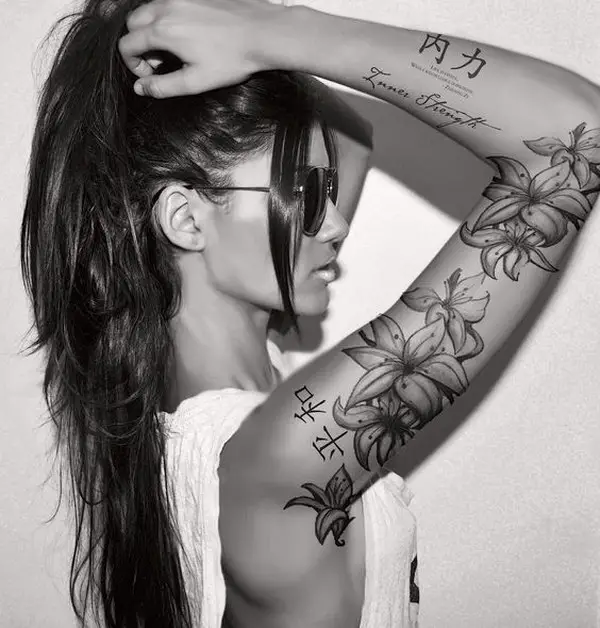 The diverse lettering, the quote 'inner strength'…we love it. Perfect for an independent woman unafraid of her journey, willing to defy challenges and scale walls that have hindered others.
#17: SPIRITUAL AWAKENING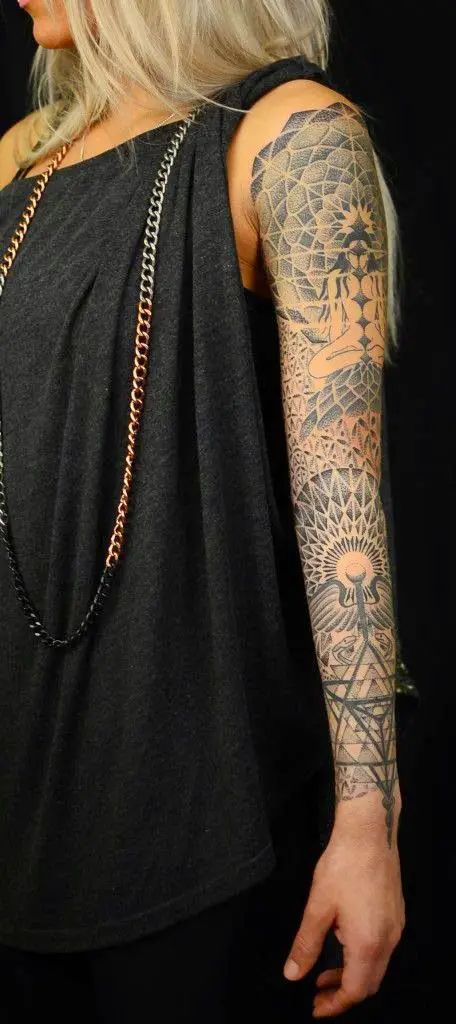 Deep and highly spiritual, this tattoo explains how the cosmic energies work in enlightening us and shows the path of nirvana. The details are so well laid and intricate, it speaks of the tattoo artist's devotion to his art.
#18: SLEEVE TATTOO WITH OCTOPUS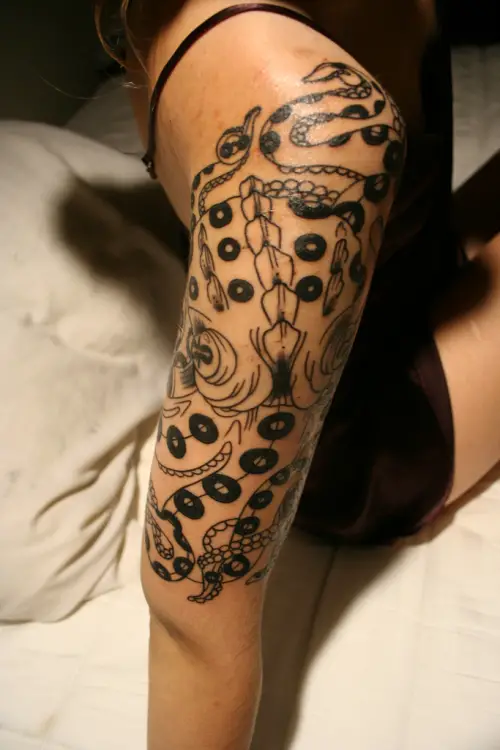 Though it is a little messed up, it manages to attract us. The octopus with its arms spread all over the sleeve give it a unique look.
#19: NECTARINE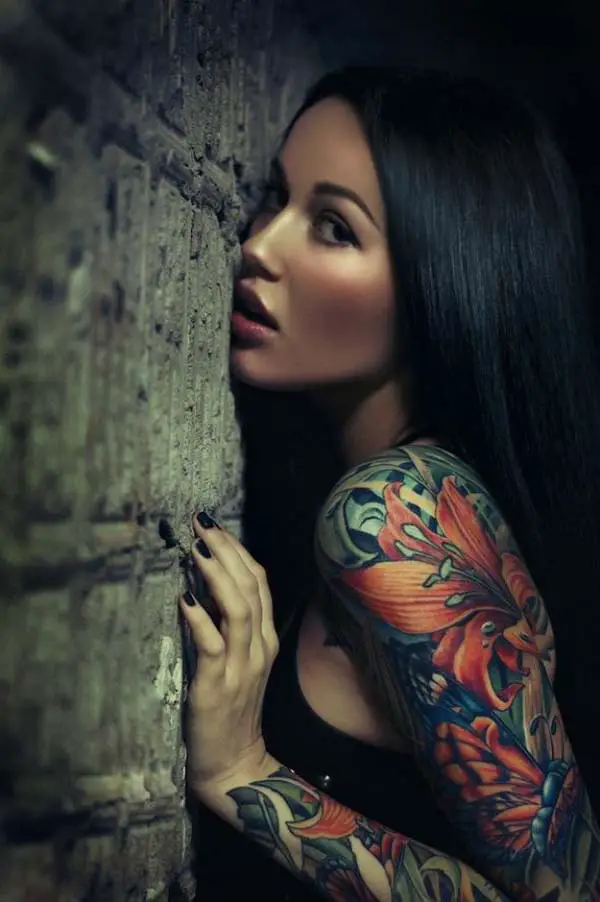 Yes, it is another orchid, but this is not the regular. The colors are drawn-out, and this design looks like it is painted on a frame ready to be hung on your wall. We love that the orchid and the butterfly complement each other. The butterfly will only drink nectar from the best; it is an orchid or nothing.
#20: THE PIRATES ON SLEEVE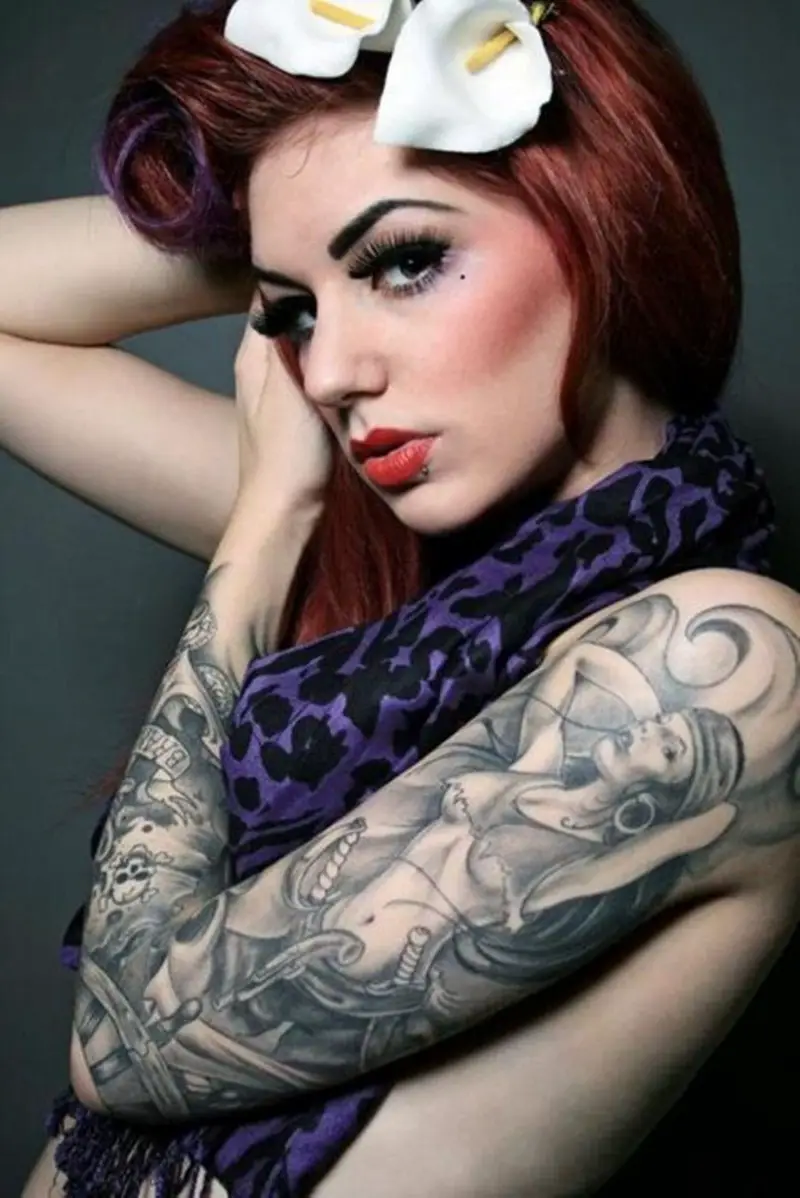 The tattoo artist captured her fluid motion effortlessly. We are not sure if she is fighting or just swaying to the wind blowing up a storm around her? But we do know that we love her. The swell and the curve of her body are just lush.
#21: WHILE WE BLOOM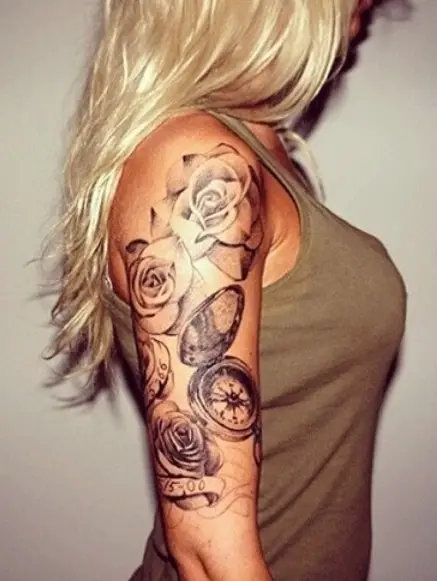 This is so beautiful, and it passes a great message. It isn't just a collection of roses and a handheld clock; it is so much more. You literally, get to watch the roses bloom and then reach full maturity while the clock ticks away slowly. Is this poetry or what?
#22: MANDALA FULL-SLEEVE TATTOOS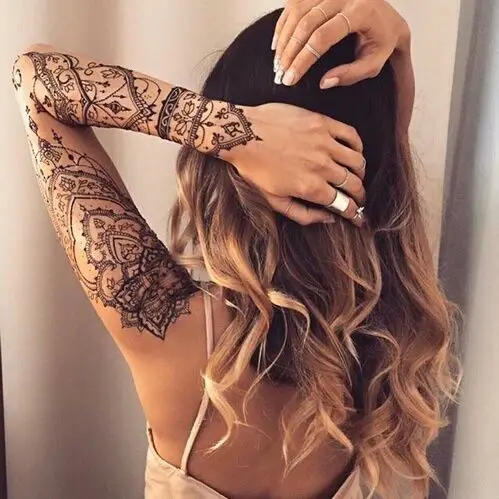 Otherworldly, exotic, jewelry inspired body art. Just like the Asian use to decorate their hands and feet. Always a great conversation starter and it is an excellent way to pay homage to your heritage if you are Asian or related.
#23: BLOOM SLEEVE TATTOOS FOR GIRLS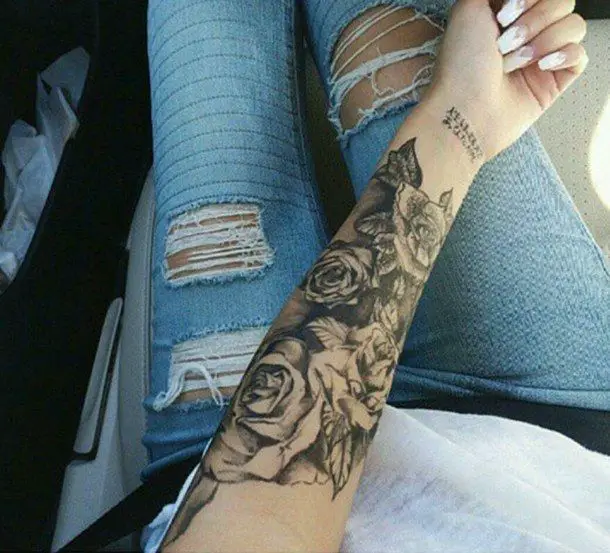 The wild roses are blooming and it is summer. This is fresh, summery, fun and ultra-feminine. Use a rose scented body spray or perfume, and you can be a mobile garden all day if you want.its also consider as on the best cool tattoos for girls.
#24: LOVE BIRDS SLEEVE TATTOOS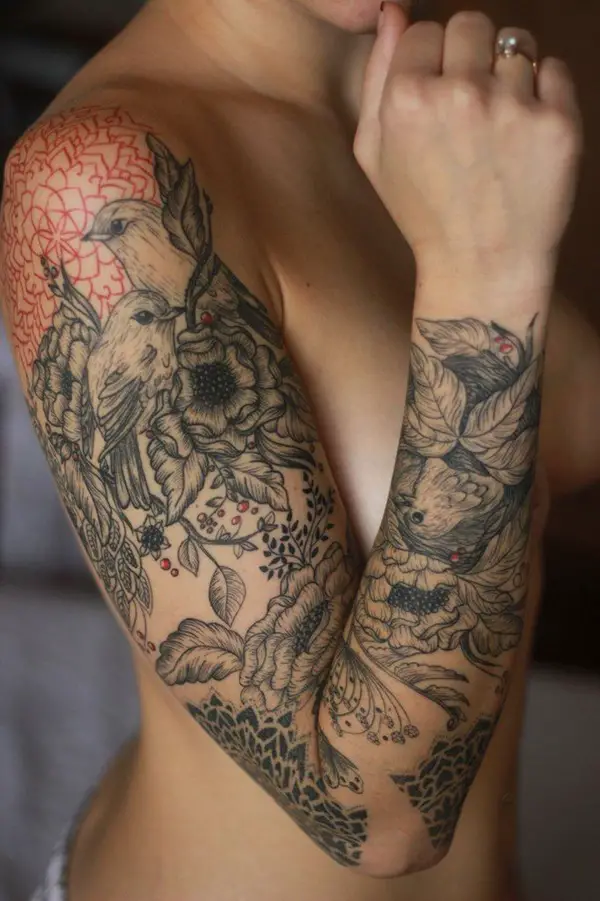 A new favorite. Who doesn't love the lovebirds? The little fruit details on the vine and the unexpected red optical illusion in the top corner are a beautiful touch to seal the deal.
#25: HENNA STYLE TATTOO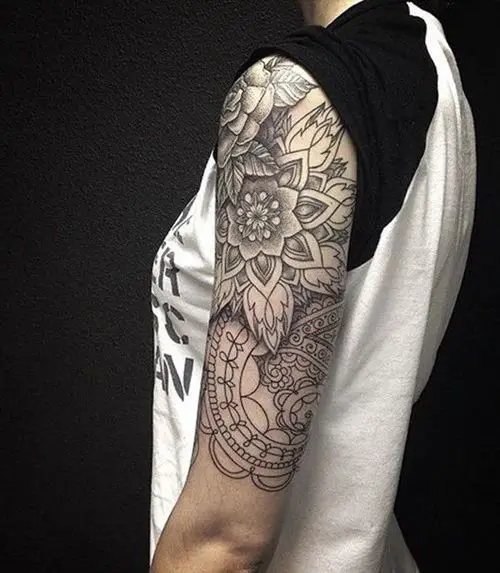 Reminiscent of Asian temporary body art called Mehndi or Henna, this henna style sleeve tattoo is so exotic and intricate. The flower is in many parts and it merges seamlessly with the scrolls. We love every curve, twist and turn.
#26: THE GOTHIC GIRL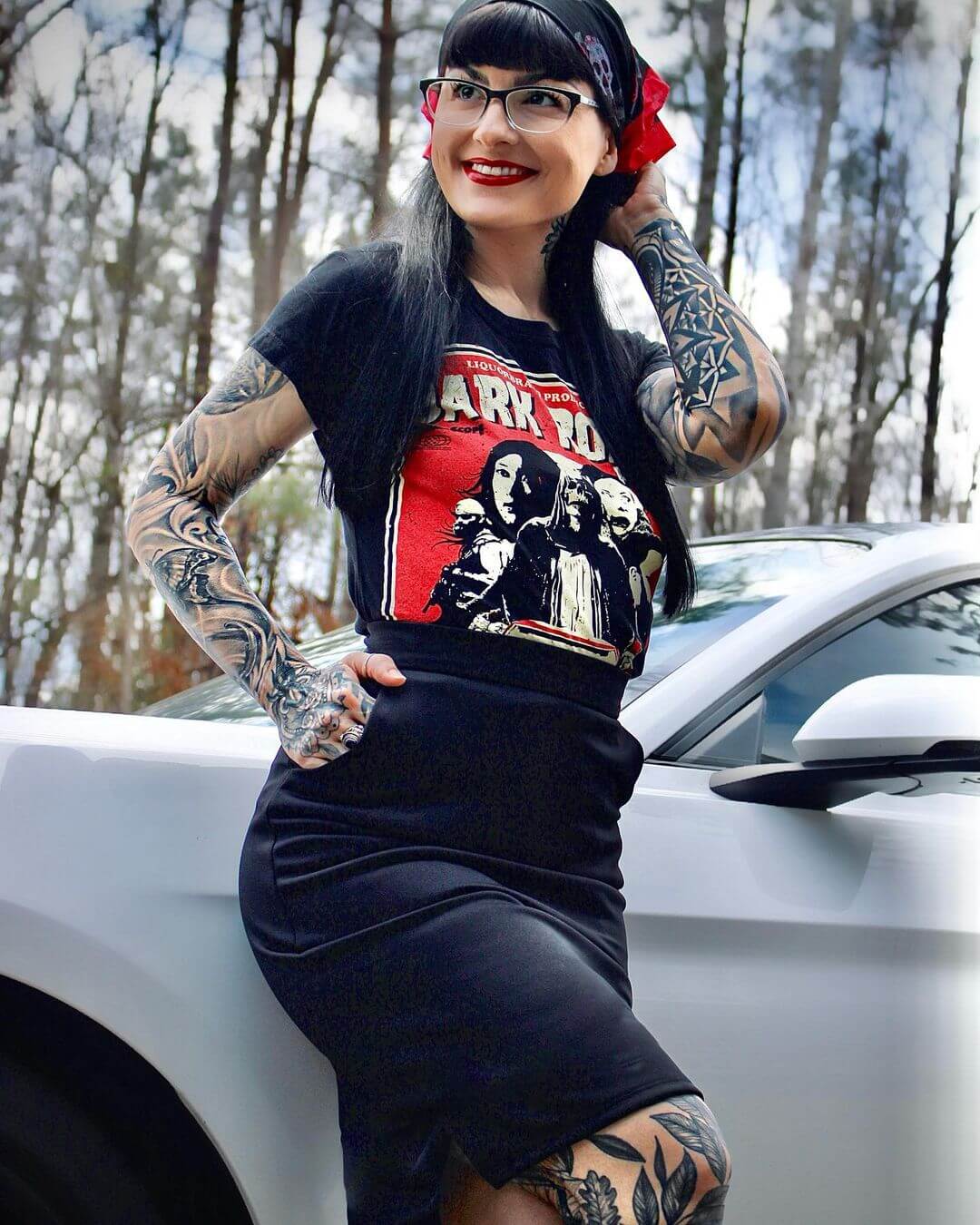 She is bold, she is fiery and she loves the dark roots. With snakes, dragons, and celestial signs upon your sleeves, you can show off your mystery styling with these gothic sleeve tattoos.
#27: BLOSSOMS AND SKULL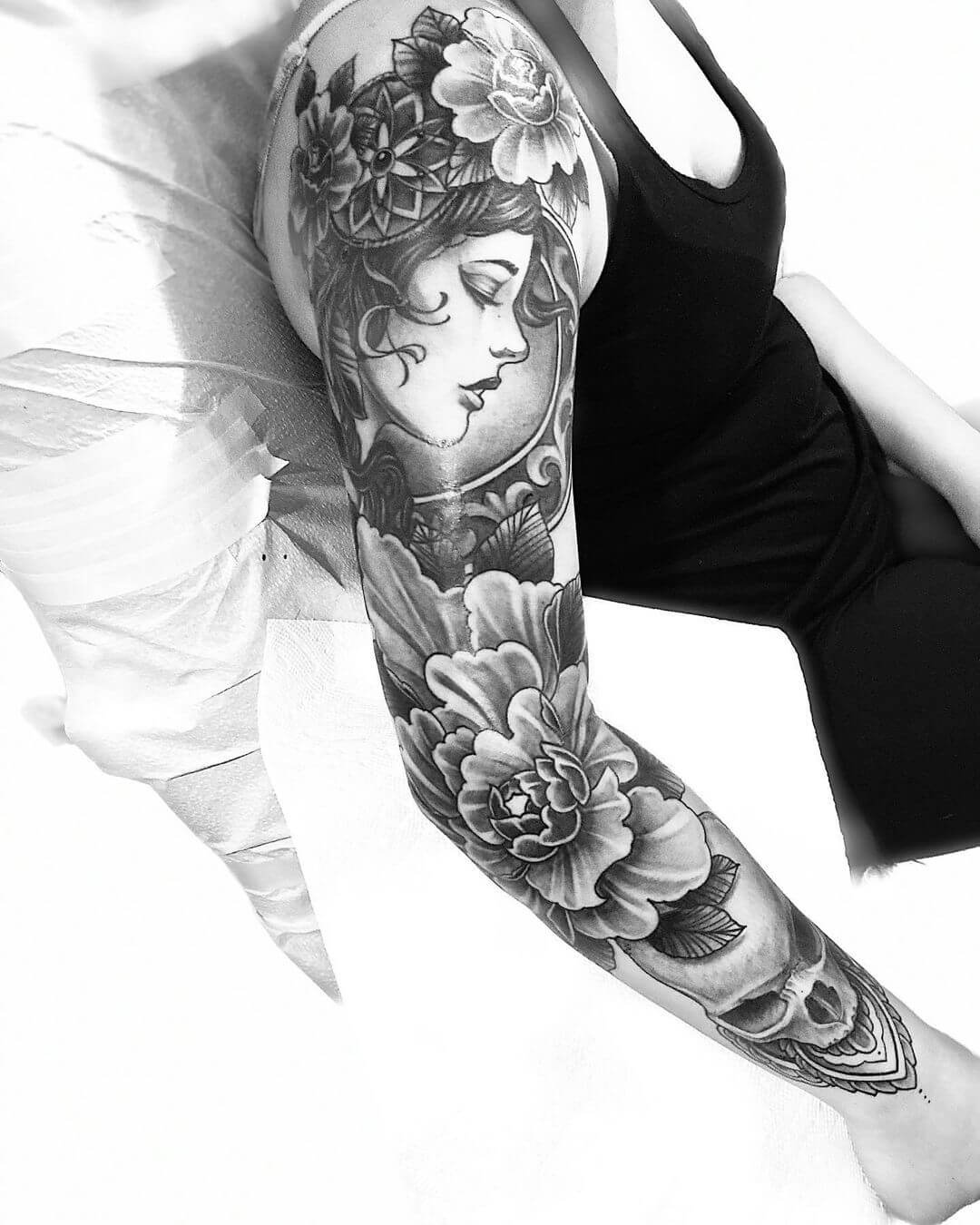 Are you impressed by the gothic art? Why not try an intrinsic and amazing tattoo like this floral tattoo with a skull at the wrist. We love the fluid detailing of this full sleeve tattoo.
#28: CHAINED FLOWERS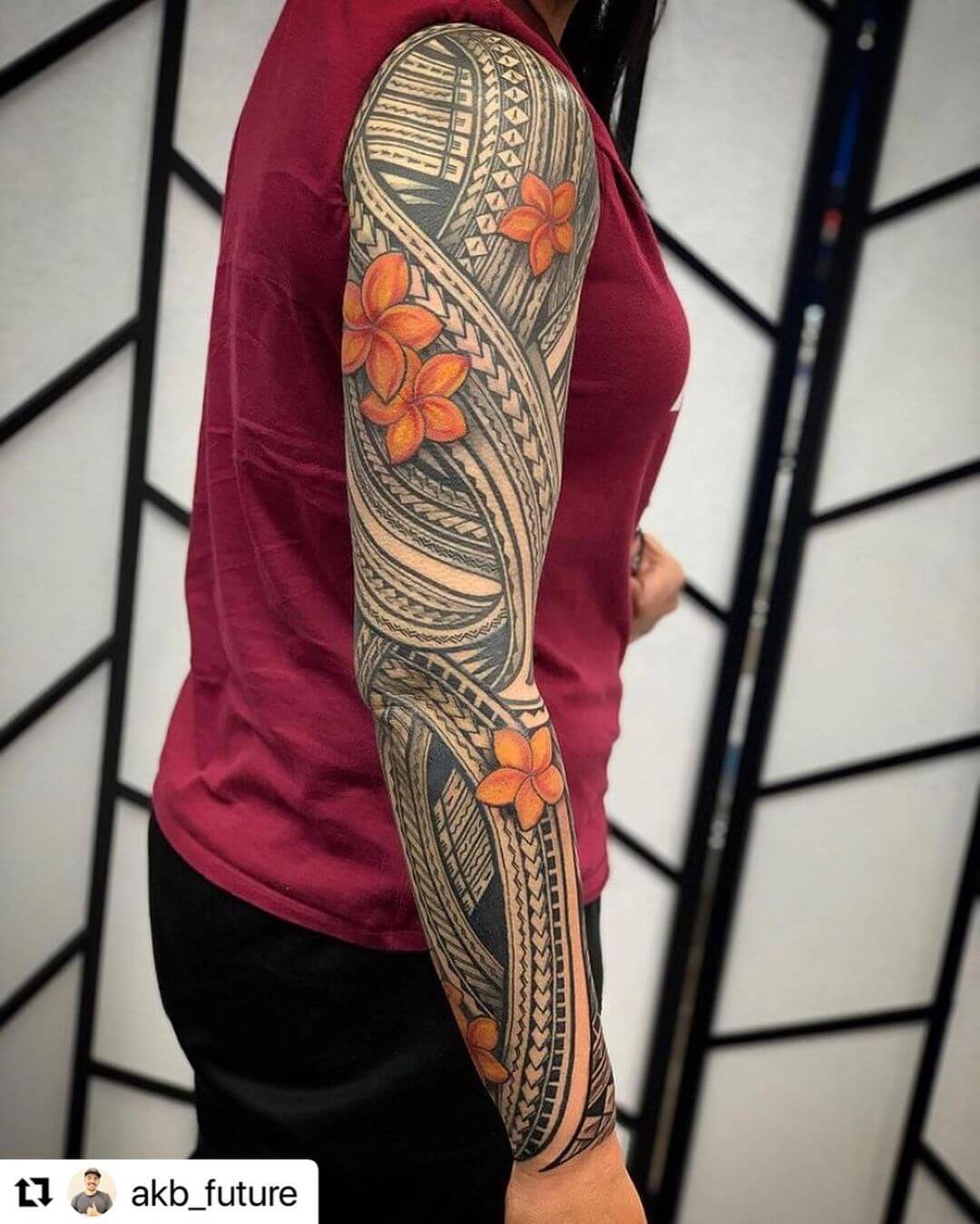 An abstract is a word for this finely inked tattoo that features the repetitive geometric patterns with those classy orange flowers strategically placed for an embossed effect. This full sleeve tattoo is a forever fashion.
#29: GIRL IN MEADOWS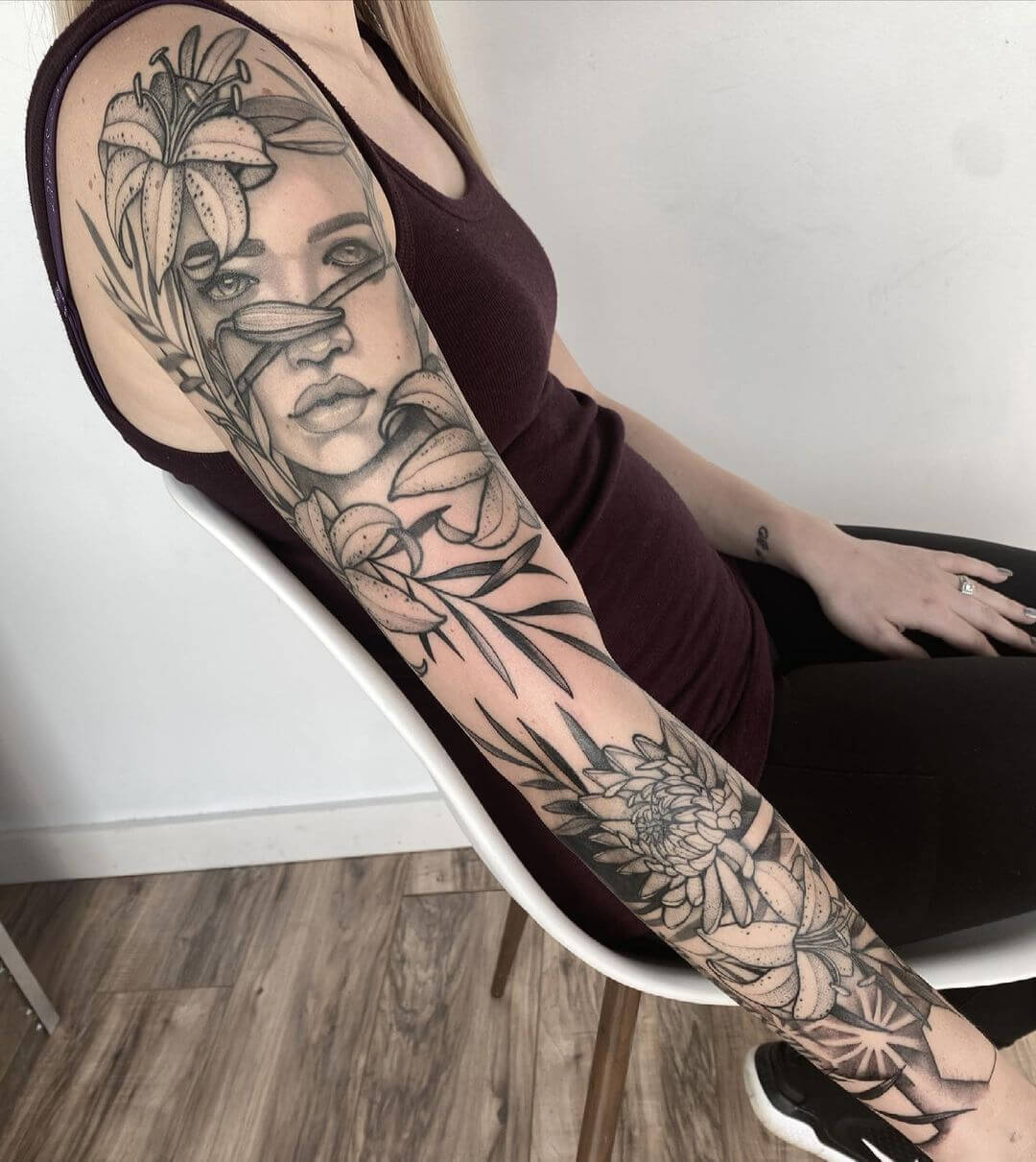 If you love the spring and want to endure it forever, then wear it on your hand with a floral full-sleeve tattoo like this girl in the picture is rocking it.
#30: UNWORLDLY IMPRESSION INKED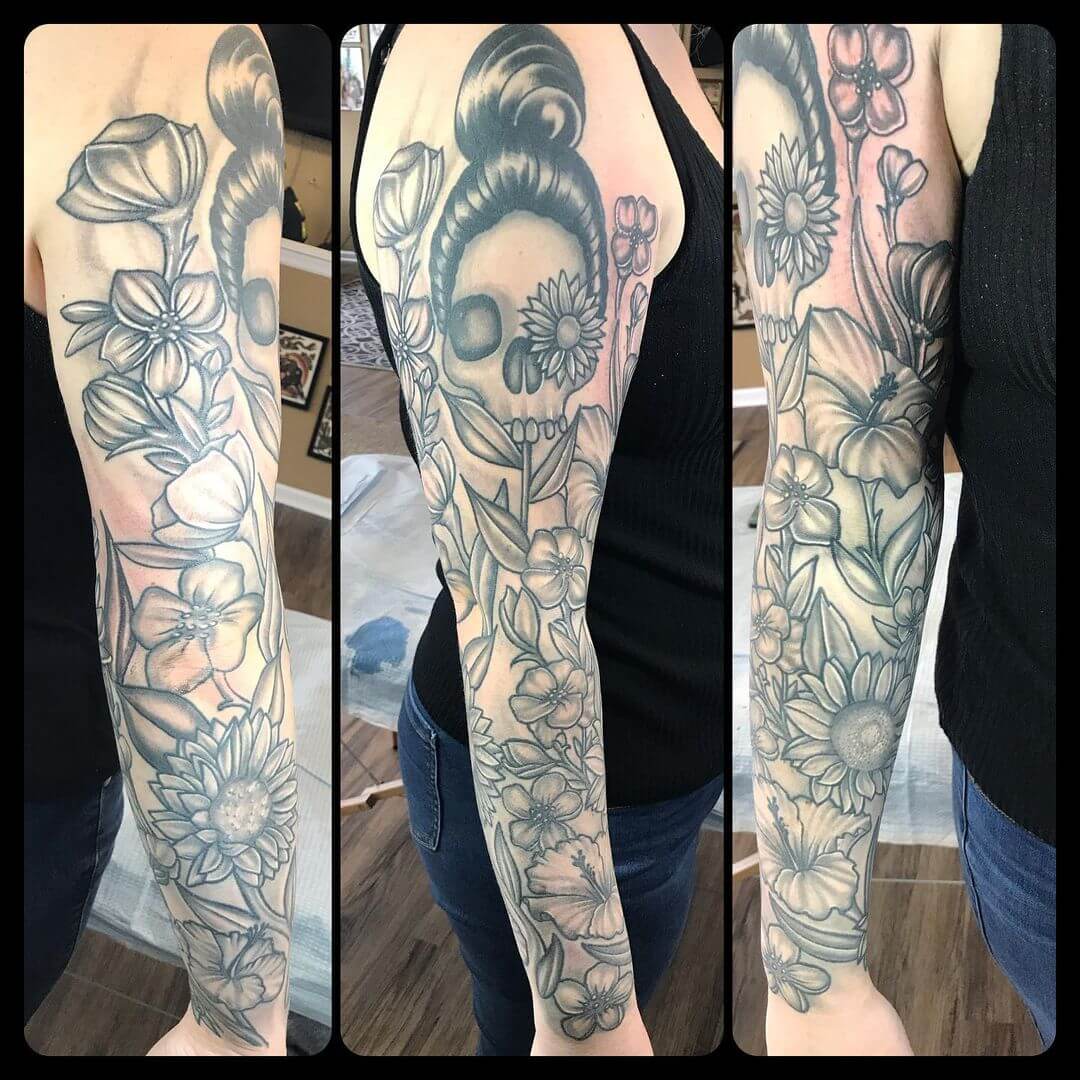 Rich and mysterious, gothic imagery takes us to an all different time and dimension that is completely void shallow or insubstantial. Are you ready to rock the macabre grace like this girl?
#31: DREAMCATCHER SLEEVE TATTOO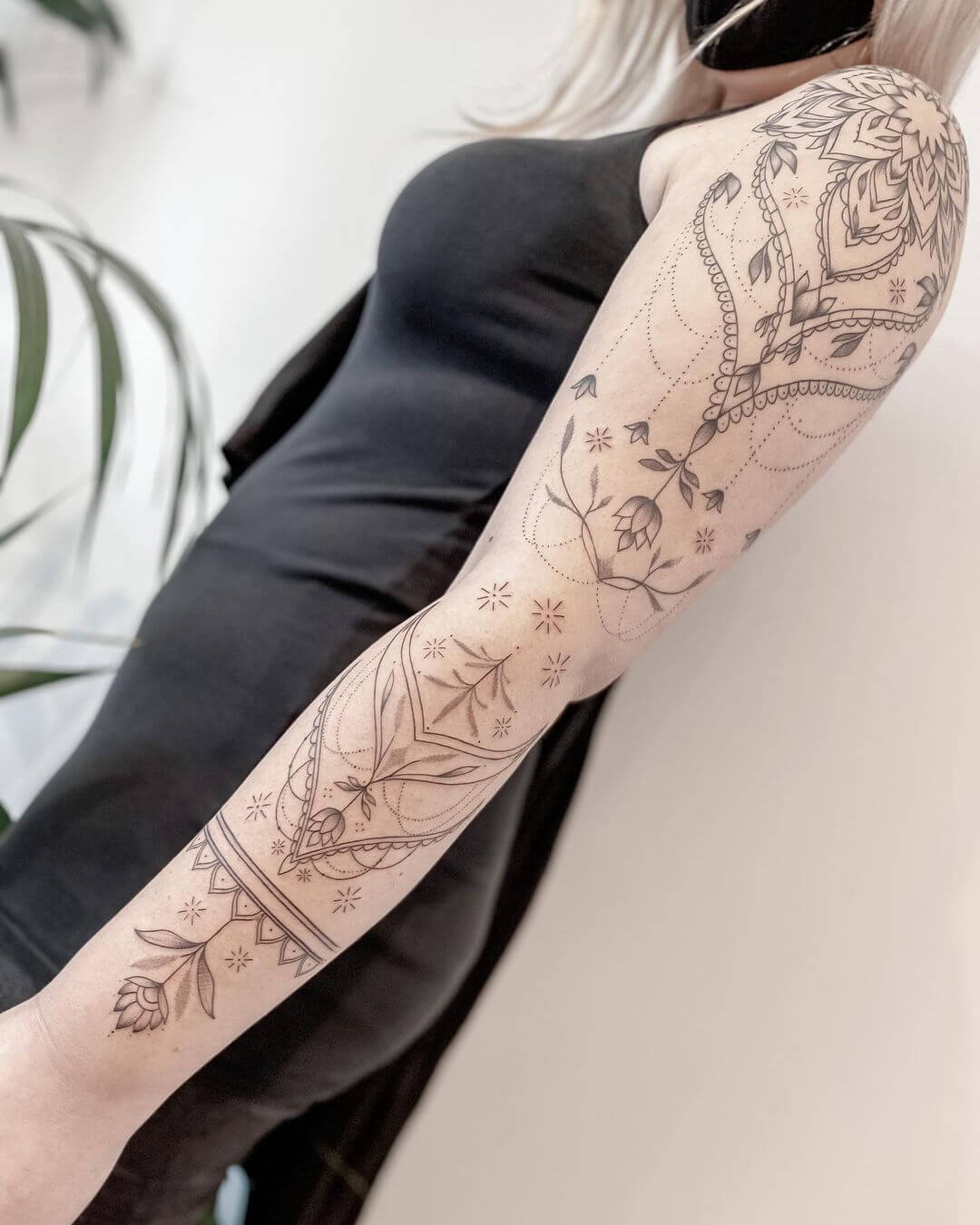 This thin-lined dreamcatcher tattoo holds meaning on its own in native American culture and is perfect to play the magic for the tattoo lover with its superfine detailing.
#32: GRAY GORGEOUS FLOWERS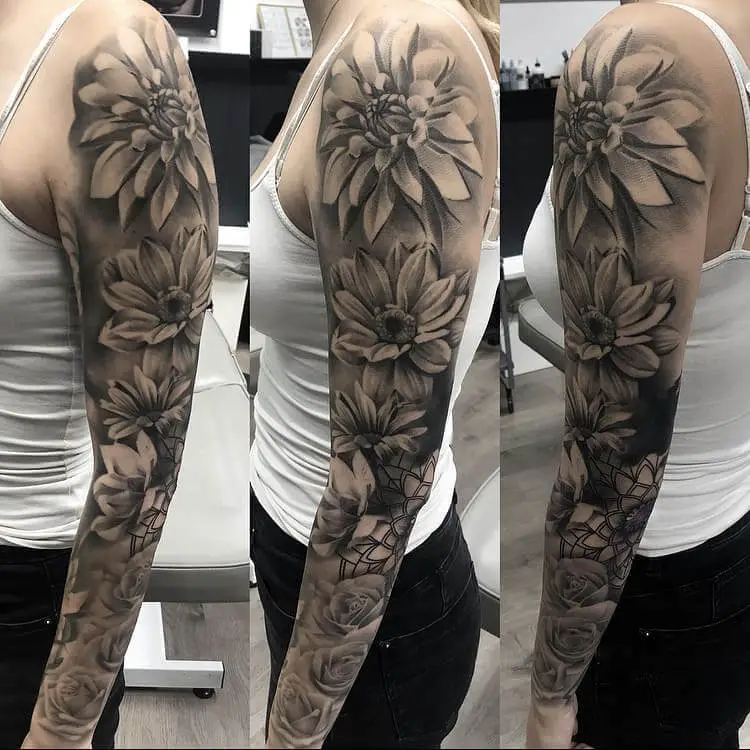 Flowers in gray can be glamorous! This sleeve tattoo with different flowers is extremely vivid and bespoke. You may include the flowers and leaves for your choice in a similar theme.
#33: FOREST ESSENTIAL TATTOO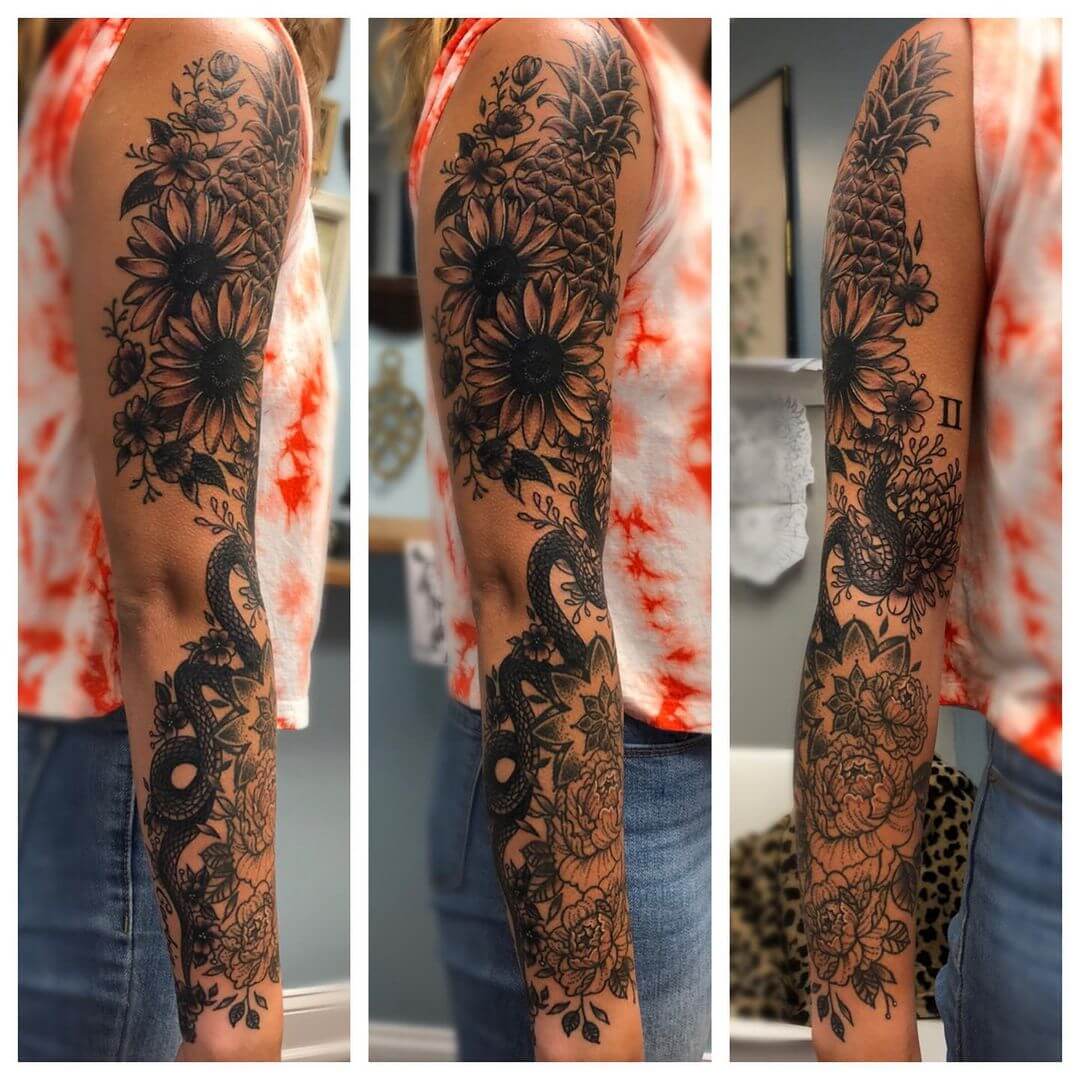 We are taken aback by the intricate and extensive detailing that goes in this unique full-sleeve tattoo. Look out the snake that is creeping in the flowers and how the pineapple is heading up on the shoulder!
#34: BLACK CHARMER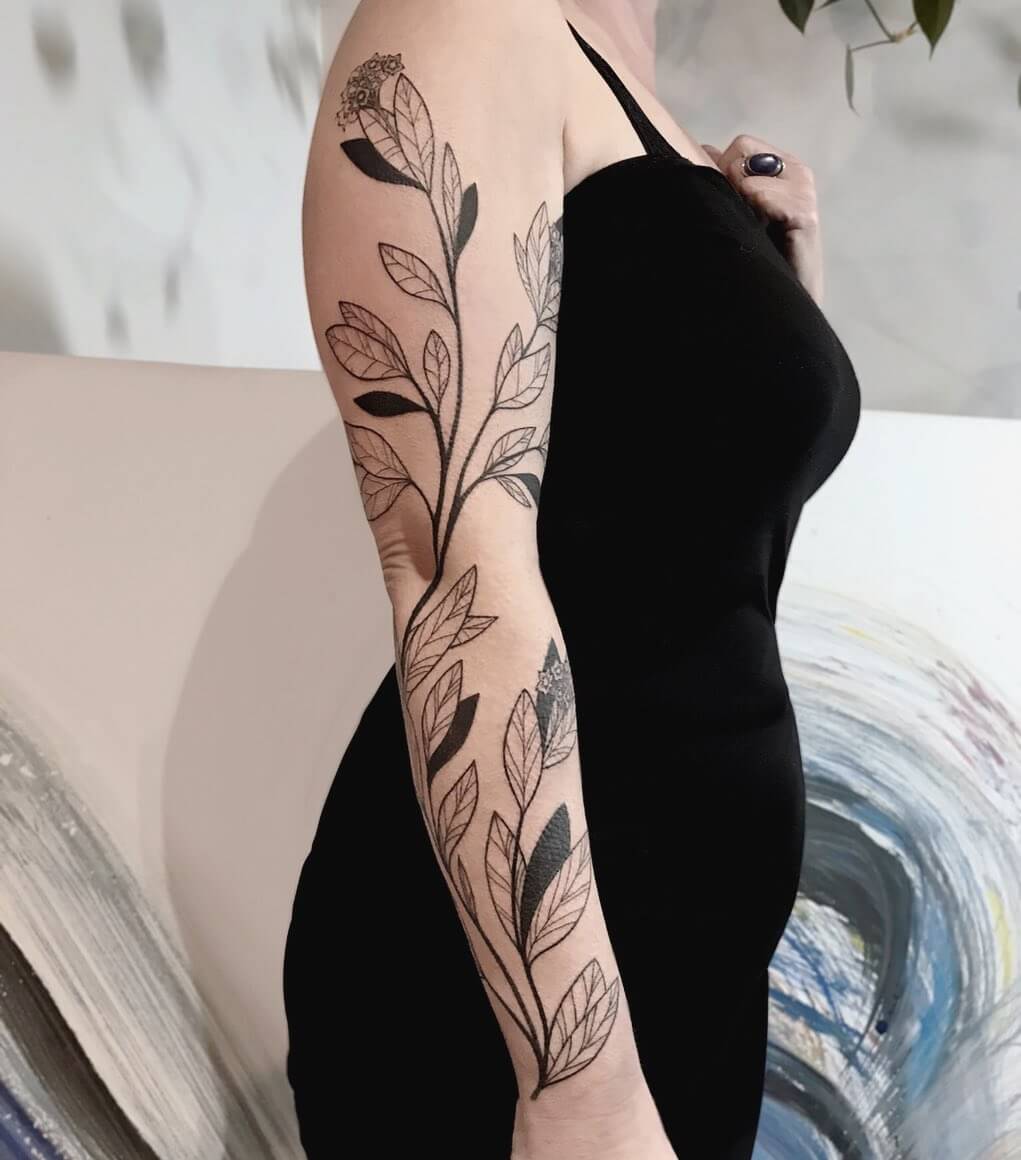 When you think leaves are the fillers, check this neatly inked tattoo in black. What a dramatic representation of leaves to create some whisper?
#35: TIDE ON THE SLEEVE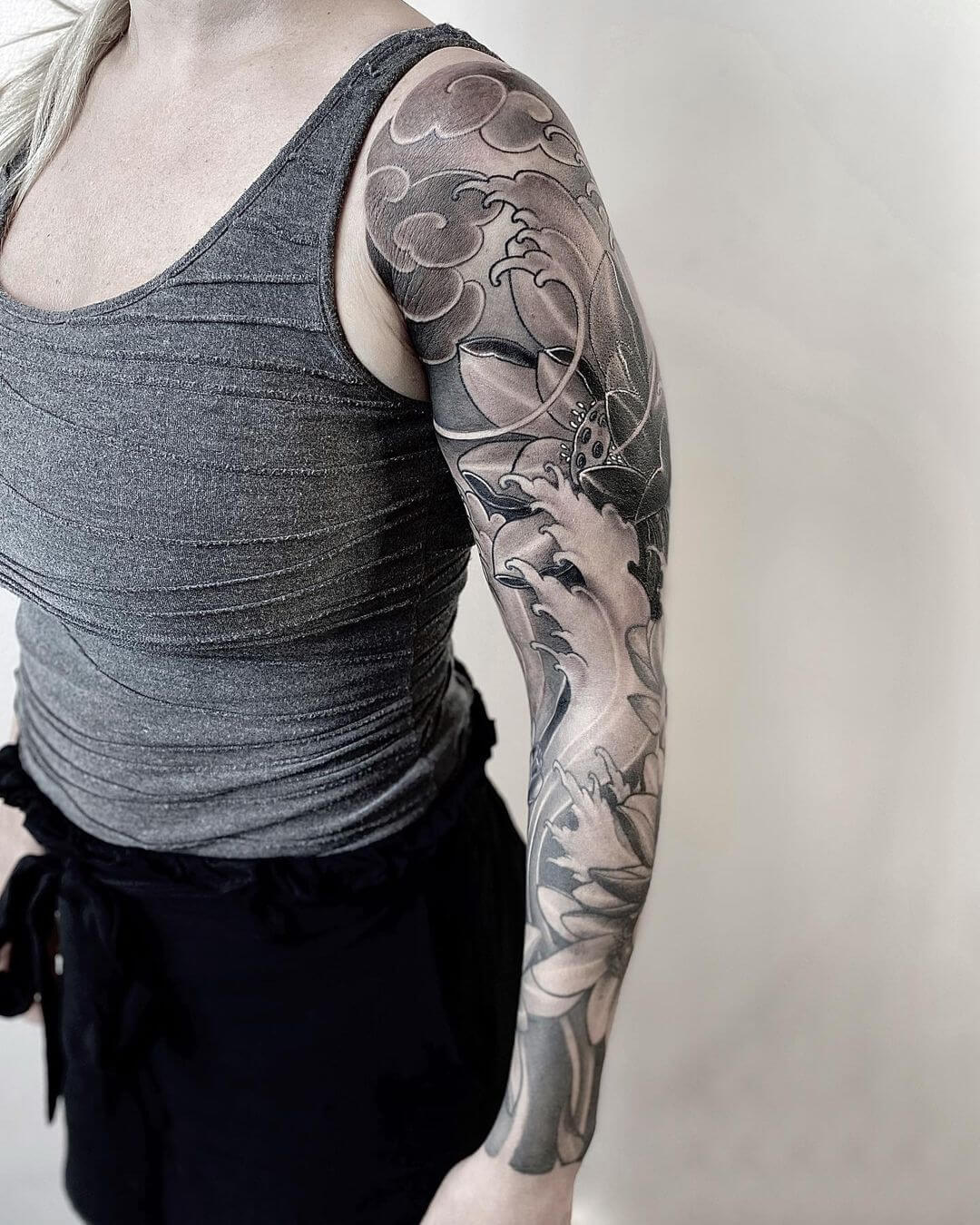 Clouds, high tidal waves with those bold flowers all in the shades of gray make this full sleeve tattoo an extraordinary choice for a gorgeous lady. Don't hesitate to try this!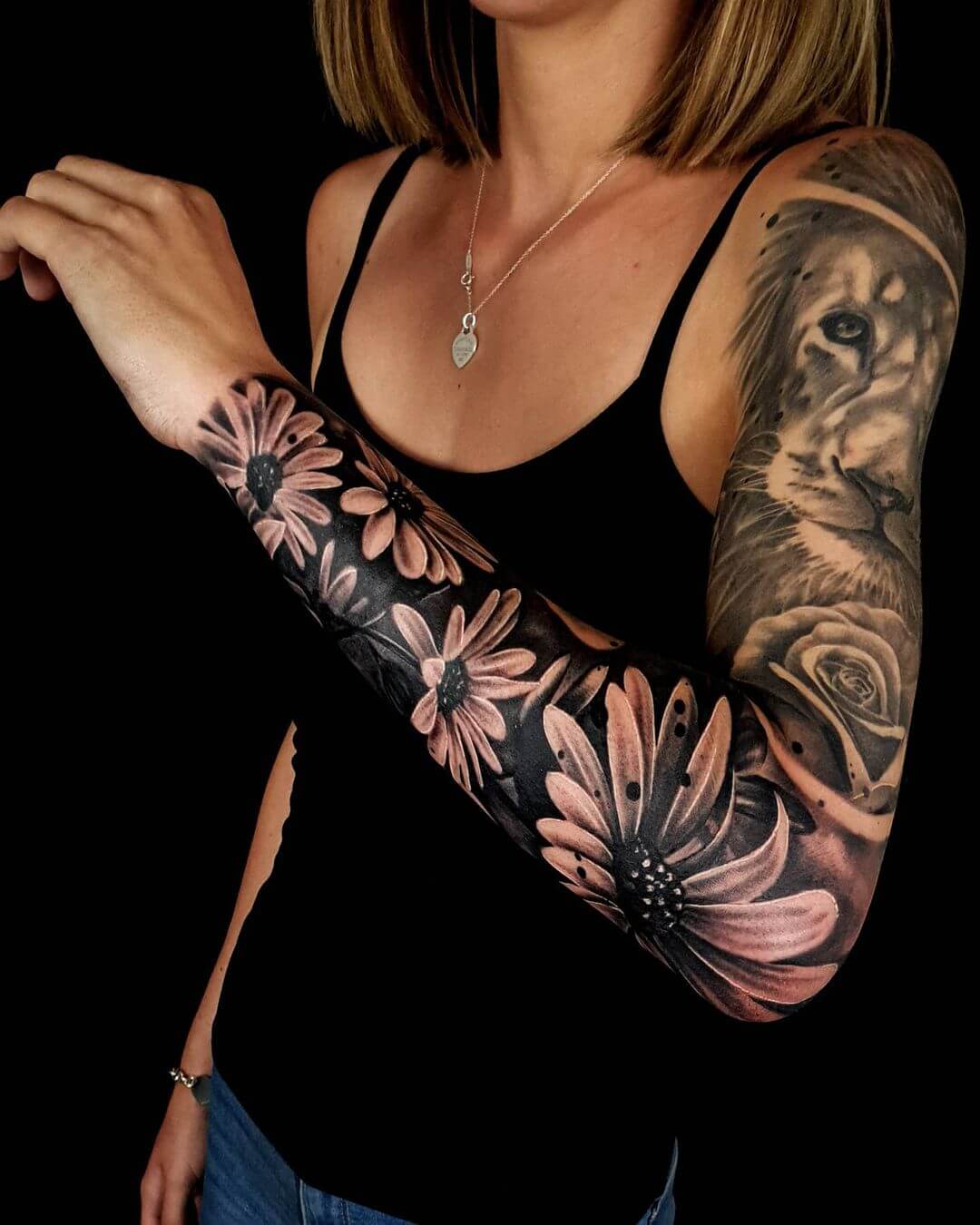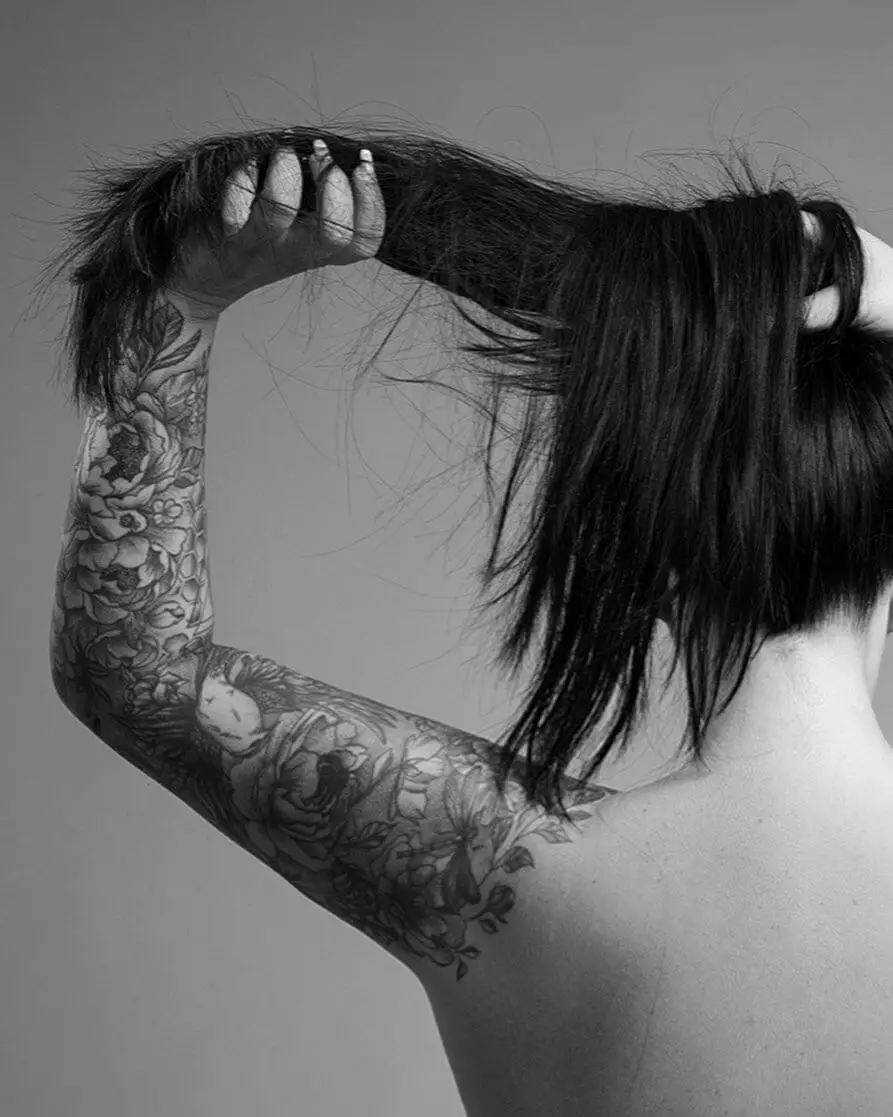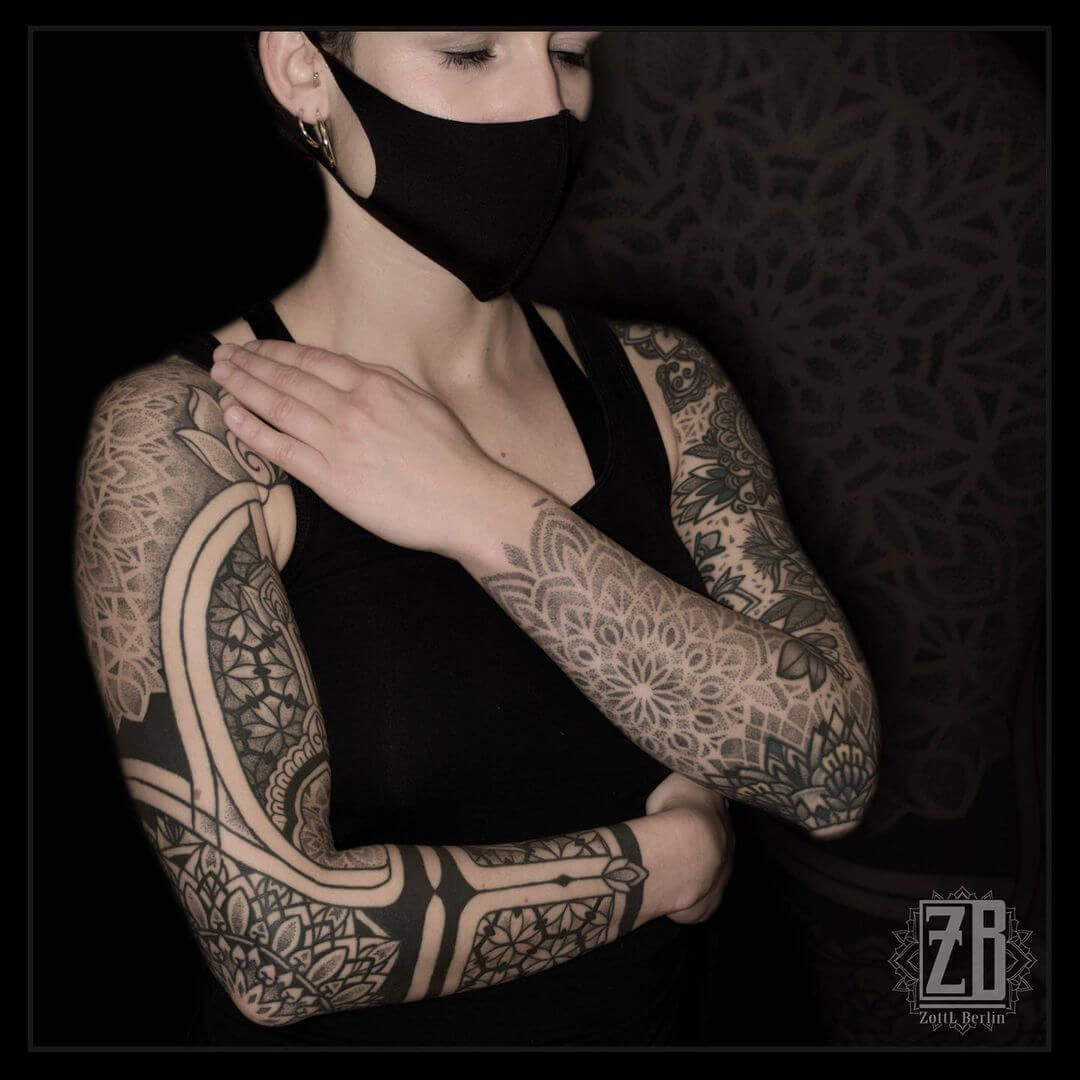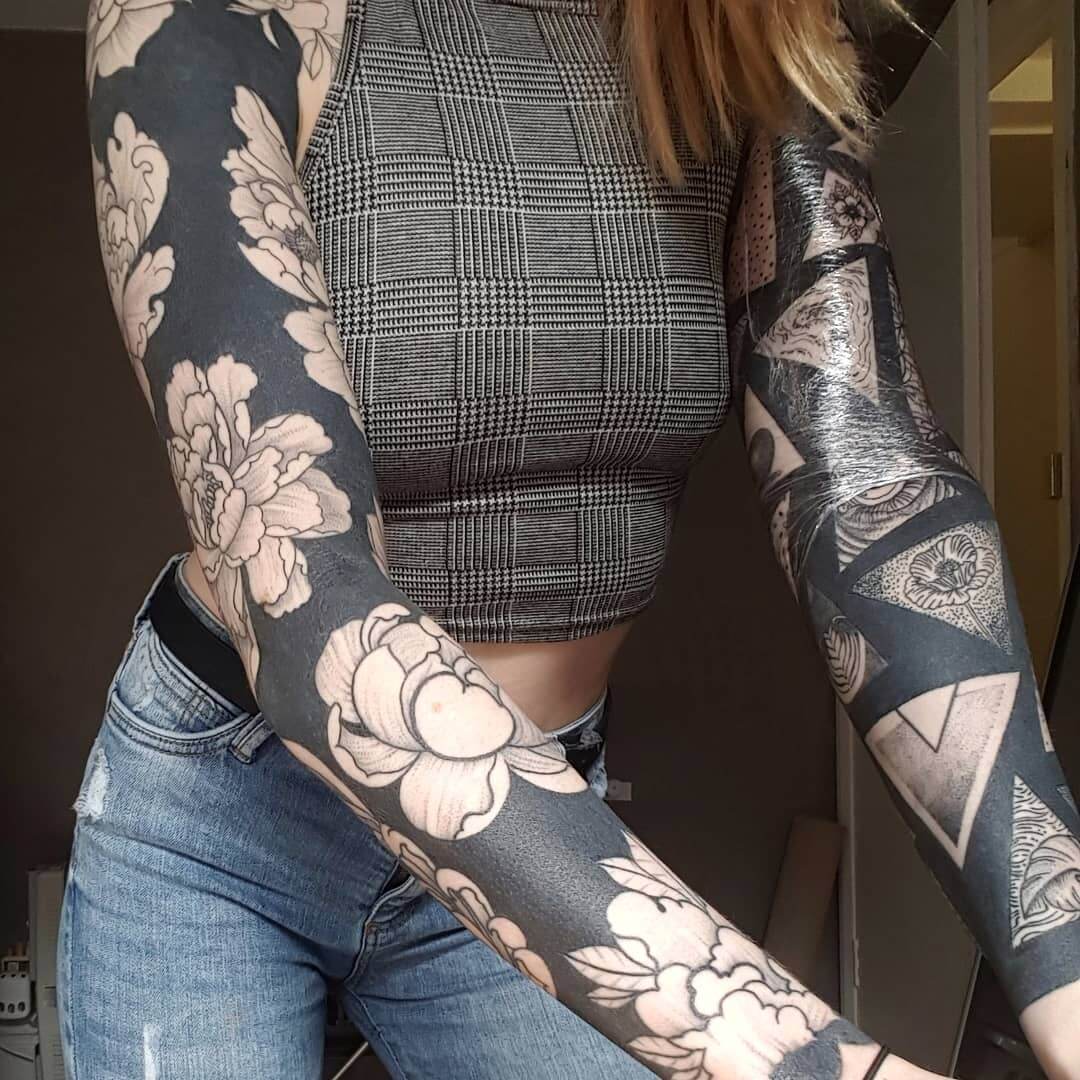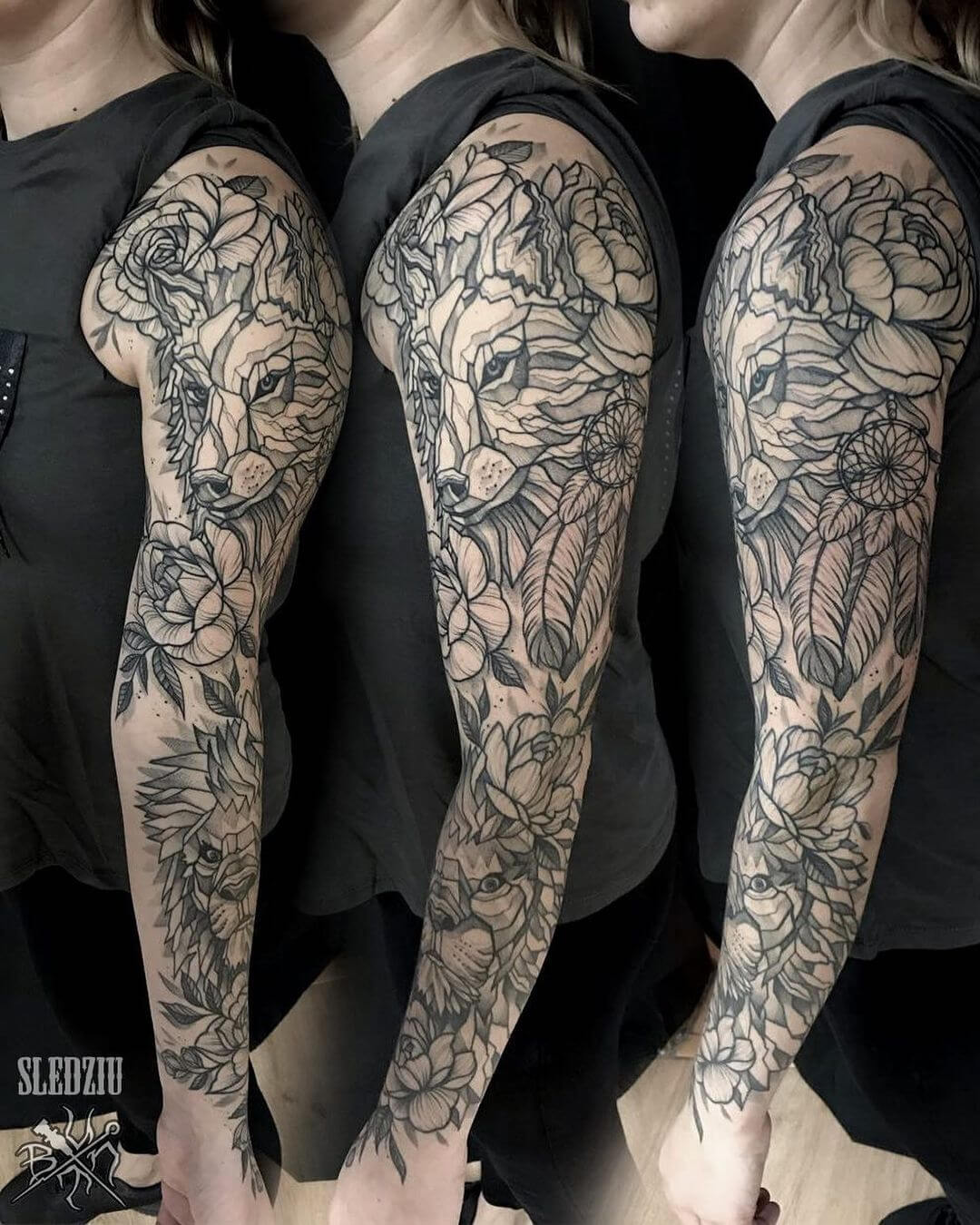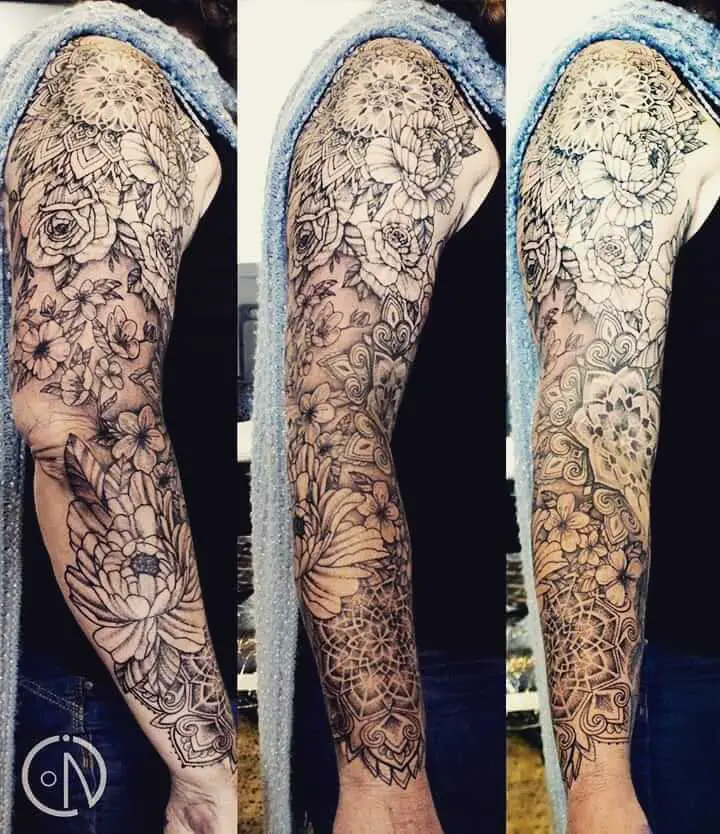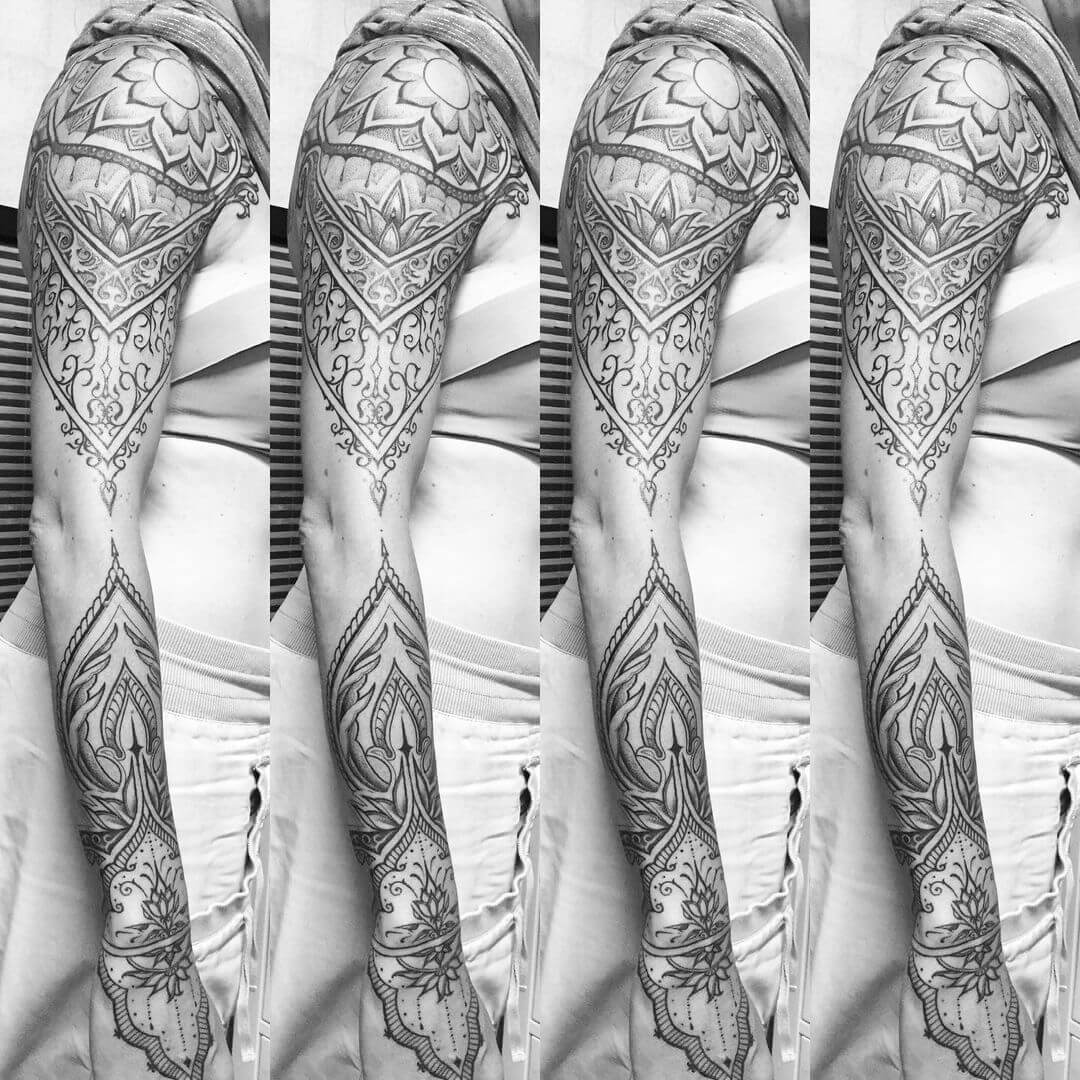 They are s appealing and fabulously done that no wonder you will be bold over more than one of these designs. So pick your design choice and work with your artist for another masterpiece. Don't forget to share the new ink with us.