In this blog, we are going to walk you through the vast array of magnolia tattoo designs we've gathered for you today.
We can all agree that flowers are some of the most beautiful and exquisite-looking things that ever existed here on earth. We appreciate their scent and beauty as well as what they symbolize. In this case, we're referring to magnolia flowers specifically.
With their fossils dating back about 100 million years, magnolia flowers are actually believed to be the earliest known flowering plants. These flowers are one of the most charming flowers in the whole wide world and there are several meanings and symbolism tied to this gorgeous flower. Most people wish to make their tattoos meaningful and if you are one of those people, this flower holds many wonderful meanings you'll be able to relate to.
Magnolia Tattoo Ideas and Designs
The magnolia flower has multiple profound meanings and symbolisms attached to it. While this may sound a bit controversial, this flower is actually perfect for women as it mainly represents femininity and nobility. Here, you'll find some of the most popular and head-turning magnolia tattoo designs so without any further delay, let's begin!
Lady Magnolia Tattoo
The meaning of magnolia tattoos is closely associated with the symbols of endurance, nobility and love of nature. The magnolia tattoo represents the beauty encompassing gentleness and femininity.
1. Endurance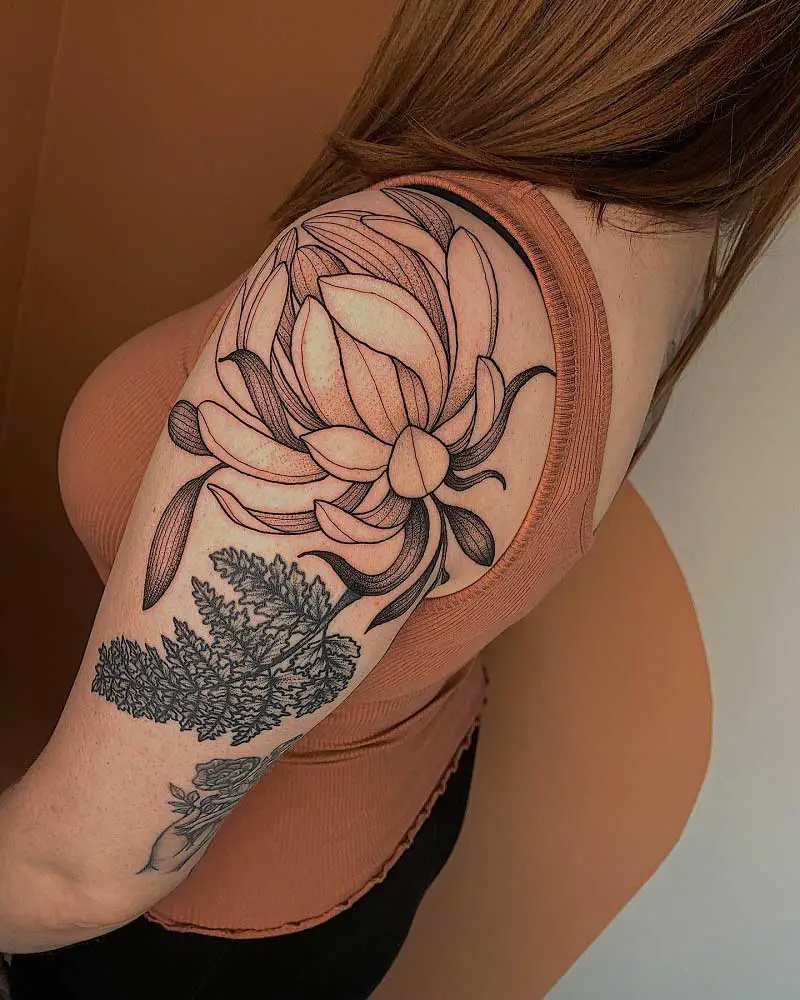 Magnolia tattoos usually represent endurance and perseverance. This tattoo is ideal for people who have the natural ability to withstand all sorts of difficult conditions and stages in life.
2. Beauty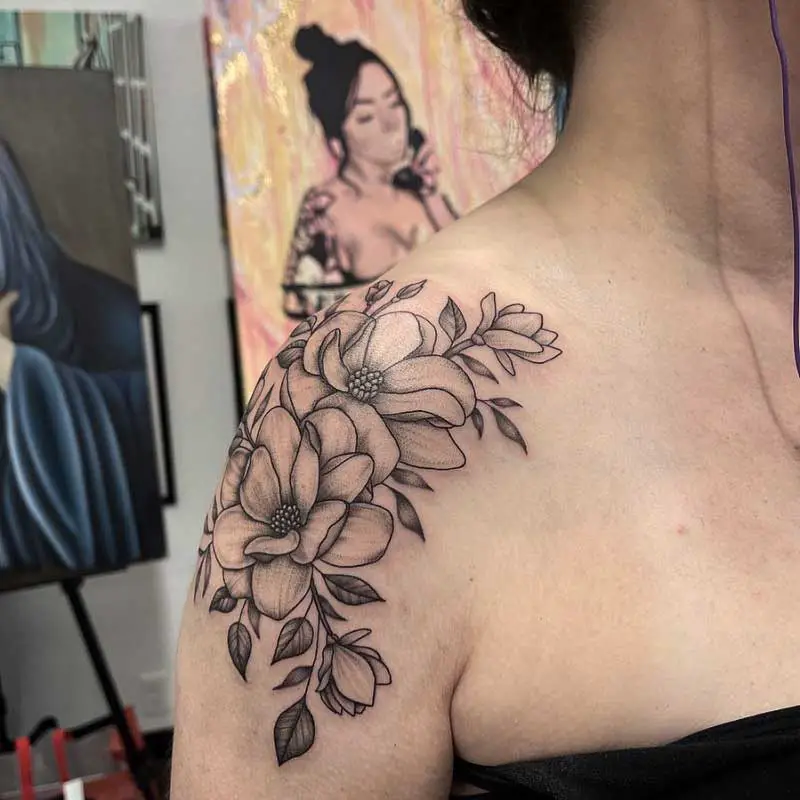 The first word that will come to your mind is "beauty" when you see this flower in full bloom. Metaphorically speaking, the tattoo represents the beauty of women.
3. Purity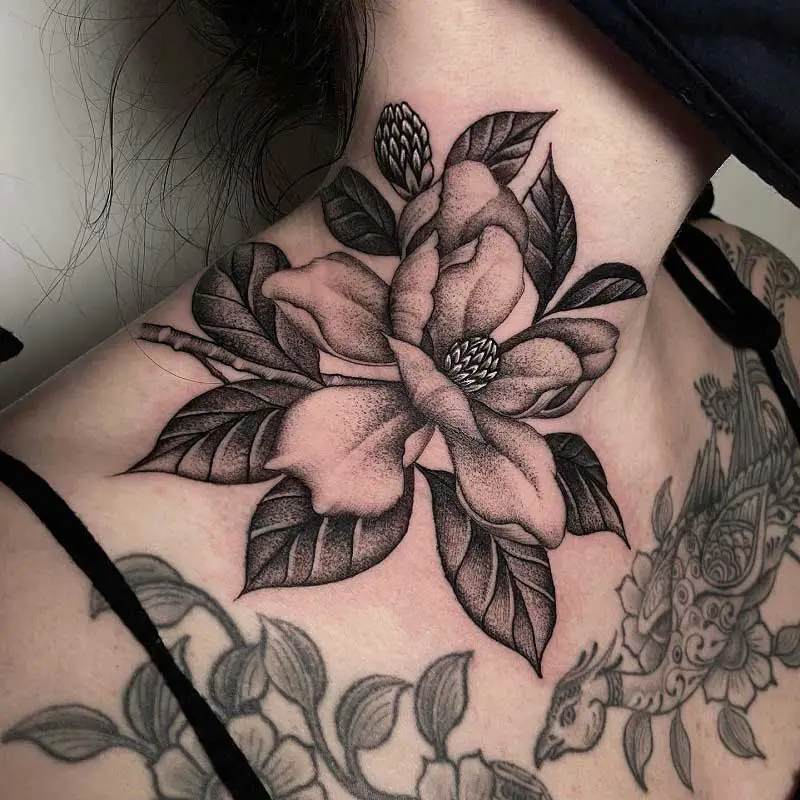 The symbolism of the magnolia flower is also universal. It speaks about truth and purity. A heavily-detailed tattoo, accompanied by bold outlines, will surely give it an elegant look.
Realistic Magnolia Tattoo
By paying great attention to detail and putting the use of colors into effect, the magnolia tattoo can look very realistic. It will look the tattoo etched on your body has come to life. Here are some samples below:
4. Growth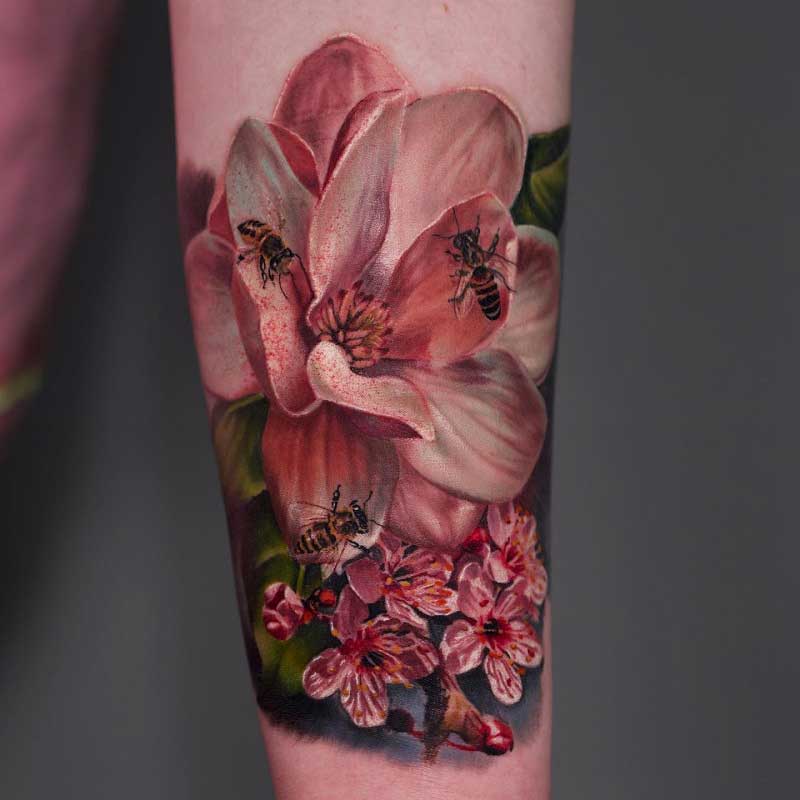 A magnolia tattoo, paired with bee tattoos, is a symbol of growth and renewal. The tattoo actually exhibits a person's ability to experience growth during any stage of their life.
5. Black & White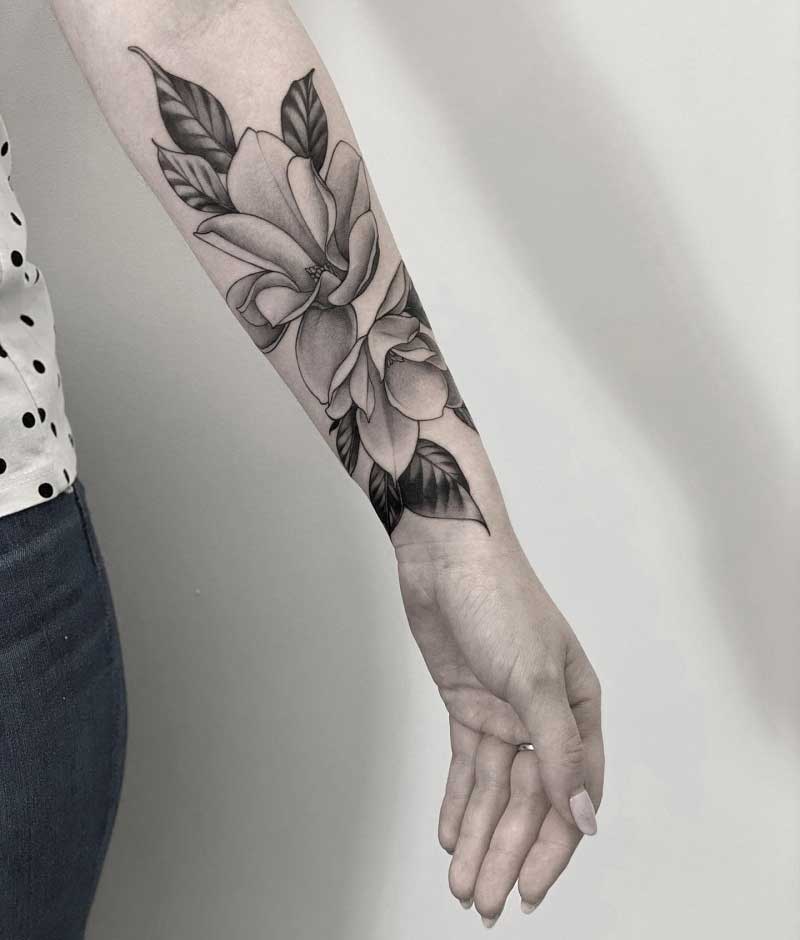 These two colors help the views to focus on the main aspect of the tattoo, which is the flower itself. The textures, shapes, as well as patterns become the center of attention.
6. Realism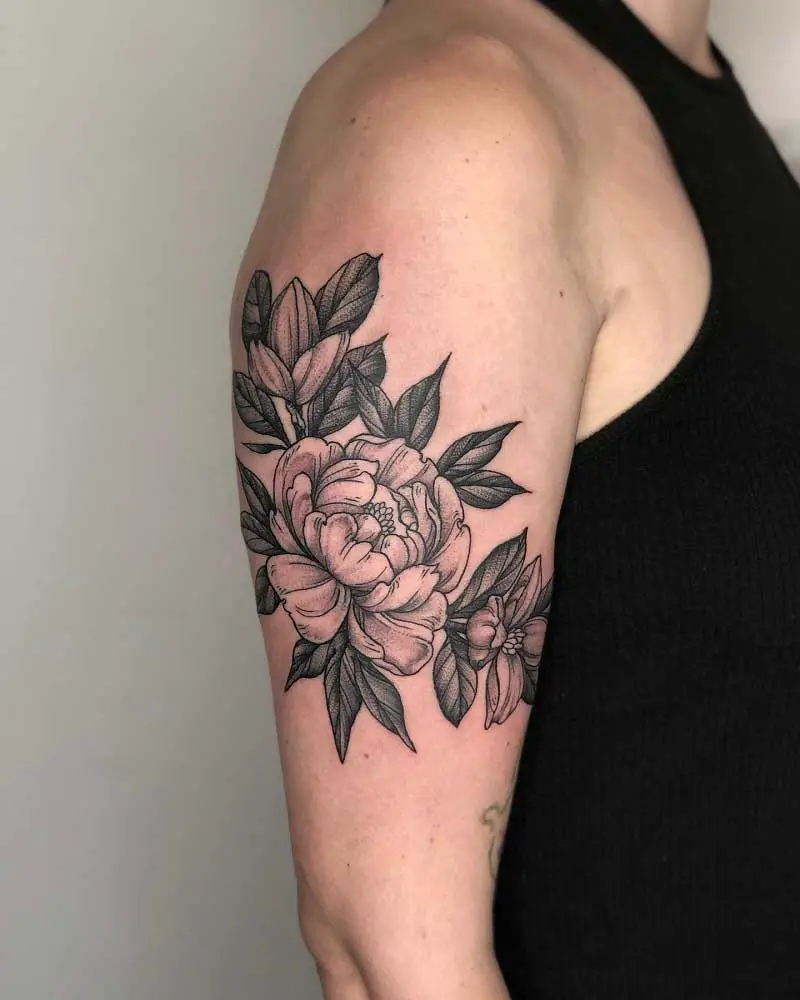 This tattoo is proof that you don't always need vibrant colors to make the design look realistic. The amount of details thrown in there just tells you how much time and effort have been invested in this tattoo.
Small Magnolia Tattoo
Magnolia tattoos, just like any other tattoo designs, can also be small in size. This is because some people don't like to be flashy and go around showing off their tattoos. You'll find some examples below:
7. Mini Magnolia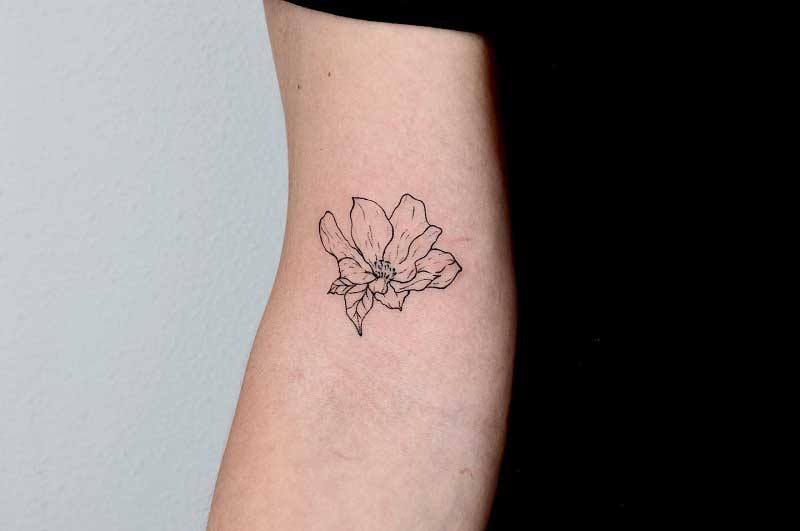 As discussed before, a magnolia tattoo on the lady's hand. represents endurance, beauty, and love. Just because the size here is different, it does not mean the symbolism is going to be different too.
8. Shy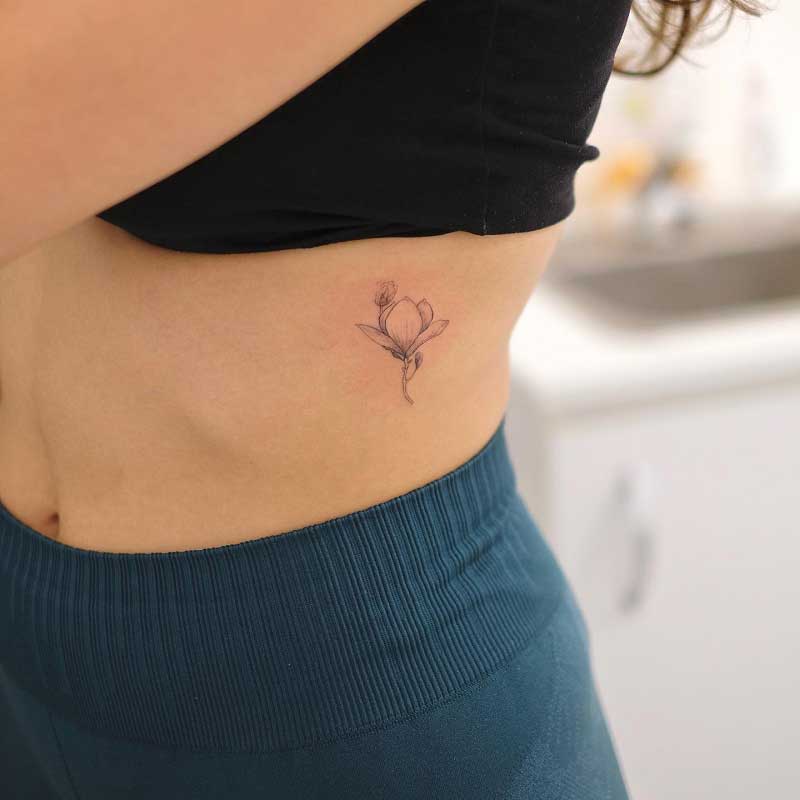 A woman pleased with a side tattoo but still will try to cover it in order to not grab people's attention is most likely to get the tattoo on the waist.
9. Heal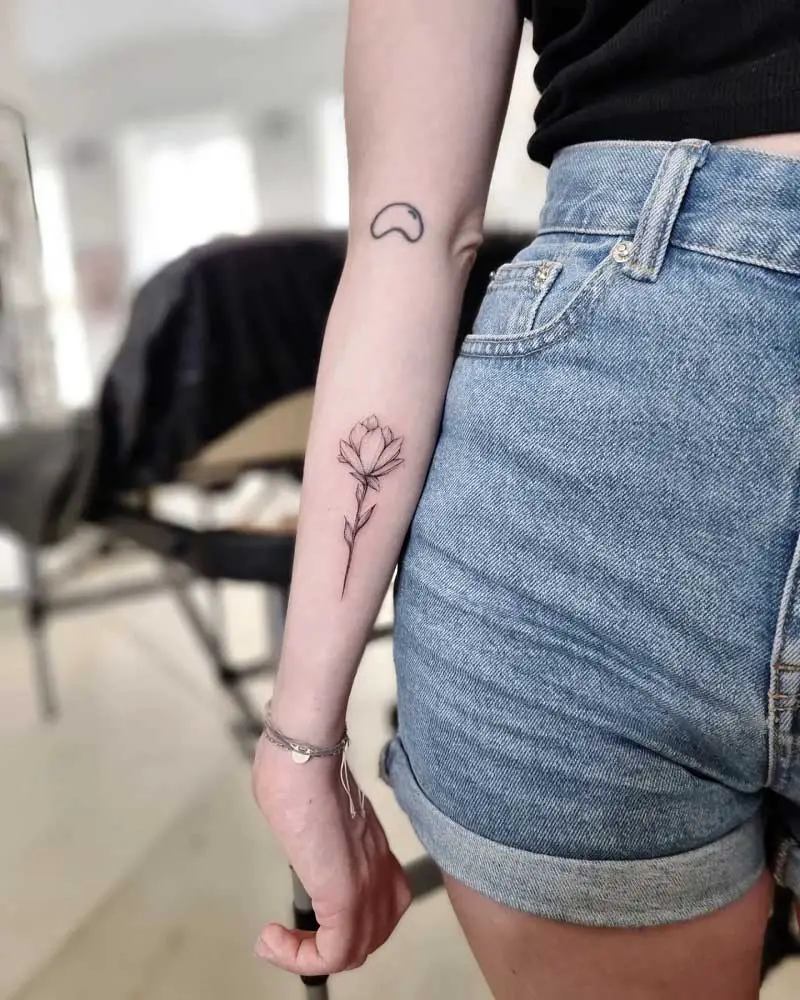 In traditional Chinese medicine, the magnolia flower was known for its healing powers. This tattoo is a symbol of an individual who wishes to be healed after suffering some kind of tragic loss.
Simple Magnolia Tattoo
Magnolia tattoos can also come in simple shapes and patterns. This style of tattoo is ideal for people who like to keep things simple and not go over the top with the design.
10. Simplicity at its Finest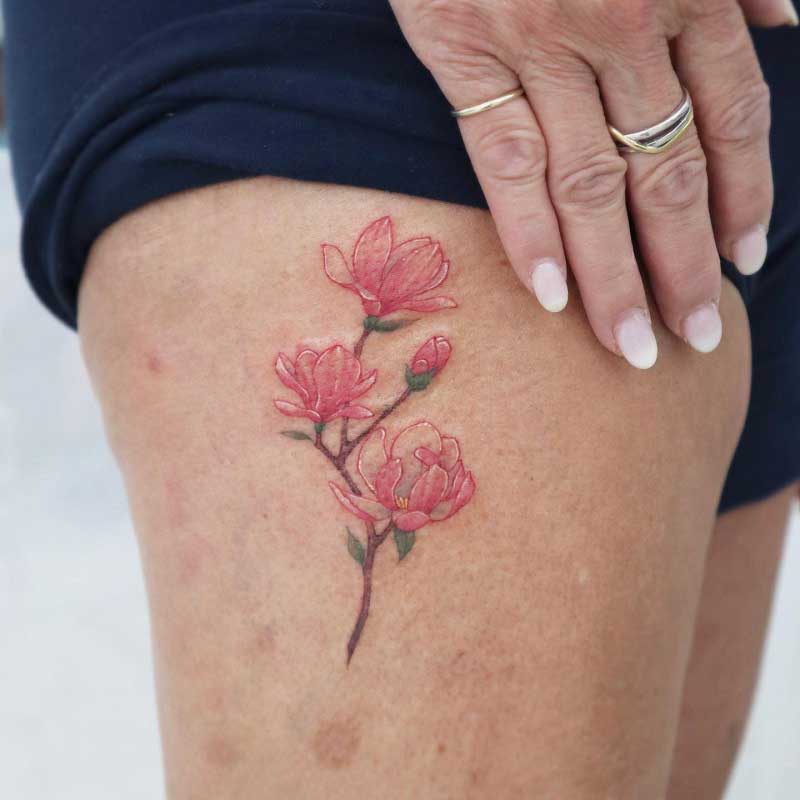 Some people tend to go all out with their tattoo designs, whereas some people go for the exact opposite. They keep their tattoo as simple as possible and its meaning could still speak volumes.
11. Elegance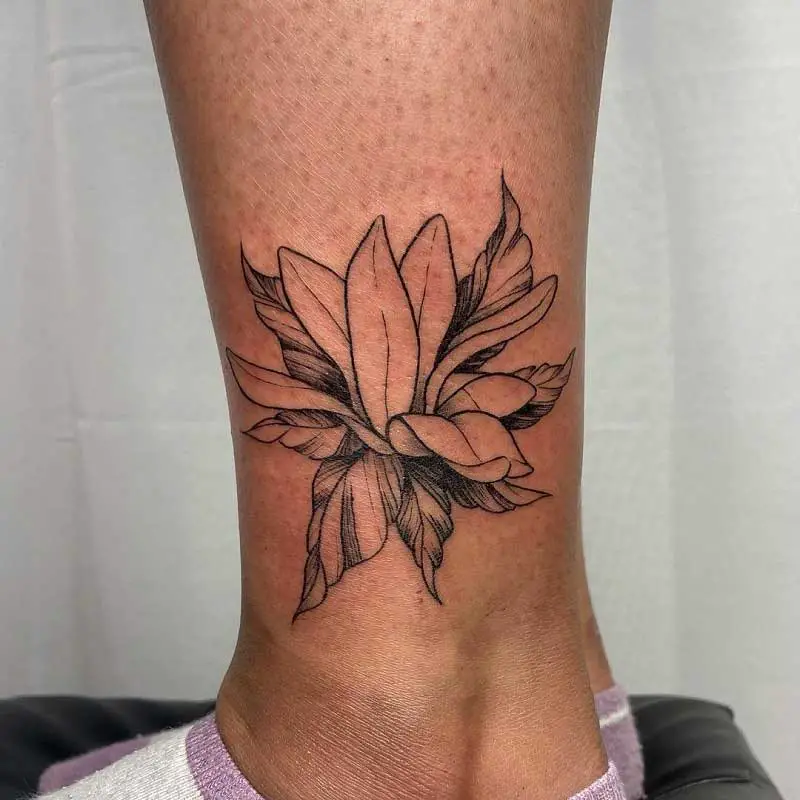 As you can see, you don't always need colors or some sort of fancy artwork to make your tattoo look striking. The inclusion of an appropriate amount of details here and there will suffice.
12. Fresh Ink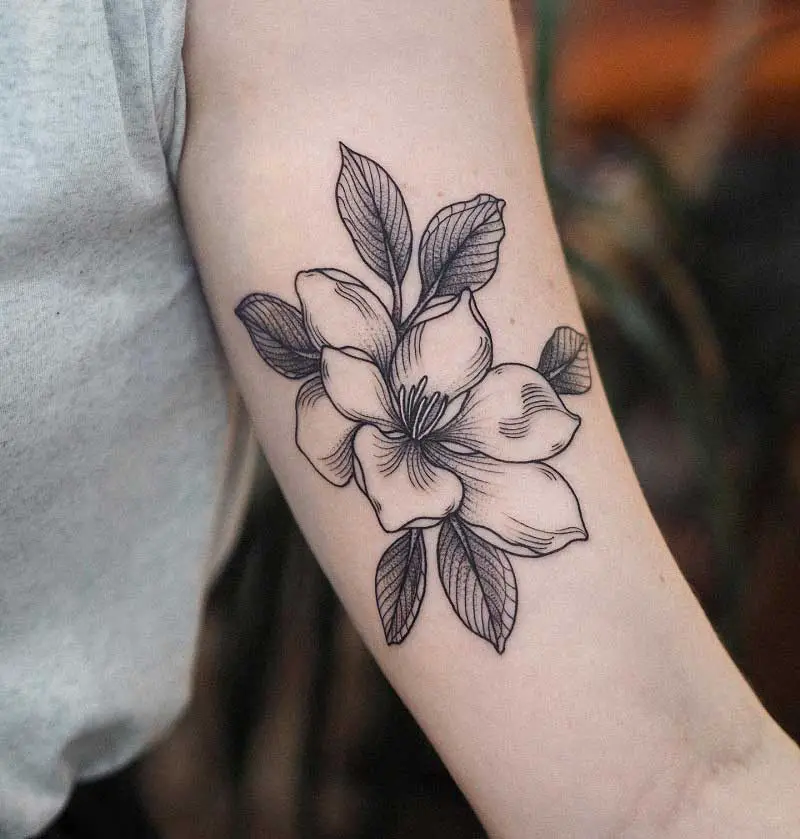 You can also tell your tattoo artist to use dark and bold strokes so that your magnolia tattoo looks fresh all the time. Even from a further distance, your tattoo will still be noticeable.
Magnolia Blossom Tattoo
Blooming flowers symbolize joy, blissfulness, and happiness. The meanings of these tattoos are quite critical but the finished designs turn out to be extremely beautiful.
13. Rise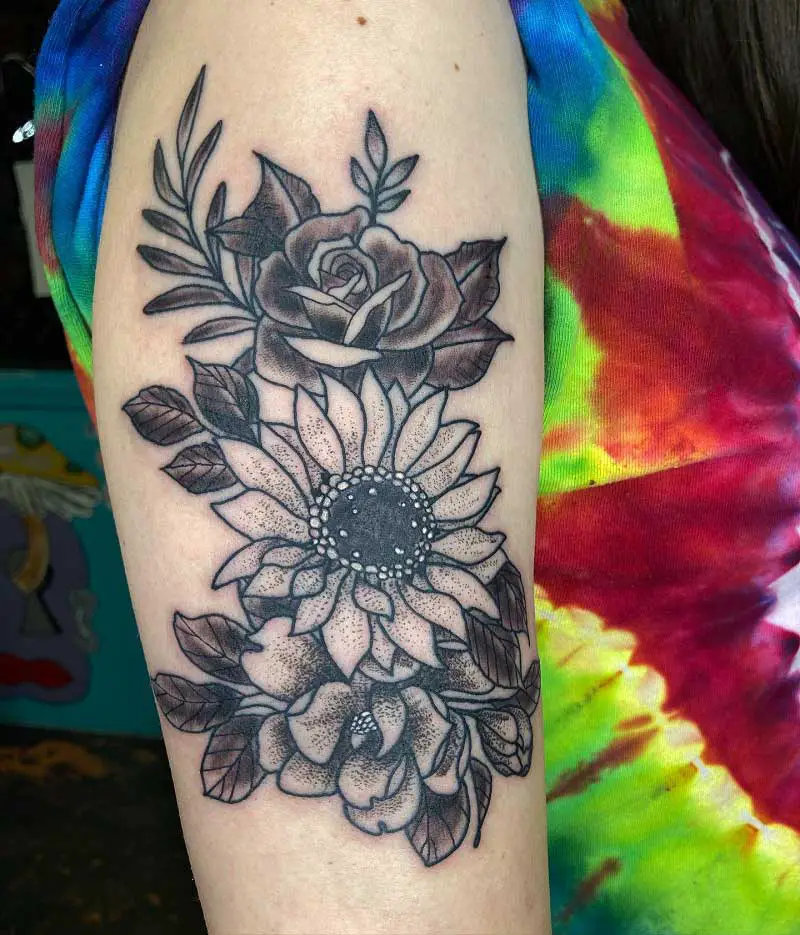 This blooming magnolia tattoo symbolizes rising above certain temptations and becoming better as an individual. Such flowers are also symbols of god's contentment.
14. Love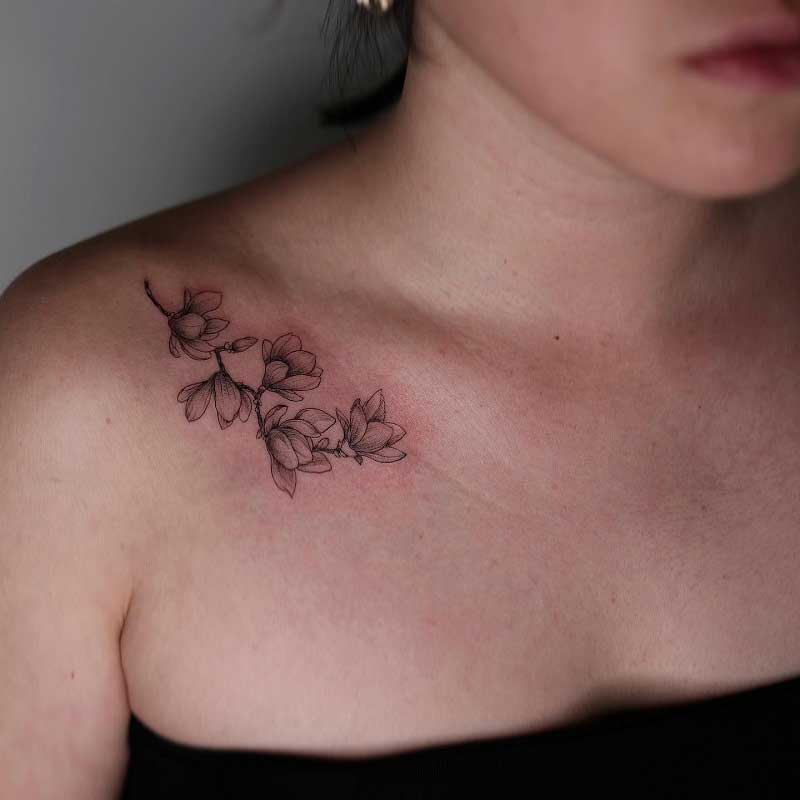 Magnolia tattoos are also known for symbolizing the love between two people. Meaning aside, this simple-looking tattoo will surely grab a lot of attention if that part of the body is left uncovered.
15. Nobility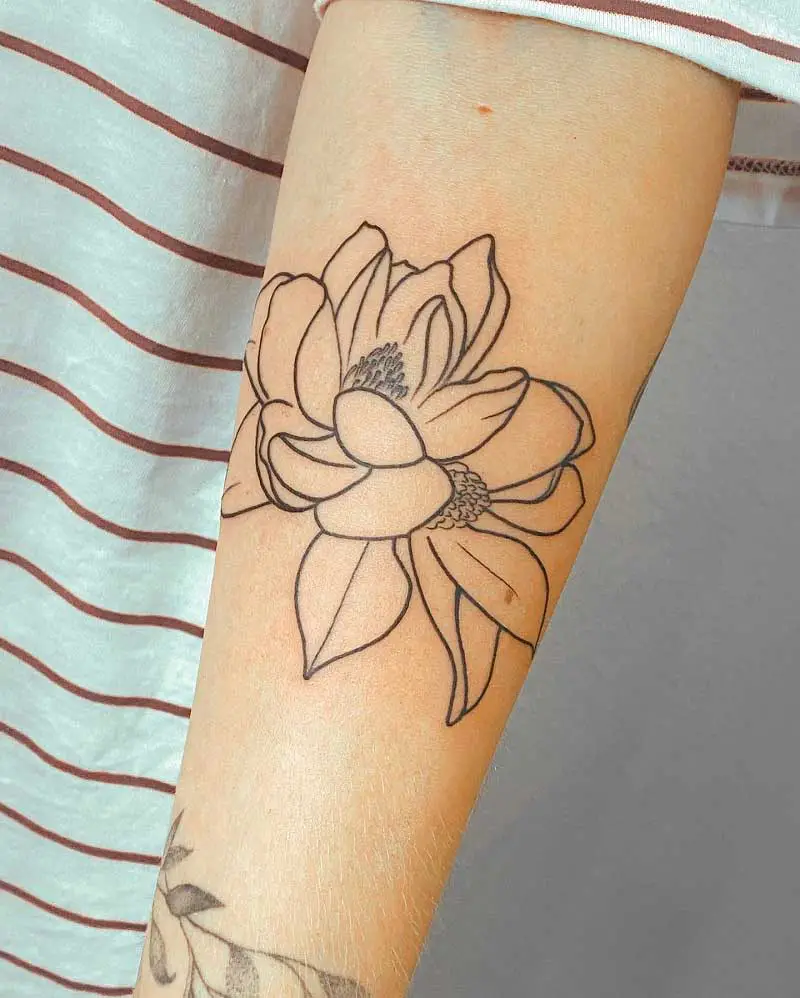 This tattoo design also represents a woman's nobility and decency. The tattoo is ideal for women possessing these qualities. Visually, the tattoo looks stunning as well.
Steel Magnolia Tattoo
A steel magnolia tattoo design usually requires the use of heavy and dark outlines to give the tattoo a bold look. If done right, these tattoos look incredibly stunning.
16. Dark Side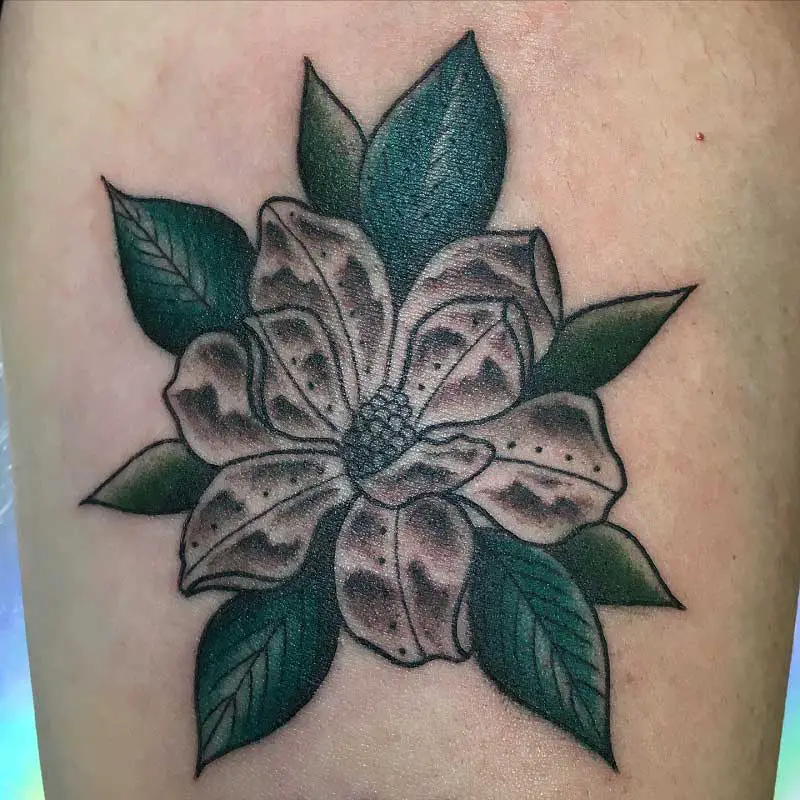 Magnolia tattoos typically represent the femininity and gentleness of women. However, this dark magnolia flower symbolizes the opposite meaning. Although they're gentle in nature, women can be feisty when they need to be.
17. Courage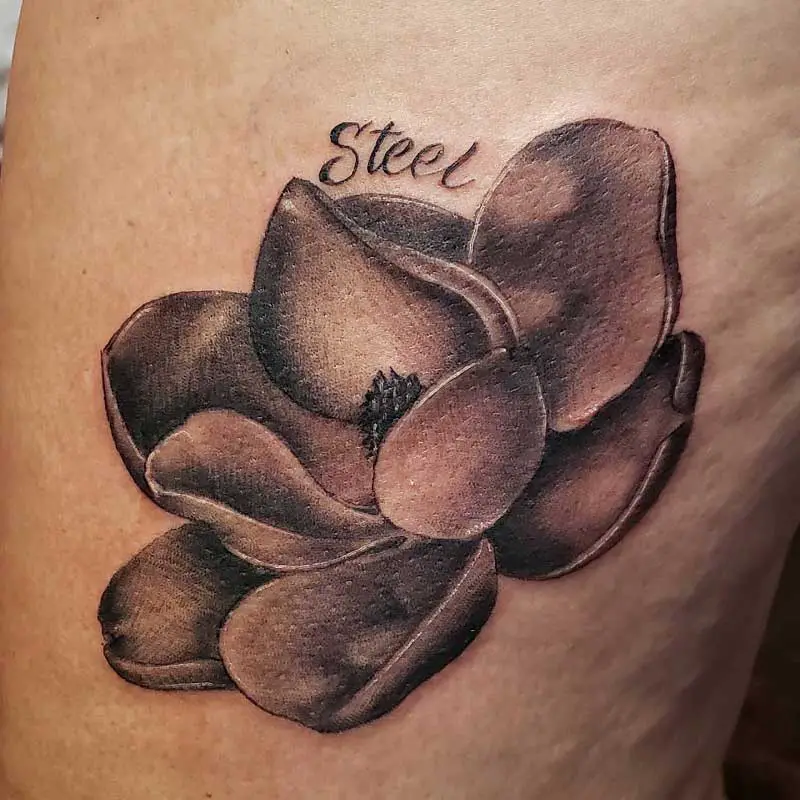 Most people view women as fragile individuals who find it difficult to survive in life. This tattoo clears that misconception as it states that women do have what it takes to overcome all obstacles in life.
18. Hidden in Plain Sight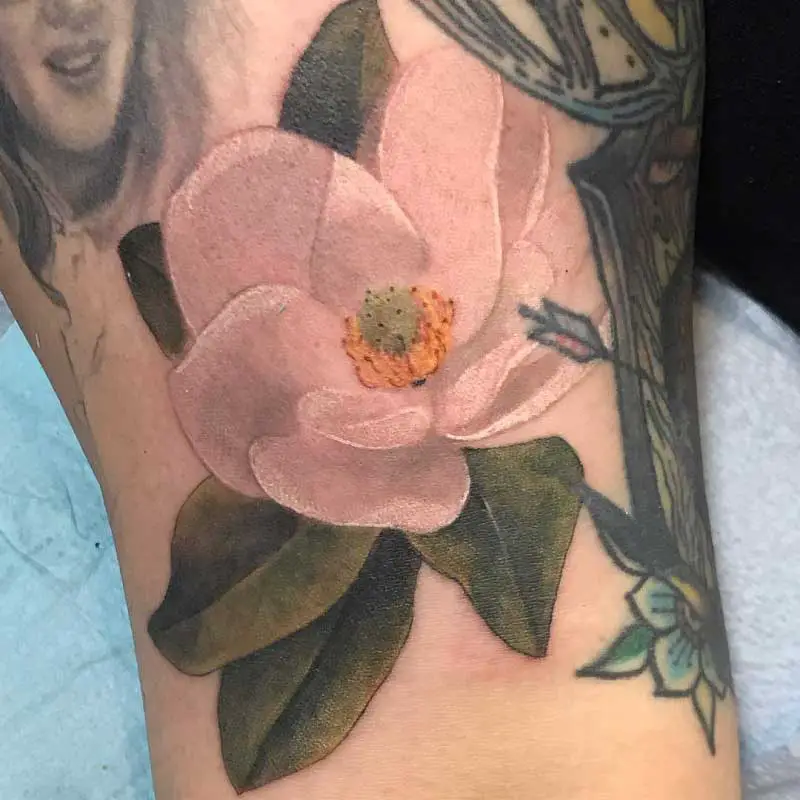 You can decide to get creative and ask your artist to match the color of the tattoo with the color of your skin tone. This doesn't really affect the meaning but it does look super cool.
Japanese Magnolia Tattoo
In Japanese culture,  the magnolia flower is referred to as "Hanakotoba". There, the flower symbolizes love, nobility, and dignity. Below you'll find some cool Japanese magnolia tattoo designs:
19. Love For Nature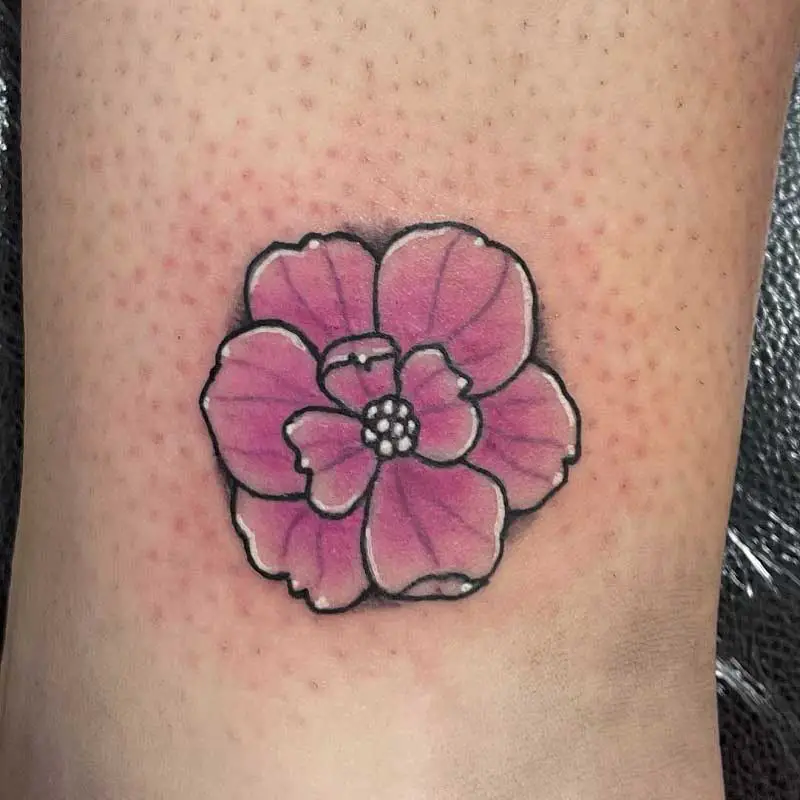 As mentioned before, the magnolia flower, in Japanese culture, represents affection toward nature. These days most people are greatly concerned about nature more than ever.
20. Perseverance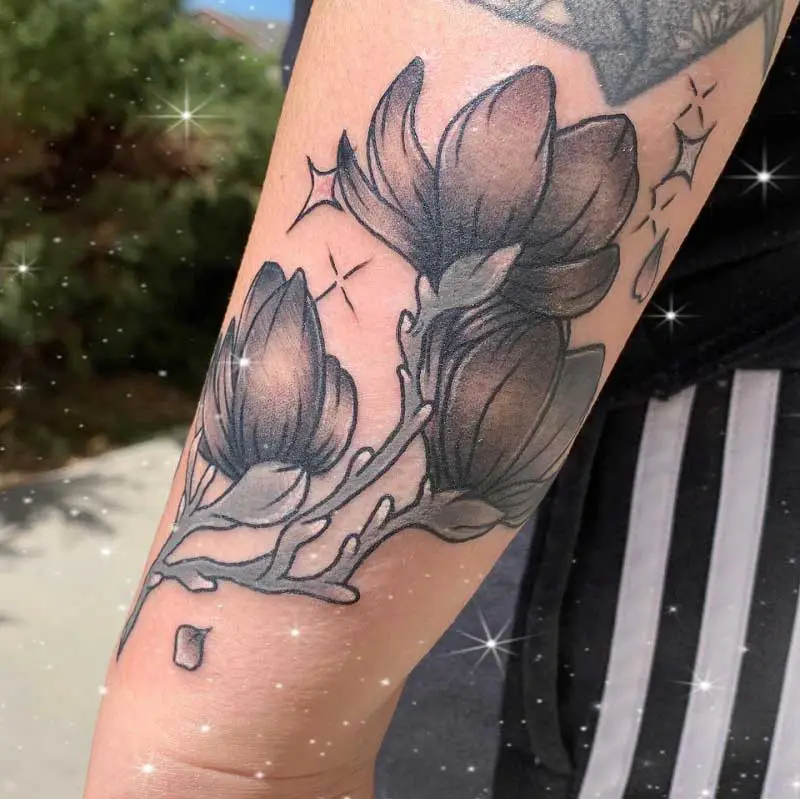 The flower also stands for perseverance and tenacity. Basically, it refers to the quality of being persistent while doing something despite facing several challenges in achieving success.
21. Dignity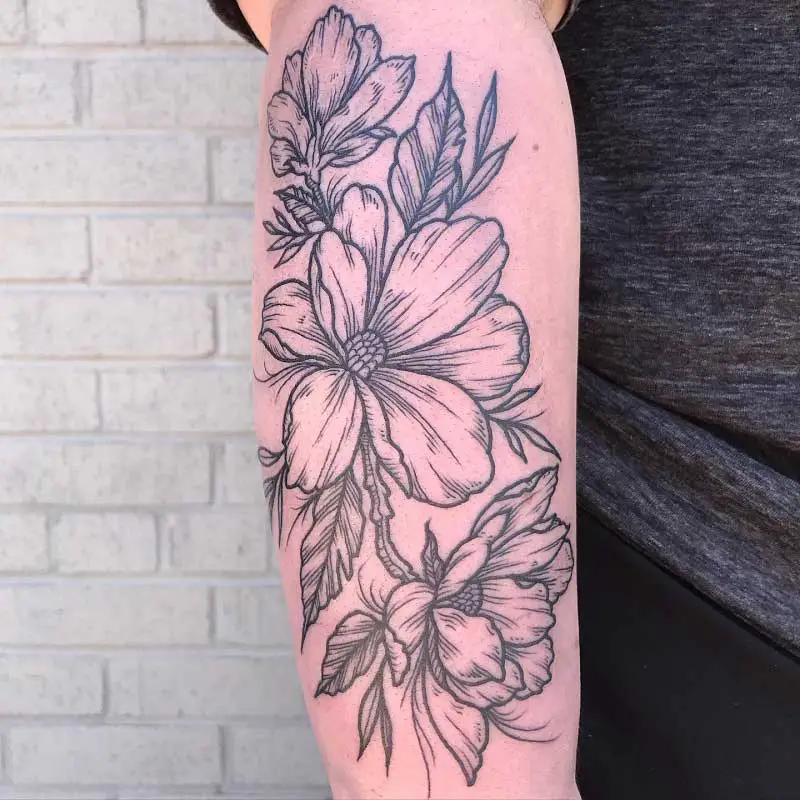 The flower also denotes dignity and status. In other words, it refers to the quality or state of being worthy of one's honor and respect. Visually, it looks stunning as it takes up the whole arm of this man.
Minimalist Magnolia Tattoo
Minimalist tattoo designs keep things simple and neat. As good as bright and flashy tattoos look, some people tend to tone them down a bit as they believe it will make the tattoo look more elegant.
22. Unadorned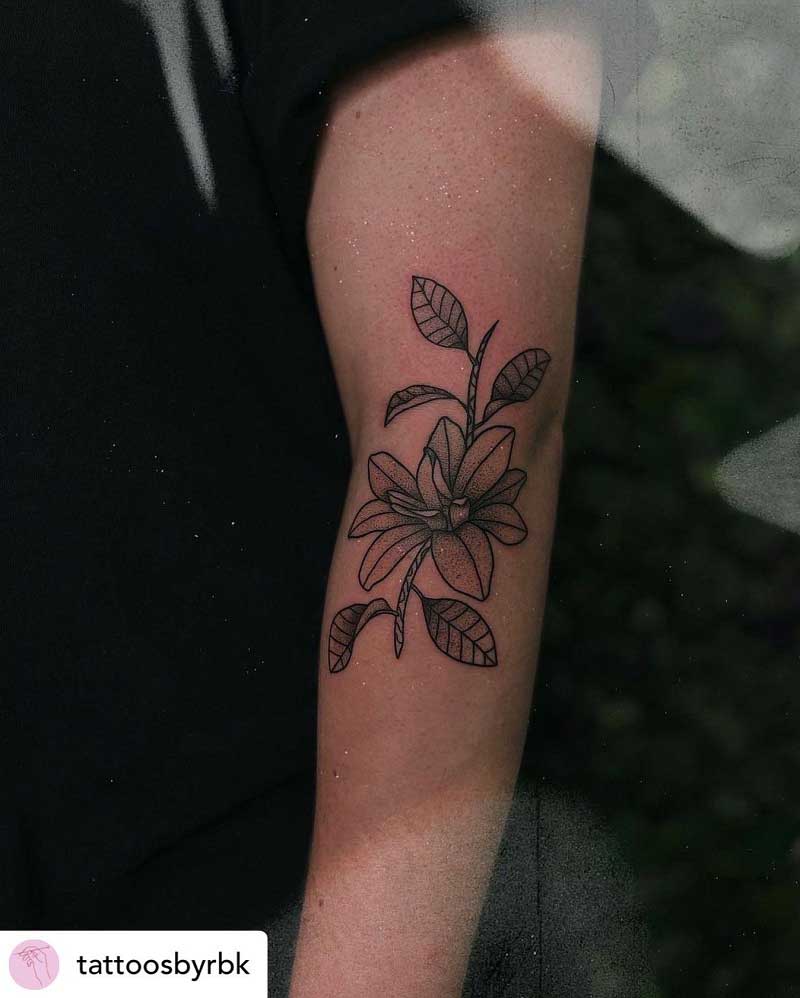 At first glance, anyone might think this is just an ordinary magnolia tattoo but do not let its simplicity fool you. The meaning behind the tattoo is still powerful and it definitely looks striking.
23. Linework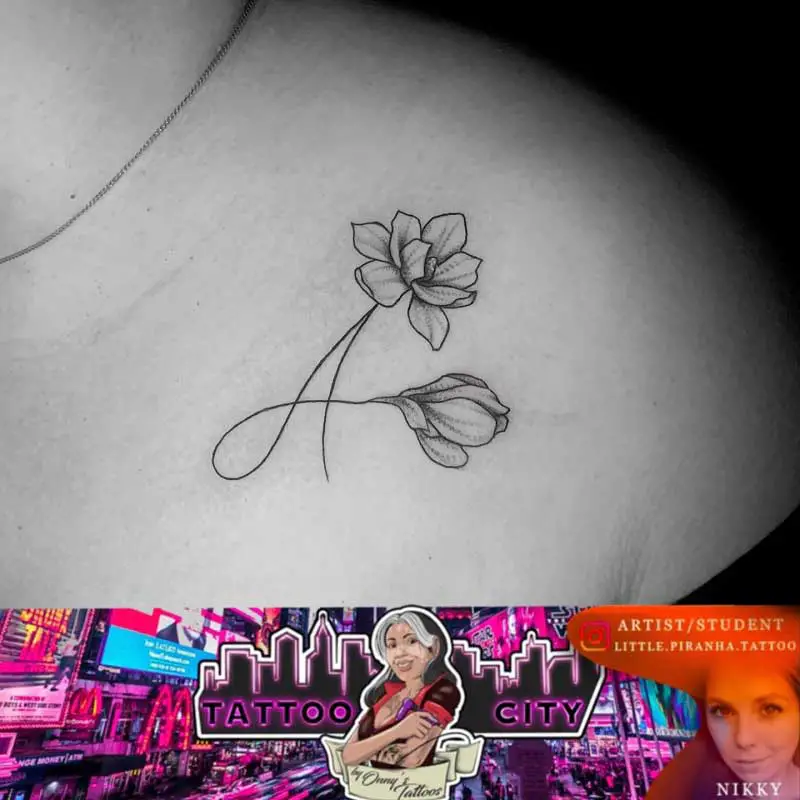 This style of tattooing is called linework where the artist uses simple lines and curves throughout the whole tattoo-designing process. And yes, this technique is often used in the case of minimalistic tattoos.
24. Cherry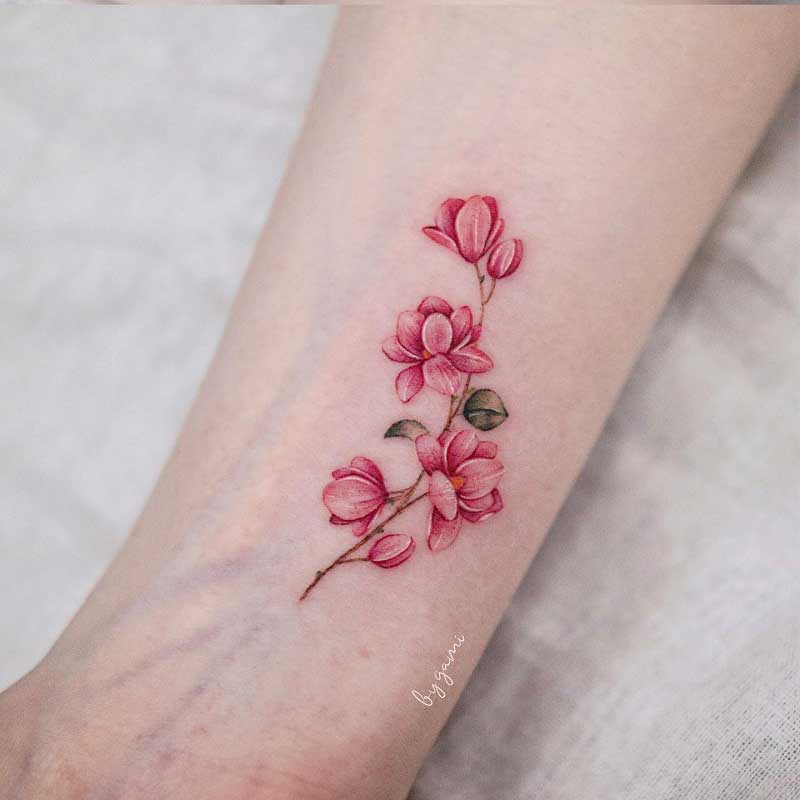 This design is the ultimate proof that even if colors are used, the cherry flower tattoo can still look modest and elegant at the same time. You can also use another color instead of pink if you like.
Southern Magnolia Tattoo
Magnolia flowers are widely accepted in Southern-style weddings because the flower itself is usually identified with the South. The meaning is still the same but you may notice some small changes in the designs.
25. Fanatic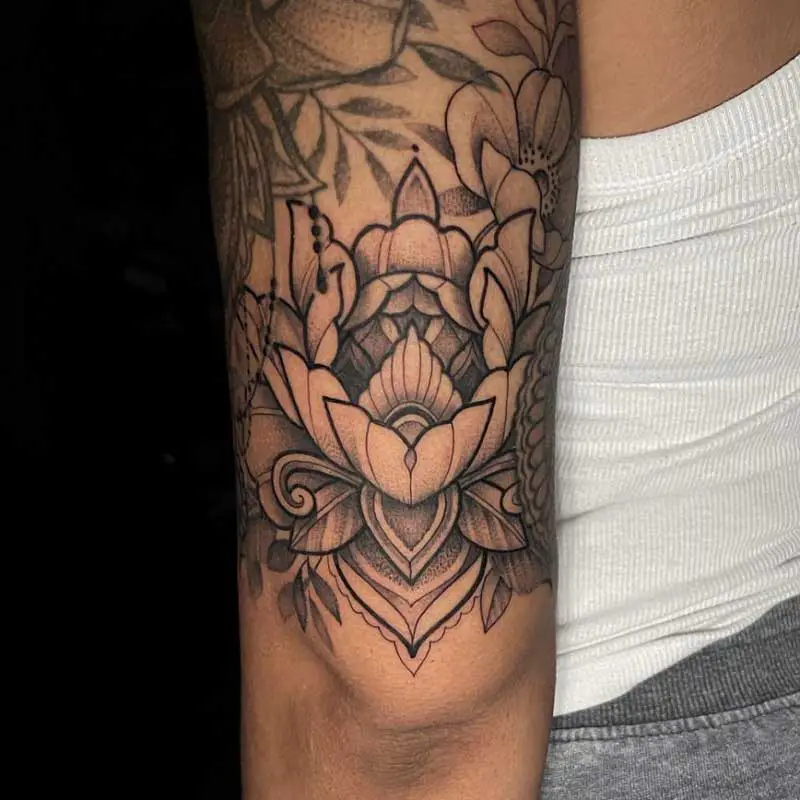 A tattoo fanatic is someone who will come up with one of the most unique and uncommon tattoo designs that you could've never thought of. The designs are absolutely gorgeous as well.
26. Rebirth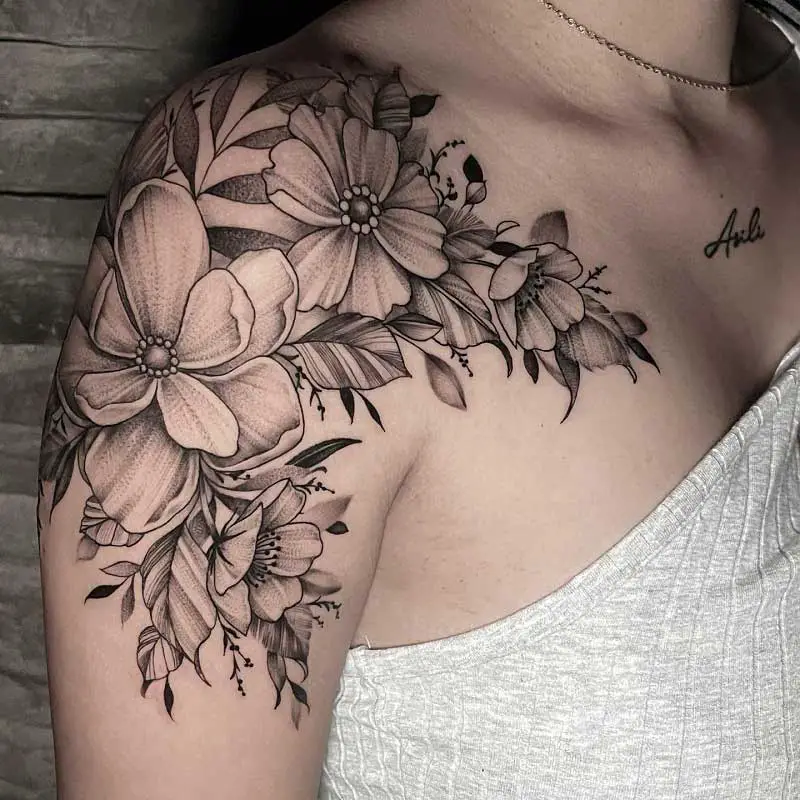 This magnolia tattoo paints a picture where an individual has managed to achieve growth and completely morphed into a better version of themselves.
27. Blossom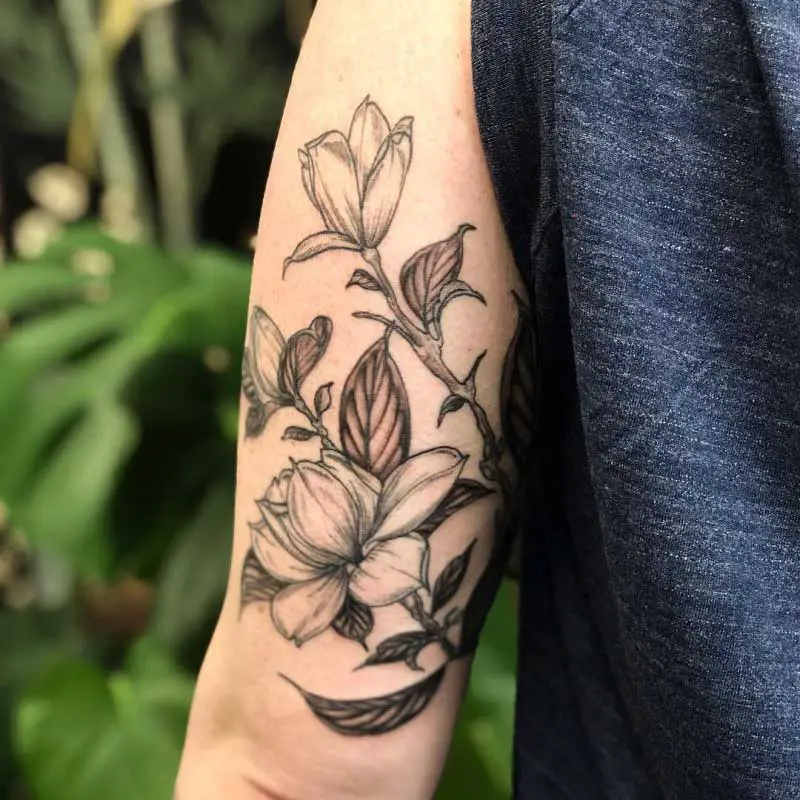 Since the blooming season of magnolia flowers is so short-lived, such tattoo designs represent the transient nature of life. The design can also be a symbol of honor and sacrifice.
Magnolia Branch Tattoo
Meaning wise, the addition of magnolia branches does not really have any effect. Visually, however, it looks like there's a lot going on in the design and it actually looks pretty cool.
28. Eternity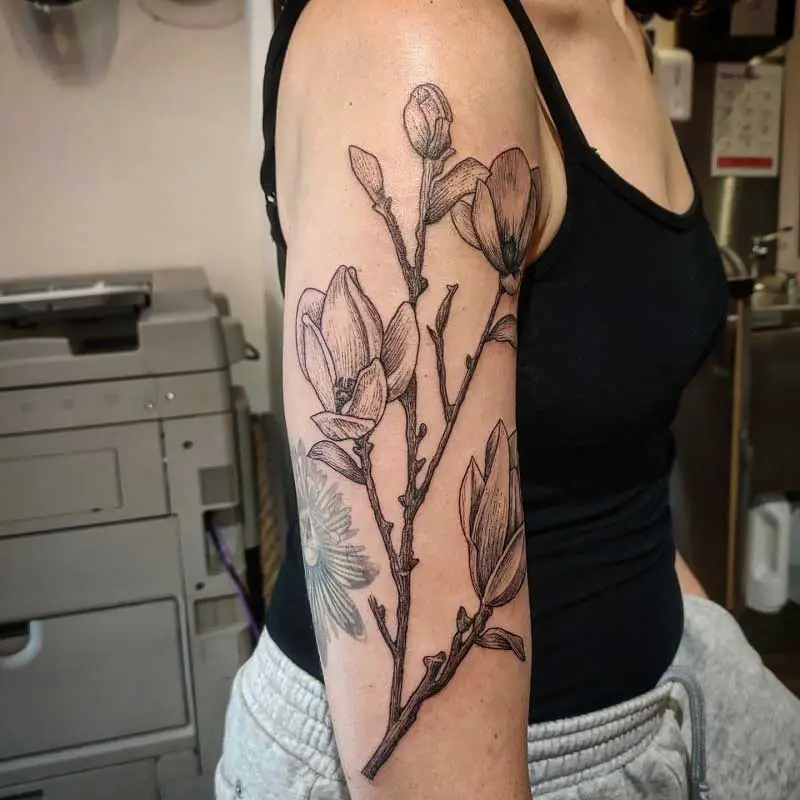 Magnolia tattoos are also known to symbolize eternity and long life. This is because once the flowers bloom, they continue to do so for a very long time.
29. Perfection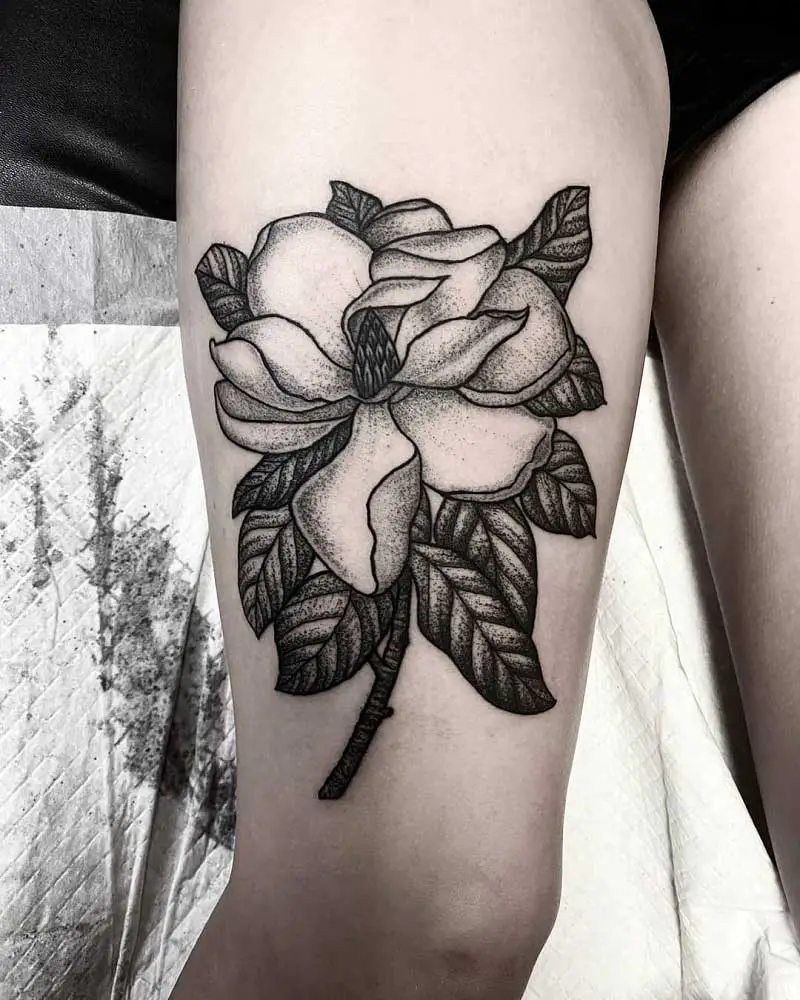 A tattoo on a woman's thigh, as discussed before, is a strong symbol of perfection and purity. It refers to the femininity and the gentle side of women. If inked probably, the tattoo can look marvelous.
30. Magnolia Shoulder Tattoo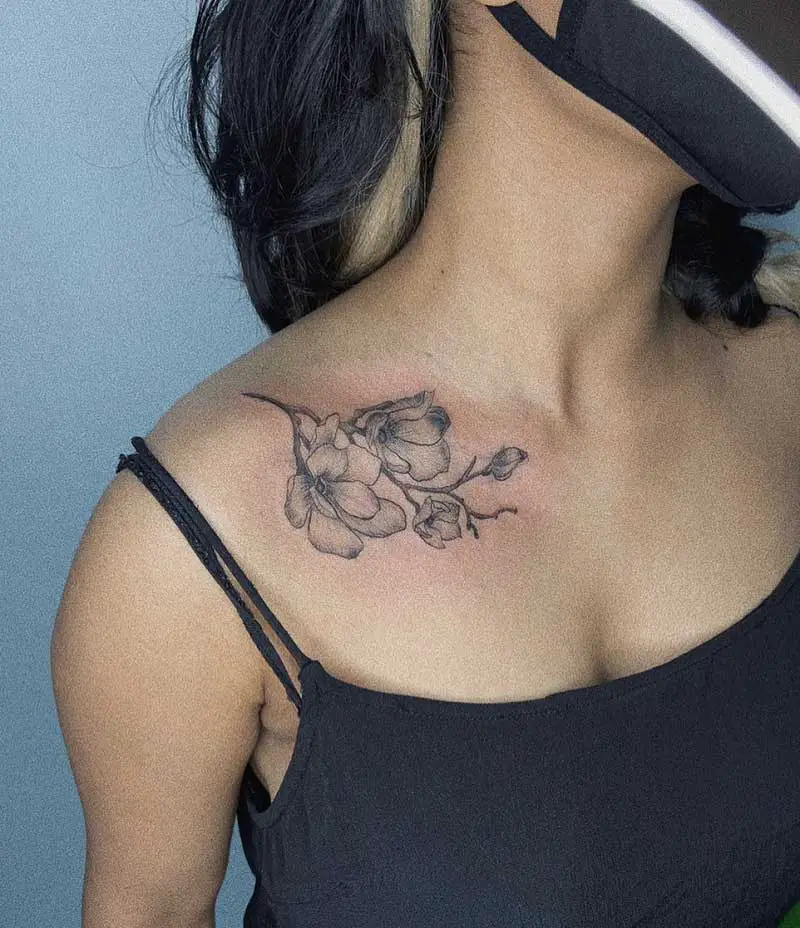 These tattoos can also look absolutely beautiful on the shoulders. If you're getting a flower tattoo on your shoulder or anywhere near your collarbones, consider getting a small-sized design.
Sacred Magnolia Tattoo
31.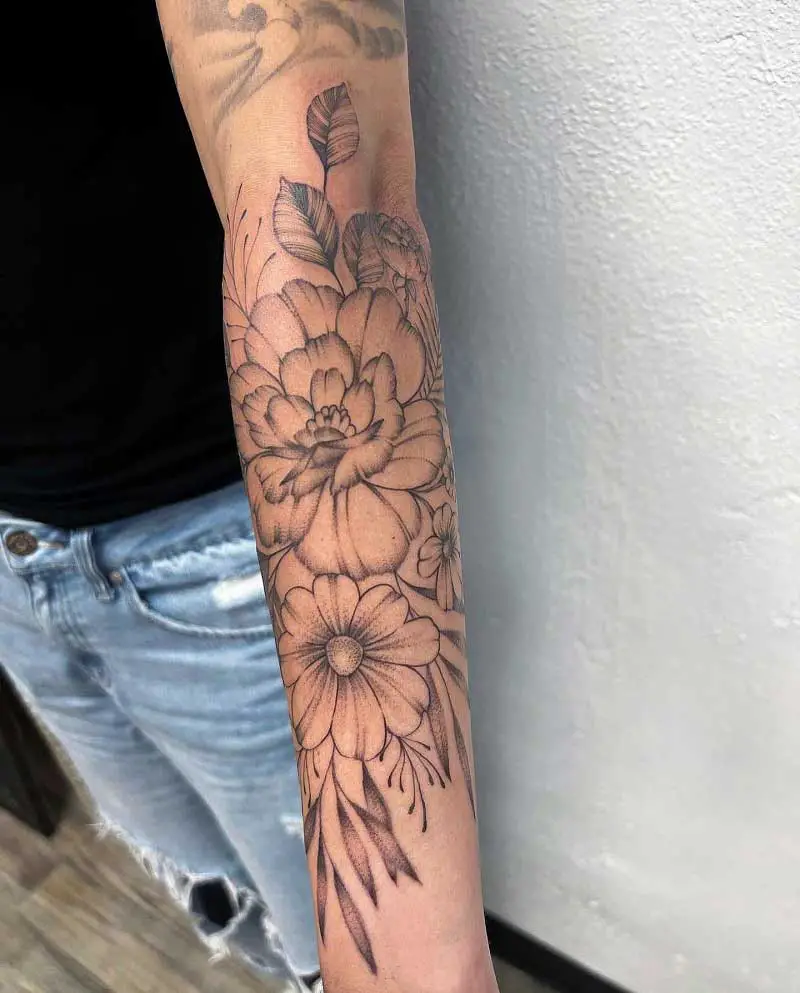 32.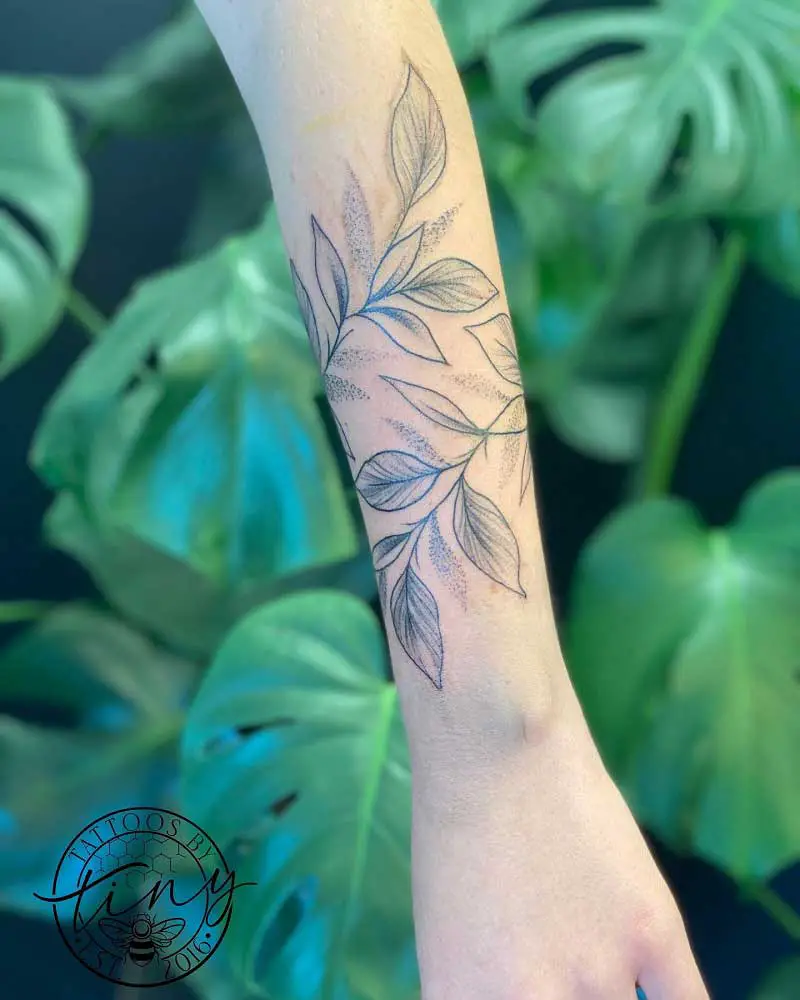 33.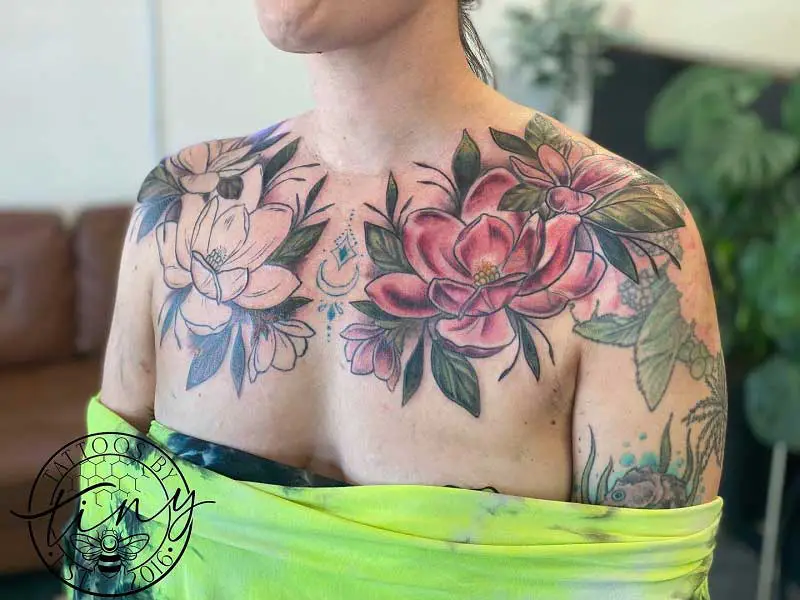 Tiny Magnolia Tattoo
34.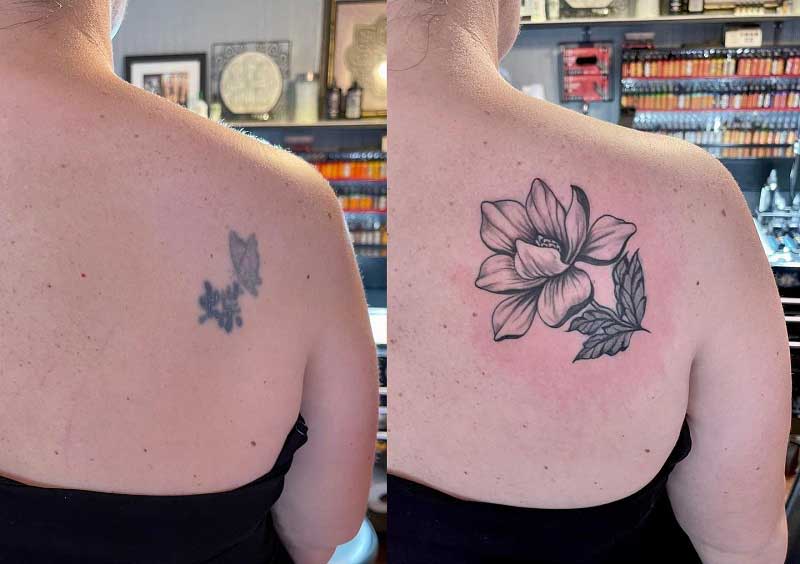 35.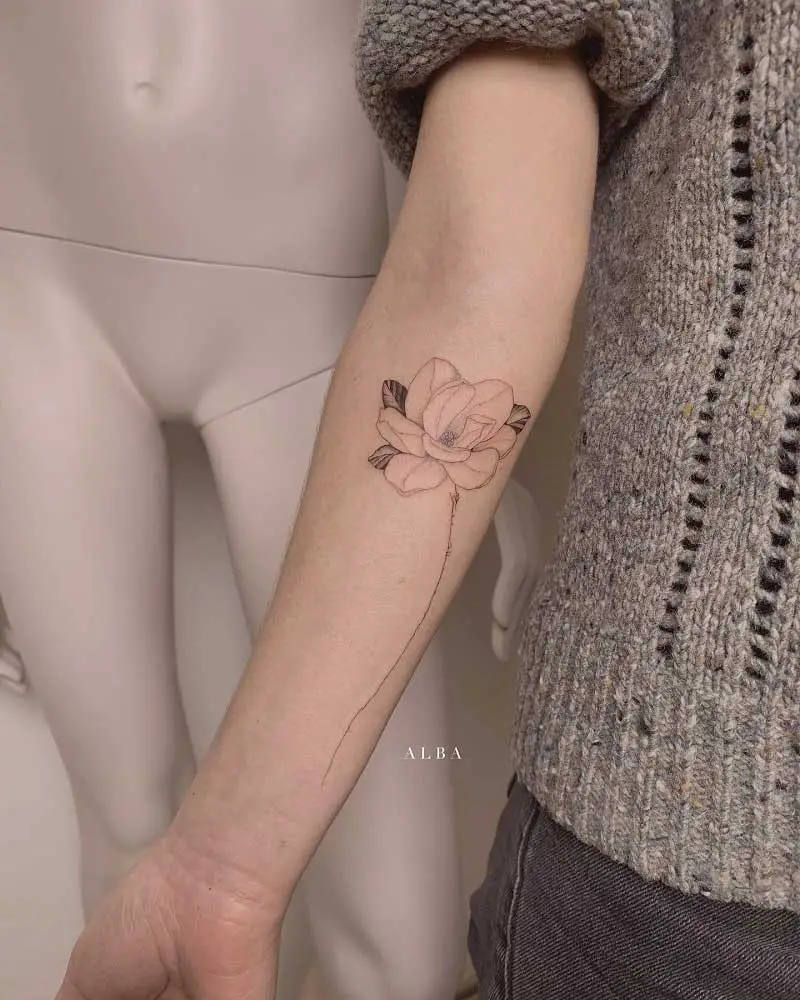 36.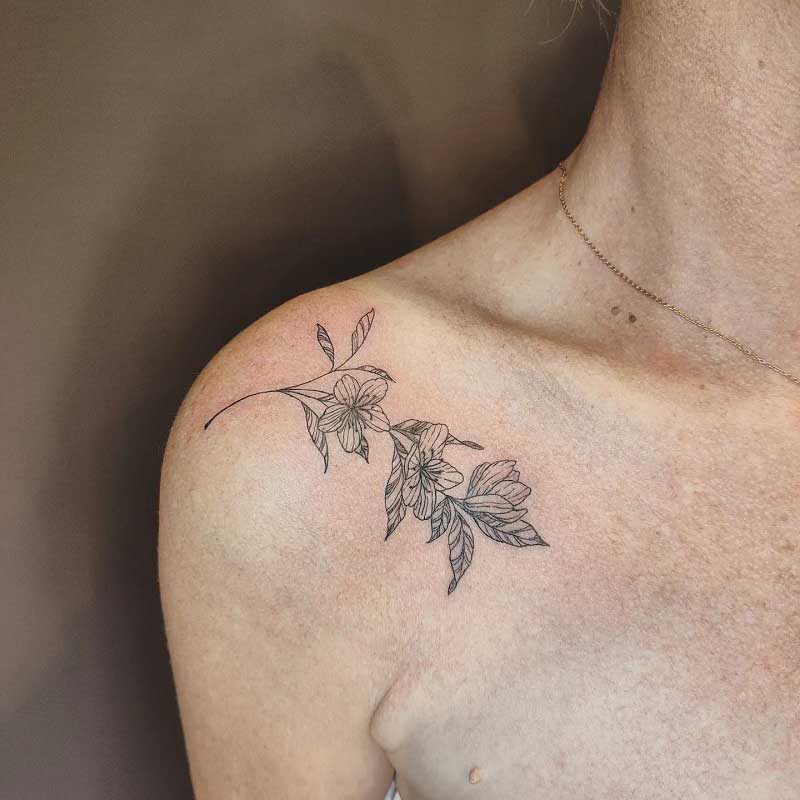 Traditional Magnolia Tattoo
37.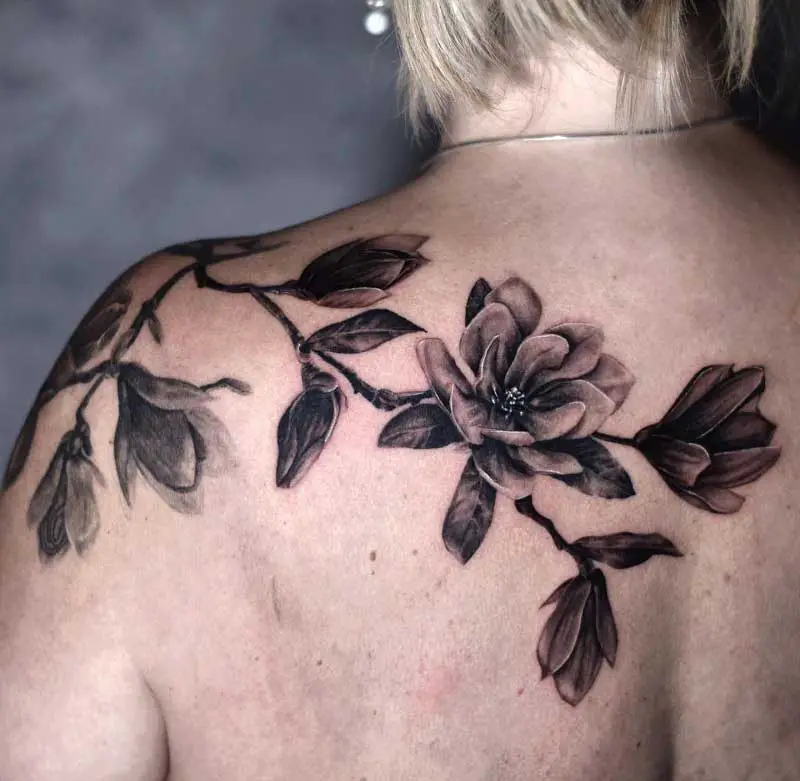 38.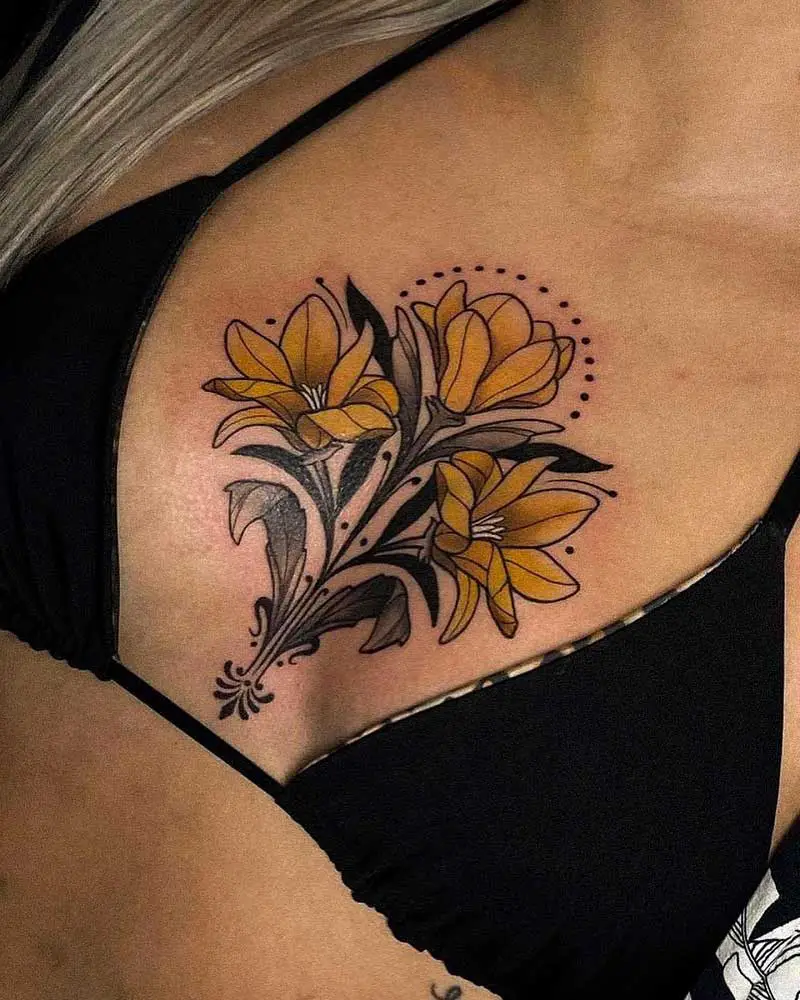 39.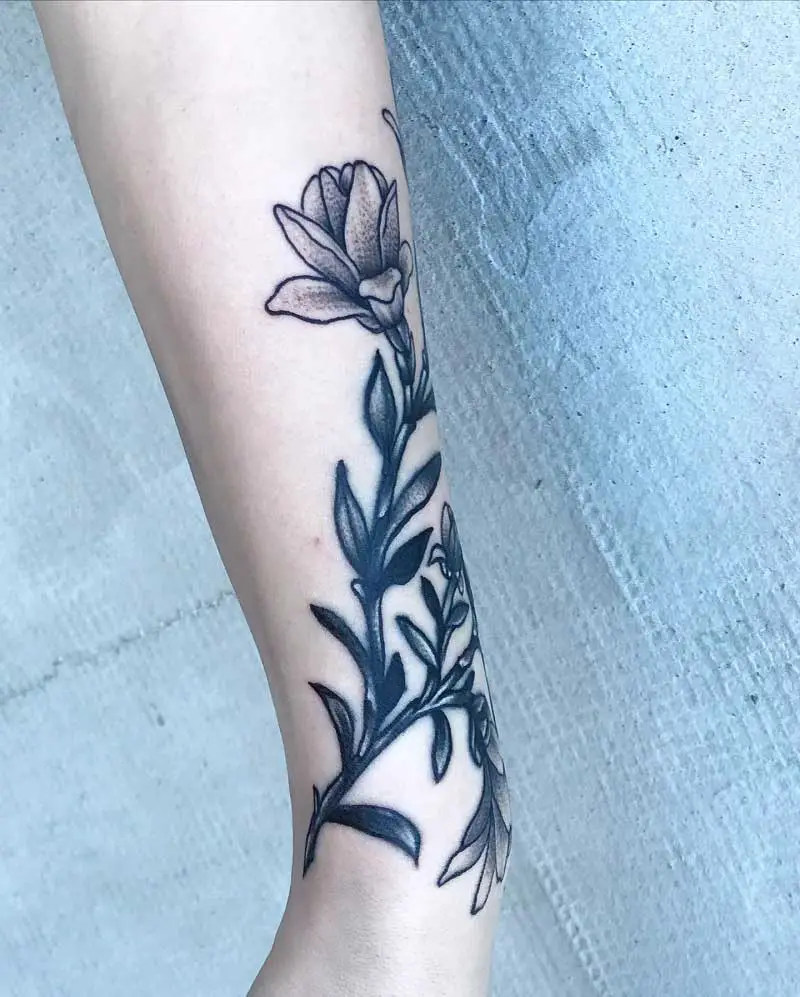 Magnolia Tattoo Design
40.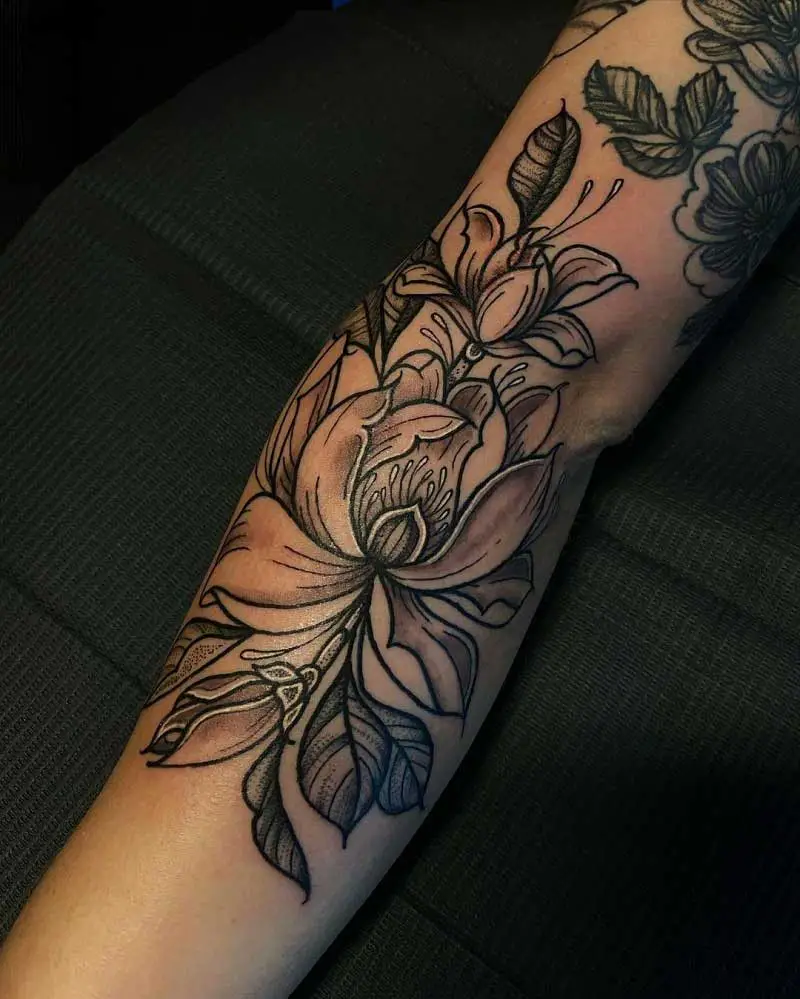 41.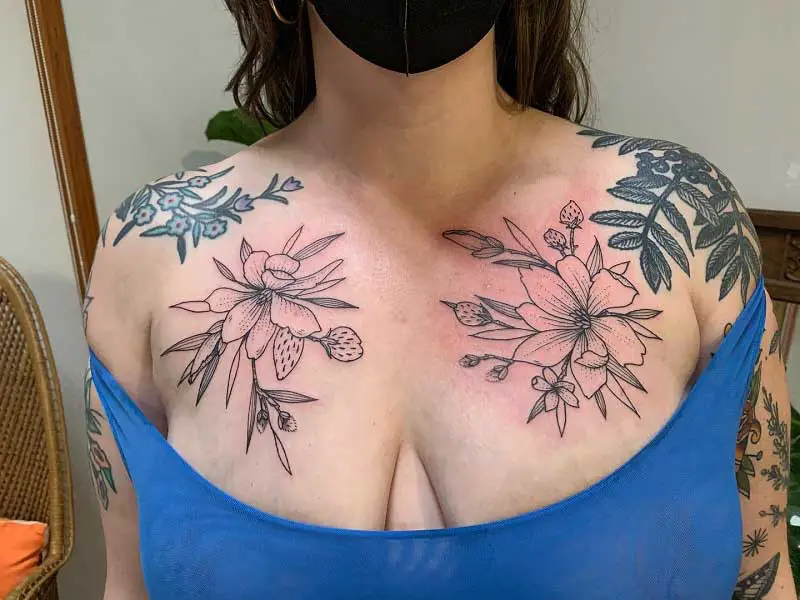 42.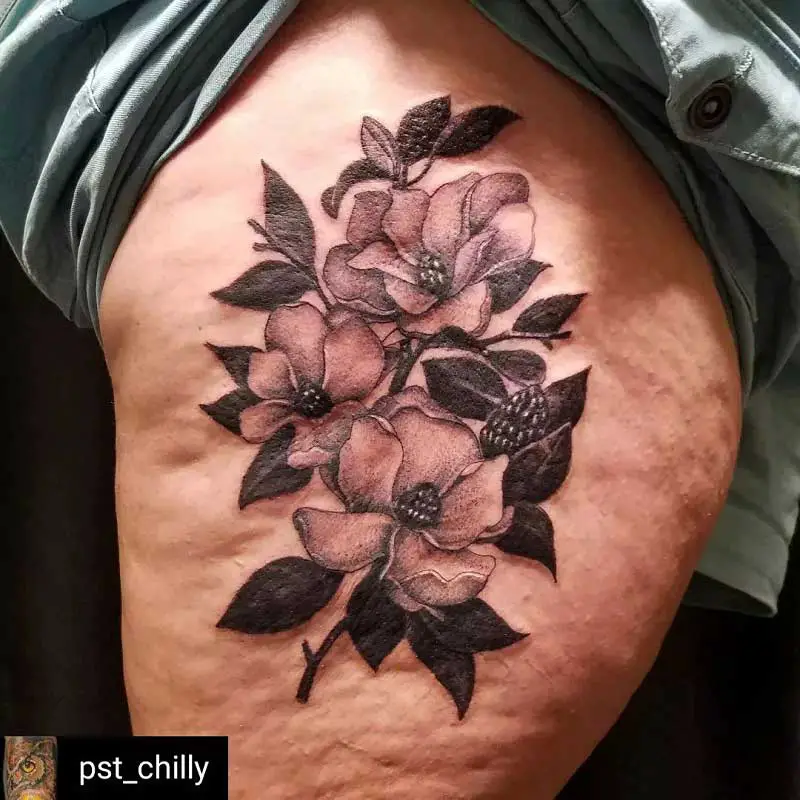 Magnolia Flower Shoulder Tattoo
43.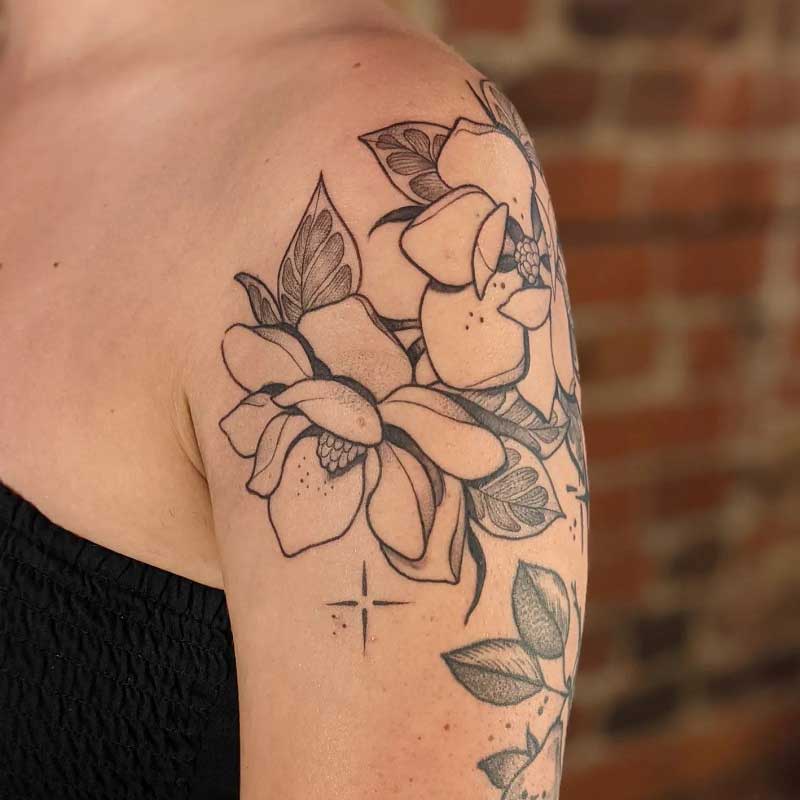 44.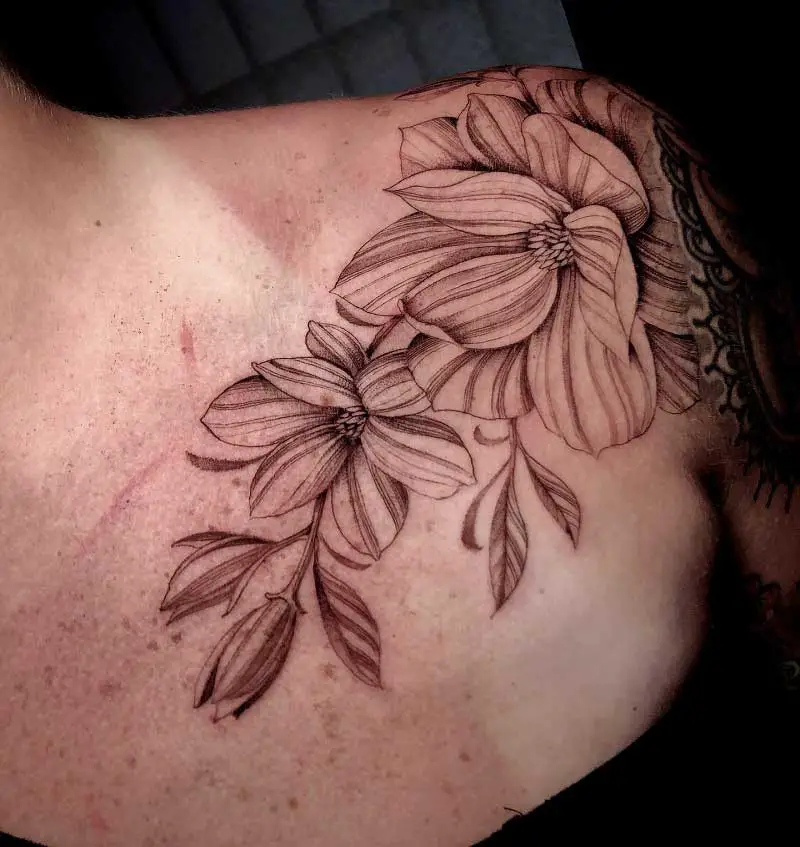 45.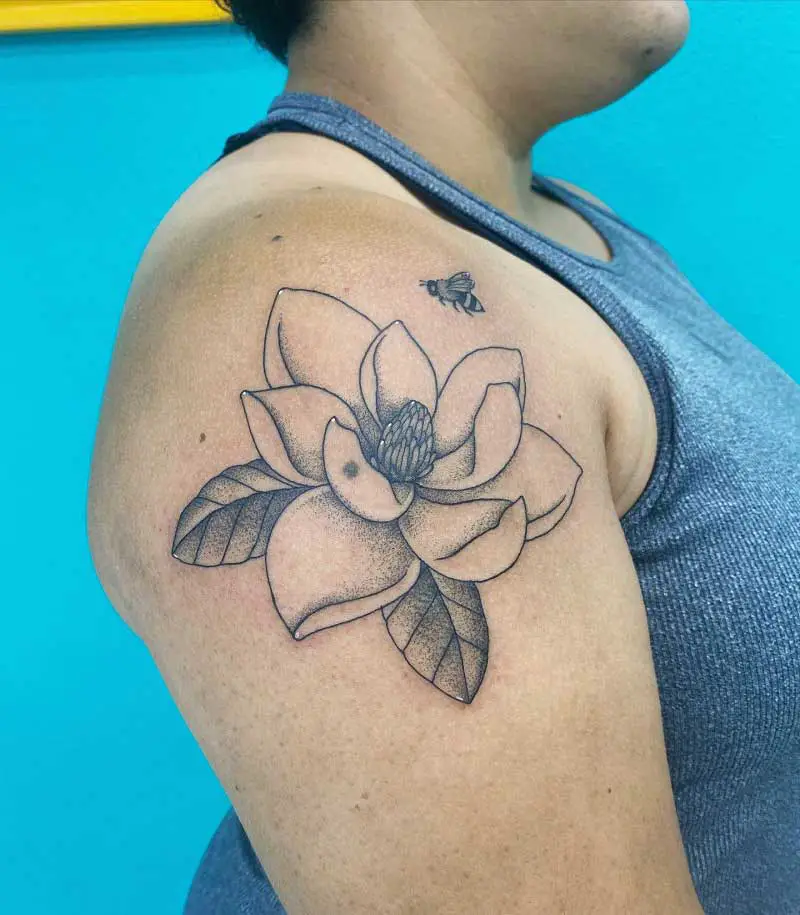 Southern Magnolia Tree Tattoo
46.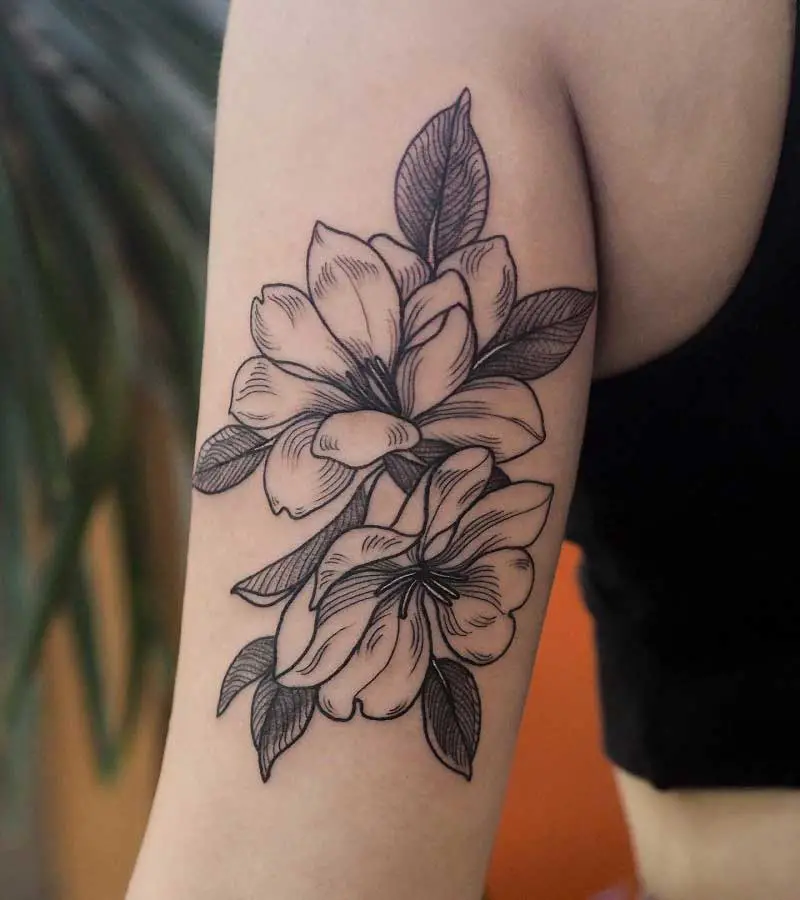 47.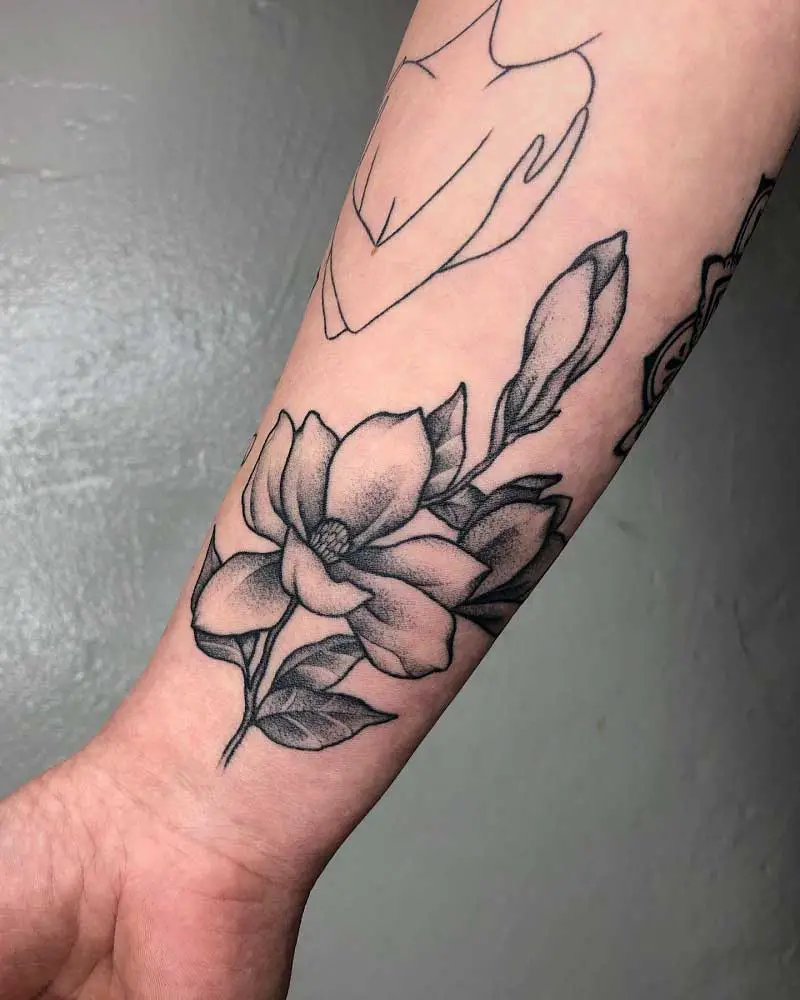 48.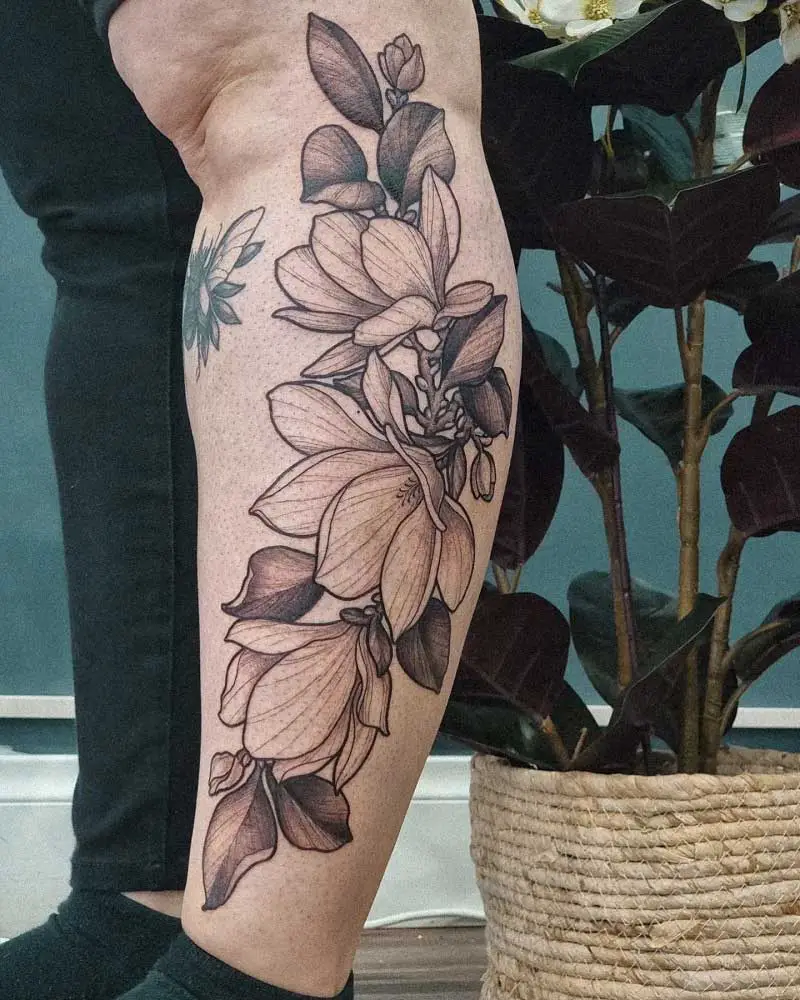 Magnolia Arm Tattoo
49.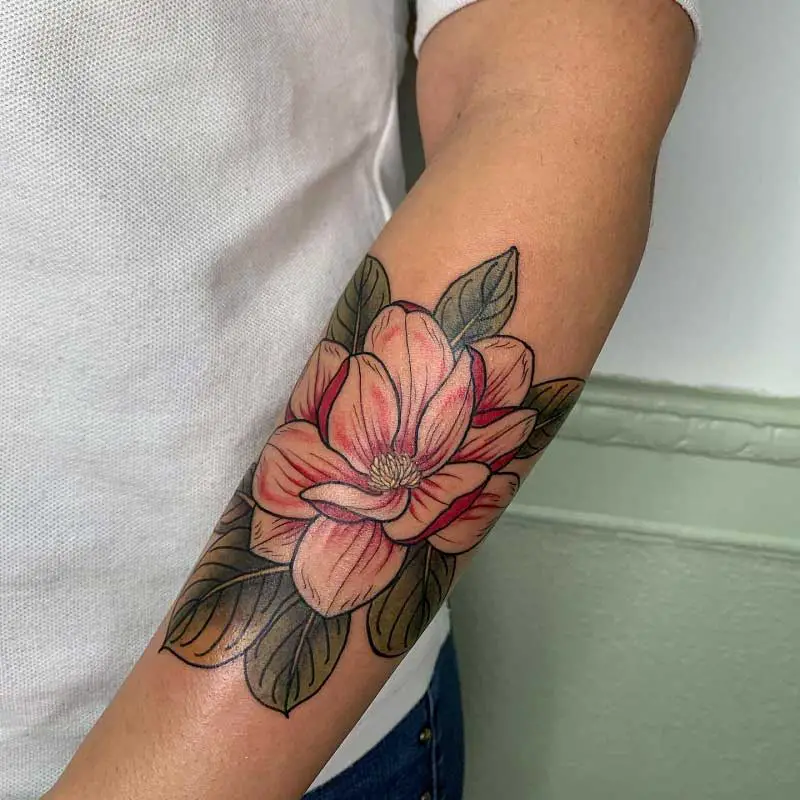 50.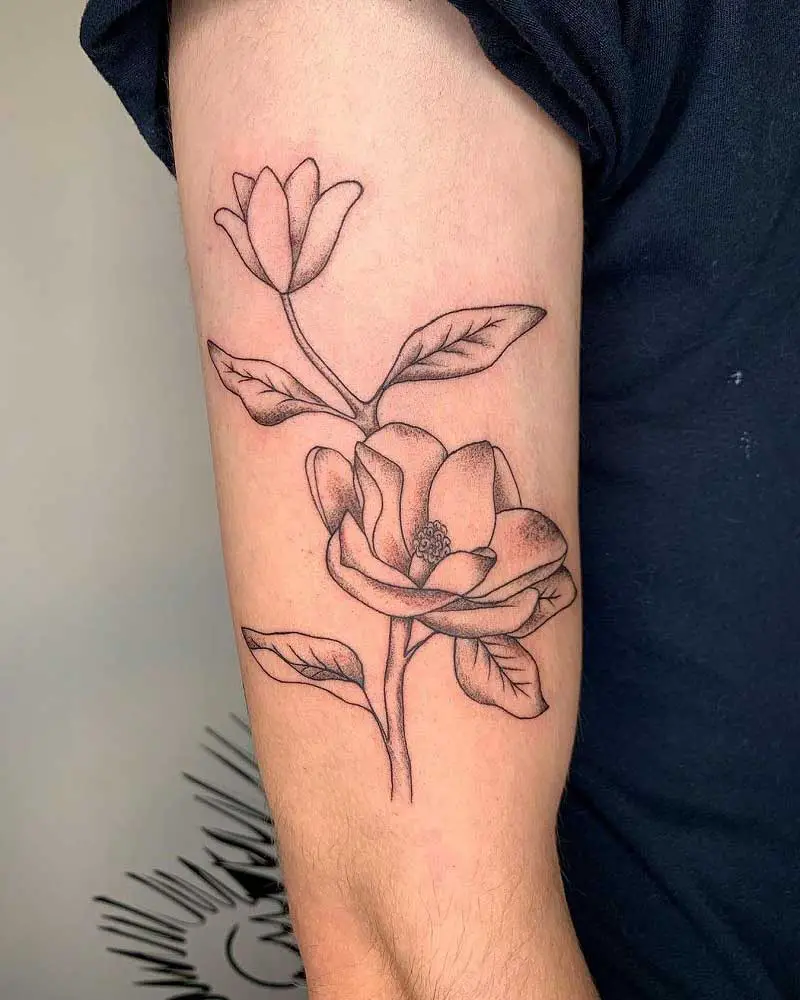 51.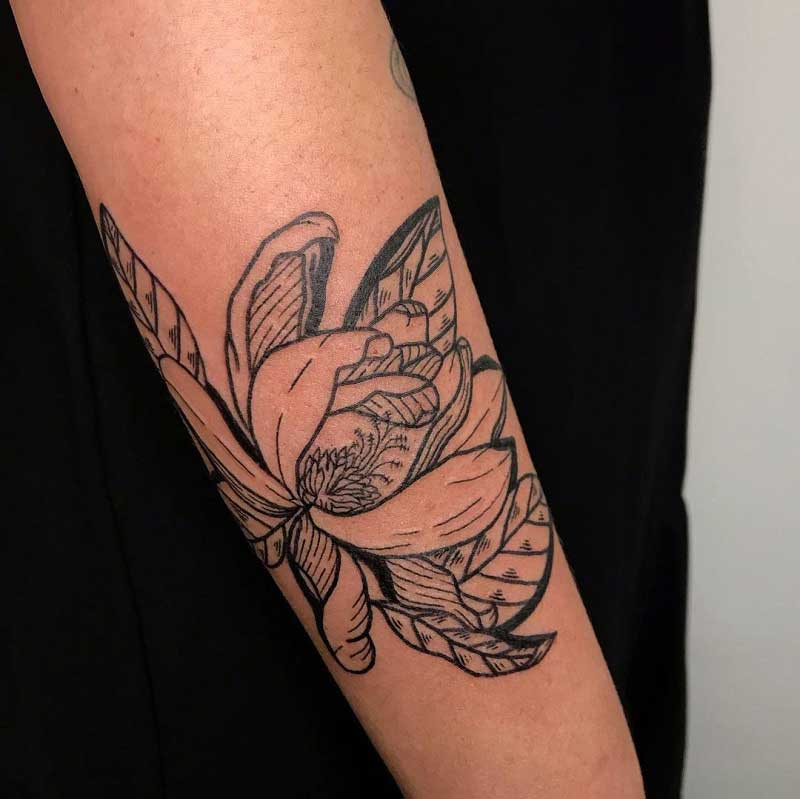 Magnolia Foot Tattoo
52.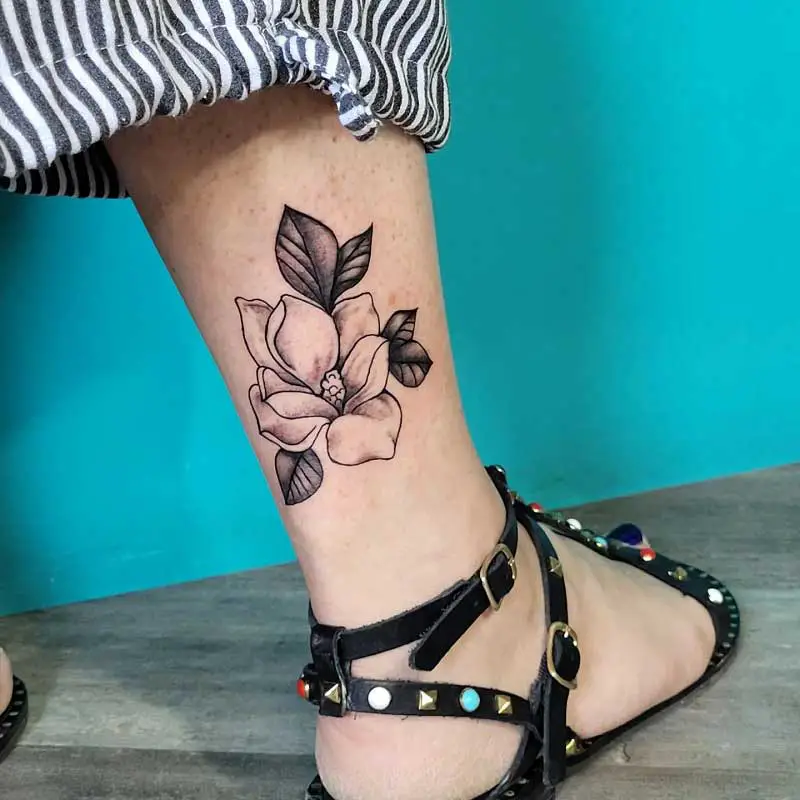 53.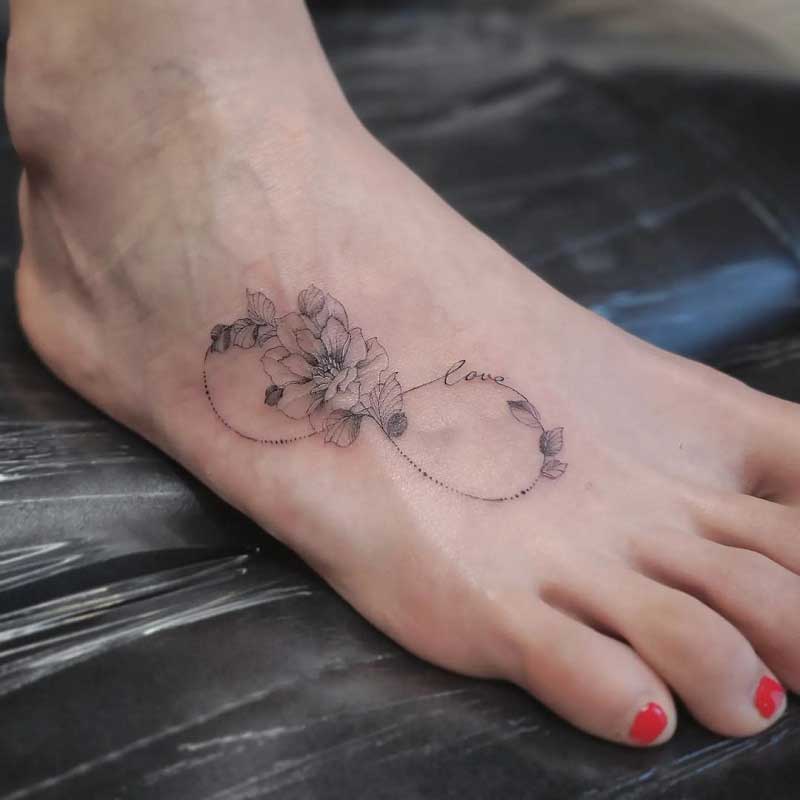 54.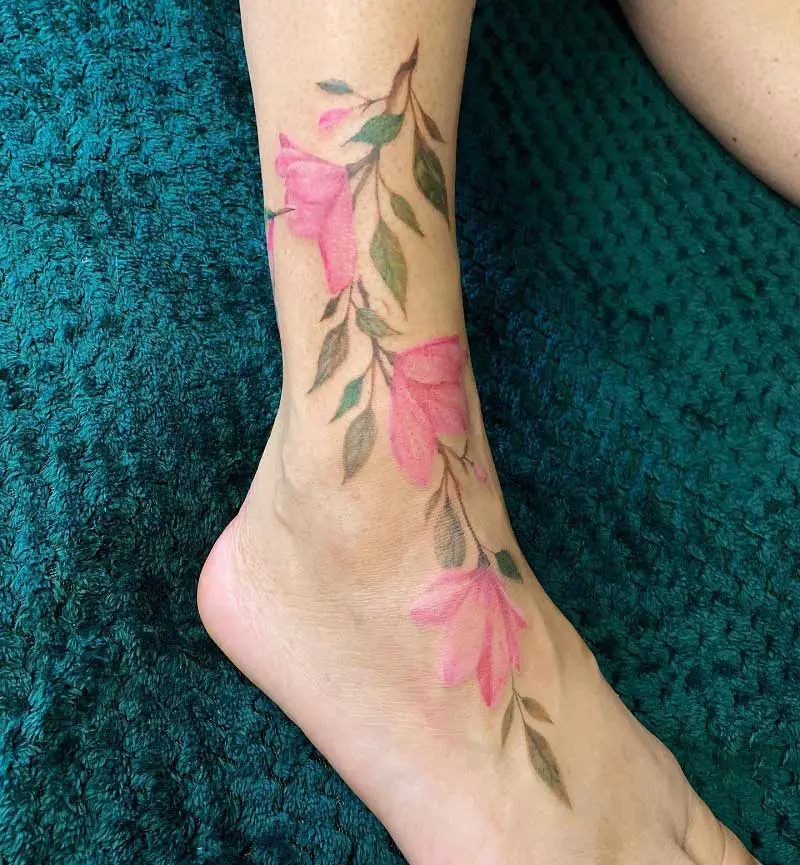 Magnolia Hip Tattoo
55.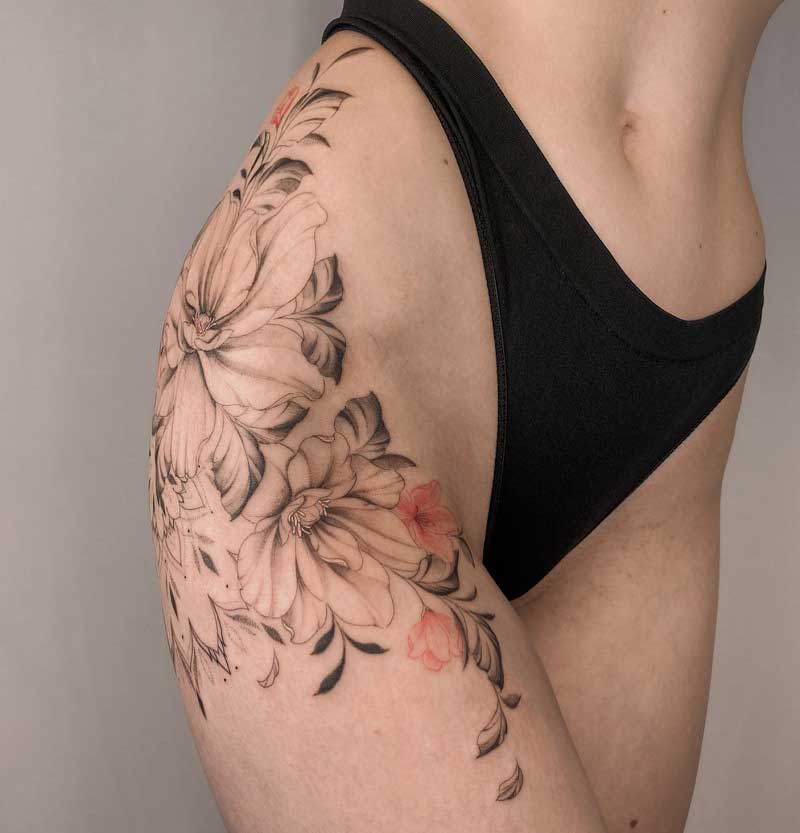 56.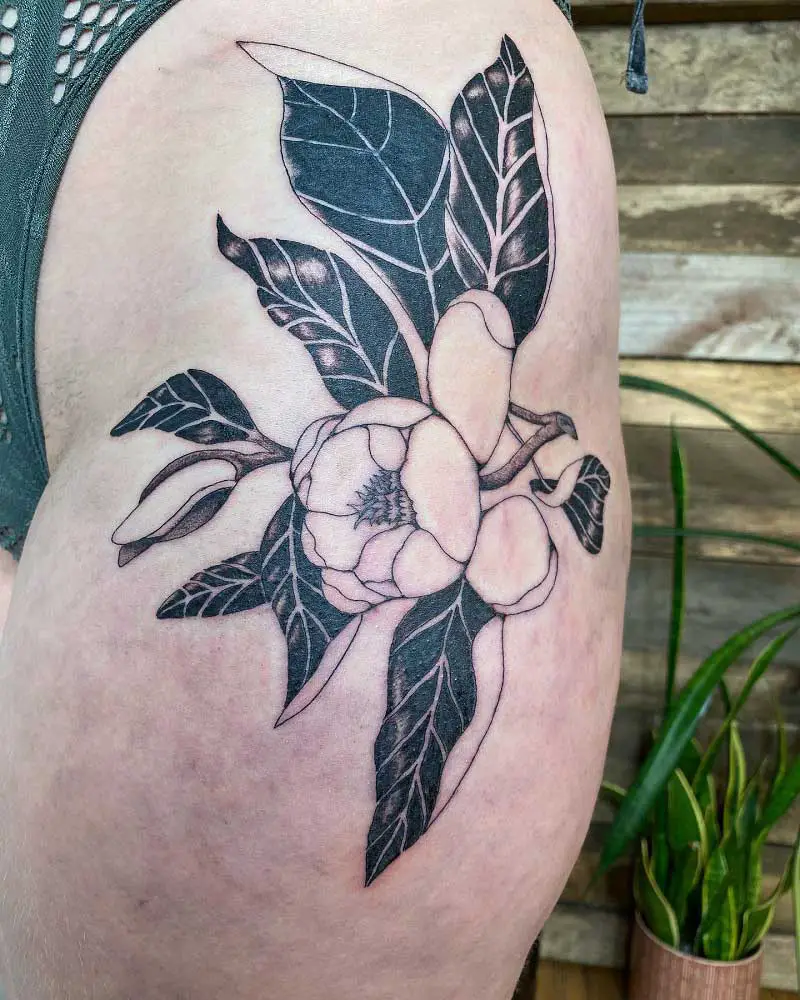 57.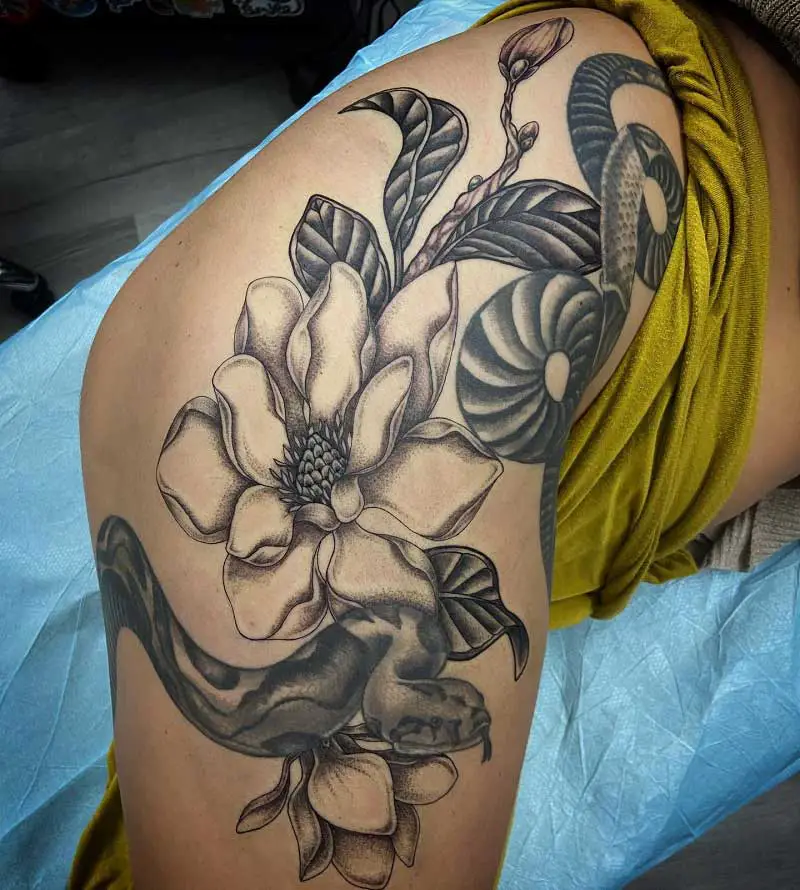 Magnolia Sleeve Tattoo
58.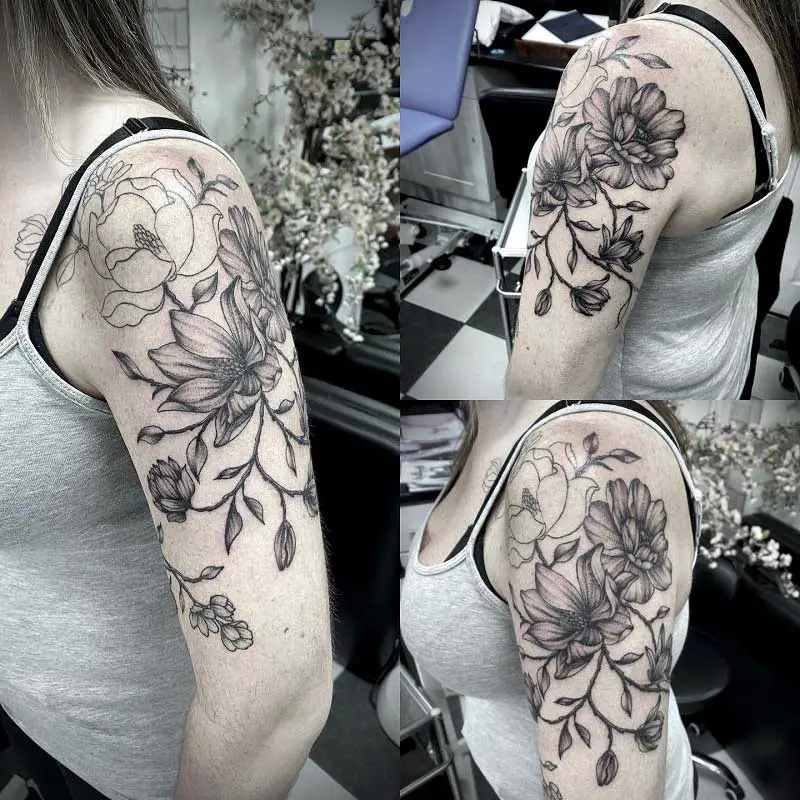 59.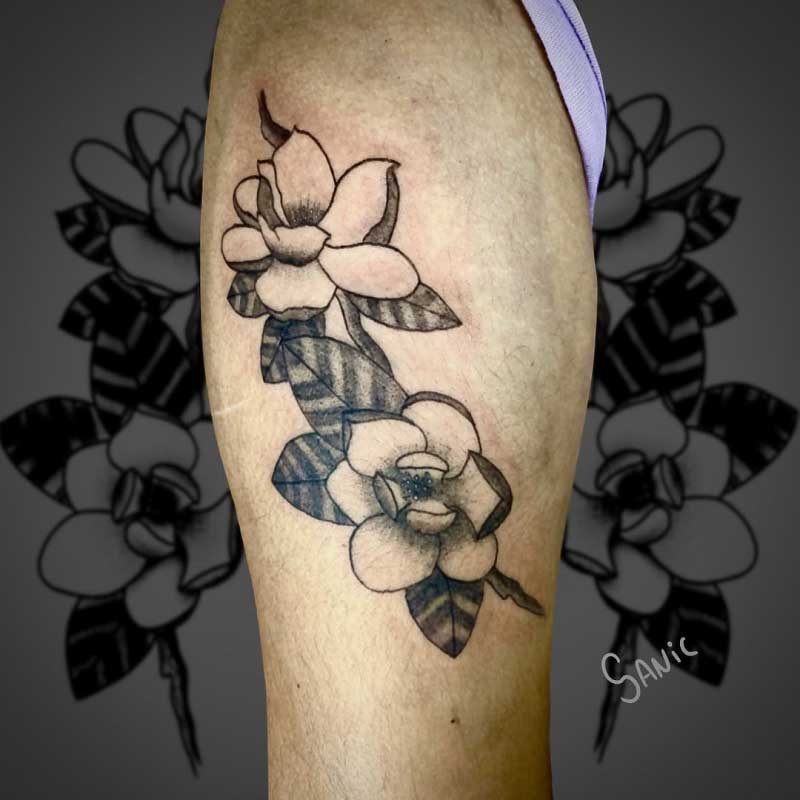 60.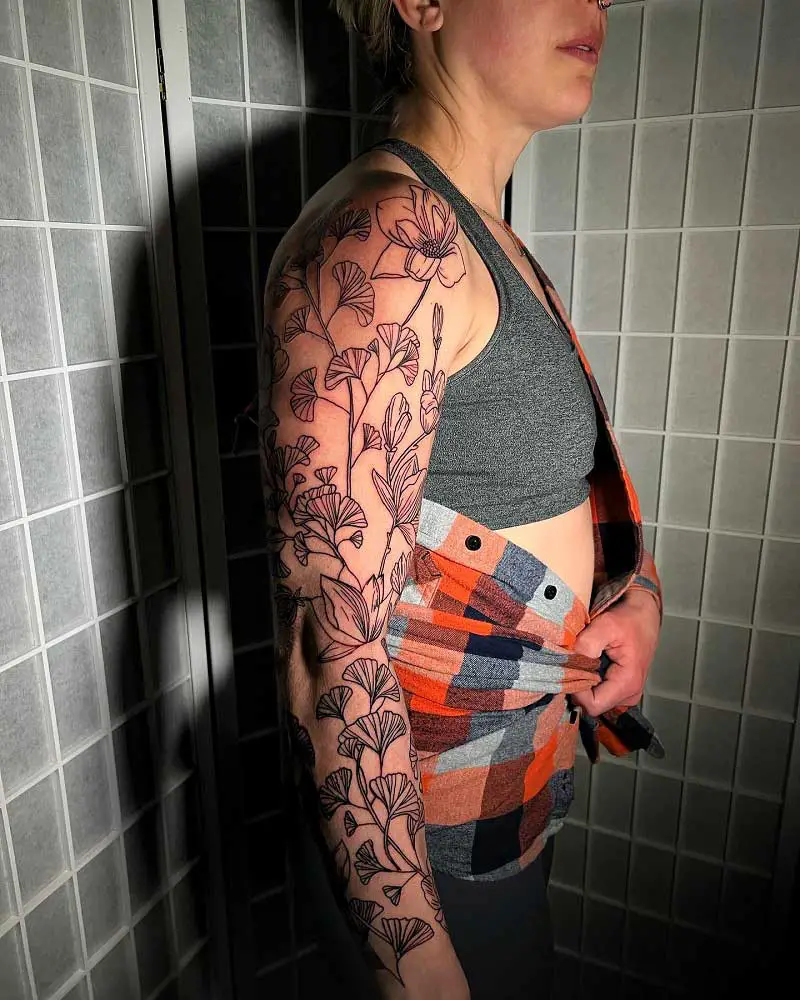 Magnolia Wrist Tattoo
61.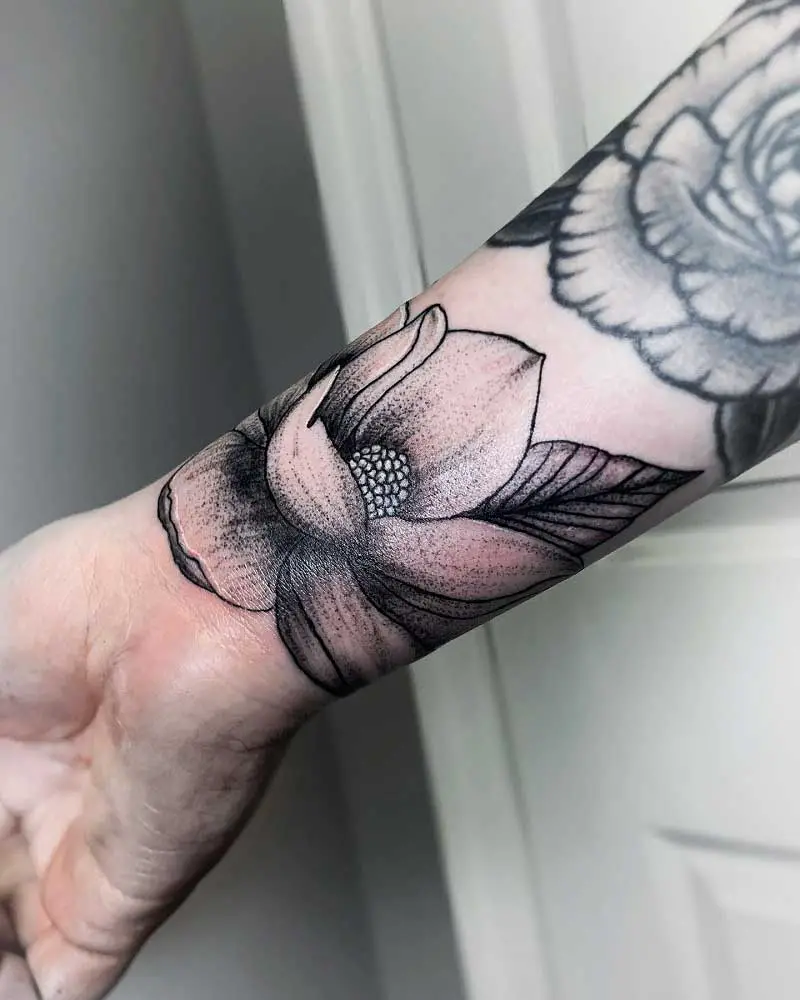 62.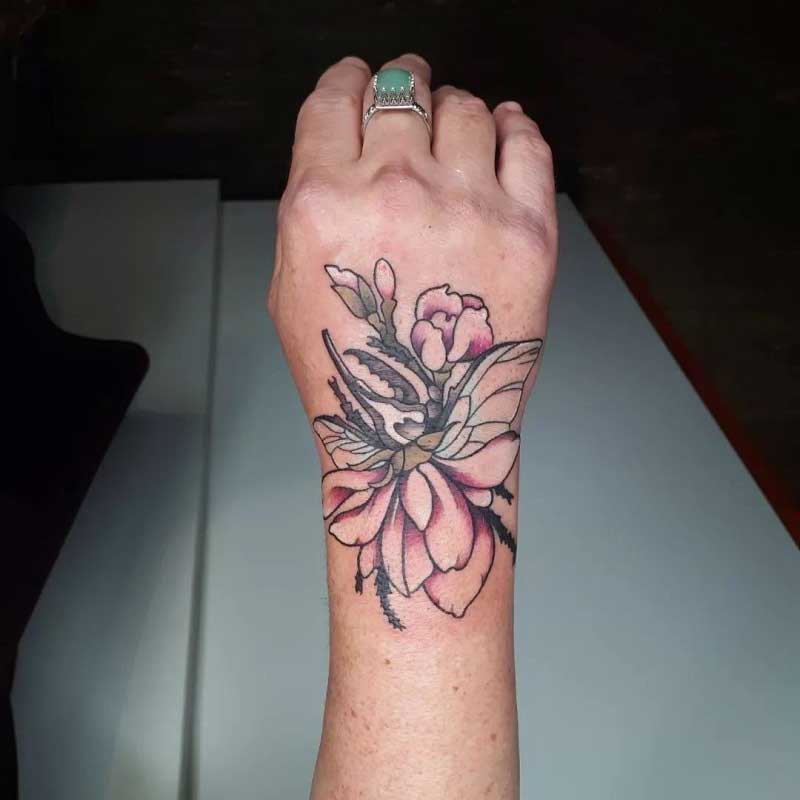 63.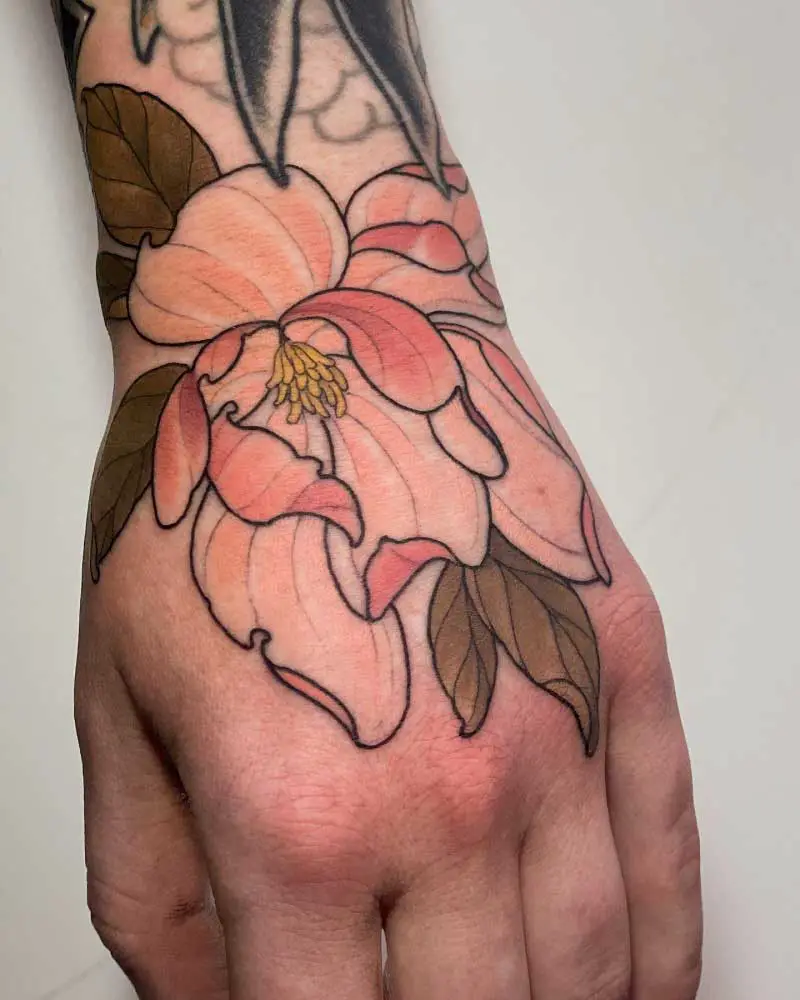 X Ray Magnolia Tattoo
64.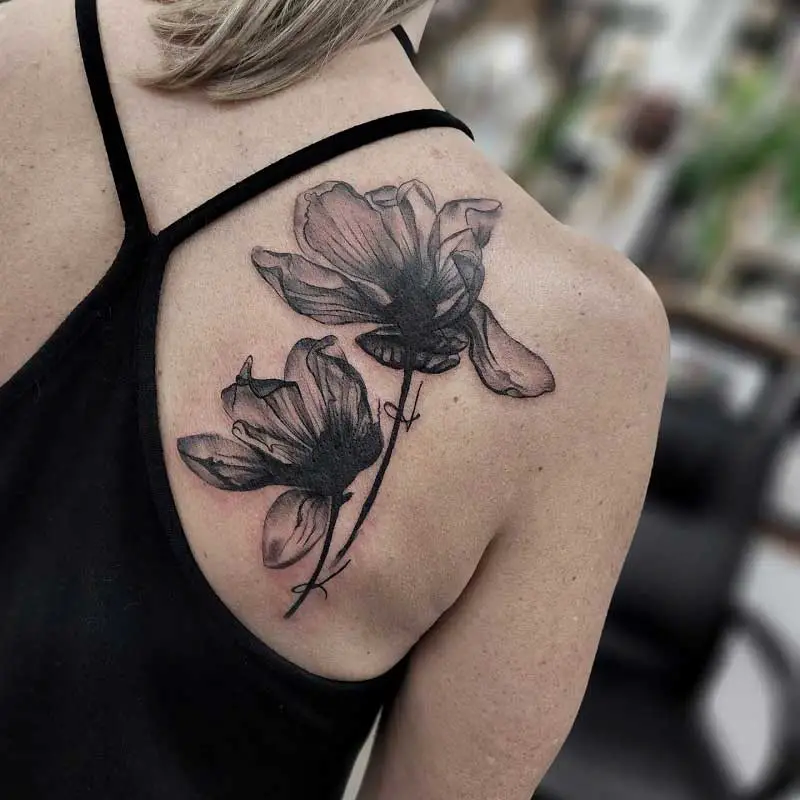 65.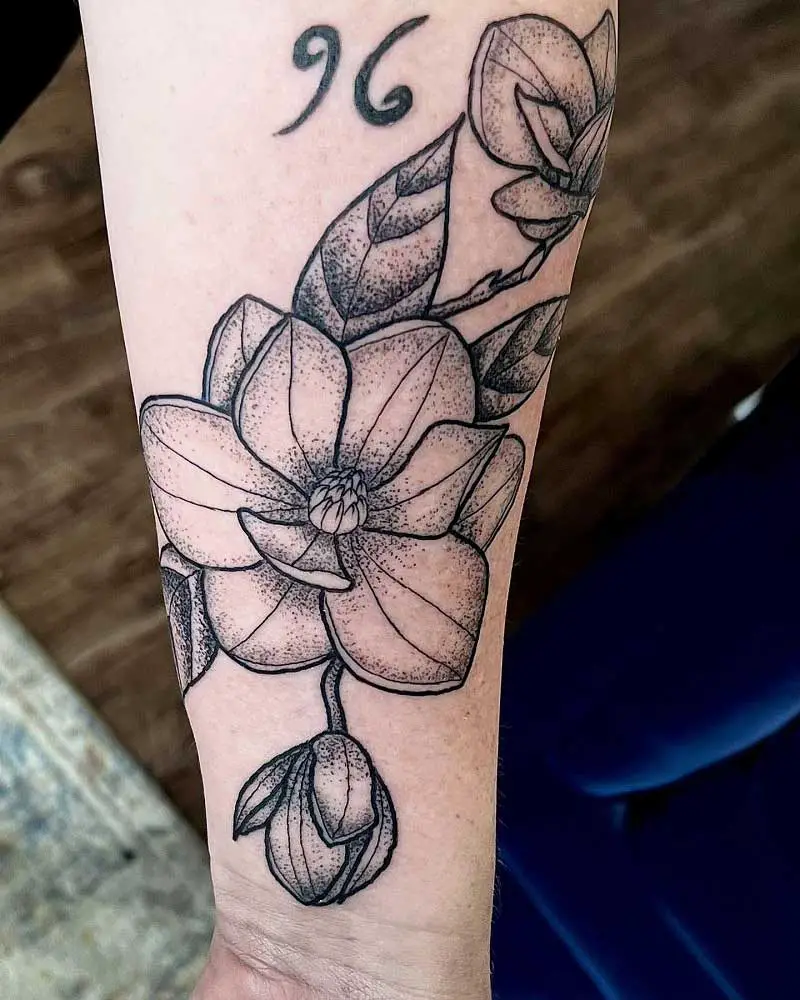 66.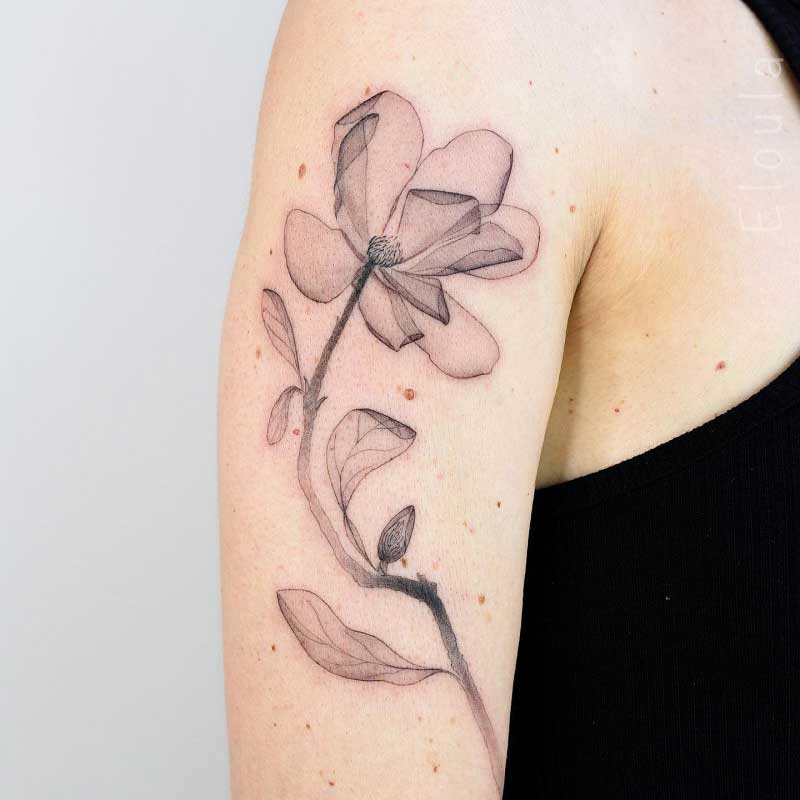 Geometric Magnolia Tattoo
67.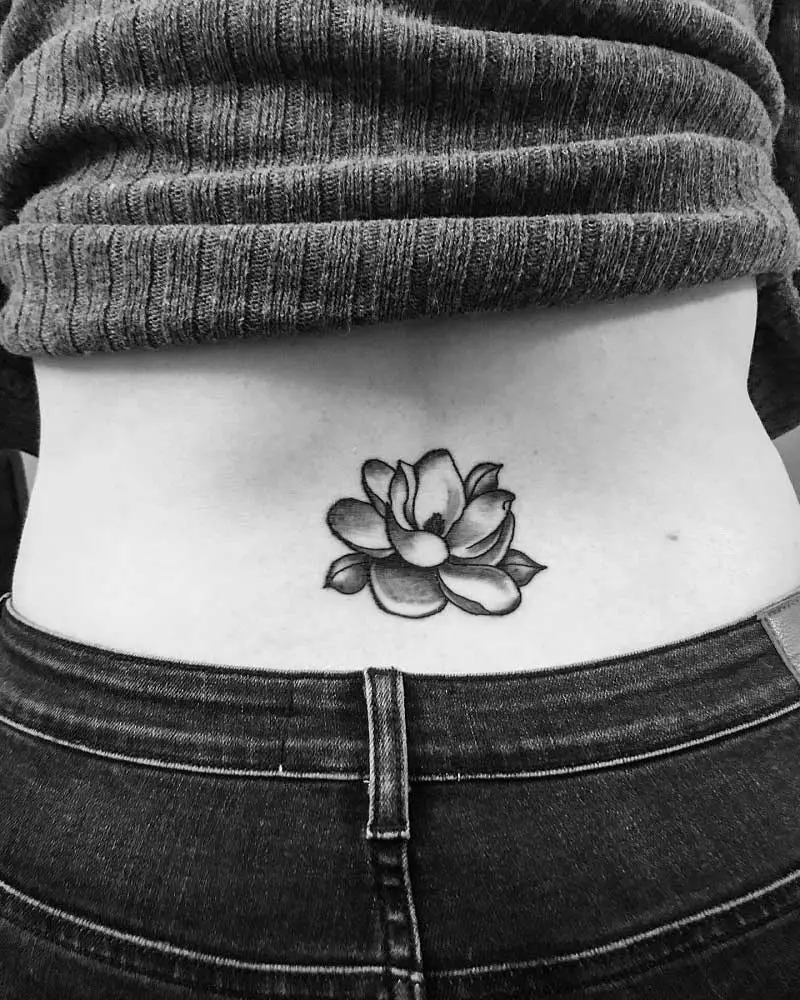 68.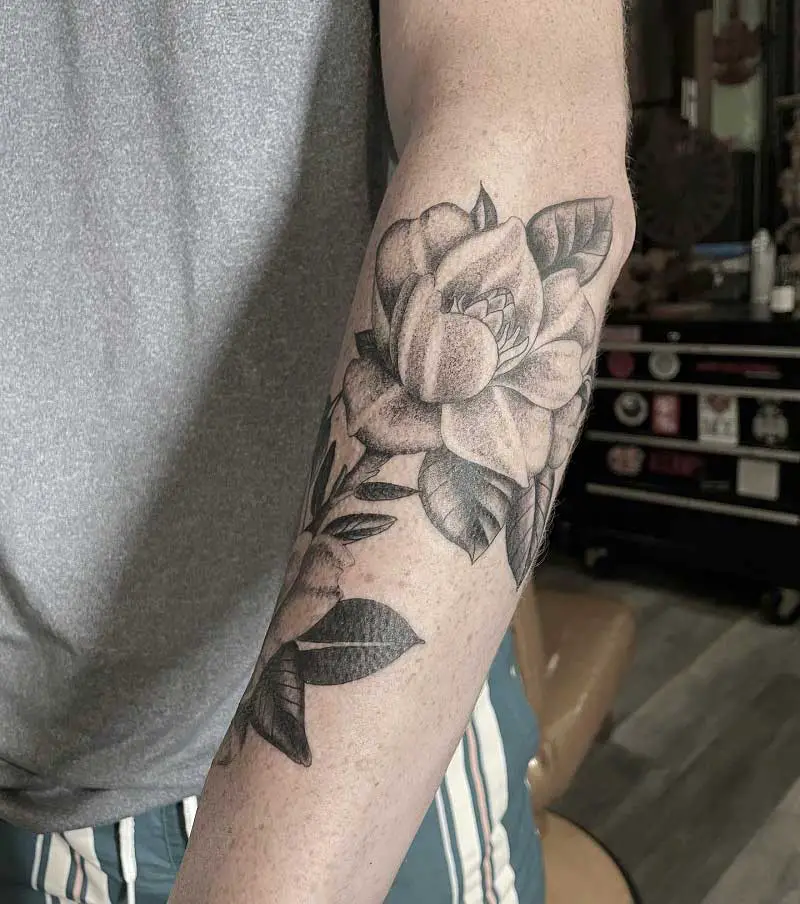 69.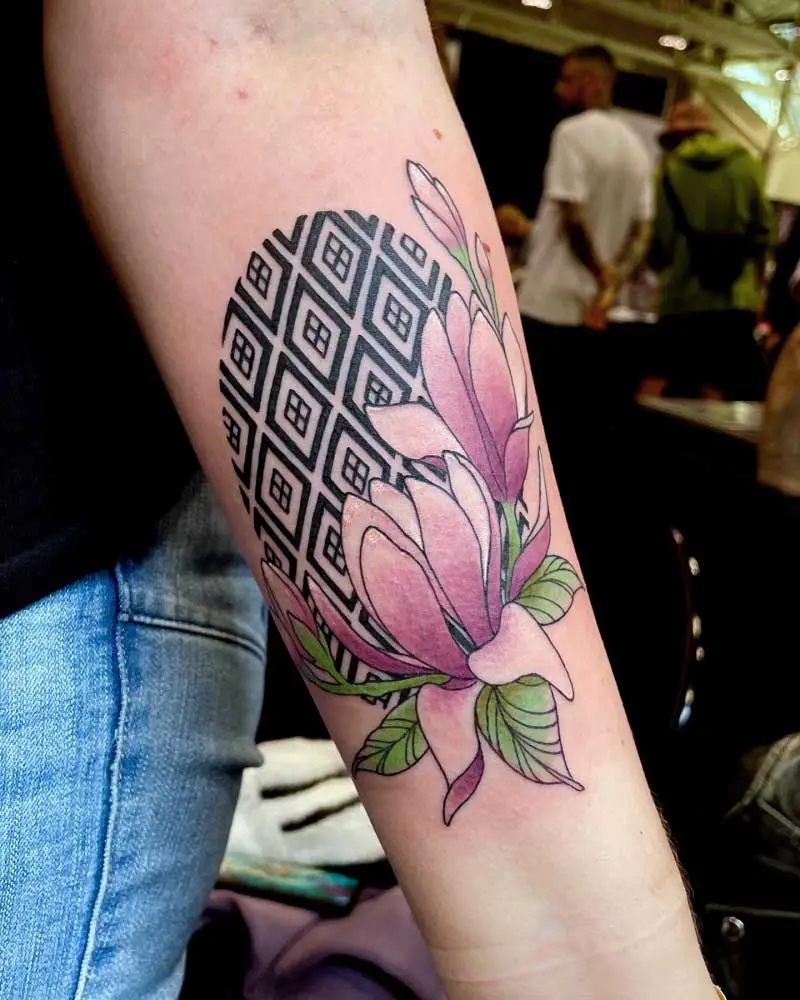 Magnolia Mandala Tattoo
70.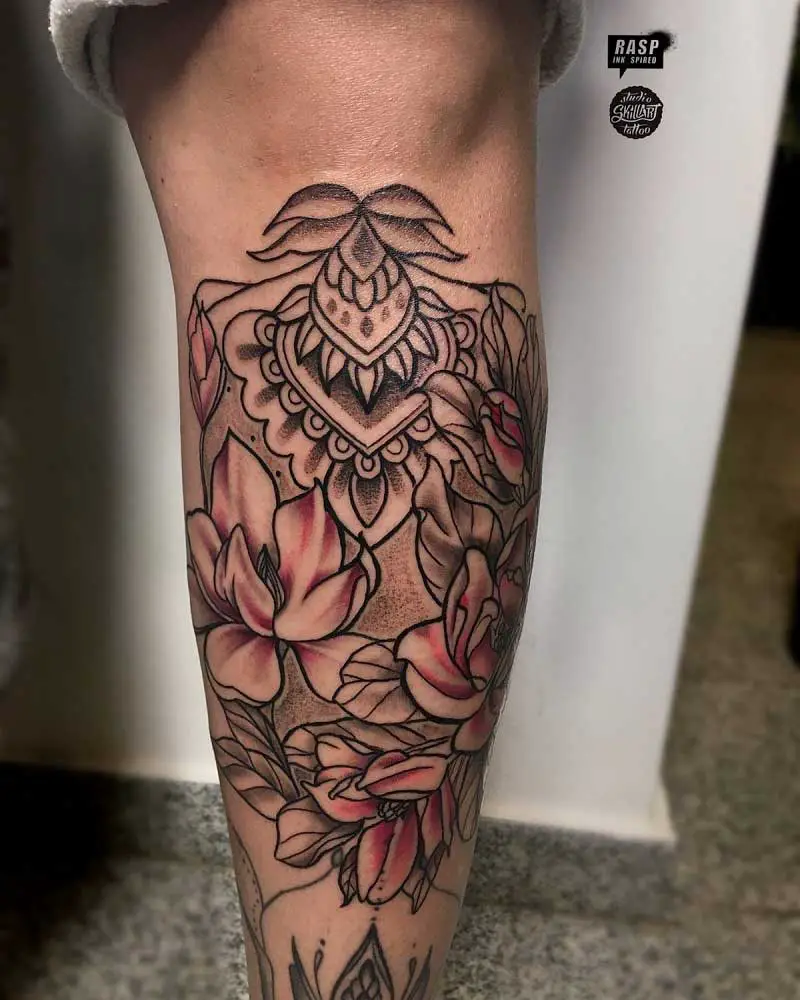 71.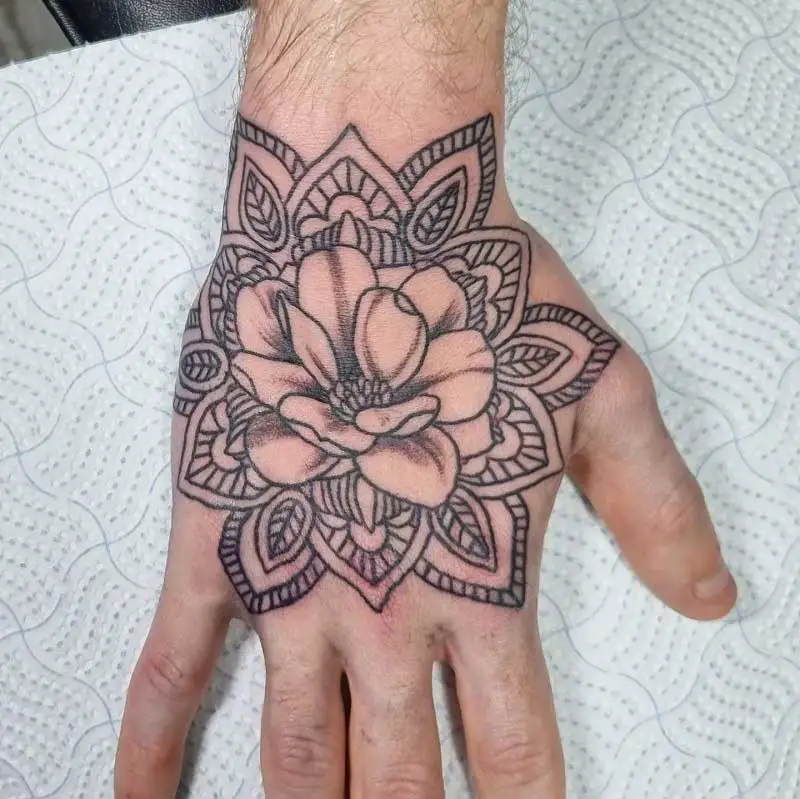 72.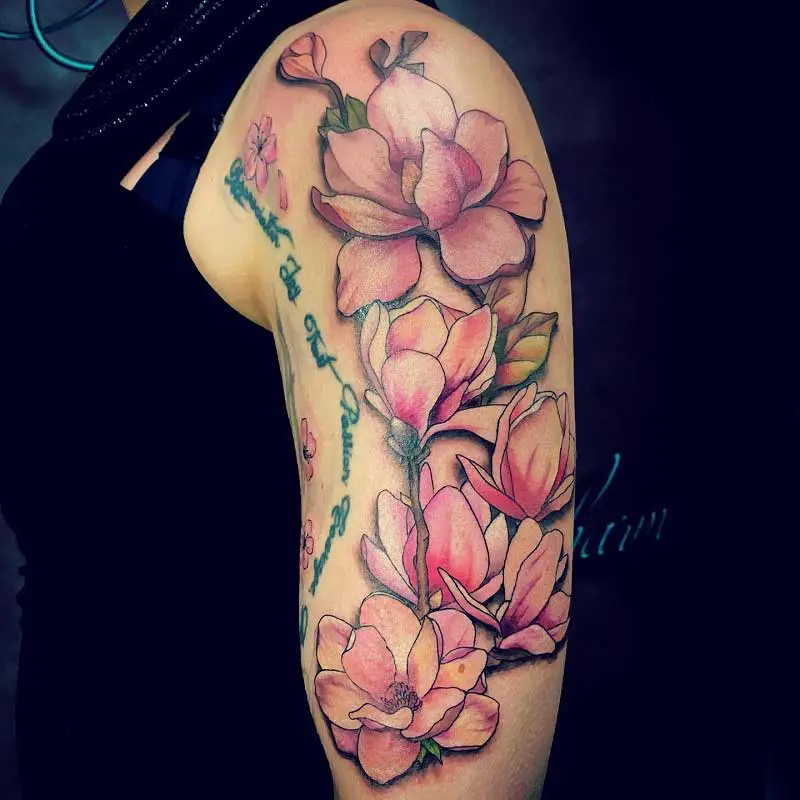 Magnolia Forearm Tattoo
73.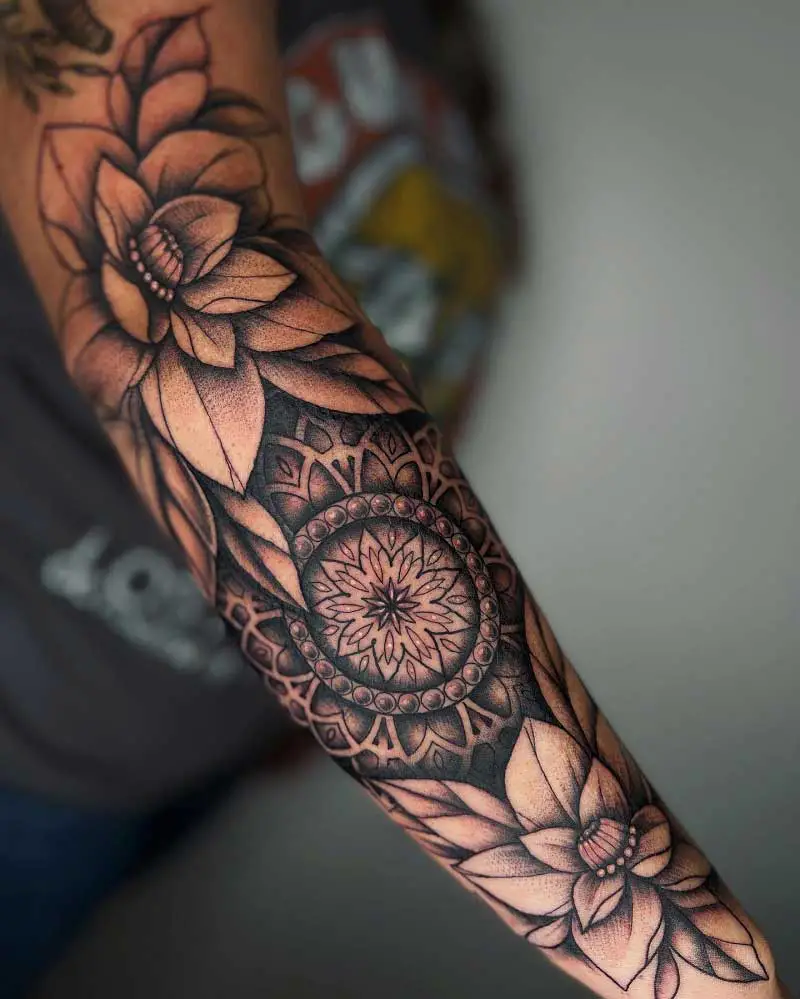 74.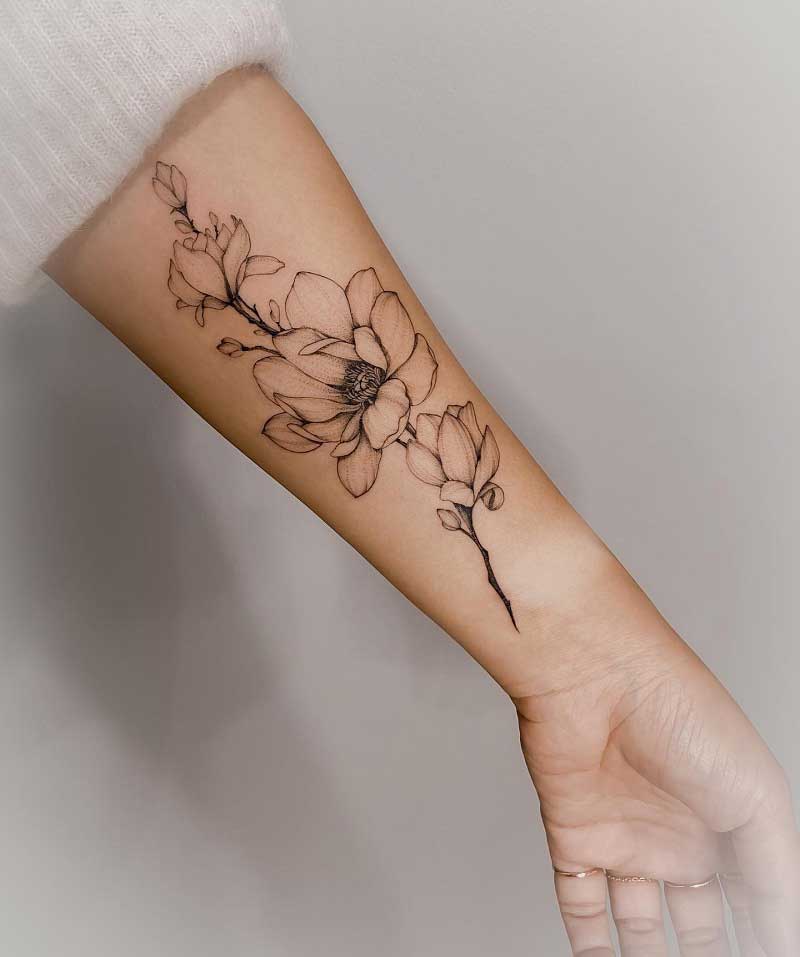 75.
Blackwork Magnolia Tattoo
76.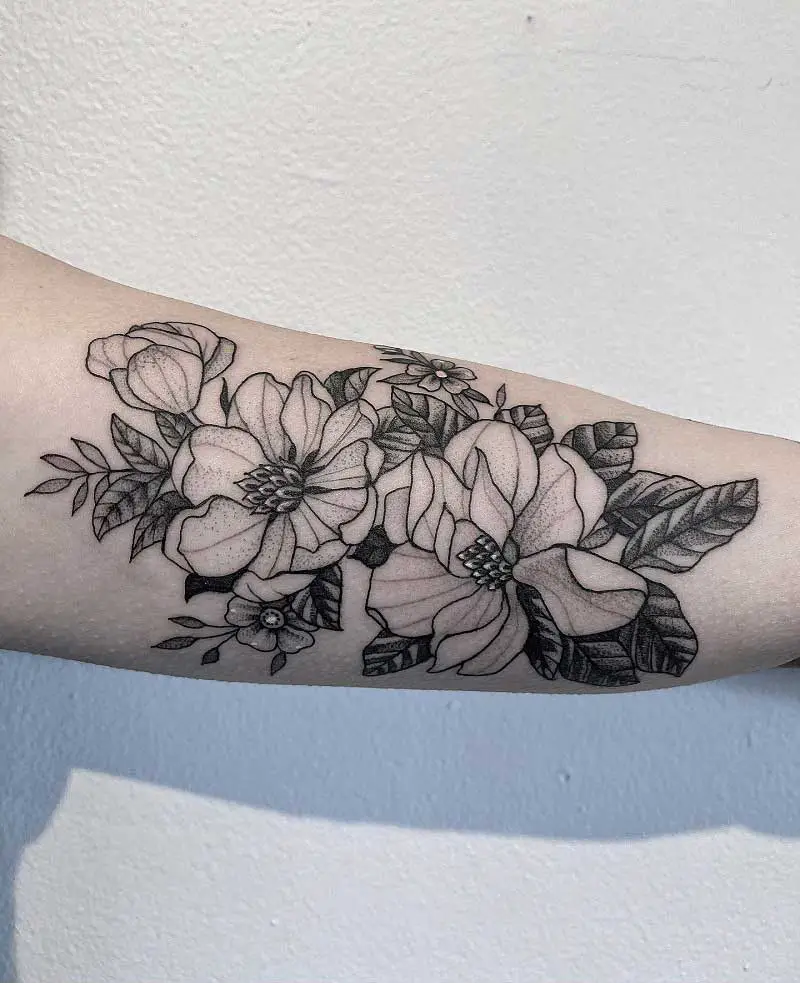 77.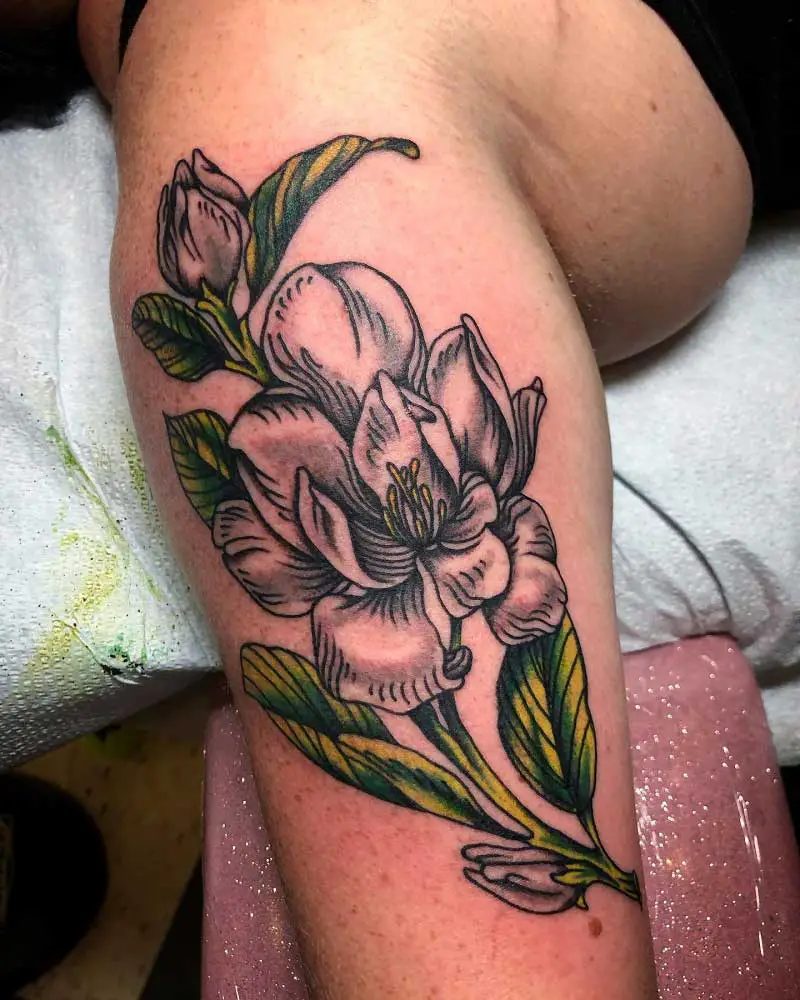 78.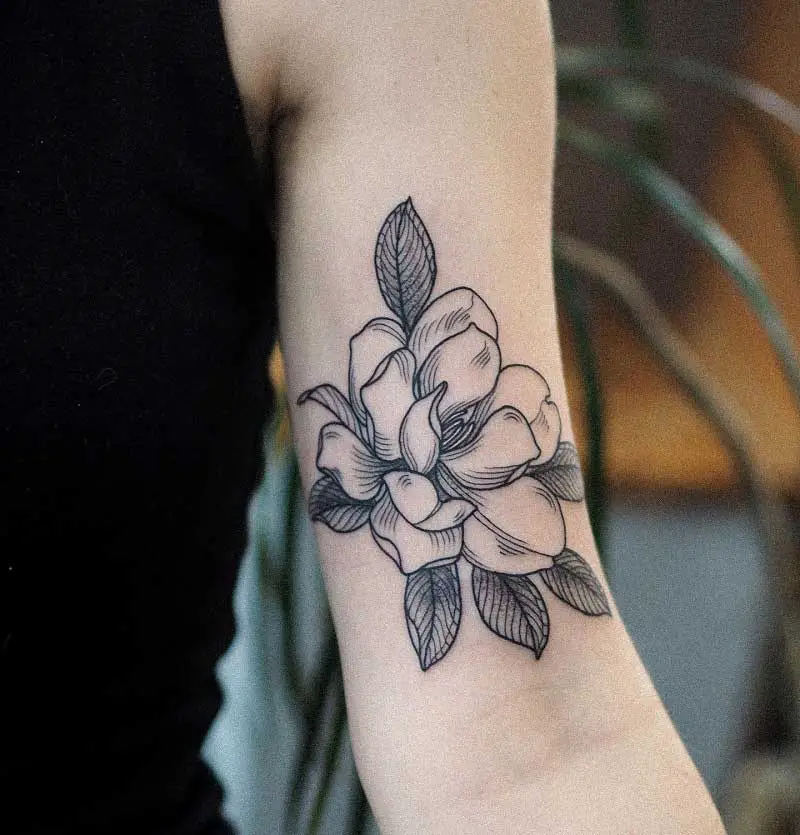 Chinese Magnolia Flower Tattoo
79.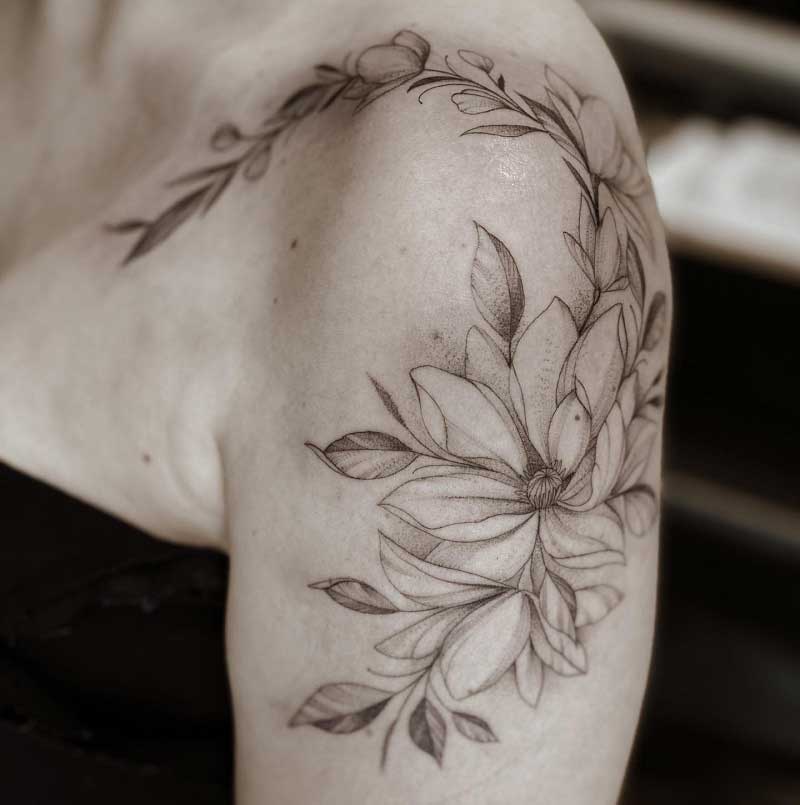 80.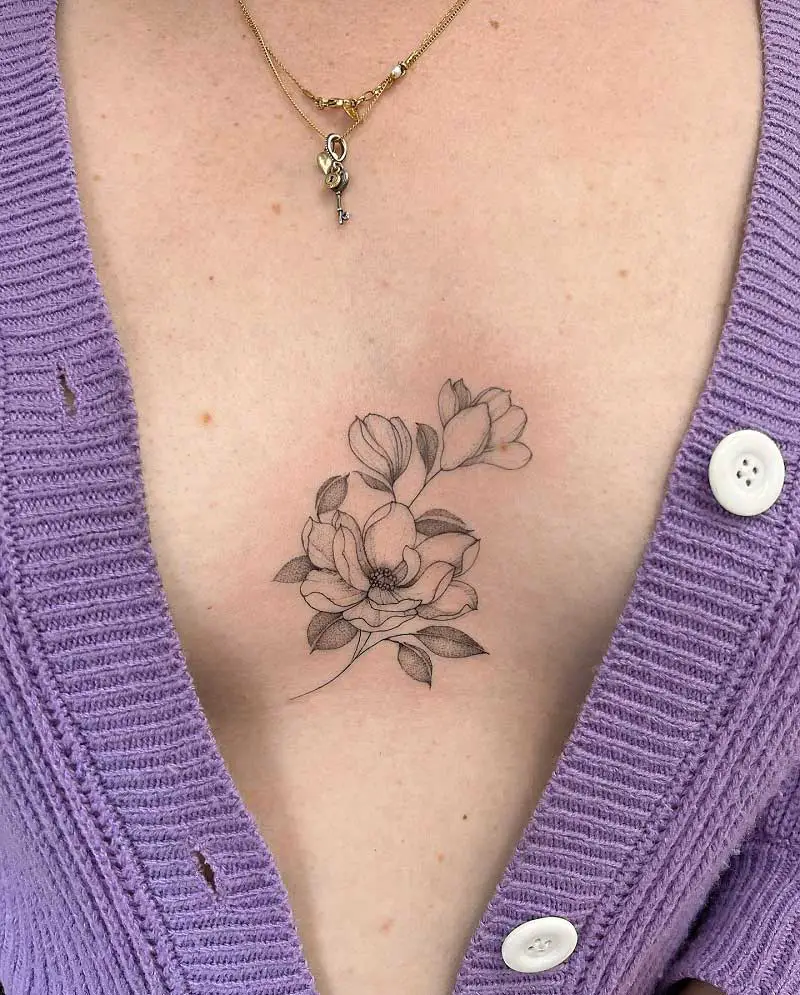 81.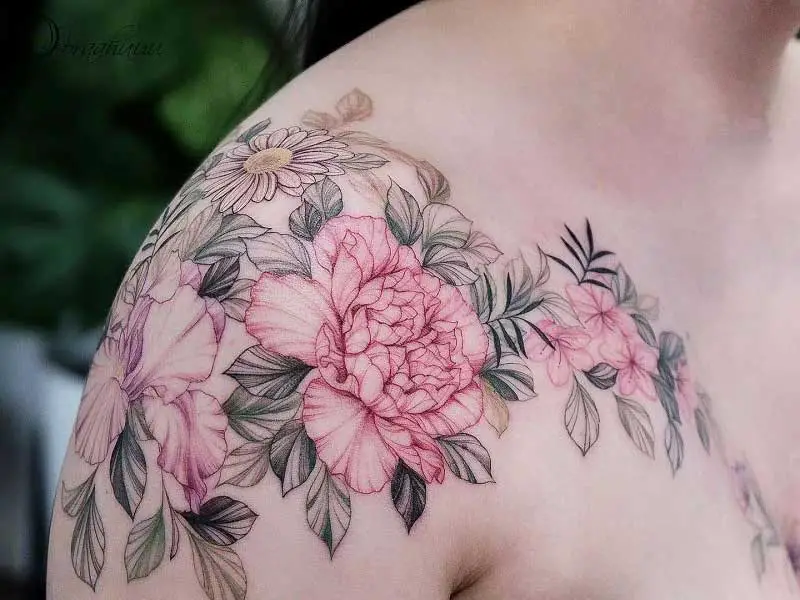 Magnolia Ankle Tattoos
82.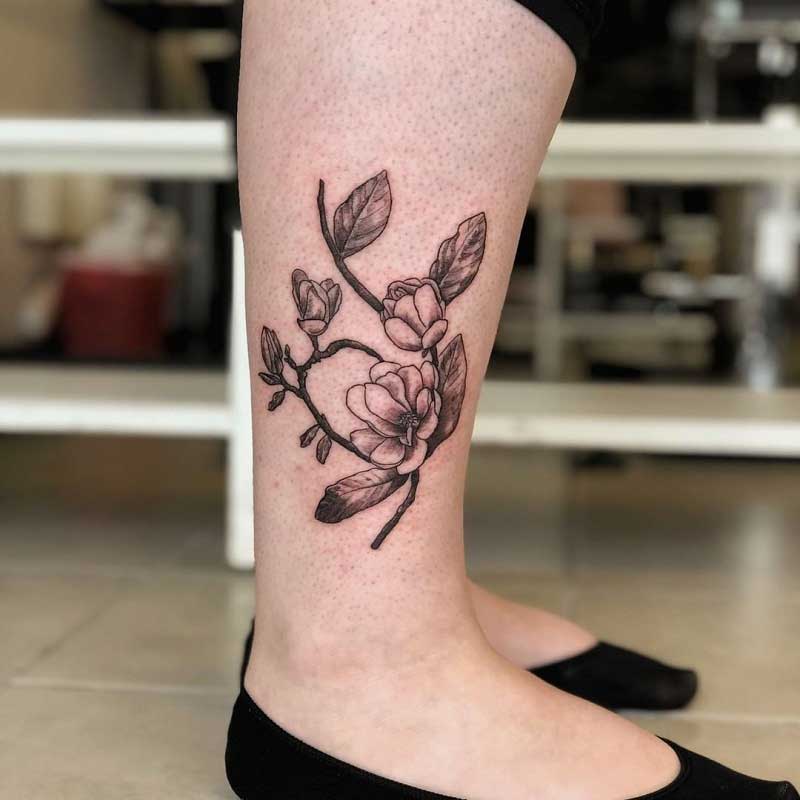 83.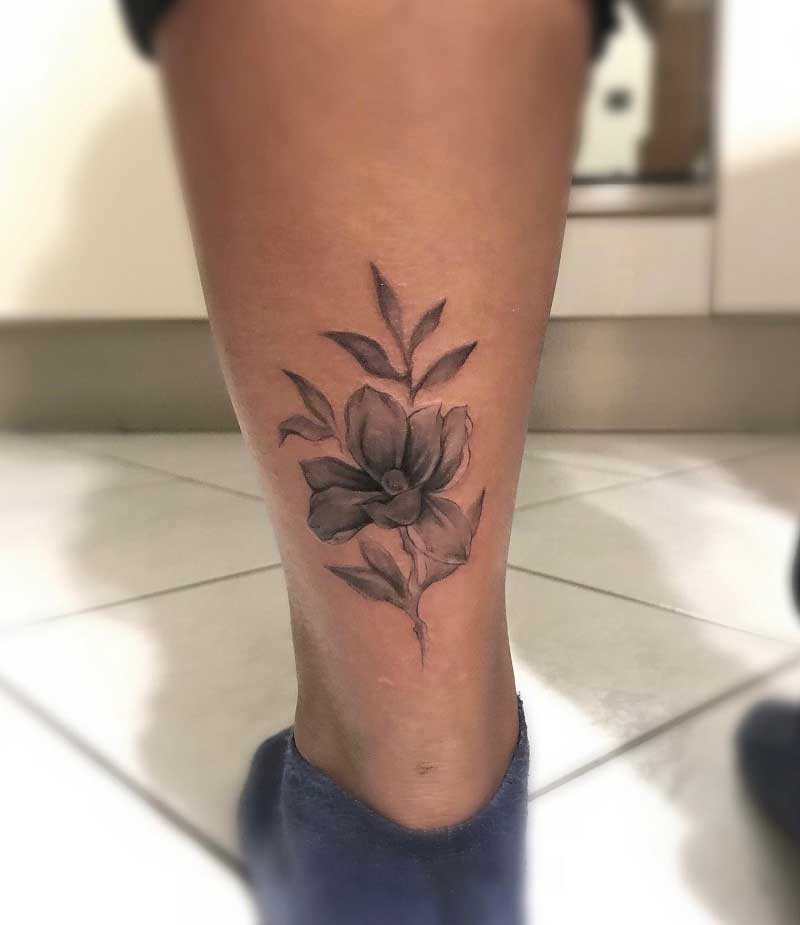 84.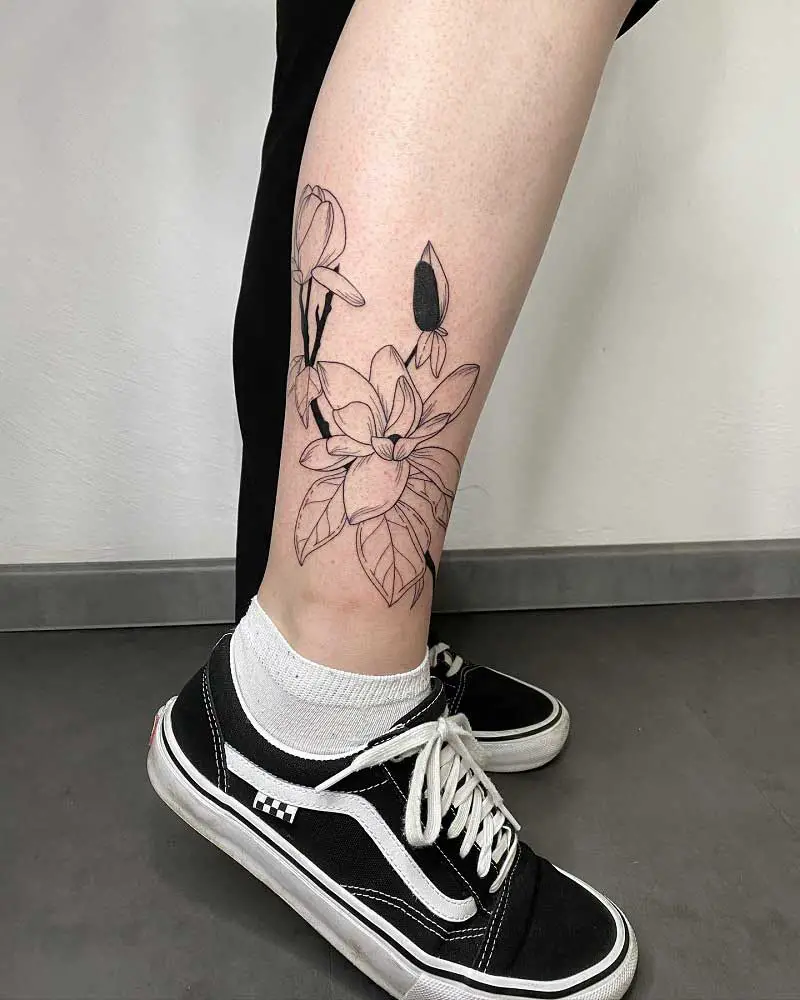 Magnolia Botanical Tattoo
85.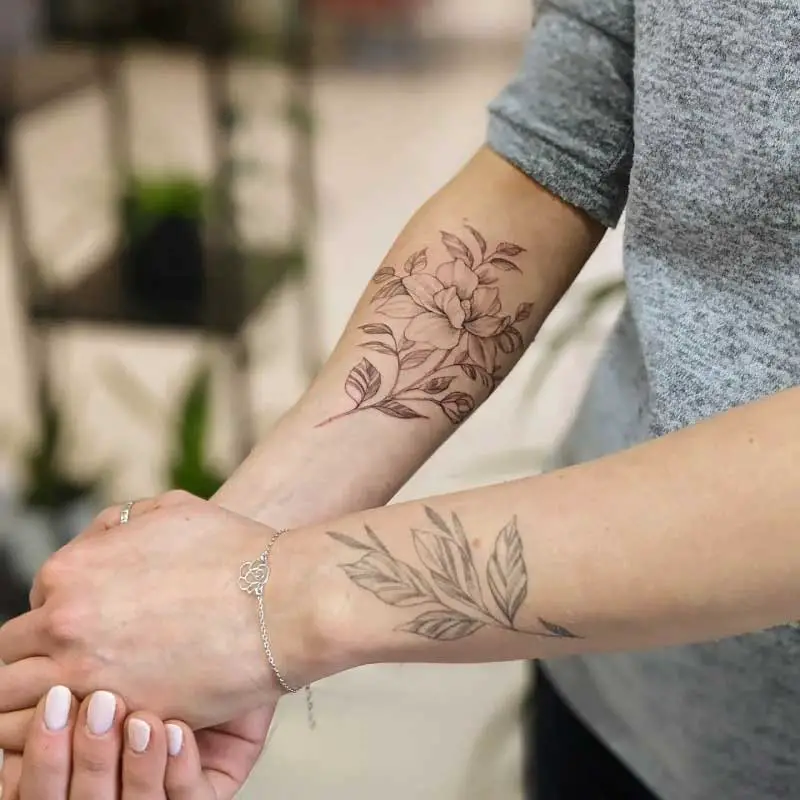 86.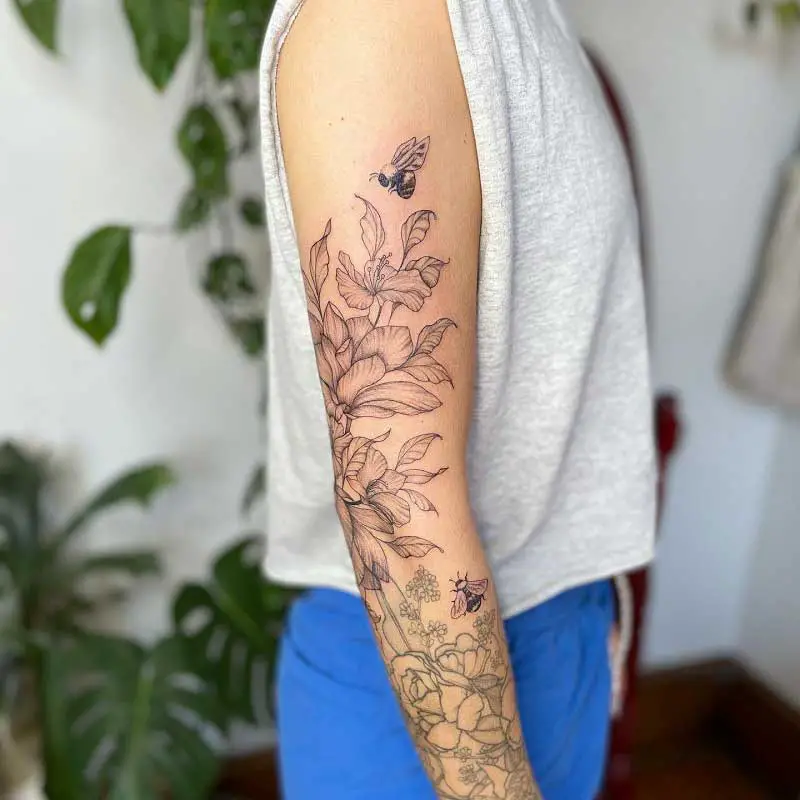 87.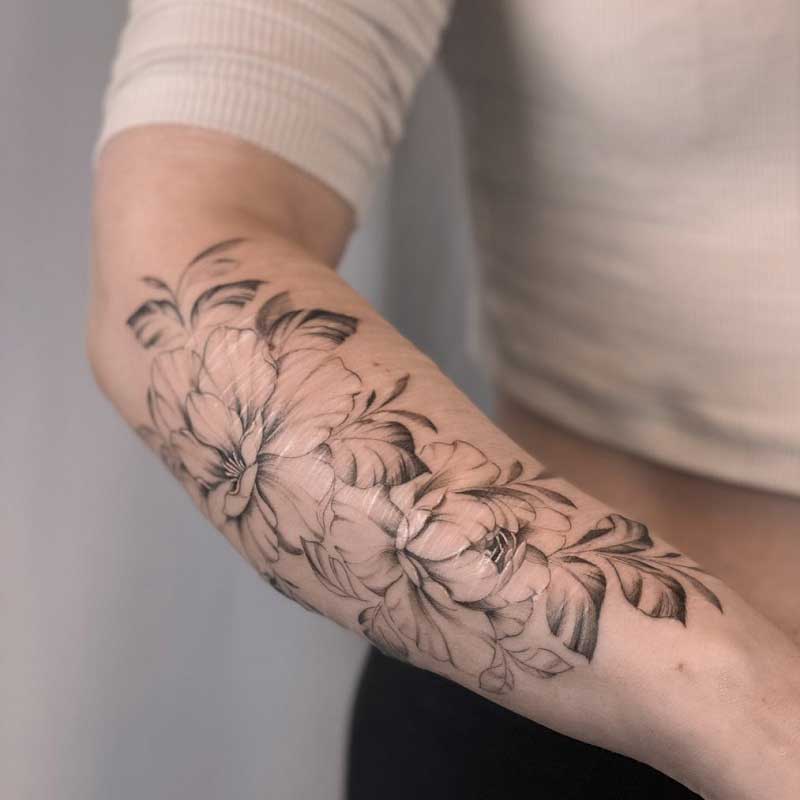 Magnolia Bush Tattoo
88.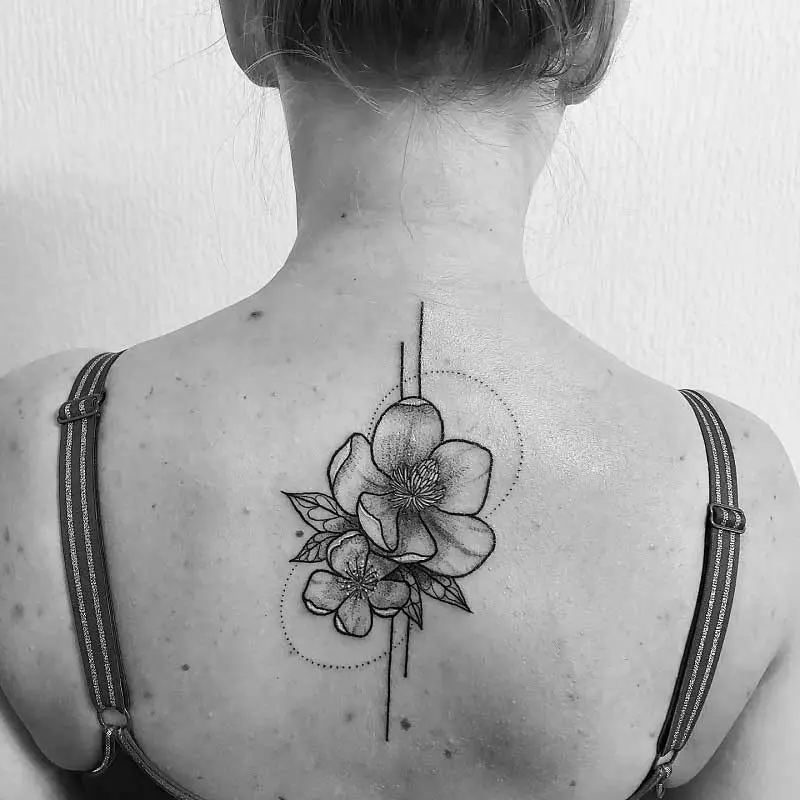 89.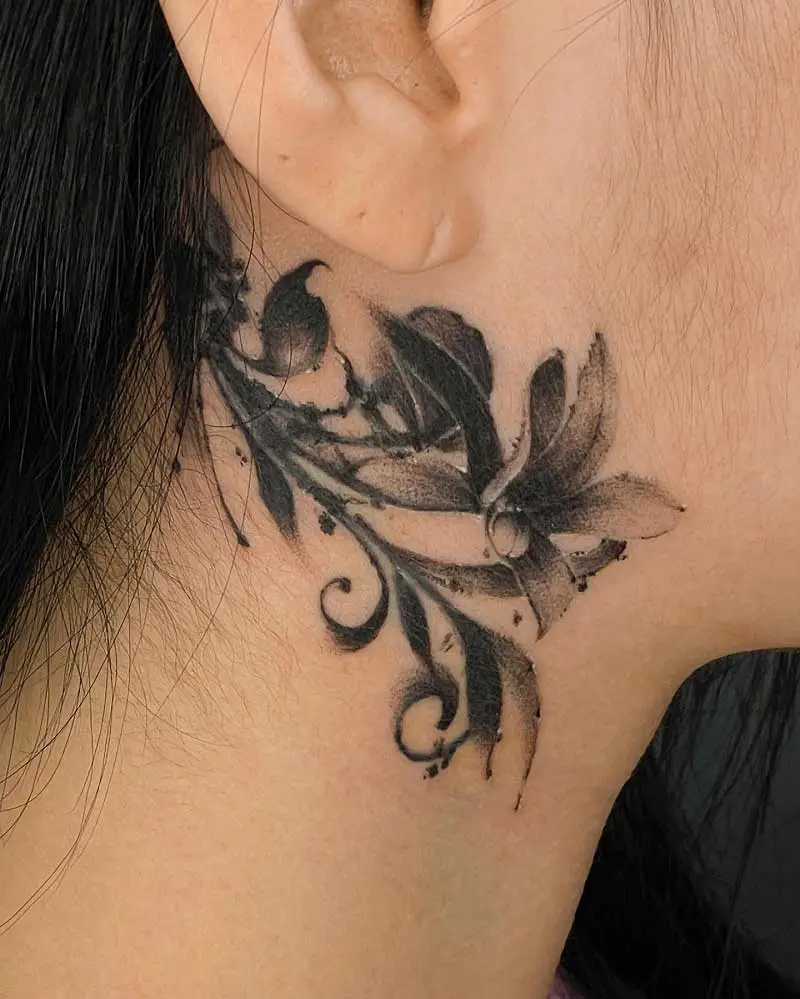 90.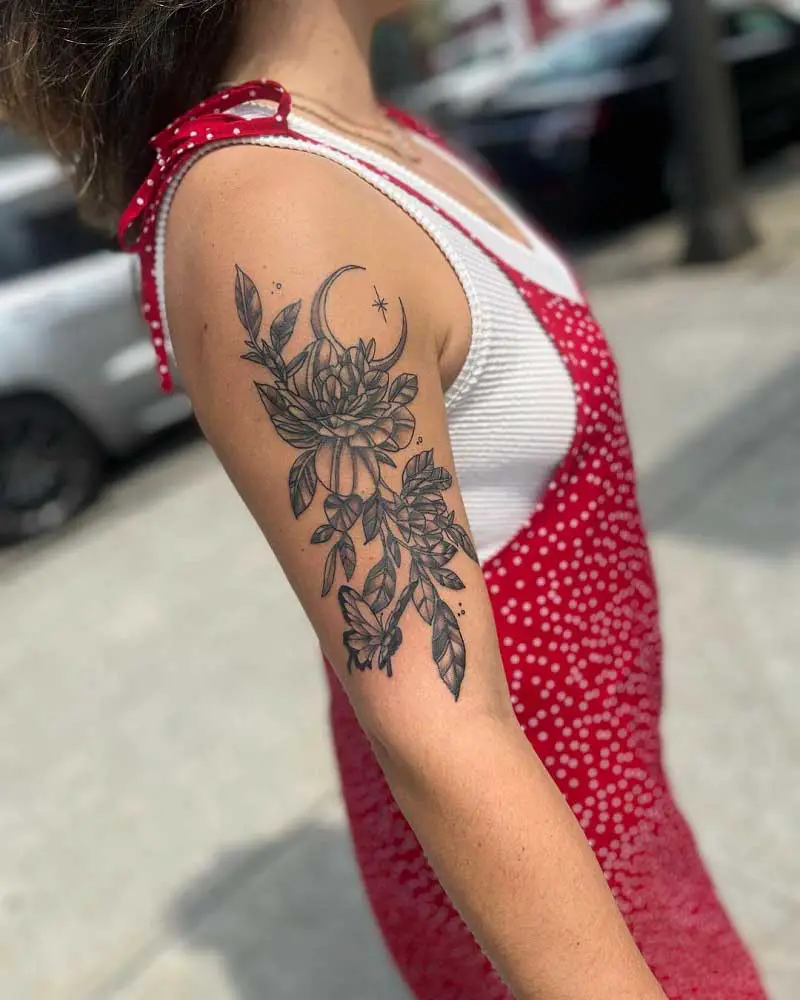 Conclusion
And that is a wrap! These are some of the most popular magnolia tattoo designs that you may find ideal for your tattoo collection. With so many tattoo ideas out here, it can be a bit overwhelming to choose the perfect tattoo.
Solely for that reason, you must take as much time as you'll need to pick the right design and throughout the whole decision-making process, you have to be extremely calm and patient. It's all smooth sailing after that. Hopefully this article makes things a bit easy for you! Good luck!
Frequently Asked Questions
What does a magnolia tattoo symbolize?
Endurance, purity, beauty, nobility, and love for nature.
What styles of magnolia tattoos are popular?
Single needle tattoos
Realism
Traditional black and gray
Watercolor