Wedding rings are a significant part of a wedding and marriage. However, these rings are super expensive and not within everyone's reach. And opting for a wedding ring tattoo is equally meaningful and beautiful. The trend is still new to several people but the beauty of these wedding ring designs as tattoos look outstanding and attractive.
Now, similar to finding a wedding ring, looking for the right tattoo design is also extremely conflicting. And that is why we are here to help you out and lower your stress levels. We have accumulated some of the top tattoo styles of wedding rings for you. In this blog, we will show you the best and trending wedding ring designs.
86 Wedding Ring Tattoo Designs
Glorify the beauty of your wedding with a beautiful tattoo on your ring finger. The designs are meaningful and eye-catching to all viewers. Join us on a journey of finding out some of the best wedding ring designs.
Classy Wedding Ring Tattoos
Wedding rings are beautiful without any doubt. And getting wedding rings tattooed on your ring finger have a classy vibe to it. Let us discover a few stunning examples of classy wedding ring designs.
1. A Leafy Ring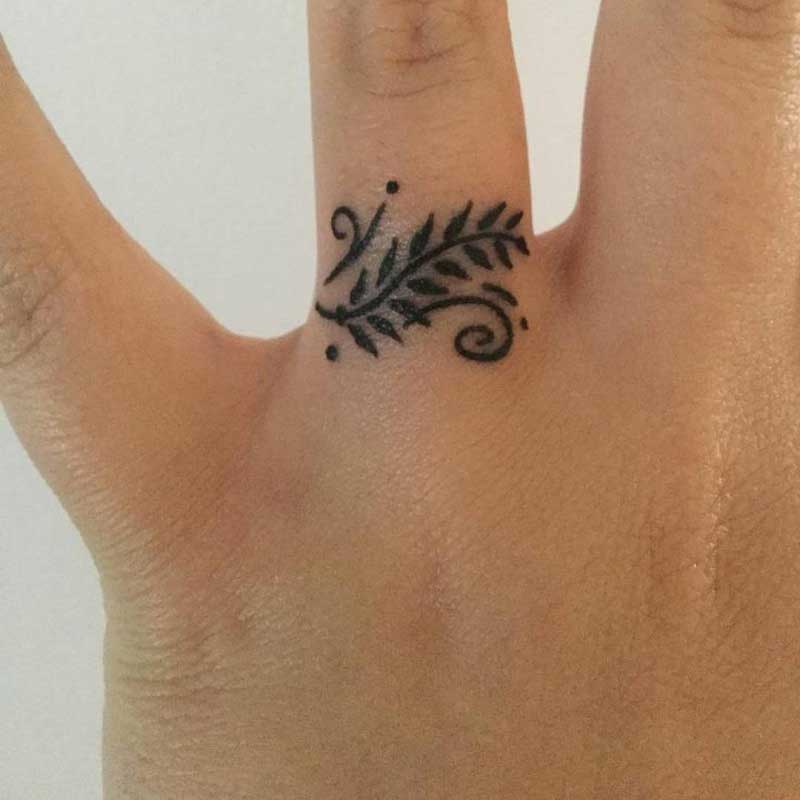 Give yourself a sense of permanent love and feelings with a permanent wedding ring tattoo. This design is perfect for women and the intricate detail is mind-blowing.
2. Nature On Fingers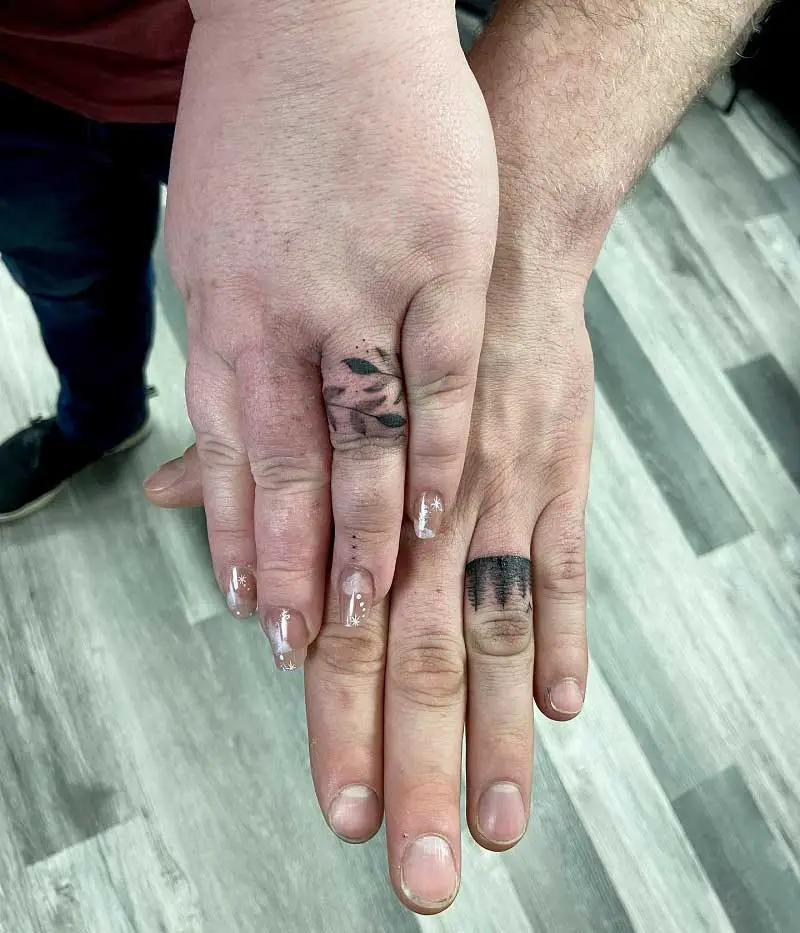 If you and your significant other share the same love for nature, then why not use nature as your inspiration for the tattoo? Get this nature wedding ring designed as a sign of love, care, and beauty.
3. The Couple Creation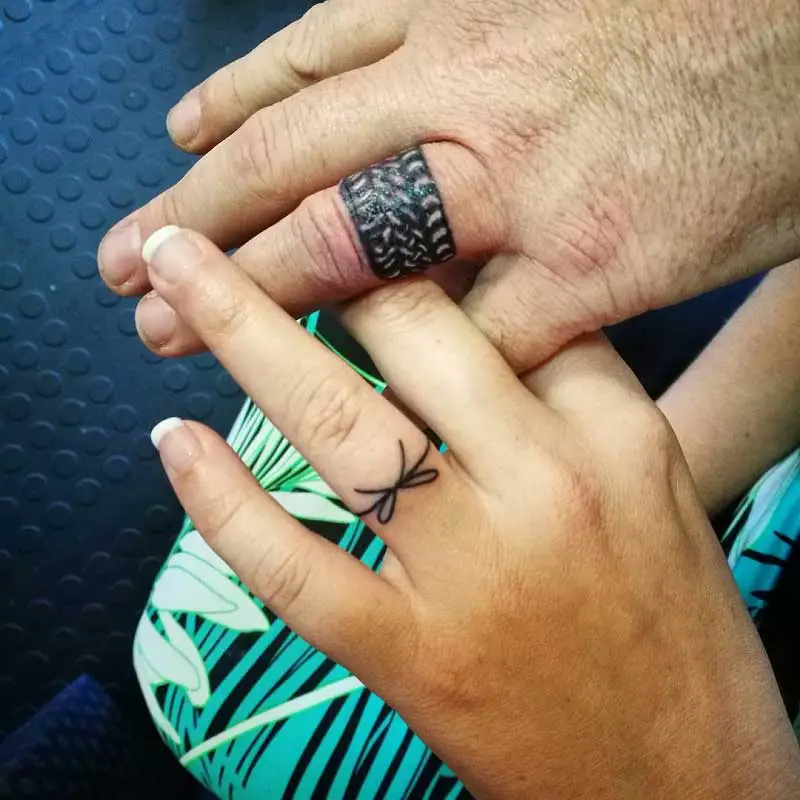 Get these attractive couple tattoos for wedding rings. The simple design of the women's ring shows simplicity and cuteness. And the patterned male ring is perfect for a masculine artistic piece.
Soulmate Wedding Ring Tattoos
Each and every person in this world is believed to have a soulmate. A person they relate to and connect strongly to on a spiritual basis. Take a look at a few wedding ring designs perfect for soulmates.
4. Made For Each Other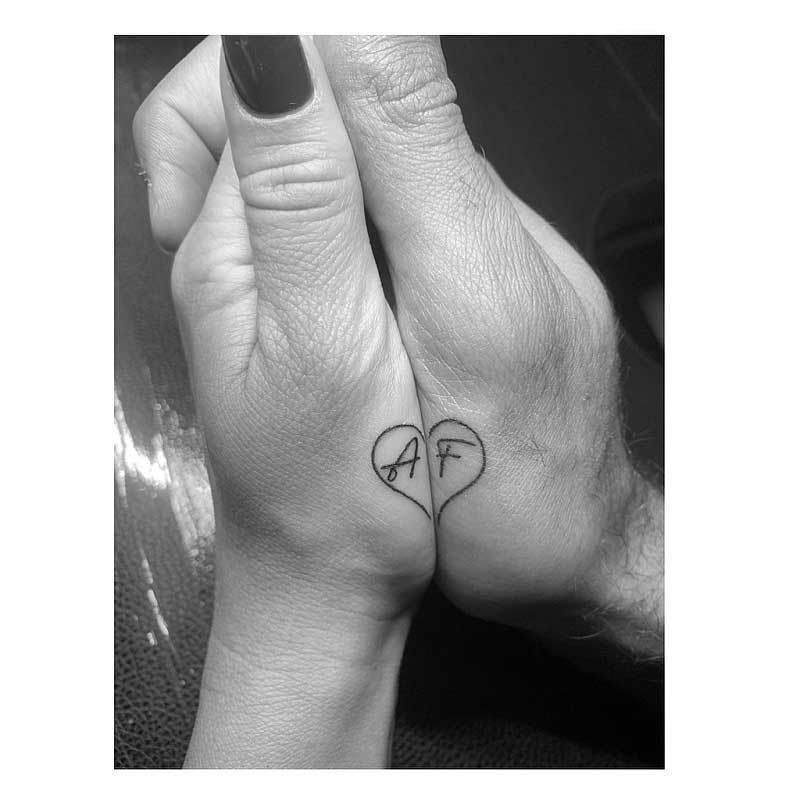 Express your love for your partner with this tattoo. Get a half heart with the initial of your significant other below the thumb and make a complete heart with a similar design on your partner.
5. Similar Interests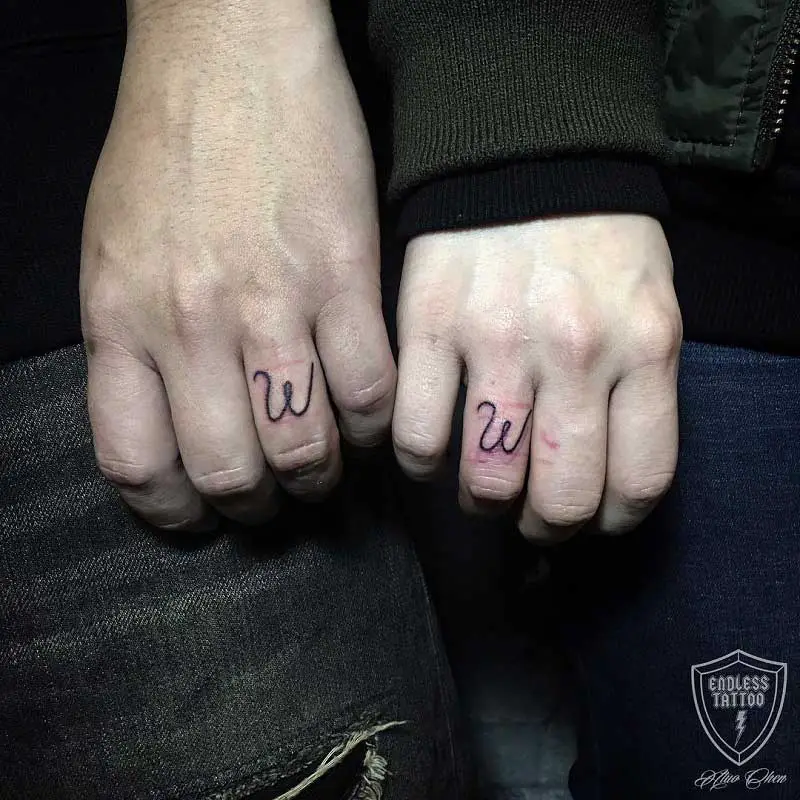 Twin a beautiful tattoo as wedding rings on yourself and your soulmate. The identical design on both hands shows care, love, understanding, and affection.
6. Wedding Band Twinning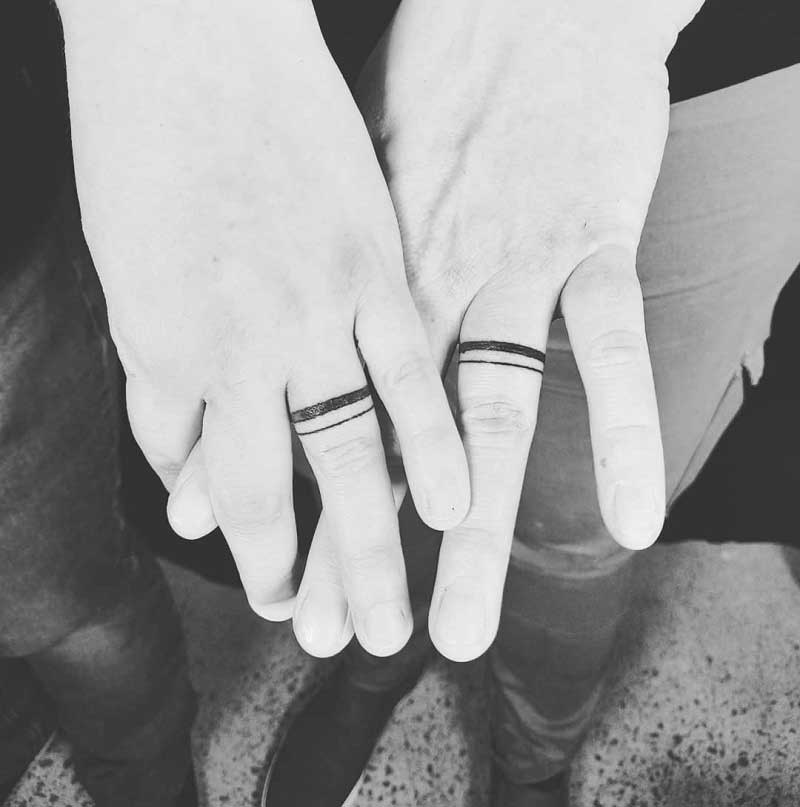 Nothing beats the beauty and style of matching tattoos on friends. Beautify the meaning of your relationship with a twinning wedding ring design inked on the ring finger.
Wedding Ring Tattoo Designs
Simplicity and transparency speak volumes in relationships and love. The meaning and fulfillment simple things bring into a wedding are precious. So, let us see some of the top wedding ring designs featuring simple art.
7. Nature And Love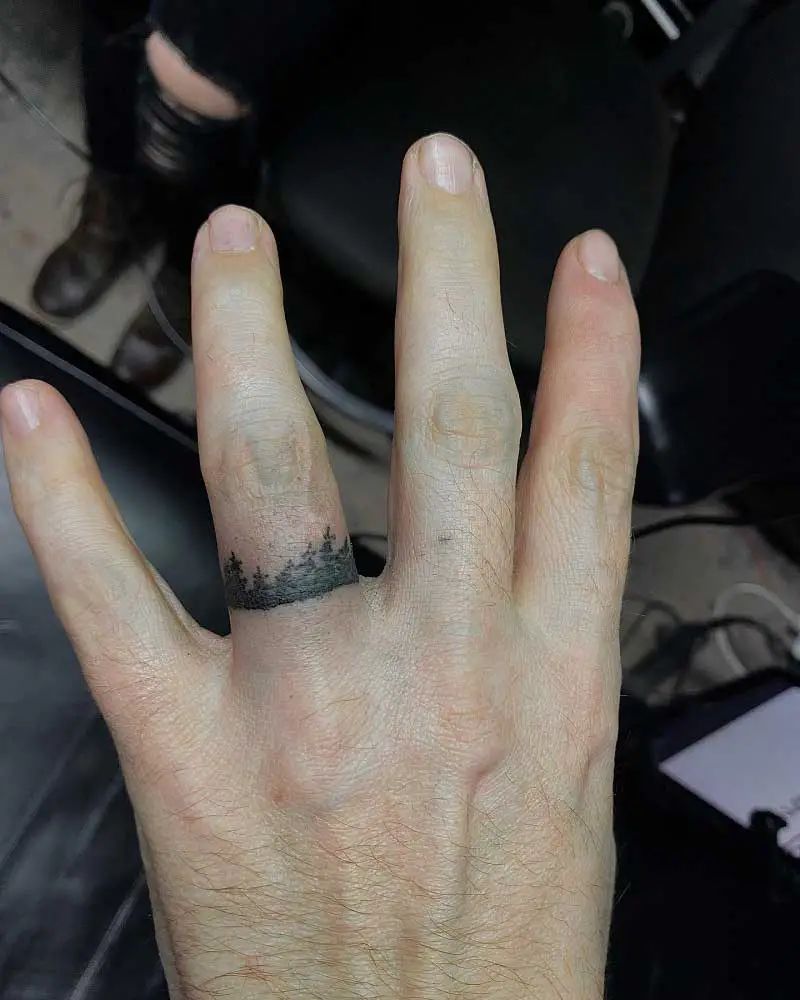 If you are a lover of nature and looking for a meaningful wedding ring tattoo, then this is the perfect design. It incorporates the mystery and meaning of nature with love and affection.
8. Simplicity At Best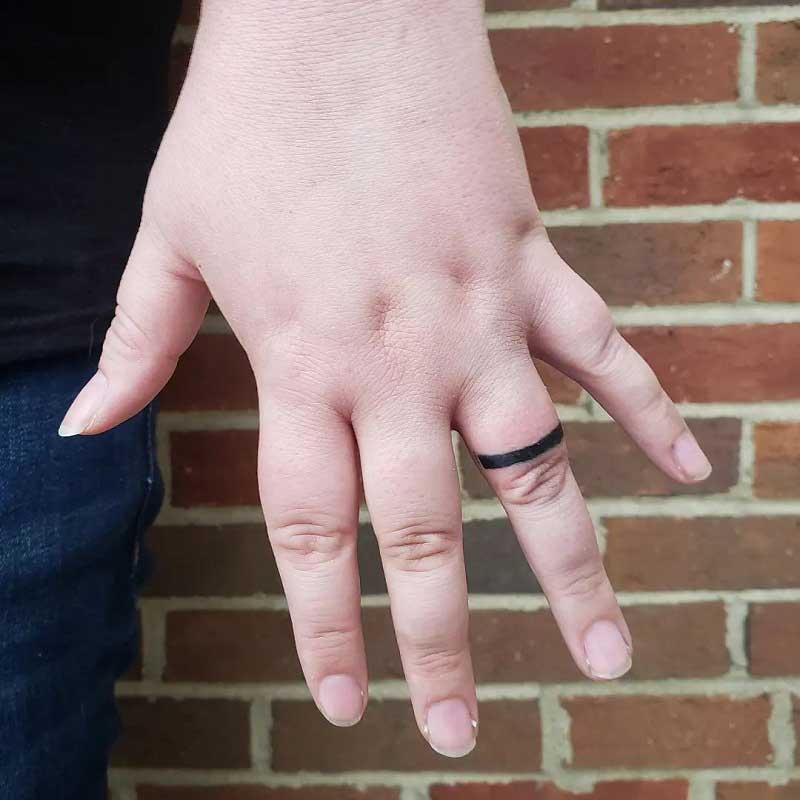 Beautify the features of your hand and express love with a simple band tattoo. It represents a wedding ring along with the significance that comes with it.
9. The Blooming Lotus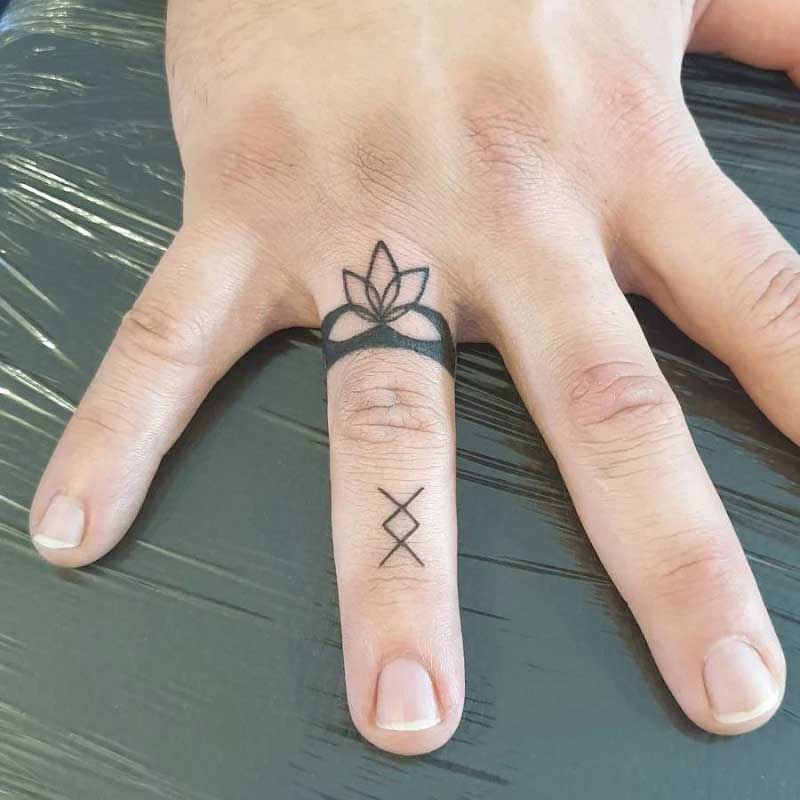 Ink a lotus tattoo on the ring finger as a wedding ring. The design makes the hand look more attractive and pretty. It is a style that suits both males and females.
Wedding Ring Finger Tattoo
Rings on the ring finger are a significant part of a wedding ceremony. And nowadays, tattoos on wedding rings are the trend. So, let us see the wedding ring finger tattoos.
10. The Diamond Equivalency
Diamonds are expensive and not everyone is a fan of heavy wedding rings. This design of a pretty diamond looks great on a woman's ring finger and the unique style makes it attractive and amazing.
11. Matching Wood Art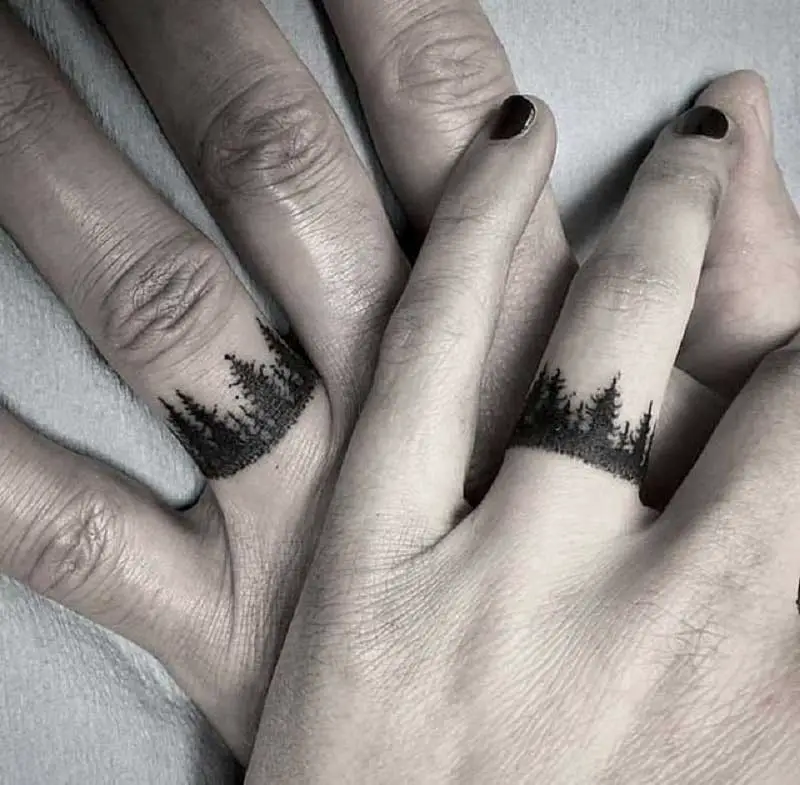 Get yourselves an eye-catching matching tattoo of woods as wedding rings. It is a perfect choice for nature lovers, hiking couples, and adventurous personalities.
12. Tied In A Knot!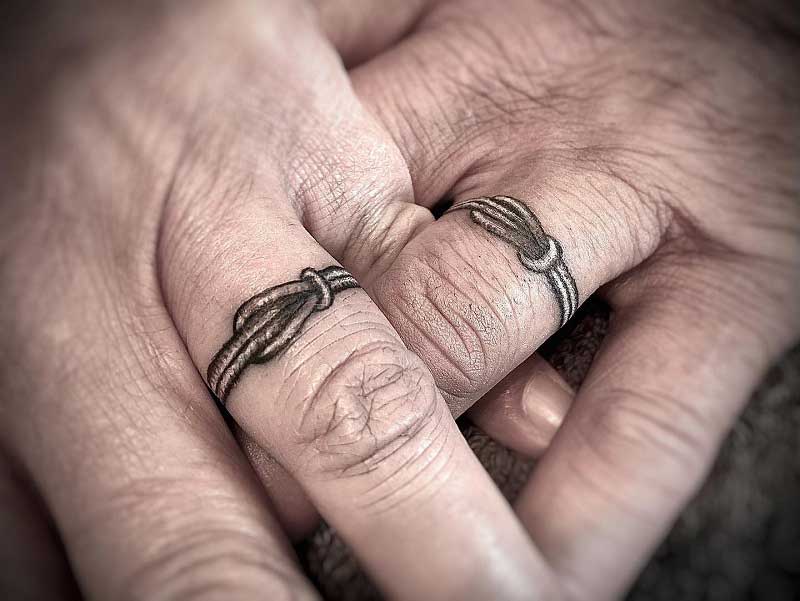 Marriage is often referred to as a knot that ties two people together. And this pretty wedding ring designed like a knot tied on a rope is a playful symbolization of the bond between two people.
Celtic Wedding Ring Tattoos
Celtic traditions, cultures, and beliefs are still practiced among several people. And the values of the culture are also represented in their weddings and marriages. Let us show you a few ideas featuring the Celtic traditions and patterns.
13. Celtic Beliefs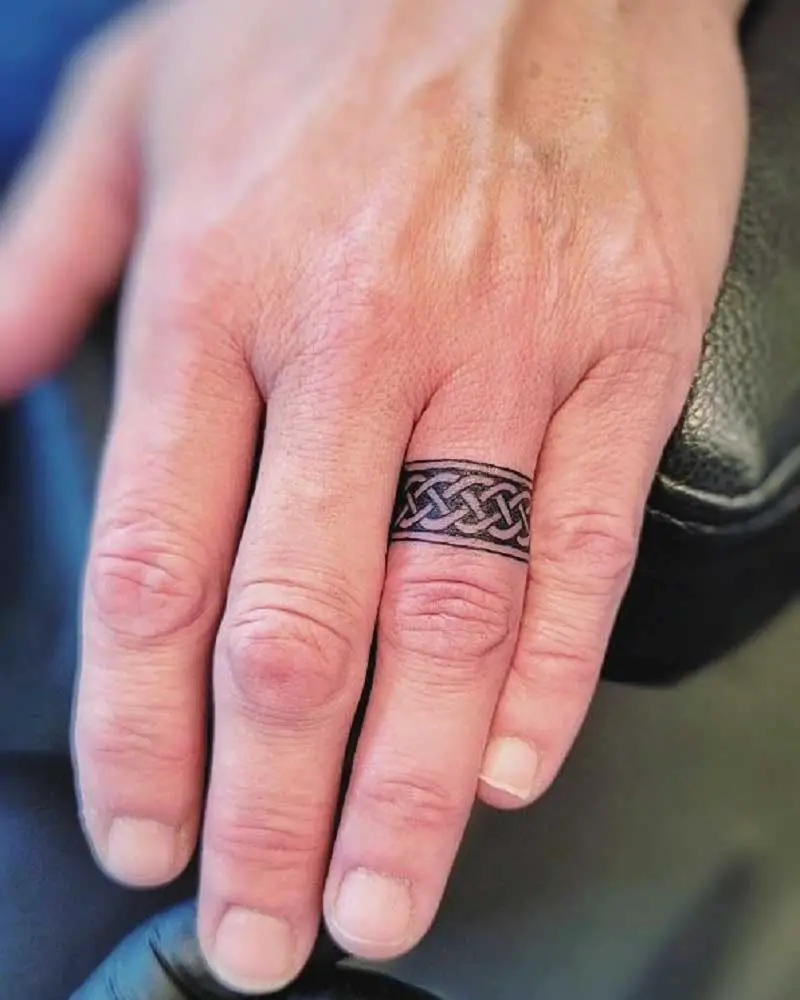 Put your beliefs into art and hold their significance in your wedding ring. Let the beauty of the pattern speak for itself. It is a great choice for both males and females who are respectful and faithful to the Celtic culture.
14. The Continuation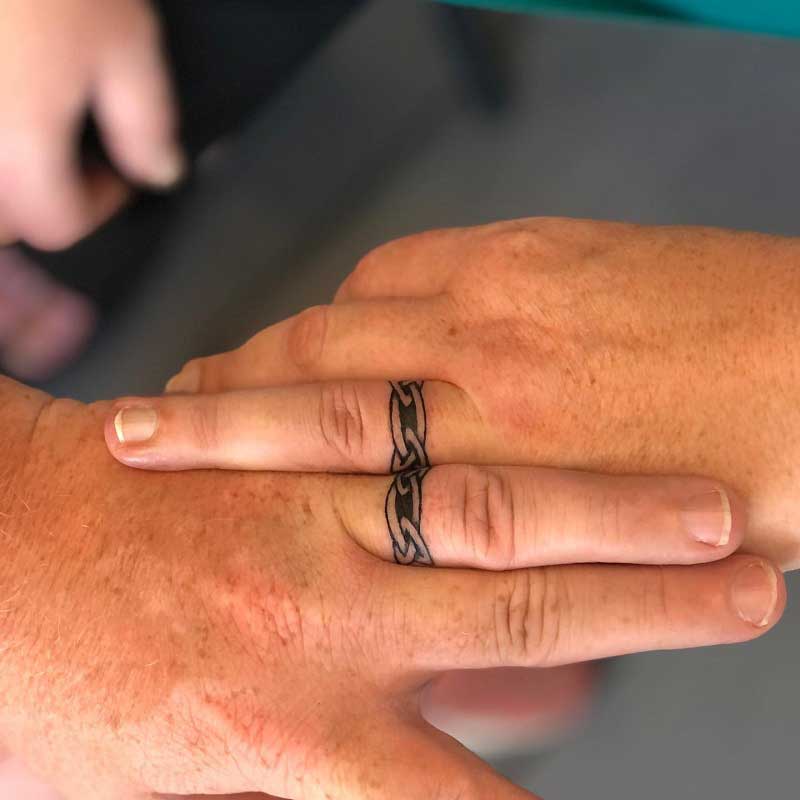 Couples with matching wedding bands is undeniably cute and pretty. The connection between the two tattoos symbolizes understanding, compassion, and creativity.
15. Celtic Floral Rings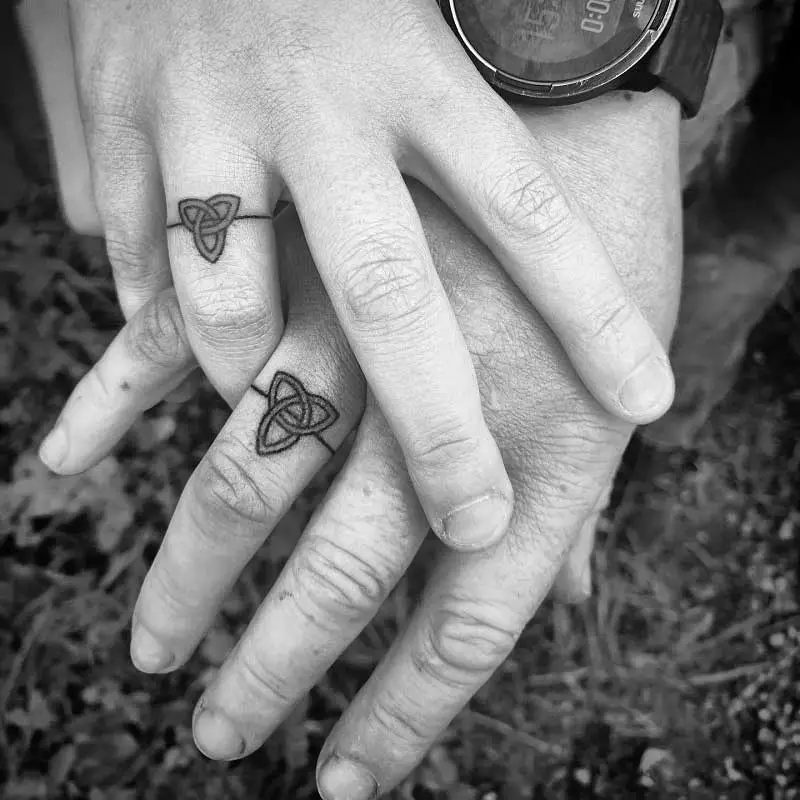 Pay respect to your culture and tradition with this wedding ring design featuring a Celtic flower pattern. It is a representation of love, promise, respect, and care.
Matching Wedding Ring Tattoos
There is something special and cute about matching wedding ring tattoos. The beauty of two people getting the same design inked on their ring finger is great and looks amazing. So, take a look at the top wedding ring inks with matching designs.
16. The Baby Line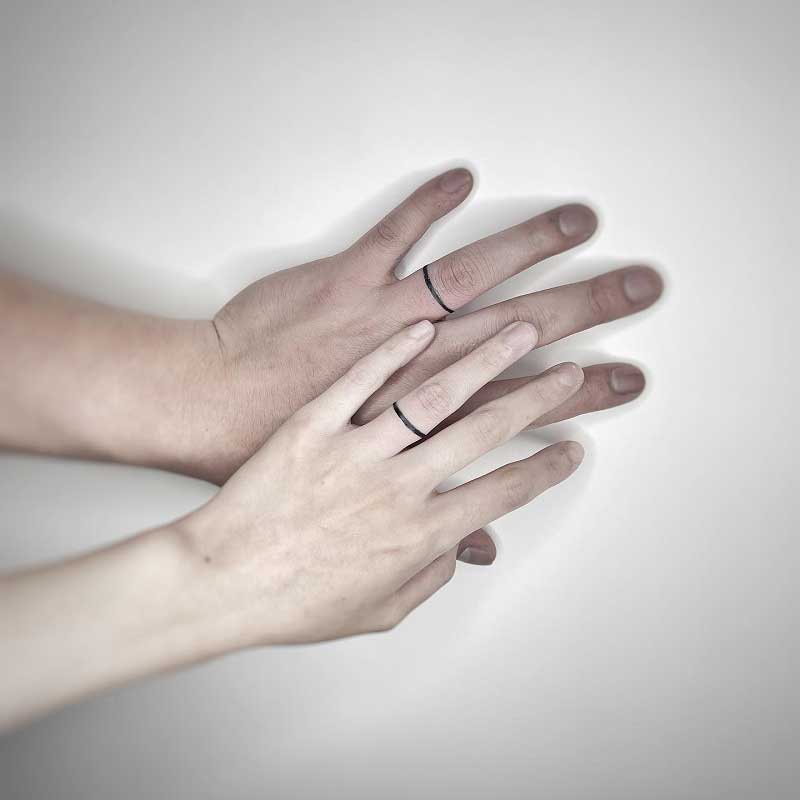 Simple tattoos are the way to go for many wedded couples. And this design depicts a single line representing the wedding bands. It shows transparency, love, and cuteness.
17. Deep Into The Soul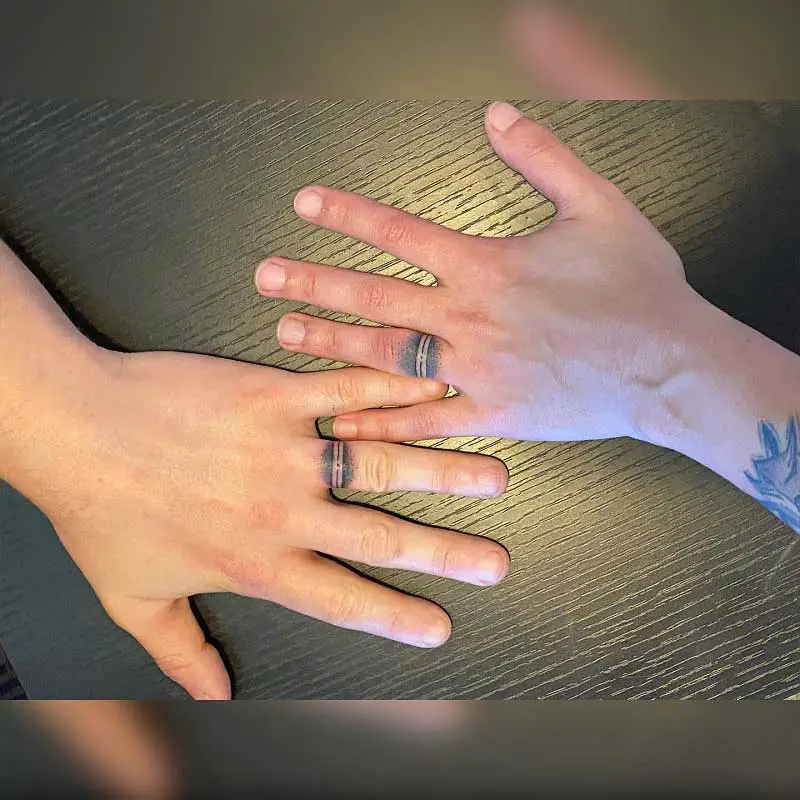 A simple band surrounding with a smudge of ink is questioned by many. But the smudge around the design makes the wedding bands pop up. This attracts the eyes of the viewers and makes this an eye-pleasing tattoo.
18. The Bride And Groom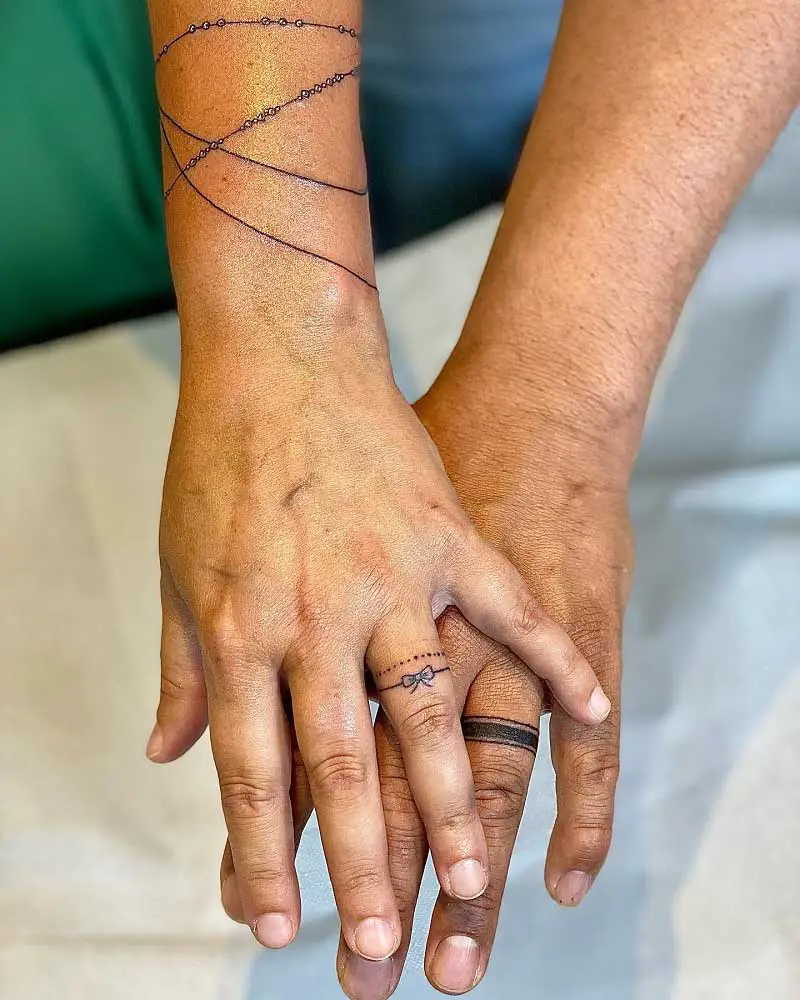 Make your relationship with your spouse stronger and more beautiful with matching tattoos. While the designs are not identical, these are stunning rings. It shows commitment, love, and artistic skills.
Viking Wedding Ring Tattoo
The Vikings are known for their courage and bravery. And many people are fans and followers of their lifestyle, art, and beliefs. Discover some of the best Viking wedding ring designs.
19. The Unique Perspective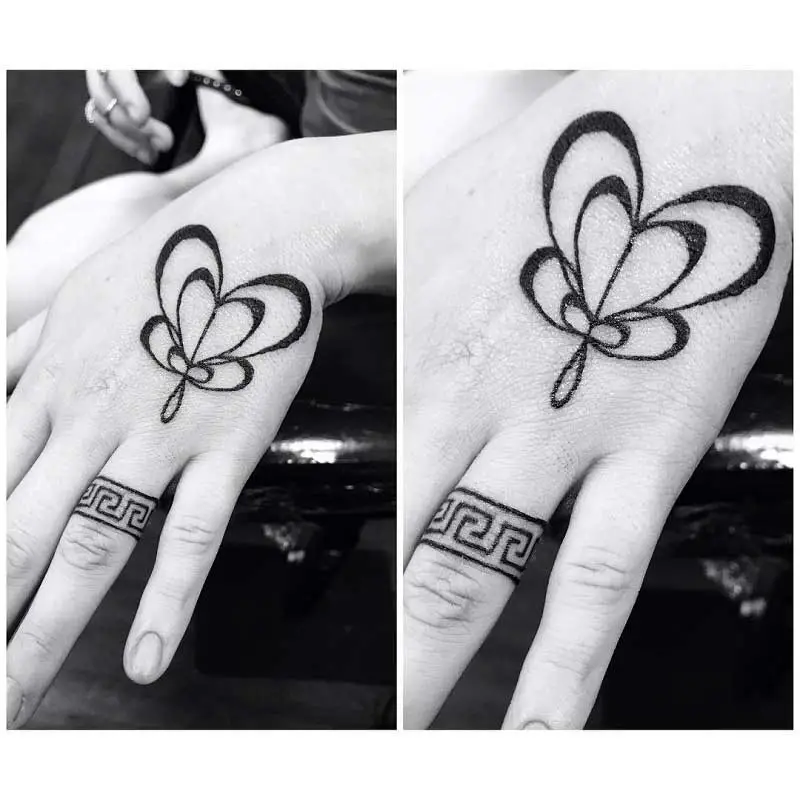 While traditional wedding band designs can be boring to some, the Viking tattoo design looks interesting and artistic. Enhance your features with the style and make your hand attractive and pretty.
20. A Viking Couple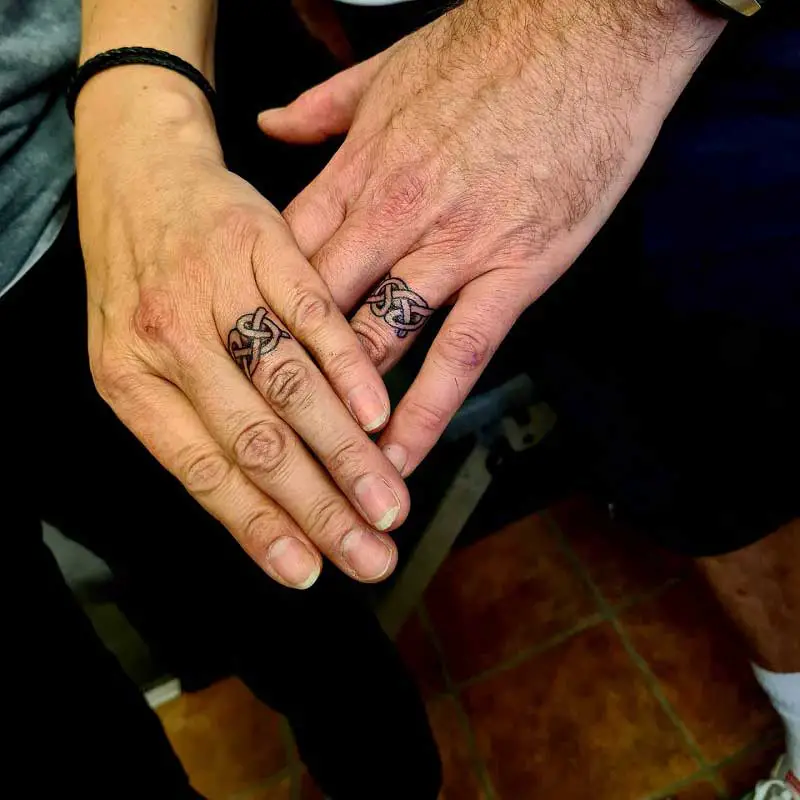 Show belief and love for the courage, strength, and lifestyle of the Vikings. The matching couple's wedding band tattoo attracts eyes and looks amazing.
21. The Patterned Ring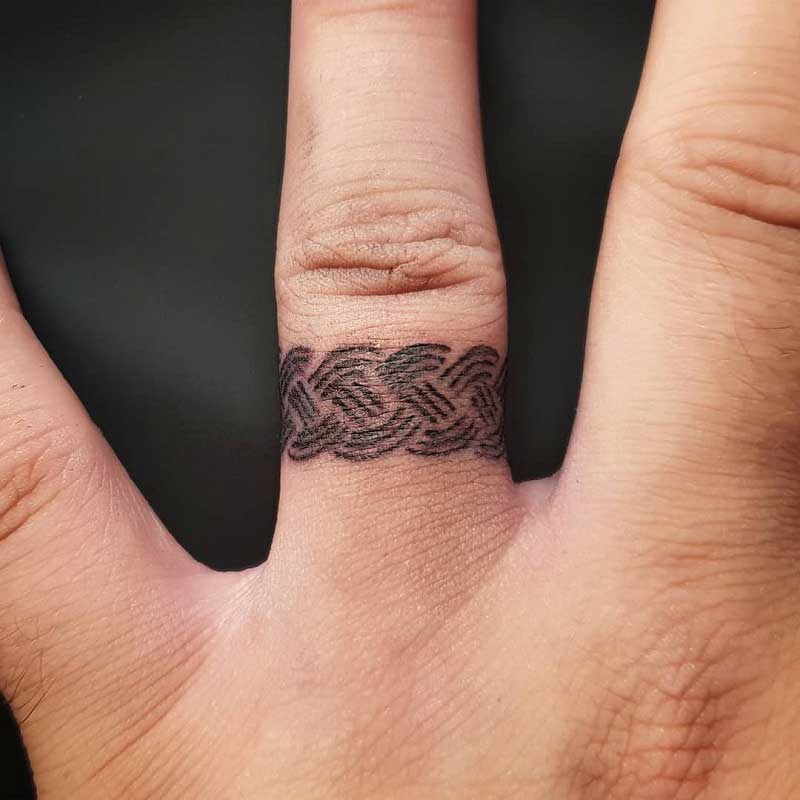 Express commitment and artistic thoughts with the wedding ring design. The pattern relates to the Viking lifestyle and the style matches a courageous personality.
Cover Up Wedding Ring Tattoo
Weddings do not always work out and while that's an unfortunate thing, the wedding band tattoo is easy to cover up. And sometimes, we get bored of the wedding ring ink and get it covered with a different design. So, take a look at the best cover up tattoos for wedding rings.
22. An Improvised Blade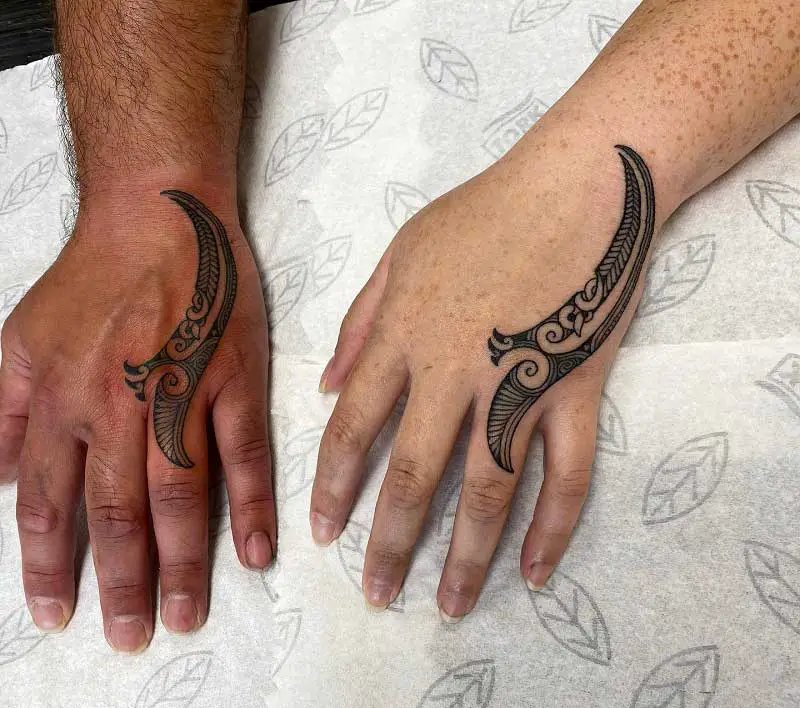 Cover your wedding ring with a stylish tattoo of a sword. The intricate detailing on the blade and the sharp look make it an amazing choice for both men.
23. The Feather Cover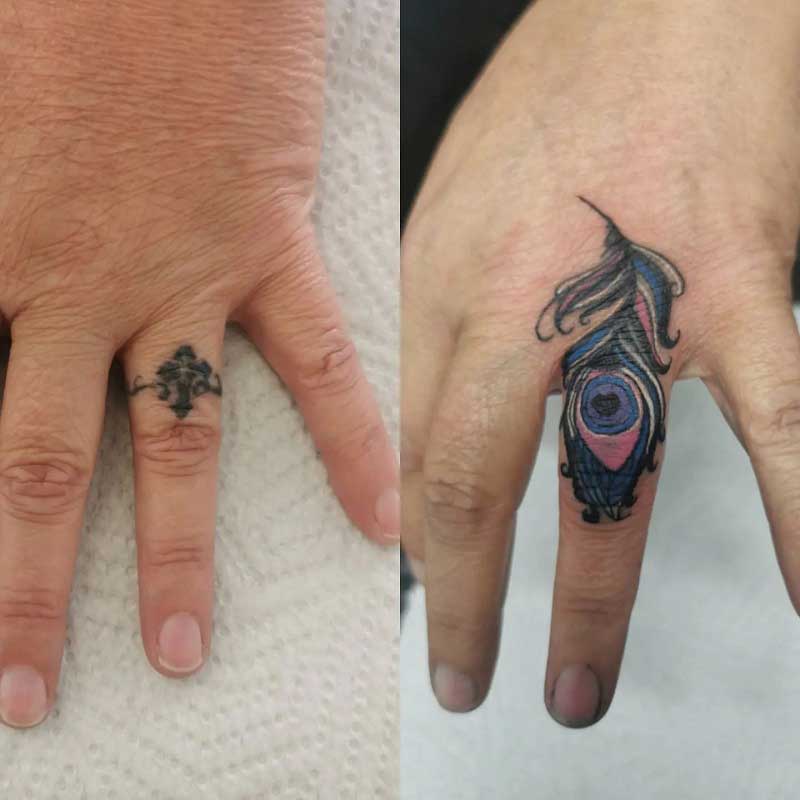 The beautiful and colorful feather will easily cover the wedding ring tattoo. It is a great cover-up design and typically looks great on a female's hand.
24. Hide The Memories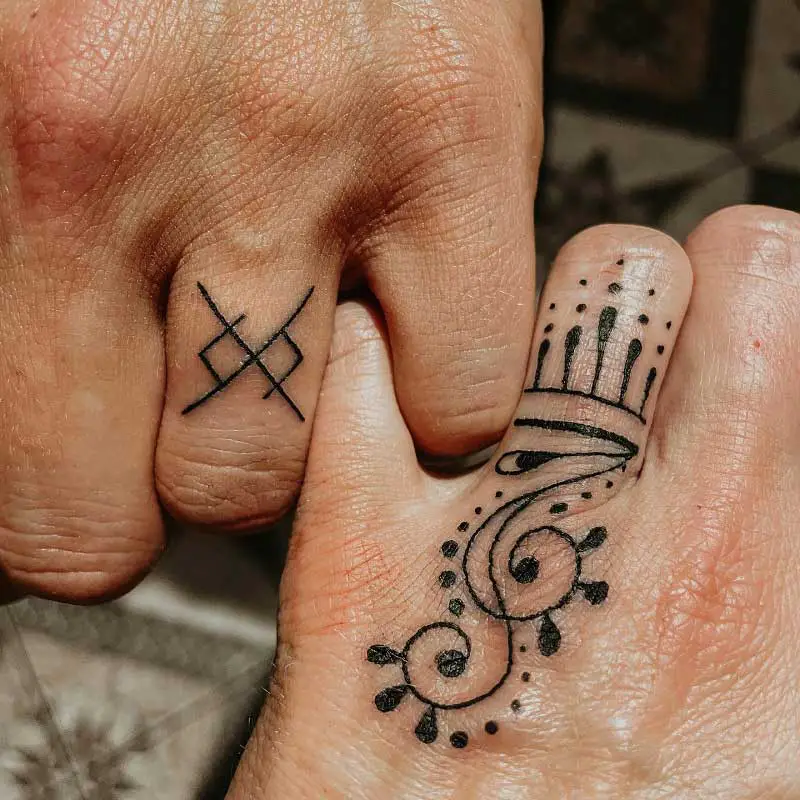 Add a small detail or art to your existing wedding band tattoo and change its look for the better. The tiny details and artistic approach make it a wise and stunning choice.
Infinity Wedding Ring Tattoos
The love between two people and the bond they share is difficult to measure. Infinity is the perfect expression to express pure and true love. So, let us celebrate love with pretty infinity wedding ring designs.
25. To Infinity and Beyond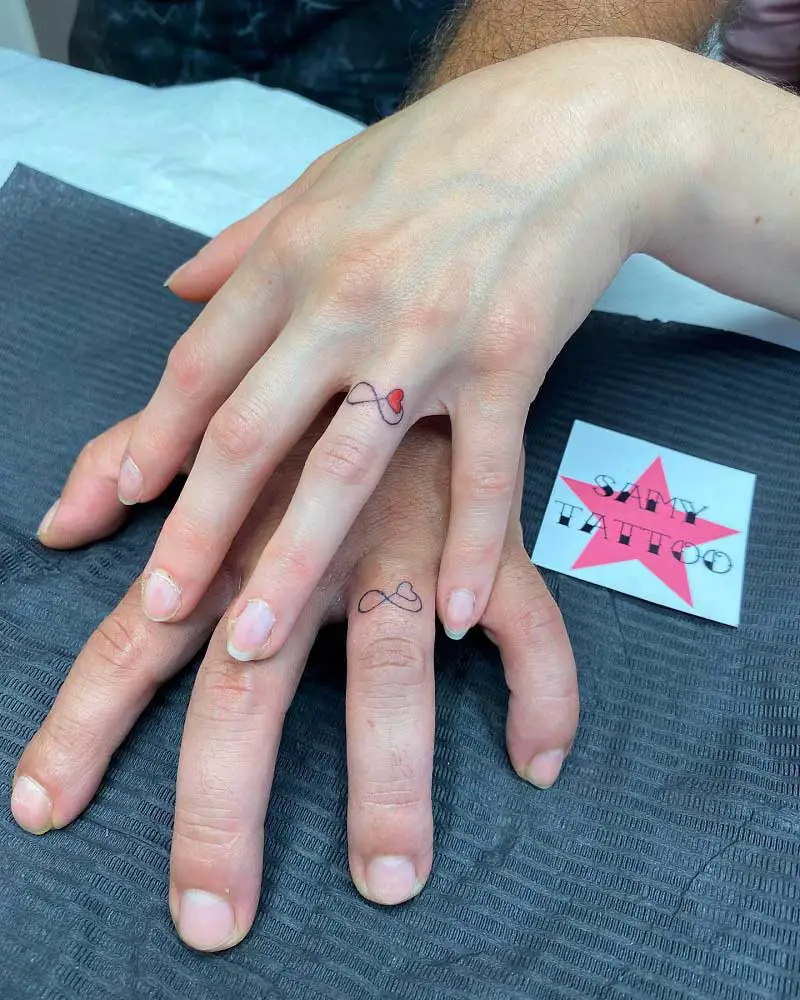 Express your undying and unmeasurable love for your significant other with infinity design wedding rings. It is a symbolization of love, care, and all beautiful feelings.
26.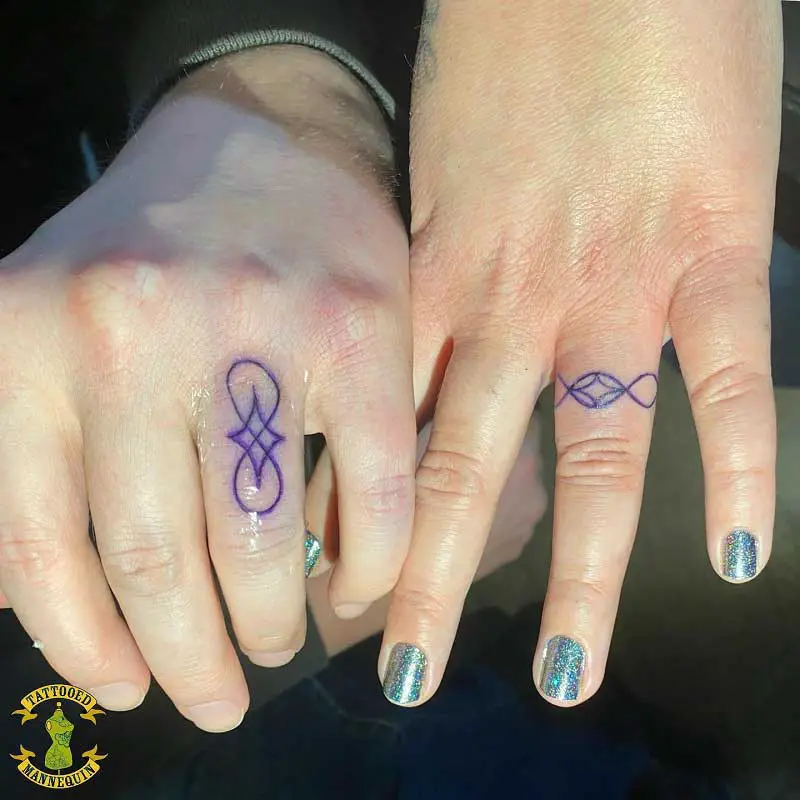 27.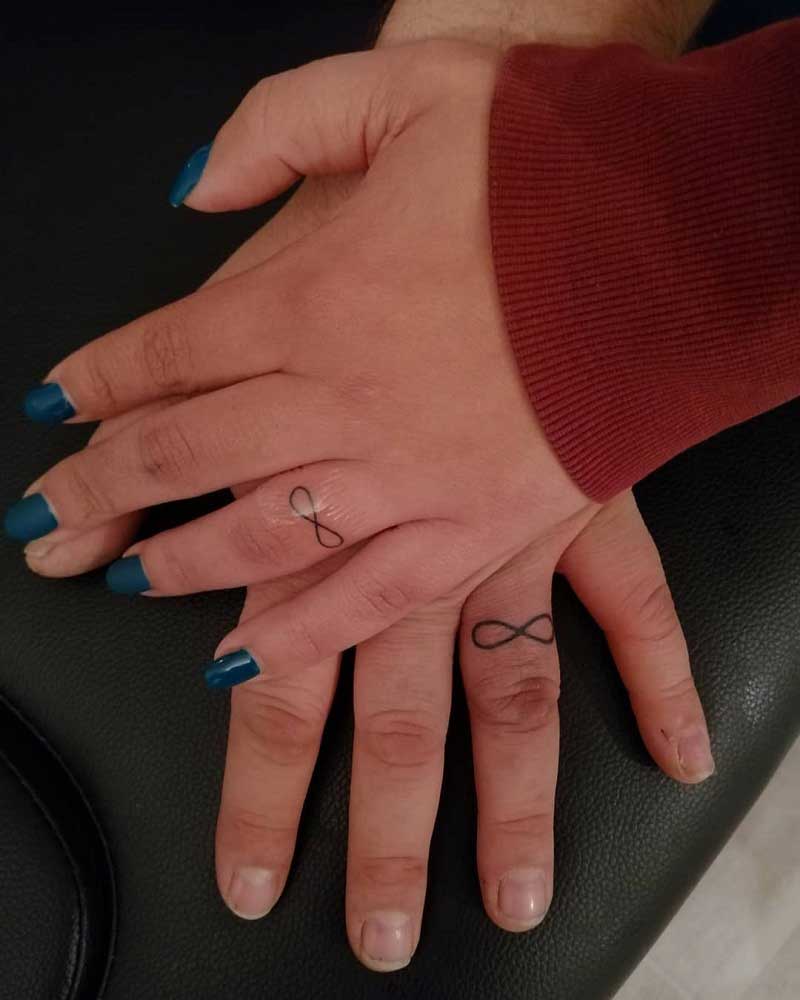 Name Wedding Ring Tattoos
28.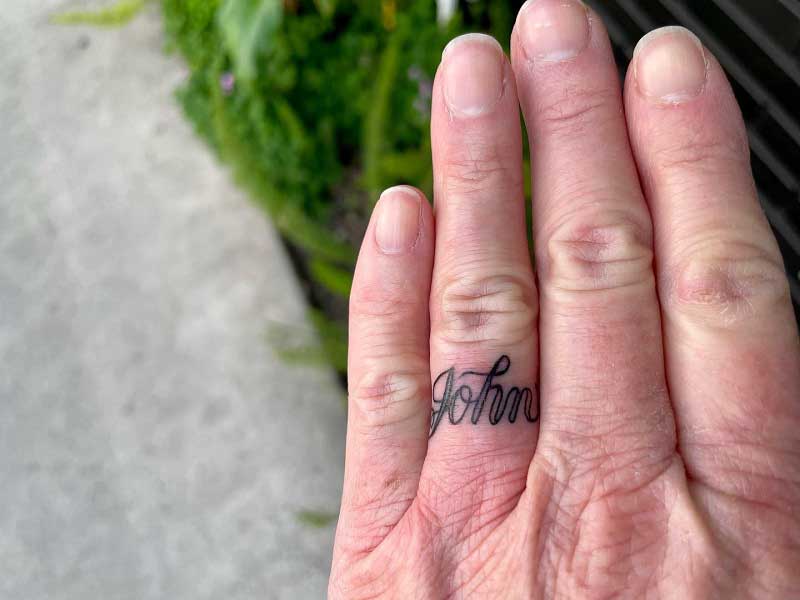 29.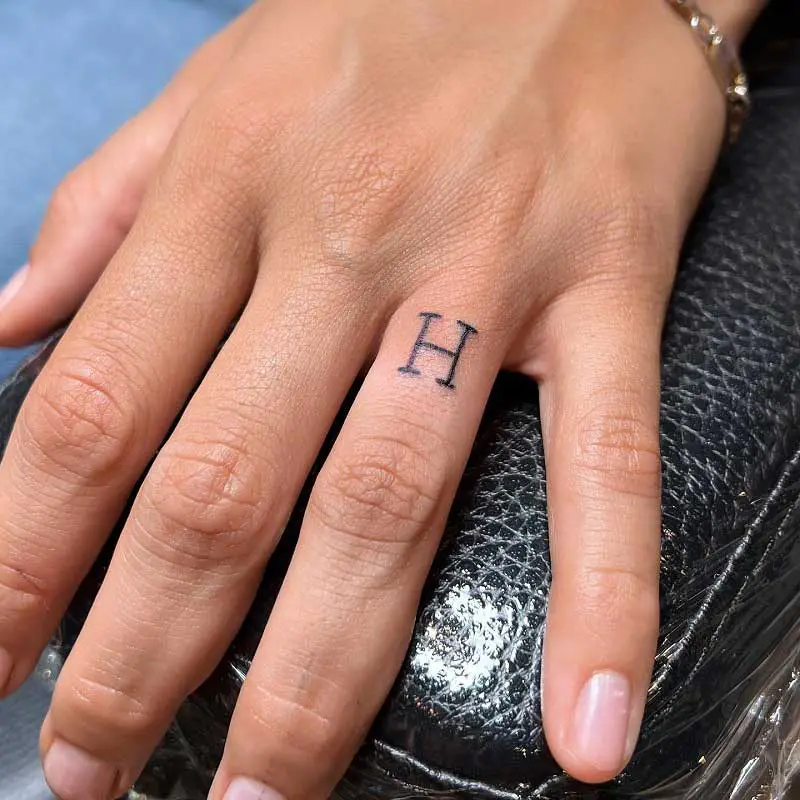 30.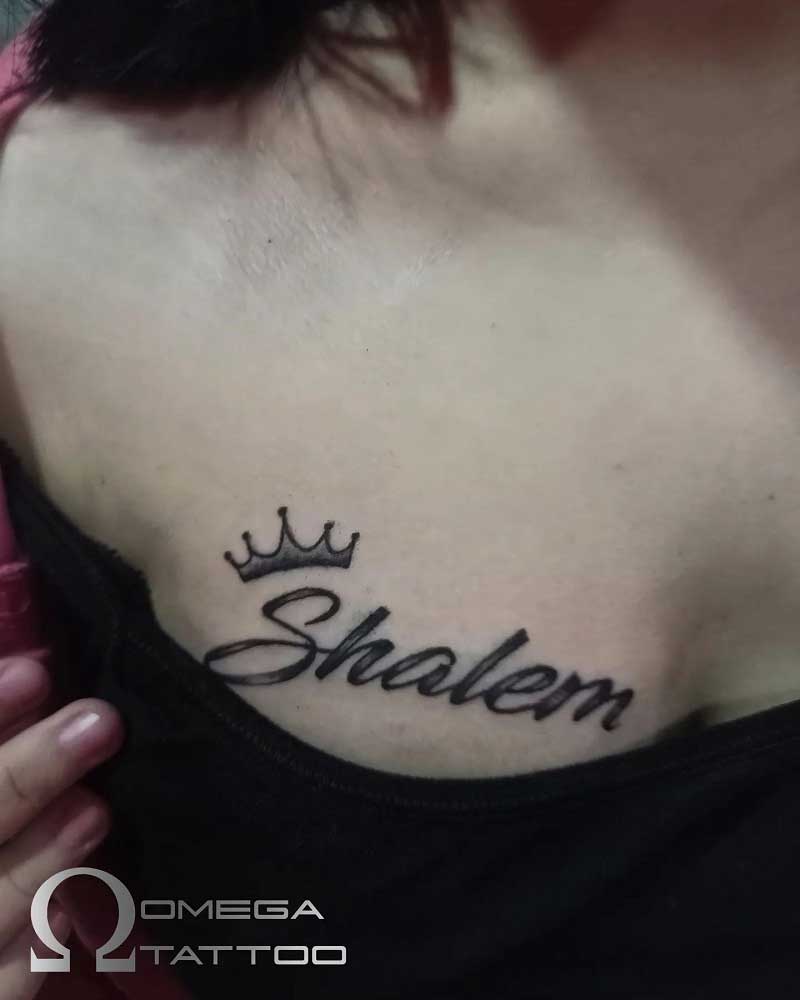 Diamond Wedding Ring Tattoos
31.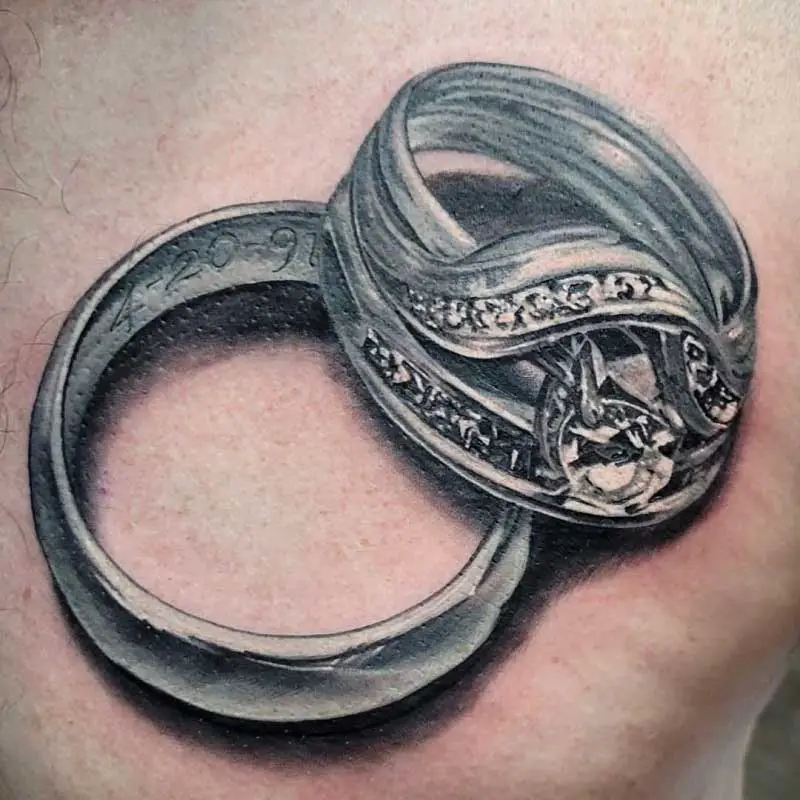 32.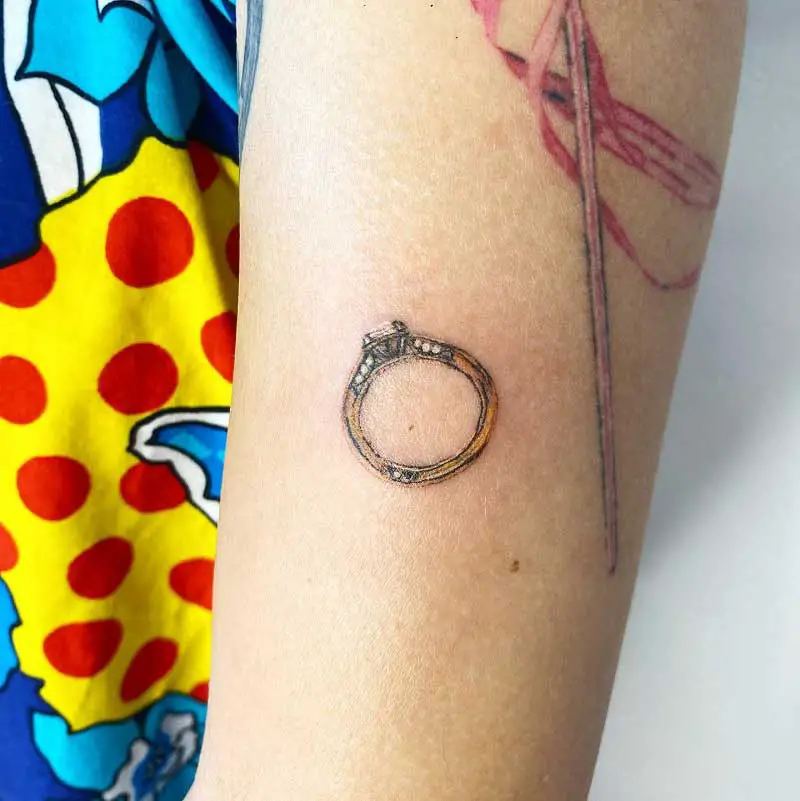 33.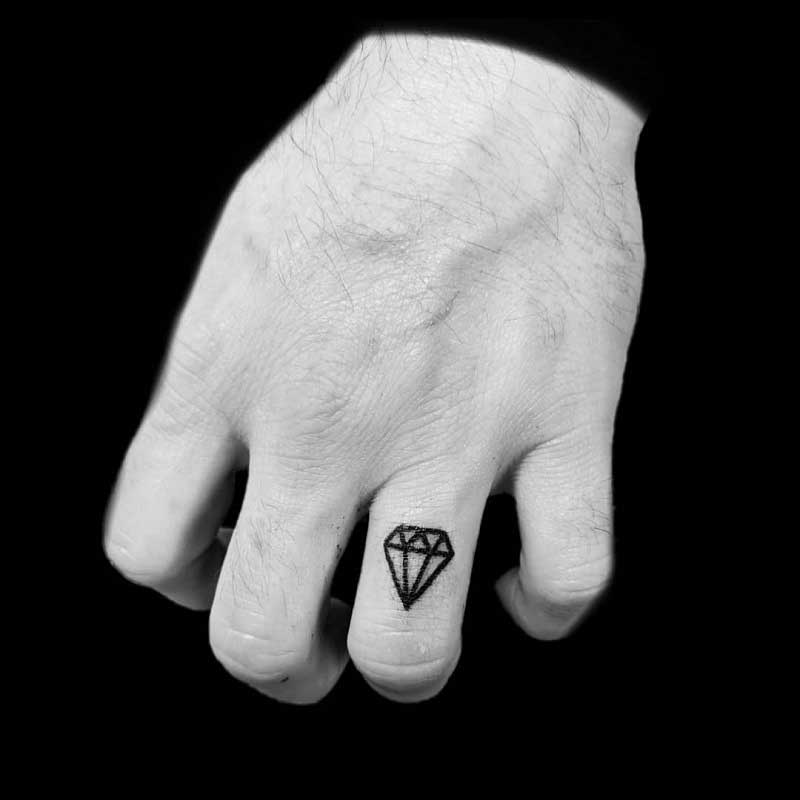 Hunting Wedding Ring Tattoos
34.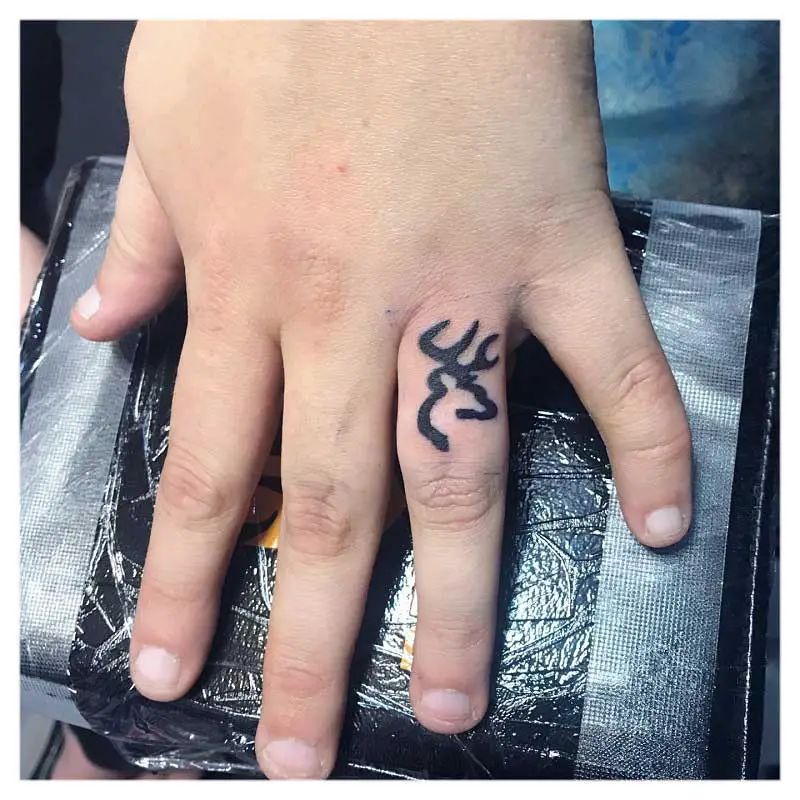 35.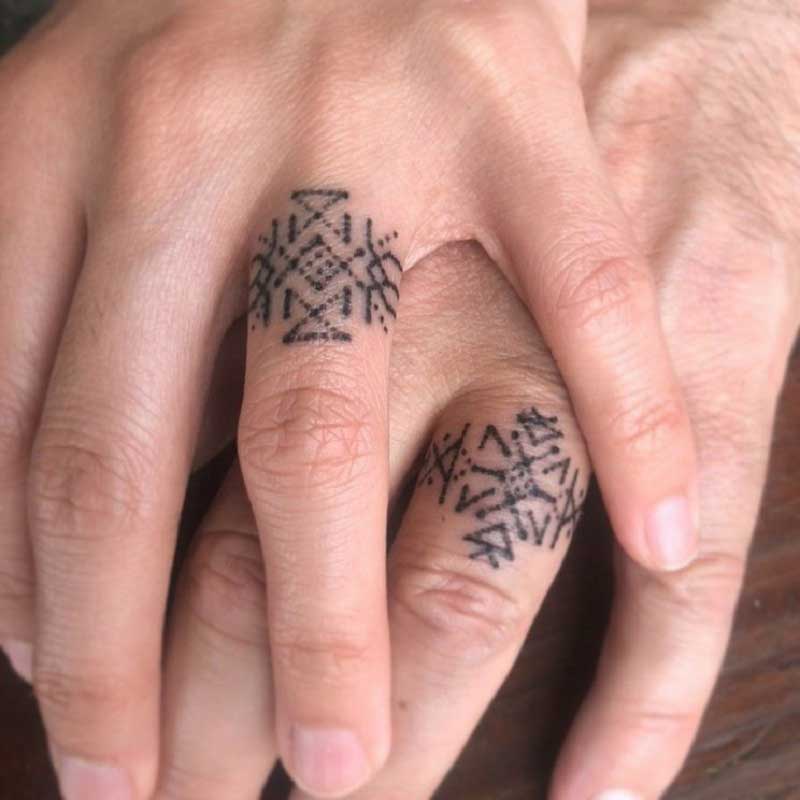 36.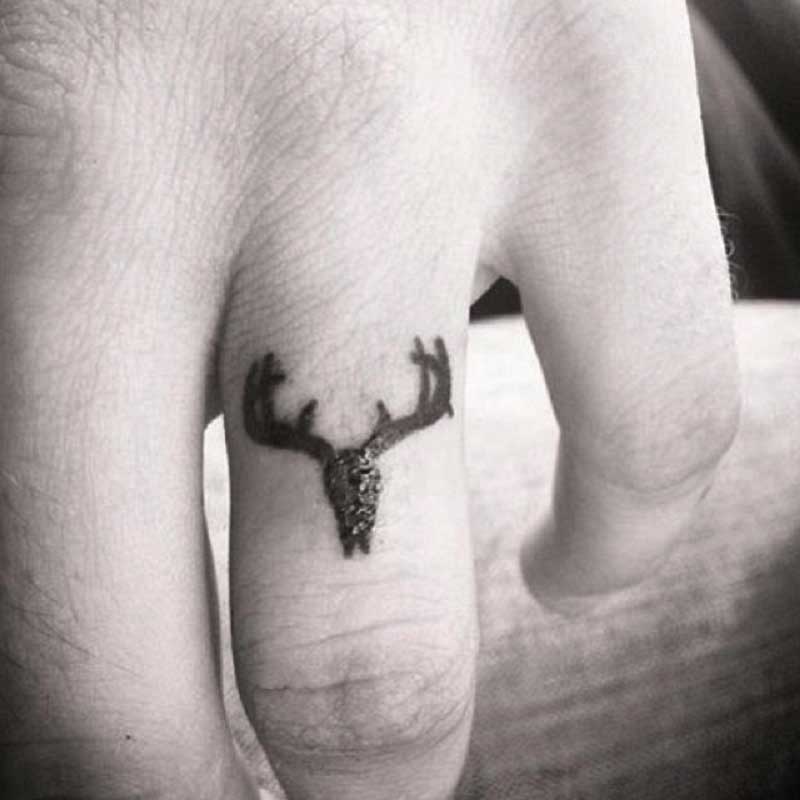 Crown Wedding Ring Tattoos
37.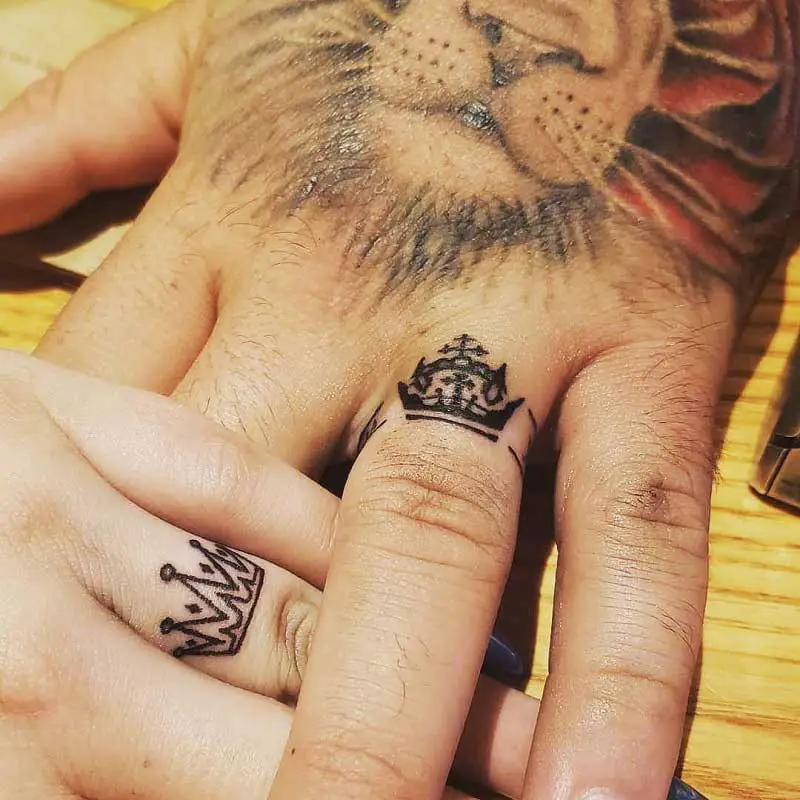 38.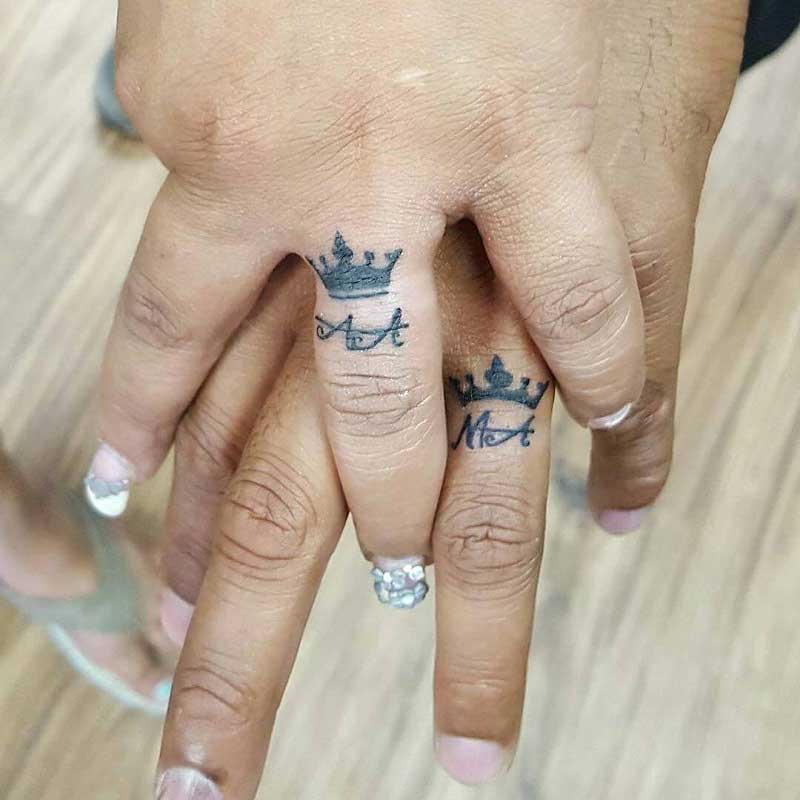 39.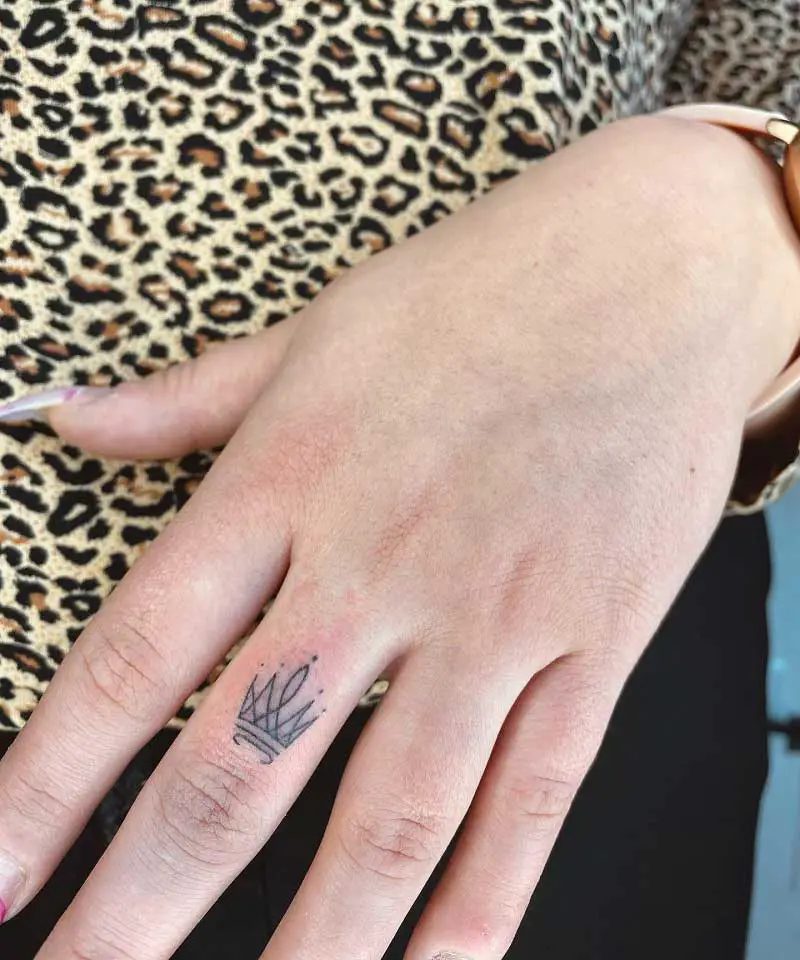 Double Wedding Ring Tattoo
40.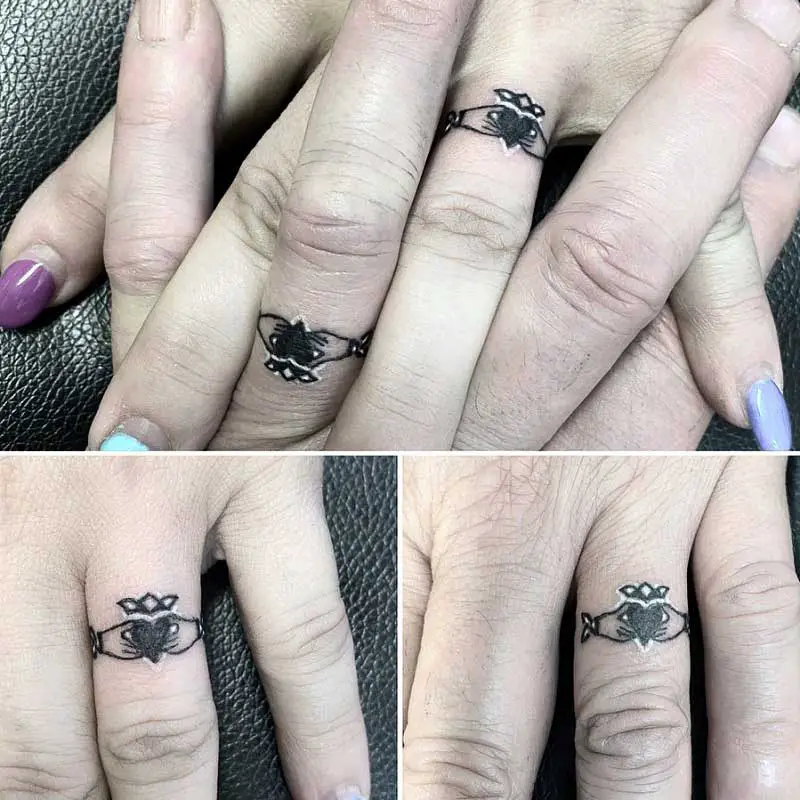 41.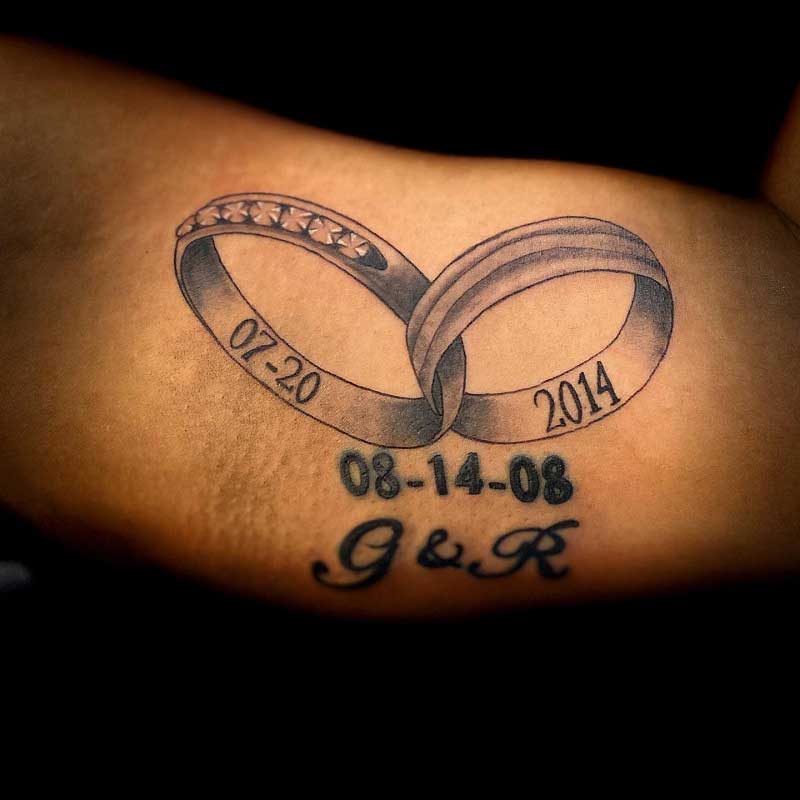 42.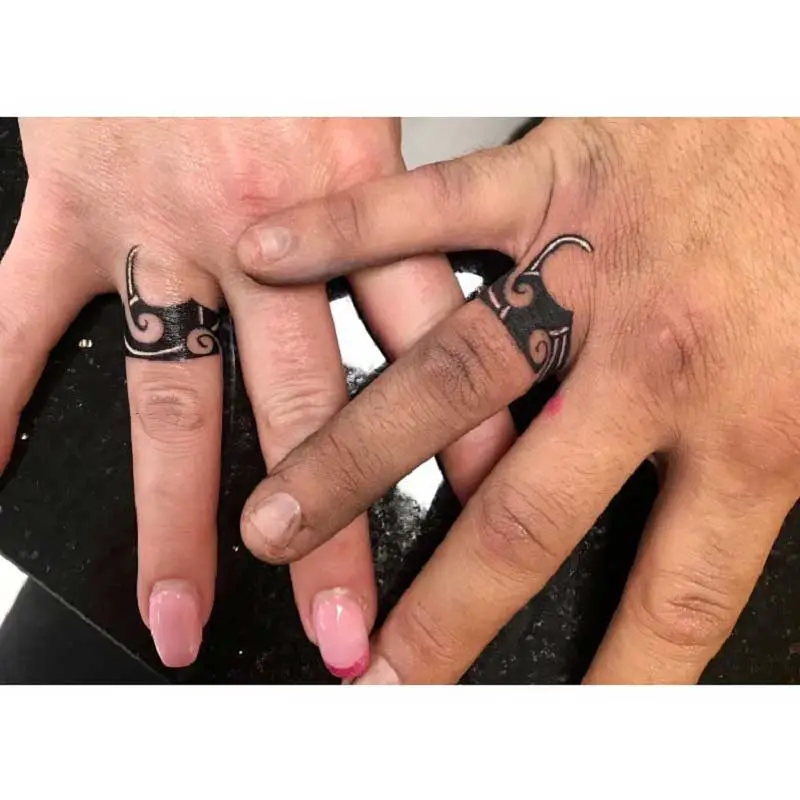 Entwined Wedding Ring Tattoos
43.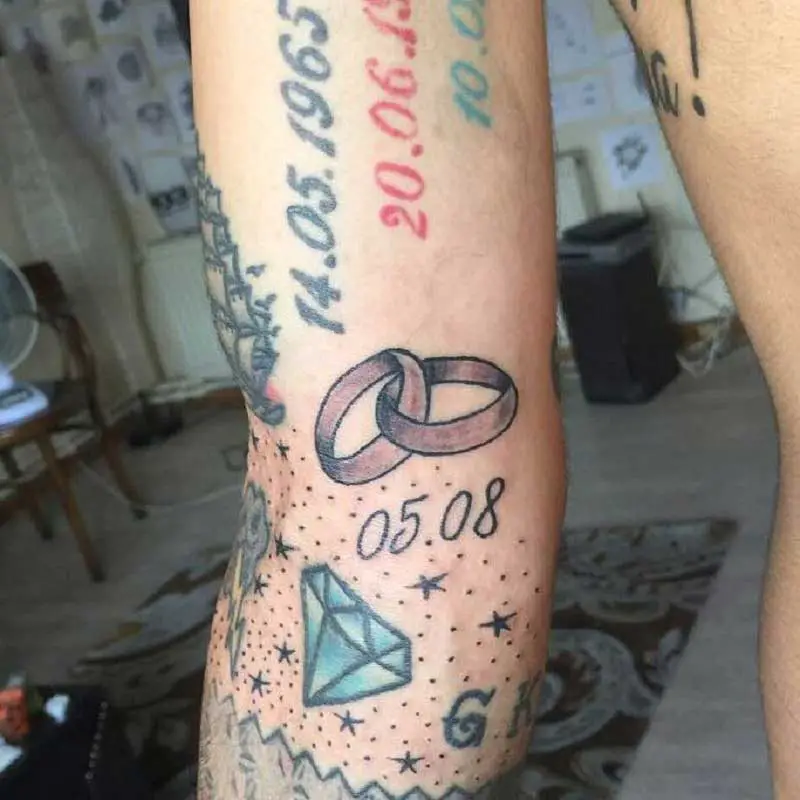 44.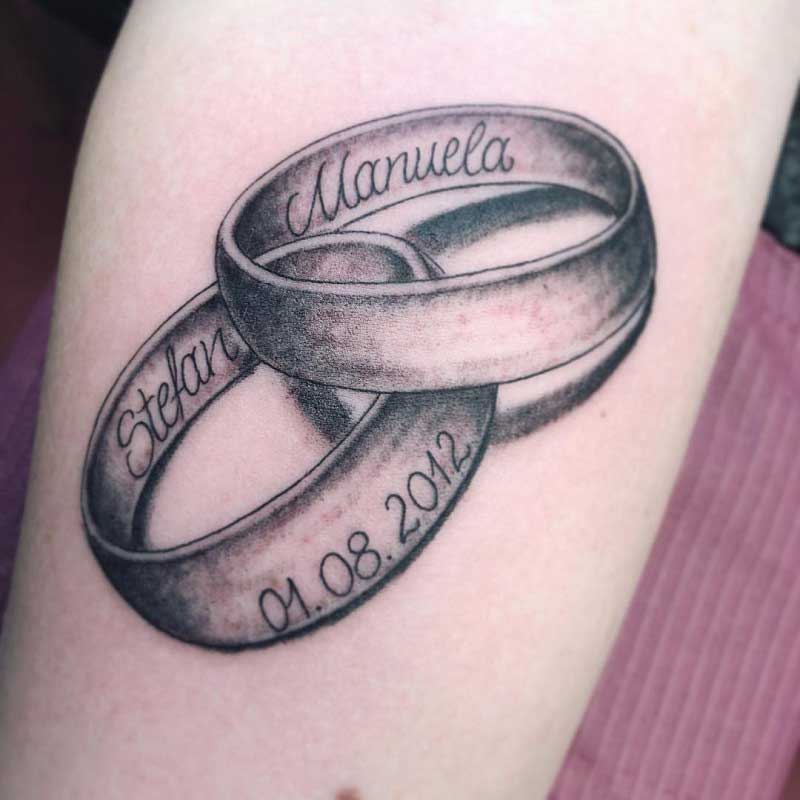 45.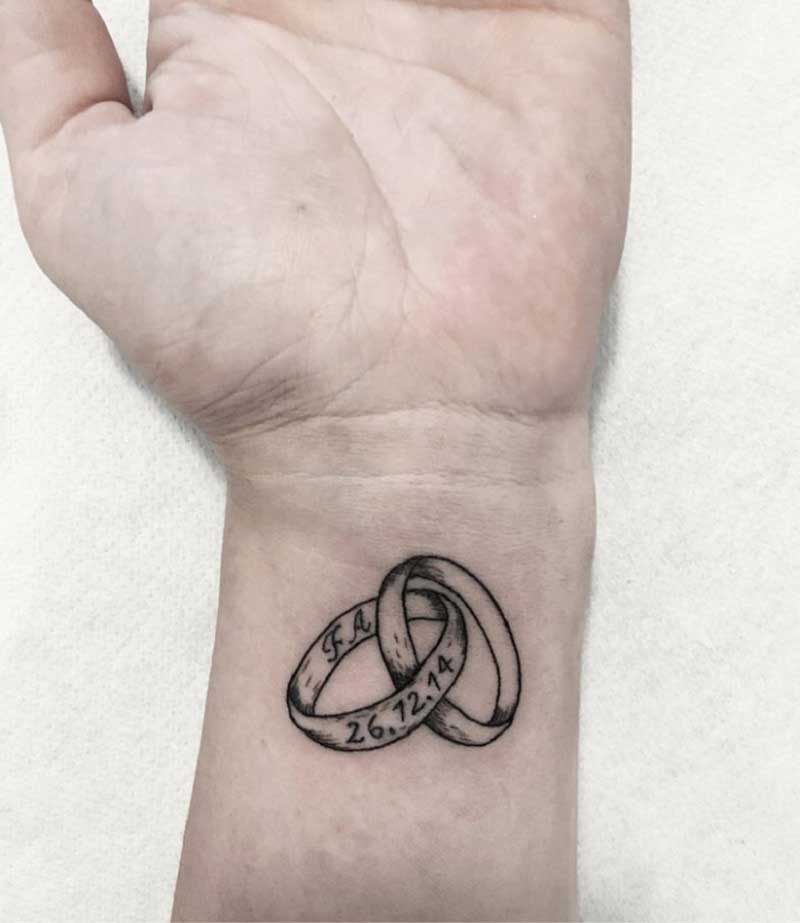 Fish Hook Wedding Ring Tattoo
46.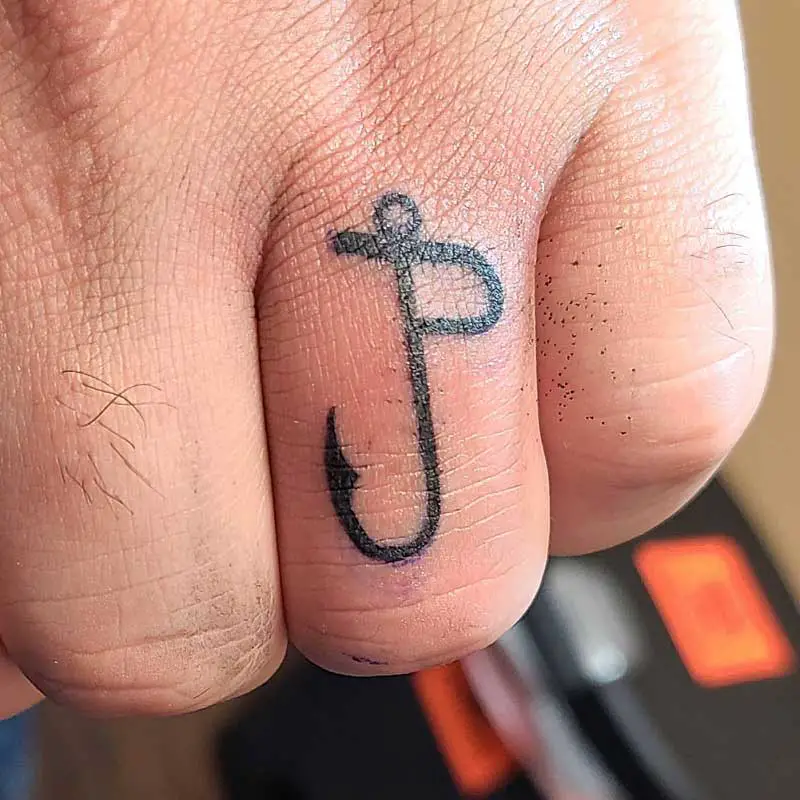 47.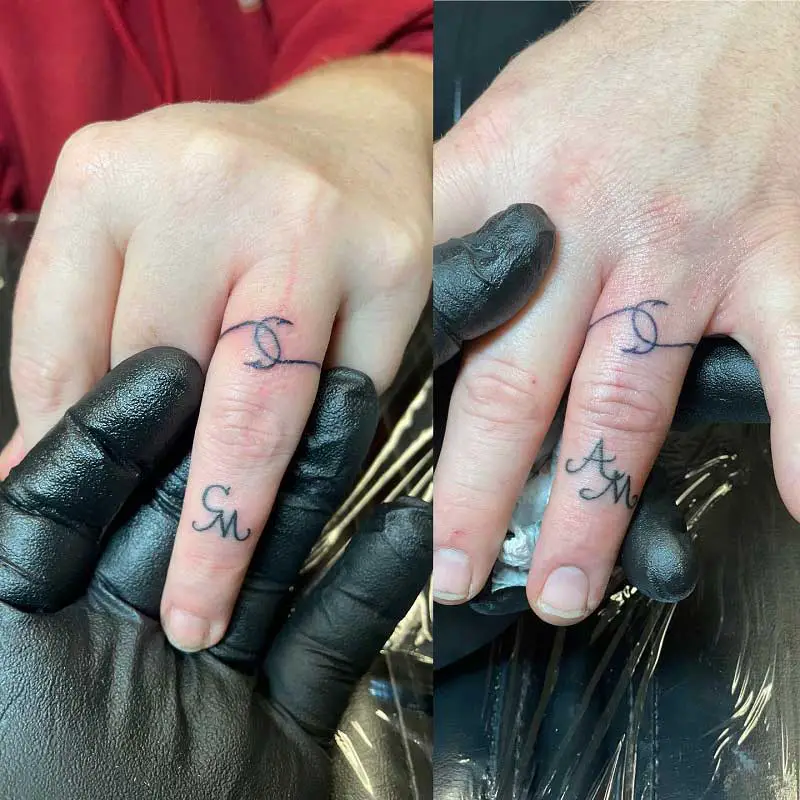 48.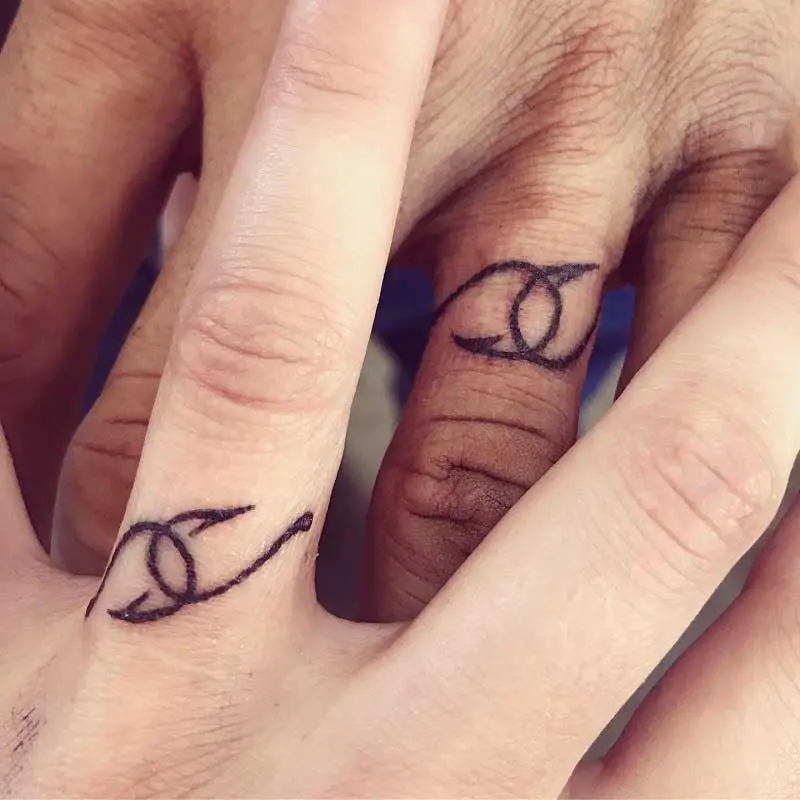 Hawaiian Wedding Ring Tattoos
49.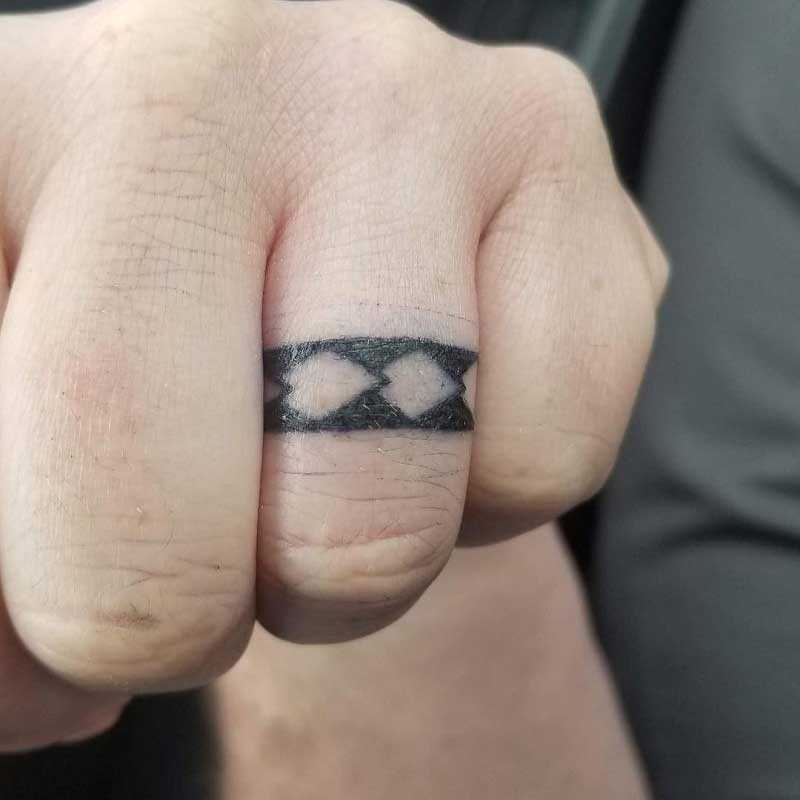 50.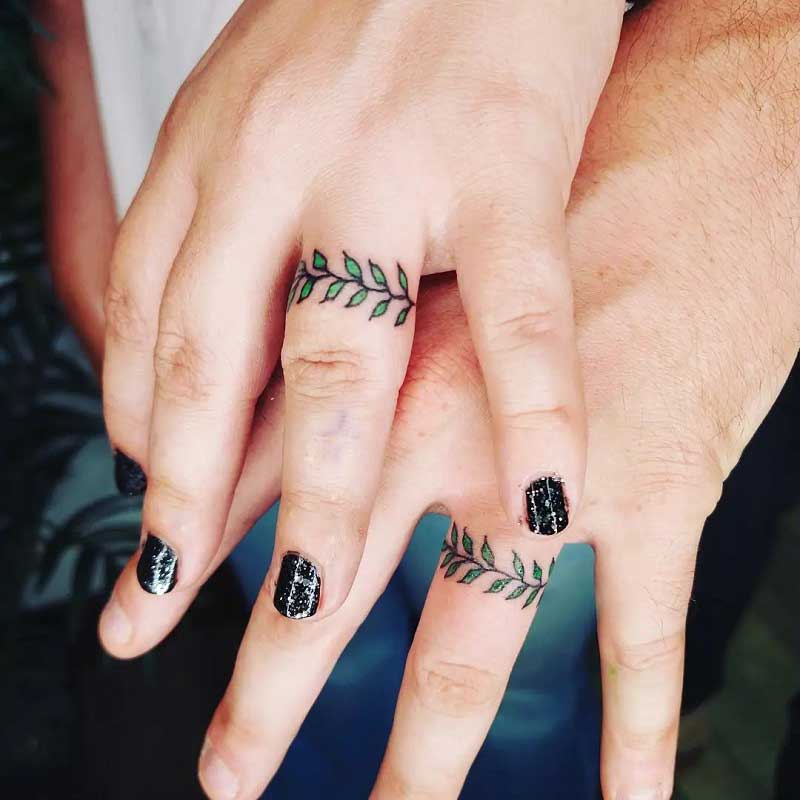 51.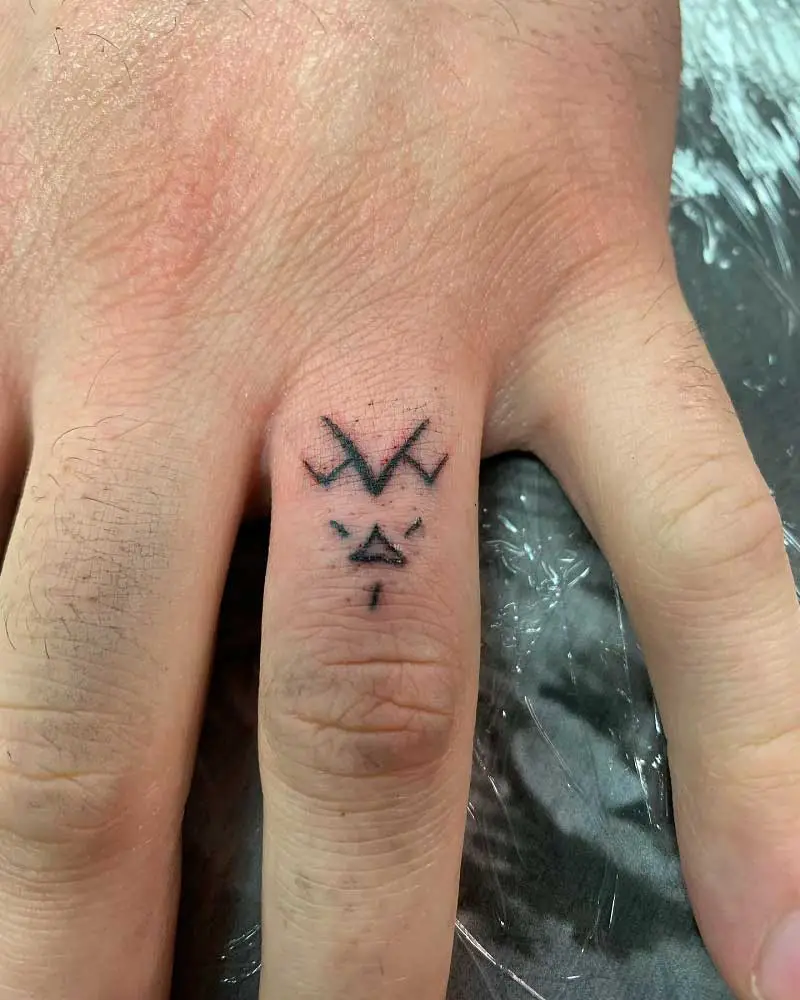 Heart Wedding Ring Tattoos
52.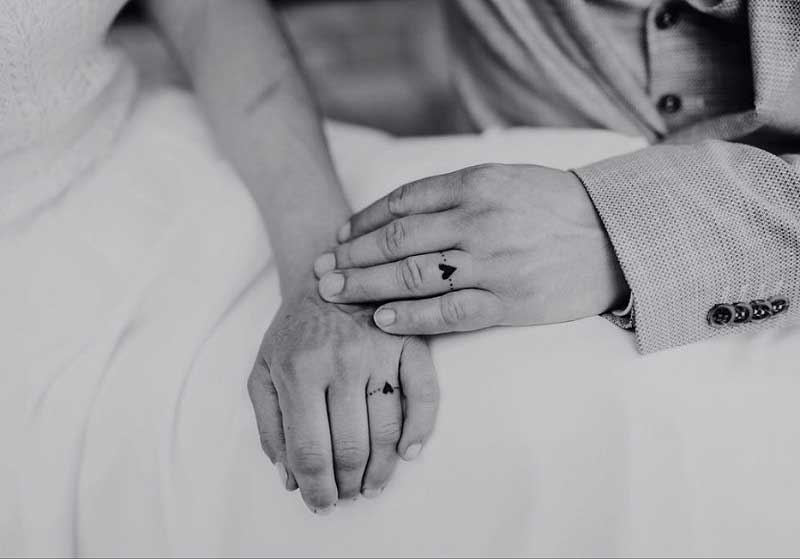 53.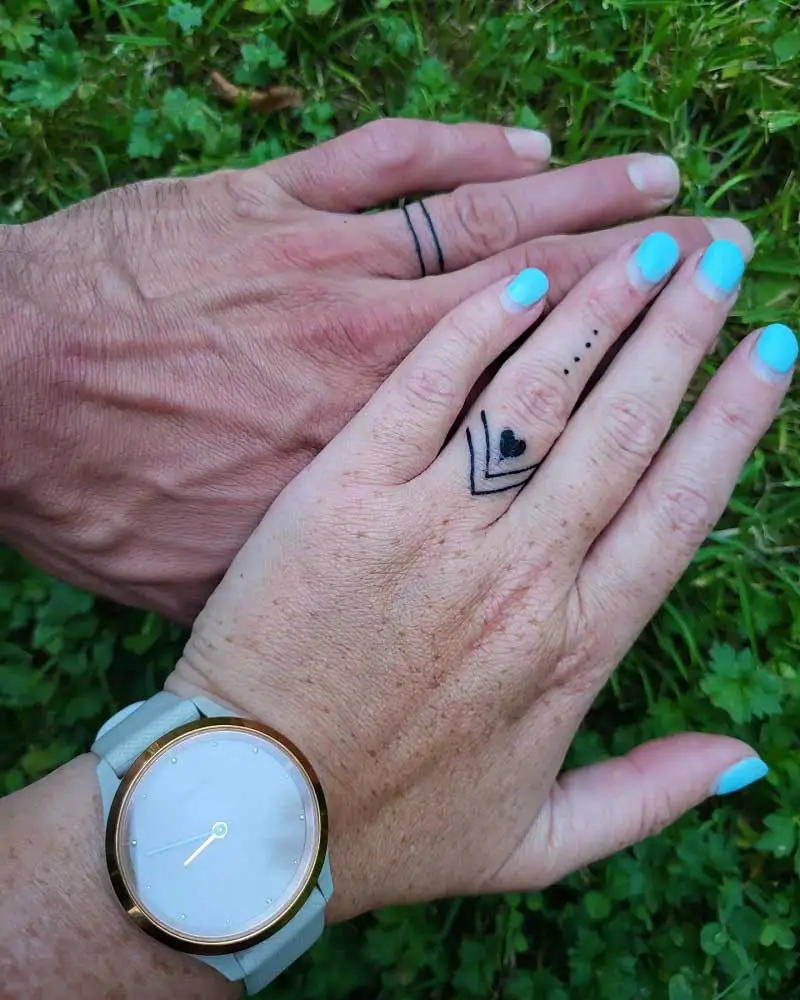 54.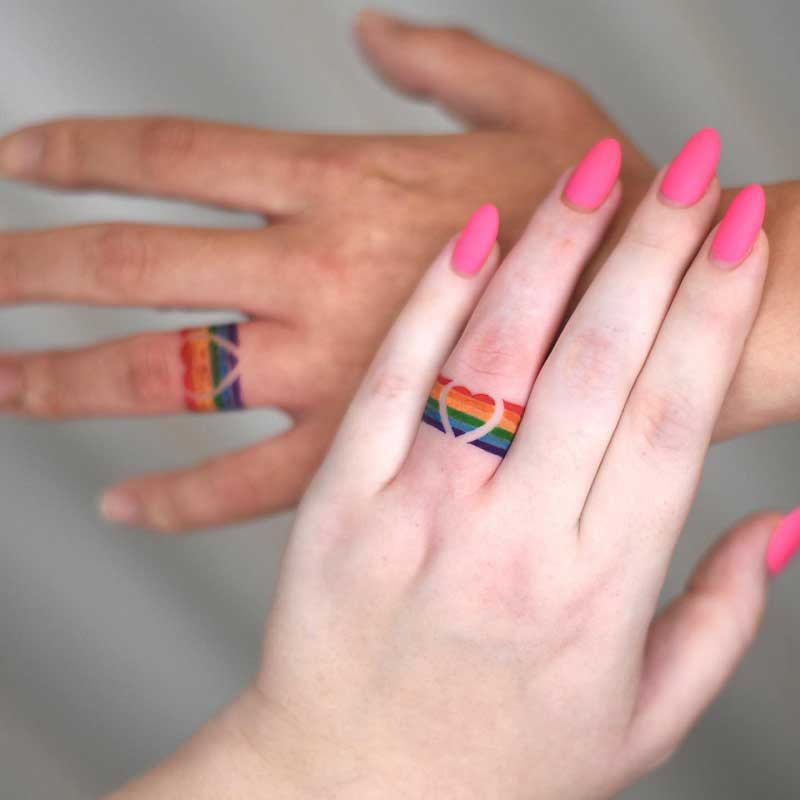 Intertwined Wedding Ring Tattoos
55.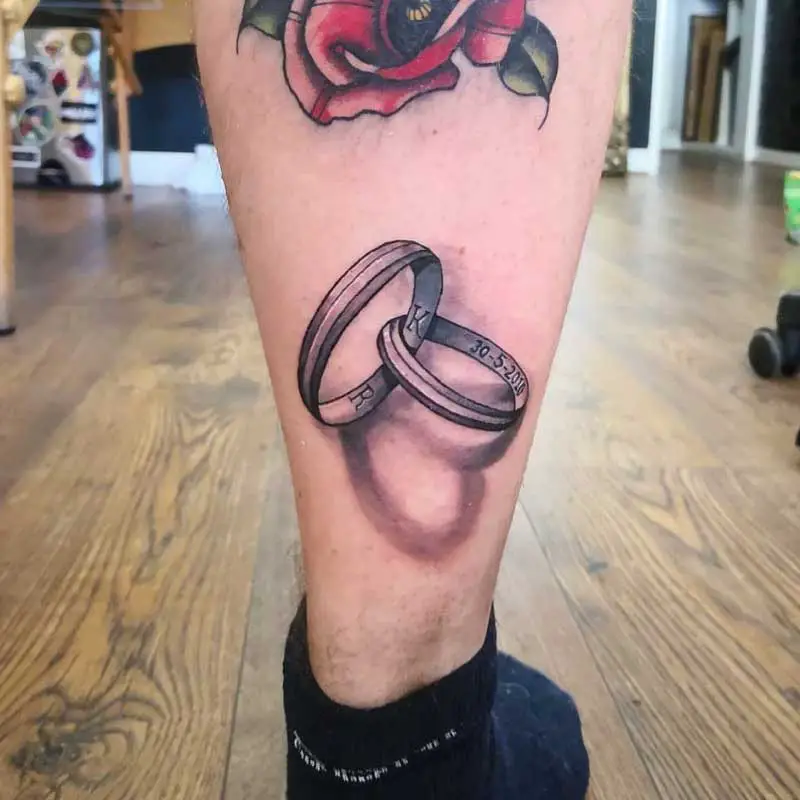 56.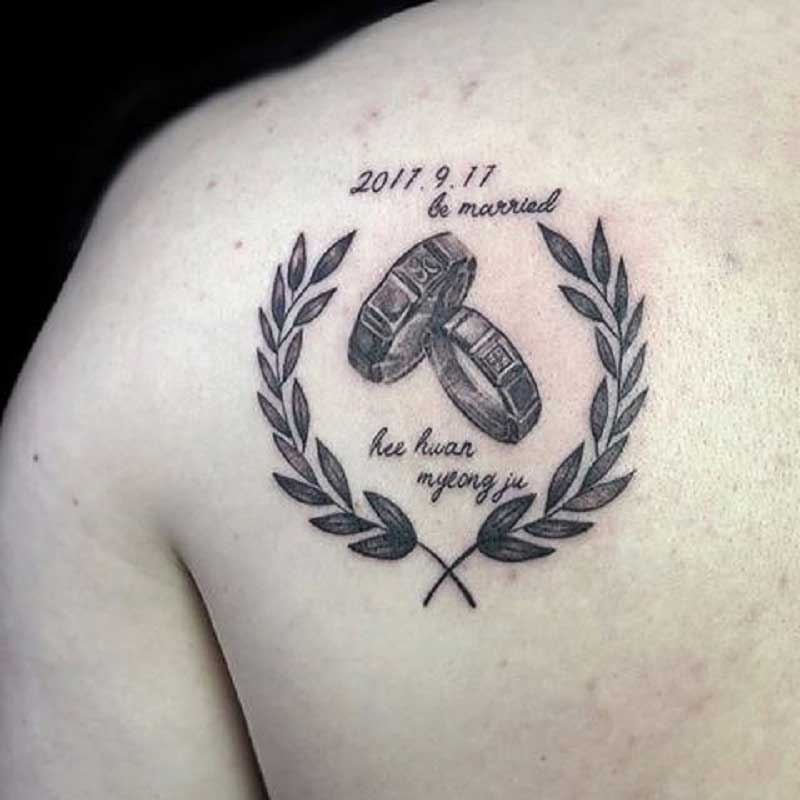 57.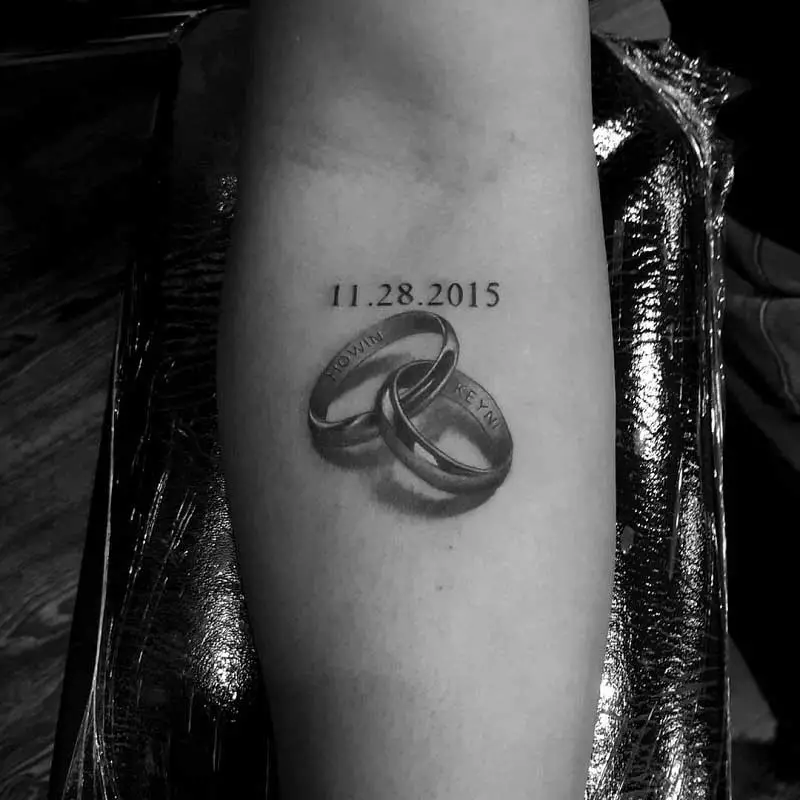 Anchor Wedding Ring Tattoo
58.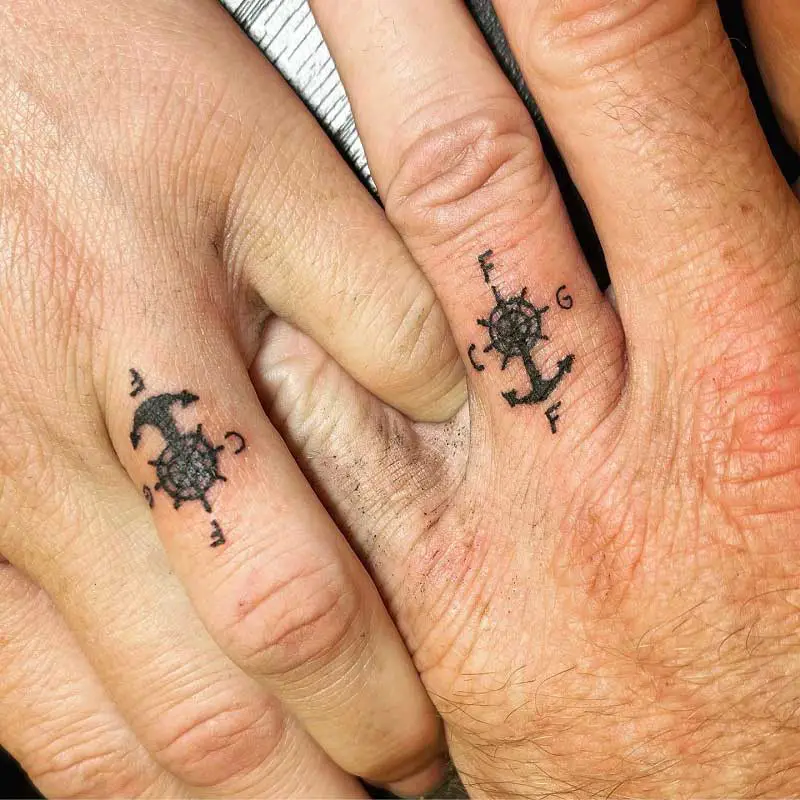 59.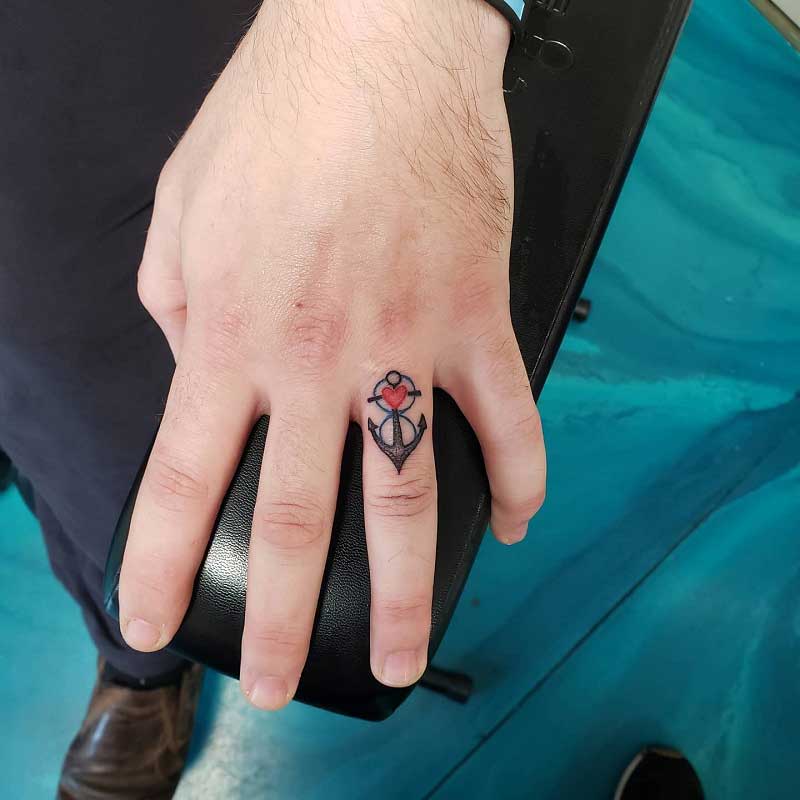 60.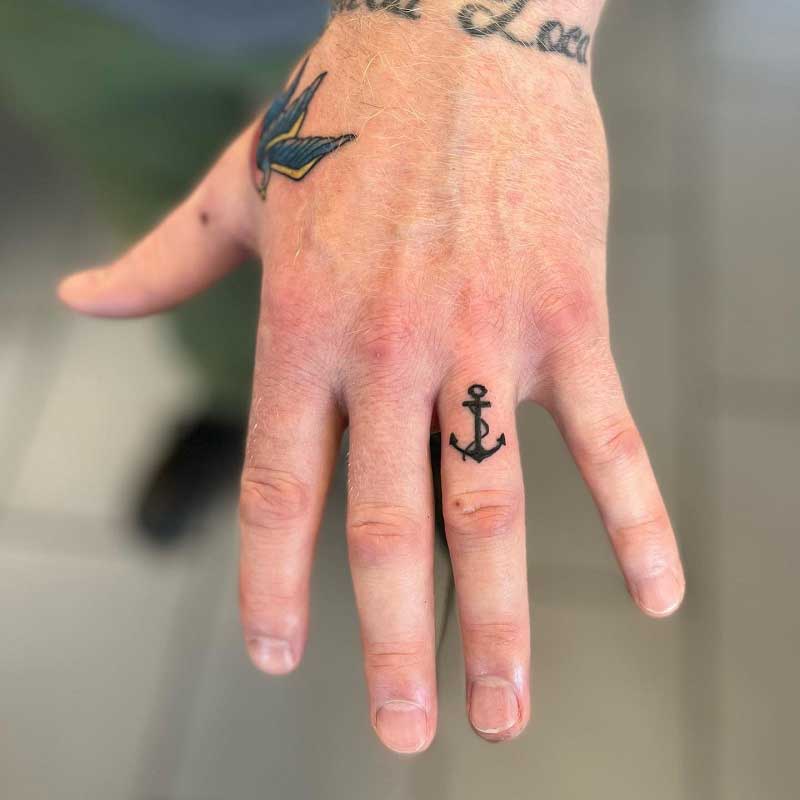 Antler Wedding Ring Tattoo
61.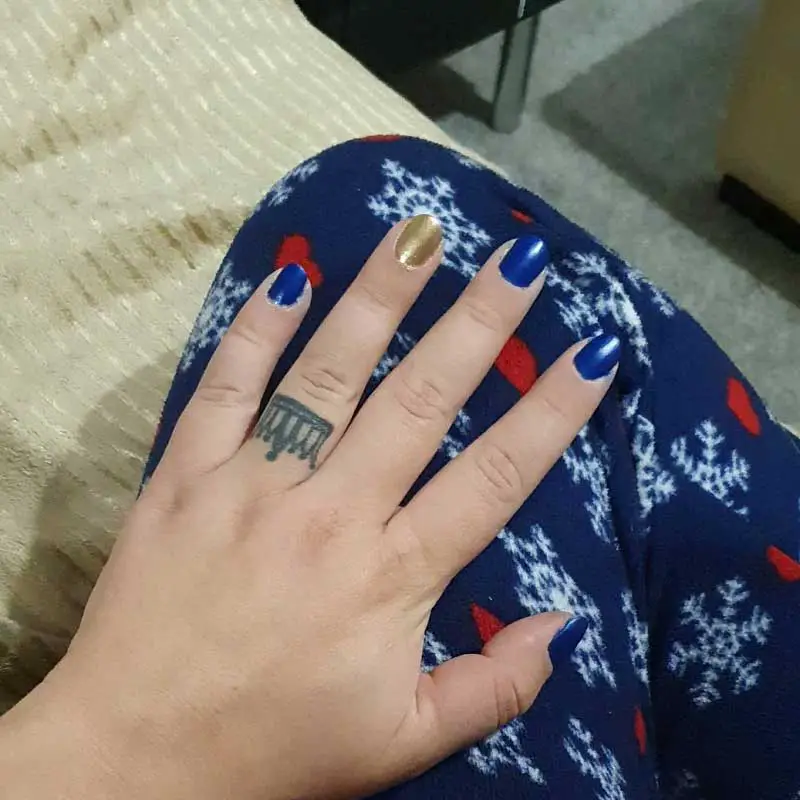 62.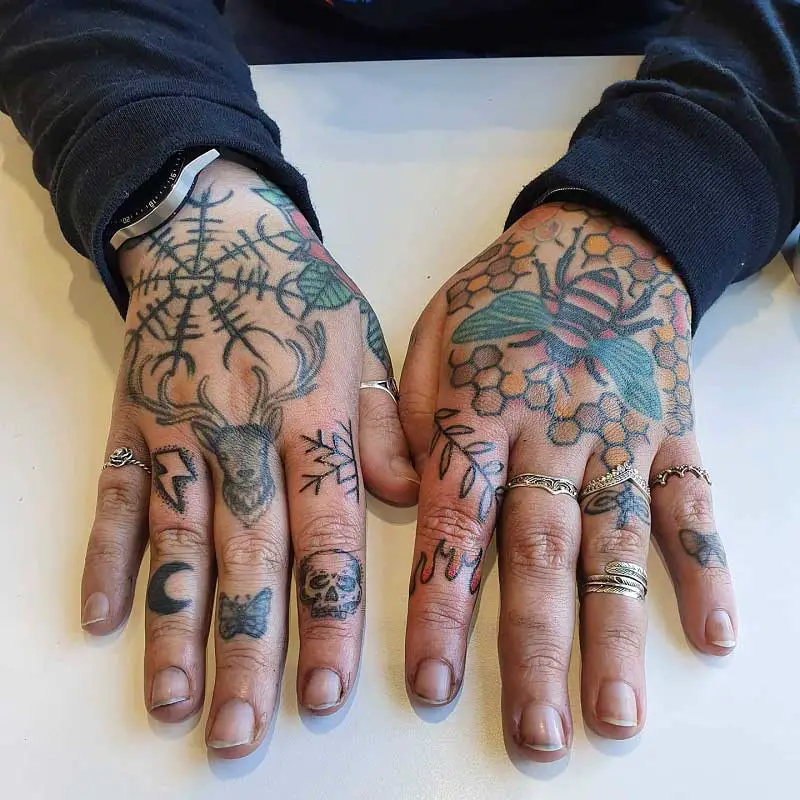 63.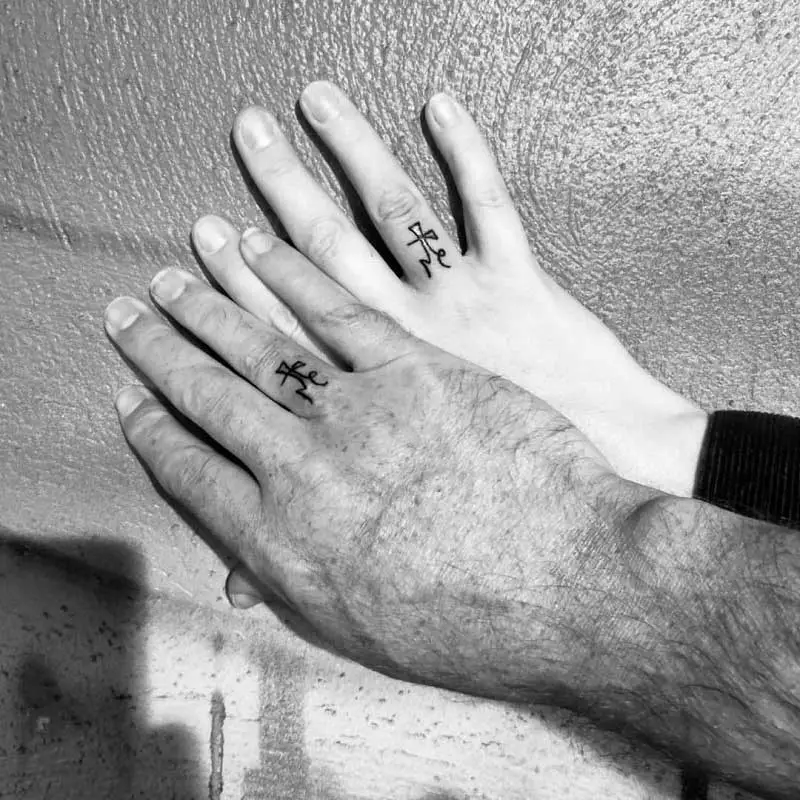 Arrow Wedding Ring Tattoo
64.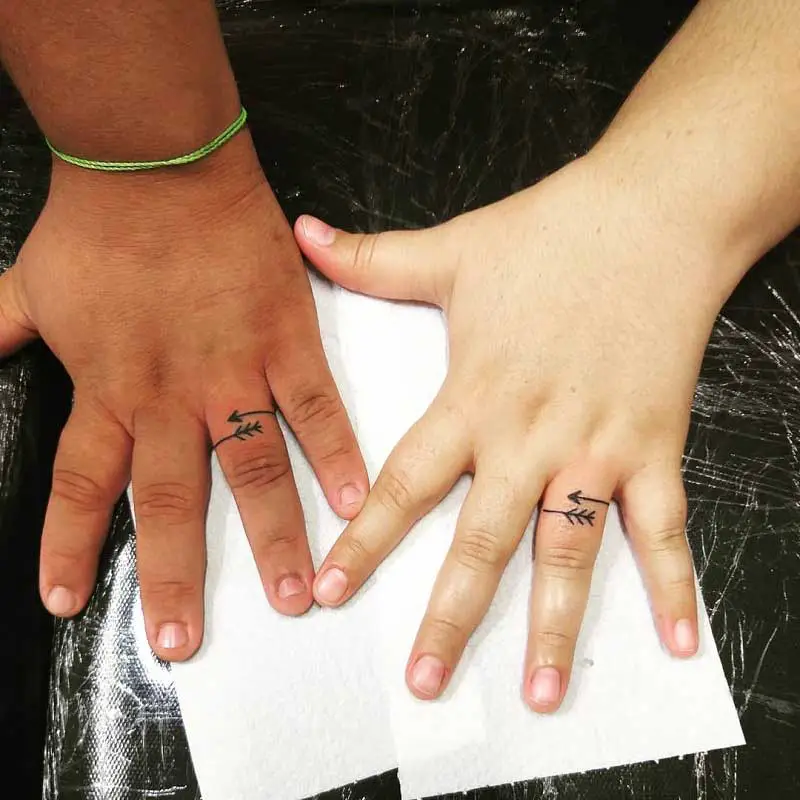 65.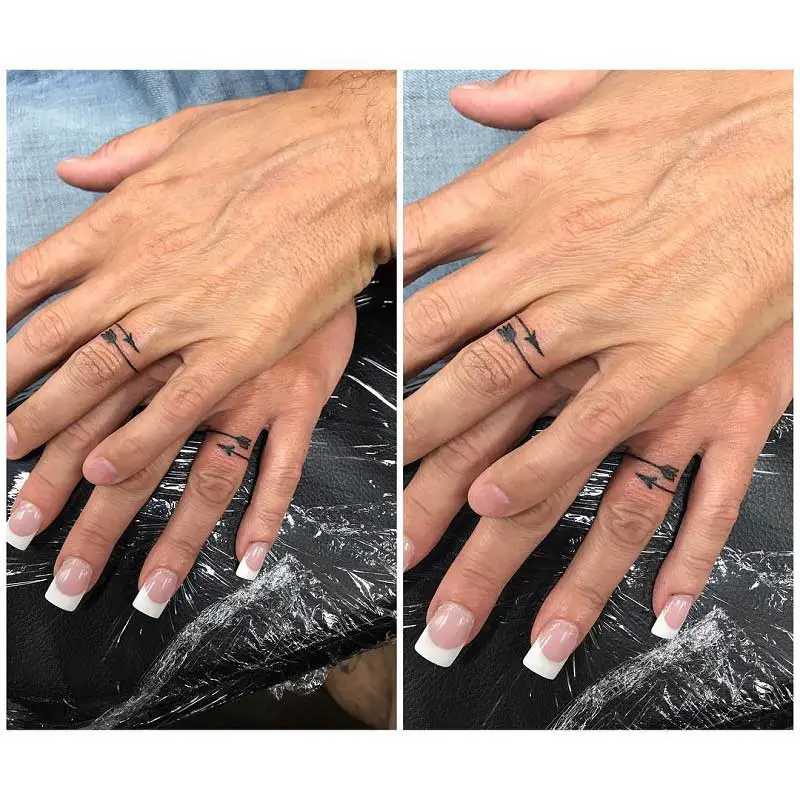 66.
Christian Wedding Ring Tattoos
67.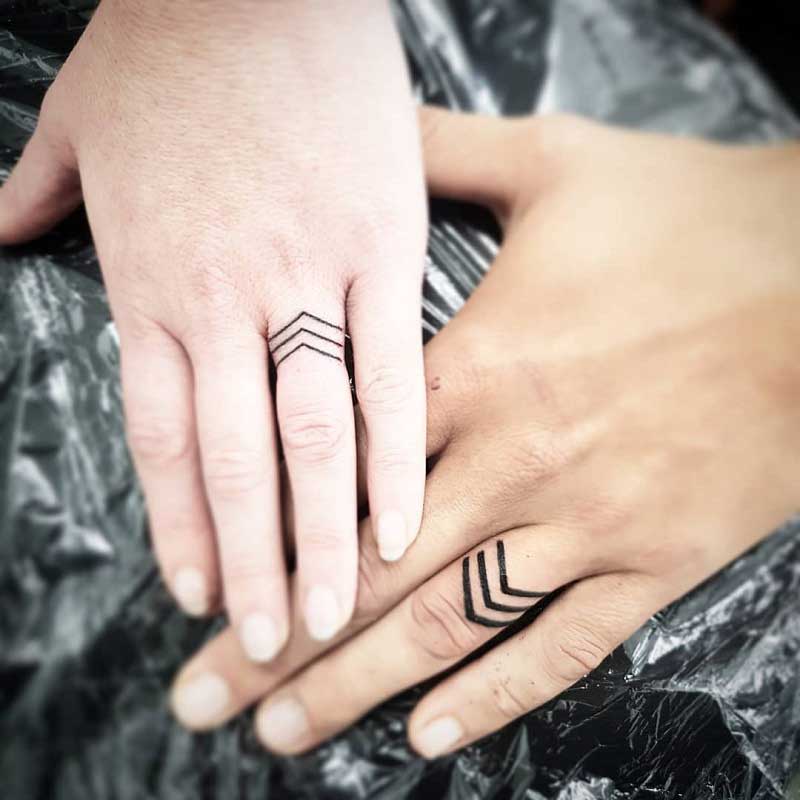 68.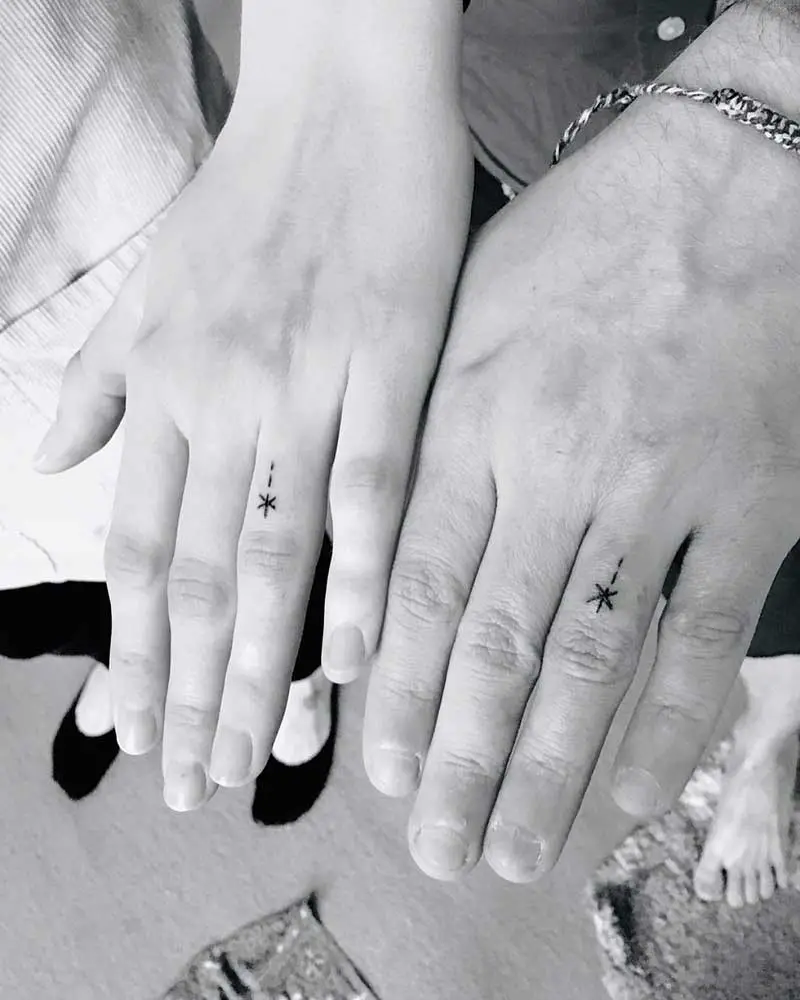 69.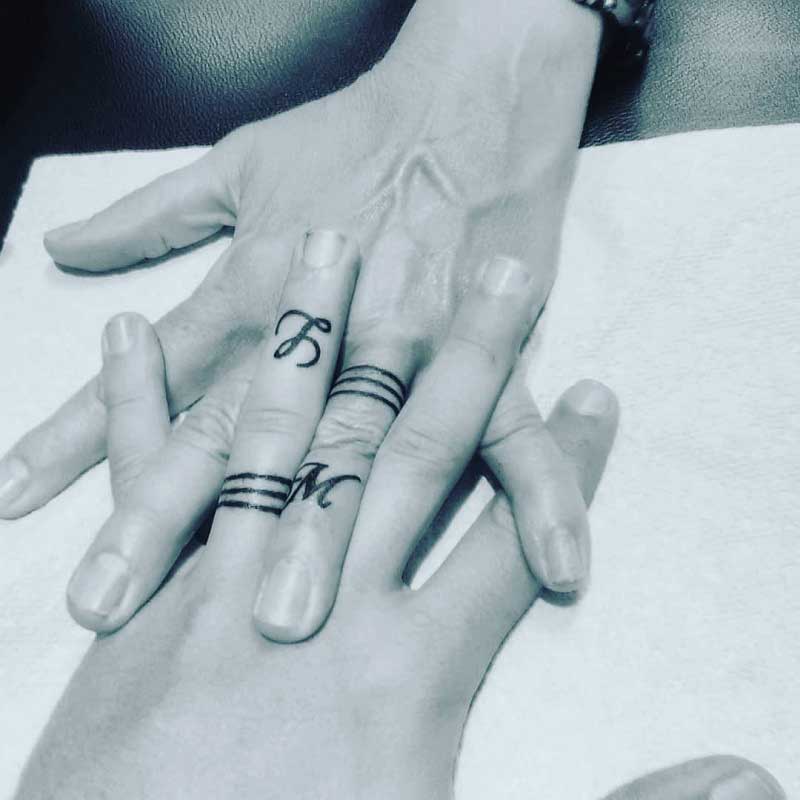 Dainty Wedding Ring Tattoo
70.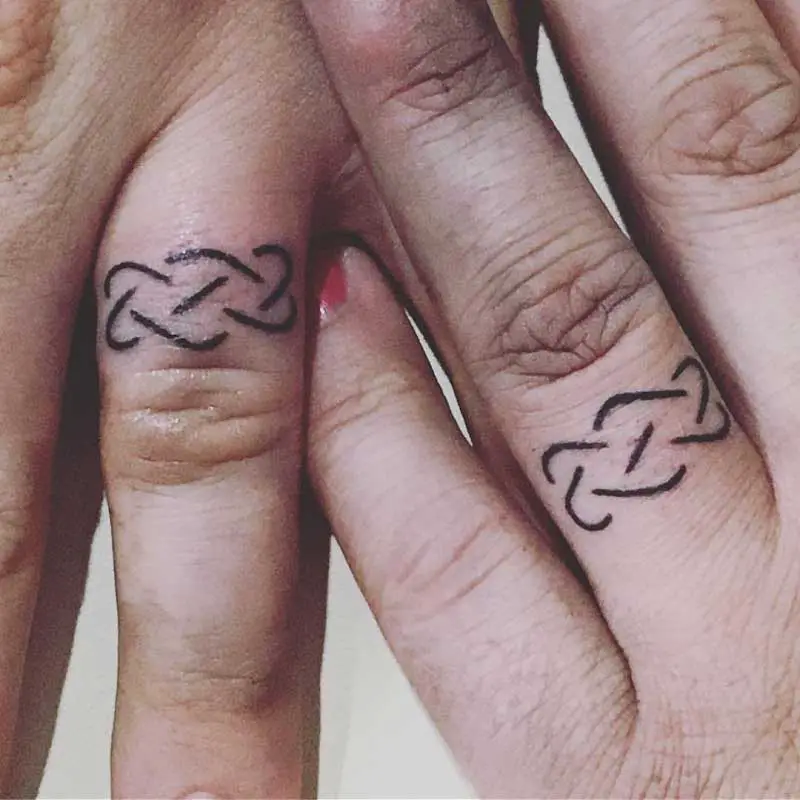 71.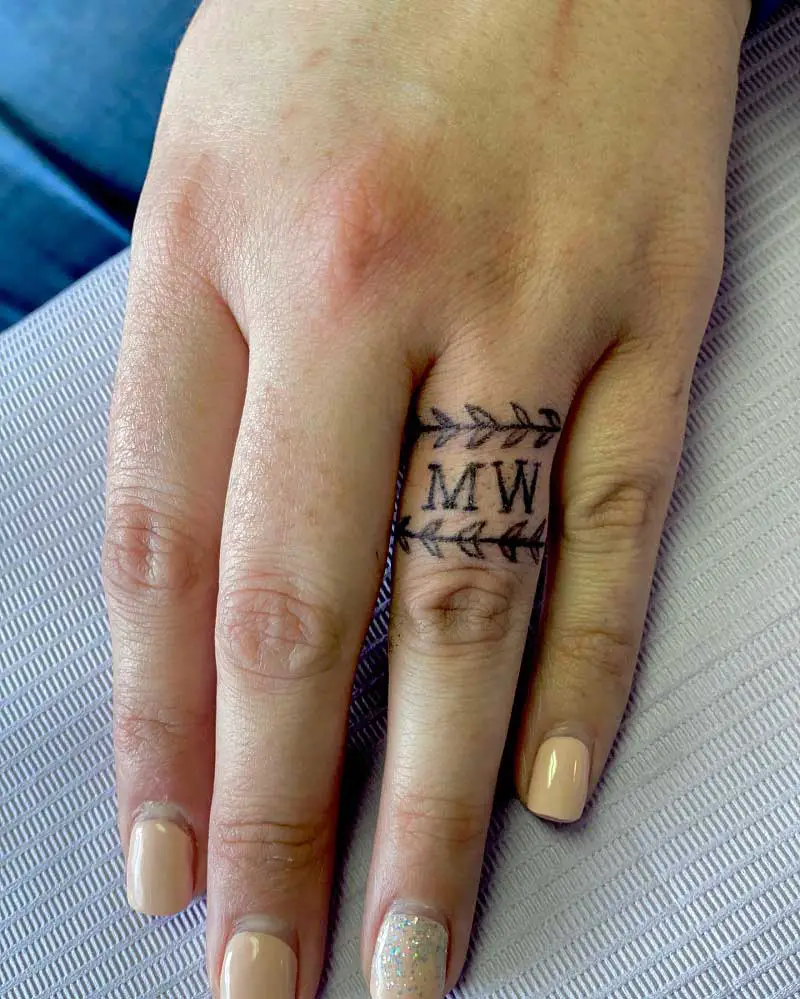 72.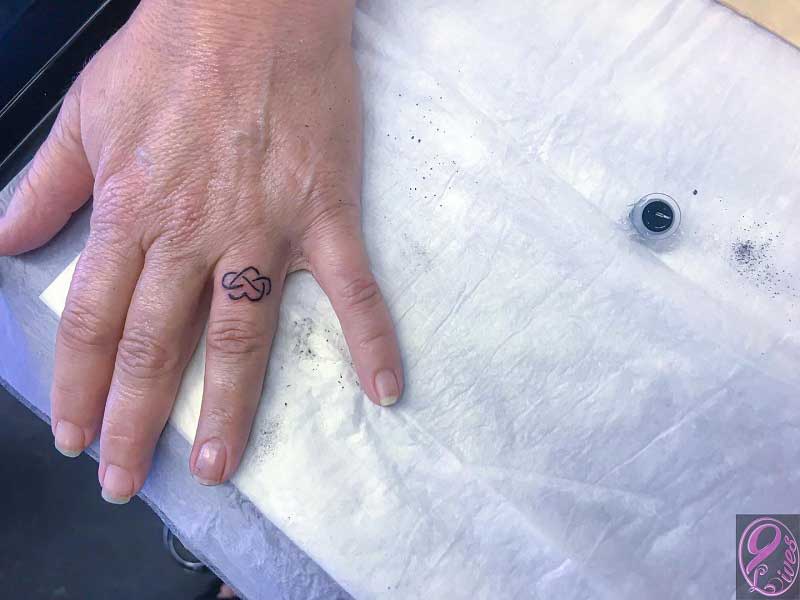 Henna Wedding Ring Tattoo
73.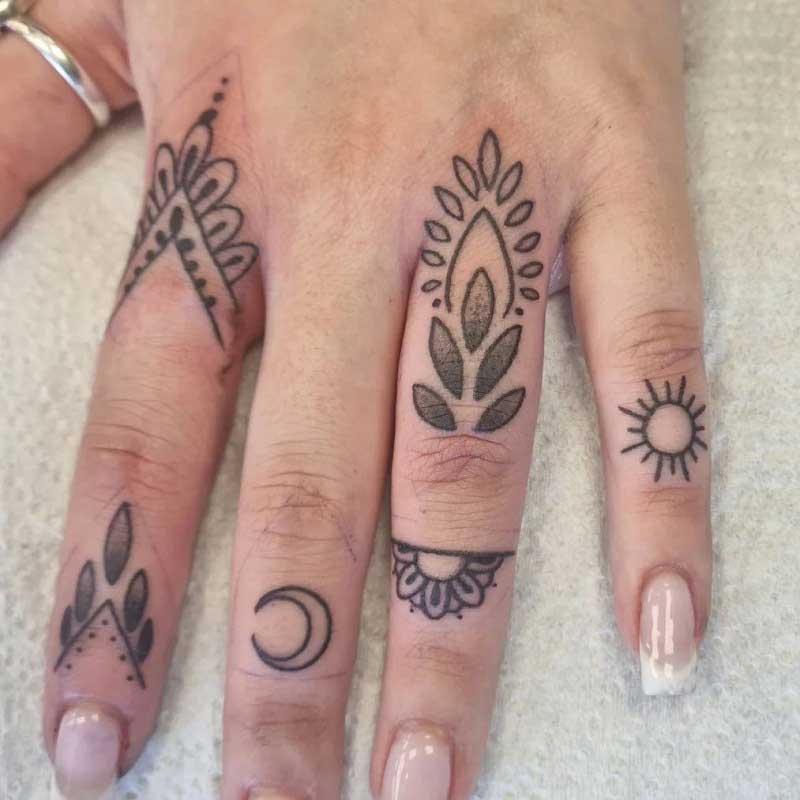 74.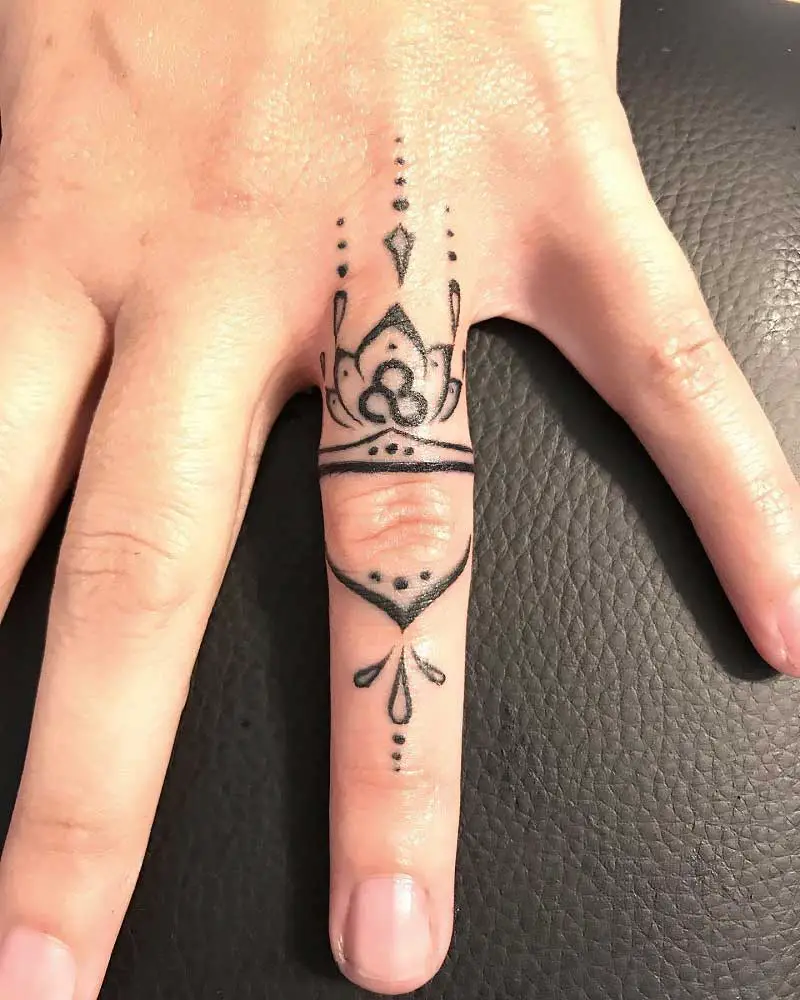 75.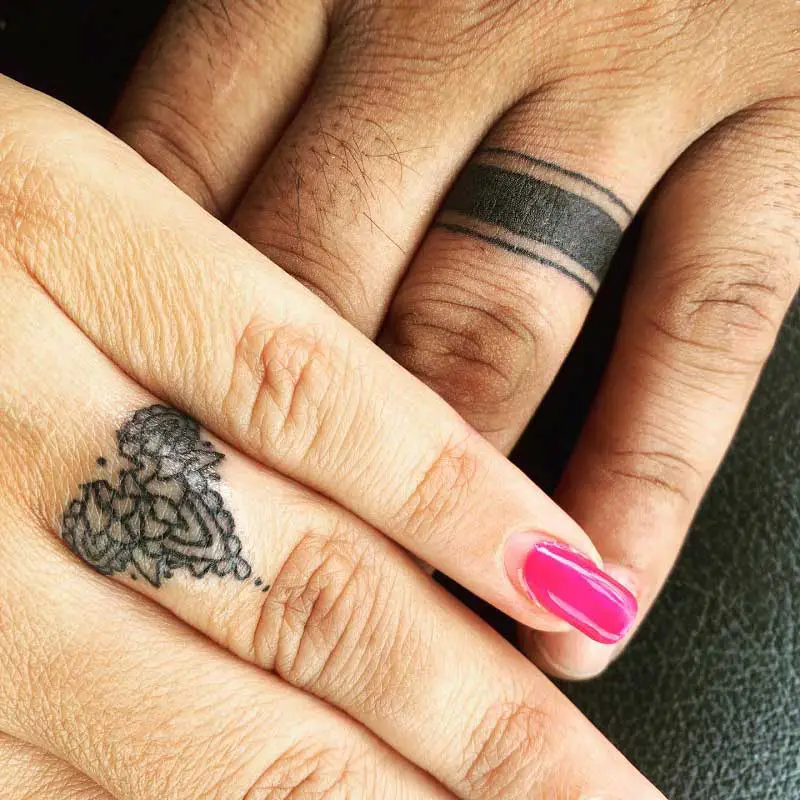 Irish Wedding Ring Tattoos
76.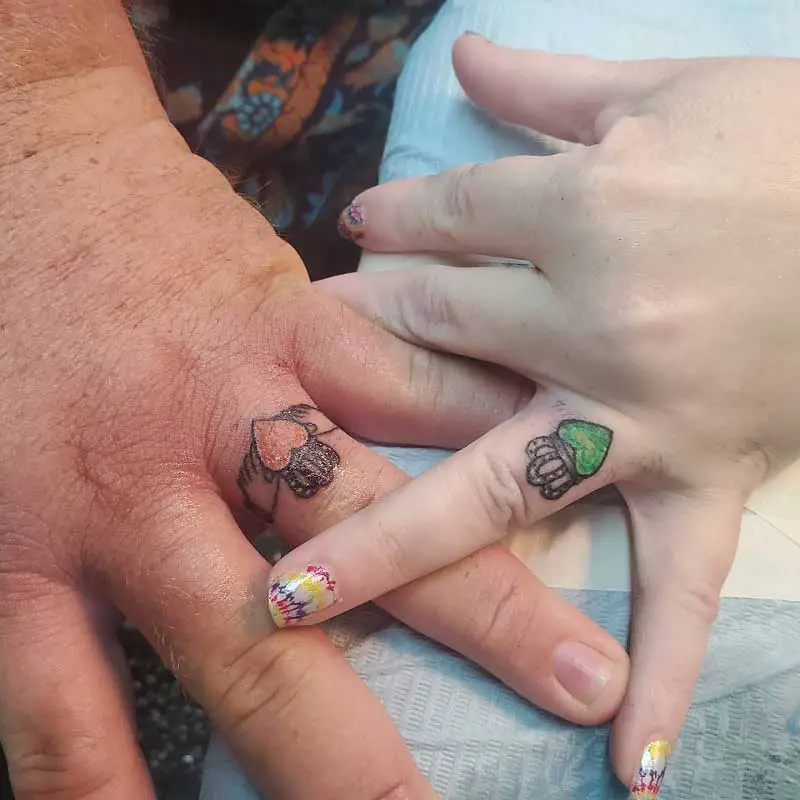 77.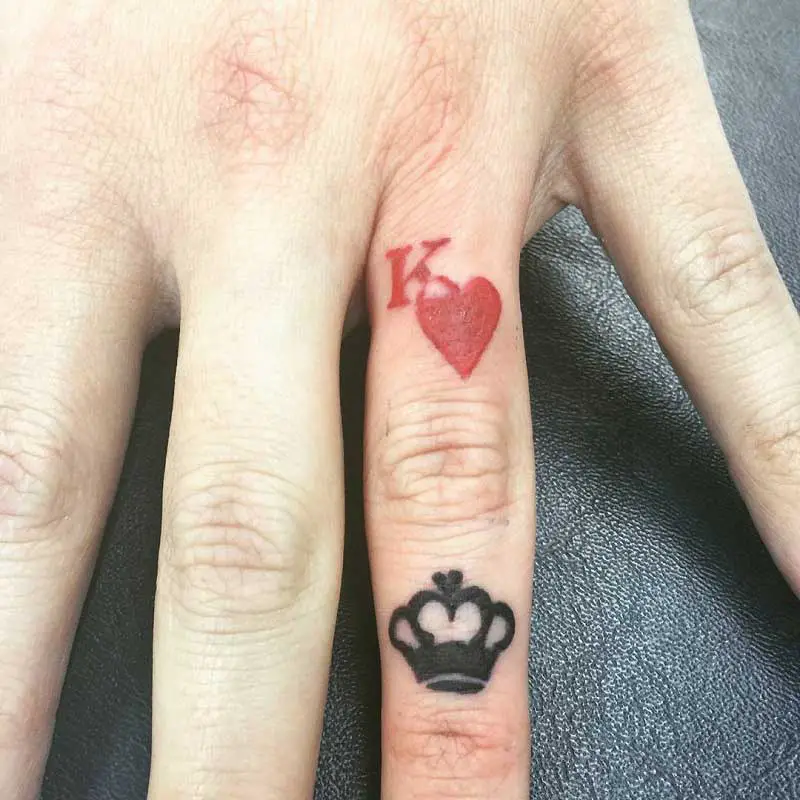 Lion Wedding Ring Tattoo
78.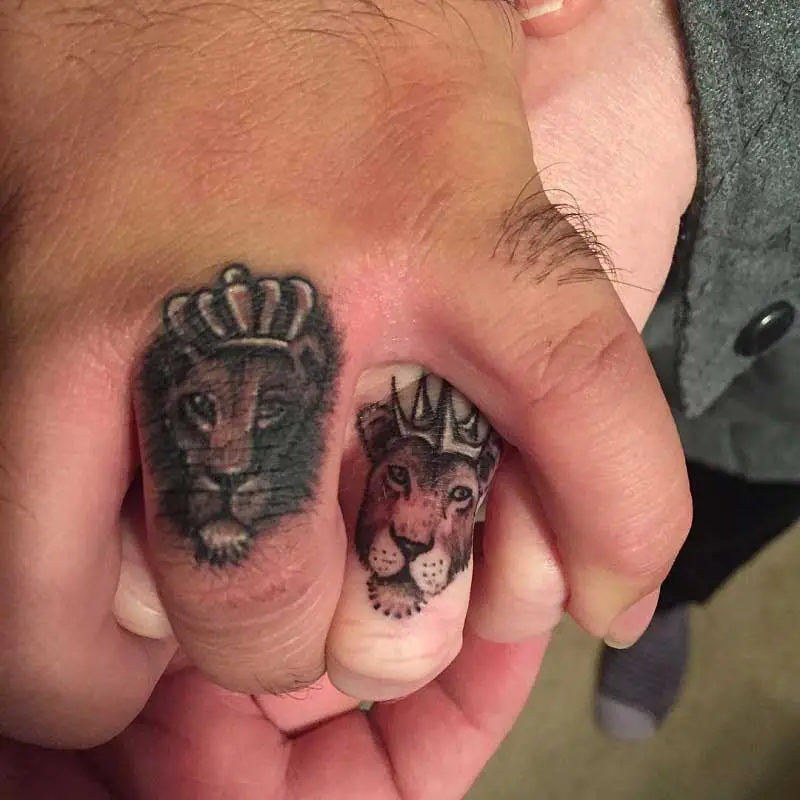 79.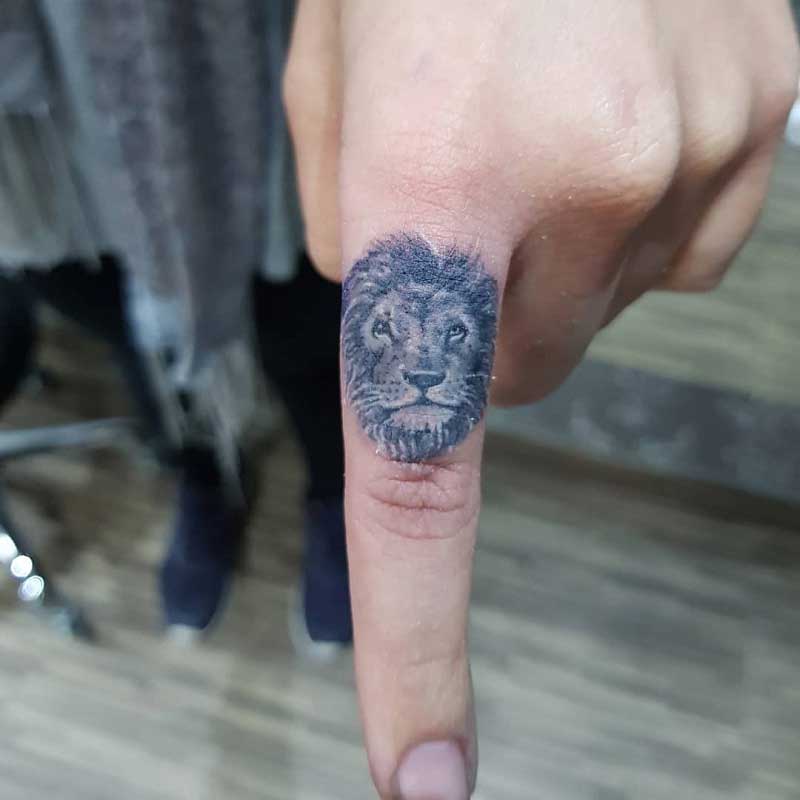 80.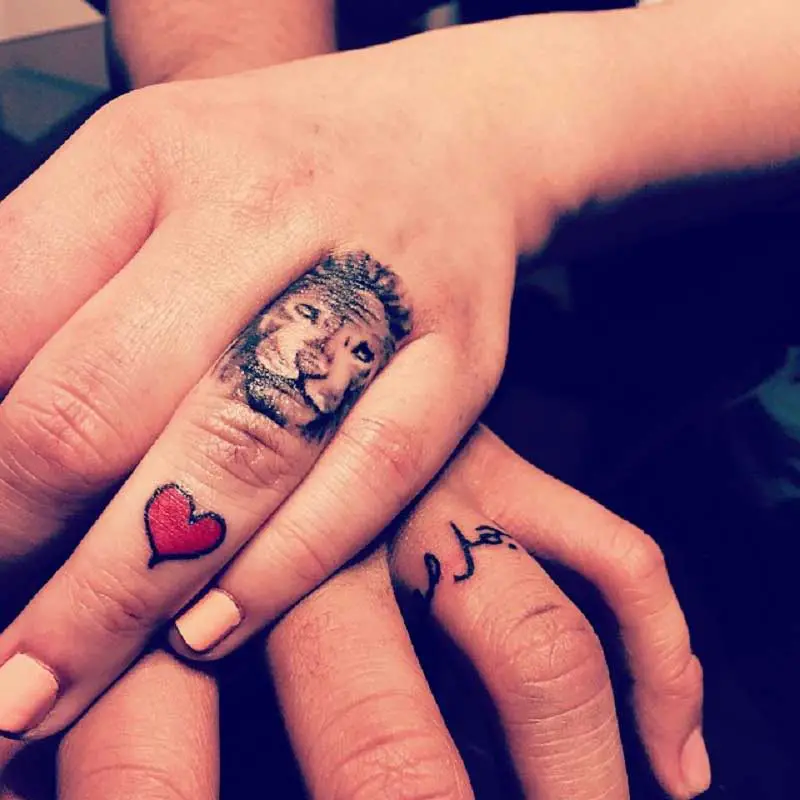 Barbed Wire Wedding Ring Tattoo
81.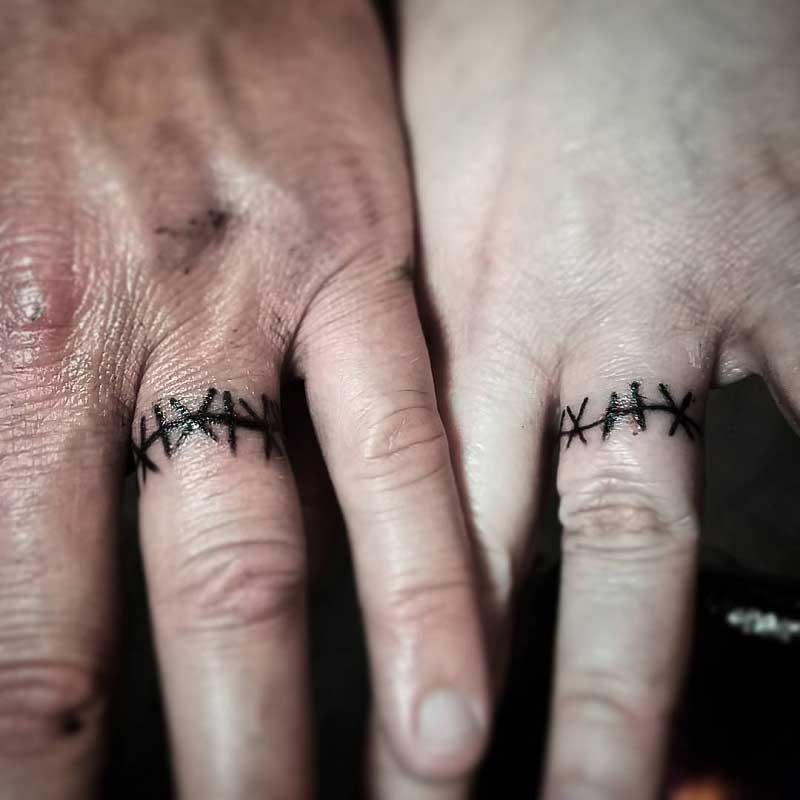 82.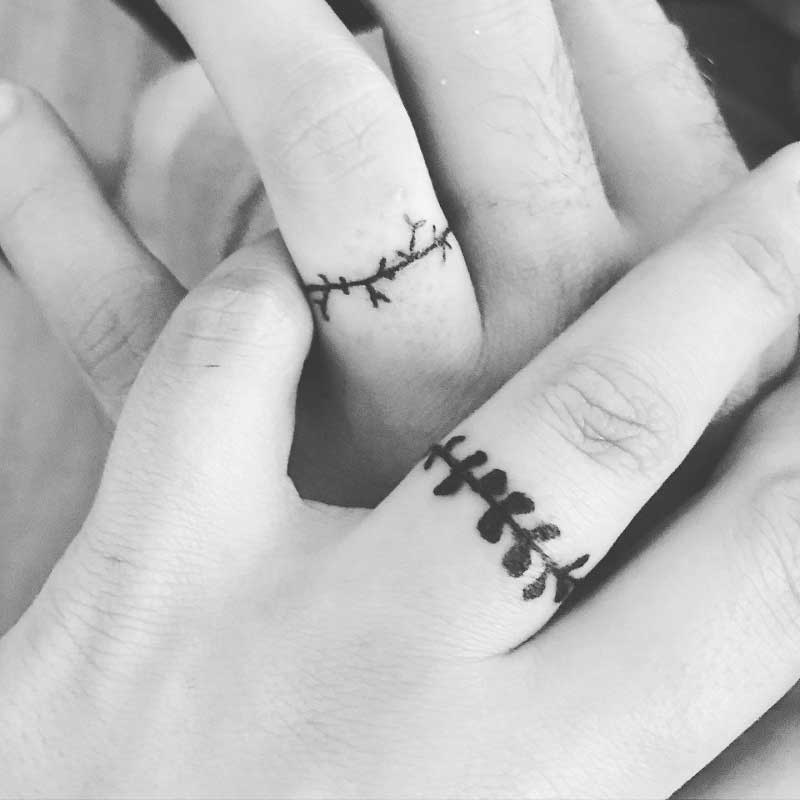 83.
Claddagh Wedding Ring Tattoo
84.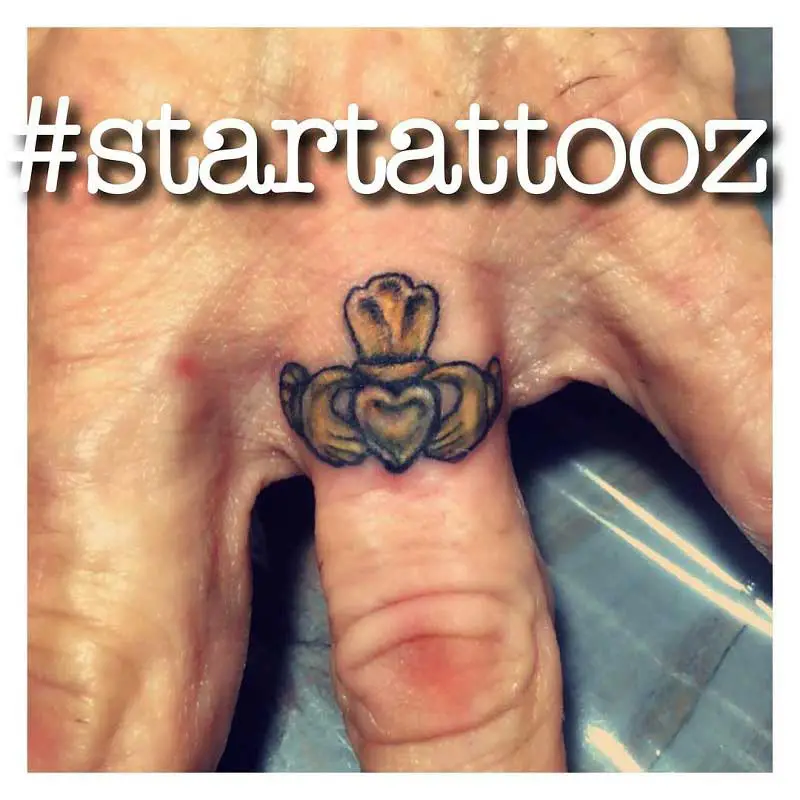 85.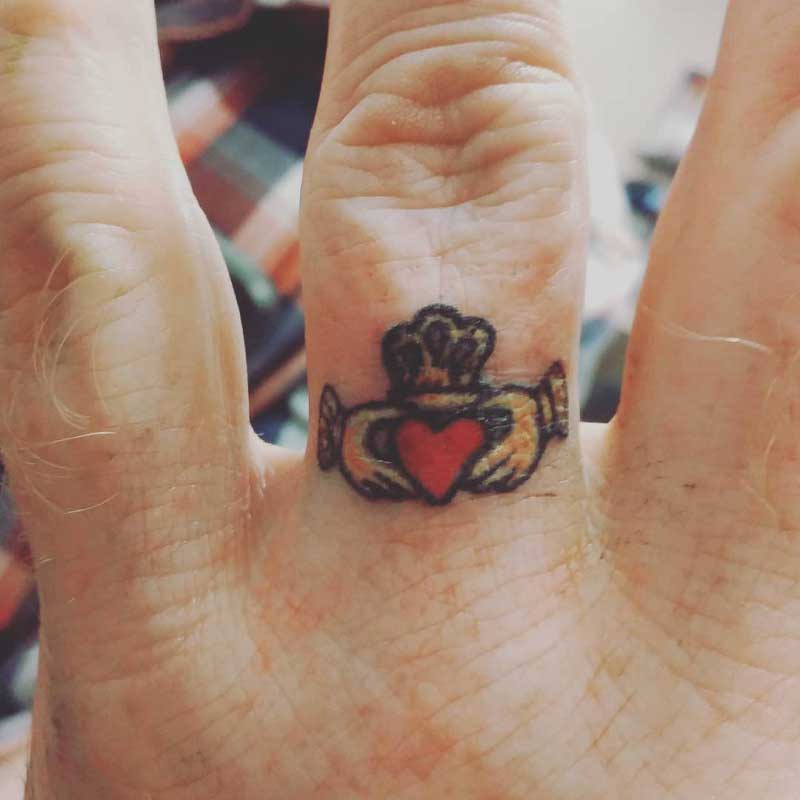 86.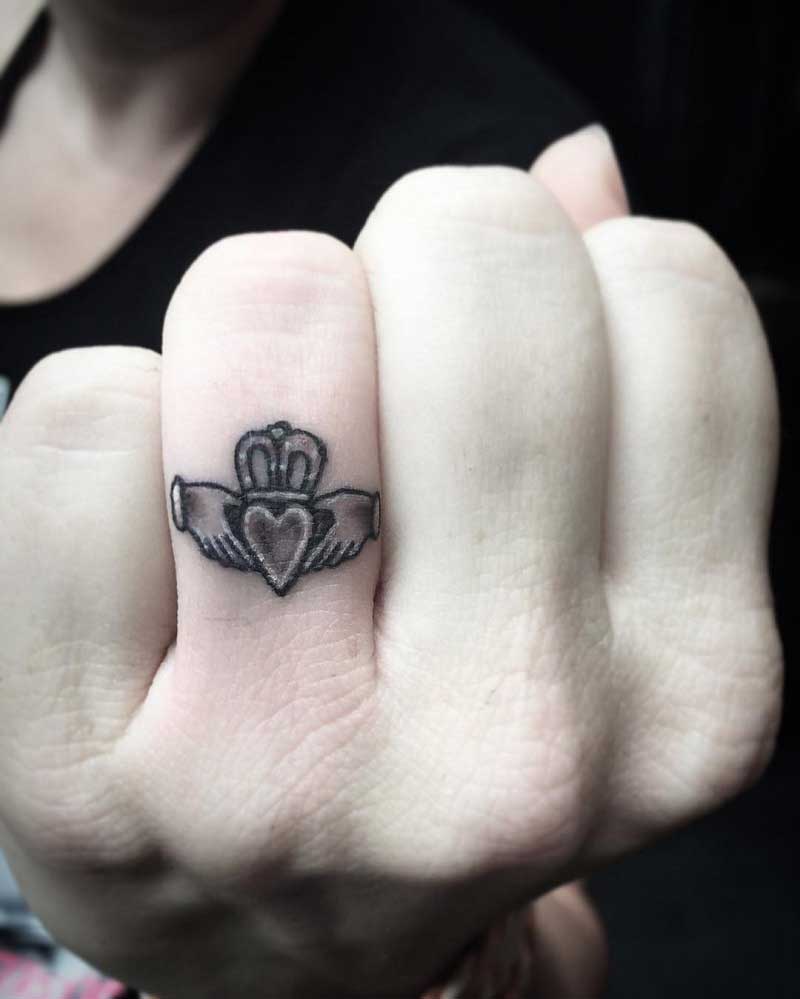 Conclusion 
Wedding ring tattoos are a great way of making a wedding memorable and more fun. Many people are not allowed to wear their wedding rings to work for safety reasons and the risk of injuries. And in cases like these, the wedding band tattoos are a lifesaver.
Finding the right wedding ring design out of hundreds of available tattoos is not easier than picking a ring. Ask for the opinion of your significant other and choose the designs together as it is an important part of your marriage. You can also get stunning matching tattoos as your wedding bands. So, go ahead and choose a beautiful tattoo to beautify your relationship.
Frequently Asked Questions
What does a wedding ring tattoo mean?
A wedding ring tattoo is a sign of forever commitment, love, care, and respect. It is a representation that two people have announced their love for each other forever.
How long do wedding ring tattoos last? 
Wedding ring tattoos start to fade after 6 months and significantly lose their shine after a year. You can get the tattoo done again over the design or opt for a new one in its place.
Are wedding ring tattoos painful?
Fingers are sensitive and getting a tattoo on the ring finger is quite painful. So, it is obvious that tattoos on wedding rings do hurt.
Can you tattoo a wedding ring?
You cannot tattoo on a wedding ring. But you can obviously tattoo a wedding ring on your ring finger.
Why do people tattoo a ring on their ring finger?
Wedding ring tattoos are less costly compared to an actual wedding ring. It also shows commitment, love, and care.
Does a tattoo on the ring finger hurt?
Fingers are filled with nerves and therefore, very sensitive. This makes needles and tattoos on the ring finger painful.
How much do wedding ring tattoos cost?
The cost of the wedding ring design you want to be tattooed depends on the style and size. However, even the most detailed and difficult tattoos should not exceed $2000.
Are wedding ring tattoos suited for anyone?
Wedding ring tattoos are seen as a sign of marriage, commitment, and love. These designs are typically suited for married couples and newlyweds.