Women who want to highlight their femininity often choose for the queen bee tattoo. Symbolically, the design is chosen to express a person's tenacity, resolve, and authority.
The queen bee tattoo is a symbol of dominance, resilience, and resolve. The queen bee, either with her wings spread or within a hive, is a common motif for this type of tattoo. The tattoo's symbolism is as varied as the people who get them, although it often symbolizes a woman's strength, safety, or fertility.
So, regardless of how you choose to read it, the queen bee tattoos are eye-catching, appealing, gorgeous, and unique. If you're looking for some cool and unique ideas then there's no better place to go than this. We got some of the best and artistic piece here.
Give them a check-
85 Queen Bee Tattoo Designs
The Queen Bee tattoo designs generally consists of some basic things that defines these designs. It can be large or small but every piece has its unique sides and are rich in symbolism. These designs are true form of sheer artistry that aims to portray the wearer's philosophy.
The most common constituting components of these tattoos are flowers, crowns, honeycombs, and other floral and fauna symbols. Hearts, stars, and crowns are a few more frequent motifs. Size, complexity, and intricacy are all fair game for bee tattoos. No matter the style, they commonly represent regal authority, power, loyalty, and discipline.
Realistic Queen Bee Tattoo
Who doesn't want a tad bit realistic touch tot heir tattoos, right? Well, if the design is featuring any living thing then everyone wants to ink them as lively as possible. And in cases of Queen Bee tattoos, the more the details, the merrier the design. These lively and hyper-realistic designs can be a great conversation stater and also appealing to the eyes. So, if you're looking for designs that are realistic, then this section is for you. Give these designs a shot-
Yellow Furr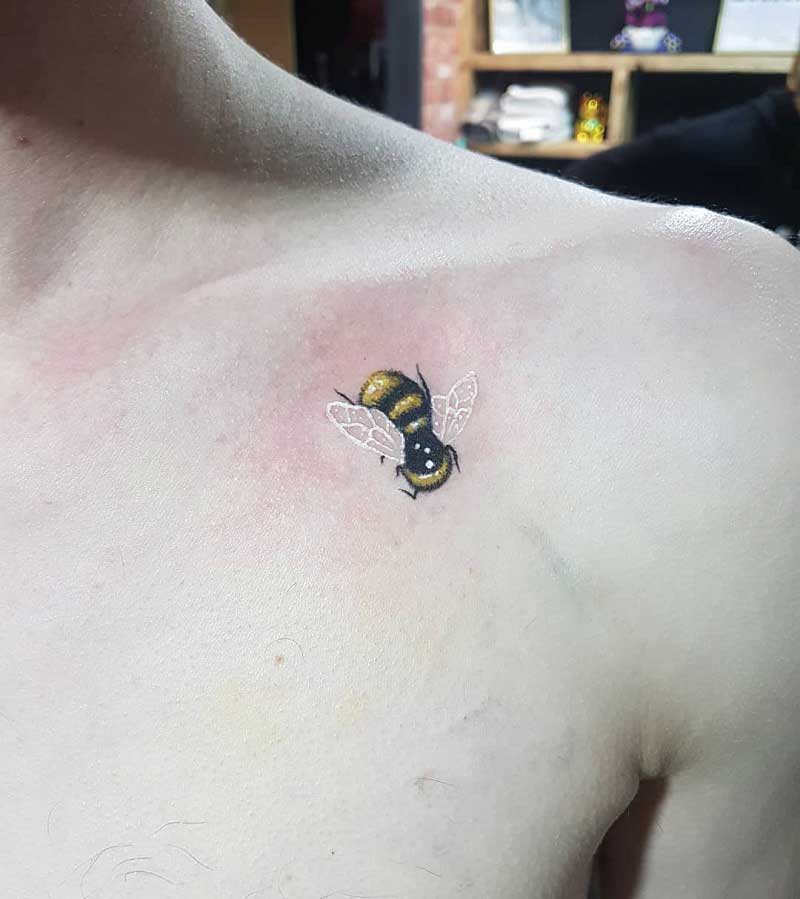 Just a little friendly honey bee walking on the shoulder, it seems! Those little wings are beautifully detailed and portrayed. And the body is also inked with artistry that it looks so very alive.
2. The guardian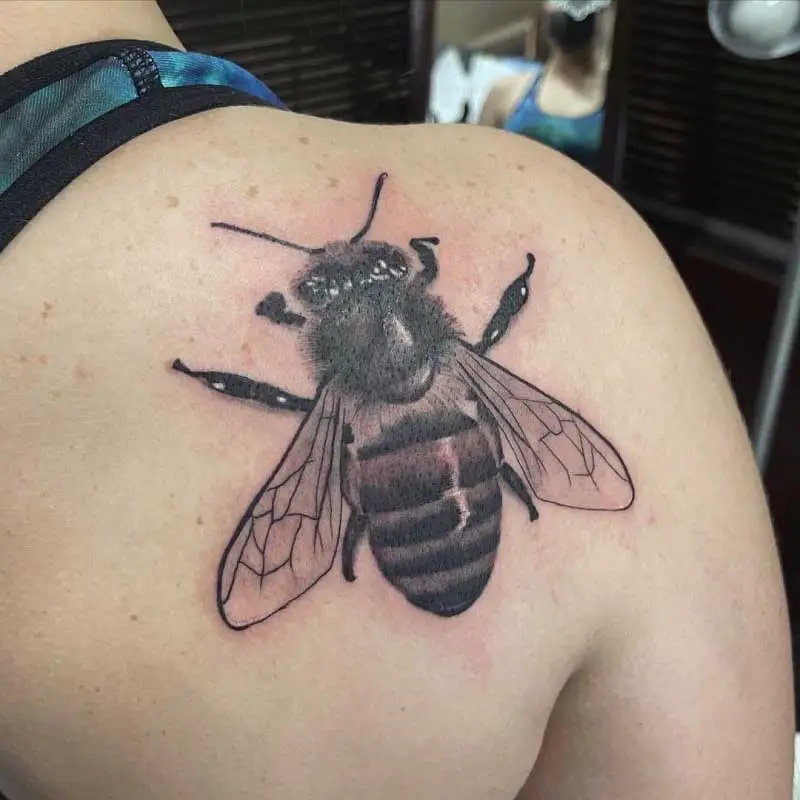 Look at the size, WOW! With its superior size tattooed on a woman's back, it indicates the guardian is one of the swarms. Its realistic drawing gives it a very appealing look indeed.
3. Queen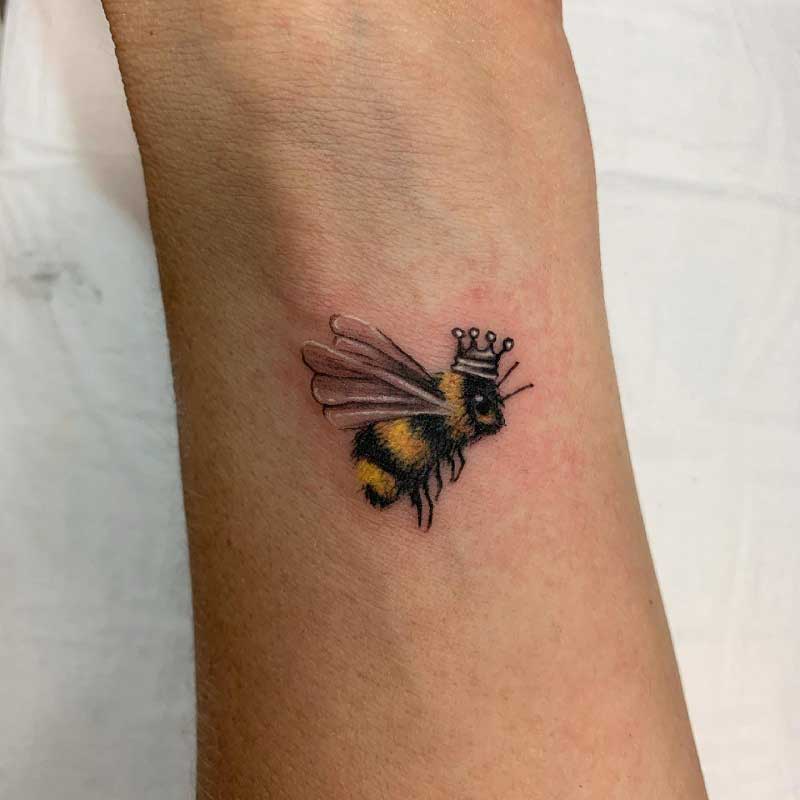 Her Majesty, the Queen. The body is ambiently detailed with furry artistry. And the tremulous eyes really pull out the sheer beauty of the insect. Also, the tiny crown states the authority of this little own so profoundly.
4. The Vanguard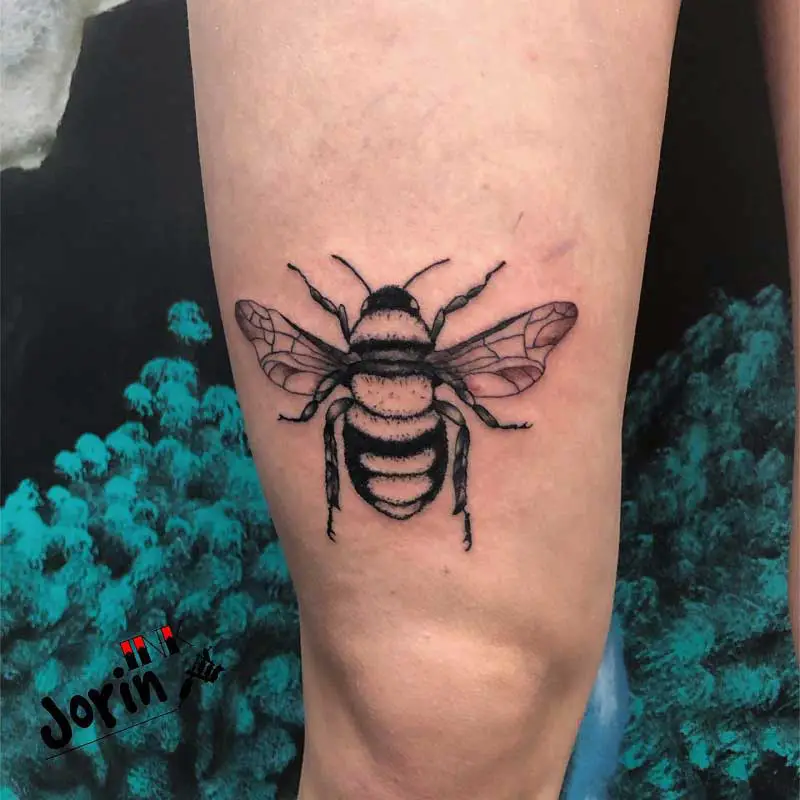 As bee tattoos are mostly about loyalty, this one here, states its humble loyalty through the inking method. And the placement of this tattoo on a woman's thigh is just too perfect.
5. Yellow Friend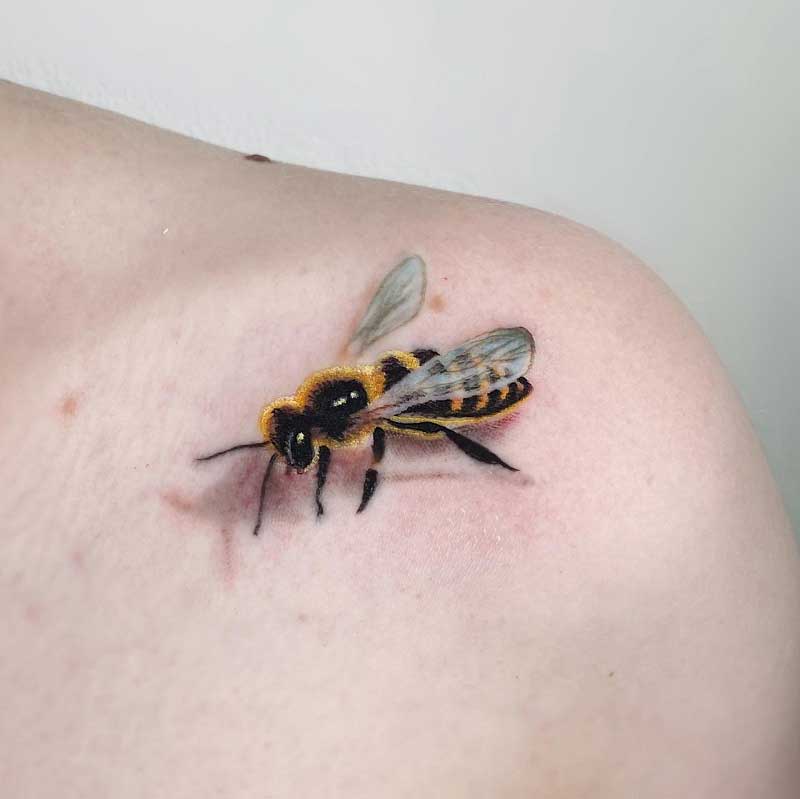 This design is what you call a hyper-realistic drawing. It's so vibrantly detailed it is bound to make you look twice. The shading is done quite expertly as it looks like a friendly bee sitting on the shoulder.
Vintage Queen Bee Tattoo
There's something about vintage tattoos. These designs blend with the skin quite seamlessly while stating the dominance of its superior artistry. And in the case of vintage bee tattoos, the aesthetics of vintage blooms profoundly. Whether you're looking for any intricate piece with top-notch detailing or just a simple vintage touch we got you covered.
Here are some fine vintage Queen Bee tattoo ideas for you-
6. Vintage Buzz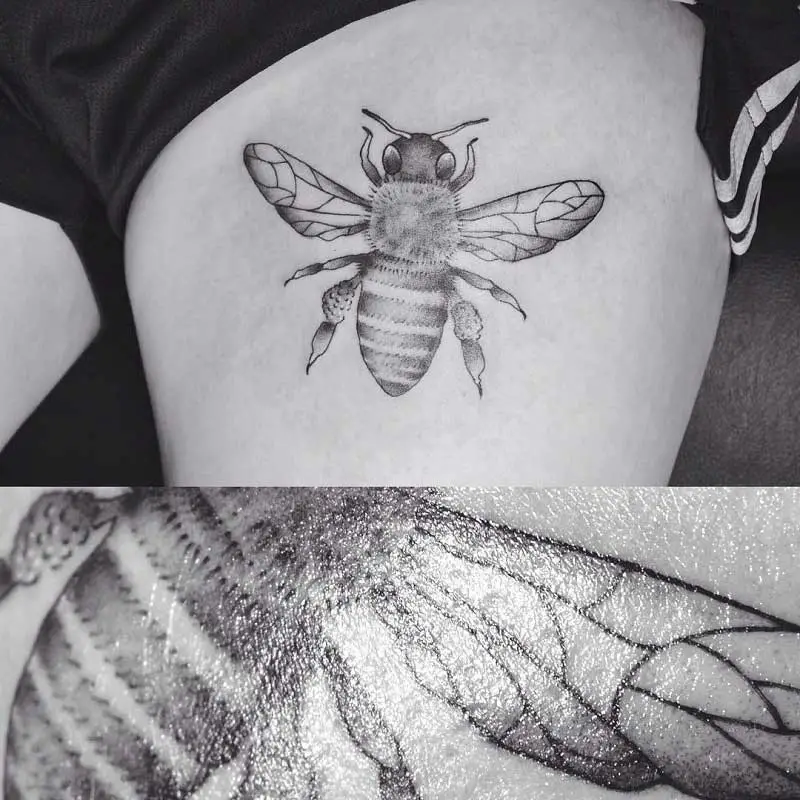 The design is very detailed and sleek at the same time. The upper part, the legs, and the wings all are beautifully carved with details. Every little thing in this design is perfectly inked and that certainly gives the vintage vibe.
7. Black Bee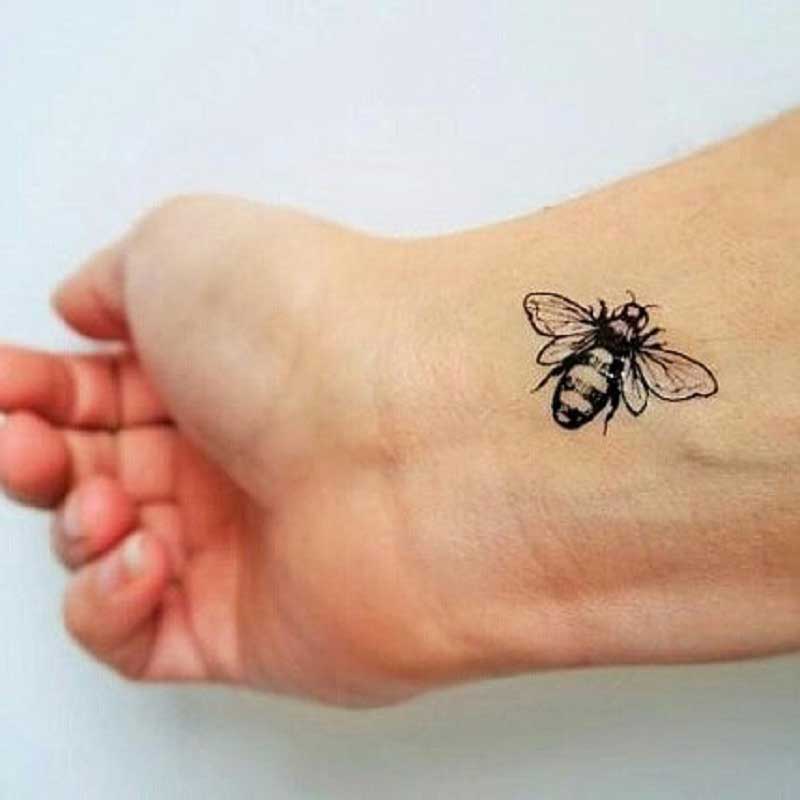 It's a simple and sleek design that is placed on the man's wrist beautifully. Although it's simple but very detailed in a vivid way. You can see the veins on the wings as well as the eyes clearly. So many details in such a tiny design are truly praiseworthy.
8. Bee on a Mission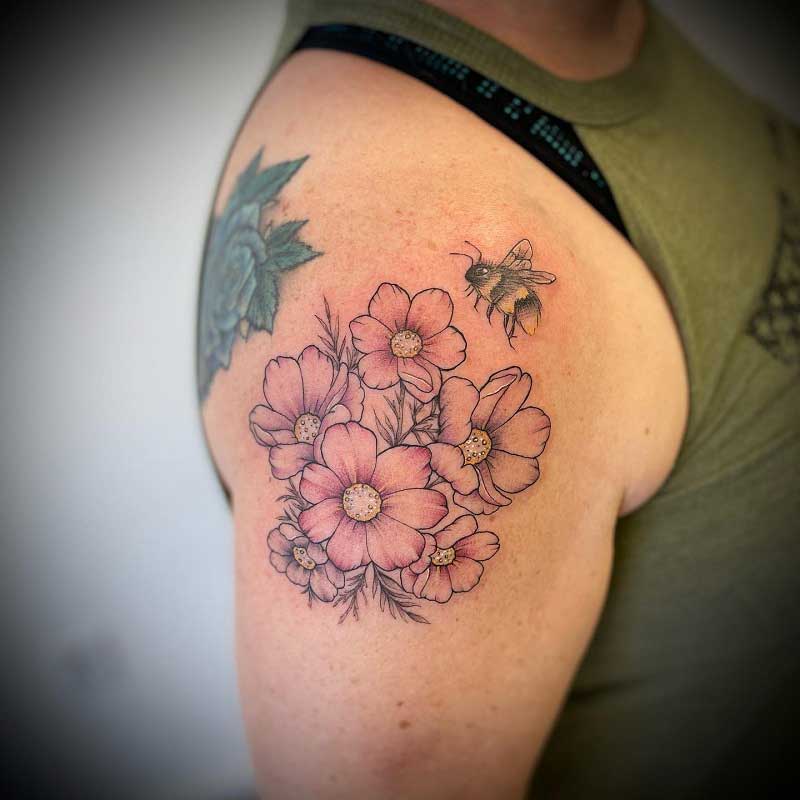 This design shows the whole life-cycle of a bee in a single scene. The floral design with baby pink color in this tattoo emits the aesthetics with profundity. While the bee itself portrays the whole purpose of its life!
9. Floral Vintage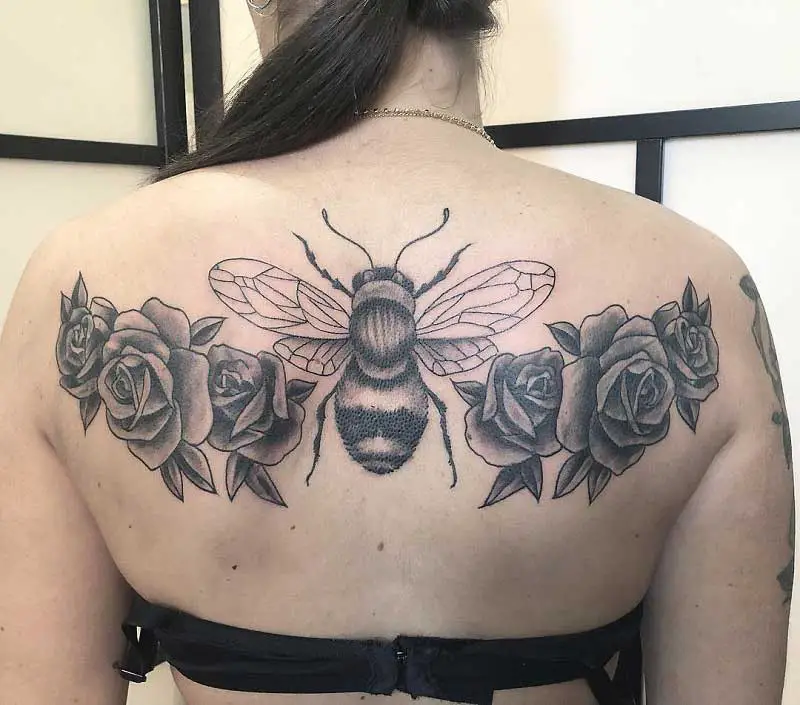 The design is inked with symmetry. Each side is ornated with three black roses and in the middle, placed the centerpiece. The Bee. Which surely emits that classic vintage vibe. And the upper back placement of this tattoo will make your back look totally outstanding.
10. Regina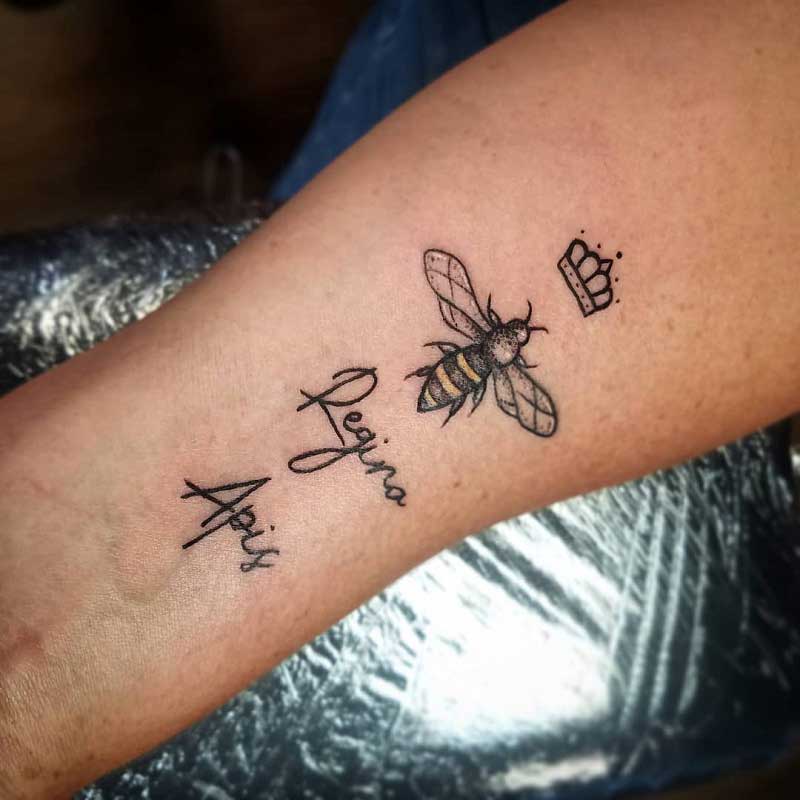 This is a dedicated design to the person who manages the wearer's life just like a queen bee does. The design contains a tiny crown, a bee, and the names- 'Regina & Apis'.
Minimalist Queen Bee Tattoo
To portray something in a simple, sleek, subtle, and appealing manner there are no other alternatives than minimalism. Minimalist designs in tattoos can convey the symbolism seamlessly while wrapping you with an aesthetic rapture. The minimalist queen bee tattoos are cool and calm in design but roars when it comes to conveying a message.
If you are also looking for these types of 'heavy in meaning' pieces, then go no further than our minimalist queen bee section. Here are some samples-
11. The Sunflower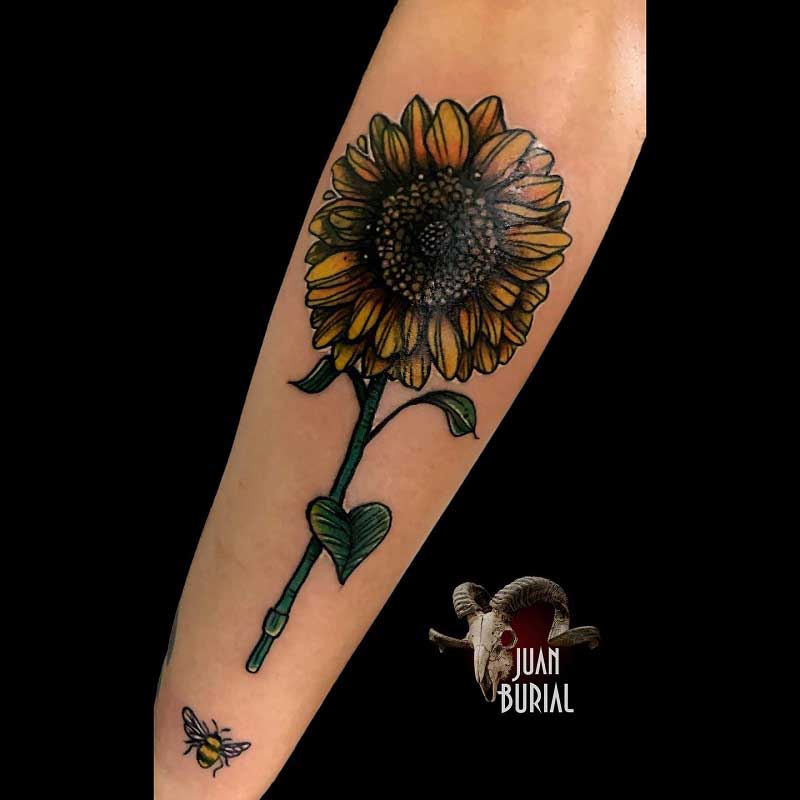 This piece features a huge sunflower and a tiny bee beneath. The design is vibrantly colorful just like a bee. It's placed on the forearm and wraps it with an aesthetic vibe.
12. Peace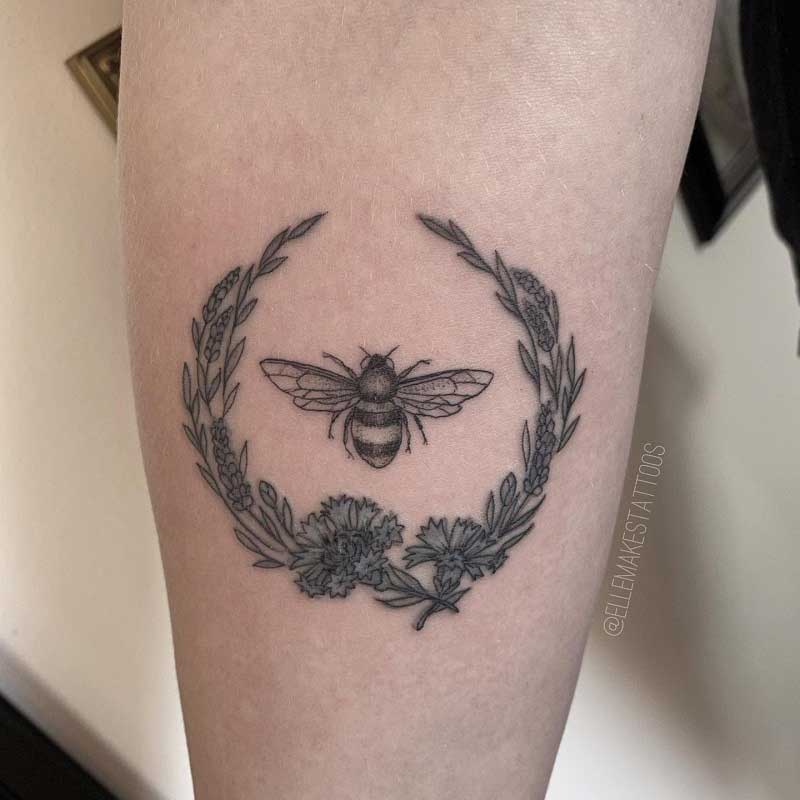 The design portrays the simple aspect of life. With the wings spread the bee is placed in the center of a vein sphere portraying peace and tranquility. This whole vintage design emits a serene vibe.
13. Furr Ball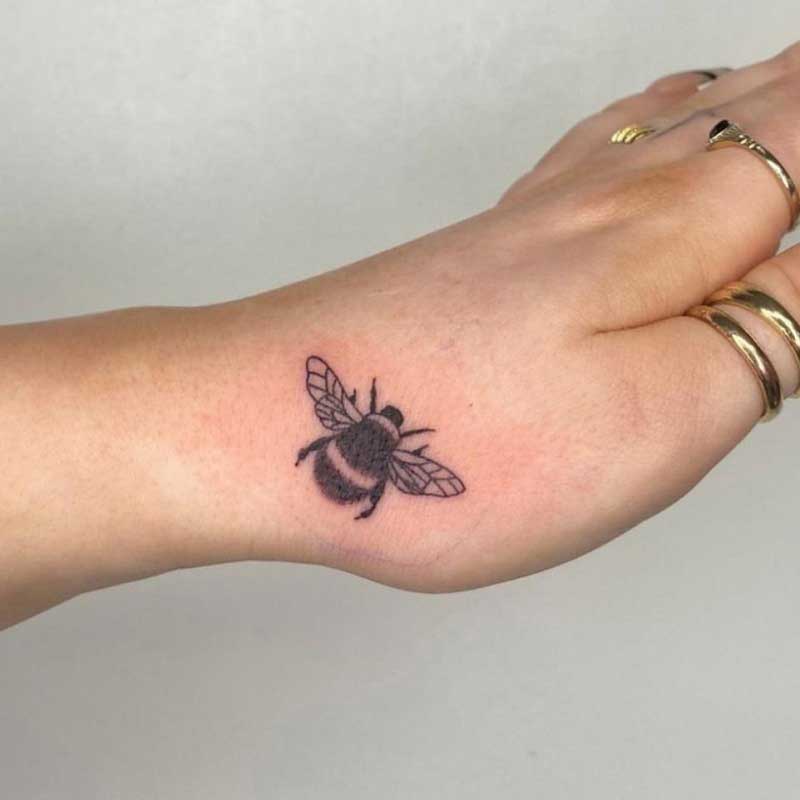 Just a simple and tiny queen bee placed on the woman's wrist. This is not a design that you would call detailed. Rather, the design is very cute and appealing. It's like a fur ball sitting on your lower thumb.
14. Her Majesty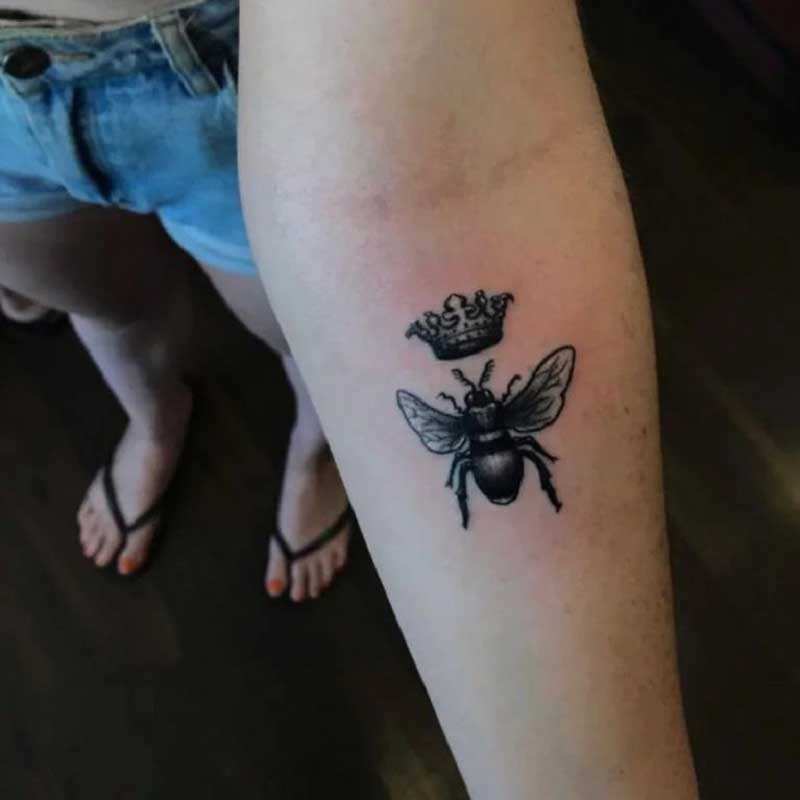 Rather than being detailed and shiny as the other bee tattoos, this one is quite gothic. The design also features a crown and a bee. The crown suggests the bee and also the wearer as the queen of the swarm.
15. Honeycomb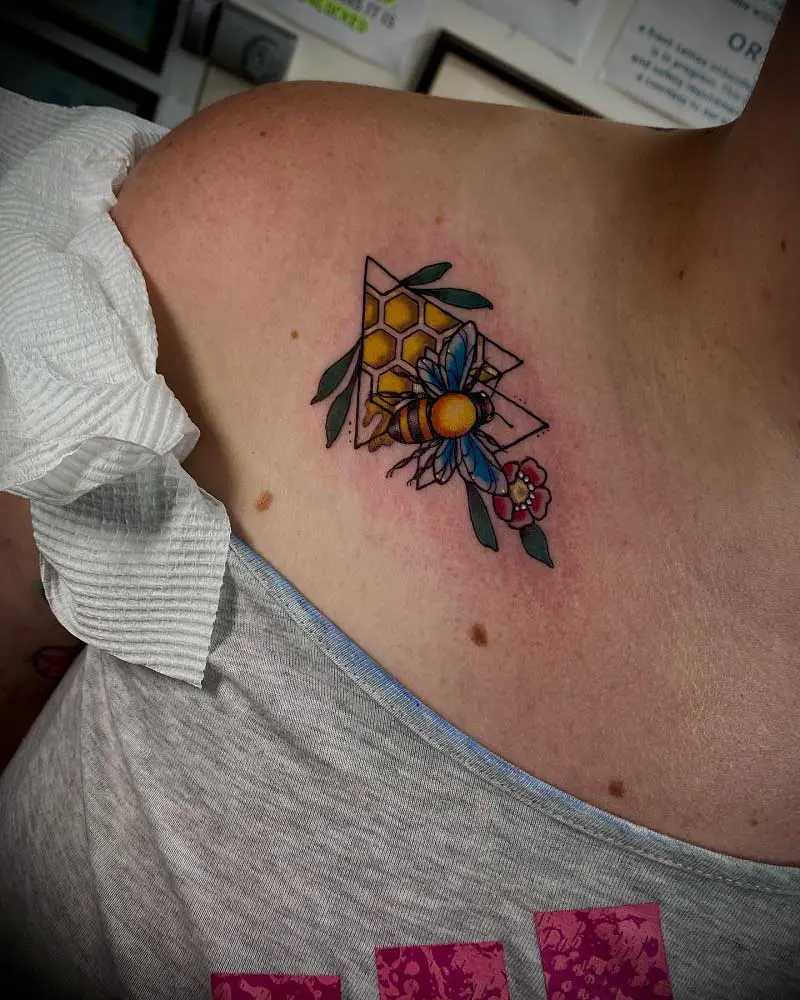 This one is a rather intricate piece with a geometry-inspired design. The accretive triangles from the flower portray the cycle of making the honeycomb. And also the life-cycle of a bee.
Cartoon Queen Bee Tattoo
Some people loooves the caricature or cartoonish adaptation of things. It helps them to portray their childish sides in a subtle way. We didn't want to disappoint them. So, we came up with some cool cartoon queen bee tattoos in this section.
If you're a tad bit childish and aren't bothered to portray them to the outside world, then these below design ideas are for you-
16. Sparkle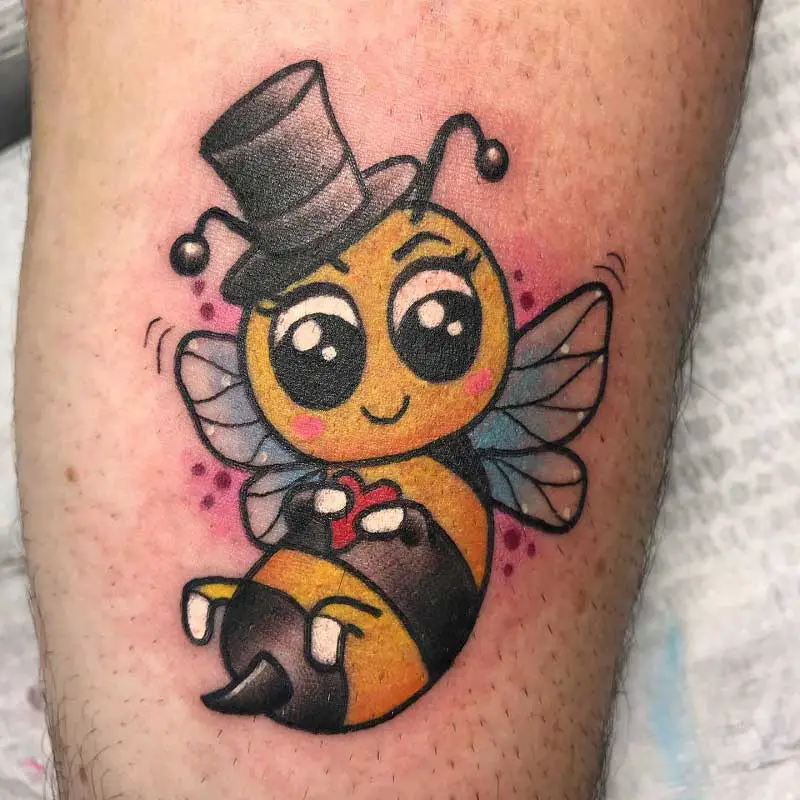 The size of this design is just huge. It has this sparkly vibe in it that can fix your bad mood in an instant. This bee with its little magician's hat and wriggling wings is sure to catch some eyes.
17. Circus Bee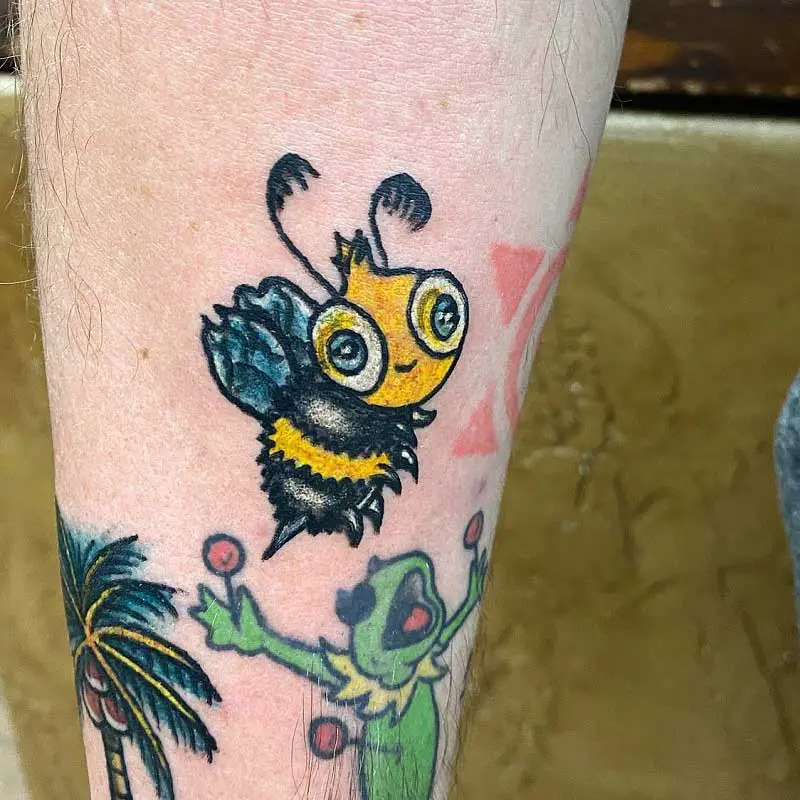 The whole design is very cartoonish and not in a bad way. This can be the design inspired by the wearer's child's drawing that the wearer wanted to be remembered. The bee is actually looking very cute and the frog in this tattoo is dancing with joy. This certainly is a unique piece.
18. Fairy Queen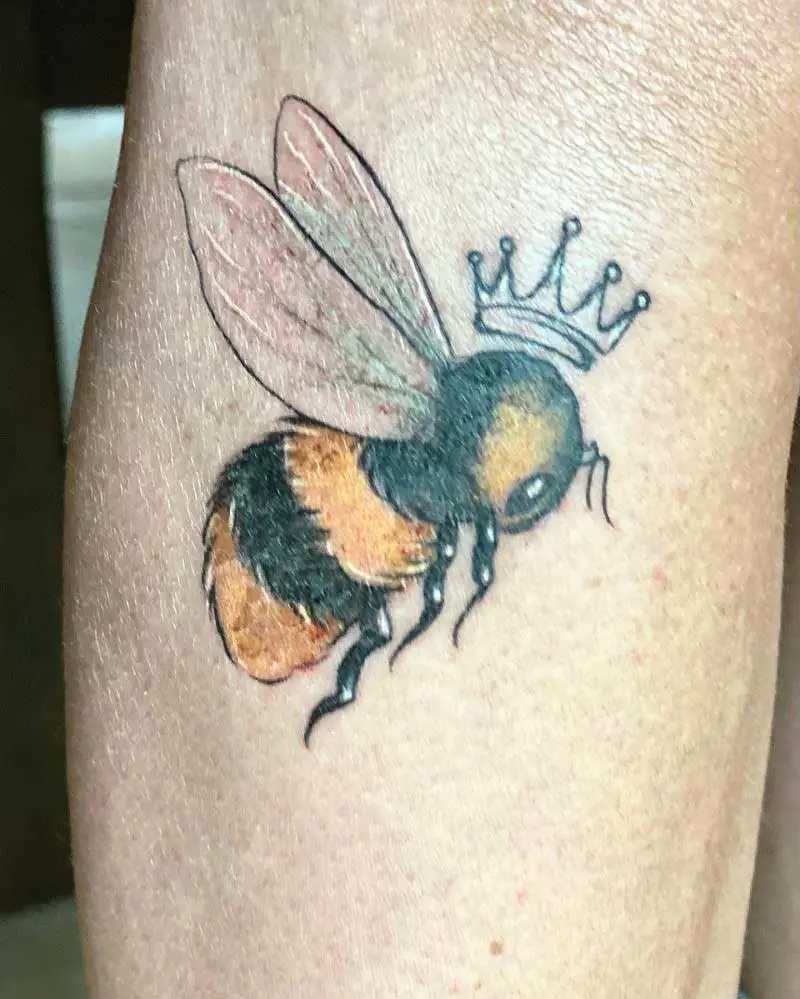 A moderately big design this one is. The body of the bee is also moderately detailed. However, this design aces all the odds with the beautifully detailed wings. With its superbly designed wings and crystal crown, it looks like a fairy!
19. Femininity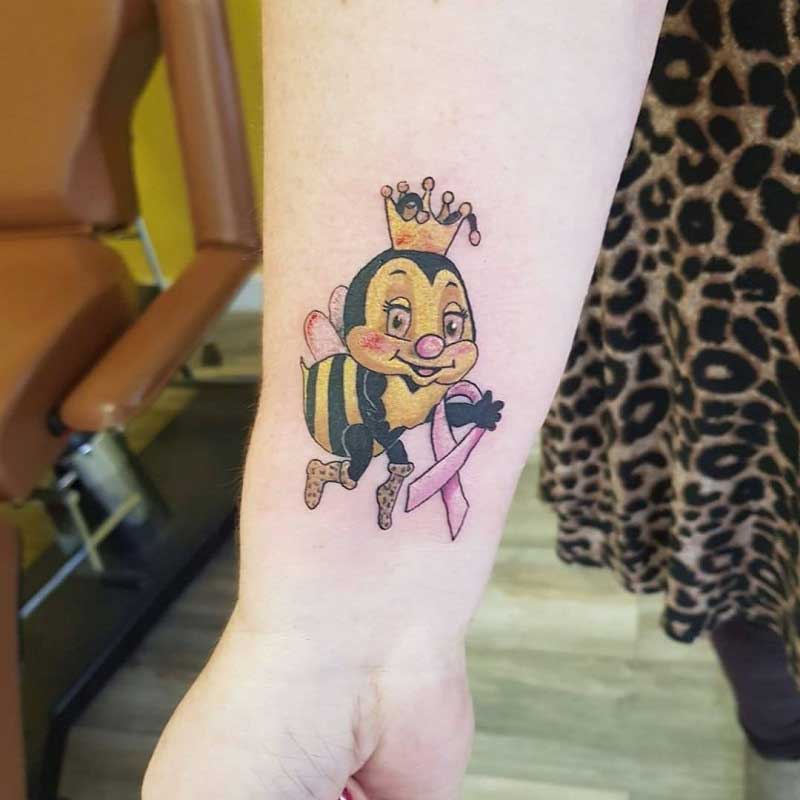 This design is all about femininity. The queen bee is acting as a symbol of feminism as it's carrying that pink ribbon. And the crown shows the capability to lead any herd with pride.
20. Cutiepie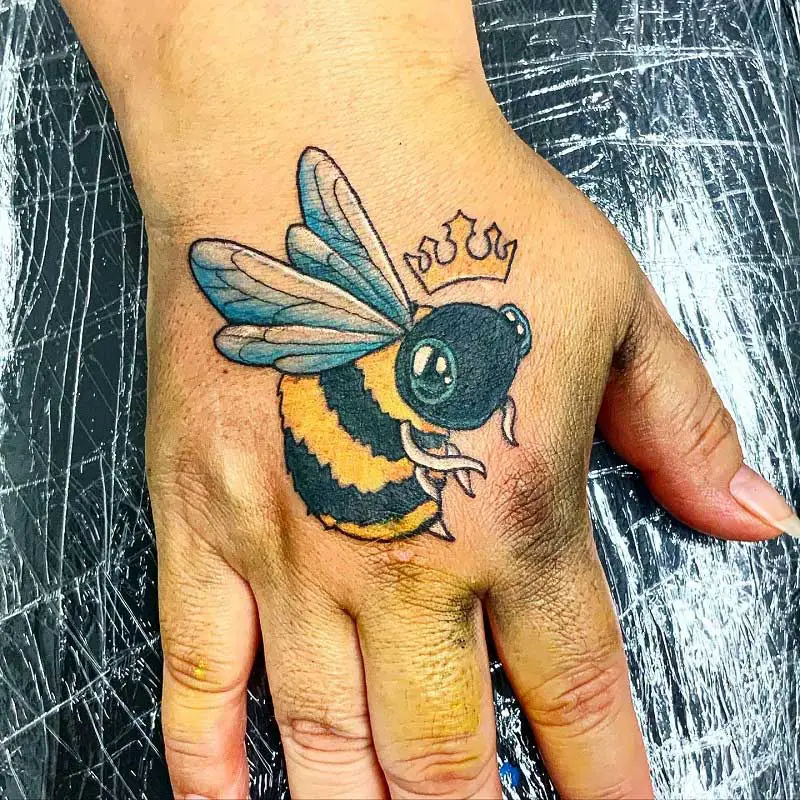 I mean Just look at those eyes! Aren't they gorgeous! The wings are also designed with sheer artistry with a bluish shade. But above all, those dazzling eyes will surely catch some sight.
Queen Bee Rules Tattoo
Queen bees are responsible for directing the colony behaviors and many other vital things like population growth and emitting pheromones that ensures the bond and sense of loyalty inside the hive. The queen bee rules tattoo design put emphasis on the roles of the queen bee and portrays their badassary. These prime creatures soemtime rule the hive with the wit and expertise of the beings superior to them.
So, these kinds of designs dedicate their wisdom, power, and leadership. If you want to ink them on any part of your body then here are some excellent ideas-
21. The Ruler
This particular design is rough and rugged with intricate detailing. The design emits the vibe of a prime being which is capable of directing its subject in an honest and extrapolate manner.
22. Queen of the Comb
This particular piece is very vibrant in nature with classic yellow and black. And at top of the head, there's a crown that indicates the bee as the queen of the swarm.
23. Queen Elegant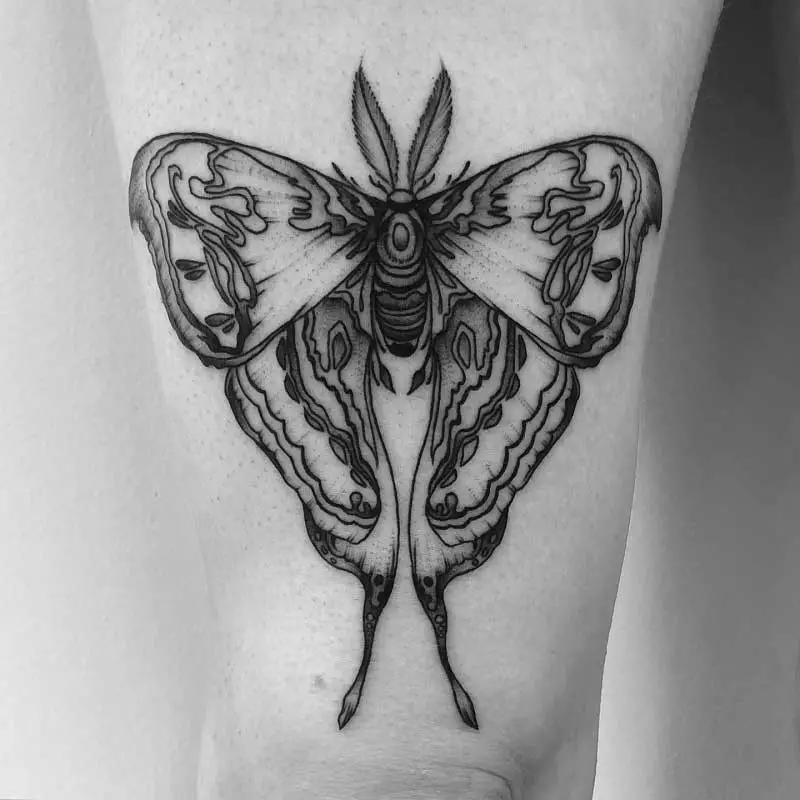 Quite the piece this one is. The butterfly wings are ornated with intricate and sheer artistic expertise. It portrays the aristocracy and the elegance of a queen. This appealing piece is manifested in the majesty of excellent craftsmanship.
24. Cicada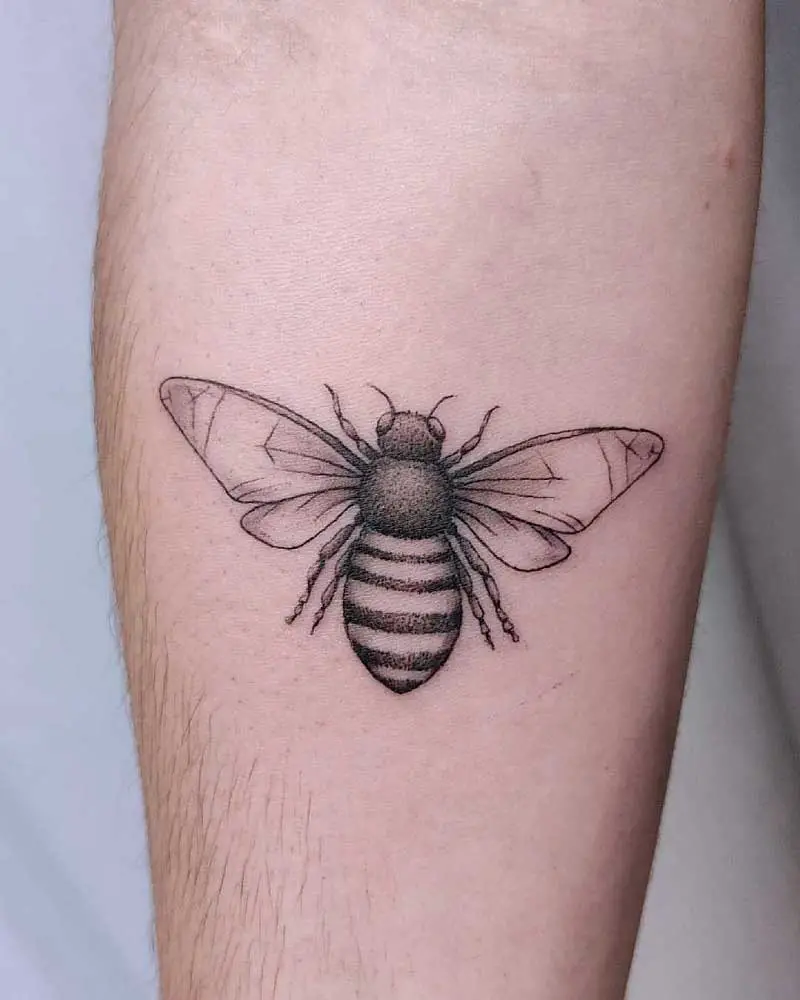 It's a very detailed one indeed. And although it's a bee, it somewhat looks like a cicada with its wings spread. The whole body is very detailed and it's bound to look appealing.
25. All Hail to the Queen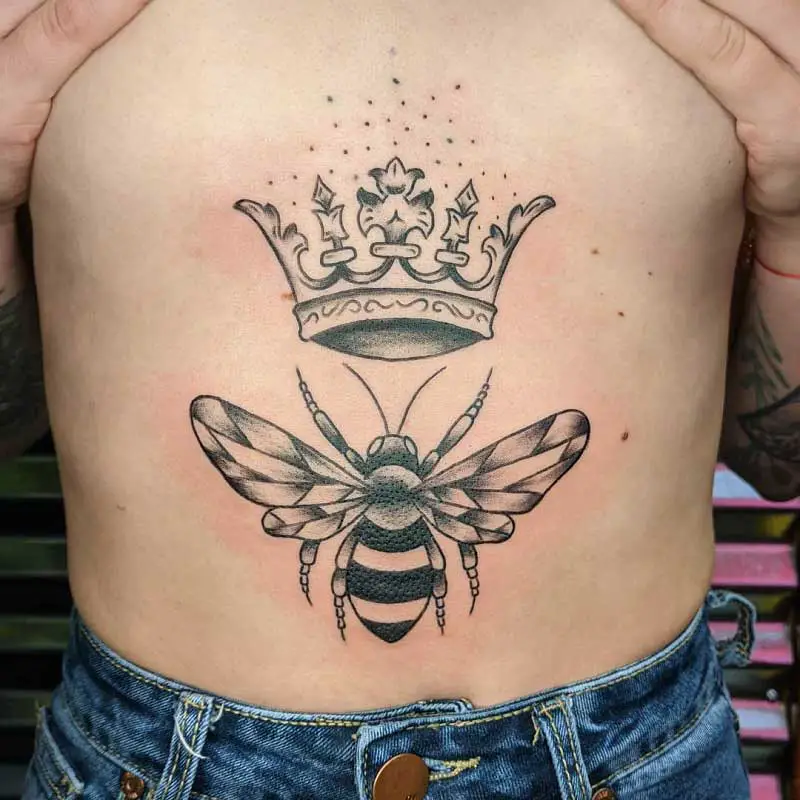 The bug crown design portrays the authority and the duty of the queen rather than its glory. Alongside the crown, the queen bee is also inked with detailed strokes. And the placement on a woman's stomach gives this design that little extra to shine as a unique piece.
Queen Bumble Bee Tattoo
26.
27.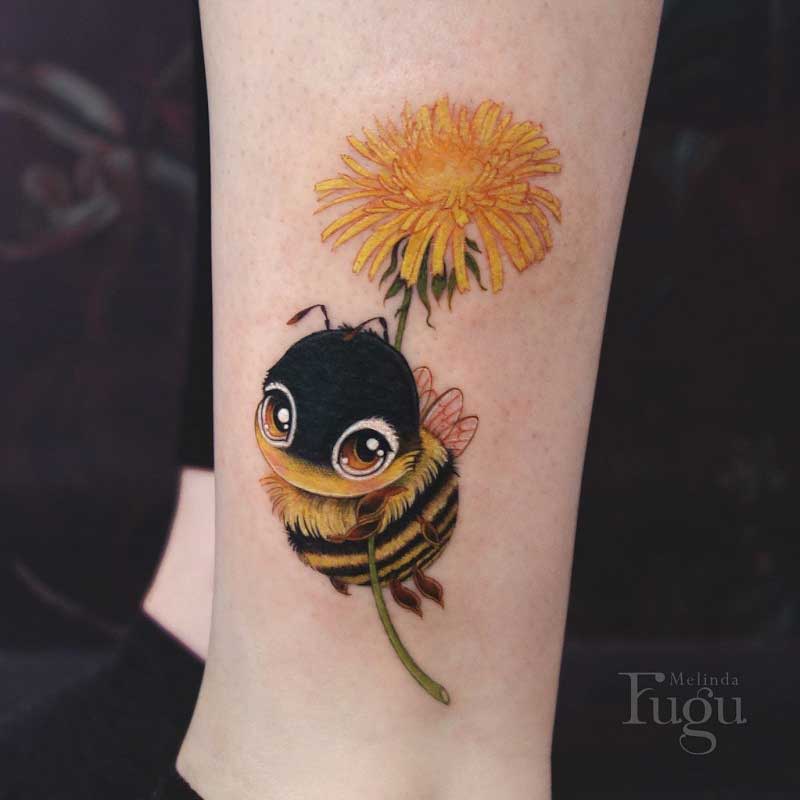 28.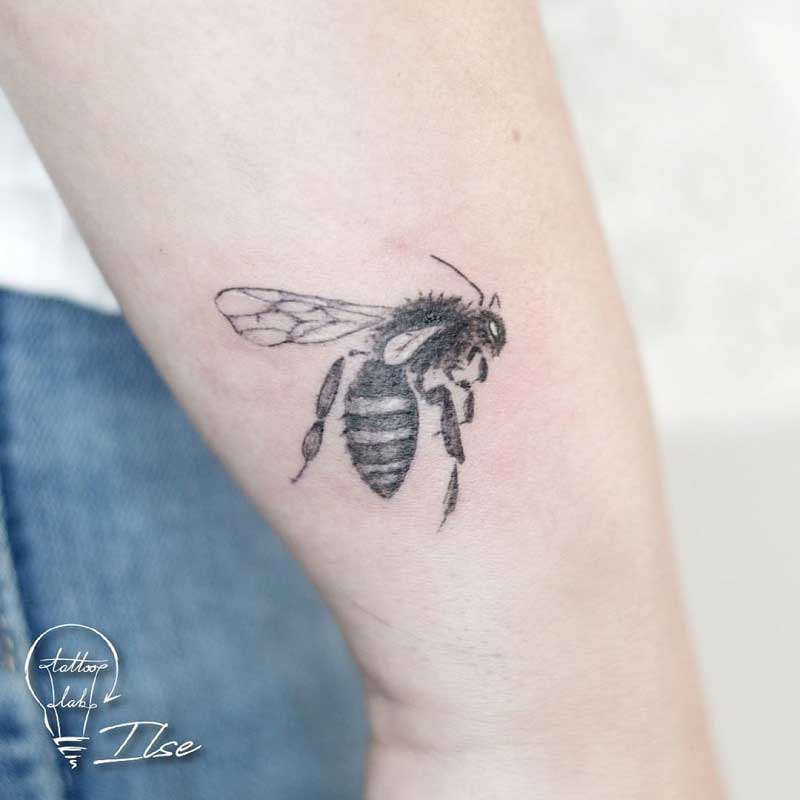 29.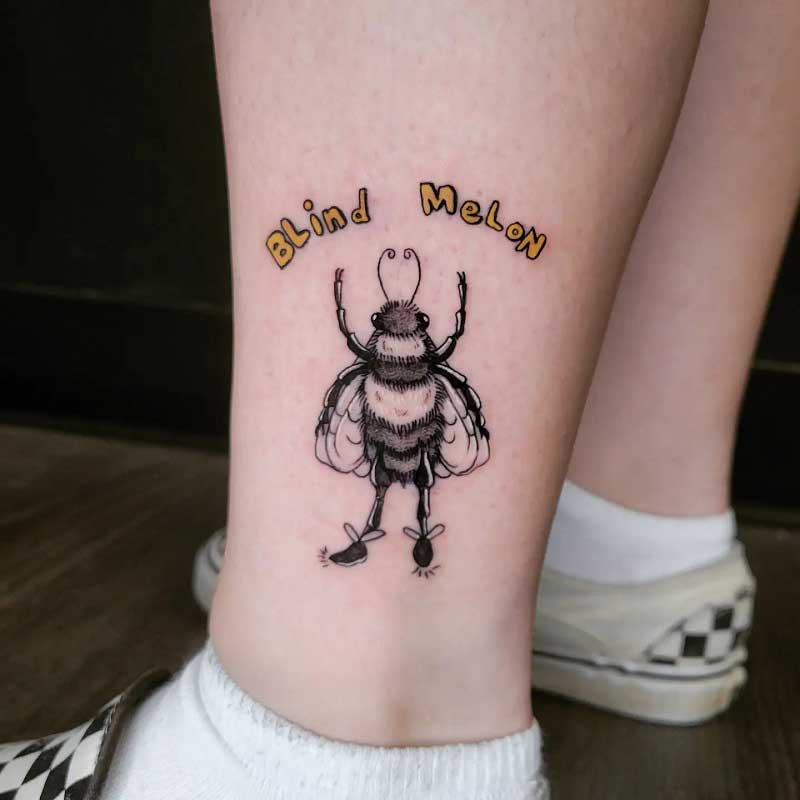 30.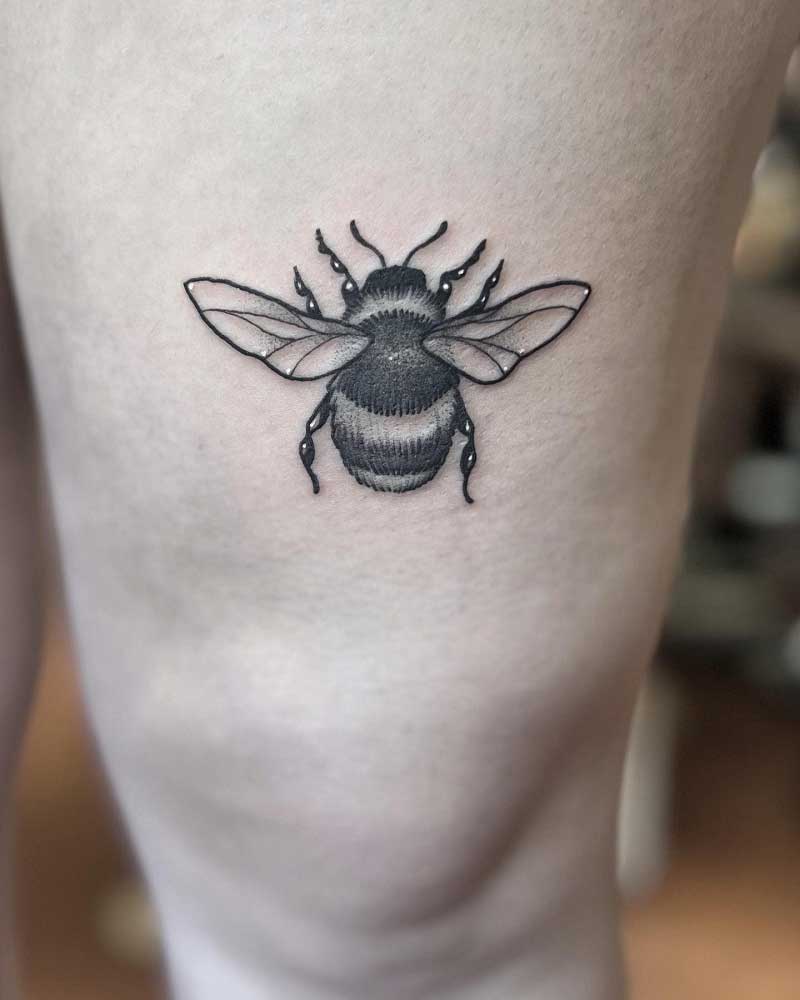 Queen Honey Bee Tattoo
31.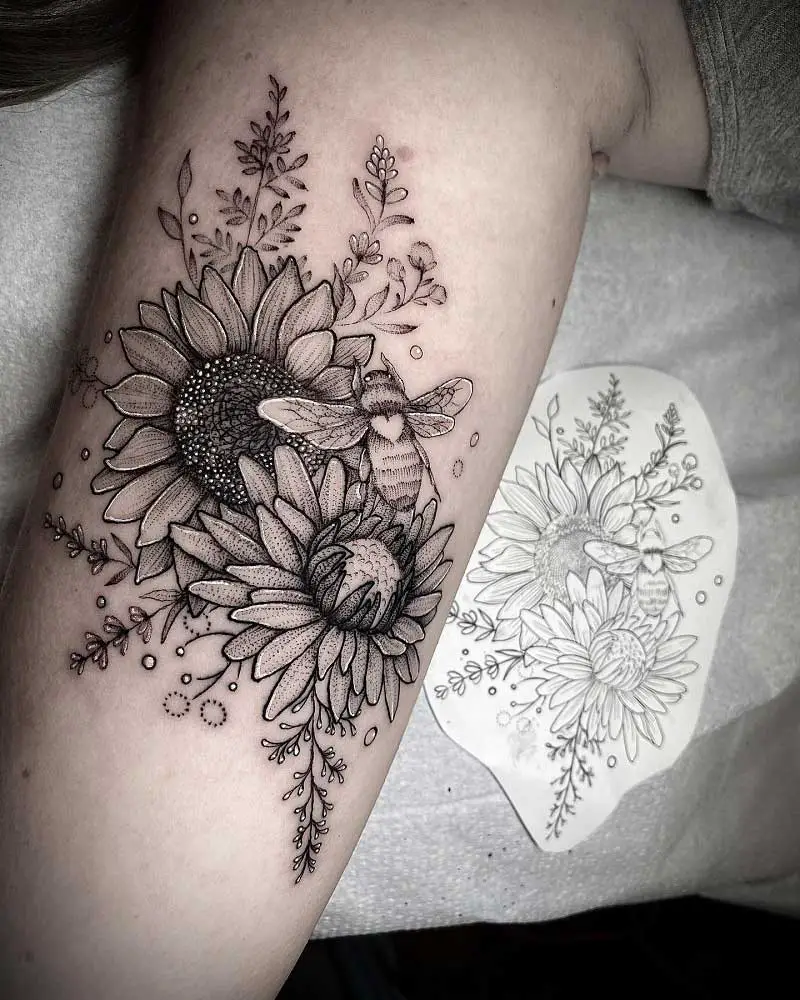 32.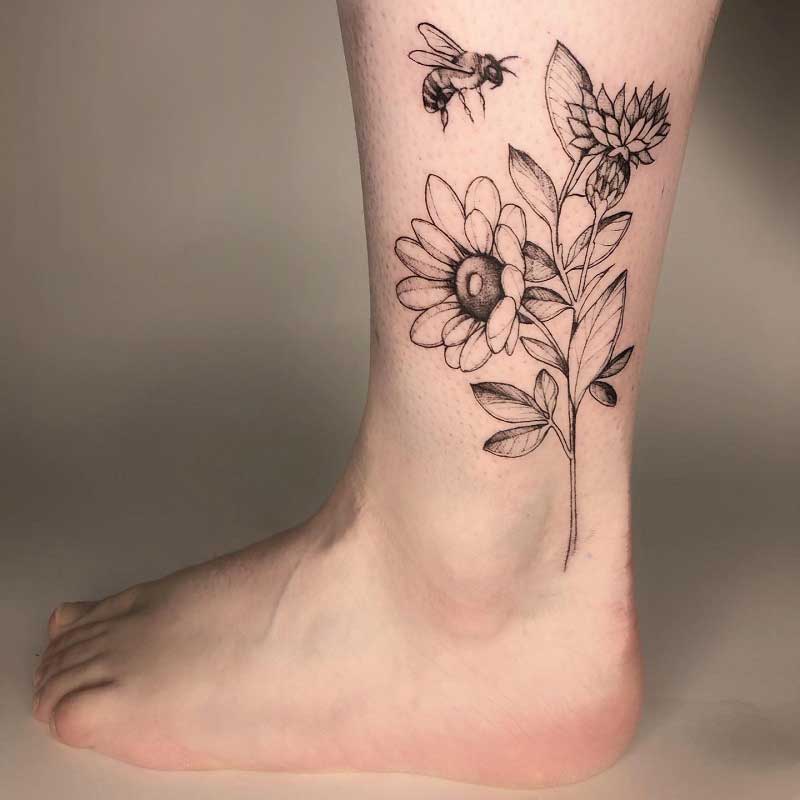 33.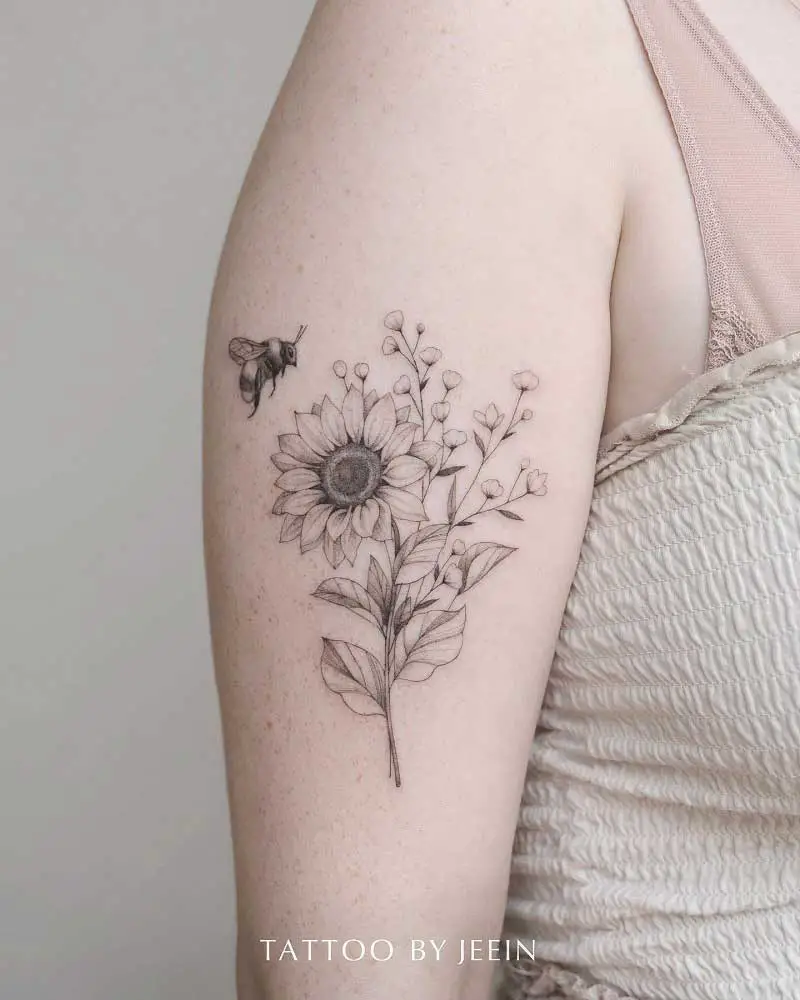 34.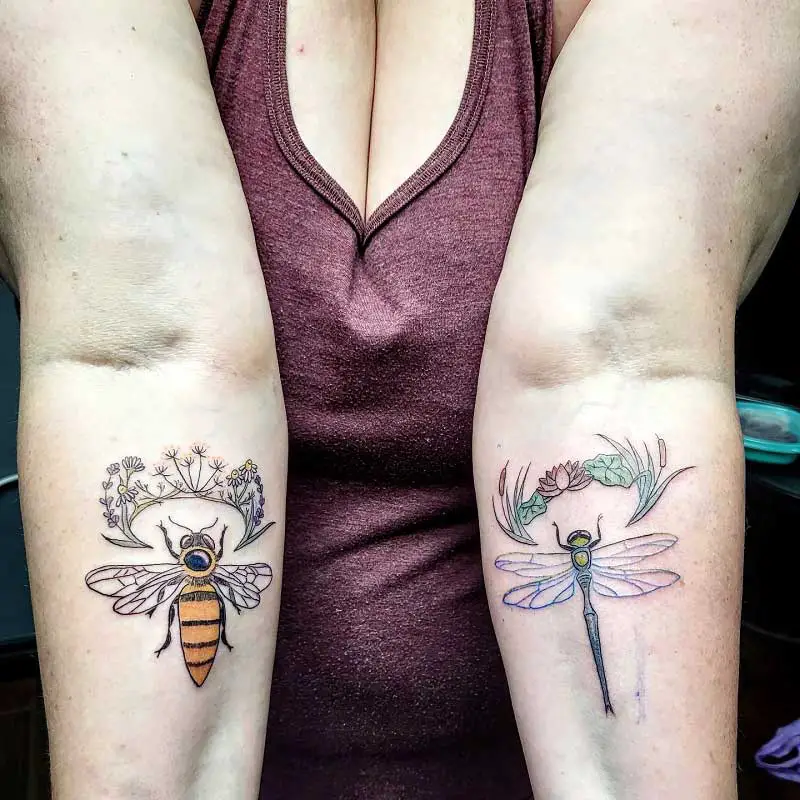 35.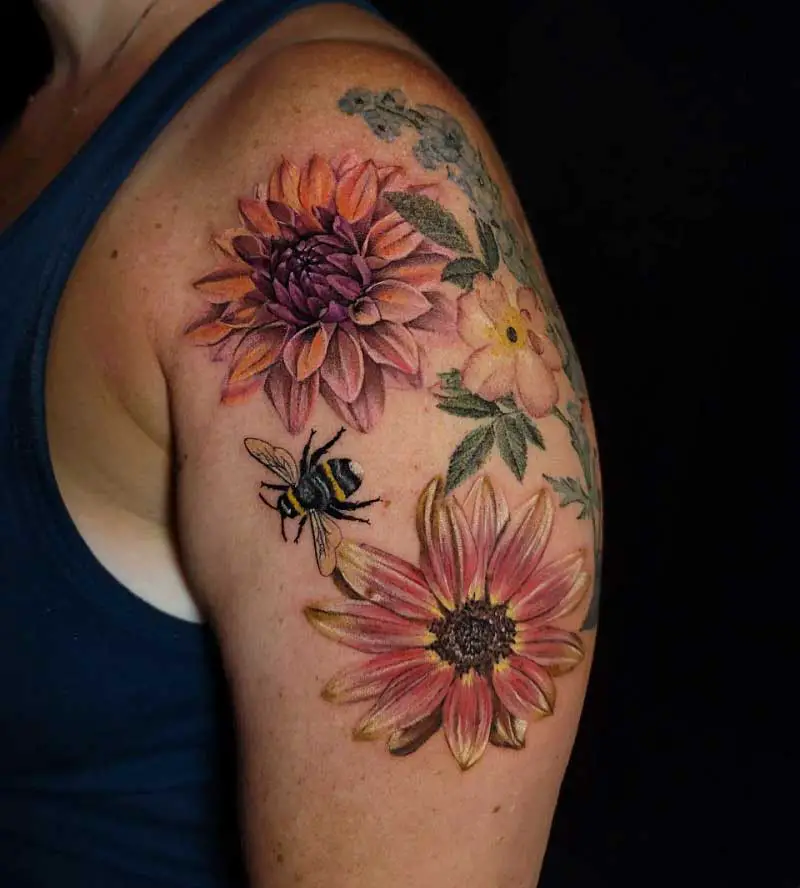 Queen Bee Finger Tattoo
36.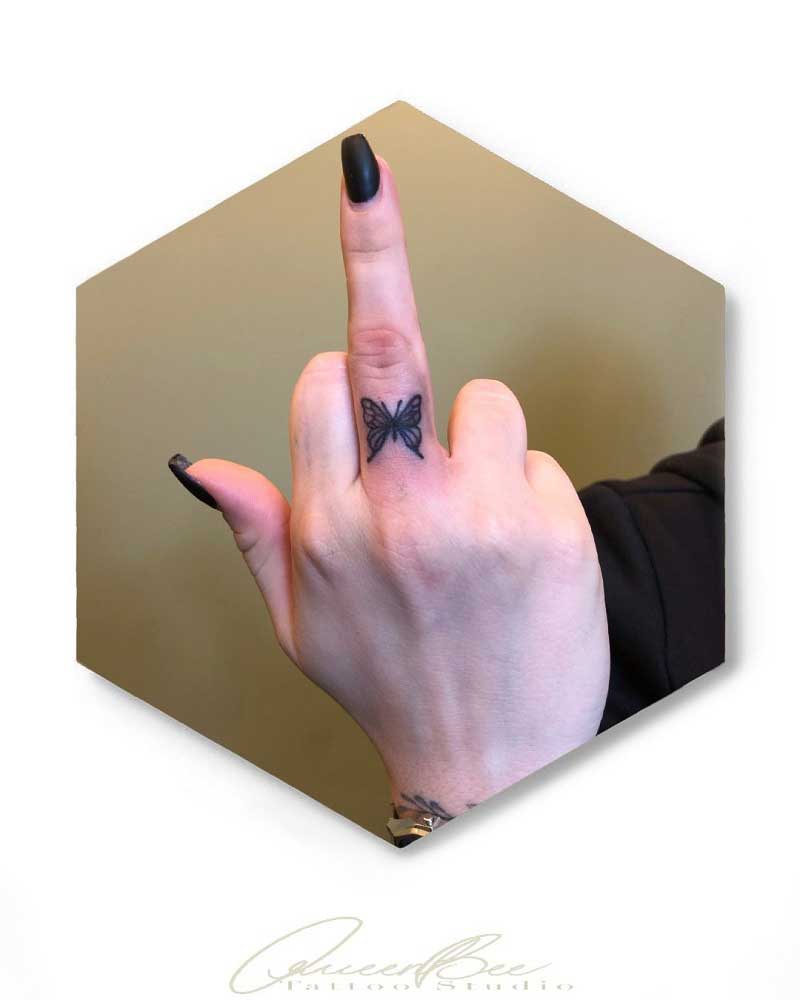 37.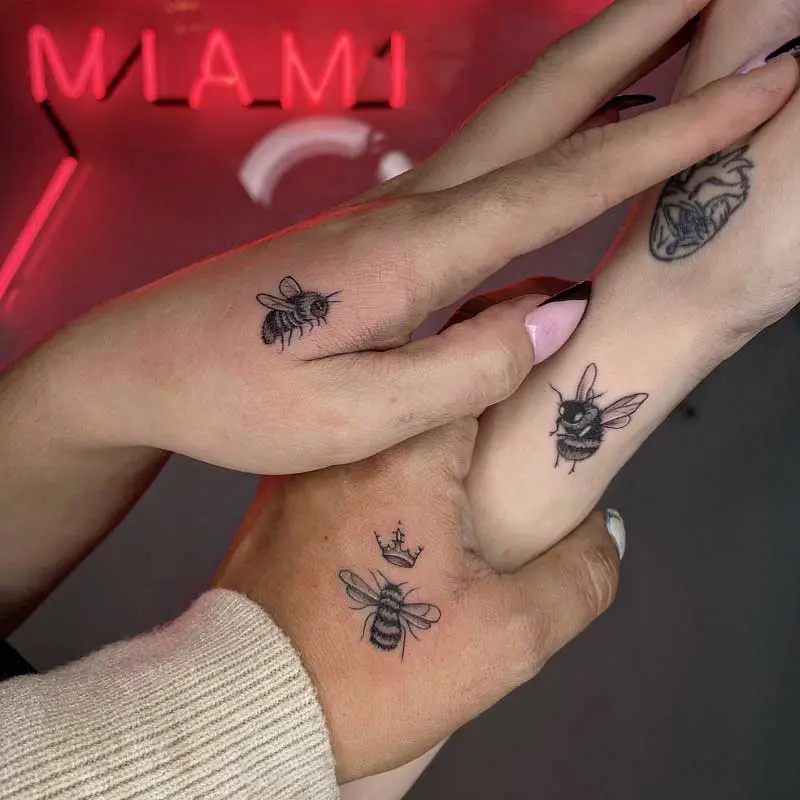 38.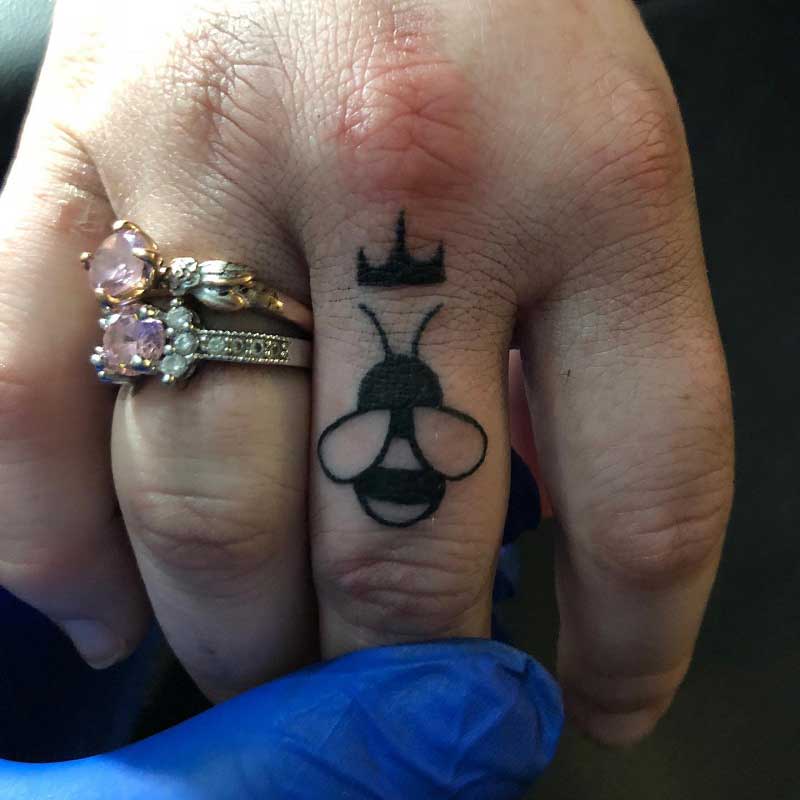 39.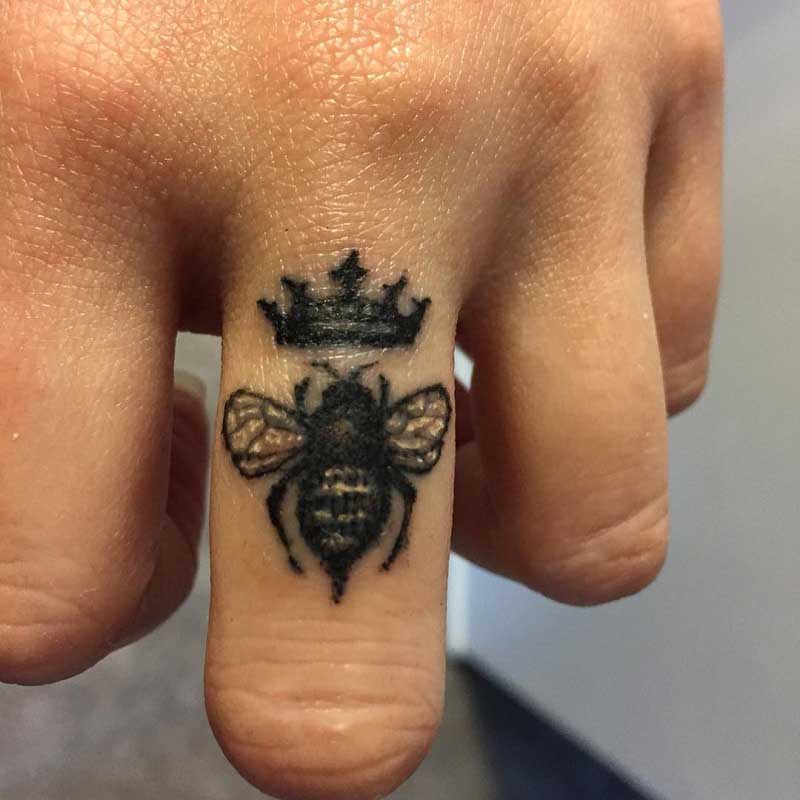 40.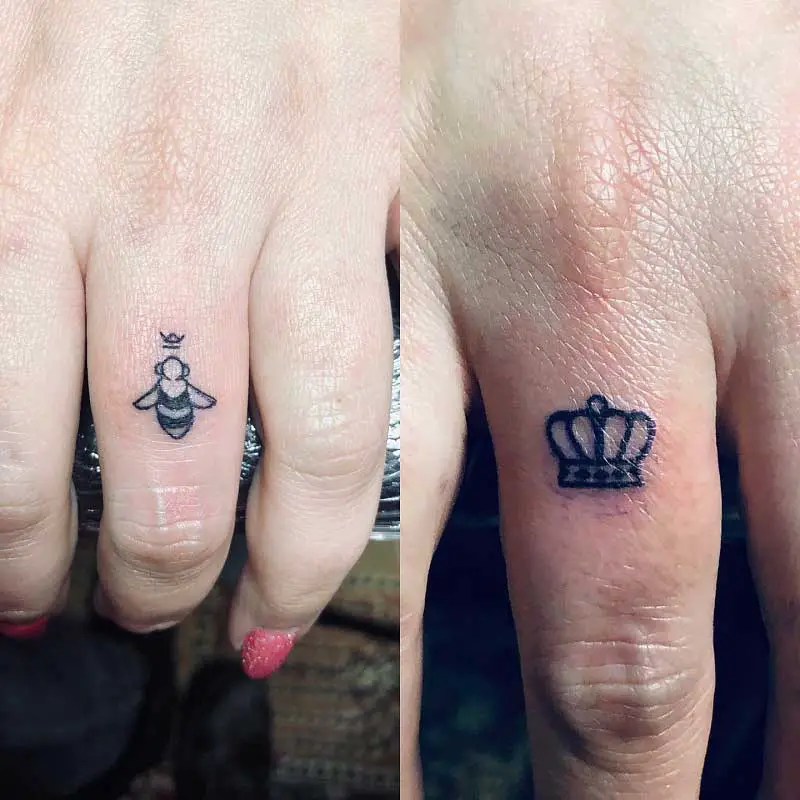 Queen Bee Neck Tattoo
41.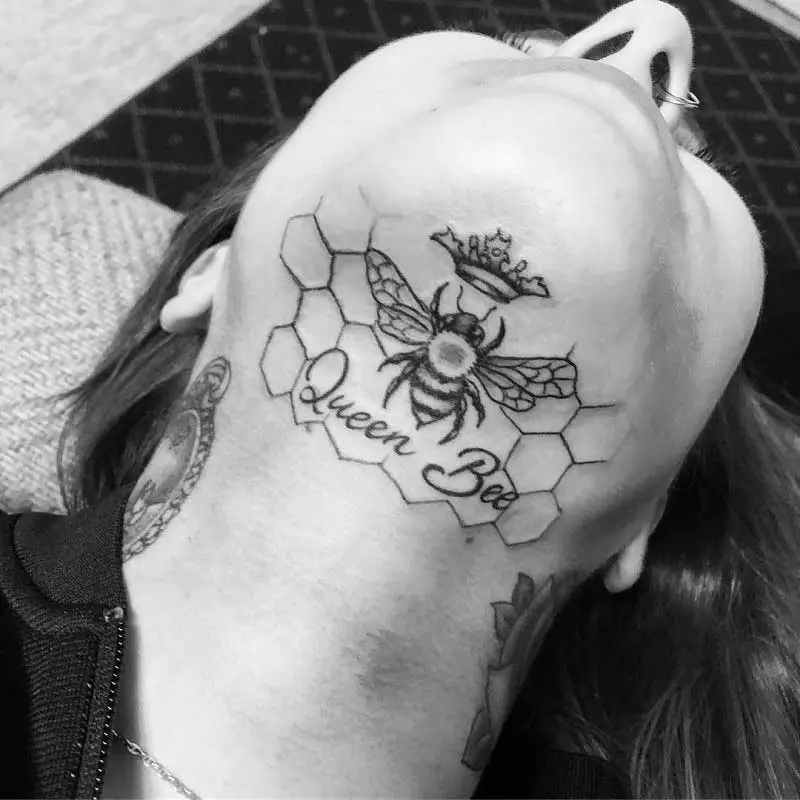 42.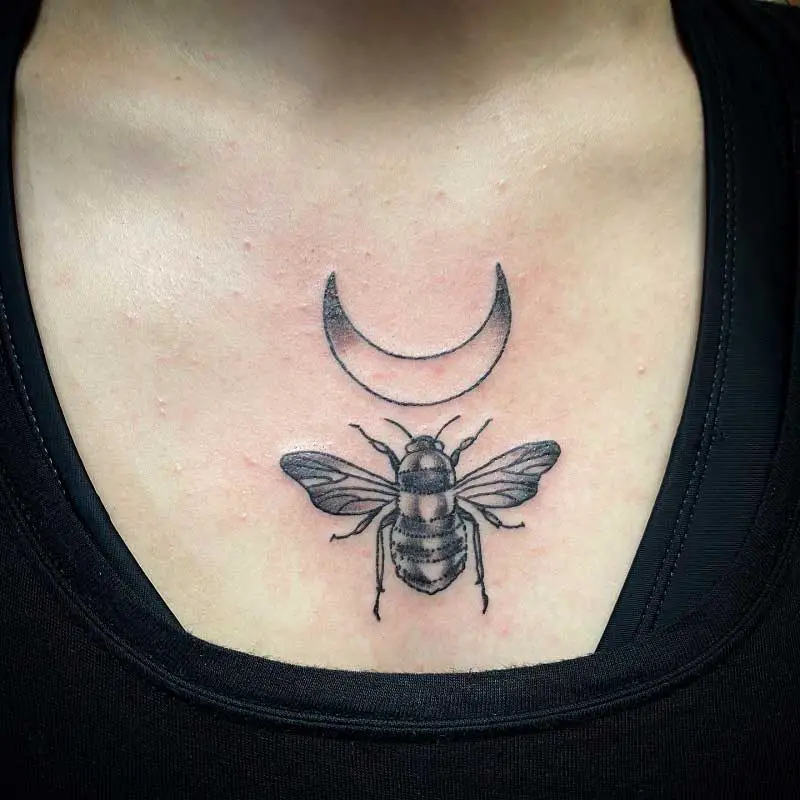 43.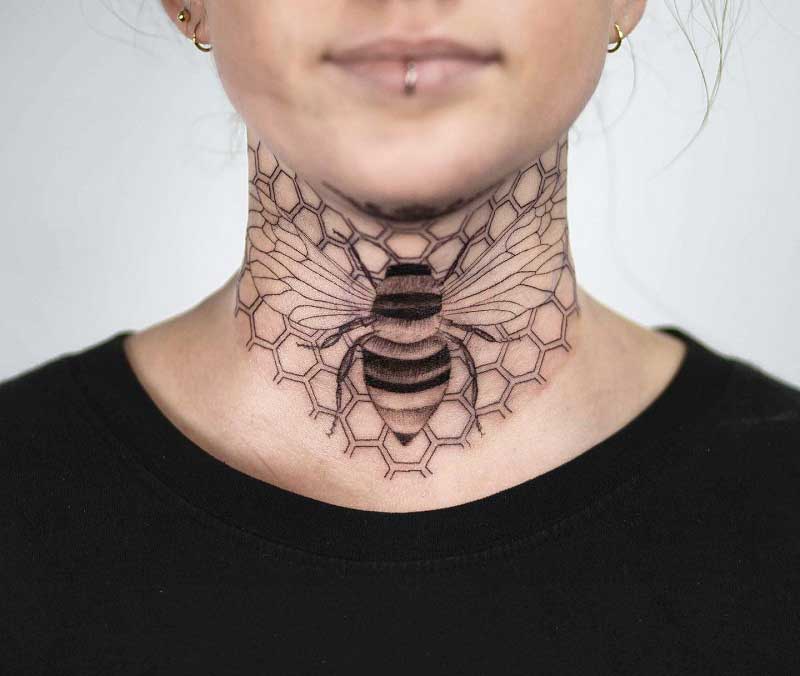 44.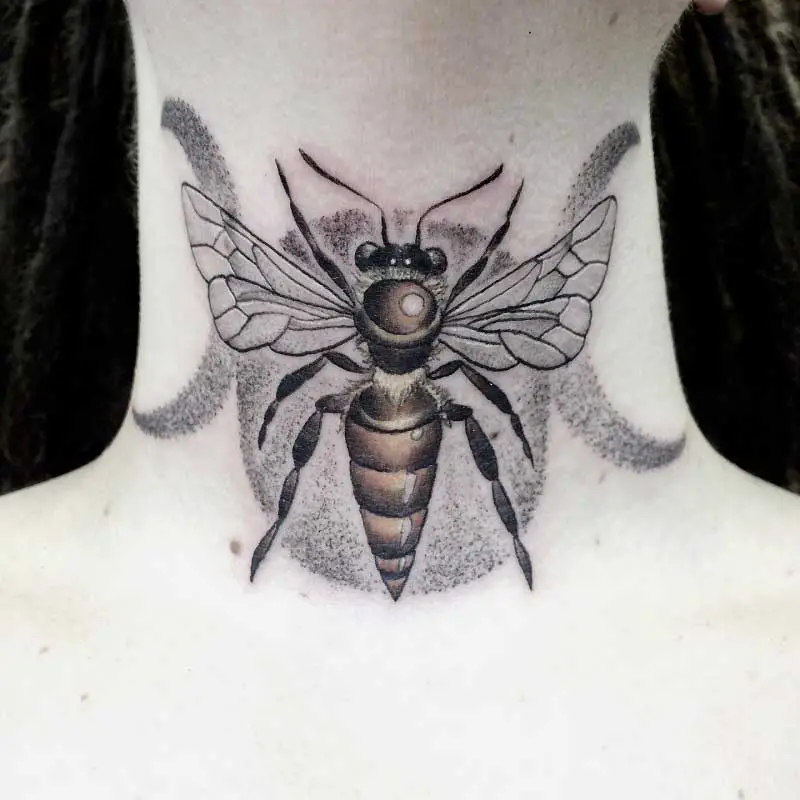 45.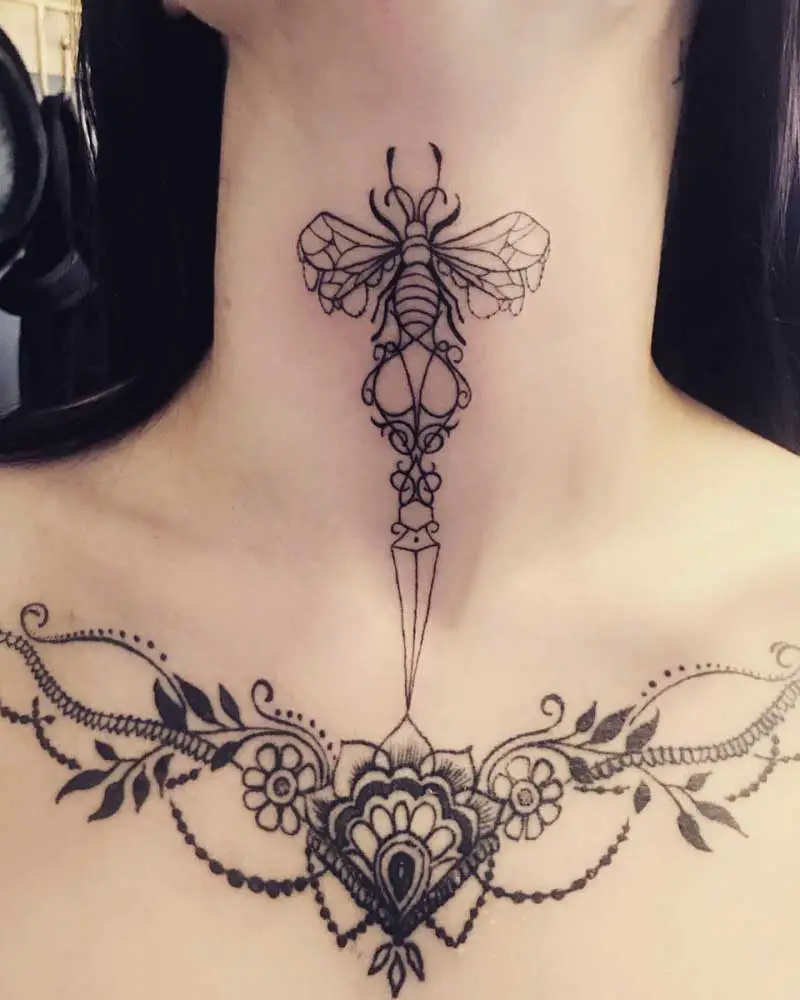 Fat Queen Bee Tattoo
46.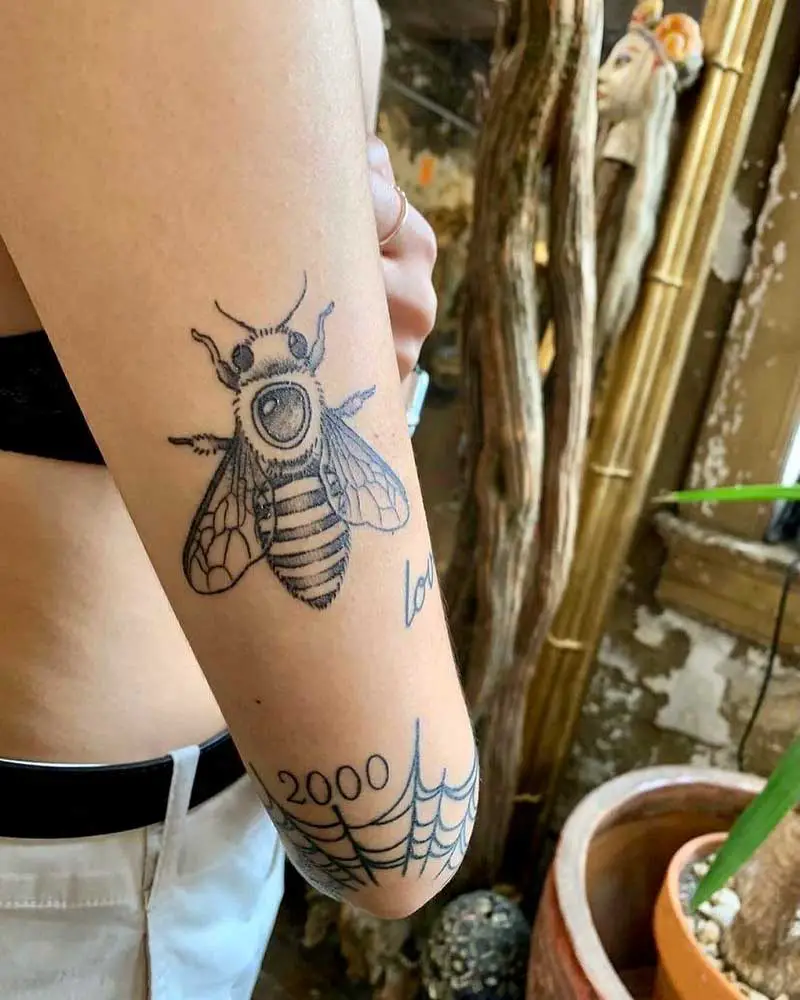 47.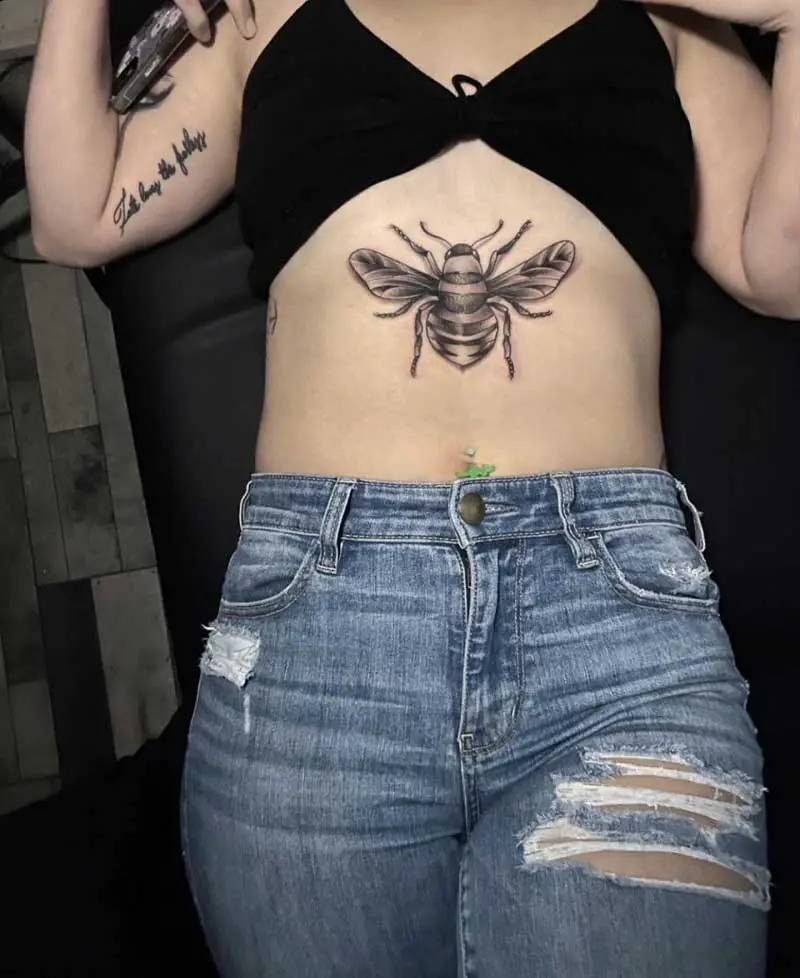 48.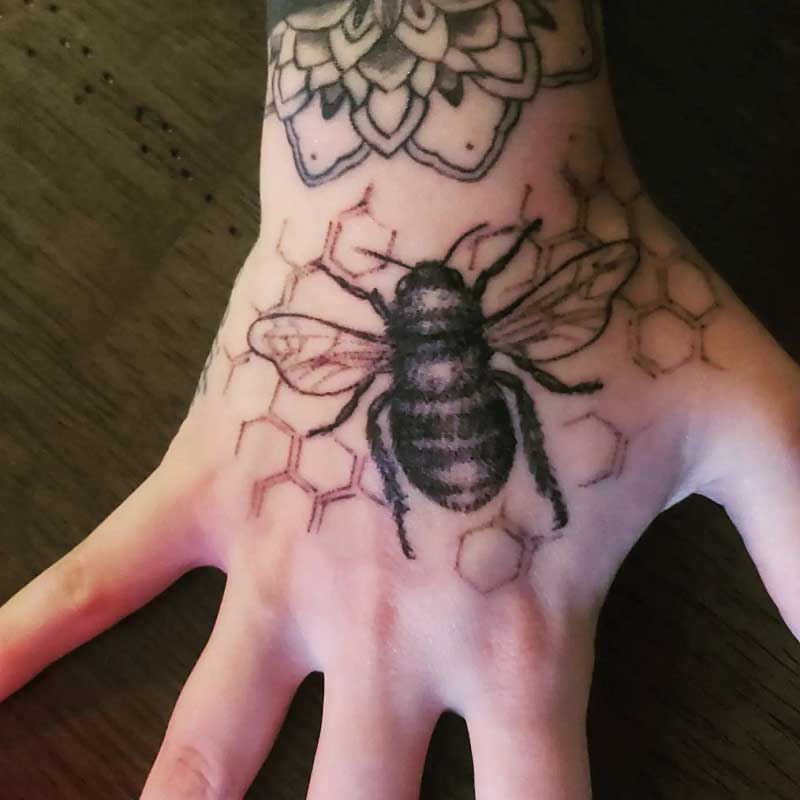 49.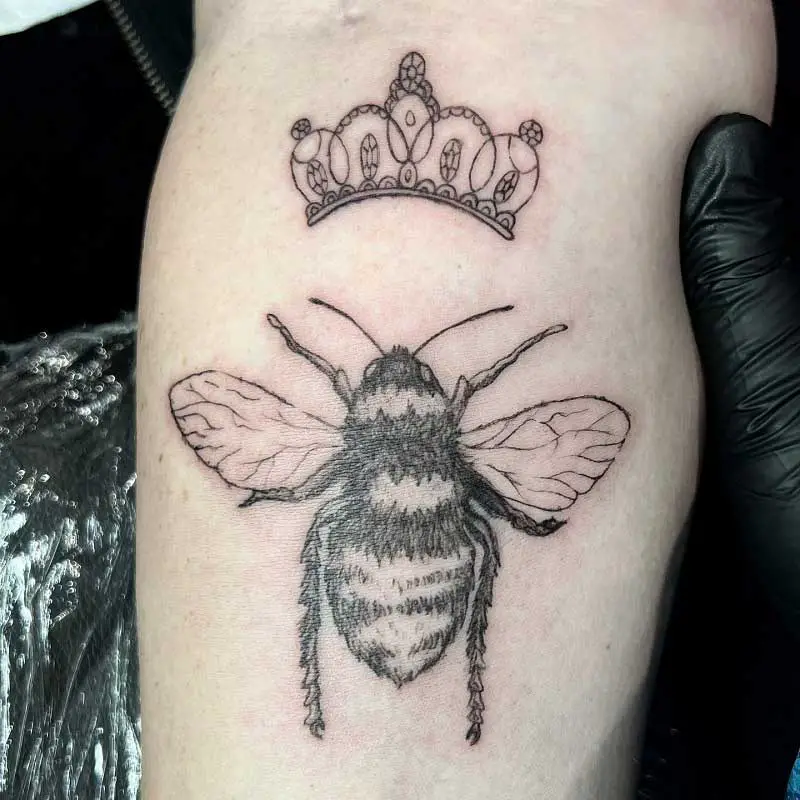 50.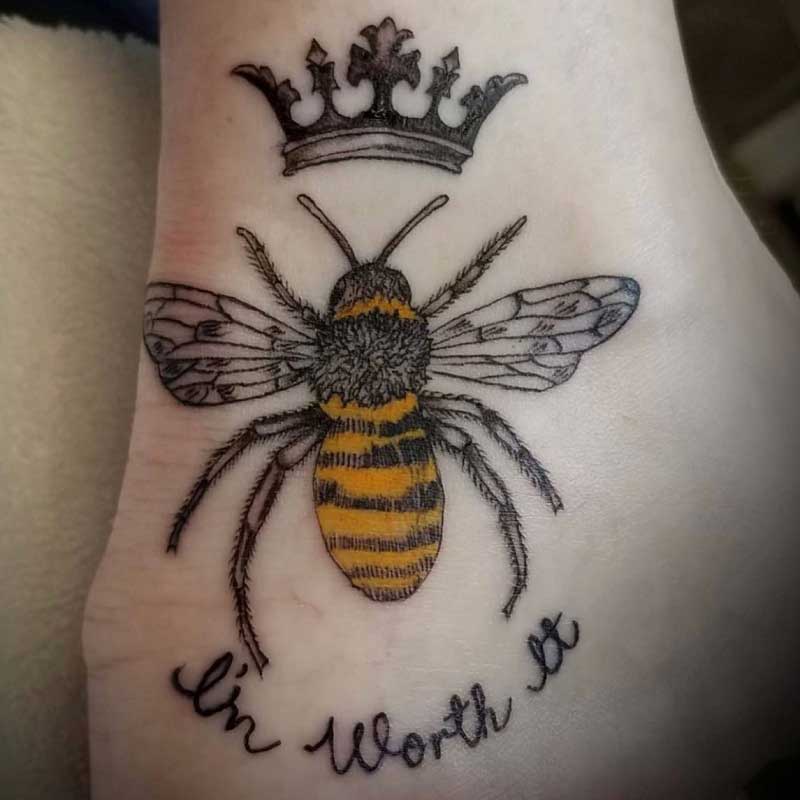 Honeycomb Queen Bee Tattoo
51.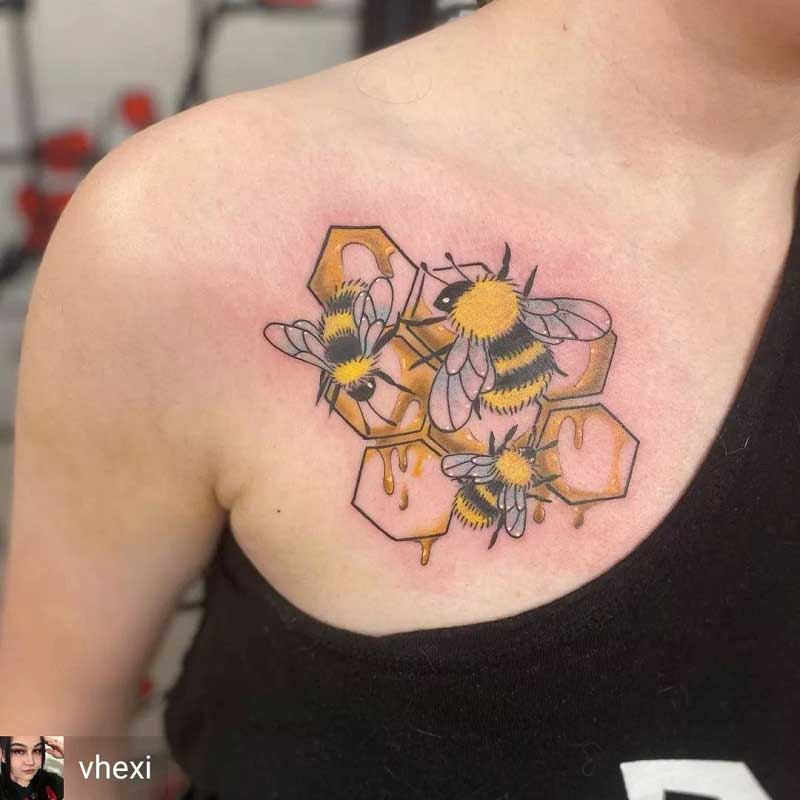 52.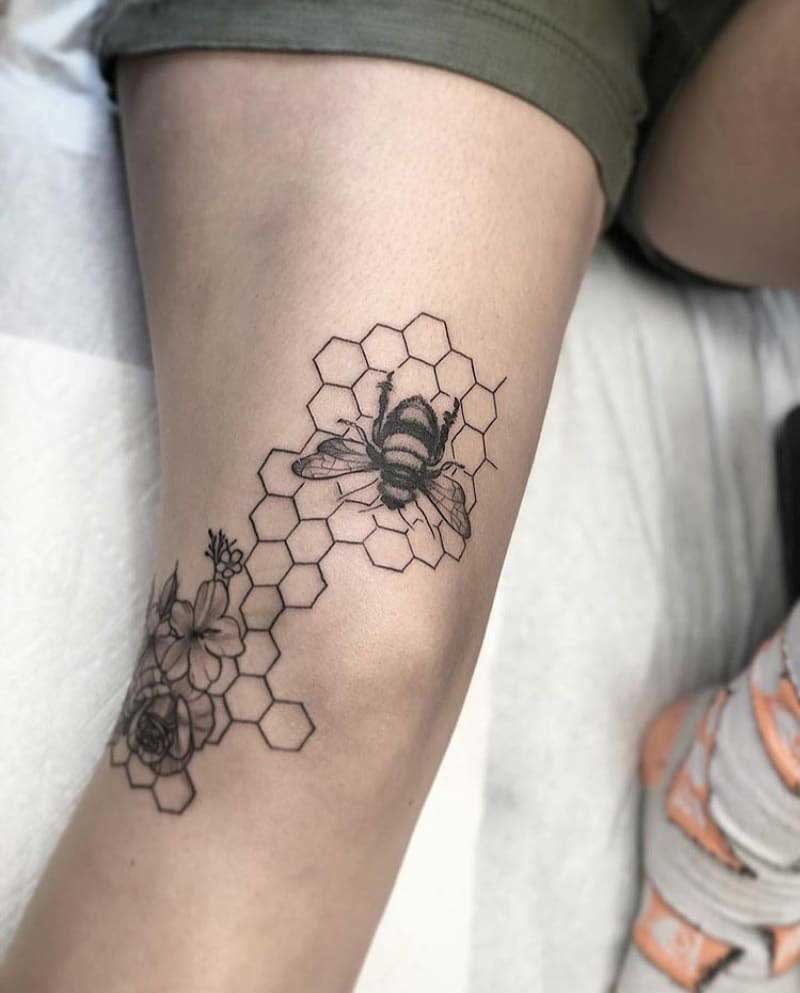 53.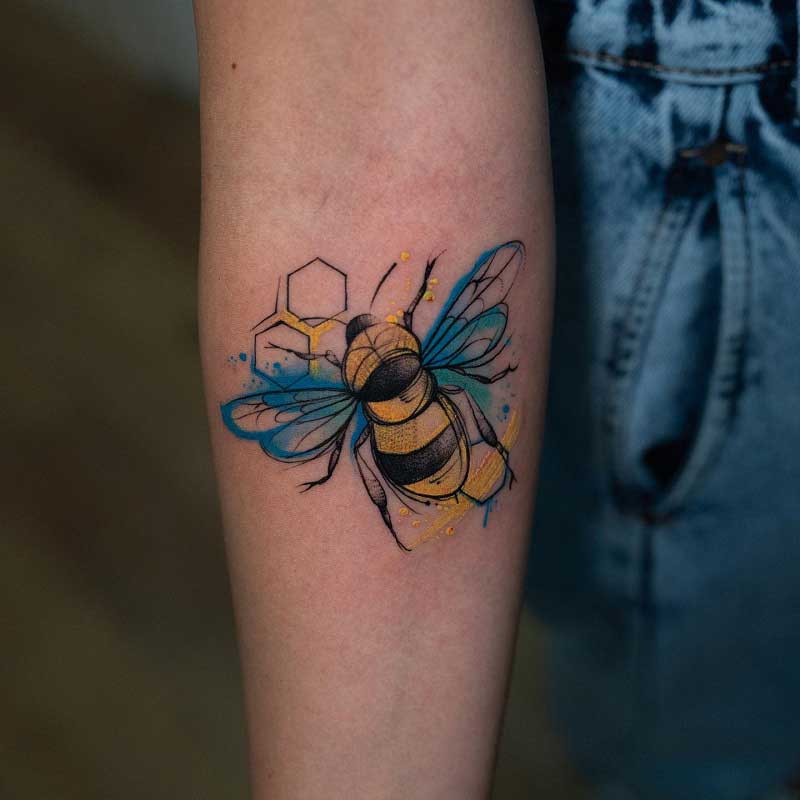 54.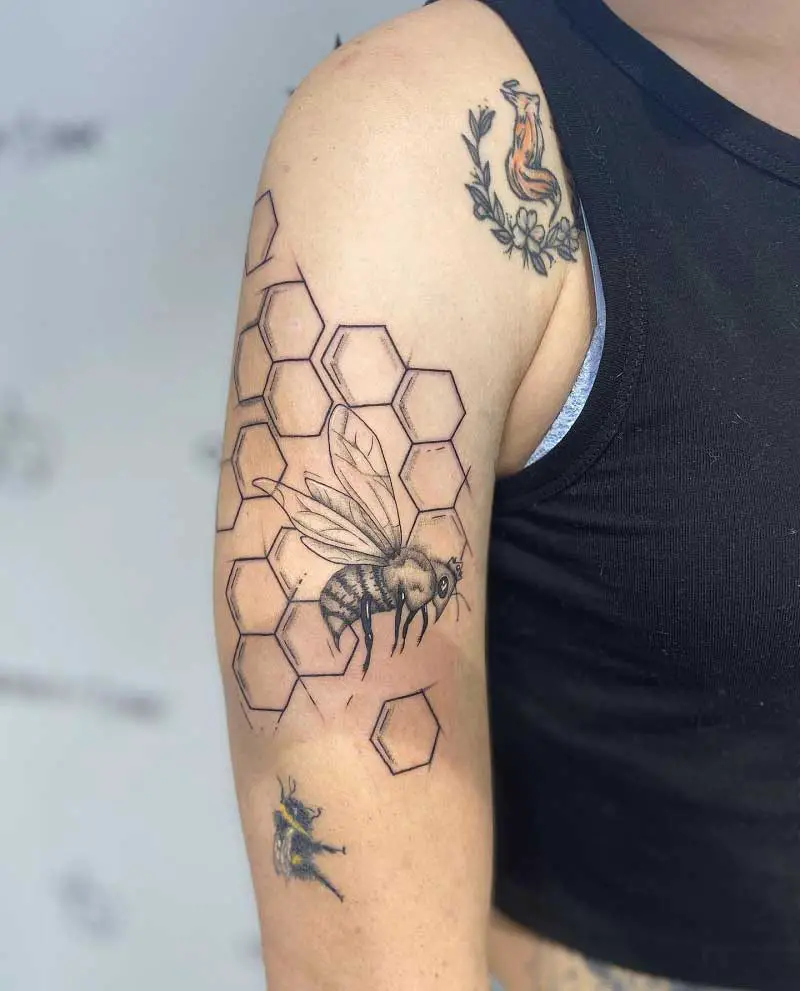 55.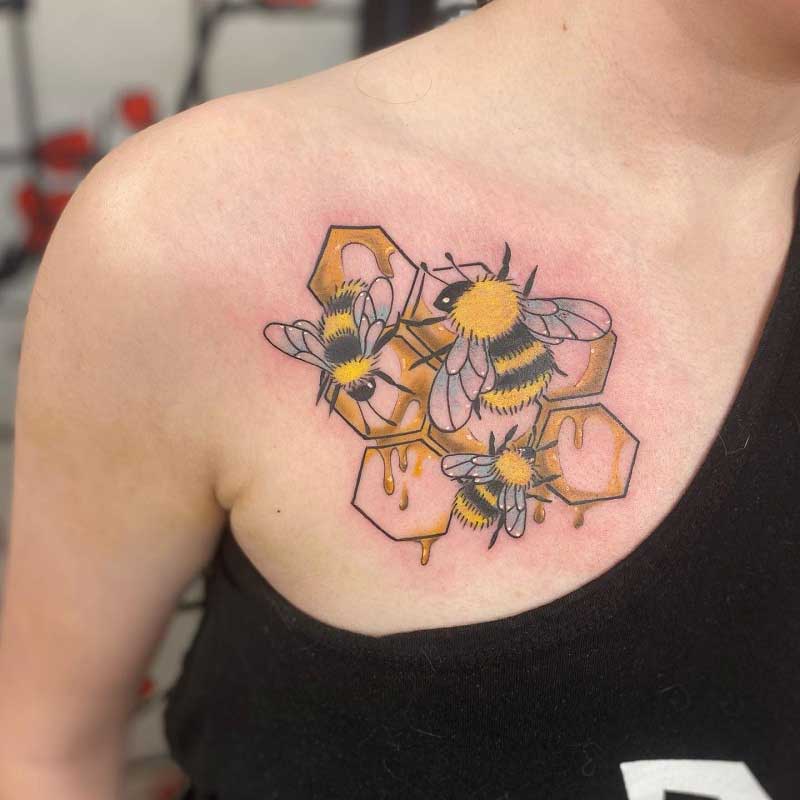 Queen Bee Crown Tattoo
56.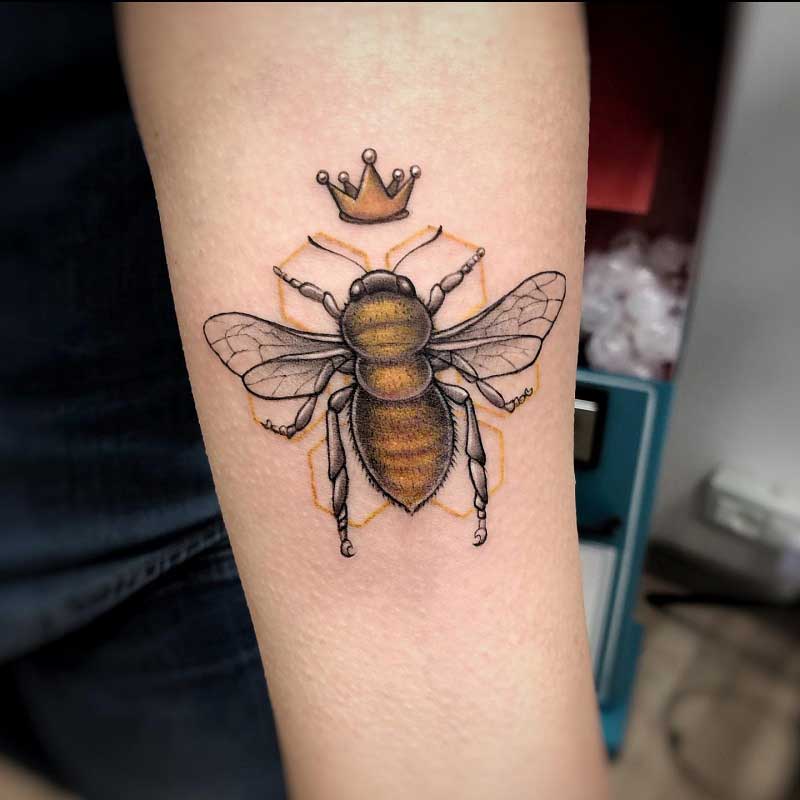 57.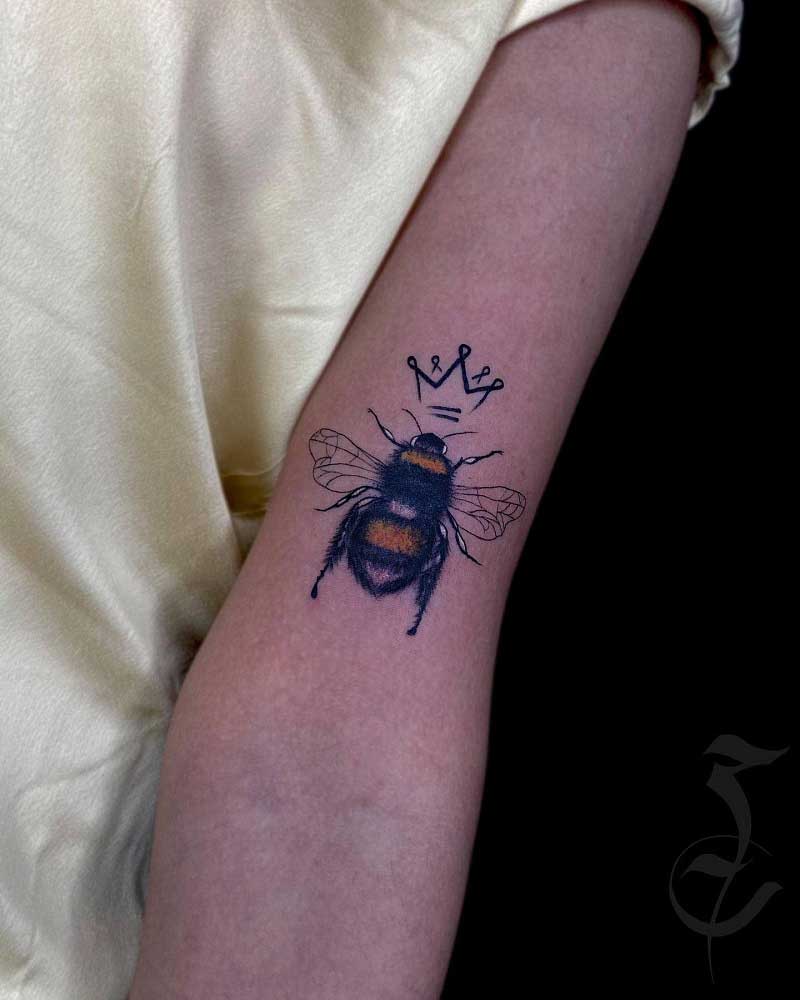 58.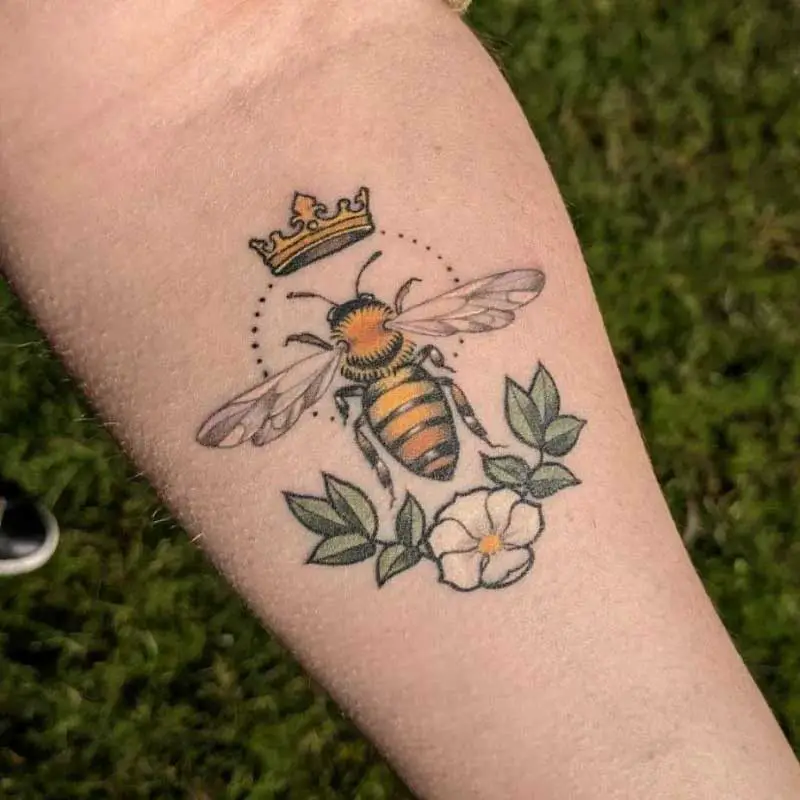 59.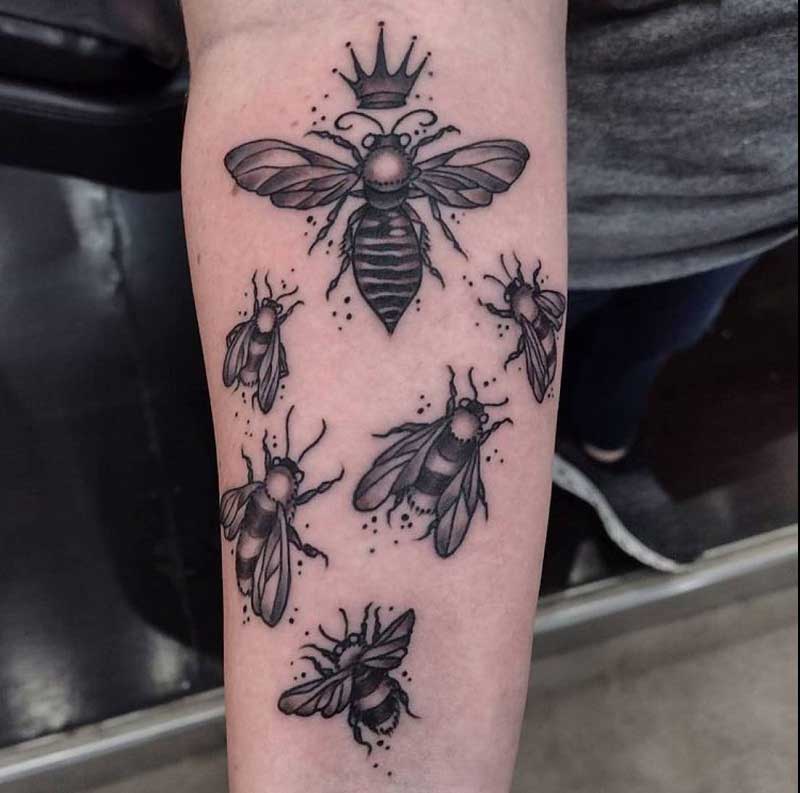 60.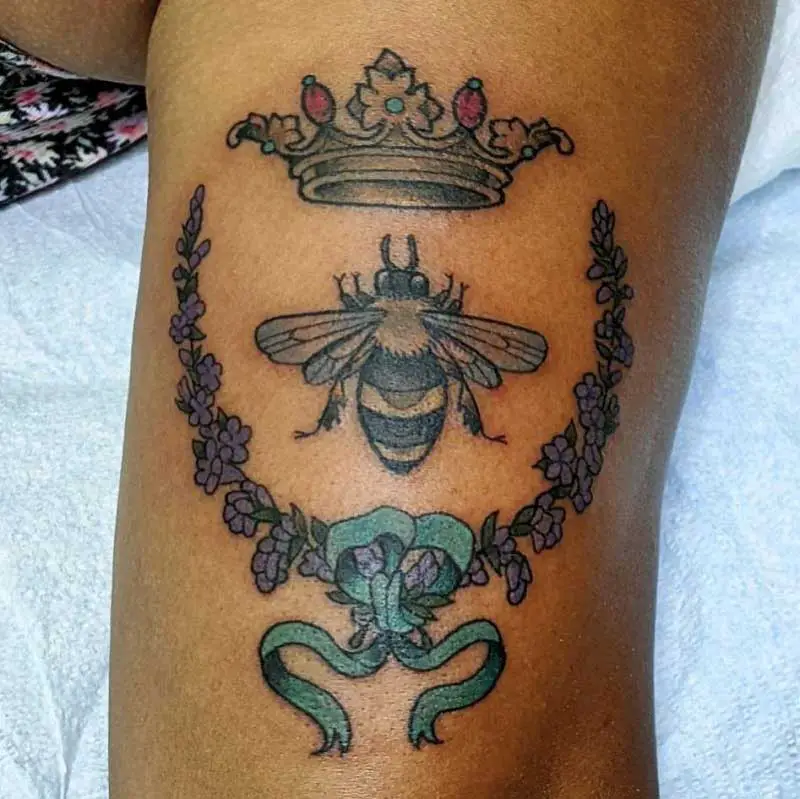 Queen Bee Gang Tattoo
61.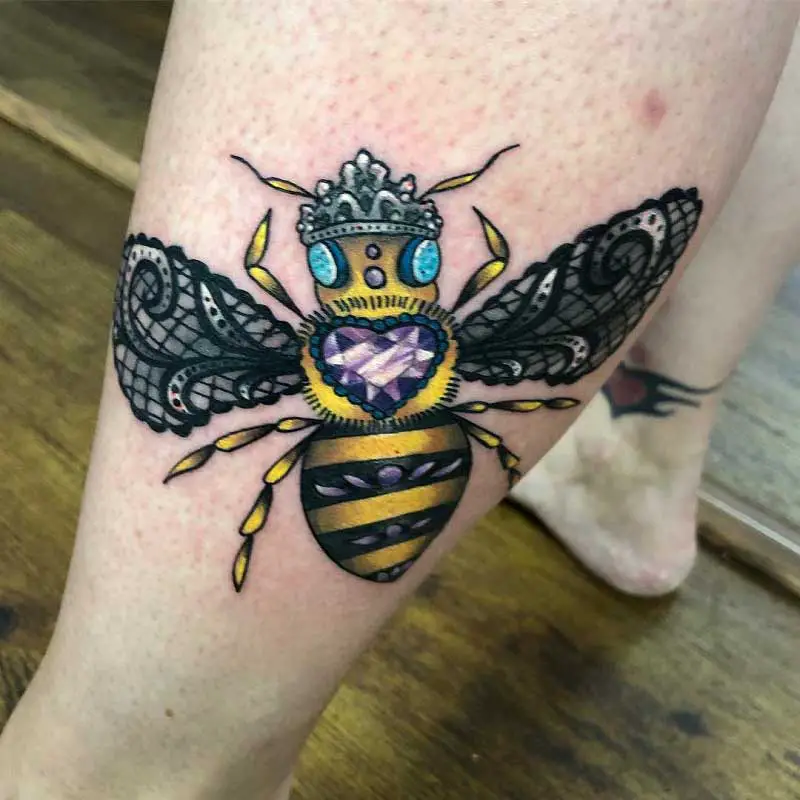 62.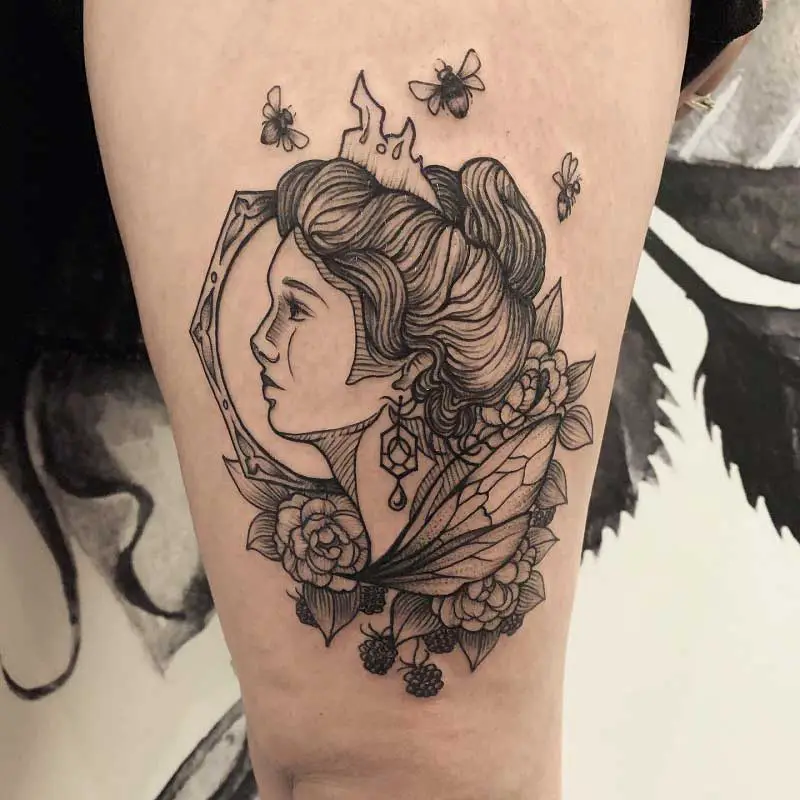 63.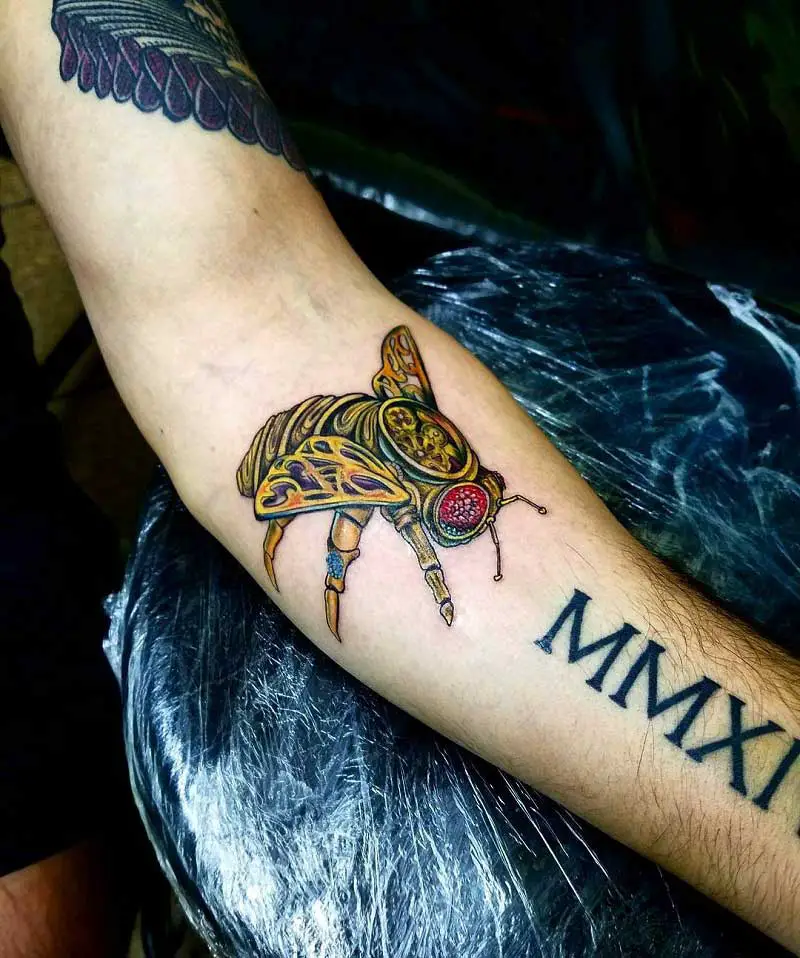 64.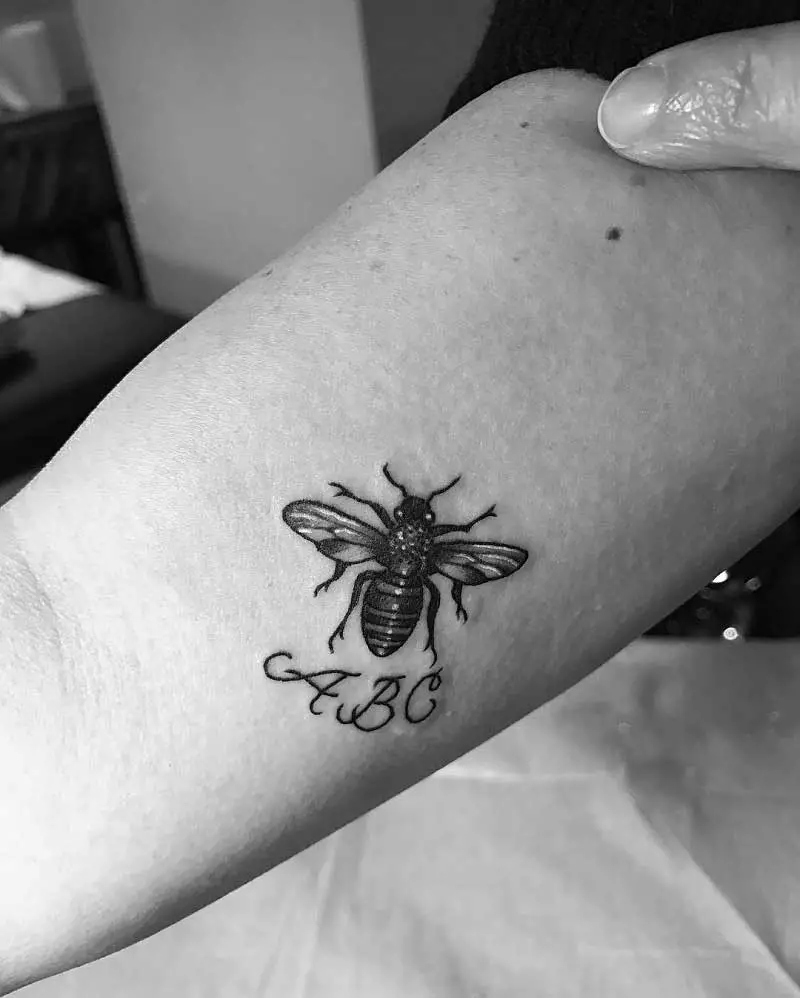 65.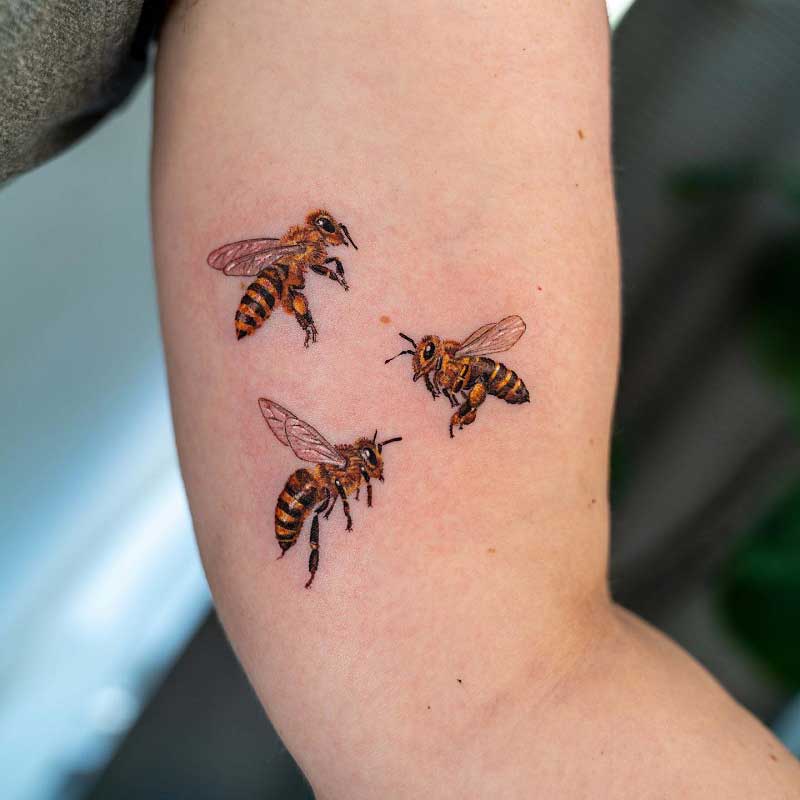 Queen Bee Pinup Tattoo
66.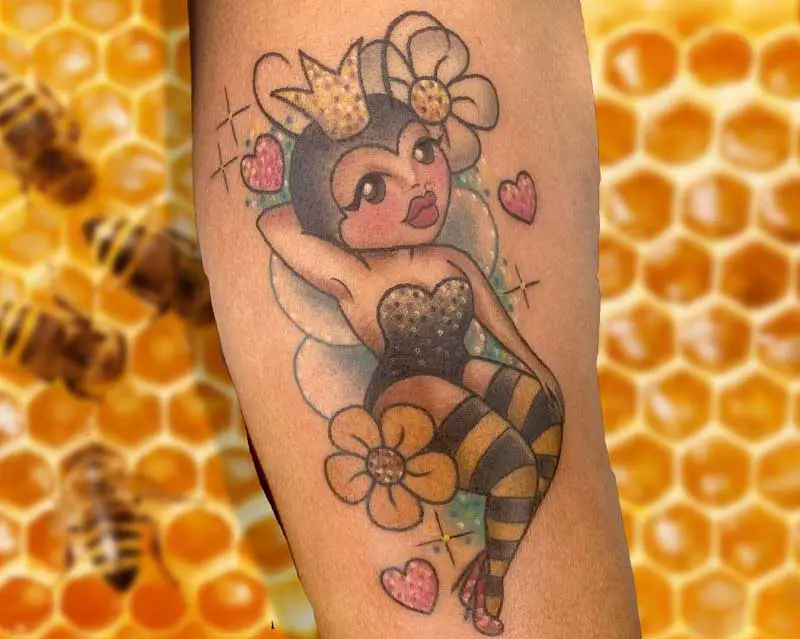 67.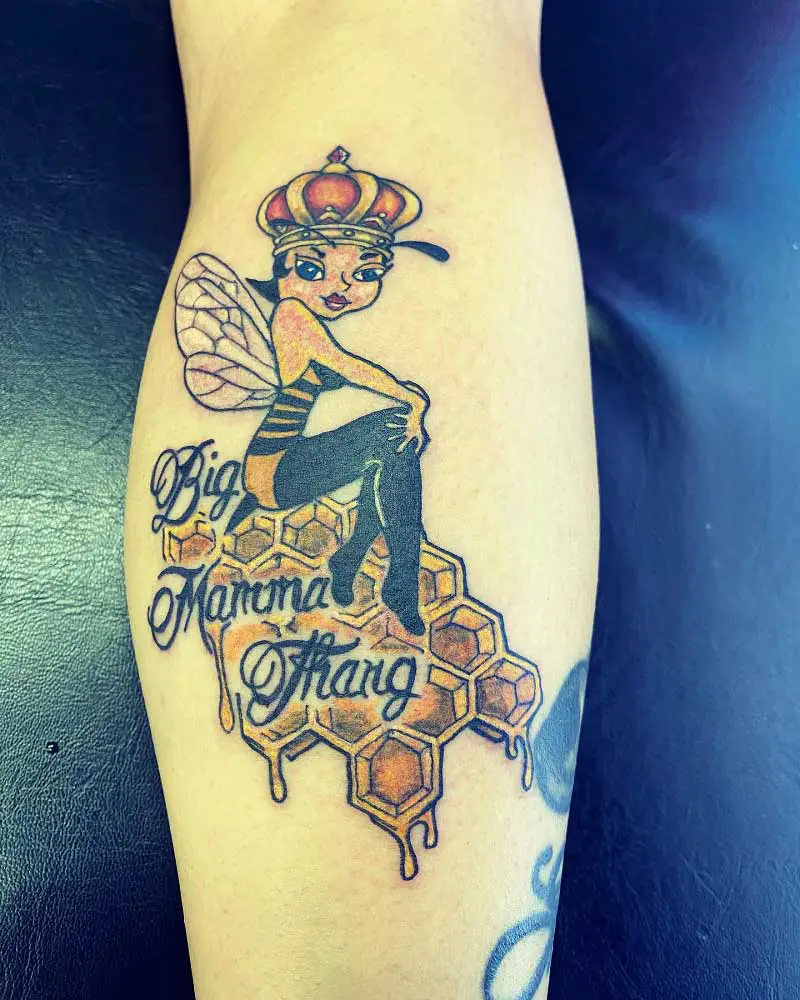 68.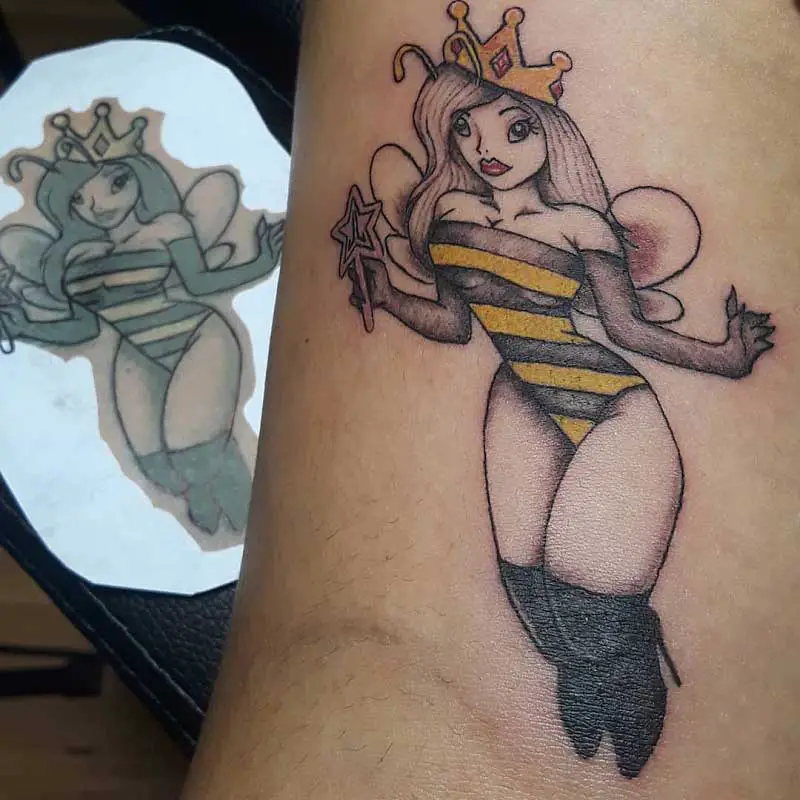 69.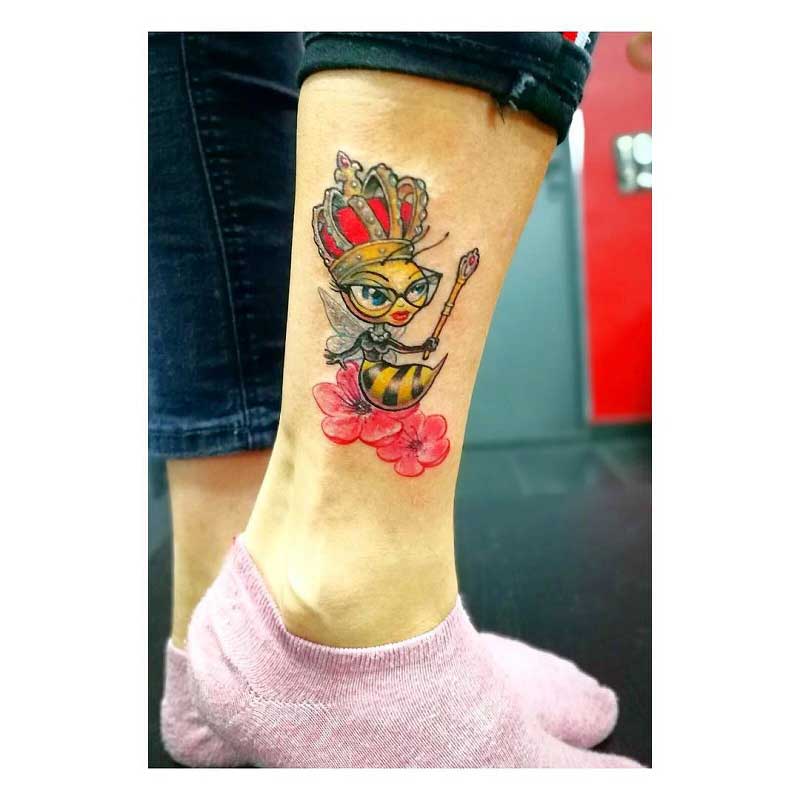 70.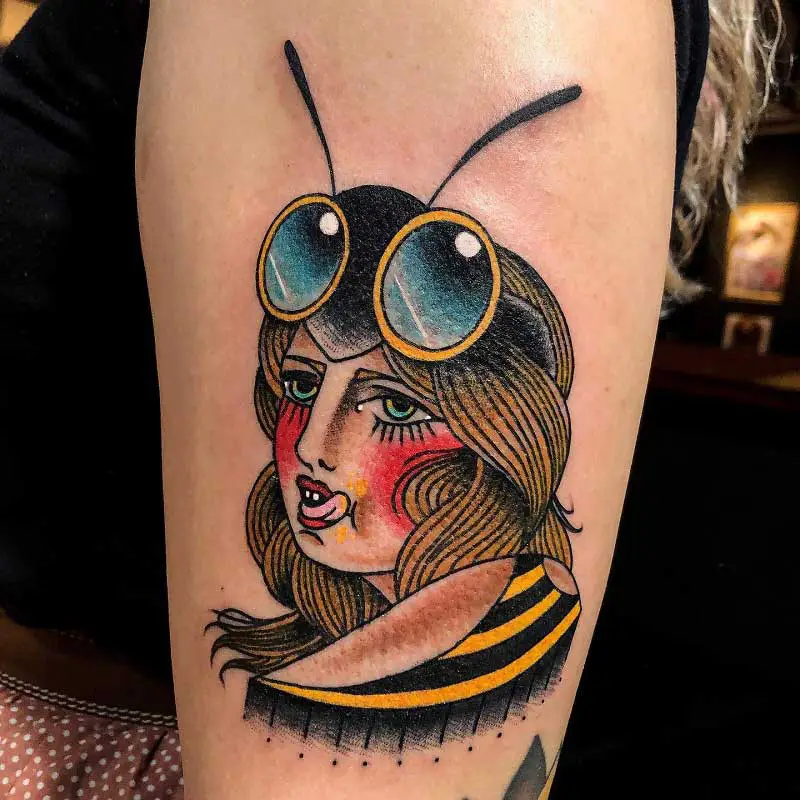 Queen Bee Tattoo Behind Ear
71.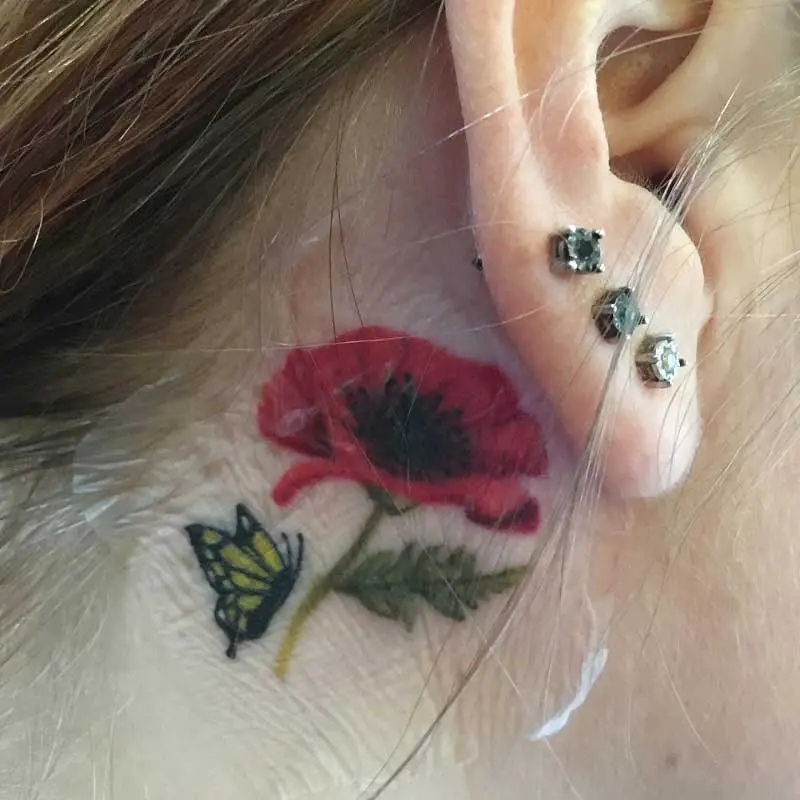 72.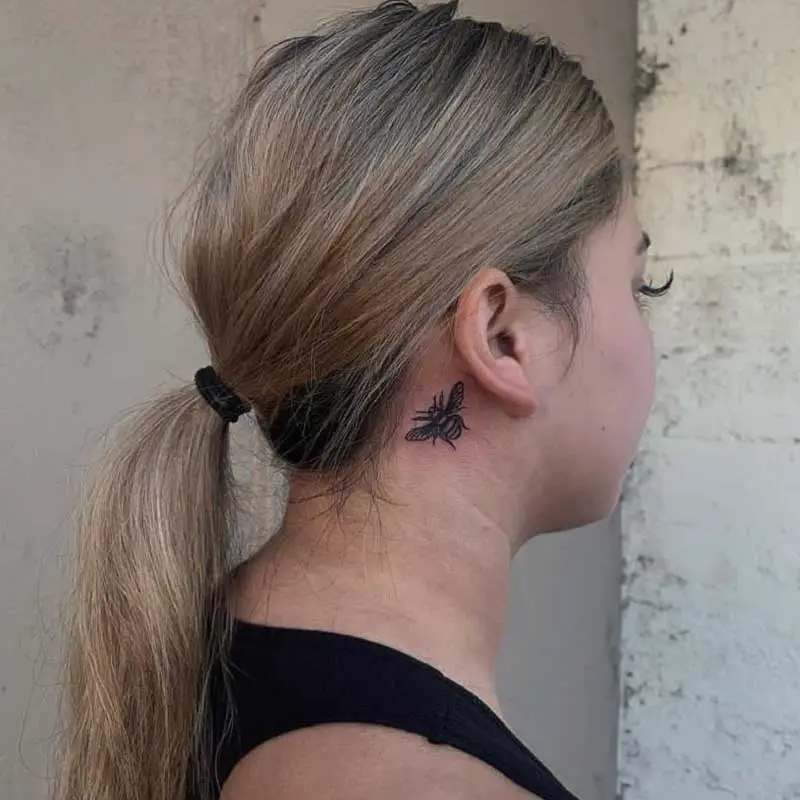 73.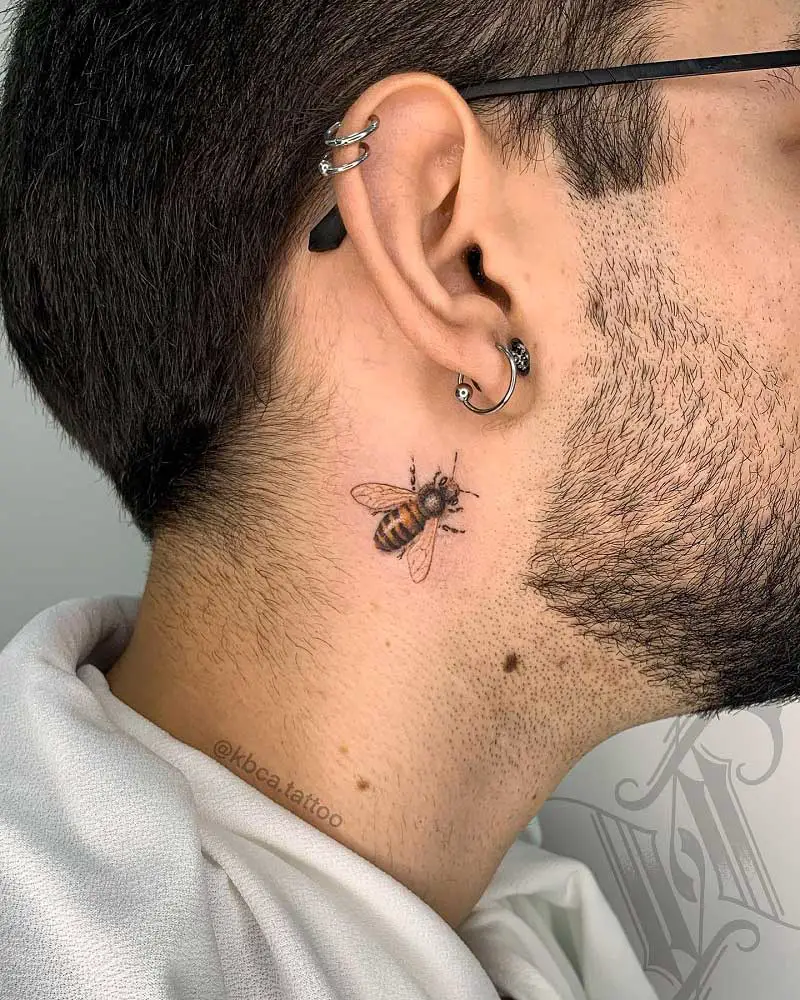 74.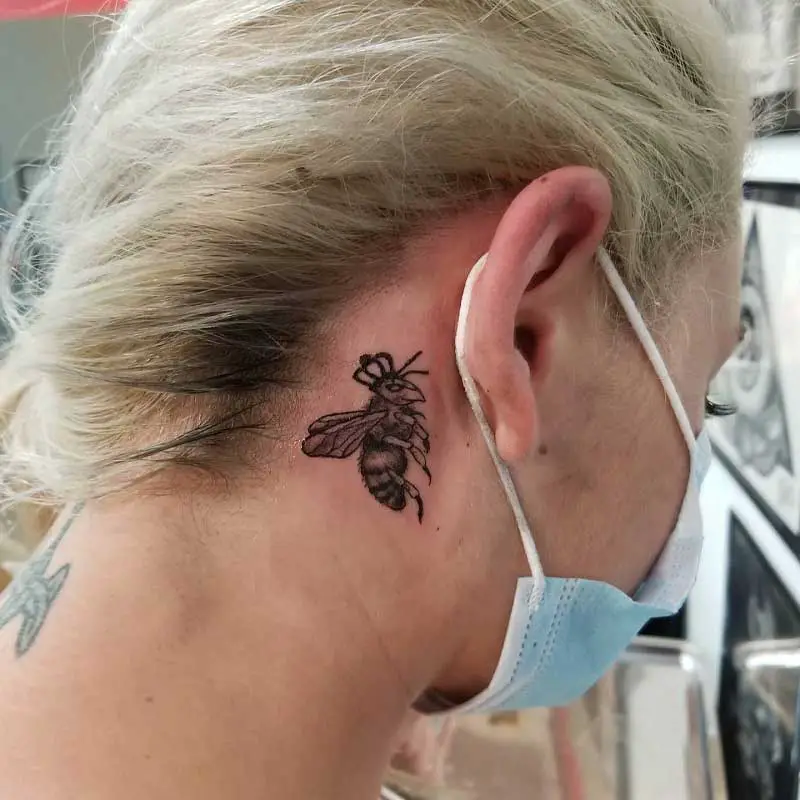 75.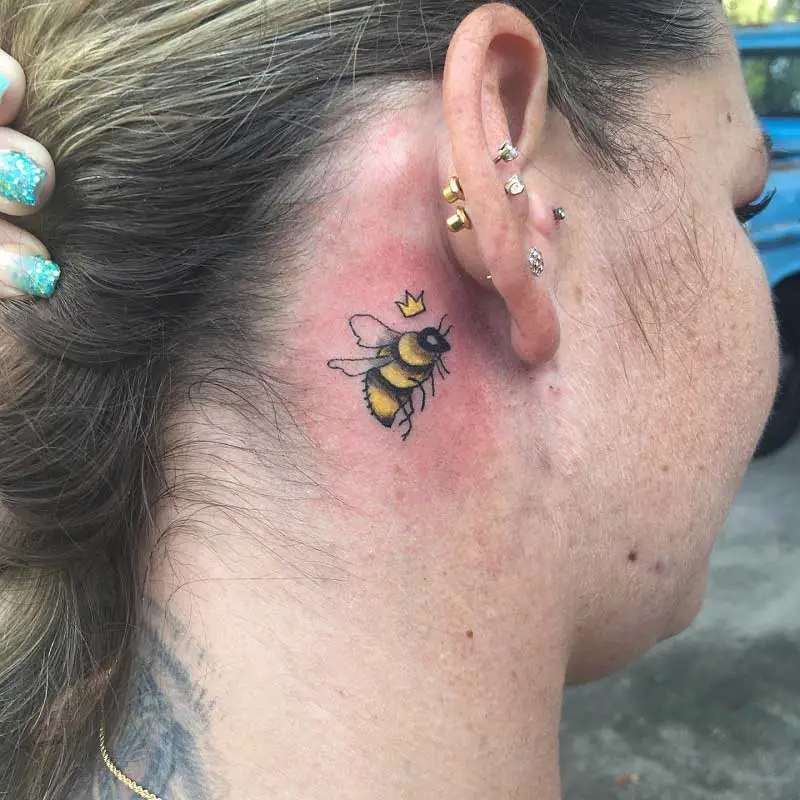 Queen Bee Tattoo School
76.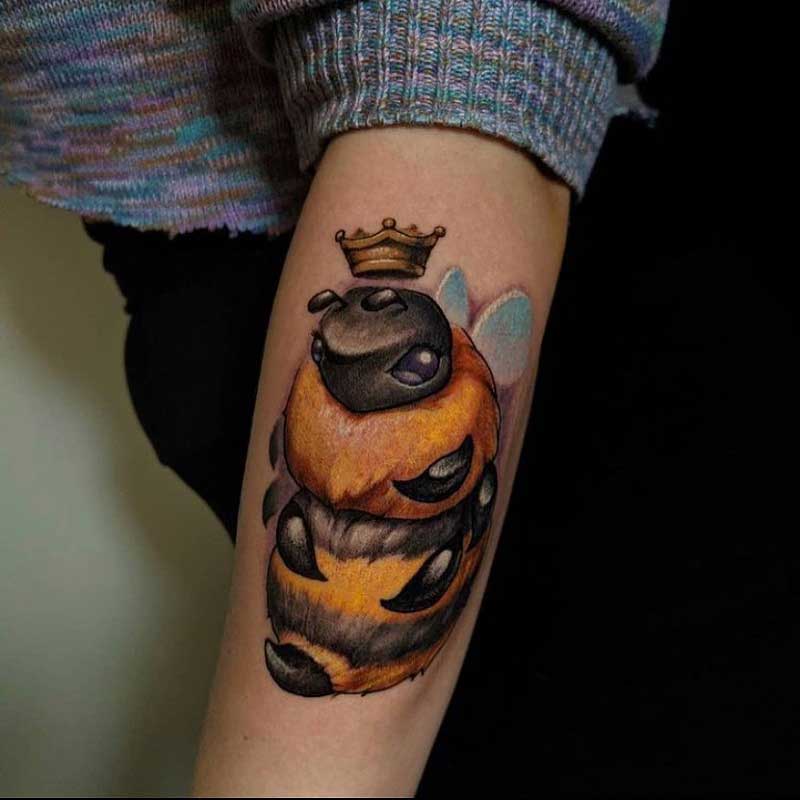 77.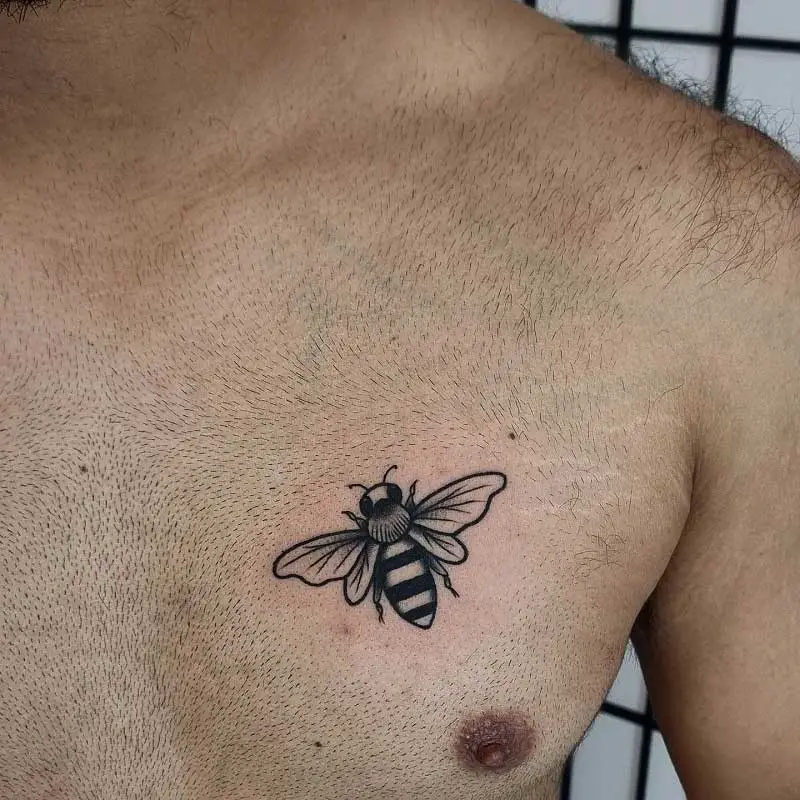 78.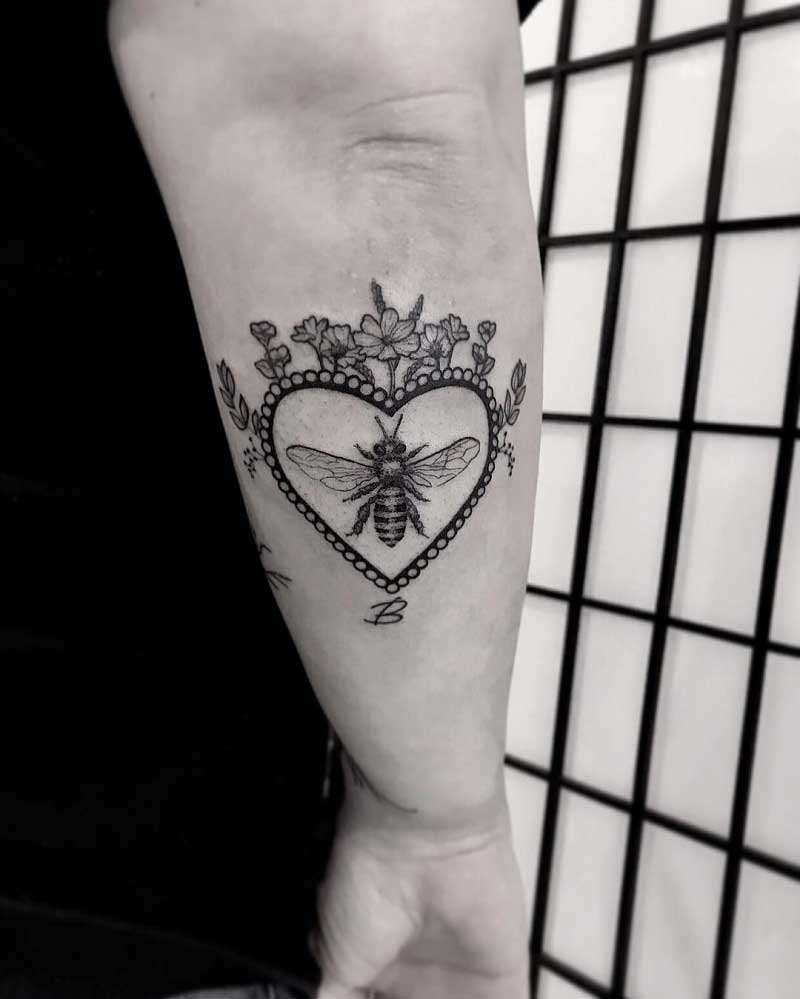 79.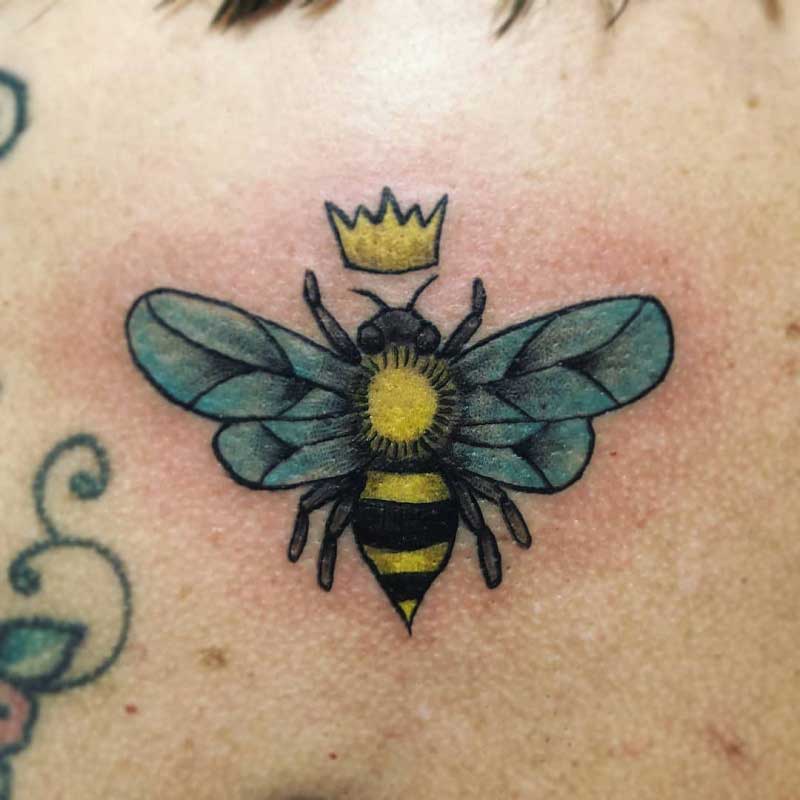 80.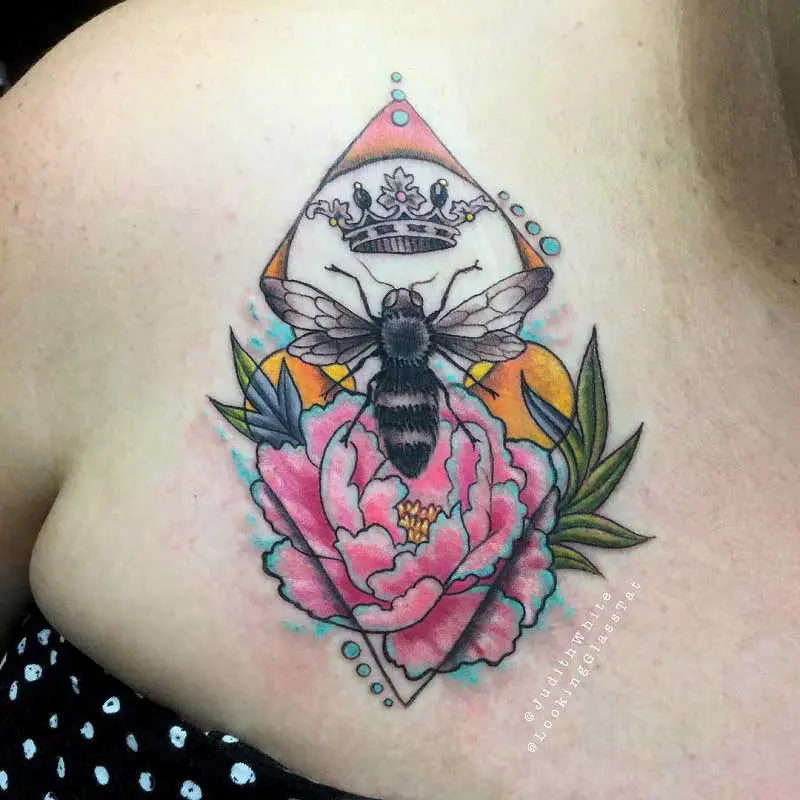 Traditional Queen Bee Tattoo
81.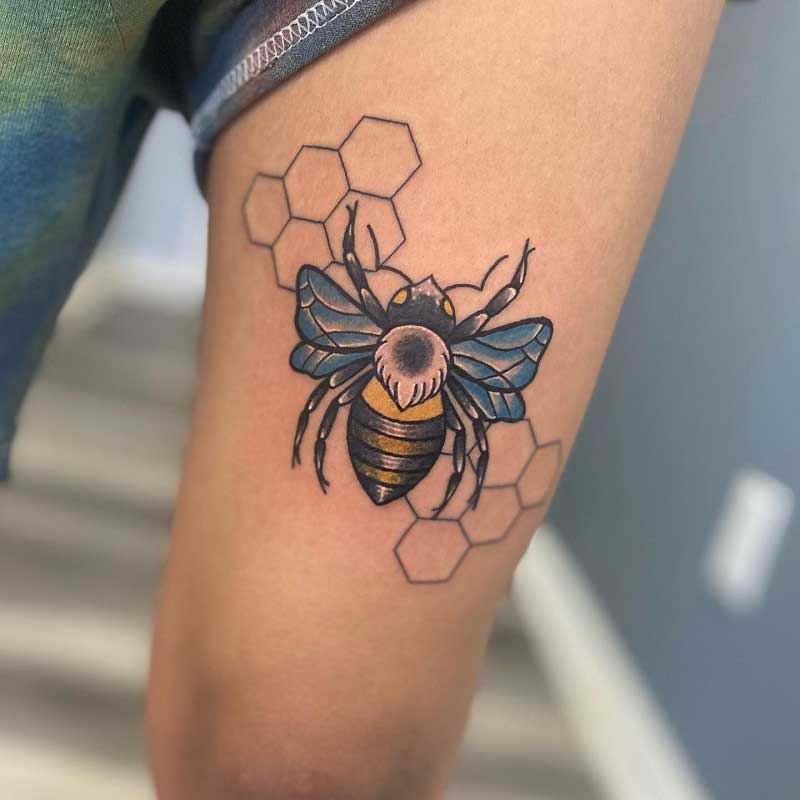 82.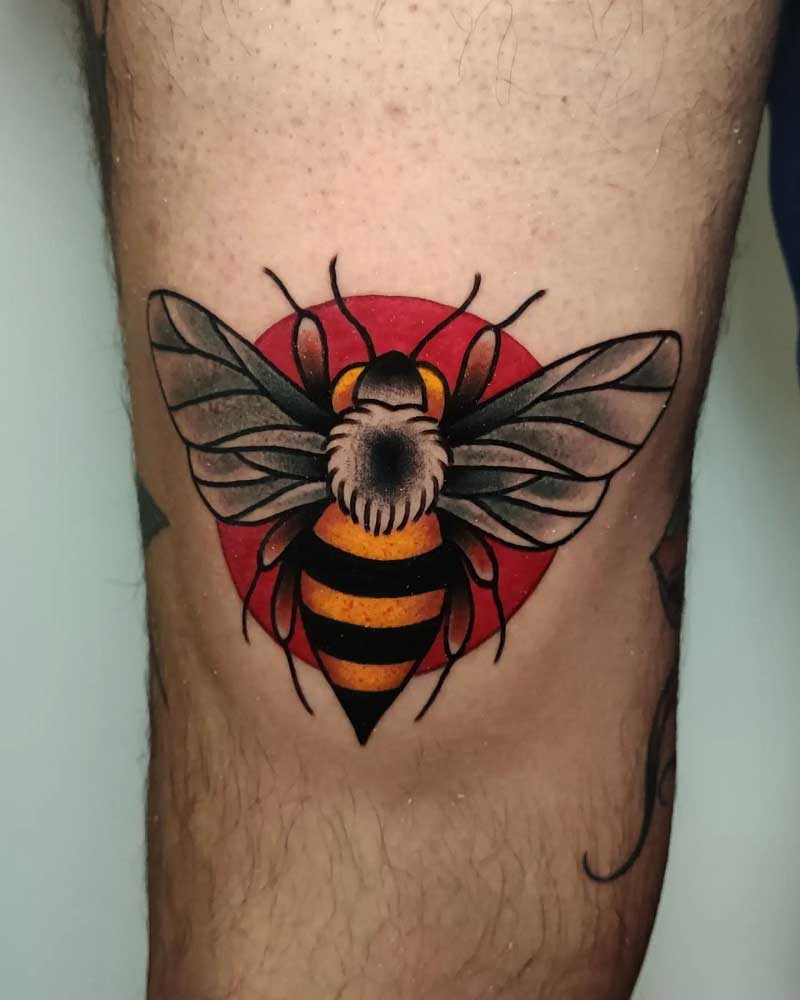 83.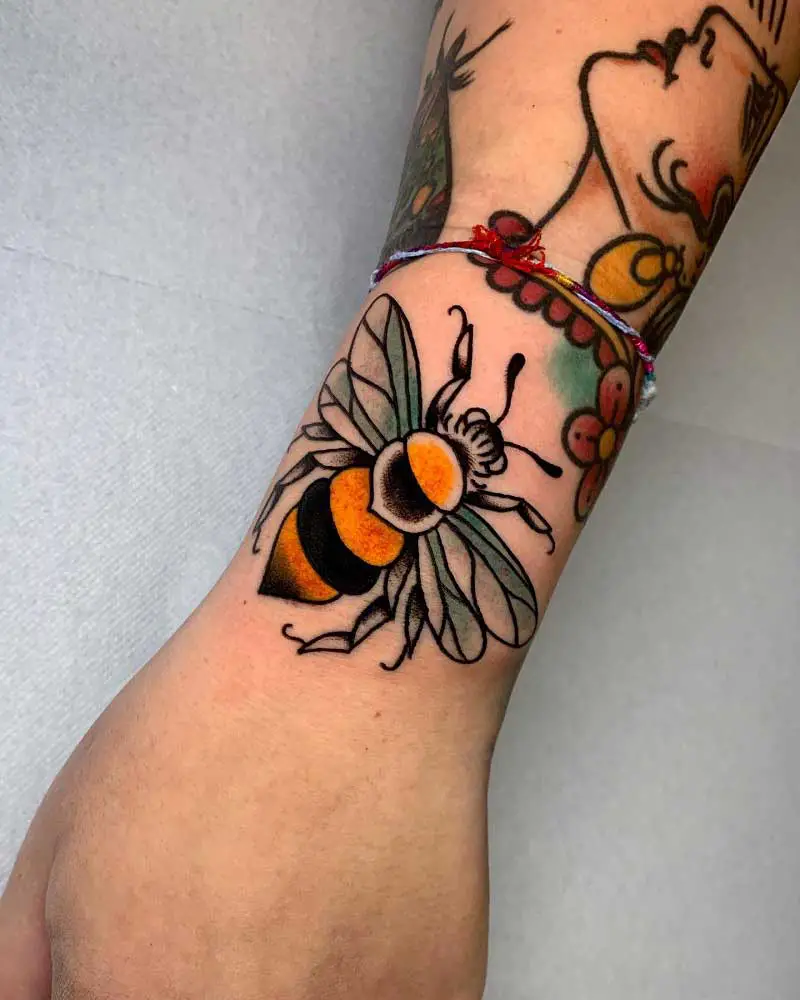 84.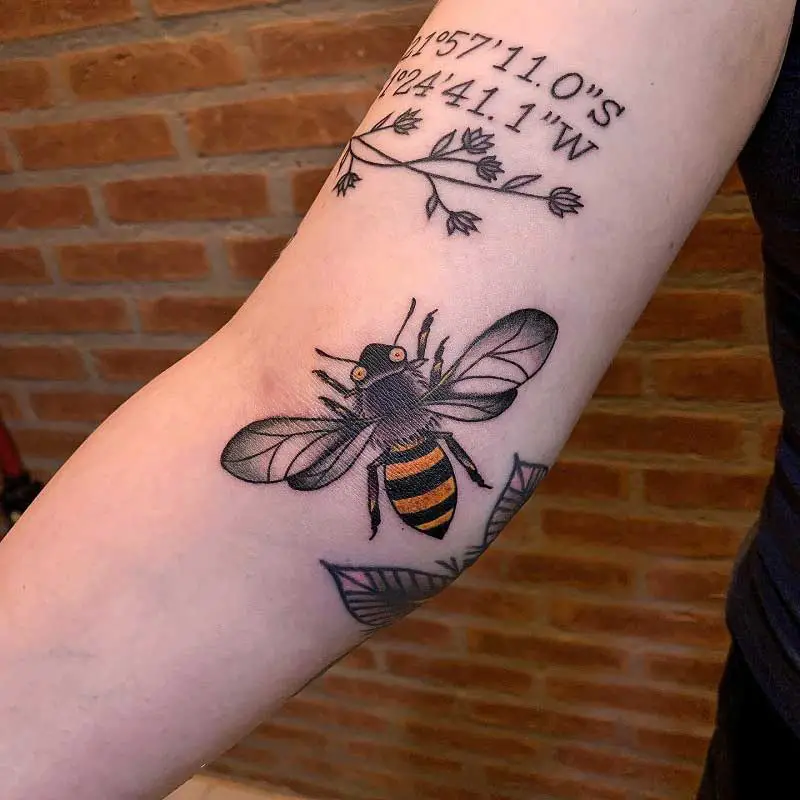 85.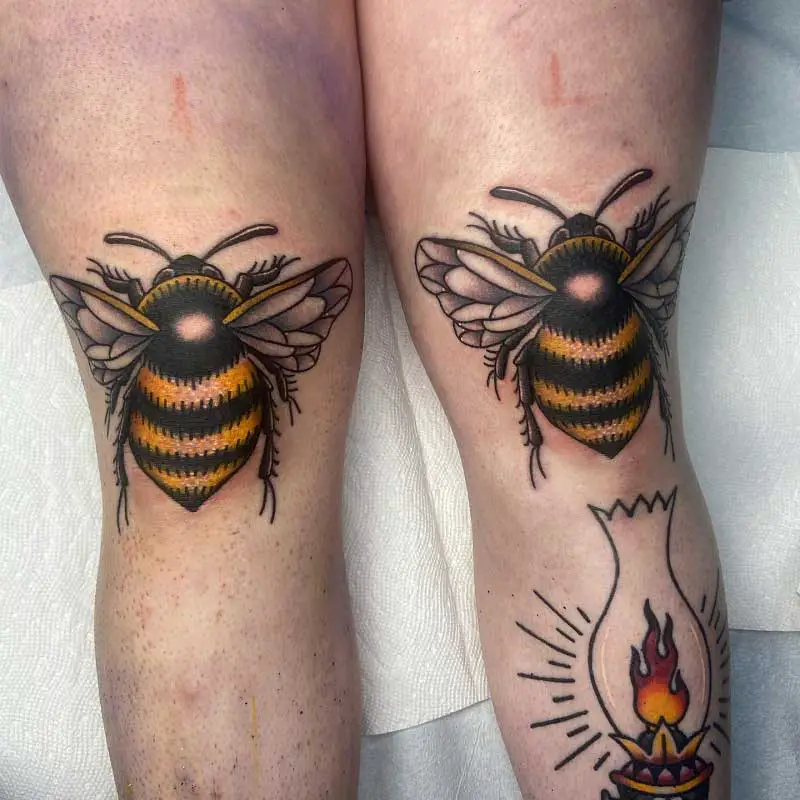 Conclusion
Tattoos are always amazing and they are a splendid way to ornate your body in an artistic manner. They can symbolize and portray your philosophy of life and your unique way of thinking with the utmost creativity. These Bee Tattoo designs portray duty, devotion, hard work, loyalty, and discipline. They can be a great way to show that you're a team player.
No matter what design you choose to get inked in, there's no denying that the queen bee tattoo is a gorgeous and one-of-a-kind design that commands attention no matter how you choose to interpret it. And on top of that, they come at a really low cost considering other tattoo designs.
So, what are you waiting for? If you want a queen bee tattoo, pick one of our design ideas from above, go to your nearest tattoo parlor and get it done. In no time, you'll be buzzing like a bee!
Happy Tattooing!
Frequently Asked Questions
1. What does a queen bee tattoo symbolize and mean?
The queen bee tattoo represents female energy, growth, reproduction, and motherhood. She is the most powerful character in the hive and exudes pleasant feelings that you can imitate with a tattoo. Some people want a realistic representation of the queen bee in the form of a tattoo.
2. What does a tattoo of a bee mean?
A bee tattoo, in general, represents loyalty. These little insects are devoted to their hive-mates and the queen. Your tattoo could indicate that you are a loyal person in general or to a specific person. In rare situations, it can also represent your honor and duty to your life's passion or vocation.
3. Why is everyone getting bee tattoos?
These black and Yellow insects are superbly popular in the city of Manchester as they symbolize the city's working class people who work very hard day in and day out. So, you can see the Bee symbols all around the town.
However, recently the pop star Ariana Grande came to Manchester city for a live concert and there were a series of attacks on her which resulted in many people suffering from injuries and financially. So, to help those aggrieved persons, the mass people invented a unique way- They contacted the tattoo parlors and convinced them to share a portion of the profit gained from Bee tattoos that cost around 50 Great British Pounds.
And as the Bees are already popular among people, they began to swarm to the tattoo parlors to get the Bee tattoos done. And that's the reason for Bee tattoos becoming so popular recently.
4. Why do bumble bees have tattoos?
In general, a bee tattoo represents loyalty. These small insects are devoted to their fellow bees and the queen. Your tattoo could indicate that you are a loyal person in general or to a specific individual. In other circumstances, it can also represent your honor and obligation in relation to your life's passion or work.
The Bumble bee tattoos also have the same meaning. Plus, they look adorably tiny. So, it's no wonder why the little furry puddles have tattoos dedicated to them.
5. How common are bee tattoos?
Bee tattoos are not very prevalent. In truth, many tattoo artists are unlikely to have stencils for such a design on hand. They can, however, signify a range of good meanings that may or may not apply to your life. To comprehend the symbolism of the bee or honey bee, we must first examine its environment.
6. What does a killer bees tattoo say?
A bee tattoo generally symbolizes loyalty, honor, discipline, a chain of command, hard work, etc. In that manner, the killer bee tattoos are also the same. They are just different in shape, size, and design.
However, the 'Kanji' symbol that the anime character from "Naruto" wears (鉄, tetsu) translates "Iron". Which represents the Iron Armor Seal utilized to encase Gyūki inside of him (his beast power). Thus, it is known as the Killer Bee's tattoo.
7. Does a bee mean loyalty?
Bee tattoos can generally be chosen to signify one of the following characteristics: commitment, duty,  loyalty, teamwork, structure, love, and family. Bees will defend their hive, home, and queen at all costs, including their own lives. All of them are diligent, warriors, and selfless.
8. Are bee tattoos expensive?
A little bee tattoo can cost roughly $50, but larger artwork can cost up to $400. You can discover more about costs during your appointment with your tattoo artist.
9. Which celebrities have a bee tattoo?
Celebrities like Rihanna, Dax Shepard, Emma Stone has bee tattoos inked on them.