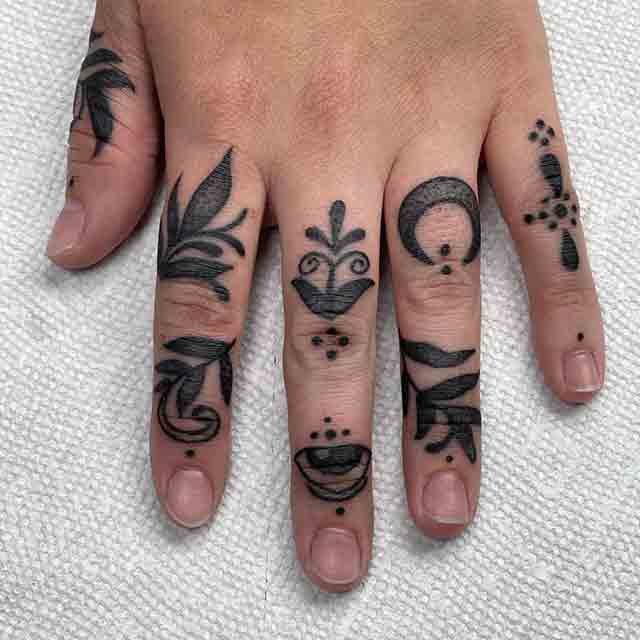 In the past finger tattoos for women were believed to cast away bad spirits and illness. However, nowadays they are a trendy fashion statement.
Finger tattoos are typically small in size and have little to no color extra color. They look great on women with wide fingers. In contrast, if you are a woman with thin fingers you can try some of the smaller variations of these tattoos.
They can also be used to spread awareness and express someone's inner beliefs. Some of these tattoos are used to symbolize respect and honors too.
In this article, we will discuss everything you need to know about tattoos for female fingers & many more. We'll also answer some of the most common questions related to finger tattoos.
Finger tattoos Ideas for women
There are loads of new design ideas coming up for women's finger tattoos. They can vary from finger to finger and their position on the fingers. Some of the typical and most popular design ideas are: ring finger/wedding finger designs, rose designs, and crosses are also used heavily. If you want minimalist designs then dot designs and small minimalist designs are also suitable. Here are some of the finger tattoo design ideas for women:
Ring Finger Tattoos For Women
Ring finger tattoos for women are a sign of respect and honor. Usually, women get these fingers tattooed to pay respect to loved ones.
1. Red & Black Ring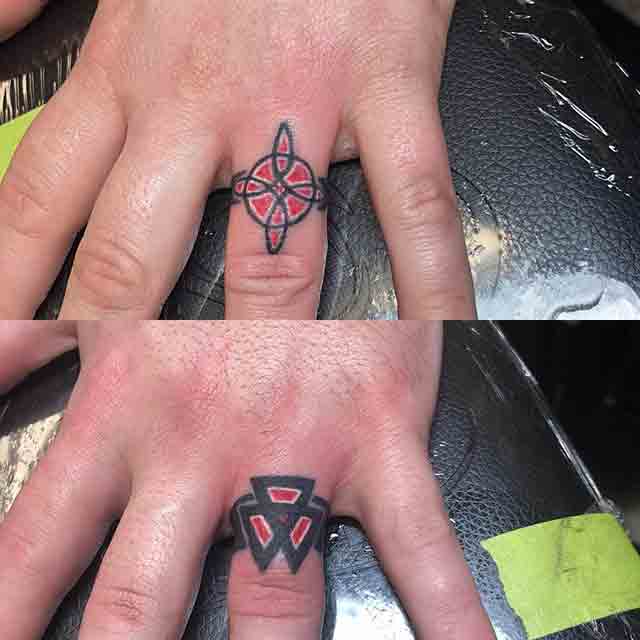 Red and black are the two most dominant colors when comes to tattoos. This young woman has two variations of a ring finger tattoo. Both of the designs only use those two colors. The design looks like a real ring.
2. Only Black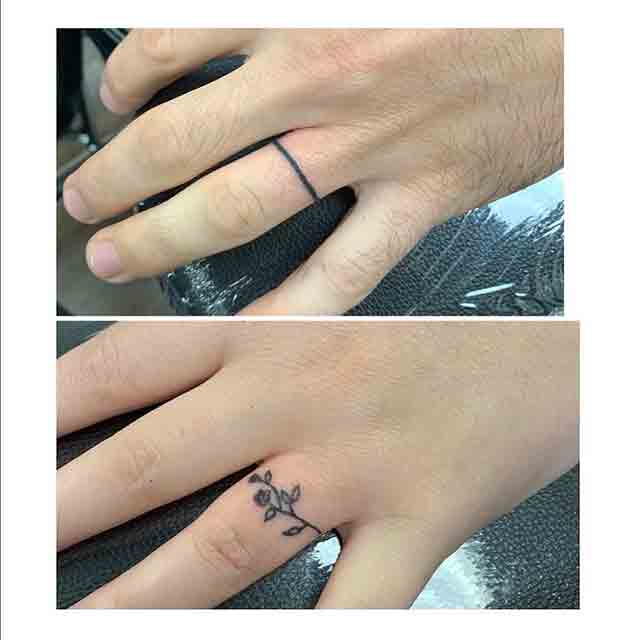 A simple finger ring tattoo design with just black ink. Her ring fingers are nicely wrapped by this amazing design. The bottom piece has a tree branch while the top one is just a single black stripe.
3. Triple Stripes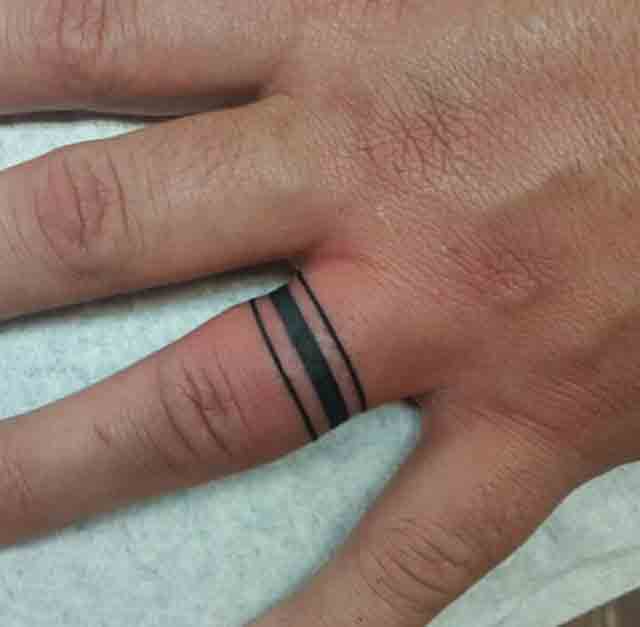 In this piece, the artist has only used three black stripes to create a ring-like design. The middle stripe is much thicker and the two on the sides are thin. If you are looking for a tattoo that looks like a ring on your finger you can try this one without any issue.
Small Finger Tattoos For Women
It's only practical to get a small tattoo on a woman's fingers. These tattoos tend to be very simple and quick to get. They typically cost less than other designs.
4. Ace Of Hearts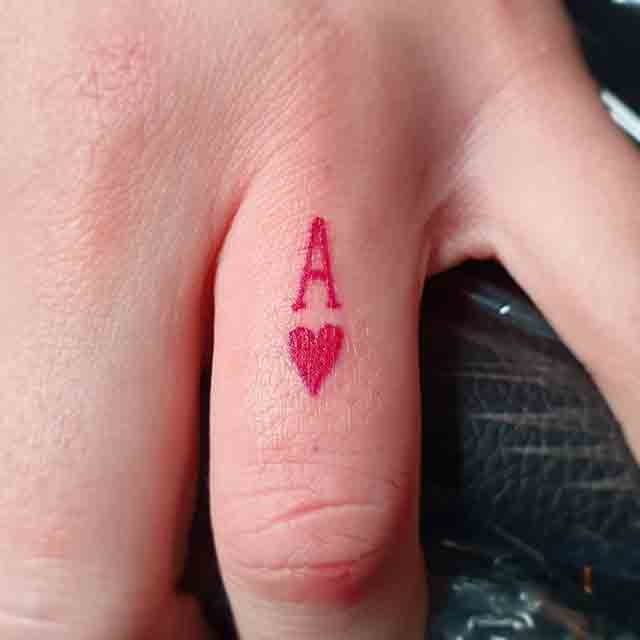 The vibrant heart will take everyone's attention. The ave on top of the heart gives the impression that the women wearing this have high standards. A beautiful piece of finger tattoo for women.
5. Tiny Diamond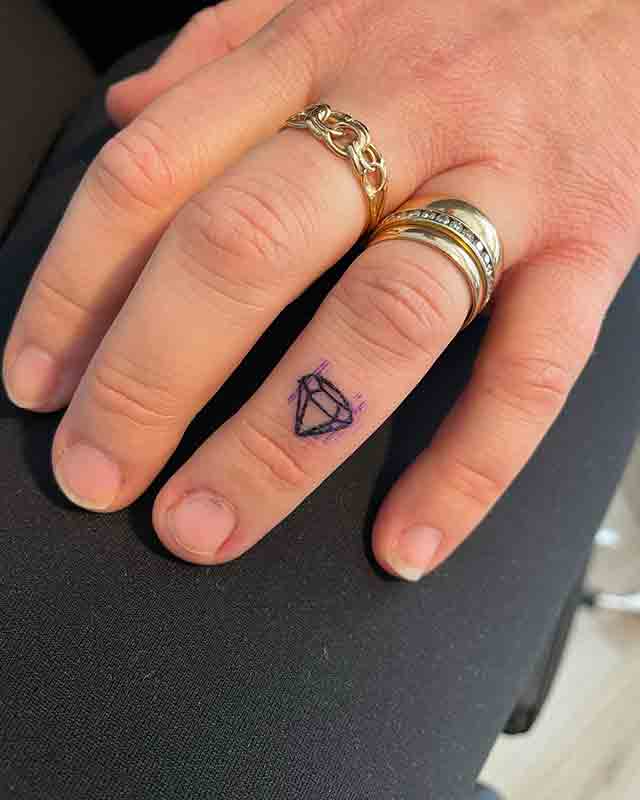 Females love valuable stones. A diamond is one of the most precious objects. If you get this shining diamond tattooed on your finger you'll catch everyone's attention as soon as they look at your hands.
6. Cute Ghost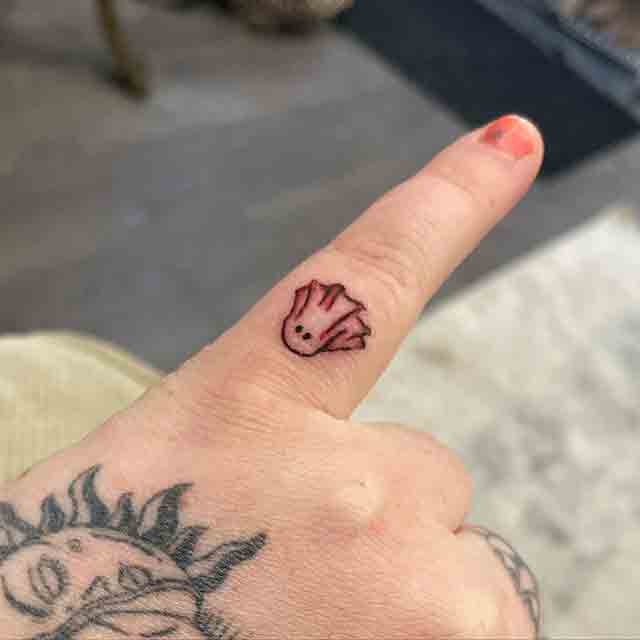 Ghosts are supposed to be scary but this one is totally the opposite. The creature is cute and upside down. One of the causal finger tattoos designed for fun-loving females.
Finger Word Tattoos For Women
Words are an efficient way to express one's feelings and beliefs. Finger tattoos with words help women to express their views without even saying a thing.
7. Self Care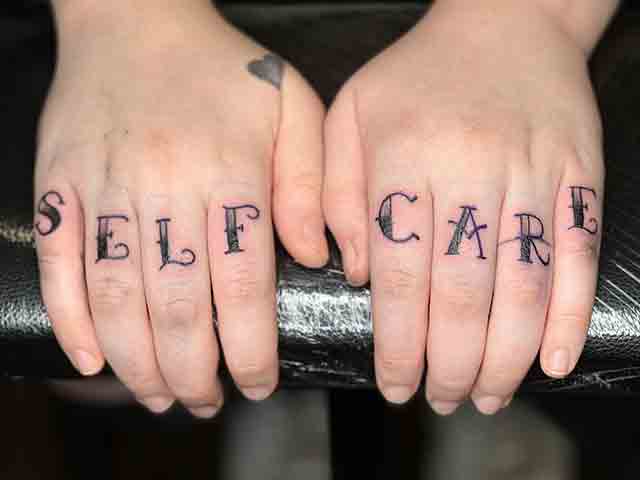 One should always take good care of themself. This finger tattoo for girls embraces that philosophy. It teaches us to take good care of ourselves. A motivating piece for women.
8. They Them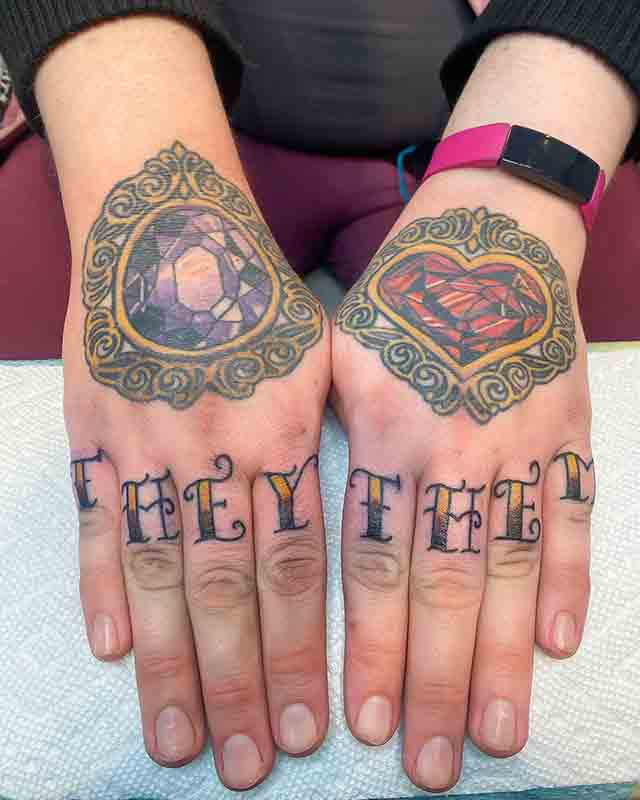 The typography on this tattoo is very interesting. The use of color makes it even more appealing. This tattoo addresses some third person by saying "They" & "Them". This subconsciously tells us that the woman wearing this cares about other people's opinions and feelings.
9. ARTE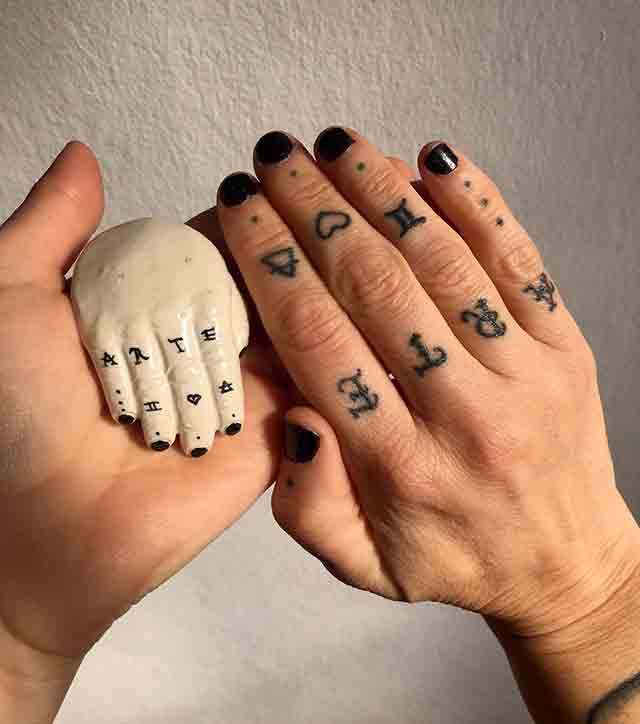 Some random letters are inked on this piece of finger tattoo. Each letter could have some hidden meaning that the person with the tattoo only knows. An artistic and creative take on women's finger tattoo design.
Cross Tattoos For Women On Finger
Crosses have many meanings when comes to tattoos. They can easily be incorporated with messages easily. Women's finger tattoo designs with crosses are a sign of faith & sacrifice.
10. Symmetrical Cross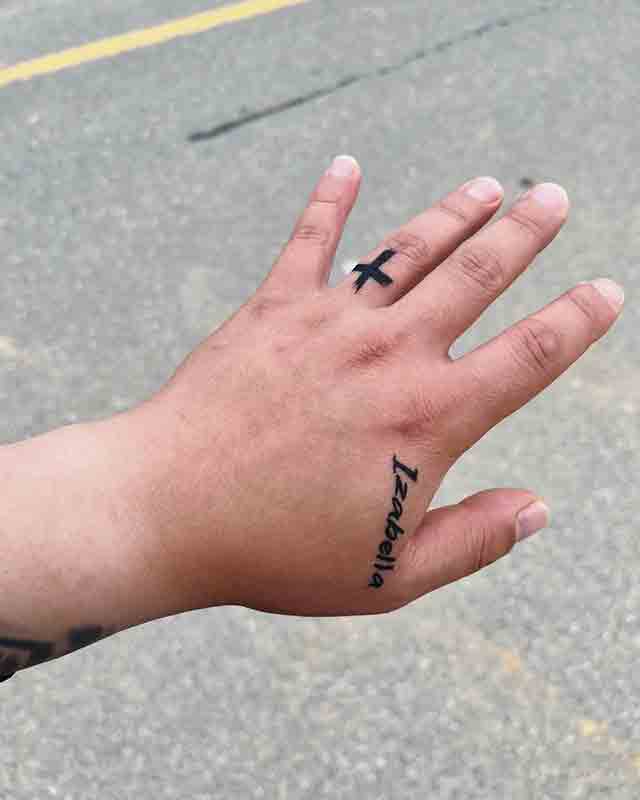 Crosses are supposed to be longer in height. But this lady has her finger inked with a piece that has the same height and width. A different approach to conventional "Cross" finger tattoos for women.
11. Knuckle Piercer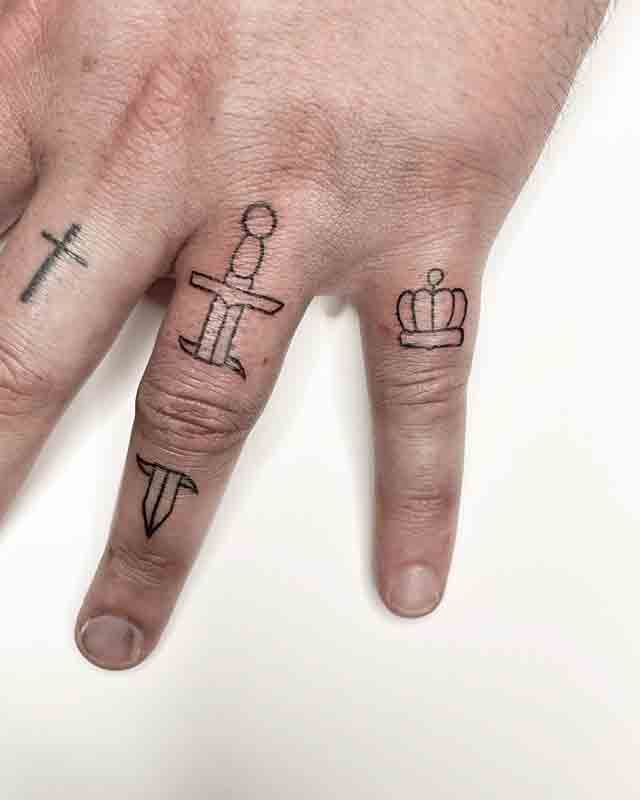 A sword is tattooed on this gorgeous woman's ring finger in a way that looks as if it pierced through her knuckle and came out on the other side. There are also two other tattoos on the index & pinky finger.
12. Cross & Snake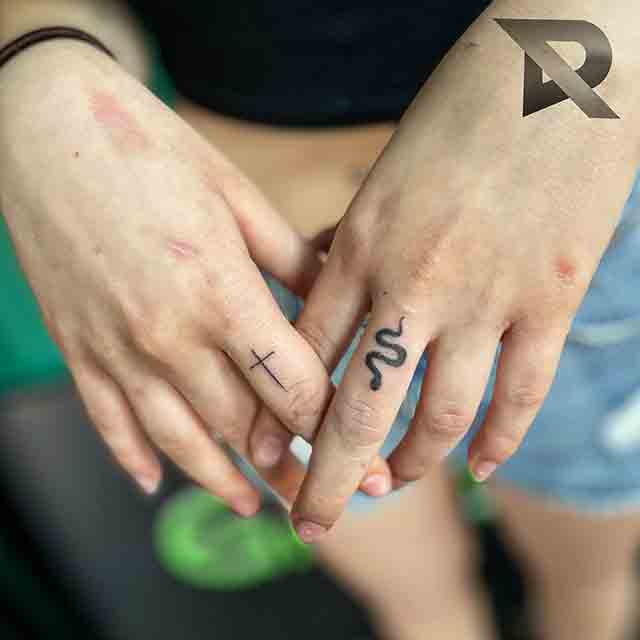 Cross and snakes represent two different feelings. The cross is a sign of sacrifice while the snake is a symbol of danger. The artist has combined both of them together in her hands. It indicates that she can sacrifice but also be dangerous at the same time. One of the best finger tattoos for women.
Moon Finger Tattoos For Women
Moon is a feminine symbol that represents the rhythm of time. Women's finger tattoos with the moon create a fertile look. It is a popular choice among many women.
13. Moon Work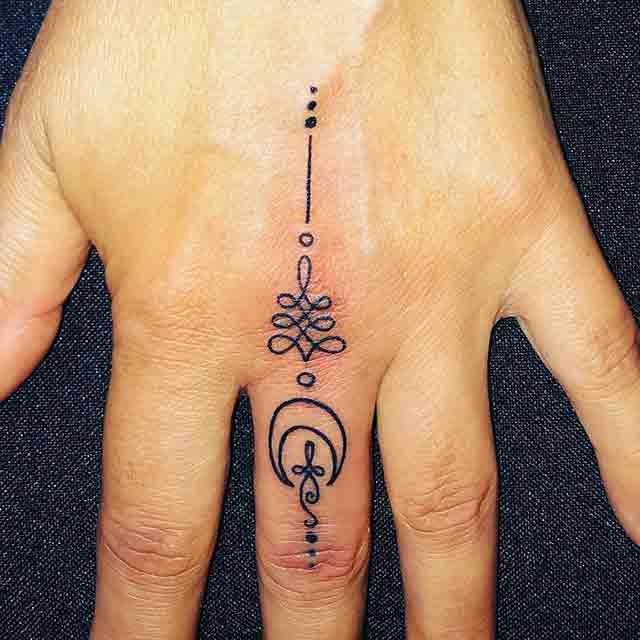 The moon is upside down and accompanied by some filigree design. The minimal design suits the young woman's fingers nicely. Recommended for females with a wide grip.
14. Outlined Moon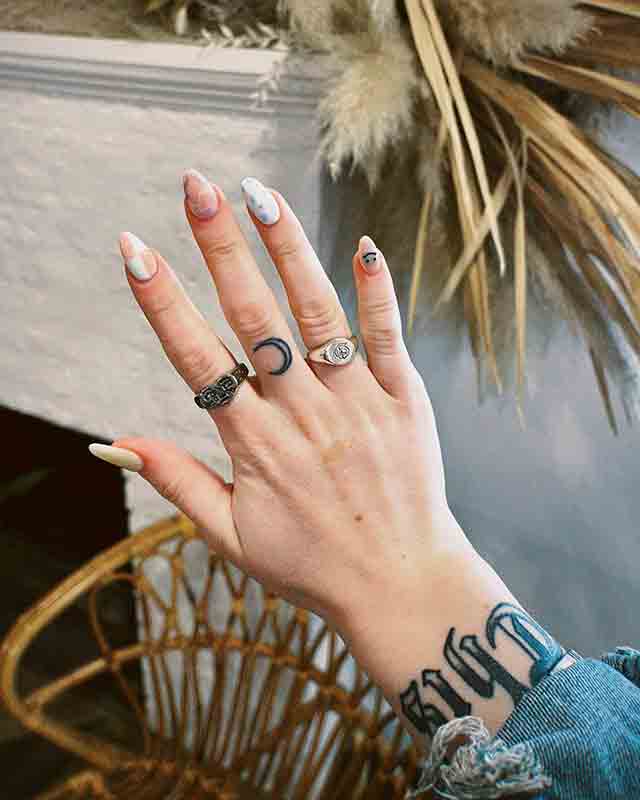 A minimalist approach to a simple finger moon tattoo for women. Only the outline of the moon is inked. It goes nicely with the rings on other fingers. If you love to wear rings on your finger this will go nicely with them.
15. Black Moon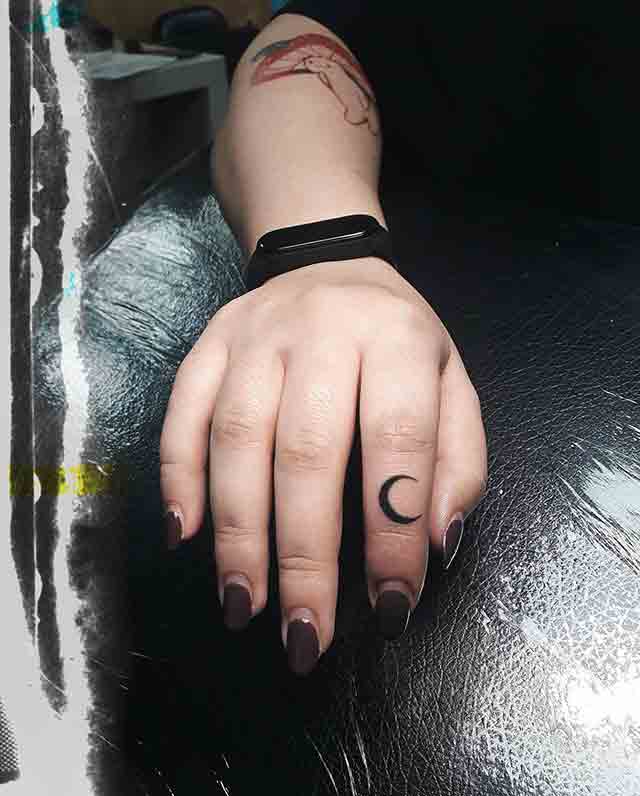 A dark moon is at the epicenter of attraction in this finger tattoo. It has a goth feel to it. If you are a woman who likes to wear clothes in dark colors this tattoo will suit you the most.
Rose Finger Tattoos For Women
A rose represents love & passion. However, it can also mean grace & youthfulness. Women with rose finger tattoos tend to be passionate lovers and full of young energy.
16. Rose Bud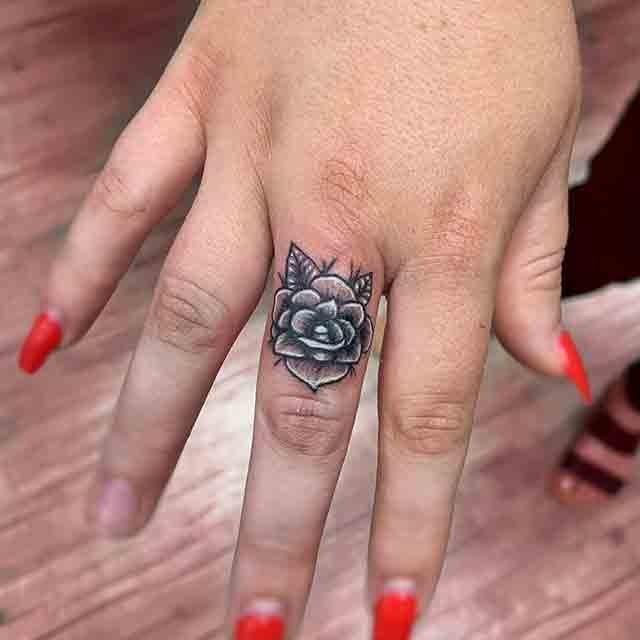 Everyone loves rose. A young rosebud is the main subject of this amazing middle finger tattoo. It shows us the feeling of youth and growth. A suitable choice for young women.
17. Outlined Rose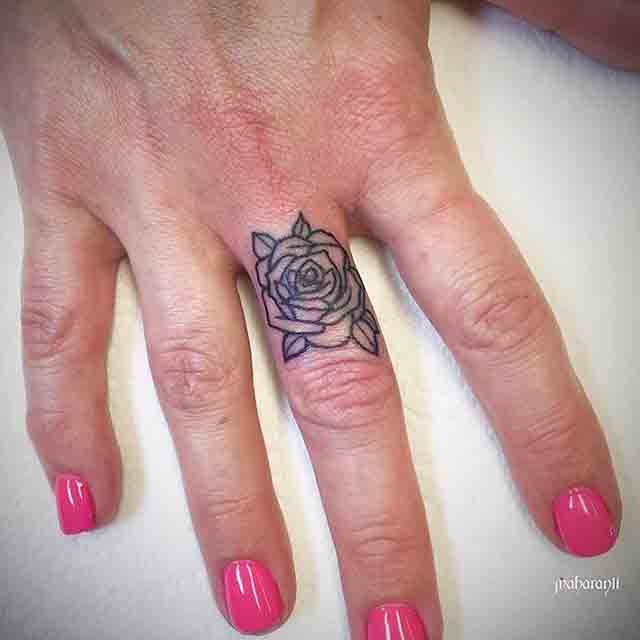 The center of this woman's finger tattoo isn't inked with any color. However, The design is still clearly visible. If she decides to get color in the near future that's also possible. A finger tattoo with future possibilities.
18. Minimalist Rose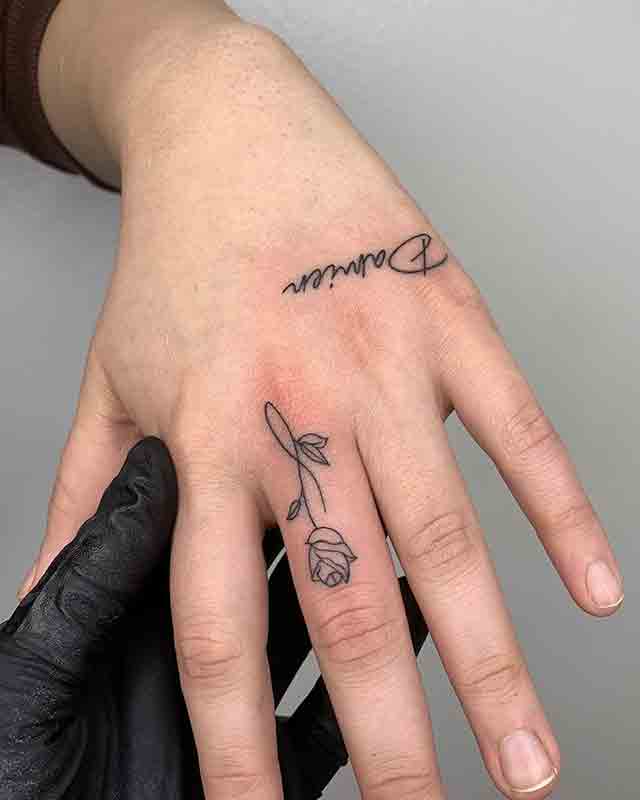 A fully branched rose is drawn with extreme minimalism on her middle finger. The branch is bent over almost like a scribble. The design barely touches her knuckles. A beautiful finger tattoo for women.
Inside Finger Tattoos For Women
The inside of the finger isn't visible all the time. So these types of tattoos are favored by women who want to keep their tattoos a secret. But they can be a bit painful to get.
19. Infinity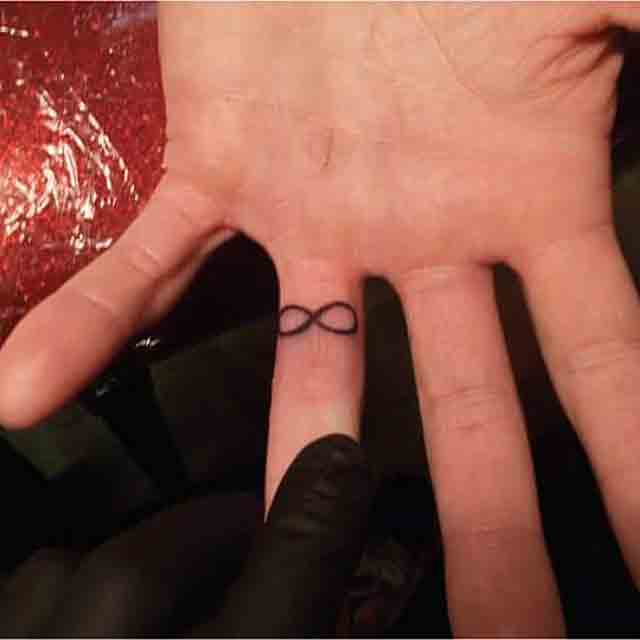 If you are not willing to show your design then this infinity design for females on the inside part of your finger is a great option. The design is drawn with only black ink. However, you won't be able to see it if you wear a ring.
20. Purple Love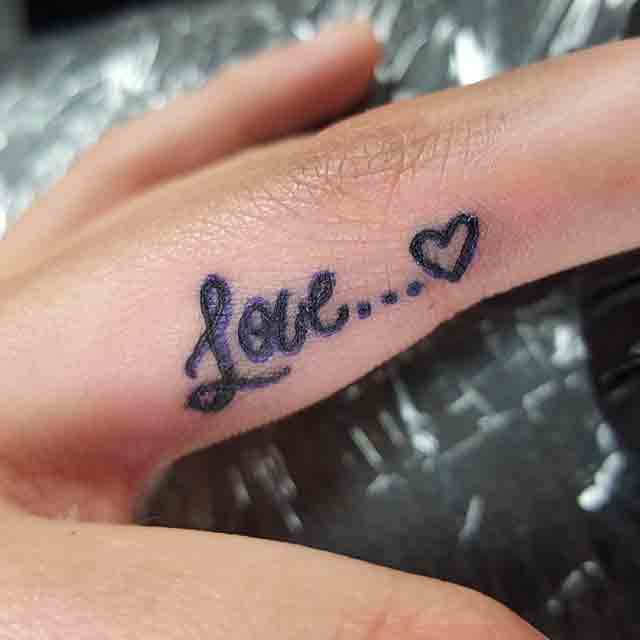 A deep purple color is used as the outside glow for the text. This indicates that the love is yet to turn pink. She needs to work hard to get it to that point.
21. Stay Kind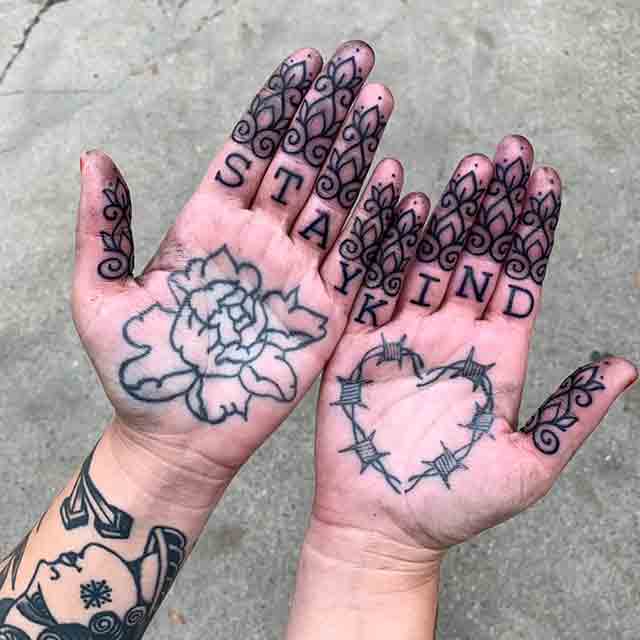 We should always be kind. This piece on this confident girl's hand says exactly that. Each letter is inked on a separate finger which is accompanied by a henna art style.
Side Finger Tattoos For Women
The side of the finger has a more clear surface compared to the other parts of the finger. These tattoos can be colorful too. Women tend to get the side of the finger tattooed to have a more visible and clear piece.
22. Flaming Sword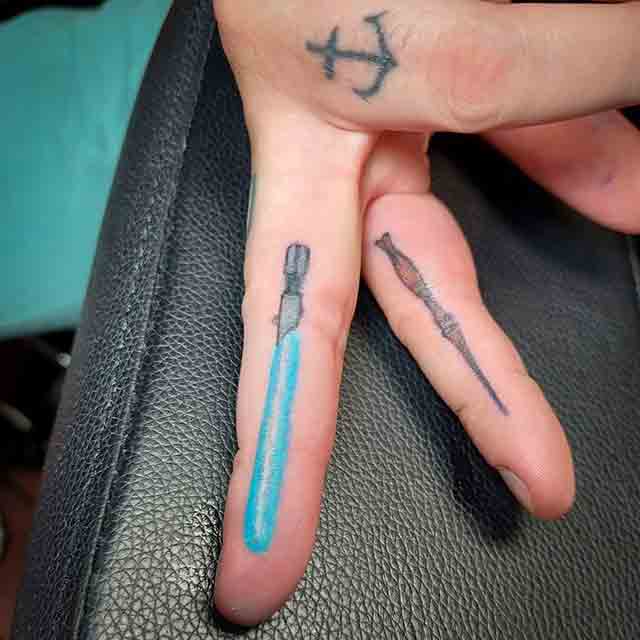 Blue flames are coming out of this lethal sword. It would be a tough challenge to control the blade. The flames add to the lethality of the design. This indicates that the lady is ready to face challenges.
23. Sunflower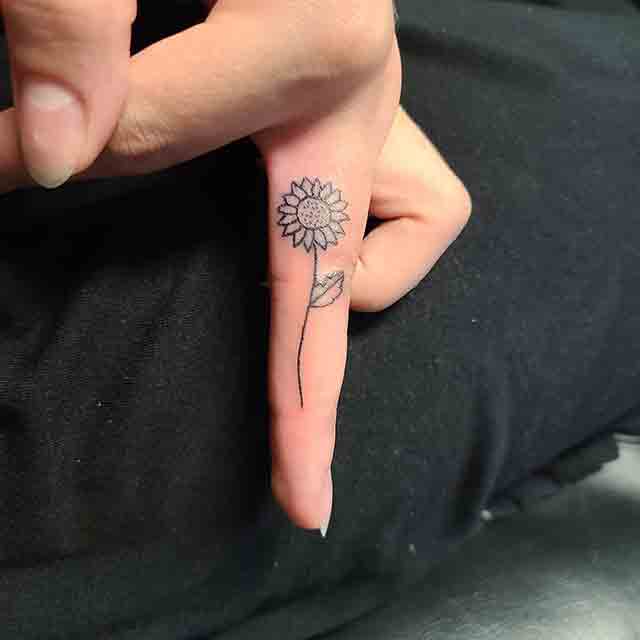 A single sunflower is tattooed on the side of this women's finger. It gently rests between the width of her middle finger. It'll be hard to notice day-to-day occurrences.
24. YSB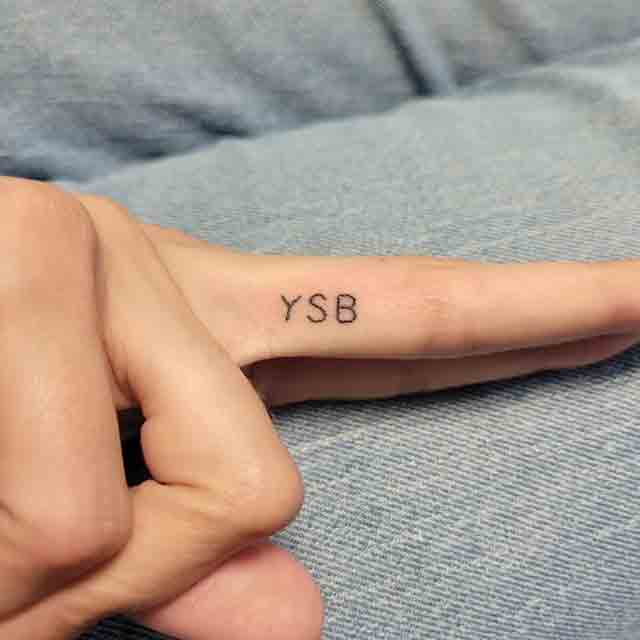 A women's finger tattoo designed to raise awareness. YSB helps youths to address what threatens their physical, carnal, mental, and social well-being. This woman is trying to raise awareness for them. A piece with a noble cause.
Wedding Finger Tattoos For Women
Wedding fingers are also known as ring fingers. However, these tattoos tend to have bold colors in them. If you are getting a tattoo on this finger you won't be able to wear a ring.
25. White Filler
The wedding finger aka the ring finger is filled with a piece that has two contrasting colors. The white filler makes the tattoo more eyecatching. The heart in the middle of this woman's finger piece is representing the love between the couple.
26. Tiny Grass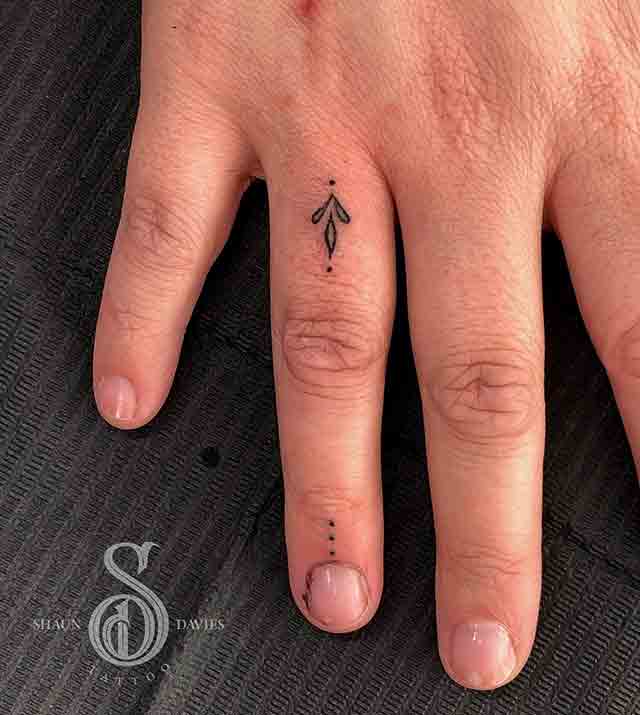 A miniature design of grass is the subject of this piece. The design is so tiny that it can only be seen from close proximity. The three waterdrop-like shapes are acting like the leaves of the grass. It's suitable for women with smaller fingers.
27. Peaking Branch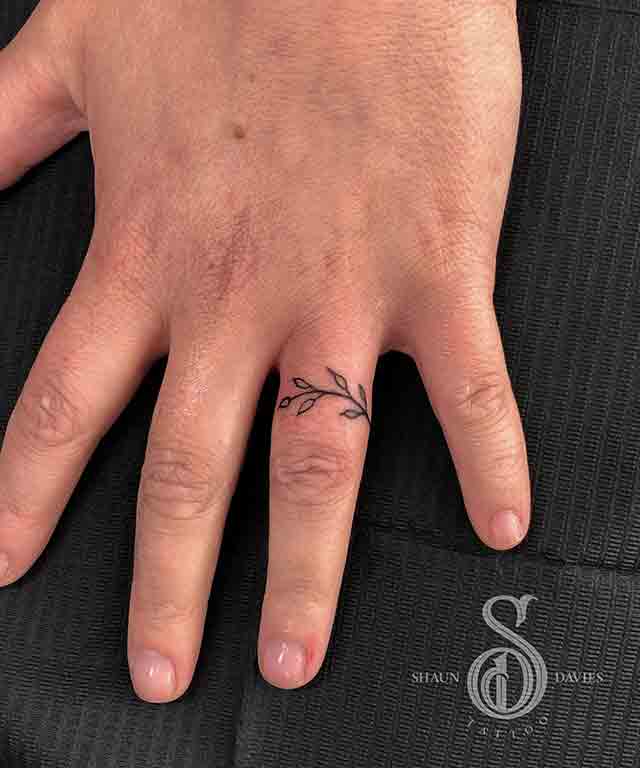 This piece looks like a partial tattoo of a branch that has crawled from behind. It is wrapping around this girl's ring finger like a ring. The leaves are however empty & transparent.
Finger Dot Tattoos For Women
Typically dots are a sign of ending. Women with dots as finger tattoos show that they are ready to draw an end to their previous life chapter & move towards a new one.
28. Dots & Stripe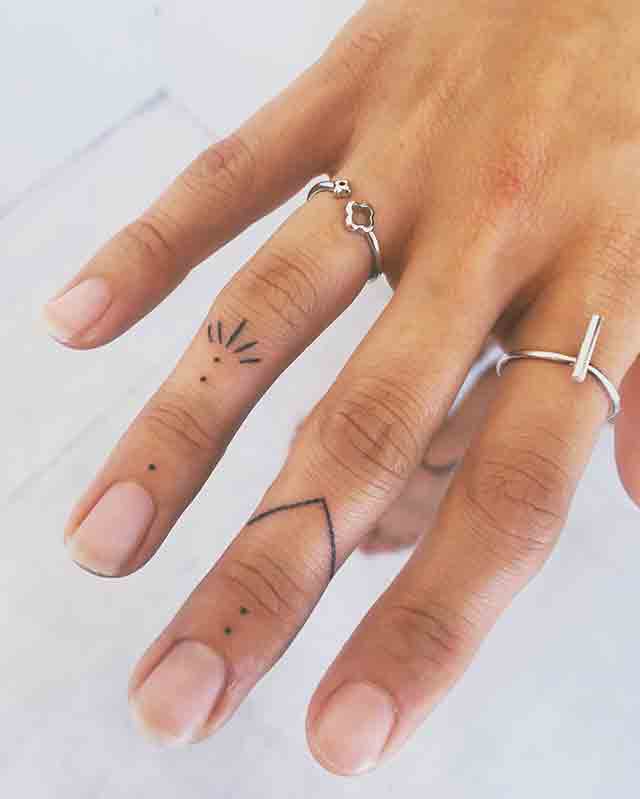 A few dots and stripes have formed this elegant and minimal piece. It kind of represents a sunrise. The stripes are the rays coming out of the sun. One of the most simple finger tattoos for women.
29. Upper Dots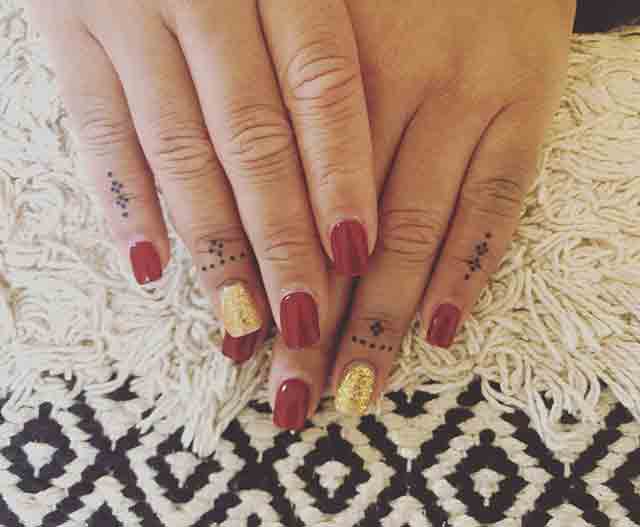 The upper ends of this female's fingers are inked with some small dotted designs. They kind of represent some symbols but don't have other meanings. The only purpose is to look more attractive.
30. 5 V 1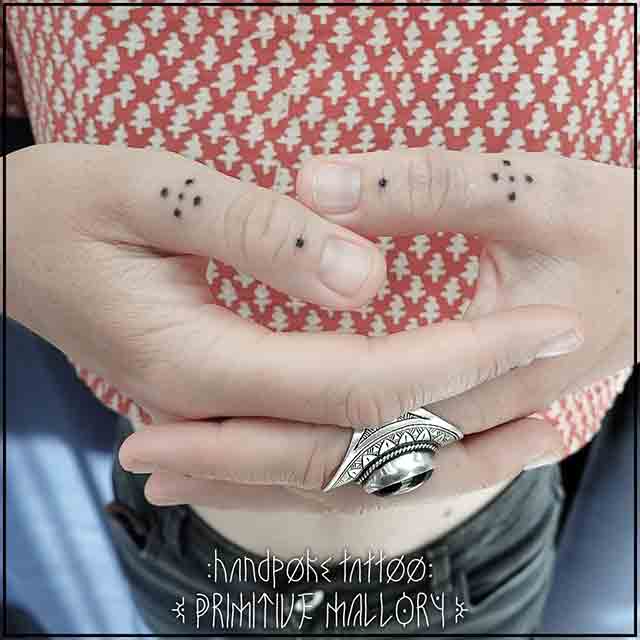 In this finger tattoo for women, on both hands, there are 5 dots on one side & only 1 dot on the other side. They are facing each other. Although the single dot is outnumbered it isn't backing down.
3d Tattoos For Women On The Finger
31. Paws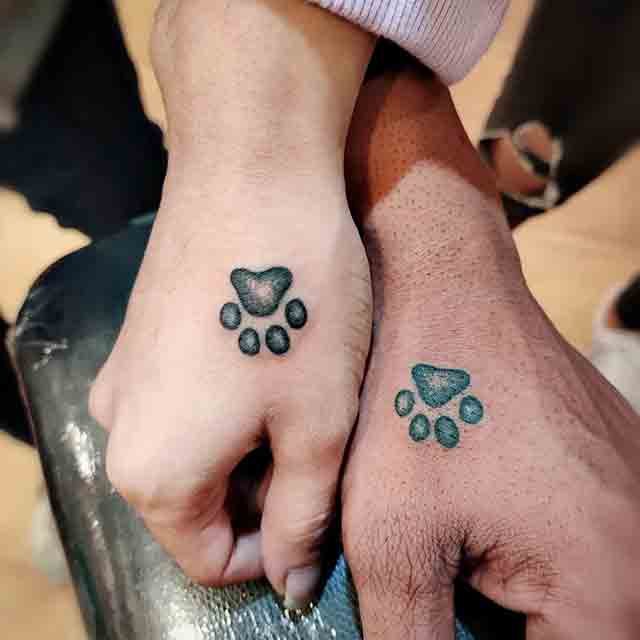 32. Paper Plane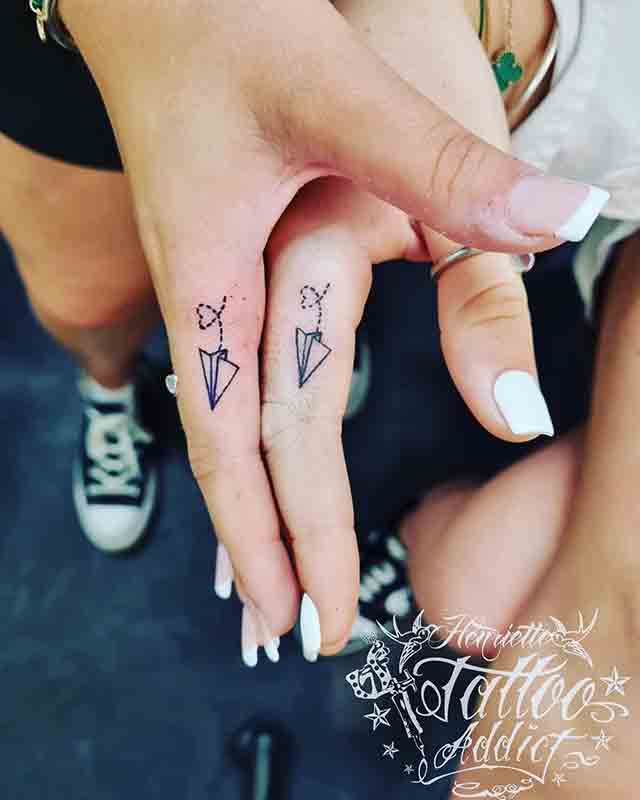 33. Colored Emoji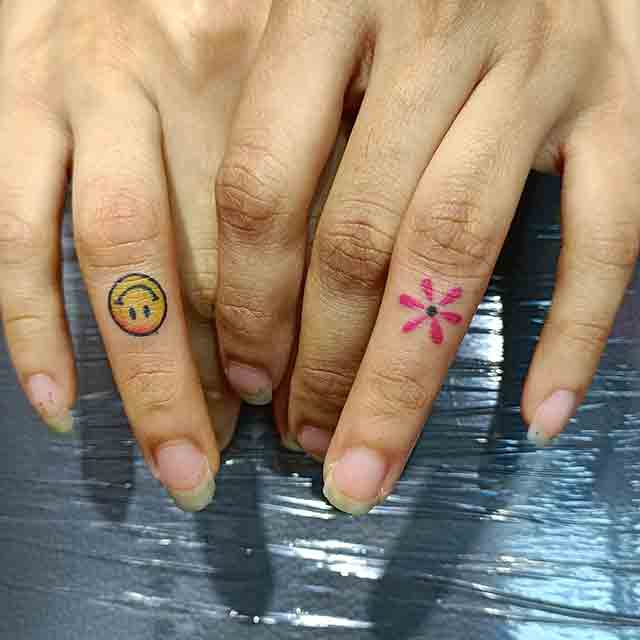 Cactus Finger Tattoos For Women
34. Tiny Cactus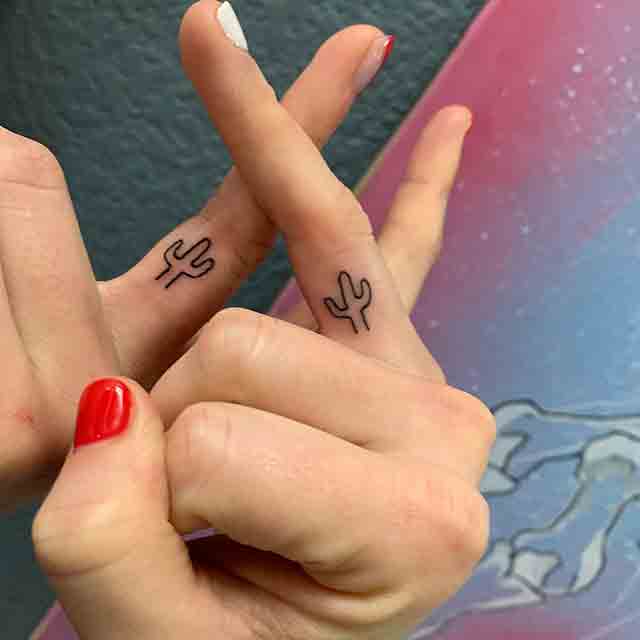 35. Bloomed Cactus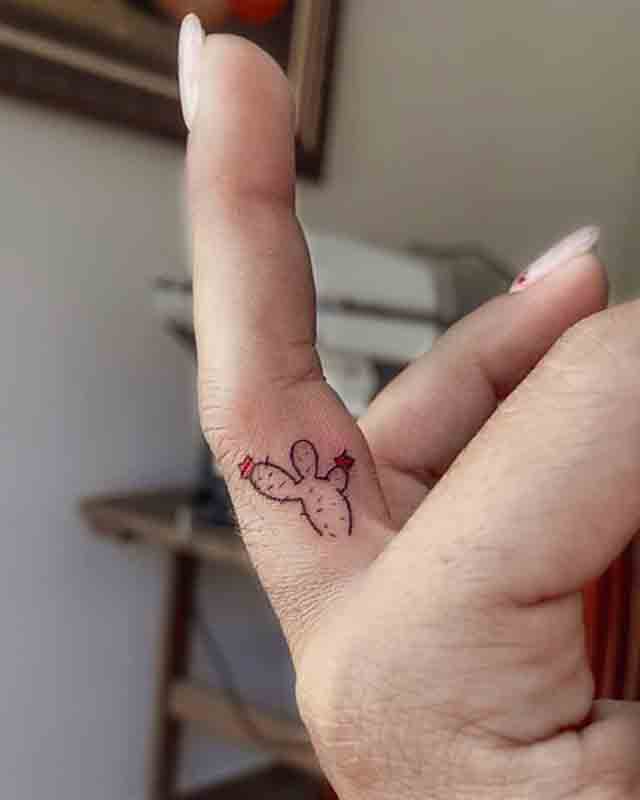 36. Green Hope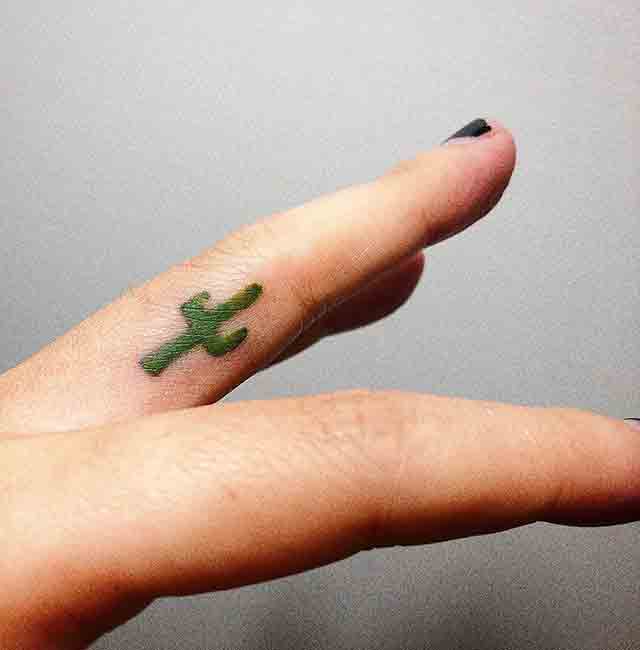 Daggers Tattoos In A Finger For Woman
37. Dagger Trio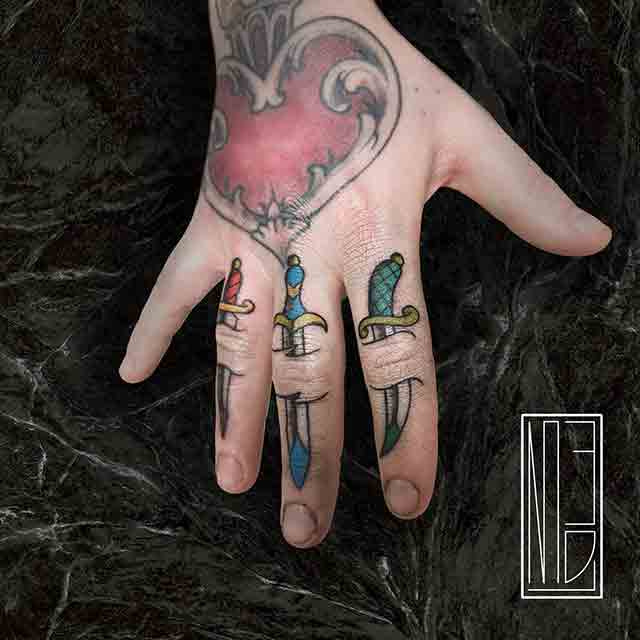 38. Full Thumb Daggers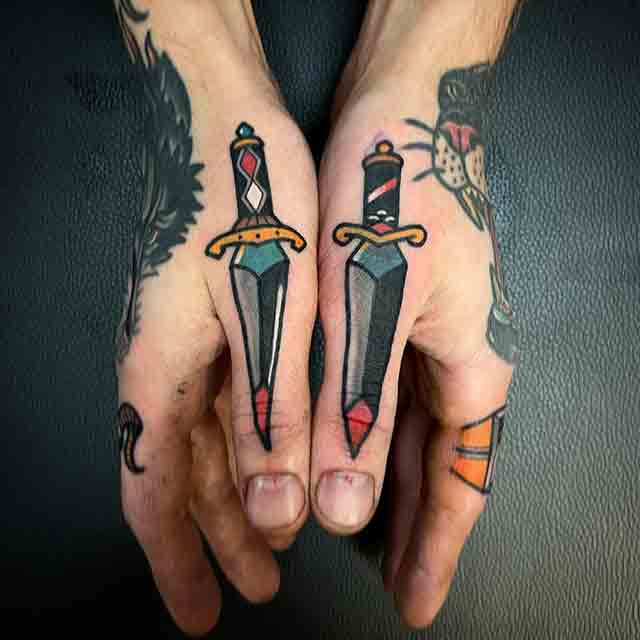 39. Death Bringer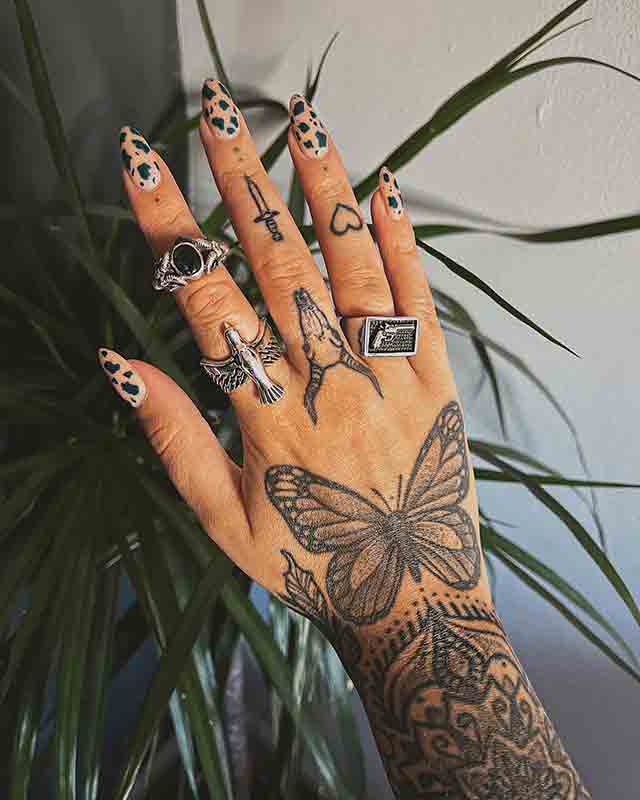 Decorative Finger Tattoos For Women
40. Night & Nature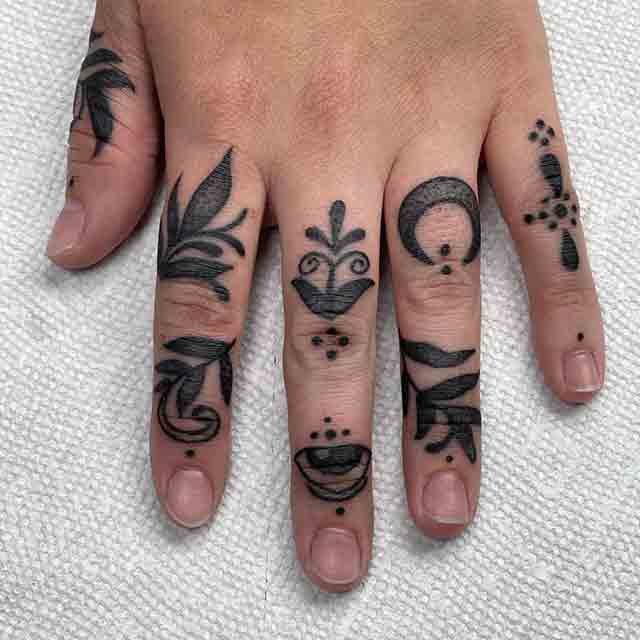 41. Shadows & Reality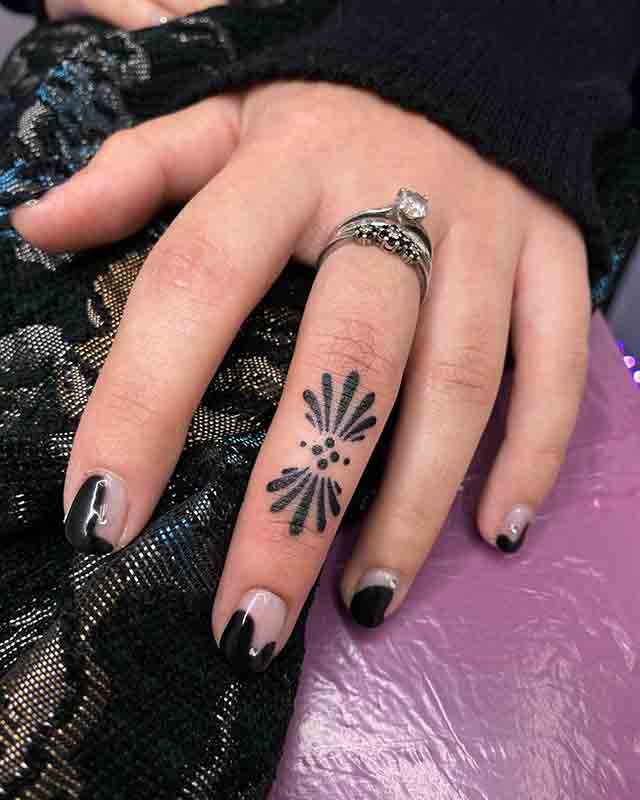 42. Cryptic Message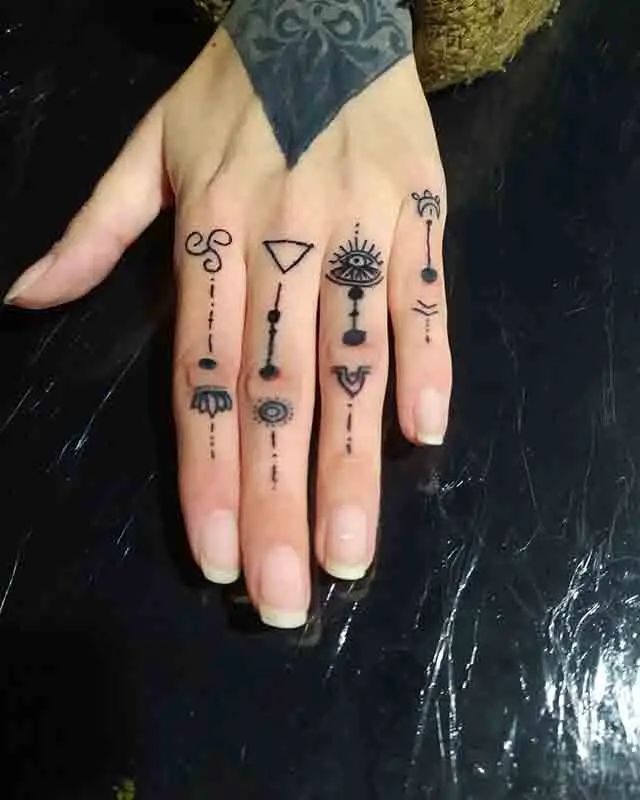 Religious Finger Tattoos For Women
43. Angles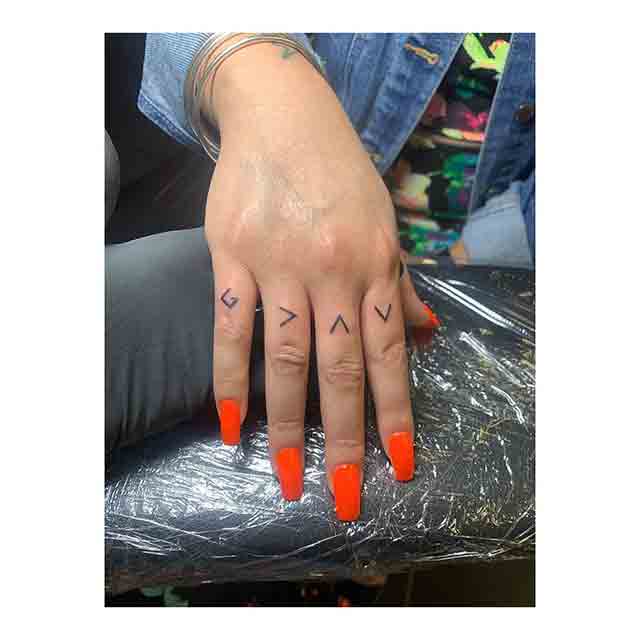 44. Kings Head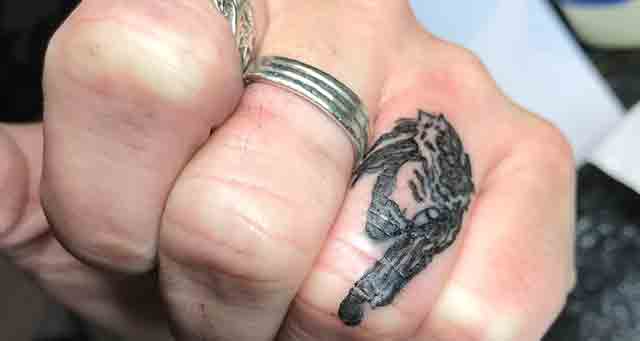 45. Holy Adventure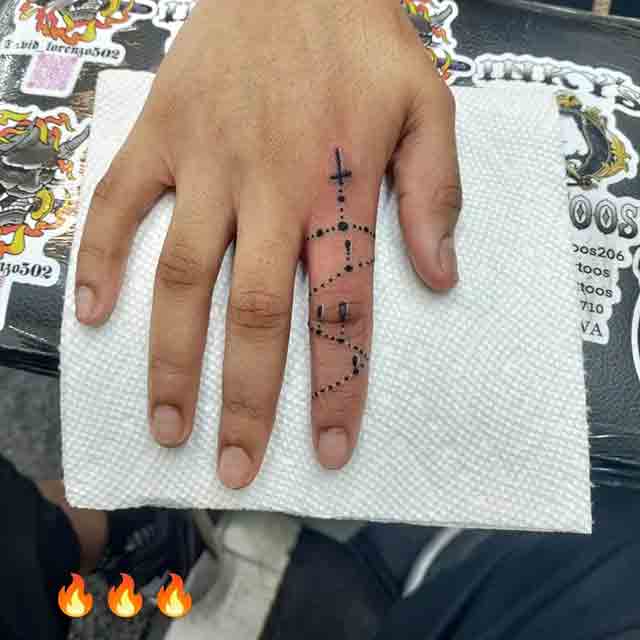 Matching Finger Tattoos For Women
46. Messy Love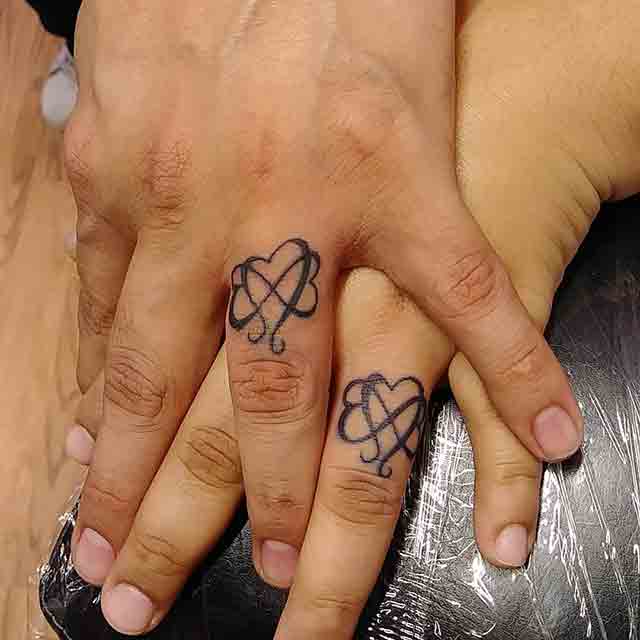 47. Love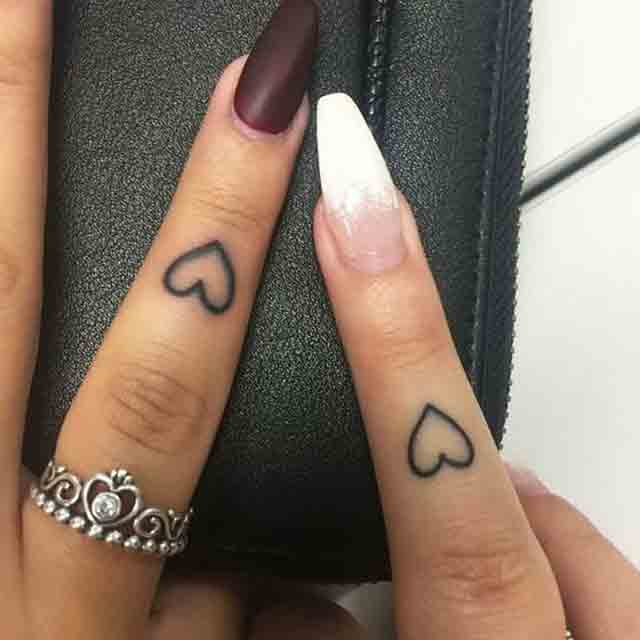 48. Burning Fire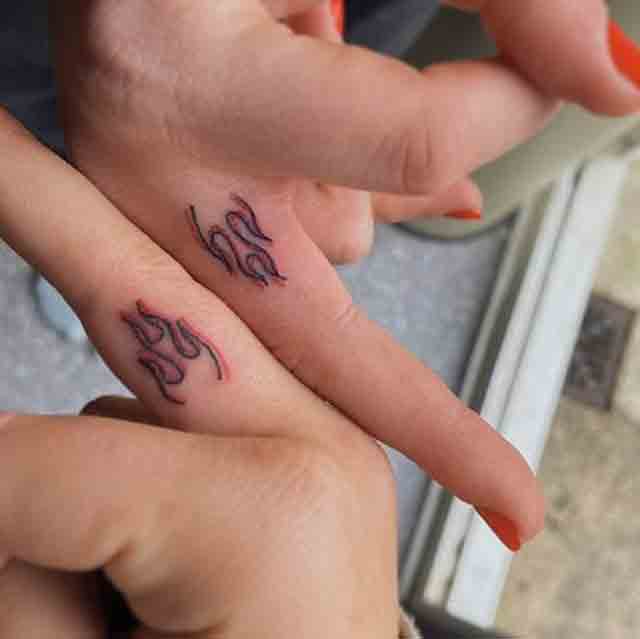 Sun Finger Tattoos For Women
49. Black Sun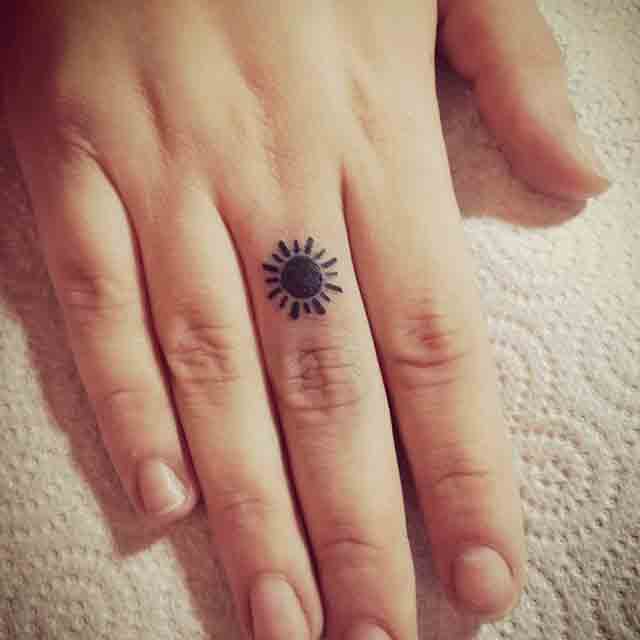 50. Sun & Moon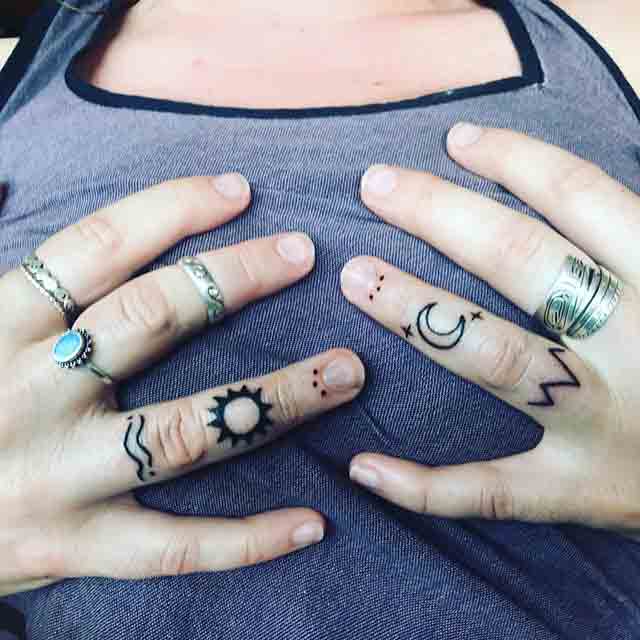 51. Little Sun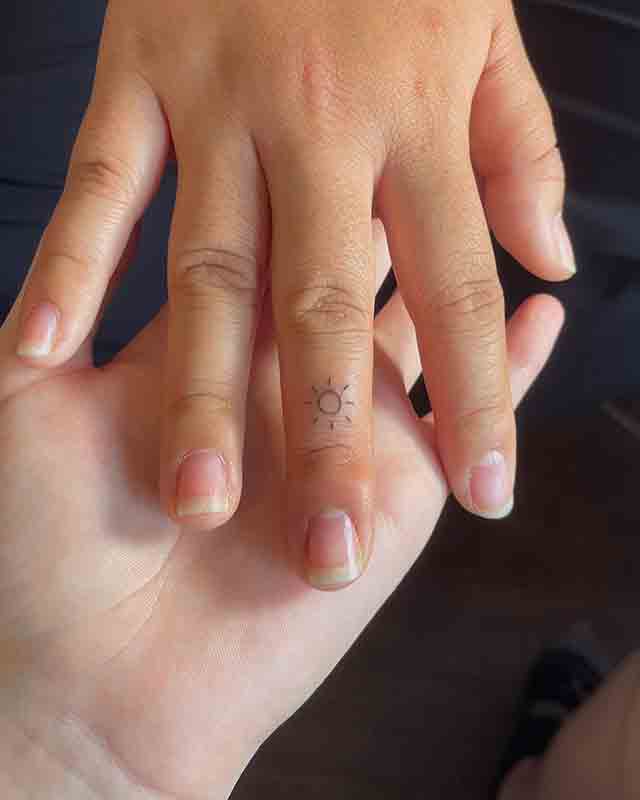 Tiny Finger Tattoos For Women
52. Signature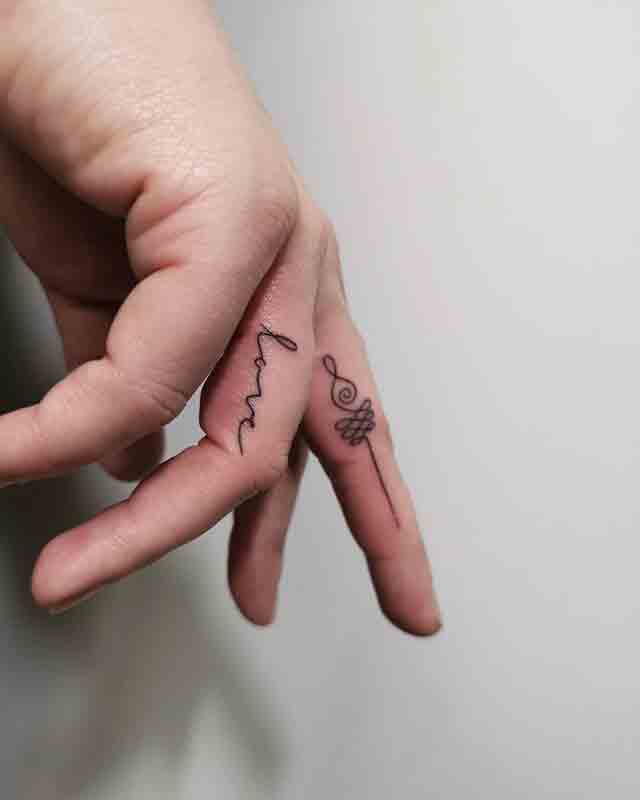 53. Lines & Meanings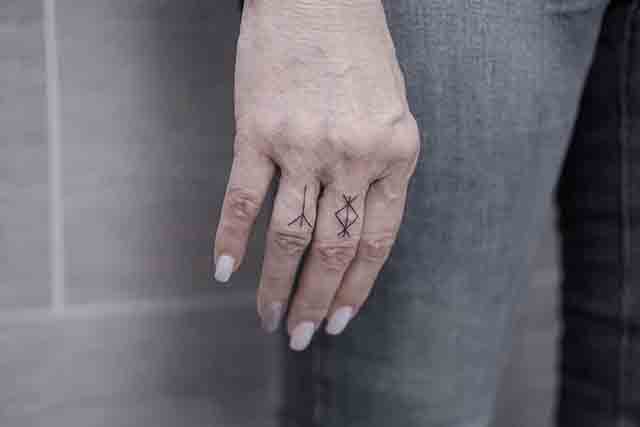 54. Infinite Love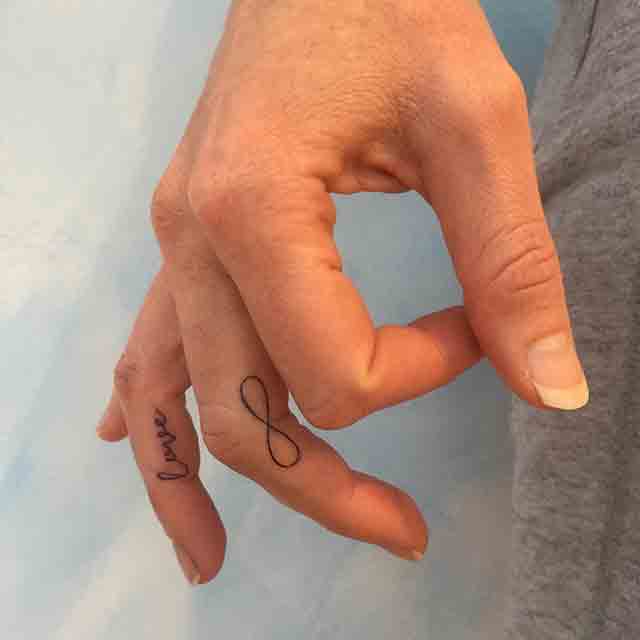 Wave Finger Tattoos For Women
55. Pinky Wave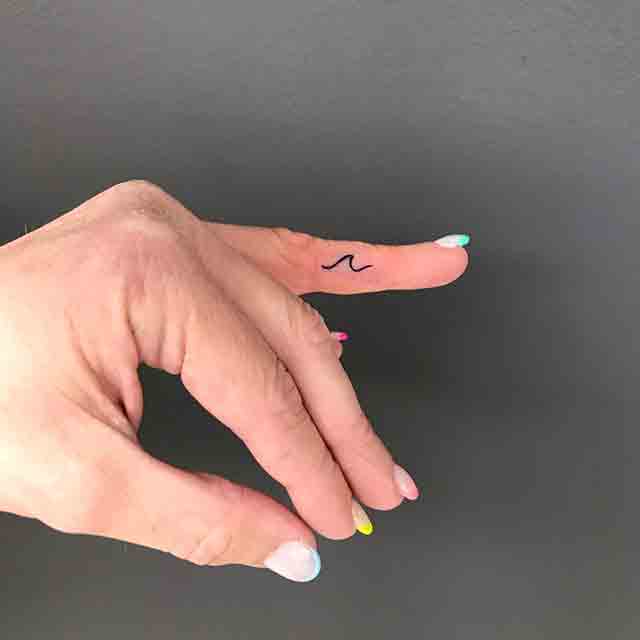 56. Sunny Day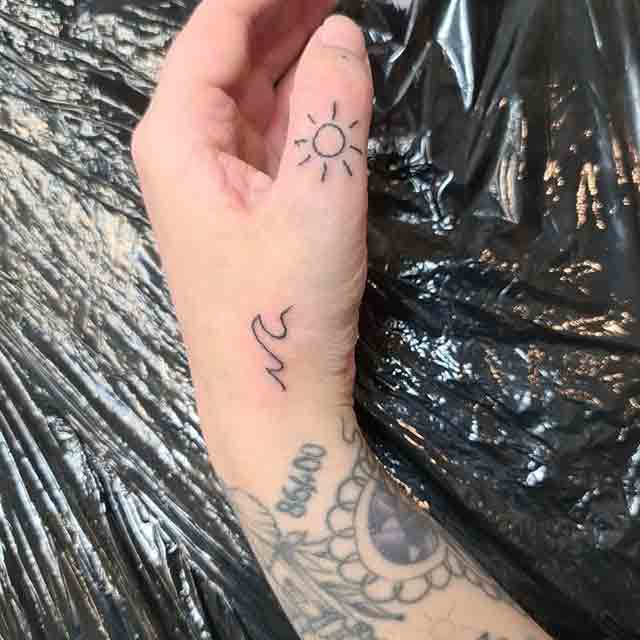 57. Wave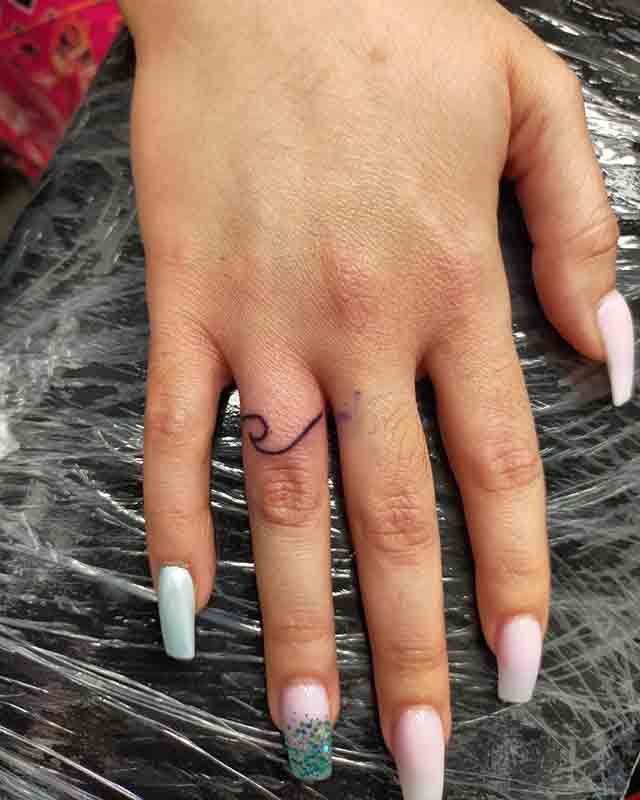 Conclusion
Finger tattoos for women are a sign of elegance and a sophisticated look. Try to avoid using colors on them. You also need to have some extra time in hand to let the tattoo heal. Choose a design that fits your finger nicely and consult with your artist to get their opinion too before getting a tattoo. They'll surely boost your attractiveness and looks.
FAQ
How much are finger tattoos (how much do finger tattoos cost)?
Usually, finger tattoos cost $50 to $120.
How much is a small finger tattoo?
A small finger tattoo can be as low as $50. But if the design is complicated, it can cost significantly more.
What do finger dot tattoos mean?
Dot tattoos on fingers mean an end to something.
What does a tattoo on the ring finger mean?
A tattoo on the ring finger means honor & devotion.
Are finger tattoos a bad idea?
No. In fact, they are a great choice.
Do finger tattoos hurt? (how badly do finger tattoos hurt)?
Fingers are very sensitive. So naturally, they hurt when getting tattooed.
Do inner finger tattoos hurt?
Yes. Inner finger tattoos are quite painful.
How long do finger tattoos last?
Typically finger tattoos will last between six to eight months. However, if you take good care of your fingers they can last up to one year.
Why do finger tattoos fade?
Fingers are some of the most used body parts. Due to the constant friction, moisture, heat, etc, they fade very quickly.
How long do finger tattoos take to heal?
Finger tattoos take about 3 to 6 weeks to heal properly.
How to care for a finger tattoo?
Here are some ways to care for your finger tattoo:
Always try to keep your hands dry.
Avoid constant rubbing of your fingers.
Don't pick on your skin if it starts to peel.
Try to apply moisturizers regularly.
Don't expose your fingers to direct sunlight. etc.