Chest tattoos for men are a sign of dominance and power. They are heavily appreciated for their bold look and masculine nature.
For almost every type of skin and body shape for men, there is some variation of chest tattoo. It is also believed that men with chest tattoos like to face challenges and face everything that comes in front of them.
Throughout the year, men's chest tattoos have gained many styles and adapted new looks that always keep them in trend.
In this article, I'll cover some of the best chest tattoo ideas for men so that you can take inspiration and get one for your own. So, let's get started.
Chest tattoo ideas for men
As mentioned earlier, Chest tattoos are one of the most dominance-showing and aggressive tattoos that embraces a man's masculinity. Naturally, they are more preferred by men as compared to women. Chest tattoos come in many sizes and meanings. They are often used with shoulder and arm tattoos to create new styles. Below are some of the most popular and attractive chest tattoos for men.
1. Half Chest Tattoos
Half chest tattoos refer to a style that only covers one portion of the chest. They are also divided into other subcategories such as right half, left half bottom half, etc. Either way, they are one of the most popular variations of chest tattoos for men.
Traditional Half Chest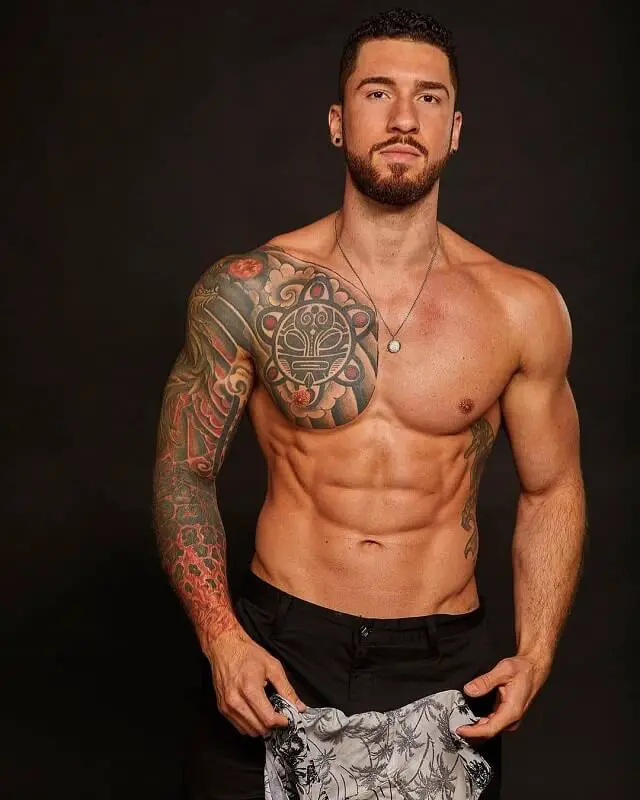 This is a very popular, if not the most popular, chest tattoo style among mature men. Usually, the torso is covered with elements that represent people from many traditions. In this case, it's a symbol of an ancient tribe's head along with a being that has a head made from fire.
Old Carrier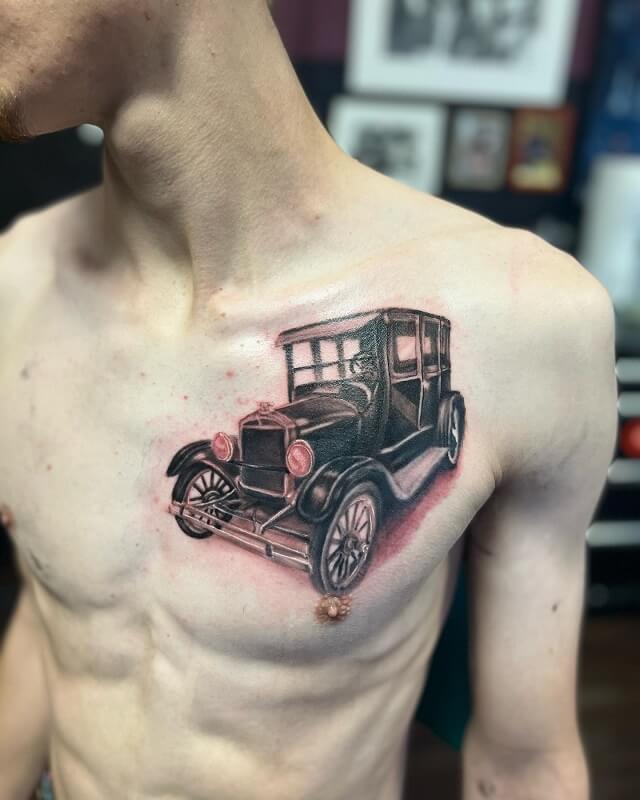 A classic old-fashioned car is drawn on the left half of this young man's chest. The car has a rustic look and the red shadows add more depth to the tattoo.
Bold Patterns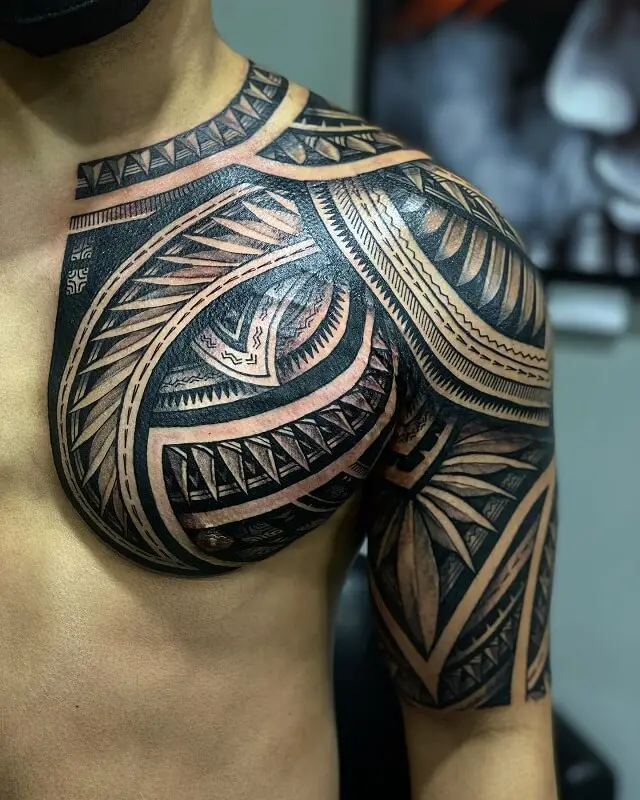 Patterns are heavily used in chest tattoos. The sharp blades form a wing and the long lines look like outlines of the wings. The black shades are adding new dynamics to this tattoo, which makes it pop on this masculine man's upper body.
2. Chest Tattoos For Black Men
Chest tattoos go nicely with almost every man, regardless of skin color. Especially, darker tattoos add more complexion to the skin and make them more attractive.
Ancient times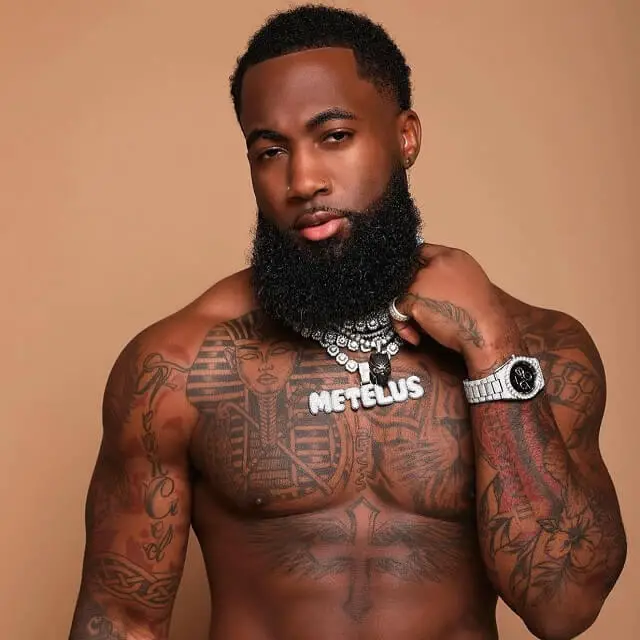 A highly detailed tattoo on a dark man's chest represents ancient Egyptian times. There's also a cross in the middle of the tattoo. The pharaoh symbolizes the ancient rulers.
Superman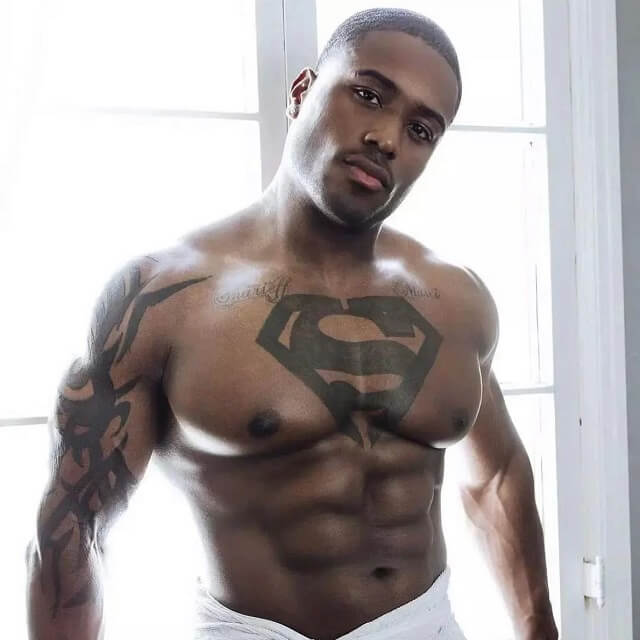 Superman is the symbol of hope and unity. A black man with the superman symbol on his chest with a masculine body reminds us of that belief.
Total chaos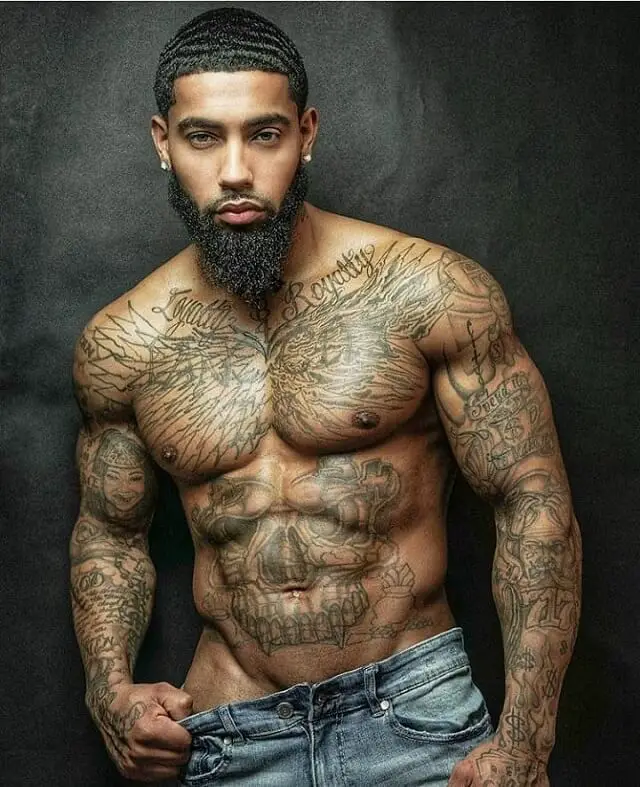 The tattoo on this man's upper chest looks like a total mess. The chaotic design carries the meaning there's no beauty without chaos & destruction.
3. Full Chest Tattoos
Sometimes chest tattoos are drawn all over the front upper body area of a man. It is commonly known as full chest tattoos for men. There's a huge demand rising for these types of tattoos.
Axed Devil head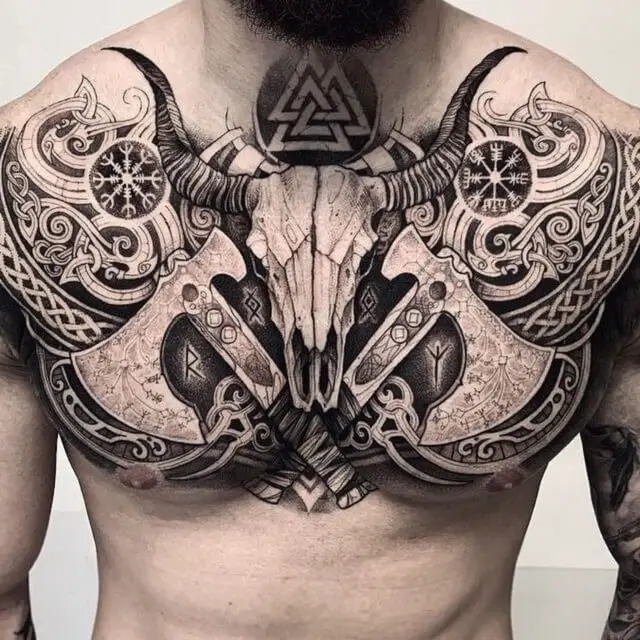 A Devil's head is the center of attraction in this piece. There are two axes crossing each other at the center of this young man's chest. This reminds us of the wrath of the devil and his nature of punishing others.
Mighty Owl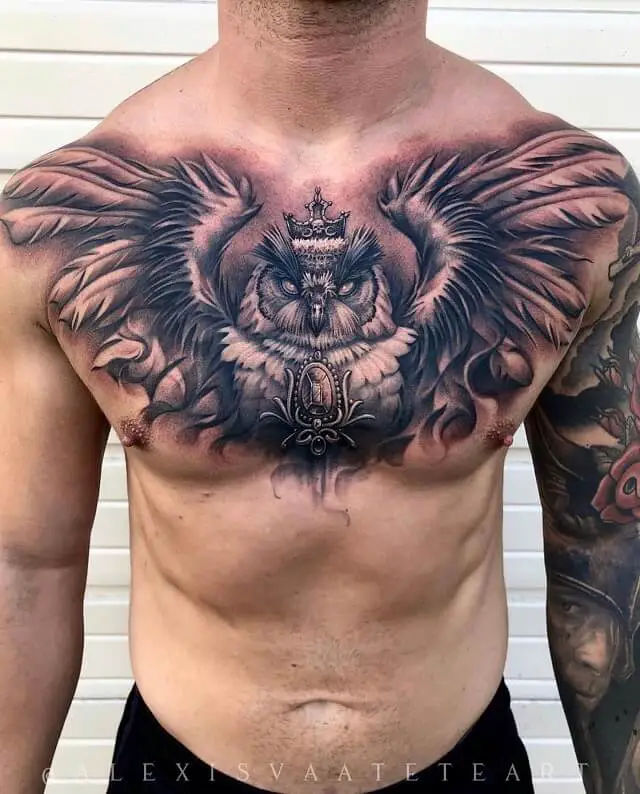 Owls are nocturnal animals and like to hunt down prey. A majestic owl can be seen with its wings wide open and ready to attack at any given moment. The man is bearing it on his chest proudly.
Steel and Color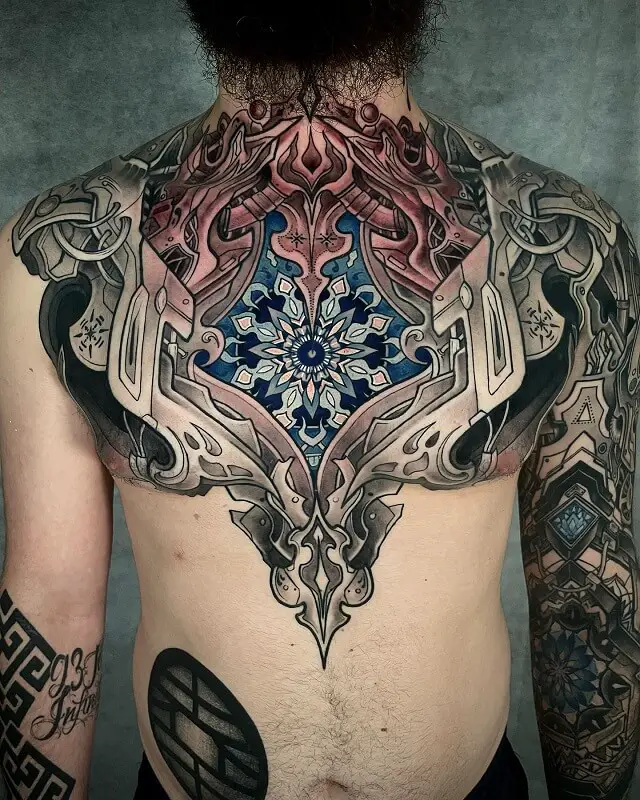 This tattoo contains gorgeous patterns made of steel throughout the chest area of this gentleman. The blue color on the center of this tattoo gives it some extra depth & the red adds some flare on top to this chest piece.
It's believed that there is some kind of stairway to redemption and reaching the holy lands of heaven. These types of chest tattoos highlight that aspect and give meaning.
Pegion of Heaven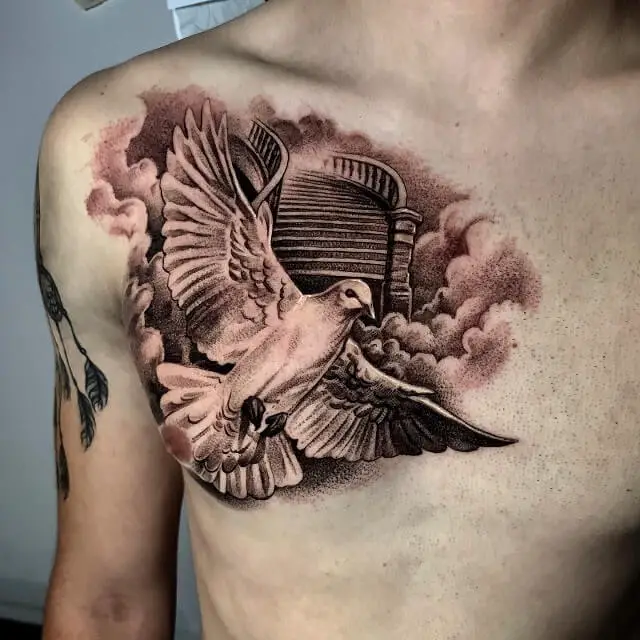 Pigeons are symbols of love and purity. A white pigeon is flying around the stairs which tells us that only the pure-hearted man can reach the holy lands.
Sun kissed gates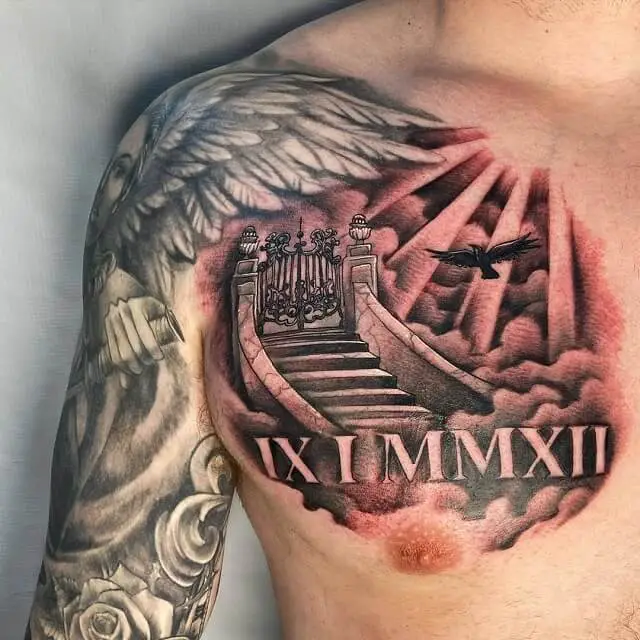 The gates of heaven inked on this man's chest are lightly kissed by the shining red rays of the sun. A beautiful combination of shades and color. An amazing variation to try as a joint chest and arm tattoo.
Winged Roads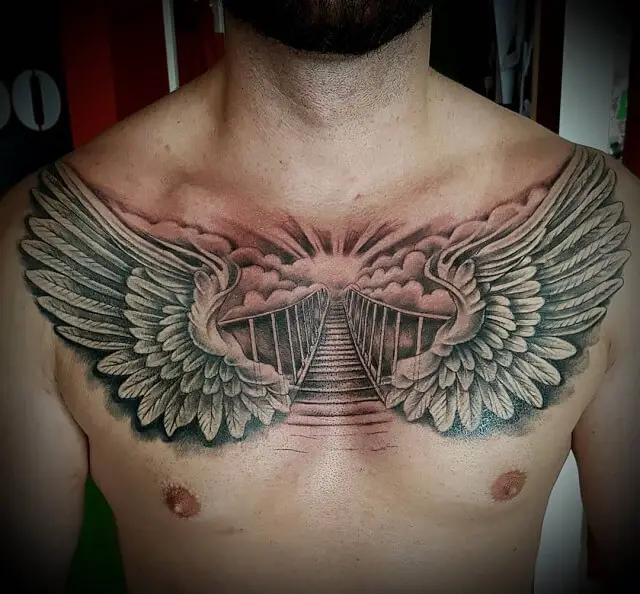 The stairs to the gates of heaven have two wings in this chest piece. It represents the angles guarding the stairs. This person hopes that he will pass the gates.
5. Lion Chest Tattoos
A lion is the king of the jungle and when it's drawn on as a chest tattoo on men it represents power, royalty, and dominance.
Lion side chest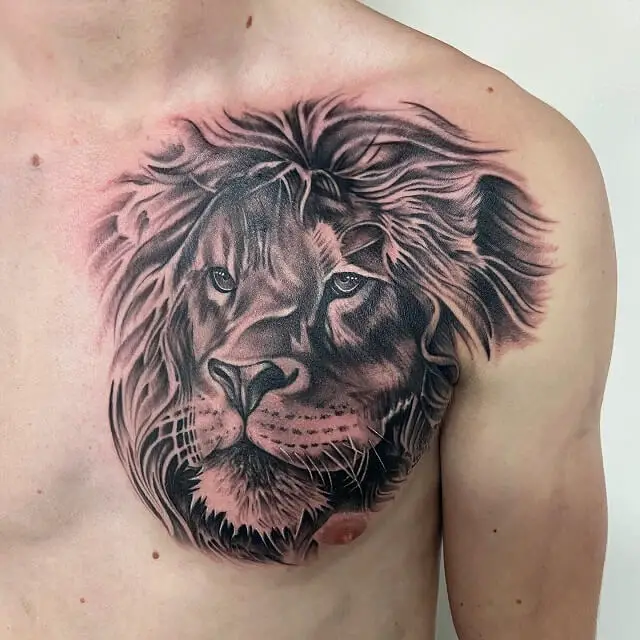 A lion is drawn on the left side of a man's chest. It symbolizes his dominant nature and his thriving for power. The red tint gives this chest tattoo a more aggressive look.
Blue Eyed Lion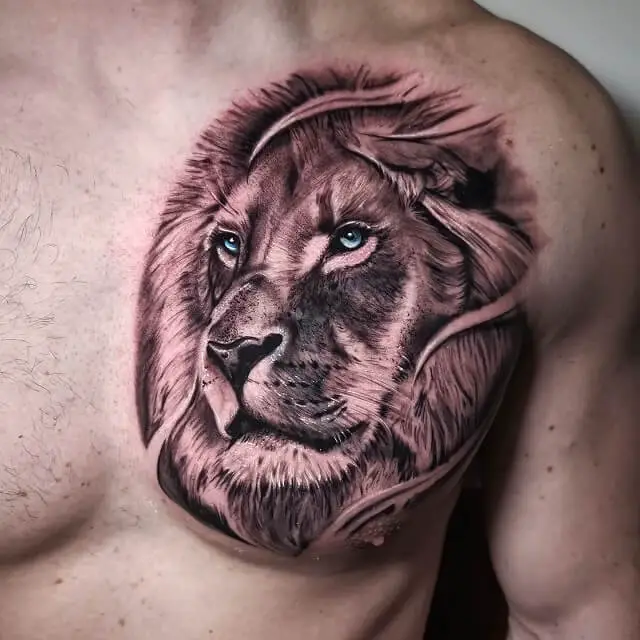 The blue pearl-like color on this man's tattoo gives this piece a realistic vibe. The lion is looking determined in this tattoo. The blue eyes add more realism to this torso piece.
Lion and Rose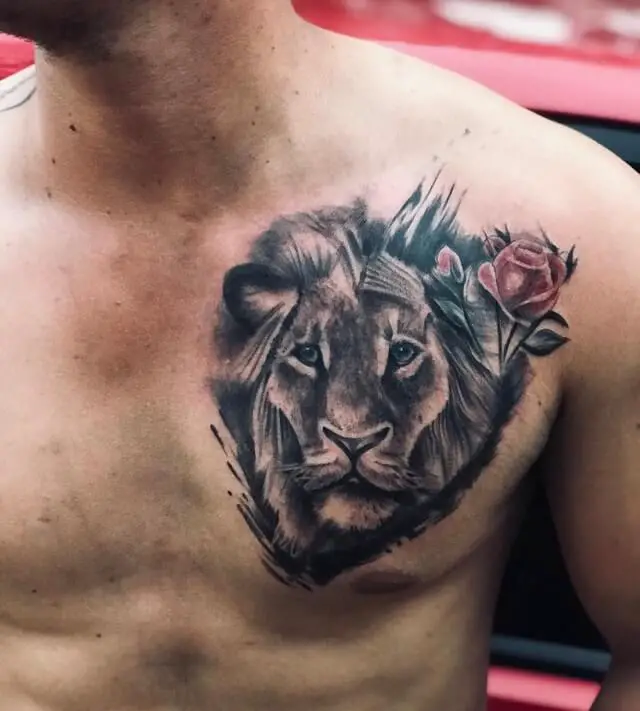 Rose is well known as the symbol of love. The rose on Lion's hair tells us that although it might look ferocious it still has love in the heart. Just like the man in the picture.
6. Rose Chest Tattoos
A gorgeous rose has always been a choice for tattoo artists to be used as an element on chest tattoos. They present a fresh and unique look to those tattoos.
Stabbed Rose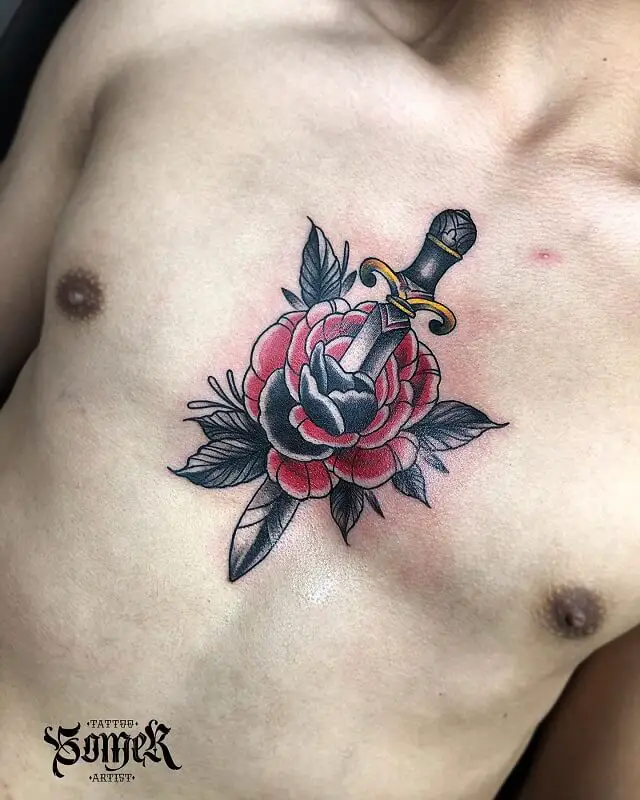 The innocence of the delicate rose is exploited in this tattoo. The blade is piercing through the heart of the rose. An amazing variation of center chest tattoos for men.
Giant Rose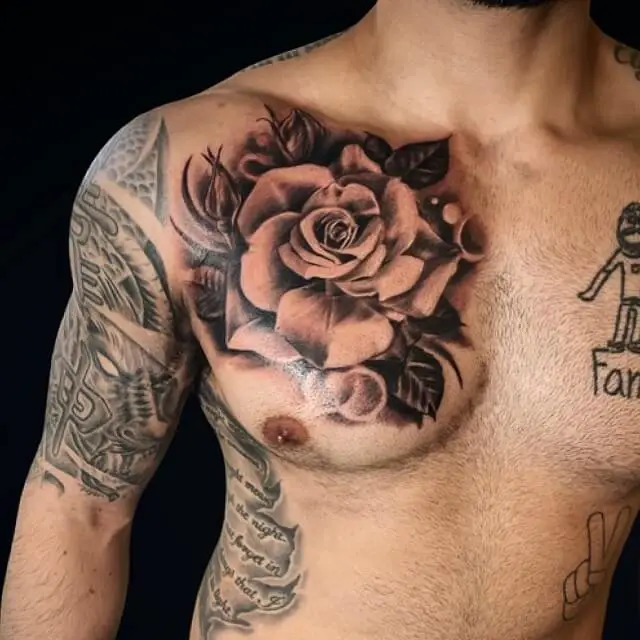 A huge black and white rose is drawn on the right chest of a man. The cheerfulness is gone from the flower as well as the caring nature of the tattoo bearer.
Rose & Bull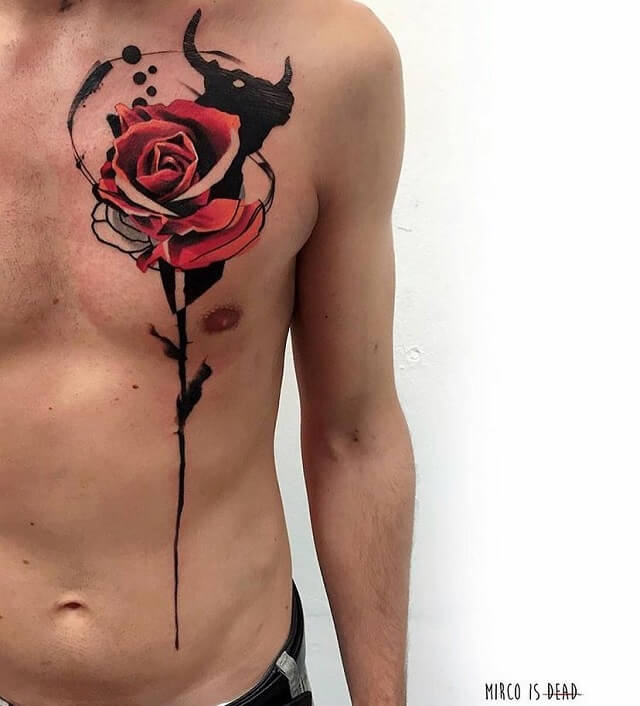 Typically rose is mixed with an element that represents care and delicacy. However, in this tattoo, a bull has been added to add a new dynamic and meaning to the piece drawn on this young lad.
7. Tribal Chest Tattoos
Tribal tattoos are a representation of different tribes and their cultures. They are heavily used in chest tattoos for men.
Joint Tribal Chest and Shoulder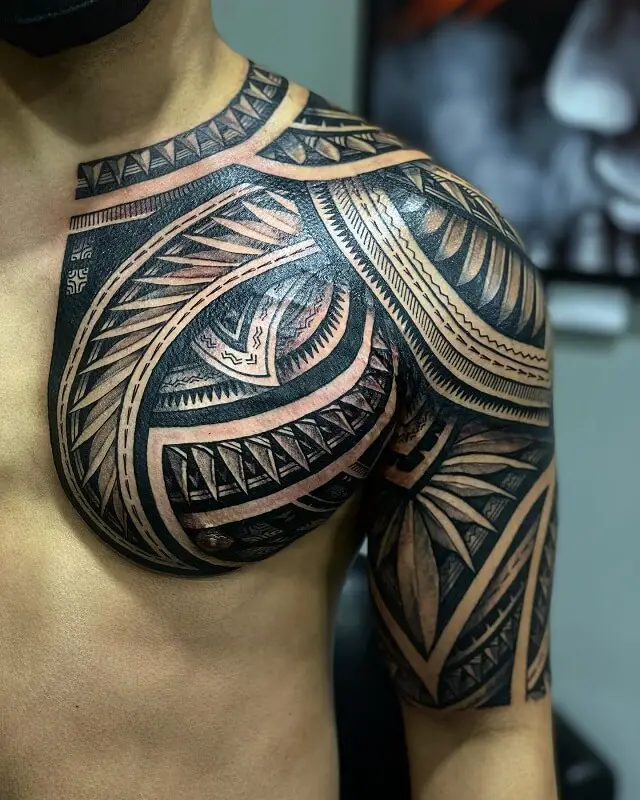 There's hardly any space between the two sections of the man's tattoo pieces. The shoulders and chest are covered with a tribal tattoo pattern that's impossible to differentiate.
Blocked Tribal tattoo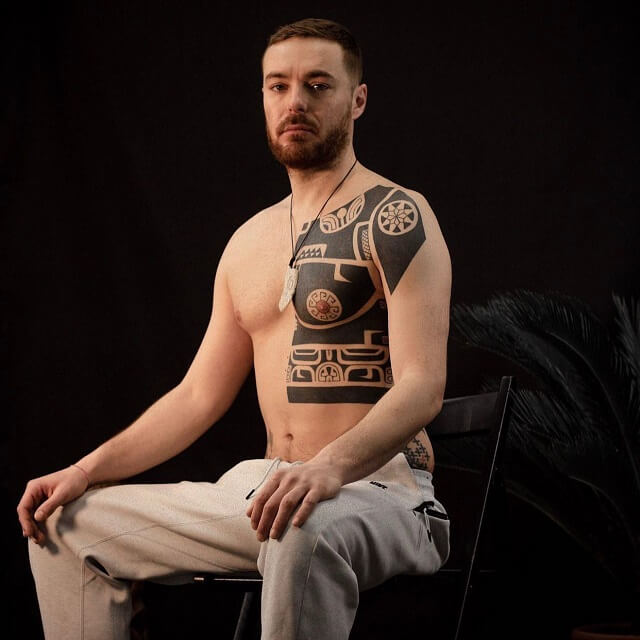 In this piece, the black color is heavily used to create blocks of black colors on his chest. This tattoo is covering the left side of his upper body and looks bold.
Tribal Face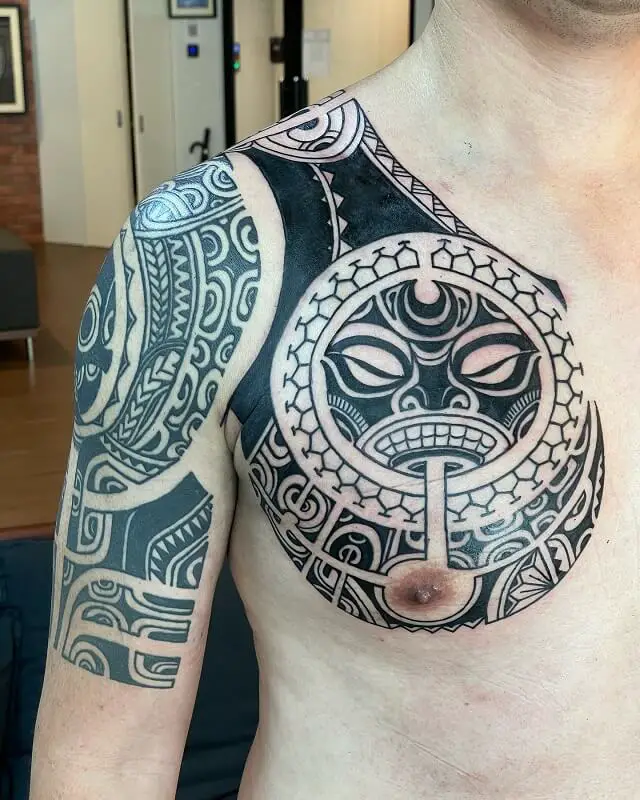 Many ancient drawings are part of tribal tattoos on man's chests. In this instance, there's a face highlighted in the middle that shows mystical bonds.
8. Angel Chest Tattoos
Angles are often associated with chest tattoos. They are used to reflect different human nature.
Angel & Gun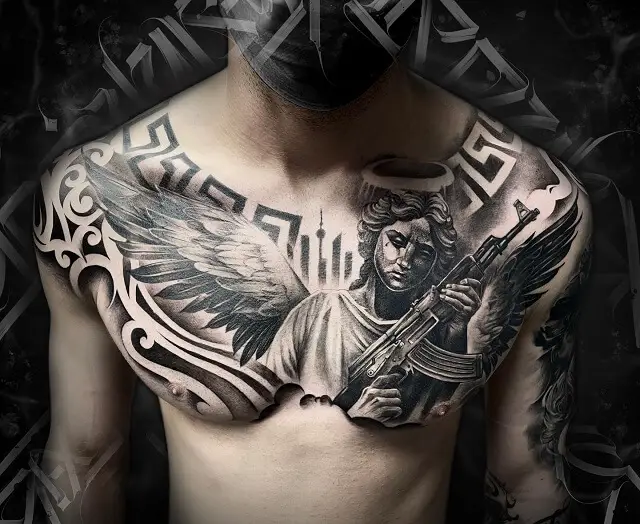 There's an angel who's looking very angry and is holding an AK47. The gun works as the vessel of his wrath upon a certain matter.
Protector Eagle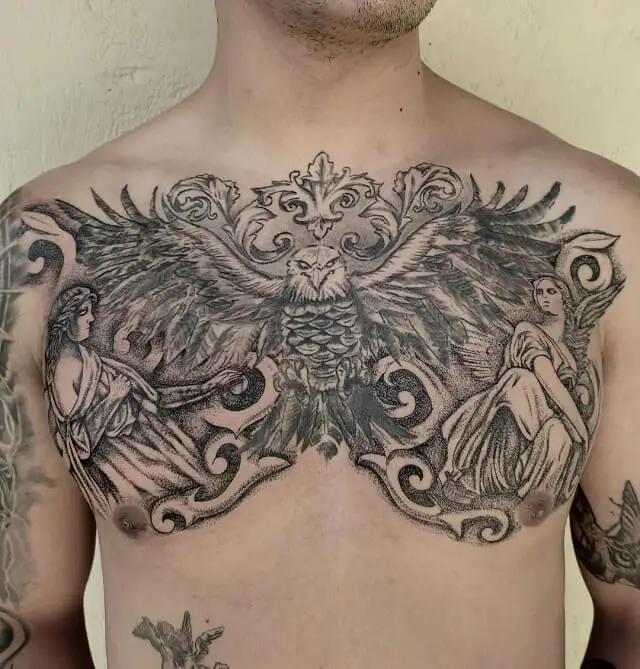 Two innocent angels can be seen sitting down while an eagle with its sharp claws and open wings is trying to shelter them. The eagle would do anything in its power to protect them.
Male Angel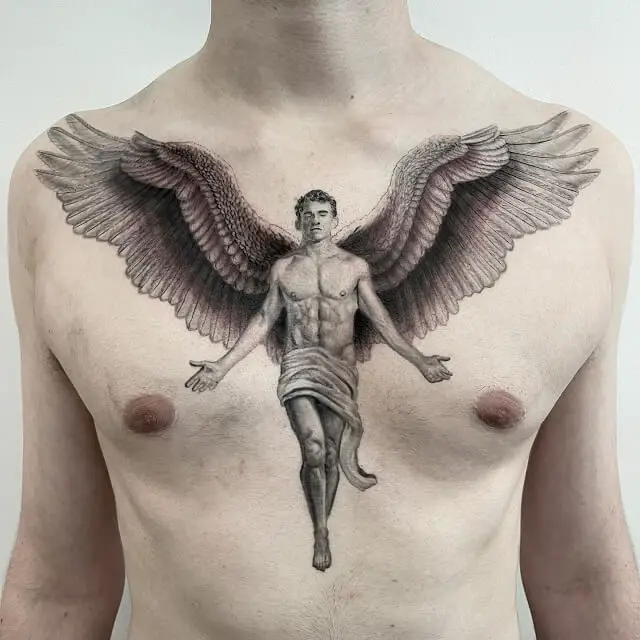 An angel with an attractive figure has its arms wide open. The tattoo is covering the entire chest area. The ink work on the wings is a true form of art.
9. Jesus Chest Tattoos
Jesus was known for his sacrifice and suffering. Jesus chest tattoos are used to describe those pains through many designs.
Realistic Jesus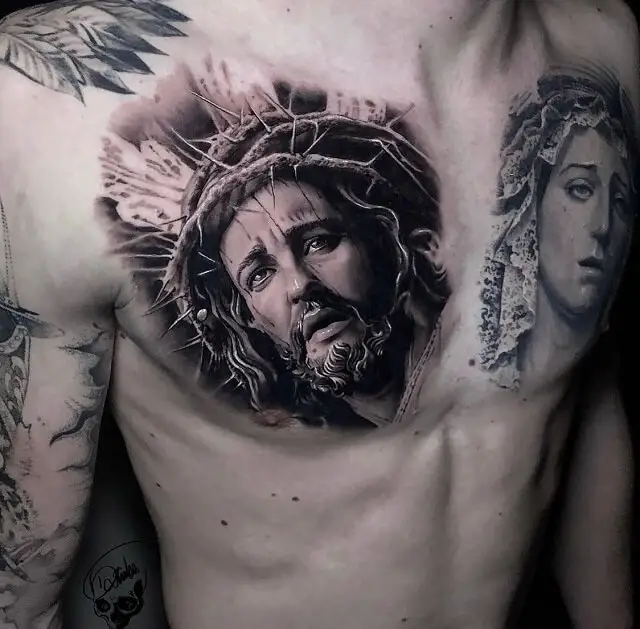 A realistic portrait of Jesus can be seen on the right chest of this man. He is looking sad and anxious. His eyes tell us some of the sufferings he faced.
Hanging Jesus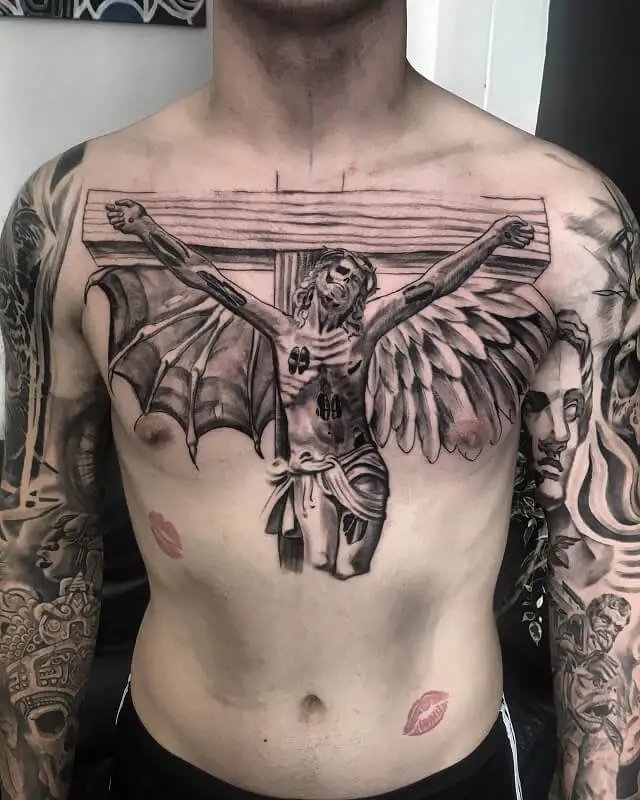 The cruelty in this tattoo is unimaginable. Jesus is hanged on a cross. One can easily count the bones on his body. There's also a stabbing spot on his chest. If you are a man with a skinny body it'll suit you nicely.
Crown of Sting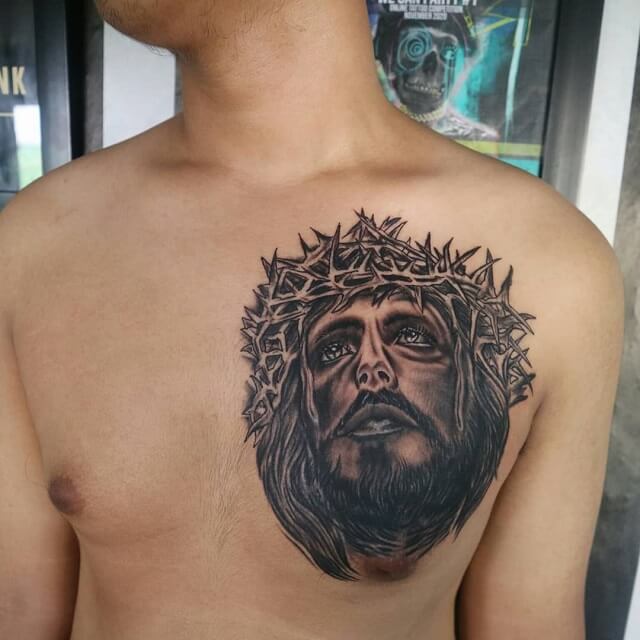 In this piece, Jesus can be seen wearing a crown made out of long vines with a sting. This represents him always being in pain and still having a smile on his face.
10. Left Chest Tattoos
A left chest tattoo is a variation of a half chest tattoo where only the right half of the chest gets covered.
Furious Cheetah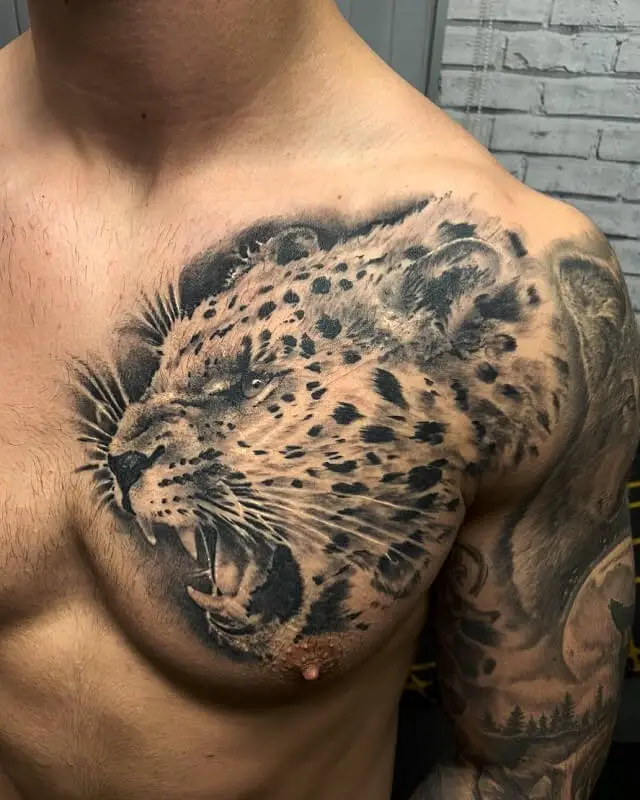 The cheetah is an apex predator. It's well known for its fast speed and swift killing ability. This piece represents the swift and furious nature of the person. Its best suited for men with bigger muscles in the chest area.
Angry Crow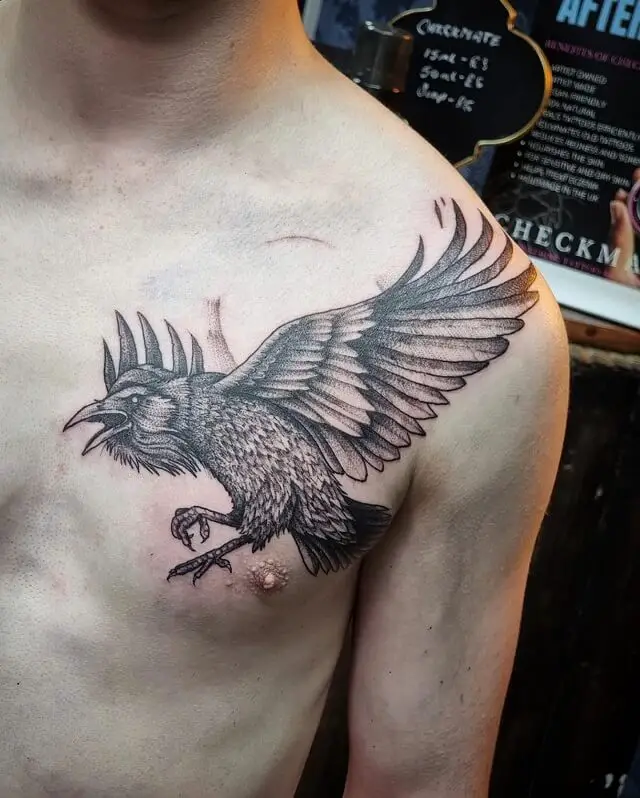 A crow with its wings wide open can be seen on this tattoo. It's placed nicely over the left chest of this man. The open beak suggests an angry mood of the crow.
Path Finder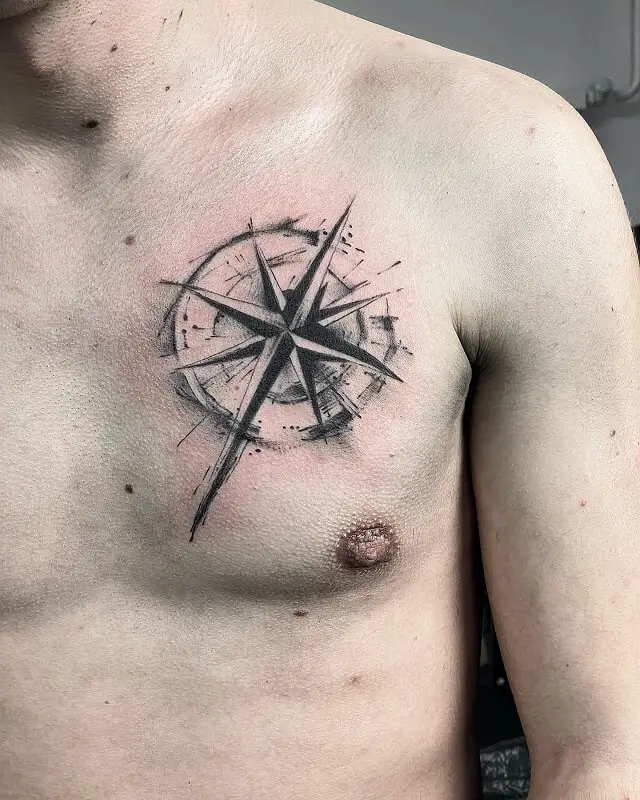 Compasses use magnetic fields to show the right direction. This one in particular is more like a guide to the person's soul.
11. Simple Chest Tattoo
Sometimes simplicity is the most gorgeous thing. A lot of artists combine simple elements in their tattoos and create masterpieces.
Sun & Moon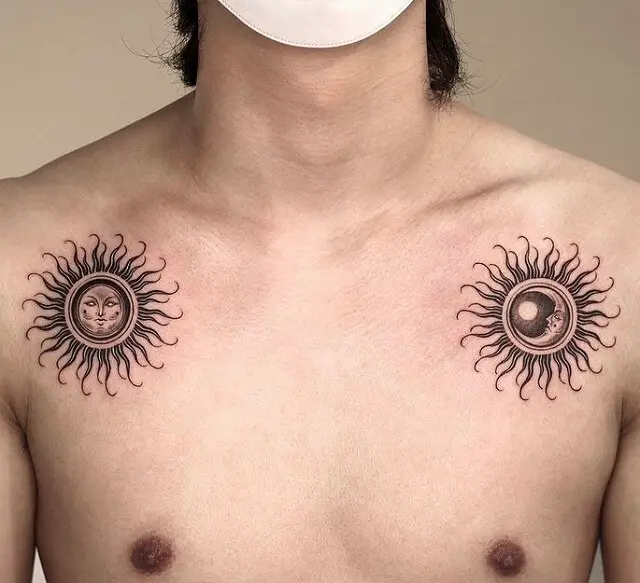 Although they are completely different in nature, they are dependent on each other to create balance. These two simple objects create a sense of balance. A solid option for chest tattoos for men.
Deep Roots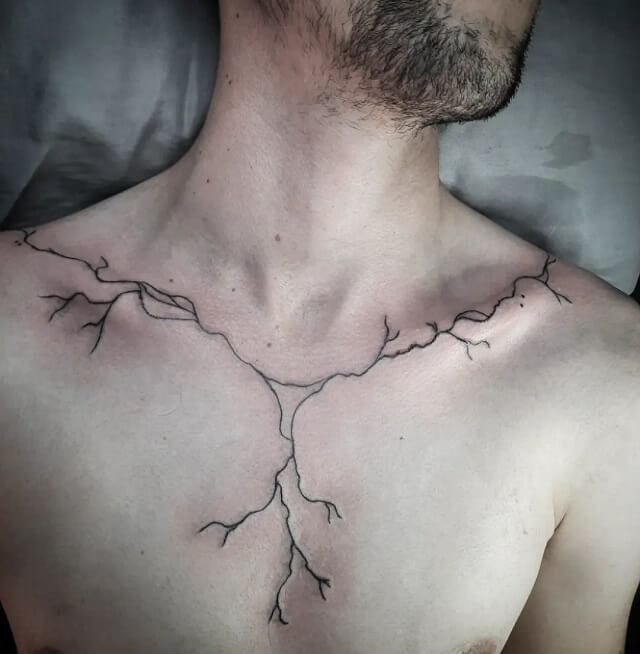 Roots are an important part of a man's life. They are the things that help us to stay rooted. The lines on this tattoo also look like veins on his chest.
Hunting hunters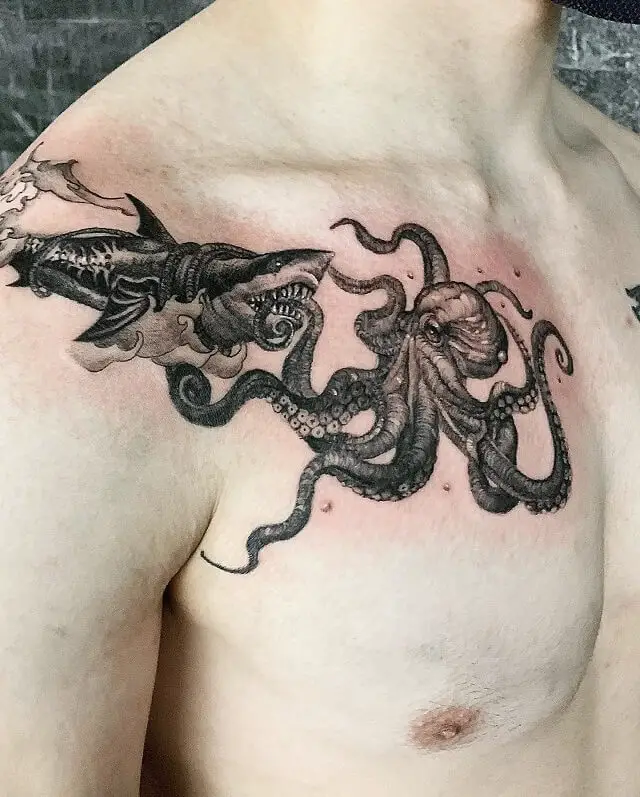 In this tattoo, a shark and an octopus are fighting. Despite being a hunter itself, the shark is in deep trouble as the octopus has it under its claws.
12. Religious Chest Tattoos
Whenever any religious figure is used in a chest tattoo it is considered to be a religious chest tattoo for men.
Deep Sadness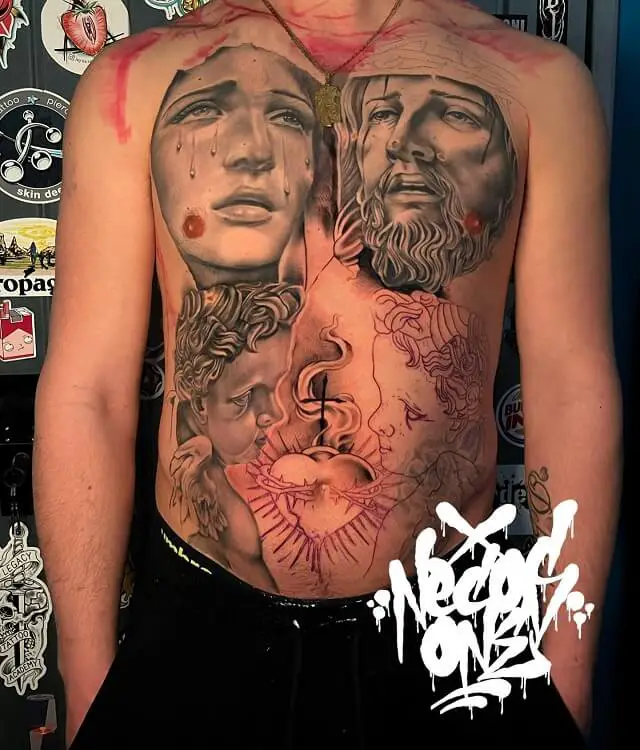 Jesus and another female figure can be spotted on this tattoo. They are both crying along with the angles below them. If you are a religious man this could be a great fit for you.
Heart for Jesus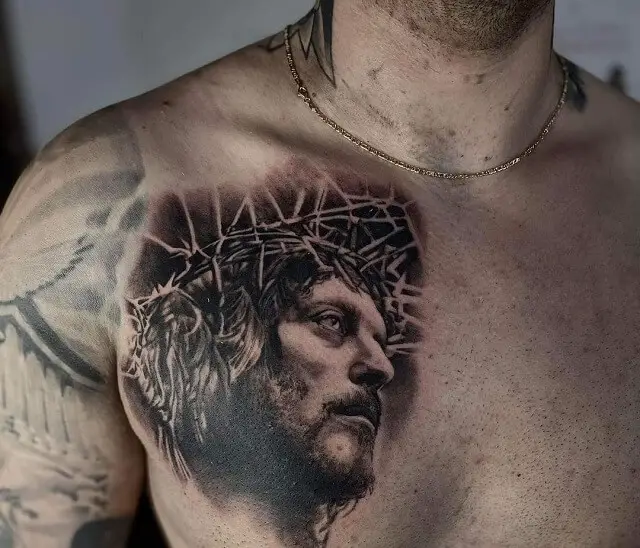 A tattoo of the prophet Jesus is on the right chest of this fellow. It shows his passion and belief in religion. It's safe to assume that the person is religious in nature.
Hanging From Cross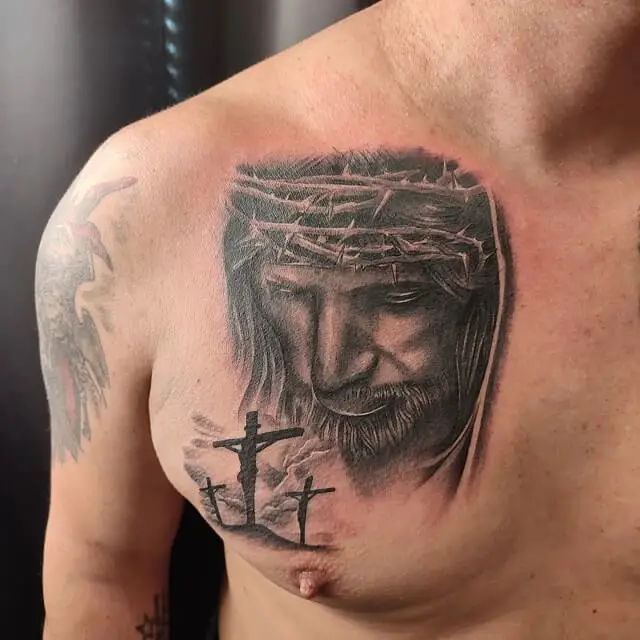 An ancient torcher device is at the bottom of this tattoo and Jesus is looking down on them. Most likely he has seen what'll happen and accepted it.
13. Wolf Chest Tattoos
A wolf is a mighty creature with exceptional hunting and killing skills. They are used as a solo element or combined with other predatorial animals to create meaningful chest pieces for men.
The wings and Wolf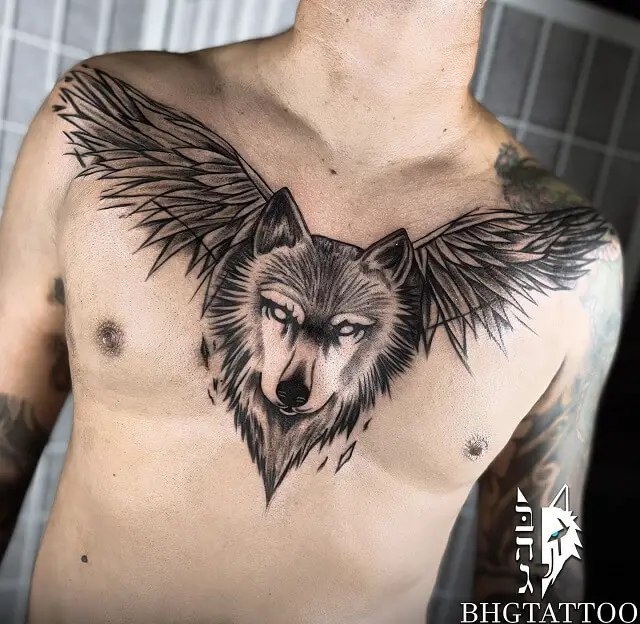 The front part of a wolf's body is accompanied by a pair of wings. The tattoo on the whole makes it look as if it was a bat-like creature on the center of this man's body.
Battle of survivors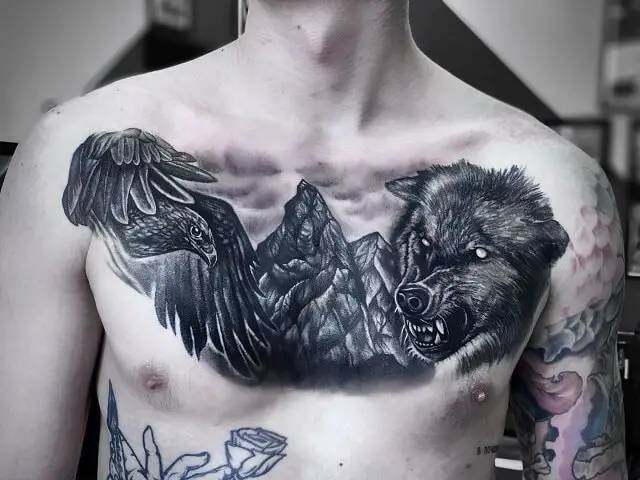 Both eagles and wolves are adaptable survivors. In this chest tattoo, the wolf is on one side and an eagle is on the other side. The mountains in the background add more depth to the torso.
Lone Wolf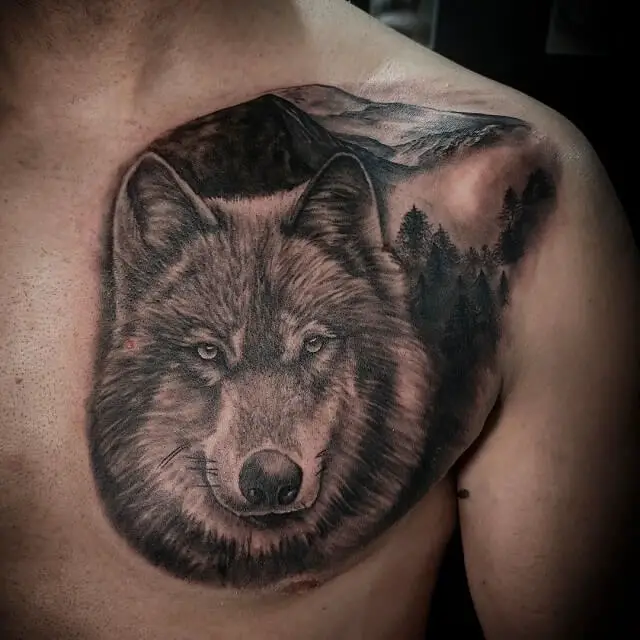 A solo wolf is staring at the lonely horizon. Although there isn't anyone else with him, he's still standing strong.
14. Word Chest Tattoos
A simple word can give a lot of meaning to the artistic craft. These torso tattoos are used to describe emotions, beliefs, or any other meaningful message.
Balance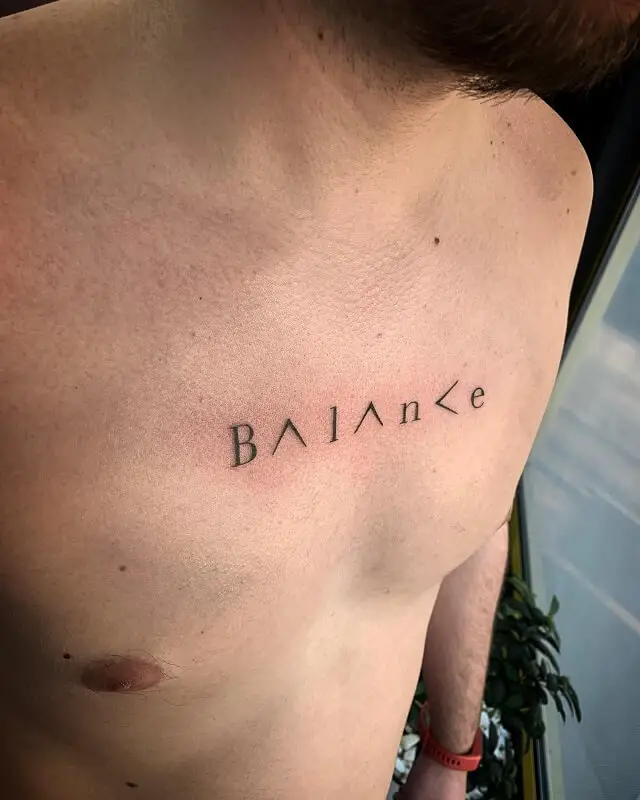 The word balance is drawn in the middle of his trunk. The letter "A" & "C" are written like symbols. It's a tattoo that tells us to maintain a proper balance in our actions.
Patience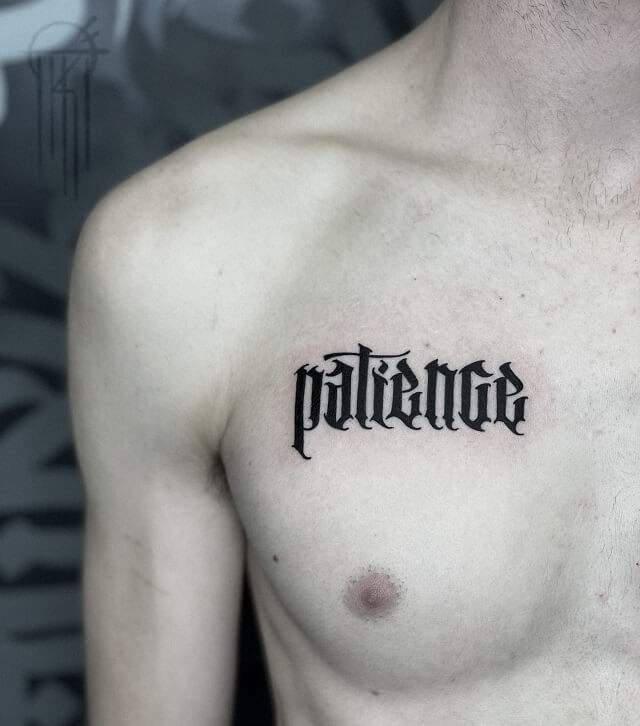 Patience is one of the noblest virtues of a man. It's a trait that can be seen in almost every successful person. The word depicted on this chest tattoo for man shows us that he's a true believer in that.
Opportunity Seeker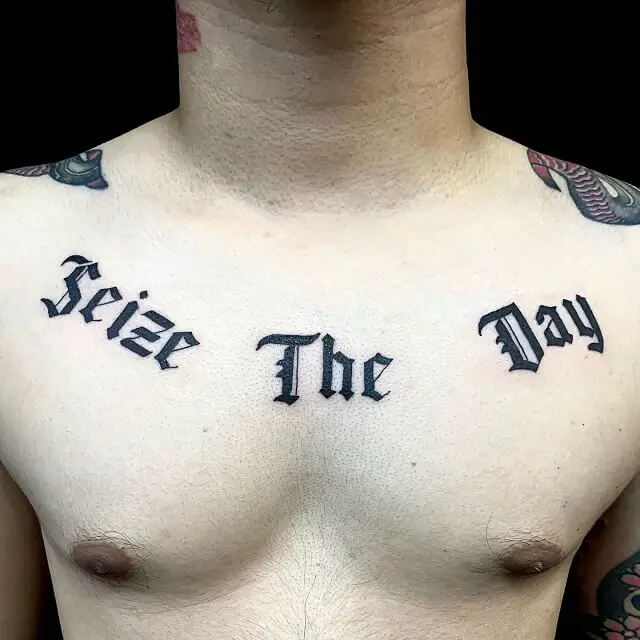 Nobody knows when an opportunity might come. But if there's a chance, we should take it instantly. The man is fully committed to this philosophy and has the words inked on his chest
15. Dragon Chest Tattoos
Dragons are mythical creatures that are connected deeply with Japanese and Chinese culture. These dragon tattoos on man's chest try to bring up culture and meaning through them.
Flower Dragon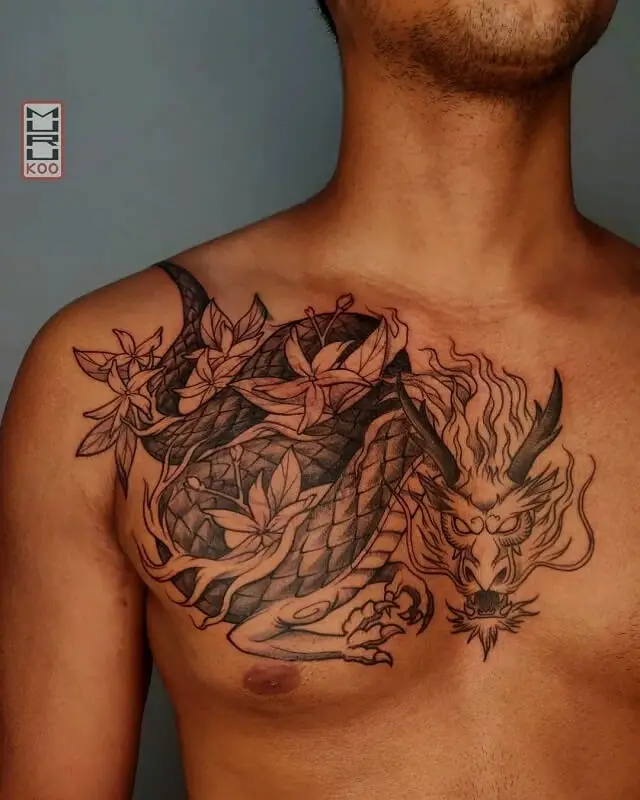 The body of this dragon is covered with flowers. It shows that there's softness even in the most vicious beings. All you have to do is find it inside them. It's a variation of the half-chest tattoos for men.
Old & Mighty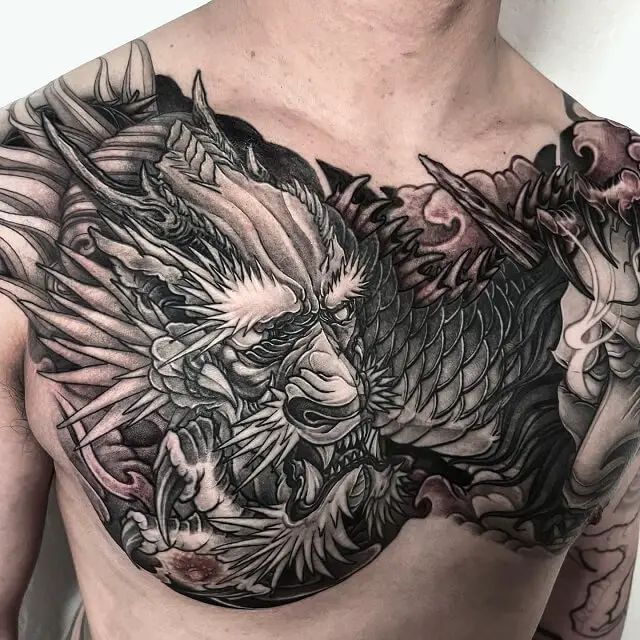 This dragon is old and hurt on this man's chest. There's a wound on his body. Also, a spear has gone through his lower body. He is at the last stage of his life, but that doesn't hide the fact that he's strong as hell still now.
Chest & Arms Basilisk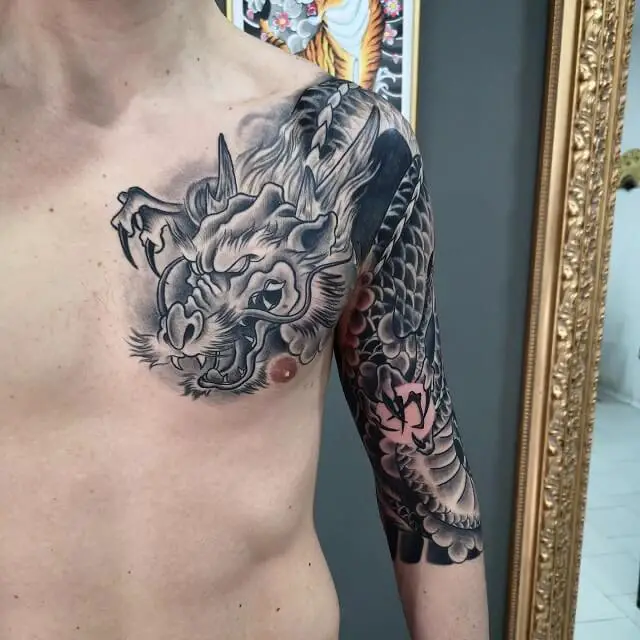 Basilisk AKA dragon is depicted on the left arms and chest of this man. The basilisk's body goes along the shoulder and covers half of the arm as well. There's a circle of space in the body of the dragon. Why is it there??? Nobody knows. It's a mystery, like a basilisk chest tattoo for men itself.
16. Loyalty Chest Tattoos
Till Death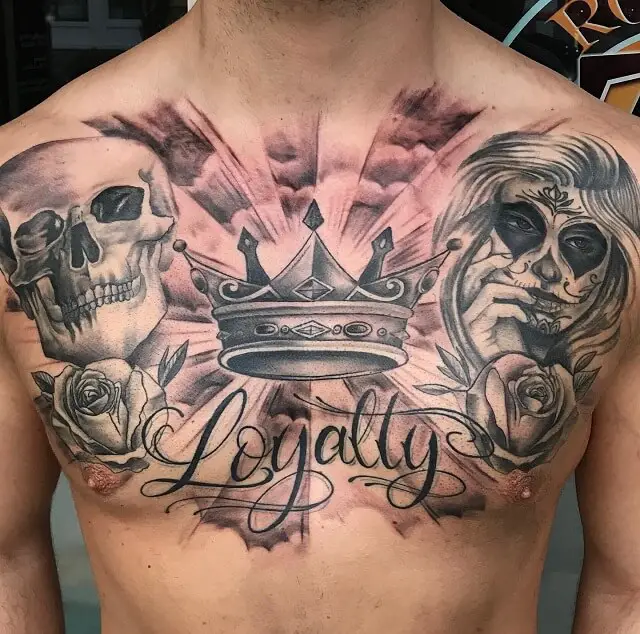 Bold Loyalty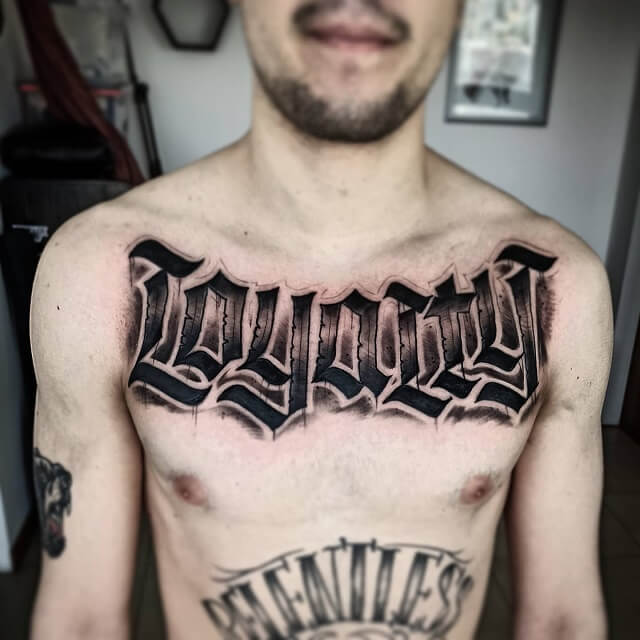 Devotion To Family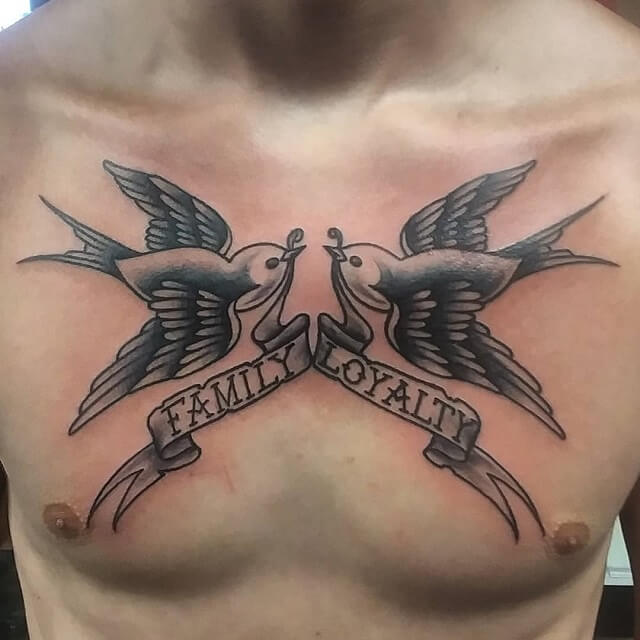 17. Bible Verse Chest Tattoos
Isaiah Verse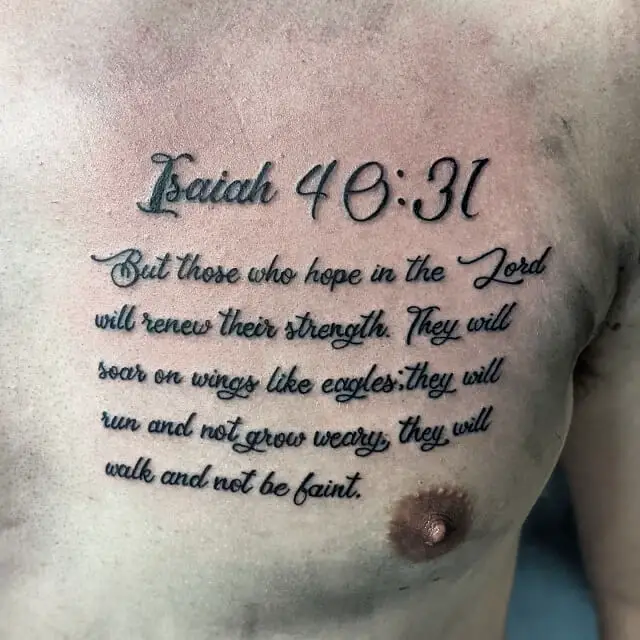 Shining Lines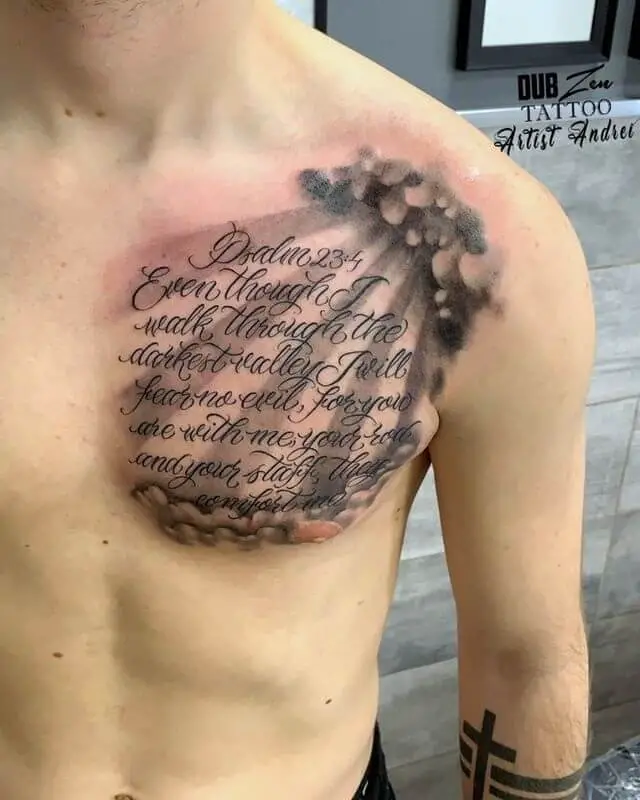 Fearless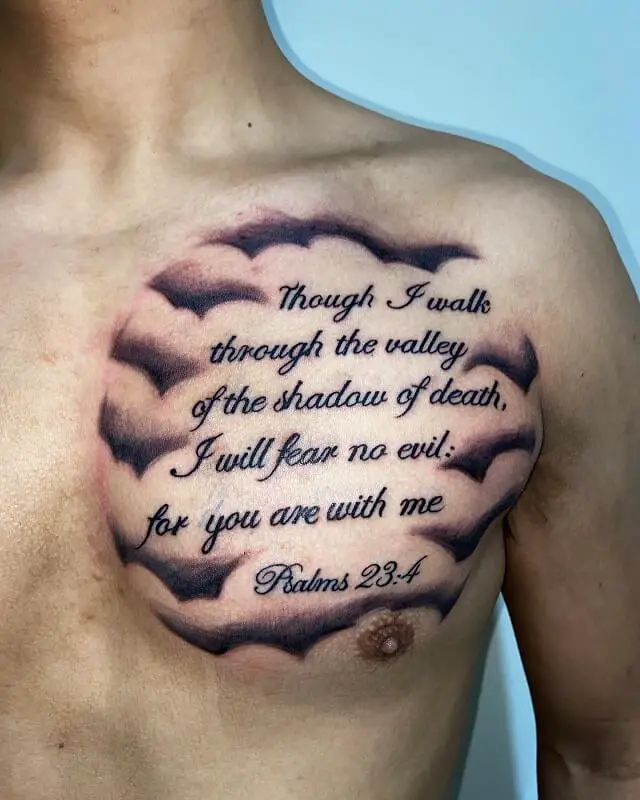 18. Roman Numerals Chest Tattoo
Roman Coded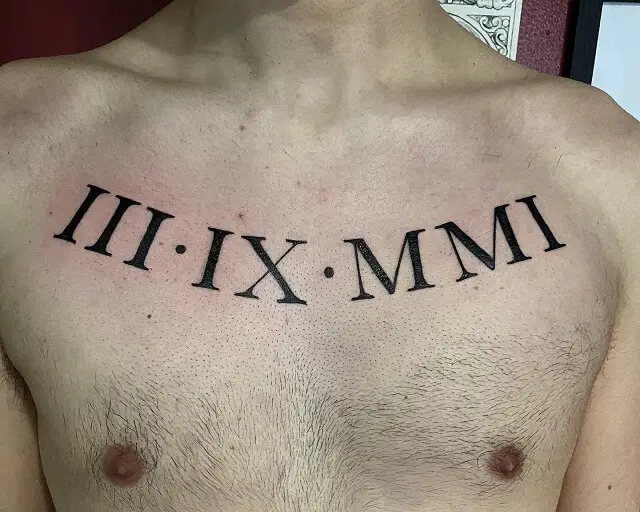 Roman Constellation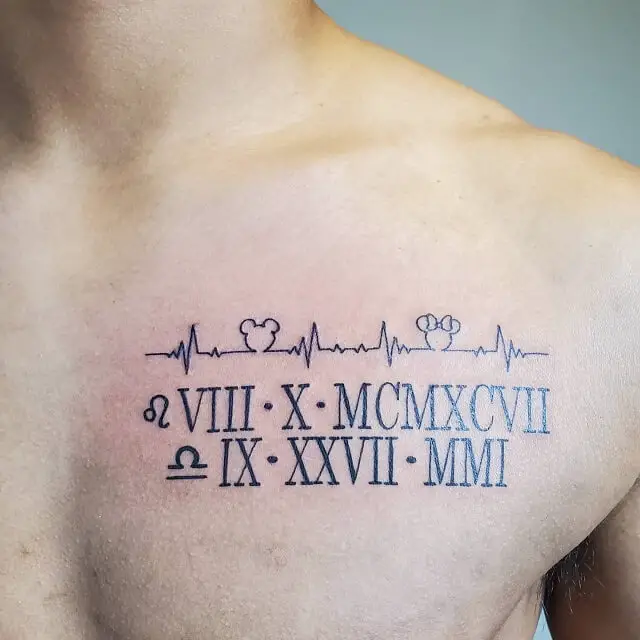 Night Watcher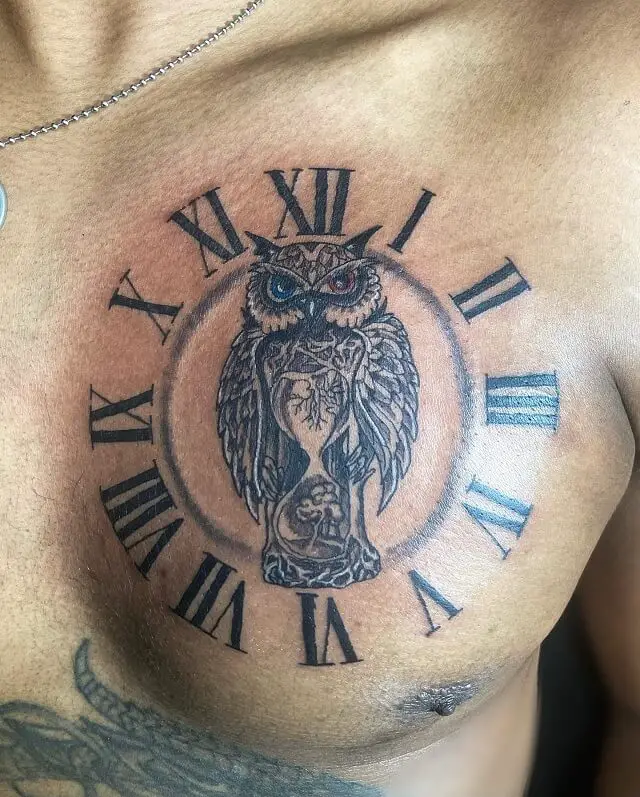 19. Family Chest Tattoo
Happy Family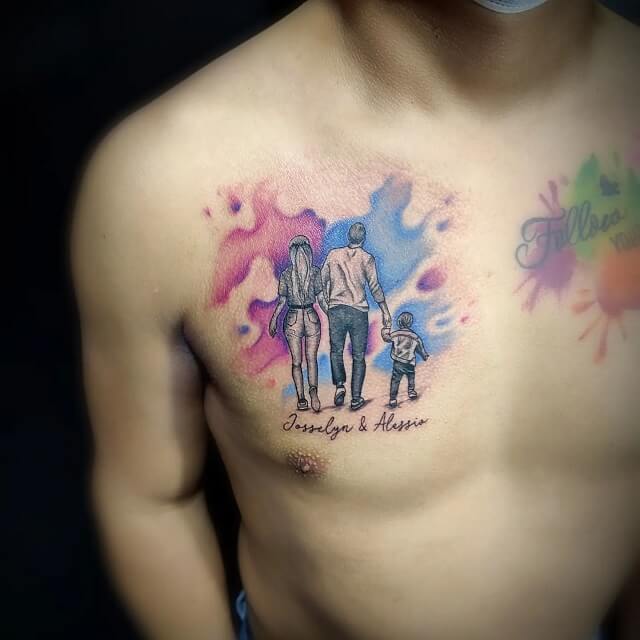 Family Crown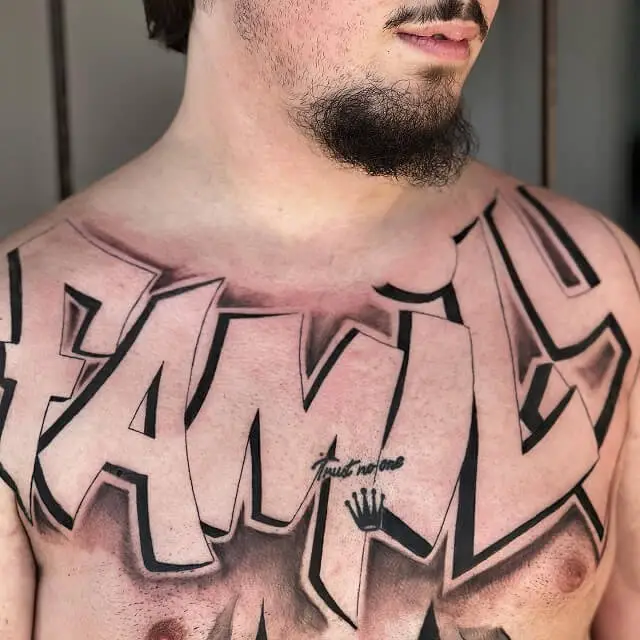 Family First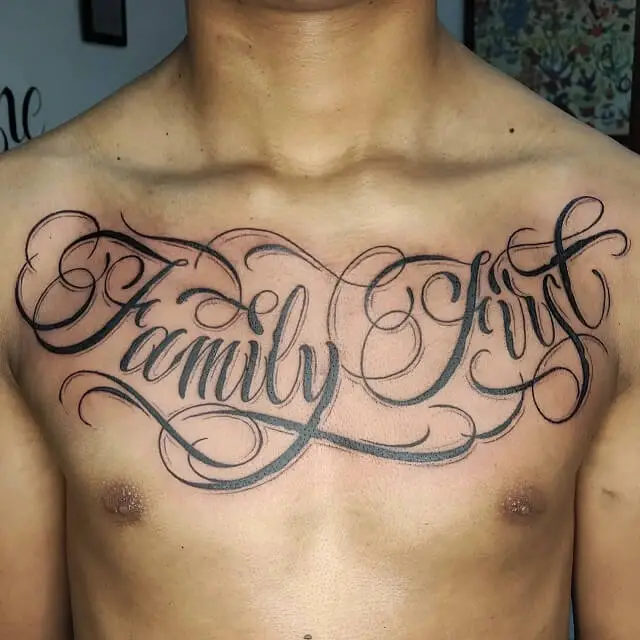 20. Quote Chest Tattoo
Trust In God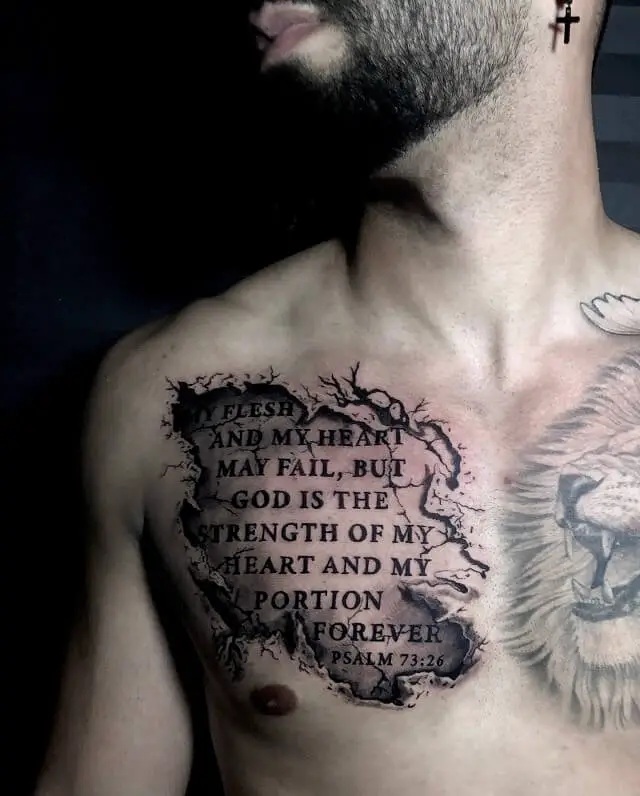 Soul & Wisedom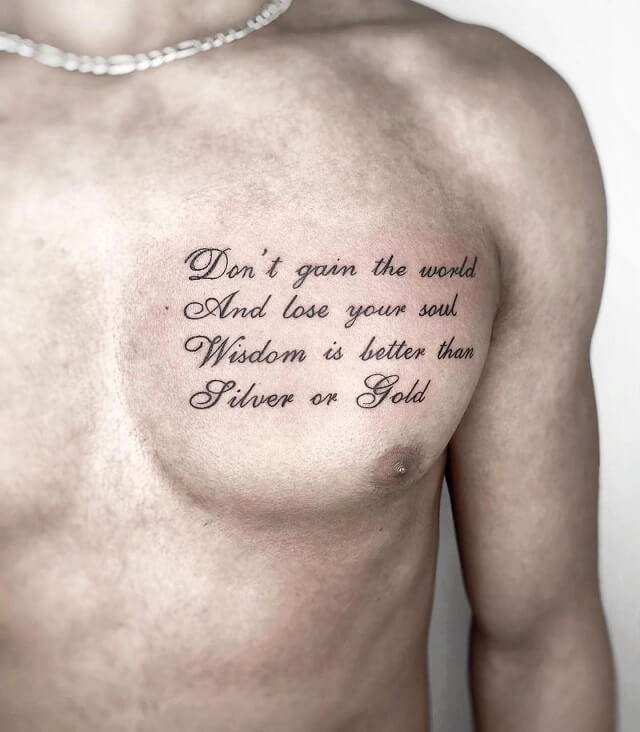 Having Faith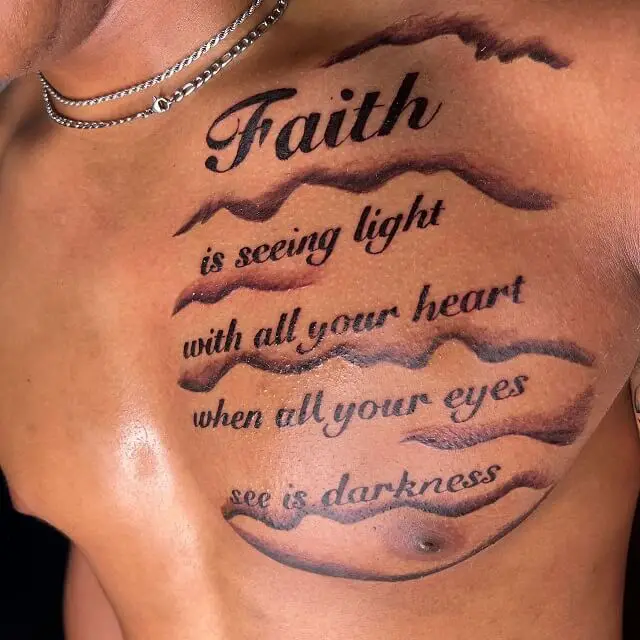 21. Animal Chest Tattoo
Deer Head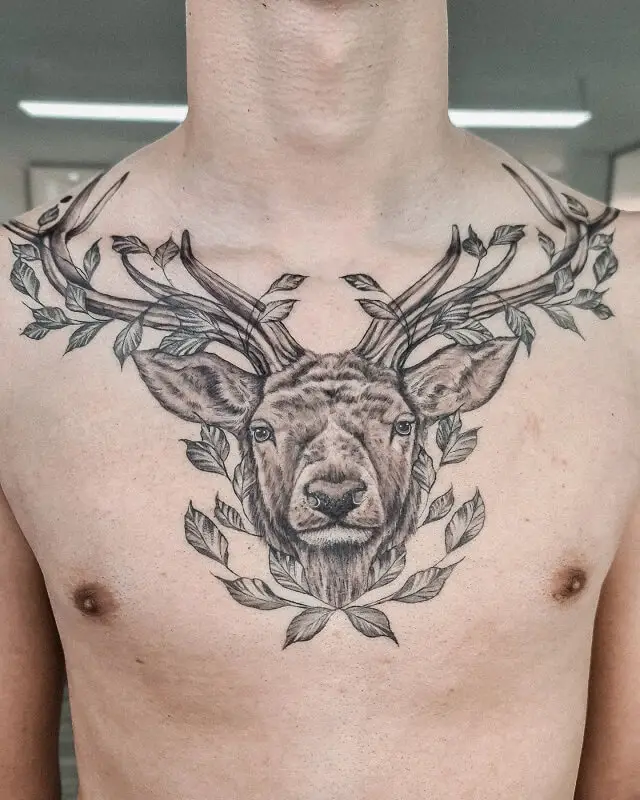 Roaring Lion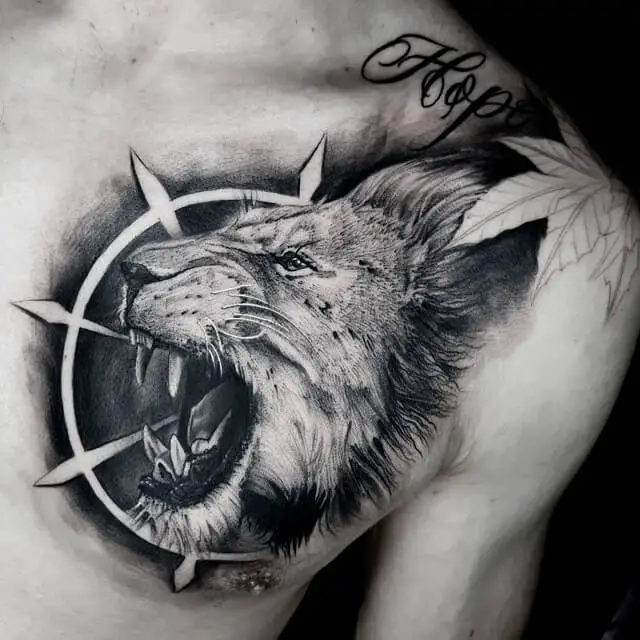 Earth Bear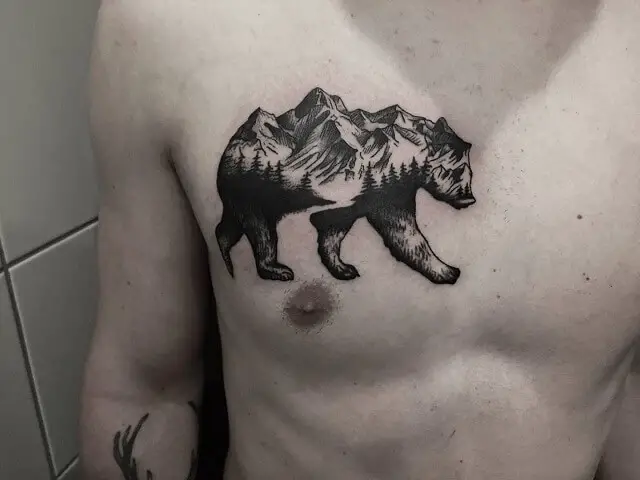 22. Eagle Chest Tattoos
Funny Eagle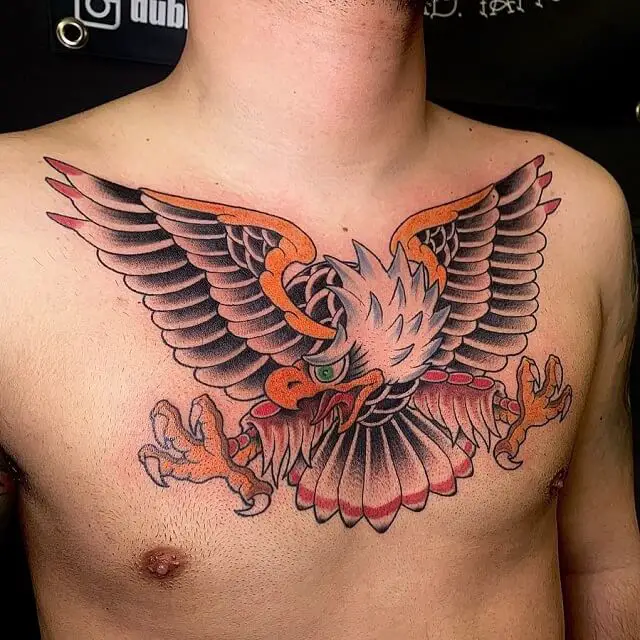 Eagle Wing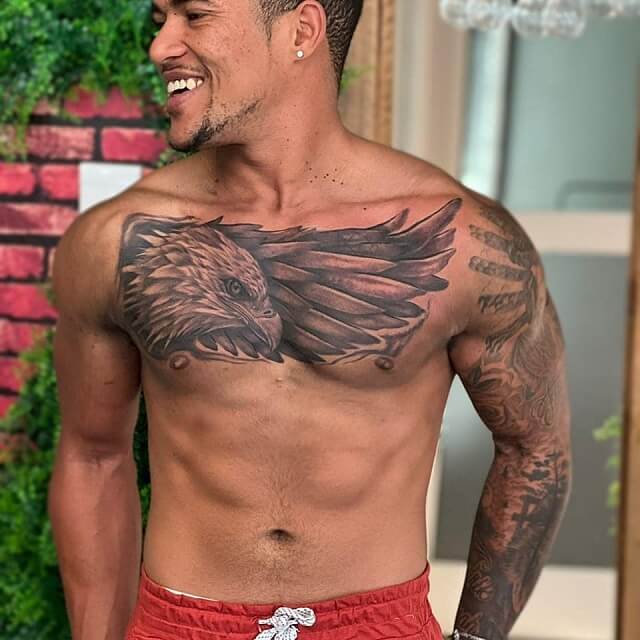 Howling Eagle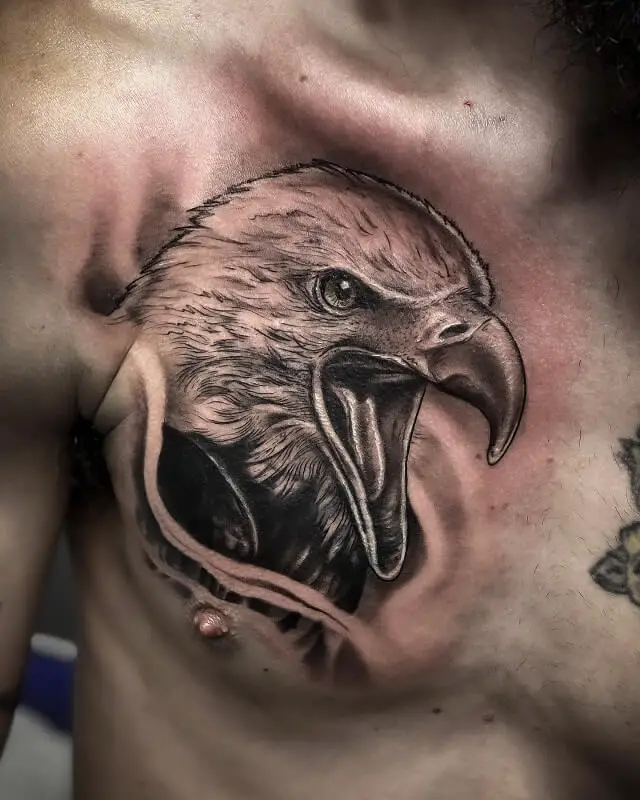 23. Gangster Chest Tattoos
Rivals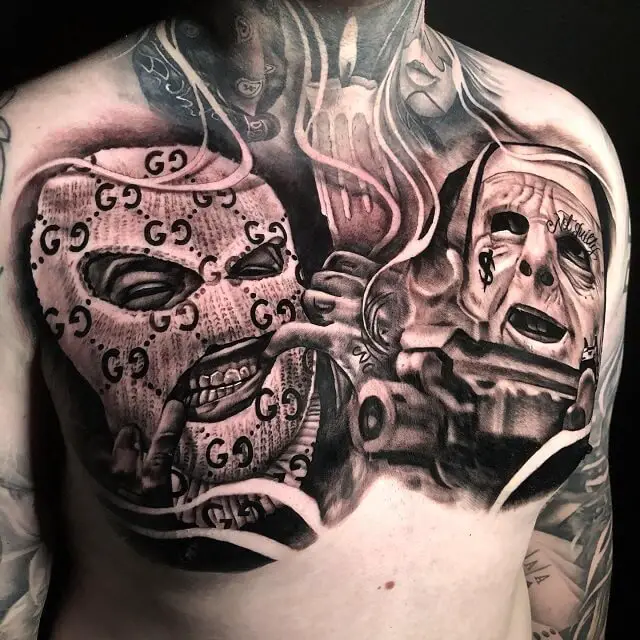 Girls & Mafia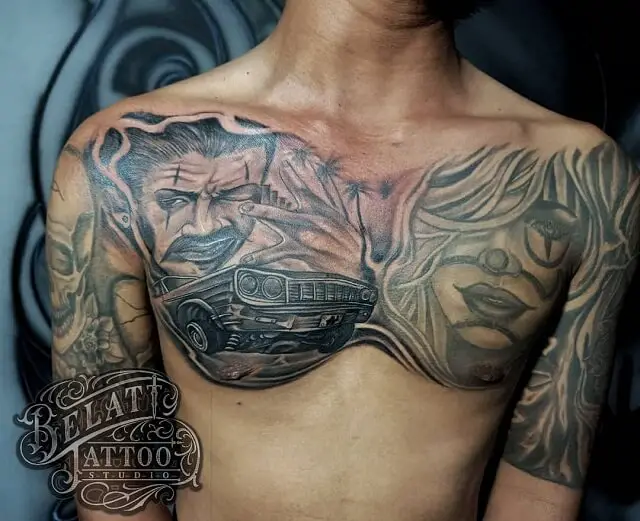 Gangster Codes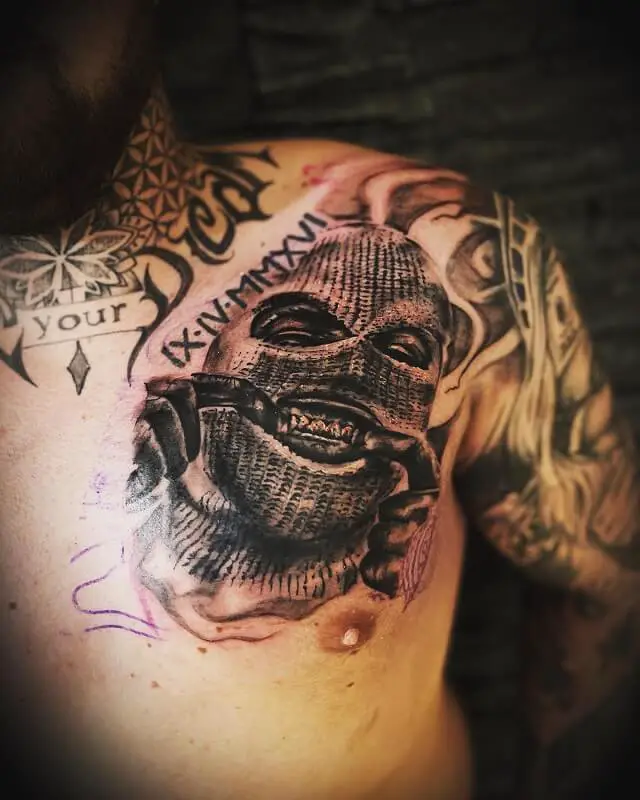 24. Hood Chest Tattoos
Reality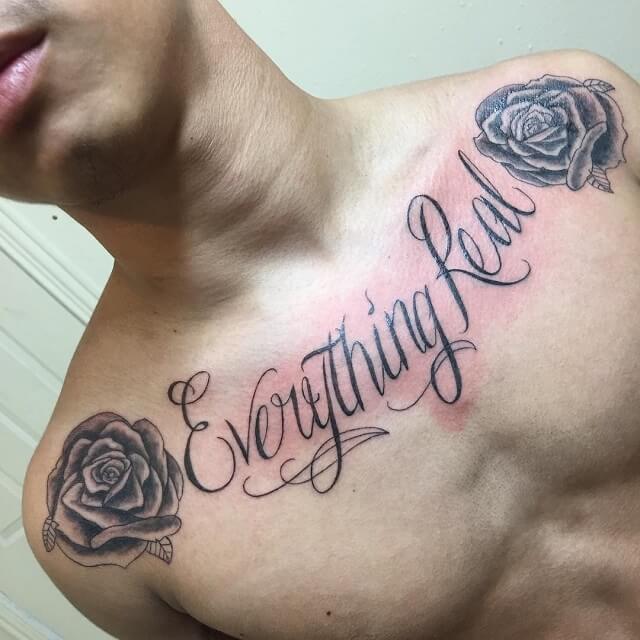 Trapped Heart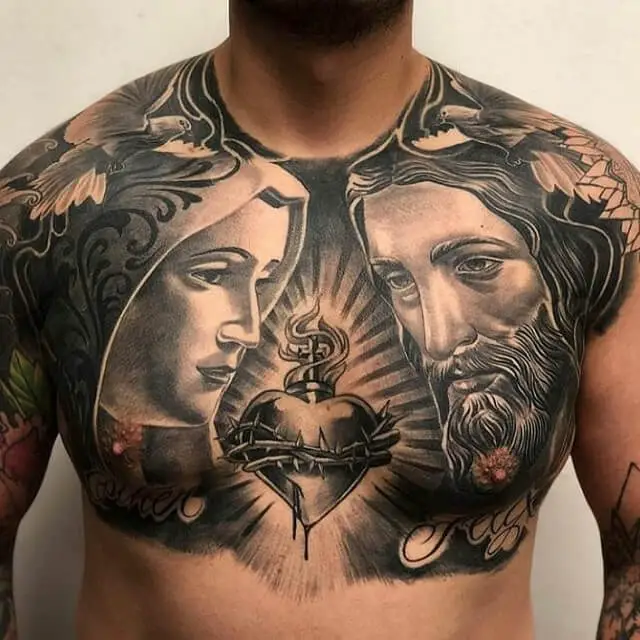 Patchwork Gangstar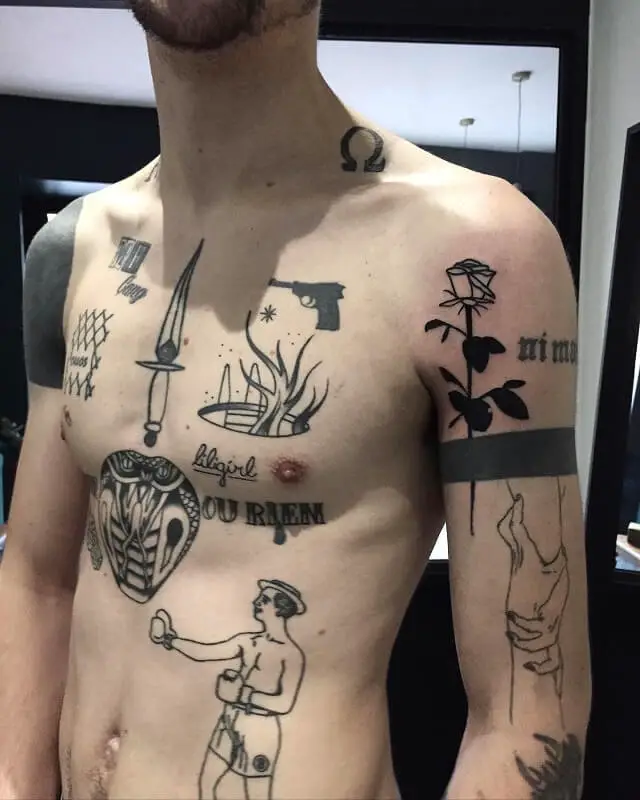 25. Japanese Chest Tattoos
Forest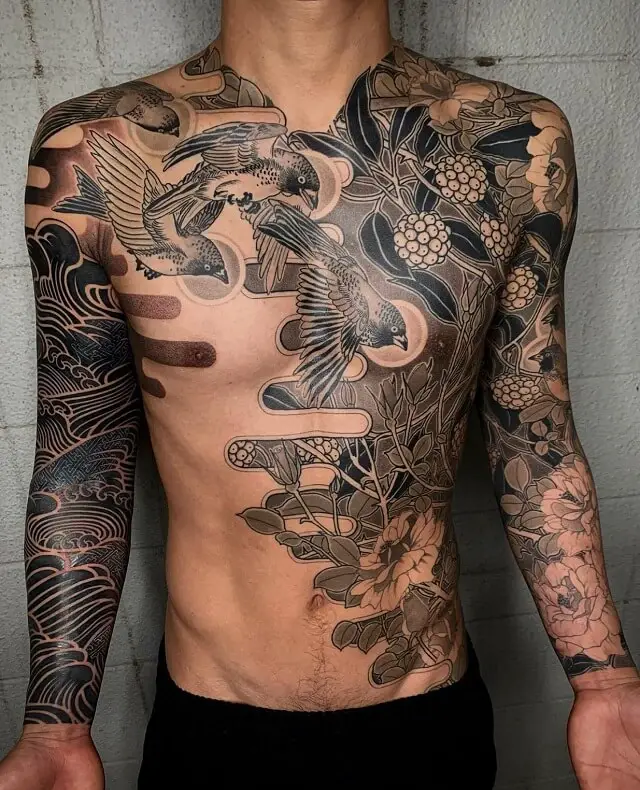 The preditors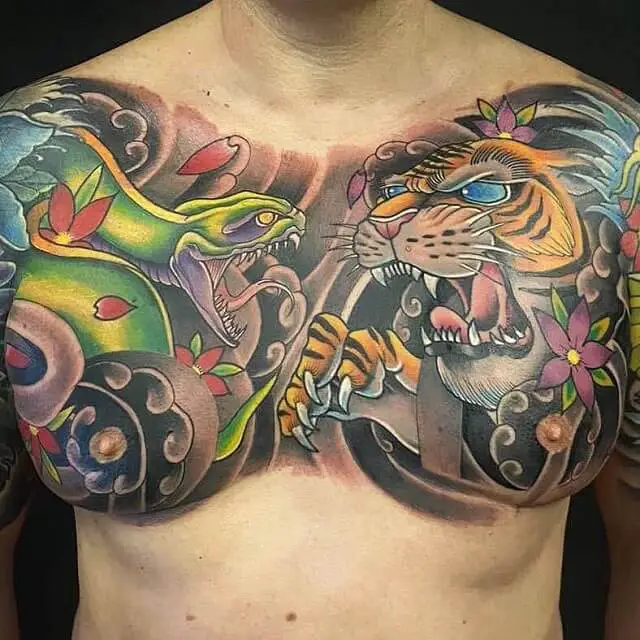 Blossom Snake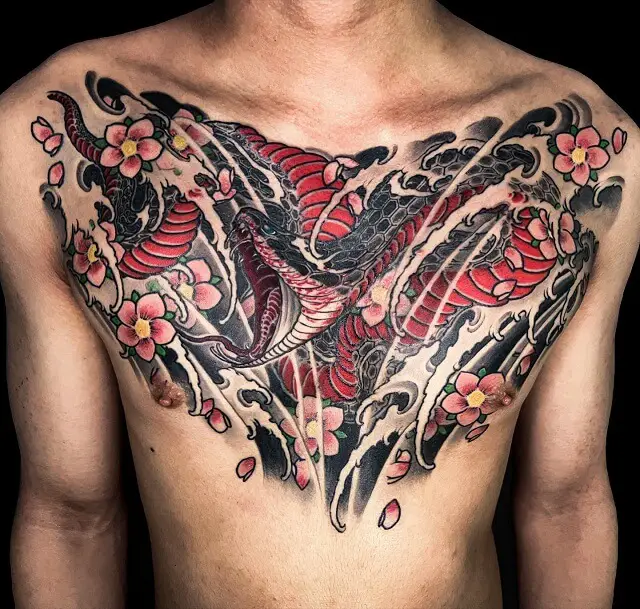 26. Owl Chest Tattoos
Hunter Owl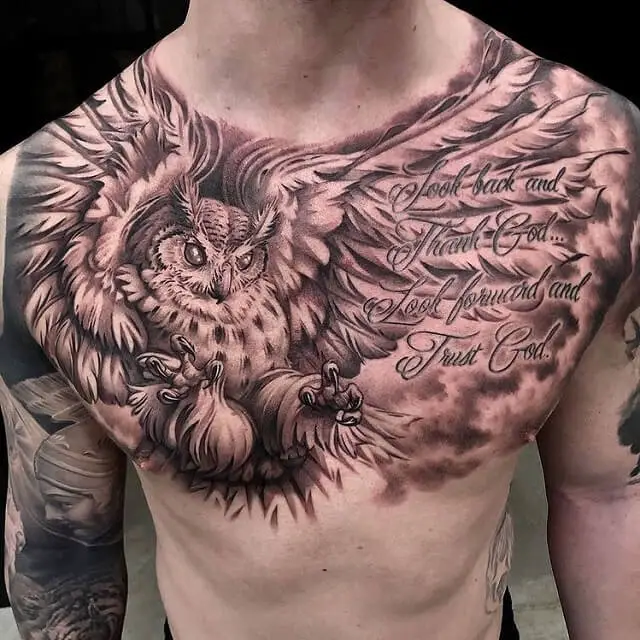 High Focus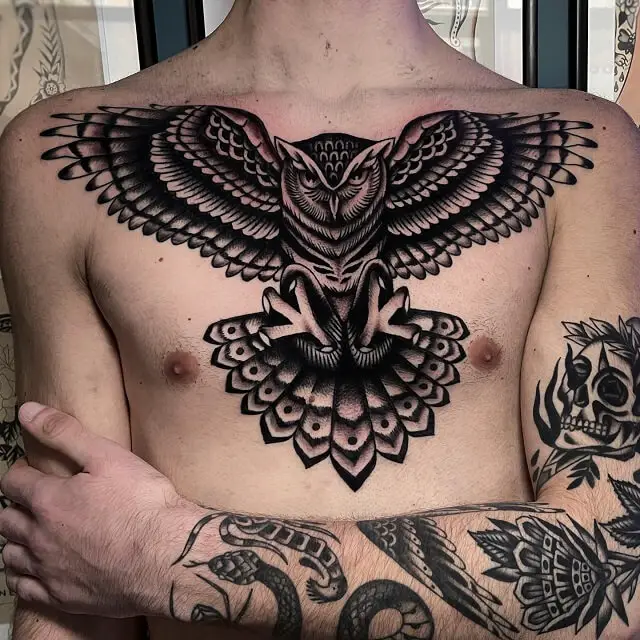 Golden Owl
27. Skull Chest Tattoos
Cursed Skull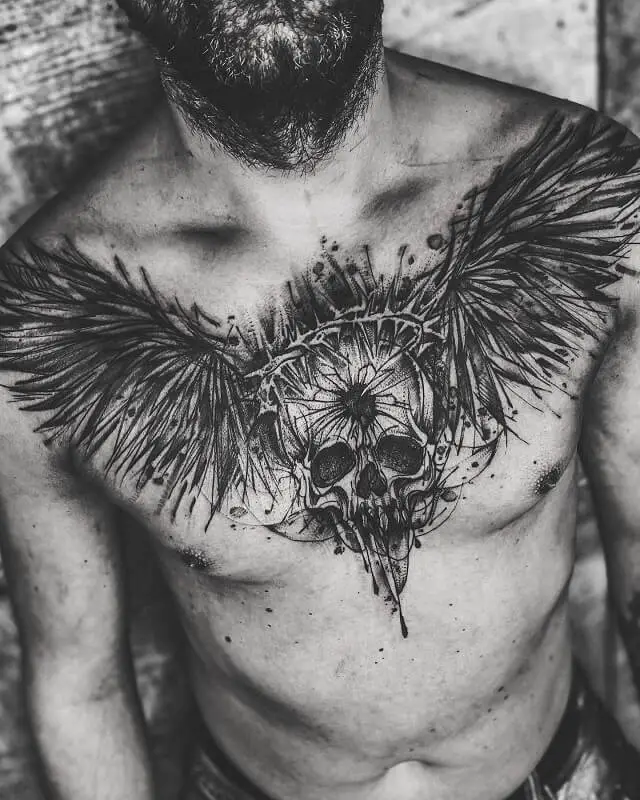 Reflection of Dead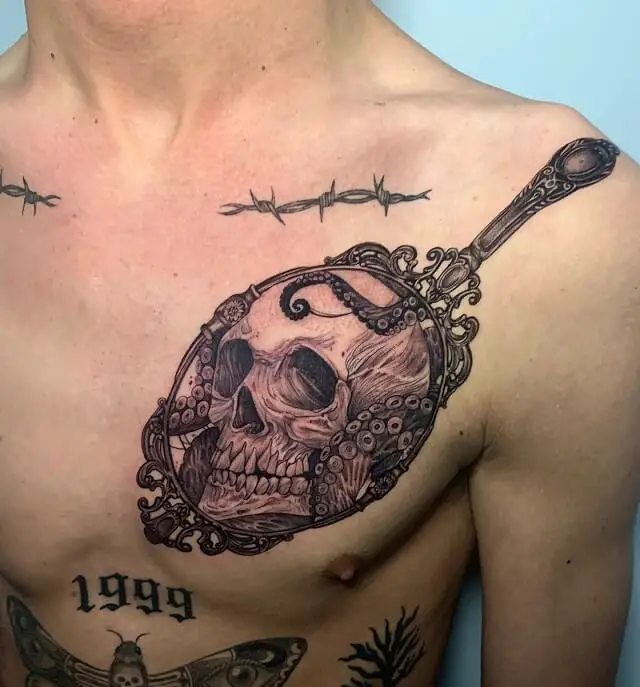 Kings Death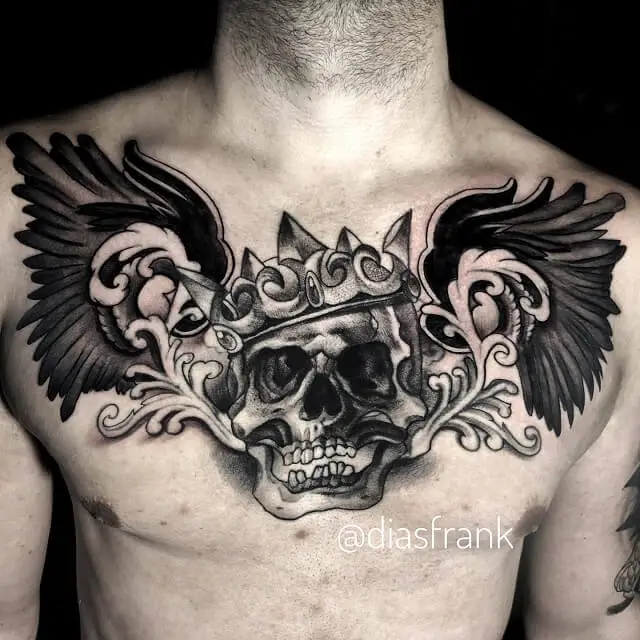 28. Heart Chest Tattoo
Tiger Heart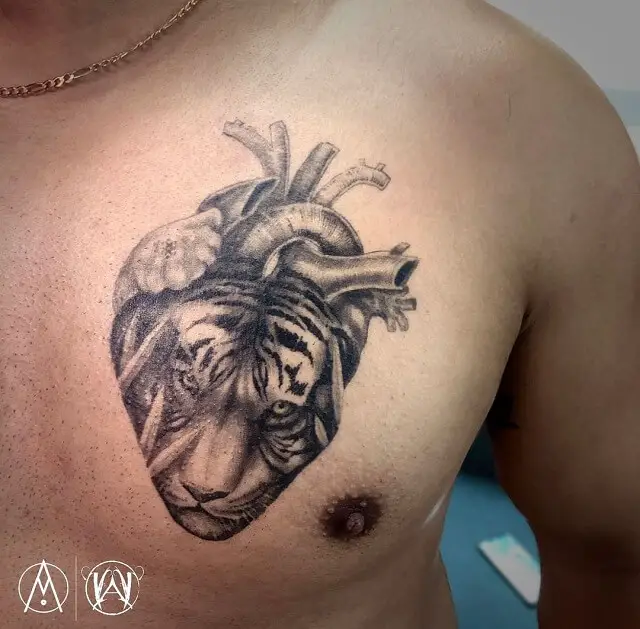 Lifeline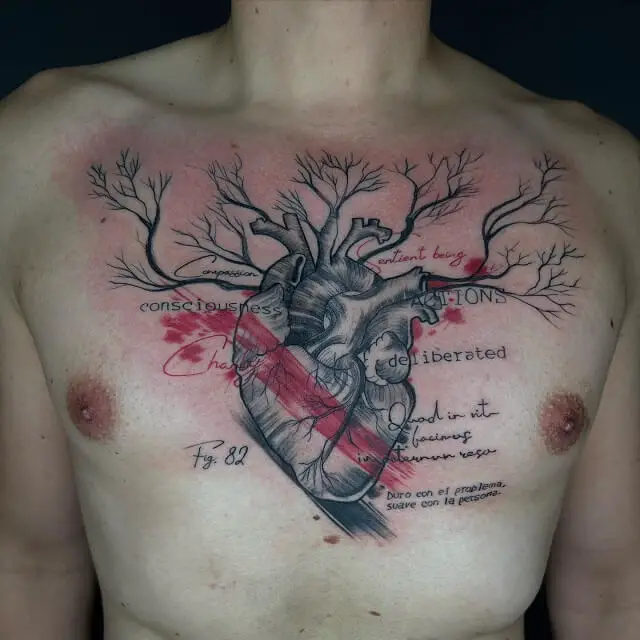 Heart & Skull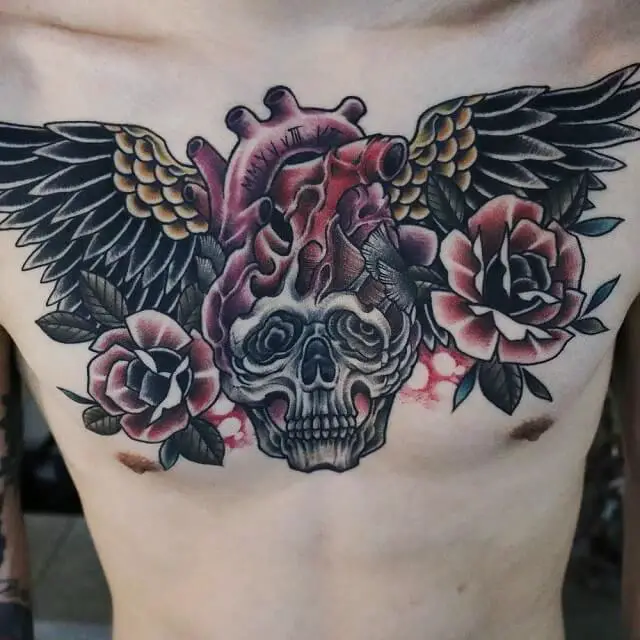 29. Phoenix Chest Tattoo
Red Pheonix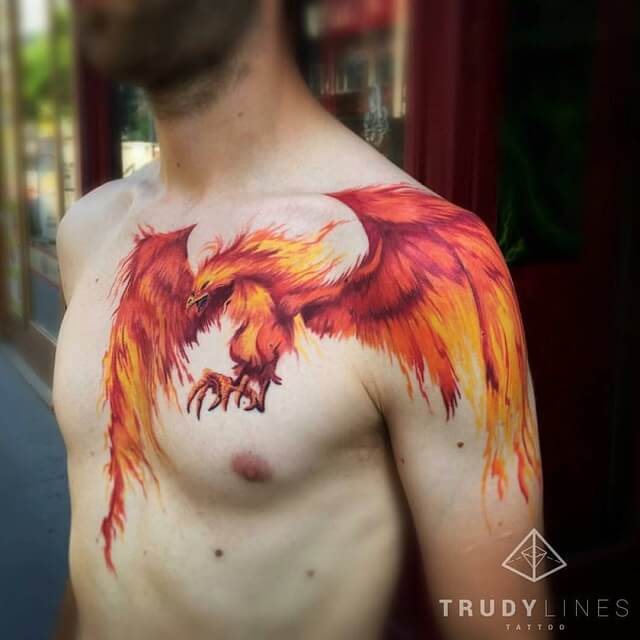 Fireless Pheoniex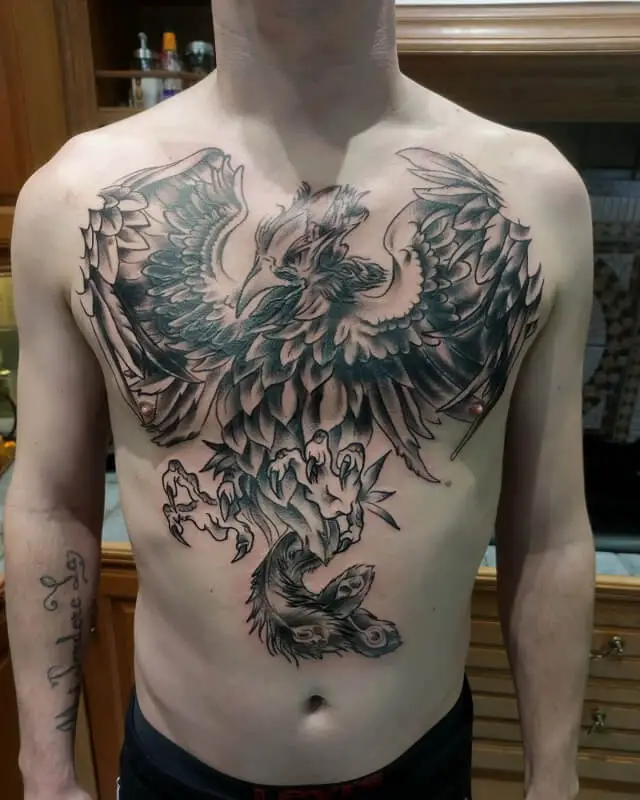 Lightning Pheonix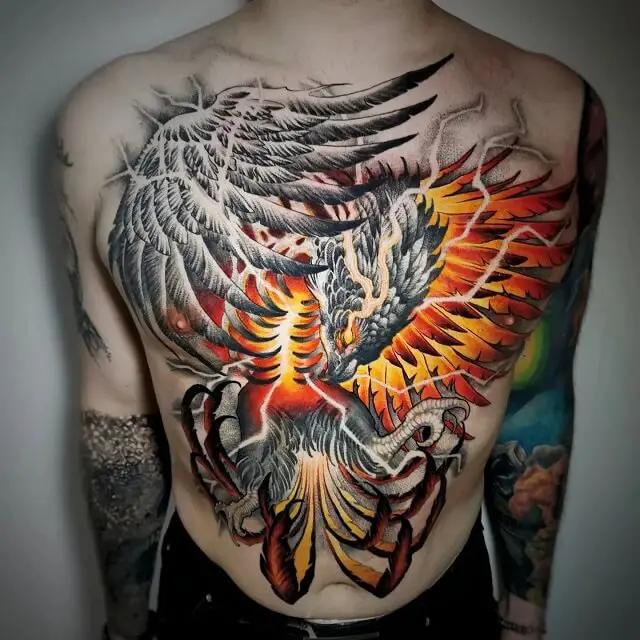 30. Wing Chest Tattoo
Blue Wings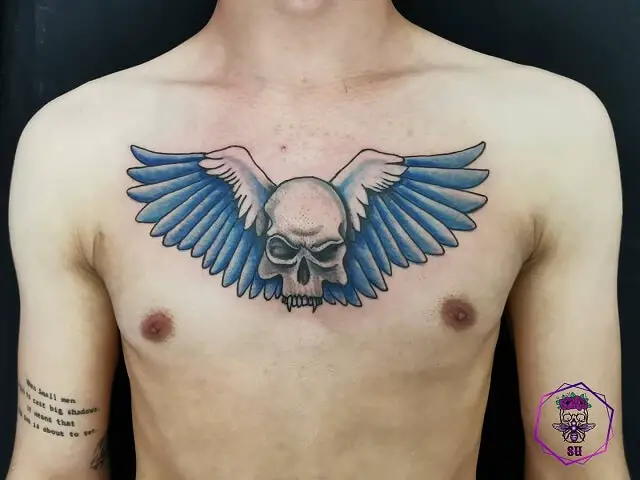 Half Winged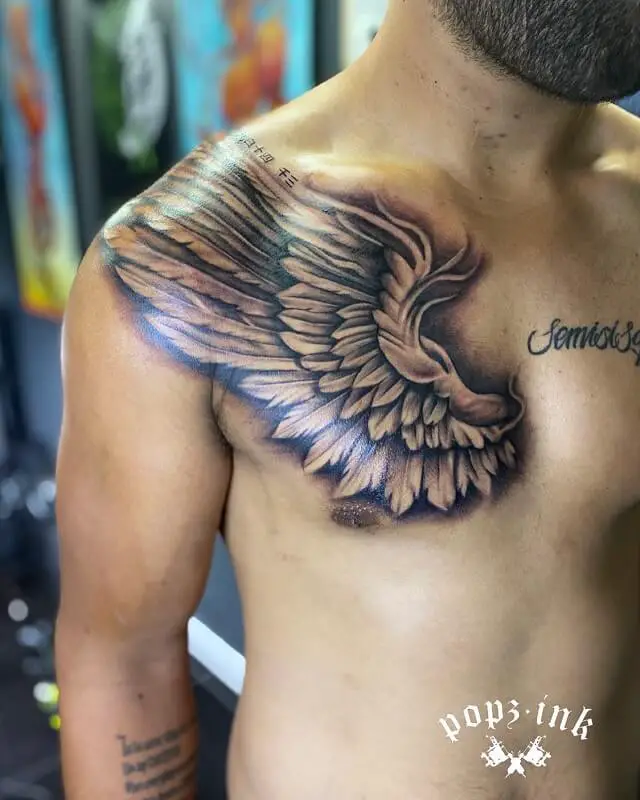 Quotes wrapped in wings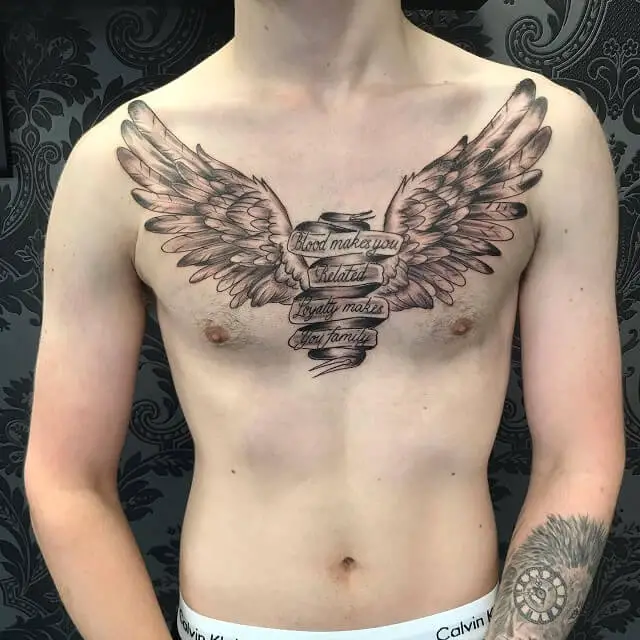 If you are looking forward to getting a tattoo that will give you a fresh look and always be in style definitely give chest tattoos a thought. Chest tattoos for men will look amazing on your body because there's a variation for every body type. If you are skinny, go with a design that is minimal or has a small surface area.
On the other hand, if you are a man with big muscle on the chest area, go with a lion or any other apex predator as the main subject of your chest piece.
If you have a dark skin tone, try to avoid vibrant colors and go with solid and bold colors to get the best look. There are an infinite number of chest tattoos for men, don't be afraid to add your own spin on these designs.