Chest tattoos for women are a great way to show off their character and beliefs. It has many varieties that go well with almost every skin complexion.
However, it can be quite painful to get one. Because the chest area is very sensitive, especially for women.
Usually, chest tattoos for women tend to be in smaller sizes. There are a few exceptions, though. Women's Full chest tattoos and tribal chest tattoos are typically bigger in size.
There are lots of elements that can be used as the theme or the subject of women's chest tattoos. Among them are flowers, animals & birds, texts, patterns, etc.
In this article, we'll discuss everything you need to know before getting a chest tattoo for a woman and inspire your thinking. So, without further due, let's get started.
Why do women get tattoos on their chests?
The reason for getting a chest tattoo for a woman varies from person to person. Some of the most common reasons are looking elegant & beautiful, showing off their beliefs, commemorating some special events, etc. They also get tattoos on their chest to show a sign of power and tolerance too.
Chest tattoo ideas for women
There are thousands of ideas for women's chest tattoos. But they usually follow the same process. At first, there's a subject or theme that gets selected and then there are other elements added around the subject. Slowly it builds up the tattoo. Below are some chest tattoo ideas for women which will help you get a new perspective.
1. Small Chest Tattoos
Women love to get small tattoos on their chests. It helps to express their thoughts and show off their personalities.
Minimal Flowers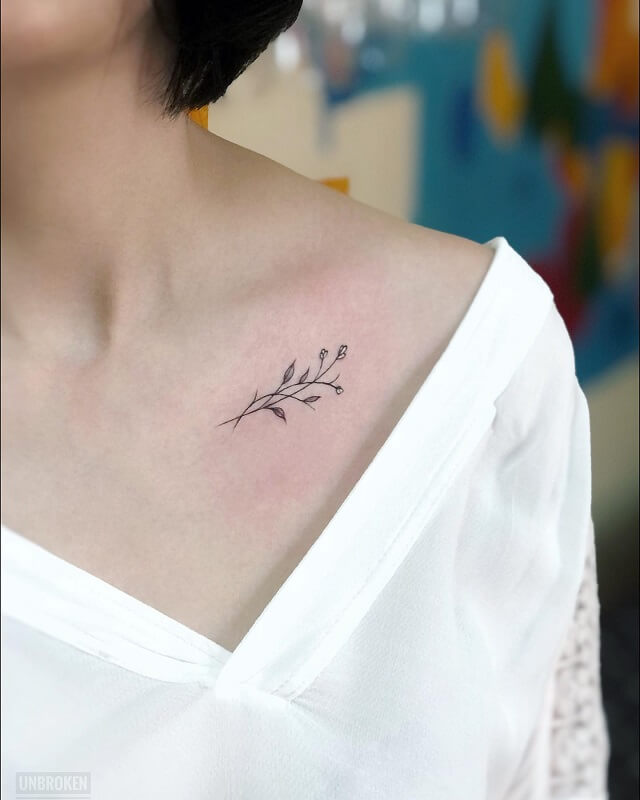 Simplicity is the main attraction point of this chest tattoo. The design goes nicely with her fair skin tone. The flowers on the end of the branches add a cute touch to it.
The Dragonfly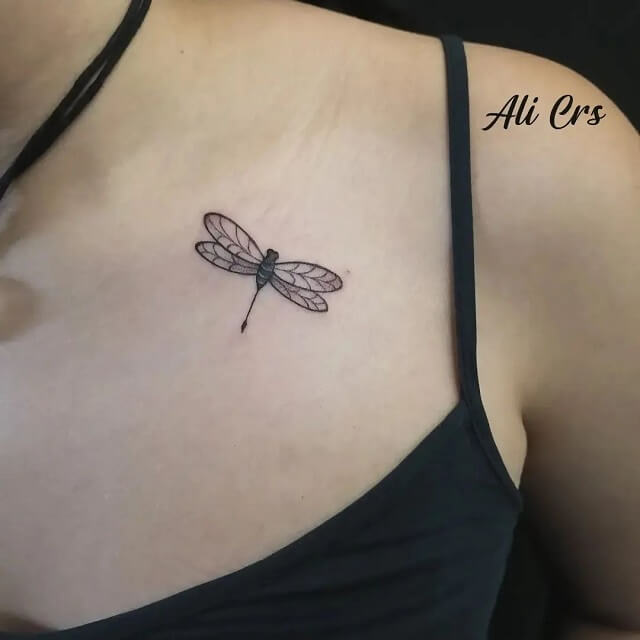 A black & white dragonfly is inked on this beautiful woman's left chest. The slim tail and the body create a good contrast of size in this chest tattoo for women.
Heavenly Love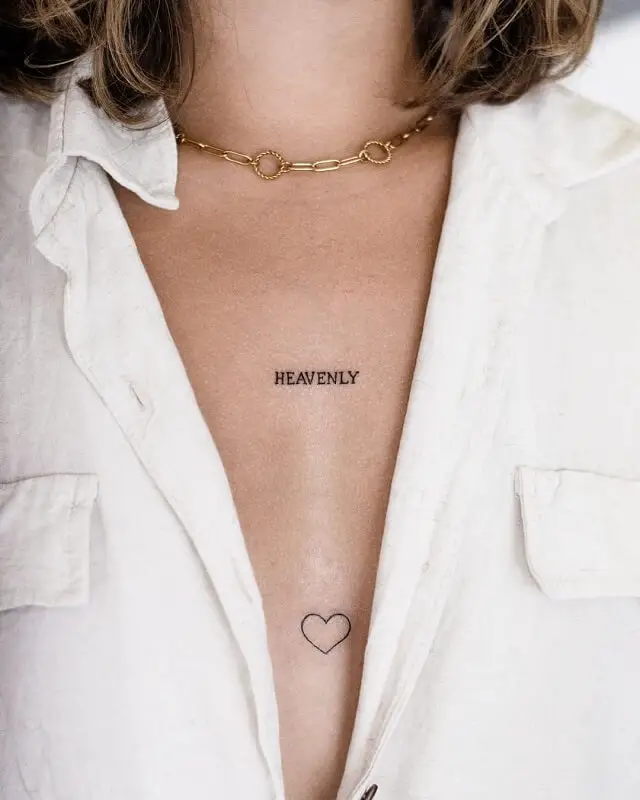 Heaven is a place for love and peace. The word heavenly is boldly tattooed on this young lady's sternum, along with a love symbol on the bottom. They go nicely together.
2. Heart Chest Tattoos
The heart is one of the most important organs of a human being. It's often known as the center of life. Many women's chest tattoos revolve around a heart as the main attraction.
Reflection of Heart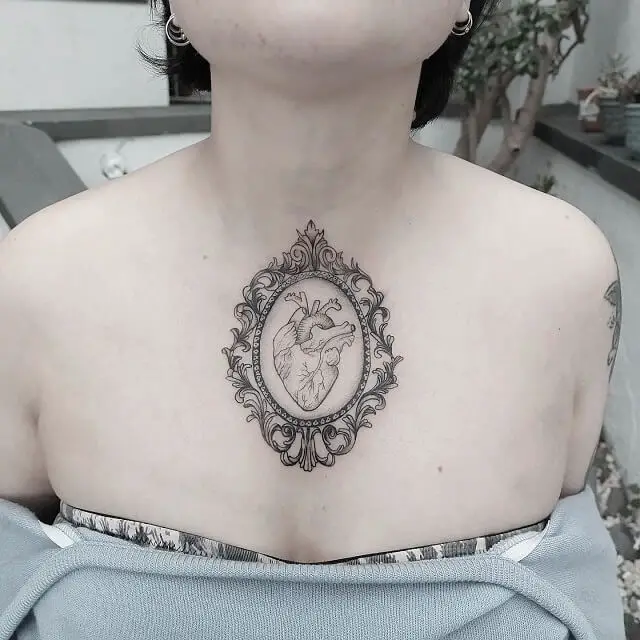 There is a mirror on top of this girl's torso. The mirror has a heart drawn on it. It is a pure reflection of a person's emotions.
Heart Of Flower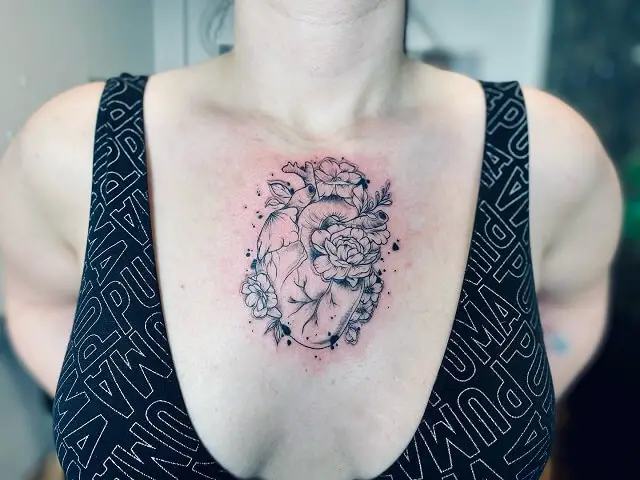 A flower is a symbol of delicacy & beauty. The heart inked on these women's chests has lots of flowers embedded in them. It represents the delicate nature of this tattoo.
Burning Heart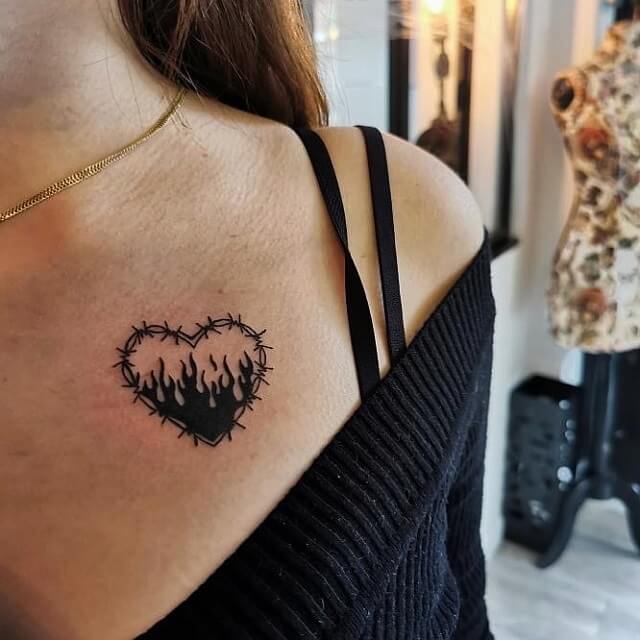 The burn of desire can be easily spotted on this girl's tattoo. The heart symbol is made from wires that have sharp ends & the fire is contained within that. A passionate piece of chest tattoo for women.
3. Middle Chest Tattoo
Most of the time, the middle part of the chest is used as the surface for women's chest tattoos. This area typically has a plain and even surface that makes the tattoo more visible.
Funneled Flower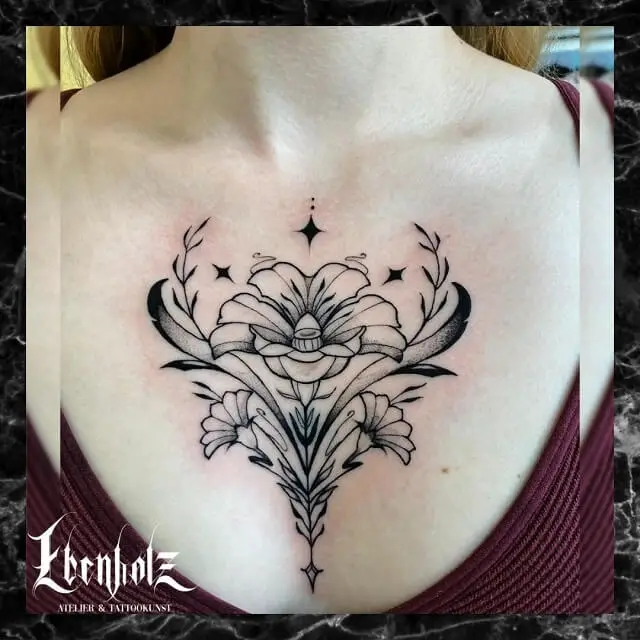 In this tattoo, the flat surface of this beautiful girl's chest has been properly utilized. There are multiple flowers drawn in a shape of a funnel. It channels all the attention from the top of the funnel to the end part.
Dead Eyes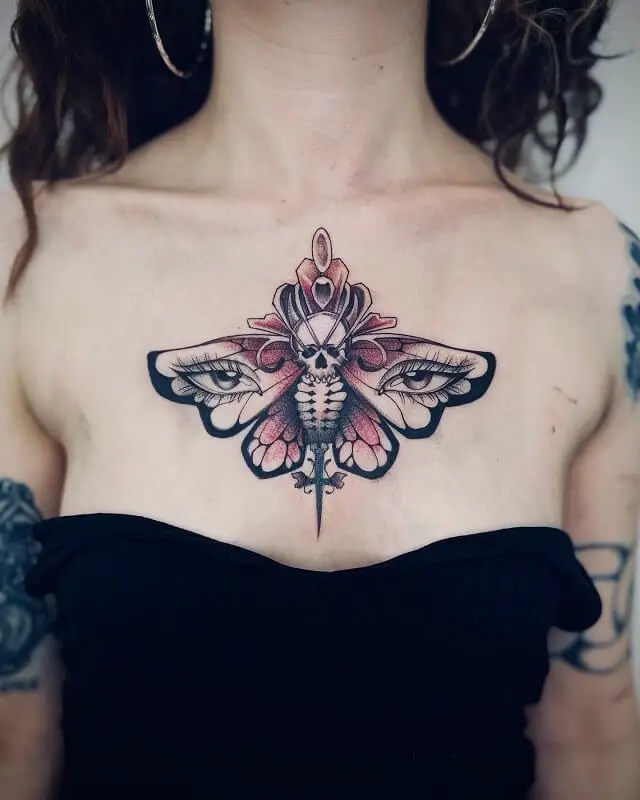 Two gorgeous eyes take all the attention of this piece. There's also a butterfly that is combined with a skull. The cross on the bottom adds a religious touch to this amazing woman's chest tattoo. The colors create a nice contrast against the fair skin of this lady.
Single Bloom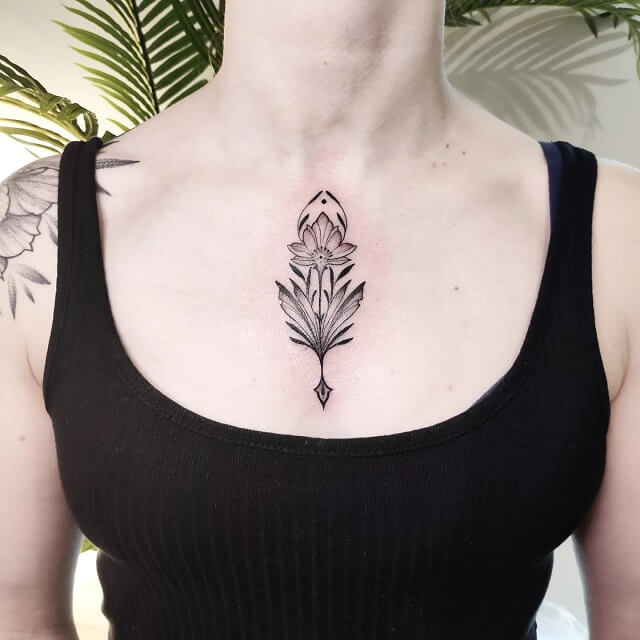 Sometimes it's important to stand on your own and flourish. The flower on her sternum is doing exactly that. A tattoo with a strong message for all the women.
4. Cute Chest Tattoos
Chest tattoos on women always carry feminine and cute vibes. A lot of tattoos are drawn specifically by keeping them in mind. They enhance the beauty of women and makes them appear cuter.
Shining Sun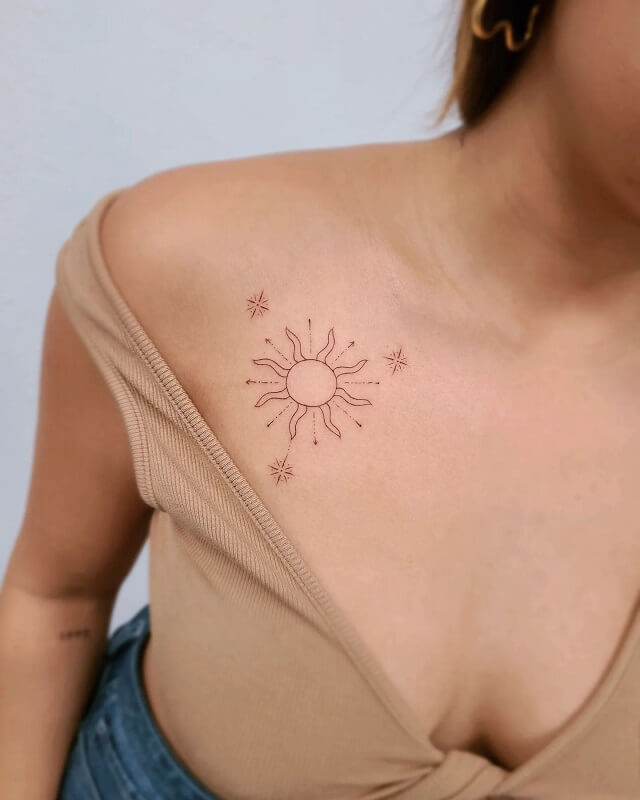 Although there is a sun drawn with only the outline, The sparkles on the outside of the scorching sun make it more friendly and cute. A beautiful side chest tattoo of girls.
3D Heart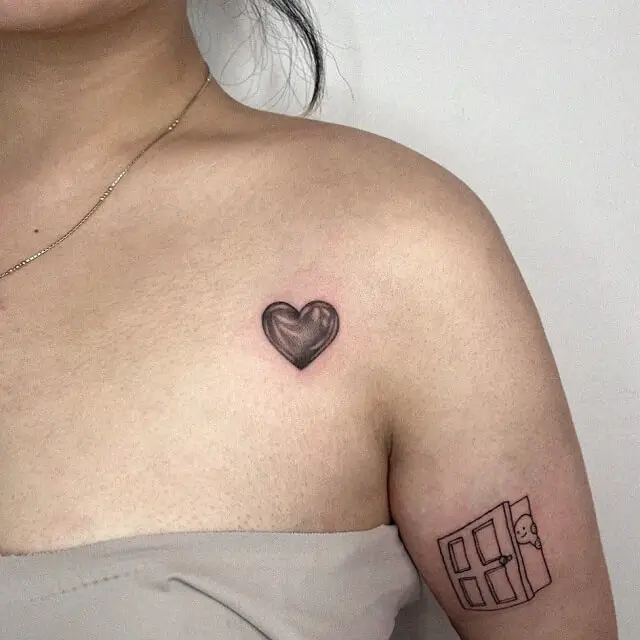 A simple yet gorgeous heart can be seen on this girl's chest. The heart is black in color, but the use of negative space adds some depth to the piece and makes it look like a 3D sculpture on this woman's upper body.
Black & White Rose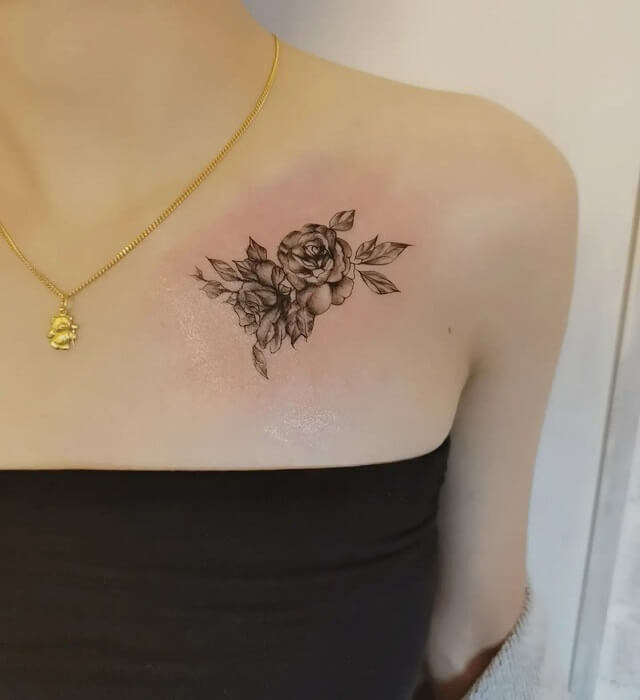 Rose is one of the most popular flowers, and they are known for their bright red color. However, in this tattoo is drawn without color. It can indicate that the woman in this picture is missing colors in her life & needs a change.
5. Butterfly Chest Tattoos For Women
Butterflies are a symbol of transformation, rebirth, and freshness. They are a top pick for vibrant chest pieces for women.
Colorful Butterfly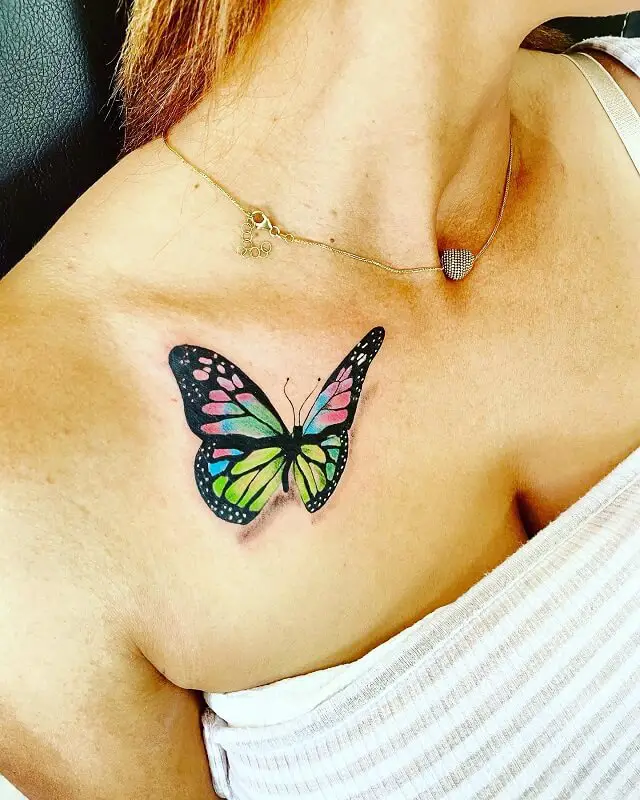 The vibrant colors on this butterfly spread a fresh vibe. The shadow on the bottom of this butterfly is also adding depth to her tattoo.
Giant Butterfly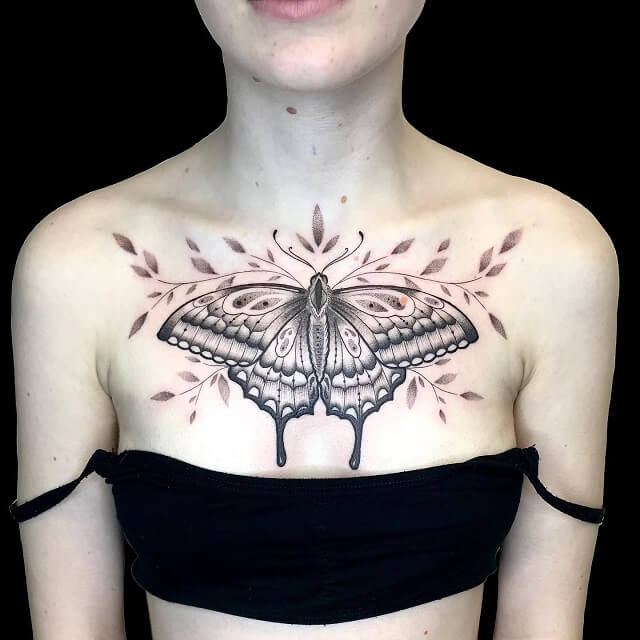 A huge butterfly can be seen covering this girl's chest. The butterfly has completed all of its transformations and reached the pinnacle of growth. A tattoo for the full chest of women.
Monarch Butterfly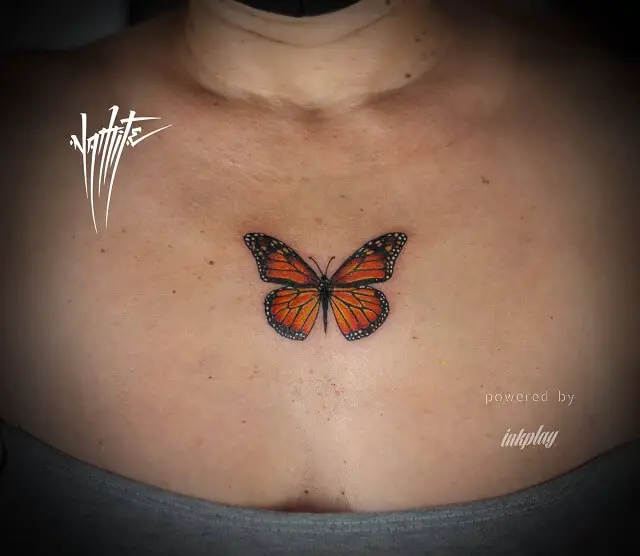 Monarch Butterflies are one of the most beautiful yet endangered species of butterfly. This tattoo reminds us that we should be more generous towards nature. A woman's chest tattoo with deep meanings.
6. Side Chest Tattoos
Side of the chest tattoos for women tends to be smaller in size compared to full chest tattoos. They usually have a minimalist look, but there are some gorgeous pieces available too.
Evening Birds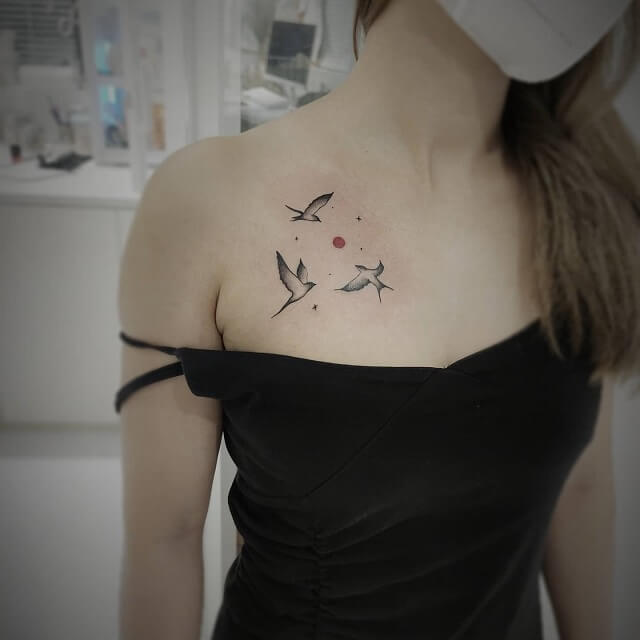 The red sun in the middle of the three birds is a sign of dusk. The sun is going down, hence the red color on her side chest. The folks of birds are saying final goodbyes to each other.
Two-Sided Skull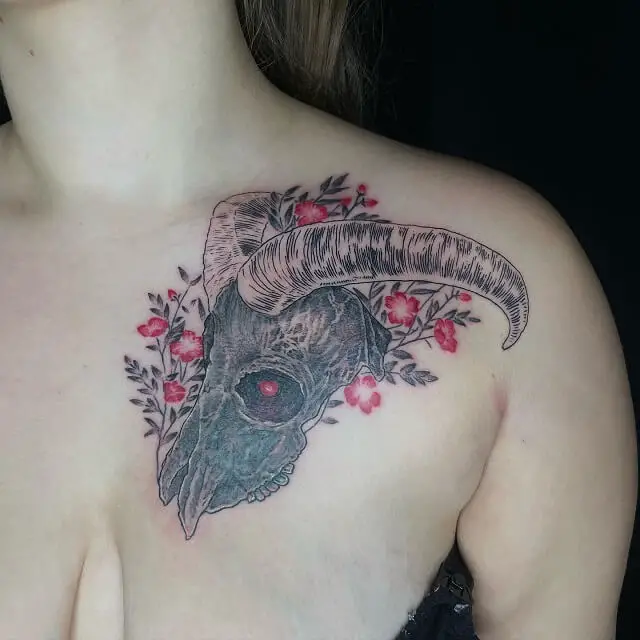 The skull on this woman's chest has two sides, one being black and the other white. We can also see some flowers on the white side, but no flowers on the dark side. It is showing the contrast between the two sides clearly.
Memorable Dates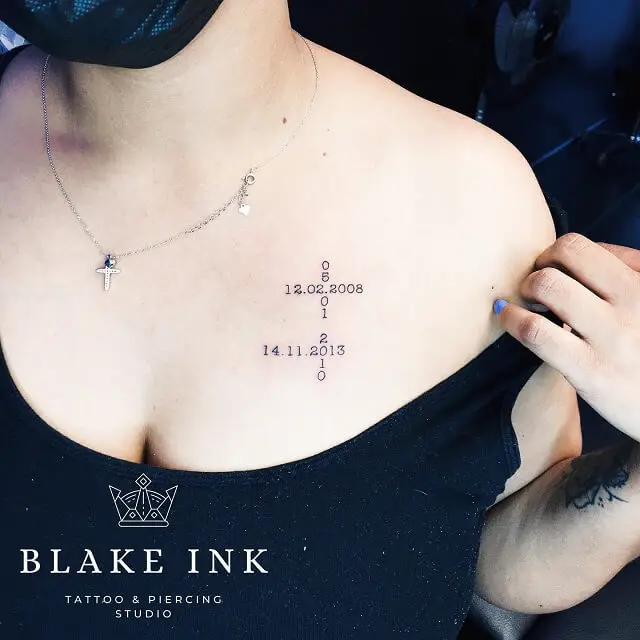 We all have some special dates where we have some memories that we want to remember throughout our entire life. On the left side of this gorgeous woman's chest are a few dates that she'll remember for the rest of her life.
7. Simple Chest Tattoos
Sometimes simplicity is the best way. Having a simple chest tattoo makes women look more elegant and beautiful.
Triple Hearts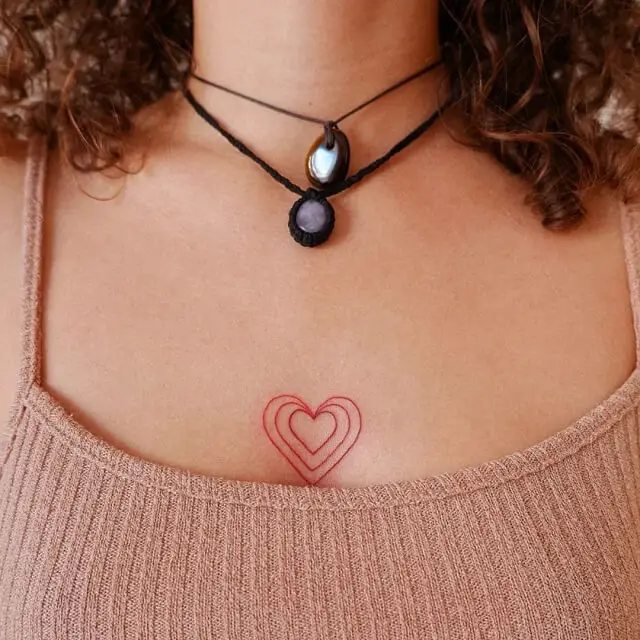 Three simple hearts are drawn within each other. The smallest heart is surrounded by layers. It shows the different layers of women's hearts, and the dearest ones stay at the center of all.
Butterfly & Flowers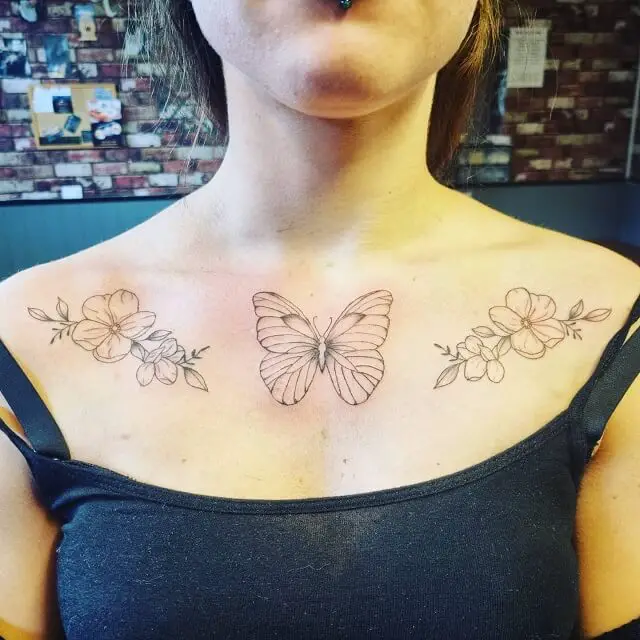 Both the flowers and the butterfly need each other to live. They form a symbiotic relationship that helps them to grow. This young lady believes in that and is reflecting her thoughts through this piece.
Small Daisy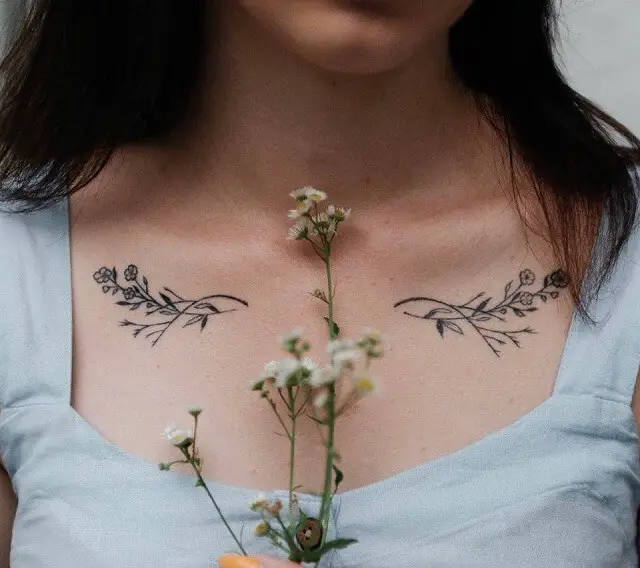 Two strands of daisy flowers are tattooed on her chest. Both of the flowers are facing away from each other. It tells us that although we can be simial on the outside, that doesn't mean we'll have a similar view on the inside. A simple yet deep tattoo.
8. Tribal Chest Tattoo
Tribal chest tattoos for women represent members of a tribal community. Many women get these types of tribal chest tattoos to show their appreciation for the tribe.
Center Chest Tribal Tattoo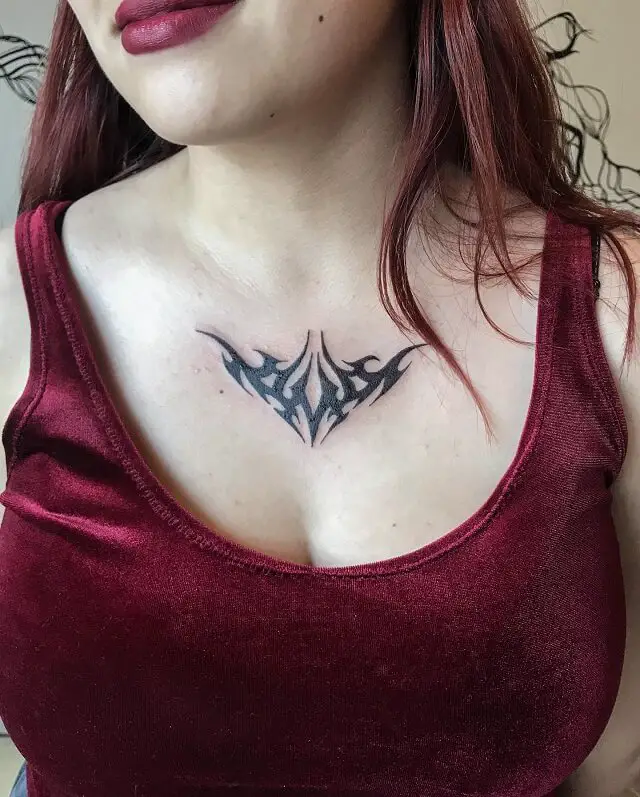 The woman in this picture has a freshly inked tattoo of a tribe symbol. The design is simple and bold. The redness around the tattoo will take some time to heal.
Tribal Artwork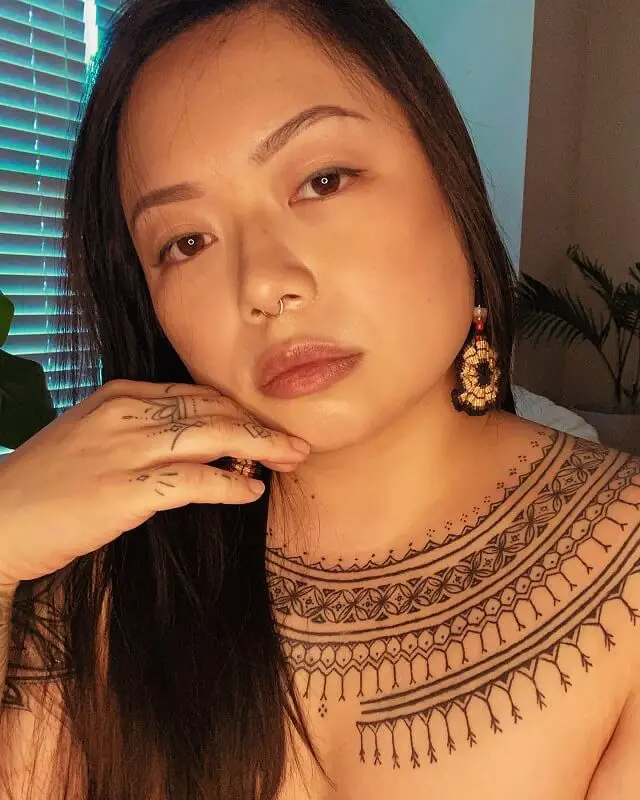 The entire upper chest of this girl is covered with a minimalistic design. The design represents a tribe & the artwork itself has a filigree style. A beautiful piece for women with fair skin.
Ancient Tribe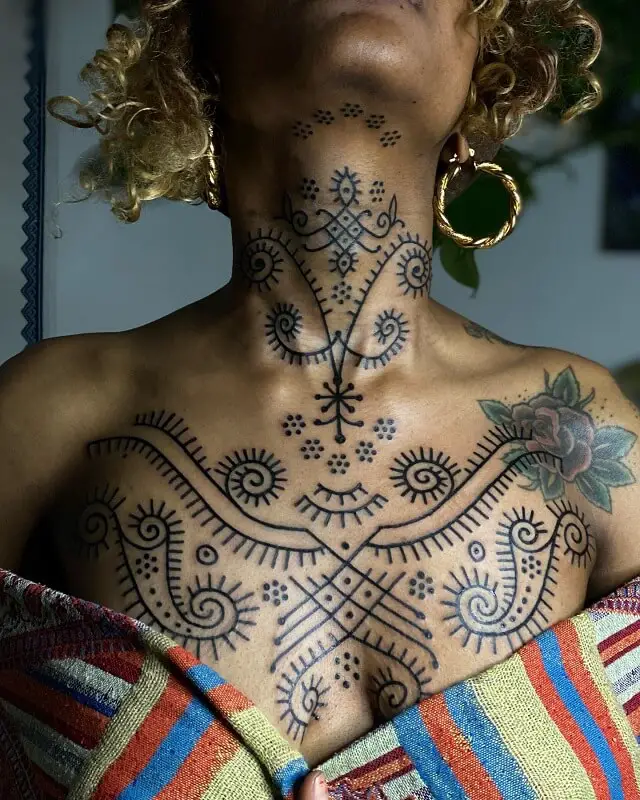 Lines and dots are used to draw this tattoo on her chest. The simple patterns suggest that this is inspired by a very distant past. The flower on the side is an extra touch to the design.
9. Upper Chest Tattoos
Upper chest tattoos for women refer to the chest area that is just below the collar bone. It is extremely painful to get tattooed. If you can bear the pain, it'll be worth it.
Flower Pairs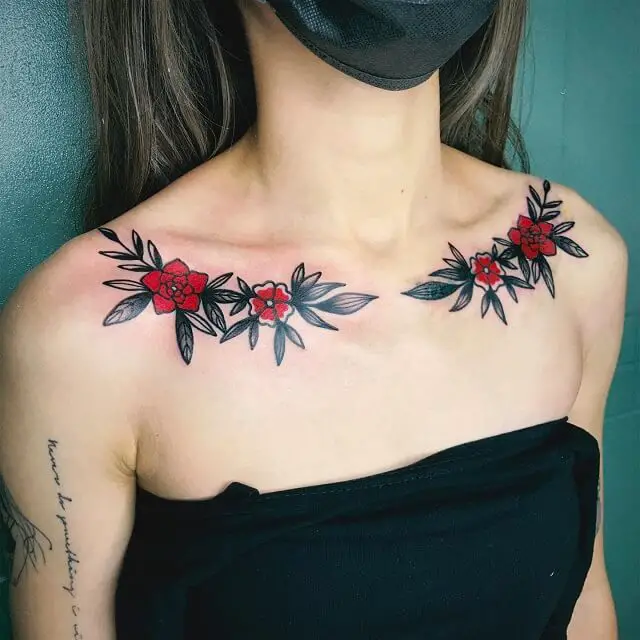 On both sides of her upper chest is a pair of crimson red flowers accompanied by some leaves. The pair looks identical to each other but is mirrored. By the looks of the skin, it's most likely freshly inked.
Shaded Plants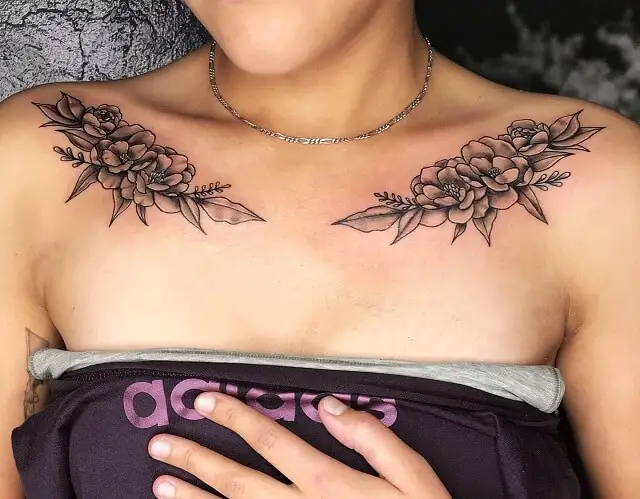 Just like the previous tattoo, this young lady has two pieces just below the cooler bone. The shading on the leaves are giving a sense of depth to this piece.
Vibrant Roses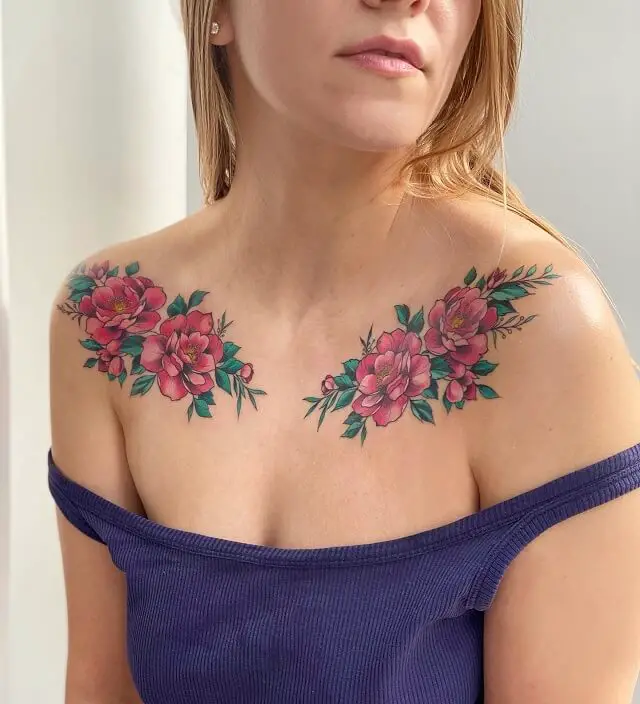 The colors used on this woman's chest piece are popping out. It'll catch the attention of people around her instantly. The Green and red colors are creating a good contrast too.
10. Shoulder Chest Tattoos
A lot of the time, shoulder & chest tattoos are combined to give them a new look. The upper chest of the woman and her shoulder is inked on this type of tattoo.
Black & White Koi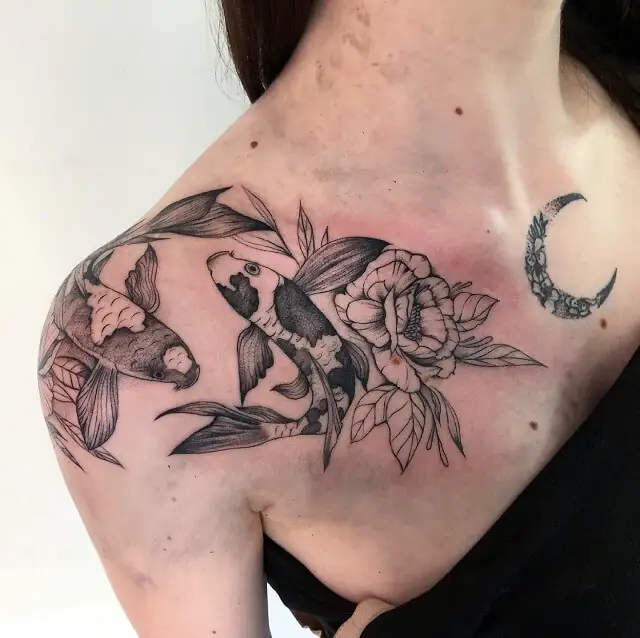 Two Japanese koi fish can be seen drawn on this gorgeous woman's shoulder and chest. They are circling each other in a Yin & Yang formation that represents balance.
Tribal Ornament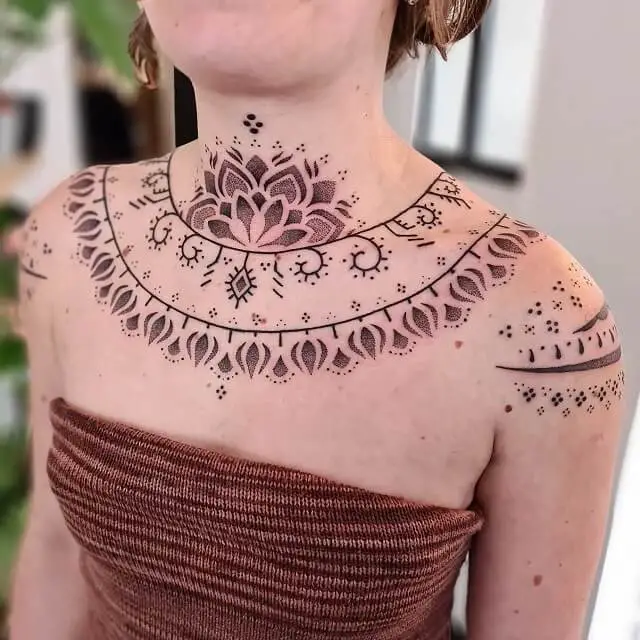 The patterns on the tattoo on this lady's chest suggest that it's a tribal piece. The Filigree style on her shoulder makes it appear as an ornament.
Moon cycle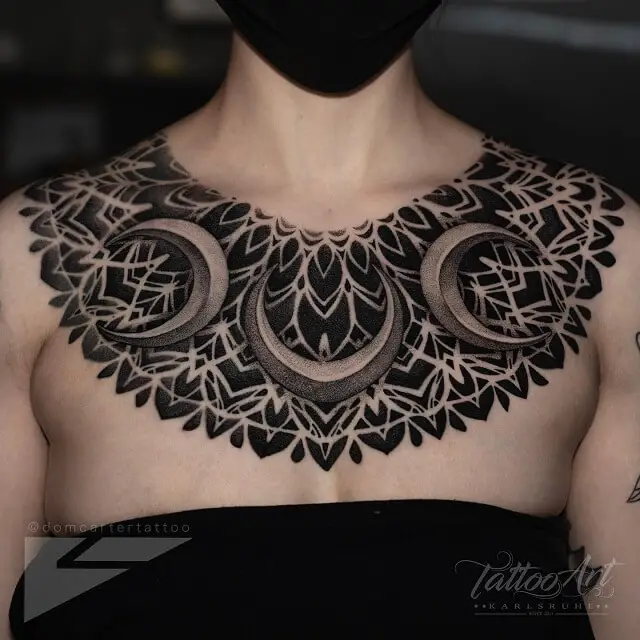 The bold colors on this chest and shoulder piece are accompanied by three moons. The moons are at different cycles. It balances out the heavy design on her chest.
11. Star Chest Tattoos
Stars are often used on women's chest tattoos. Sometimes a single star is used to create a design, or sometimes they are used in groups.
Shining Star
A massive glowing star is in the middle of this girl's chest. It is shining brightly, just like the girl in this picture.
Zodiac Constellation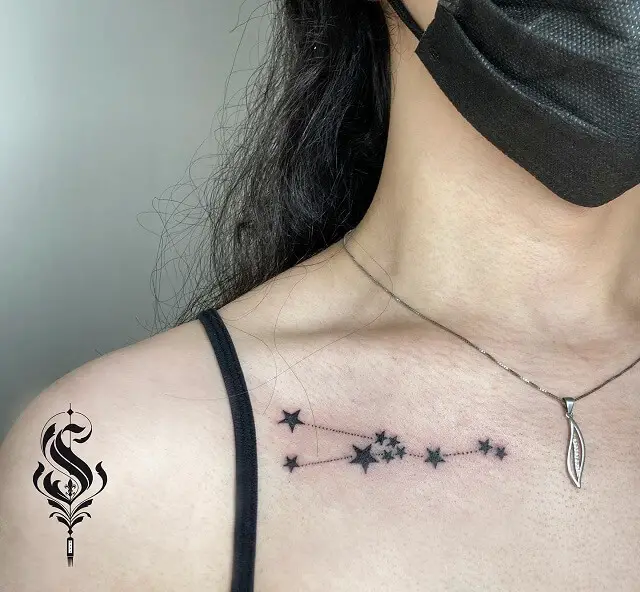 A bunch of stars is used to create a constellation on the side of the young woman's chest. The stars are connected with simple dots, which creates a representation of a zodiac sign.
Black Star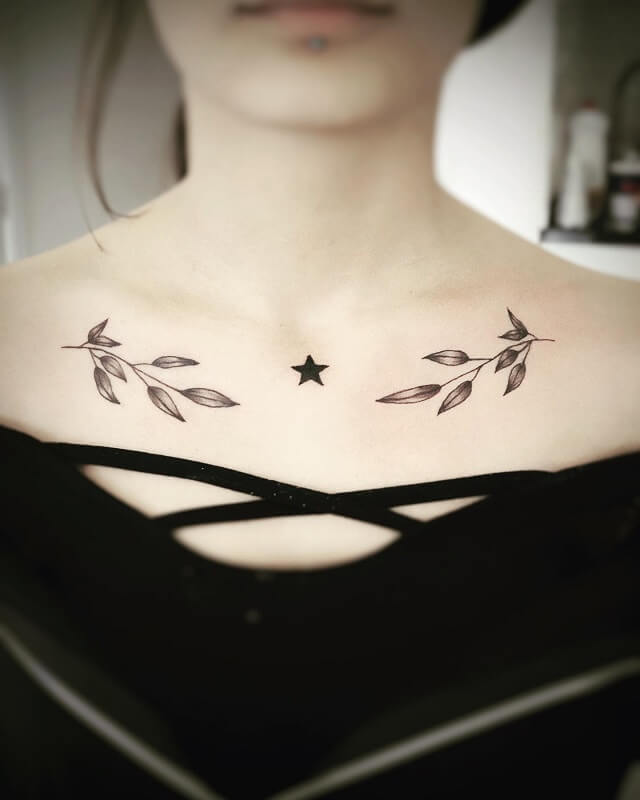 Although stars are bright in nature in this piece it is drawn with black ink. Its dark color might represent some darkness within the woman in the picture.
12. Bird Chest Tattoos
Birds are a common subject when it comes to chest tattoos for women. They are appreciated for their agile and fun nature.
Puzzled Bird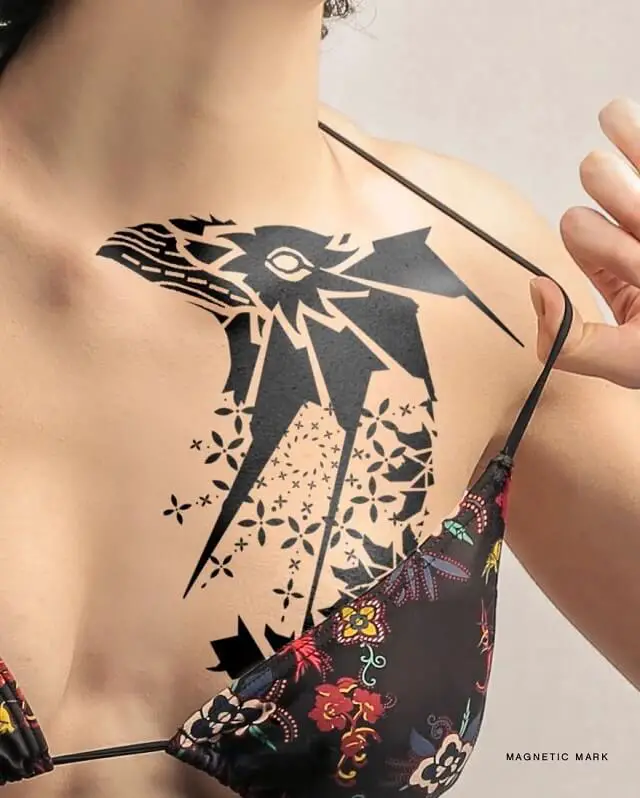 Lots of small sections have formed this bird. The tattoo is covering her chest and breast area. Only the head of the bird is visible, and the rest is a mystery.
Love Birds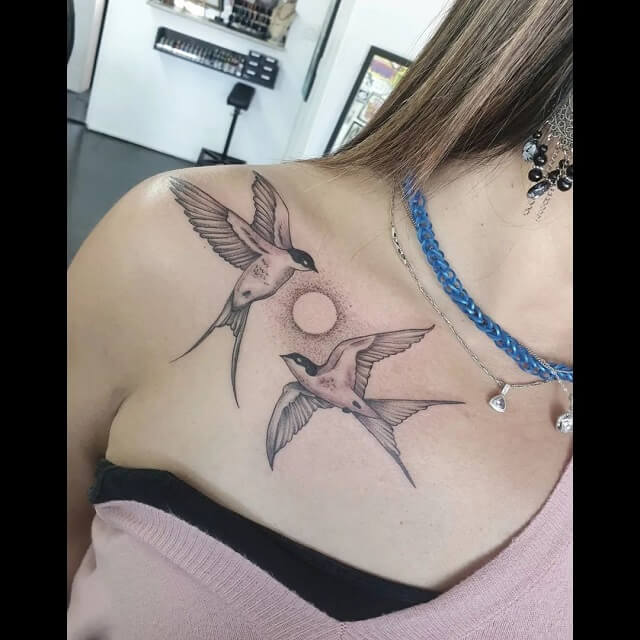 Two small birds can be seen on the side of this young woman's torso. The sun in the background adds a romantic touch to the tattoo.
Multicolored Hummingbird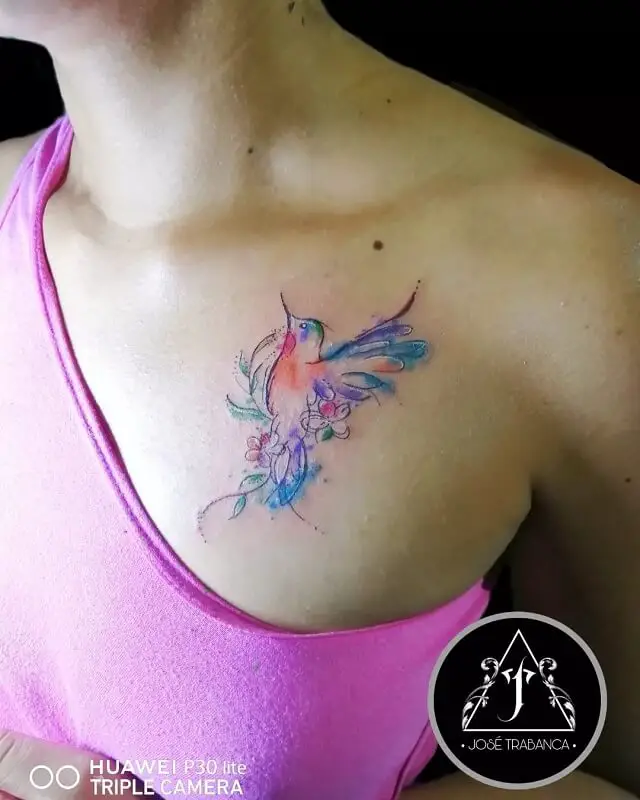 A tiny hummingbird is the main subject of this piece of art. There are a bunch of colors used in this tattoo. The slight strokes of colors on this feather create a majestic look.
13. Flower Chest Tattoos
The delicacy of a flower is often reflected in women's chest tattoos. Flowers bring out a fresh vibe and make everything look beautiful.
Color Contrast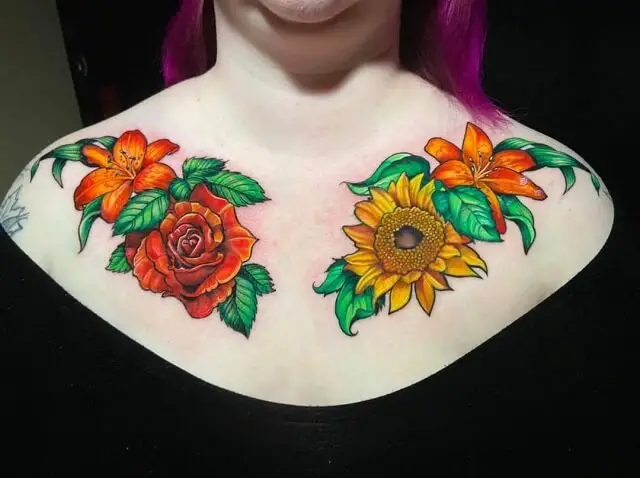 The green leaves and red roses creates a great contrast against the skin. The yellow sunflower reminds us of the fresh summer. A great choice for women with white skins.
Monochromatic Flower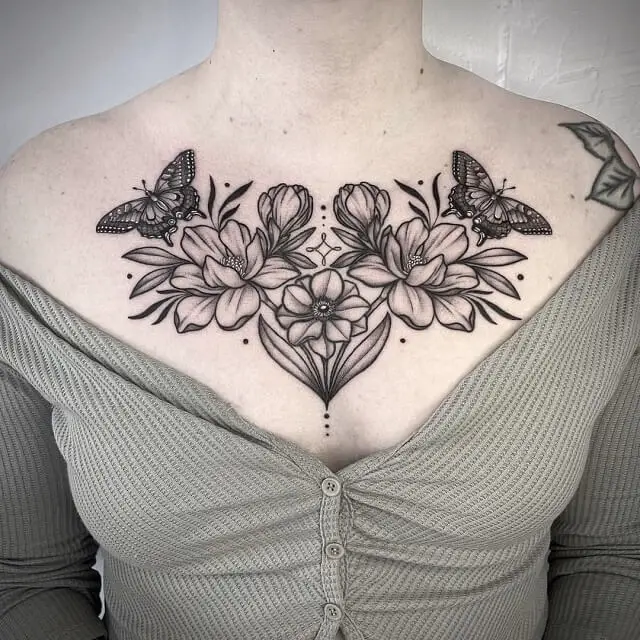 Everything in this tattoo is drawn by using only a single color. The tattoo is covering the center of her chest. The butterflies are floating freely around the flowers.
Spider Webs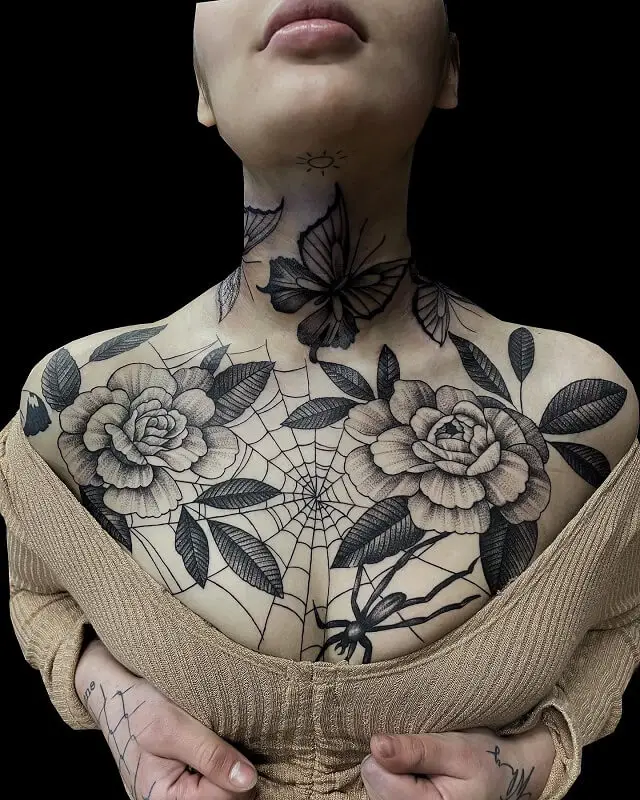 Although it's a flower tattoo, the spider Webs take away the attention and focus more on the spider. The spider is waiting for its prey behind the beauty of the flowers.
14. Dragon Chest Tattoo
Dragons are mythical creatures that possess immense power and strength. These mythical beings are heavily used in women's tattoos.
Young Dragon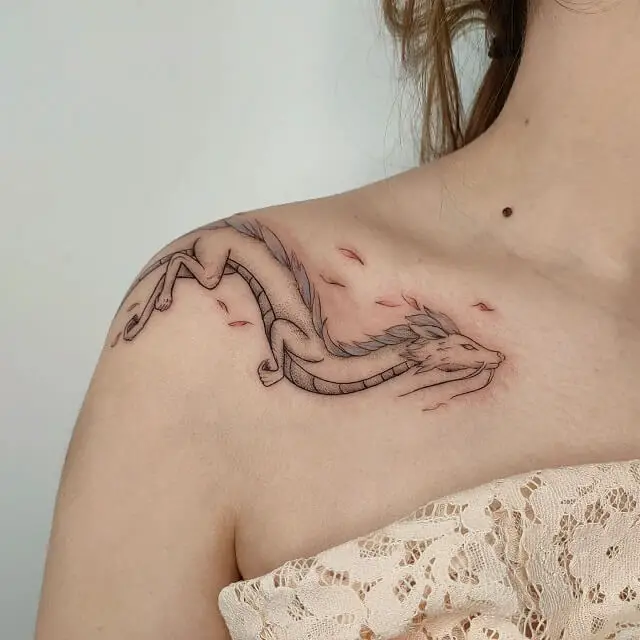 A majestic young Dragon is inked on the side of this gorgeous woman's chest. There are some red leaves around it. It looks like springtime and the dragon is enjoying its youth.
Dragon Heard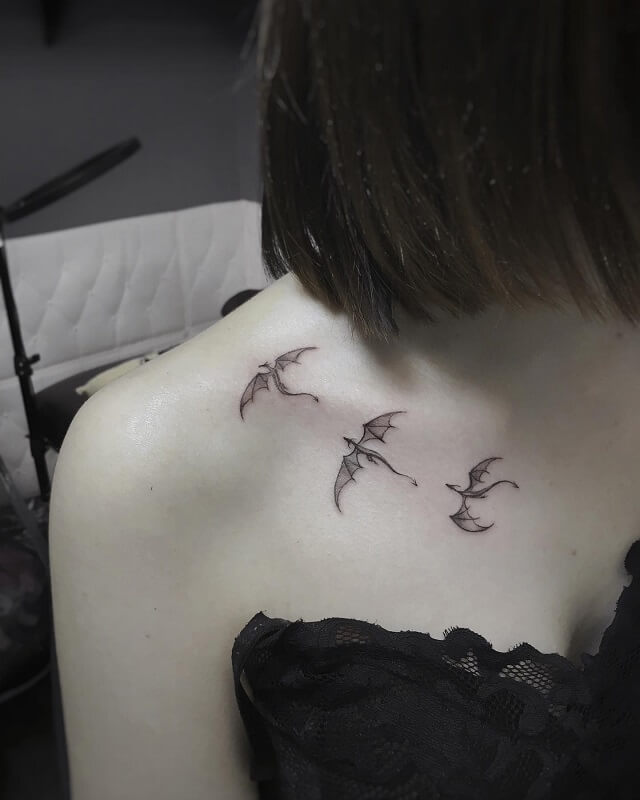 Three dragons on this girl's chest are flying in a formation. You don't want to cross paths with them because most likely they'll destroy everything in their path. A total display of dominant power.
Old & Mighty

With age comes experience. The dragon in this tattoo is one of the oldest looking. There are dark flames coming out of its body. An aggressive-looking tattoo on the girl's chest.
15. Feminine Chest Tattoos
Chest tattoos are a great way to show one's beliefs. Feminism can also be displayed through these amazing chest tattoos for women.
Spring Flower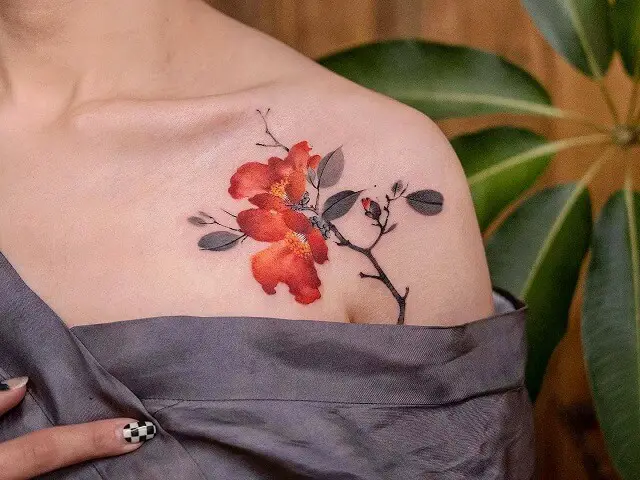 Just like the spring, this tattoo has a warm and welcoming vibe. The fertility of the spring resembles feminine nature. A wonderful choice for a feminine look.
Blooming Beauty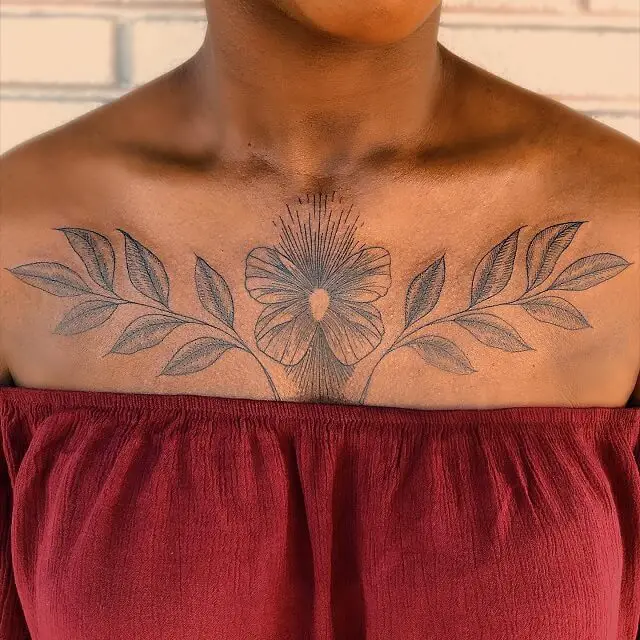 There's nothing more attractive than a blooming flower on a women's chest. This piece screams feminism and creates a girly vibe.
Reflection Of Heart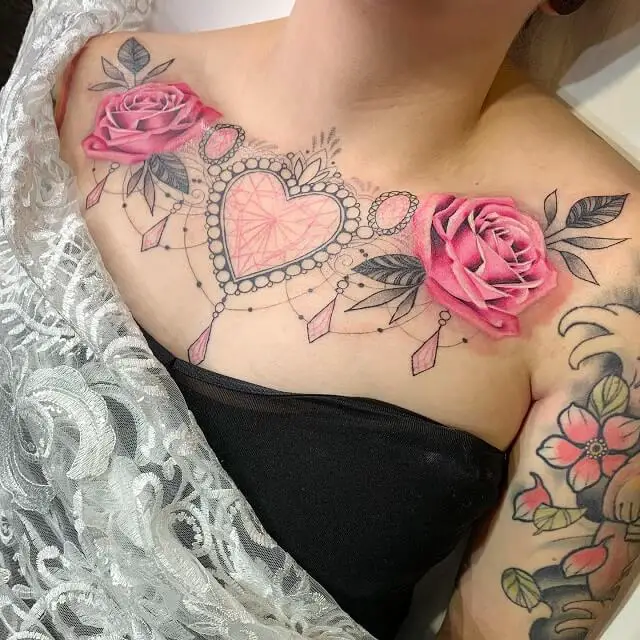 A love-shaped mirror is surrounded by lots of filigree work. There are two roses that accompany the filigree design. The tattoo is nicely drawn on a cute girl's chest. A true believer of feminism can get this without any hesitation.
16. Under Chest Tattoos
Center Arrow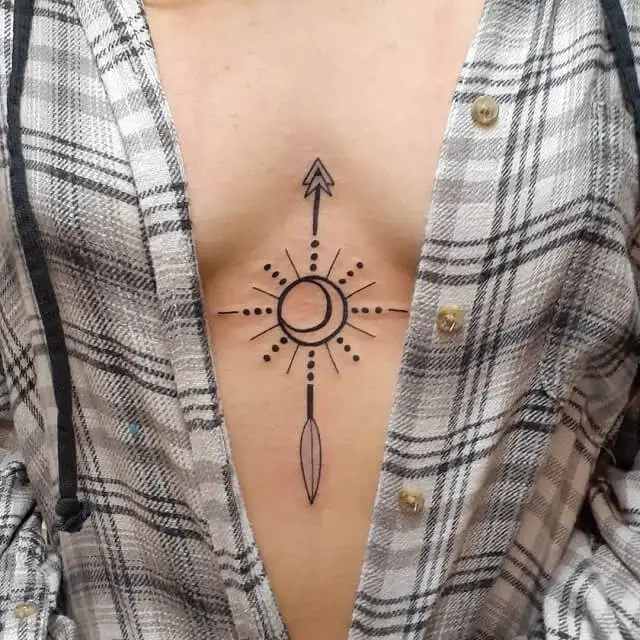 Tiny Branch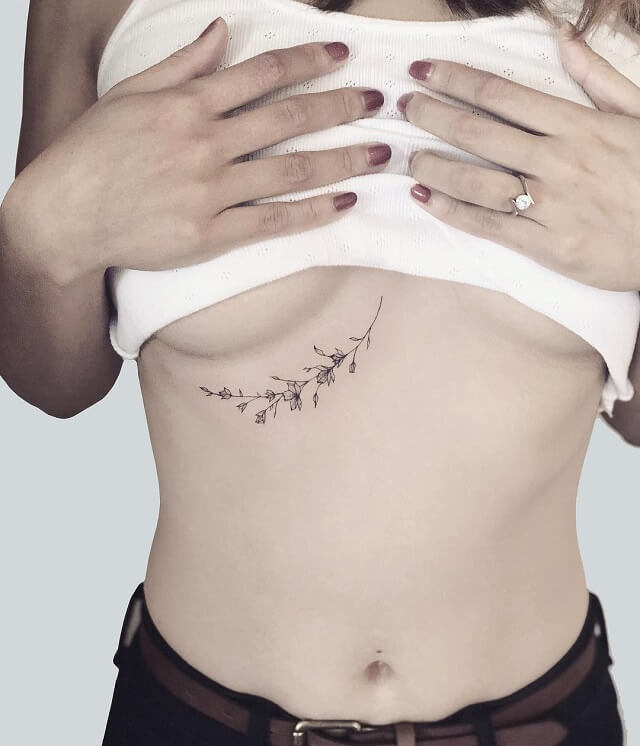 Triangle Of Flowers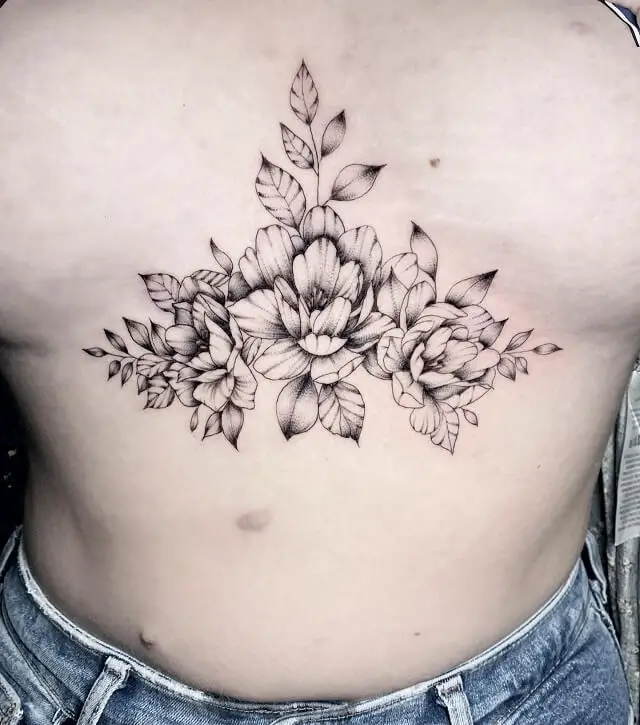 17. Arty Chest Tattoo
Bold Sparrow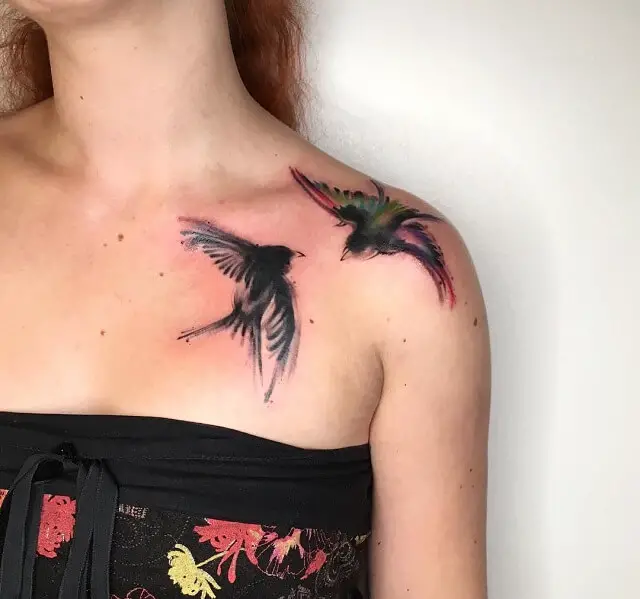 Red Diamond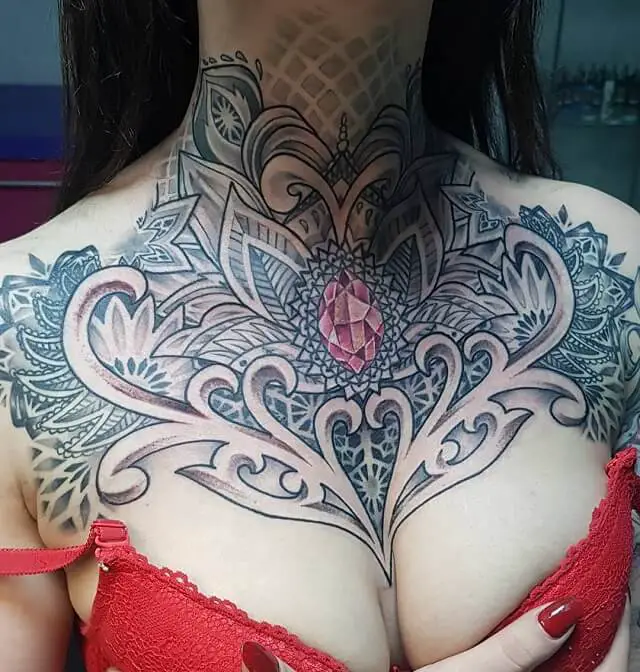 Knowledge Seeker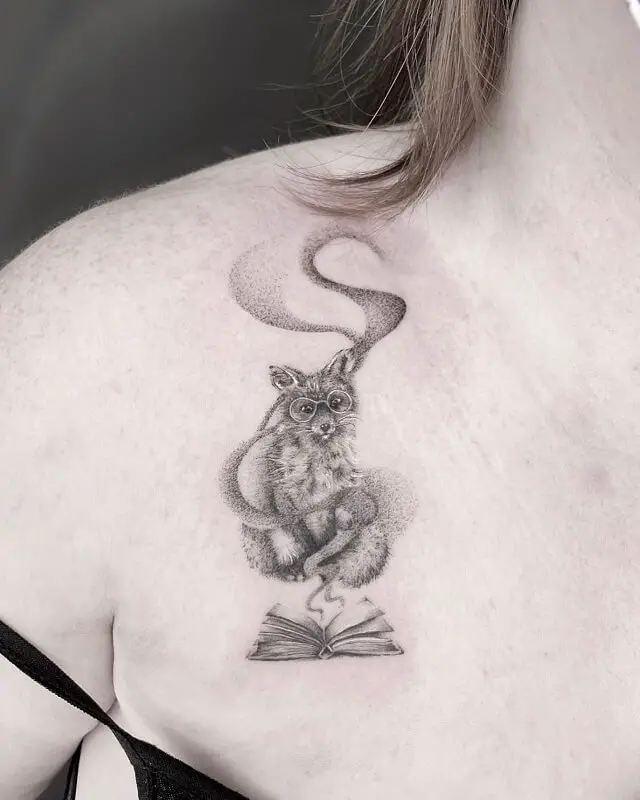 18. Henna Chest Tattoo
Hena Rose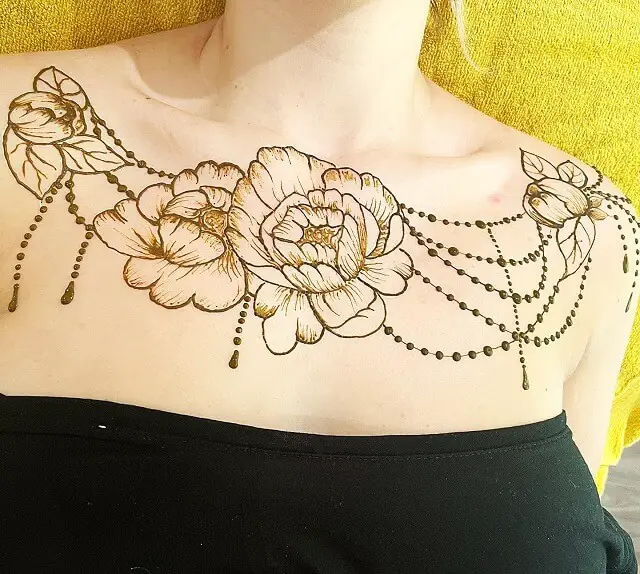 Filigree Shoulder & Chest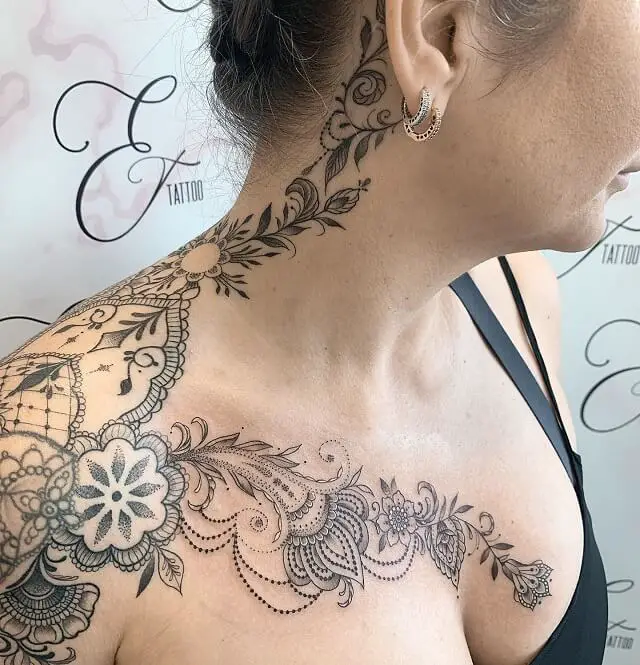 Fairy Book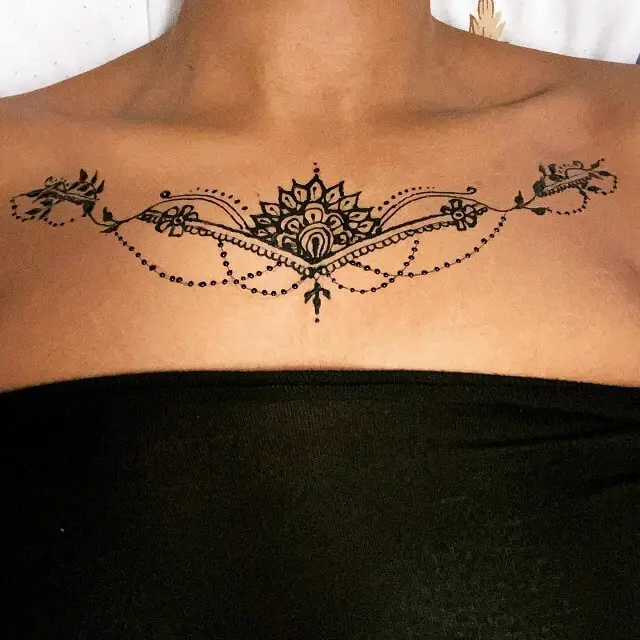 19. Colorful Chest Tattoo
Moon Bird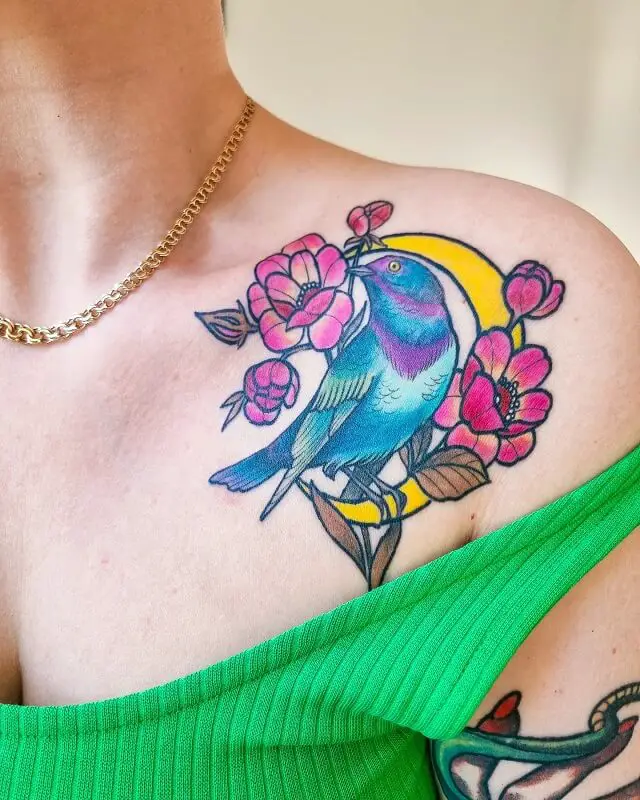 Butterfly Rose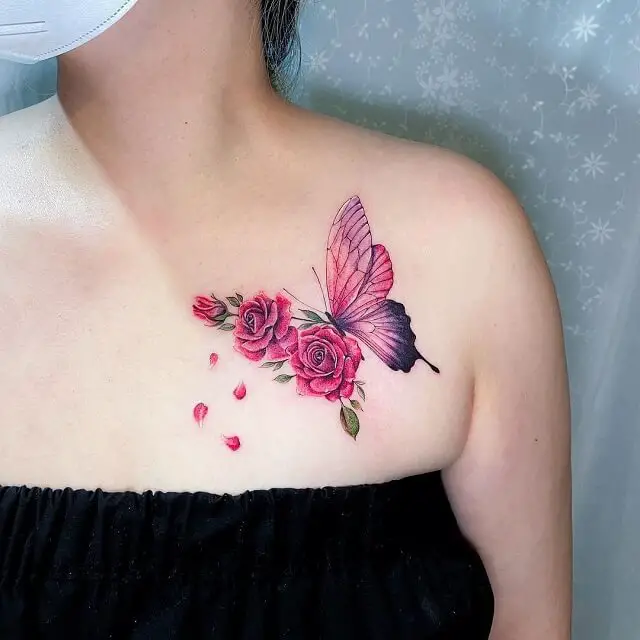 Galactic Love
20. Geometric Chest Tattoo
Symmetric Flower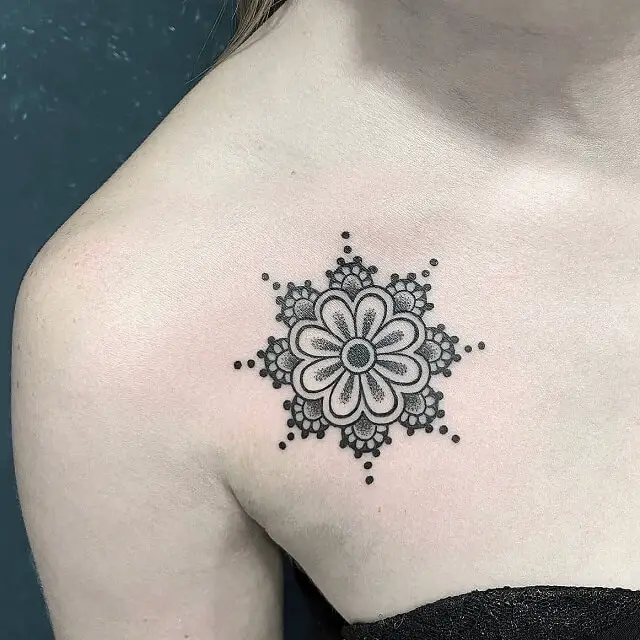 Tribal Geometry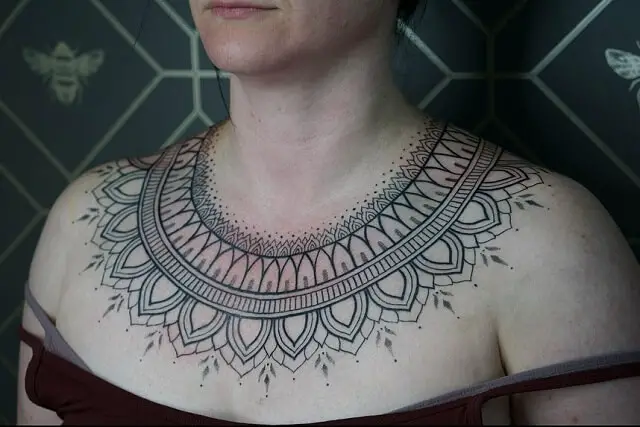 Dotted Artwork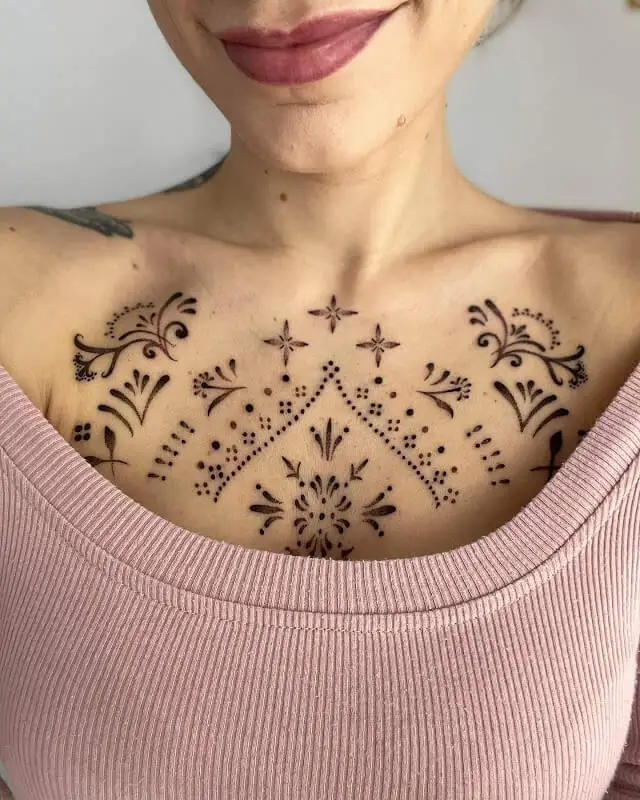 21. Moon Chest Tattoo
Solo Moon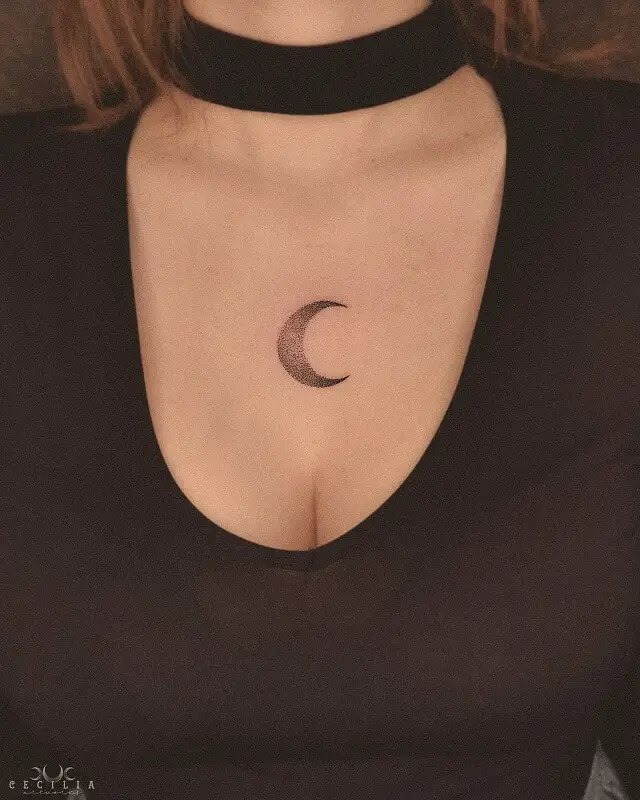 Rose Moon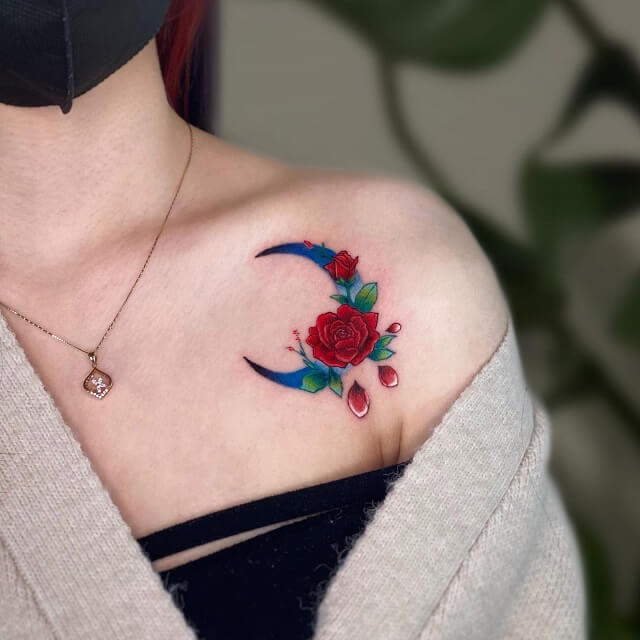 Moon Faced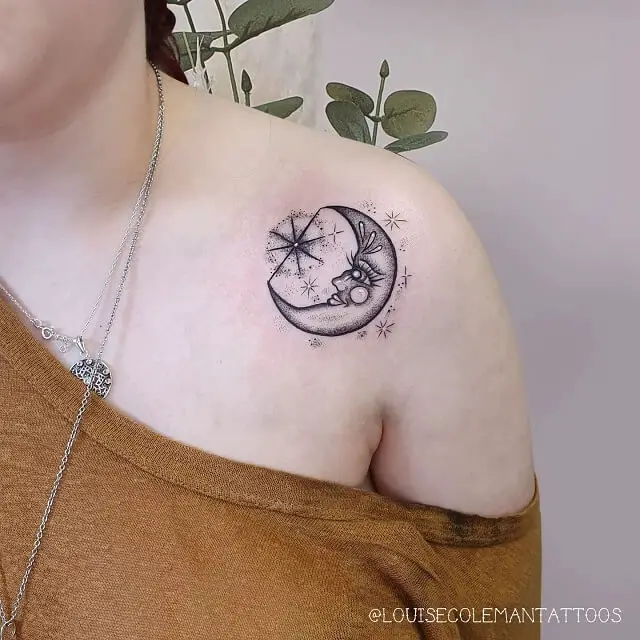 22. Dandelion Chest Tattoo
Fading Away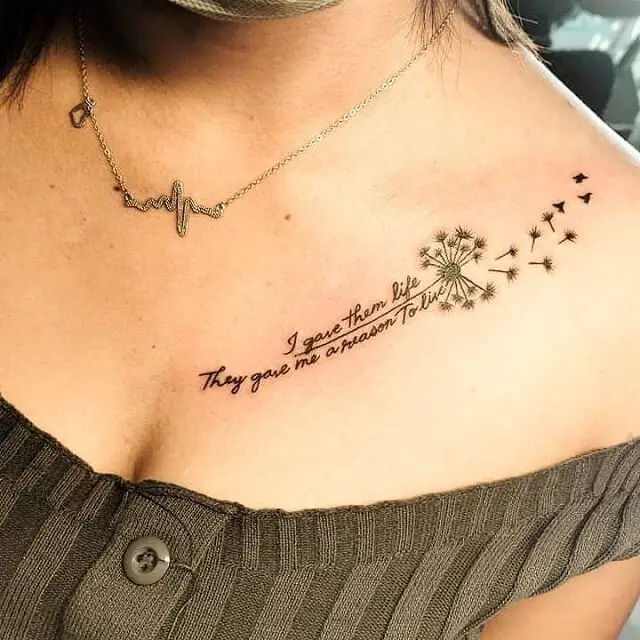 Disconnected Pulps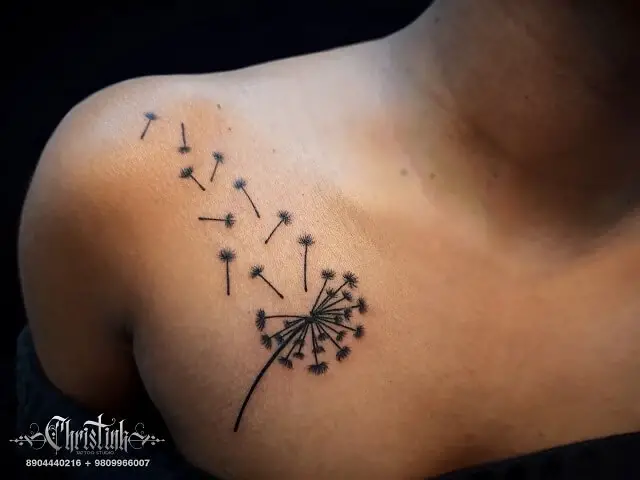 Minimal Dandelion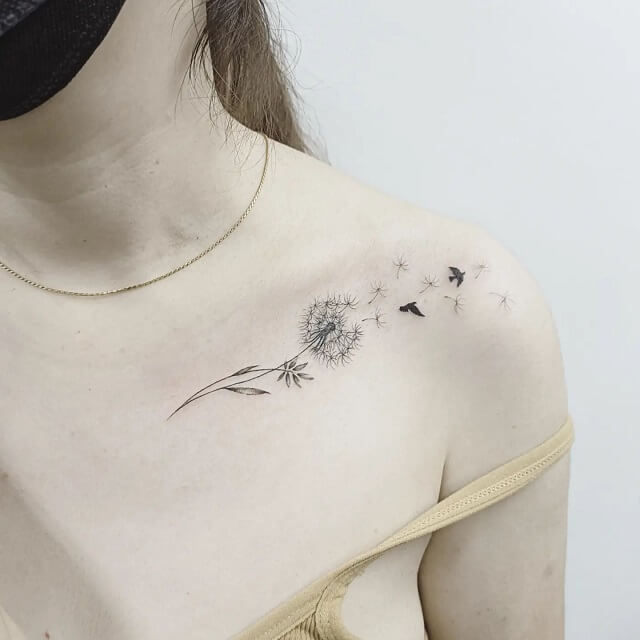 23. Rose Chest Tattoos
Outlined Rose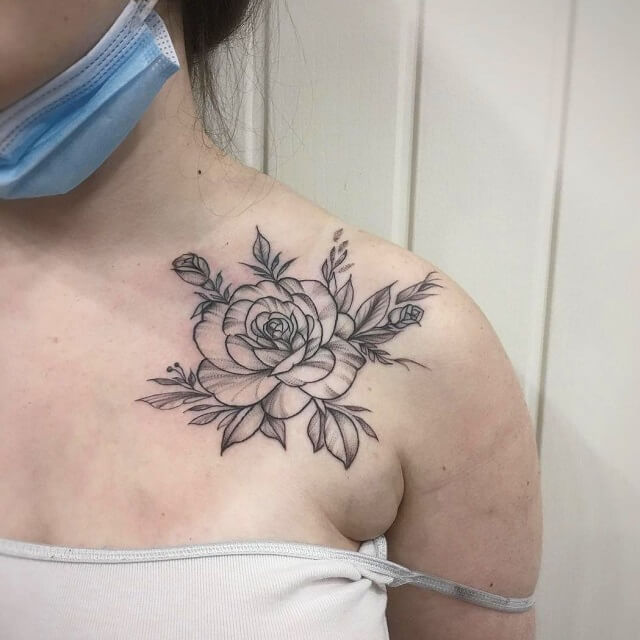 Rose Squad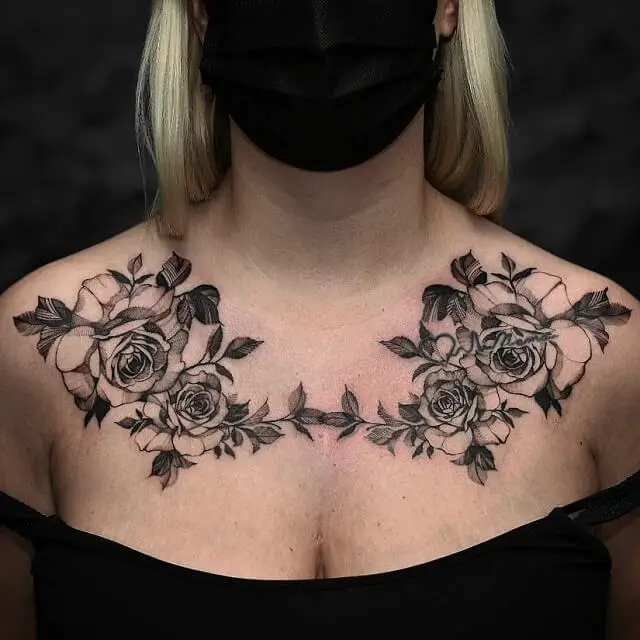 3D Rose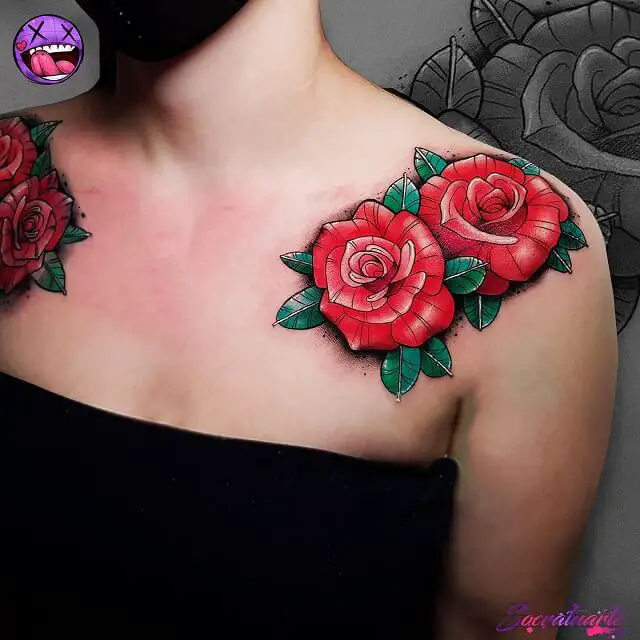 24. Script Chest Tattoo
Fancy Writing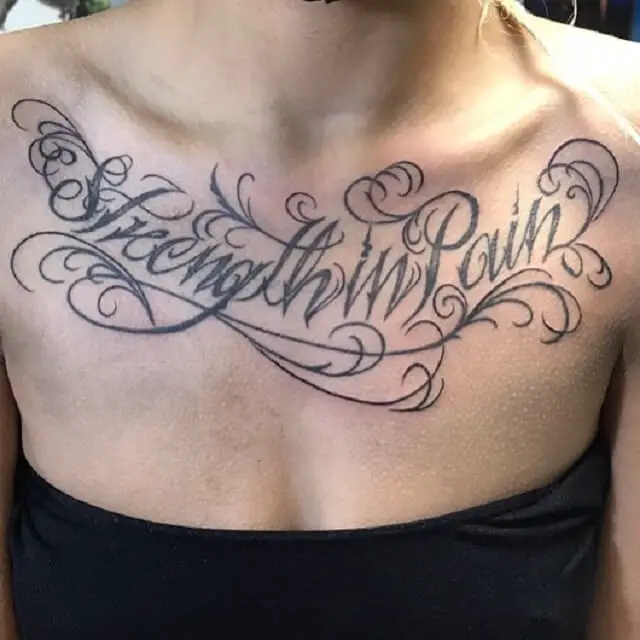 Cursive Text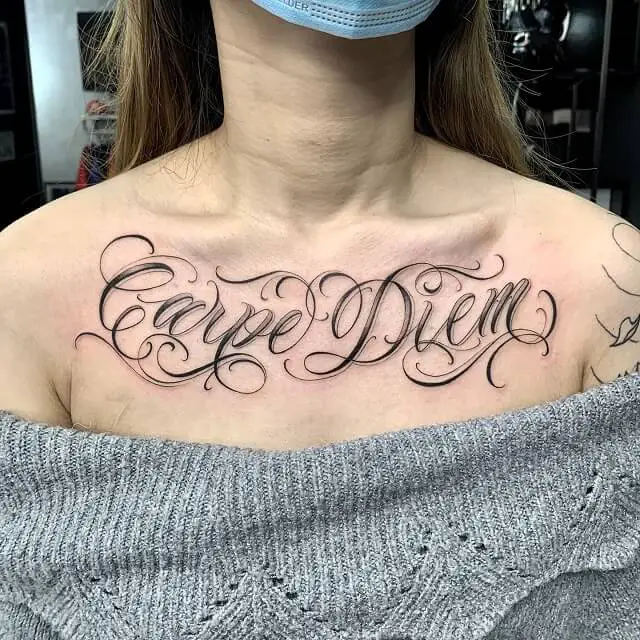 Love Poem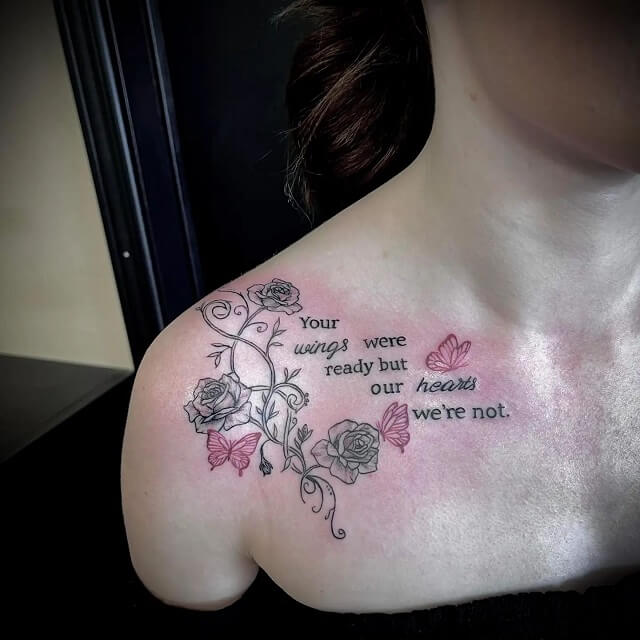 25. Memorial Chest Tattoo
Fredric B. Shelar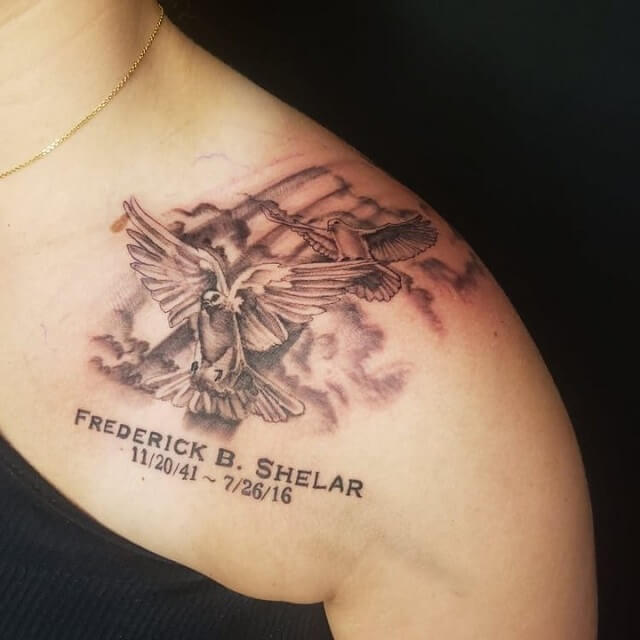 Acceptance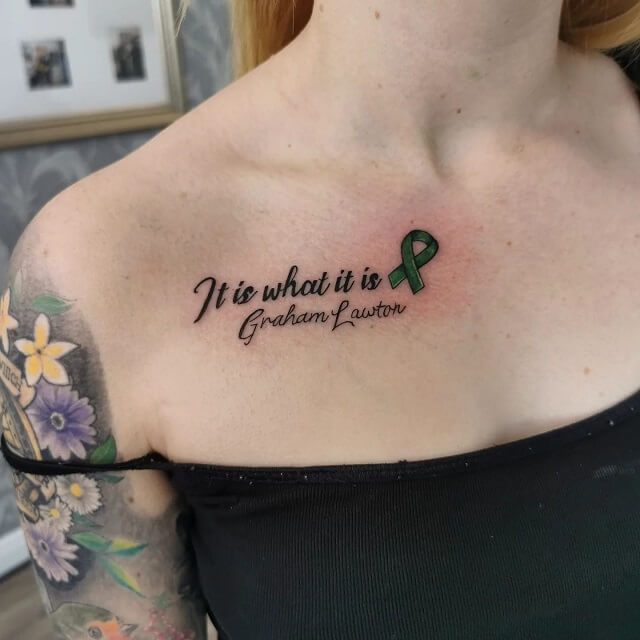 Love For Father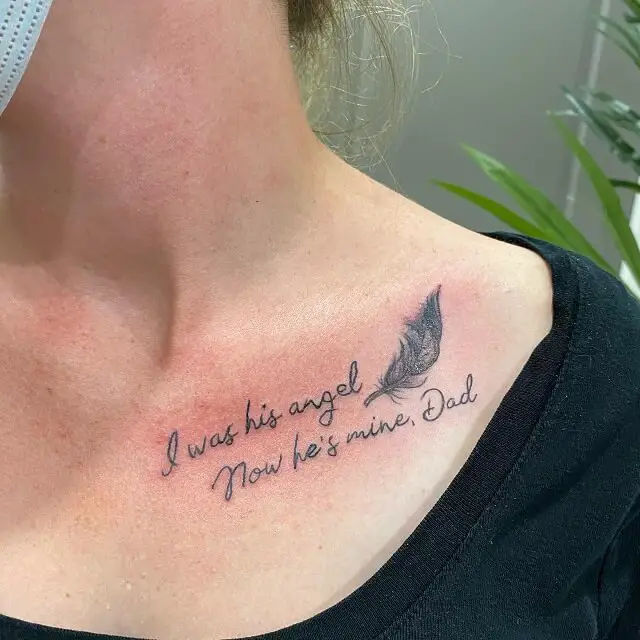 26. Word Chest Tattoos
Sinner & Saint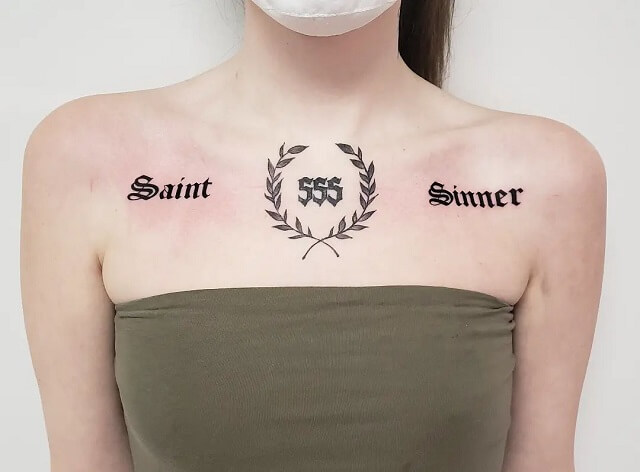 Trust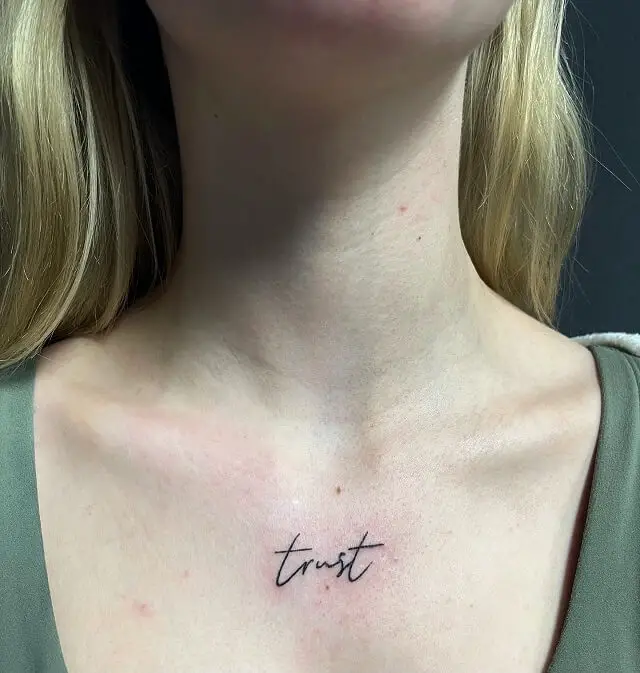 Heart full of Love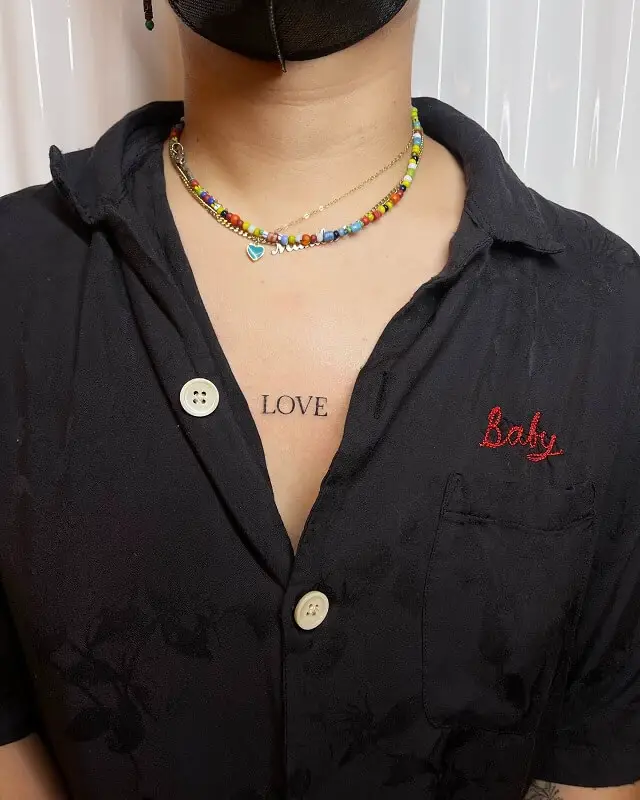 27. Snake Chest Tattoo
Face off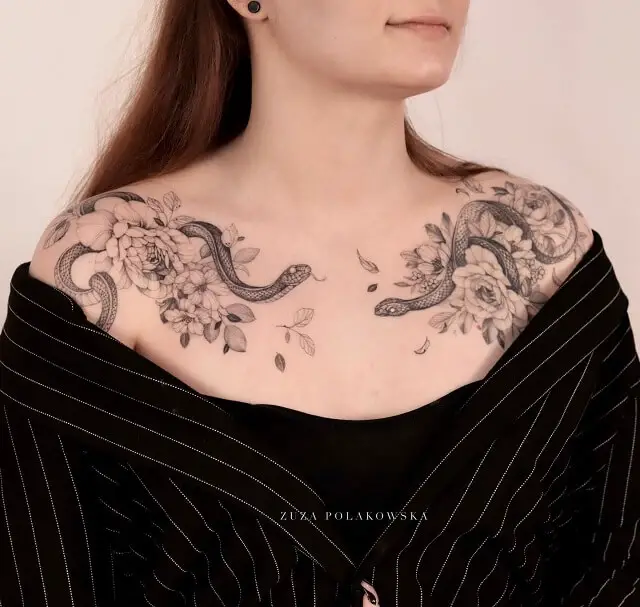 Battle Of Light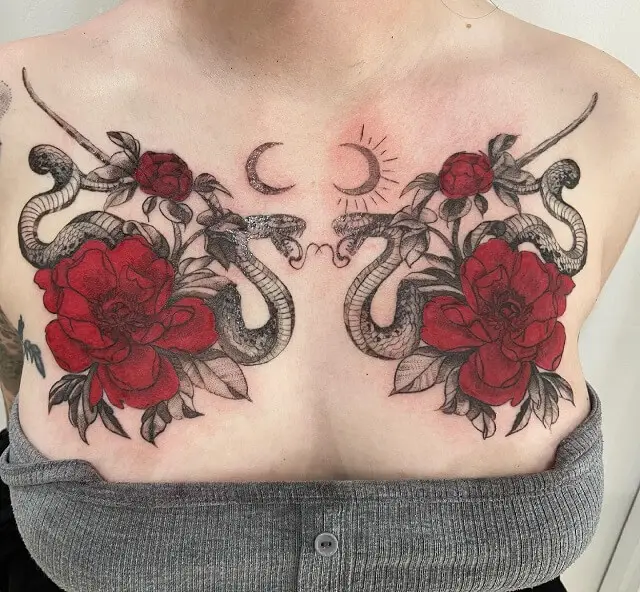 Tangled Snake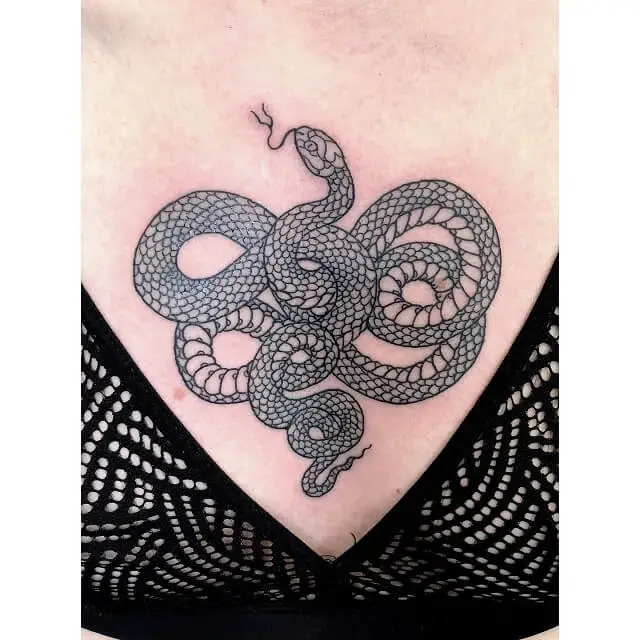 28. Feather Chest Tattoo
Bird Cycle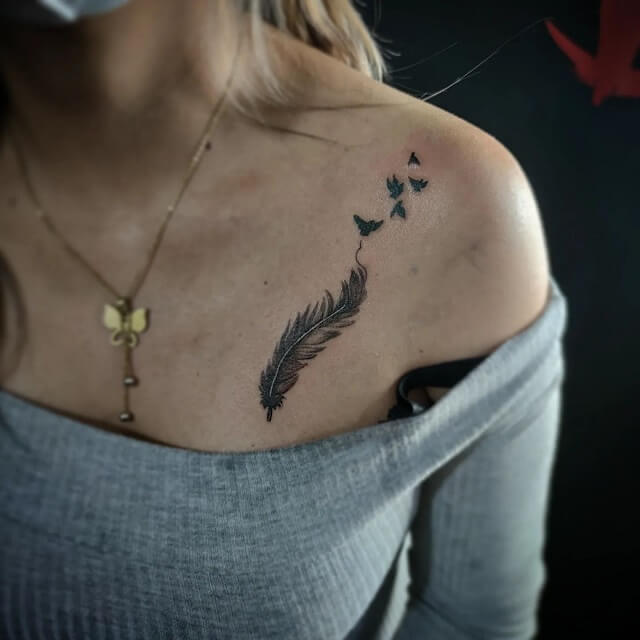 Feather Of love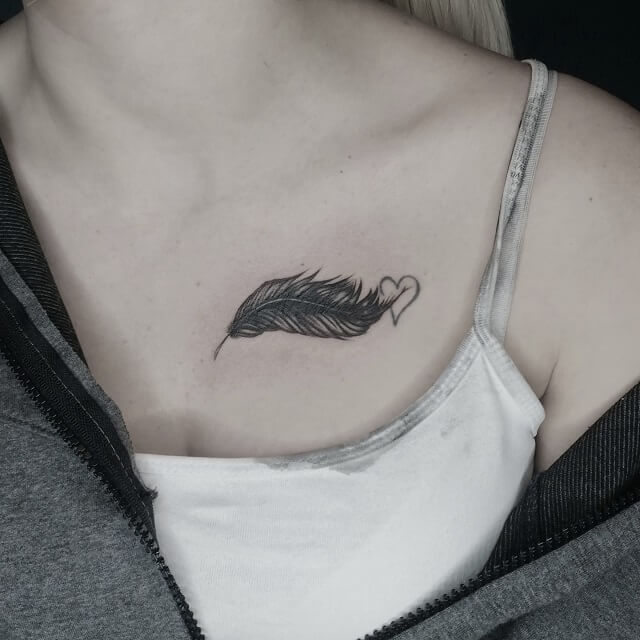 Infinite Cycle Of Family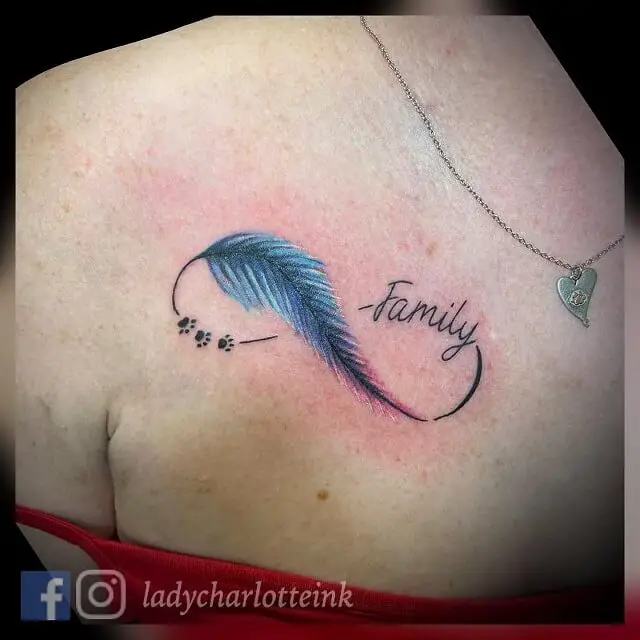 29. Compass Chest Tattoo
Metalwork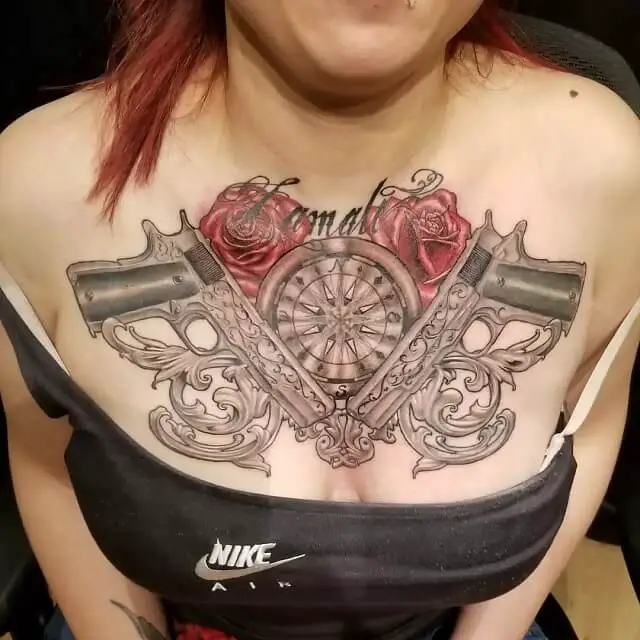 Path Finder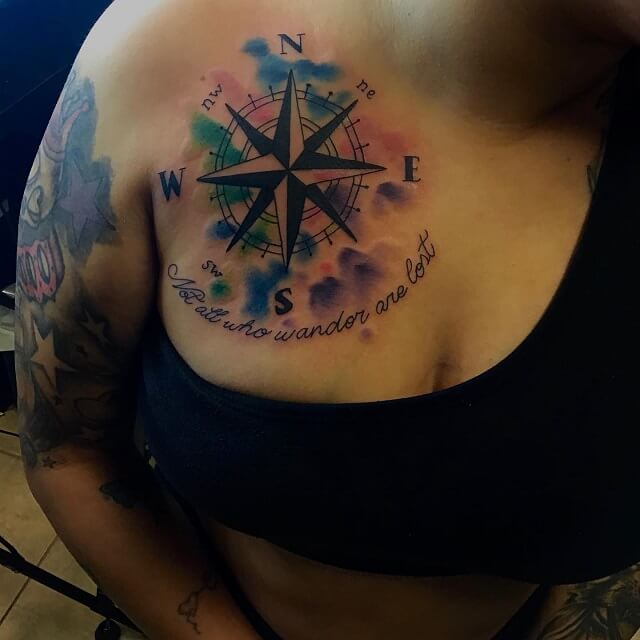 Partial Direction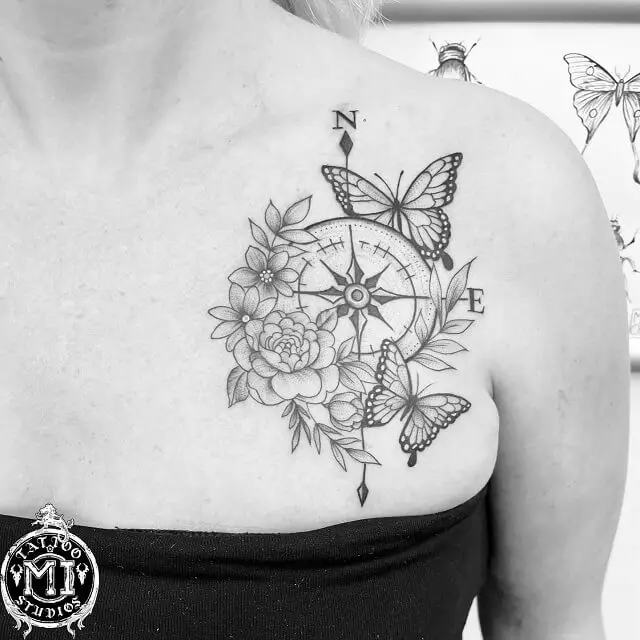 Conclusion
Chest tattoos for women are getting lots of attraction day by day. There are lots of options for different skin tones. Simple designs like stars, flowers, and side chest pieces don't take much time yet look amazing. If you are in search of some tattoos that'll grab everyone's attention definitely give chest tattoos a thought. If you can tolerate the pain associated with getting one it'll last you a lifetime.
FAQ
How painful are chest tattoos for women?
Chest tattoos for women are extremely painful. On a scale of 1-10, it's somewhere in the 9-10 range
What should a woman wear to get a chest tattoo?
Women can wear clothes that will reveal their chests and should be loose and comfortable.
What does a tattoo on the chest symbolize?
Tattoos on the chest symbolize courage & tolerance.
How much does a full chest tattoo cost?
A full chest tattoo can cost you around $650 to $1200.
How much does an under-breast tattoo hurt?
Under-breast tattoos are typically small and cost around $250
Is it a good idea to get a chest tattoo?
If you have a great tolerance for pain, then it's a good idea.
Do chest tattoos stretch?
Most likely chest tattoos won't stretch.
How long do chest tattoos last?
Chest tattoos can last up to 10 years without fading away.
How do you sit for a chest tattoo?
You should sit in a comfortable and slightly reclined position for getting a chest tattoo.
Are chest tattoos visible?
Unless you're wearing a revealing dress or clothes it won't be visible.