Many times we have received a lot of queries about tattoos on black skin, and so we have decided to break a few myths and list some coveted tattoos that look awesome on darker skins.
While there is significant information available for light skin tattooing, it is important and good to find a tattoo artist who is experienced and skilled in tattooing on dark skin. Ask for a portfolio of dark skin clients to see his work. It is important because inking tanned skin is different from white or pale skin. We don't say difficult but different. Since melanin pigments present in the skin cells react as a filter, it hides some colors that are lighter than the skin tone. That means thin lines and clear colors would be less visible on the skin with darker pigments.
However, that doesn't stop you from having a sexy colorful tattoo. Only the color selection would be brighter and bolder. For instance, you can choose black, green, and red tones with thick lines and more filling. But it is always best to ask your artist for the color and design selection.
Tattoos On Black Skin
We are often asked about watercolors, dermatological problems and other stuff related to darker skin shades. Well, we would say that these are common issues and have nothing to do with specific skin color. However, a few issues such as keloids, itching and peeling look are more common for darker skin tones. So consult your dermatologist and your artist before going under the needle.
As for the design ideas, we have picked 10 amazing tattoos on black skin that will open up your creative mind. Check out the ideas and share your experience with us.
#1: Over The Time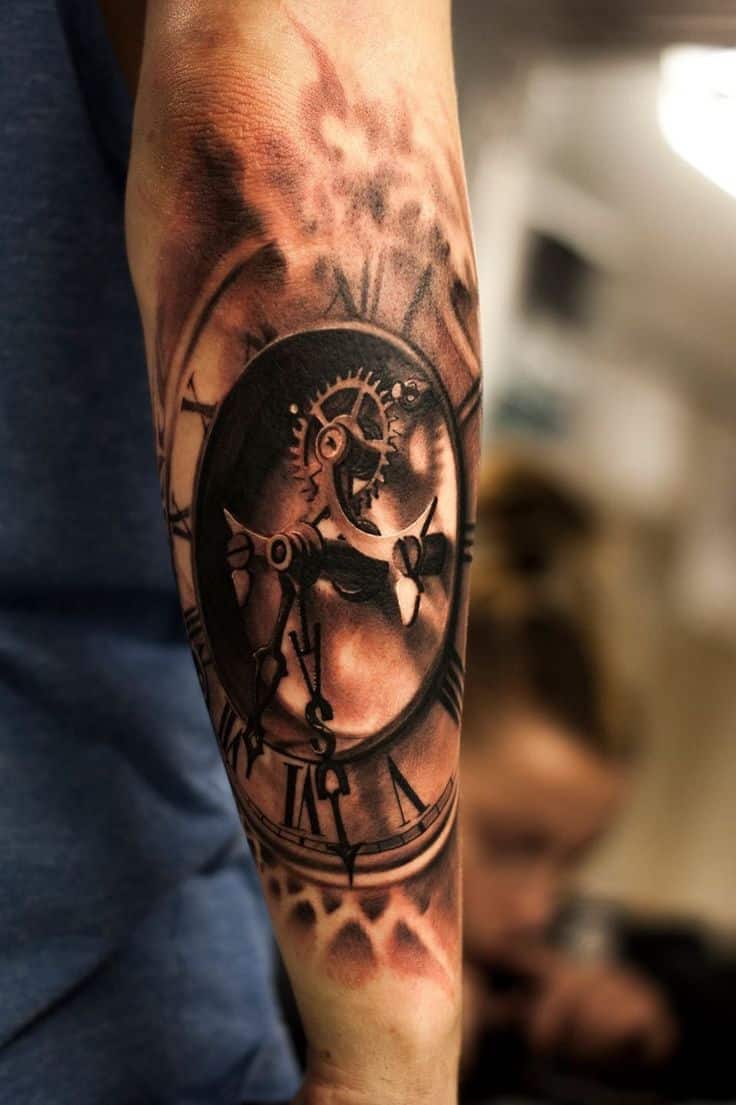 This antique clock tattoo with the 3D effect is just amazing. Carefully notice, the artist has used various shades of brown with thick lines. We are bowled over by the perfection that is clearly visible in inking the mechanical parts of the clock.
#2: The Tattooed Body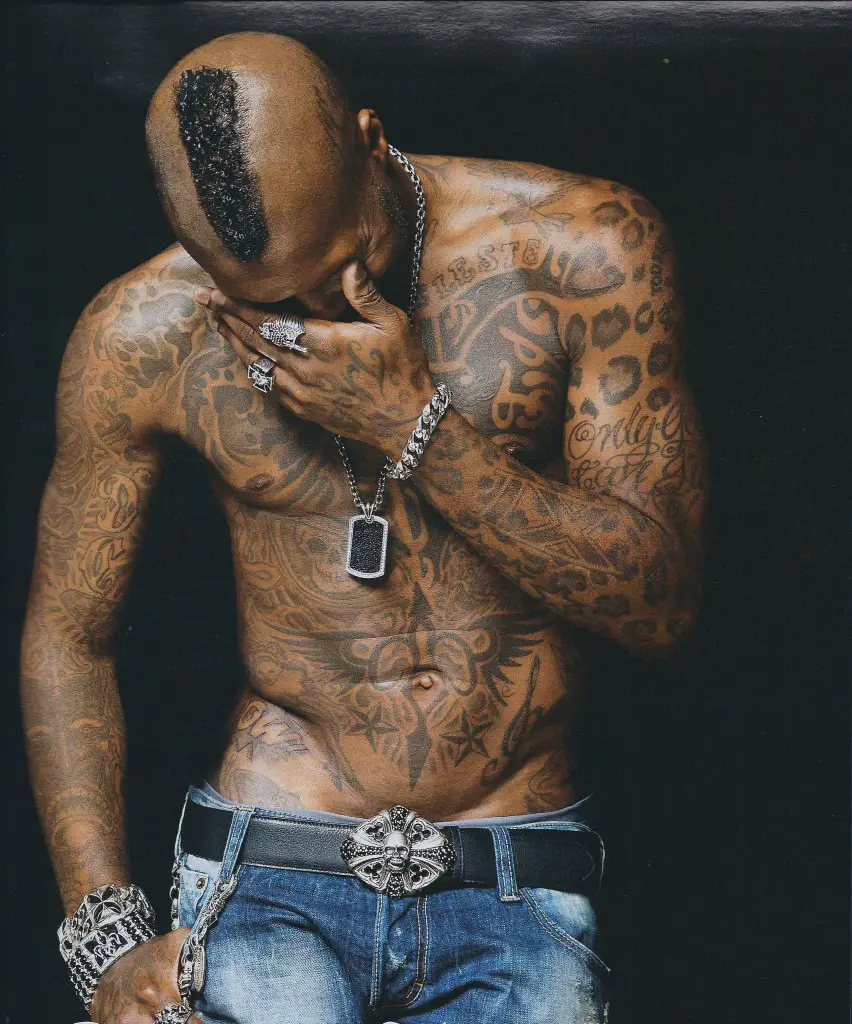 Seeing all those patterns, pictures and designs, it's clear that this guy is crazy over tattoos. His entire body is a canvas and the artist must have enjoyed painting him. Tribal images like those inked on him are one of the most popular subjects for tattoos on the black skin. Mysterious and classy, tribal tattoos in darker tones always impress and last longer.
#3: The Flames
Wow! the burning body. Aren't the burgundy flames look sexy, especially on a chiseled body? This kind of design is always loved by men with dark skin because the thick flames give a very masculine effect.
#4: A Peacock On Shoulder Tattoo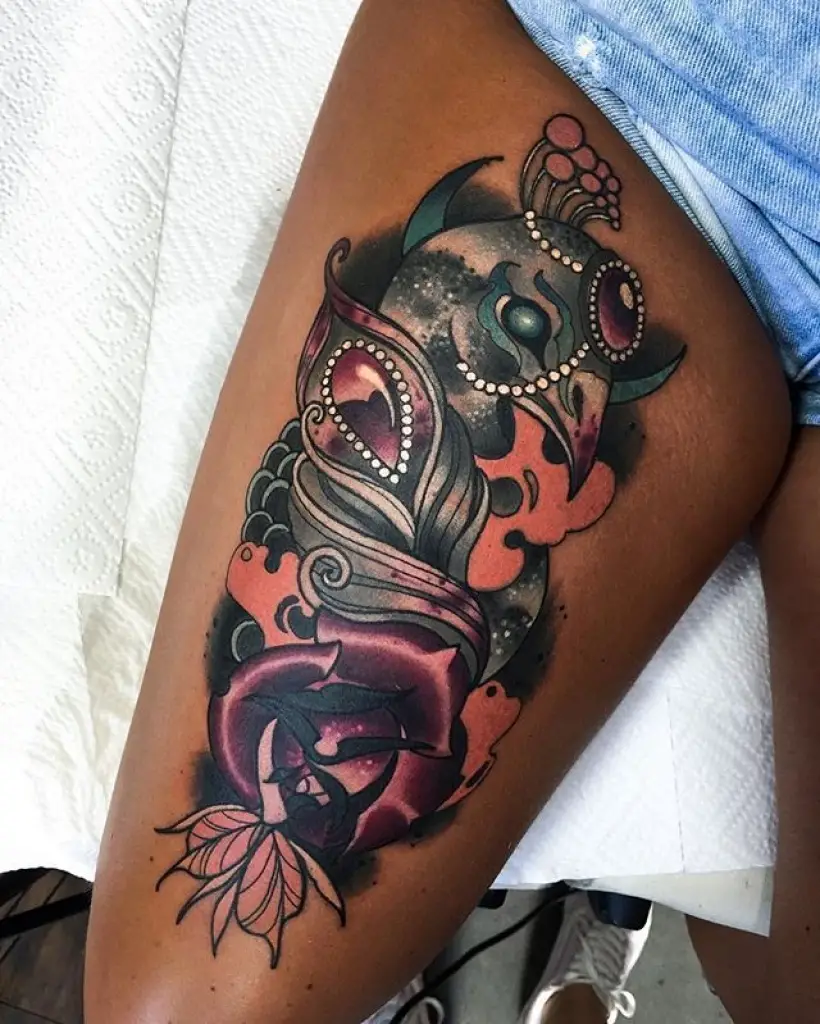 What a flamboyant tattoo in shades of grey and violet! The bird that looks more like a peacock wearing a jewel looks so regal and mysterious. You can give your personal touch to the design or colors depending on your skin tone.
#5: The Wings Of Angel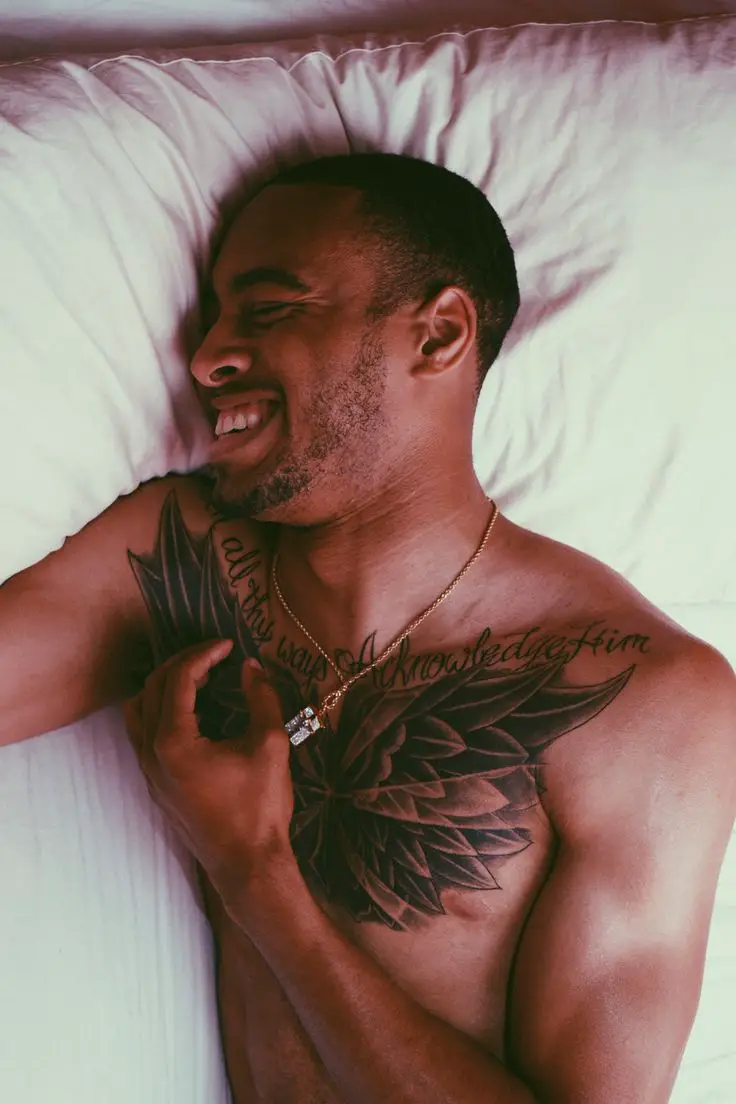 Designs inspired by spirituality are also very popular for tattoos on dark skin. This extensively done wings of angel tattoo with a cross in the center are just an idea of what you can do with religious and spiritual signs and symbols in dark tones.
#6: 3D Whole Arm Tattoo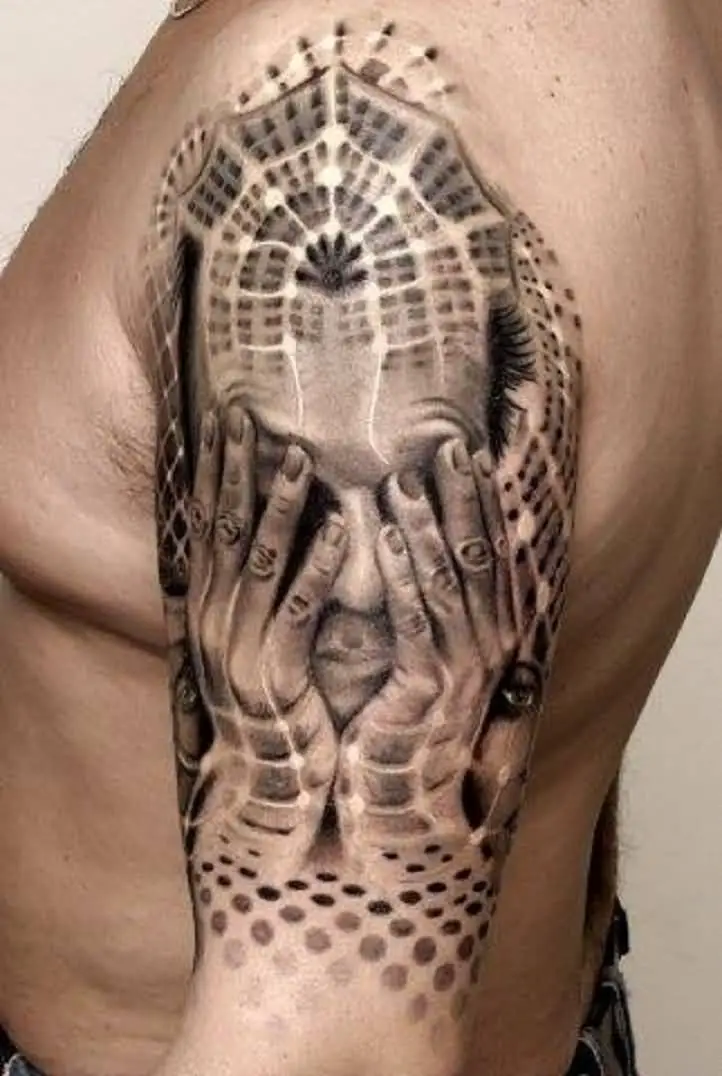 A mischievous full arm tattoo. Complicated yet so clearly done, this tattoo shows the expertise of the artist. Moreover, the design is beyond explanation.
#7: Black And Red Tattoo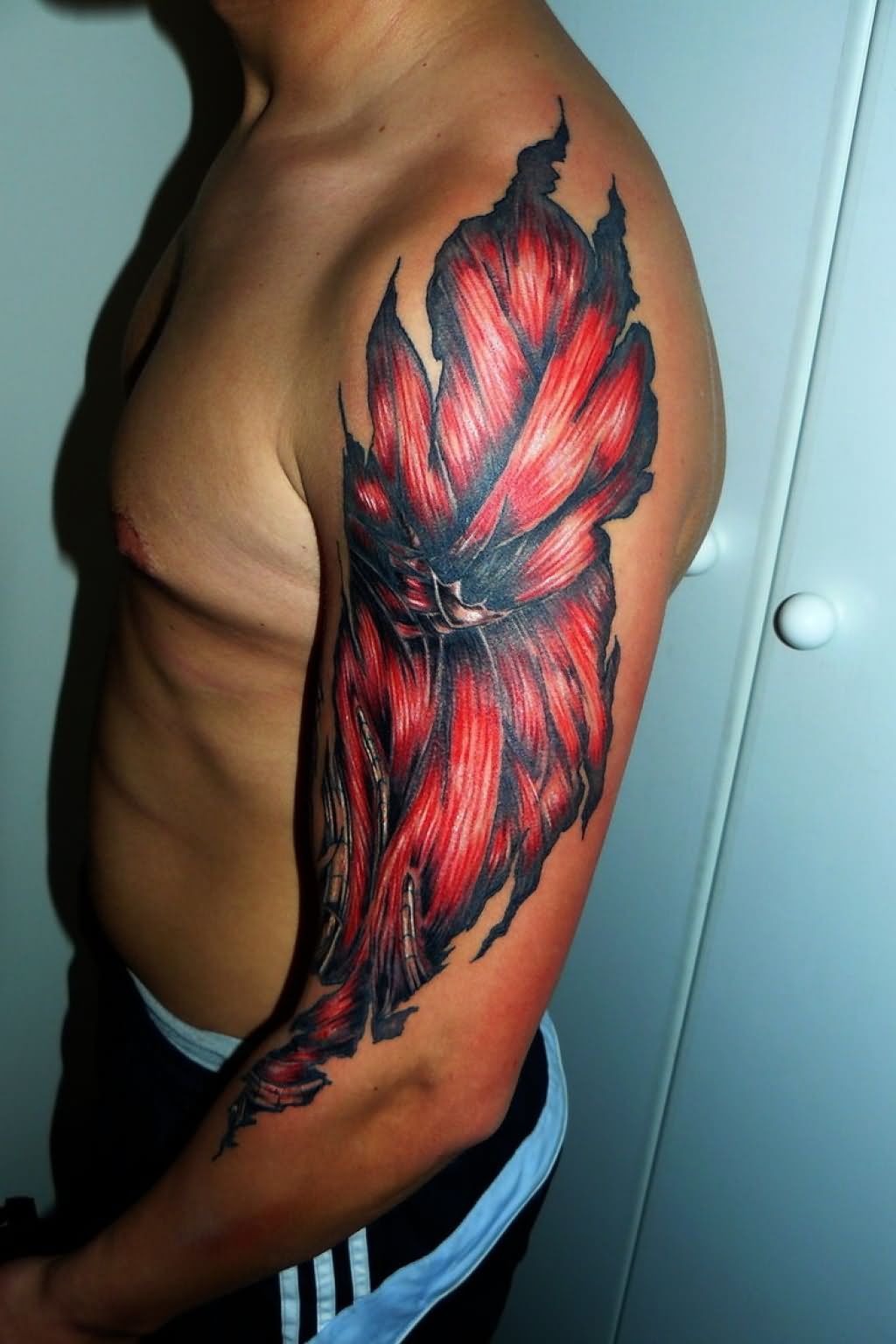 Are they the leaves representing the Autumn? Or an after effect from the war scene of a sci-fi? Though we wonder what it is, we love it. The refined use of red with black makes the tattoo so conjuring.
#8: A Black Garden
Here is an elegant black and grey shoulder tattoo featuring delicate flowers, petals, buds, vines and the bird. This full arm tattoo is picturesque and pristine. You can add your imagination for a personalized touch. For example, shades of red or burgundy can be used in leaves and petals for a colored effect.
#9: The Mechanical Hand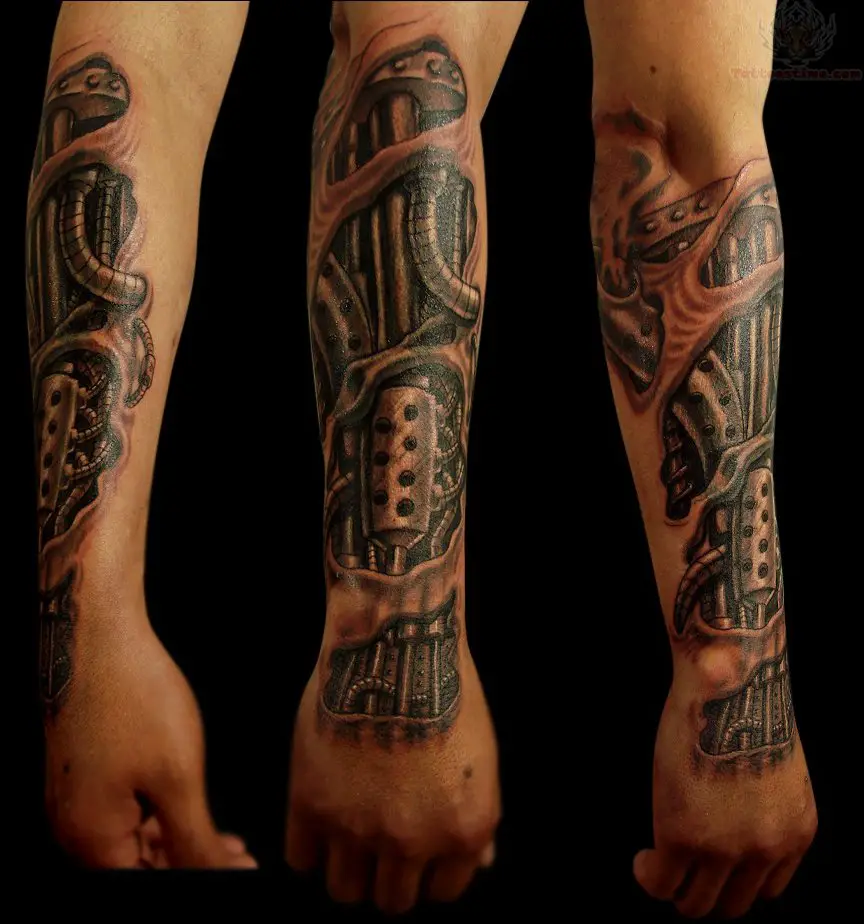 For a gadget enthusiast or a sci-fi fan, this is a brilliant tattoo ink. The three-dimensional effect that is given to the image is so impeding that the onlookers could instantly have the goosebumps.
#10: With The Angel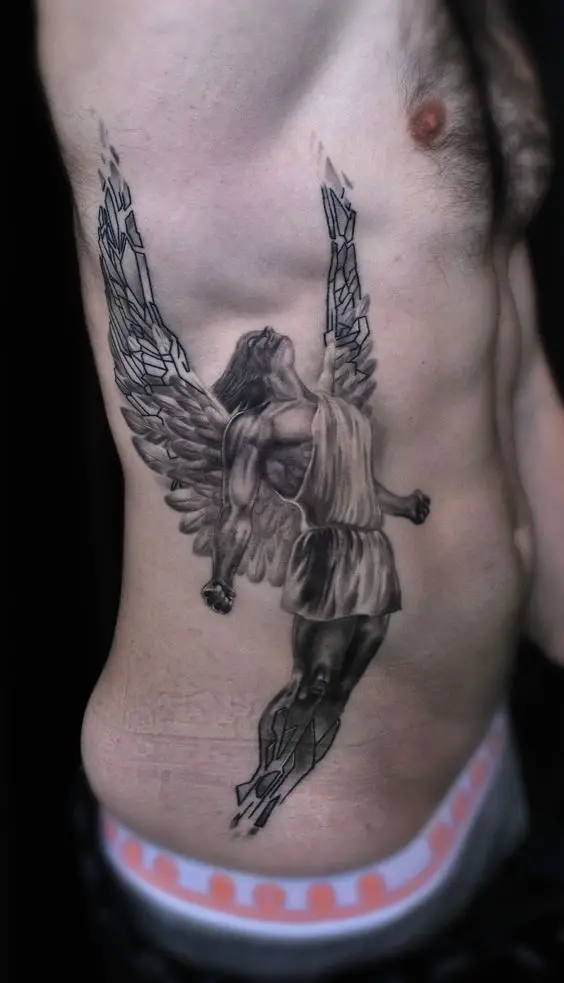 Rib tattoos are extremely painful. But if done with precision, they are amazing. This sturdy angel with wings tattoo in grey is compelling and conversational. And though it has fine lines, it is looking stunning on dark skin.
There isn't any thumb rule for tattoos on the black skin. However, with some precautions and an expert artist, having a tattoo on dark skin that you will love flaunting is so much fun. Do you have a dark skin tone? What would be your design ideas? Do share with us in the comments.