Who don't love admiring hot girls with sexy tattoos! what was once a symbol of hippy culture is now a part of fashion's main stream. Today tattoos aren't only for rebellious women but they are amazing at defining a woman's beauty and her best assets. Ultra-feminine and ferocious, body tattoos of different styles, themes and sizes add an oomph to a girl's personality.
However, people have always been very stereotyped about tattooed women but the question is that why are we prejudiced about girls with tattoos. And that too mostly negative. Why can't we accept a simple truth that women are brave, adventurous and are more tolerant to pain? After all, she nurtures a baby and goes through a lot in delivering it. At least the pain of inking a tattoo can't be higher than that!
HOT GIRLS WITH TATTOOS-DIFFERENT TAKE ON
Girls are definitely fearless and strong. And when they choose to have a permanent tattoo, everyone should respect the discussion. In fact, it is a good way to judge if she would join you for parasailing, Bungi jumping or the wildest of river-rafting? Well, that is just one side. Hot girls with tattoos usually aren't very expressive and so they choose to go with a different style of expression. And by being emotional, these hot babes simply mean that they are serious about their relationship and expect it to last forever just like the tattoo.
For girls who wish to intensify their charm and looking for some magical options to ink their sexy body, we have some incredibly wild ideas. From flower motifs to nature themes, koi fish, dragons, love quotes and a lot, there is no limit to the imagination for a sexy tattoo. So go on and look some of the most incredible girls with their crave-worthy bodies and dramatic tattoos.
#1: SPUNKY HOT GIRL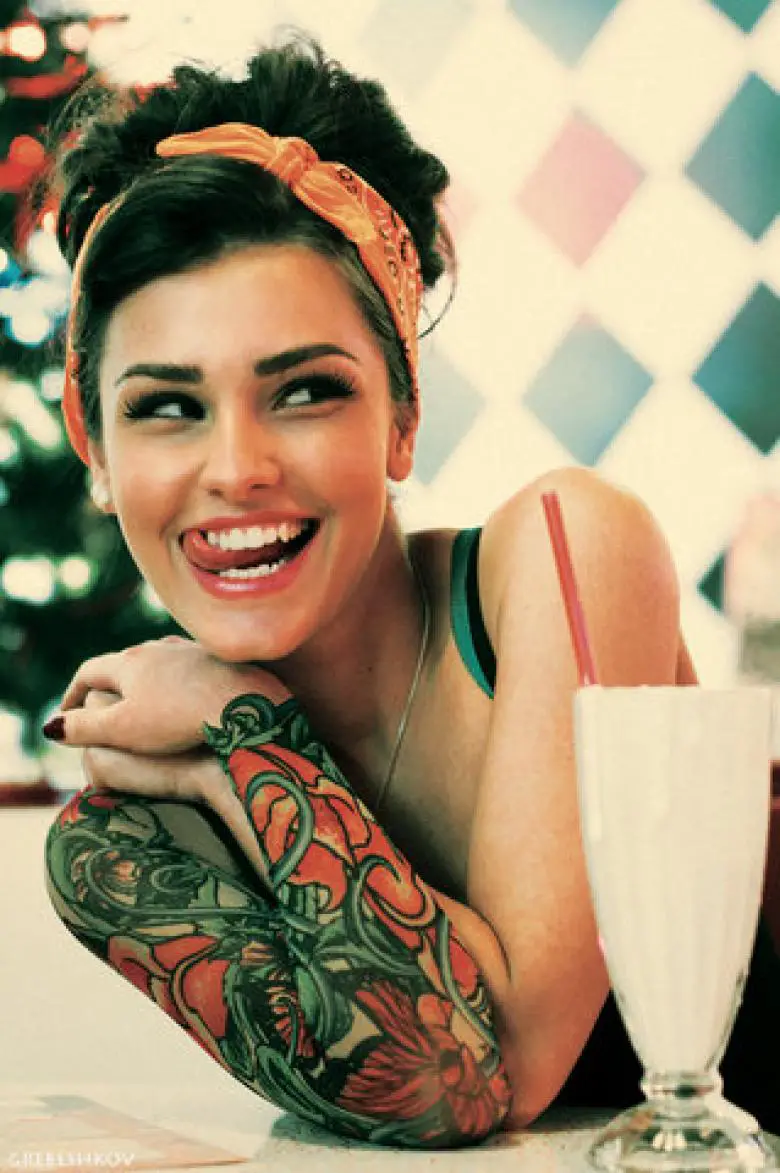 Take a look at this beautiful tattoo that really stands out with its bright orange flower petals. Hot girls love girly and fun designs like this.
#2: BLENDING BOTH THE WORLDS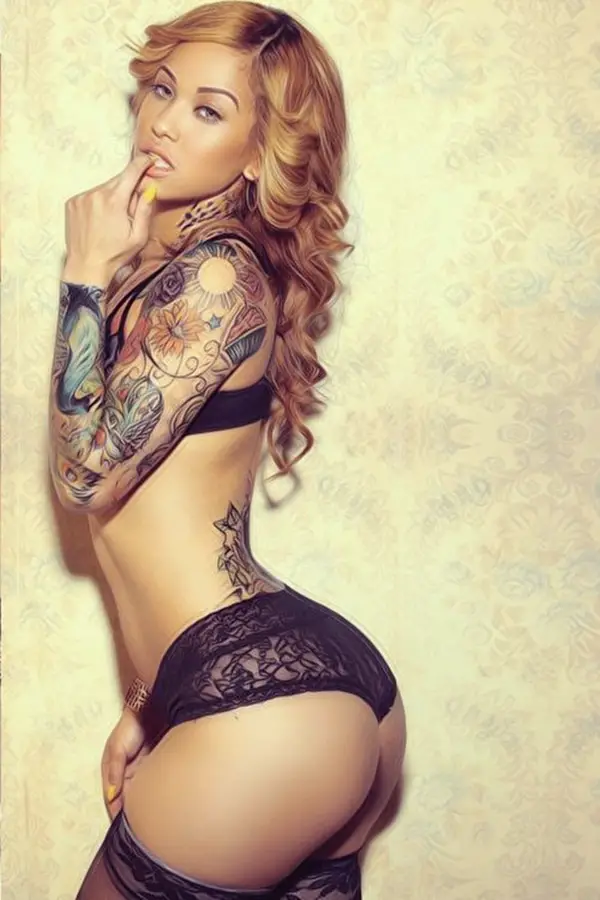 Well maybe she's not shy but she's definitely hot, and that full sleeve tattoo makes her hotter than Beyonce. Isn't she look like the singer? Her tattoo has the water and earthy elements in form of Koi fish and flowers, telling that this aquatic beauty best knows how to survive anywhere.
#3: BOLD AND BEAUTIFUL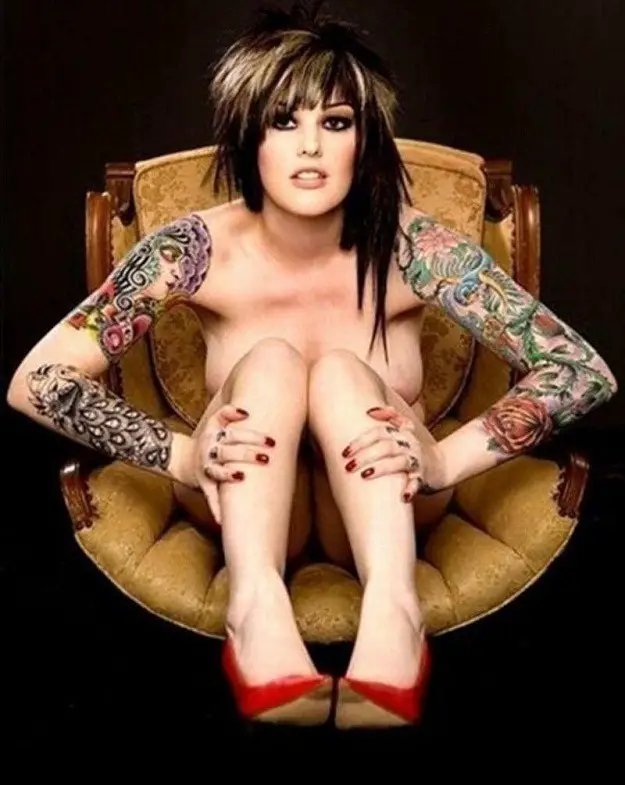 Though it is difficult to just concentrate on the tattoo, we have tried our best and understood that this girl sure believes in the saying; 'if you got it, flaunt it'. The eclectic art on her arms draws inspiration from several sources and is almost as impressive, sensual and splendid as her.
#4: LUCKY TIGER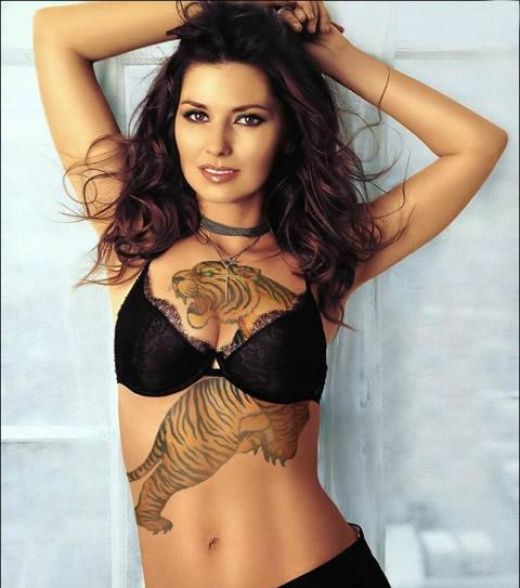 That is quite an interesting spot for a tiger tattoo. The fierce beast adorns the body of many a good looking woman but the size and placement of this design are rare. Isn't it resembles as if he is guarding her?
#5: CUTENESS UNLOCKED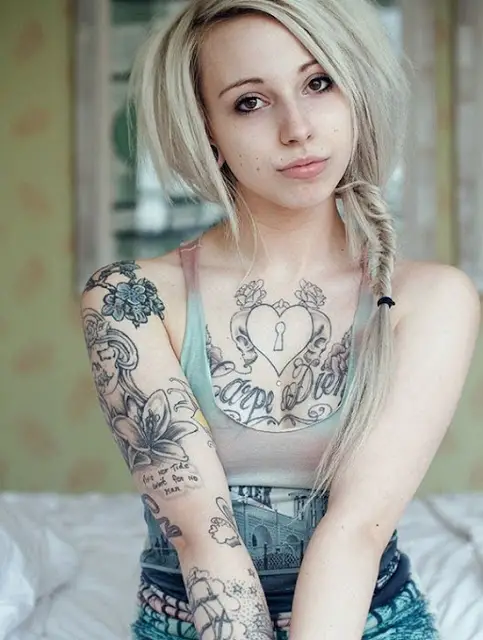 Here's a cute and sexy girl with a few interesting tattoos done in all black. The one that stands out of course is the heart shaped lock.
#6: FREE BIRD HOT GIRLS TATTOO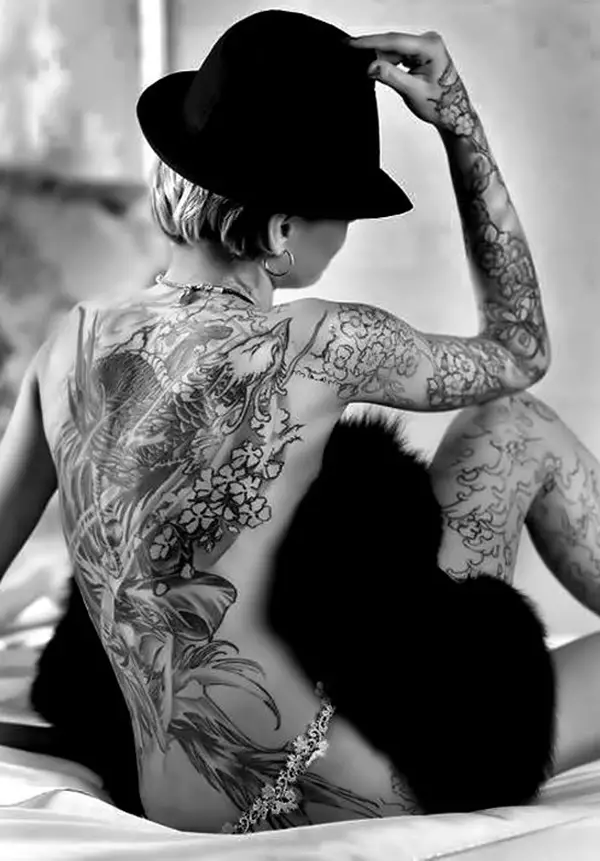 That's exactly her personality. Her exquisite body is made even more alluring with the striking tattoo designs. The magnificent all black intricate design of a bird covers her entire back and is very artistically done. The tattoos on hand and leg seem to be an extension of the back tattoo.
#7: THE TATTOO ME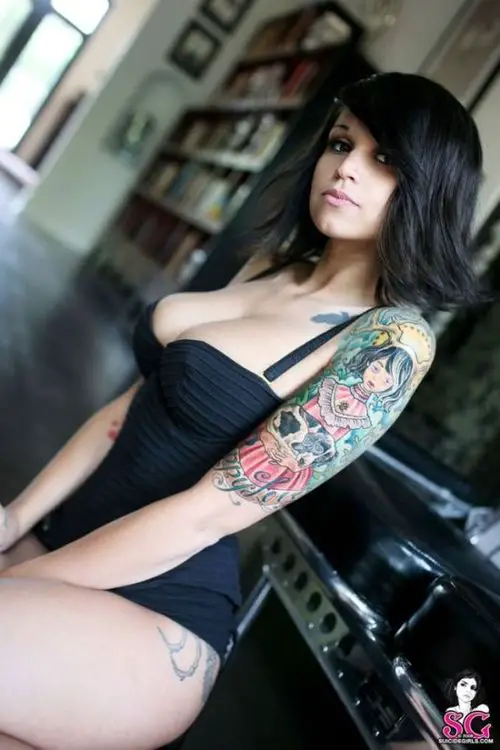 An obvious fan of Japanese anime, the girl with a rocking body has an equally rocking tattoo of a doll which looks very similar to her. At least the hair do!
#8: COUNTRY GIRL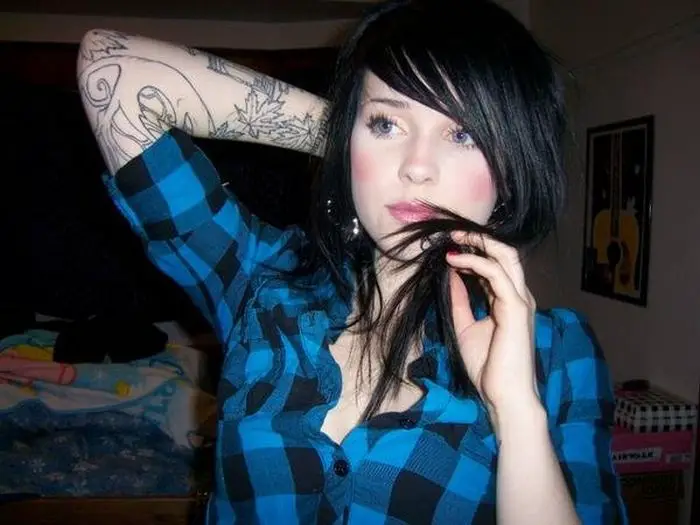 The chequered shirt of this southern girl reveals a lovely tattoo design on her arm that shows her fondness of nature.
#9: COLOR CODED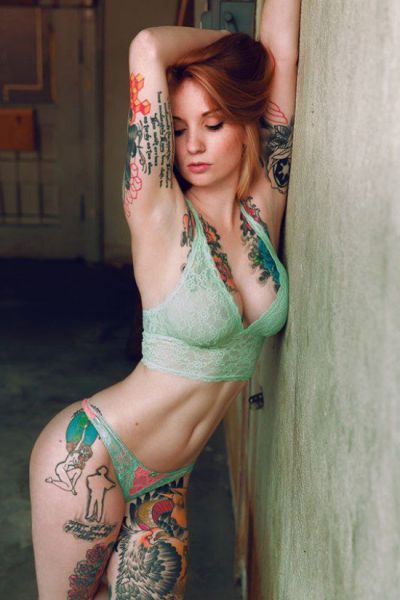 What an amazing silhouette! This gorgeous girl's sensuous body is further enhanced by the really cool and colorful tattoos at various spots. And they are certainly enhancing the beauty of her assets.
#10:  WELL COVERED GIRLS TATTOO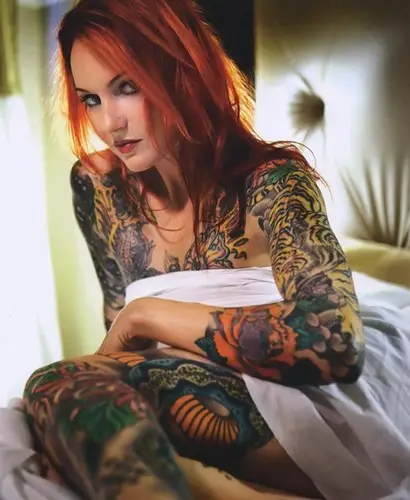 Tattoos, tattoos and more tattoos! This stunning red head reminds ones of Poison Ivy from an old Batman movie, but sexier with that wonderful vine and floral design covering most of her body.
#11: YOUNG AT HEART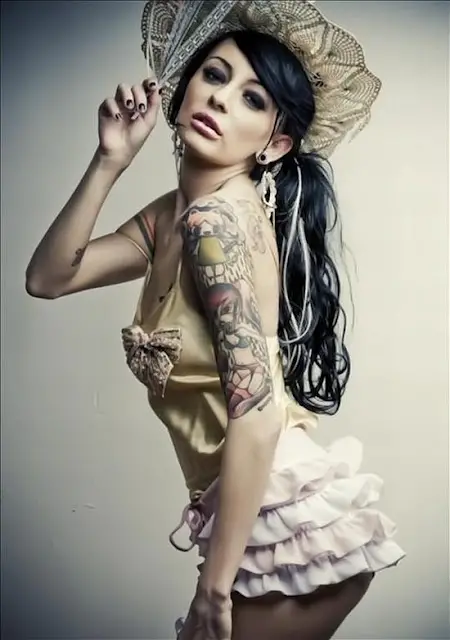 This woman has a style all her own. She is young and vivacious and her unique cartoon inspired tattoo conveys just that.
#12: WILD CHILD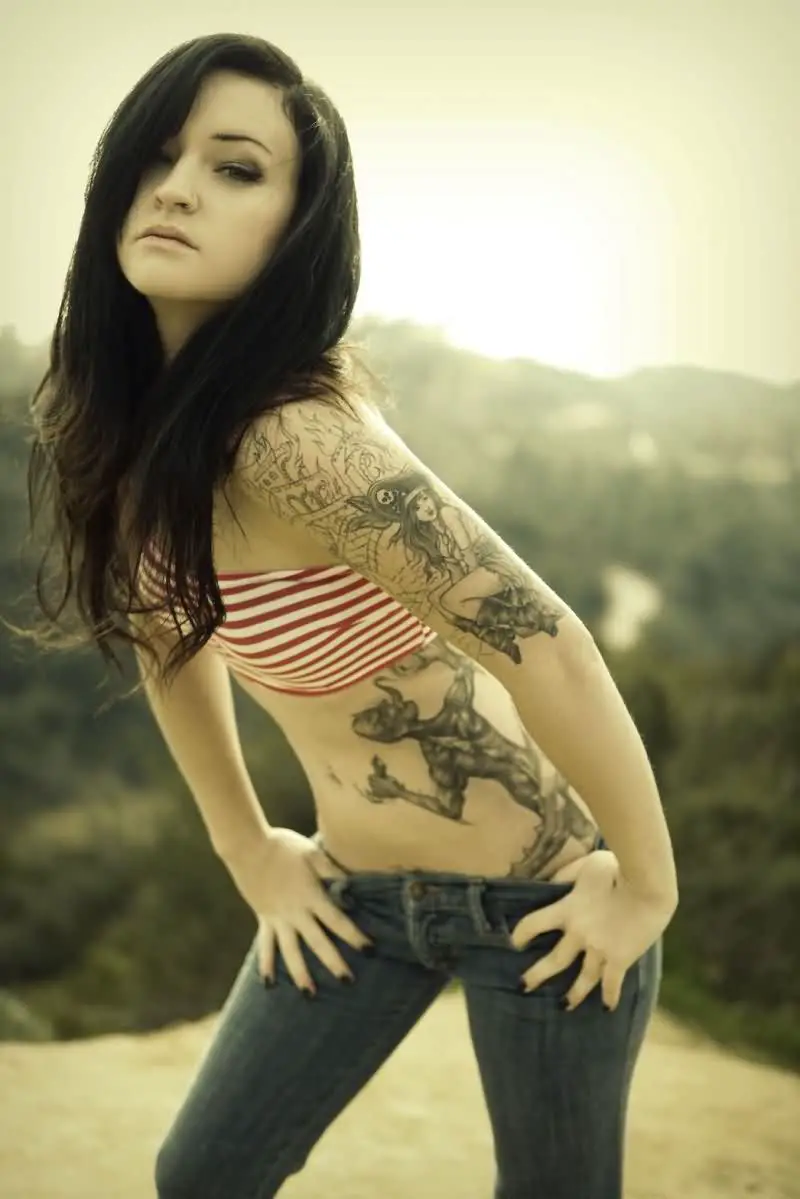 A devil on her side and woman on her arm with a building on fire are dark motifs done in simple style. The designs suit this sexy rebel of a girl.
#13: PROVOCATIVE HOT GIRLS TATTOO
This beauty has a penchant for tattoos and is covered in them. Black and gray combine well with the rest of the colors to almost make a sort of painting. We wonder how the tattoo artist remained focused on the dark elements?
#14: CAT WOMAN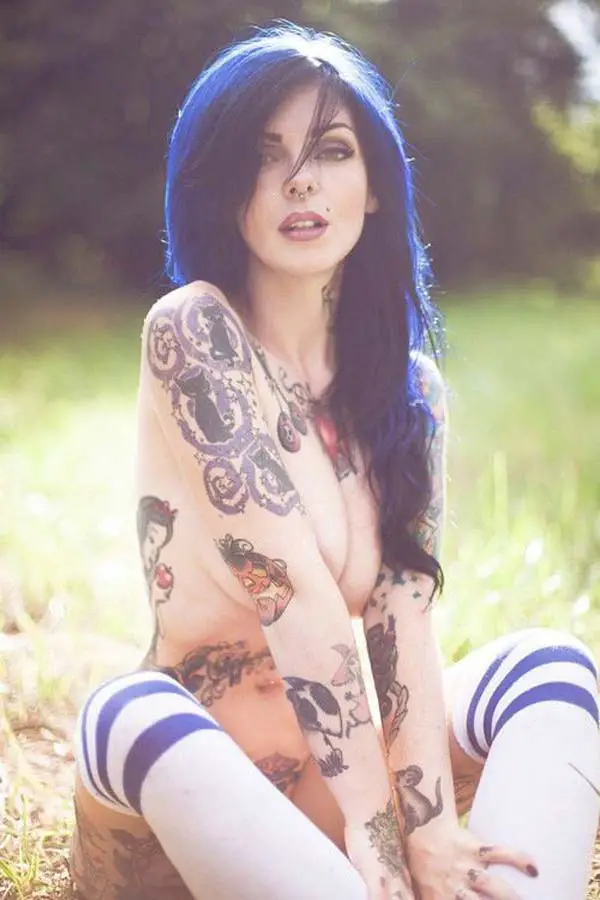 Our favorite science-fic character is no one but Cat Woman only if that is her. Her body covered in varied images from fairy tales, this buxom bombshell seems to have a special affinity for cats. Black cats, Halloween Pumpkin, SnowWhite and the bloody heart are just a few of her tattoos that we were able to identify. The designs are stylistically done and come together like a story.
#15: ATTENTION STEALER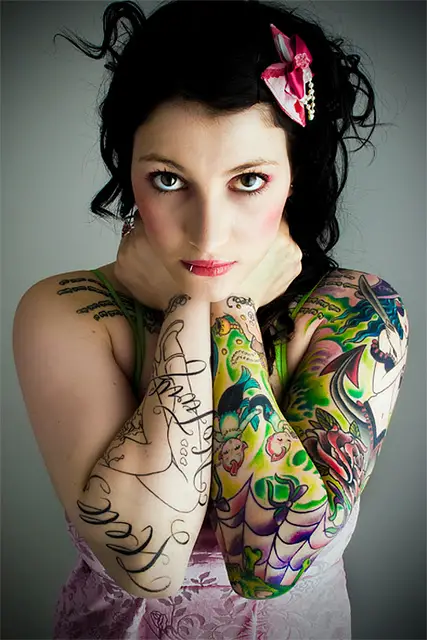 She is sure to get a lot of eyes on her with these strikingly attractive tattoos. The colors are vibrant and eye-catching. A pirate woman, a devil's tail, the spider web, those mysterious creatures – it is difficult to figure out the personality of this hot girl with tattoos.
#16: GUNS AND ROSES
These tattoos draw on various themes but they gel well together. From delicate fine lines to bold strokes and an abundance of color, the designs have it all.
#17: WINGED BEAUTY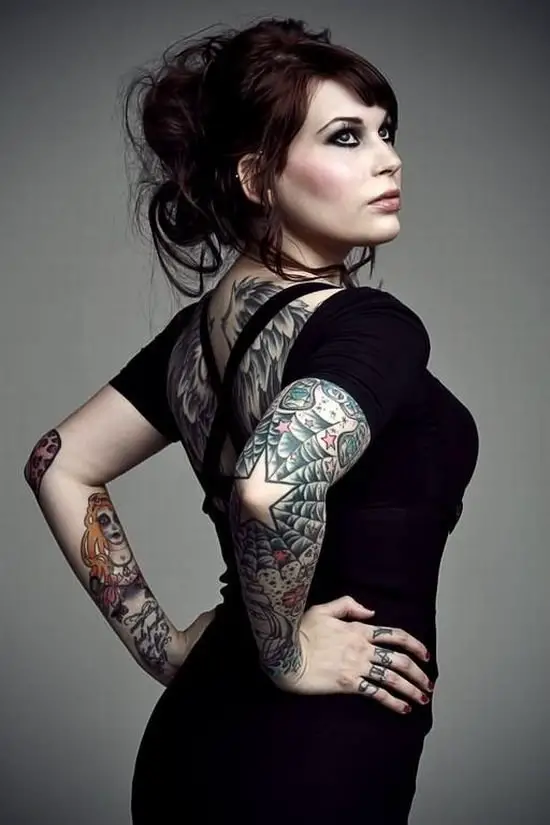 From the wings on the back to the web on the arm, a ghost lady, the snake skin and everything else, these tattoos are intricately done in shades of black with a hint of color here and there.
#18: HOLLY JESUS! SAVE MY LORD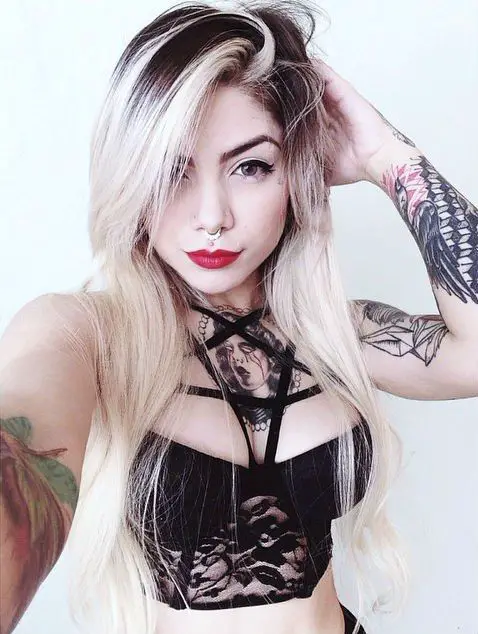 Black and bold, the designs here are very emotive and kind of unexpected on such hot punk girl.
#19: NAUTICAL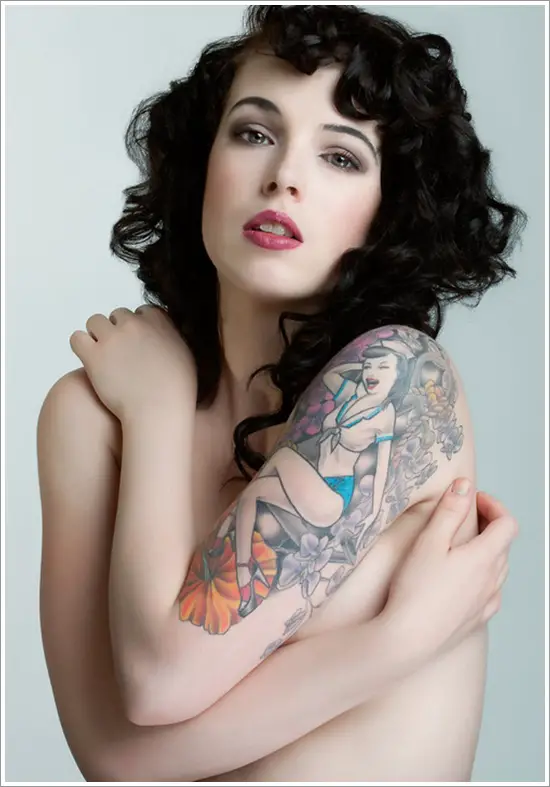 Her eyes are filled with dreams of traveling distant oceans and her tattoo of a sailor girl is quite apt.
#20: LADY DON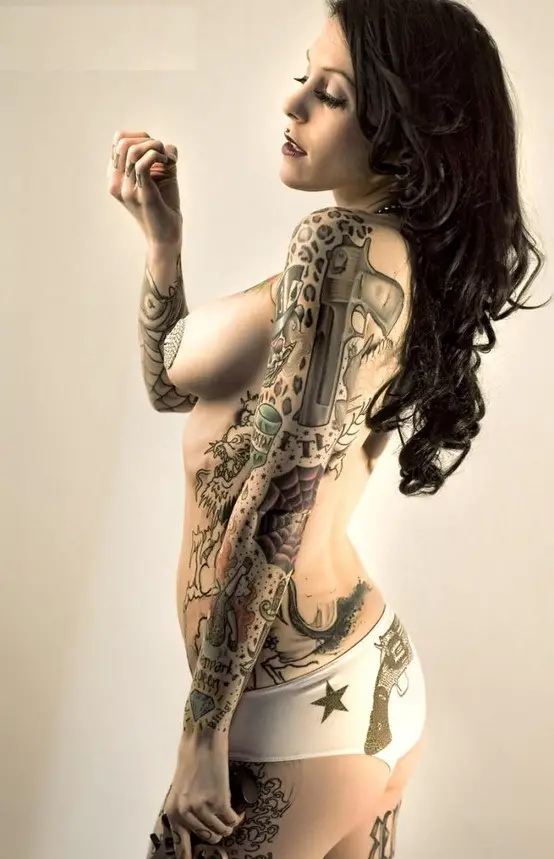 Looking like she's contemplating a hit on someone, this wild girl looks sexy with her array of cool tattoos ranging from a diamond to a gun.
#21: POISED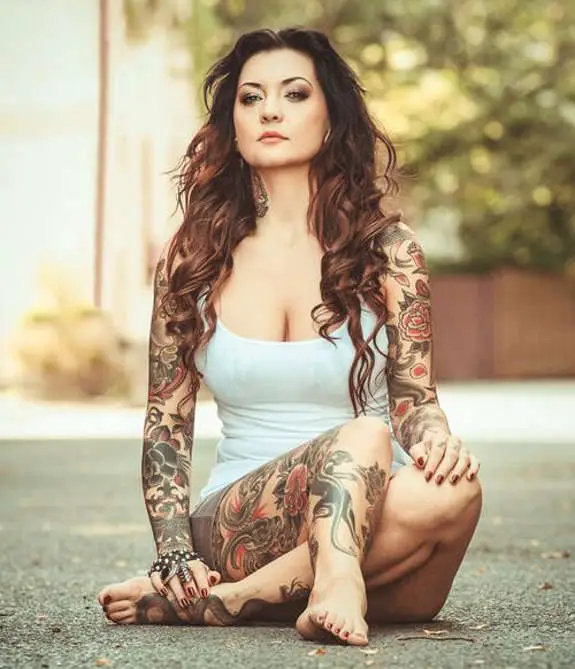 Elegantly designed red roses thigh tattoo and black vines running down her sinuous arms and legs add to her loveliness. The snake tattoos on her legs simply intensifying her sensuality and mystic personality.
#22: BEAUTY IN BLUE
We aren't talking about her sexy bikini and blue hair, those blue tattoos are also the aphrodisiac. Wonderfully disparate images across her body created in a uniquely artistic style, lend a certain quirky yet sexy appearance to this pretty girl.
#23: BLACK GLAM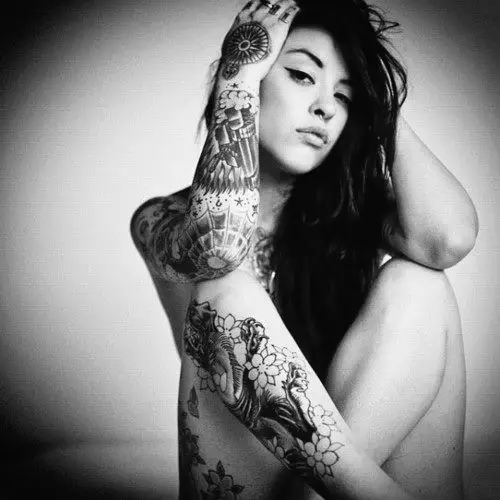 Here we see all black tattoos that are very nicely done combining bold strokes and dainty lines. They add some pizazz to her style.
#24: URBAN CHIC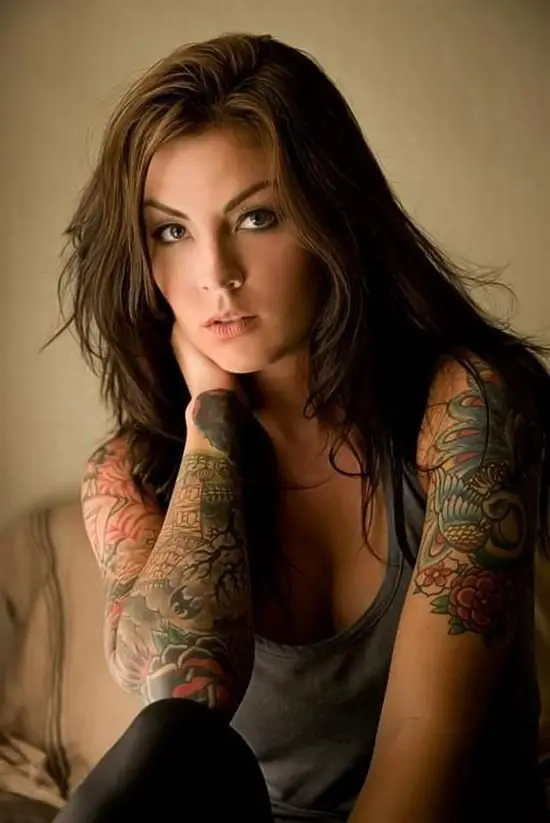 With bold and colorful designs such as these, any girl would stand out of the crowd in today's urban jungle.
#25: SMOKING HOT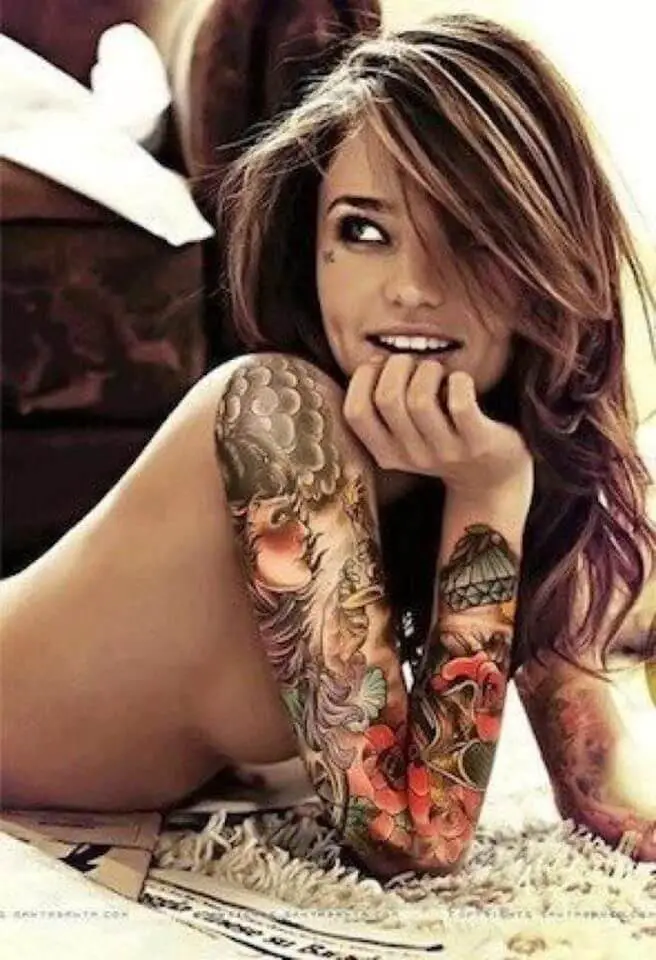 Wow! A tattoo of a hot girl on a hot girl is ironic in a good way. The design itself is bright and full of color and adds charm to her personality.
It takes a certain type of confidence to walk into a tattoo shop and ask to be inked with such bold and ergonomic designs. What makes these women different is their attitude of being fearless and expressive. If you are the one who believes in the power of self-expression and never regrets about anything done in life, these 25 hot girls with tattoos will definitely inspire you.