Wrist tattoos, forearm tattoos, shoulder tattoos – there are literally many options when you want an arm tattoo. However, there is one place that is often overlooked but is a very sexy spot. We are talking about the back of the arm tattoos.
The soft, vulnerable skin on the back of the arm is although a painful spot, it provides significant space for a huge variety of tattoo designs. Any vertical image such as a flower, skull or an arrow looks amazing as a triceps tattoo. However, there is no limit to ideas for the back of the arm tattoo.
Back Of Arm Tattoo Ideas
A perfect location for the new tattoo is as important as the design. Especially because the placement will also influence the overall look of the tattoo. If you don't want people to instantly spot your tattoo, then the triceps is a perfect spot. Moreover, covering the upper arm's back is easy when you are in a professional environment.
However, you have to be brave enough to bear the pain, since this soft patch has less flash and more skin. The geometric shapes and defined lines look really amazing, so you can think of a design that is more geometrical.
Depending on your choice, you can pick a few tiny tattoos or a large tattoo that covers the entire back of the arm. From sugar skulls to tribal art, a quote, any date and a lot more, back of arm tattoos in different designs are a lovely way to communicate. They communicate about your style, taste, personality and a lot more. Your tattoo can be a memory or a vision. Since it is your reflection, it has to be very profound. To give you some inspiration, we have selected 20 back of the arm tattoo designs. Here is a look:
#1: The Bearded Sugar Skull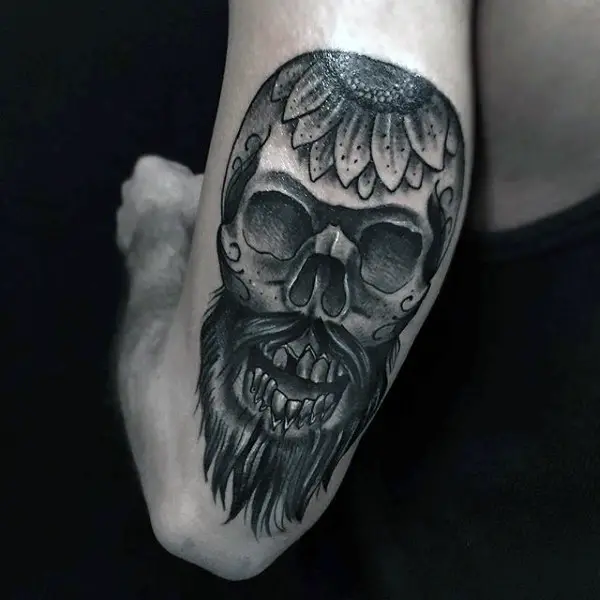 Sugar skulls have always been a preferred choice for tattooing. This grey skull tattoo gets a unique touch with the beard. Isn't it create curiosity?
#2: The Mandala And Flower Tattoo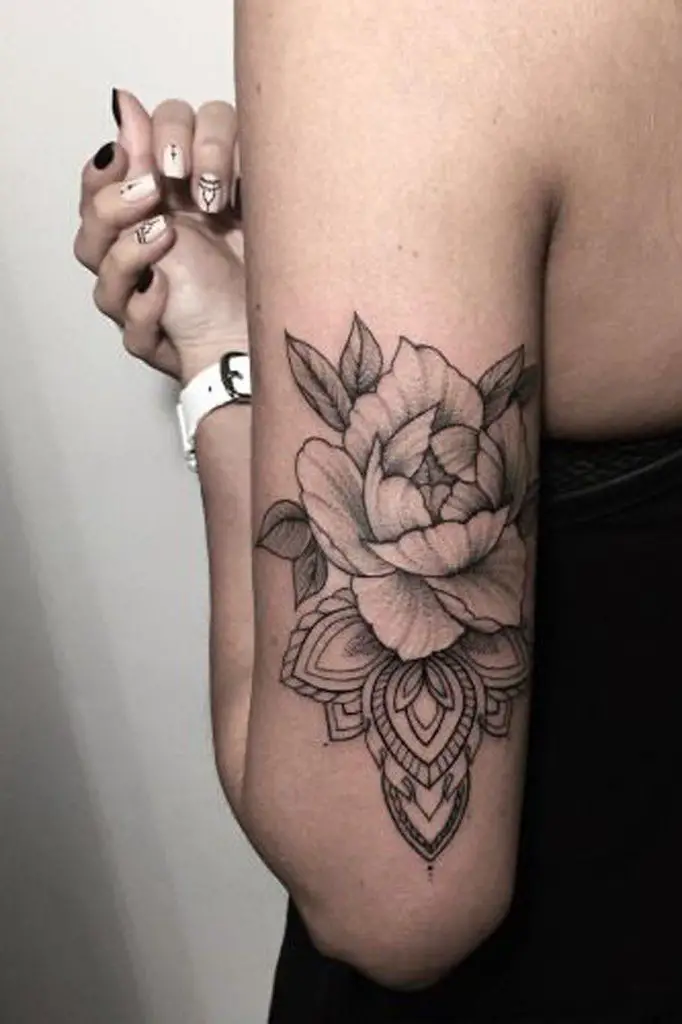 This is a very precisely done tattoo featuring the delicate flower with a mandala-inspired design at the end. Those fine lines and shading clearly speak for the perfection of the artist and the love of the wearer for nature.
#3: Tiny Back Of The Arm Tattoo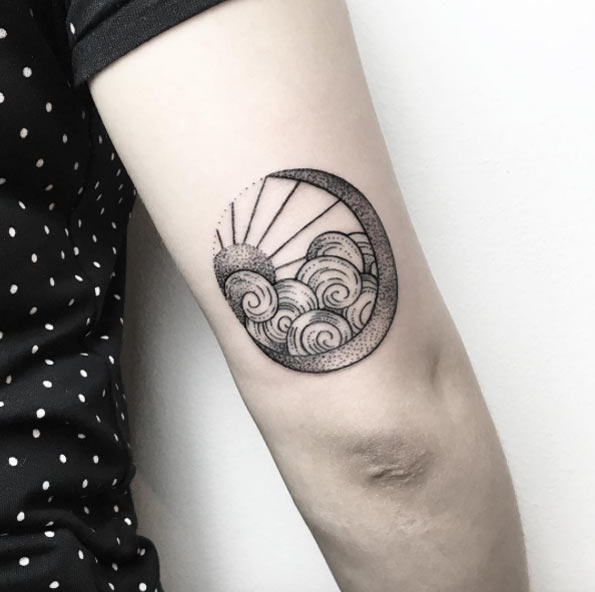 Not very sure what does this design wants to convey but we love the twirls, dots and almost everything about this design.
#4: The Lotus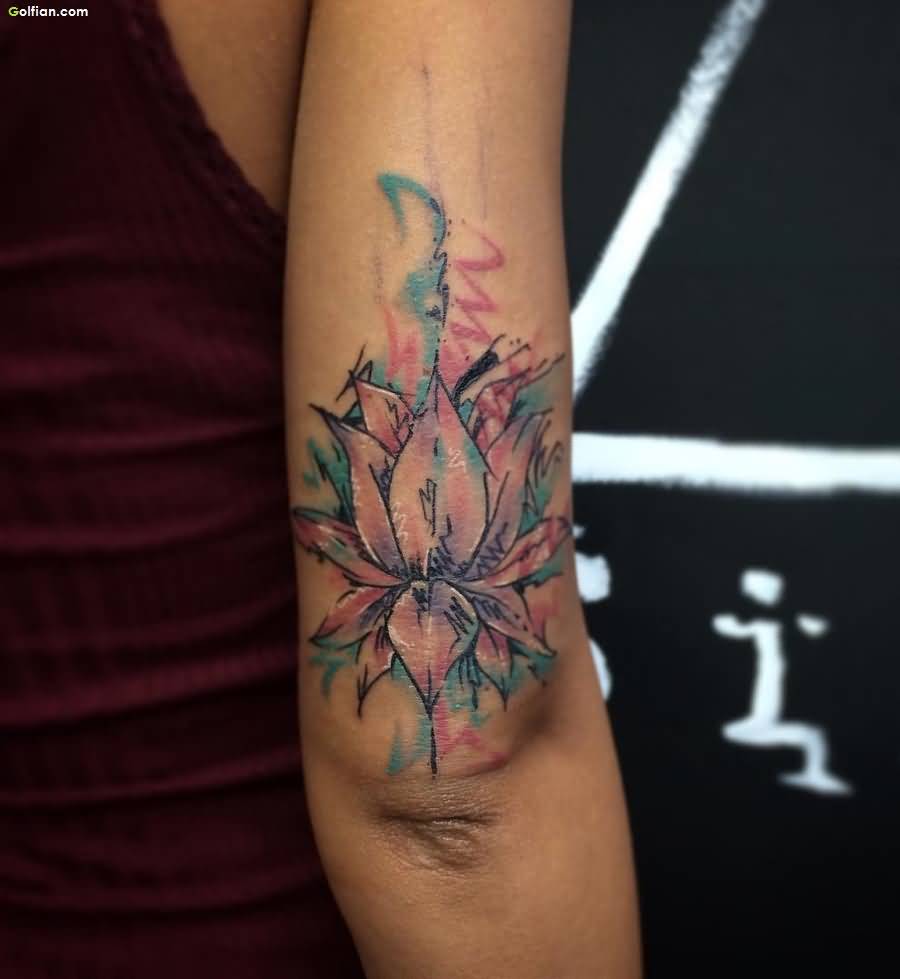 Isn't this looks as if someone was trying to scribble a perfect lotus? The imperfection look of the design makes it a perfect tattoo for anyone who wants to try the back of the arm tattoo.
#5: Grey Roses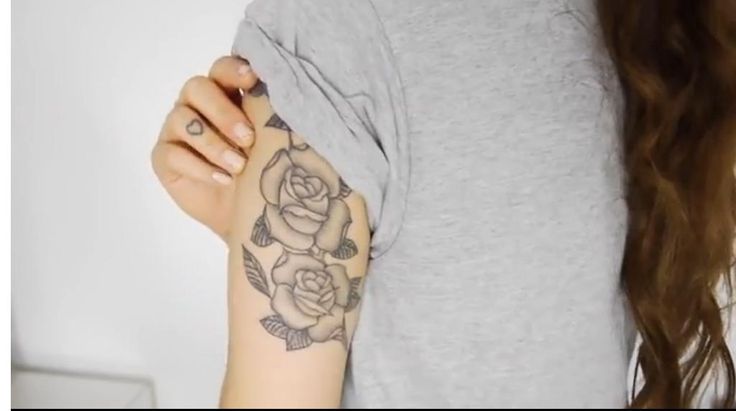 Rose flower has always been a loved-up choice for tattoos. And here the perfection in inking made these roses all the way more desirable.
#6: The Planetary Effect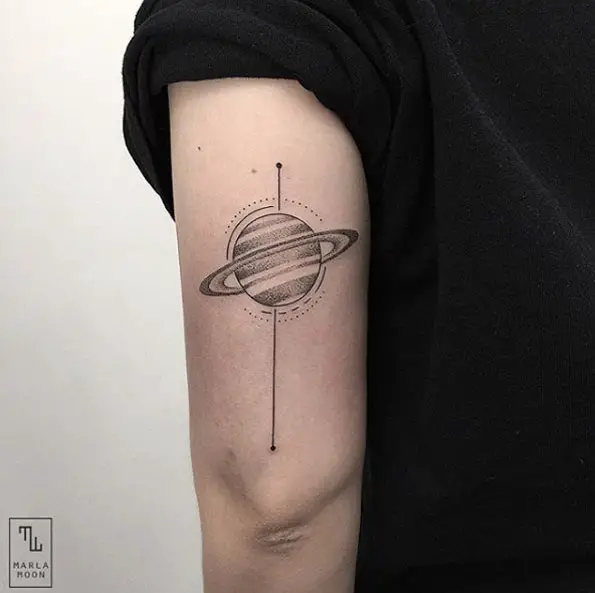 This finely done monochrome Saturn tattoo with a straight axis is just amazing. You can choose the planet of your choice for a custom look. A constellation or a special star are other celestial options to think.
#7: A Daffodil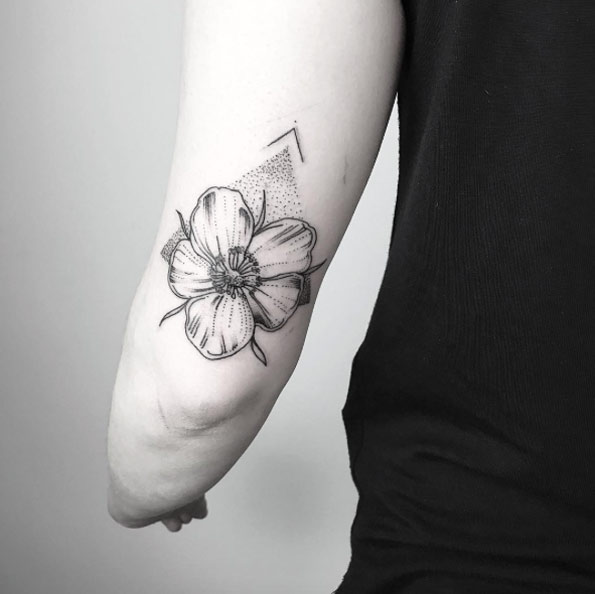 Simple and clear, this flower tattoo is lovely for a back of the arm position. Those dotted lines make the tattoo more interesting. Adding a date of a special event to the design will give it a more sentimental touch.
#8: The Puzzle Blocks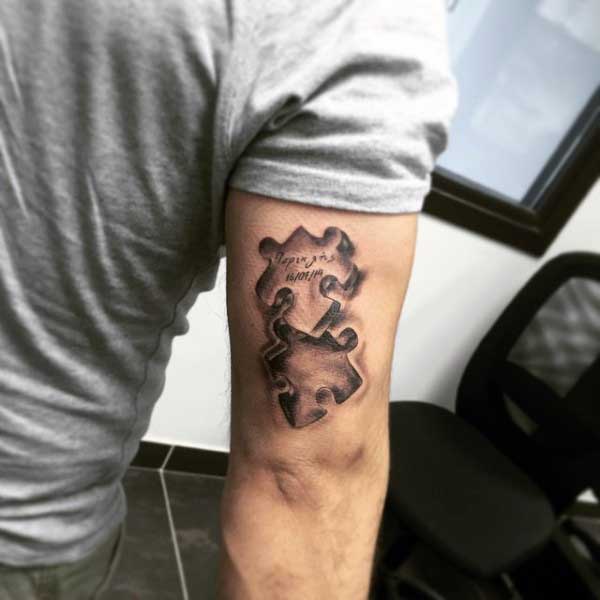 Adding a date; that's what we were talking about just a while ago. The shading of the puzzle blocks is so natural they feel emerging from the skin. Such tattoos are always very secretive and intriguing.
#9: A Plant For Good Luck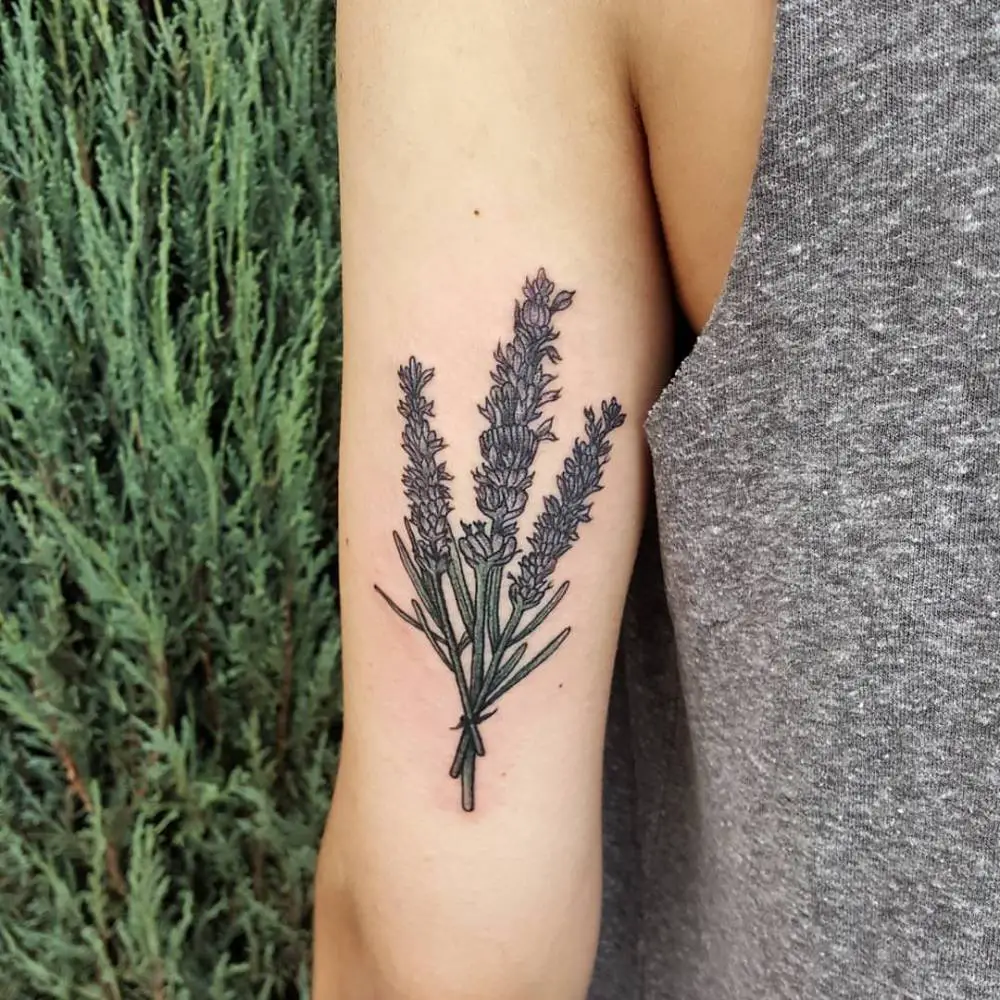 We often grow plants and herbs for luck, wealth and prosperity. Why not ink them for the same? Whether you love to stay connected with nature, want to wear some good luck or just because you like it, a tiny herb tattoo like this one is worth wearing.
#10: Butterfly At The Back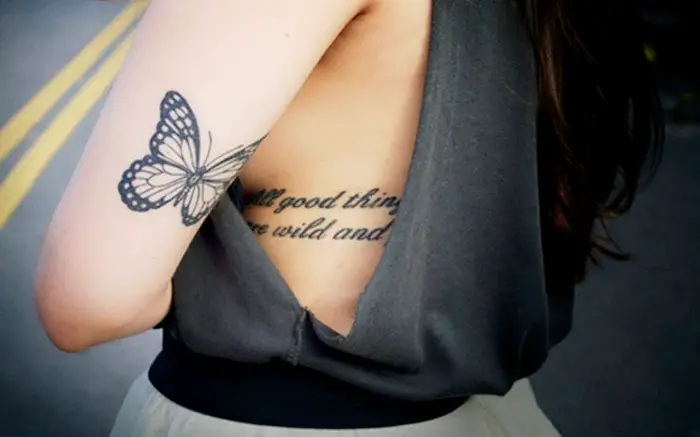 Butterflies are always loved by girls for their delicacy and beauty. While this girl chose a black butterfly, you can fill the colors of your choice into it.
#11: Elephant Tattoo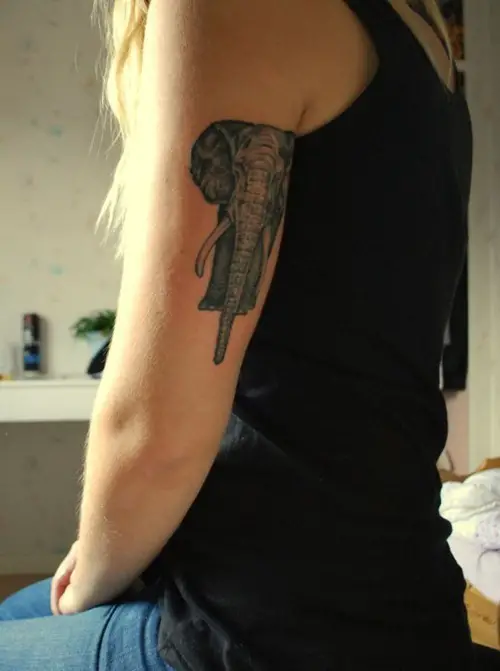 An elephant tattoo means different things. But in general, it symbolizes prosperity and good luck. It also represents power, strength, dignity, and longevity. This African Elephant back of the arm tattoo is, therefore, a brilliant choice to let people admire you even at your back.
#12: The Knife In The Clouds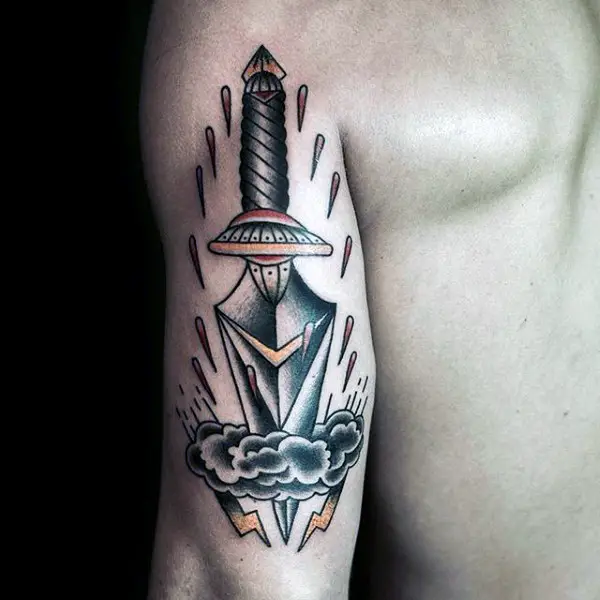 What a wonderful tattoo it is! From the knife that is tearing the cloud to the thunder lights and red drops, everything creates mystery and look fabulous.
#13: The Harvest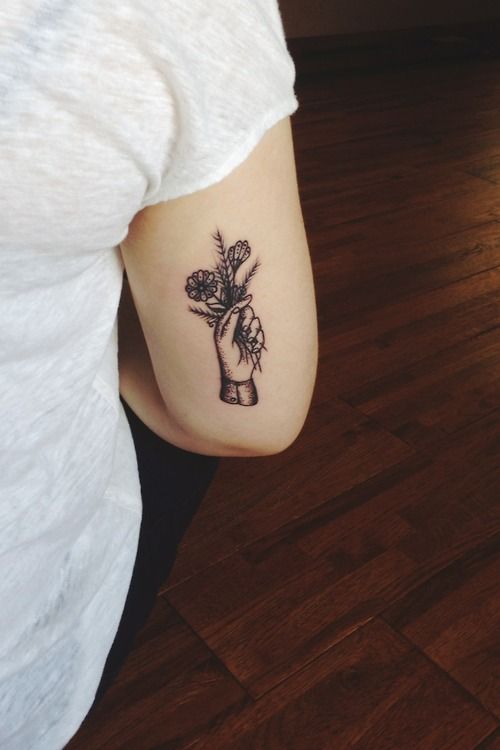 Tiny but meaningful, this tattoo shows a hand gripping on the harvest. It shows the power of nature and inspires us for being creative and active.
#14: The Mandala Tattoo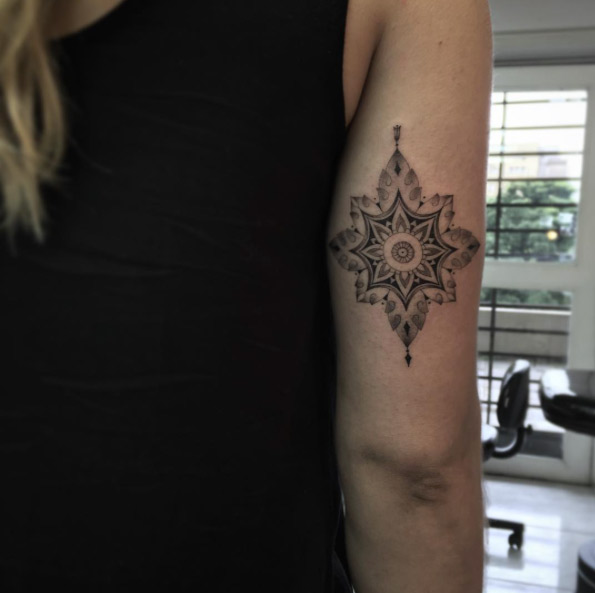 Lovely and delicate mandala triceps tattoo! Mandalas are one of the most popular choices for tattooing. And they never fail to impress. Moreover, it's a classic design that always remains in style.
#15: Number Tattoo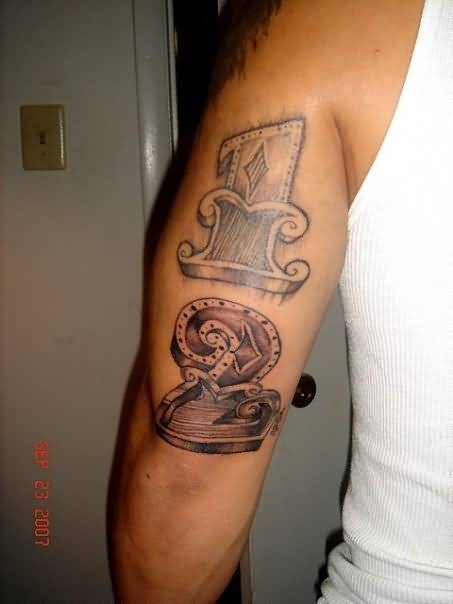 While we think the tattoo could be more refined, we like the idea of mixing the numbers with the card theme.
#16: Mother Mary And Baby Jesus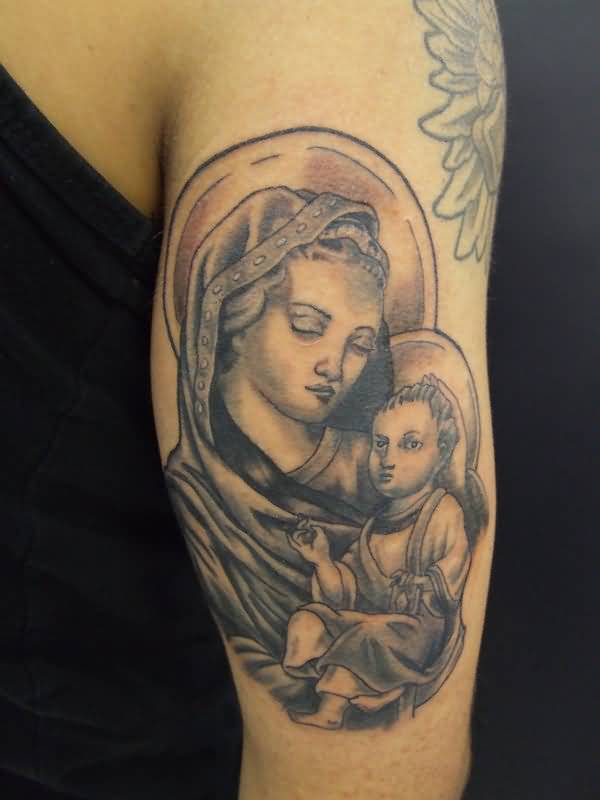 Not many people choose such elaborative religious tattoos for the triceps spot. We love the concept and presentation. The tattoo artist clearly showed that no spot is small if you know how to use it.
#17: A Diamond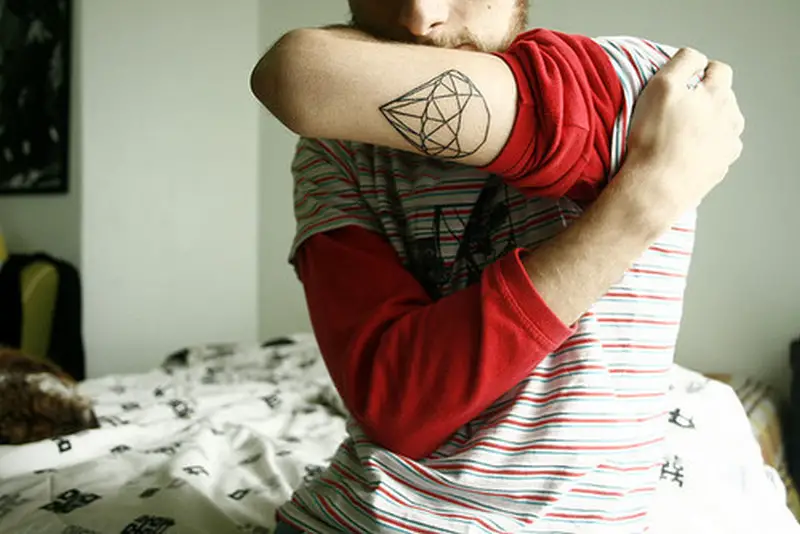 It's tough and it's forever. Just like a diamond, this geometrically structured tattoo is also everlasting.
#18: Compas With Roses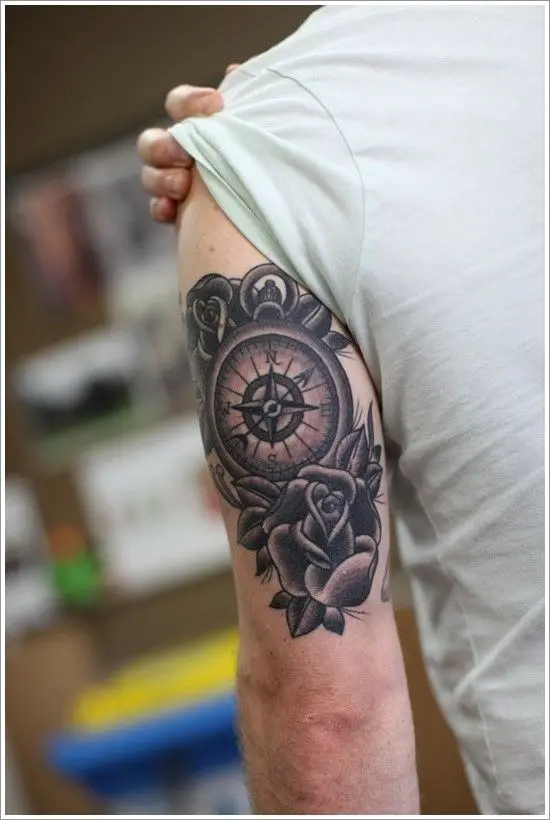 In black, this back of the arm tattoo with all the nature guiding elements is just wonderful. The compass represents direction while the roses symbolize the beauty. It could mean that any path guided by the Almighty is always beautiful even though it may have a few thorns.
#19: Anchor At The Back Of The Arm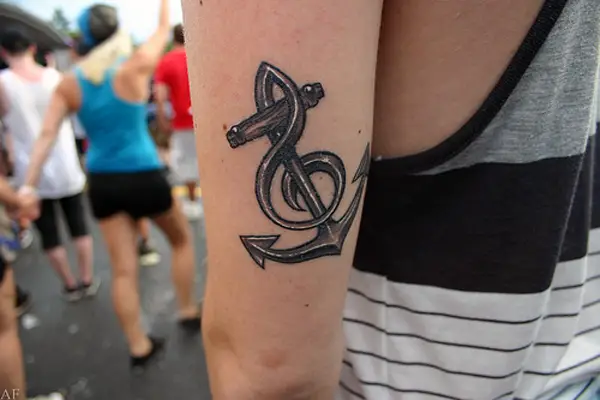 Being one of the most important objects in a sailor's life, anchor tattoos represent stability. Considering that, we can assume this guy loves being stable or he may admire his mom or wife a lot for both of them brings a state of stability and calmness in a man's life.
#20: Manuscripts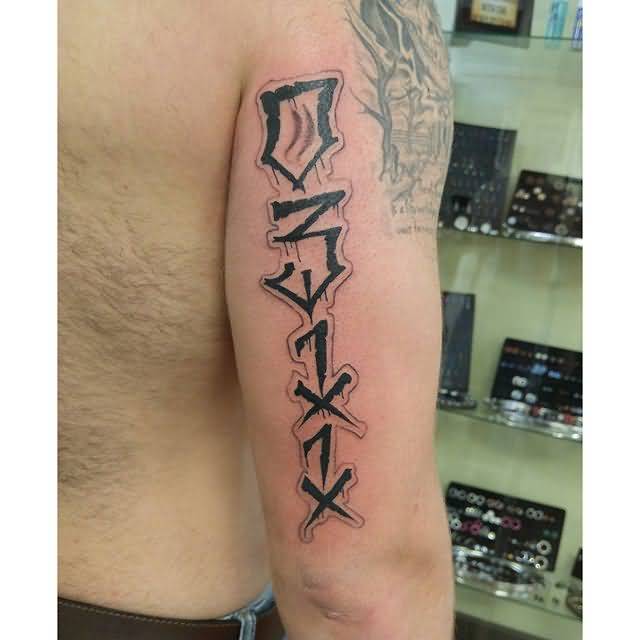 We are clueless about the language but the tattoo gives a warrior feel. Choosing a secret manuscript to write a special message is a popular choice for arm tattoos. People remain clueless and just remain in awe of the design. Isn't that interesting?
There are many back of the arm tattoo design ideas and you have no limit. While the above twenty designs are very inspiring, you always have the option to create your own special arm tattoo. From inking your loved one's name to a special symbol or anything you want people to admire at your back.