We are pretty clear that mom and dad tattoos are amongst the top searched and most liked styles. And why not, they are one of the few symbolic ways we can feel our parents close to us. Mom and dad are a personification of God on earth. The selfless and unconditional love can only be given by parents. And if you want to express your love and gratitude to your parents, what better way can be there than having a thoughtfully chosen mom and dad tattoo?
Multitude of Heart Touching Mom and Dad Tattoos
With thousands of designs at your disposal, choosing a design was never a problem with this popular subject. From loud open chest ones to wrist cover-ups, behind-the-ear tattoos, and biceps tattoos, there is a range of options to mark your tribute. As for the design and theme, the sky has no limit. From stars and ribbons to hearts, flowers, anchor and even special quotes, there are plenty of metaphors to showcase your sentiments.
However, it is always better to give a deep thought and have a personalized mom and dad tattoo. To help you better conceptualize your custom design, we have a thoughtful collection of interesting mom and dad tattoos. Let's ponder upon them.
#1: Two Flowers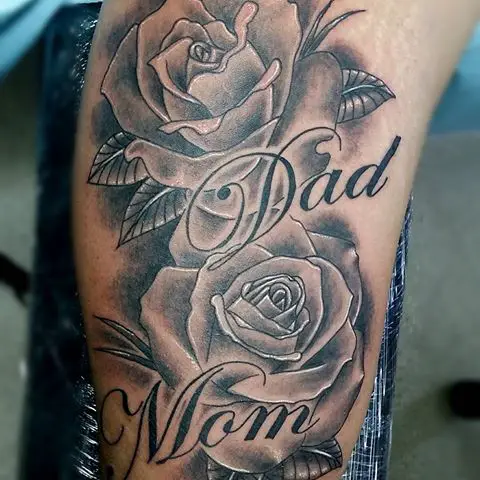 This design depicts two flowers together representing your father and mother. These flowers are symbolic of their key importance in your life. The flowery design shows that your parents are the constant source of the fragrance of joy and happiness in your life. Through this design, you show your immense respect towards your parents.
#2: Heart and Mother Toad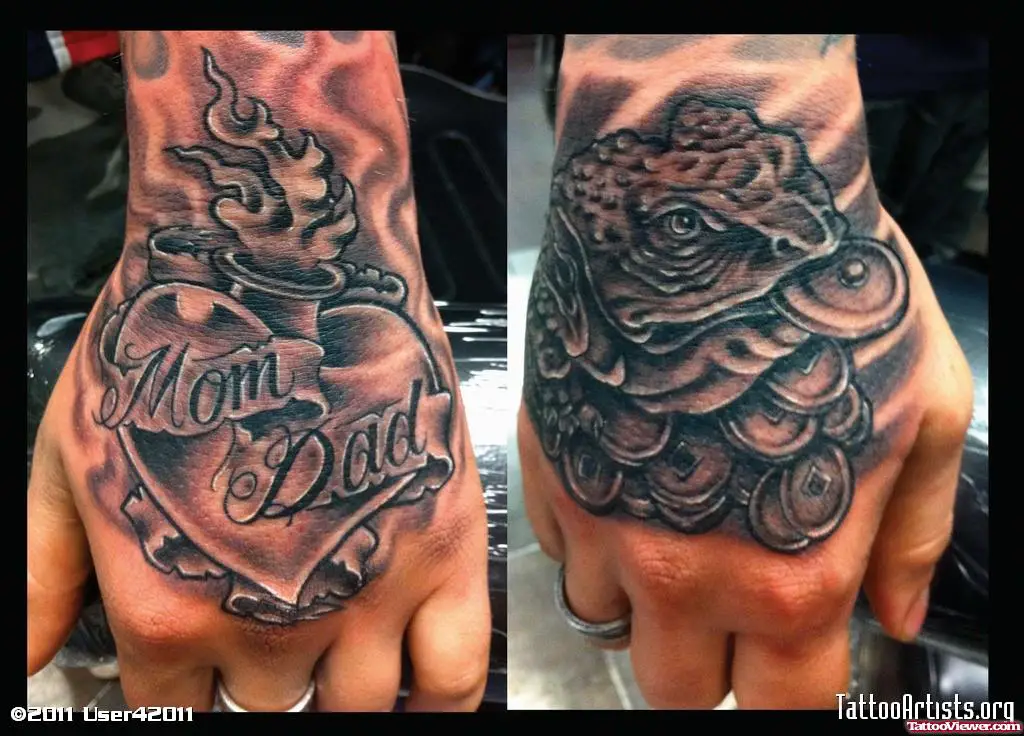 Two very interesting, meaningful, and intriguing hand tattoos that will open up your mind. The first shows a heart with fire coming out from the vessel and Mom-Dad written in the foreground. And the second design shows a mother toad with her eggs. These tattoos represent the different vital roles our parents play in our life. They are the energy source to lead life but never leave us unprotected for a moment.
Don't miss: Mother and Son Tattoos
#3: The Protecting Thrones
This is a unique design just down the shoulders. It has two hearts depicting love, studded with two flowers symbolic of your parents. If we have a look closely, it is surrounded by iron shackles. This design is the symbol of protectiveness and love our parents bestow us with despite numerous challenges.
#4: Love You Mom & Dad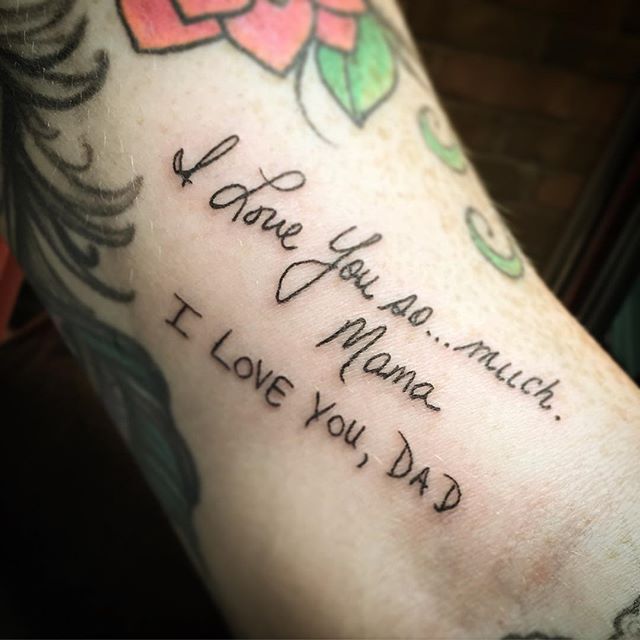 If you are totally in love with both your parents. Why not get this lovely tattoo to remind you of how much you do every day?.
#5: The Anchors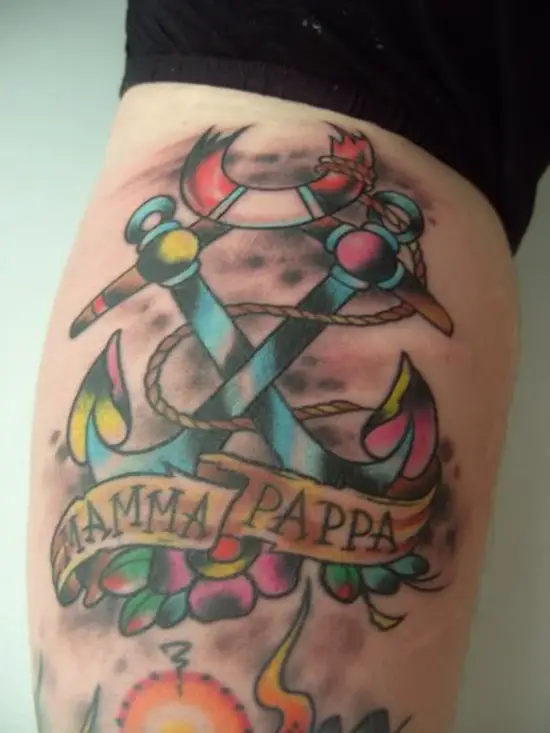 Parents are very reliable anchors that help us through the storms of life. This tattoo features two colorful anchors intertwined, depicting both your parents.
#6: Ribbon on Skulls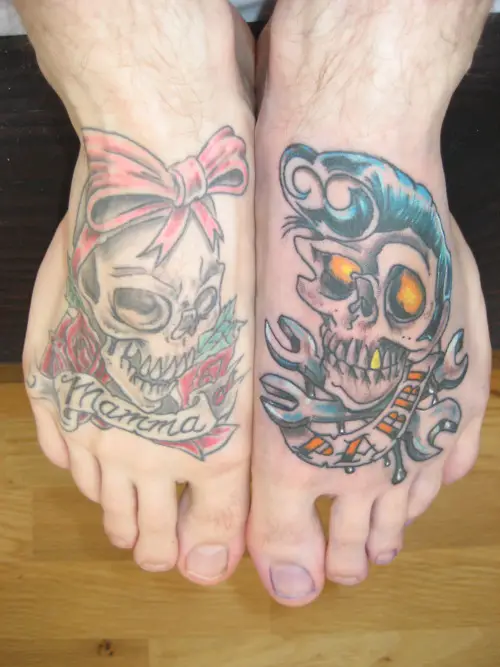 Tattoos can also be used to show off your parent's individual personalities. These pieces inked on both feet are styled with contrasting hues to highlight their unique traits
Related: Thigh Tattoos to try in 2021
#7: Roses are Black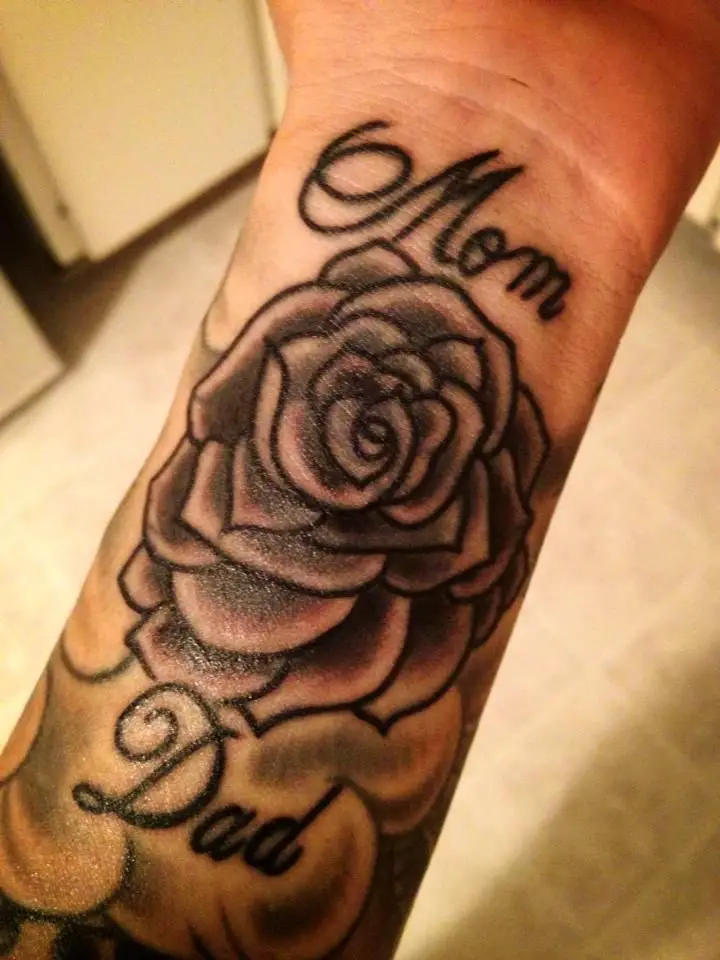 Roses are a sign of love and respect. So, go for this lovely piece, with your parents inked on both sides of magnificent roses.
#8: Cup and Gun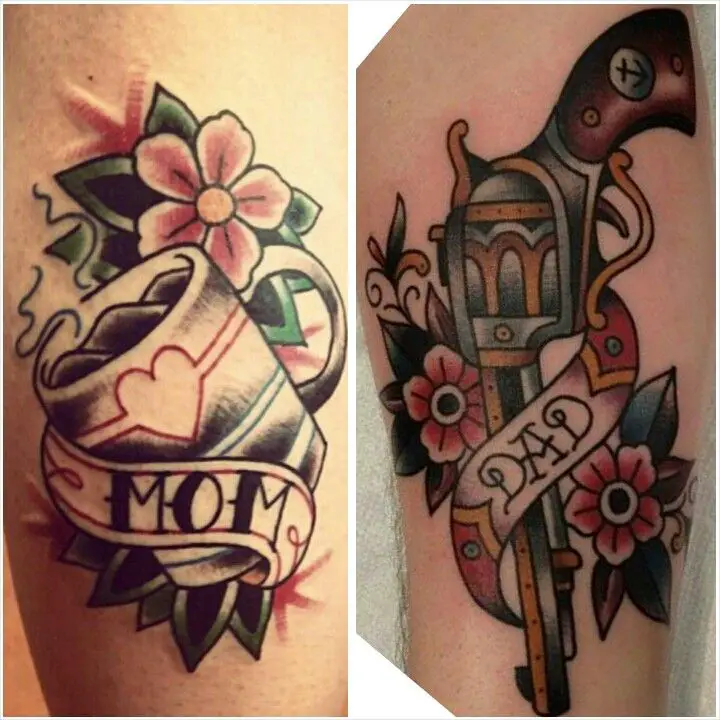 Choose your next tattoo based on your parent's best items. Your father might like guns, while your mum just likes to sip tea from a cup.
#9: Red Rose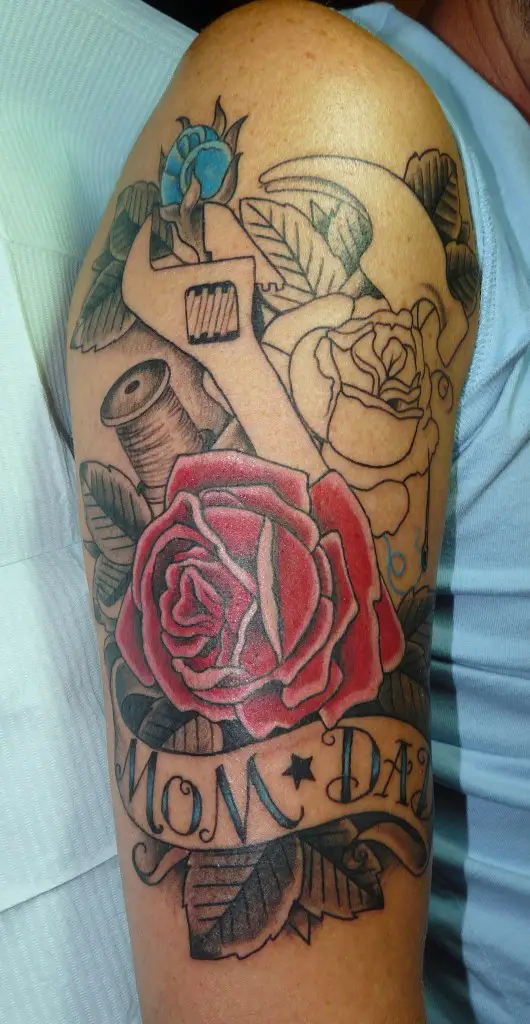 It is impossible to quantify in words how much you adore your parents. So, this is a tattoo appreciating those who spent their lives looking out for you.
Don't Miss: More Rose Tattoos
#10: Flame of Love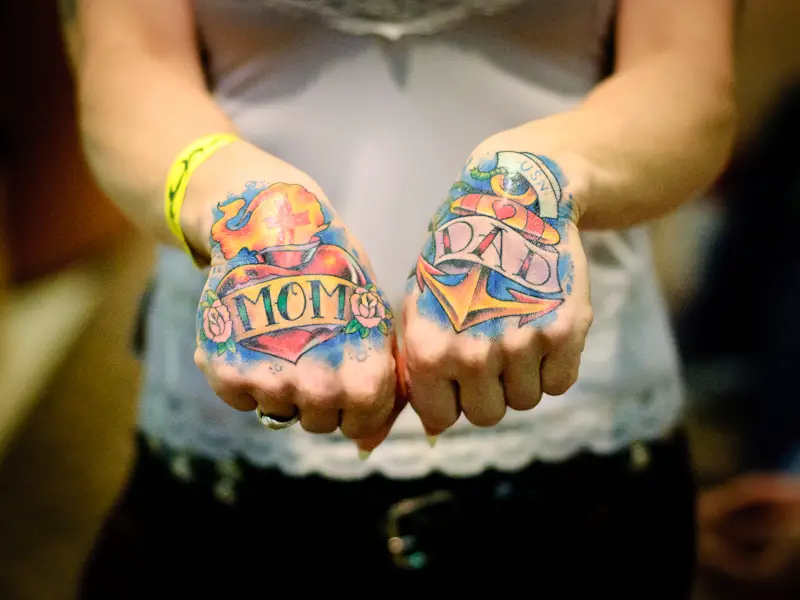 You should keep the flame of your love for your parents burning with this tattoo. It is a very colorful and bold piece.
#11: Guardian Angels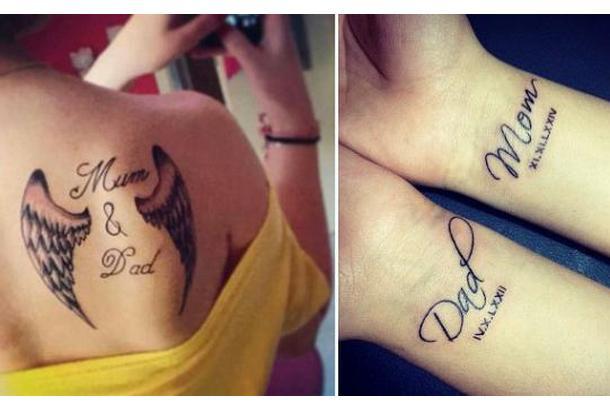 Celebrate your guardian angels by getting this amazing mom and dad tat. No one loves you in the whole world than your amazing parents.
#12: Heartthrobs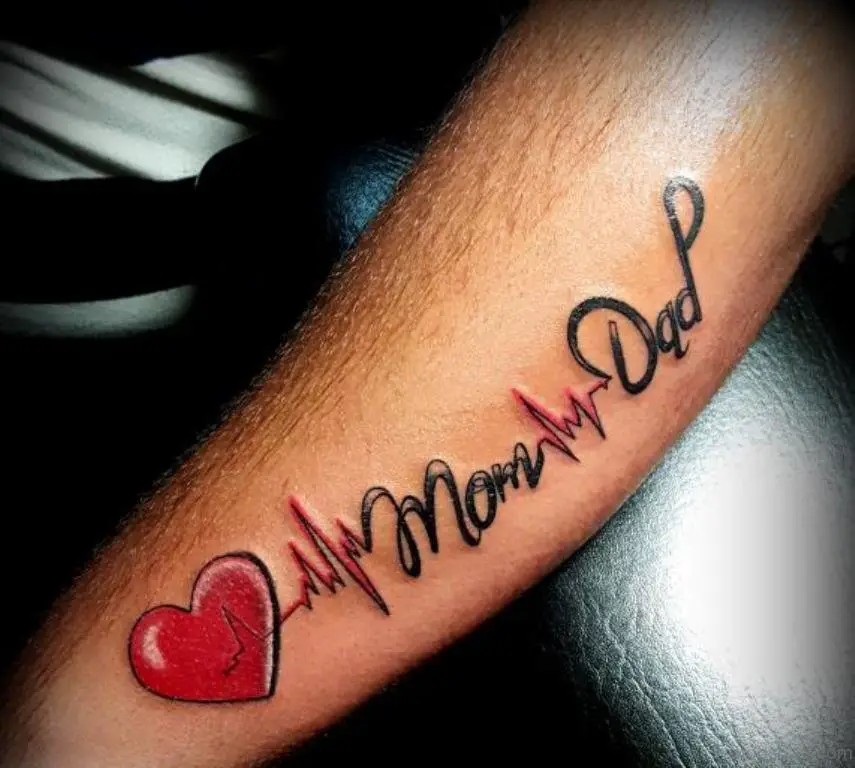 Show off your huge love for your parents. This tattoo features a pulse and a heart, a sign that your heart beats only for them.
#13: Arrow In Love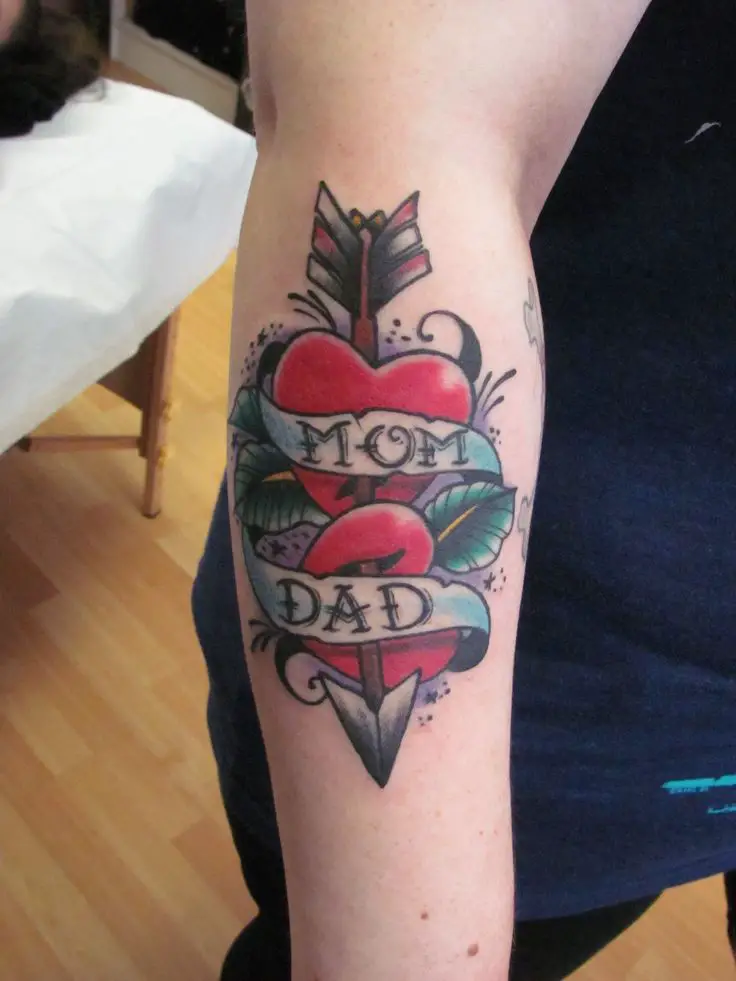 An arrow between two hearts shows the soul bond you share with your folks. Nothing should stop you from trying this amazing piece on your arm.
#14: Thumb Tattoo with Imagery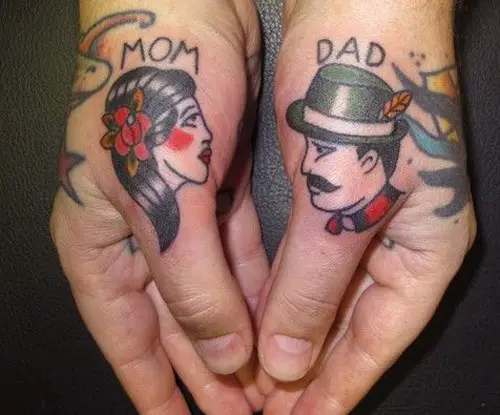 This is a rather unsual place to ink a tattoo, but it passes the message. You can mark their anniversary with this beautiful tattoo.
#15: Dragonfly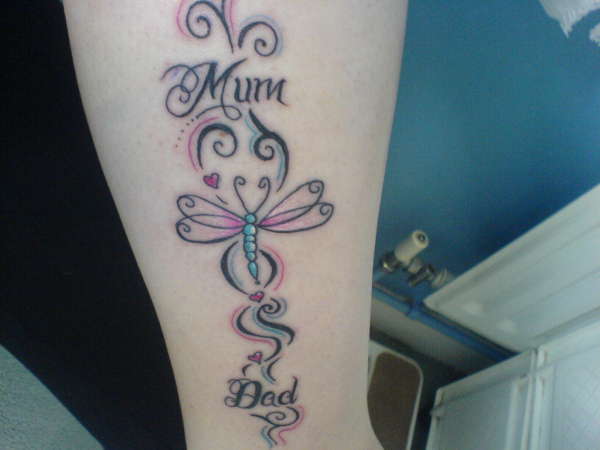 If dragonflies were your most favorite thing about your childhood, then you should get this tattoo. Ink both your parents on both sides of a beautiful daragonfly.
#16: The Feather Between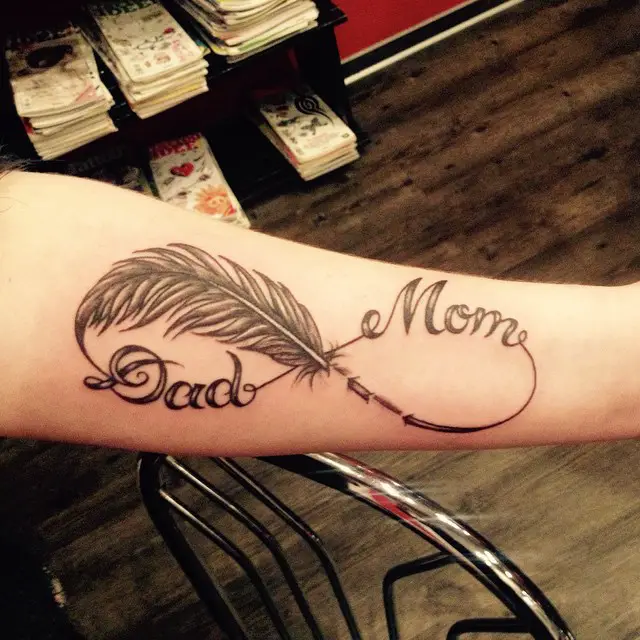 The feather is a symbol of peace and tranquility. It depicts the near perfect relationship between you and your parents. So, why not try this for your next tattoo.?
#17: Mom and Dad Forever
This tattoo forms the infinity sign, which means this is a forever love. Reassure yourself with as copy of this lovely piece on your forearm.
#18: Bird on Branch

Talking of a creative tattoo, this is one of a kind. It is colorful, playful and exactly what a child should get in honor of their parents.
Related: Phoenix Tattoos You Must Love
#19: Mom and Dad Enclosed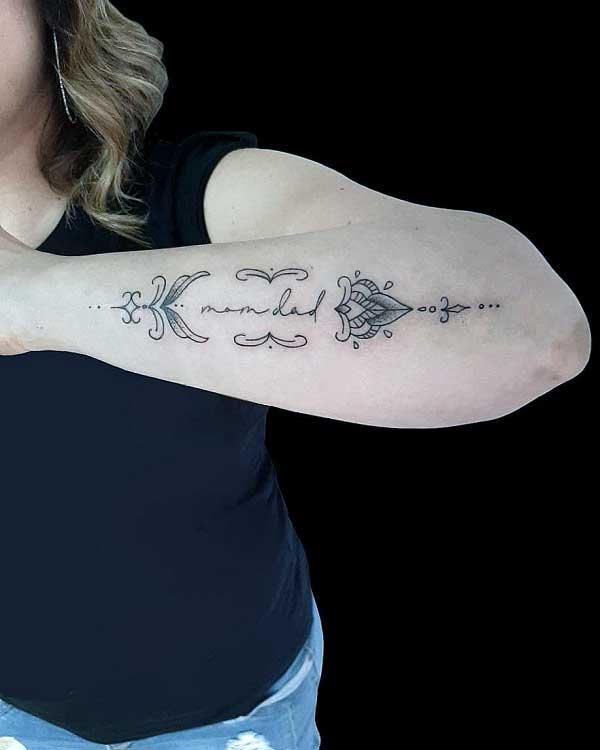 Spice up your new tat with beautiful patterns to enclose a stylishly inked "mom" and "dad". This is a simple yet rather sophisticated choice.
#20: Papa and Mama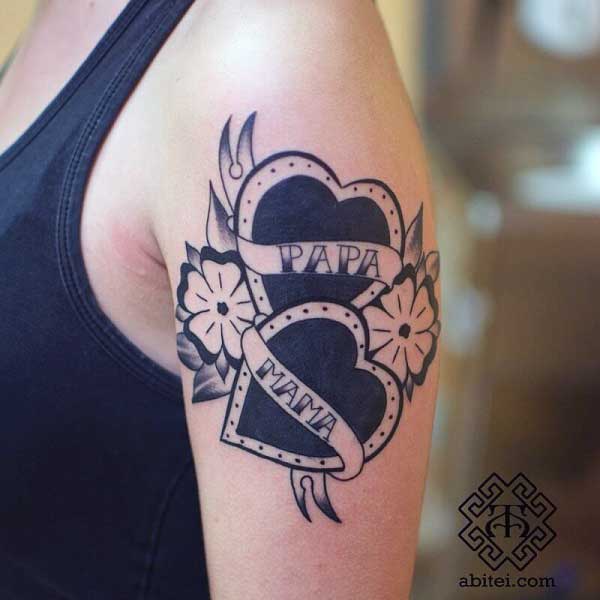 Two hearts sitting on a bed of roses is a good way of celebrating your parent's love. If only you could have two hearts, because one can't contain all the affection.
#21: Mom and Dad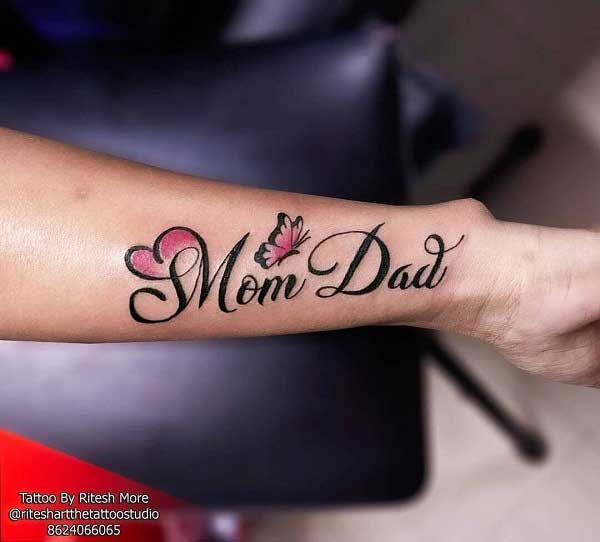 A butterfly is a sign of new beginnings, so this tattoo could be used to mark any of your parent's birthdays. This is a must-have.
Related: Tattoos  for Moms
#22: The Fading Rose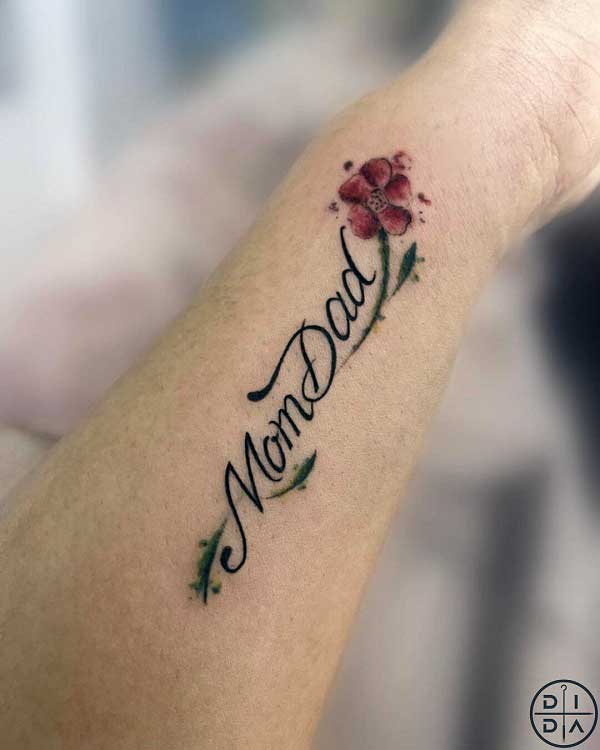 The contrast between the letterings and the rose is what makes this piece stand out. The red rose adds color, while its stalks, smoothly circle the text.
#23: Simple Text Tattoo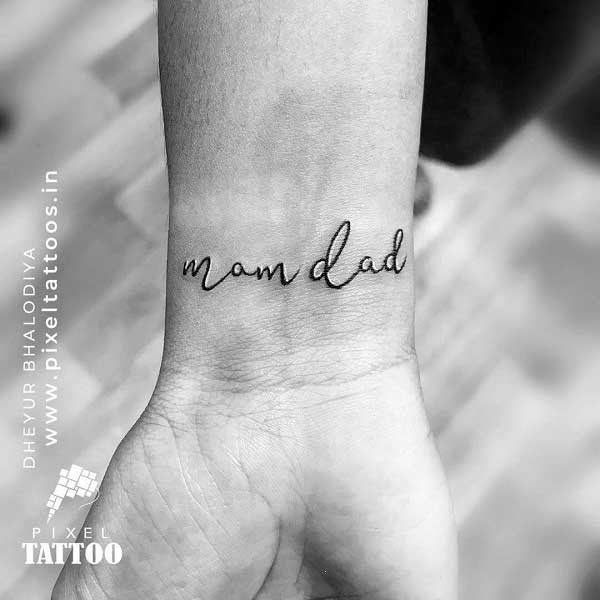 This is one of the simplest options on this list and only features letterings. Simply getting a tattoo of both your parents shows loads of love.
#24: Birds and Feather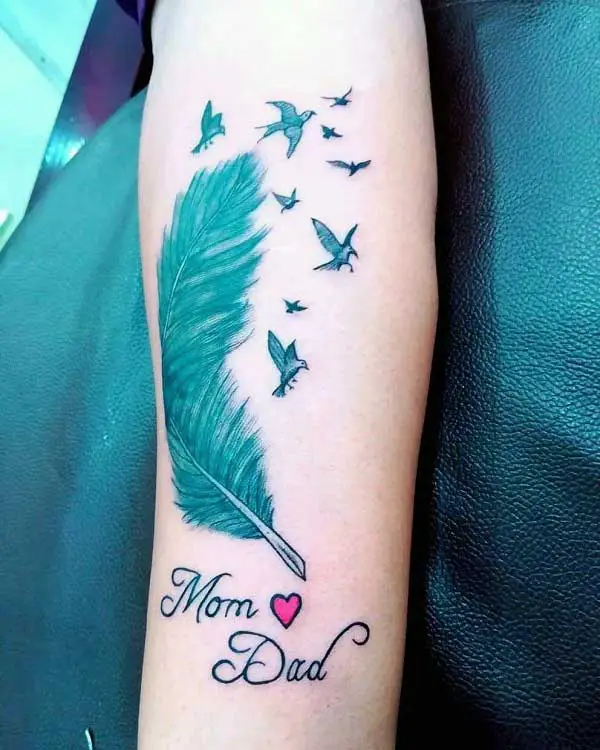 As birds are to feathers, so are parents to their offspring. This colorful feather is designed with a love symbol just above the words.
#25: Love You Both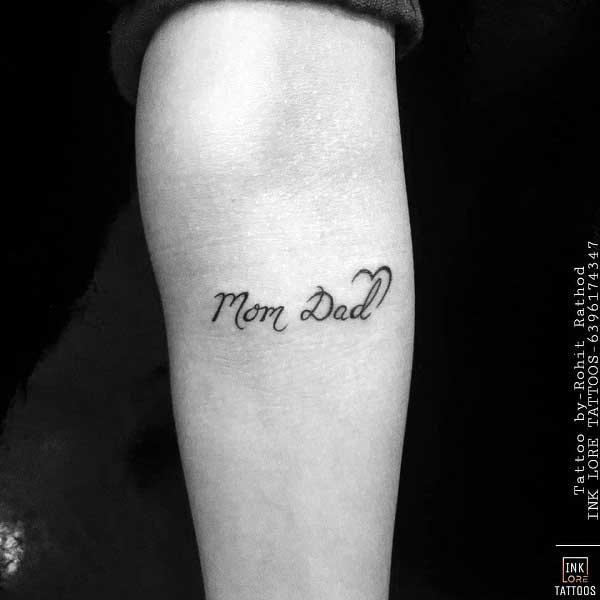 Who do you love more? Your mum or your Dad? With this tattoo, you don't have to make that difficult choice between both your lovely parents.
#26: Forever Love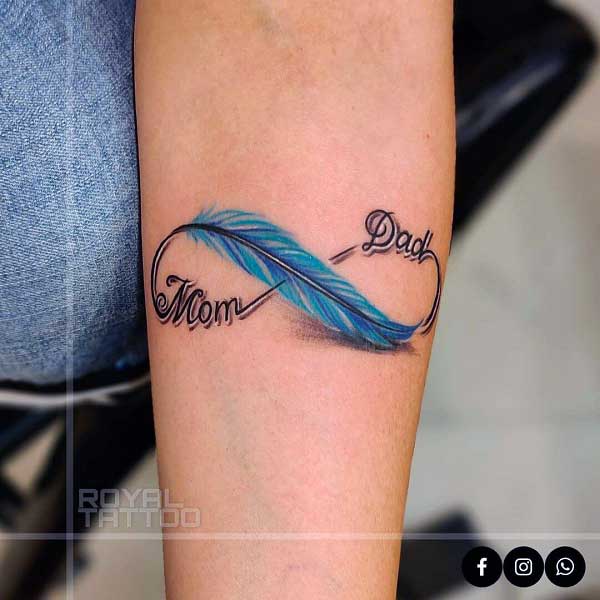 This is another sleek version of the infinity sign tattoo with a bright-colored feather in between. A parent-child bond is built to last a lifetime.
Relevant: Live and Love Tattoos
#27: Alive and Well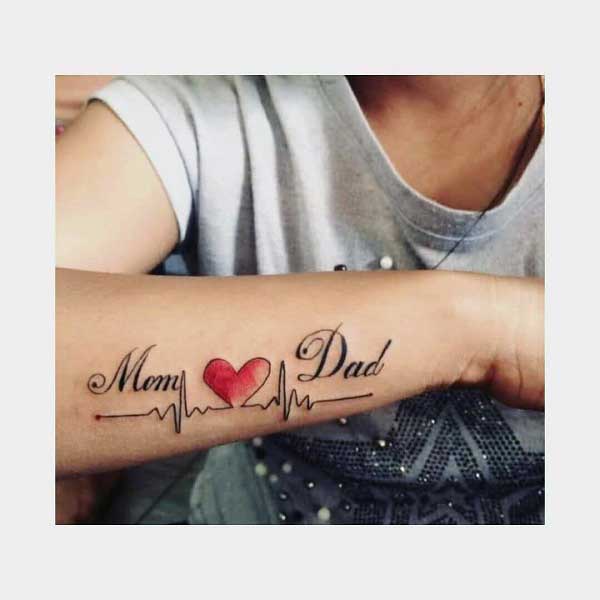 Despite your parent's ages, they maintain their health to spend as much time with you as they can. Don't let any more seconds waste before inking this.
#28: King and Queen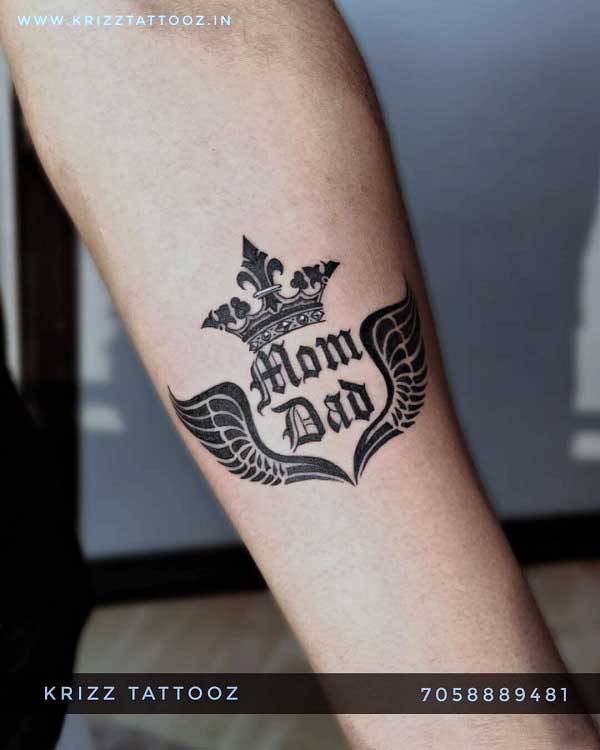 Your parents are royalty and should be treated as such. Make them feel very special by getting this beautiful piece etched on your skin.
#29: The Anchor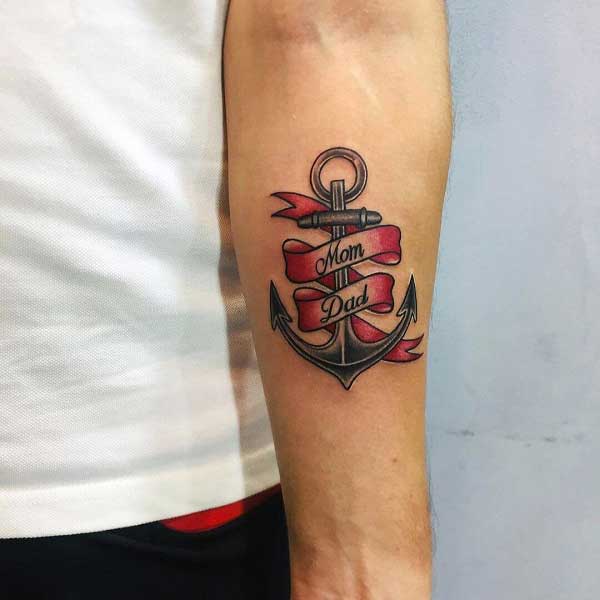 Even the strongest ships need an anchor in a storm. So, why not let love be the anchor through yours? You can trust your parents to believe in you.
#30: Message in a bottle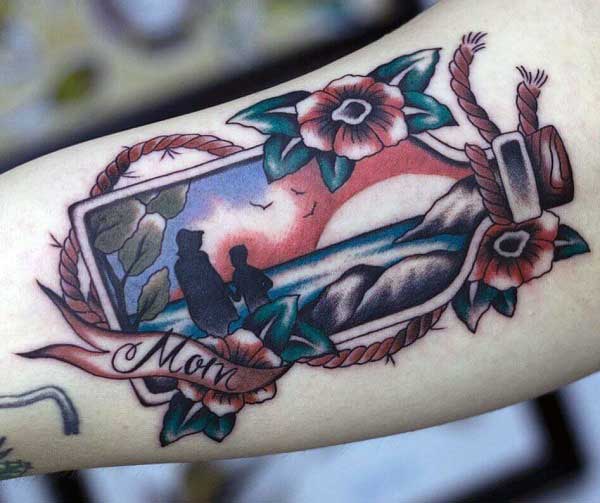 This looks like a picture from a childhood trip. If you want to draw a tattoo as a memoir of your list of memorable family vacations, this is for you.
#31: Tropical Beauty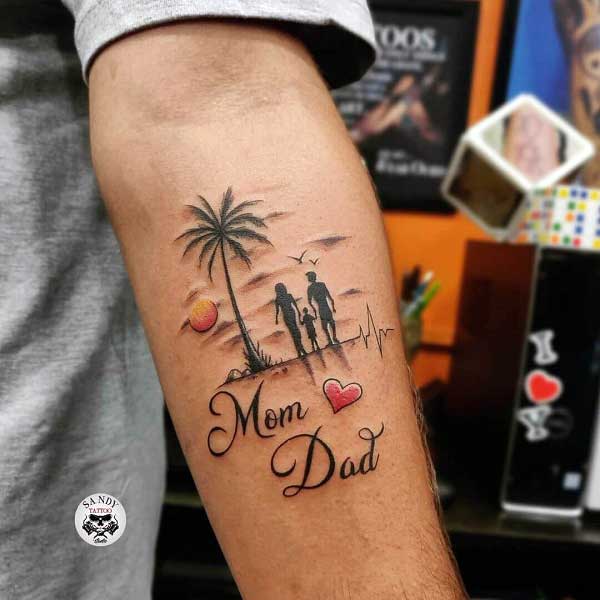 There's no sight more beautiful than a family of three: you, your dad, and your mom. A visit to the tropics could be an amazing experience for the family.
#32: Butterflies All Around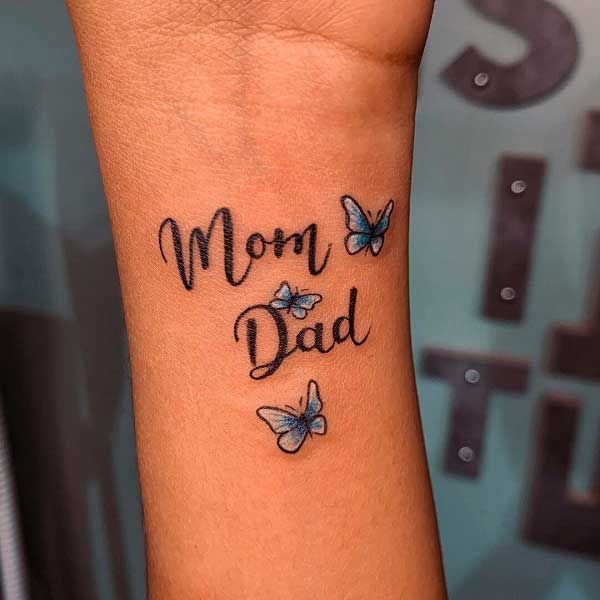 Do you feel butterflies anytime you see your parents together? You can wish for a love like theirs with this interesting and colorful tattoo.
#33: The love Between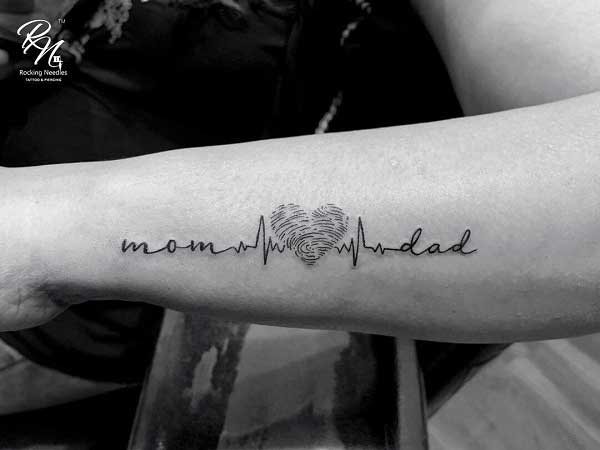 Your parents need to love each other to shower love on you. So, this tattoo with love in between the words reinforces how timeless their love is.
Although it is impossible to measure or return the love and care our parents have given us, these mom and dad tattoos can be a small gesture of showing your deep respect for them. With numerous designs to choose from, don't hesitate to have a deep yet trendy tattoo dedicated to your parents.