Though frogs aren't considered attractive creatures, these animals are great elements of a tattoo design. In the ancient tradition of Greek mythology, frogs have been assumed as the symbol of harmony. So, if you want this ancient history to illustrate on your body, a frog tattoo will be a great way.
This content brings the most stylish frog tattoos with remarkable meanings. Also, you'll get some Japanese and Chinese cultural hints from most of these tattoos here. Frog tattoos are painless and appear with simple to complex designs.
To get to know more about it, explore the page and choose anything that comes to your liking.
96 Frog Tattoos Ideas and Designs
If you think a frog tattoo will be boring, this list will change your perception. Here you can get the most creative tattoo ideas with meanings that contain histories of many kinds.
Japanese Frog Tattoo
Frogs are a symbol of power, prosperity and luck in Japan. As it brings good fortune, Japanese frog tattoos will be a perfect fit for everyone.
1. Gamakichi In Akatsuki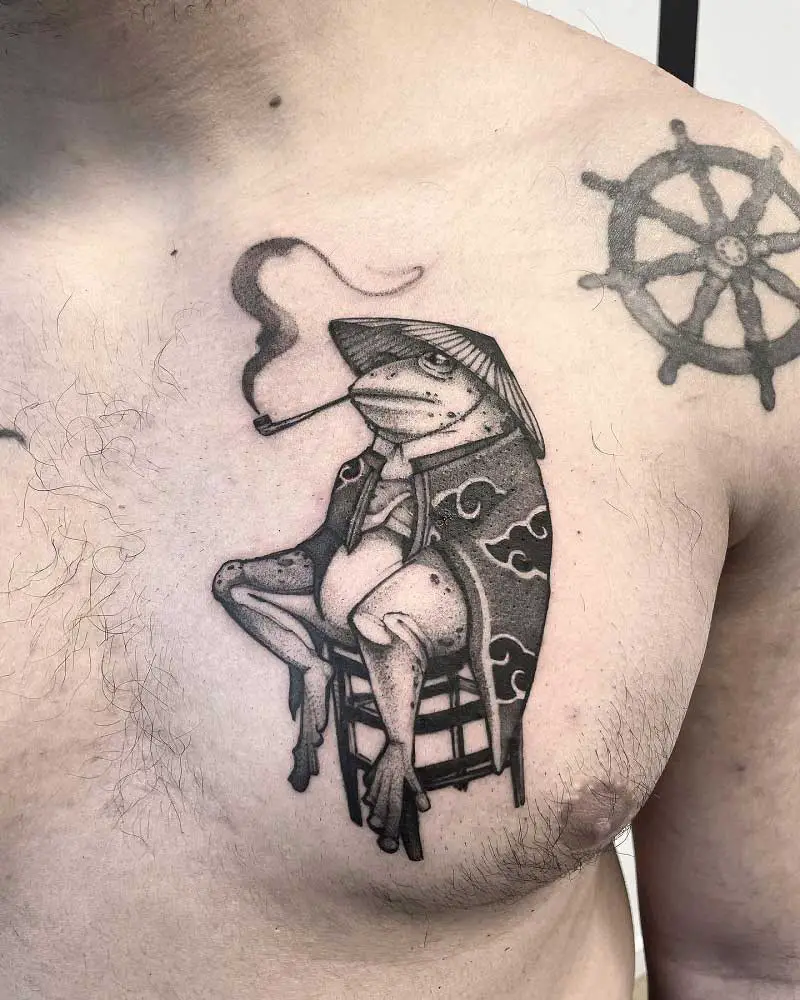 Gamakichi is a toad from Natuto. Though he's not a member of Akatsuki, he dressed up like them in this tattoo. This Frog tattoo illustrates this eldest son of Gamabunta right in the middle of your chest sitting in a chair with a cigar. The tattoo literally brings a gangster vibe.
2. Dancing Frog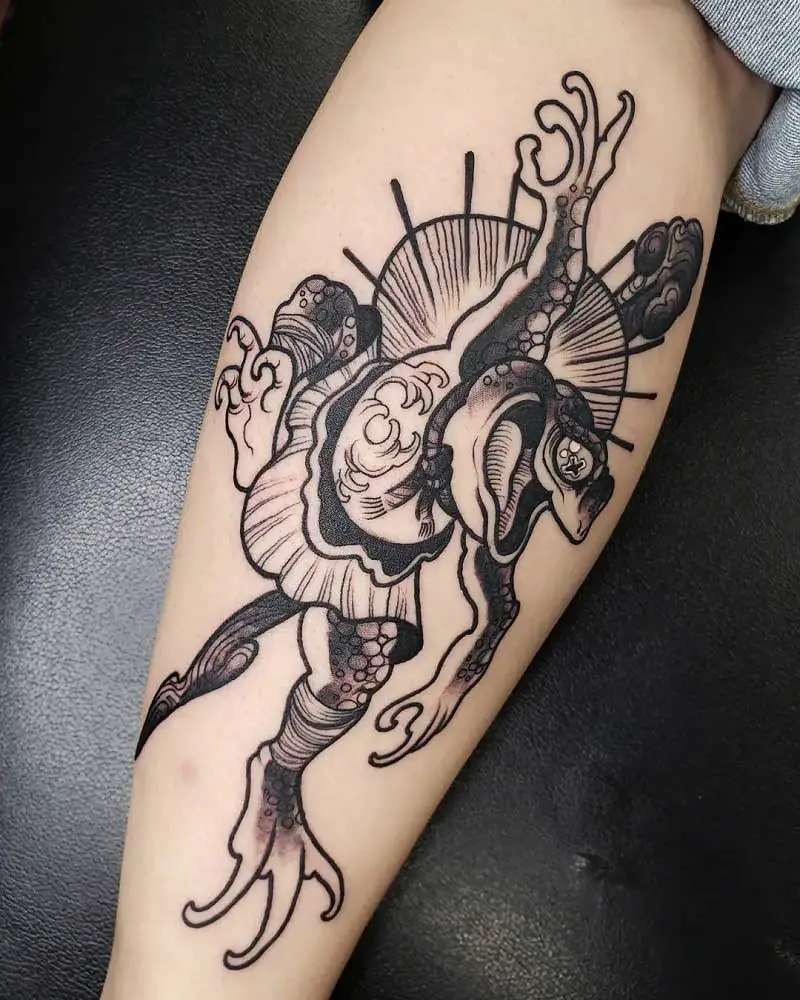 Imagine a muscular frog dancing on your sleeve. Yes, this Dancing Frog tattoo is different from the previous one yet appears in a more glamorous look. Since the tattoo comes with black vibe people will black complexion would be the best fit for it.
3. Frog Noodles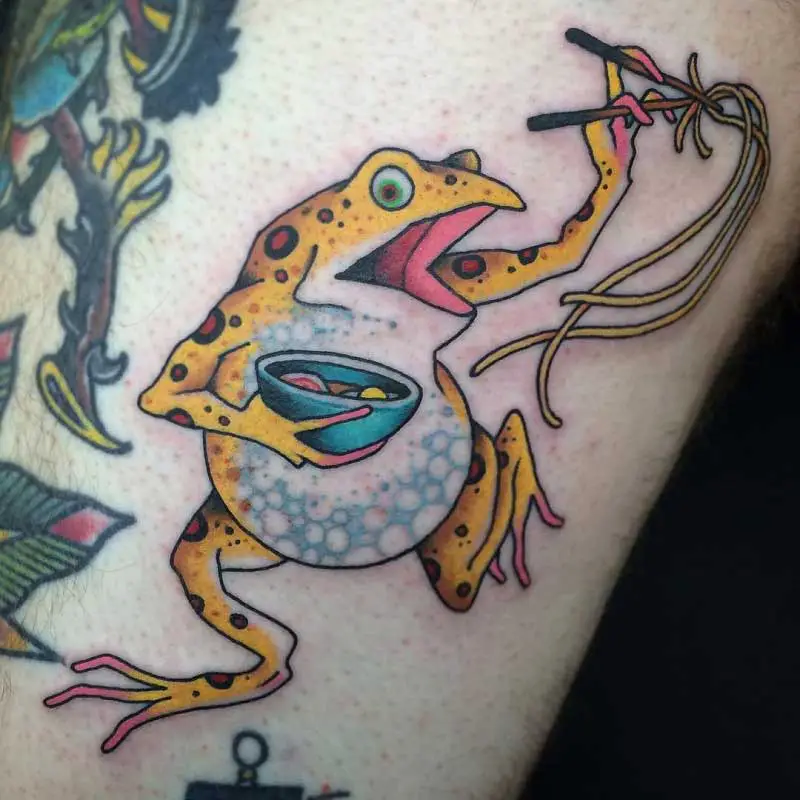 Don't misunderstand the name assuming a frog in noodles. Here you'll see a frog eating soupy noodles in a charming mood. The frog appears with a bit yellow colour with white skin underneath it.
Boss Frog Tattoo
Boss frog tattoos bring a bit of a funny side to frogs. Here you'll see a few humorous designs of tattoos.
4. Thug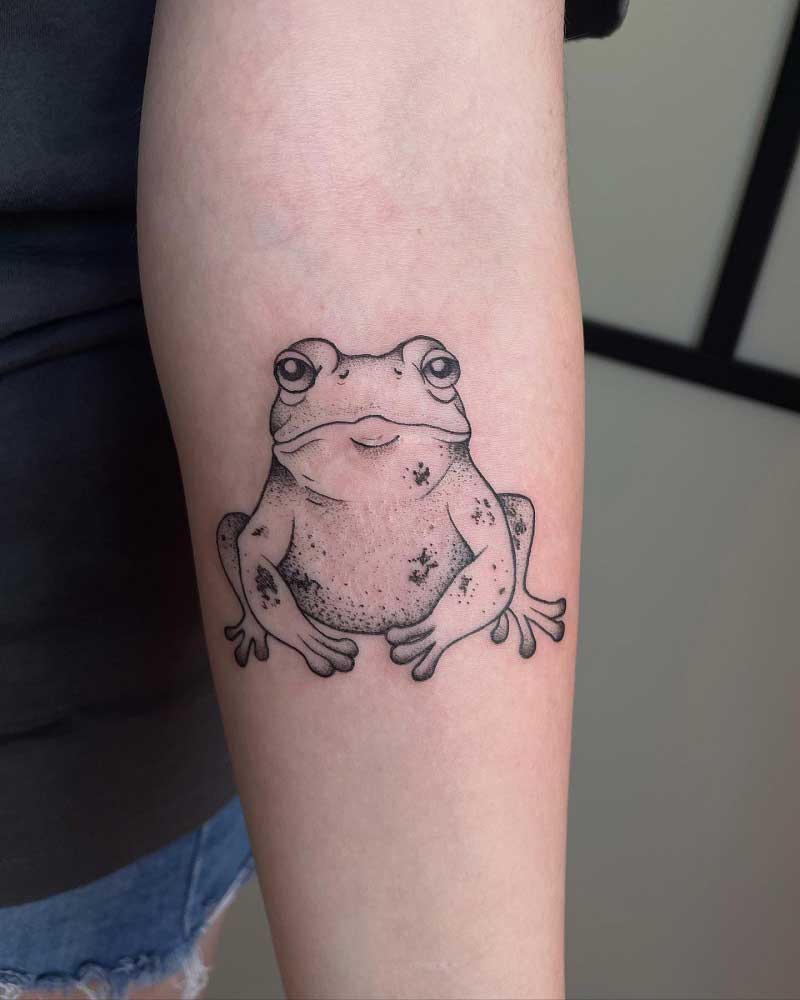 We all know how a Thug expression looks. And if a frog appears with that expression on its face the thing becomes more thugiest. This frog tattoo on a man's leg simply illustrates this thing in a more simple manner.
5. Blue Sticky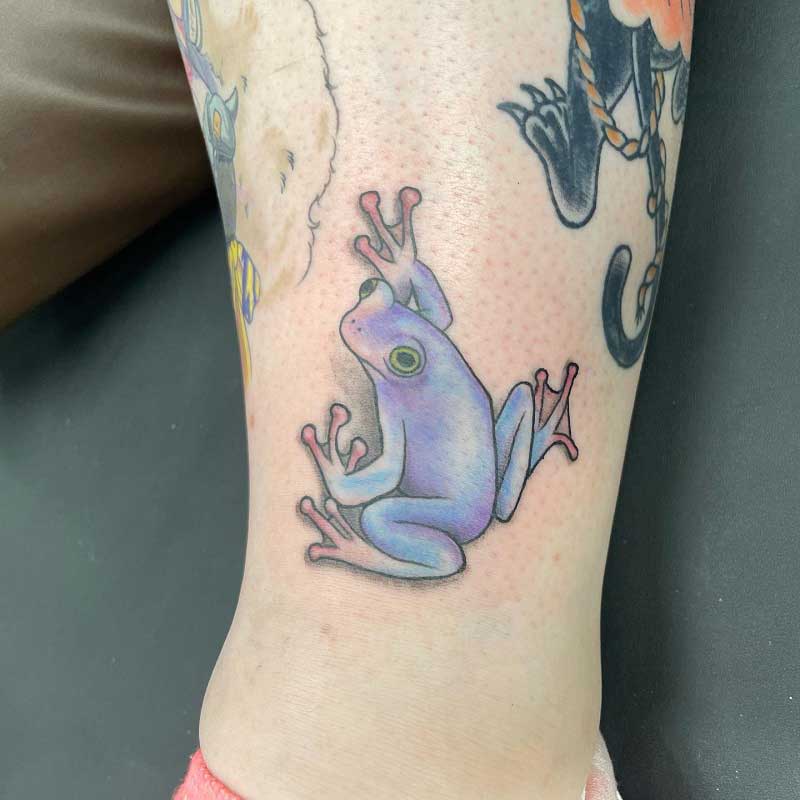 Blue Sticky Tattoo doesn't appear with a poisonous frog though, it illustrates a bit of sky colour toad. Also, there are some other illustrations as well on the side.
6. Summer Hot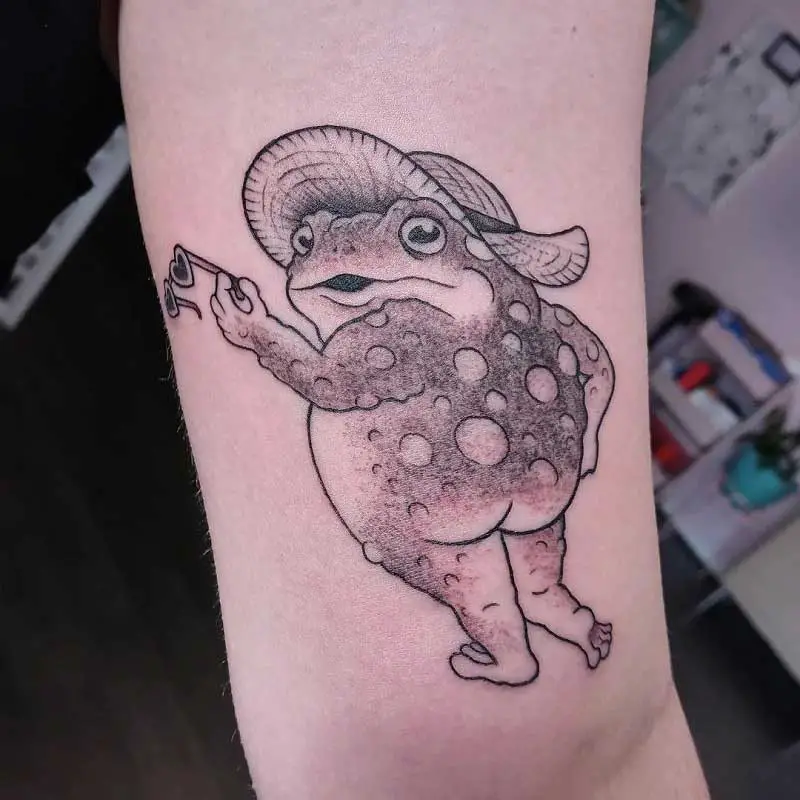 The Summer Hot tattoo illustrates a frog standing naked. The reason behind its nakedness is the summer. It has a hat on its head and held a sunglass in hand. This frog tattoo is a bit witty as well.
Traditional Frog Tattoo
Traditional frog tattoos don't appear with a simpler look. Don't misjudge it by the name. In fact, here you can get the most glamorous designs on our list.
7. Chilling in the Woods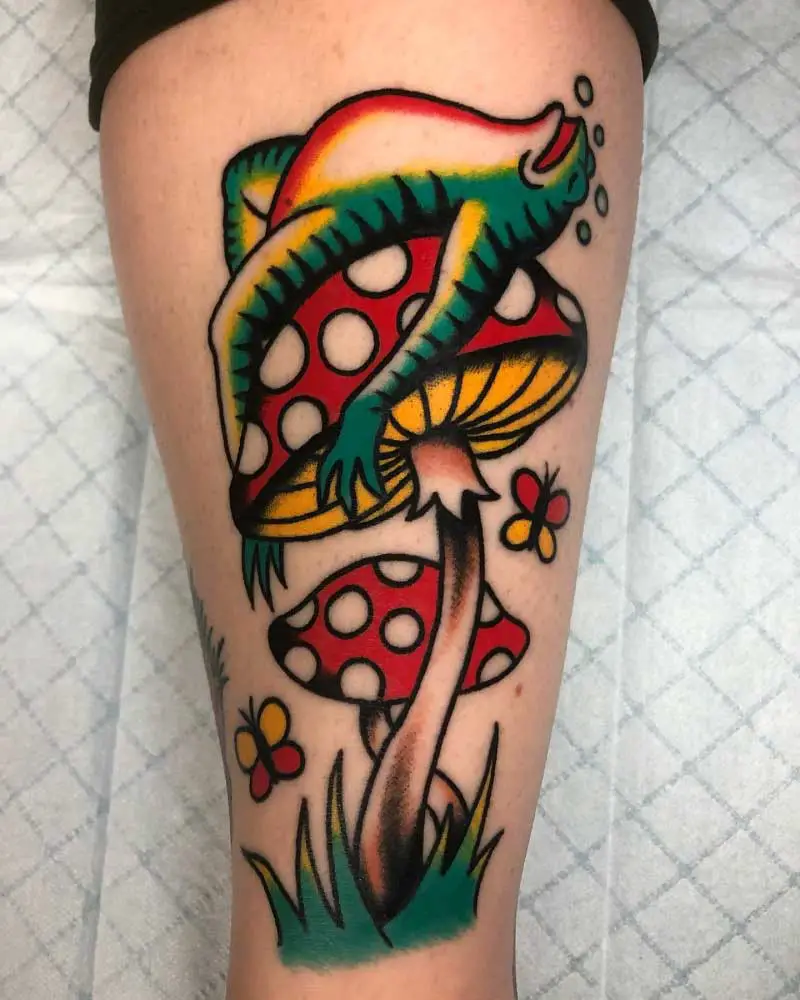 Here we see a frog chilling on its mushroom with a few butterflies on its side. It seems like the frog is sleeping due to tiredness.
8. Songs of Ribbit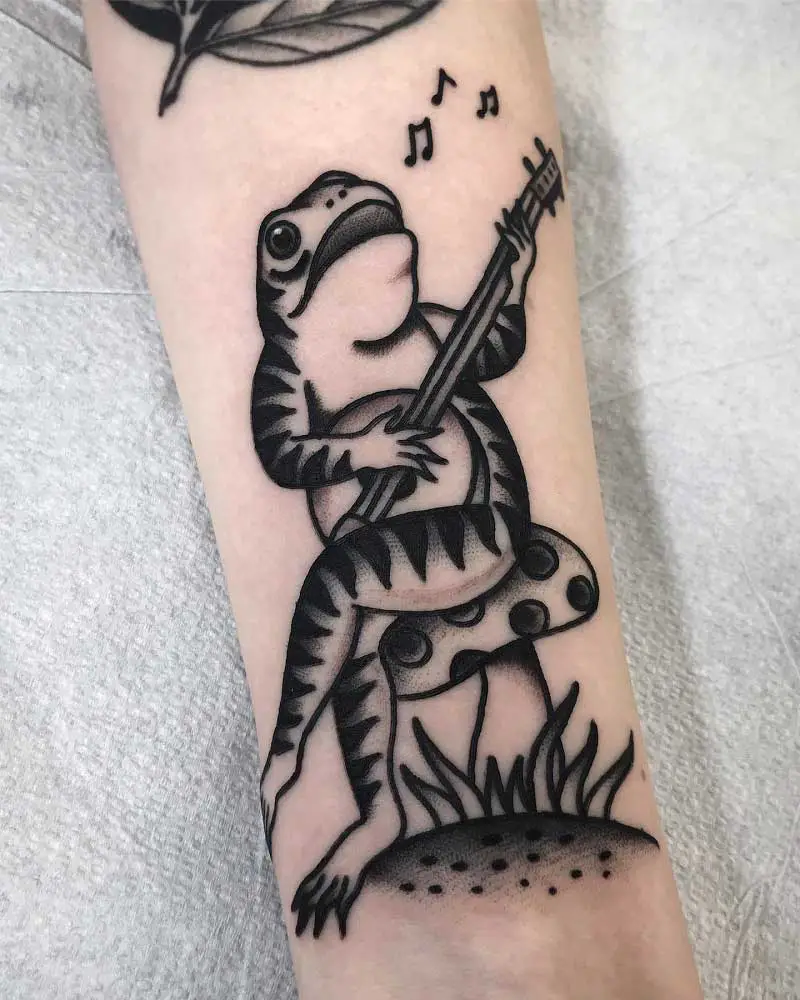 Now we see a frog with a guitar as it singing. It's on its mushroom and singing like a band member. The tattoo on a woman's sleeve is as cool as cucumber.
9. The Shaman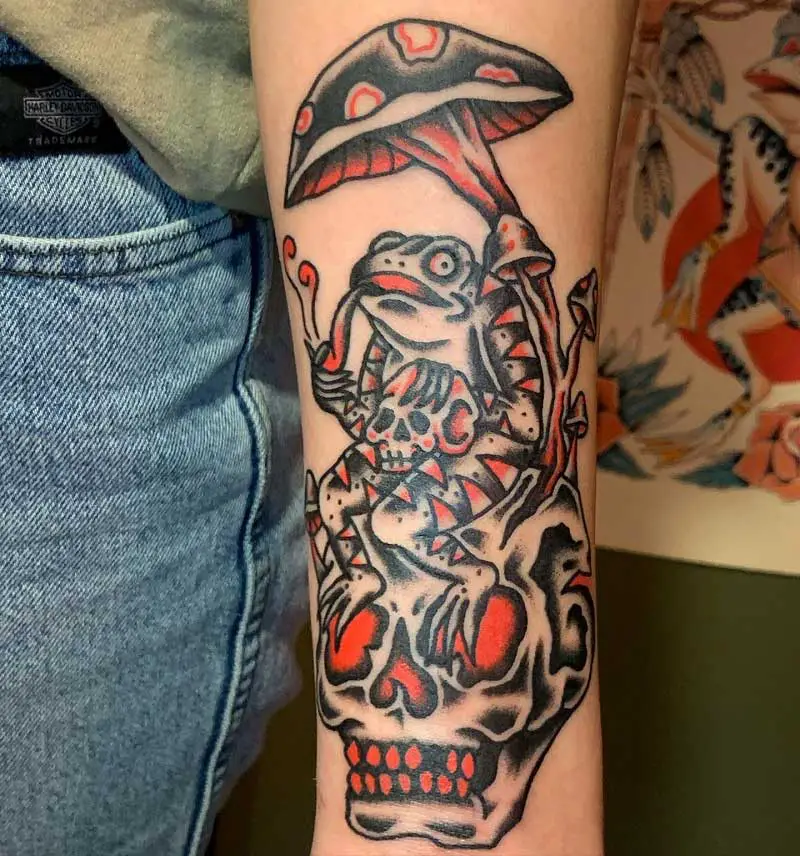 Though the Shaman word is referred to as religious this Shaman frog brings a devil toad sitting on a skull. The frog also holds its mushroom in one hand and a hookah in the other.
Minimalist Frog Tattoo
Minimalist frog tattoos appear with charming frogs with traditional designs. Here you can get a sumo wrestler in a frog's world.
10. Flower Queen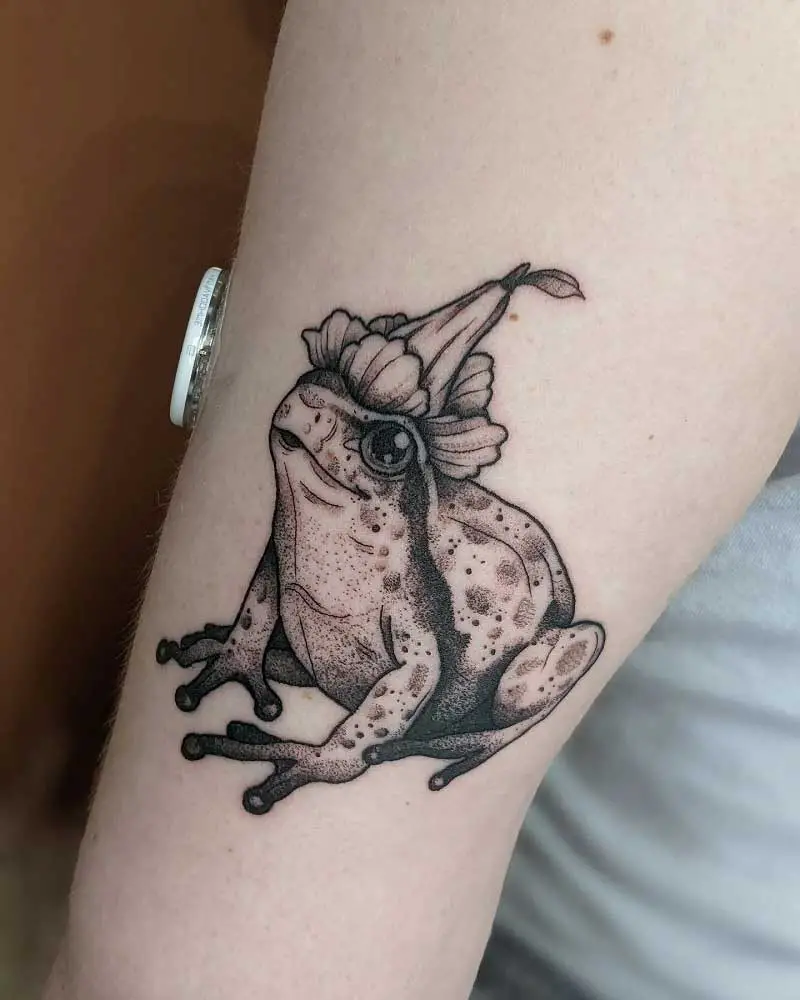 The Flower Queen frog tattoo comes with a frog that wears its crown as a flower. The frog looks cute and comes in a muddy colour. As the tattoo is small, you can draw it anywhere on your body.
11. Dance in the Rain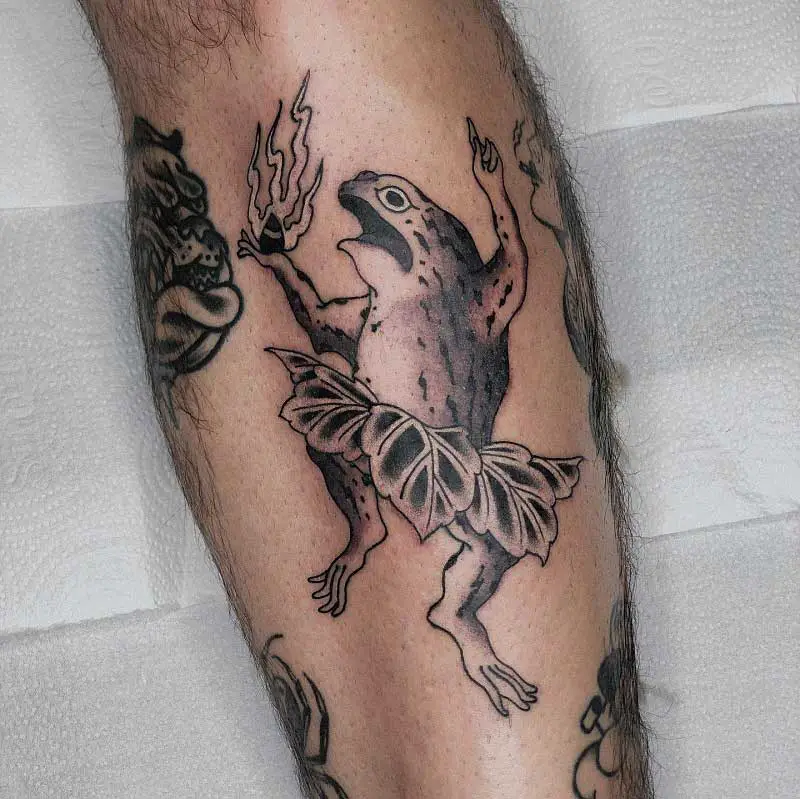 This is the sweetest tattoo on our list as it illustrates a frog dancing in the rain. The frog wear leaves as its pant and dance like it's the happiest frog alive.
12. Sumo Frog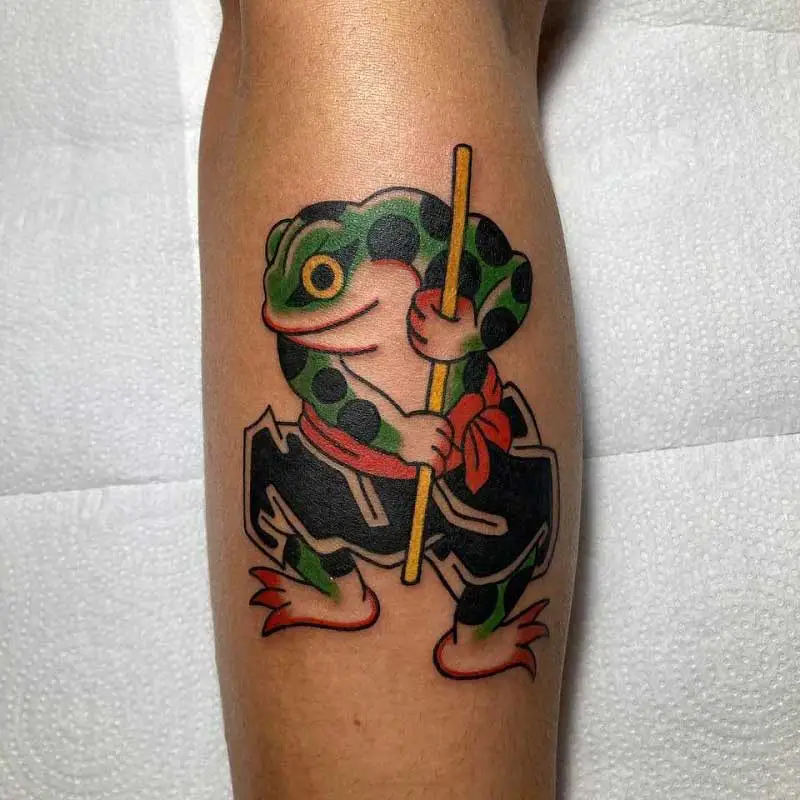 We all saw sumo wrestlers and their dress-up, right? But how would it be if we see a frog wear a sumo dress? Amusing it'll be. This frog tattoo illustrates this comical scene in a more dramatic way.
Simple Frog Tattoo
Simple frog tattoos come with the most artistic graphics. See how cool these tattoos can be.
13. Alone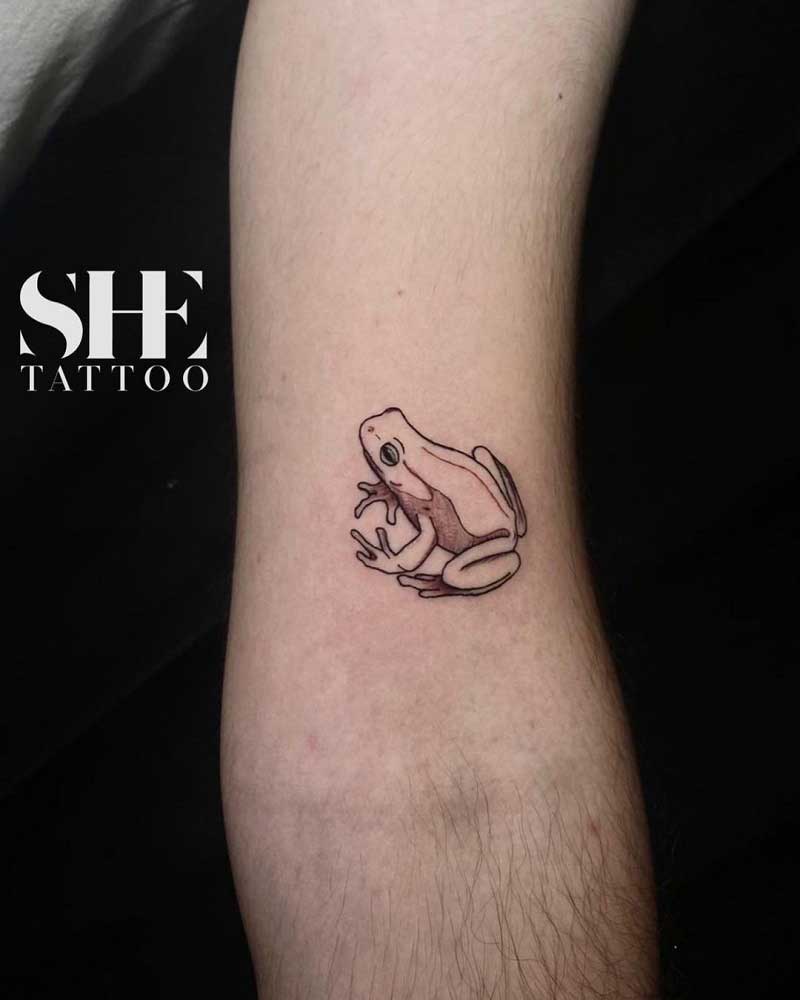 The Alone frog tattoo comes with a frog alone. It should be worn anywhere in the middle of a body with ample space on the sides. The speciality of this tattoo is it matches anyone of any complexion.
14. Happy Flower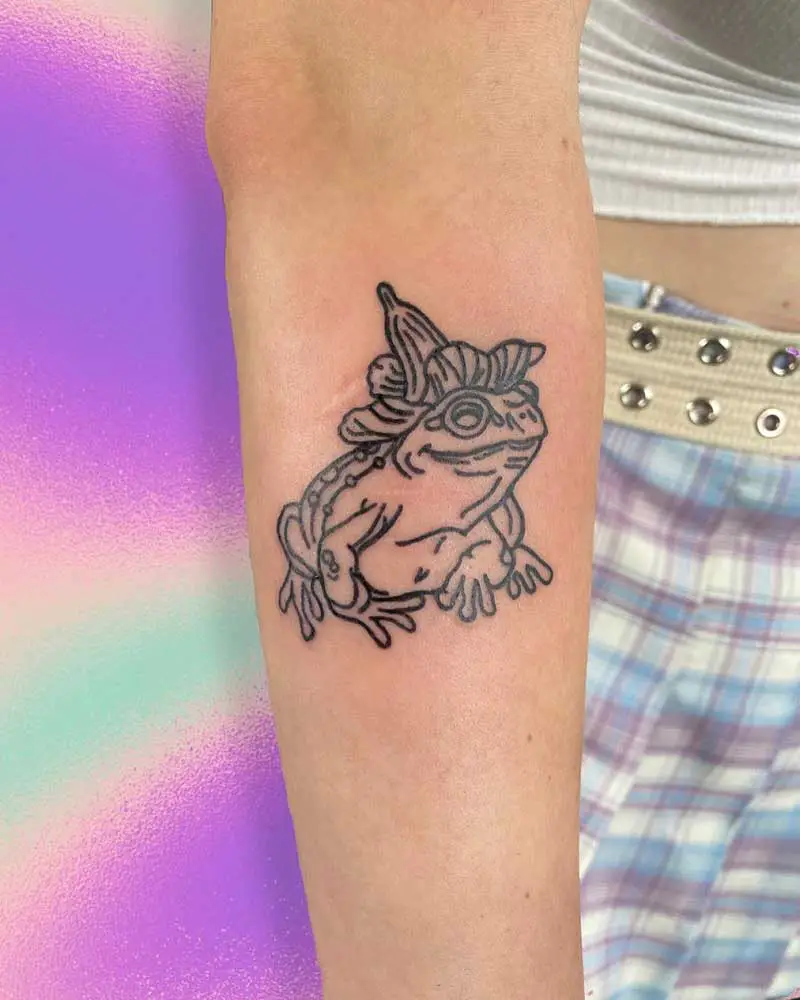 This frog tattoo is a tad similar to the Flower Queen tattoo. Here we see a frog with a flower in its head. The frog seems happy with its small appearance.
15. Doctor Frog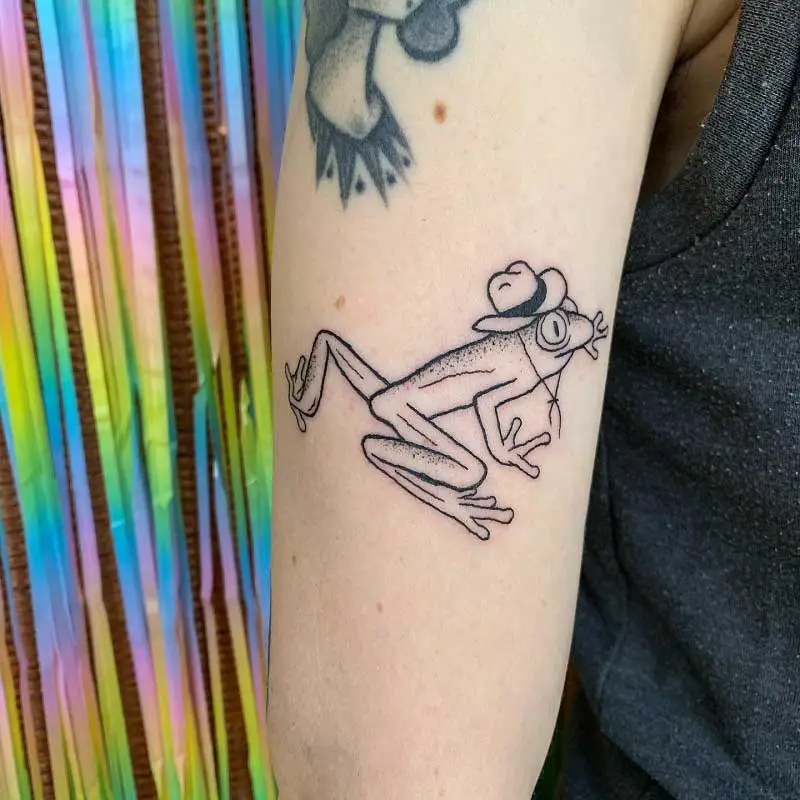 Did you get amused reading the name? Let's have fun seeing the tattoo. The tattoo illustrates a tiny frog with a doctor's hat that going to see its patent. The tattoo is so unique because someone hardly imagines a frog as a doctor.
Small Frog Tattoo
Though these tattoos are small, they bring the most creative look to your body.
16. Tiny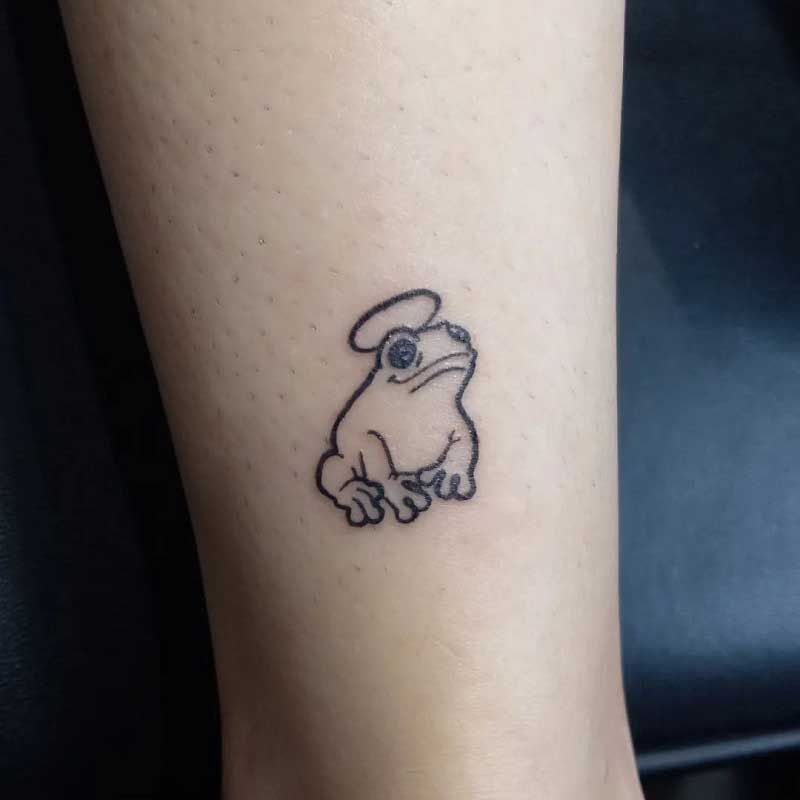 As the name refers, this Tiny frog tattoo brings a tiny little frog with the cutest smile on its face. This little tadpole looks so innocent and adorable and can be illustrated on the smallest part of your body.
17. Daisy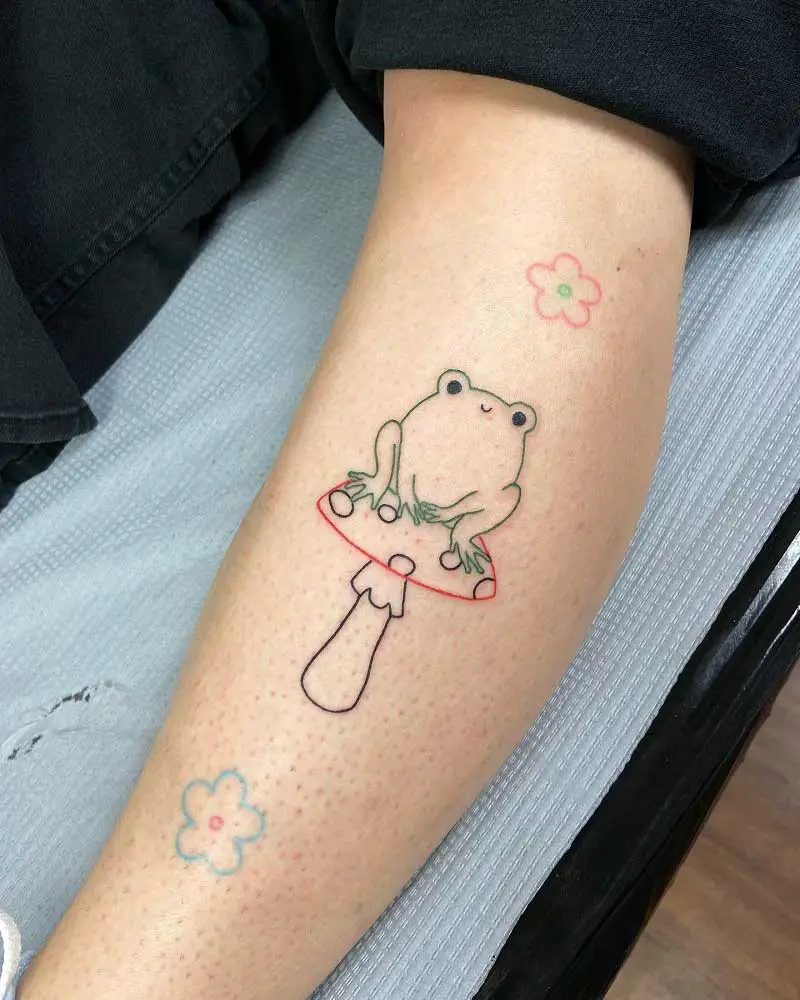 This tattoo on a woman's hand illustrates a daisy frog sitting on a mushroom. There are also two flowers on the sides of it and the frog gives a blank stare to anyone who looks at this tattoo.
18. The Rare One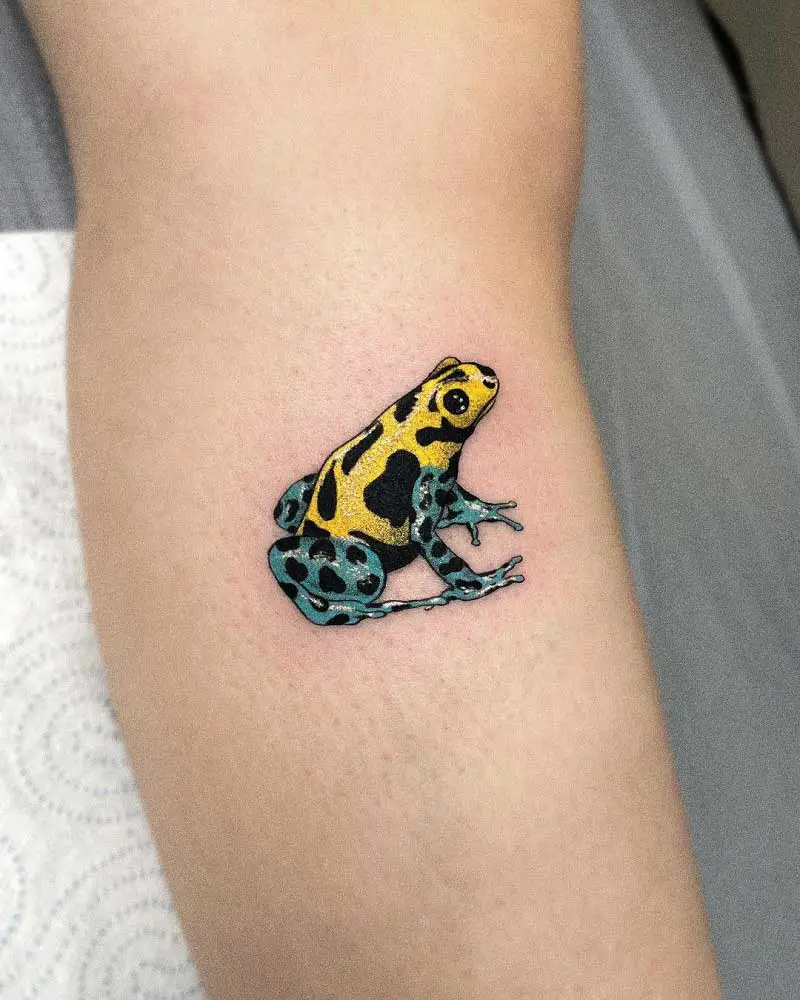 The tattoo comes with a rare frog of yellow and black complexion. The tode looks venomous at first look. Underneath it, is a unique watery colour. This frog tattoo will brighten more in white people's bodies.
Tree Frog Tattoo
It is unusual to see a frog in a tree. This section brings this unusual thing in a unique way.
19. Forest Frog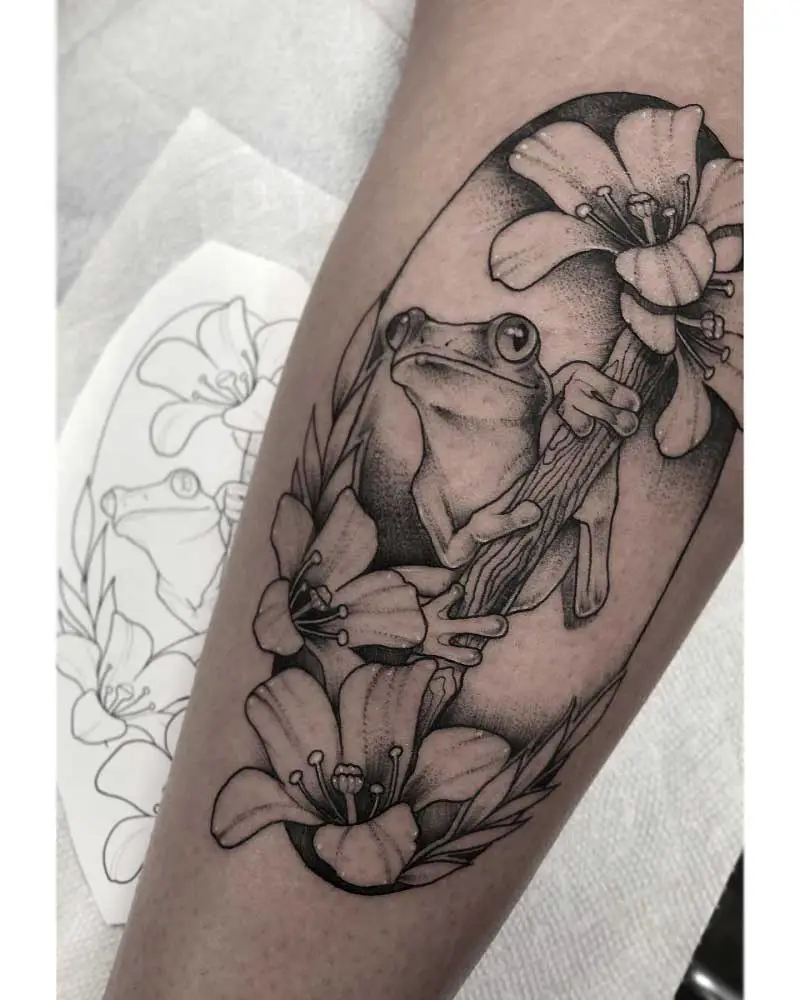 The forest frog tattoo shows a frog peeping from a forest. It is grabbing a wildflower and seems like finding its love. The tattoo will look great on your arm.
20. Froggy & His Buddy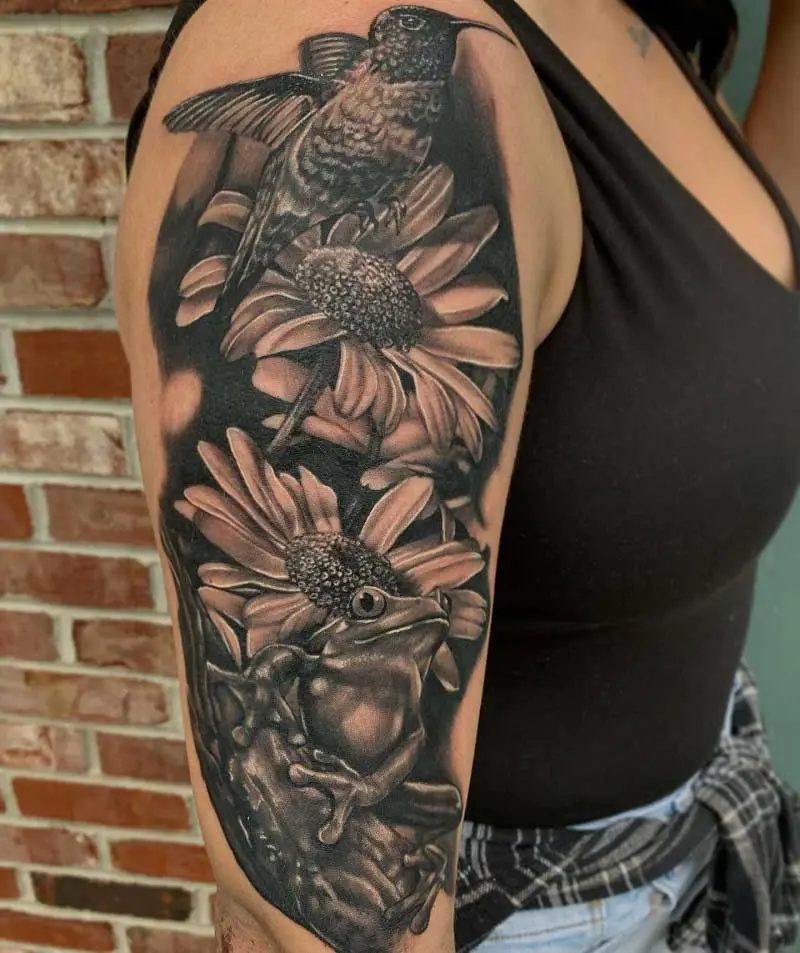 Guess who's the froggy's buddy here? It's a bird that laid eggs right over froggy and it guards the eggs when the bird goes out for food. Their friendship is ironic so is the tattoo on this woman's half sleeve.
21. Froggy on A Leaf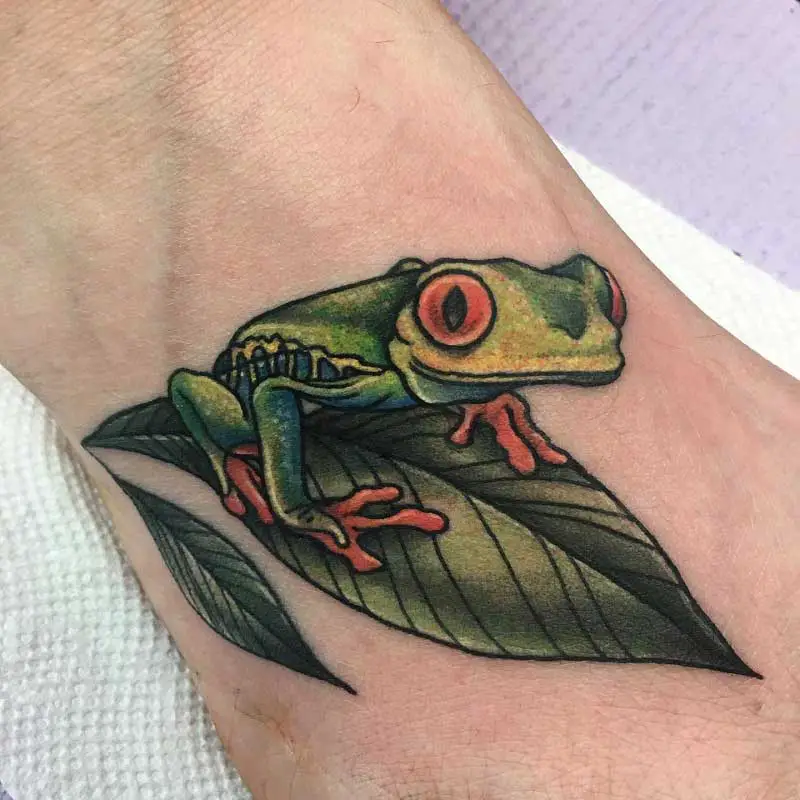 This frog tattoo shows us the history of a frog who's a lone survivor. The frog survived a major tsunami by climbing on a leaf and floated to us. The tattoo has a real greenish look.
Frog Tattoo Ideas
By seeing this part, you can create new ideas of your own. See and imagine how you can form these tattoos in your own way.
22. The Little Prince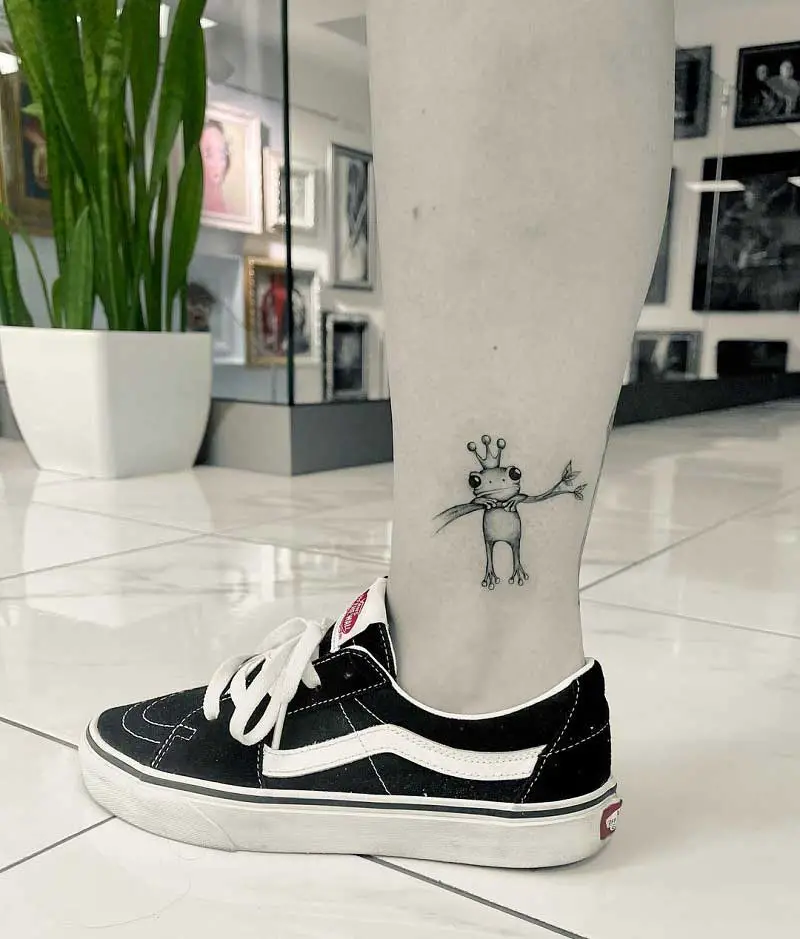 Here we see a tadpole wearing a little crown and waving towards us. He seems like a prince of the frog world who recently gets birth. This frog tattoo is so small that you can even wear it on your thumb.
23. Noodle King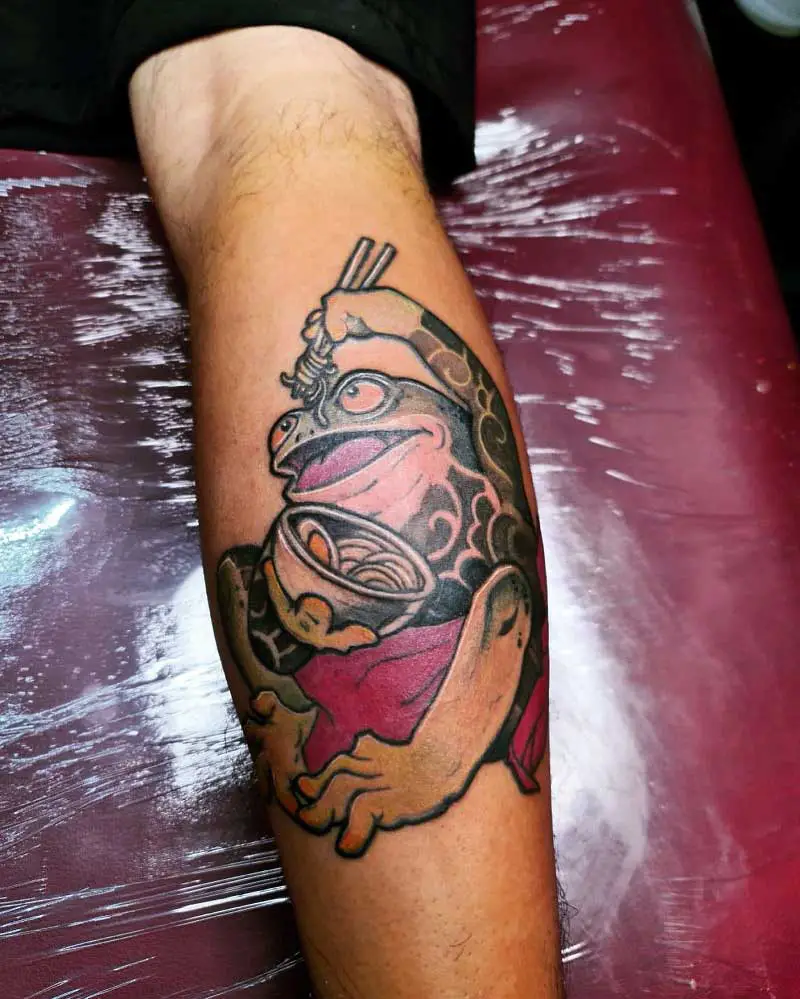 Noodle king frog tattoo brings a toad who likes to eat noodles every now and then. Here we see a frog eating noodles happily. It holds a pot full of noodles and eats noodles through two draws.
24. The Fairy Frog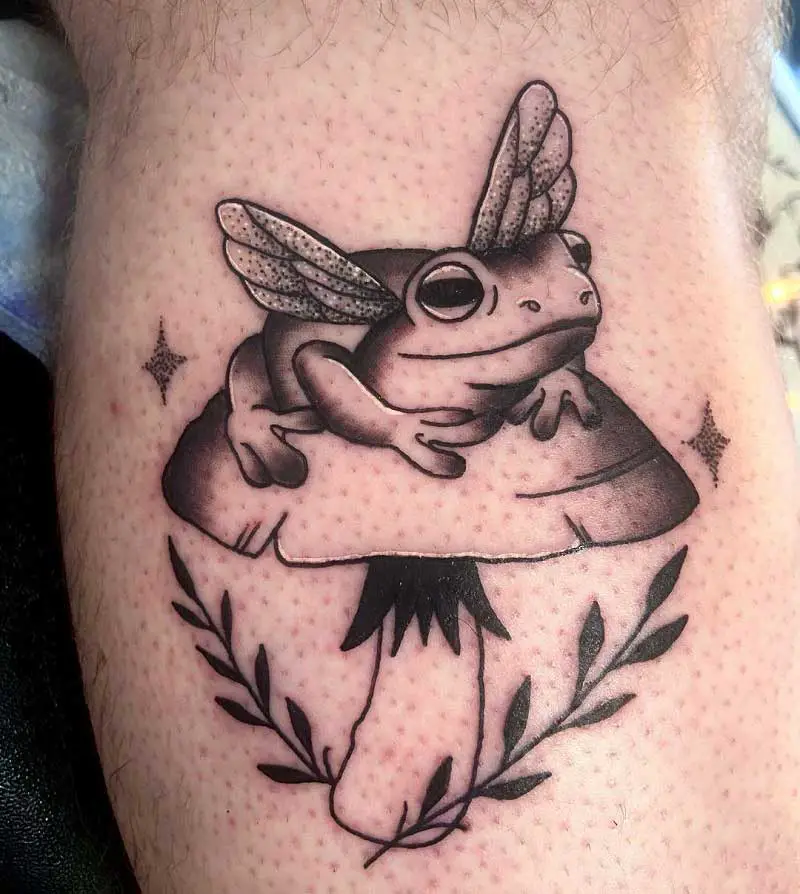 Can you think of a frog being a fairy? This Fairy Frog tattoo makes it happen. The frog that appears here has two little wings and the face is of a deity. And it sits on a divine mushroom.
Atomic Frog Tattoo
Automic frog tattoos bring the most devastating look to the tattoo design. See and get thrilled.
25. Bone Frog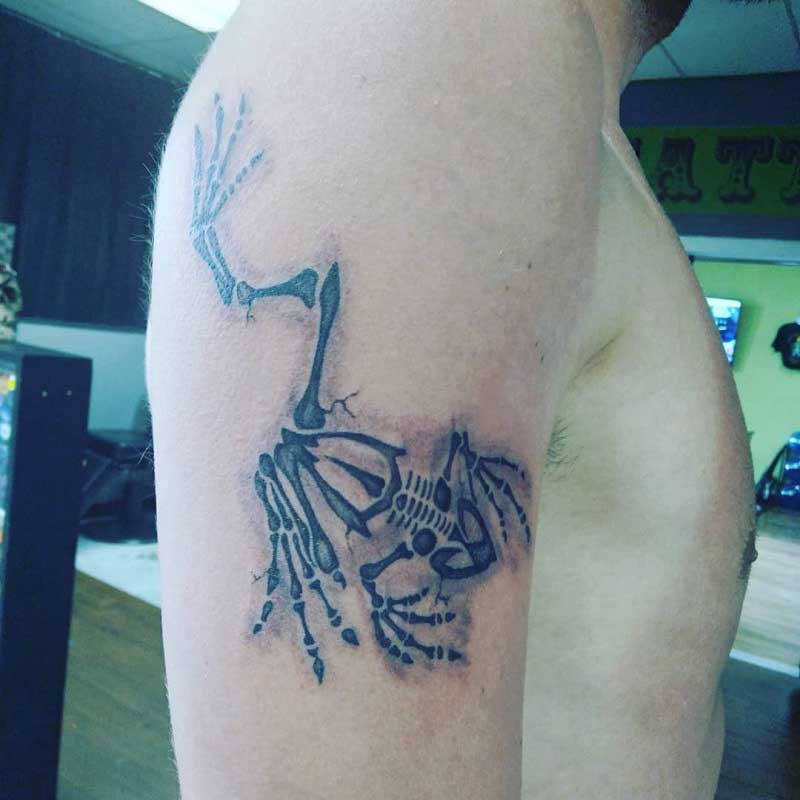 Here we see the sculpture of a frog as it's jumping. The image is as if the frog has been X-rayed.  The tattoo is full of black and shows the bones of the frog from above.
26. Gangsta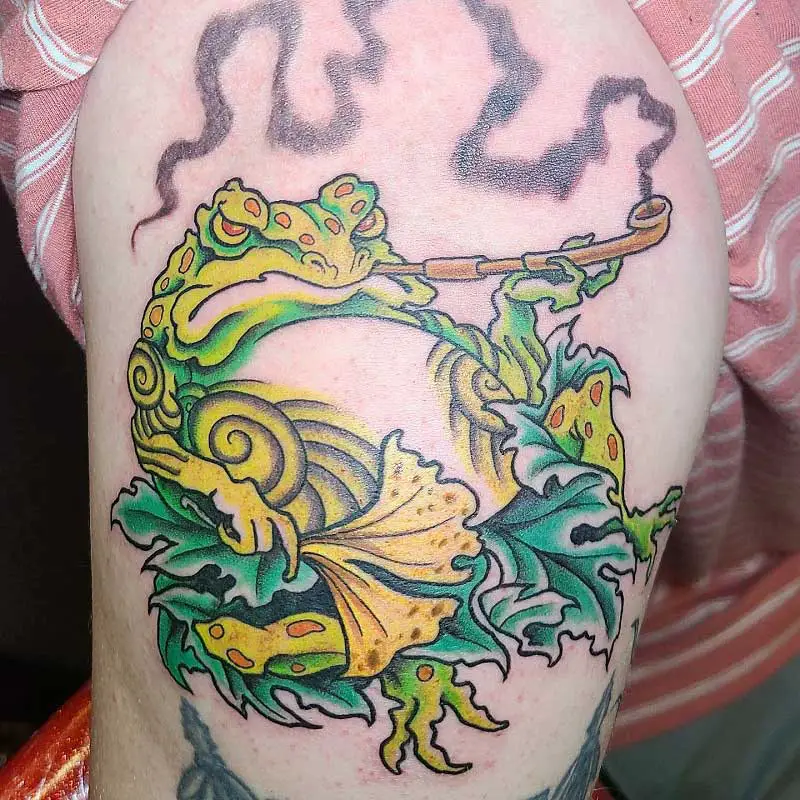 Everyone's a gangster until the real gangster arrives. This Gangsta frog tattoo brings the real gangster of frogs. It smokes from a hookah and stares away with its deadly eyes. The tattoo is colorful as well.
27. Wizard Frog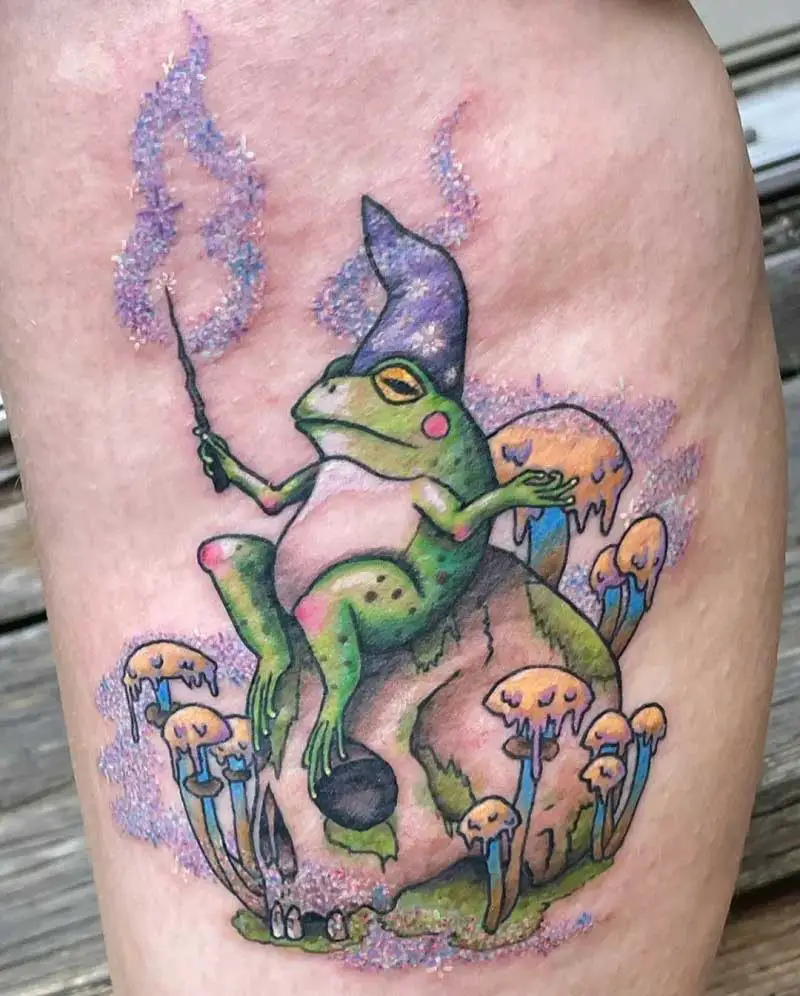 In the wizard frog tattoo, we get a wizard. The frog appears as a magician holding its magical stick in hand. And it's showing its magic as the blue smoke comes out of the stick.
Kermit The Frog Tattoo
Kermit is the most prominent tv character in America. See how you can get this character on your body.
28. Killer Kermit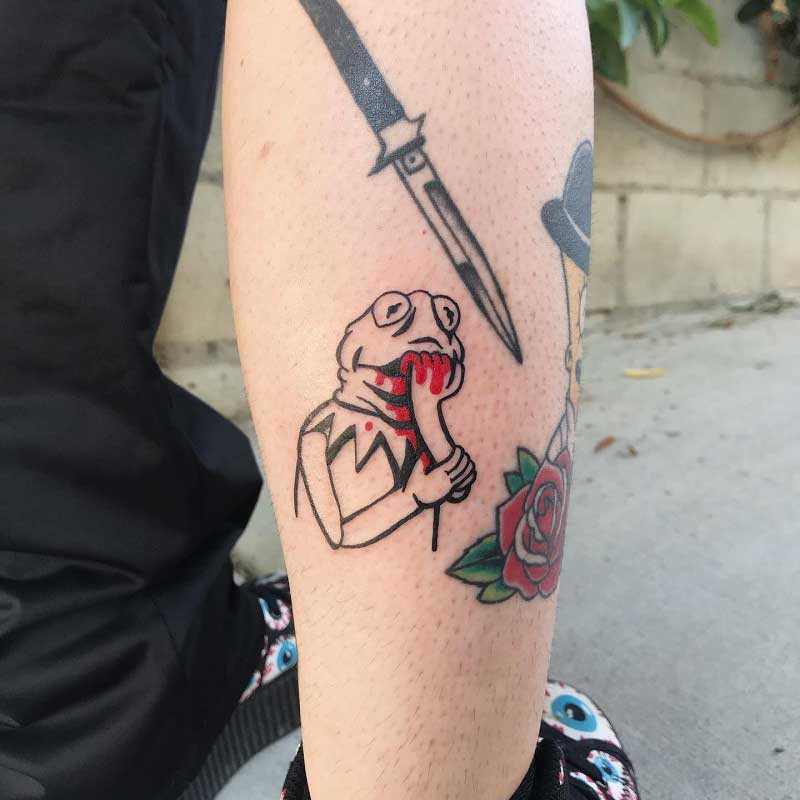 Kermit frog is a popular TV character who hosts the popular Muppet Show. Yet we see this frog here in a different appearance. There s a knife over Kermit and the frog seems embarrassed as if it killed someone unintentionally.
29. Happy Kermit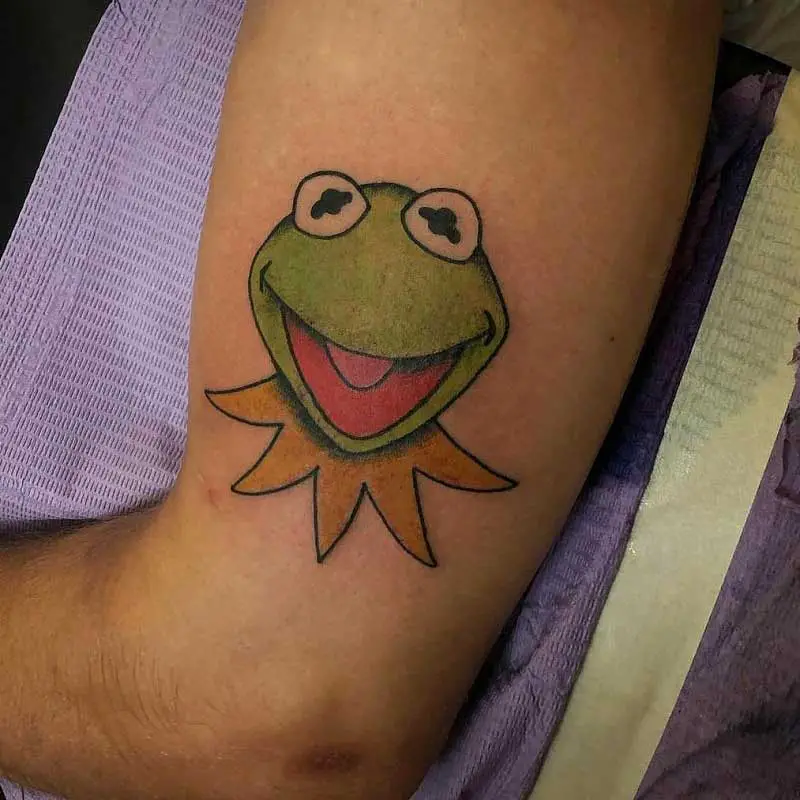 Here we see the happy face of Kermit. The face that's popular with everyone. This frog tattoo brings the brand logo of the show as it shows only Kermit's face with its blistering eyes.
30. Chilling Kermit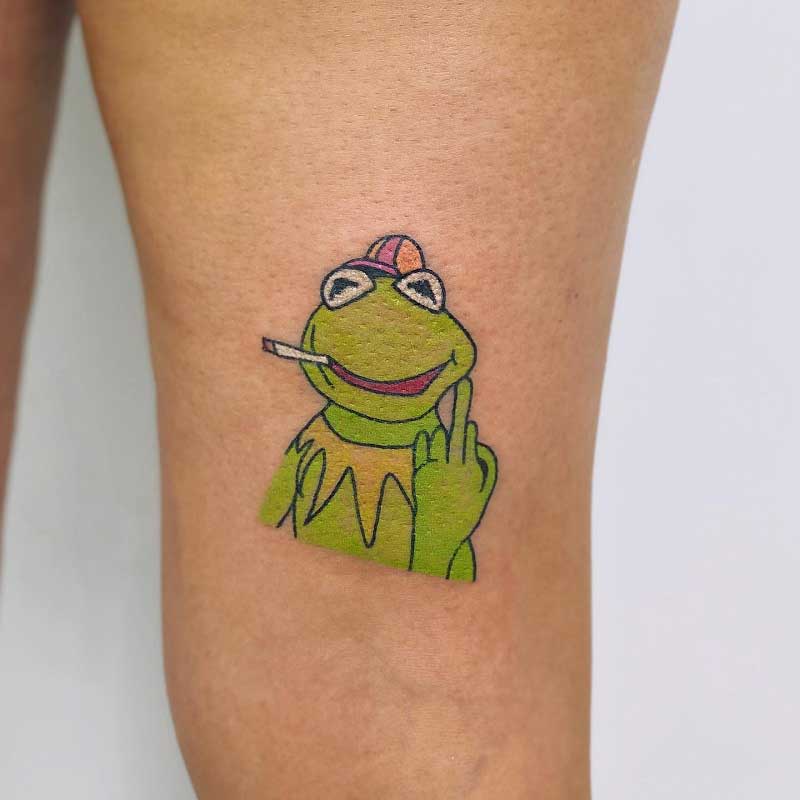 This frog tattoo brings a bit of thugness. Here we see the Kermits smoking cigar as it shows the middle finger. since the complexion of Kermit is green, the tattoo brings a greenish vibe too.
Coqui Frog Tattoo
31.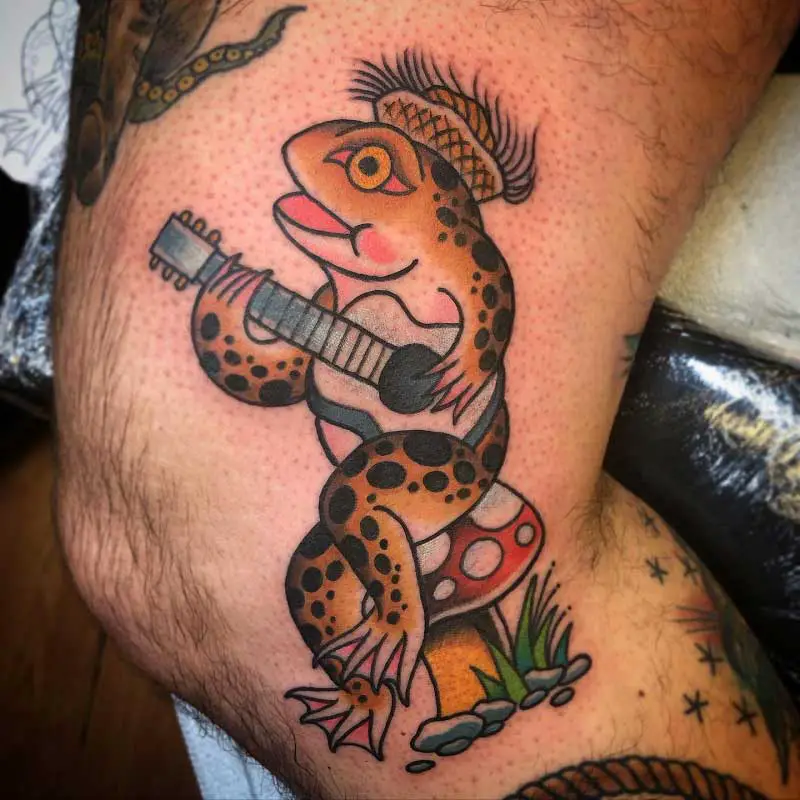 32.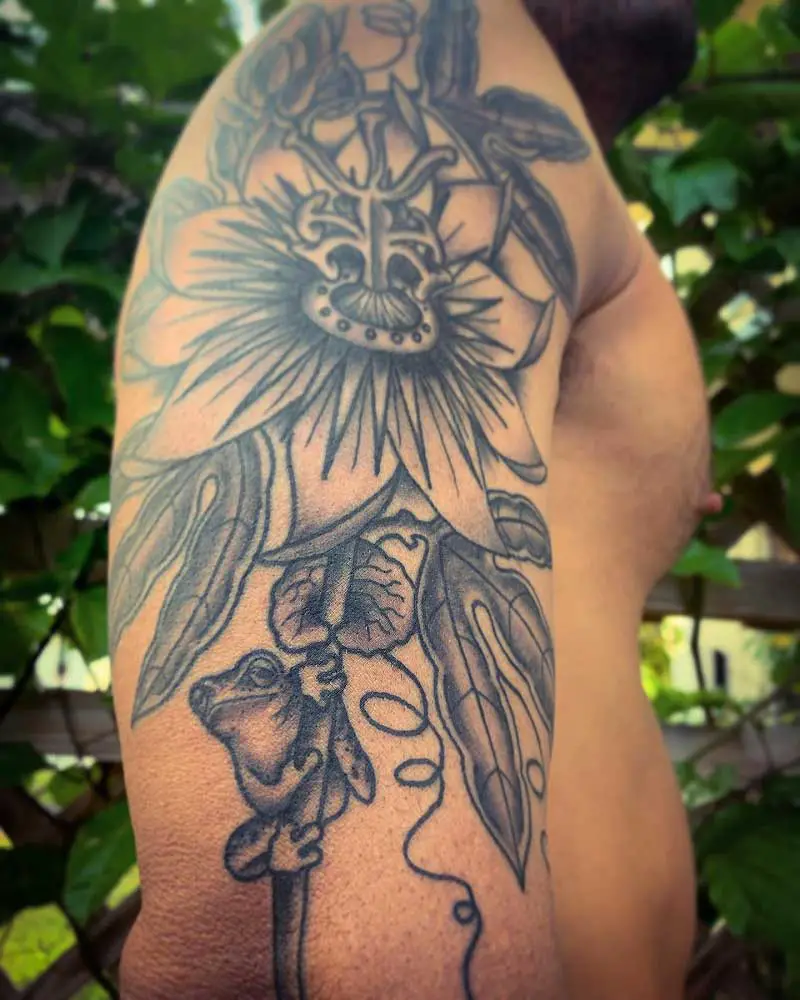 33.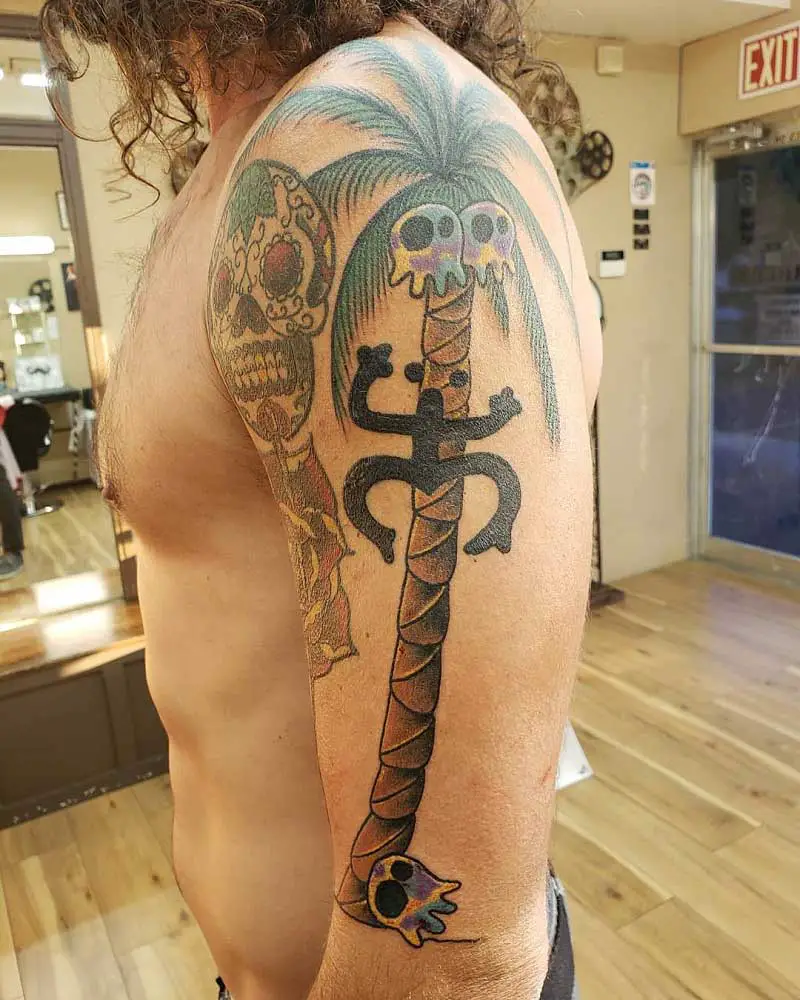 Samurai Frog Tattoo
34.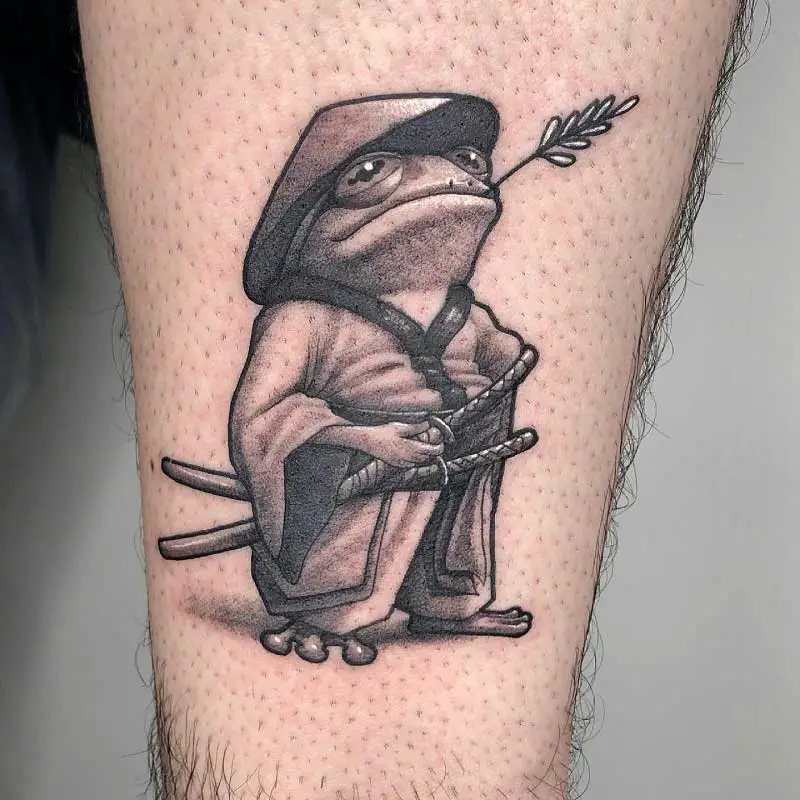 35.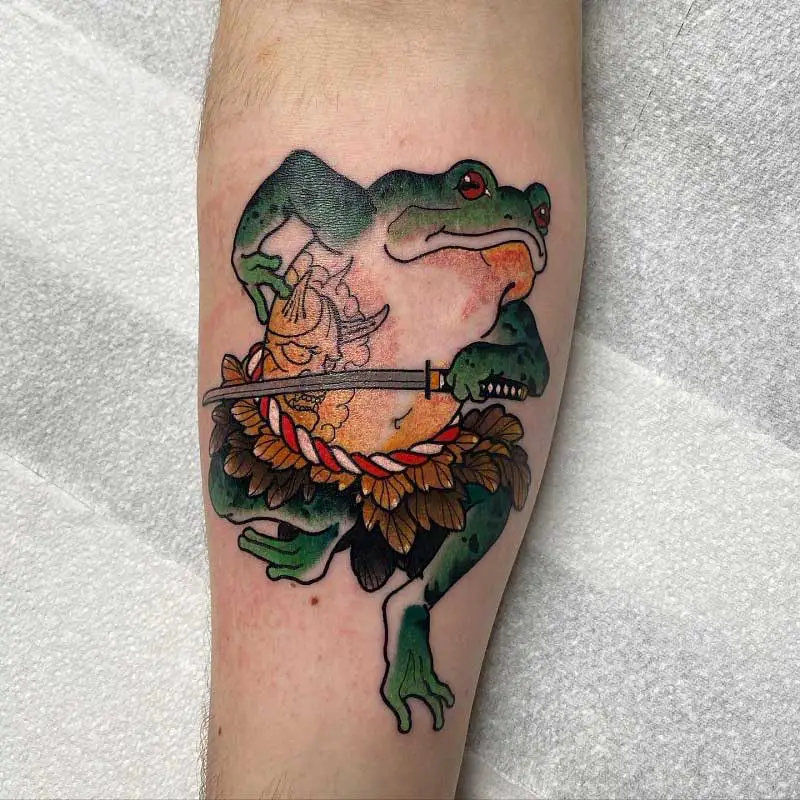 36.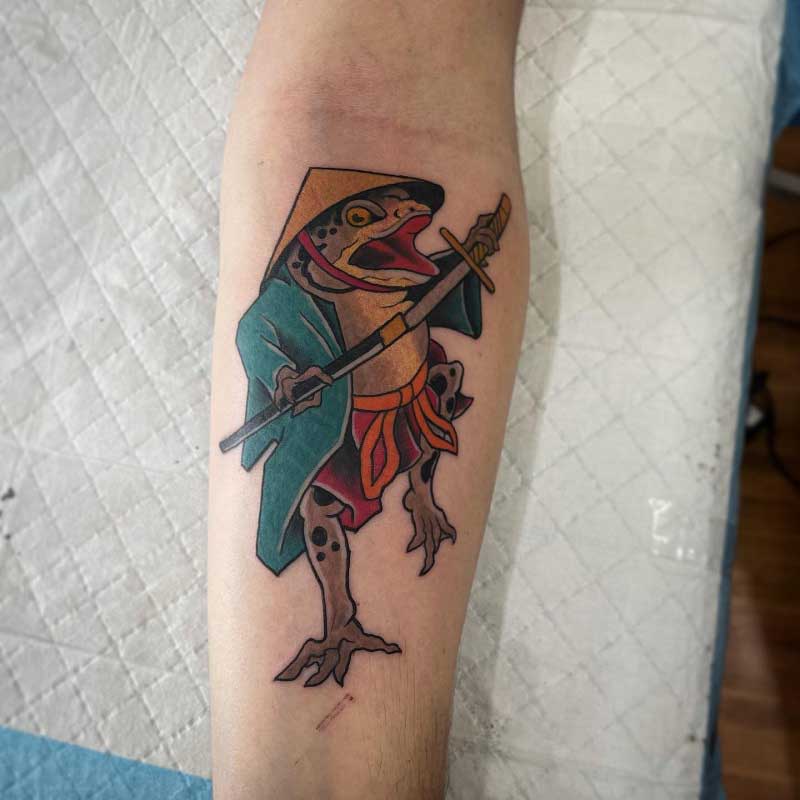 Frog Skeleton Tattoo
37.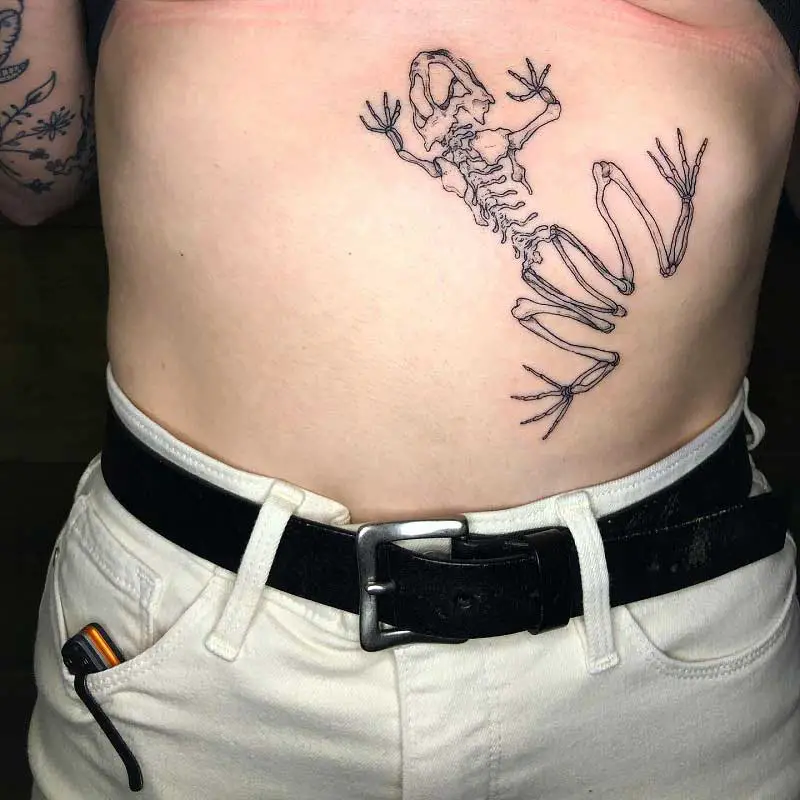 38.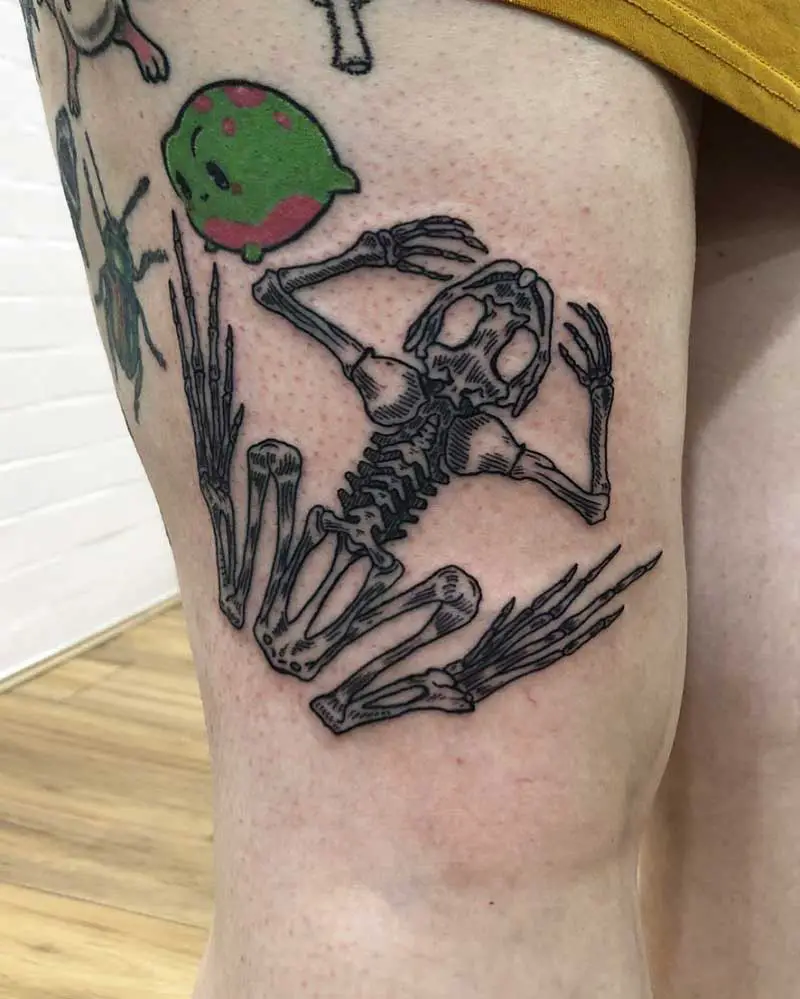 39.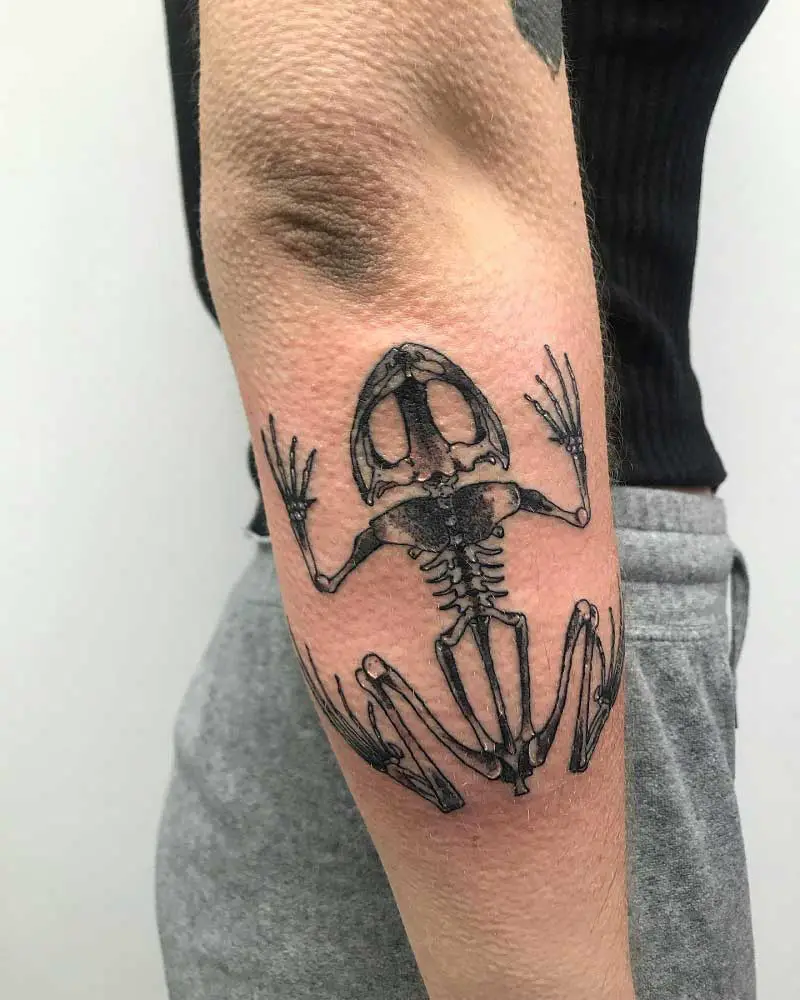 American Traditional Frog Tattoo
40.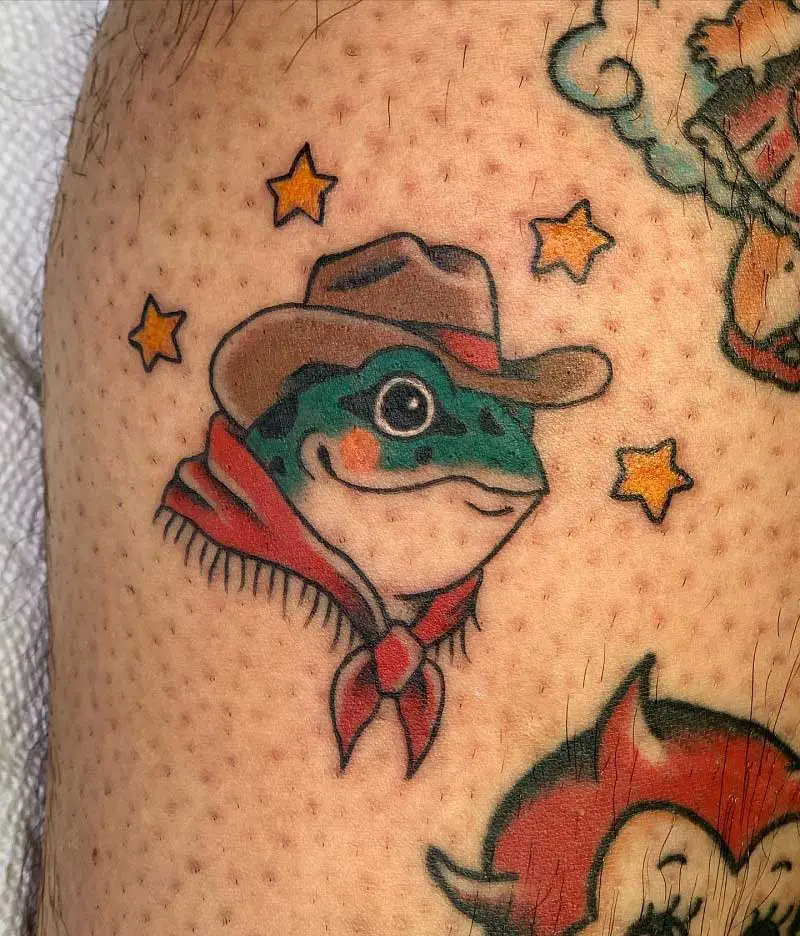 41.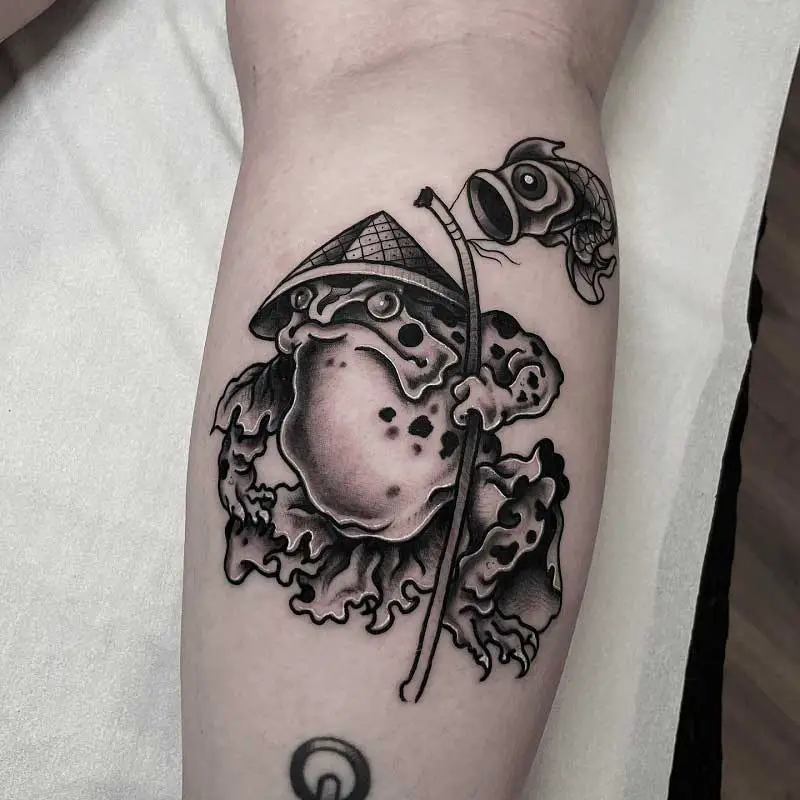 42.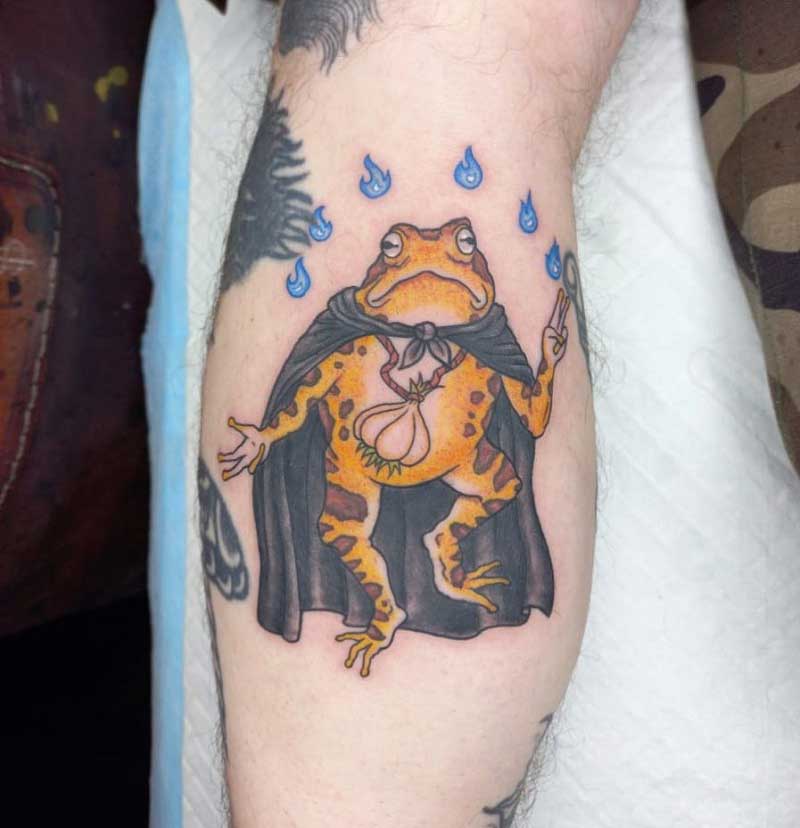 Money Frog Tattoo
43.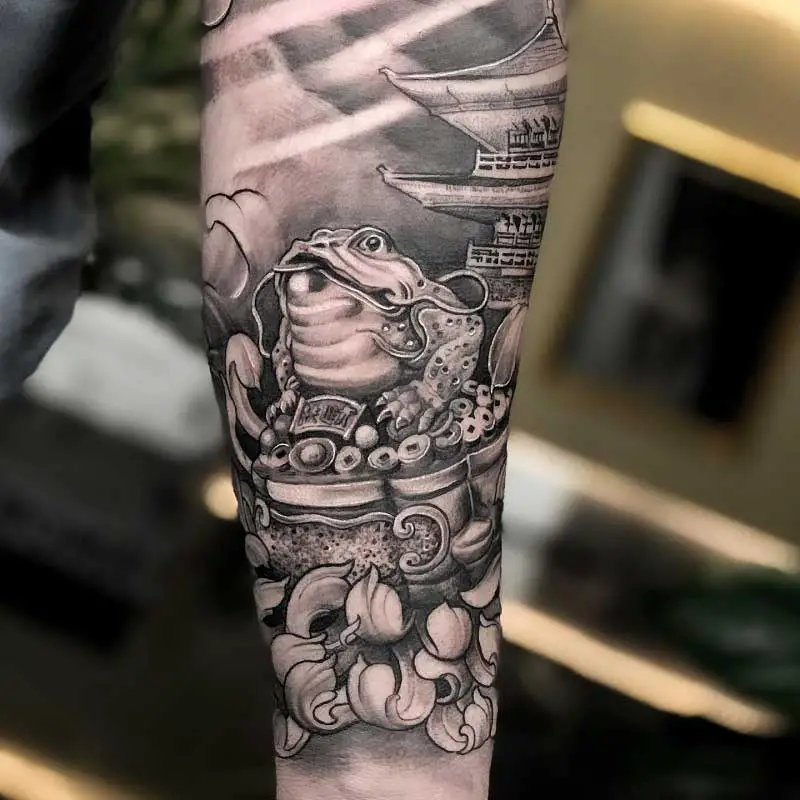 44.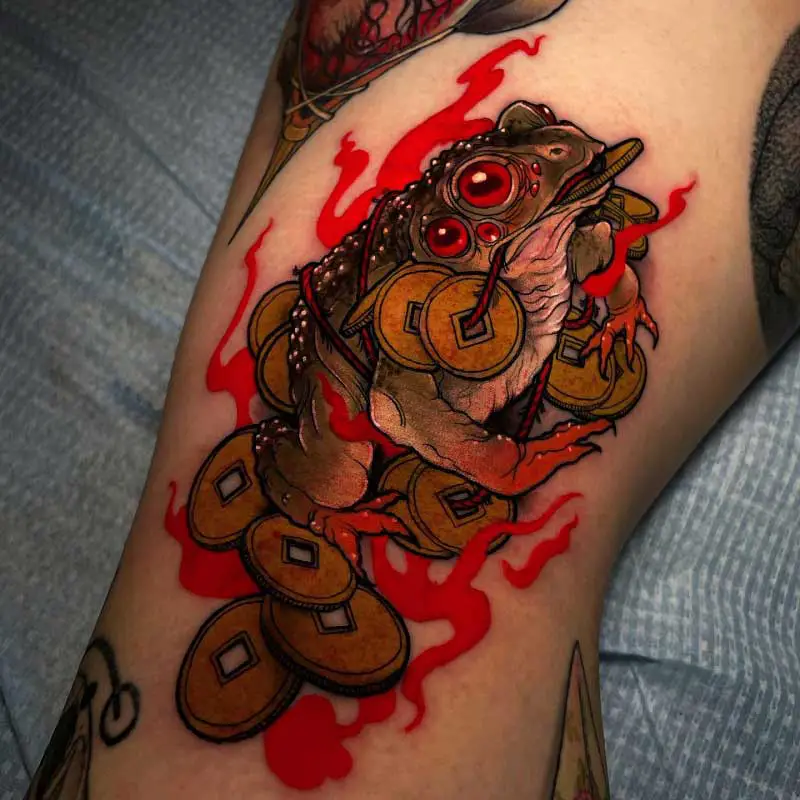 45.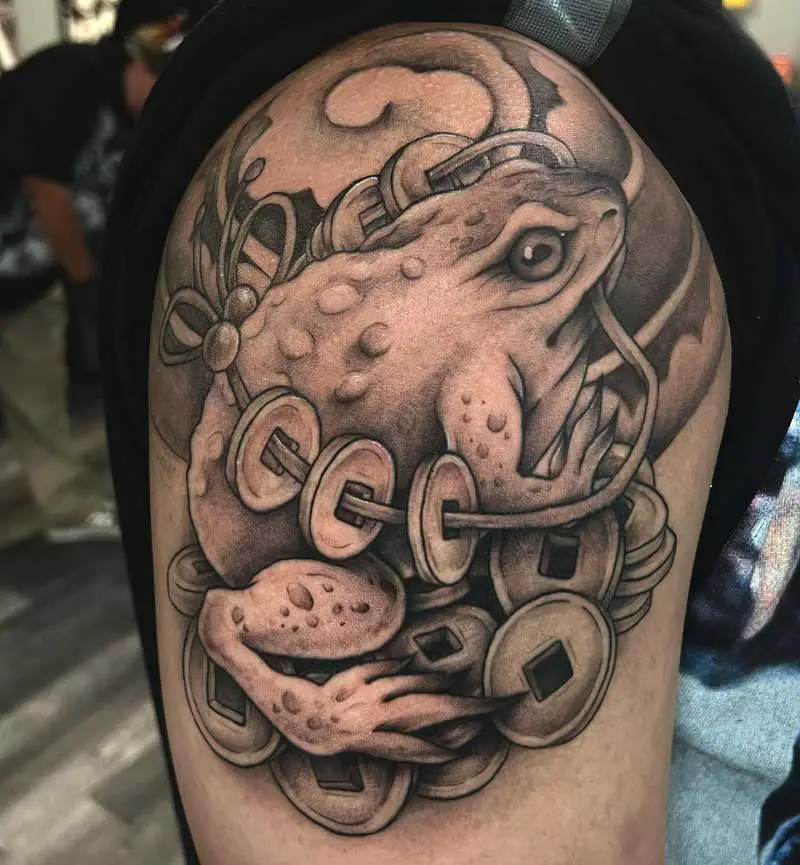 Tribal Frog Tattoo
46.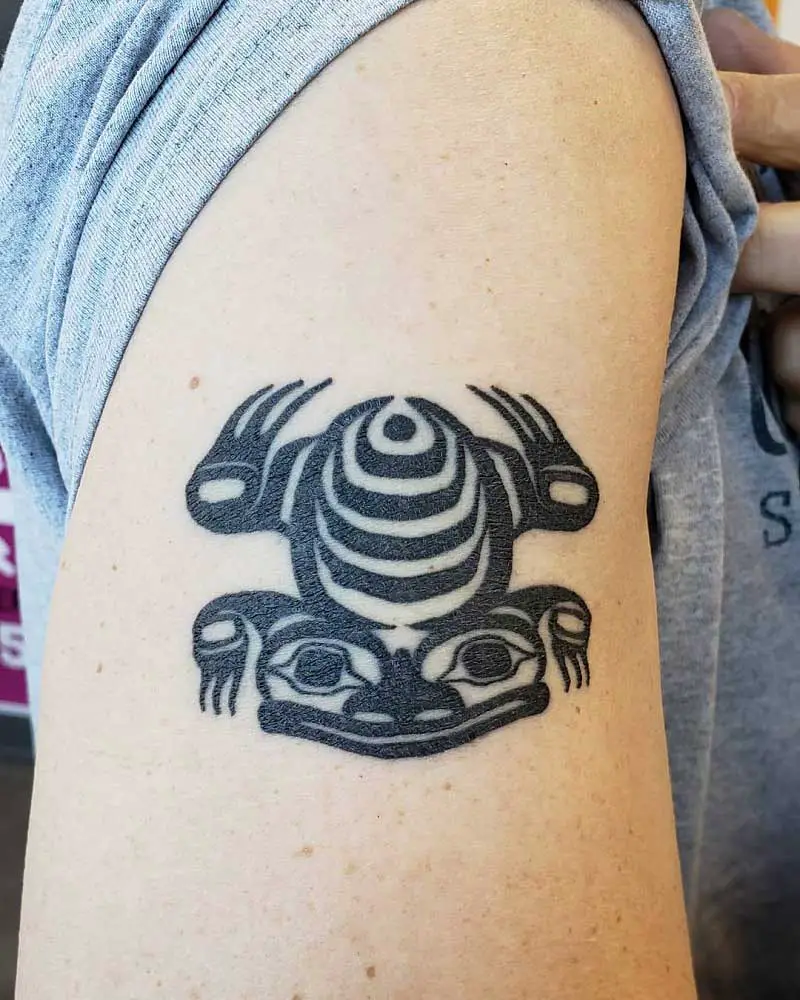 47.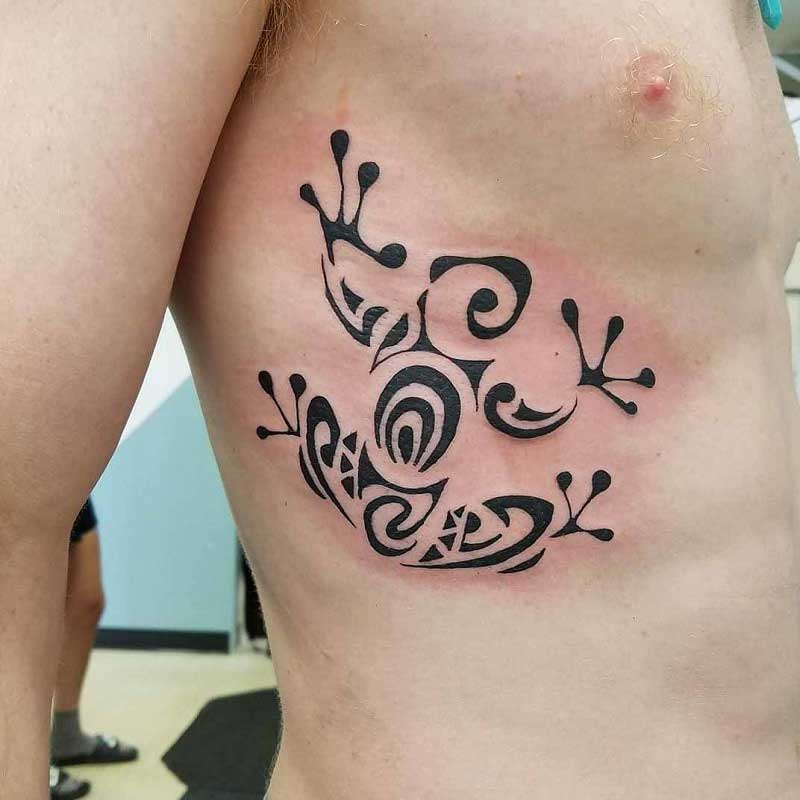 48.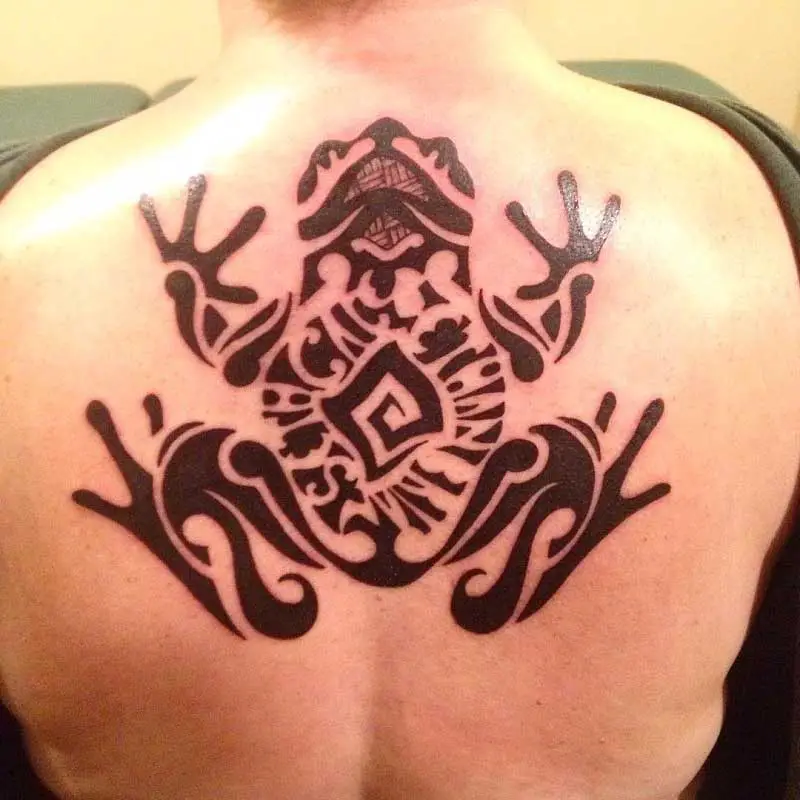 Cartoon Frog Tattoo
49.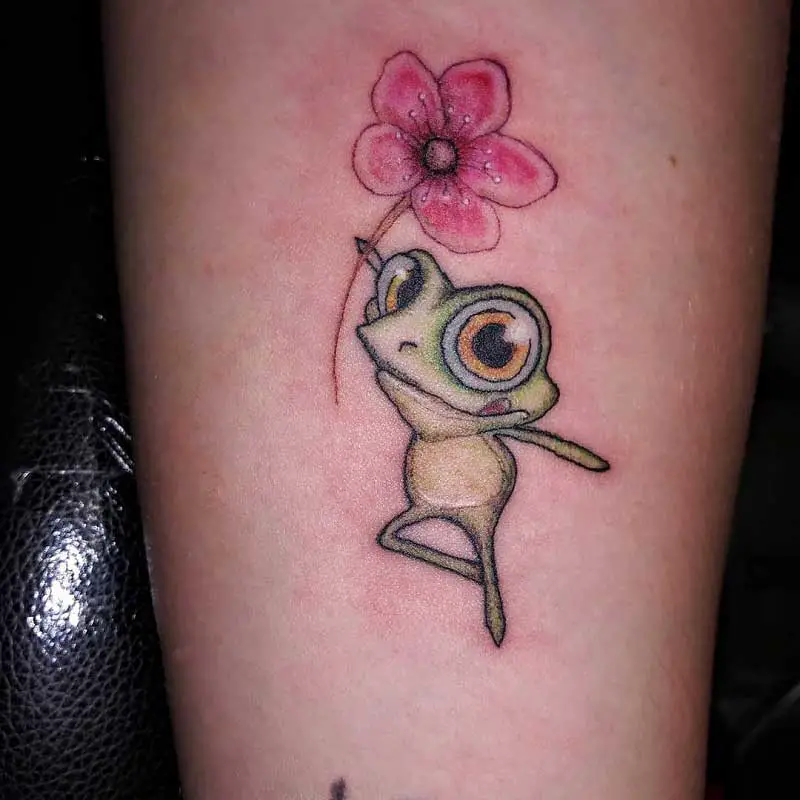 50.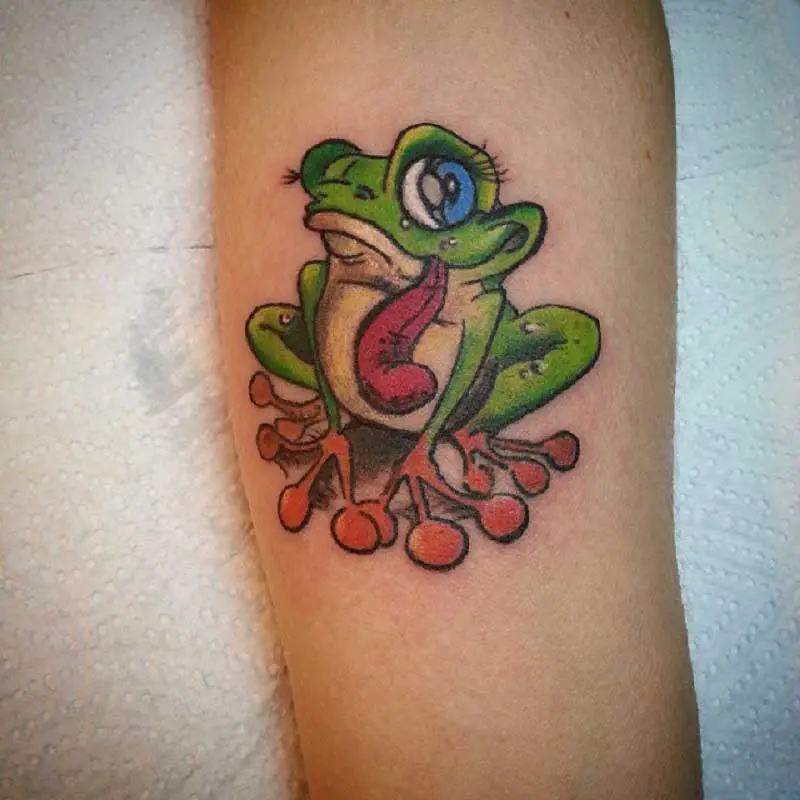 51.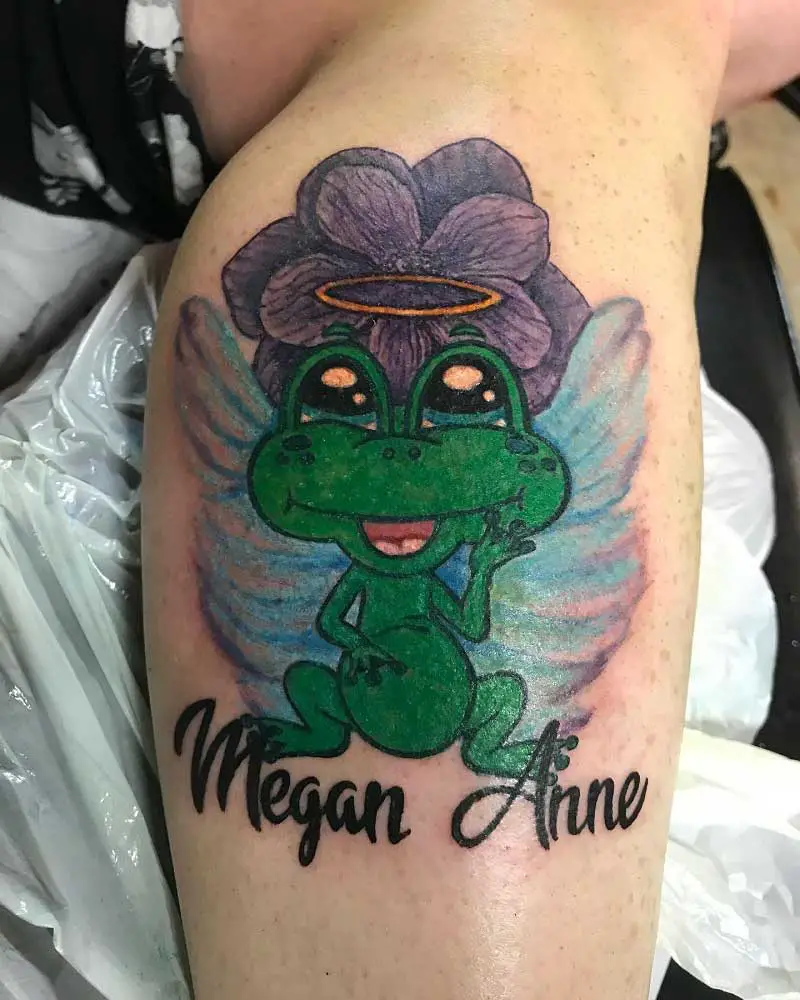 Frog On Mushroom Tattoo
52.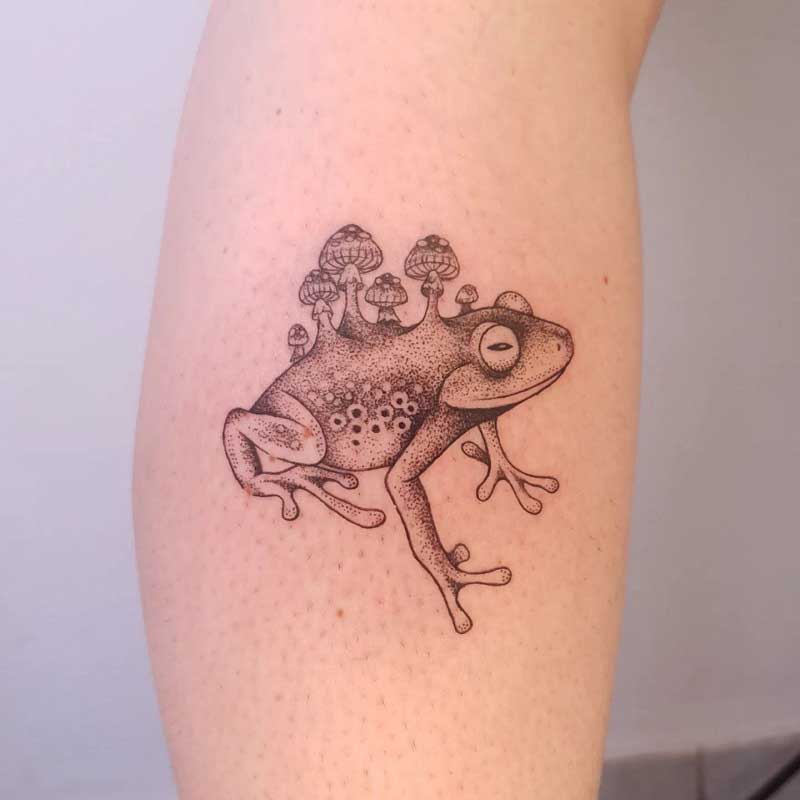 53.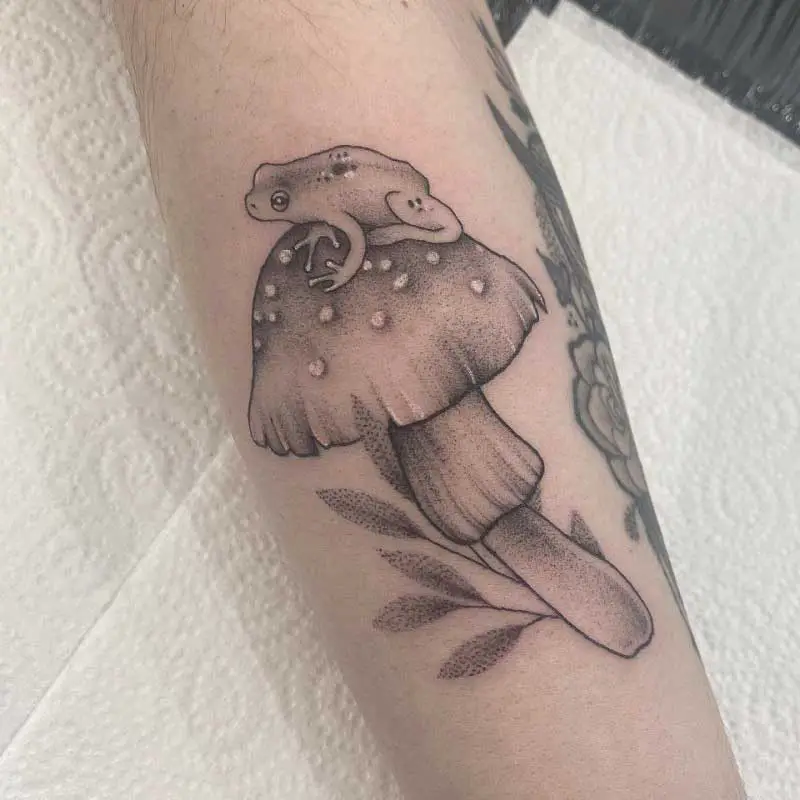 54.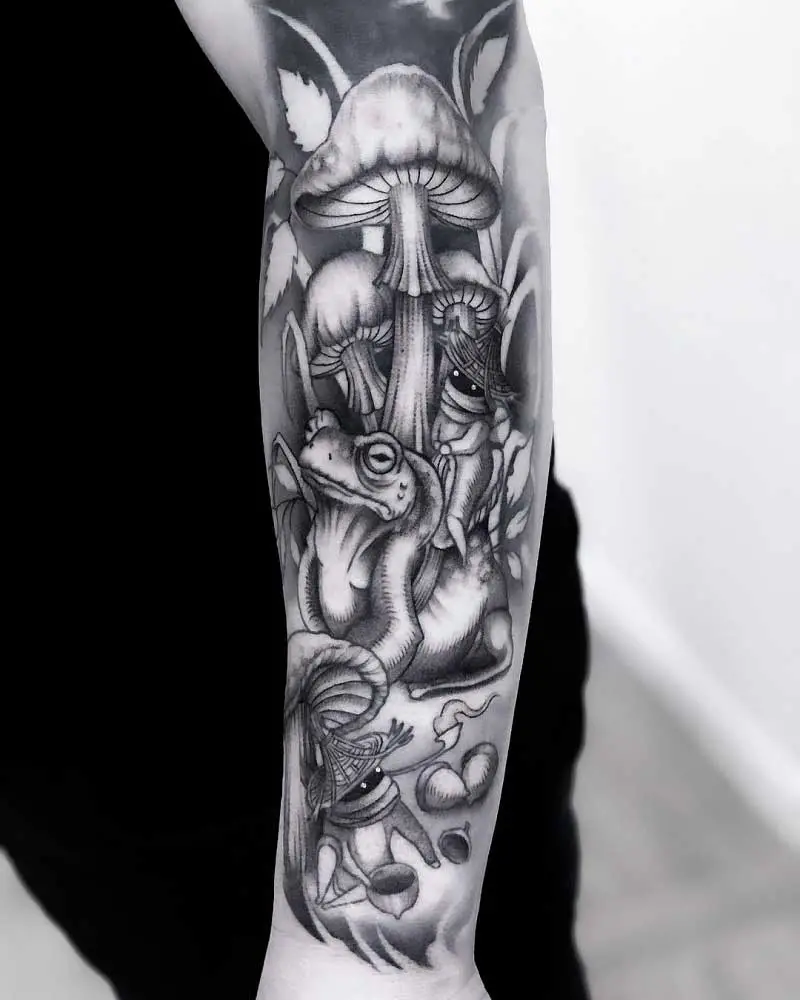 Funny Frog Tattoos
55.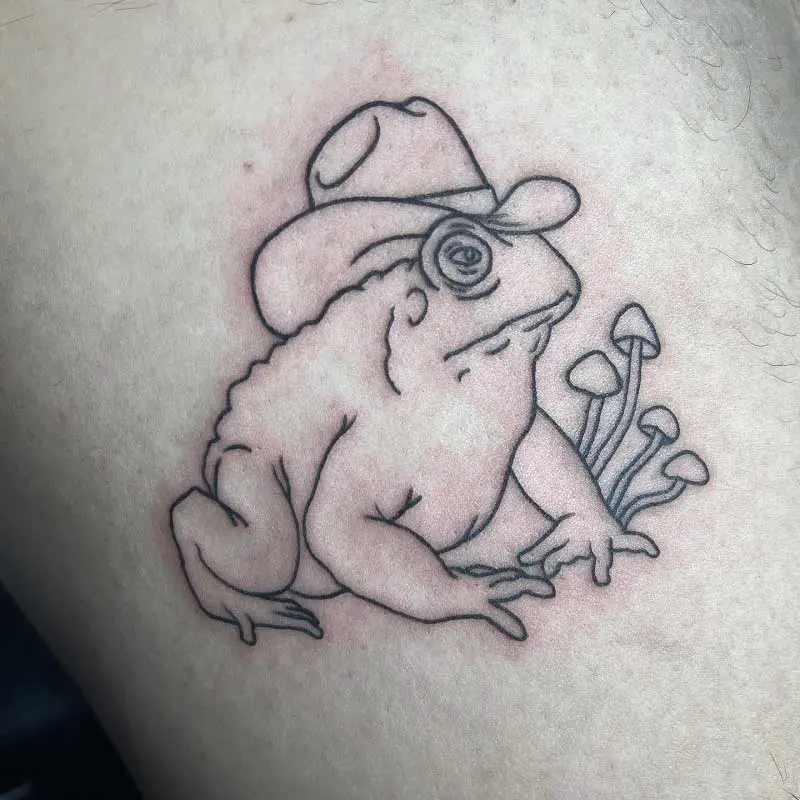 56.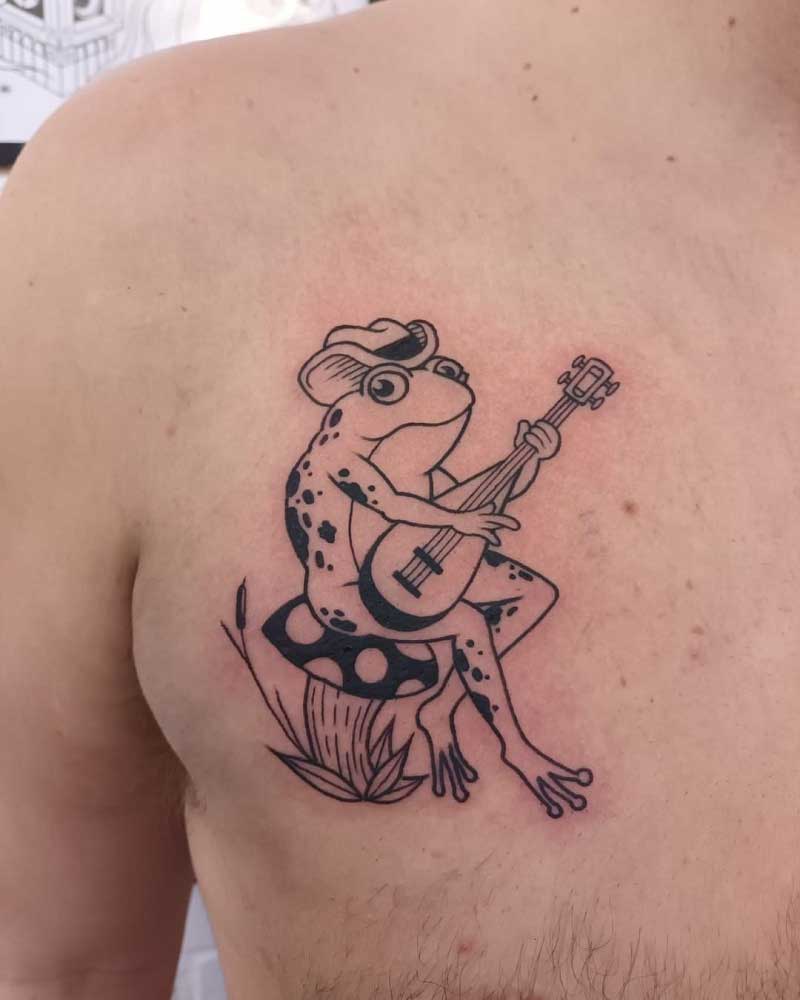 57.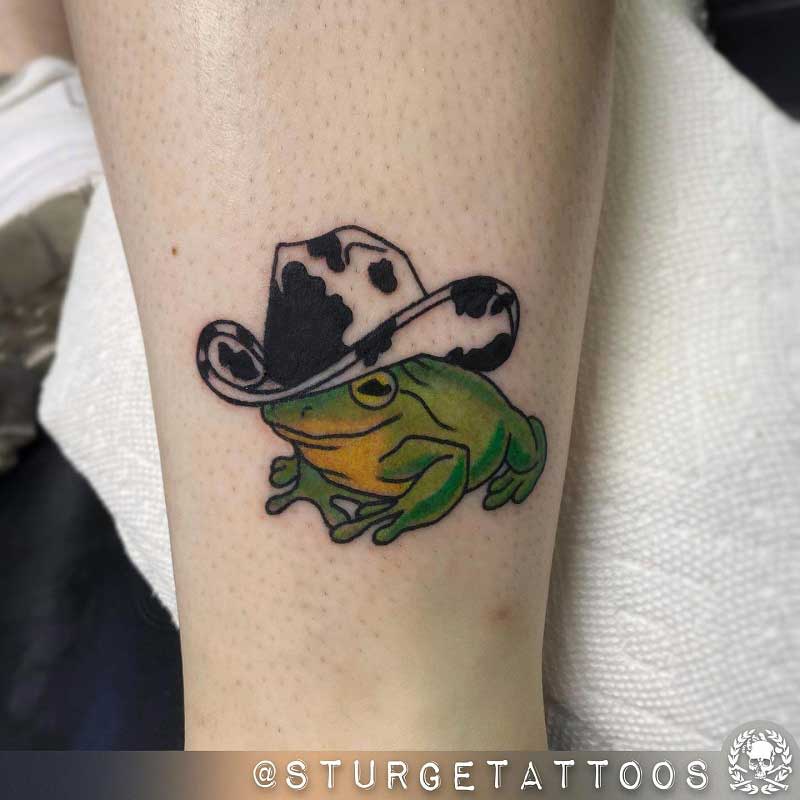 Navy Seal Frog Tattoo
58.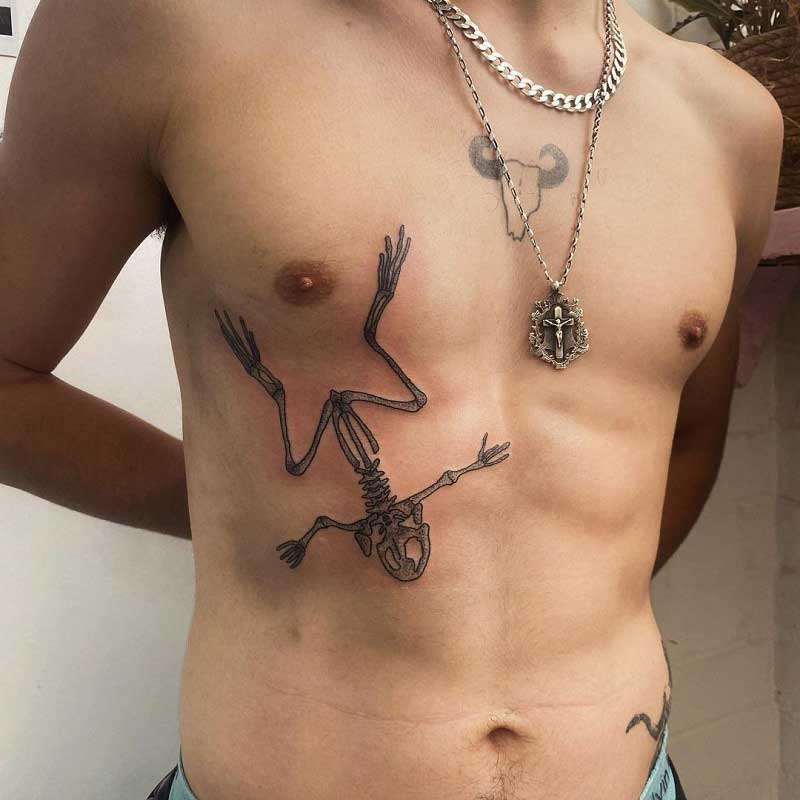 59.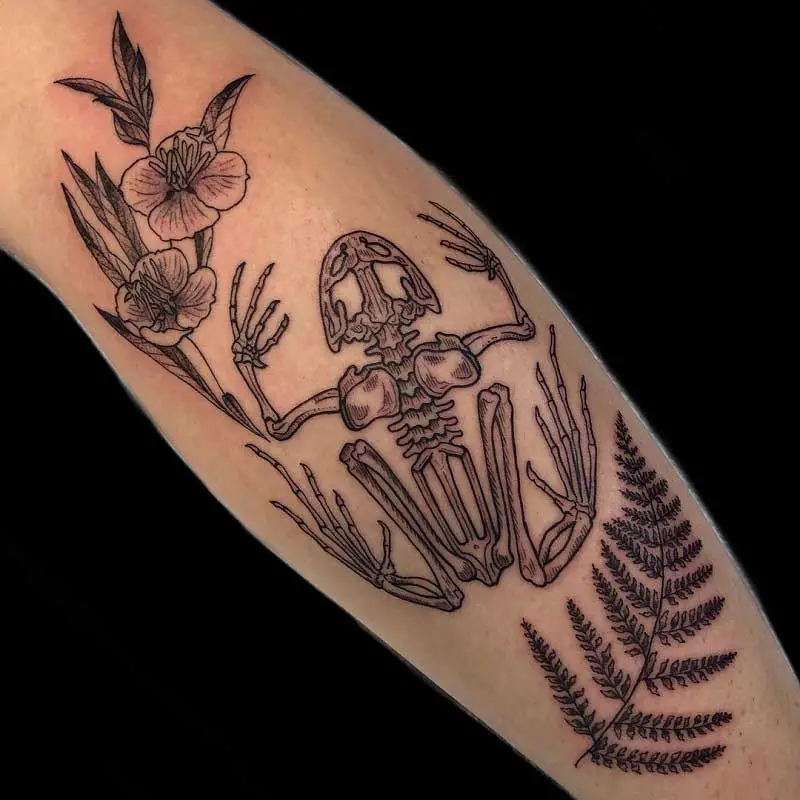 60.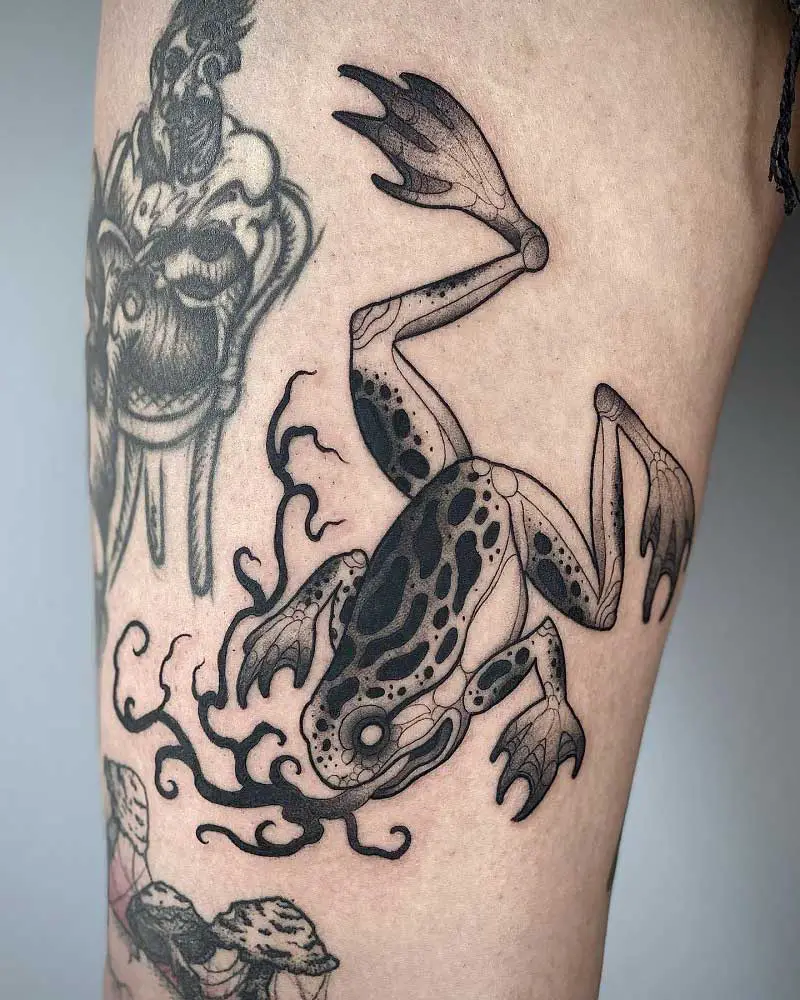 Banjo Frog Tattoo
61.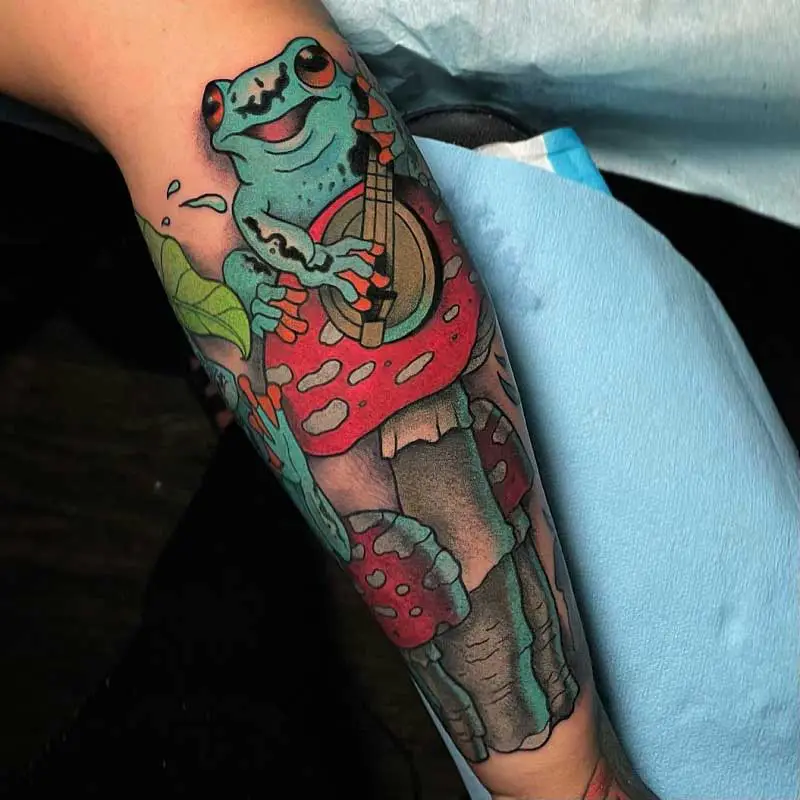 62.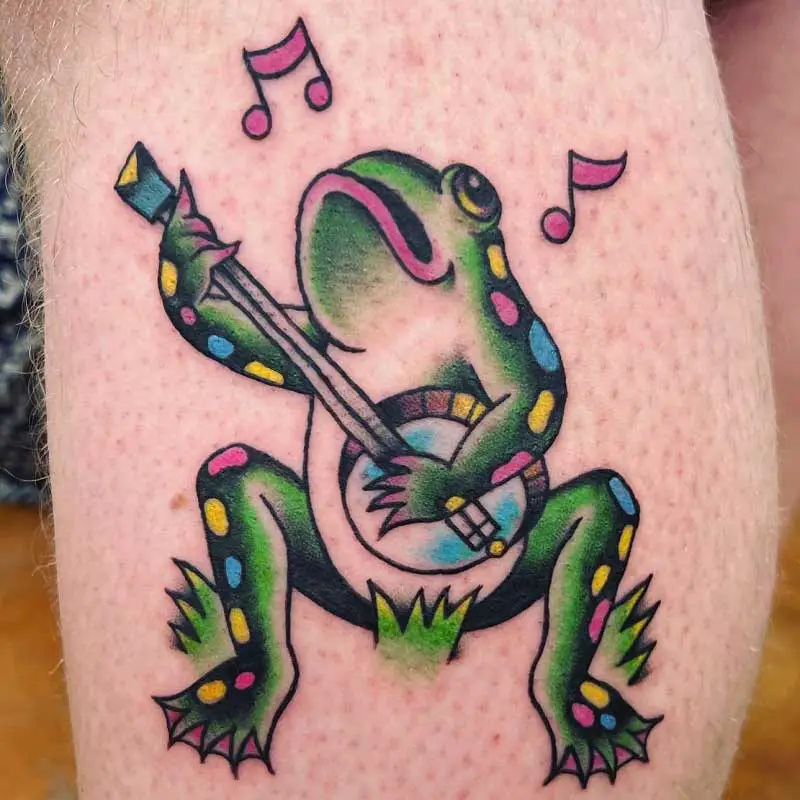 63.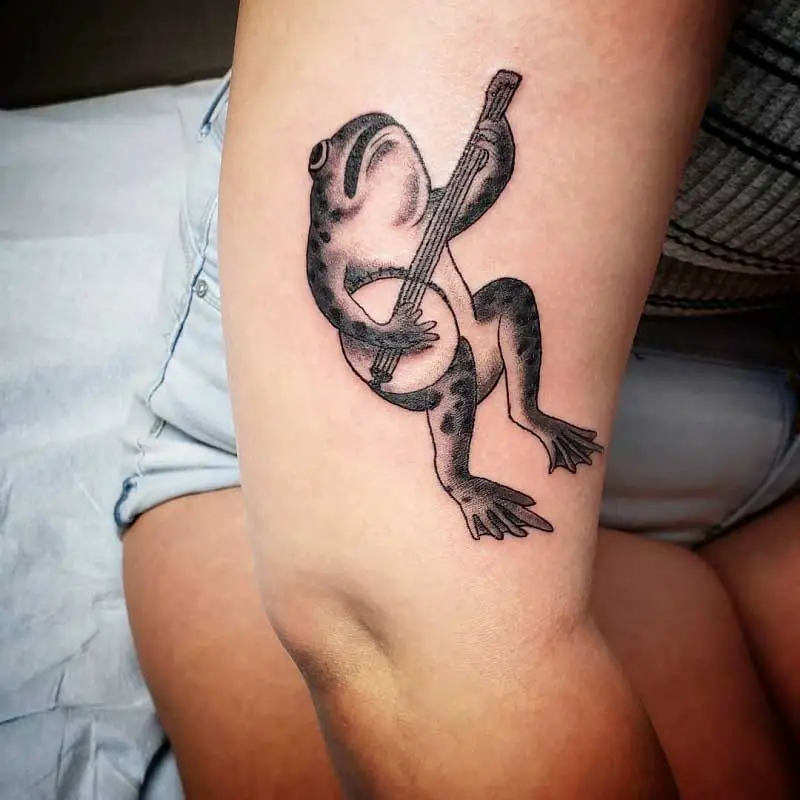 Lucky Frog Tattoo
64.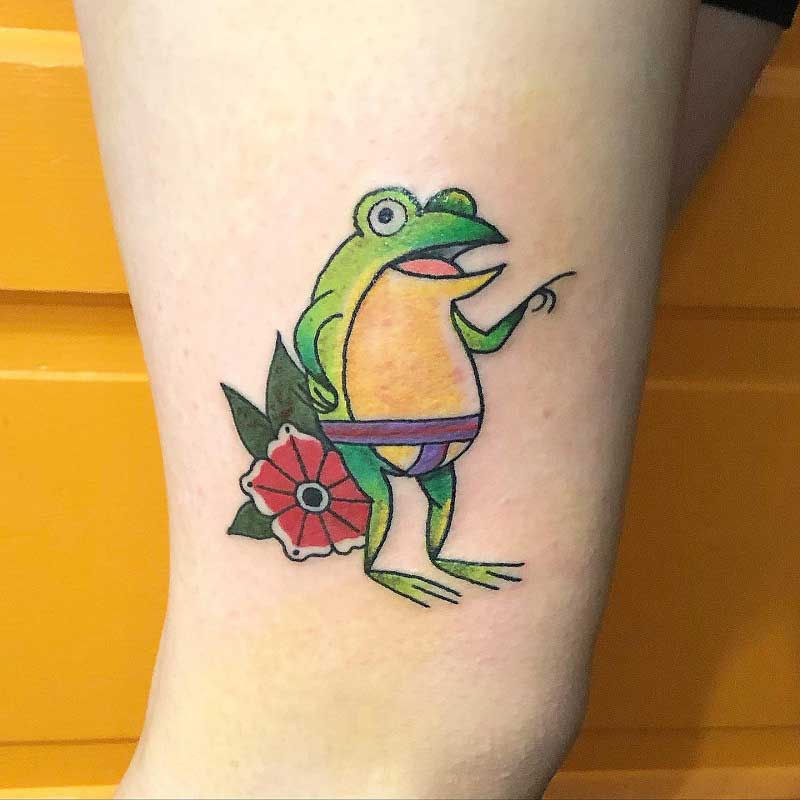 65.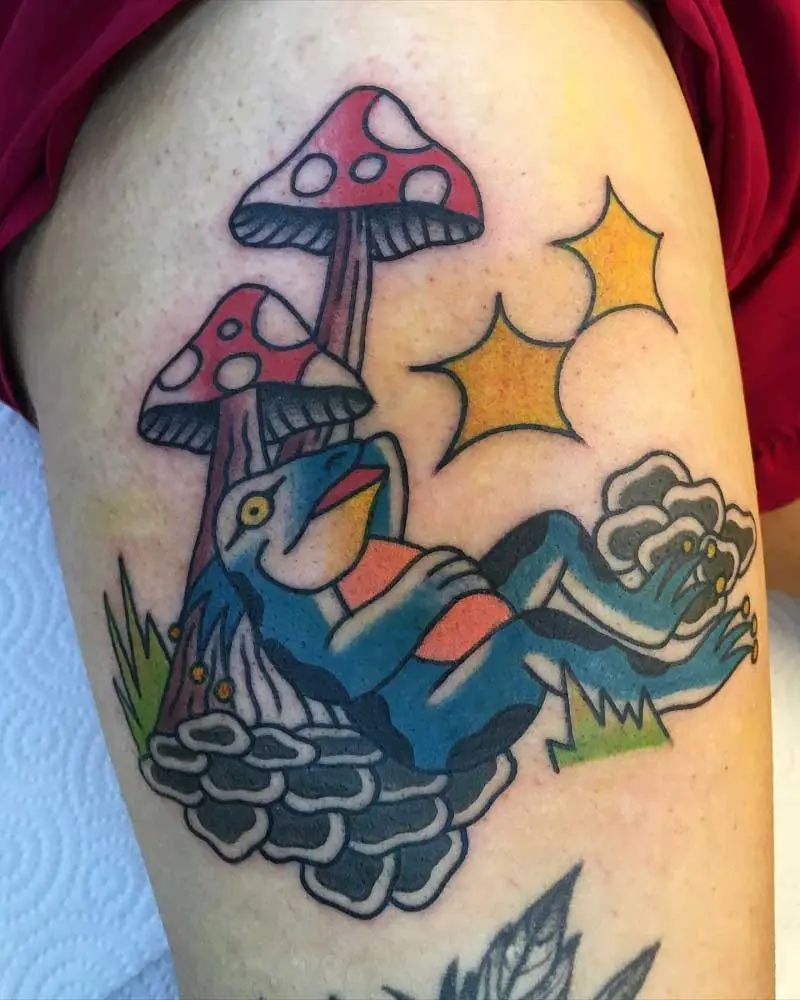 66.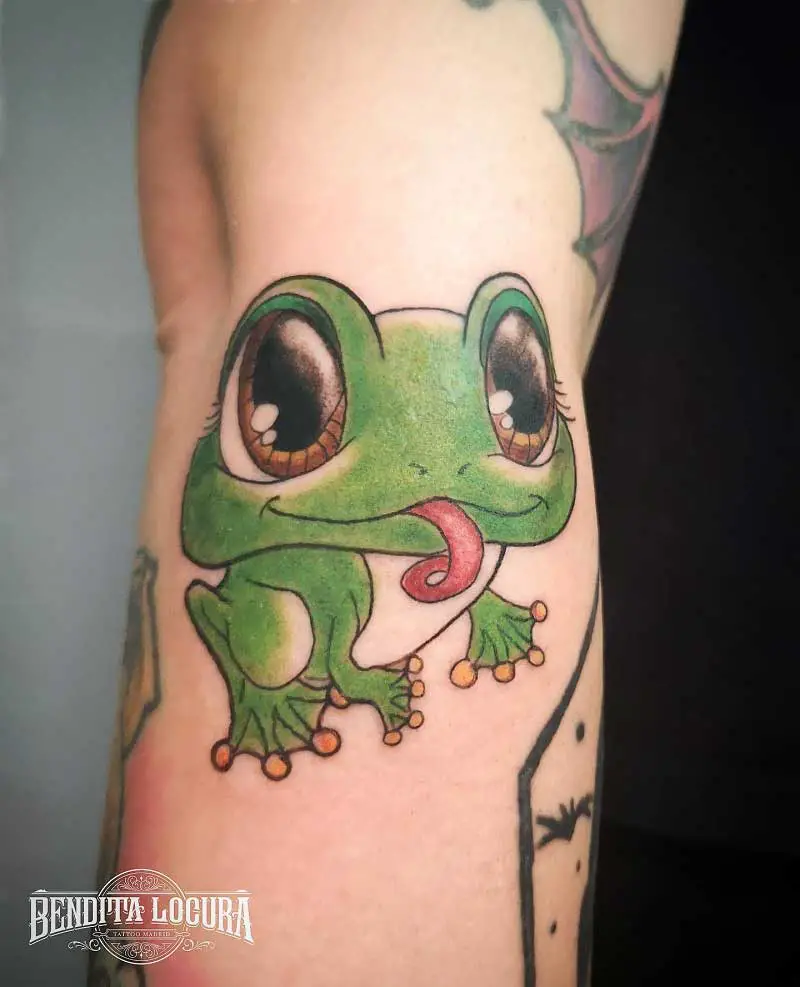 Realistic Frog Tattoo
67.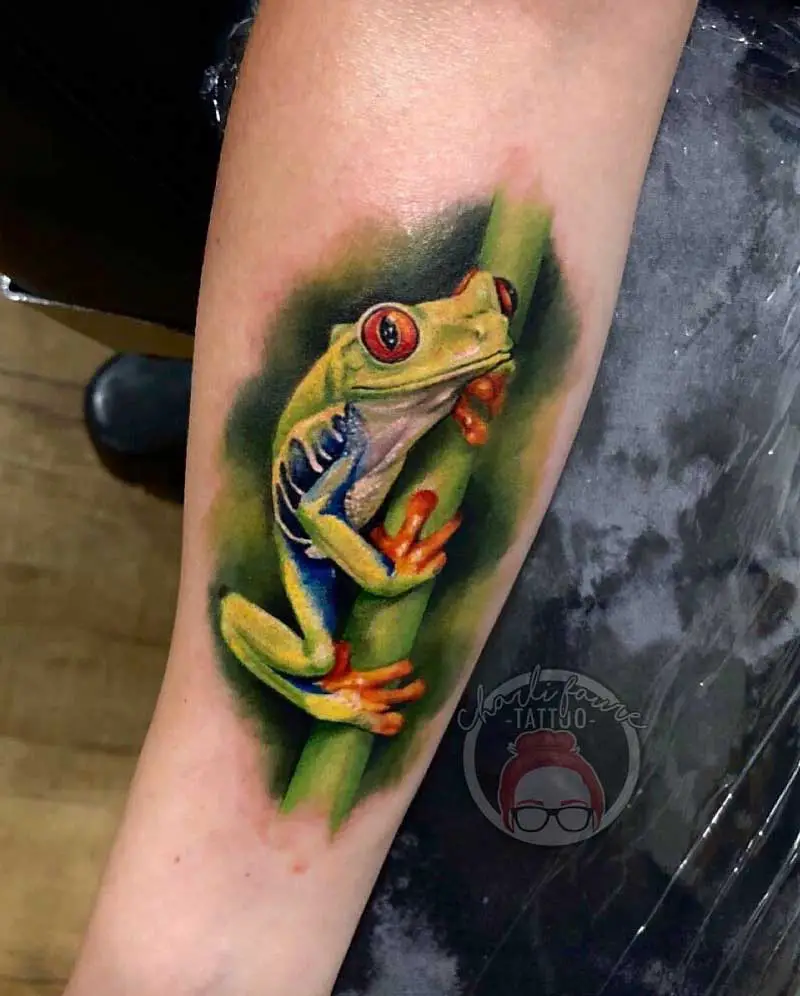 68.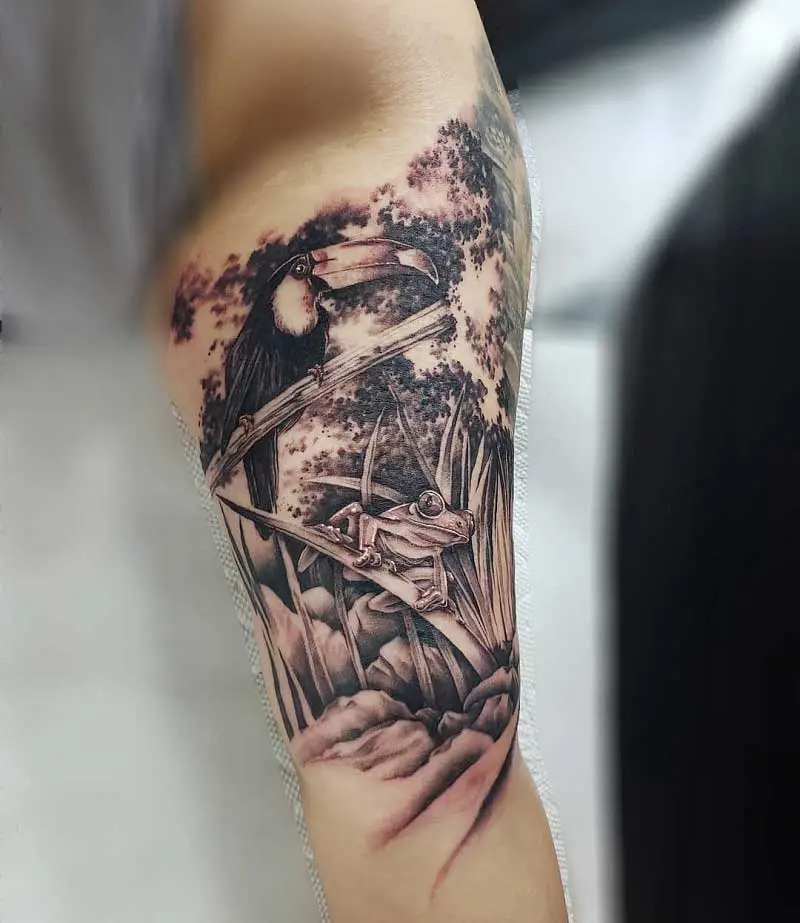 69.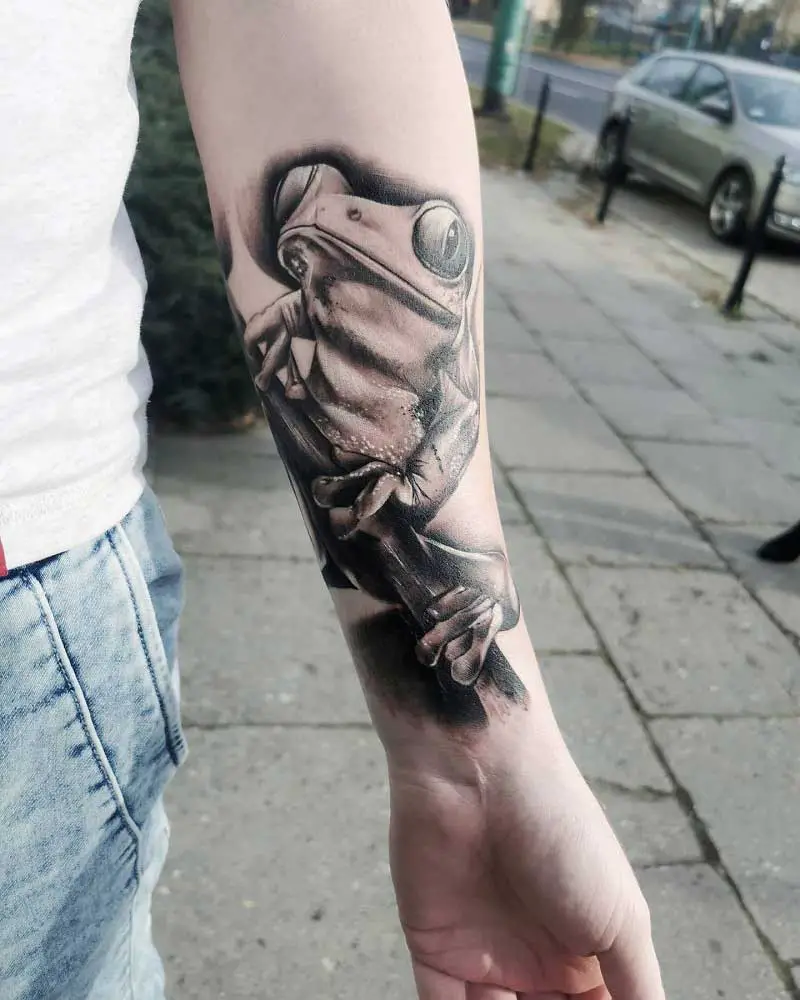 Dart Frog Tattoo
70.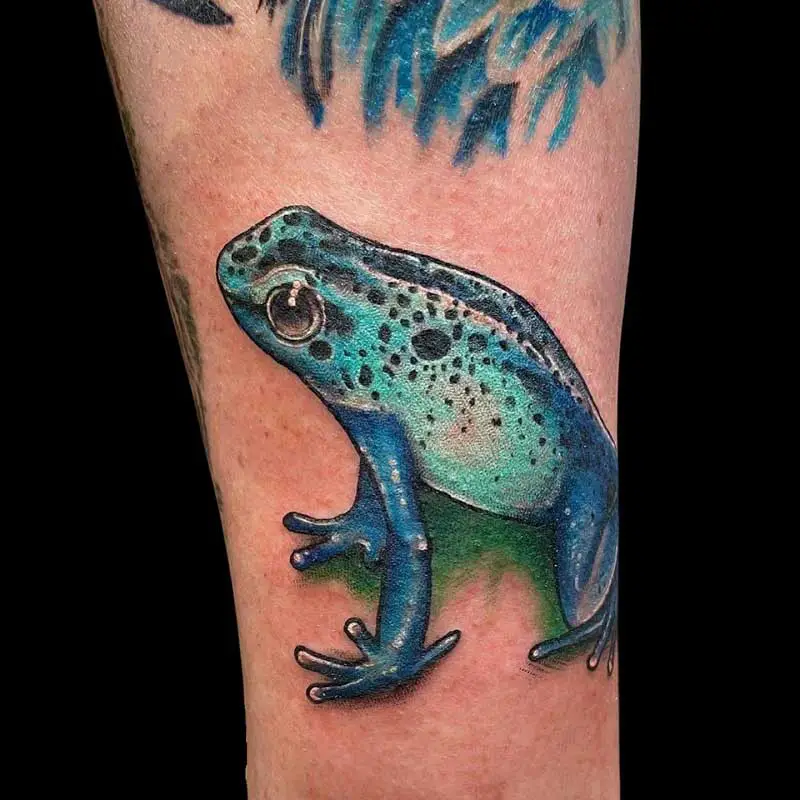 71.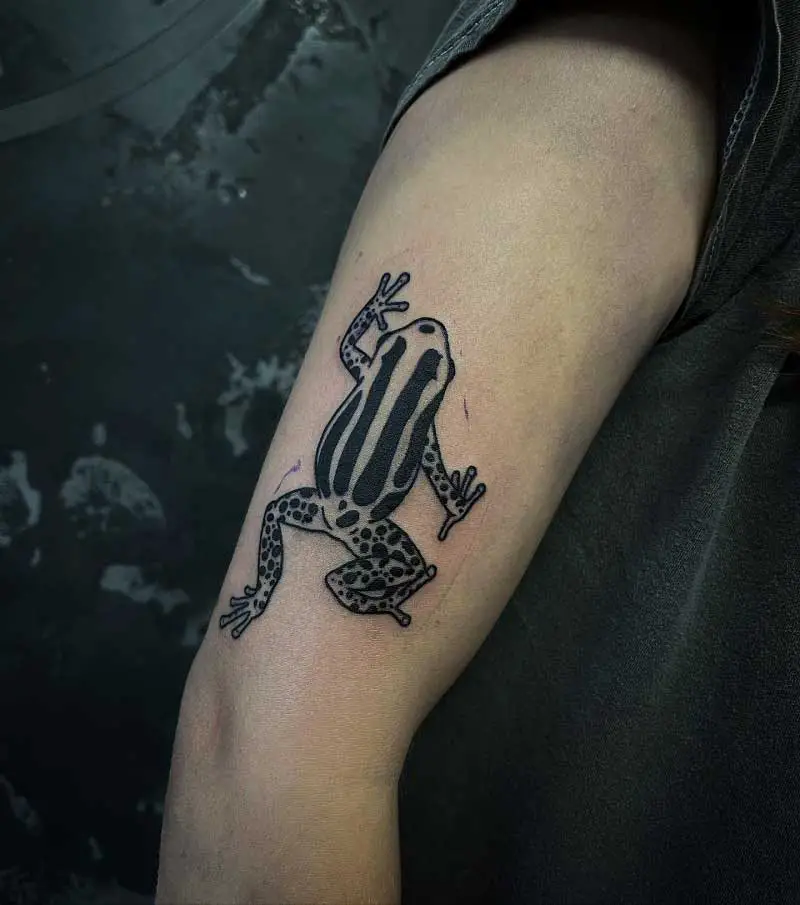 72.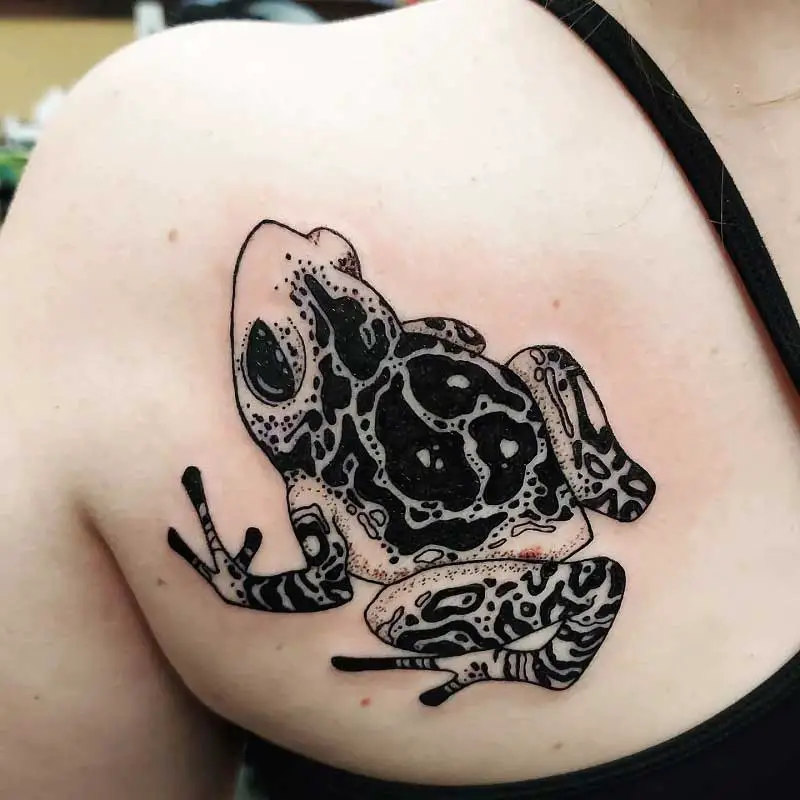 Geometric Frog Tattoo
73.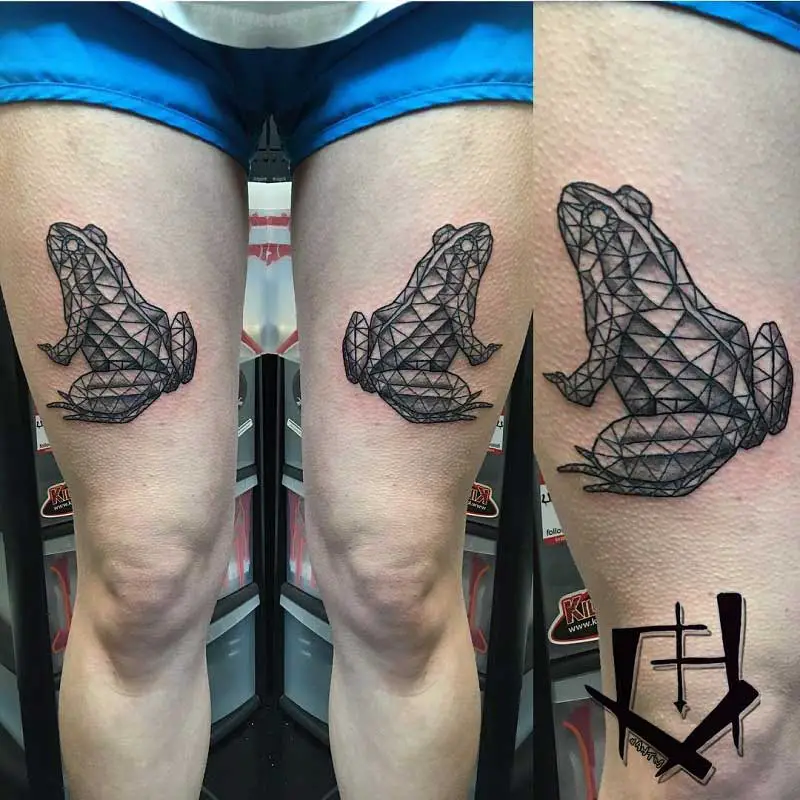 74.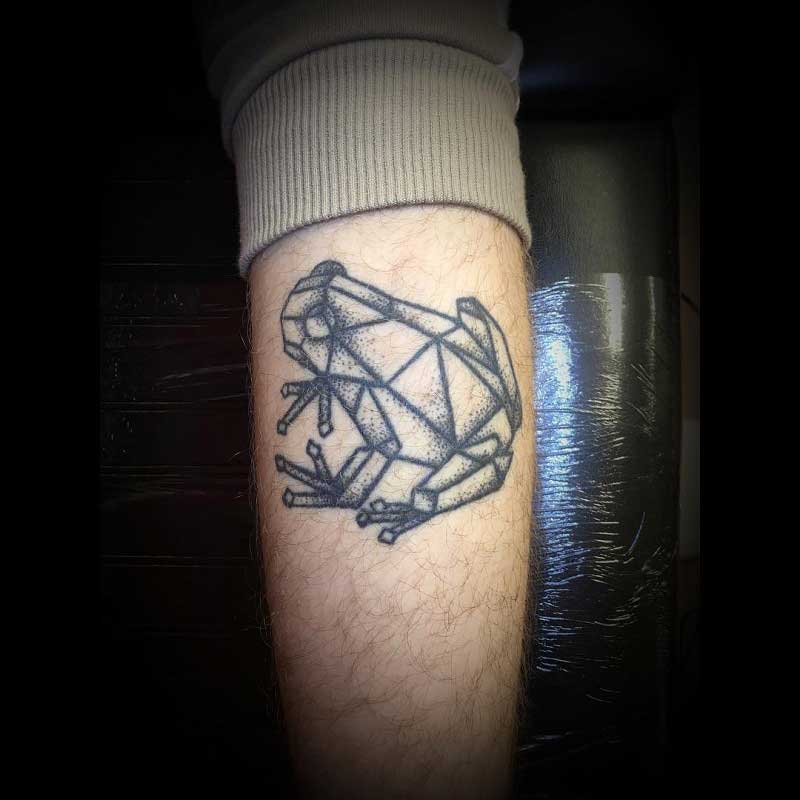 75.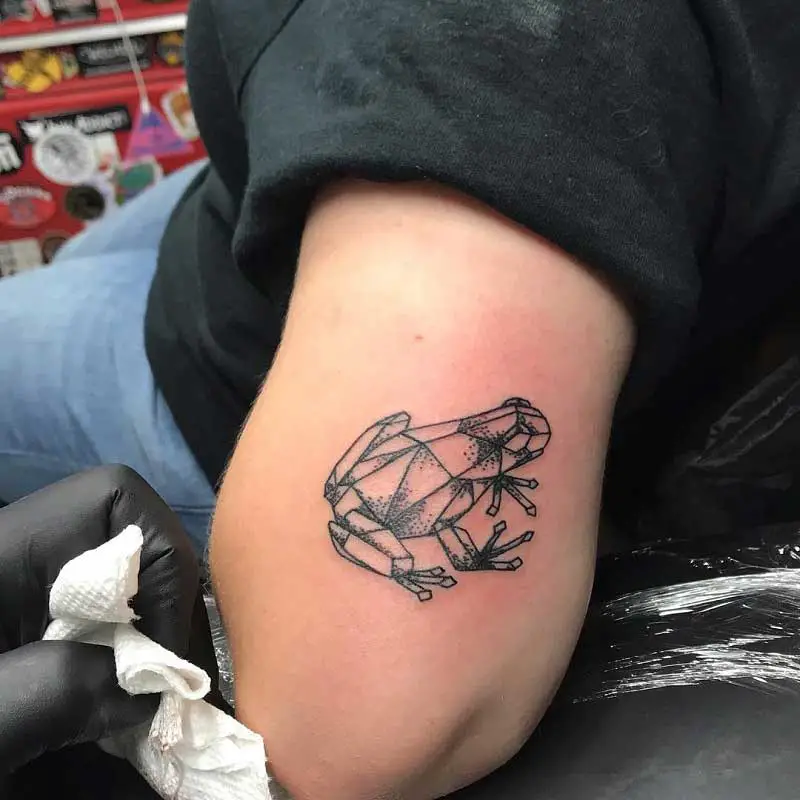 Naruto Frog Tattoo
76.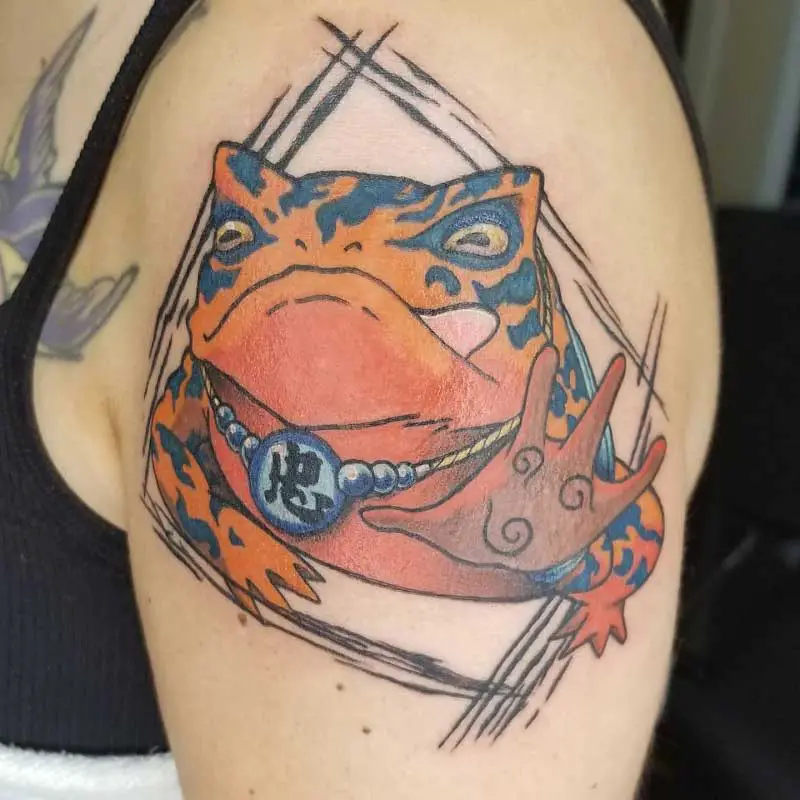 77.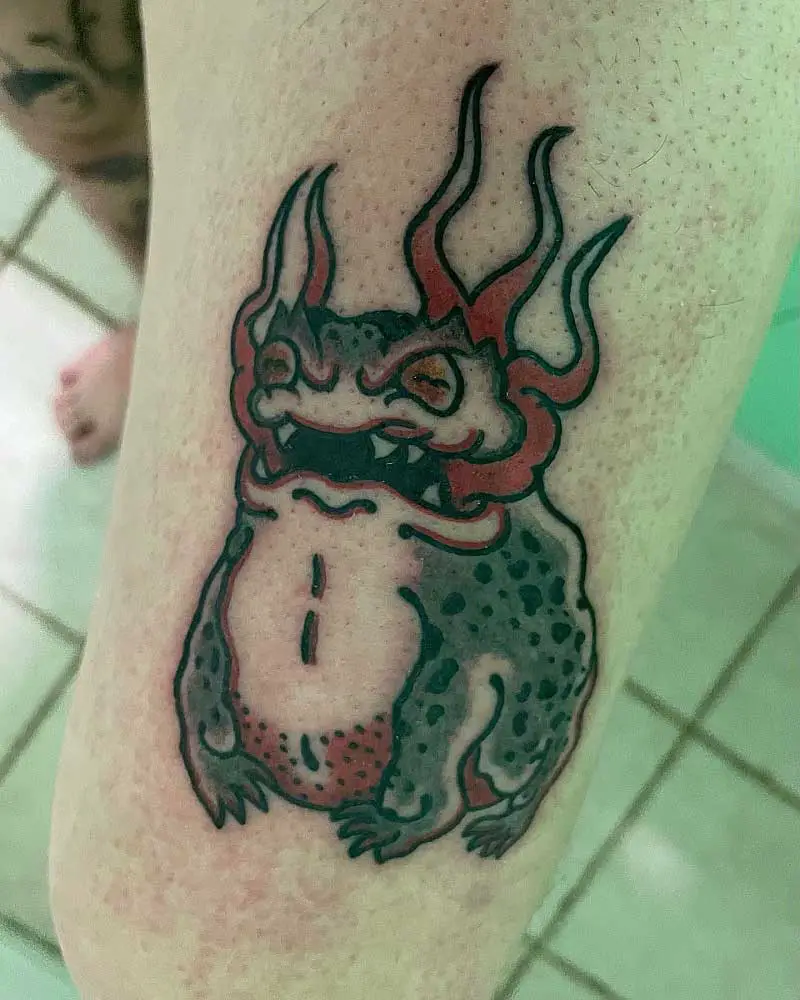 78.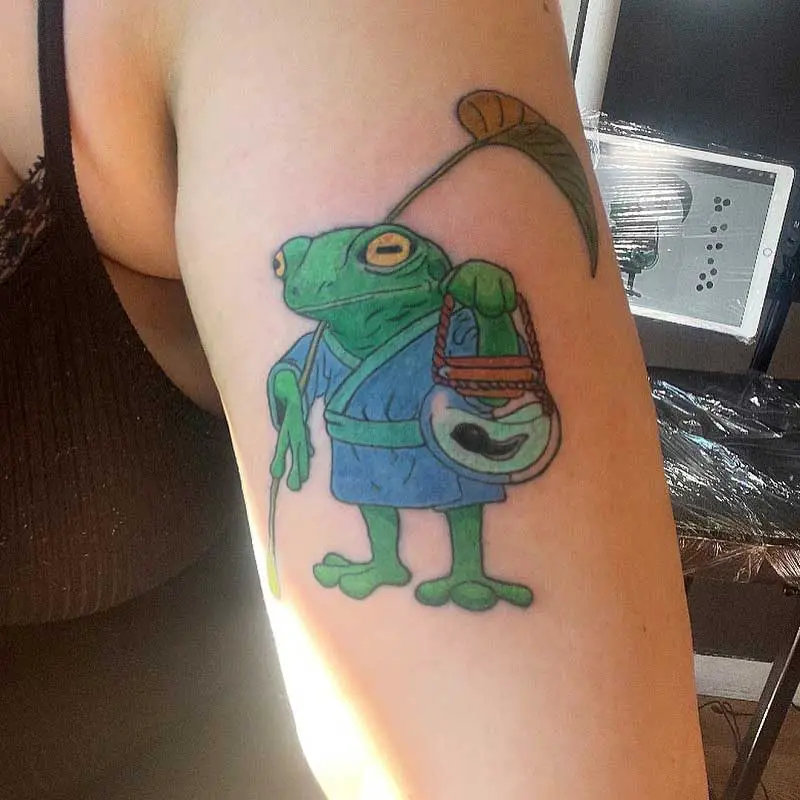 Poison Frog Tattoo
79.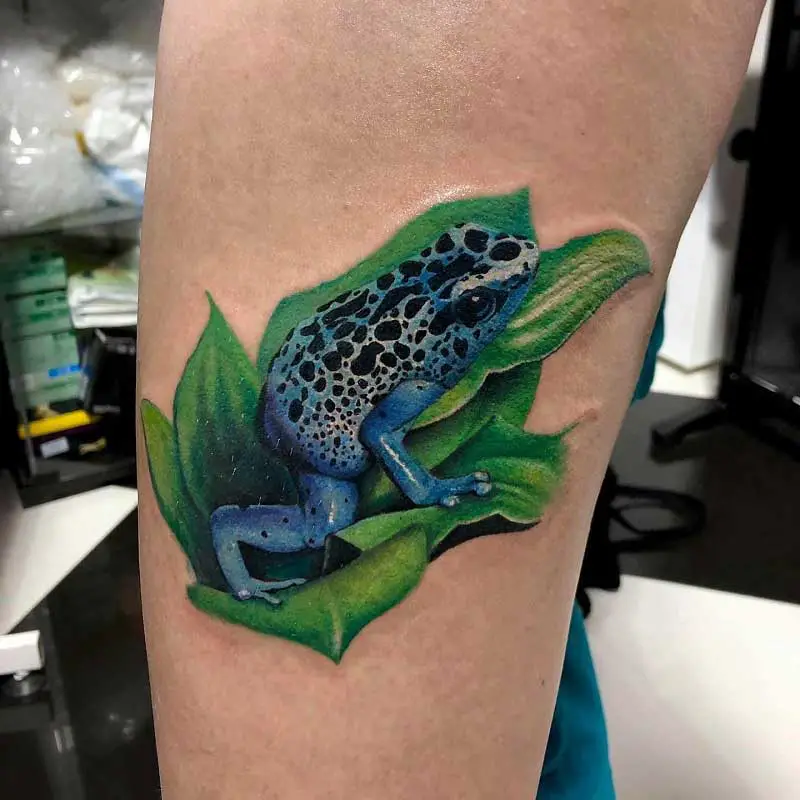 80.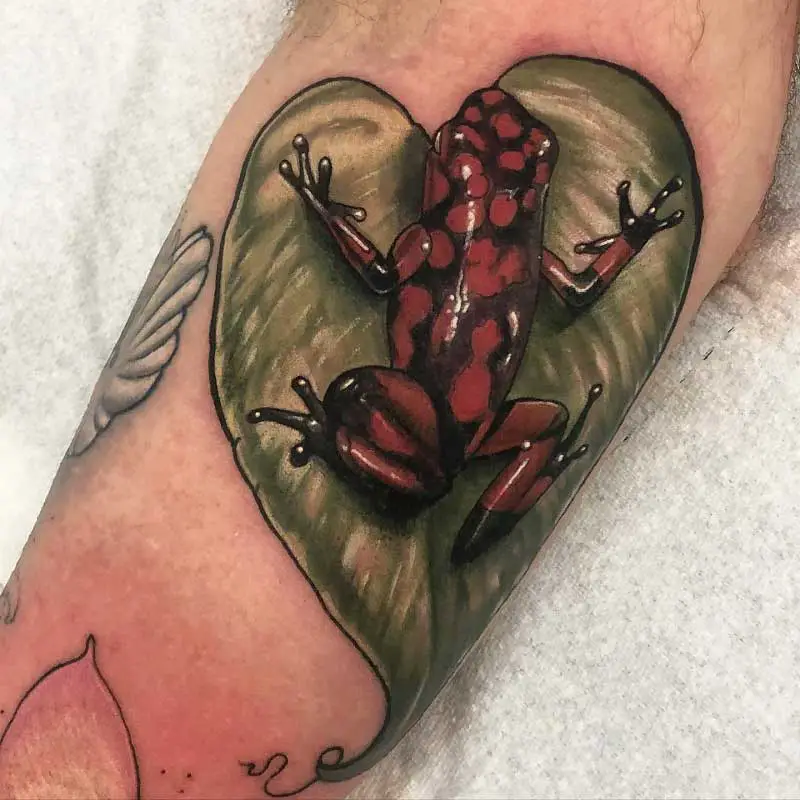 81.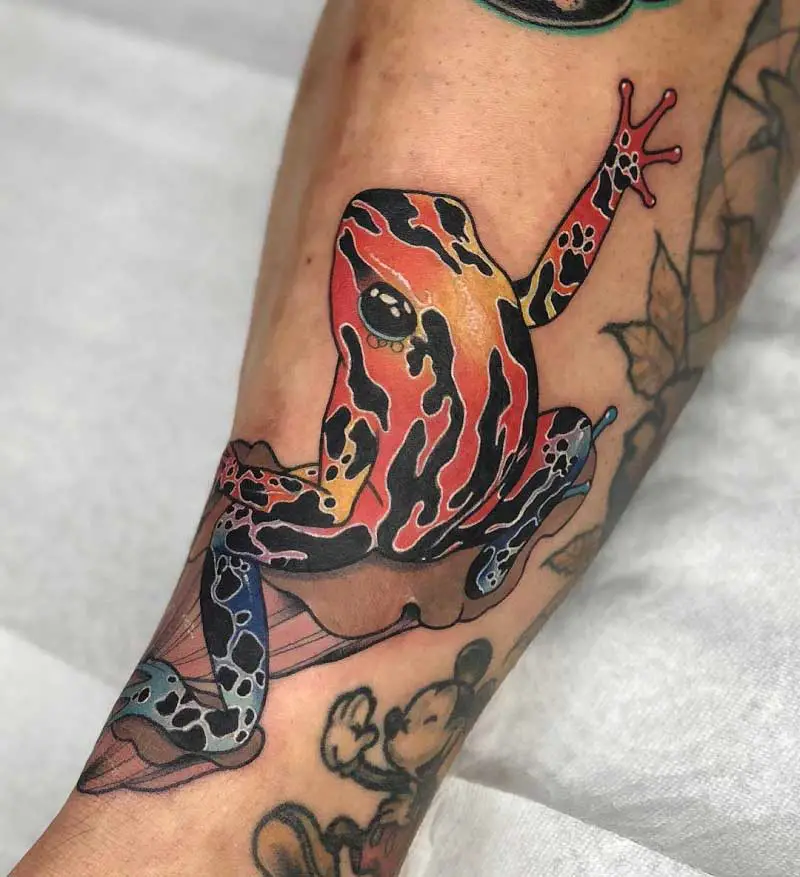 Frog Butterfly Tattoo
82.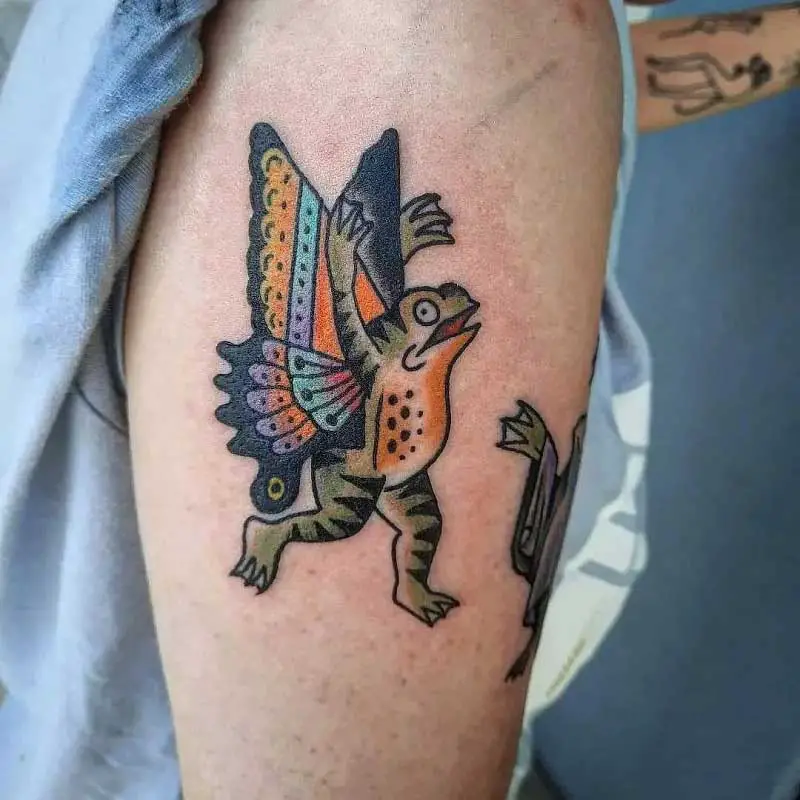 83.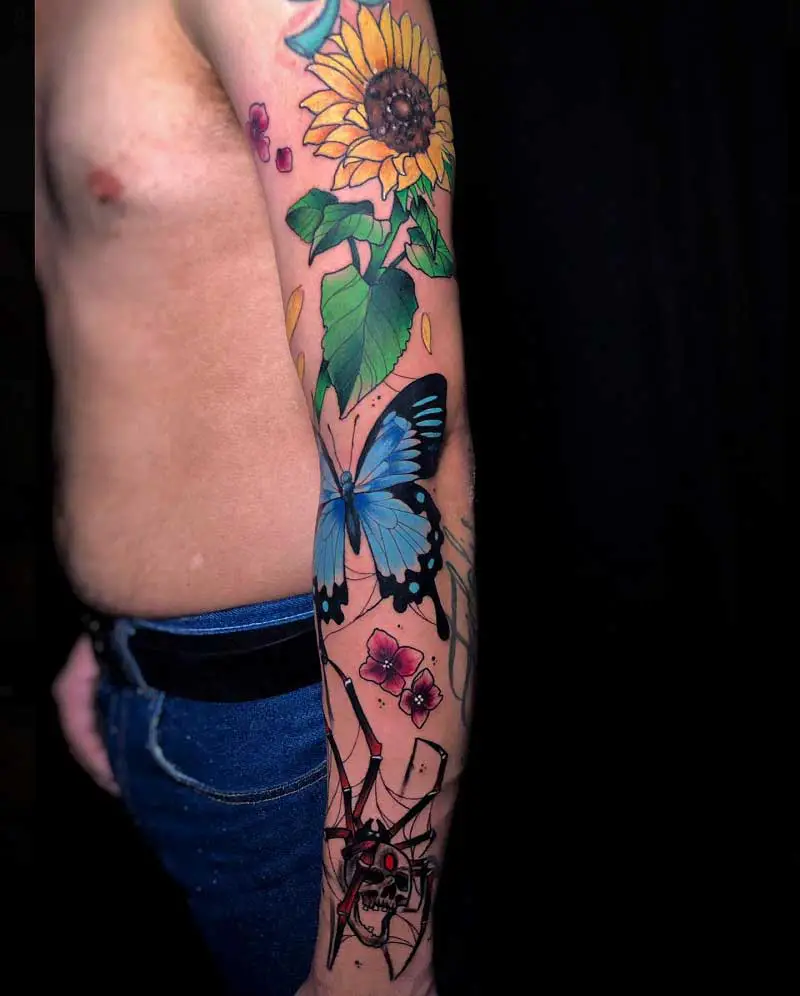 84.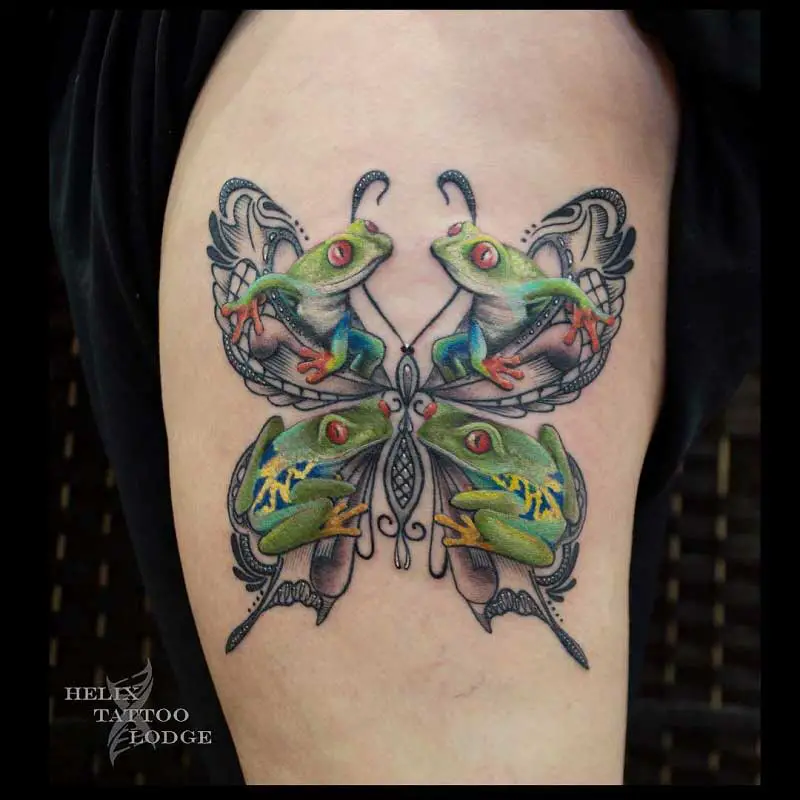 Frog Knee Tattoo
85.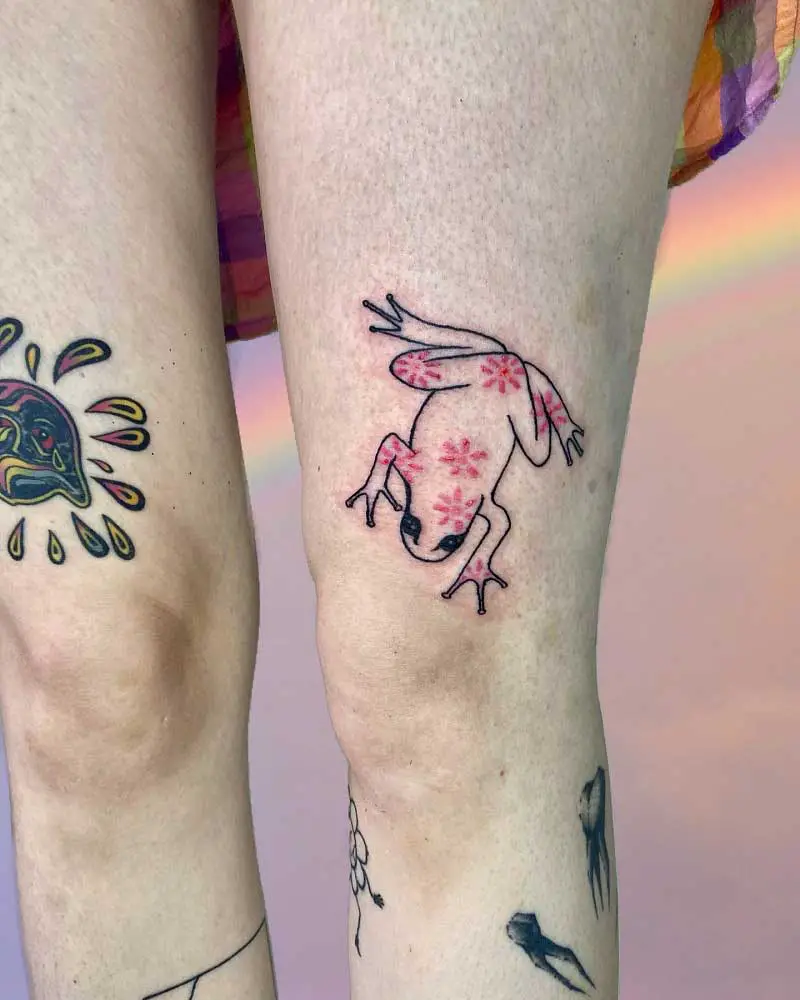 86.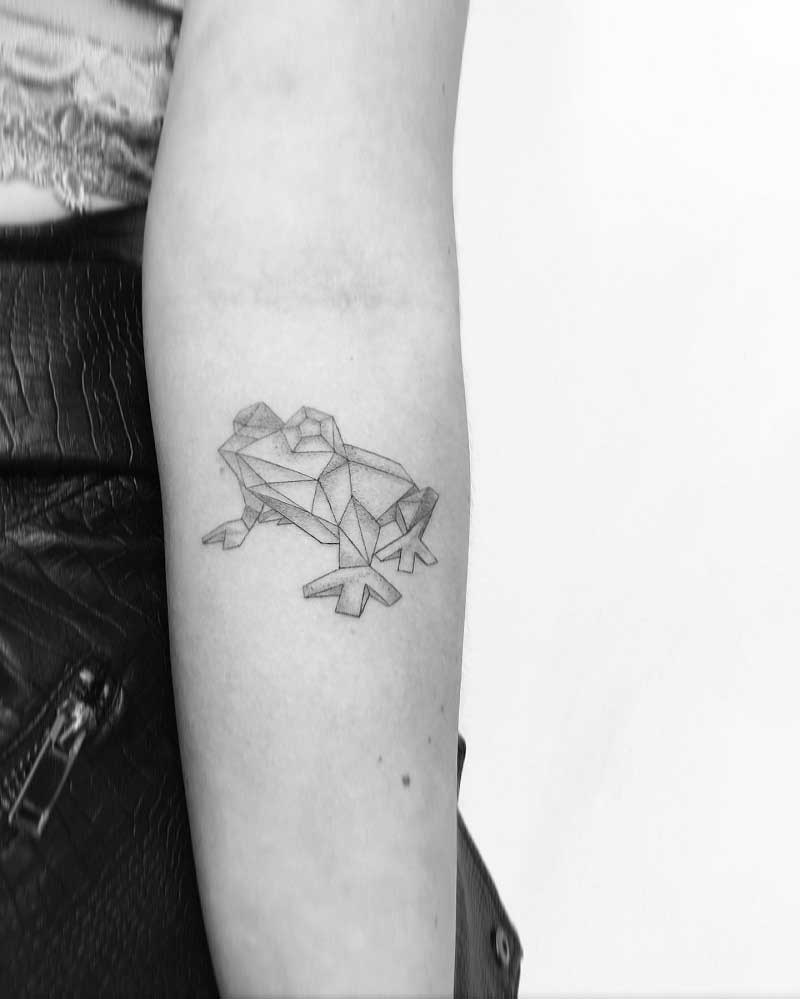 87.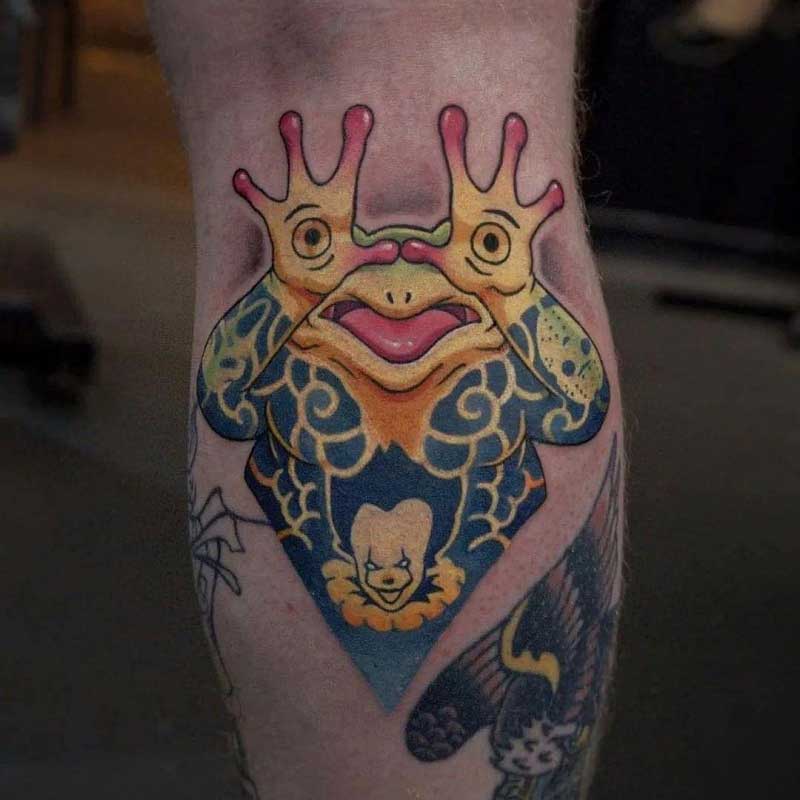 Frog Wizard Tattoo
88.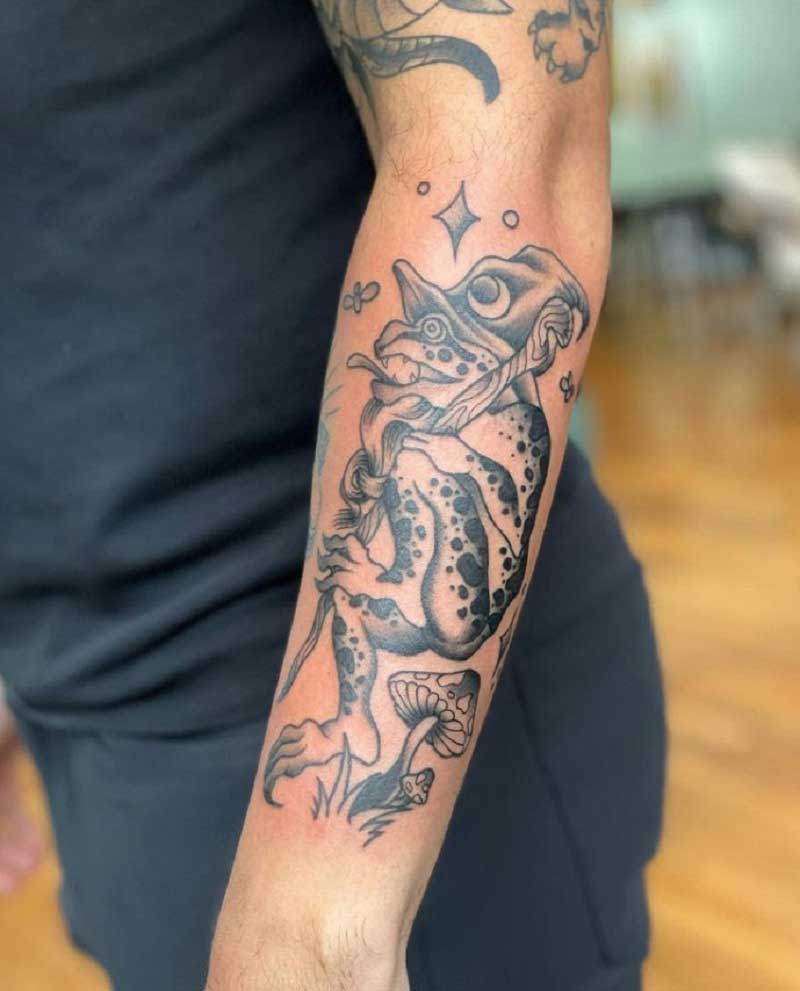 89.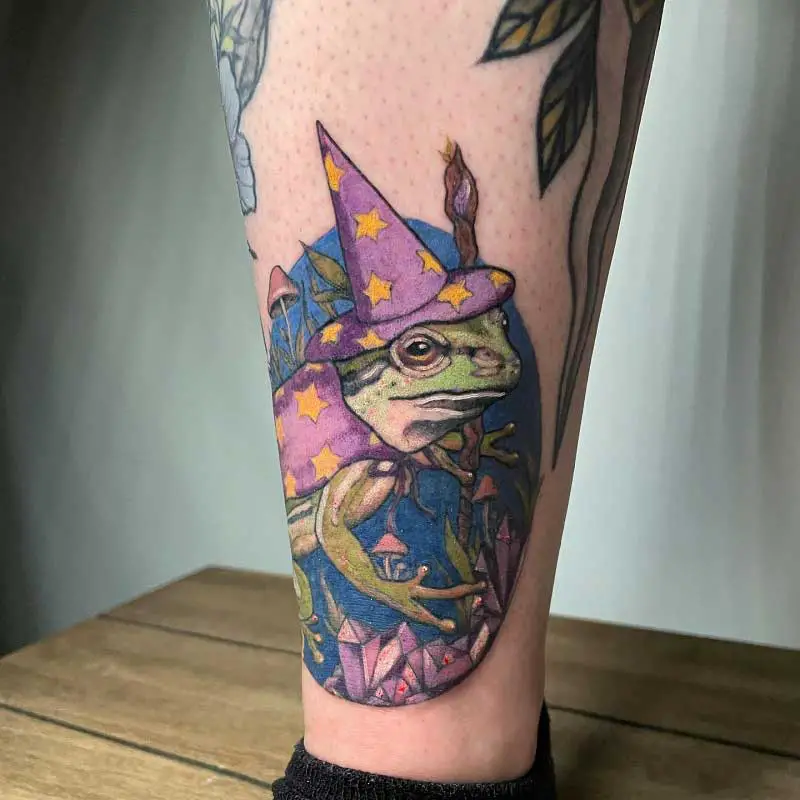 90.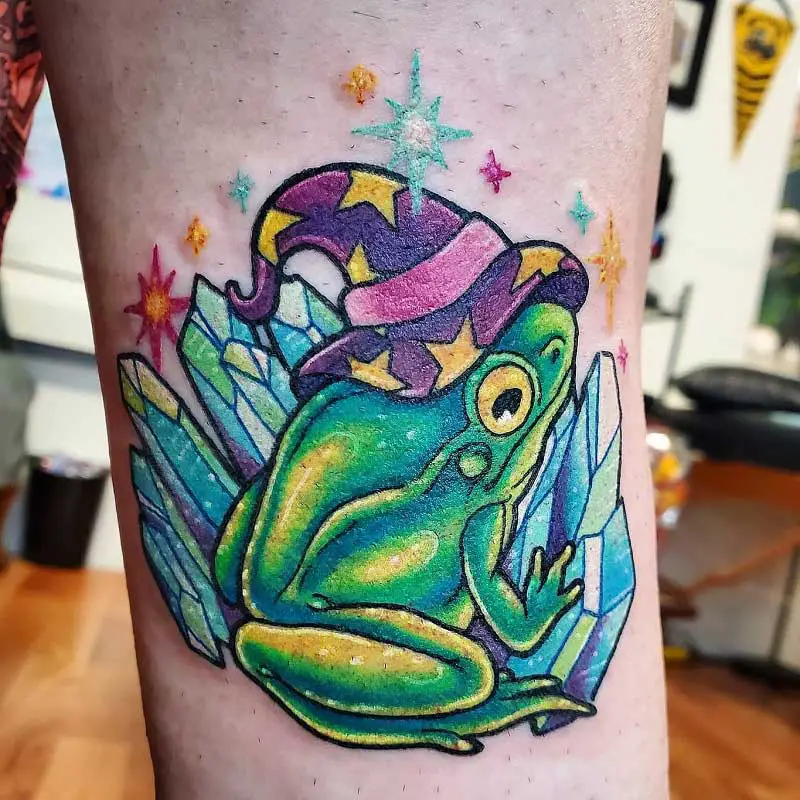 Peace Frog Tattoos
91.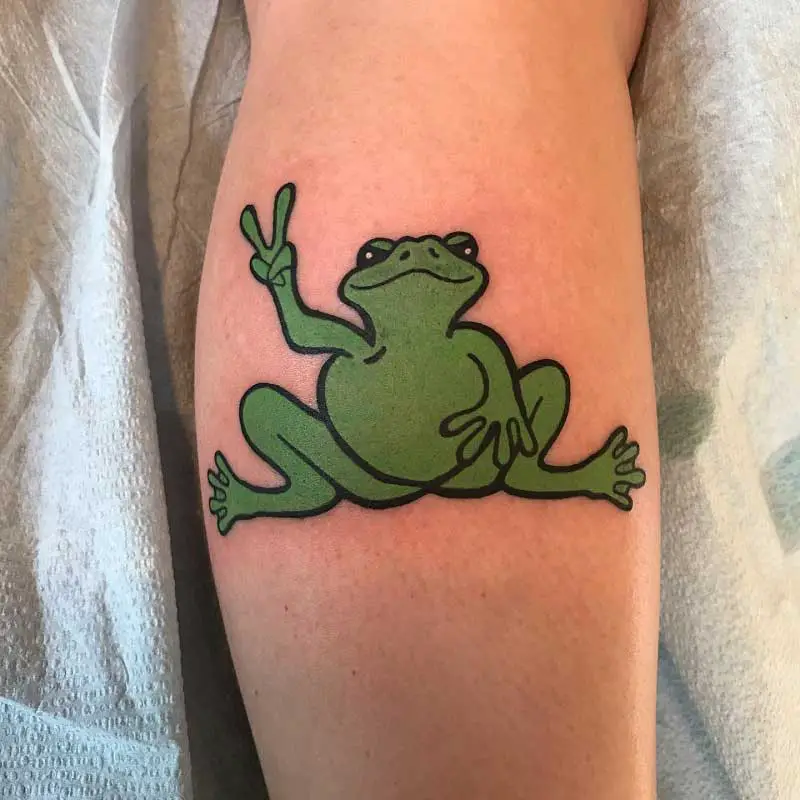 92.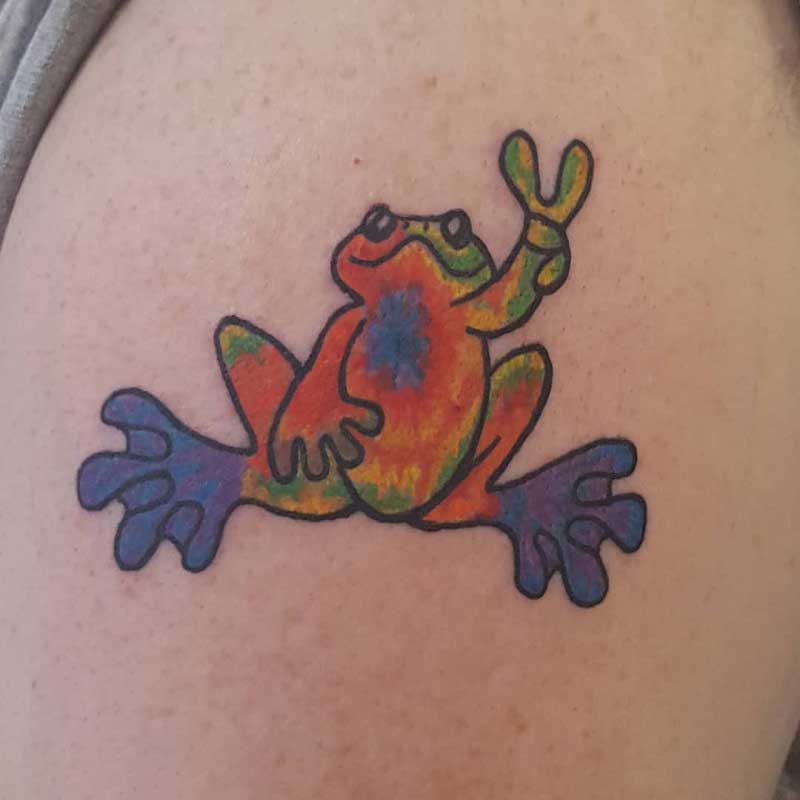 93.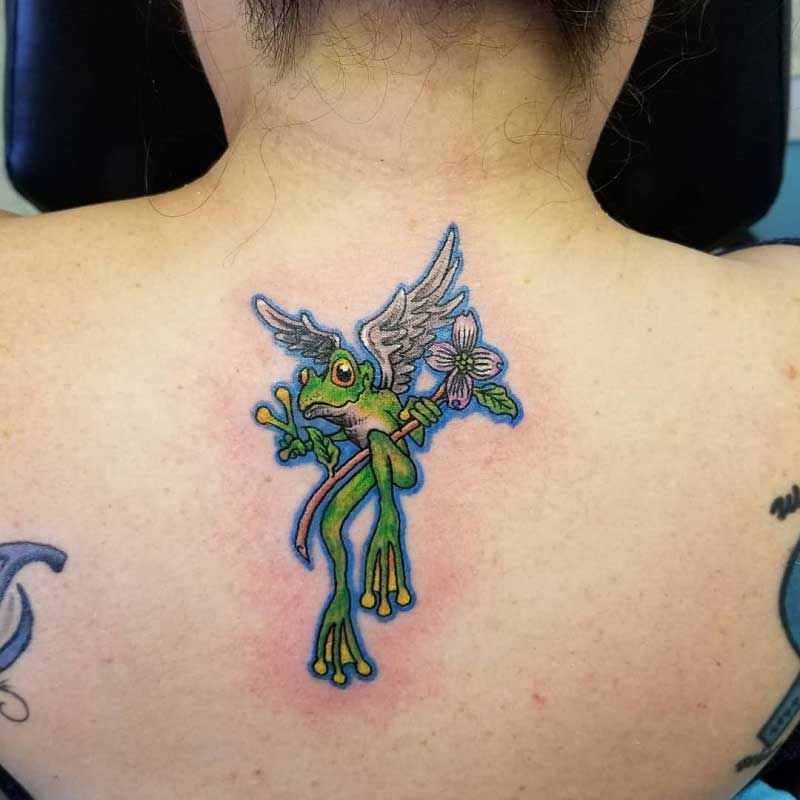 Smoking Frog Tattoo
94.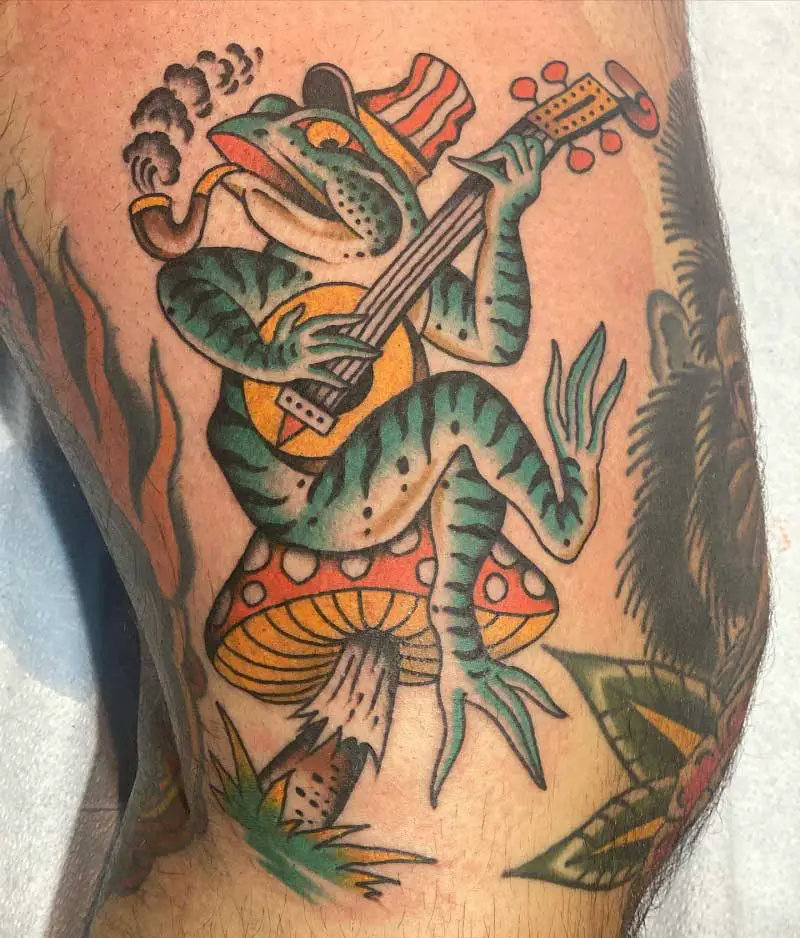 95.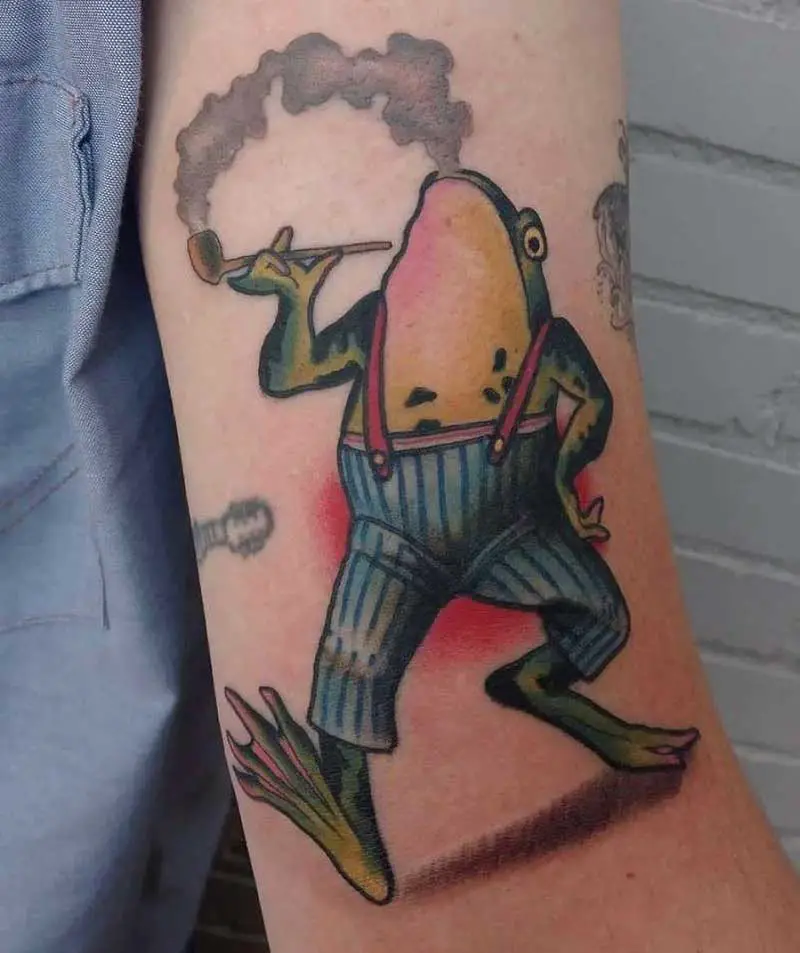 96.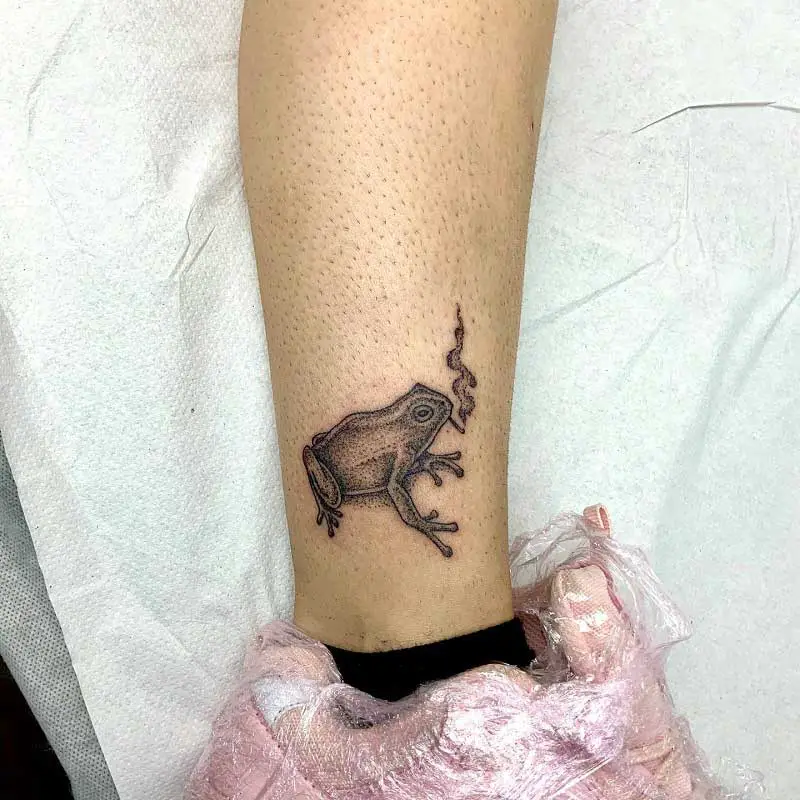 Conclusion
Frogs live in water from where all the animals have come from. So these animals are a symbol of fertility, wisdom, and transformation. Also, frogs have a great place in greek mythology. So, wearing these tattoos brings a historic look to your body.
Frequently Asked Questions
Q: What do frog tattoos symbolize? 
A: Frog tattoos symbolize fertility, luck, and mystery. It also indicates that the person who wears this tattoo is also in his final form. That means anyone who wears it is finally comfortable with his skin.
Q: What does frog with wings mean? 
A: A frog with wings means the frog is a deity. It comes from the afterlife and offers peace. However, in real life, it means impossible desire. Because frog doesn't fly except for jumping.
Q: What does a bone frog tattoo mean? 
A: The bone frog tattoo illustrates the sacrifice of people. As the tattoo shows a frog with no skin and flesh on its body, the tattoo simply illustrates the oblation of the frog.
Q: What does the frog mean in Japanese Culture? 
A: In Japanese culture, frogs are a symbol of magical powers and return. As it also brings good fortune, Japanese travellers carry a small frog with them to return home safely.
Q: What do frogs symbolize in Chinese culture?
A: The meaning of frog in Chinese culture is a tad similar to the Japanese. They assume the frog as a god of prosperity and good fortune. However, a frog in the well means a person lacking vision and mission.