Having their roots in Native American culture, arrow tattoos are very popular among inking enthusiasts. Loved for their simple yet powerful designs, arrows are a symbol of protection and positivity yet there are several other meanings of arrow tattoos. With numerous options to choose from, these are mostly preferred by first timers as they are quicker to apply with the least of pain involved.
Deciphering The Meaning Of Arrow Tattoos
While deciphering the meaning of an arrow tattoo, the position of arrows is of much importance. If there is a solitary arrow, it represents defense or protection from harmful vibes. If two arrows are pointing in a different direction, it represents conflict or war. It denotes that the person concerned is a lifelong war with somebody in his/her personal life.
Interestingly, a broken arrow depicts peace after burying the hatchet or leaving past some heavy burden. On the other hand, a bunch of five arrows depicts strength and unity. A couple might get the same tattoo to show their togetherness or even a cupid's bow and an arrow showing power, direction, and flight.
Let's have a look at a few popular designs of arrow tattoos.
#1: Geometrical Arrows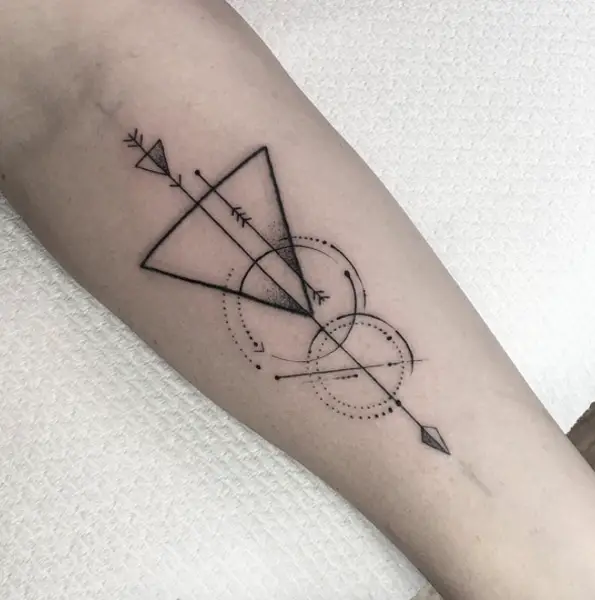 Although not depicting a clear meaning, well defined geometric patterns with circles and triangle are giving an awesome look. With circles representing constant motion and arrows giving a feel of progress, this design gives a sense of progressiveness and constant activity in one's life.
#2: Pack Of Five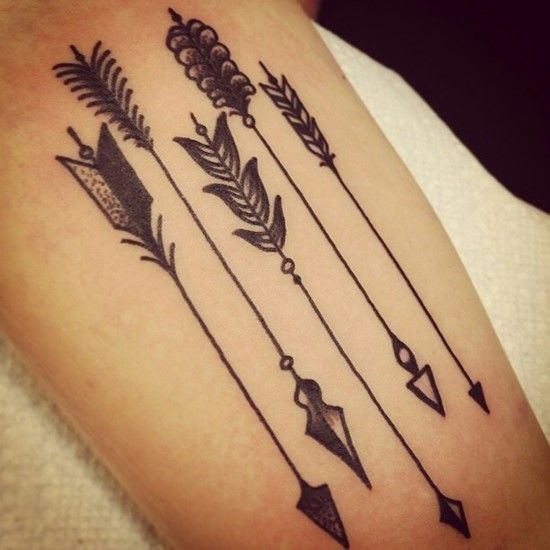 While one arrow represents solidarity; a bunch of five depicts unity and strength. Five arrows in one direction have a strong message of oneness and power emanating from togetherness of people.
#3: Delicate Singular

This is a very simple yet positive design suggesting positivity and solidarity. Studded with a delicate feather at the back, this design is representative of solo yet robust efforts backed by strength.

















With a multitude of meanings associated with arrow tattoos, you will definitely find them irresistible to get inked. This is the very reason for their popularity across the globe. If you are planning to have one, don't regret having an arrow on your body.