Stomach tattoos for men are wonderful for those who want their tattoos to be secret unless they wish to show it off. Along with the benefit of easy camouflaging, stomach just like your back, give enough space for the colossal art with ease. As the area is high in fat, it is less painful but this doesn't mean it's not sensitive. Certainly, the pain and uneasiness will be there. However, this doesn't stop any man from opting for an exquisite and elaborate stomach tattoo.
GENUINE STOMACH TATTOOS FOR MEN
there is always a fine line in design ideas for men and women in their stomach. Most men like intricately detailed designs with a lot of gray shades. However, that's not a thumb rule and you can go for minimal images with a subtle look. Whatever your choice is, you will definitely find a design inspiration from our 15 stomach tattoos for men. Scroll down to explore most interesting design ideas from smaller images that drift over onto the belly to full chest and stomach designs that reflect talented artistry.
#1:

#2:

#3:

#4:

#5:

#6:

#7:

#8:

#9:

#10:

#11:

#12:

#13:

#14:

#15:

#16:

#17:

#18:

#19:

#20:

#21: THE QUEEN'S CROWN STOMACH TATTOOS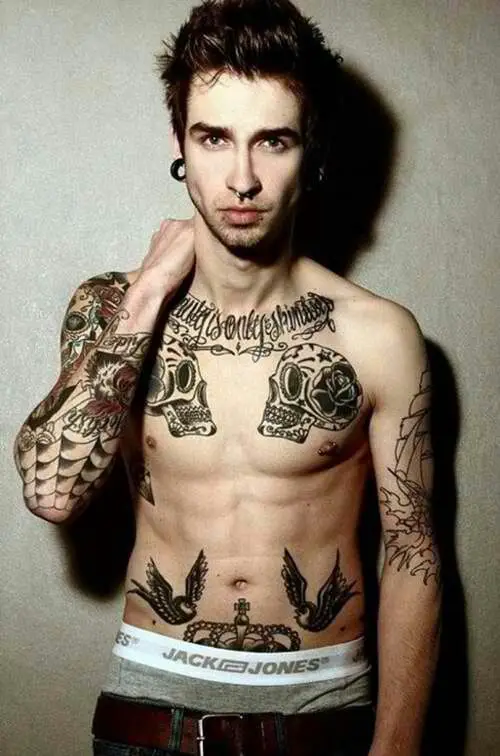 This guy seems a big fan of the English Monarchy and so got the crown tattoo with two birds inked on his stomach.
#22: CALLIGRAPHY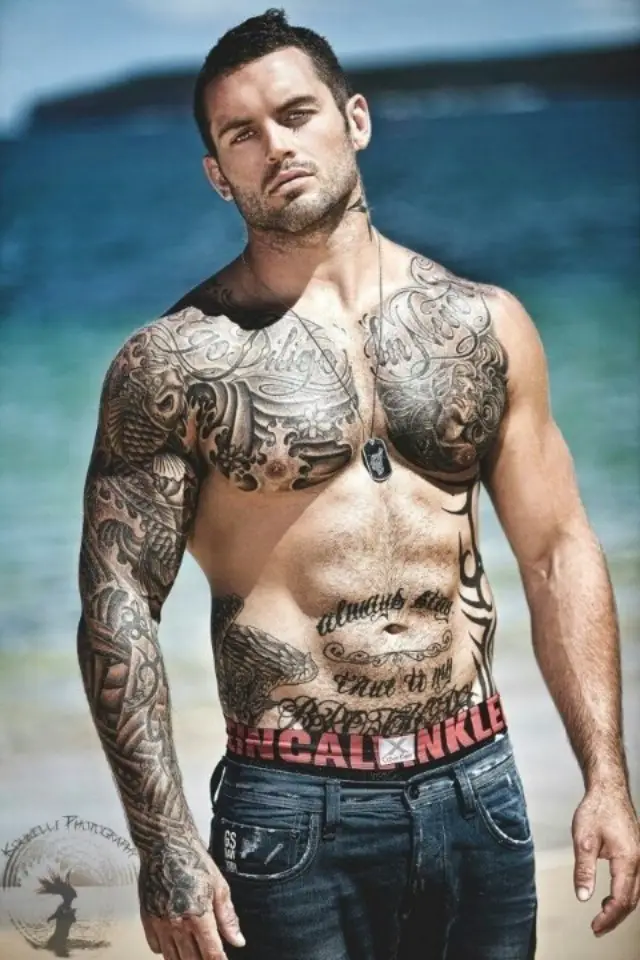 Quotes or phrases in your favorite calligraphy font is an interesting stomach tattoo ideas for men. While this man has exceptionally done shoulder and chest meaningful tattoo, the word-art on his belly that is further decorated with tribal object art on one side and eagle on the other side is worth noticing.
#23: DON'T LAUGH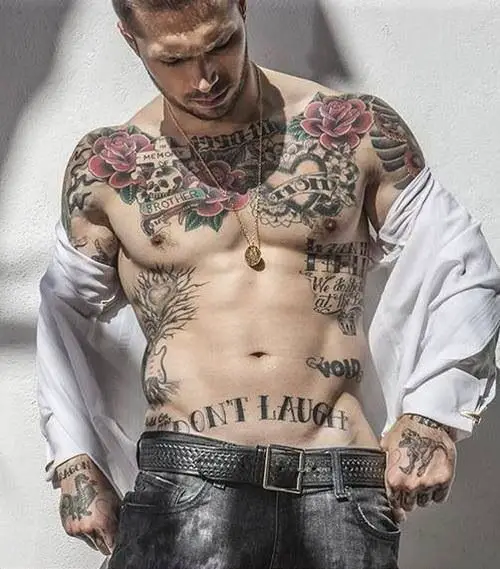 The man in the above image has so much to tell to the world that he finally decided to put a belly tag 'Don't Laugh'. We also love his rib tattoos and arm tattoos. You can even take some design clues about male stomach tattoos from these designs.
#24: SKULL STOMACH TATTOOS FOR MEN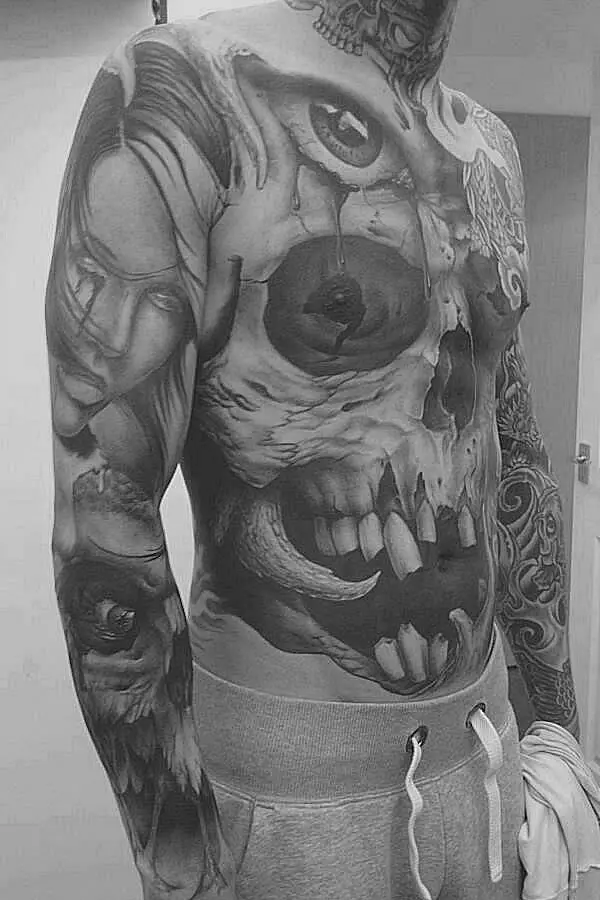 Whoever done this jaw-dropping body art deserves a standing ovation. The skull tattoo is covering the whole front. It's broken, withered and too freaky to handle. We love the carefully detailed scratches, broken teeth, the dark area and what not.Considered as on of the best stomach tattoos for men.
#25: SAILING SHIP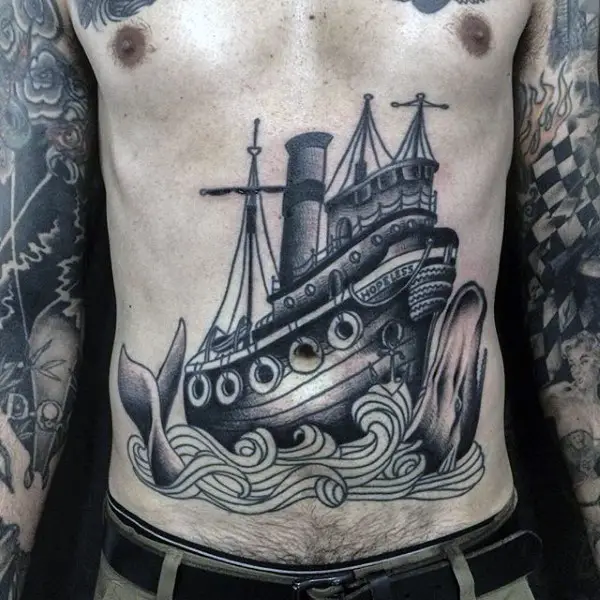 For anyone liking the sea life, this finely done ship stomach tattoo is amazing. You can see the whale's tail and face out of the water. What a concept!
#26: ILLUMINATI STOMACH TATTOO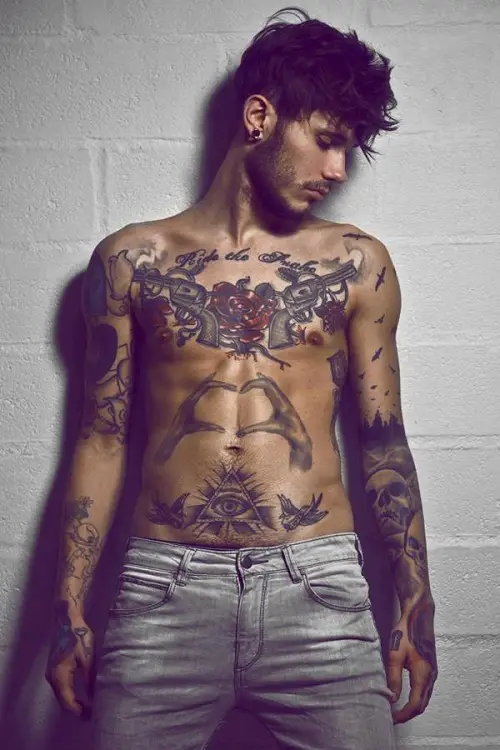 Don't know if the guy is a member of the infamous organization, but his stomach tattoos for men reflects a little about his belief. The stomach is a good placement option for such tattoos when you don't want everyone to know your mysterious side.
#27: SUGAR SKULL AND FLOWERS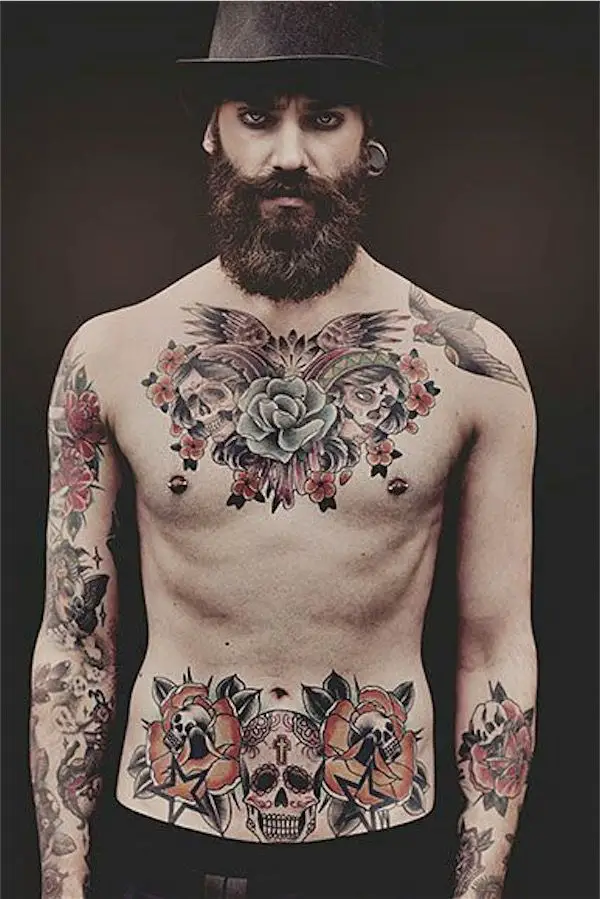 Sugar skulls are one of the most popular design ideas for stomach tattoos for men. Here the center skull has a cross on the head that probably denotes the wearer's faith in almighty.
#28: SHOWTIME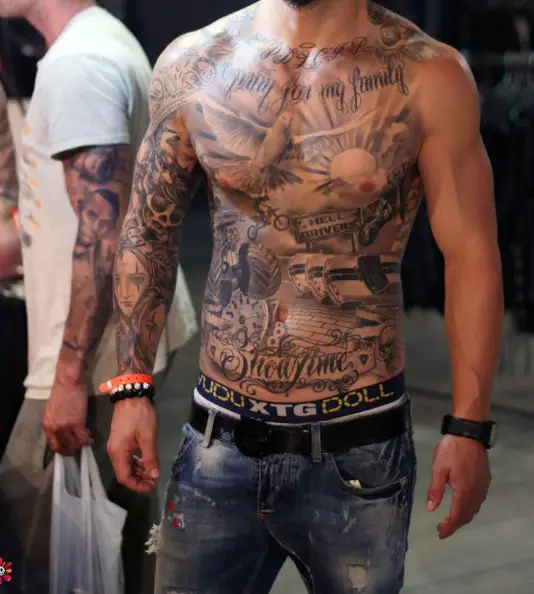 This guy is a motorsports fanatic. And he got the right chest and stomach tattoos to show off his crazy side. There are cars racing on tracks, motorbikes jumping in the air, the clock and even the signboard 'Hell Drivers'. And then there is the sunshine with a white pigeon that represents God's presence. This is one of the best examples of tattoo designs for men stomach.
#29: THE DARK WORLD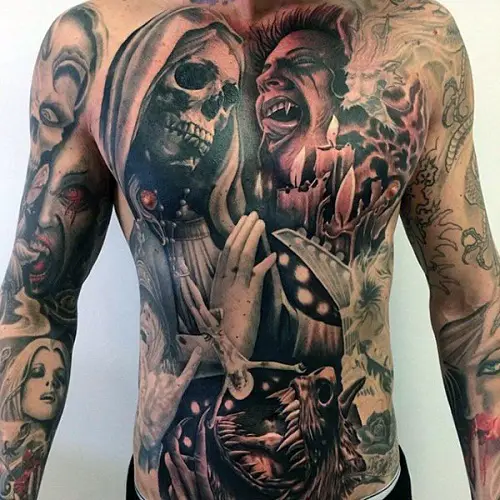 Don't understand if the guy believes in dark world or otherwise. But we must admit, this is a rare tattoo design with a high level of complexity, detailing and finish. From evil on one side to a blood sucking vampire with candles on the other makes the upper half. As you go down the upside down Christ is inked in a way as if a werewolf is ready to engulf him. Hats off to the artist for putting so many mysterious elements that made the tattoo so attractive and exceptional.
#30: VARIETY OF STOMACH TATTOOS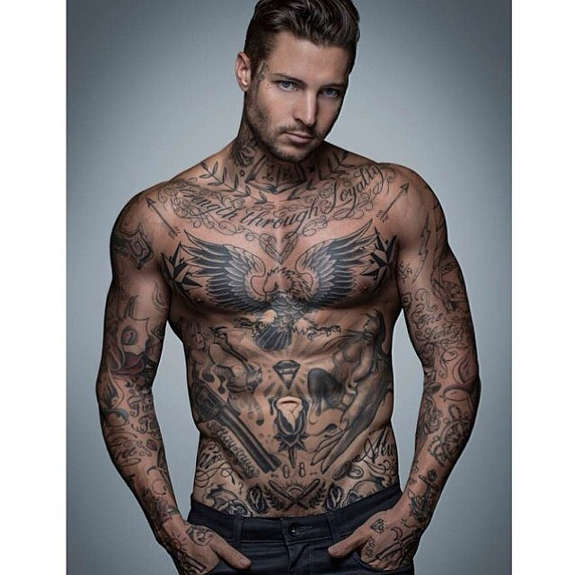 Anyone who is fond of tattooing can take inspiration from this guy who left no blank space for further imagination. So many images are put together to create this full chest and stomach tattoo.
#31:  THE GOD'S RESIDENCE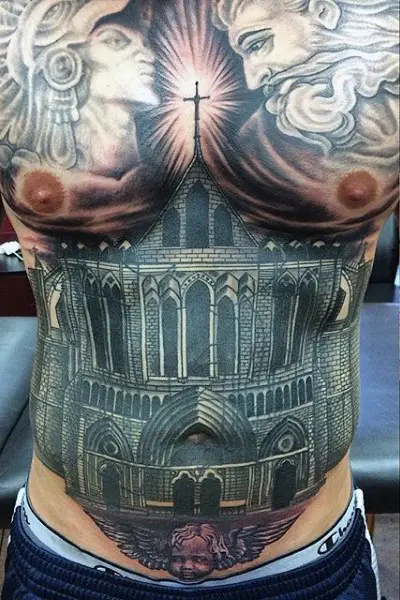 This stomach tattoos for men are true depiction of dedication and mastery. It has fine detailing that is beyond sophistication. Moreover, gray and black being the prominent colors for men's tattoo are perfectly used here. With elements of mysticism, this is a great choice for a spiritual and adventurous personality.
#32: LION STOMACH TATTOOS FOR MEN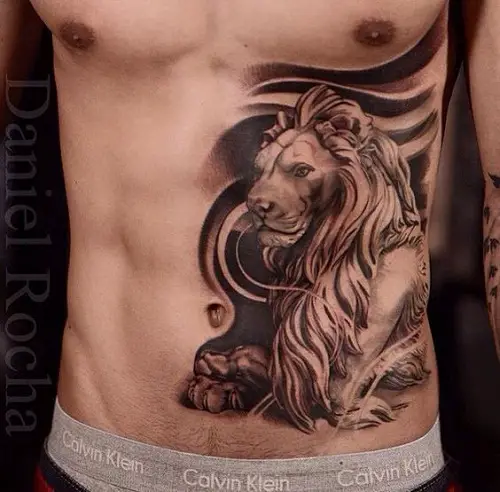 If you want an elegant design idea then look no further than this lion stomach tattoos for men. The bold asymmetrical lines in the background dramatically compliment the calm and regal image of the lion. This is a great tattoo idea for a well-toned physique.
#33: OUR FATHER IN HEAVEN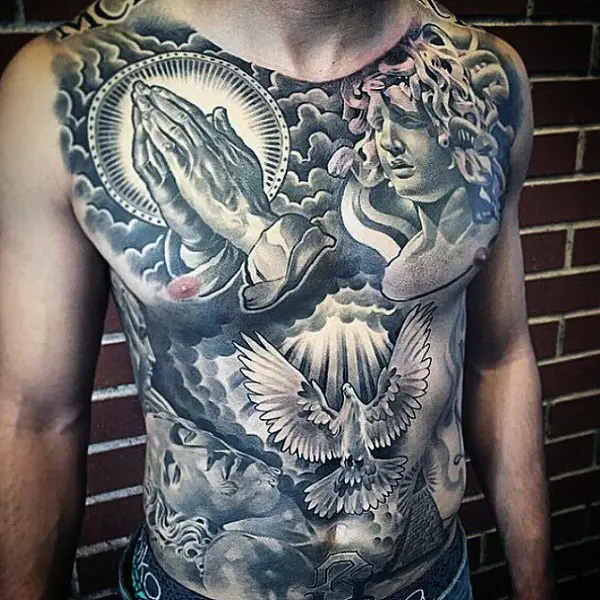 This incredible full chest and stomach tattoo obviously took a lot of time and patience to create. Within the fine details, we can see the clouds in the background with Jesus, an angel, the flying bird and the hands with a halo, all representing the faith in the father who is in heaven. And did you notice that Illuminati symbol?
#34: LOVE IS TIMELESS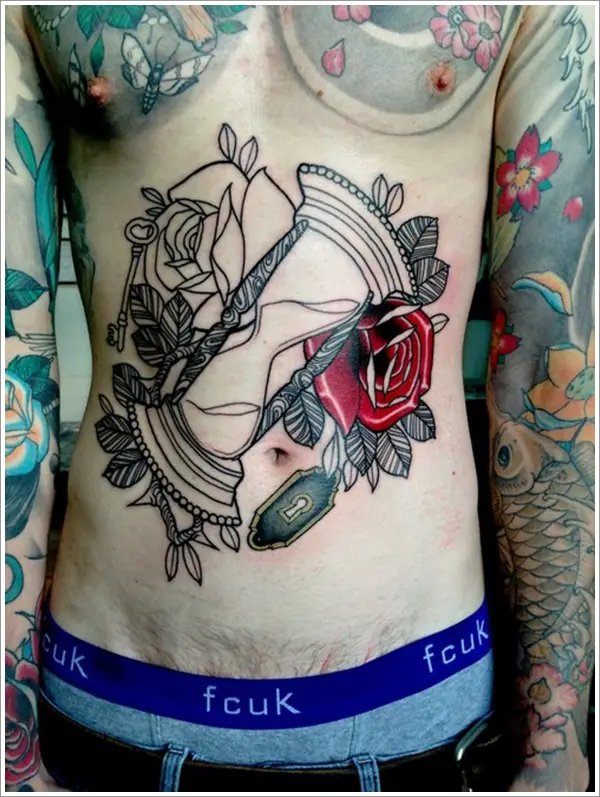 While it has many elements, the focal point of the ink work is the bright red rose tattoo with a lock tag and the outlined rose with a key. The hourglass in middle symbolize love is timeless.
 #35: SHIP AT SUNSET STOMACH TATTOOS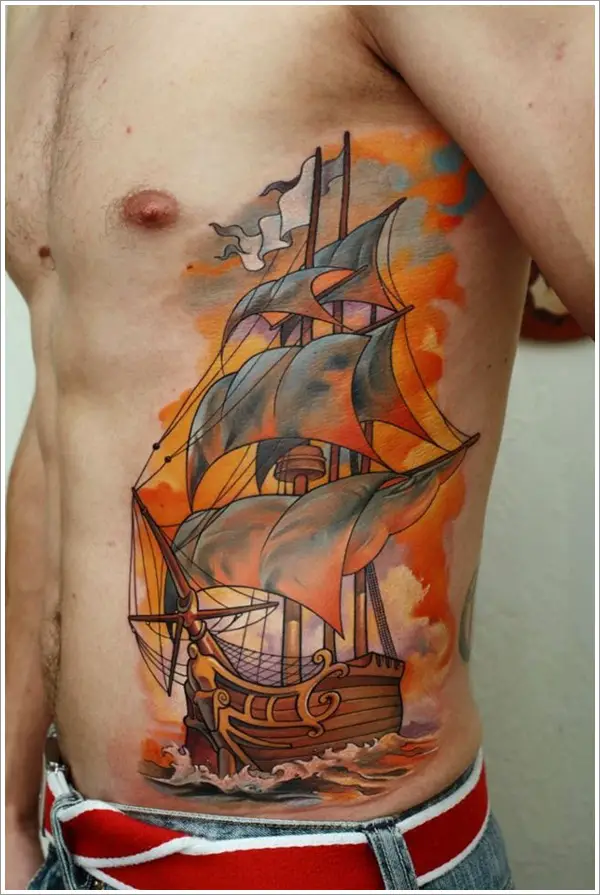 #36: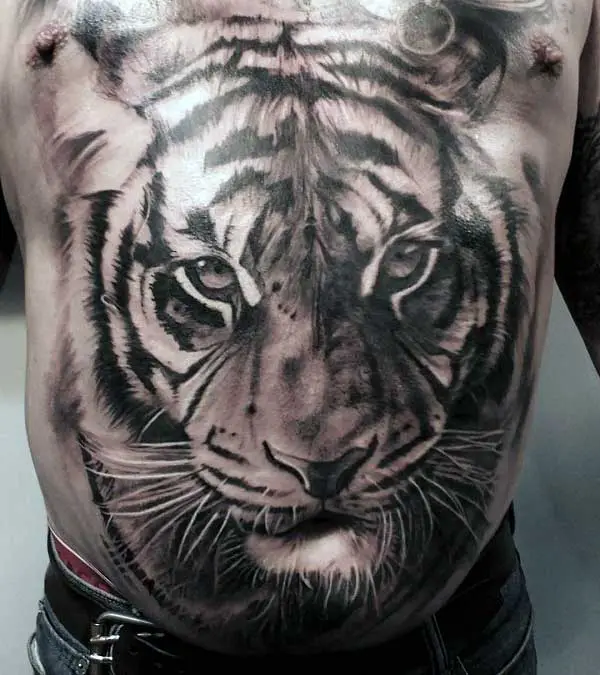 #37: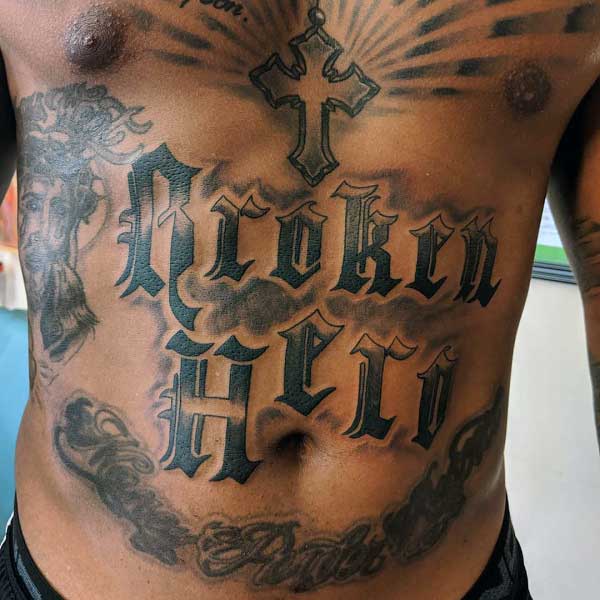 #38: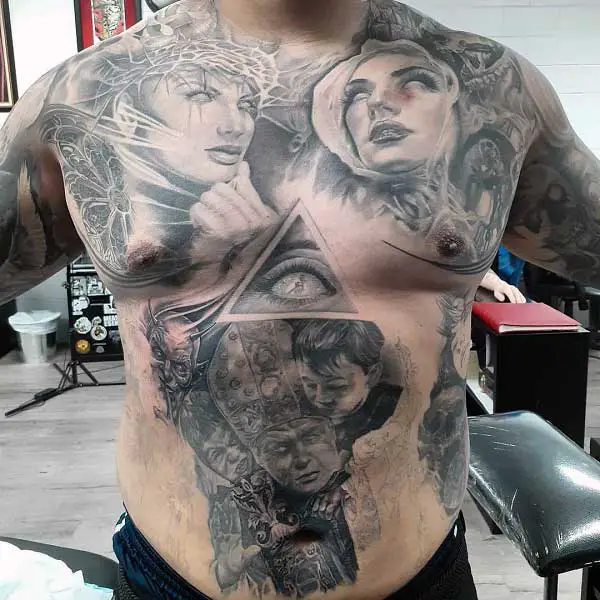 #39: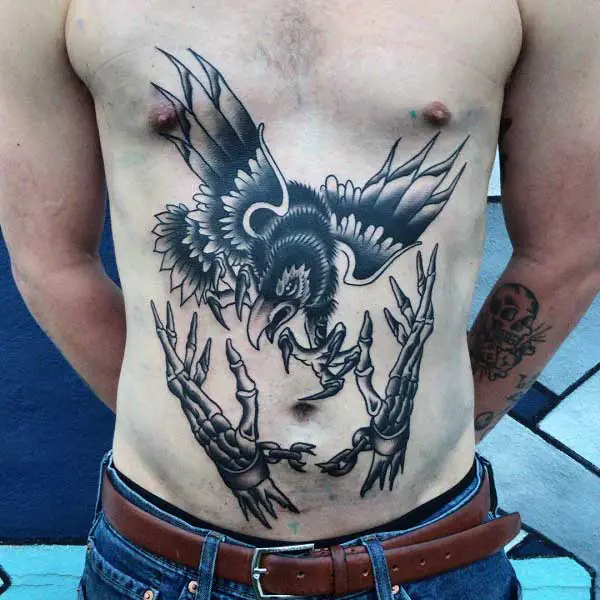 #40: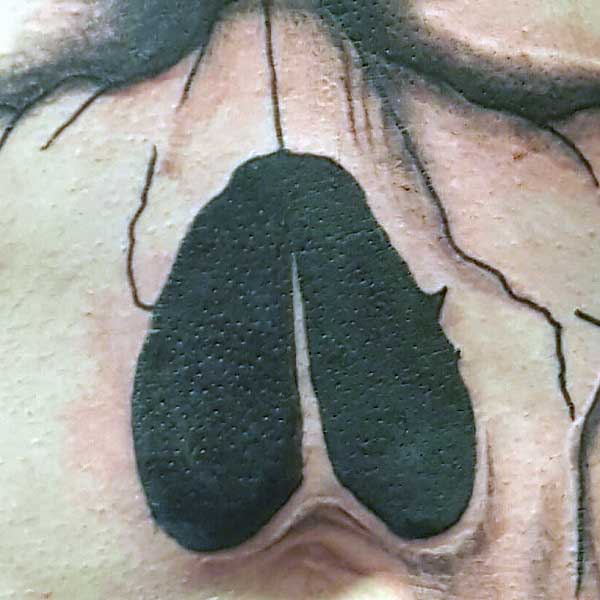 #41: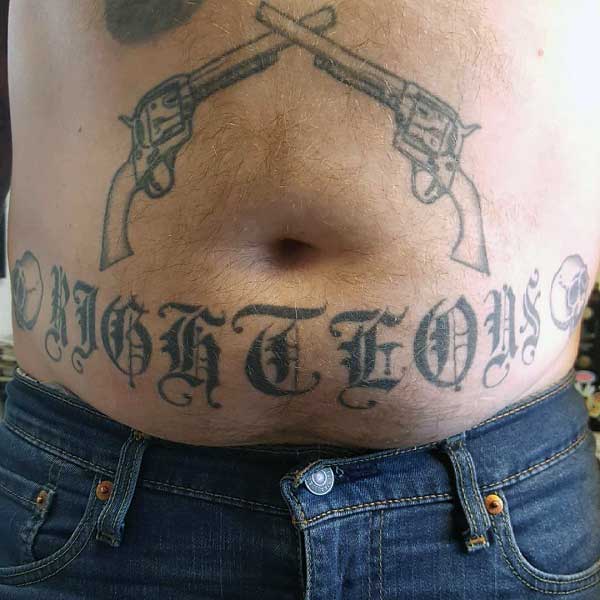 #42: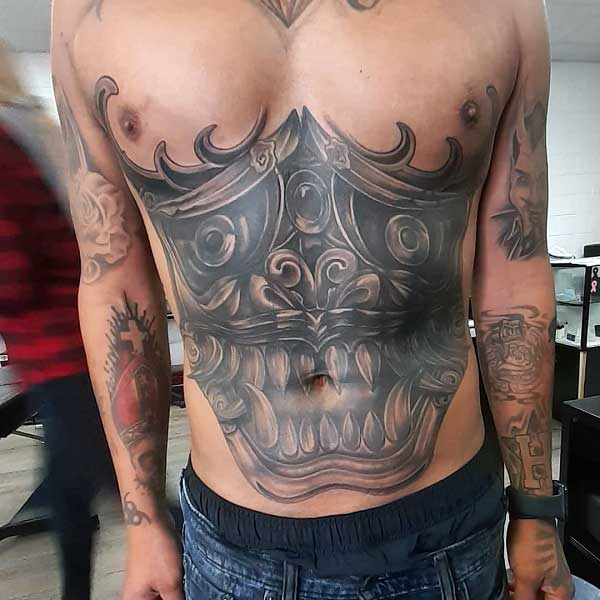 #43: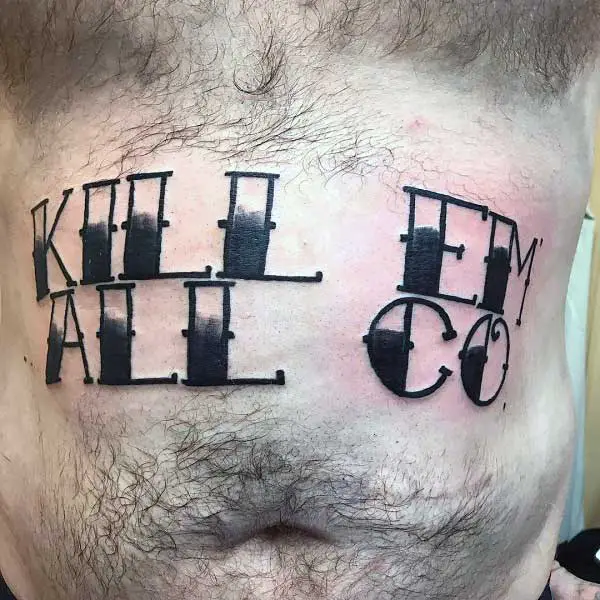 #44: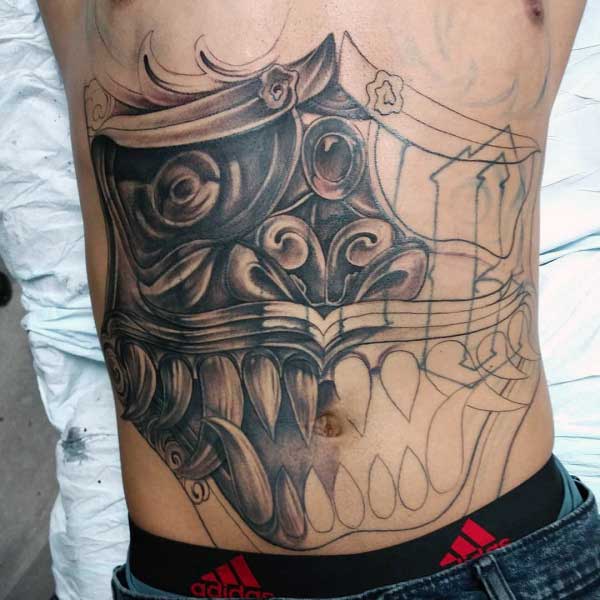 #45: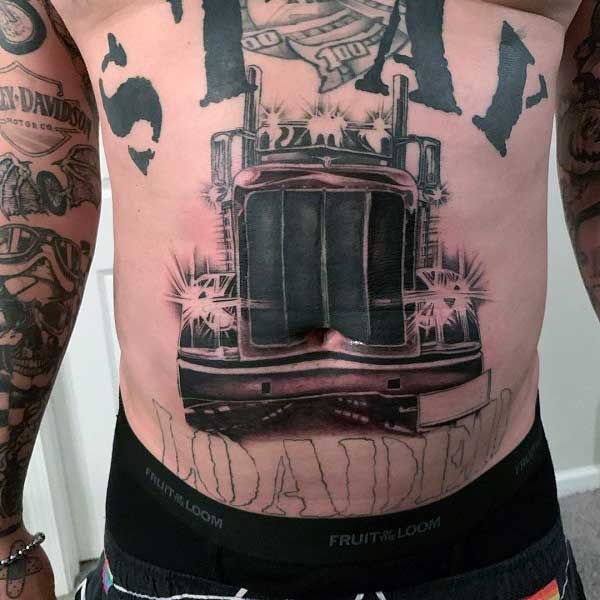 #46: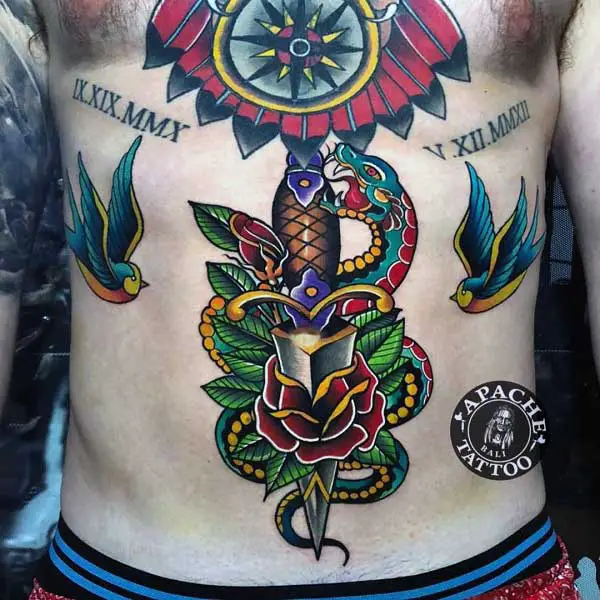 #47: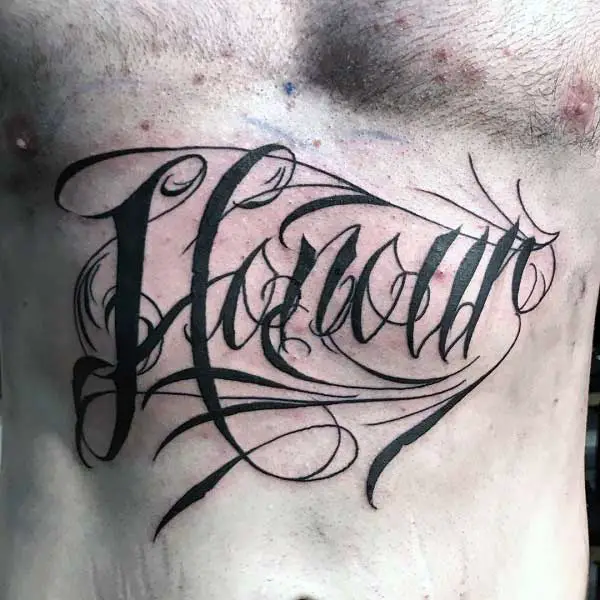 #48: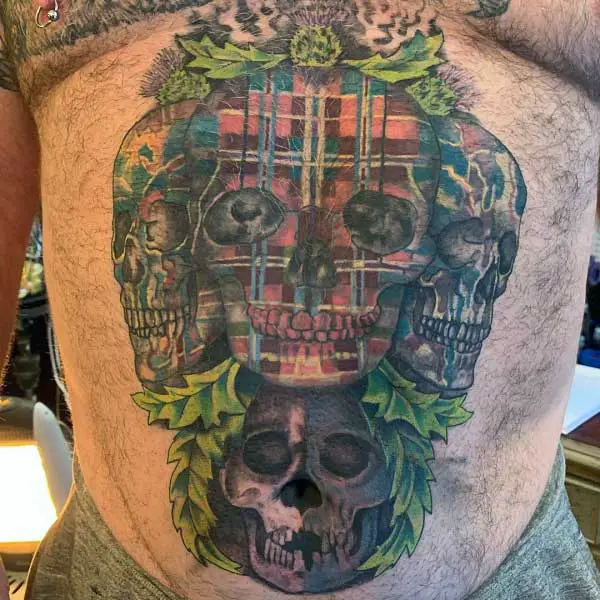 #49: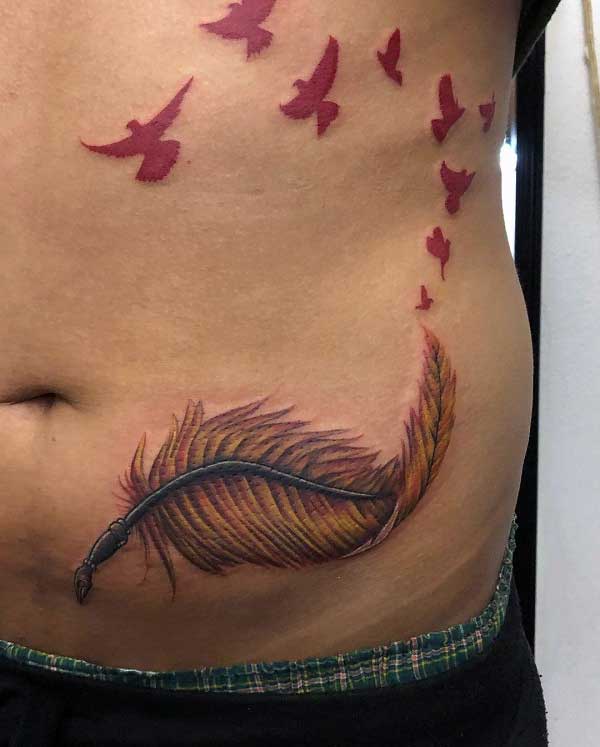 #50: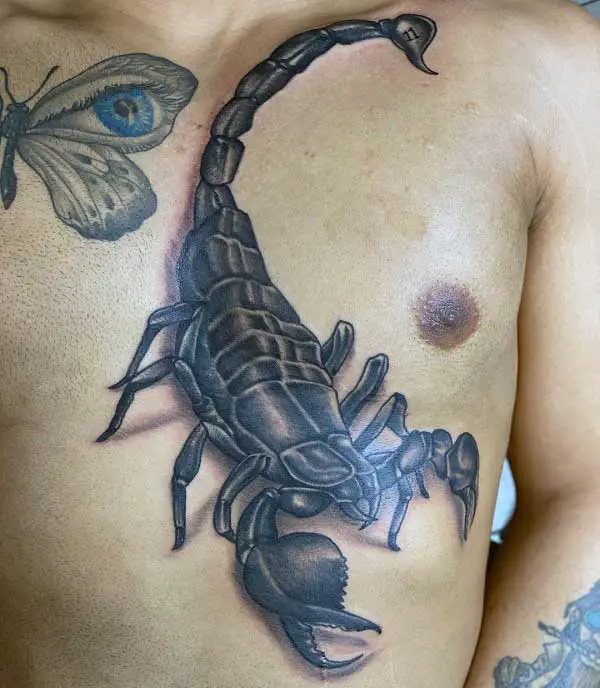 Anyone who ever got a chance to witness the beautiful sunset or sunrise can easily relate with this tattoo. While the detailing is incredible, we especially love the shades of orange-yellow in the background.
GORGEOUS STOMACH TATTOOS FOR GIRLS
A well-picked stomach tattoos for men done by a skilled artist can easily create a statement look that most men want. You can refer any of the design ideas above to get your own unique stomach tattoo. Do tell us which of the designs inspired you the most and why?