Freedom, equality, and tradition, what other than a Statue of Liberty tattoo can show all these? If the association of the statue with a tattoo has surprised you, then you will be overwhelmed to know that it is one of the most sought-after inspirations for Americans to show their free spirited lifestyle as well as their love for the nation. The statue gifted to Americans by French was inspired by Libertas, the Roman Goddess of Freedom. Since 1886, this 305-feet (22-stories) colossal neo classic monument has been standing tall as an iconic symbol of nation's freedom and integrity.
WHAT STATUE OF LIBERTY TATTOO CAN MEAN?
The tall statue that has withstood the test of time means a lot to Americans. A symbol of independence, it also signifies friendship and loyalty. If you are a free spirit or have a strong belief in liberty, this tattoo design is for you. Many people choose the statue as it reminds them of New York while for many other tattoo lovers, the idea is to feel glorious and connect with the past.
If you need more reasons to get a Statue of Liberty Tattoo, then check our list of exceptional inspiration.
#1: DISPLAY LIBERATION
Are you feeling liberated and want to display your emotions to the world? What could be ideal than to making this amazing tattoo of Statue of Liberty on your arms? Its unique design and vivid coloring will make you feel absolutely incredible!
Side Tattoos For Men to Try In 2017
#2: TAKE A BIT OF LIBERTY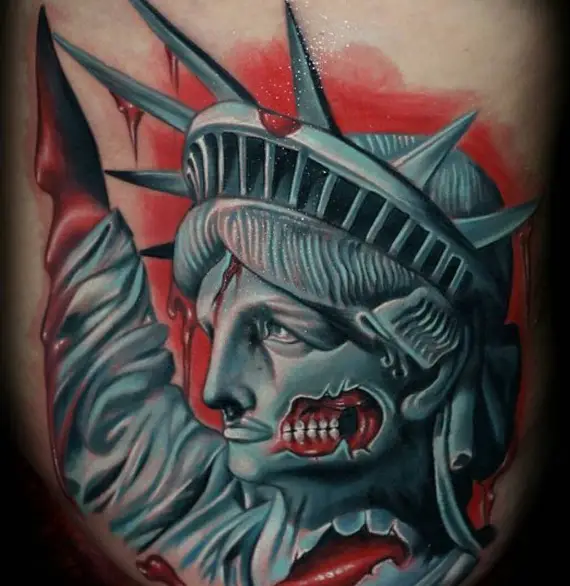 This unique statue of liberty tattoo shows both your "Darkside" as well as your "Brightside", and we all are made of both light and darkness. Be yourself and show the world both your sides with this very different, stunning and cool tattoo design!
#3: FIGHT FOR YOUR RIGHTS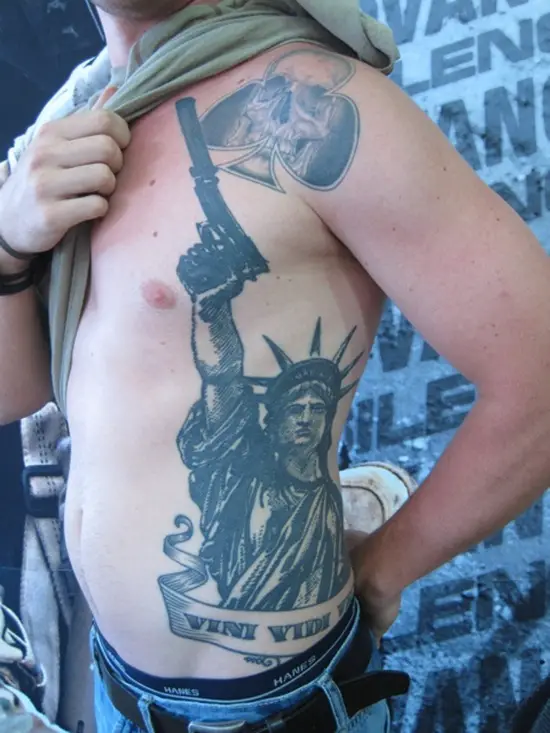 A full side-body tattoo holding a gun; covers the entire one side of your torso and is made with traditional grey-black ink. Looks amazing, stylish as well as cool, making you feel confident without your shirt on and flares a desire in you to go topless!
#4: THE WORLD AT WAR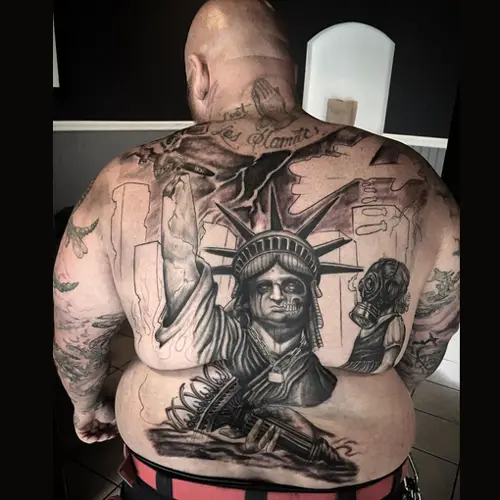 An elaborate back tattoo expressing your disappointment towards what is happening worldwide in general. In black-grey ink, this tattoo is filled with a lot of emotions. An amazing way to remind yourself and others to spread awareness and peace everywhere you go!
#5: THE SEXY SIDE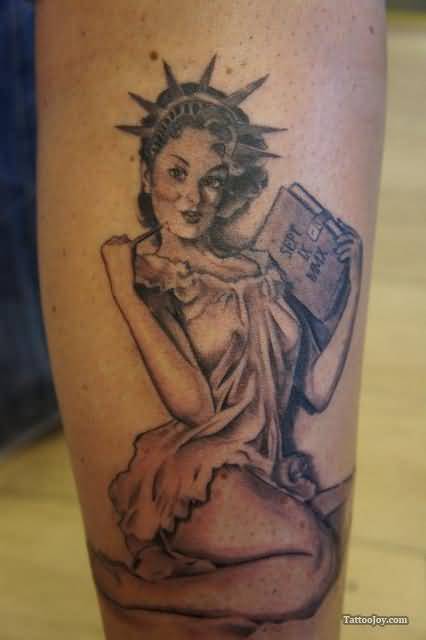 This very attractive and sexy looking image of a woman wearing the Liberty's crown will turn many heads. Both men and women can make this cute tattoo on their arms or shins according to their preferences.
#6: LIBERTY ON SHOULDER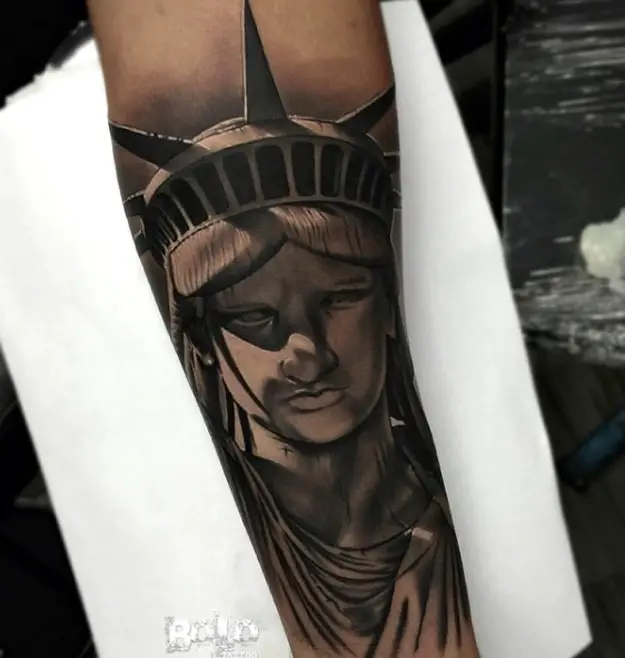 Fully covering your arm from elbow to wrist, this amazing black-grey inked tattoo is one of its kind. An extremely classy tattoo for a lasting impression!
#7: THE MAFIA LIBERTY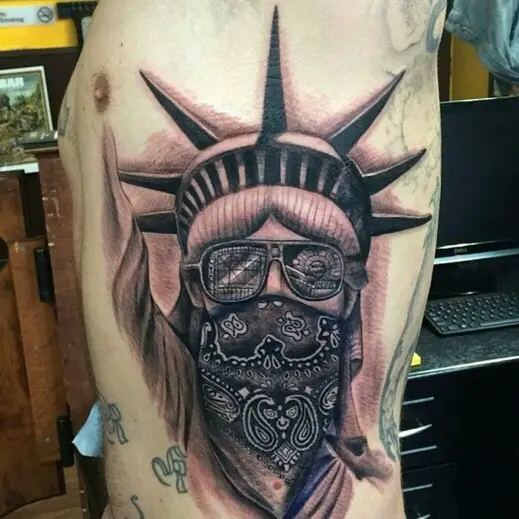 A fun and very innovative tattoo design which will definitely bring a smile on many faces. Covers full side torso with traditional black, gray, a little of blue and pink coloring enhances the tattoo outstandingly. Moreover, the glasses worn by the Liberty in this image does make it look quite cool.
#8: 'NO JUSTICE' TATTOO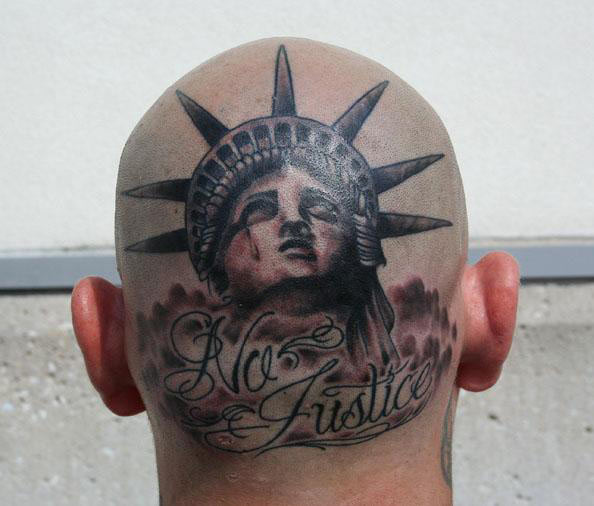 This amazing head statue of liberty tattoo comes with a meaningful message. The scripted "No Justice" is a constant reminder to one and all, that not everyone deserves your trust and loyalty. Not only does this tattoo make a statement it also does look very masculine and unique.
#9: 1776 – A YEAR OF CELEBRATION FOR ALL AMERICANS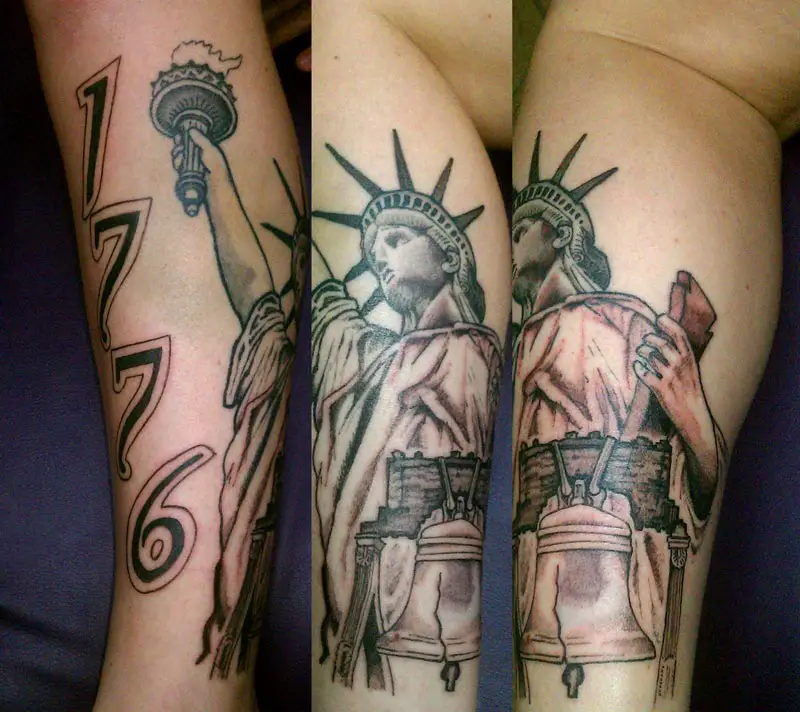 A unique way to patronize your country with a tattoo showcasing the national symbol along with the year of the declaration of independence. The statue of liberty sleeve tattoo in striking black covers the entire arm.
EFFECTIVE TATTOO FONTS FOR MEN
#10: THE CLASSIC LOOK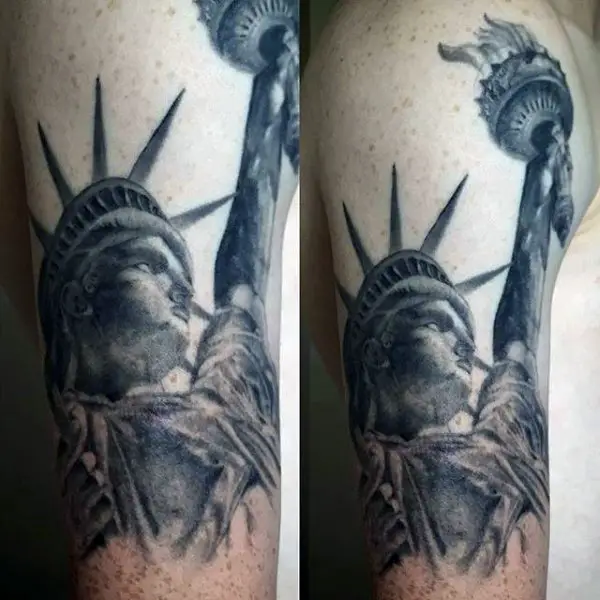 This classic image of Statue of Liberty does look amazing as well as very classy in its own way. The gray ink used to make this tattoo surely heightens the look of it. This tattoo can be made on bicep or any other part of the body as per your requirement and preference.
#11: THE ELEGANT 'LADY LIBERTY'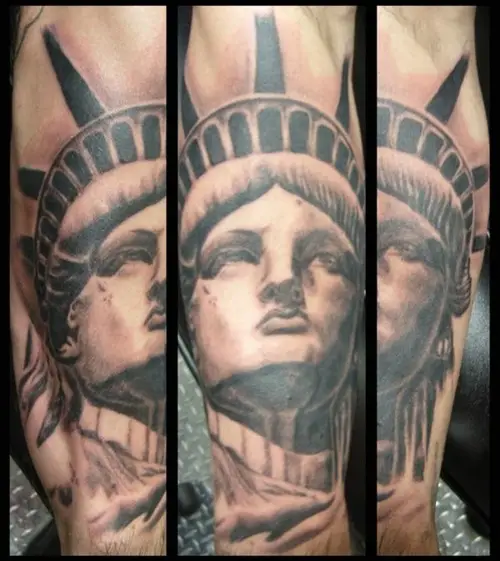 A very elegant looking image of "Statue of Liberty"! It covers the entire side body starting right from under the armpit to the end of your torso. The use of black and gray ink is done smartly to bring out the best of the entire work of art.
#12: THE ANGEL LIBERTAS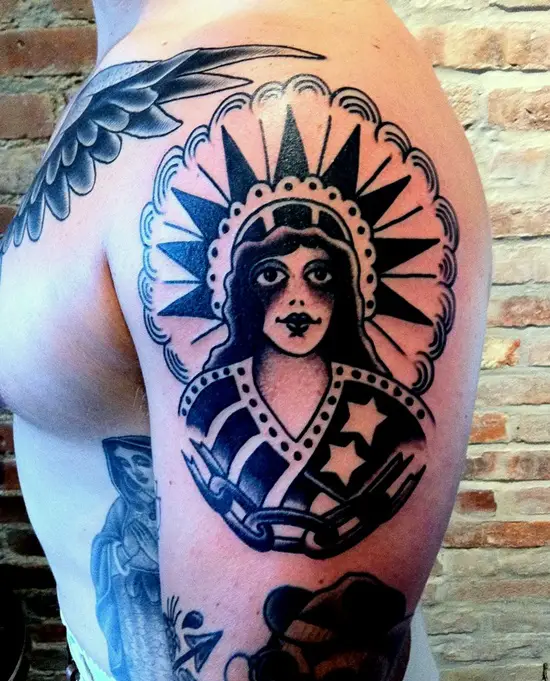 A well-sculpted tattoo showing the creative side of the artist. The design represents Lady Liberty as an angel. This tattoo design is made with jet-black ink which makes it stand out. Would look amazing if engraved over the biceps, chest or at the back of the body!
#13: COMPLEMENTING TATTOOS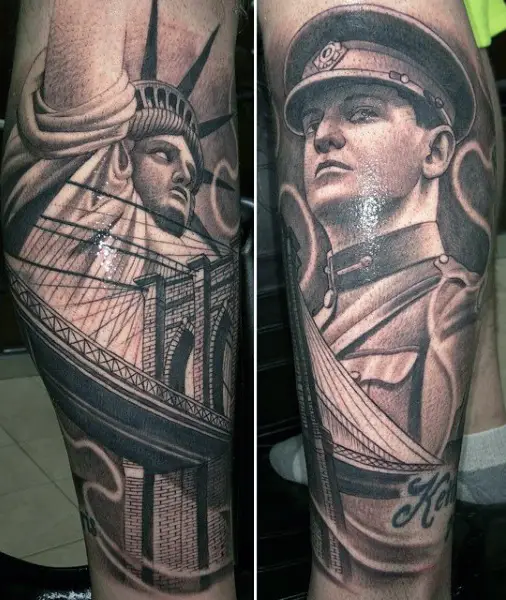 Made with good coordination these tattoos compliment each other quite well. The Statue of Liberty on the arm along with Brooklyn Bridge visible as well and a dashing image of an American soldier over the shin is on in on an excellent combo of tattoo designing.
#14: STATUE OF LIBERTY IN SHAME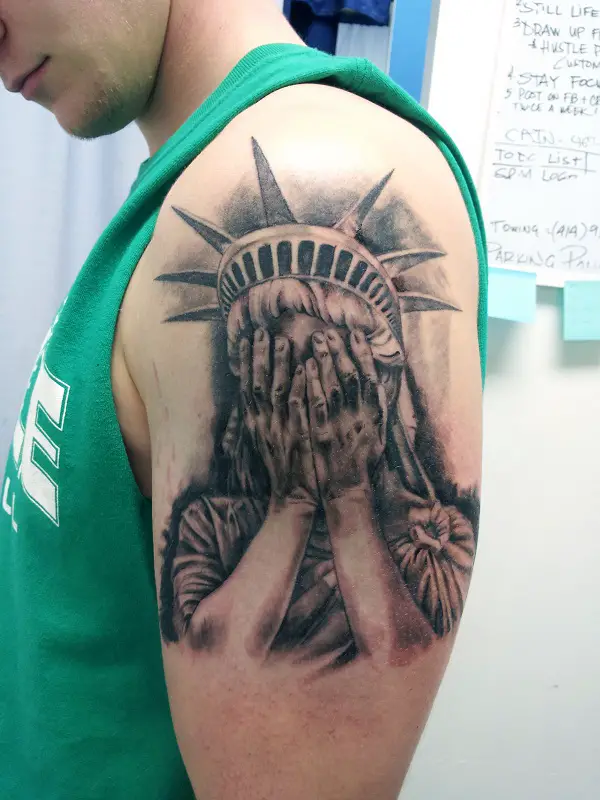 A cool way of telling American citizens to stop shaming their Country, this tattoo does express a lot of anger and rage you're going through in life. Inked in gray, this tattoo is amazing for people who want to see a change in them and people around them.
#15: EVERYTHING AMERICAN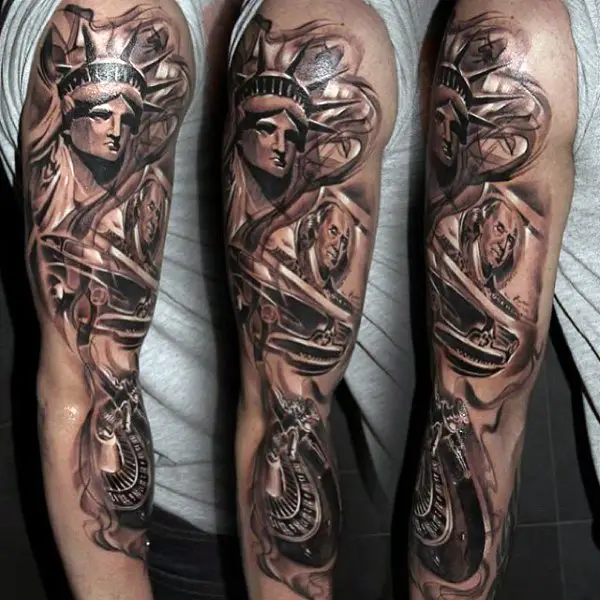 The display of Statue of Liberty along with George Washington, a Rolls Royce and Roulette Wheel is full of entertainment. Shows you have a wild side and displays your love for money, power, gambling, and justice.
#16: SIMPLE IS BEAUTIFUL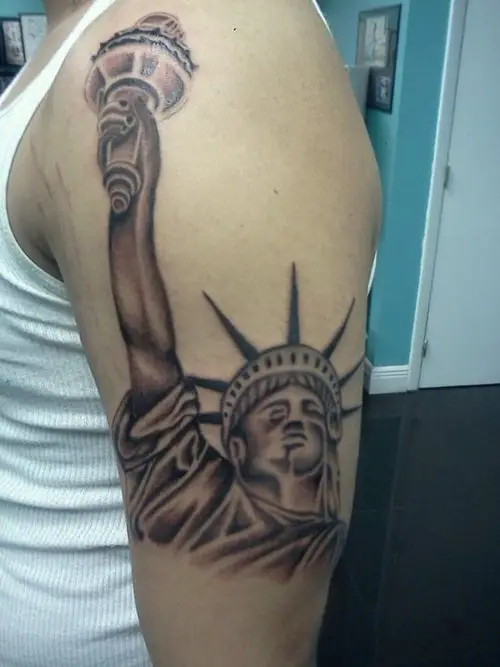 A very simple yet very beautifully crafted design of the Liberty Statue over the bicep will surely attract a lot of eyes. Done in simple black-grey ink, this unique tattoo does out-run some of the best simple tattoo designs.
#17: WITHERING LIBERTY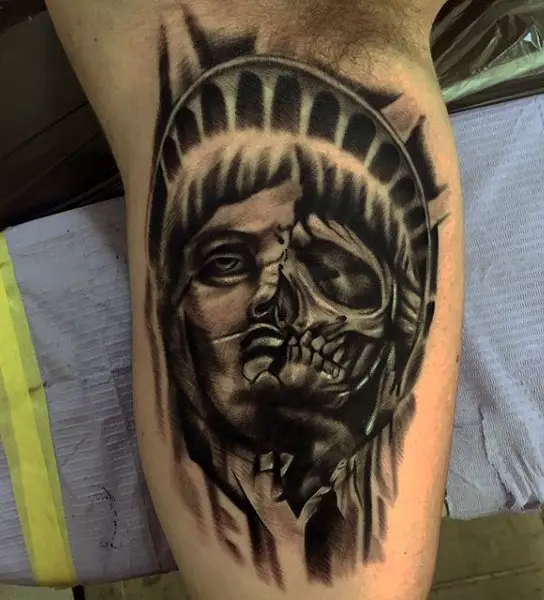 Exceptional and very meaningful tattoo especially in present context. A beautifully crafted face of Lady Liberty, where half the face is a skeleton and the other half has a sad expression over it. The tattoo is made on the inner side of the bicep using grey-black ink and with a lot of creativity as well as perfection.
#18: EXCEPTIONAL LIBERTY TATTOO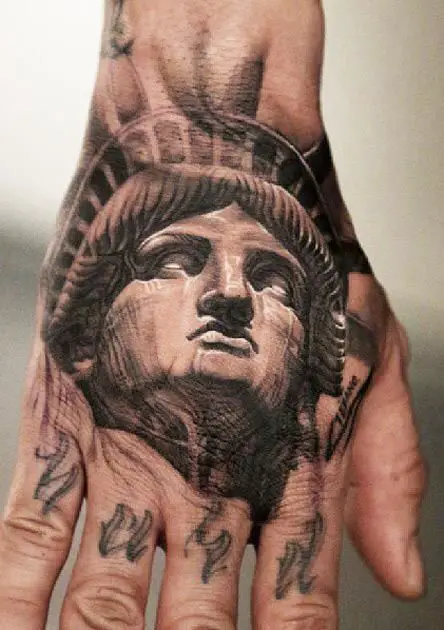 Ouch! such an intricate tattoo on the back of the hand needs an exceptional level of tolerance as there is hardly any flash but all veins on this side. It is also very risky but we appreciate the artist and the tattoo bearer for the statement tattoo.
#19: PICTURE PERFECT LIBERTY TATTOO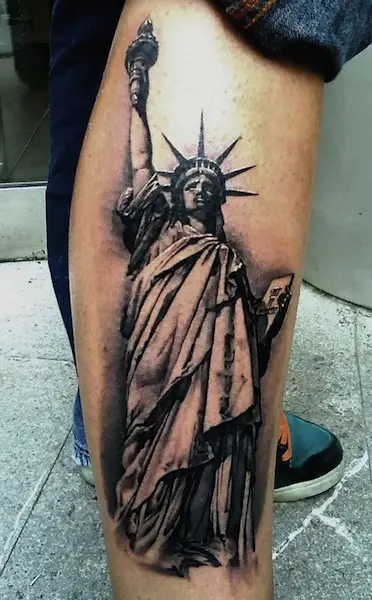 Engraved on the shins the entire portrait of the Statue of Liberty looks amazingly real. Done with jet-black and gray coloring this liberty tattoo does look very stunning, amazing and outstanding.
#20: LIBERTY WITH A ROSE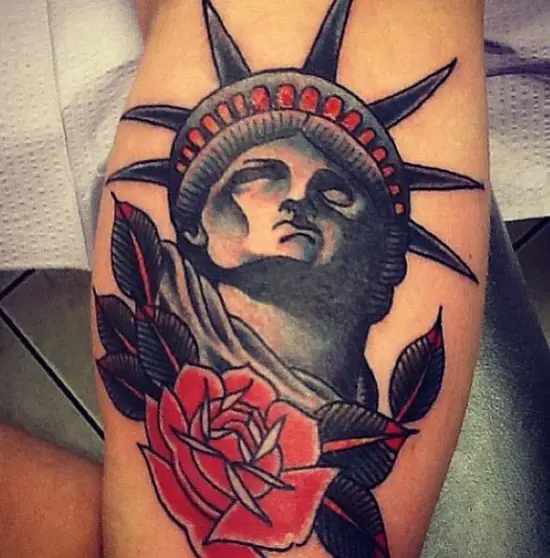 This beautiful display of the Statue's face with a rose is unique in its own way. The vivid red used on the rose as well as the crown makes the tattoo noticeable in an attractive way. Can be made on your arms, bicep, chest, back or shin, however, you like it the best.
#21: LIBERTY IS CONCERNED AND STRESSED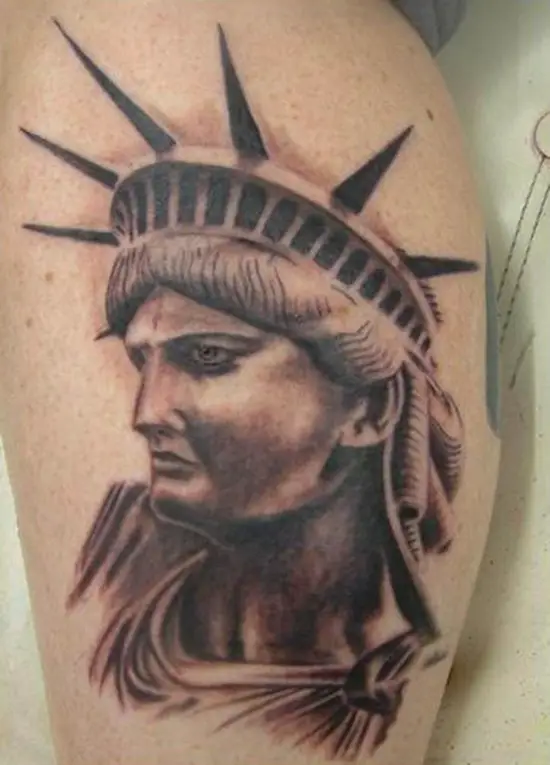 A traditional looking Liberty made with traditional black and gray color. What makes this tattoo design stand out is the facial expression of Lady Liberty. You can engrave it with traditional black ink or can fill colors.
#22: THE HALLOWEEN EFFECT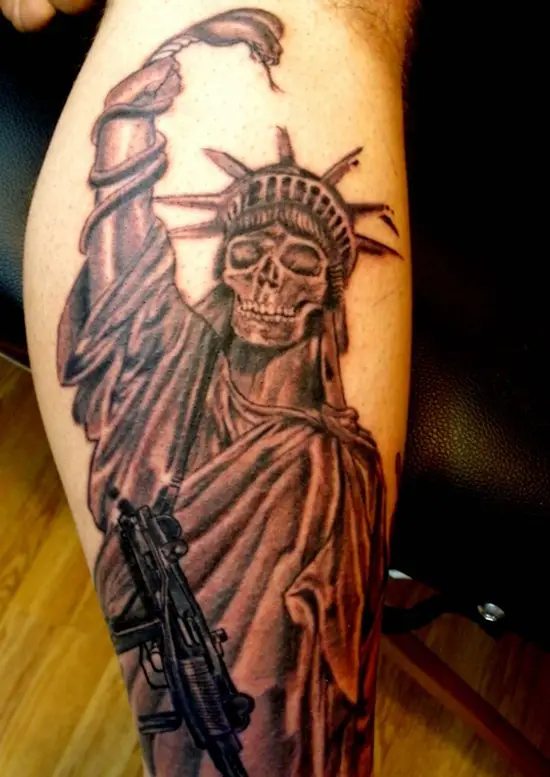 Love horror movies? Want to have some fun in life? Go ahead and try this spooky tattoo of the Statue of Liberty with a skeleton face, snake, and a gun! Very unique and different tattoo art which will make you feel apart from the rest.
#23: BROKEN YET STANDING TALL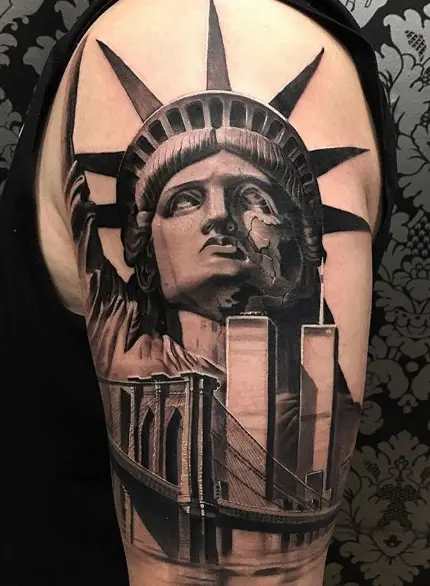 Very masculine tattoo design of the Statue of Liberty with Brooklyn Bridge and the Twin Towers expressing your inner strength and belief in democracy. Looks amazing and can be engraved on the arms with a combination of black and gray ink.
#24: LIBERTY WITH AMERICAN FLAG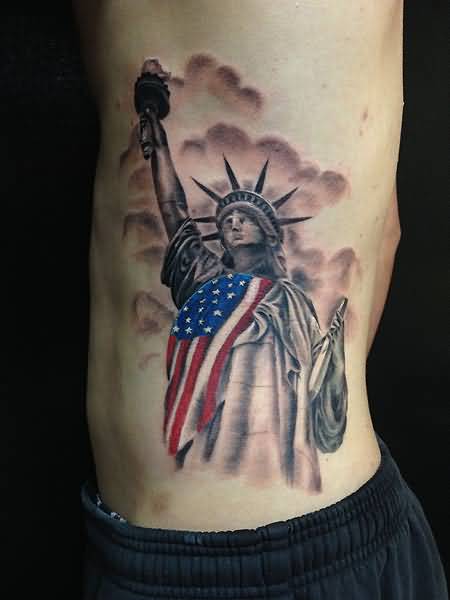 The amazing thing about this tattoo is the flag on it; it enhances the look of the gray statue. The color blue, red and white used over the flag gives the tattoo an entirely bright look.
#25: CITY HIGHLIGHTS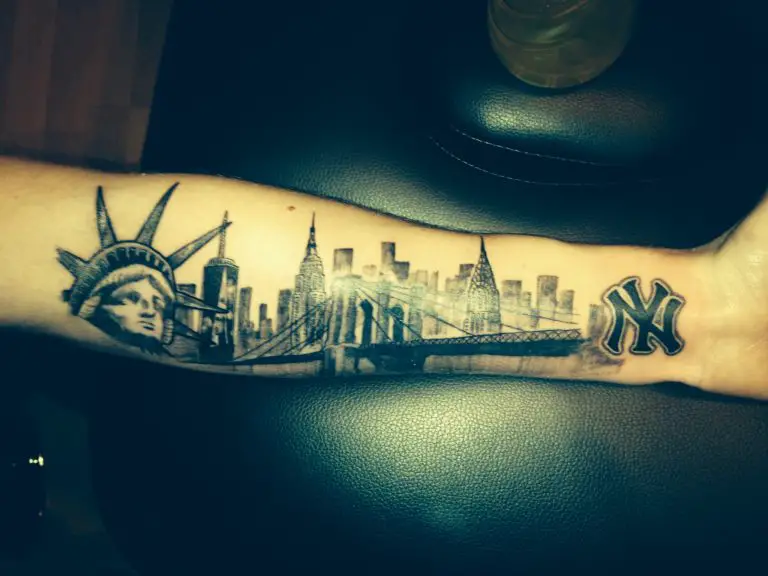 What an amazing tattoo showcasing the entire New York City. The face of Liberty, the Brooklyn Bridge, and the skyscrapers, everything represents the Big Apple. Intricate and exceptional, this is a tattoo for someone who loves New York City.
We hope these inspiring designs will help you churn out a mind-blowing Statue of Liberty Tattoo. Do share your exceptional piece of art with us for added inspiration.