If you have wanted to get Odin tattoos or want to learn more about them and their meanings, you've come to the right place.
As one of the principal gods of Norse mythology, Odin has inspired a lot of tattoo artists and enthusiasts in creating a lot of amazing tattoos that covey valuable messages through them. The old god of war and wisdom is a great choice of tattoo to describe one's beliefs and values.
Not only Odin but his two ravens and other qualities are also used in a lot of tattoos that indirectly point to him. It's very common to see a tattoo that doesn't have Odin at all but suggests that it's an Odin tattoo.
In this article, we'll go through what these tattoos mean, Odin's symbols meanings, what does his ravens' tattoo mean, etc. Which will broaden your knowledge and give you a new perspective on these tattoos.
What does an Odin tattoo mean?
Generally, when a tattoo has Odin on it or something that directs the viewer to the qualities or symbols of Odin is considered an Odin tattoo. Odin tattoos usually mean wisdom, healing, knowledge, and sorcery. But they can also mean death, war, and battle depending on the depiction of the tattoo. They are also used to describe someone's personality traits or a certain chapter of their life that they want to commemorate with these tattoos.
O

din's Ravens Tattoo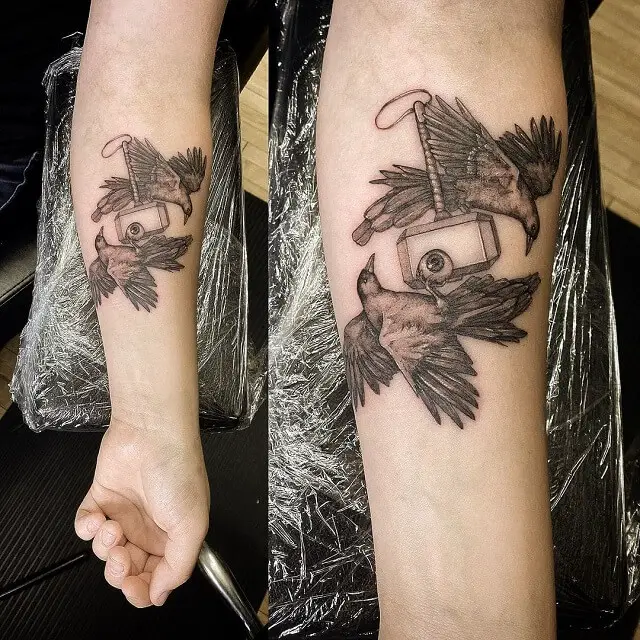 Both of Odin's ravens are flying around thors hammer and one of them has an eye. Most likely the eye is representing Odin's missing eye that he exchanged for wisdom.
2. God of Death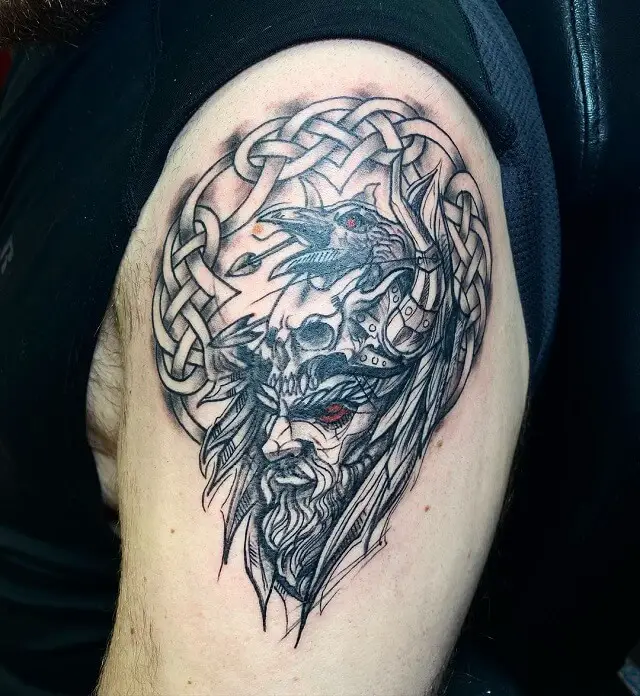 Odin has a Skull over his head which represents death. His raven is on top of it and looks like it has an arrow going through its mouth. Both Odin and his raven have blood-like red eyes that are full of anger.
3. Screaming ravens
Both Huginn and Muninn are drawn on a man's shoulder. One of them is screaming and the other one has a Valknut symbol on his necklace. There are some mystical symbols in the background as well.
4. Norse Mythology Symbols tattoo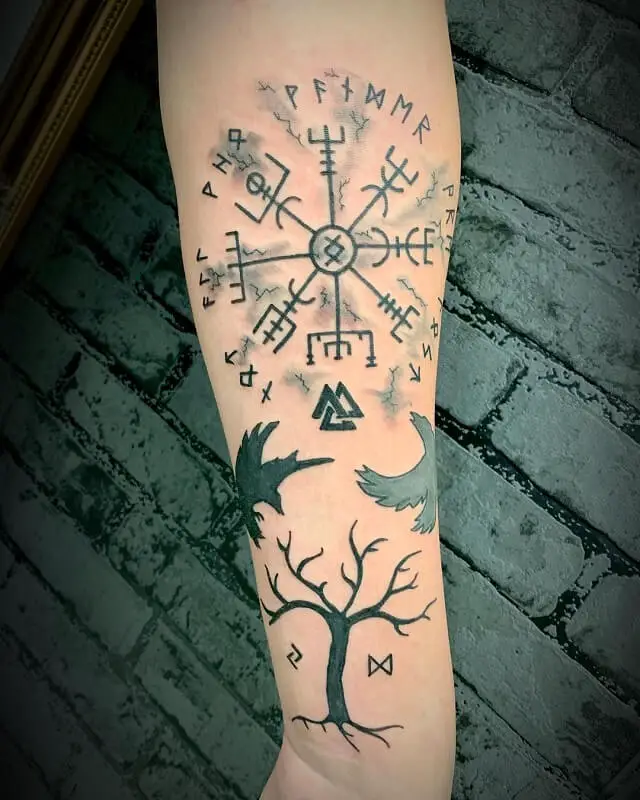 A dead tree is at the bottom of the tattoo and now white and one black raven is flying around it. It has two Norse symbols at two sides of the tree and a lot of Norse symbols on top that have formed a circle shape.
5. Traveler Raven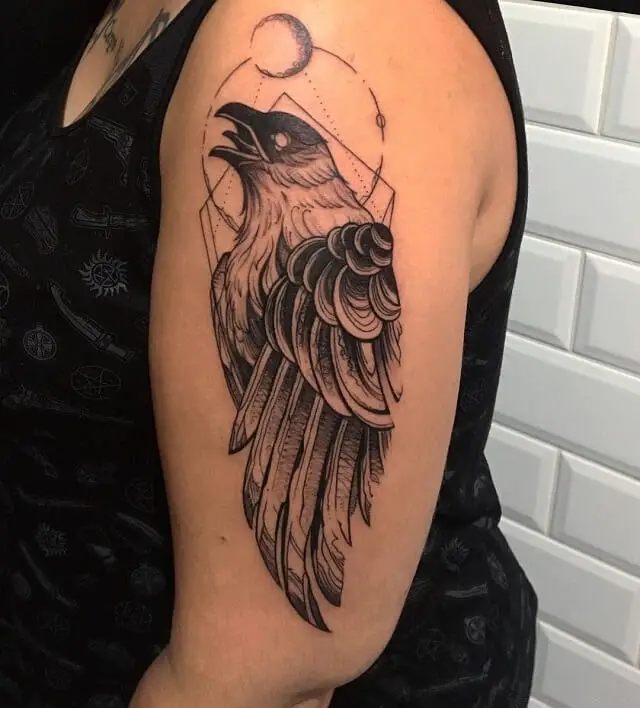 Odins Raven is trapped inside a diamond-shaped trap. there's a circle orbiting around its head. It indicates the nature of the raven which is traveling around and gathering intel.
6. Odin Symbol Tattoo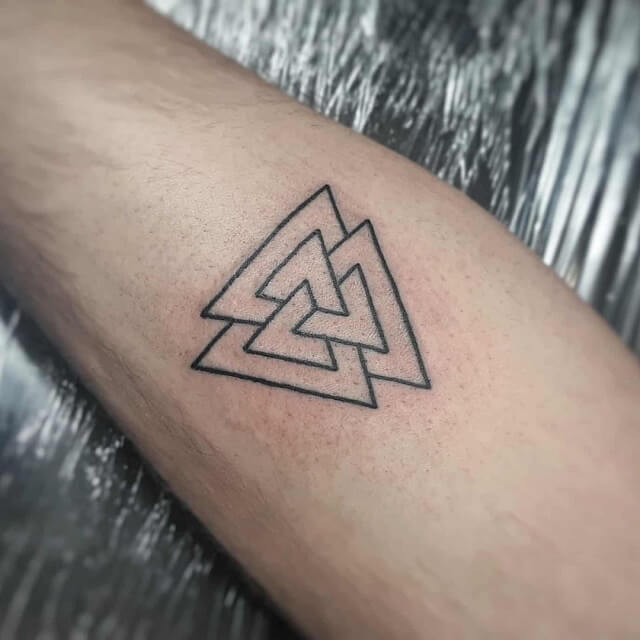 A simple tattoo of the god of wars symbolizes the Valknut on a man's arm. A very minimal tattoo that represents the brave who died in war protecting Odin's clan.
7. Believer of wisdom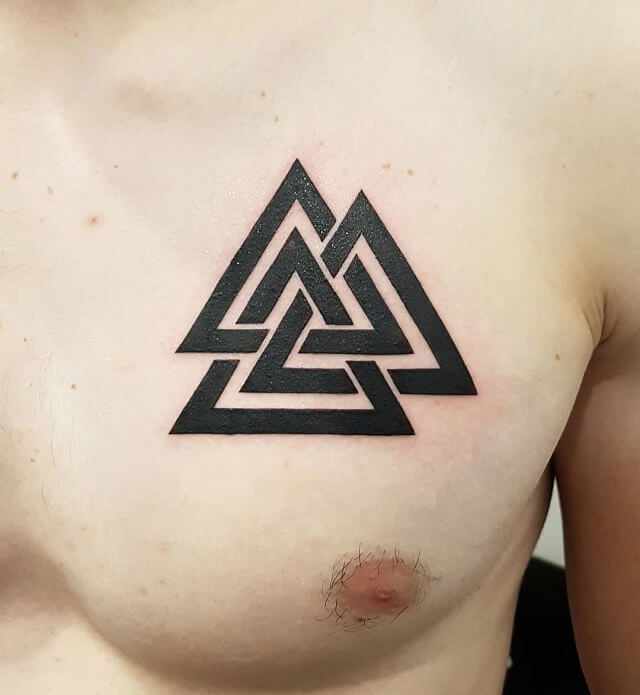 A tattoo with Odin's symbol right over the heart. It suggests that he truly believes in seeking wisdom as Odin and deeply thinks he's worthy to be a ruler himself.
8. Odin's Spear Tattoo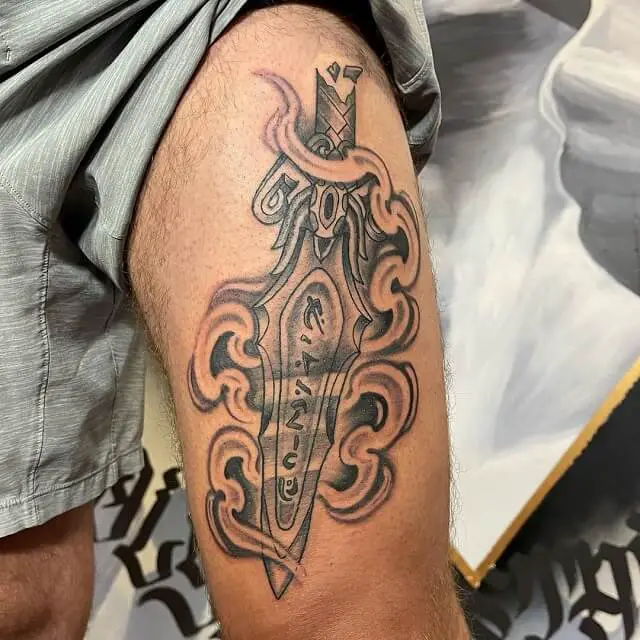 Odins Spear of destiny is drawn as a leg tattoo. There's a flame around the spear. Also, it has some ancient symbols in the middle. However, the spear is partially available and the end part looks broken.
9. Spear And Hammer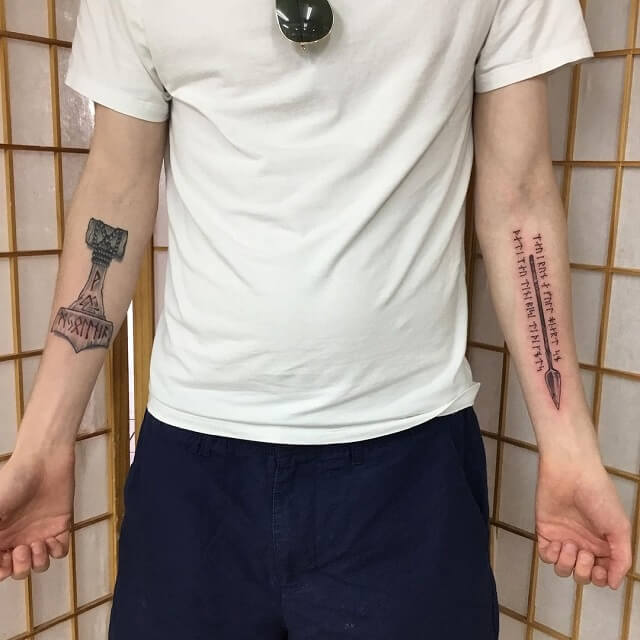 Two forearm tattoos of a spear and thor's hammer. The hammer has an axe head attached to the handle. The spear has a lot of Norse symbols around it. A great pair of tattoos for both hands.
10. Good old spear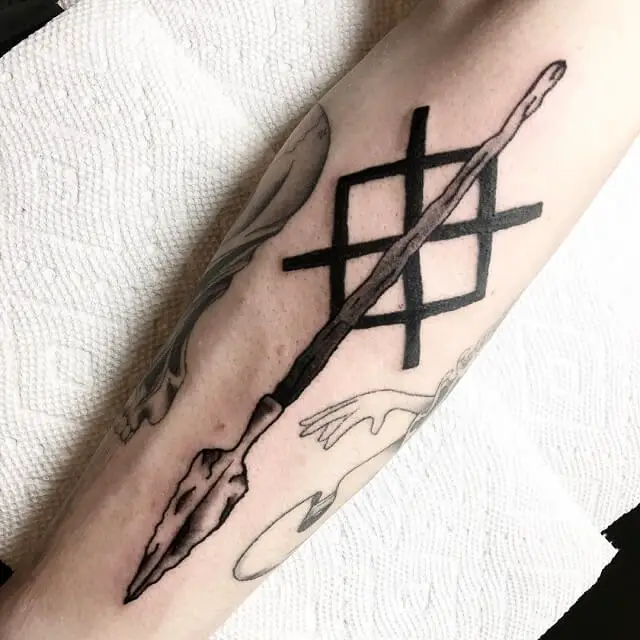 A spear with a rustic look. The spear has a Diamond shape and a cross sign. A hand is seen around the spear suggesting that it was thrown and is flying through the air.
11. The raven and spear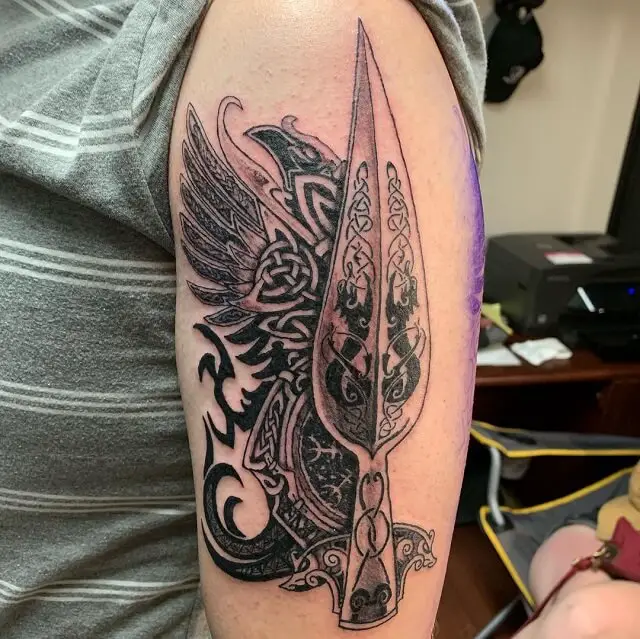 An amazing Odin tattoo with two of his most iconic symbols. The spear of destiny is drawn with great details. The raven in the background can be seen partly revealing its sneaky nature.
12. Odin's Knot Tattoo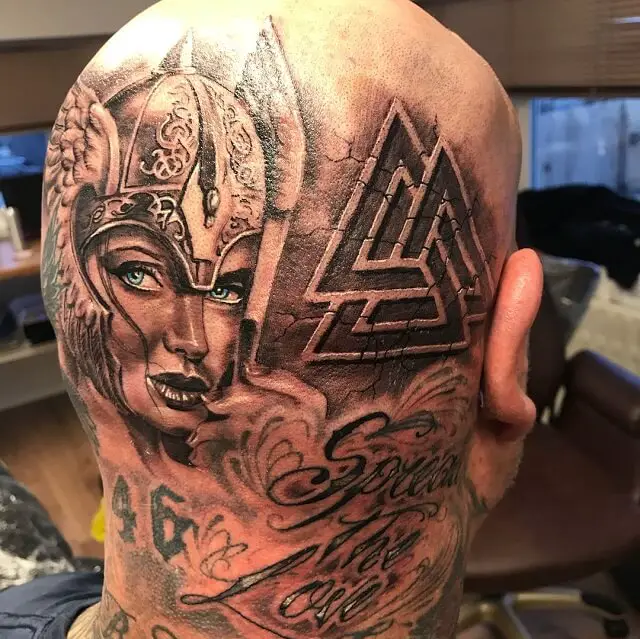 An amazing back of the head tattoo of Odin's knot and his wife Frigg. Her beautiful blue eyes catch all the attention with a message that quotes " Spread the love ". A great way to express feeling for someone.
13. All eyes on deck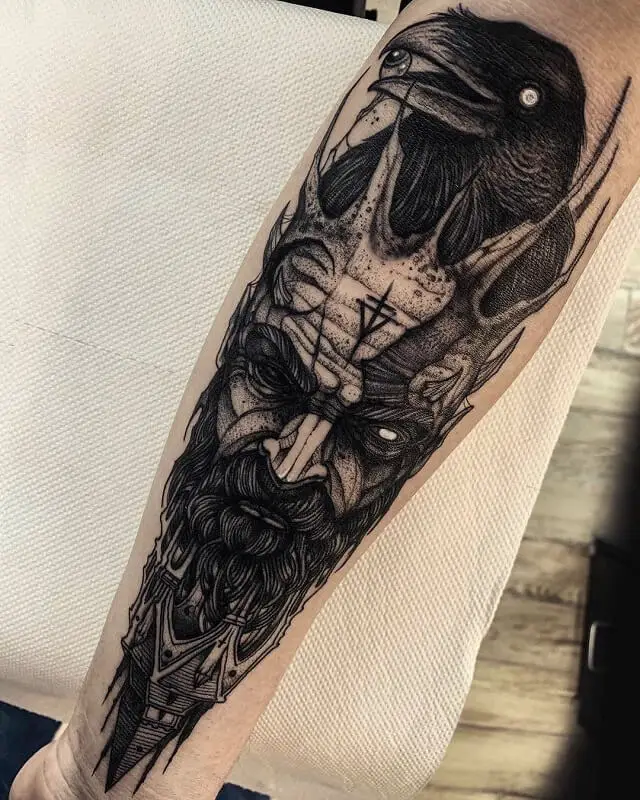 Odin's raven has one of his eyes in its beak while it's standing on top of Odin's head. Both Odin and the raven's eyes are glowing. Odin also looks angry. He might have traded his eye for wisdom and this tattoo reflects that.
14. Grumpy Odin Tattoo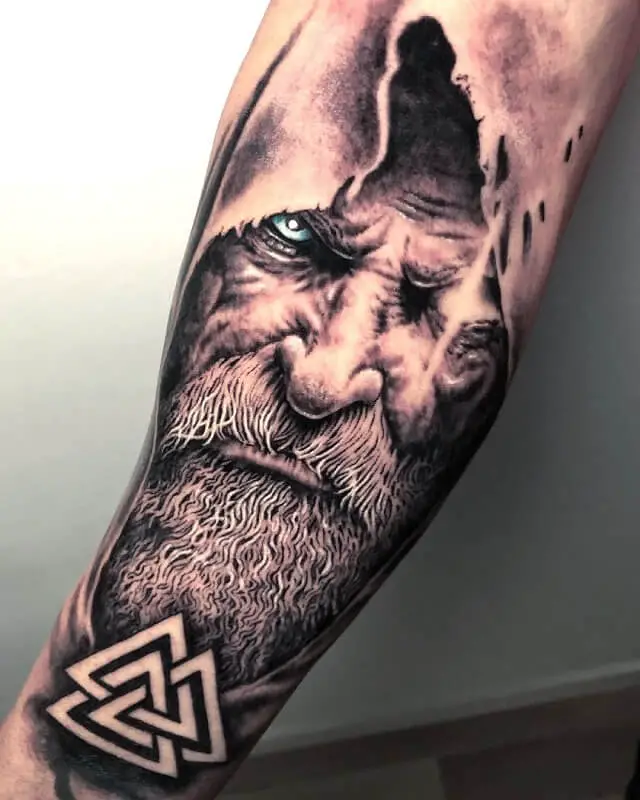 Odin is wearing a hood over his head and is looking grumpy. He's not in a good mood. It's better to not mess with him. There's a Vulkan symbol on the end of the tattoo.
What does Odin's symbol mean?
The Symbol of Odin is also known as The Valknut. As Odin was the ruler of all gods and also the god of death and war his symbol represents the cult of the dead. Sometimes this symbol is drawn with Odin's head. It is a symbol that makes it easier to recognize the brave soul that died in the war for the good of Odin's clan.
15. Raven on Odins head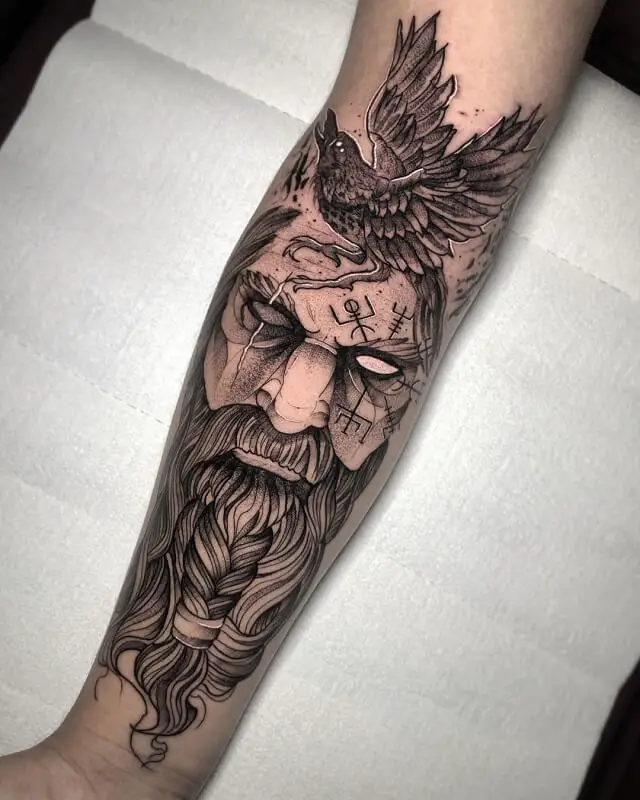 Odin's raven is standing on his head suggesting that it's feeding information to Odin on what is going on around the world. The raven is a crucial part of Odin's information supply and knowledge.
16. Odin with skull tattoo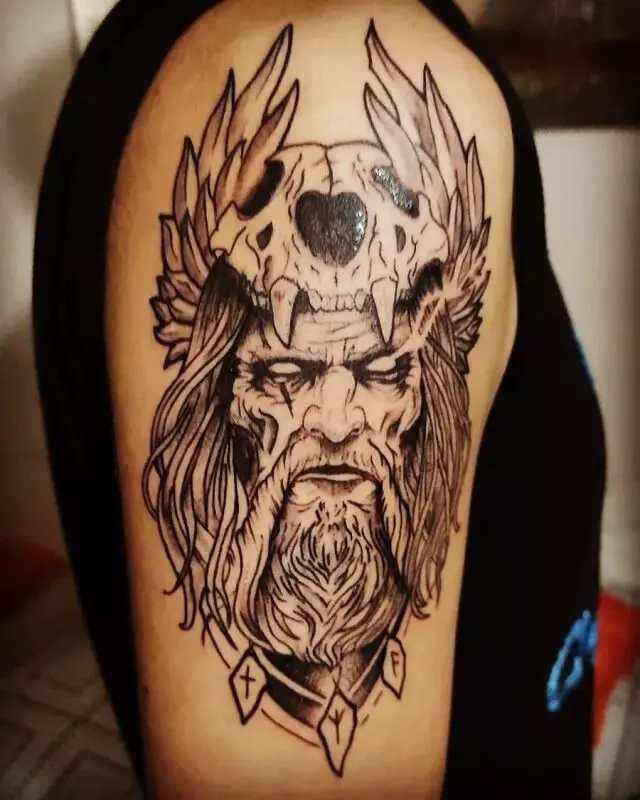 Odin is wearing a helmet that is made out of the skull. He is also wearing a necklace that has symbols on it. There's a wing coming out of the back of his head as well.
17. Viking Odin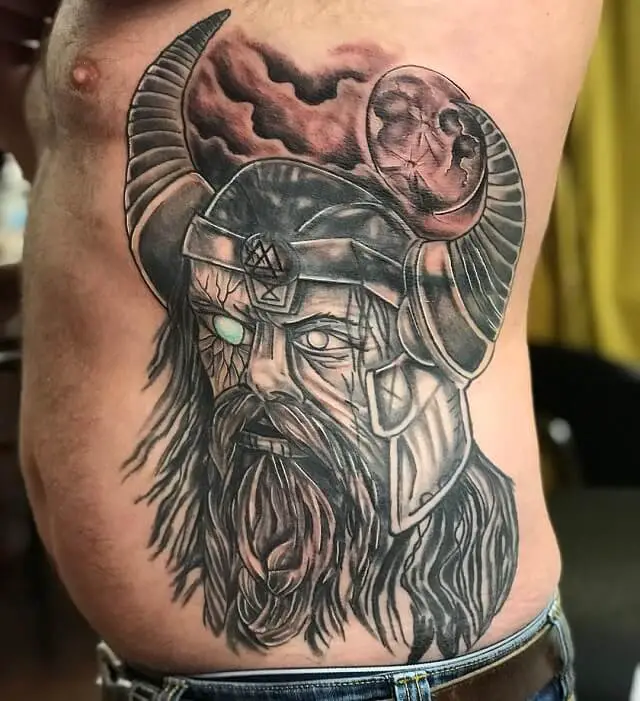 The god of war is wearing a biking helmet. He is believed as the ruler of Vahalla. He is wearing the biking helmet to blend in with the Viking soldiers who died in the war.
18. Triple Horn symbol tattoo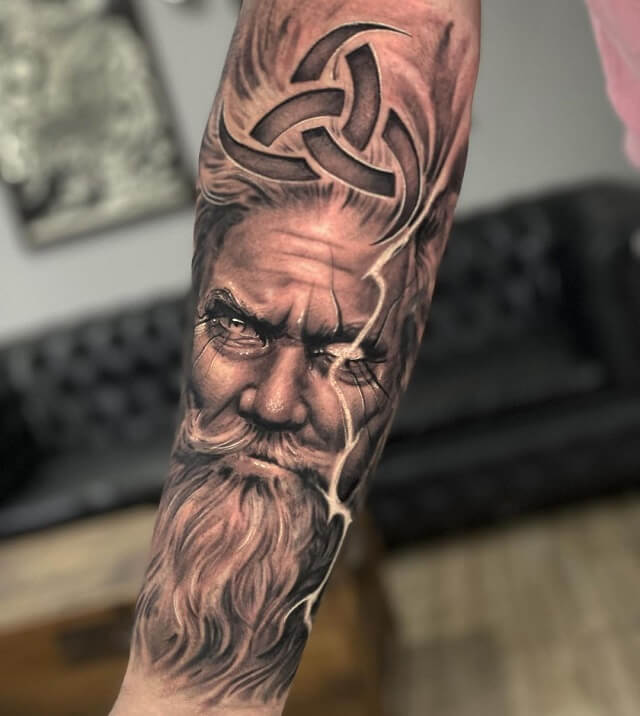 The Triple horn symbol over Odin's head gives the idea of his quest to get the magical potion. It also represents the three draughts he was able to produce over three days.
19. The gladiator Odin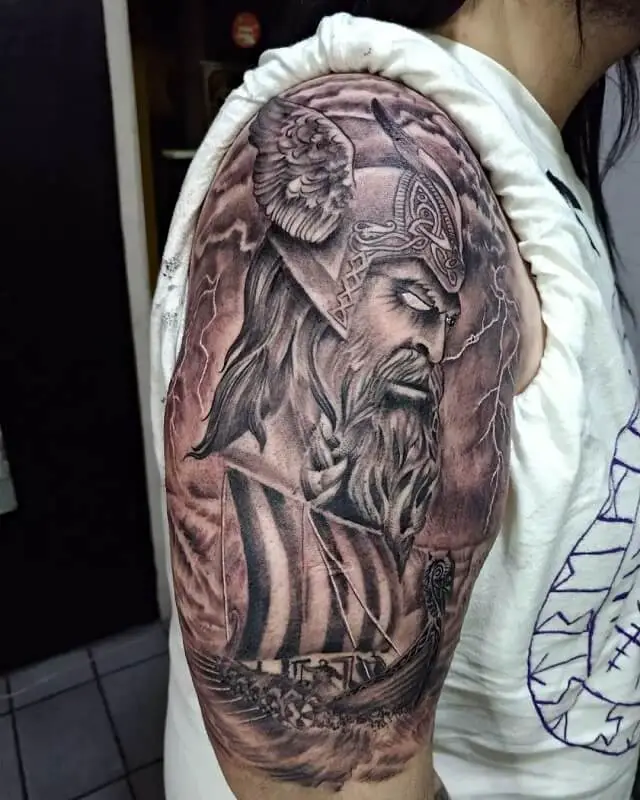 A biking ship is sailing through the cruel sea and has The Odin's head watching over it. The lightning suggests that there's a storm going on but that won't stop the brave soul from his quest.
20. Screaming Odin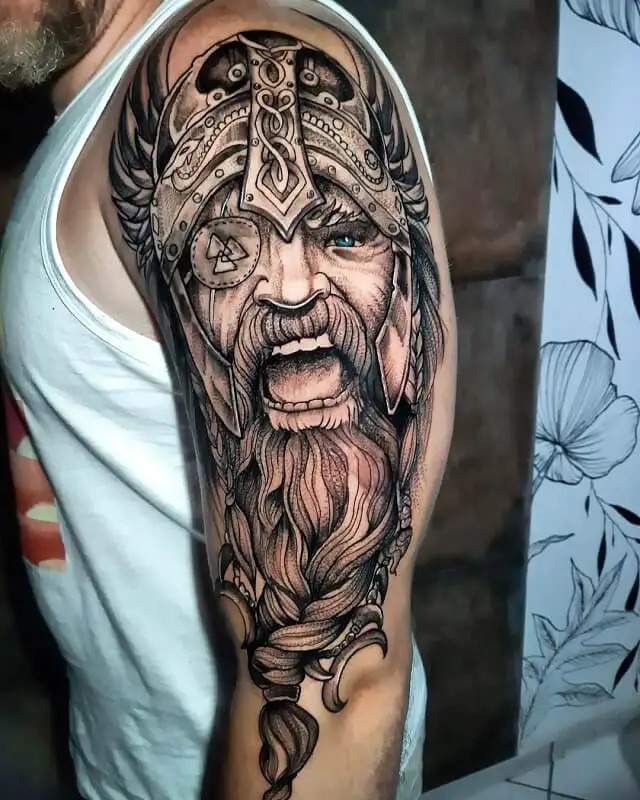 The god of war Odin is looking ferocious and angry. He is so angry that he is breaking out a scream. He has a patch over his eye that has Odin's knot. Most likely he is angry at the three realms clashing with one another.
21. Odin's tattoo on forearm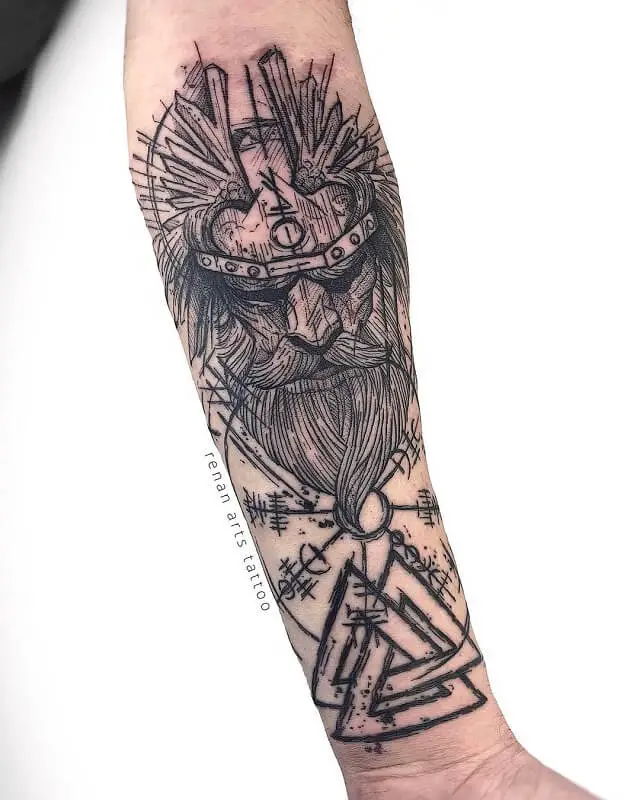 A simple yet gorgeous Odin tattoo on a man's forearm. Odin's head is at the top and in the middle, there's a Viking compass symbol and at the bottom, there's a Valknut symbol.
22. All in one Odin tattoo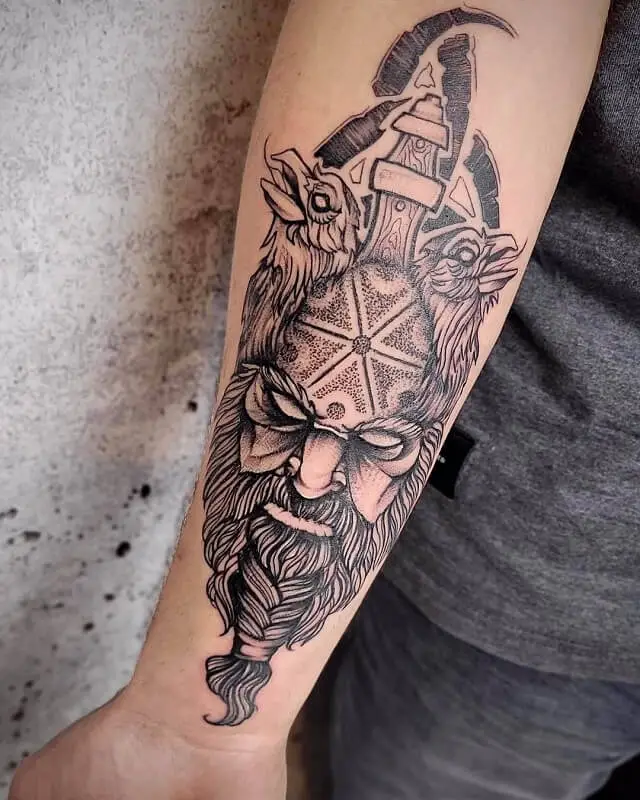 This Odin tattoo has it all. Odin's raven, the Valknut symbol, Odin's spear, and Odin himself are drawn in this amazing tattoo. It has highlighted everything in a compact way that it's just genius.
23. Realistic Odin Tattoo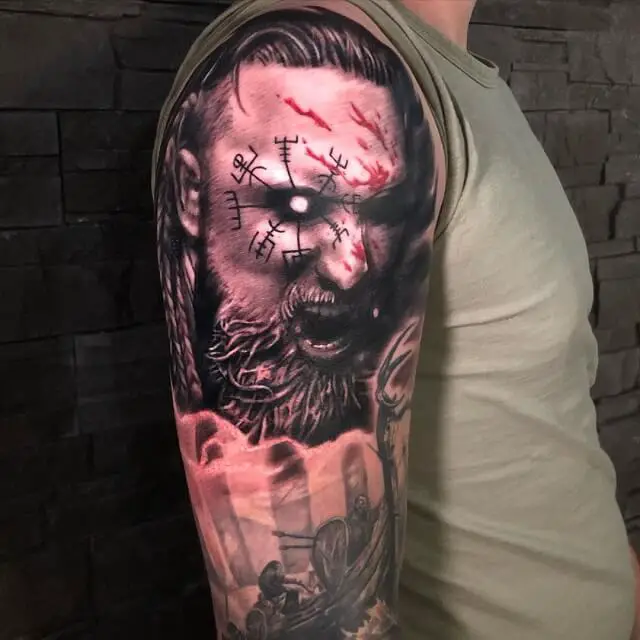 A realistic-looking colorful tattoo of Odin on a mans' shoulder. He has some blood on his face which is not surprising as he is the god of war. He has a biking compass on one of his eyes as well.
24. 3D Odin with Axe Tattoo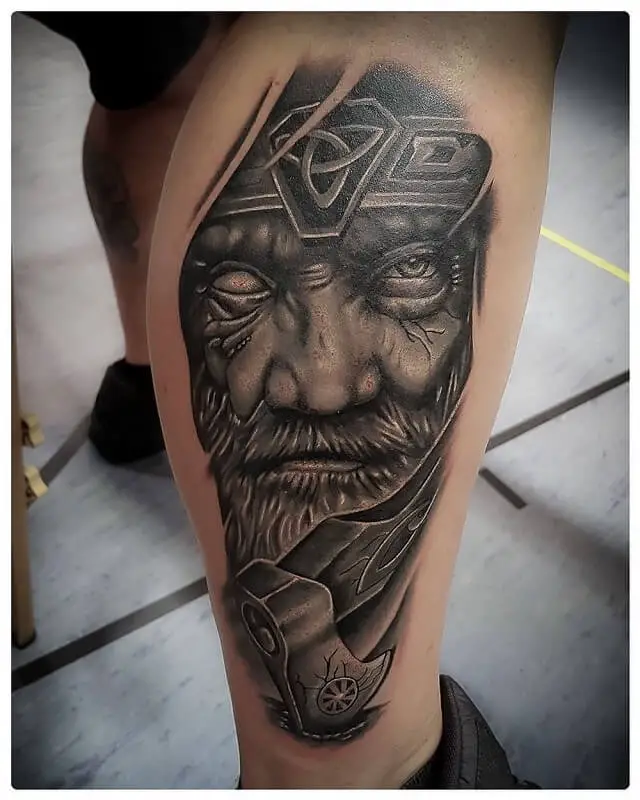 A highly detailed tattoo of Odin with great use of shades. The shades give the tattoo a realistic 3D look. There's also an axe at the bottom of the tattoo as well.
25. Realms Navigator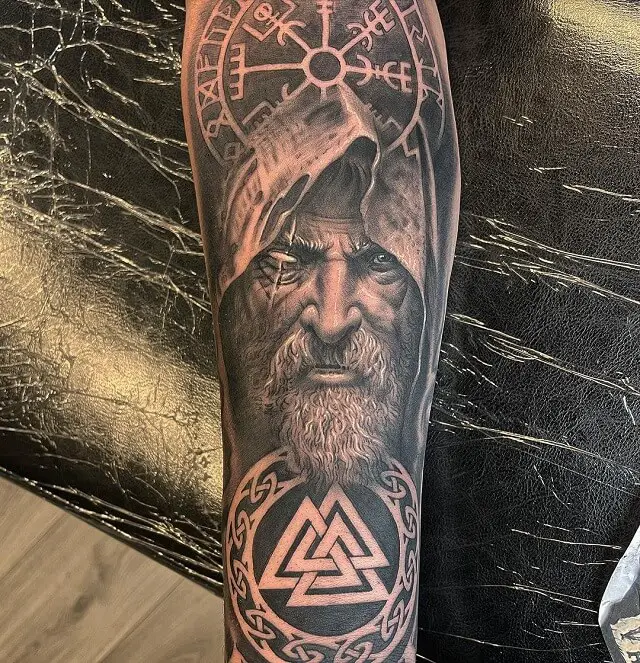 The ruler of multiple realms is drawn at the middle of the Valknut and the Viking compass symbol. It symbolizes Odin's power to navigate through the realms and control them.
26. Viking Odin back Tattoo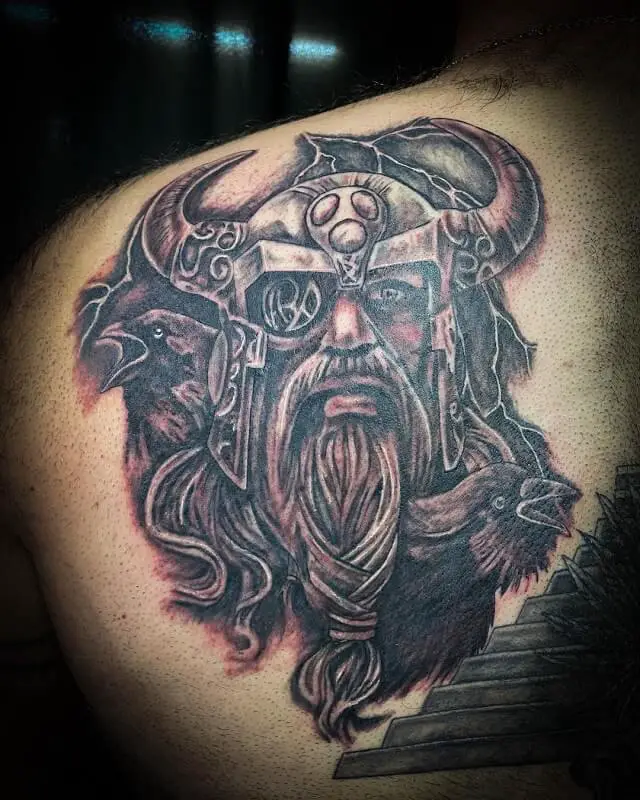 The Viking god Odin is Wearing a Viking helmet and has his raven on his shoulder. The tattoo has a red stroke around it. An amazing Odin tattoo on a man's back shoulder.
27. Starstruck Odin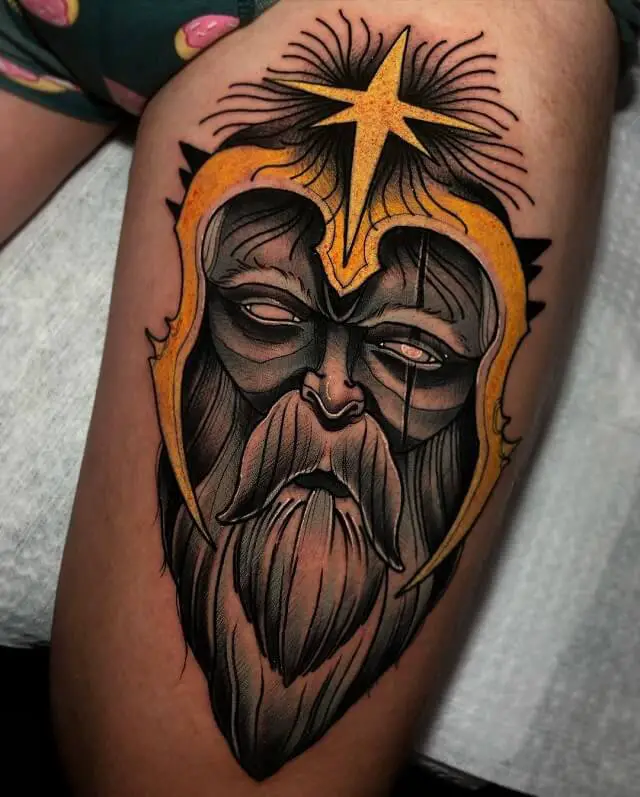 A thigh tattoo of Odin that has a golden star helmet around Odin's face. The star is radiating some kind of strings out of it. The scar over Odin's eye is highly visible on this tattoo.
28. Blue Eyed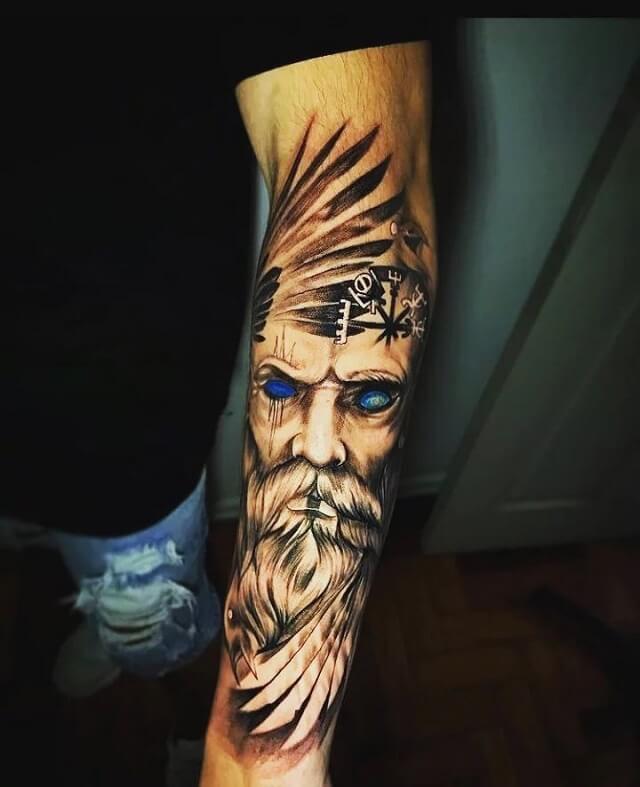 The god of poetry is looking cold with his ice-cold blue eyes. He also has half of a biking compass on one side of his forehead and the wings of his raven are partially showing from the side of the tattoo.
29. Shielded Odin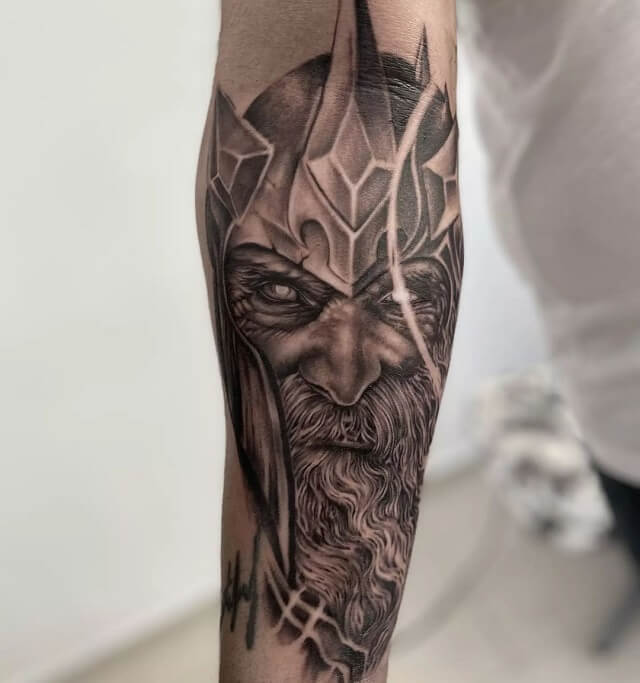 The Ruler of Asgard is wearing a helmet and has vengeance on his eyes. Most likely he is preparing for a quest of his own in search of new wisdom and knowledge.
30. Guarding Raven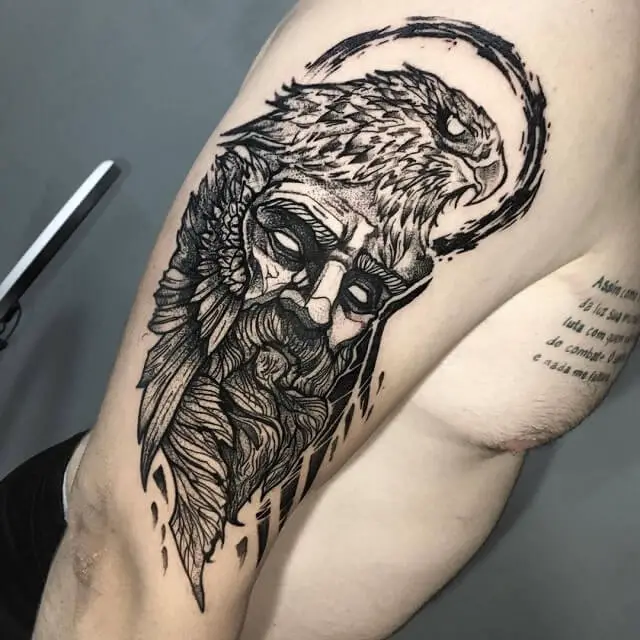 Odin's raven is trying to protect him. The raven has transformed into the shape of a helmet and is shielding Odin's head. There's a circle around the raven head kind of like a feather of an old-fashioned war helmet.
31. Odin and his wife tattoo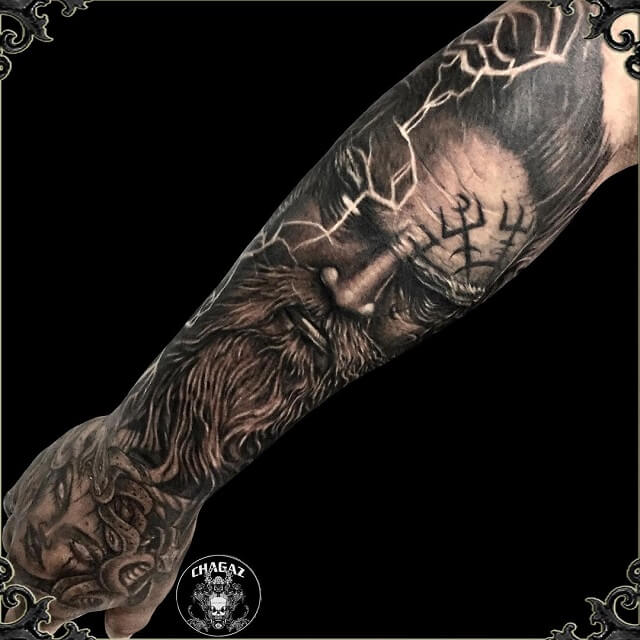 A back of the arm tattoo of the Viking God Odin and his wife. Odin is drawn at the top with great attention to detail and his wife Frigg is drawn at the bottom but in a small portion to Odin.
32. Odin and the forest tattoo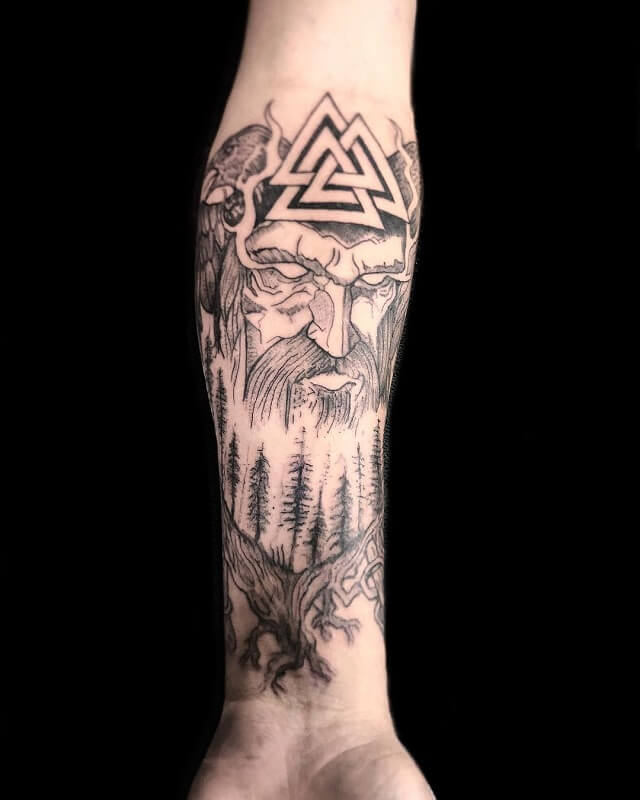 A forest that looks as if it was a giant tree itself is used to describe Odin's garden. The roots of the tree go very deep and Odin is watching over it from the sky.
33. Odin Thigh Tattoo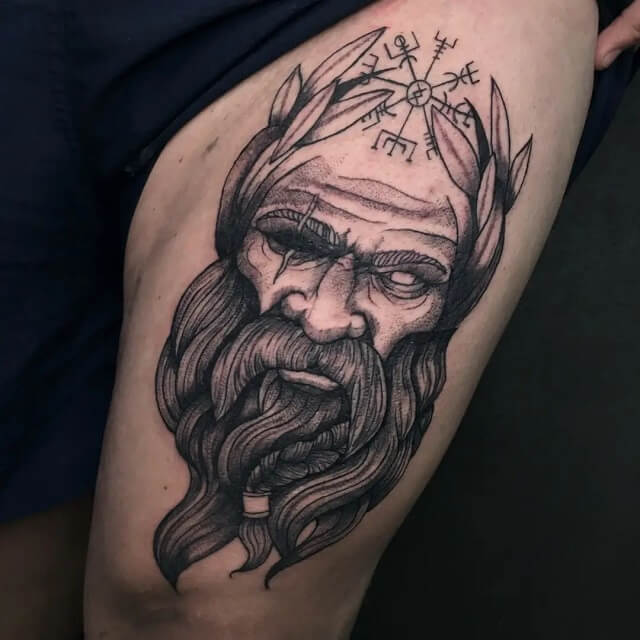 A thigh tattoo of Odin with a Viking compass over his head. Also, his hair is looking like a tree branch that has a few leaves and is lightly touching the symbol.
34. The trusted Carrier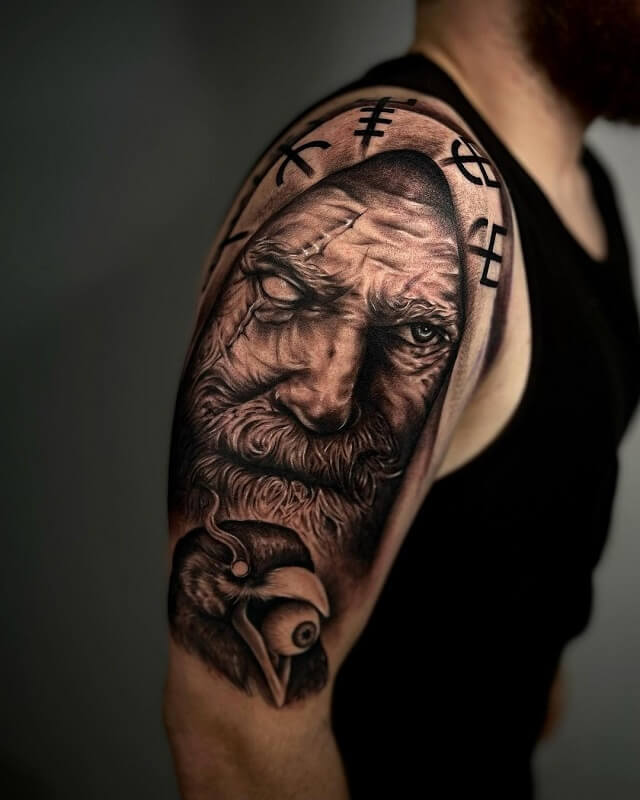 Odins Raven has his one eye in its mouth. It symbolizes how he uses the raven to gather intel plus Odin is wearing a hood.
35. Odin Sidechest Tattoo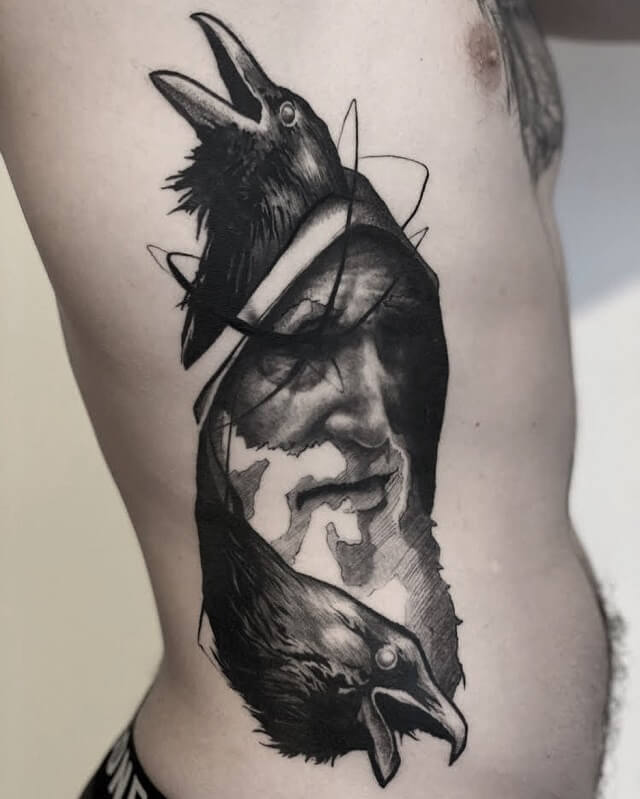 A fascinating tattoo on a man. Odin is in the middle of the tattoo and his two ravens are the two ends of the tattoo but both of them are looking interconnected.
36. Cosmos Traveler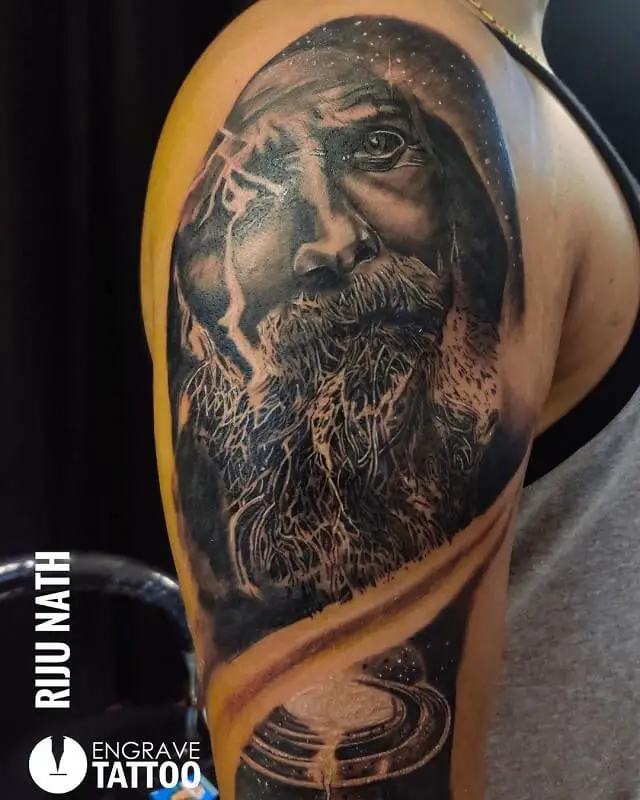 The wisdom seeker is depicted in the tattoo and there's a galaxy underneath him. It indicated his passion for seeking knowledge and his journey across the cosmos to gain knowledge.
Who is Odin in Norse Mythology?
In Norse mythology, Odin is known as the ruler of all gods and a seeker of wisdom who often roamed far away from his kingdom in search of new quests and knowledge. He is both described as the god of war and also the god of poetry. He is often depicted as a one-eyed man who has immense strength and magical abilities. Unlike other all-knowing, all-powerful gods he has certain limitations and wants to gain new powers and knowledge on his journey.
37.  The protector Odin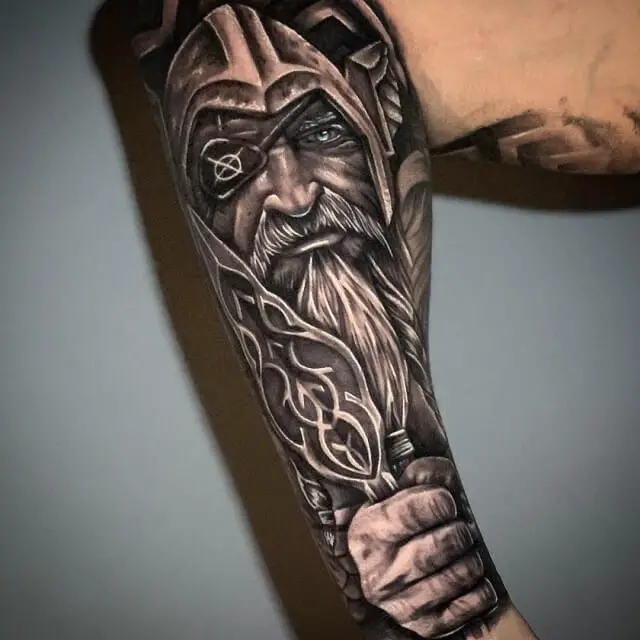 Odin can be seen with his spear. He has a strong grip around his spear. It gives the message that he'll do anything to protect his realms. The helmet suggests that he's ready to fight for it if needed.
38. Loyal companion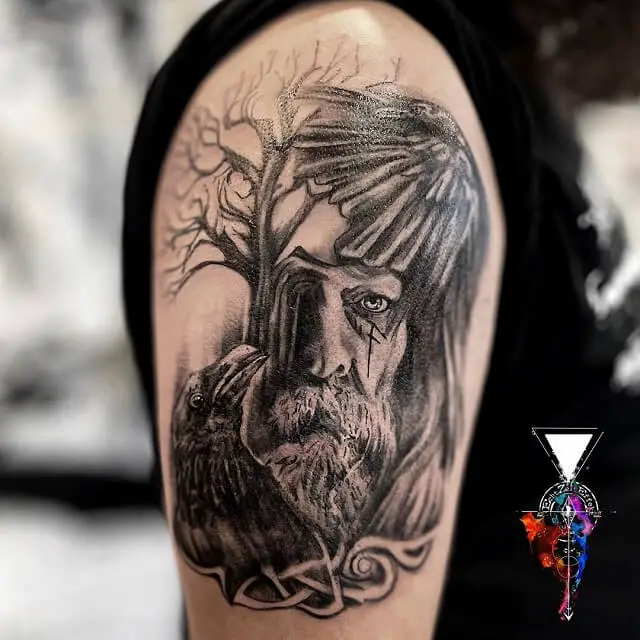 Odin looks as if he was injured and both of his ravens are also hurt. the bottom raven is almost about to break into tears the other raven is shielding Odin's head from the scorching sun. A true display of loyalty even in the most unfortunate times.
39. Mind navigator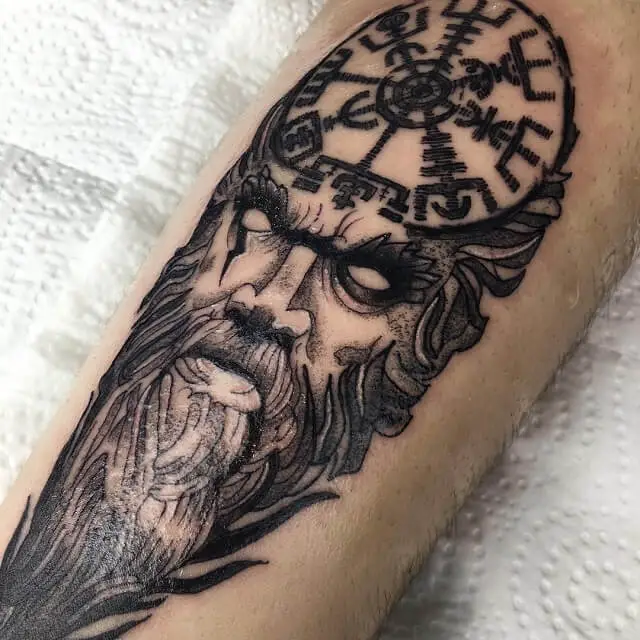 Odin is drawn with a Viking compass on his head. It symbolizes him navigating through the vast wisdom he has gained over his lifetime. A good depiction of his vast knowledge.
40. Destructive Odin Tattoo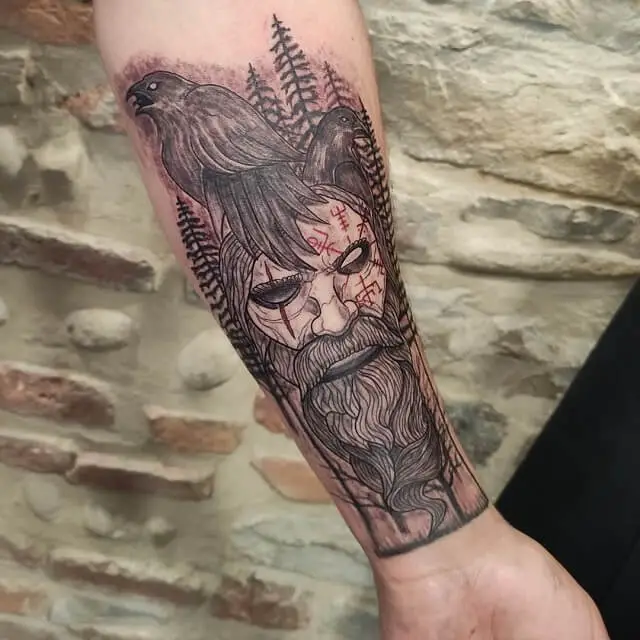 A Dark side of Odin's nature is shown through this tattoo. Both he and his two ravens look consumed by anger and destruction. A different perspective of the god of war with a meaningful message.
41.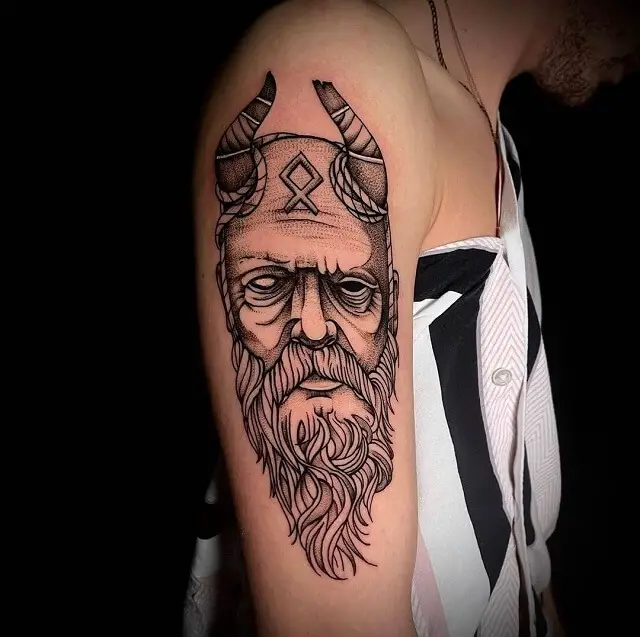 42.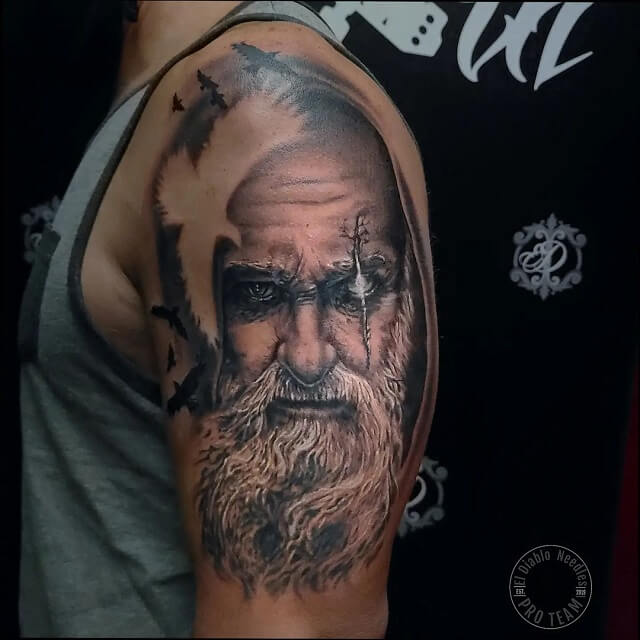 43.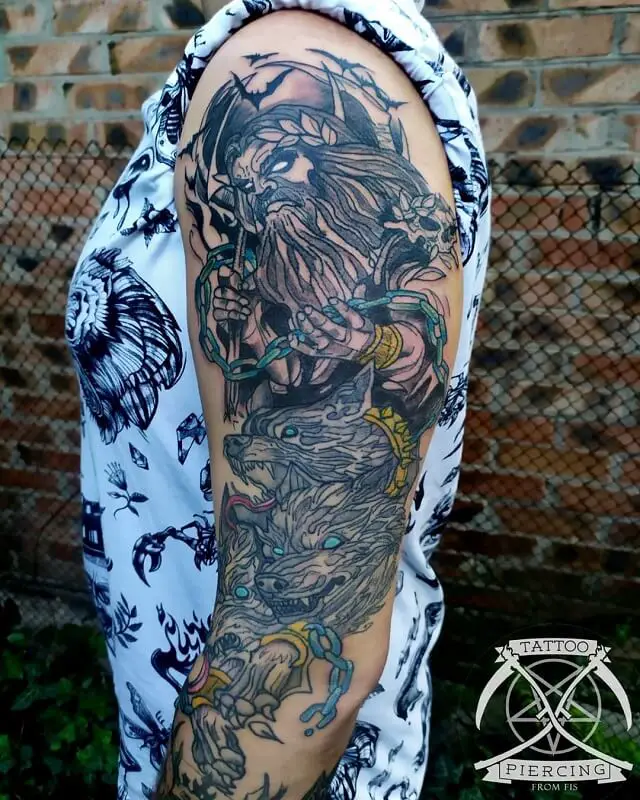 44.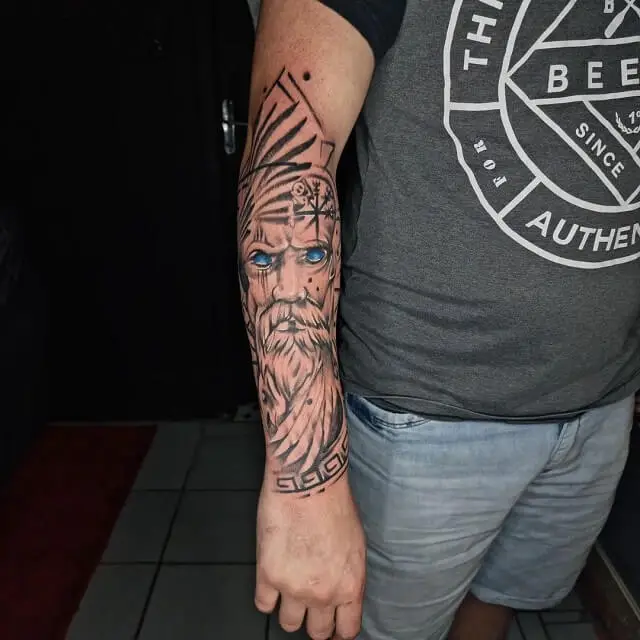 45.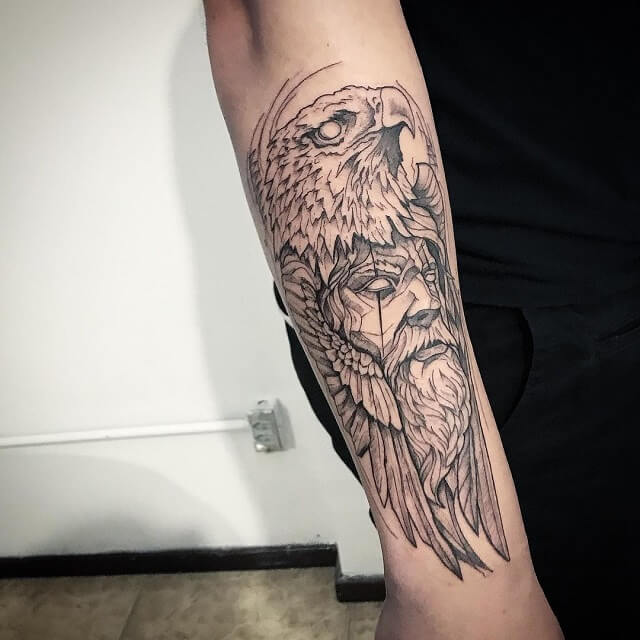 46.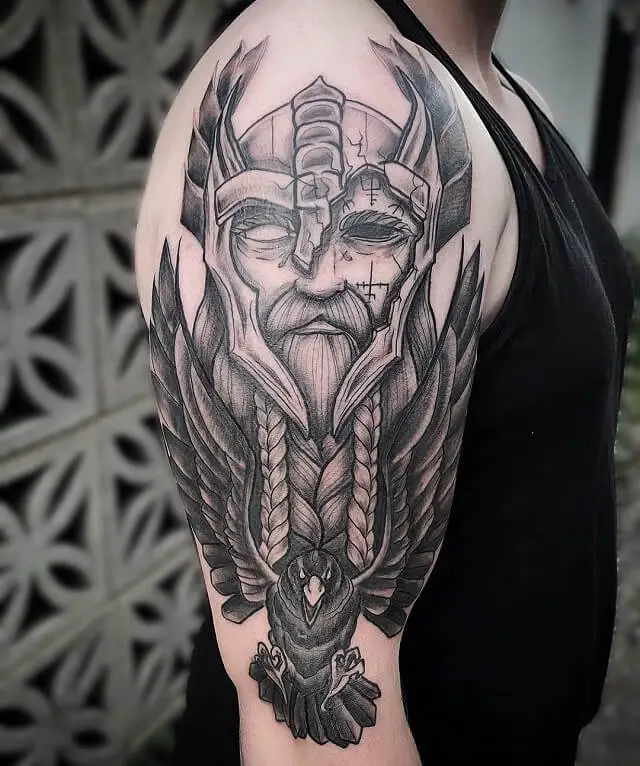 47.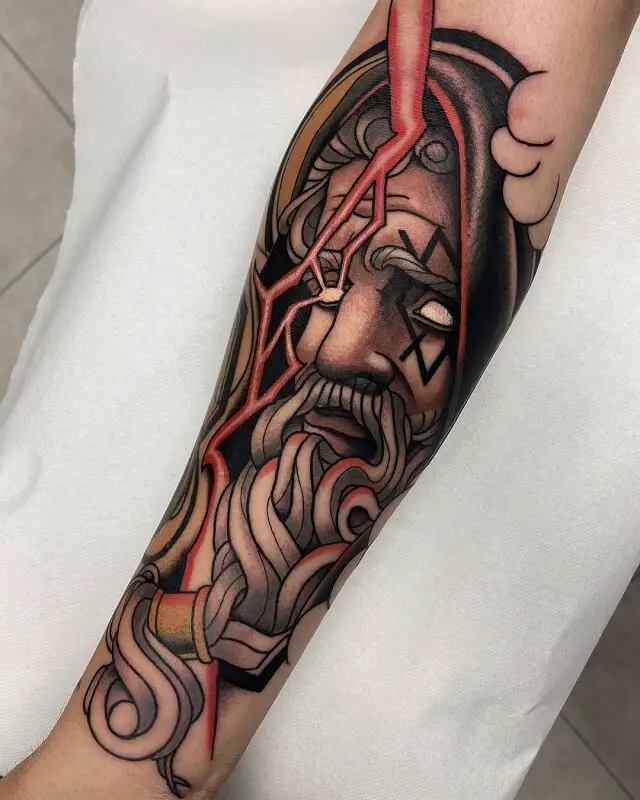 48.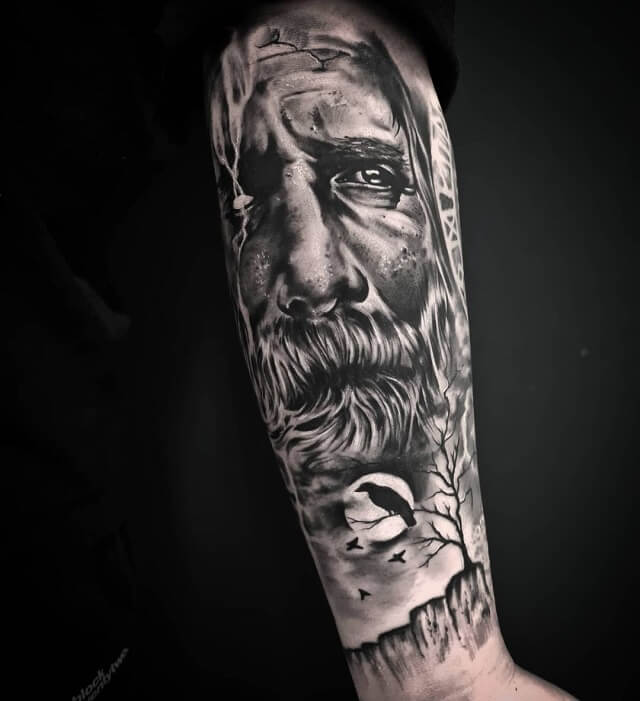 49.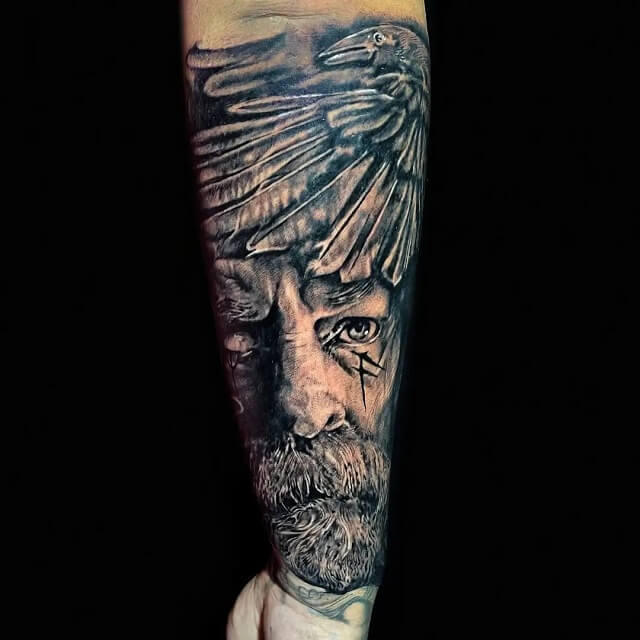 50.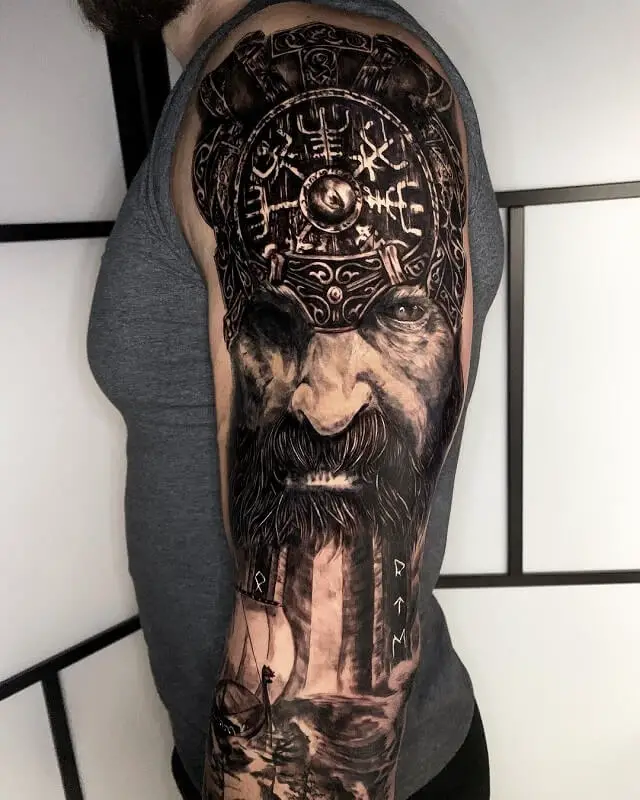 51.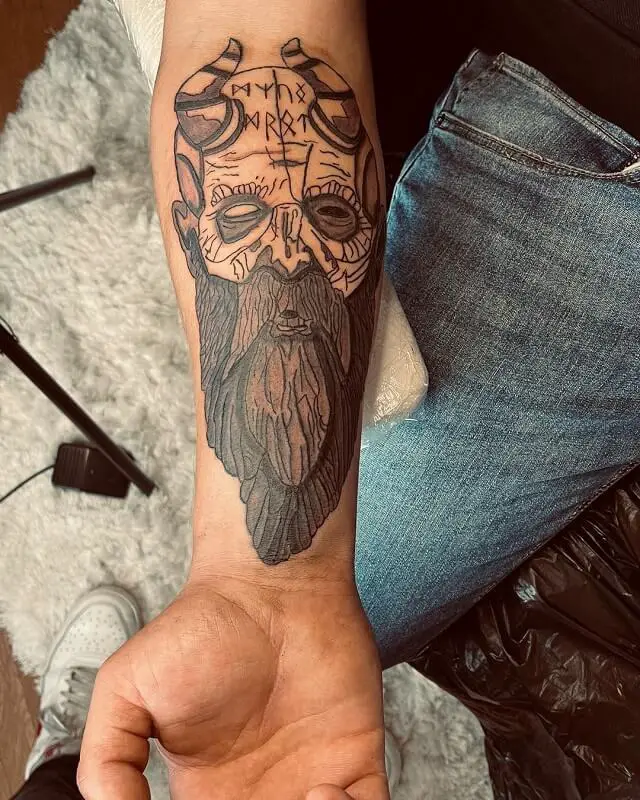 52.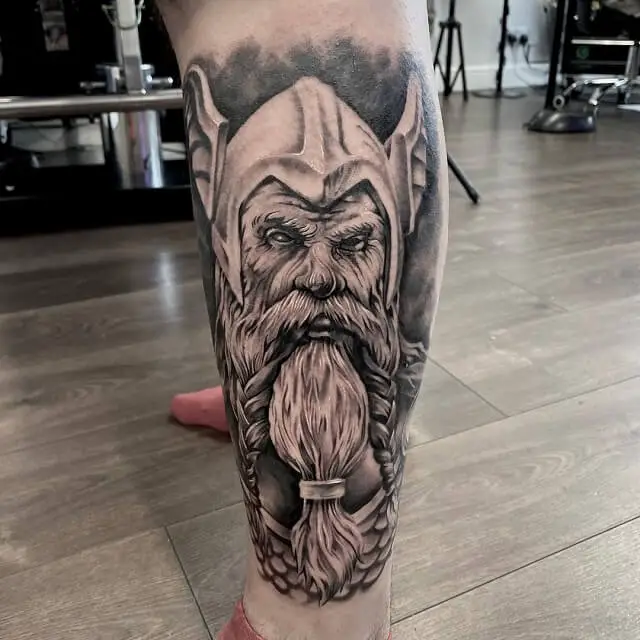 53.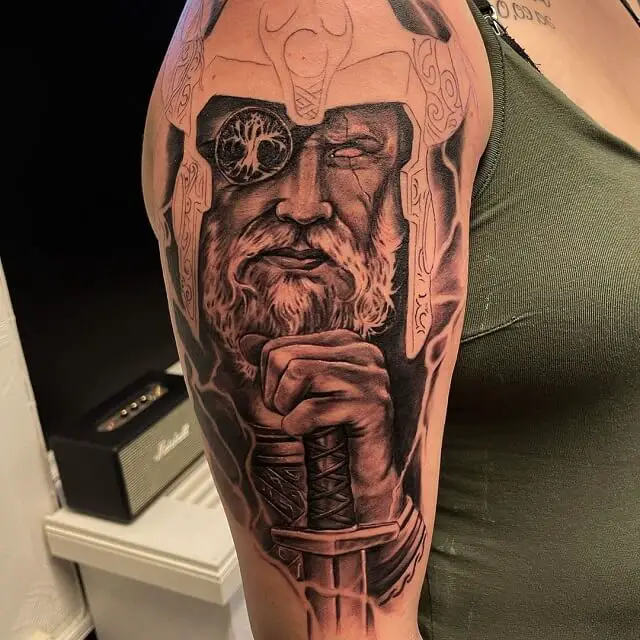 54.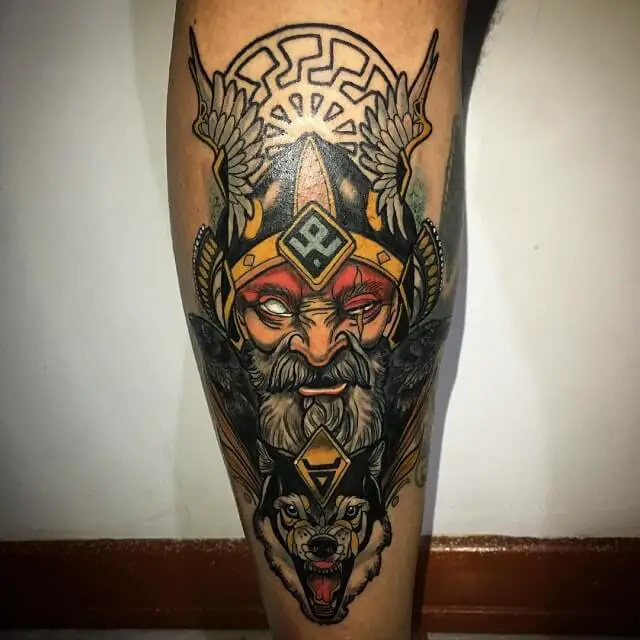 55.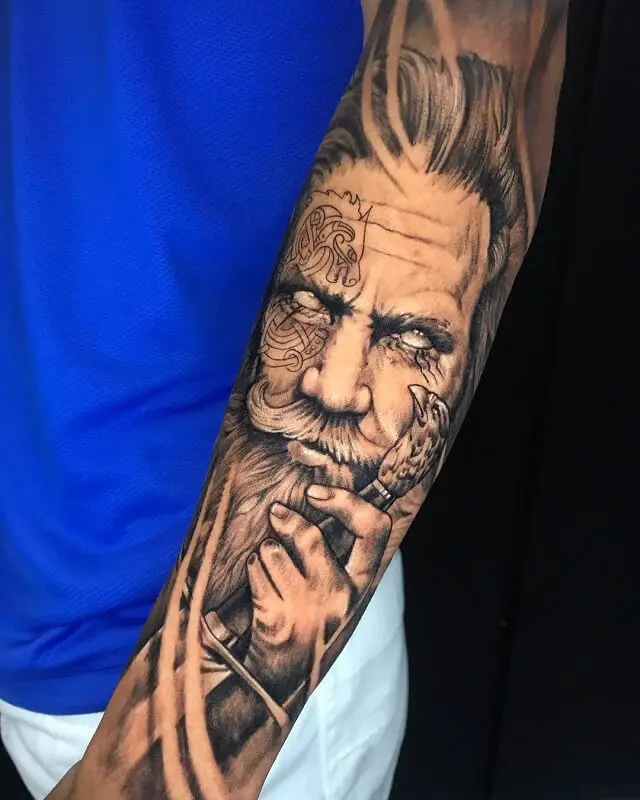 55.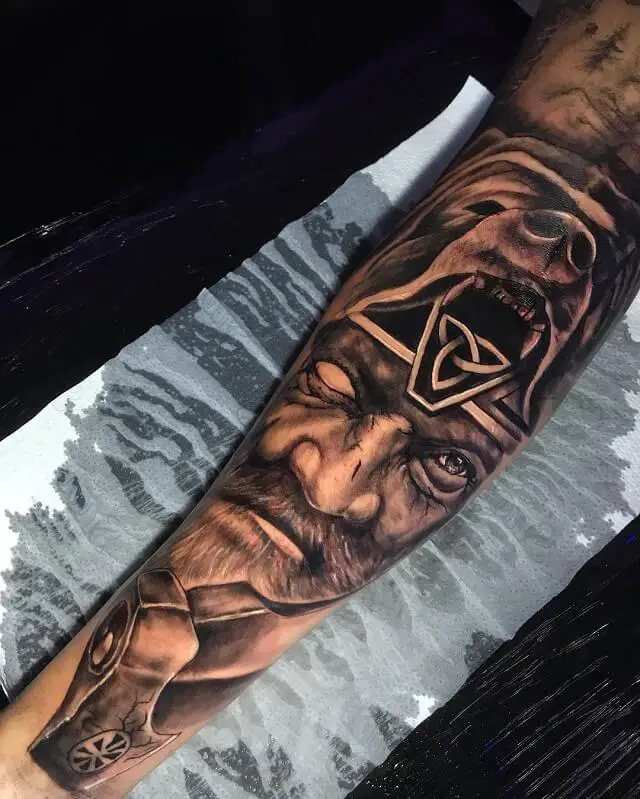 57.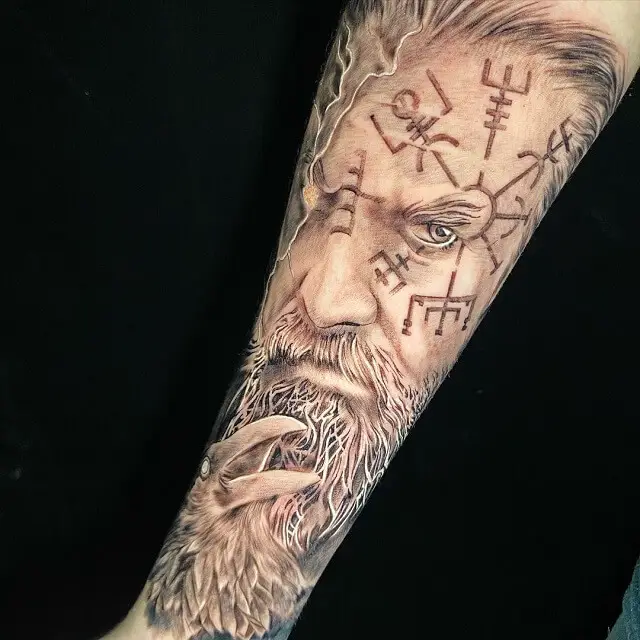 58.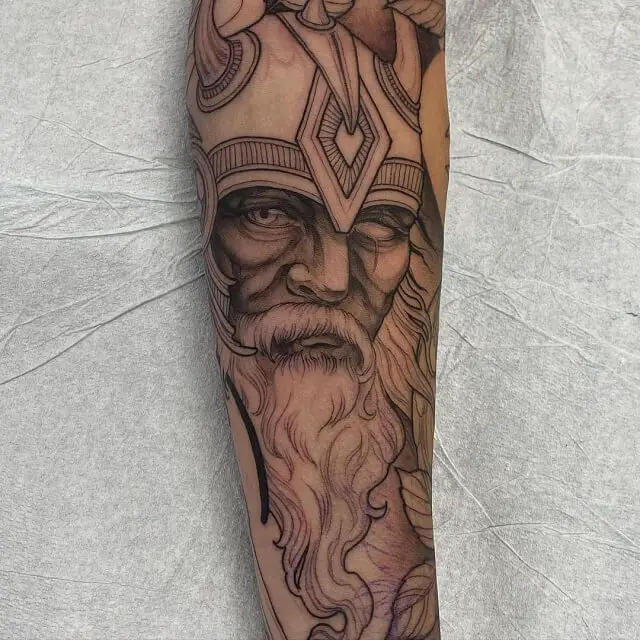 59.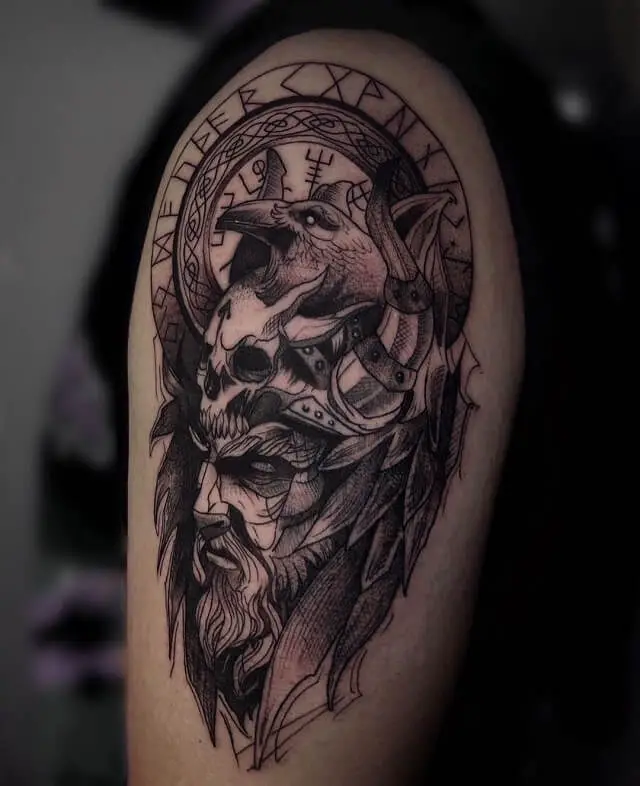 60.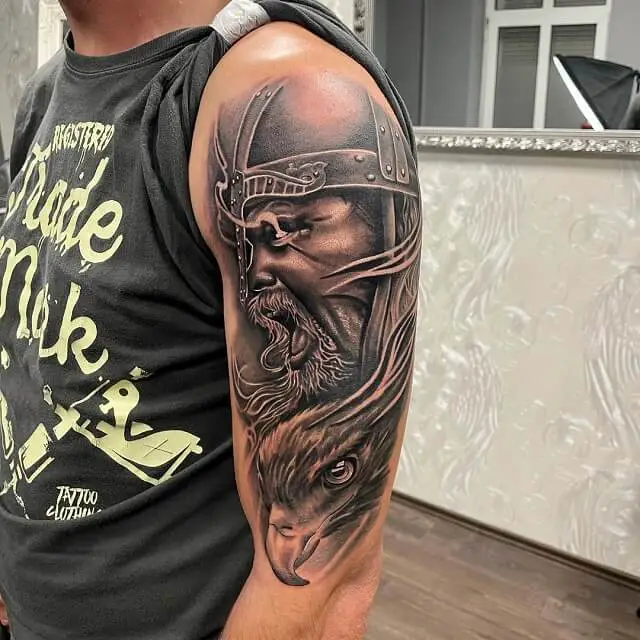 61.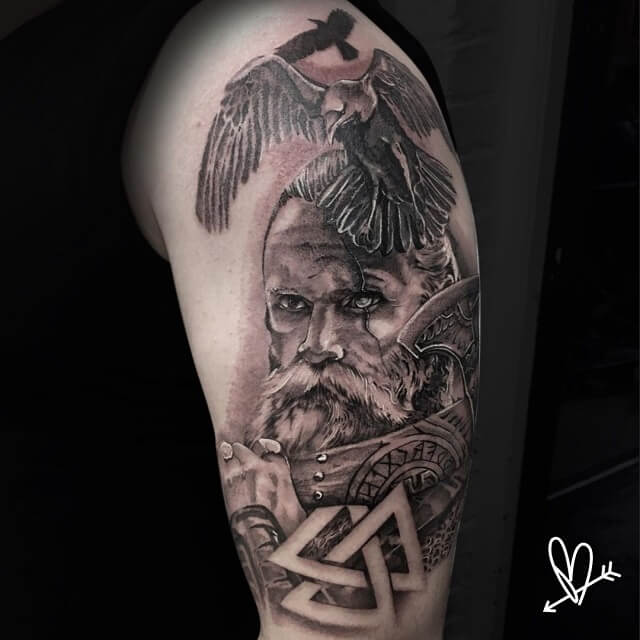 62.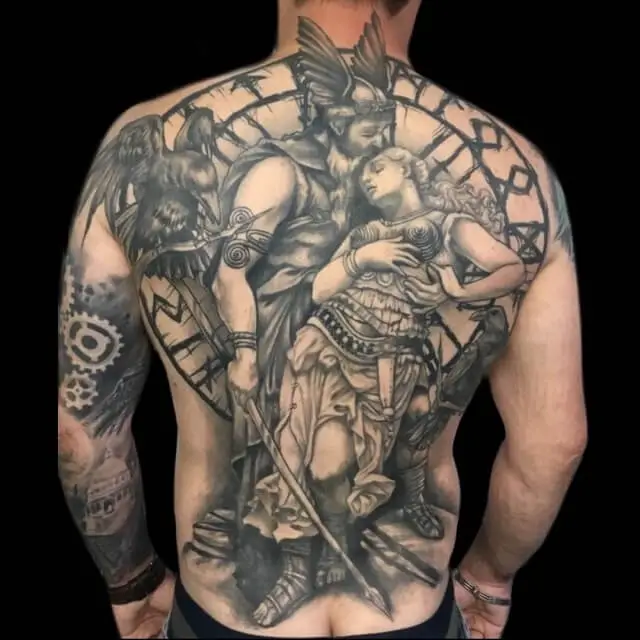 63.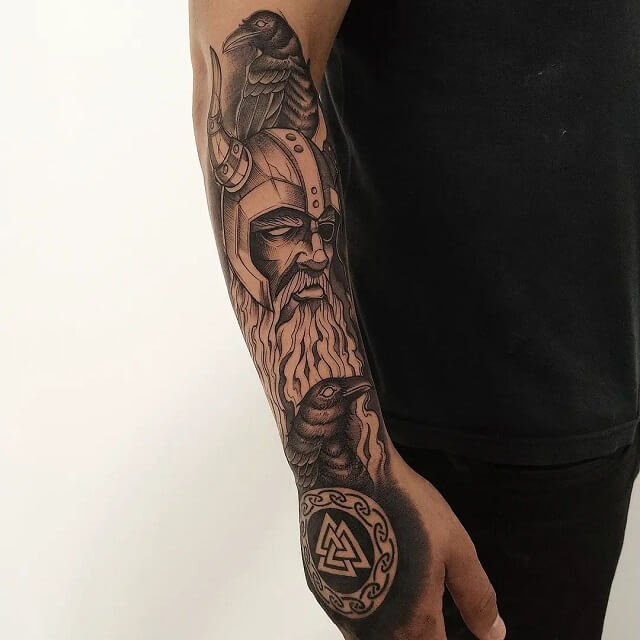 64.
65.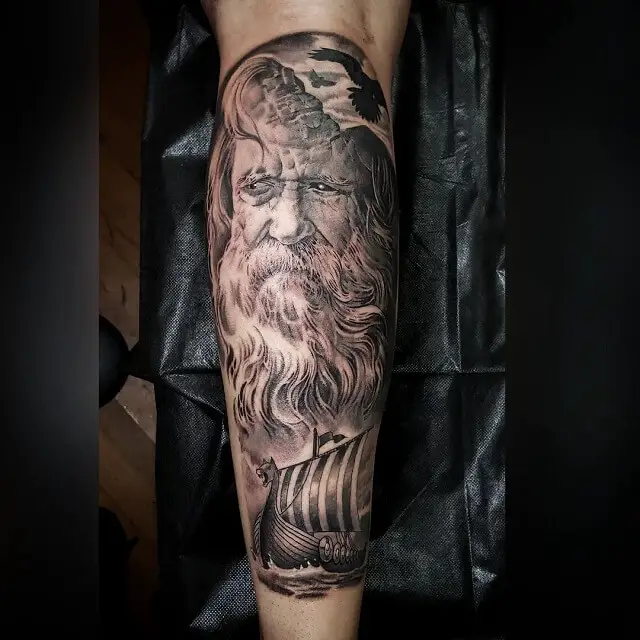 66.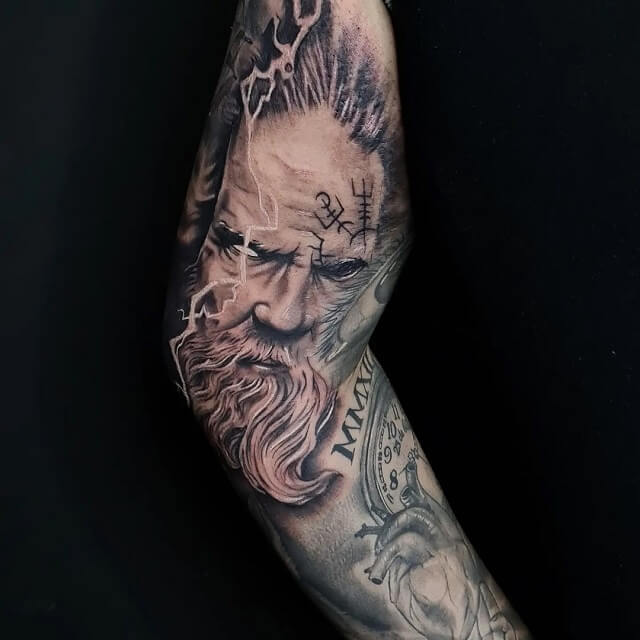 67.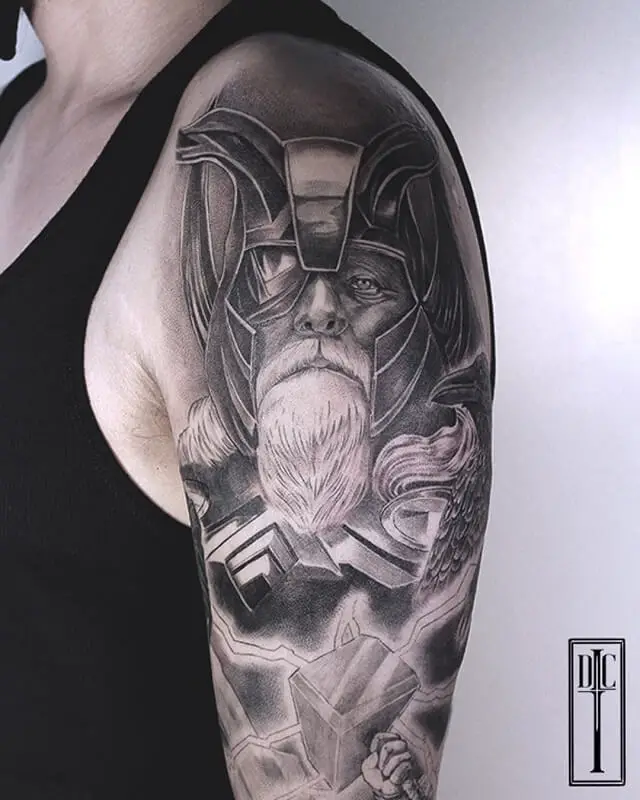 68.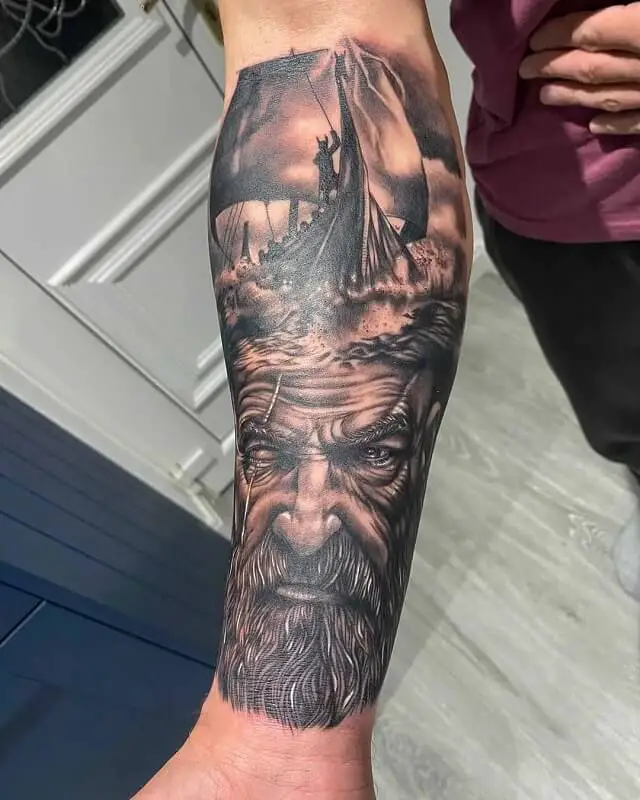 69.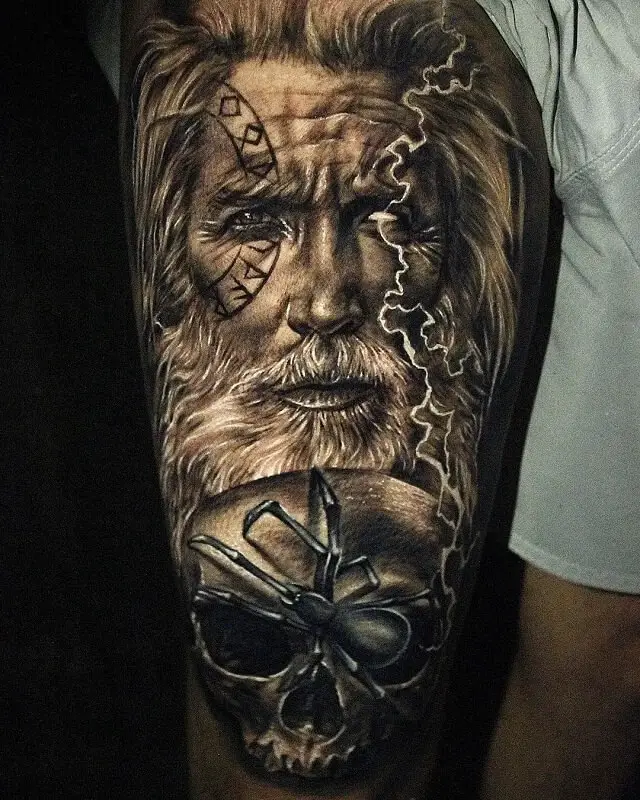 70.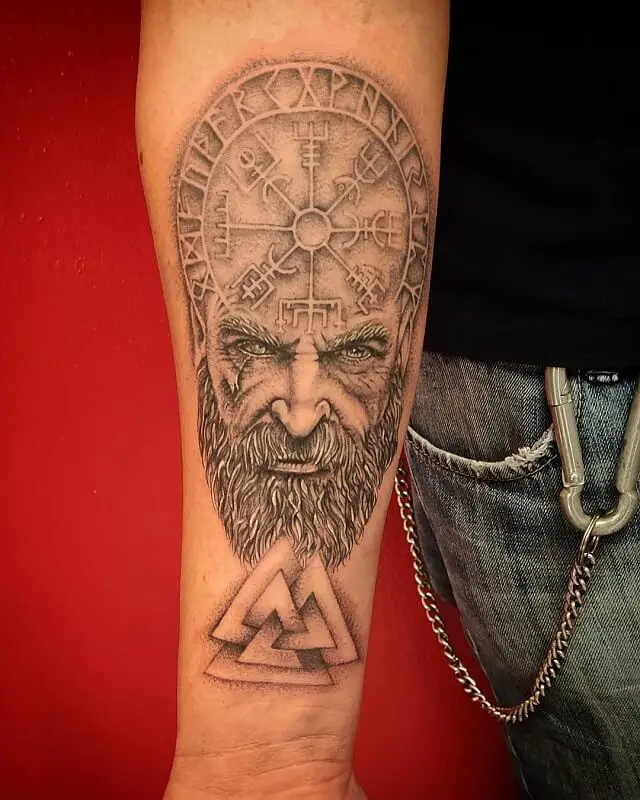 71.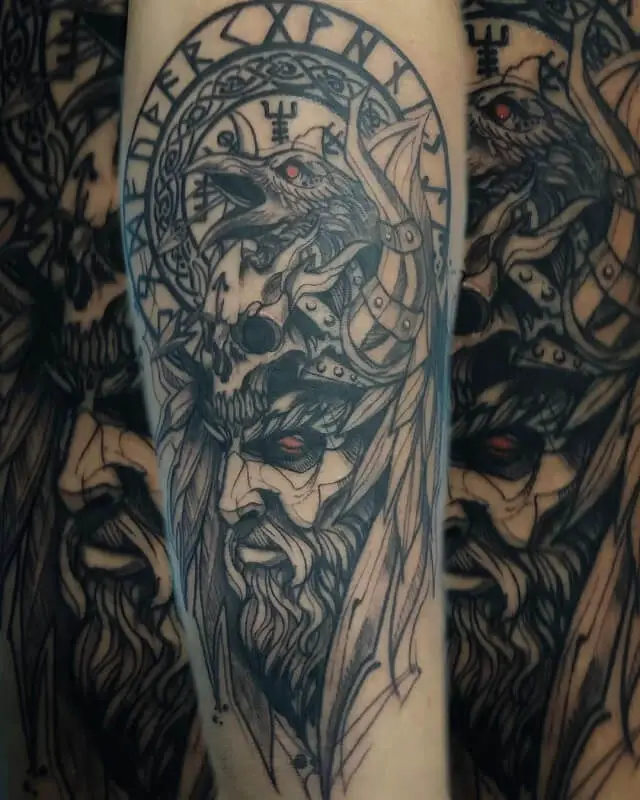 72.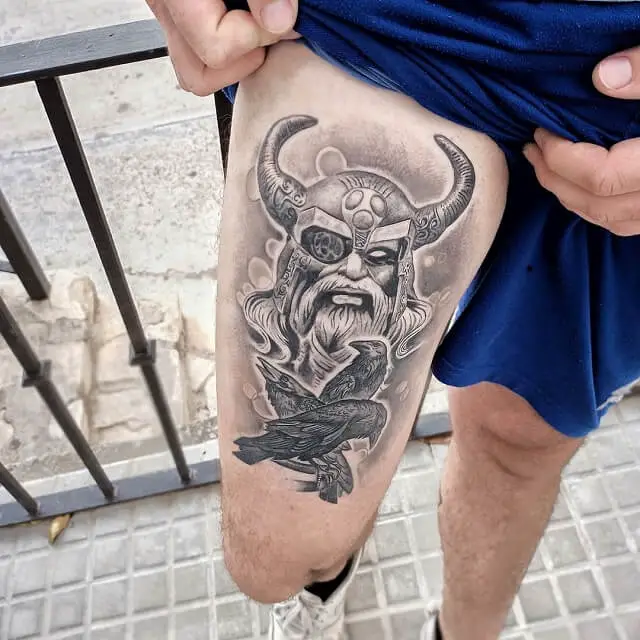 73.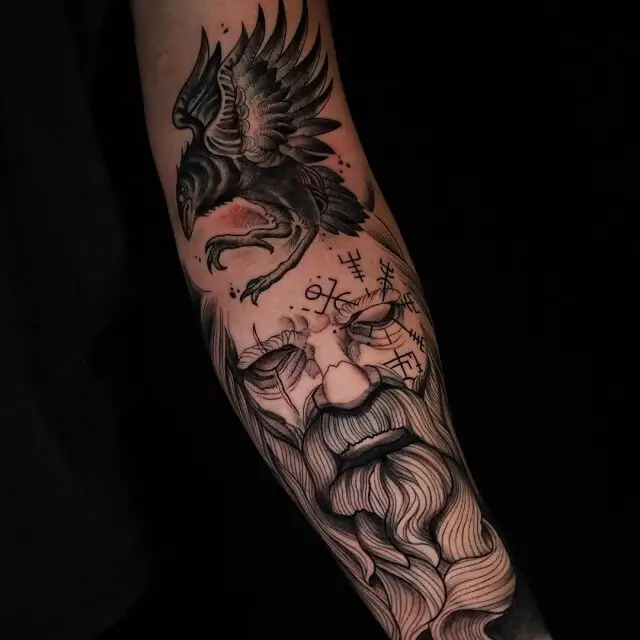 74.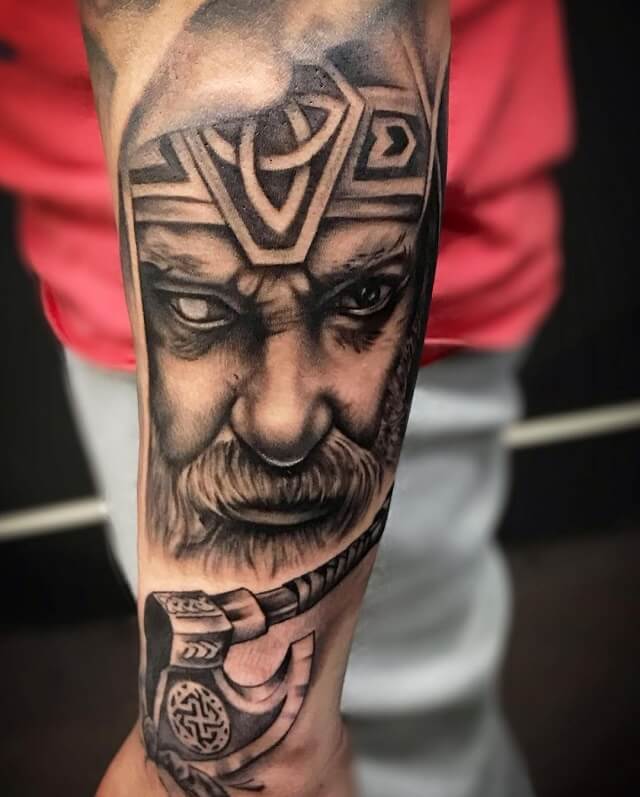 75.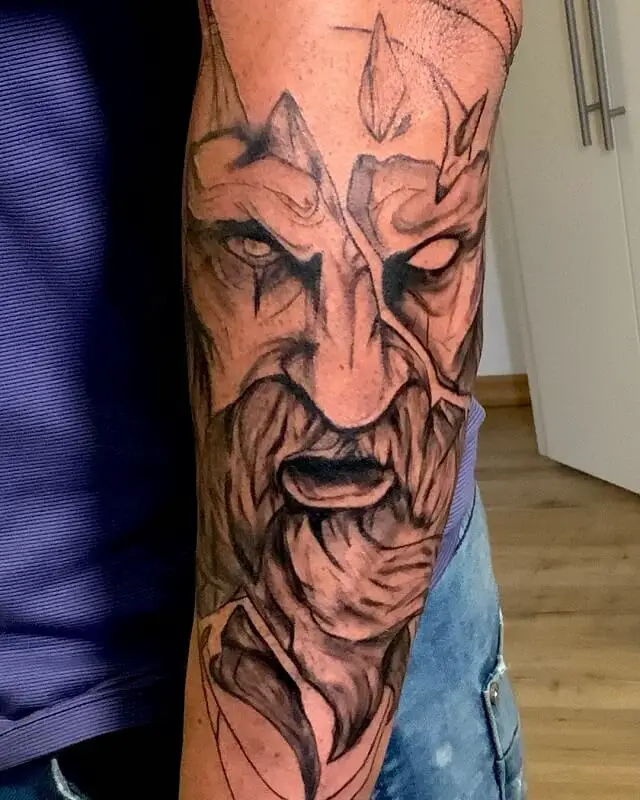 76.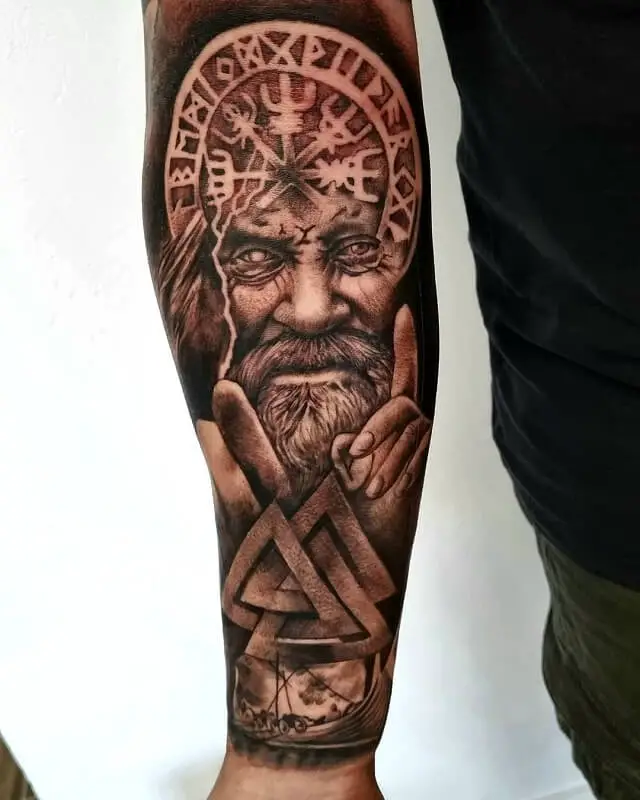 77.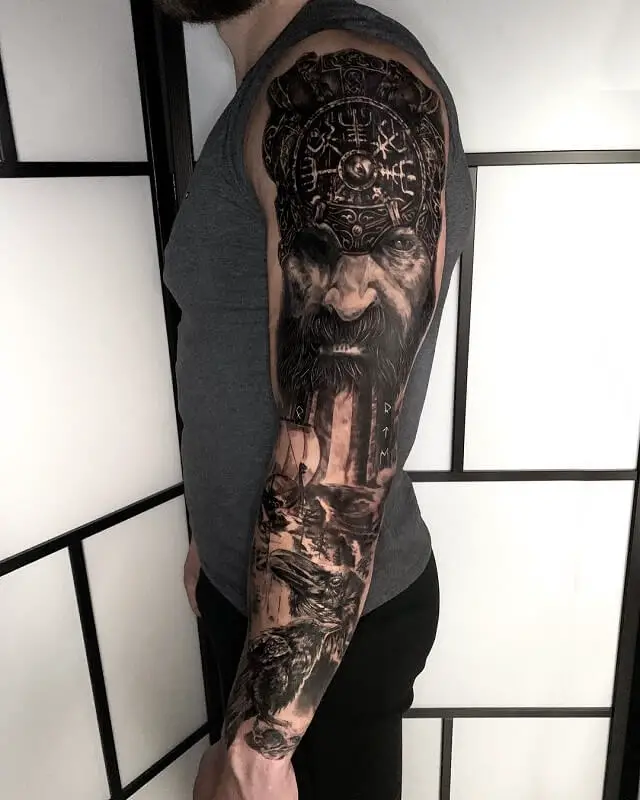 78.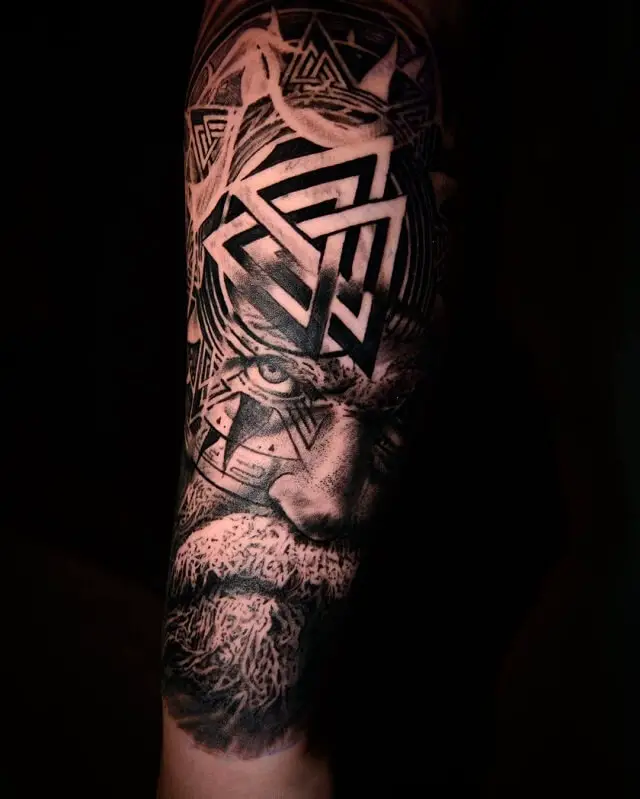 79.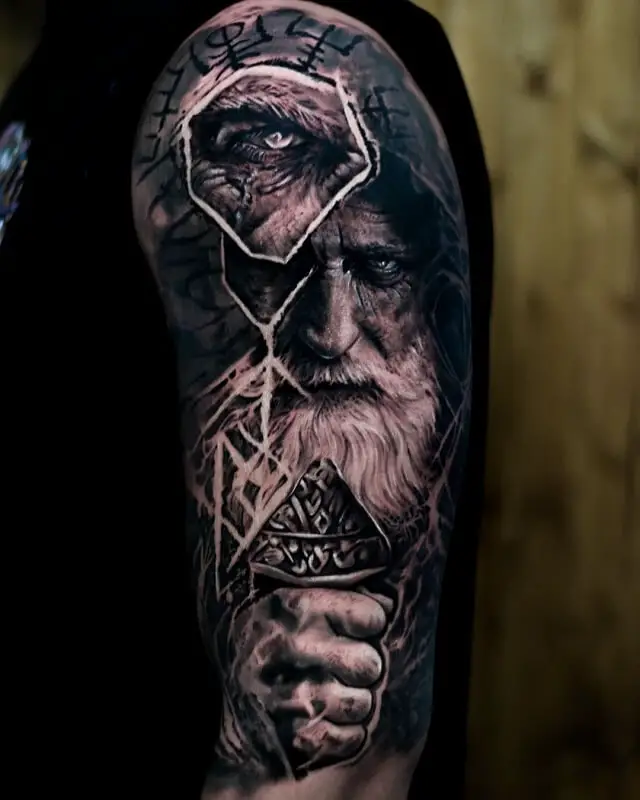 80.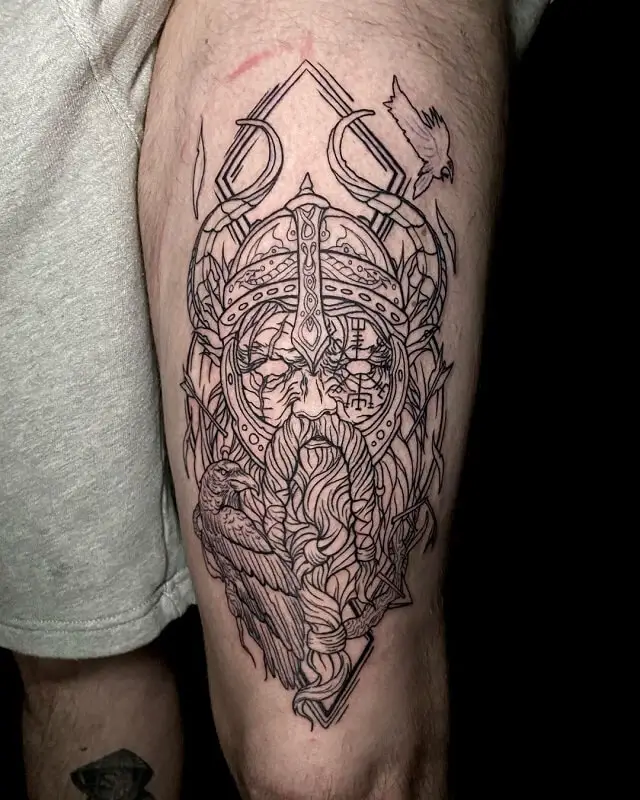 Conclusion
We hope these amazing Odin tattoos were able to give birth to new ideas and inspiration for your tattoo. They are known to have a lot of meaning and messages hidden in them. But, in the end, it all comes down to what you believe in and how you describe the tattoo. Every person has his own taste and the Odin tattoos will surely satisfy everyones.
Feel free to try out these amazing tattoos and express your love and beliefs through them. Wheater you want to show power, control, wisdom, or fear, these mind-blowing tattoos got you covered.