Arabic tattoos have been a major part of the tattoo culture for ages now. The mysterious and unique lettering of these tattoos makes them an attractive choice for Arabs and other cultures as well.
Not only are these tattoos mysterious and eye-catching, but they come with very deep meanings. From representing love, strength, and other aspects of life, to religious beliefs and teachings, Arabic tattoos are highly versatile.
Keeping the meaning behind the tattoo is extremely important when choosing an Arabic tattoo. This is because the meaning changes significantly even with an unnoticeable difference. In this guide, we will take a look at some of the top Arabic tattoo designs to help you find the perfect one.
72 Arabic Tattoos Ideas And Meaning
Arabic tattoos are widely common in all parts of the world mainly because of their unique representation. However, the meanings behind these tattoo ideas are equally intriguing and beautiful. Here, we will take a look at a total of 72 Arabic tattoo ideas and their meanings.
Arabic Spine Tattoo
Spine tattoos are quite popular in the tattoo culture. It allows the artists to work on a widespread canvas and turn their creativity into reality. Arabic tattoos on the spine look beautiful and come with a deep meaning. Let us see a few examples of Arabic spine tattoos.
1. The Spinal Connection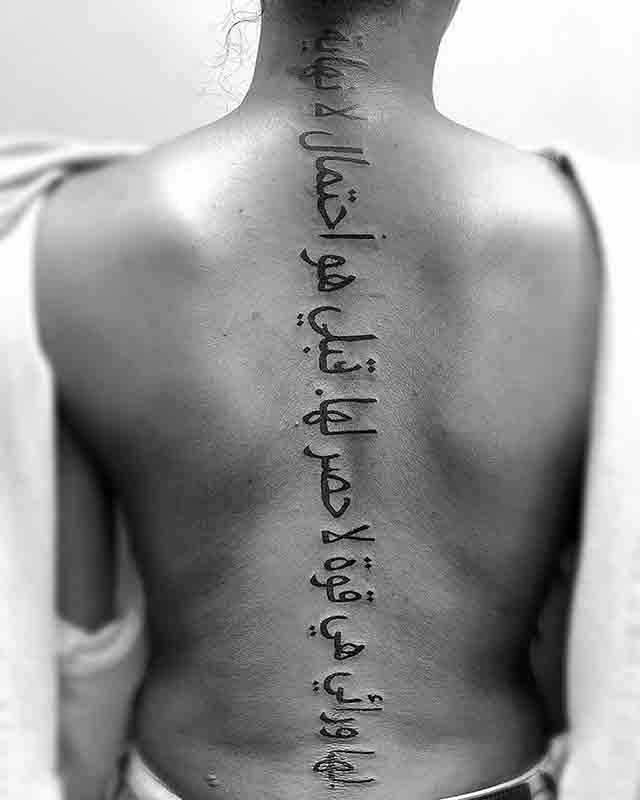 Starting from the top of the spine to the very end, this Arabic tattoo idea looks absolutely beautiful.
2. Better Days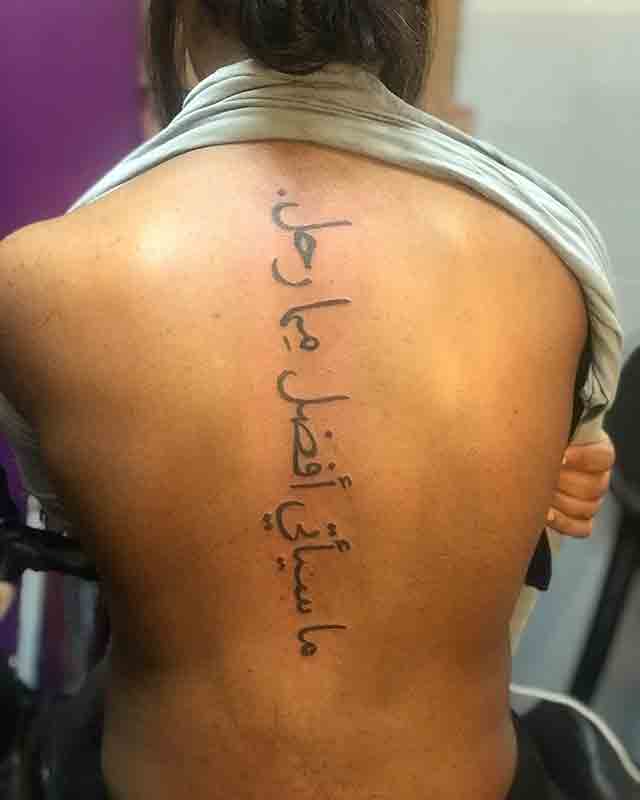 Our bad and sad days change to happy and better days. This tattoo on the back is an attractive take on the message that better days are coming.
3. Floral Motivation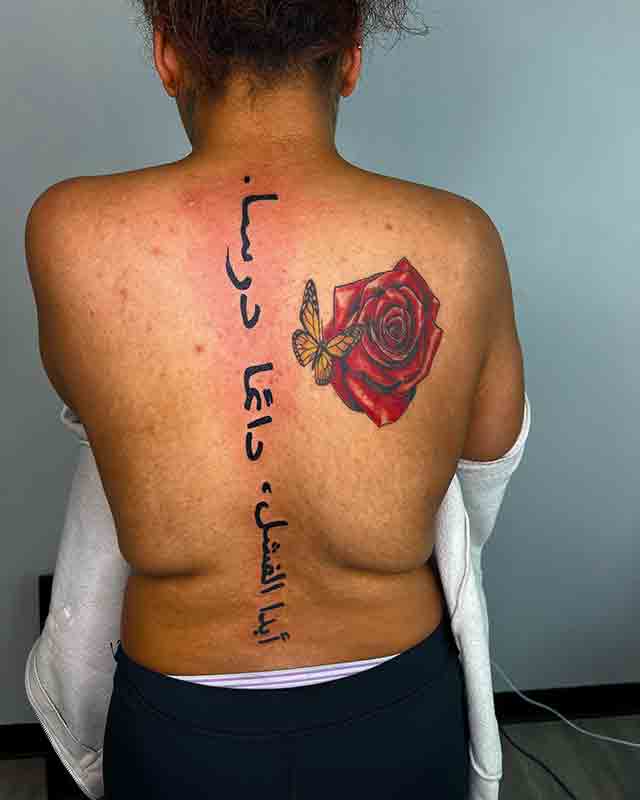 Flowers and butterflies make everything look better. This inspiring Arabic tattoo paired with a flower gives the message of never giving up.
Love in Arabic Tattoo
Love is expressed beautifully in both Arabic tattoos and culture. Let us take a look at a few tattoos in Arabic, where love is the main concept.
4. A Tribute To Love
Get this love Arabic tattoo on your chest as a tribute to the person who means the most to you. It shows respect, commitment, and eternal love for them.
5. Remembrance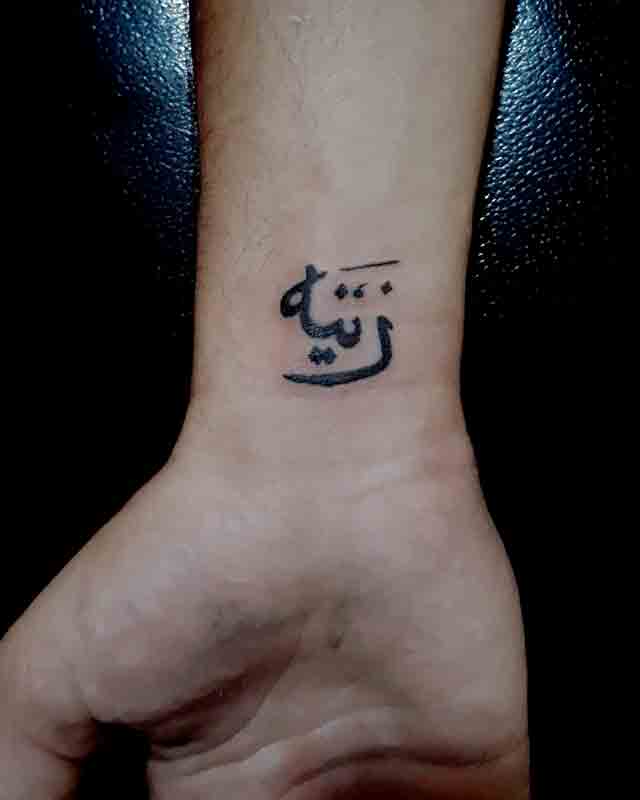 Nothing is more beautiful than showing a person how much you love them. This Arabic wrist tattoo expresses respect, love, and admiration.
6. The Chest Variations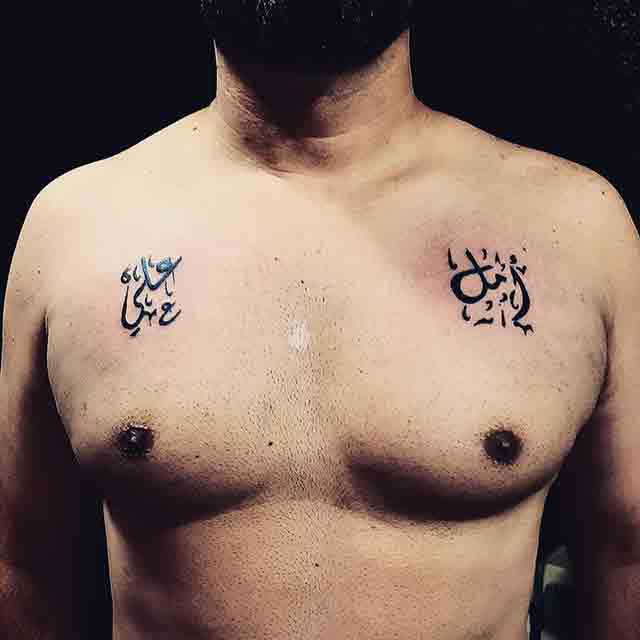 Express love and feelings for the person or things you love with this amazing tattoo in Arabic.
Arabic Writing Tattoo
Arabic writing tattoo ideas are quite interesting and attractive. While many people do not understand what is written on the tattoo or the meaning behind it, the tattoos are elegant and pretty. Here, we will some of the best Arabic writing tattoos.
7. Hassan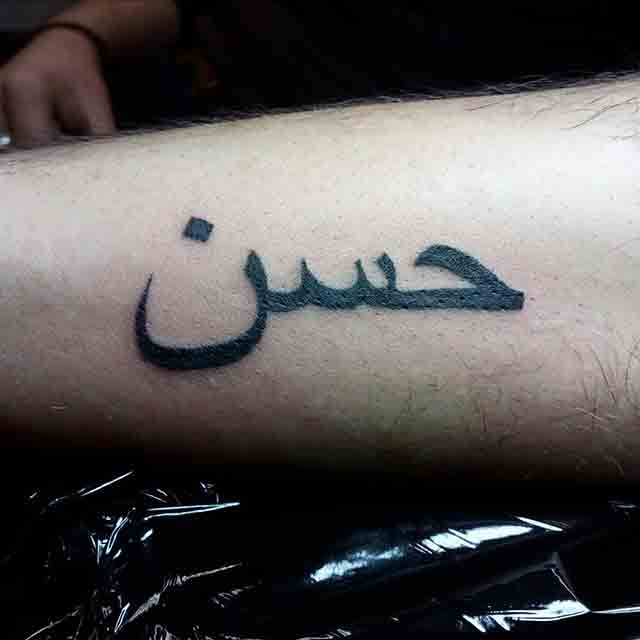 The tattoo reads "Hassan" and there is an alluring meaning behind it. In Arabic, Hassan means handsome and good-looking.
8. Family Forever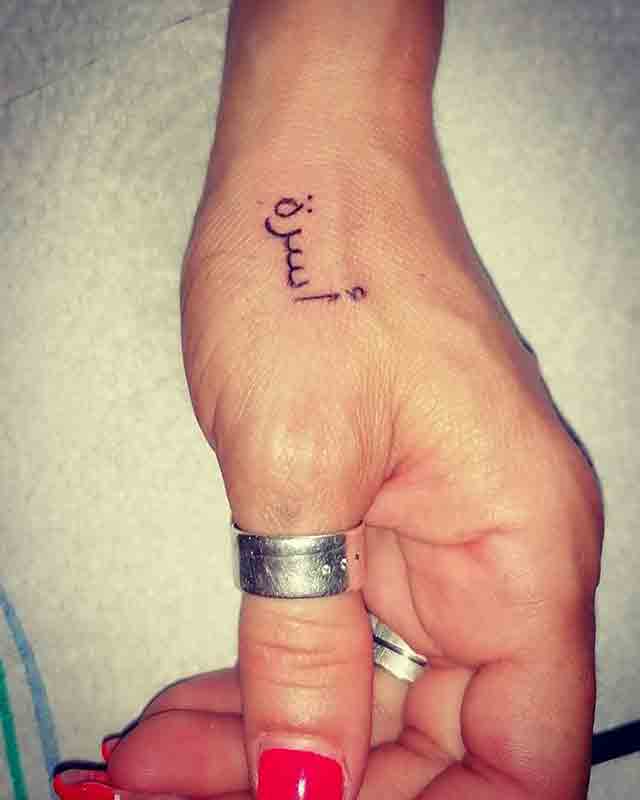 Family is one of the greatest treasures in life. This Arabic tattoo on hand shows respect, gratitude, and remembrance of family and blessings.
9. In Shaa Allah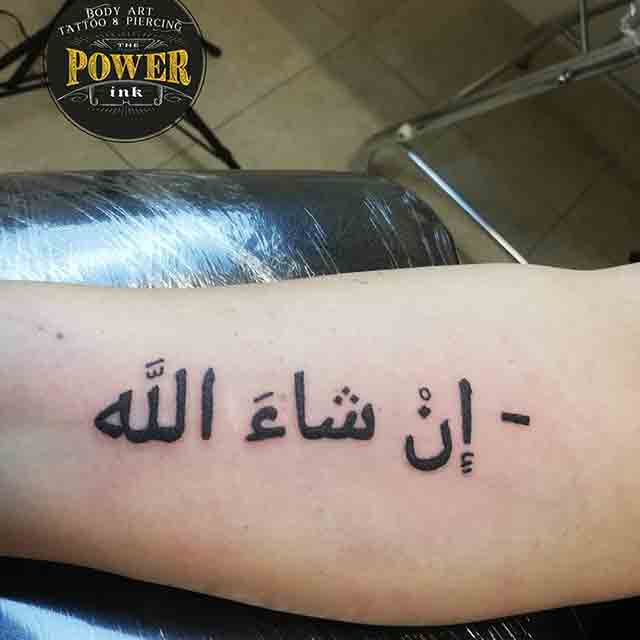 Tomorrow is uncertain and unknown to us, but we always pray and hope for the best. This Arabic tattoo represents faith and belief in the plans made by the Lord for us.
10. Everyday Motivation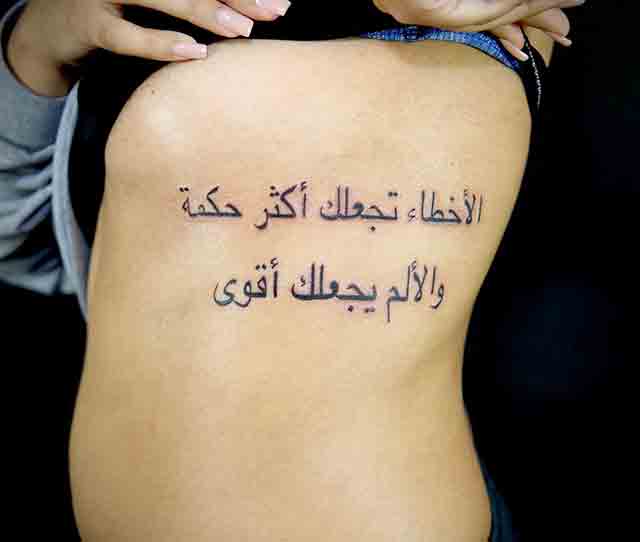 Pain and struggles are part of life. Get this motivational Arabic tattoo inked on the right side of your body as a daily reminder that struggles make you stronger and wiser.
11. Expression Of Love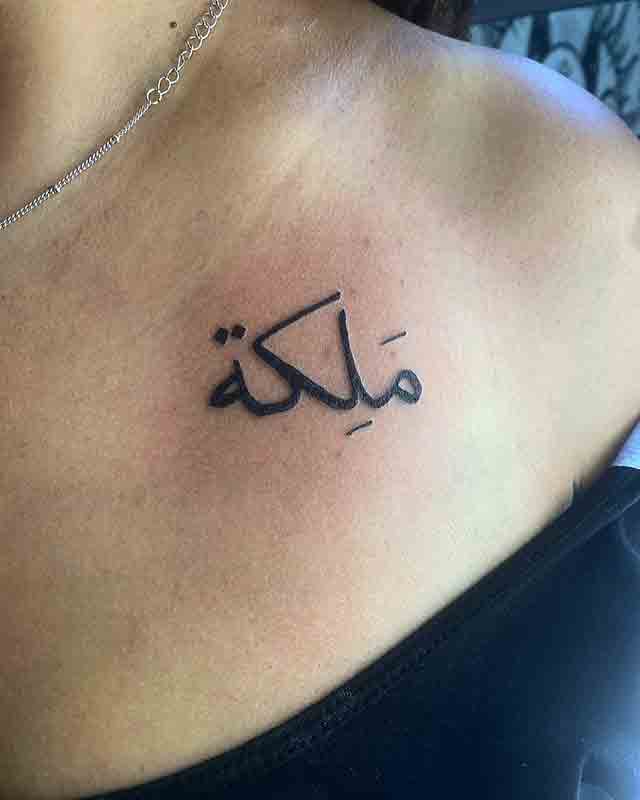 Malika in Arabic means Queen. Express your love to the queen of your life with this stunning Arabic writing tattoo.
12. Artistic Back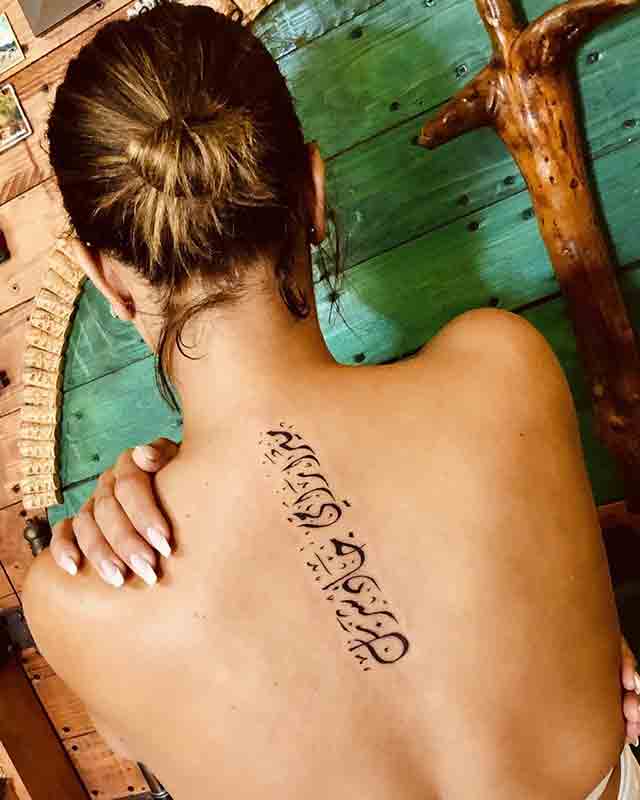 Starting from the upper back to the middle back, this Arabic tattoo represents a beautiful design. It showcases the talent and creativity of the artist.
Arabic tattoos on the back are quite popular today. Even though the area is not usually visible to people, making it more of a private and personal canvas. Let us see a few designs.
13. Down The Spine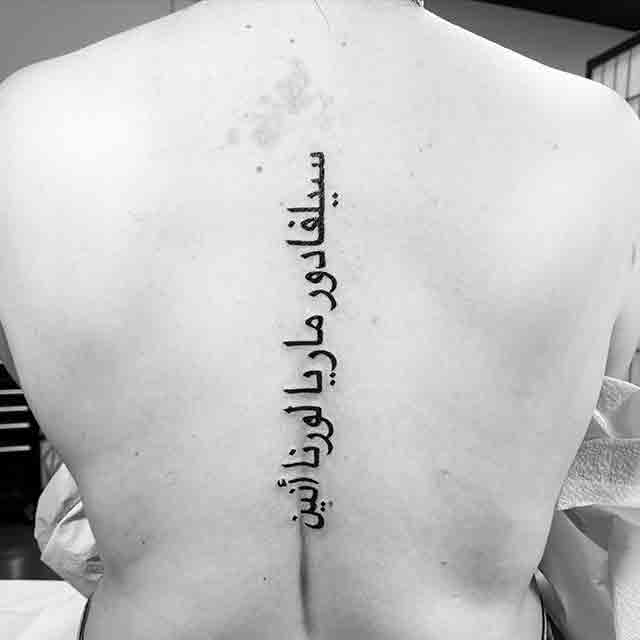 Moving down the spine, it is a stunning tattoo design in Arabic.
14. Future Possibilities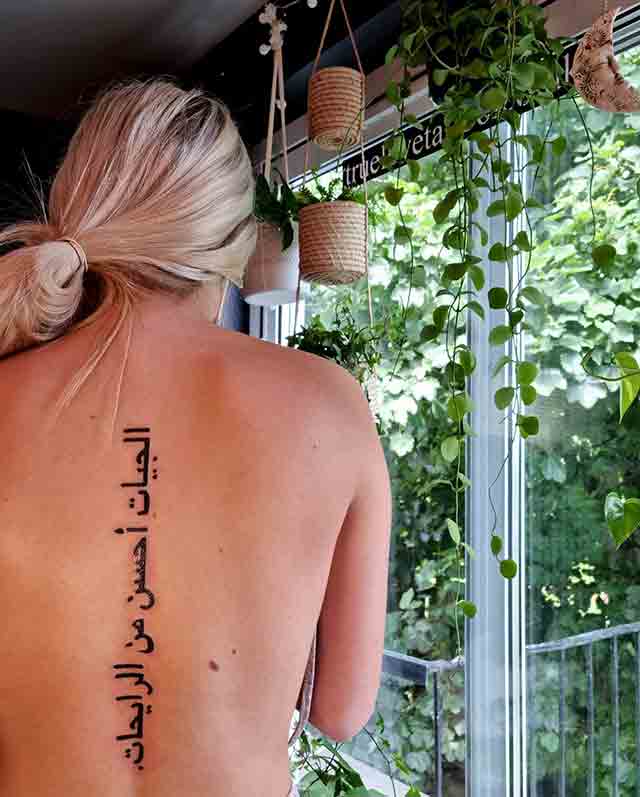 We all dream of a better future and believe that we will achieve it. This Arabic tattoo in back symbolizes that better days are coming.
15. The Saying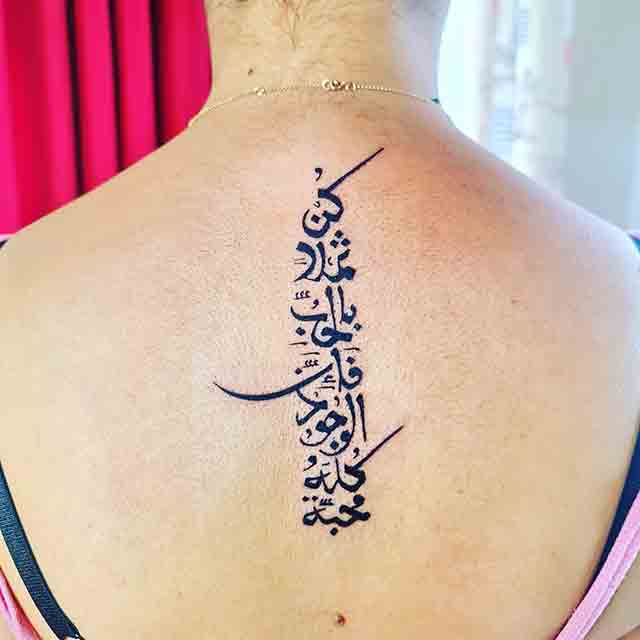 Get your favorite Arabic quote or phrase tattooed on your back. Not only does it look cool, but also keeps it private when needed.
Arabic Calligraphy Tattoo
Calligraphy is a major section of the Arabic culture. It is an alluring style and also looks great on Arabic tattoos. Here, we will see a few Arabic calligraphy tattoos.
16. Calligraphy Chronicles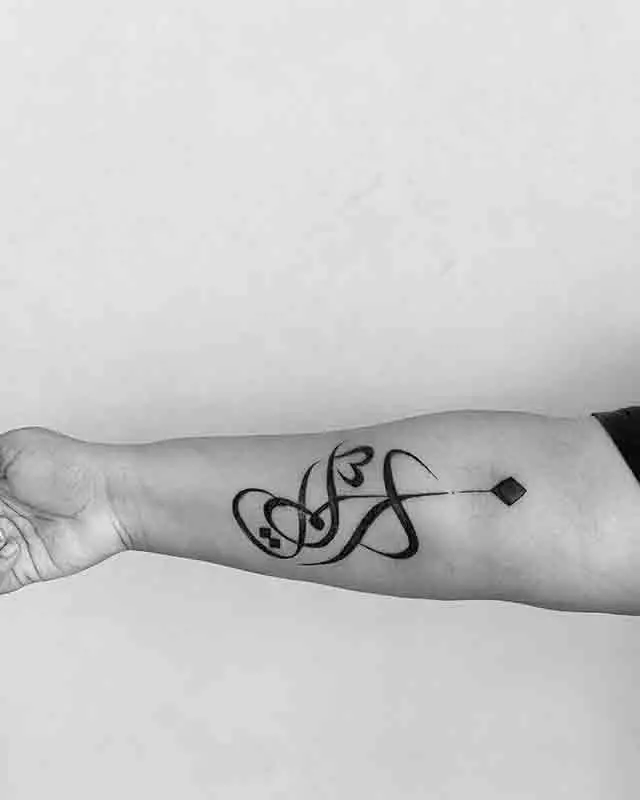 Turn heads and attract eyes to yourself with this amazing Arabic tattoo on your inner forearm. The unique style and Arabic lettering give it an elegant look.
17. Chest Calligraphy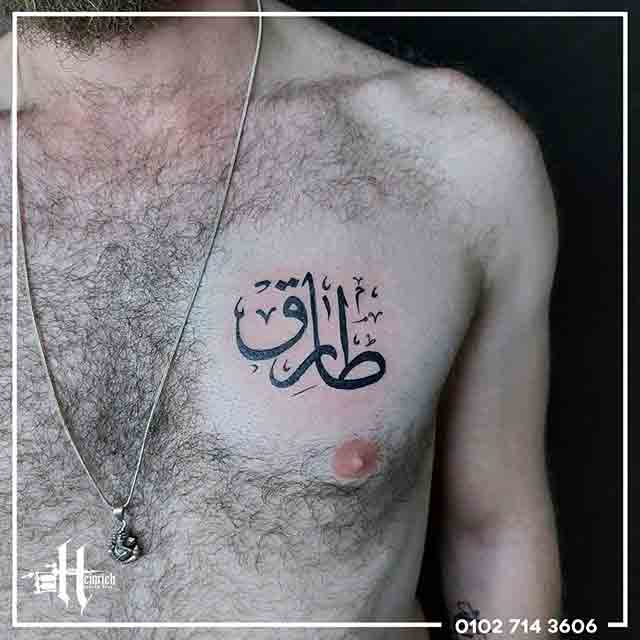 Chest tattoos on men are widely common but Arabic tattoos are unique and rare. Get your chest inked with this beautiful Arabic calligraphy to obtain an elegant look.
18. The Anger Issues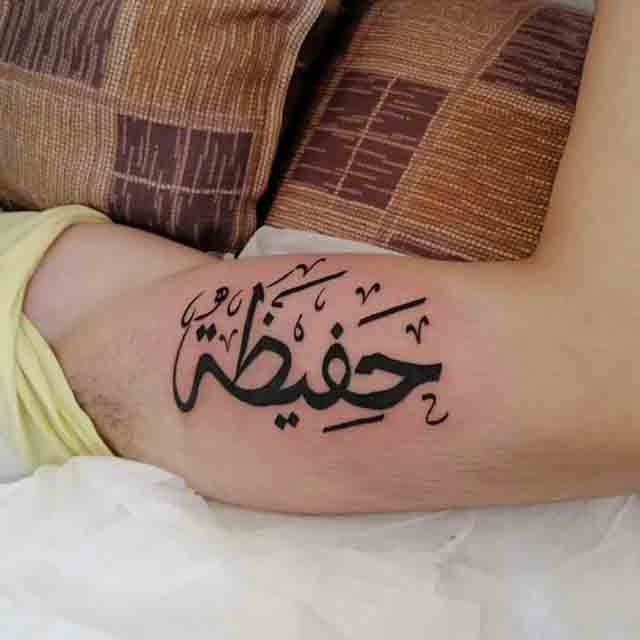 Remind yourself that anger will not do us any good with this Arabic tattoo design. The outstanding calligraphy loosely translates to anger.
Arabic Words Tattoo
One word can express a thousand emotions. Get Arabic word tattoos inked on your body to turn heads and express your inner feelings. Take a look at some of the top Arabic tattoo word designs.
19. Bound With Nature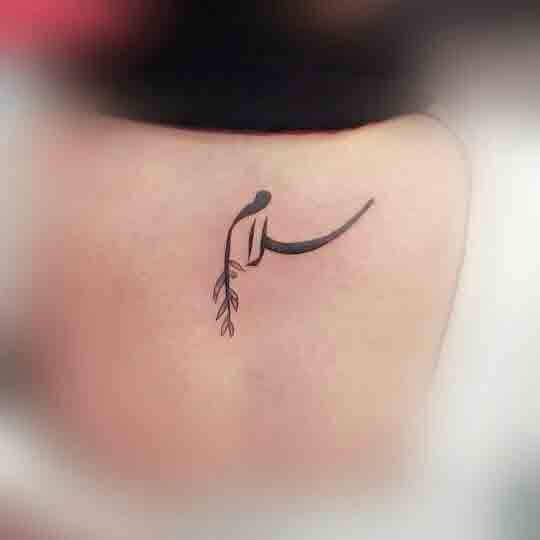 Nature is calm and healing. This attractive Arabic word tattoo is a beautiful representation of nature and the language.
20. A Friendly Reminder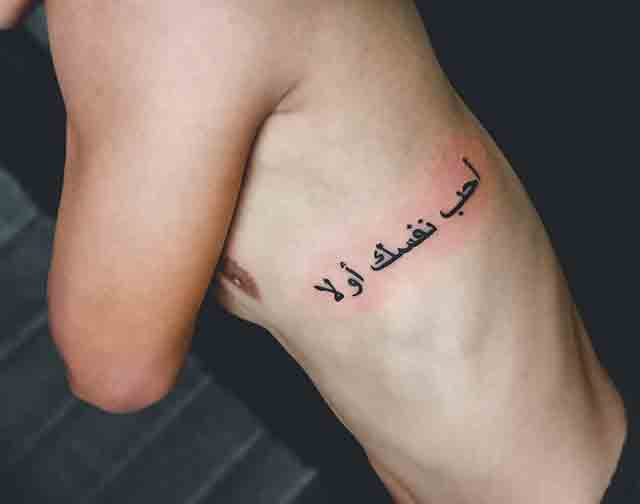 Self-love is one of the most important aspects of life. Give yourself a gentle reminder to love yourself with this Arabic tattoo.
21. Temporary Living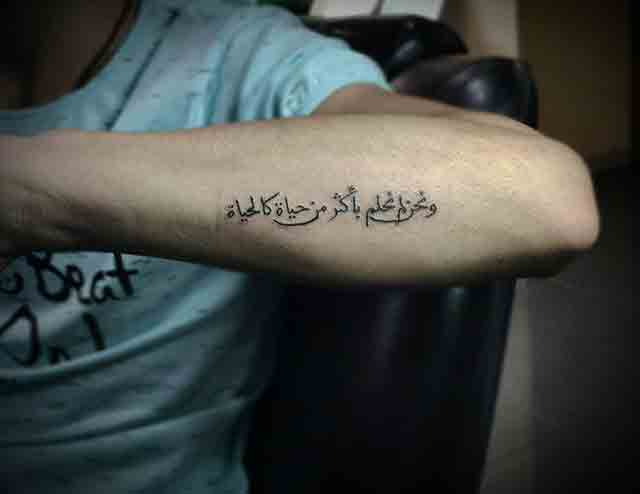 Get this beautiful Arabic tattoo design on your outer forearm as a reminder to yourself about love, life, and the world.
Arabic Tattoos Men
Arabic tattoos on men are very popular and a great way of expressing their feelings. Let us take a look at some of the best Arabic tattoos for men.
22. Be True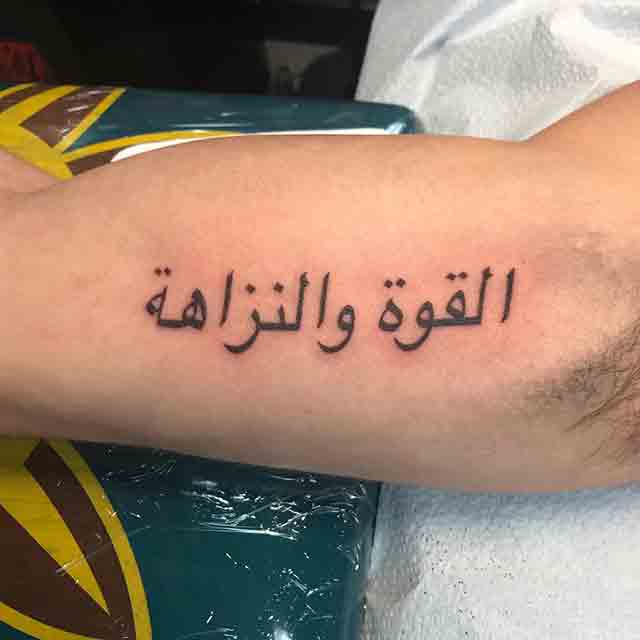 The unique Arabic tattoo loosely translates to "strength and integrity". This attractive tattoo is a representation of the struggles, courage, and truth of life.
23. Surrounded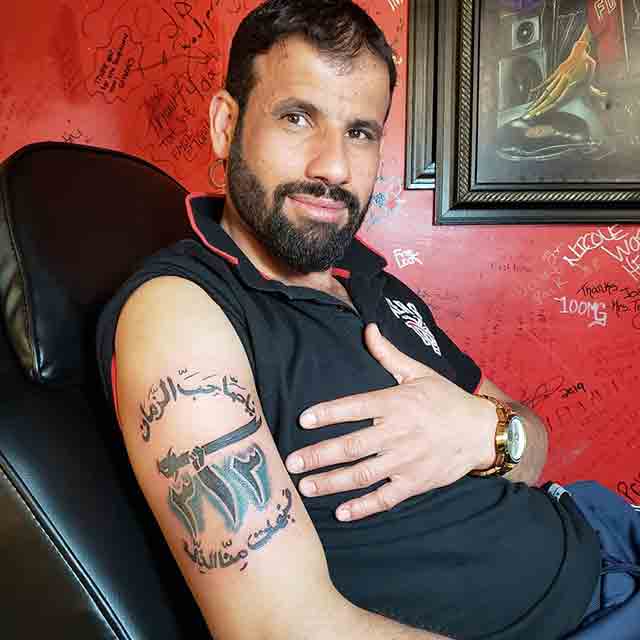 Rare Arabic tattoo designs are attractive and interesting. This unique design on the arm will turn heads and eyes towards you.
24. Name Of The Lord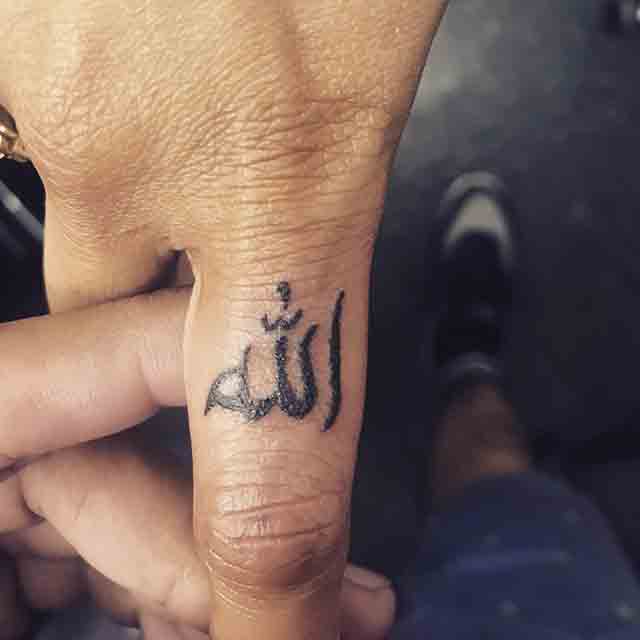 A gentle way of showing respect to religion, faith, and belief.
Arabic Shoulder Tattoo
Shoulders are a great placement for showcasing your Arabic tattoos. With deep meanings and beautiful designs, it displays art and creativity. Here, we will talk about a few examples.
25. Small Arabic Art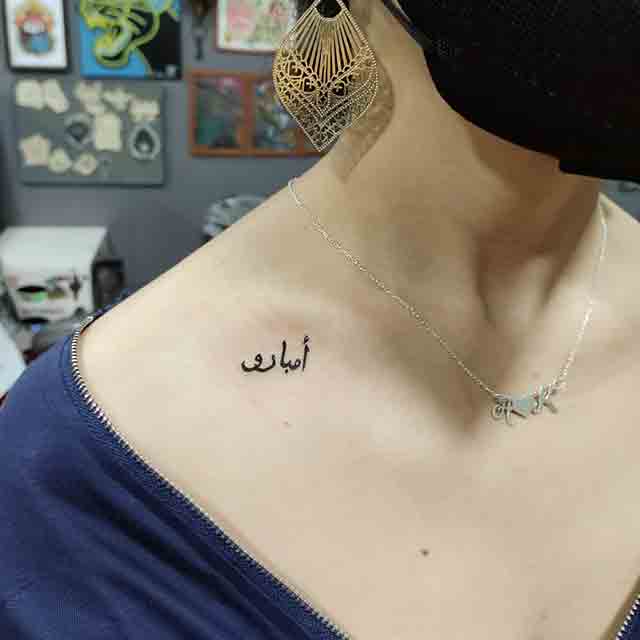 Get this small and pretty Arabic tattoo design on your shoulder to display to the world. It will match your style perfectly and give you an elegant look.
26. Ya Hussein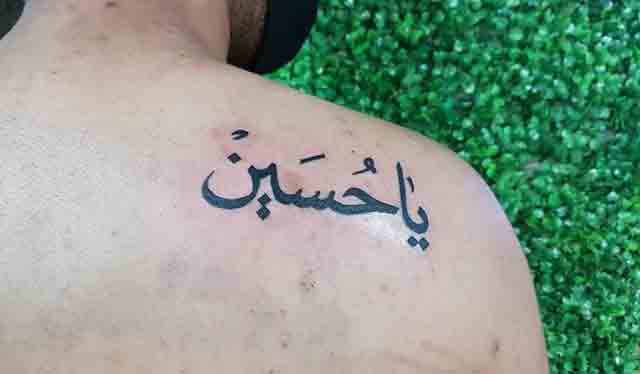 Pay tribute to the religion and the sacrifices people made for the perservance and peace of religion with this Arabic tattoo.
27. The Faith Persuasion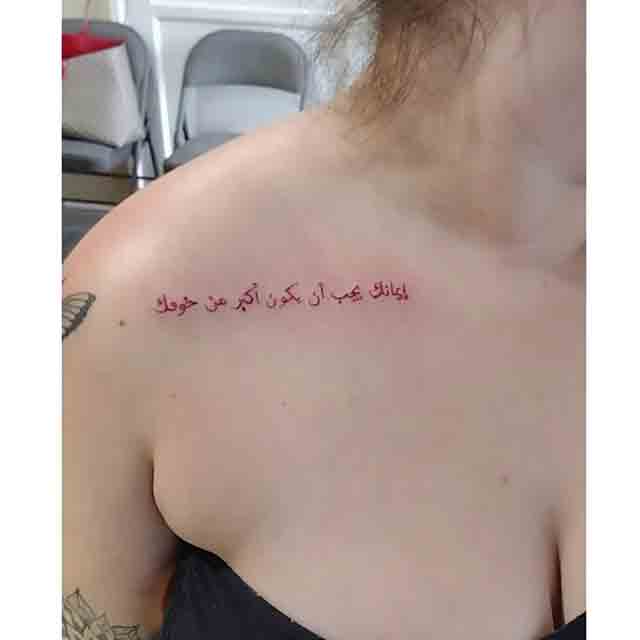 Highlight your shoulder and features with this red Arabic tattoo phrase.
Arabic Chest Tattoo
Arabic chest tattoos are common in both men and women. Not only do these tattoos look beautiful but the designs make them highly attractive.
28. Beauty On Chest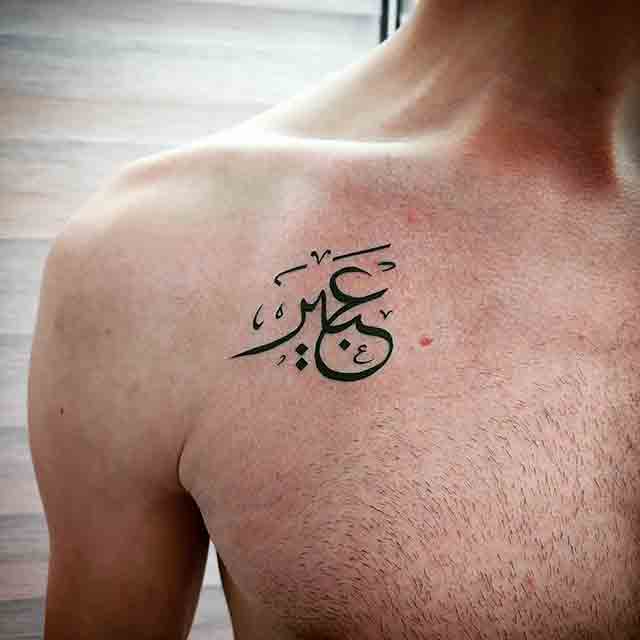 Represent beauty of life with this alluring Arabic tattoo on the chest. The small design and detailing make it very eye-catching.
29. Fighting Spirit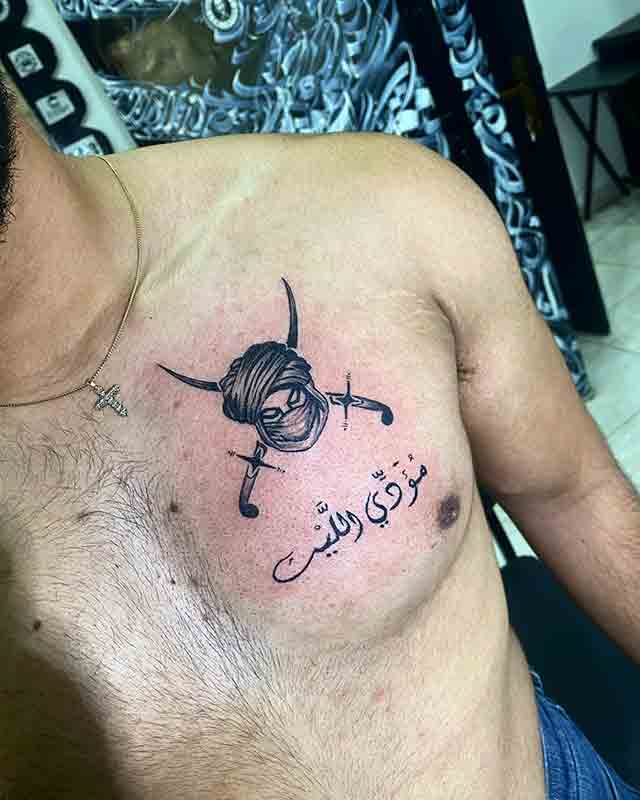 Get this Arabic writing tattoo along with the sword fighter inked on your chest. It is a symbolization that you should never give up and continue fighting.
30. Tiny Colorful Tattoo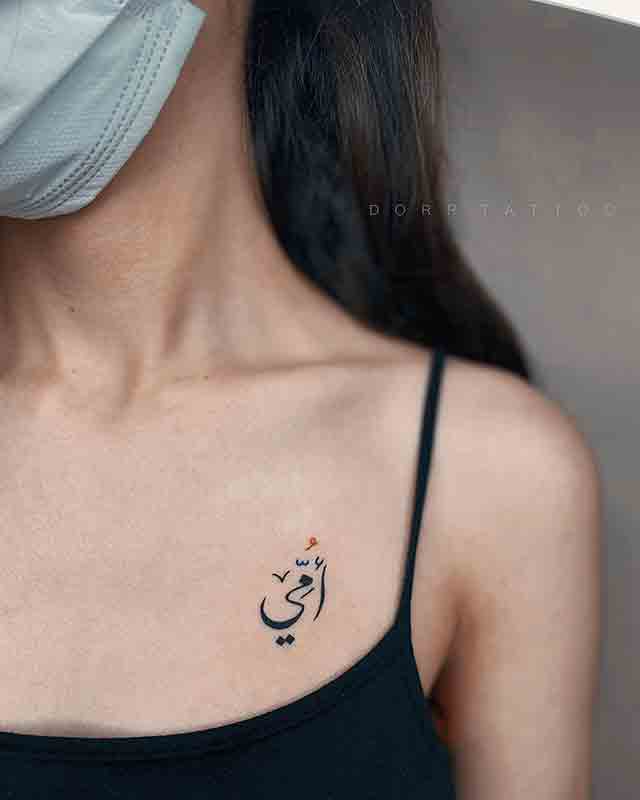 Tiny and colorful Arabic tattoos look eye-catching and stunning. Get this tattoo to elevate your features and look.
Arabic Neck Tattoo
Even though neck tattoos are very painful, the designs and final look make the tattoos worth the pain. Arabic neck tattoos go well with each and every style and personality. Here, we will talk about a few tattoos like these.
31. Below The Ear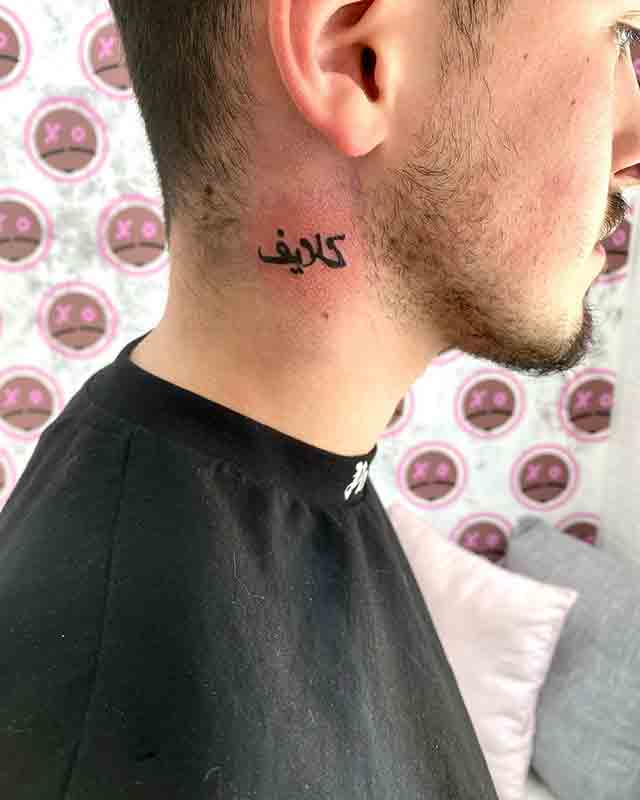 Give your style and appearance a boost with this one-word Arabic tattoo.
32. Fate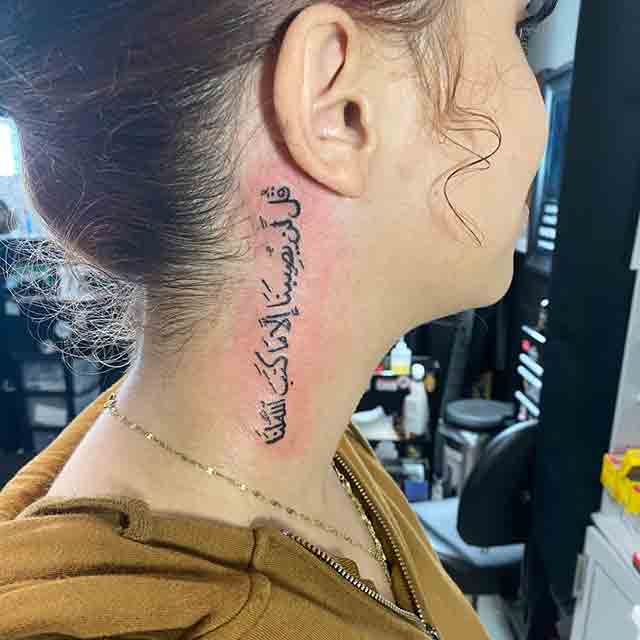 Our fate has already been determined by the Lord above. This neck tattoo represents a friendly reminder to keep the faith and believe in the plans written by the Lord.
33. Line Art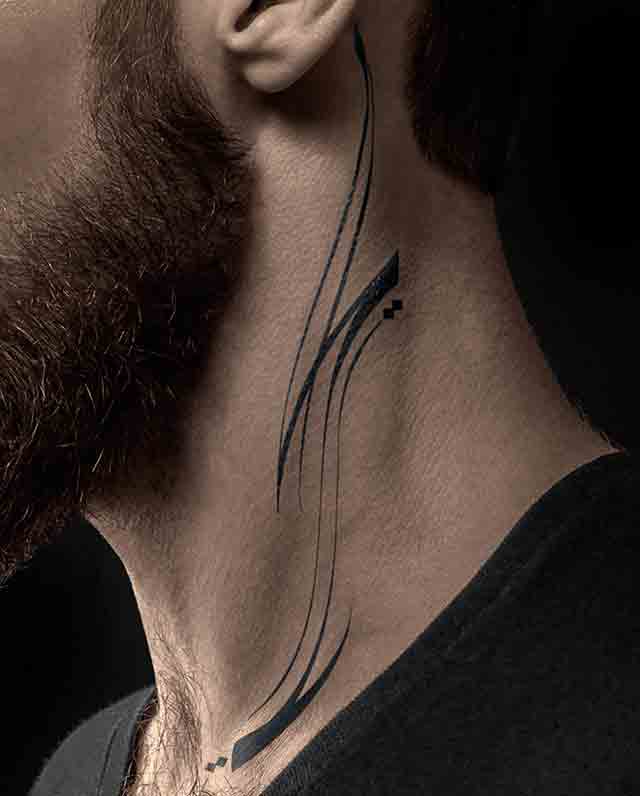 Attract eyes toward you with this Arabic calligraphy tattoo. The beautiful line art gives you a unique look.
Arabic Name Tattoo
Name tattoos are extremely popular in the tattoo culture. These tattoos typically represent love, respect, and tribute to someone special in life. Let us see a few Arabic name tattoos.
34. Ismael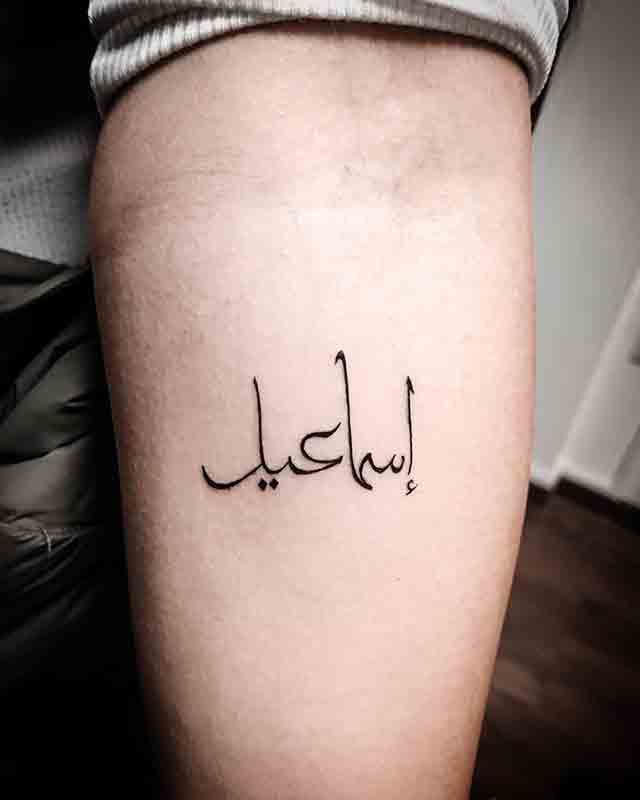 Ismael is a beautiful Arabic name with a deep meaning behind it. The meaning of this name is to be heard by the Lord above.
35. Memorable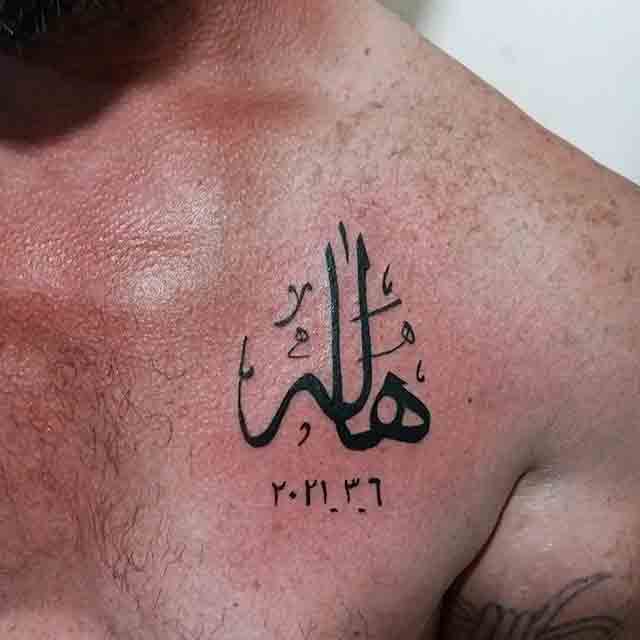 Show respect, love, and feelings to someone special in life with this Arabic tattoo. The name and date represent a special moment or person in life.
36. Tribute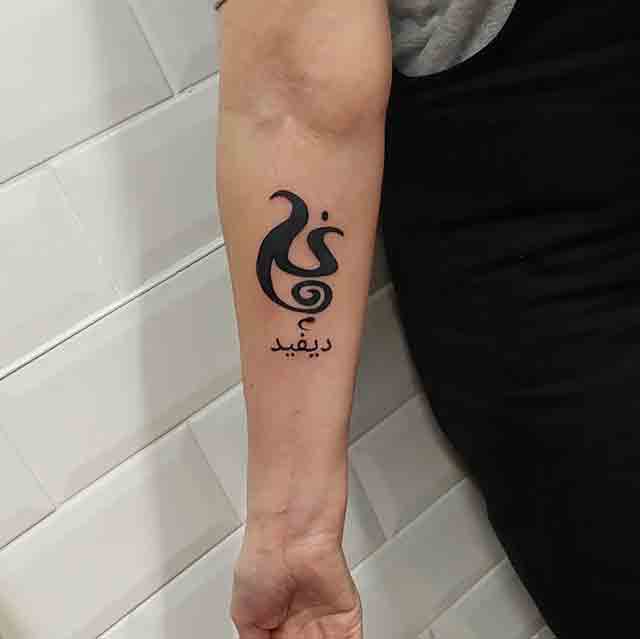 Pay tribute to someone you love or remember every day with this unique Arabic tattoo design.
Arabic Quotes Tattoo
Arabic quote tattoos are very popular and are usually seen as a daily reminder or motivation. Let us see some of the top Arabic tattoos about quotes.
37. Double Trouble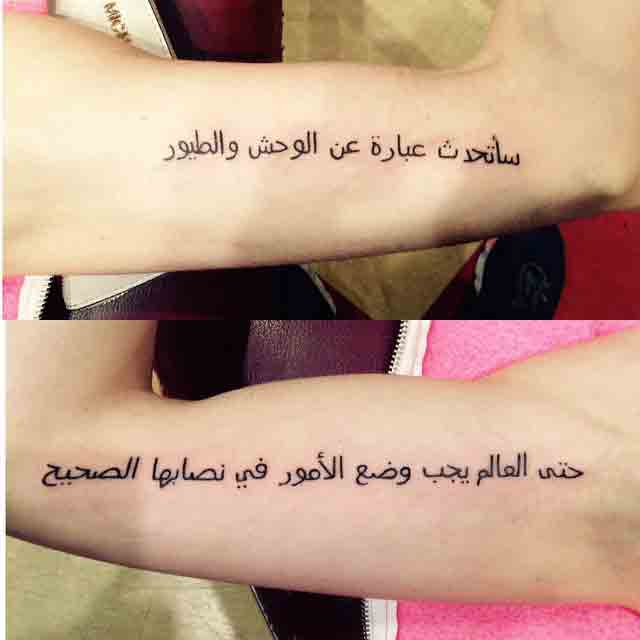 Get two meaningful phrases tattooed on both arms or break down one quote in two arms. It is a unique take on an Arabic tattoo and represents the quote clearly and beautifully.
38. Art On Waist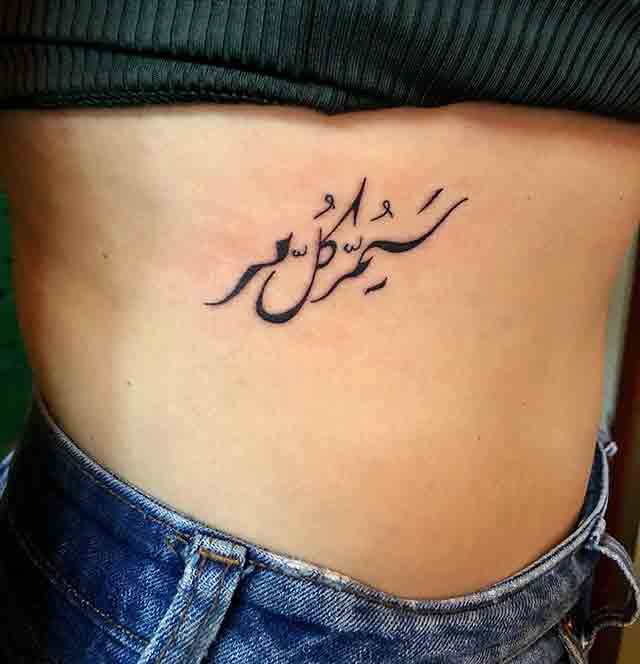 The waist is a great place for an Arabic tattoo. You can either display the tattoo or keep it hidden without any trouble.
39. Struggles And Strength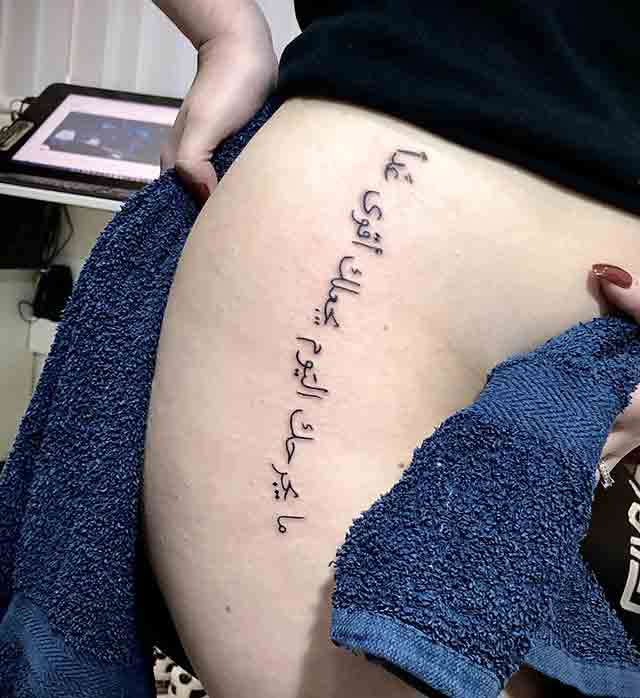 Arabic tattoo design on the hip is interesting and inspiring. It represents strength and courage to overcome the struggles in life.
Arabic Symbols Tattoos
Symbol tattoos are short and sweet, with a deep meaning. Arabic symbol tattoos serve a similar purpose and look great on your body. Here, we will see a few Arabic symbol tattoos.
40. Ishq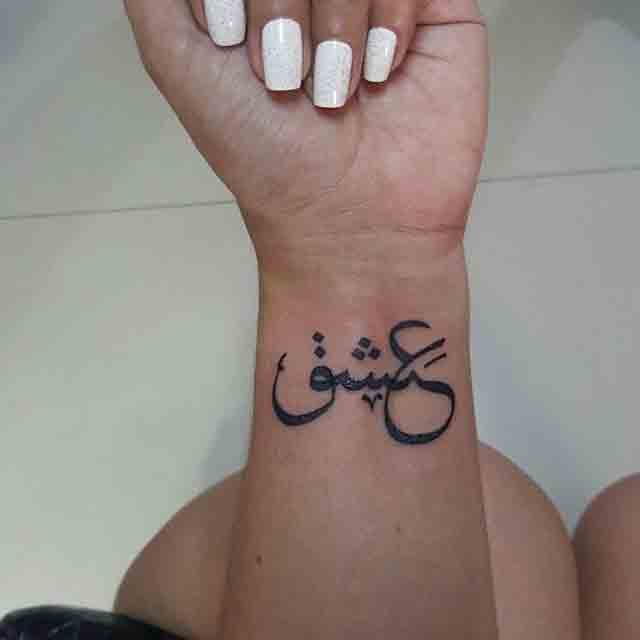 Love is a major part of the tattoo culture. Uniquely represent love with this beautiful Arabic tattoo.
41.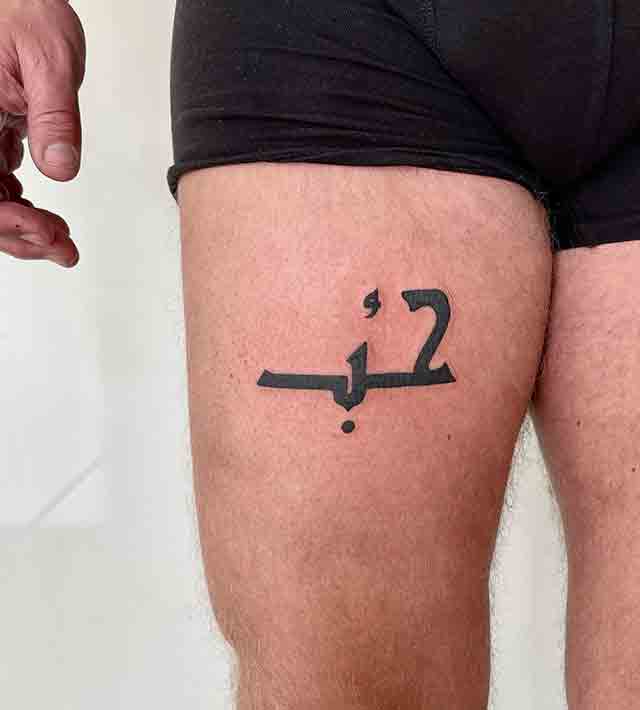 42.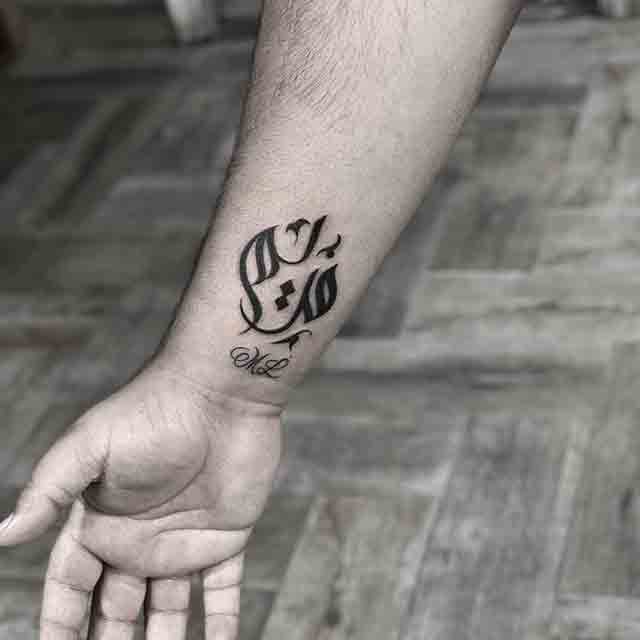 Wrist Arabic Tattoos And Meanings
43.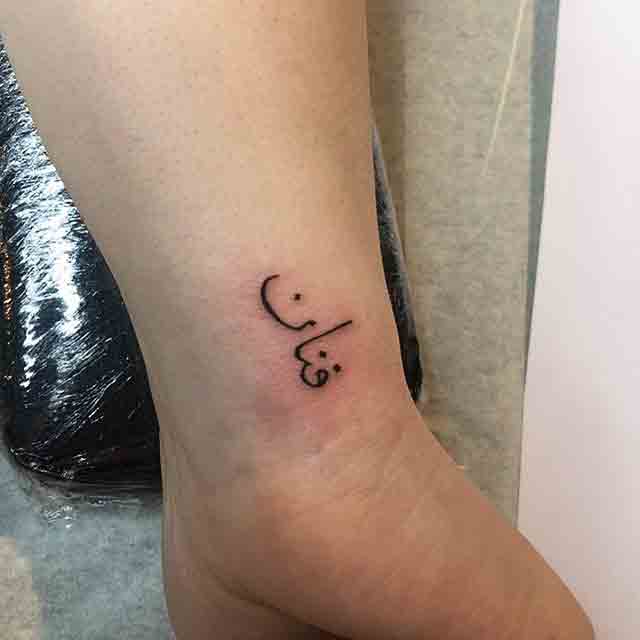 44.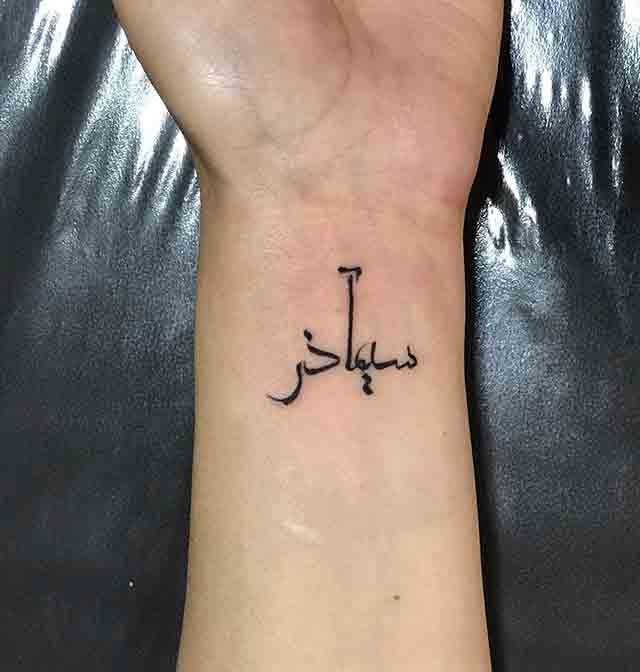 45.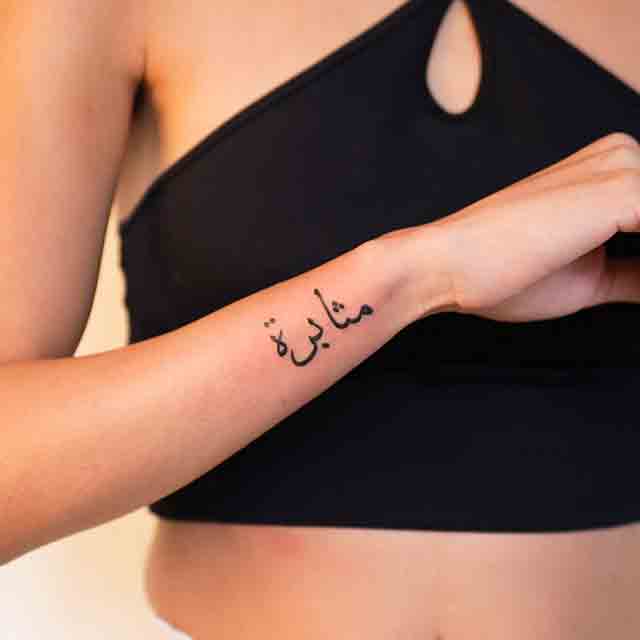 46.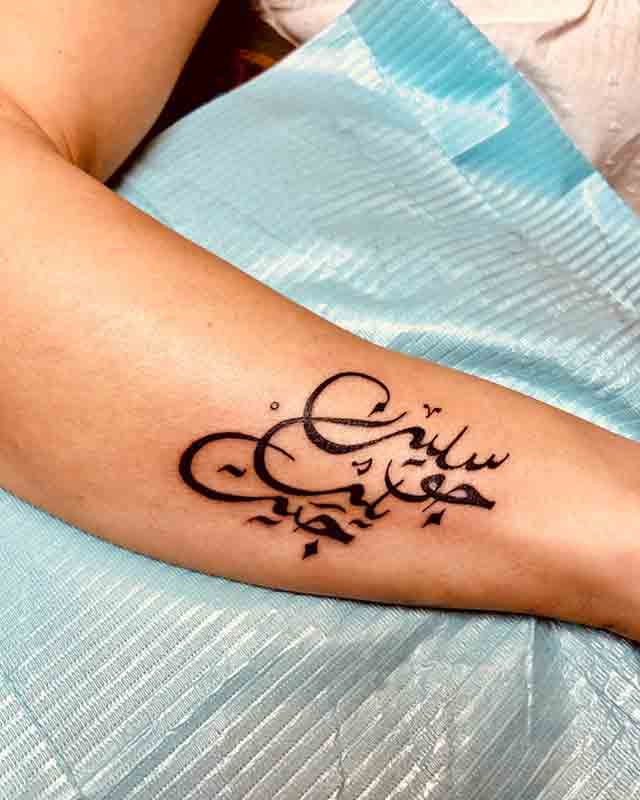 47.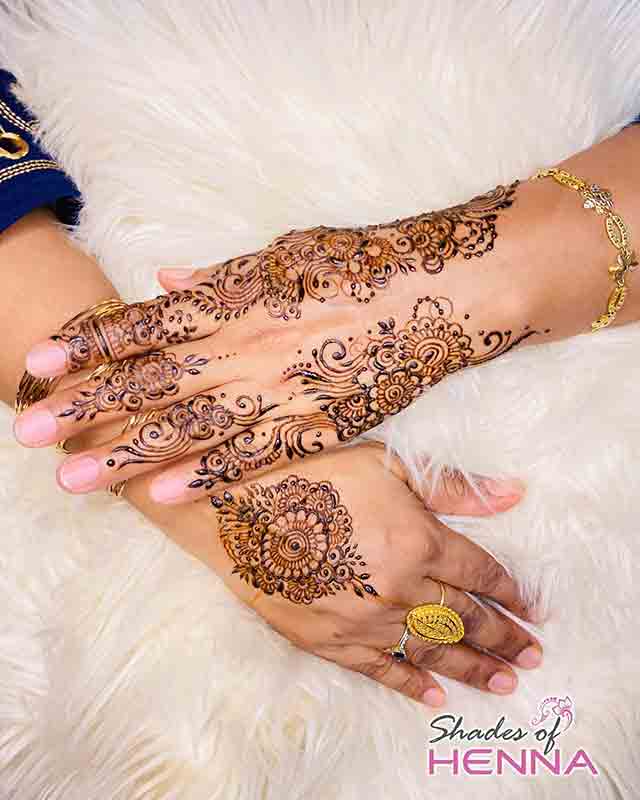 48.
Arabic Small Tattoos
49.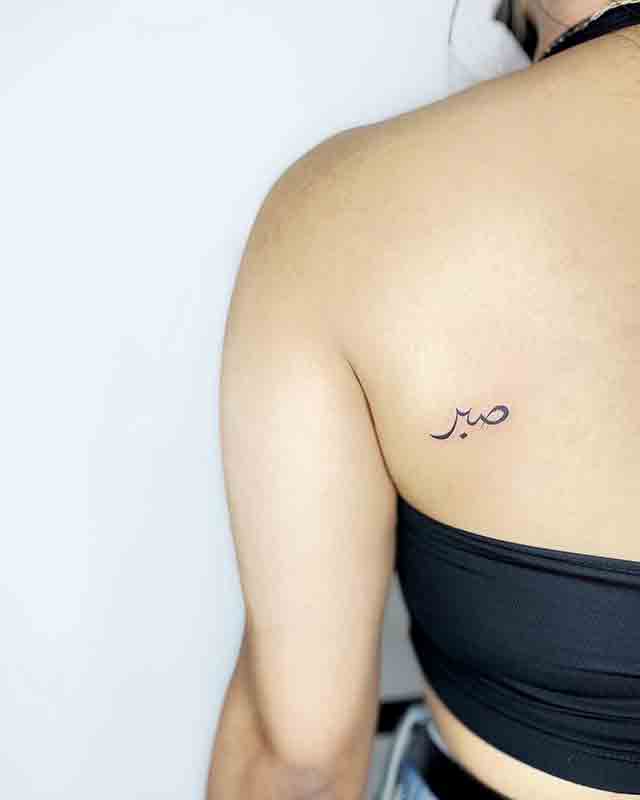 50.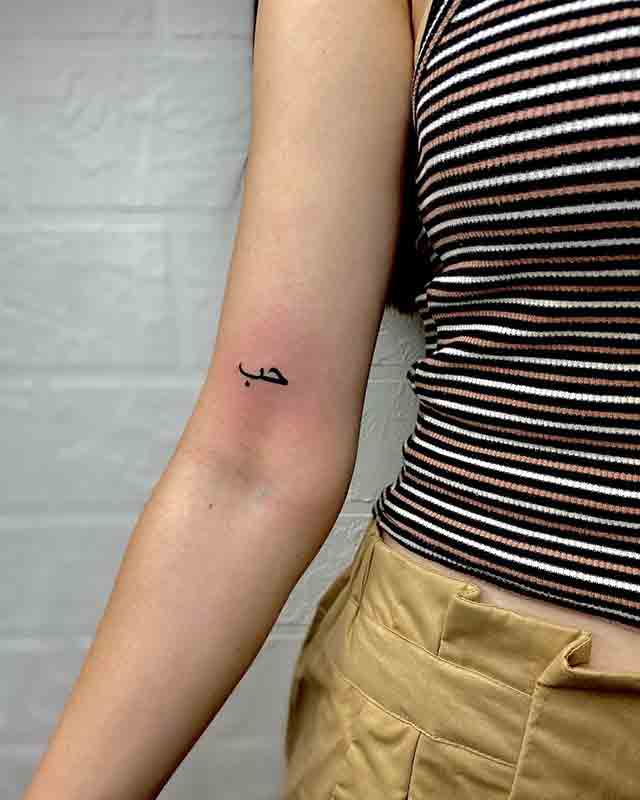 51.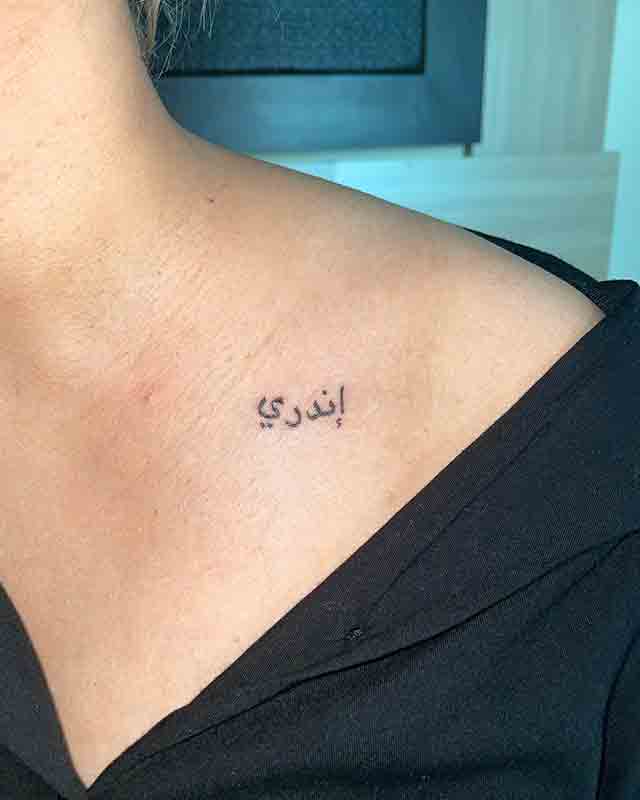 52.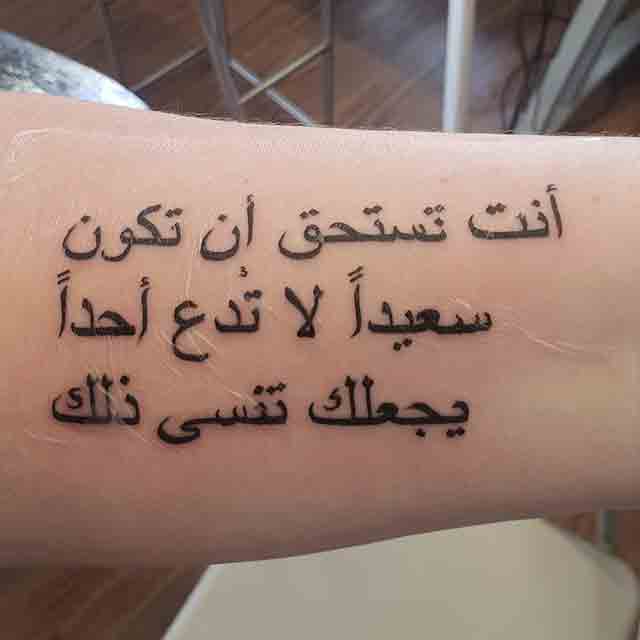 53.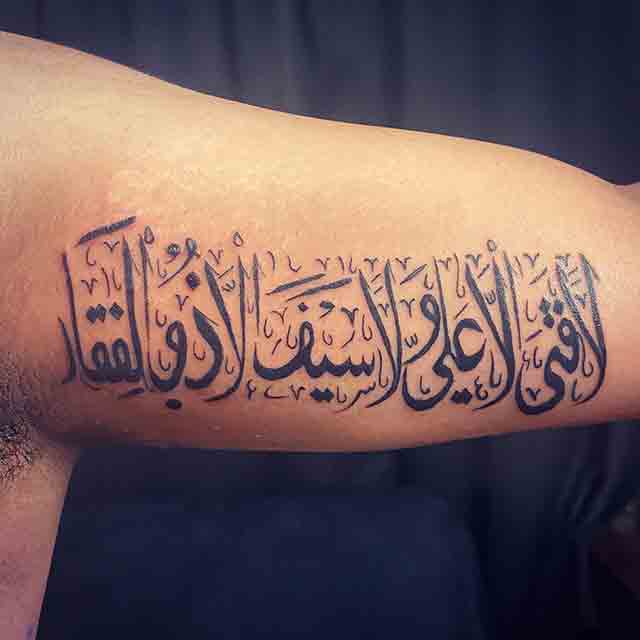 54.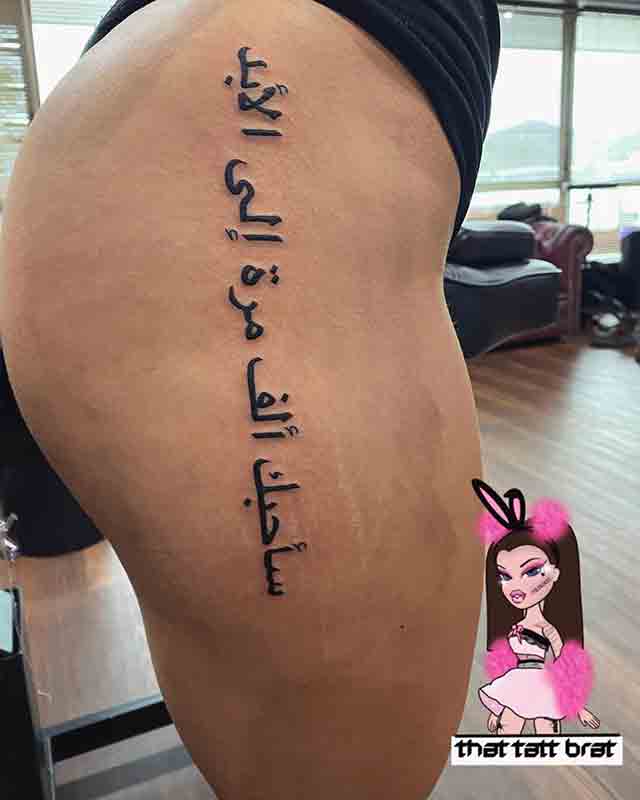 Arabic Tattoos On Ribs
55.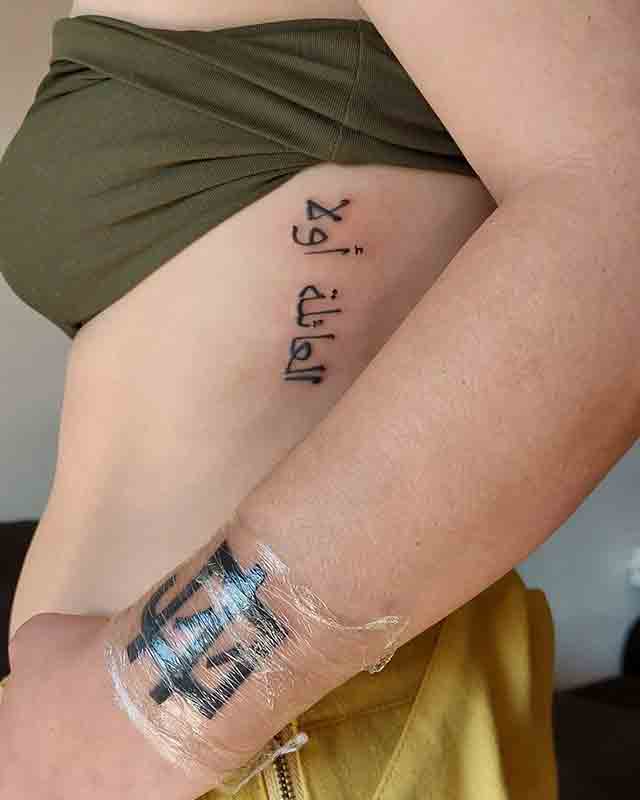 56.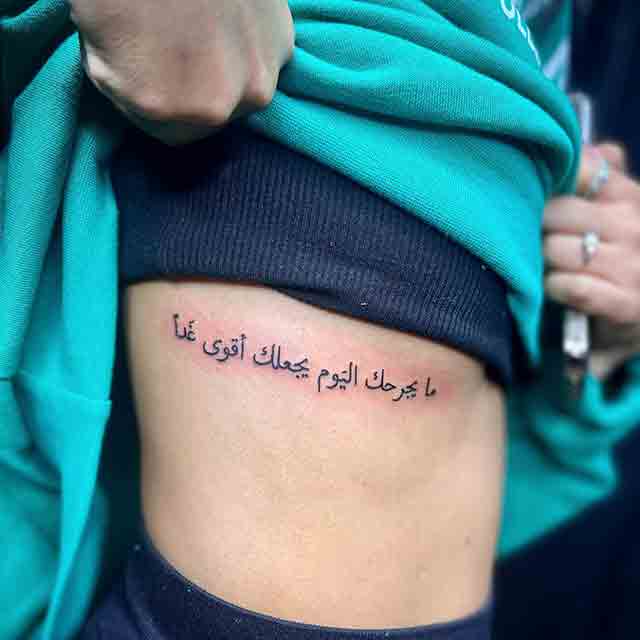 57.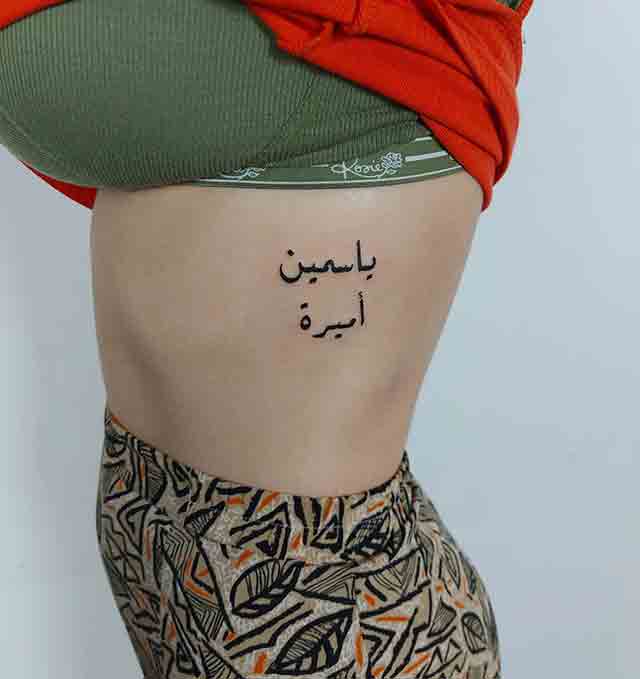 58.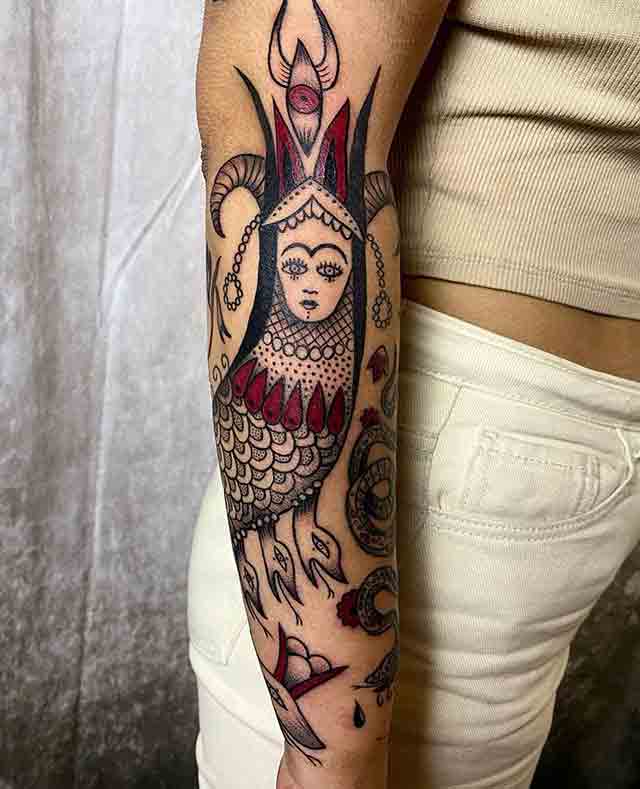 59.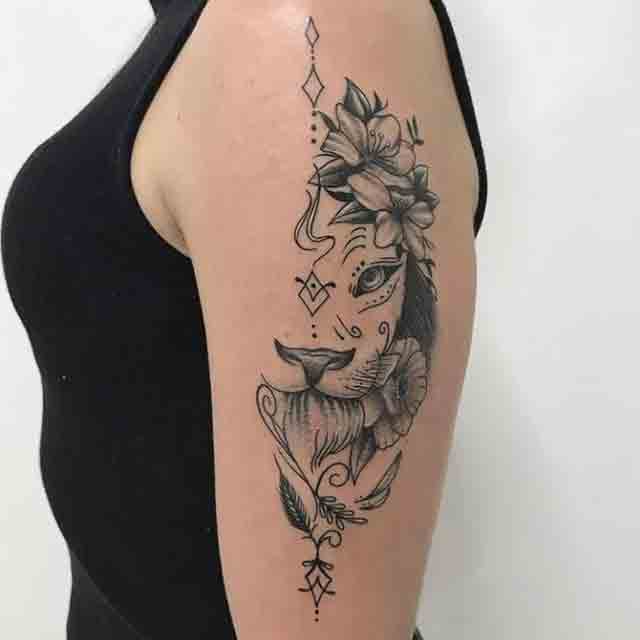 60.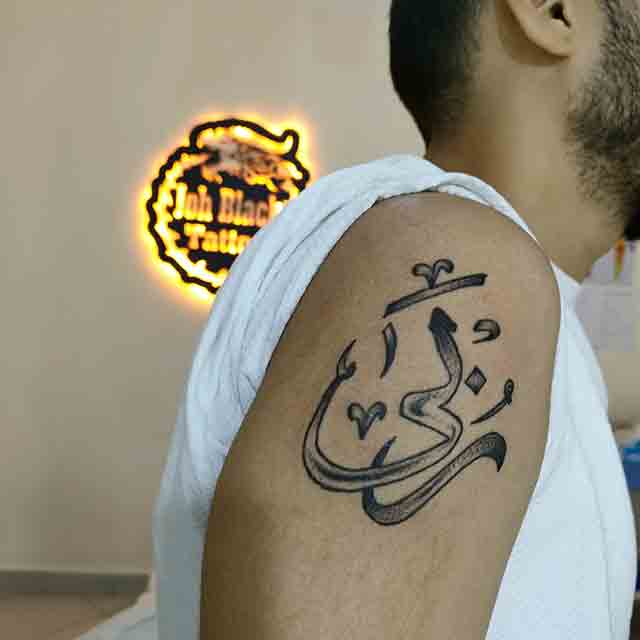 Arabic Half Sleeve Tattoos
61.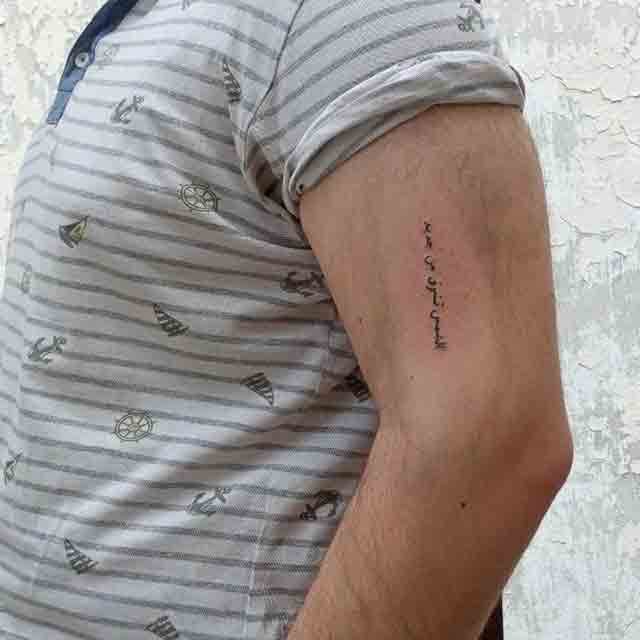 62.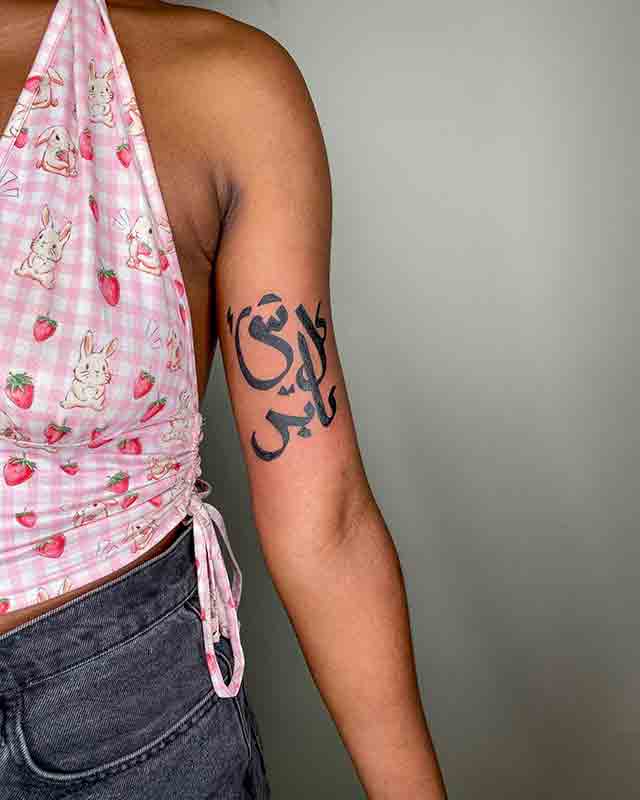 63.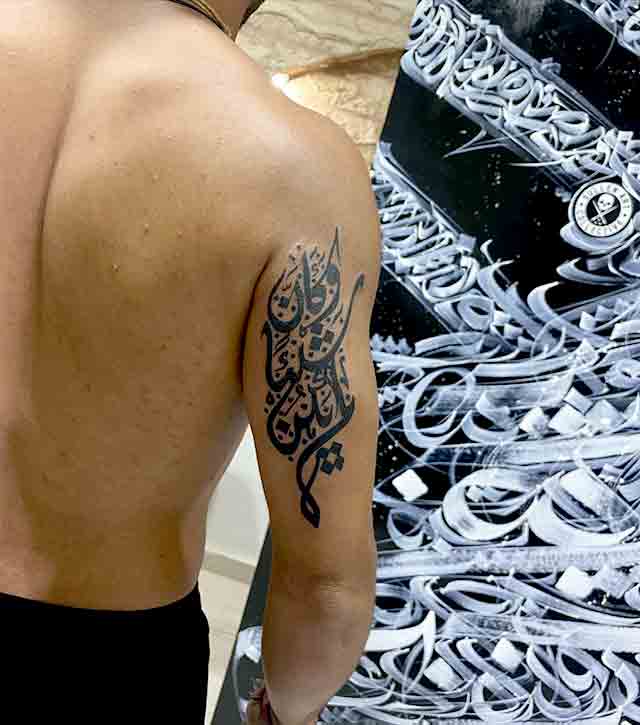 Cute Arabic Tattoo
64.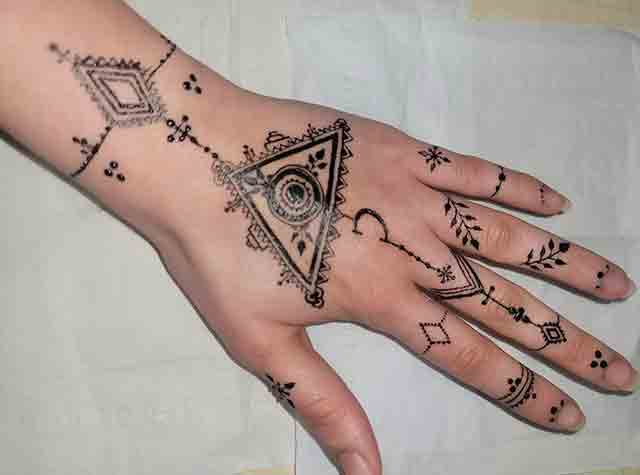 65.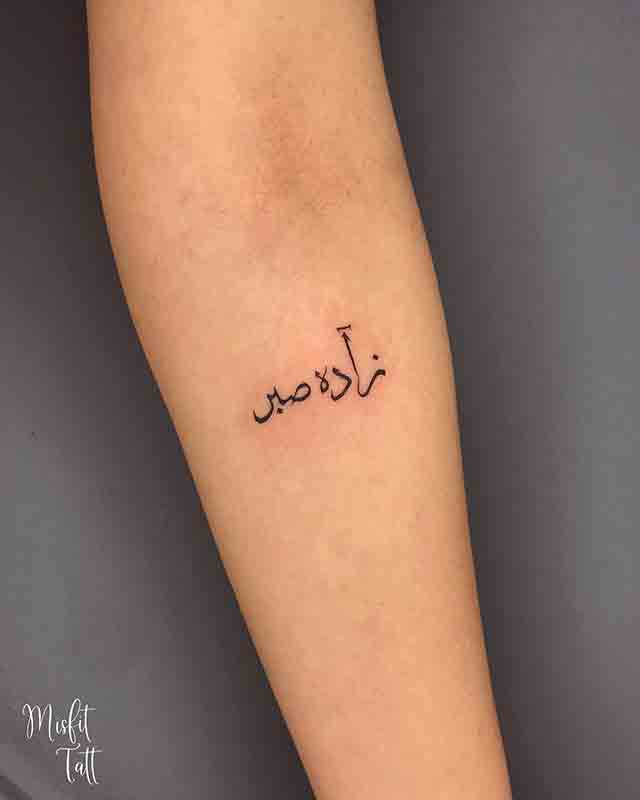 66.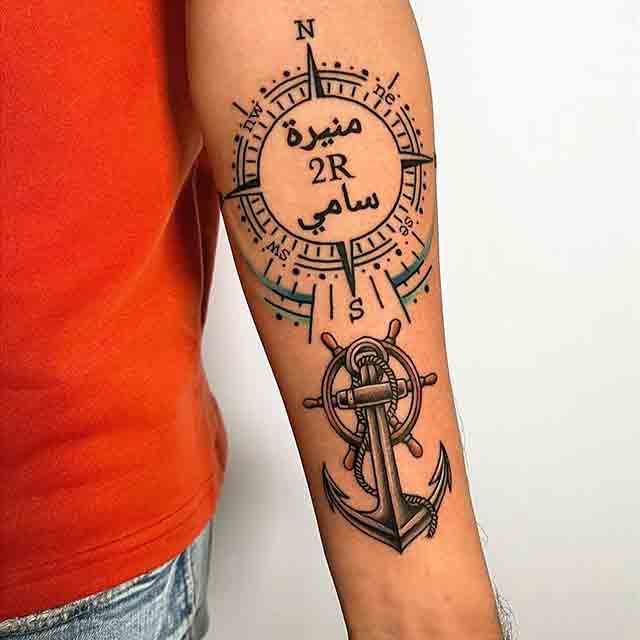 Habibi Arabic Tattoo
67.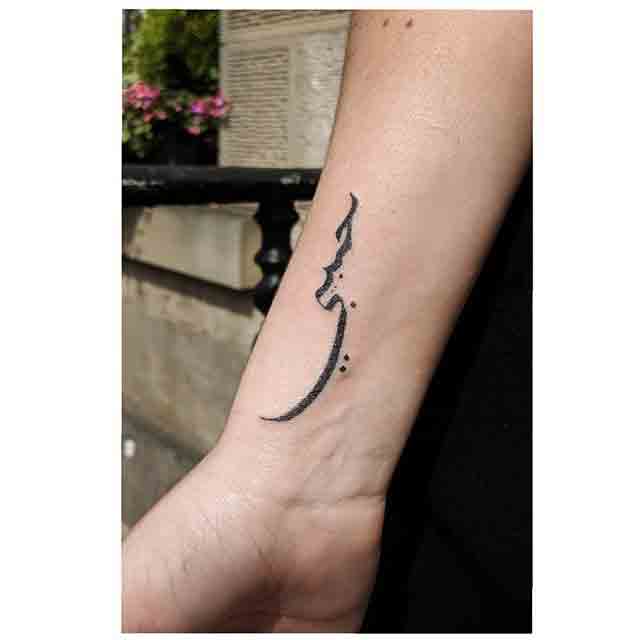 68.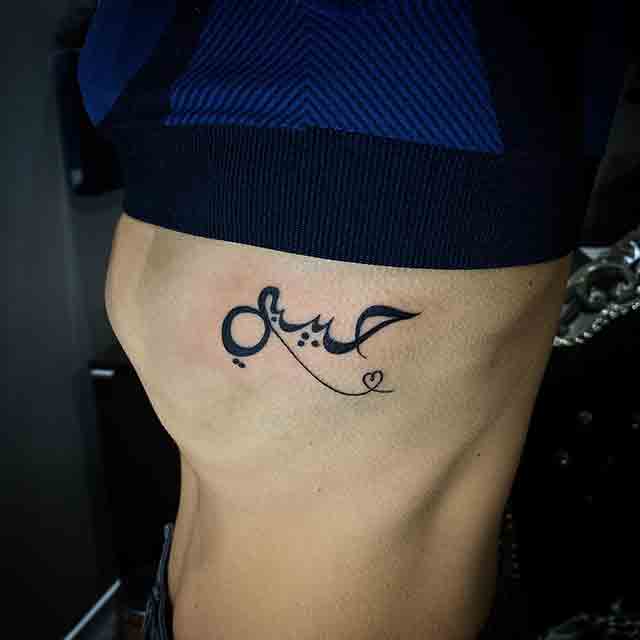 69.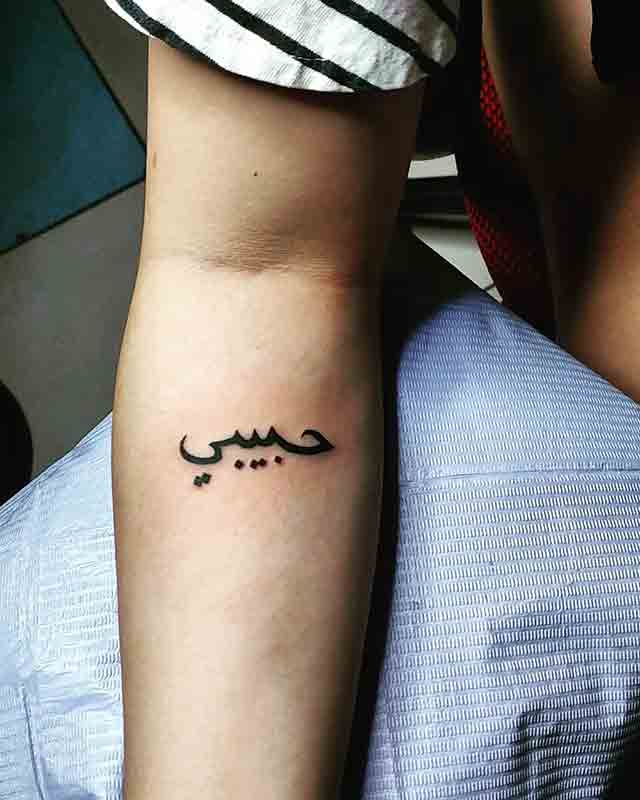 70.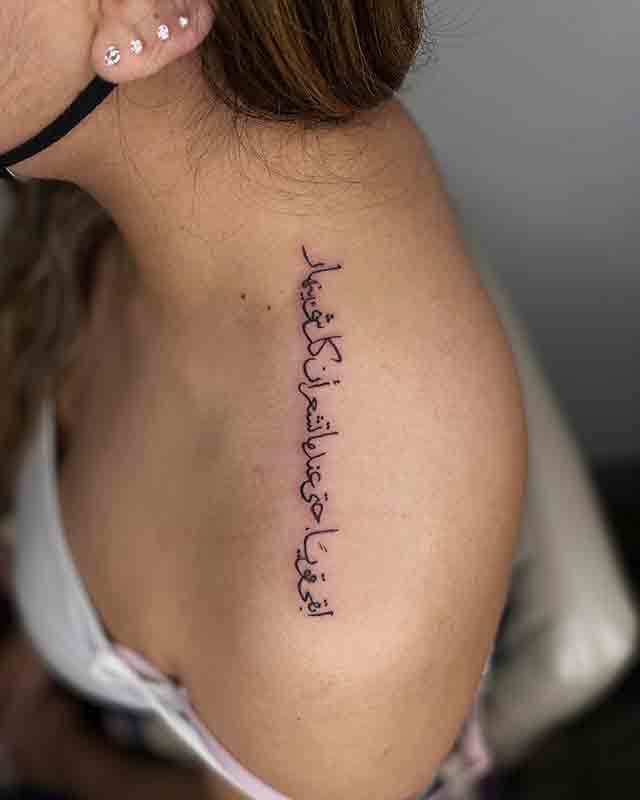 71.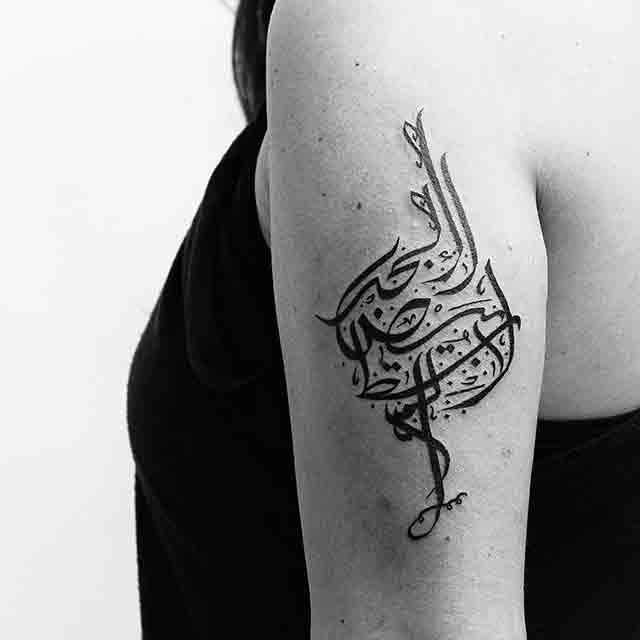 72.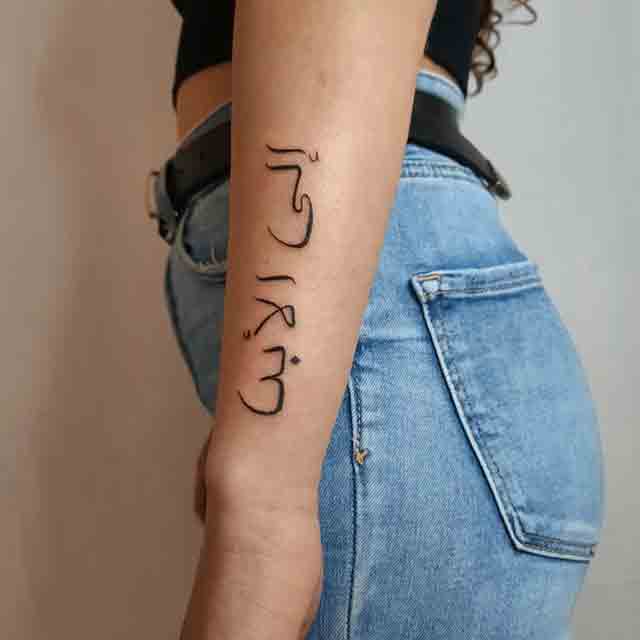 Conclusion
Finding the right Arabic tattoo for your body is not an easy task. Now that we have reached the end of this guide, we hope that you now have found the inspiration for your next Arabic tattoo. Make sure that you are well aware of the meaning and what it represents before you get yourself inked.
Before getting an Arabic tattoo, do not forget to check the credibility and experience of the tattoo artist. One small mistake can completely change the meaning of your tattoo and what it represents.