Pin up girls are women whose pictures are displayed in a naughty manner. That's why pin up girl tattoos became a hot choice of ink for soldiers, marines, and navies a few decades ago. But it didn't stop there, for women are also liking the idea of having a flirtatious image pierced on their skin. Now women are also getting pin-up girl tattoos to display either their fun personality or sexual preference.
Naughty Pin Up Girl Tattoo to Try
If pin up girl tattoos are too sexy for you to handle, then choose a more conservative design. Because they are deliberately meant to arouse a person's desire. Find the right balance between naughty and nice, not showing everything but shows enough to build a strong sexual tension. And last but not least, follow your gut. If you instinctively react to the image of your pin up girl, then you're on the right track. To give you some ideas on what to get or how you want yours to look like, keep scrolling down.
#1: Start Your Engines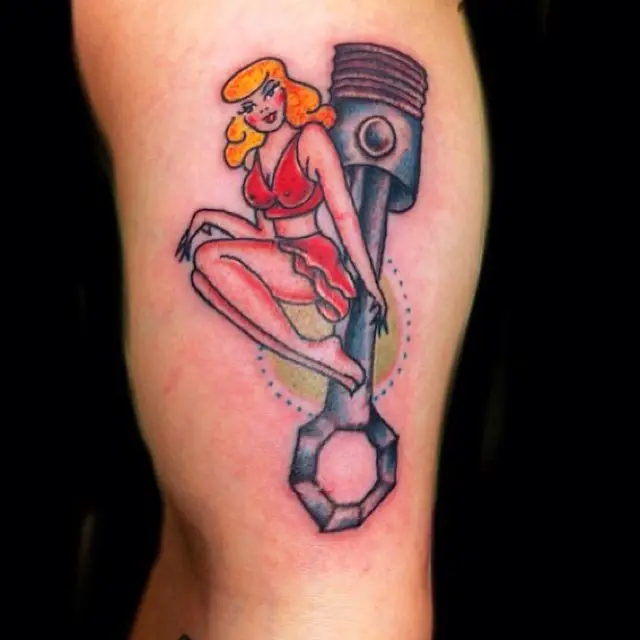 Our first ink right here is probably owned by a car enthusiast. Look how those flirtatious eyes tease you while softly sitting on a piston, this will definitely get your engine going.
Try The Coolest Sun and Moon Tattoo Designs
#2: The Muffin Girl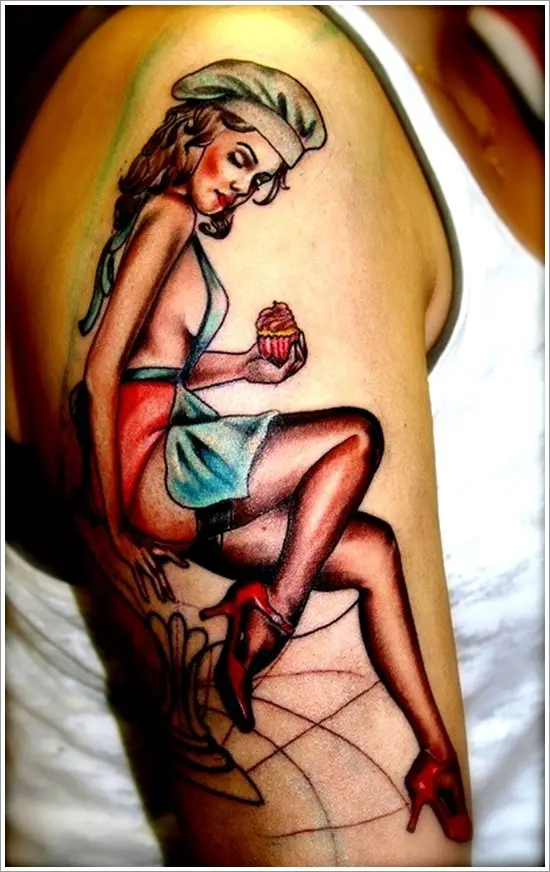 Here's a pin-up girl tattoo of a hot woman exposing most of her curves while holding her sweet muffin. Aggressively teasing you by tapping into your two most instinctive desires.
#3: Lifelike Pin Up Girl Tattoo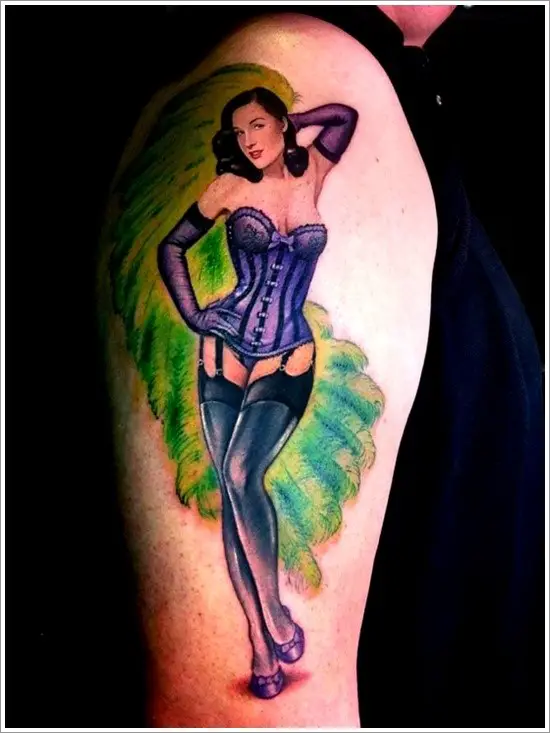 A realistic pin up girl that is pretty from top to bottom. She has a tantalizing face of a celebrity and a captivating curvature that'll make you drool.
#4: The Forbidden Opera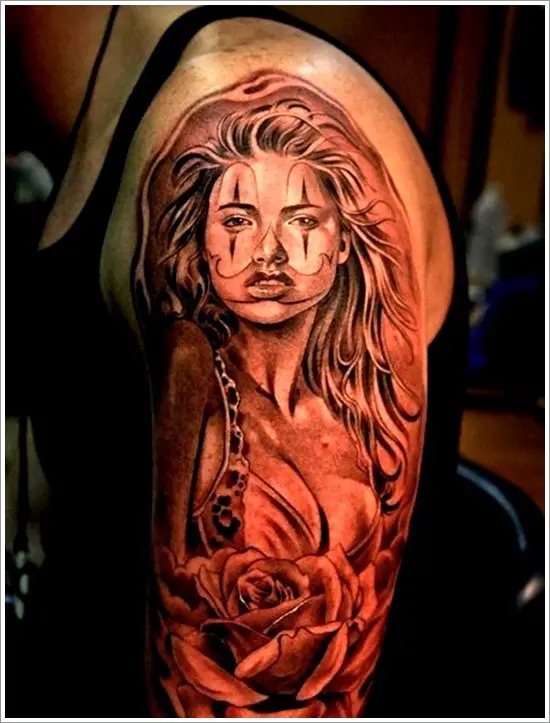 This one has a taste of sophistication and intricacy. The way this design looks at you seductively while her body pulls away gives you mix messages of what she wants.
#5: Looking for Her Lonely Sailor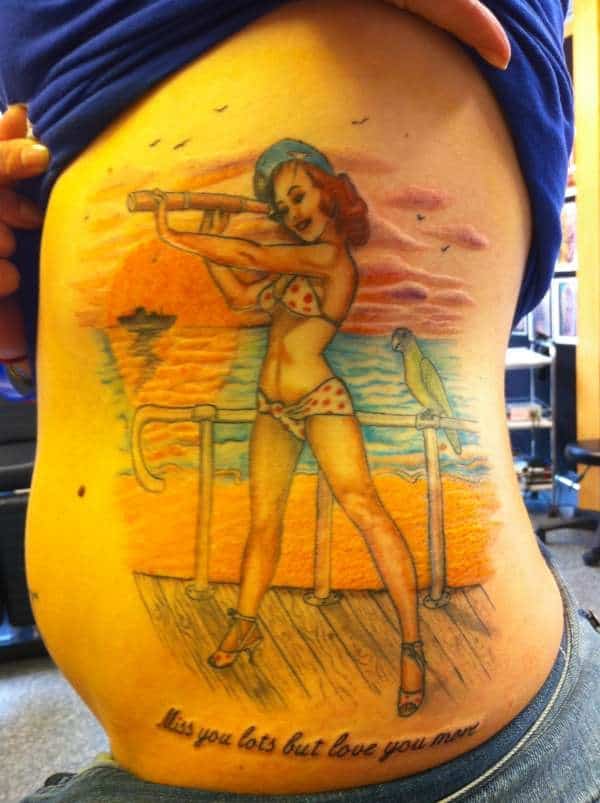 Because pin up girls and sailors go well together. It can make your nights less lonely. And if you have a girl waiting for you this might be a good reminder of what you have back home.
#6: A Diamond in the Rocks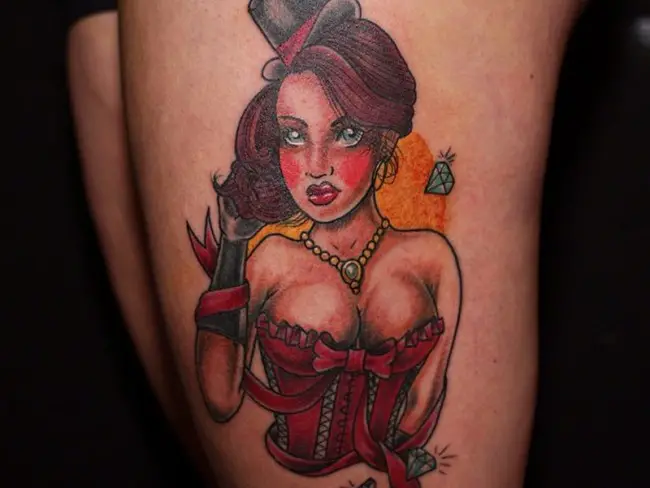 A diamond is a woman's best friend, and in this tattoo it's a guy's too. With the subject's shiny jewelries and stylish nightwear adding class.
#7: For The Team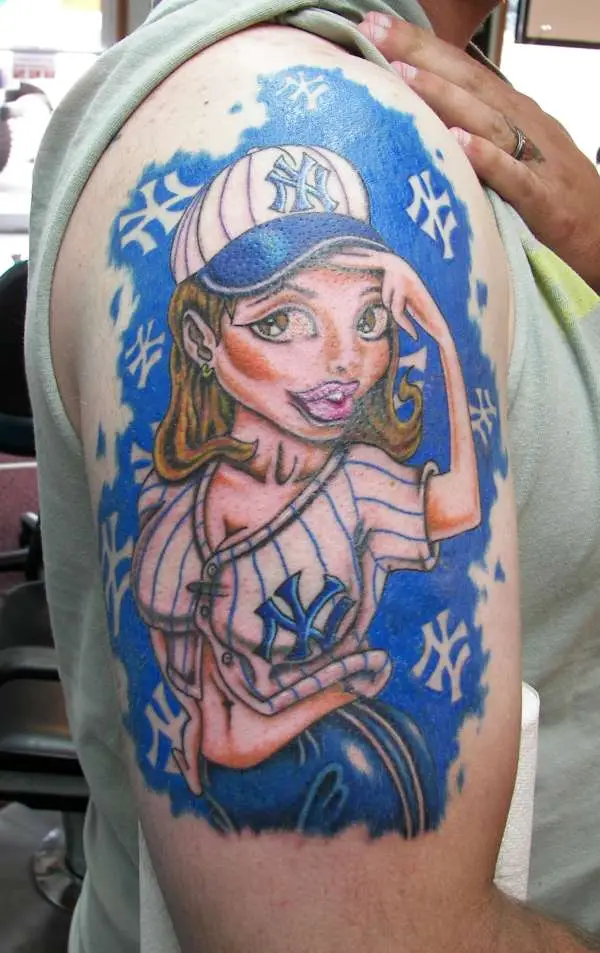 If you're up for a baseball match, this girl is willing to play. This design shows a confident girl who brought her 'A' game. An all-star tattoo befitting for sport lovers.
#8: Cool Pin Up Girl Tattoo
This hottie has a well-drawn outline and the artwork is great too. With the girl exposing just the right amount of sexy and the background complimenting her lovely body.
#9: The Heart Snatcher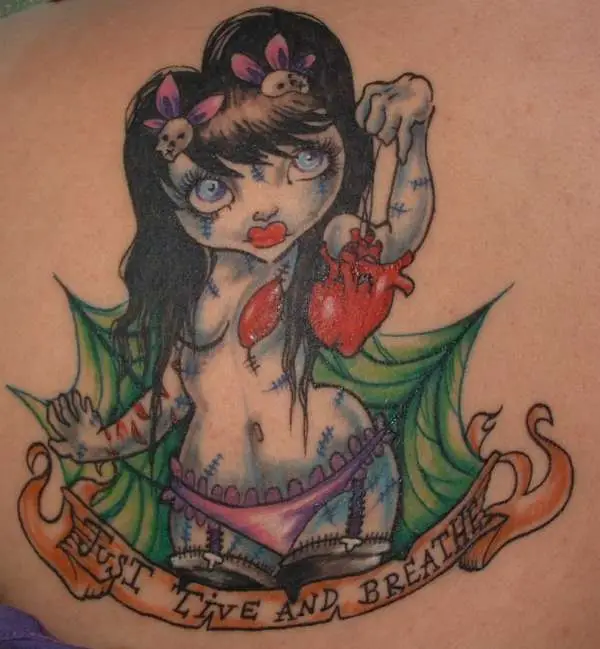 Even though this is an uncommon design for pin ups with meaningful tattoos, it is still appealing. In spite of her heart snatching hobby, she is still charming to look at and is kind of cute in a Gothic-meets-zombie way.
#10: A Sailor's Pin Up Girl Tattoo
Conventional pin up tattoos usually revolves around a military or sailor theme because of them being far away from home. That's why enticing women such as this are tattooed on them to keep them company.
Side Tattoo Design Ideas for Girl to Try in 2021
#11: Sit Down Boy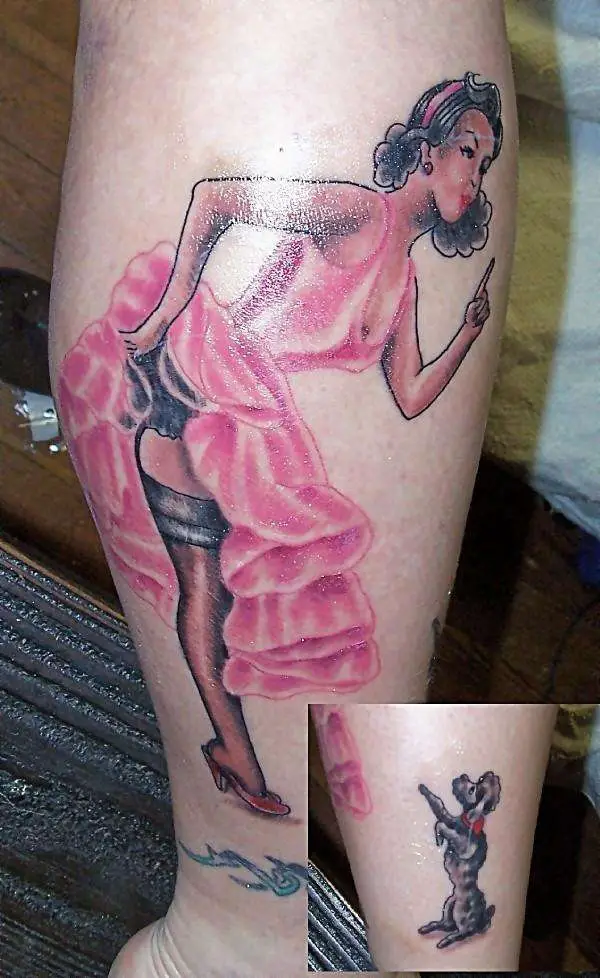 We don't get to see a girl dressed like this school a poodle in that manner. But it doesn't matter, with a babe posturing like that, who wouldn't want to be their pet.
#12: Beautiful Girl Tattoo For Sailors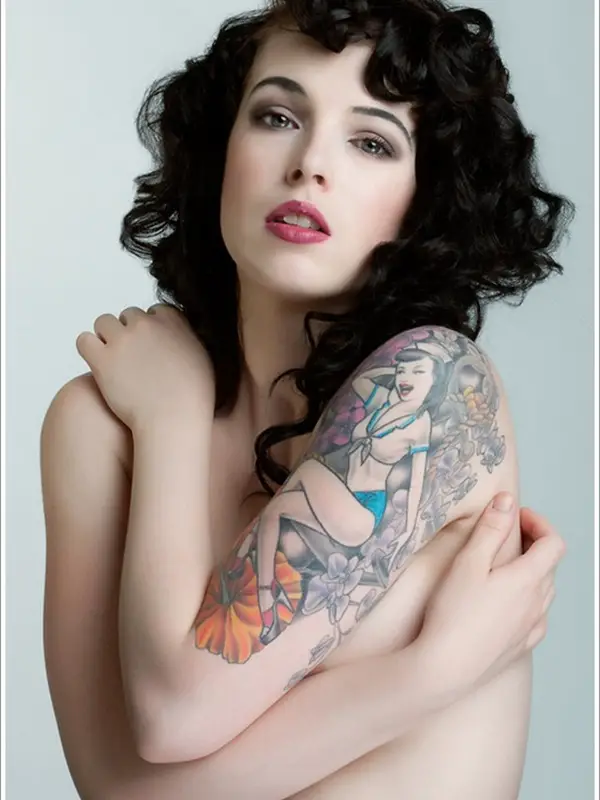 Another one for the sailors (the tattoo not the girl). Having a joyful smile while dressing like that, this pin up ink depicts a girl that wants to have fun.
Related: You can check the compass tattoos here.
#13: Vivid Portrait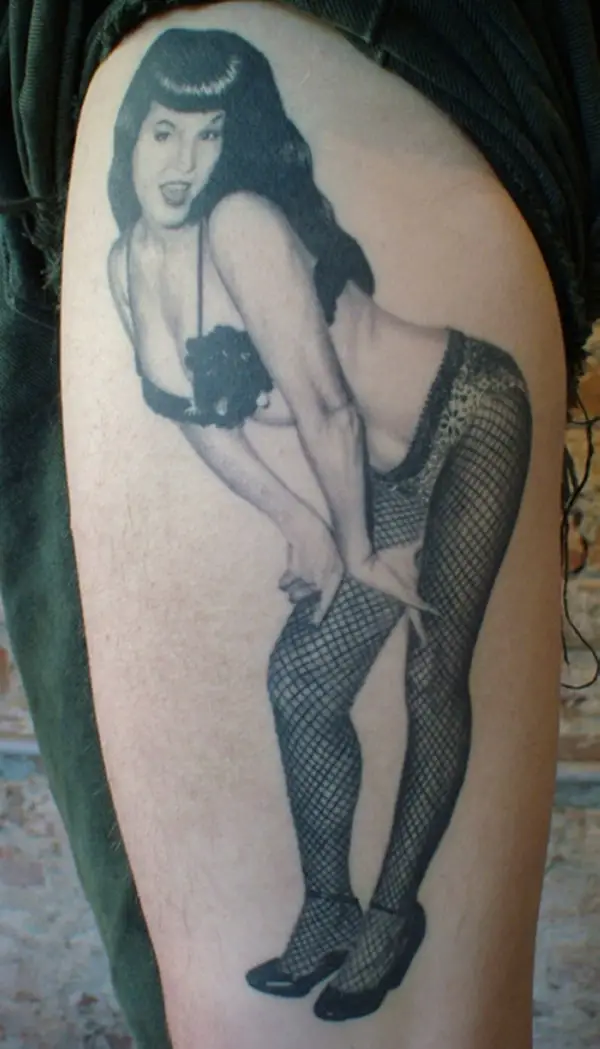 Dancers where also a favorite design used on pin up tattoos back in the days. And this one has a breath of life to it.
#14: Nothing Too Dirty To Handle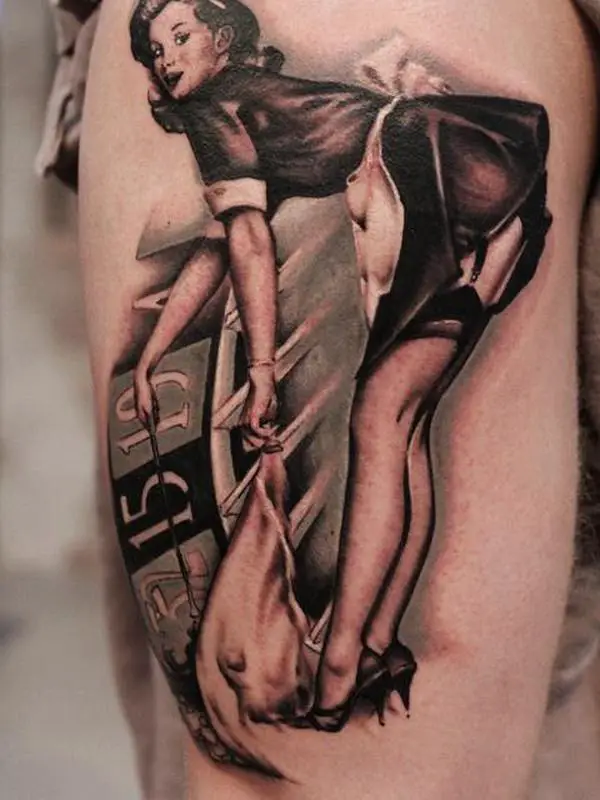 A startling piece to look at while she gives that teasing pose. Yet the background is a little unusual for the concept of a maid cleaning. No matter, I'm sure there's nothing dirty that this maid can't handle.
#15: You've Been Bad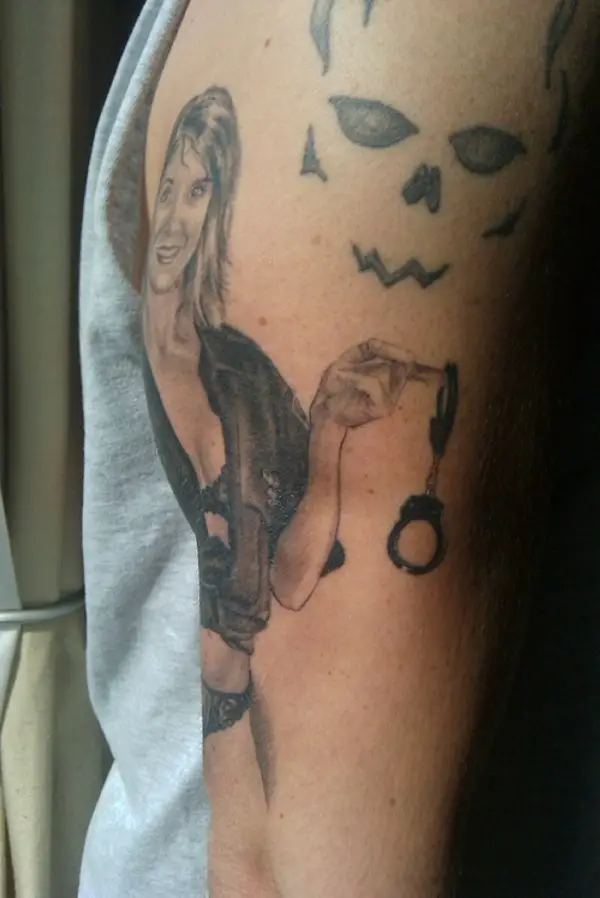 This thing of beauty has a bit of BDSM and cosplay action going on. With the girl showing you who's boss, you'll be begging to get dominated by this chick.
#16: Pirate Pin Up Girl Tattoo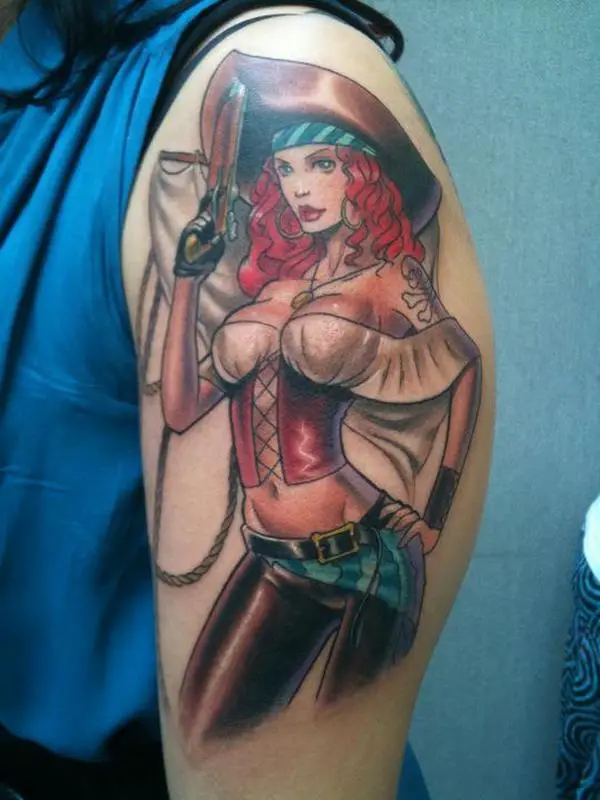 Here we have a theme of pirates with the hot girl dressing as the alluring captain. Inking it with popping colors to make it more eye-grabbing.
#17: The Saint and The Sinner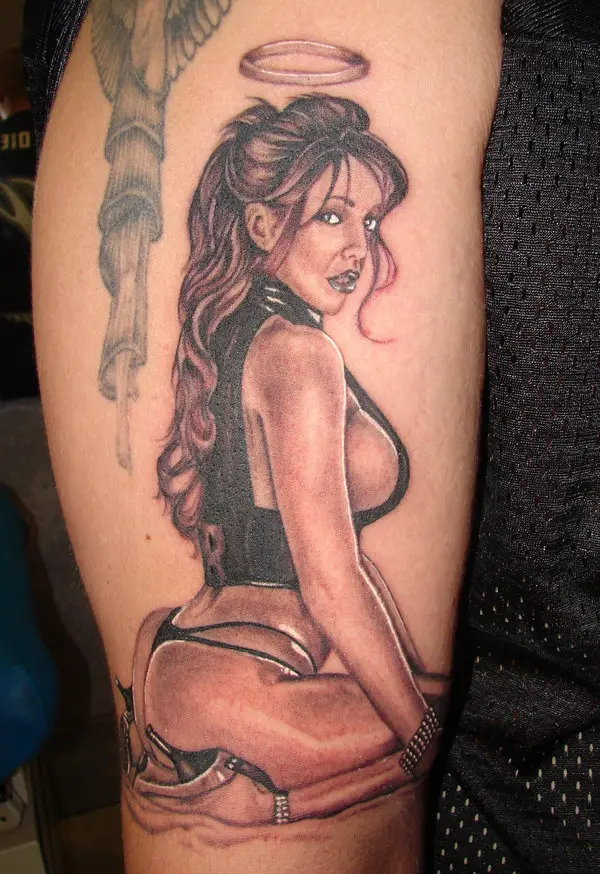 This hottie is drawn in a contrasting character of a saint and the sinner. Showcasing the face of an angel with a body that'll make you have sinful thoughts.
#18: What's Behind a Cute Girl Tattoo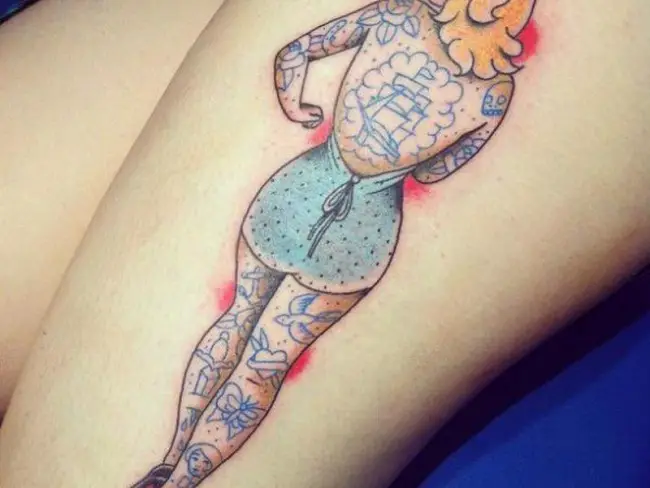 A pin up girl tattoo with tattoos on her back. It's not your typical pin up design, but it still displays her enticing back by outlining her curvature.
#19: Burlesque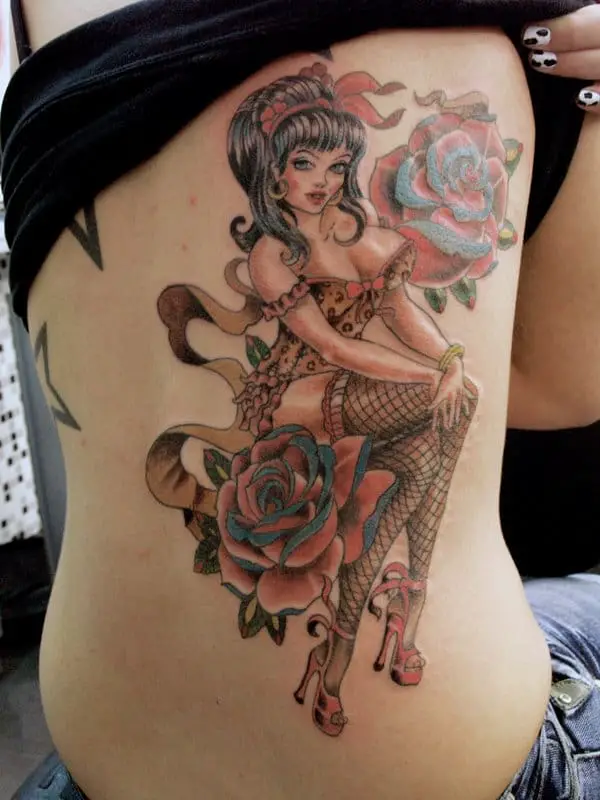 Watch this showgirl rock her outfit with her arousing look. And the play of red colors on this is amazing as it accents the seductive look of this tattoo.
#20: Captains' Pin Up Girl Tattoo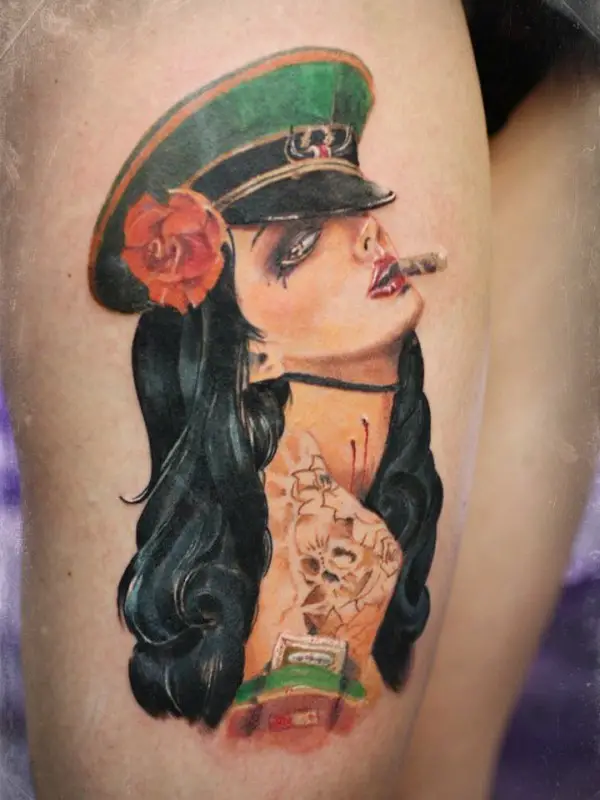 If you want your design to look sexy and badass at the same time, use this one. This babe is displayed in a subtle pose yet grabs attention because of how she looks at you. Not to mention her style indicates a thrilling sense of danger.
#21: Time To Get Wet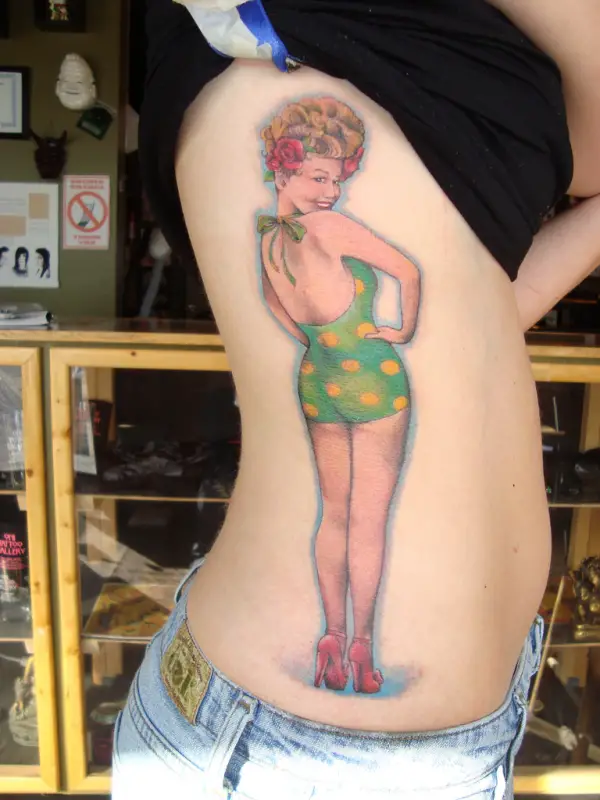 If it's a pin up girl, then nothing beats them being shown in a bathing suit. Even if she has a 60's hair and swim attire from the old days, this design will still make young guys turn their heads.
#22: Nature Lovers' Girl Tattoo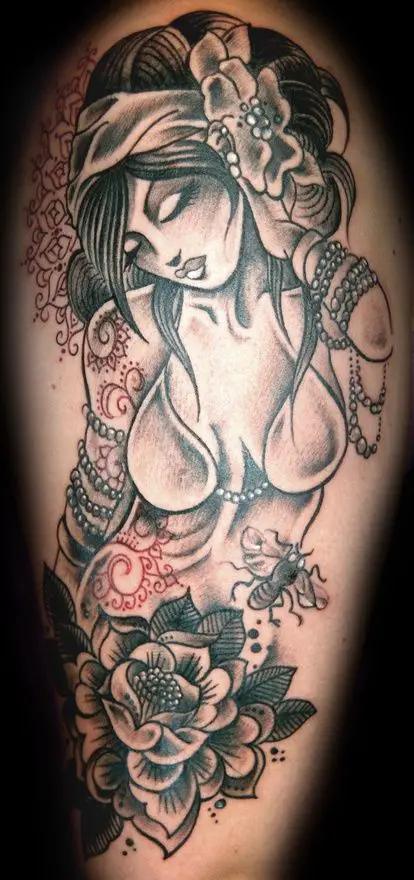 Here we have a modern version of a pin up ink. The way her body language is portrayed you can see that no sexual suggestion is being made like conventional ones that has provocative poses. Yet, her appeal is still engaging.
#23: Mischievous with Flowers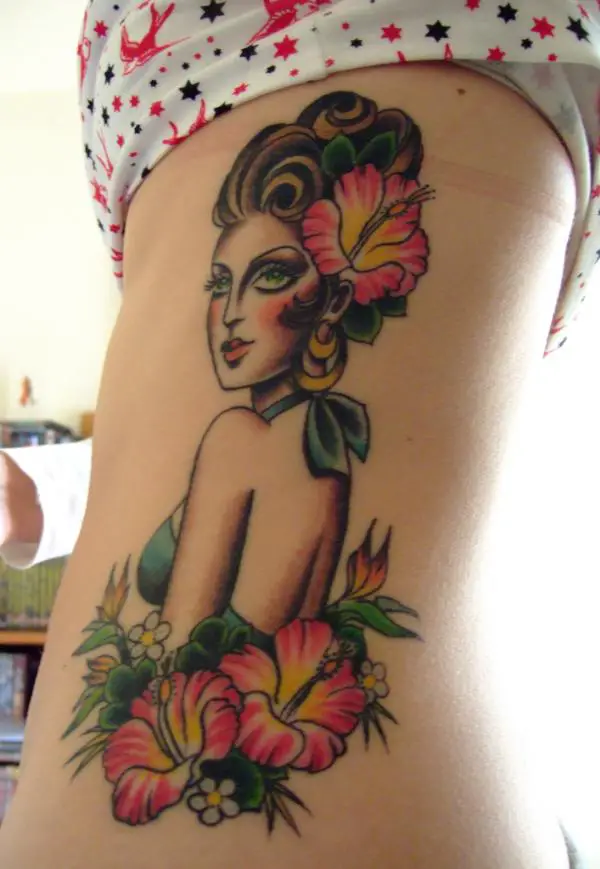 Highlighted with flowers, this teasing babe is accented with a 70's hairstyle and large ring earrings. The way her eyes are drawn and lips sealed with lipstick is just glamorous to look at.
#24: Urging To Play A Note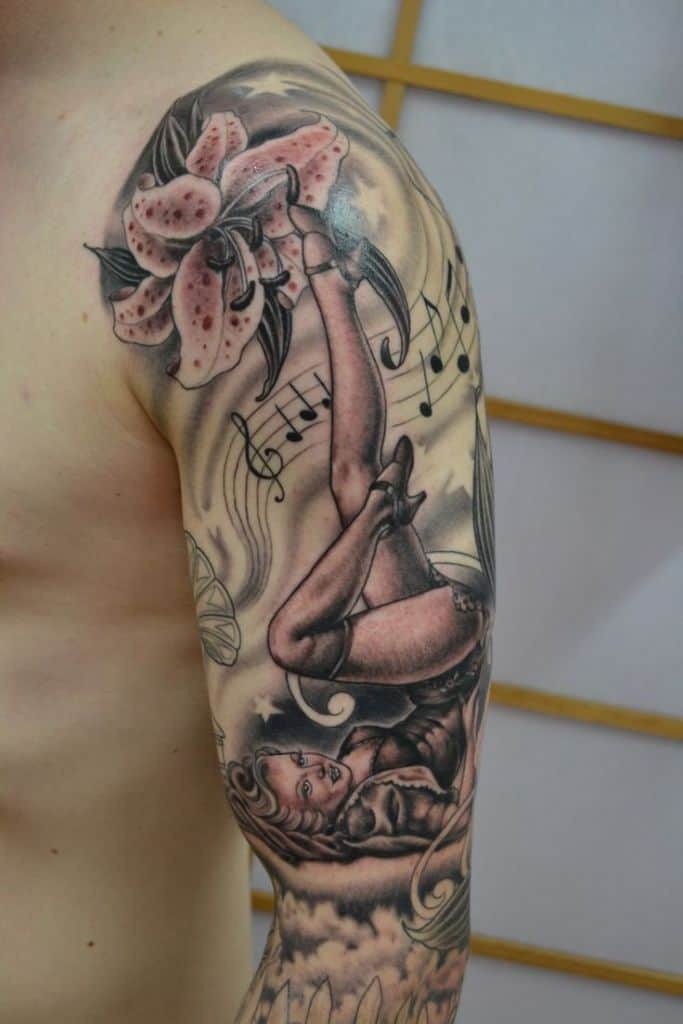 Now this is definitely a provocative and unconventional pose for a pin up tattoo. With flowers on the background and a visual of musical notes playing, it makes you want to see this girl dance it out.
#25: Deadly Beauty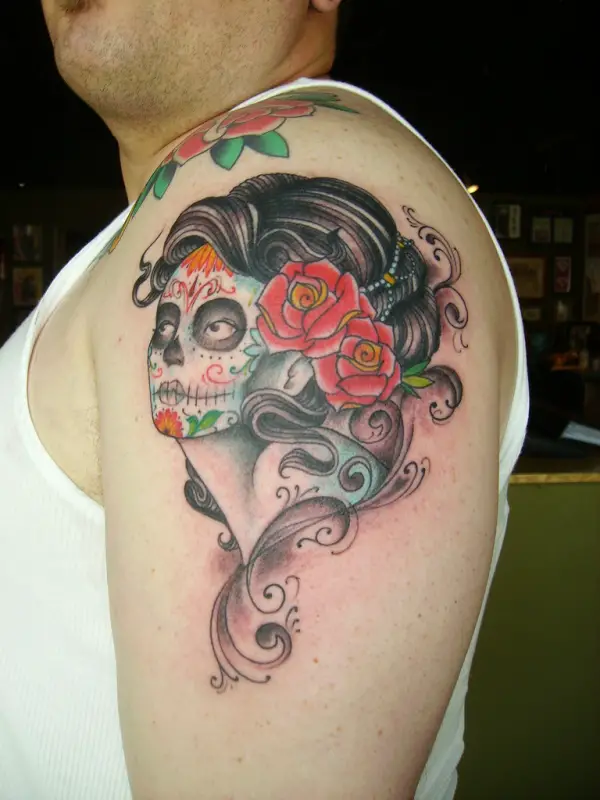 This tattoo design resembles the girls of Mexico celebrating a famous holiday to celebrate the dead. Even with the scary mask, she still looks beautiful thanks to the outline and colors of the ink.
Have you found one that'll suit your style? Try to reflect on how you want your pin up girl tattoo to be presented depending on your taste. As men like it seductive and lustful while women want it sexy, empowering and fun. Whether to express beauty and femininity or a fantasy, pin-up girl tattoos should have that striking look that grabs a person's attention.