Pirate ship tattoos are rated among the most attractive when it comes to marine body art. For people who spend most of their time on the seas, these tattoos symbolize their way of life.
Evidence of pirates has been found by historians that dated as far back as 1353 B.C. They've been around for a long time and the lives they led were pretty interesting too. Pirates had an immeasurable amount of freedom as they did whatever they pleased. They were also merciless and violent in nature which made them very dangerous too. As long as they had a ship to carry them around, they were a force to be reckoned with. Pirates also had other distinctive qualities and in order to relate to them, people get pirate ship tattoos etched on their bodies.
Pirate ship tattoos Ideas and Designs
We are about to walk you through some of the most elegant and unique looking pirate ship tattoos that you can get for yourself. With the vast array of tattoo collections we've gathered for you today, it may seem a bit intimidating at one point but we suggest that you be patient till the very end as we wouldn't want you to miss out on this. So let's get started!
Traditional Pirate Ship Tattoo
A pirate ship tattoo emphasizes the idea of a crew with exclusive members. The ship itself symbolizes a life outside society. Here are some traditional pirate ship designs below:
1. Dead Men Tell No Tales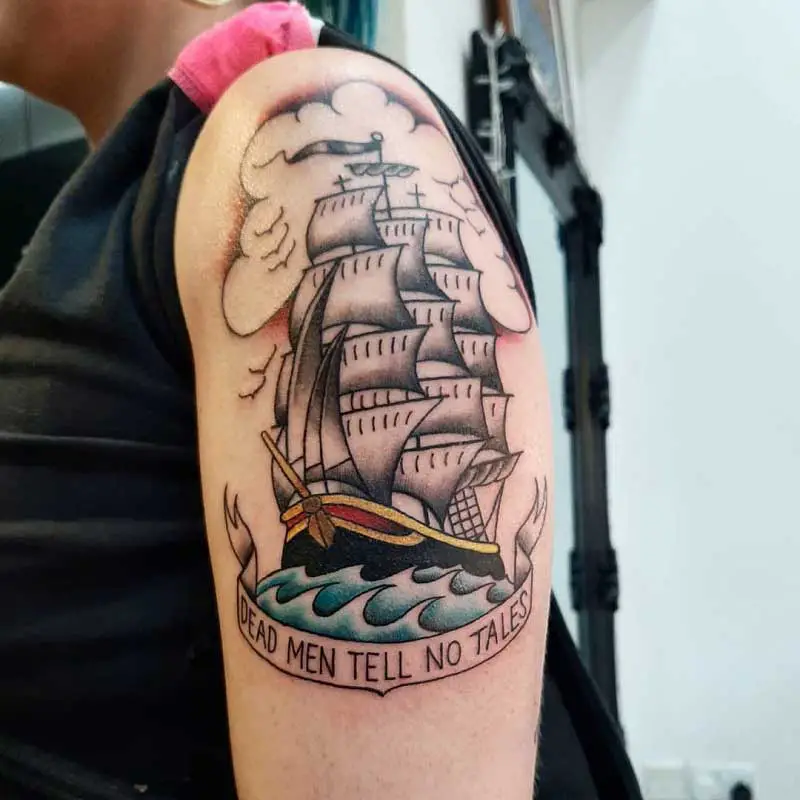 This phrase is used to say that someone who is dead cannot reveal any important piece of information. The tattoo is a direct reference to a life led by pirates.
2. New Beginnings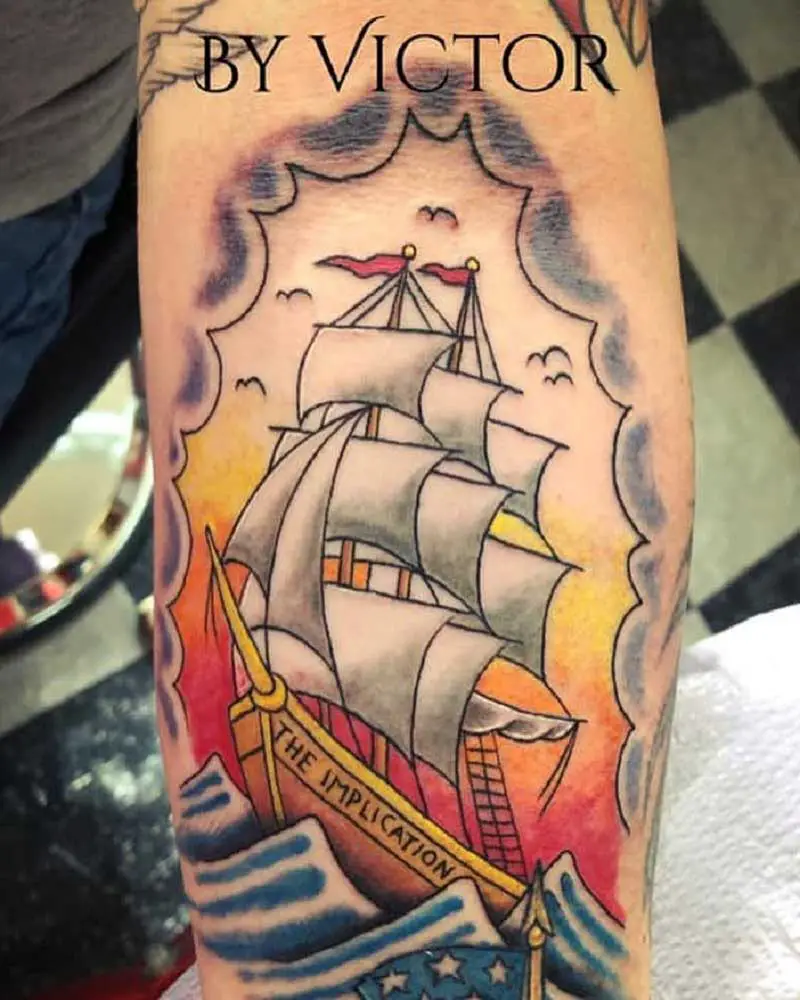 The pirate ship tattoo above marks a fresh start in a person's life. This could mean exploring a new career path, moving to a new city or state, or even finding love.
3. Home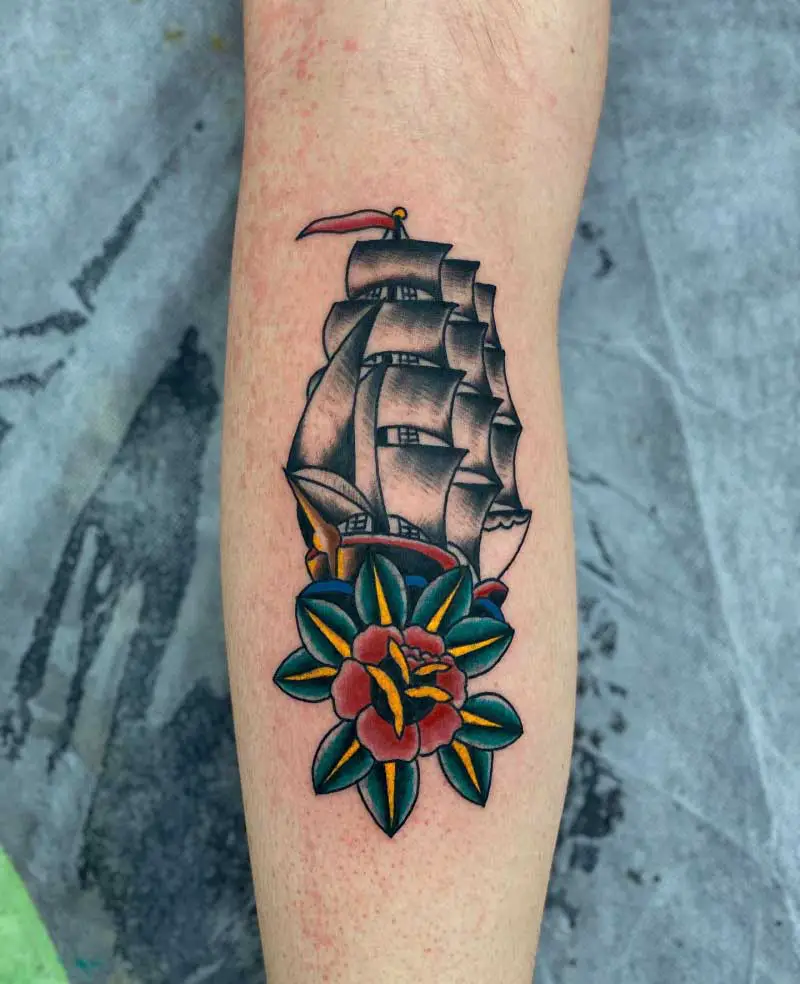 This tattoo does not literally mean the place you are staying at.  In a metaphorical sense, home is anywhere where you can feel comfortable, safe, and protected.
Realistic Pirate Ship Tattoo
Pirate ship tattoos can also look very realistic if you want them to. The best way to achieve this is by throwing in details where needed. Here are some cool ideas below:
4. Good Luck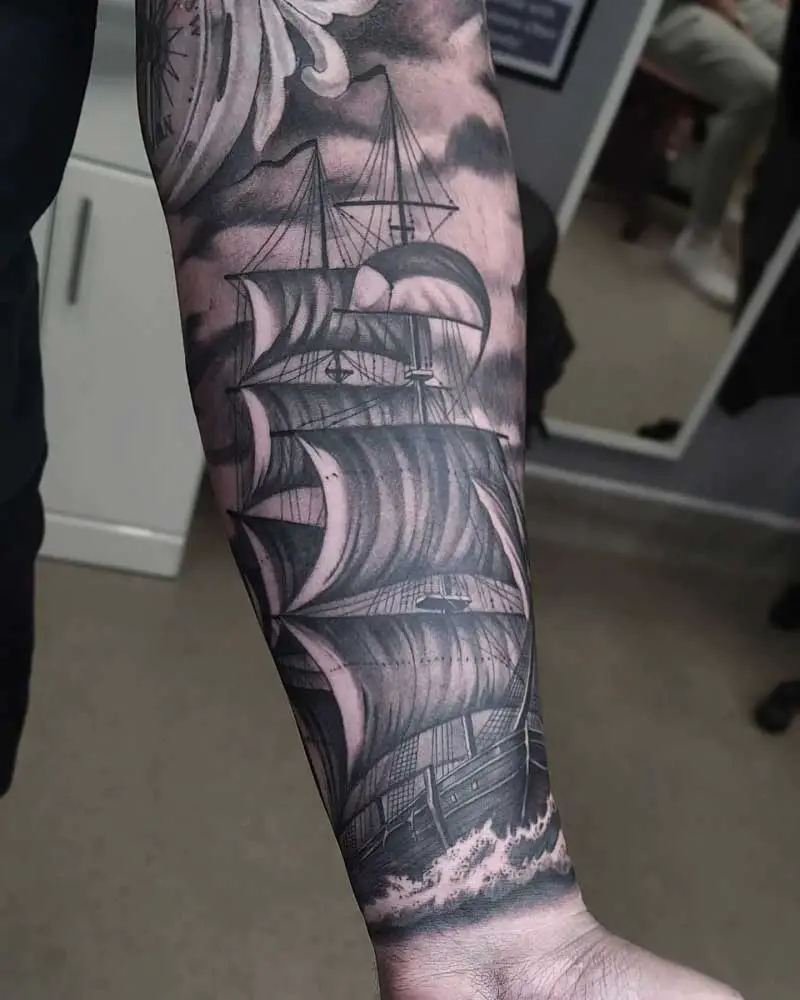 Pirate ship tattoos, such as this one, are also known to bring good luck into people's lives. For this superstitious belief, they get this tattoo etched on their bodies.
5. A Way of Life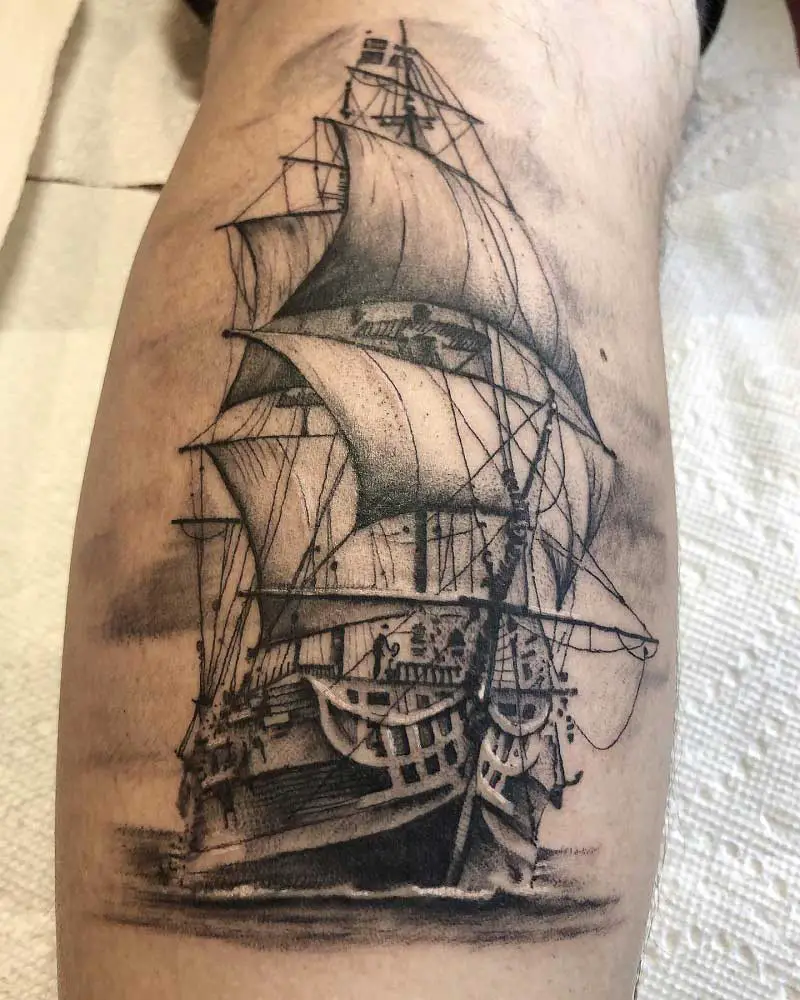 This phrase directly refers to the habits, beliefs, and customs of a particular group of people, which, in this case, is the pirates. A great tattoo on the calf muscle.
6. Bravery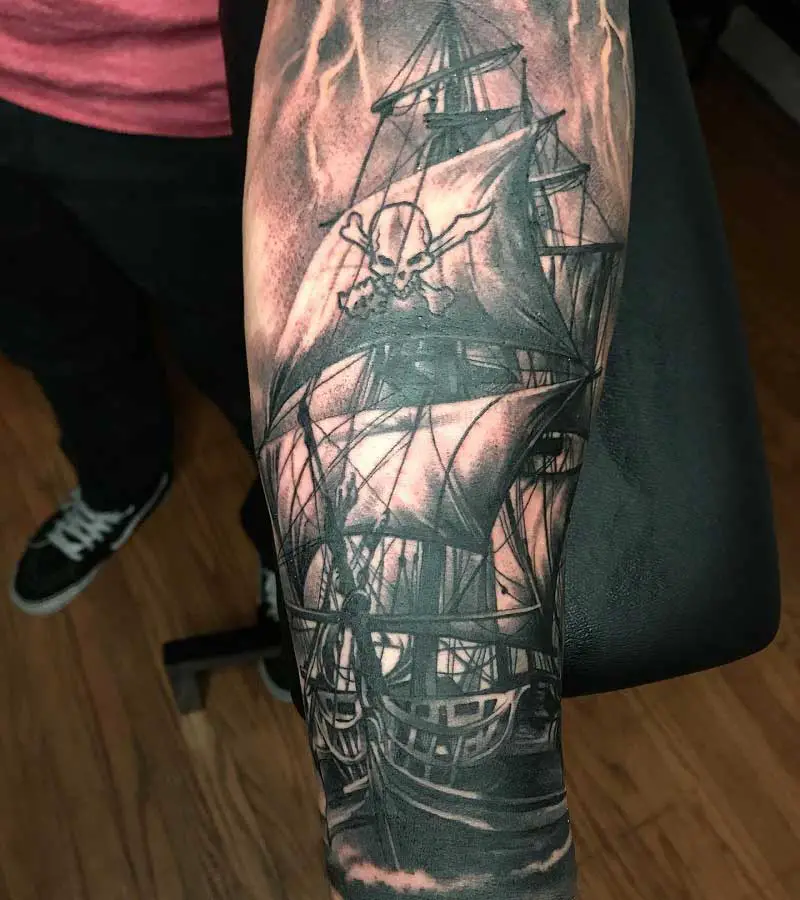 The pirate ship tattoo in this picture symbolizes bravery and courage. Bravery is the quality of showing mental or moral strength to tackle all sorts of obstacles in life.
Black Pearl Pirate Ship Tattoo
The Black Pearl is a fictional ship that can be seen in the Pirates of the Caribbean movie series. The following tattoo designs emphasize the qualities and attribute the ship possessed in the films.
7. Guidance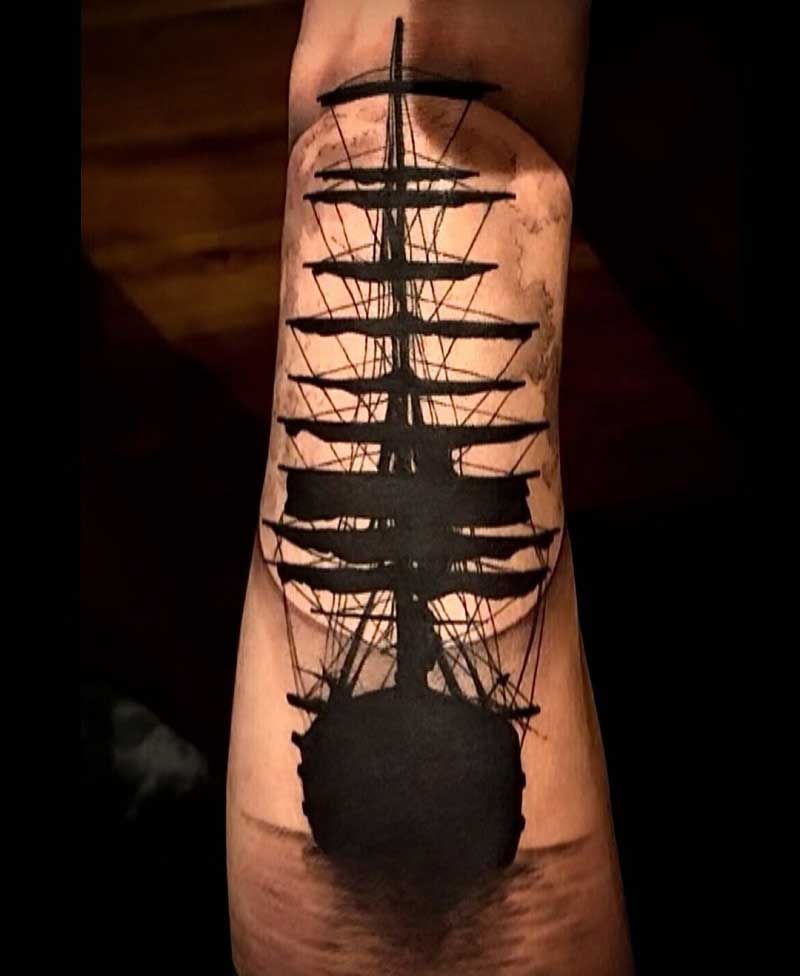 Guidance helps an individual to achieve the maximum level of happiness and joy in life. This pirate tattoo signifies that the need for guidance is something that no one should ever ignore.
8. Faithfulness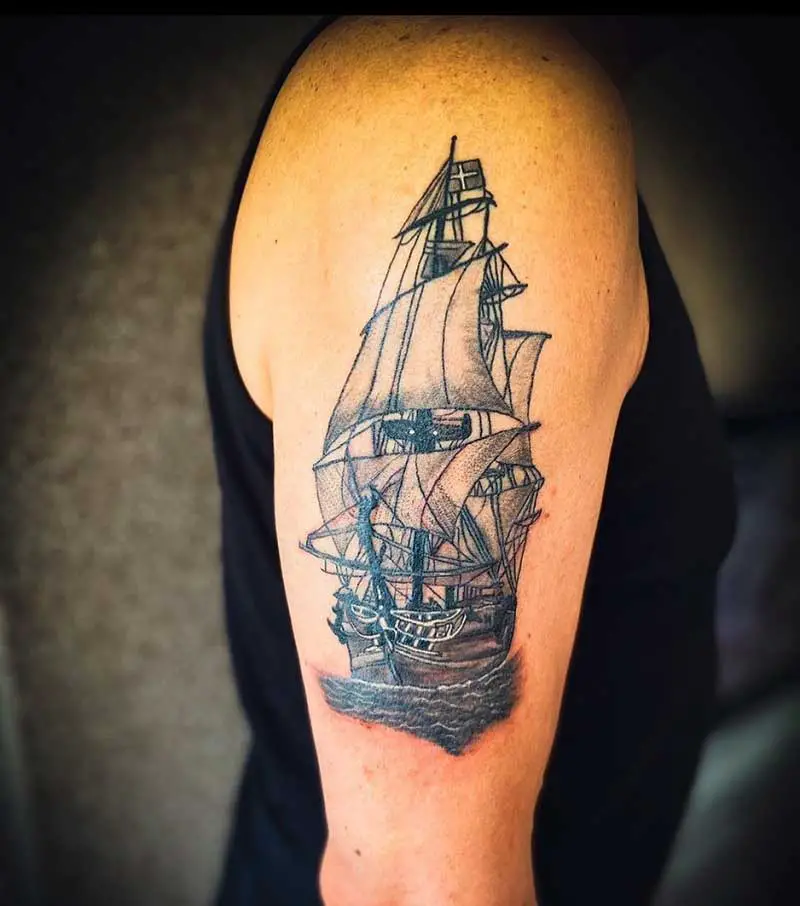 To put it simply, faithfulness is the quality or state of being faithful or loyal to someone or something. You can also add a wave of water to the tattoo to make it look realistic.
9. Swiftness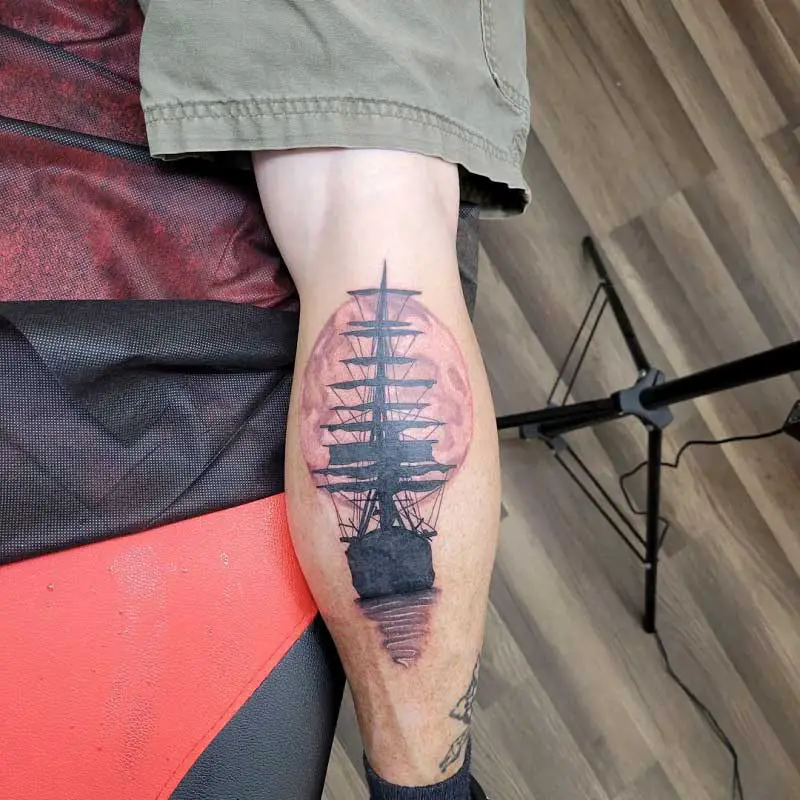 The Black Pearl is a ship that is seen in the famous "Pirates of the Caribbean" movie and it is prominent for its quickness. Throw some details in there to make the tattoo look cool.
Pirate Ship Wheel Tattoo
Such tattoo designs symbolize an individual trying their utmost best to find their way through the rough waters that we refer to as "life". Below are some cool concepts:
10. Right Or Wrong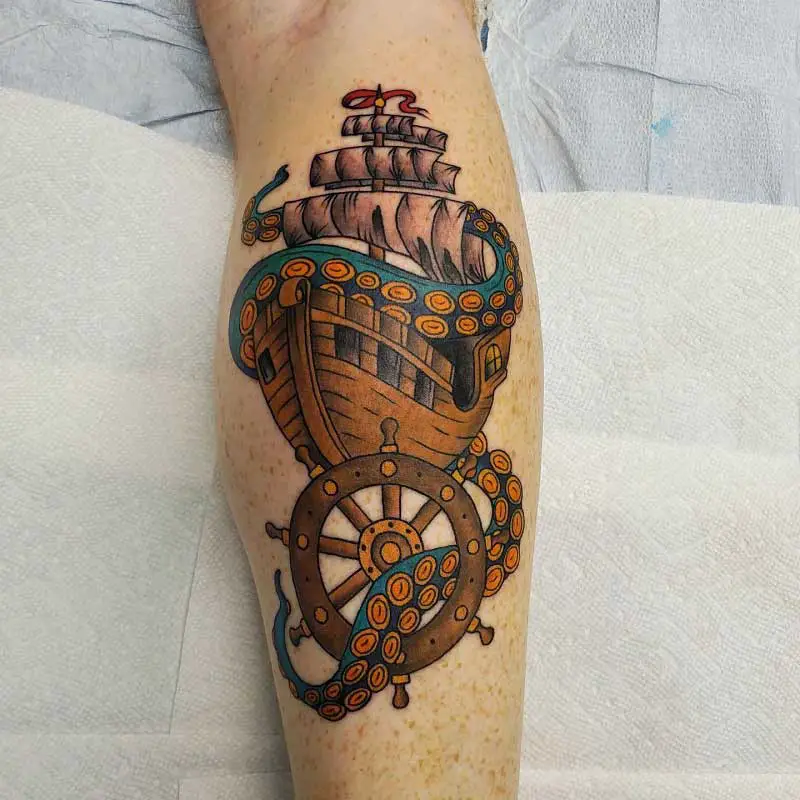 Wheel tattoos, like this one right here, represent mindfulness and meditative concentration. To put it into simpler terms, the tattoo symbolizes moral discipline.
11. Direction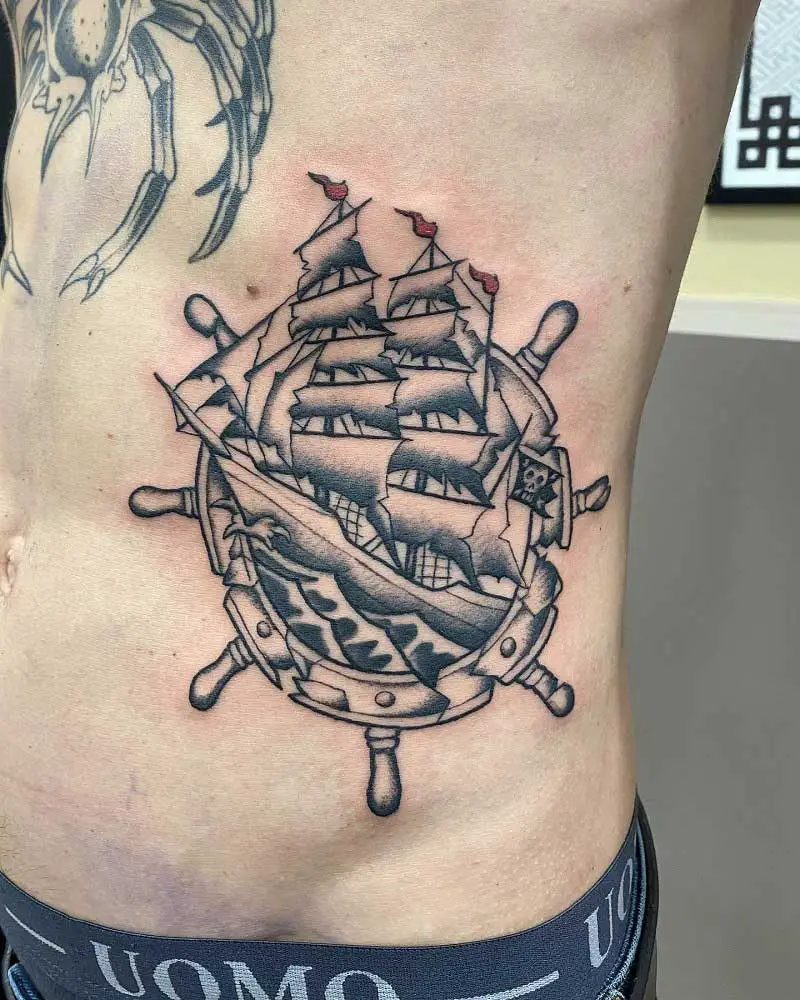 This tattoo signifies the need for direction in life. Basically, it means to have goals to make progress or grow slowly and reach your desired destination on time.
12. Discovery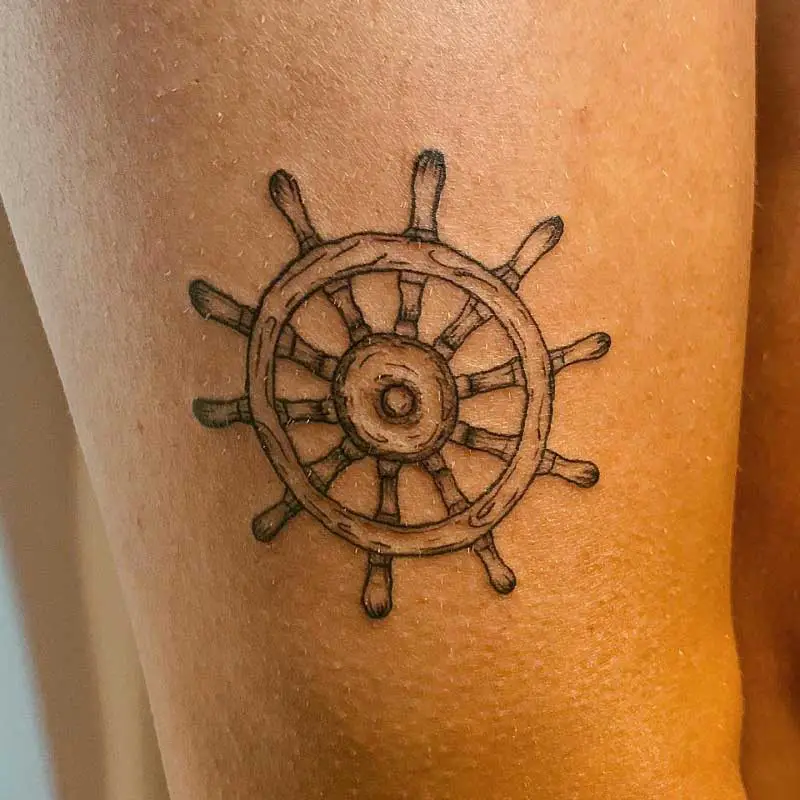 This pirate ship tattoo can have two meanings. The word 'discovery' can mean uncovering new geographical locations, which is the most basic meaning. The other, in a spiritual sense, can represent a journey to self-discovery.
Ghost Pirate Ship Tattoo
The meanings associated with these designs are mostly dark. Not all interpretations of the tattoo designs are positive and some people might be able to relate to these as well.
13. Endangerment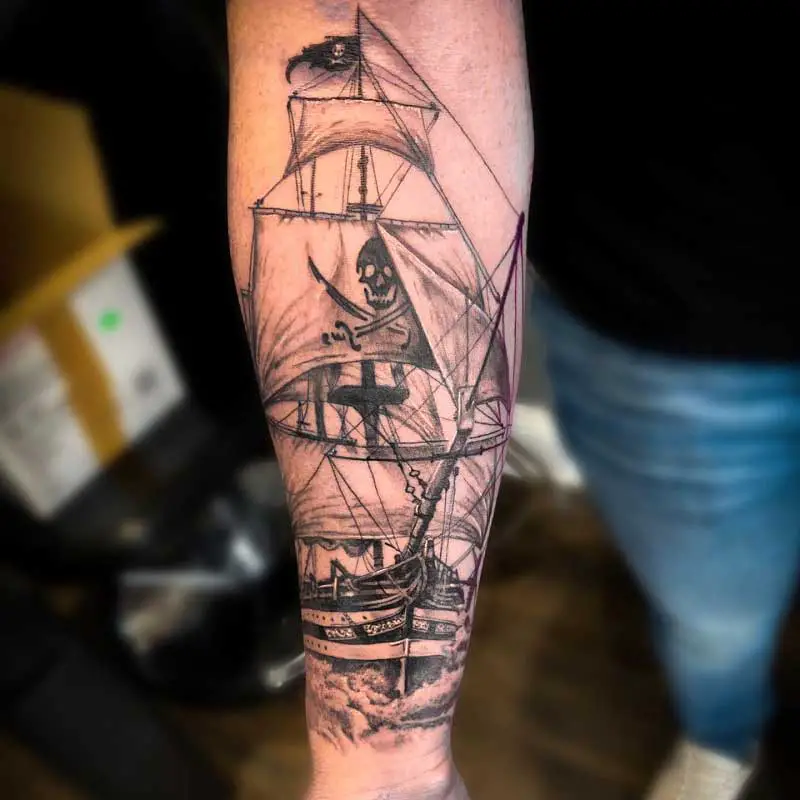 This pirate tattoo represents an individual with a fierce mentality. In other words, it's all about having a strong mindset and refusing to quit no matter what.
14. Menace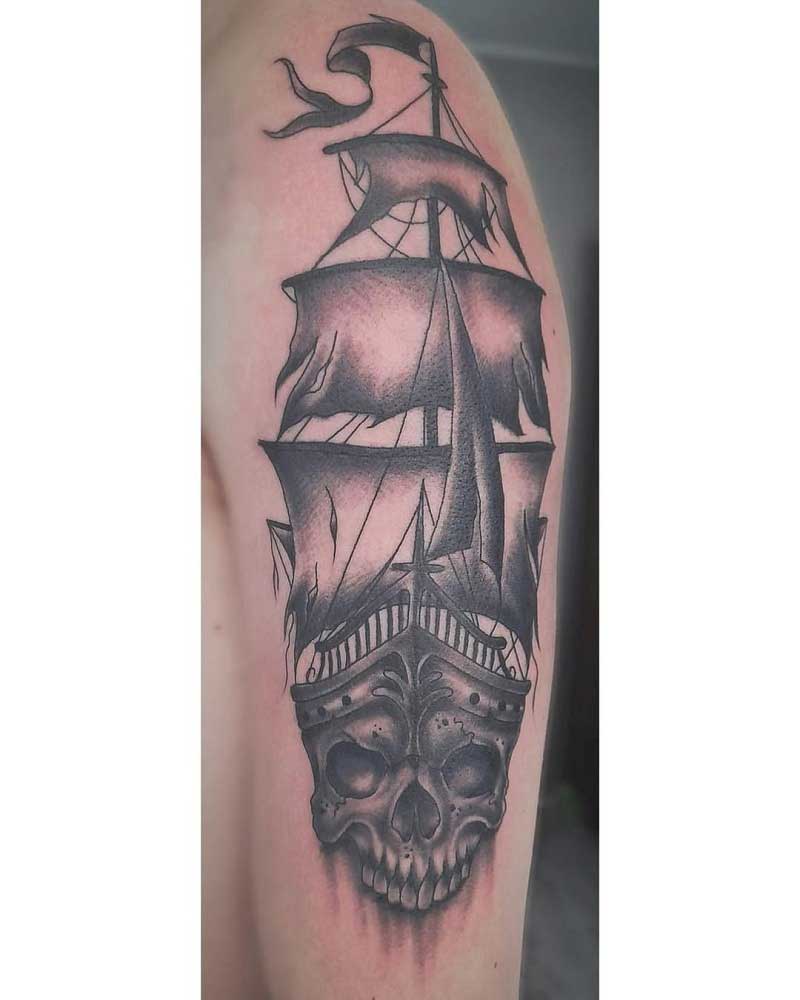 The way in which this tattoo has been inked gives it a menacing aura. You can also add a skull at the bottom for a stylish look.
15. Back From The Dead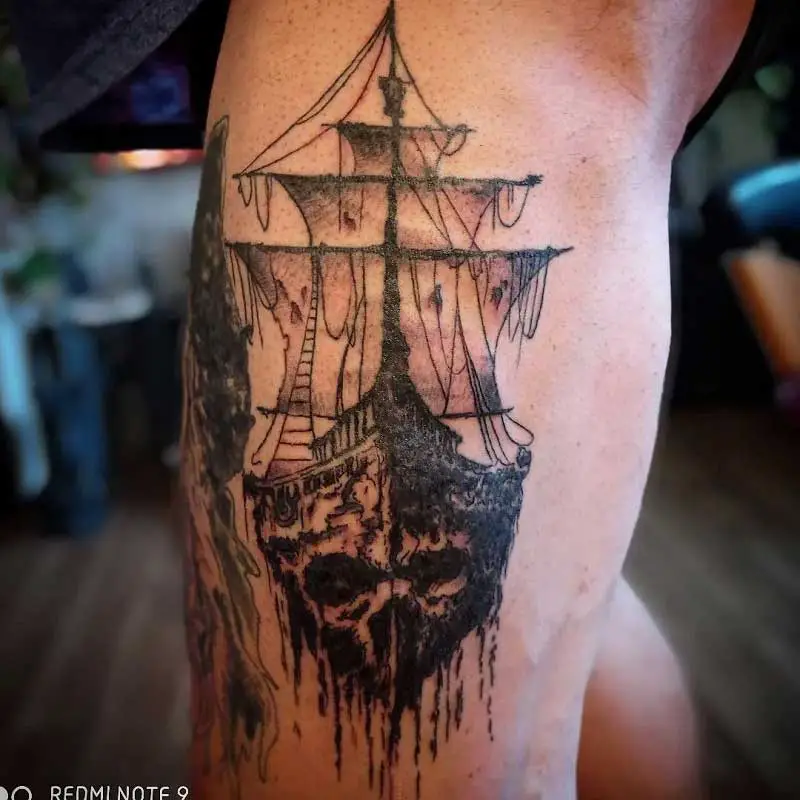 The tattoo is a direct reference to resurrection or rebirth. It is basically spiritual enlightenment that causes a person to lead a whole new life.
Pirate Ship Back Tattoo
Whether you're considering your first back tattoo or your fourth, back tattoos are great in either scenario. They allow a lot of room for creativity and they just look striking in general.
16. Unity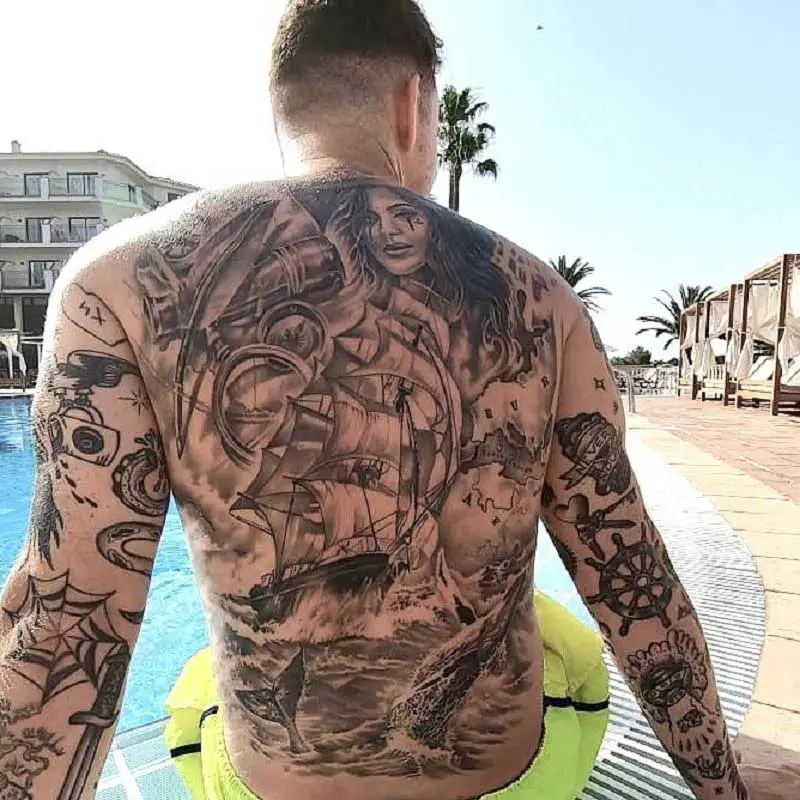 It is widely known that pirate ship tattoos symbolize unity and togetherness. This tattoo is ideal for a person who believes in these two things.
17. Freedom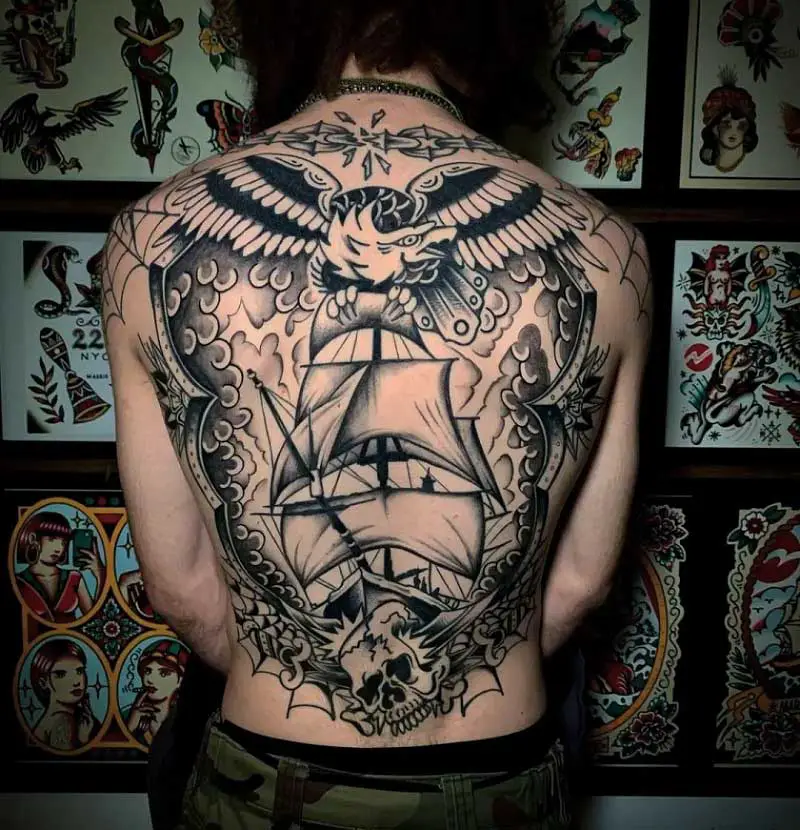 When pirates sail the seas, they do what they please and take whatever they want. Solely for this reason, freedom is also another symbol of pirate ship tattoos.
18. Deceit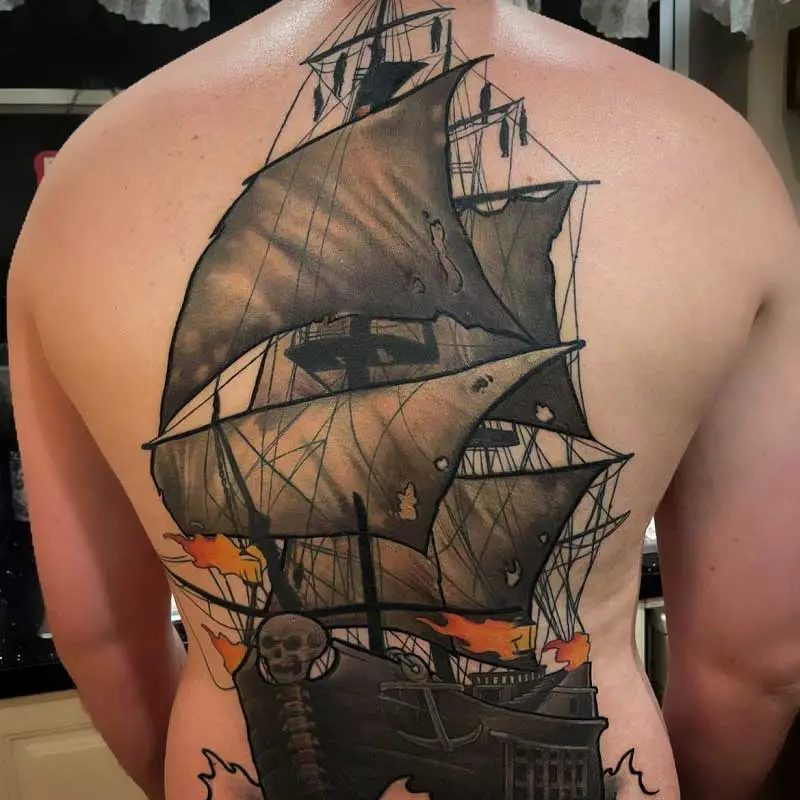 This is somewhat relevant to the previous interpretation. Since pirates are a greedy group of people, they would sometimes turn their back on each other.
Although chest tattoos are quite painful, it is the perfect location for delivering strong messages of power, courage, bravery, integrity, and many more. Check out some of the coolest pirate ship chest tattoos below:
19. Wanderlust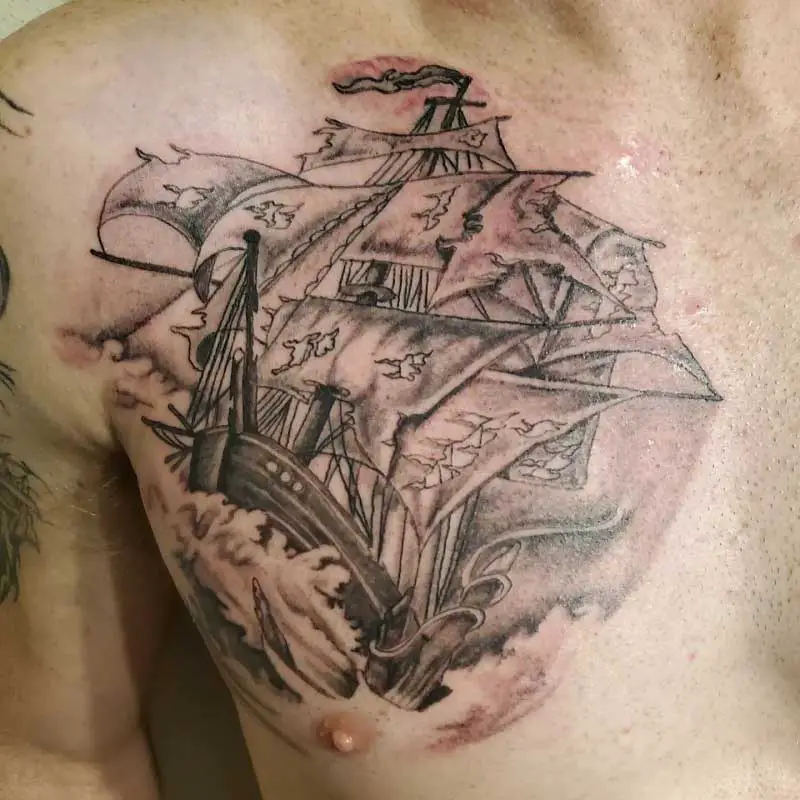 The term "wanderlust" basically refers to an individual who has been consumed by a strong desire to travel the world. The interpretation makes sense because pirates do whatever they want on the seas.
20. Relentless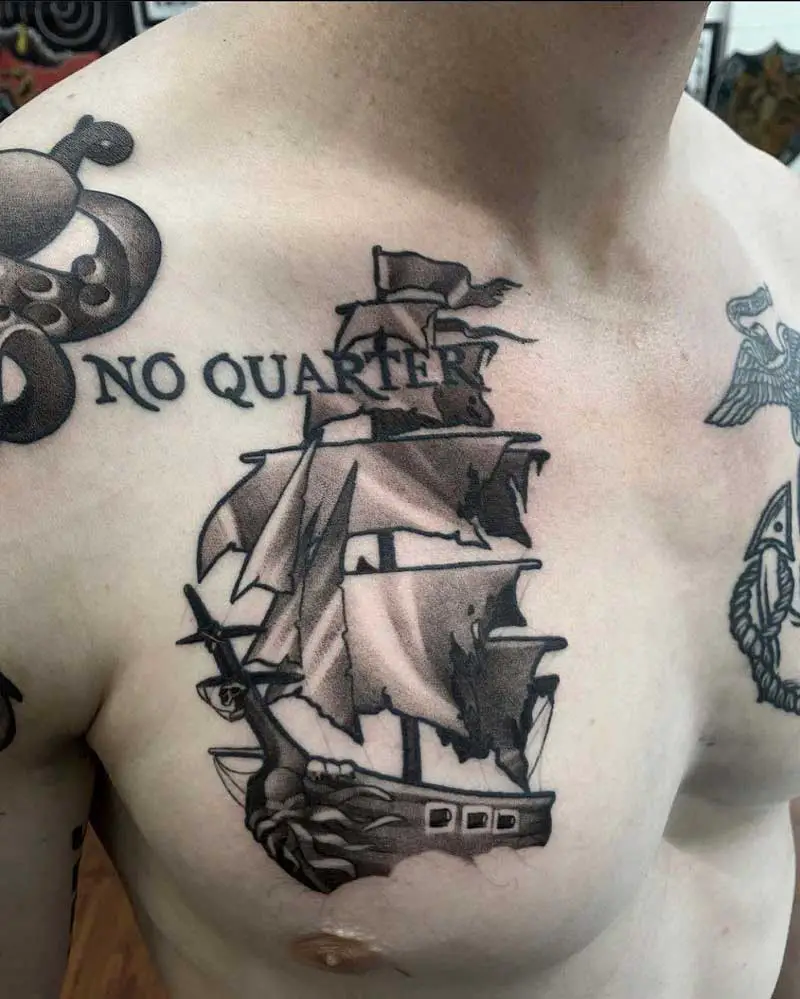 The phrase "no quarter" means that the pirates have no pity or mercy for their enemies. They're relentless and anyone who stands in their way risks losing their life.
21. Story of the Seas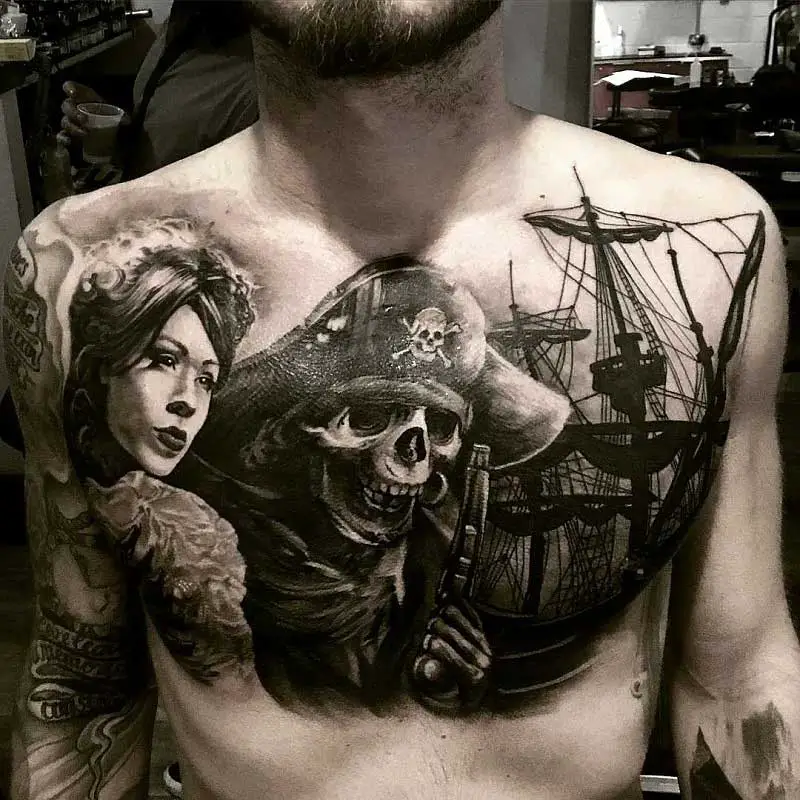 The tattoo could be talking about two lovers who met when they were out on the seas. It's not necessarily true that all pirates are males so if you think about it in that way, the interpretation is valid.
Forearm Pirate Ship Tattoo
Forearm tattoos have become one of the most trendy tattoo locations for both men and women. Pirate ship tattoos can look incredibly good on your forearms and tattoos on this area of your body are the least painful.
22. Right Path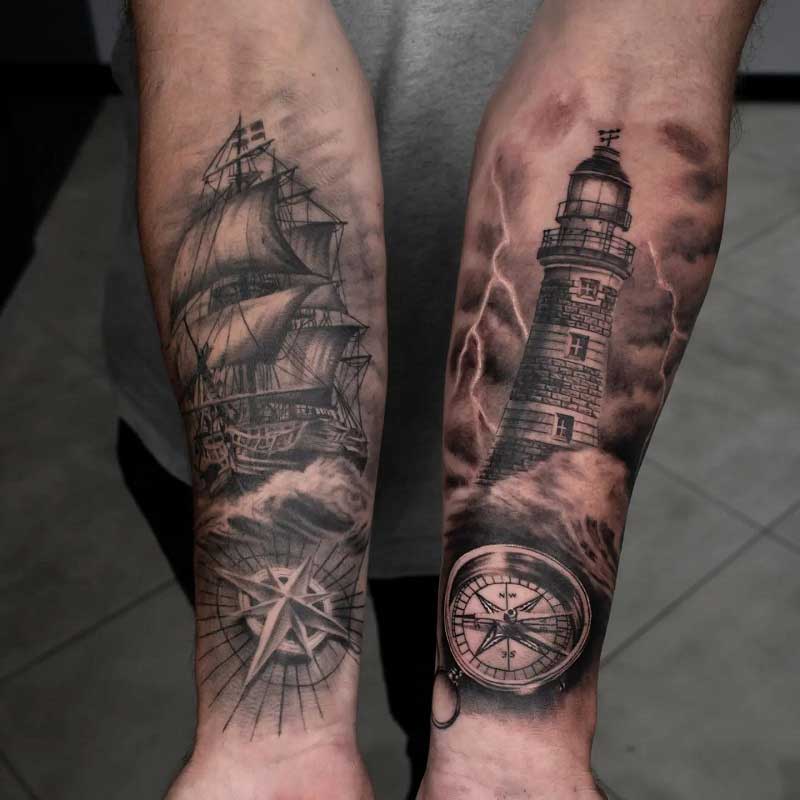 The lighthouse and the compass tattoos typically stand for direction or heading towards the right path. Pirates need this most of the time when searching for loot.
23. Cruelty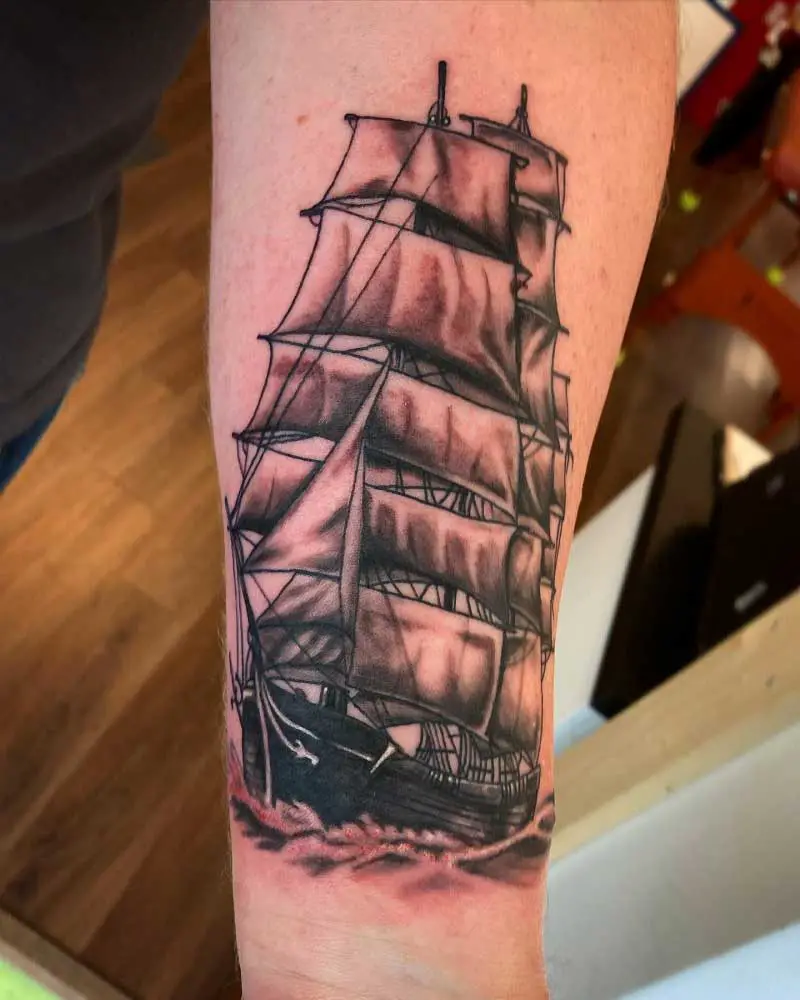 As discussed before, pirates always treat their enemies in the harshest way possible and they show absolutely no mercy. Solely for this reason, the pirate ship tattoo above represents cruelty.
24. Protection
Pirates are an exclusive group of people and the fact that they're united makes them quite powerful. They protect each other at all costs in times of adversity.
Full sleeve tattoos go from the wrist to all the way to your shoulders and these tattoos are for individuals who are not afraid of commitment. Here are some unique full-sleeve pirate ship tattoos below:
25. King of the Sea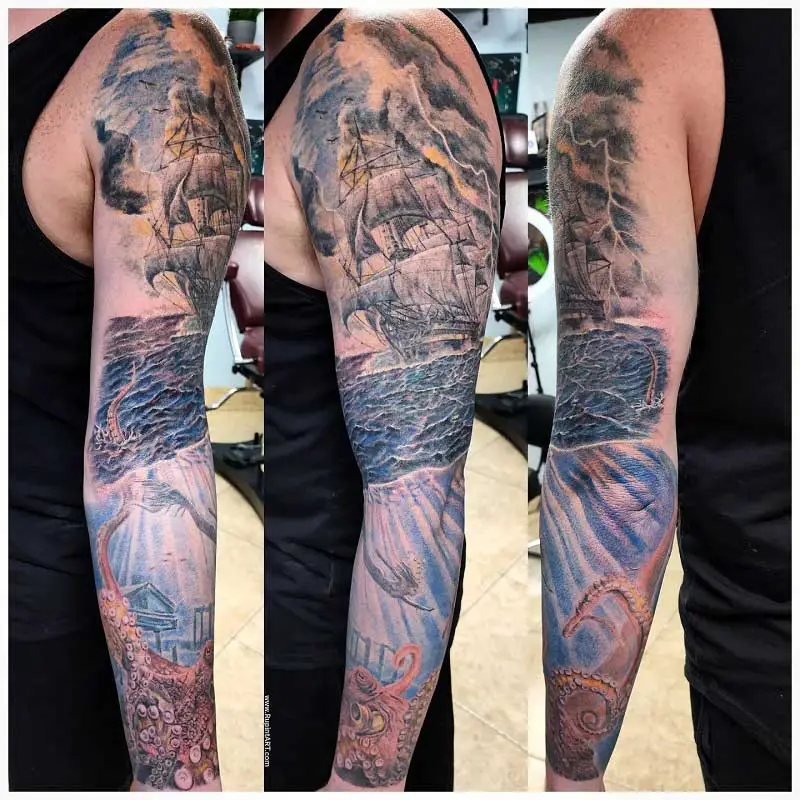 Some pirate groups are so powerful that they have control over a huge portion of the sea. Similarly, an individual who likes to have control over things will probably find this design appealing.
26. Dangerous Waters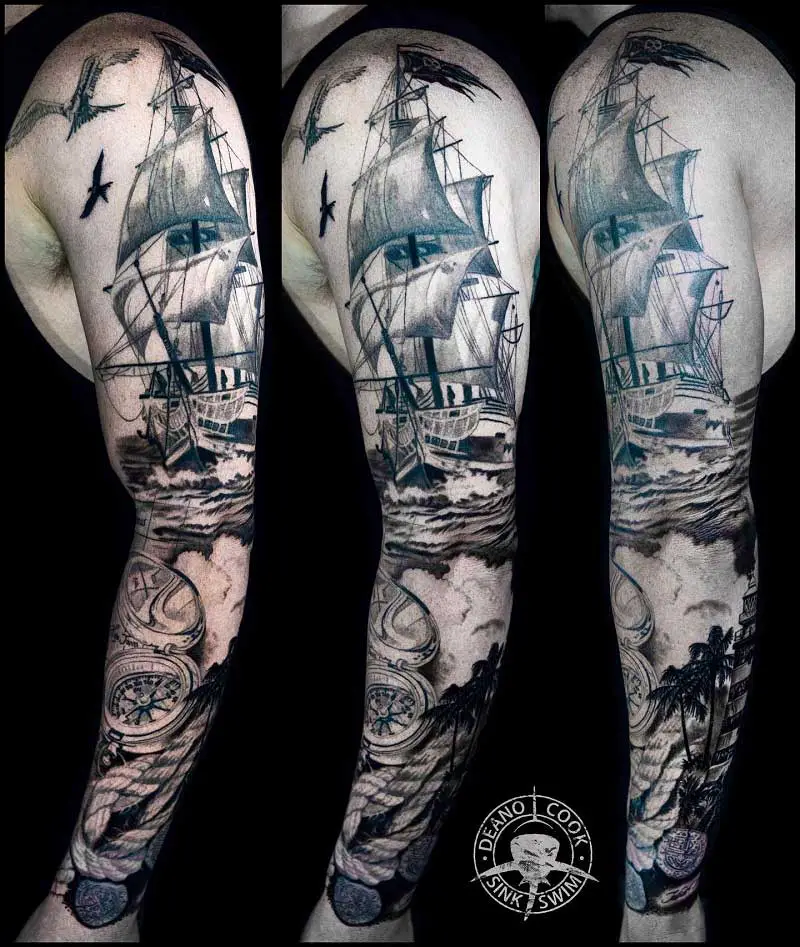 This pirate ship tattoo design is just a variation of the other designs  where the word "danger" is attached to it. The details used in this tattoo makes it look realistic.
27. Seeking Help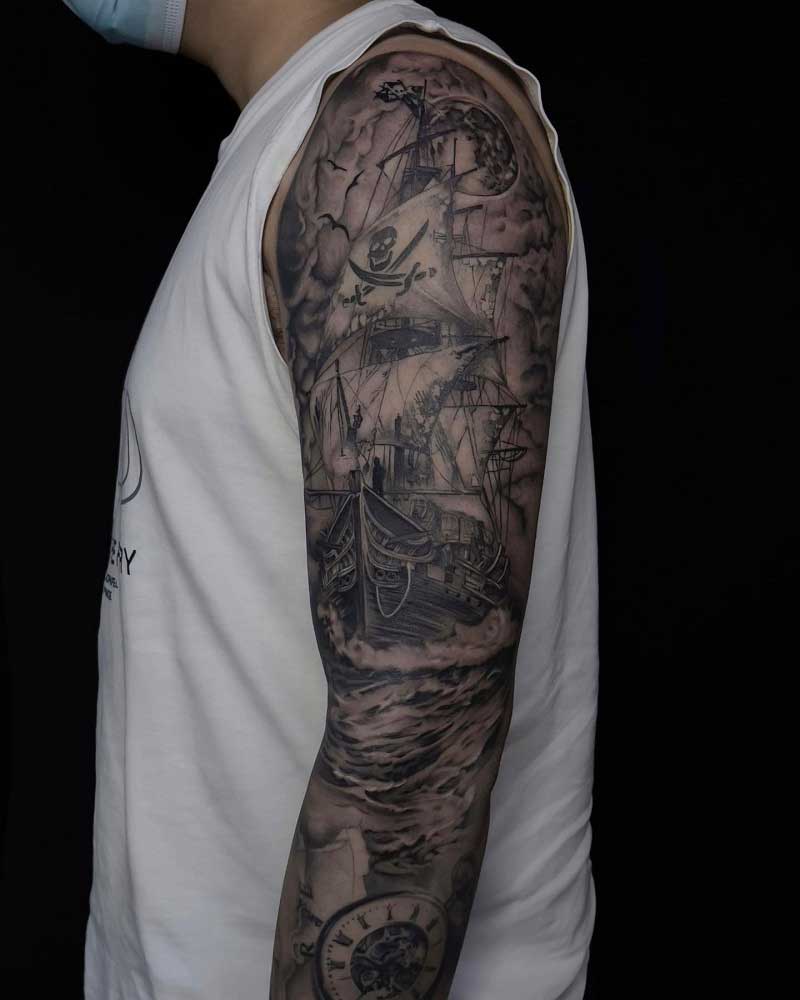 We all know that the compass and the pirate ship tattoo together represents the need for guidance. If we keep the spiritual meaning aside for a second, visually, the tattoo looks quite cool.
Japanese Pirate Ship Tattoo
Japan's approach to tattoo art is unmatched and unparalleled. For this reason, we've also gathered some cool Japanese-themed pirate ship tattoos for you below. Feel free to check them out!
28. Permissiveness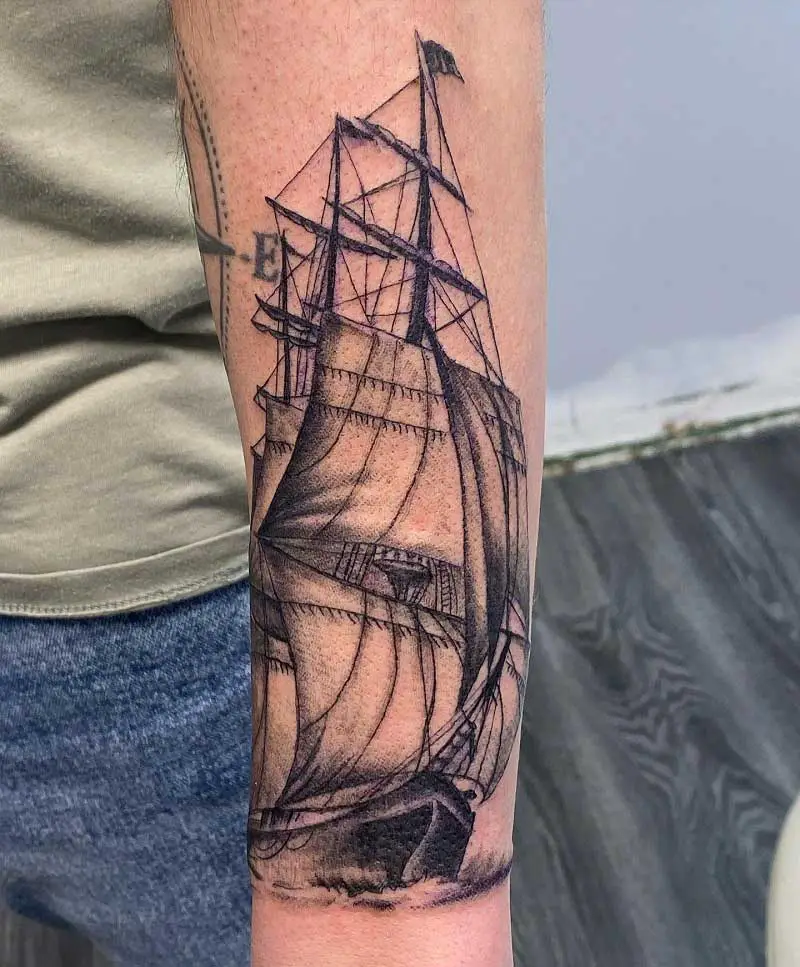 The term "permissiveness" directly refers to the excessive freedom of behaviour. The meaning makes sense because that is exactly the quality of life pirates have.
29. Fortune and Glory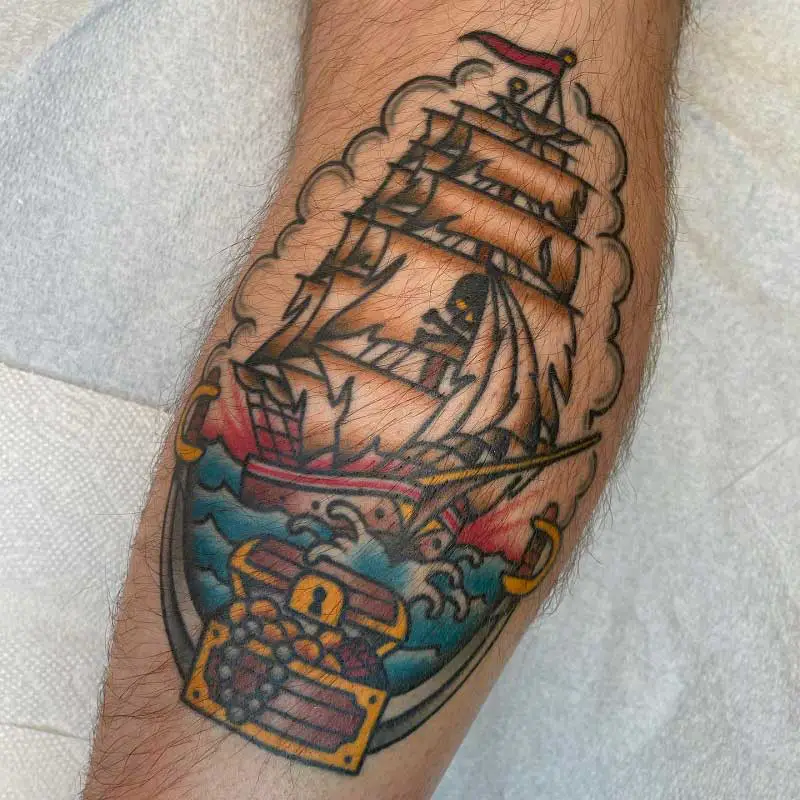 Back in the olden days, pirates would hide away their treasures in a secured place. This signifies that they will do anything to protect their valuable possessions.
30. Dark Ink Only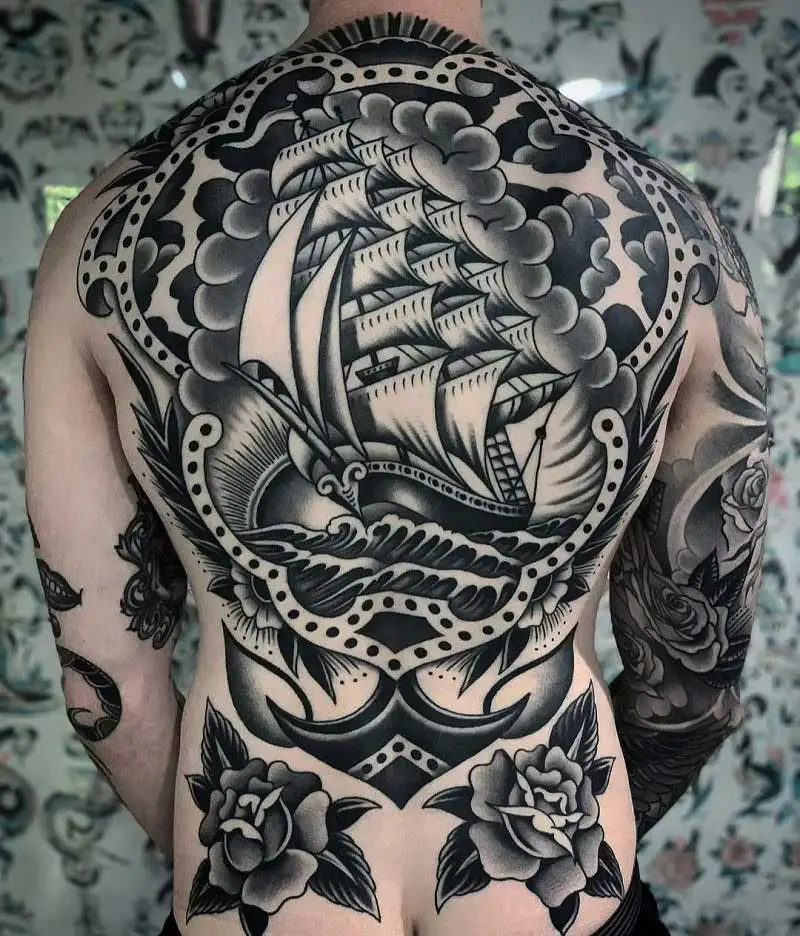 This is yet another pirate ship tattoo except there is no use of bright colors here. The tattoo also shows that only by using black ink, you can come up with stylish designs.
Kraken Pirate Ship Tattoo
31.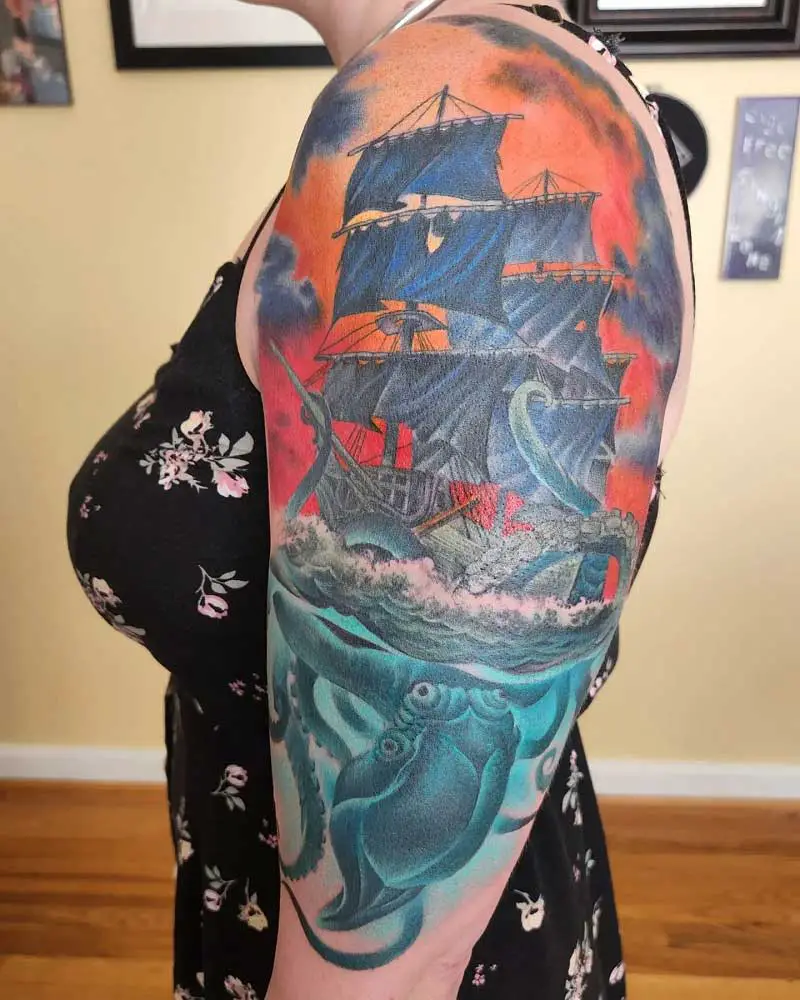 32.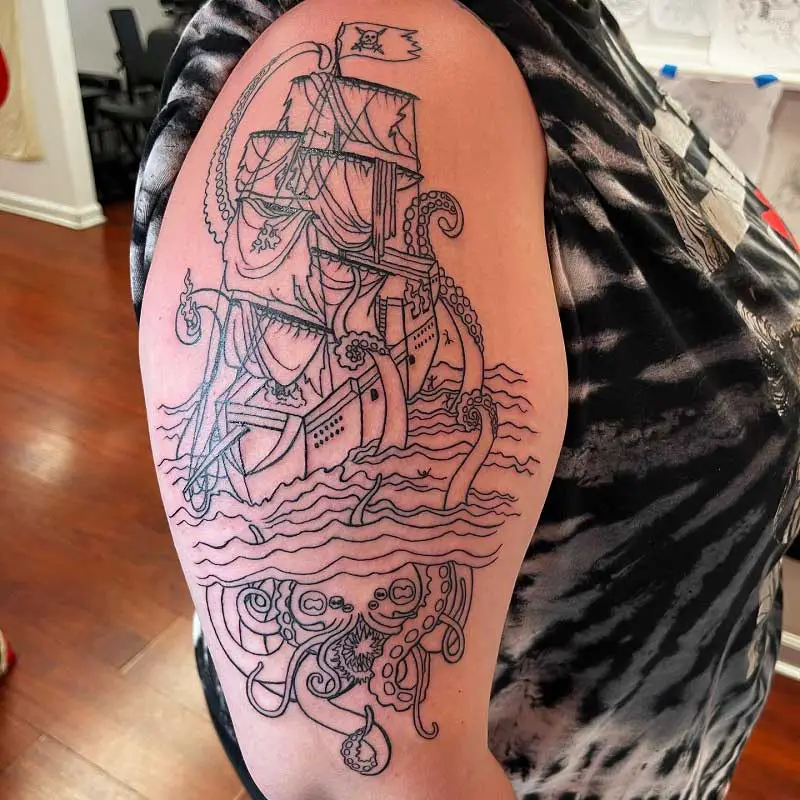 33.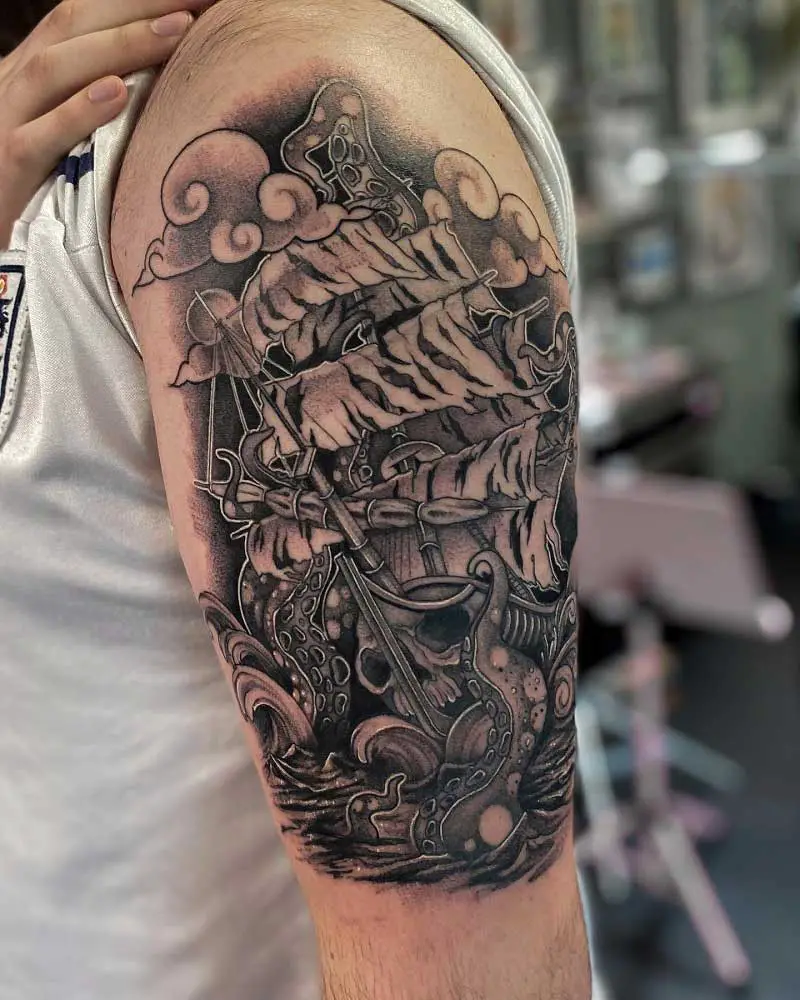 Octopus Pirate Ship Tattoo
34.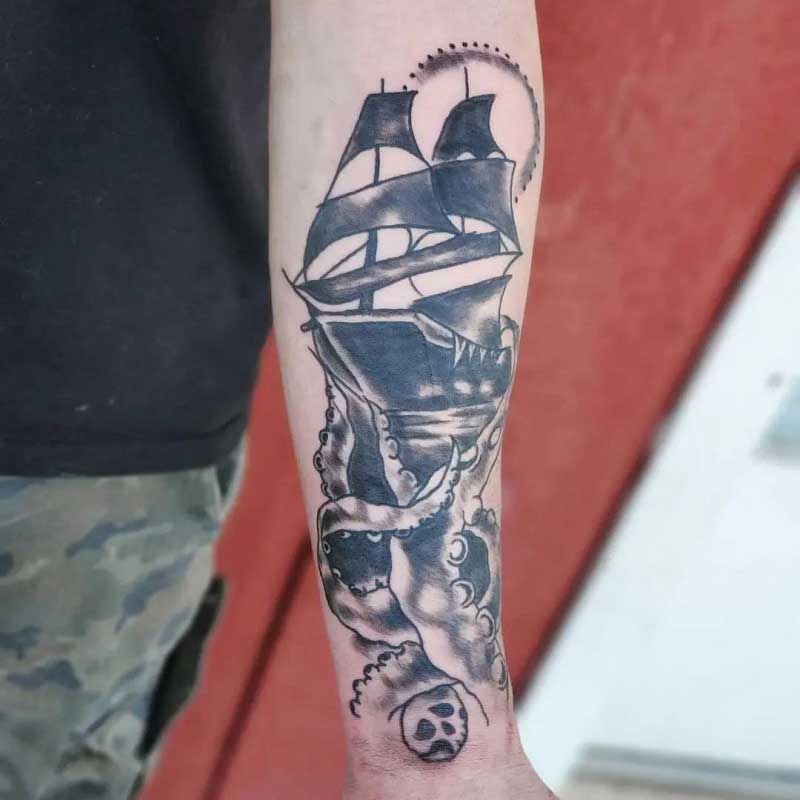 35.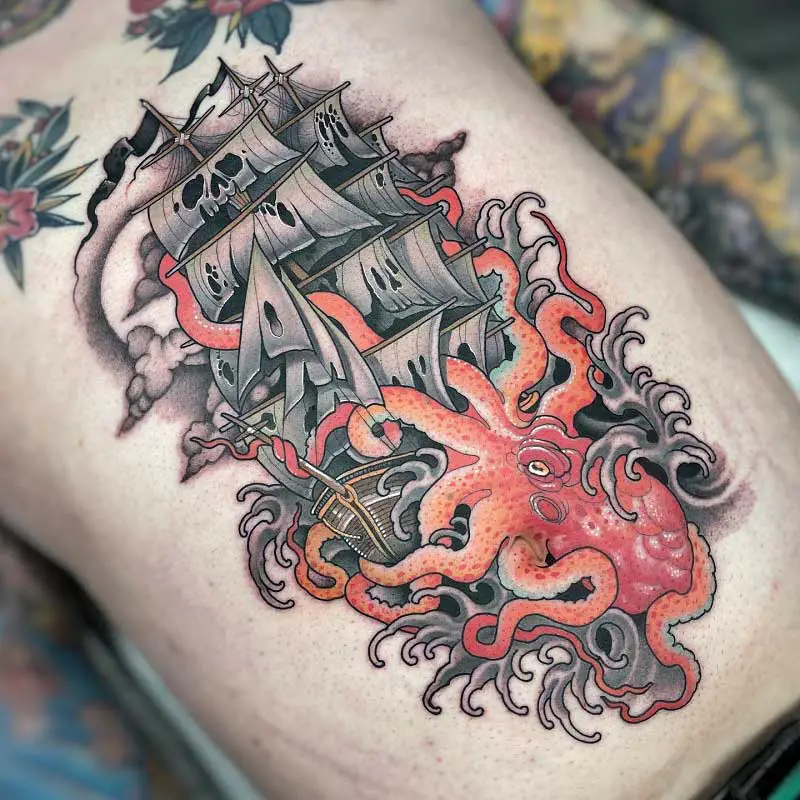 36.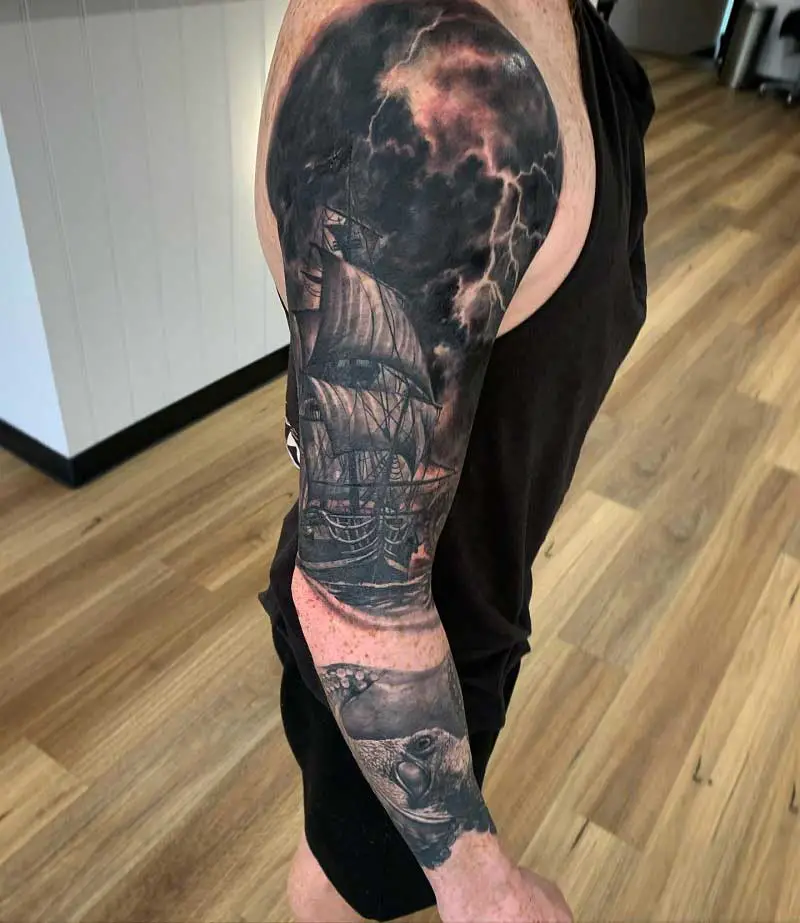 Pirate Ship Anchor Tattoo
37.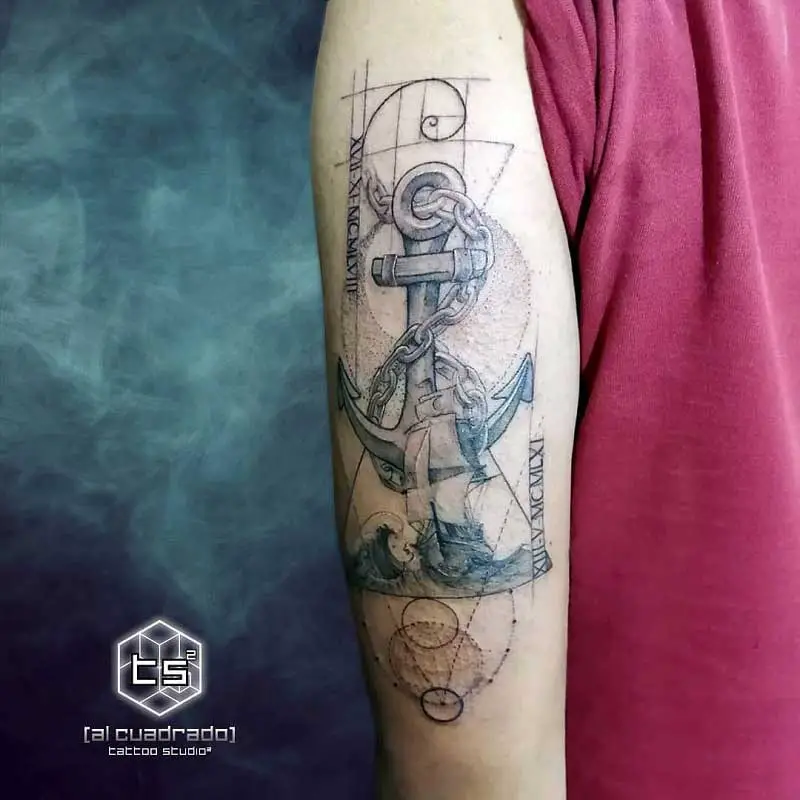 38.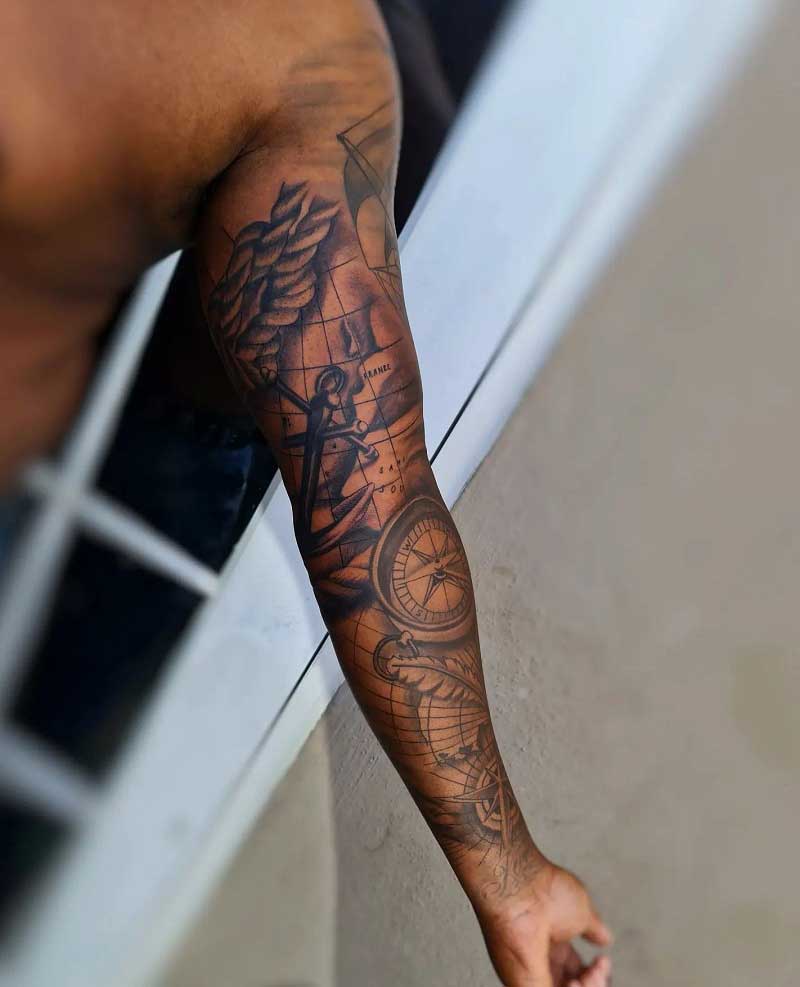 39.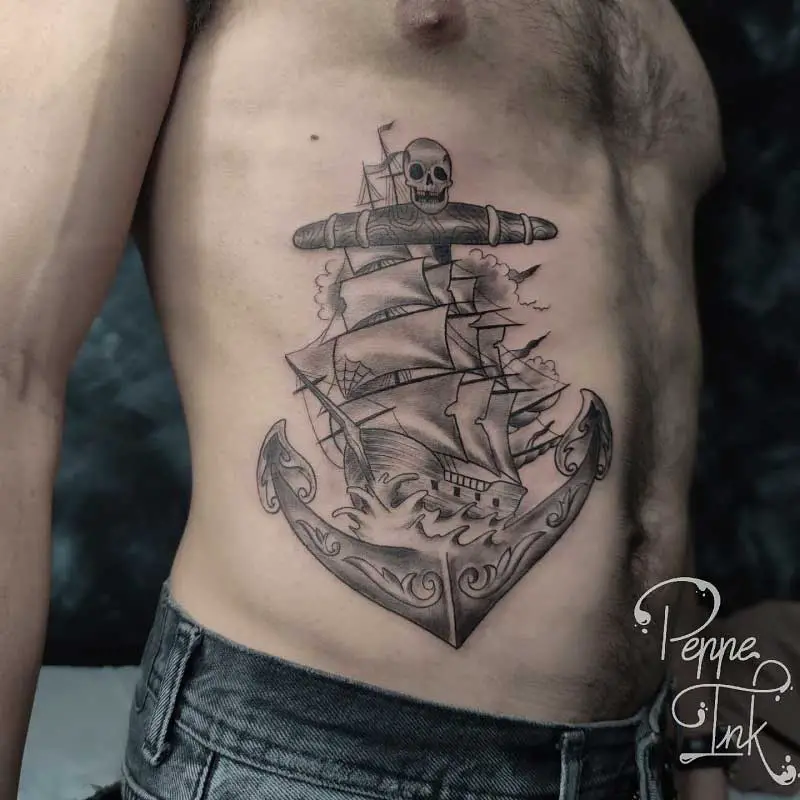 Pirate Ship Compass Tattoo
40.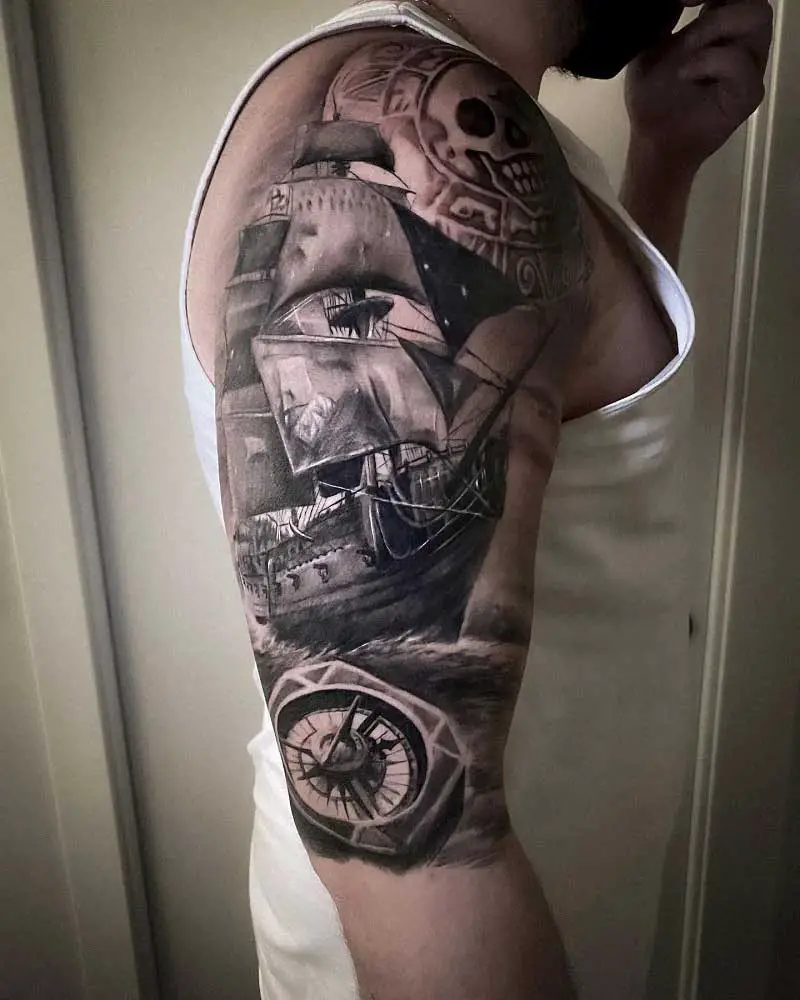 41.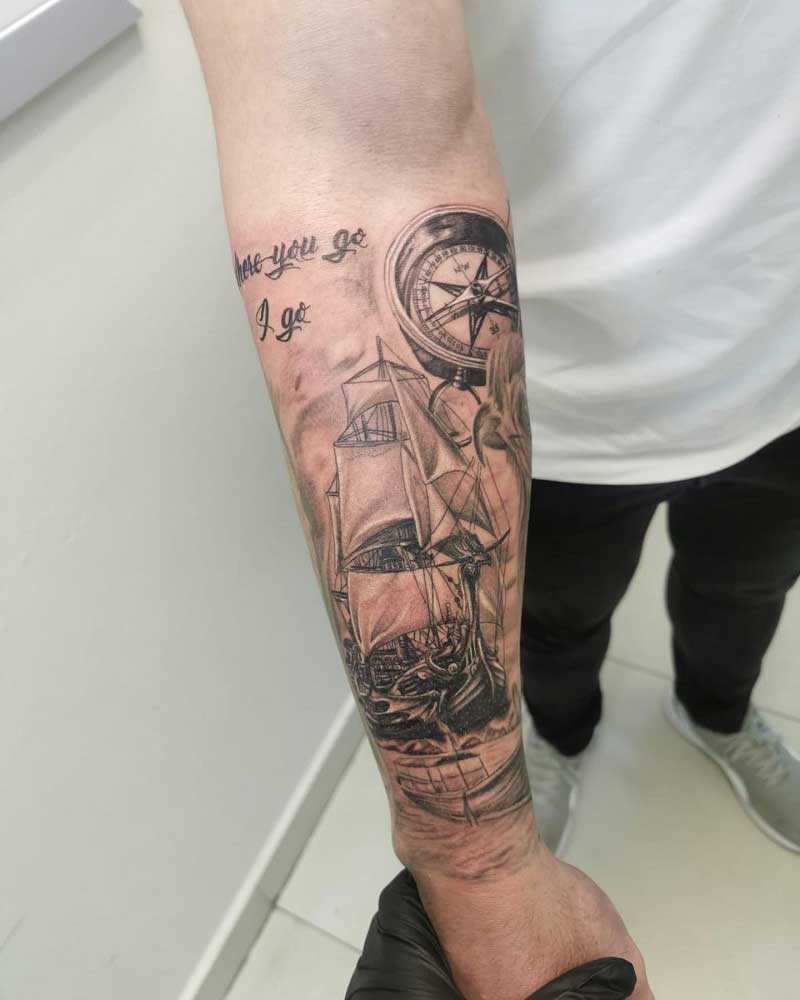 42.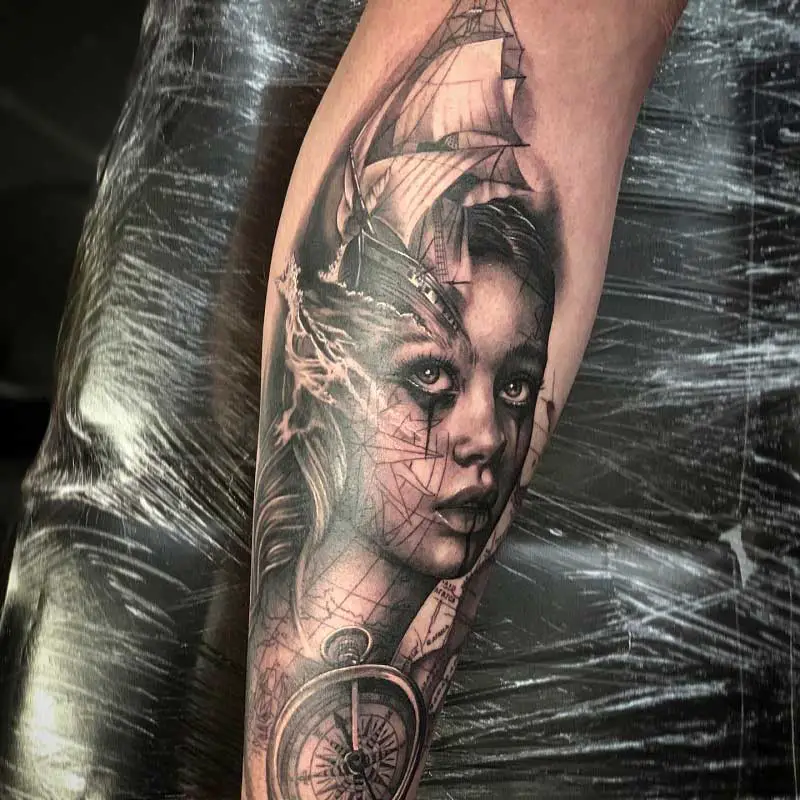 Pirate Ship Flash Tattoo
43.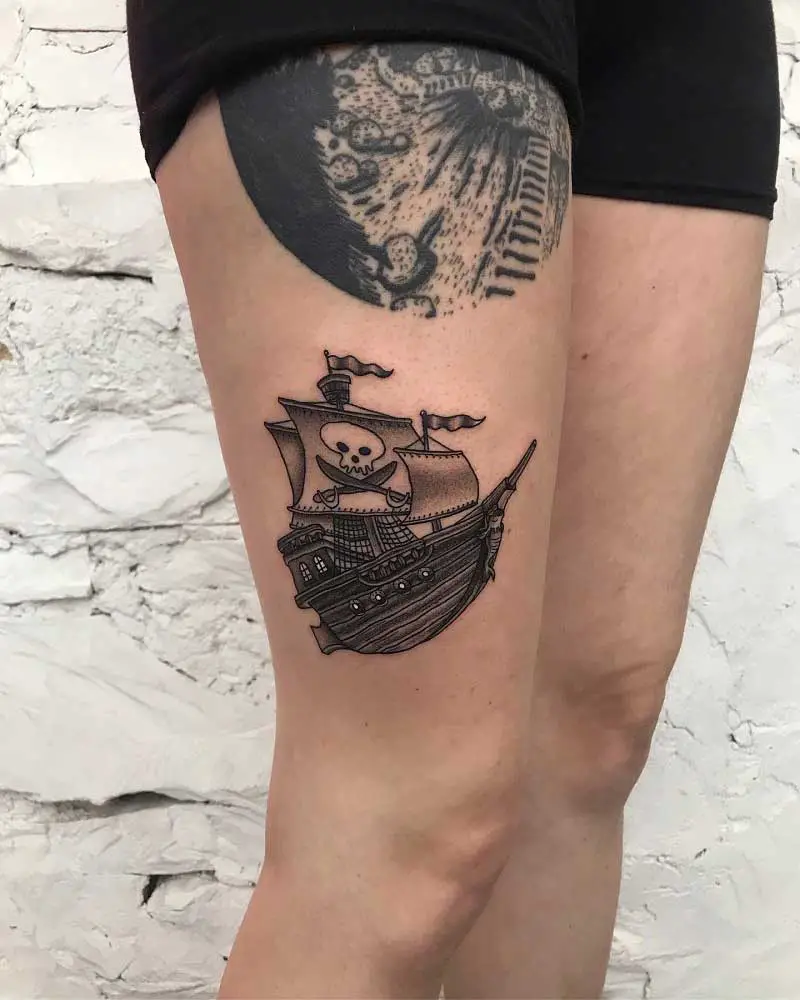 44.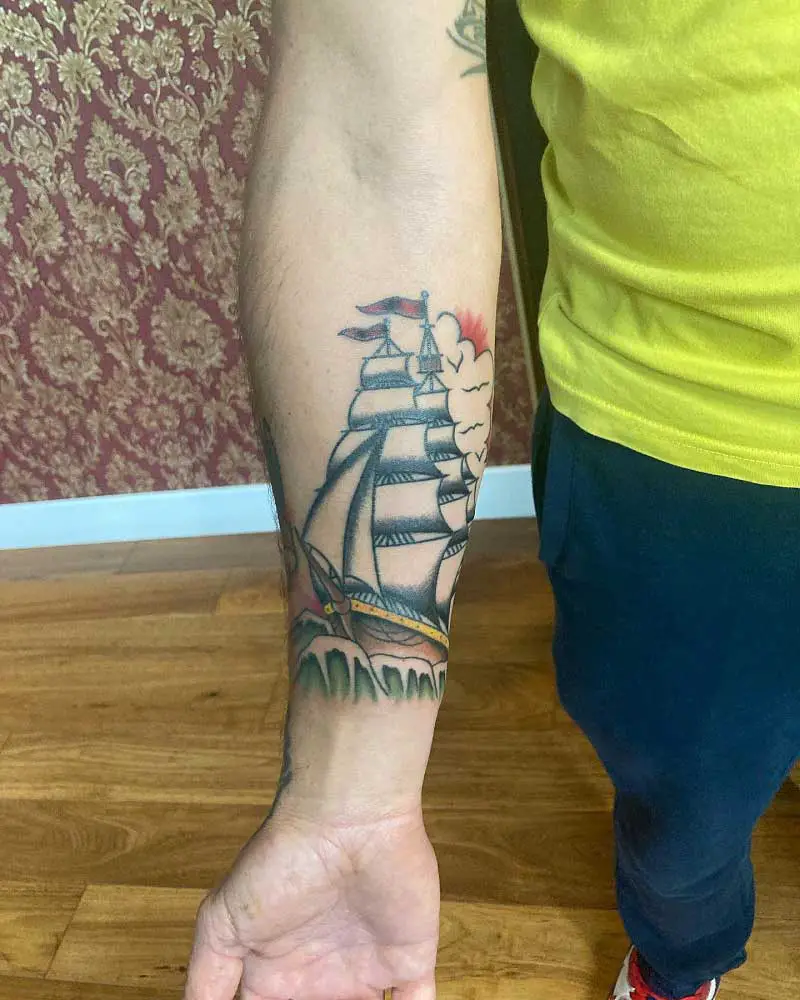 45.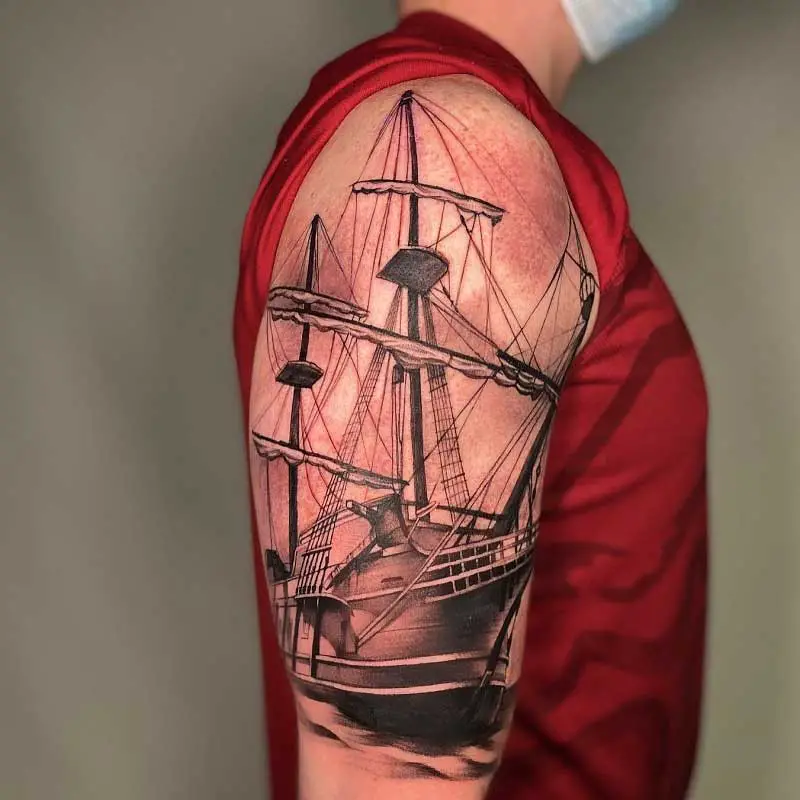 Pirate Ship Leg Tattoo
46.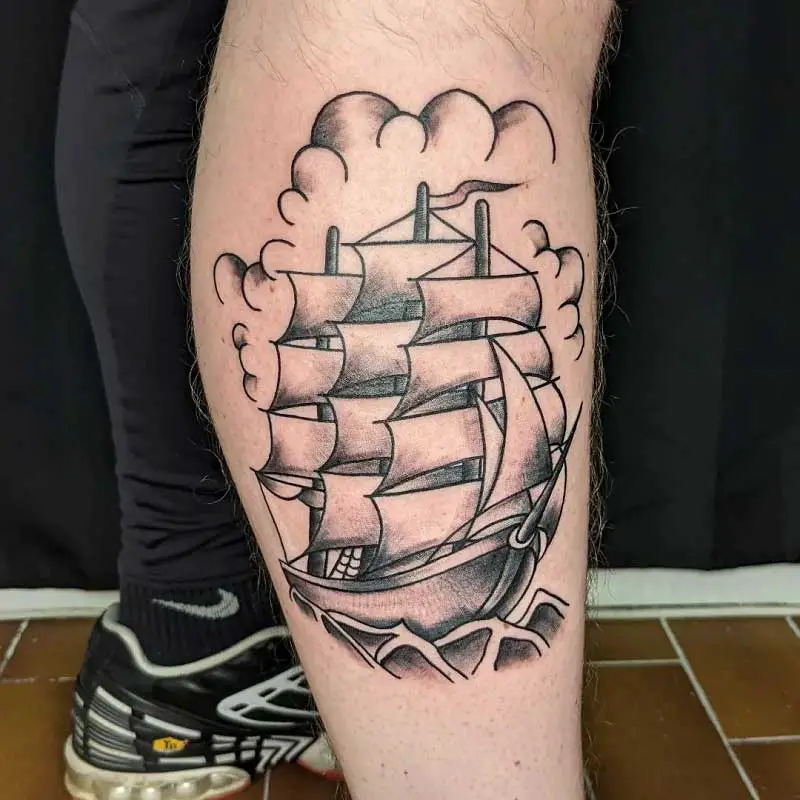 47.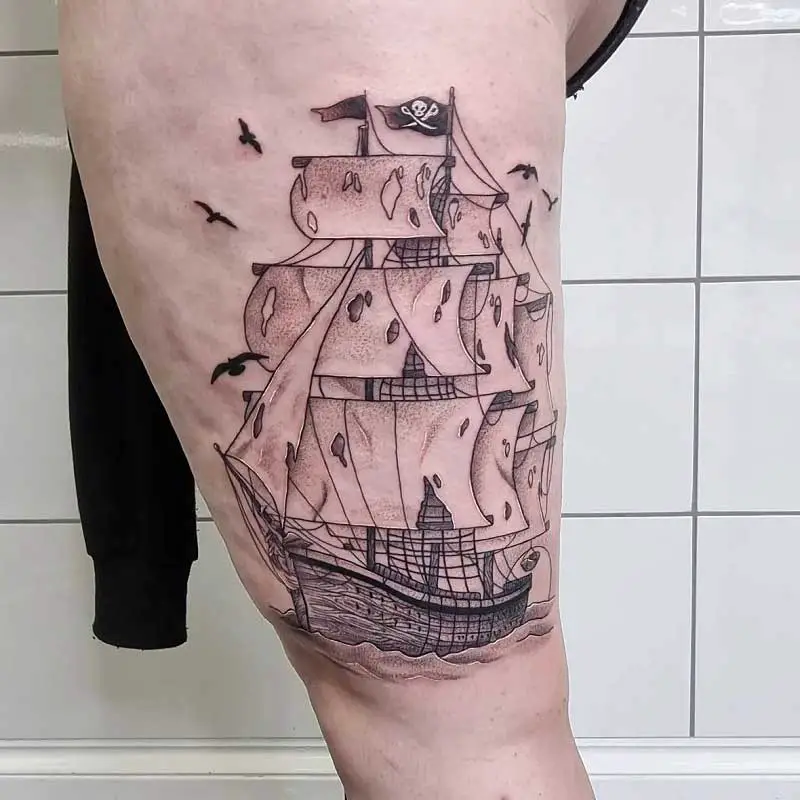 48.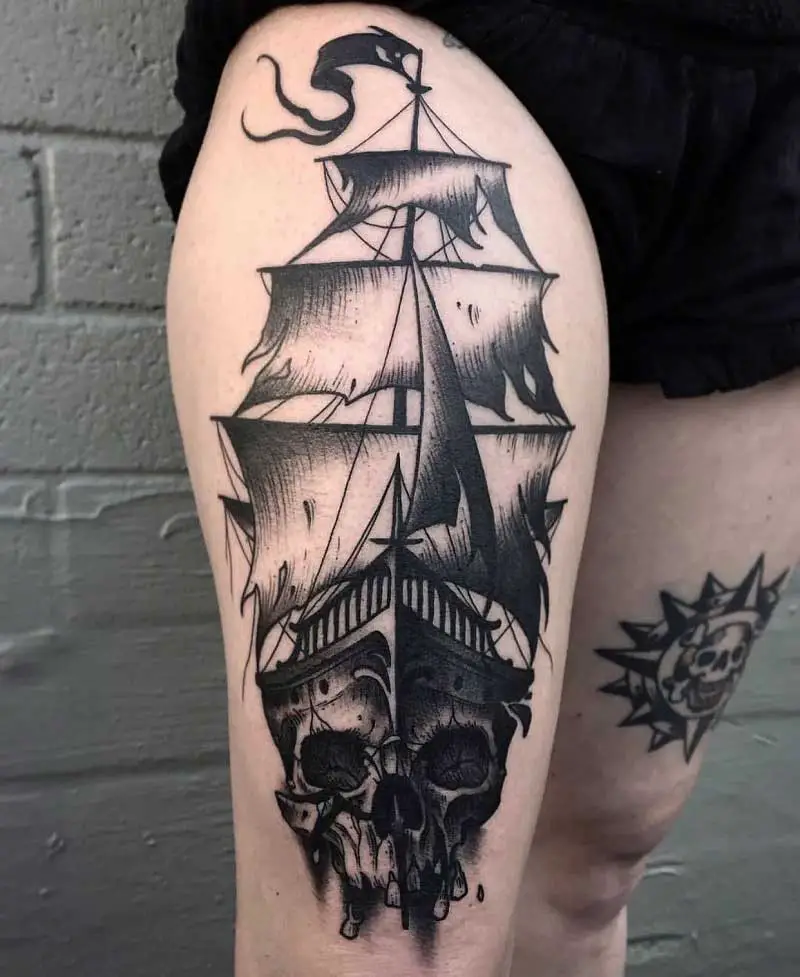 Pirate Ship Silhouette Tattoo
49.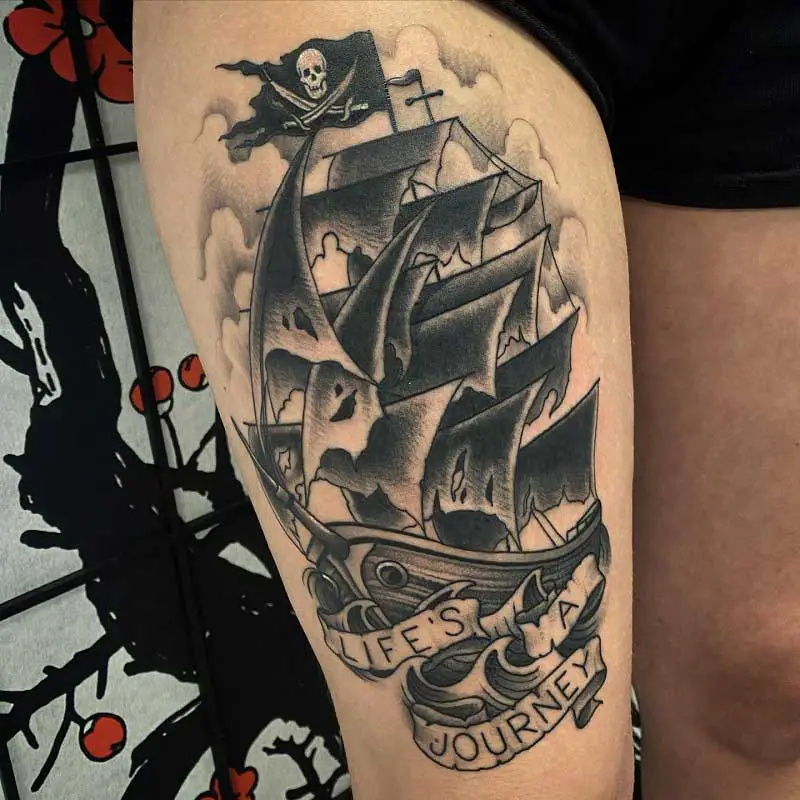 50.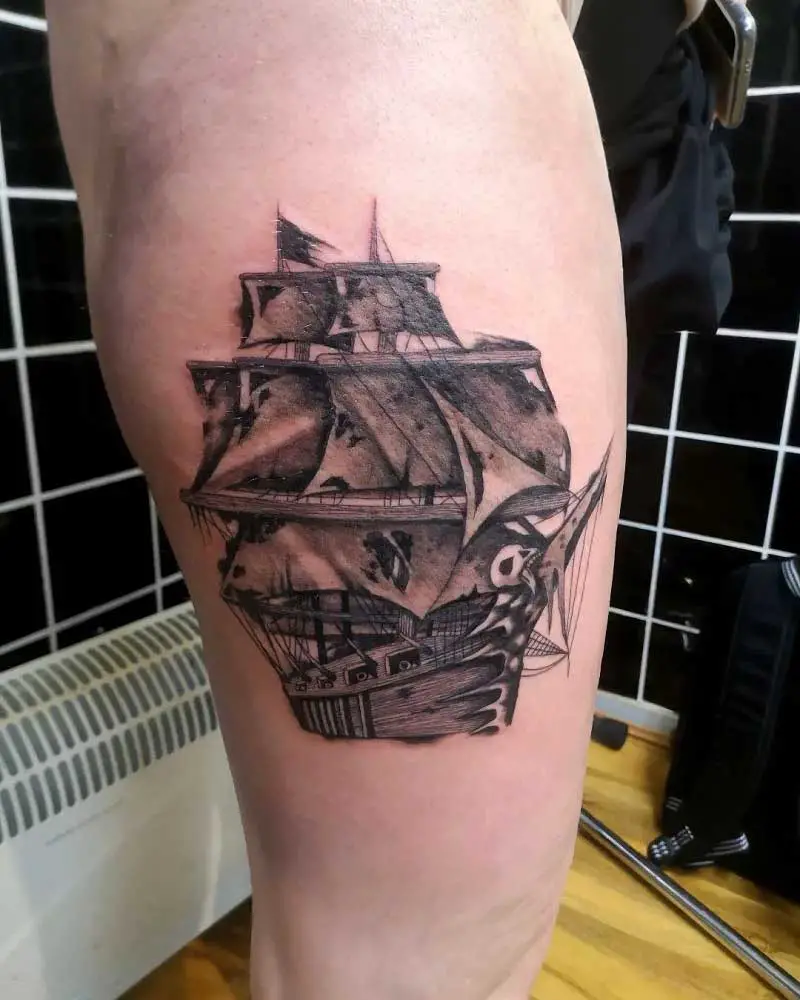 51.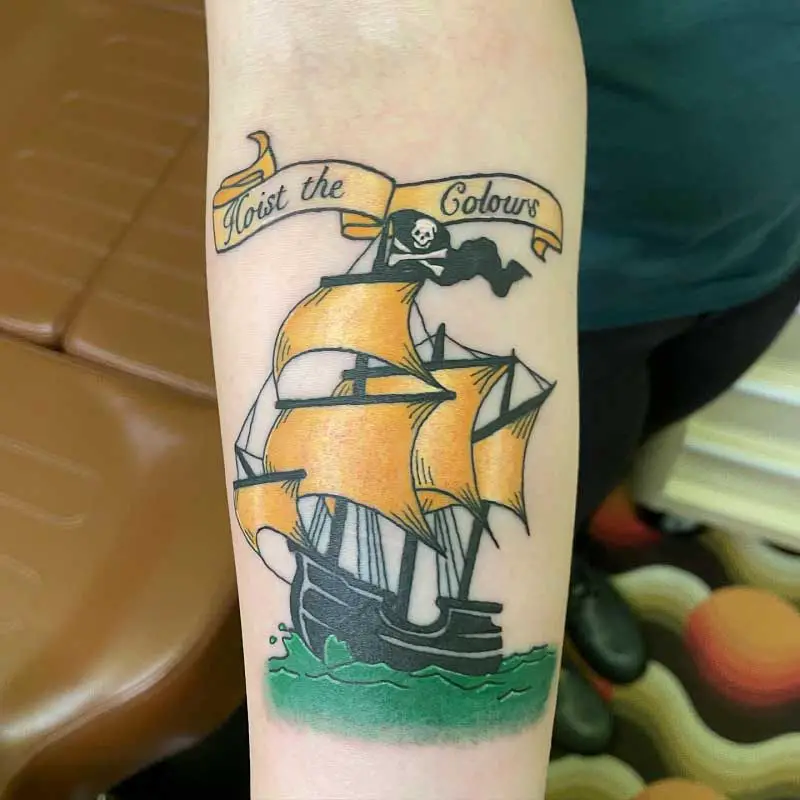 Pirate Ship Skull Tattoo
52.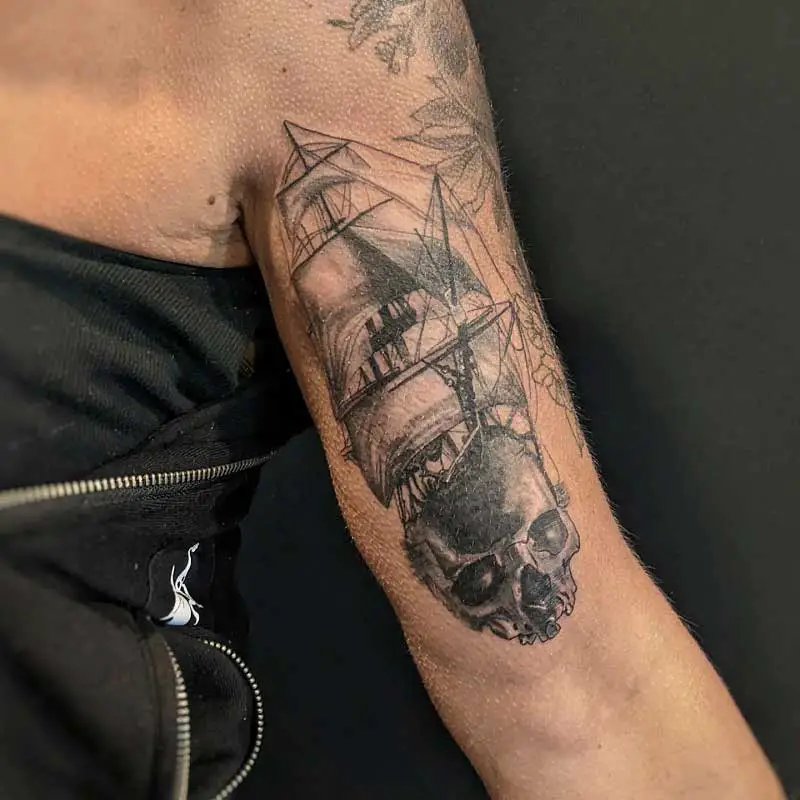 53.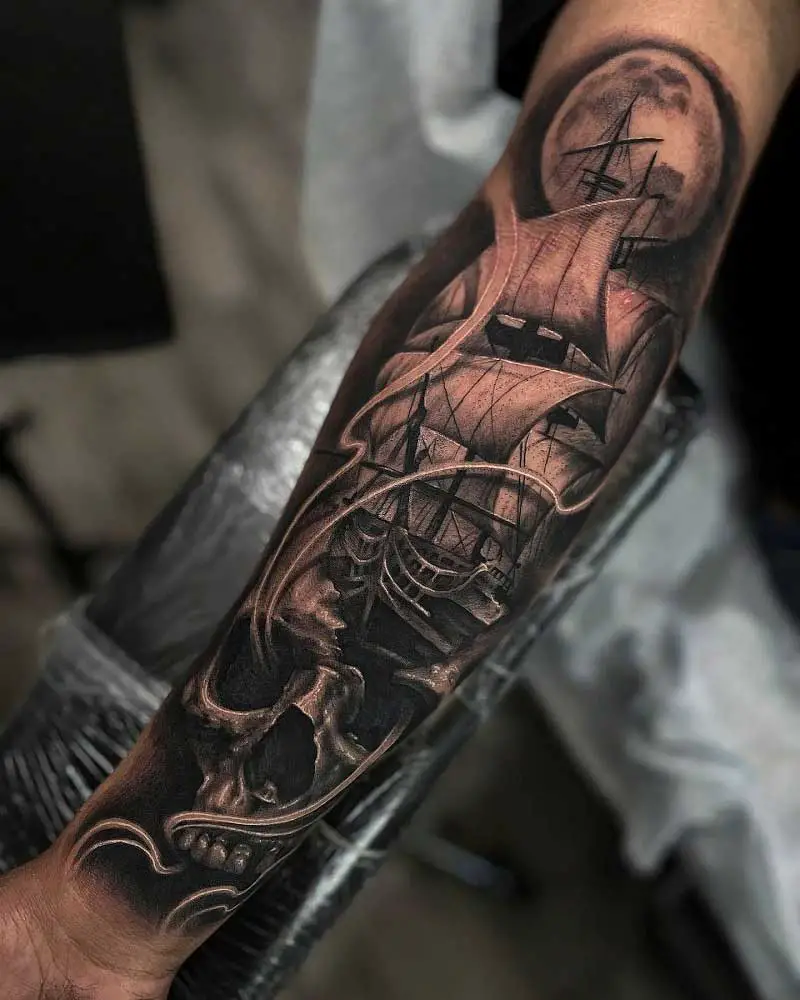 54.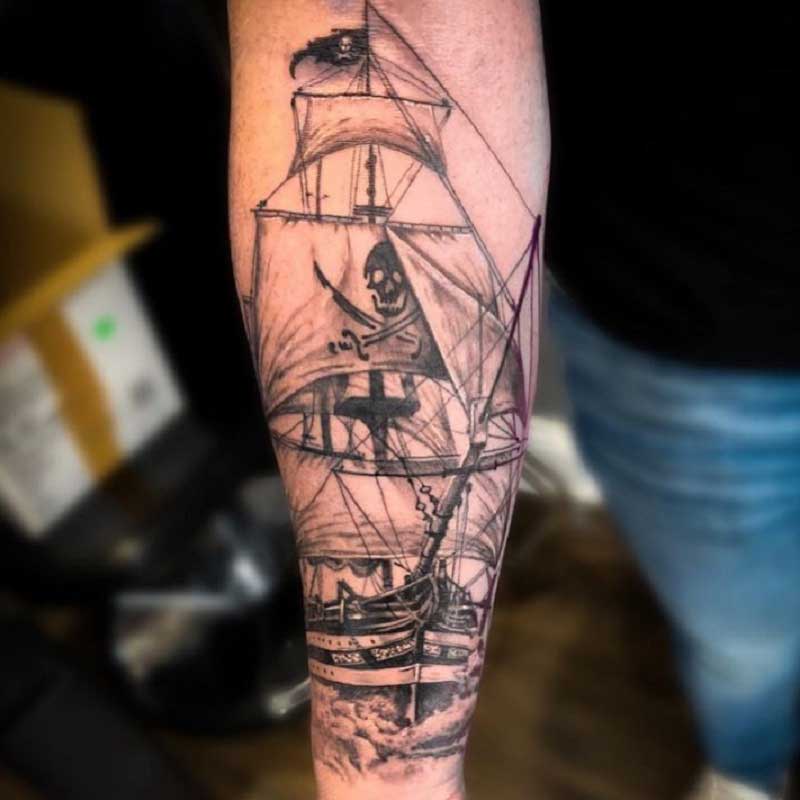 Sailor Jerry Pirate Ship Tattoo
55.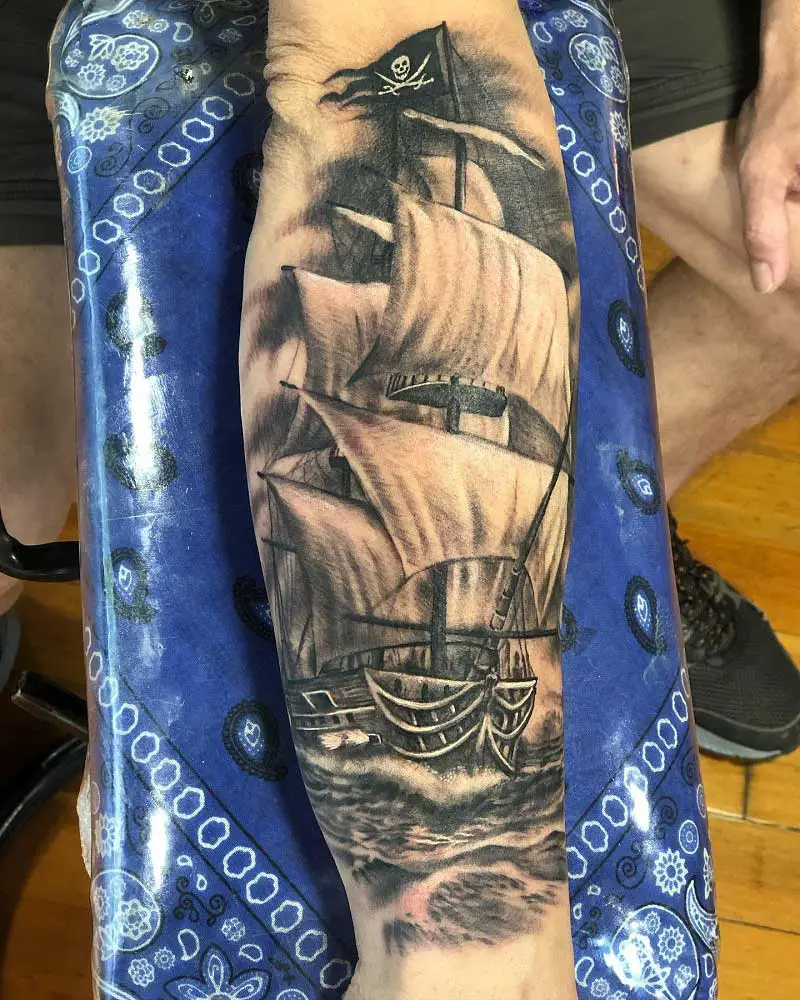 56.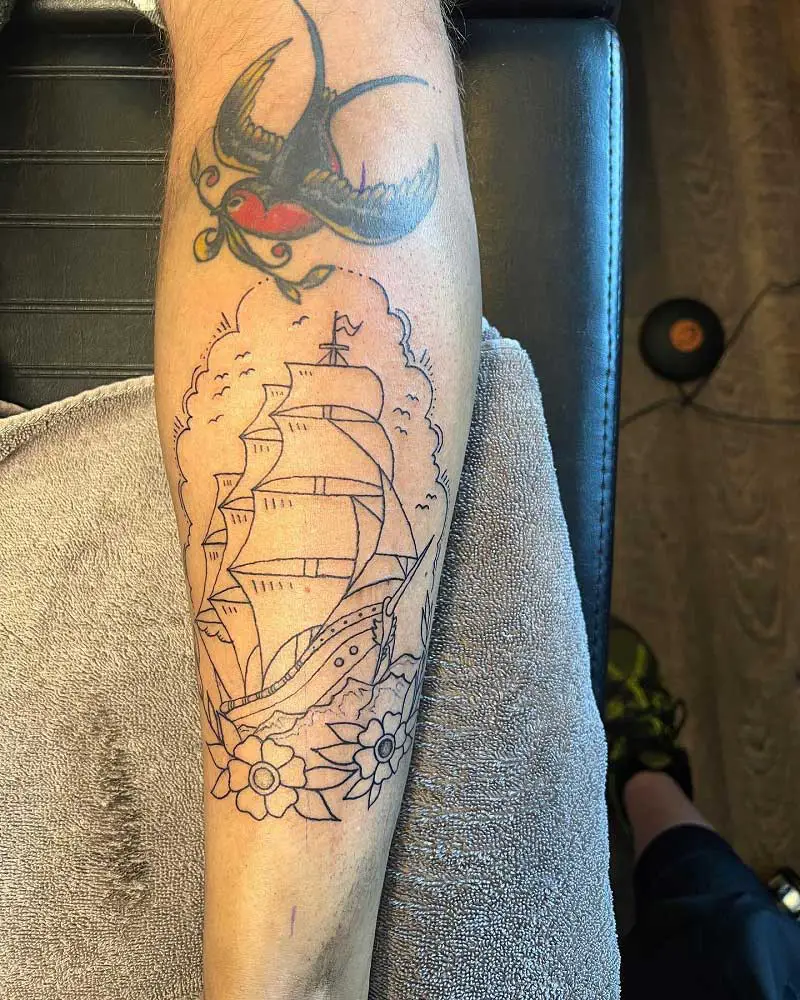 57.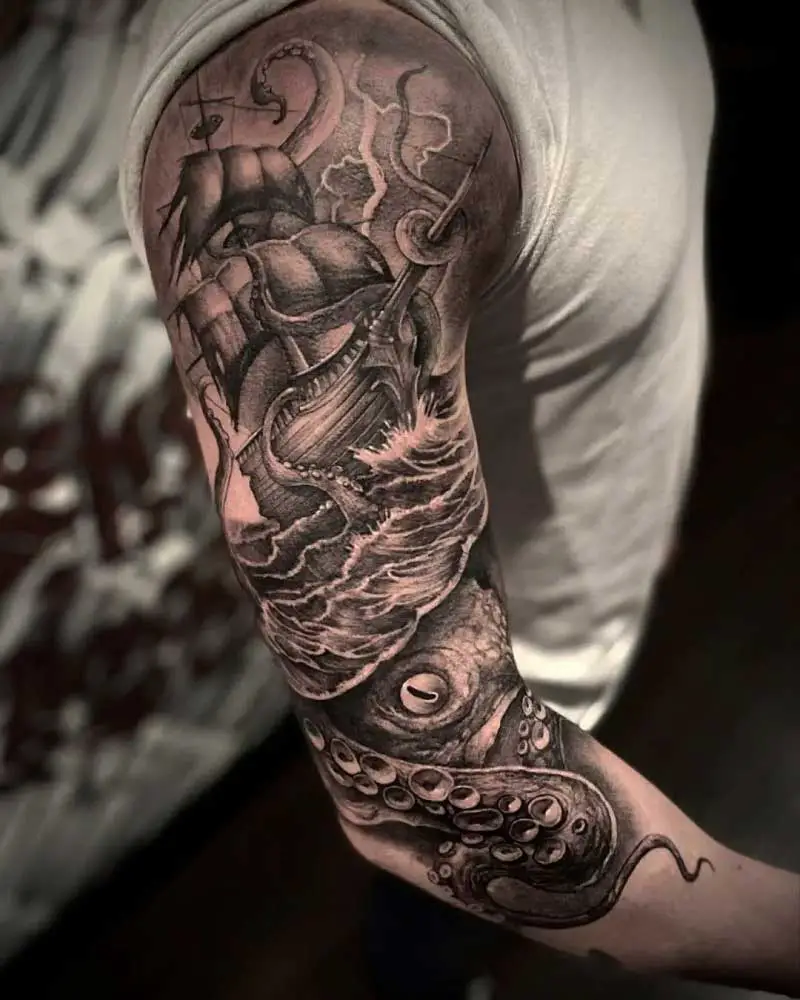 Sinking Pirate Ship Tattoo
58.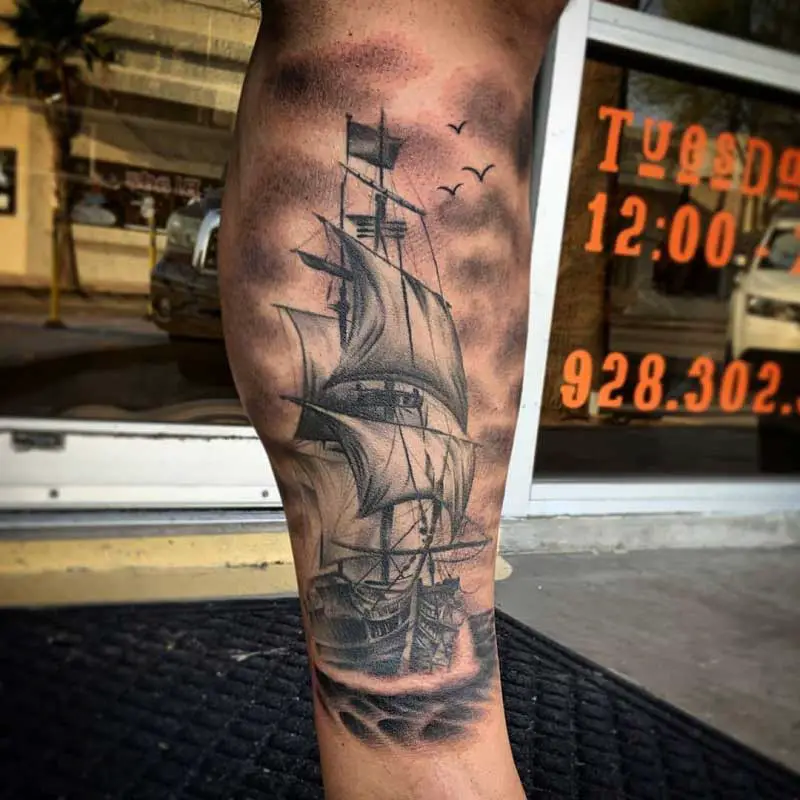 59.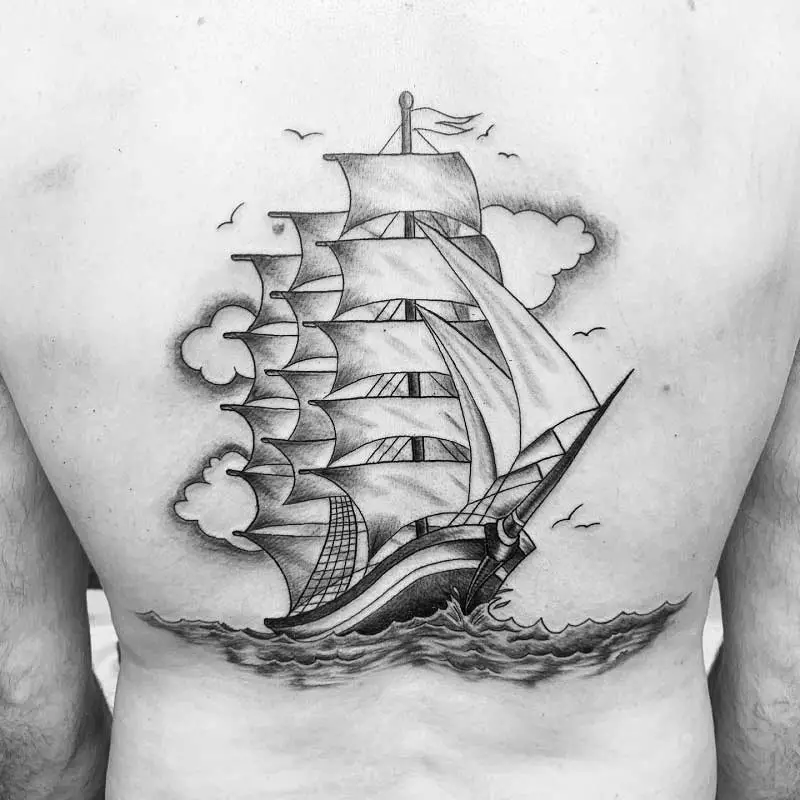 60.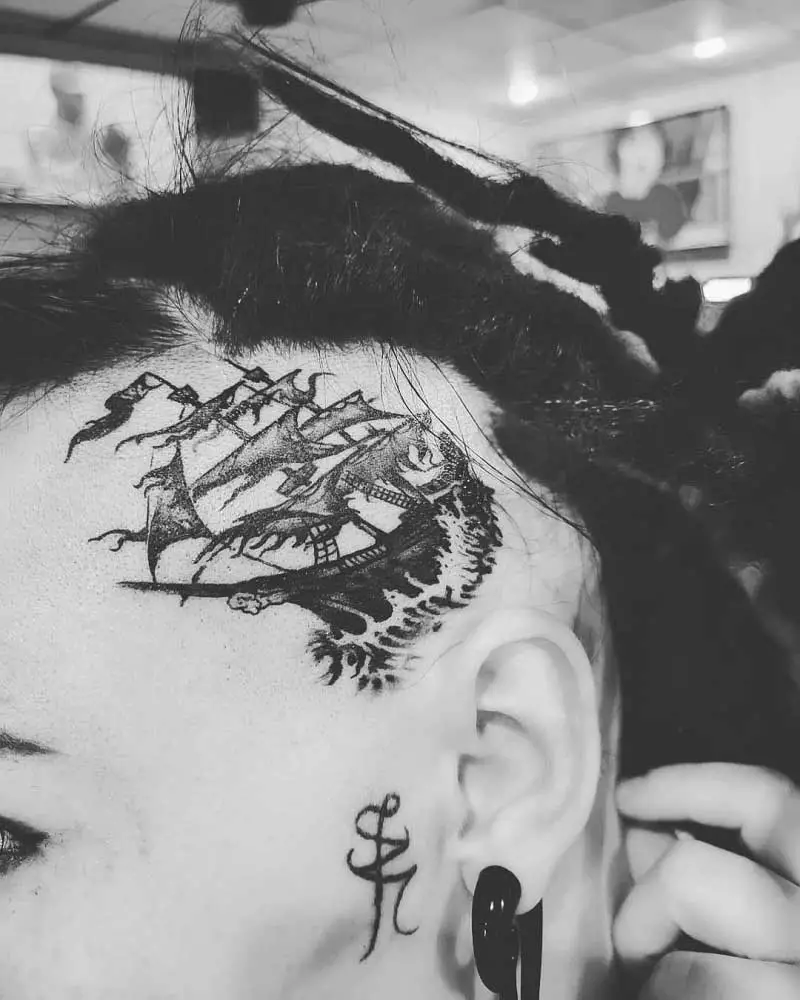 Sunken Pirate Ship Tattoo
61.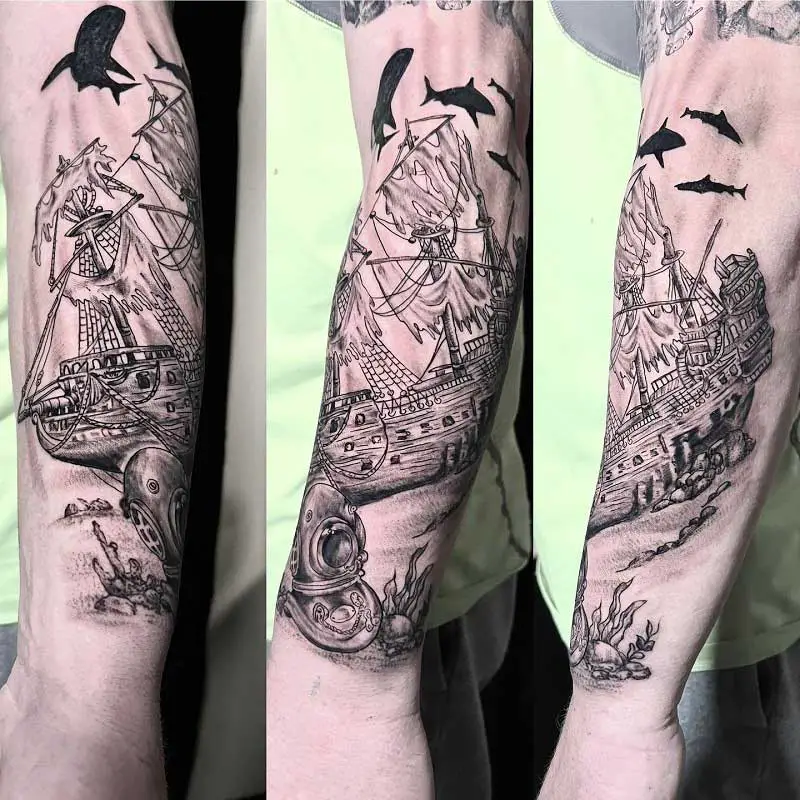 62.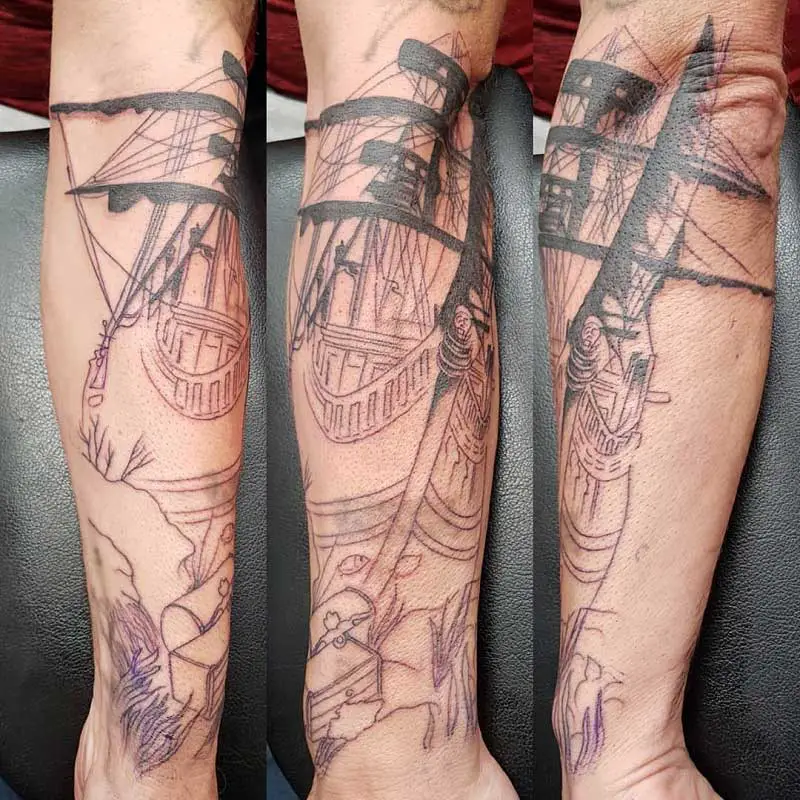 63.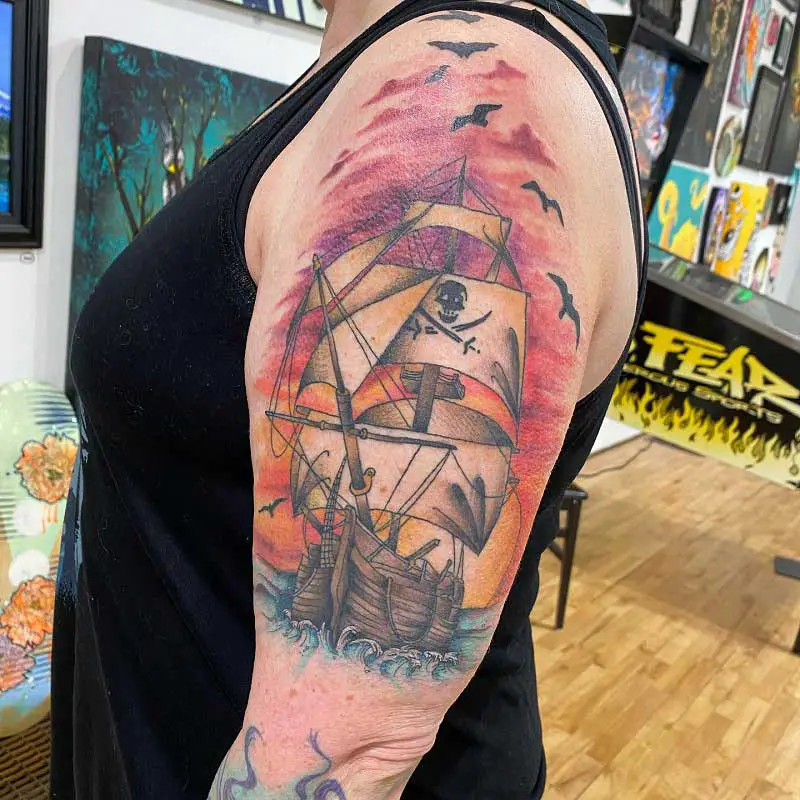 Vintage Pirate Ship Tattoo
64.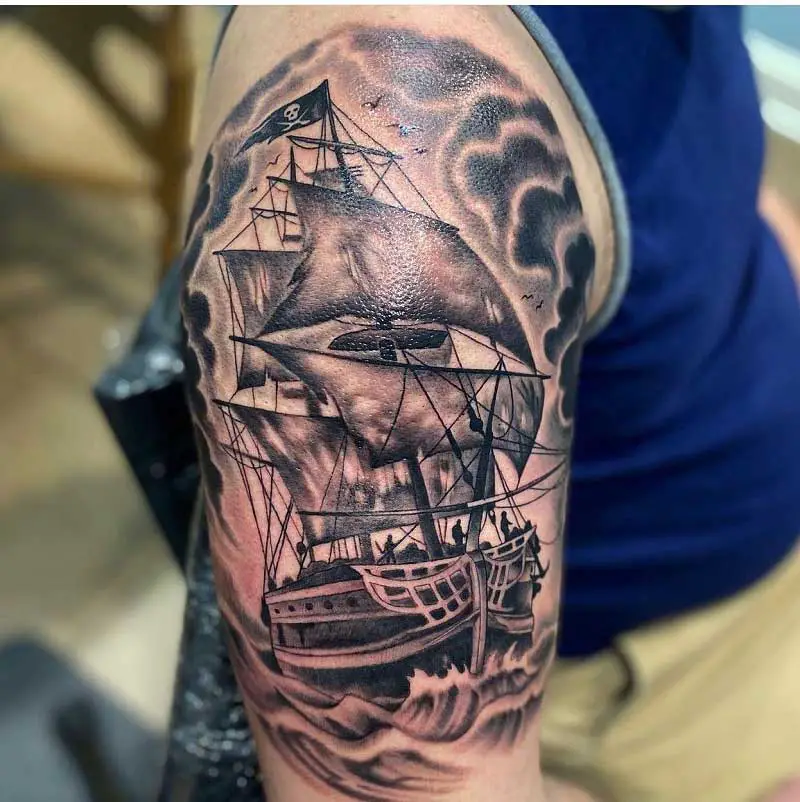 65.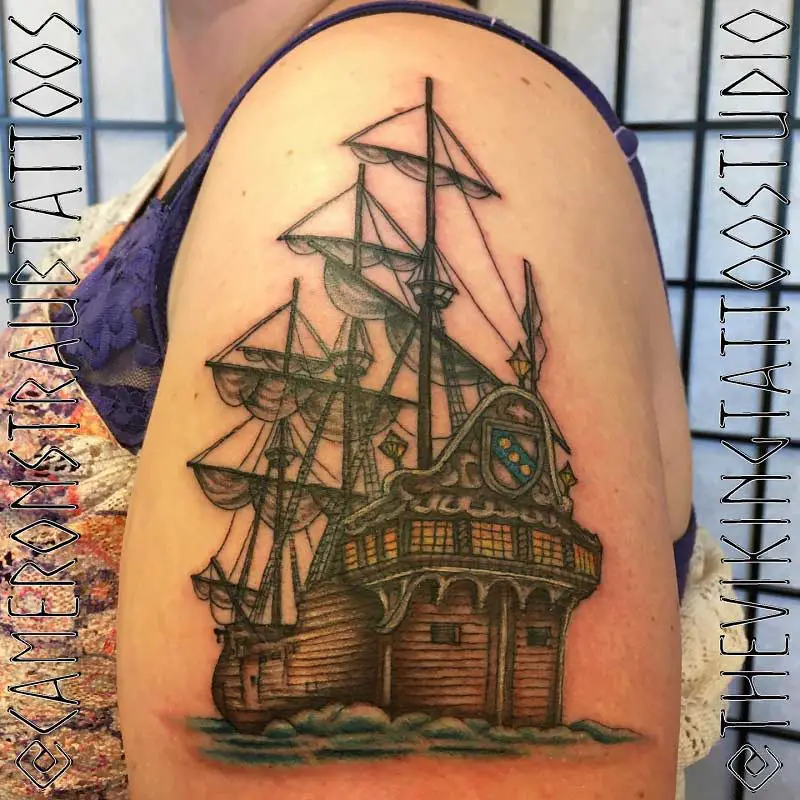 66.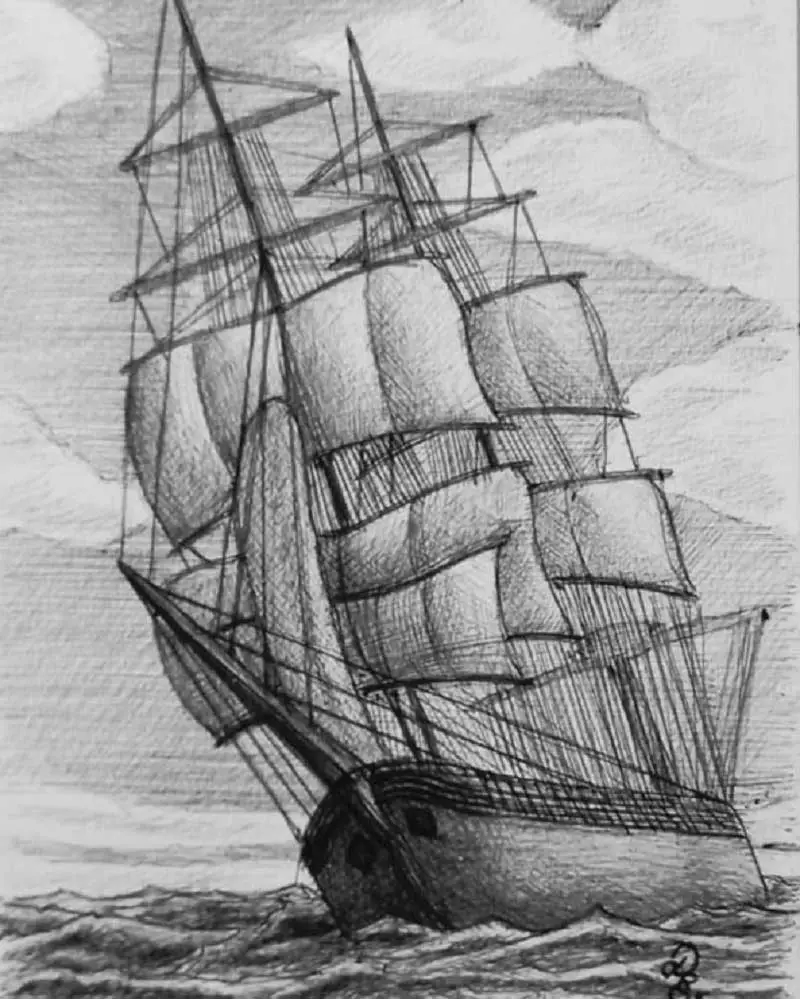 Old School Pirate Ship Tattoo
67.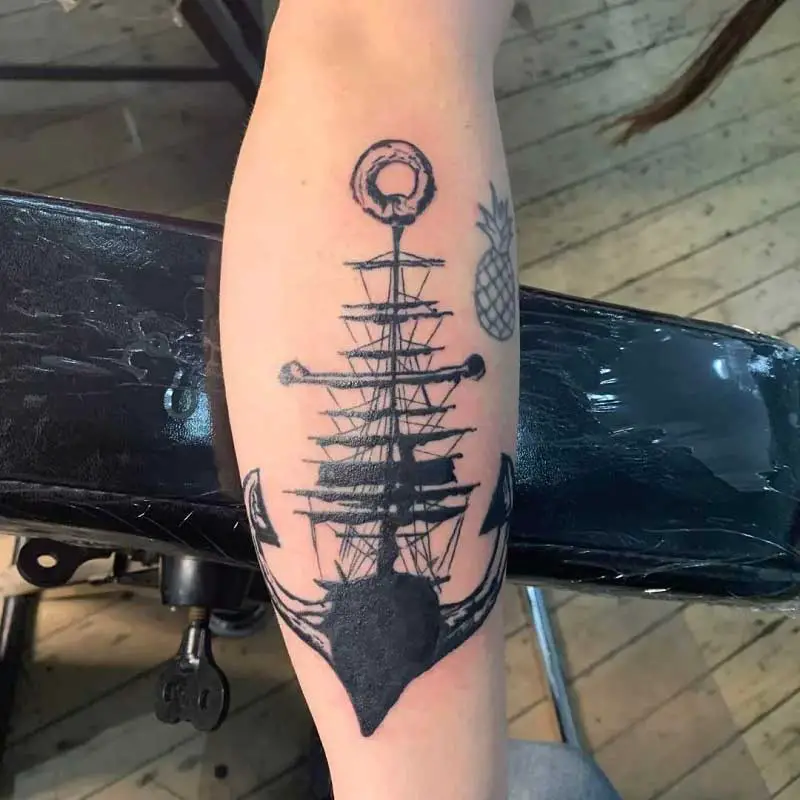 68.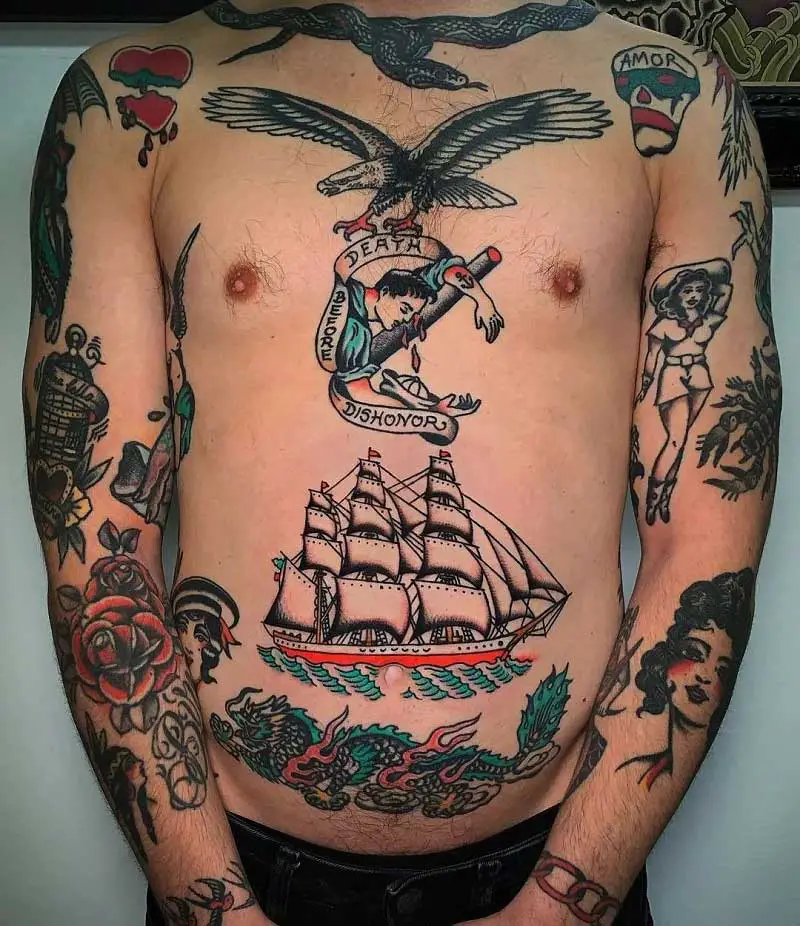 69.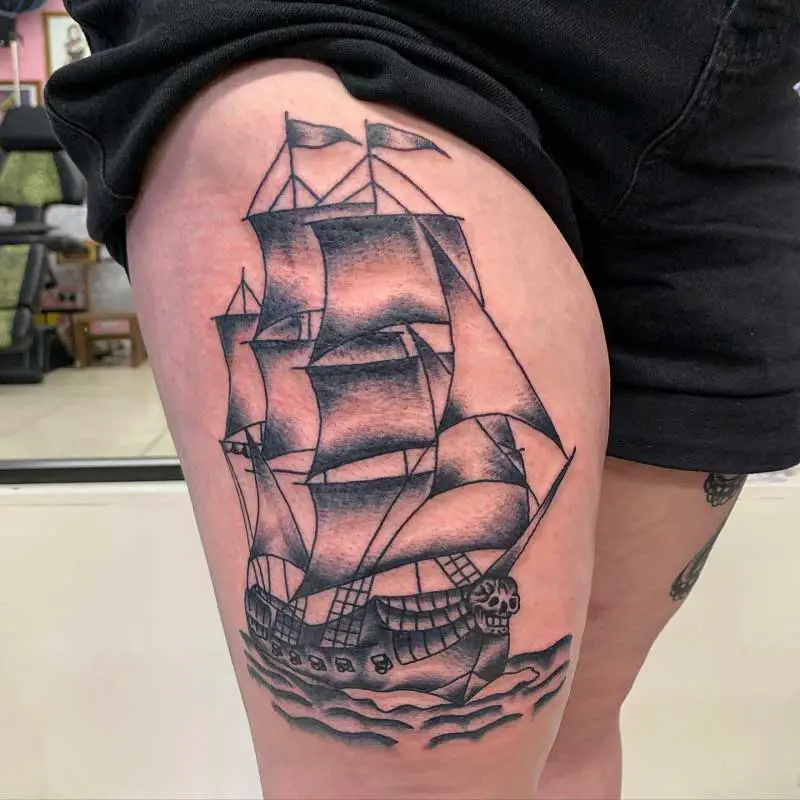 Pirate Ship Battle Tattoo
70.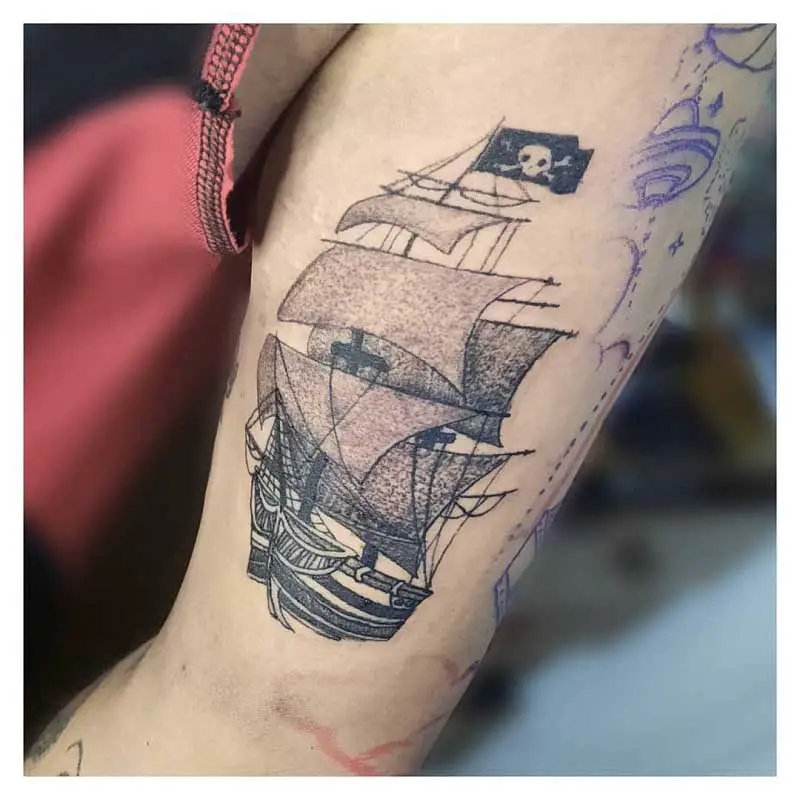 71.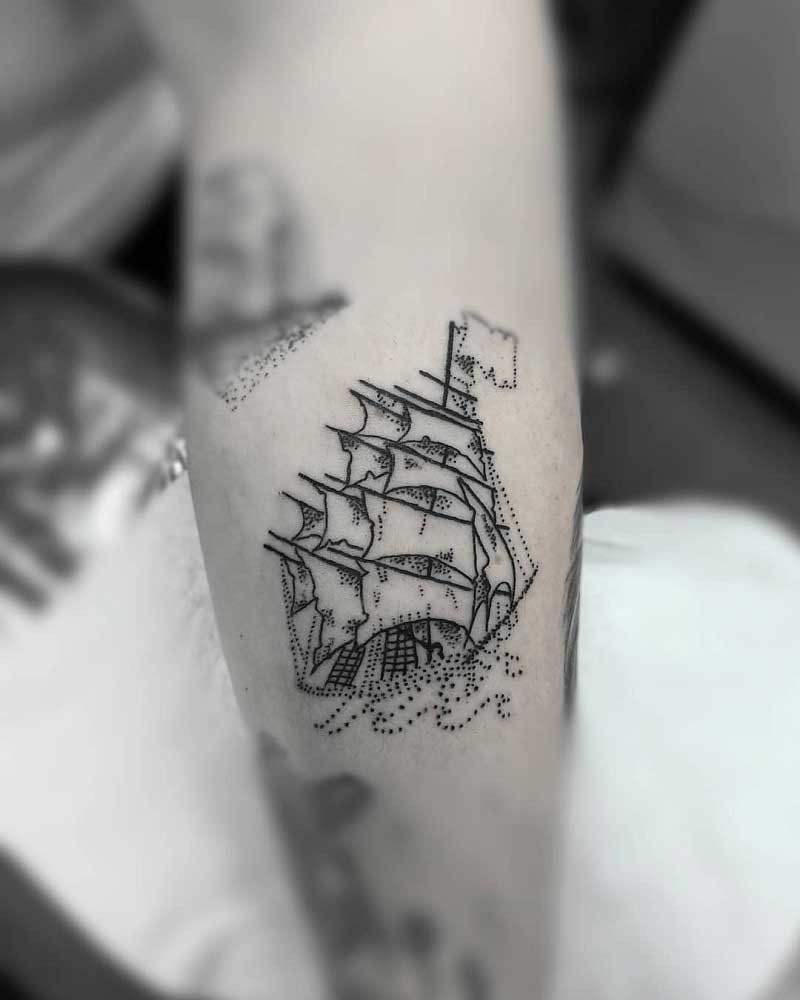 72.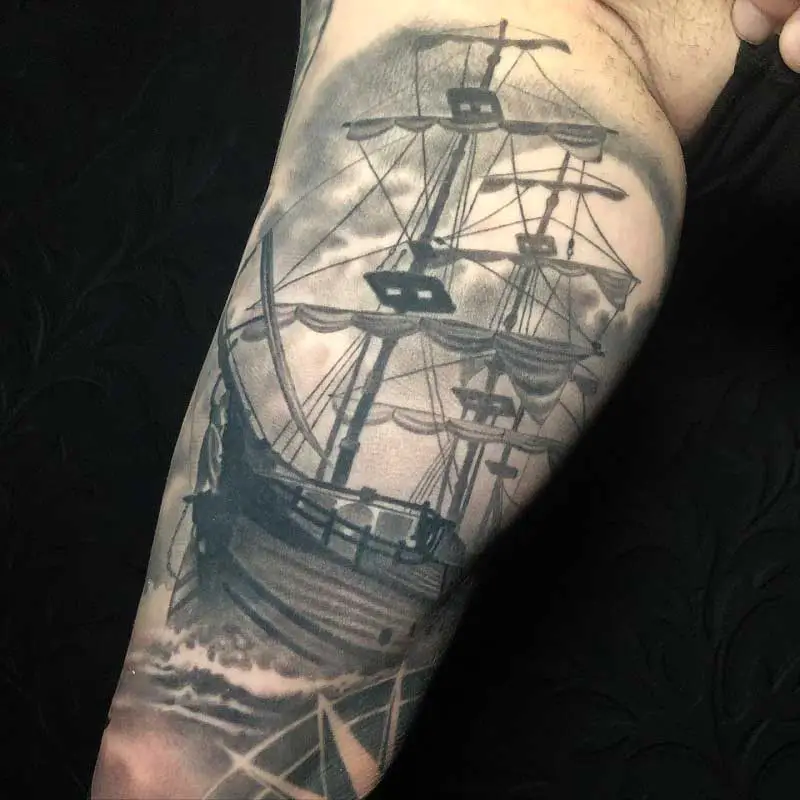 Pirate Ship Mermaid Tattoos
73.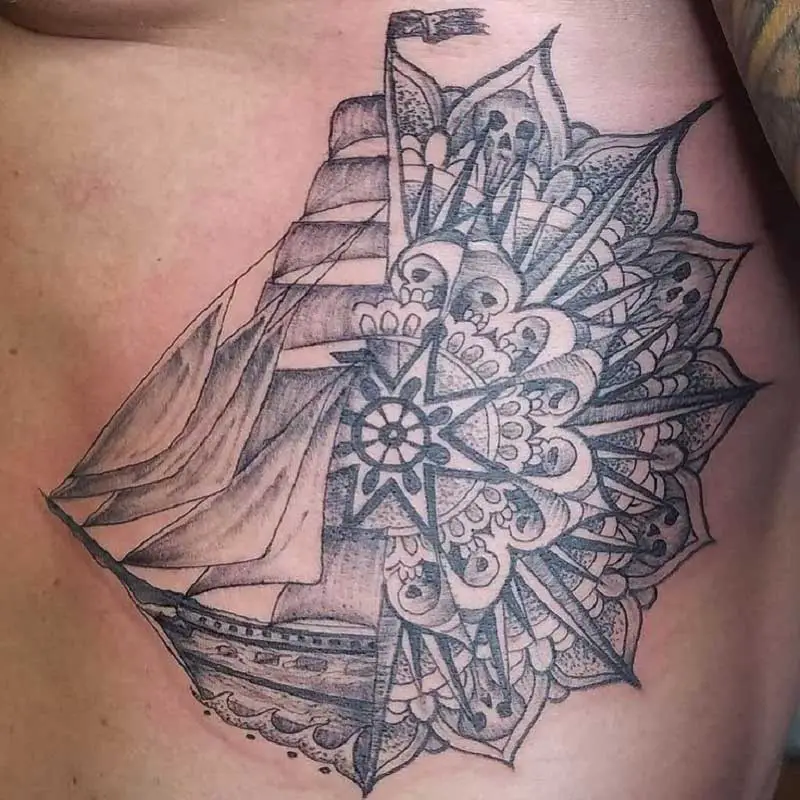 74.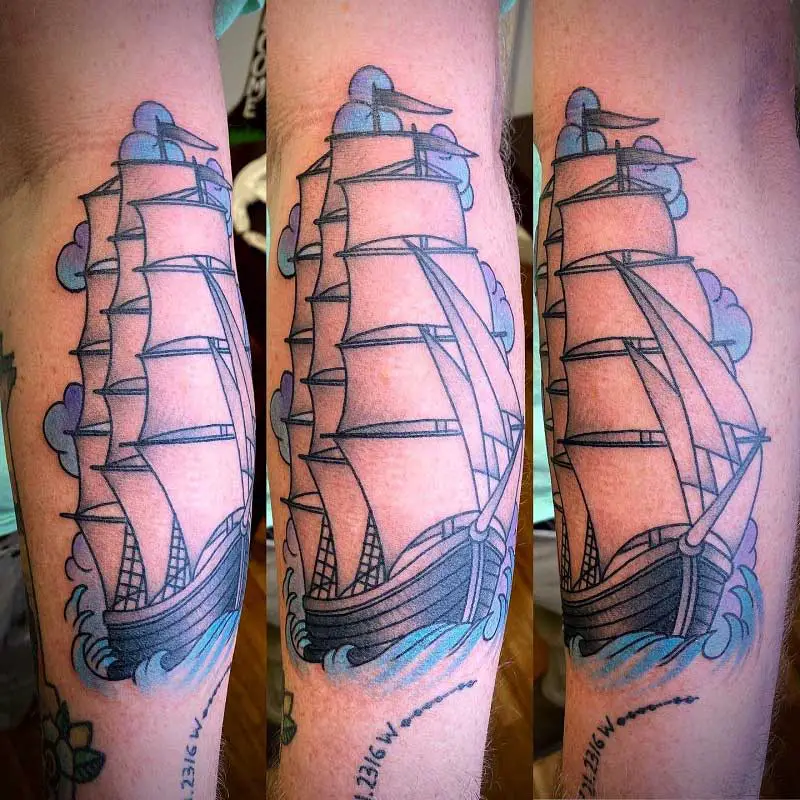 75.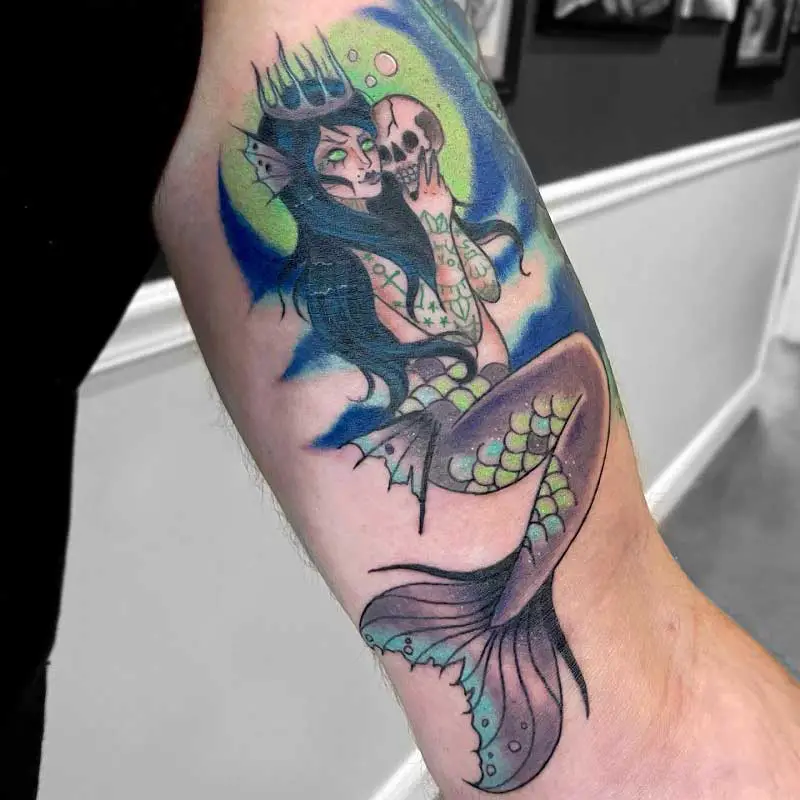 American Traditional Pirate Ship Tattoo
76.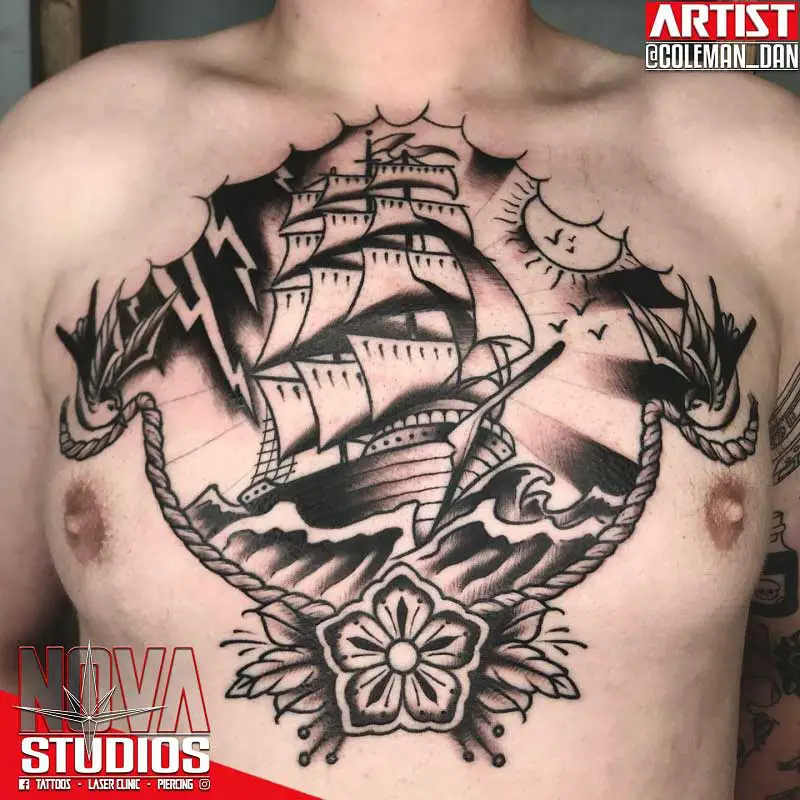 77.
78.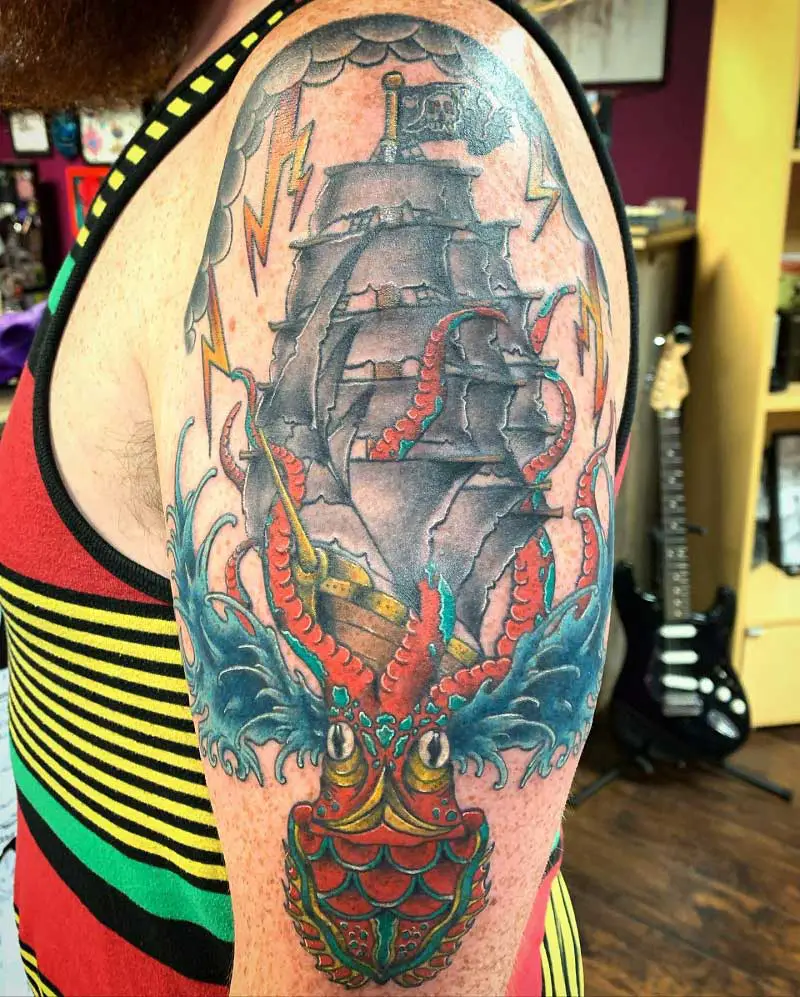 Architectural Pirate Ship Tattoo
79.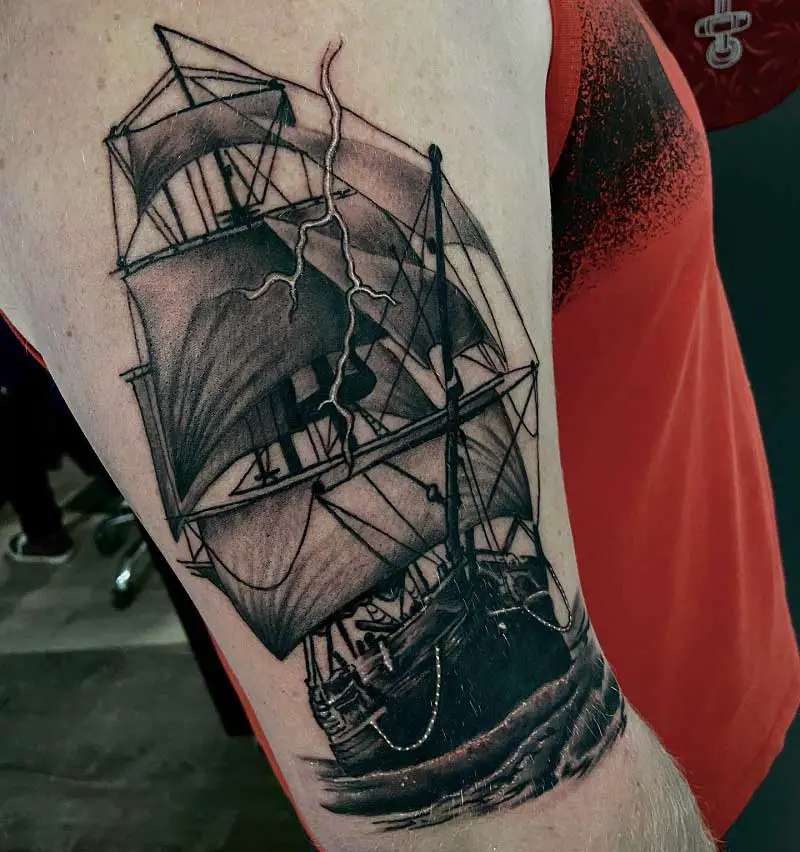 80.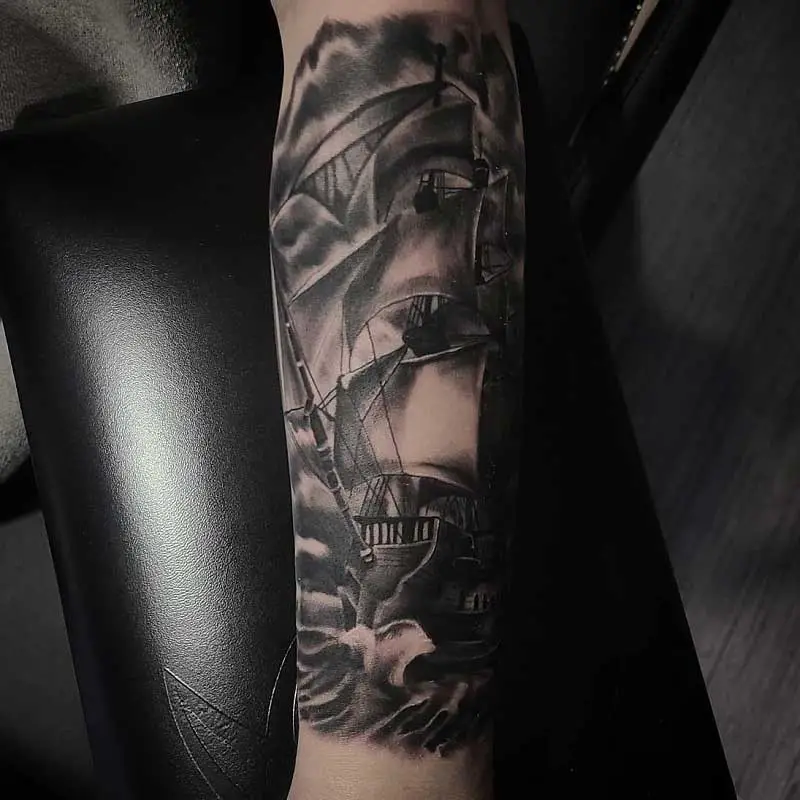 81.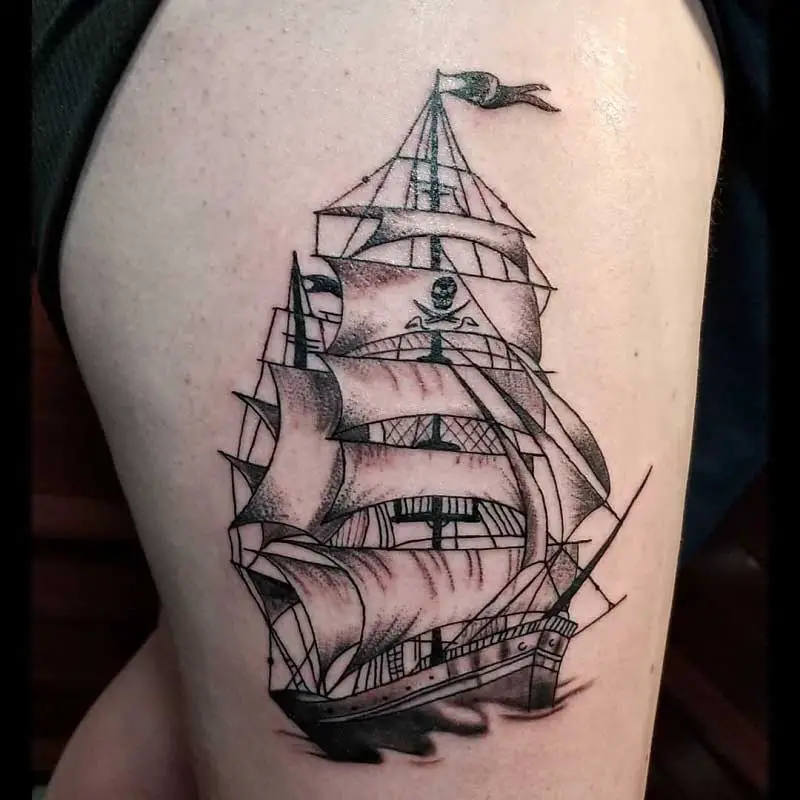 Badass Pirate Ship Tattoo
82.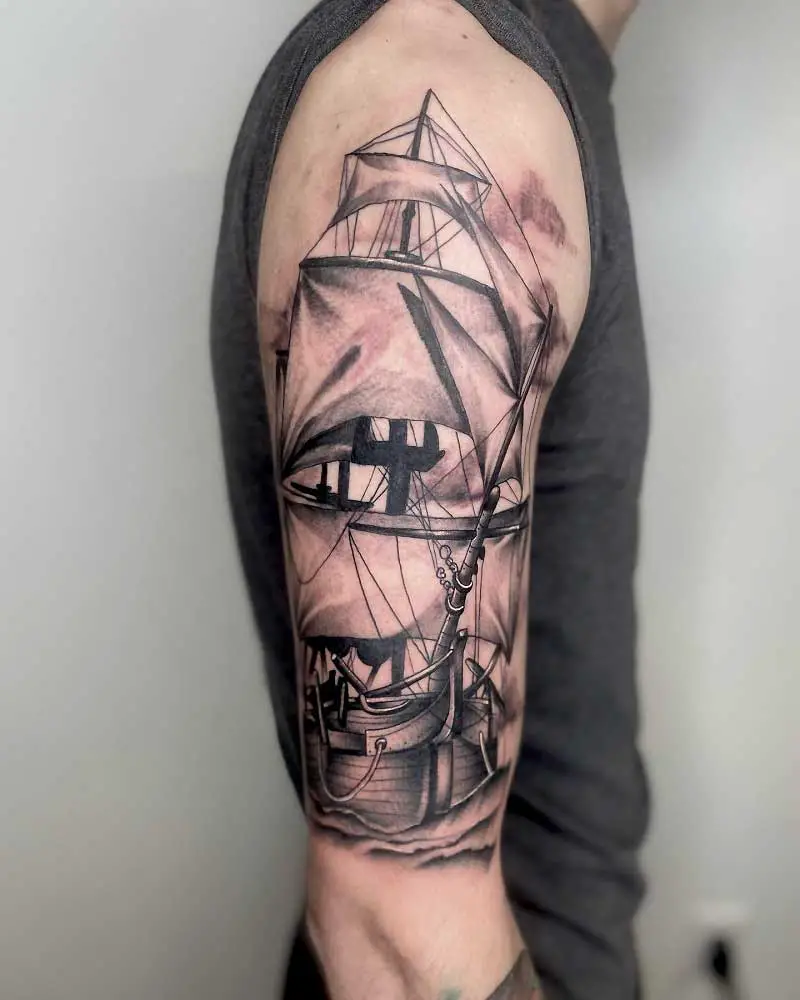 83.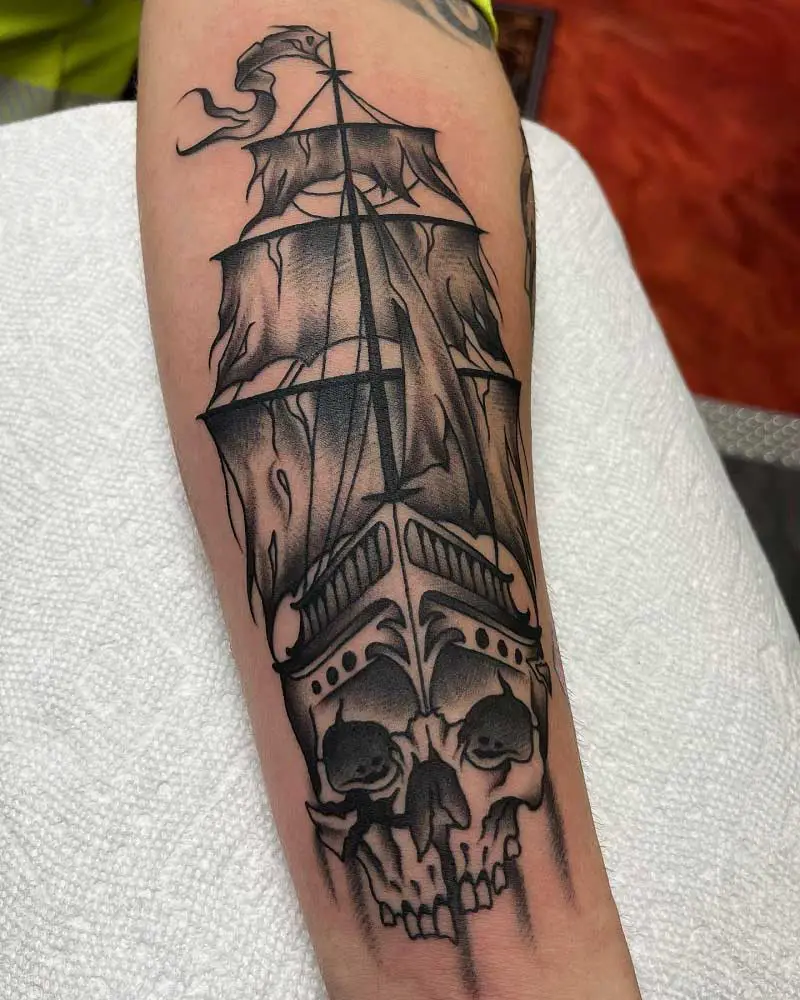 84.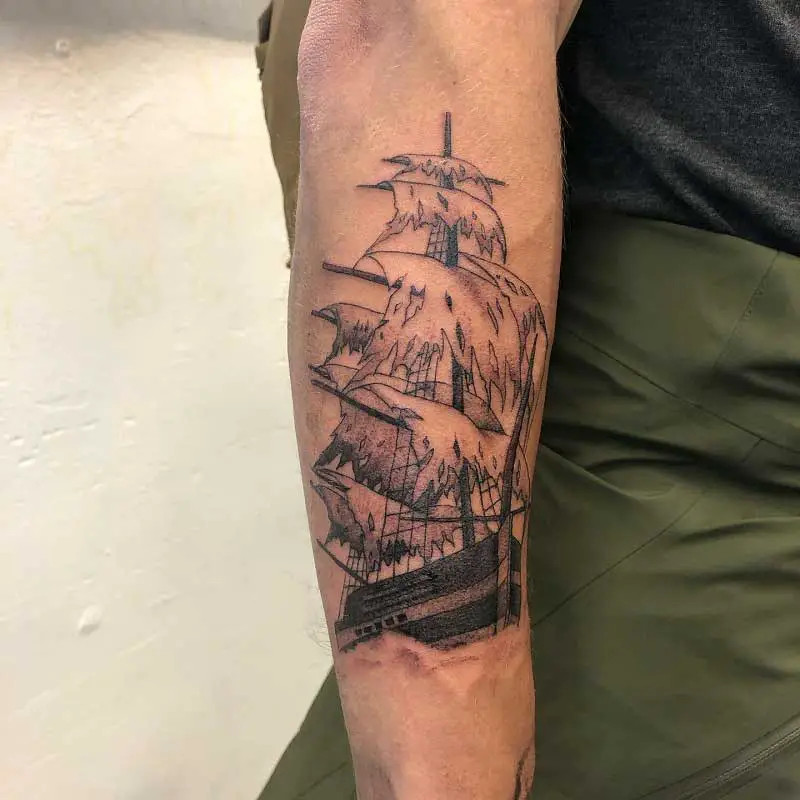 Conclusion
We've reached the end of this wild journey and now you just have to make your own decision. You know what each of the designs symbolizes and now you just need to find the ideal tattoo for yourself. Once you're done, it's all smooth sailing after that. We hope you find this blog useful and that it makes your decision-making easier. Good luck!
FAQs
What does a pirate ship tattoo symbolize?
Unity, togetherness, guidance, bravery, freedom and many more.
Are pirate ship tattoos common?
Pirate ships are one of the most popular maritime tattoo icons.