Fish tattoos are a topic that is really broad and it is not easy to get a grasp of it in just one blog post. Nevertheless, we have still managed to gather all sorts of popular tattoo works of fish that you can give a shot at.
Fish are gorgeous creatures that I've been around since the beginning of time. Some people have always been fascinated with fish. Depending on who you are, there are many different interpretations and meanings to this extraordinary creature. It's all up to you to decide what kind of particular fish tattoo you wish to get on your body.
If you want to depict agility, swift movement, and grace in body art, a fish tattoo design is an ideal choice. In some religions, it symbolizes prosperity, confidence, and relationships with humans.
103 Fish tattoos Designs and Meanings
We have gathered over 100 unique fish tattoo designs for you to go through, each one with a separate and distinct meaning. You're allowed to take inspiration from the designs that you see here and make your own modifications to them.
Without further ado, let's begin, shall we?
When it comes to fish tattoo designs, tattoos of coy fish are very common nowadays. Not only do they look good, but they also have powerful meanings attached to them.
1. Perseverance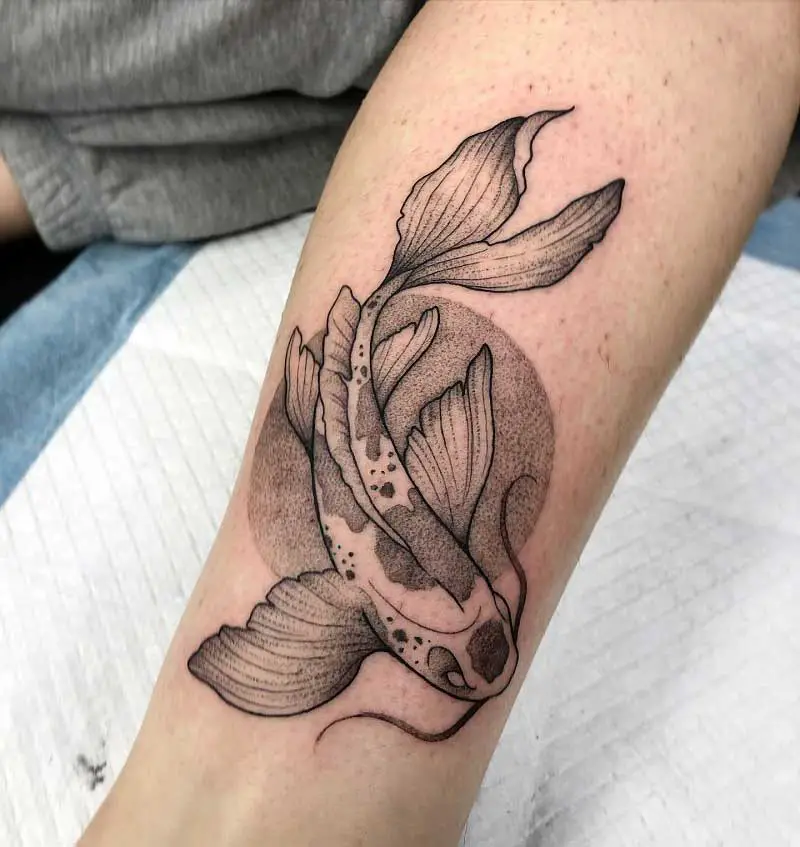 The most common interpretation for koi fish tattoo designs is perseverance. It refers to an individual who will keep fighting to achieve their goals till the very end.
2. Balance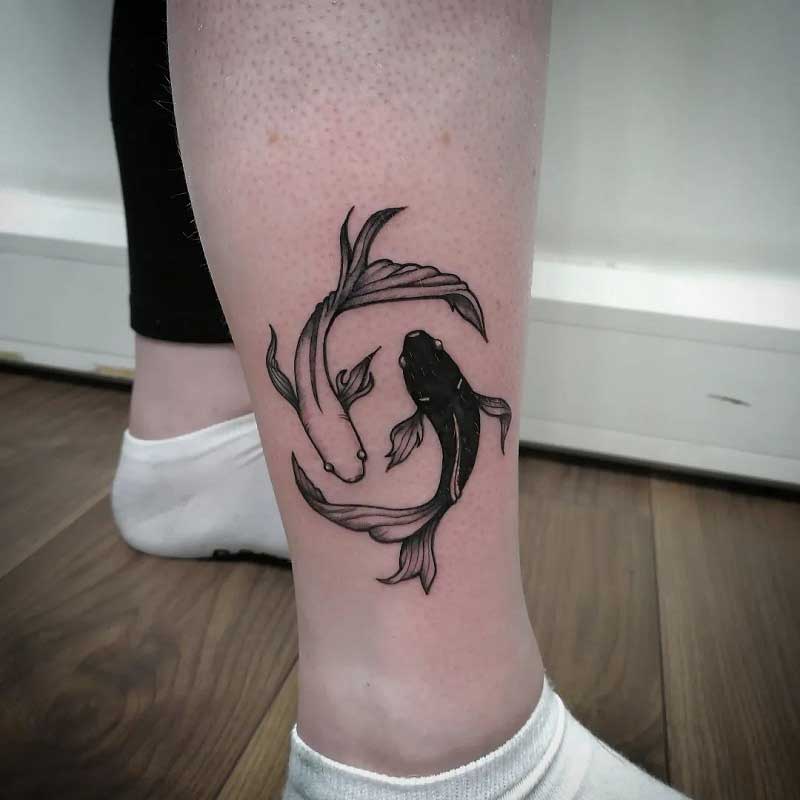 Who doesn't love detailed artwork? The tattoo resembles the ancient symbol Yin and Yang, which stands for balance and harmony. The tattoo can also look incredibly good on the arms.
3. Keep Swimming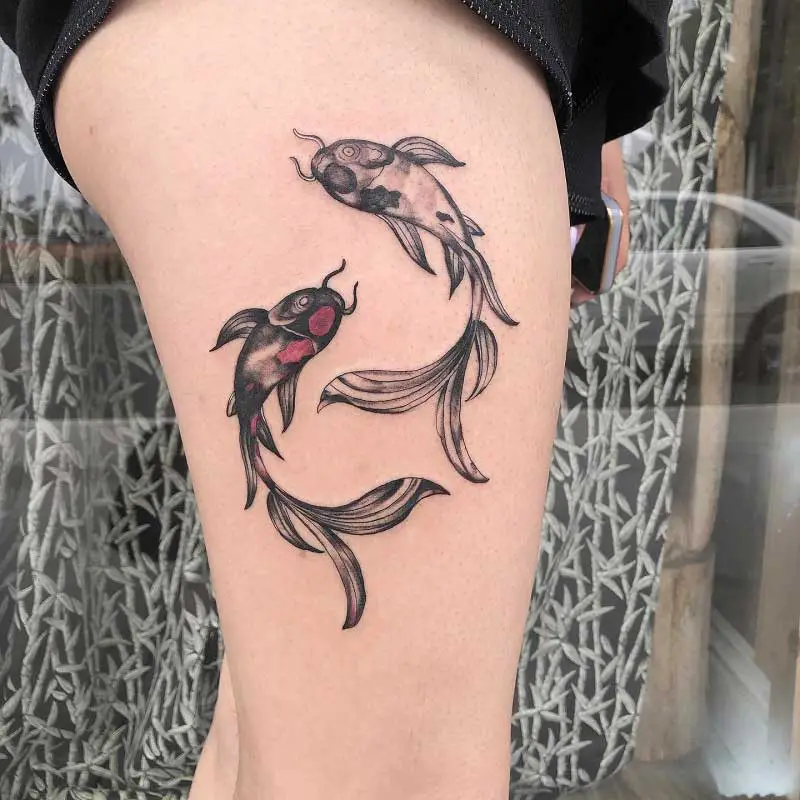 Some colors can be added to these tattoos. However, if you want them to look as realistic as possible, try not to use too many colors. It helps to keep things simple and real.
Betta Fish Tattoo
Like koi fish tattoos, betta fish tattoos, too, have plenty of powerful meanings tied to them. Scroll down below to have a look and take your time through it!
4. Free At Last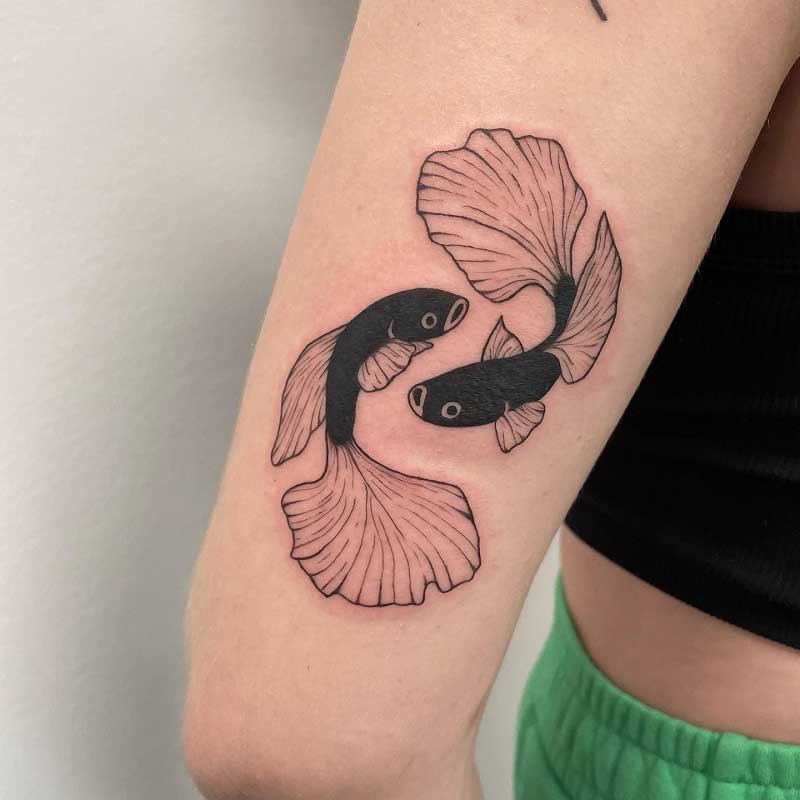 Who said you will always need to include colors to make your tattoo look good? If drawn properly, a tattoo can look just as good and this tattoo design of a fish strongly supports that statement.
5. Individuality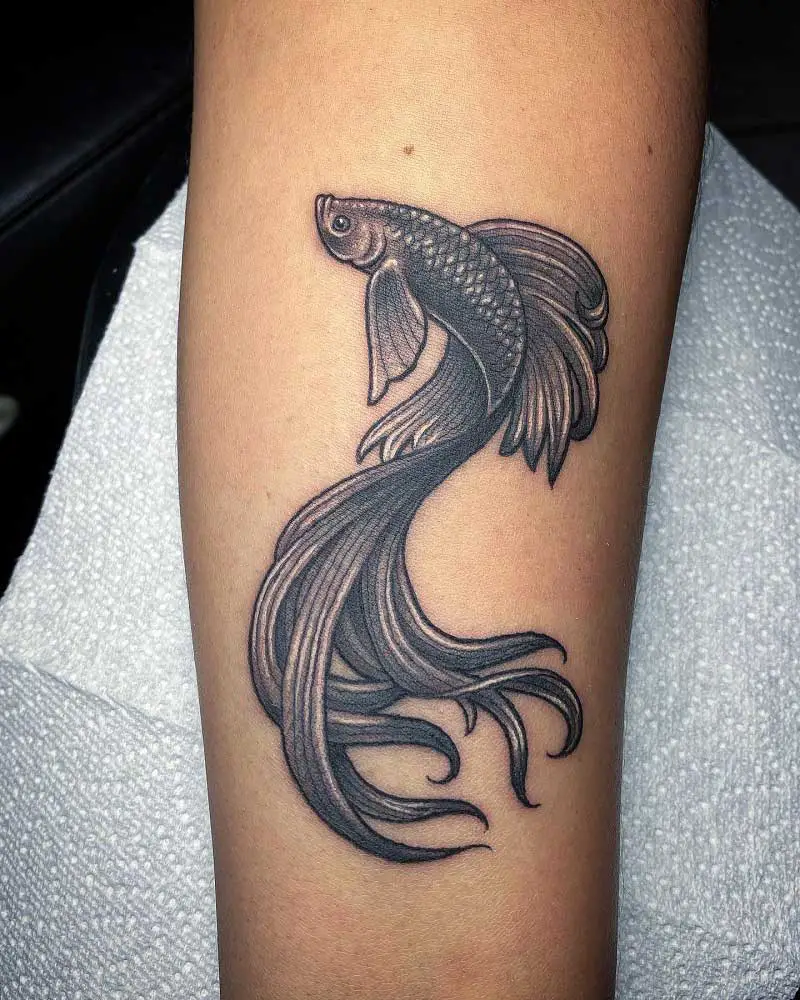 The bold outlines as well as the shading make it look like the tattoo has almost come to life. If you're looking for fish tattoos that are realistic, this is definitely one of them.
6. Beauty At Its Best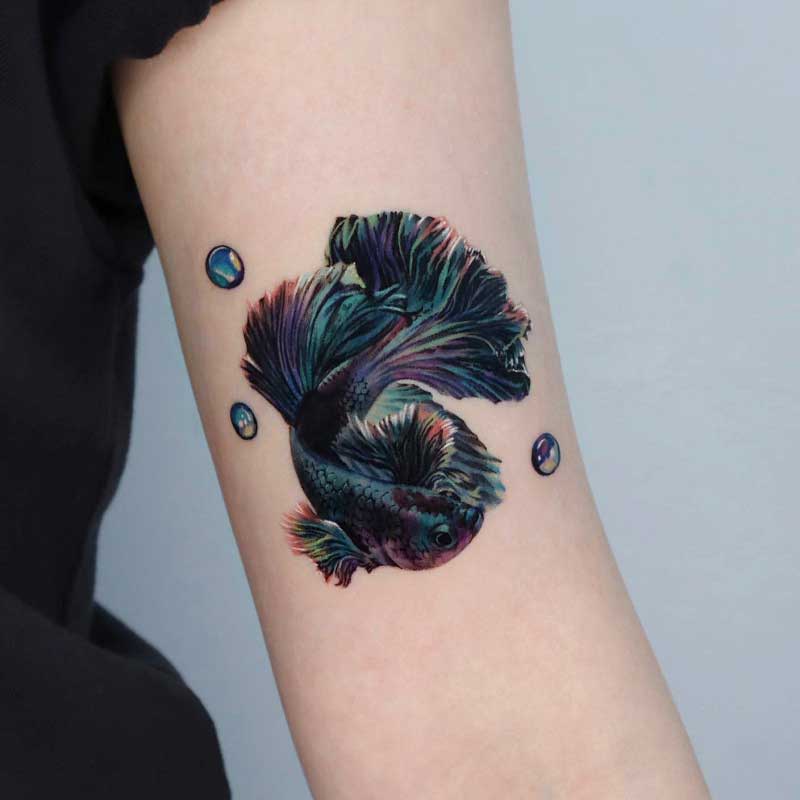 Talk about elegance! You can tell a lot of effort and creativity went behind this design and the end result is surely mind-blowing. The water droplets look real as well.
Pisces Fish Tattoo
People who are into zodiac signs will find this section of the article very interesting, especially those who were born under the Pisces sign. Check them out below!
7. Fantasy & Reality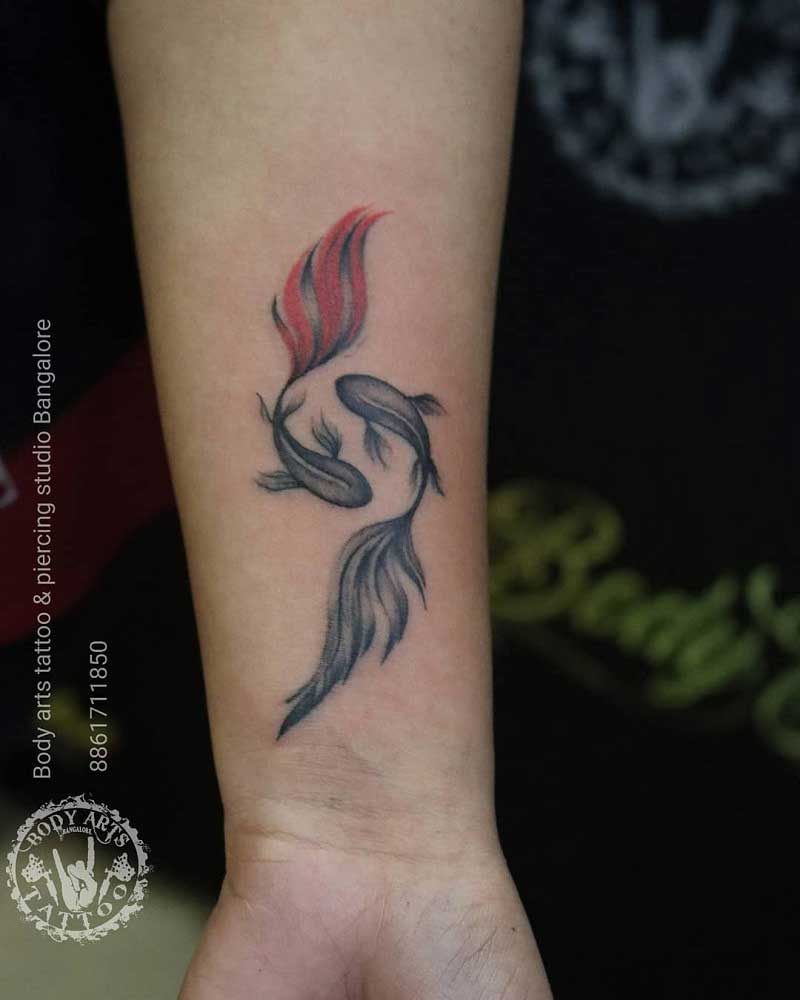 Pisces fish tattoos, such as this one, are very common where two fish are seen to be swimming in a circular motion. Add colors where you feel it's necessary and try not to complicate things.
8. Balance of Life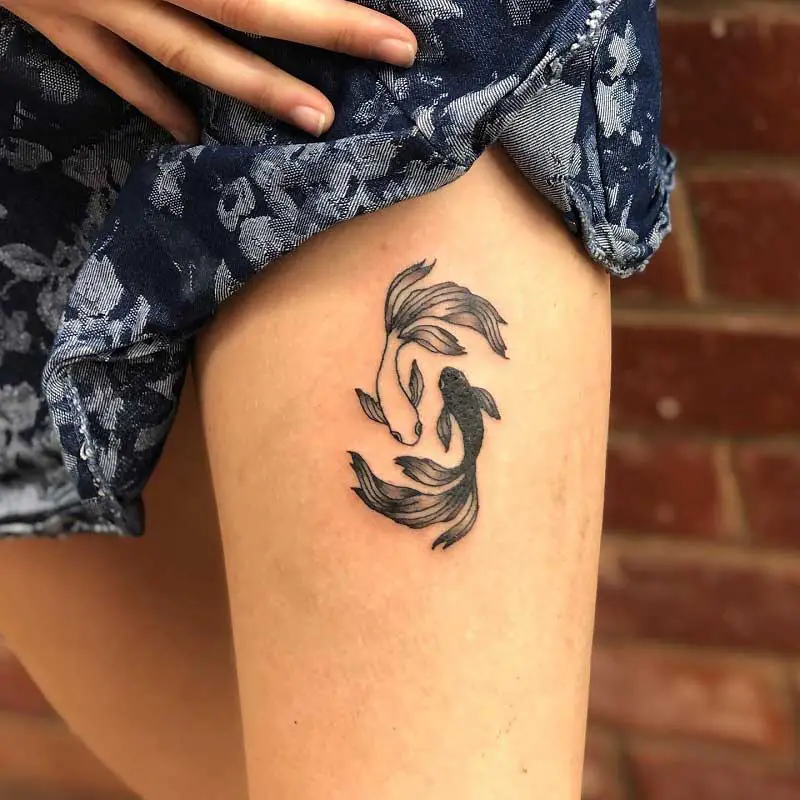 You can get the same design on your hand in just black ink. It produces a black & white effect and with an appropriate amount of detailing, the tattoo can look really cool.
9. Symbol Of Duality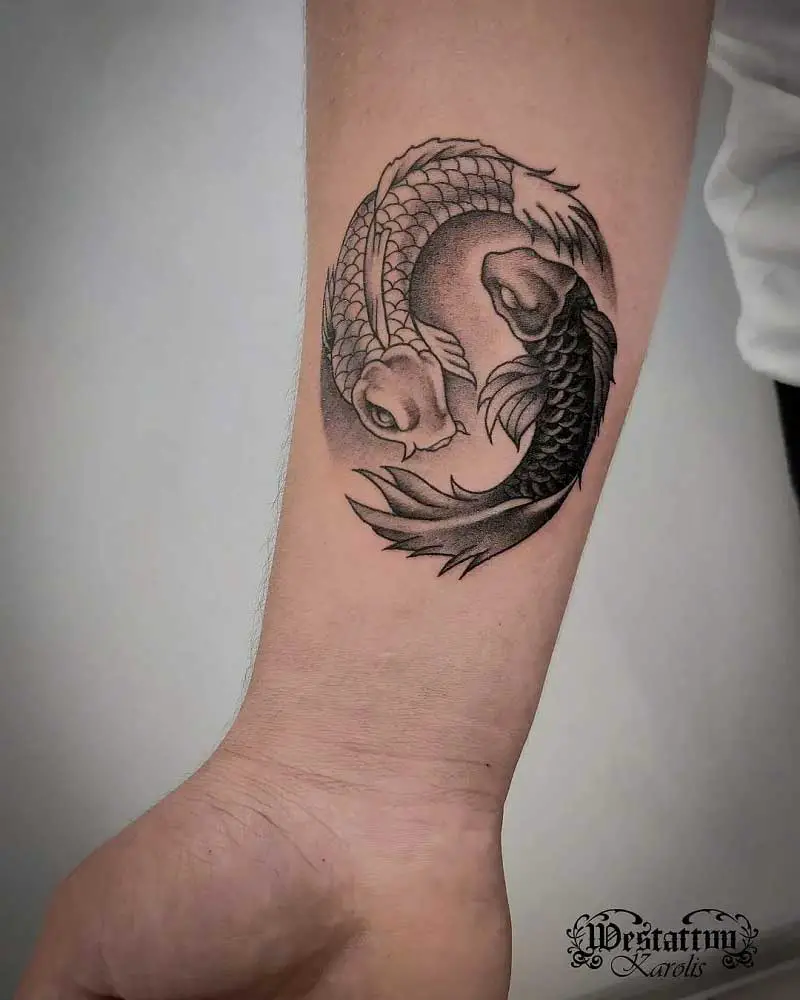 Consider incorporating other tattooing styles such as the dotwork tattooing technique (as shown in the picture). This will help to add some depth to the design.
Angler Fish Tattoo
If you wish to develop some sort of connection with the deep sea, consider getting one of these tattoos in order to do so. Scroll down below and take a gander:
10. Strength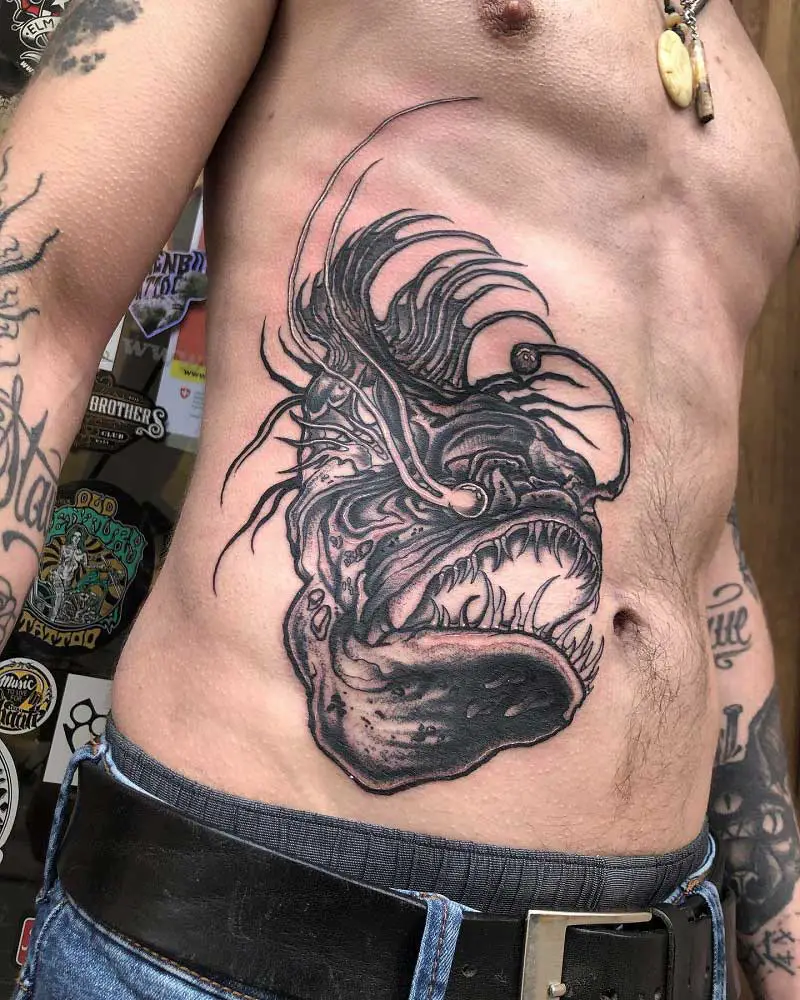 Angler fish are vicious in nature and solely for this reason, they represent pure strength. A detailed, well-drawn angler fish tattoo can look incredibly stylish and you will be able to wear it with great confidence.
11. Feisty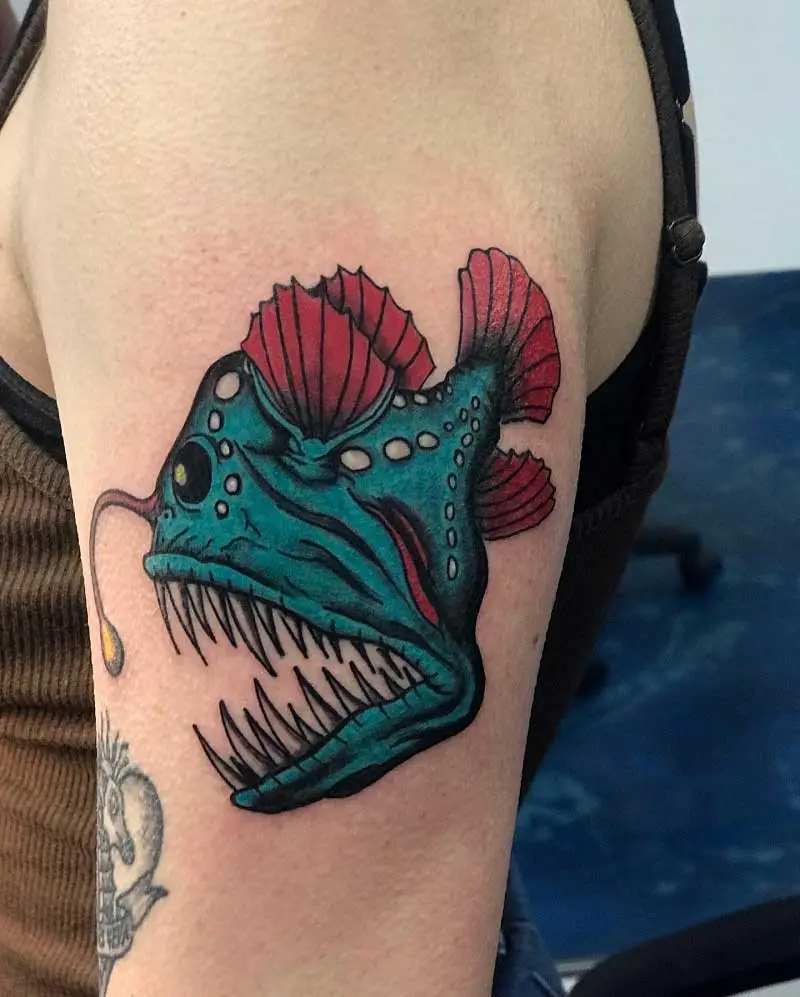 Some people also tend to include colors in these tattoos and if you are indeed one of those people, make sure the color combination that you've chosen is on point.
12. Unhinged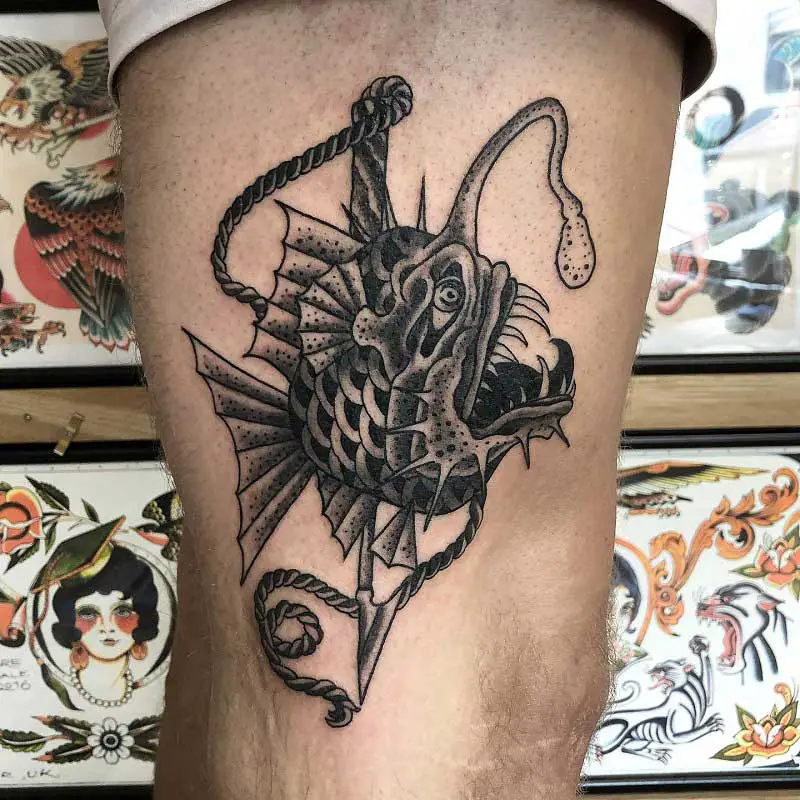 You can also include other elements in these designs such as anchors, barbed spears, harpoons etc. These tattoos can also look really good on the thighs (as shown in the picture).
Jesus Fish Tattoo
These signs are also known as the "Ichthys" symbol. If someone wishes to display their affiliation with Christianity, then this is a good way to do so!
13. Pious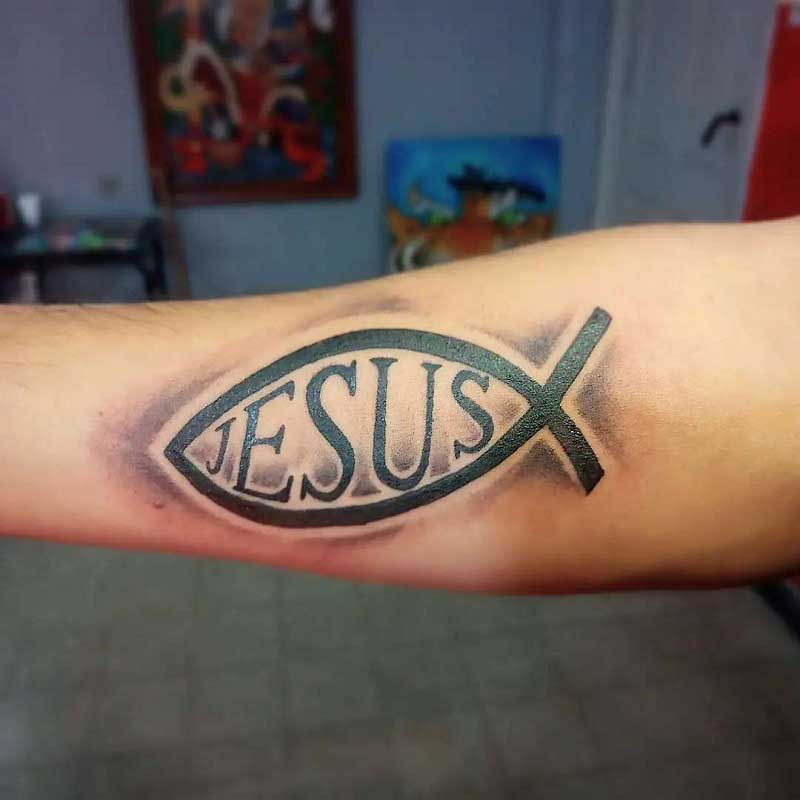 This tattoo design is for those people who are devoutly religious or closely affiliated with the religion of Christianity. Although the tattoo looks simple, the meaning, nevertheless, is quite powerful.
14. Righteous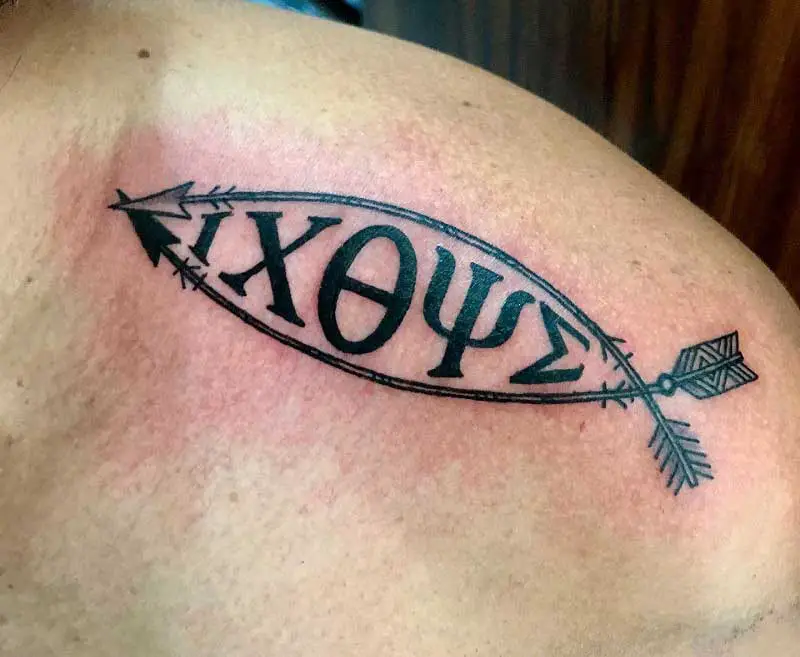 The fish-like structure can also be captured by two bending arrows overlapping each other. People don't usually get tattoos on their shoulders but if you think it will look good on you, then why not go for it?
15. Suffering In Silence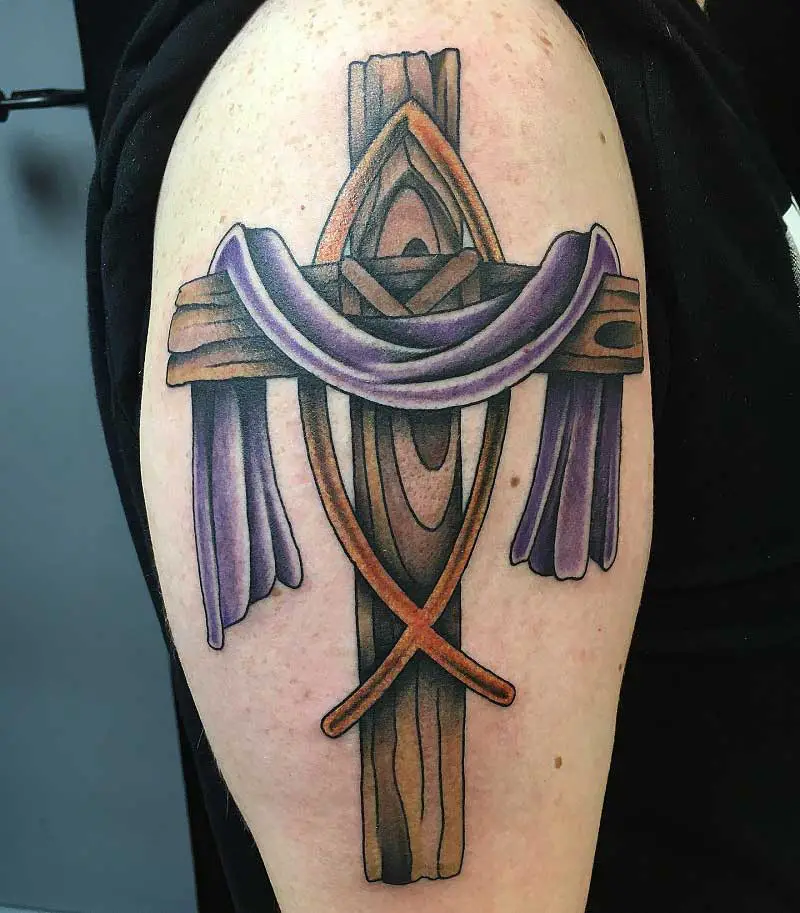 This tattoo right here is probably the most creative tattoo design in this section. The inclusion of the cross with a white piece of fabric hanging from it is really a nice touch.
Banana Fish Tattoo
This is not something you see quite often and of course, it goes without saying that there is no such thing as a banana fish. These tattoo designs are not meant to be taken seriously. At all.
16. Surprise!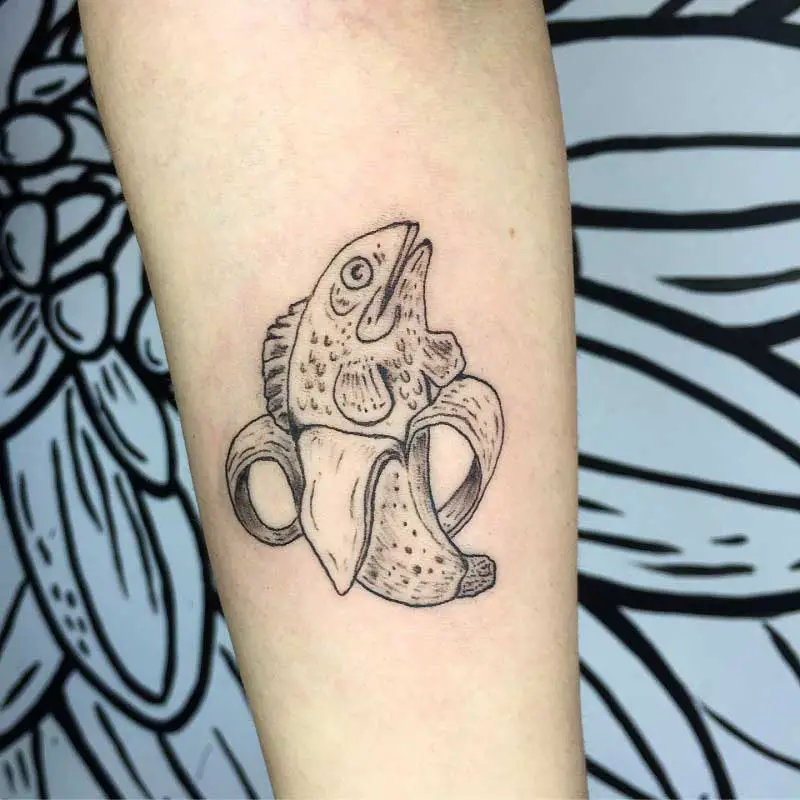 These tattoos usually look like this- a half-peeled banana where a fish's head seems to be poking out of the banana. You can get this tattoo either on your arms or on your legs.
17. Deception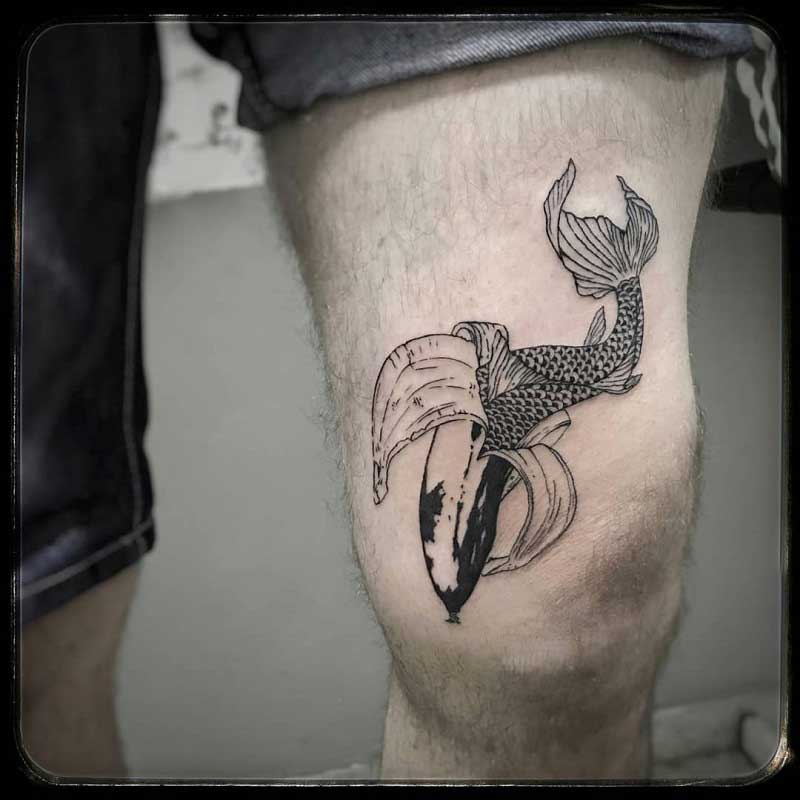 In some cases, it's the exact opposite. It's the tail of the fish that can be seen poking out of the banana peel. Although the concept can be a bit peculiar, the tattoo can look cool with the appropriate amount of detailing.
18. Vibrancy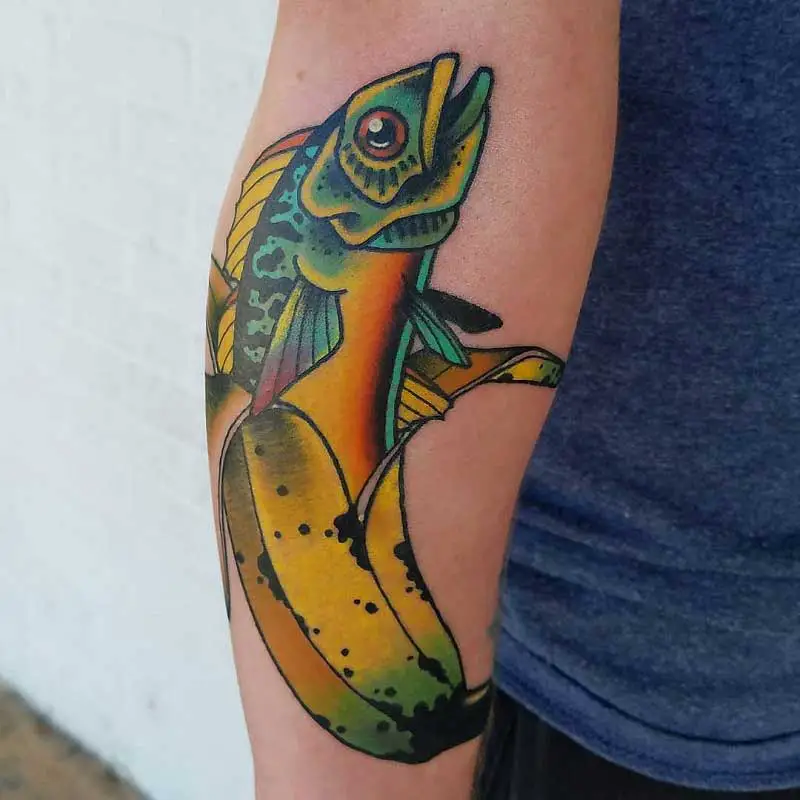 Huge fan of vibrant colors? Then why not include them on your banana-fish tattoos? To make it look as realistic as possible, add the black spots that are usually on the banana peels in real life.
Bone Fish Tattoo
Another popular form of fish tattoo is the fishbones. They show the innermost part of the fish, which mostly consists of bones and nothing else. Check them out below!
19. Wisdom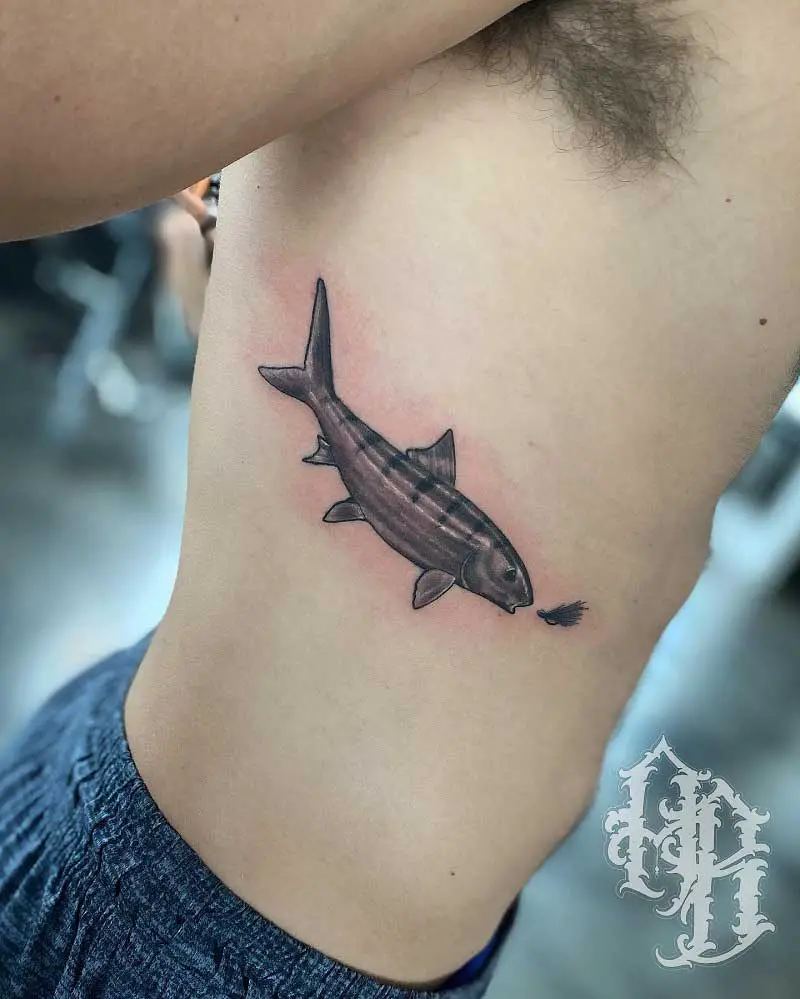 The tattoo design above the bonefish actually stands for wisdom. This tattoo is for people who like to keep things simple and neat.
20. Virulent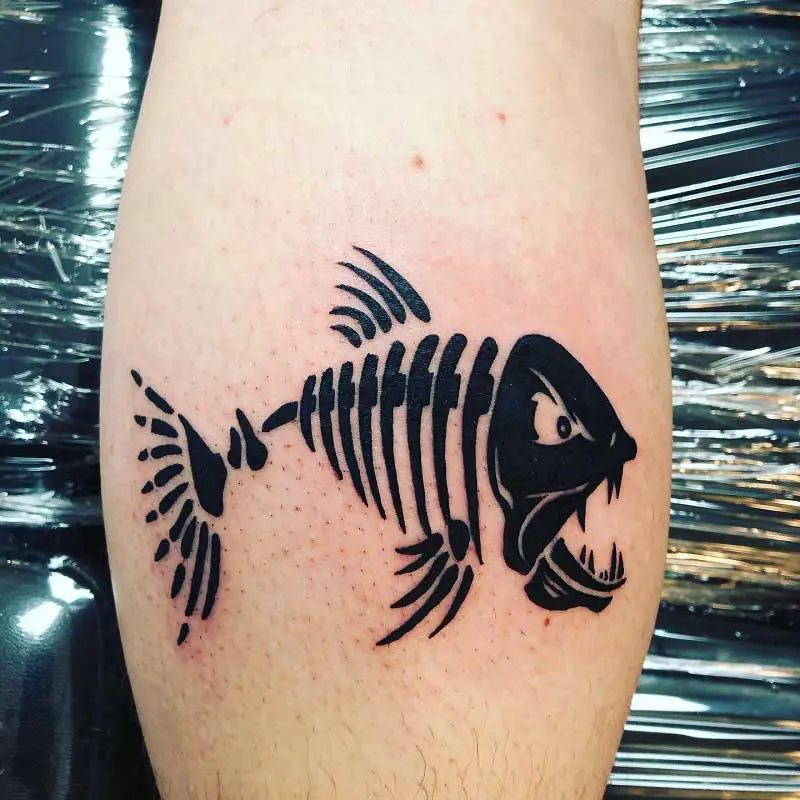 This tattoo goes on to show that by using black ink only, you can do wonders. You don't always need to use colors or throw in details to make the design look good.
21. Beautiful Inside And Out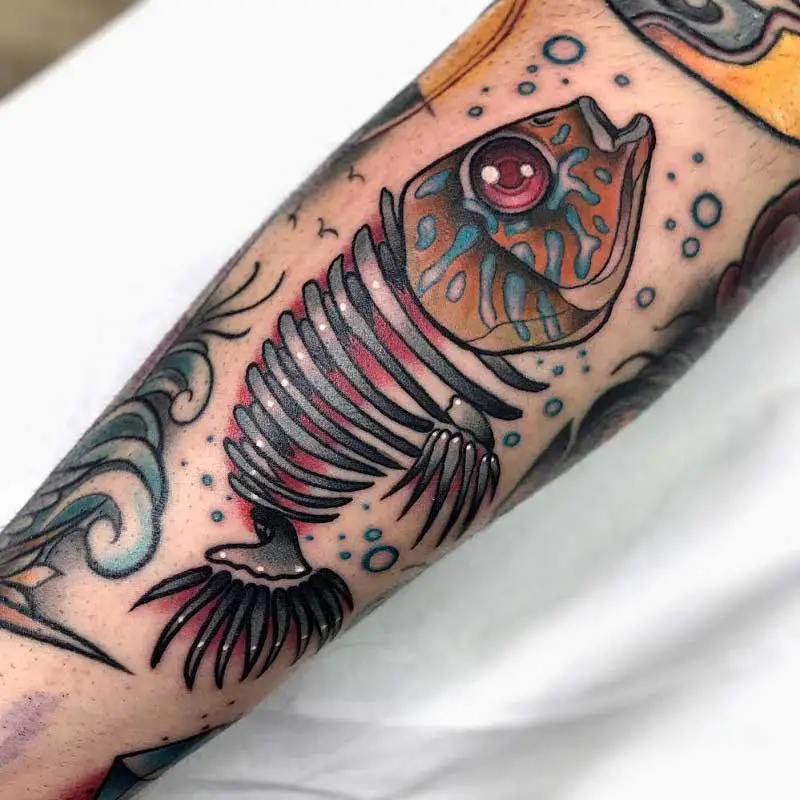 If you're someone who likes over-the-top designs or artwork, then this tattoo is definitely for you. Feel free to make some changes of your own to the tattoo if you wish to.
Yin Yang Fish Tattoo
We are all familiar with this ancient symbol: the Yin and Yang. When fish are involved, the designs stand for the duality and harmony of life. These tattoos will look good on the legs, on the arms as well as on the chest.
22. Harmony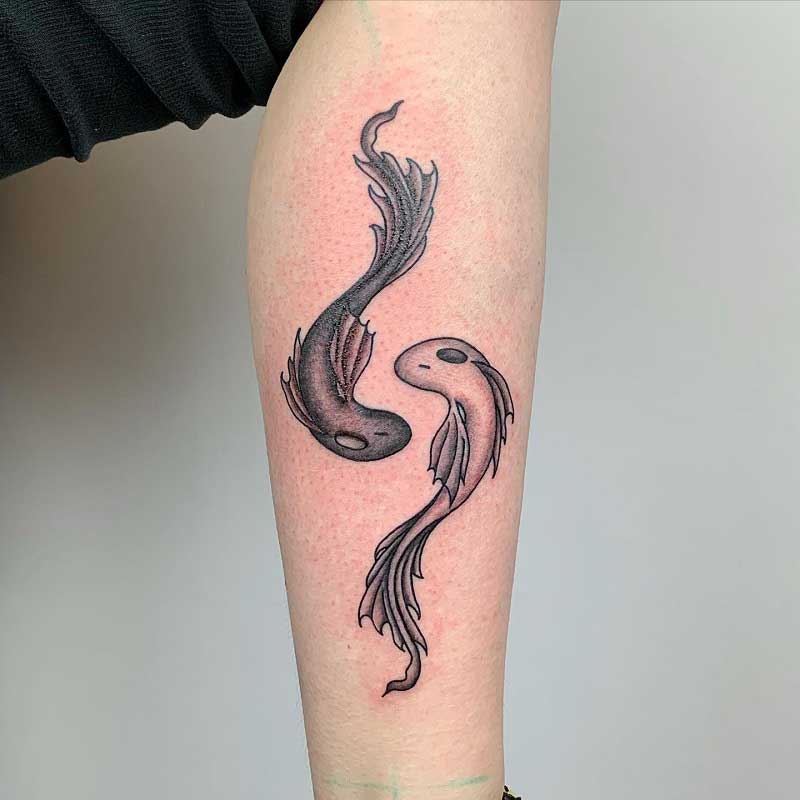 Two koi fish swimming in a circular motion represent the harmony or duality of life. The design looks simple but the meaning attached to it is quite profound.
23. Abundance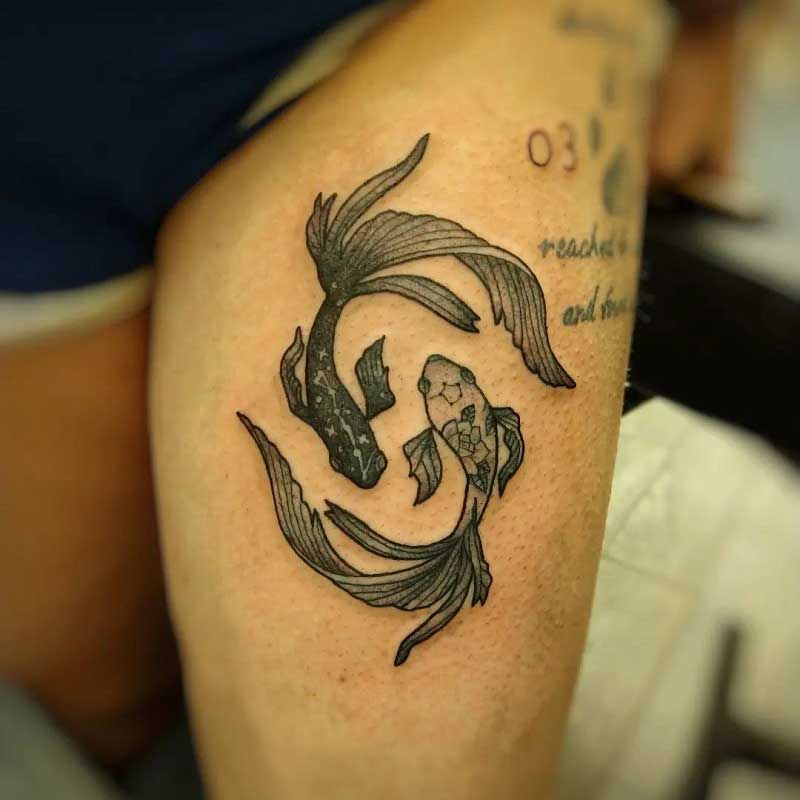 You can also add constellations of zodiac signs in your tattoo designs. It makes the tattoo give off aesthetic vibes and in general, it just looks cool.
24. Togetherness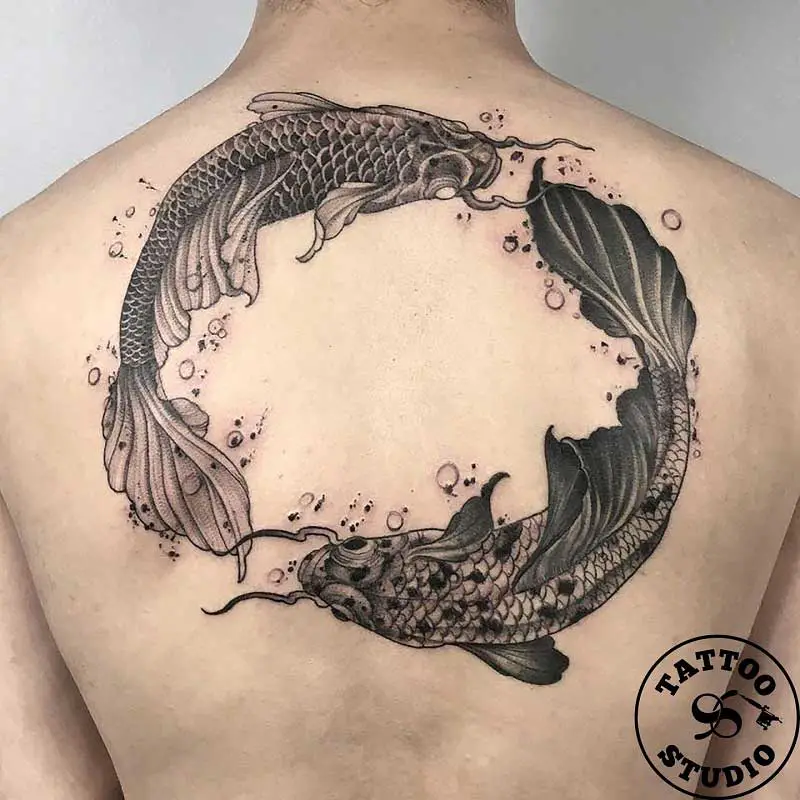 This Yin and Yang fish tattoo design symbolizes strength, unity and togetherness. To add some realism to the design, you can also add the water bubbles.
Big Fish Tattoo
As you may have already guessed, big fish tattoos take up more space and they allow plenty of room for creativity. Below are some head-turning big fish tattoos for you to go through.
25. Mighty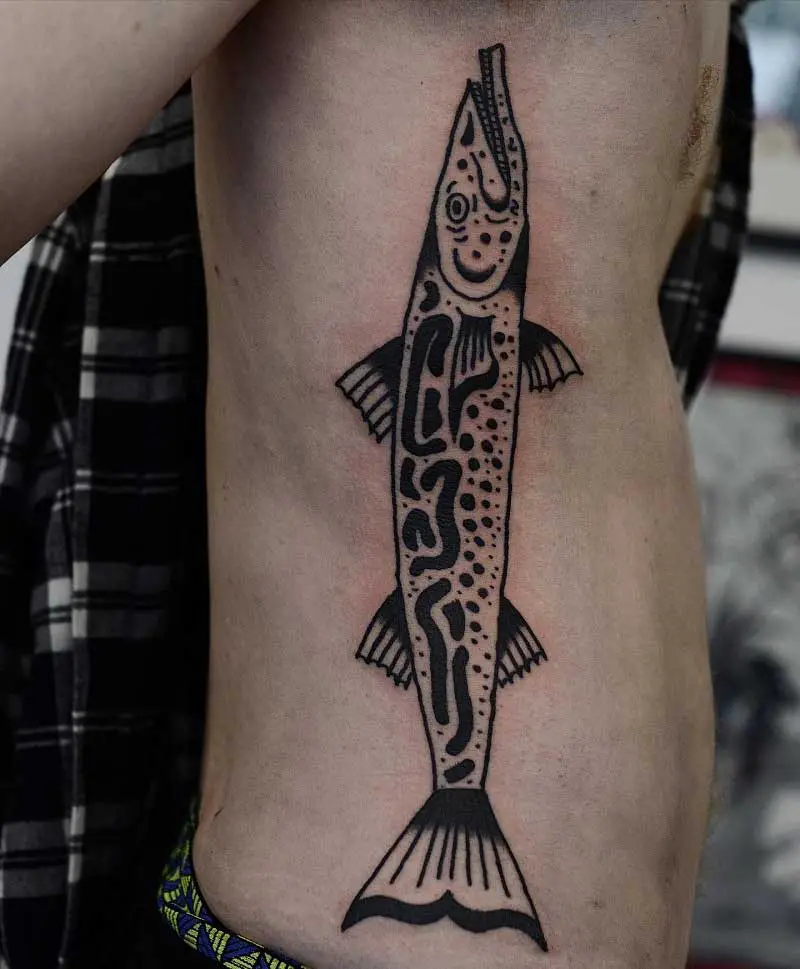 This fish right here is a barracuda, a big, long fish with scary-looking fanged teeth. It can look really good on the side of your stomach if that's where you want it.
26.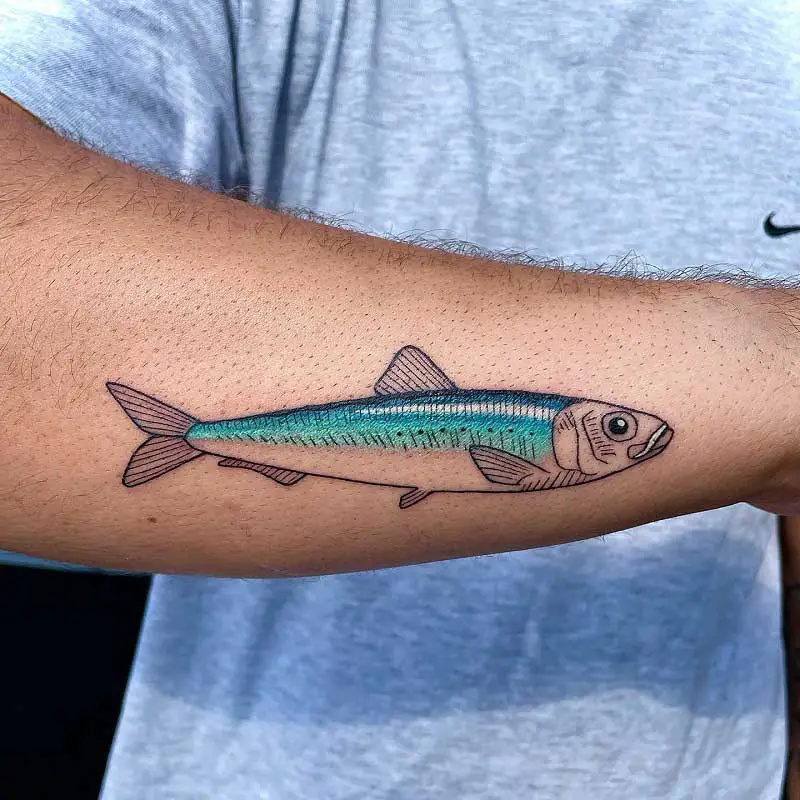 27.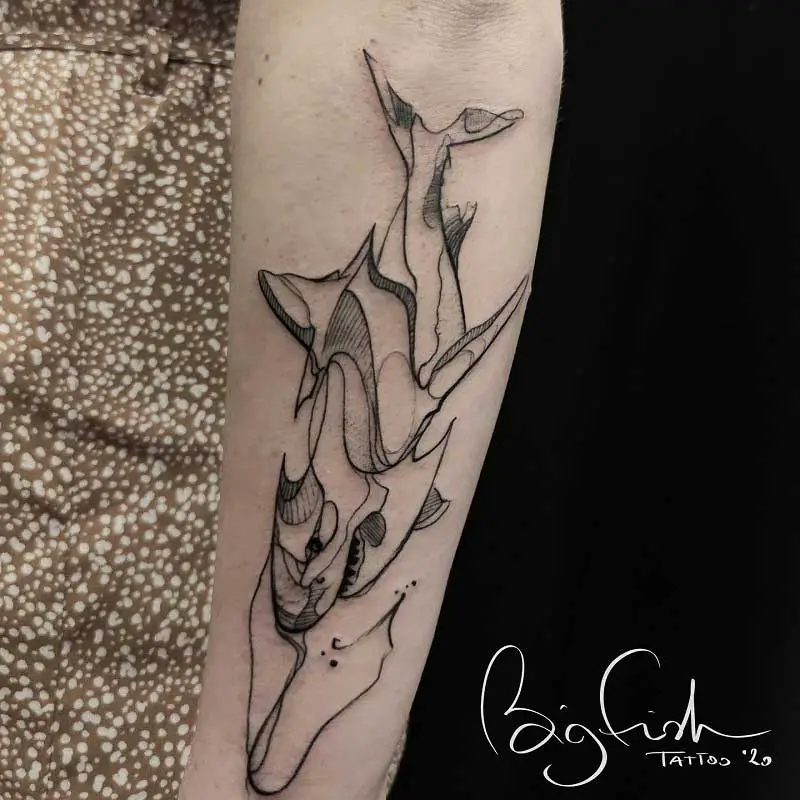 Christian Fish Tattoo
28.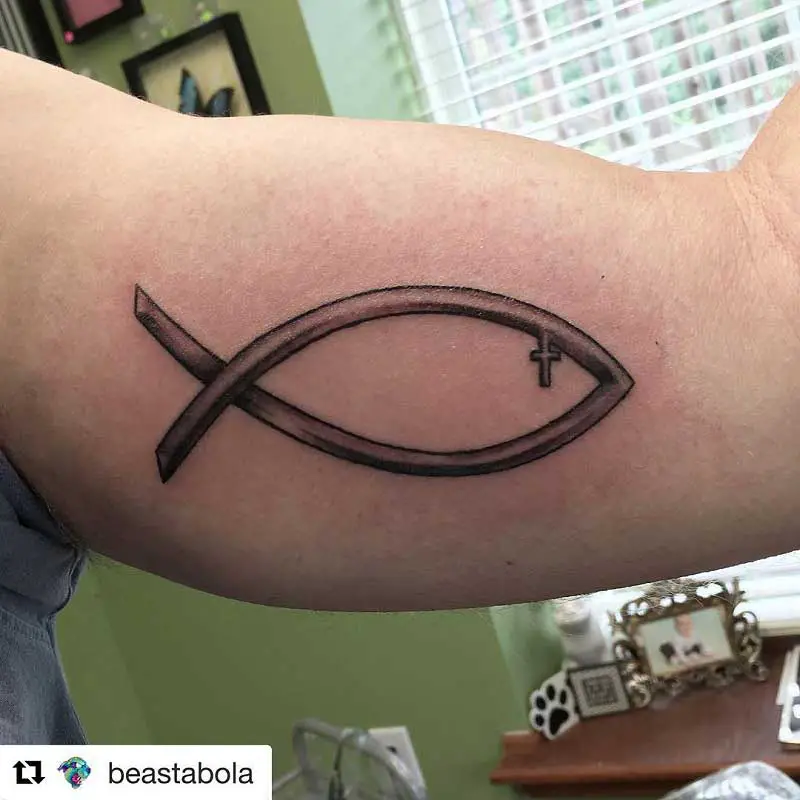 29.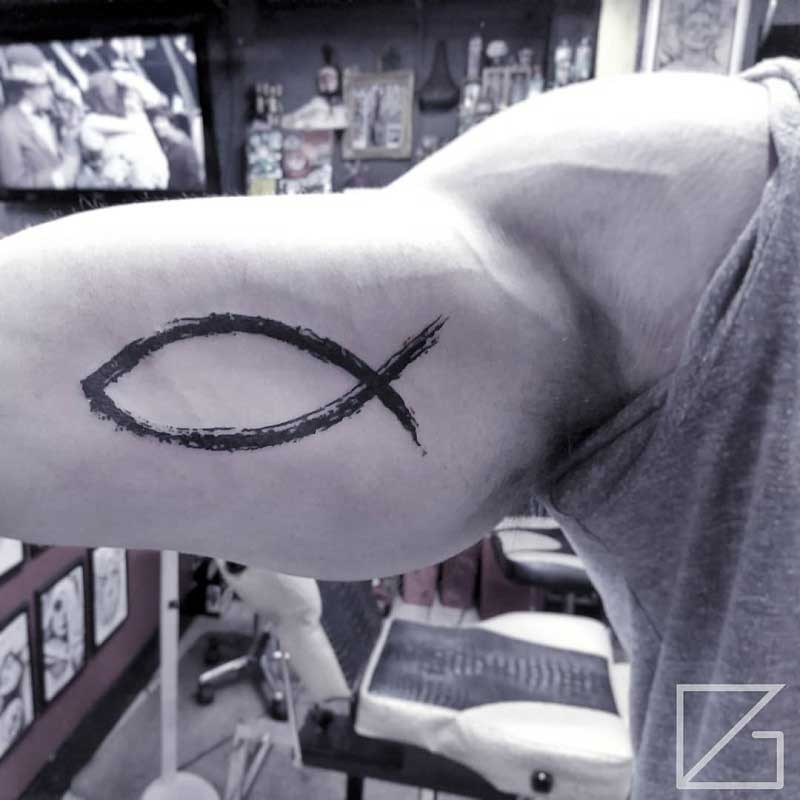 30.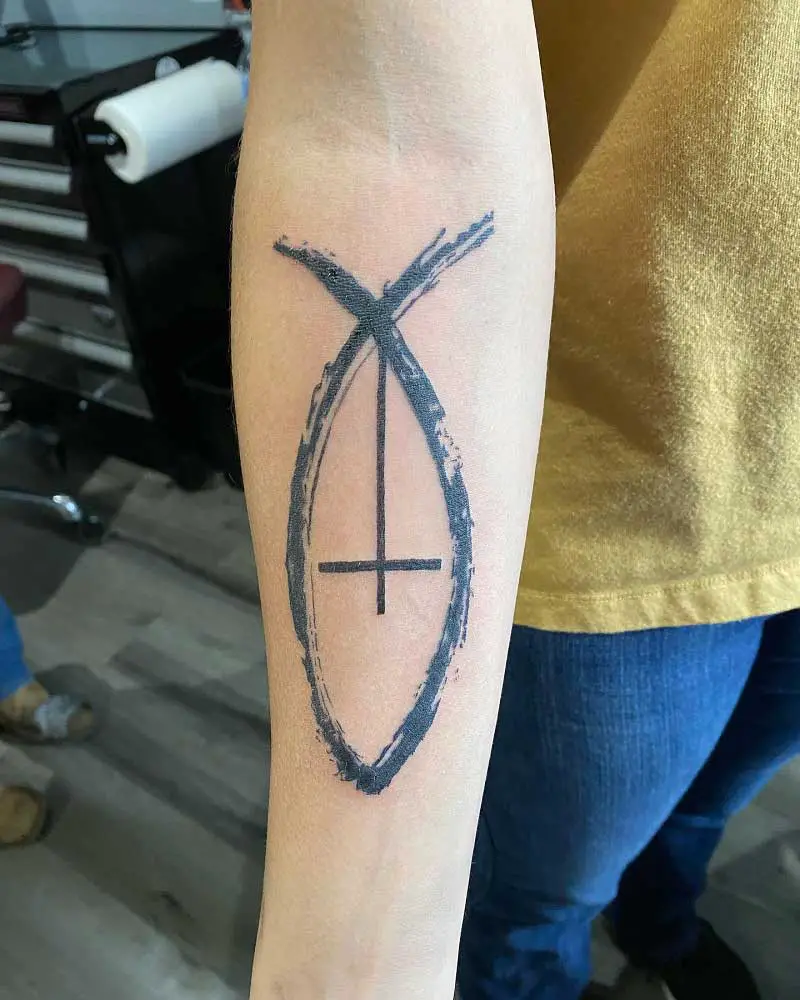 Tribal Fish Tattoo
31.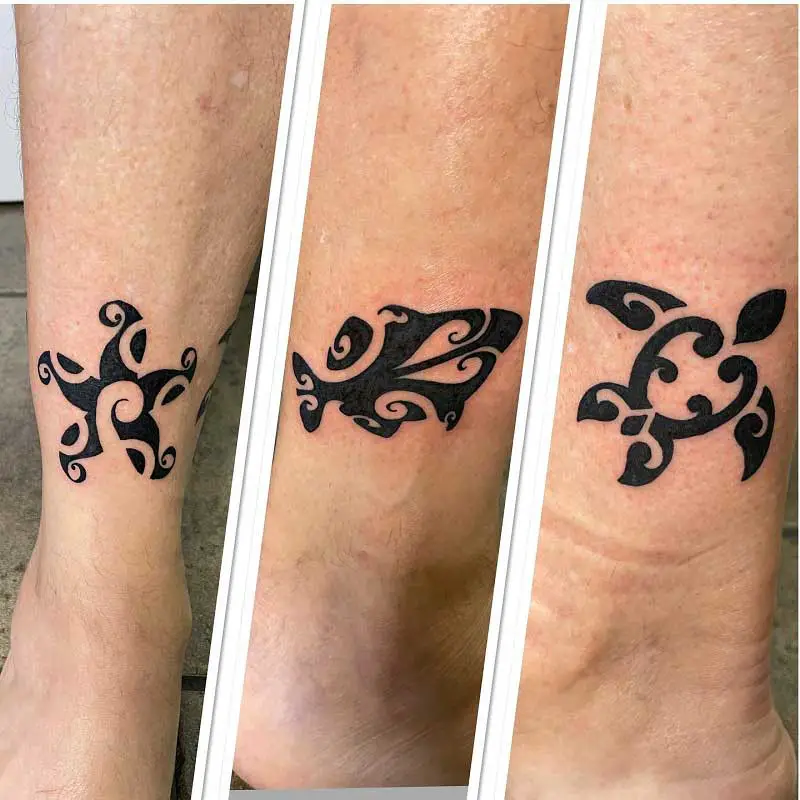 32.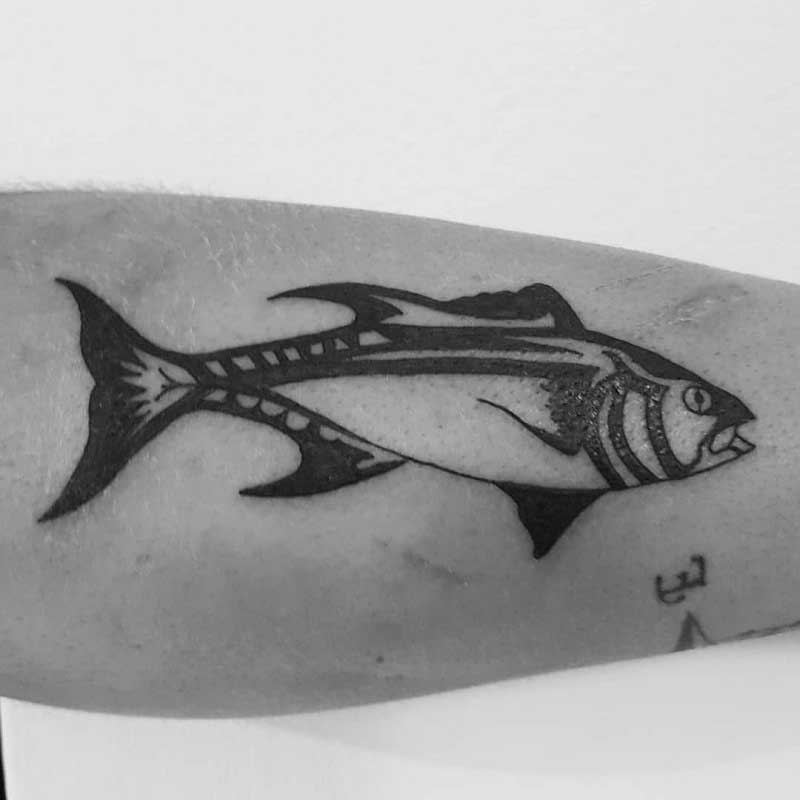 33.
Bass Fish Tattoo
34.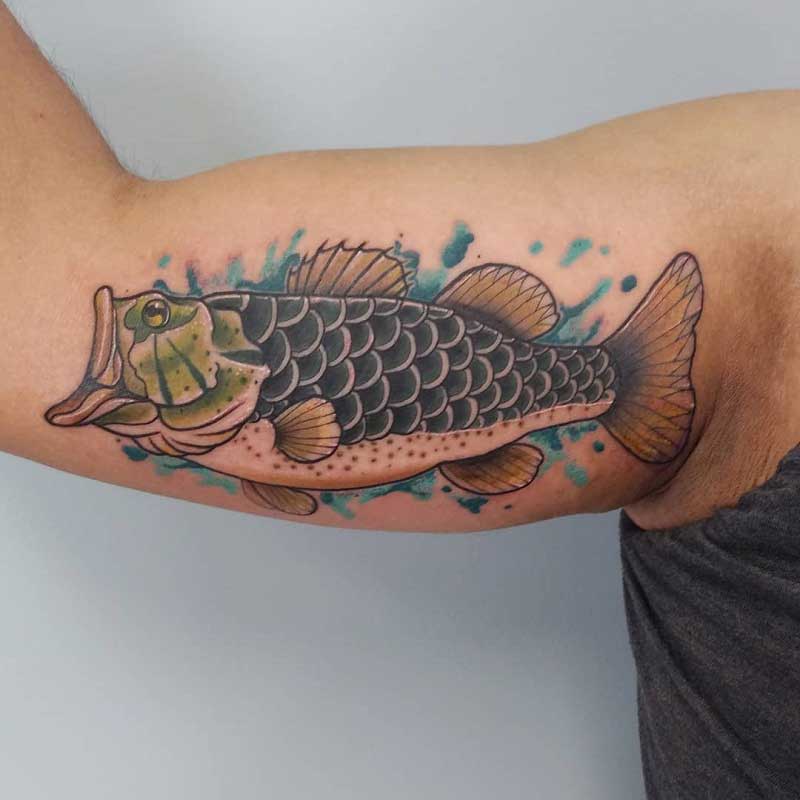 35.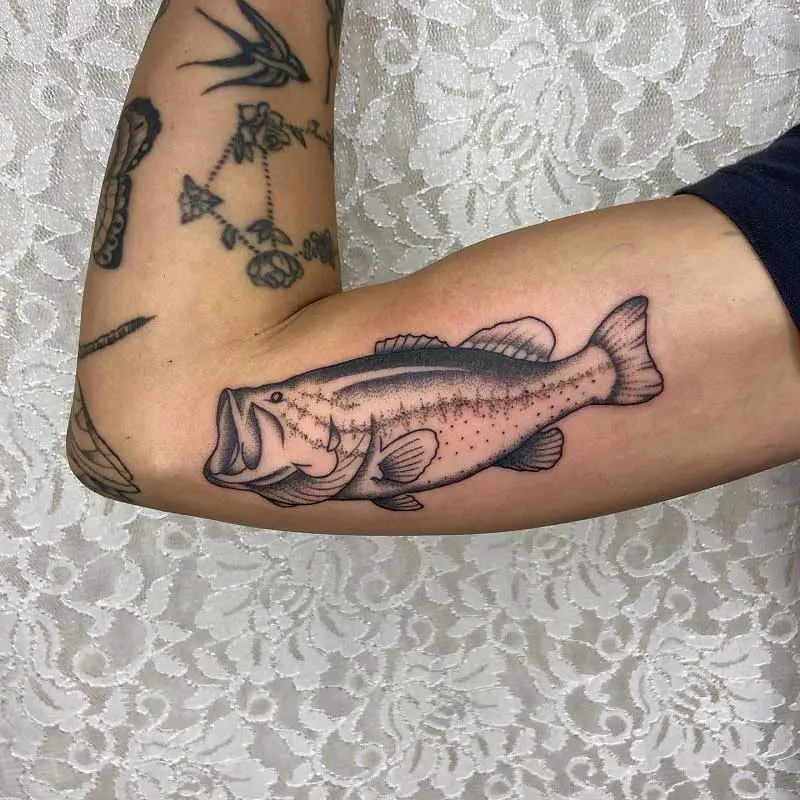 36.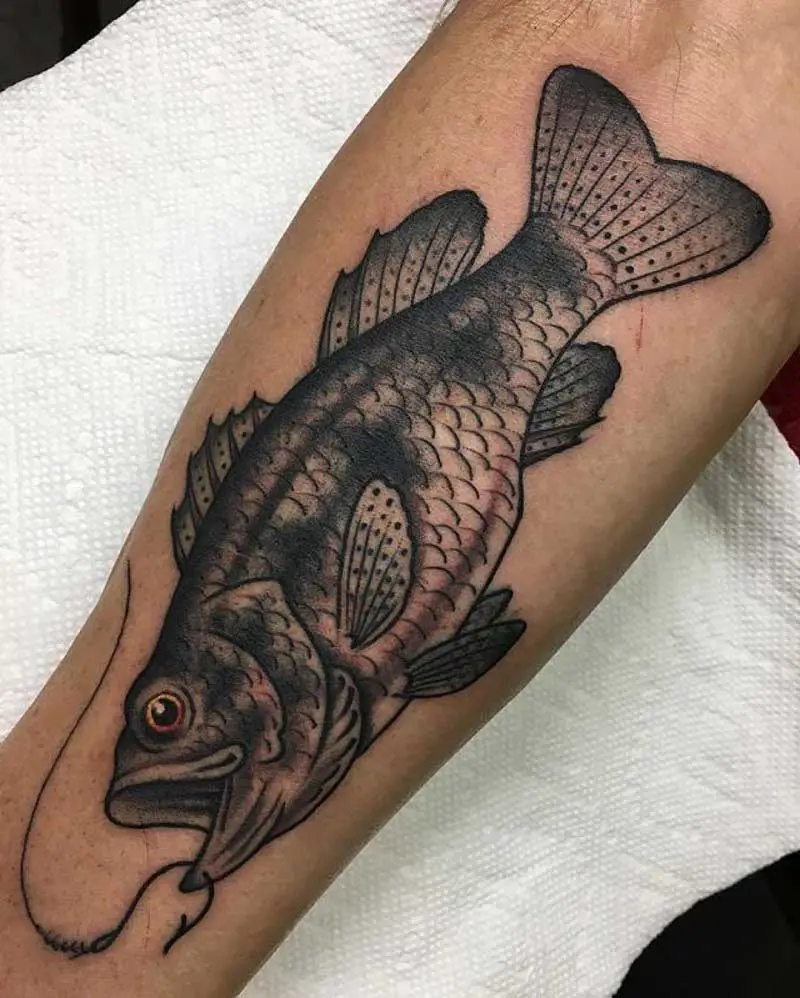 Japanese Fish Tattoo
37.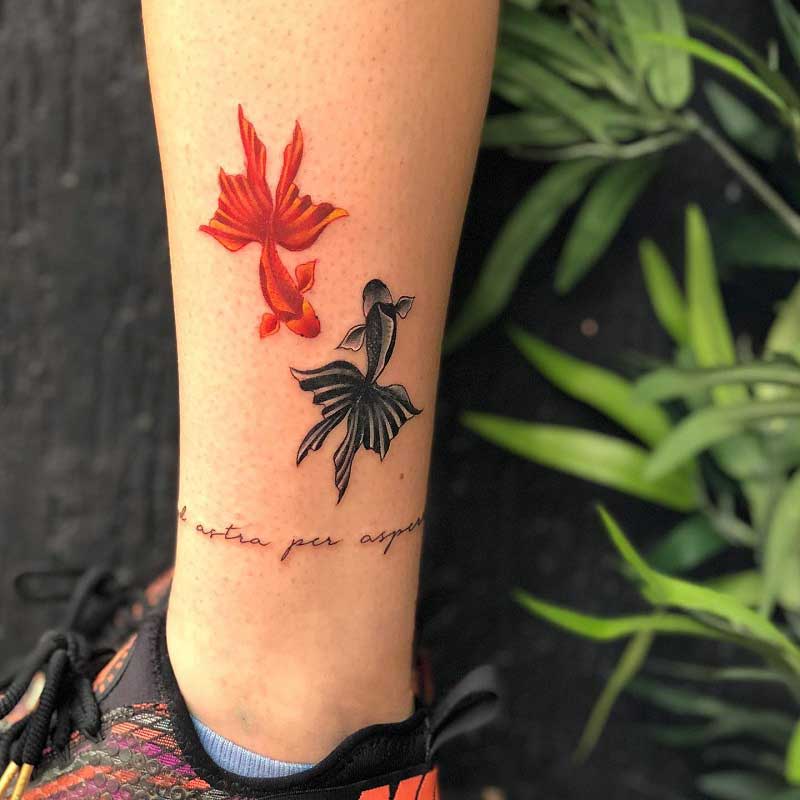 38.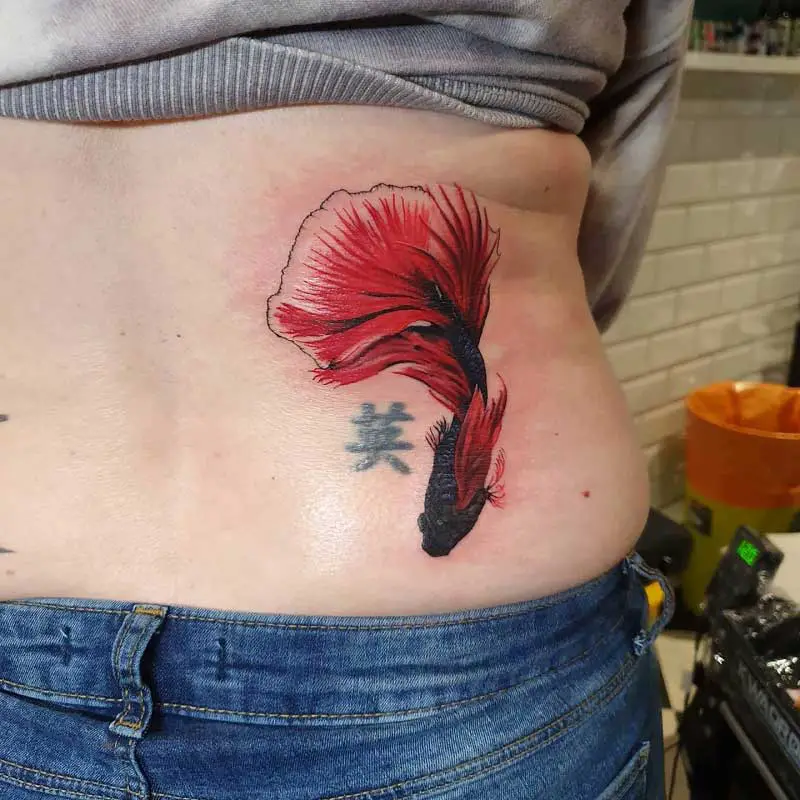 39.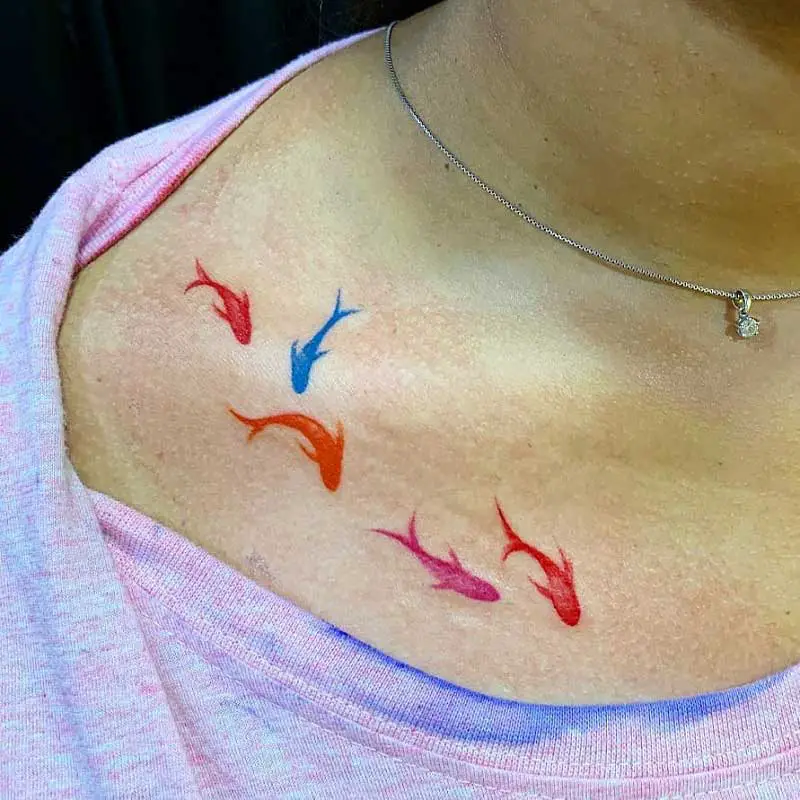 Puffer Fish Tattoo
40.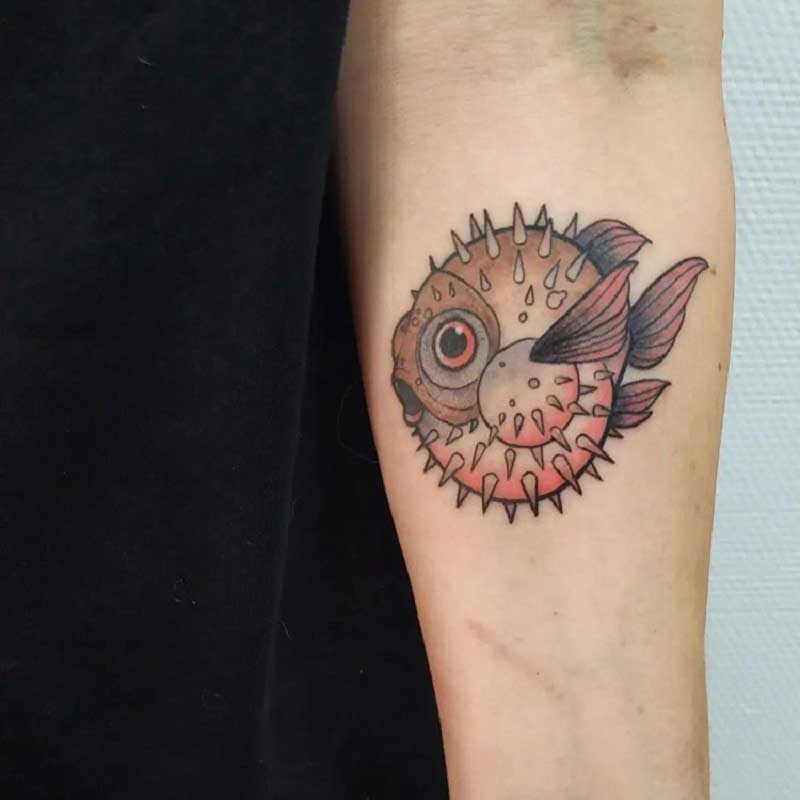 41.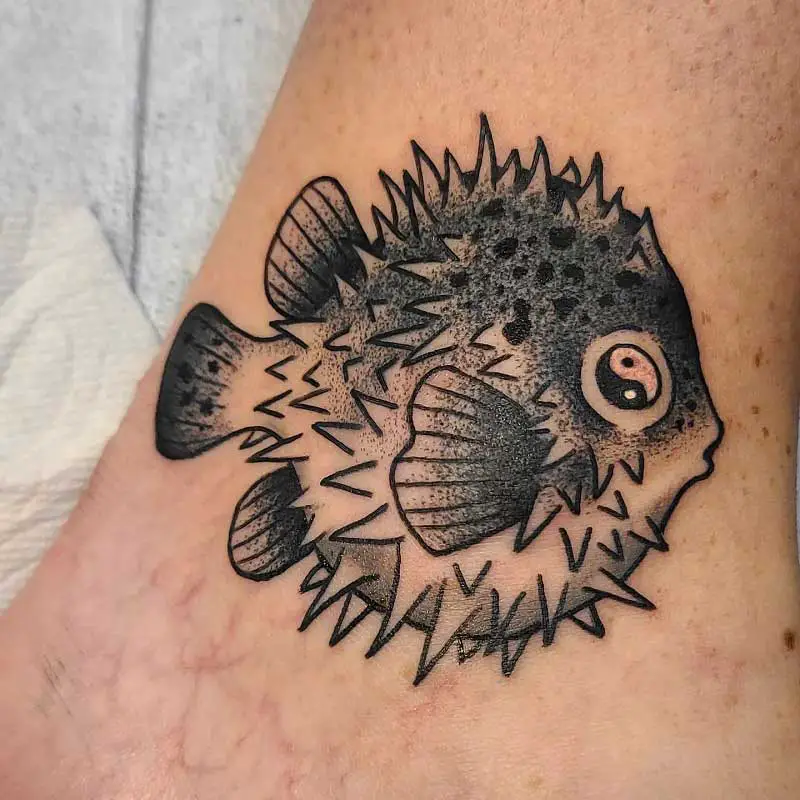 42.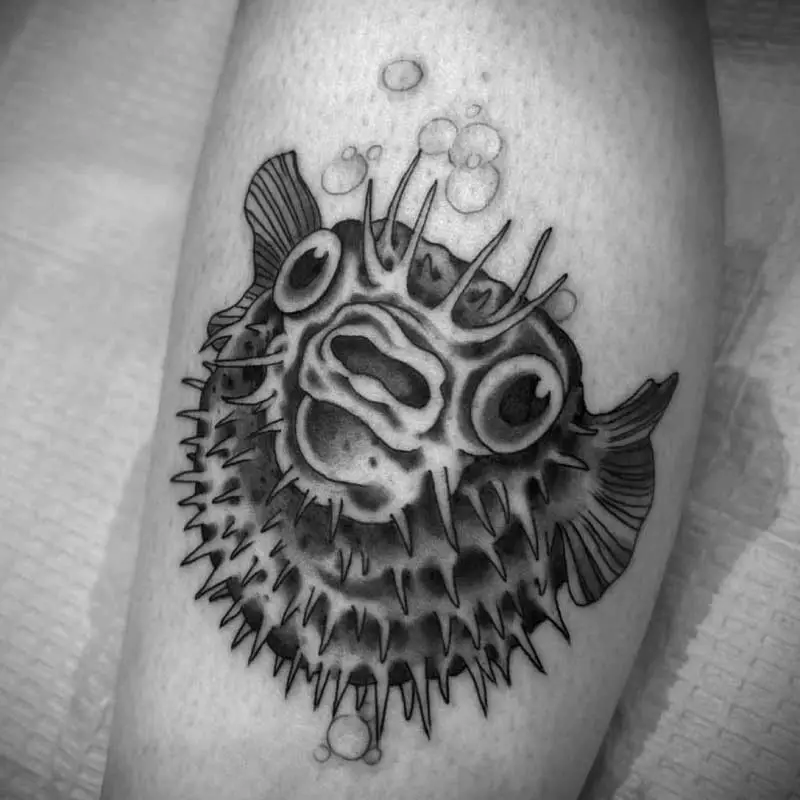 Bad Fish Tattoo
43.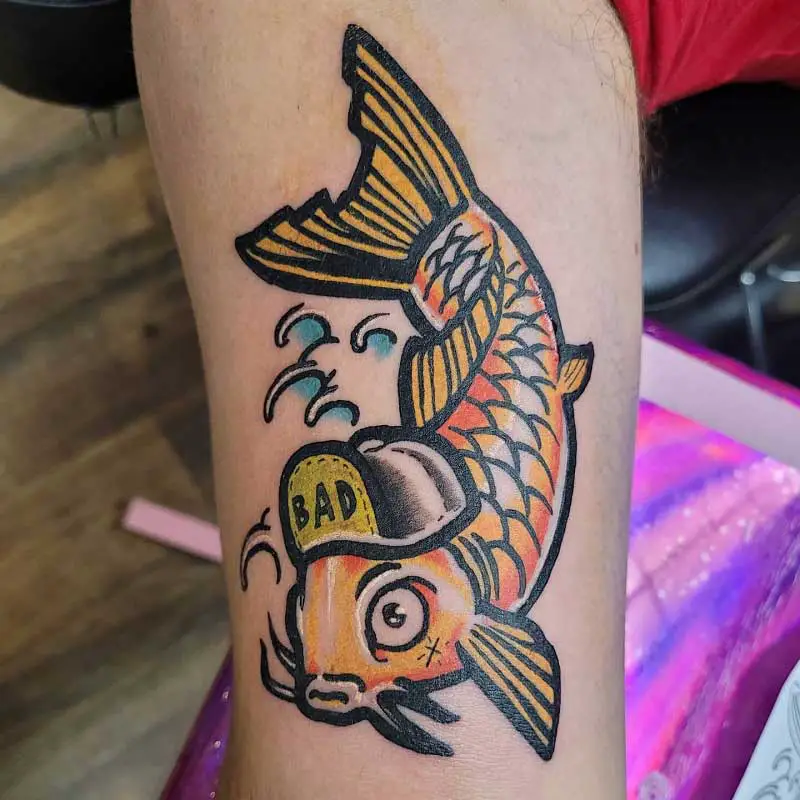 44.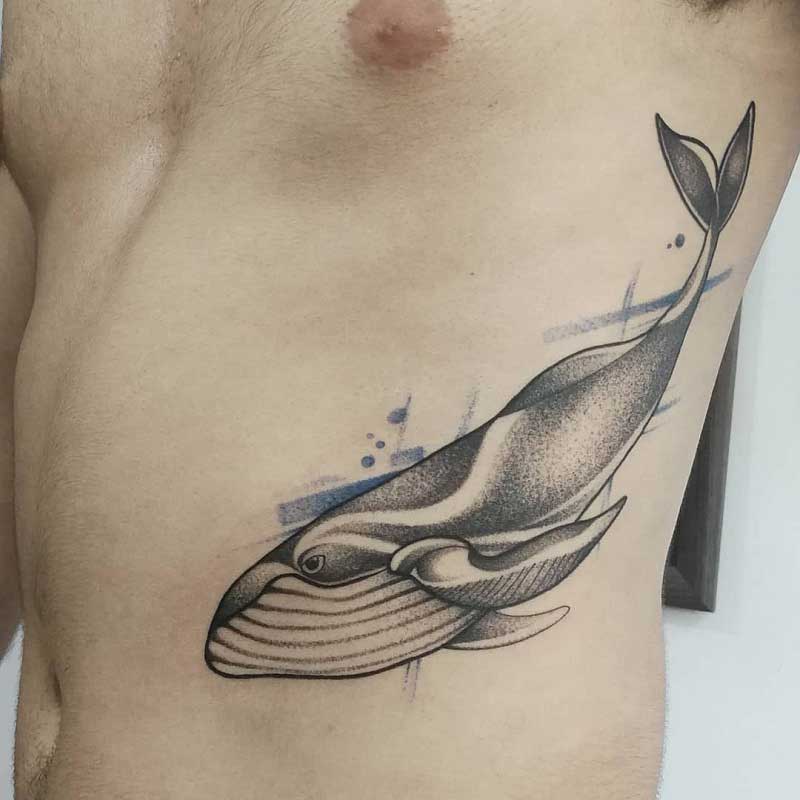 45.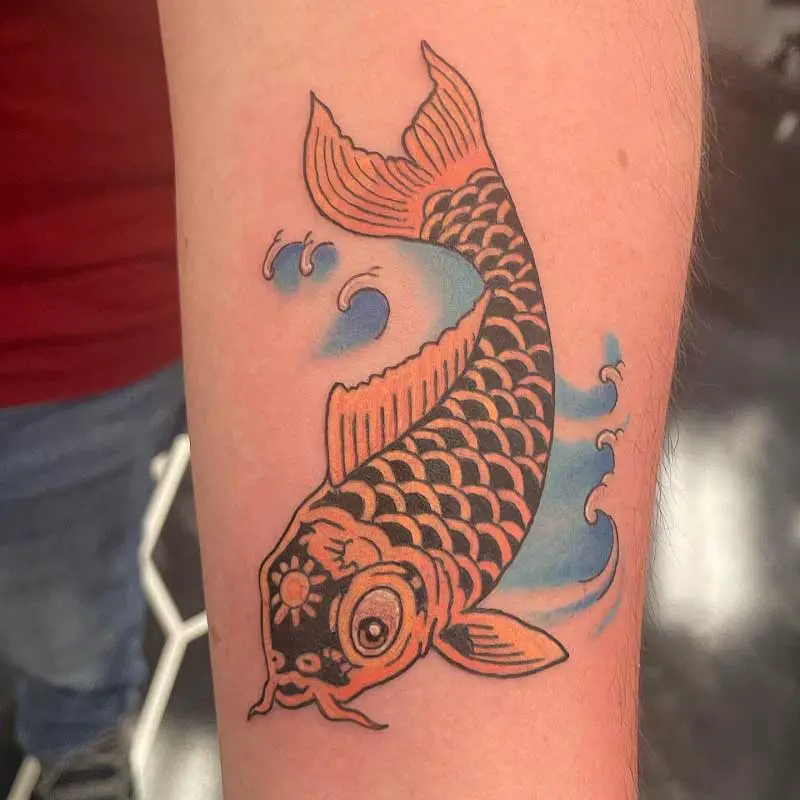 Jelly Fish Tattoo
46.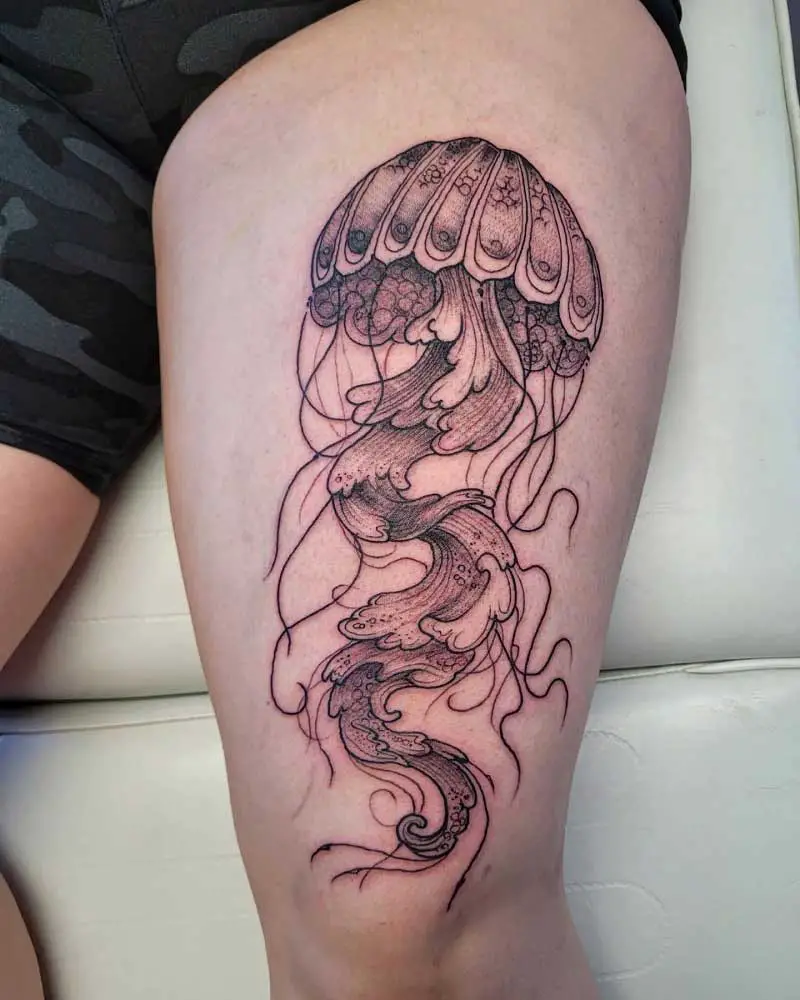 47.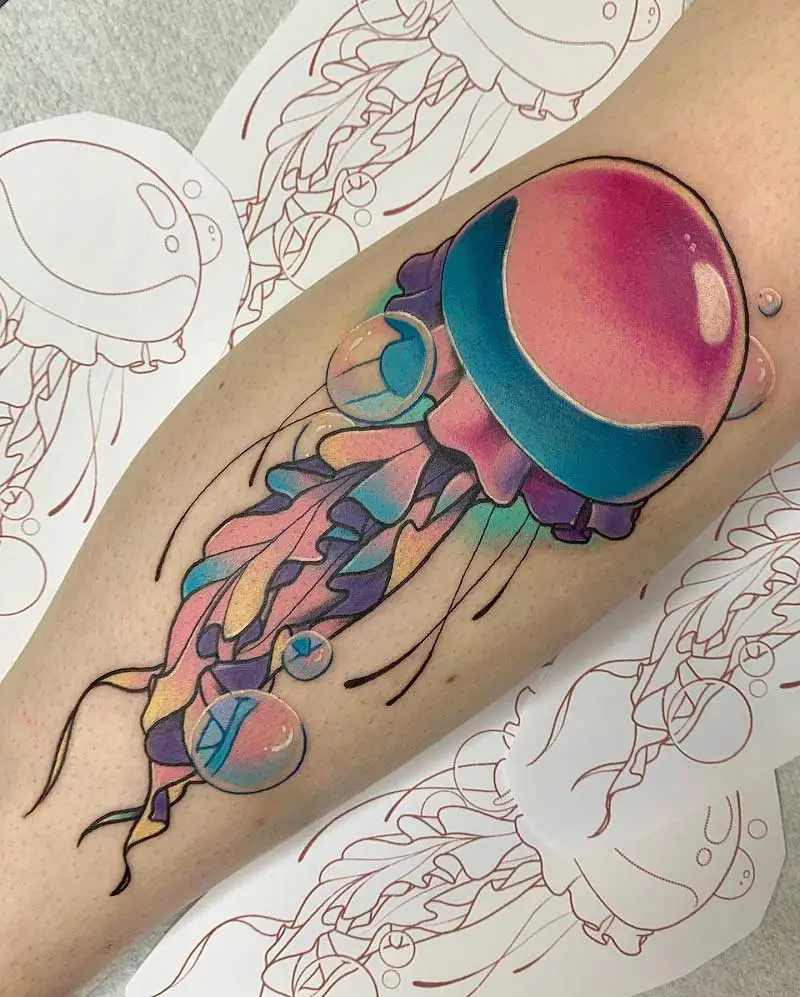 48.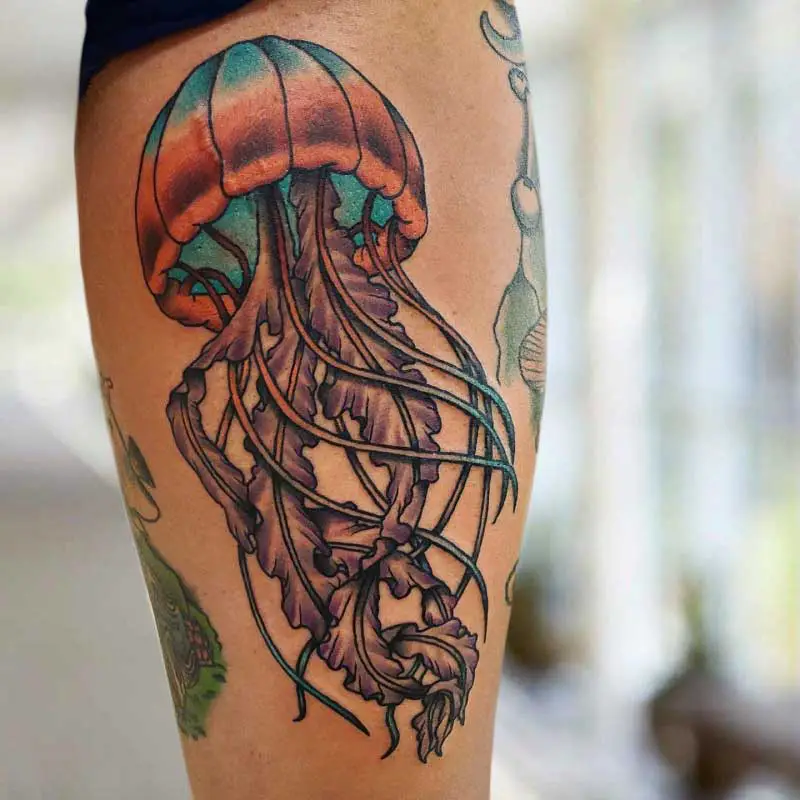 Chinese Fish Tattoo
49.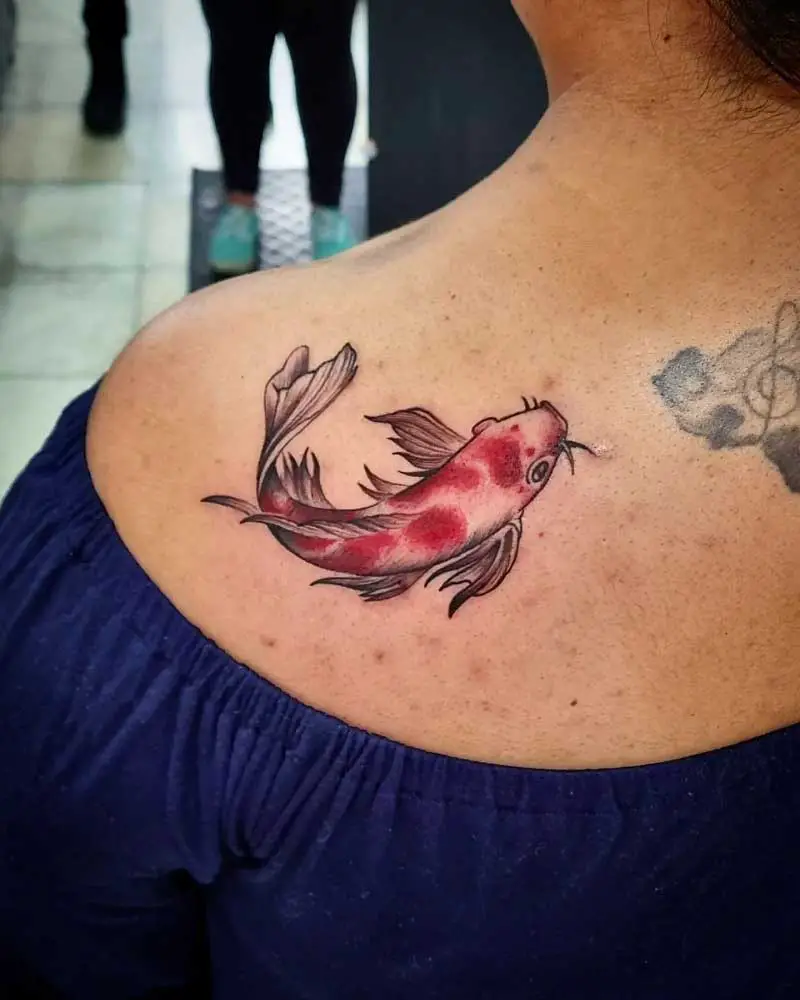 50.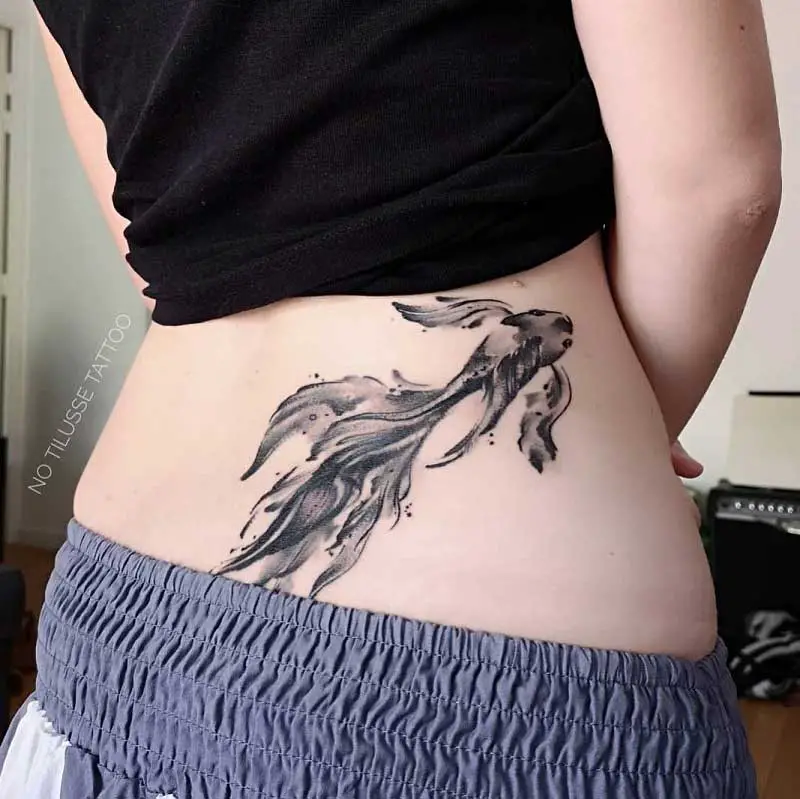 51.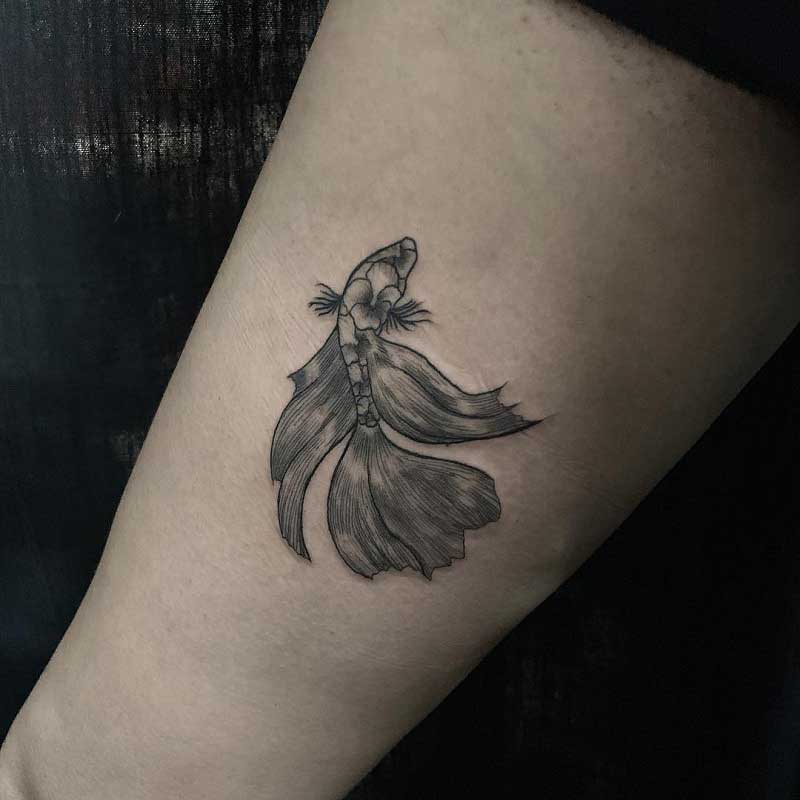 Dragon Fish Tattoo
52.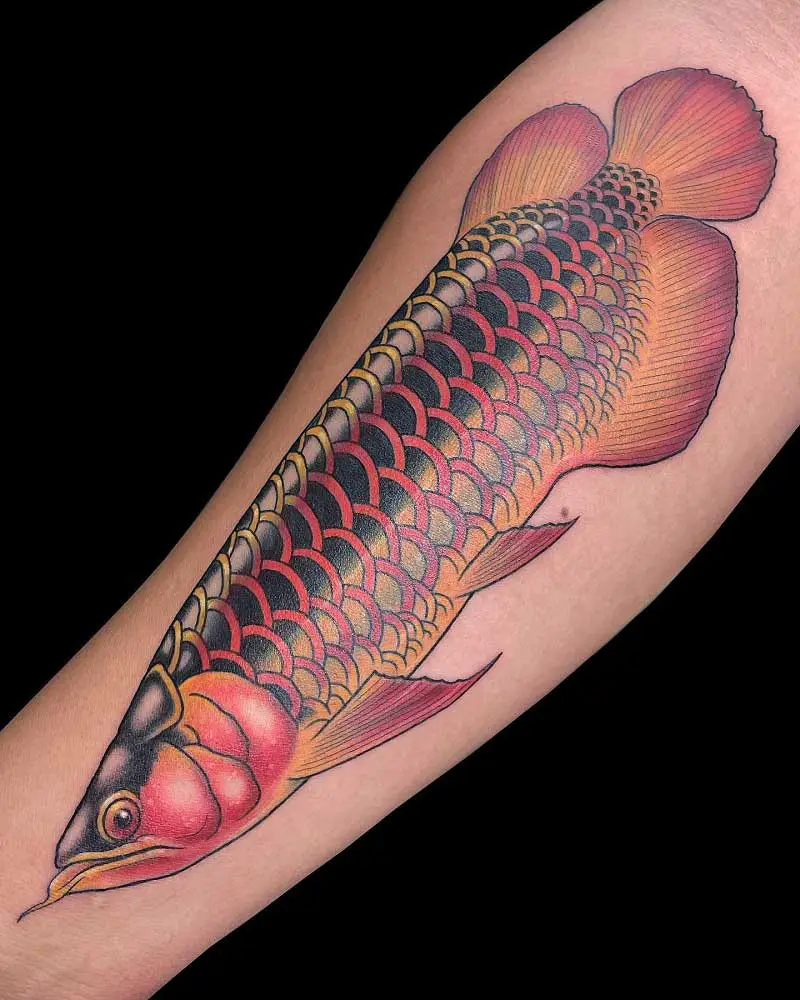 53.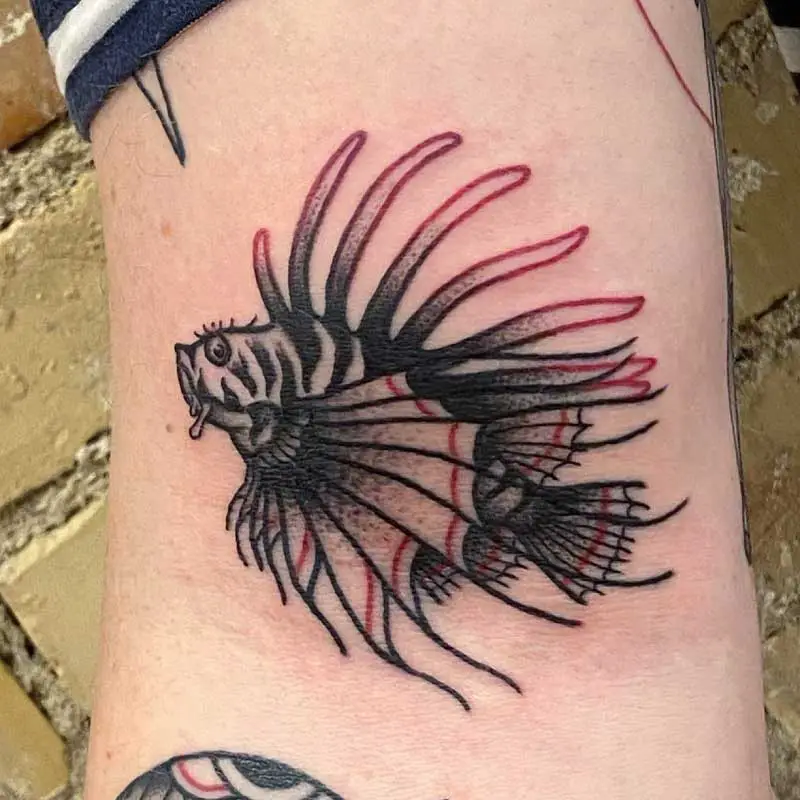 54.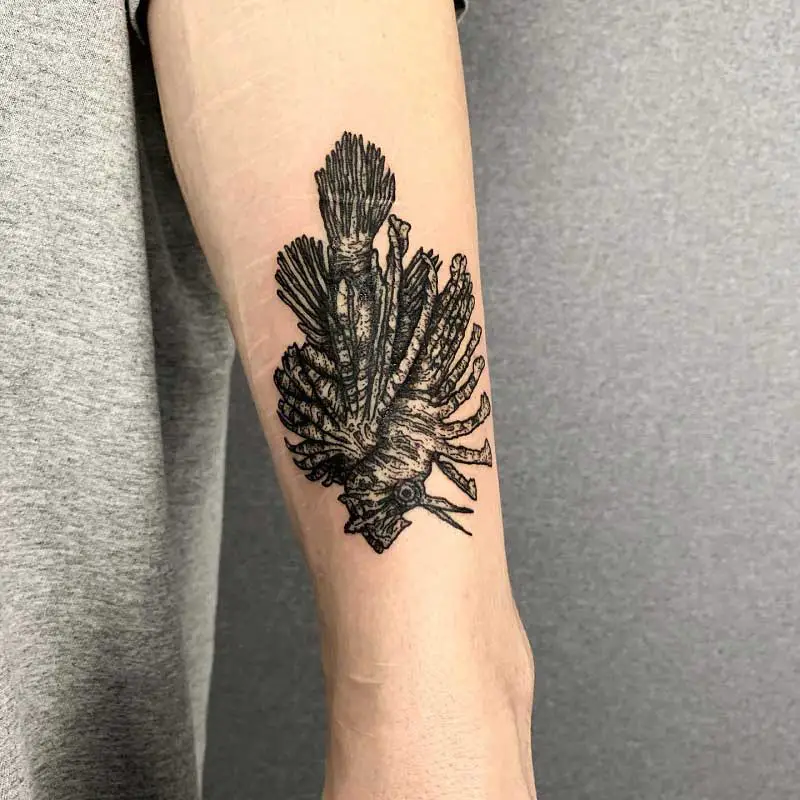 Fly Fish Tattoo
55.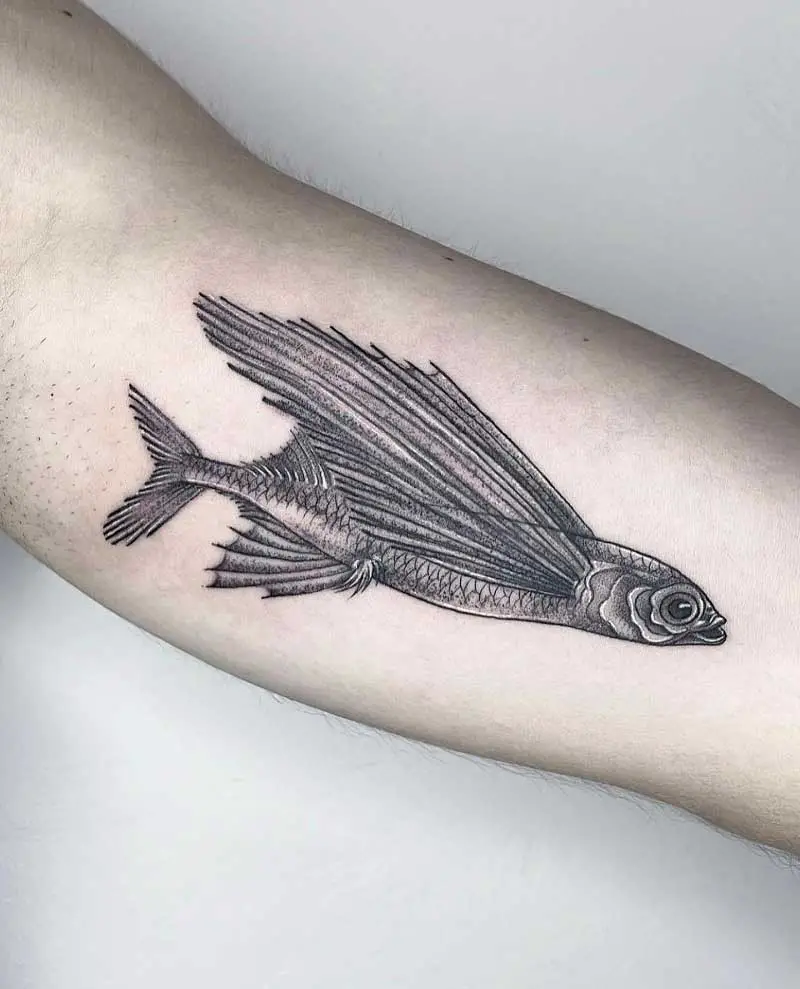 56.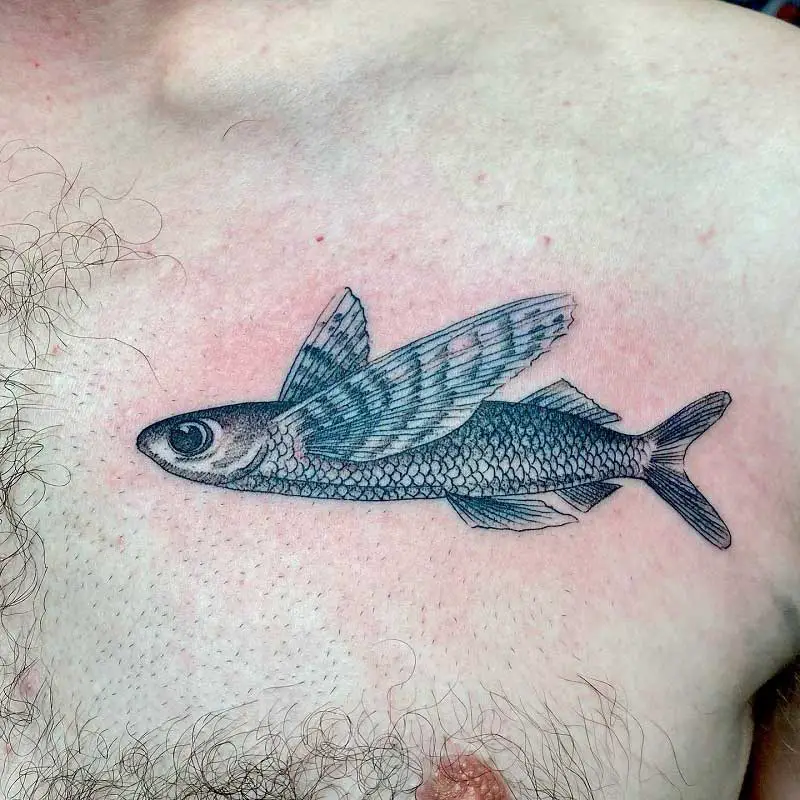 57.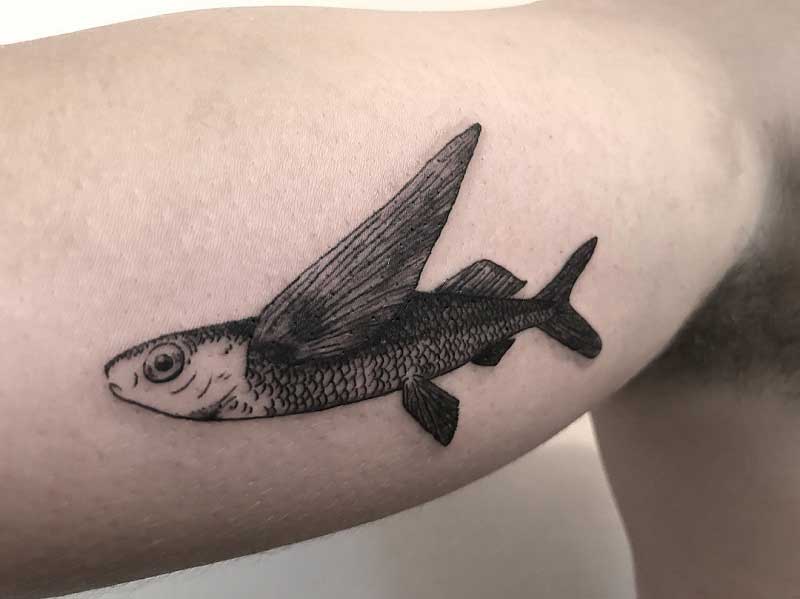 Dead Fish Tattoo
58.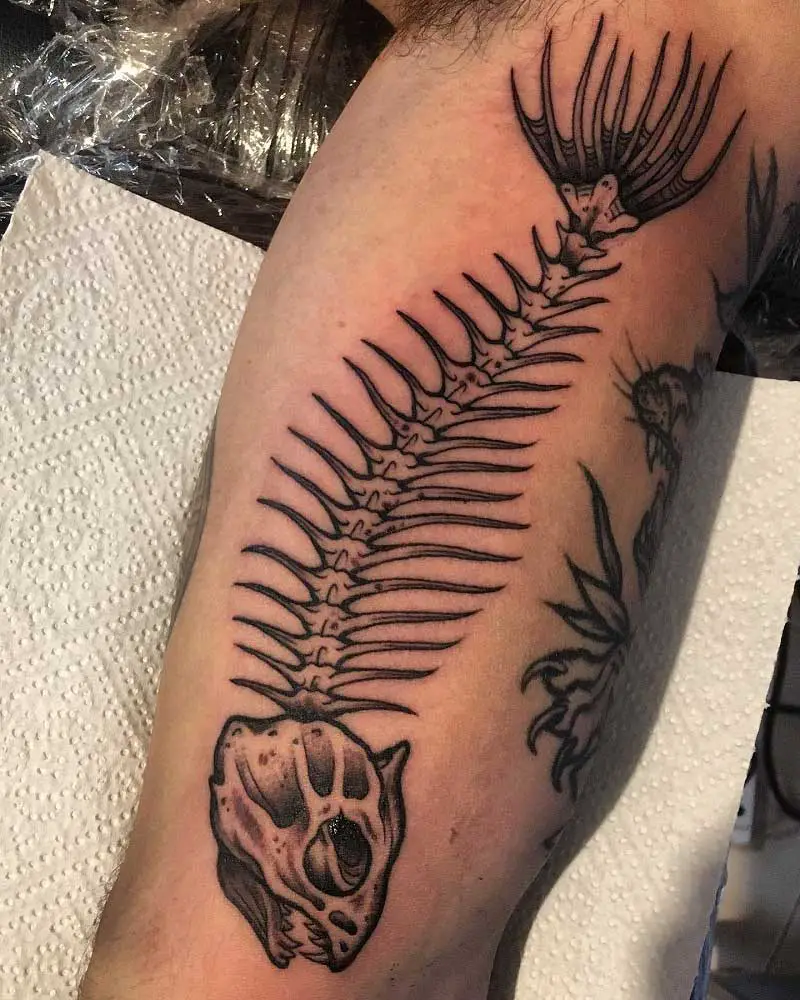 59.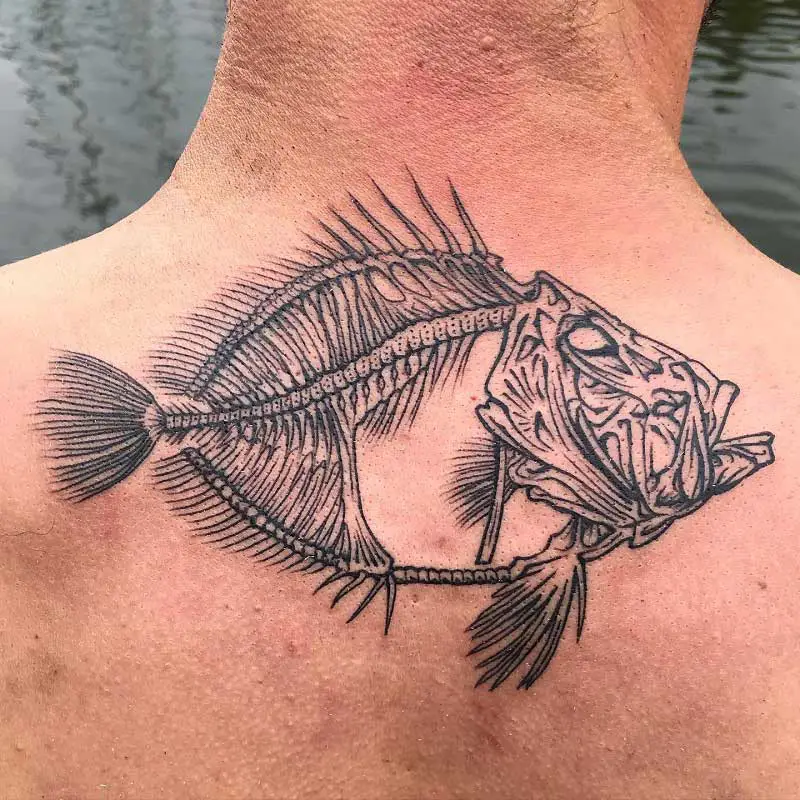 60.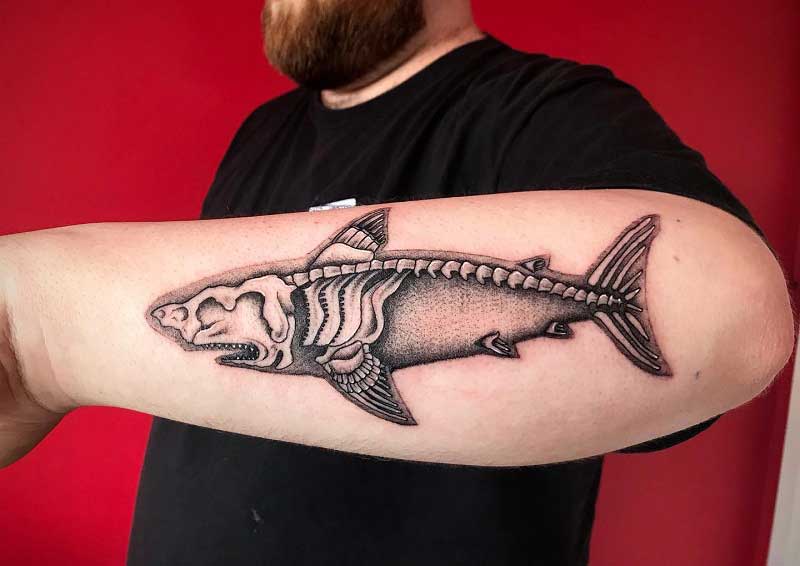 Passion Fish Tattoo
61.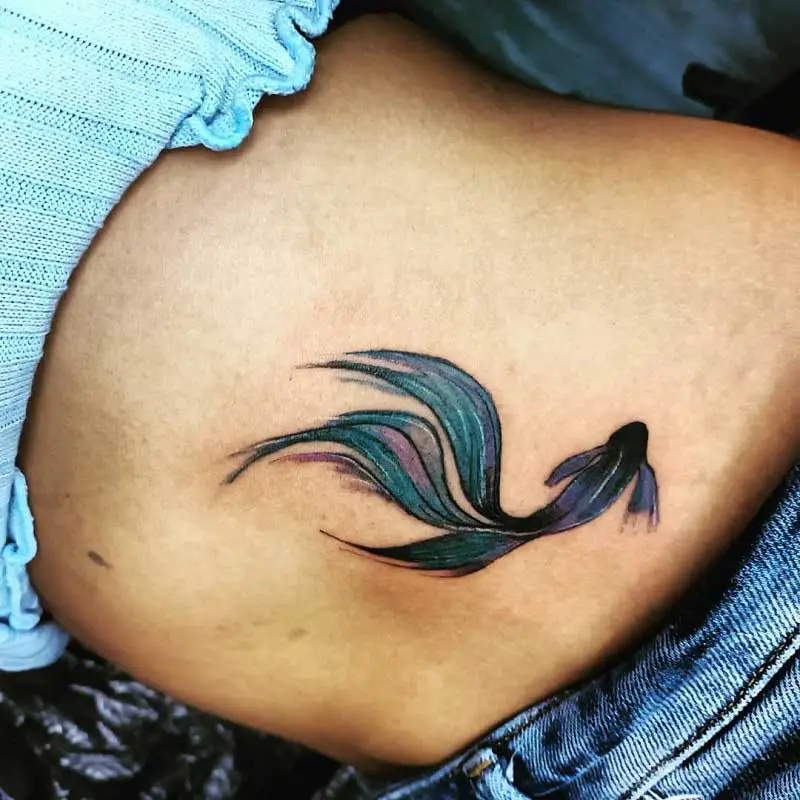 62.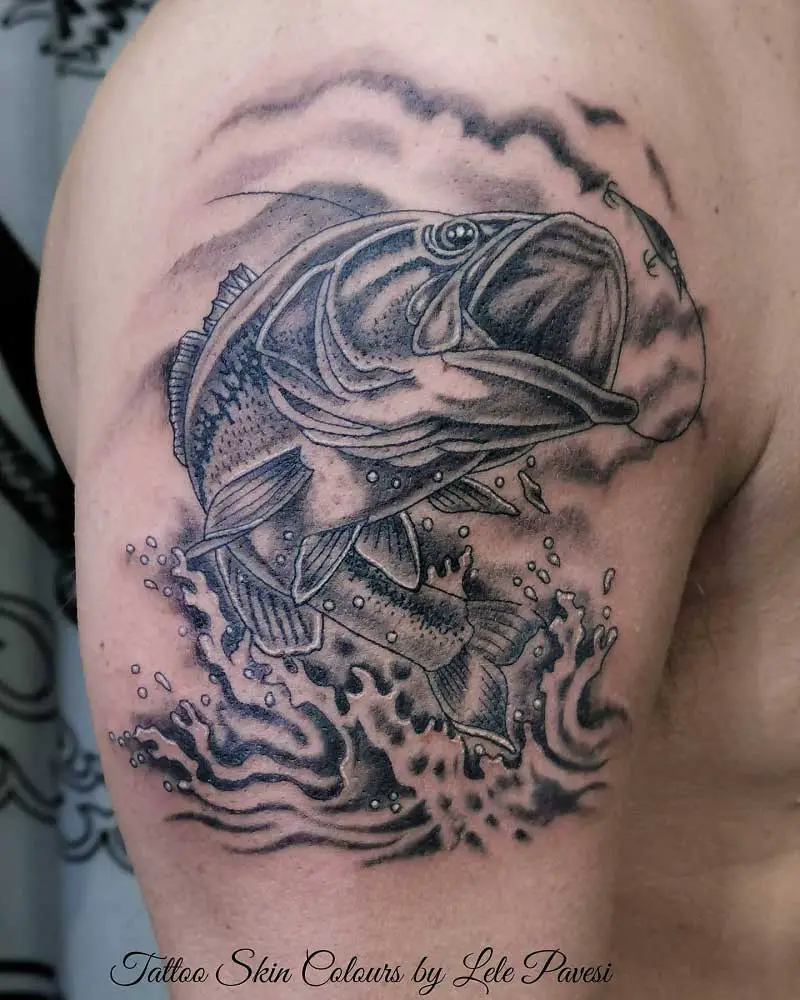 63.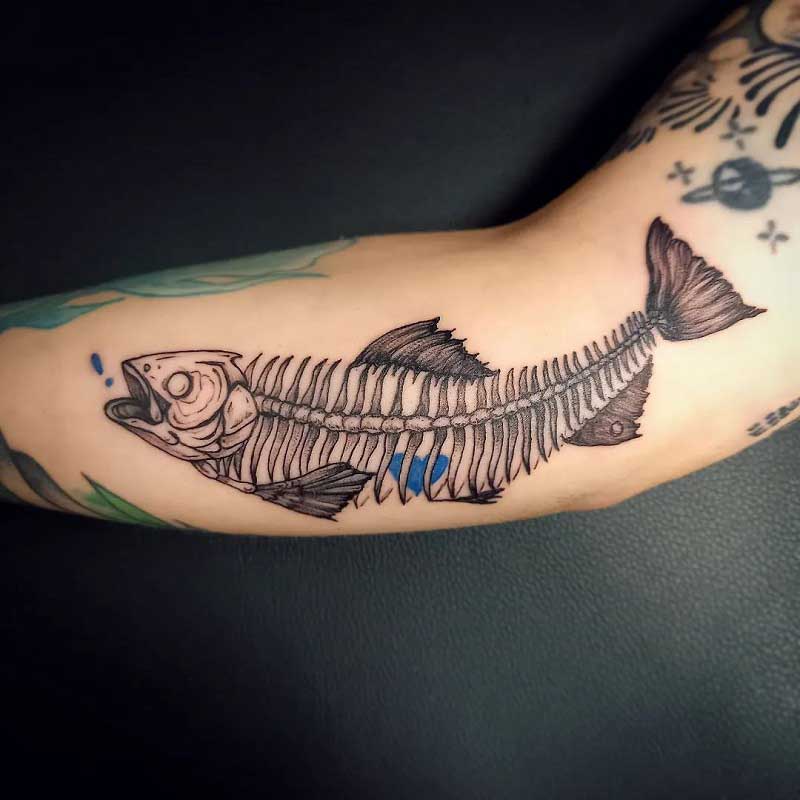 Star Fish Tattoo
64.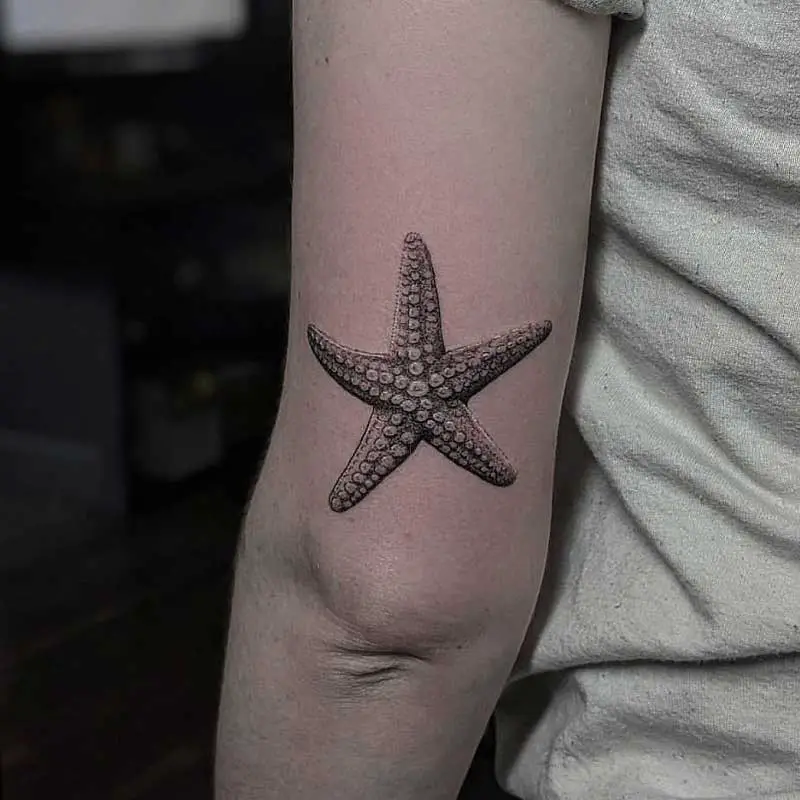 65.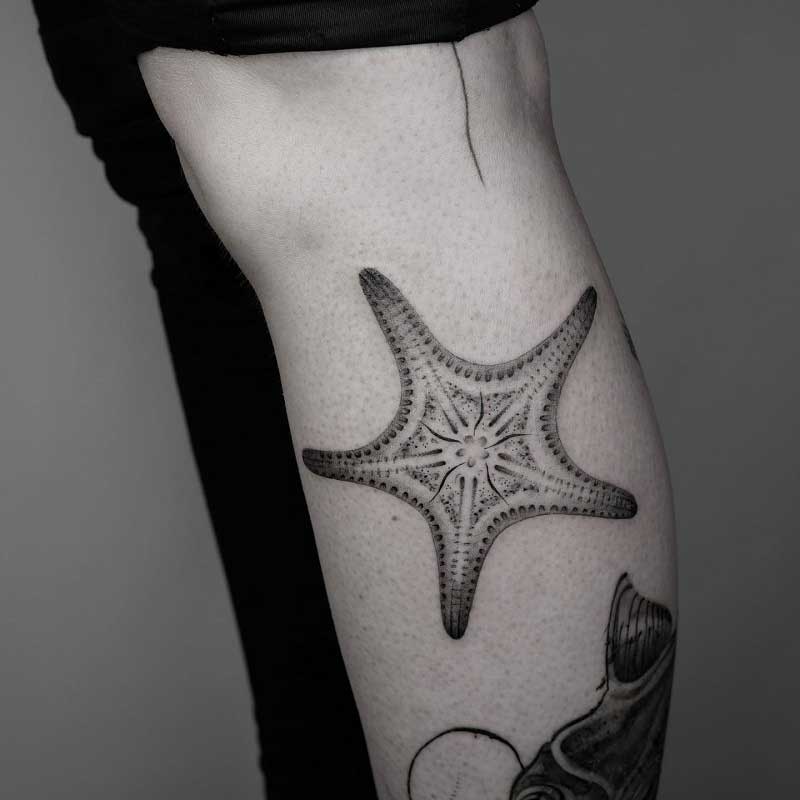 66.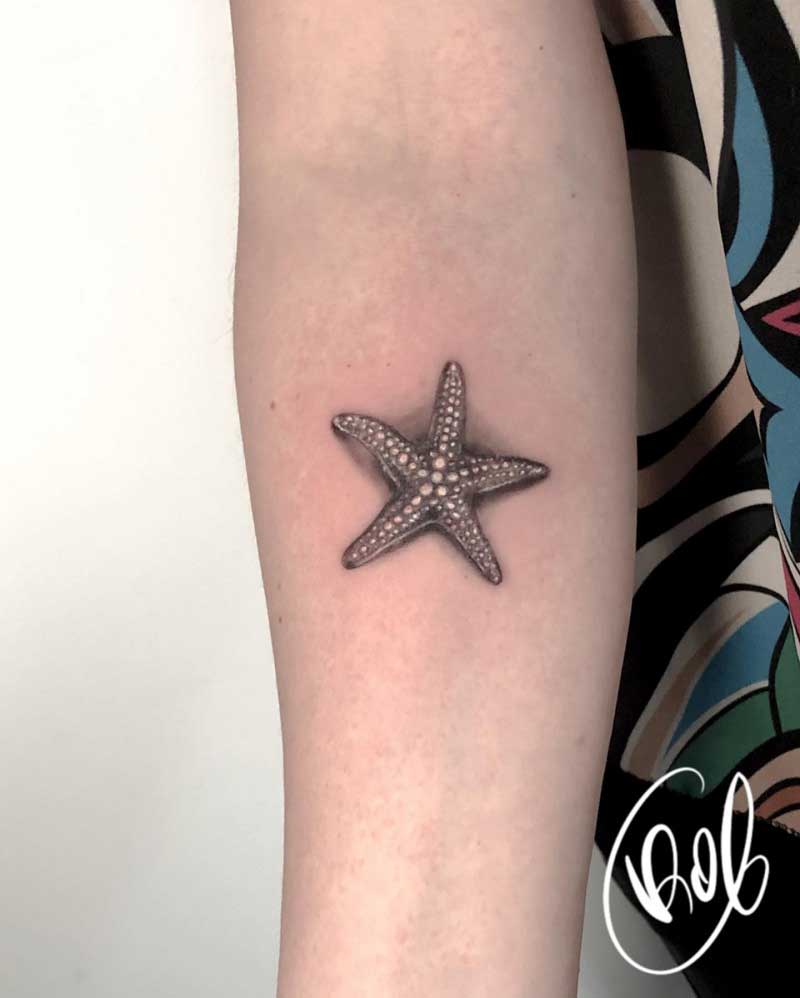 American Traditional Fish Tattoo
67.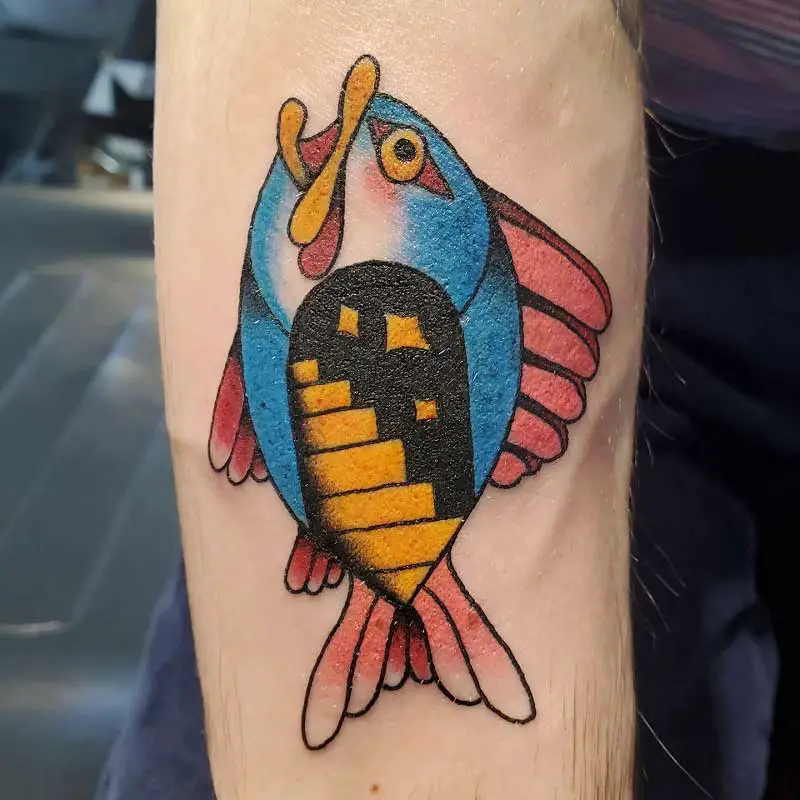 68.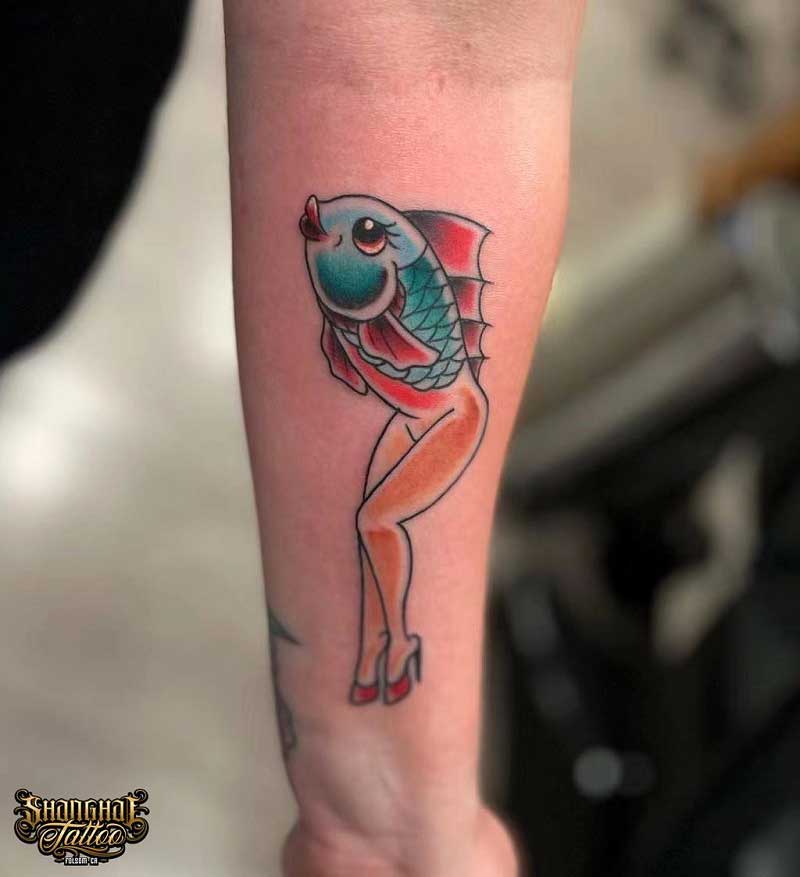 69.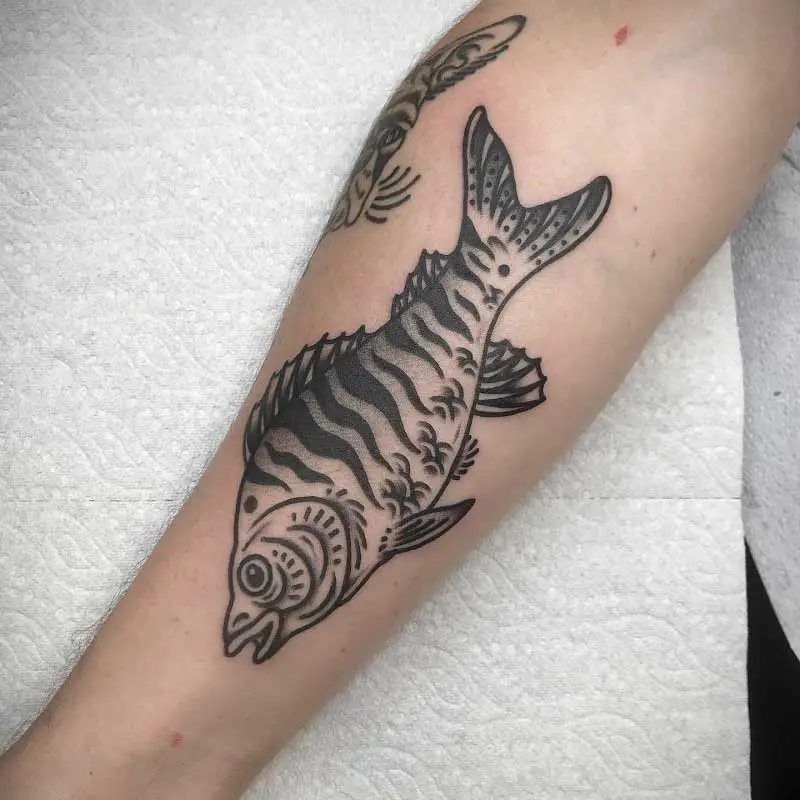 Burly Fish Tattoo
70.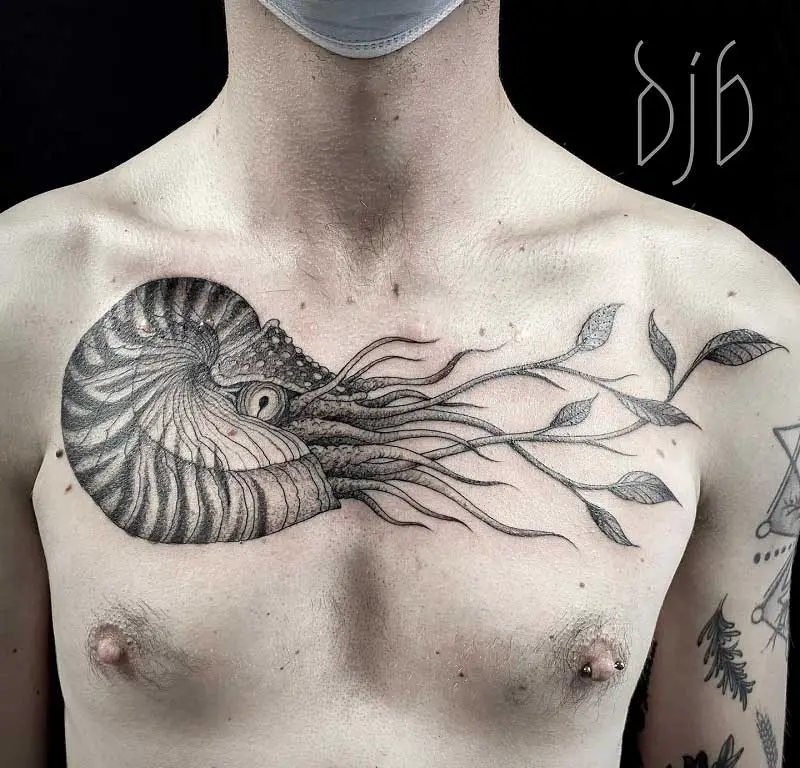 71.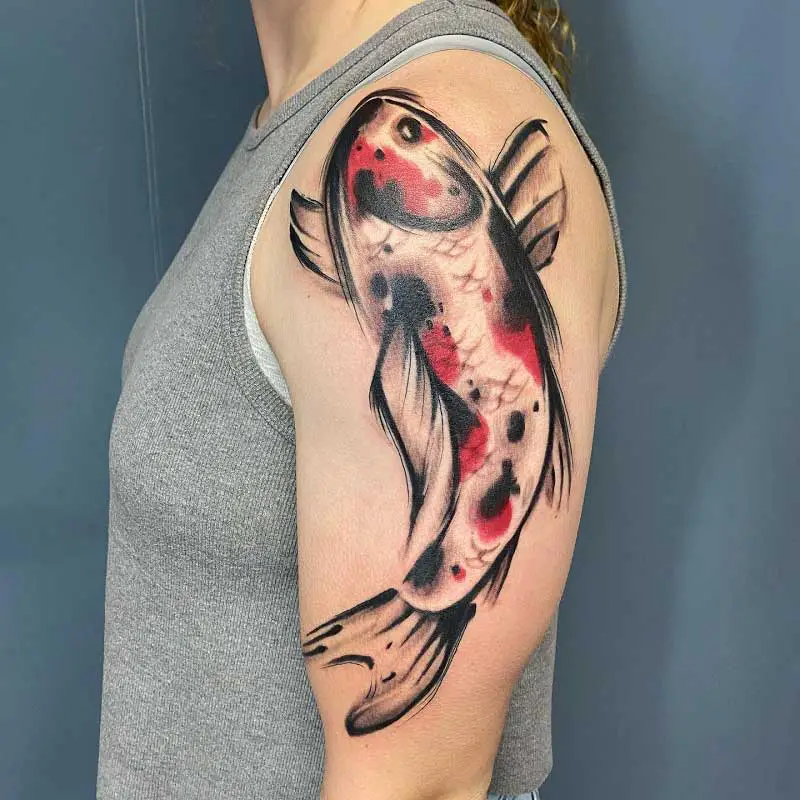 72.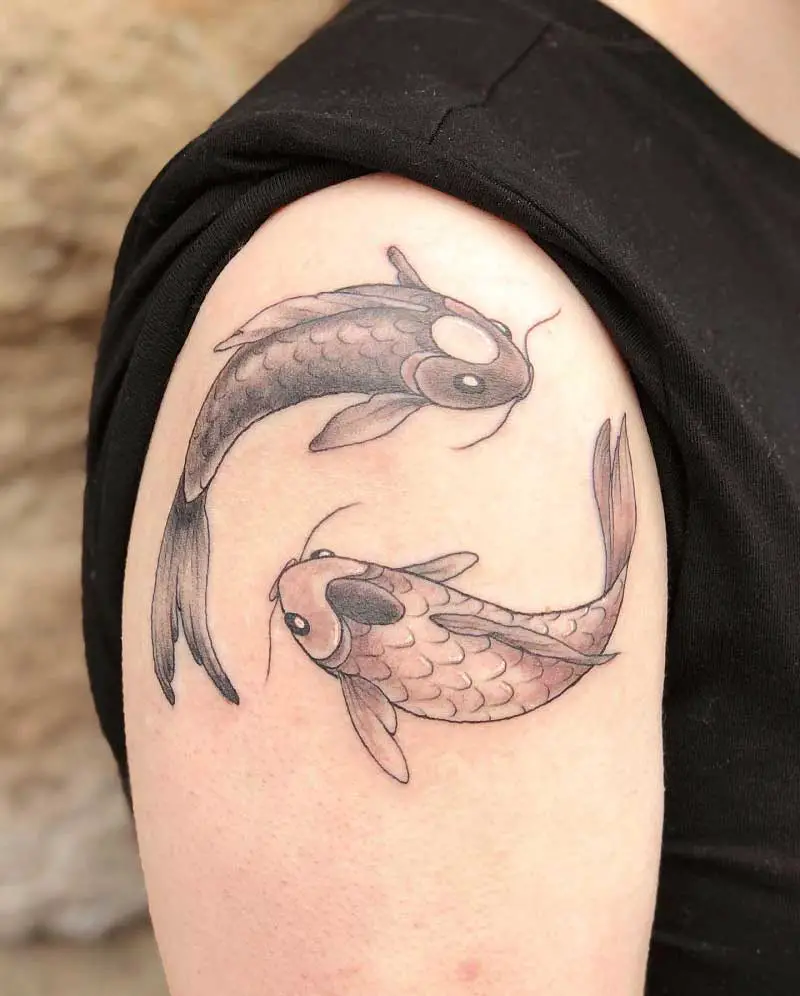 Rainbow Fish Tattoo
73.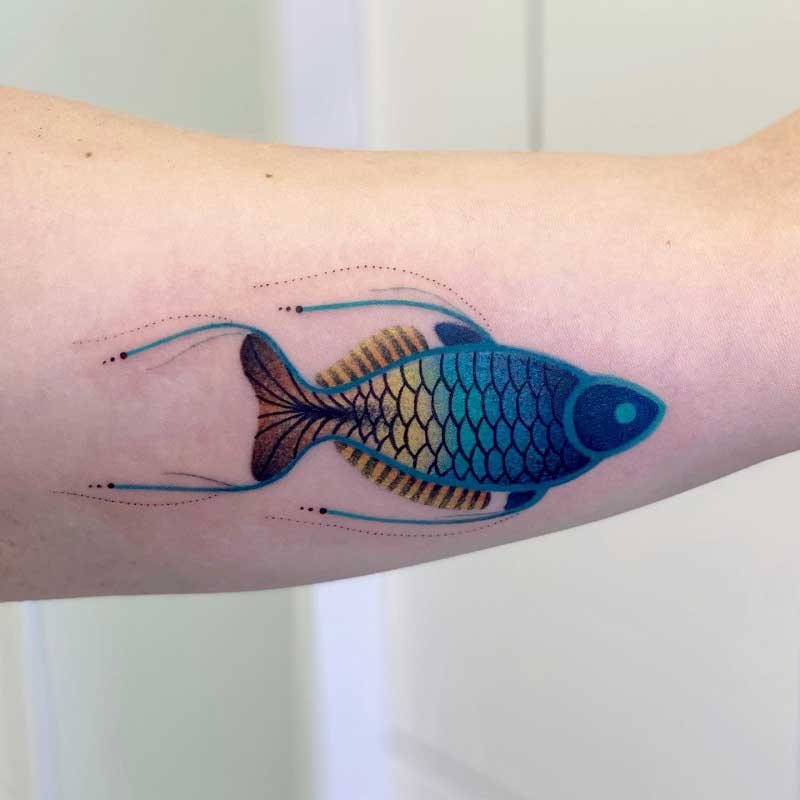 74.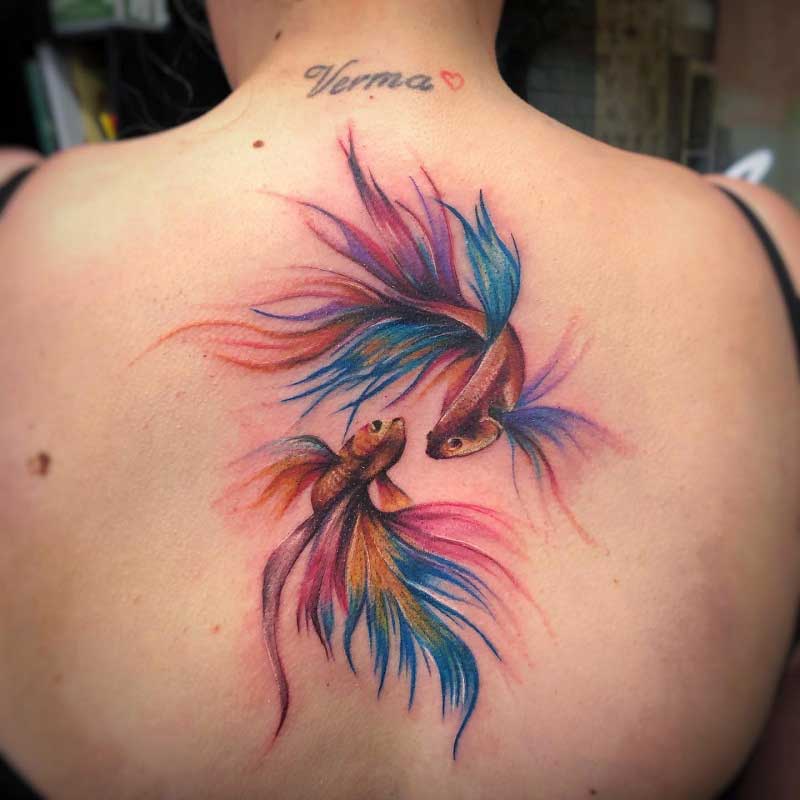 75.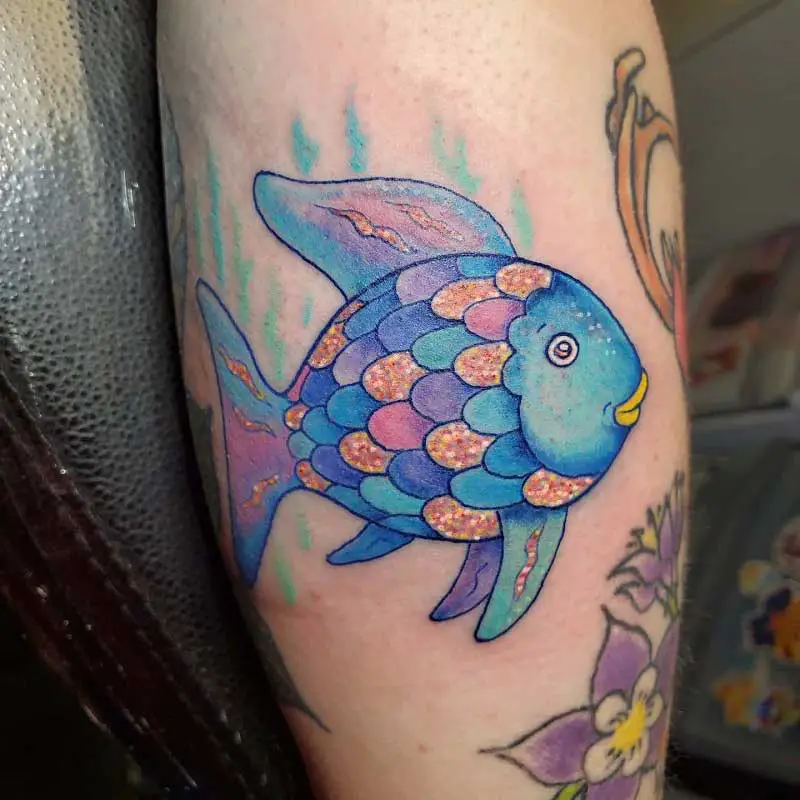 Realistic Betta Fish Tattoo
76.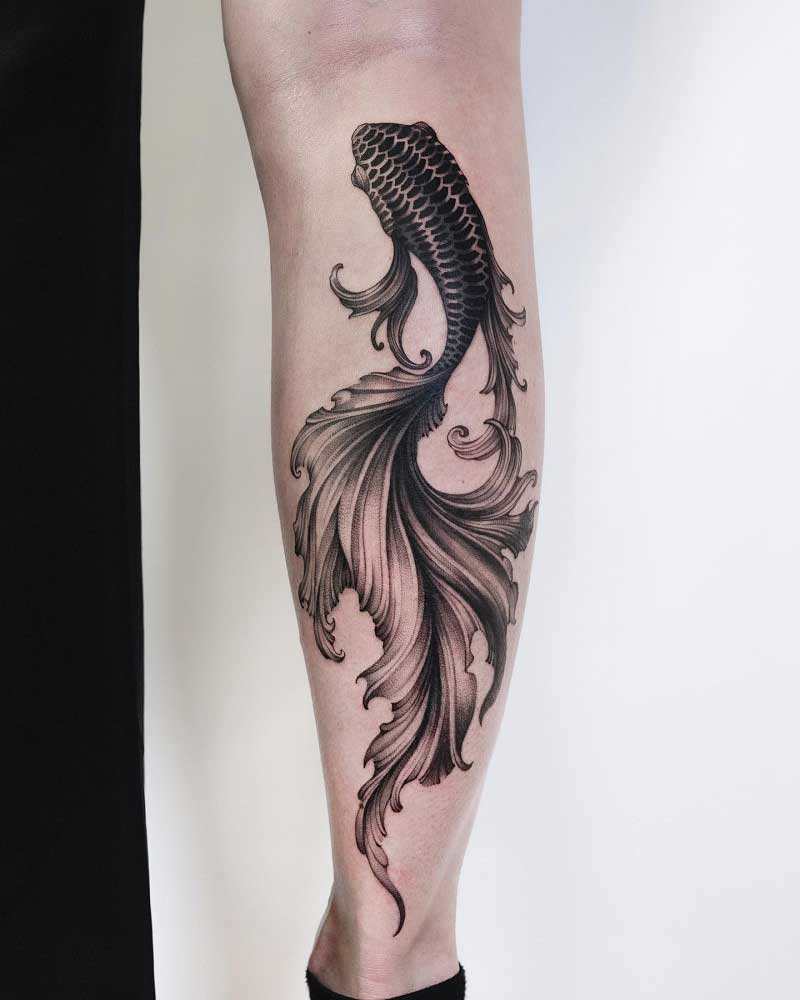 77.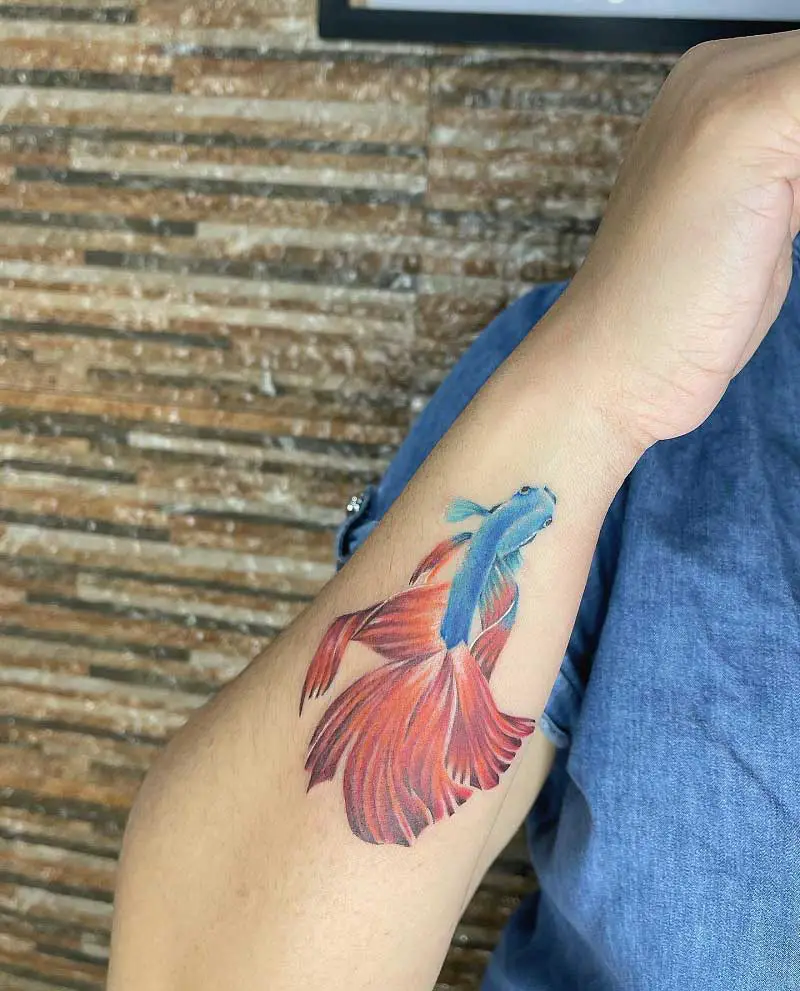 78.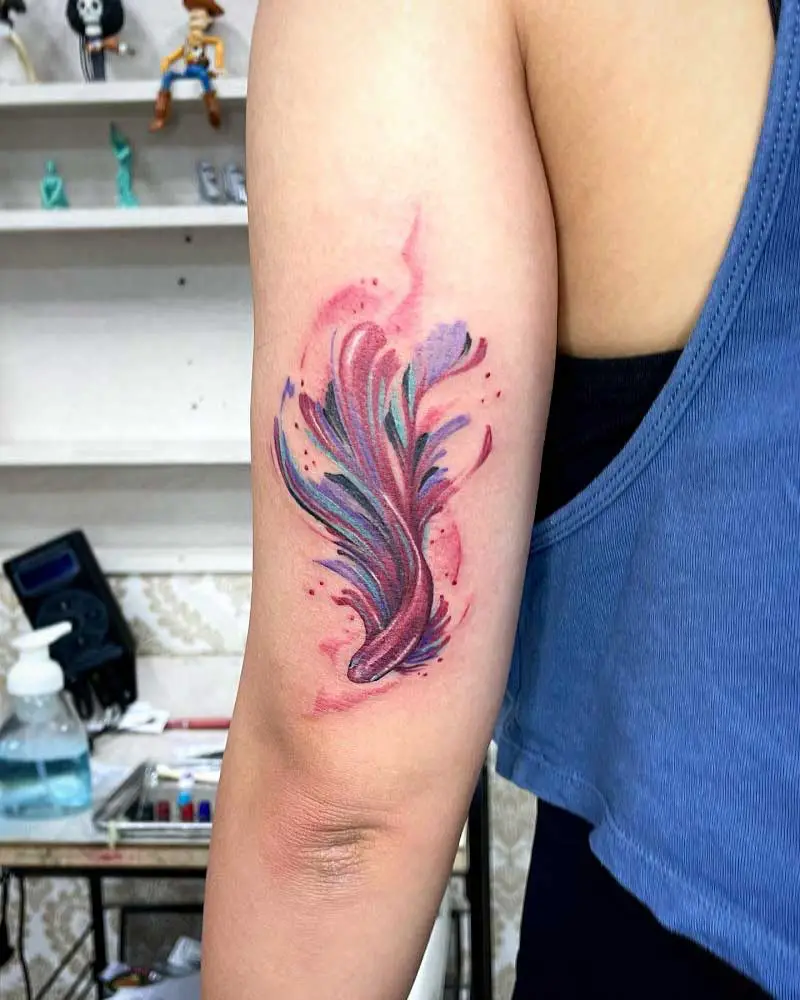 Avatar Fish Tattoo
79.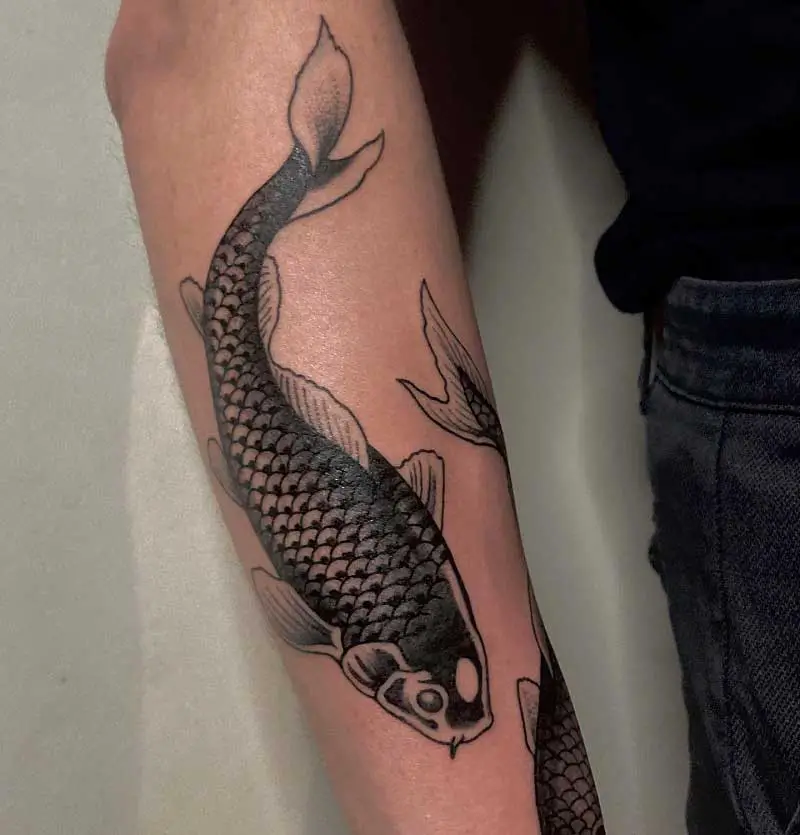 80.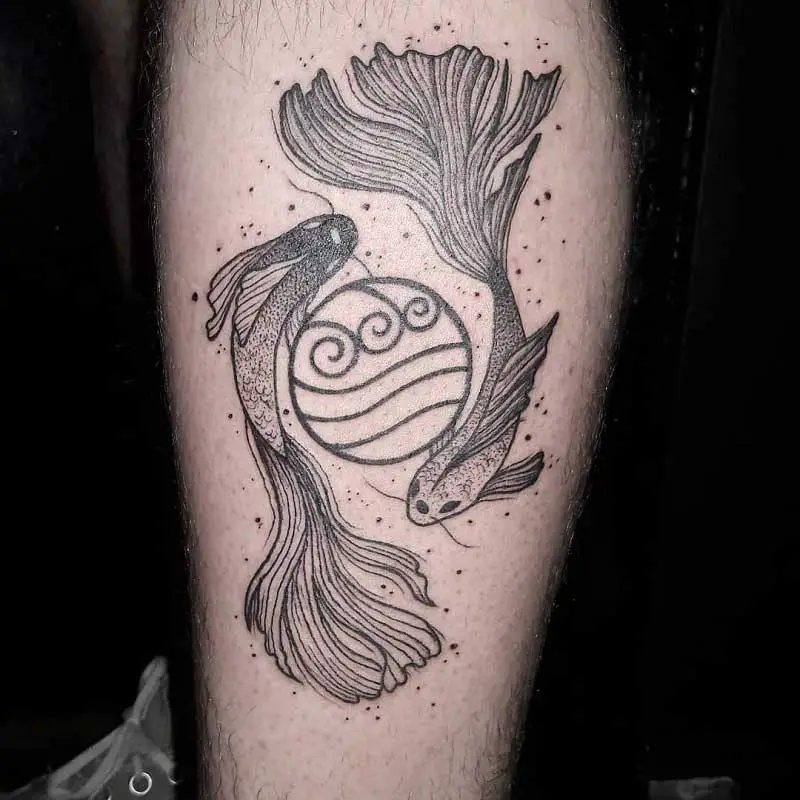 Pat Fish Tattoo
81.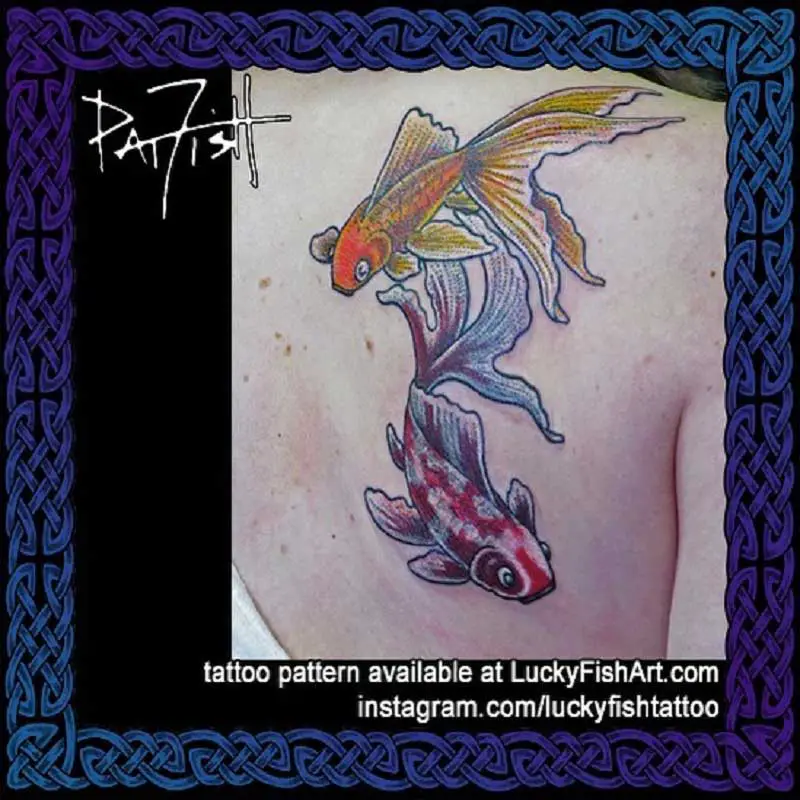 82.
83.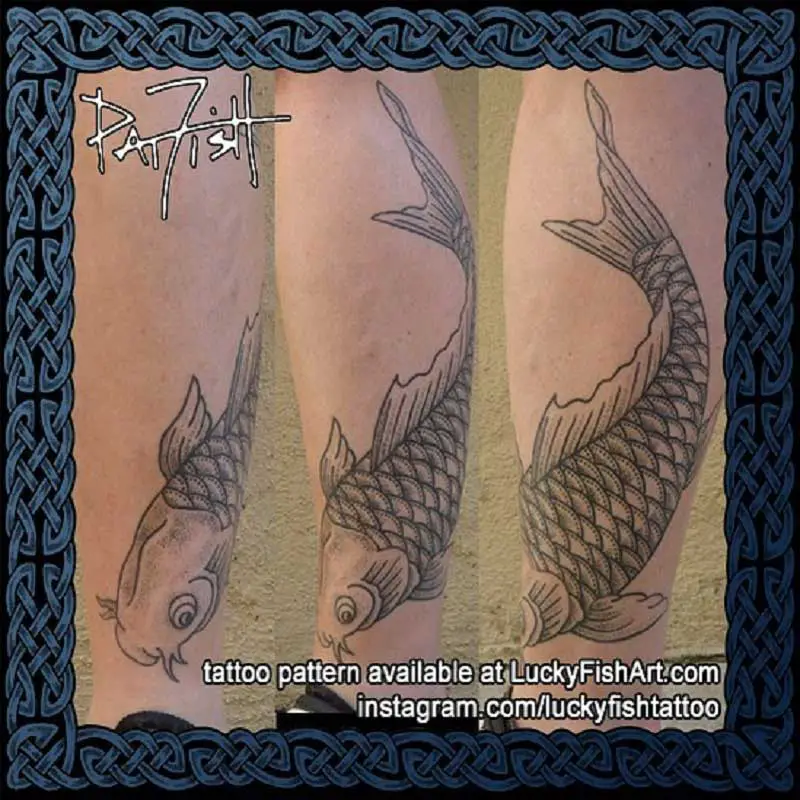 Saltwater Fish Tattoo
84.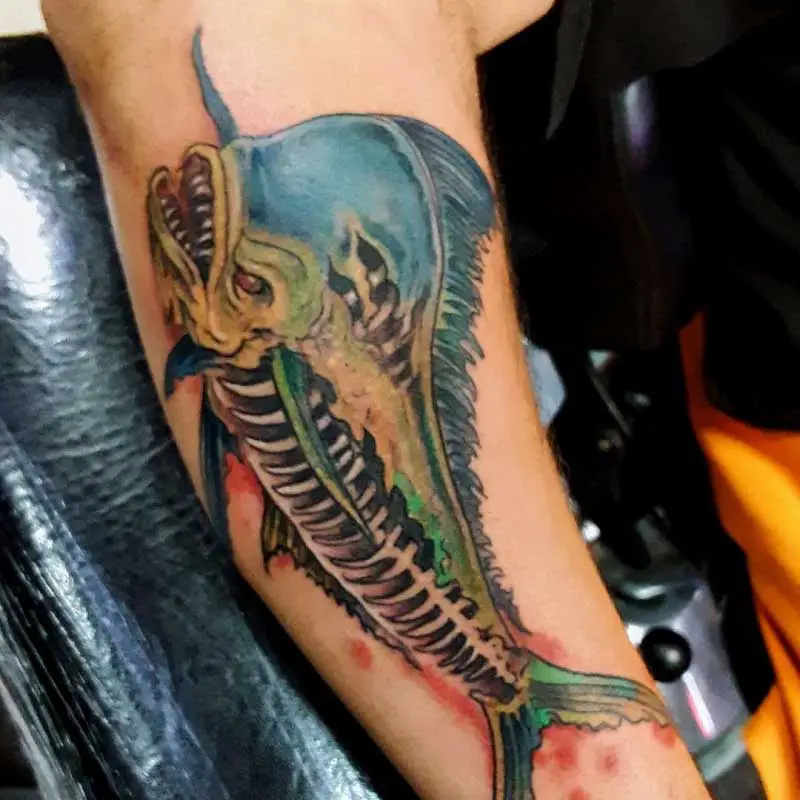 85.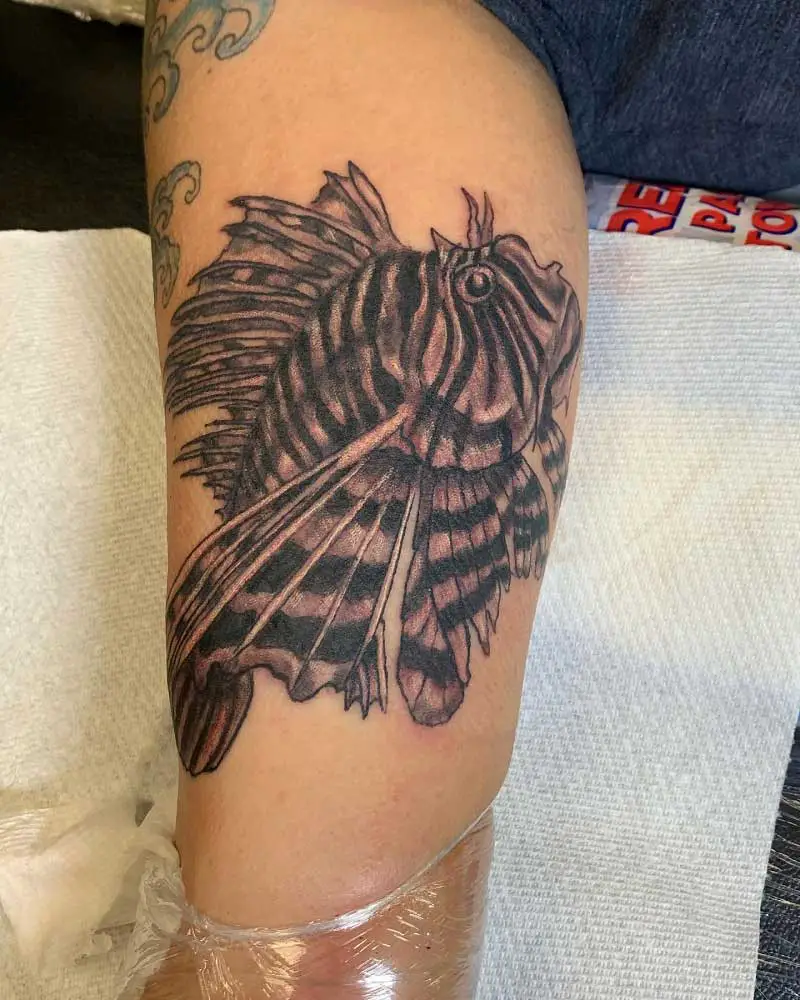 86.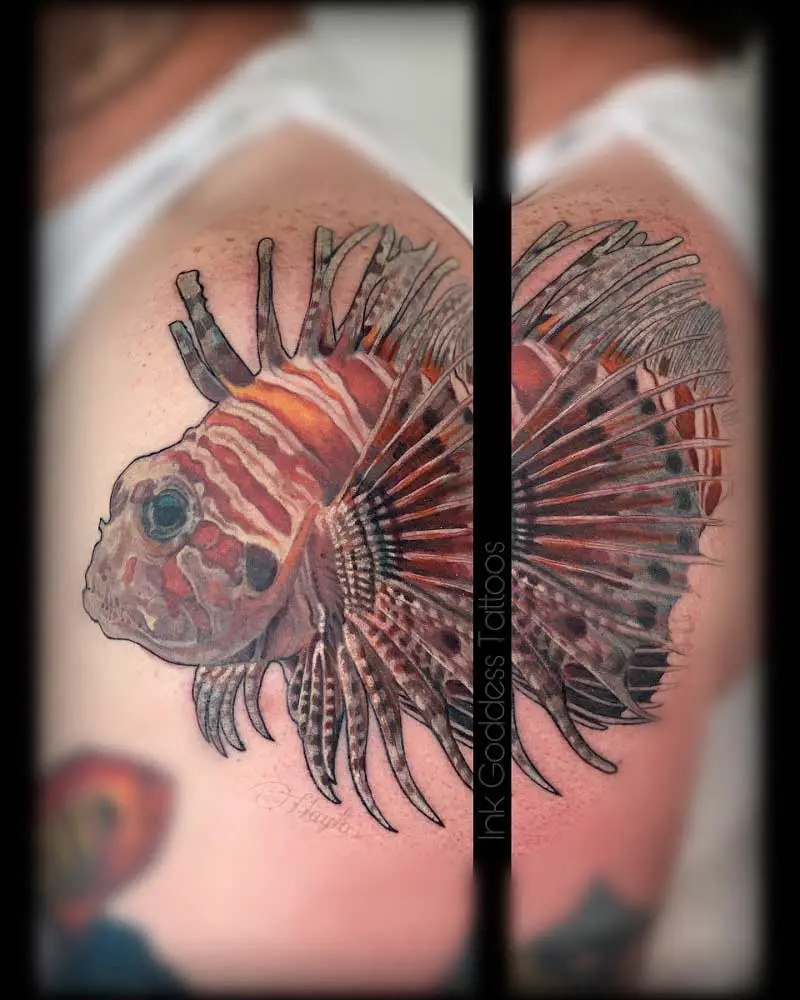 Skeleton Fish Tattoo
87.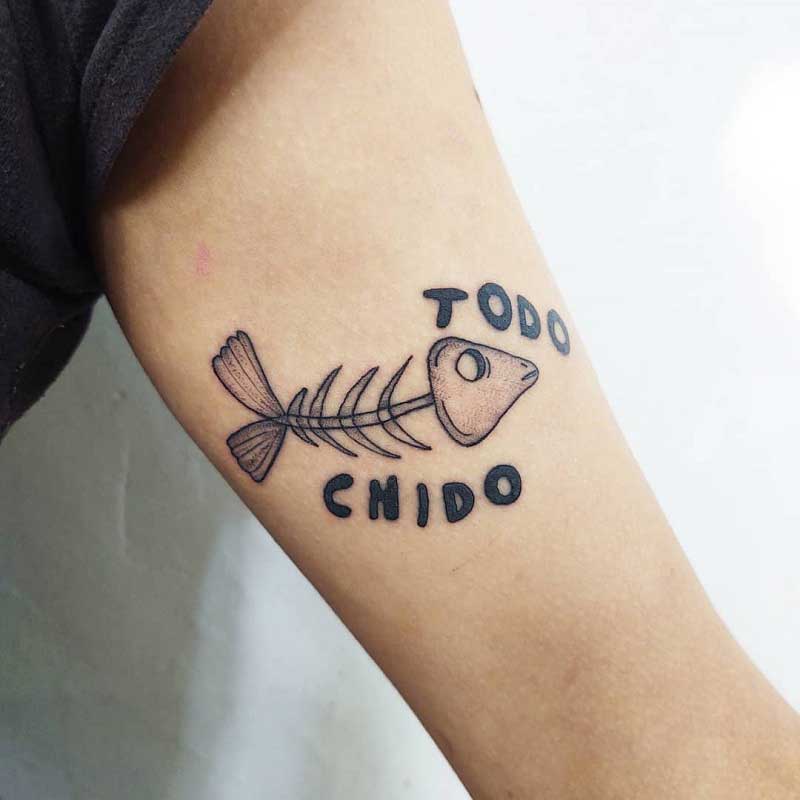 88.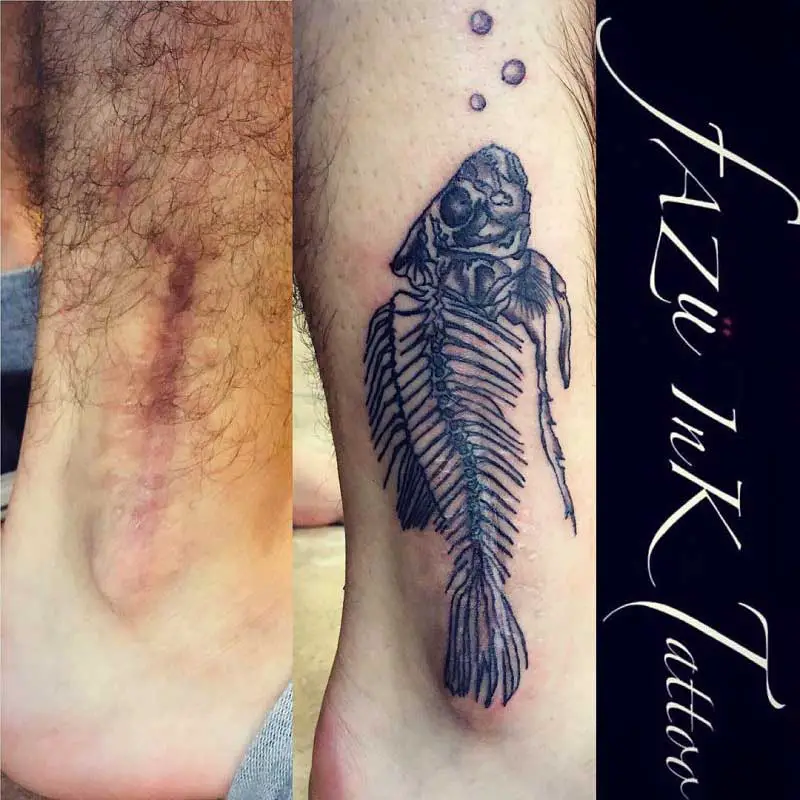 89.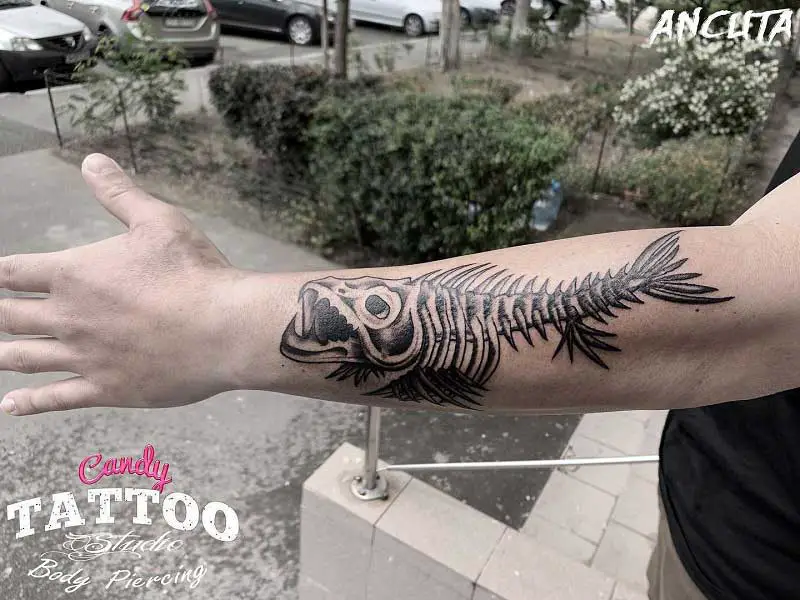 Geometric Fish Tattoo
90.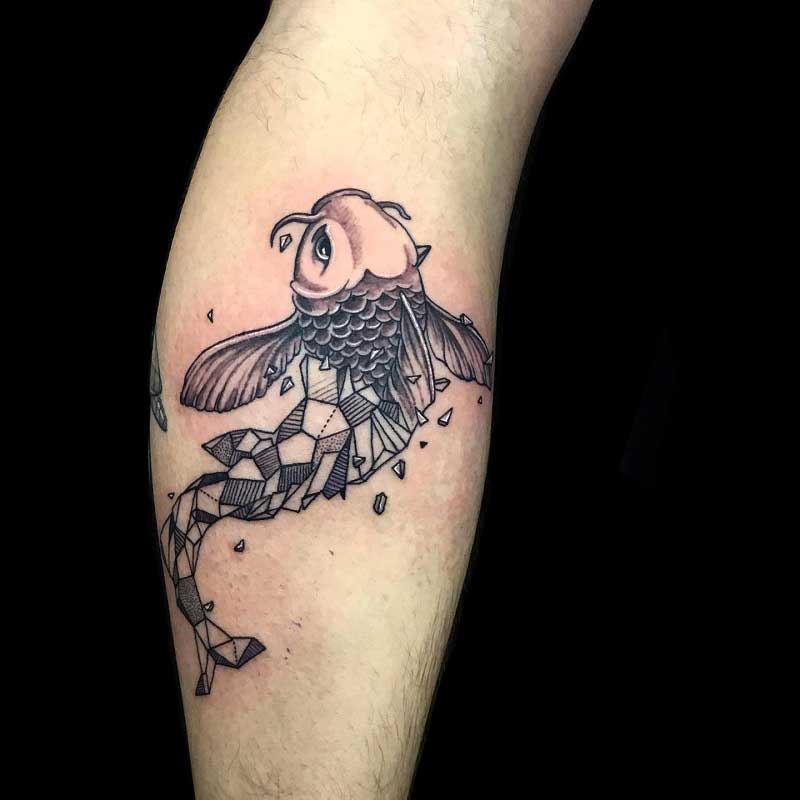 91.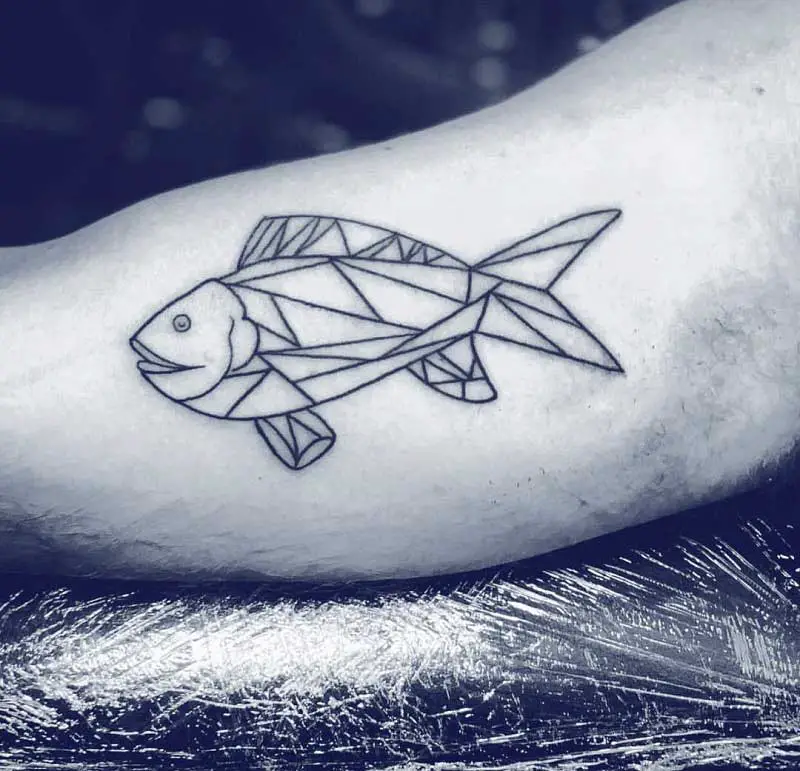 92.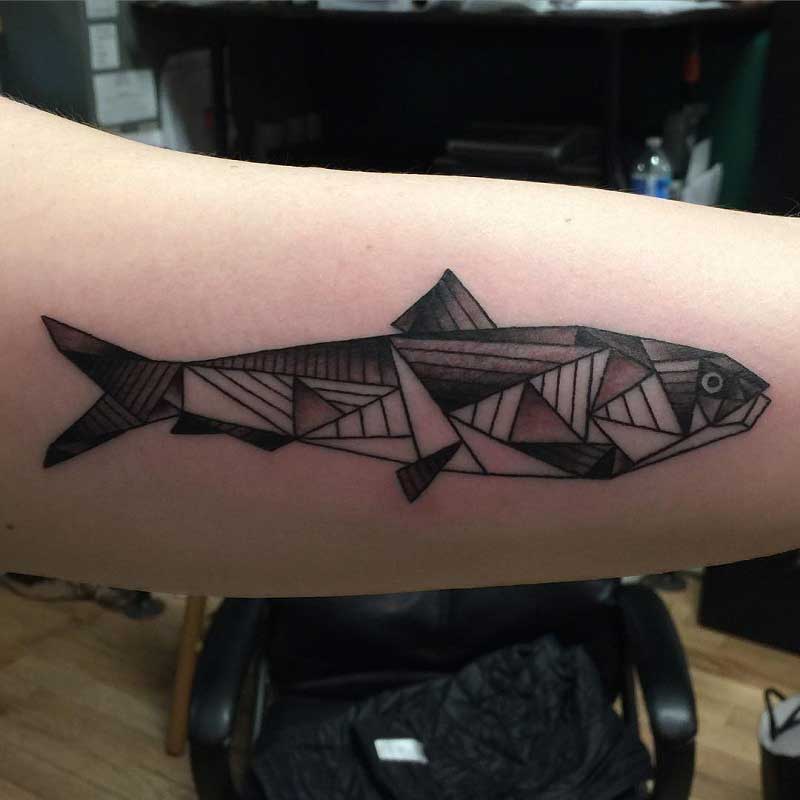 Minimalist Fish Tattoo
93.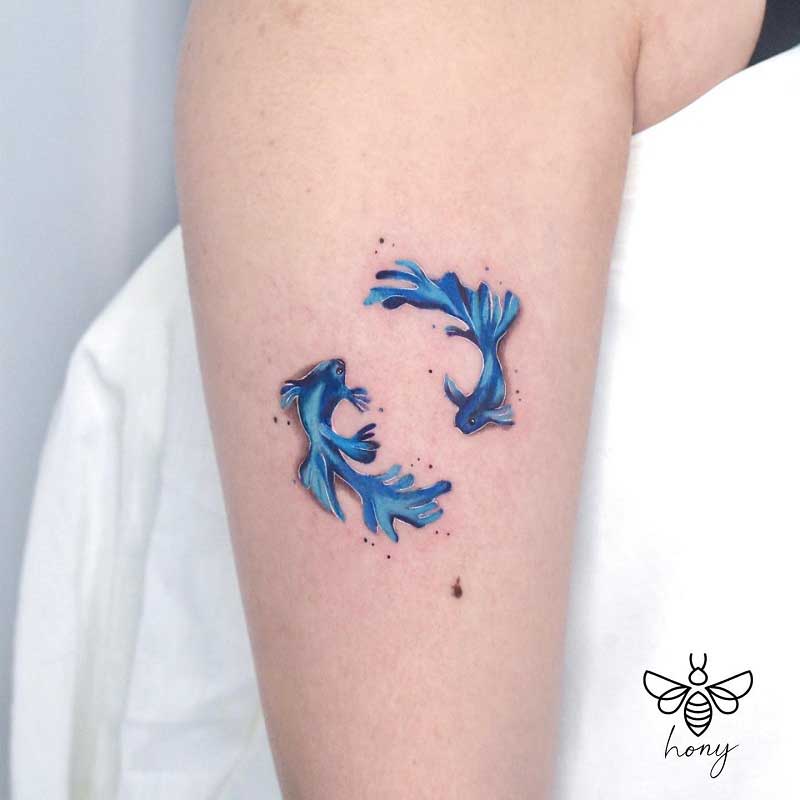 94.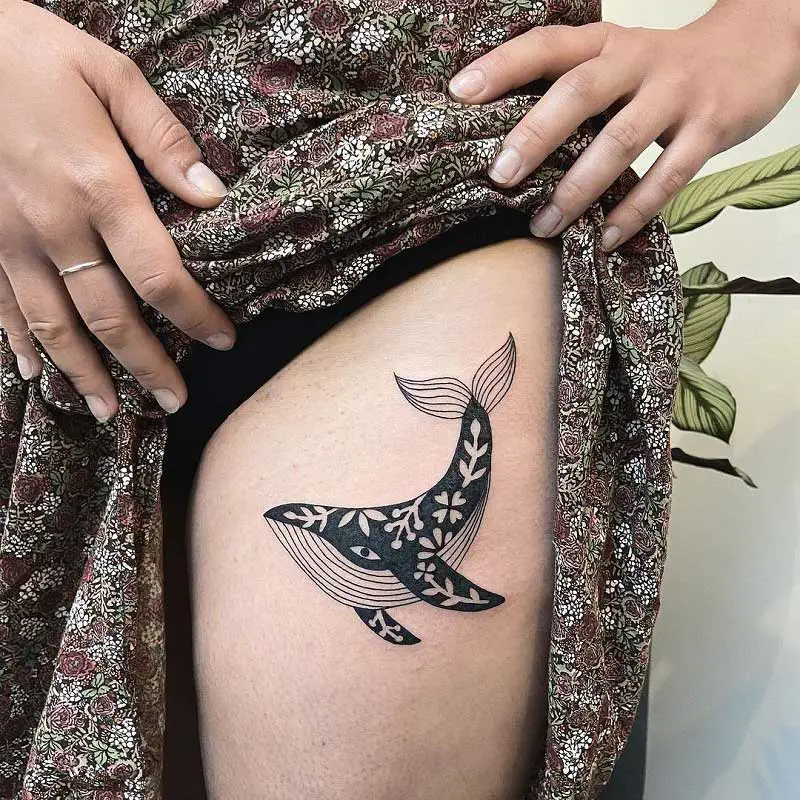 95.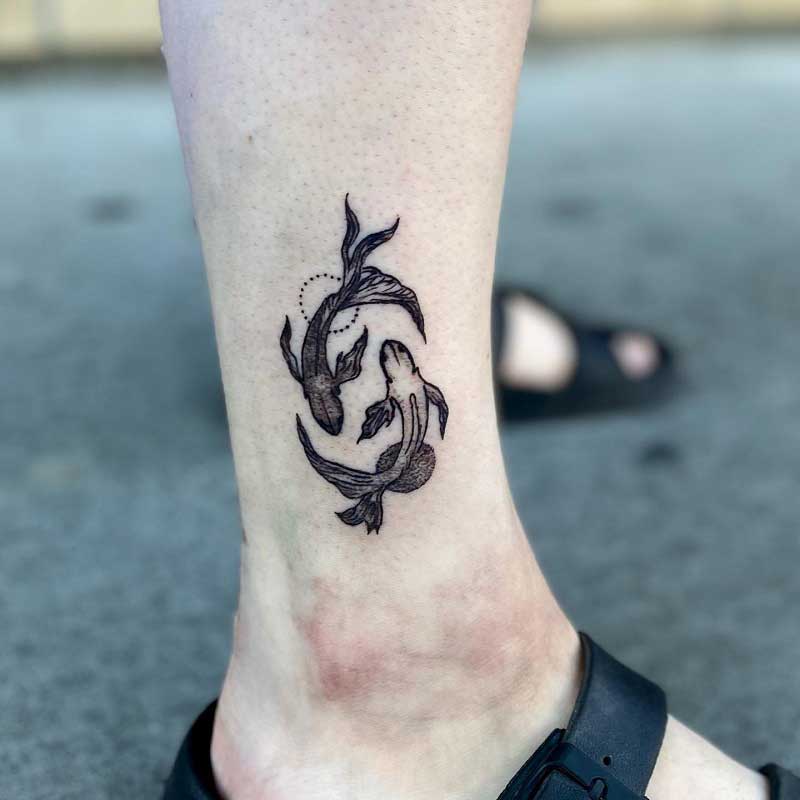 Pisst Fish Tattoo
96.
97.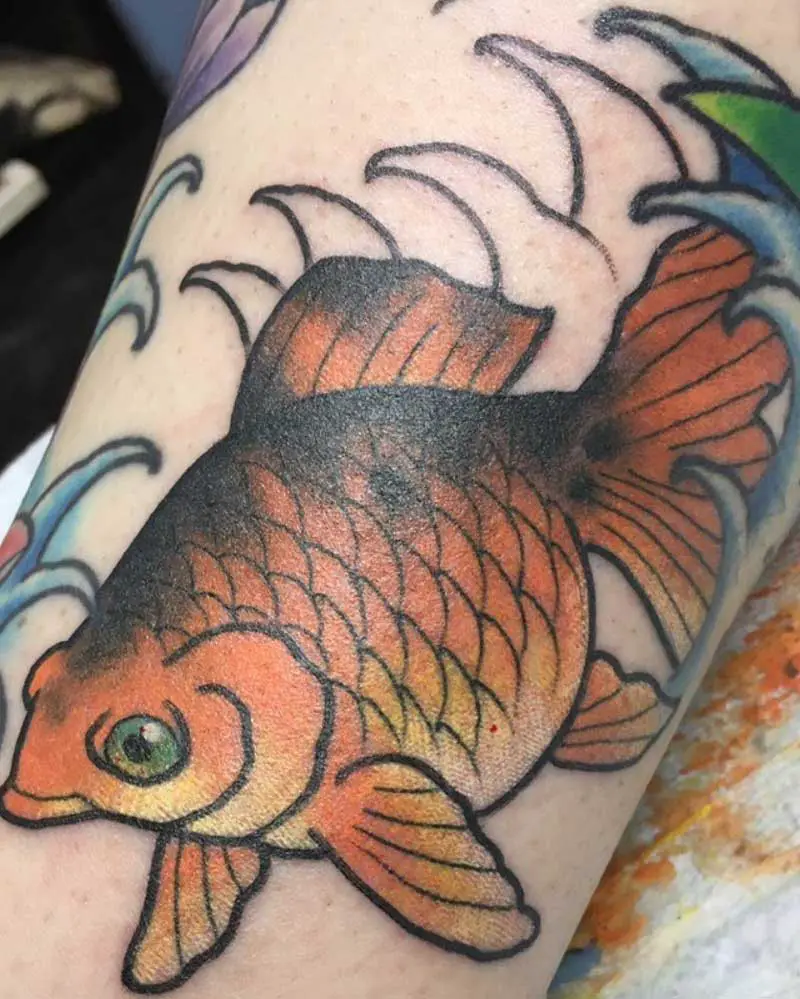 Tropical Fish Tattoo
98.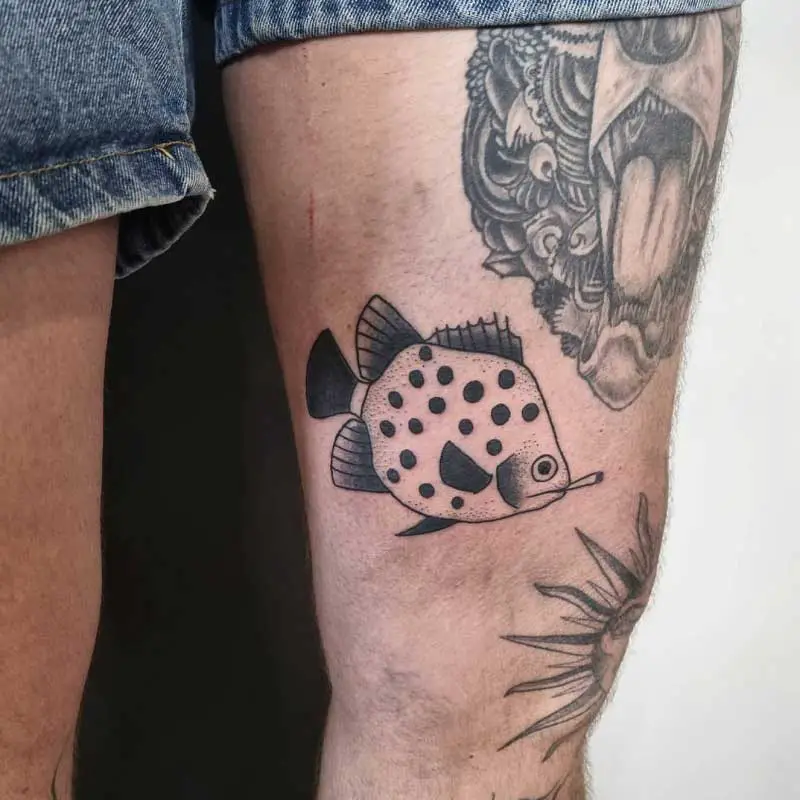 99.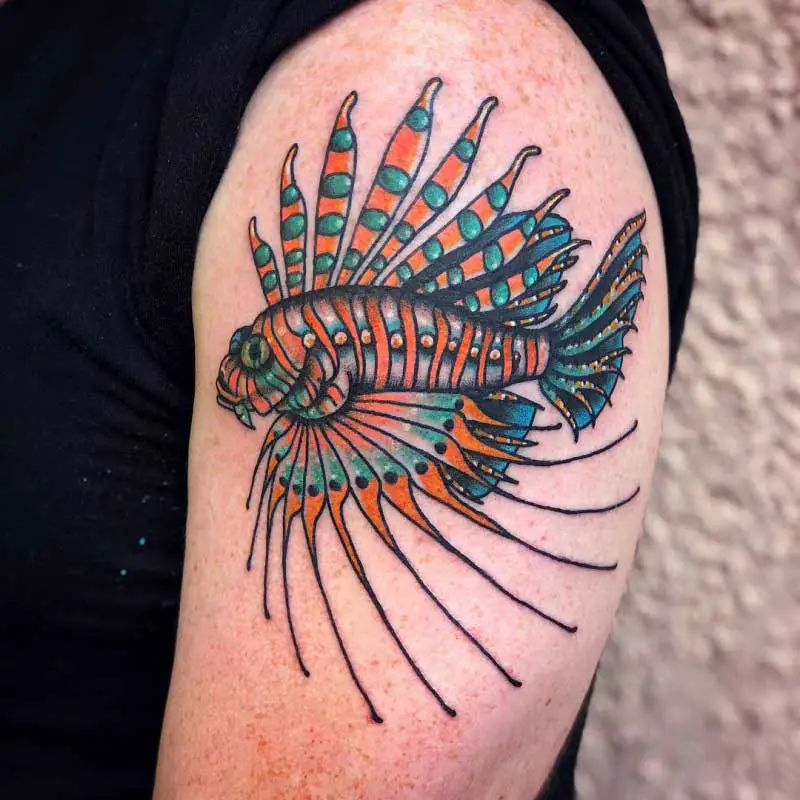 100.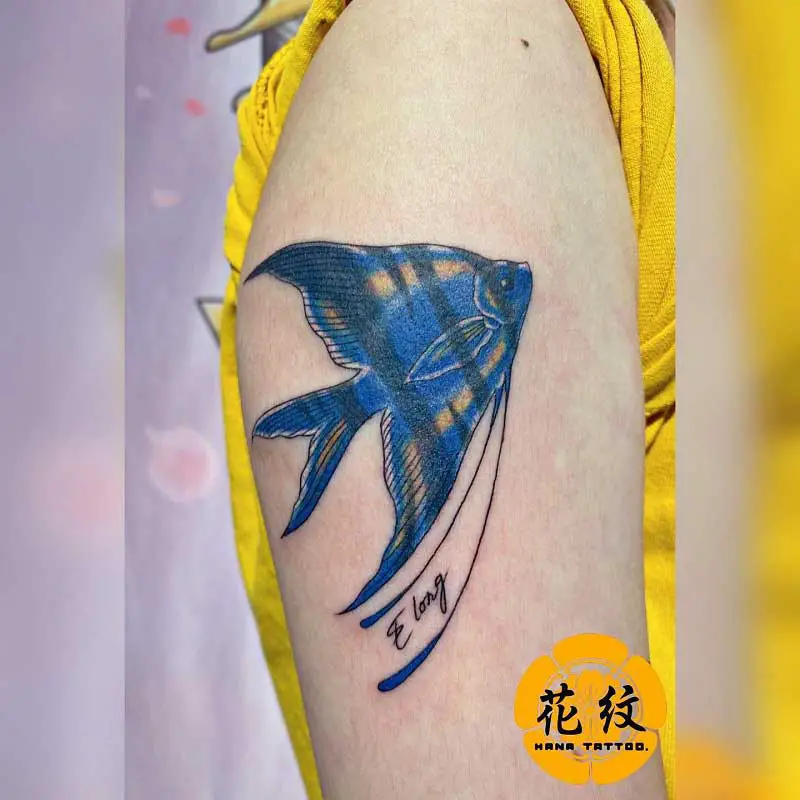 Two Fish Tattoo
101.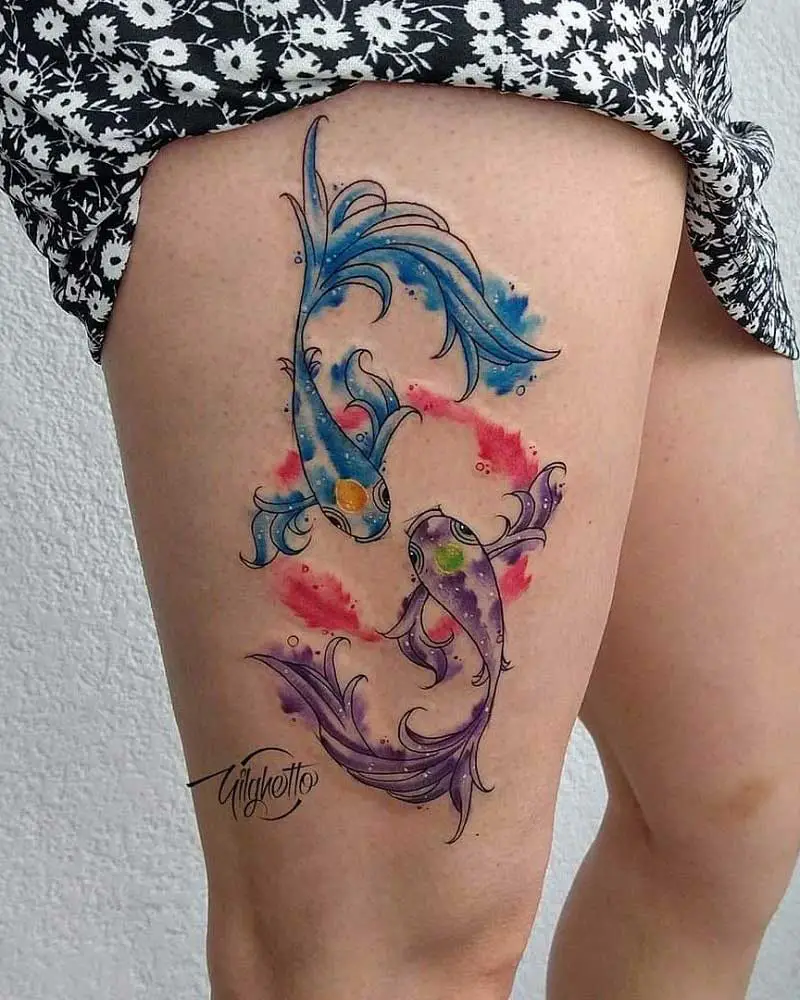 102.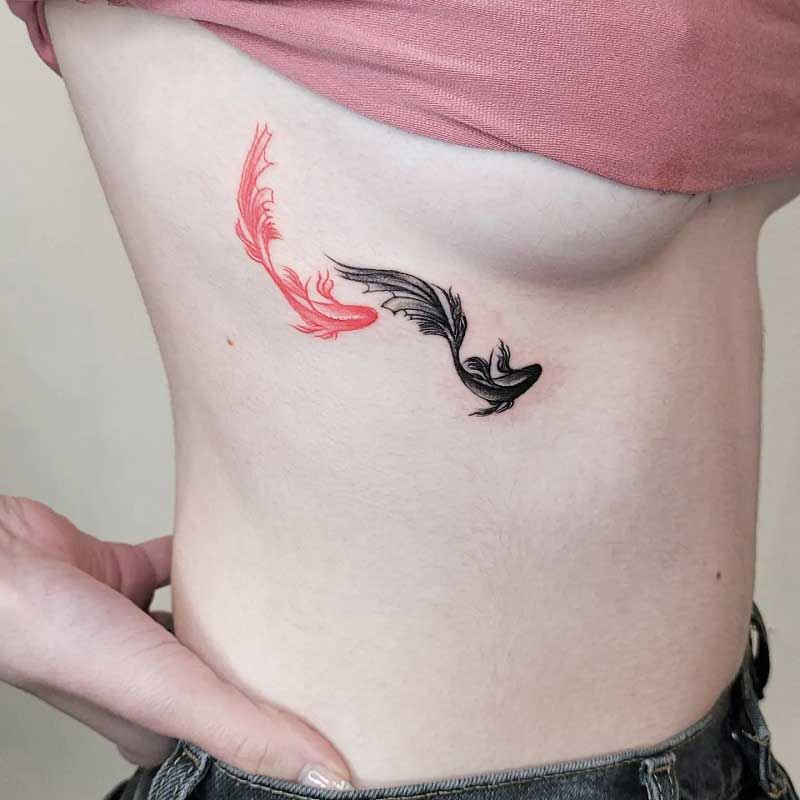 103.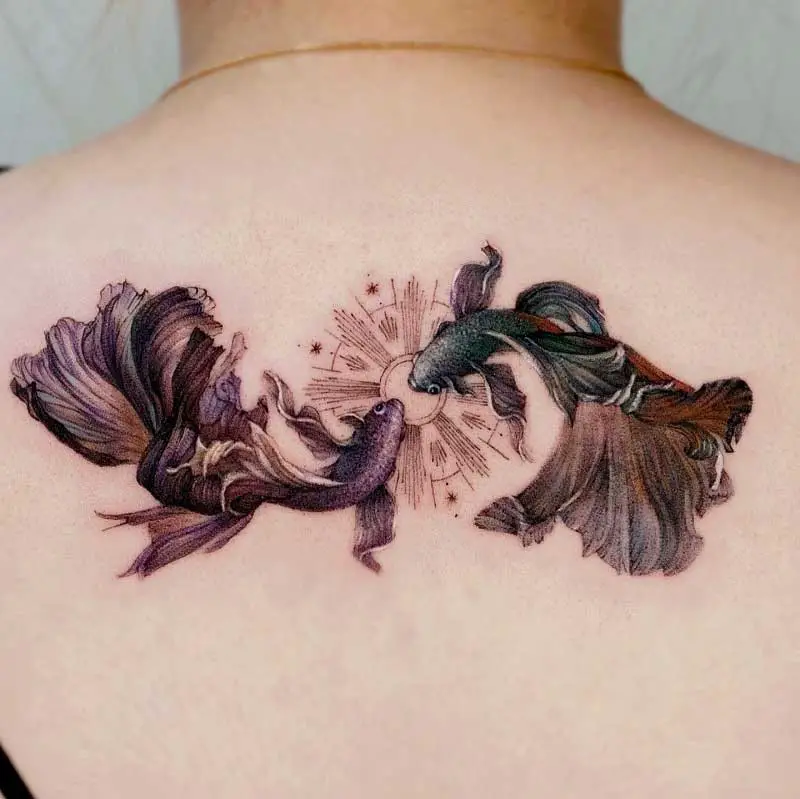 Conclusion
And that will be all! If you have managed to make it till here, congratulations! Now all you need to do is go through the article one more time and pick a design that you know will make you feel incredibly confident and also look really good on you.
Once you have done that part, consult your tattoo artist and make sure they will get you the design you are looking for. This is also important because you wouldn't want your tattoo to look ruined or distorted as it's going to be there permanently.
Best of luck!
Frequently Asked Questions
What does a fish tattoo symbolize?
Fish tattoo designs symbolize peace and prosperity.
What do the 2 fish tattoo mean?
Two koi fish swimming together represent the duality of life. They also symbolize the balance of opposing life forces.
What does the 2 fish symbol mean?
It represents the perfect rhythm and balance in life.
Which Fish Tattoo Design Should I Get?
From tropical fish to whales and sharks, there are many designs you can choose from. Go through our article thoroughly.
How much does a fish tattoo cost?
Depending on the size, location, color, and reputation of the tattoo artist, a standard fish tattoo can cost anywhere from $100-$300.