In the tattoo world, the meaning that a tattoo conveys is one of the most important things along with the outlook. Besides these, there are other criteria, one of which can be historical value. Quetzalcoatl tattoos pass with flying colors in all the criteria.
The  Quetzalcoatl was an Aztec God of rain, wind, art, creativity, and fertility. He is one of the most powerful deities in Aztec culture. As he looks like a massive and aggressive dragon, with all the positivity it carries along, it can be a smart tattoo choice for you.
75 Quetzalcoatl Tattoos Ideas and Designs
The Quetzalcoatl is a feathered serpent. Being so, many artists have captured him in various forms and looks. That's why there are so many variations of Quetzalcoatl tattoos. Considering this, we have gathered a handsome collection here. Please go through them and find you desired one.
Aztec Quetzalcoatl Tattoo
1. The Solid God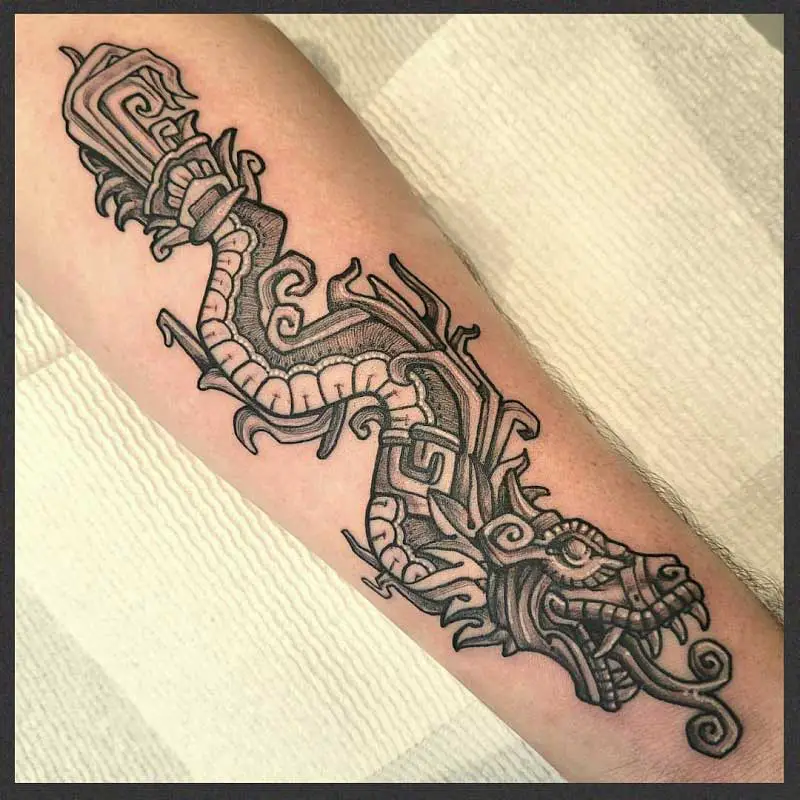 The Aztec god here is lying on it's belly and trying to scare you with all it's eyeteeth wide open. Such a symbol of knowledge, creativity and strength will give thrills to all your friends.
2. The Hungry Dragon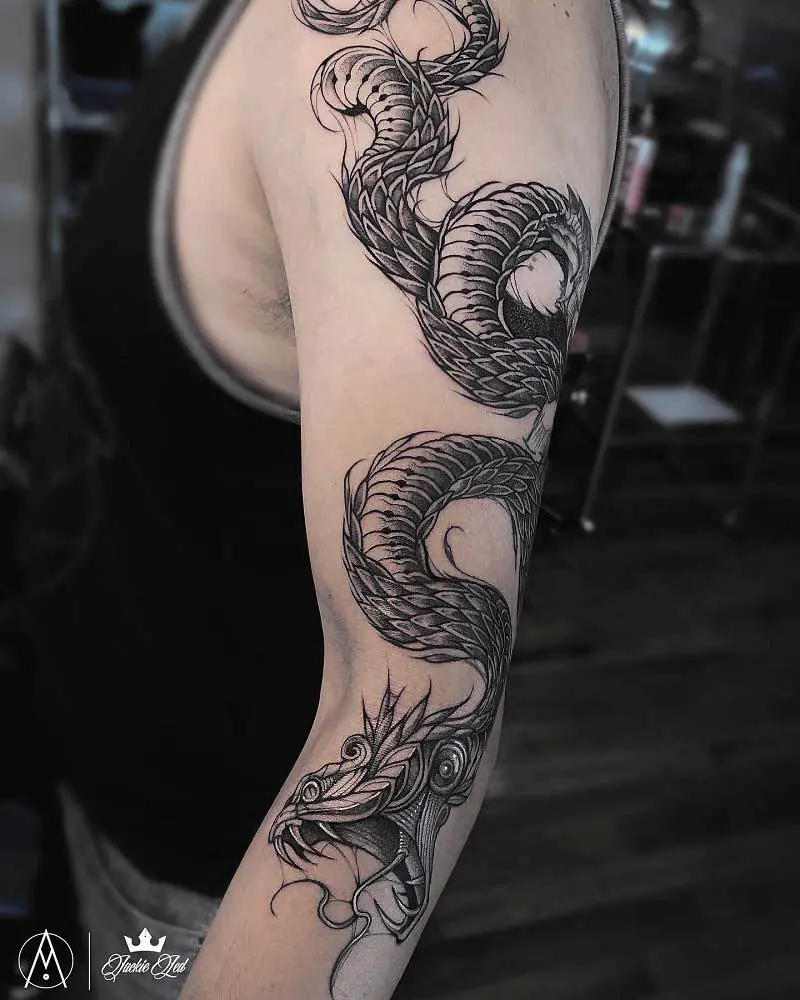 Source: jackie_ledA
3d tattoo of the angry Aztec god Quetzalcoatl like this will definitely highlight you in the crowd. The anger that those eyes are spreading shows the beast inside you, but in a positive way.
3. Napping Beast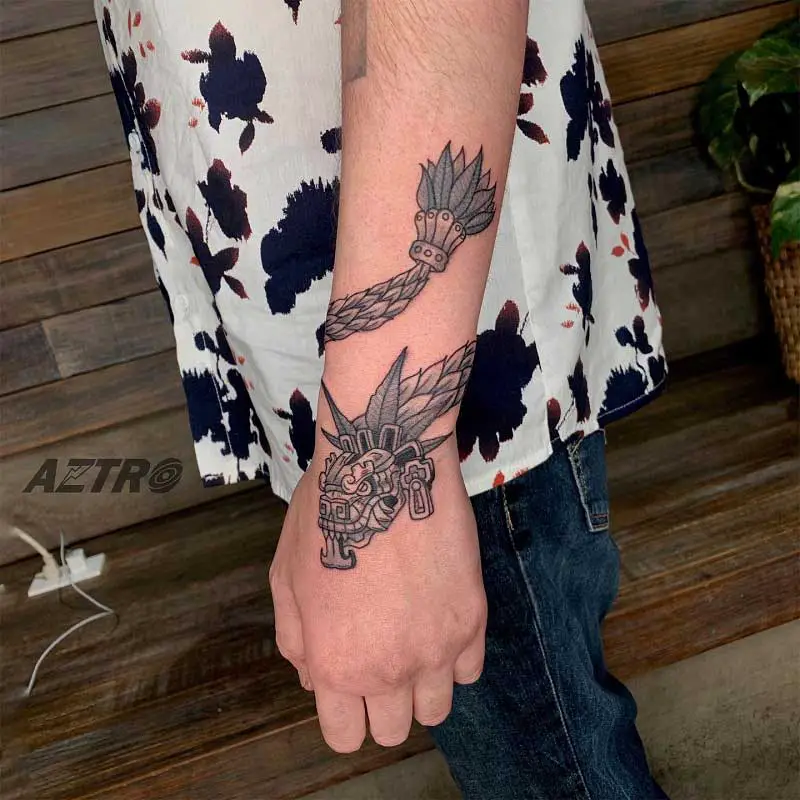 The Quetzalcoatl is such a powerful creature that symbolizes power. But in this tattoo, it feels like it is sleeping. It shows you have all the fire in you, but you can keep it in check.
Quetzalcoatl Aztec Jaguar Tattoo
4. Happy God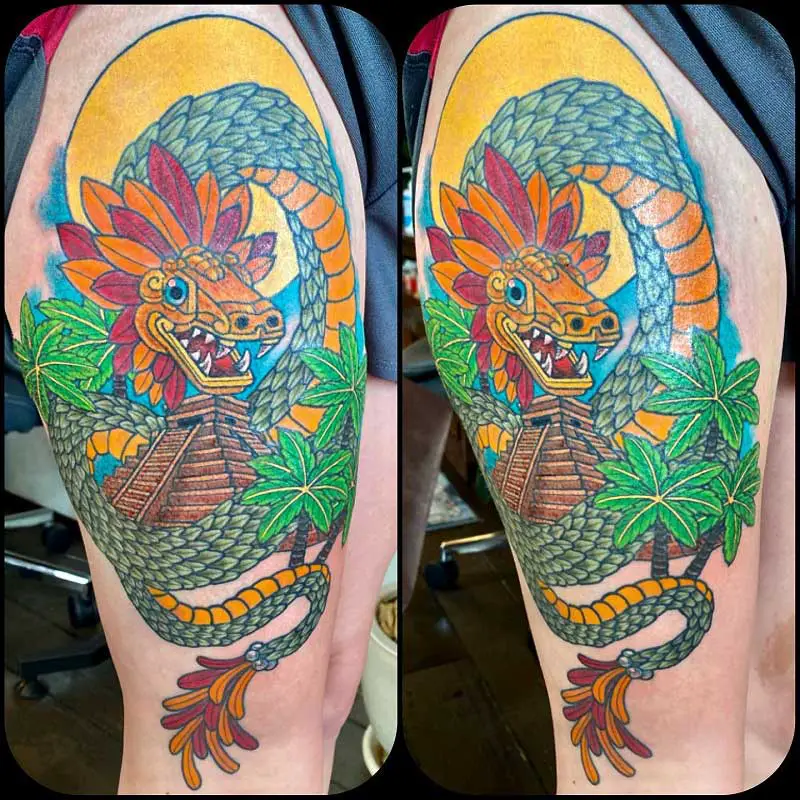 Source: ryanschippertattoo
Quetzalcoatl tattoos usually have a dark and gothic vibe in them. But this one is colorful, a lovely happy god being the protector you want him to be.
5. Cecity Crawler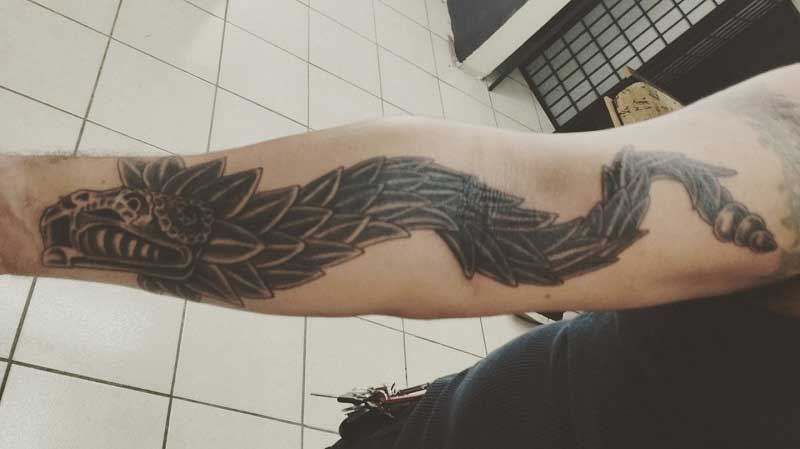 A Quetzalcoatl is a symbol of creativity, knowledge, and power. Being so, here, in this tattoo on a man's hand, its crawling stature says, you are strong enough to crawl through all the darkness that life brings in its slate. So, ink it and poster your strength.
6. God in Fire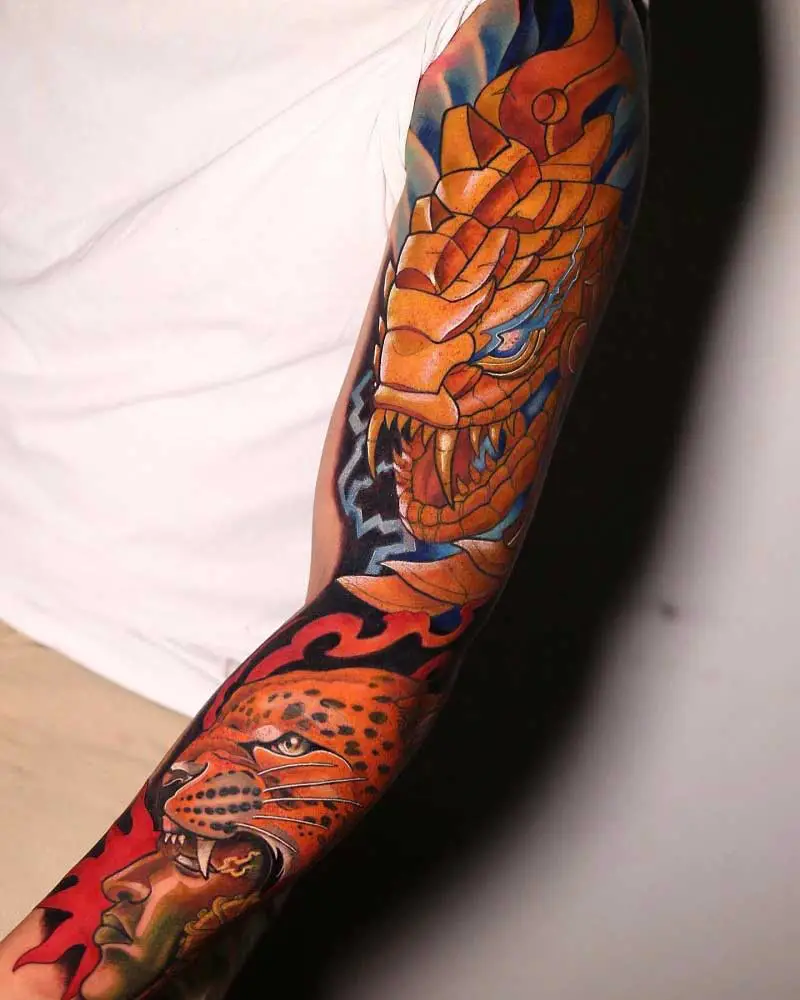 Source: yei.tattoo
This version of the Quetzalcoatl tattoo is literally a bomb! With its crimson color and 3d imaging, it gives you a fire-arm. The mythical being is real in this tattoo on a man's sleeve.
Simple Quetzalcoatl Tattoo
7. God of Lines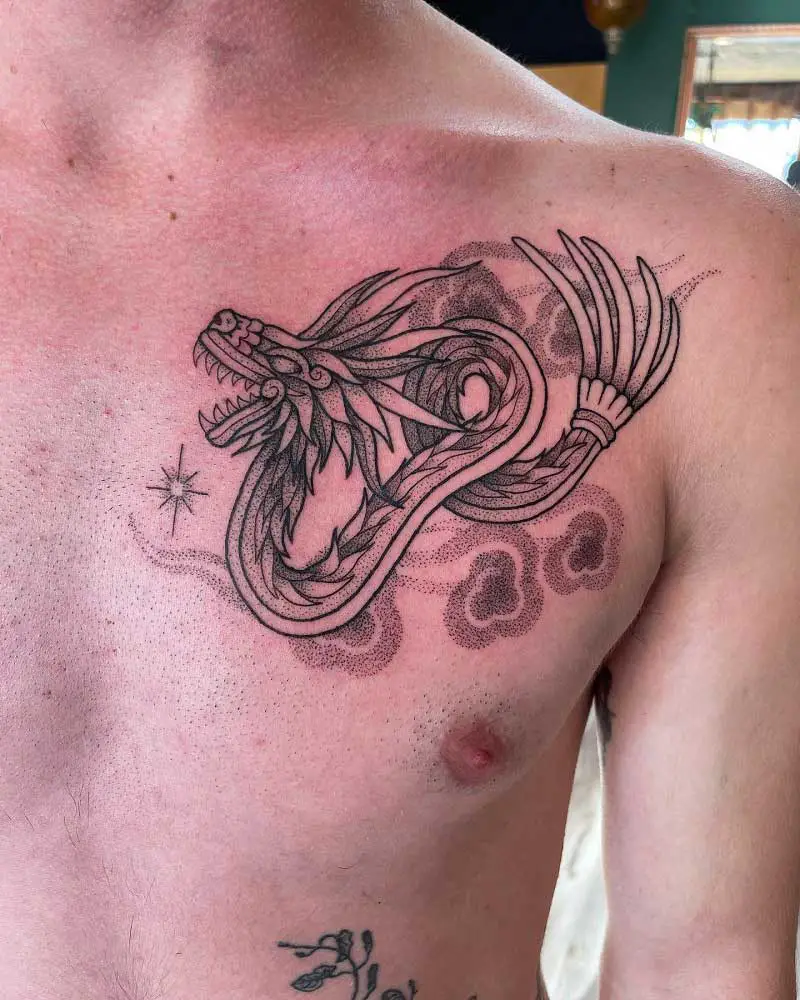 Source: gretchengambilltattoo
This Quetzalcoatl tattoo sits on your chest. With very minimal dark shades it looks almost like a line tattoo. That means, it is very subtle and won't grab any extra attention for you but will definitely serve its purpose, of motivating you.
8. Face of God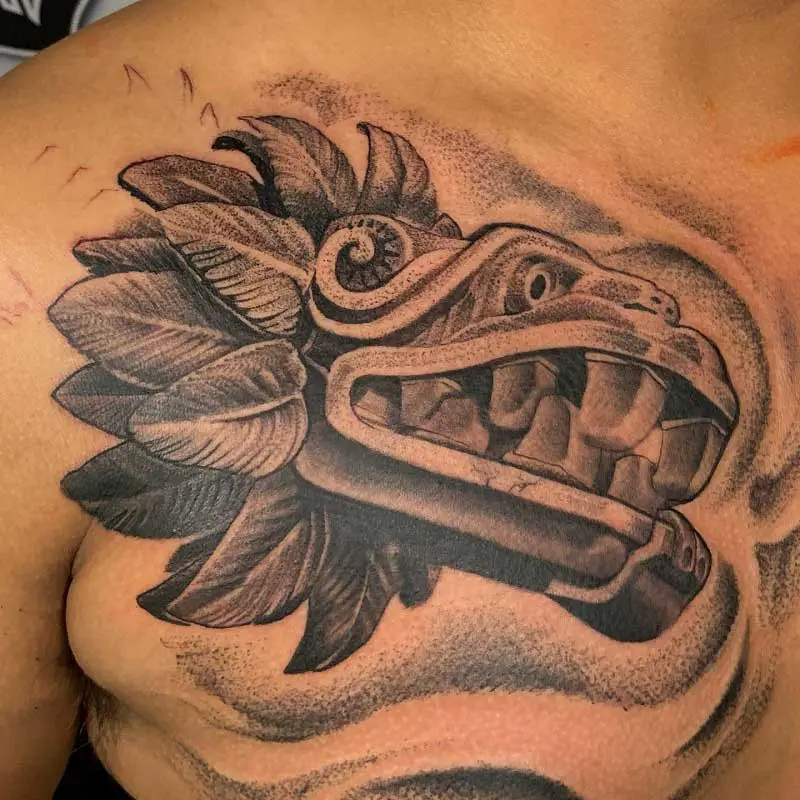 Source: champertattoo
This tattoo is of just the head of the Quetzalcoatl. Well, as a legend, the face is just enough to present the whole presence and represent all its symbols. With sculpture-like graphics and 3d imaging, it is worth trying.
9. Dragon or Reptile?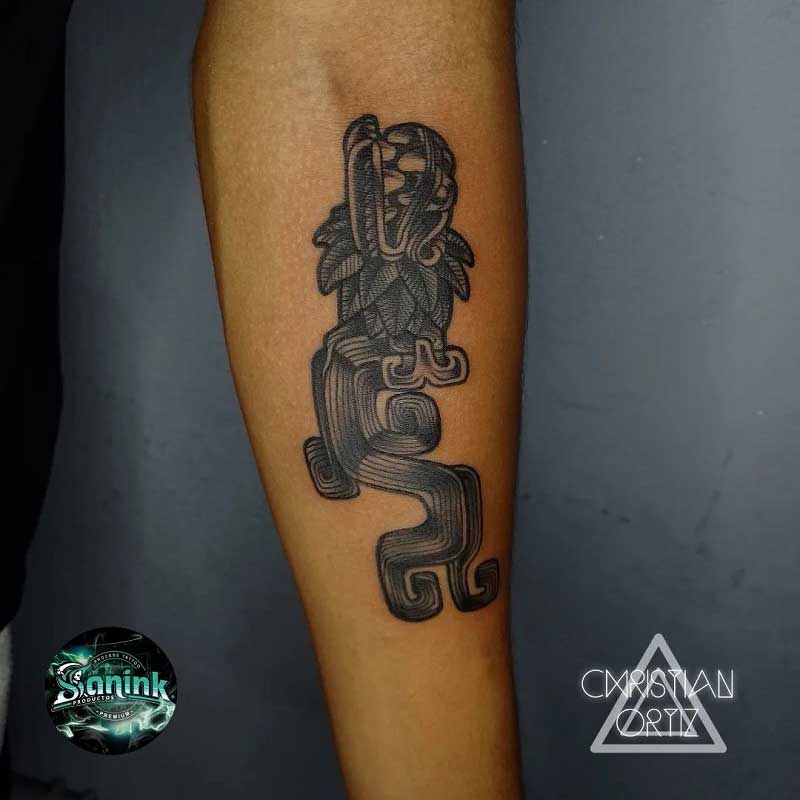 I know Quetzalcoatl is a feathered, powerful, serpent-like creature.  But can you confirm it from the tattoo below? I guess, no. Well, that's the specialty of this Quetzalcoatl tattoo.
Quetzalcoatl Aztec Dragon Tattoo
10. Angry Dragon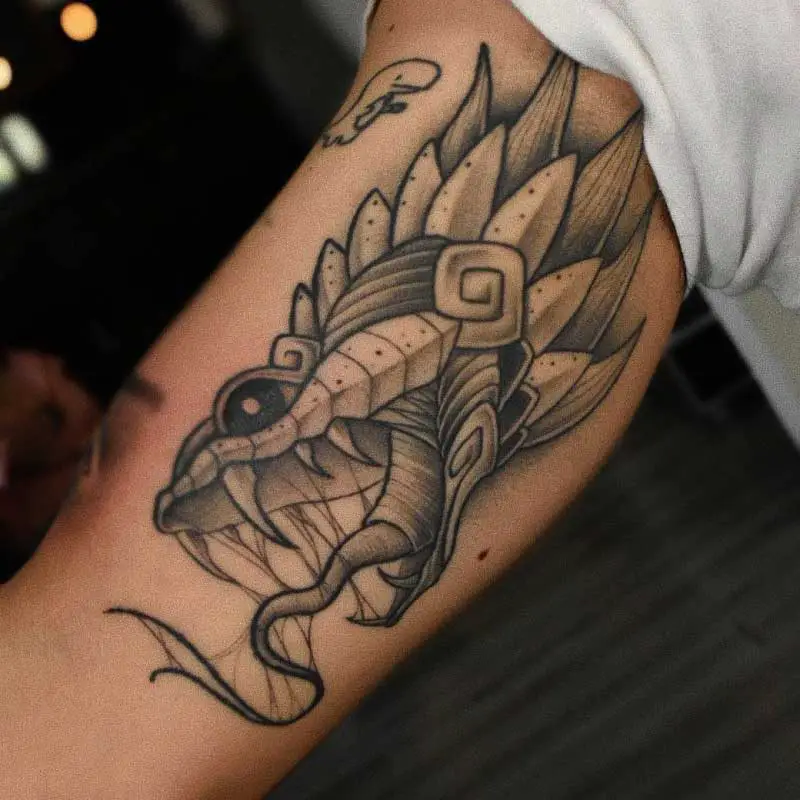 Source: jorge_larrazabal
Again, this is a face of Quetzalcoatl that sits on the forearm area. The feathers around the neck are like scales and as it is really angry, they are aroused as the predators usually have. Also, the subtle detailing makes this tattoo a beast!
11. Hunter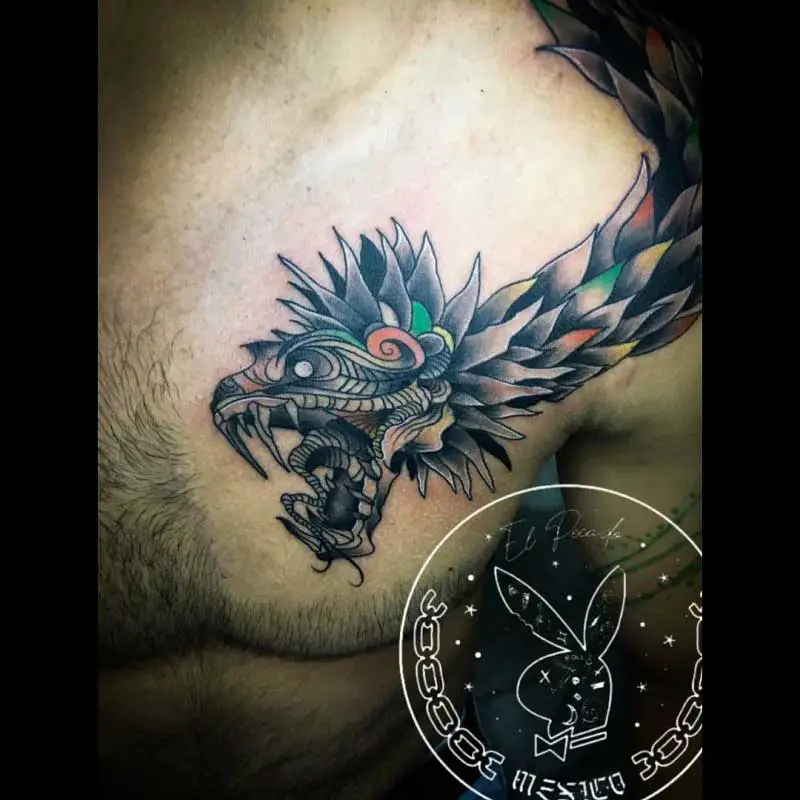 Source: el_pecado_tatto
In this tattoo, the dragon is about to have its prey. It has its body rounding around the man's neck area and the open mouth is on the chest. Besides black shades, it has a green, yellow, and red touch to it. With all these, it is as beautiful as it can be.
12. God in Reality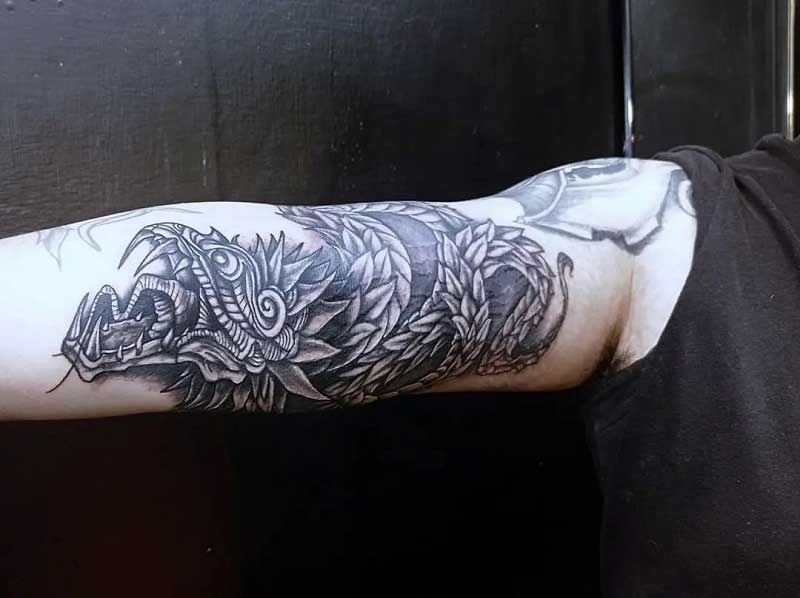 Source: modifikarte
Yes, the 3d look is so perfect that it looks like the Quetzalcoatl is curling your entire arm and ready to jump off. This tattoo is so classic and real.
Aztec God Quetzalcoatl Tattoo
13. God and Soldier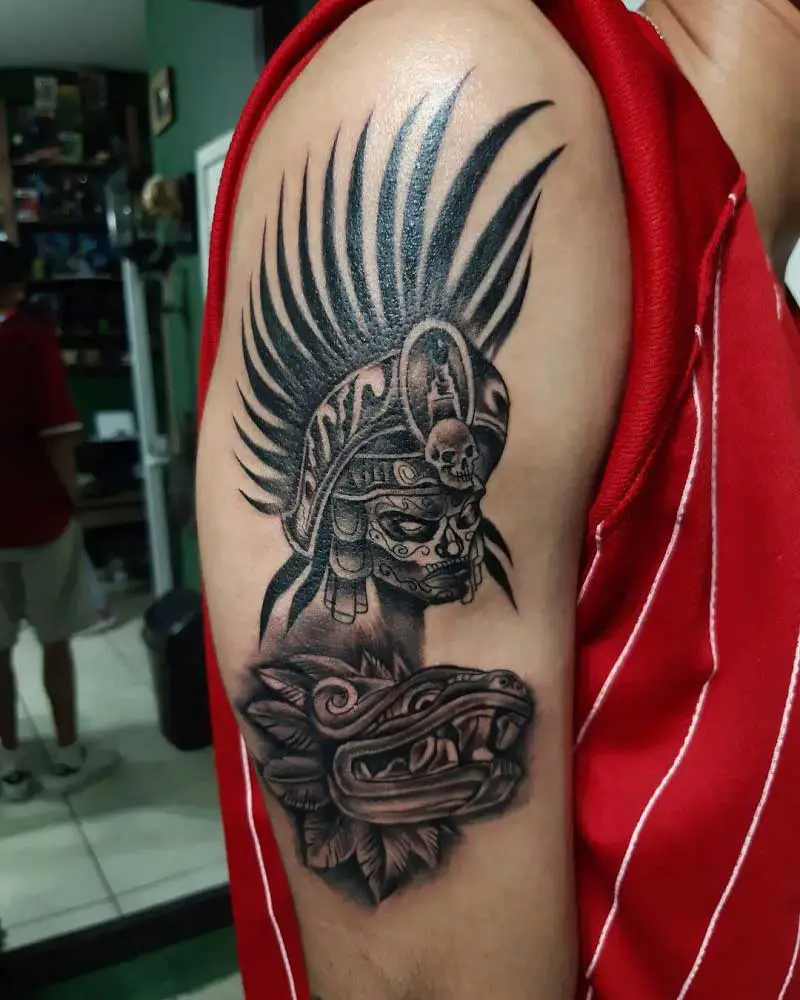 Quetzalcoatl is an Aztec god of creativity and power. His beastly appearance with a dead serious ferocious fighter is the combination you will get from this tattoo. Isn't it so fascinating!
14. God of Stone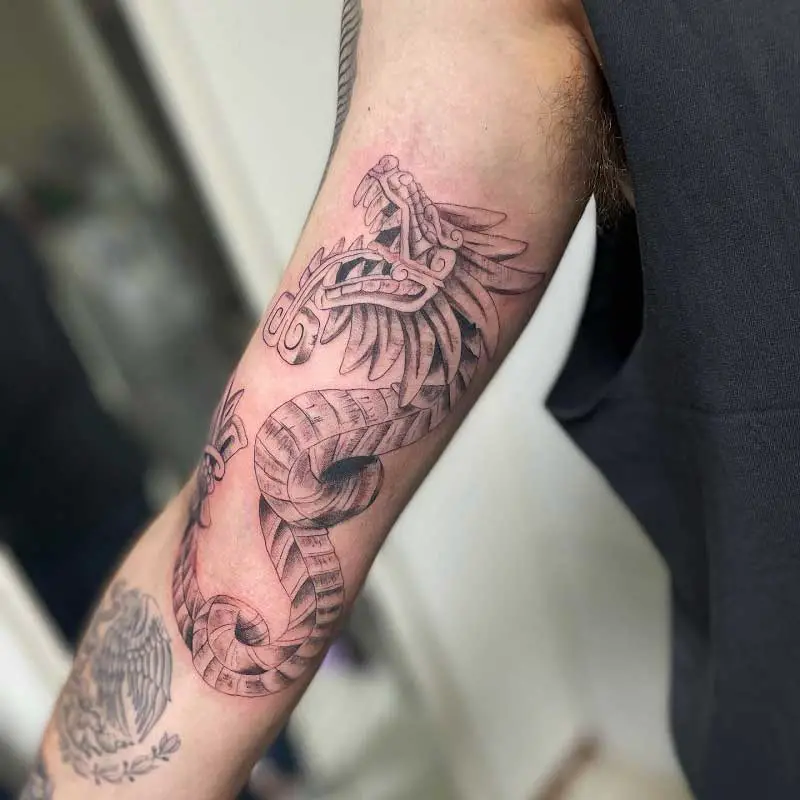 Source: ren.tattooing
The Quetzalcoatl seems to be stone curved in this tattoo. Also, as it is in 3d, it looks like a real sculpture. You can ink it vertically on your half sleeve.
15. Dragon of colours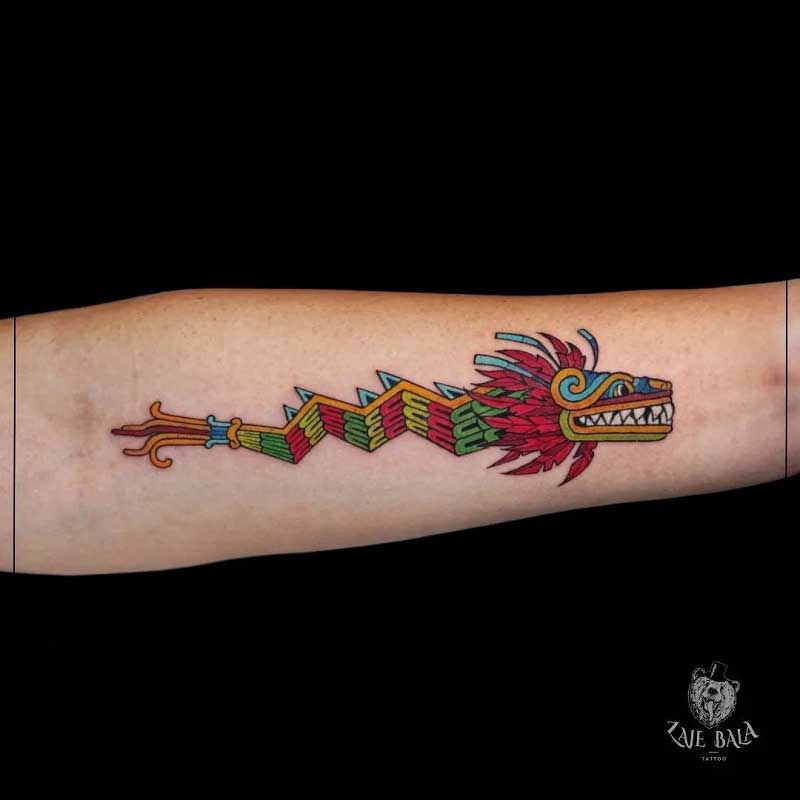 Source: zajebalatattoo
This tattoo is so colourful. It has a cartoonish appearance. So, if you want the weight of the idea to keep aside the vibrant looks, this one is definitely for you. Go and wear it.
Tribal Quetzalcoatl Tattoo
16. Arm of Dragon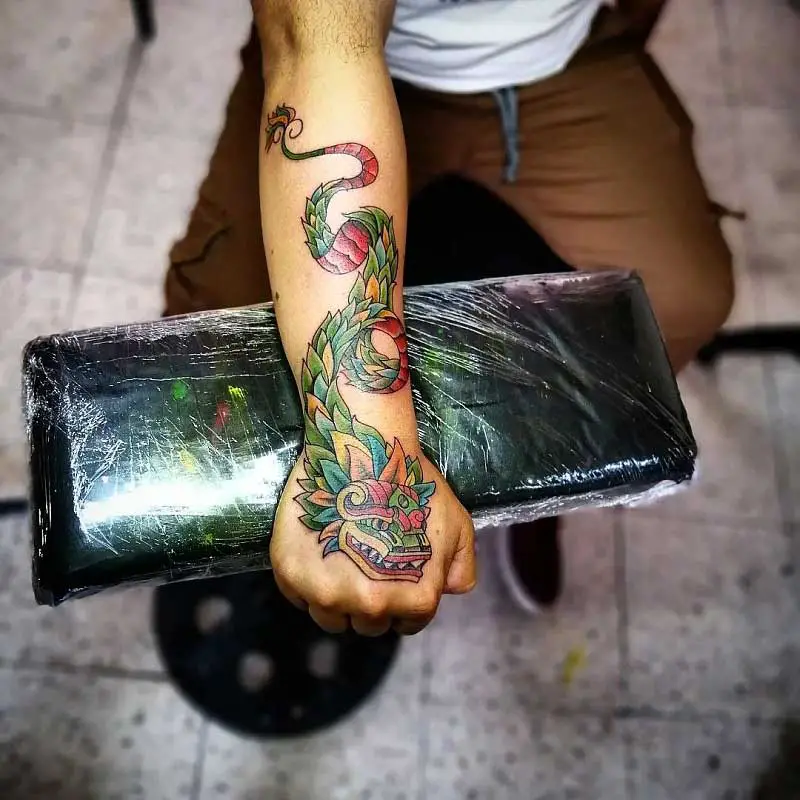 Source: freakstattoo_studio
So this is a colored Quetzalcoatl tattoo that will cover your entire lower arm, hence the name arm of a dragon. God of creativity is appearing here with some serious creativeness.
17. Stoned Feathered Serpent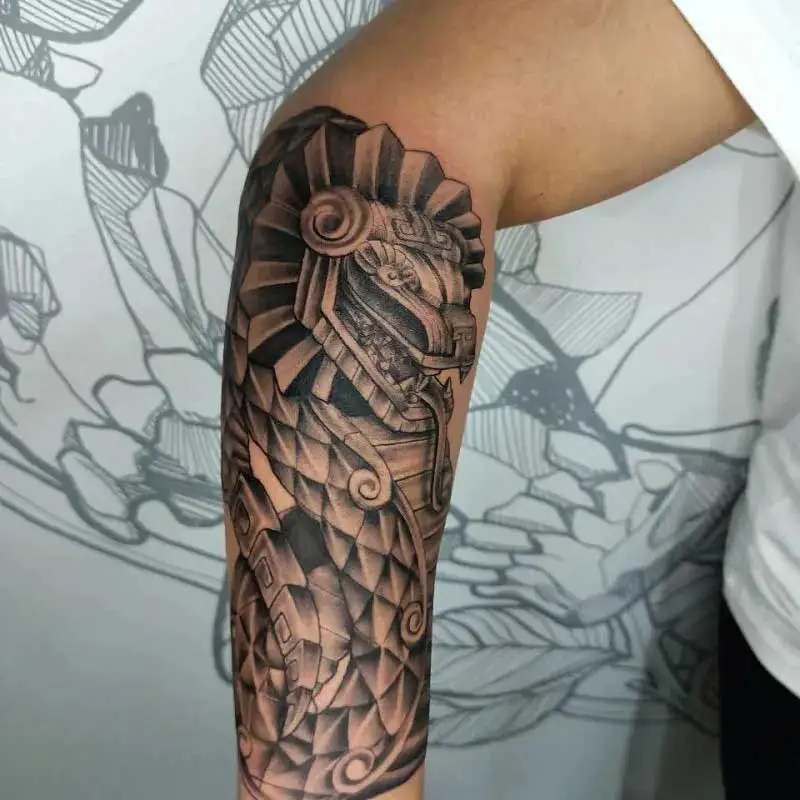 The god serpent in this tattoo is looking like the egyptian sphinx which is sitting on a girl's forearm. Like the sphinx guarding the Pyramids, Quetzalcoatl will look after all your creativities.
18. Statue of Danger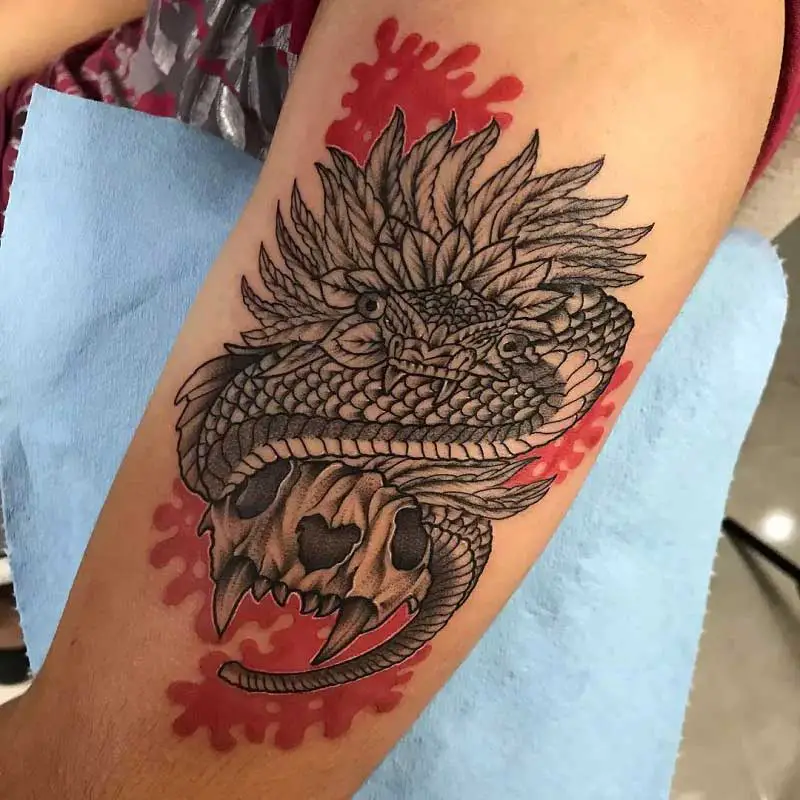 Source: alejandro0_kantun
A smiling skull, a wave of blood, and an angry beast. Check out this combination. I bet this will make you think of a big red flag. Well, this is what makes this a unique and attractive tattoo.
Quetzalcoatl Feathered Serpent Tattoo
19. God on Guard: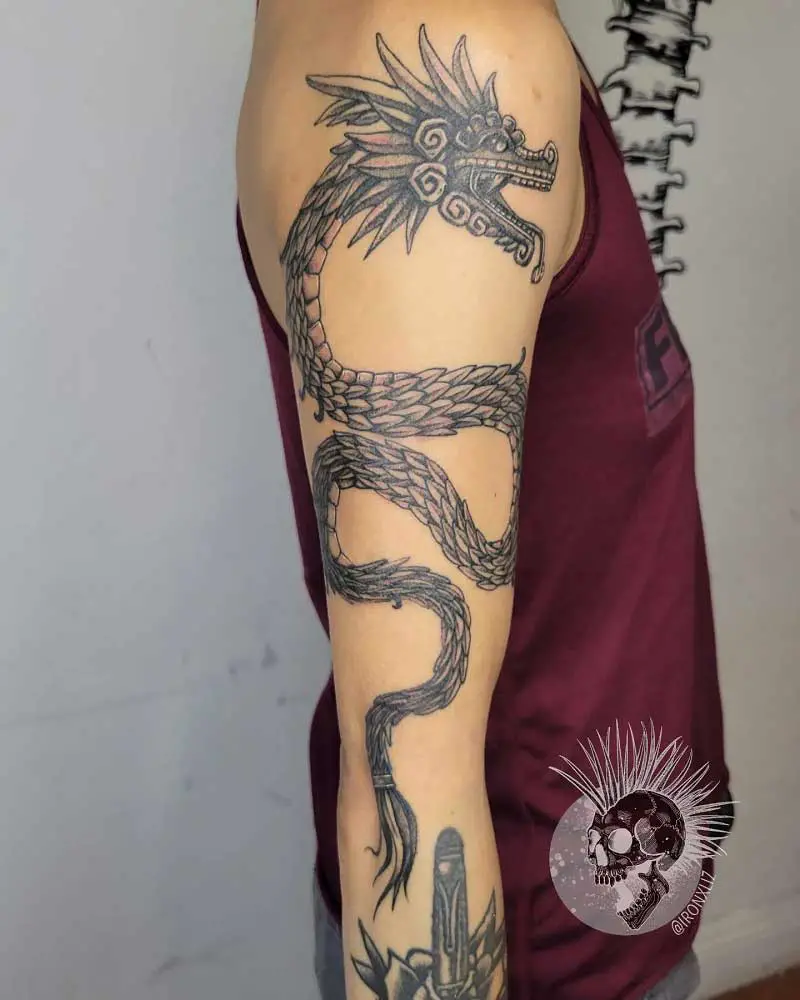 A dragon god, fully alert and watching over you from your arm. Isn't it a thrilling idea? If you agree with me, this Quetzalcoatl tattoo will definitely be of your choice.
20. Aztec Guardian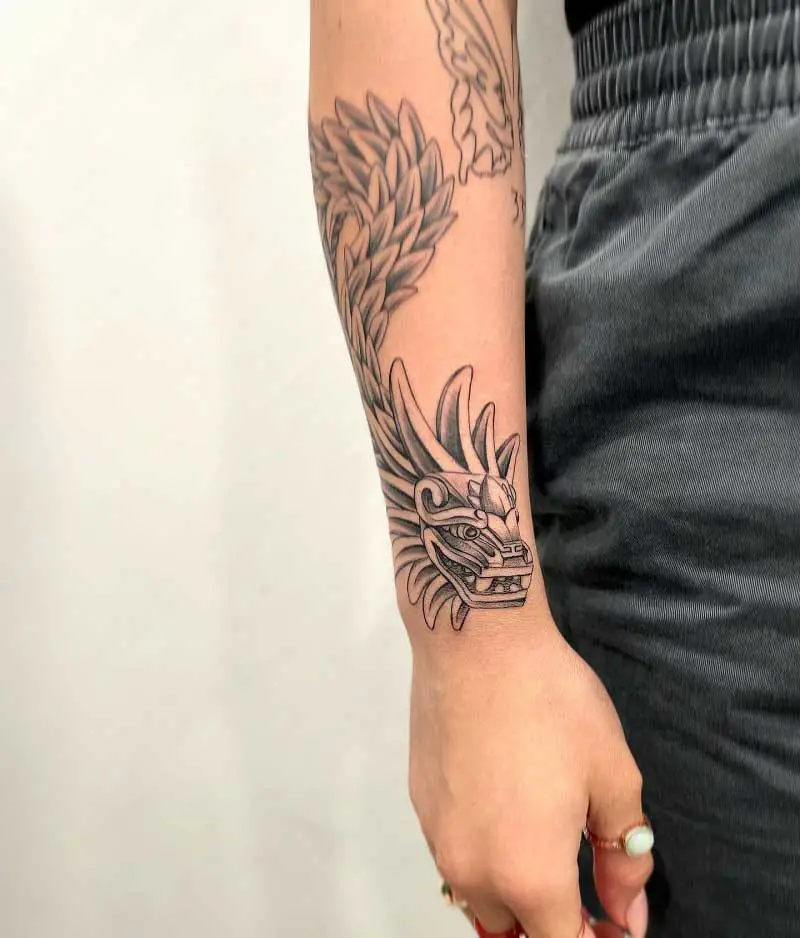 Source: loi.tattoosj
According to the Aztec belief, this feathered serpent was the god of rain, wind, and the creator of humanity. Being the creator, it also is the protector. So, not only in appearance, but this tattoo is quite heavy in terms of meaning also. So, proudly keep it on your lower arm.
21. Peacock or serpent?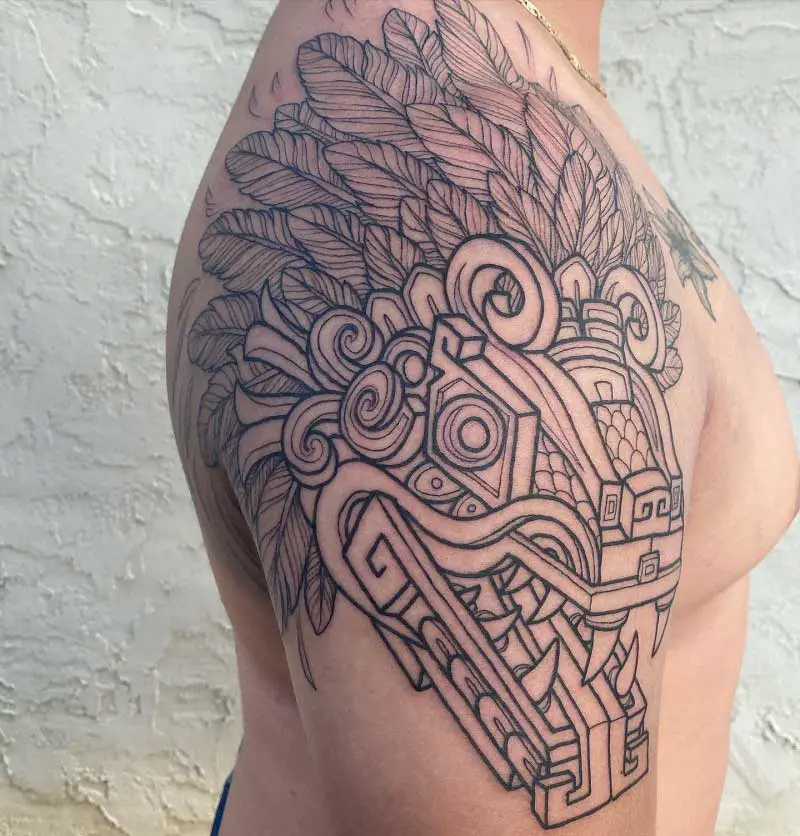 Source: onlykegan
Have you ever seen a peacock doing mating calls? Well, you have guessed it right! The serpent god looks alike in this tattoo. The god is shaped with lines and geomagnetic shapes. Without any bold shades and colors, this is just good to carry.
Forearm Quetzalcoatl Tattoo
22. Baby God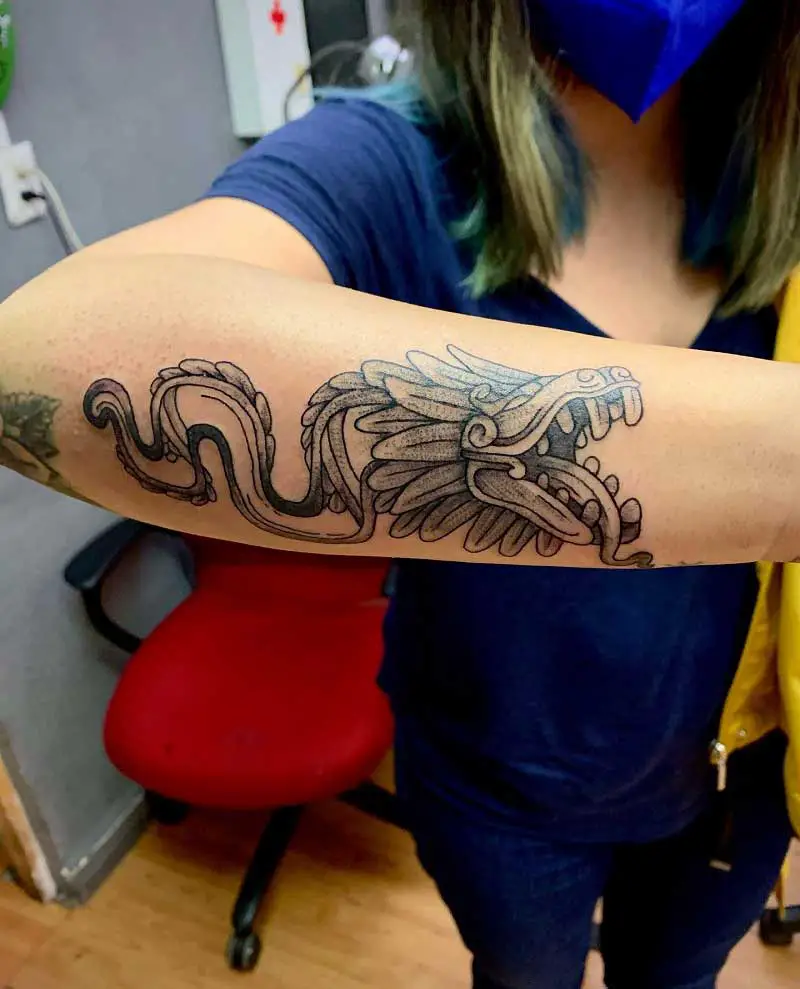 Source: carlos_chimpance
Well well, what you see here is a baby version of the Quetzalcoatl. Have you ever noticed a toddler giggling? Do you find any similarity between that and this happy dragon god? Look closely and you will and will eventually decide to ink it.
23. Raya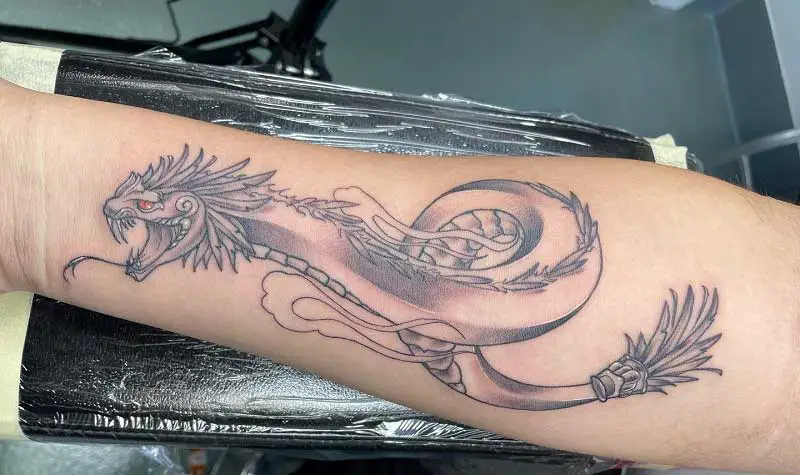 Source: ricardo_torres_tattoos
Can you recall the movie "Raya, the Last Dragon"? Cover the face and you will see Raya here and the face brings all of the feathered serpents. So, this tattoo will be a dual entity for you.
24. Snake of Flower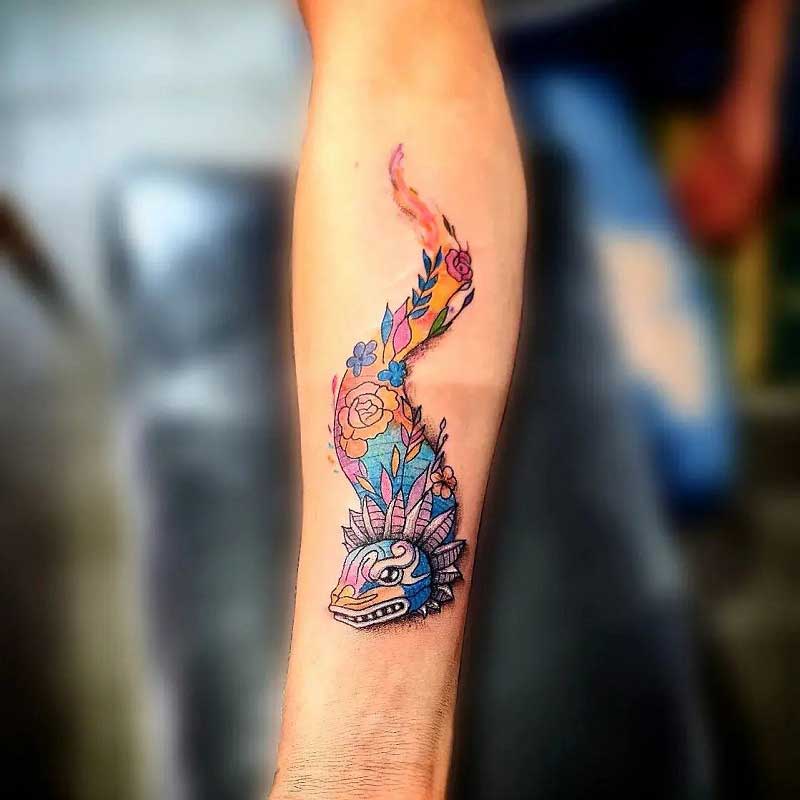 Source: mr.tattoomx
The Aztec god is supposed to be of feathers, right? Just replace those feathers with some attractive and really colorful flowers. Ta daa! You have got yourself a new tattoo variant of the feathered Aztec god.
Quetzalcoatl Tattoo Brazalete
25. Dragon Bracelet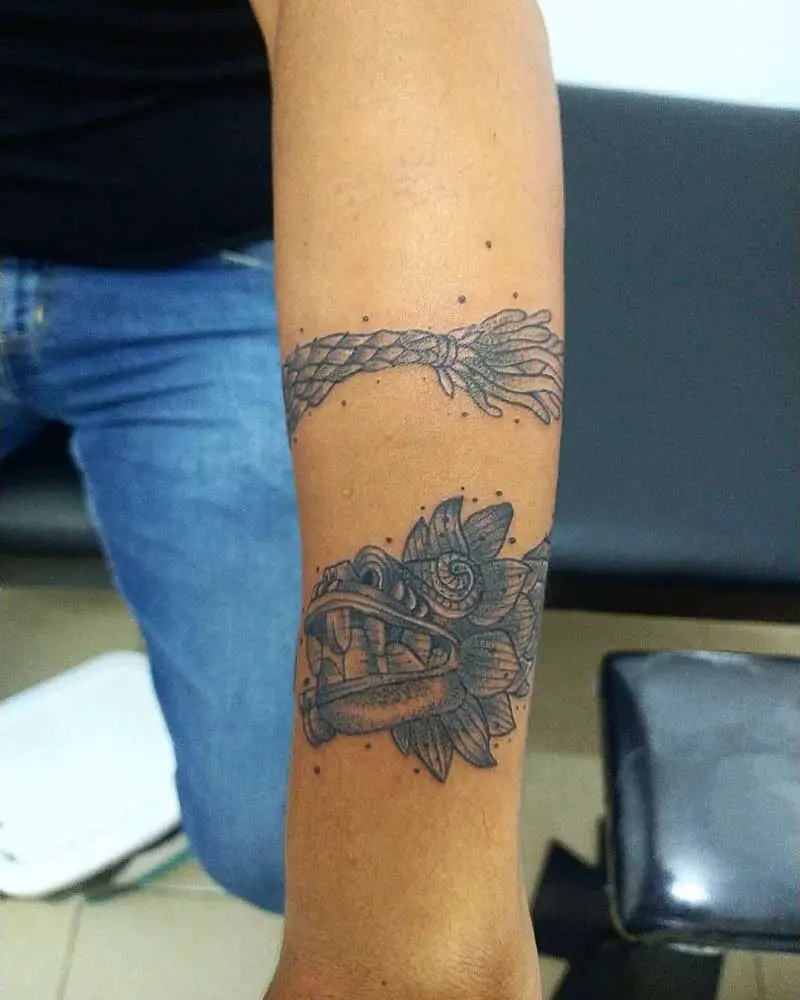 Source: may.shu_n
In this one, the god dragon is embracing your wrist like a bracelet. Now, this is the god of wind and the creator of humanity. Can you feel that power? Keep wearing it and feel those power surging all over you.
26. Watcher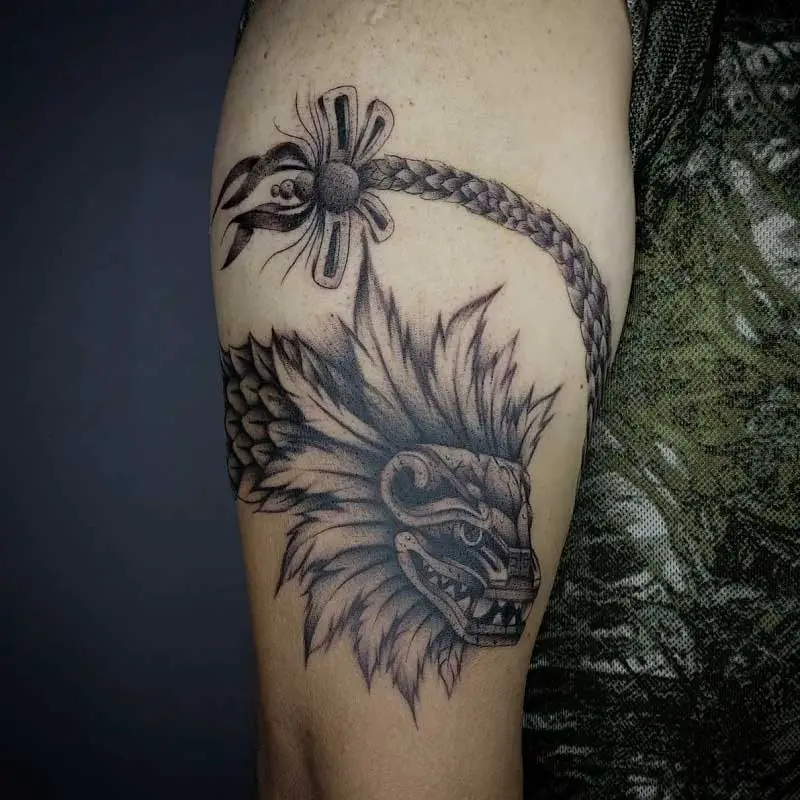 Source: _danielramireztattoo_
How will you feel if a careful guardian stays with you forever embracing your upper arm? I guess you have no reason to deny this service. Just like that, this 3d tattoo of the feathered serpent will look after your moral line.
27. Stone Dragon Bracelet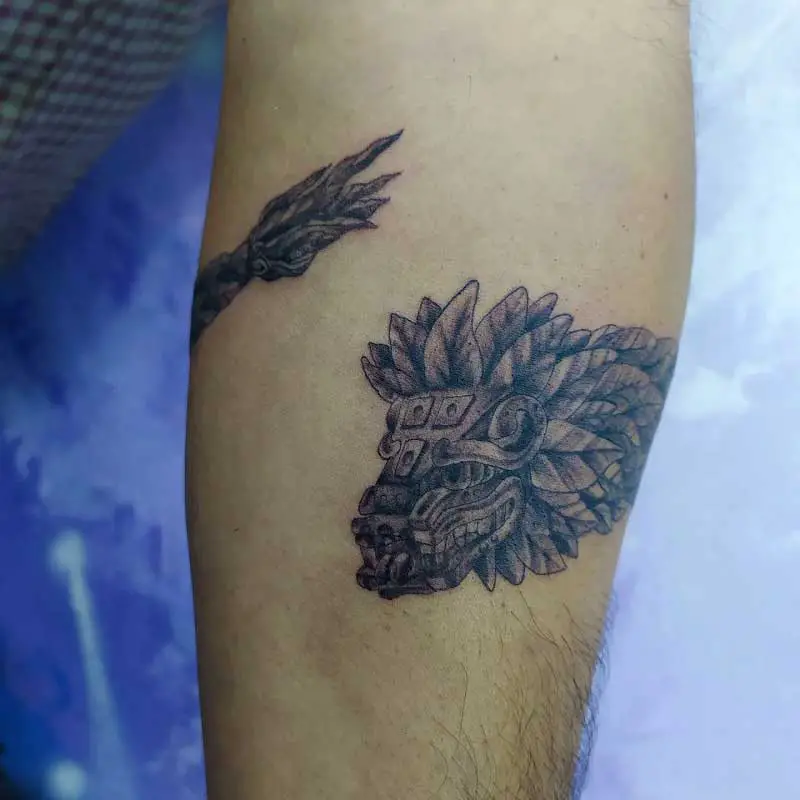 Source: eterninsa
The dragon seems like it has been curved out from stone. Also, it has pretty clear detailing in 3d to grab all the attention. Such a tattoo will definitely prove to be unique and like worthy.
Quetzalcoatl Head Tattoo
28. Scalp of Dragon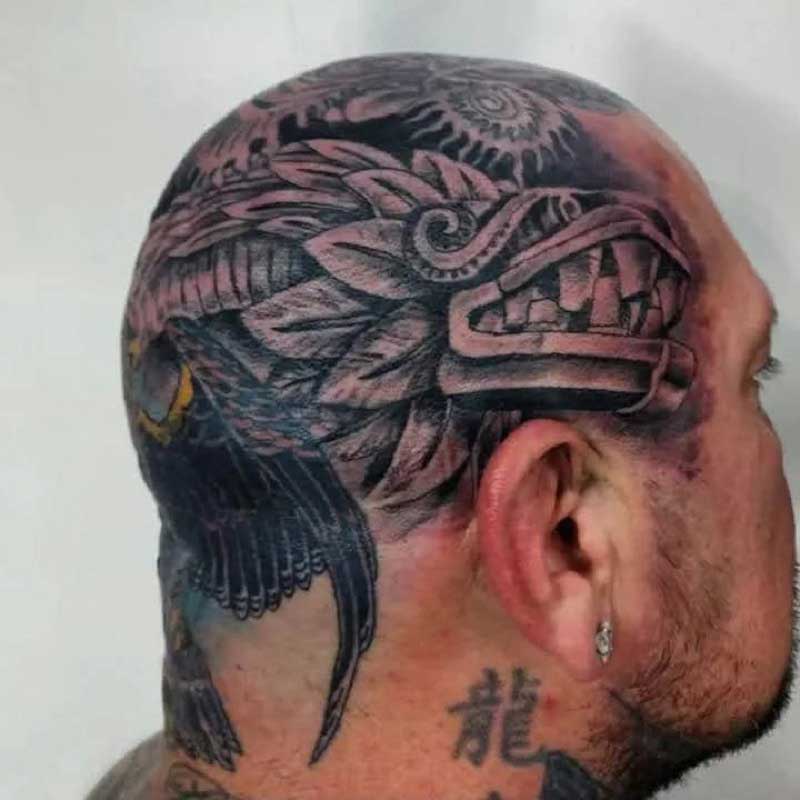 Source: estudio184
This guy here is pretty fascinated with the Aztec serpent god! The fascination is so much that he has the god inked on his scalp in 3d. This is next level tattooing so find your one and tattoo it.
29. God and Thunder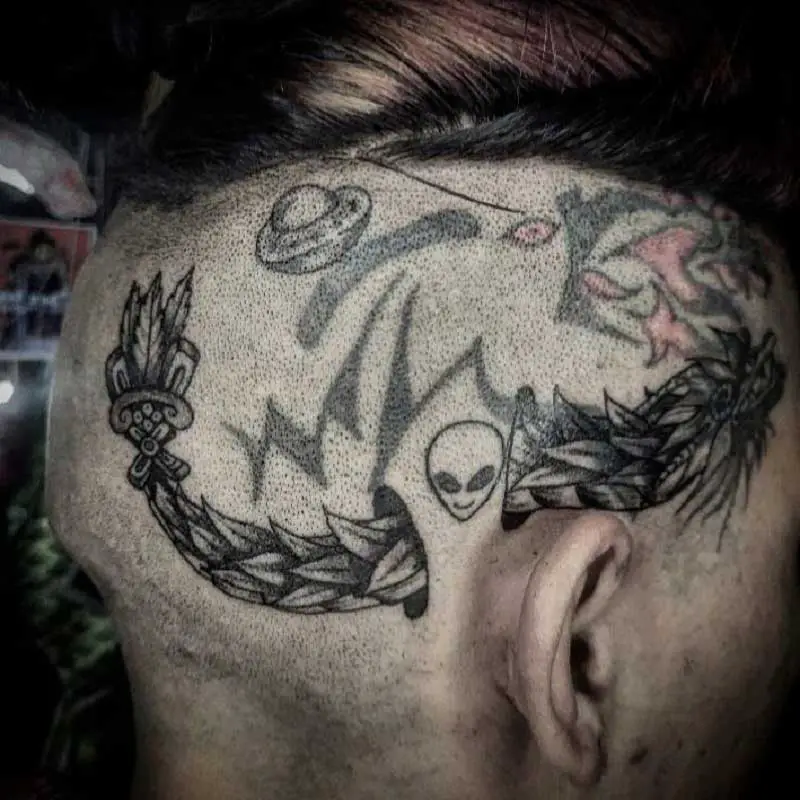 Source: diaz_artt
The dragon in this is going through a tunnel with the danger sign and coming out from the other way around. Along with it, the thunder sign and the dragon will make it a hell of a photograph.
30. Hunting Dragon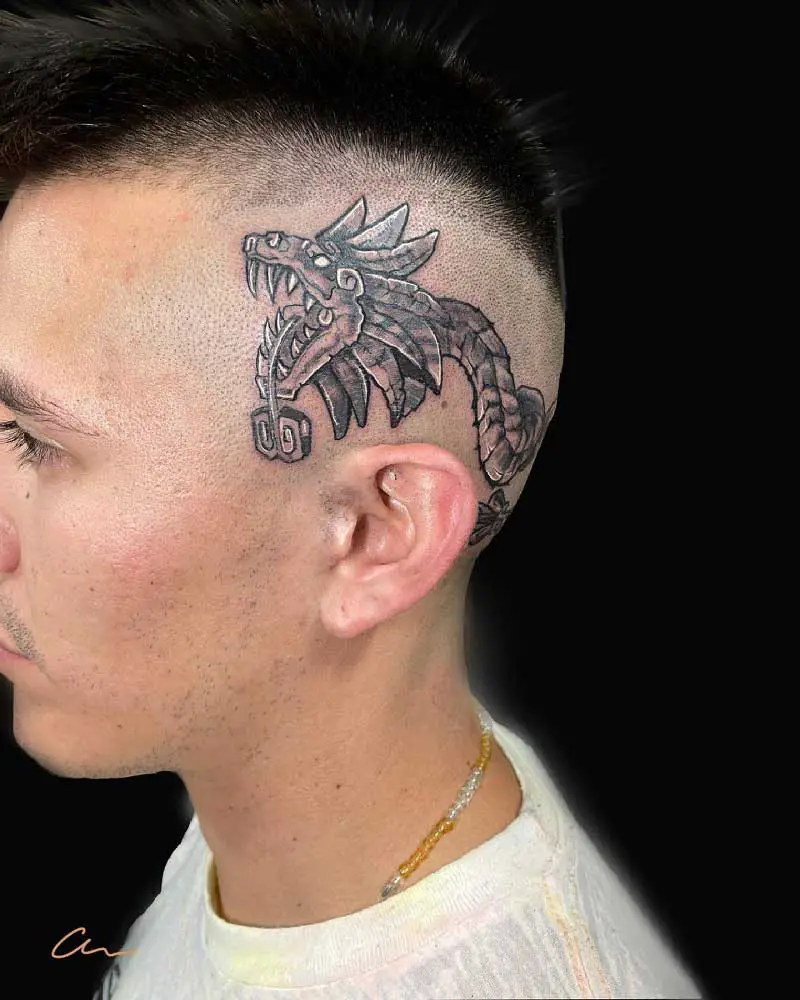 This tattoo sits on the sides of your head and serves its purpose. With the subtle white touch, this surely is going to be a heartthrob in your collection.
Aztec Snake Quetzalcoatl Tattoo
31.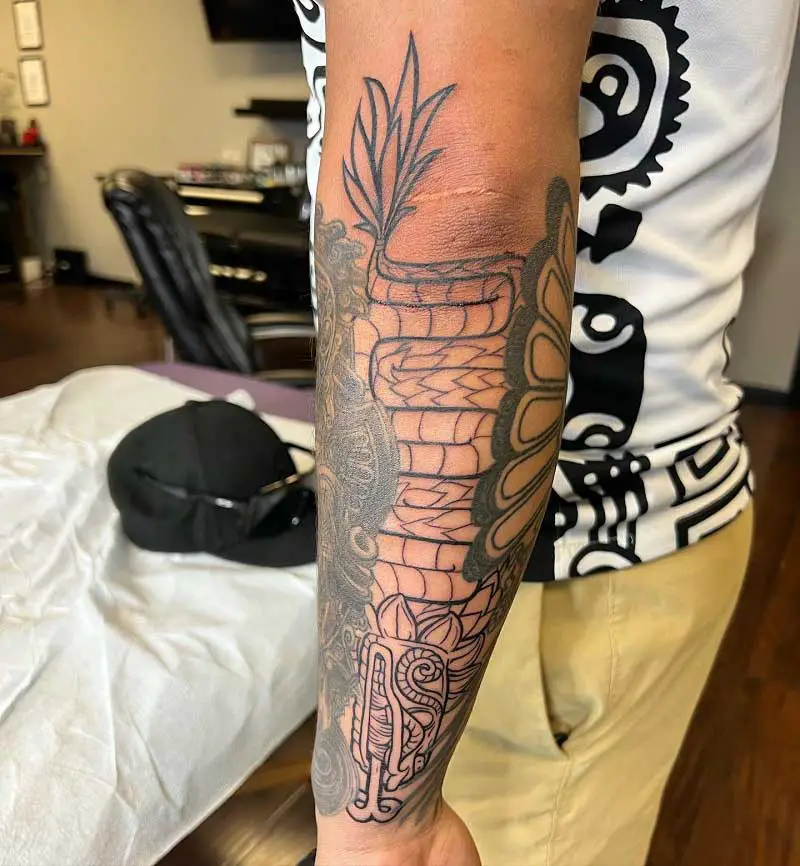 32.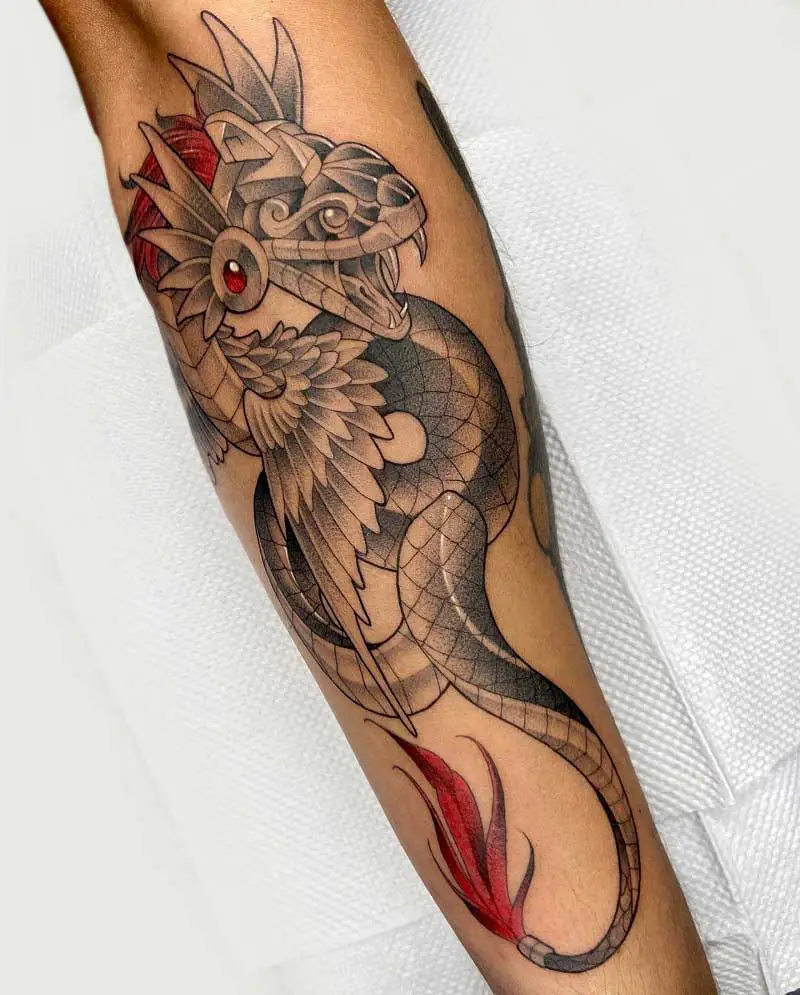 33.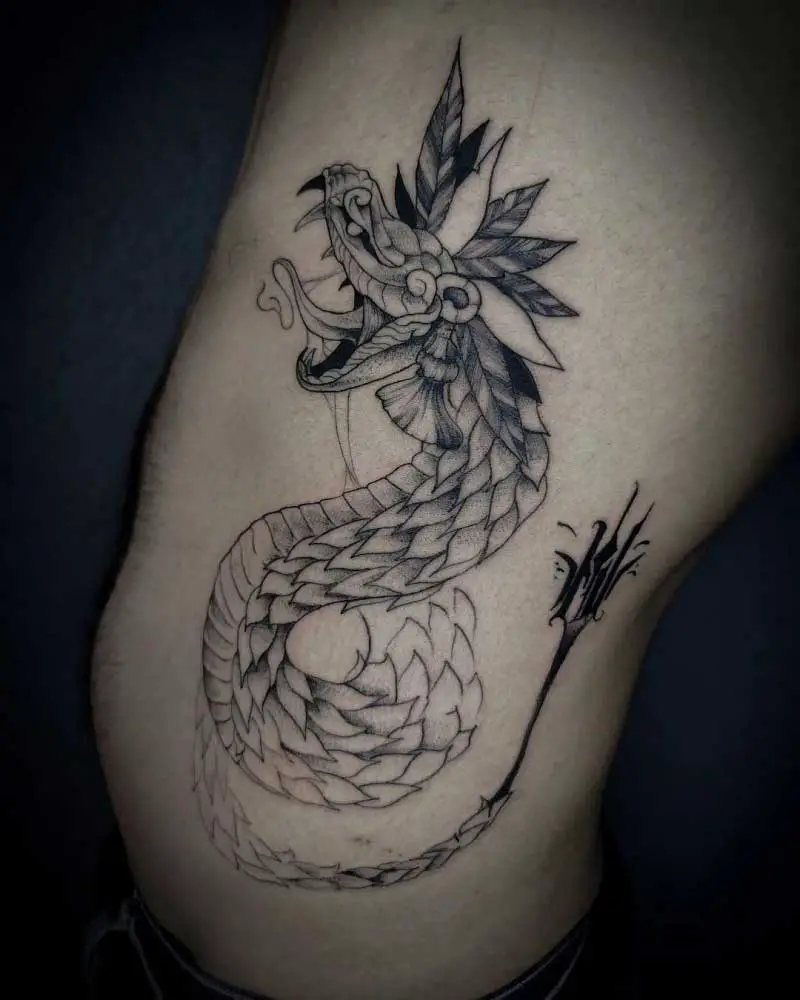 Quetzalcoatl Kukulkan Tattoo
34.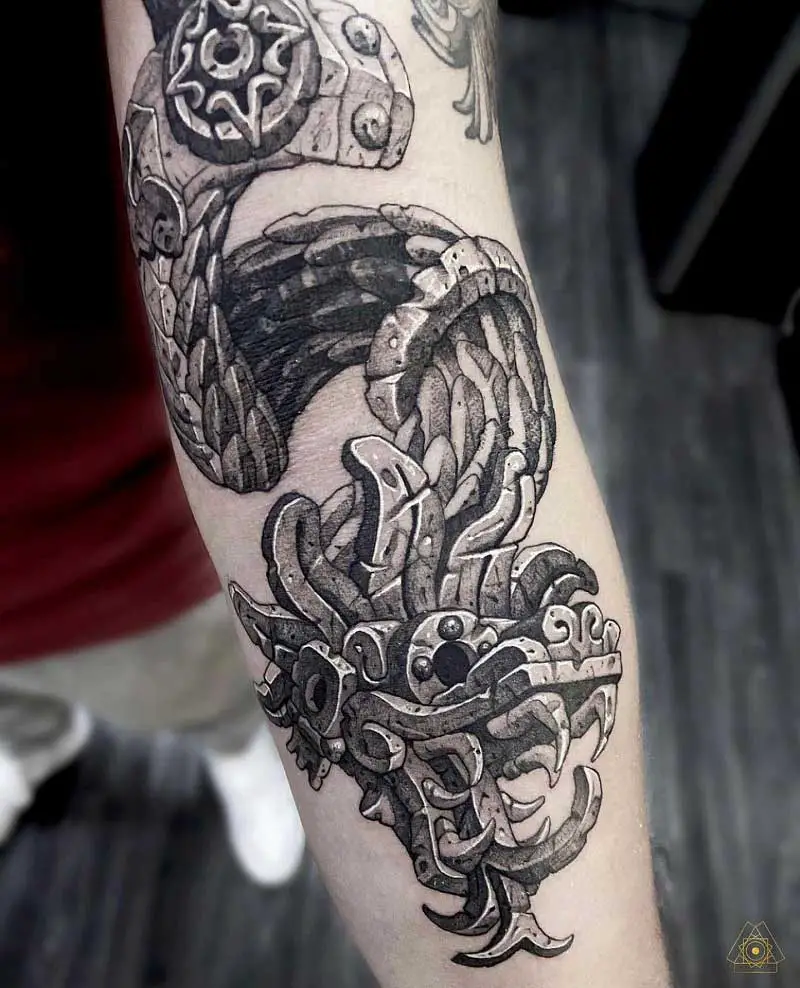 35.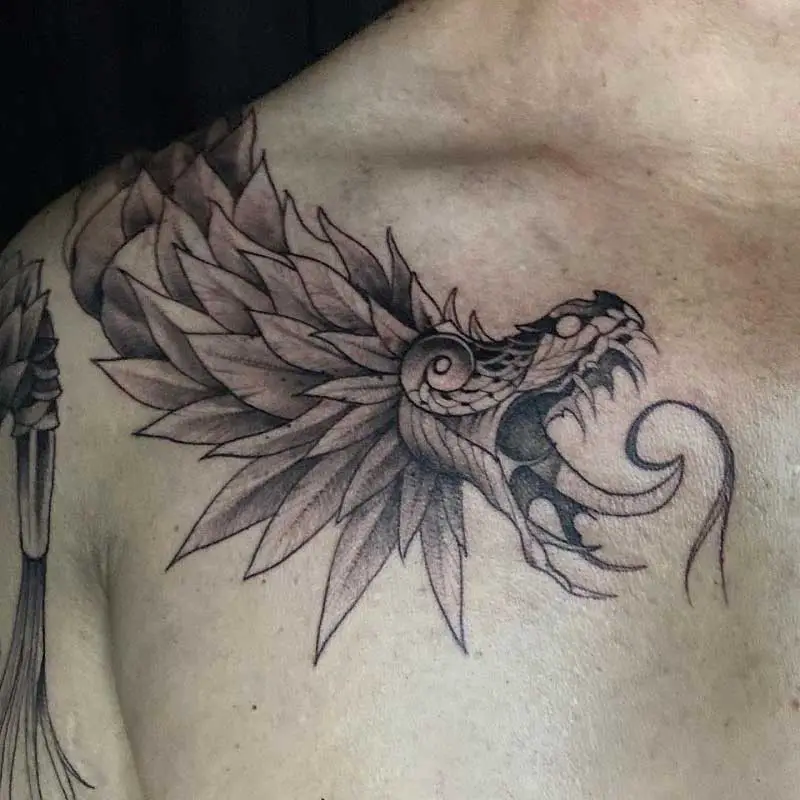 36.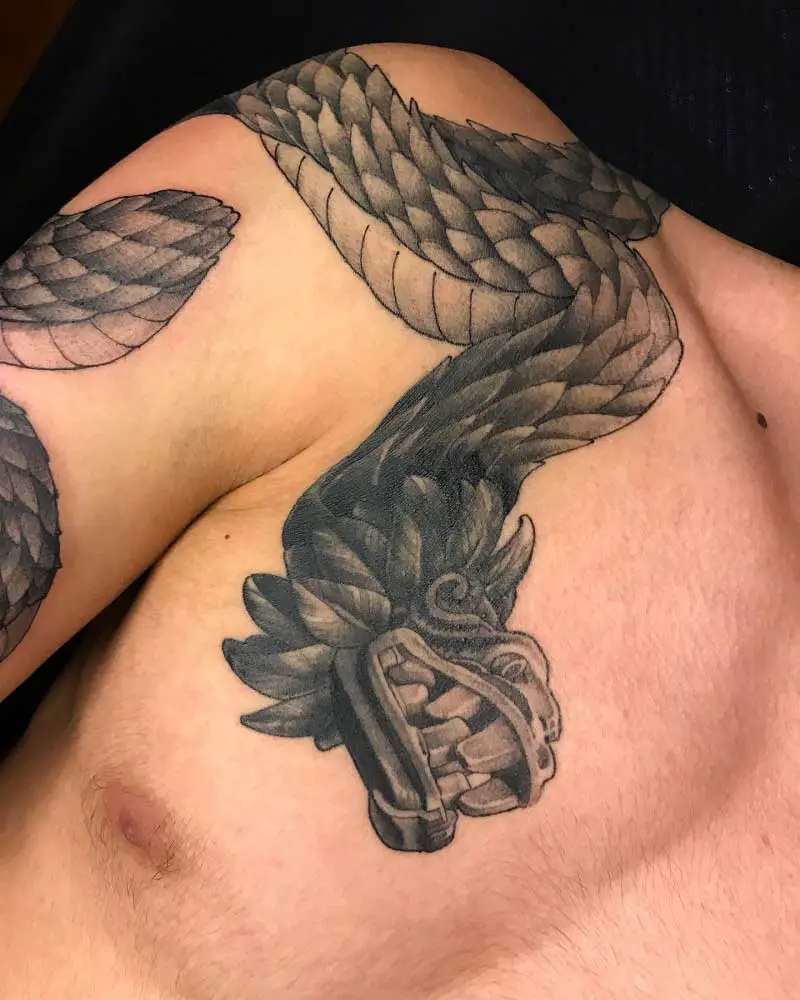 Quetzalcoatl Leg Tattoo
37.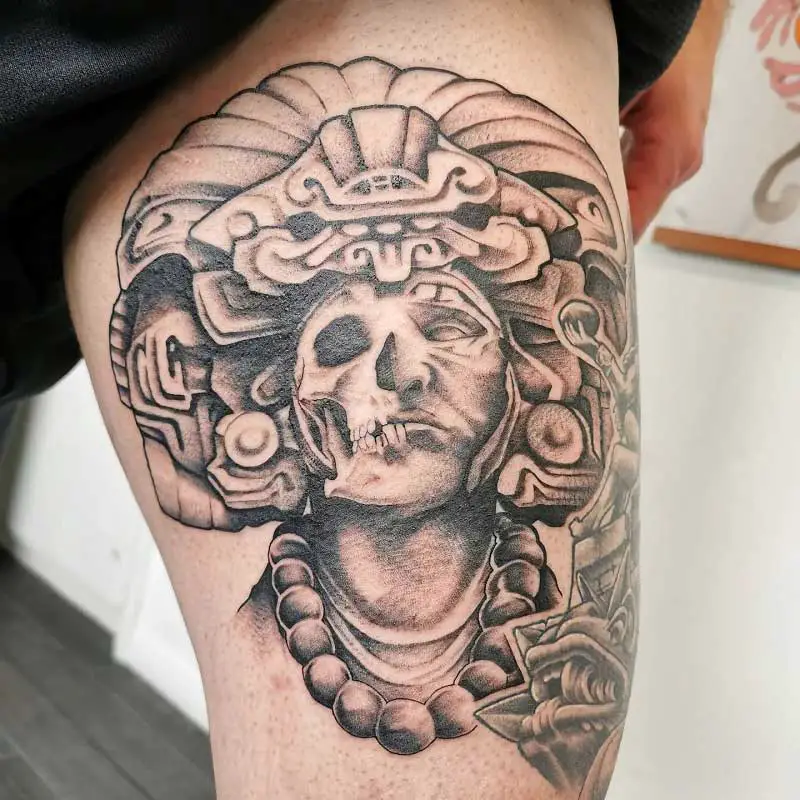 38.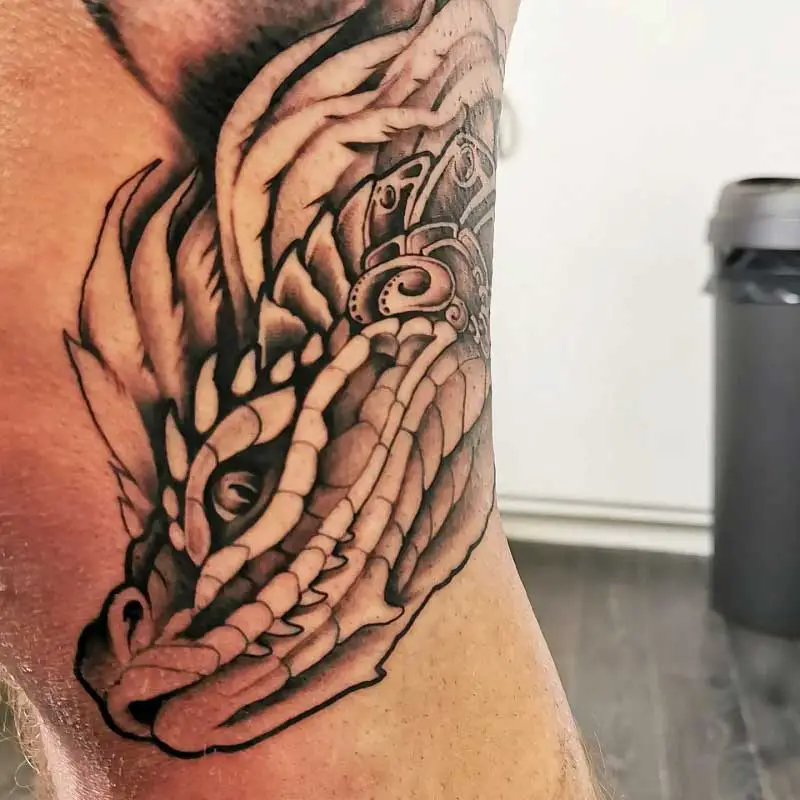 39.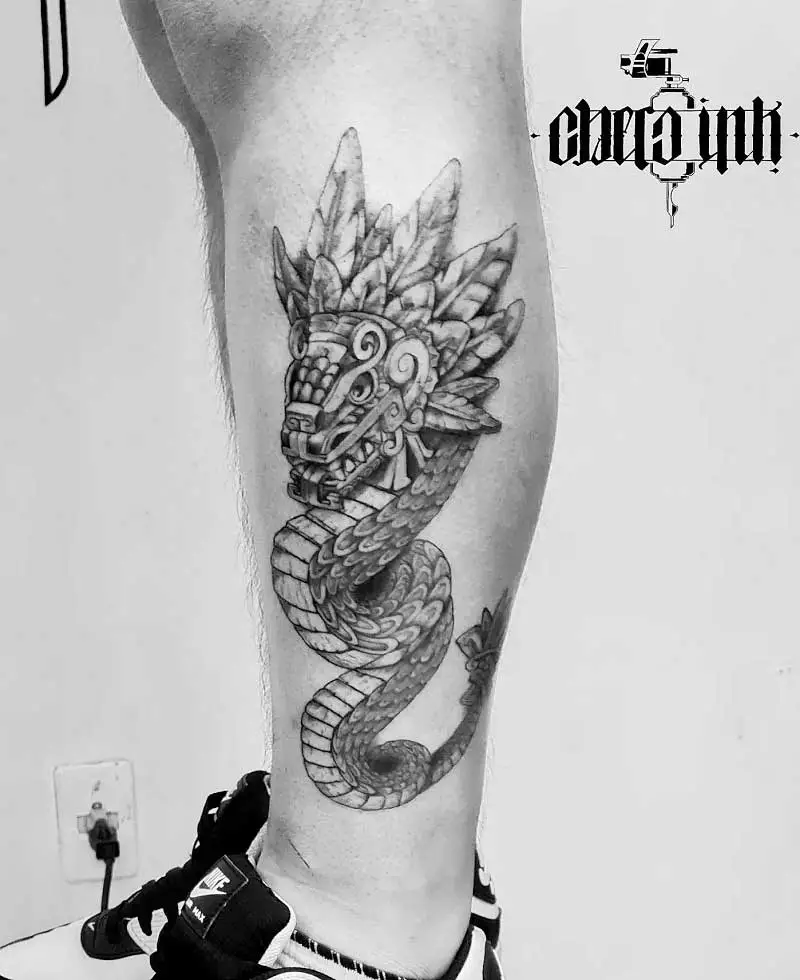 Quetzalcoatl Traditional Tattoo
40.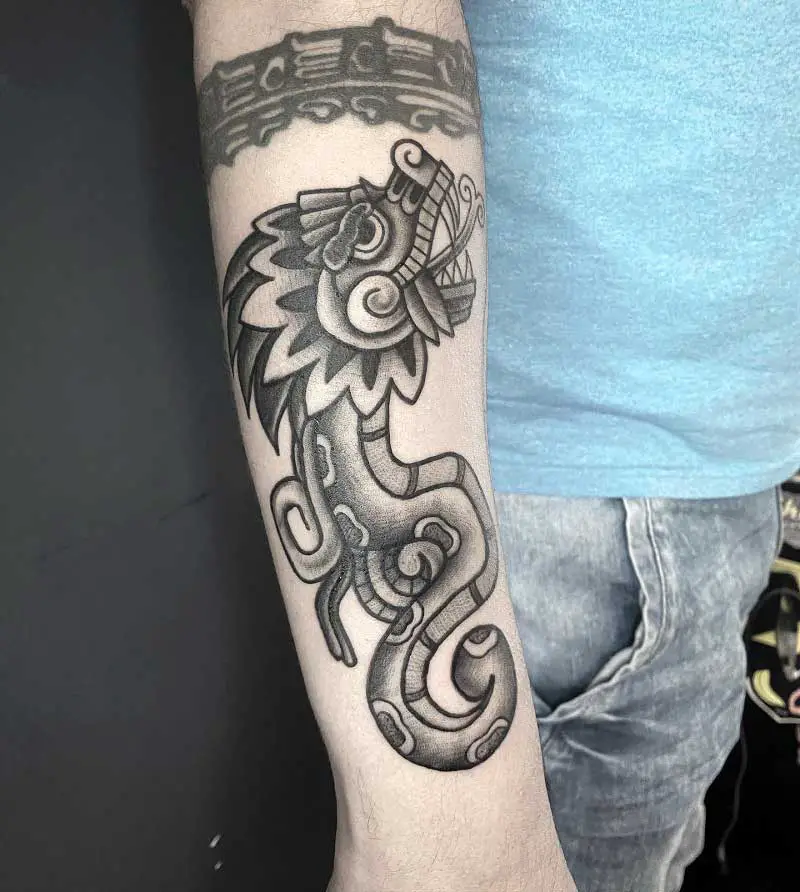 41.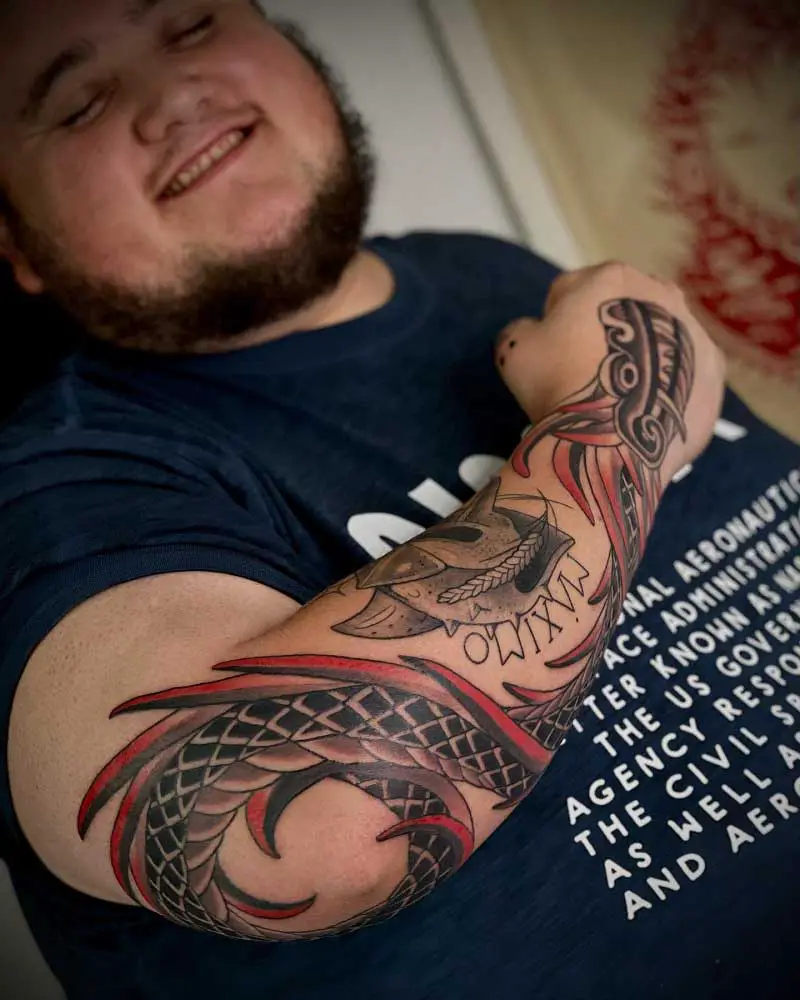 42.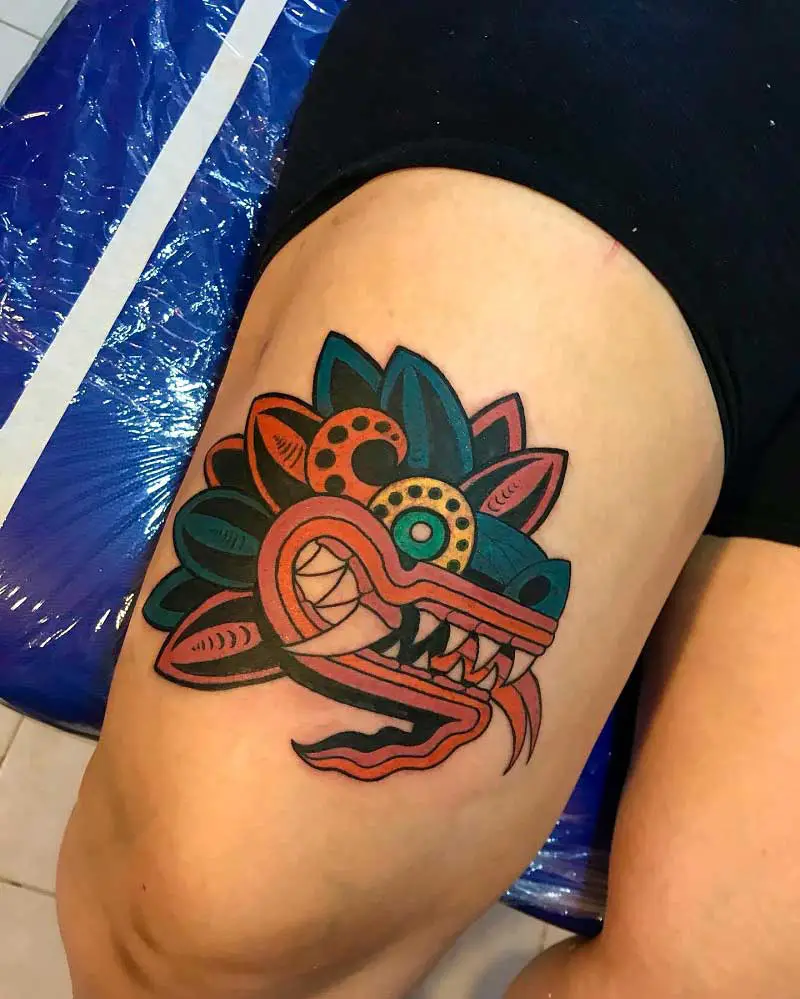 Japanese Quetzalcoatl Tattoo Sleeve
43.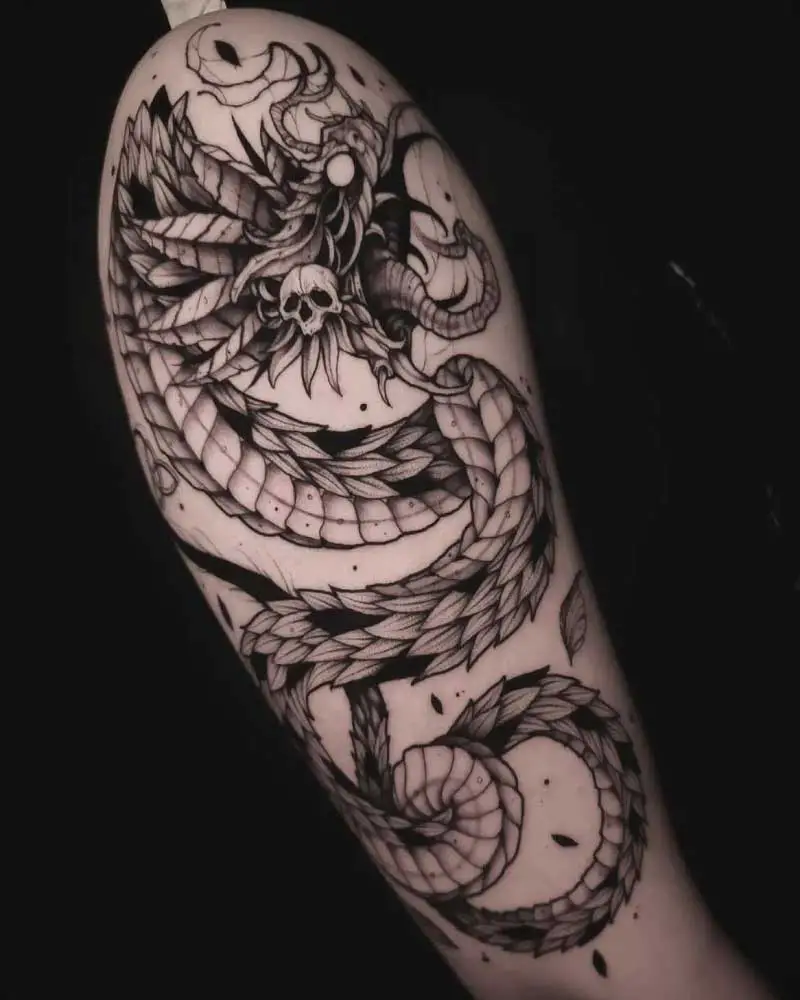 44.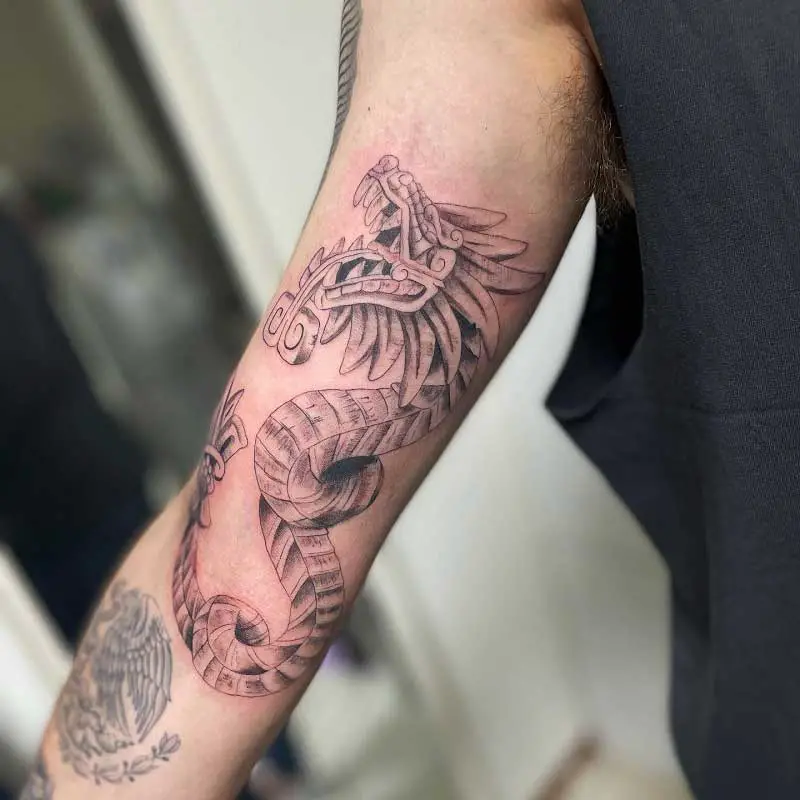 45.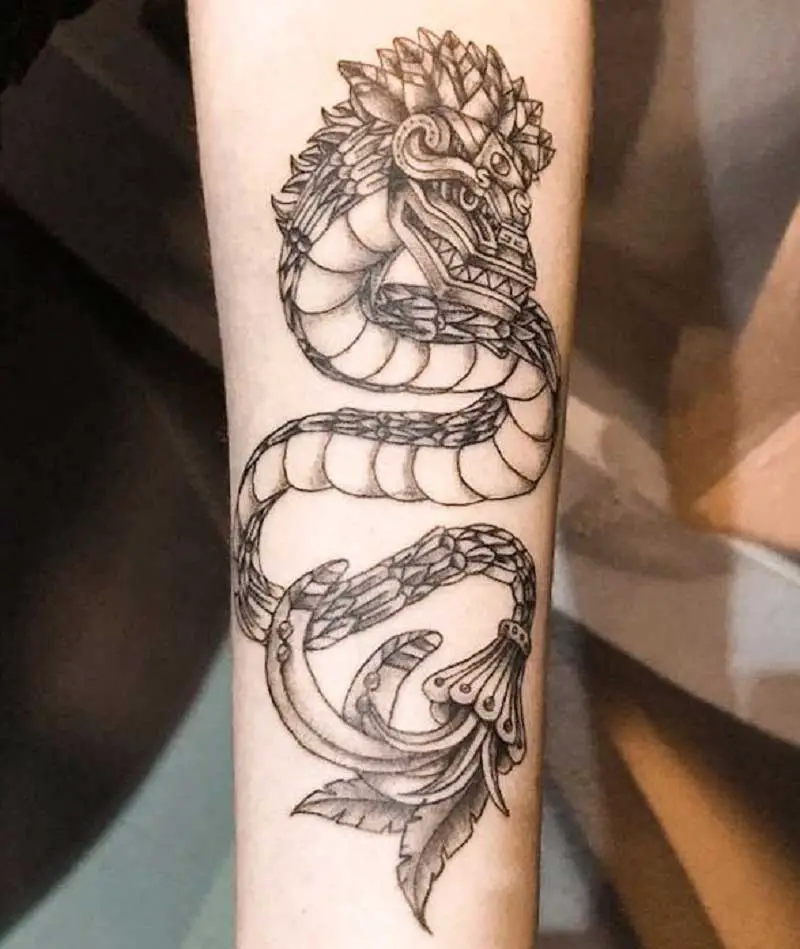 Mayan Quetzalcoatl Tattoo
46.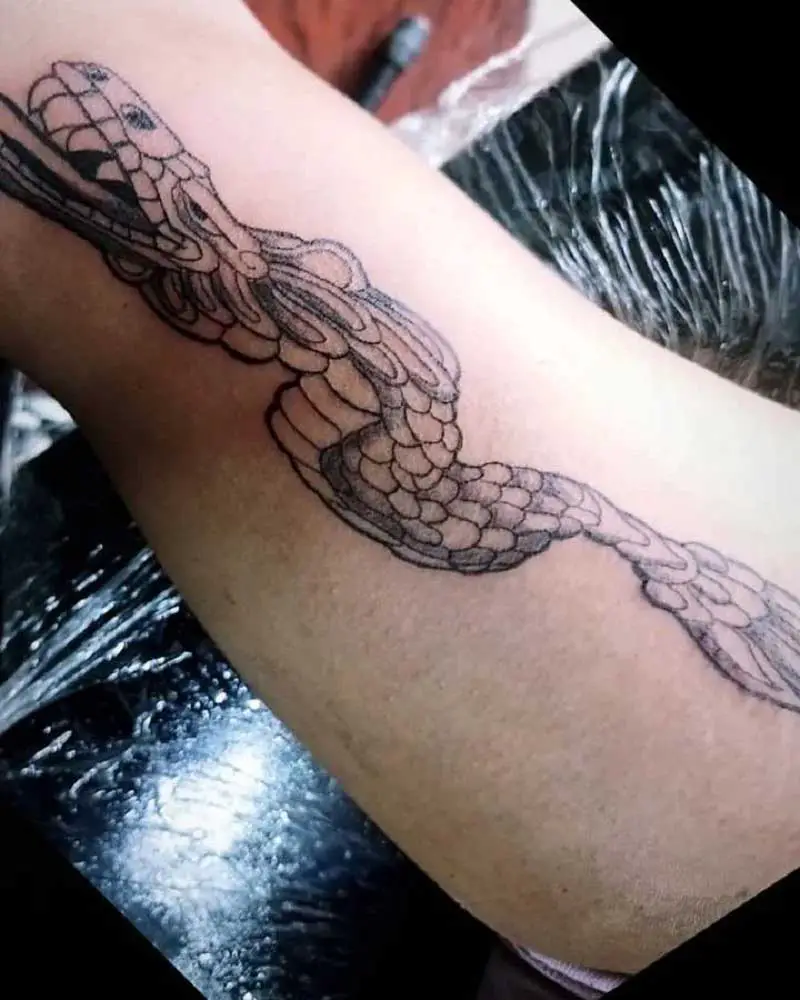 47.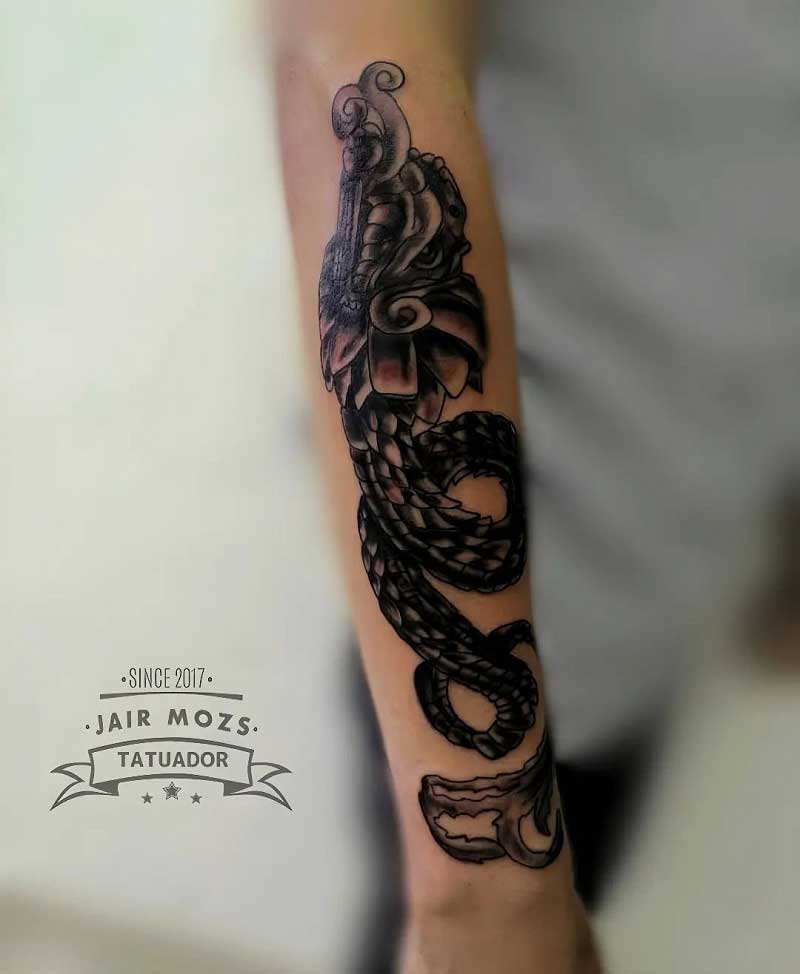 48.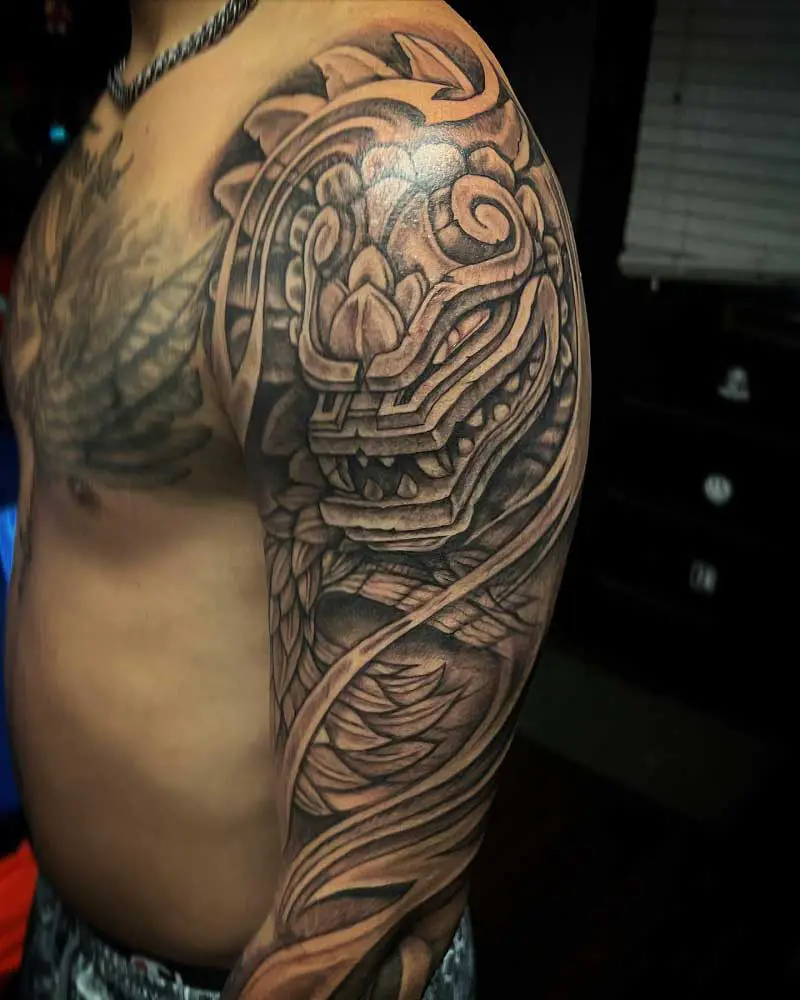 Mexican Quetzalcoatl Tattoo
49.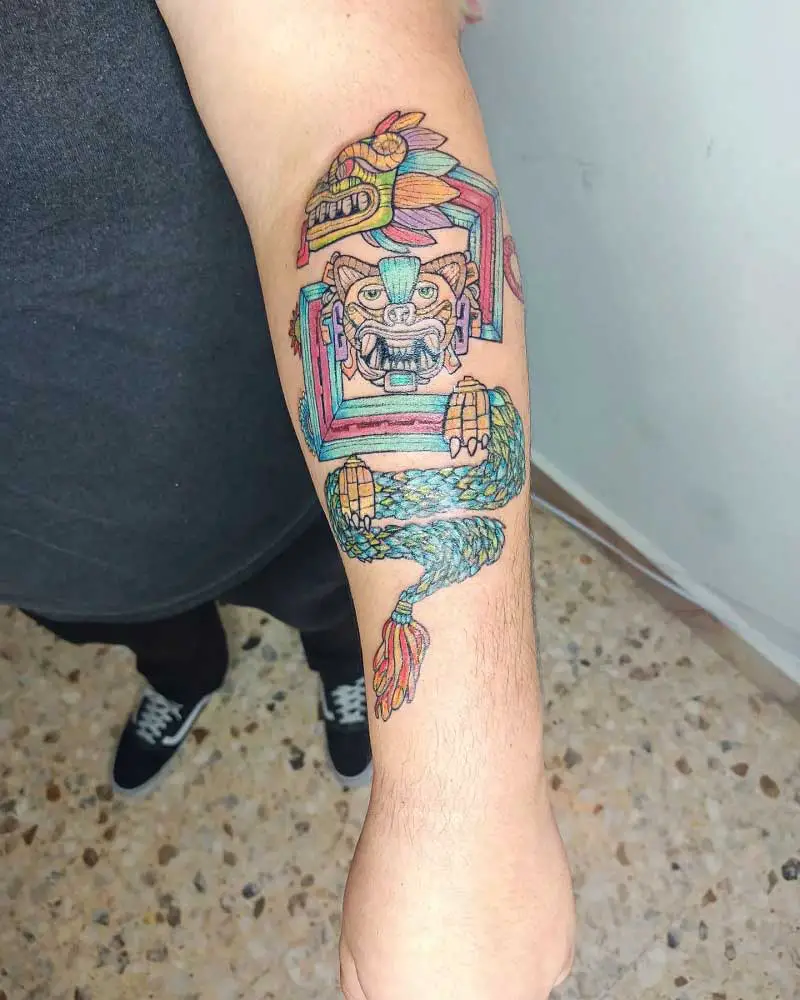 50.
51.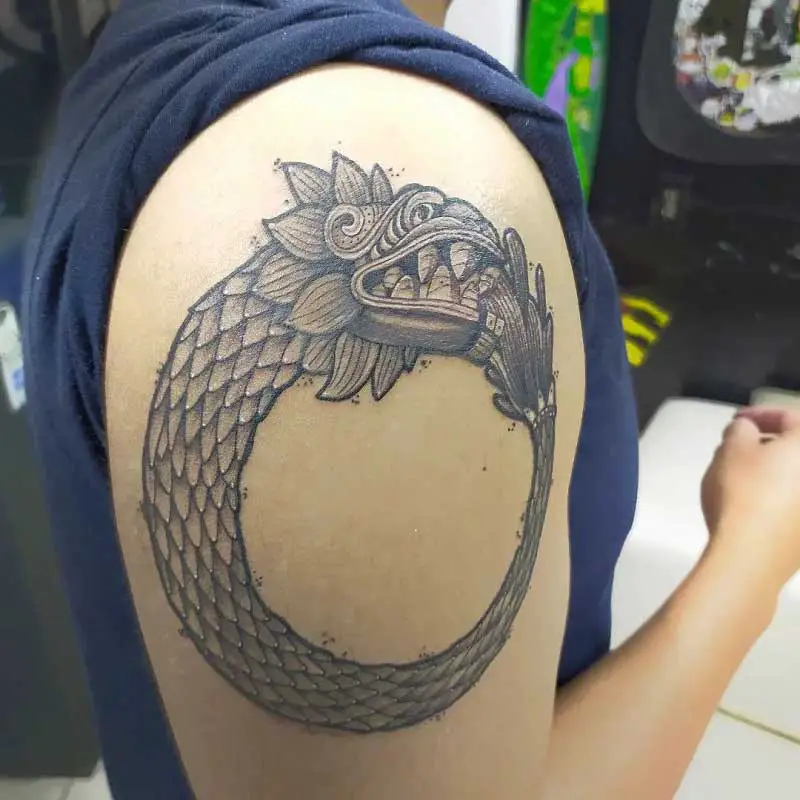 Modern Quetzalcoatl Tattoo
52.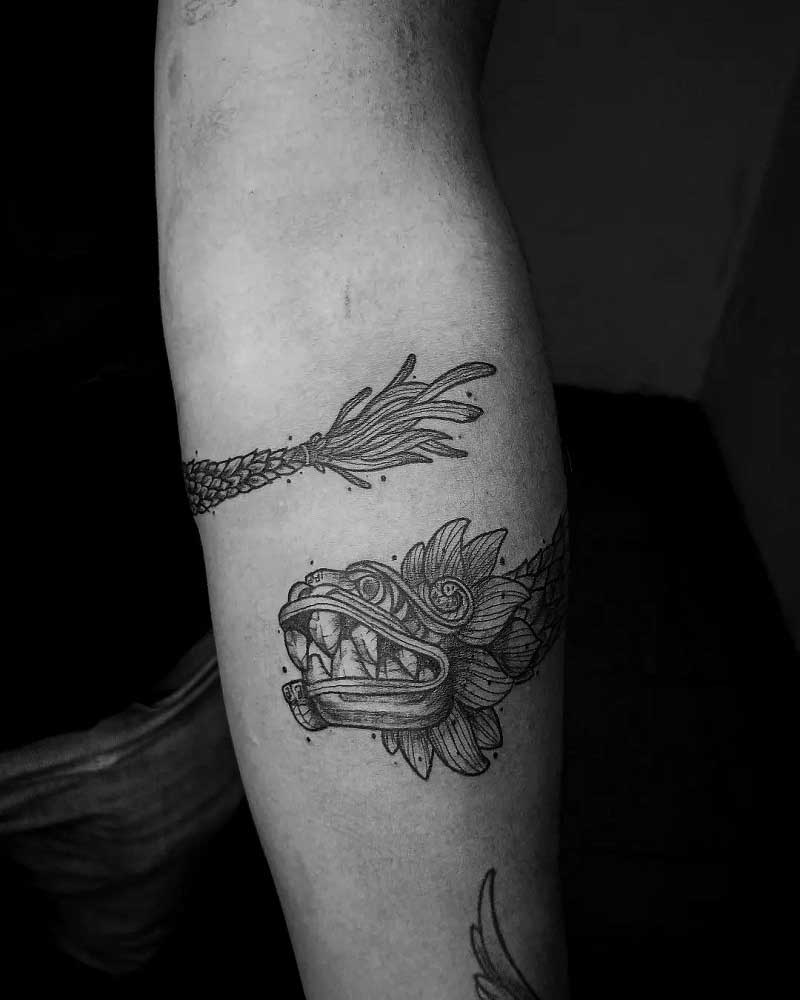 53.
54.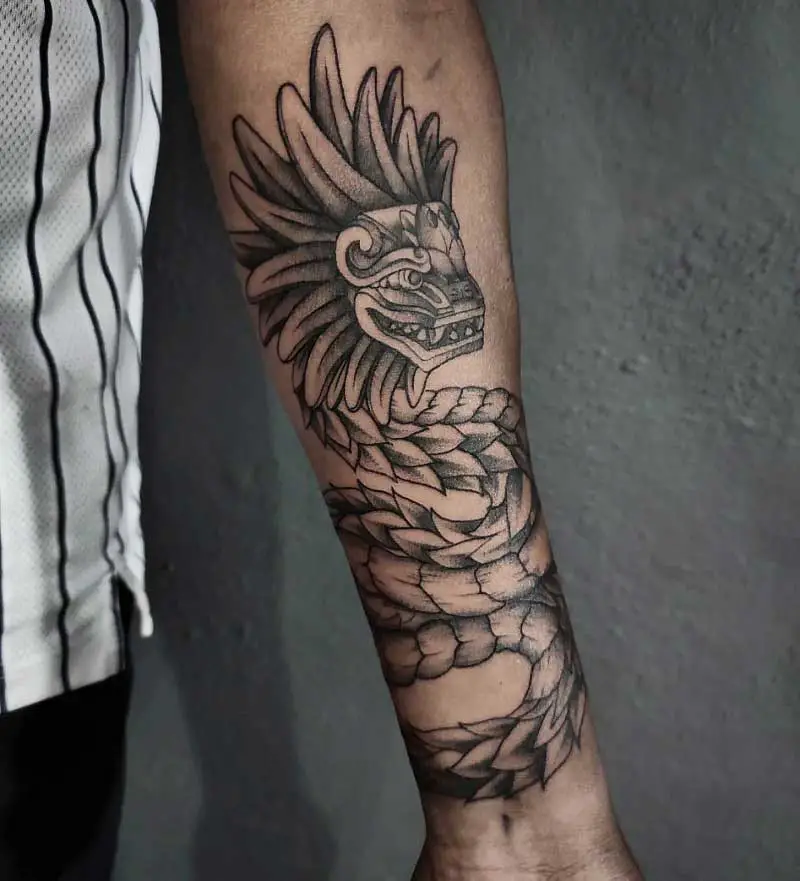 Quetzalcoatl Full Sleeve Tattoo
55.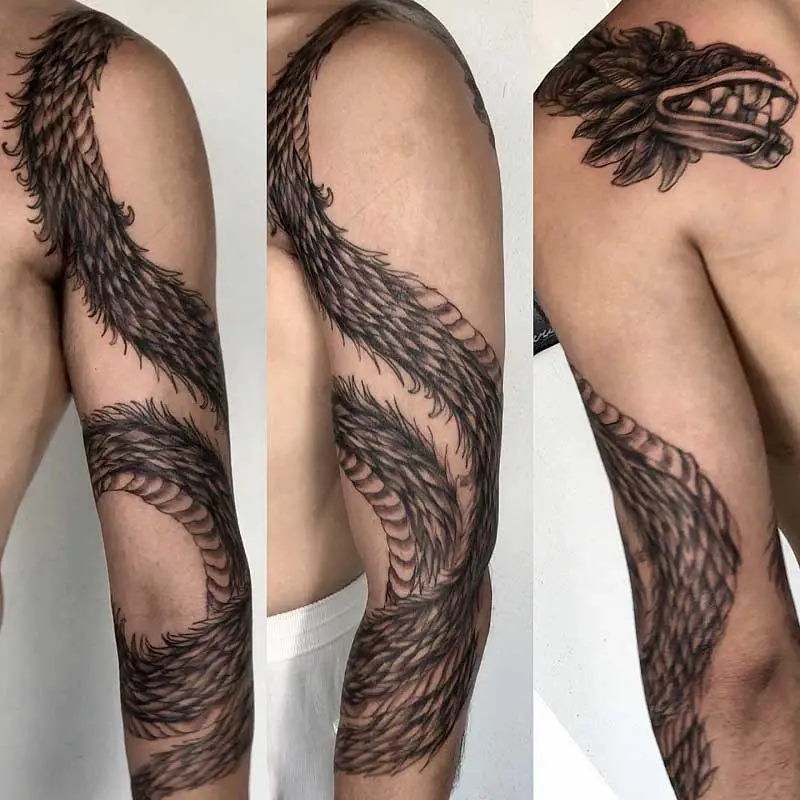 56.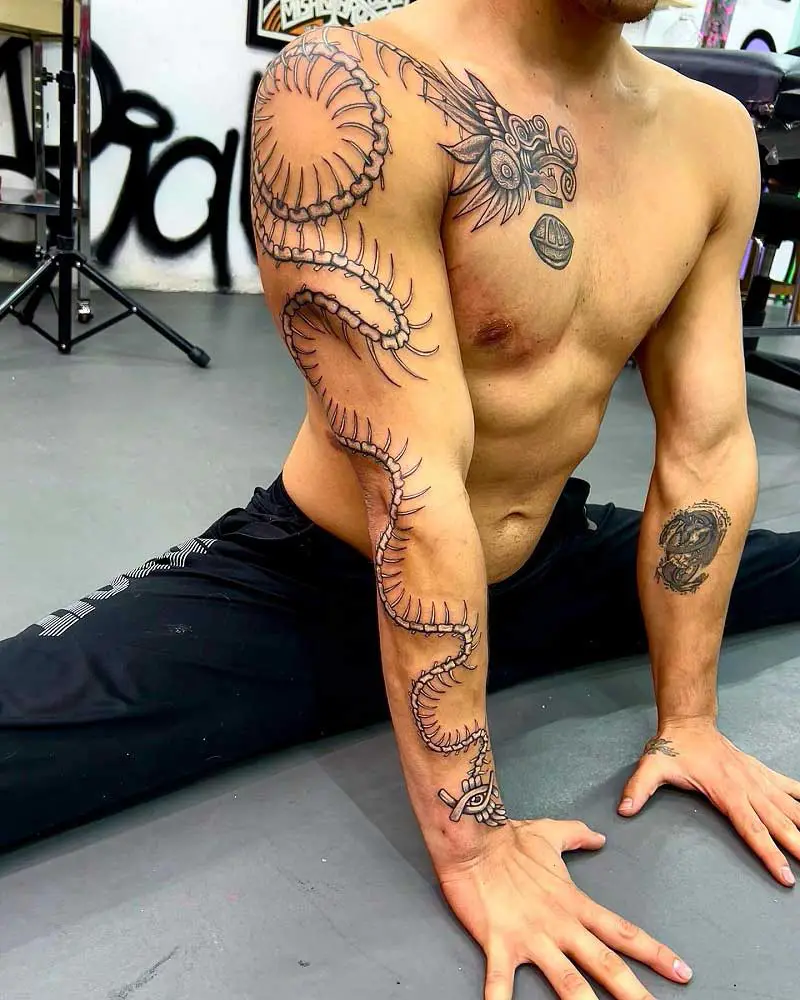 57.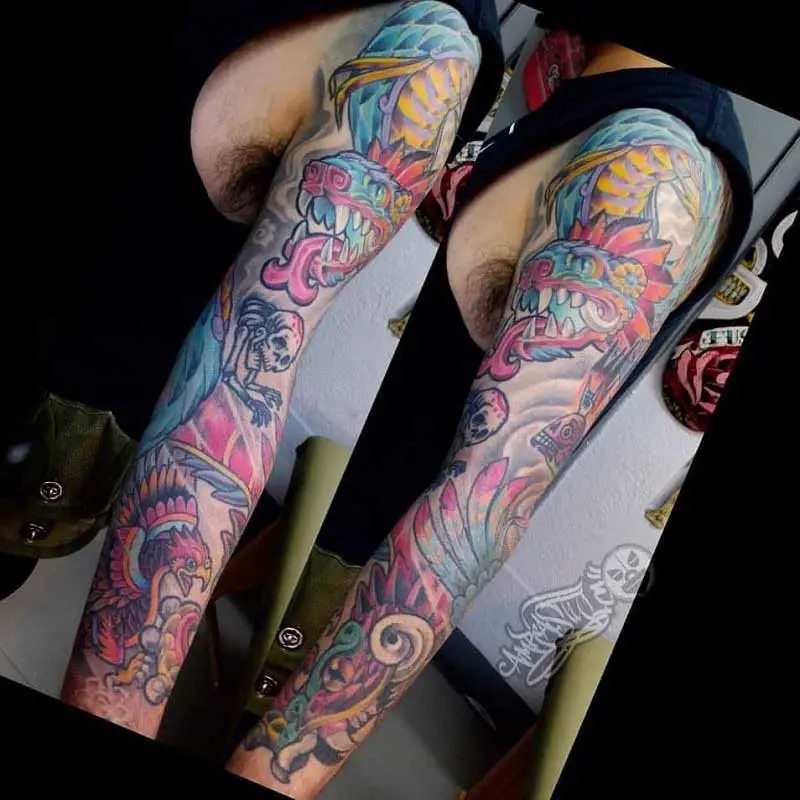 Quetzalcoatl Neck Tattoo
58.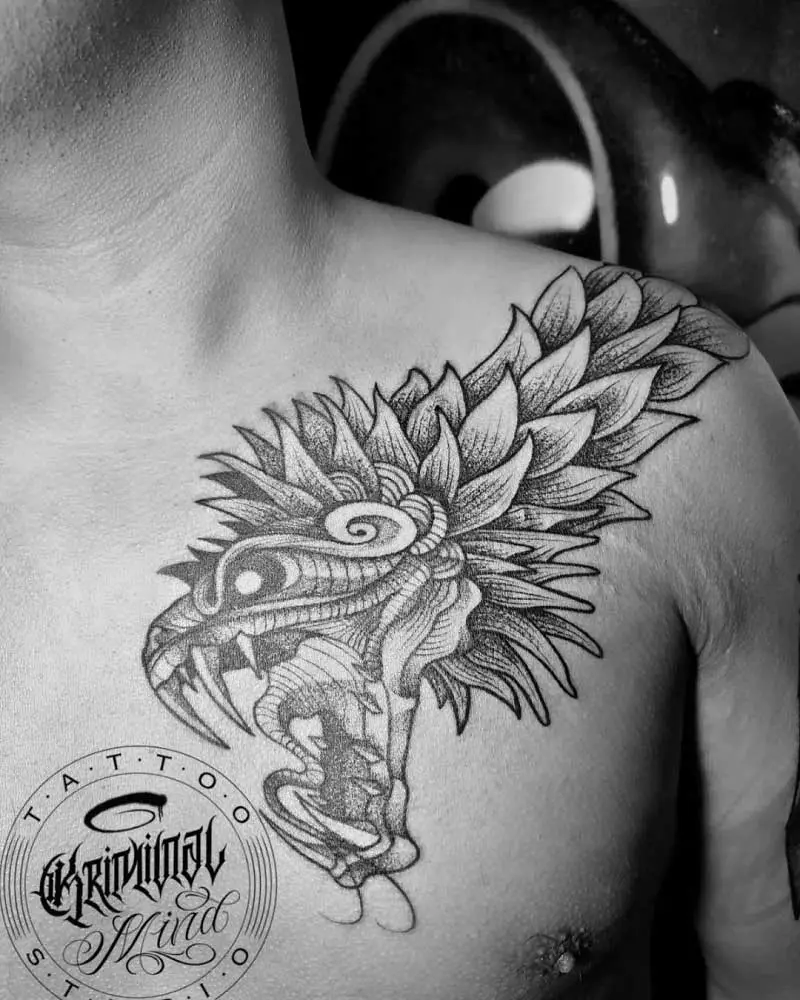 59.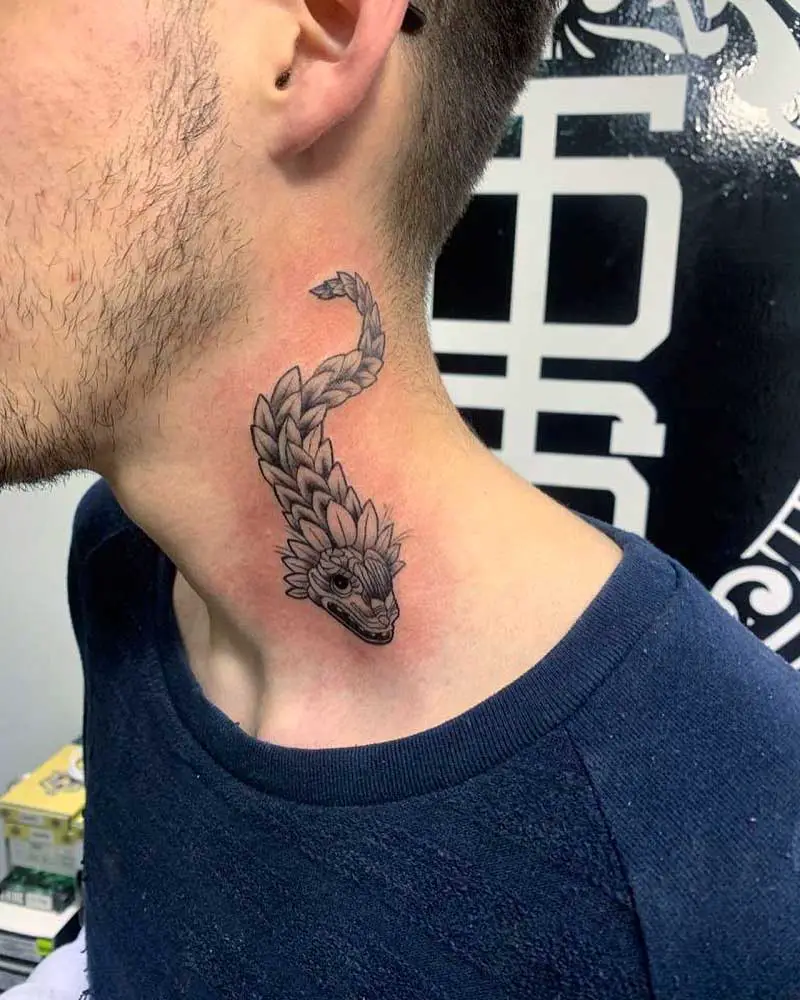 60.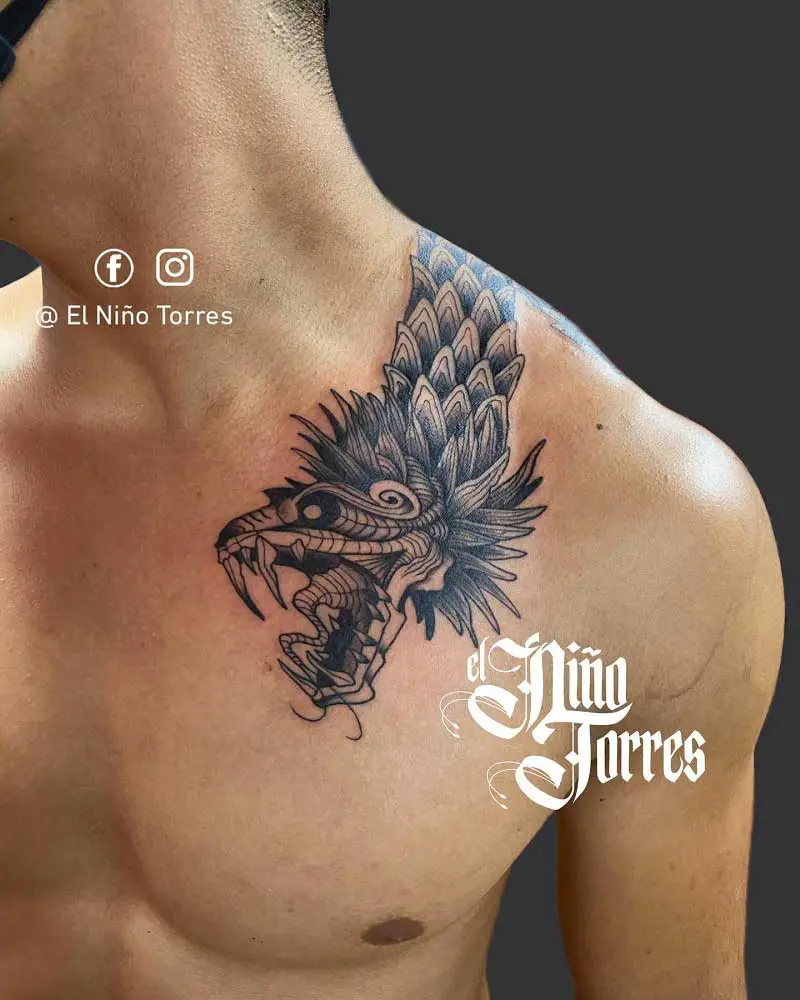 Quetzalcoatl Ouroboros Tattoo
61.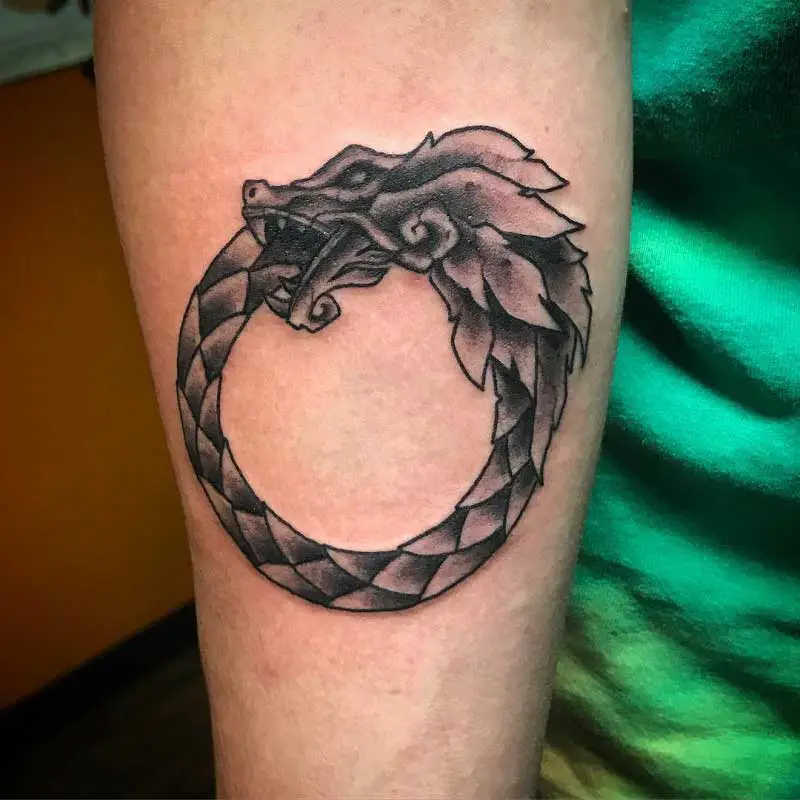 62.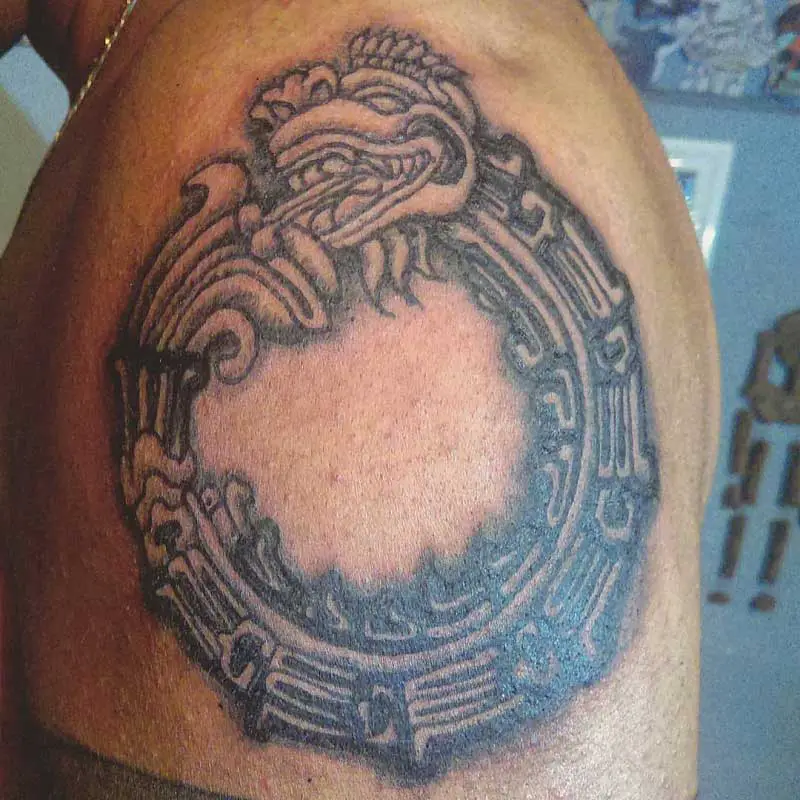 63.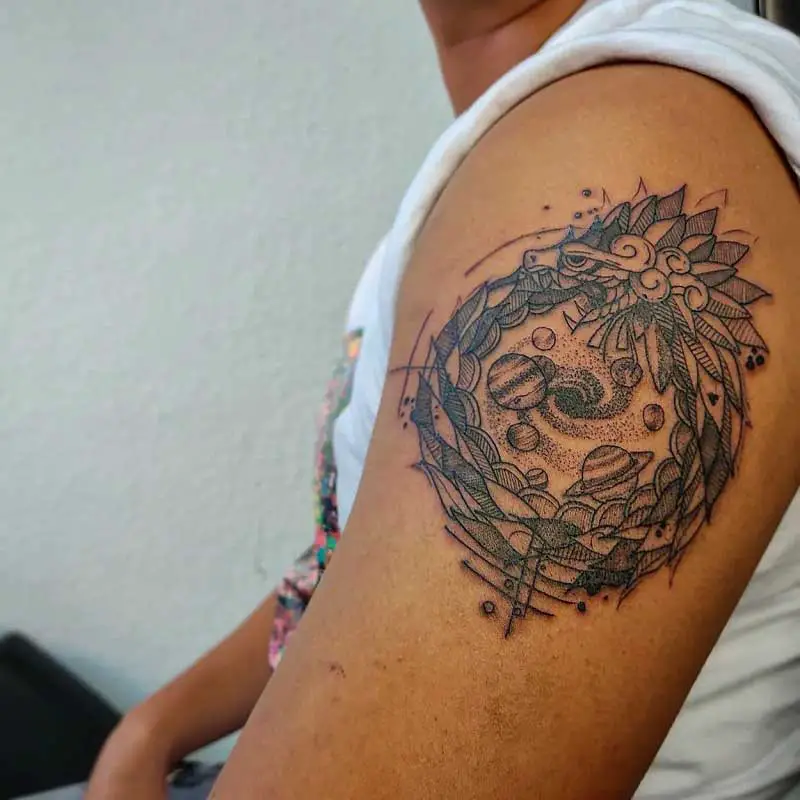 Quetzalcoatl Shoulder Tattoo
64.
65.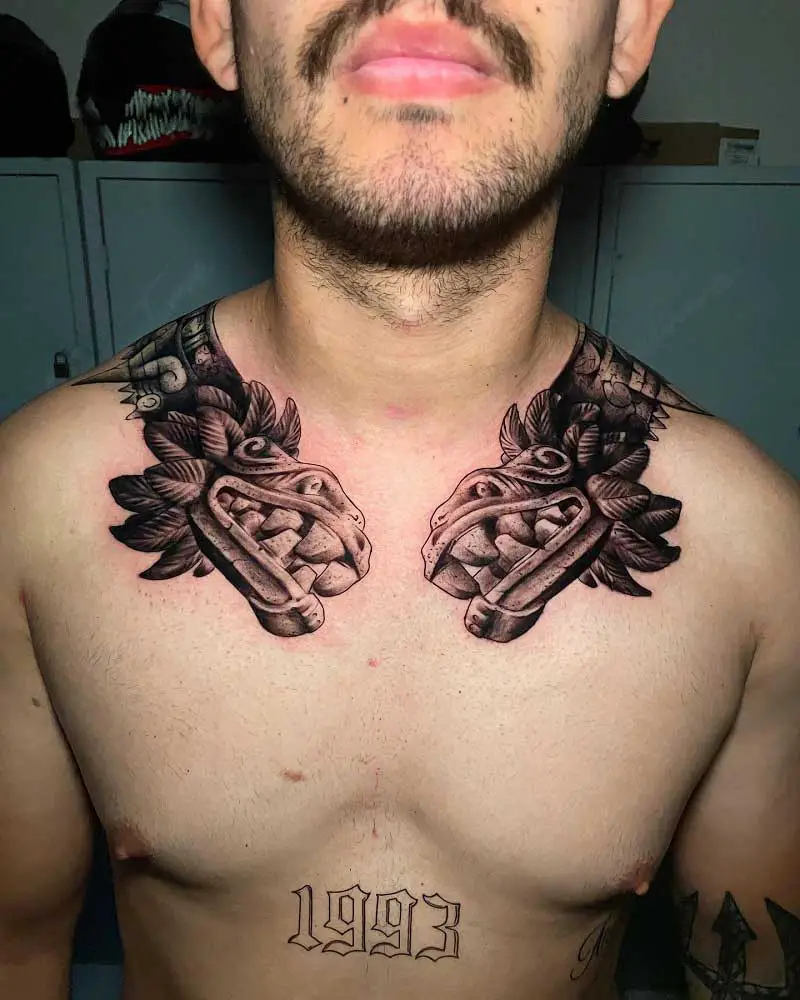 66.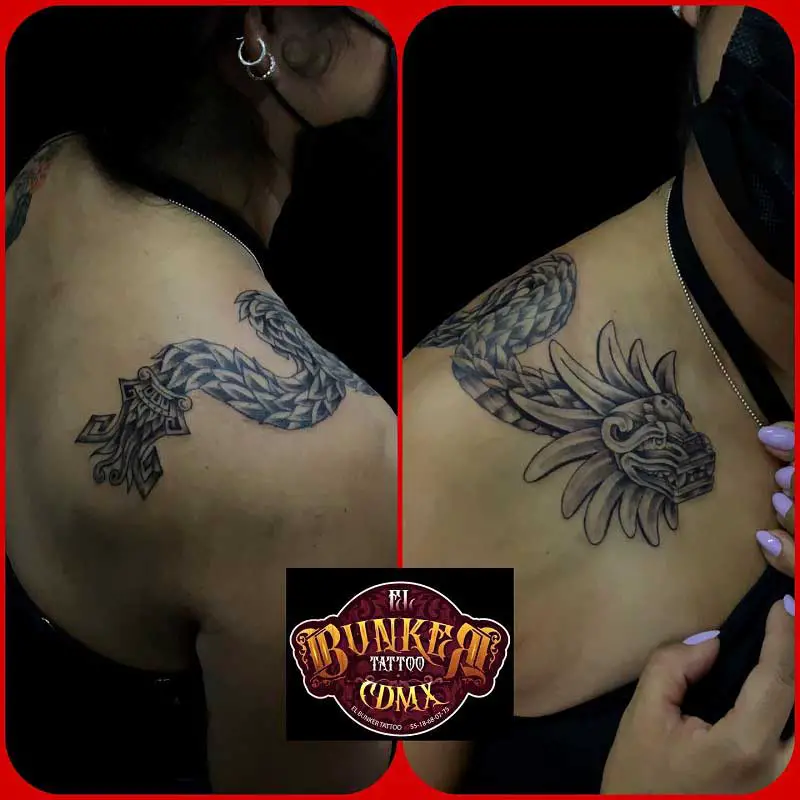 Quetzalcoatl Skull Tattoo
67.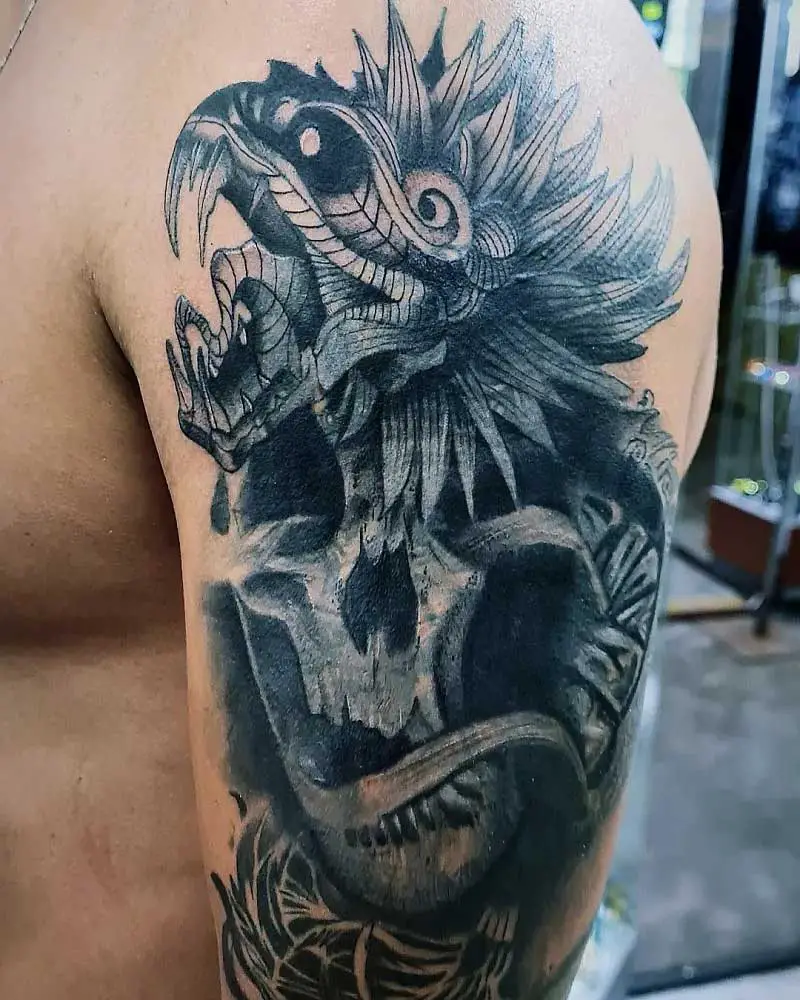 68.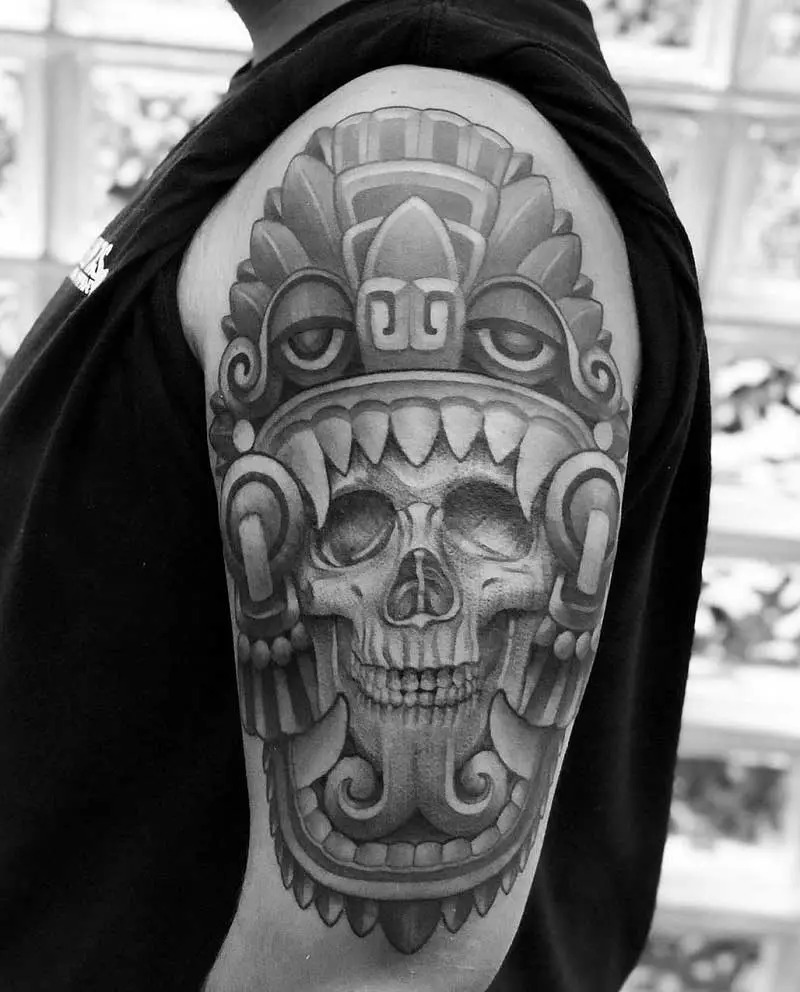 69.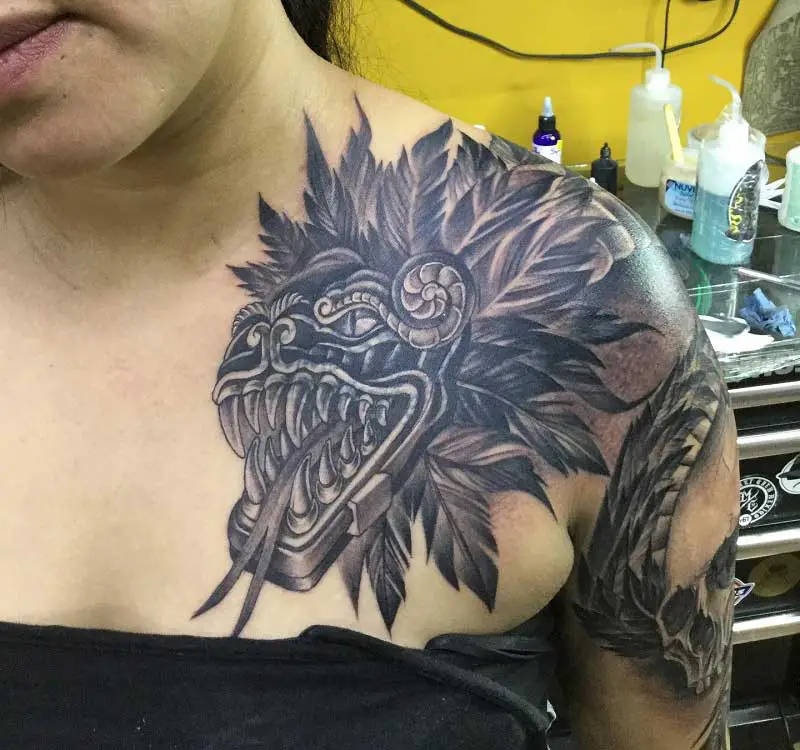 Quetzalcoatl Statue Tattoo
70.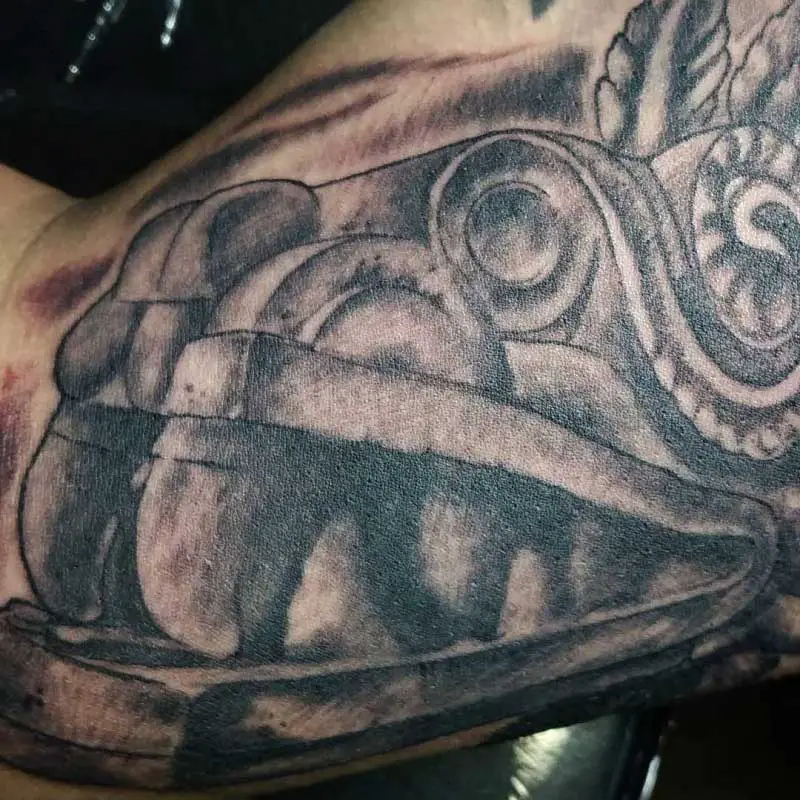 71.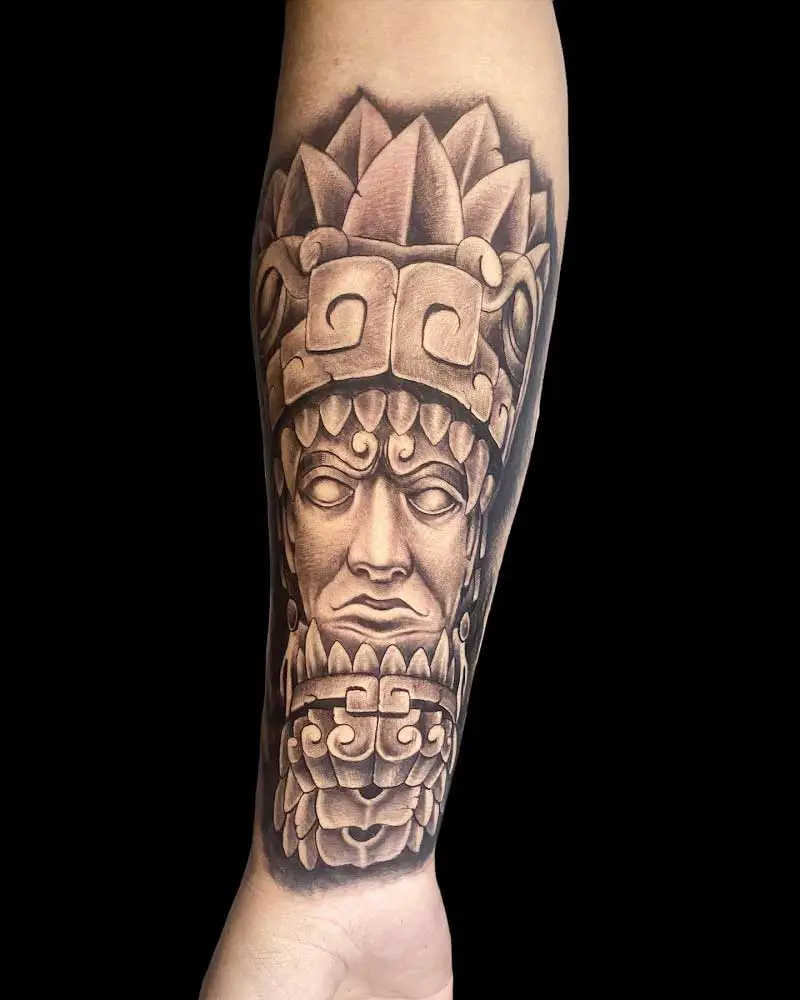 72.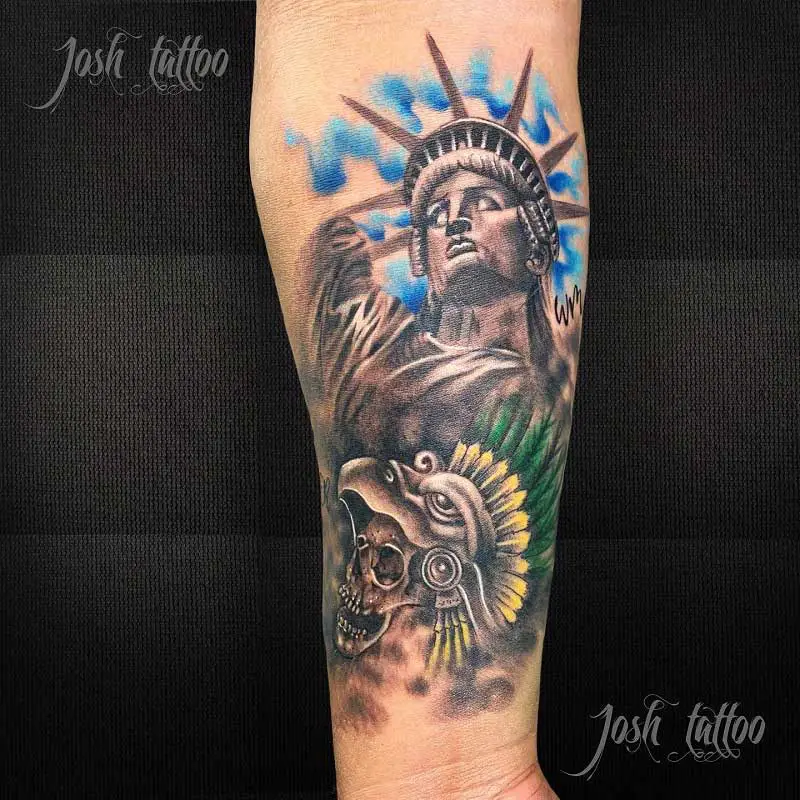 Quetzalcoatl Warrior Tattoo
73.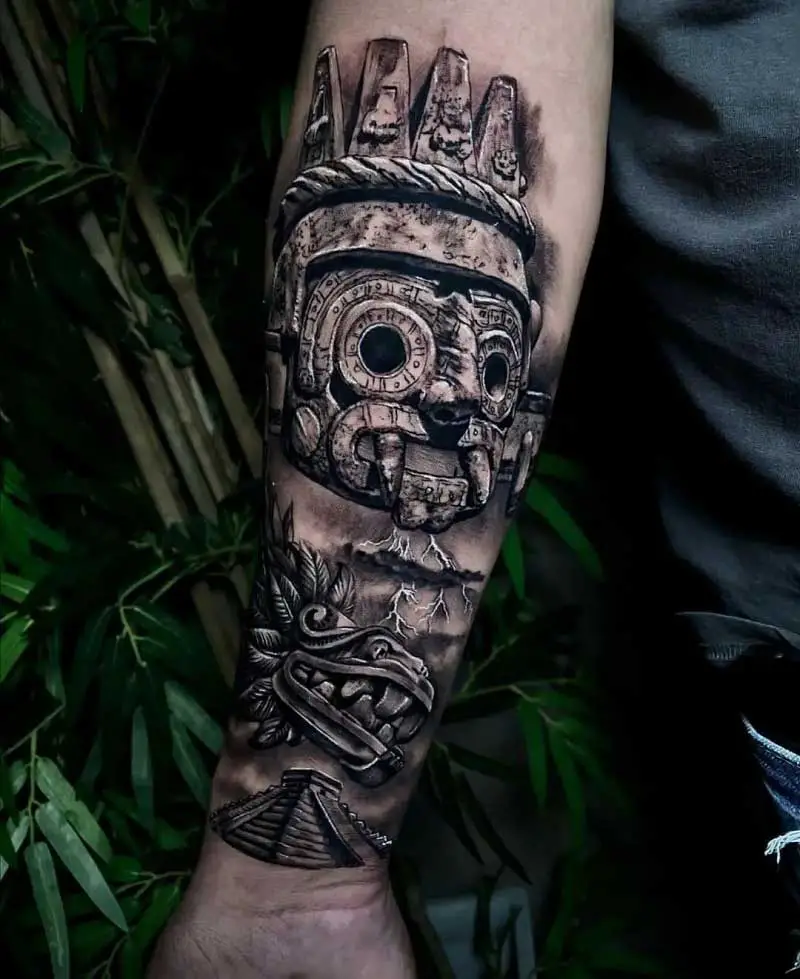 74.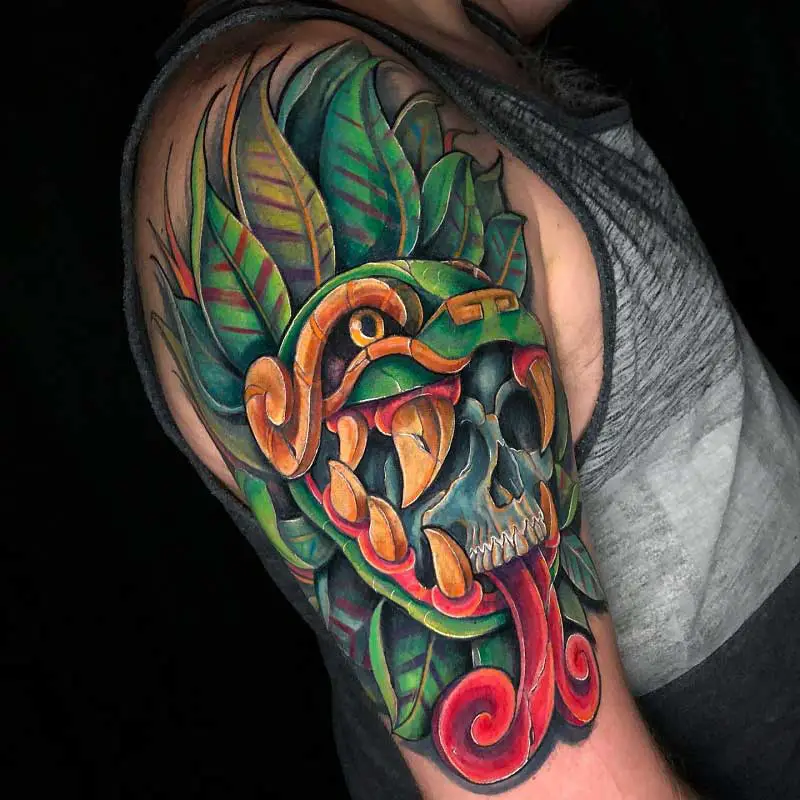 75.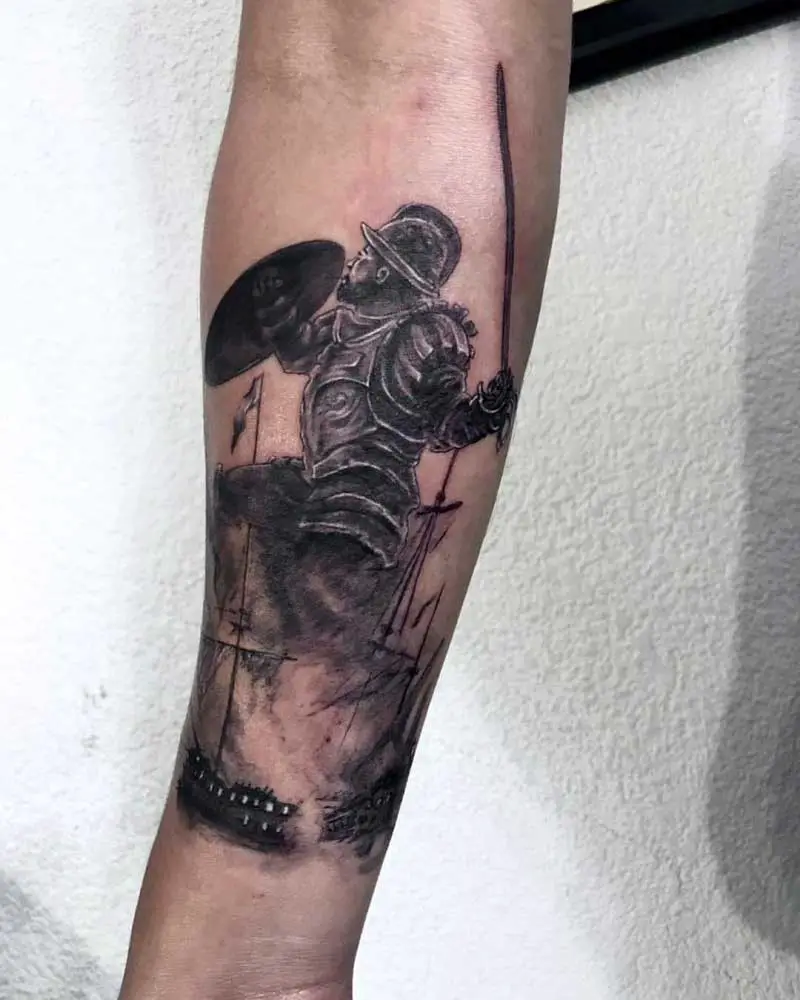 Conclusion
Carrying a tattoo often has a lot to do with ones belief. The Quetzalcoatl is a protector of creativity and fertility. The Aztecs believed him to be the creator of humanity and controller of rain and wind. That means, all the precious of the humans is protected by the dragon god. Very few tattoo concepts will give you such a heavy meaning.
So, considering these aspects, you can choose the Quetzalcoatl tattoo to preserve your positives. Happy tattooing.
Frequently Asked Questions
What does a Quetzalcoatl Tattoo Mean?
The Quetzalcoatl was the god of rain, wind, fertility, and creativity. So, if you carry a Quetzalcoatl tattoo, it will be a symbol of these things for you.
Why was Quetzalcoatl Important to the Aztecs?
Quetzalcoatl was considered the curator of priests, the one who invented the books and the calendar. Also he was the one who protected the craftsmen and the goldsmiths. That's why he was important to the Aztecs.
Is Quetzalcoatl Aztec or Mayan?
The name Quetzalcoatl is Aztec. But the entity that this name refers to, the Mayans also have a similar god. But the Mayan god is known as Kukulkan. So, Quetzalcoatl is Aztec and Kukulkan is Mayan, but both of them is actually similar.

Can I have any blood infection from such tattoos?
If a tattoo is not properly cared or the ink used was contaminated, you can get a blood infection. In that case, you will have symptoms like increasing redness, fever, pus from the tattoo etc. If you face such symptoms consult a medical professional immediately