Wearing tattoos with the names of persons is often a sign of the deep connection between the owner of the tattoo and the person named.  In the case of tattoos with kids names, there's no doubt about the connection that's there. The majority of wearers of these tattoos are mothers who are showing the bond they have with their children.
SHOWING LOVE THROUGH TATTOOS WITH KIDS NAMES
Mothers who inked the names of their kids on their bodies are often showing their love and devotion for them.  Of course, there's no denying the depth of the bond displayed by tattoos with the names of children etched on various parts of the body for all to see. For most persons, these kinds of tattoos are the only ones they have. Here are twenty-five tattoos with kids names that are appropriate for loving mothers.
#1: STRAIGHT FORWARD NAME TATTOO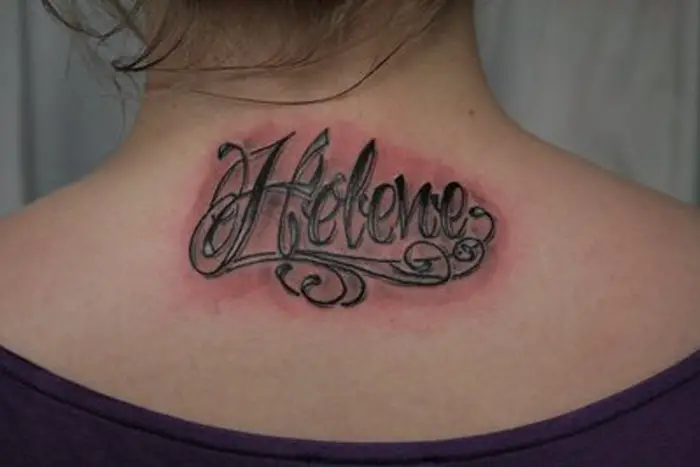 A straight forward kids tattoo that says the child's name is sufficient.  As you can see, it's easy to tell that this mother loves her daughter so much by this bold tattoo done in a black, stylish script.
#2: BUTTERFLY DESIGN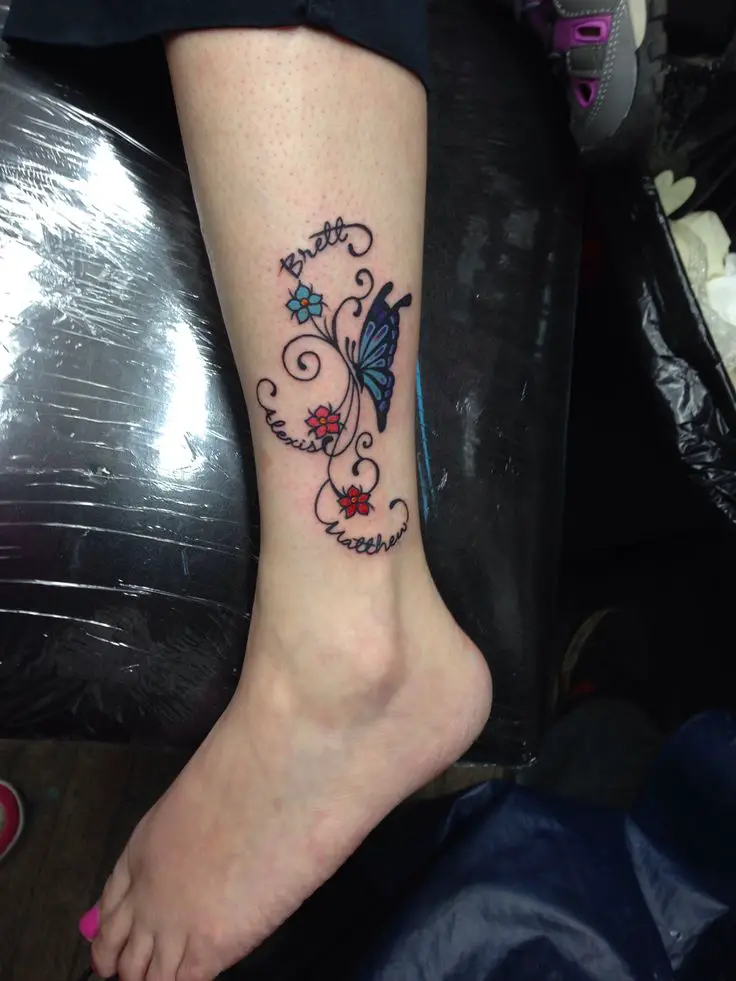 A tattoo for women with kids names featuring a colored butterfly with flowers is an appropriate design to show the children's names. In fact, one of the more popular places to place this tattoo is the foot.
#3: HAND PRINTS AND PICTURES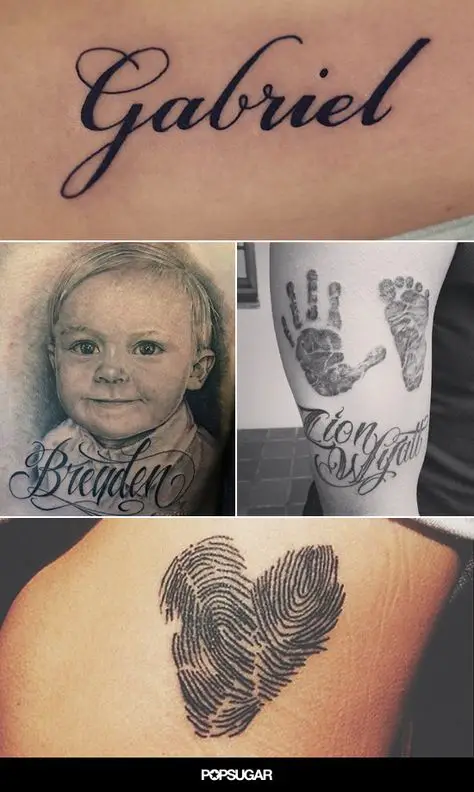 Interestingly, certain elements make tattoos with kids names so outstanding.  For this mom, it's just as important to include the palm and foot prints along with the picture of the child.
#4: SAY IT WITH A BUTTERFLY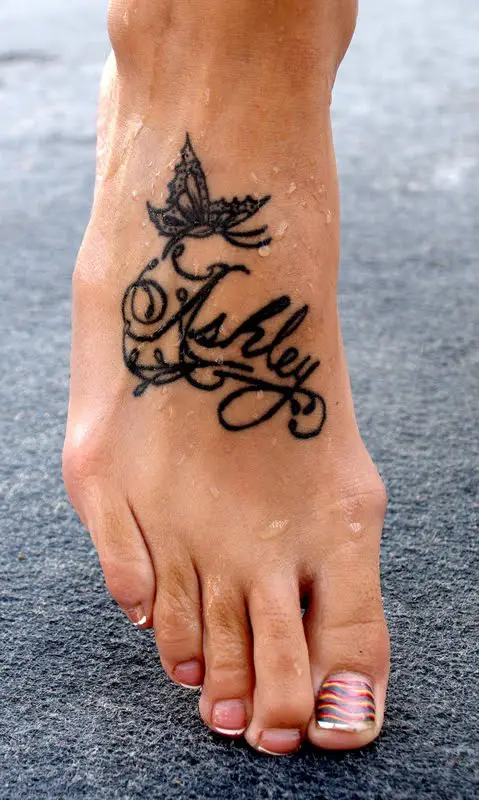 Neatly inked on the foot is a stylish tattoo that includes a butterfly.  Notice that this tattoo is the only one here in honor the child's birth.
#5:  THE CROSS AND BANNER TATTOO DESIGN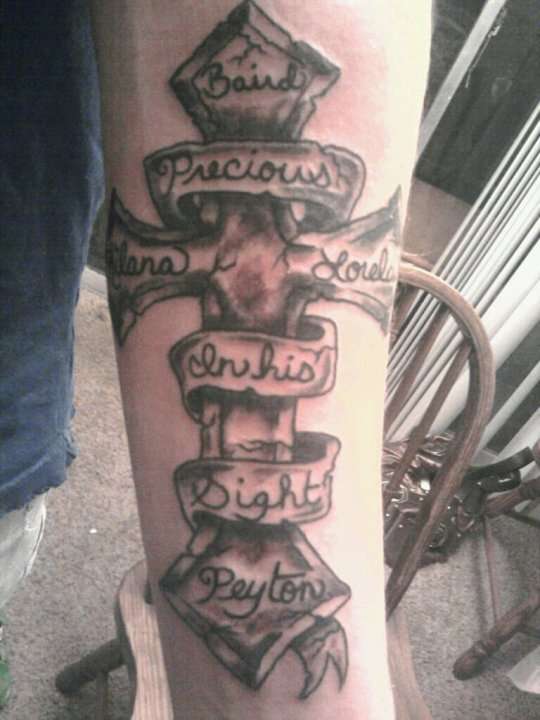 Moms can also choose to show their kids names along with suitable images such as the cross and banner. This is a clear proclamation that these children are very special.
#6: NAMES ON A BANNER DESIGN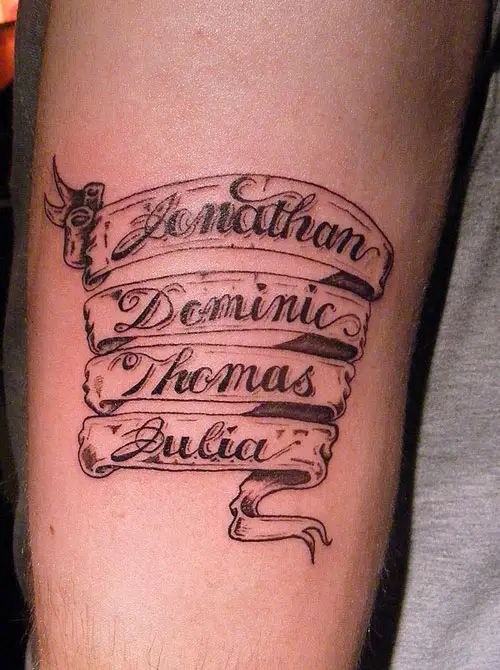 Here's another way to display the names of the kids that is tasteful and beautiful. A design featuring a single color and theme can be a fitting tattoo for moms with kids names to celebrate with their children.
#7: LITTLE ANGEL KIDS TATTOOS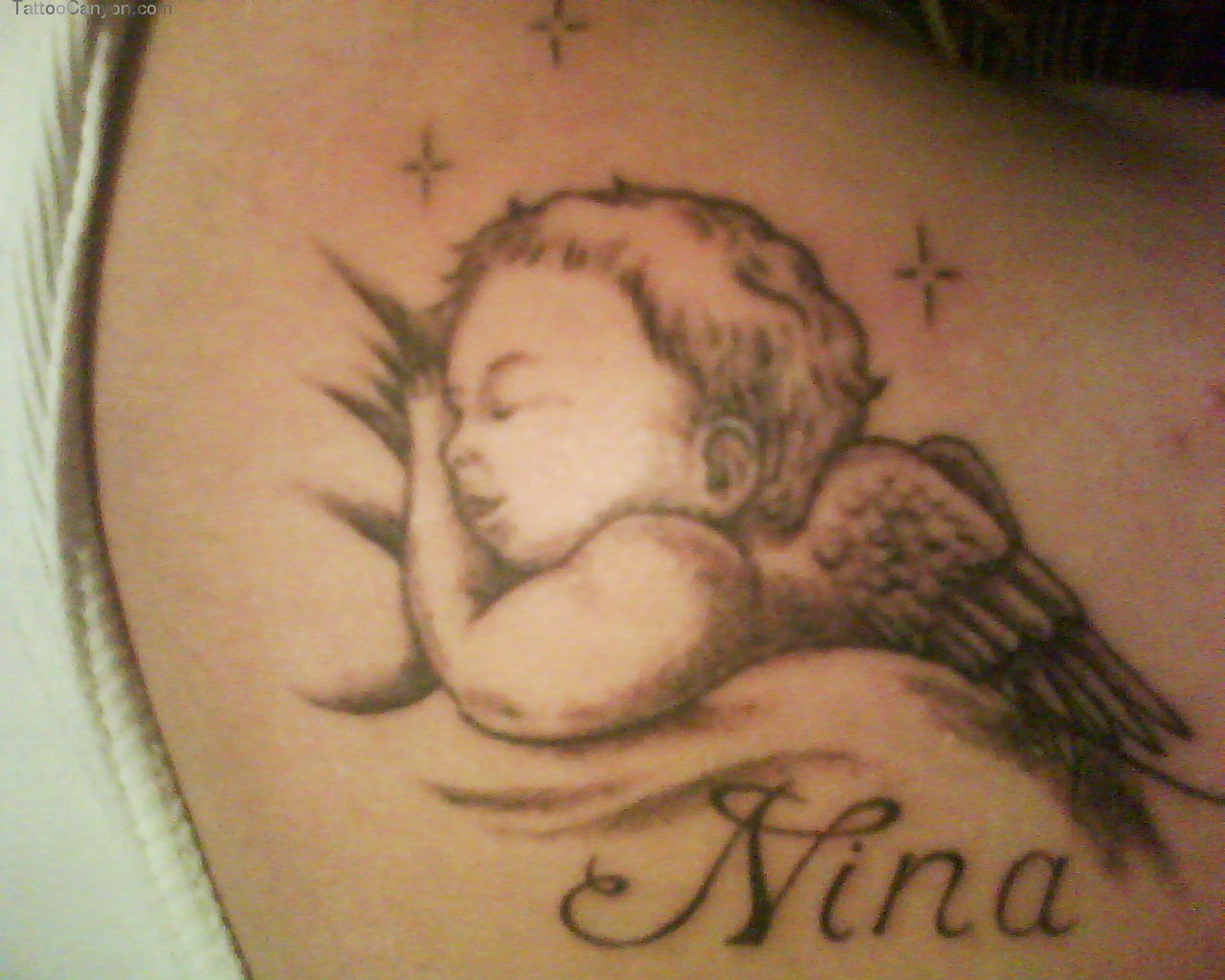 It's not unusual to see tattoo designs with not only the kid's name but a suitable illustration to go with it. This mom chose a tattoo that celebrates her little angel.
#8: PICTURES ADDED TO THE NAME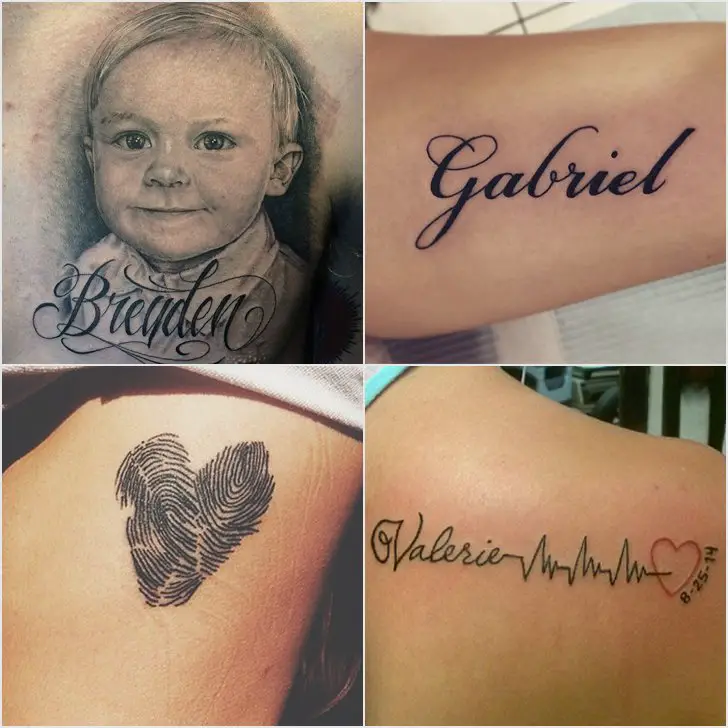 Graphics add greater depth to tattoos that carry the names of kids. See from the above examples added images such as the heartbeat and palm and footprints.
#9: INFINITY KIDS NAME TATTOO DESIGN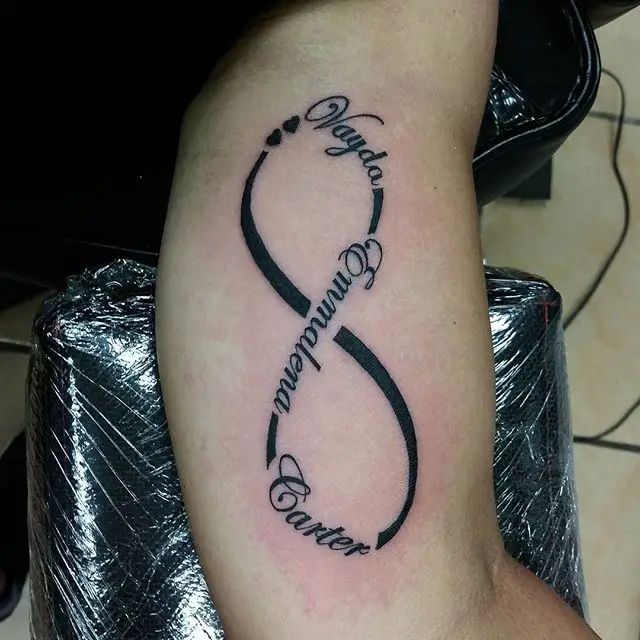 What better way to show your undying love for your kids than with an infinity tattoo design?  Here this simple tattoo for moms with kids names shows clearly this mother's devotion to her three kids.
#10: SINGLE PALM PRINT WITH NAME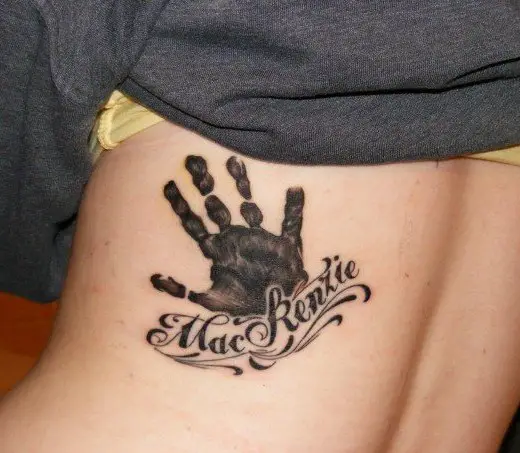 Palm or footprints are also popular among mothers who choose to place their kids names on their bodies.  For this mom a single palm print is an appropriate symbol of her son's presence.
#11: ROSES AND THE NAME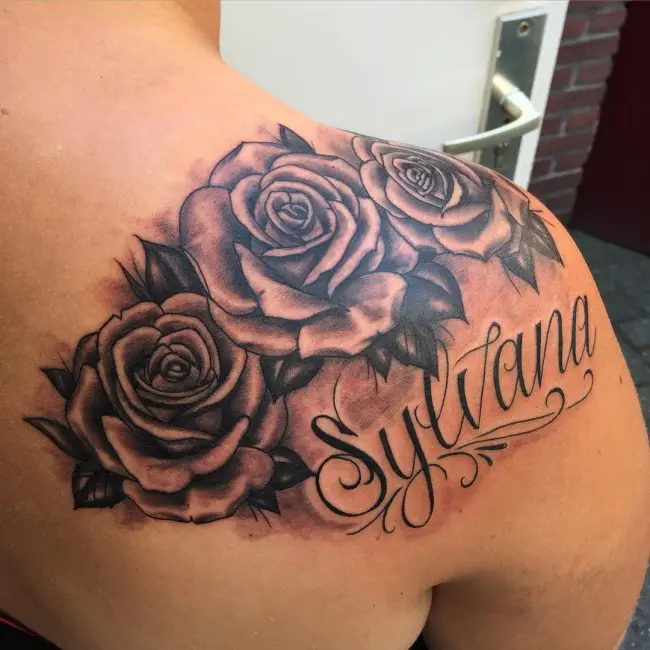 Flowers remain a main choice for tattoo designs featuring the names of kids and this dominant shoulder tattoo shows this quite effectively.
#12: KIDS NAMES ON VINE TATTOO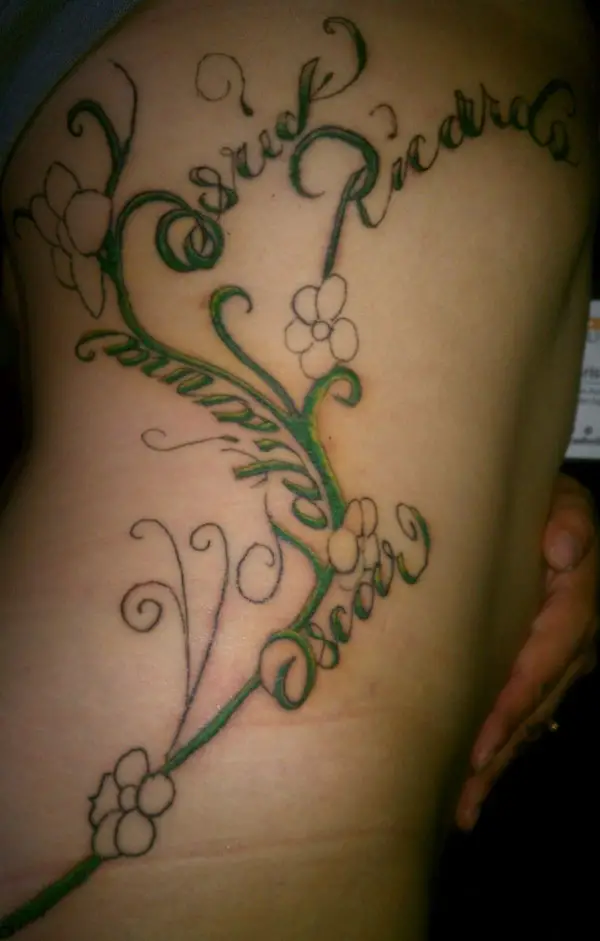 It's clear that this full length tattoo on this mother's torso is inspired by a flowering vine on which her children's names are skillfully intertwined.
#13: NAMES AND PRINTS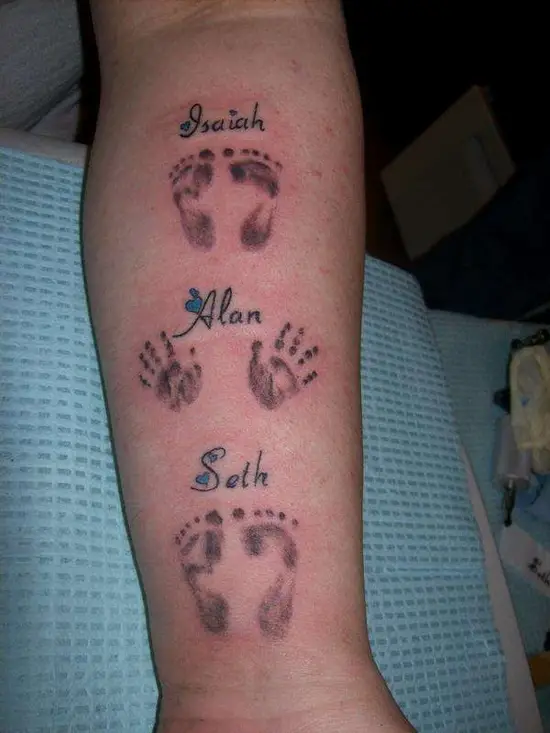 This tattoo artist has skillfully inked the names and foot and palm prints of this mother's kids on her arm. This one is a definite winner among tattoos with kids names.
#14: SIMPLICITY IN KIDS NAME TATTOOS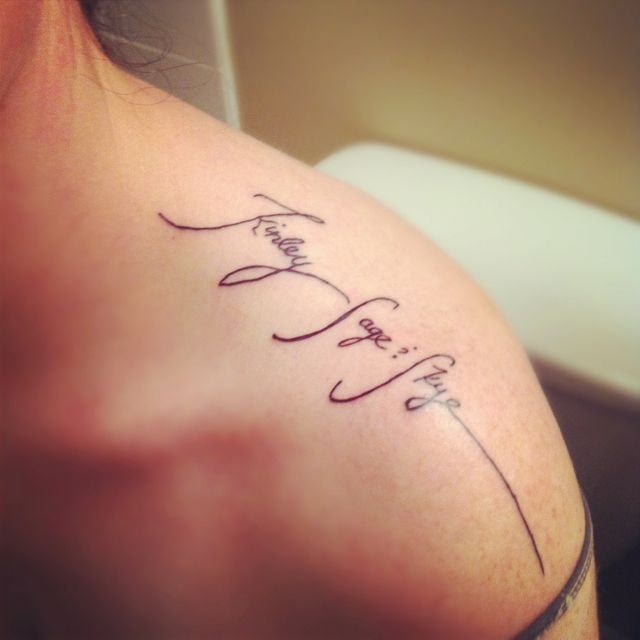 On this mom's shoulder you'll find the names of three children she loves dearly. The scripting adds a creative touch to an otherwise simple tattoos.
#15: MOTHER AND CHILD BONDED FOREVER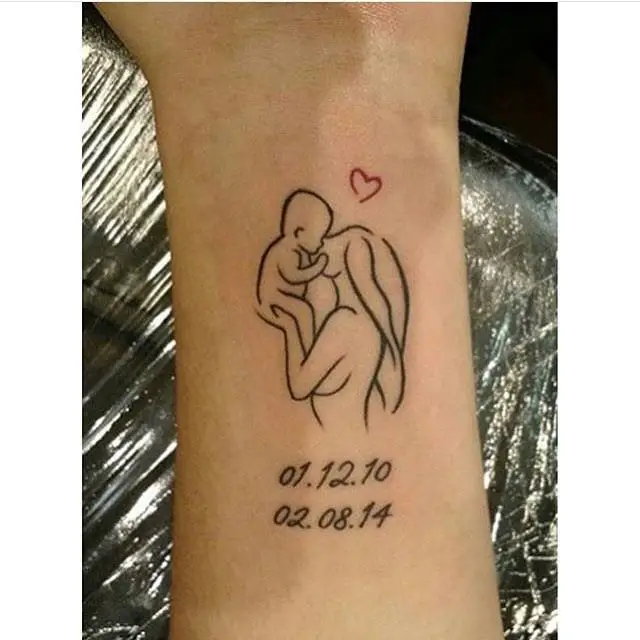 In memory of a child who dies, this tattoo idea uses minimal colors while creating the desired effect. Expect that this is a constant reminder for this mother who has lost her precious child.
#16: THIS HEART TATTOOS WITH KIDS NAMES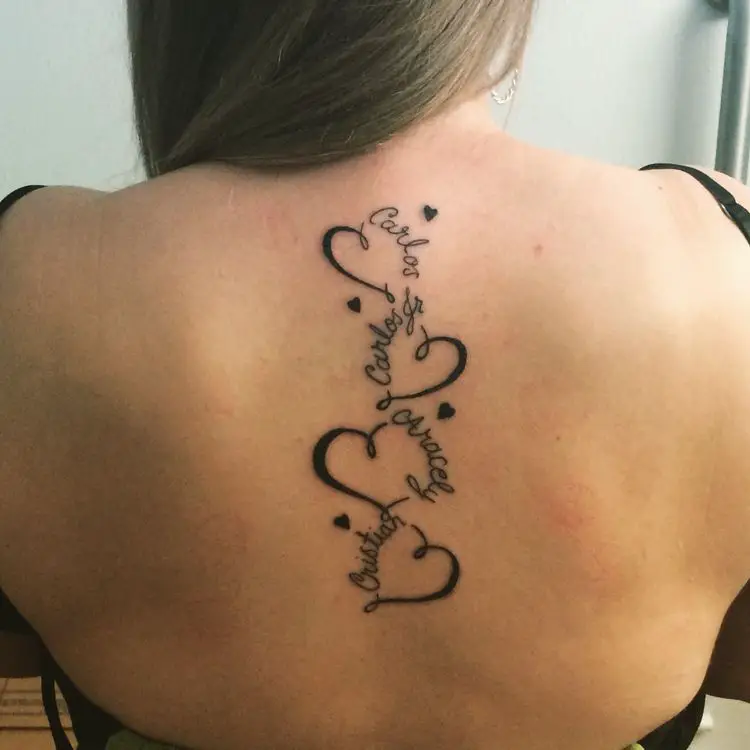 This heart tattoos with kids names is a clever mix of script and hearts ,which run down the spine is one way a mom can design a tattoo with the names of her  kids.
#17: KIDS NAME IN ARROWS TATTOO DESIGN
Simplicity is sometimes better in showing your devotion to your kids.  Here this mom has placed the names of her two kids on her side in the shape of arrows.
#18: STRONG REMINDER CROSS TATTOO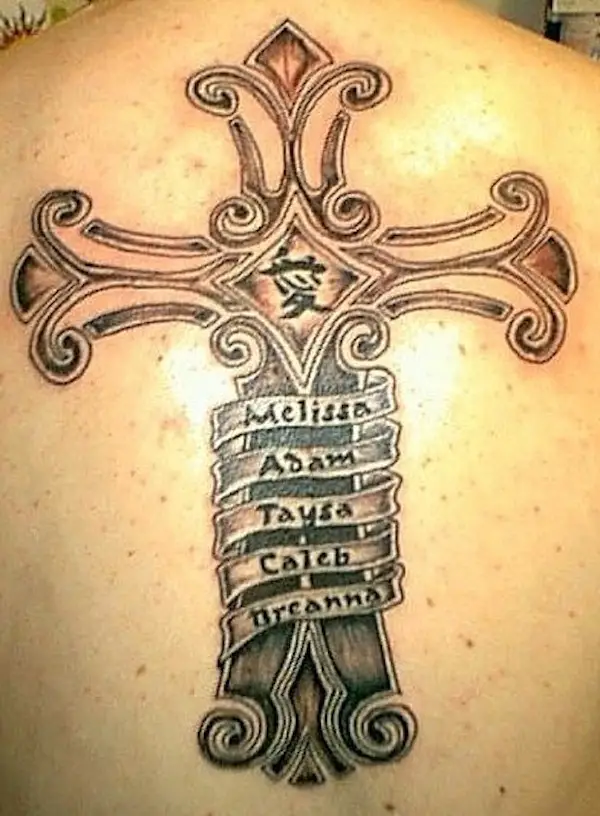 This large tattoo features a cross on which the names of a mother's children are wrapped. Clearly, this prominent tattoo done with black and grey ink presents a strong reminder for this mom.
#19: STARS IN THE FAMILY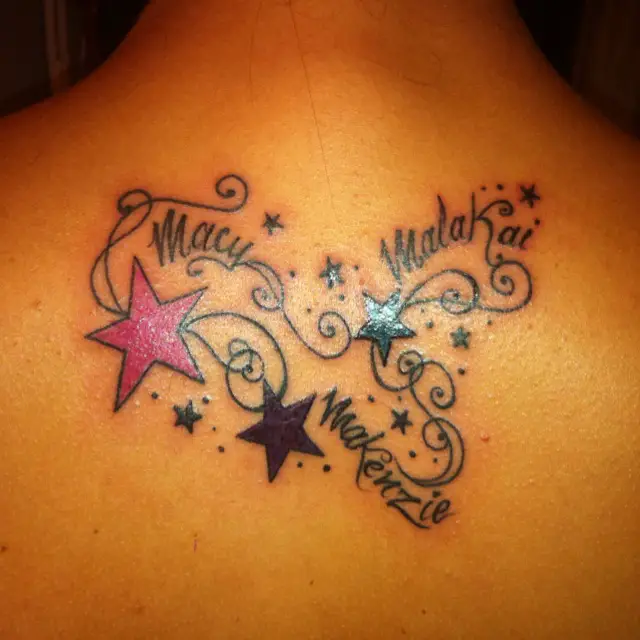 This mom has chosen a tattoo with kids names design that is sprinkled with stars. Clearly, she is proud of her shining stars.
#20: SENTIMENTAL TATTOOS WITH KIDS NAMES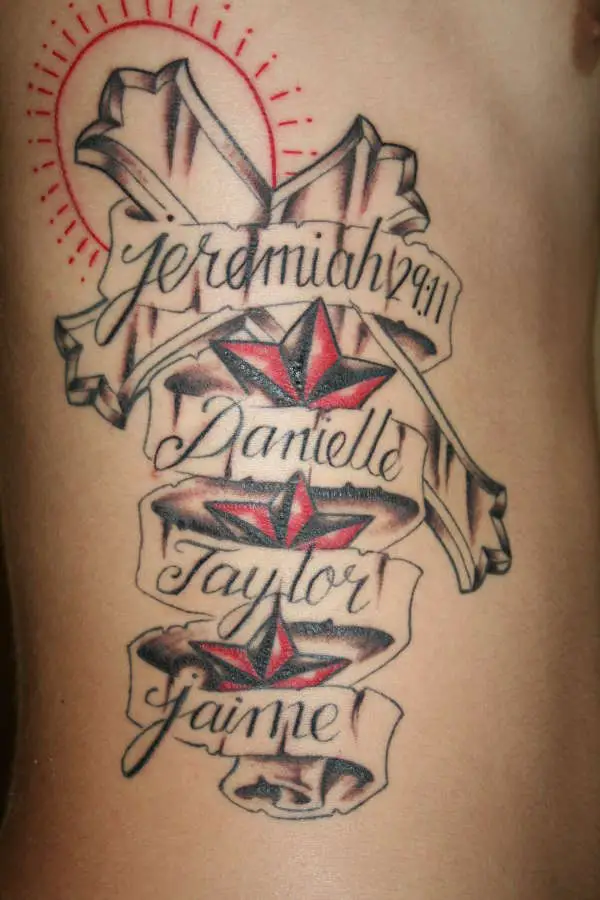 Tattoos with kids names can be represented by images that add meaning to the message being sent. Naturally, you may find that this kind of tattoo carries a lot of sentiment for this wearer.
#21: TREES ROOTED IN LOVE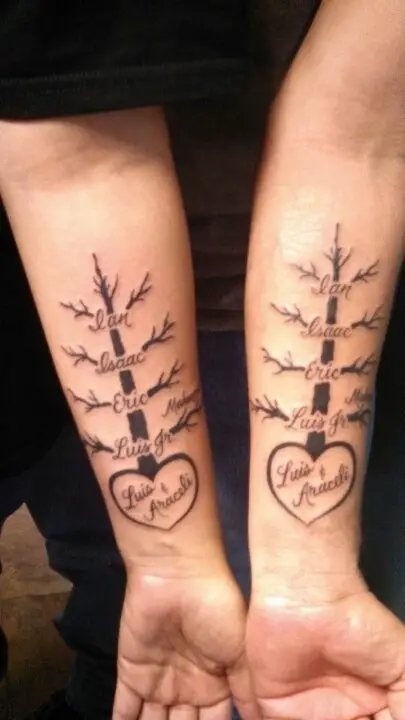 Along the arm these tattoos with kids names are arranged like trees with branches and rooted in love. No doubt these arm tattoos are great to keep track of the children in the family trees.
#22: CONNECTED TO THE HEART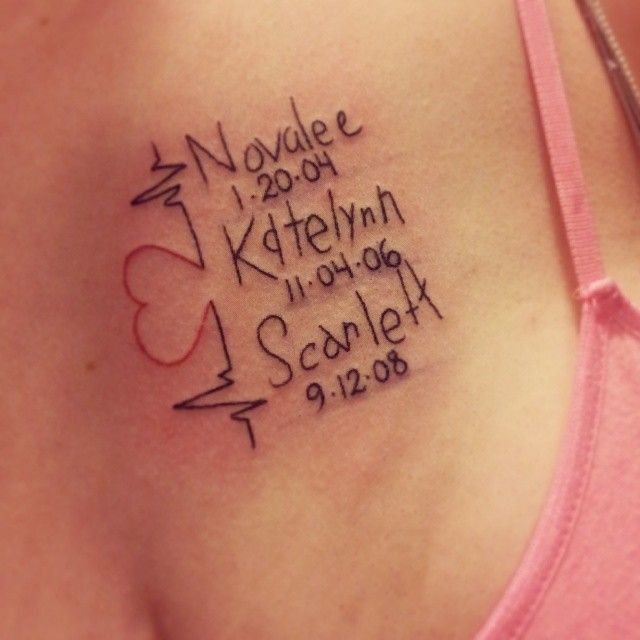 Clever use of the beating heart symbol to connect the names of three children and their dates of birth. Notice the script is deliberately childish as though each child had written it herself.
#23: FAMILY TREE WITH MANY BRANCHES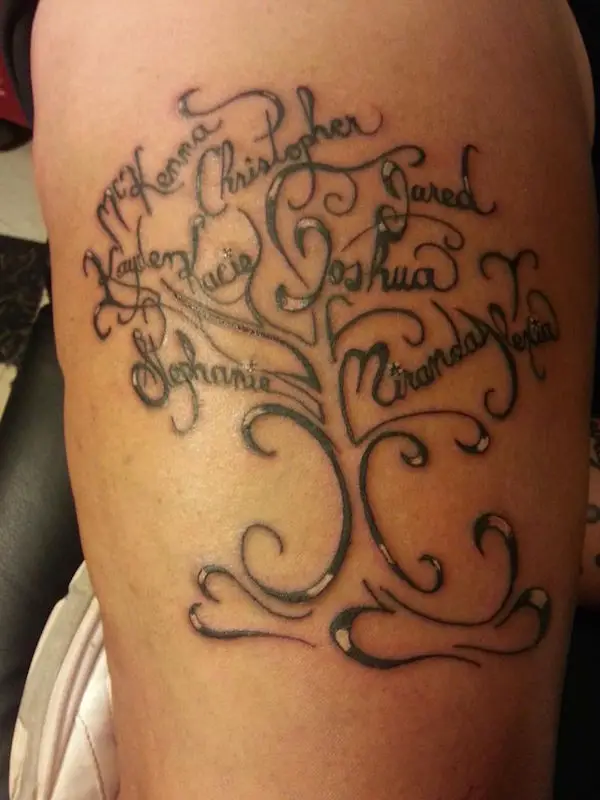 See also this family tree tattoo with kids names on the branches. Check out the stylish strokes in black ink used.
#24: TIMELESS TREASURES
Placed on the upper arm for all to see is a tattoo naming kids on a banner with clocks showing the times they were born. This is a clever use of black which is very well done.
#25: LOVED FOREVER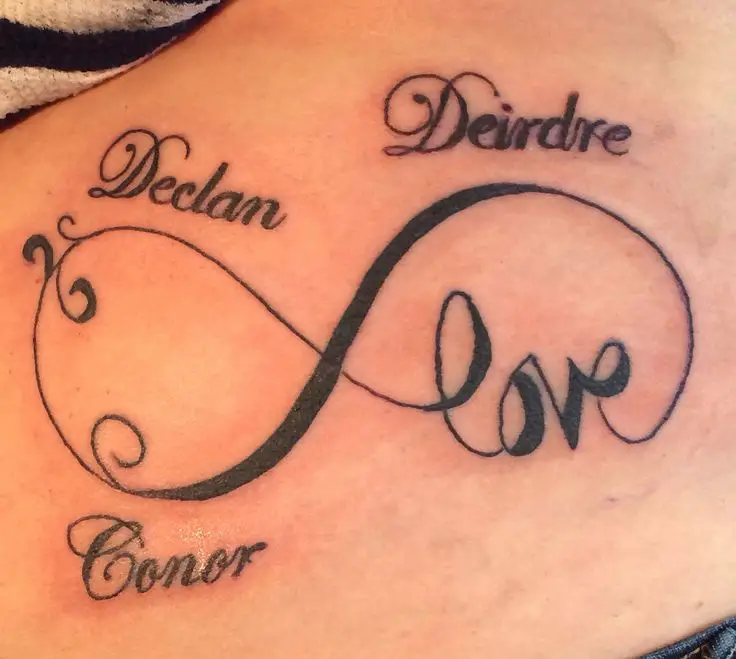 The infinity symbol connects the names of three children in a bond of a mom's love.  A simple yet effective tattoo on the upper back to show a mothers devotion to her kids.
#26: GINGERBREAD MAN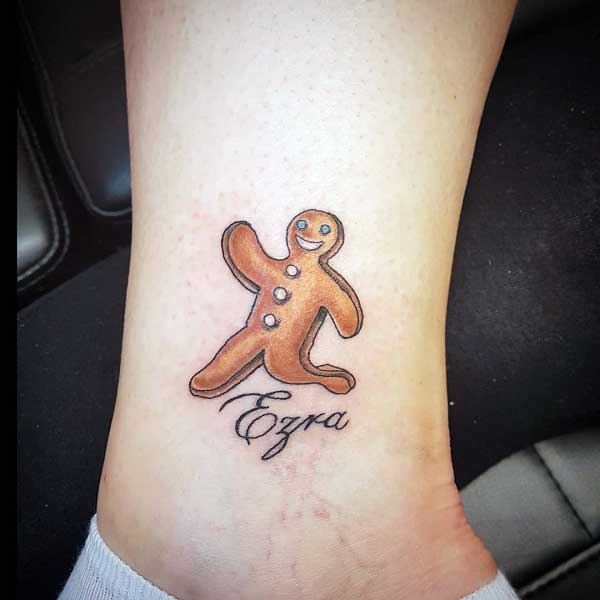 Make telling your kid this old story a trip, by getting a gingerbread man tattoo on your leg. Show how much you love your baby by inserting his name below.
#27: FEATHER AND NAMES

It's really interesting how you can fit the names of all your kids on one arm. But this masterpiece is incomplete without a feather to add poise to your tattoo.
#28: HEART-SHAPED TATTOO WITH NAMES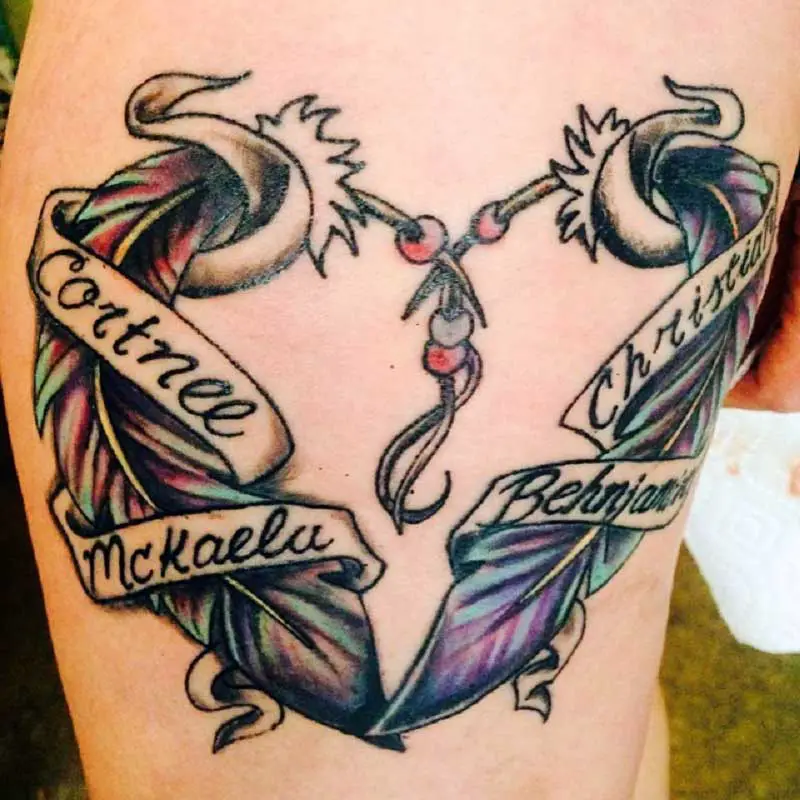 This is one beautiful way to design a heart tattoo. It gives you a sleek template to add the names of all your lovely kids. Experiment with colors for effect.
#29: NAMES WITH LOVE IN BETWEEN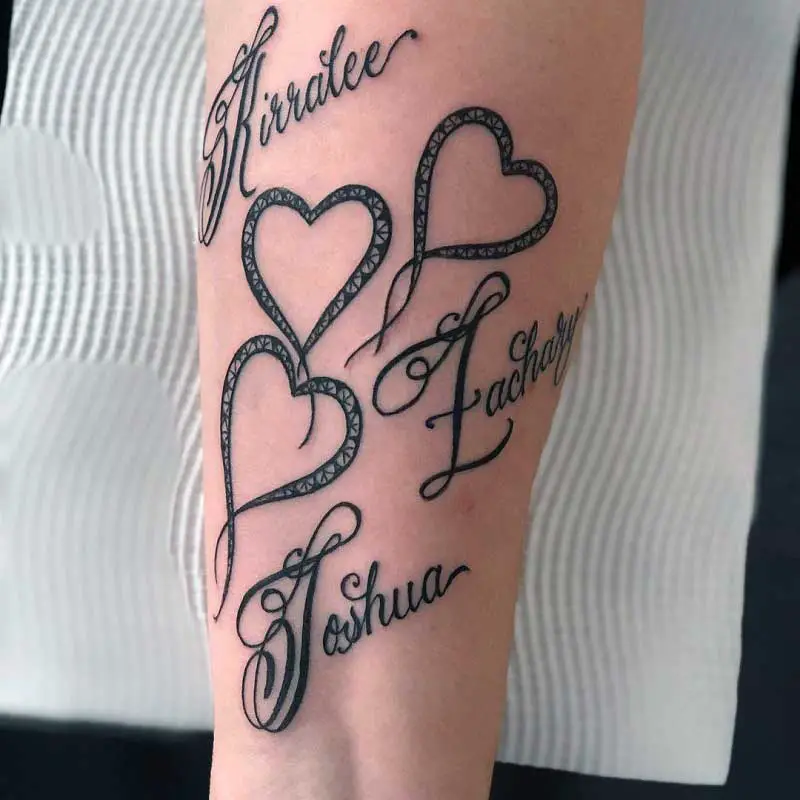 Don't you just love how expertly the names are arranged in this creative tattoo? They are patterned to perfectly house the boundless love you have for your cute babies.
#30: NAME ON WORD TILES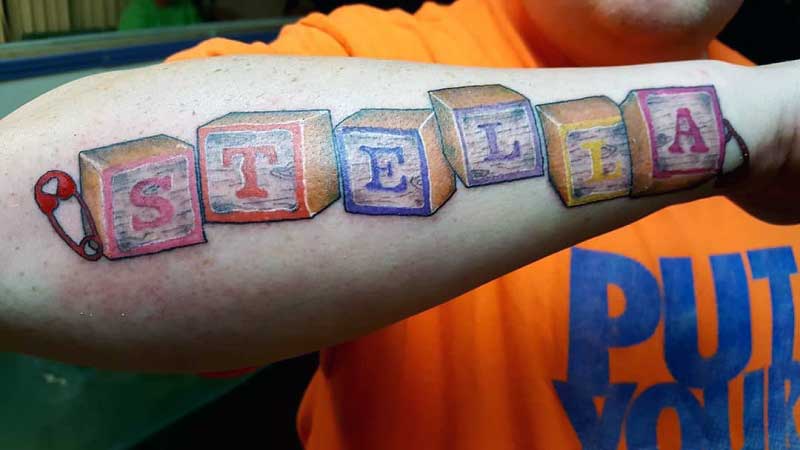 There is no grander way to express your love for your princess than this magnificent tattoo. This would definitely make the hall-of-fame. It is colorful, precise and styled to perfection.
#31: ROSE TATTOO WITH NAMES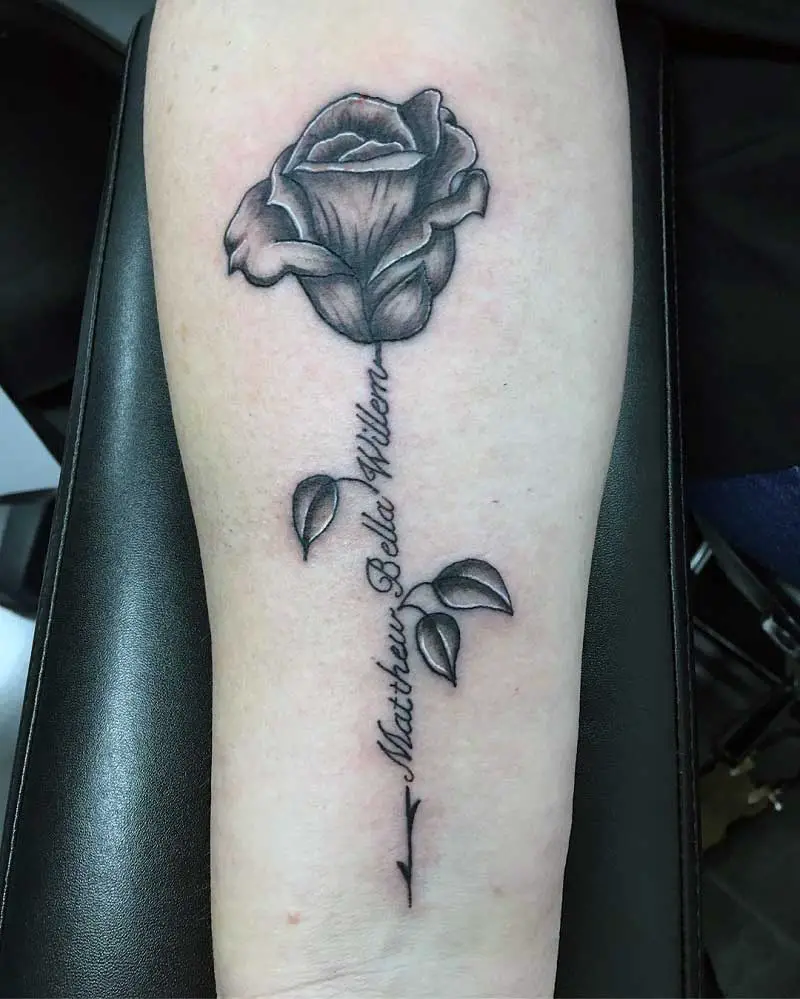 This has to be the loveliest rose tattoo ever drawn in history. It is made in a sleek black hue with your kids' names forming the stall of the rose.
#32: LOVE SHAPED LETTER IN A NAMED TATTOO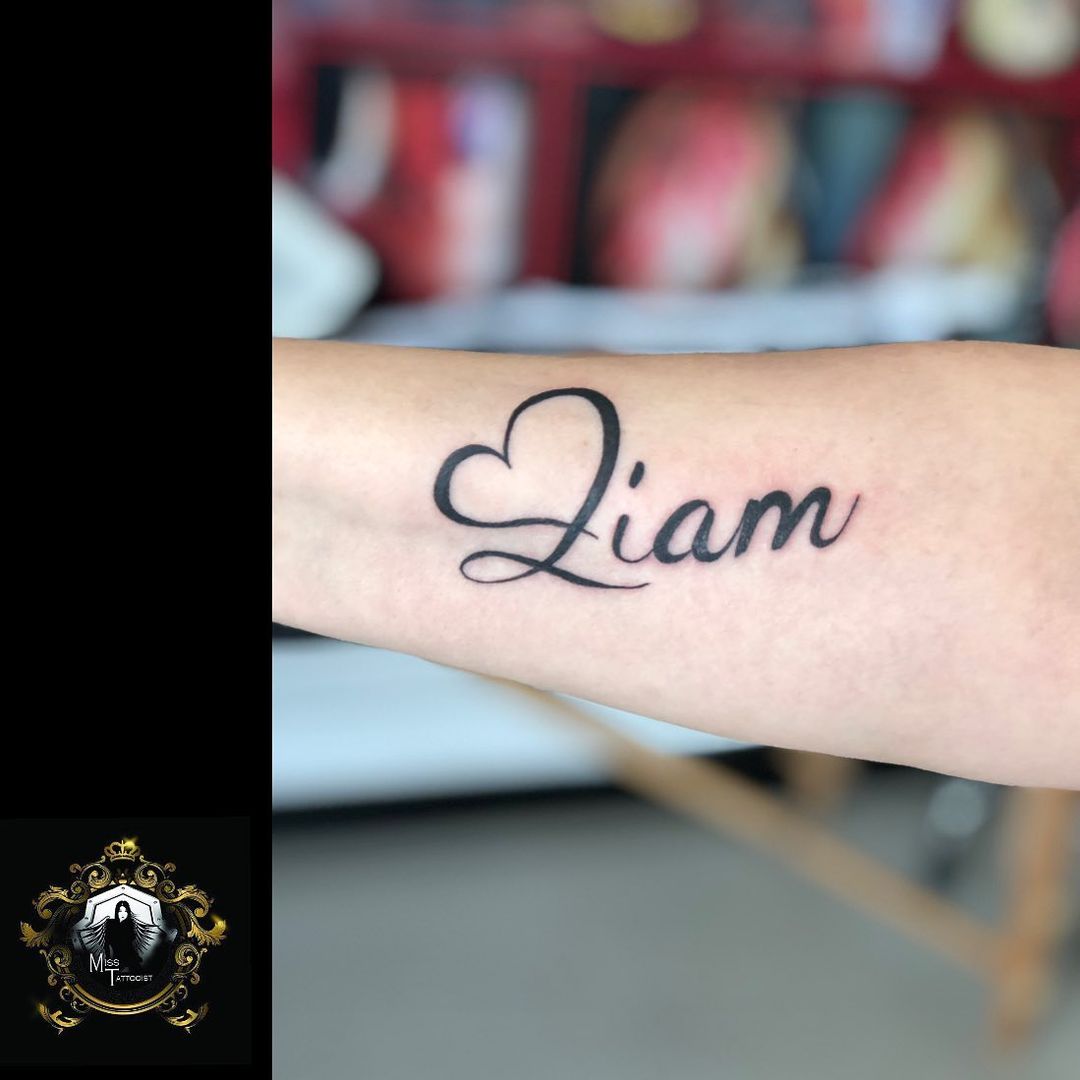 It is good to use creative fonts in designing your tattoo's letterings. This beautiful piece shows how a simple name tattoo can be made spectacular with a love-shaped L.
#33: HEART TO HEART TATTOO WITH NAME IN BETWEEN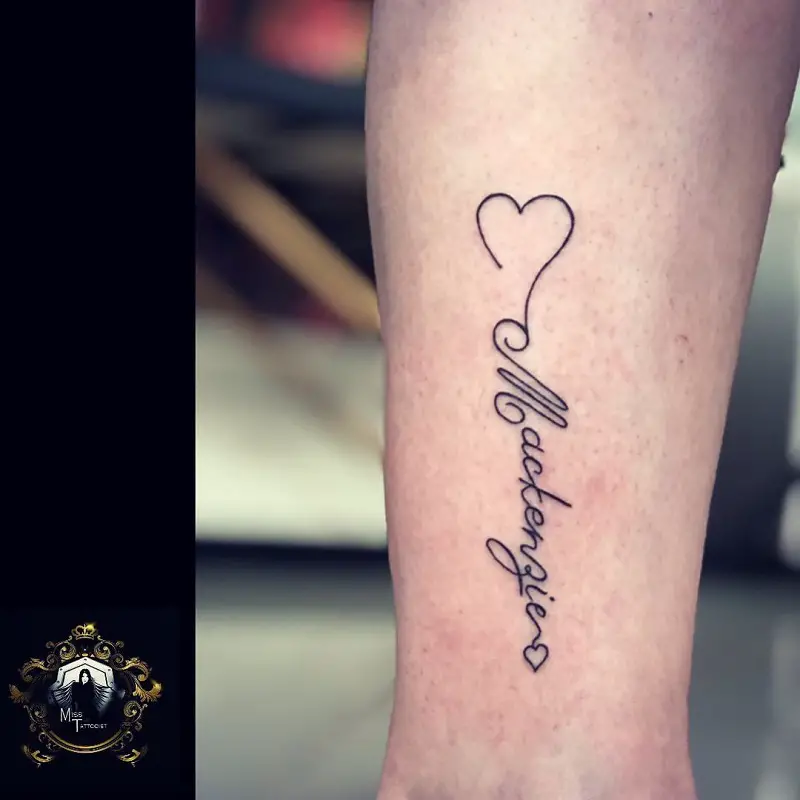 This is a simple tattoo with a heart shape on both ends. Your child's name is carefully etched in between for a cool finish. Show off your love with this.
#34: NAME IN LOVE TATTOO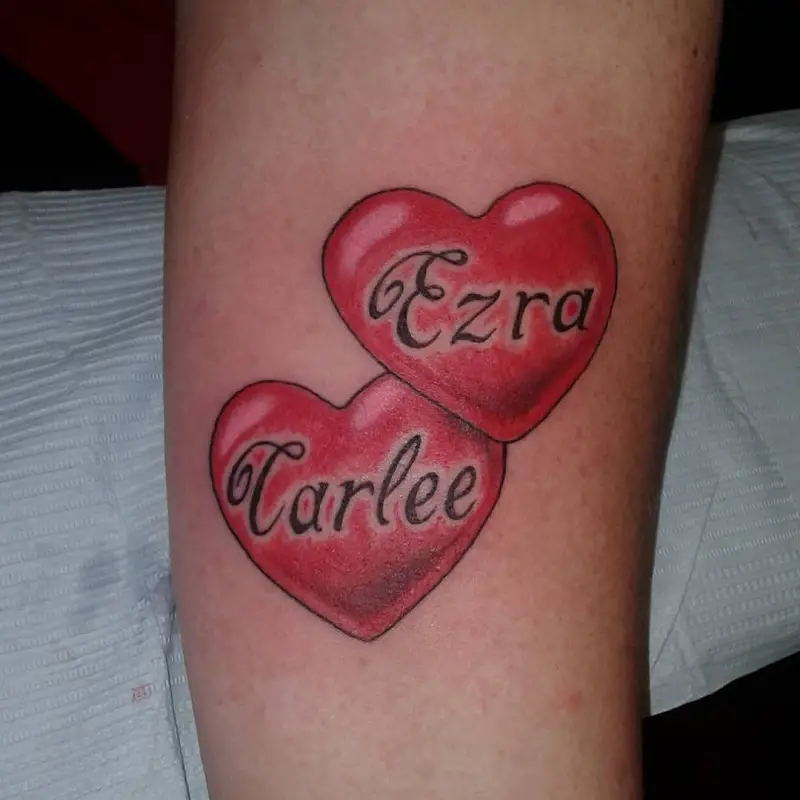 Tattoo your kids' names in the love you have for them, one for each. There is no sweeter way to scream your love from the hills than getting this tattoo.
#35:  FOOTPRINT WITH NAME DESIGN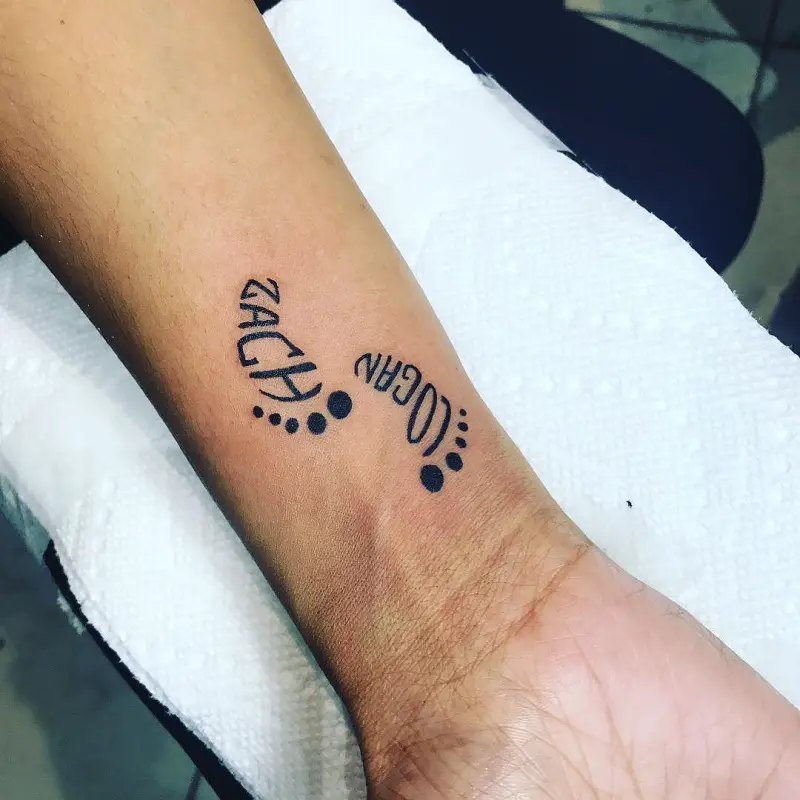 How ironic is it to get a footprint tattoo on your forearm? This tattoo expresses the great lengths you would go, to prove your love for your amazing babies.
#36: COLORFUL WINGS WITH NAME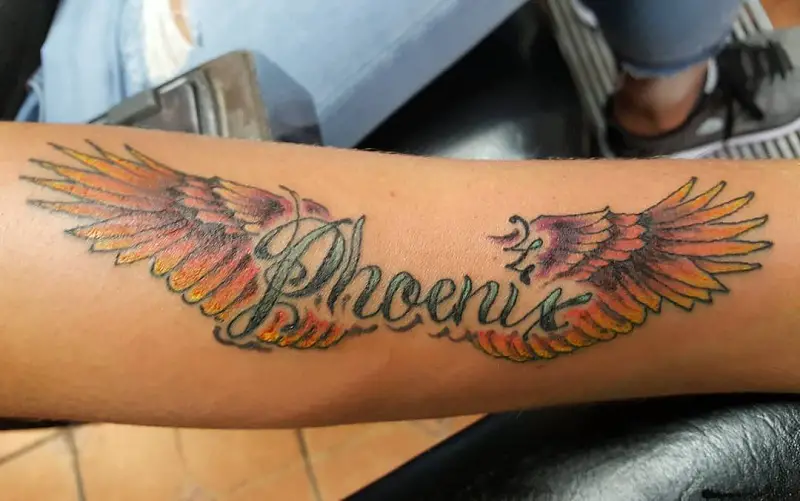 Give your love wings to fly with this grand colorful tattoo. This is a special design that would make you cherish every moment spent with your kid, with this on.
#37: CUTE ELEPHANT WITH NAME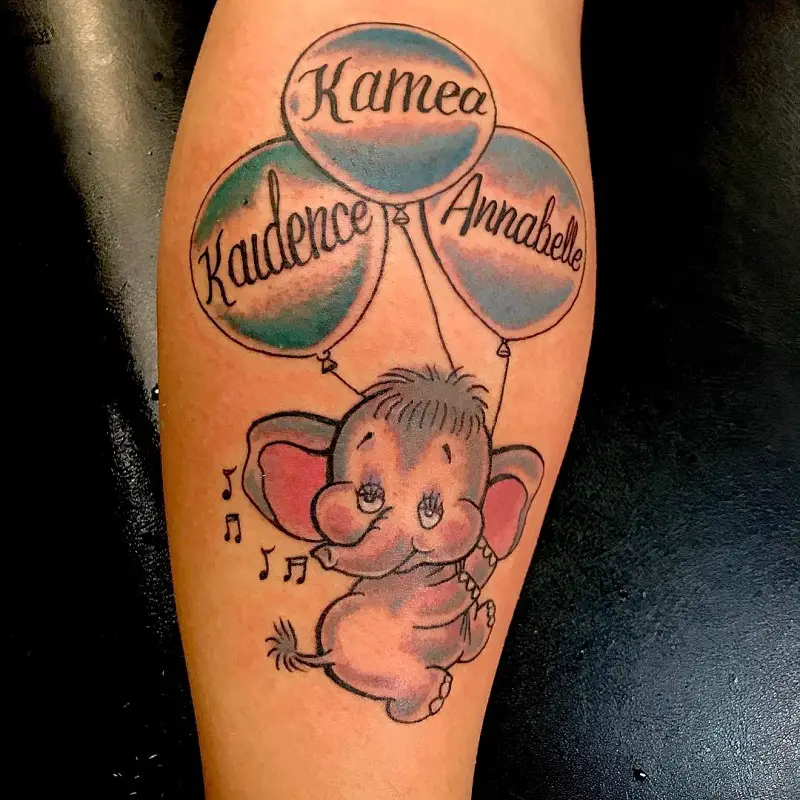 This cute elephant tattoo is one of a kind because of how nicely the names are carved in each balloon. Show everyone how proud you are to be a mother!
#38:  DRAGONFLY WITH NAME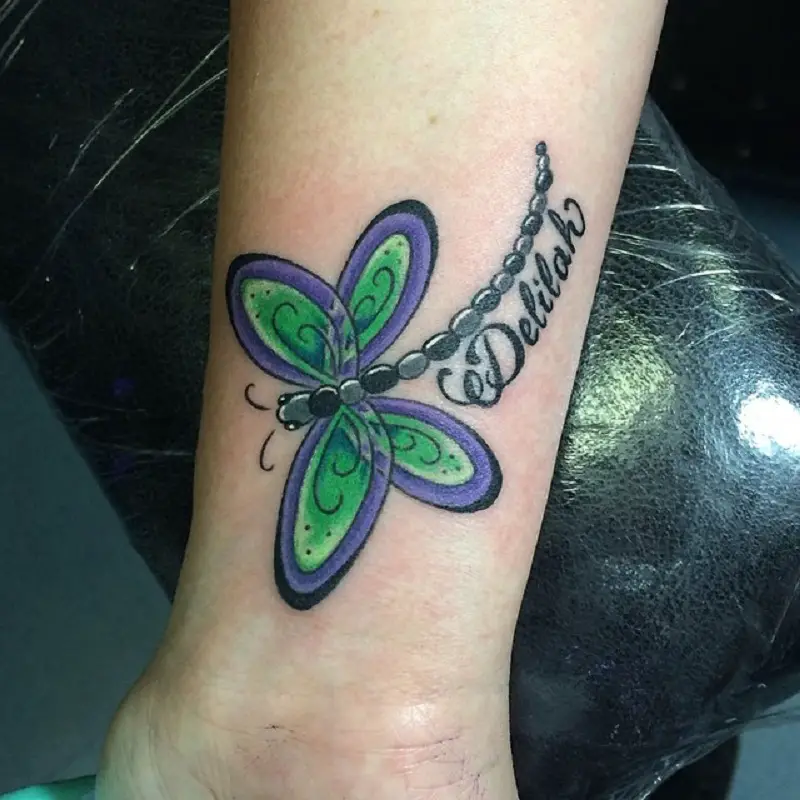 You can bring your tattoo to life with a colorful dragonfly to adorn your kid's lovely name. Best believe that there's no better time to get this than now!
Your children are very important and should be cherished.  There's no reason to deny yourself this opportunity to demonstrate through tattoos with kids names just how deeply you care for them. These twenty-five inspiring designs should get you going.