Moth tattoos have been around for ages. They represent births, transformation, resurrection in native American mythology. They are also growing in trend now.
Many artists have come up with many variations of moth tattoos that send different messages. A lot of the time they are used to describe a precise message and sometimes they are totally abstract.
The true meaning of moth tattoos can only be told by the one who has it on their body. Each tattoo has its own story to tell.
In this article, we'll go through different types of moth tattoos, their meanings, what they represent. You can be 100% sure that you'll get new ideas for your next tattoo from these amazing designs.
What does a moth tattoo mean?
Basically, a moth tattoo is a tattoo containing a moth or some variation of it. It is used to describe the personal transformation, healing, and death. They are also used to express one's emotions through exceptional designs. Someone who is trying to transform themself or has changed their lifestyle or character through a healing process best suits a moth tattoo.
80 Moth Tattoo Designs You Must Try
1. Black Moth Tattoo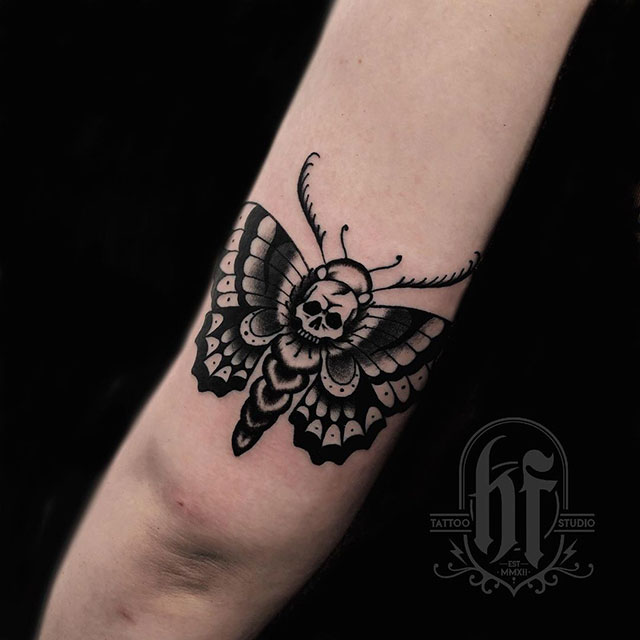 A beautiful tattoo of a black moth on the backside of a man's hand. The moth has a skull and the antennas are bent forward. gorgeous patterns can be seen on his wings.
2. Red and Dead Moth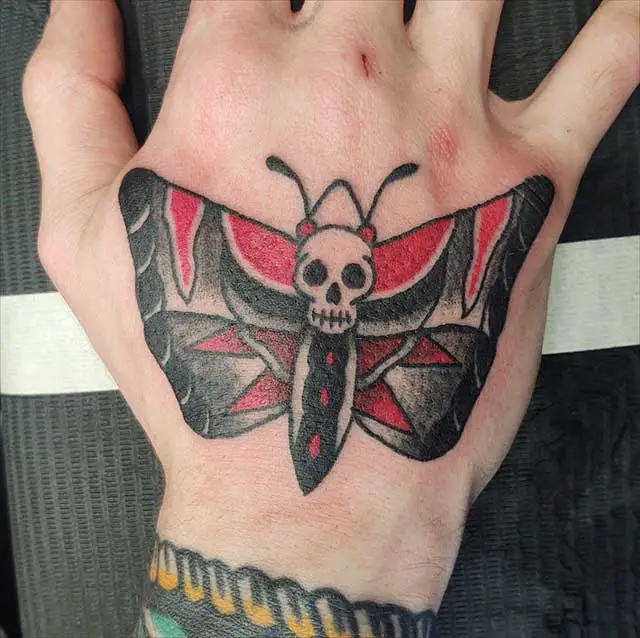 A red moth with triangle shapes on its wings. The skull on his head represents death. A great option for the back of the arm.
3. Outlined Cicada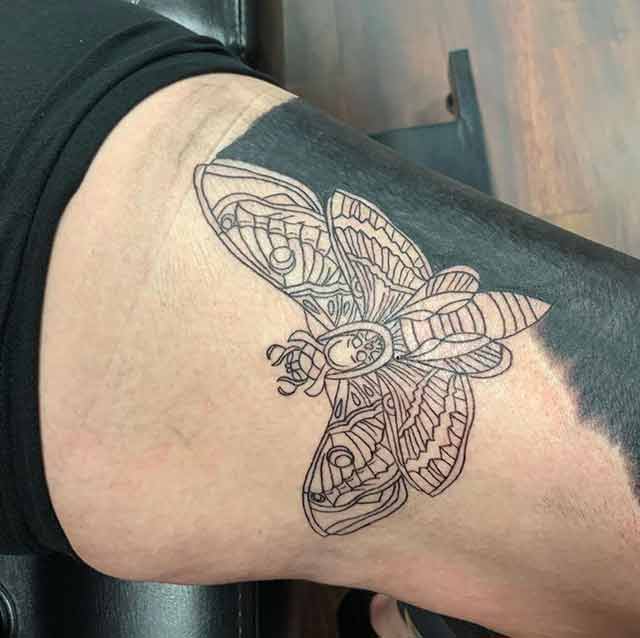 A fully grown cicada is drawn on a man's thigh. There isn't any color on the tattoo. But, the outline is gorgeous. It gives a clean and modern look to the tattoo.
4. Butterfly of death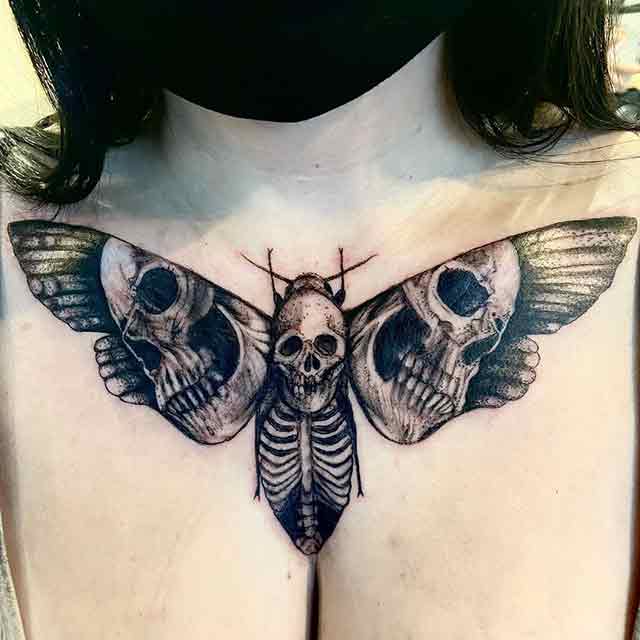 Death is written all over this tattoo. the wings of the moth are covered with skeletons. The body of the moth is also covered with skull and bones. A good representation of the death moth.
5. Moth tattoo on shoulder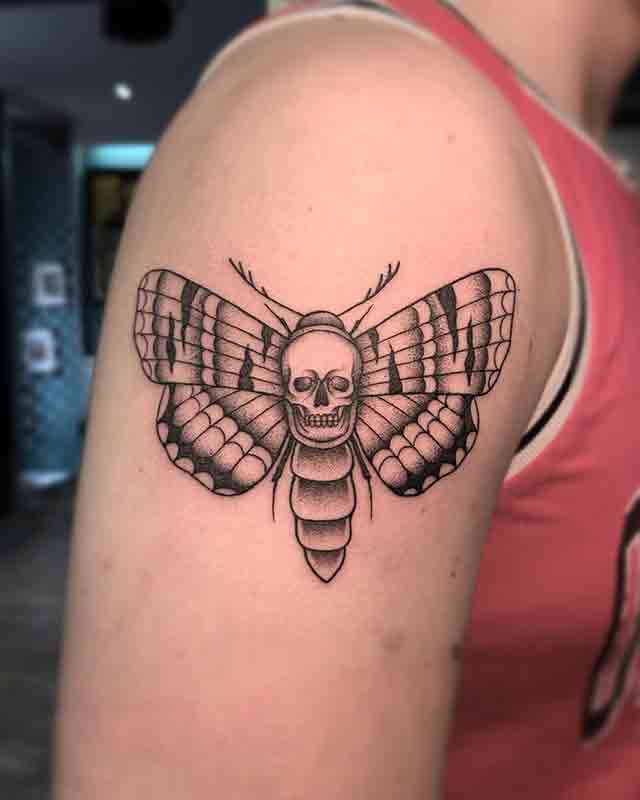 The moth tattoo has a minimal design and the wings look like the sky. It looks like it's in its transformation phase. A good representation of the meaning transformation is depicted through this tattoo.
Death Moth Tattoo
What Does a Death Moth Tattoo Mean?
Death moth tattoos represent the process of dying and being reincarnated from death. It's usually expressed with a symbol of death on a moth or butterfly. The skull on the moth's head symbolizes death. Hence, the name death moth tattoo. Sometimes they can also be used to describe the beauty of nature as well.
6. Death On hand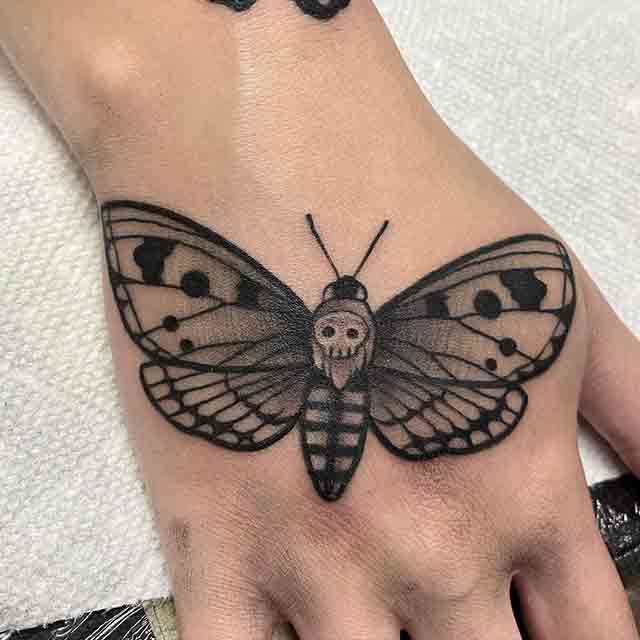 A death moth is on top of a hand. The moth seems to be resting on his hand. This shows the control over death and reincarnation with a simple design.
7. Colorful death moth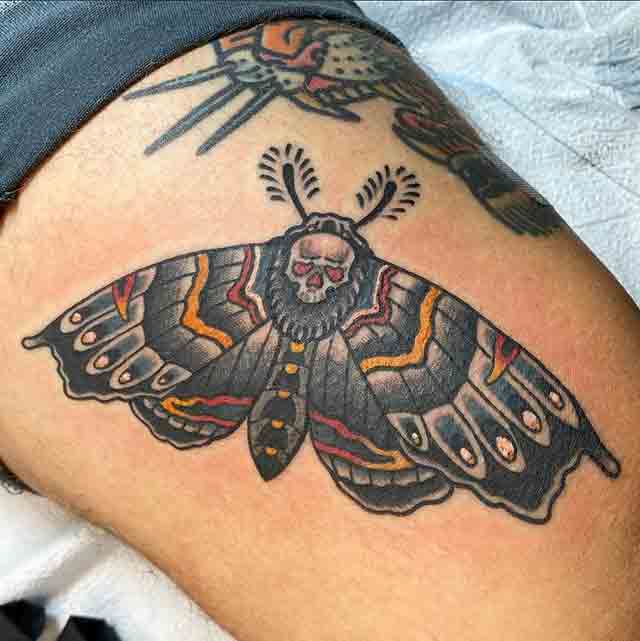 A fully transformed death moth that gained new colors through reincarnation. The moth still has a long way to go. But, the progress is easily identifiable in this tattoo.
8. Casket of Death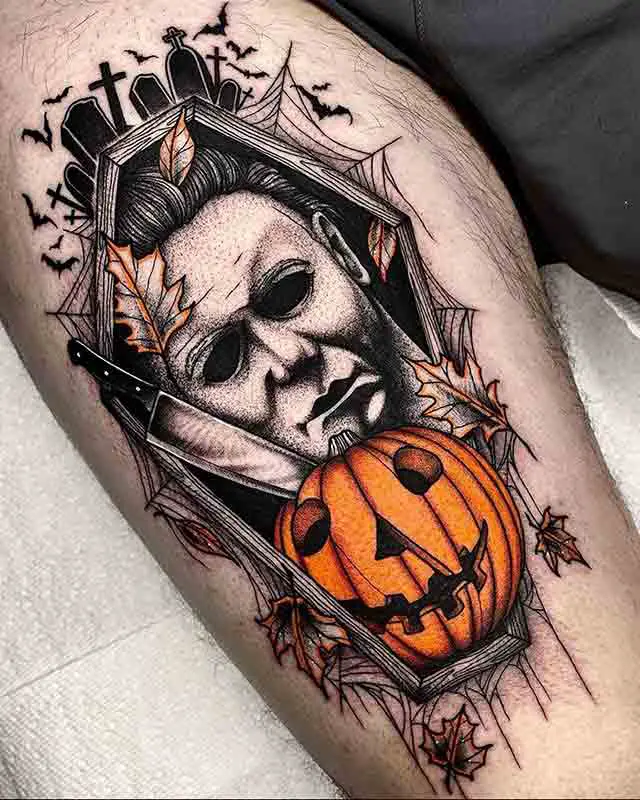 A pumpkin with a knife inserted in it with a spooky carving is inside a casket. There is a dad man's face on the casket as well. bats are flying all over it. A tattoo that spreads Halloween vibes.
9. The Butterfly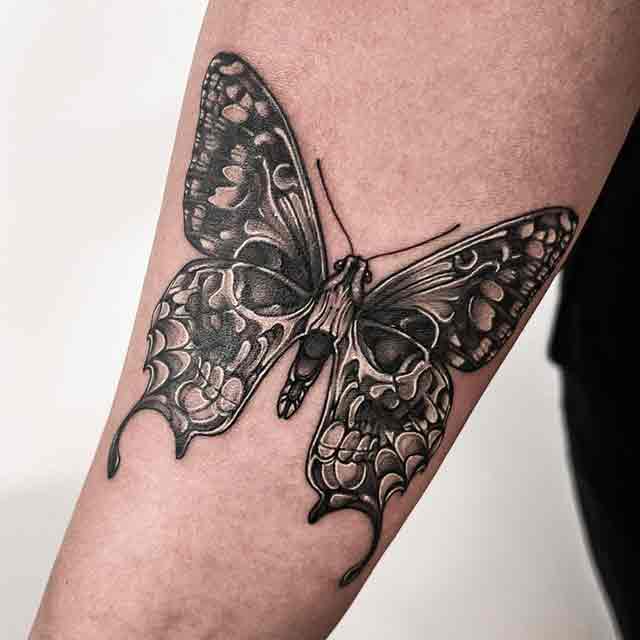 The wings of the poor insect are damaged but they look like designs. it tells the story that It's not what is seen that actually happens. It gives meaning to the moth tattoo and shows its struggle through a difficult time.
10. Flower and Moth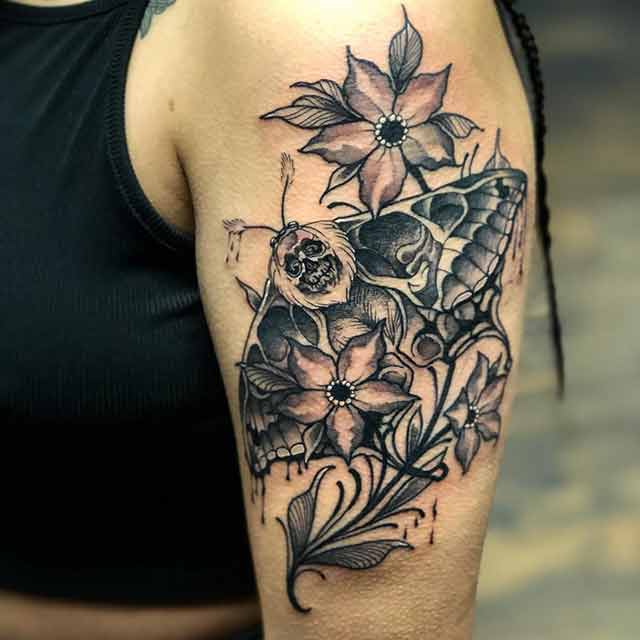 A death moth can be spotted among flowers. The lower it touched has fallen in the ground. A good indication that this will kill anything it touches. The tattoo looks amazing on a women's left shoulder
11. Luna Moth tattoos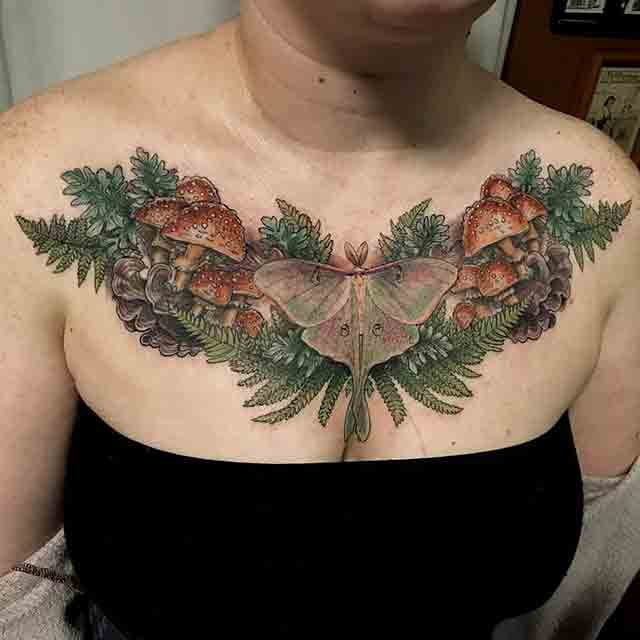 A luna moth is on a women's chest. The beautiful colors of the tattoo fully express the determination and transformation with exquisite design. A wonderful choice for a tattoo on the chest.
12. Vibrant Moth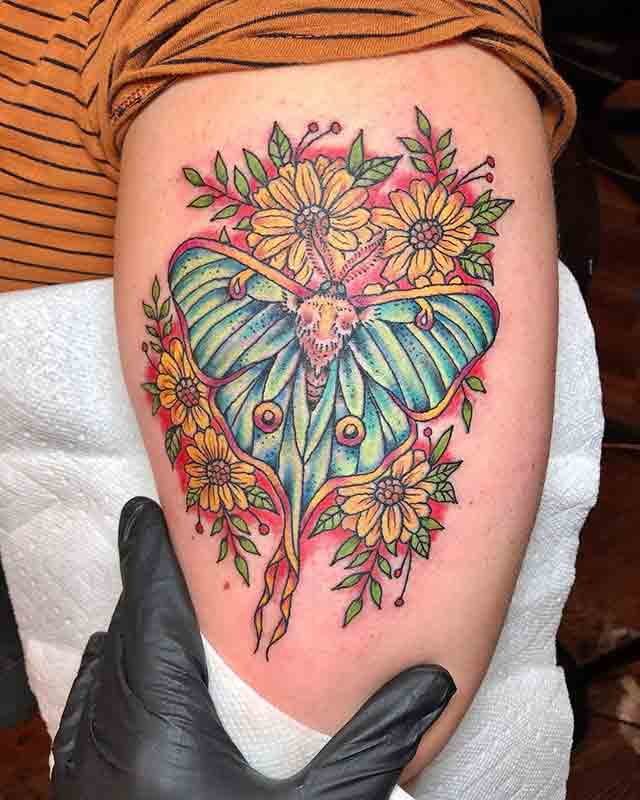 The beauty and design of a fully transformed moth hide the struggle. The luna moth can be seen on a bunch of flowers. It's looking for a quiet and peaceful time after its long journey.
13. Greenish Moth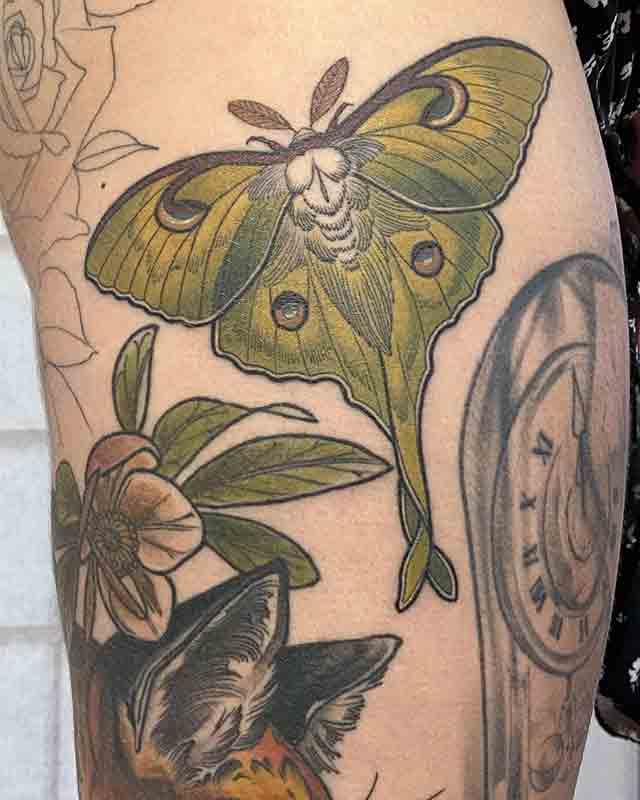 A moth can be seen flying by a flower. The color of the moth is a light green that matches the leaves. It makes a perfect cover for itself. A piece of true art on a man's thigh.
14. Bold Moth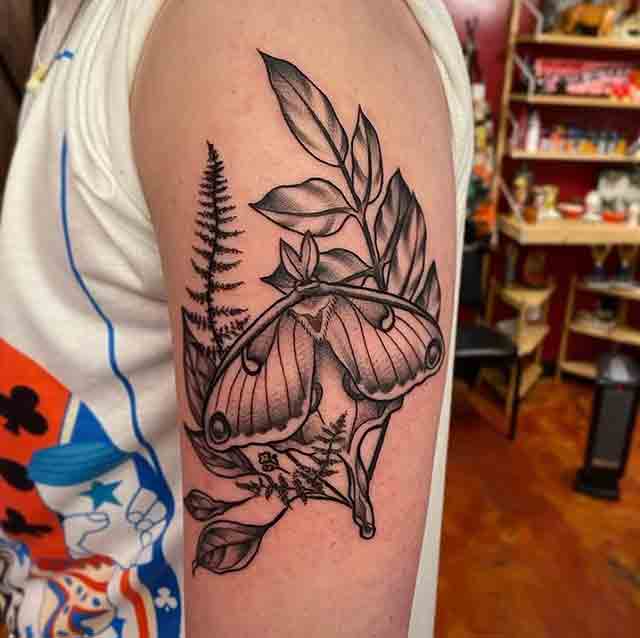 A beautiful moth tattoo on a man's shoulder. The bold lines bring out the details of the tattoo. The luna moth can be seen clinging to a branch and minding its own business.
15. Genshin Impact Moth Tattoo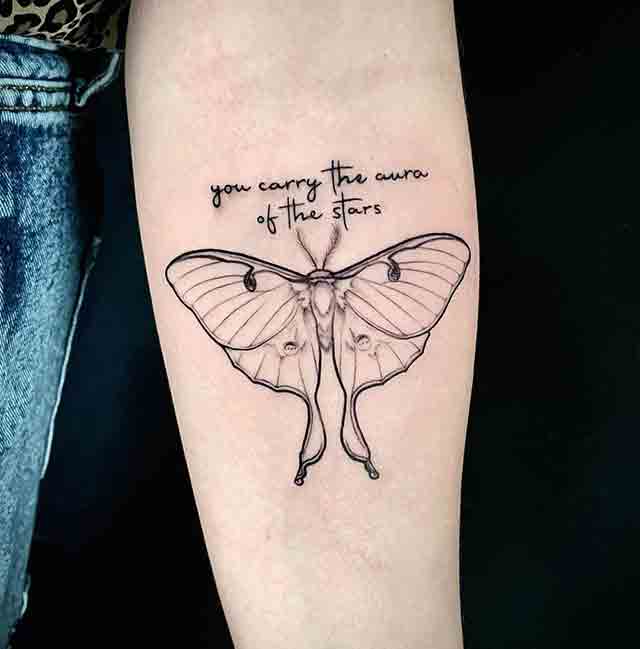 A famous line from the Genshin Impact that says "You carry the aura of the stars" Is written on top of a luna moth. It represents both the moth and Genshin Impact tattoos at the same time.
16. Moon Kissed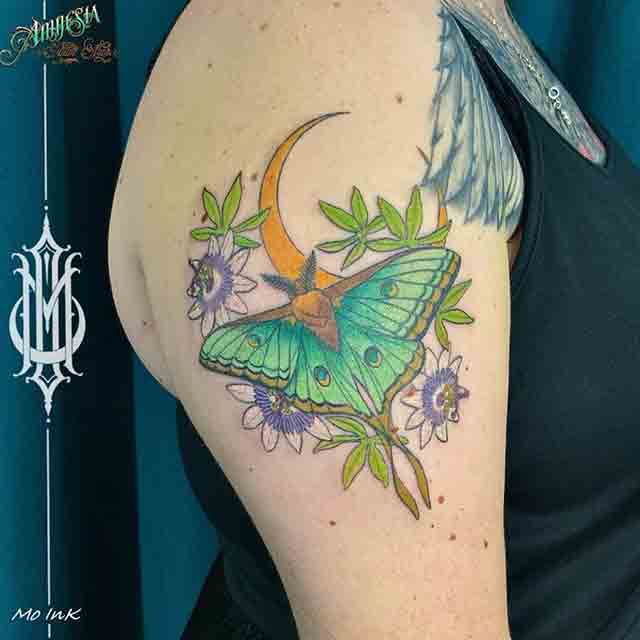 A luna moth that is green in color is flying toward the moon. The moon is golden in color. There are a lot of flowers around the luna moth. An elegant tattoo on a women's arm.
17. Paired Moths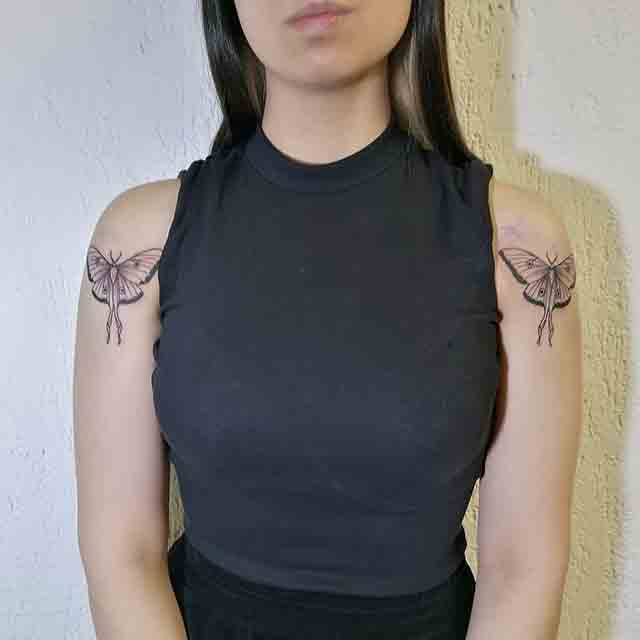 Two amazing moth tattoos on both shoulders of a beautiful woman. The tattoos are almost identical in size and design. The pair looks great on both of her shoulders.
What Does a Moth Tattoo Symbolize?
Moth tattoo symbolizes transformation, reincarnation, etc. However, they can also symbolize death, metamorphosis, and rebirth. They can also symbolize the struggle someone's going through in their life. Luna moths can symbolize the moon's reoccurring and regenerating nature as well.
18. Luna Moth with Chains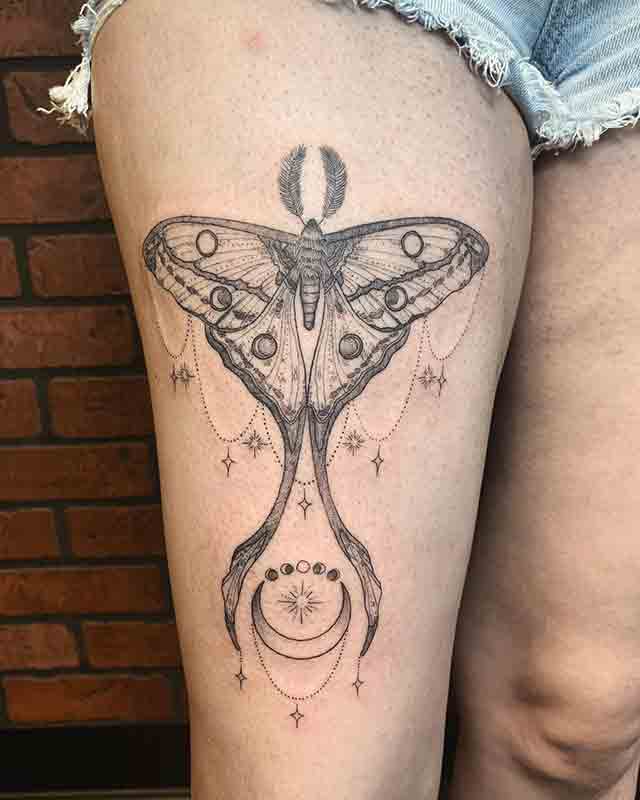 A luna moth with a lot of sparkling chains on a women's thigh. There's a moon at the bottom of the tattoo. The elegant chains give this tattoo a filigree vibe. A nice feminine tattoo for women.
19. Honey Seeker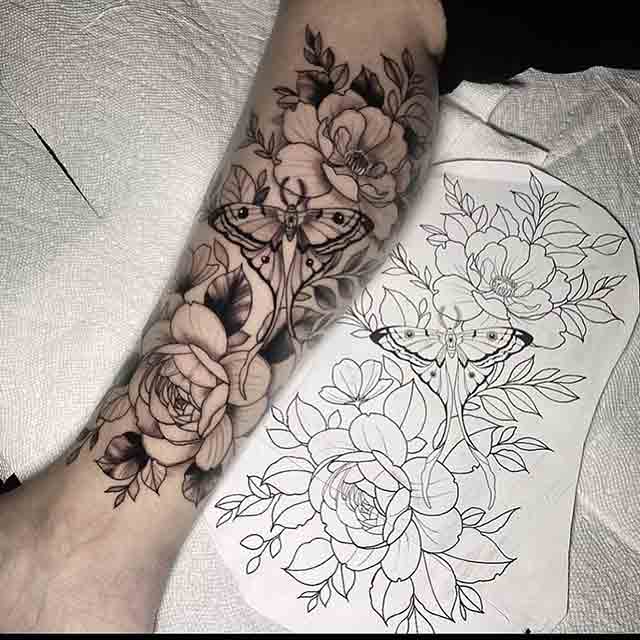 A black and white tattoo of a luna moth searching for honey among flowers. It is surrounded by many flowers but will only choose the one that it finds the most attractive. A wonderful leg tattoo with great details.
20. All Seeing Moth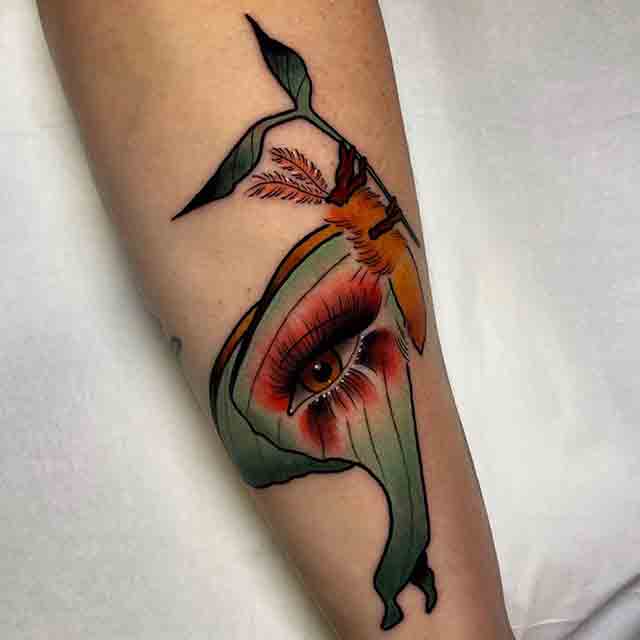 The moth itself looks hairy with huge wings. The wings are much bigger than its body and there's an eye on the wing. The eye is looking straight at down the viewer's souls.
Traditional Moth Tattoo Meaning?
Traditional moth tattoos are vibrant in color with many designs that have a lot of meaning. Traditionally moth tattoos are used to describe someone going through a tough time or someone who is going through a transformation. It also means regeneration and metamorphosis as well. Sometimes they also represent the beauty of life and nature through their design.
21. Traditional Moth On Leg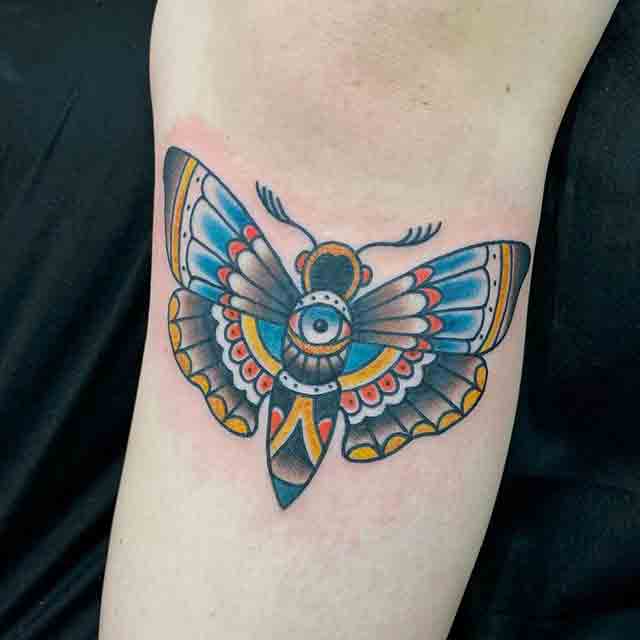 A moth tattoo with a beautiful pattern on its wing is drawn on someone's leg. the body of the moth has an eye at the center. The eye enhances the gorgeous colorful patterns of the tattoo.
22. All eyes on deck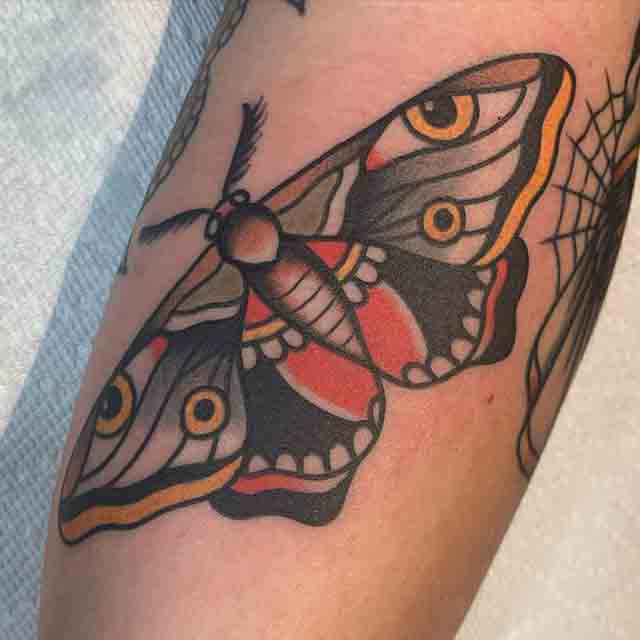 A black moth with some red spots containing four eyes. Both wings have two eyes. The top wye is slightly bigger than the bottom ones. the lower wings have a design that looks like an open mouth with a crimson-colored tongue.
23. Well Blended Moth Tattoo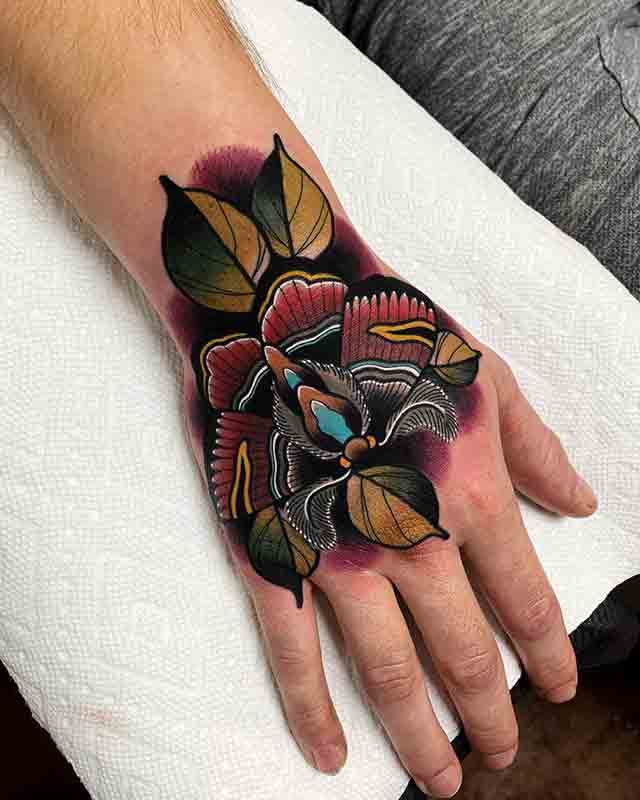 An attention trapping tattoo of a moth on the backside of a man's hand. The superb design can only be understood if someone pays proper attention. It's almost impossible to distinguish the moth from the background. It represents the transformation of the moth to match its surroundings.
24. Flower Guarded Moth Tattoo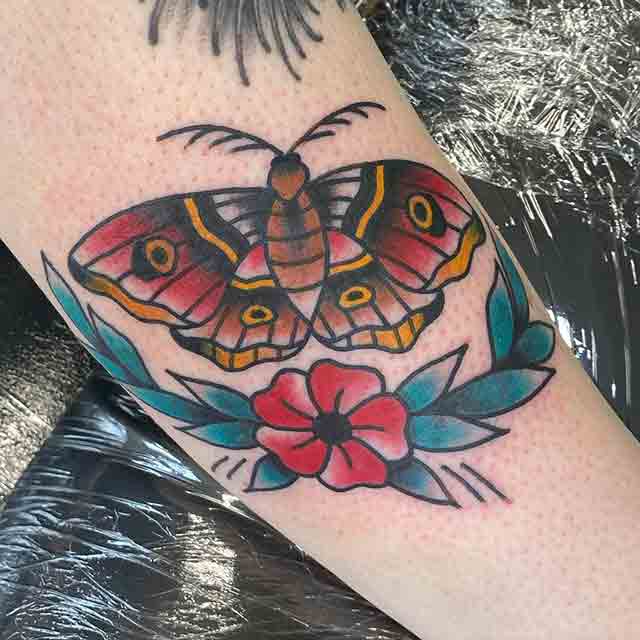 The moth can be seen in the middle of the tattoo that is guarded by a flower and its vines from the back. It makes sure that the moth is fully protected from the back.
25. Traditional Luna Moth Tattoo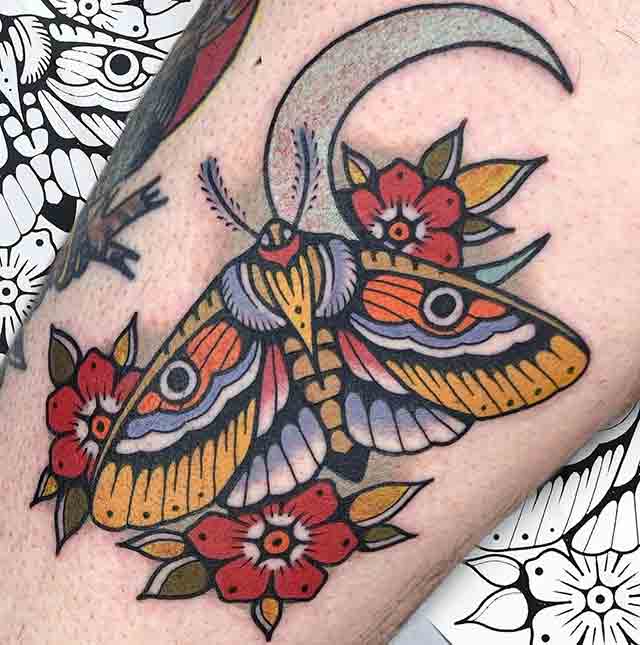 Both the traditional and luna moth tattoo styles are depicted through this amazing tattoo. The colorful patterns represent the traditional style and the moon represents the luna style. An all-rounder to please both styles with just one tattoo.
26. Eco-friendly Moth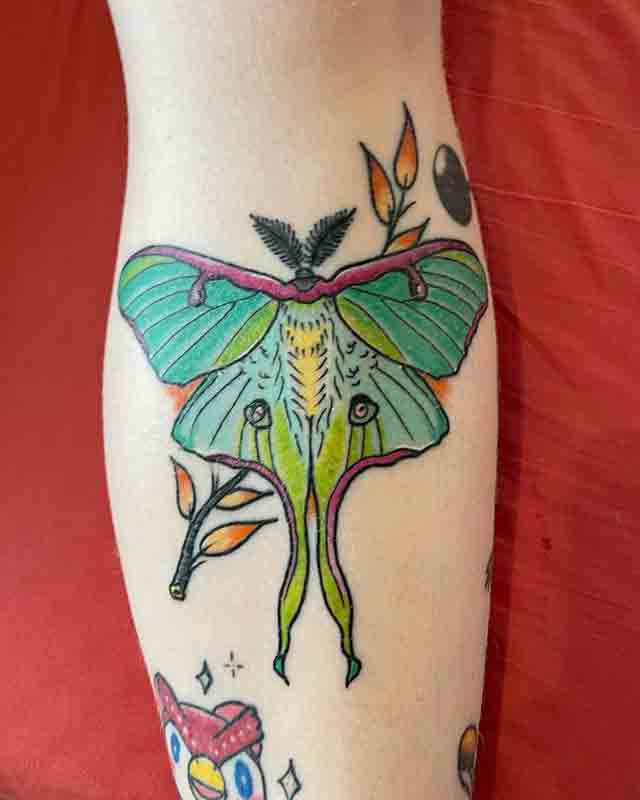 The green color on the moth's wing screams eco-friendliness. The moth can be seen on branches with orange leaves. The moth is the only thing in this tattoo that has some greenery. The bottom wings have two eye-like patterns on them.
27. Sparkling Moth Tattoo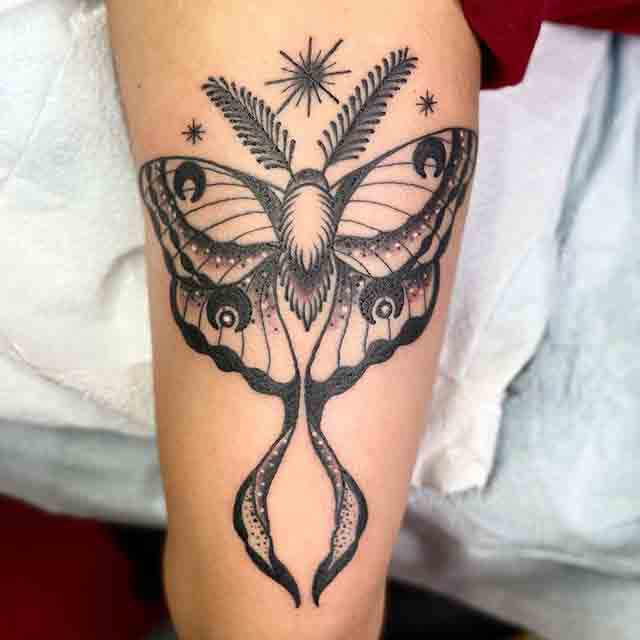 The sparkling moth is drawn with great details. there are four moons on each part of its wings. the bottom two moons have a round shape inside them. This tattoo is a combination of details and dazzling style.
Death head moth tattoo
28. Evil moth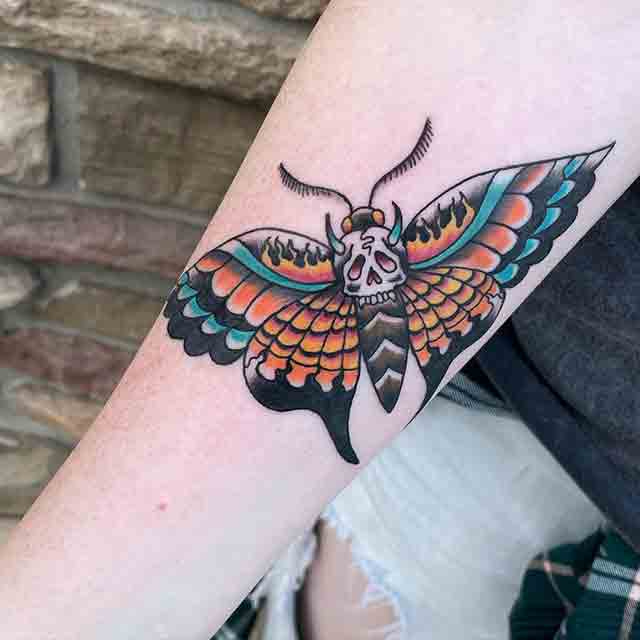 The skull moth tattoo has colorful wings. The top part of the wings has a fire burning in them. The skull has two horns coming out from the sides of the skull. A pure representation of evil and unholy.
29. Death bringer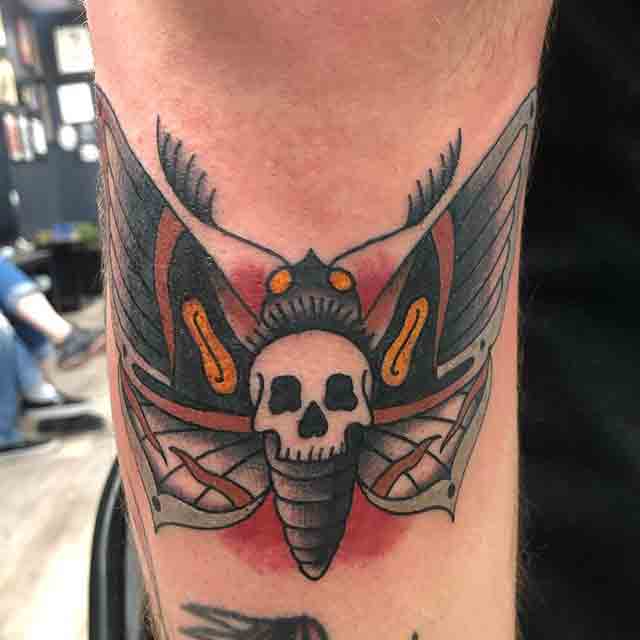 A giant moth with black and white wings on a leg. The skull is gigantic with a creepy face. The skull reminds me of death and the fears that come with it. The orange eyes look as if they were burning.
30. Beautiful Death Moth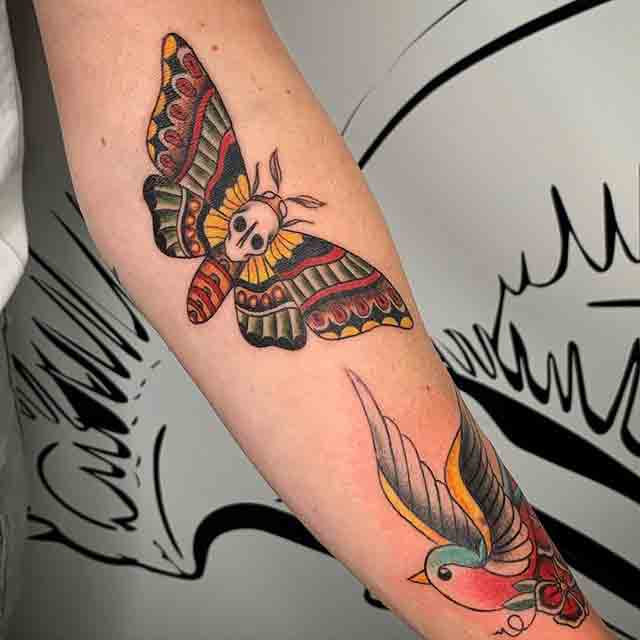 A moth with a skull on its back is flying beside a bird. The bird is most likely to catch it and kill on sight. The smile from the skull is gone and it's preparing for a peaceful death.
31. Dark skull Moth tattoo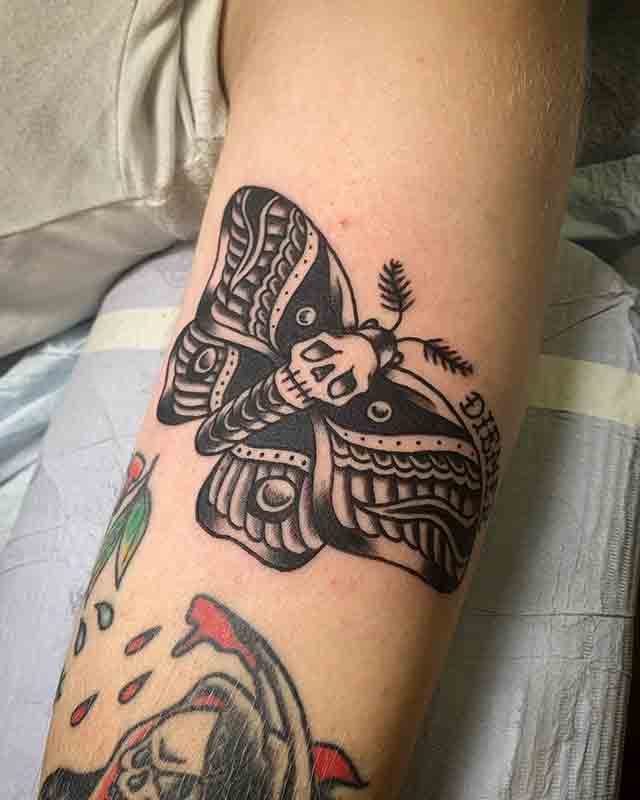 The Tattoo only has black ink on it but the use of shade gives it a sense of depth. The monochromatic tattoo of a skull moth contains writing that represents the town of Amsterdam called "DIEMEN". Very distinctive and cryptic tattoo for hand.
32. Death Head Moth Tattoo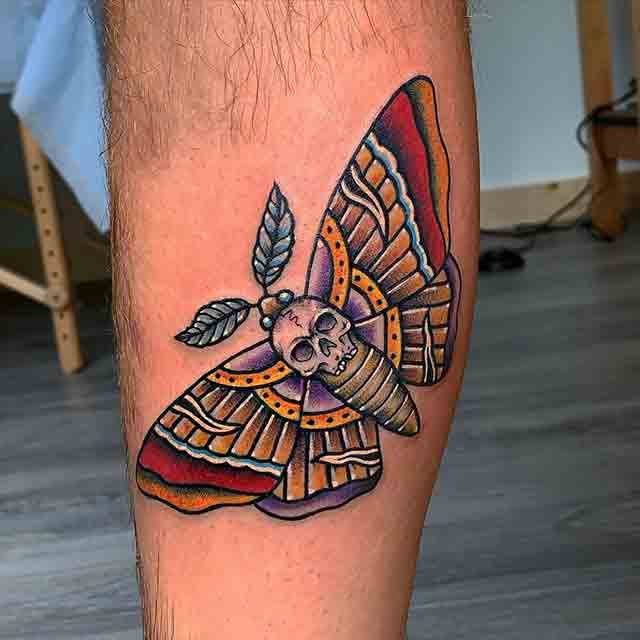 The colorful moth is going through a transformation. Its antennas have turned into tree leaves but its skull is still there. It shows us that it's going through a transformation process and most likely will turn into something more beautiful than death.
33.  Beautiful Summer Death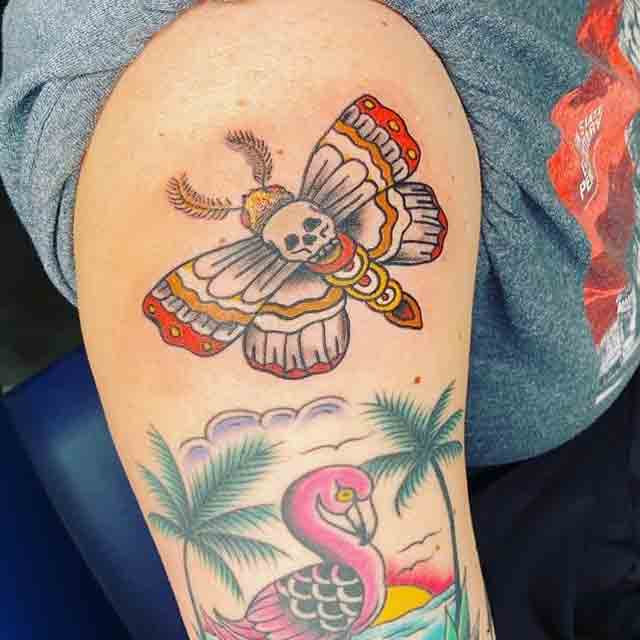 Although the summer looks amazing and full of joy the death moth over there reminds us that there is still a chance of tragedy. We shouldn't be blind by the beauty and keep an eye out for danger. A beautiful depiction of two opposite scenarios in one shoulder tattoo.
34. Good Old Skull Moth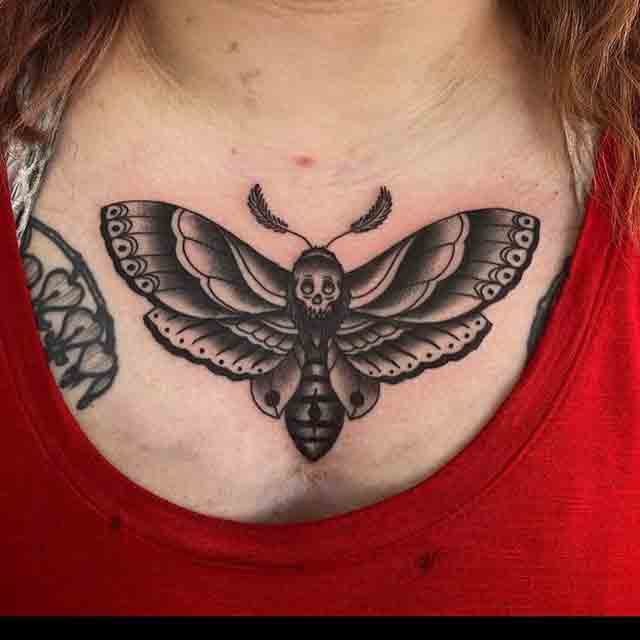 The moth on the women's chest is looking very old. It has gone through its days and will most likely die soon. But that doesn't seem to haunt it because it believes in rebirth.
35. Wounded Death Moth Tattoo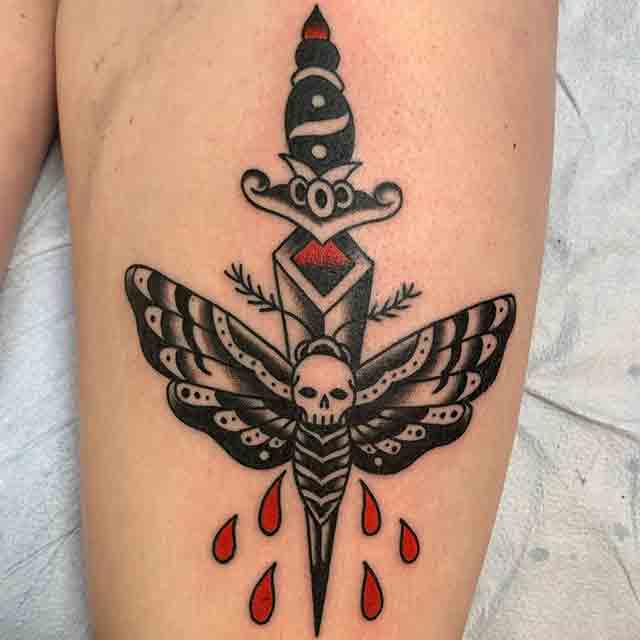 The death moth itself is dying because it has been stabbed by a sharp dagger. There are drops of blood coming out of the moth. It gives the message that death is inevitable regardless of who you are.
36. Death Moth Belly Tattoo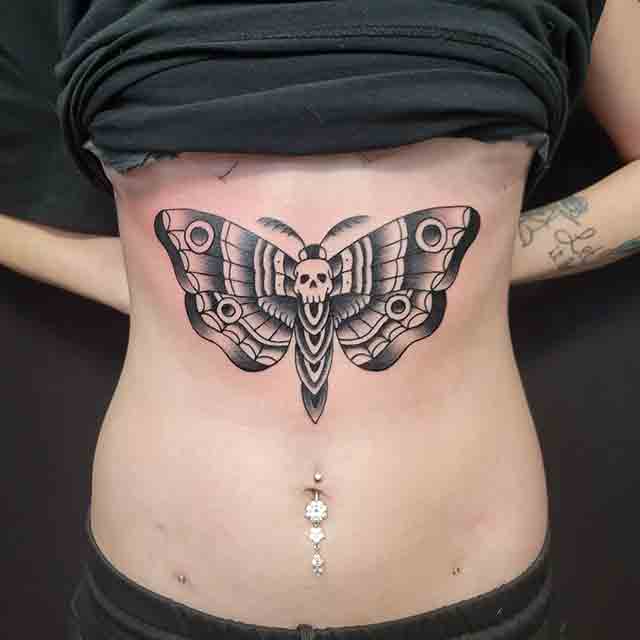 A huge tattoo of a gorgeous death moth on the belly. The details and skull of the tattoo can be seen properly due to the size of the tattoo. An excellent choice for a moth tattoo on the belly.
37. Traditional Death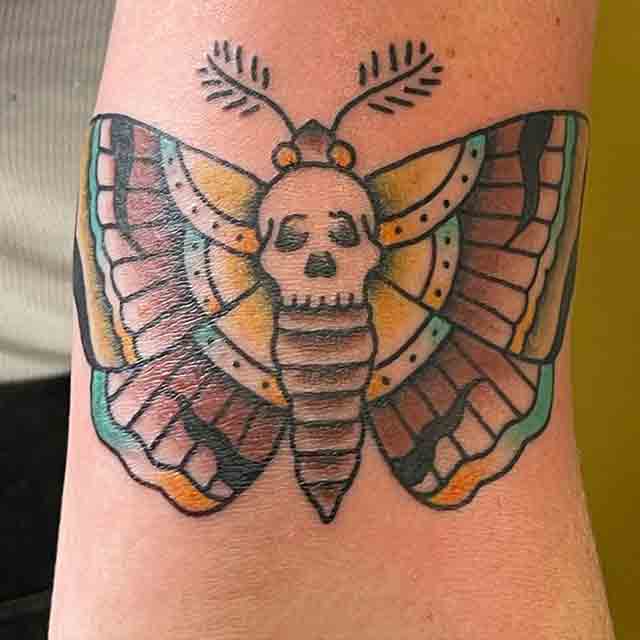 The death moth is drawn with amazing patterns of the traditional moth tattoos. Its antennas are widespread with gorgeous-looking eyes. The yellow eyes match the color of the body.
38. Sleeping Beauty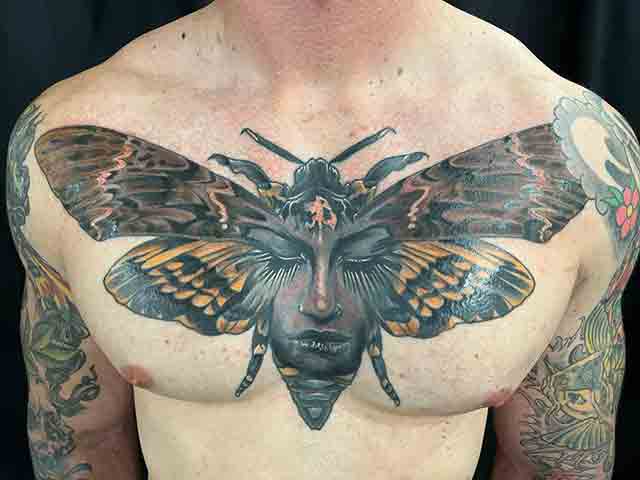 A Sleeping woman inside of an old cicada on a man's chest. The face has a lot of details and looks ultra-realistic. The woman seems to be sleeping, Hence the name sleeping beauty. The moth work as her carrier and defender at the same time.
39. Trapped Death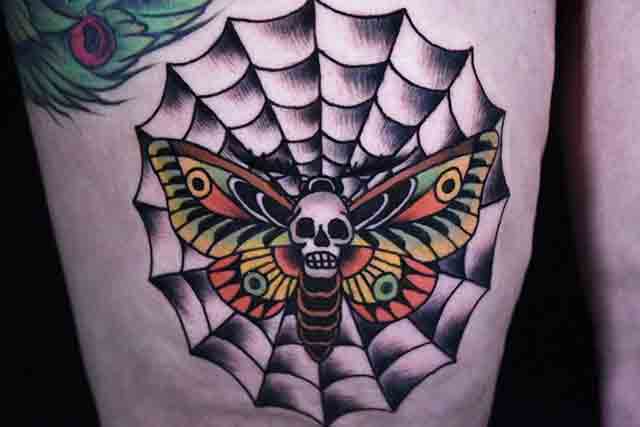 The death moth is trapped inside a spider web. Although it represents death itself the spider web adds some extra meaning to the tattoo. The colorful deadly moth is trapped and there isn't anything it can do to escape death.
40. Sad and Afraid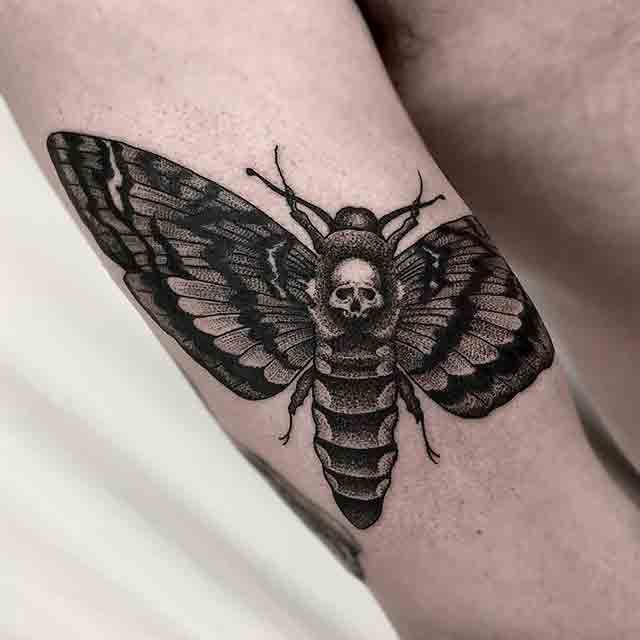 Most of the time skull moth tattoos look deadly but in this one its looking rather sad and afraid. It has lost all of its hope and looks as if it is afraid of something. It's ironic that one who represents death is most likely afraid of death.
41.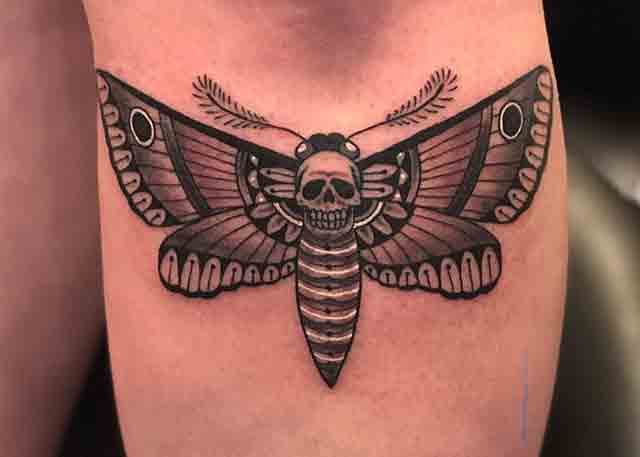 42.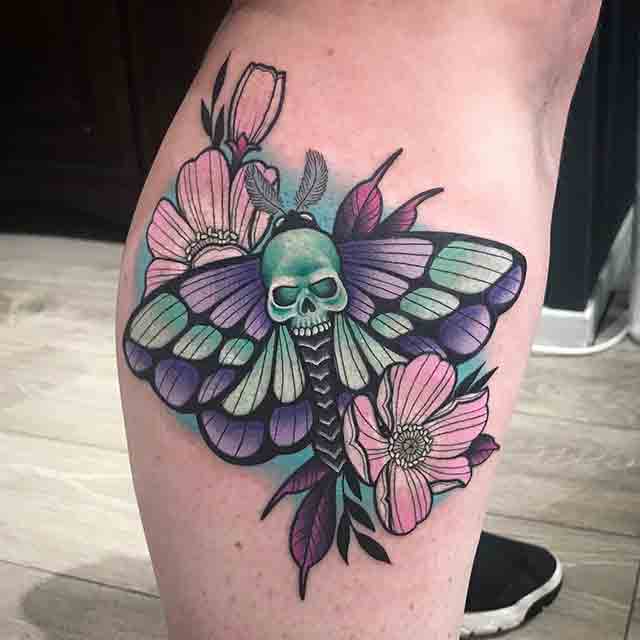 Skull Moth Tattoo
43.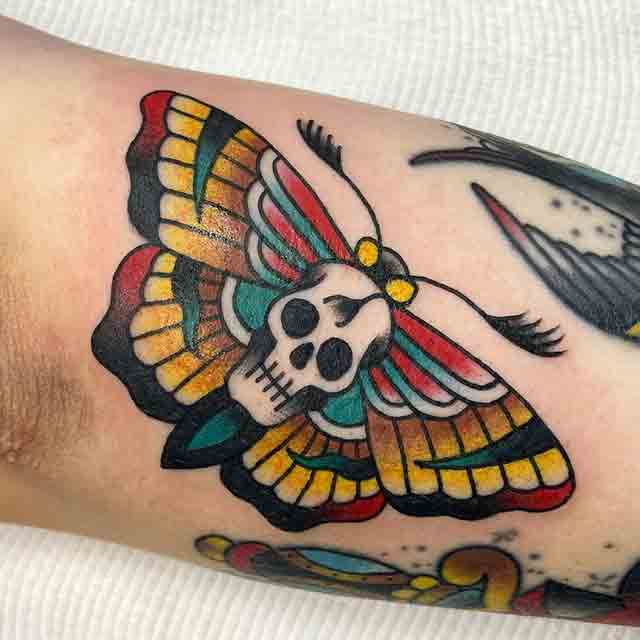 44.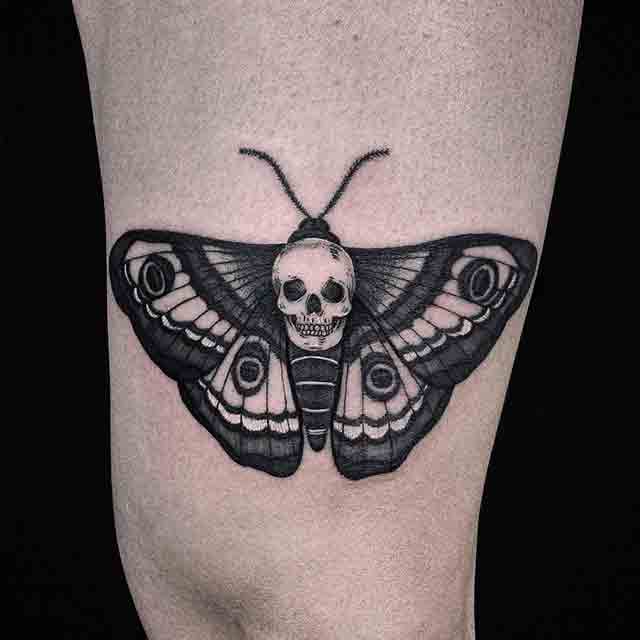 45.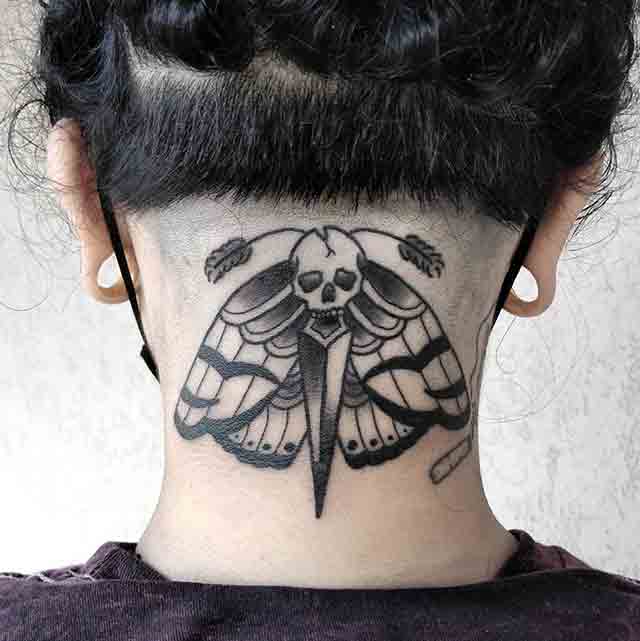 46.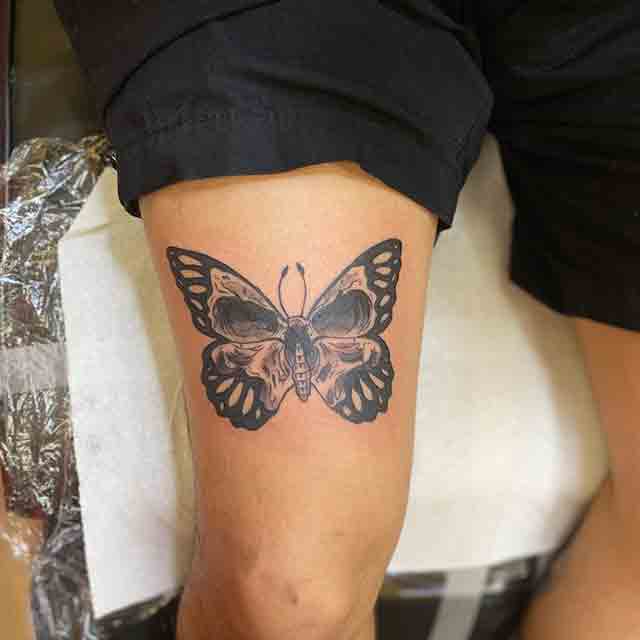 47.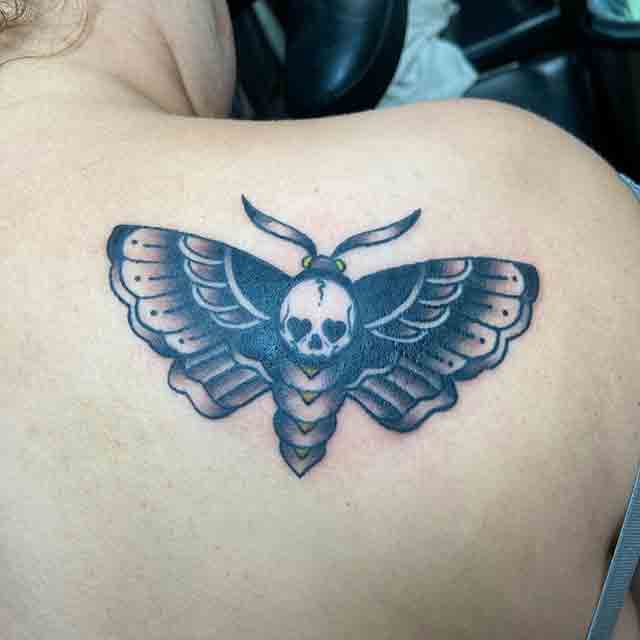 48.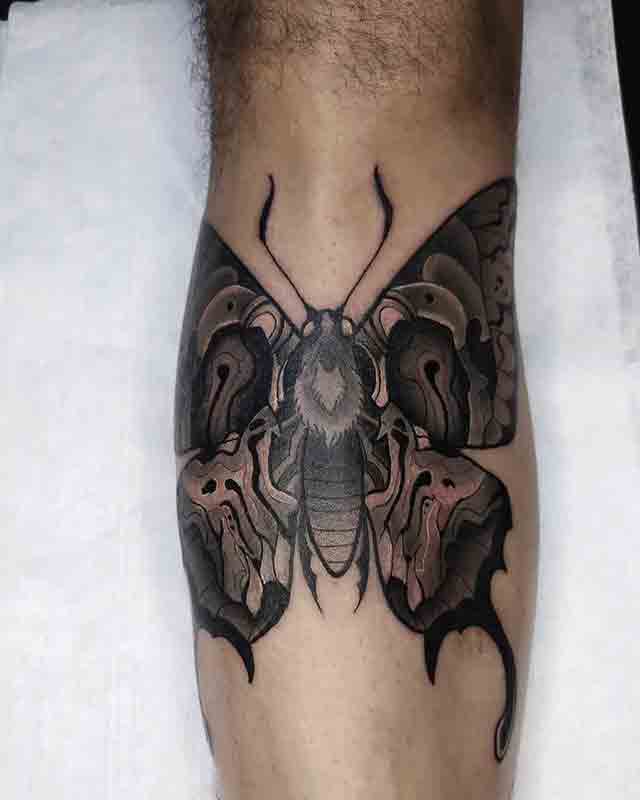 49.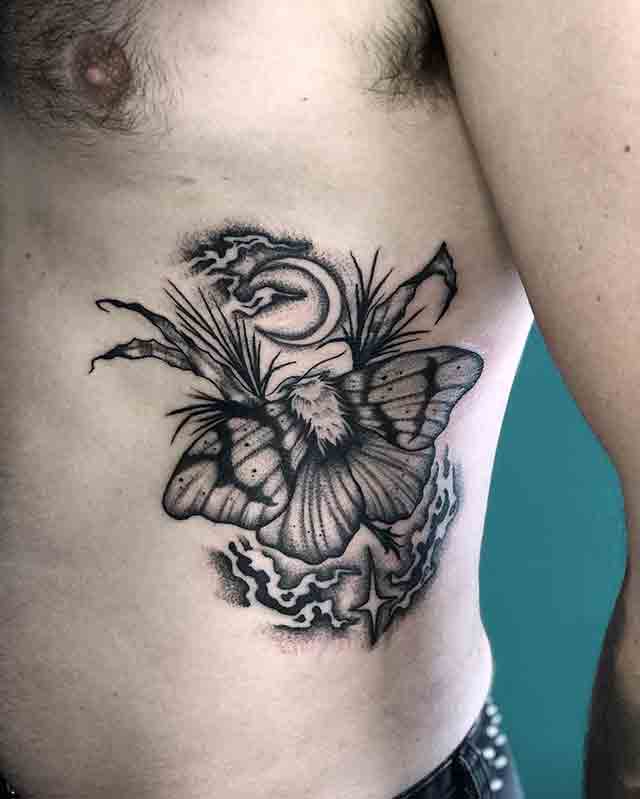 50.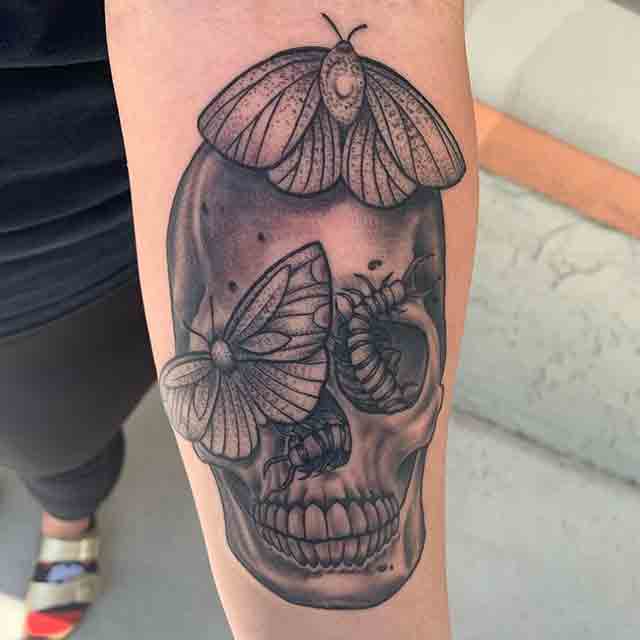 51.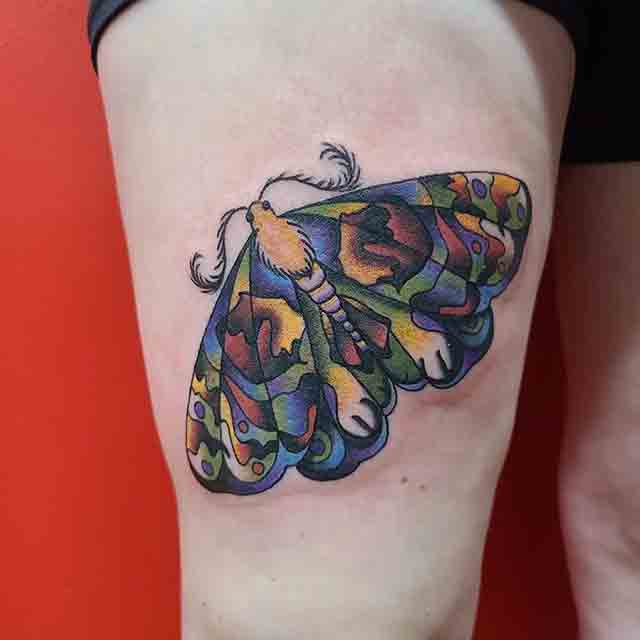 52.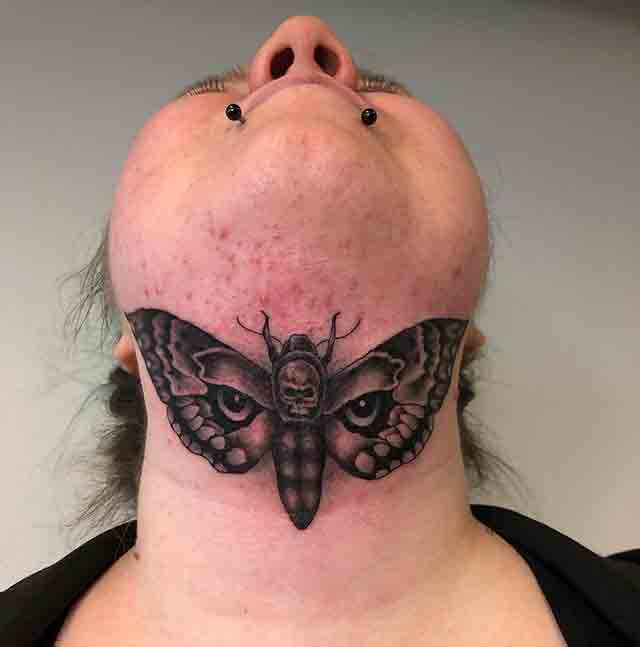 53.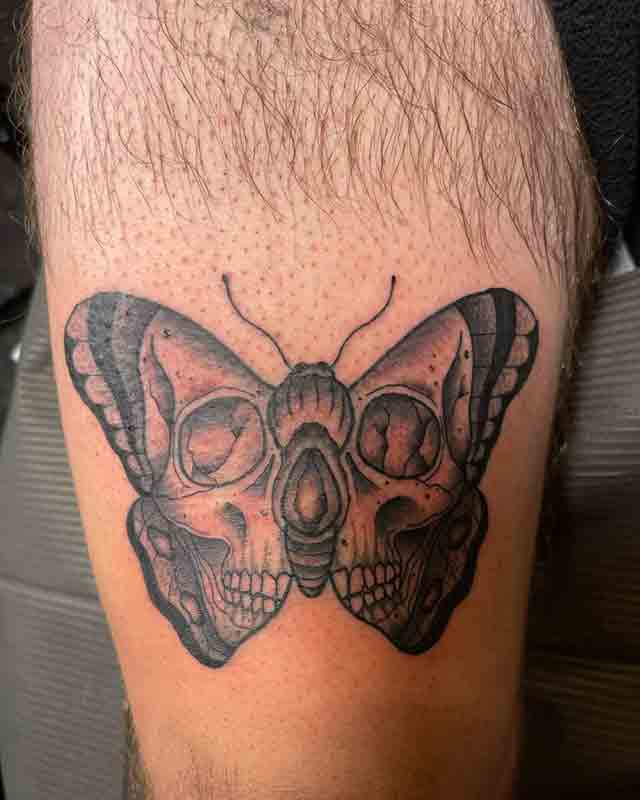 54.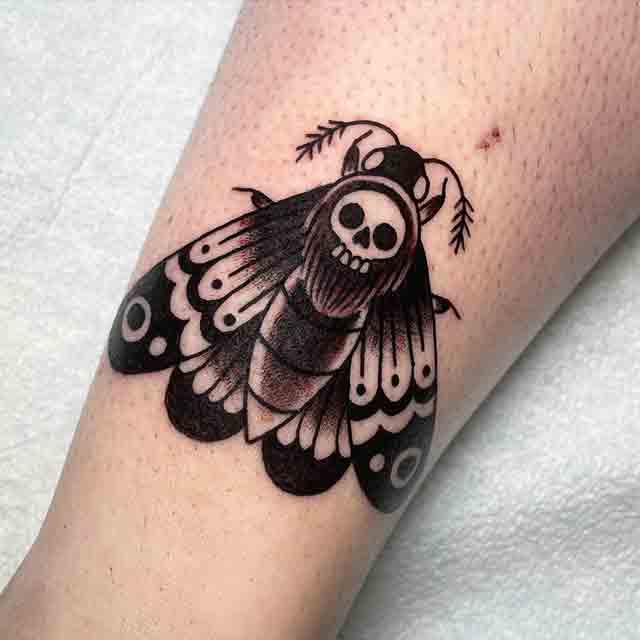 55.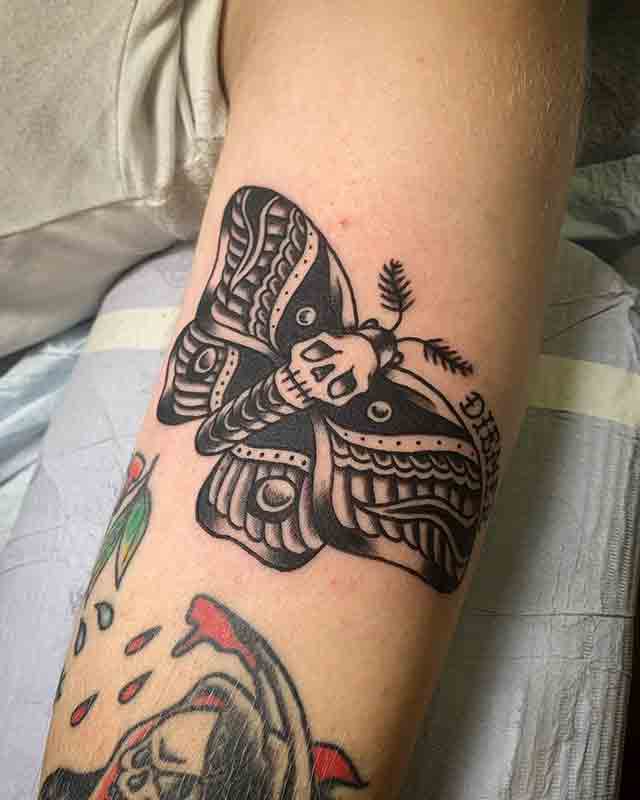 56.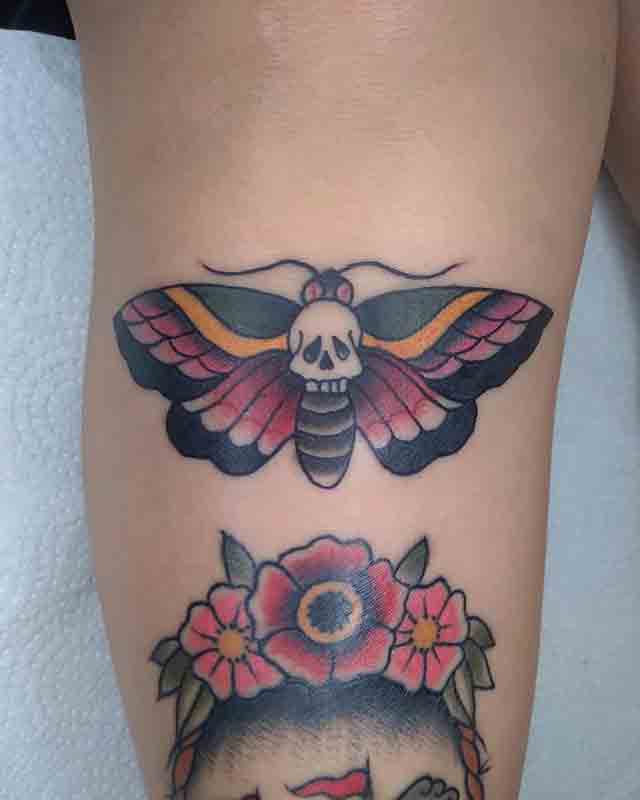 57.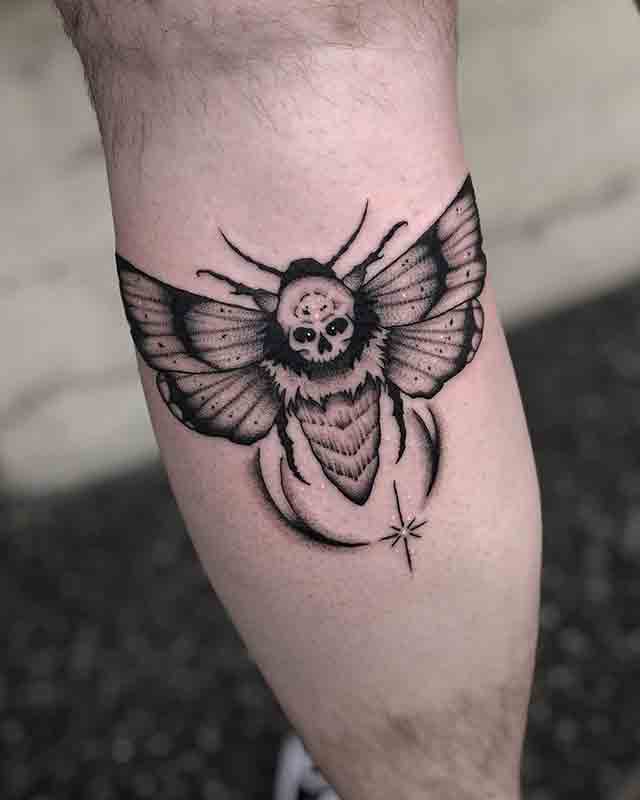 58.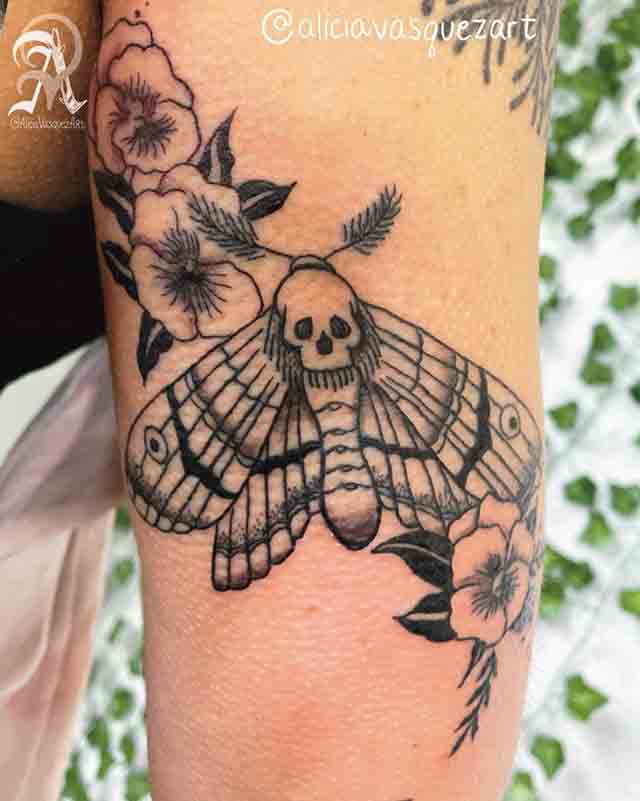 Geometric Moth Tattoo
59.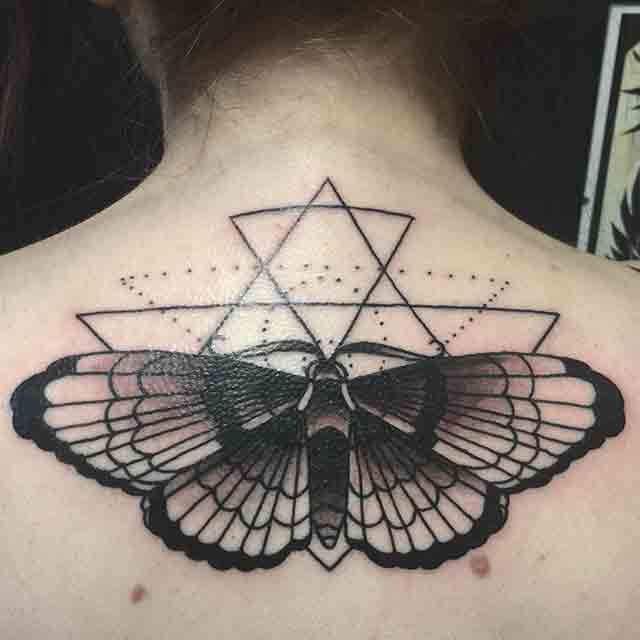 60.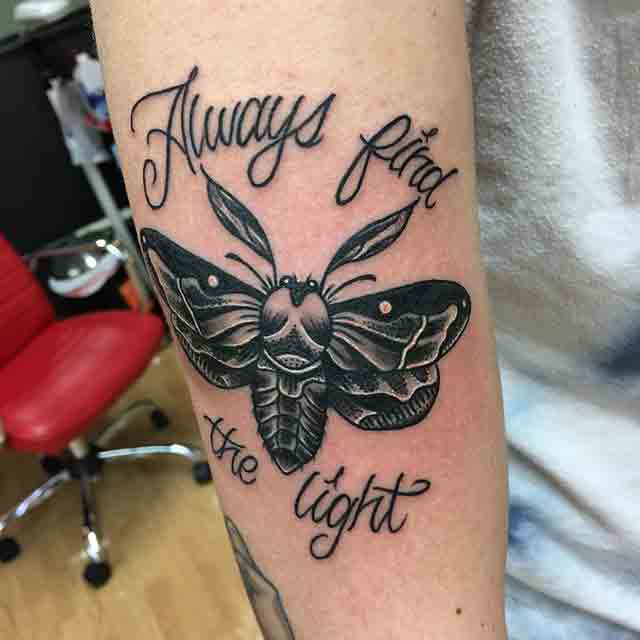 61.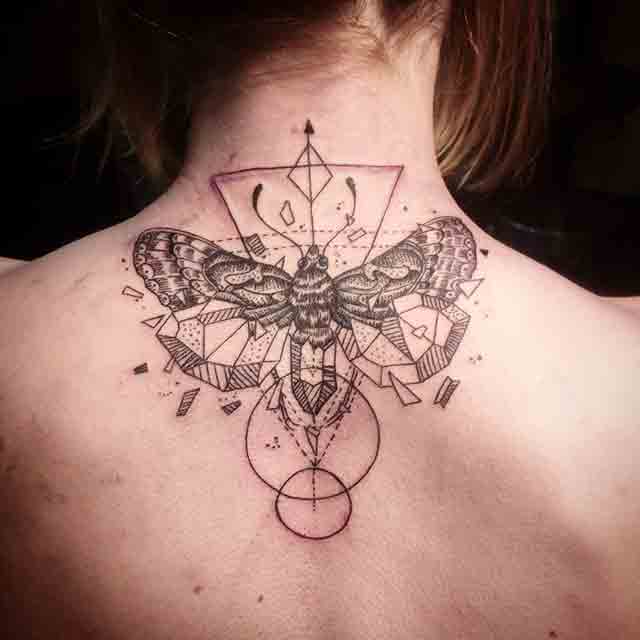 62.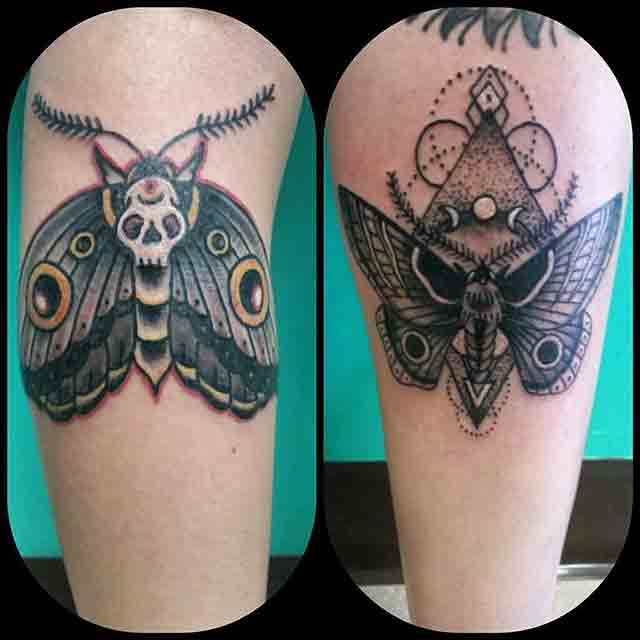 63.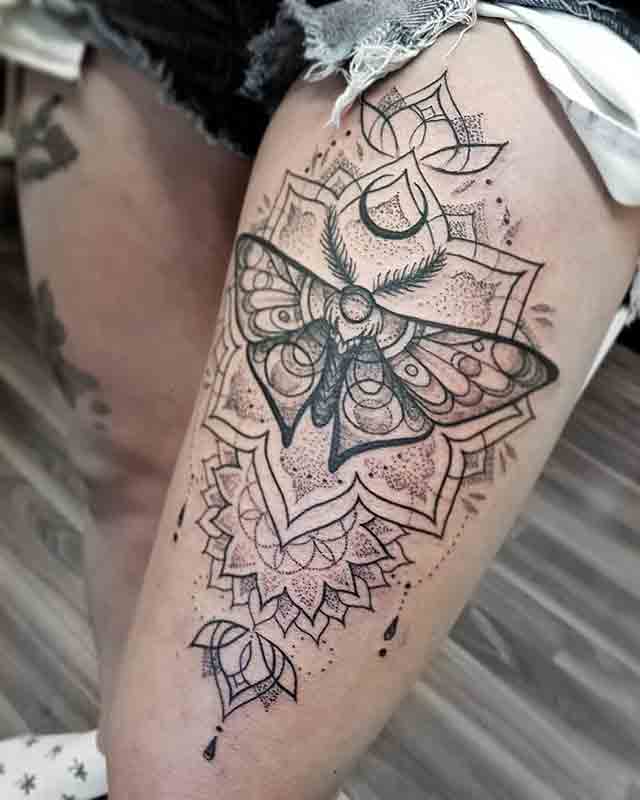 64.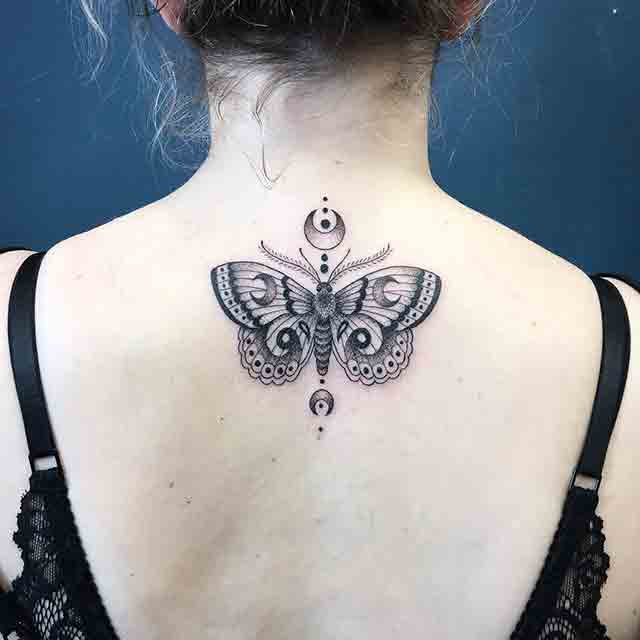 65.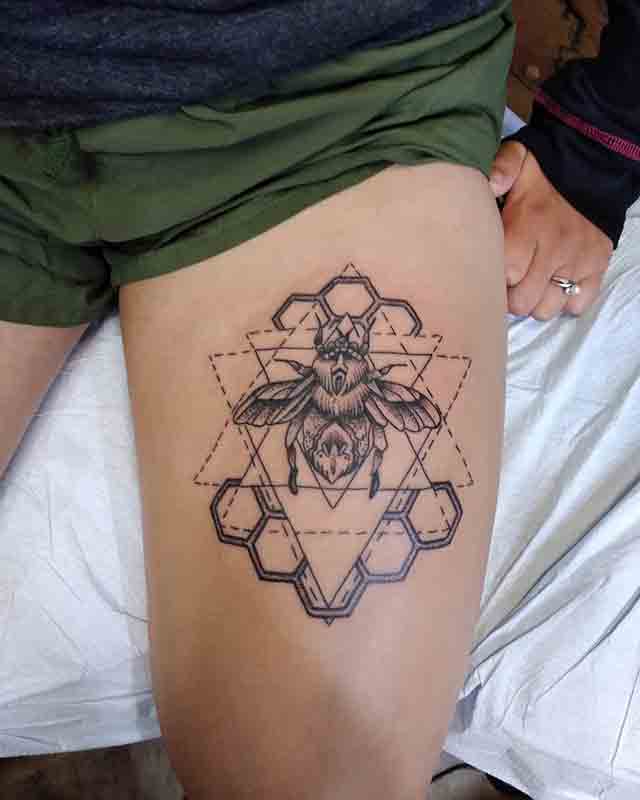 66.
67.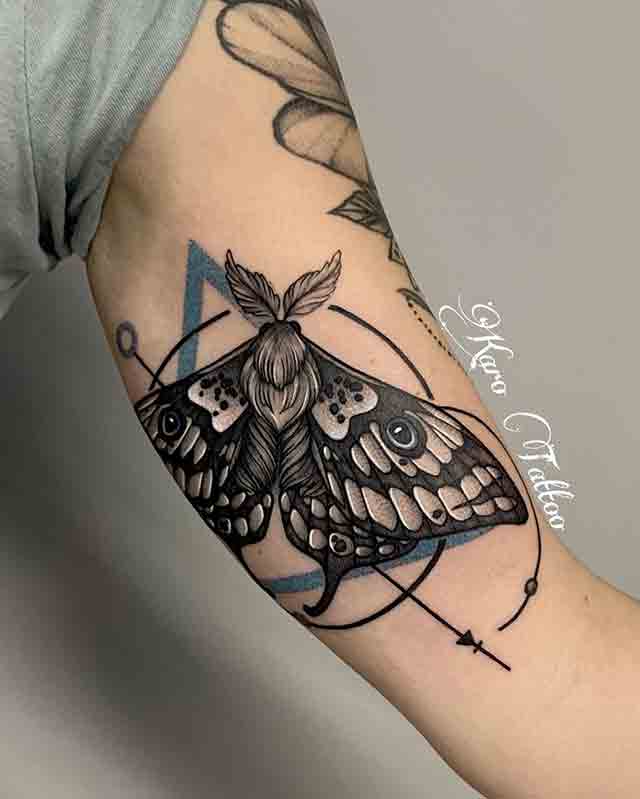 Black Moth Tattoo
68.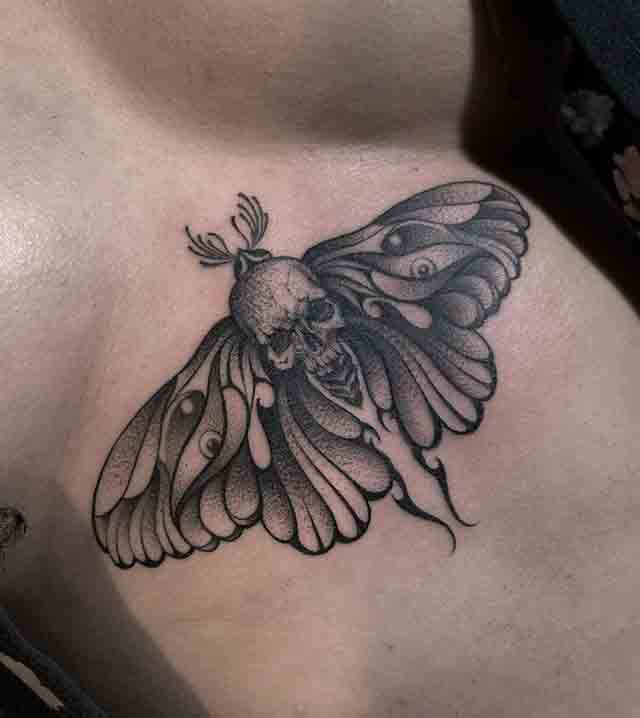 69.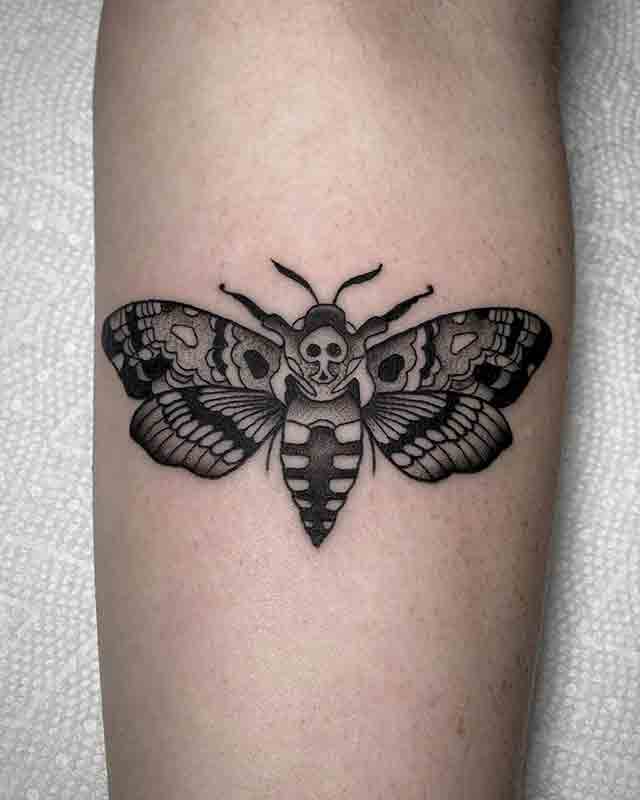 70.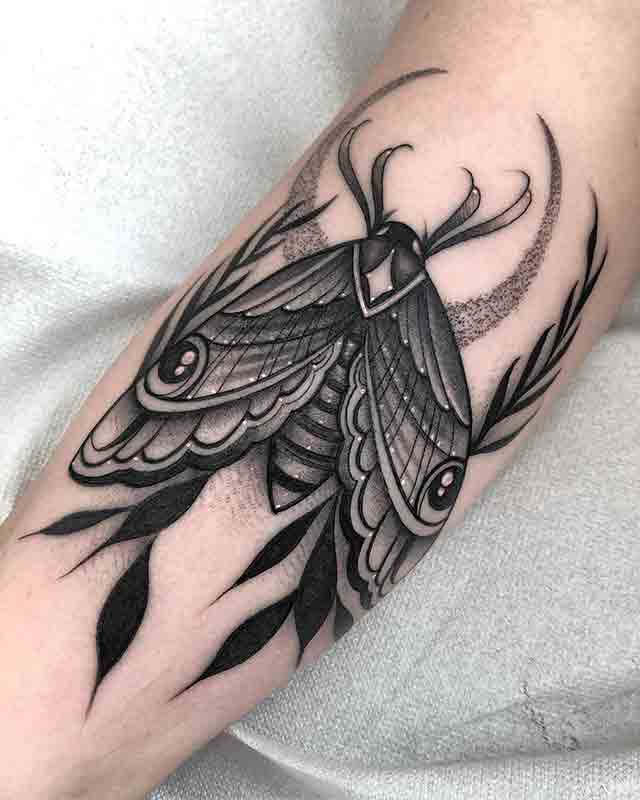 71.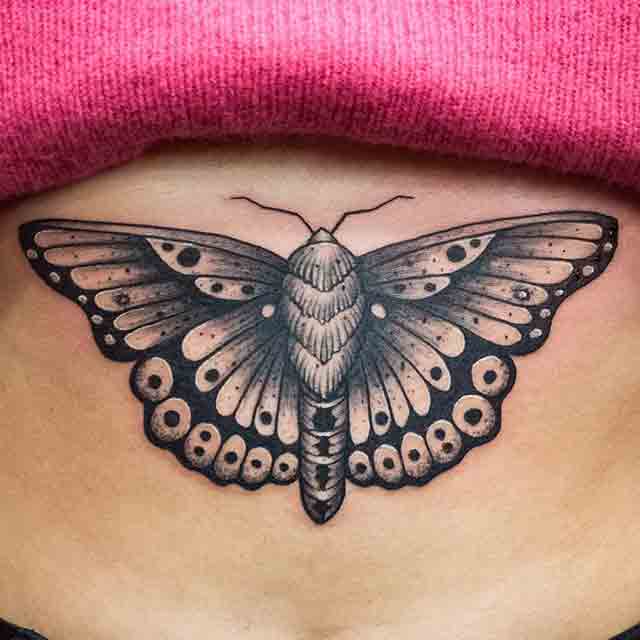 72.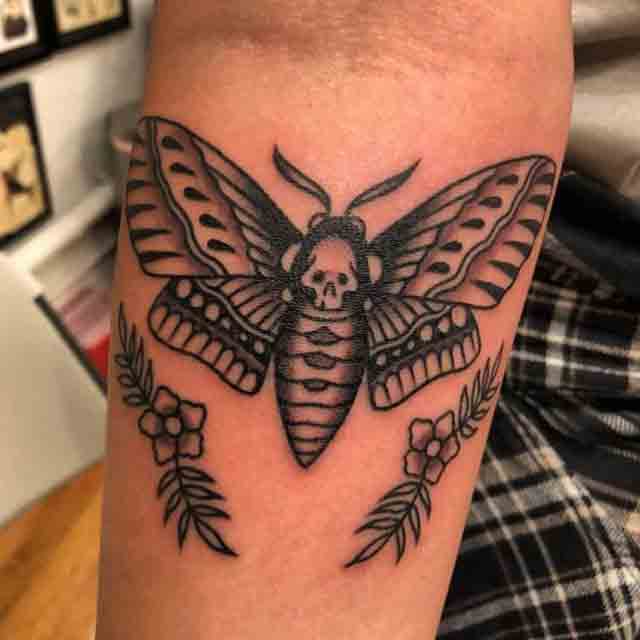 73.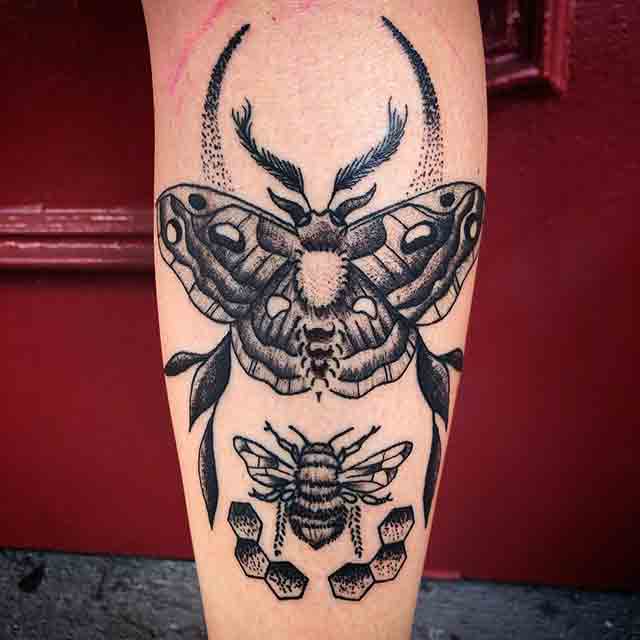 74.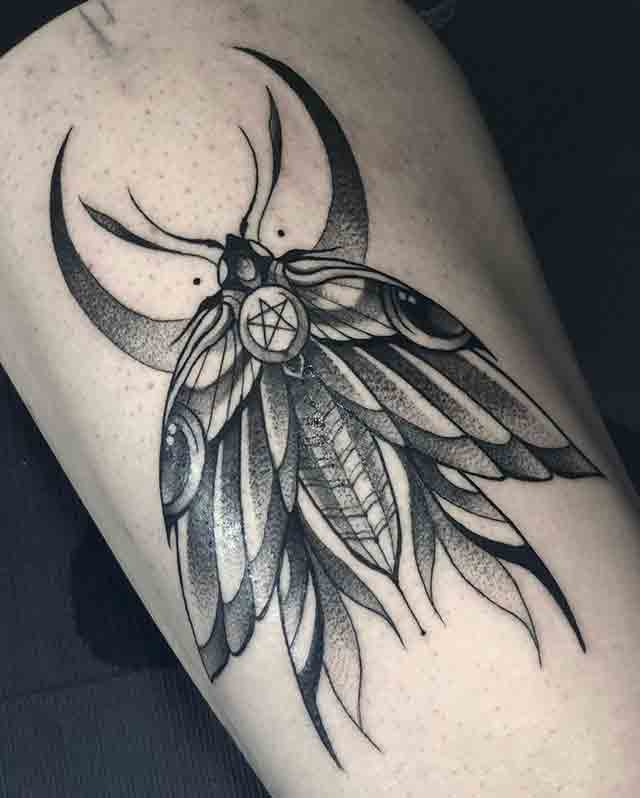 Atlas Moth Tattoo
75.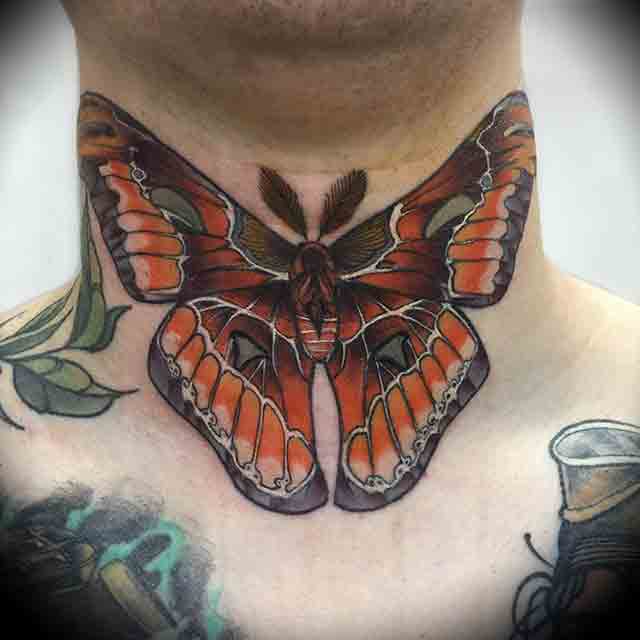 76.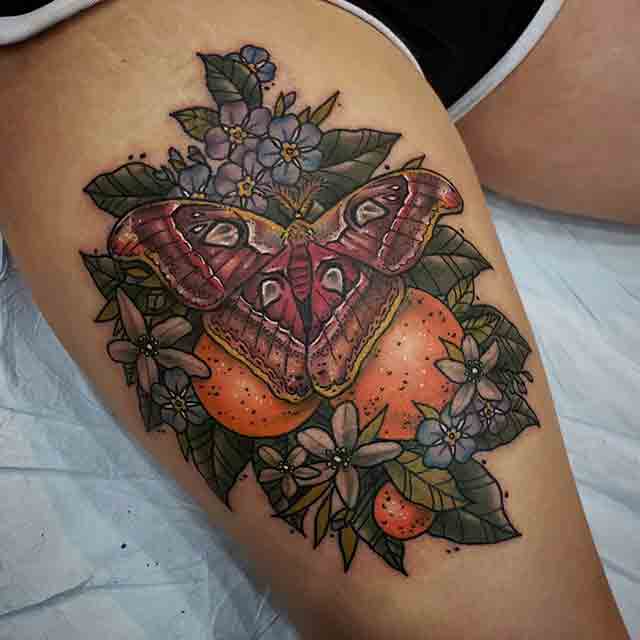 77.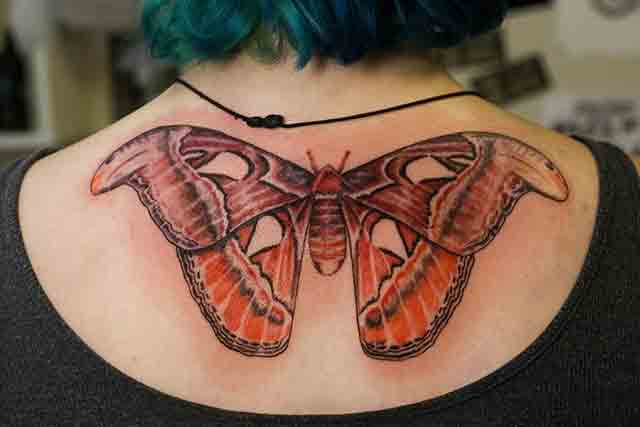 78.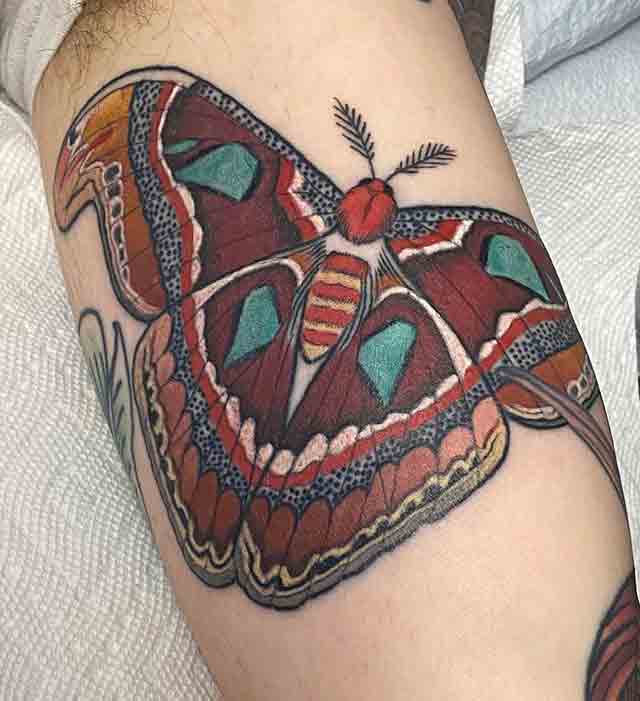 79.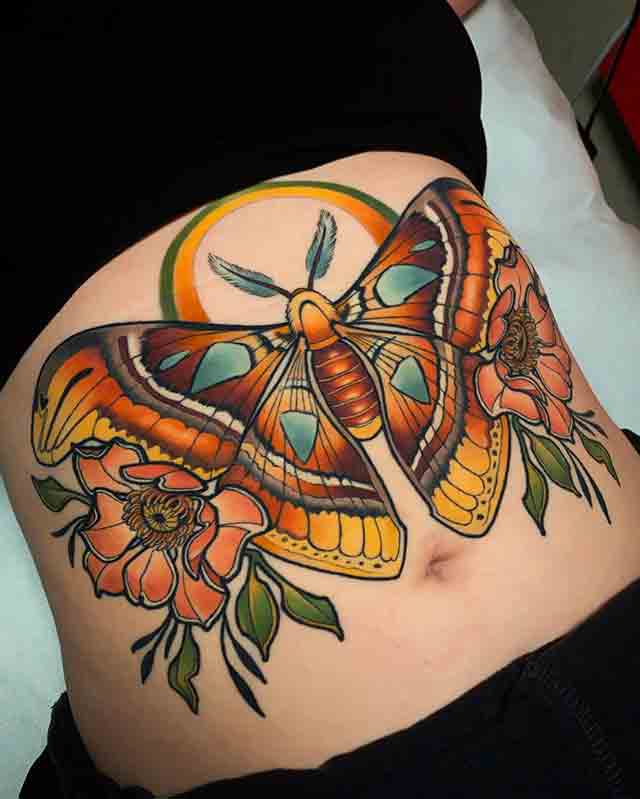 Gypsy Moth Tattoo
80.
81.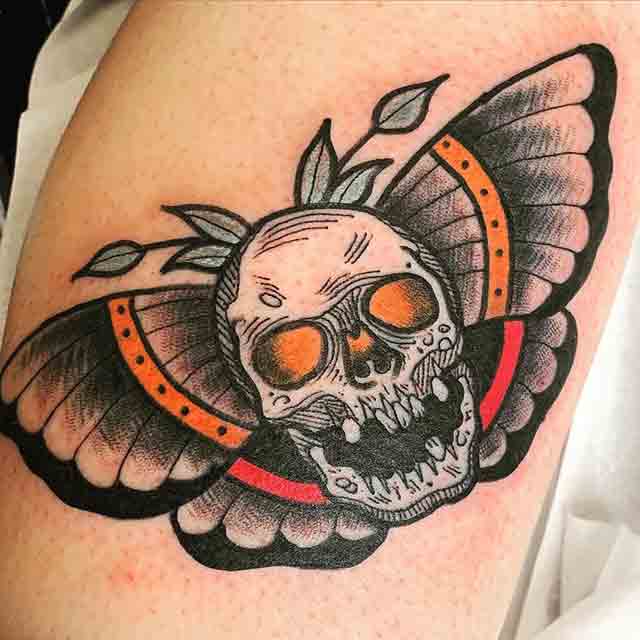 82.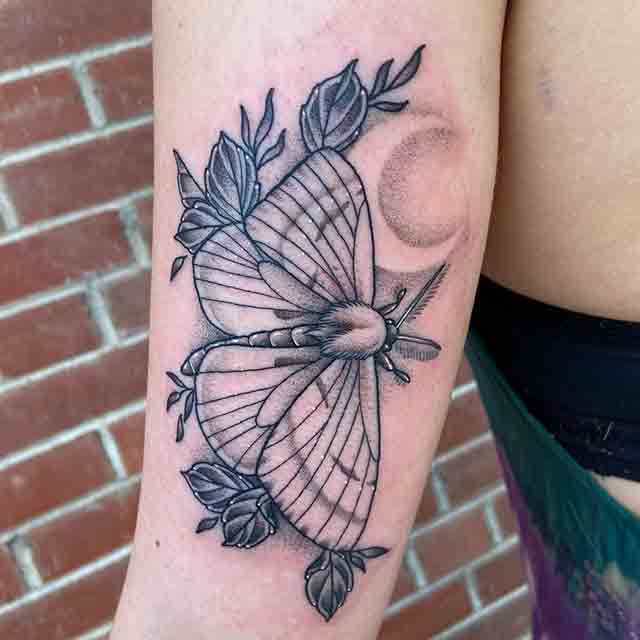 Conclusion
If you are in the market for a tattoo, consider any of them to express yourself. Moth tattoos are a very popular option nowadays for arms, chest, leg, and back. Their meanings and design styles are simply breathtaking. Not only do they look amazing they also carry meanings in them. Especially the traditional moth tattoos with great design and the skull moth tattoos with their deep meanings of rebirth death and transformation are an integral part of the tattoo culture.