Men love lion tattoos because they signify masculinity, power, confidence, and bravery. They aren't referred to as the "King of the Jungle" for no reason. They may be used in a wide range of artistic styles, from naturalistic to geometric and tribal, because they are easily recognizable. Learn about the various sorts of lion tattoos and how to choose the best one for you by continuing to read this article.
100 Lion Tattoos Ideas and Designs
As one of nature's most majestic creatures, the lion is revered as the king of the animal kingdom. The big cat is a symbol of strength, power, knowledge, leadership, bravery, and a sense of self-confidence. In certain cultures, it is a symbol of family resemblance or a symbol of a person's strength. It is possible to incorporate other symbols, such as the skull or crown, into your tattoo design in addition to the lion. With your imagery, you may make a significant statement about what you value most in life and how you see the world.
We are here with some of the majestic and cool ideas and designs. Let's take a peek-
Lion King Tattoo
In most cultures, Lion is considered the king of all living. It has significant symbolic value as a powerful, brave, courageous, and gracious being. In these magnificent tattoos, you will find some matches with your personality and behavior. The following description may help you to find the most convenient one.
1. The Red Indian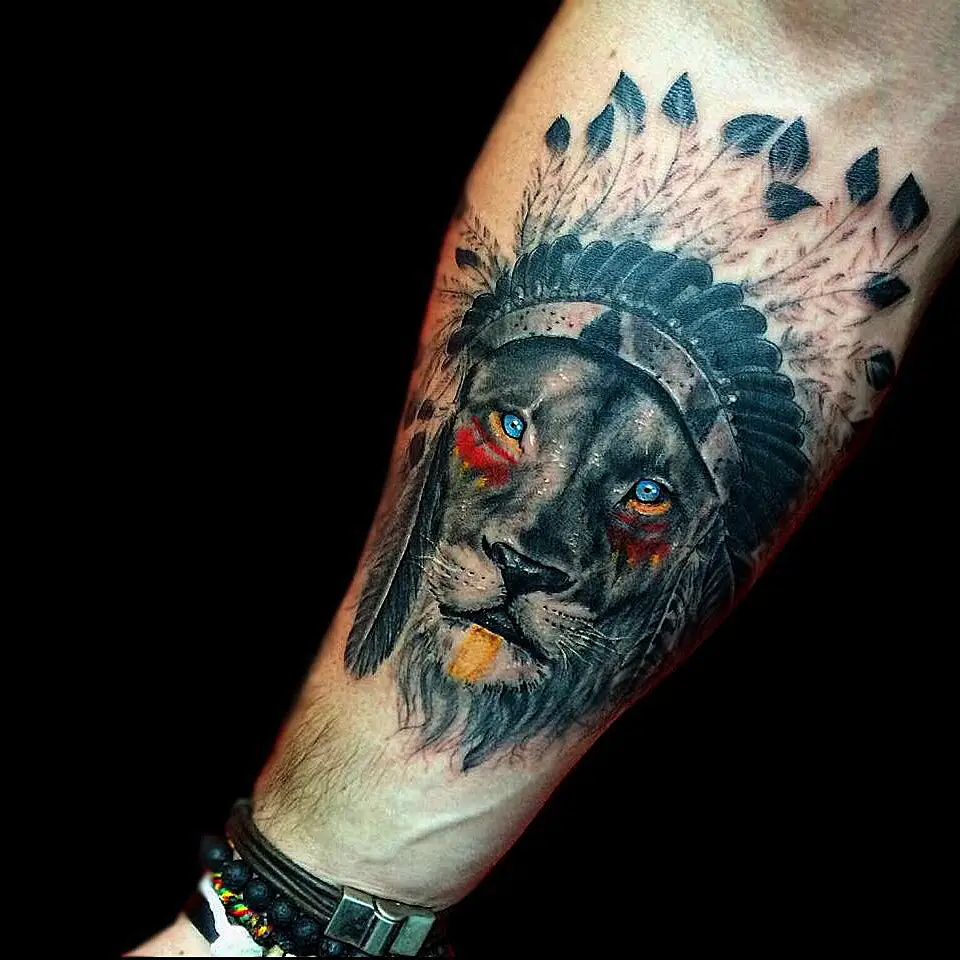 A majestic Indian lion in his prime condition. If you are as exclusive, courageous, and brave as this lion, you might express it with this tattoo. This tattoo on your arm can help to reveal your true self.
2. Concealed Compassion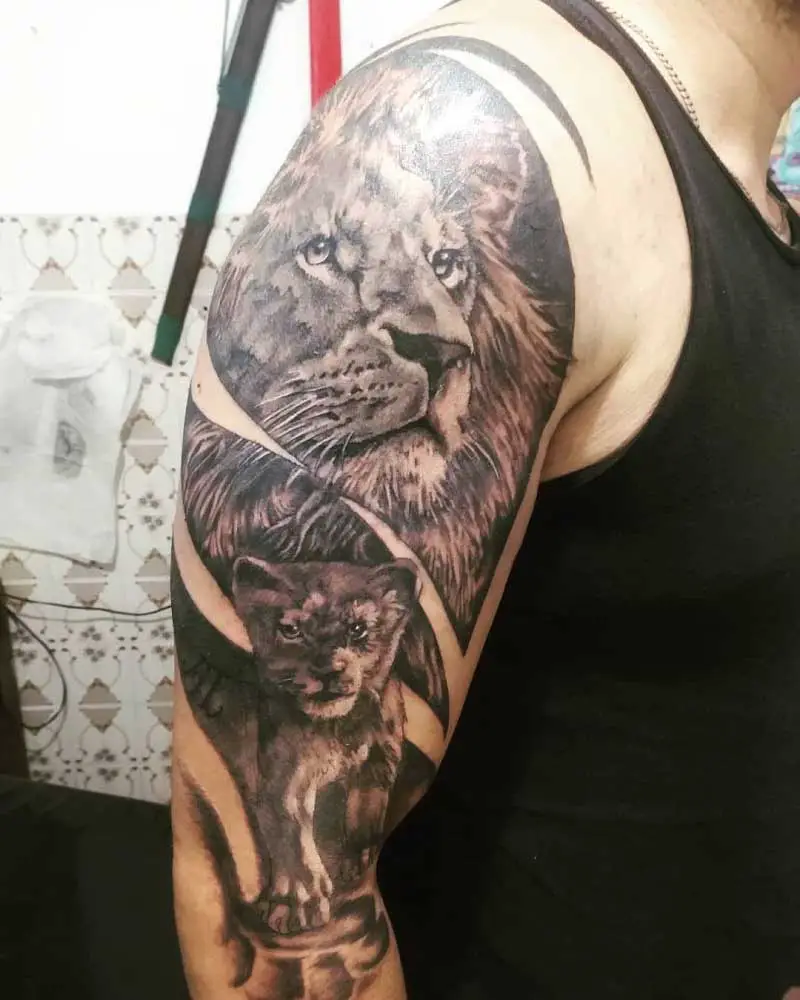 A mighty lion may look tough, but his soft side always mesmerizes us. Your adamant personality may hide your softness. Yet, your compassion for your loved one may deserve a tattoo like this.
3. Mighty Majesty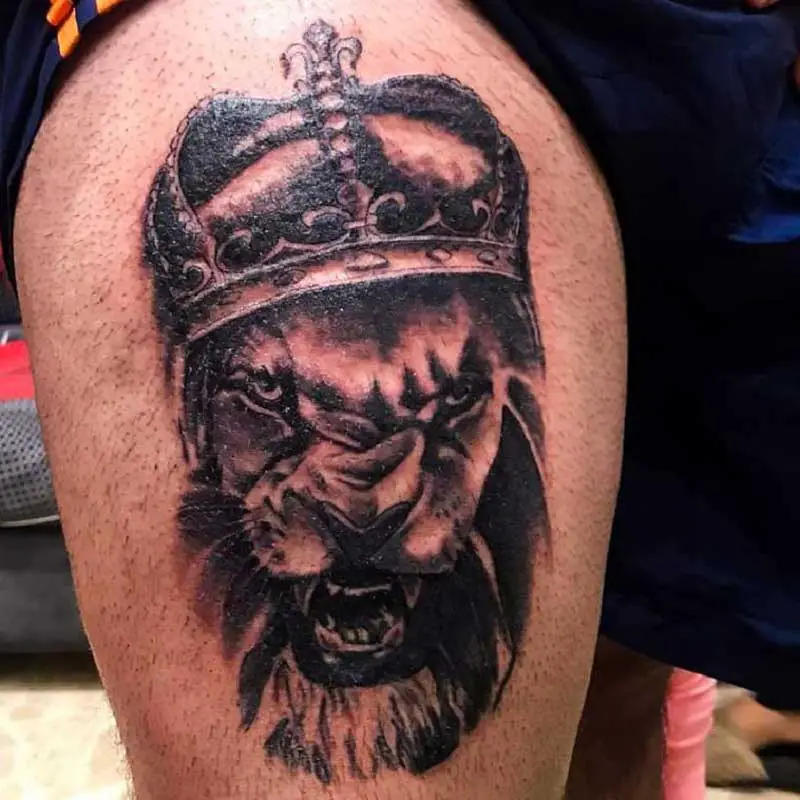 The crowned lion is the king of kings. Who symbolizes the love, protection, family, and wealth that you desire the most in your life. On the way to achieving this, nothing is more relevant than a beautiful tattoo like it.
Tribal Lion Tattoos
For the tribal lion tattoo, every portrait has a deep and special meaning of its own. You may find courage, loyalty, honor, and family ties in those tattoos as you find similar things in various tribes. These meaningful marvelous tattoos have been with those tribes for a long time. You may have these excellent symbols by portraying one of these tattoos.
4. Roaring Wildreness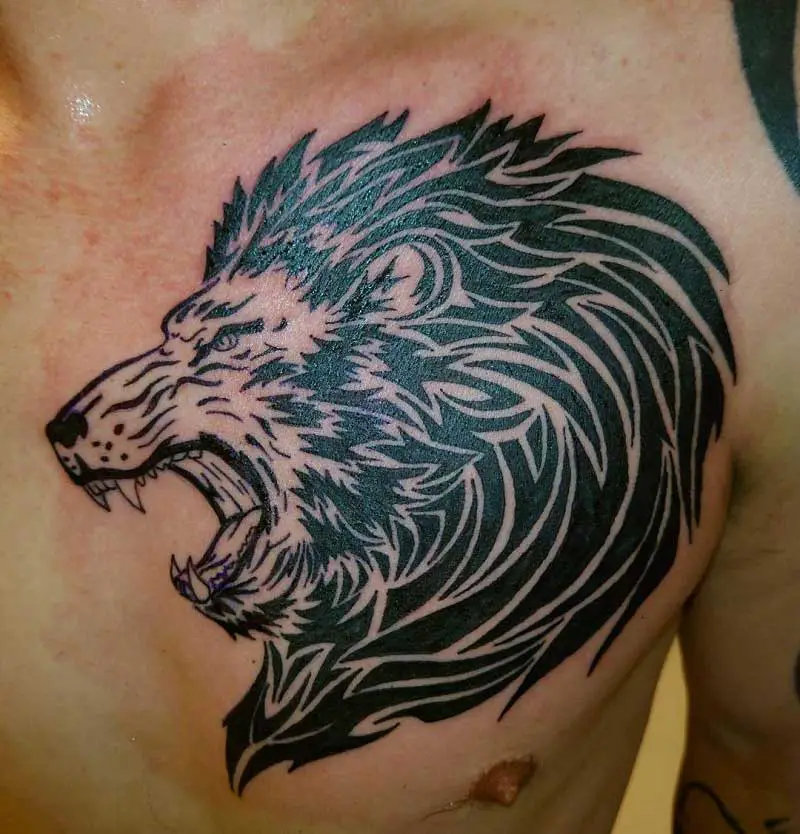 The ferocious roar of a lion only reminds us of the wild part of us. No matter how civilized we are, we are still the wildest child of nature. If you still want to connect with your inherent wildness, this tattoo on the man's chest can be one of them.
5. Roaring Resistance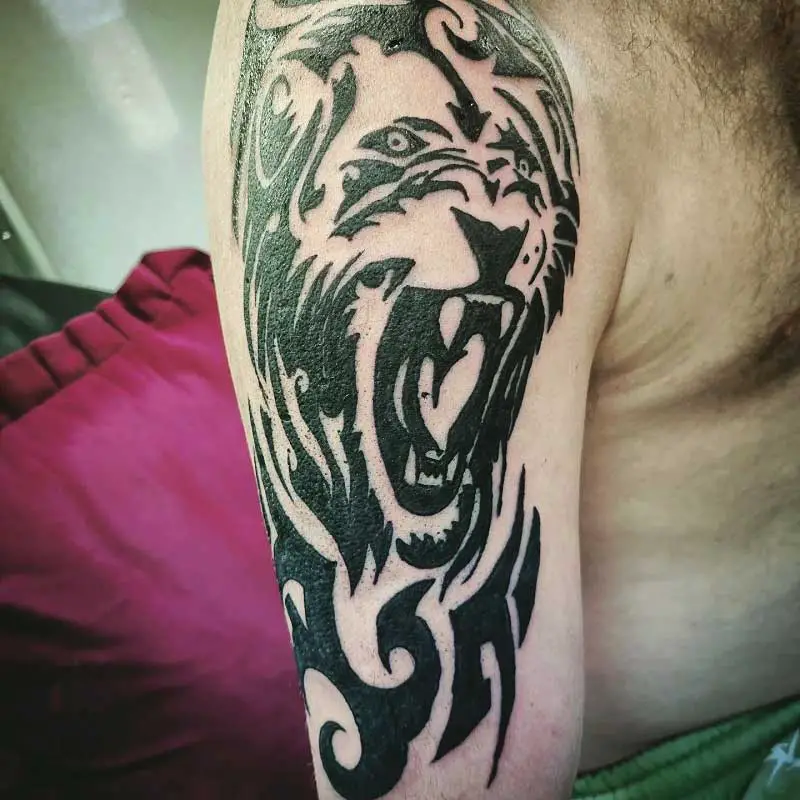 A roaring lion seems to be resisting, holding down its dominance and pride. This turbulent nature in us sometimes helps us not to submit and dealt with the hardship of life. As a sign of your invincibility, you may have this magnificent tattoo.
6. Triumphant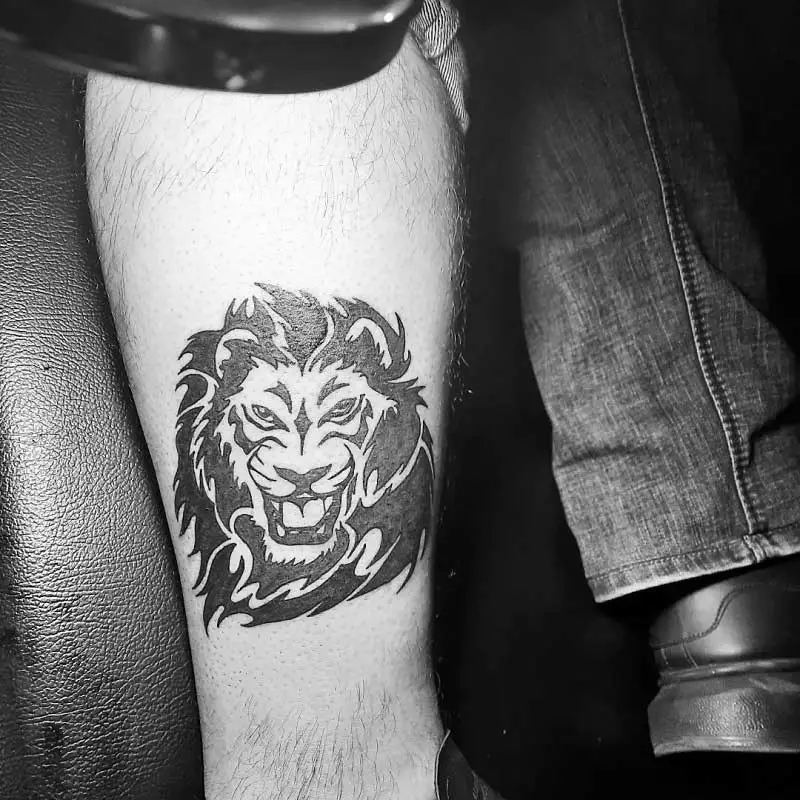 This triumphant gorgeous face in black can show a lot at a glance. You can symbolize one of your victorious tales with this classy tattoo. Or this tattoo may help you to find the path of glory.
Lion Head Tattoo
A male lion's head with a mane is one of the boldest symbols of all. It symbolizes the most desired values like courage, nobility, strength, and valor. This tattoo can add something new and special to your appearance.
7. Pride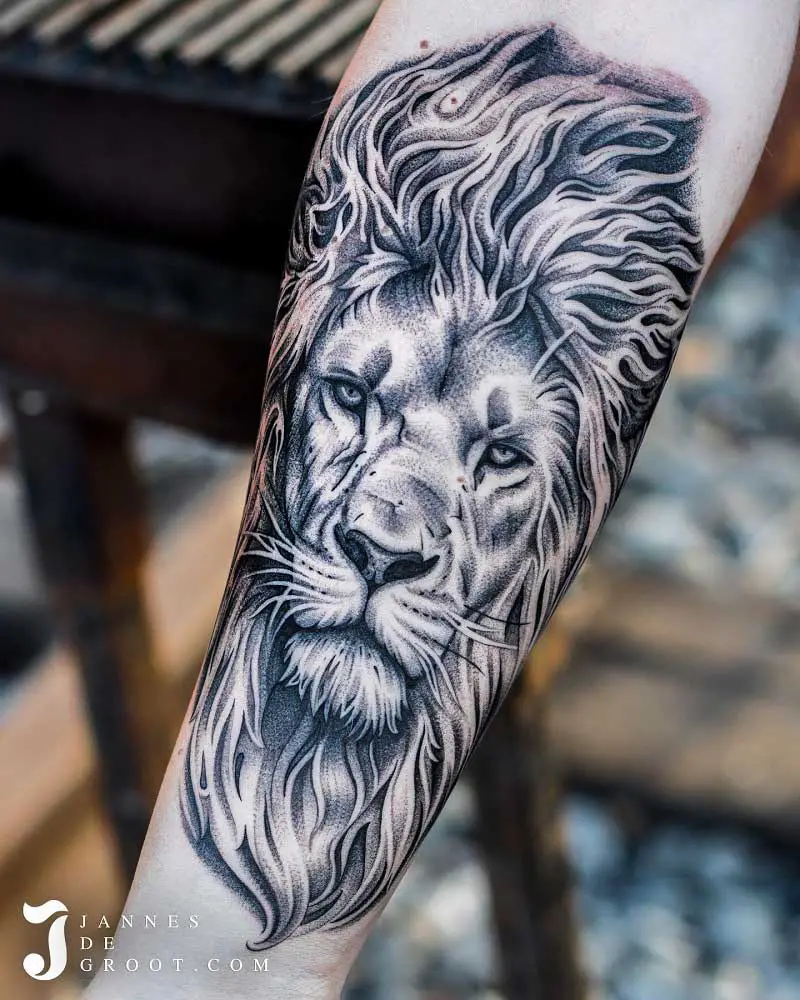 The elegant face of the lion tells us about courage, nobility, strength, and valor without expending a single word. You may already have some of these virtues because tattooing this will require it. A great tattoo on the half sleeve of this guy.
8. Rose's Wrath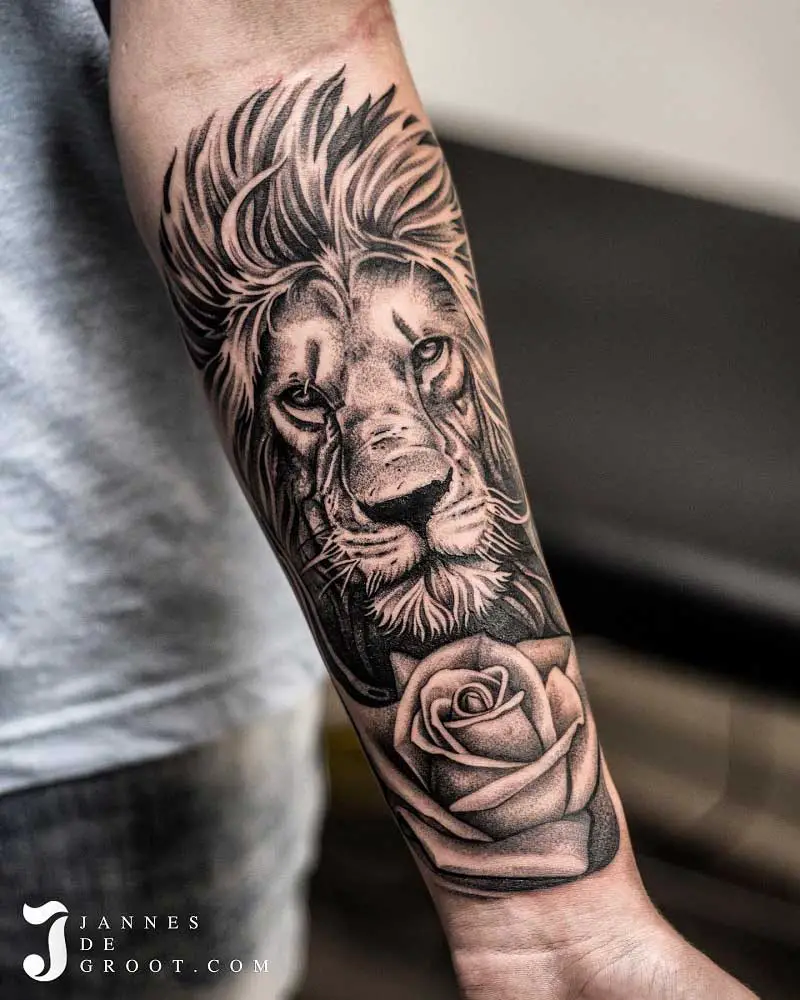 This mighty face is not only audacious and strong but also soft and caring. Your strength may be explicit but your softer side stay hidden like this rose under a magnificent face. Which you should reveal with a tattoo on your back of your arm like this. 
9. Ferocity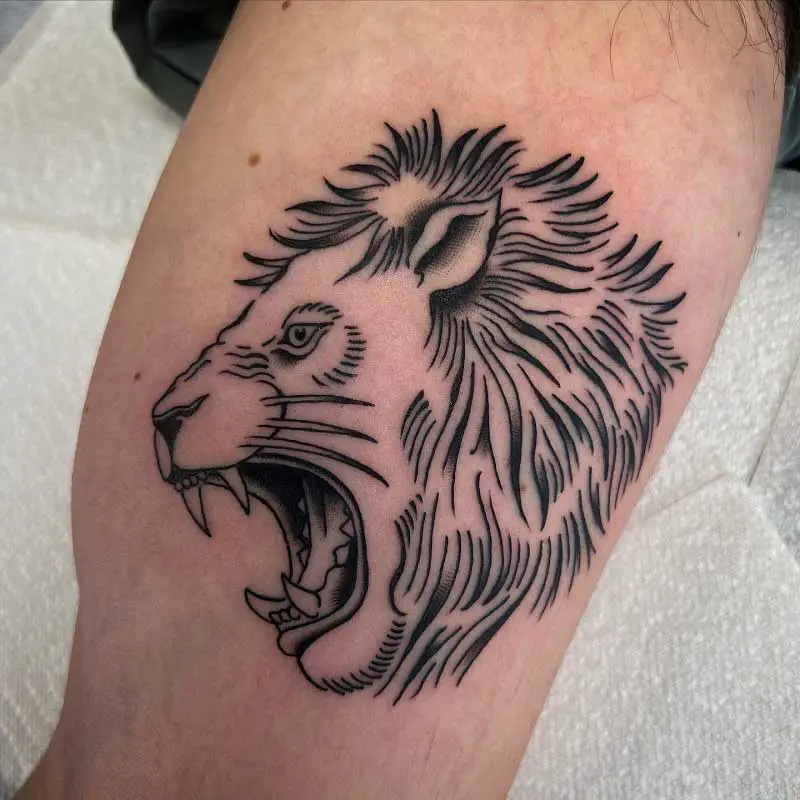 In this volatile life, at least for once, we all want to be like this lion. This ferocious roaring lion never backs off at anything. No matter what danger awaits in your life this tattoo will always remind you to courageous and brave.
Lion Cub Tattoo
A lion cub may portray innocence, naivety, and compassion or it may speak about a fresh start, beginning a new life that has myriad opportunities. One of these unusual tattoos can provide you with special meanings and gestures. 
10. Innocence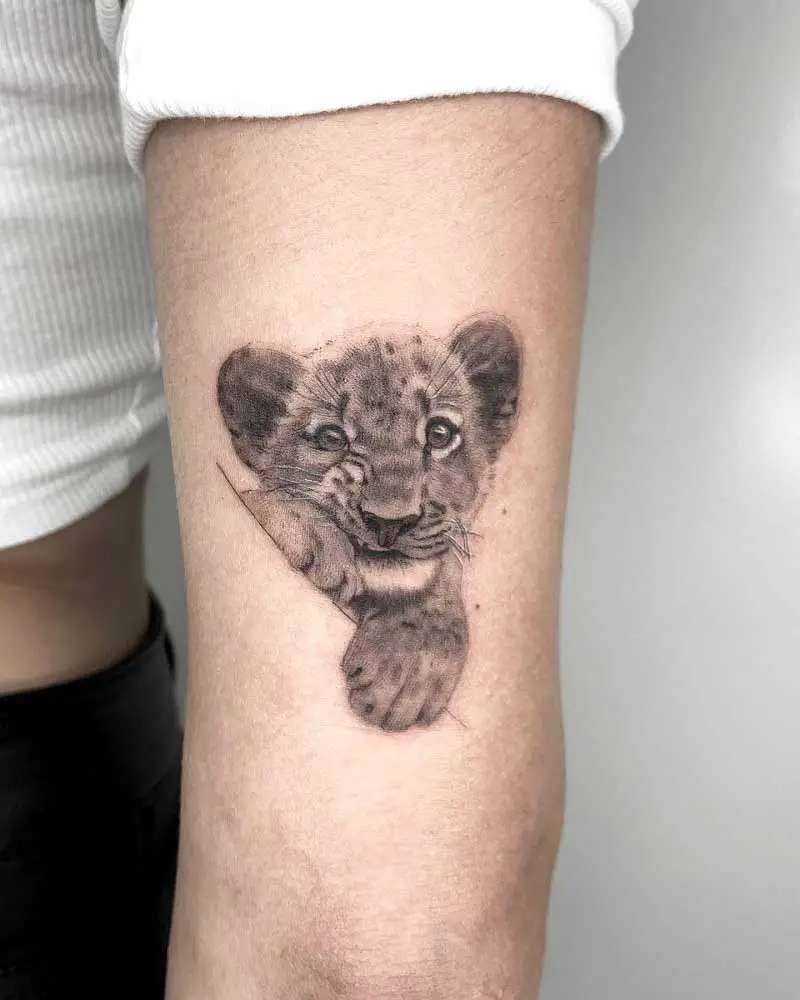 A cute innocent cub with a mushy face is irresistible. We all adore the part in us, that contains innocence and compassion as we love this tattoo on our arm.
11. Valiant Blue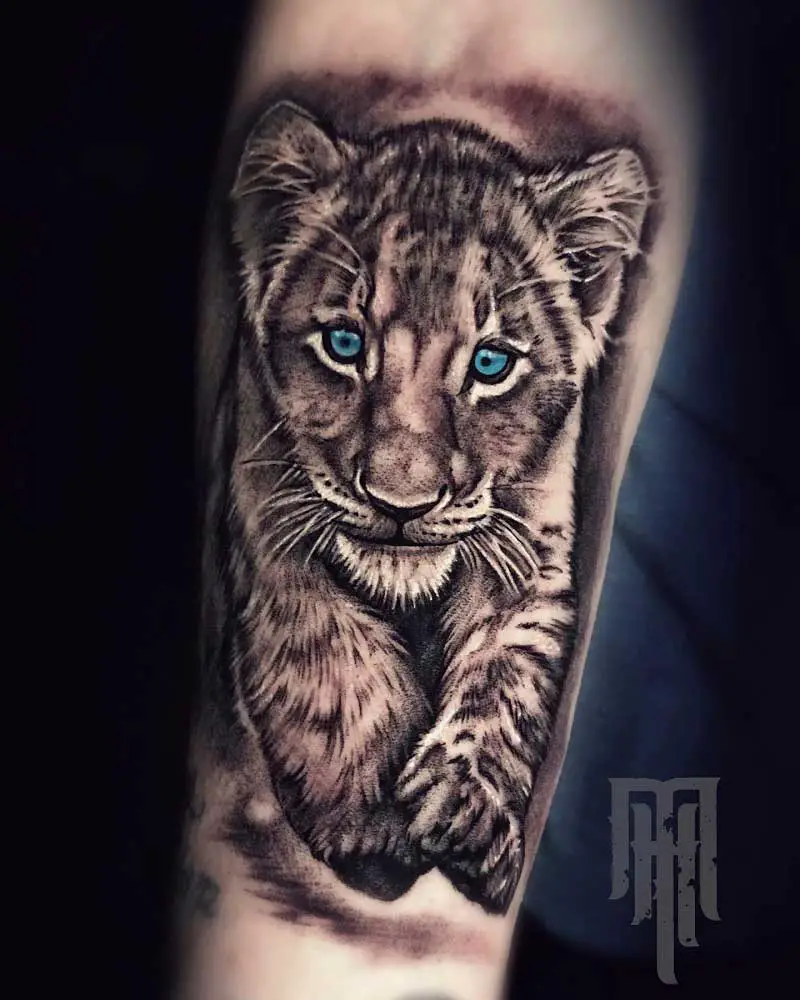 An uncanny eye is new to this earth moving forward with firm steps to embrace the uncertainty of life. You may stats with a single step as this cub but there is myriad opportunity to enrich it. This tattoo can be one of those valiant steps in your life. 
12. Lazy Log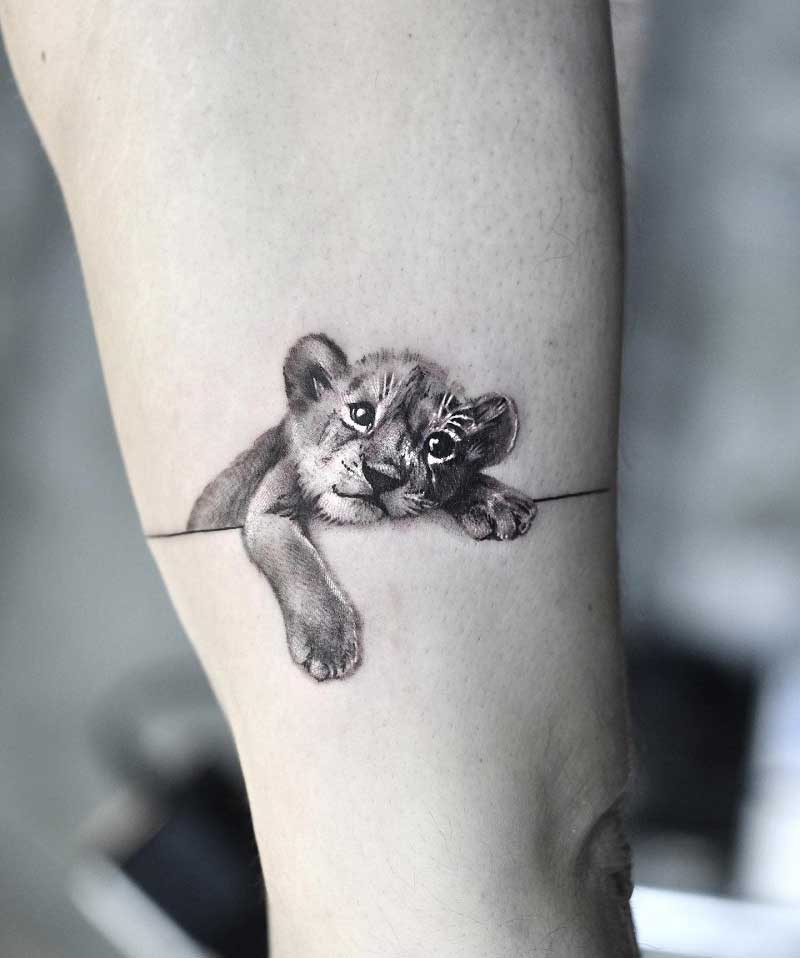 A cute cub in melancholic gesture expresses innocence through its eyes. This lively small tattoo can speak a lot about your feelings and emotions or help to overcome difficulties in life. And it's resting like a lazy log as it seems!
Alpha Lion Tattoo
An alpha lion is special for the balance between audacity and compassion. To deal with other rivals alpha must resist with his strength and courage. Alpha also deals with his loved ones with care and compassion. This tattoo portrays the stories that are highly relevant to us.
13. Passionate Pride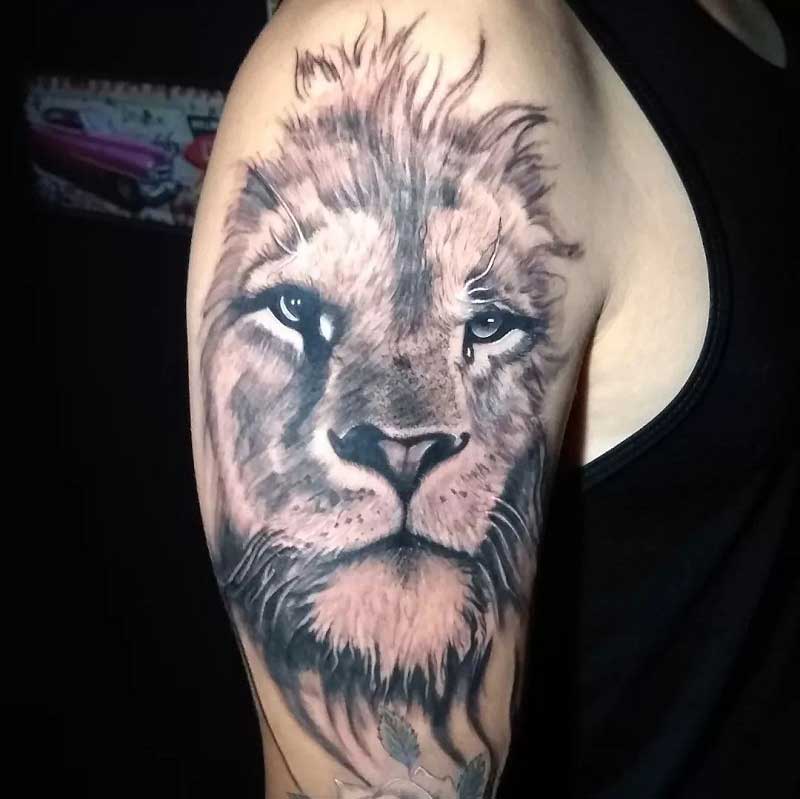 The handsome audacious face also has passion and affection. These inner attributes have to be felt. You can feel the compassion besides all audacity and courageousness in this tattoo.  
14. Harnomy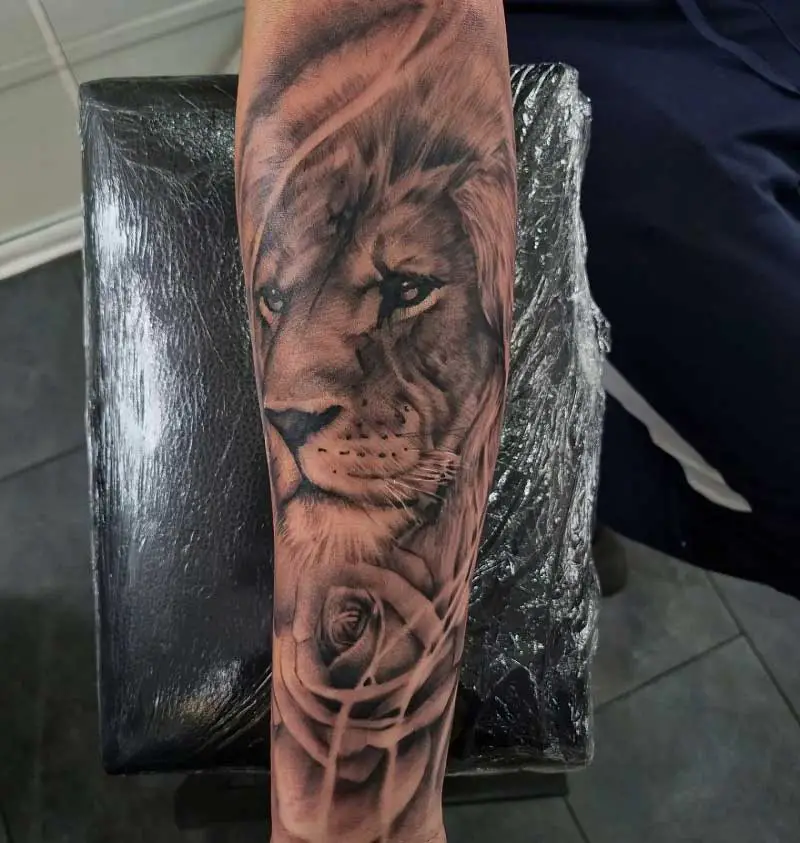 A fierce lion has a softer and more passionate side like a rose. In this tattoo, you find harmony between strength and graciousness. With help of both, you become a perfect person who will thrive in life.
15. Olive Lion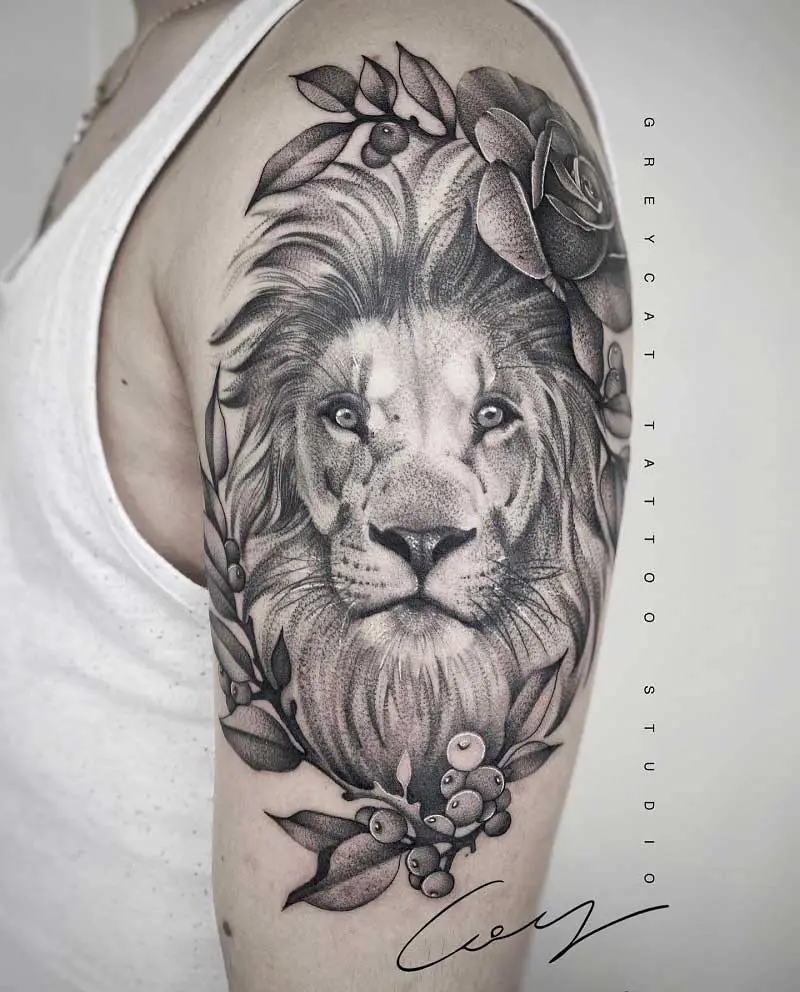 One of the great purposes of having strength and courage is to maintain peace and Friendship. But this tattoo reminds us that, without compassion and feeling for others, no peace or friendship can sustain.
Bad Lion Tattoo
If you are not interested in the conventional lion tattoos then you may try these extraordinary tattoos that express versatile meaning and thought. Their bold expression and unconventional appearance can give you something special. This tattoo is not for everyone but someone special like you.
16. Witty Wreck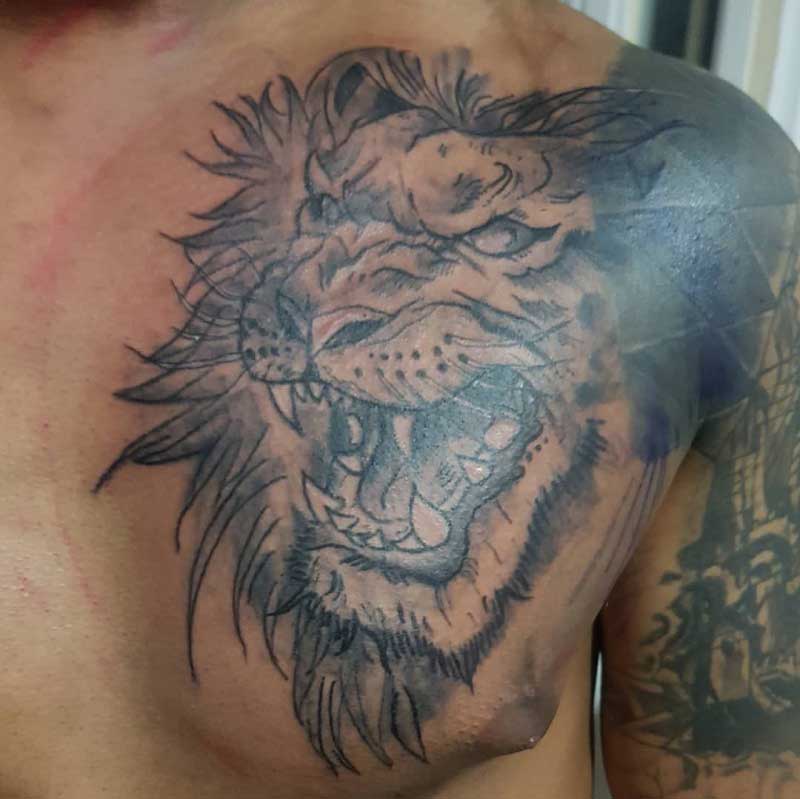 Our strength and might may wear off but our wisdom and courage can only increase with time. As this old wise lion is roaring with courage. This great insight is captured in this tattoo.
17. Wind of Change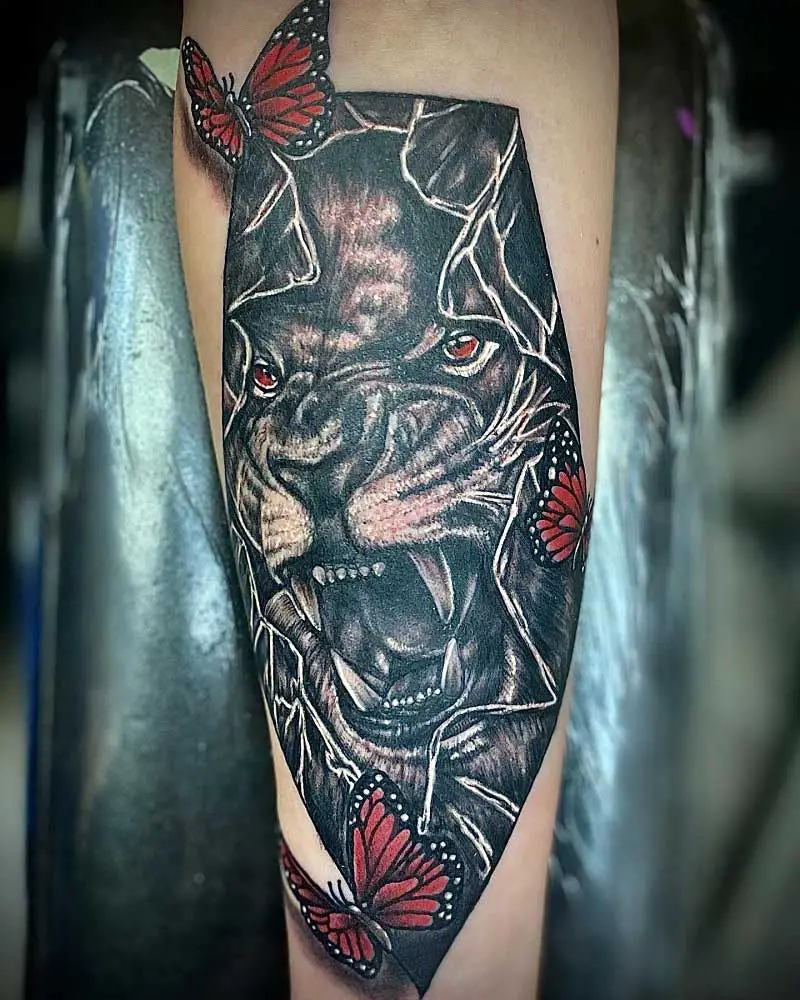 You may innately be furious, reluctant, and rigid, but that doesn't mean you can not change.  It's like a caterpillar transforming into a butterfly, You can always go through a transformation and change yourself into a better person.
18. King's Wrath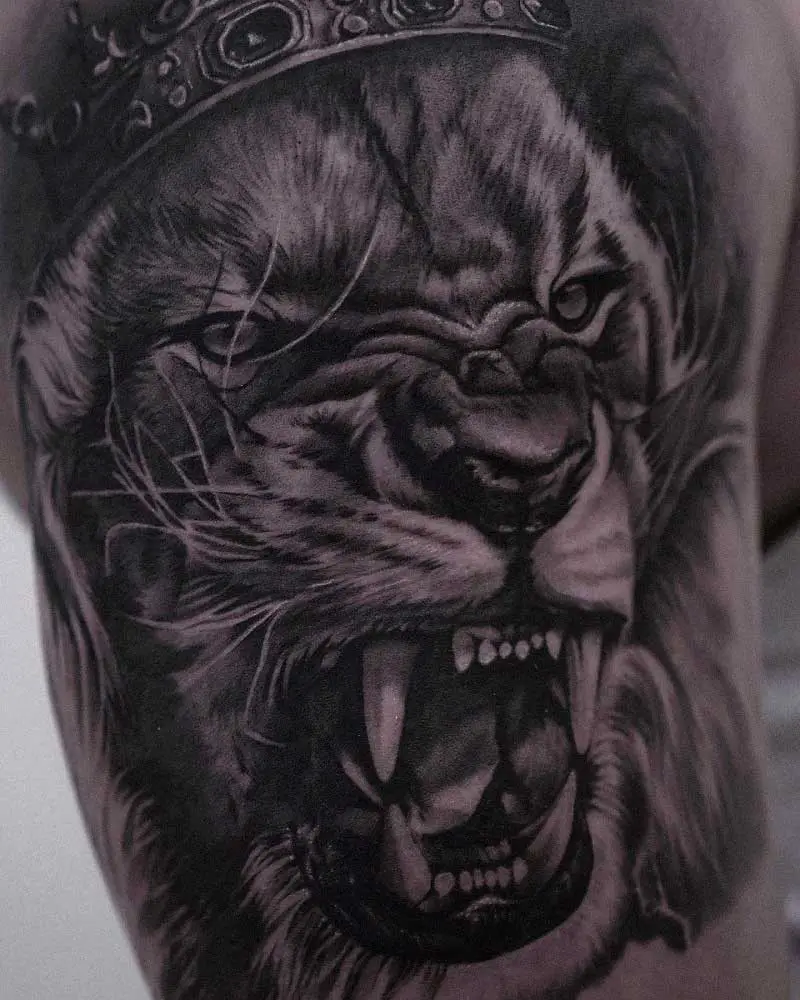 A confident roaring face with a crown that announces strength and power. This crowned head also tells us about the balance between kingly authority and graciousness.
Bird Lion Tattoo
Sometimes a single lion portrait may not satisfy you. You want something sophisticated and meaningful. Then the following medleys are the perfect match for you. Here you can find some tattoos with deep meaning and multifold interpretations that must astound you.
Here are some aesthetic pieces for you-
19. Liberty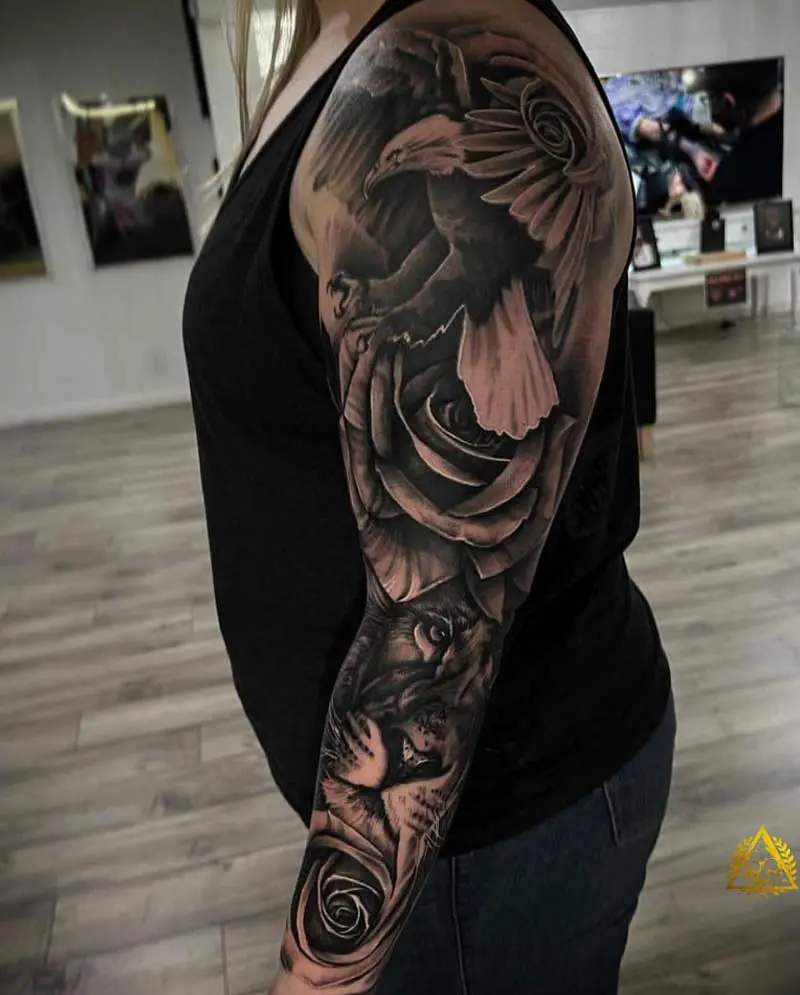 You can be as free as a flying eagle,  as audacious as a lioness. Yet you can be passionate and caring to others. With this versatile personality, you earned a tattoo like this.
20. Eastwind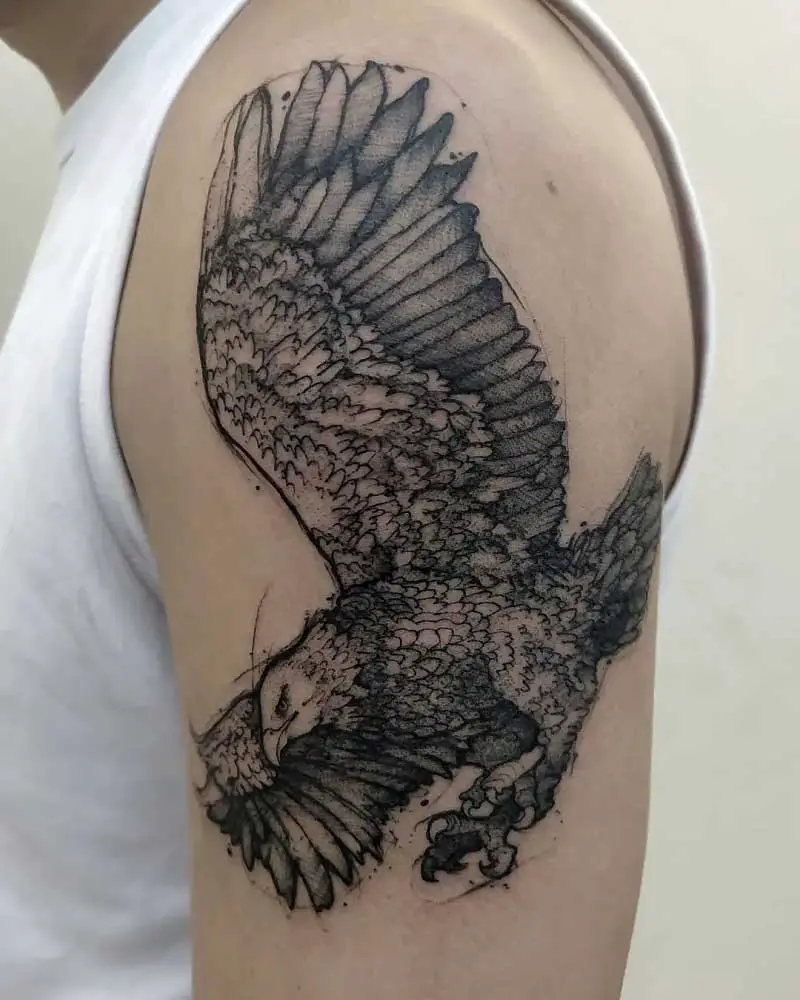 A Diving eagle is about to snatch its prey as you snatch your new opportunities with your invisible talon. If you are serious and adventurous about life then a tattoo like this is the perfect match for you.
21. Guardian Angel
We can imagine this lion as our guardian who guides us through our life. The stork represents the bright future and prosperity, that we want in our life. This tattoo may guide you or bring you luck.
Cowardly Lion Tattoo
Bravery is not any constant phenomenon. It may have different meanings in different circumstances. You may not be so-called brave that doesn't mean you will not ever be. Our life goes with rapid changes, these changes bring you bravery and courage in a way you may never have imagined.
Here are some such design ideas-
22. Cowardice Courage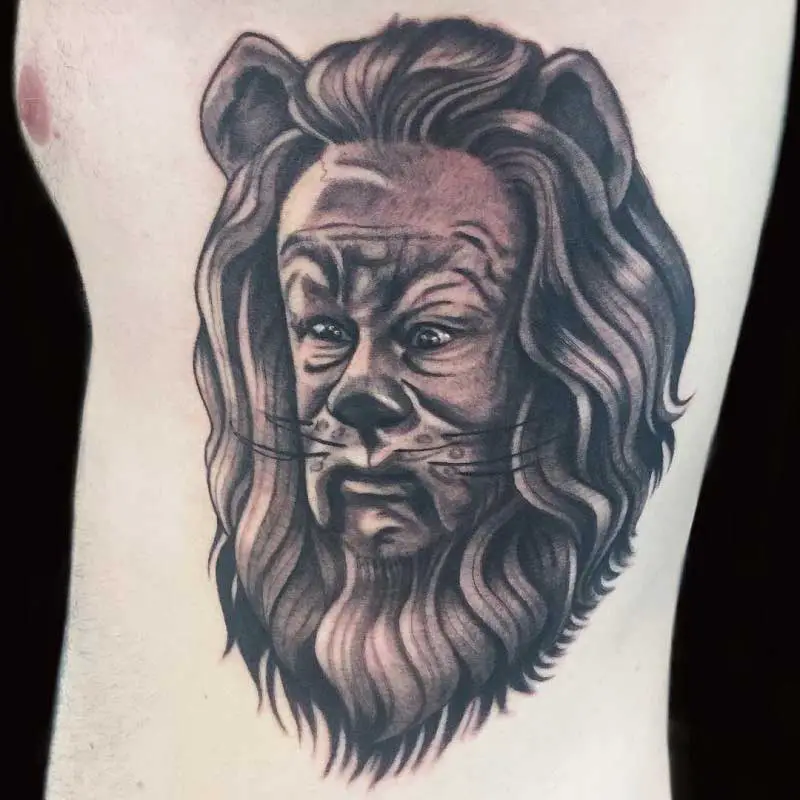 Being a coward all his life, this lion gained courage in the end. This tattoo will highlight your perseverance in all aspects of life, which will prevail in the end.
23. Illusion of Bravery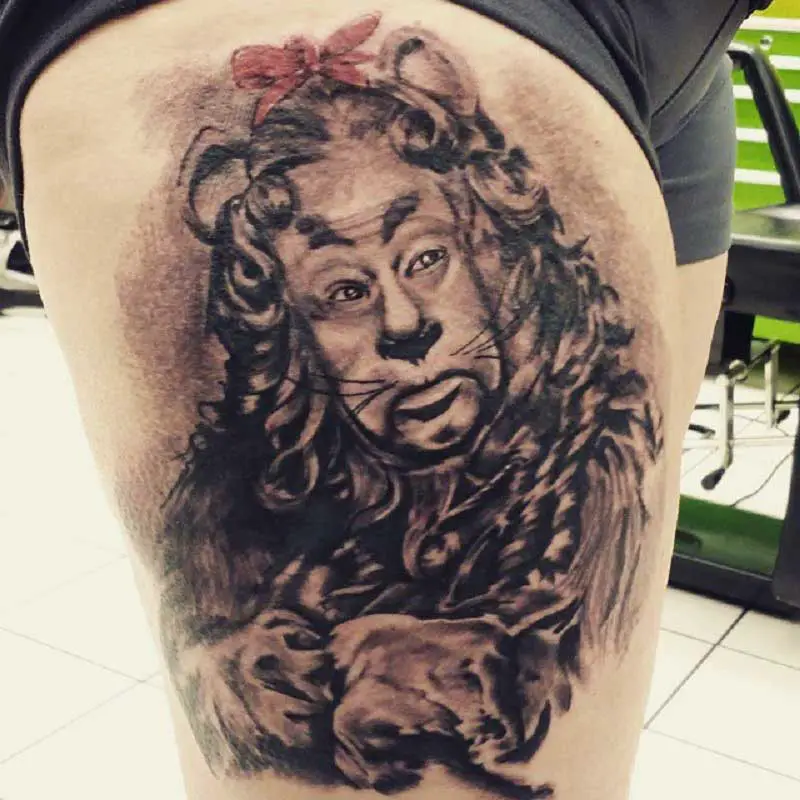 Bravery and courageousness matter when needed the most. That's why appearance doesn't matter. If you are discreet about your bravery and courageousness then this tattoo is the best match for you.
24. Courage in Disguise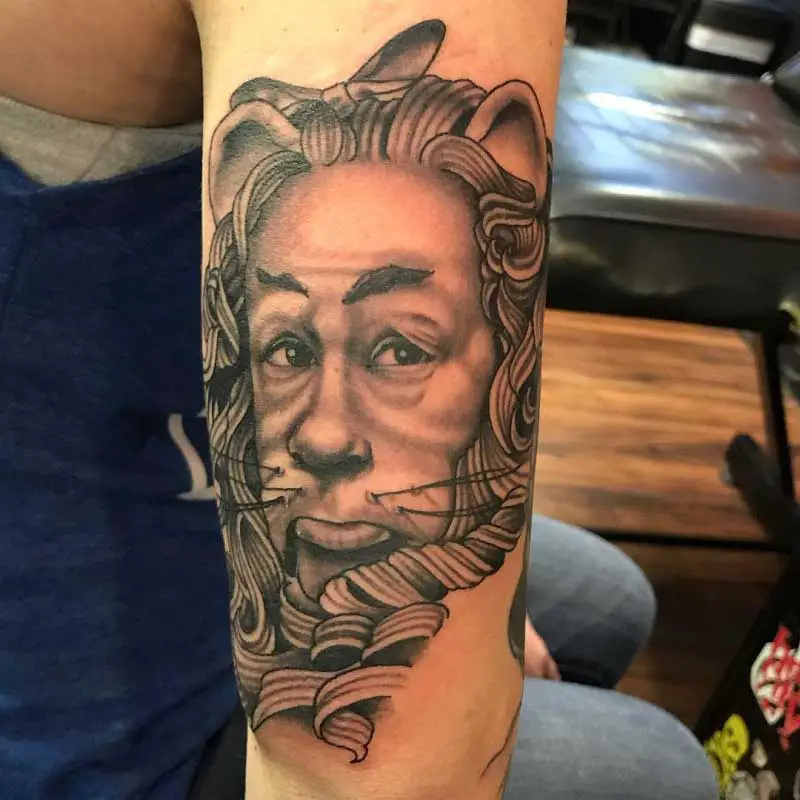 This manly lion face appeared at Oz as a coward and was trying to find his courage. In tattoo, you can think of it as courage in disguise. Which will always remind you to be courageous.
Dope Lion Tattoo
If you want that rigor, that courage, that ferocity emitting out of your personality then the dope lion tattoo design might be your cup of tea. These designs will ornate your body part with a majestic vibe. If you're seeking such artistic pieces of design,  here are some ferociously majestic design ideas-
25. Providence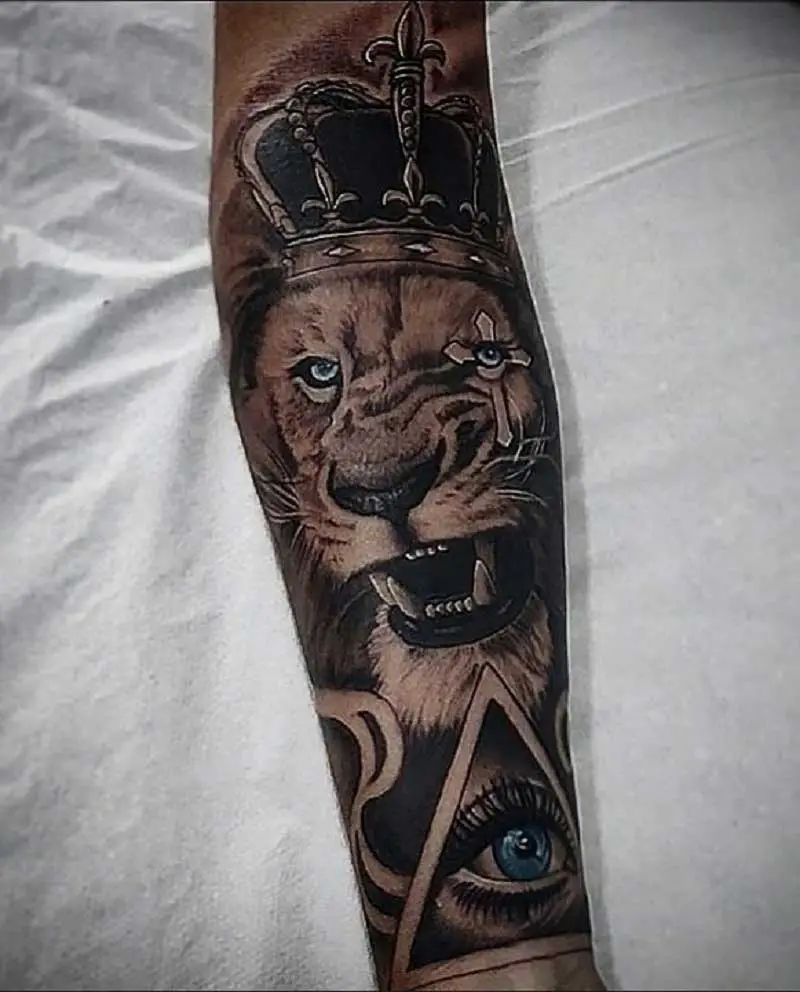 As a supreme authority, this crowned lion watches the well-being of its underlings. The role of this lion is perhaps like the eye of providence that watches over humanity. As you look after your loved ones.
26.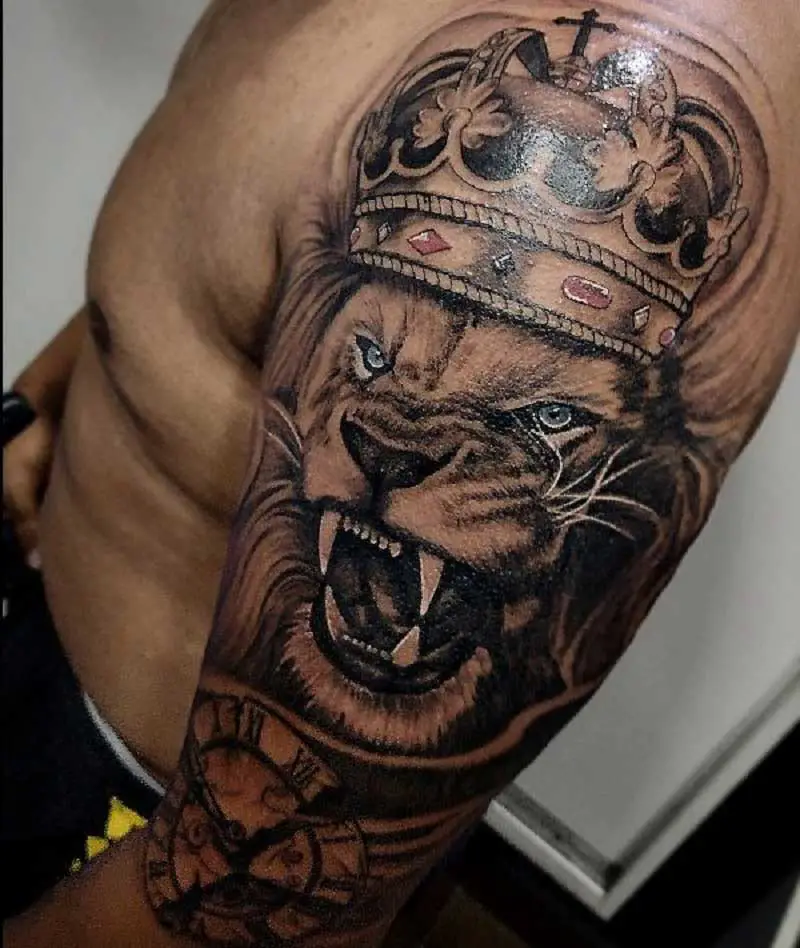 27.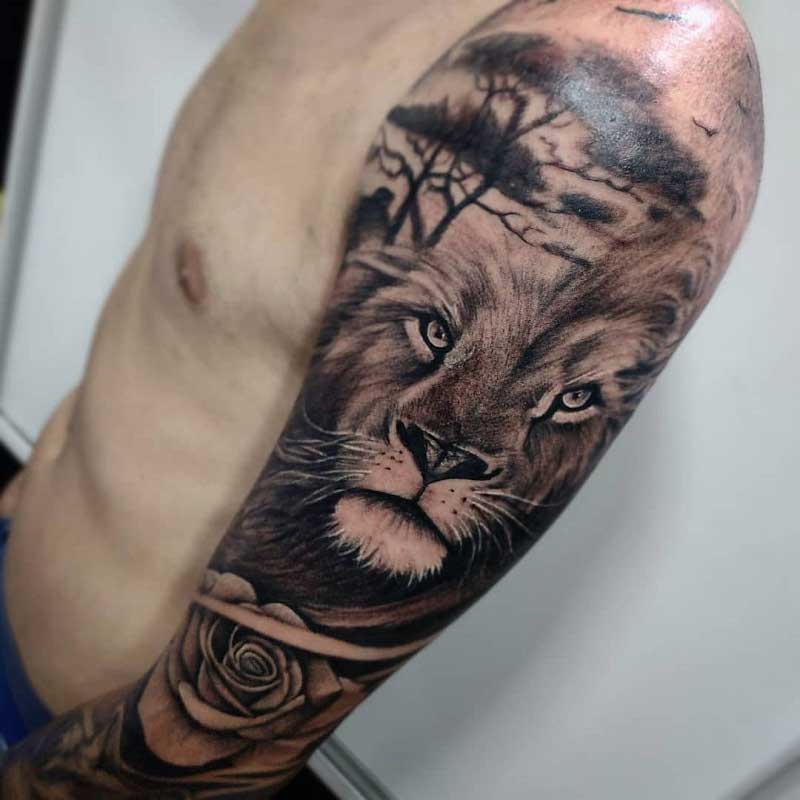 Dumb Lion Tattoo
28.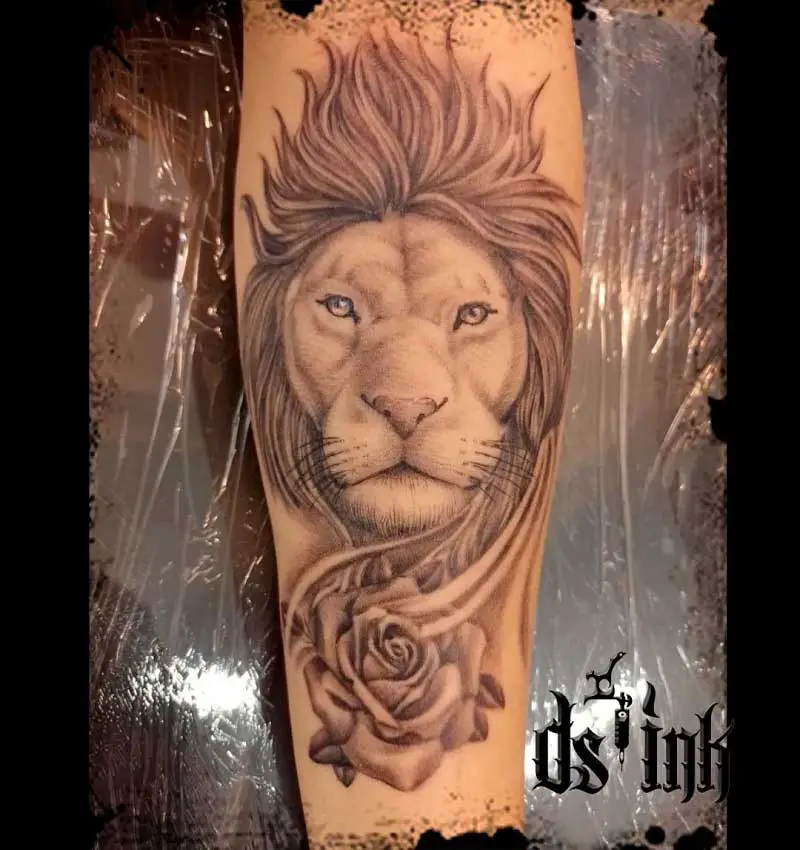 29.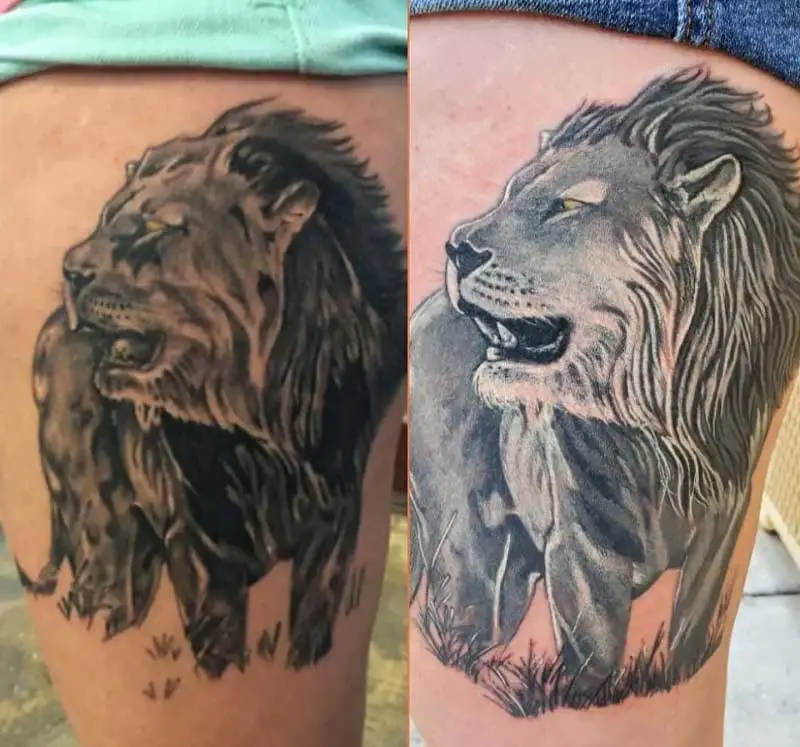 30.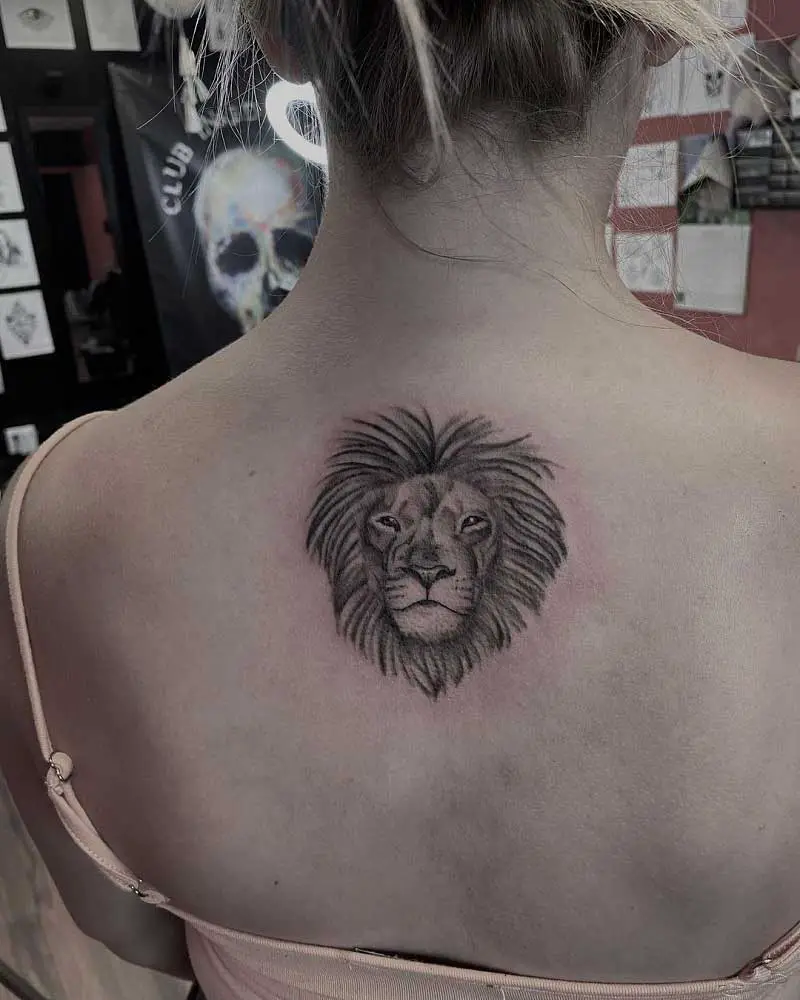 Geometric Lion Tattoo
31.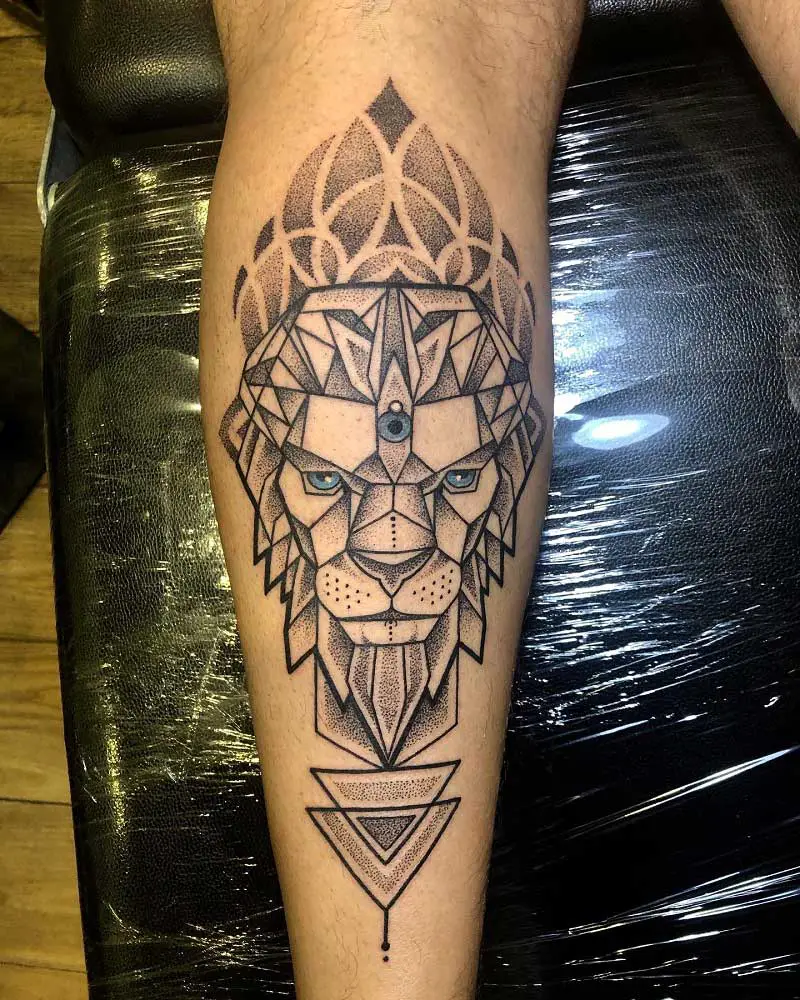 32.
33.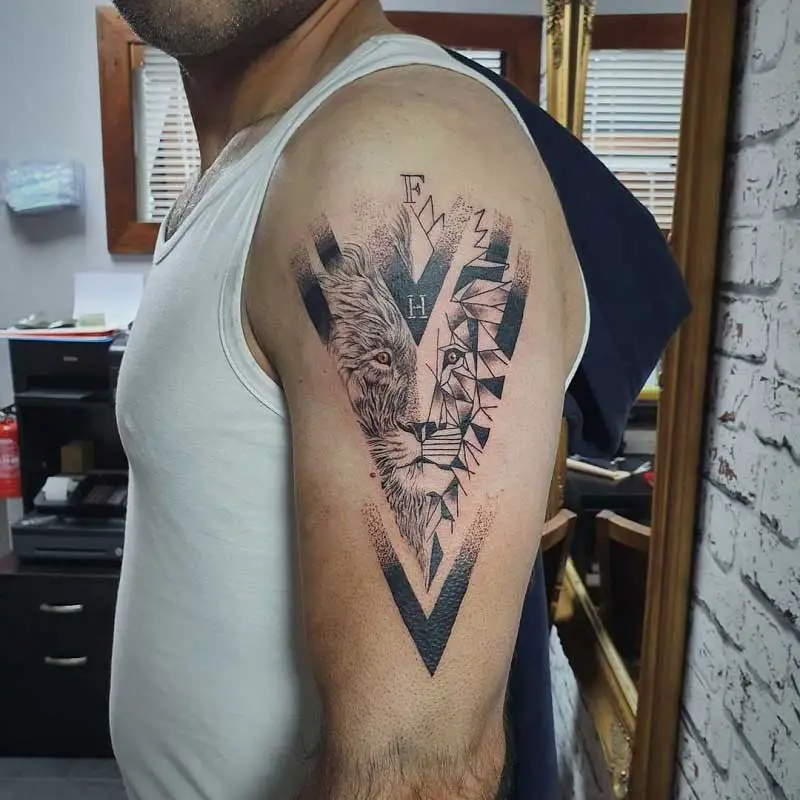 Head To Head Lions Tattoo
34.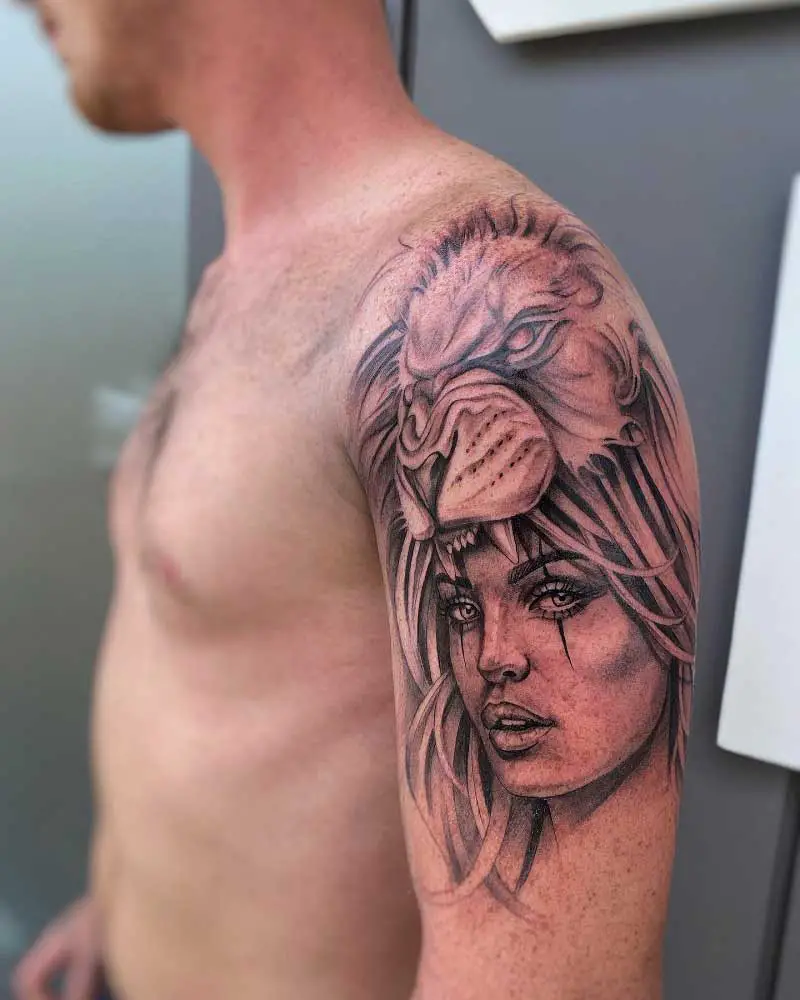 35.
36.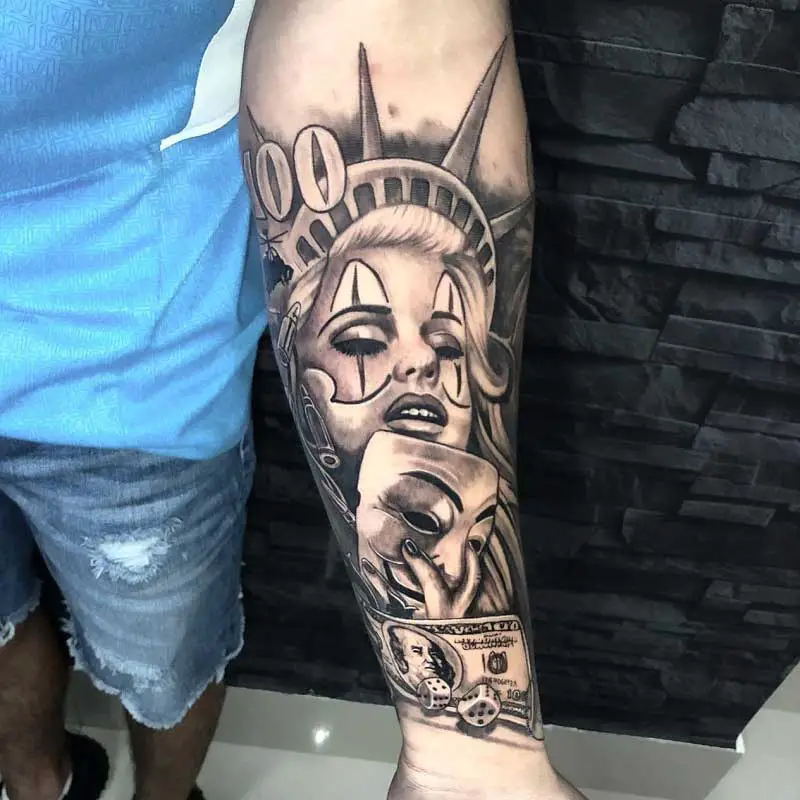 Heart Shaped Lion Tattoo
37.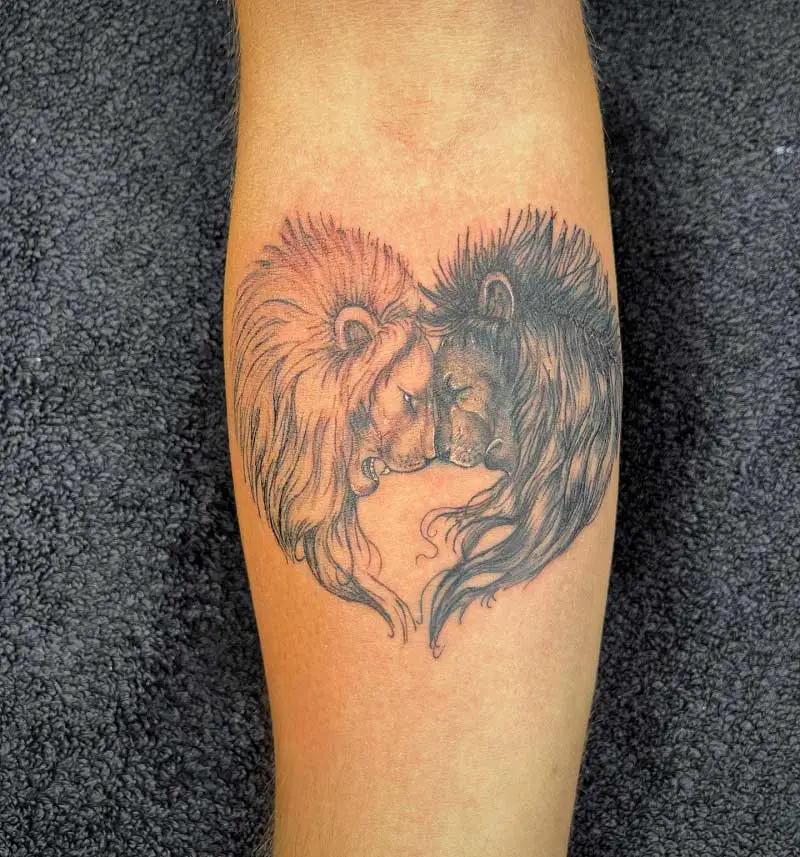 38.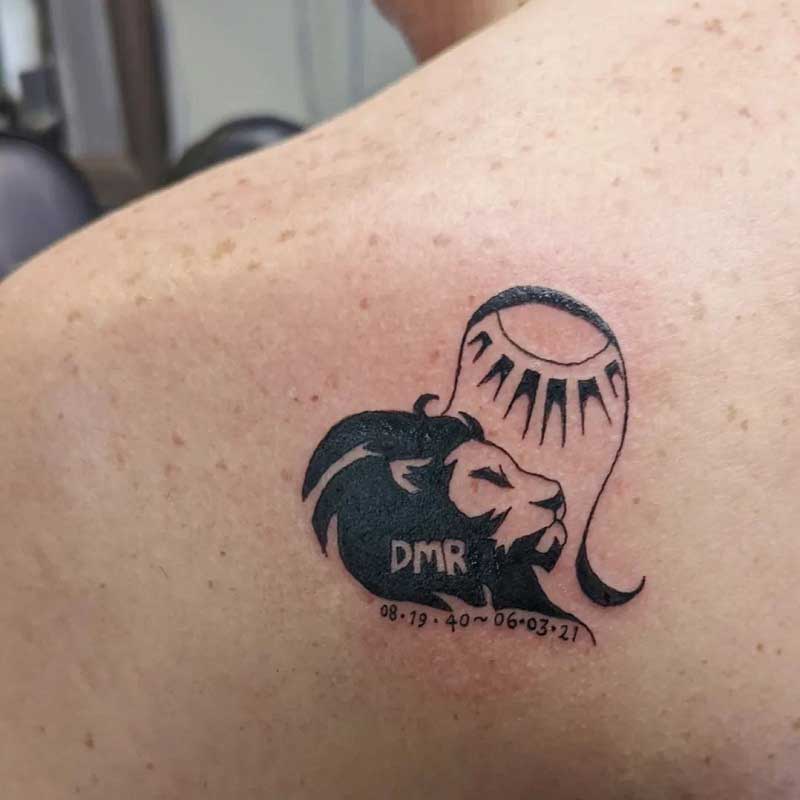 39.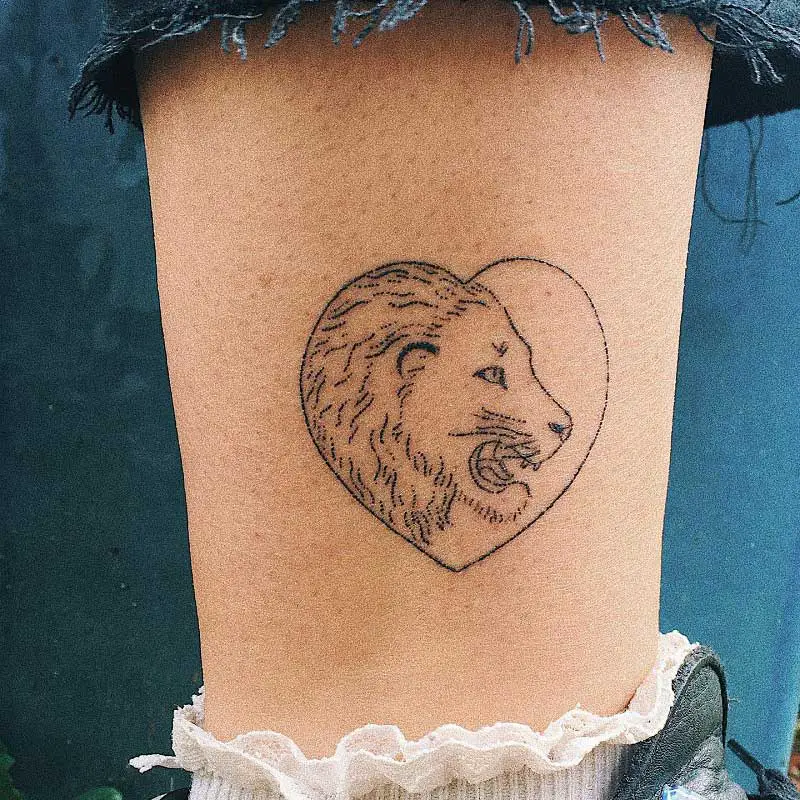 Lambs Become Lions Tattoo
40.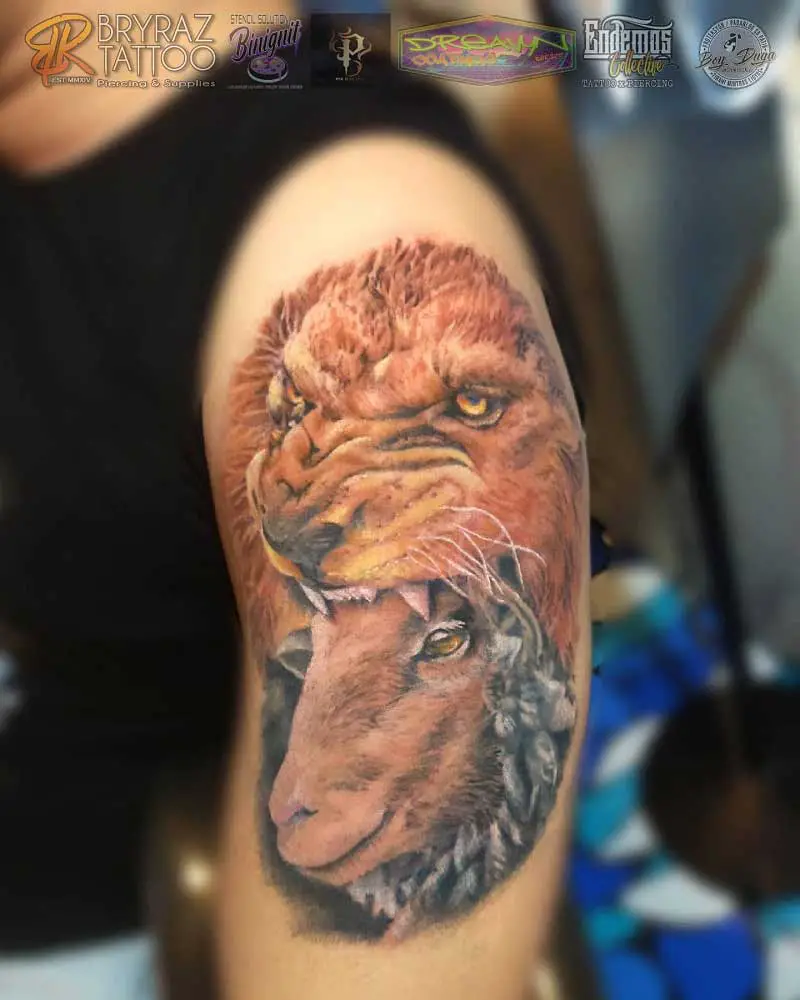 41.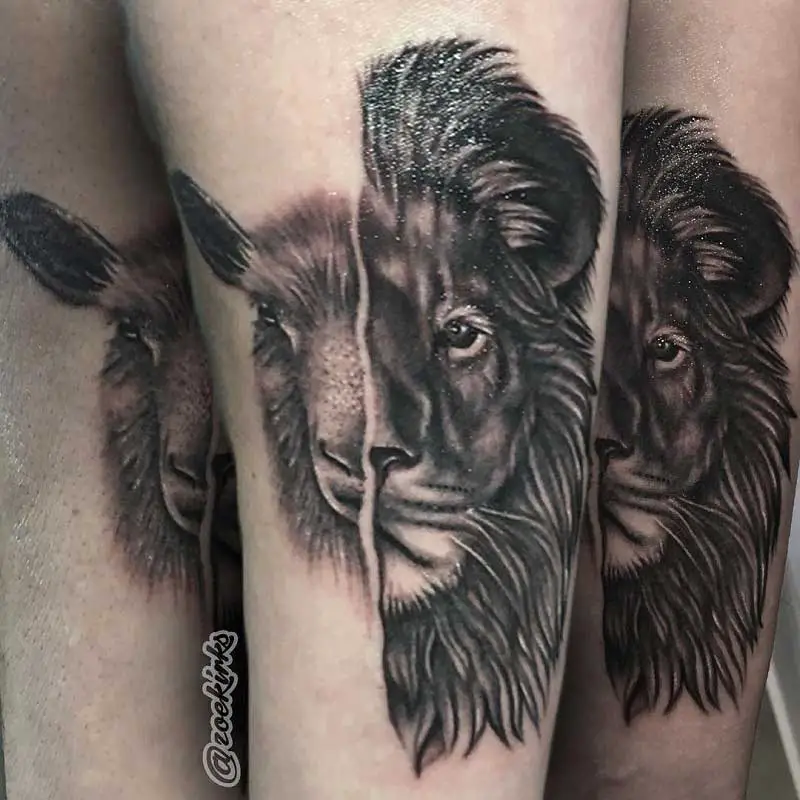 42.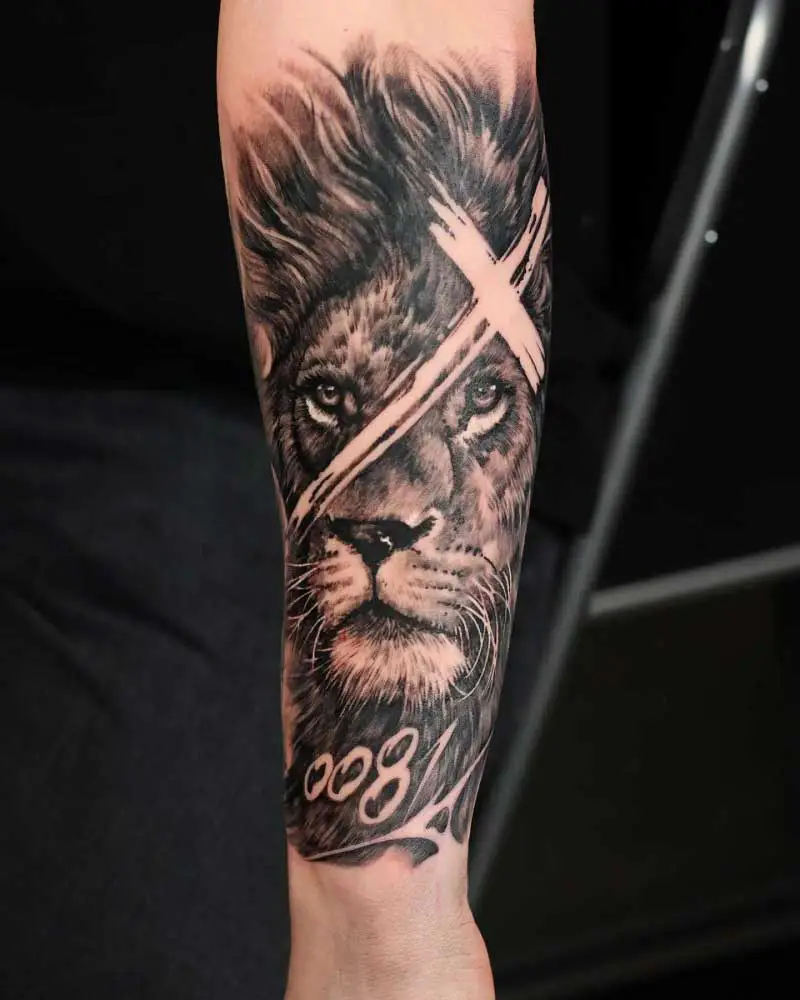 Lavin Lion Tattoo
43.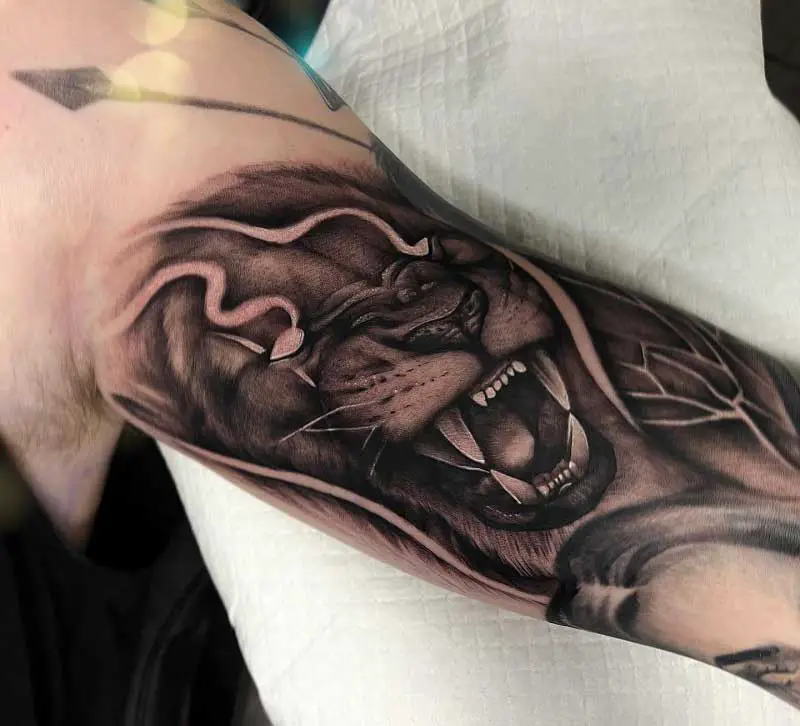 44.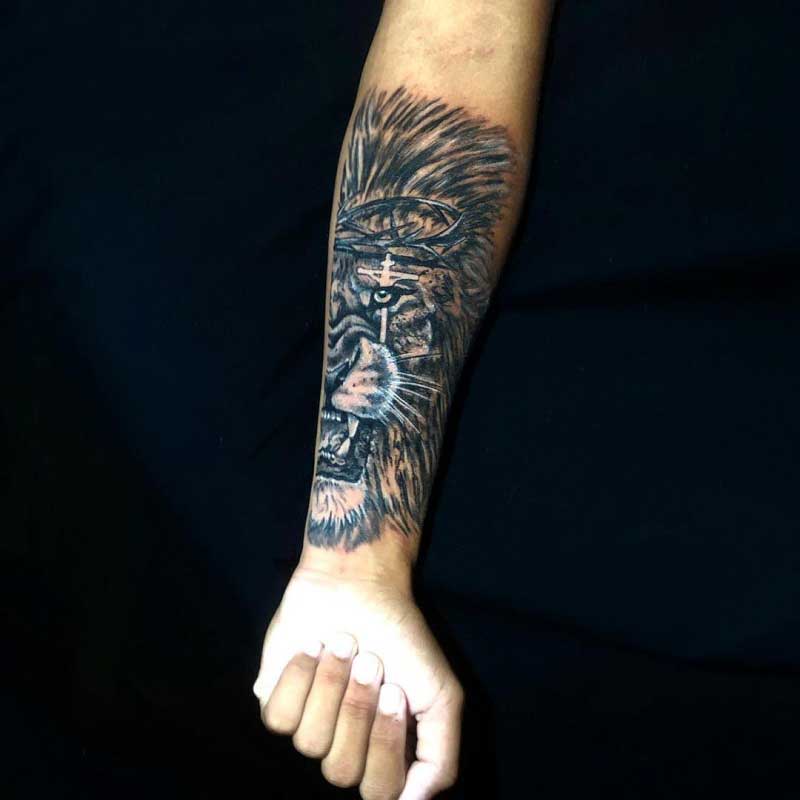 45.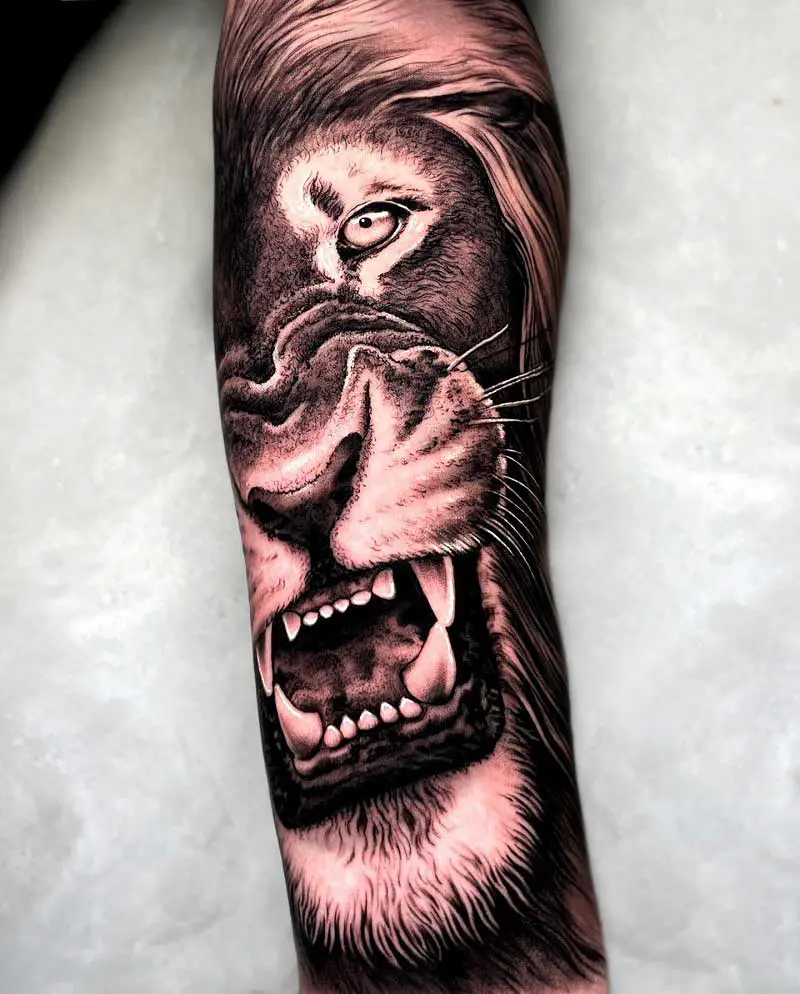 Leo Lion Paw Tattoo
46.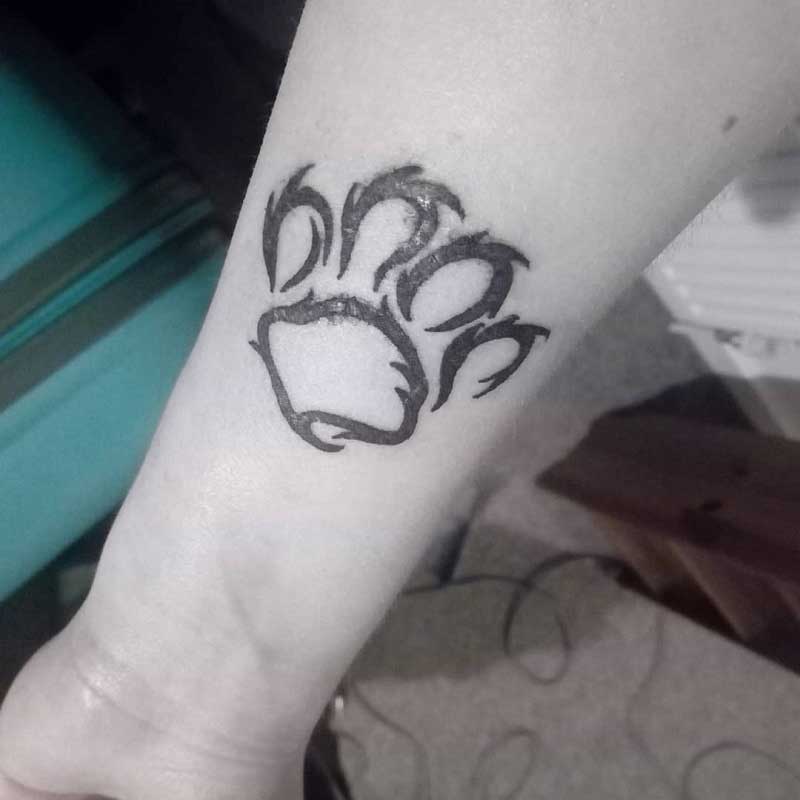 47.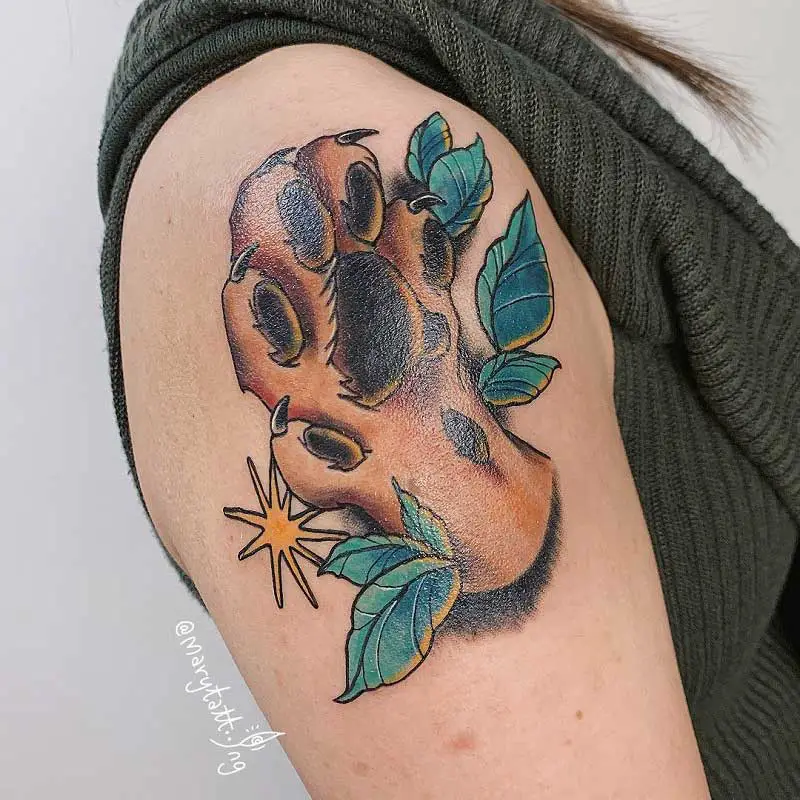 48.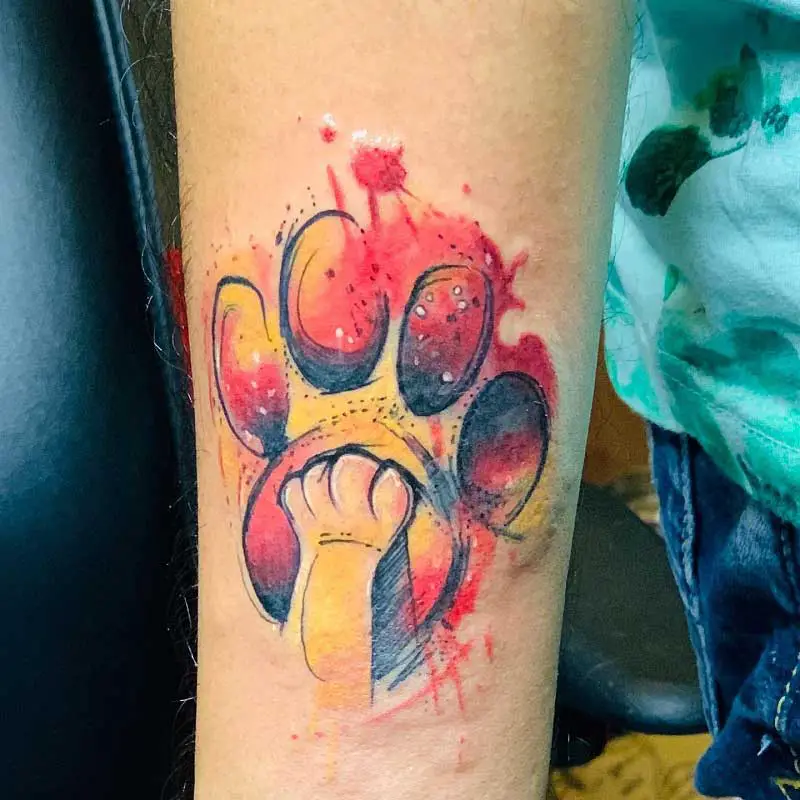 Lion Ass Tattoo
49.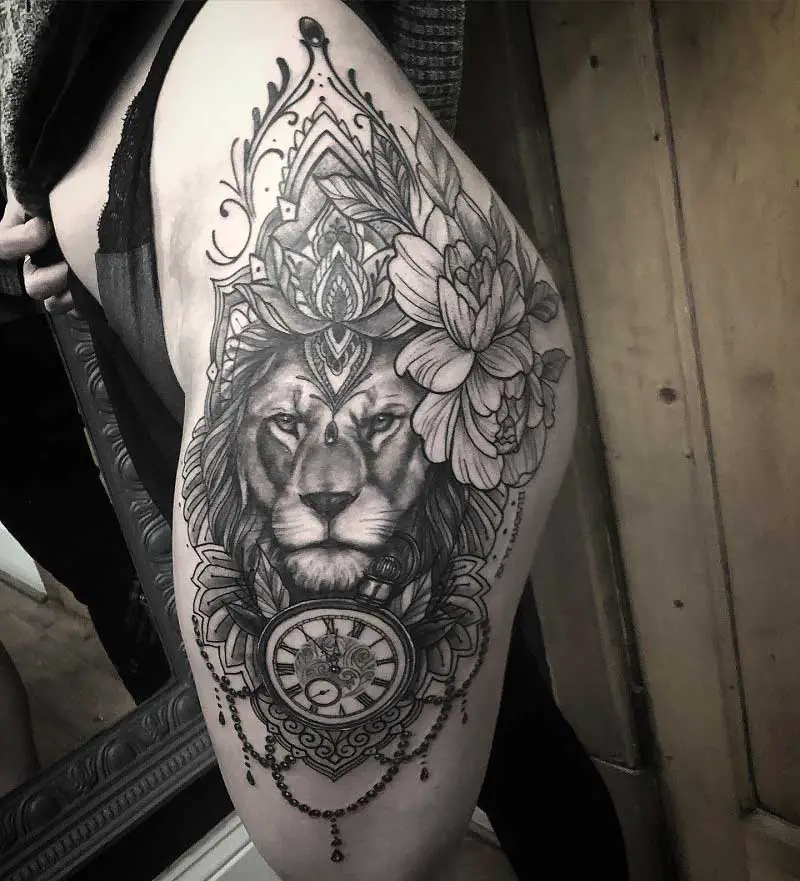 50.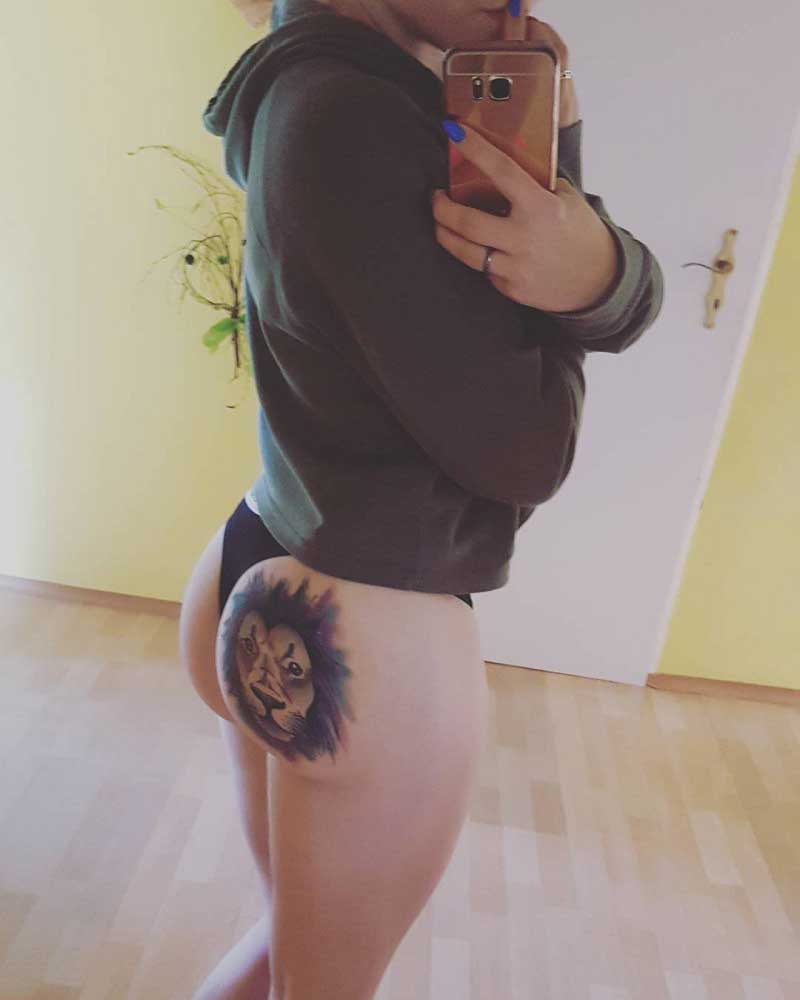 51.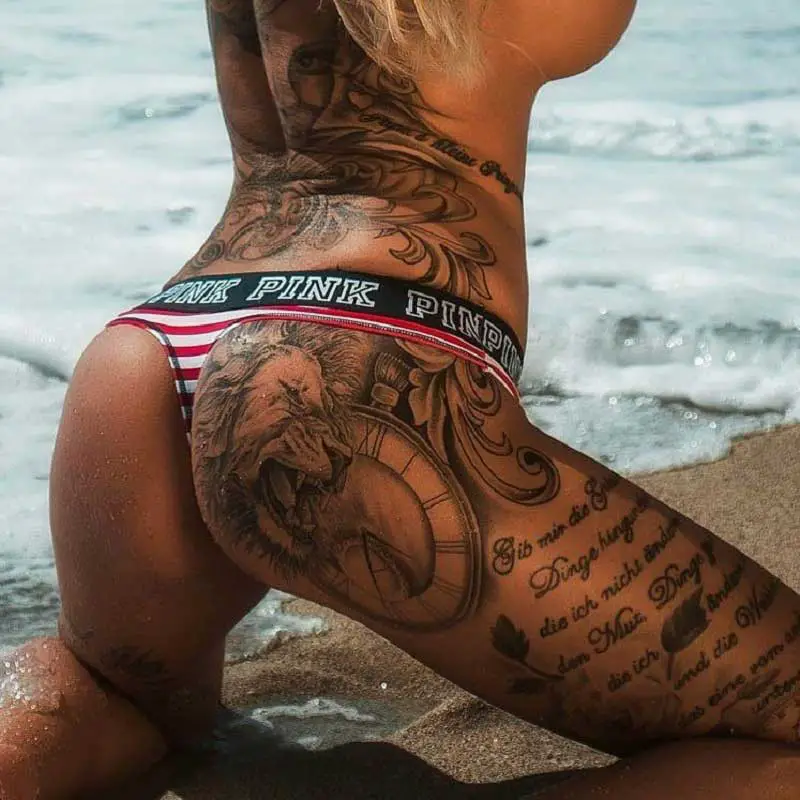 Lion Calf Tattoo
52.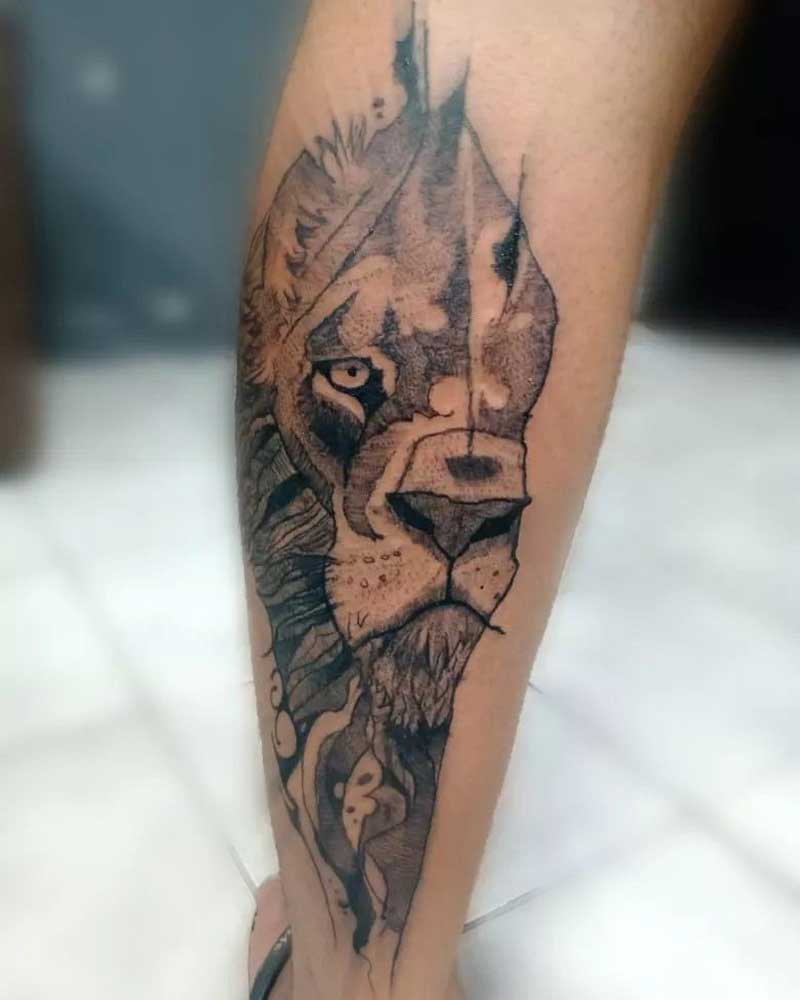 53.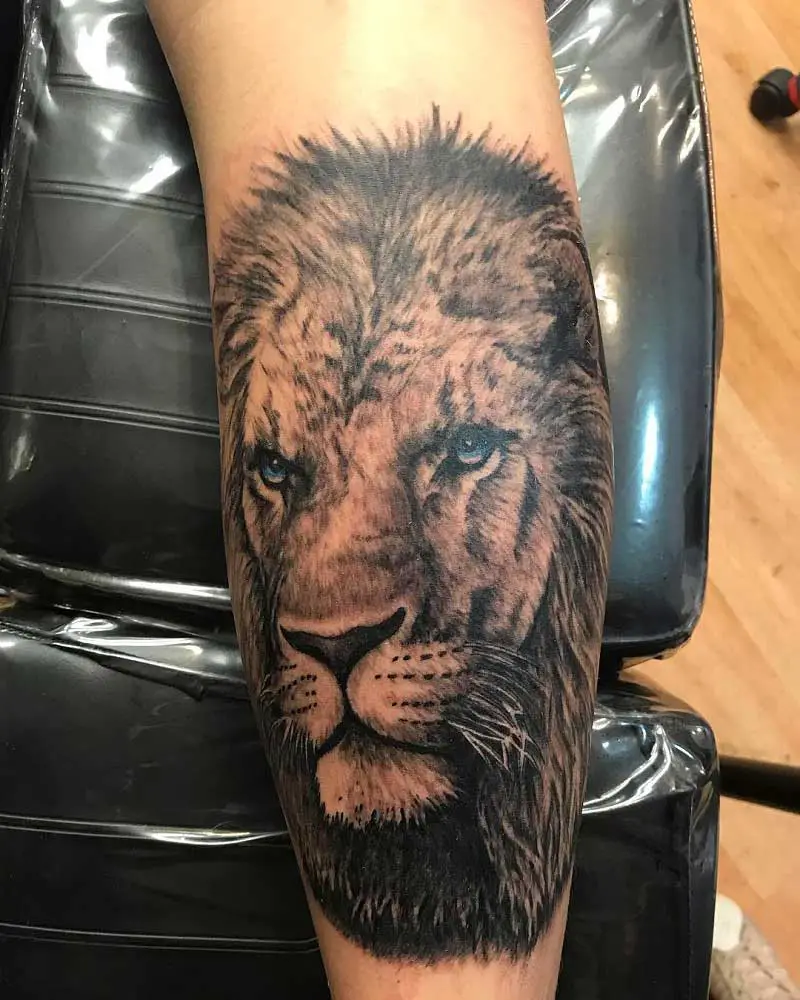 54.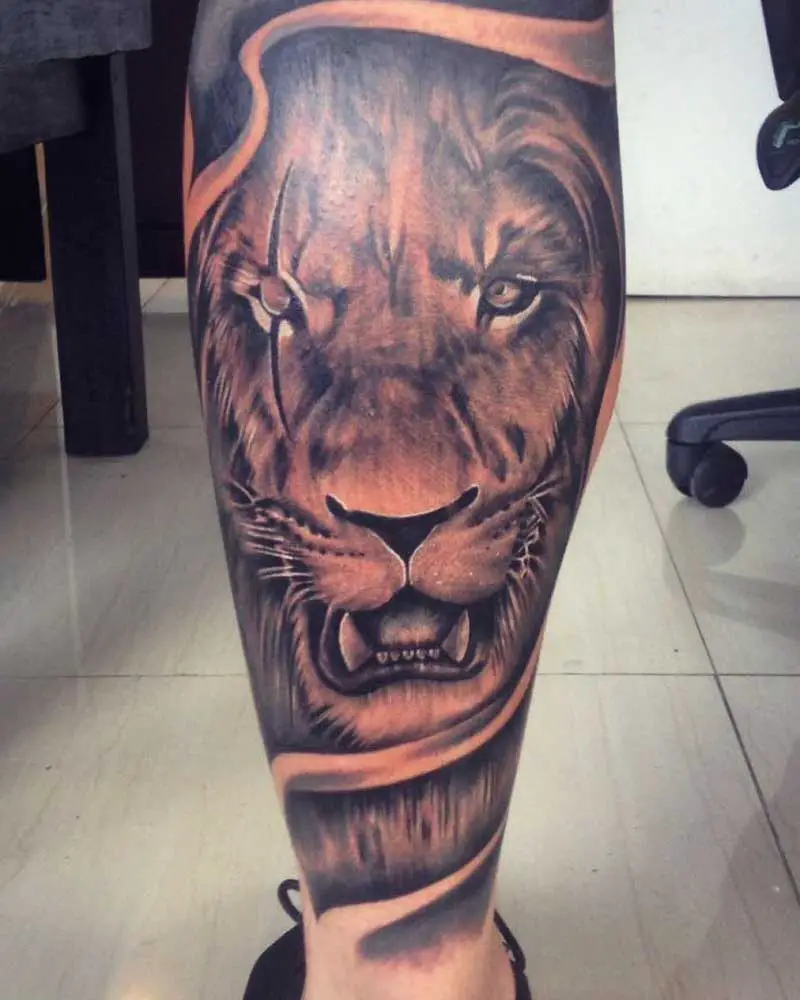 Lion Chest Tattoo
55.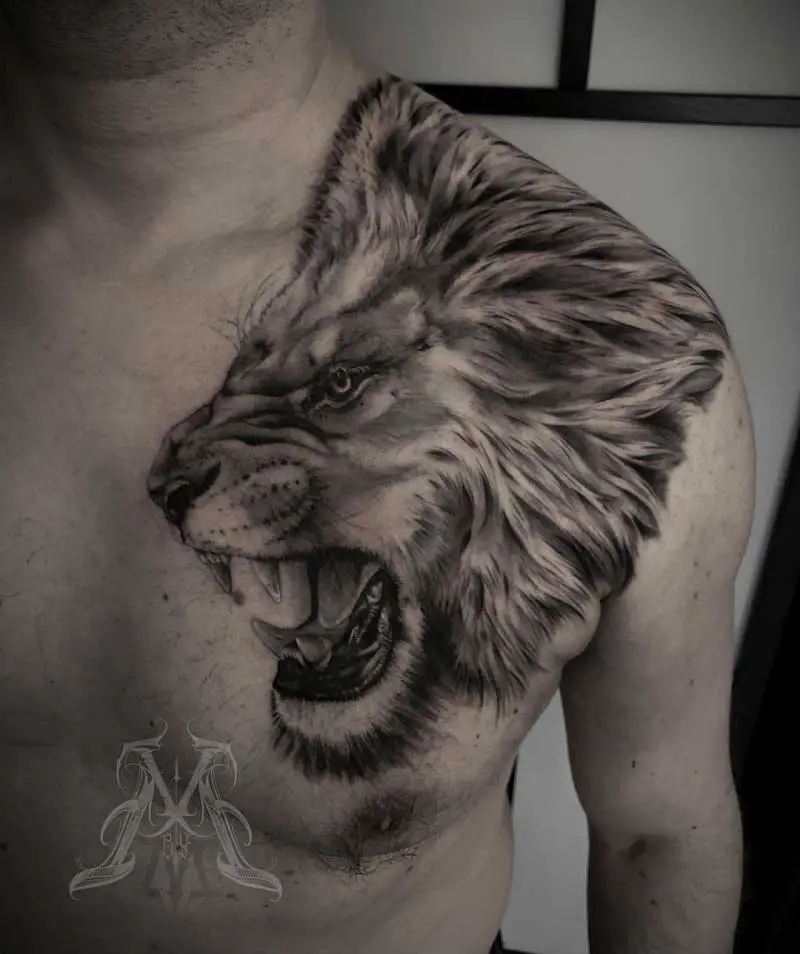 56.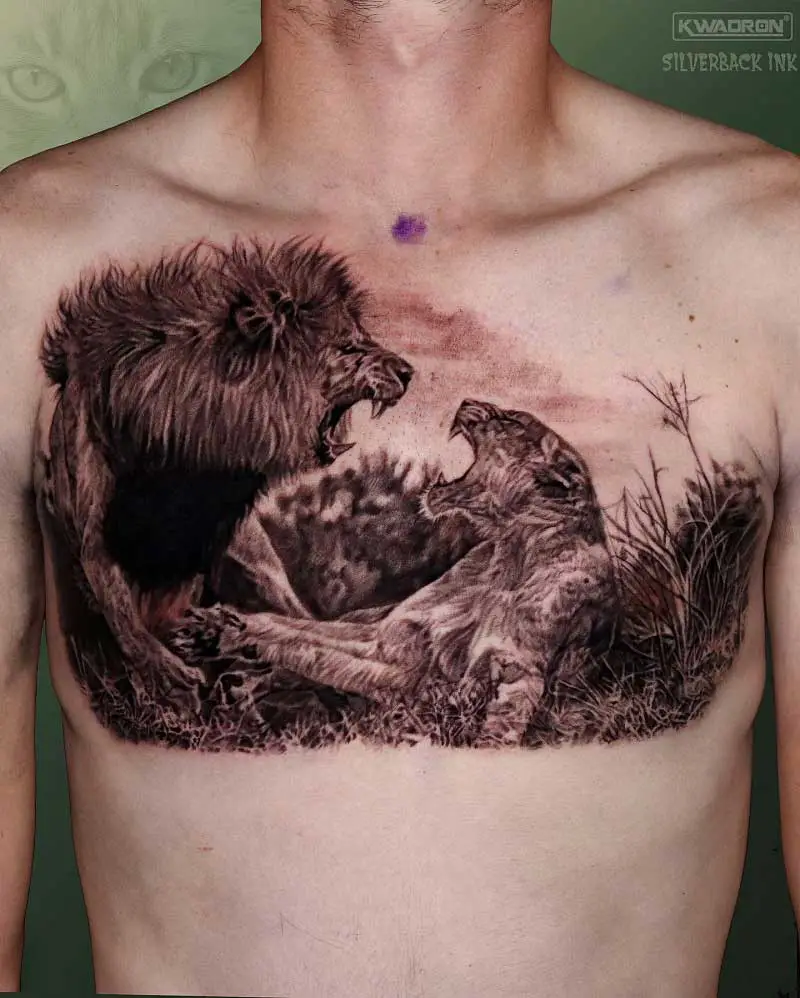 57.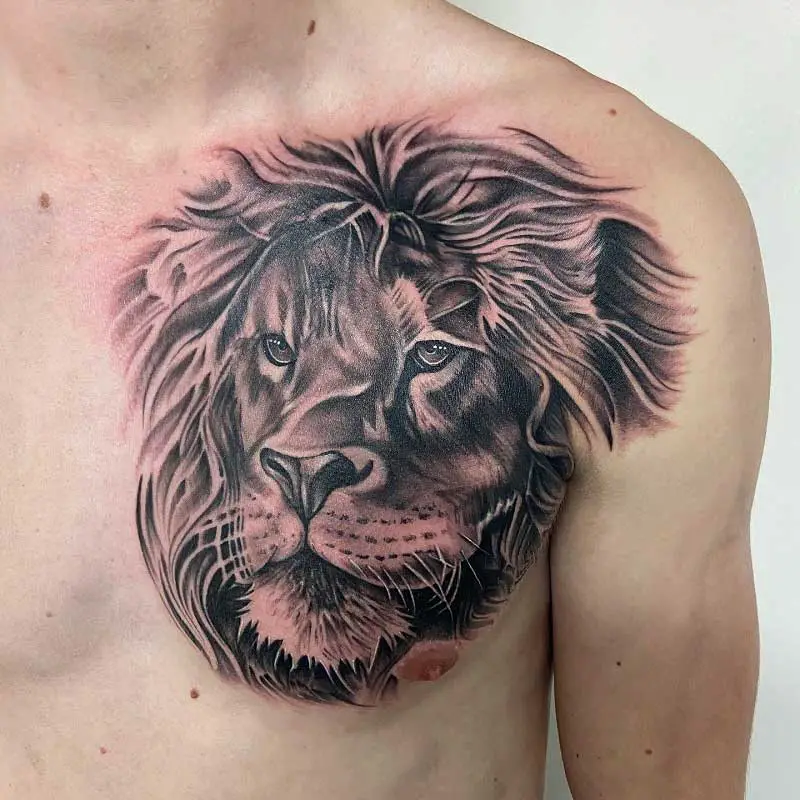 Lion Crown Tattoo
58.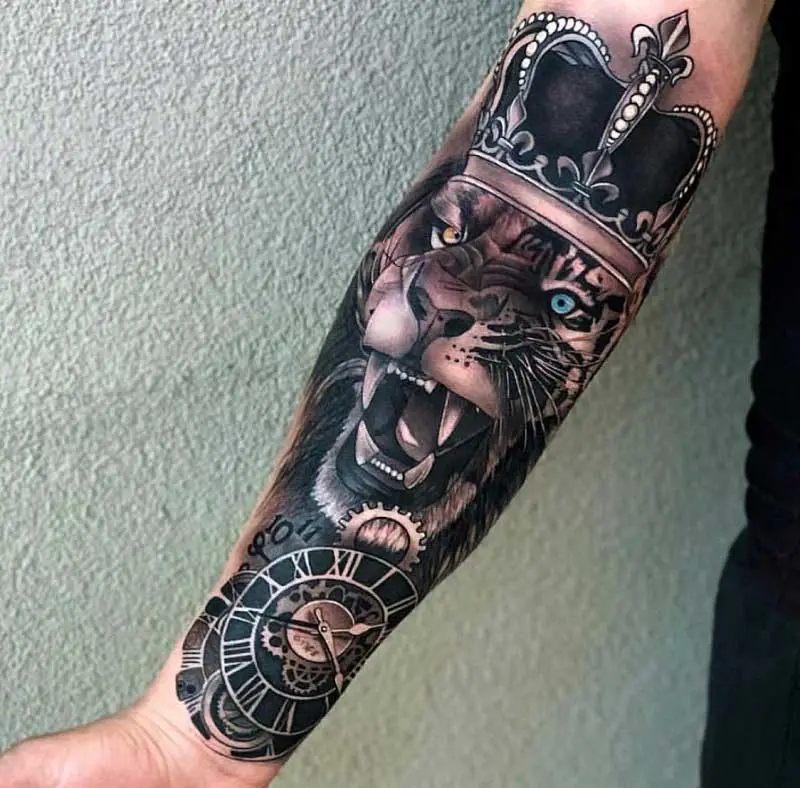 59.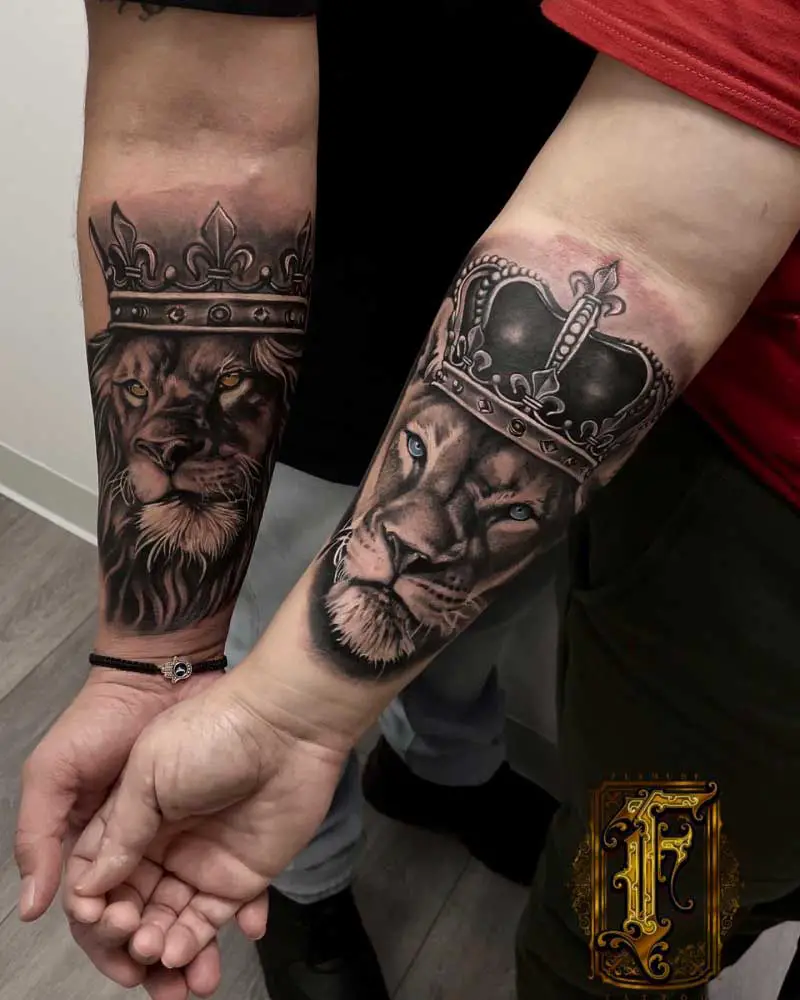 60.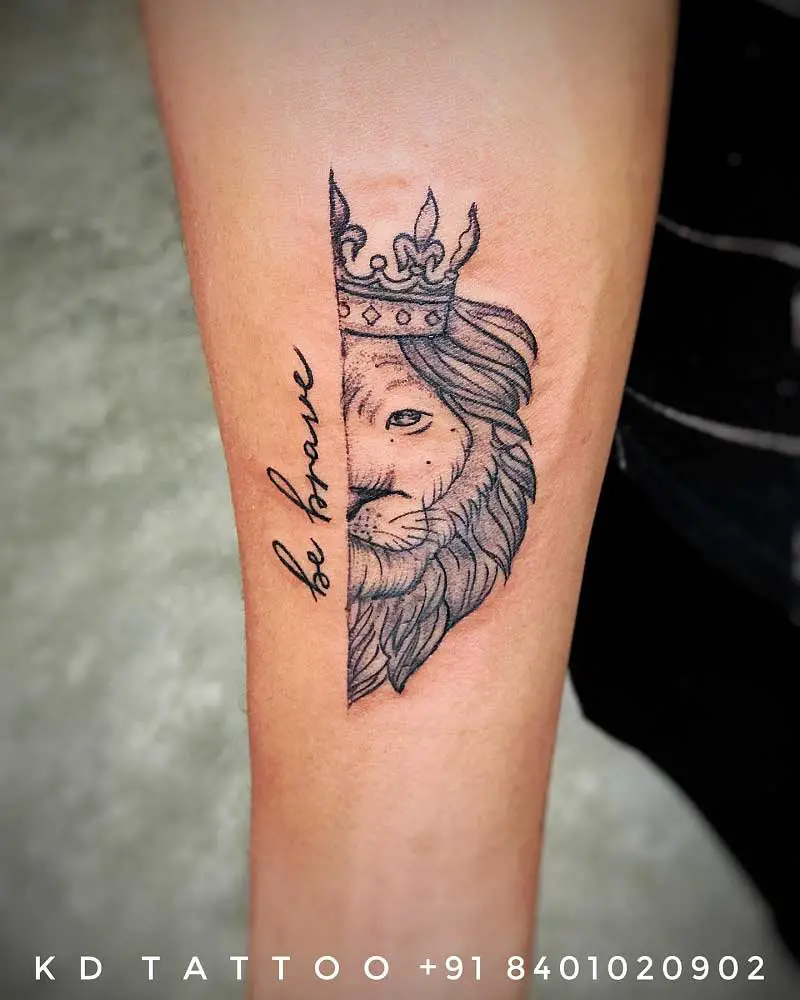 Lion Cybele Tattoo
61.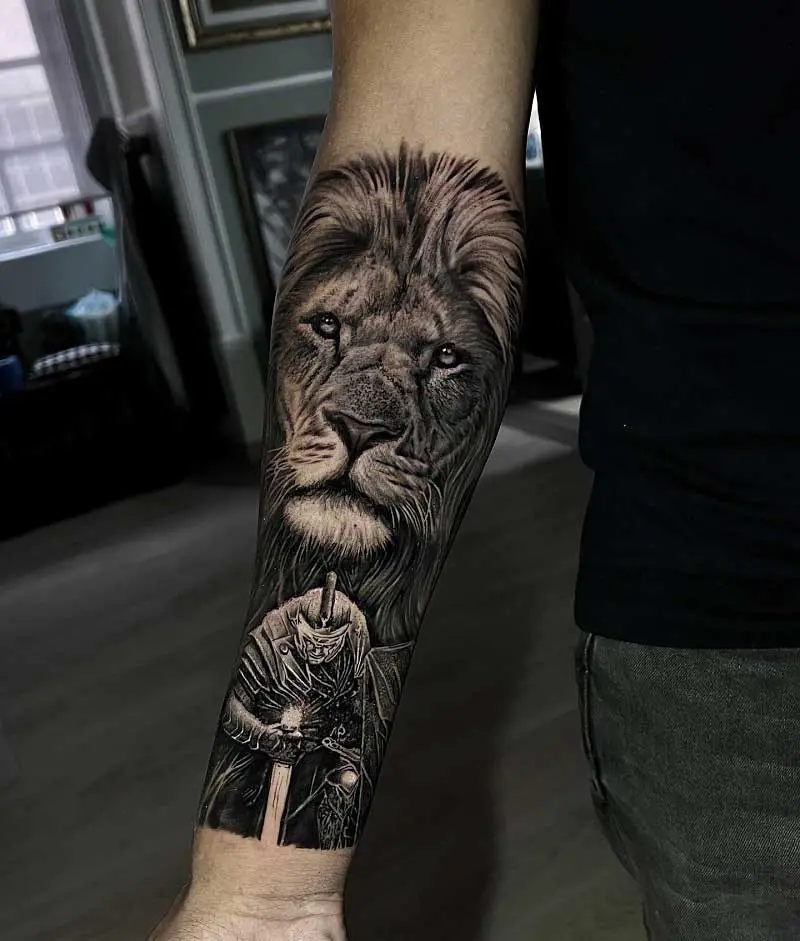 62.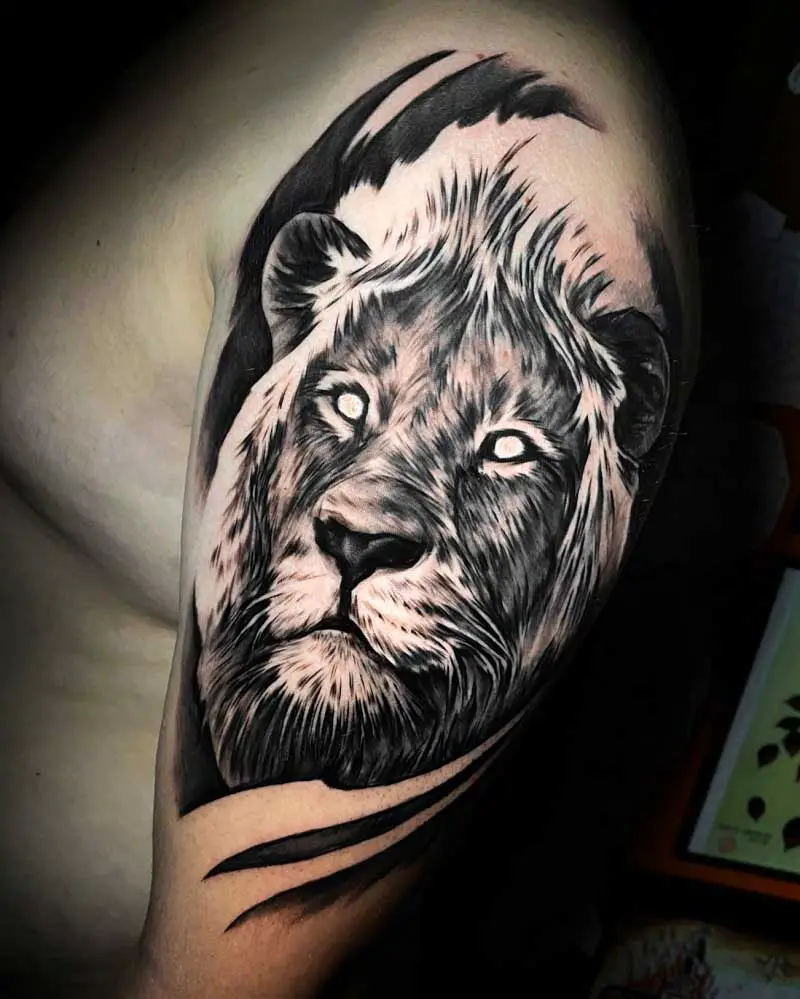 63.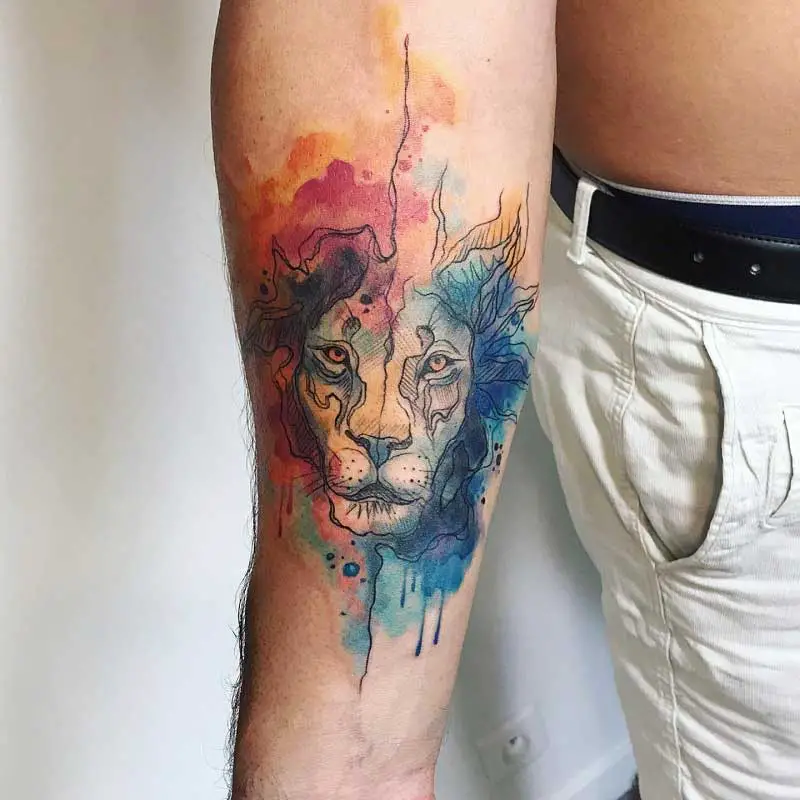 Lion Dance Tattoo
64.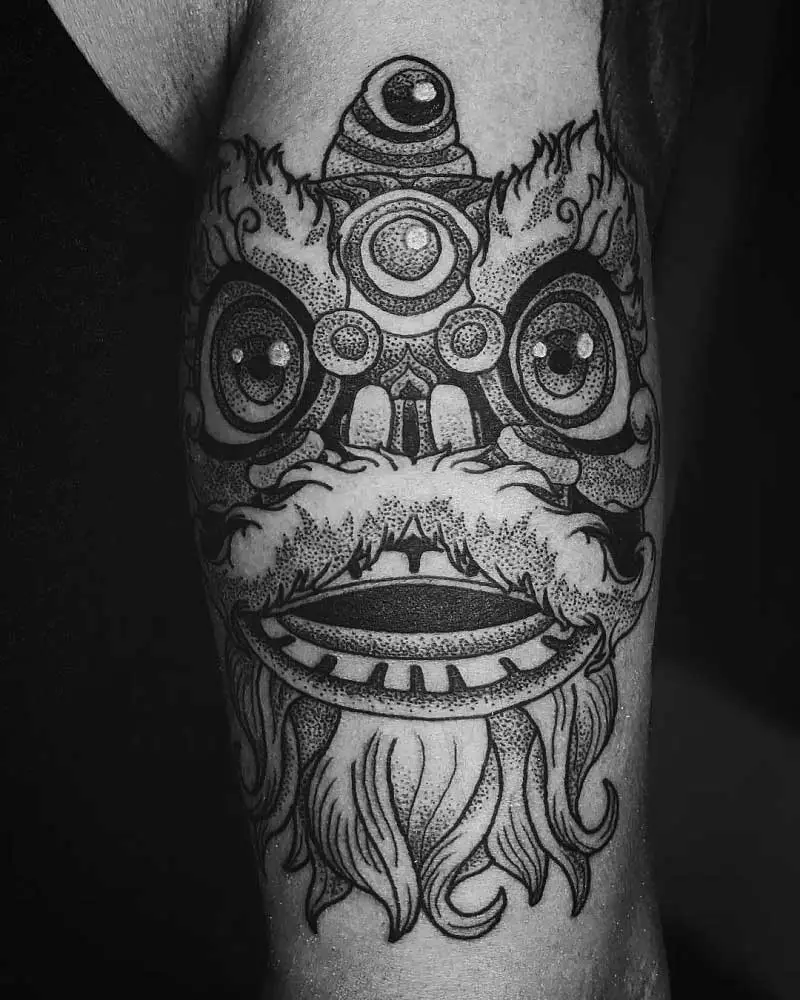 65.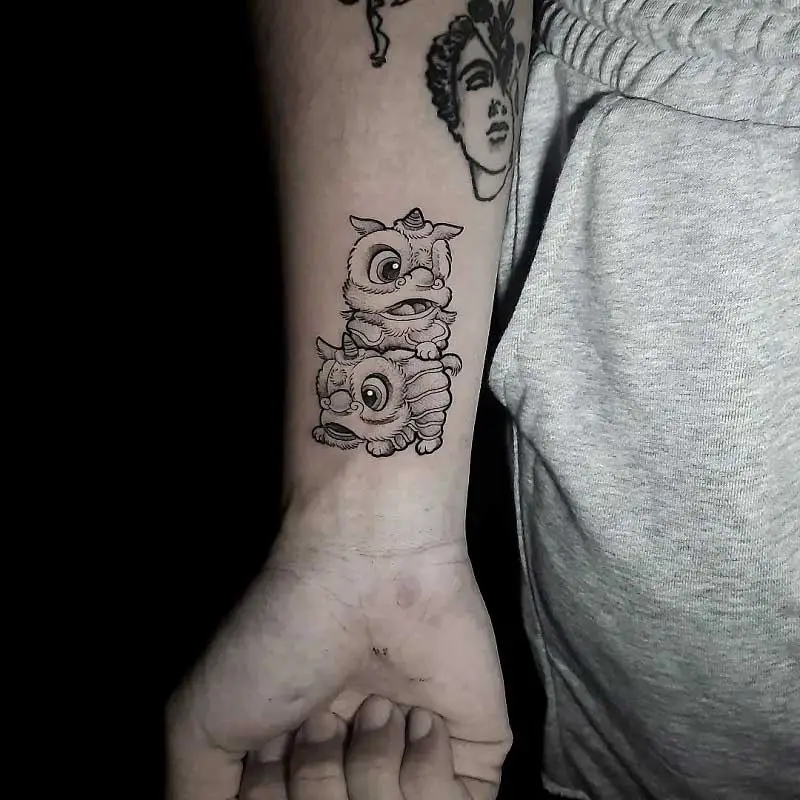 66.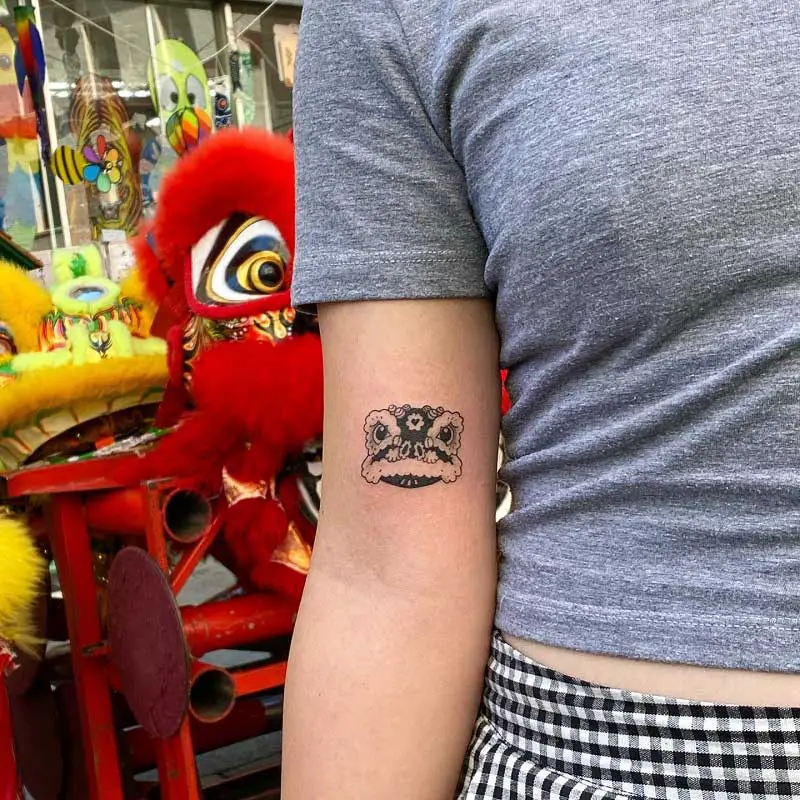 Lion Dragon Hybrid Tattoo
67.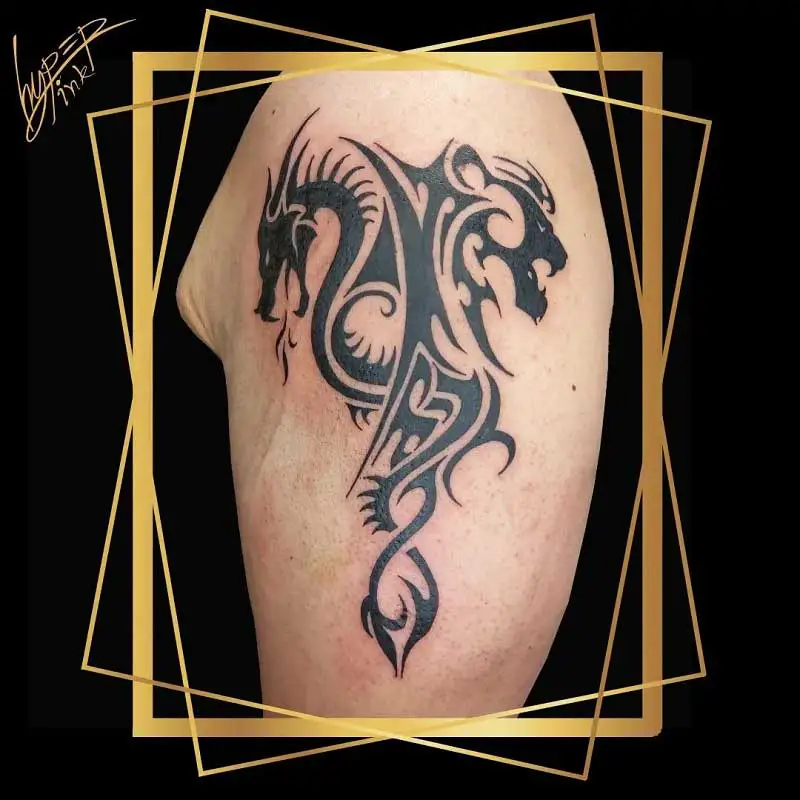 68.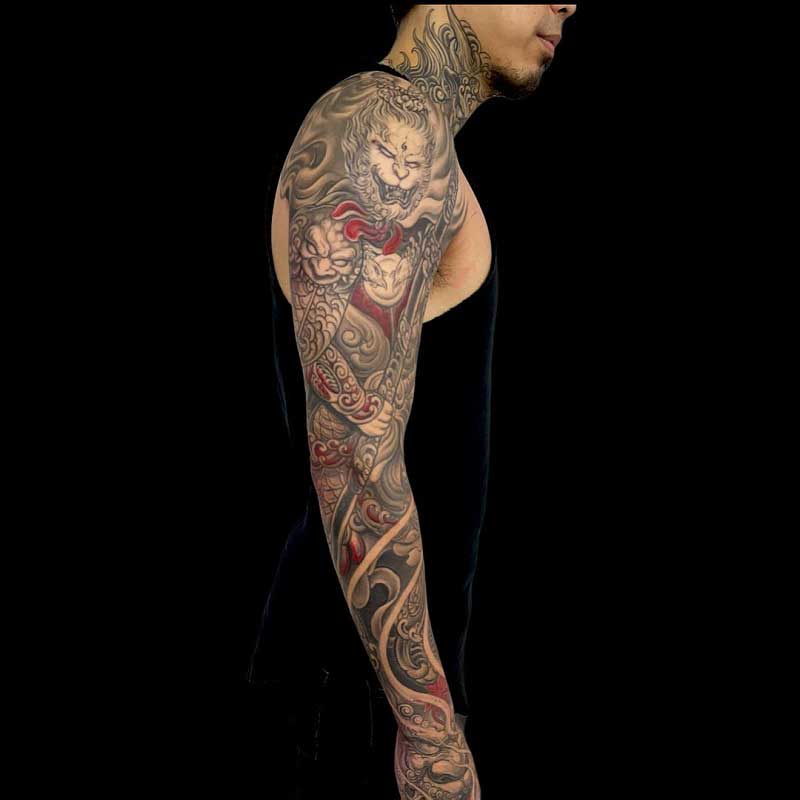 69.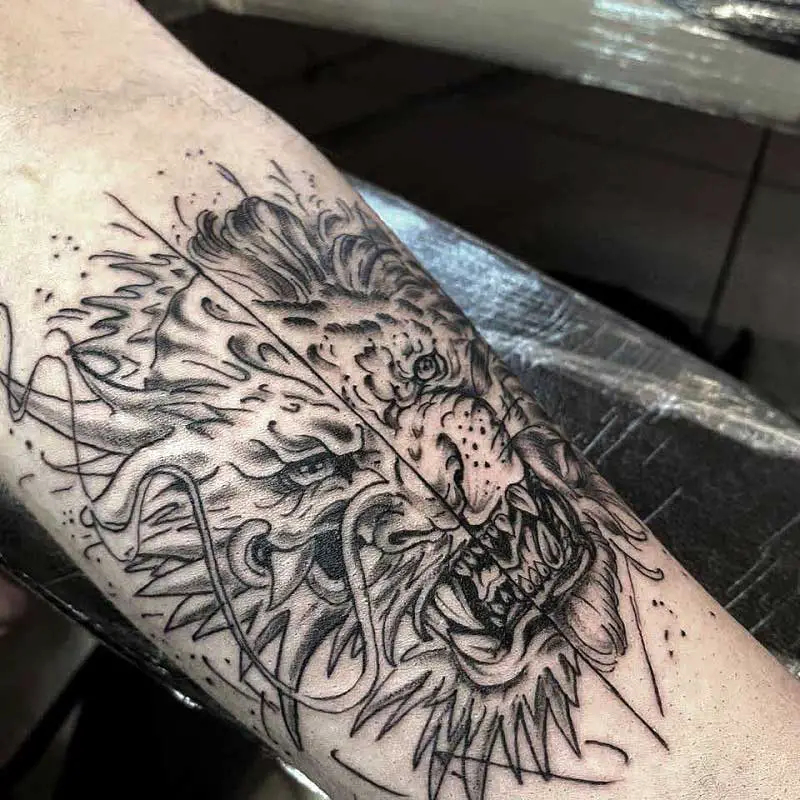 Lion Egyptian Tattoo
70.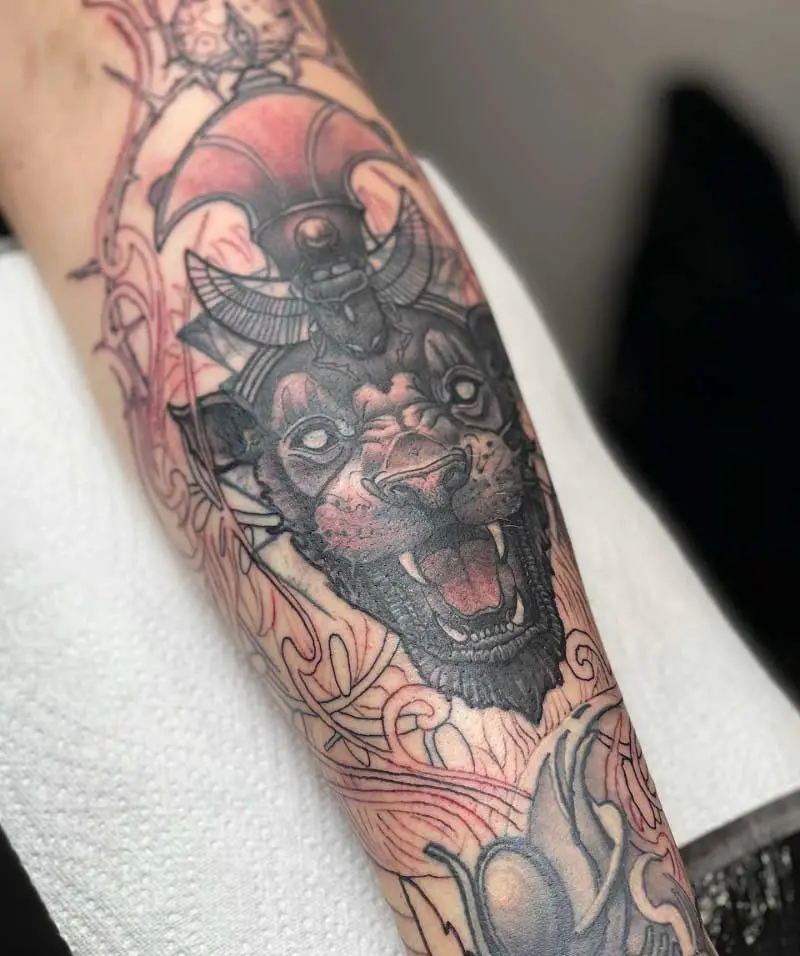 71.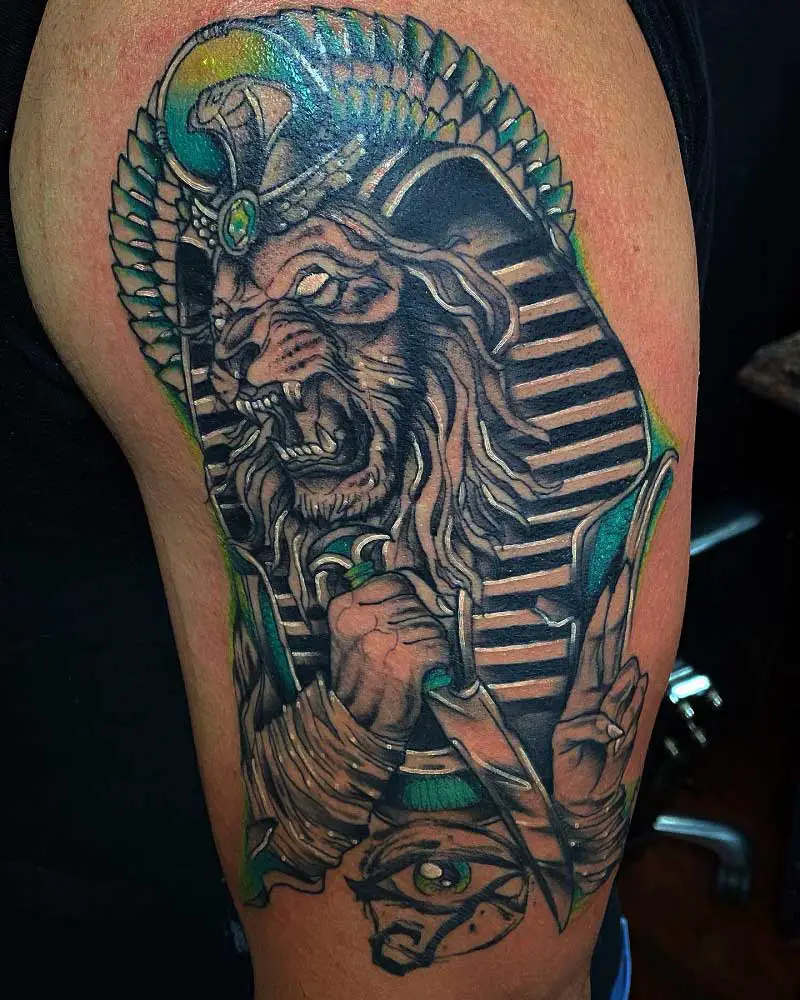 72.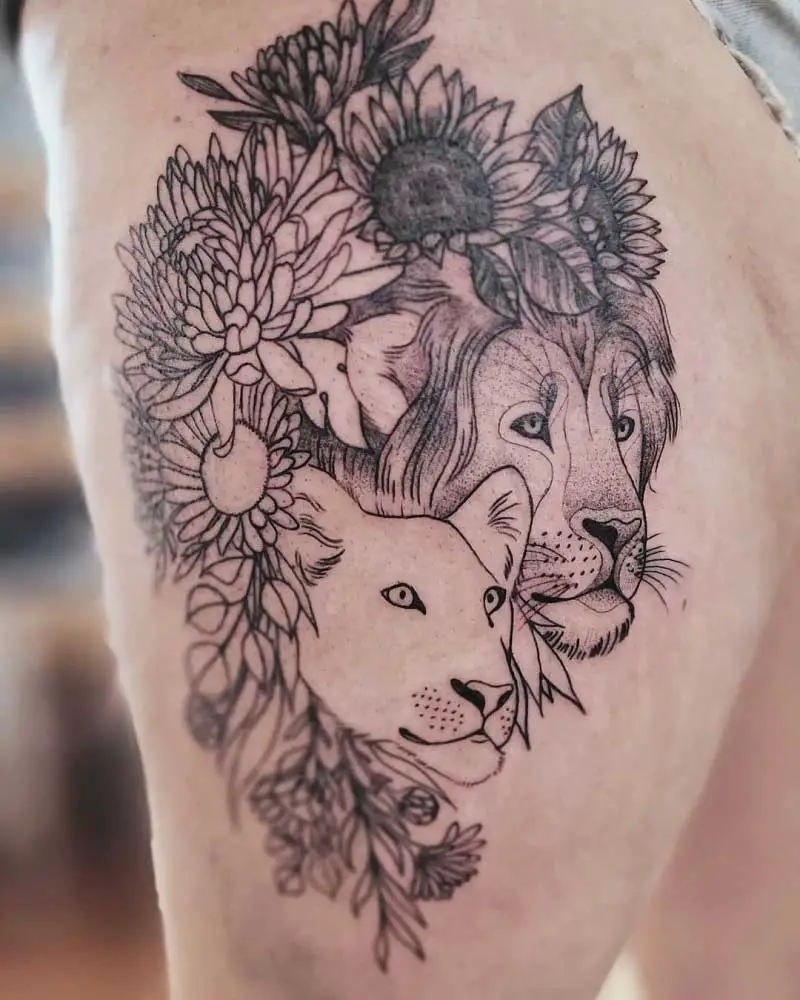 Lion Emblem Tattoo
73.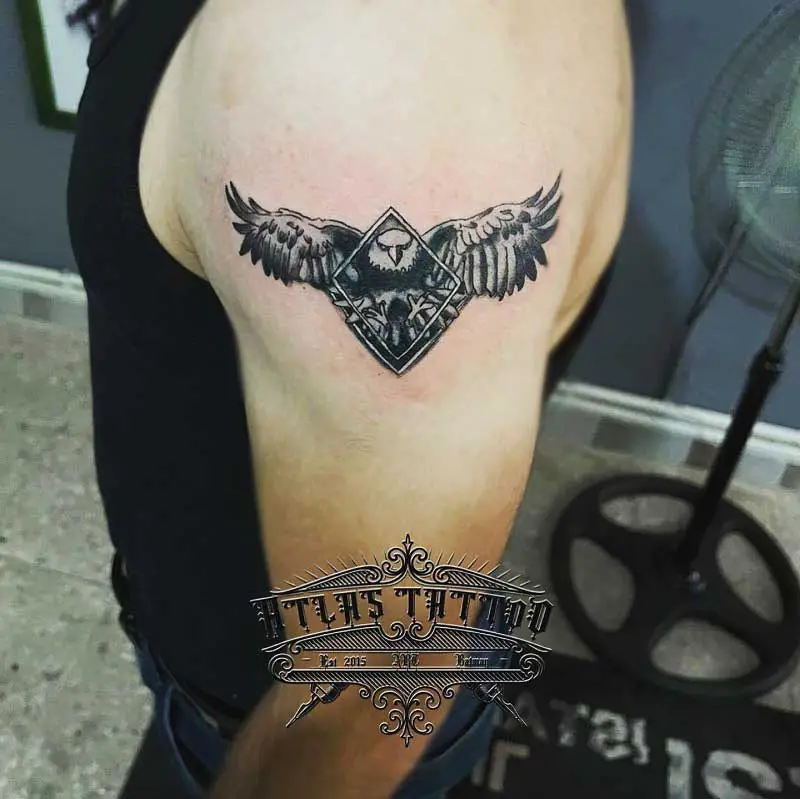 74.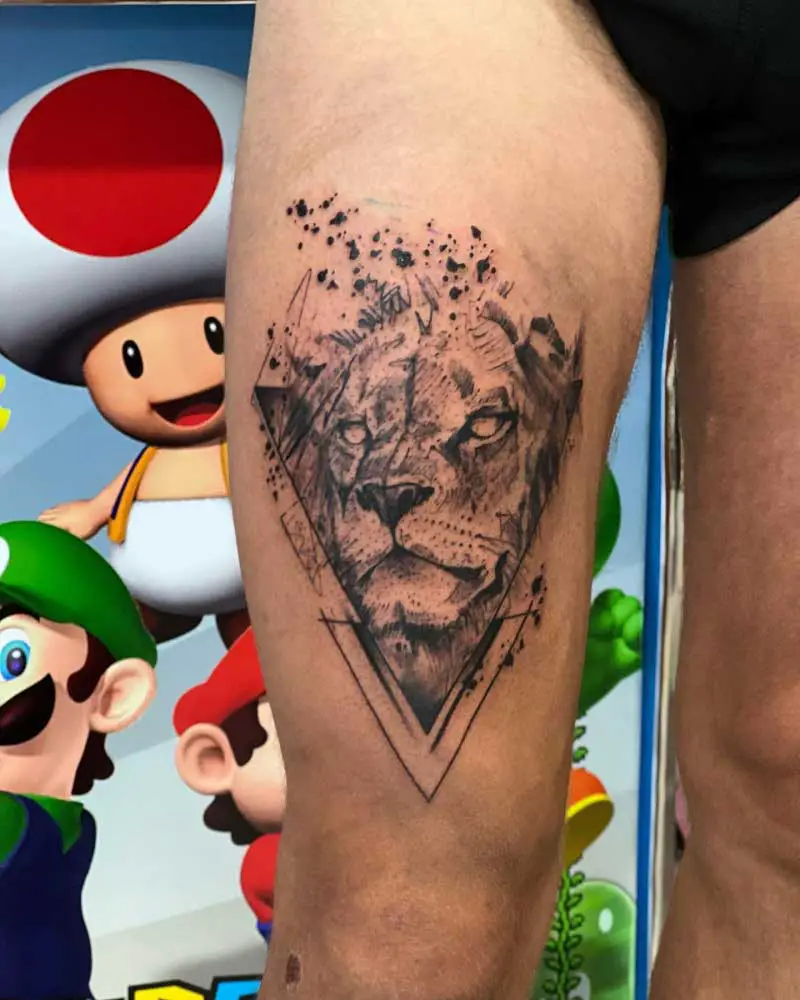 75.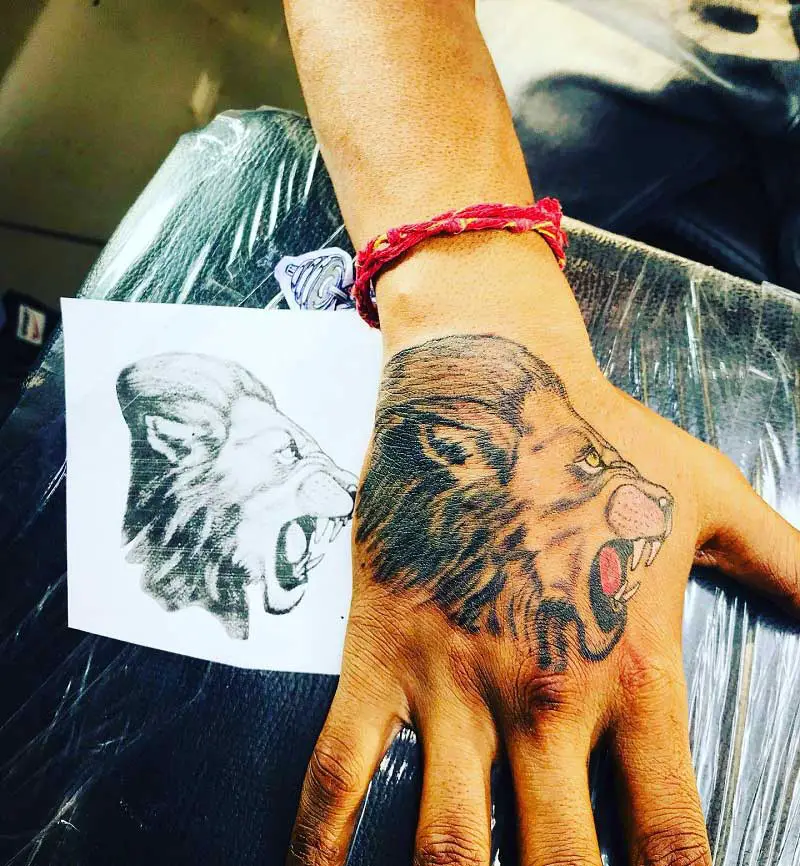 Lion Eyes Tattoo
76.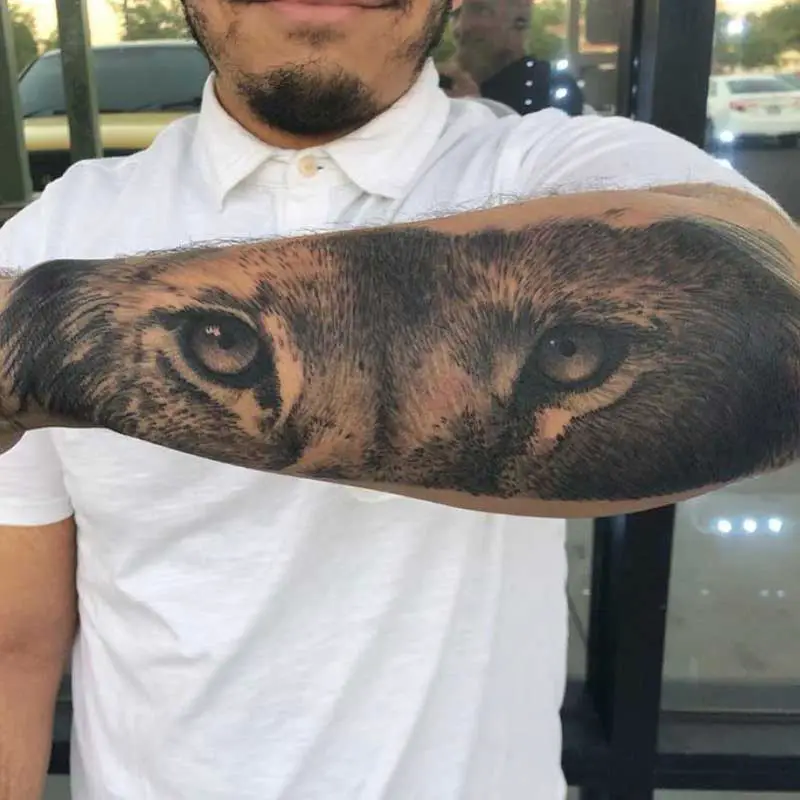 77.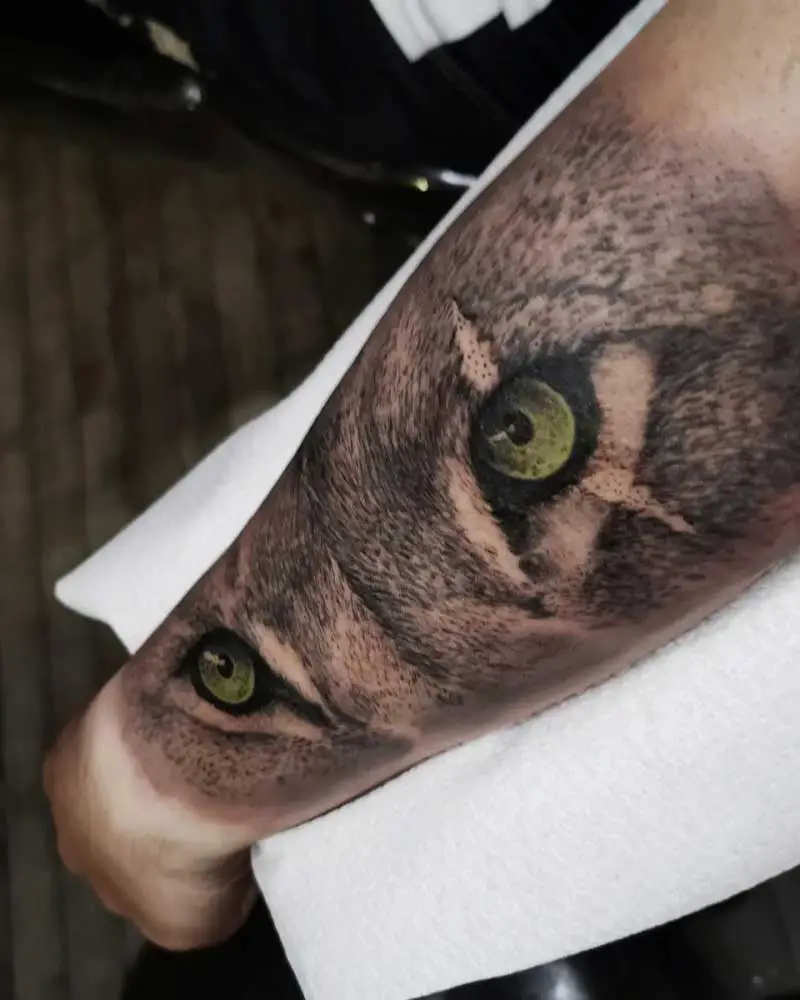 78.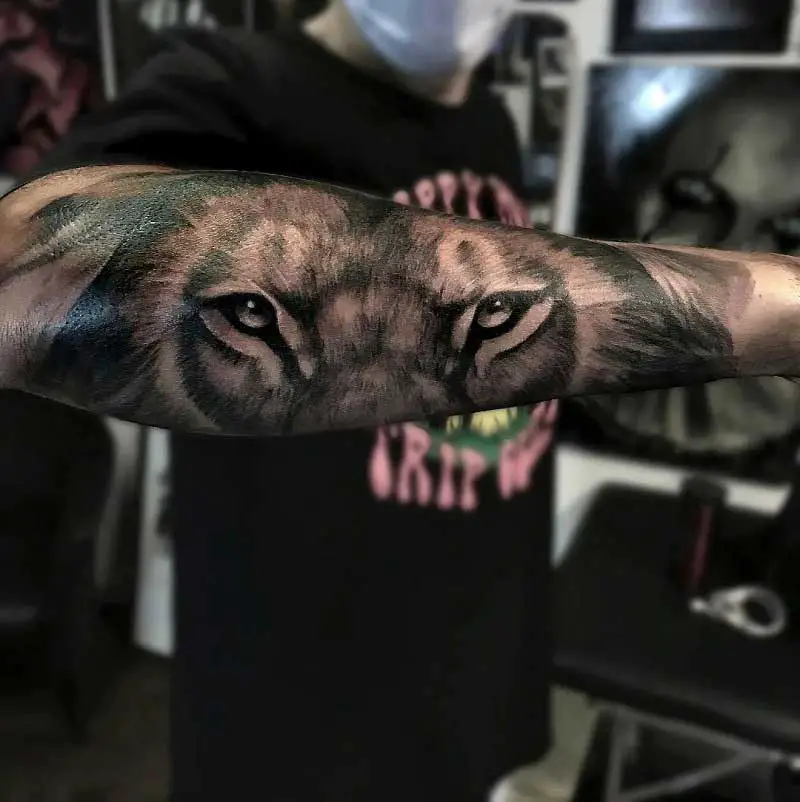 Lion Family Tattoo
79.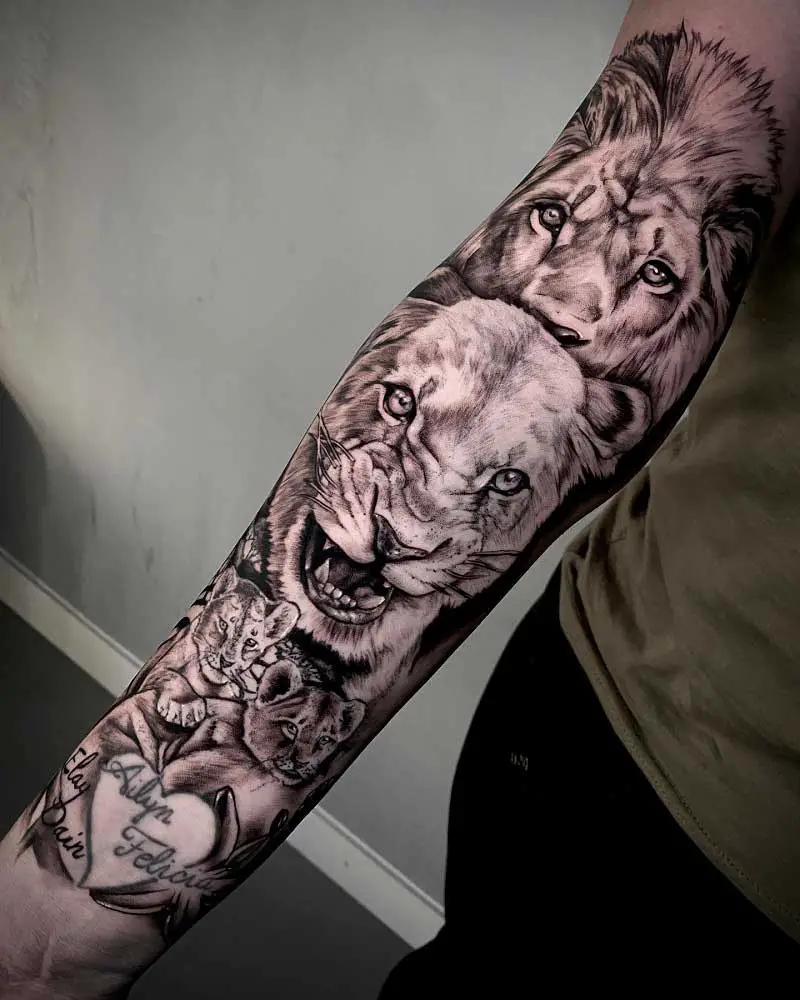 80.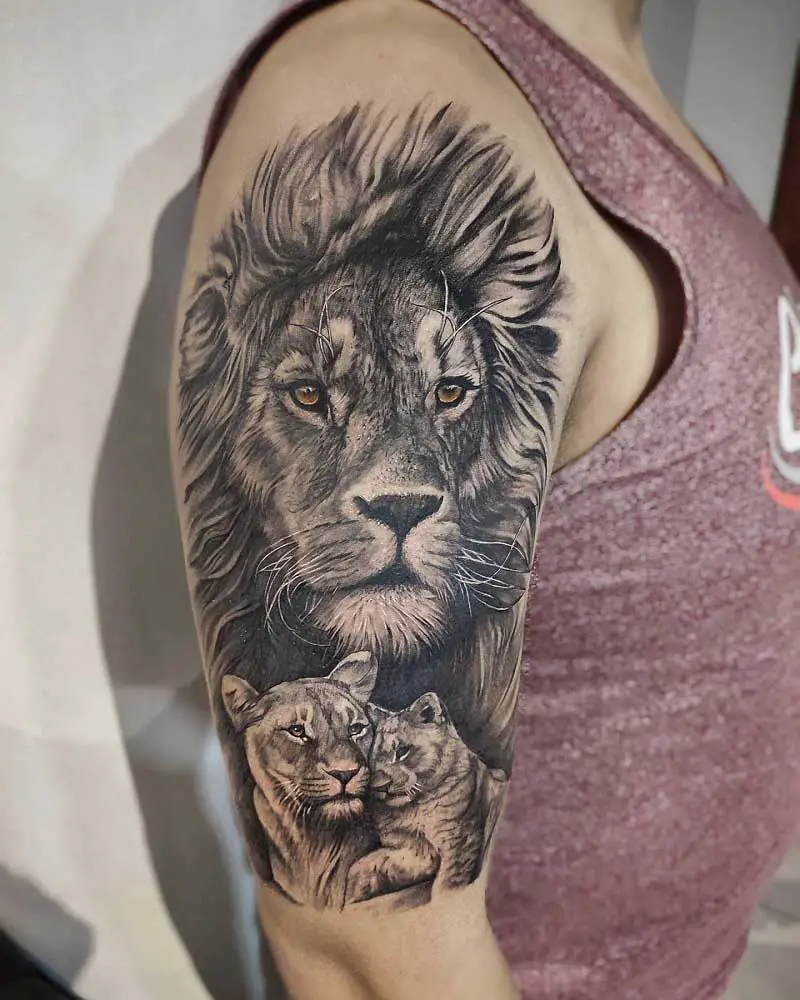 81.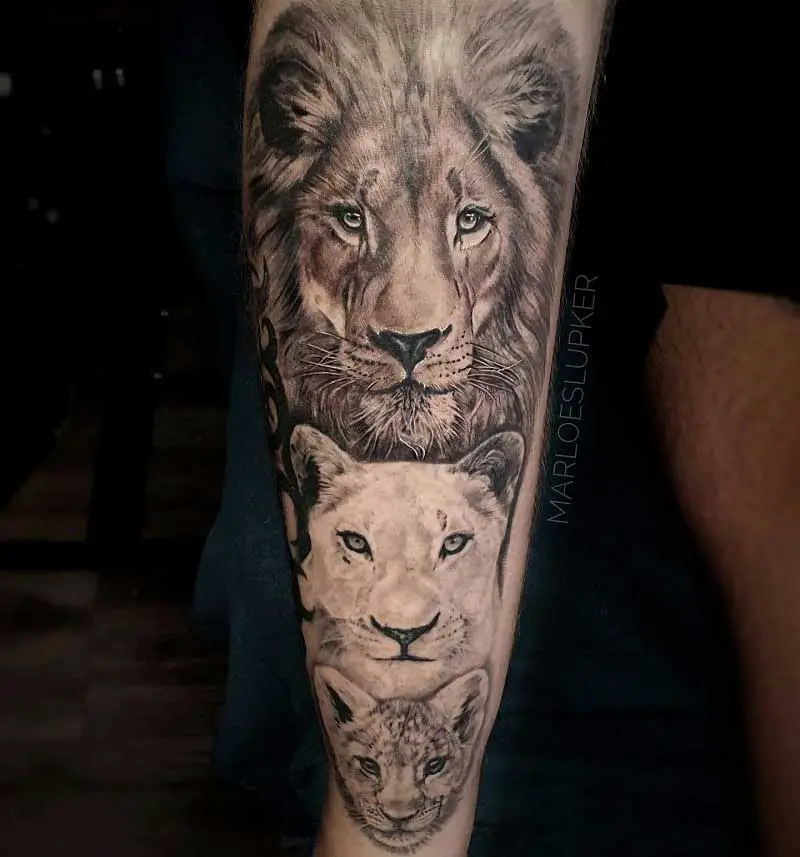 Lion Guard Tattoo
82.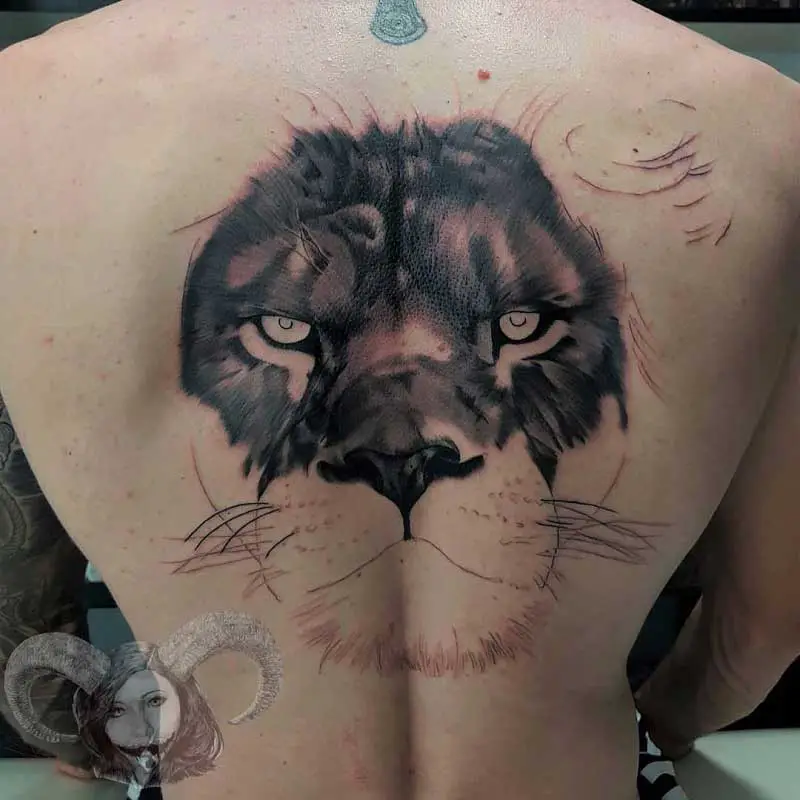 83.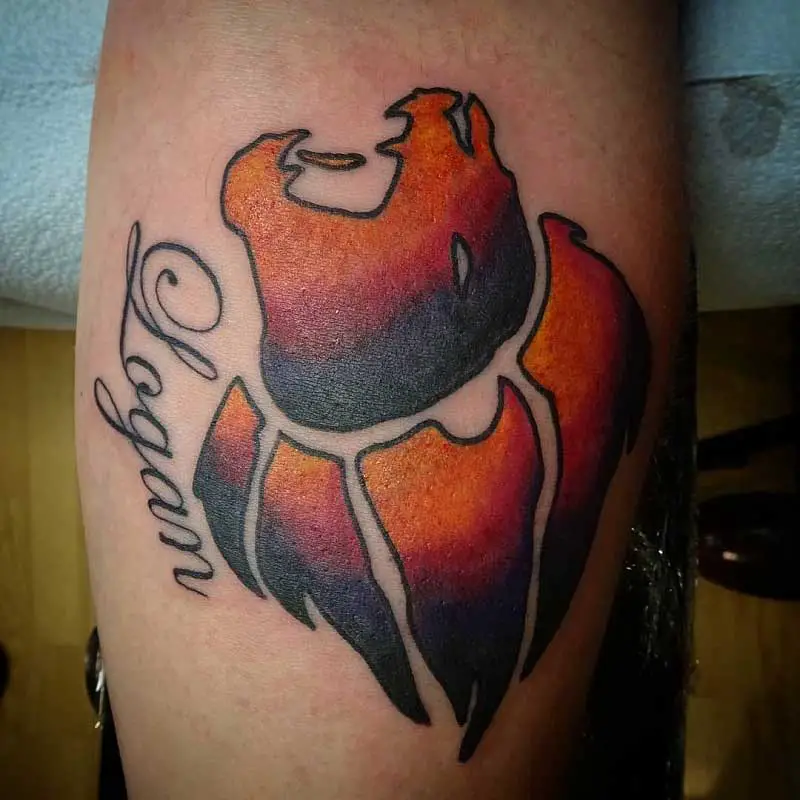 84.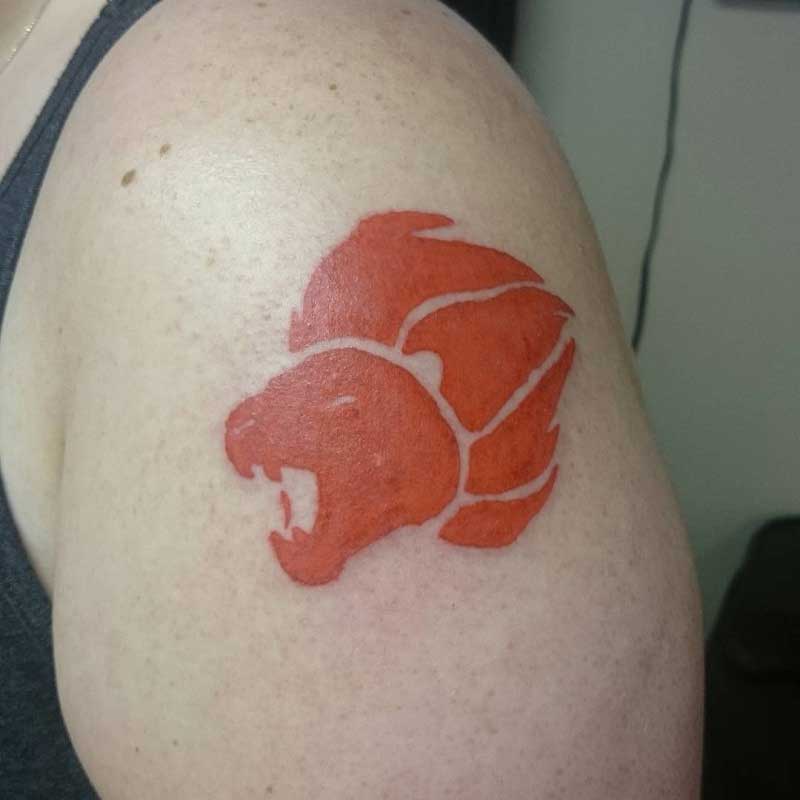 Lion Leg Tattoo
85.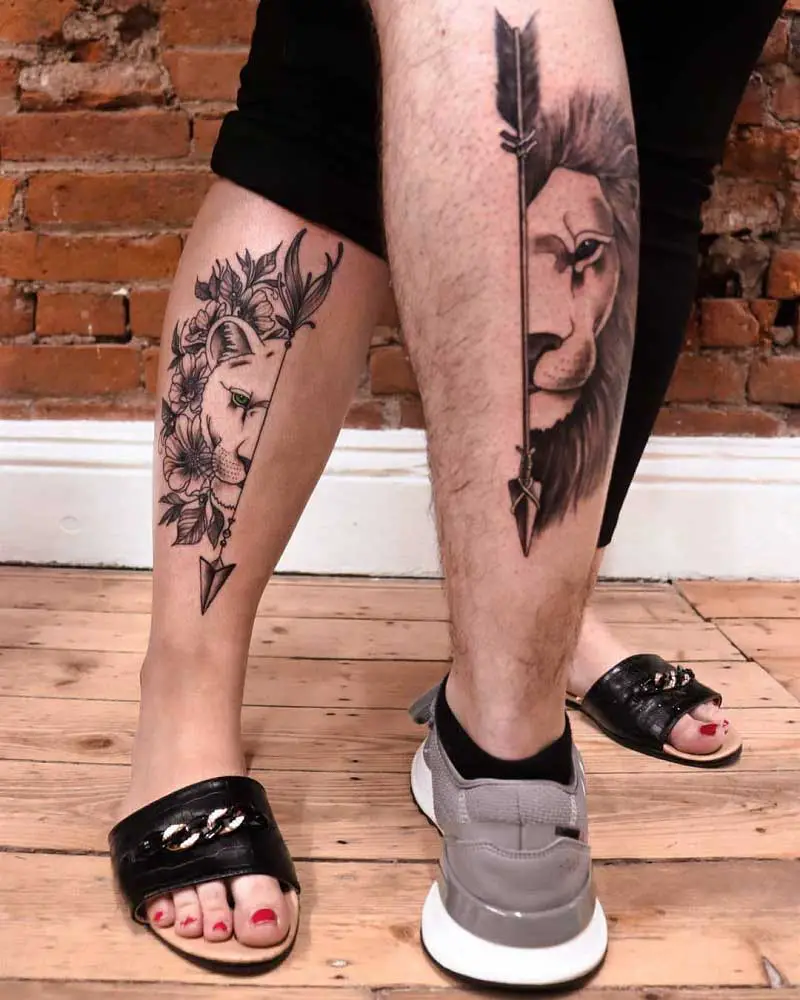 86.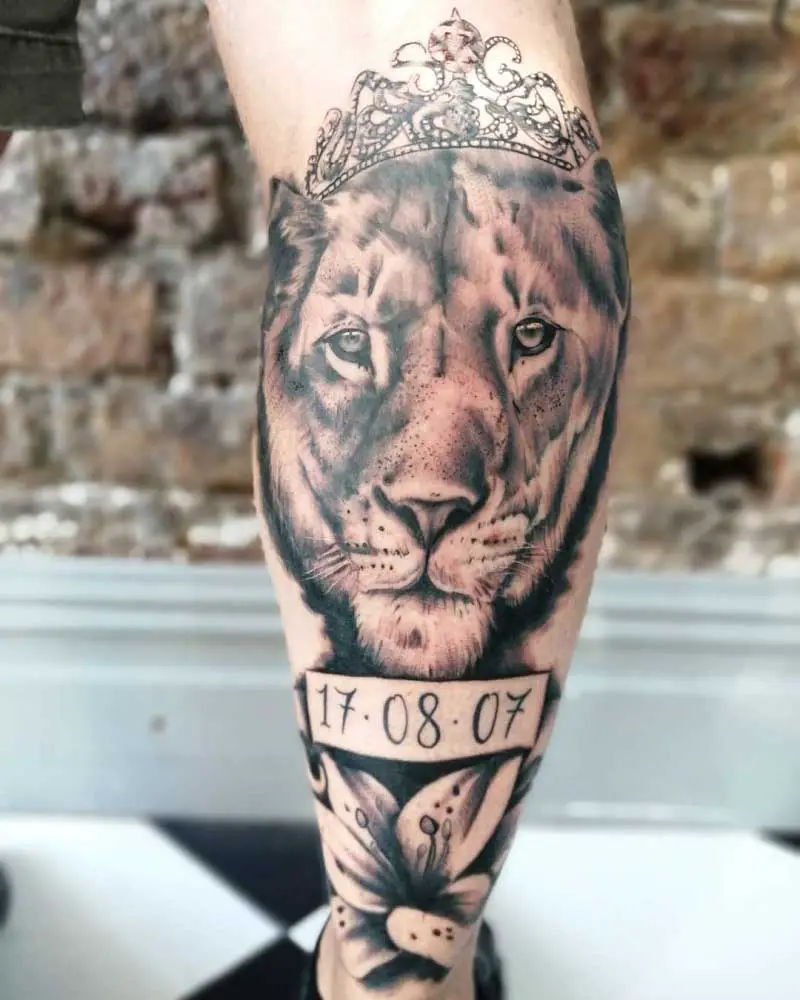 87.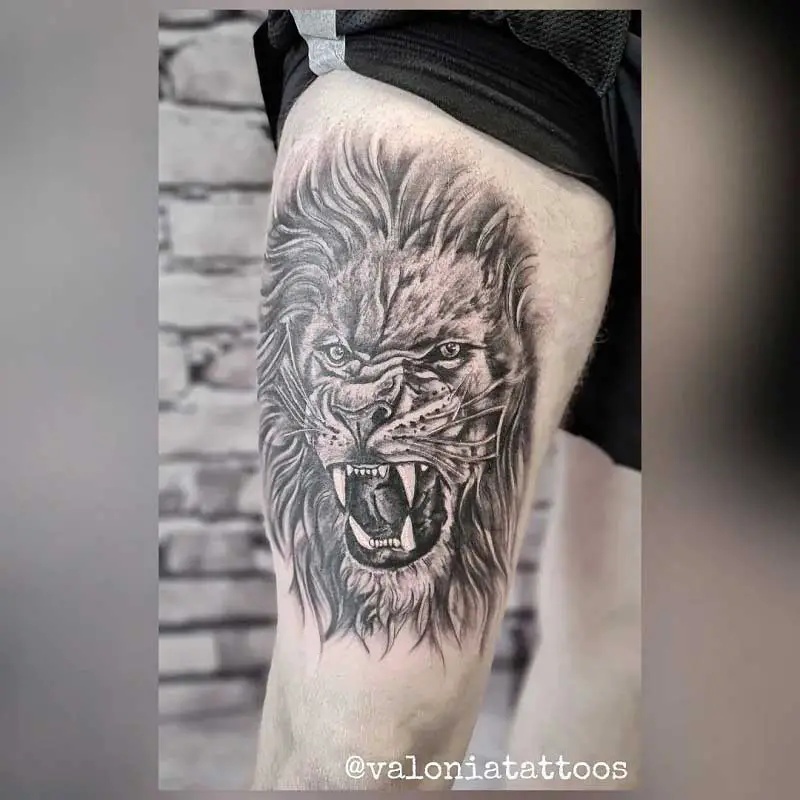 88.
89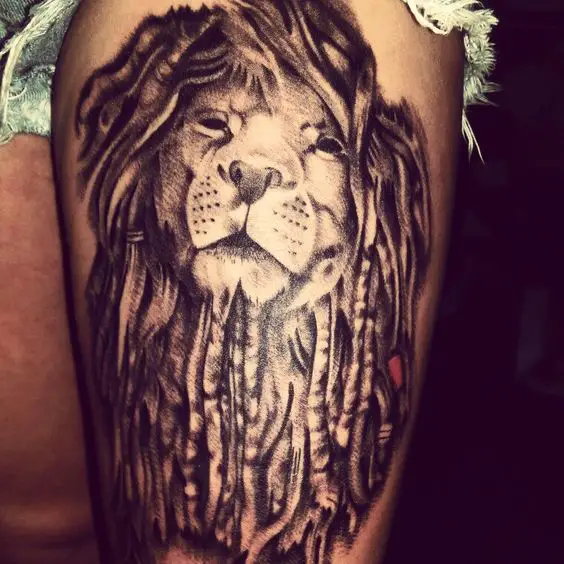 90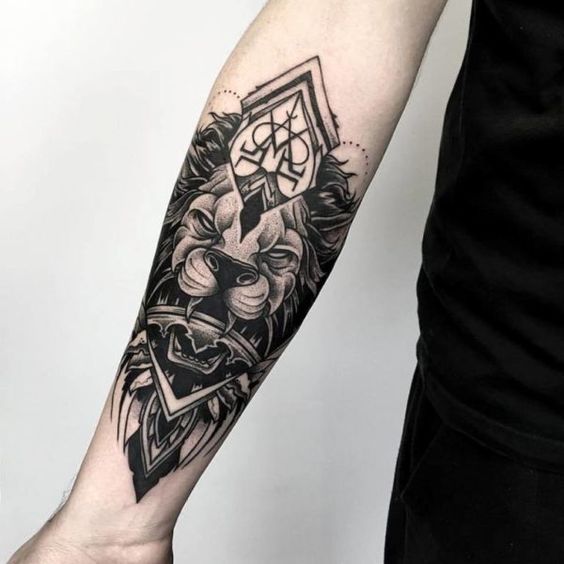 91.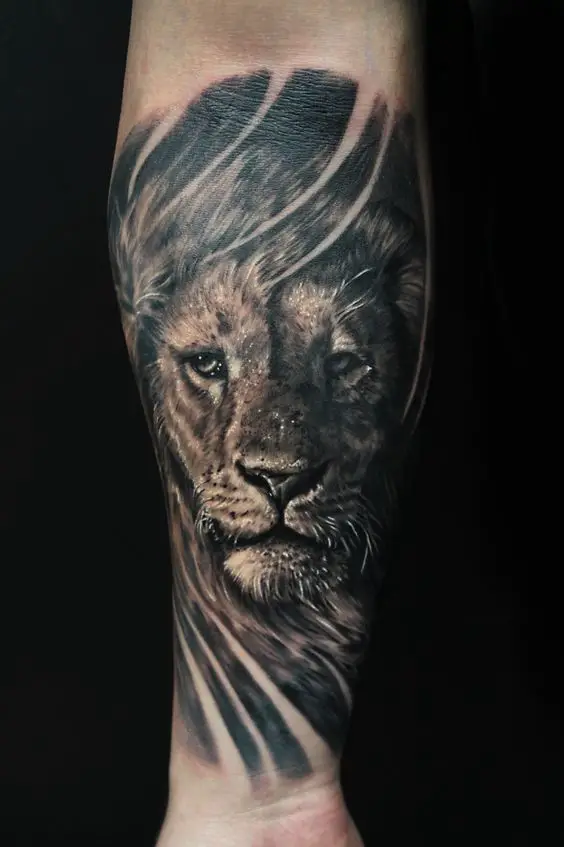 92.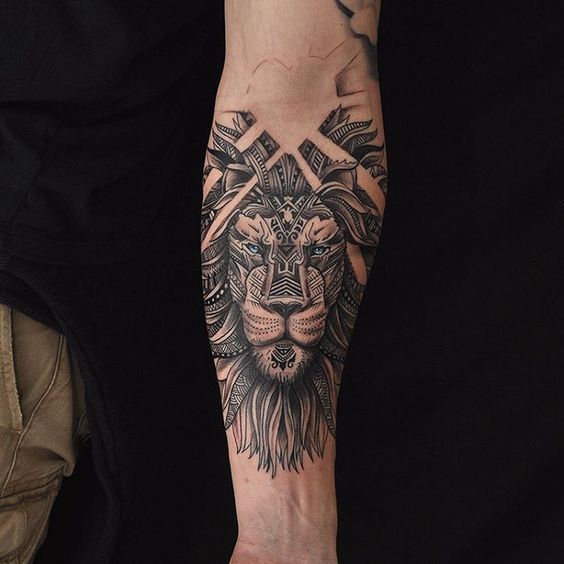 93.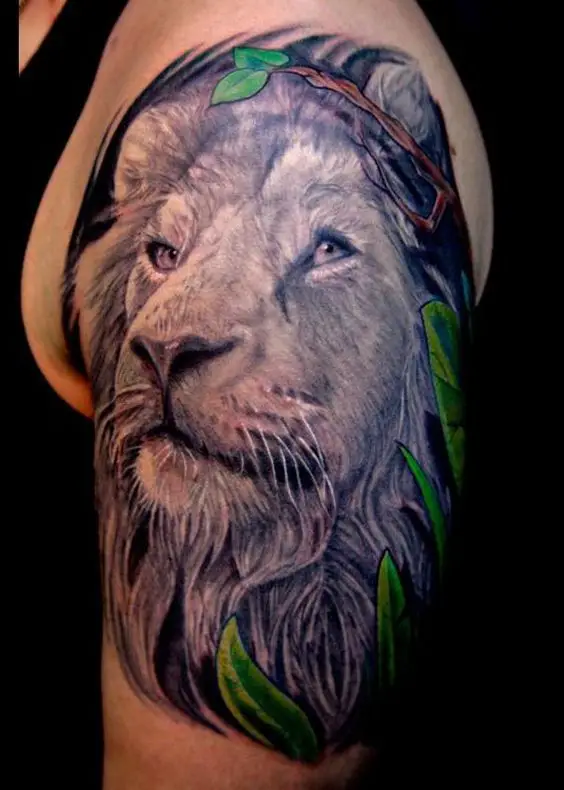 94.
95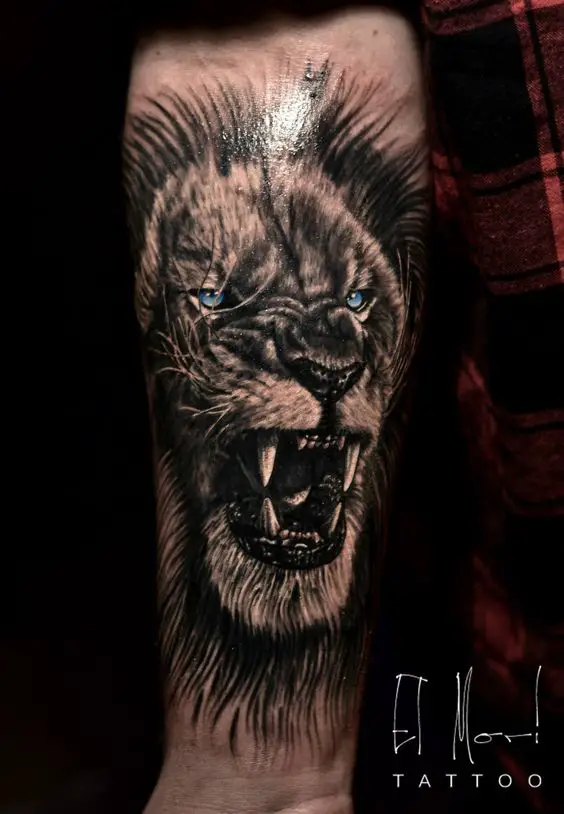 96.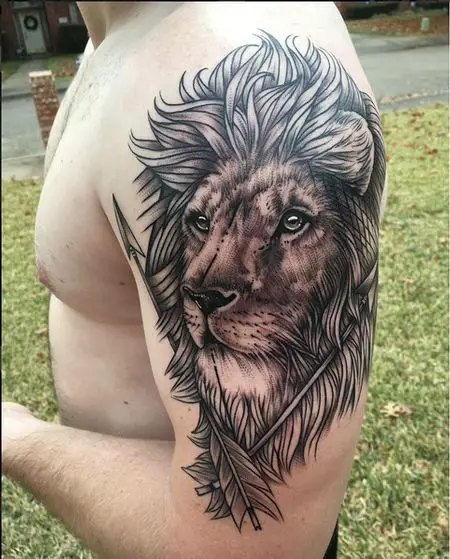 97.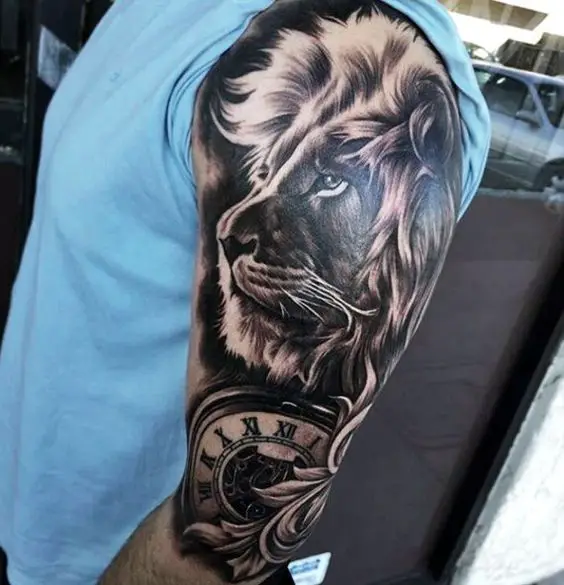 98.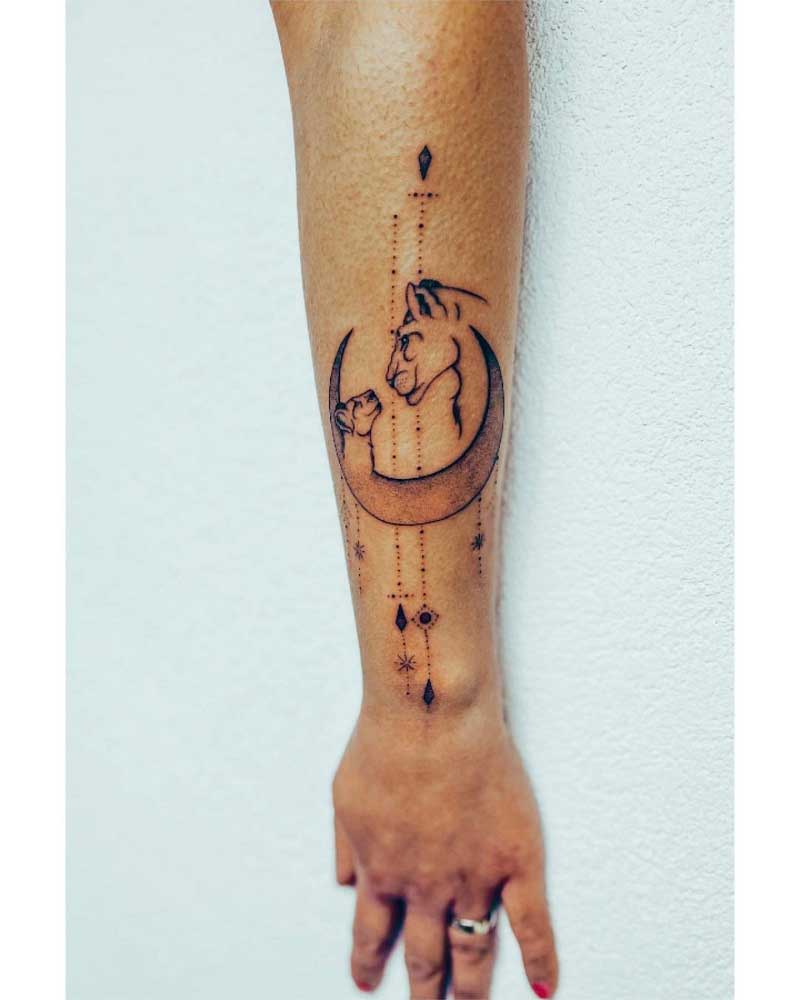 99.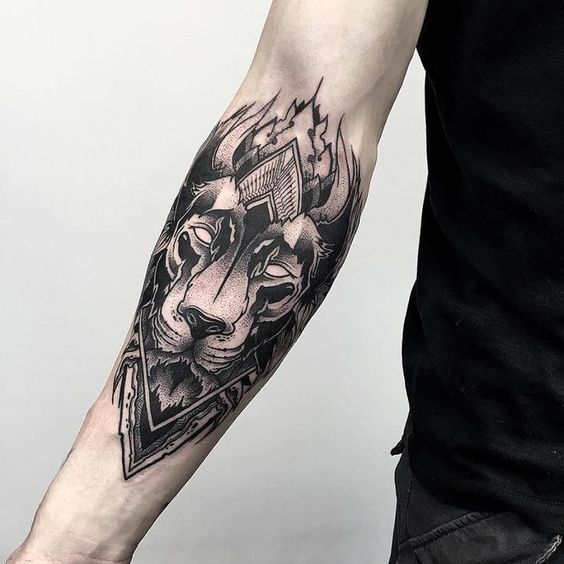 100.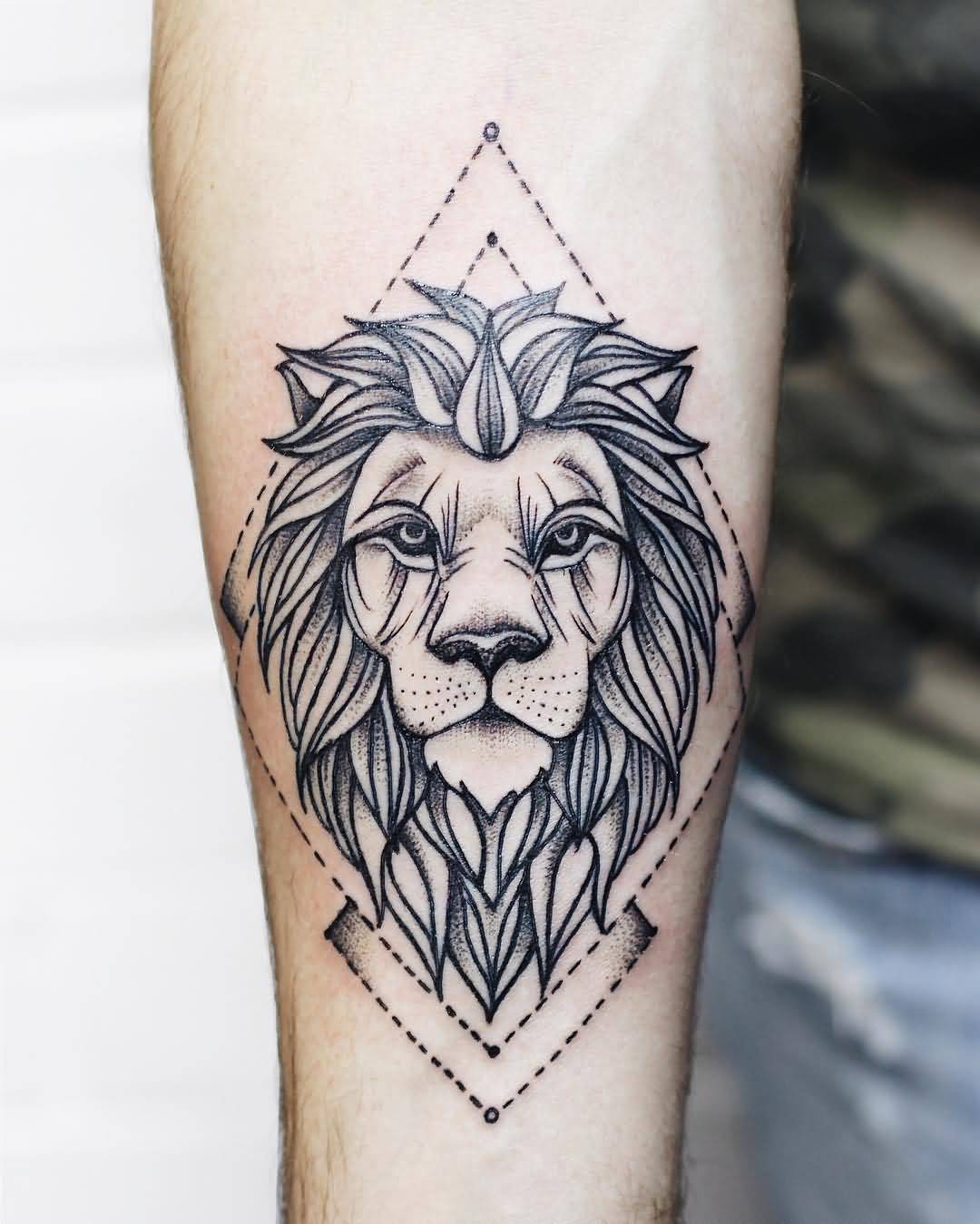 Conclusion: 
A lion has deep and versatile symbolic meanings. You can have a lion tattoo that can match you, no matter how unique your personality is. You can have a wide range and types of tattoos that may relate lions to you. 
Getting a lion tattoo is not hard but choosing one is harder than you imagine. In all those discussions and explanations we try to make your selection process easier. And try to make sure you get the perfect match for your preferences and personality.
Happy tattooing!
Frequently Asked Questions
What does a lion tattoo mean?
A lion tattoo generally means courage, strength, bravery, honor, and dignity. Sometimes it can represent some soft side in us like care, compassion, love, etc. However, this meaning can be changed or diversified with the types and patterns of lion tattoos. 
2. What is the best place for a lion tattoo?
Usually, a good and details lion tattoo takes up a larger space of your body. For a quality tattoo, you may use your chest, back, leg or arms. You are not going to hide this magnificent beast from others so choose someplace that you can exhibit it. 
3. Does a Lion tattoo represent family?
Lion isn't solitary, they live with pride just like your family. So a lion must symbolize our family practice. Sometimes male lion tattoo means family, honor, and friendship. Additionally, you can relate the female lion tattoo with motherhood and family. 
4. Why do guys get lion tattoos?
Most famous tattoo portrays a male lion with a mane. They represent courage, bravery, power, strength, etc. Which a man can easily relate to himself. That's why most guys get lion tattoos.   
5. What does a lion tattoo with a rose tattoo mean?
A lion tattoo with a rose expresses the harmony or balance between the strength and softness in us. That means you have strength, bravery, and courage along with passion, love, and care. 
6. Are lion tattoos cool?
A lion tattoo is one of the coolest tattoos of them all. They have some attributes and traits that most men desire. They have also a wide range of styles from realistic to tribal, geometric, and aesthetic. That you may consider cool. 
7. Does a lion tattoo mean strength?
Lions symbolize strength, power, courage, etc.  So you can consider a lion's tattoo represents strength as well. 
8. What does a lion tattoo mean spiritually?
A lion tattoo means strength, courage, power, royalty, protection, pride, authority, majesty, and wisdom spiritually. 
How much would a lion tattoo cost?
The expenses depend on which part you want to portray a tattoo and how details and sophisticated the works are. A realistic tattoo may cost you 150$-400$. A tattoo on your full sleeve can cost you as much as 200$. A medium size tattoo on any part of your body may cost between 300$-700$. 
9. What does a half-face lion tattoo mean?
If you have a half-faced lion tattoo, you may leave the other half blank or filled with other things. The other thing has a different meaning that blends with the meaning of a lion's face. A blank face can keep the personalized interpretation open for everyone. However, a half face mostly expresses paradoxical dual character in us. 
10. Where do you put a lion tattoo?
You can put a lion tattoo anywhere on your body. But it is preferable to put it somewhere you can show it more frequently to others. Larger body space is also required for delicate and details tattoo works.