Tattoo enthusiasts have mostly been considered daring and tough. Therefore, Winnie the Pooh tattoos seems a bit incongruous. But this one of the most popular bears that have been every child's best friend since 1924 is surprisingly a very popular theme for body art. For some people, the cuddly bear is a reminder of their childhood while many others think it is a cute representation of eternal friendship and a life full of adventures.
What A Winnie The Pooh Tattoo Could Mean?
Pooh bear and his friends make a perfect bunch of characters expressing positive emotions. They are cute, cuddly and full of life. They tell us that life is adventurous and one should always be optimistic. Moreover, the beautiful bond the characters share can represent the beauty of your relationship.
This honey-loving bear is caring, hopeful and sweet. There are many ways you can use this tattoo to express yourself. He can be shown with his favorite pot of honey to reflect life's sweetness or with Christopher to show the unconditional bond of love. The ideas are infinite and could be confusing. So we have assorted the best 20 Winnie the Pooh tattoos to help you decide what you want.
#1: Friends Forever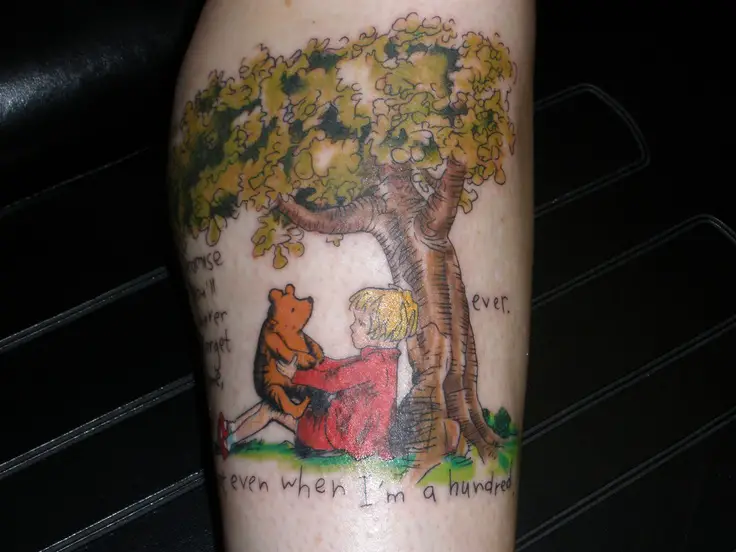 Growing up, a teddy bear is often a little child's closest companion. This beautifully rendered Winnie the Pooh tattoo recaps one of those childhood years. It shows the older version of Pooh with Christopher, which is as cute as Disney's bear.
#2: Nightmare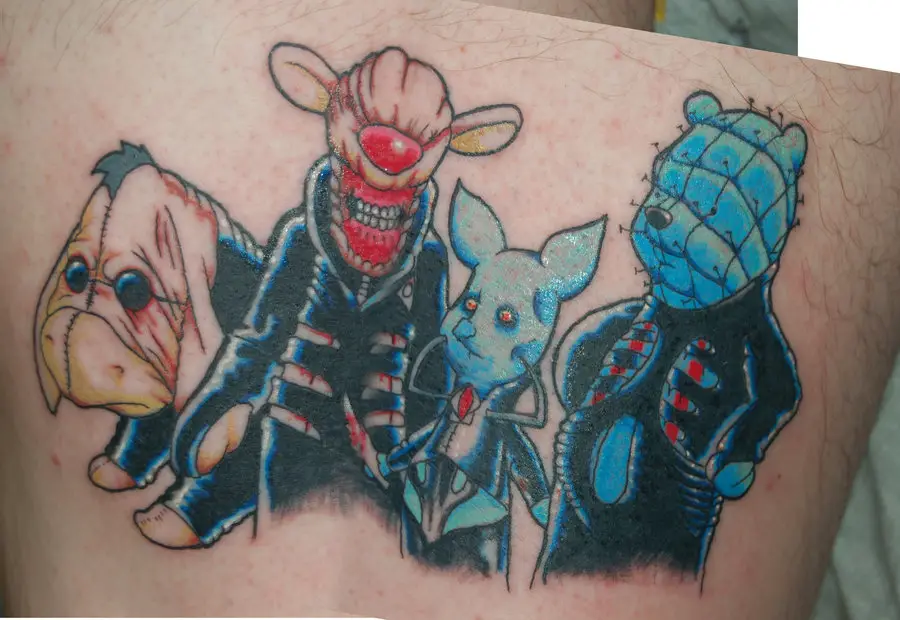 This crazy tattoo is a dark and nightmarish twist on our favorite characters from the famous series. While Eeyore is as dull as always and Tigger still looks naughty, both Pooh and Piglet look scary. the artist has given Pooh the look of a De-Ja-Vo doll while Piglet dresses like a blood-sucking vampire. We wonder can vampires be so cute?
#3: lets Dance To Life's Rhythm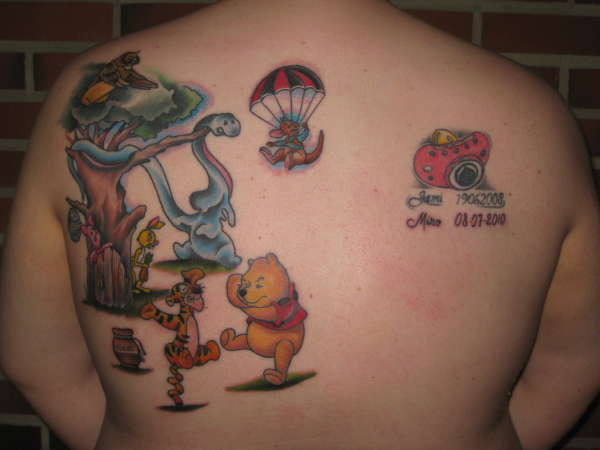 Sometimes we take life a bit too seriously. An awesome Winnie the Pooh tattoo design such as this will remind us of carefree times. It seems that the wearer wanted to honor his kids and therefore inked their names and birth dates as well.
#4: Into The World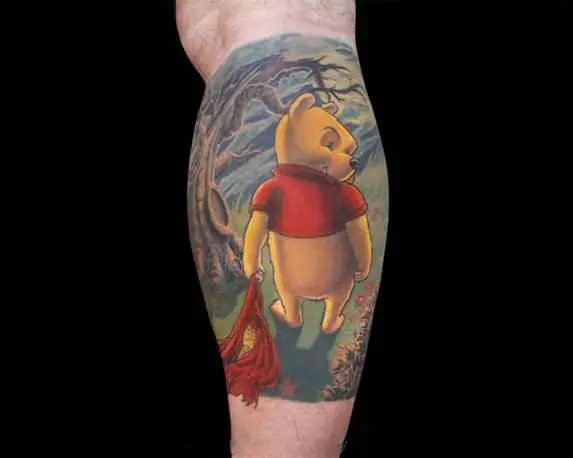 When life leads us down uncertain paths full of adventure, Winnie is with us and compels us to be brave like him in this illustrative design that looks as if sketched right out of a picture book.
#5: Fun Times With Friends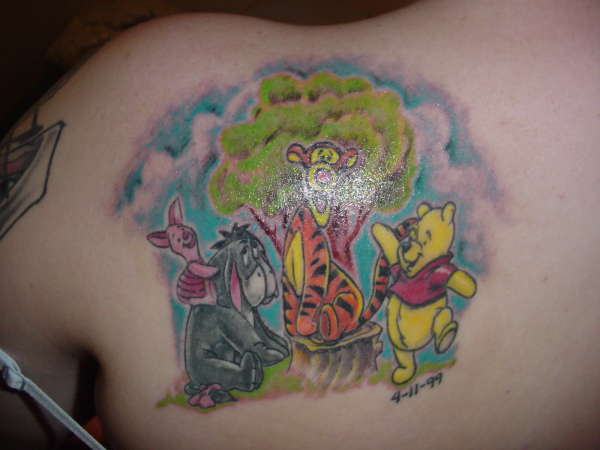 Bright and cheery, this colorful design lightens the mood and fills us with sweet memories of our younger days.
#6: Together Forever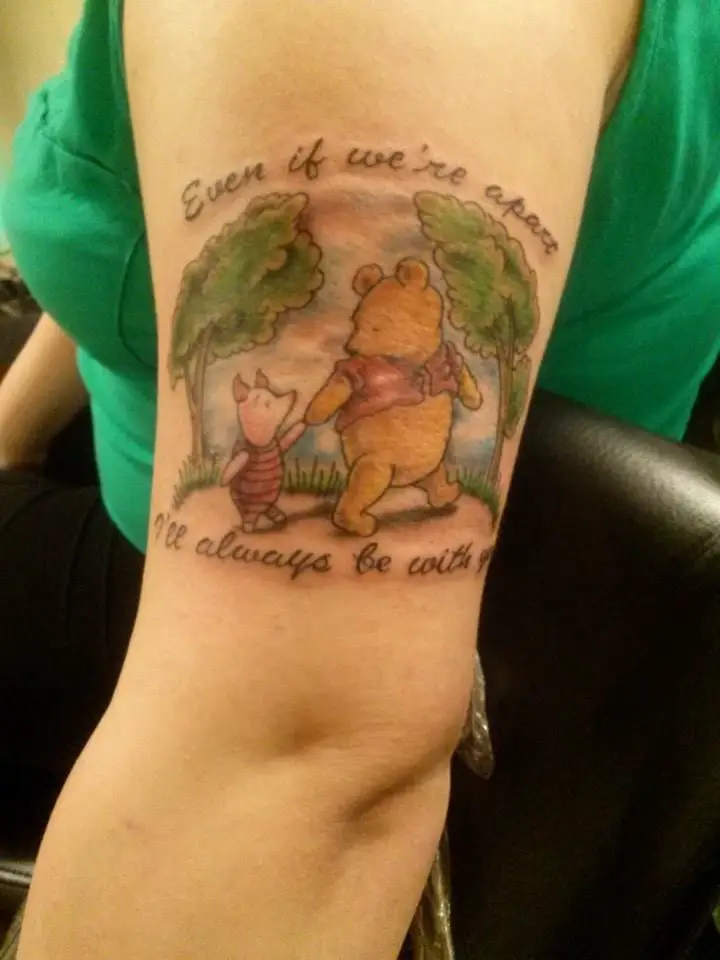 A splendid way to show you'll always be there for your special someone, this cute design has Winnie the Pooh with his best friend Piglet. The quote adds more meaning to this colorful tattoo.
#7: Together We Tread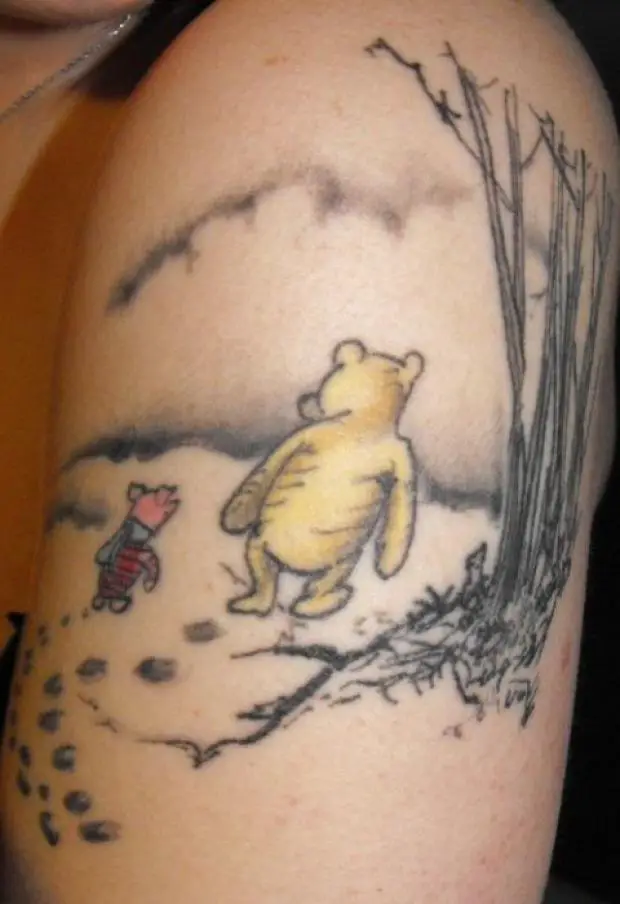 Another lovely tattoo using the deep friendship of Winnie and Piglet to illustrate the thought that you will not walk alone. We love the snowy backdrop showing the harmonized footprints.
#8: The Childhood Moments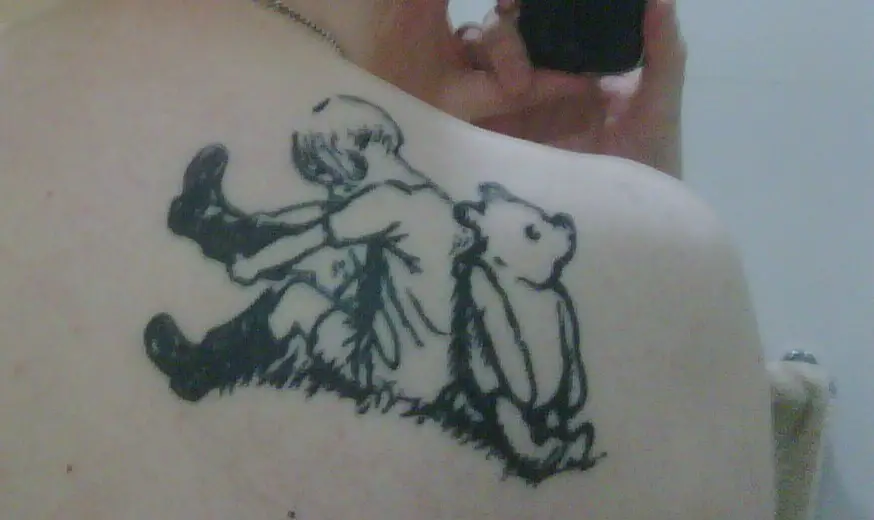 Though a little hazy, this tattoo is cute enough to evoke childhood memories. Looks as if drawn by a black crayon, it features Christopher Robin and Pooh in a relaxed mood.
#9: Motivating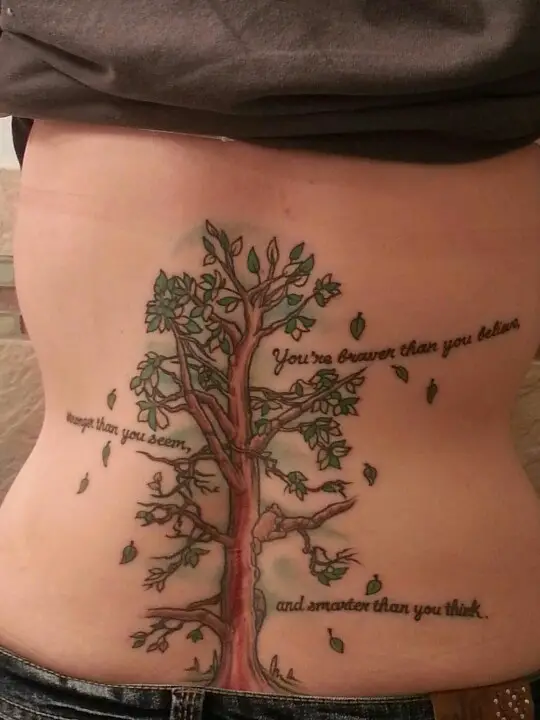 Let Winnie the Pooh be a constant motivation to you in times when you think you're not good enough.  This pretty image is both unique and inspirational.
#10: Words To Live By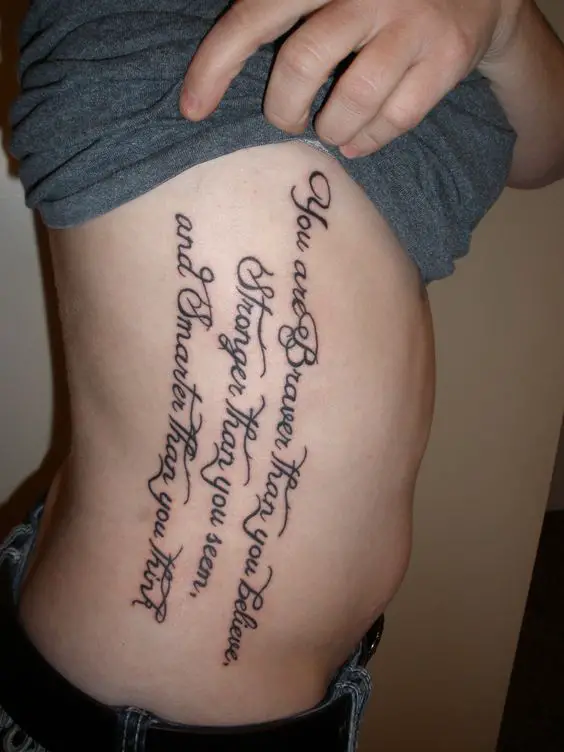 Take heart from these words as they are true; just ask Winnie the Pooh. With a message like this inked on your ribs, nothing will get you down.
#11: Go With The Wind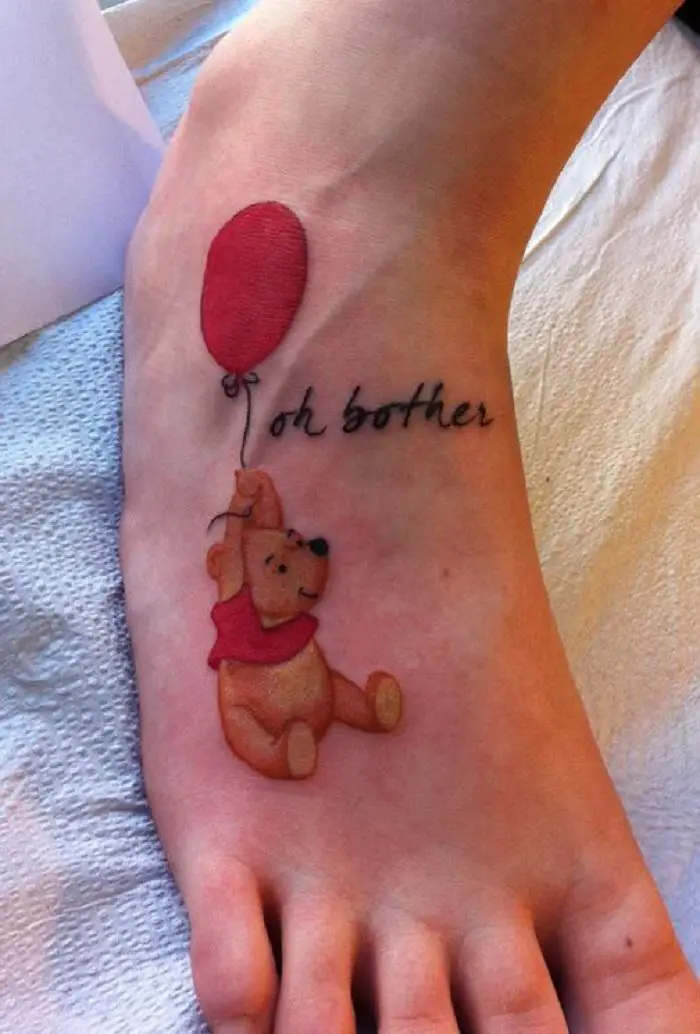 Here we see little Winnie hanging from a balloon and riding through the air. Doesn't seem to bother, does he? A clean and cute design, this tattoo inspires us to accept challenges and roll with the tide.
#12: No Lonely Road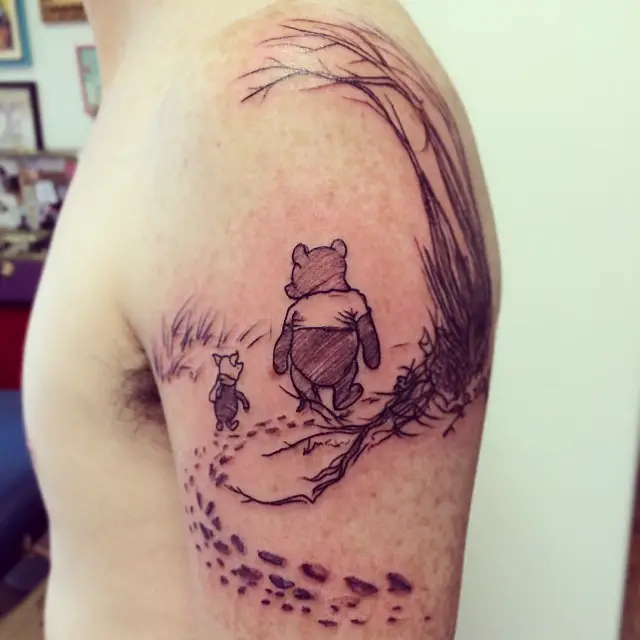 No road is lonely if you have a good companion to accompany you. Winnie and Piglet epitomize this belief in this amazing tattoo.
#13: Just Quote It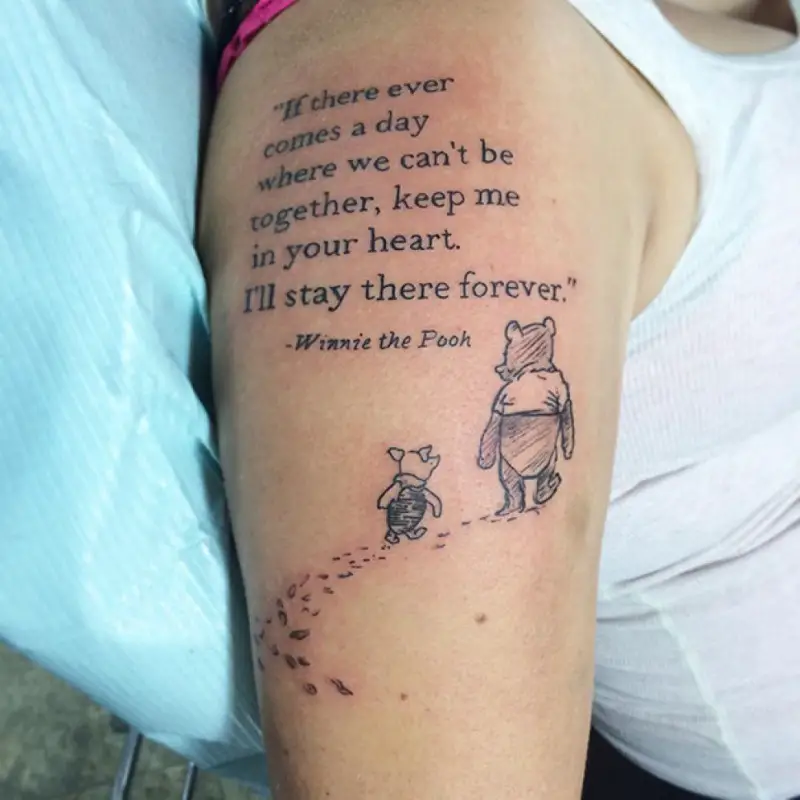 One of the most famous quotes from our childhood favorite Pooh bear. It's a very clean tattoo with a deep and lasting meaning.
#14: Little Angel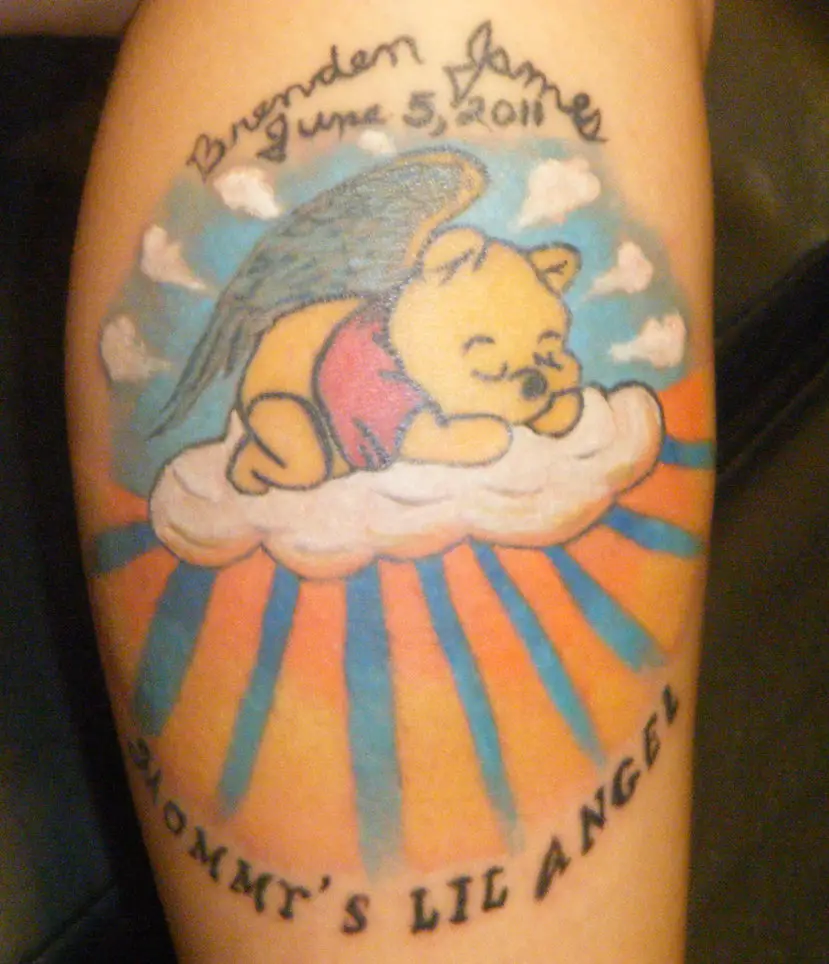 Losing a baby is probably the most emotionally painful experience one can have.  Knowing they rest peacefully in heaven is of some comfort.
#15: Playmates
This is a great way for someone to combine their love of football with their love for a friend or family member. Here Winnie looks great in that football jersey while smiling with Piglet.
#16: Words With Worth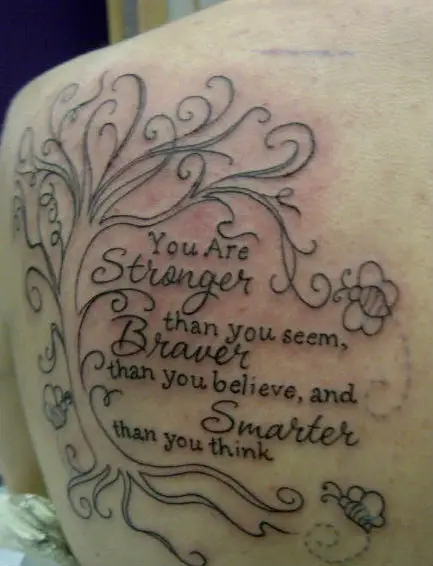 Here is another motivational tattoo design using those famous words of Pooh. It has been created in a very stylistic manner that is quite impressive.
#17: The Old School Pooh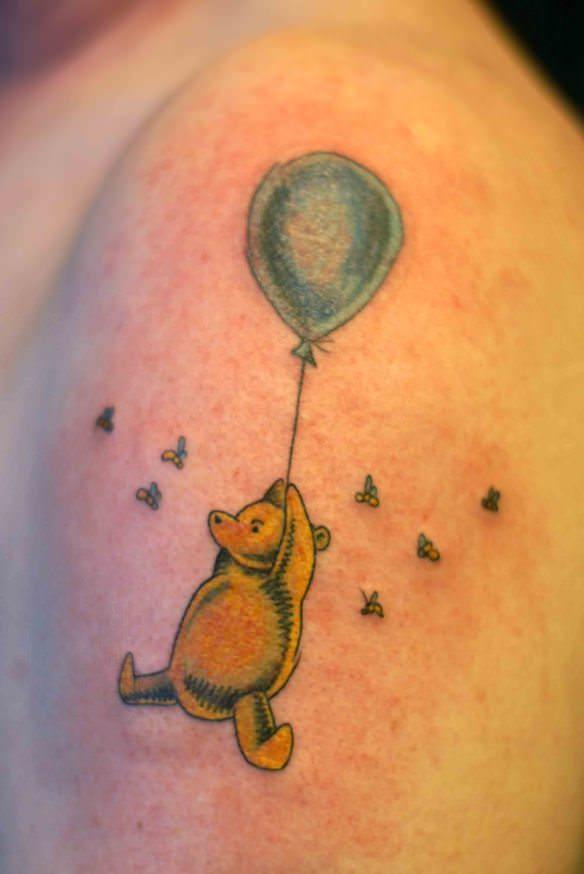 Up and away goes Winnie the Pooh in this classic illustrative design. Look at him; he's not perturbed at all. He seems to enjoy riding the winds of change, as should we.
#18: Happy Times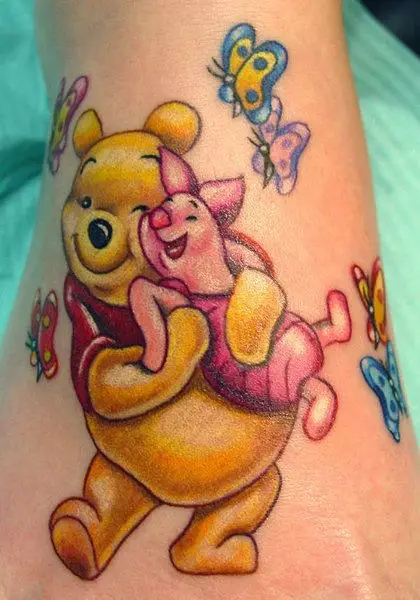 Look how happy Winnie and Piglet are! With a bright, colorful and merry tattoo like this on your skin wouldn't you be happy too?
#19: Poohbear Forever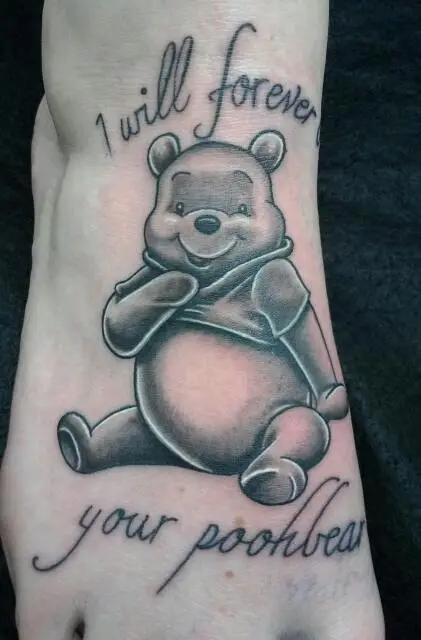 This one is for the lovers. One can't help but love this simple black and gray design with adorable Winnie and his charming smile. This would make a great and permanent message to impress your lover.
#20: With All Heart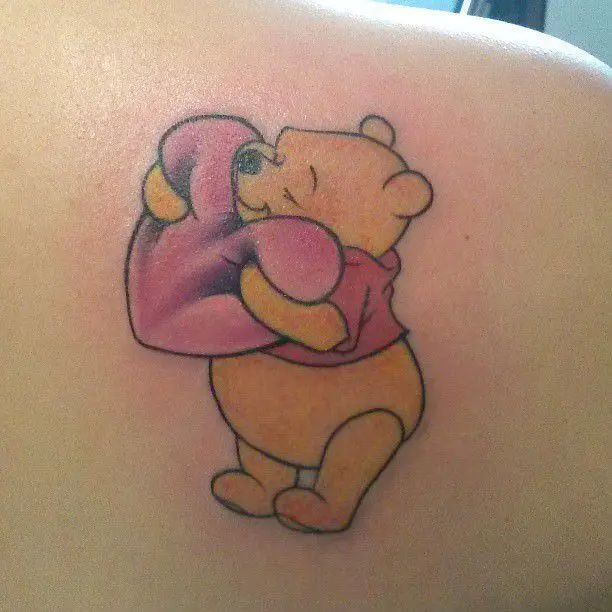 The image here just melts one's heart with its depiction of the love Winnie is feeling. Your heart too would fill with joy if you had this tattoo.
The cuddly bear misses you in the Hundred Acre Woods. Why not you join him and his friends with a special Winnie the Pooh tattoo? These design inspirations will definitely be of great help to get your special tattoo.