Rabbit tattoos make up the perfect tattoo if you are in search of something cute and meaningful. When the adorable qualities of the rabbit match the creativity of the artist, magic is created.
Whether you want a meaningful tattoo or to pay tribute to your favorite rabbit character in a movie, the possibilities are endless. The cute designs and inevitable beauty of the rabbit tattoo designs will get you all the attraction and praise.
With so many rabbit tattoo styles and designs to choose from, it is easy to feel lost and confused. So, we have brought together some of the most stunning rabbit tattoo designs. Stay with us till the very end and we will show you our top picks.
140 Rabbit Tattoo Meaning And Designs
Matching the cuteness and engaging meaning behind rabbit tattoos is quite difficult. This cute animal challenges the talent of the artist and brings out a pretty and intricate image to life. Here, we will take a look at 140 outstanding rabbit tattoo meanings and designs.
Black Rabbit Tattoo
Black rabbit tattoos are pretty and look amazing, and the meaning behind them are beautiful as well. Here, we will take a look at some of the top rabbit tattoo designs.
1. Basic Black Rabbit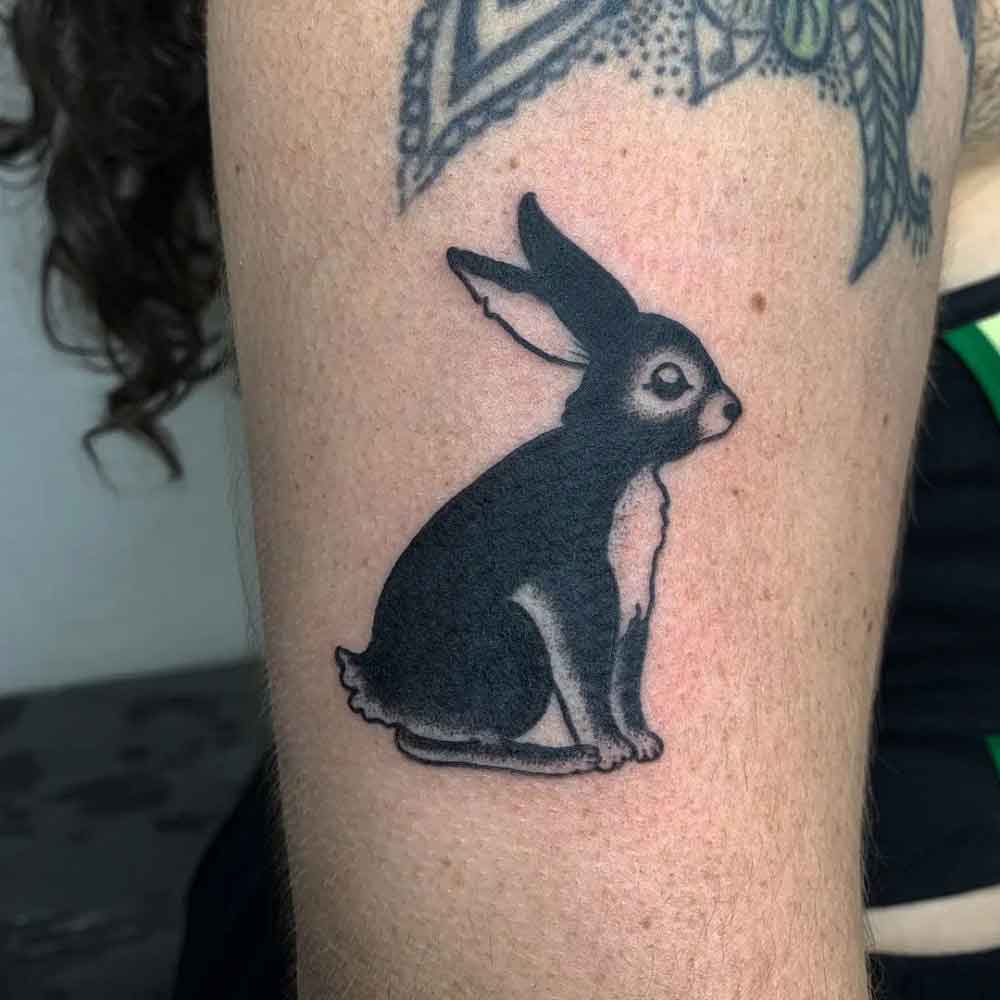 Adore your body with a beautiful black rabbit tattoo. It is a symbolization of anxiety, inner troubles, and the darker sides of life.
2. Rabbit in the Jungle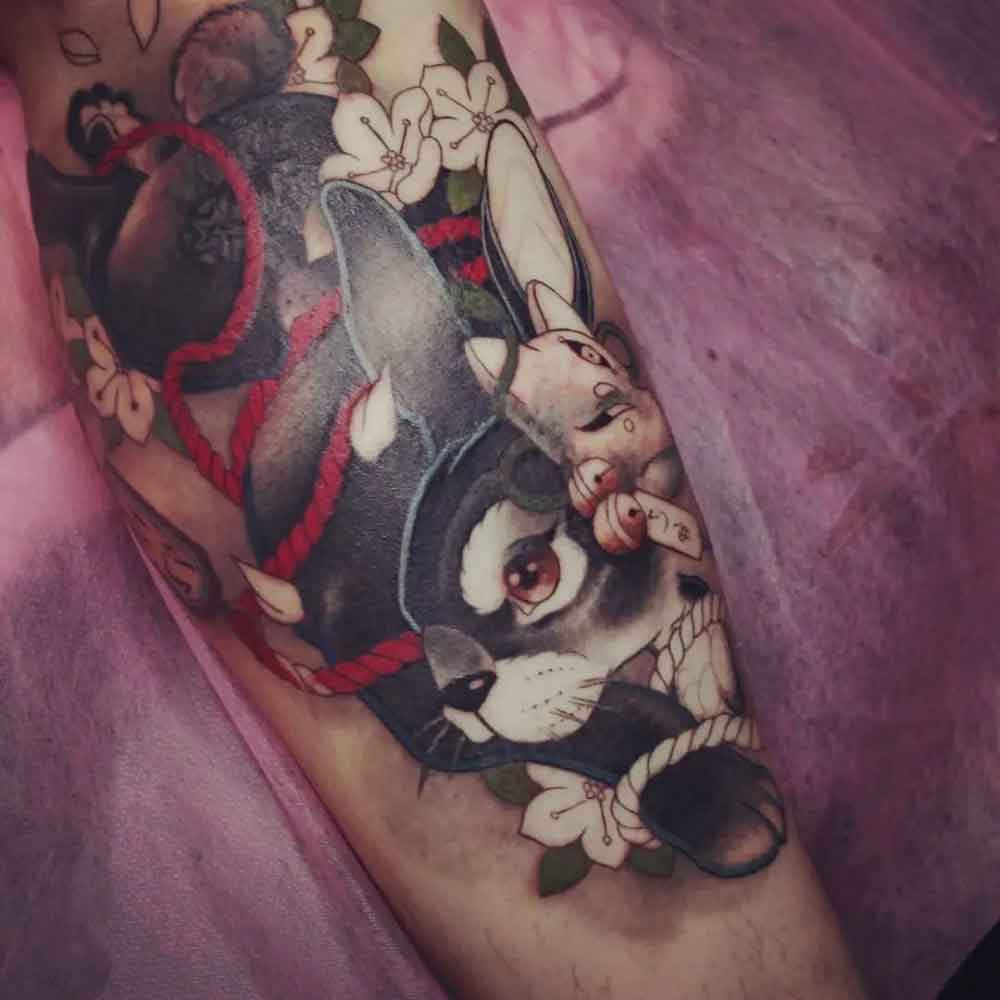 Represent the beauty of the black rabbit in its natural surroundings with this stunning rabbit tattoo design.
3. Running Rabbit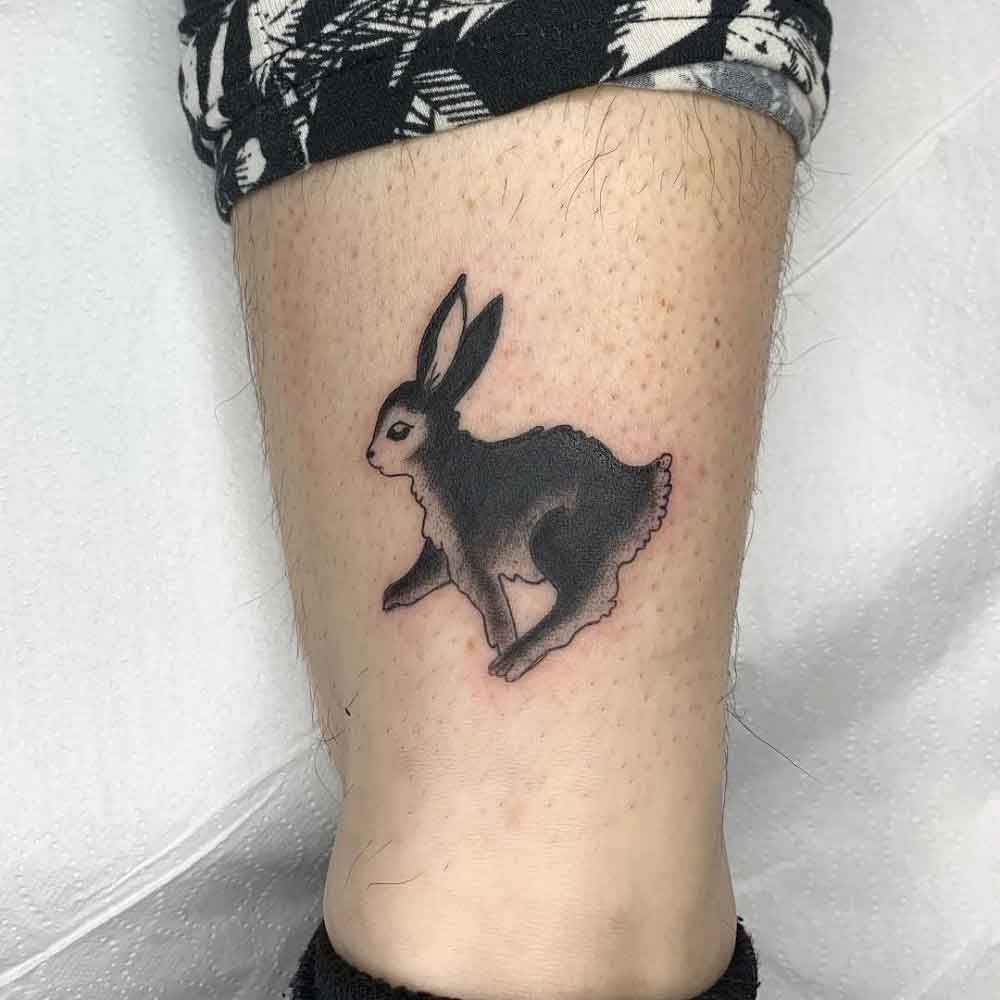 Get this cute running black rabbit tattoo. It is a representation of speed and fight against the struggles or dark sides of life.
White Rabbit Tattoos
White rabbit tattoos are extremely beautiful and look stunning on all parts of the body. Not only that, but the meanings behind these tattoos are also pleasant. Let us take a few examples of white rabbit tattoos.
4. The Adventurous Rabbit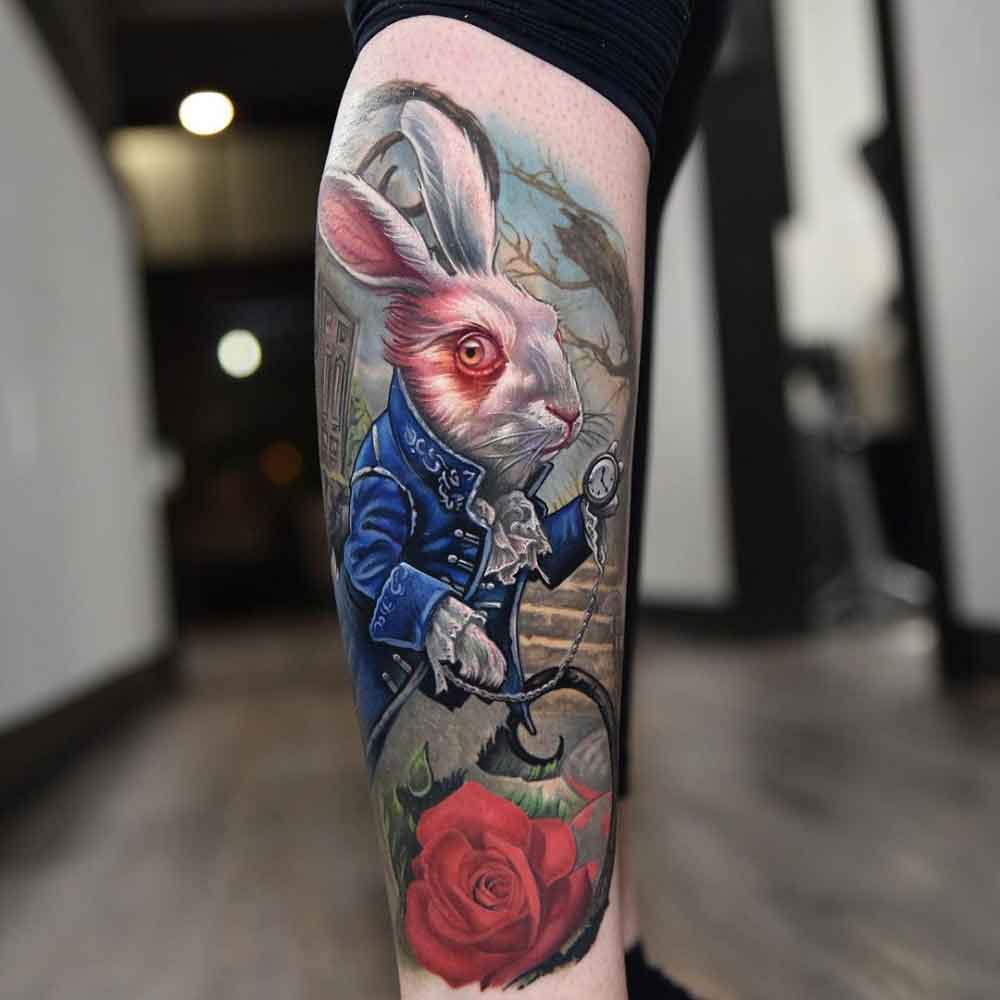 Turn heads and attract eyes to yourself with this amazing white rabbit tattoo. It is a representation of the beautiful rabbit tattoo of Alice in Wonderland.
5. The Power Of Magic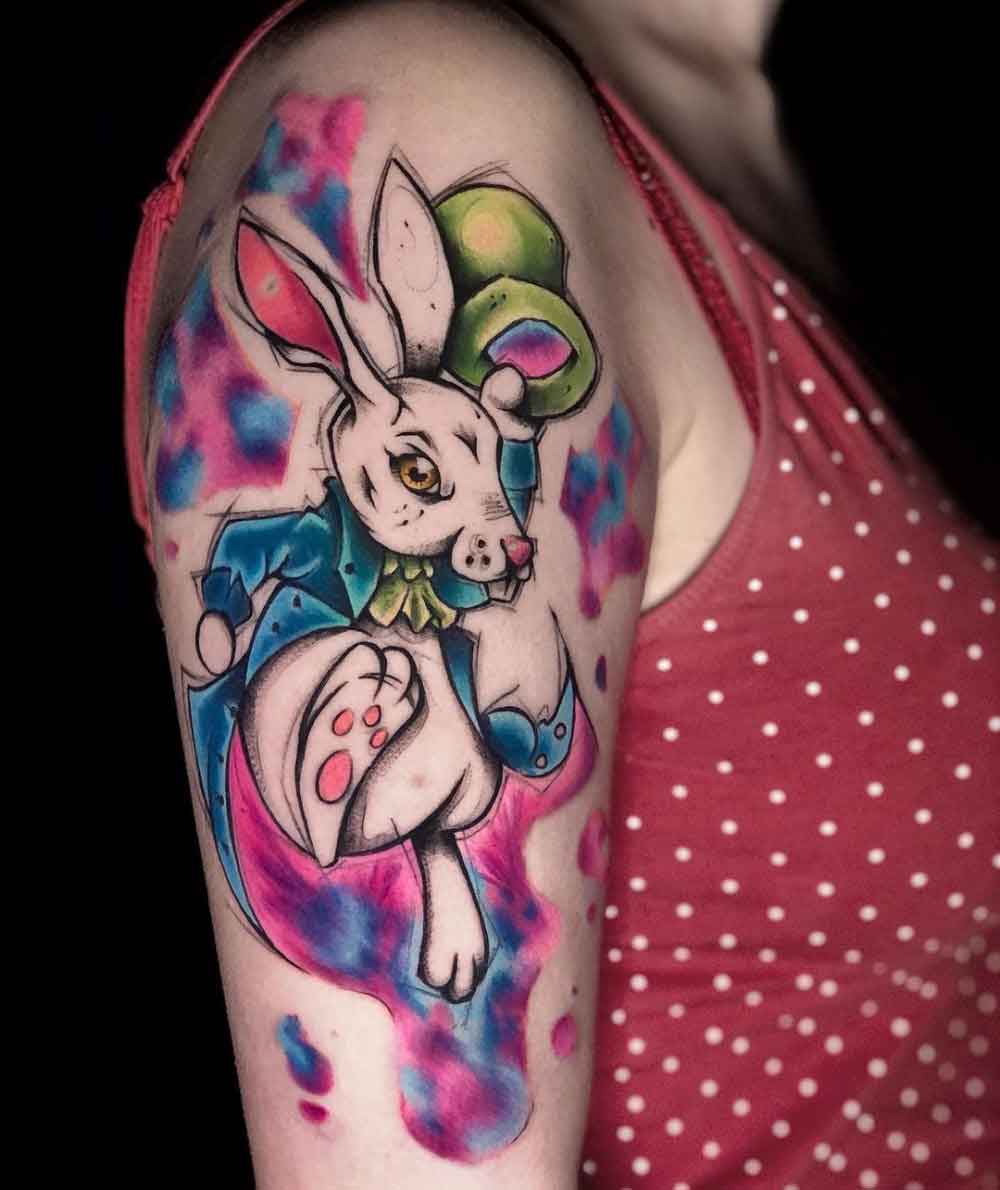 Show your love for magic and rabbits with this pretty rabbit tattoo. It is a fun representation of the white rabbit and symbolizes good luck and fortune.
6. The Ticking Clock Rabbit
Attract eyes with this eye-catching and stunningly detailed rabbit tattoo. It is a pretty take on the timing, events, and beauty of life.
Jessica Rabbit Tattoo
Who doesn't love the stunning and iconic Jessica Rabbit from the movie "Who Framed Roger Rabbit"? Below are some of the best examples of Jessica Rabbit tattoos.
7. The Iconic Jessica Rabbit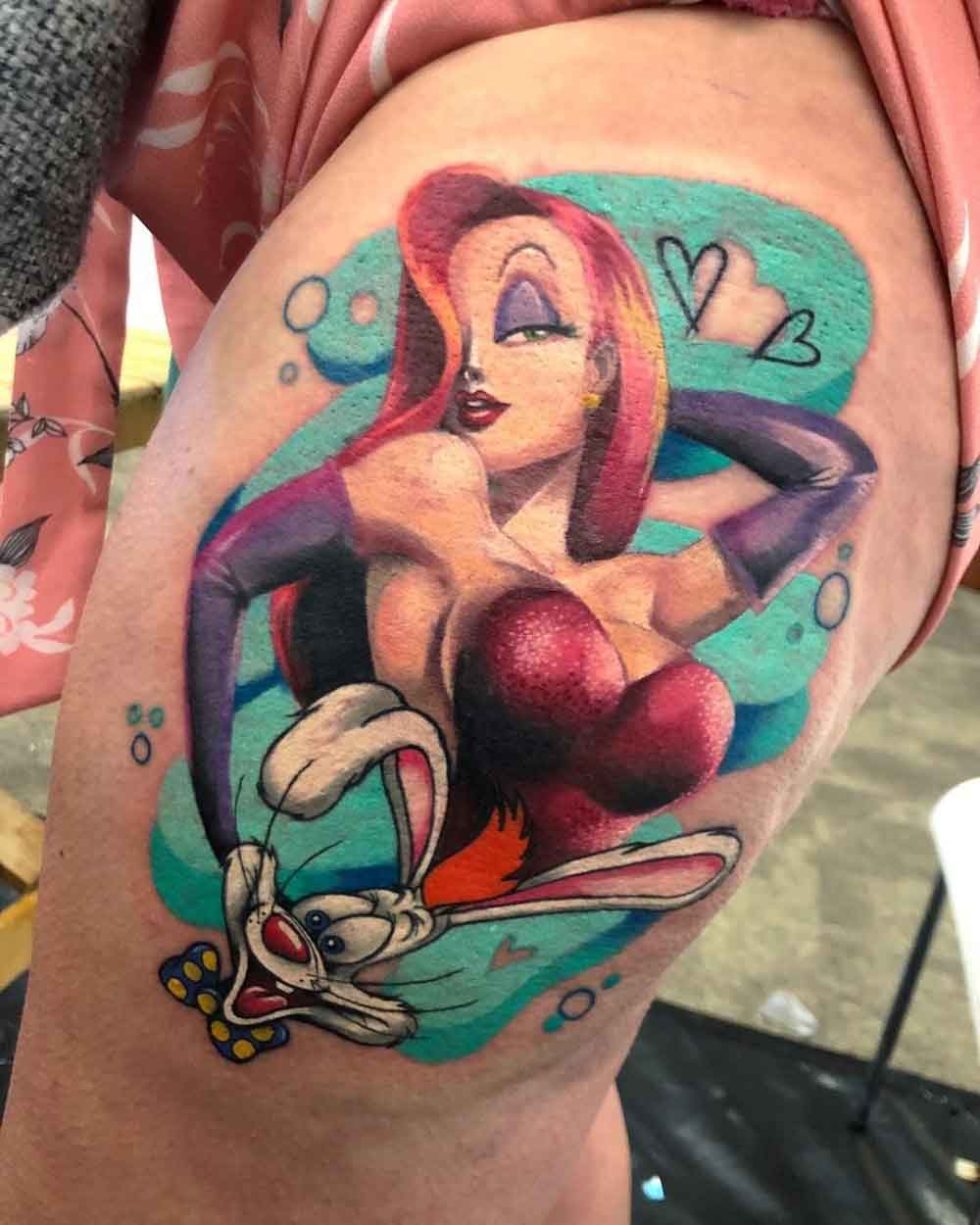 Show your love for the iconic Jessia Rabbit and your appreciation for the great movie.
8. The Love Between Roger And Jessica Rabbit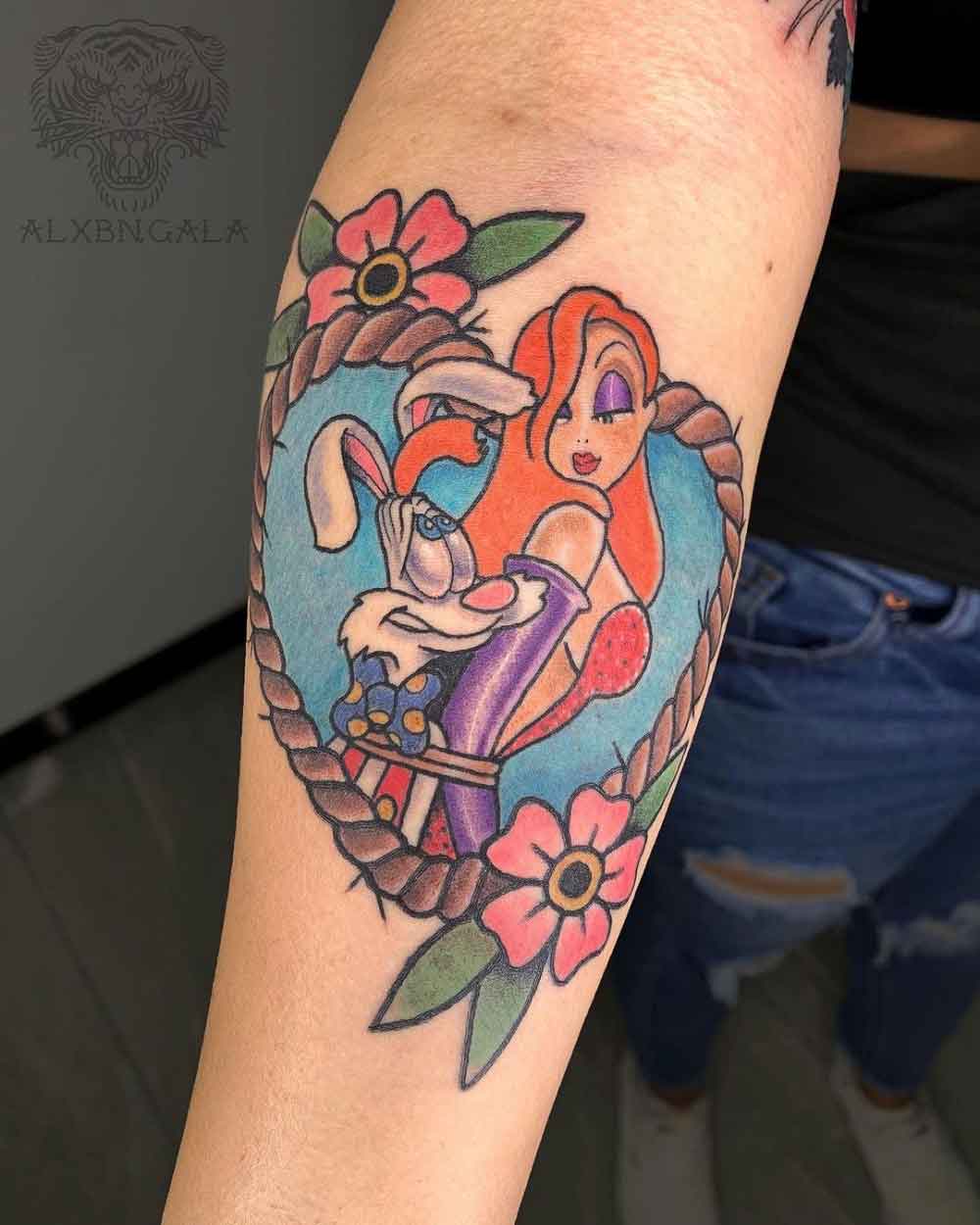 Get this stunning Jessia and Roger Rabbit tattoo inked on your body. It is a representation of love, trust, and the beauty of a relationship.
9. The Cuddly Couple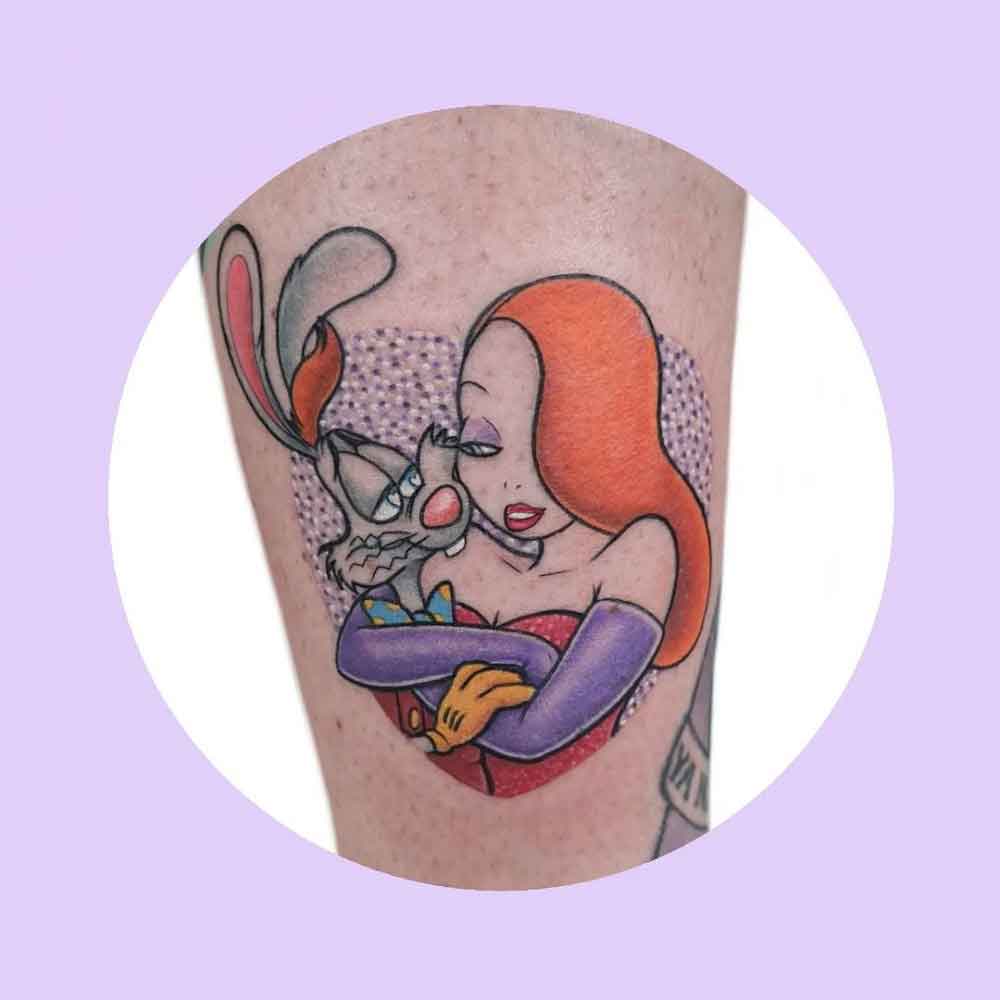 Represent a pretty and beautiful relationship with this colorful and cute Jessica Rabbit tattoo.
Jack Rabbit Tattoo
Jack rabbits make up for great tattoo placement. Symbolizing cleverness, speed, self-protection, fertility, and many more, these rabbit tattoos are a popular choice. Let us see a few jack rabbit tattoo examples.
10. Reflection Of Nature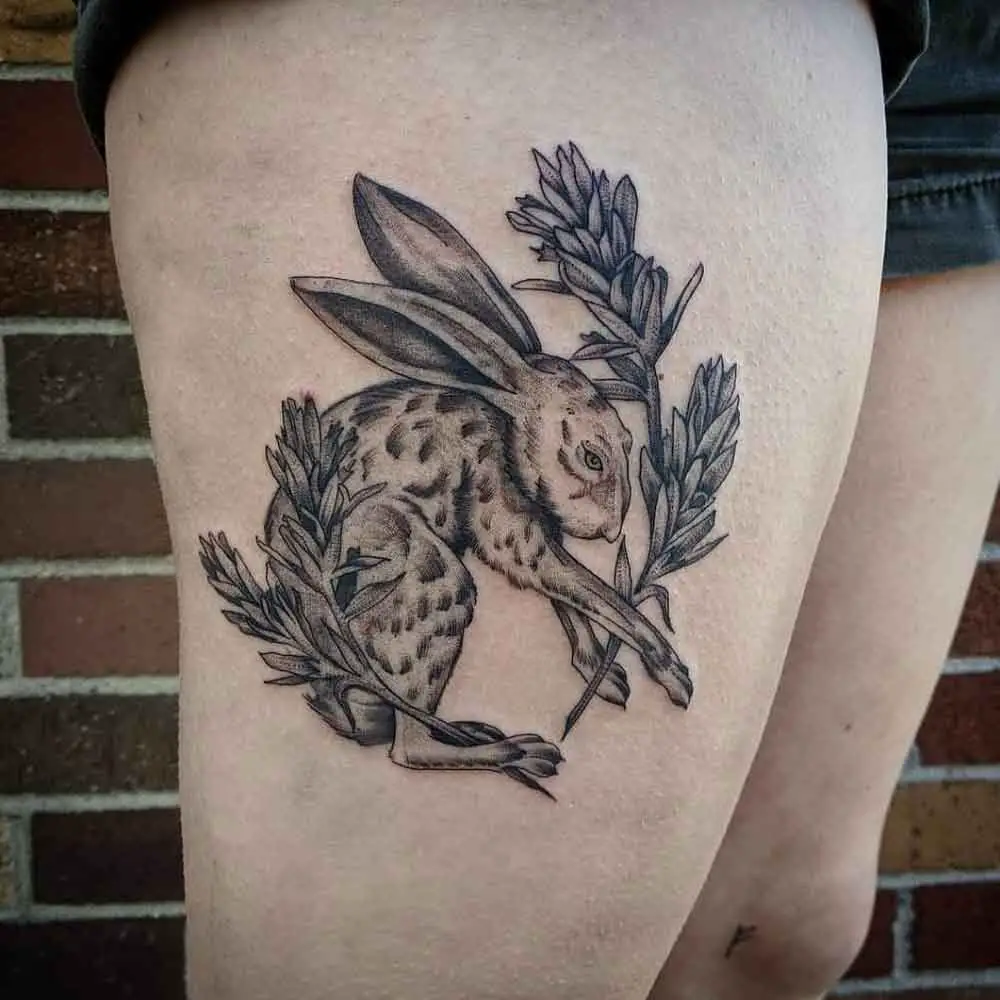 Bring the realistic and natural image of jack rabbits into life with this creative and intricate rabbit tattoo design.
11. Rabbit In The Mirror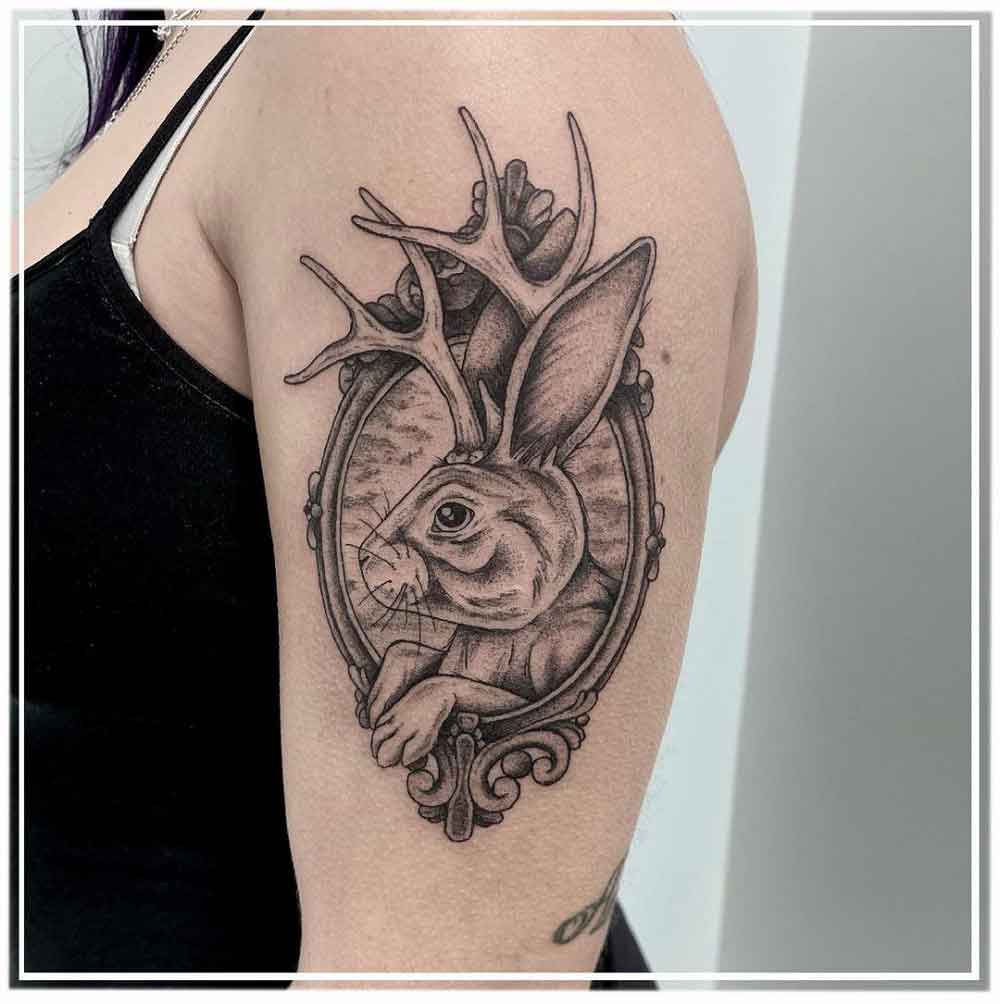 Portray creativity and build a bridge between art and reality with this rabbit tattoo style. This tattoo is a representation of the creativity and talent of the artist.
12. The Standing Jack Rabbit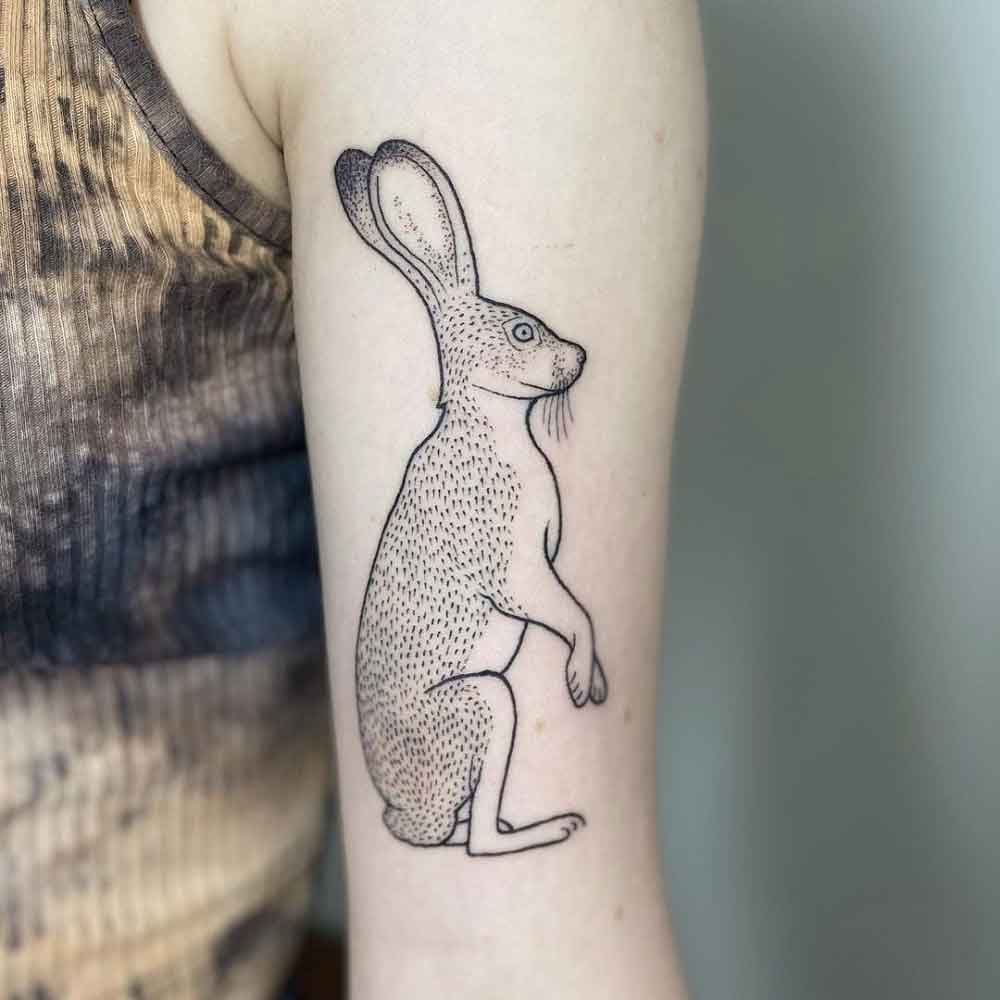 Show off your smart instincts with this jack rabbit tattoo. It is a portrayal of cleverness, wit, and vigilance.
Matrix White Rabbit Tatt
oo
The white rabbit tattoo from the Matrix has gained outstanding popularity among the tattoo culture and the fans. It is a depiction of curiosity and one's interest in an impossible land. Here, we will see a few Matric white rabbit tattoo ideas.
13. The Matrix Symbolization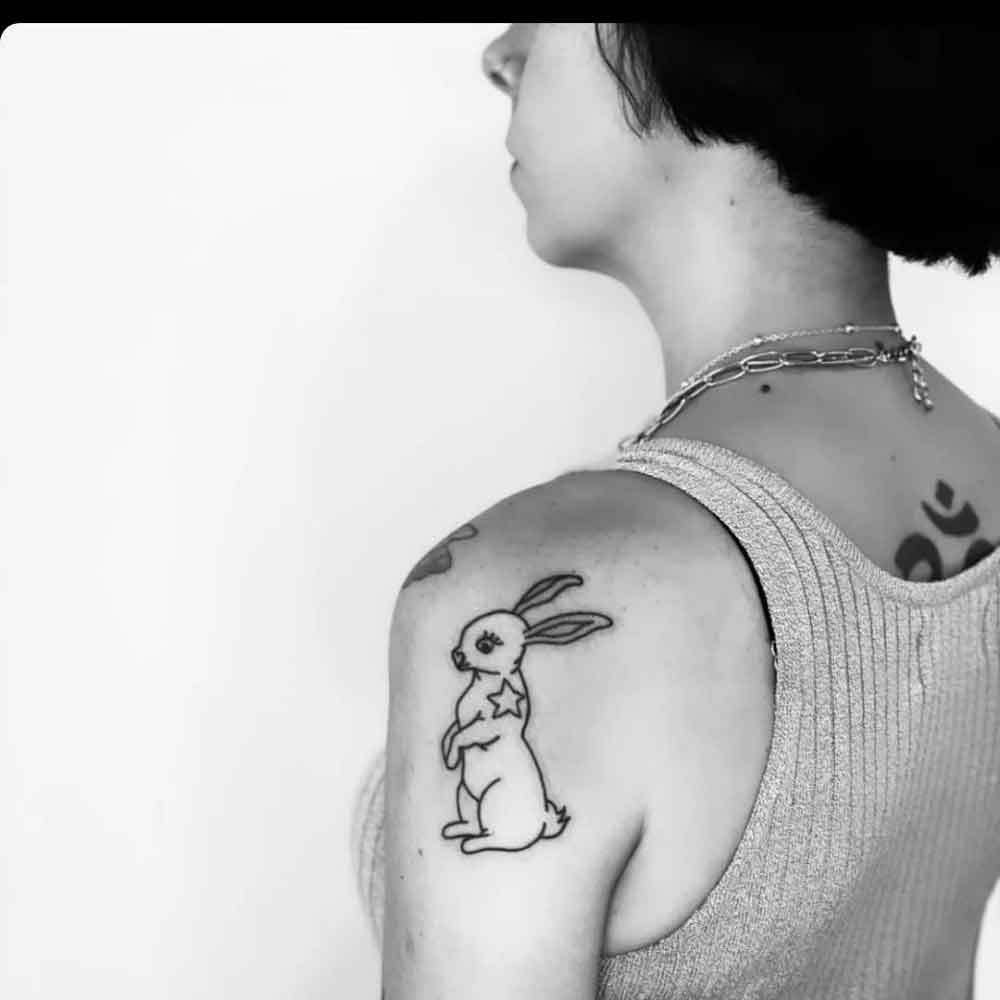 Portray your appreciation of the Matrix with the iconic white rabbit tattoo from the movie.
14. The Curious Bunny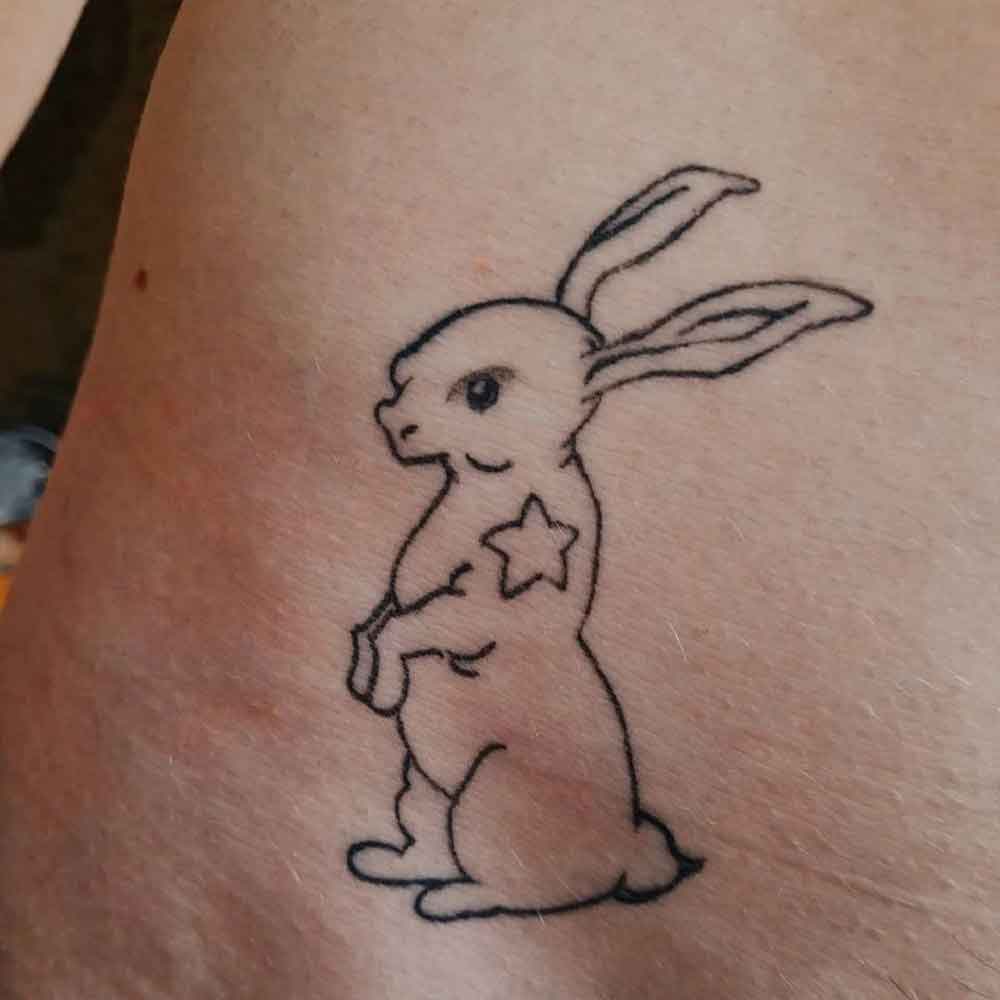 Get this cute white rabbit tattoo as a symbol of curiosity and interest in the unknown mysteries of life.
Rabbit Foot Tattoo
For a long time, the rabbit foot is considered to be the bearer of good luck, wealth, and fortune. Over time, the belief in rabbit foot grew, making it a great tattoo design. Let us see a few examples of rabbit foot tattoo designs.
15. The Enlightened Rabbit Foot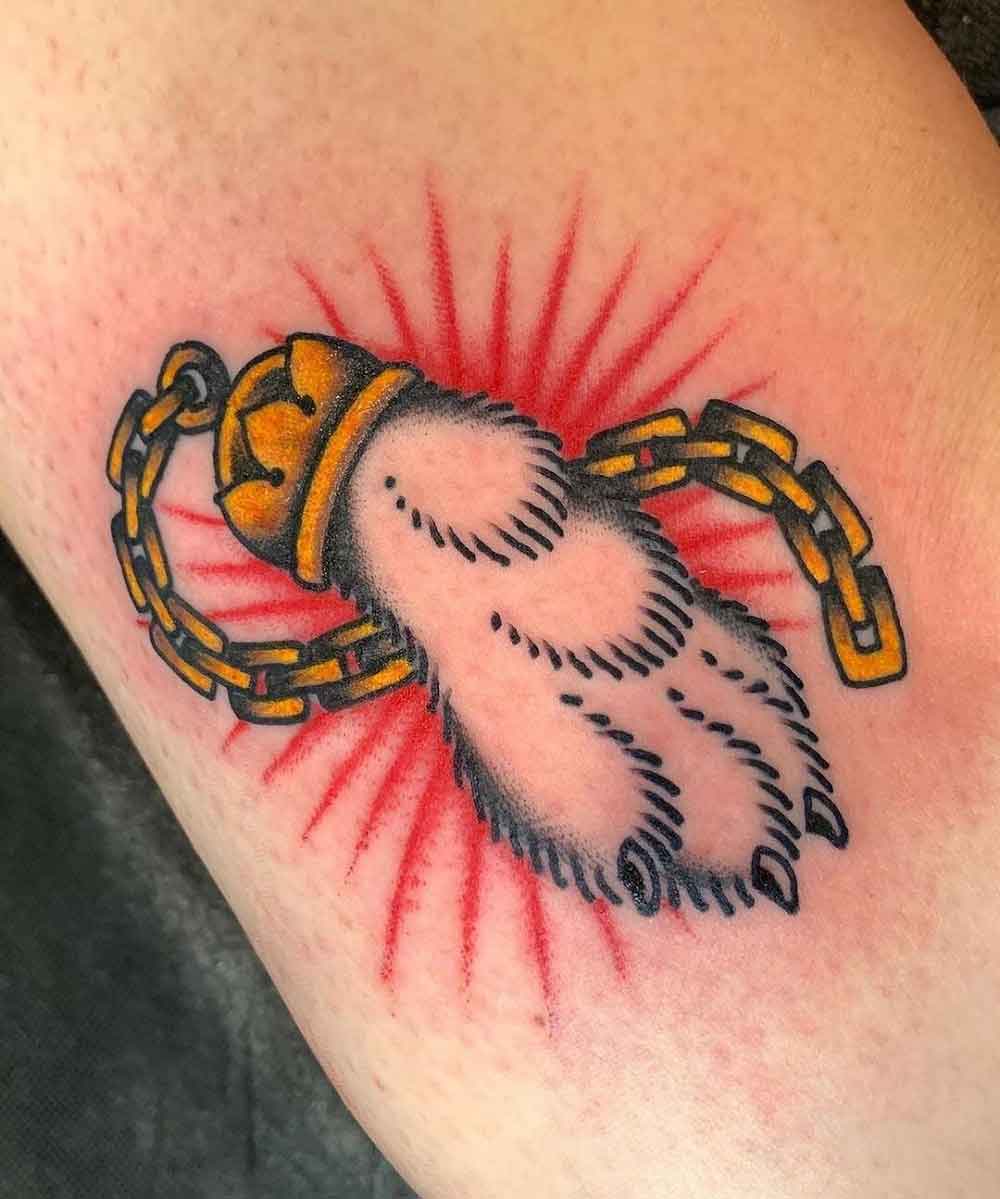 Get this colorful and eye-catching rabbit foot inked on your body as a display of good luck and blessings.
16. The Luck Changer
Rabbit feet are believed to bring blessing and change our luck for the better. Portray your belief and spiritual feelings with this mesmerizing rabbit tattoo.
17. The Present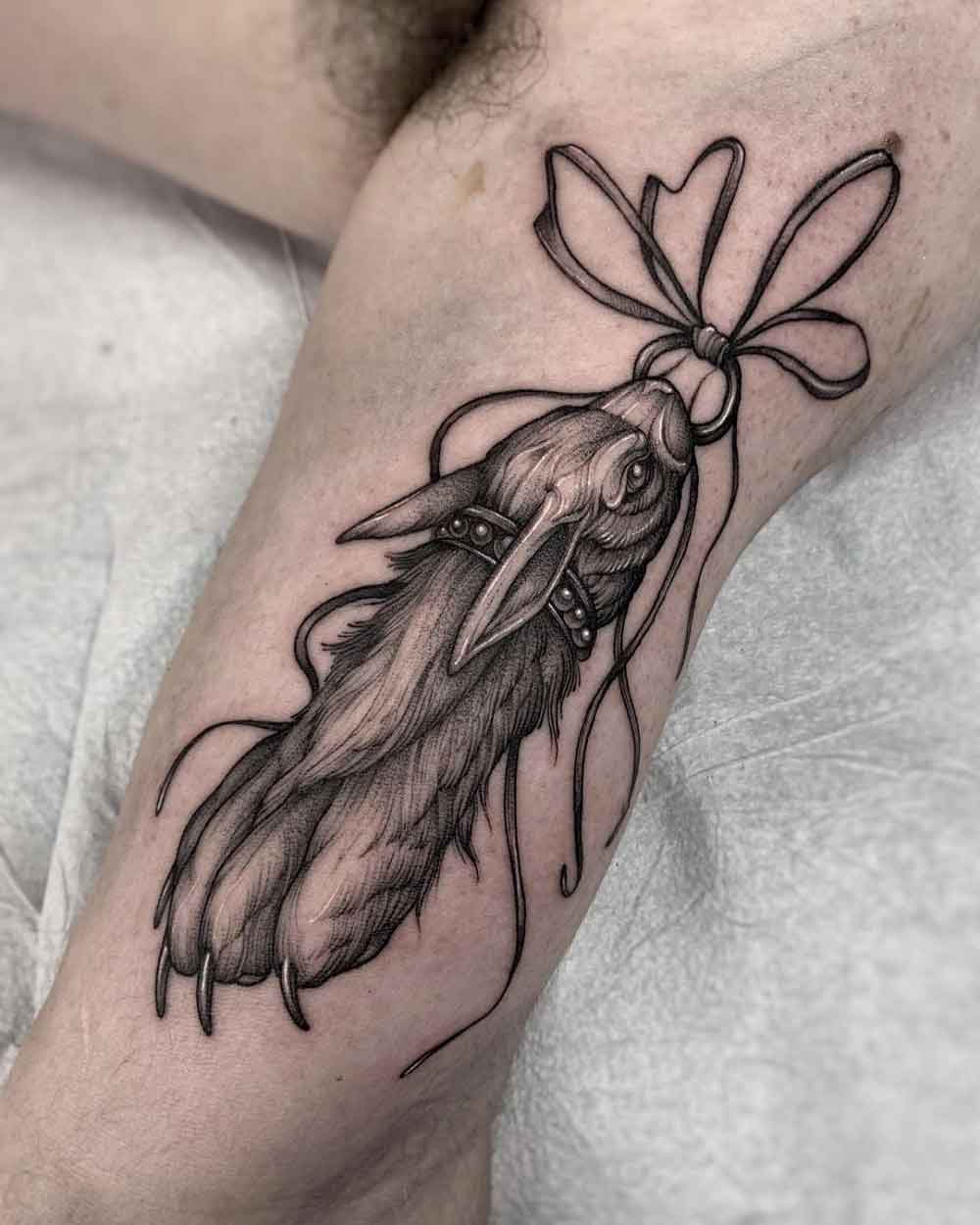 Wealth, health, and fortune are the blessings of life. This rabbit foot tattoo designed on a man's arm is a depiction of the presents and gifts of life.
Traditional Rabbit Tattoo
Rabbit tattoo designs are part of the tattoo culture since the beginning of time. This cute animal represents peace, prosperity, and the good things in life. Take a look at some of the best traditional rabbit tattoo ideas.
18. Floral Rabbit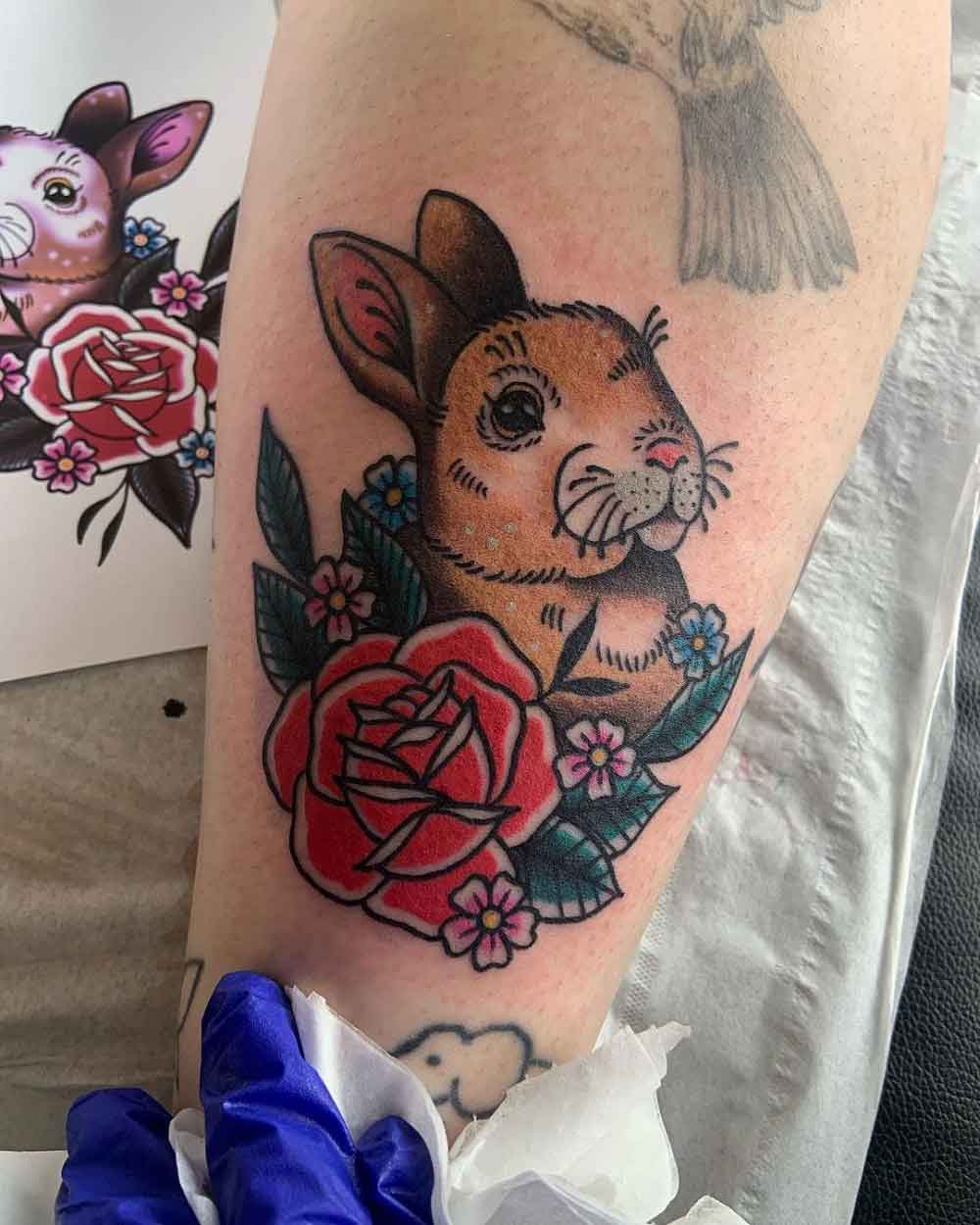 Compliment the cuteness of this pretty and small animal with the beautiful flowers found in nature.
19. The Berry Surrounding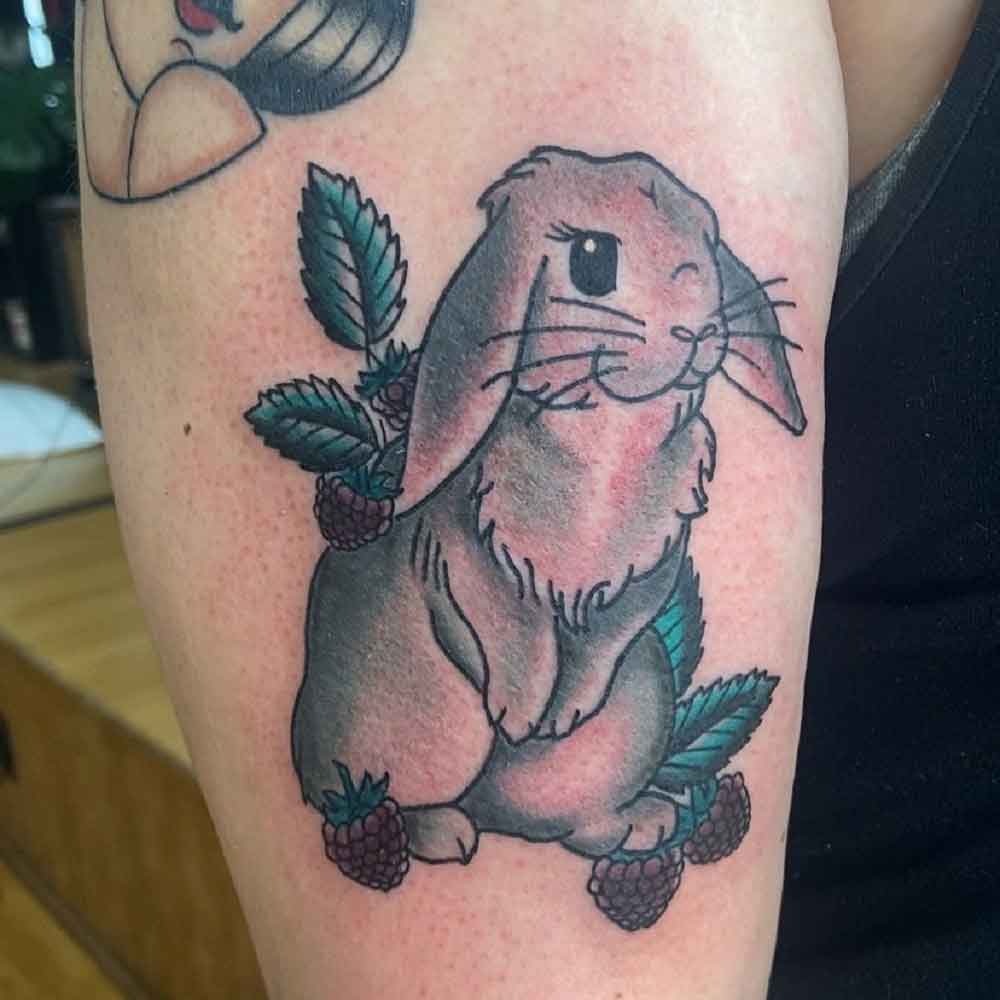 Berries are one of the favorite food of rabbits. This rabbit tattoo is a take on the natural habitat of the animal.
20. The Leafy Habitat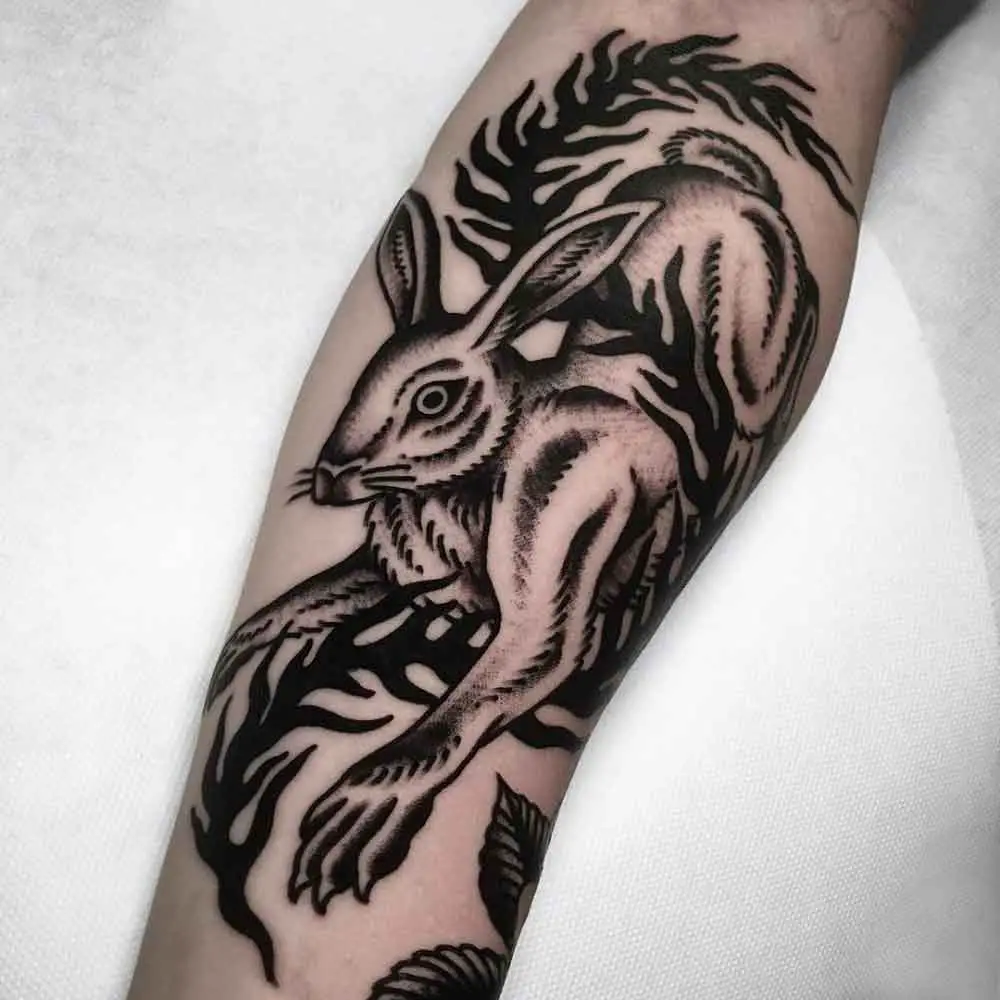 Rabbits love nature and everything surrounding it. This rabbit tattoo is a reflection of their lives in the natural habitat.
Lucky Rabbit Tattoo
Rabbits are seen as a portrayal of good luck, blessings, and prosperity in life. Here are a few examples of the lucky rabbit tattoo designs.
21. Yin Yang Rabbits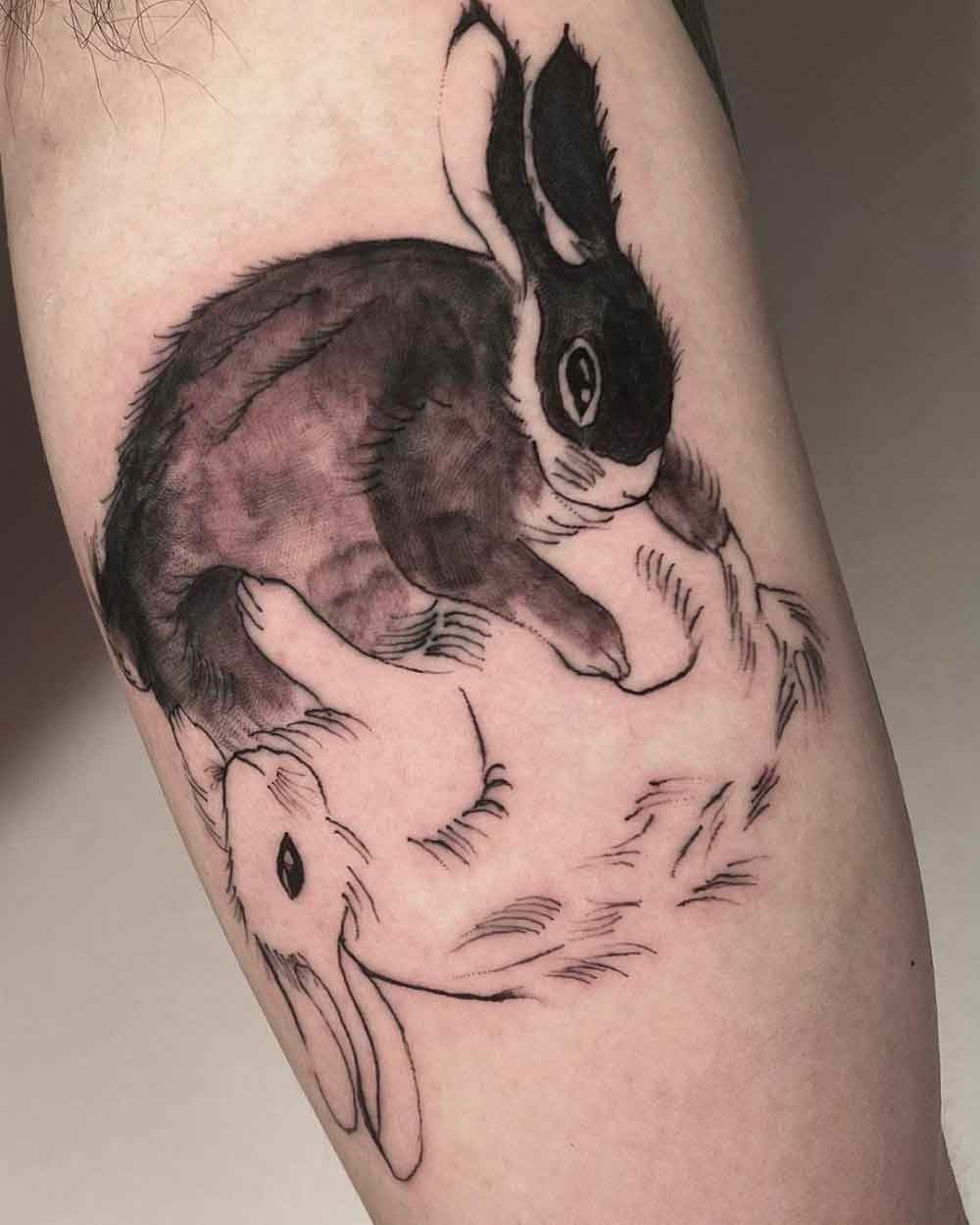 Portray the way of life and its vision with this cute and interesting rabbit tattoo. It is a representation of the good and bad aspects of life.
22. Baby Bunny In Nature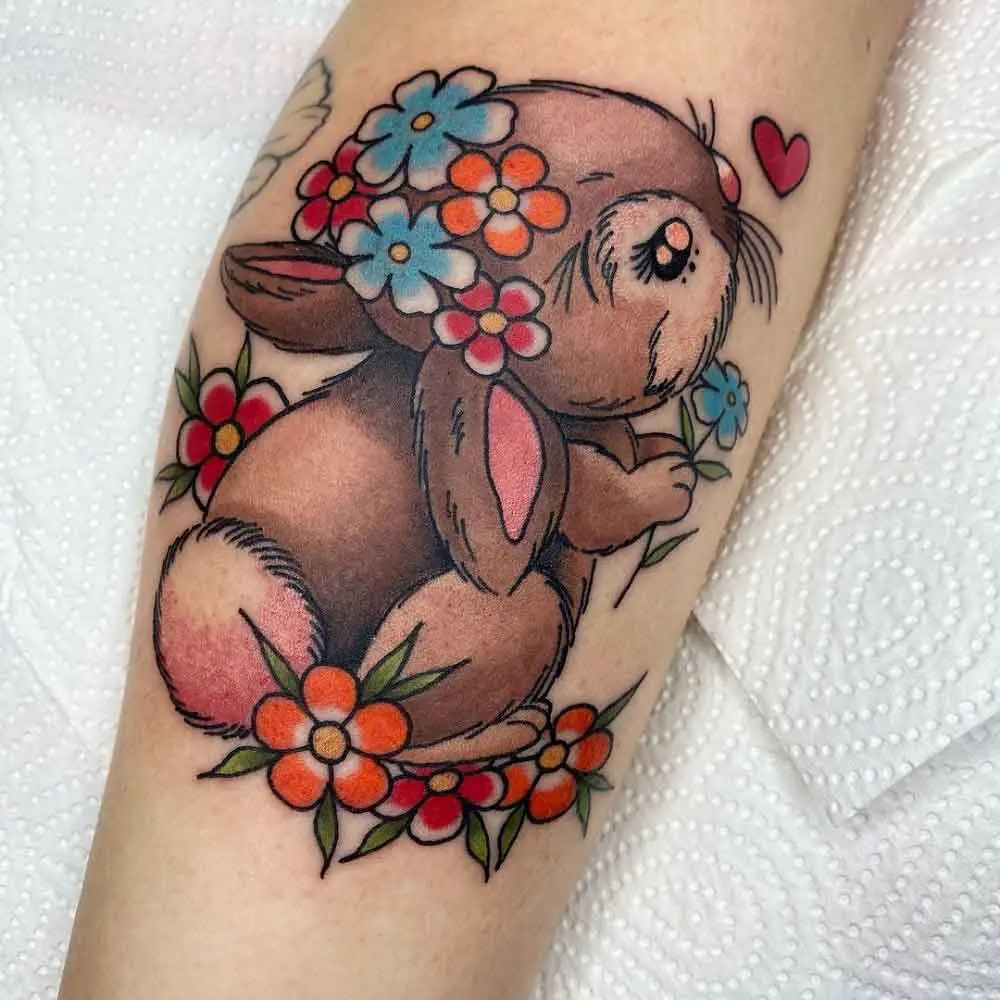 Get attention from everywhere with this cute baby rabbit tattoo. This cute design symbolizes the peace and innocence of life.
23. The Rabbit In Flower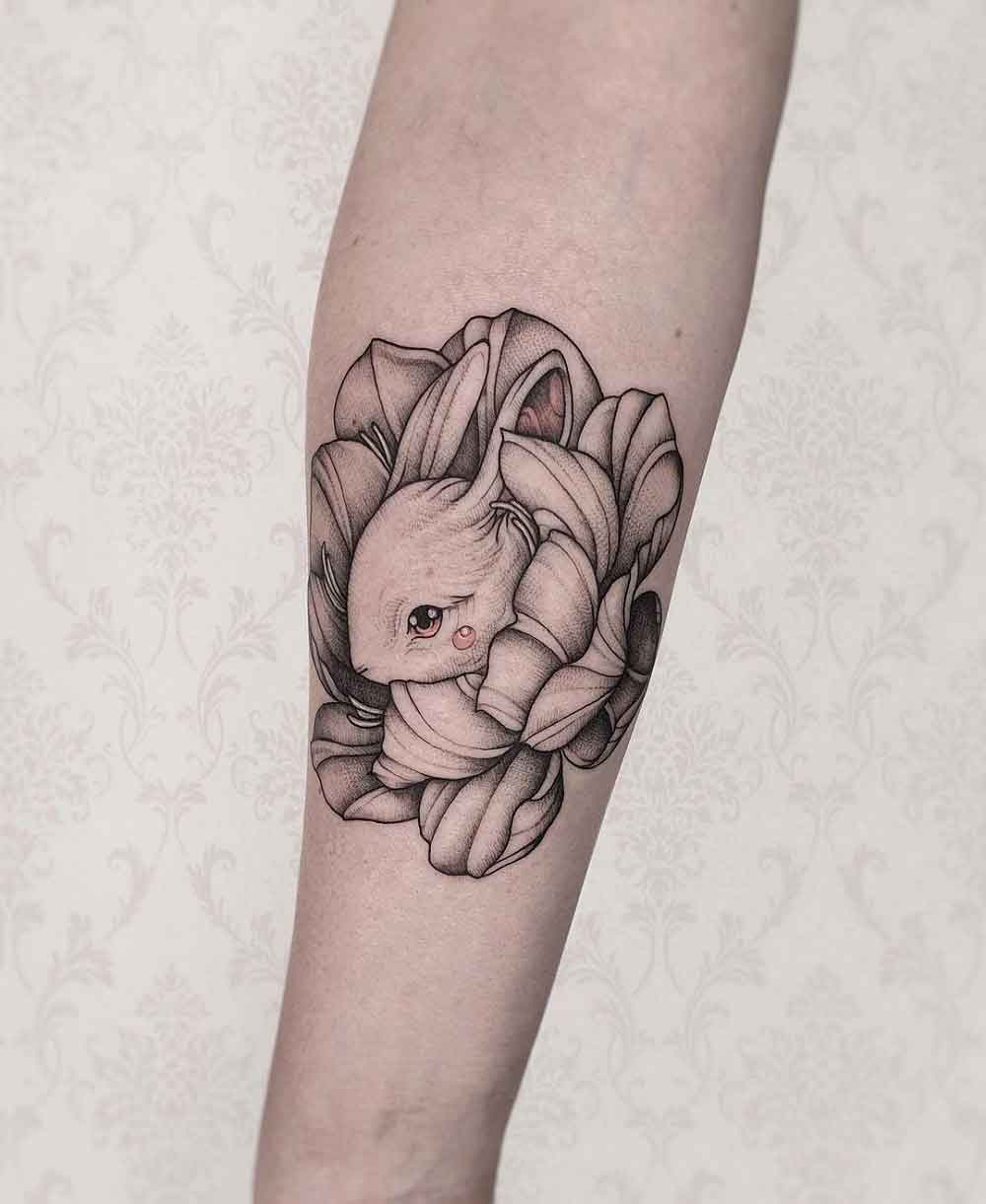 The beauty of nature and rabbit goes hand in hand, and that is represented by this rabbit tattoo. It is a display of delicacy, purity, and innocence.
Brass Rabbit Tattoo
The brass rabbit tattoo is famous for its unique style and color. Let us take a look at a few pretty brass rabbit tattoo ideas.
24. The Golden Rabbit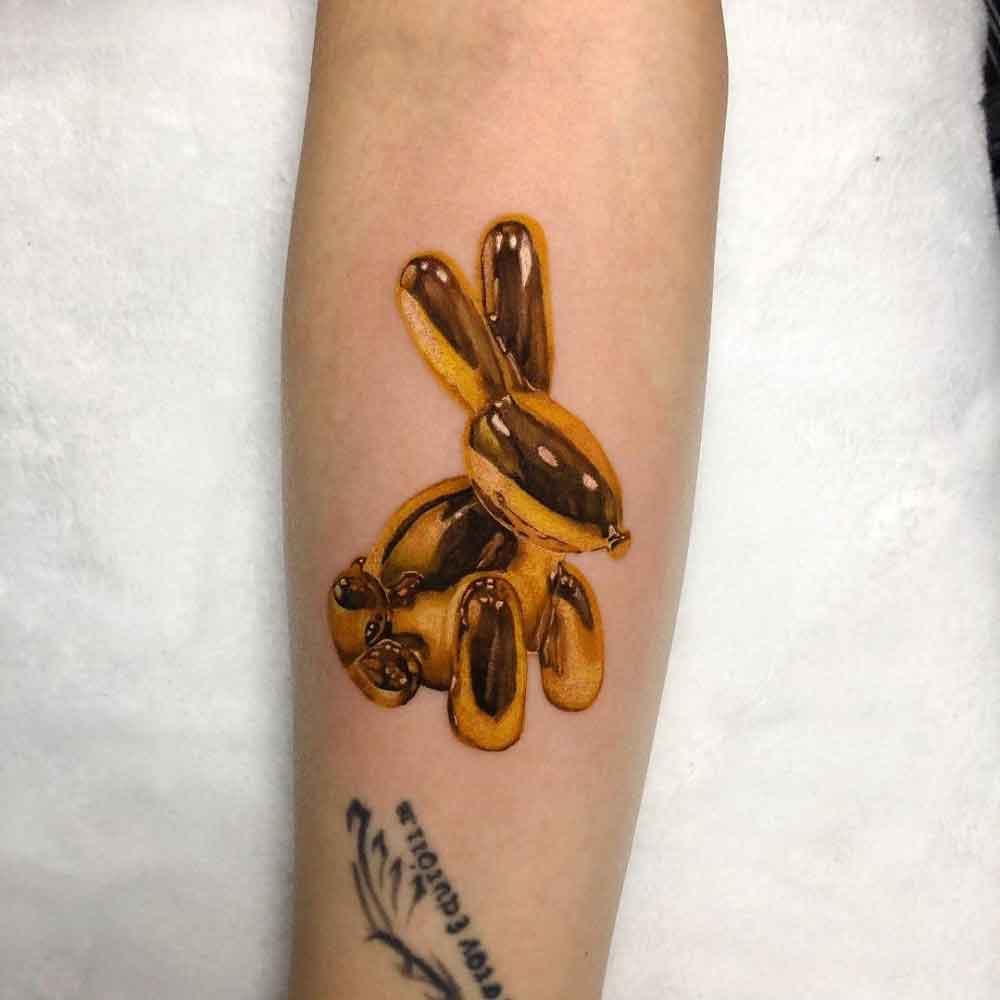 Make your tattoo placement look stunning and attractive with this unique brass rabbit tattoo on your hand.
25. The Sitting Brass Rabbit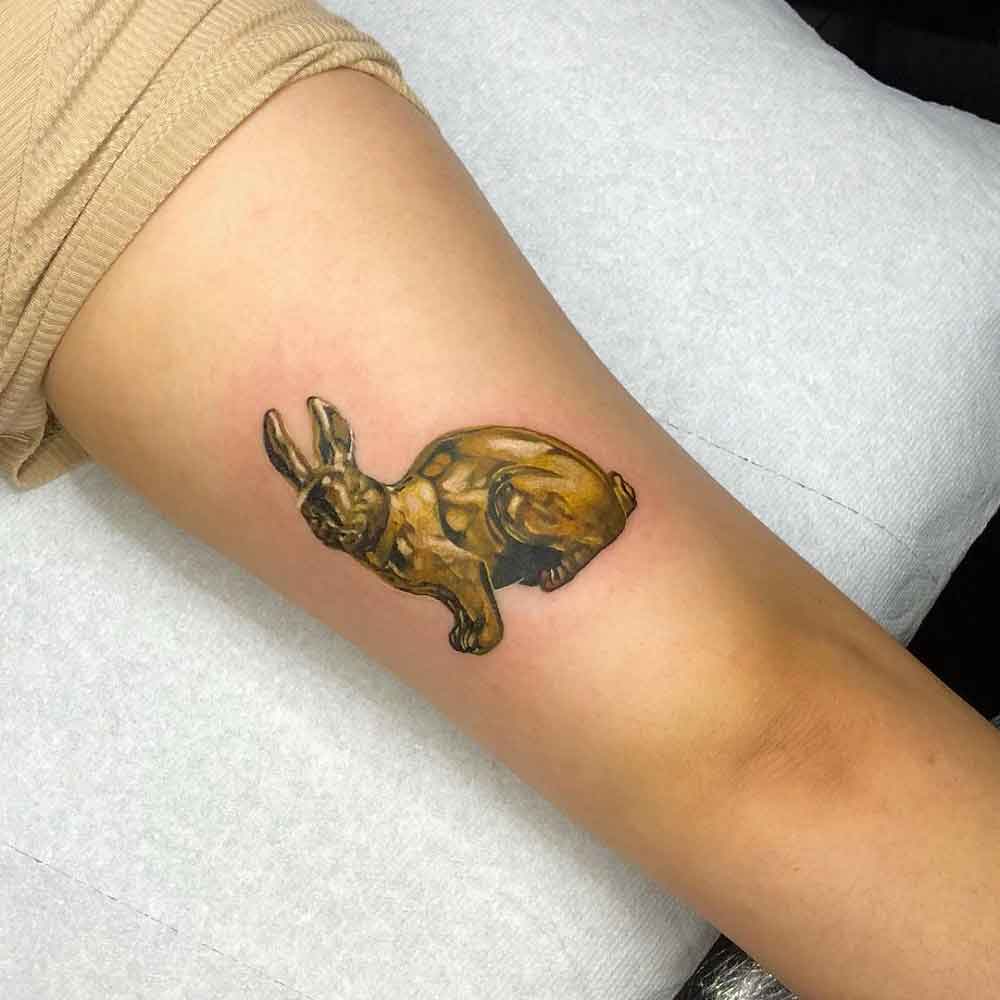 Showcase the value of important things and lessons in life with this brass rabbit tattoo. It is a representation of both the permanent and temporary aspects of life.
Japanese Rabbit Tattoo
26.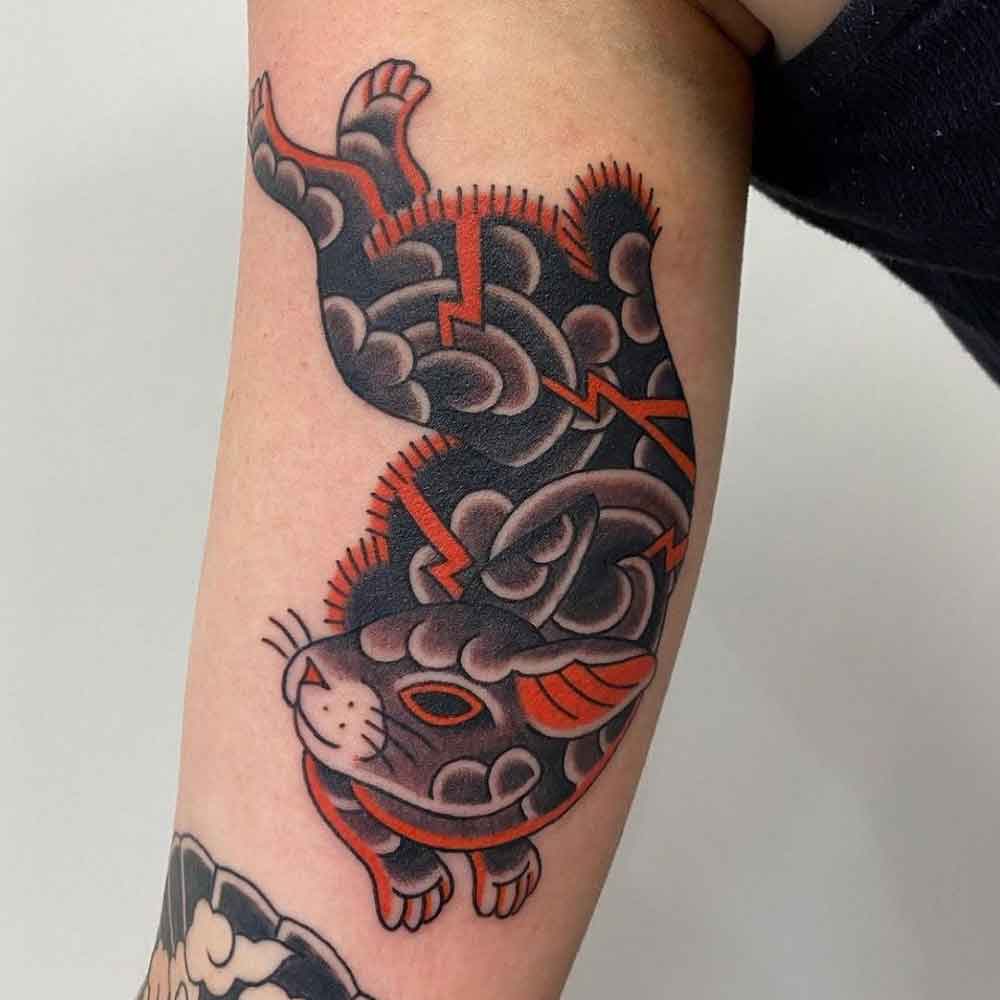 27.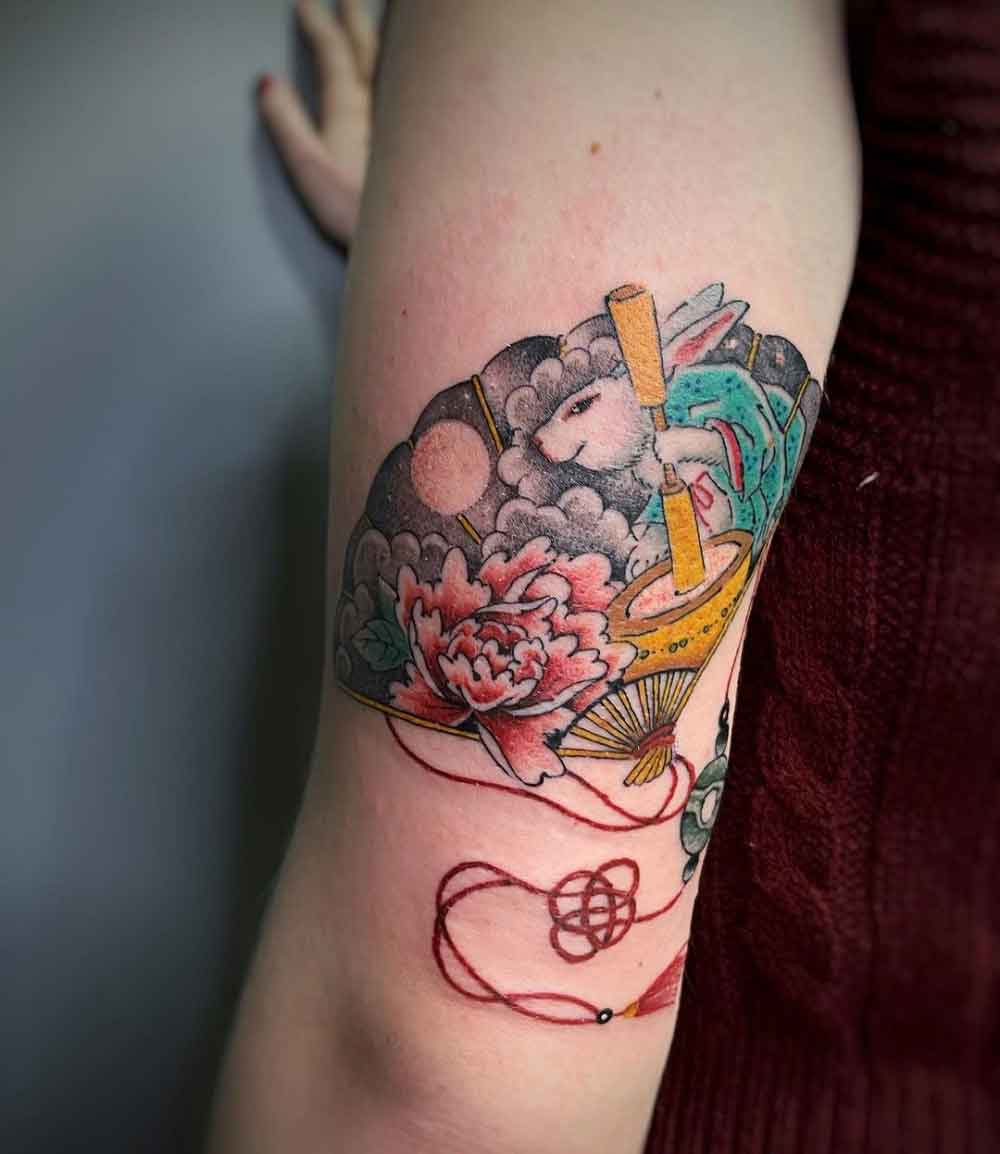 28.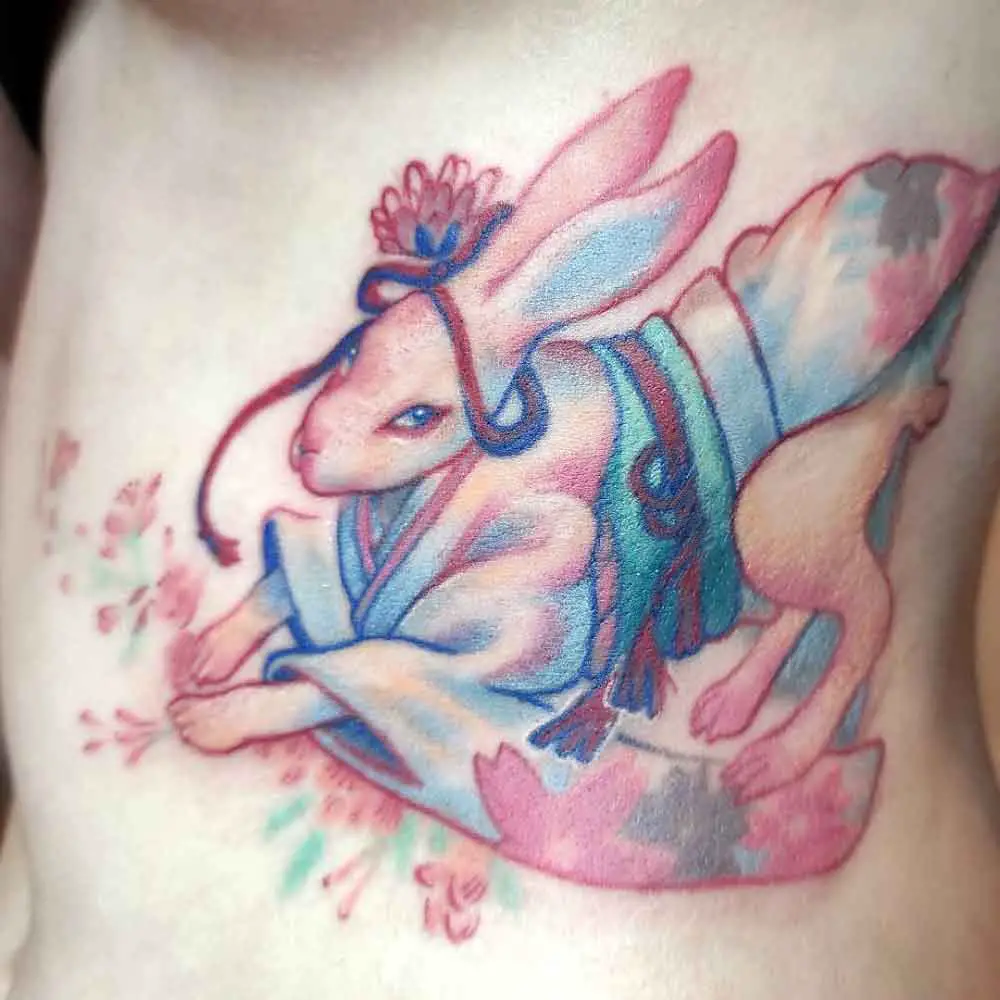 Rabbit Hole Tattoo
29.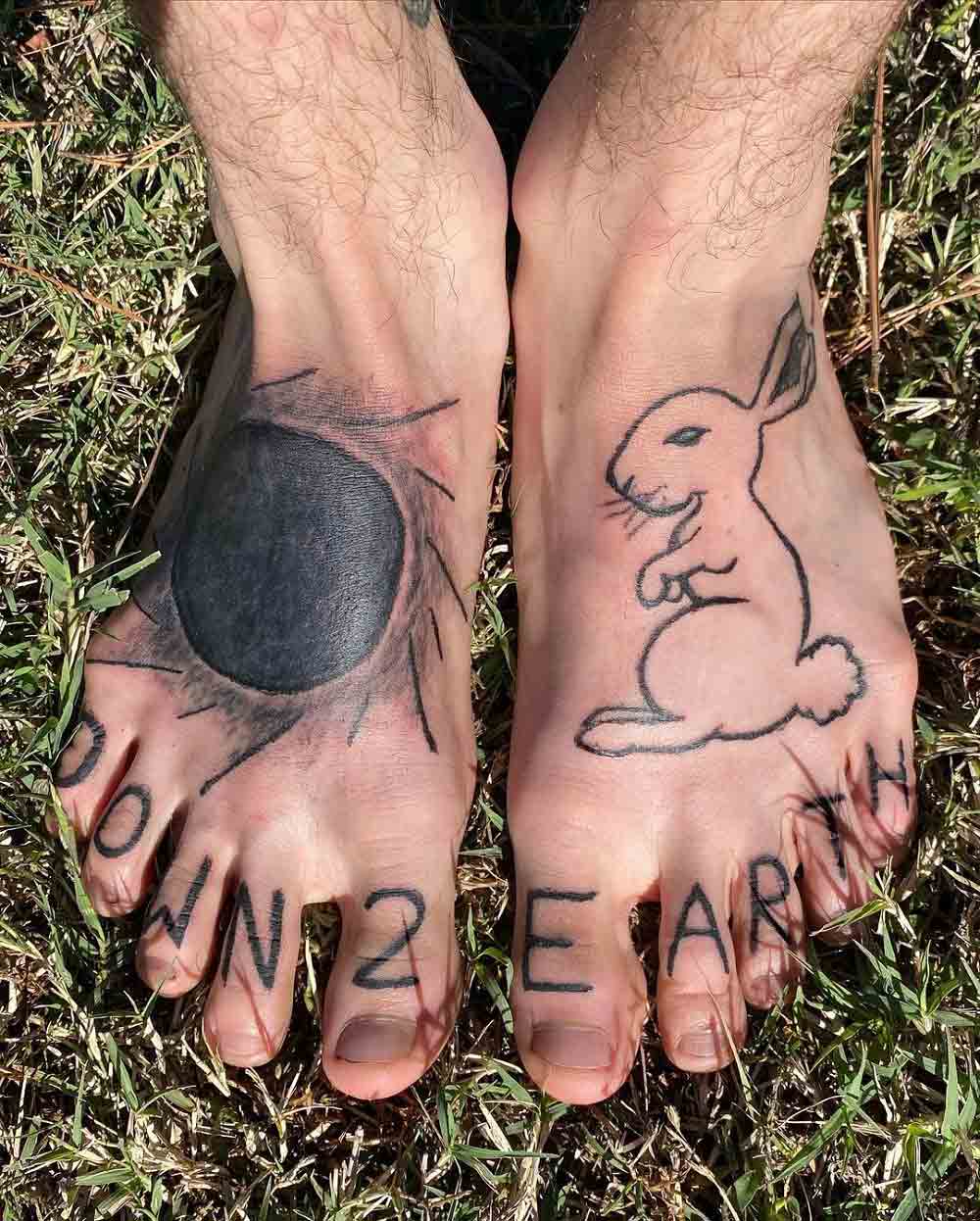 30.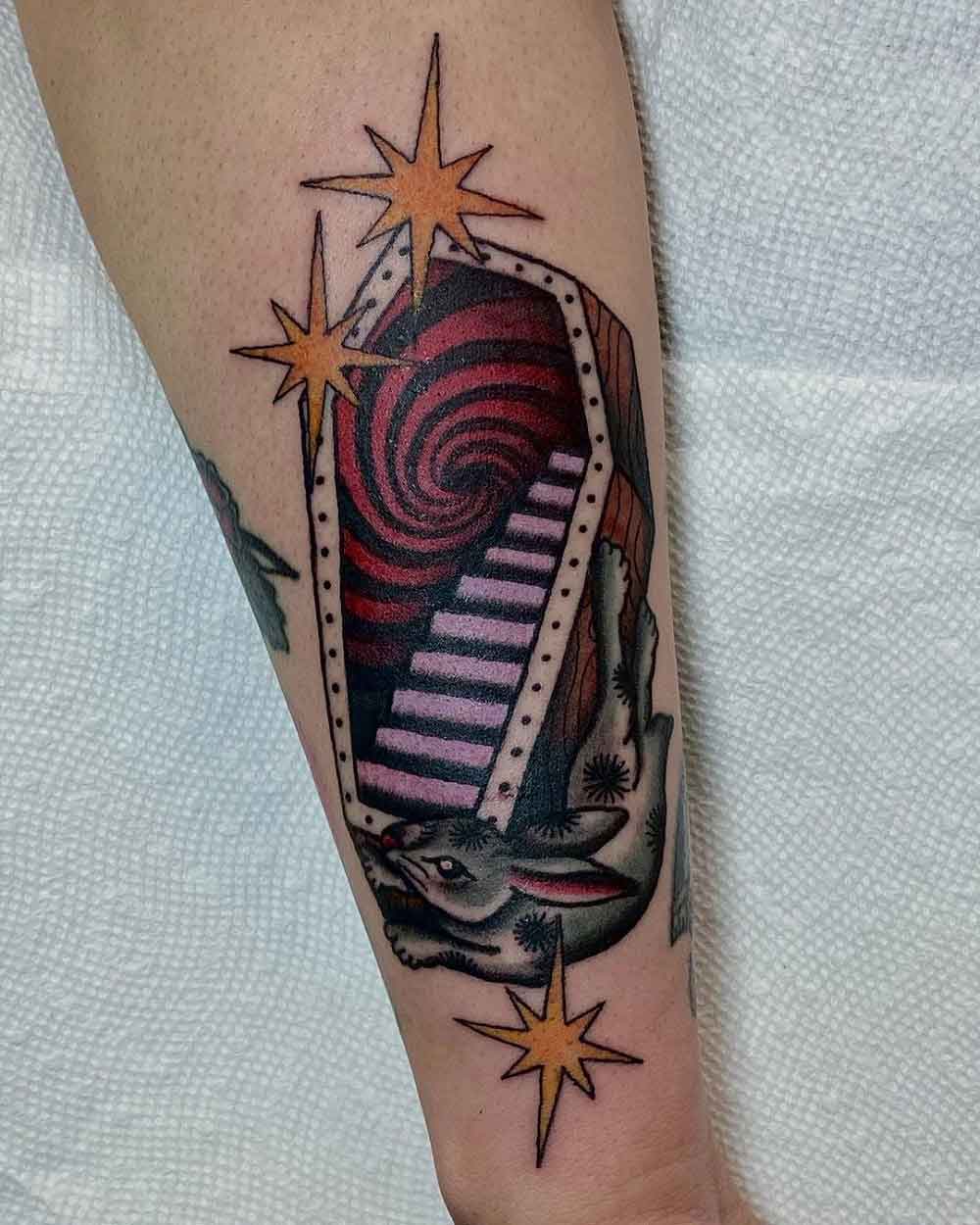 31.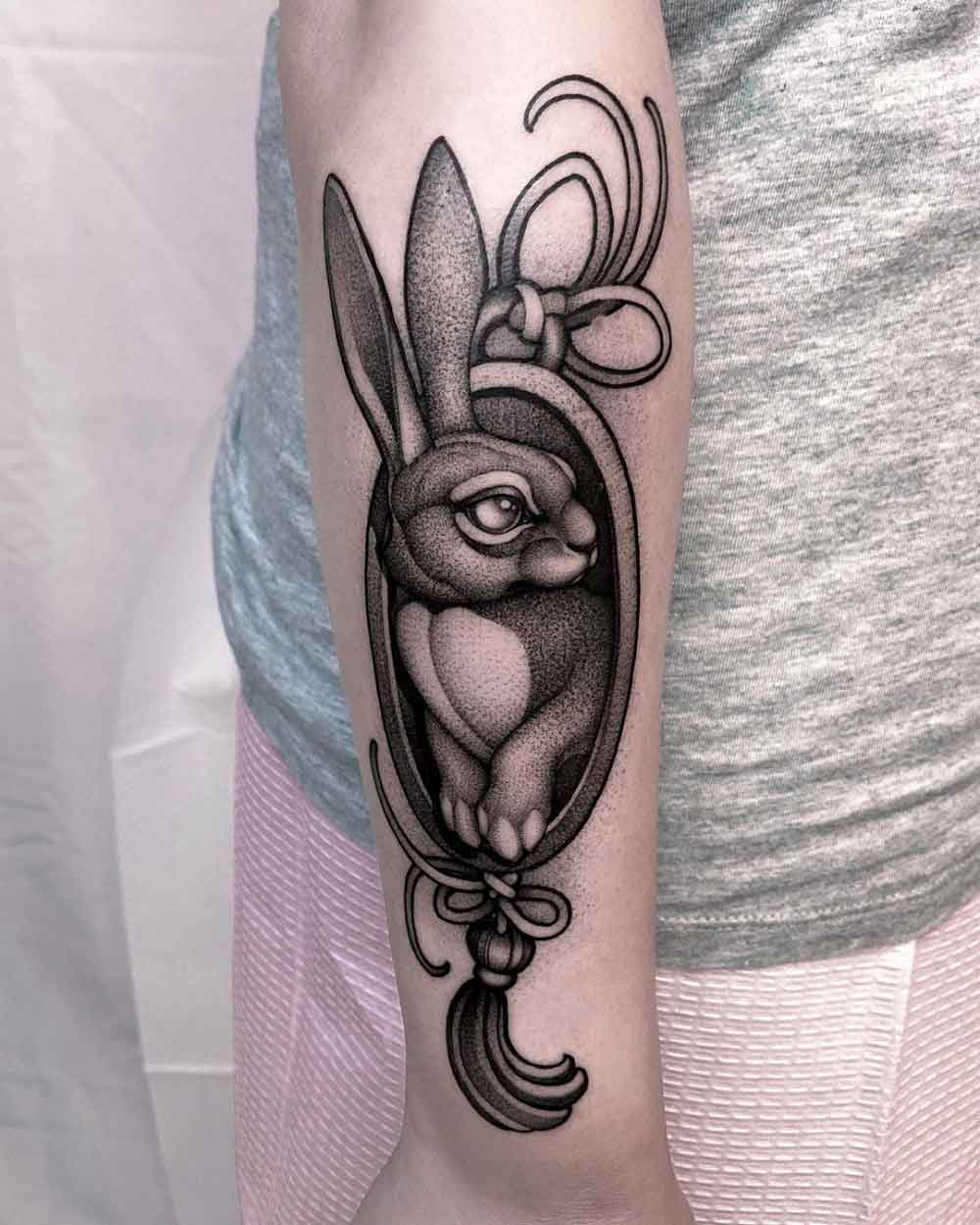 Dead Rabbit Tattoo
32.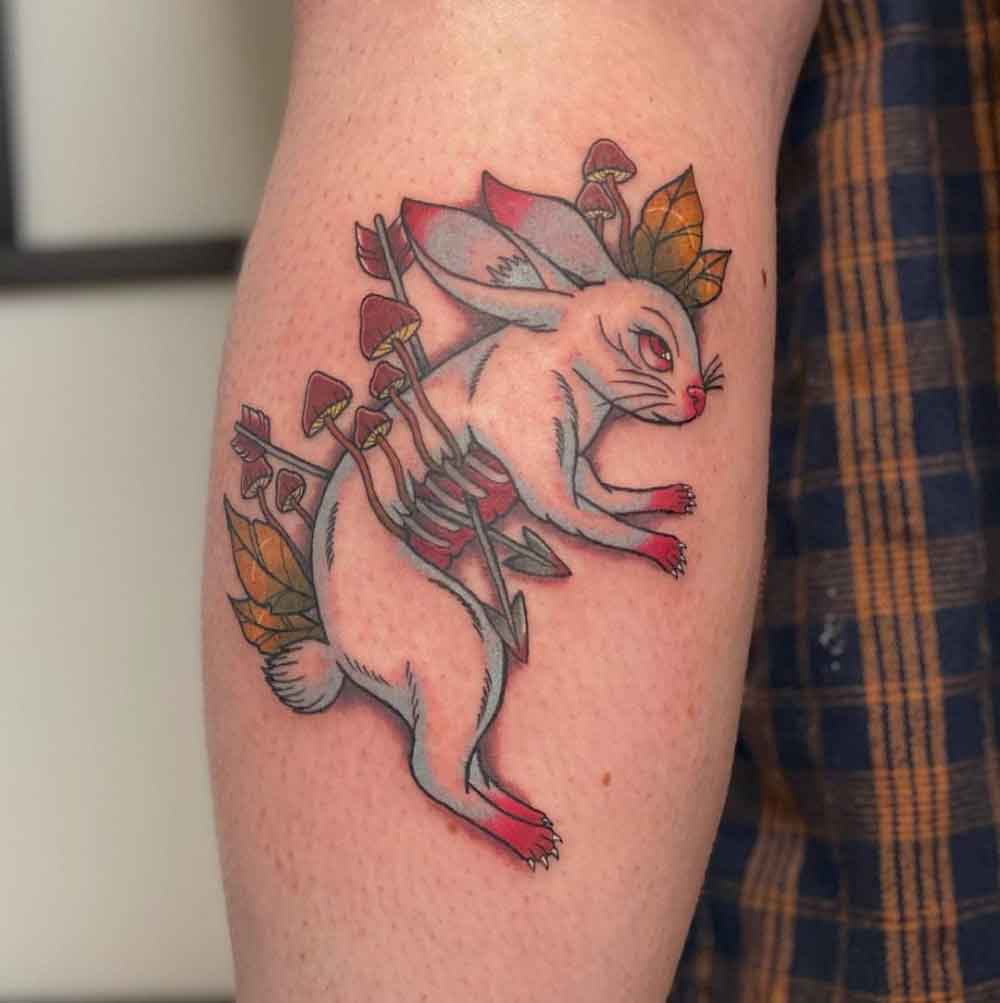 33.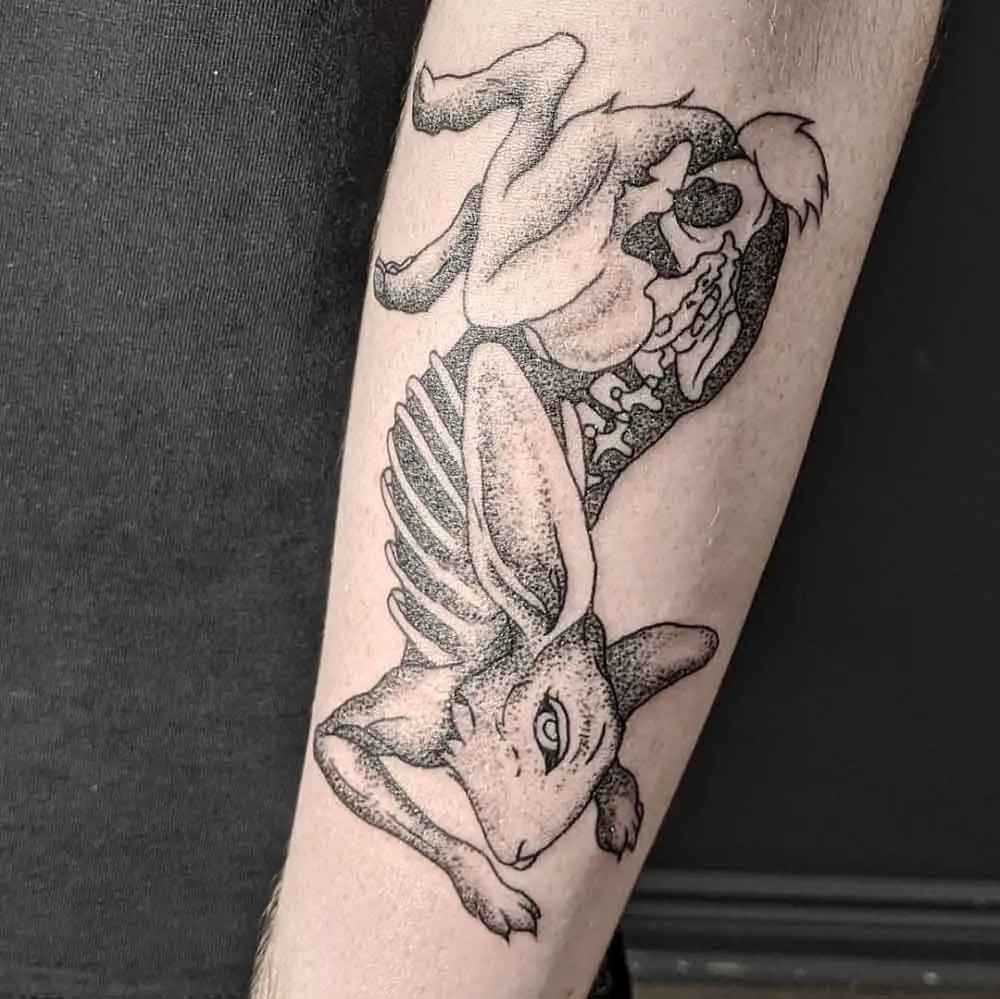 34.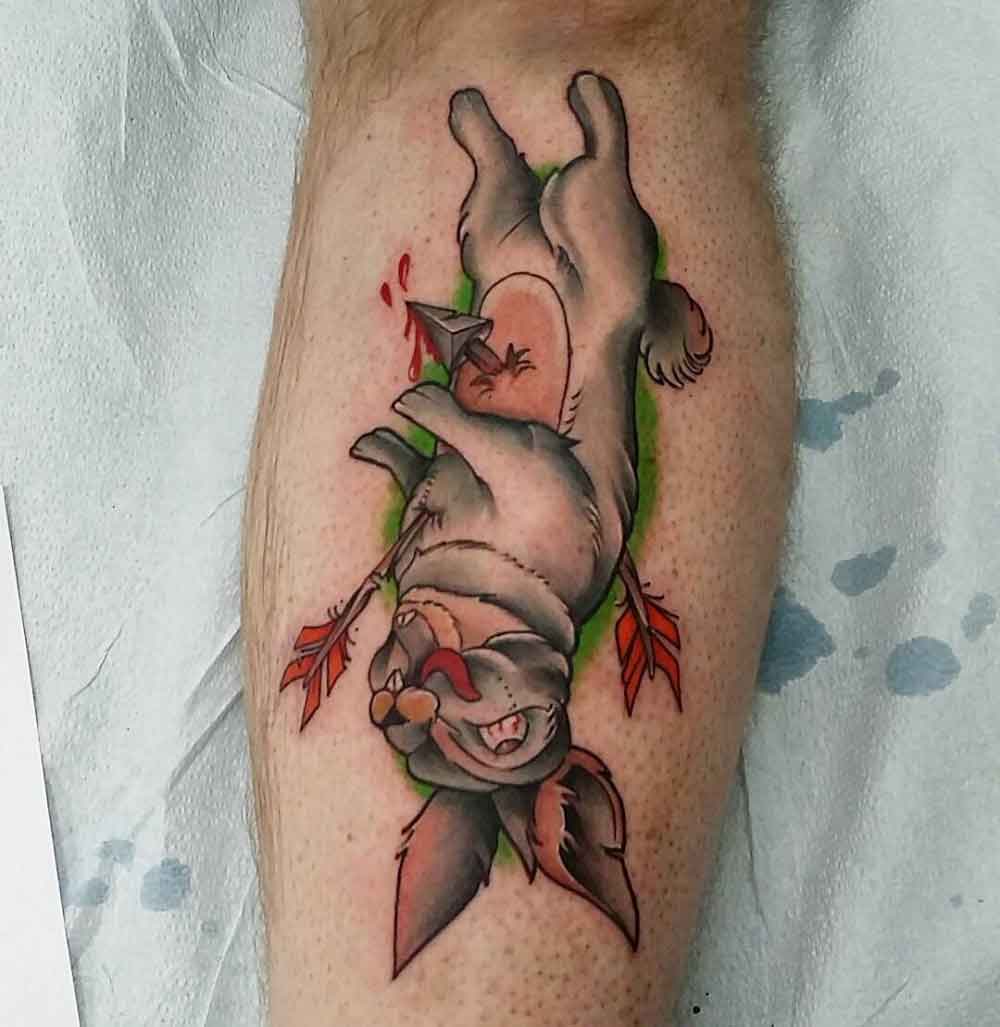 Rabbit Skull Tattoo
35.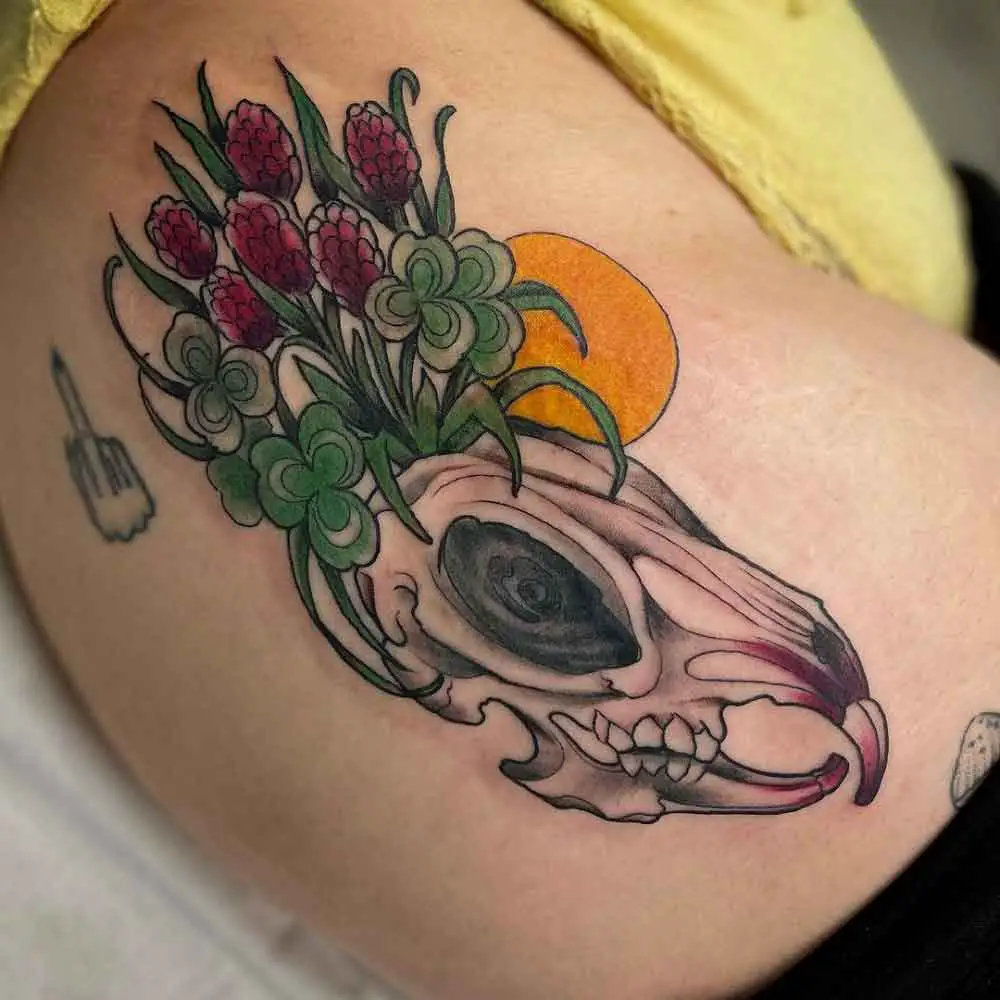 36.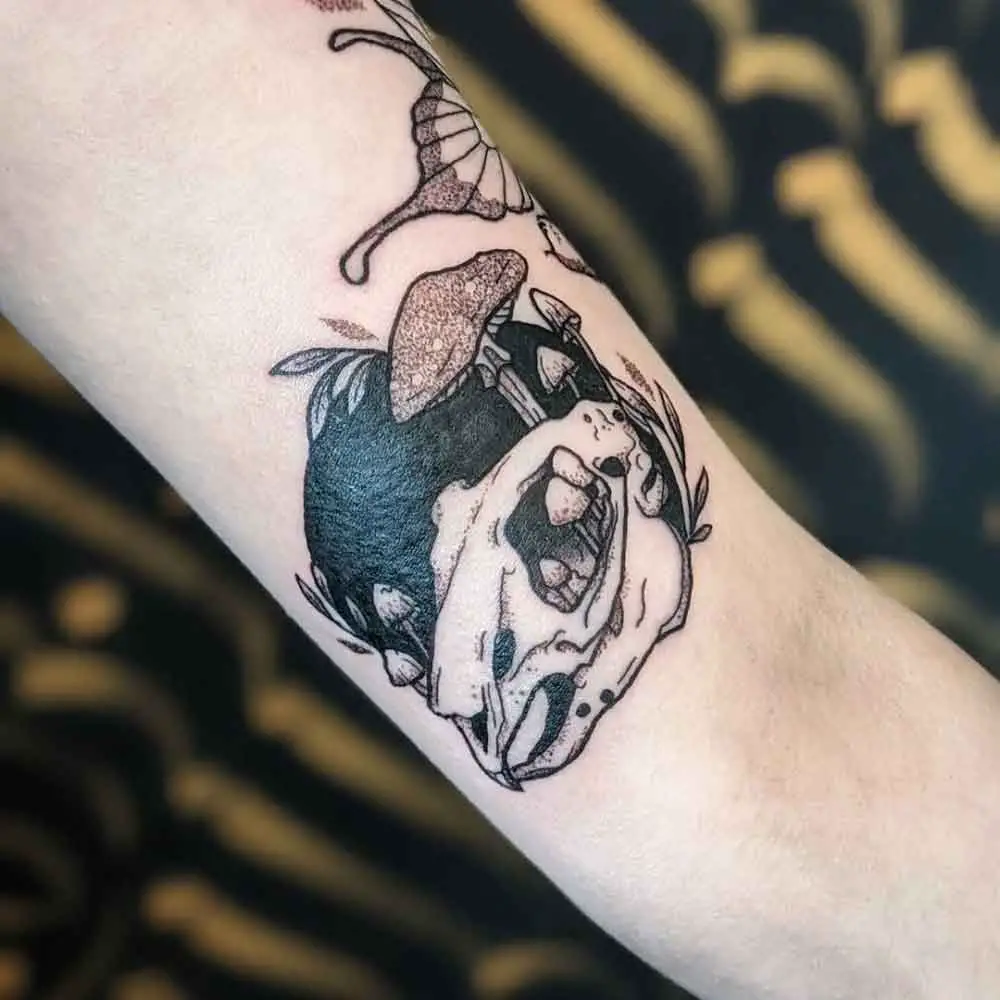 37.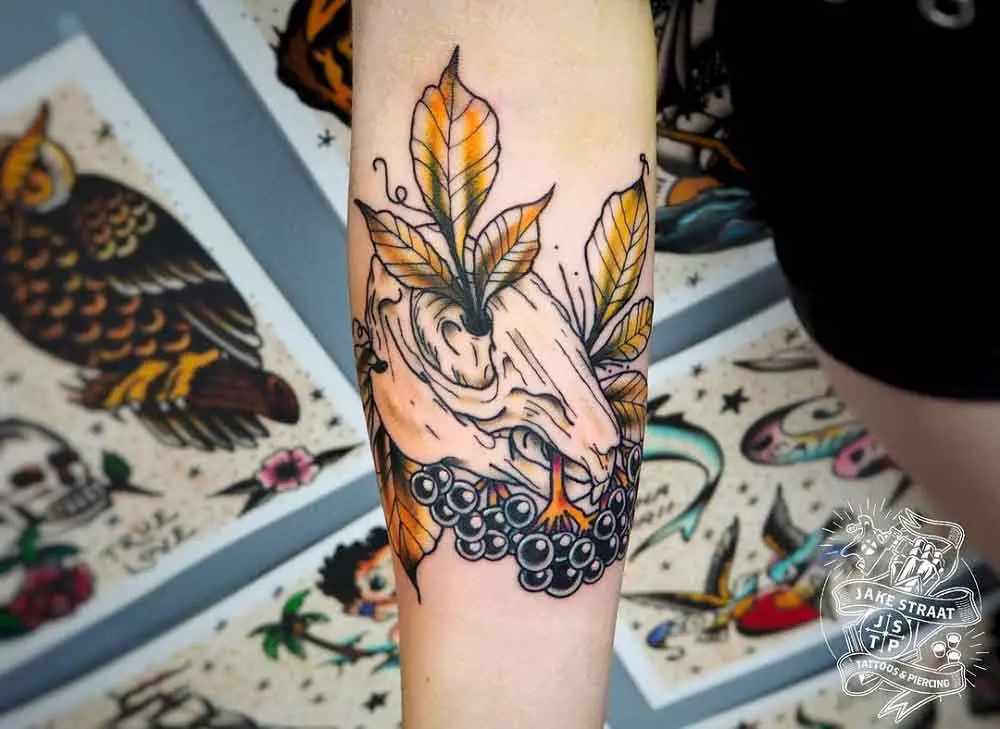 Tribal Rabbit Tattoo
38.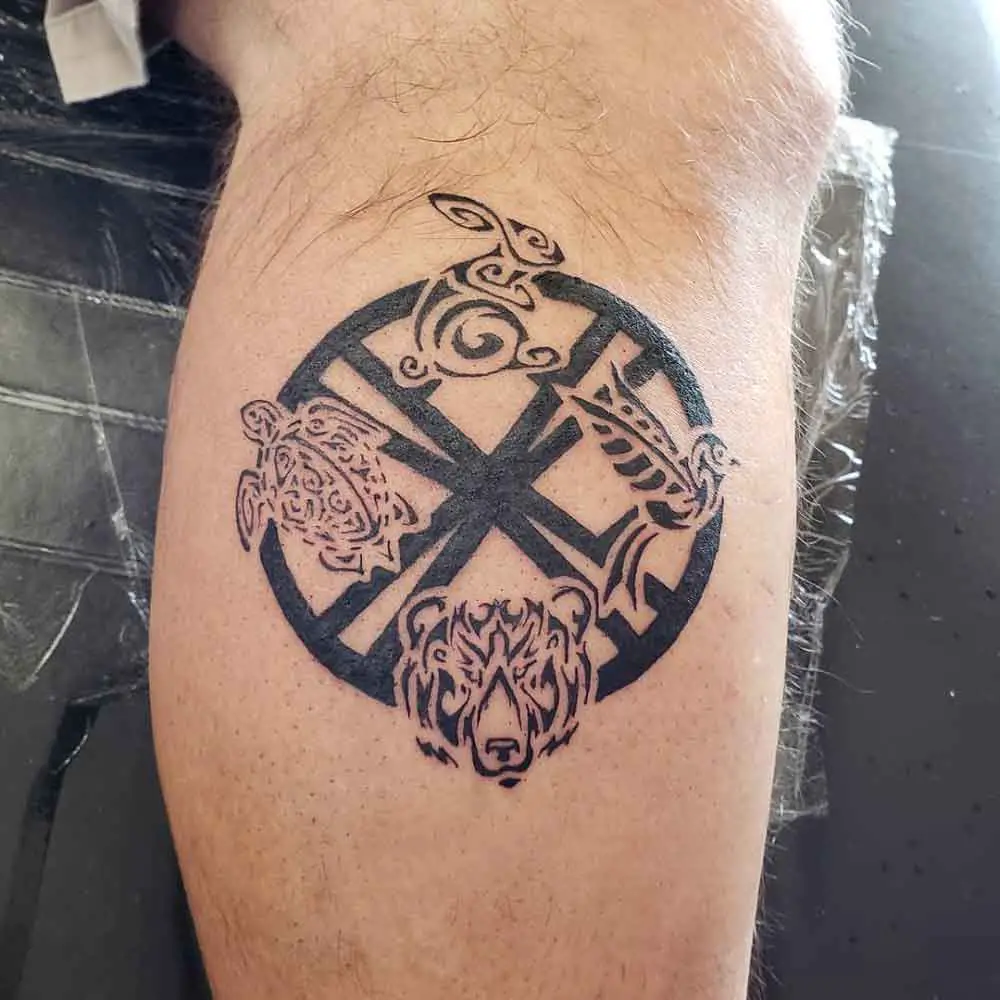 39.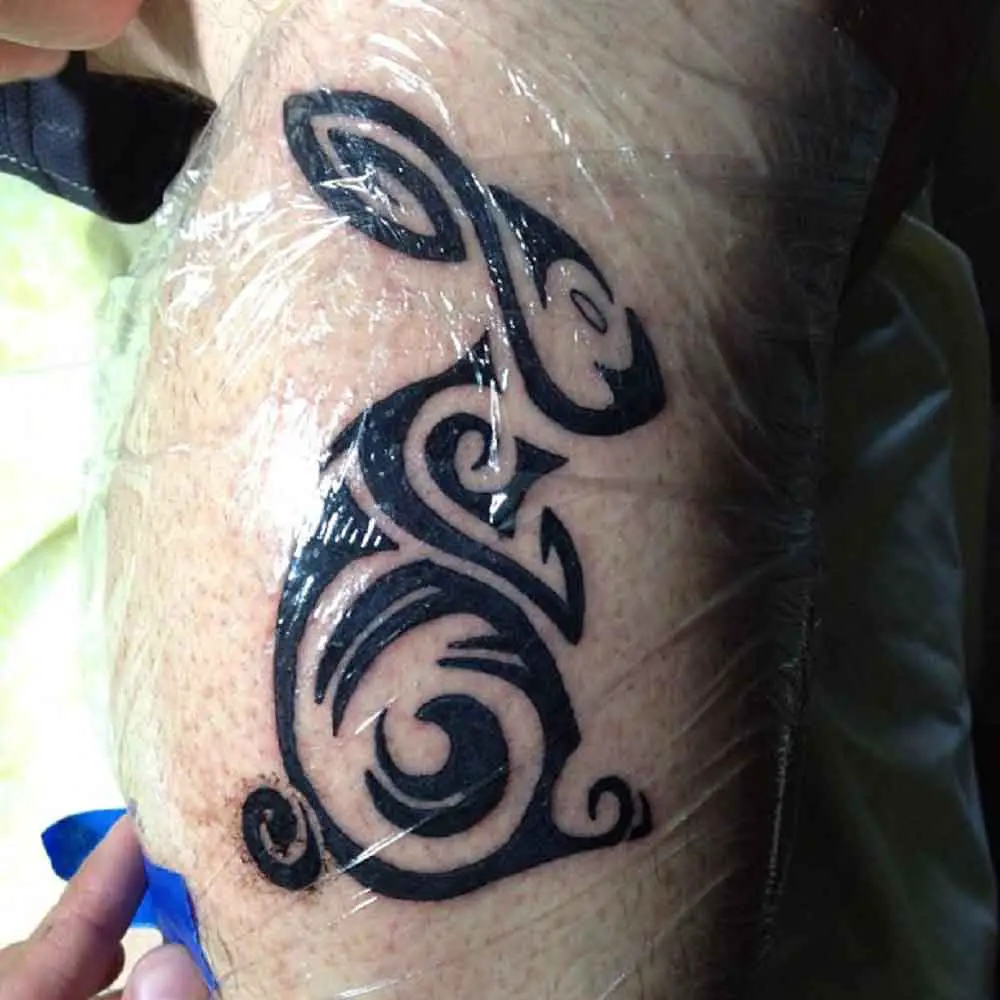 40.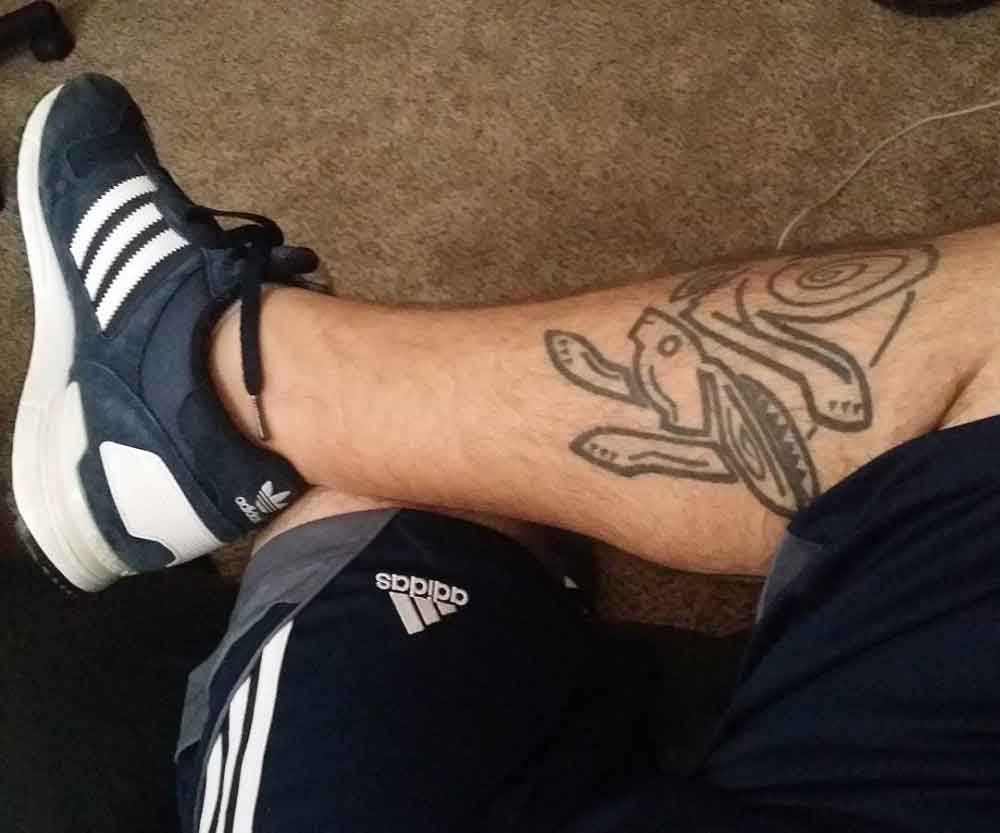 Alice In Wonderland Rabbit Tattoo
41.
42.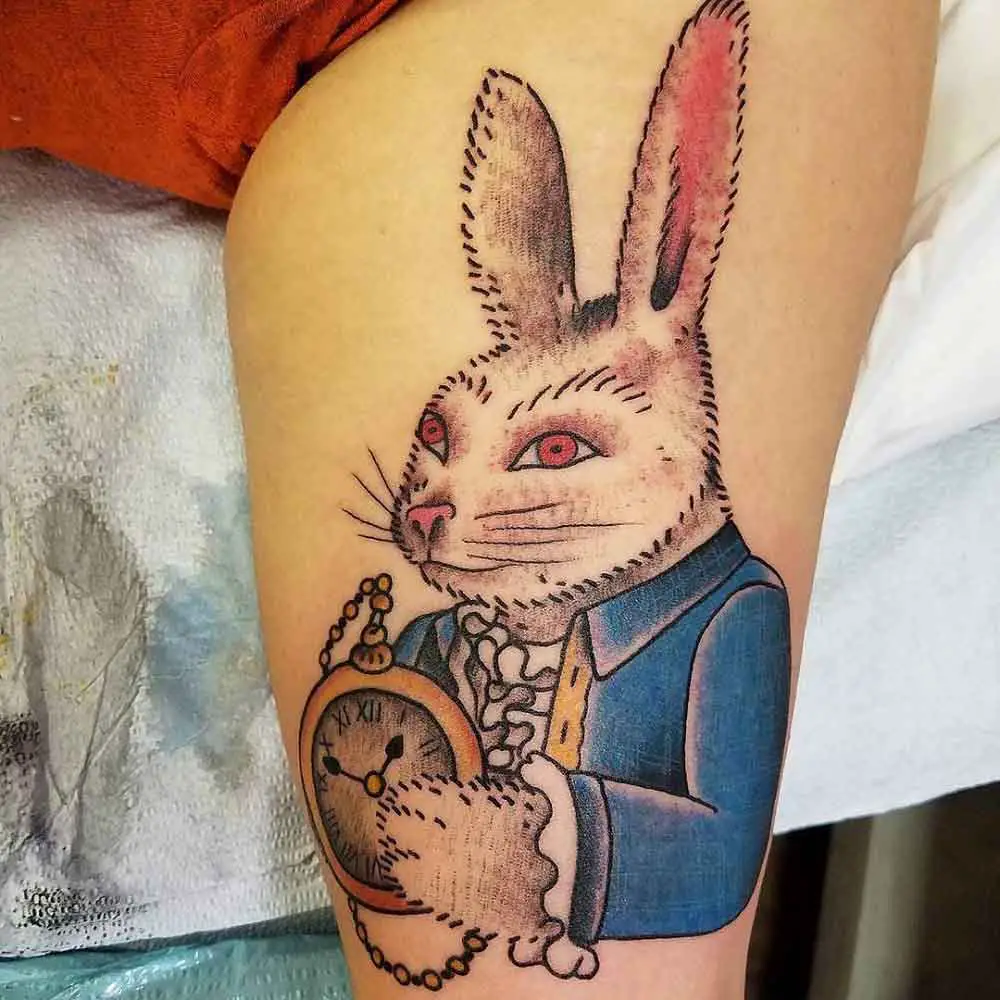 43.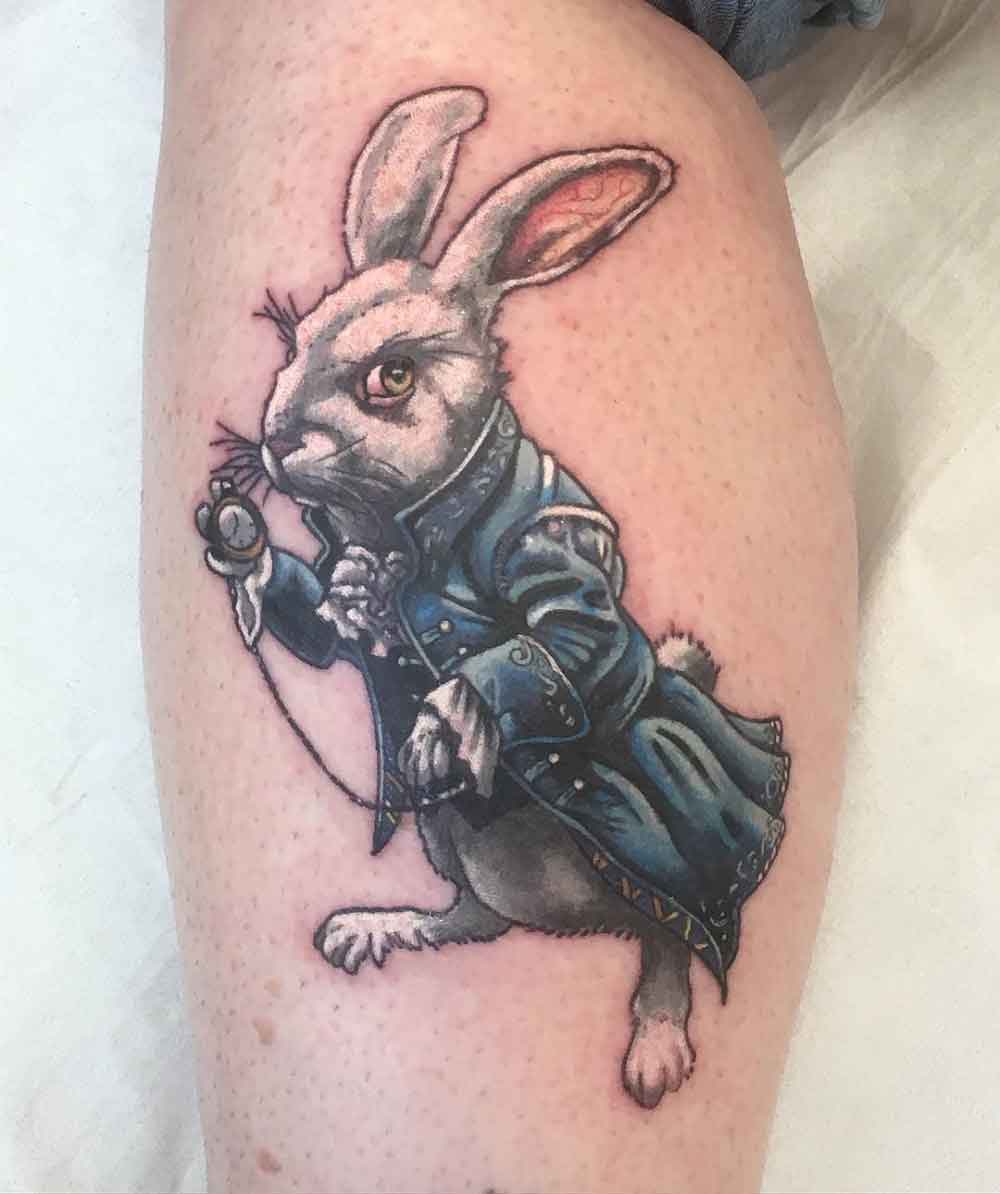 Peter Rabbit Tattoo
44.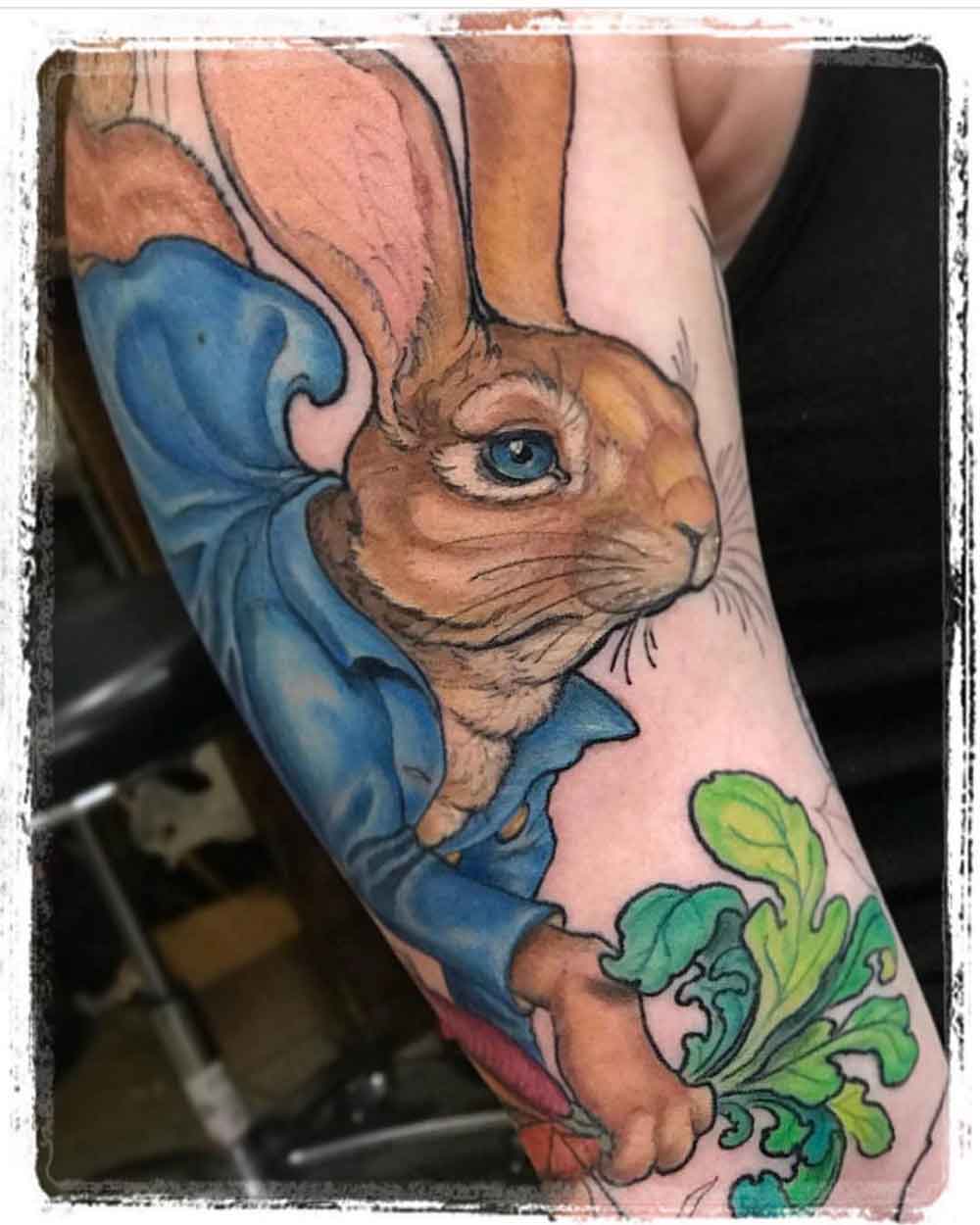 45.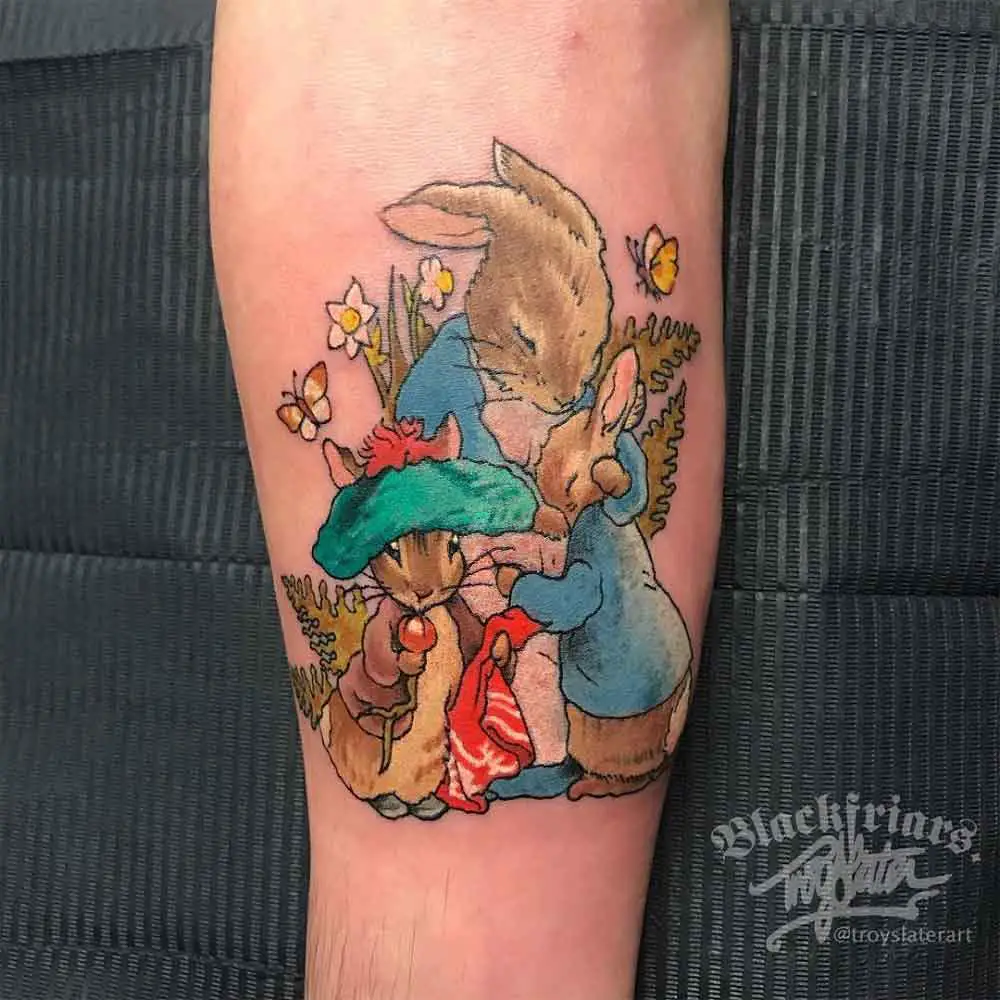 46.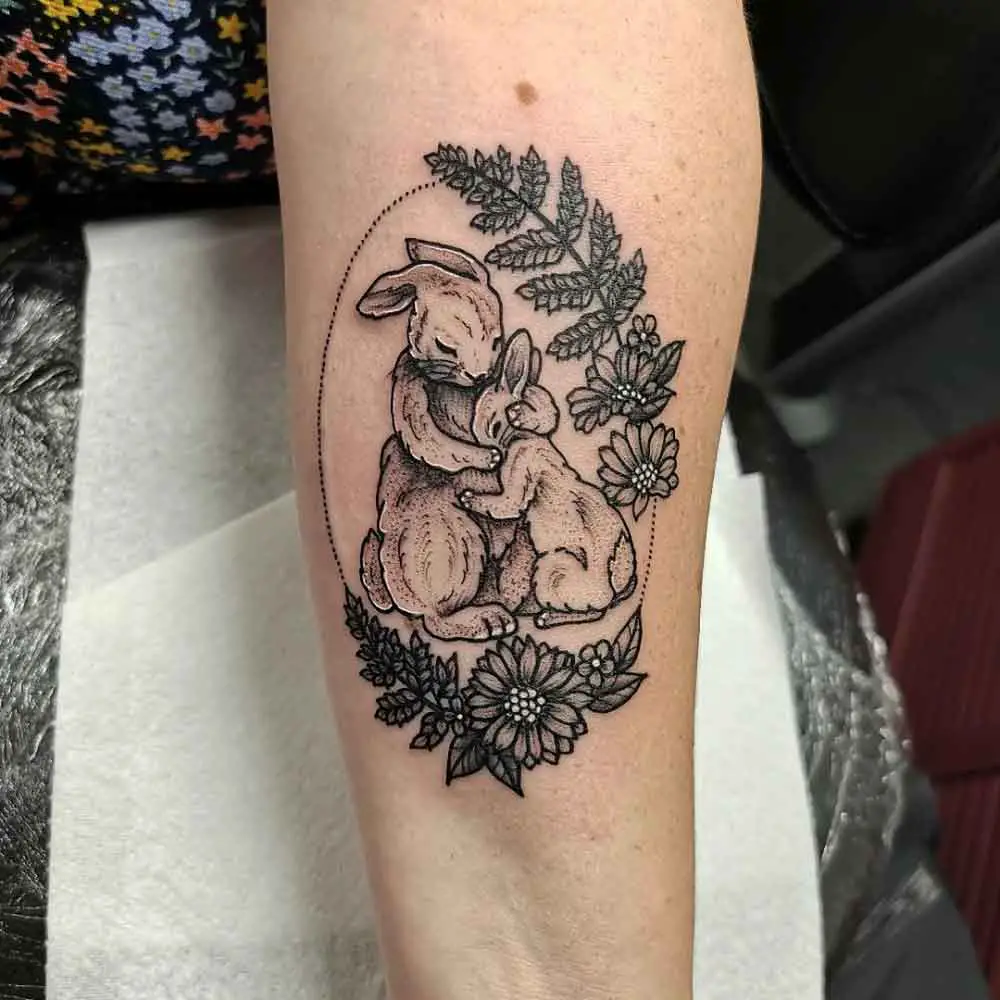 Small Rabbit Tattoo
47.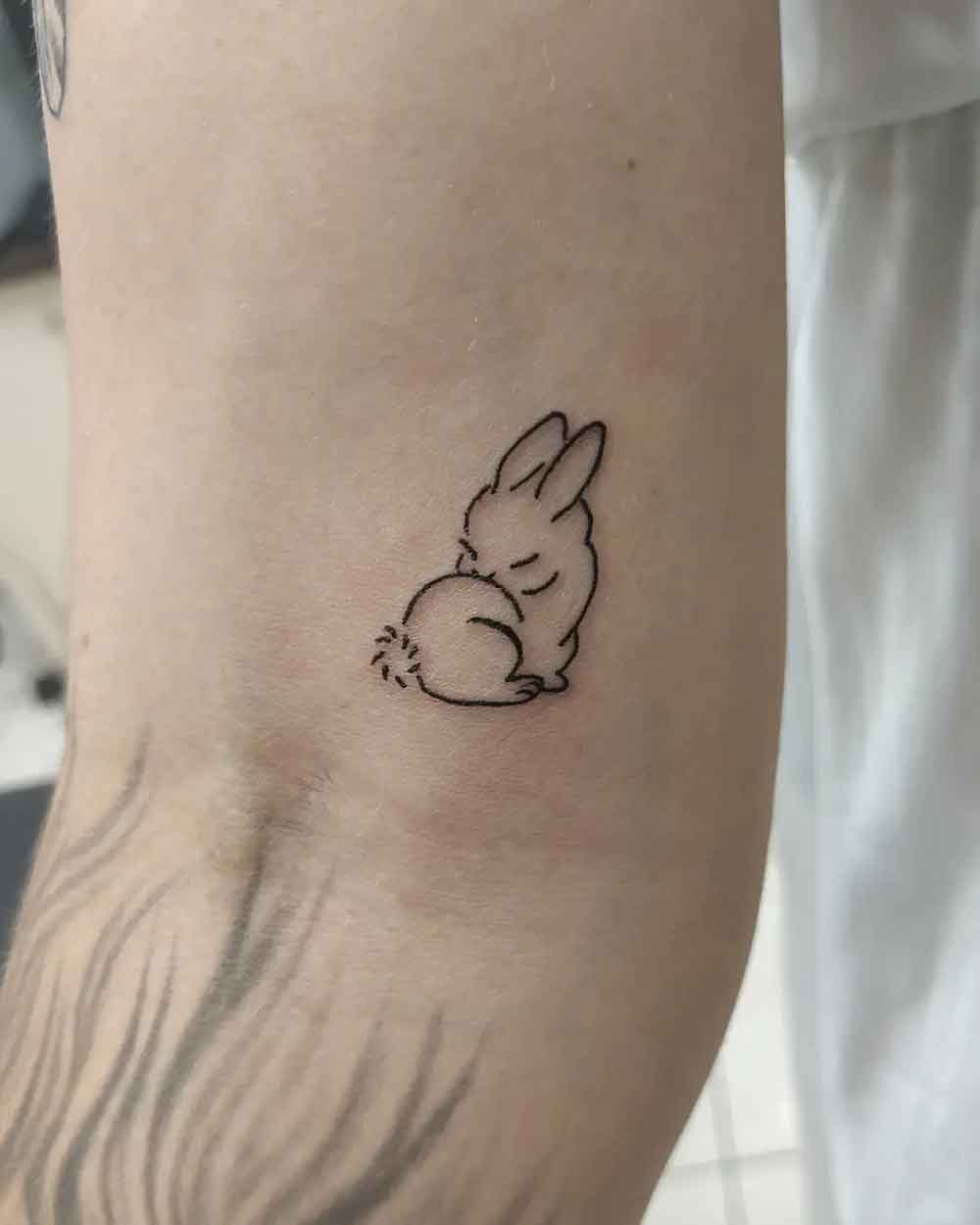 48.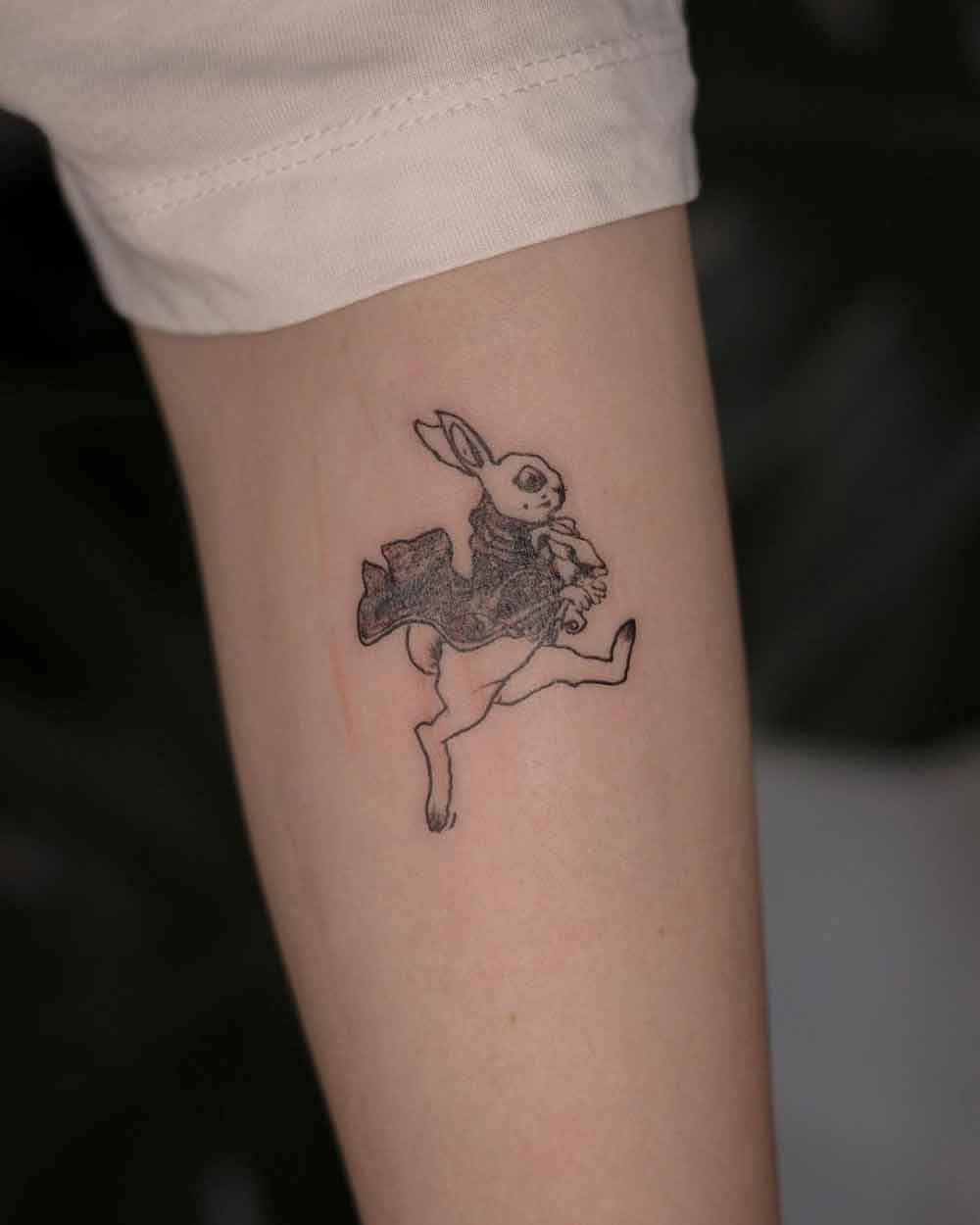 49.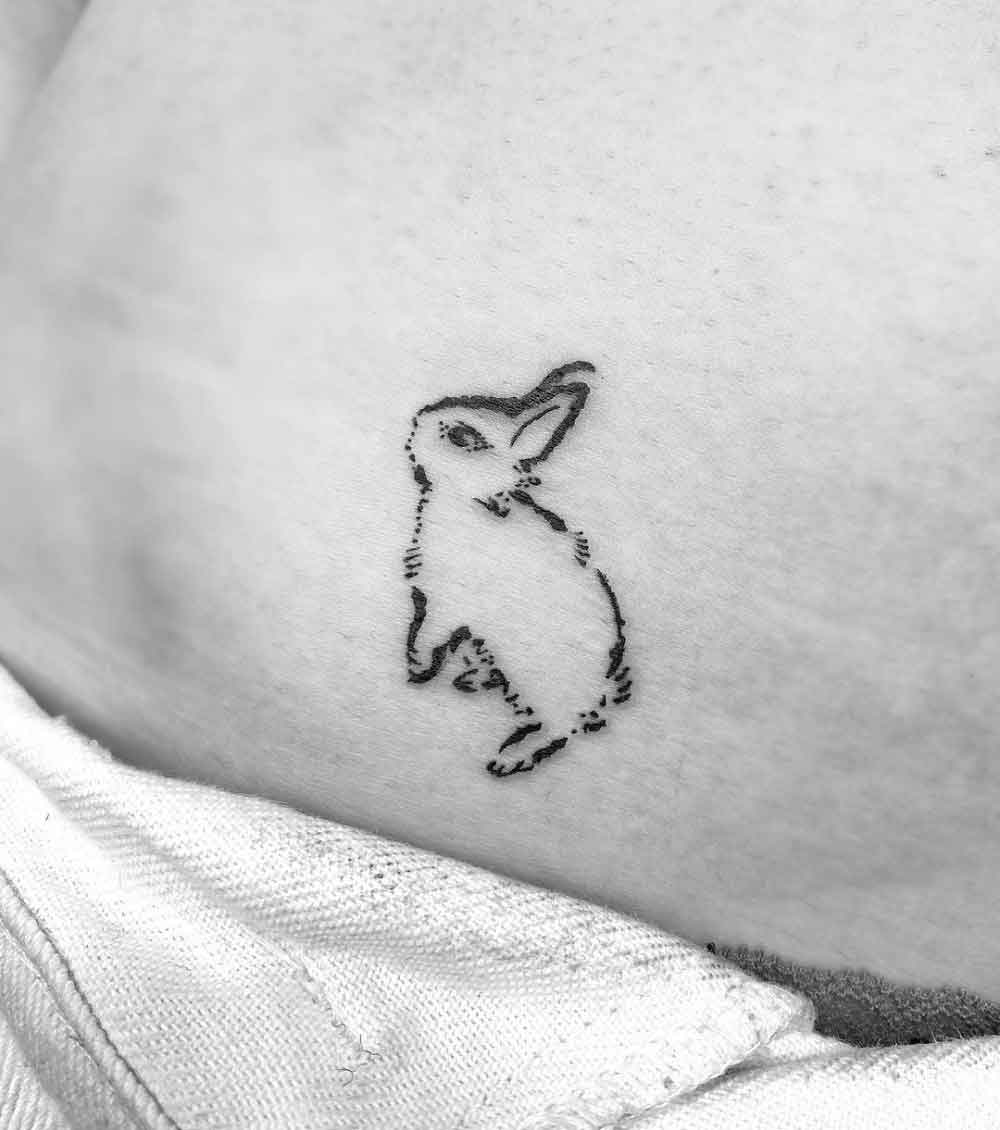 Donnie Darko Rabbit Tattoo
50.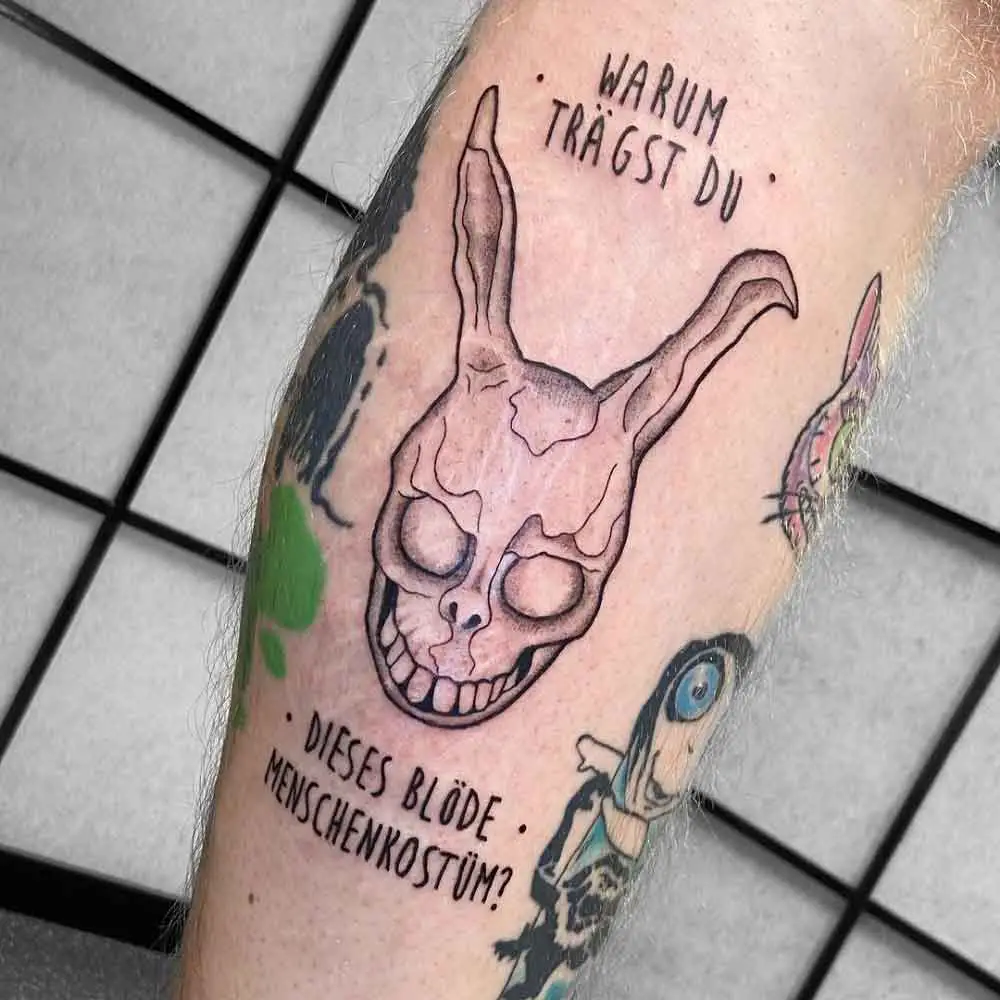 51.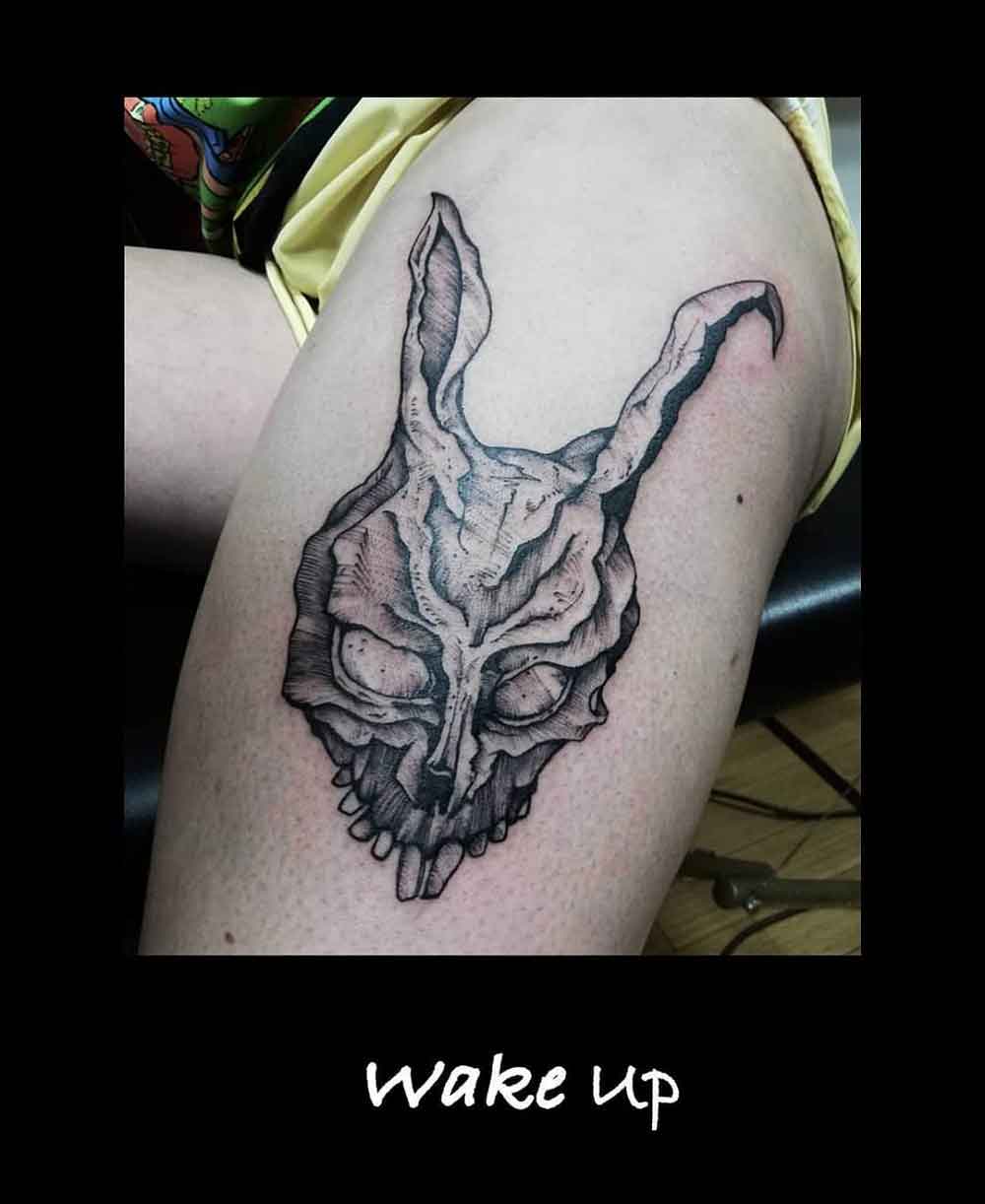 52.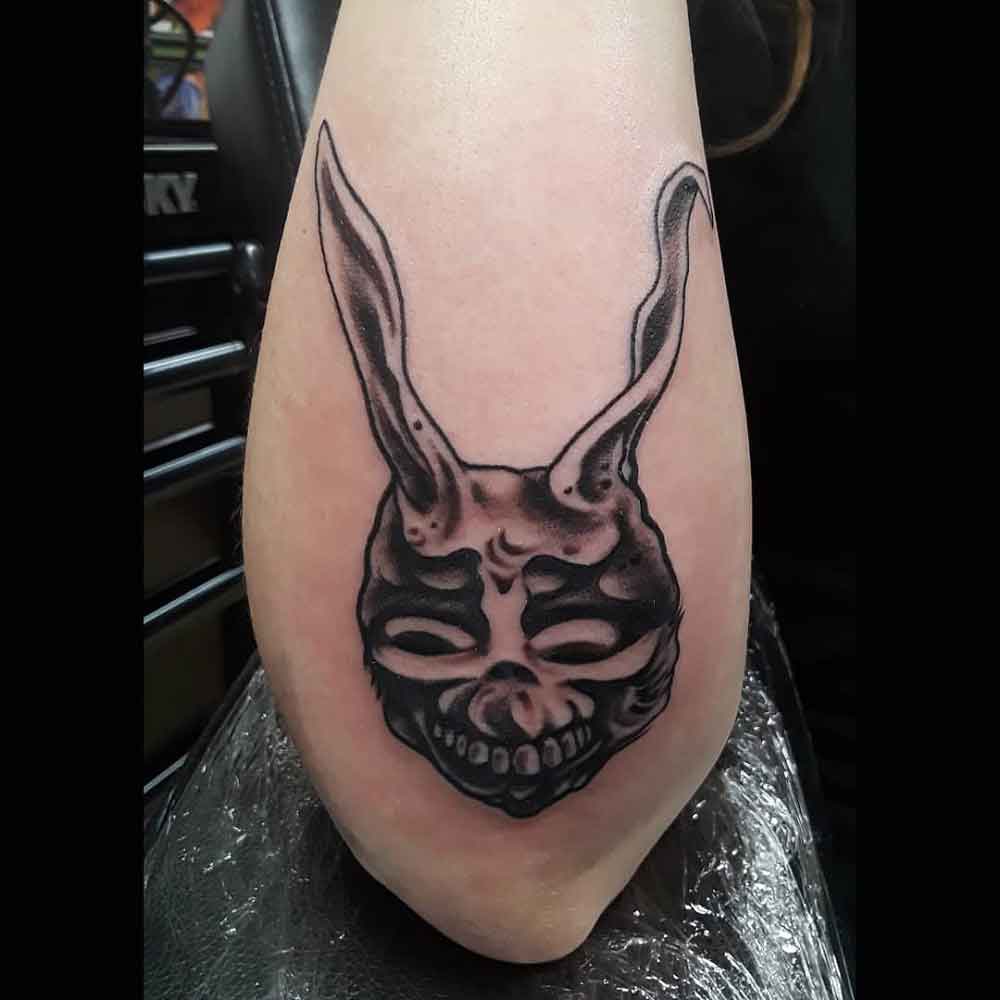 Frightened Rabbit Tattoo
53.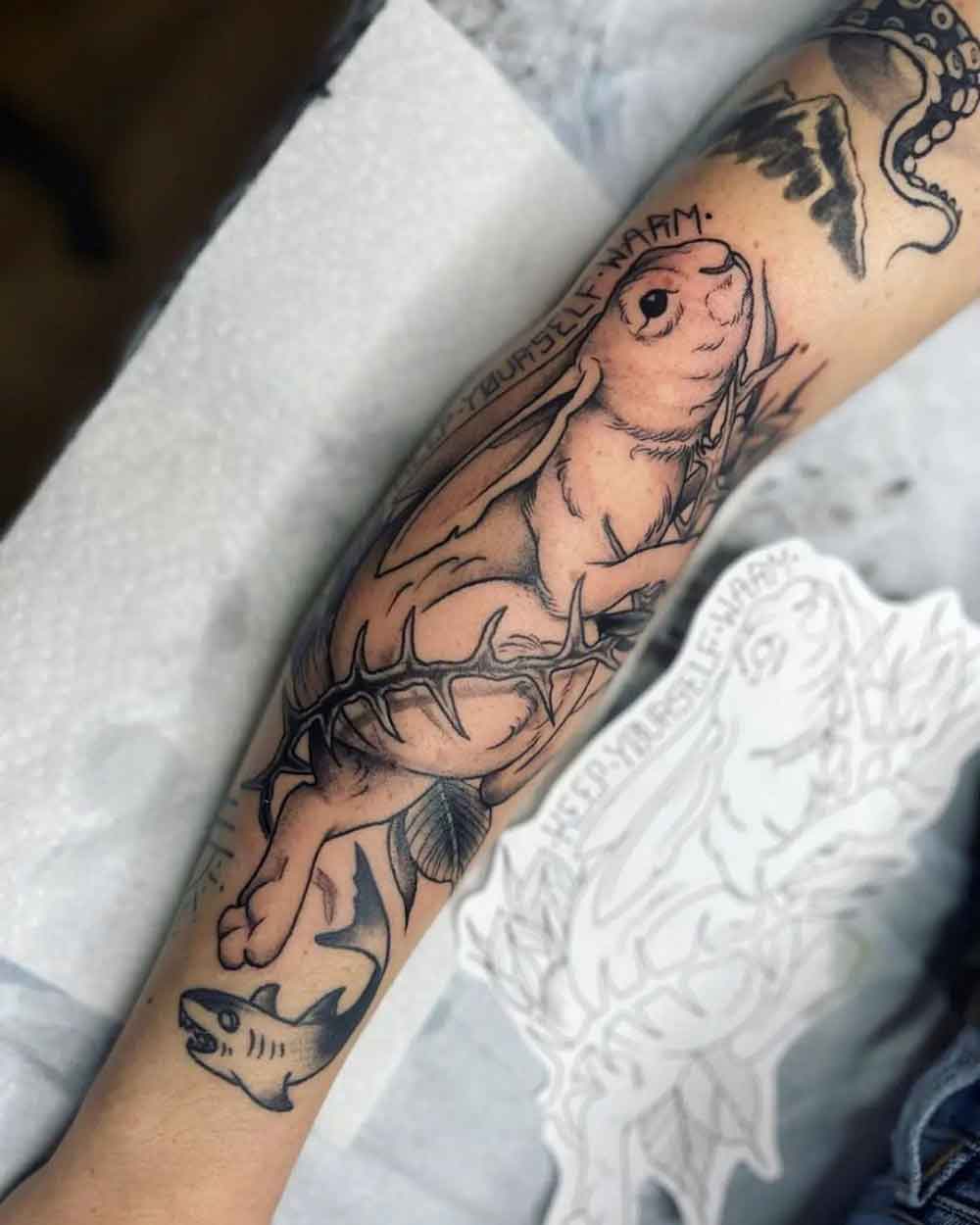 54.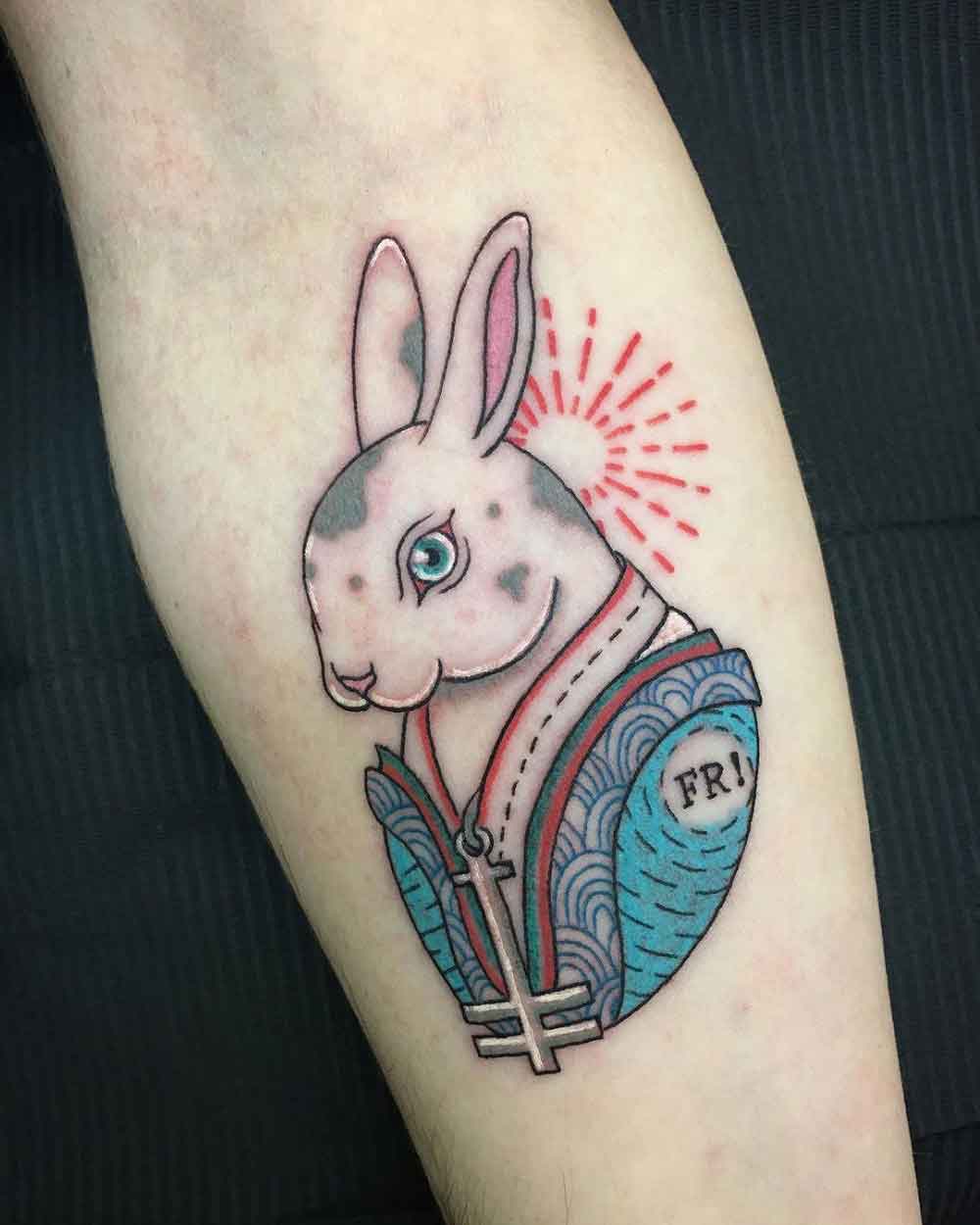 55.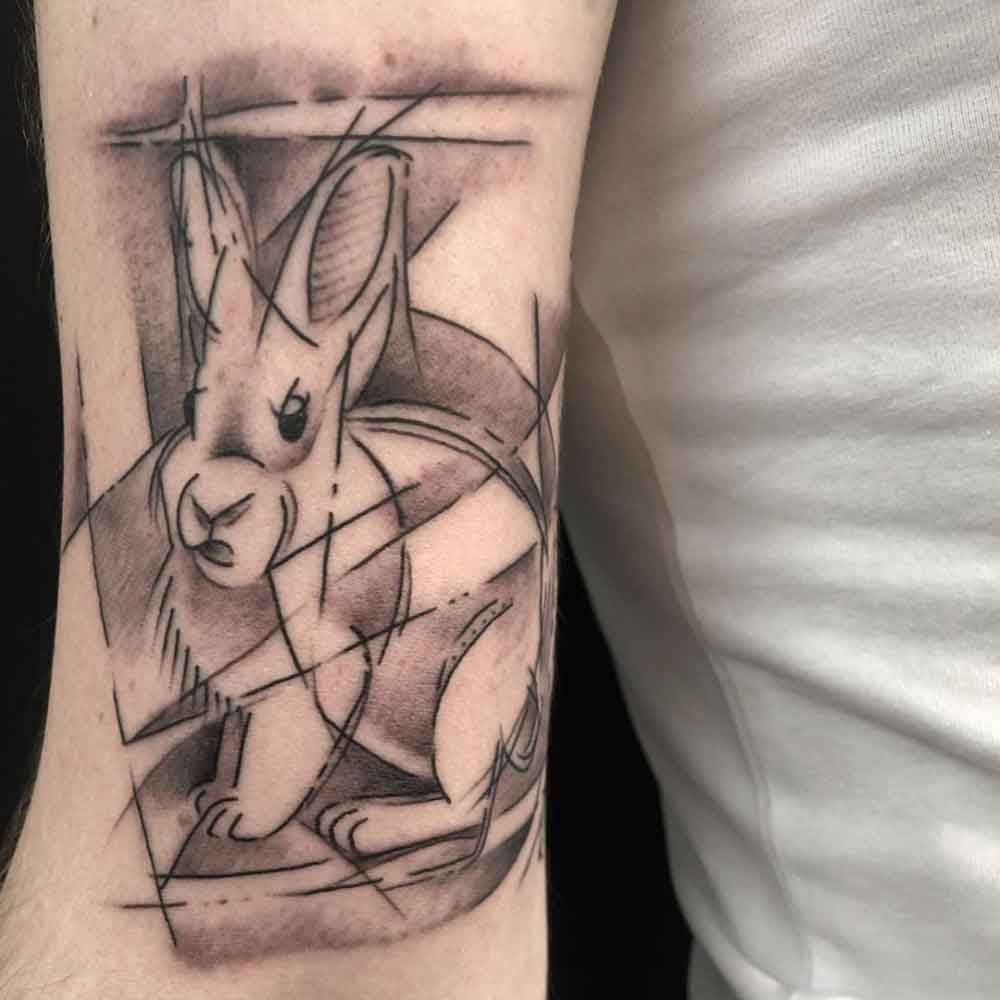 Geometric Rabbit Tattoo
56.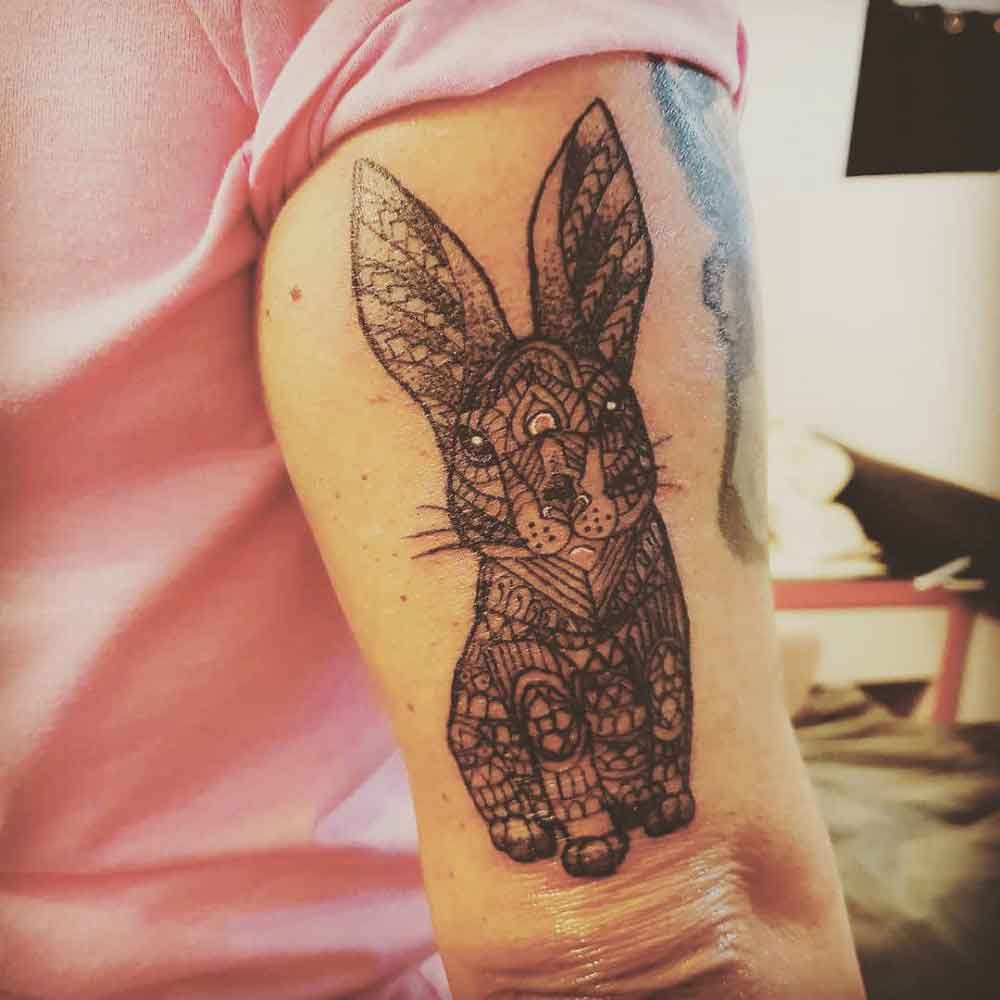 57.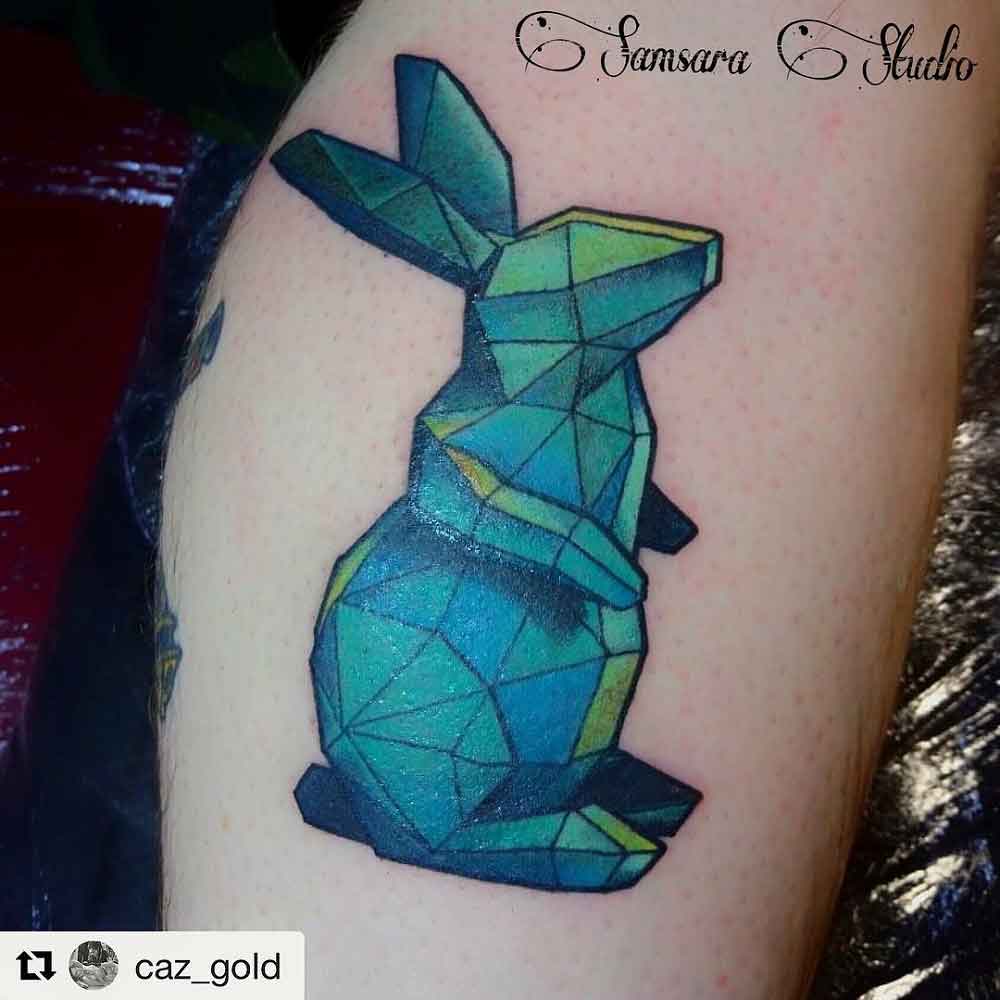 58.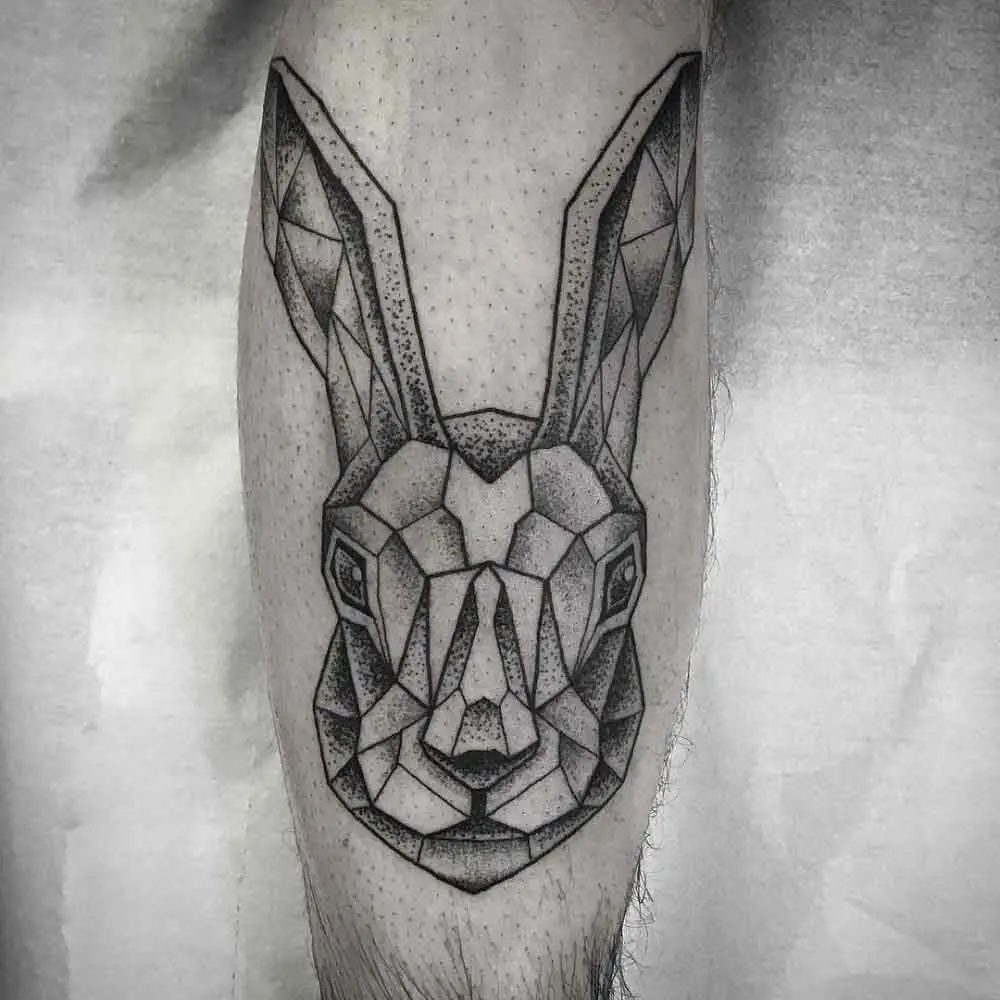 Minimalist Rabbit Tattoo
59.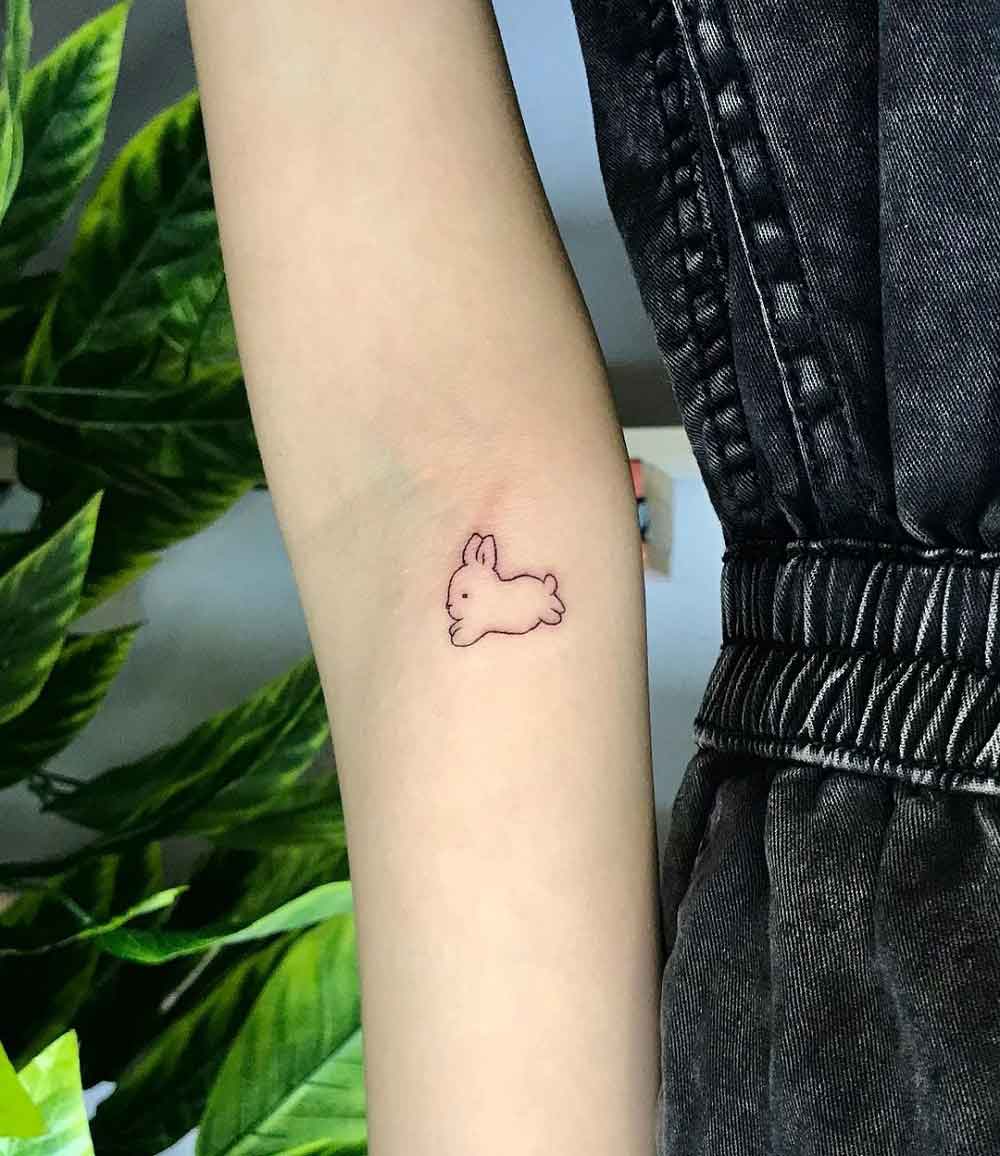 60.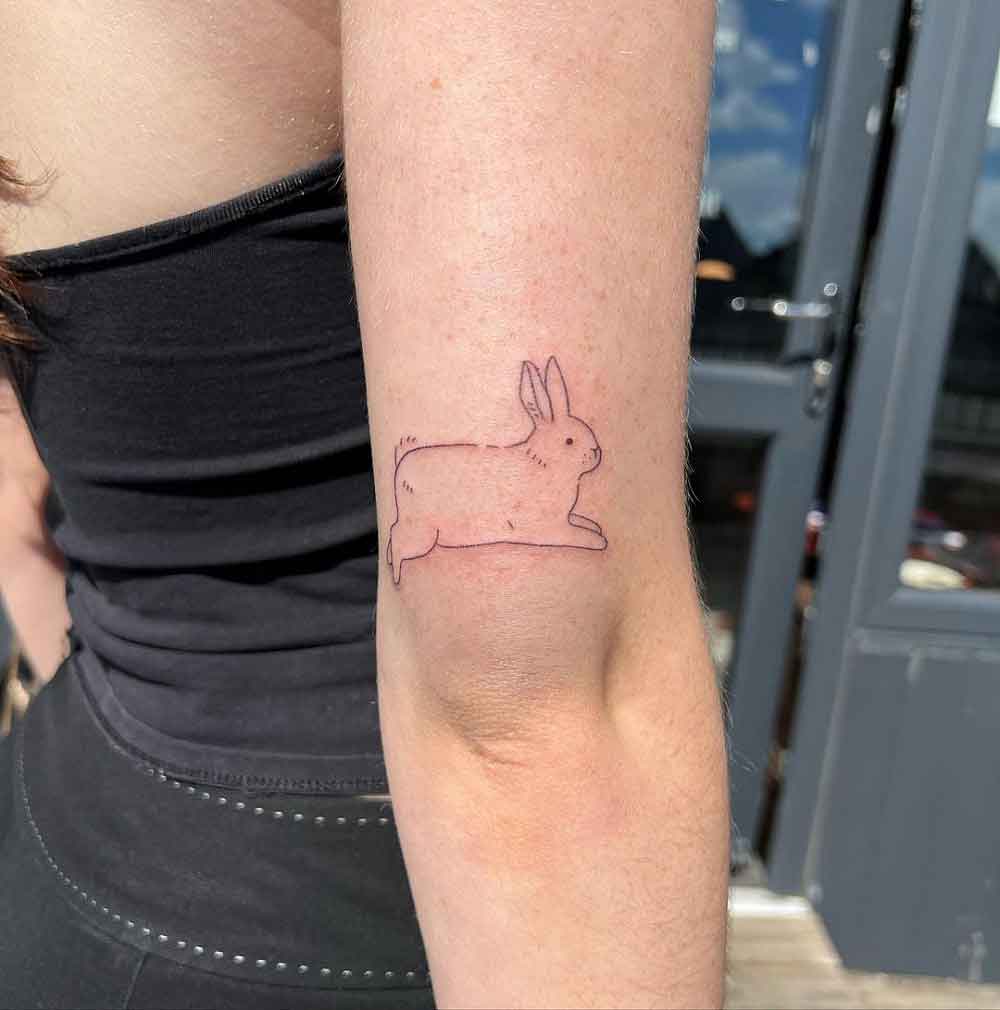 61.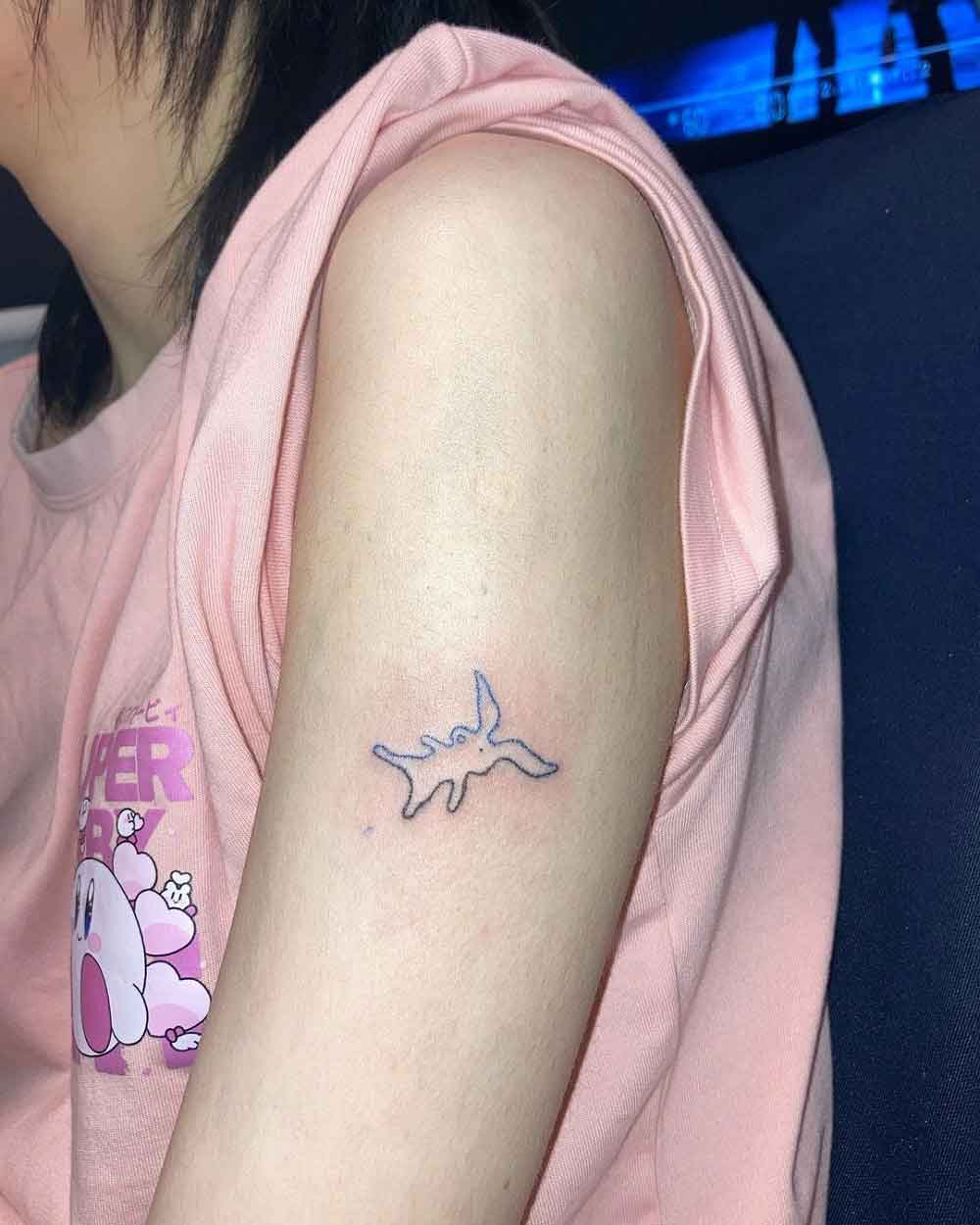 Bunny Rabbit Tattoo
62.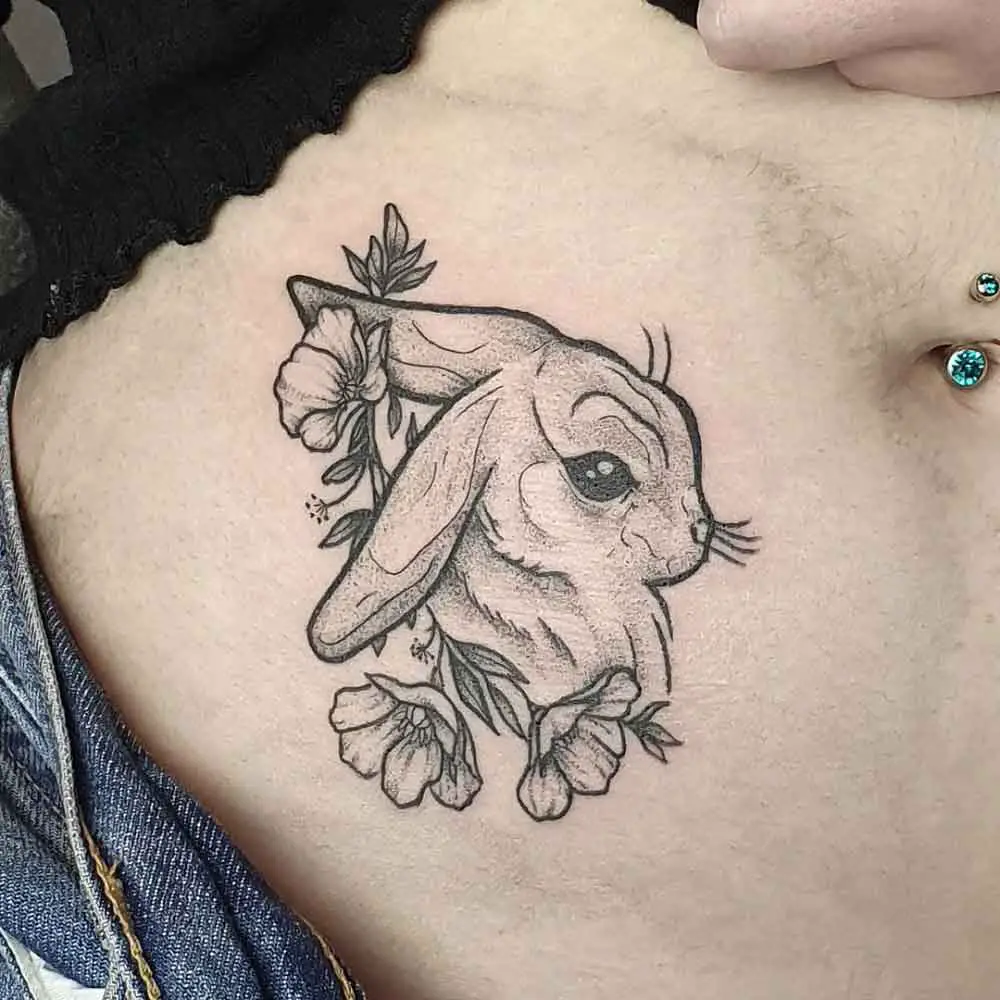 63.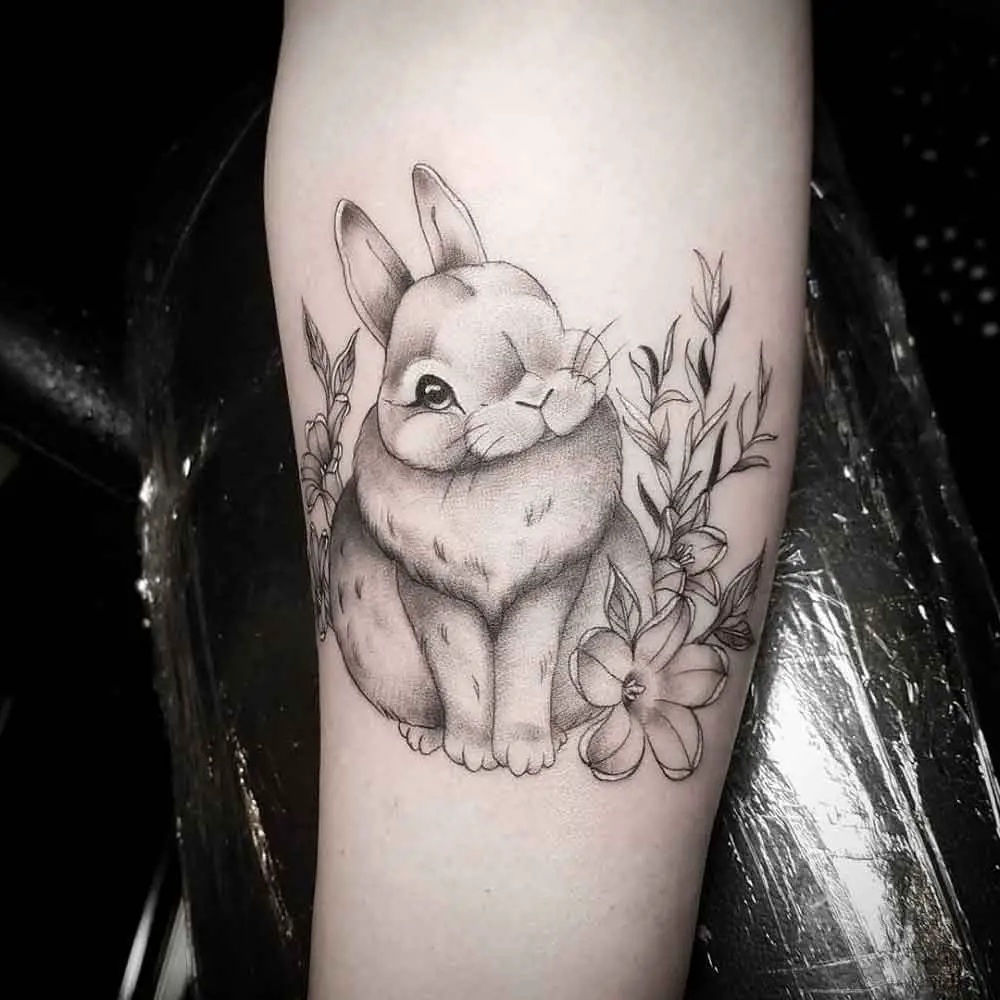 64.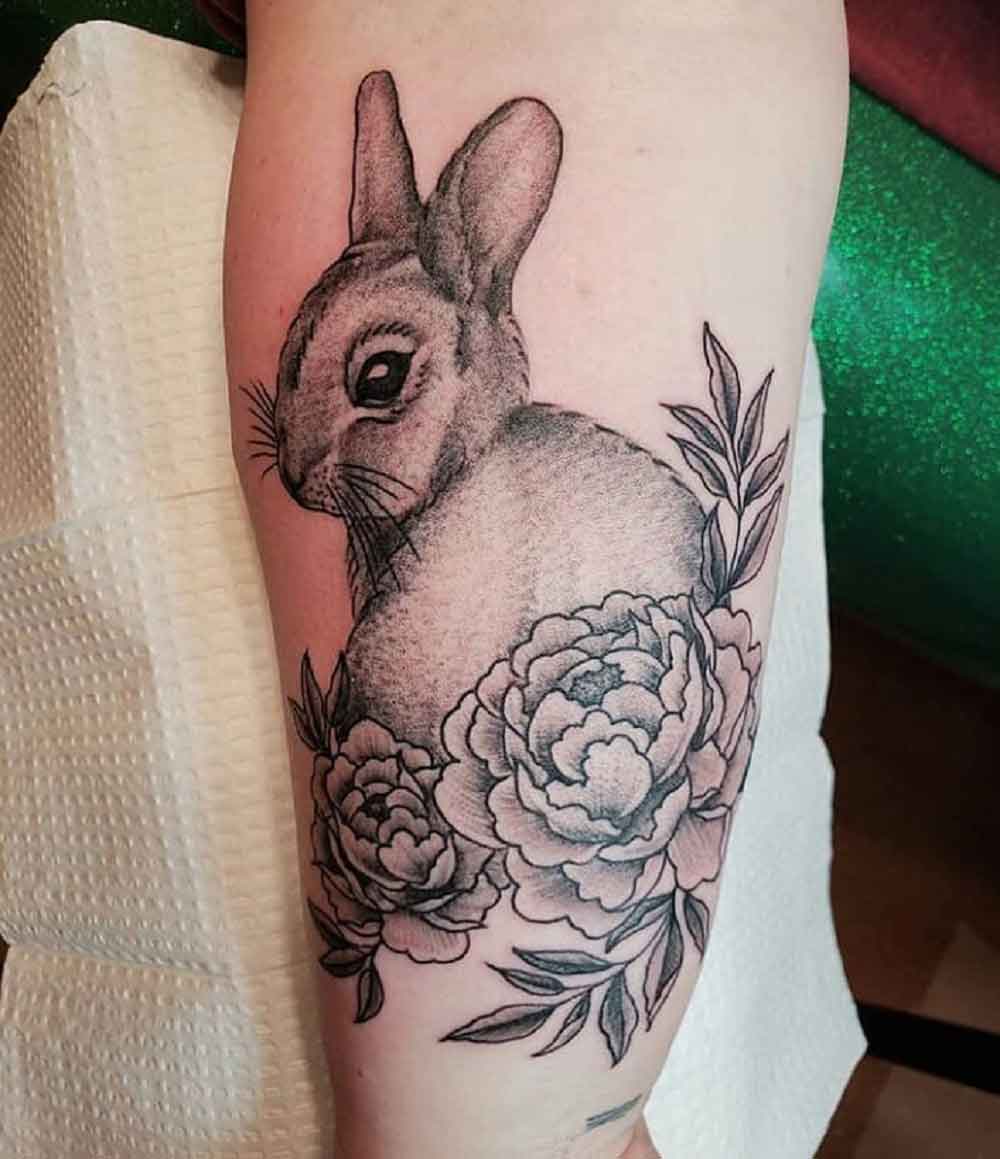 Evil Rabbit Tattoo
65.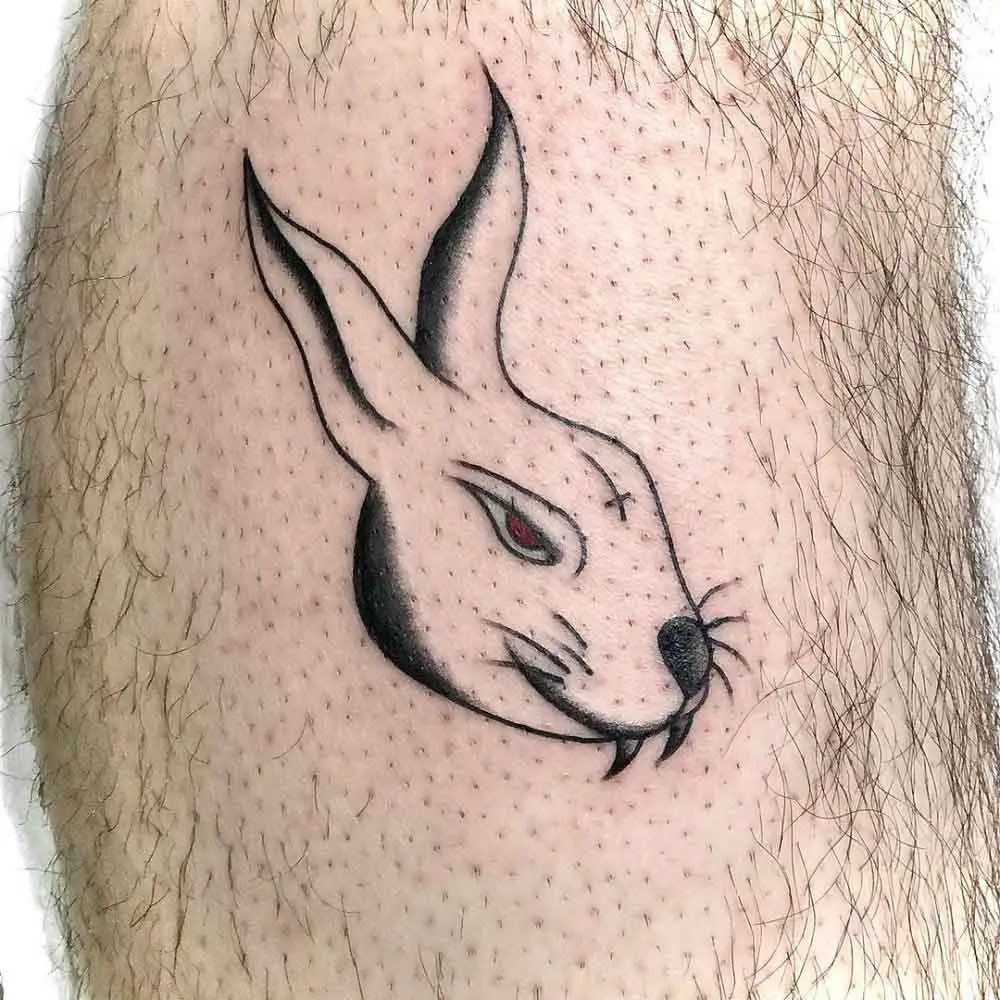 66.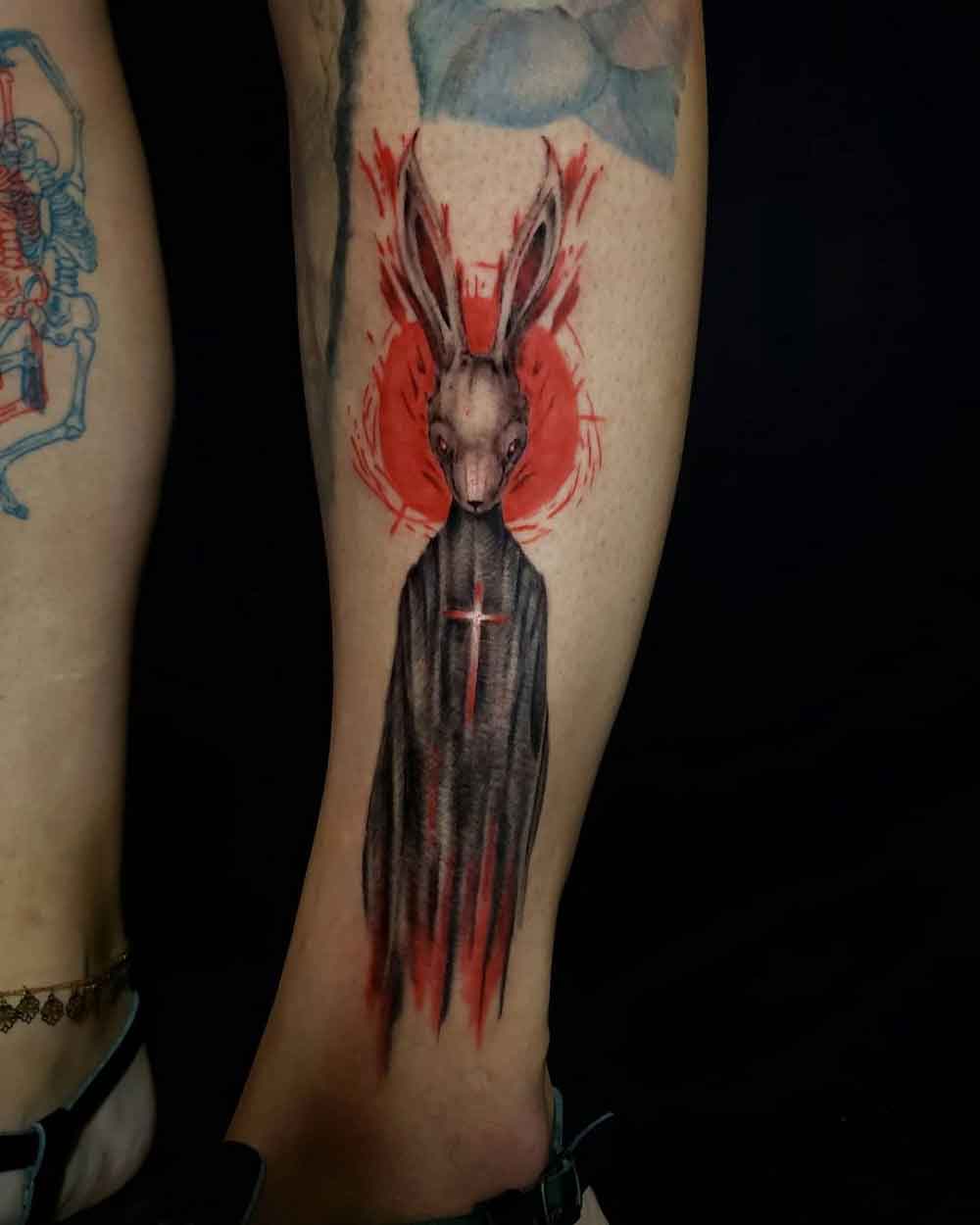 67.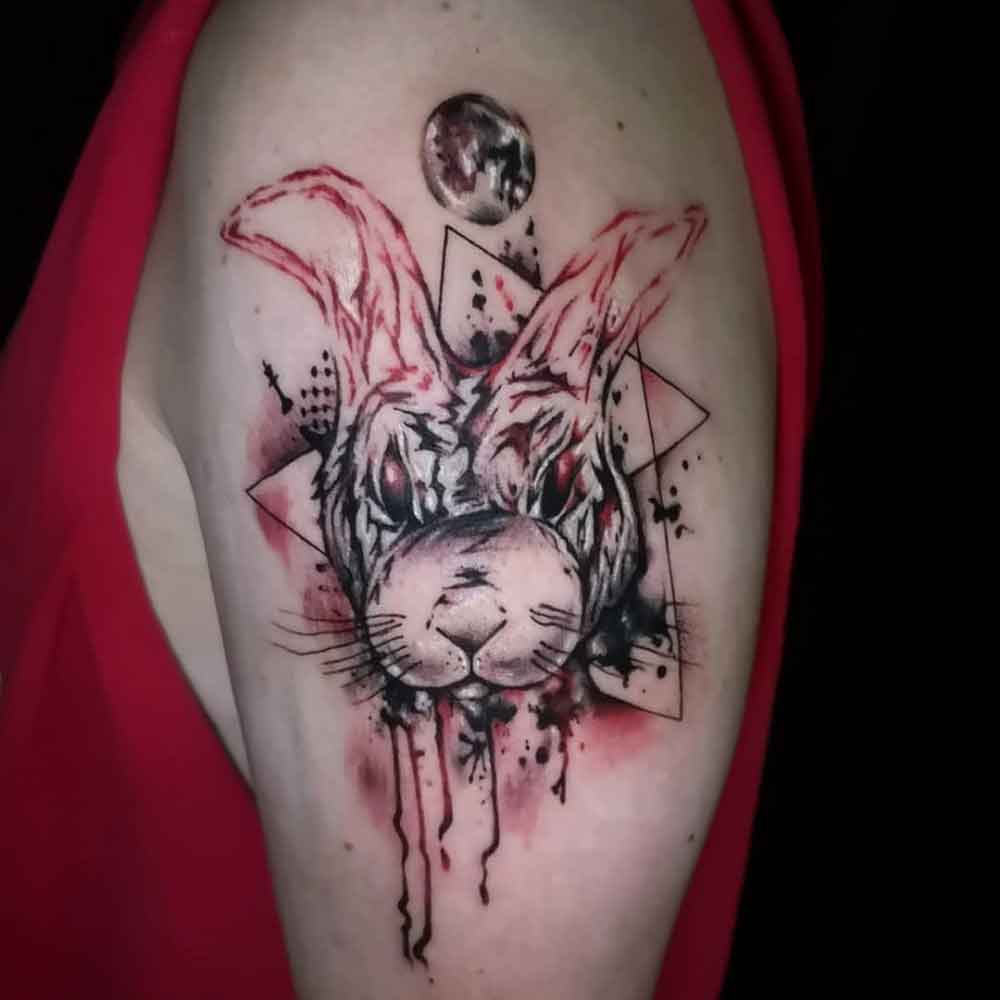 Moon Rabbit Tattoo
68.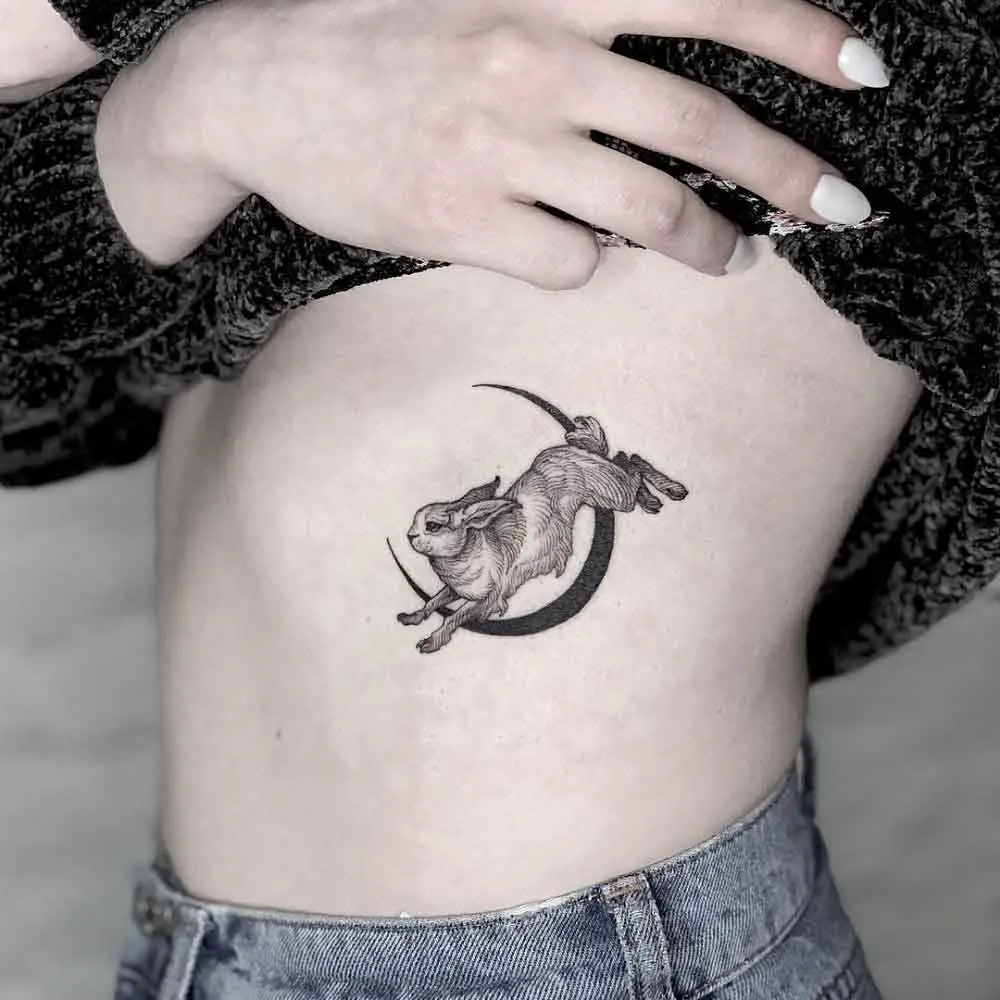 69.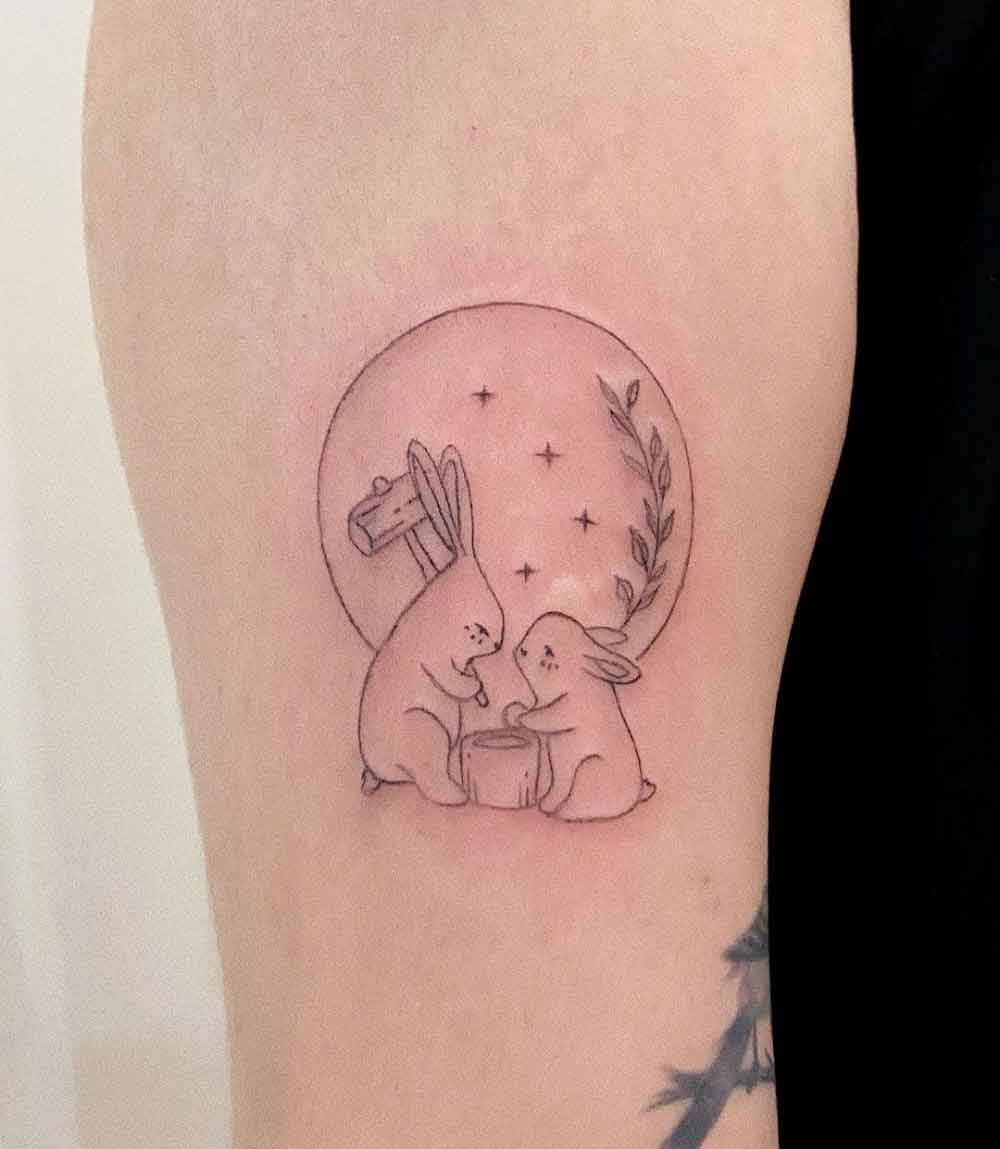 70.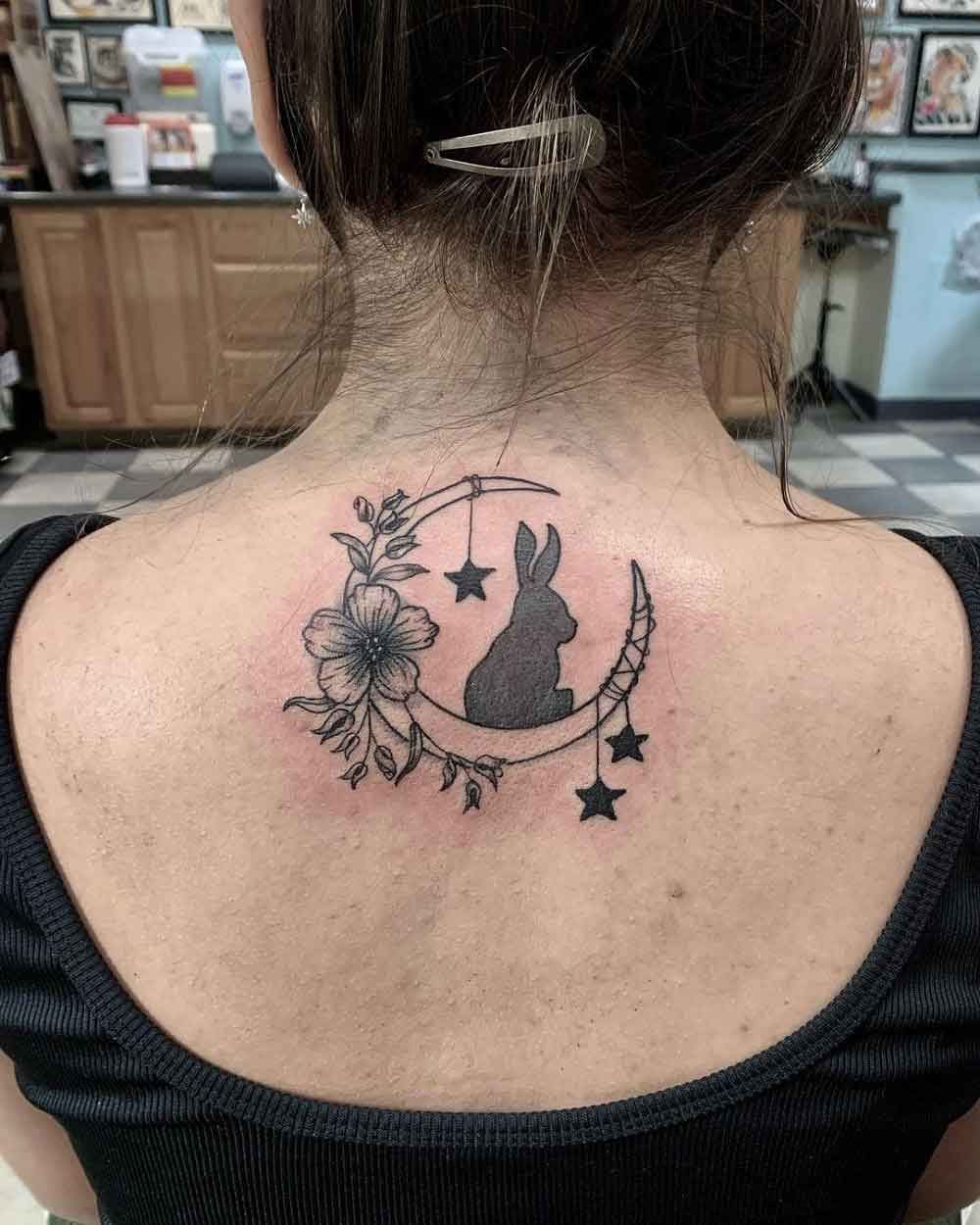 Asian Rabbit Tattoo
71.
72.
73.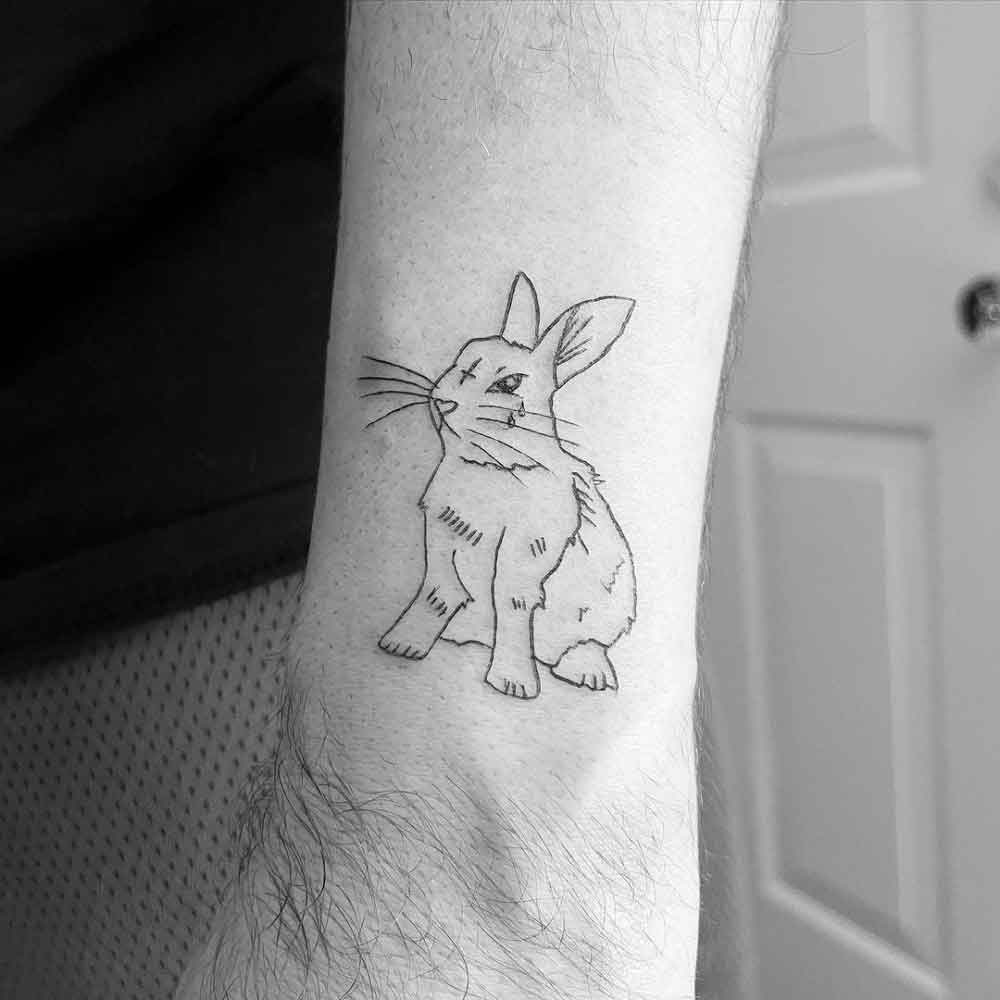 74.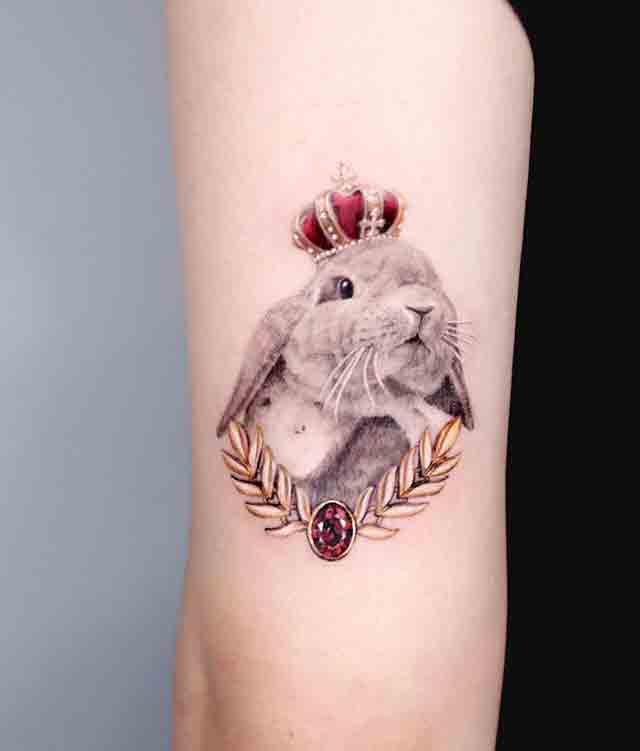 75.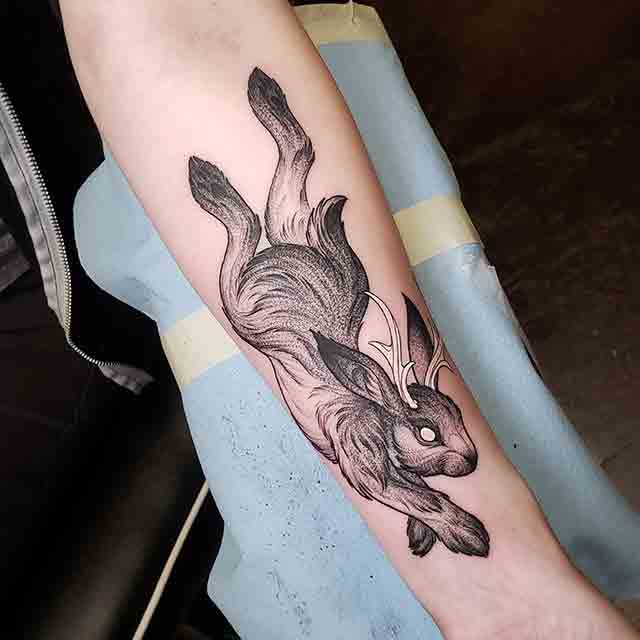 76.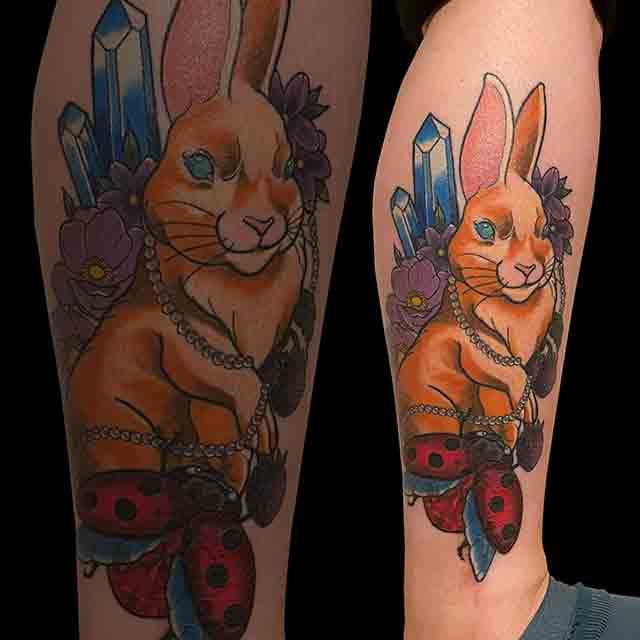 77.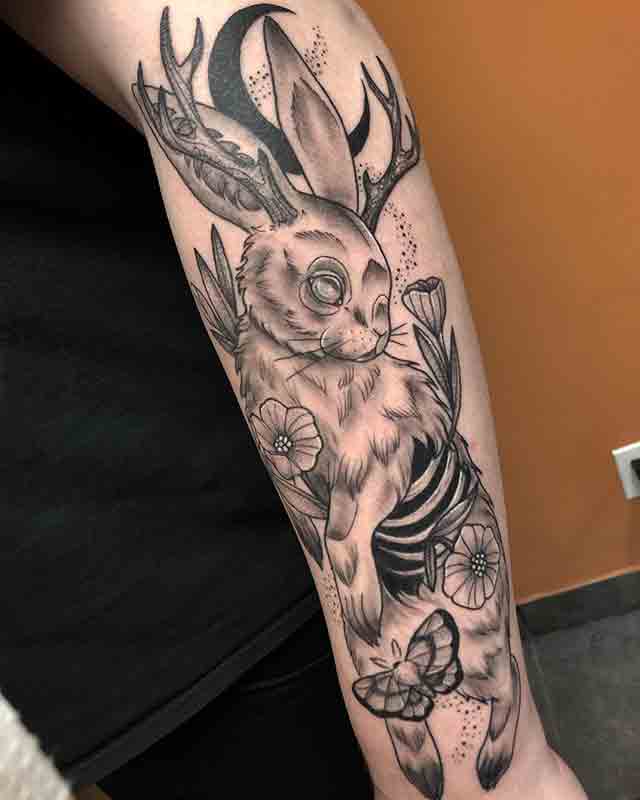 78.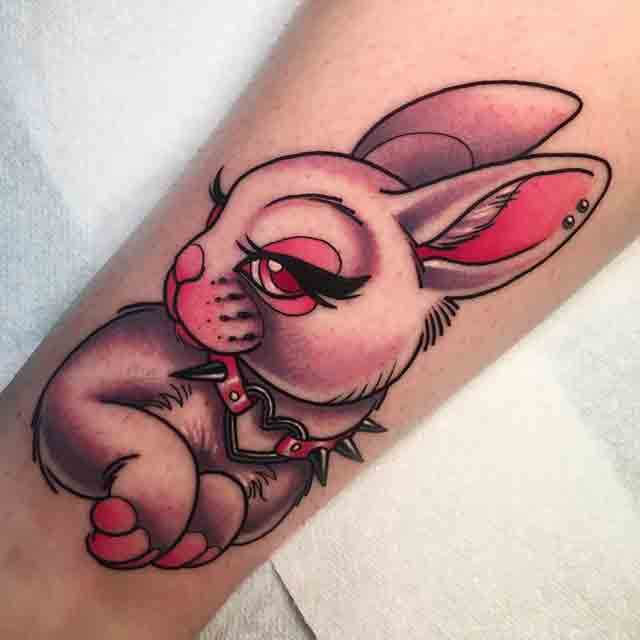 79.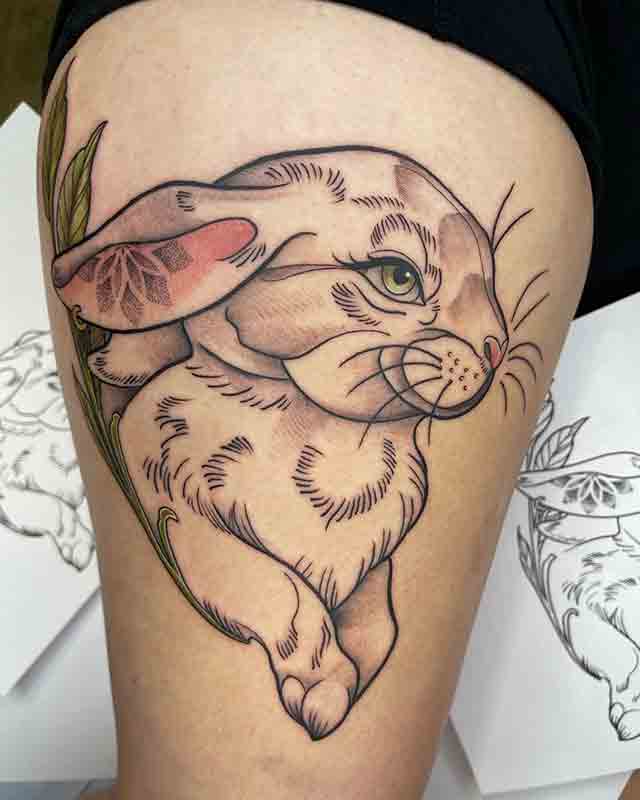 80.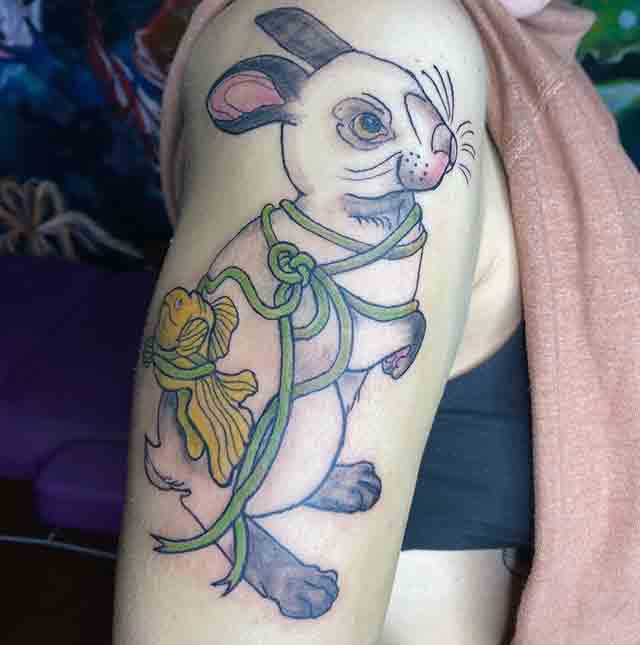 81.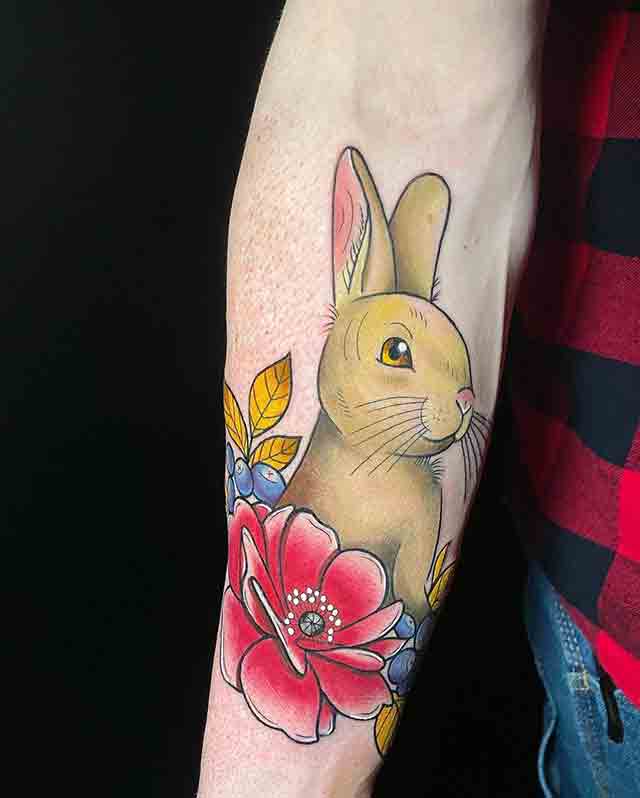 82.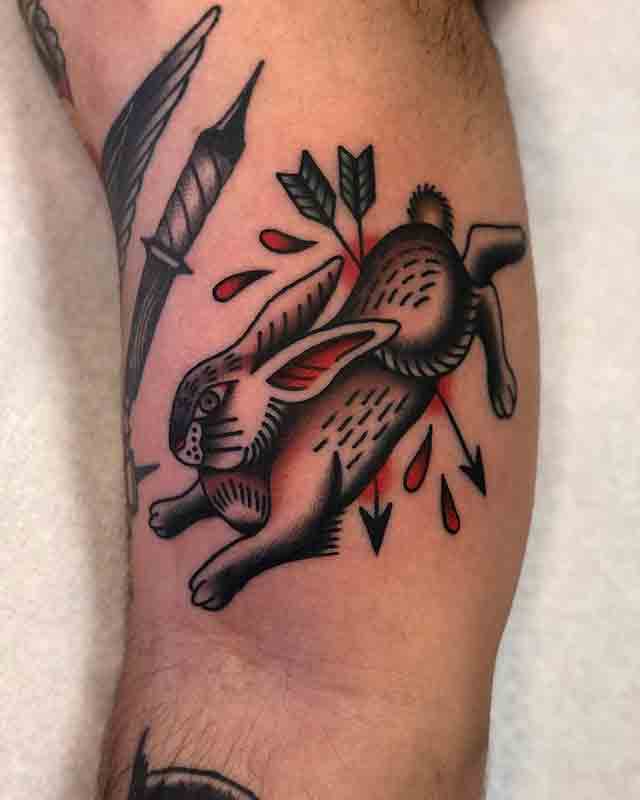 83.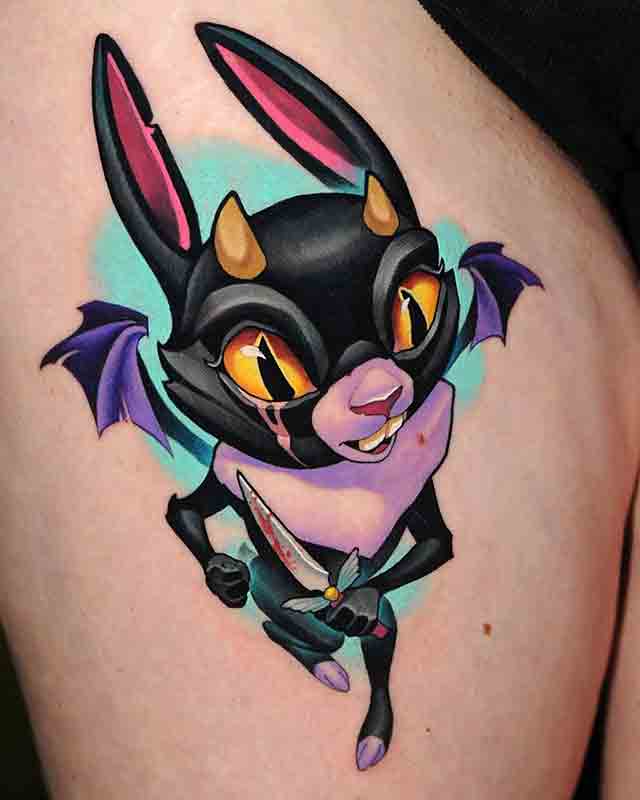 84.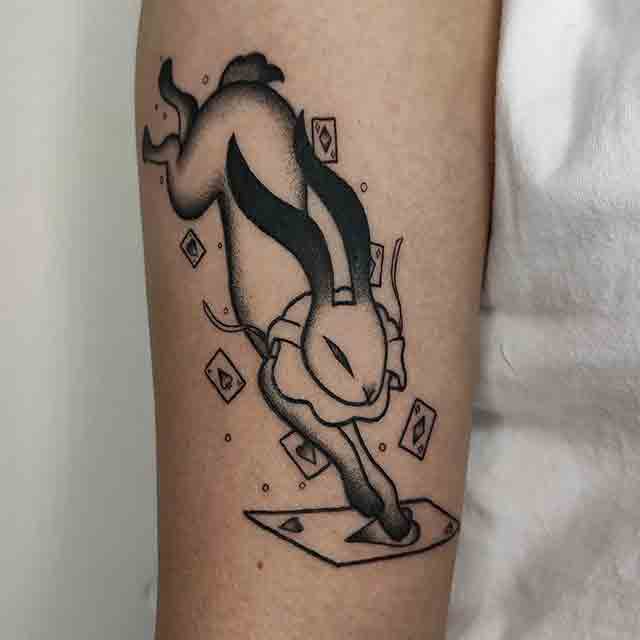 85.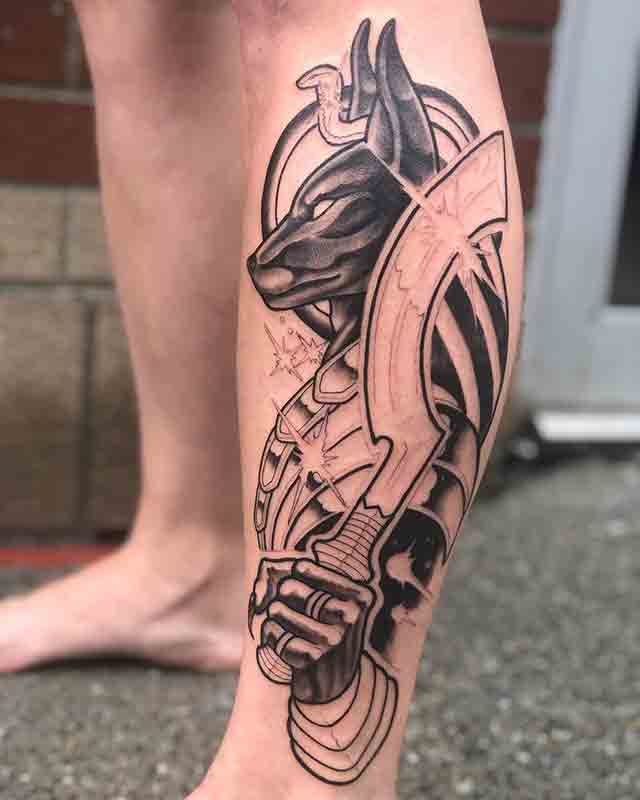 86.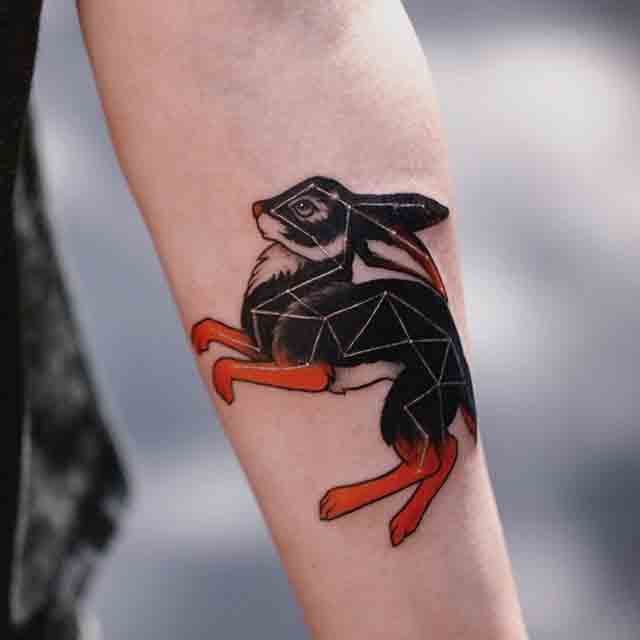 87.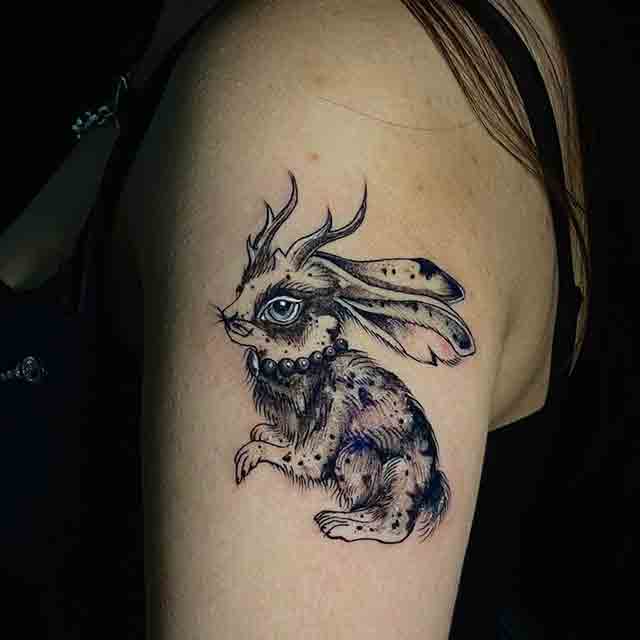 88.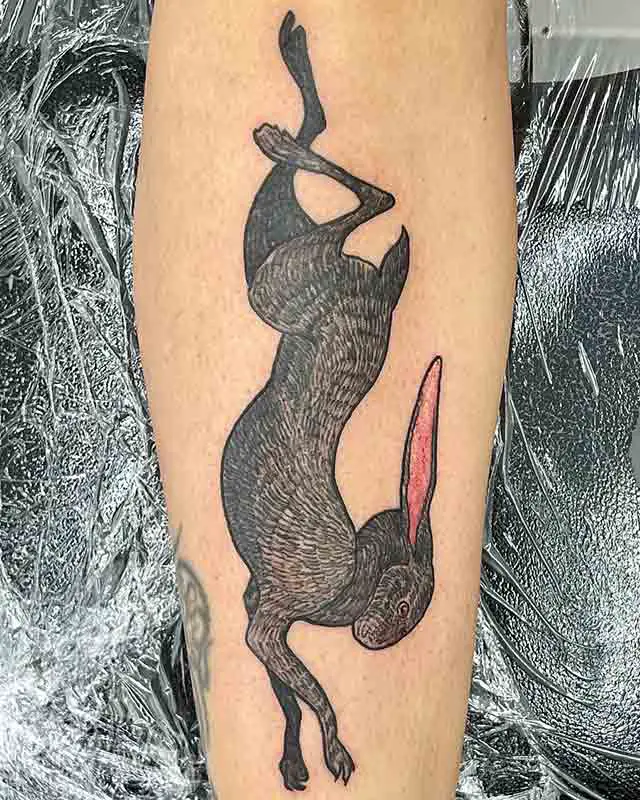 89.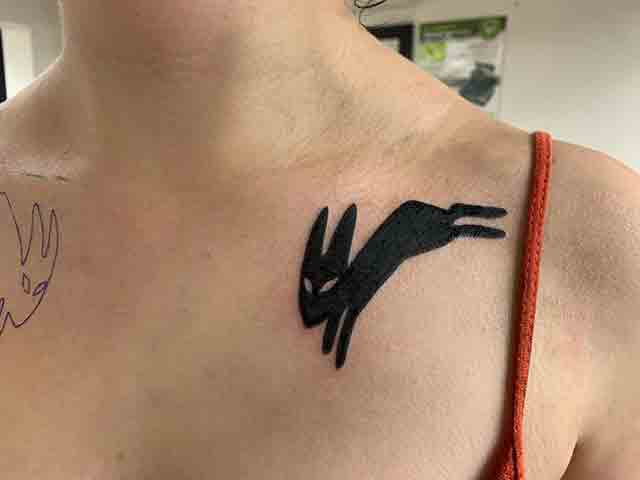 90.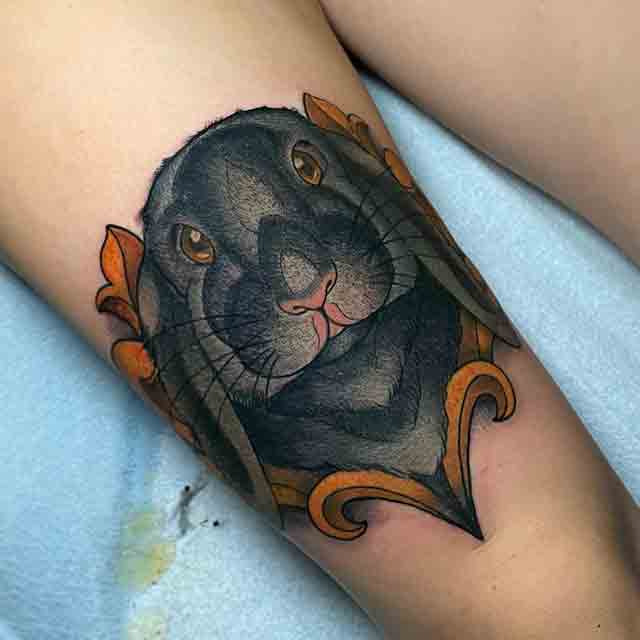 91.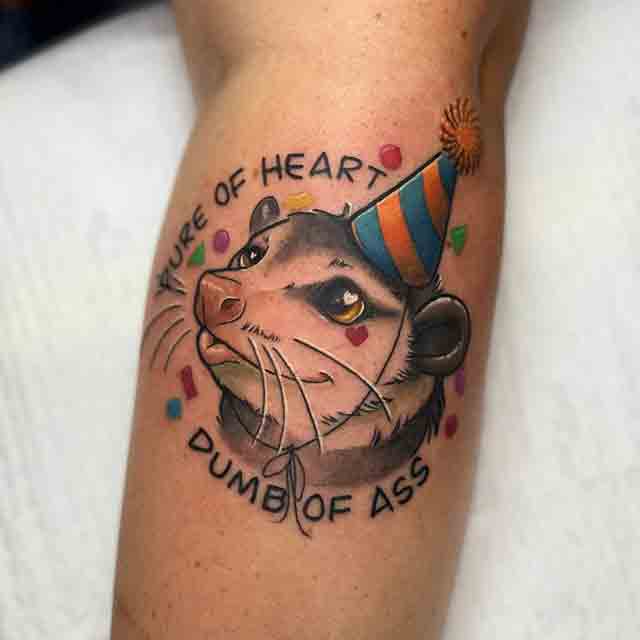 92.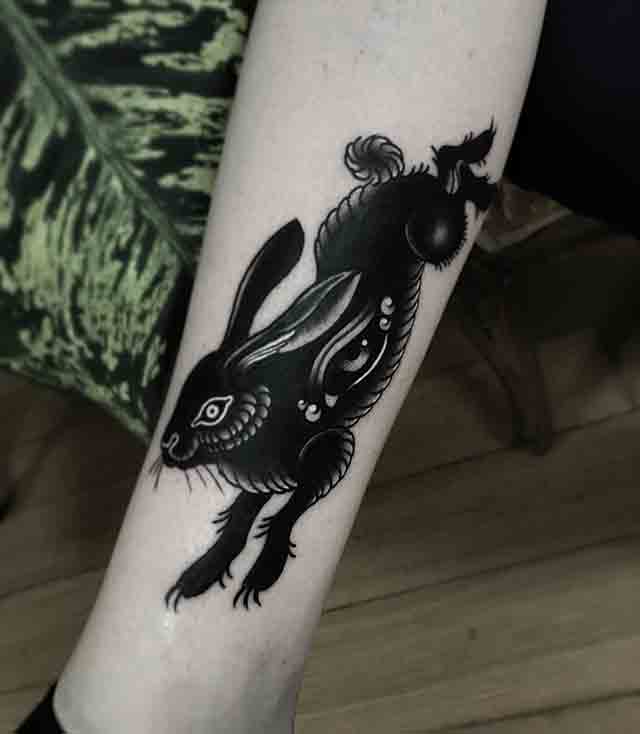 93.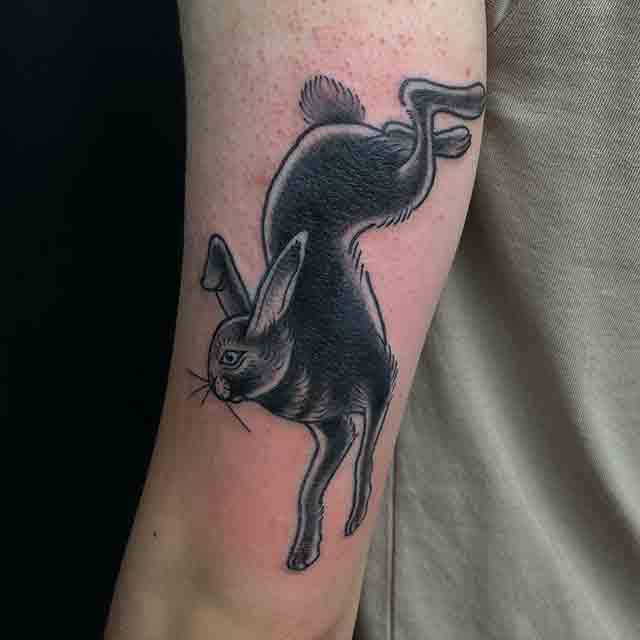 94.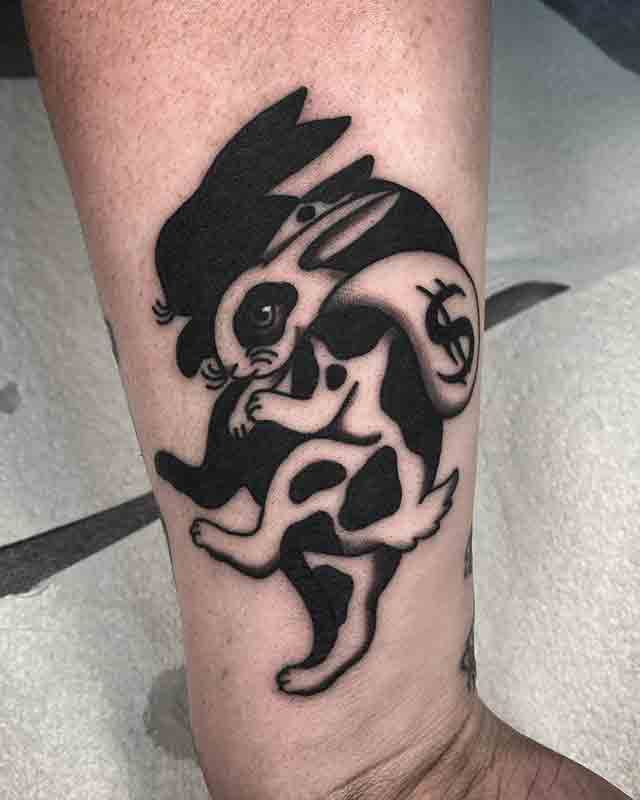 95.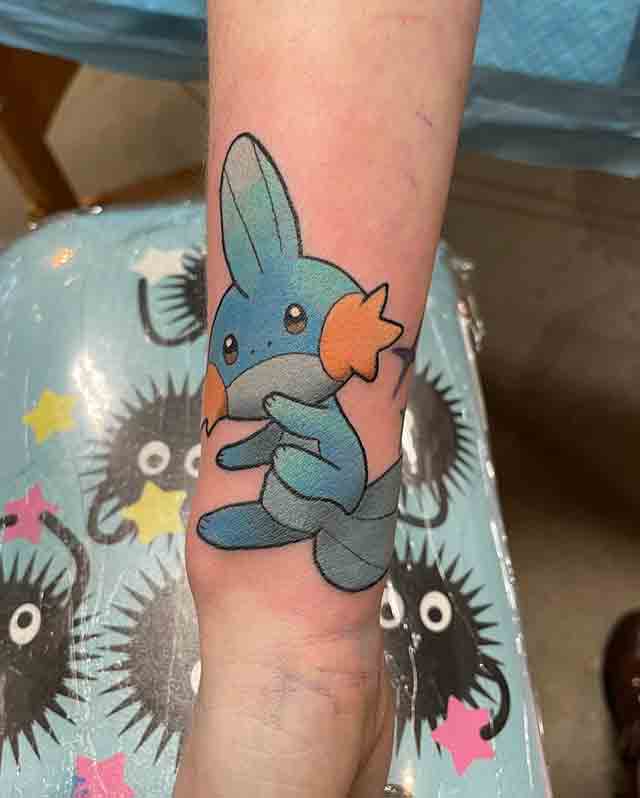 96.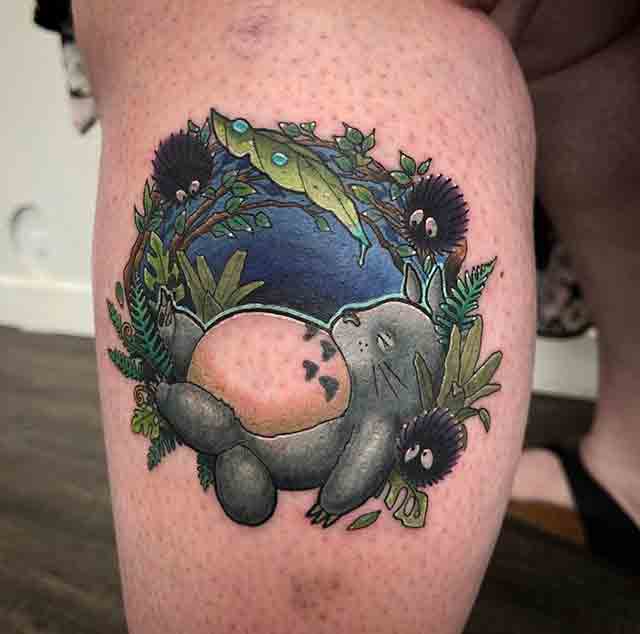 97.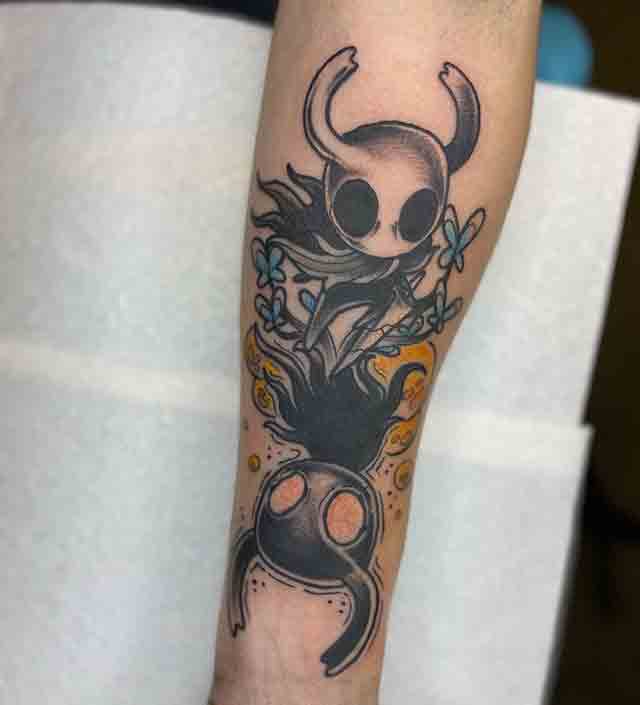 98.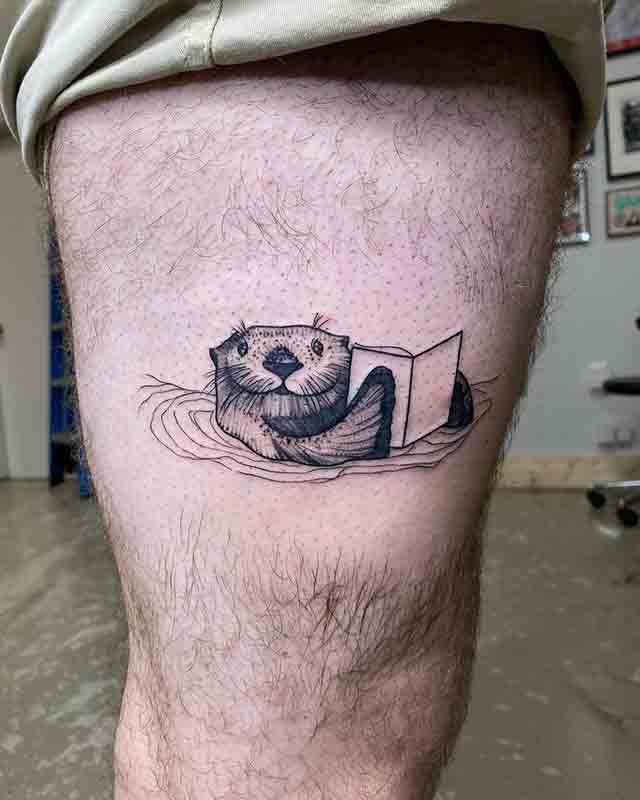 99.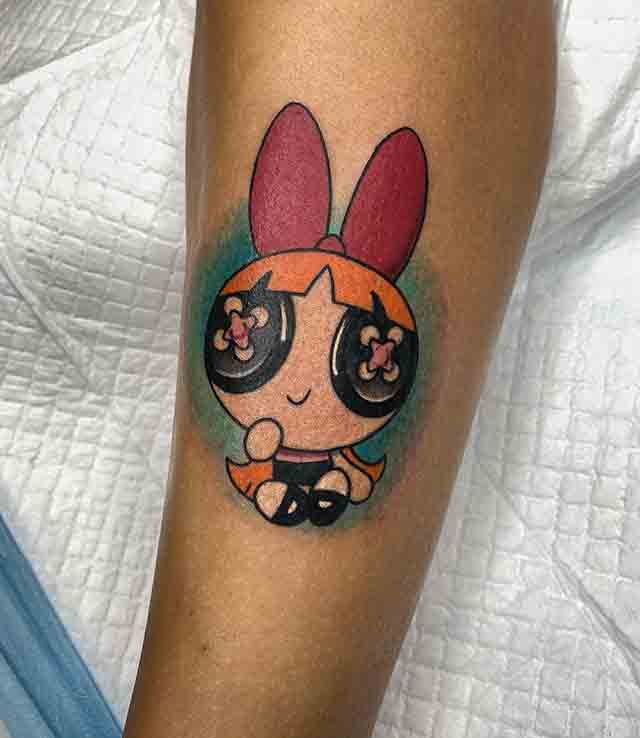 100.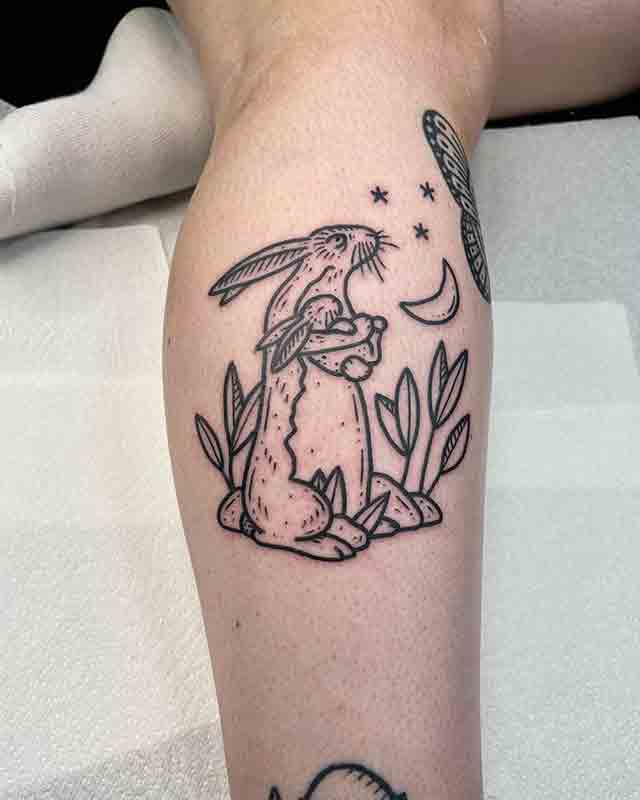 101.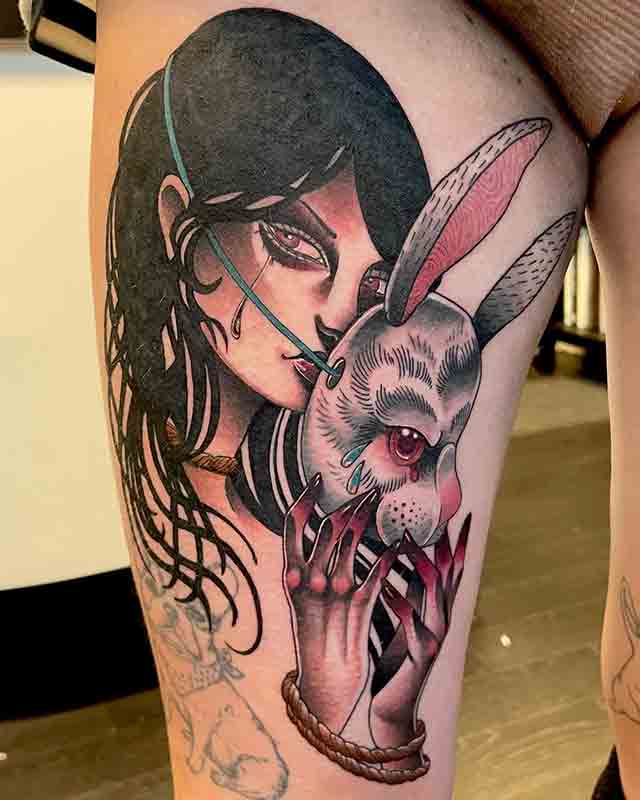 102.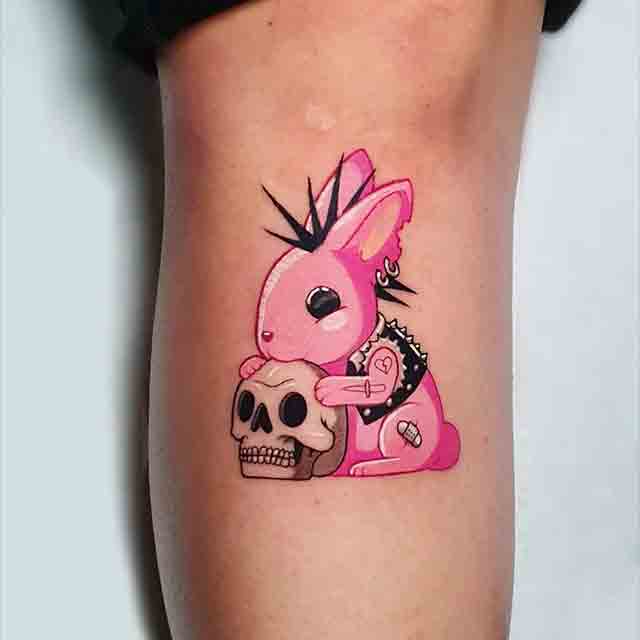 103.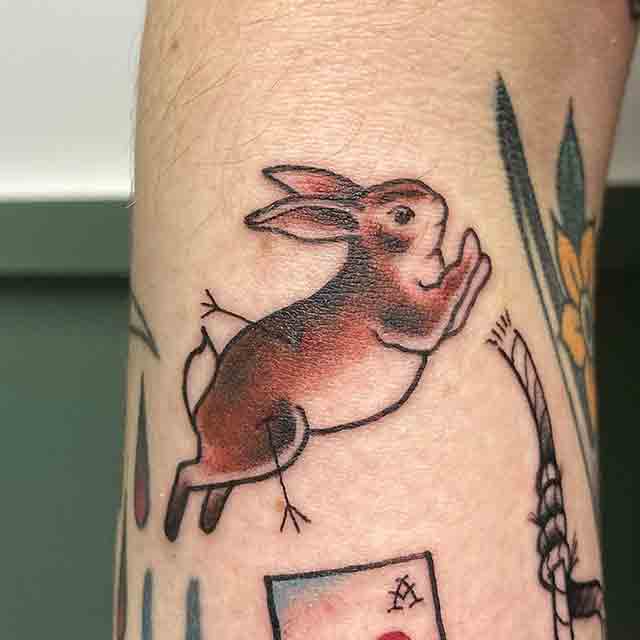 104.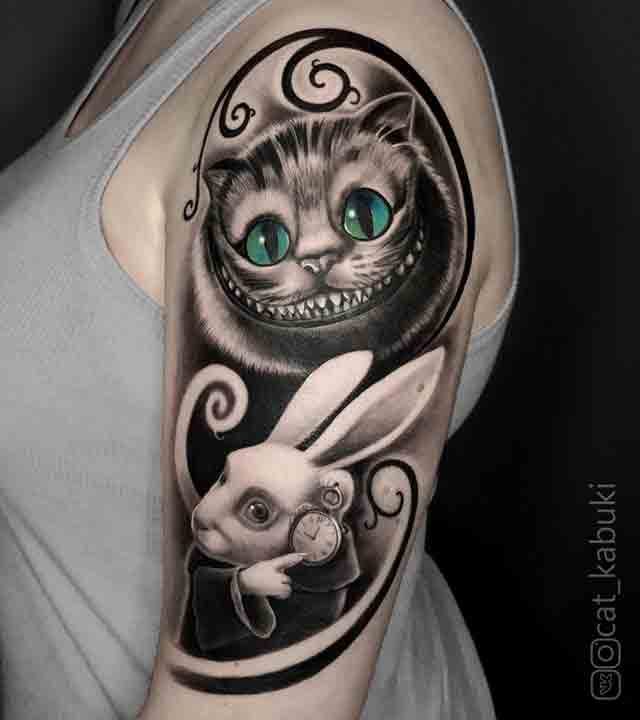 105.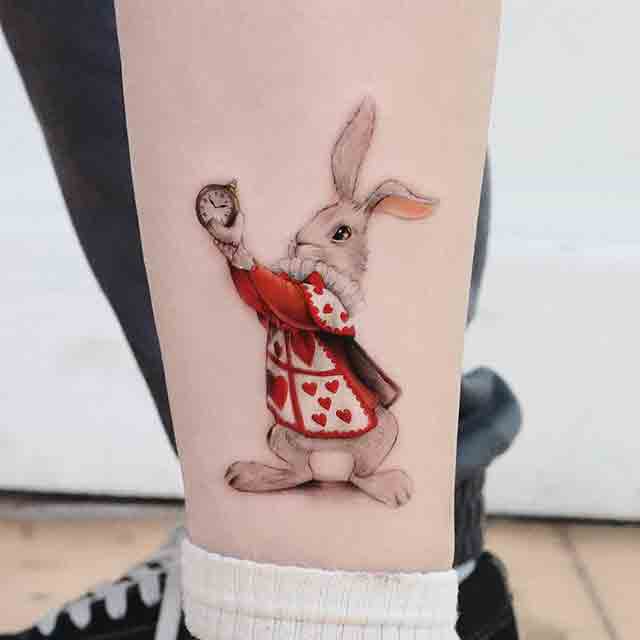 106.
107.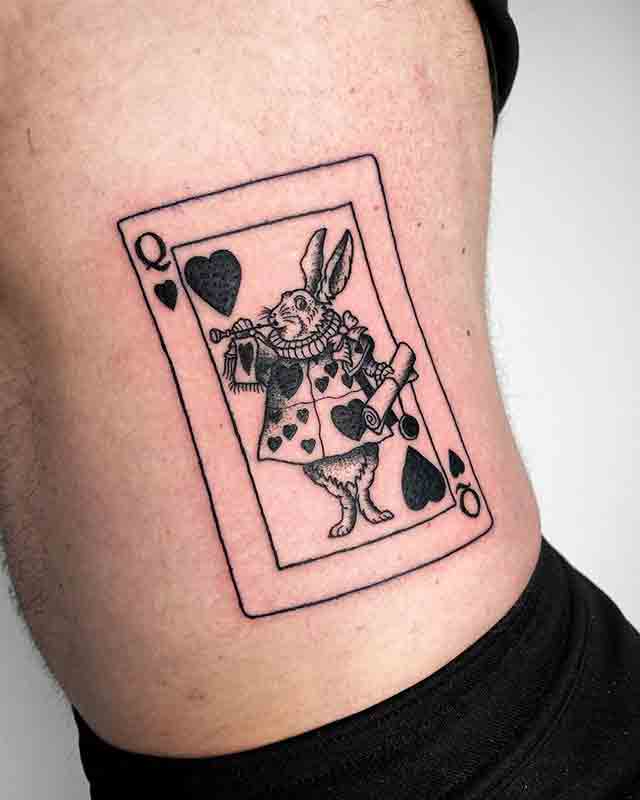 108.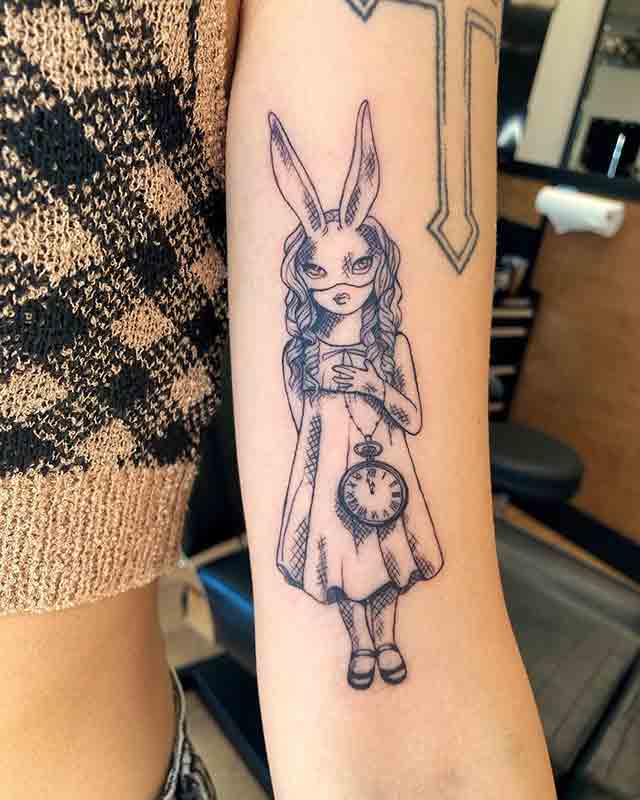 109.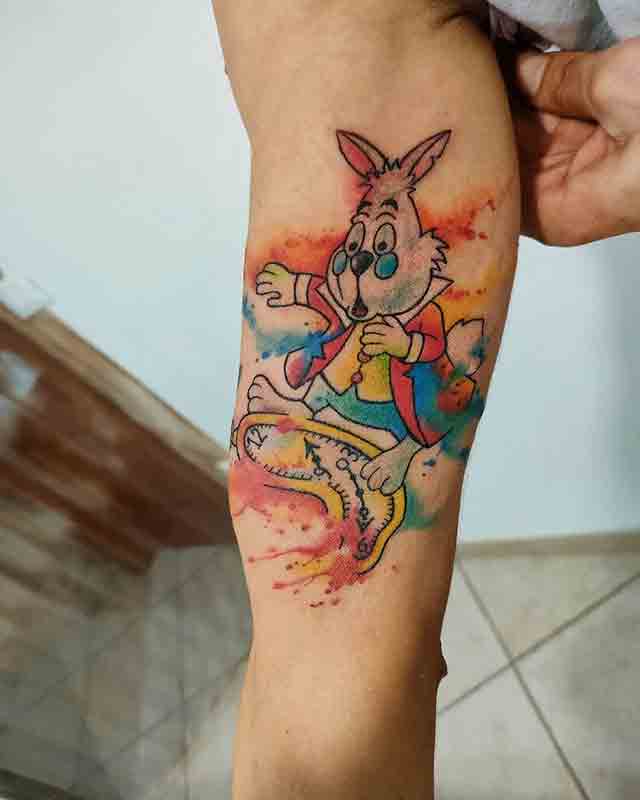 110.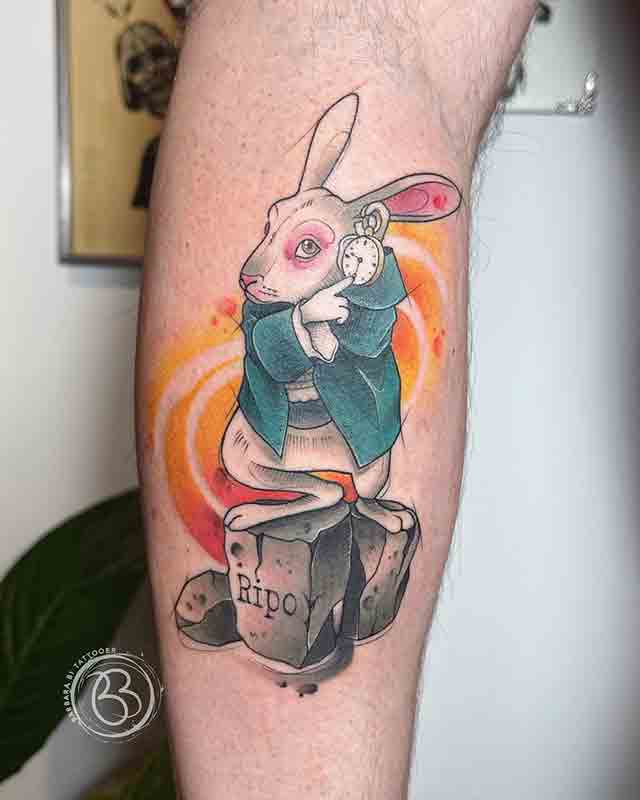 111.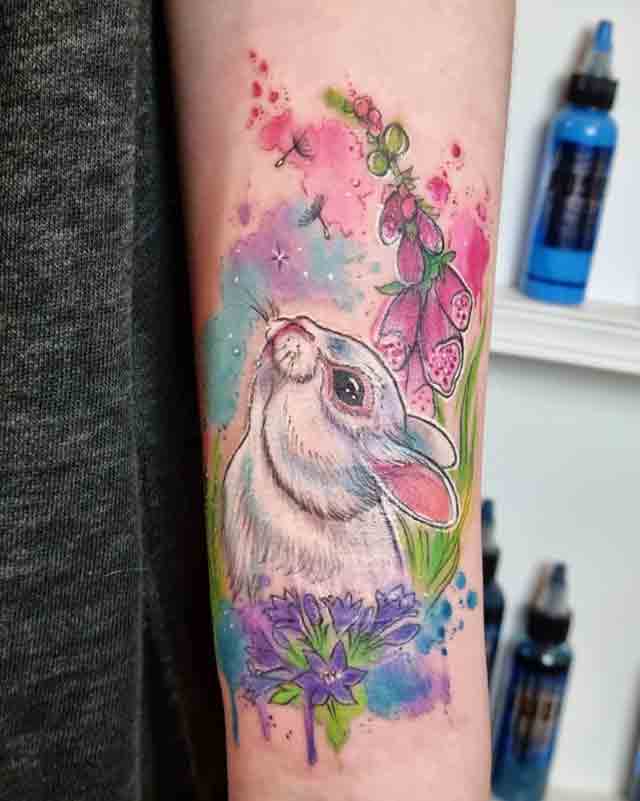 112.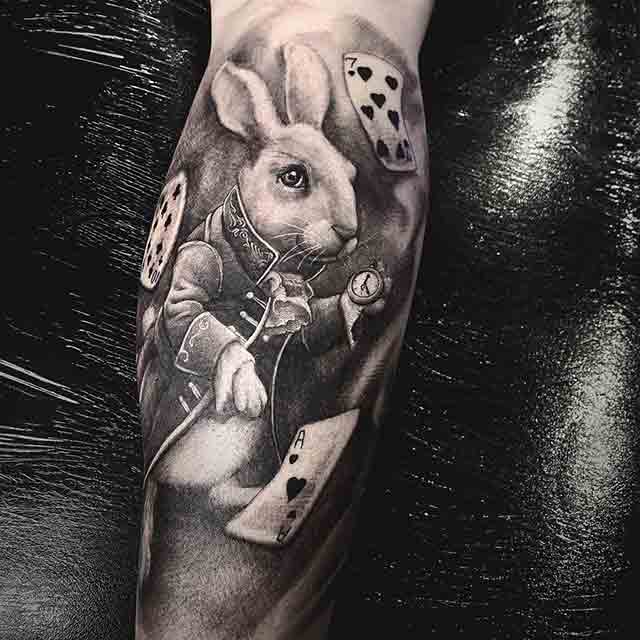 113.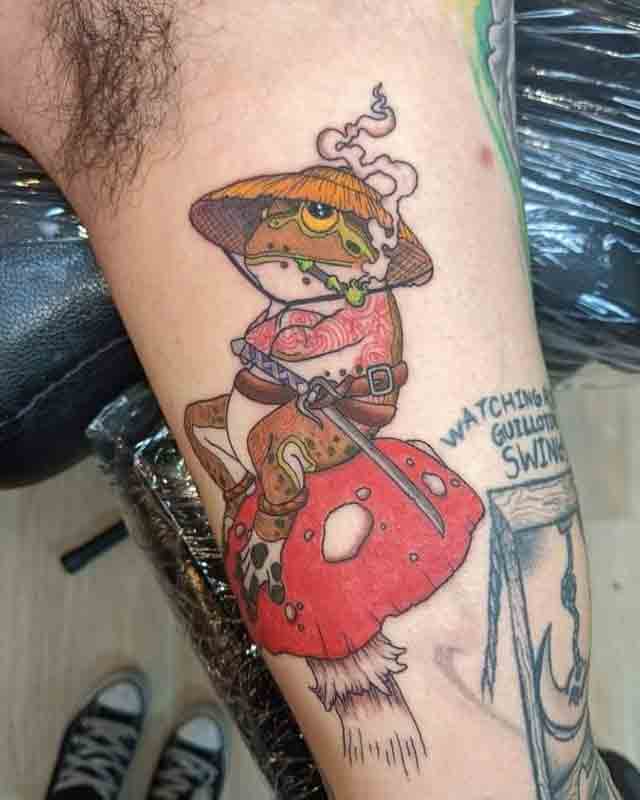 114.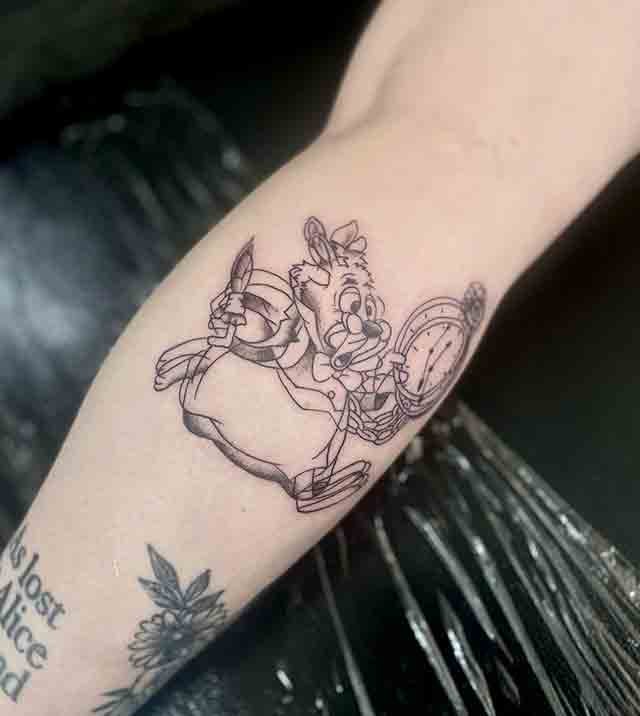 115.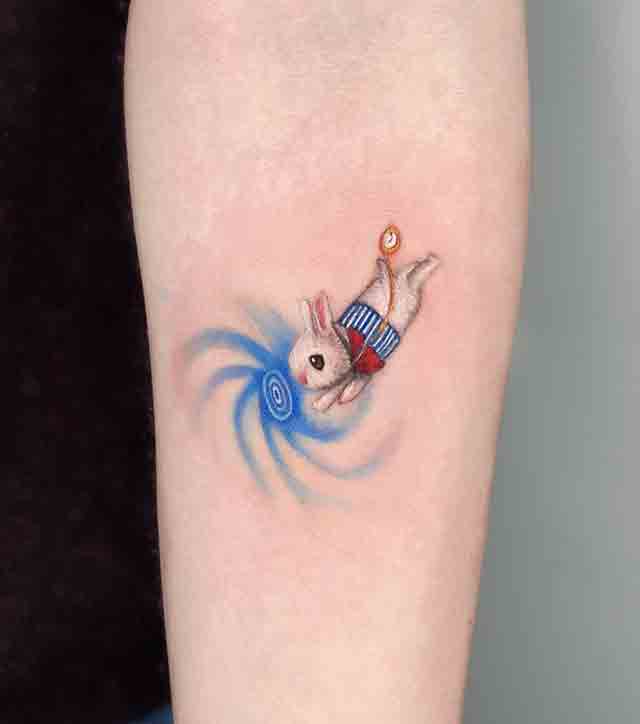 116.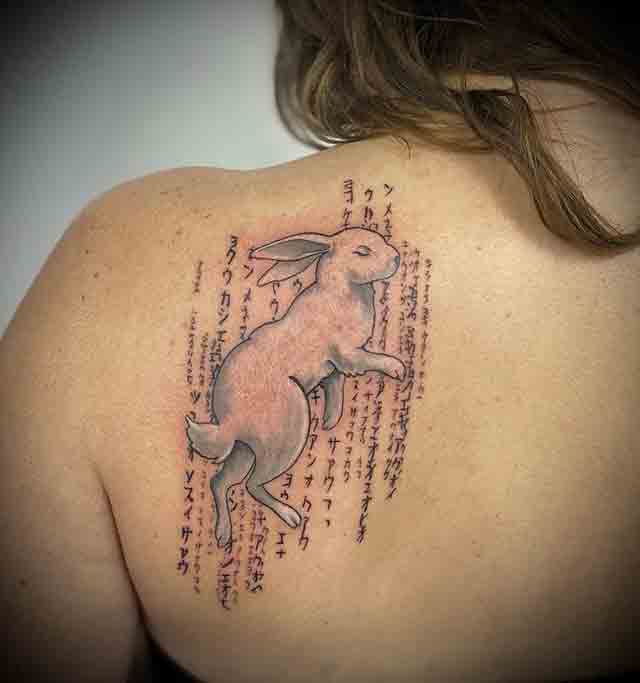 117.
118.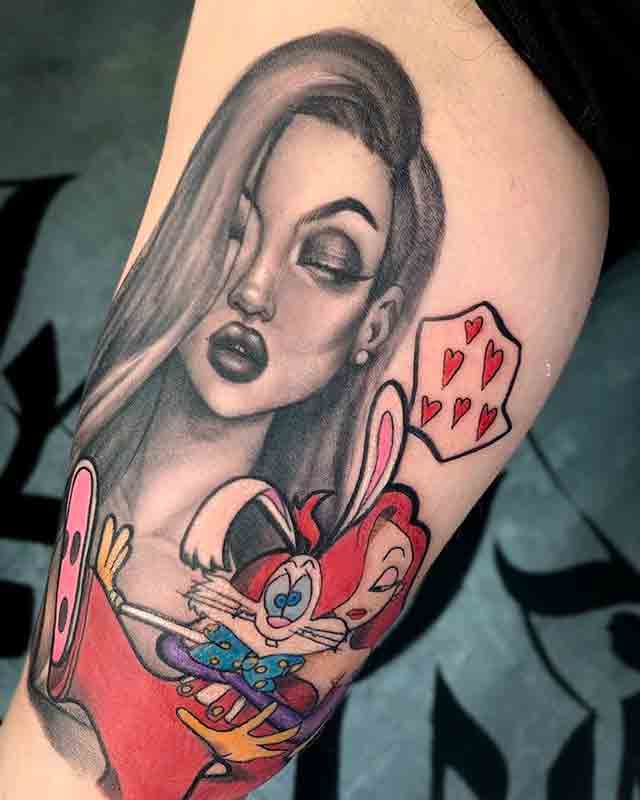 119.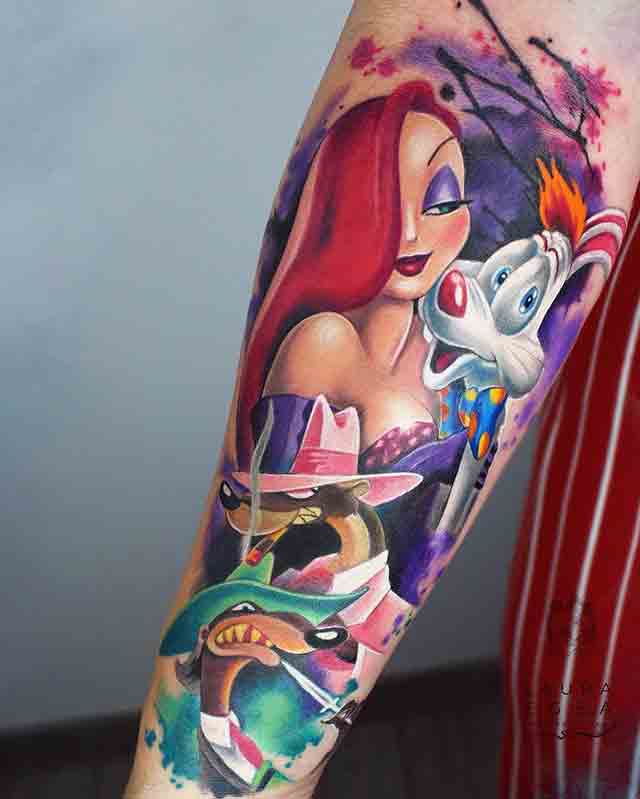 120.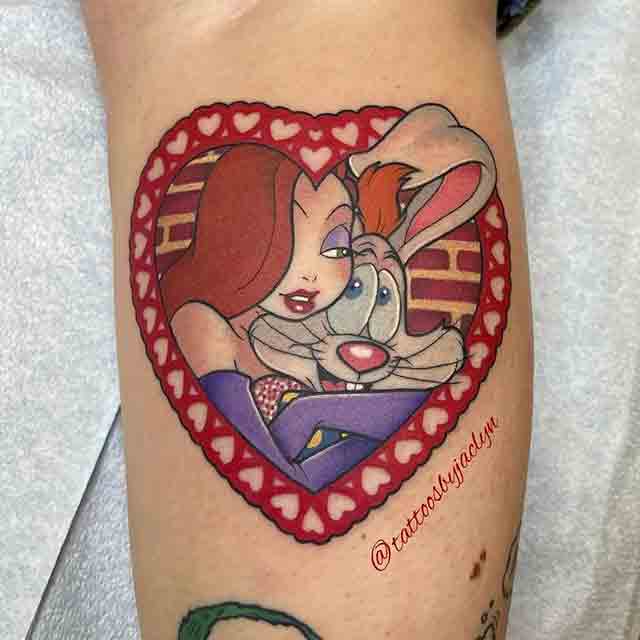 121.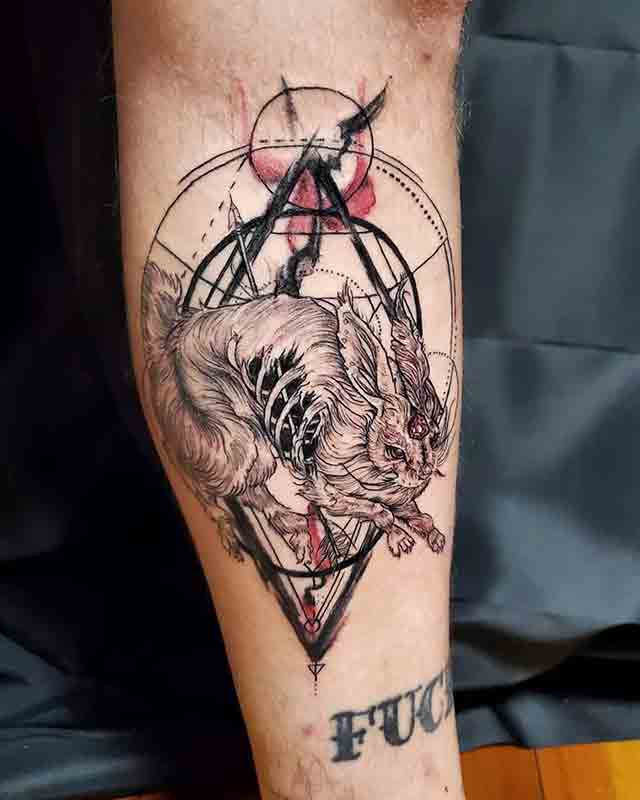 122.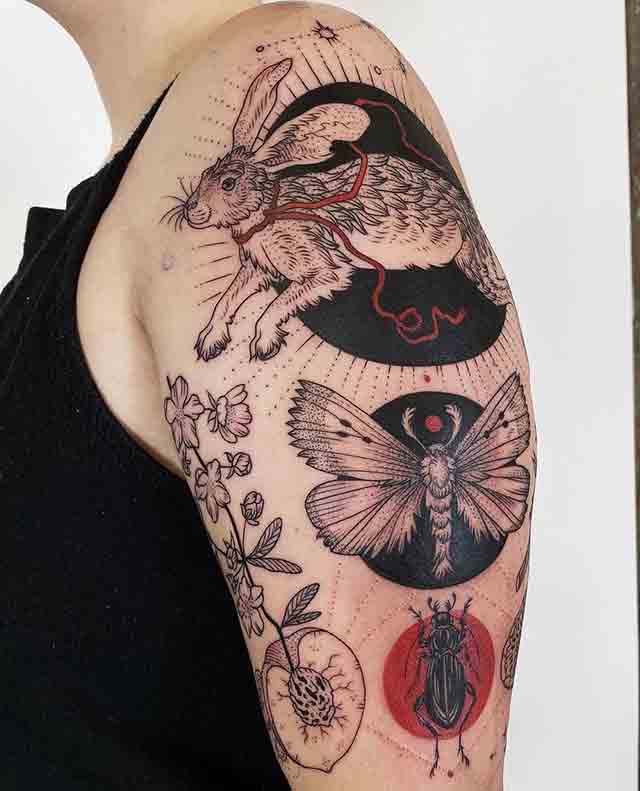 123.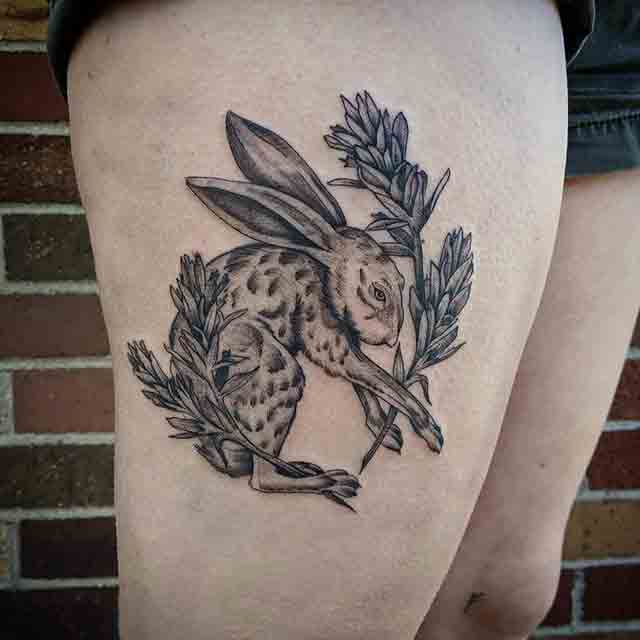 124.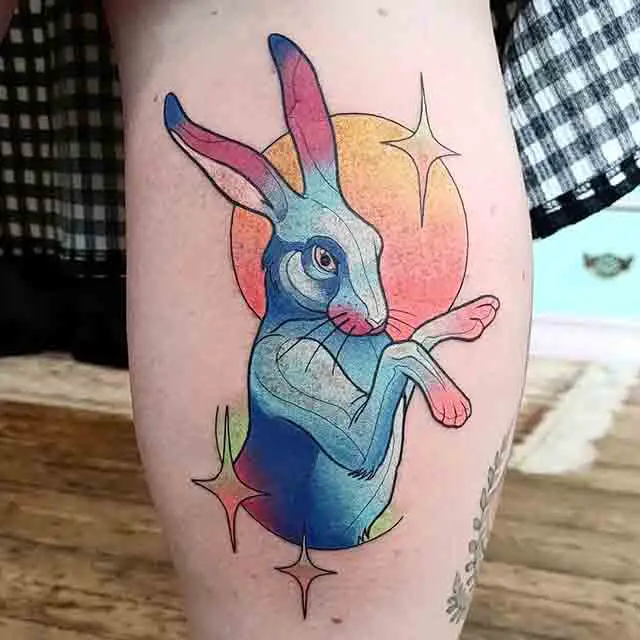 125.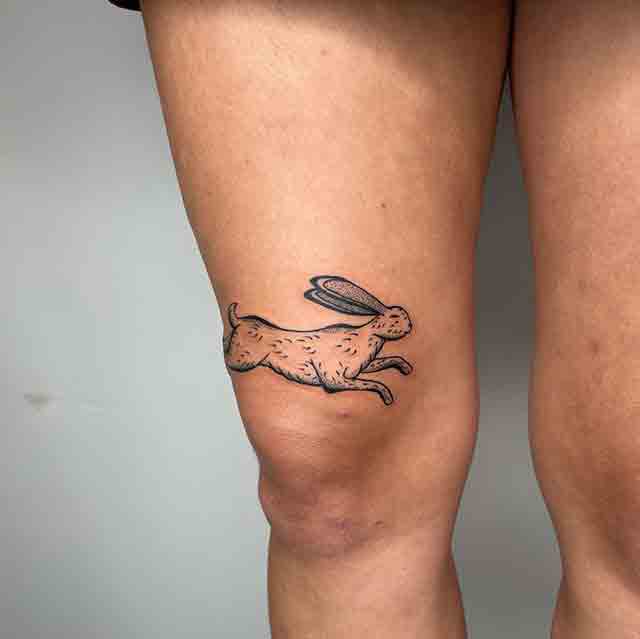 126.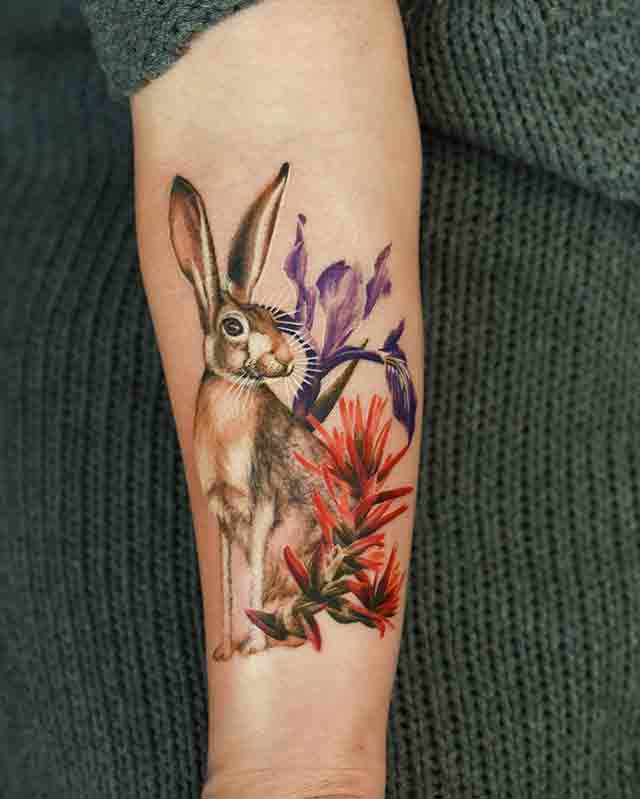 127.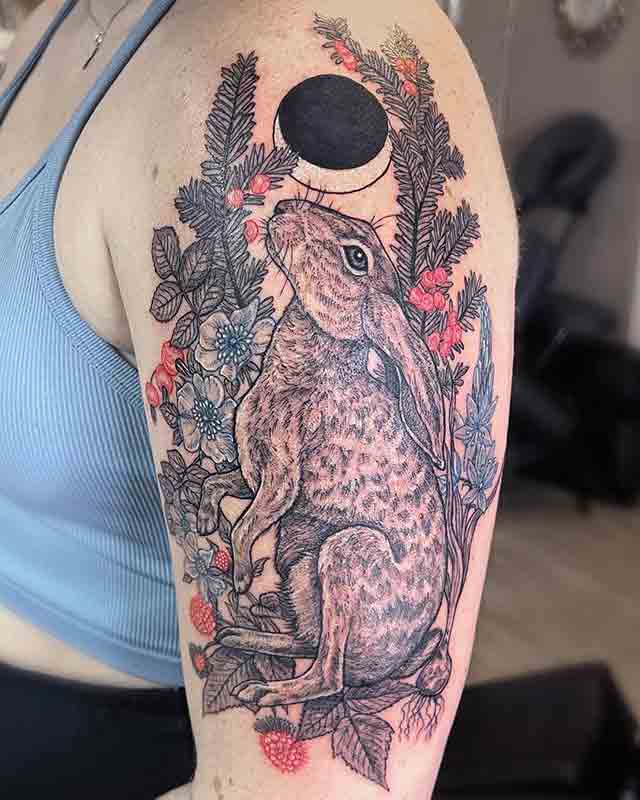 128.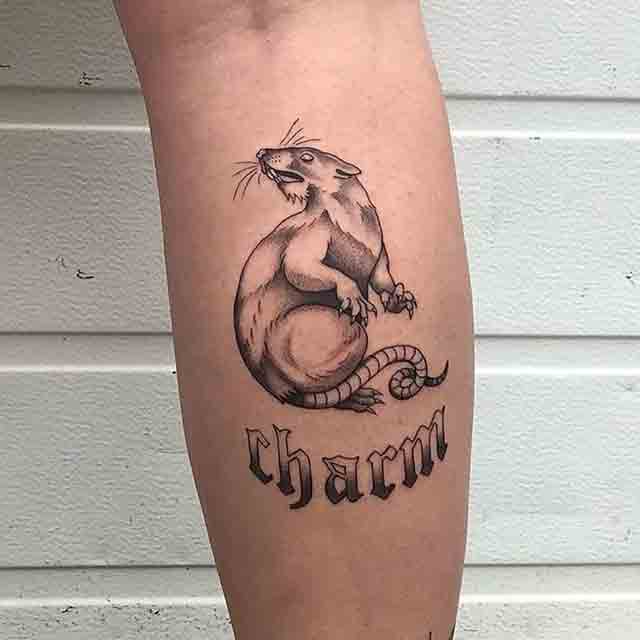 129.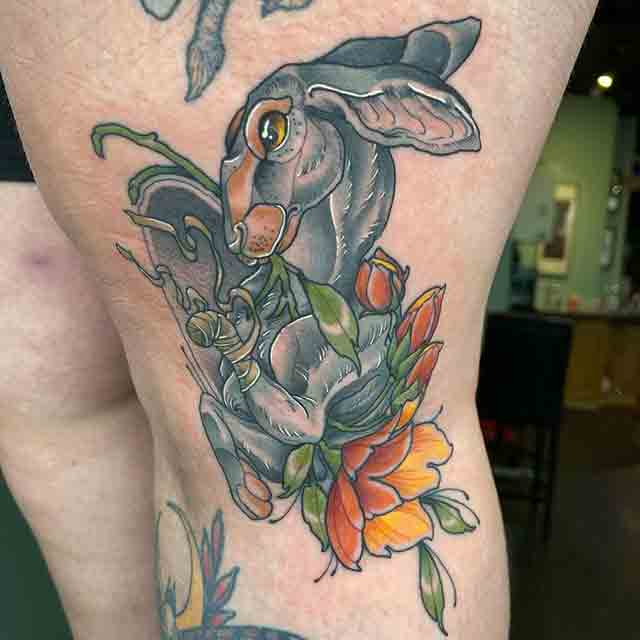 130.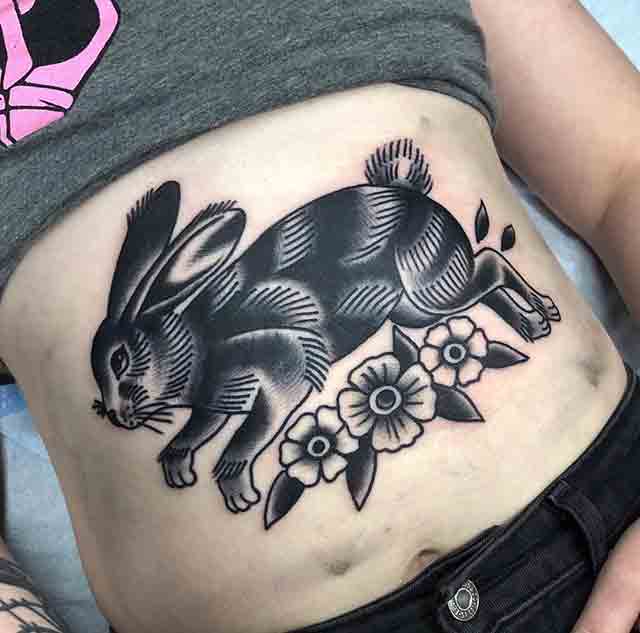 131.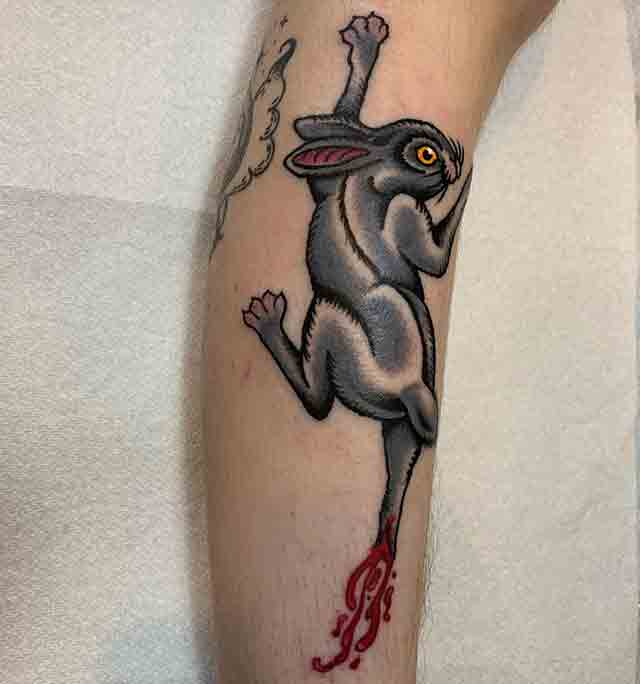 132.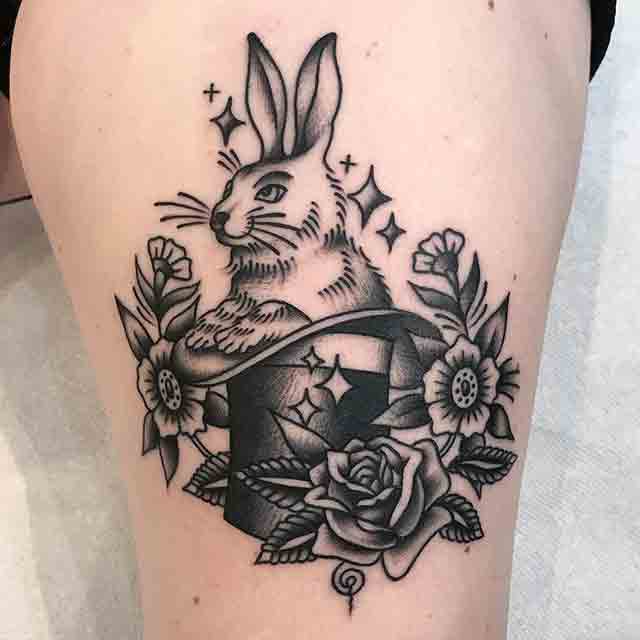 133.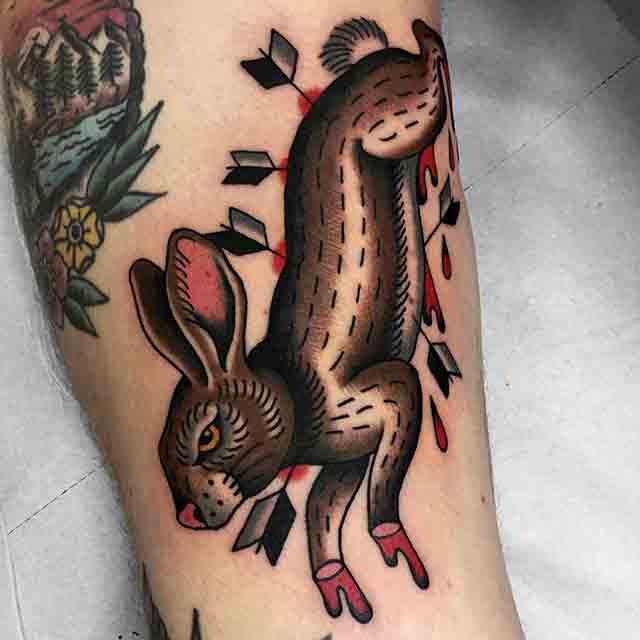 134.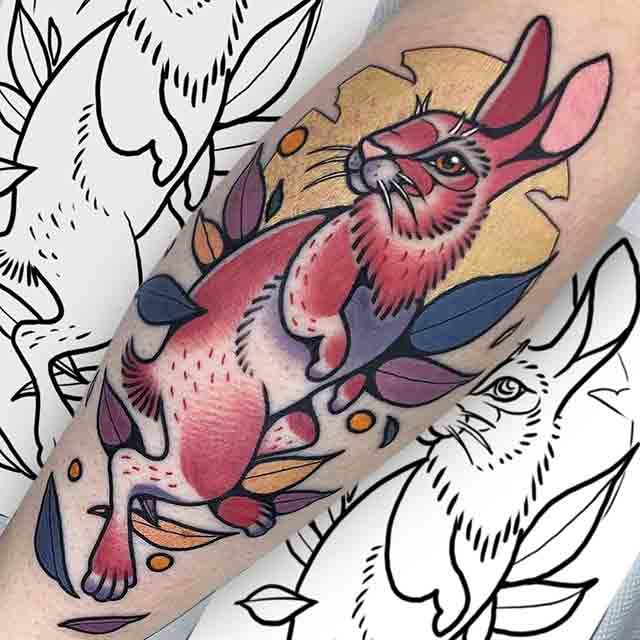 135.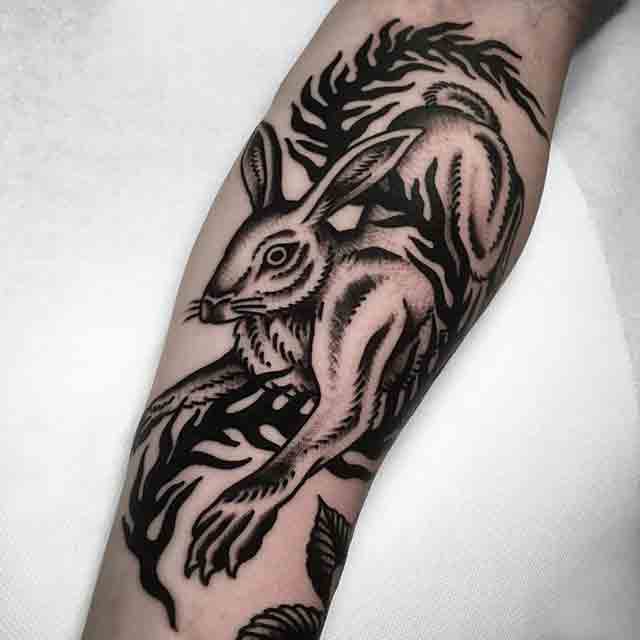 136.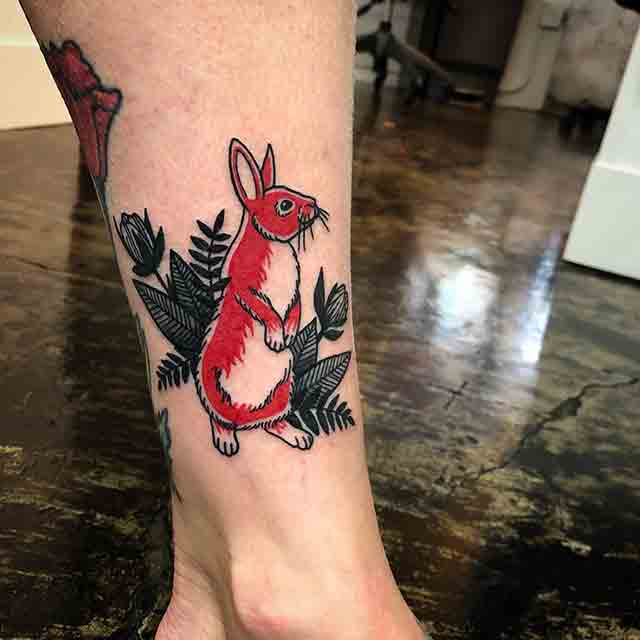 137.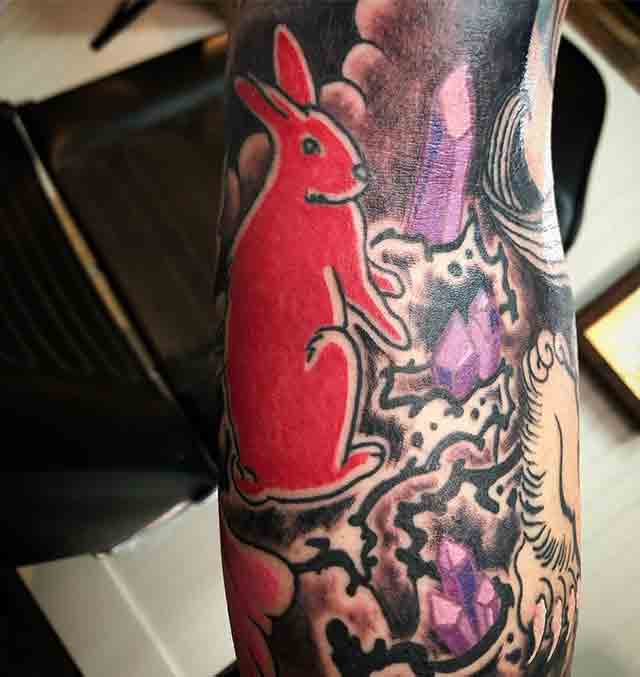 138.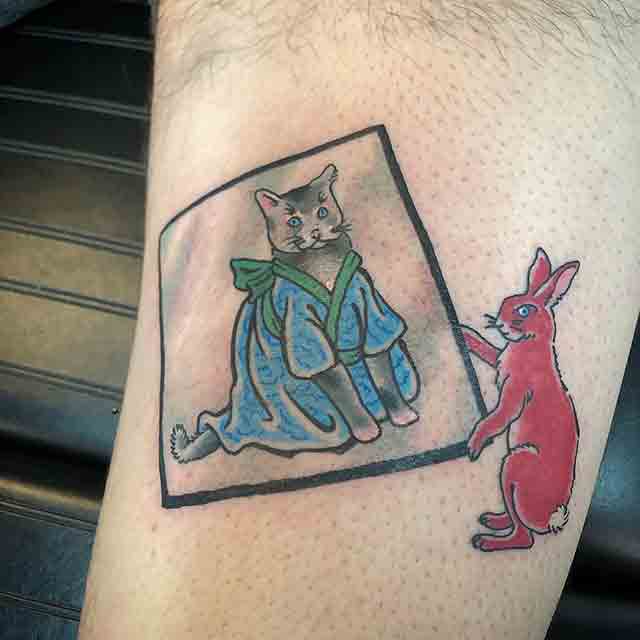 139.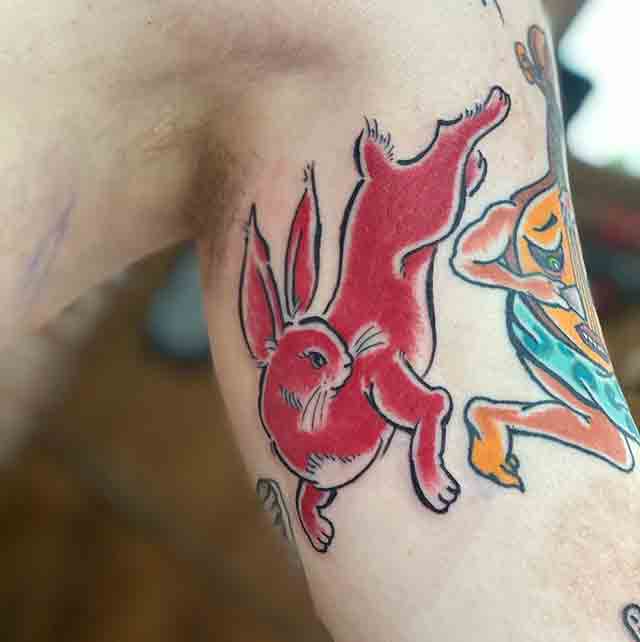 140.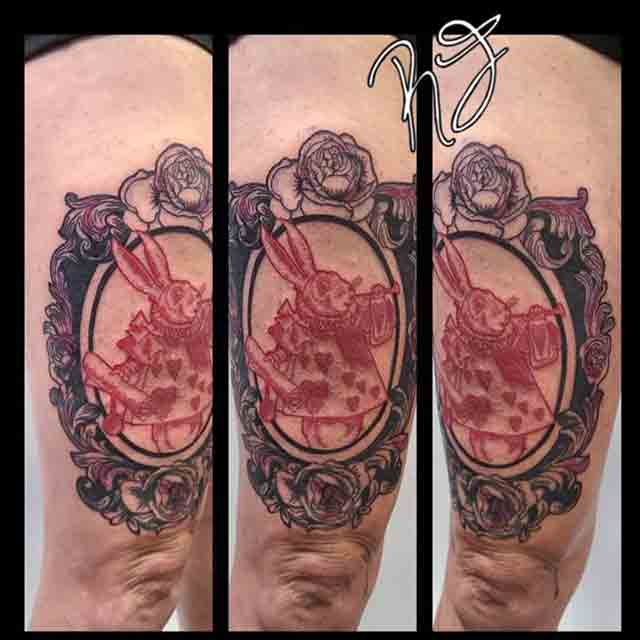 Conclusion
We have now reached the end of our guide, and we hope that you have found the perfect rabbit tattoo for your next visit to the tattoo parlor. We suggest our audience to choose a rabbit tattoo that fits your personality and matches your taste perfectly.
Do not forget to check the artist credibility and experience before you get your tattoo done. Get your beautiful rabbit tattoo done and enjoy the attraction and beauty of it.
FAQ 
What Does A Rabbit Tattoo Mean?
A rabbit tattoo means good luck, spiritual peace, wealth, and one's love for nature. It also means self-protection, cleverness, wit, and many more.
What Does A Rabbit Tattoo Symbolize?
A rabbit tattoo symbolizes a lot of positive things in life, such as luck, beauty, innocence, purity, and so on. It also symbolizes the fictional characters in movies like Alice in Wonderland, Who Framed Roger Rabbit, and many more.
What Is The Spiritual Meaning Of Rabbit?
The spiritual meaning of rabbit is extremely beautiful and heart warming. It represents sensitivity, innocence, delicacy, fertility, and marks the new and pretty beginnings of life.