Tattoo ideas for moms are one of the most popular ways to honor them. They are a rare breed that personifies unconditional love, dedication, and exceptional strength. For some people, being a mom is the toughest and noblest profession. But we believe that motherhood is not a profession, it's an expression of divinity. And inking a 'mom' tattoo is a nice way to establish this unimpeachable truth of your life.
Creative Tattoo Ideas For Moms
The sky has no limit when you search for an impeccable tattoo to honor motherhood. From simple words to hearts, flowers, quotes and special symbols, there are numerous ways you can signify the bond of love.  Since every mom deserves to be glorified, we have selected 12 splendidly creative tattoo ideas for moms that will remind you of the beautiful bond you share with your mom/children.
#1: Mom And Dad Lower Arm Tattoo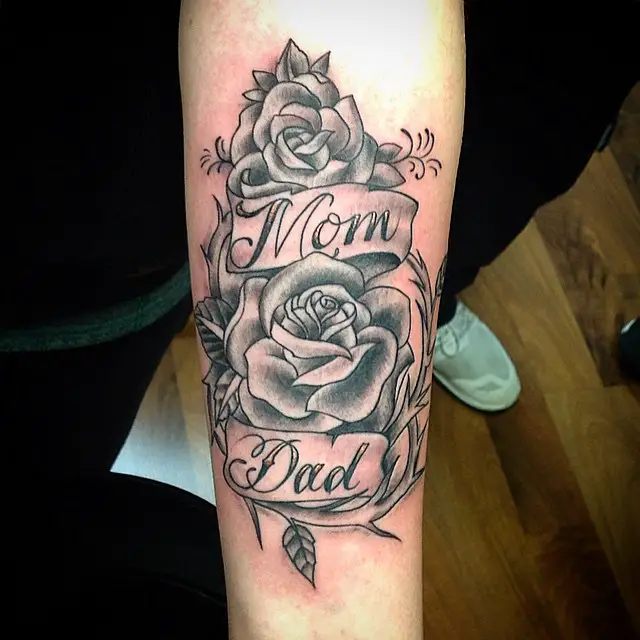 Flowers especially roses are so awesome to express your deep sentiments for mom and dad. In black ink, the two roses are inked on the lower arm with the words to show that you fear nothing when your parents are with you.
#2: Mother's Heart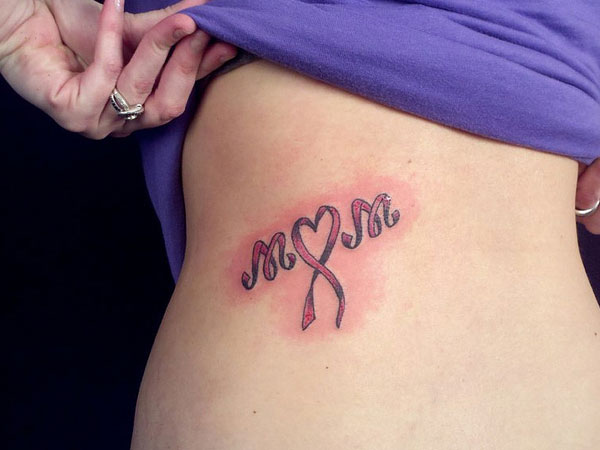 Pure, divine and very nurturing is how you can define a mom's heart. Whatever you give to it, it only returns unconditional love and desires everything best for her children. This simple yet compelling 'mom' tattoo shows how her heart beats infinite care and affection for us.
#3: Mom Is The World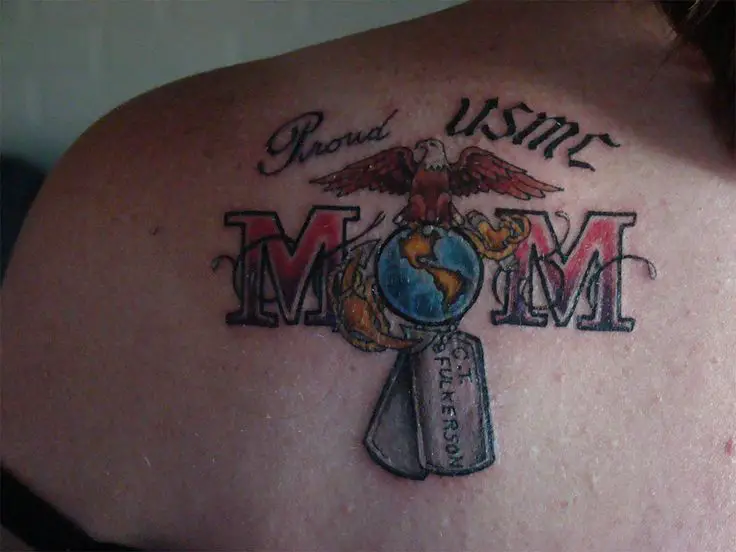 What an interesting and explanatory shoulder tattoo to honor mom or motherhood! It has so many elements blended together each representing the mom as the essential part of life. The globe in the center with an eagle, an anchor and a name tag shows that the wearer considers mom as the center of life who holds his world and carefully watch over for everything. It could also be a nice tattoo idea to show your respect for your motherland.
#4: Worship Mom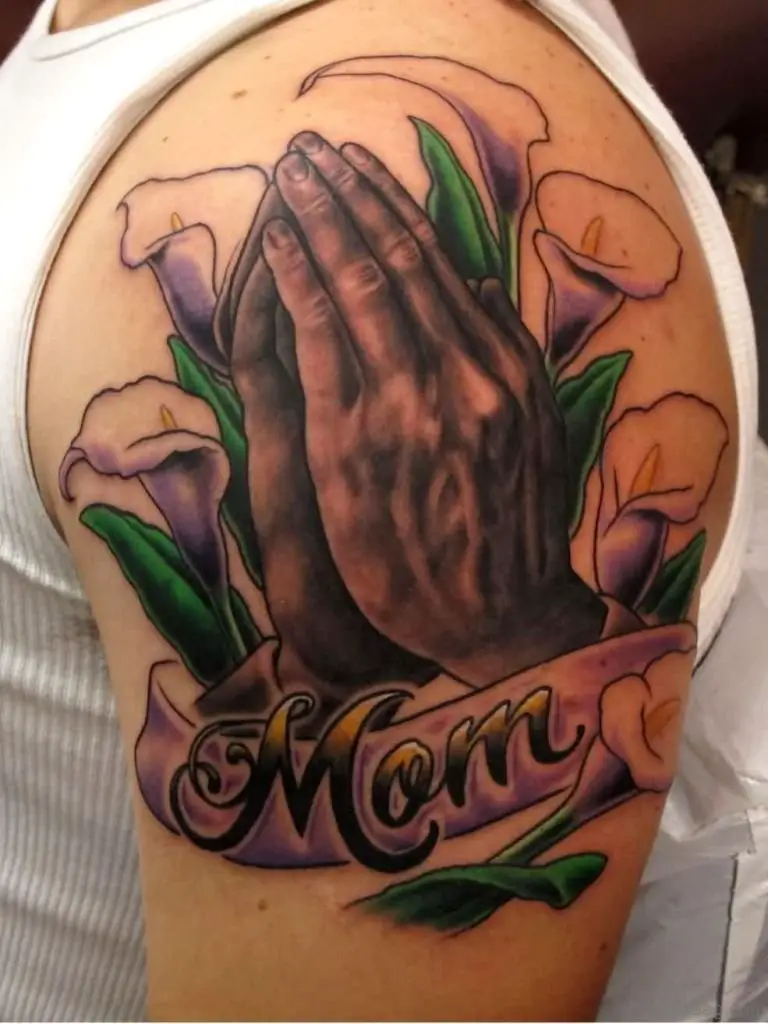 She is equal to god and there is no doubt the wearer of this elaborative shoulder tattoo worships his mom. The flowers in this shoulder tattoo represent the beauty of the bond the wearer shares with his mom. When opting for such a tattoo, you could include her favorite flowers for a much-connected design.
#5: Mother And Child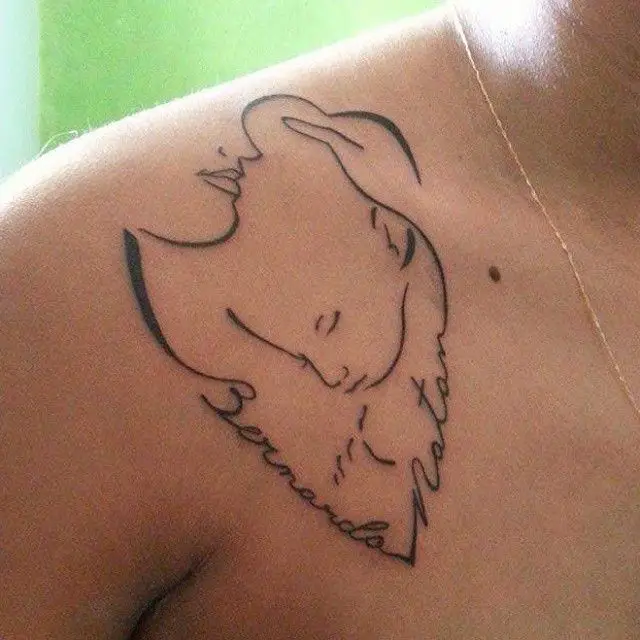 This is one of the most creative design ideas to represent the bond between mother and child. Those well-thought borders and incredible vision with names connecting the entire design reveals a lot about what the tattoo is, its true intentions and motivation. It needs no fancy details or flamboyant colors to explain the tattoo. The moment you see it, you know it is the body art done with and for love.
#6: Marine Mom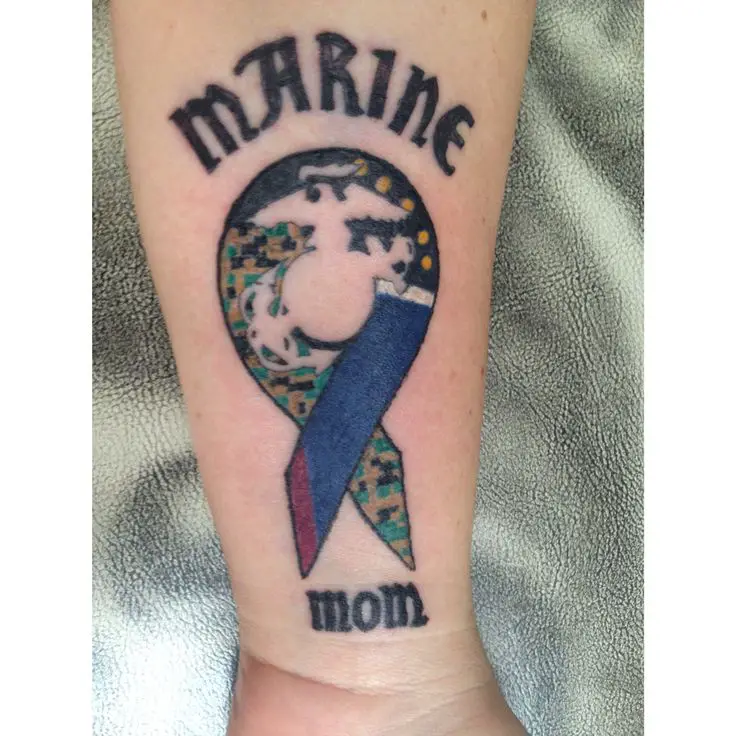 The tattoo is self-explanatory. It honors the mom on duty with those words and symbols. Since working moms always have a guilty of not giving enough time to their children, a tattoo representing their sincerity for the work is amazing to let them know you appreciate and respect them for being so strong and dynamic and that like you, her work is a part of her life.
#7: Because You Are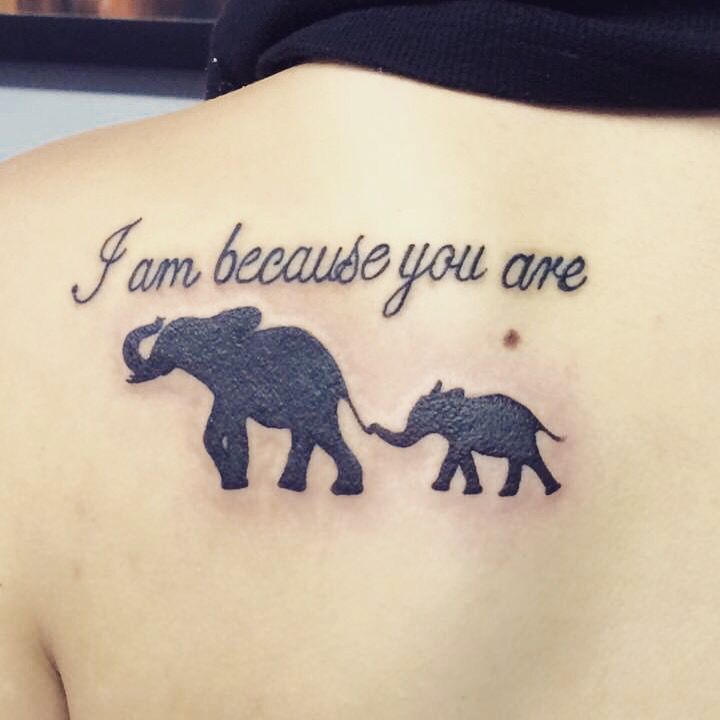 What a cute and simple tattoo to tell mom 'I am because you are'. Since a mother elephant is extremely protective of her baby, taking the elephant figures with the quote clearly states that the mother of the wearer helped nurture him as a human he is now.
#8: Mom's Needle And Thread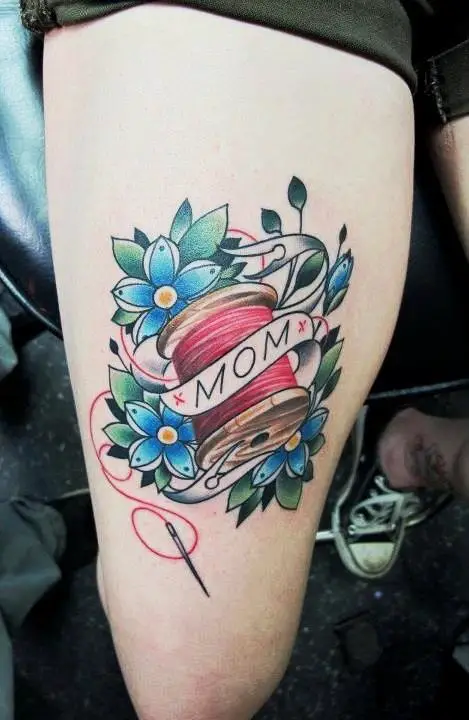 This thread and needle design with lots of flowers is a compelling tattoo idea for moms. Metaphorically, the design says that a mom can sew the beautiful things in a child's life. But with the meaning, it is the sharp design details and precision that made this tattoo so profound and arresting.
#9: Flowers For Mom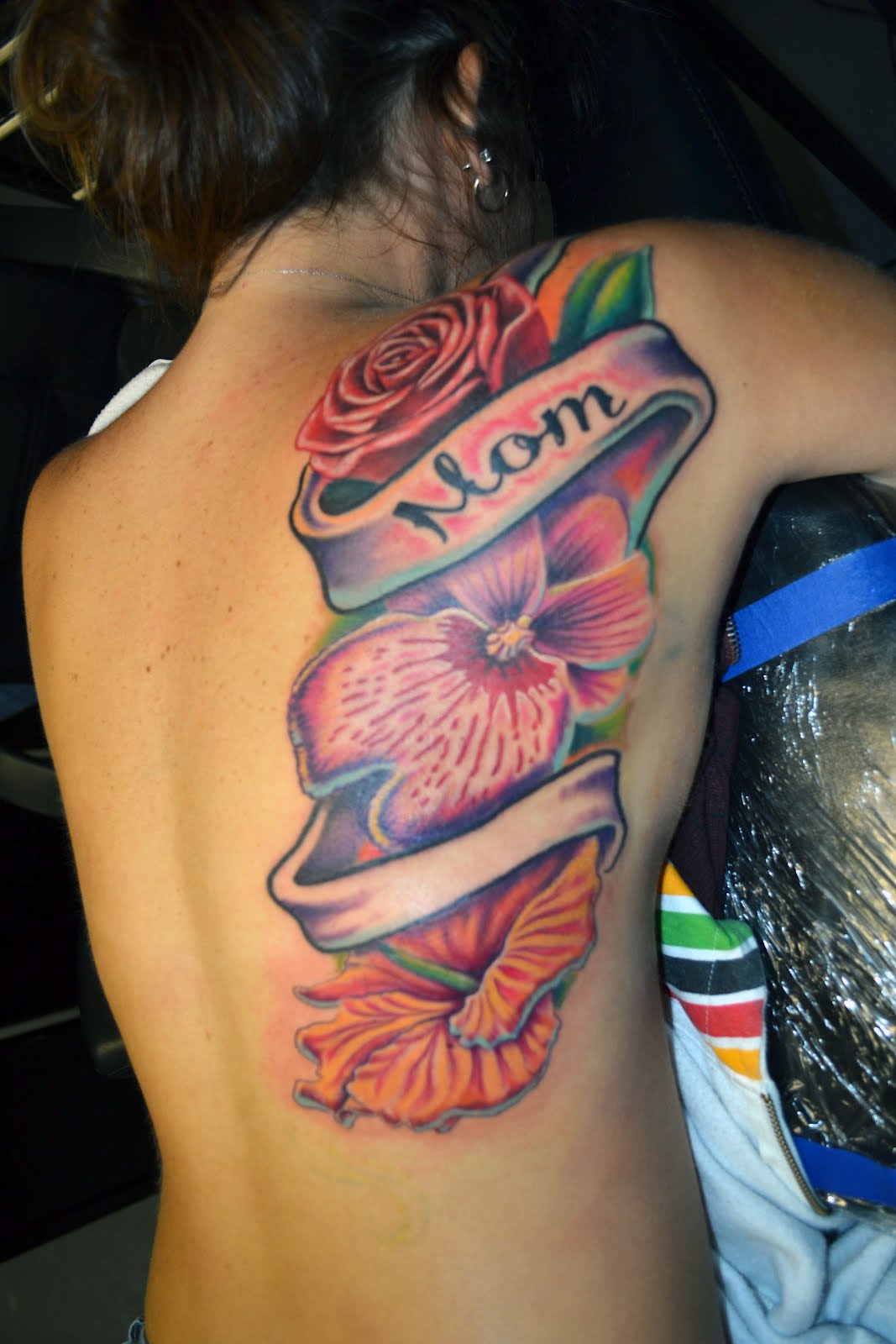 What a brightly colored tattoo! It has got all the delightful attributes of a spring garden, making this a vibrant body art to honor your mom.
#10: Heart It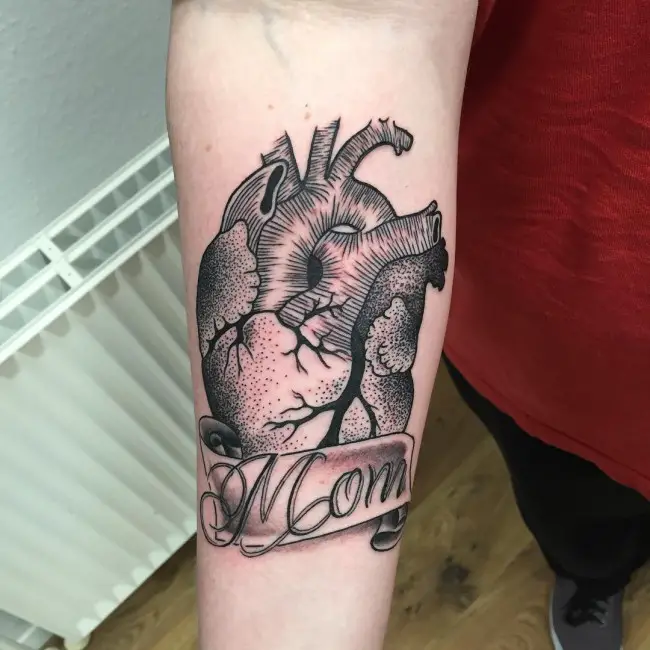 A picture of the human heart is not an ordinary design idea for mom tattoos. This one must have a special story. One of the reasons we included it on our list is the meticulous detailing. Only a mom can give her heart and blood for her children.
#11: Another Mom And Baby Tattoo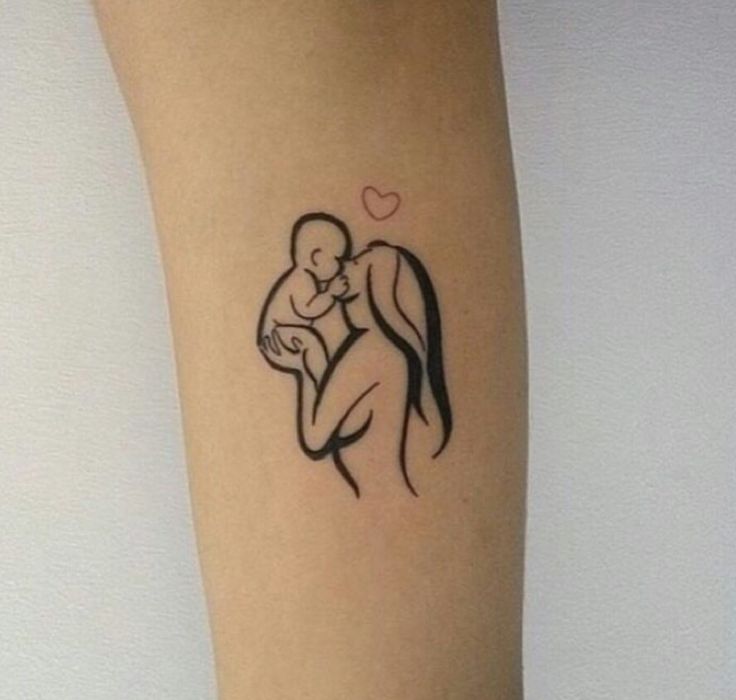 So surreal and sensory! With just a few outlines that created the mom and the child, this design explained the beauty and warmth of the bond that these two beings share. Just loving it.
#12: Mother And Daughter Love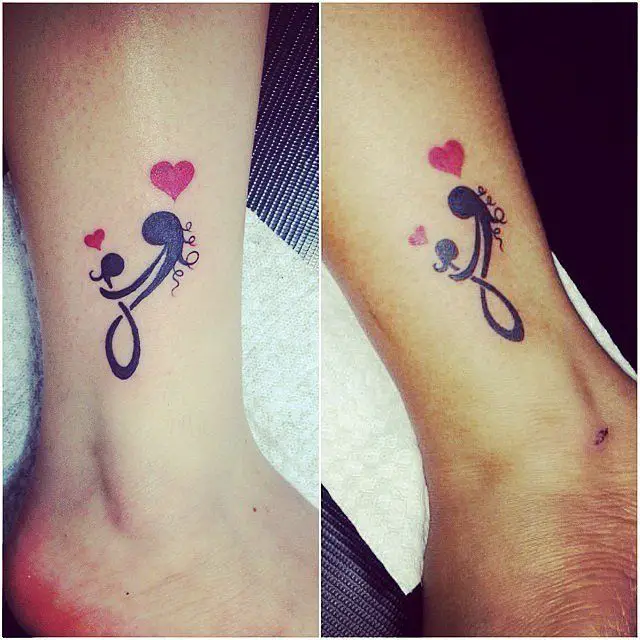 It's one of the cutest tattoo ideas for moms on our list. If you want to express your feelings through a discreet piece of art then this symbolic mother-daughter tattoo is one little thing you should not miss.
A picture paints thousands of words, and each design on this small yet compelling list of tattoo ideas for moms perfectly explains it. Fascinating and invigorating, these designs will surely steal your heart. While they are few options, they can help you interpret your own tattoo devoted to mom/motherhood.