A turtle tattoo is an elegant and thoughtful ink choice for people who appreciate the unique symbolism and cultural significance of these creatures. Over the years, designs surrounding the turtles have gained immense popularity for all the right reasons. 
In various communities and cultures, turtles have long been associated with the natural world and praised for their ability to survive in challenging environments. These tattoos represent a wide range of meanings, from wisdom, resilience, and protection to community and family. The possibilities of tattoo choices including the beautiful creature are endless. 
In this guide, we will bring to you some of our most amazing collections of turtle designs and ideas. So, whether you are in search of a tattoo to express your inner feelings or looking for information, get ready to be mesmerized by these designs. Stay with us till the end of the guide!
Sea Turtle Tattoo
One of the top choices when it comes to getting turtle design and styles inked on the skin is the sea turtle idea. The excellent combination of nature and thoughtful meanings makes these art pieces a beauty to the eye. Let us take a look at some of these top tattoo ideas.
1. The Sea Turtle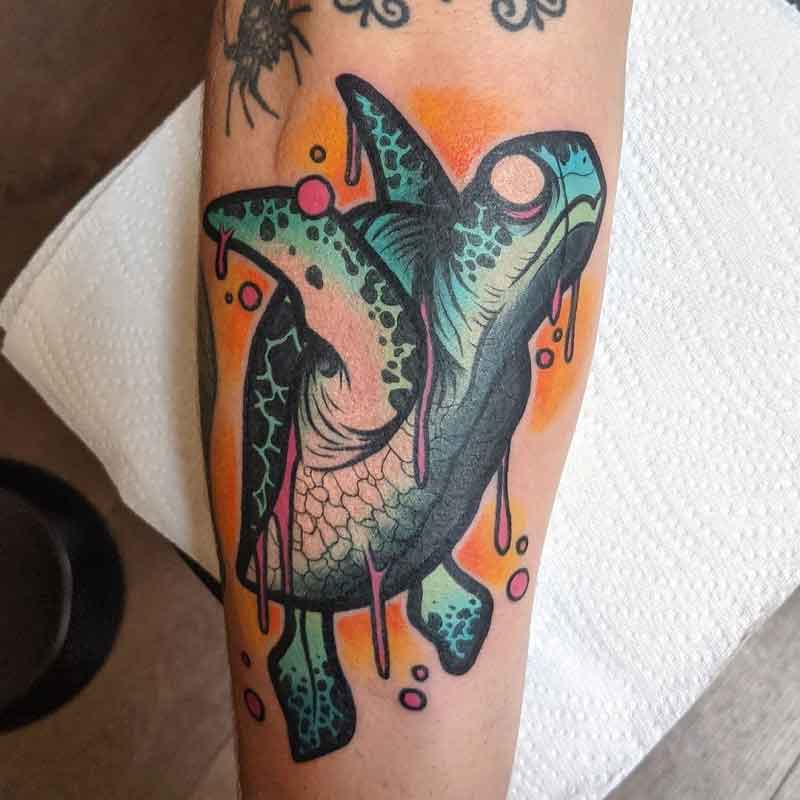 Highlight the physical features of your body with this mesmerizing sea turtle artwork. It features a sophisticated depiction of the mighty sea creature with an eye-catching spread of colors.
2. The Nature View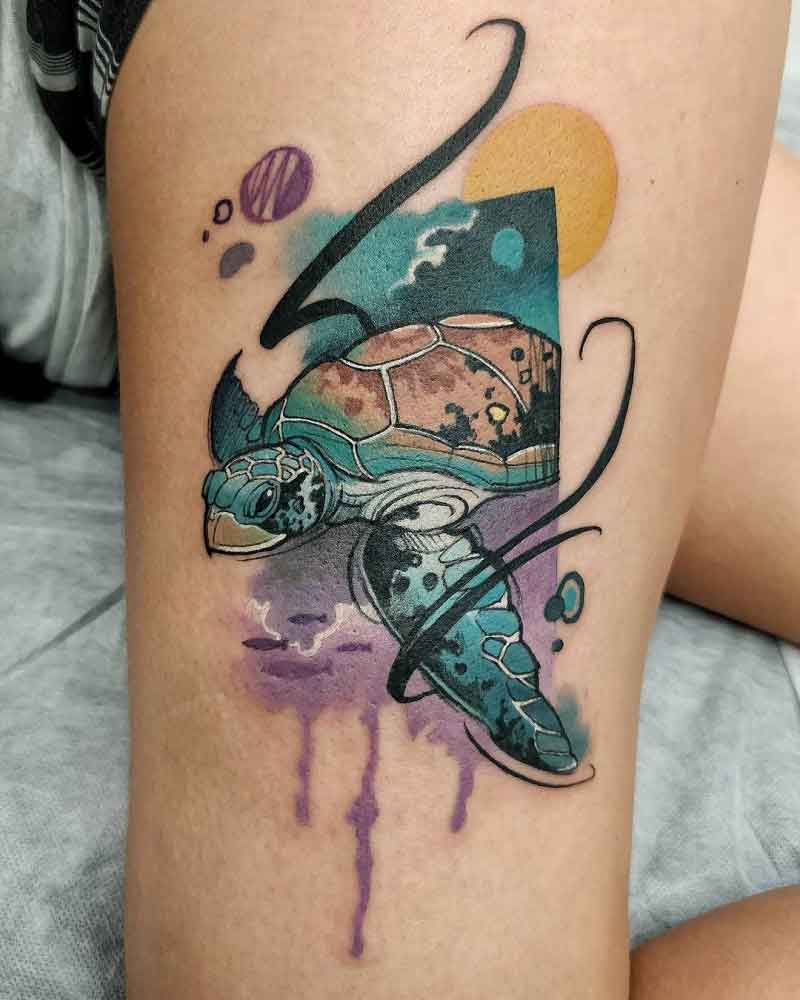 Get this exquisite sea turtle inked as a sign of respect and love for nature. The intricate design on the shell and surroundings give the art piece a unique look. It is a perfect choice for the arm of a woman.
3. The Majestic Creature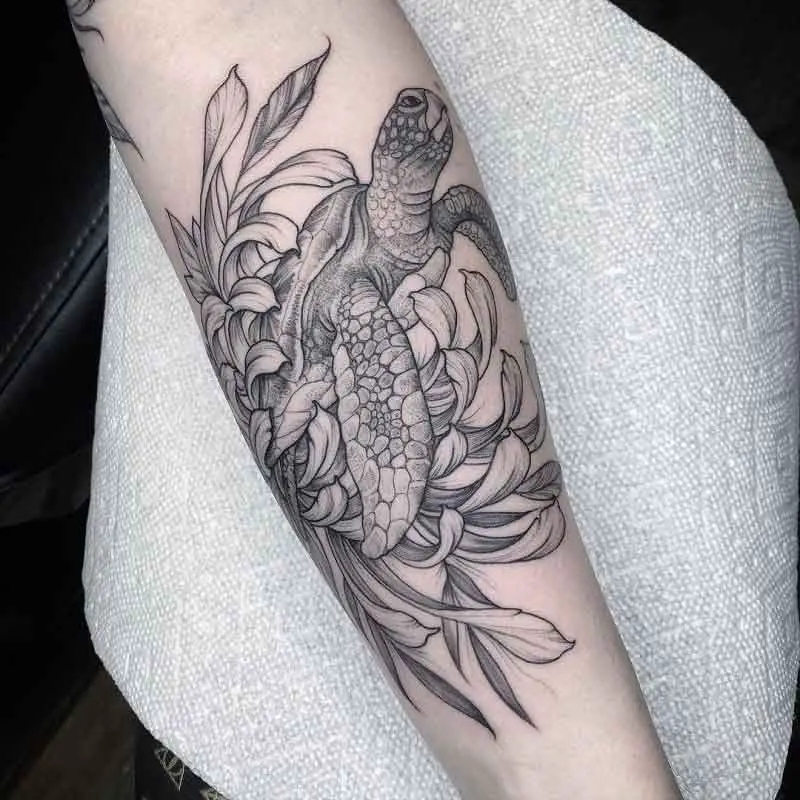 Corporate two of the most beautiful creation of nature: plants and sea turtles, in this amazing artwork. This design is perfectly detailed, bringing attention to the tattoo. Perfect for both men and women, the art looks attractive on the arm.
Tribal Turtle Tattoo
Tribal tattoos are extremely popular all over the world. The heartwarming significance of the tattoos, mixed with the distinctive patterns, makes it a top-notch choice for tattoo enthusiasts. Discover the best examples and ideas of the tribal turtle.
4. The Sea Shape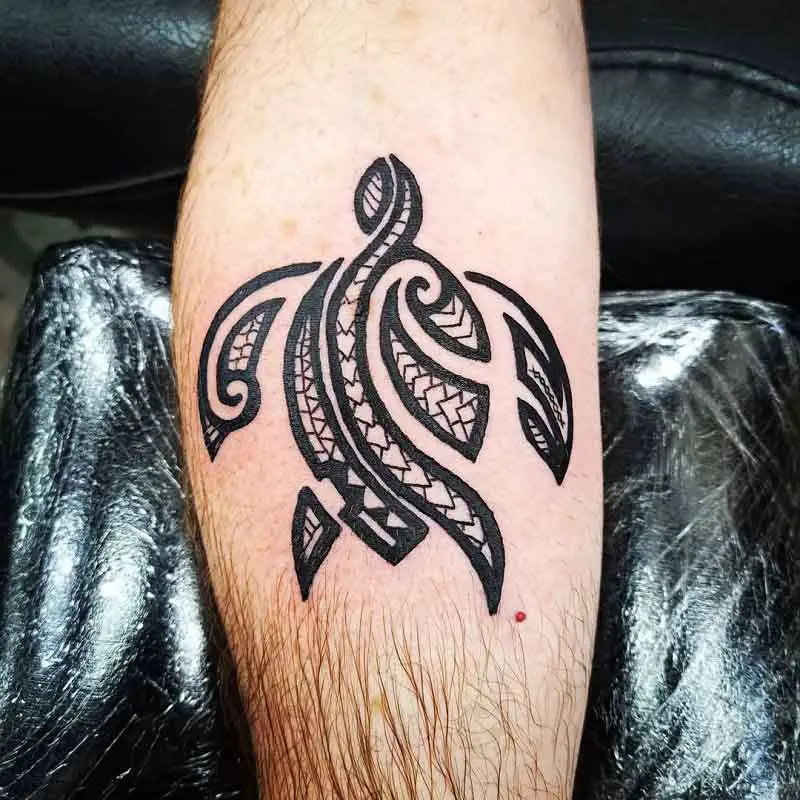 Represent protection, resilience, and wisdom with this strong and tribal turtle design. This style, with its bold patterns and deep significance, gives it a great look. It is a mesmerizing choice for the arm of a man.
5. Tribal Turtle Art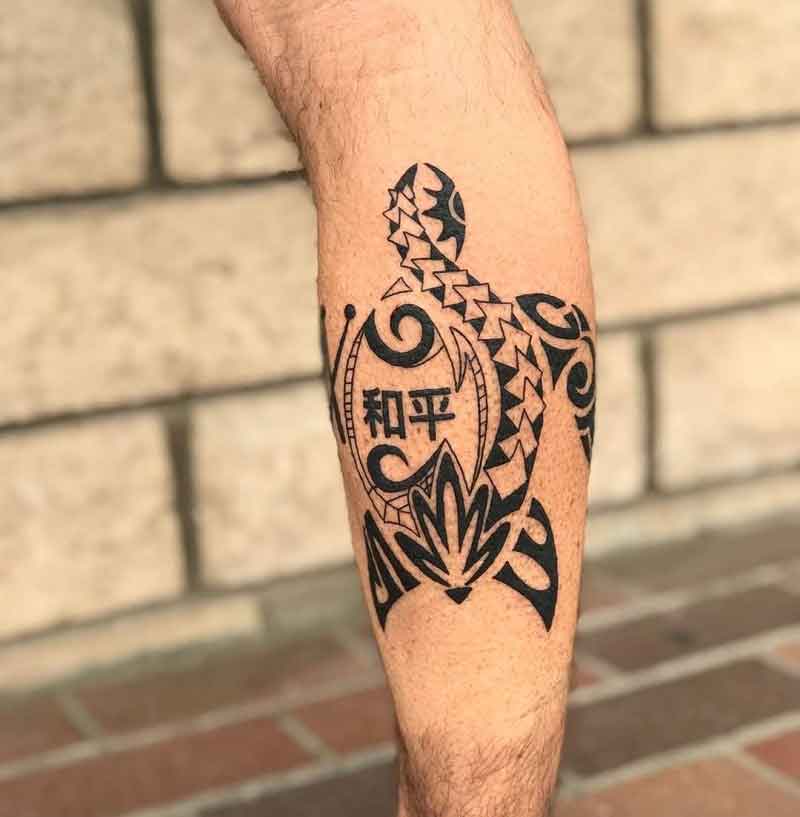 Display the creativity of the artist with this eclectic tribal turtle on the skin. It is a symbol of wisdom, boldness, and protection in tribal cultures and communities. This design looks amazing on the leg of a man.
6. The Tribal Flowers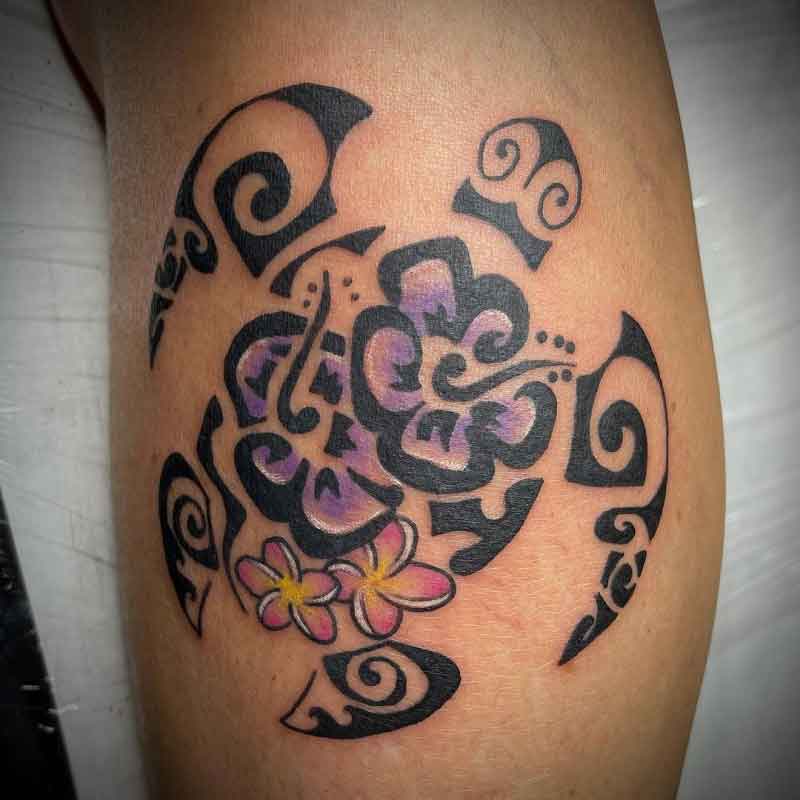 Get a combination of turtle and flowers tattooed on the skin with tribal patterns. The pop of pink and purple colors gives the design a soft and delicate look. It is a sign of resilience, softness, and longevity, perfect for the arm or leg of a woman.
Ninja Turtle Tattoo
The Ninja Turtle designs bring back a wave of childhood memories. This cartoon has been a great part of our lives growing up. Take a look at some of the amazing Ninja Turtle styles and art pieces with us.
7. Ninja Turquoise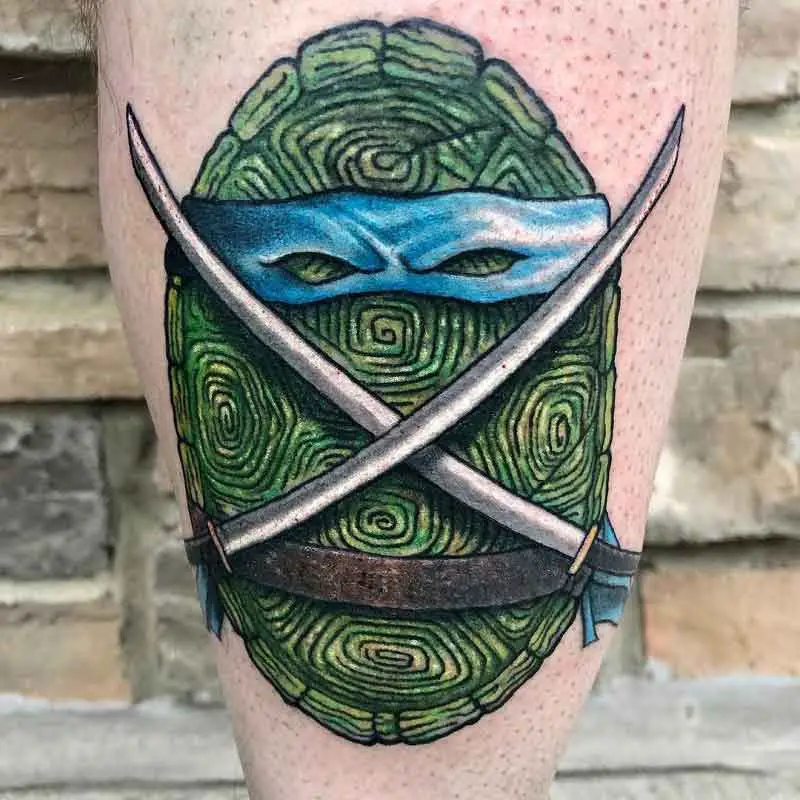 Dive into the world of nostalgic memories with this stunning turtle design. It is a symbol of remembrance, good memories, and childhood life. It is a great choice for all Ninja Turtle fans.
8. Childhood Memories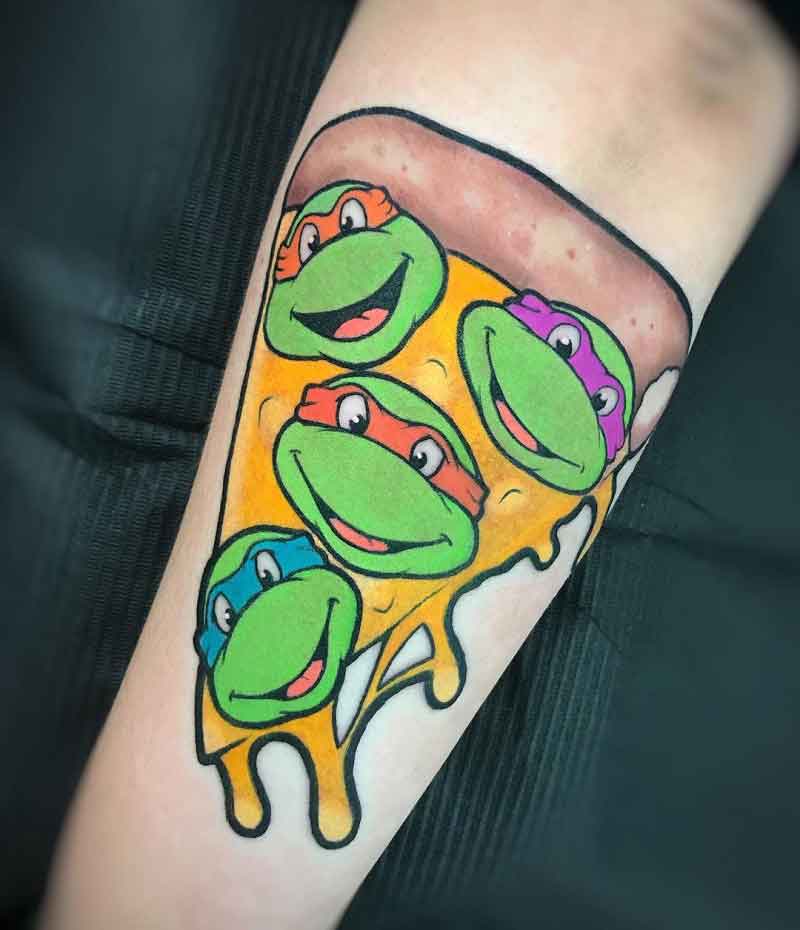 Turn heads everywhere you go with this fun and creative tattoo. The Ninja Turtle characters sliding on a cheesy pizza symbolizes fun. It is an awesome tattoo idea on the arm for fans of the show.
9. Mutant Ninja Turtle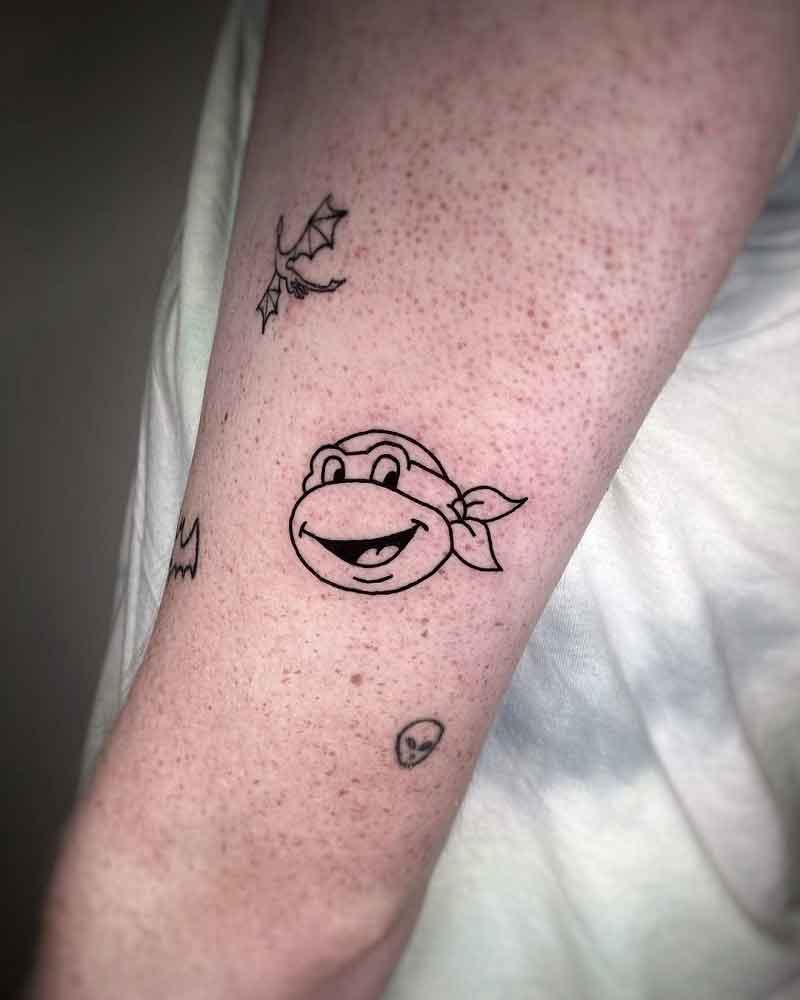 If you love small yet meaningful tattoos, then this is it. The small head of a Ninja Turtle inked on your arm is a display of love for the show. It is a top-notch choice for the arm of a man. The simplicity of the design makes it more captivating to the eyes.
Hawaiian Turtle Tattoo
Hawaii is a place of fun and enjoying nature. The beauty of the place combined with its unique creatures and findings, make it even more appealing. The designs and ideas of the Hawaiian turtle are also equally attractive. So, dive deep into some of the beautiful artworks here.
10. The Floral Shell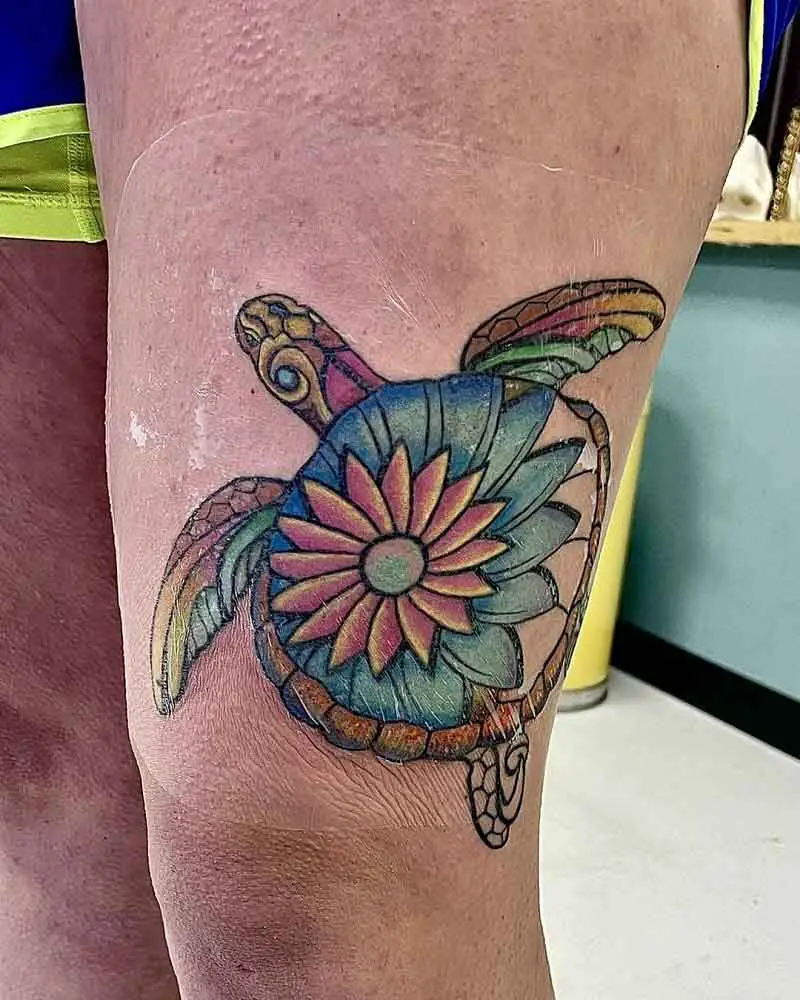 Symbolize your visit to Hawaii or express your love for the place with this stunning tattoo design. The flowers on the shell of the turtle depict beauty, art, and softness. This design is suitable on the arm or thigh of a man.
11. Pretty Shell Turtle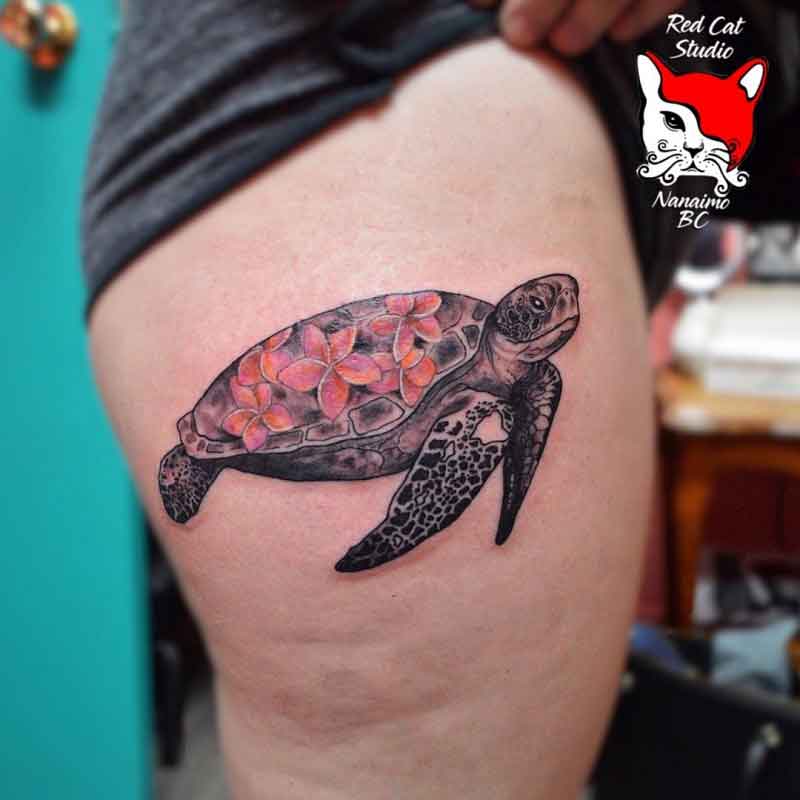 Give yourself a stunning tattoo with this Hawaiian turtle design. This pretty style, paired with the flowers, makes the design more appealing to the eyes. The pop of color is a beautiful choice for the arm of a woman.
12. The Nature Collaboration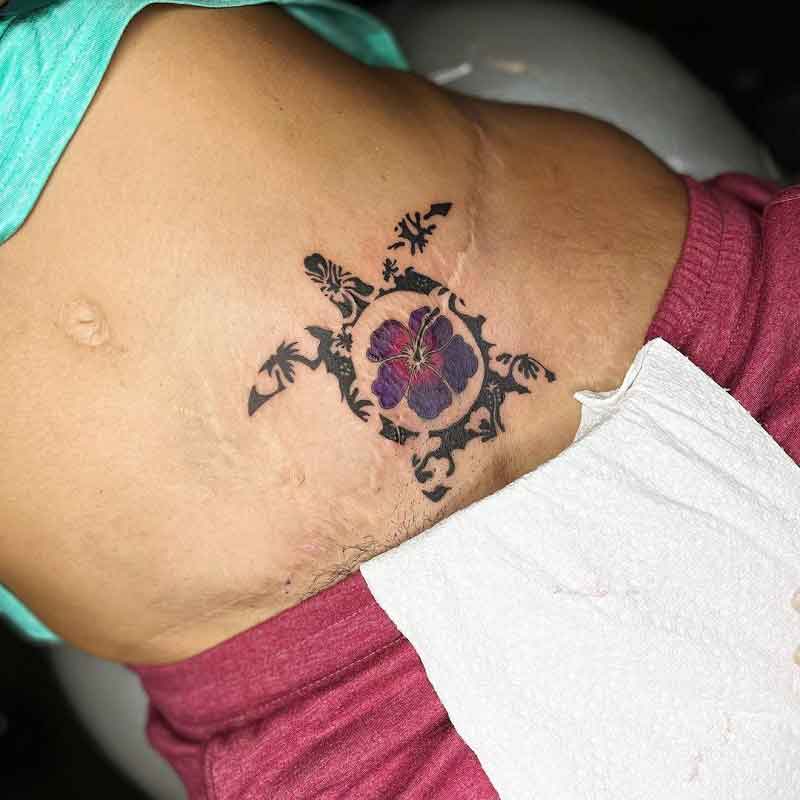 Embrace your scars and turn them into art with the enchanting turtle design. This design has floral pieces on the shell, giving it a vibe of beauty and art. It is a perfect artwork that looks amazing on the body of a man.
Polynesian Turtle Tattoo
Tattoos are a popular work of art in the Polynesian culture and tribe. Each and every design in the culture has its own beauty and artistic meaning. Let us take a look at the top Polynesian turtle art and designs.
13. Mask On The Shell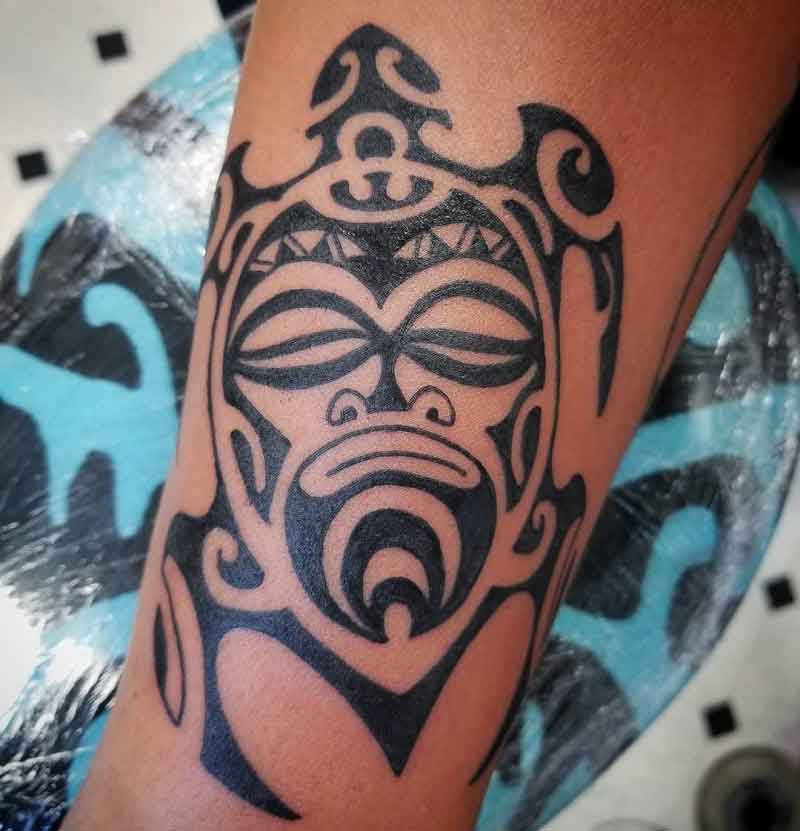 Represent symbolic elements from Polynesian culture and meaningful expressions with this artwork. It is a symbol of good luck, prosperity, and longevity. The detailing and bold lines make it perfect for the arm of a man.
14. The Patterned Turtle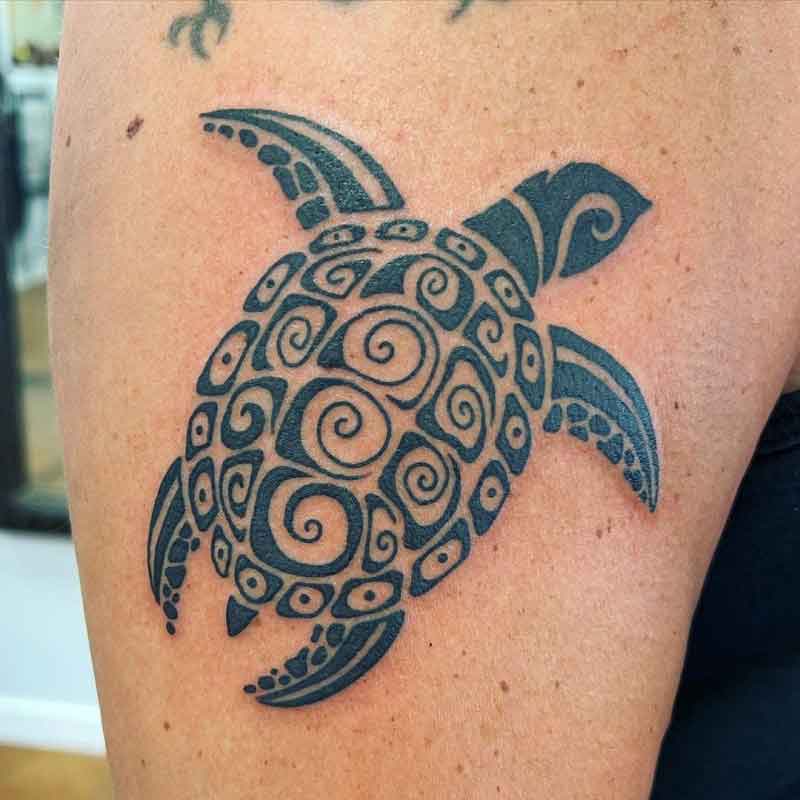 Inspired by traditional Polynesian art, this tattoo is a sign of beauty, good luck, and happy beginnings. The bold shapes paired with its meaningful style give it a stunning look. It is a pretty artwork on the arm of a woman.
15. Swirly Creation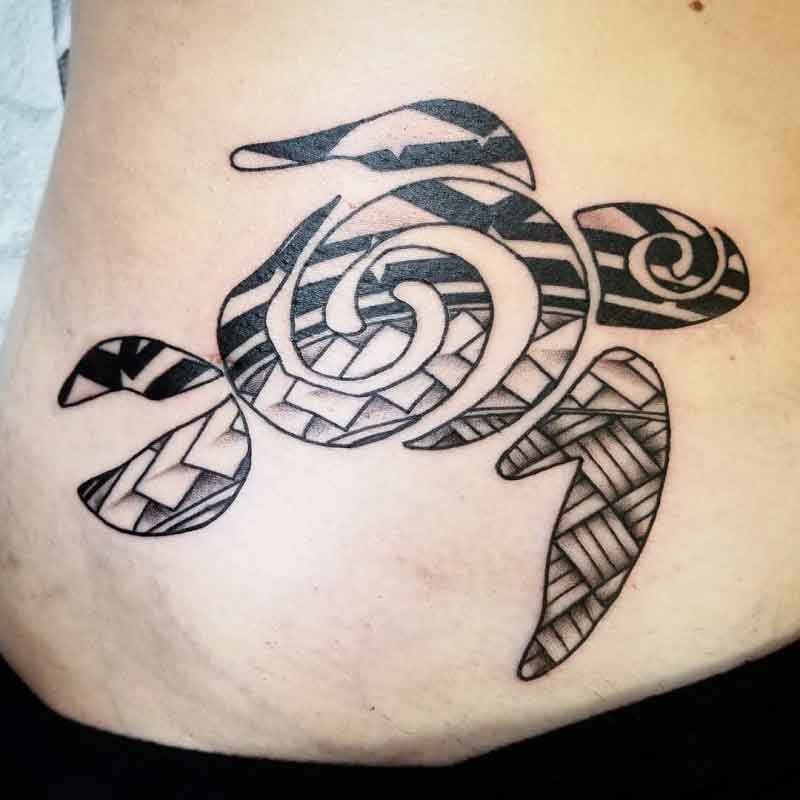 The design features an intricately patterned sea turtle paired with swirly shapes. It has a symmetrical design which gives it a beautiful and powerful appearance. This design reflects the traditional artistry of Polynesian art and culture.
Japanese Turtle Tattoo
Turtles are a popular tattoo choice in Japanese culture. It is a creative outlook that depicts art, nature, wisdom, and many more. Discover some of the top choices for Japanese turtle designs.
16. The Turtle Samurai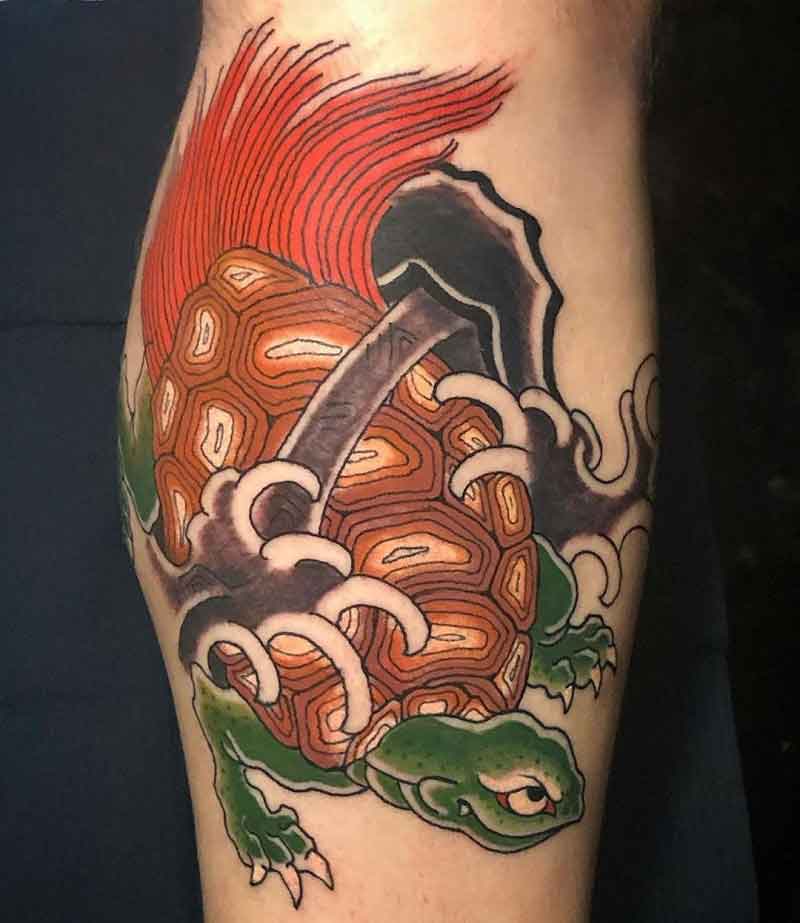 Get a majestic sea turtle tattooed on your skin as a tribute to Japanese traditions and cultures. The detailed patterns, unique colors, and eye-catching style give this tattoo a unique and striking appearance. It is suitable for the arm of a man.
17. Artistic Creature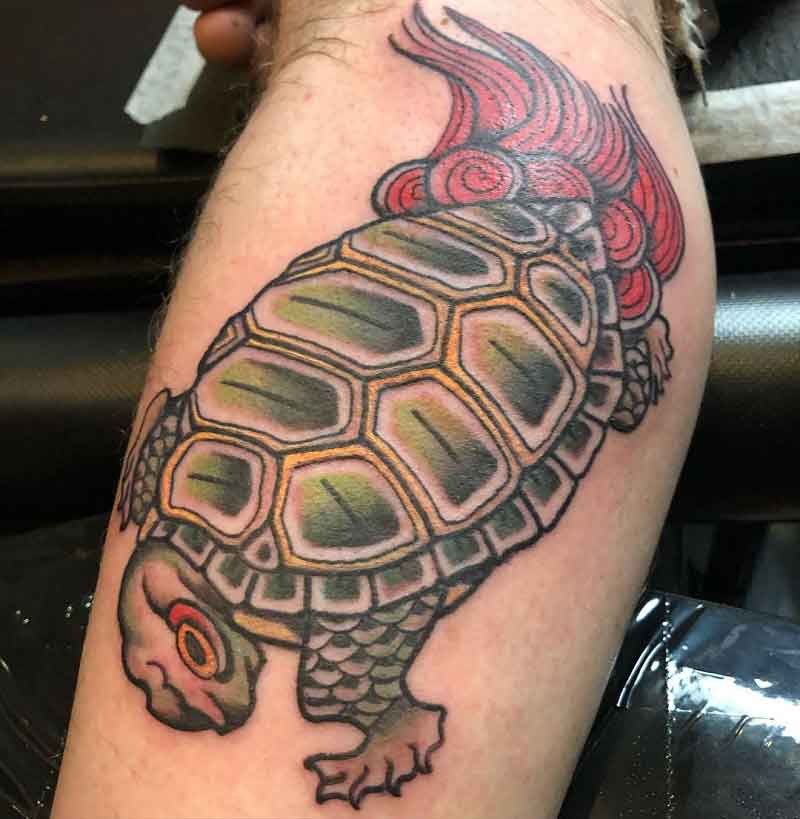 Attract the eyes of every viewer with this interesting turtle design. The unique colors paired with the distinctive design make it an appealing choice for every tattoo enthusiast. This style is a beautiful selection for women.
18. Diving Turtle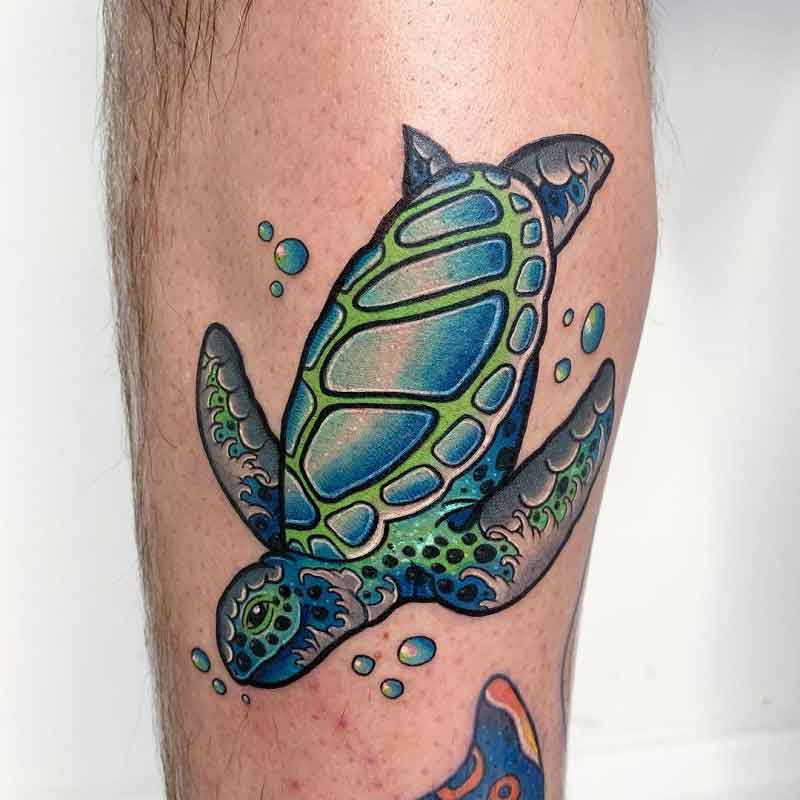 Hold your breath and dive deep into the magical world of art with this attractive tattoo art. It is a representation of water, nature, and longevity. The blue and green colors make the design outstanding and appealing.
Lion Turtle Tattoo
Incorporating lions and turtles in a tattoo is a distinctive idea. It is a creative style of art and looks great on both men and women. Take a look at these innovative lion turtle art pieces.
19. Danger Ahead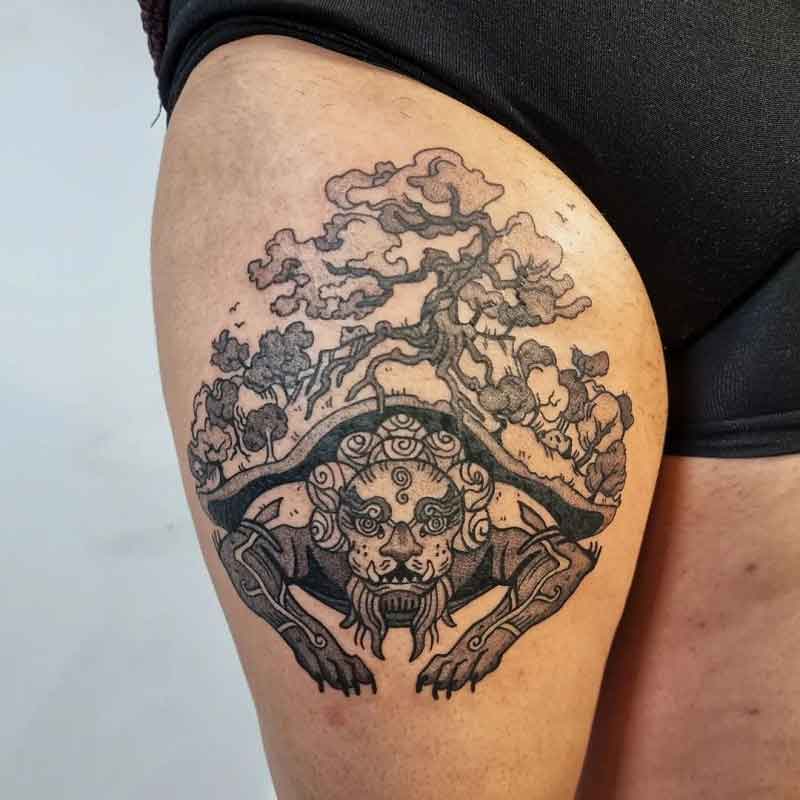 Get this bold and innovative combination of lion and turtle inked on your skin. It is a representation of strength, transformation, and wisdom. This design is perfect for the arm of a woman.
20. Dynasty On The Back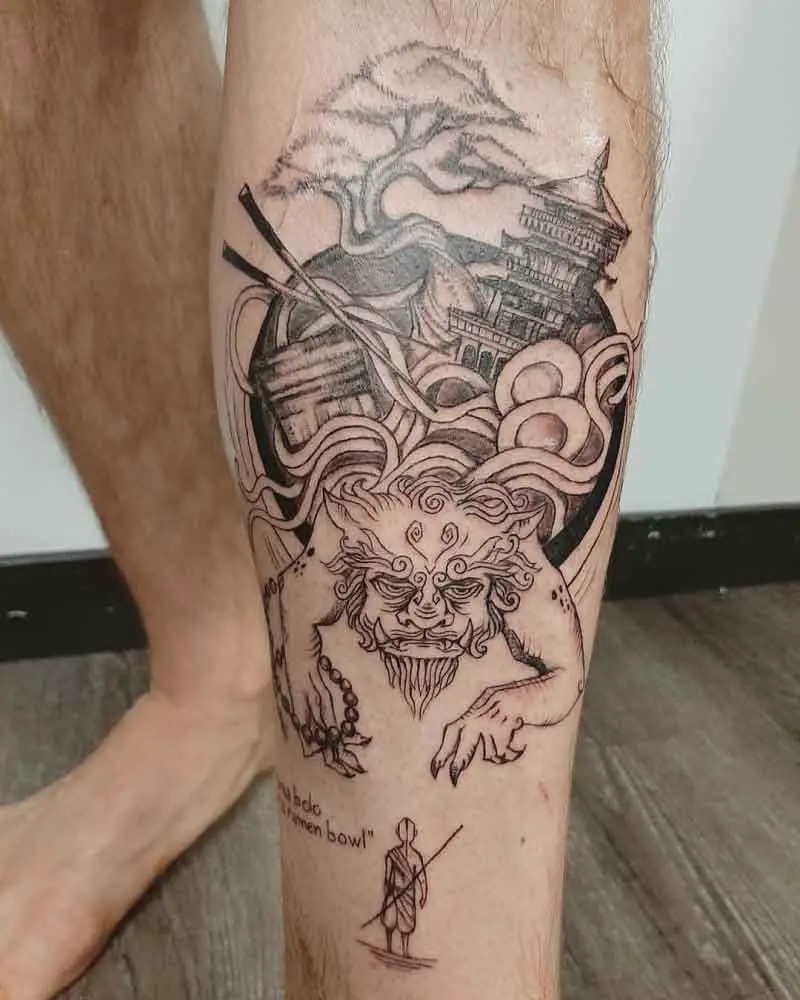 Represent art, creativity, protection, and bravery with this lion turtle art piece. The intricacy of the artwork displays the creativity and talent of the artist. It is a beautiful depiction that looks amazing on the arm of a man.
21. The Cultural Resemblance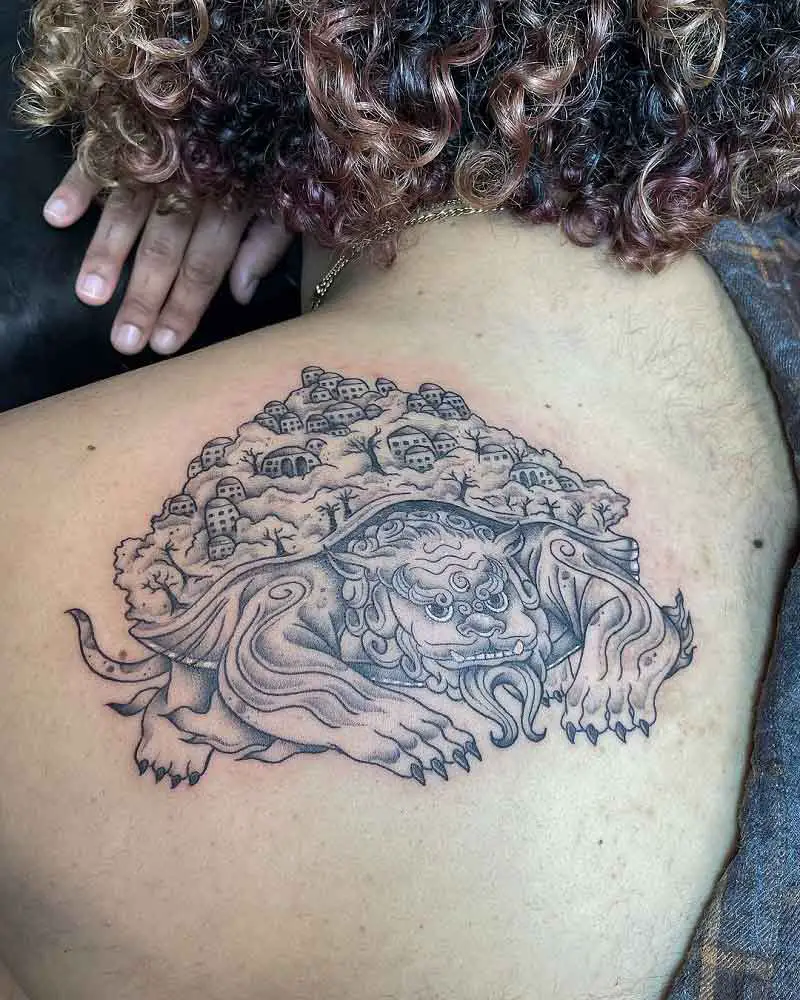 If you want a unique tattoo with a distinctive meaning, it is the perfect design. The detailing and artistic creativity make this a great tattoo design. Perfect for the shoulder of a man, it is a symbol of protection, strength, and wisdom.
Teenage Mutant Ninja Turtles Tattoo
The iconic characters from the Teenage Mutant Ninja Turtles franchise are a popular choice among tattoo enthusiasts. This is because the characters are beautifully embedded in our childhood memories. Discover a few examples of the creative style with us.
22. Back To Childhood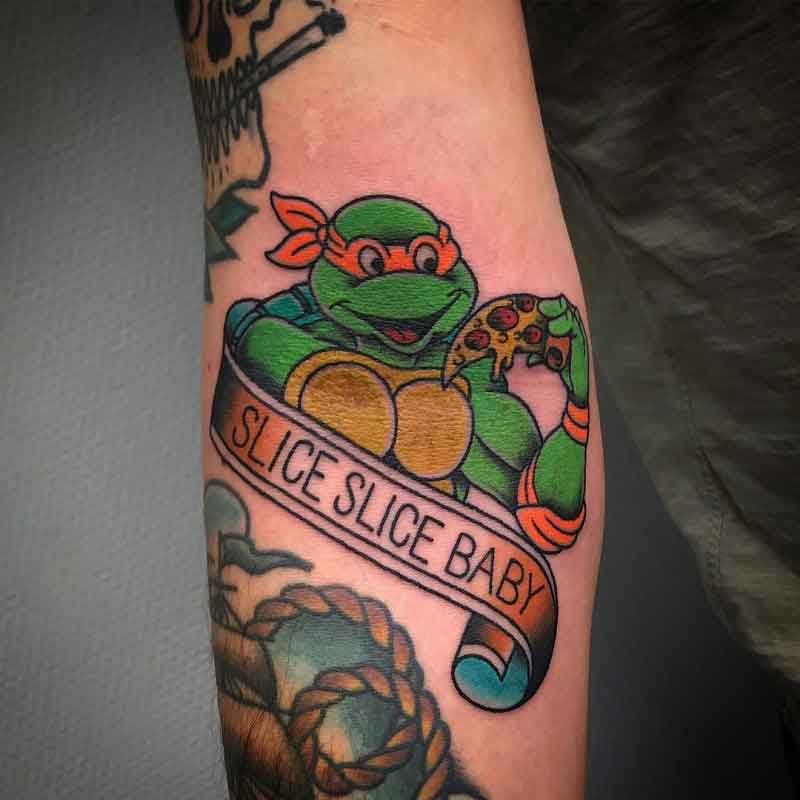 Get yourself a fun and creative Ninja Turtle tattoo on your arm. It is a symbol of nostalgia from childhood and also symbolizes adventure, art, and a love for pizza. It is suitable for the skin of a man.
23. Ninja Nostalgia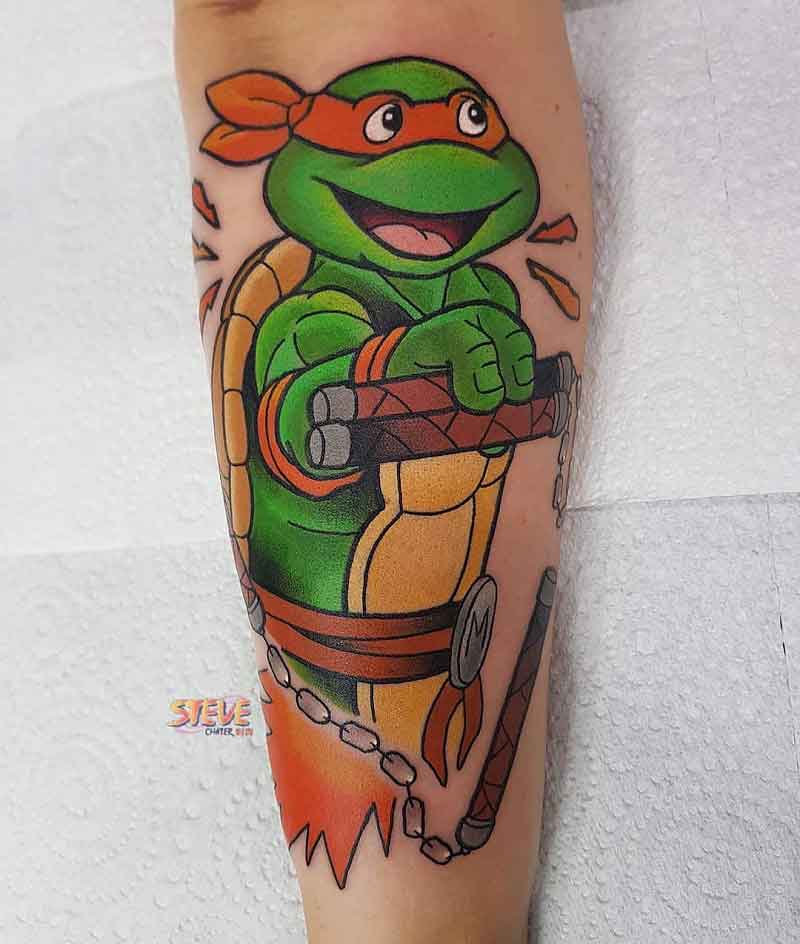 Pay tribute to your favorite childhood show with this iconic and bright Ninja Turtle tattoo. The colors incorporate well with the designs and art, giving it a unique appearance. It is a beautiful choice suitable for both men and women.
24. Destroying Evil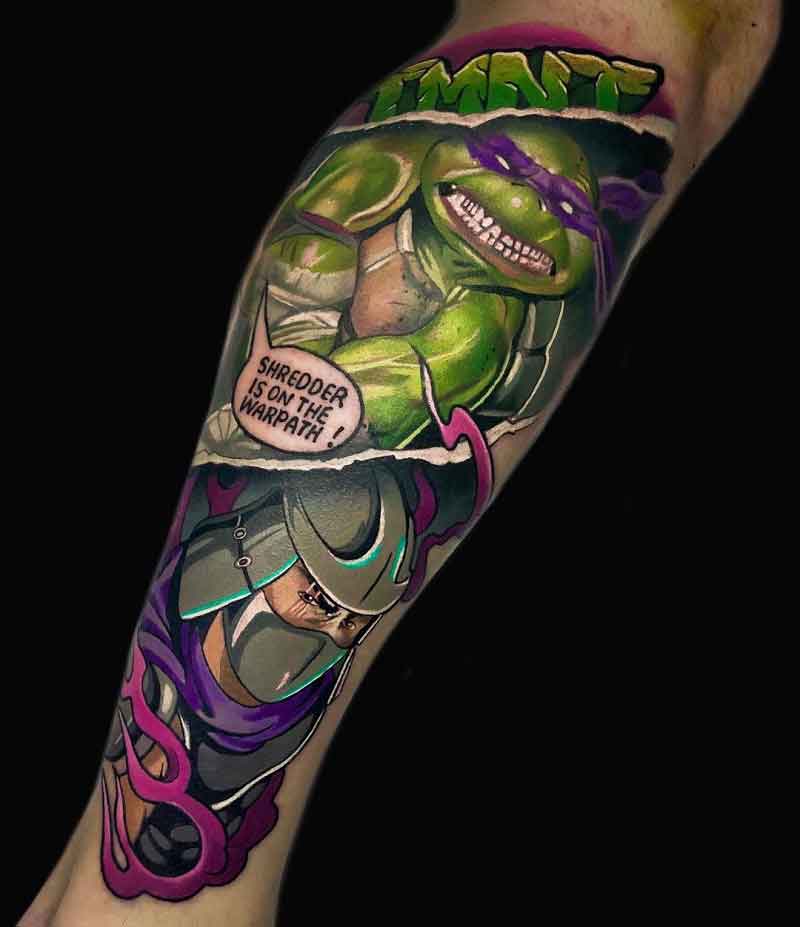 Defeat the evil inside you and start a new journey toward the light with this beautiful tattoo design. Leave the negativity of life behind with this stunning Ninja Turtle art. It looks eye-catching on the arm of a man.
Snapping Turtle Tattoo
Snapping turtles are a sign of endurance, protection, and nature. Check out some beautiful samples of this category.
25. The Strength Equivalent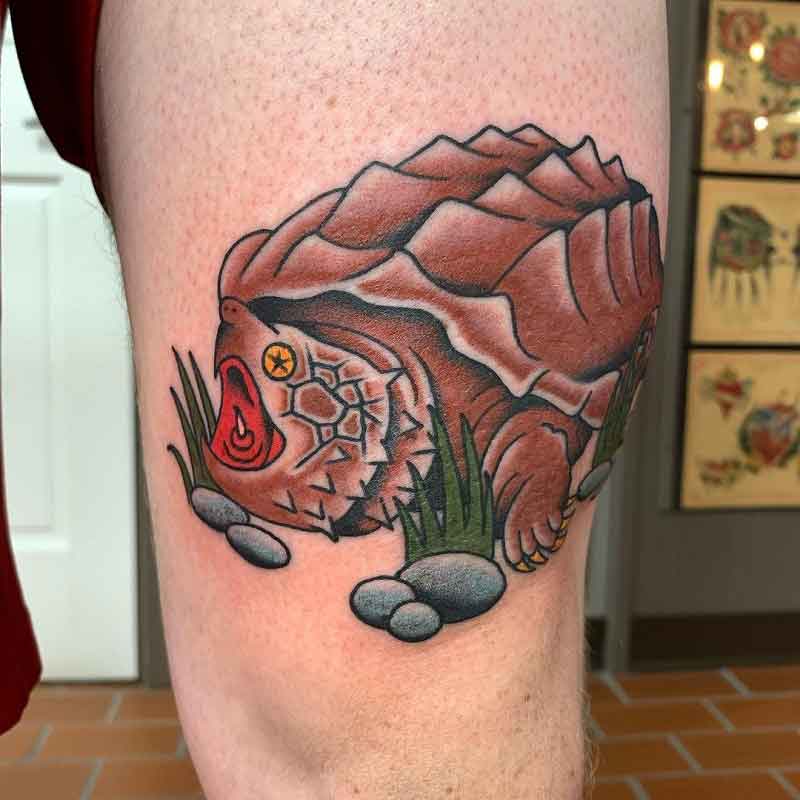 Symbolize your strength, life battles, courage, and art with this snapping turtle art piece. The details of the art, paired with unique patterns and colors, make the design attractive to all eyes. This style is perfect for the arm or legs of a man.
26.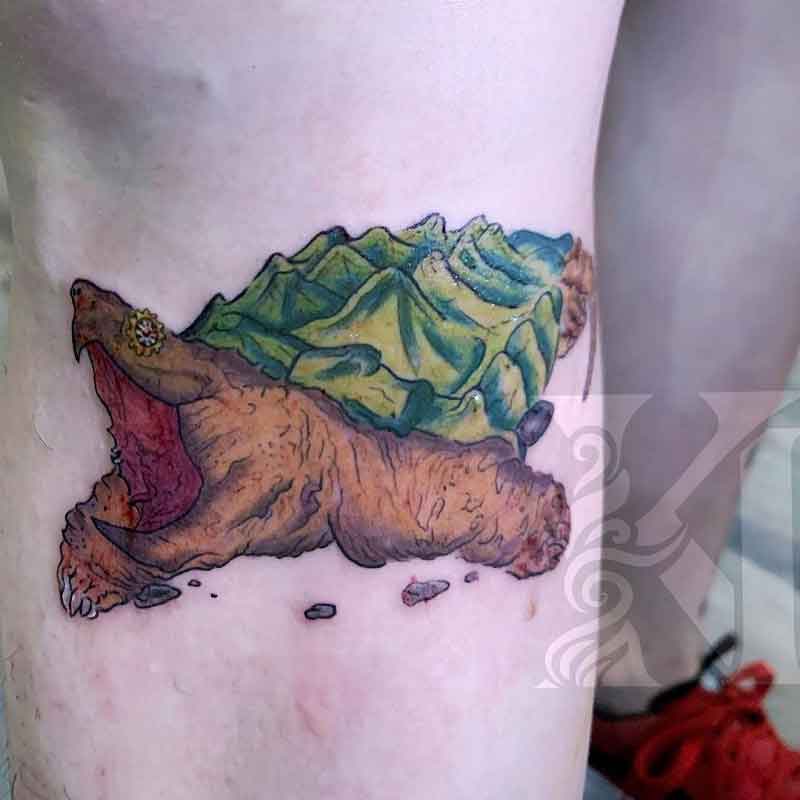 27.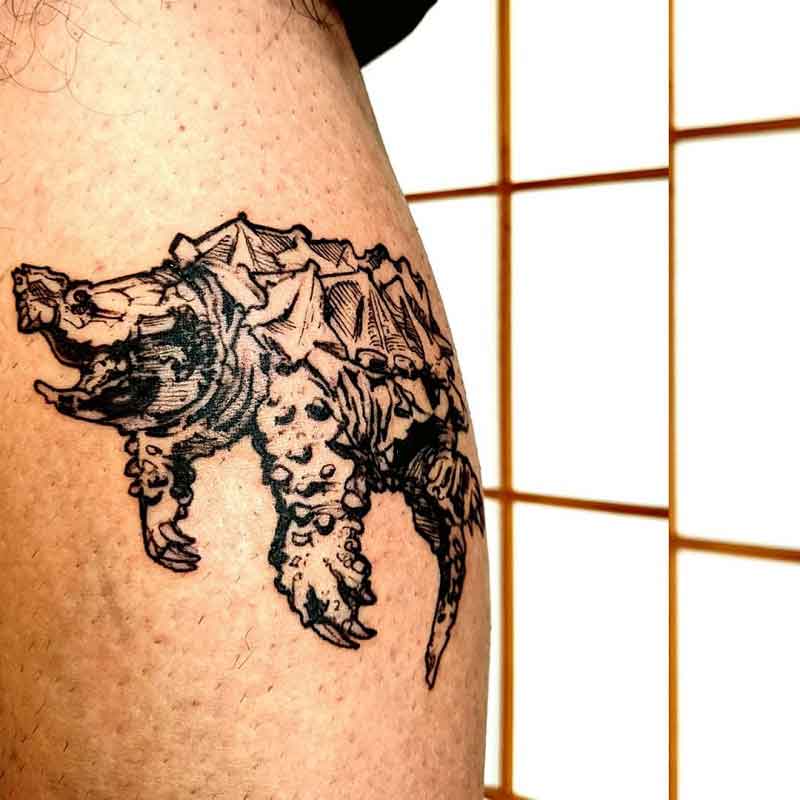 Traditional Turtle Tattoo
28.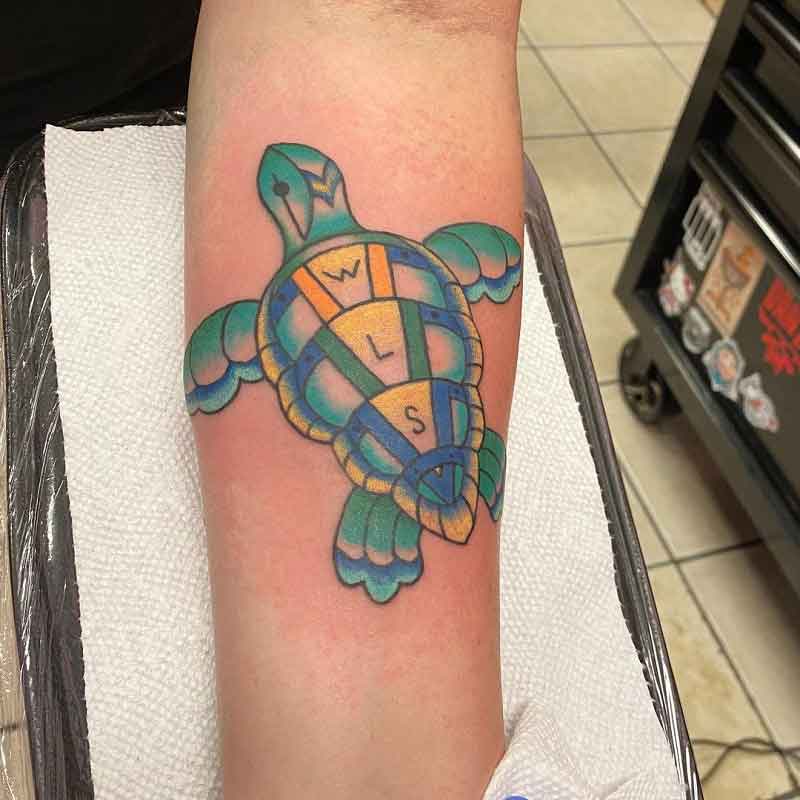 29.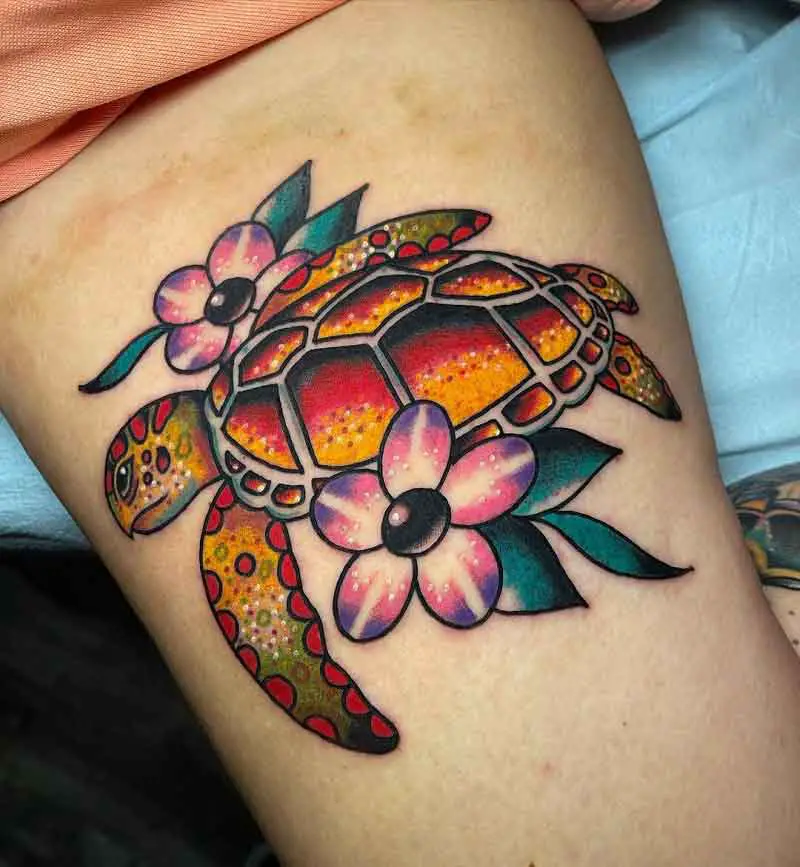 30.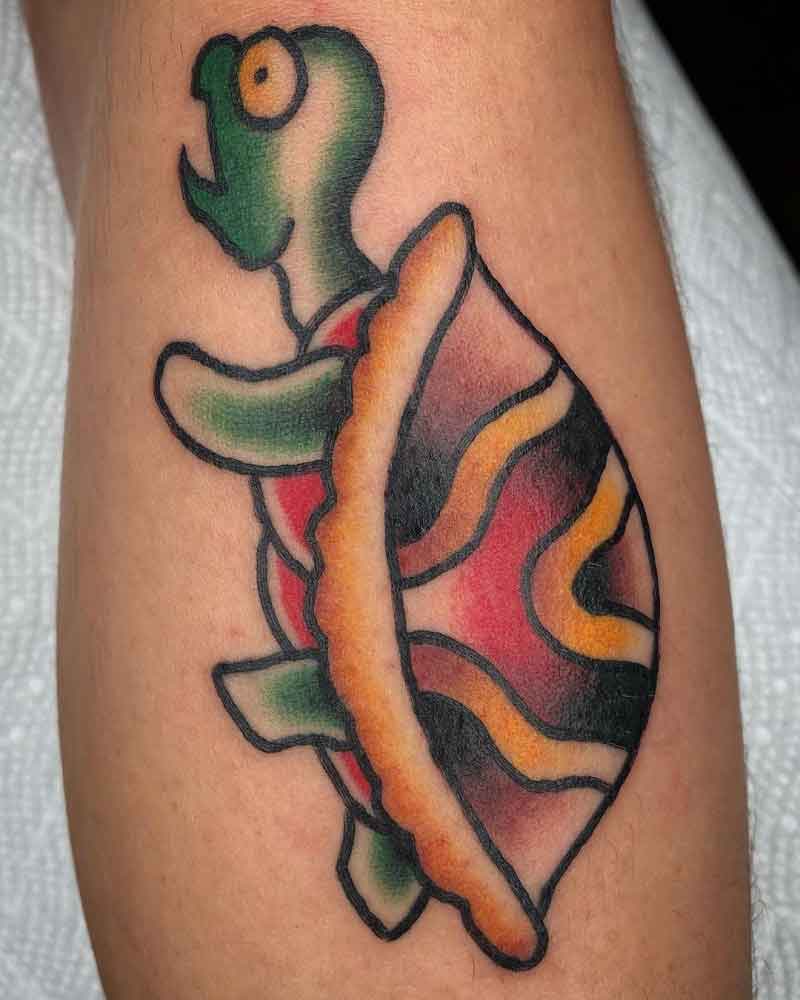 Turtle Shell Tattoo
31.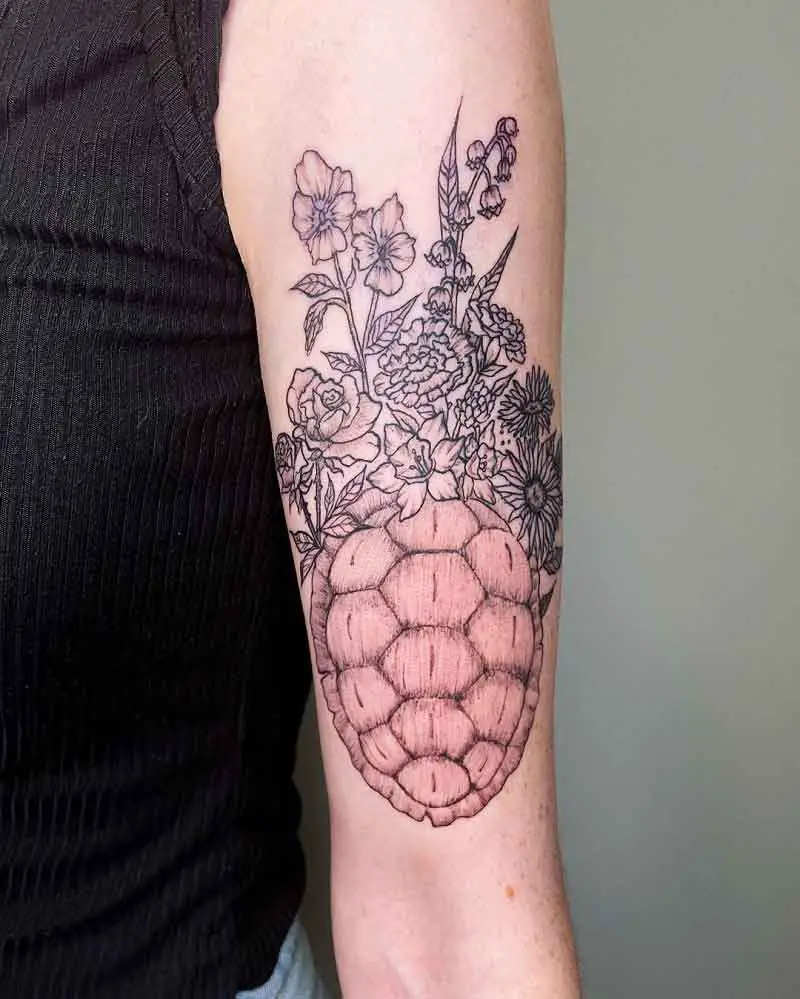 32.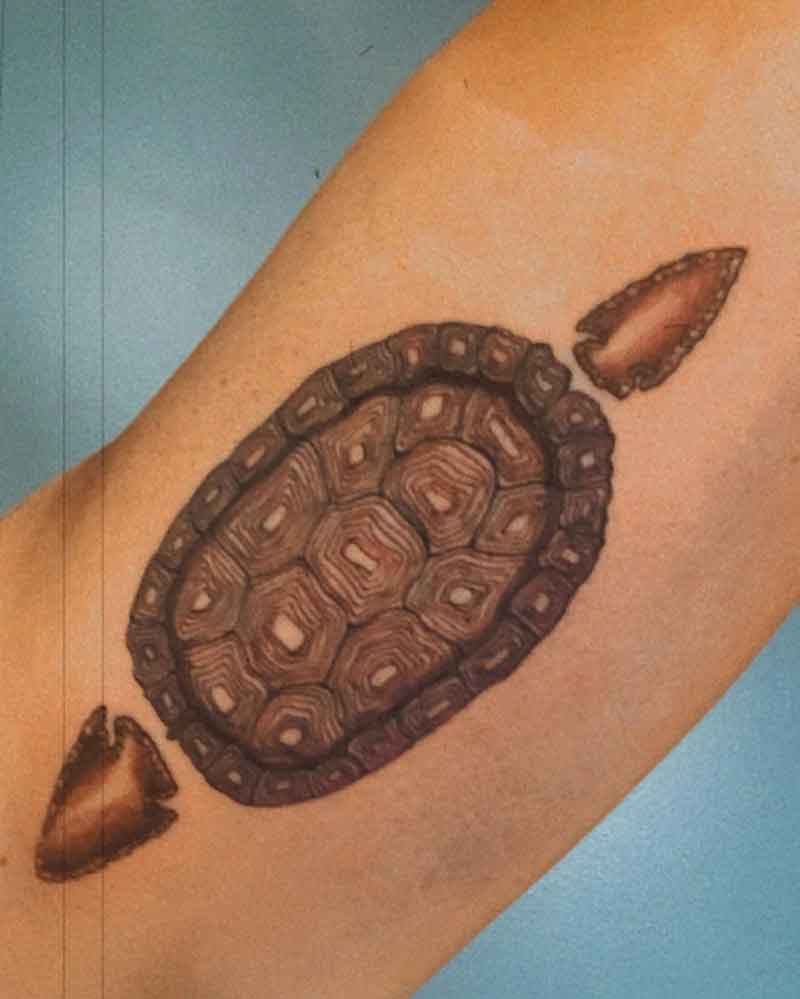 33.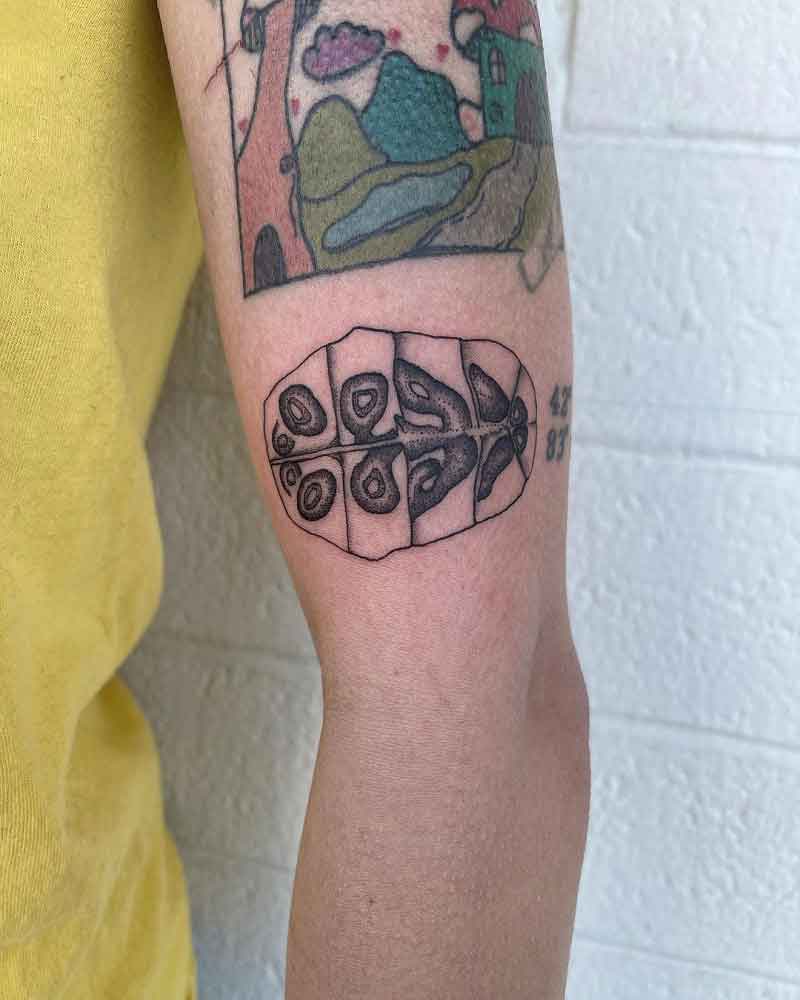 Minimalist Turtle Tattoo
34.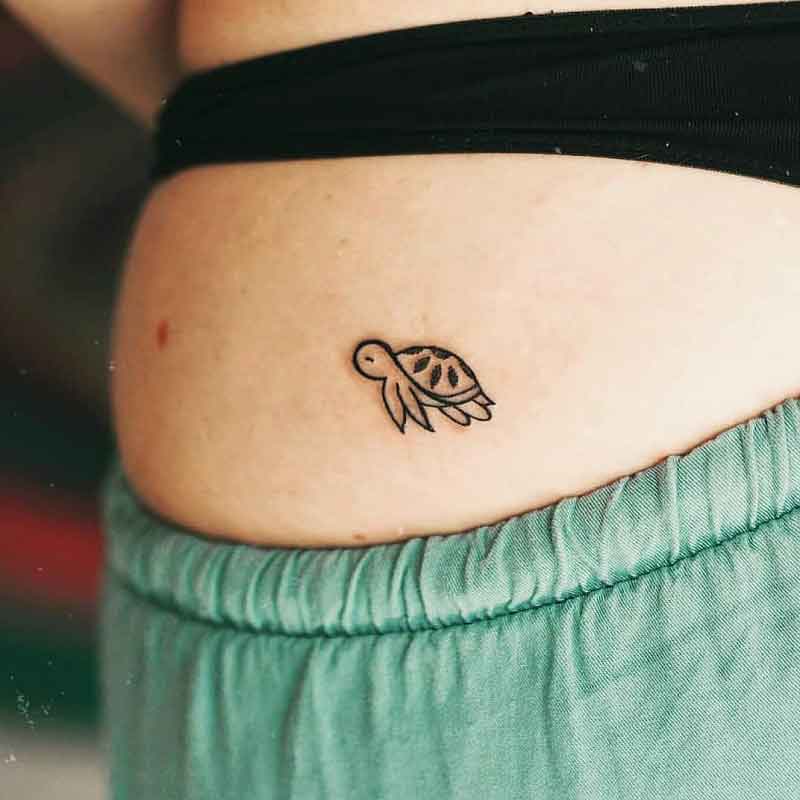 35.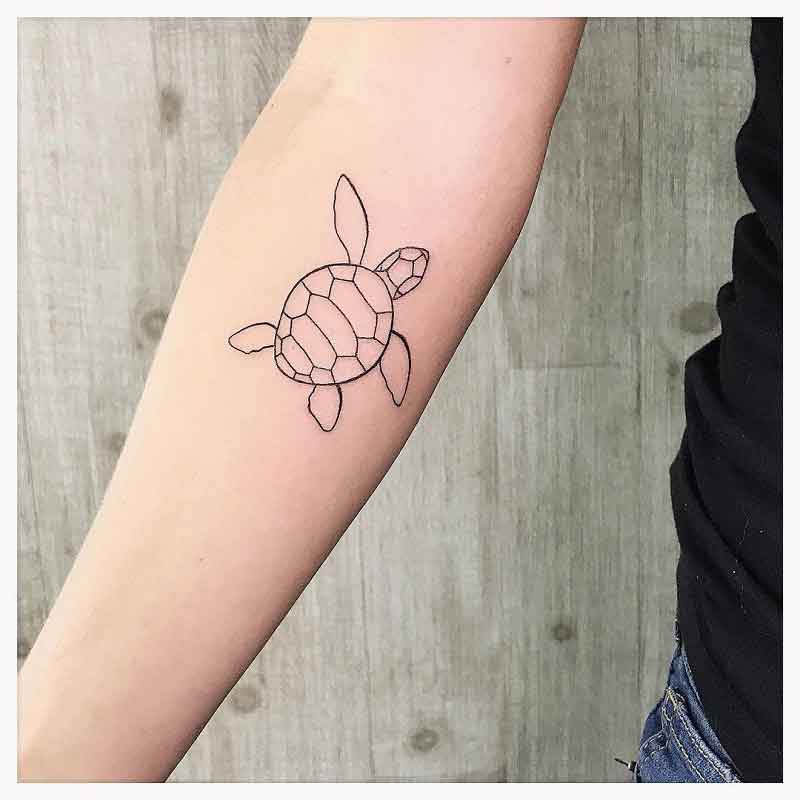 36.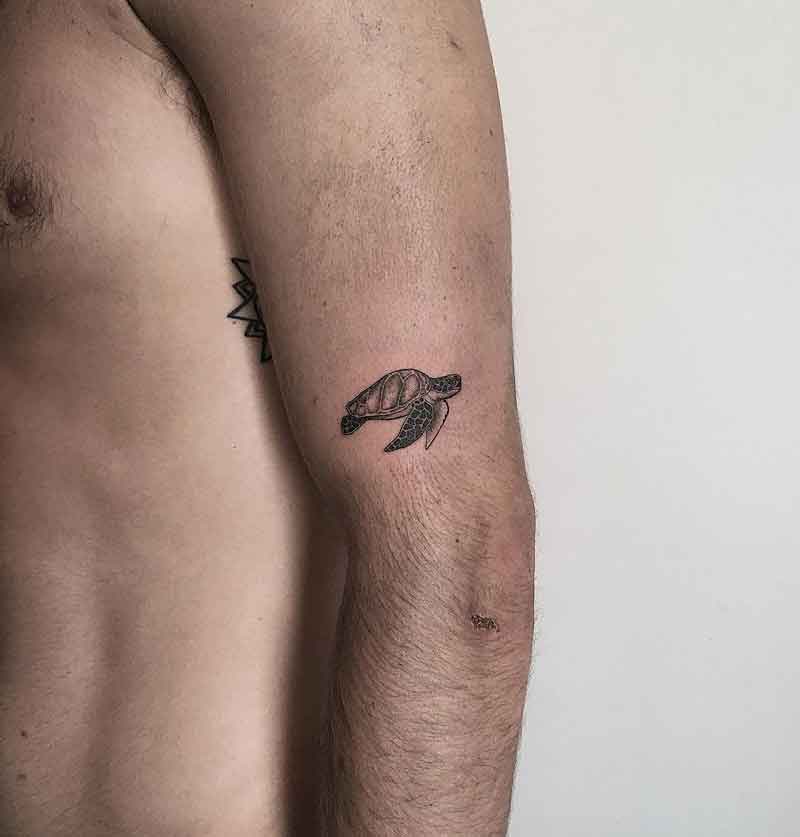 Realistic Sea Turtle Tattoo
37.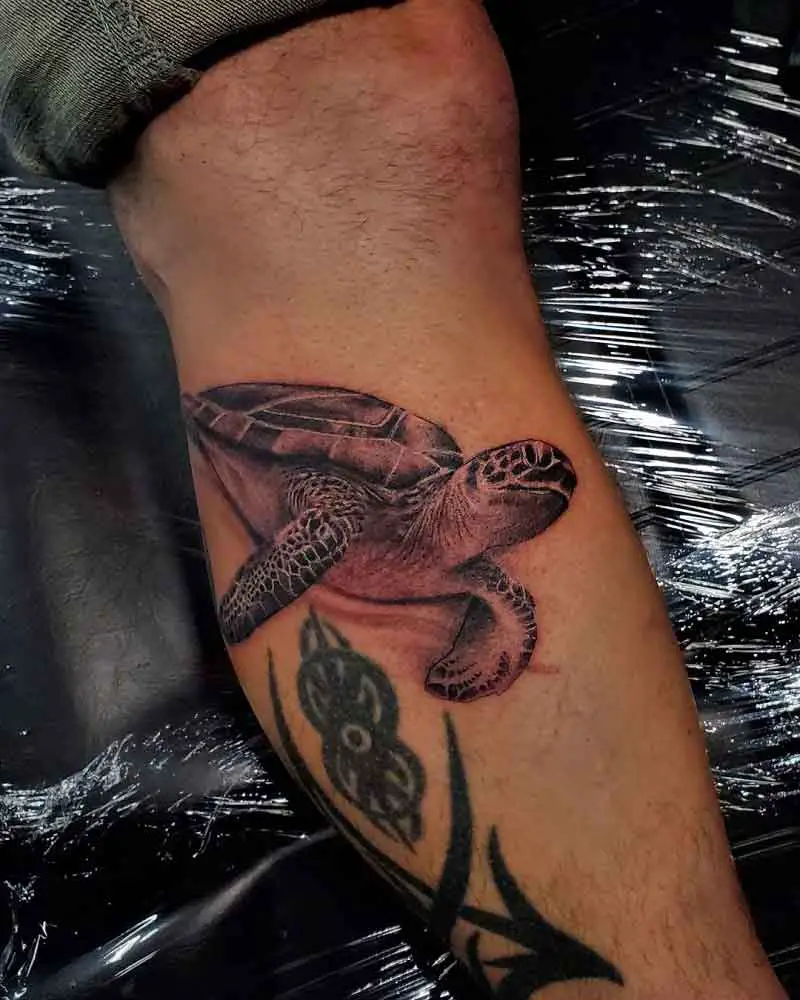 38.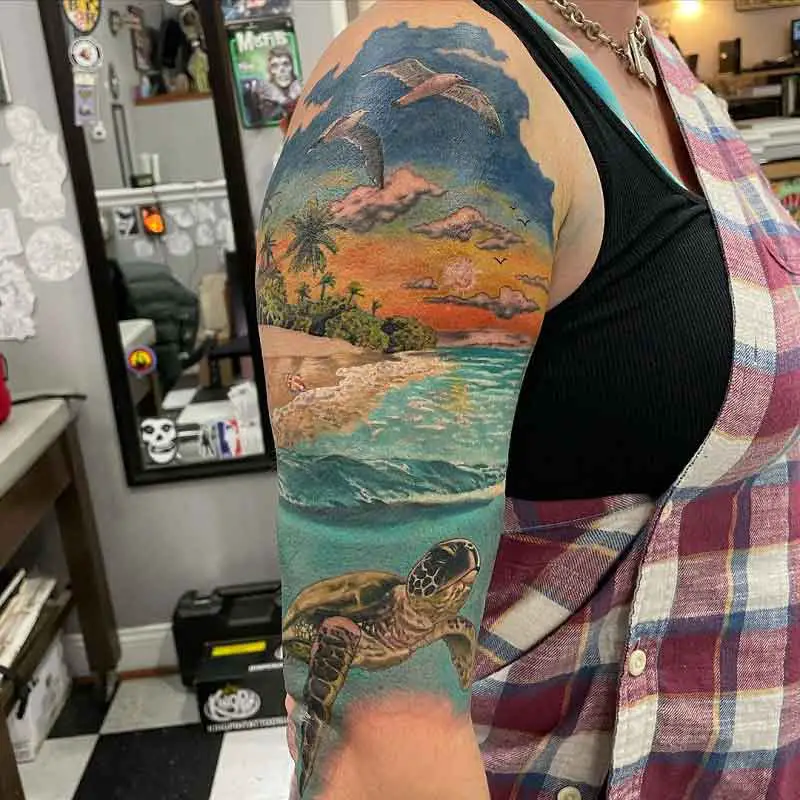 39.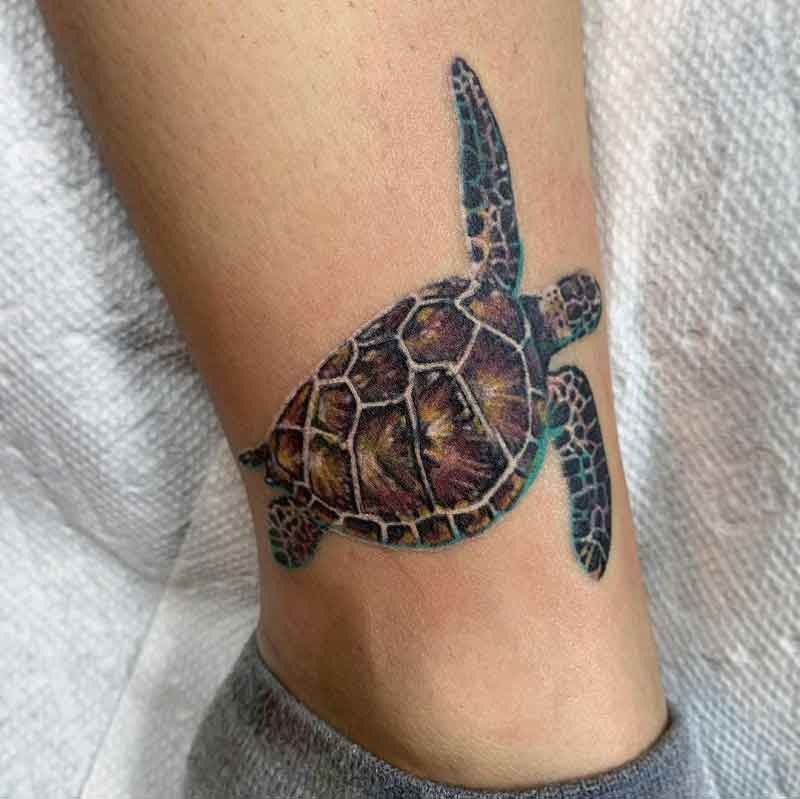 Turtle Finger Tattoo
40.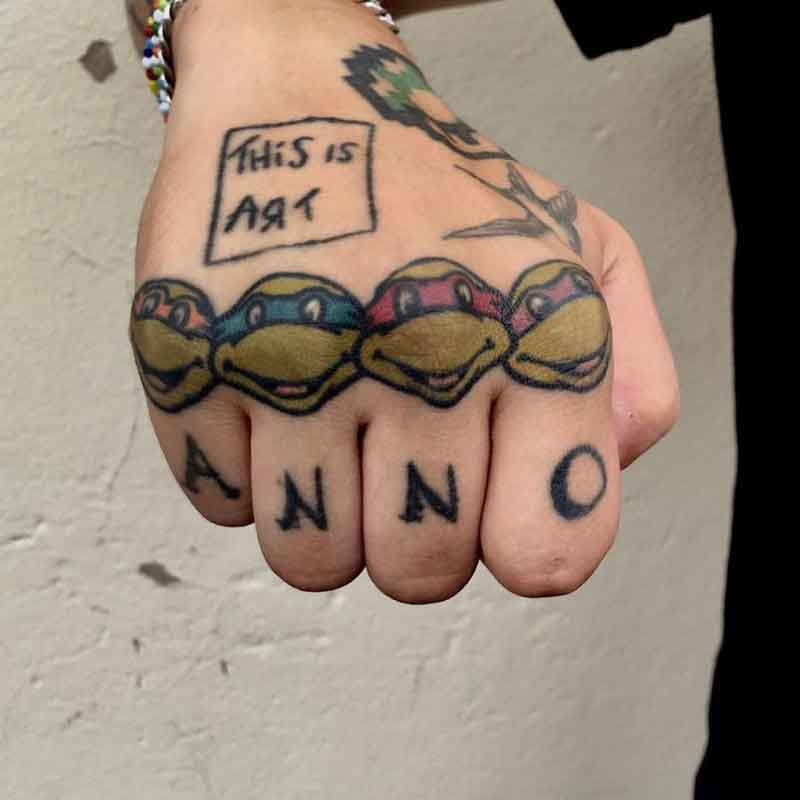 41.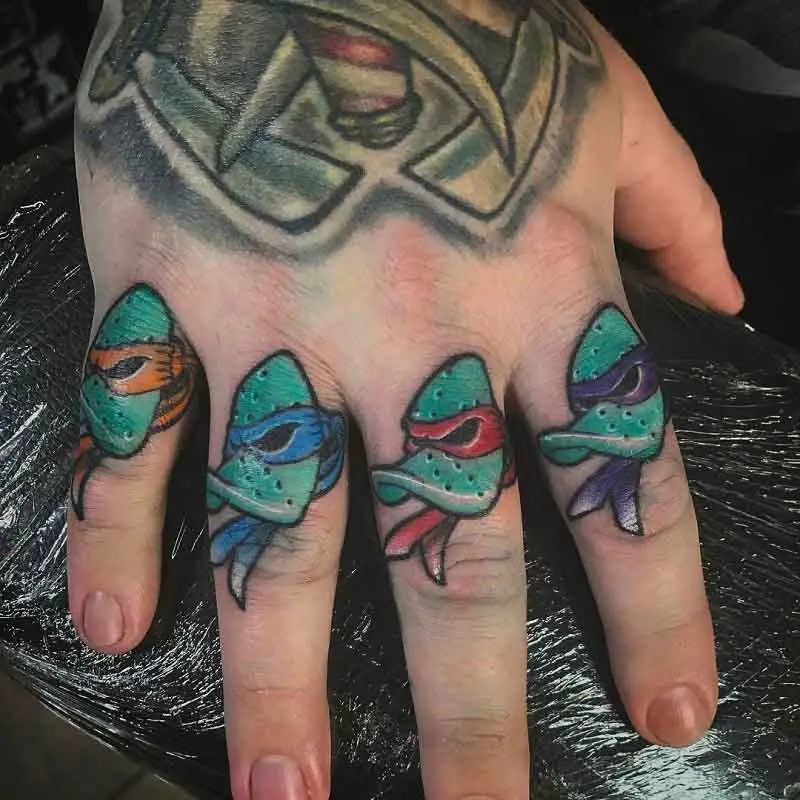 42.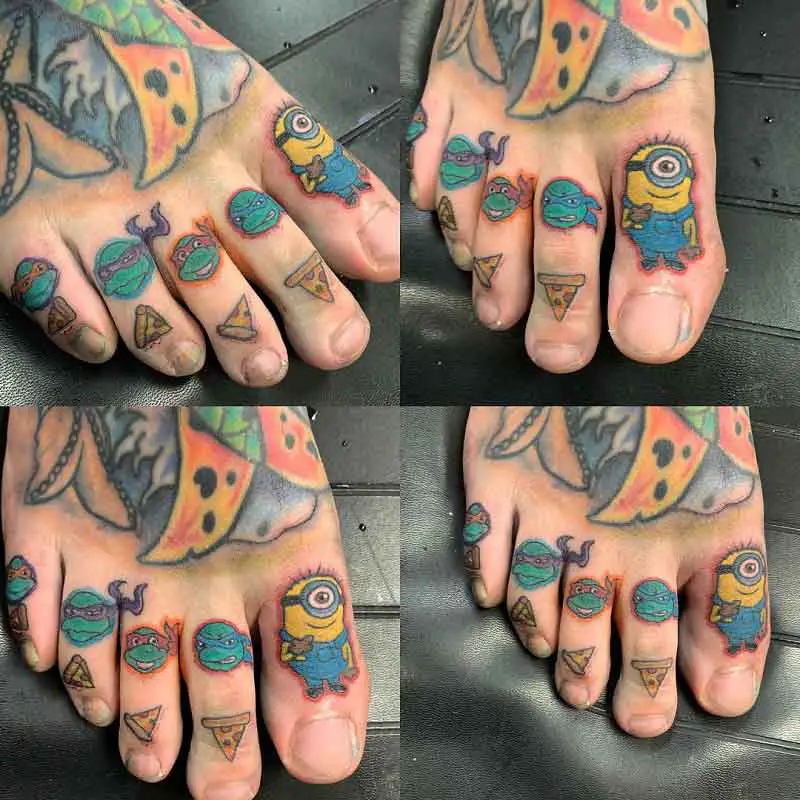 Geometric Turtle Tattoo
43.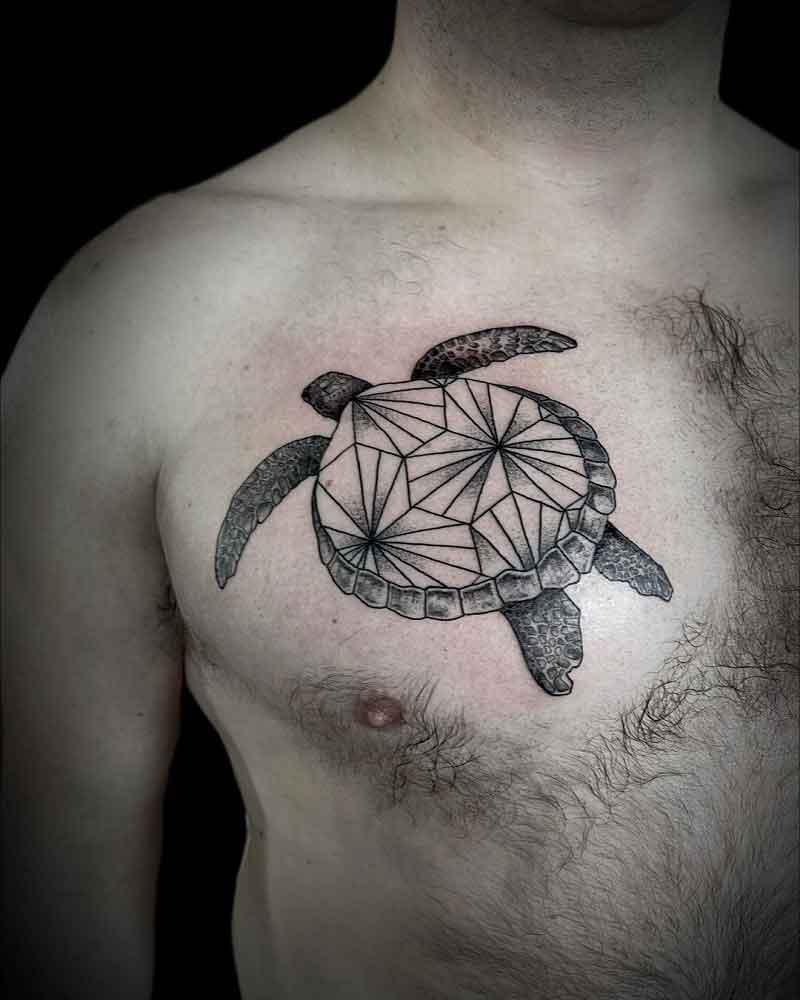 44.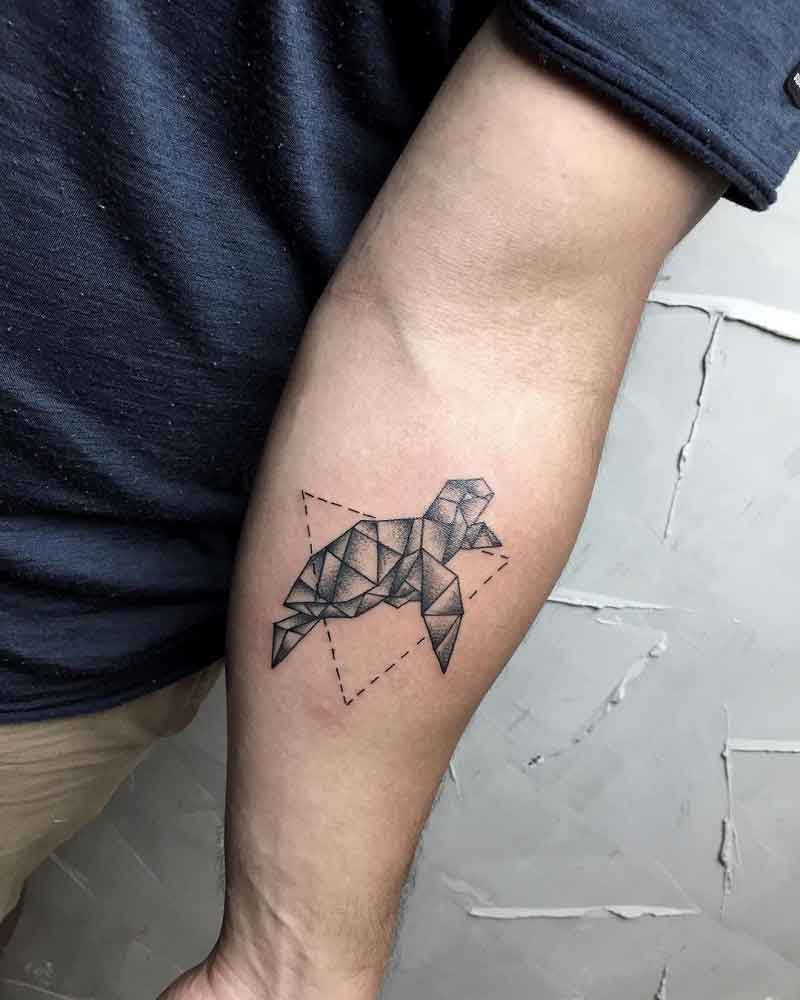 45.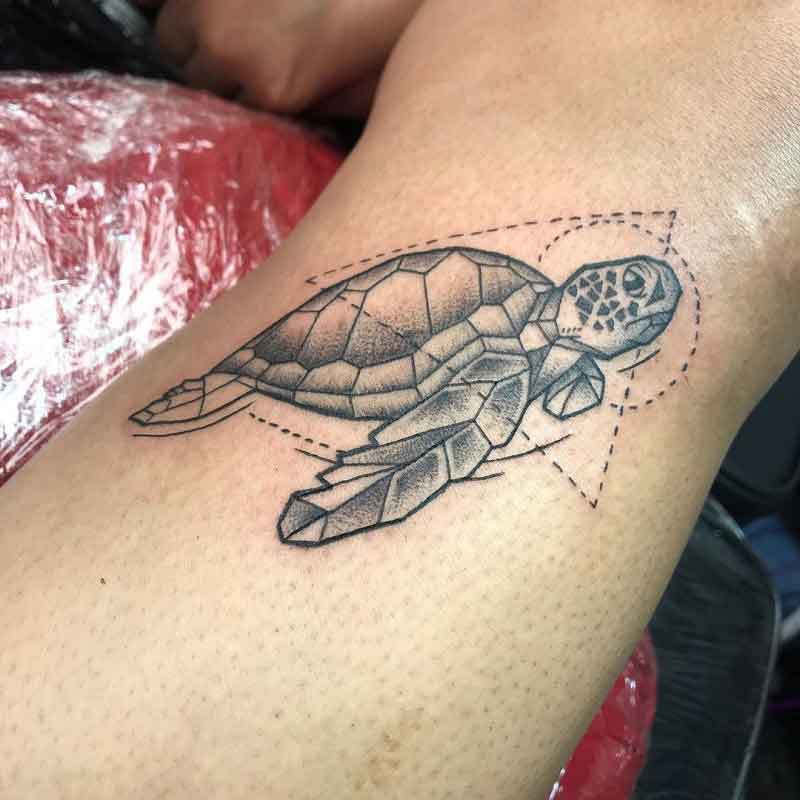 Squirt Turtle Tattoo
46.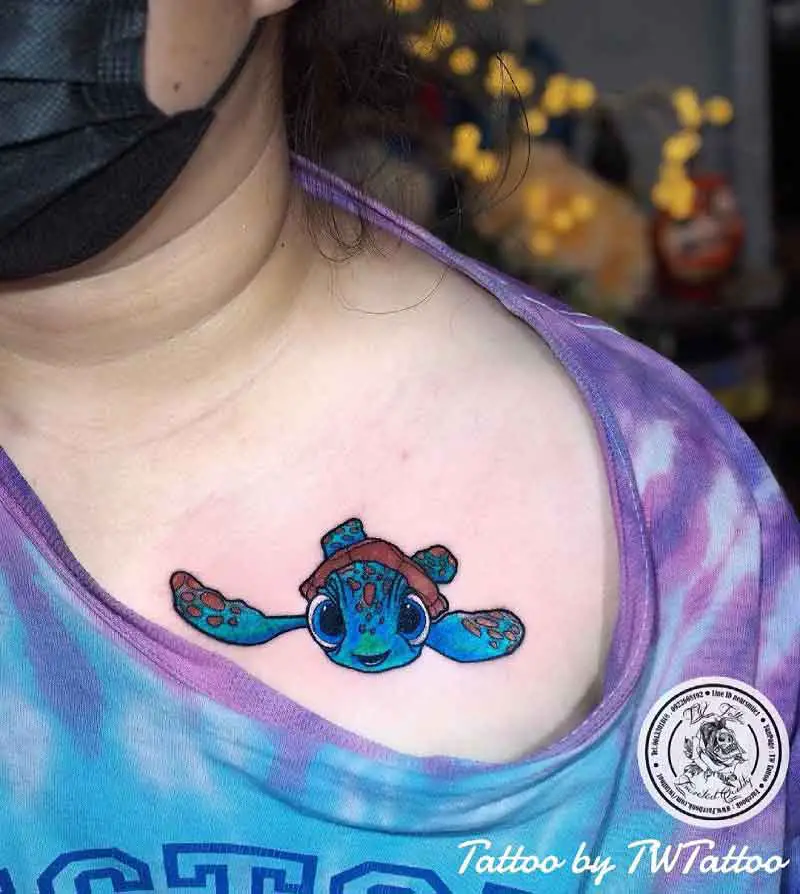 47.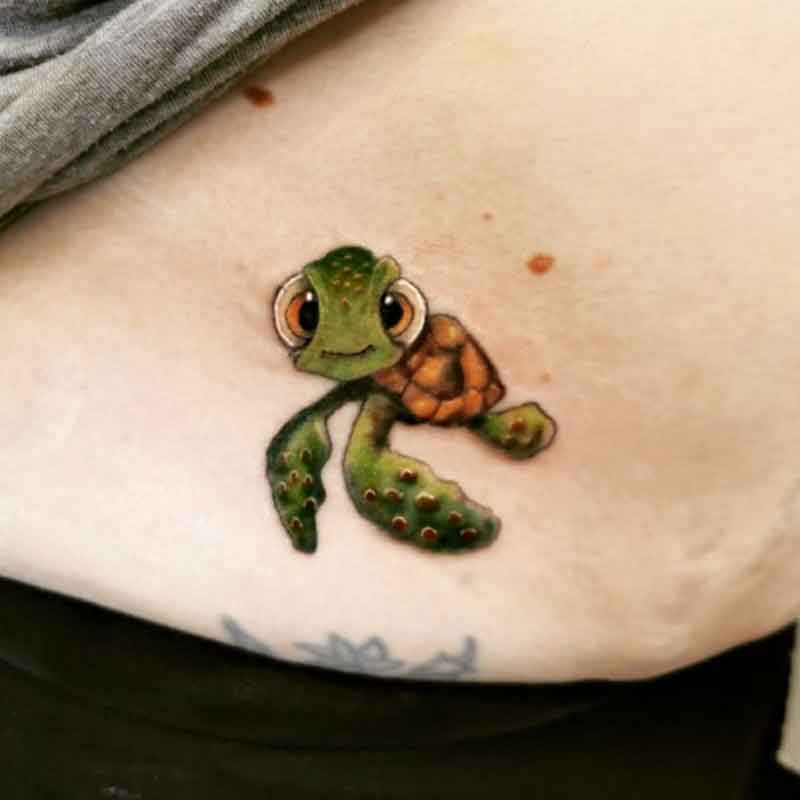 48.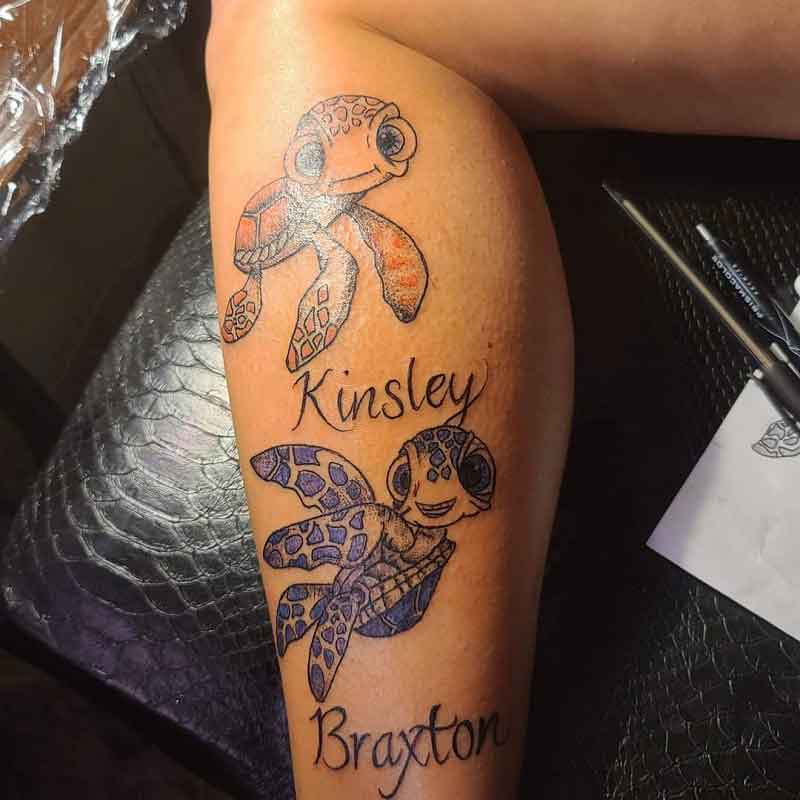 Turtle Family Tattoo
49.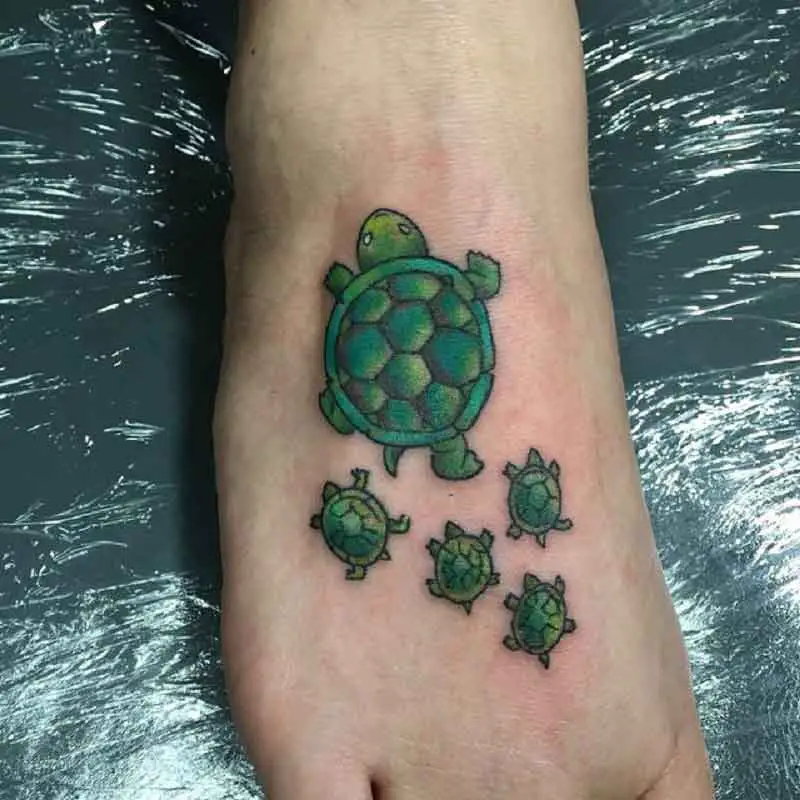 50.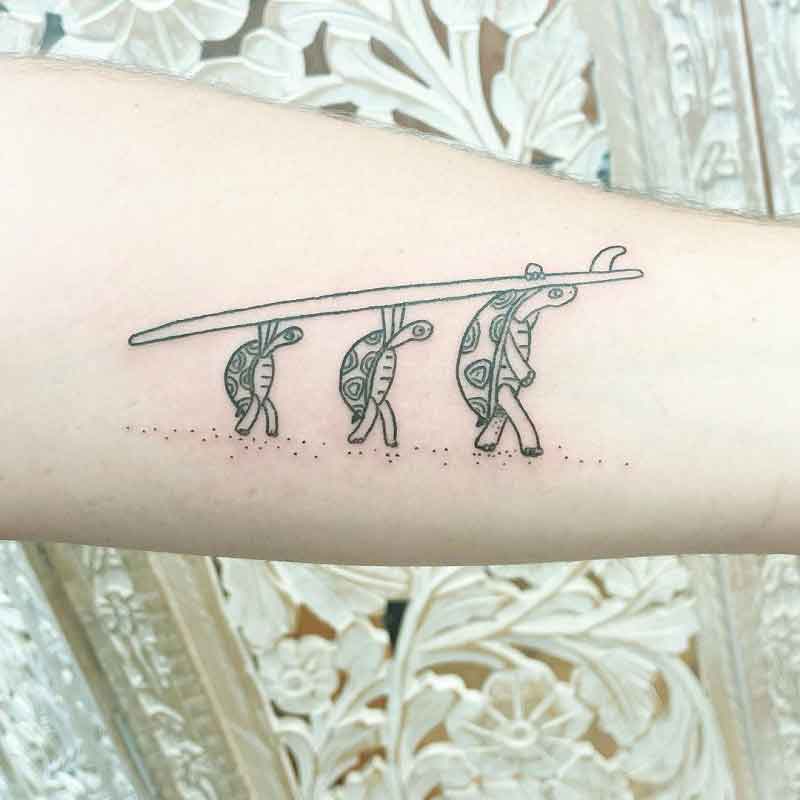 51.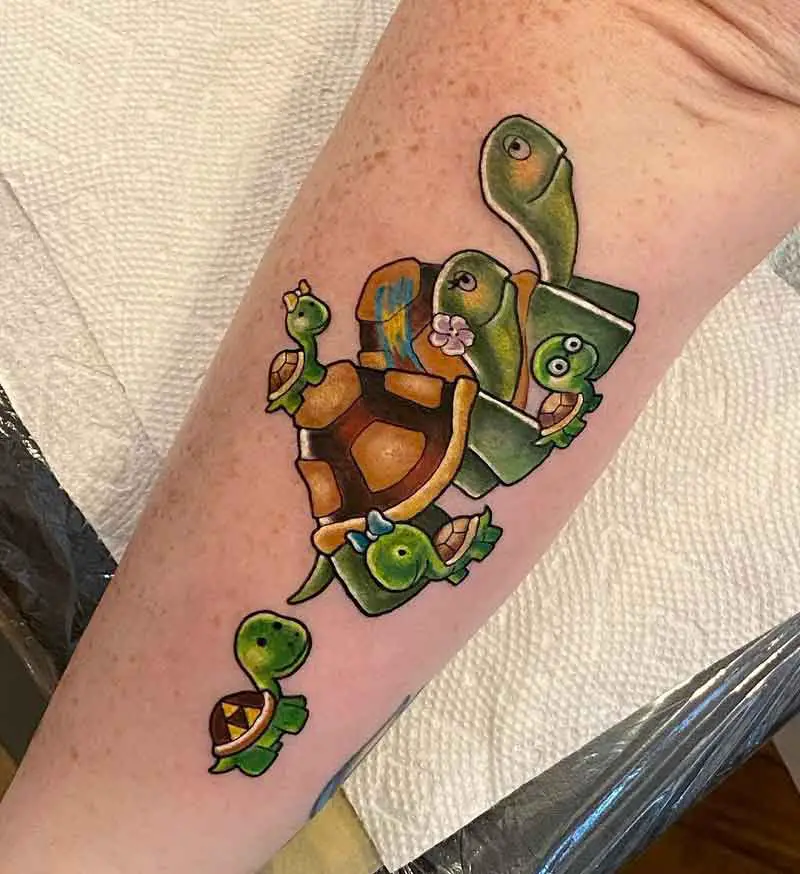 Turtle Foot Tattoo
52.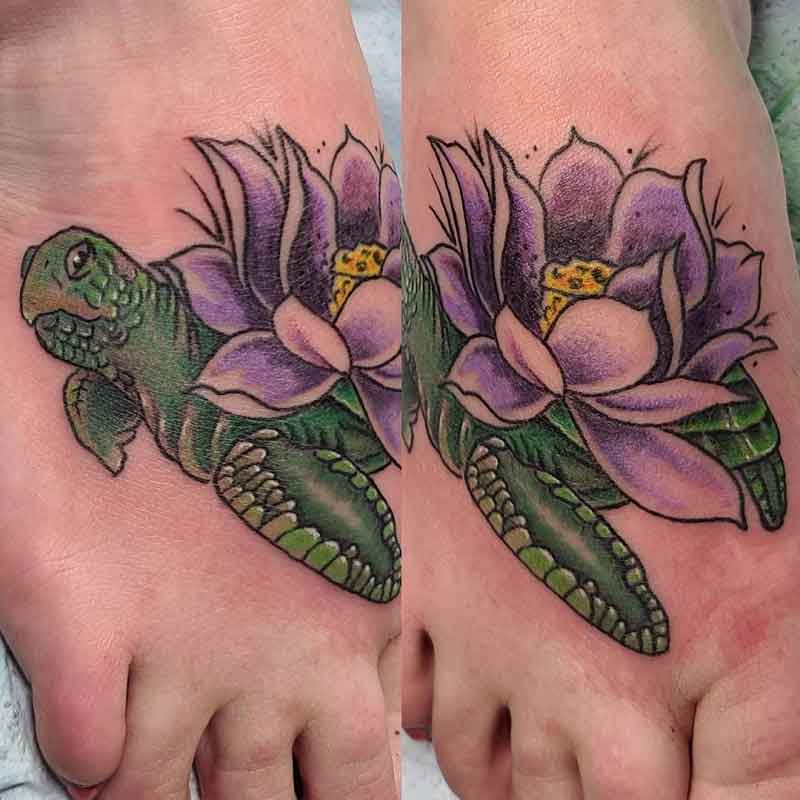 53.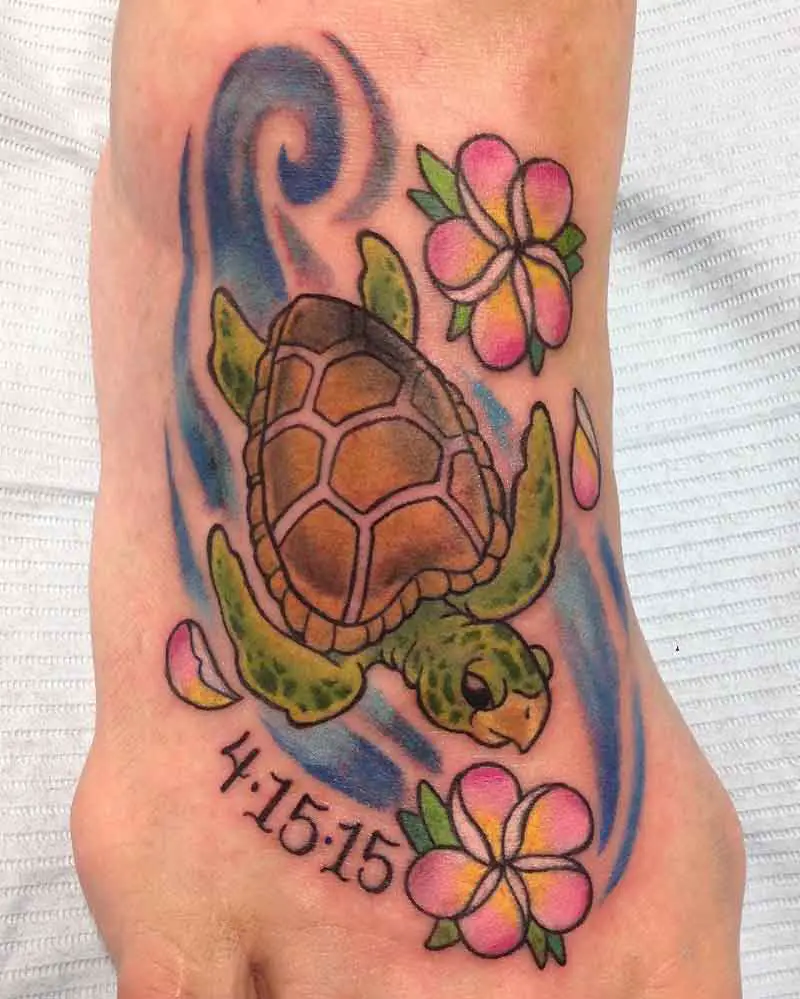 54.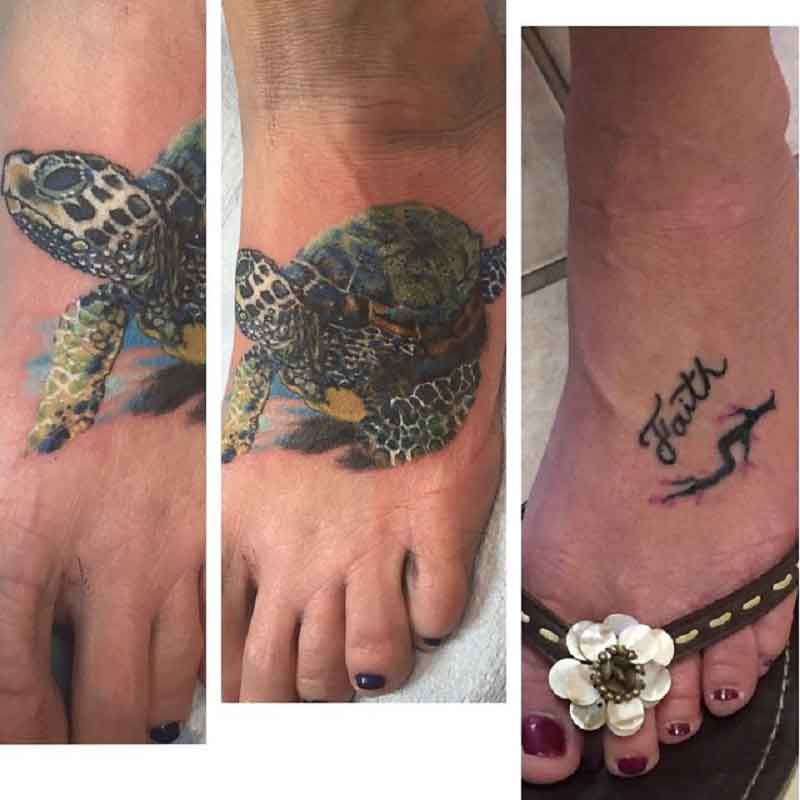 Dragon Turtle Tattoo
55.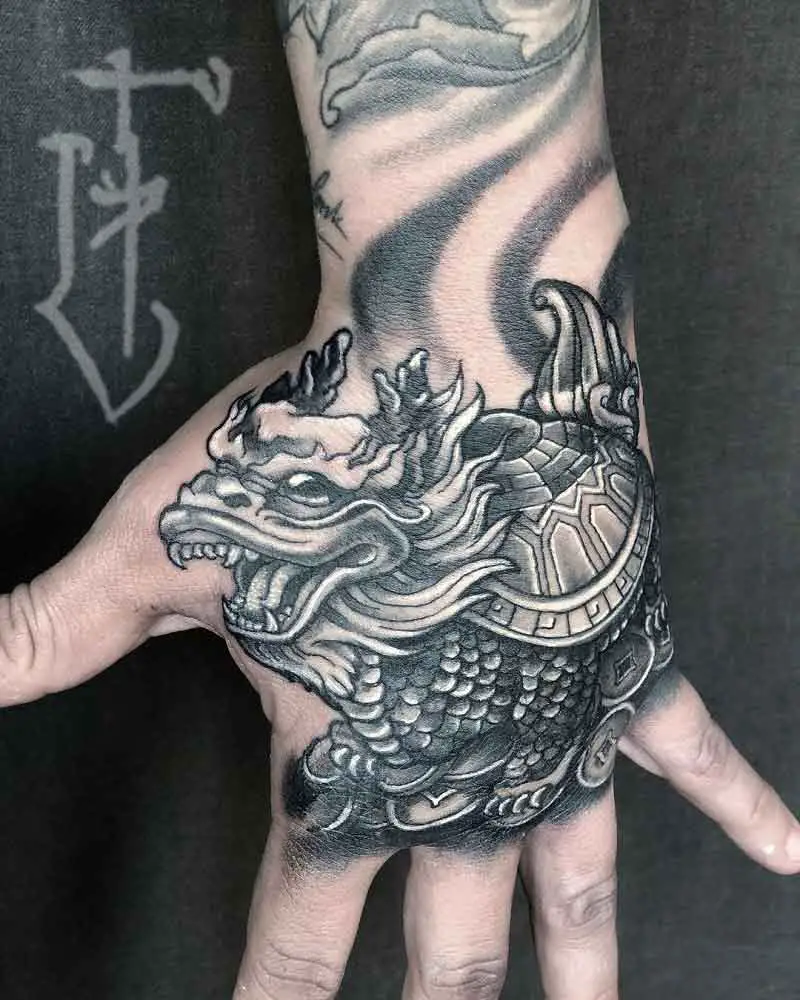 56.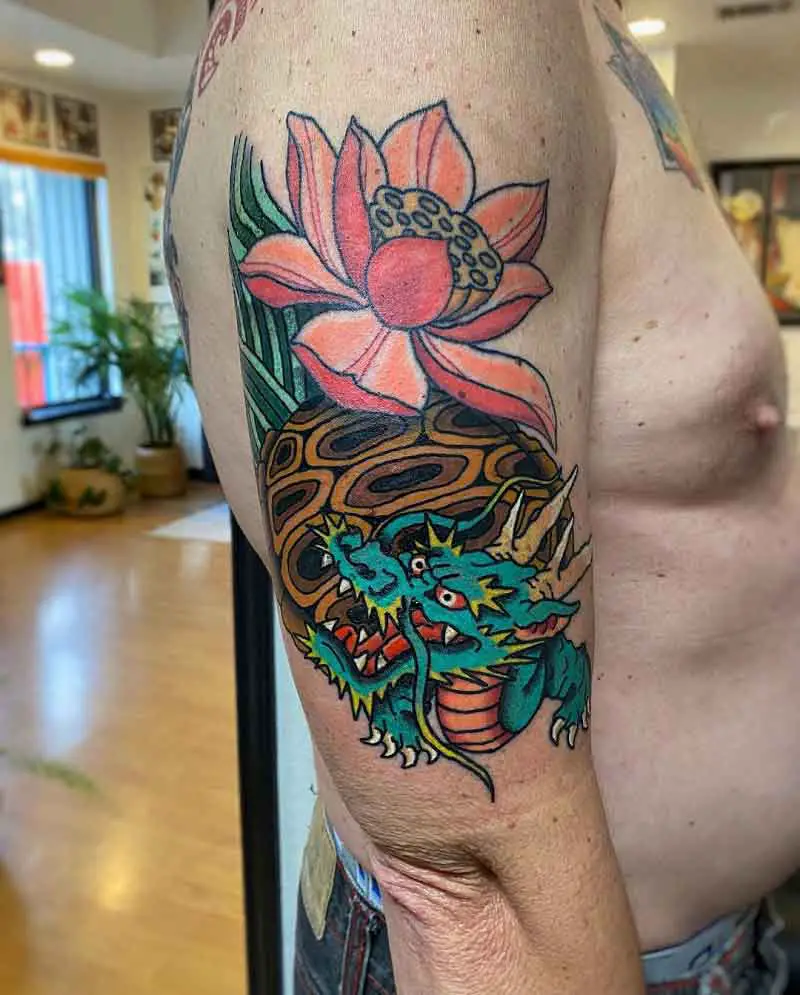 57.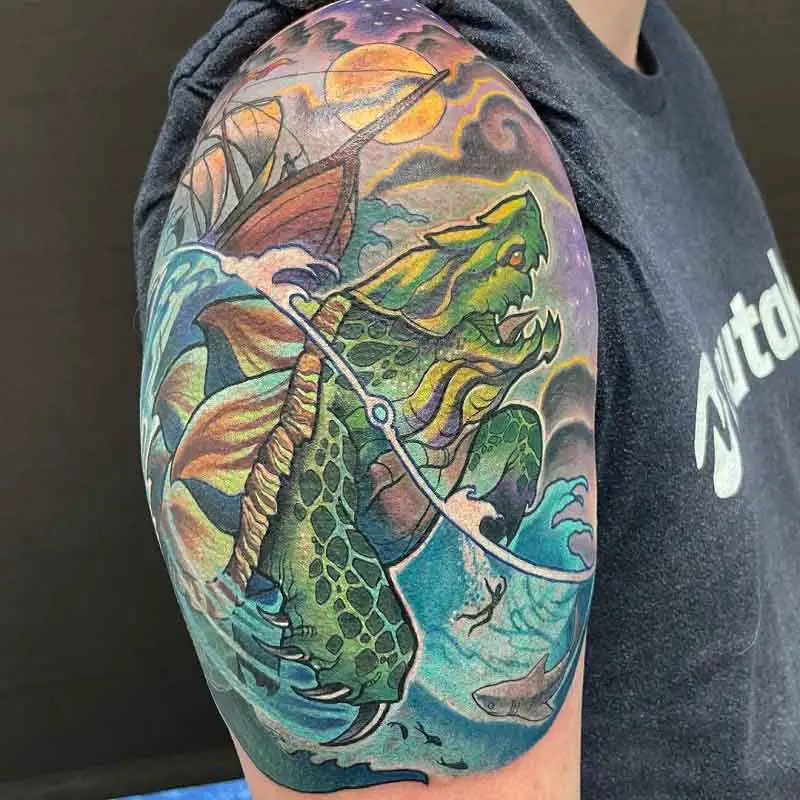 Turtle Henna Tattoo
58.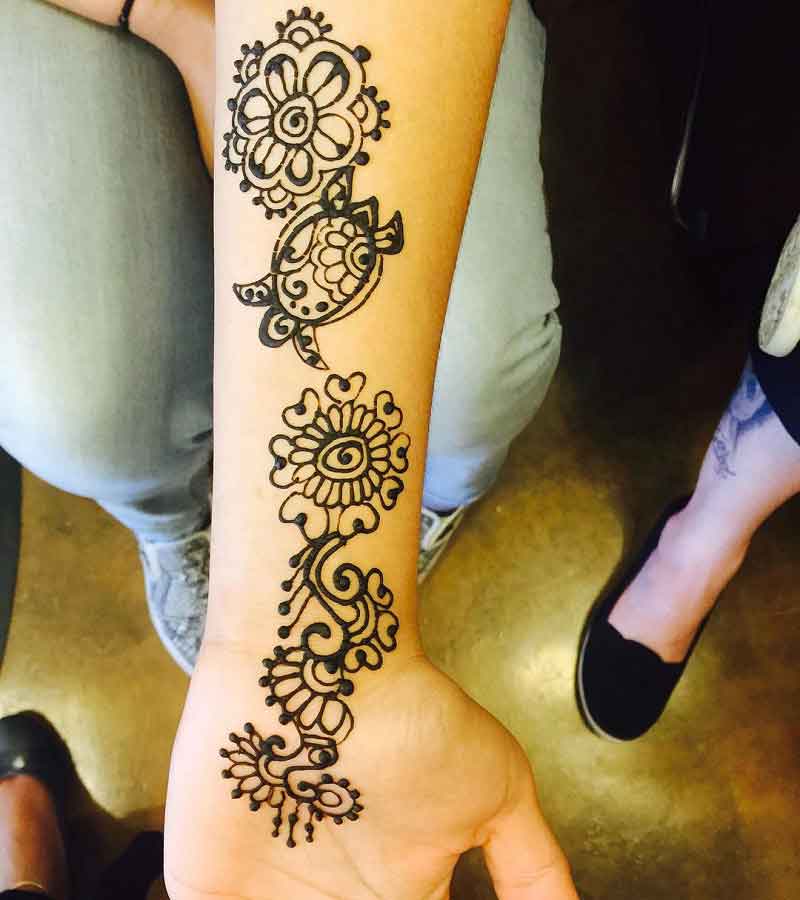 59.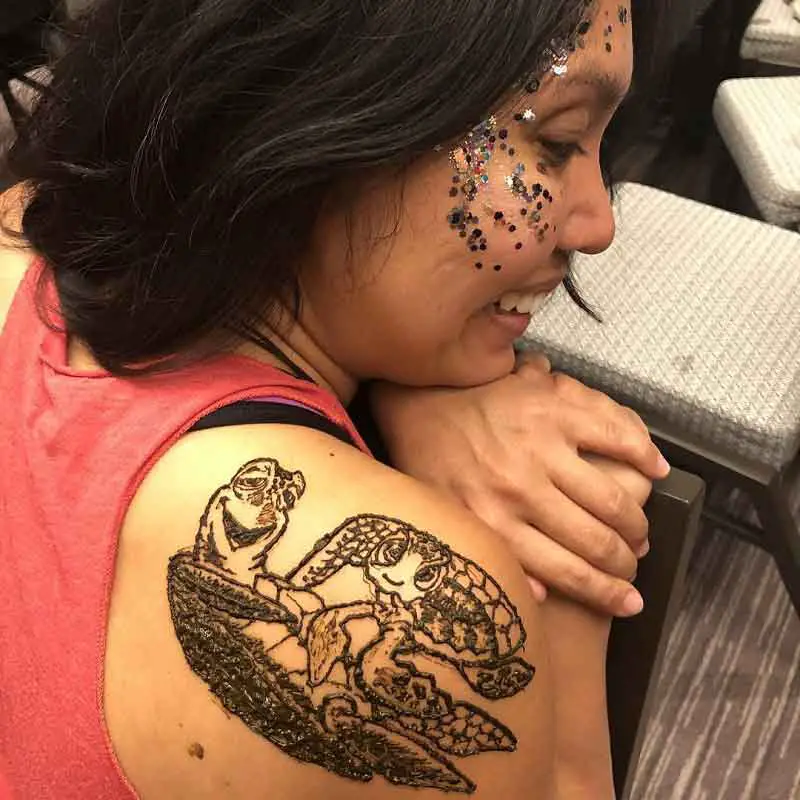 60.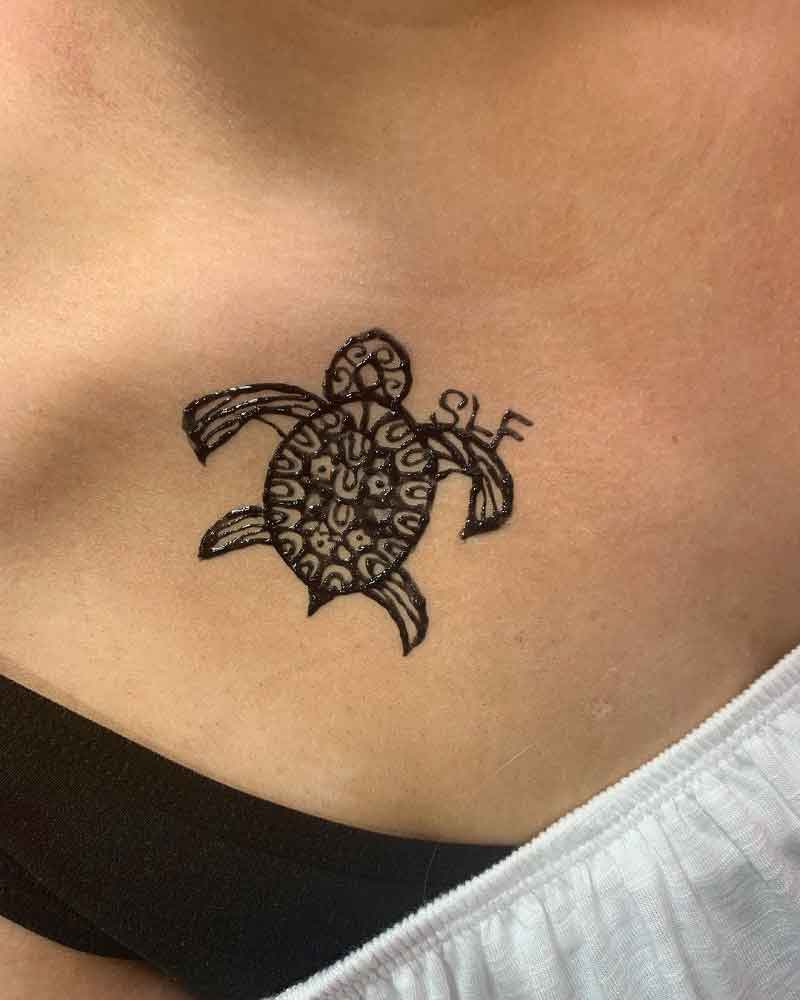 Mandala Turtle Tattoo
61.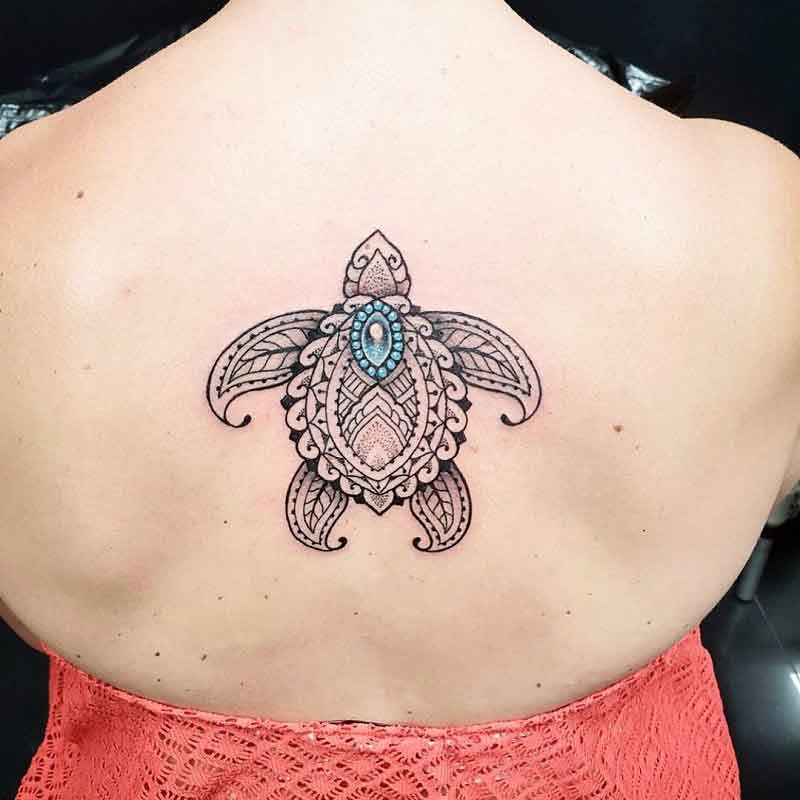 62.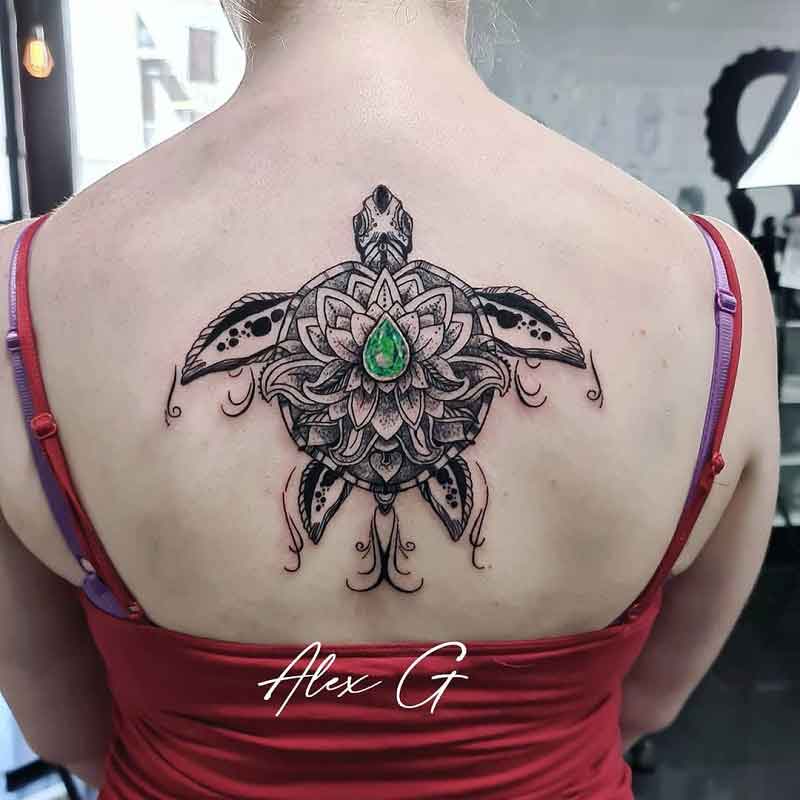 63.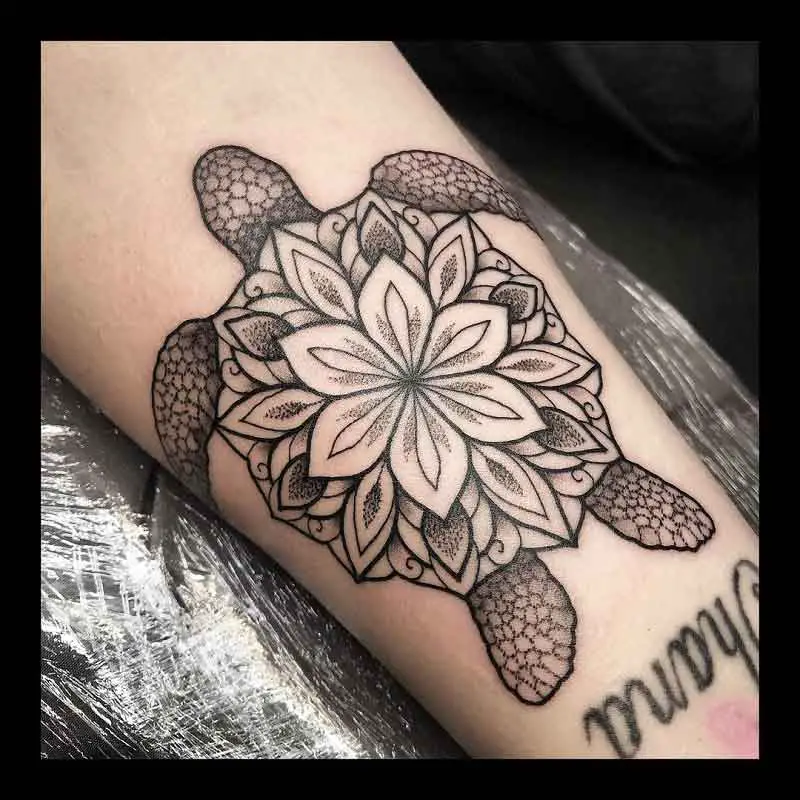 Native American Turtle Tattoo
64.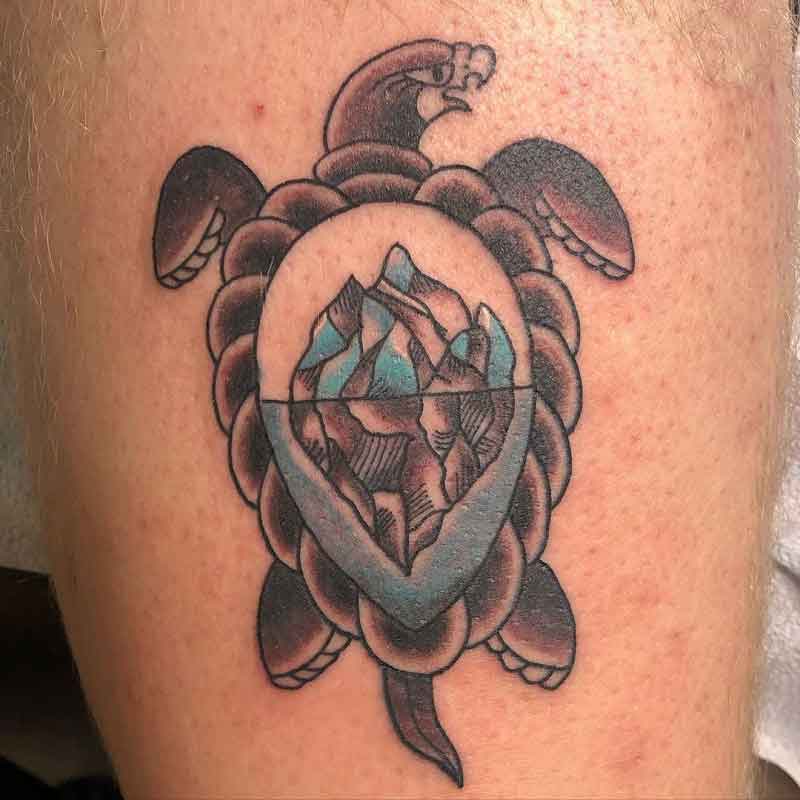 65.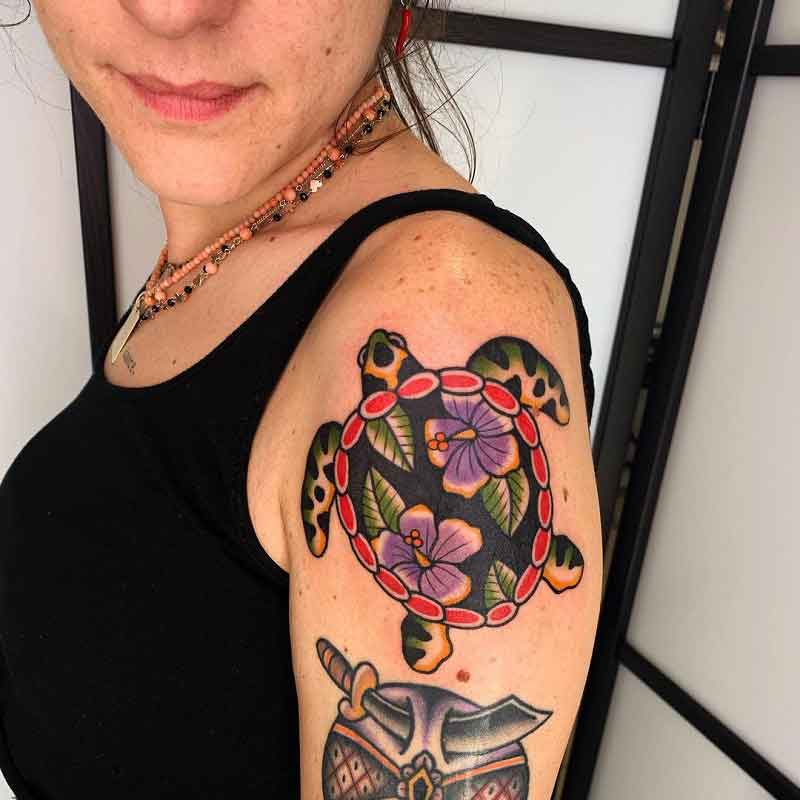 66.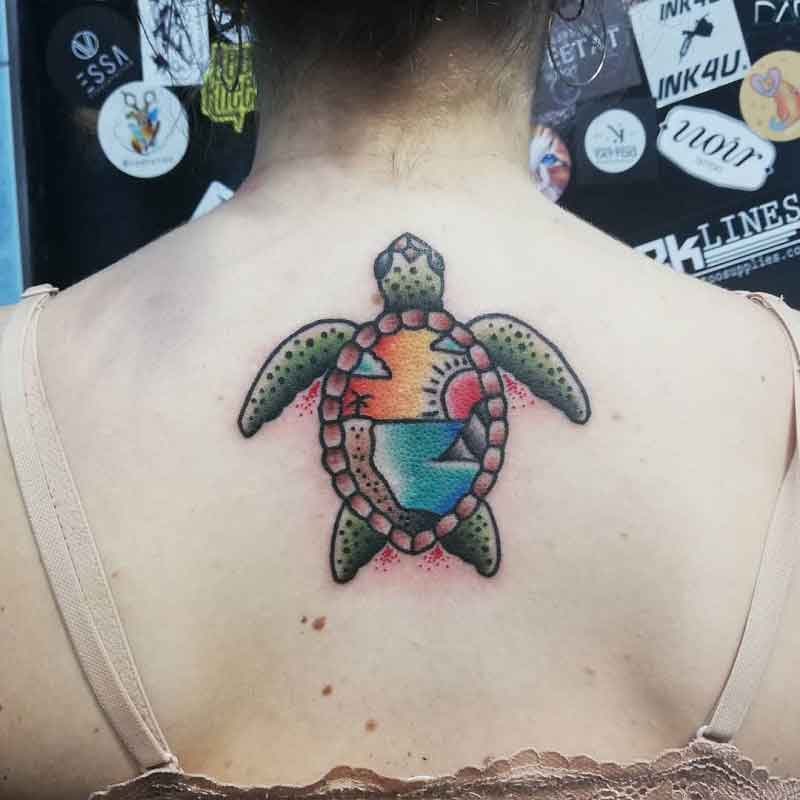 Taino Turtle Tattoo
67.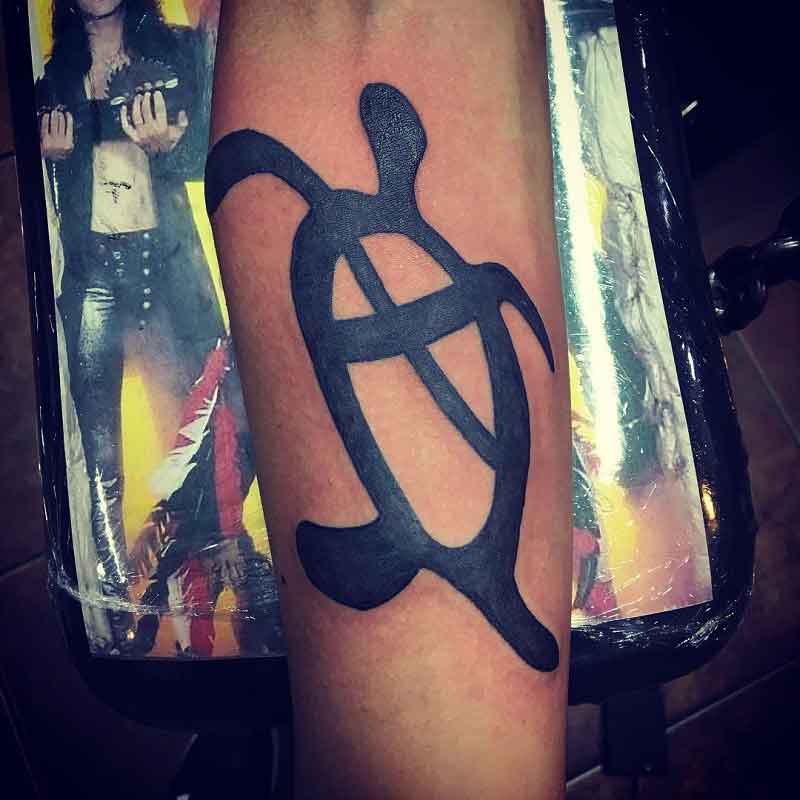 68.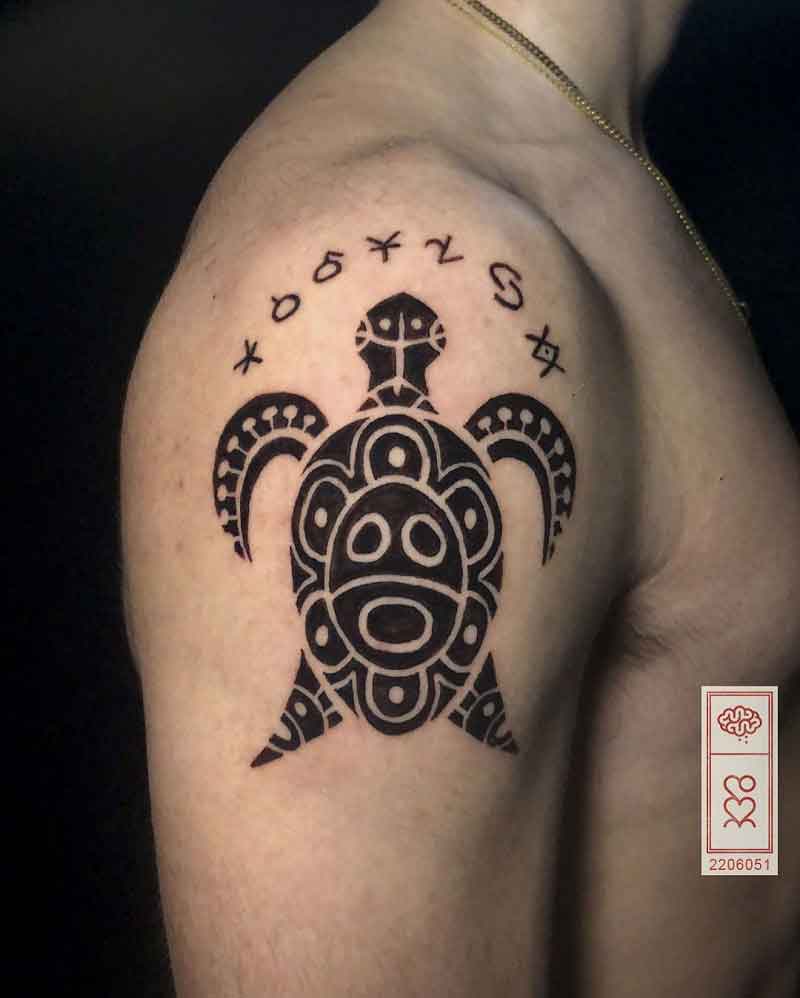 69.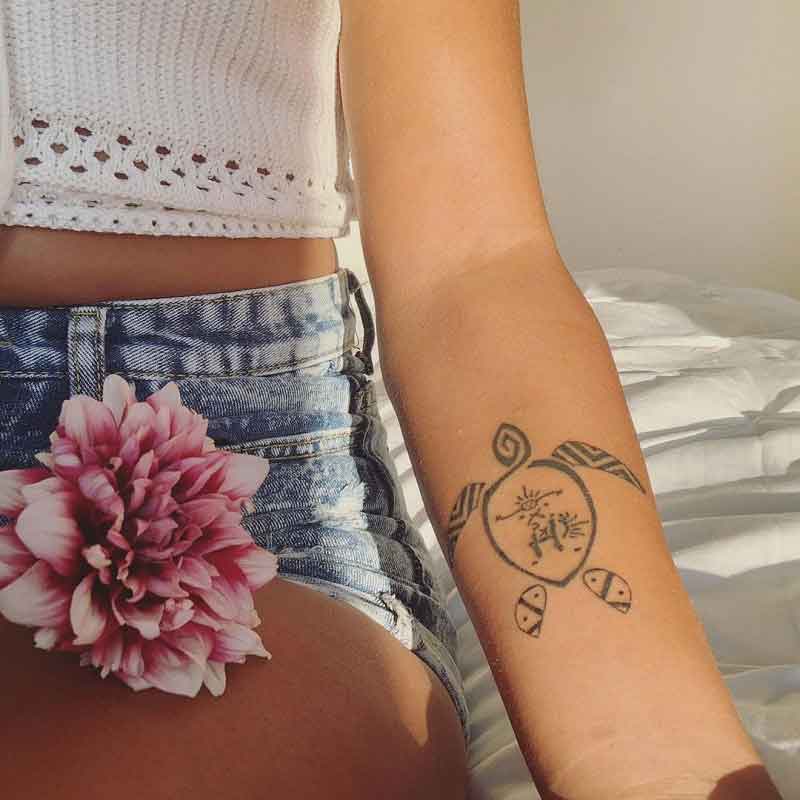 Alligator Snapping Turtle Tattoo
70.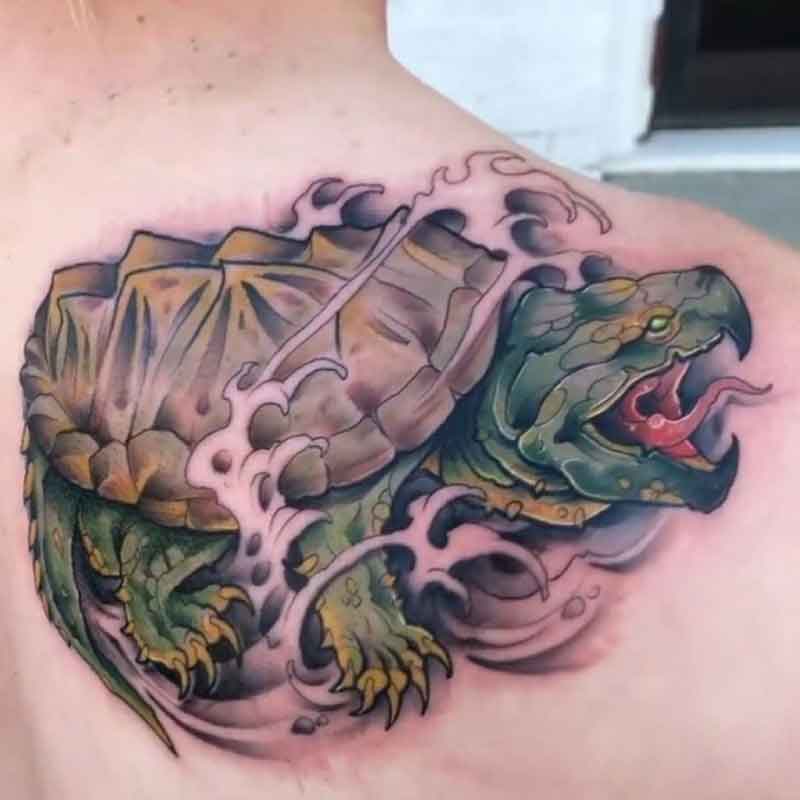 71.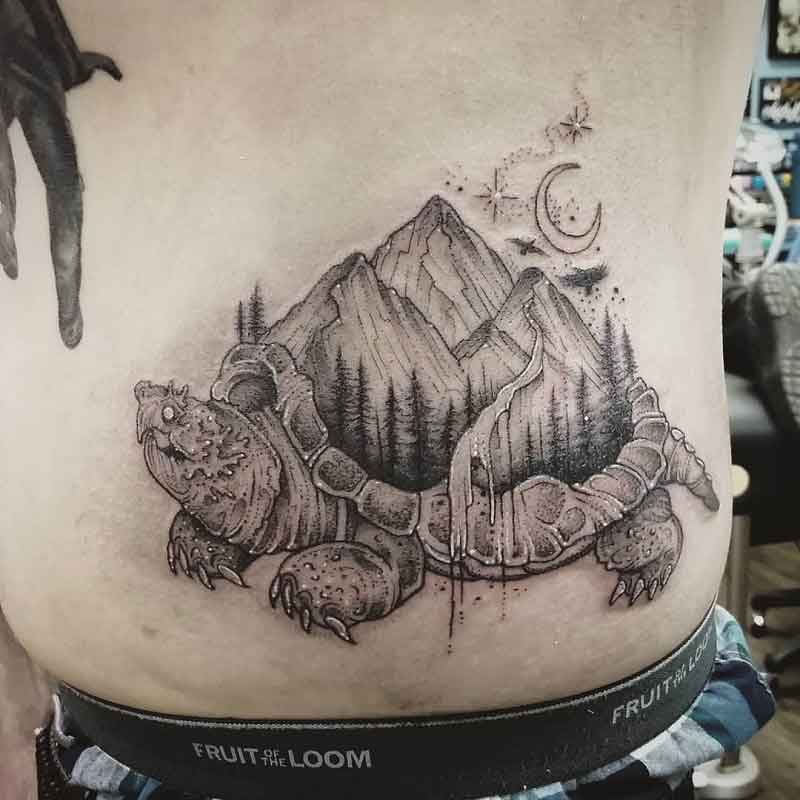 72.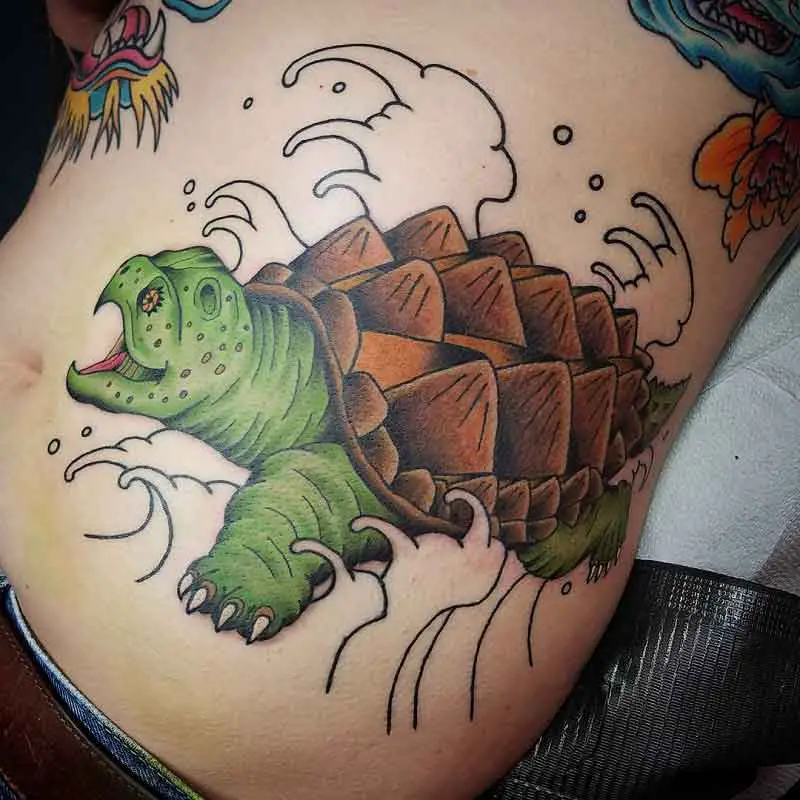 Maori Turtle Tattoo
73.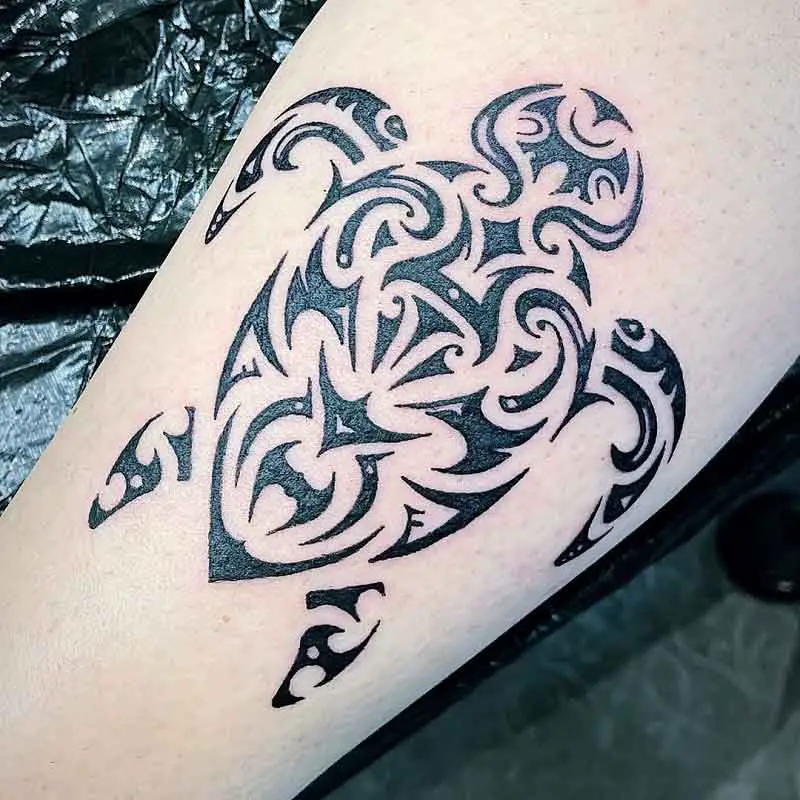 74.
75.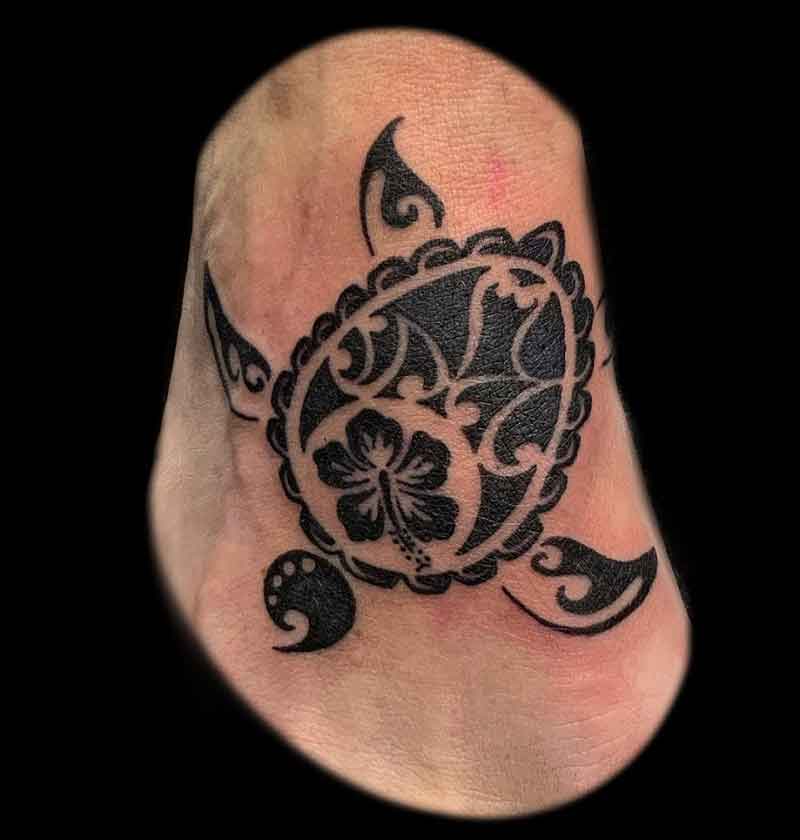 Aztec Turtle Tattoo
76.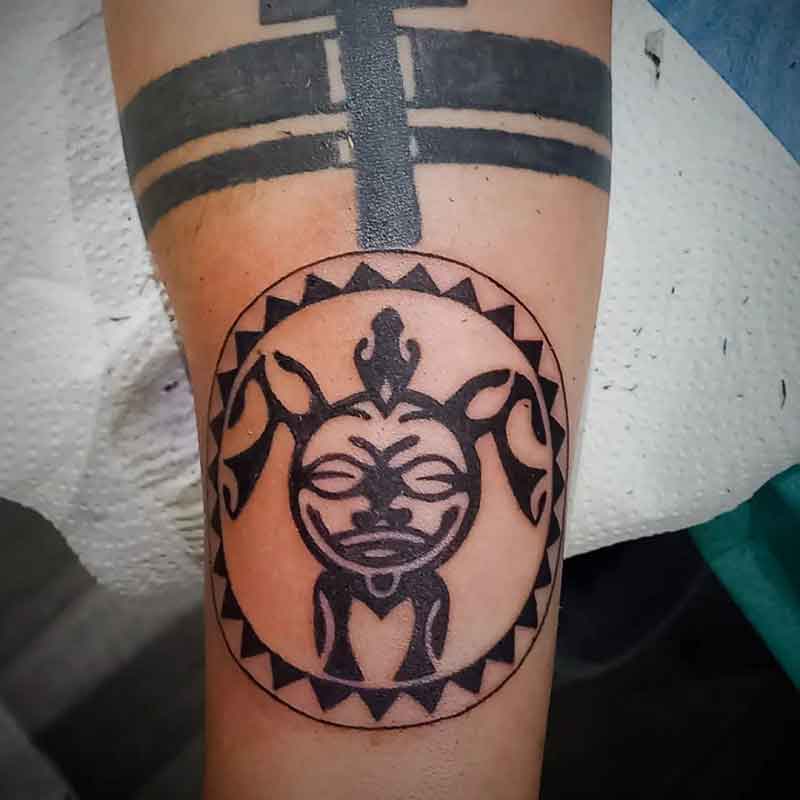 77.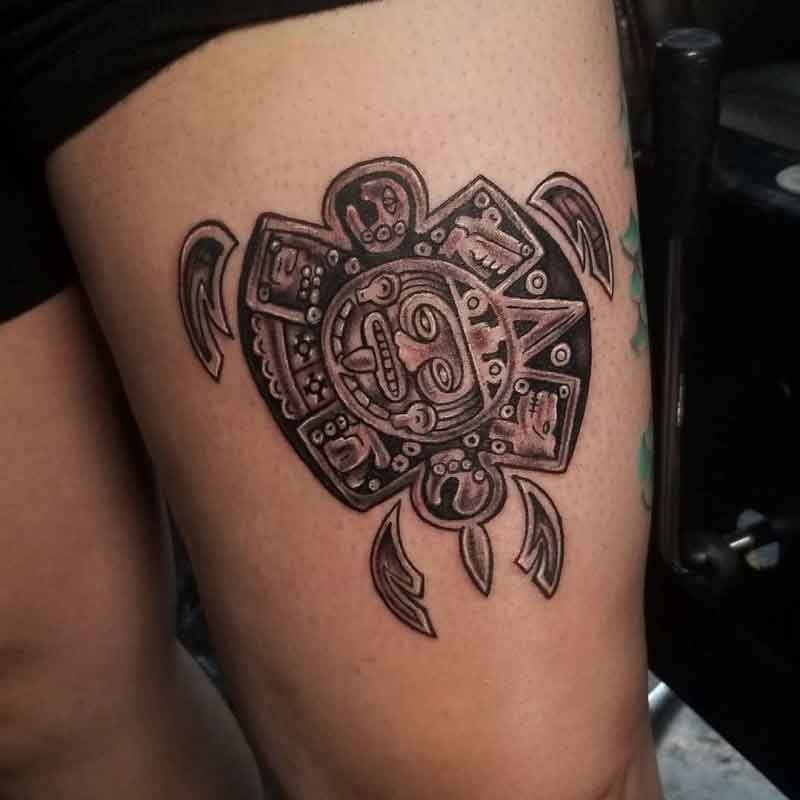 78.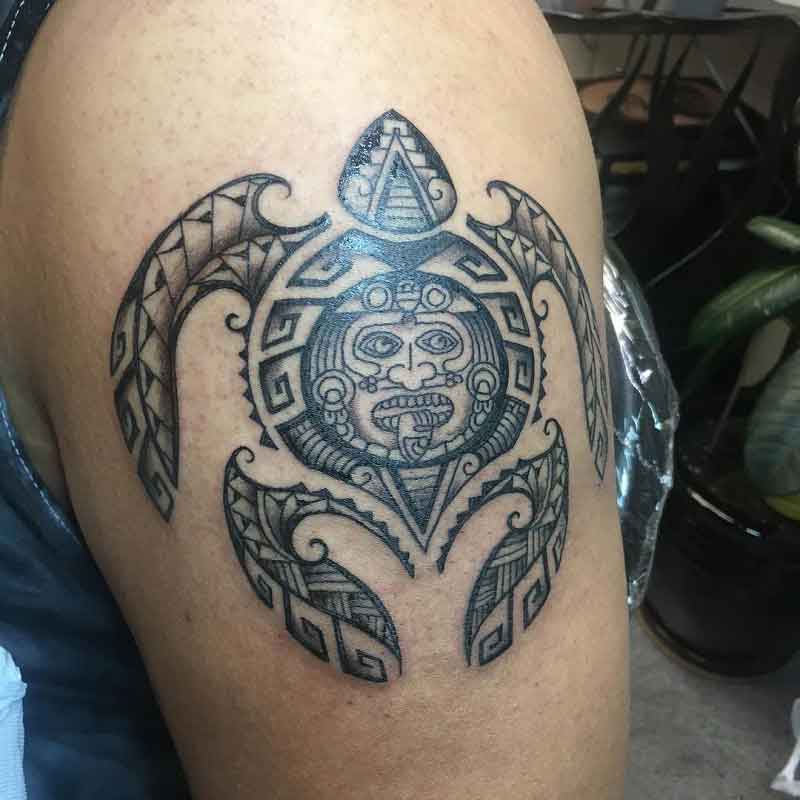 Baby Sea Turtle Tattoo
79.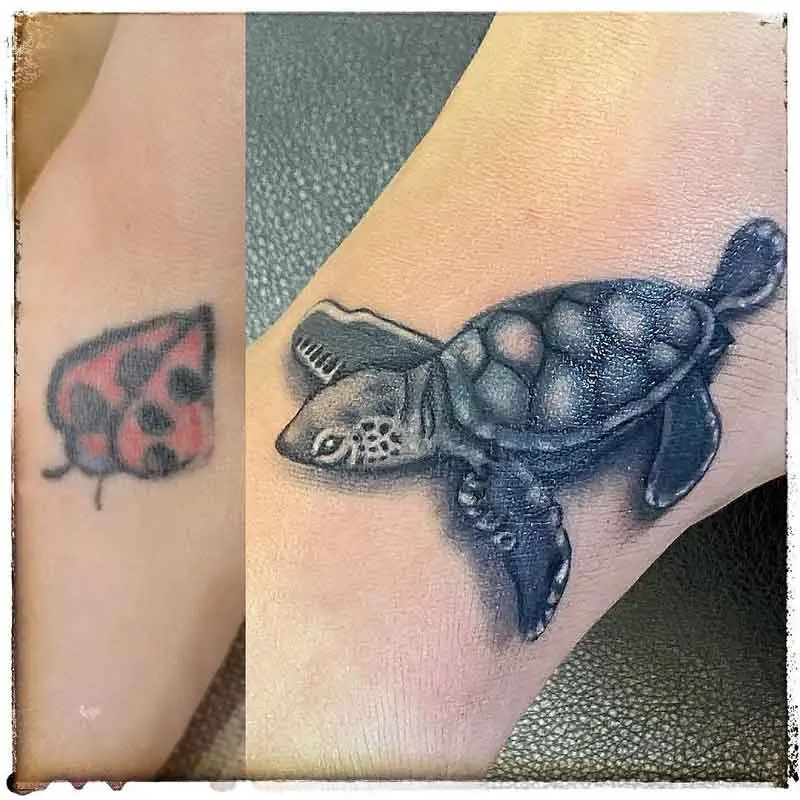 80.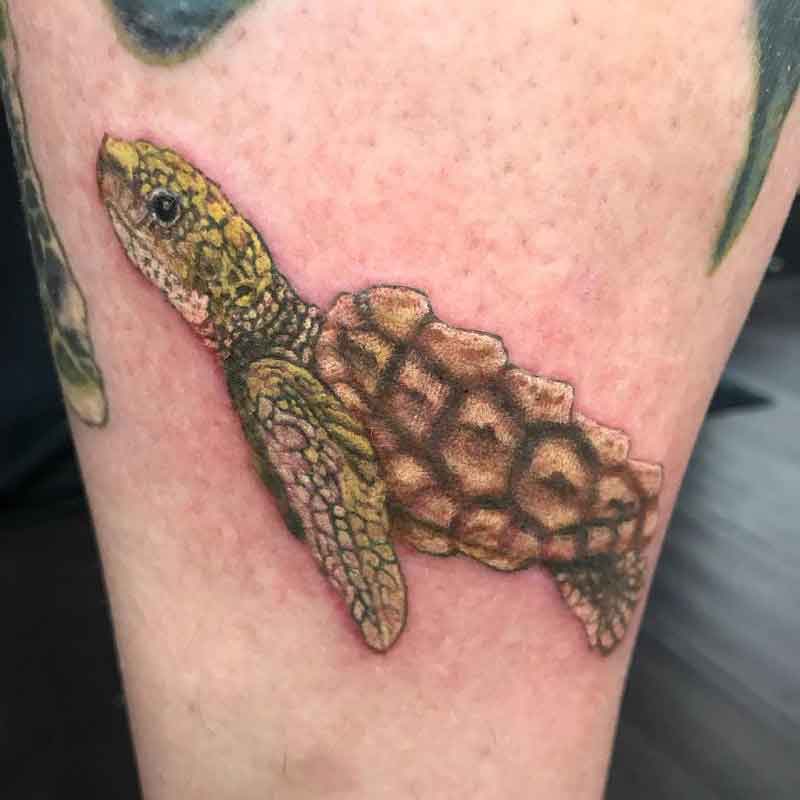 81.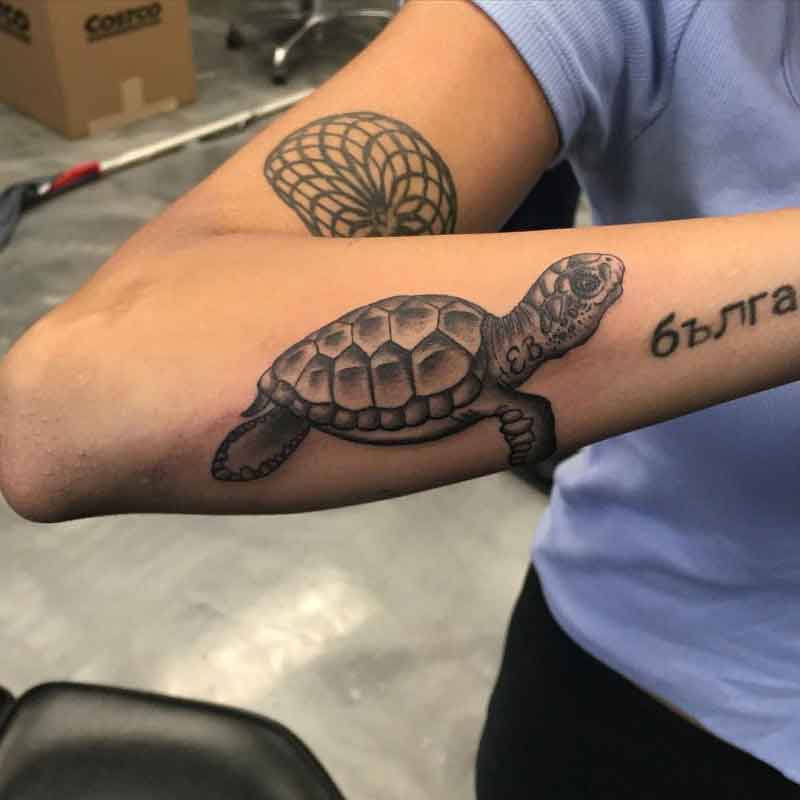 Grateful Dead Turtle Tattoo
82.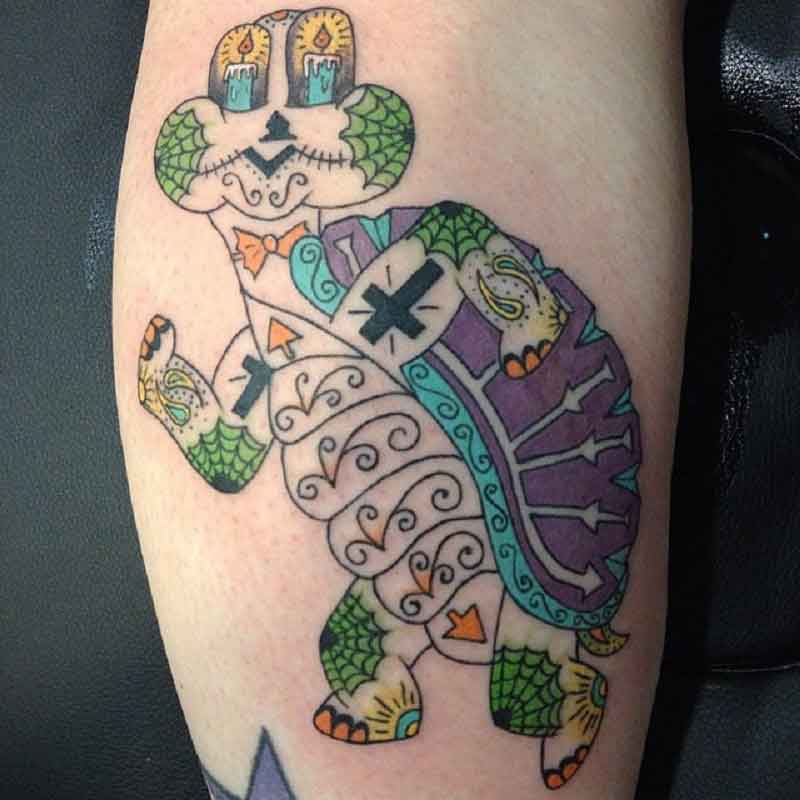 83.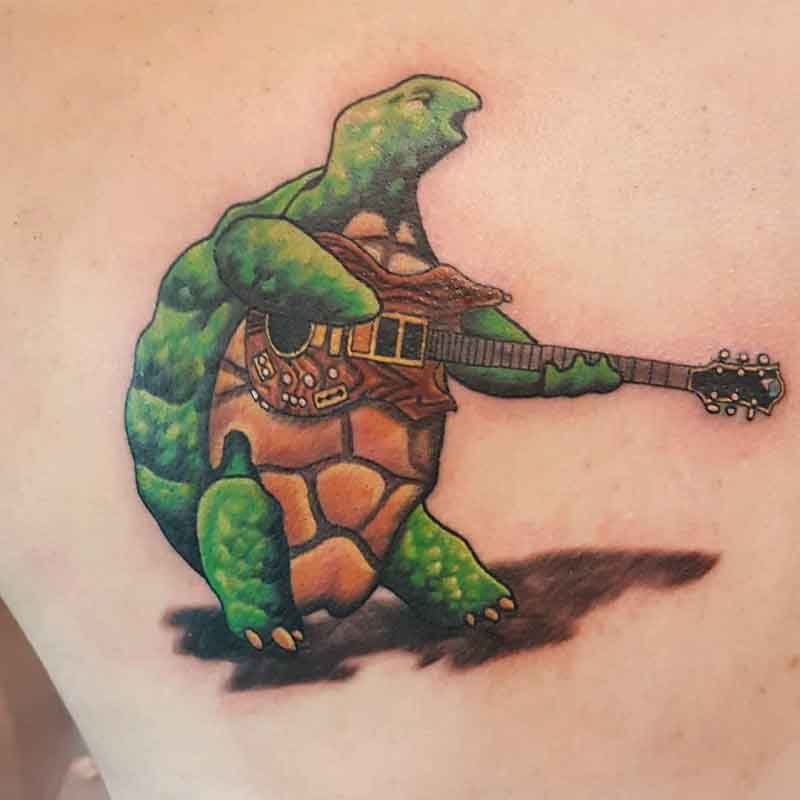 84.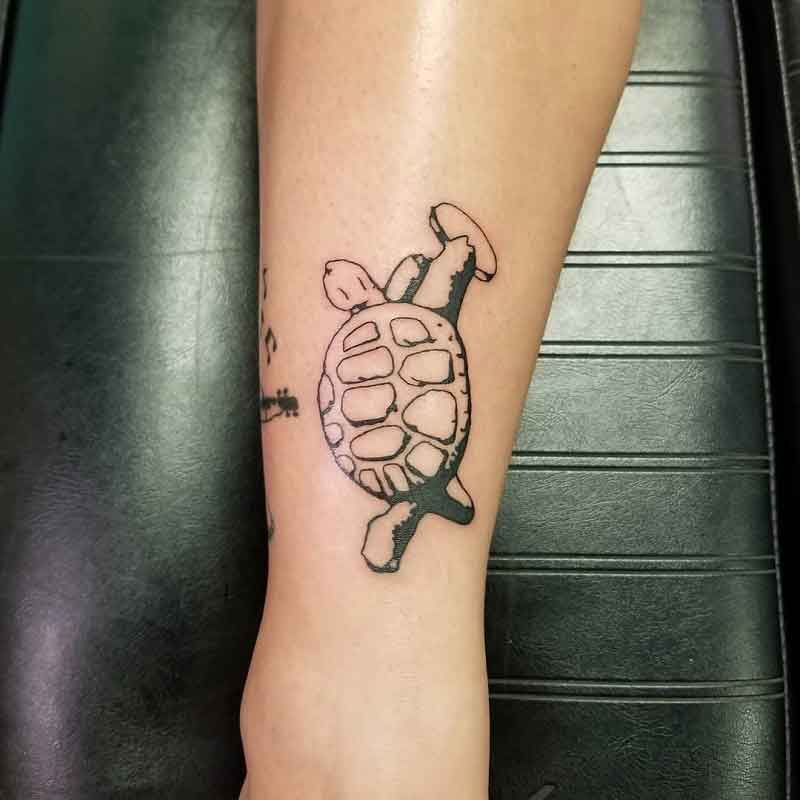 Honu Turtle Tattoo
85.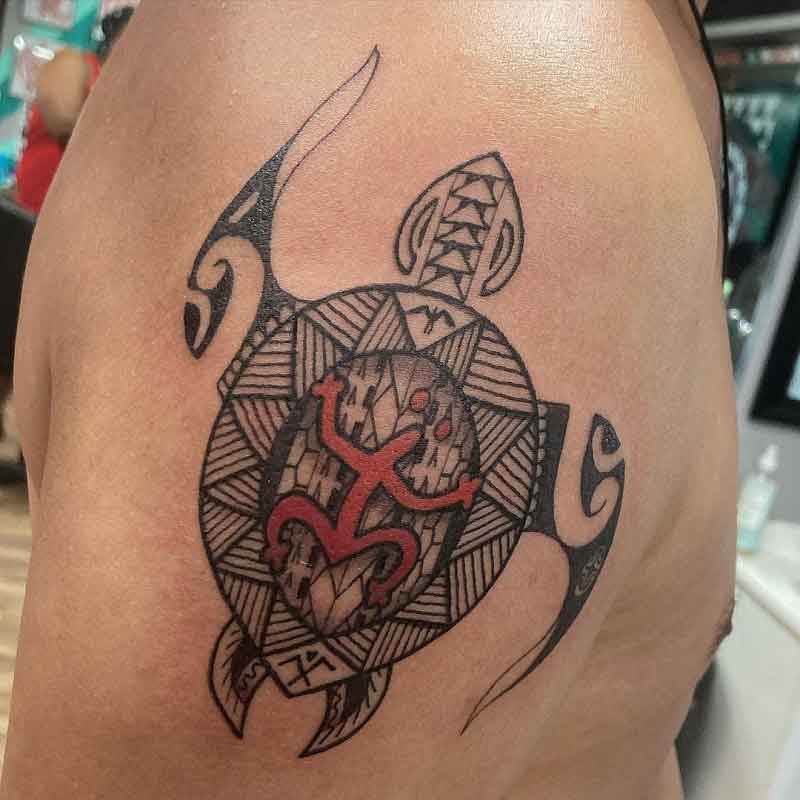 86.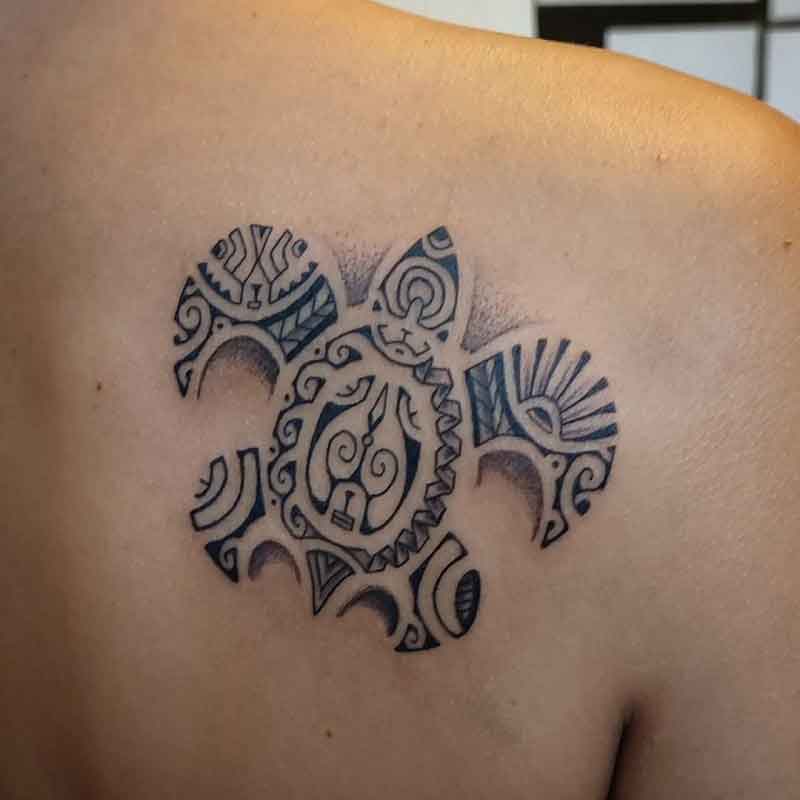 87.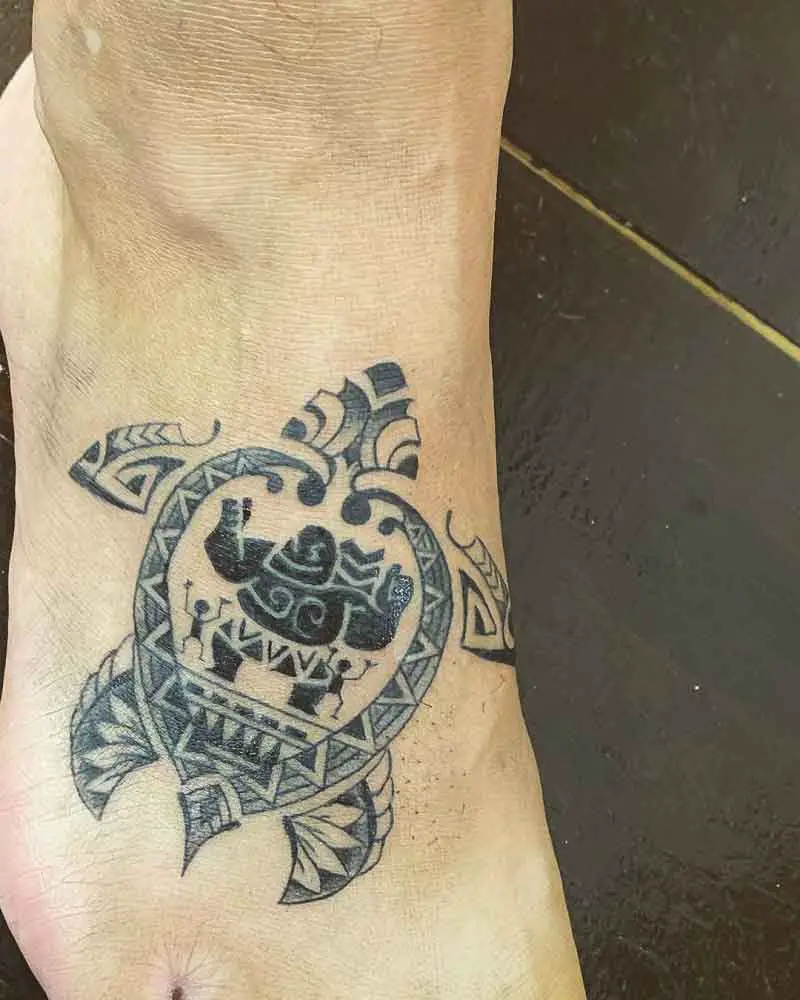 Land Turtle Tattoo
88.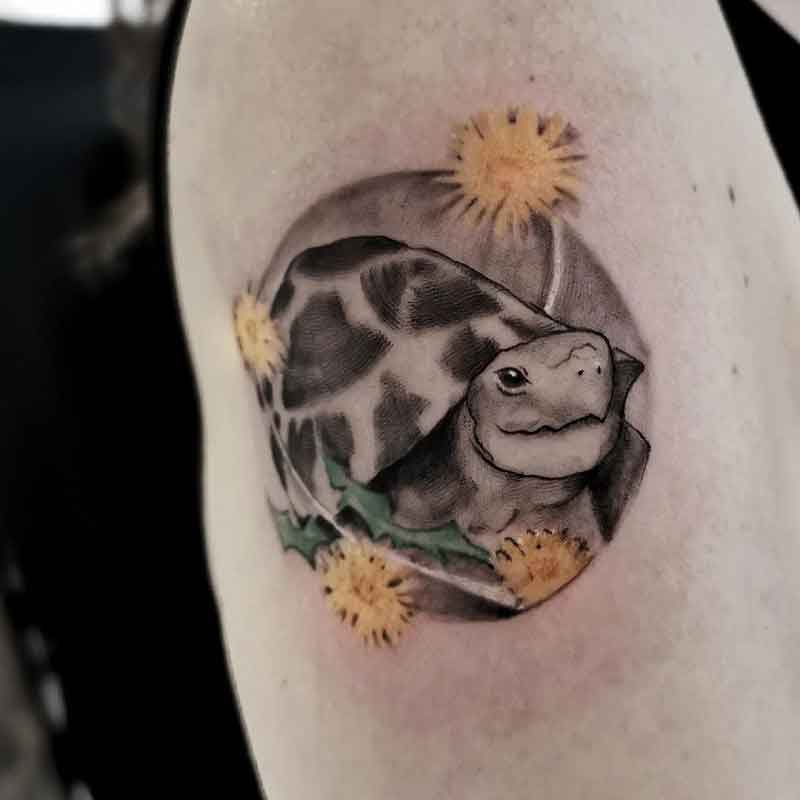 89.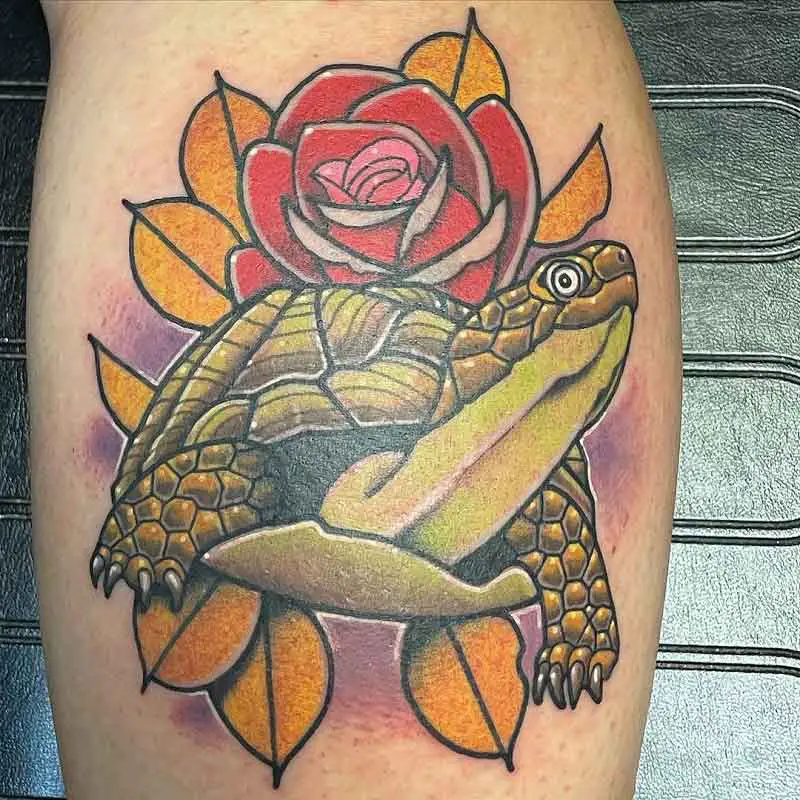 90.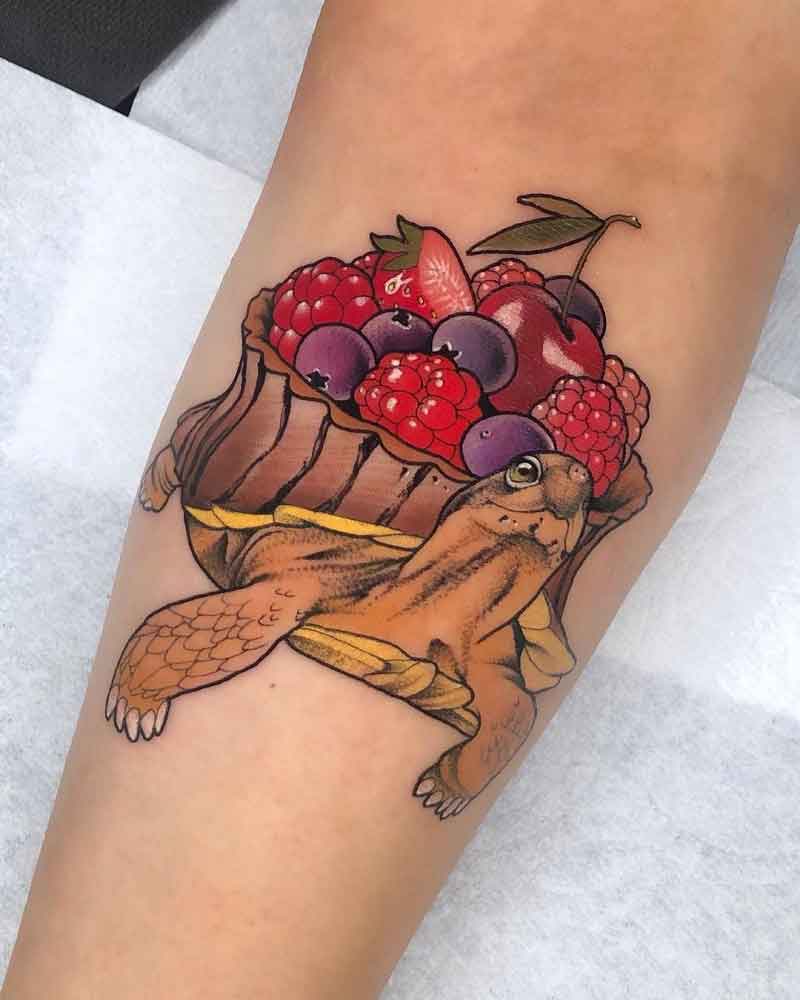 Mother Daughter Sea Turtle Tattoos
91.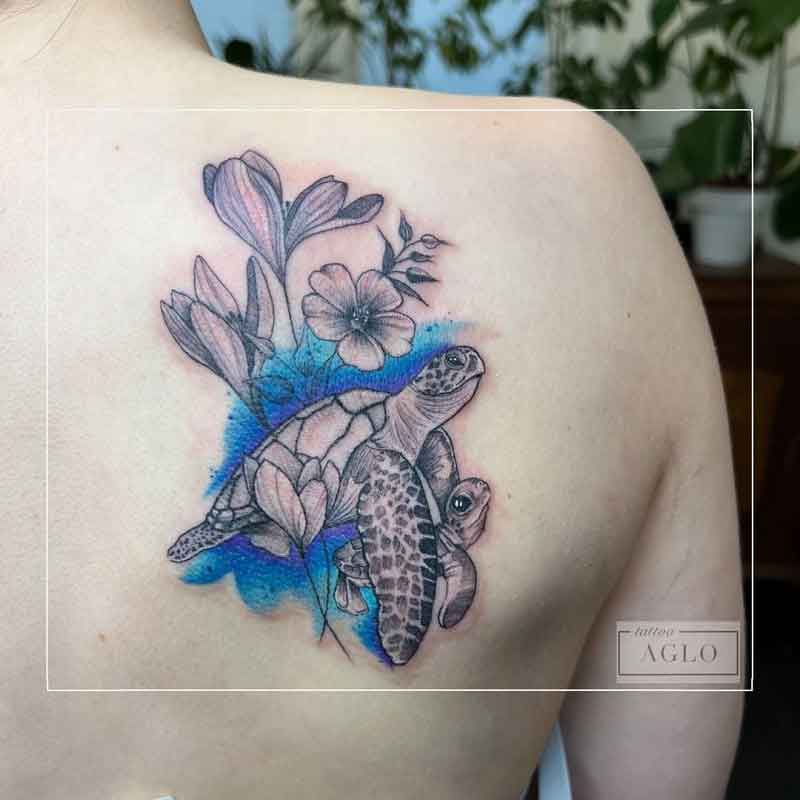 92.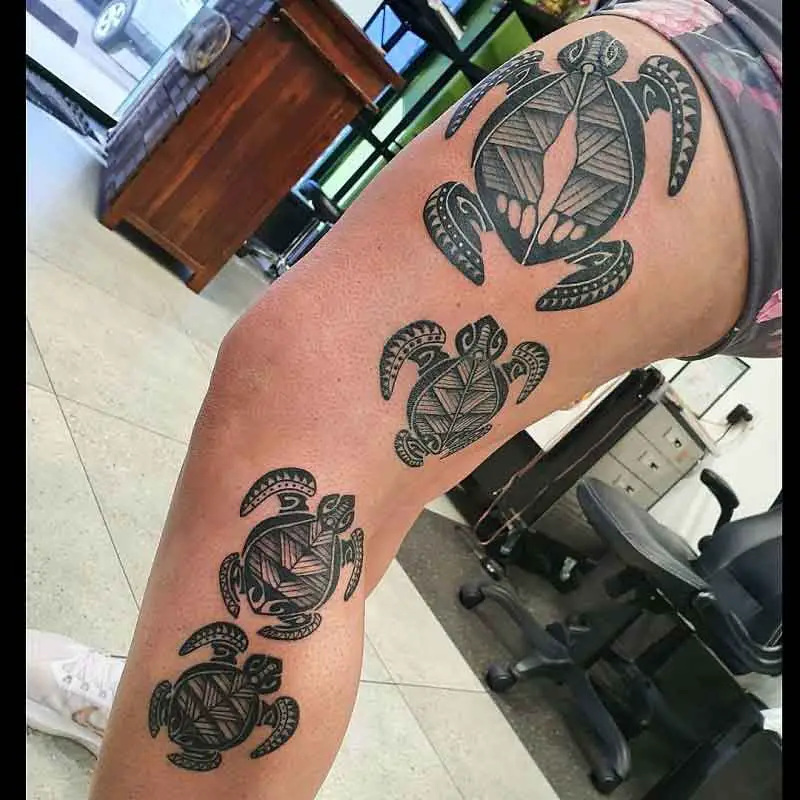 93.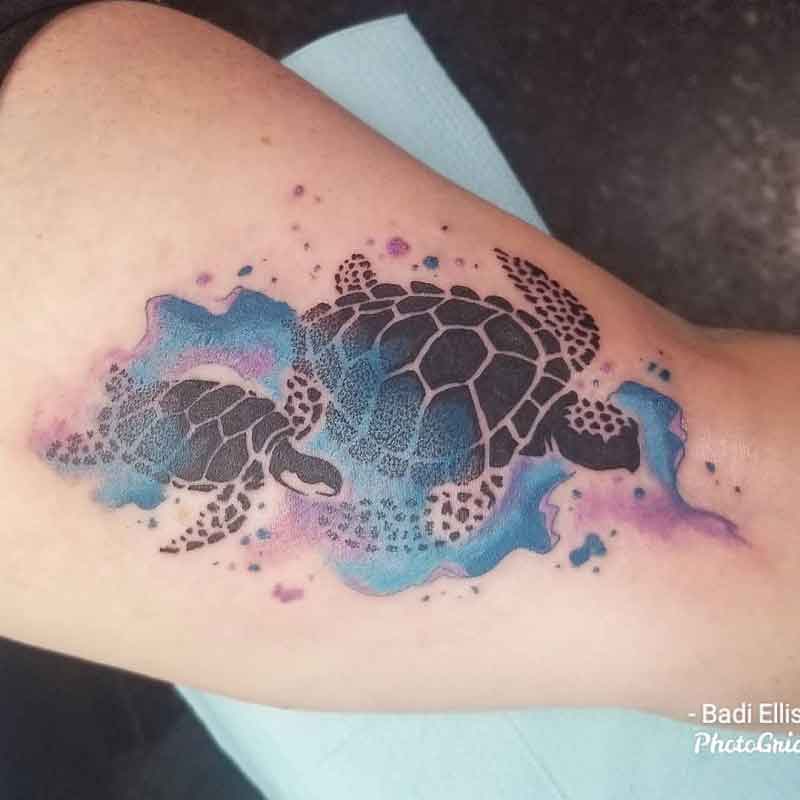 Turtle Back Tattoo
94.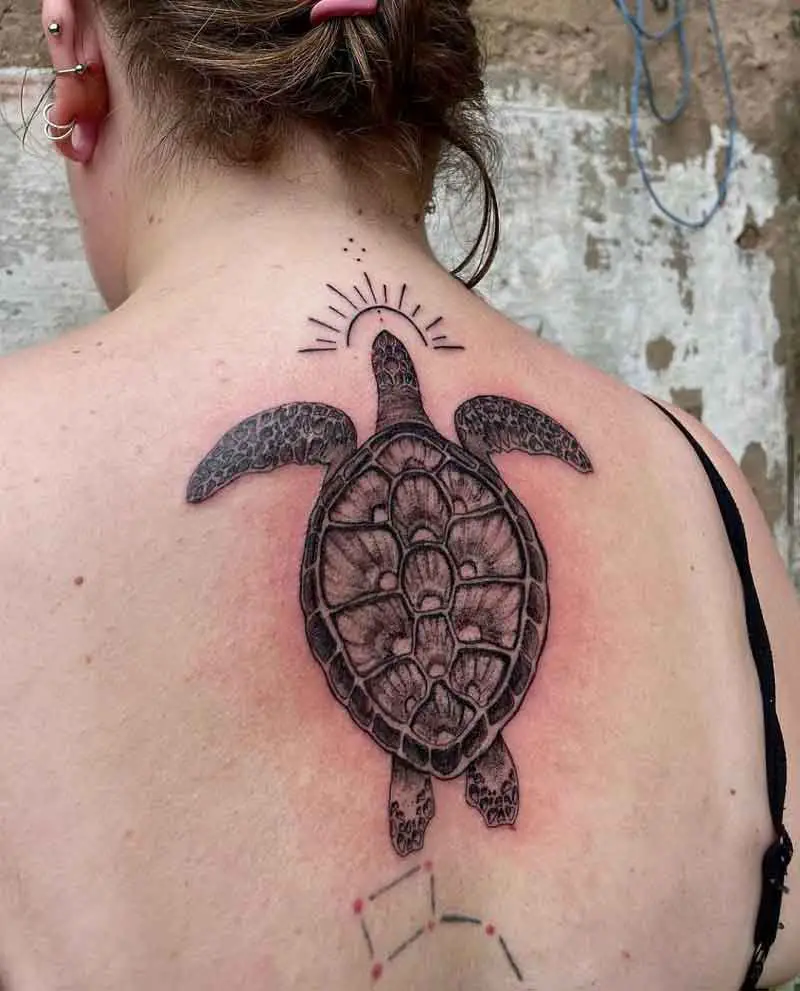 95.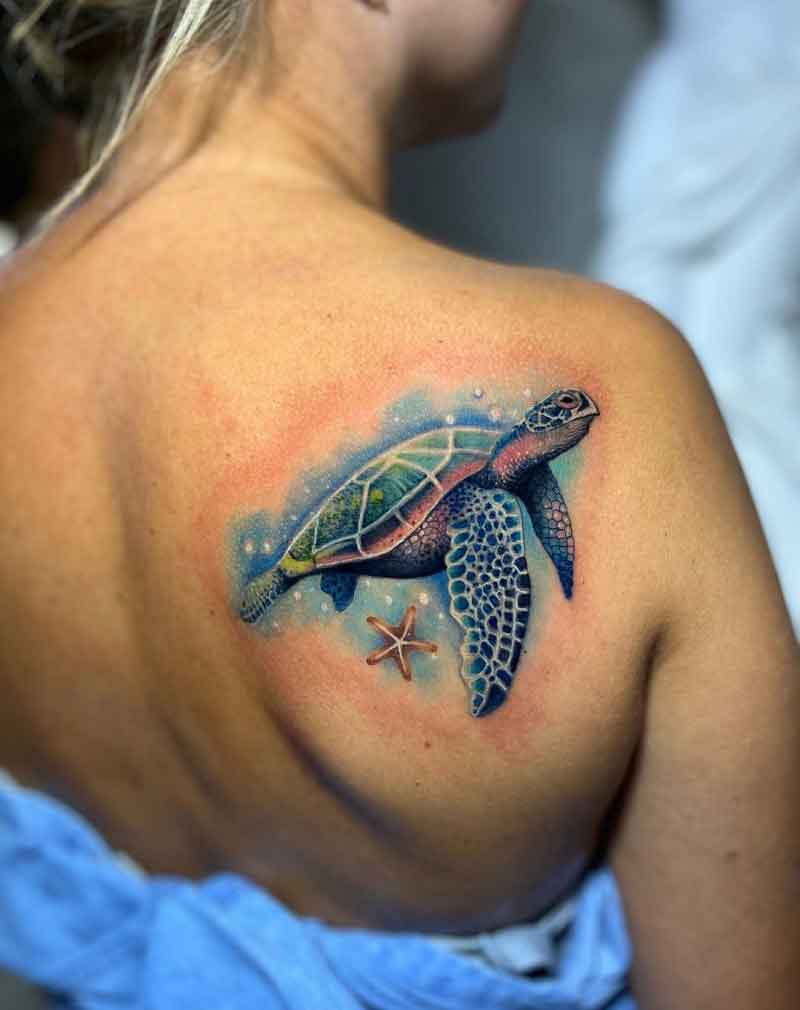 96.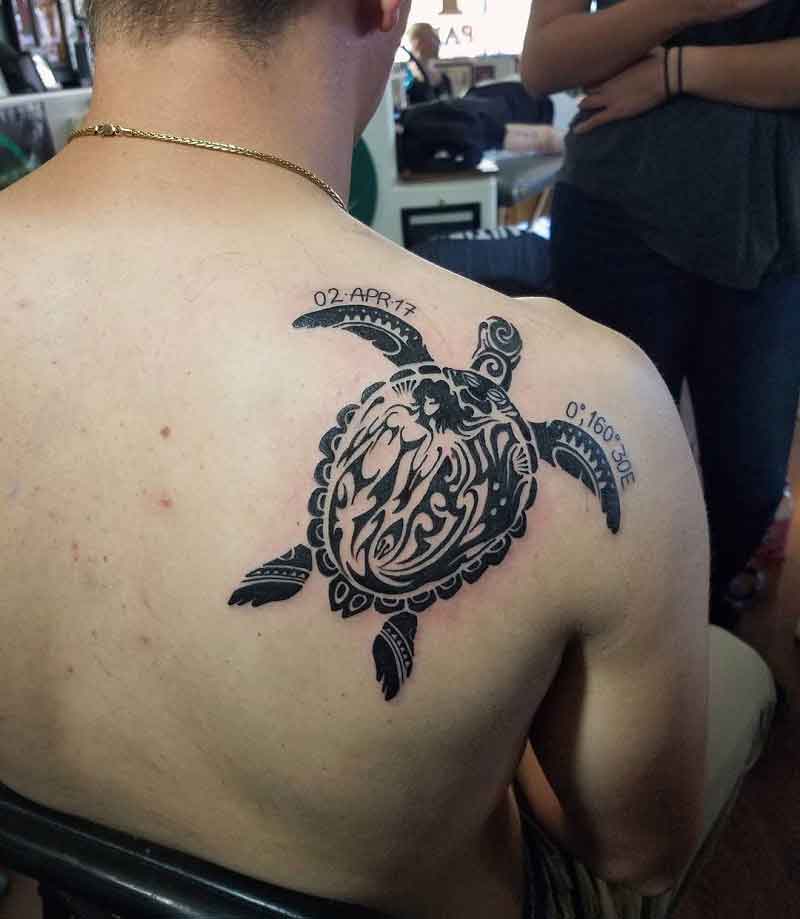 Turtle Flower Tattoo
97.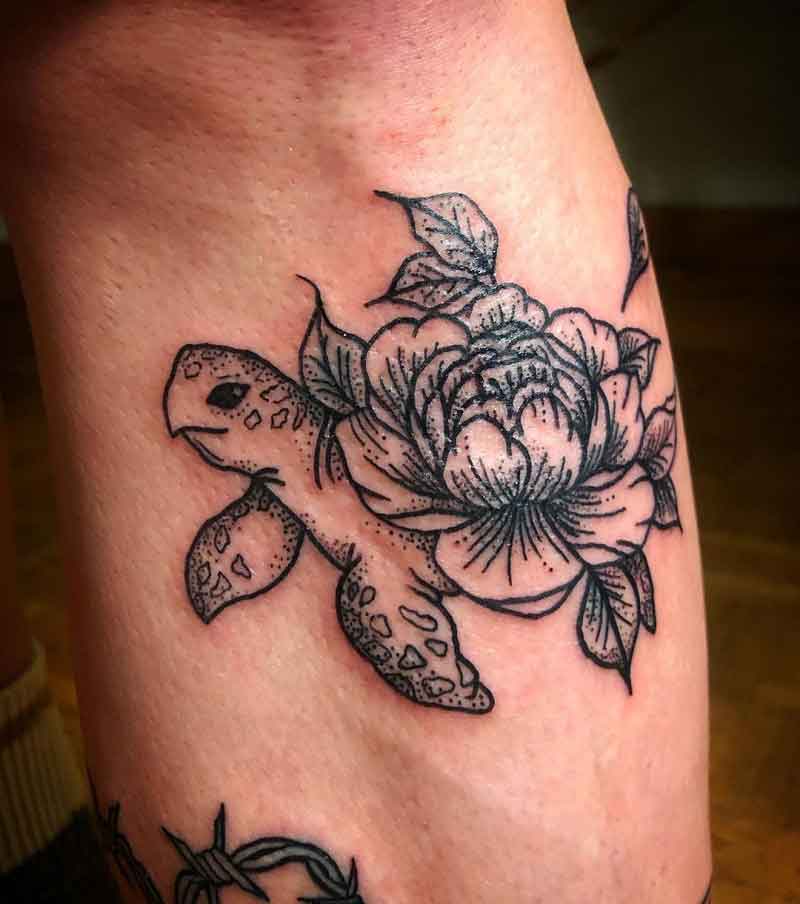 98.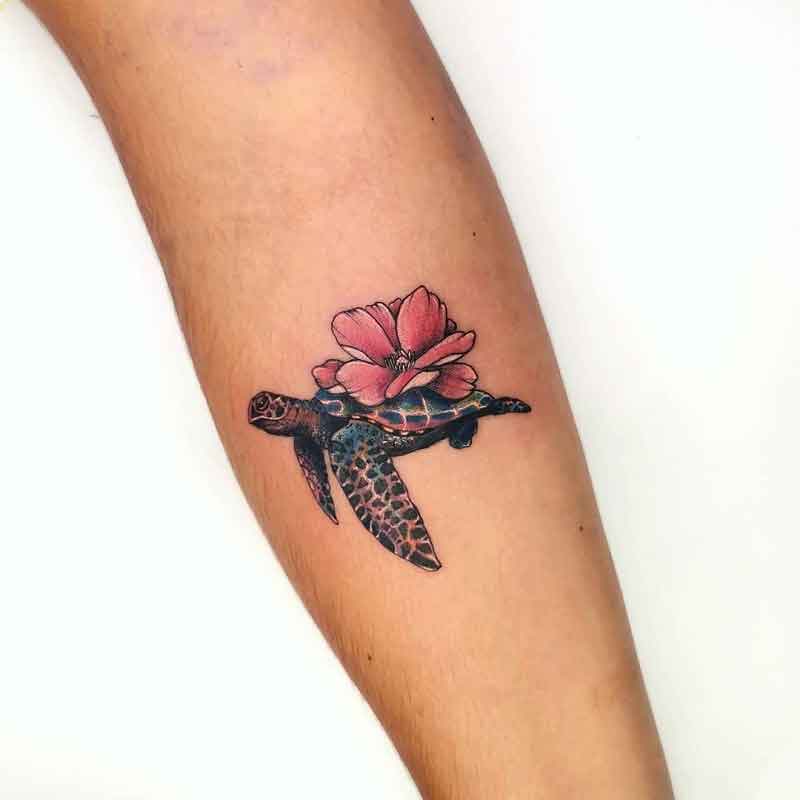 99.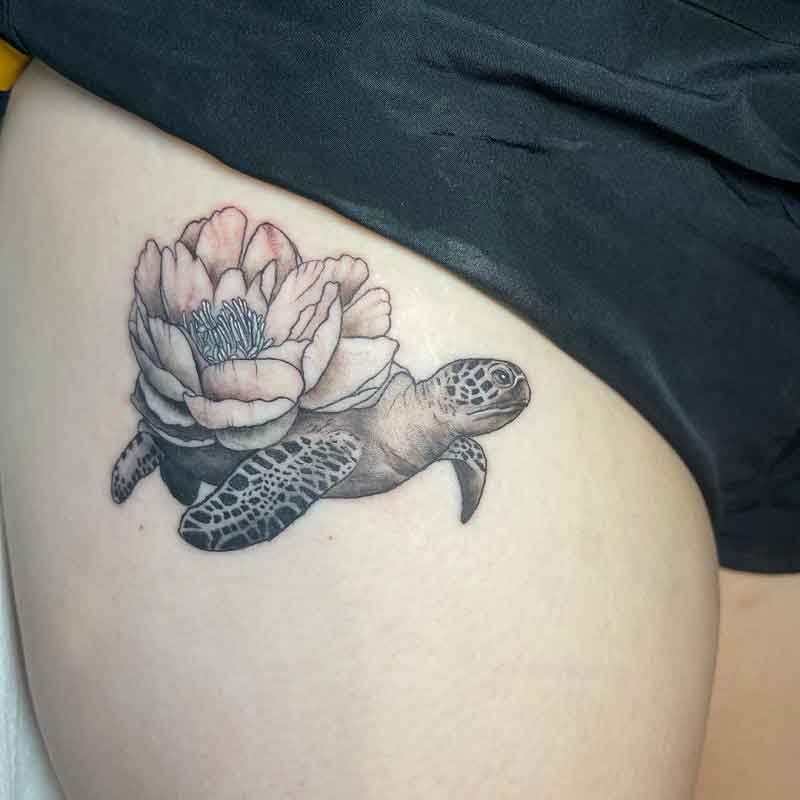 Turtle Hibiscus Tattoo
100.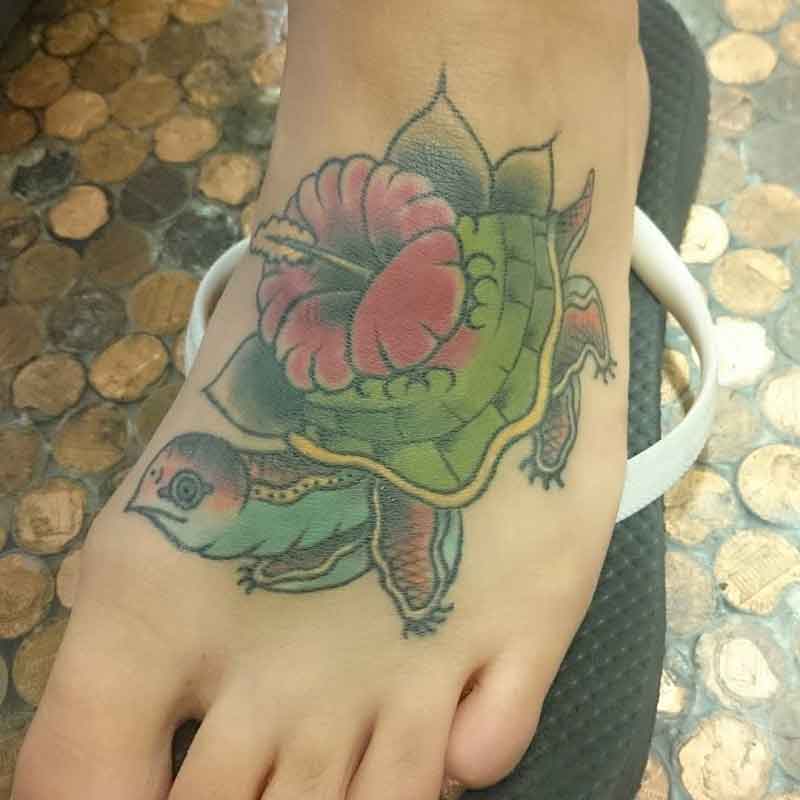 101.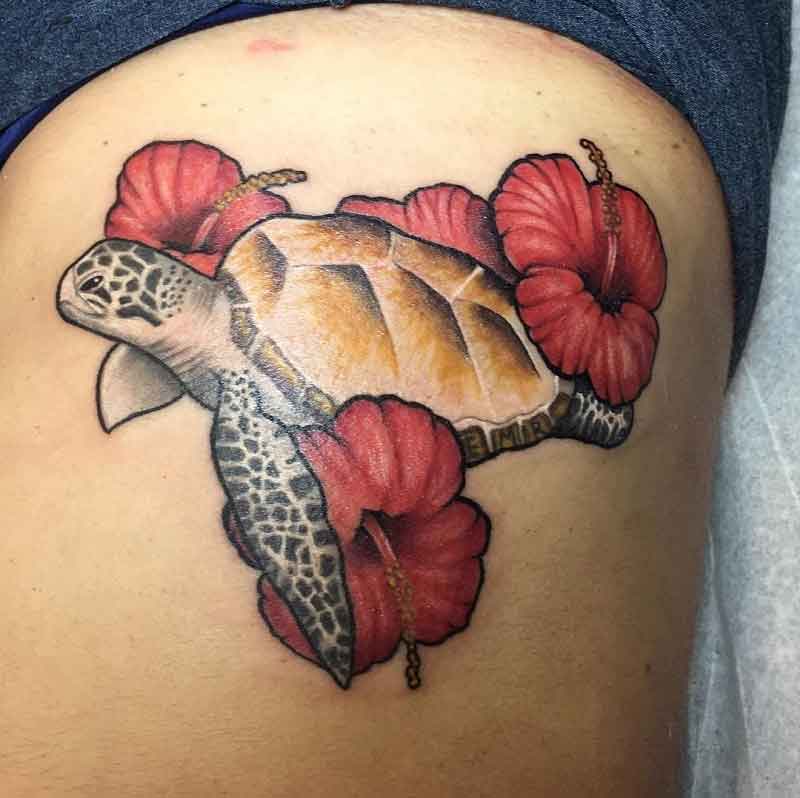 102.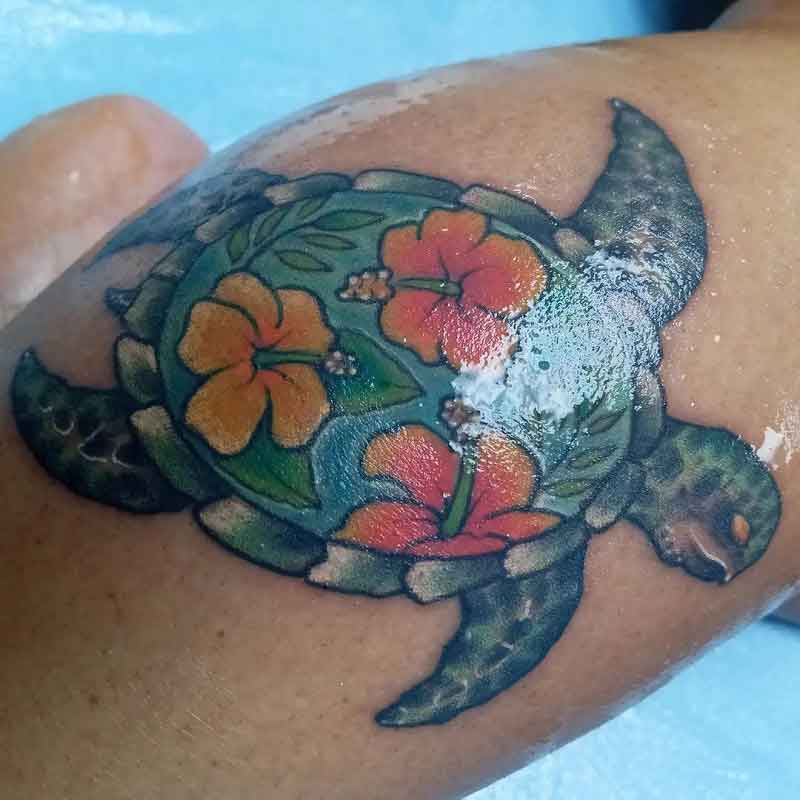 FAQ
What Is The Meaning Of A Turtle Tattoo?
Depending on the context and culture, the turtle tattoo holds a wide range of significance. Typically, the design represents nature, protection, wisdom, and resilience in life. Not only that, but it is also a sign of longevity and endurance.
What Are The Different Styles Of Turtle Body Art?
There are several interesting styles surrounding turtle tattoos. The most common styles include tribal, traditional, watercolor, and many more.
How Much Do Turtle Tattoos Cost?
The cost of turtle tattoos varies significantly depending on the style, design, details, and size of the tattoo. As an estimate, the cost varies between $50 to $150 for small designs. However, large and detailed tattoos are quite expensive.
Conclusion 
Turtle tattoos are a popular choice among various cultures and communities. The designs hold several beautiful meanings, including art, nature, wisdom, protection, and many more. These designs and patterns are available in several styles and looks, attracting the eyes of all viewers.
Now that we are at the end of the blog post, we believe we have found the perfect inspiration for your next tattoo. Make sure to choose a design that is close to your heart and represents your personality. Do not forget to choose a professional artist and ensure proper care after getting the tattoo done.