Starting from ocean sleeve and animal tattoo designs to the Polynesian themed tattoos, you'll come across all sorts of ocean tattoo styles and ideas in this article.
An ocean is a vast body of water that comprises much of the hydrosphere of Earth. The fact that 95% of the ocean is still unexplored to this day is what makes it really mysterious. It's so enormous that about 94% of the planet's wildlife is found on ocean floors. Here, you'll also find tattoo ideas of multiple sea creatures, each one with its own set of distinct personality traits.
87 Ocean Tattoos Designs And Ideas
Ocean tattoos have multiple meanings attached to it. Note that some of the tattoos here are slight variations of one particular design and it doesn't really alter the general meaning of the tattoo. You also need to bear in mind that the interpretation of some of the tattoos may not really make much sense to you but not all tattoos have to be meaningful, do they?
Now that everything's out of the way, let's dive in!
Ocean tattoos that cover up your whole sleeve can look really cool. Besides, you can add colors to these tattoos to make them look more vibrant. Here are some unique designs below:
1. Journey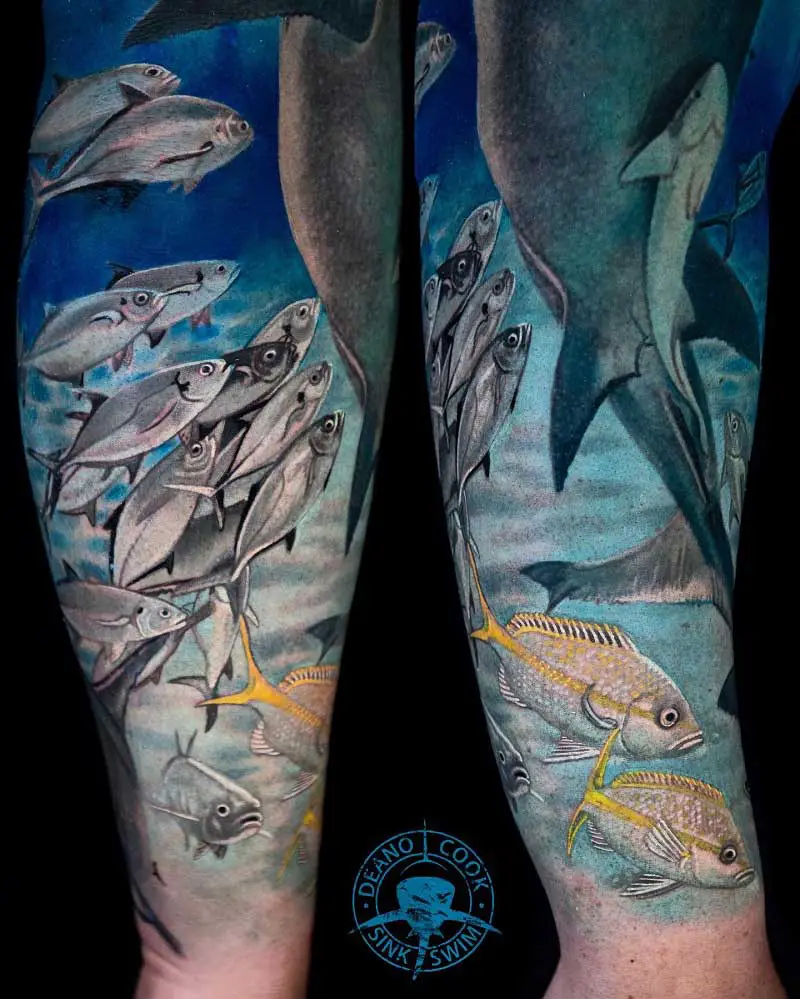 Ocean tattoos symbolize a journey and the pathway to self-discovery or beginning a brand new chapter in your life. Such tattoos are ideal for people who believe in this ideology.
2. Courage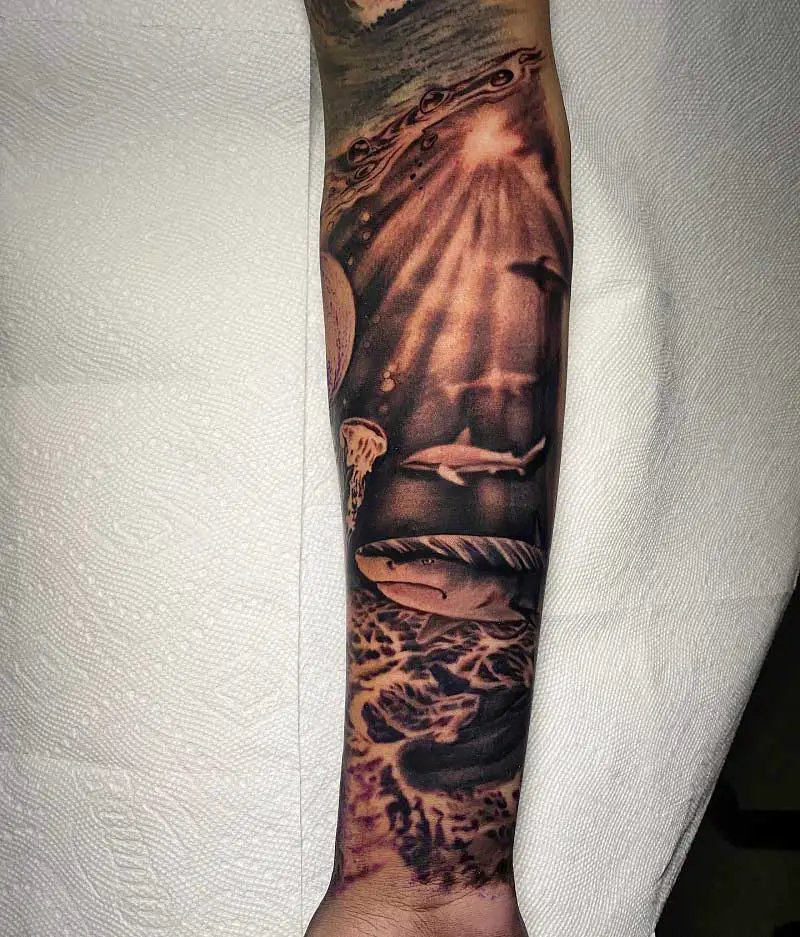 The presence of the shark tattoo signifies courage, protection, guidance and so much more. In Polynesian cultures, sharks symbolize protection against enemies.
3. Free-spirited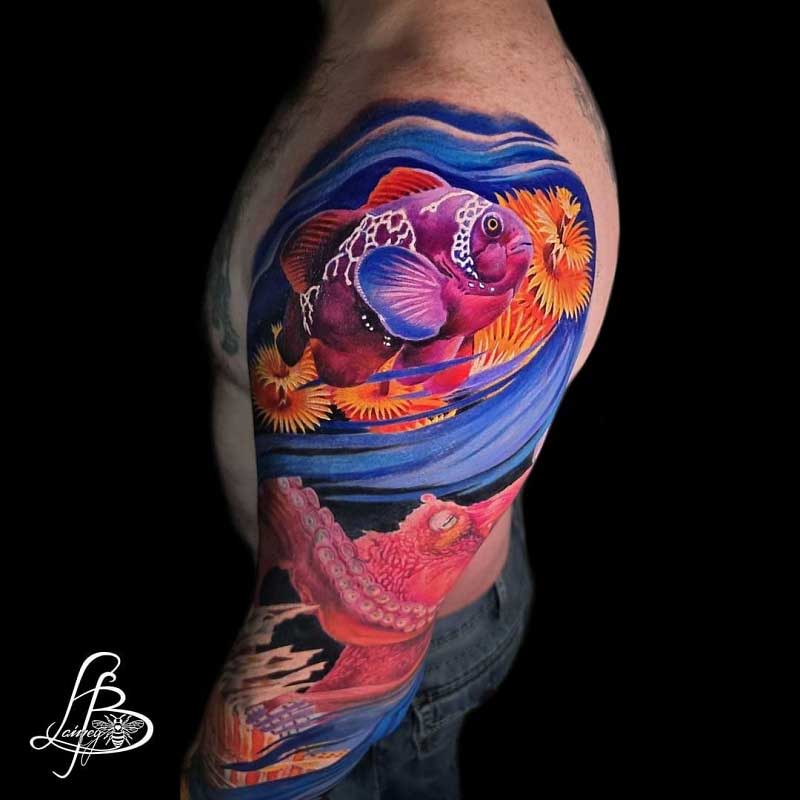 The use of so many colors in this tattoo just shows how the tattoo bearer is open to creativity and trying out new things. The meaning of the ocean tattoo still stands in this design.
Ocean Animal Tattoos
In this section, we're going to be discussing the meanings of some of the ocean animal tattoos and what each of them means spiritually. Scroll down to find out!
4. Rebirth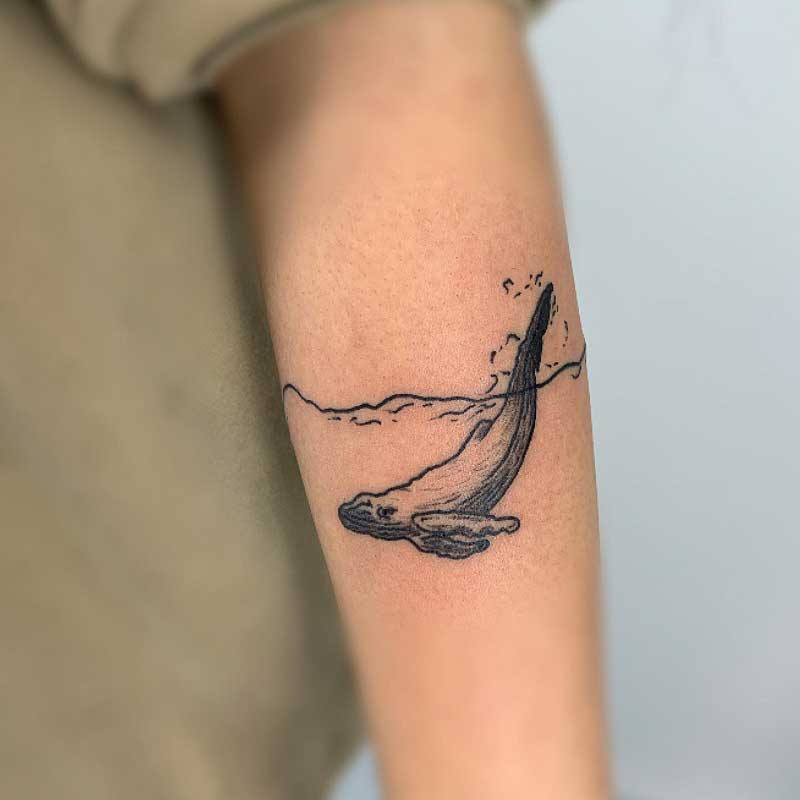 The term "rebirth" actually refers to spiritual enlightenment that causes an individual to lead a brand new life. The whale tattoo paints that picture quite beautifully.
5. Strength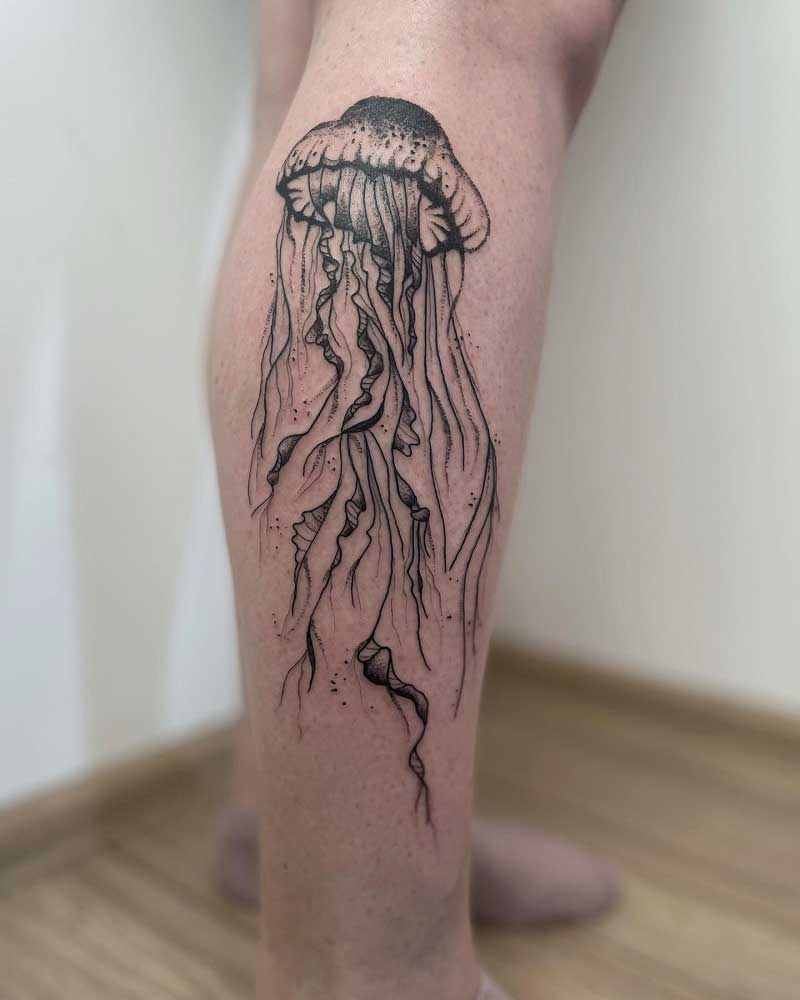 The jellyfish represents protection, strength, and defending one's family members and friends. While the creature appears to be calm and peaceful, it can deliver deadly stings with its tentacles when threatened.
6. Resilience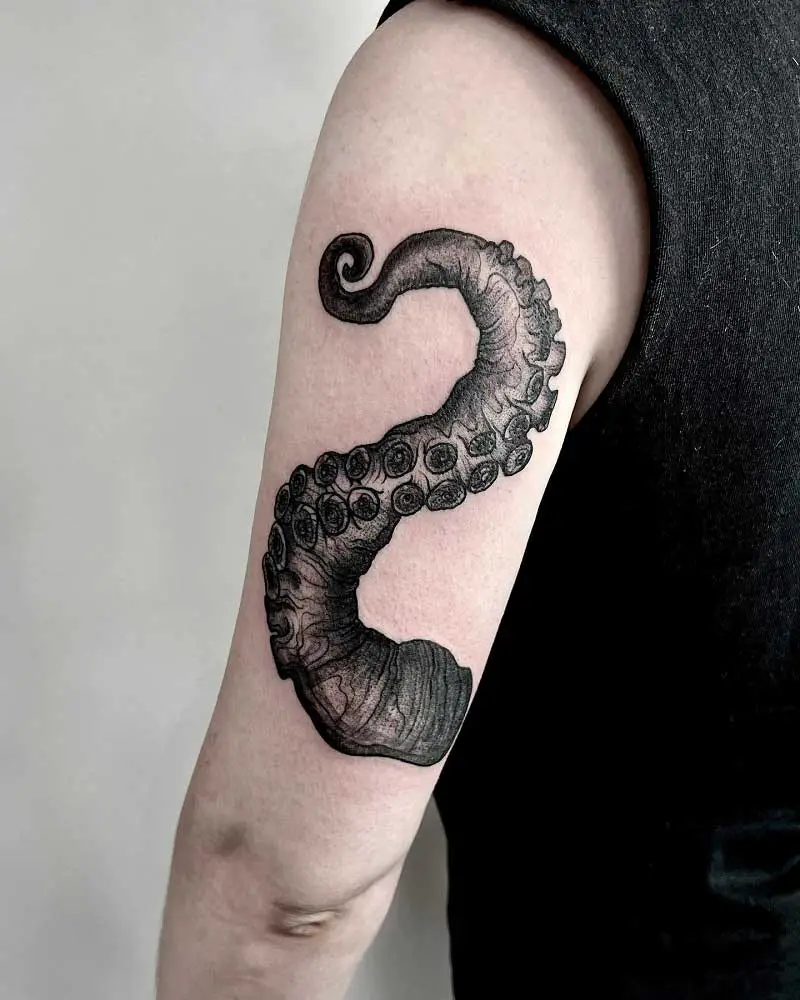 This ocean tattoo, or the tentacle tattoo to be more specific, portrays adaptability and resilience. To put it simply, it refers to a person's ability to tolerate or withstand difficult conditions in life.
A tattoo design of waves also falls under the category of ocean tattoos. The meaning of this particular tattoo style is quite deep and wonderful. Here are some examples below:
7. Going With The Flow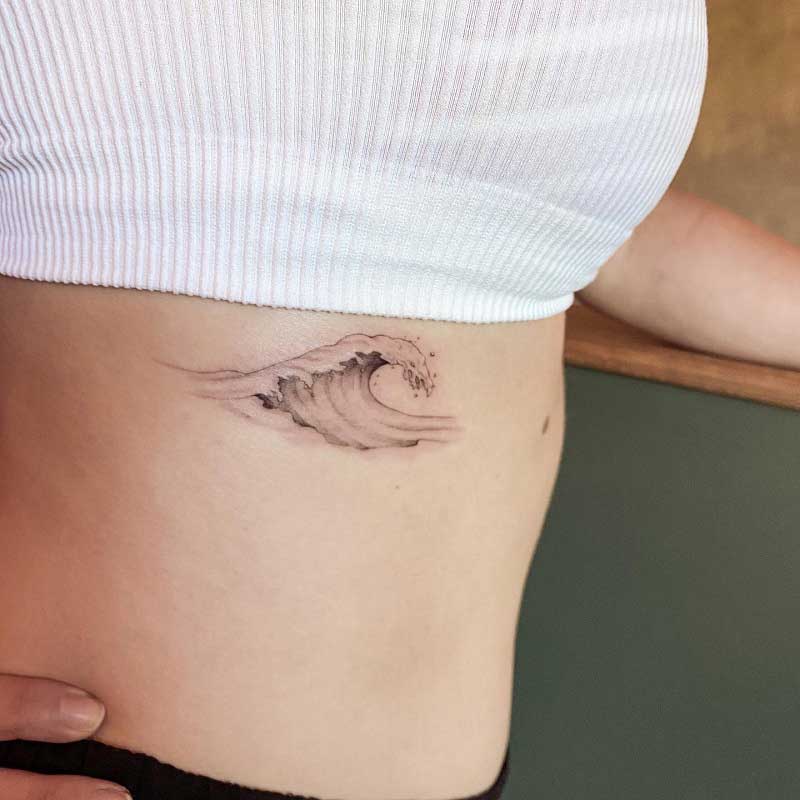 This ocean tattoo is a visual representation of the phrase "going with the flow". Basically, it means not planning for the future at all and just seeing where the day takes you.
8. Splash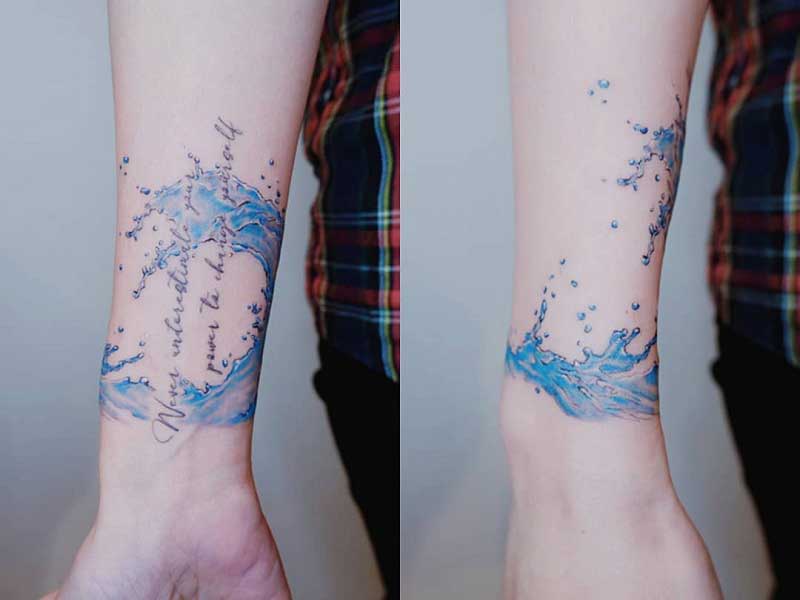 This tattoo design actually represents purity or purification. If Christianity is tied into this, it could refer to the holy water which is used to cleanse the body and mind.
9. Release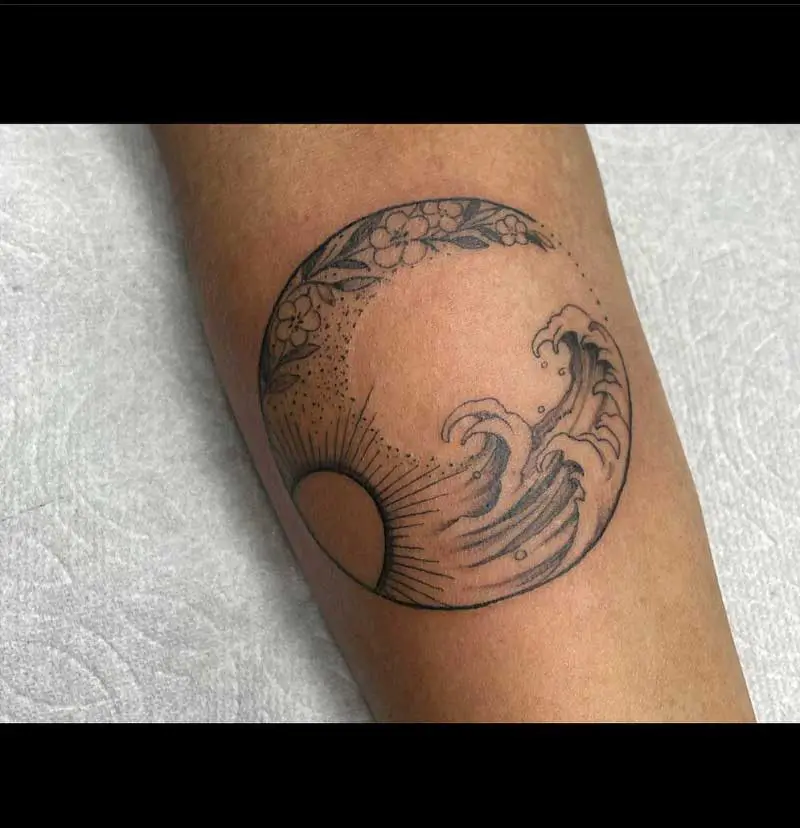 The tattoo design can also refer to a person letting go of someone or something. They know that whatever is holding them back is very harmful to them but they just find it impossible to move on.
Small Ocean Tattoos
Instead of taking up the whole arm or a large portion of any area on your body, ocean tattoos can be smaller in size too. This doesn't change the meaning but visually, they can look incredible.
10. Minimalistic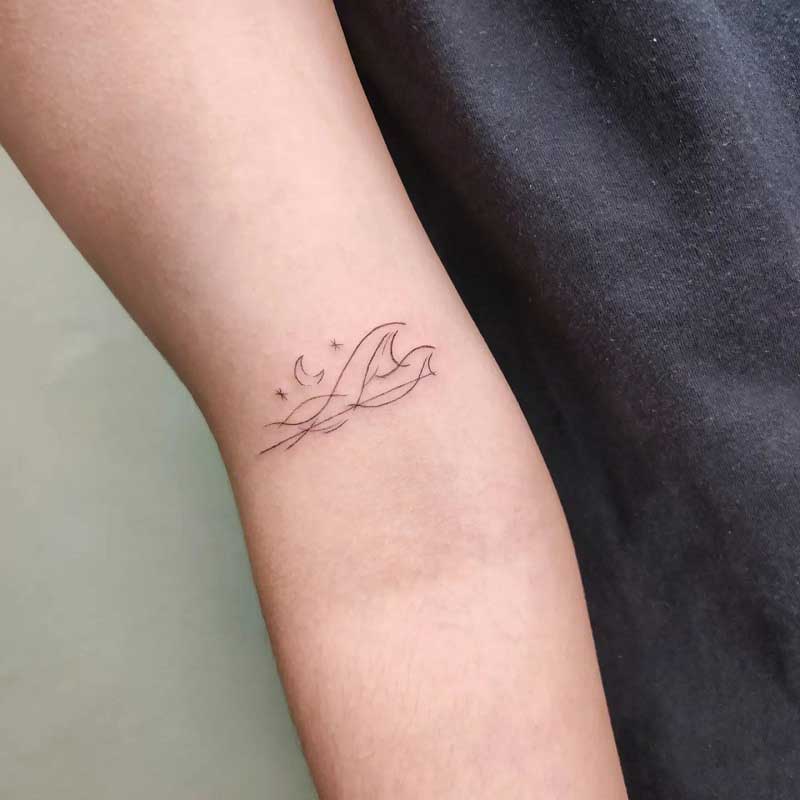 People who don't like overcomplicating things when it comes to tattoo designs may find this appealing. The meaning remains unchanged but it's the simplicity of the tattoo that brings out the elegance.
11. Stability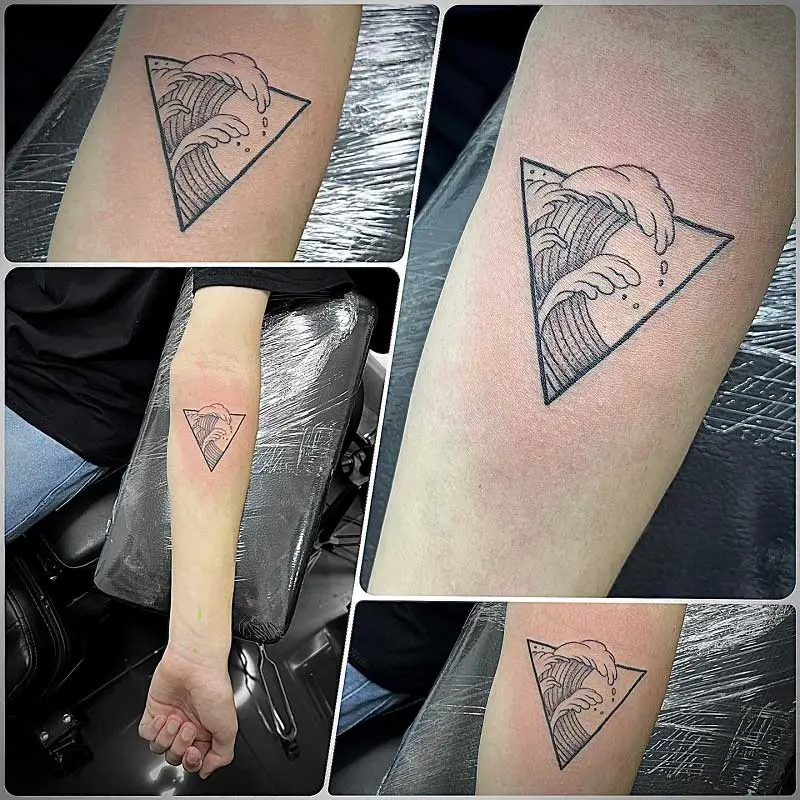 As the ocean exists largely unchanged or unaltered for centuries, this tattoo can represent stability. It's perfect for people who are determined or resolute in nature.
12. Nature's Balance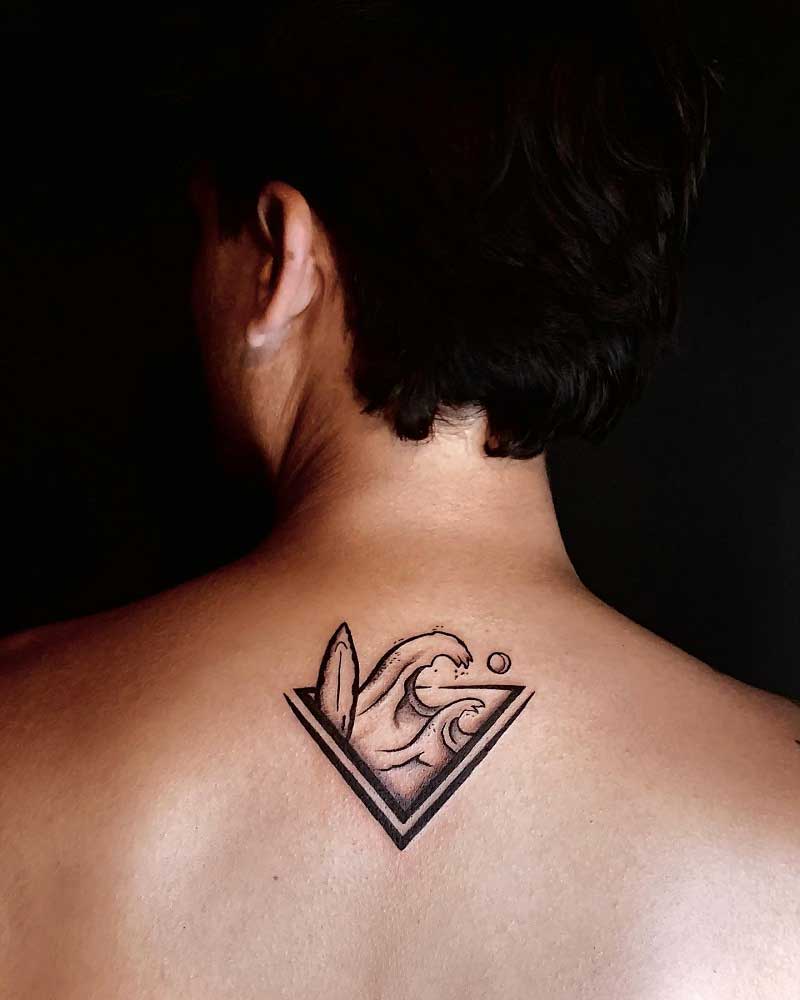 The combination of the wave and the sun is a simple but very impactful tattoo. To some people, this ocean tattoo can be seen as moving along with the prevailing forces; to others, it is nature's balance.
Forearm Ocean Tattoos
People can also get forearm tattoos etched onto their forearms. Because they are so visible, they can represent honesty and confidence. Here are some designs below to show what we're talking about:
13. Rough Waters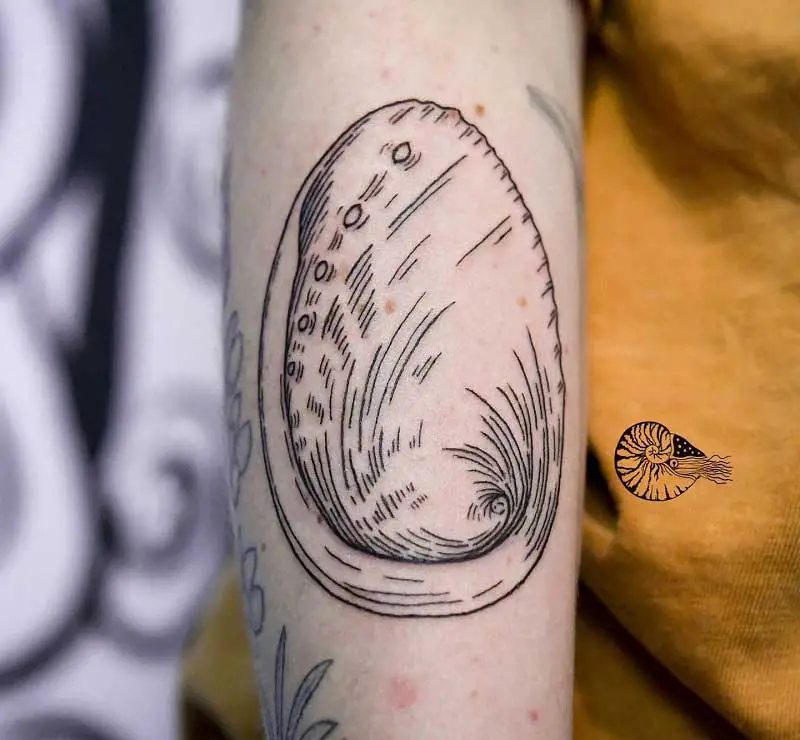 Spiritually, this tattoo represents a period of turmoil and chaos that was overcome by an individual. We all know ocean waters can be rough and fiery at times, hence the derivation of this meaning.
14. Emotions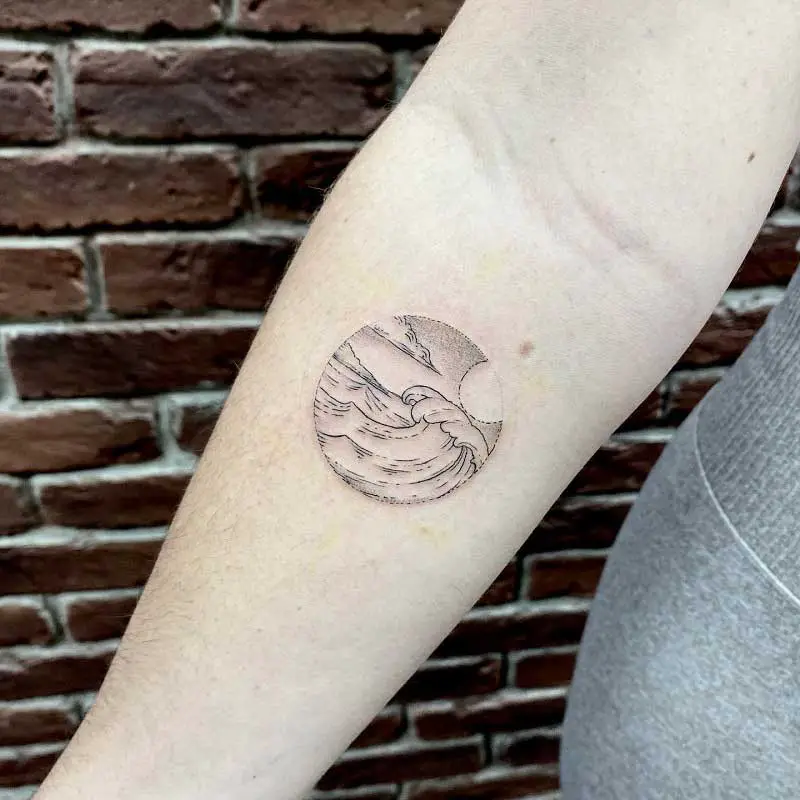 Waves are also a popular symbol for portraying a wide range of emotions. They can be shown as calm, fun, cool, in turmoil, or in pure rage.
15. Perfectly Even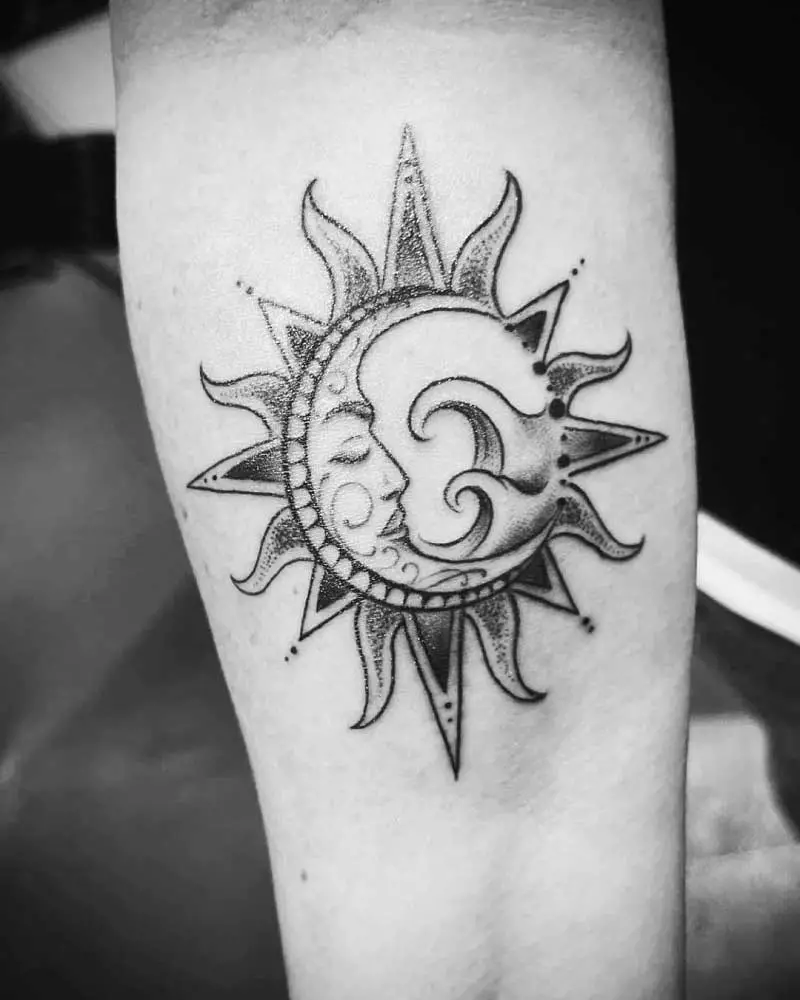 A sun and wave are very emblematic and they represent the eternal balance between the ethereal and earthly realms. This ocean tattoo can also symbolize the struggle between good and evil.
Japanese Ocean Tattoo
The term "Japanese" does not really affect the meaning of ocean tattoos in any way whatsoever. However, differences can be seen on the designs and patterns of these tattoos.
16. Strength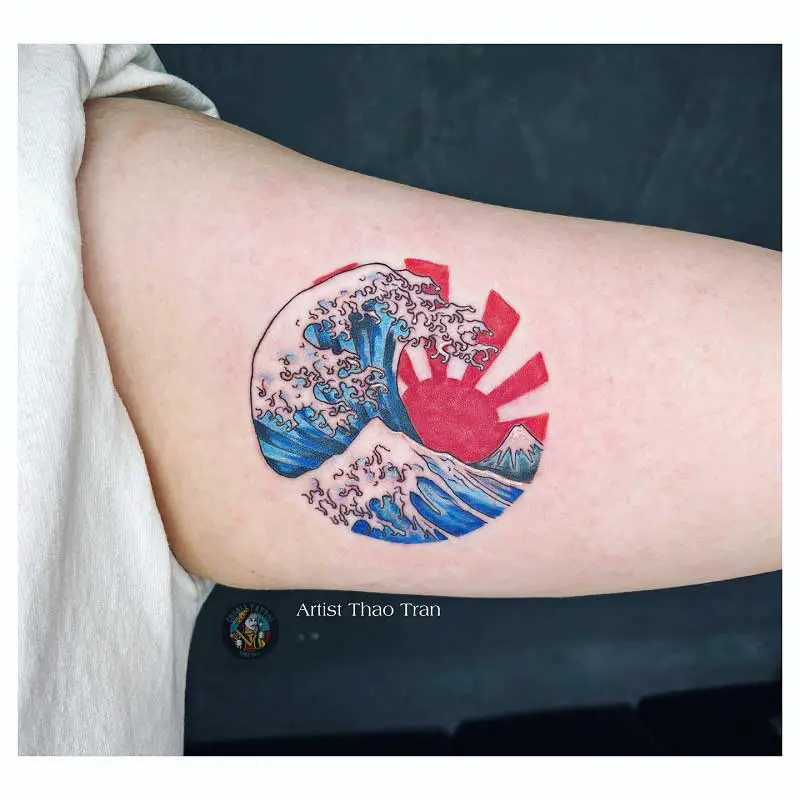 As discussed before, ocean tattoos on a man's bicep represent strength and life. This tattoo is ideal for an individual who never backs down despite whatever life throws at him/her.
17. Beware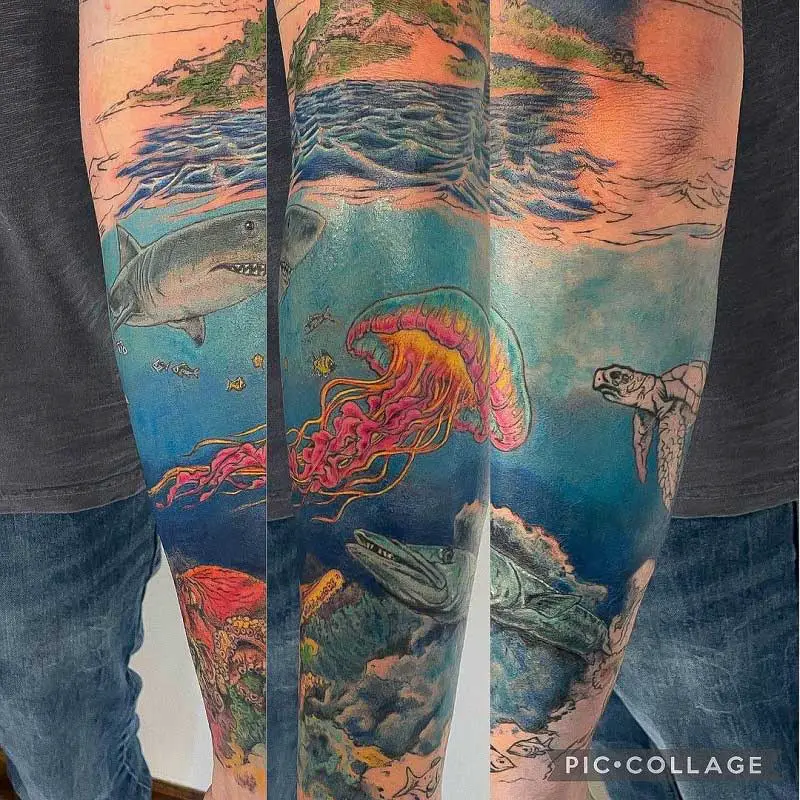 All the see creatures in this tattoo are pretty dangerous to some extent. While some of them may seem calm and serene, they can actually be deadly. A pretty strong message you could deliver with this tattoo.
18. Spirituality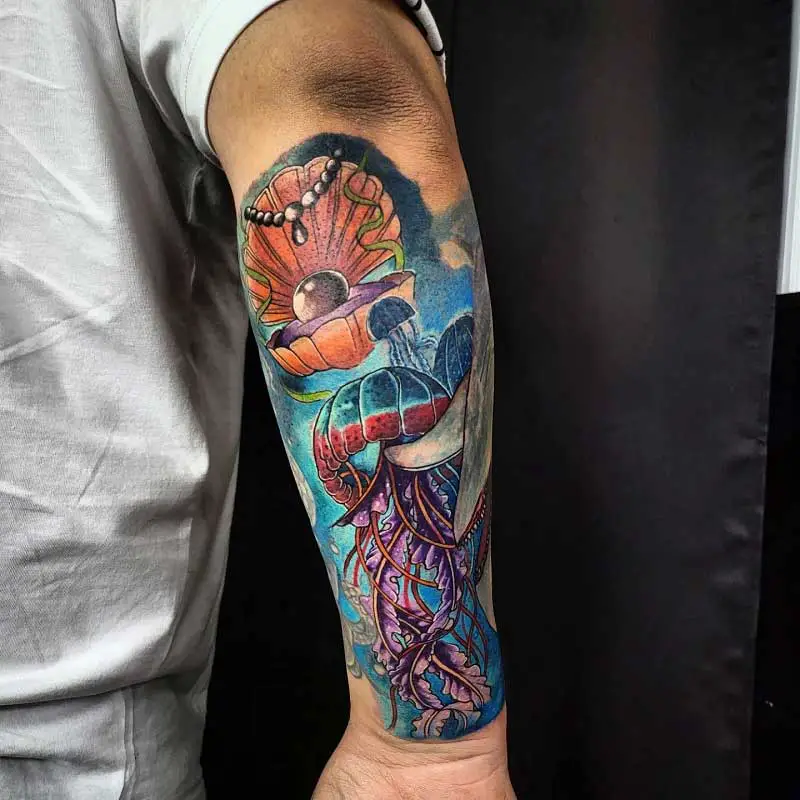 Pearl tattoos have multiple meanings. The most common ones that are highly associated with it are prosperity, spirituality, grace, and femininity. You can add several colors for vibrancy.
Minimalist Ocean Tattoo
Minimalist tattoos involve the use of thin lines, rather than shading, to create a design that is both clean and simple. Below you are going to find some cool minimalistic ocean tattoos:
19. Calmness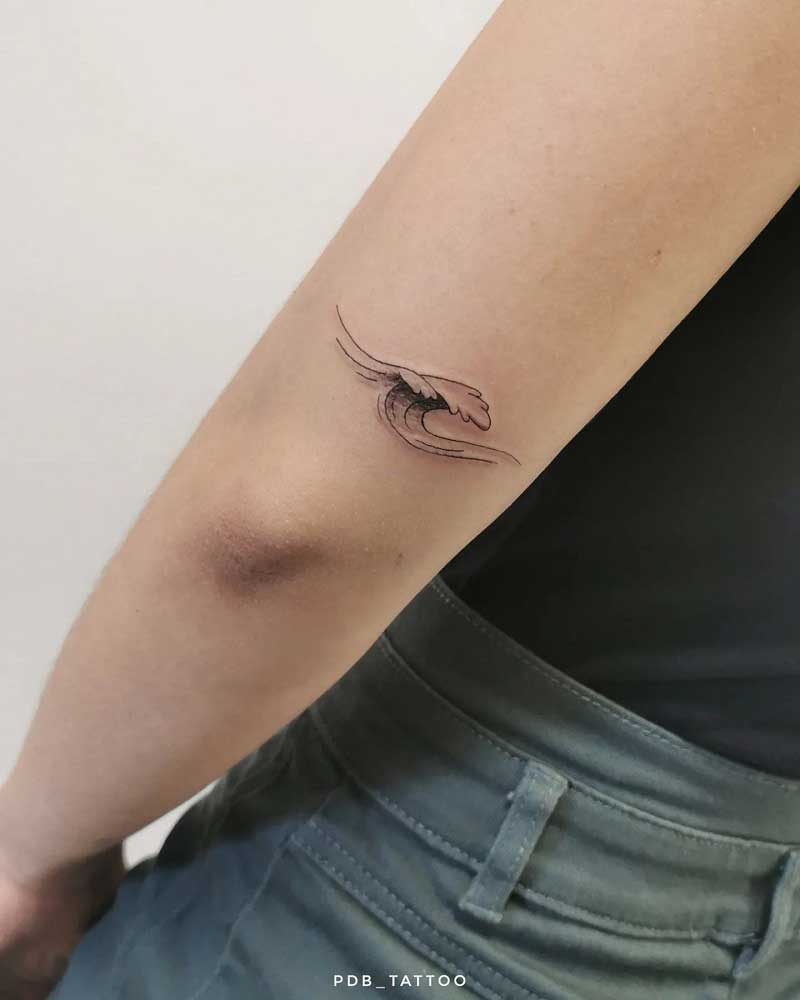 If you're standing miles away from an ocean, it's the most beautiful thing you'll ever see. It seems peaceful and calm, and the sound of the waves crashing onto the shore is just music to one's ears. A super tattoo on the back of the arm of a woman.
20. Small But Effective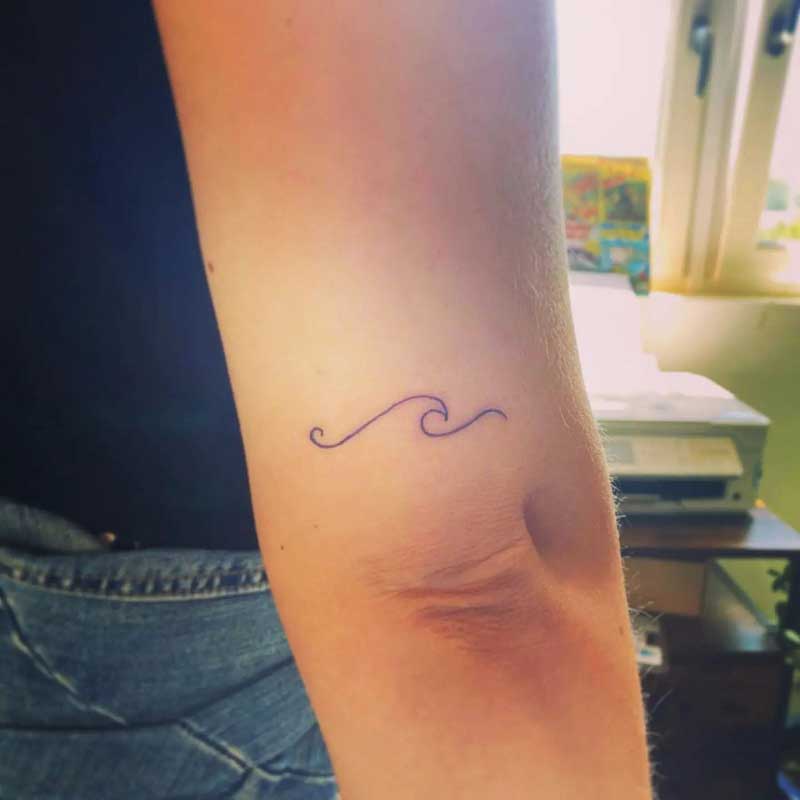 At first, it may seem like the most basic-looking tribal tattoo. If you look at it closely, you'll notice that it's the perfect minimalistic ocean tattoo and it doesn't get any more simple than that.
21. Endlessness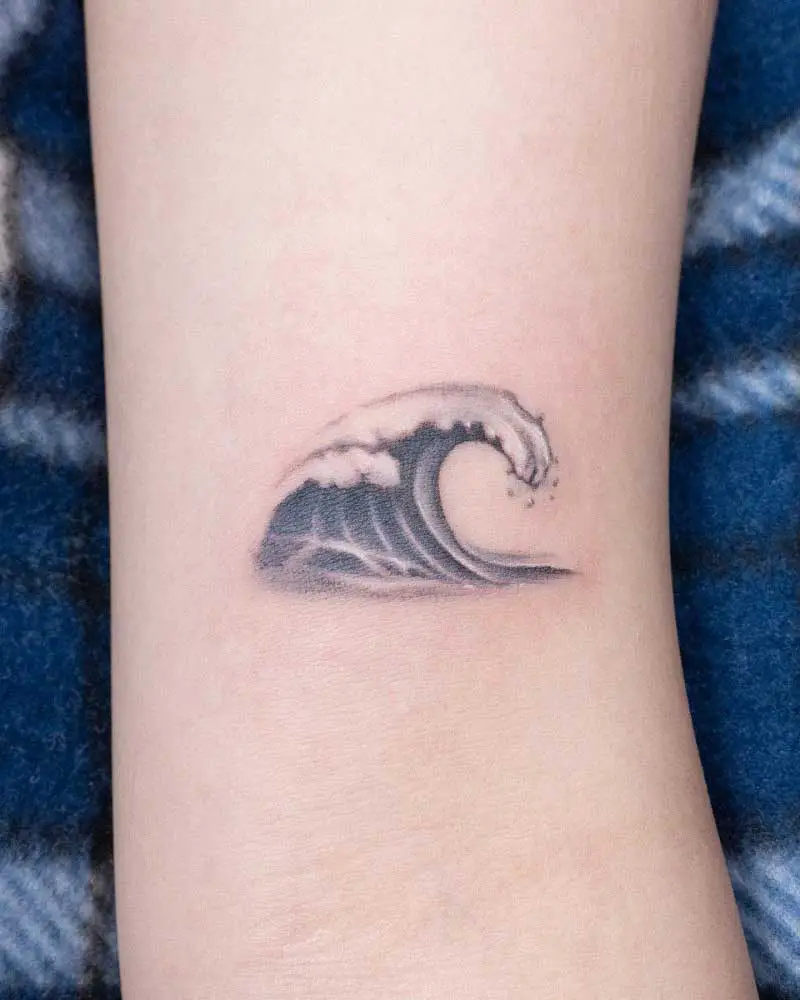 The waves and tides seen in oceans are endless. In a much more spiritual sense, this tattoo says that there are no limits to what one can do and that nothing is impossible.
Ocean Back Tattoo
Back tattoos take up a large portion of your back and involve a very meaningful and detailed tattoo design. They allow plenty of room for creativity. Here are some cool ocean tattoos for you to get on your back:
22. Shrewd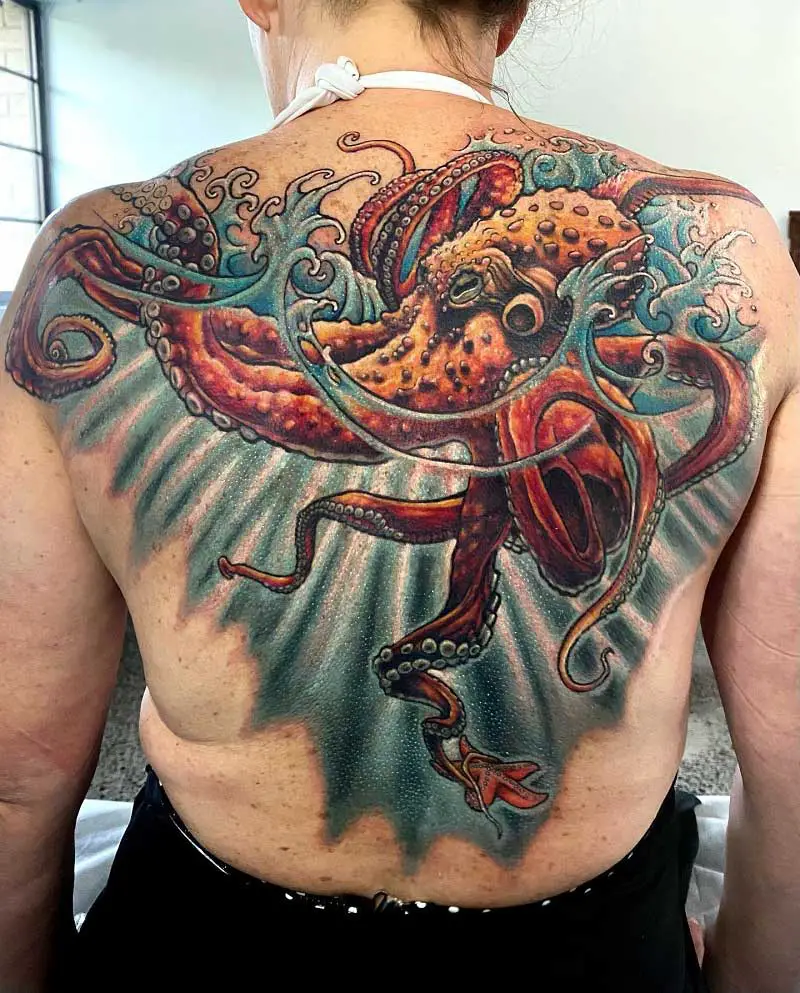 The octopus tattooed here symbolizes magical knowledge, as well as on-the-spot thinking and multitasking. For overcoming your fears, this tattoo idea can also be a brilliant symbol.
23. Immortality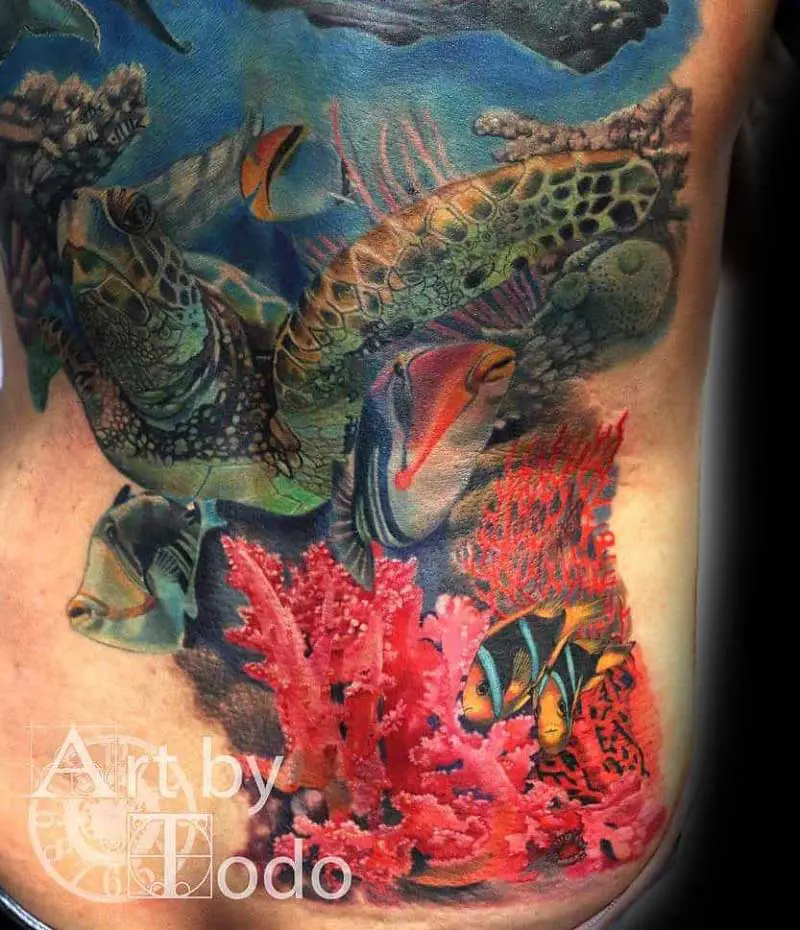 Sea turtles tattoo designs depict creation, strength, stability, and even immortality. Other than those, this ocean tattoo also symbolizes patience and perseverance. Use colors so that the body art doesn't look bland.
24. Sharp-witted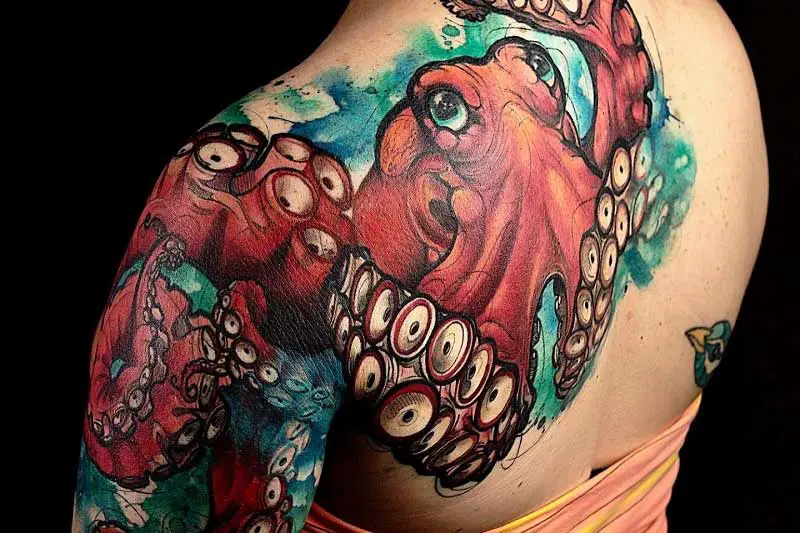 Tattoos of octopus, in general, stand for mystery, flexibility, curiosity and versatility. The freakish physical characteristics of an octopus help to create wonderful aesthetic tattoos as well.
Ocean Leg Tattoo
Leg tattoos have become one of the most flexible and popular locations for tattoo enthusiasts. The appeal of leg tattoos is versatility. Here are some head-turning ocean leg tattoos below:
25. Poseidon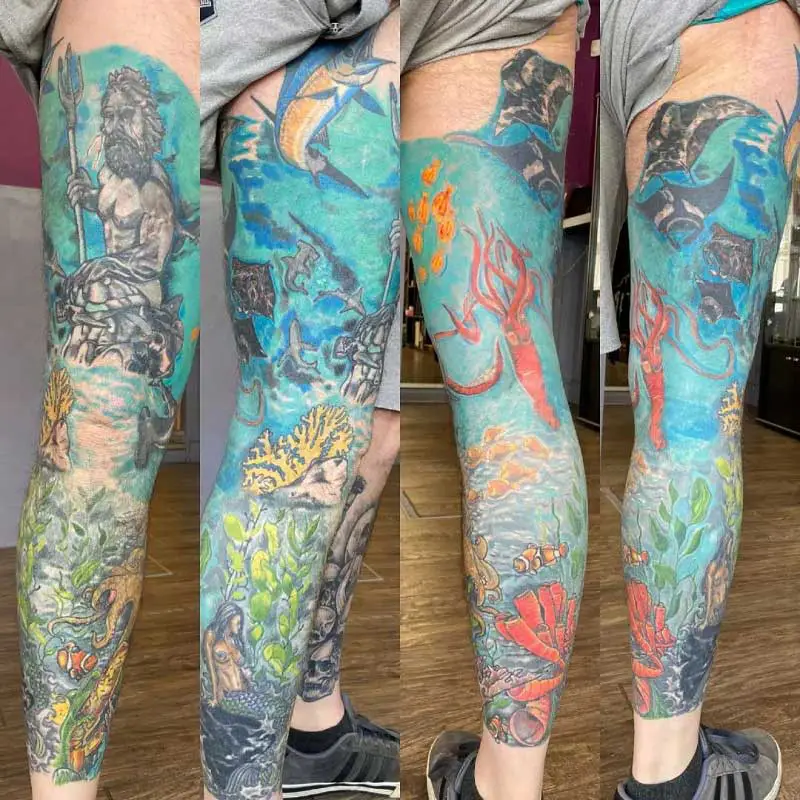 Poseidon is considered to be the god of aquatic creatures. Therefore, to show that you have a profound love for all sorts of sea animals or a specific one, getting a Poseidon tattoo is a good way to express it.
26. Protection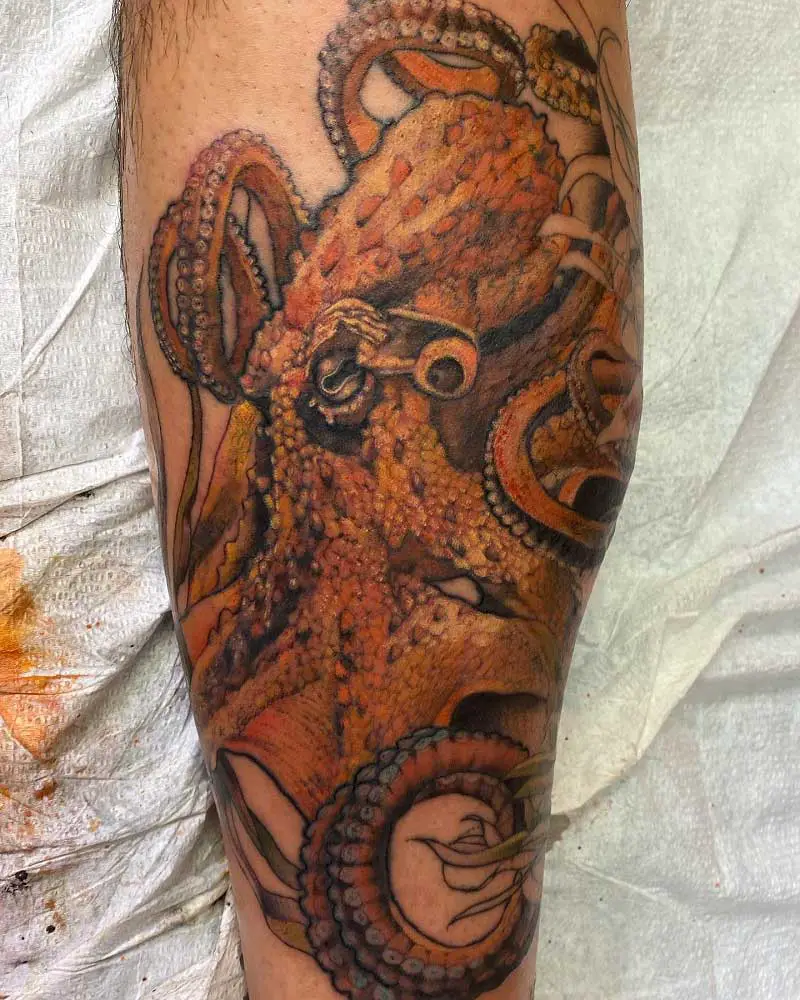 The octopus is a strong representation of protection, regeneration, and good luck. It is also regarded as an emblem of transformation as the creature has the capability to change its color to disguise itself.
27. Silent But Deadly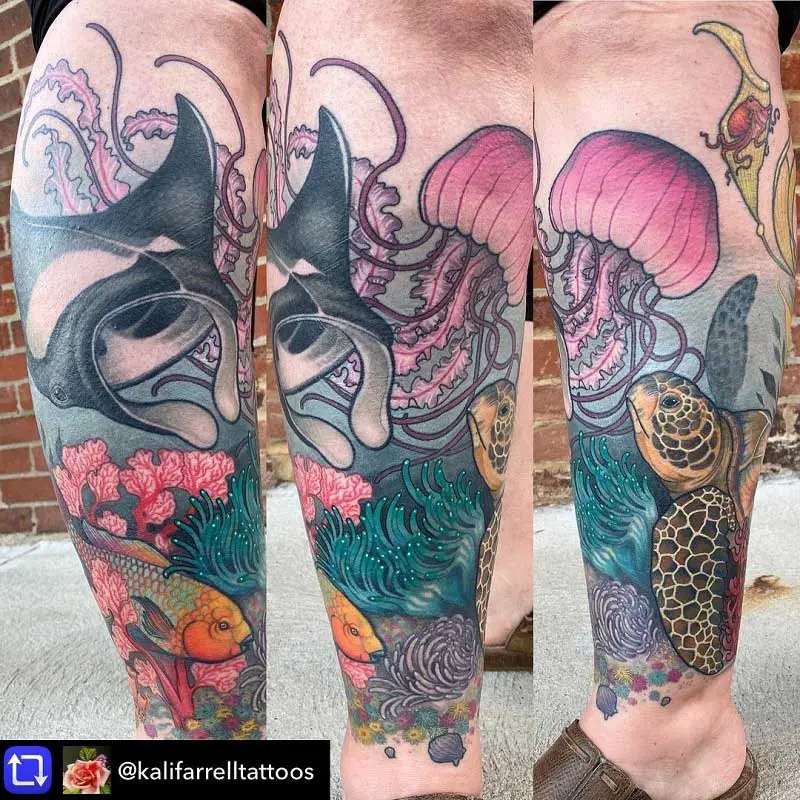 Although the jellyfish has a stinging edge, it is a strong symbol of peace and tranquility. This interpretation perfectly describes people whose actions show their real attitudes.
Ocean Life Tattoos
The tattoo designs in this section show what ocean life or marine life is like. Basically, you'll find designs of plants, animals or other organisms that live in ocean waters.
28. Survivor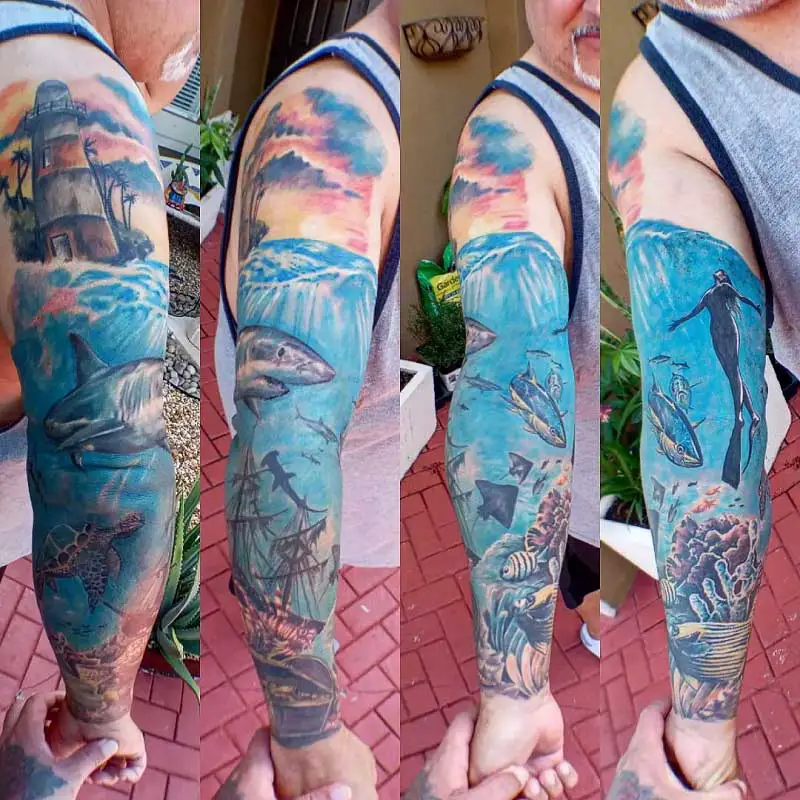 Shark tattoos were also seen as symbols of survival. These tattoos are perfect for people who have been through a lot in life and still manage to keep going.
29. Balance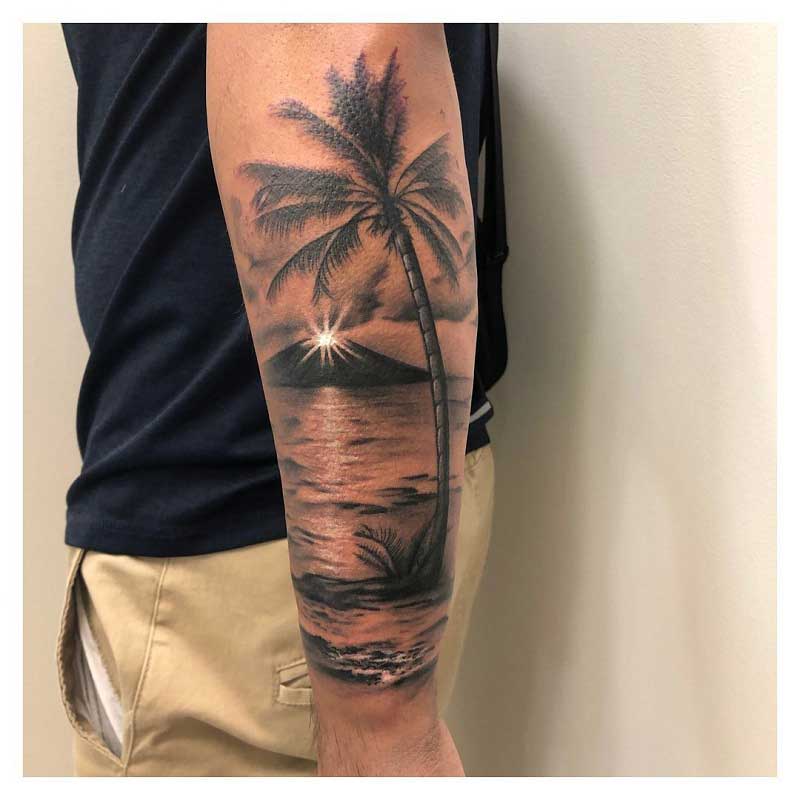 The combination of the mountain and water symbolizes the union of earth and water. This ocean tattoo indicates the necessary balance between the elements of practicality and dreaming.
30. Self-sufficiency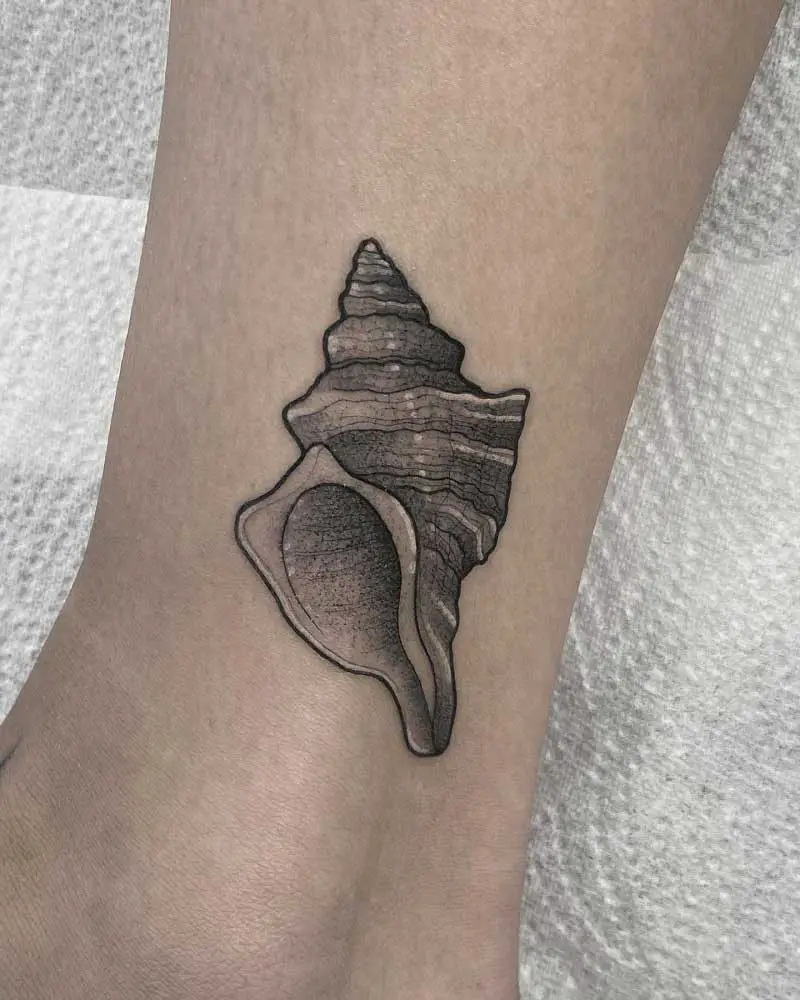 Snail tattoos do not just represent deliberation and laziness. Instead, they can be symbols of death, rebirth and even self-sufficiency. Make sure enough details are thrown in to make the tattoo look realistic.
Ocean Polynesian Tattoo
31.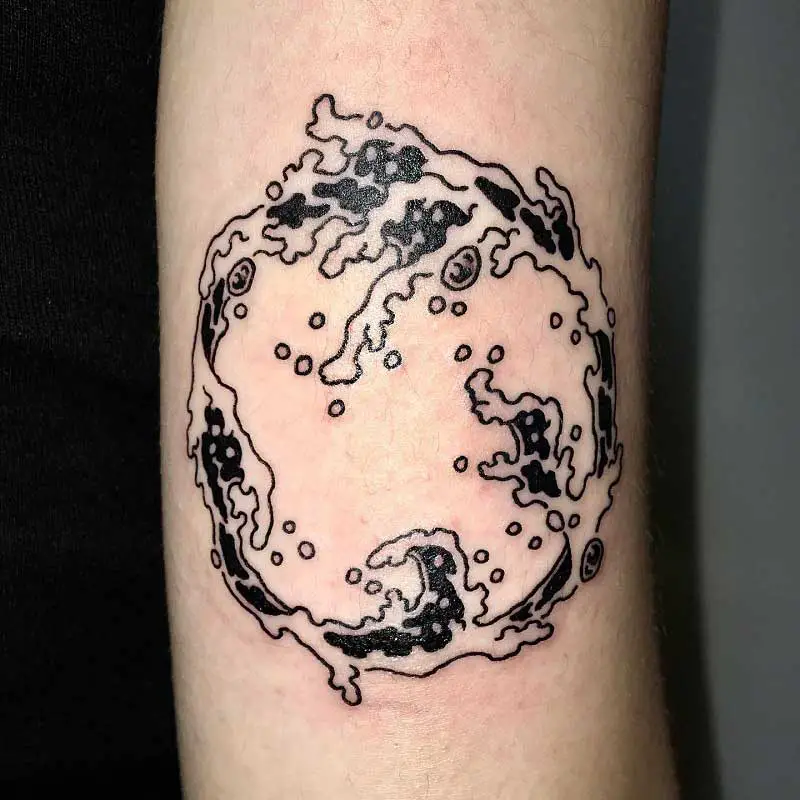 32.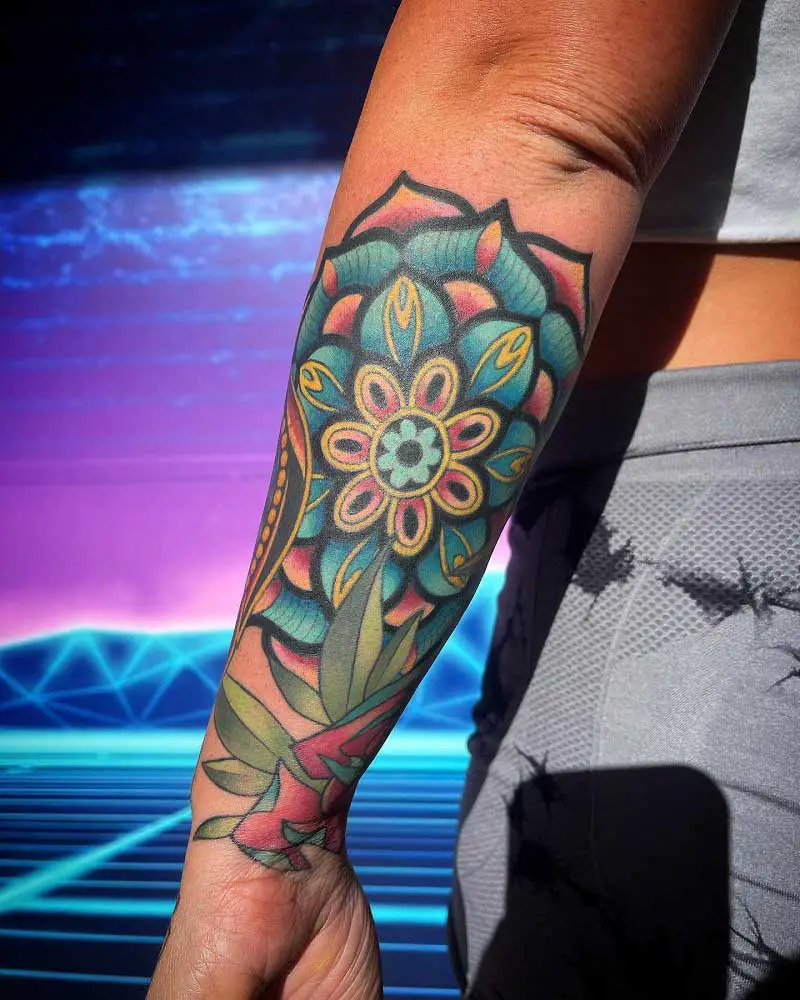 33.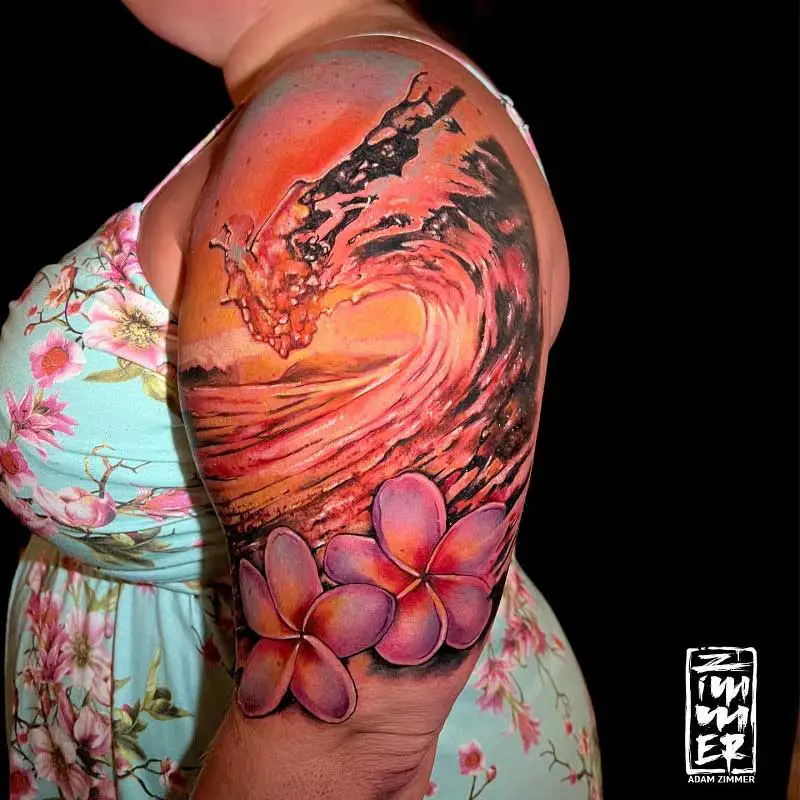 Ocean Tribal Tattoo
34.
35.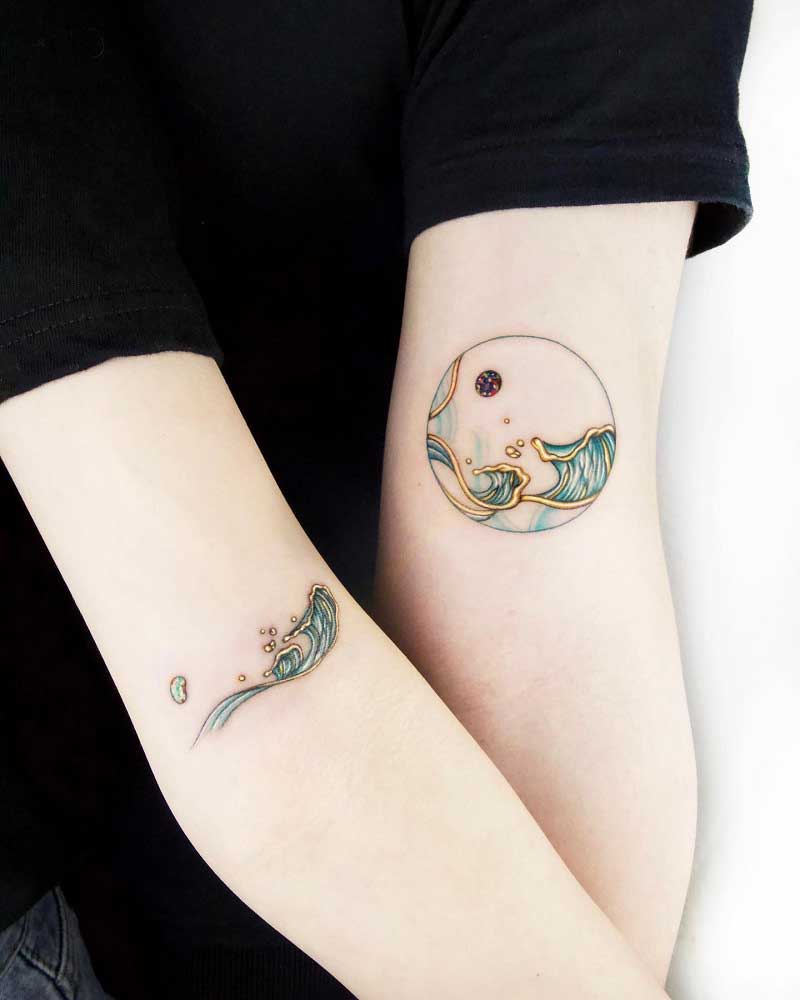 36.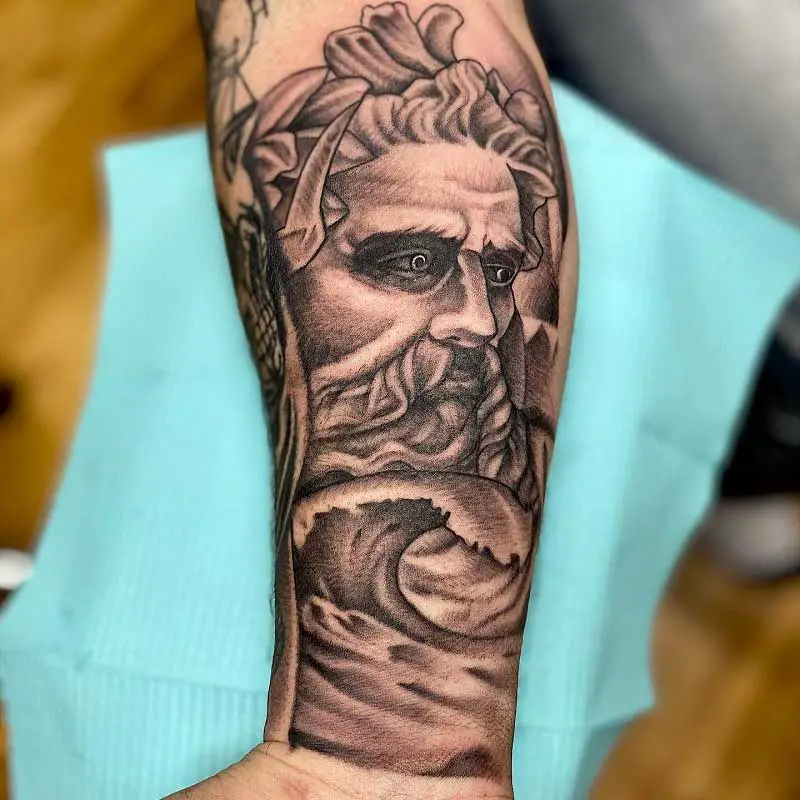 Realistic Ocean Tattoo
37.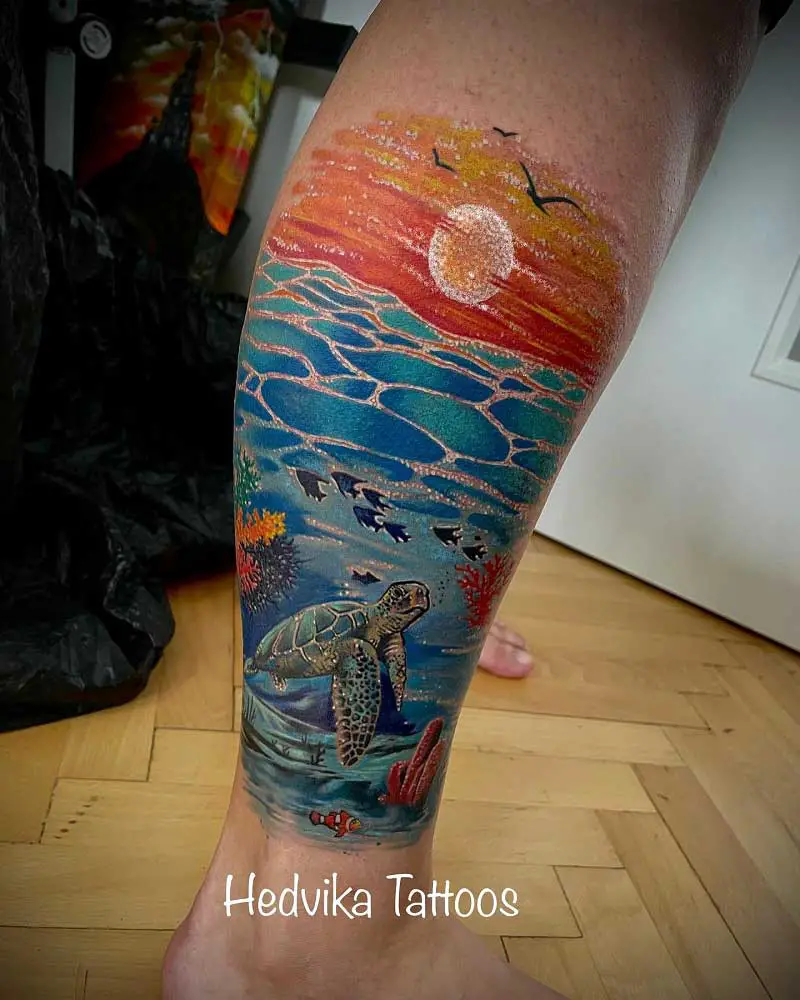 38.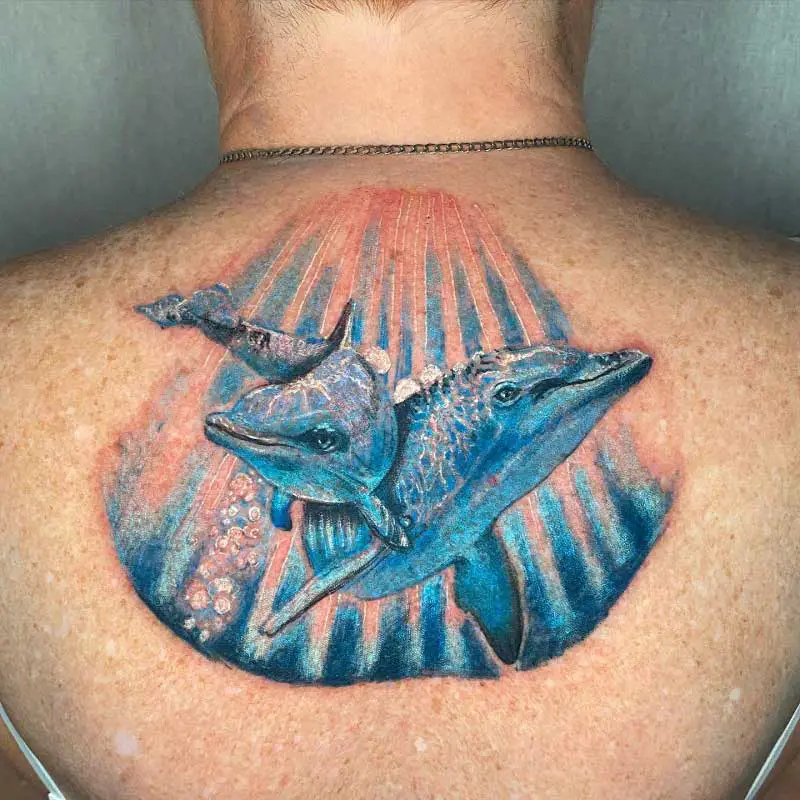 39.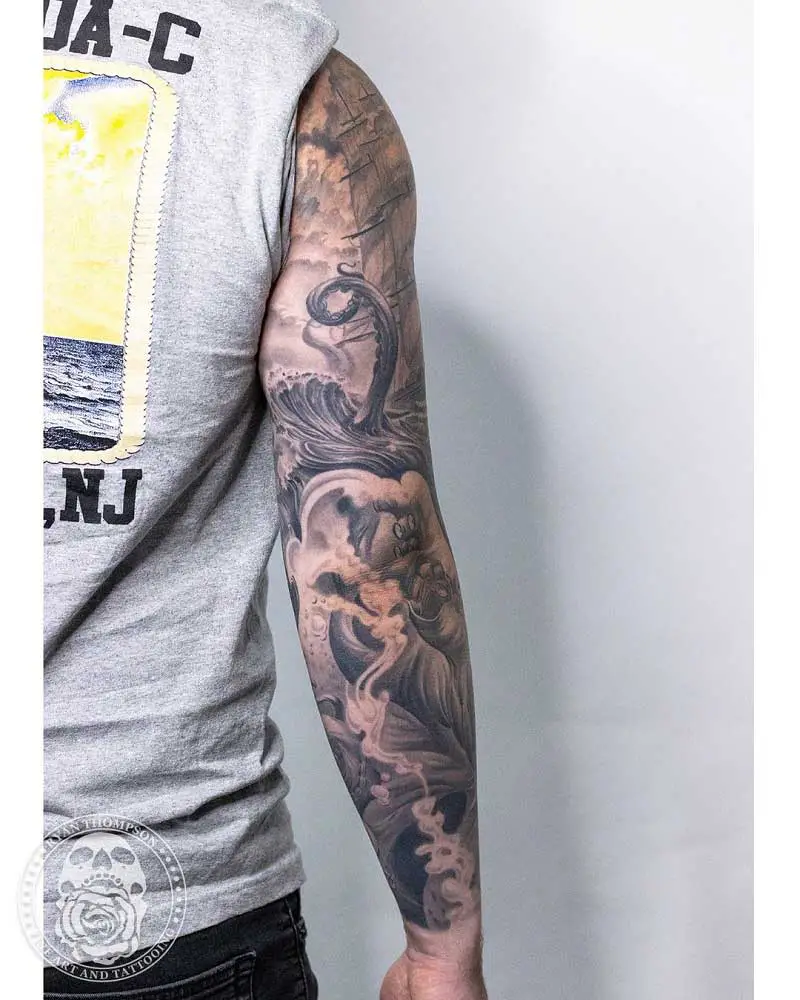 Traditional Ocean Tattoo
40.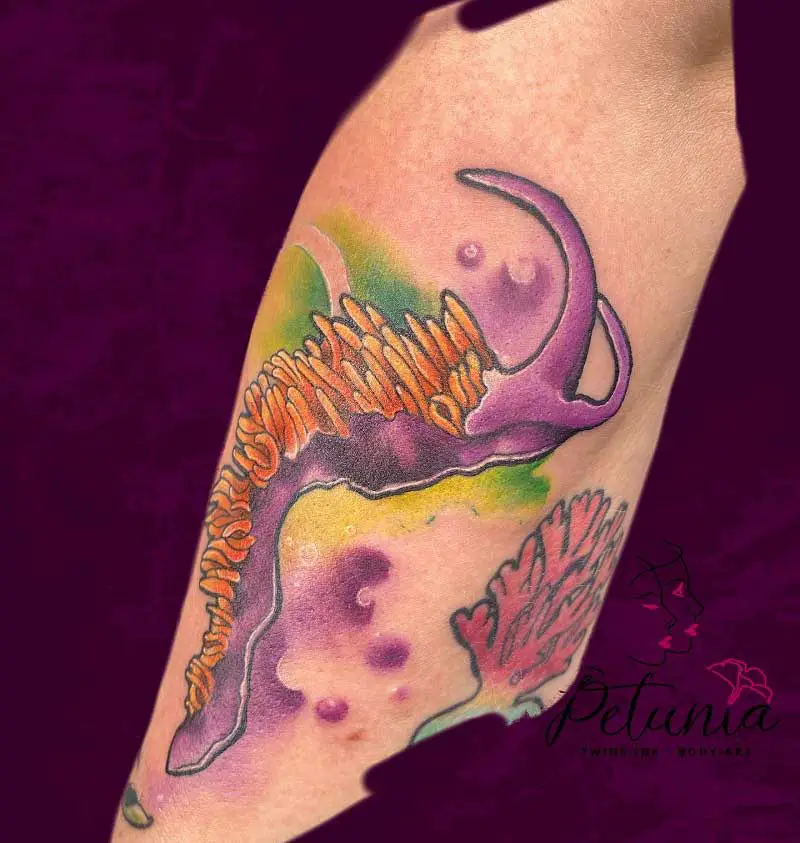 41.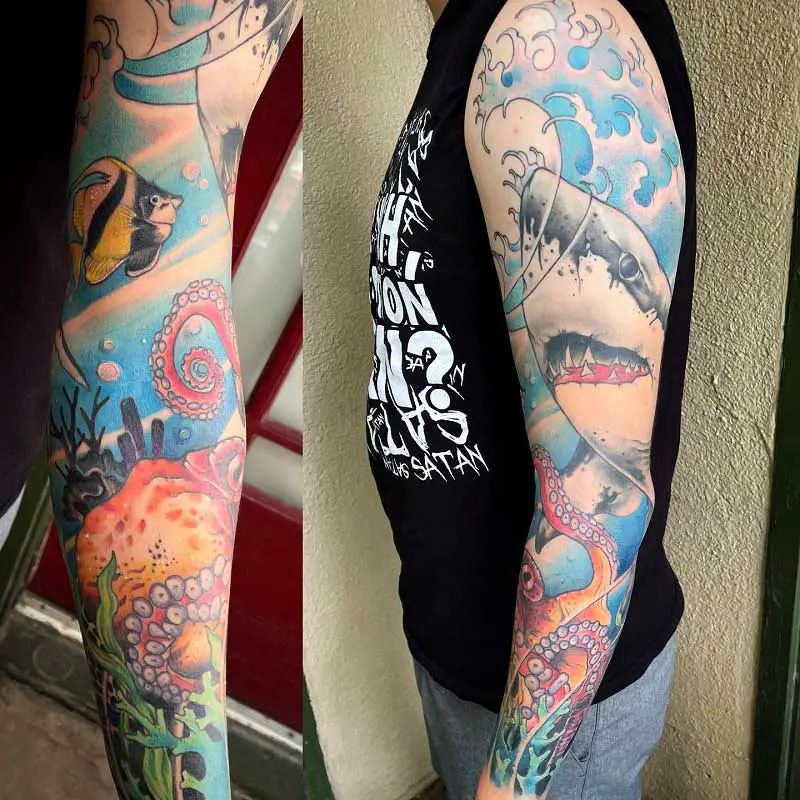 42.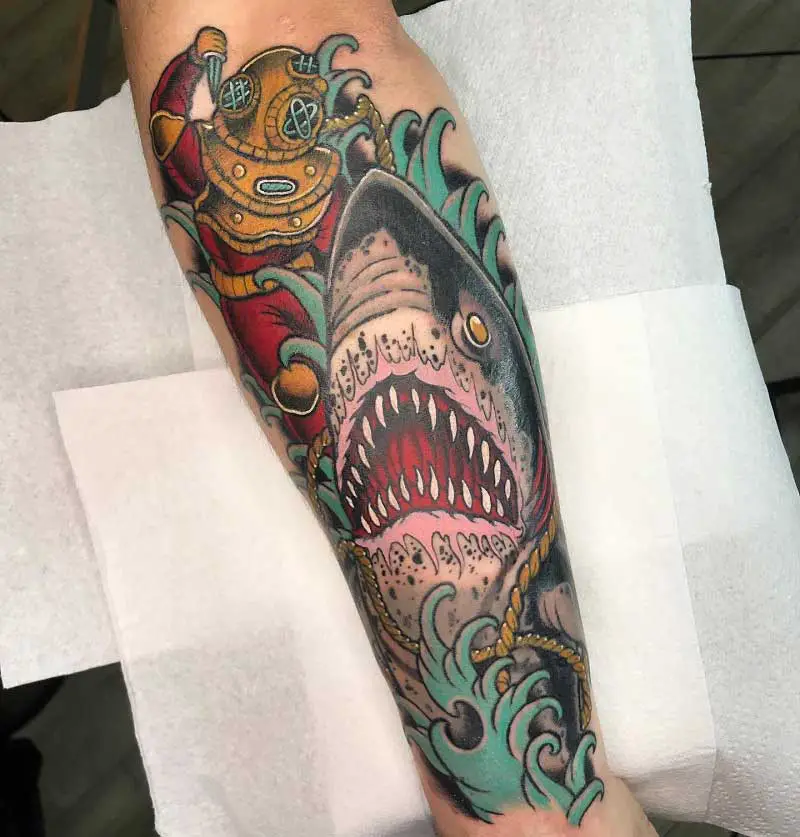 Mountain Ocean Tattoo
43.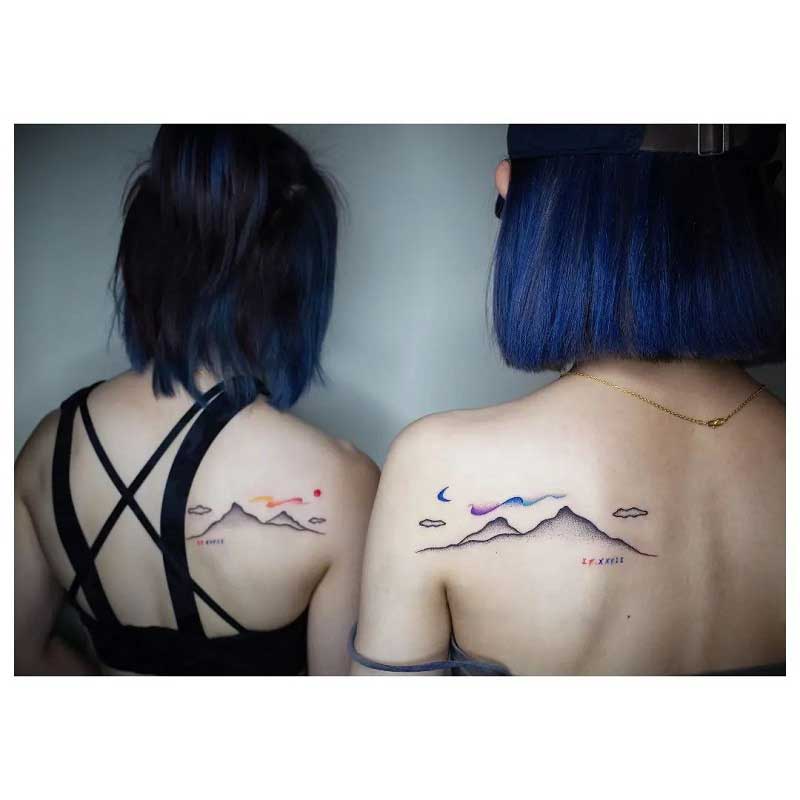 44.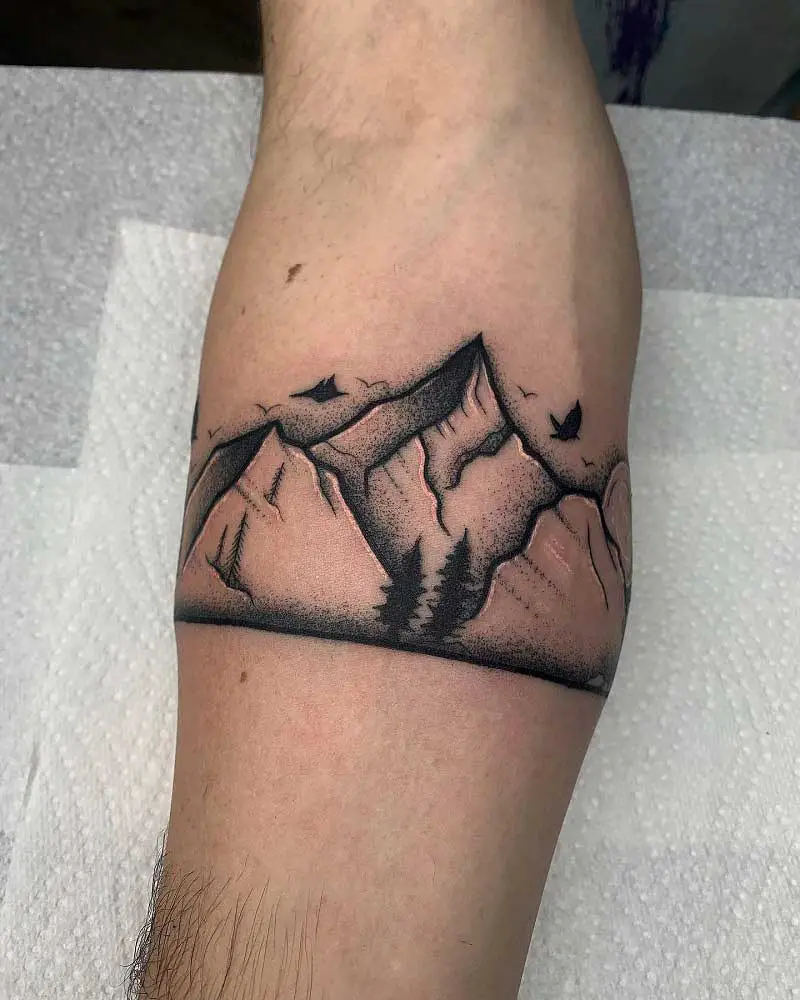 45.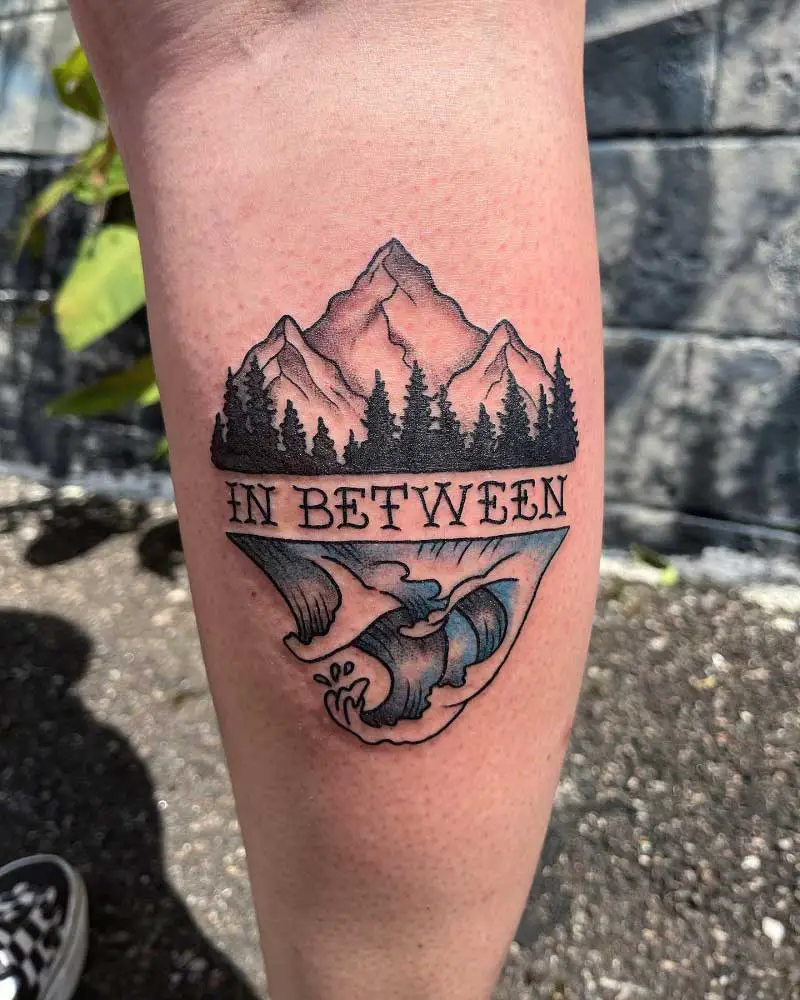 Ocean Ankle Tattoo
46.
47.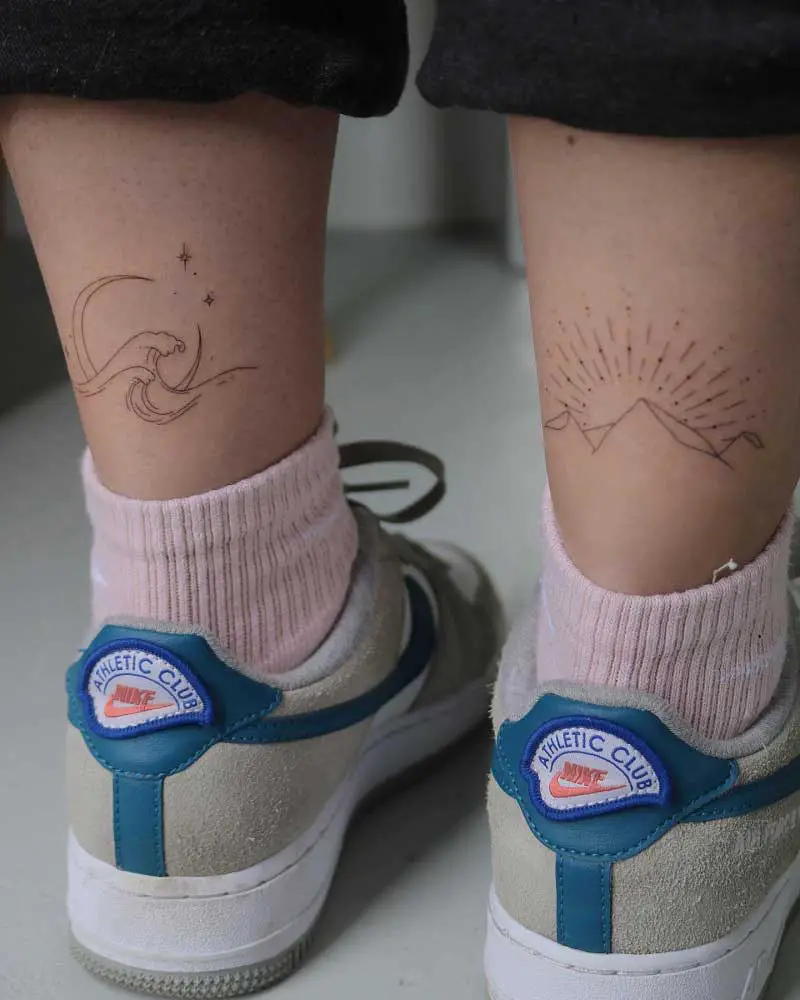 48.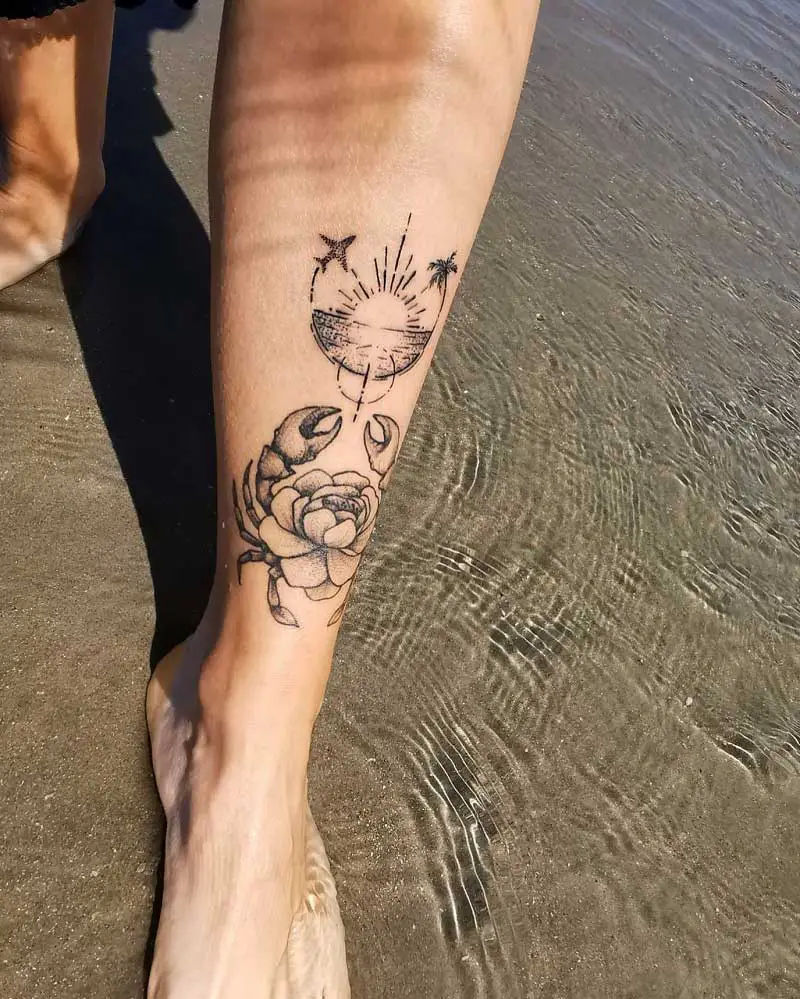 Ocean Sunset Tattoo
49.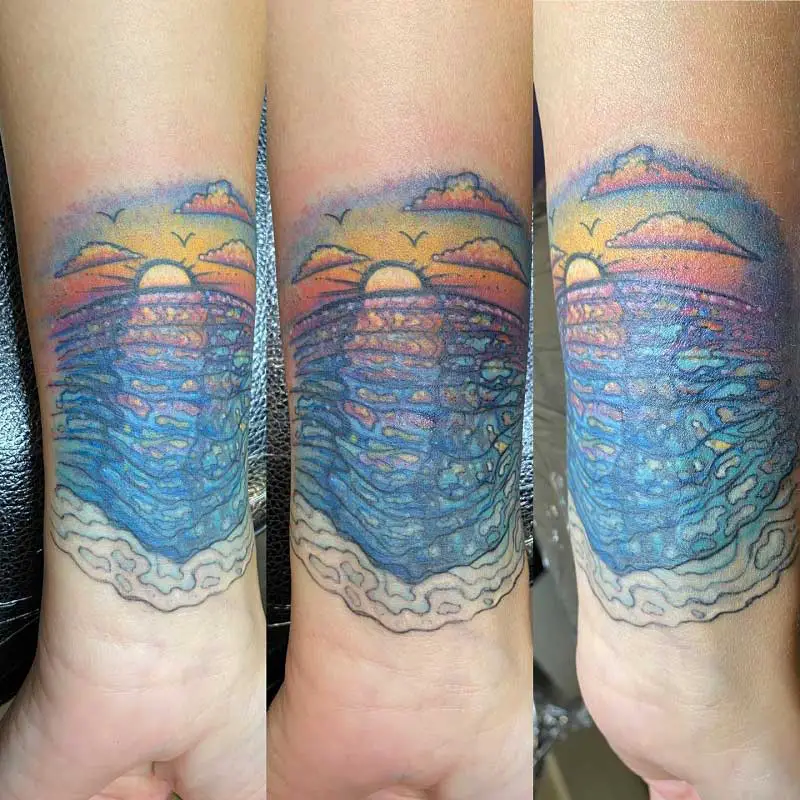 50.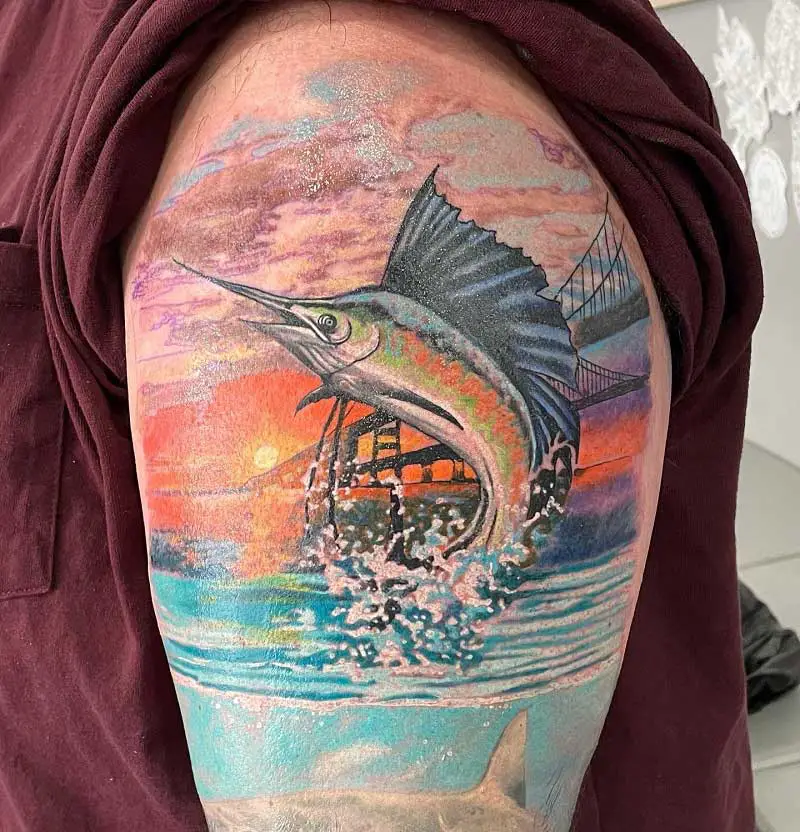 51.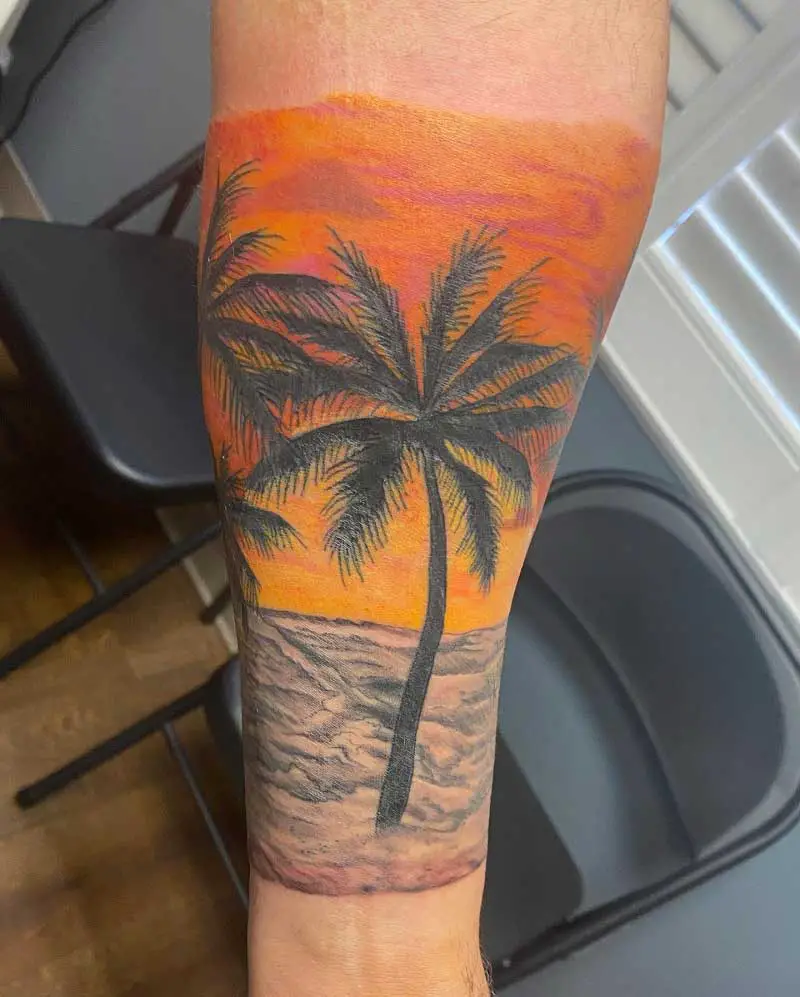 Ocean Turtle Tattoo
52.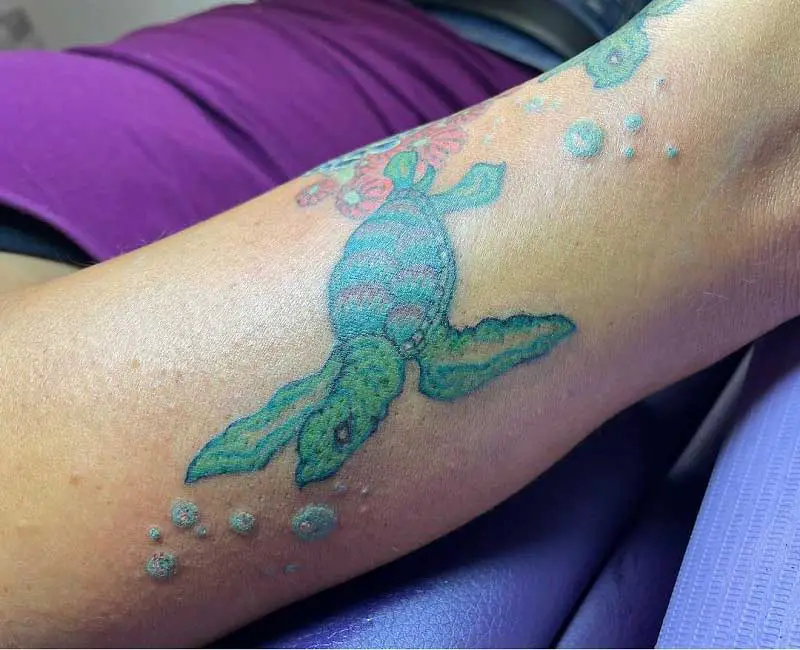 53.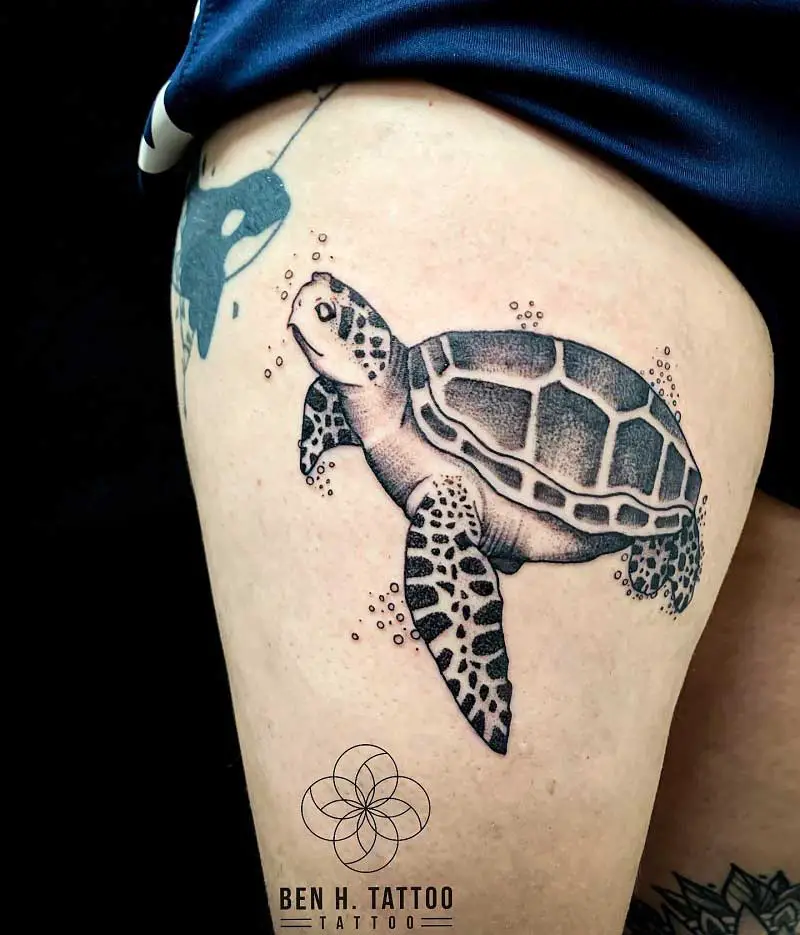 54.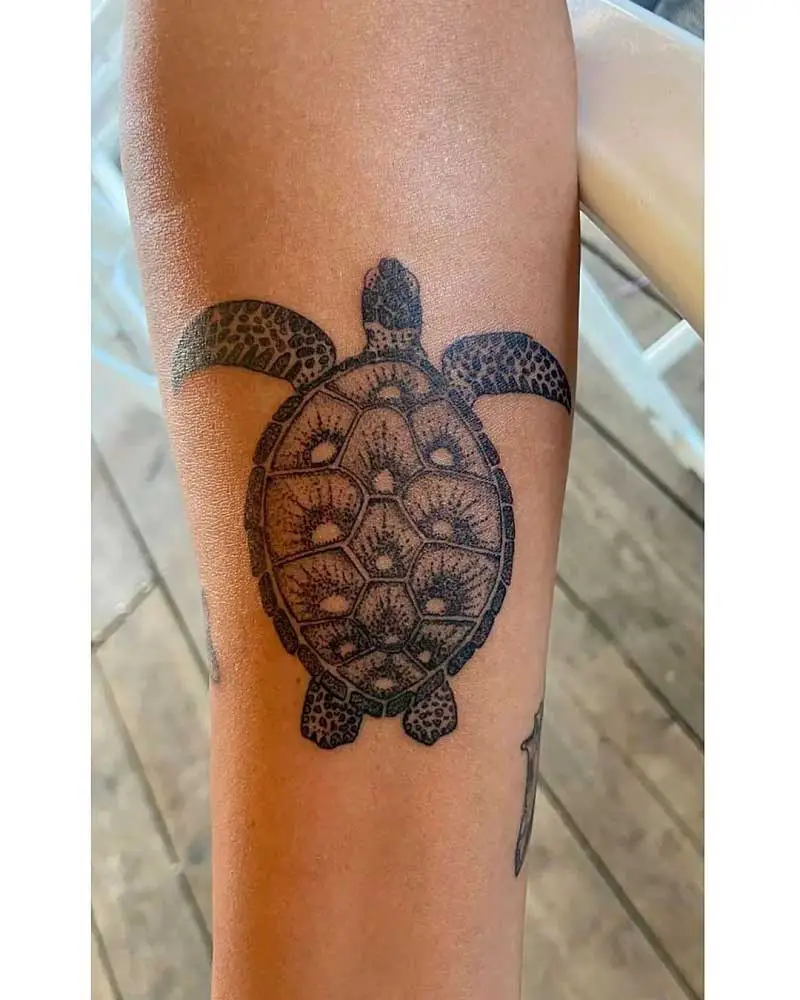 Dark Ocean Tattoo
55.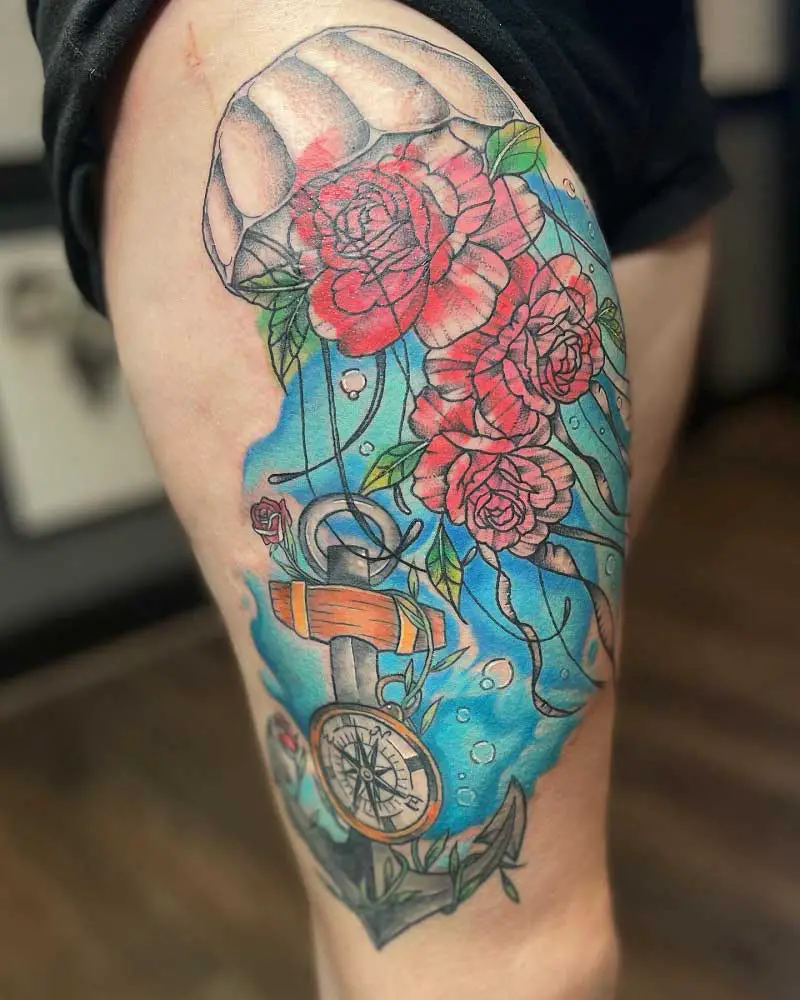 56.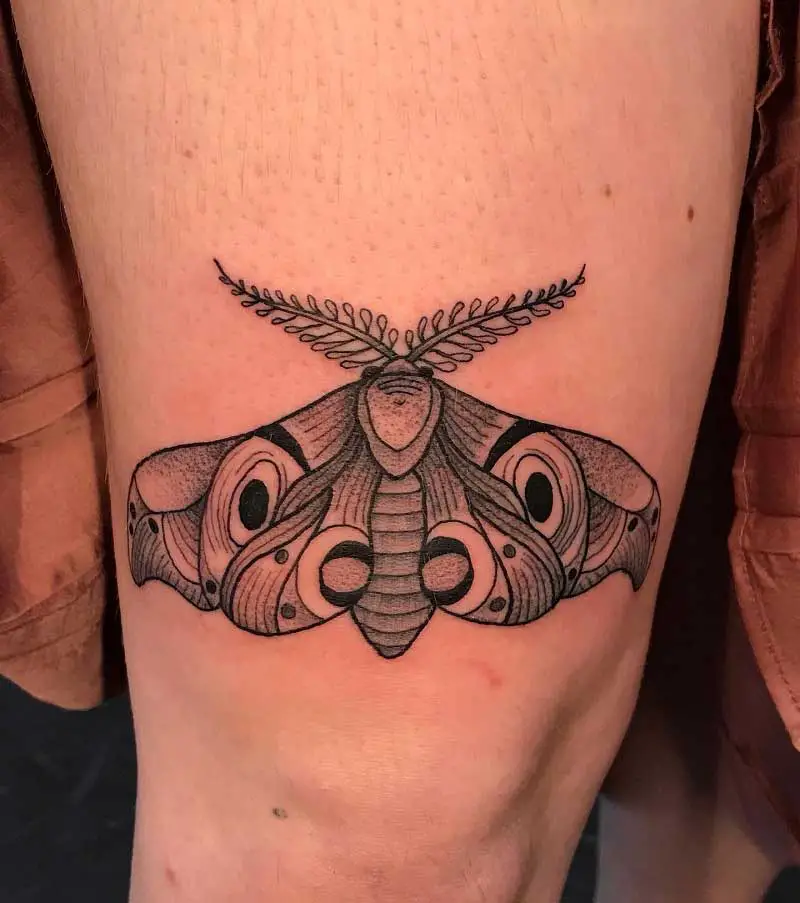 57.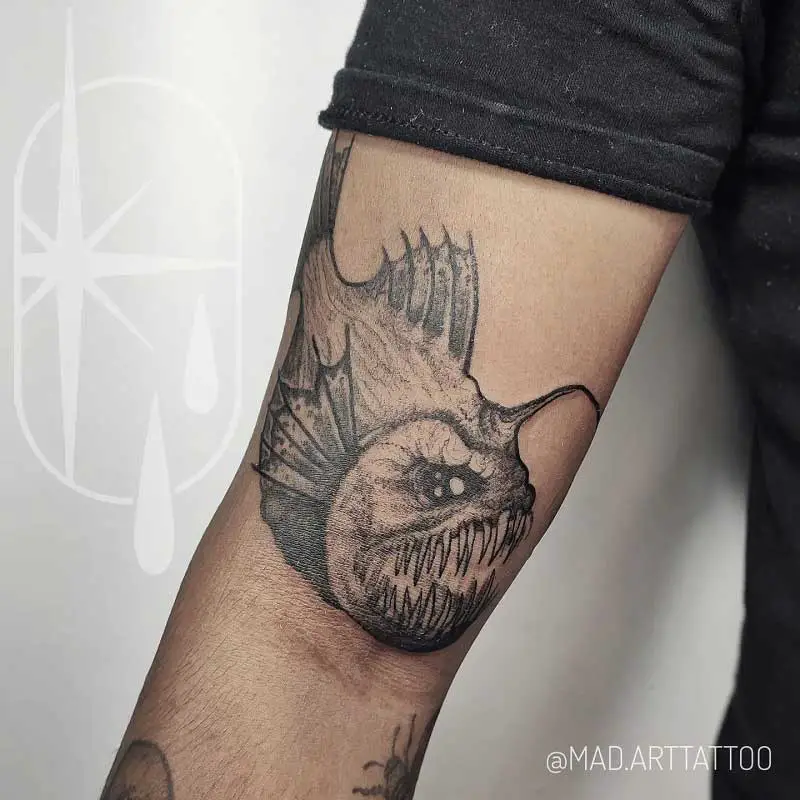 Geometric Ocean Tattoo
58.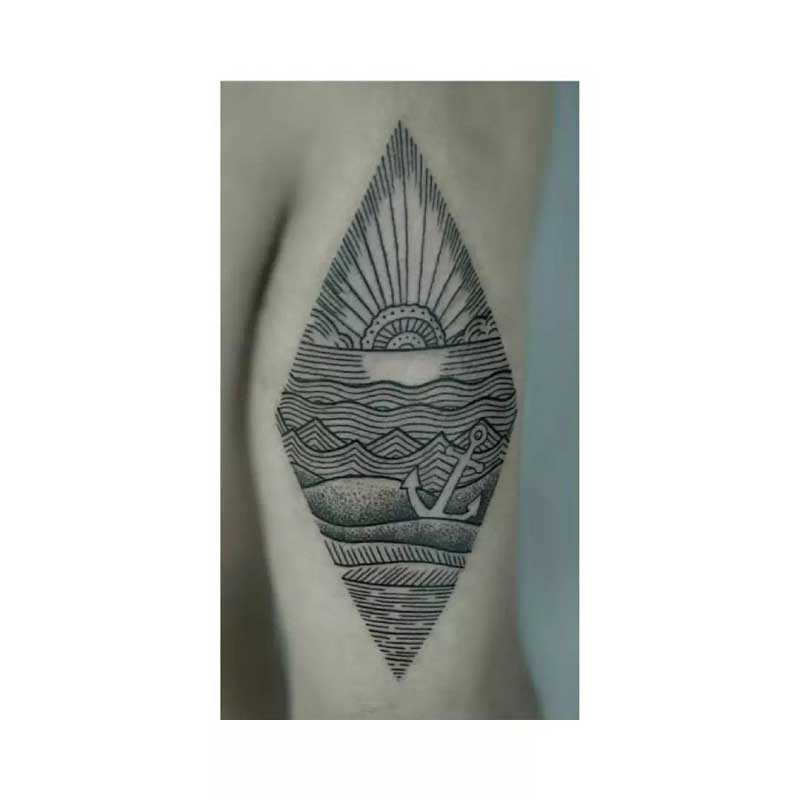 59.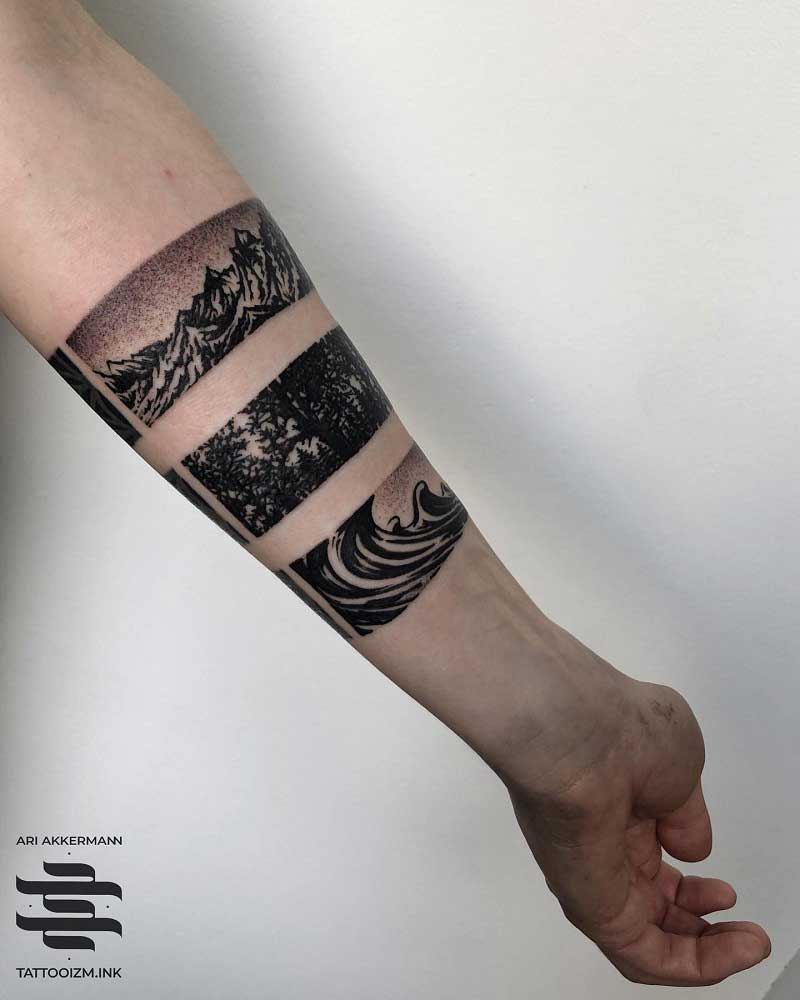 60.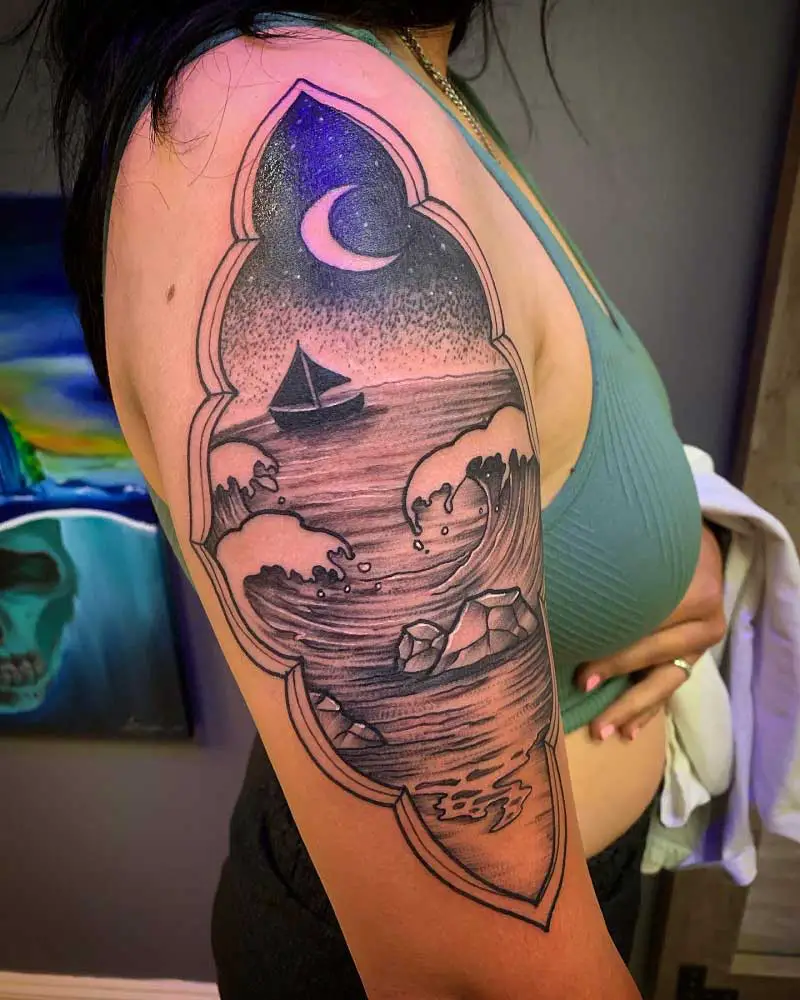 Mermaid Ocean Tattoo
61.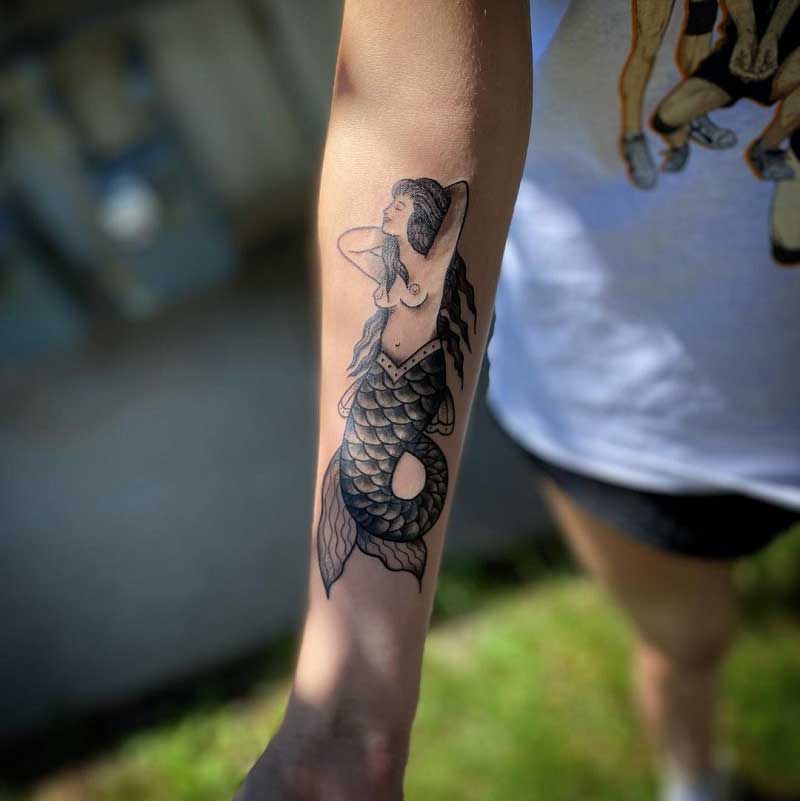 62.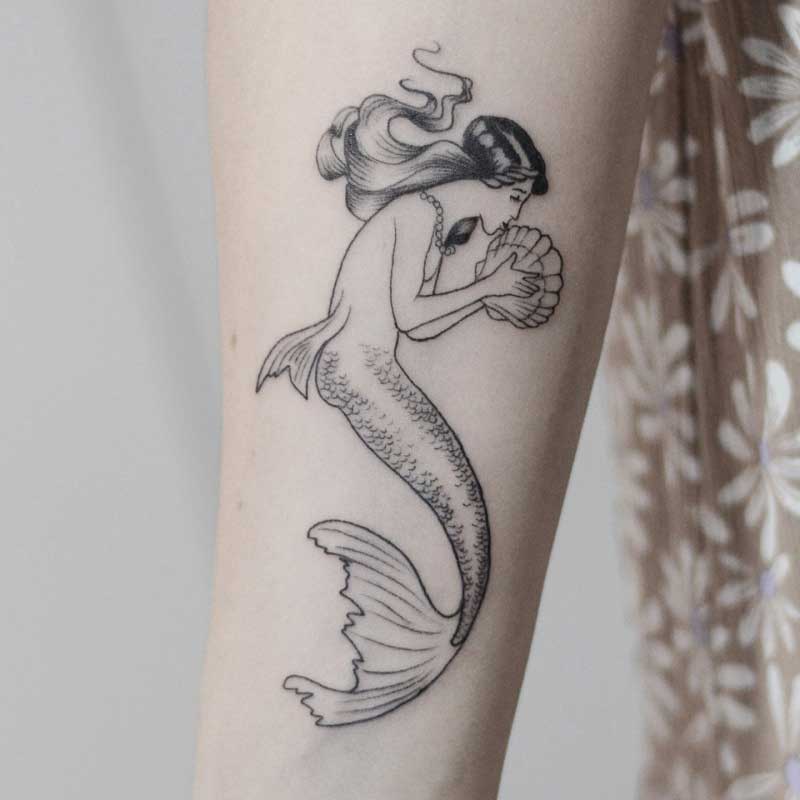 63.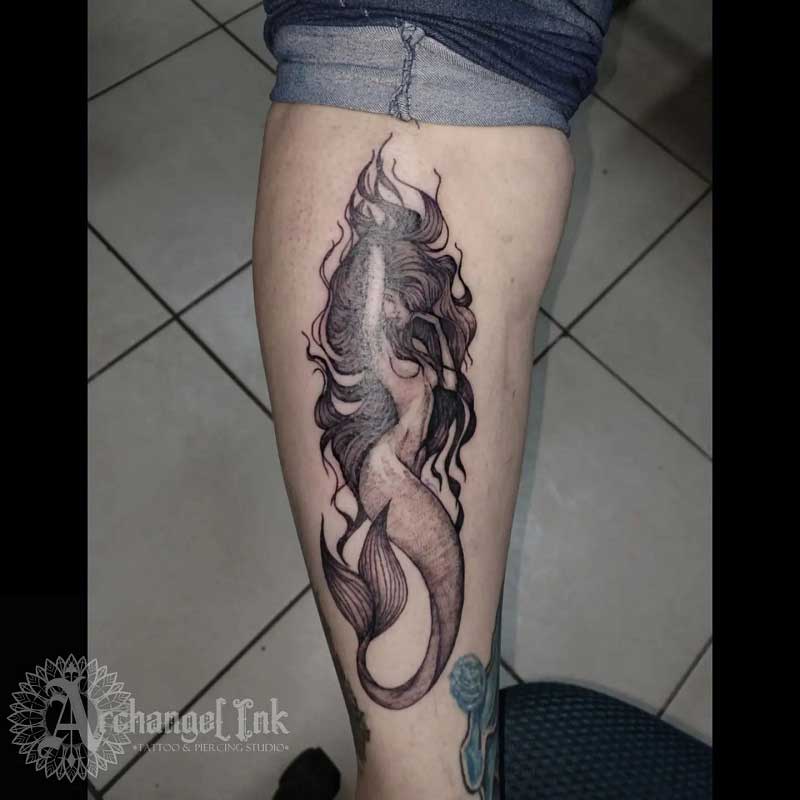 Moon Ocean Tattoo
64.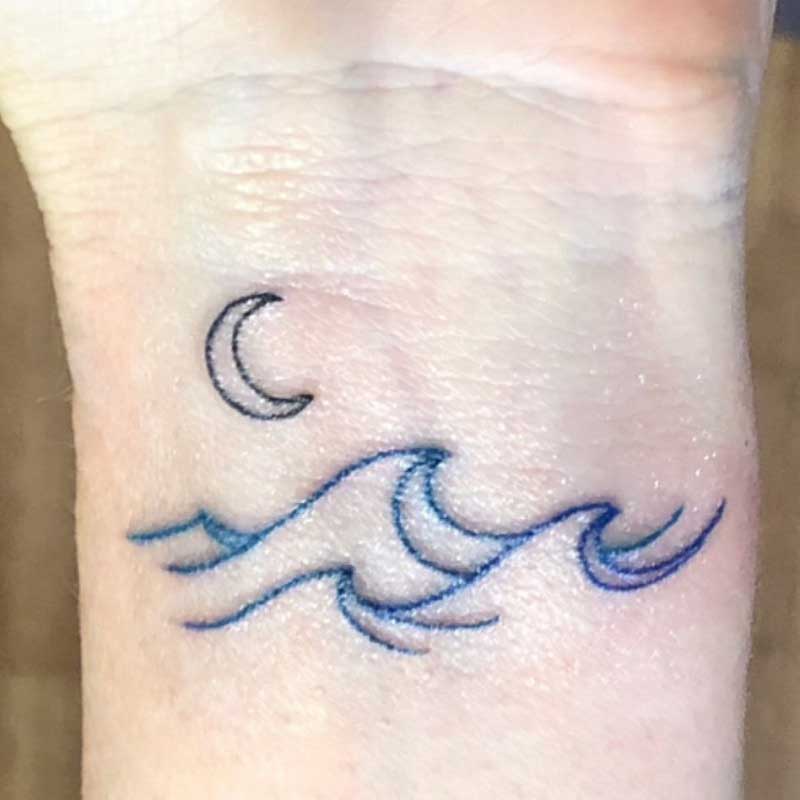 65.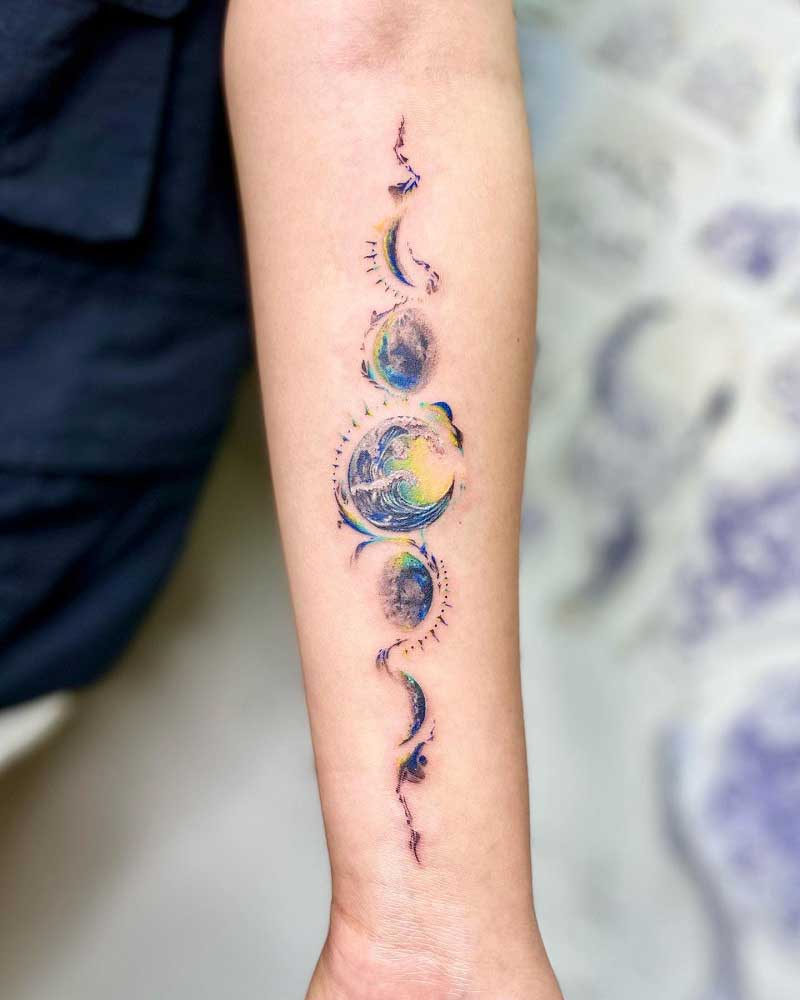 66.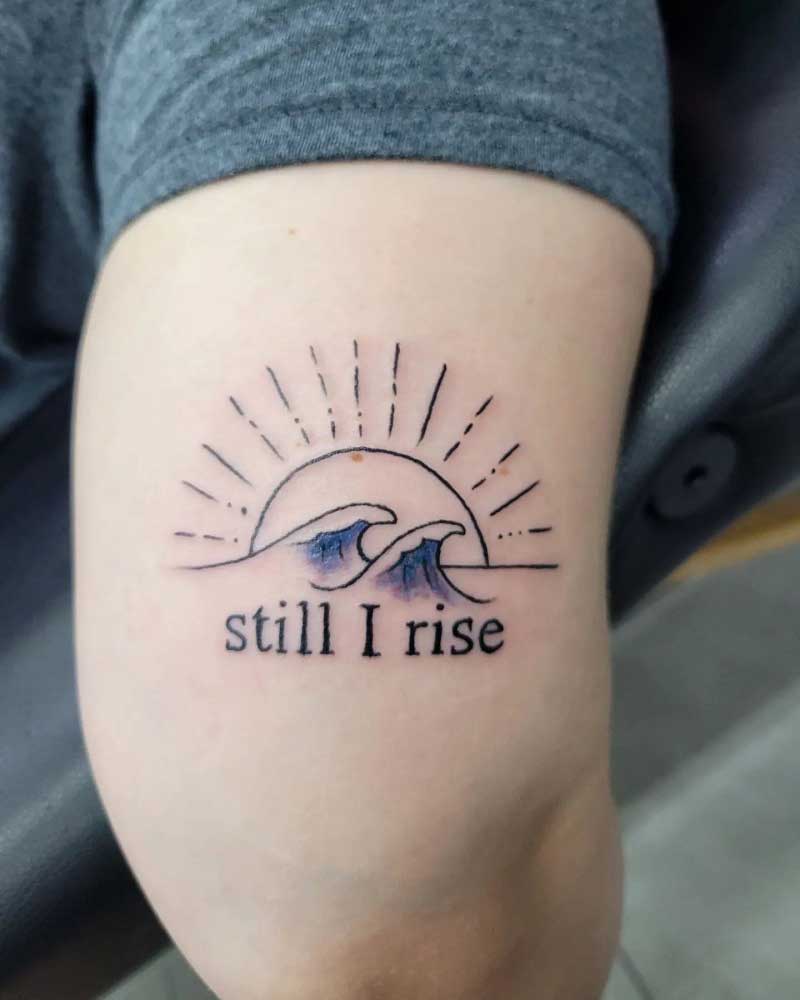 Ocean Calf Tattoo
67.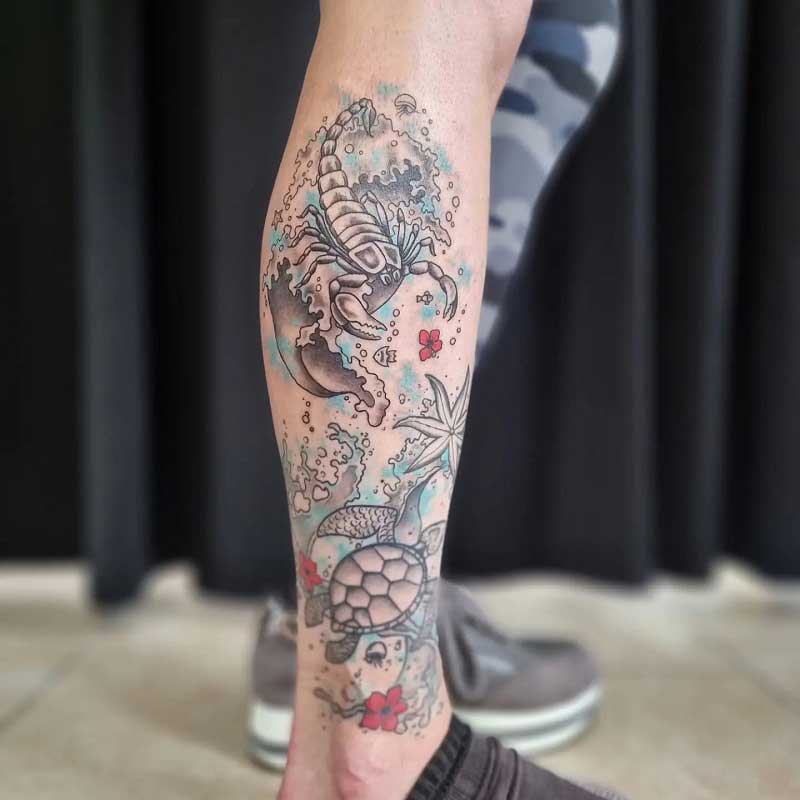 68.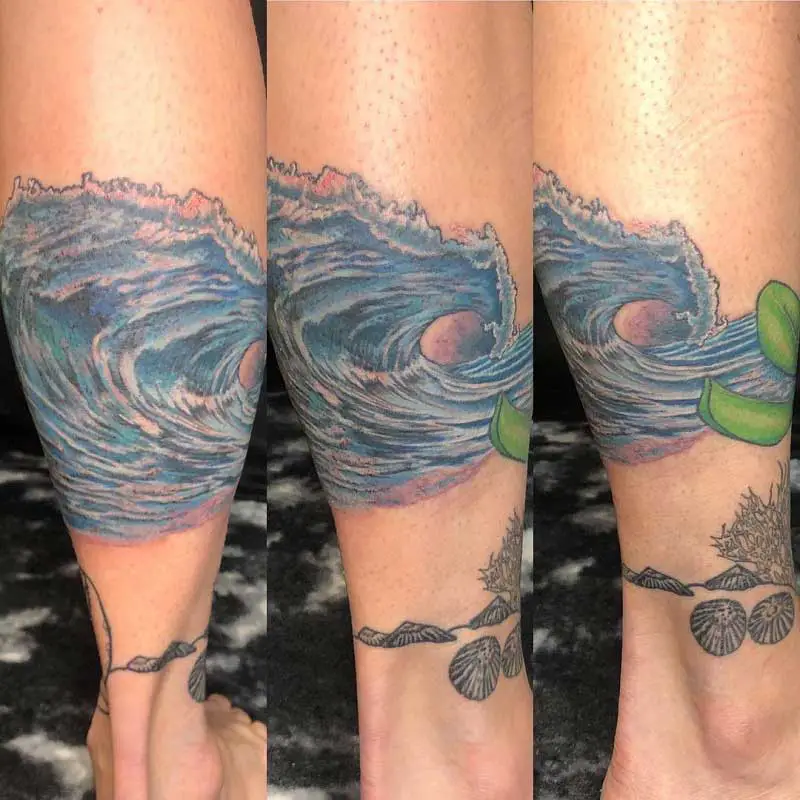 69.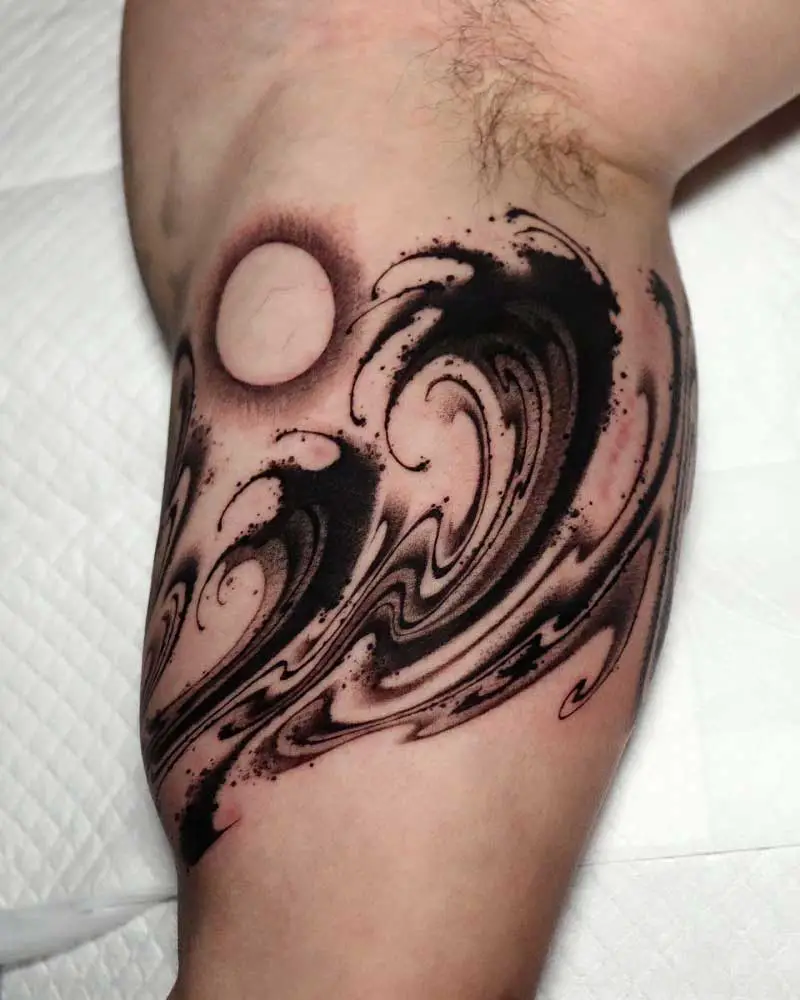 Ocean Circle Tattoo
70.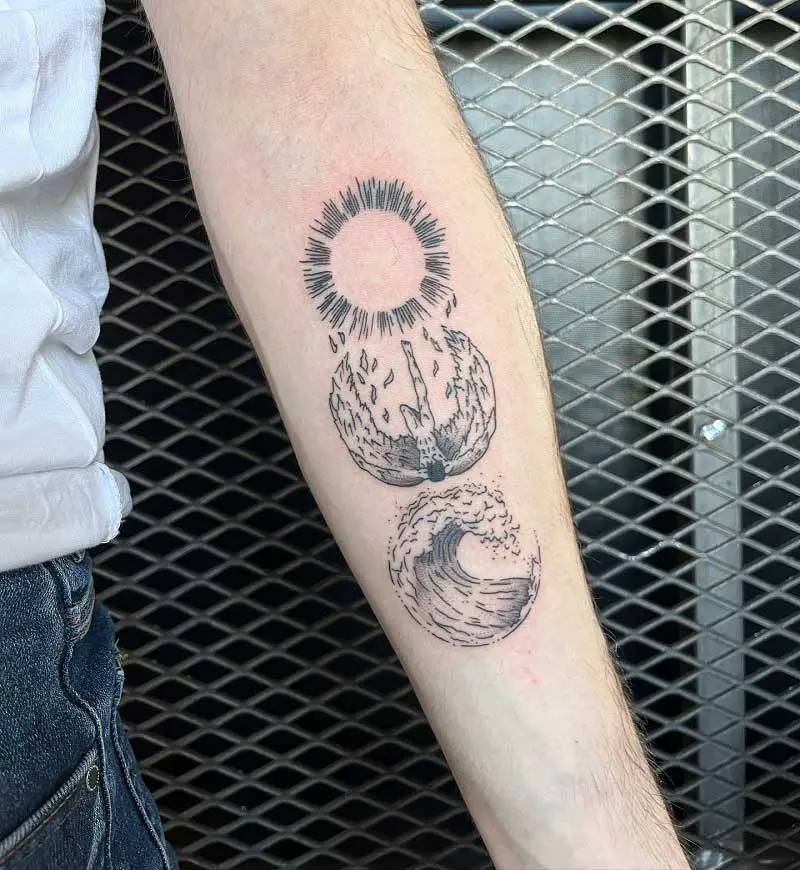 71.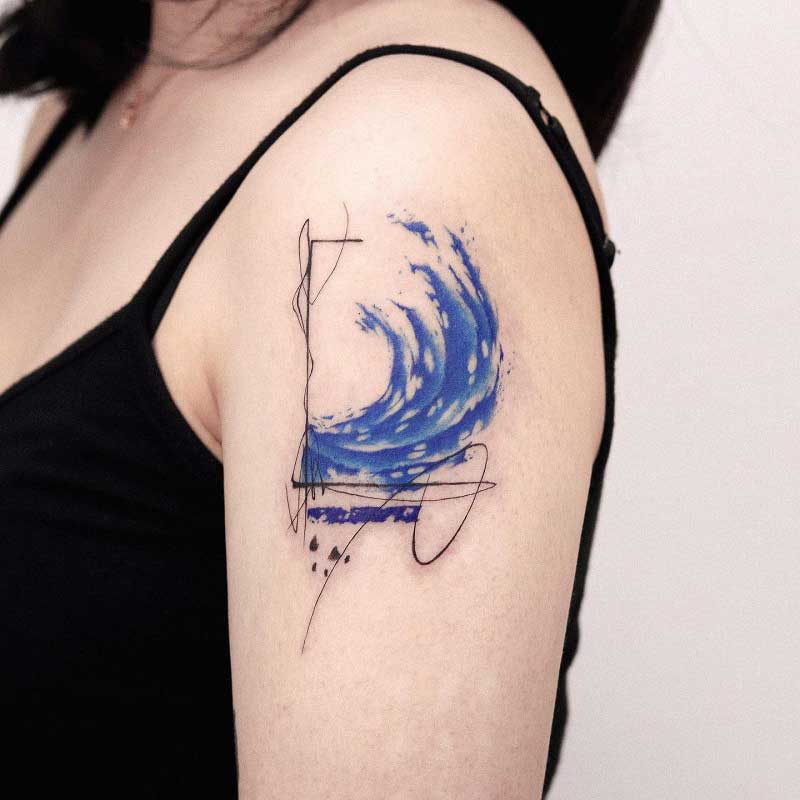 72.
Ocean Drive Tattoo
73.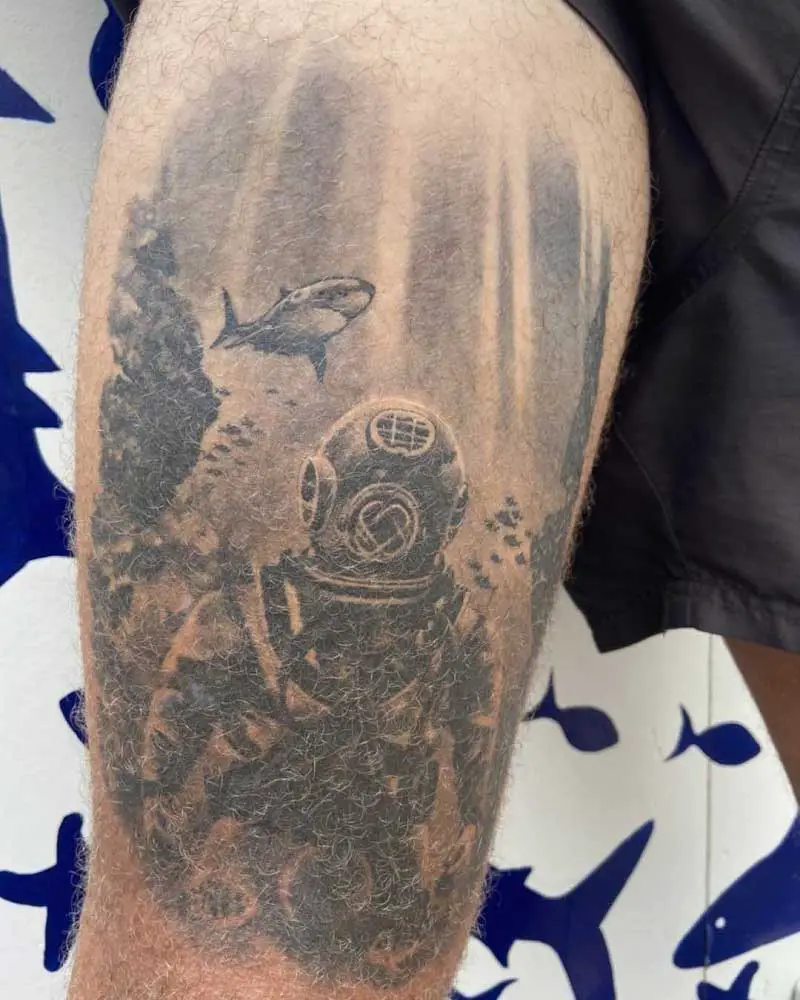 74.
75.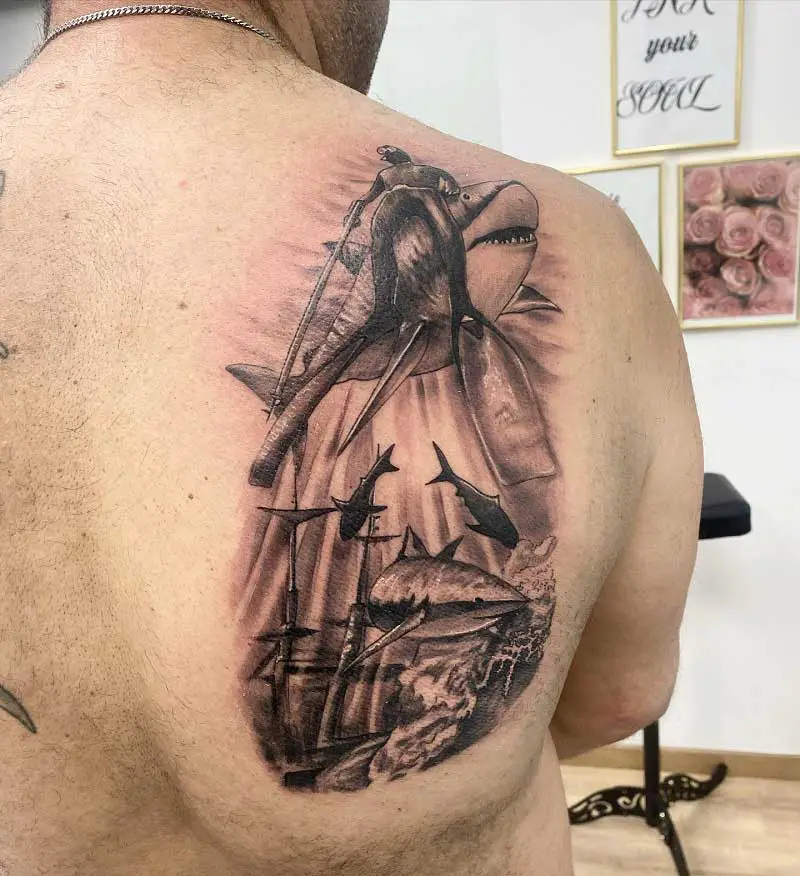 Ocean Fish Tattoos
76.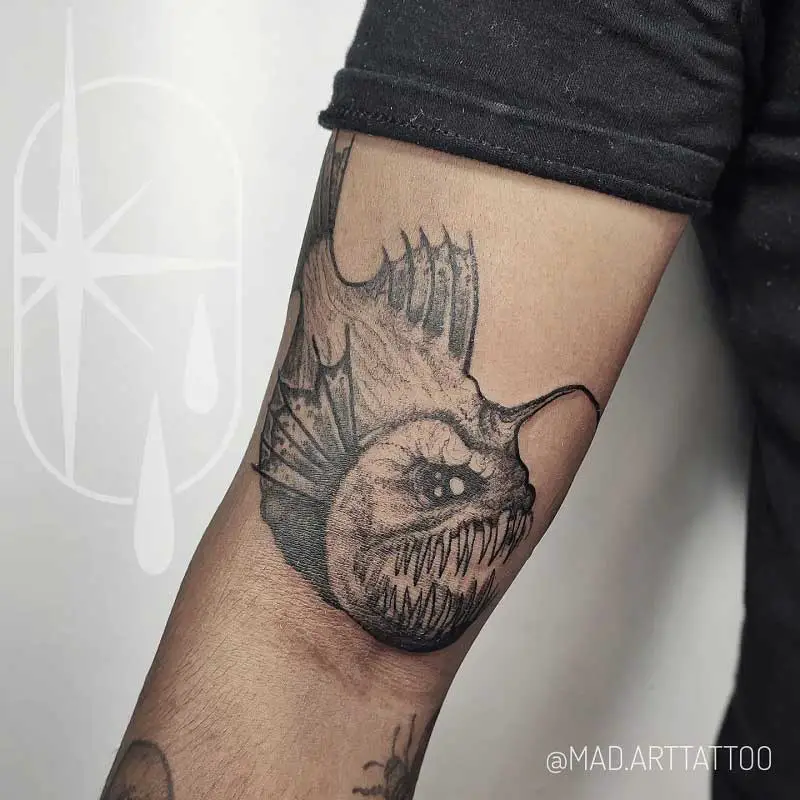 77.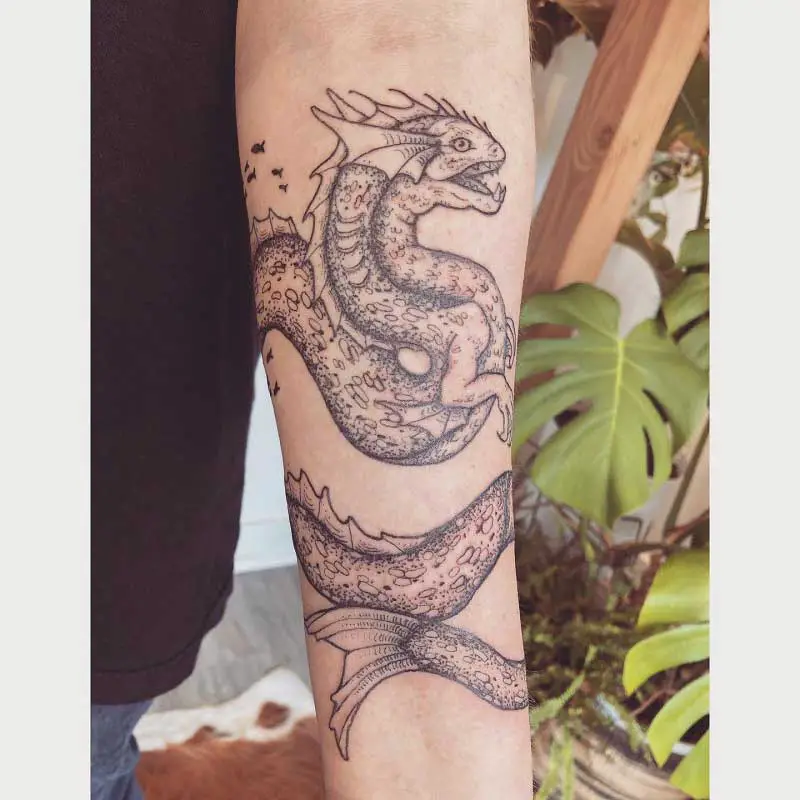 78.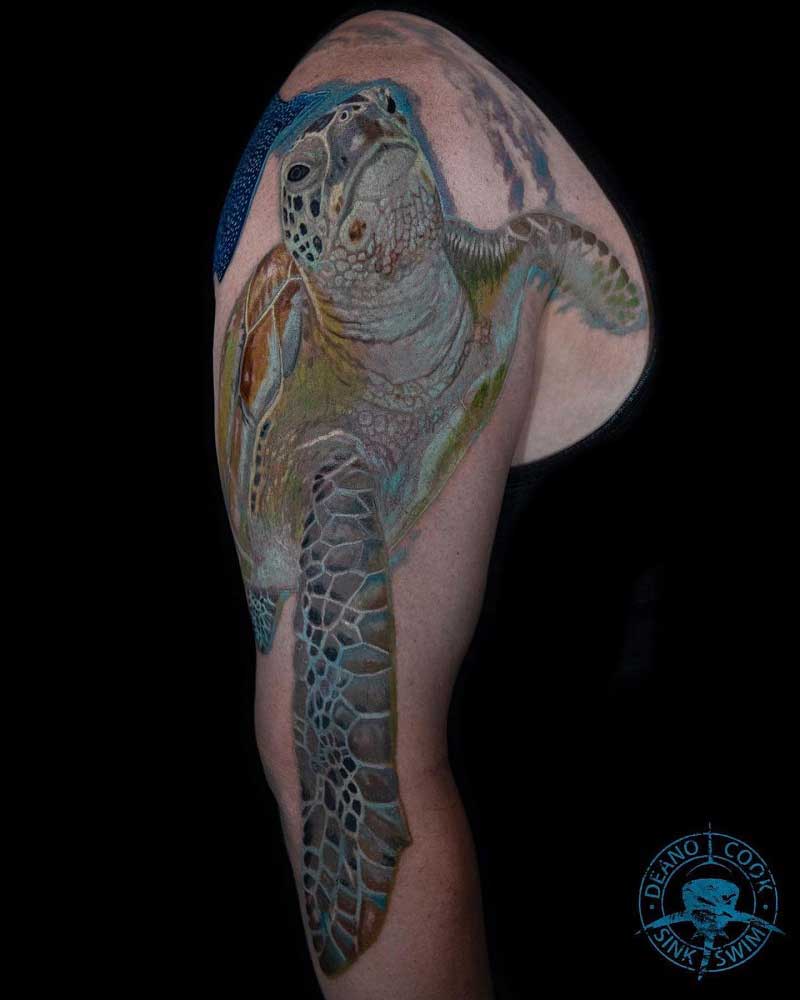 Triangle Ocean Tattoo
79.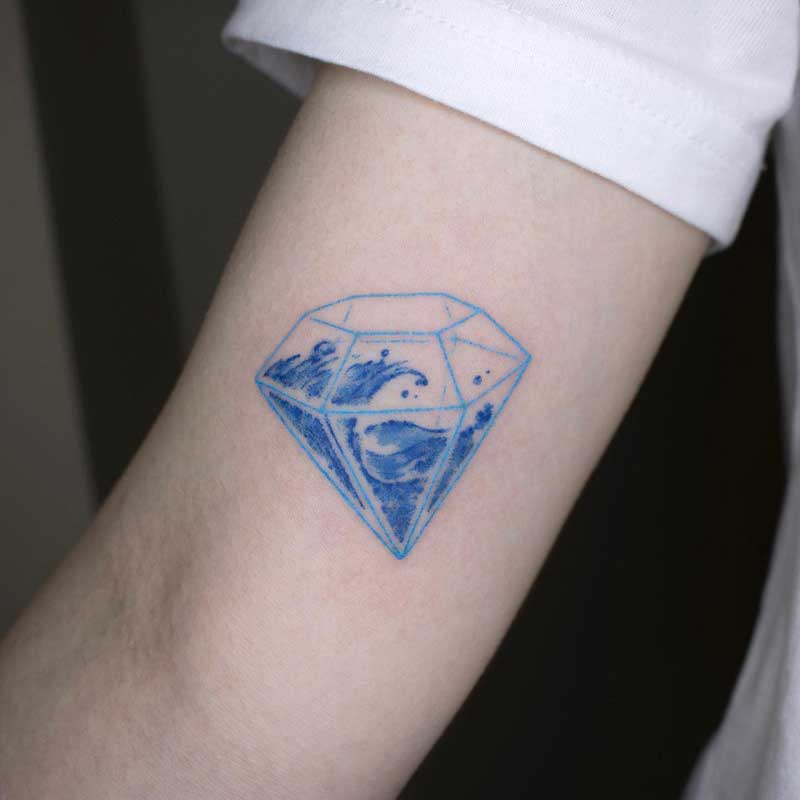 80.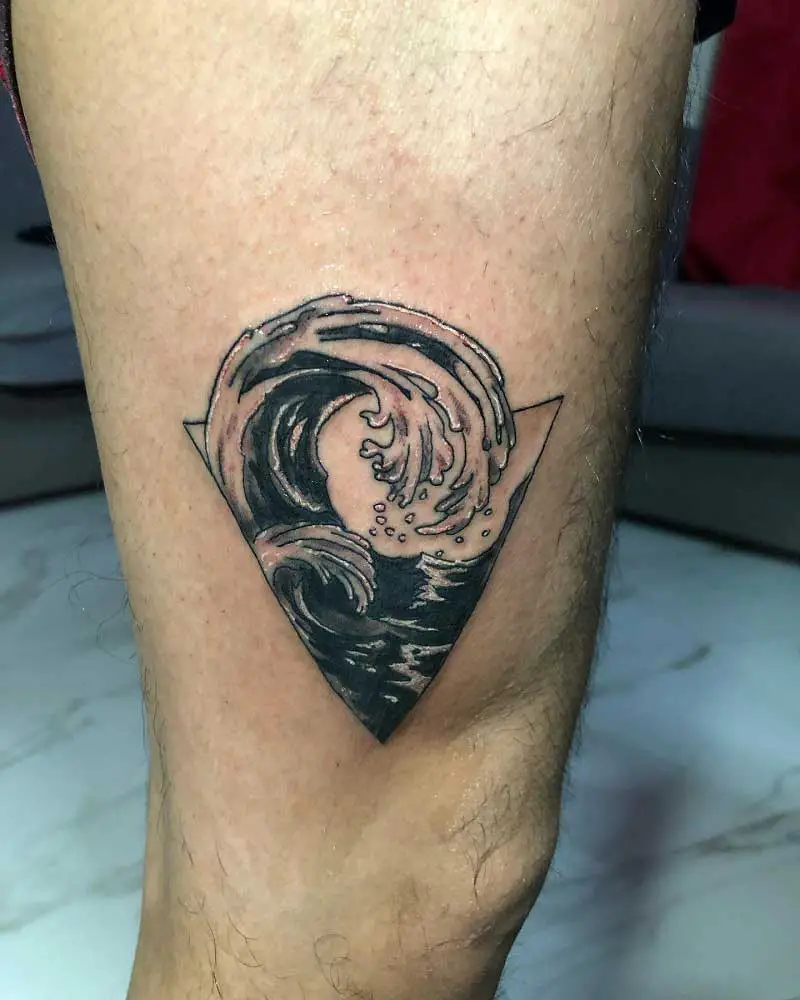 81.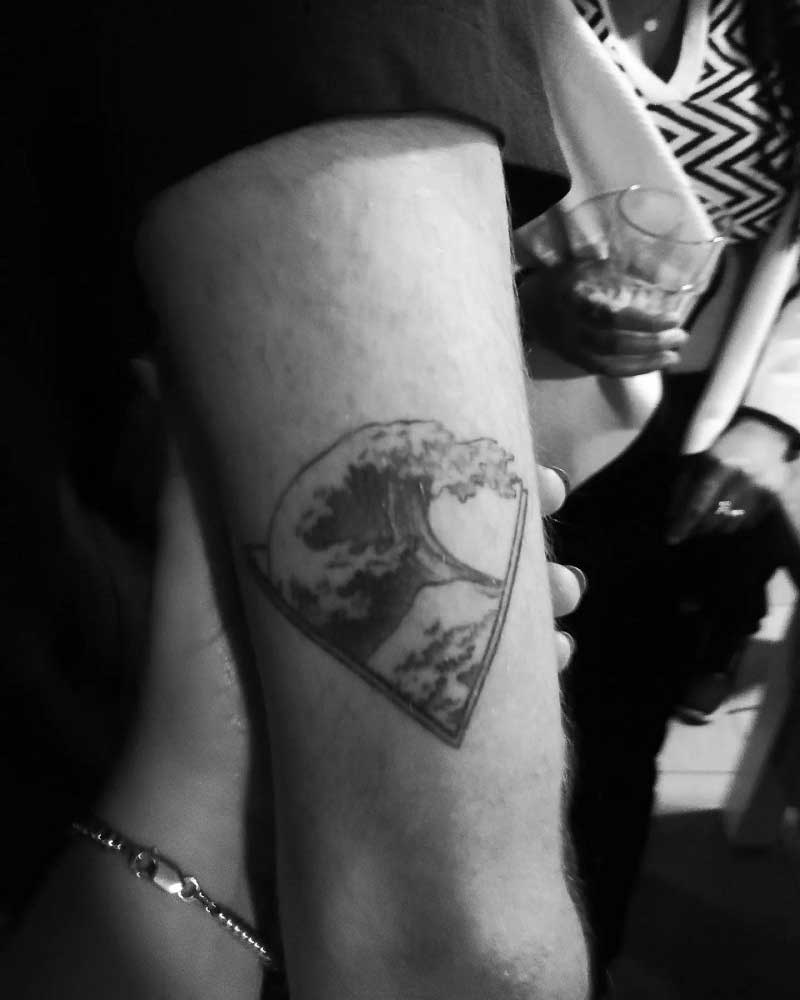 Titanic Heart Of The Ocean Tattoo
82.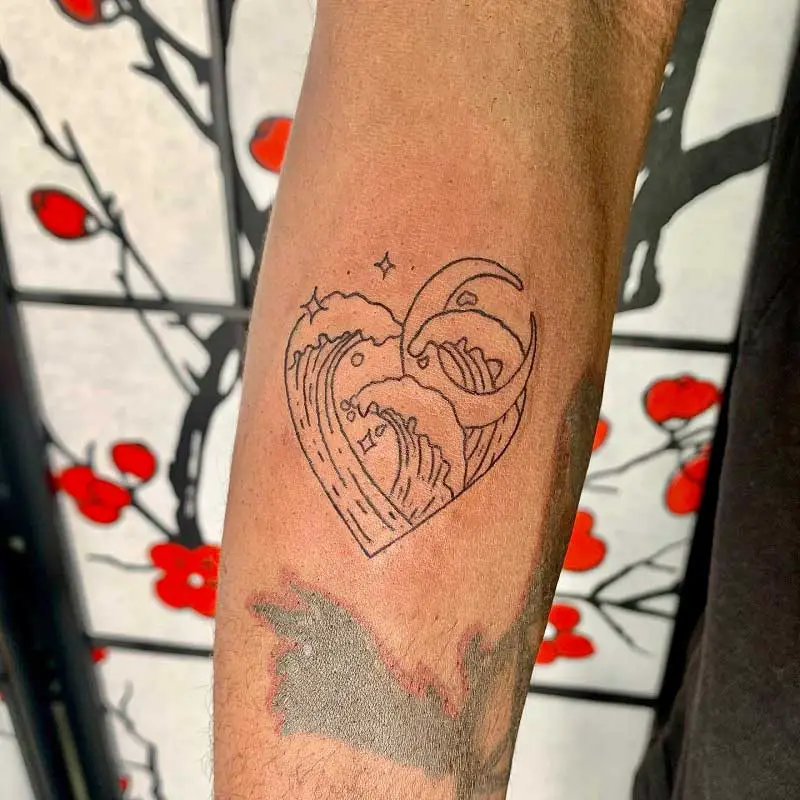 83.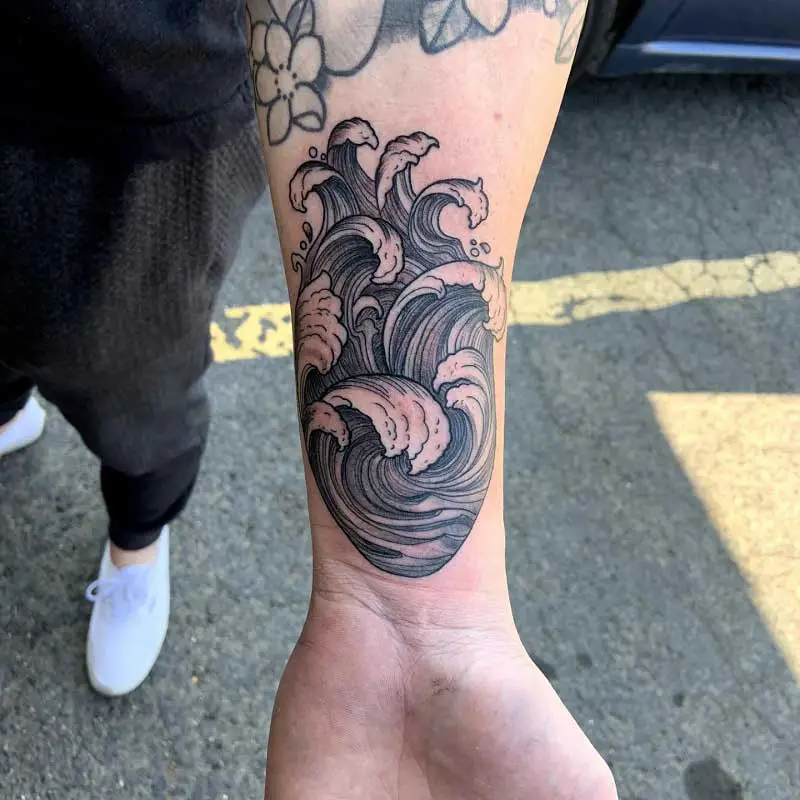 84.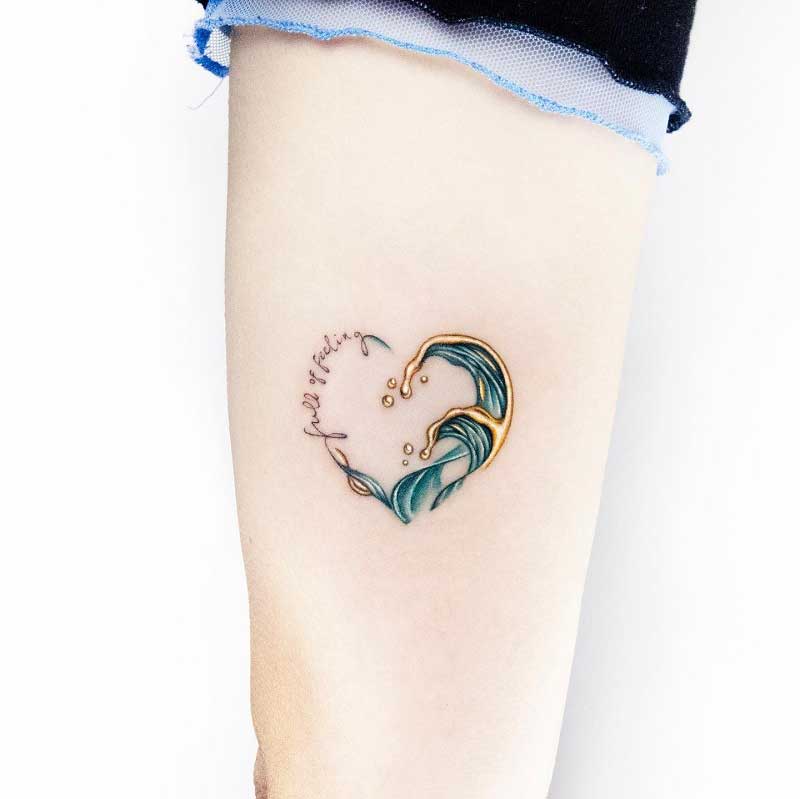 Ocean God Tattoo
85.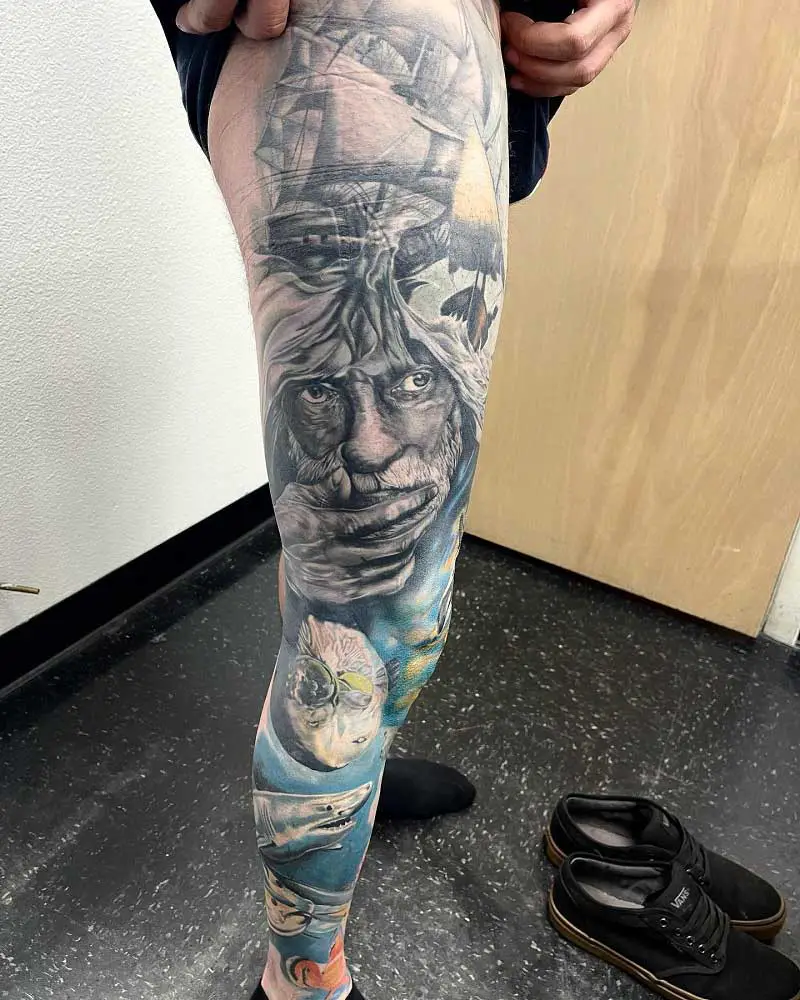 86.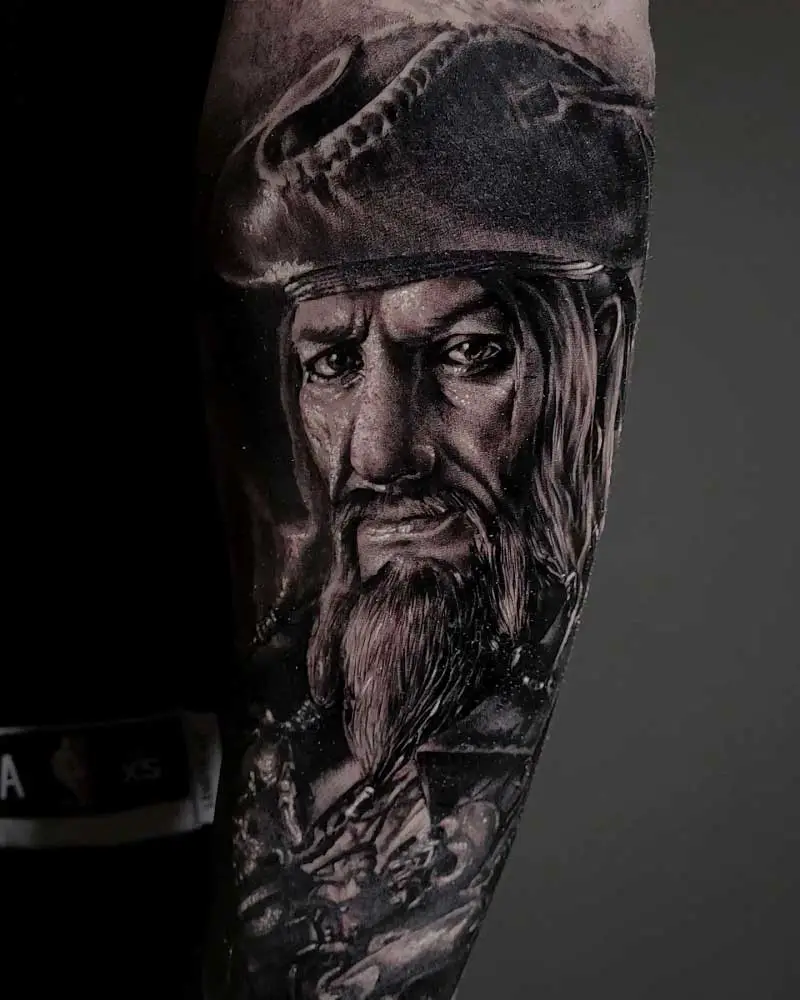 87.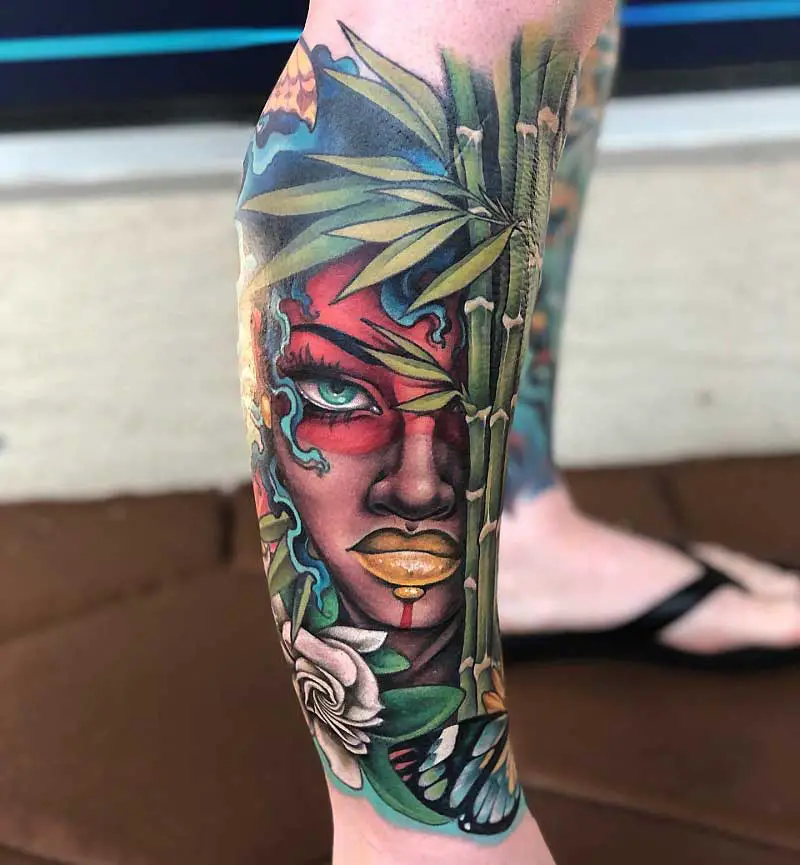 Conclusion
That will be all for now! These were some of the most popular and unique ocean tattoos we had in store for you. Now, you just need to take your time and go through all of them one at a time to find the right tattoo for yourself. It won't be easy but once you get past that part, you'll get your desired ocean tattoo on your body in no time. Do not forget to consult your tattoo artist and ensure that they're the right man for the job. Good luck!
Frequently Asked Questions
What Does An Ocean Tattoo Mean?
It represents the road to new opportunities, self-discovery and many more.
I'm Not A Fan Of Multicolor Tattoos, Can I Get A Black Ocean Tattoo?
Definitely. Since you're the one who's getting the tattoo, you get to make all the decisions.
What Are The Most Popular Oceanic Theme Tattoos?
Sun and ocean combinations, waves, sharks, whales and ship tattoos are some of the most popular ones.
Will My Ocean Tattoo Fade Quickly?
Lighter colors, such as yellow, pink, green etc. in ocean tattoos will fade faster than those in darker colors.