In the ocean, there are plenty of beautiful animals. However, no other animal can actually live up to the grandeur and grace of a whale. Although whales are quite powerful and massive creatures, they are actually peaceful by nature. This article will walk you through a different variety of whale tattoos that you could get etched on to your skin.
A tattoo design of a whale has the capability to channel marine life's majestic beauty. Many profound meanings and interpretations are associated with these designs and people get them in order to relate to their symbolisms.
Whale tattoos Designs
We have gathered over 90 unique and distinct designs for you to go through. Bear in mind that you are always free to make your own adjustments to the tattoo and it does not have to be the same as the one you see here. You are also allowed to come up with your own analysis and meanings of the tattoo design you are getting.
Now that everything's been cleared, let's dive in!
Whale Shark Tattoo
If tattooed properly and with care, whale shark tattoos can look beautiful just about anywhere on your body- be it your forearms, your waist, your calves and on many other areas.
1. Warrior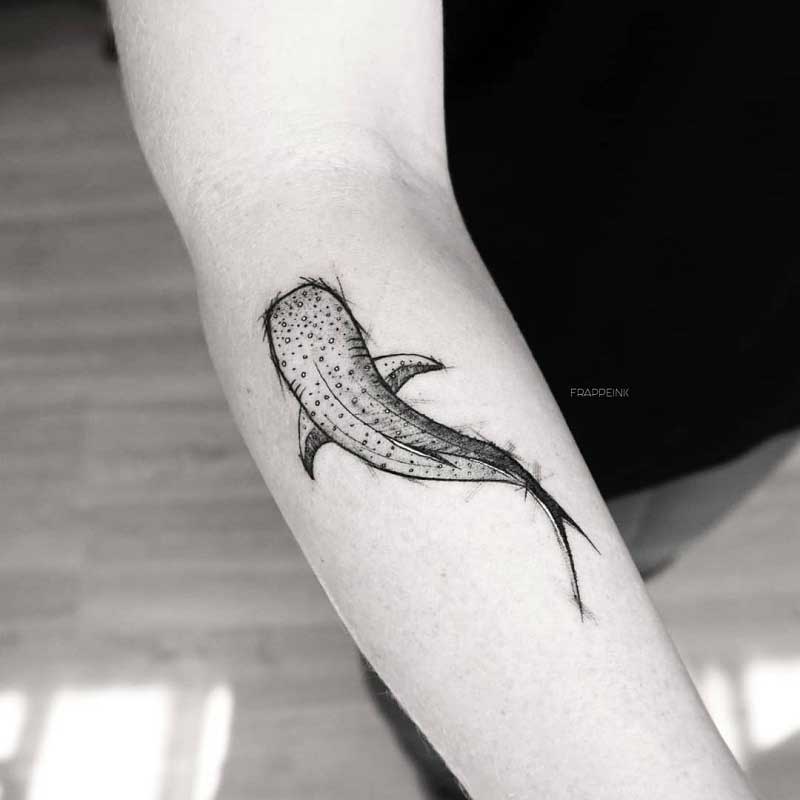 This tattoo design is a wonderful example of what a perfectly-detailed tattoo looks like. With correct shading and the use of dots on the whale's body, the design looks surreal.
2. Into The Blue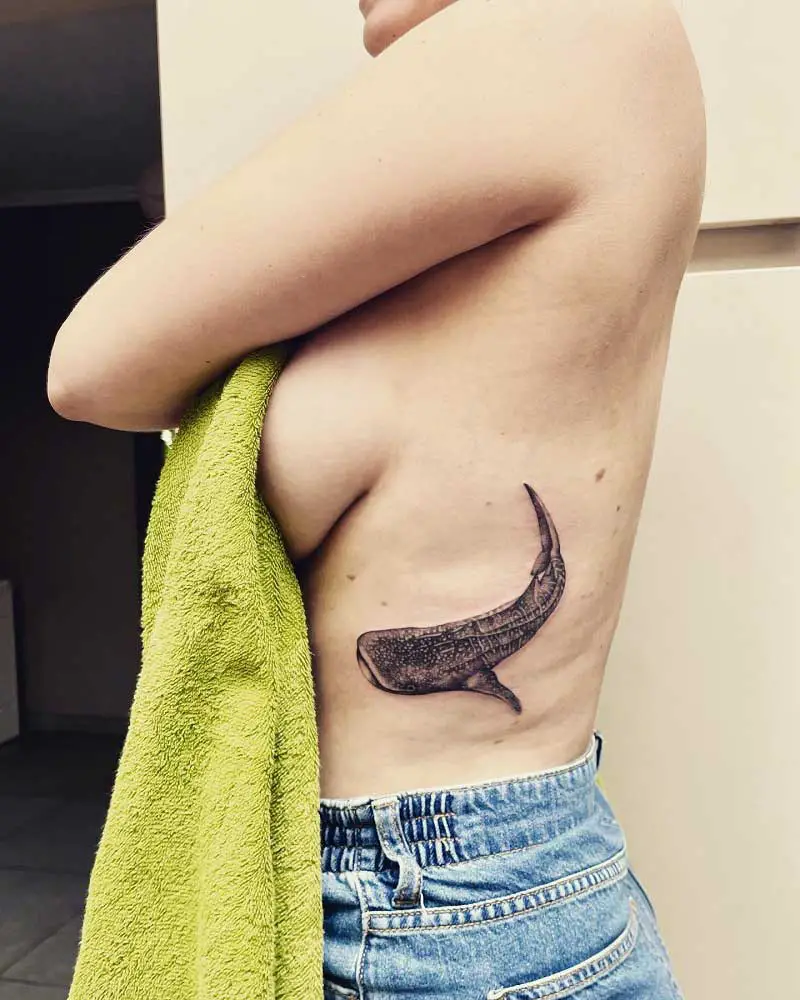 The scaling of this design makes it look just perfect on the woman's ribs. The size of a tattoo must be considered. A smaller version of this design would probably look better somewhere else.
3. Prosperity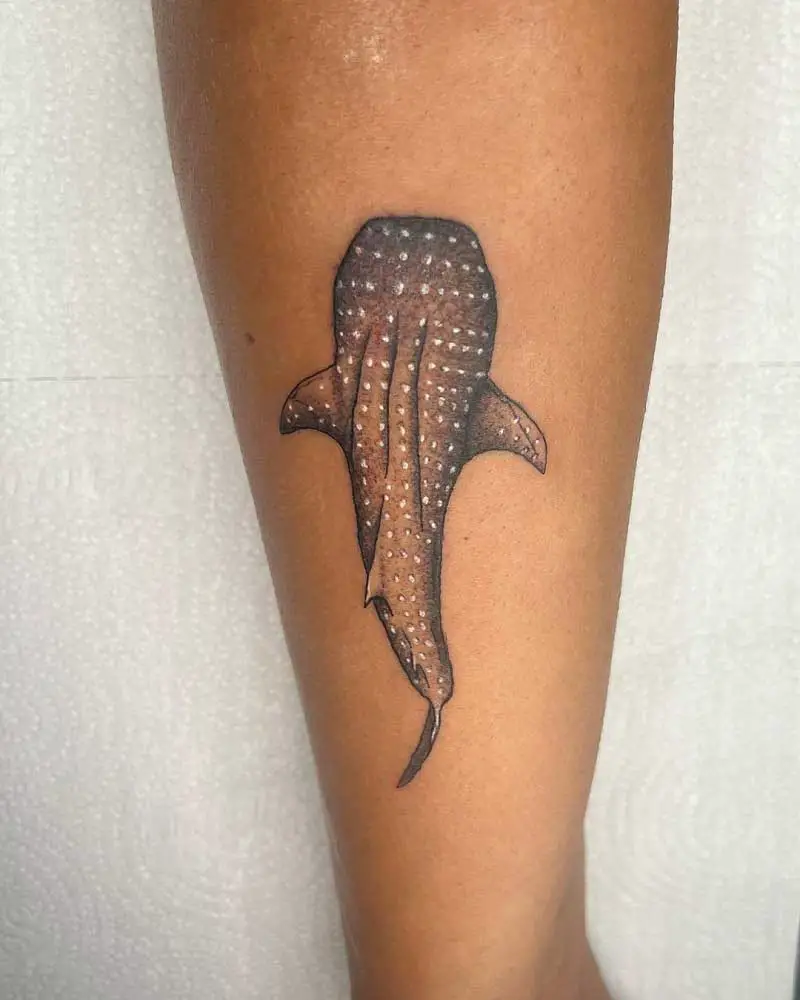 This tattoo of a whale stands for prosperity. It is something that enables people to pursue opportunities that they desire and build a better future for their family members and friends.
Killer Whale Tattoo
Killer whales are absolutely beautiful sea creatures to look at. If their beauty and elegance are properly captured and etched onto the body, the end product will look mesmerizing.
4. Elegant But Deadly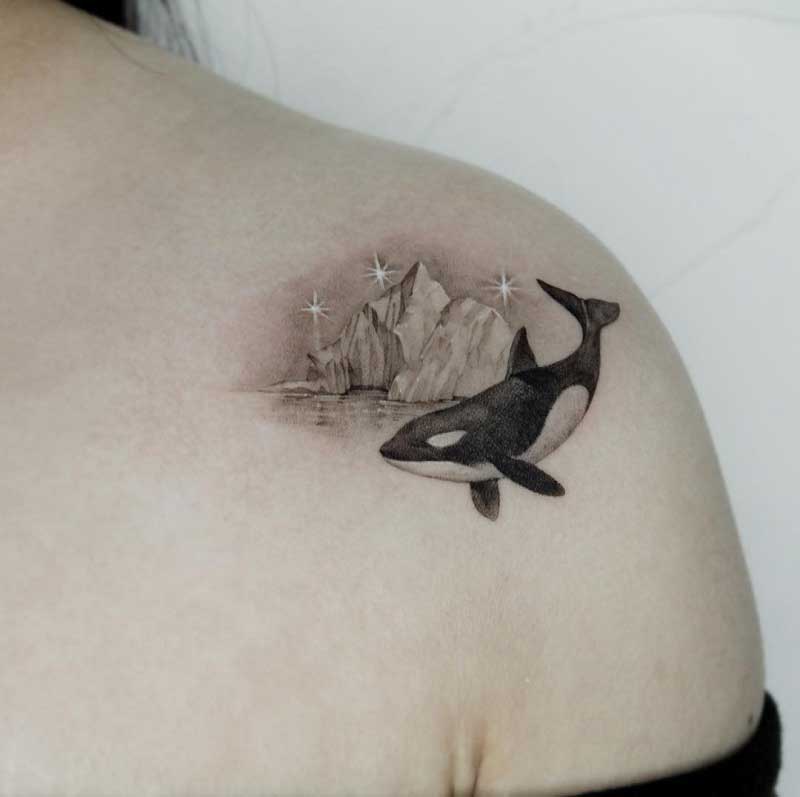 Killer whales, from a certain distance, look wonderful and just elegant in general. However, if threatened, these creatures can be violent. This design is for those people who'll be nice to others as long as boundaries are maintained.
5. Motherhood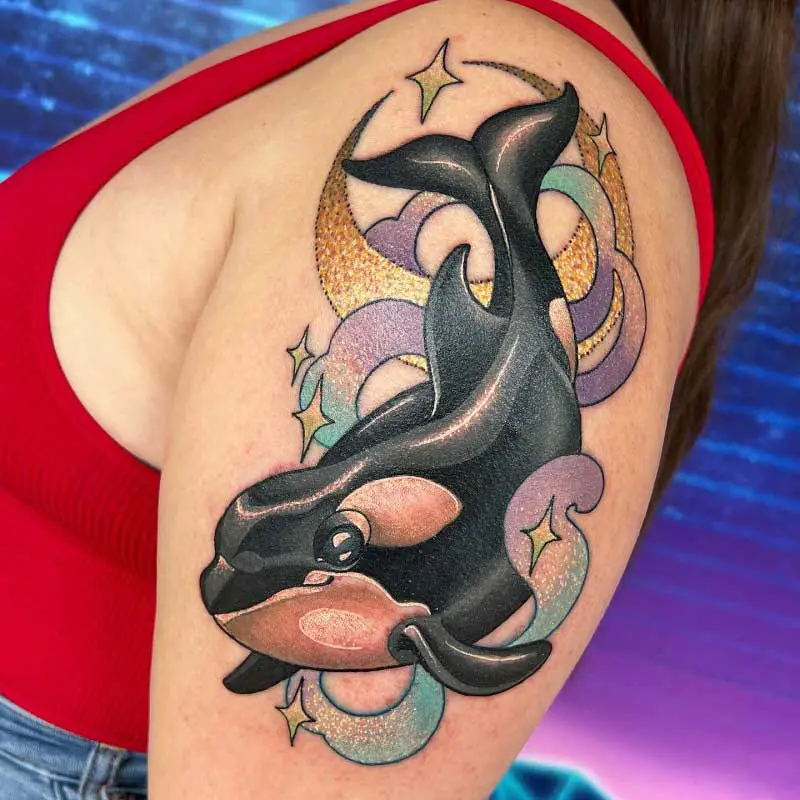 This design of a whale just oozes gracefulness and wholesomeness. Adjustments can be made to the tattoo as per your choices such as using different colors or a different approach to detailing.
6. Mini-Me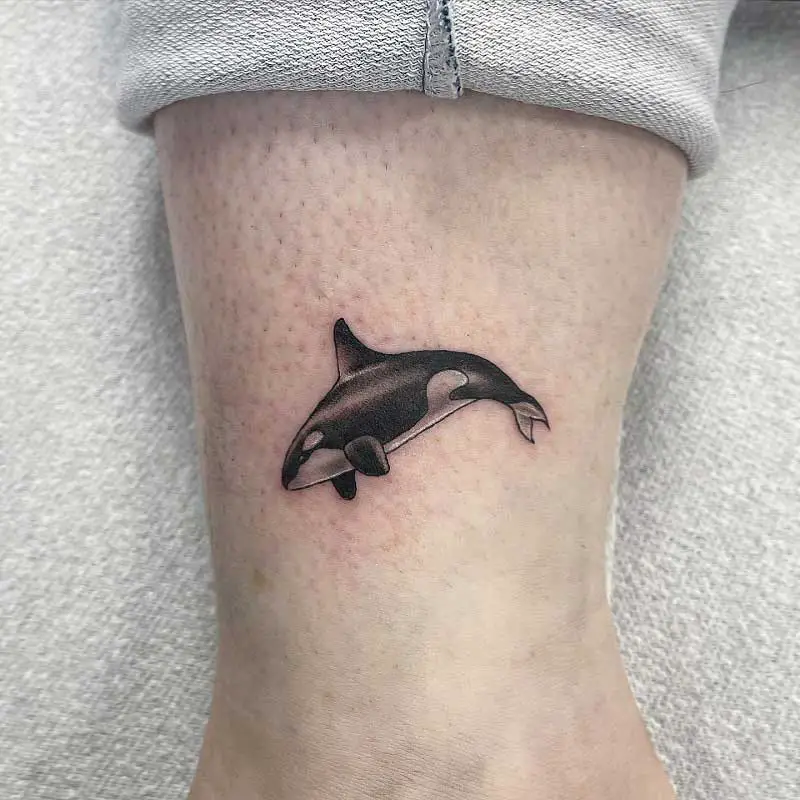 Tattoo designs of such types are for those people who don't want to grab a lot of attention. It aims for simplicity and that is what most people look for in a design.
Humpback Whale Tattoo
Humpback whales look marvelous in real life. With the inclusion of extra details, they look even better in tattoo art. These designs embody a peaceful life and spiritual beliefs.
7. Gentleness
This style of tattooing is called dotwork tattoos and they have become increasingly popular over the past few years. The artist has done an exceptional job of capturing the physical features of the humpback whale so accurately.
8. Spiritual Belief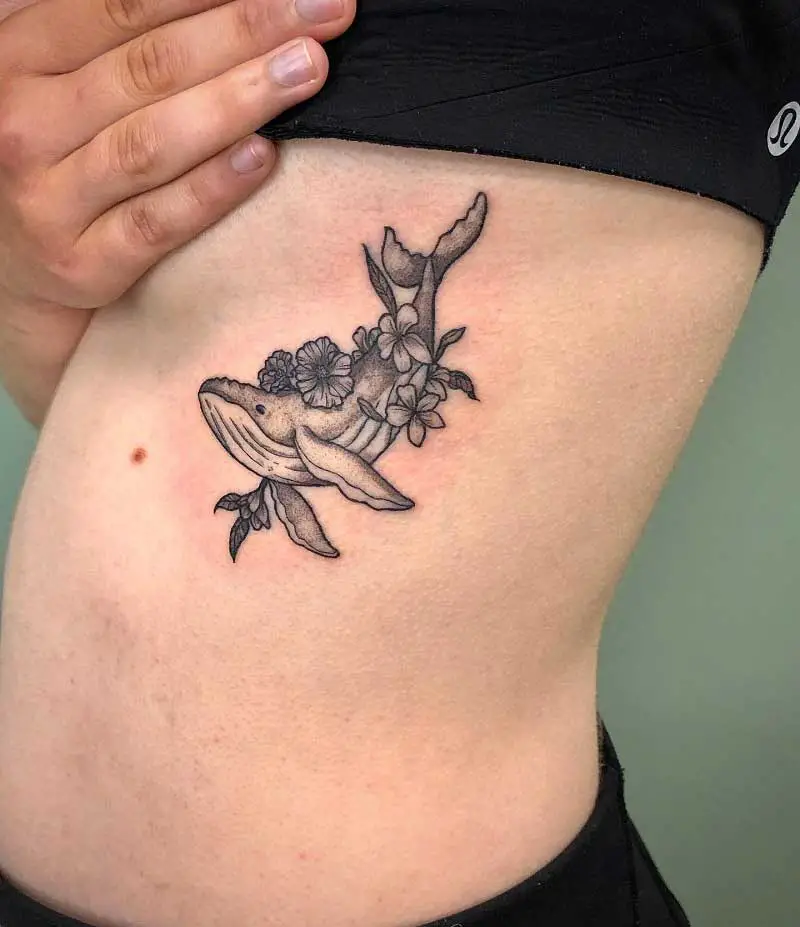 A combination of a flower and a whale tattoo vividly depicts spiritual belief. Basically, the said term refers to the act of relating to people's beliefs and thoughts.
9. Compassion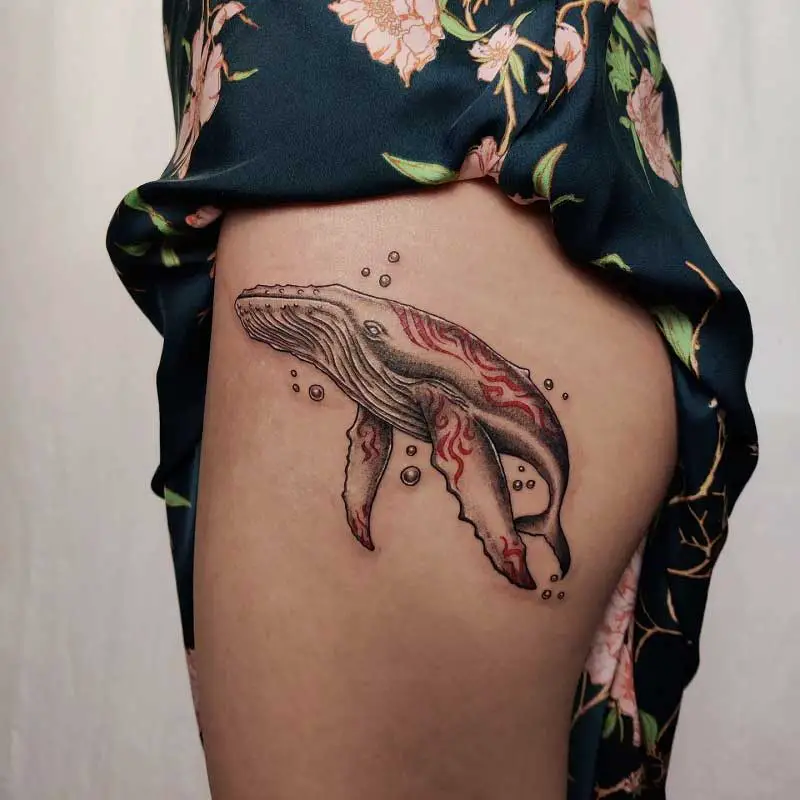 This is probably the most realistic-looking tattoo of the humpback whale. The bubbles signify the ocean waters and that is what gives the tattoo more genuine.
Whale Tail Tattoo
These tattoo designs are incredibly popular in Polynesian Hawaiian culture. They are viewed by people as a symbol of protection, good luck, and a free spirit.
10. Blues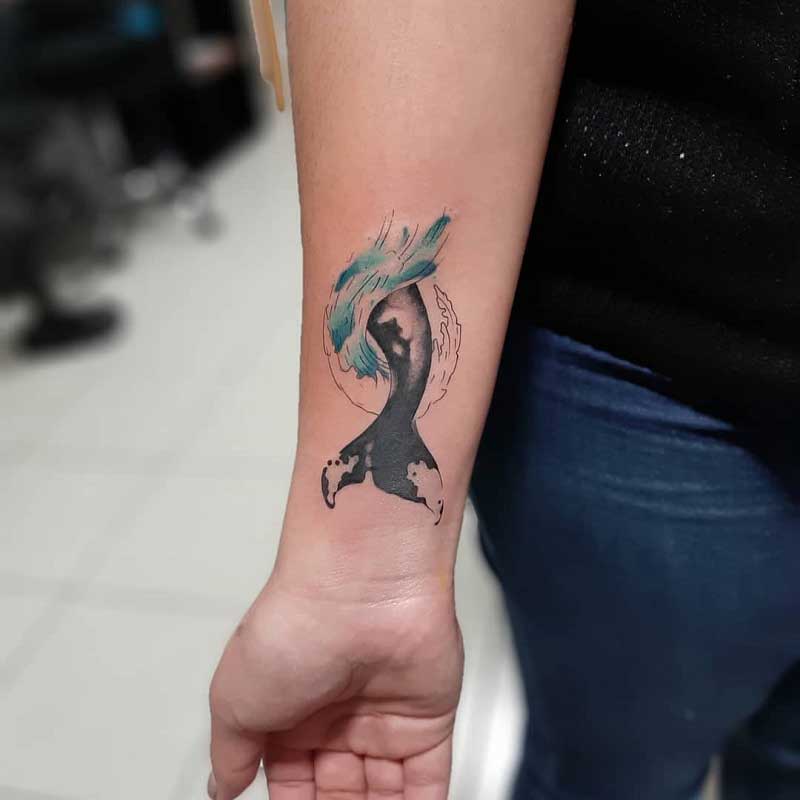 You might feel like this is just a simple tattoo of a whale's tail. But the true beauty lies in the intertwining of the wave and the tail. You are also free to come up with your own interpretation of the design.
11. Good Luck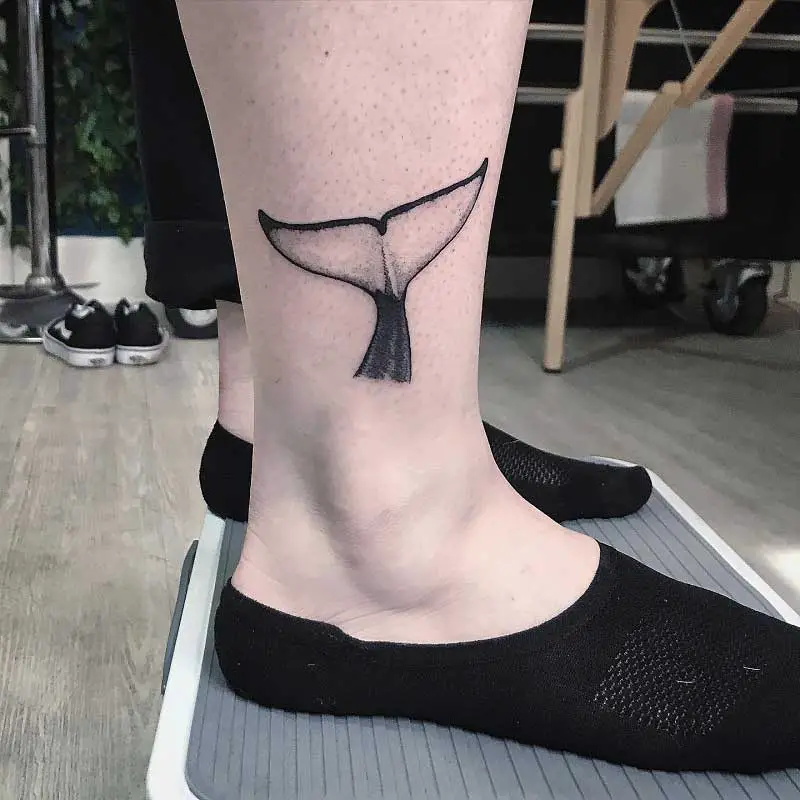 Another remarkable example of a tattoo that is both simple-looking and creative at the same time. The tattoo design can act as a good luck charm for the wearer.
12. Free Spirit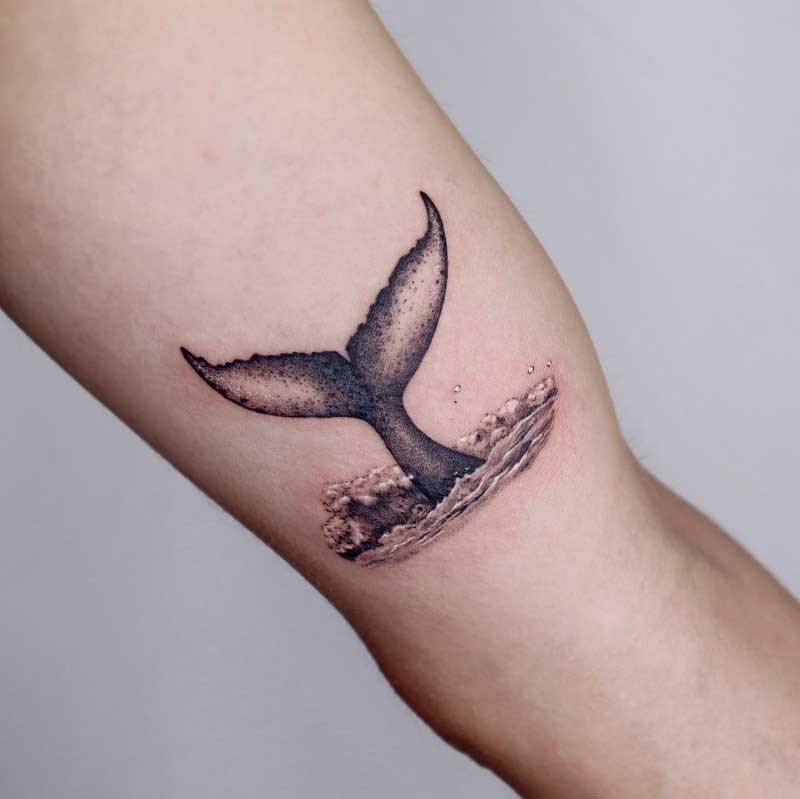 This is the most realistic-looking tattoo design of a whale in the whole section. It refers to the moment when a whale leaps out of the water and only its tail has been captured on camera before it goes back in.
Orca Whale Tattoo
Orca whale tattoo designs have a lot of profound meanings and interpretations tied to them and visually, they look stunning as well. Here are some of them for you to take a gander at:
13. Harmony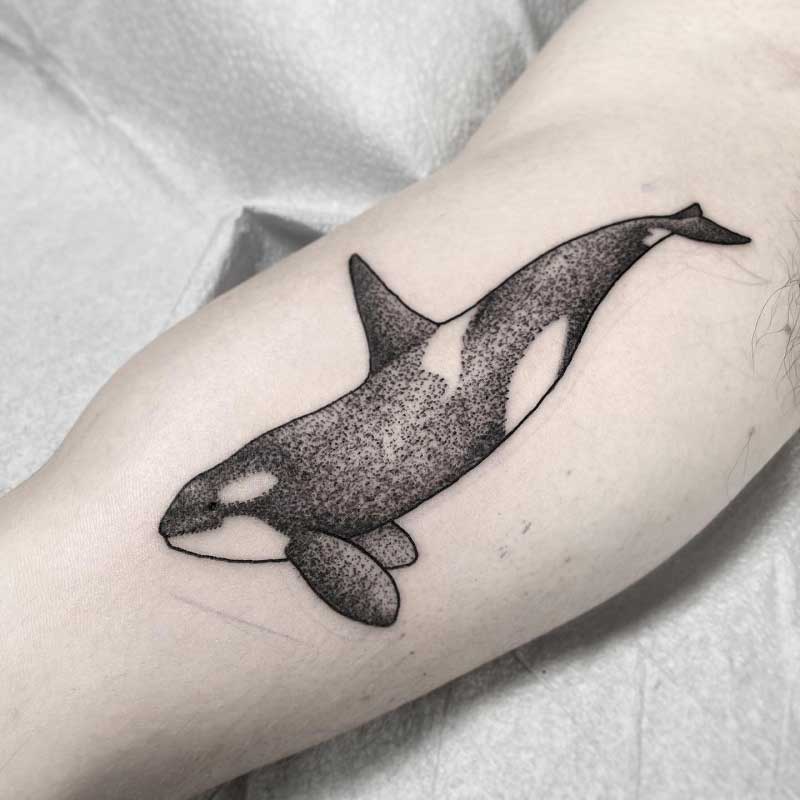 Some tattoo designs just look good in dotwork form only and this is one of those tattoos. Props to the artist for doing such an amazing job with the design.
14. Togetherness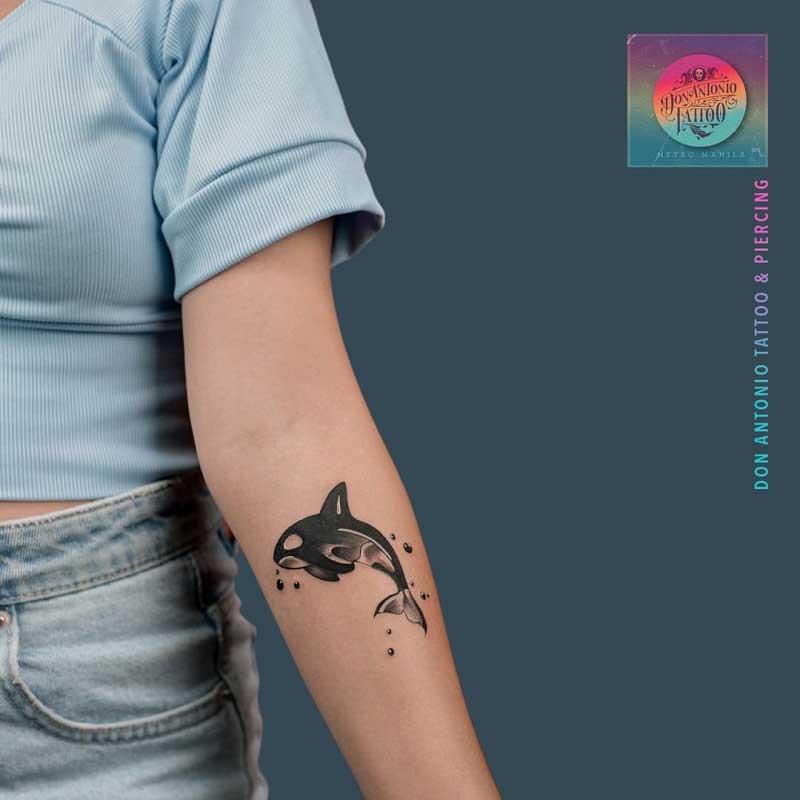 Orca tattoos stand for togetherness. If you wish to show your infinite and powerful connection with your partner, getting an orca tattoo is the way to go.
15. Gracefulness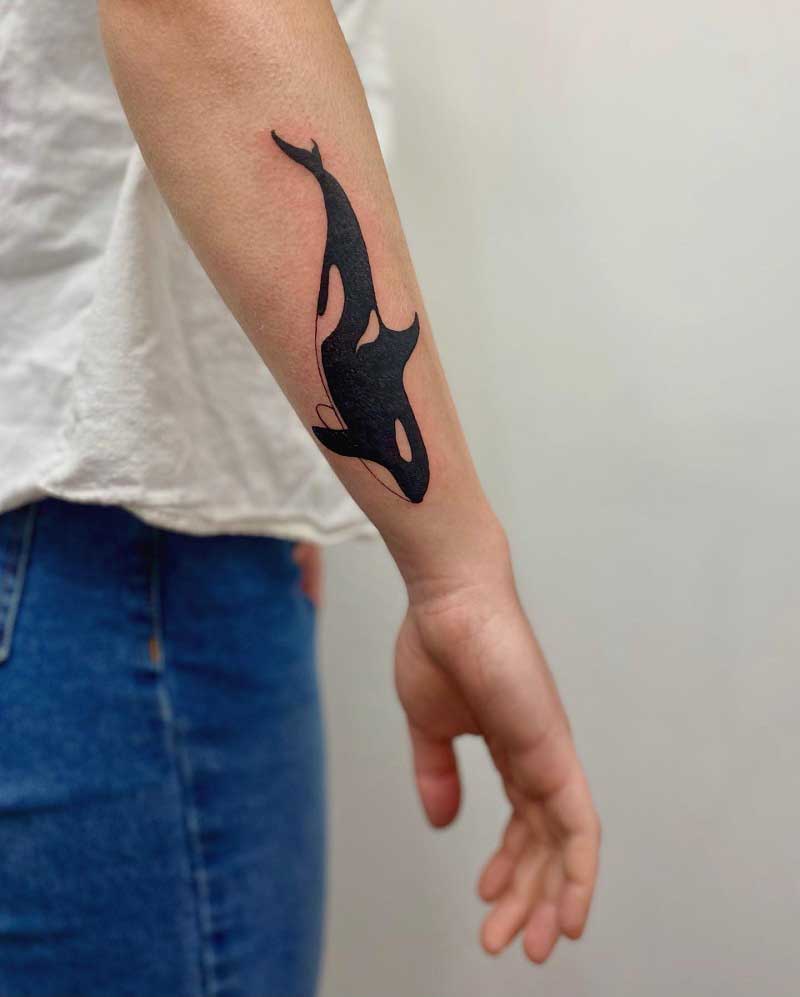 These tattoos can also look on forearms, especially if they are positioned vertically. This also makes the tattoo more noticeable if you're not wearing full-sleeved tops.
Beluga Whale Tattoo
Beluga whales are magical creatures that are full of grace and wonder. These designs also symbolize facing challenges and making peace with one's fears.
16. Into The Unknown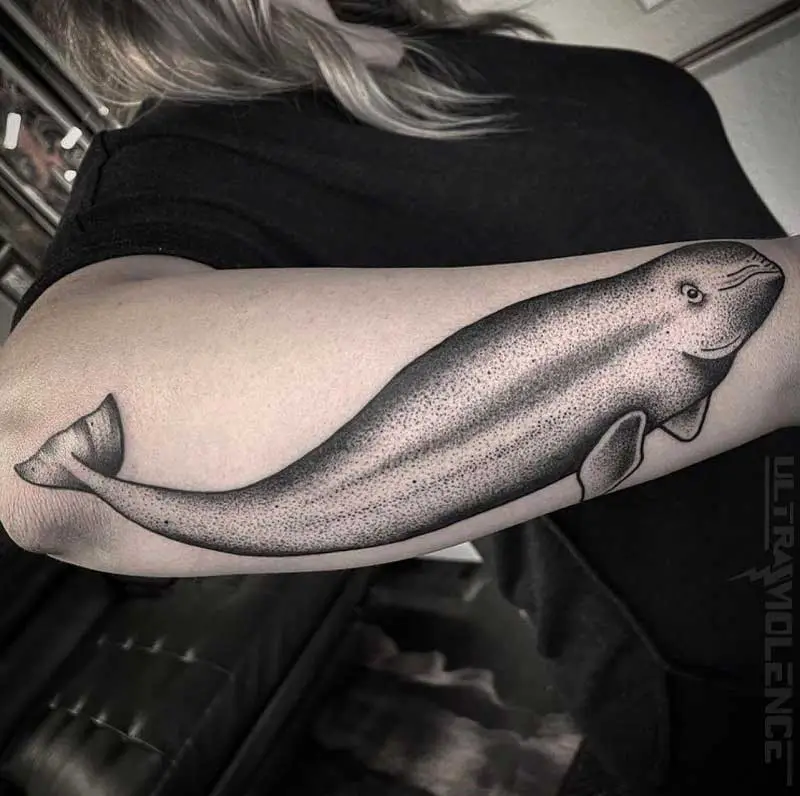 Due to its sheer massiveness, tattoos of beluga whales look best if they are positioned vertically, meaning the forearm is the best place for such designs.
17. Tranquility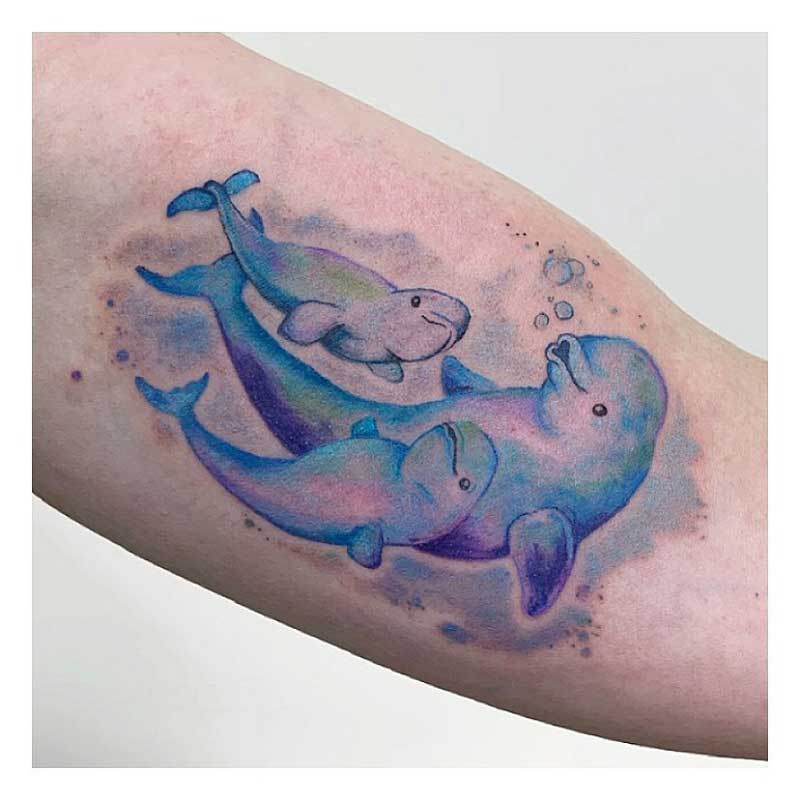 Colors can also be added to these designs if you wish to make them look more attractive or noticeable. For more complexity or richness, elements can be added to the tattoo such as more than one whale or even water bubbles.
18. Deceit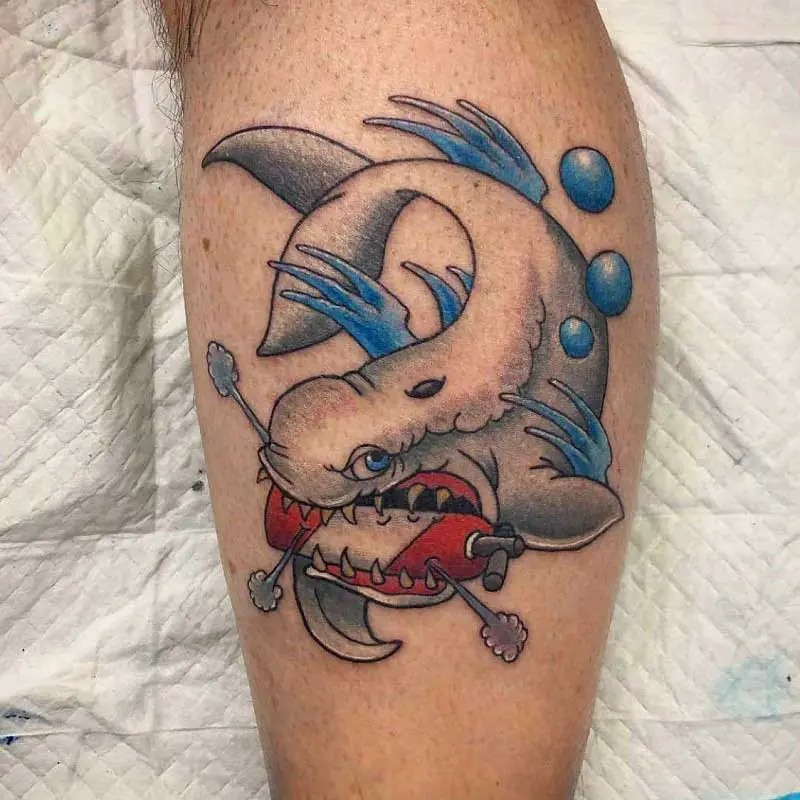 Beluga whales, although they seem friendly and harmless, can retaliate quite aggressively if they feel threatened. The tattoo design conveys the message that "appearances can be deceiving".
Sperm Whale Tattoo
Sperm whale tattoos, if tattooed properly and with care, can look really cool. Many powerful meanings are attached to these tattoos so people can get them in order to relate to those interpretations.
19. Abundance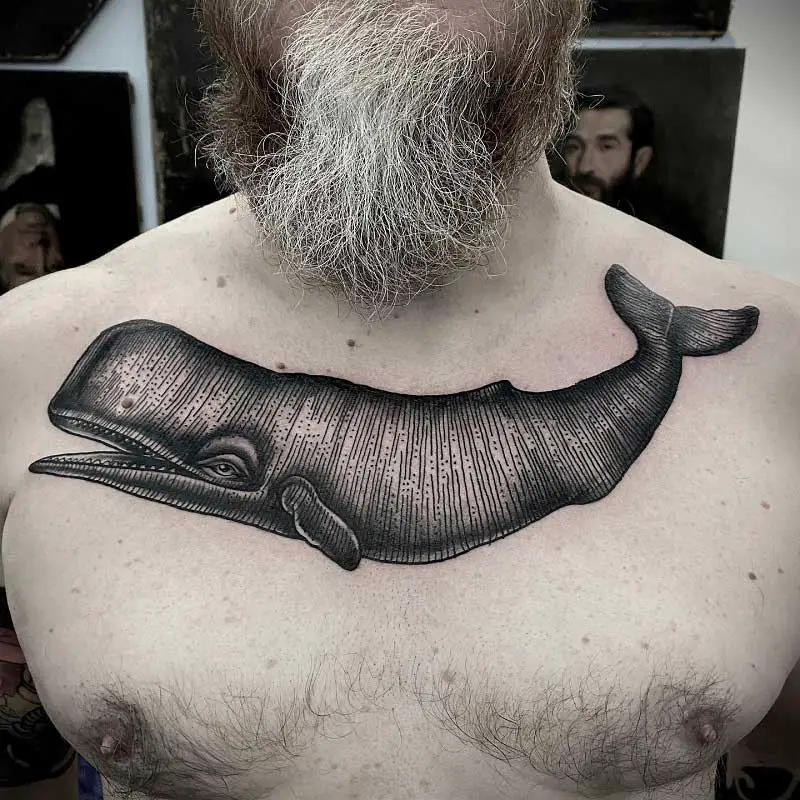 Sperm whales are quite massive and if they are positioned or placed horizontally, the tattoo would look best on the chest area as shown in the picture above.
20. Strength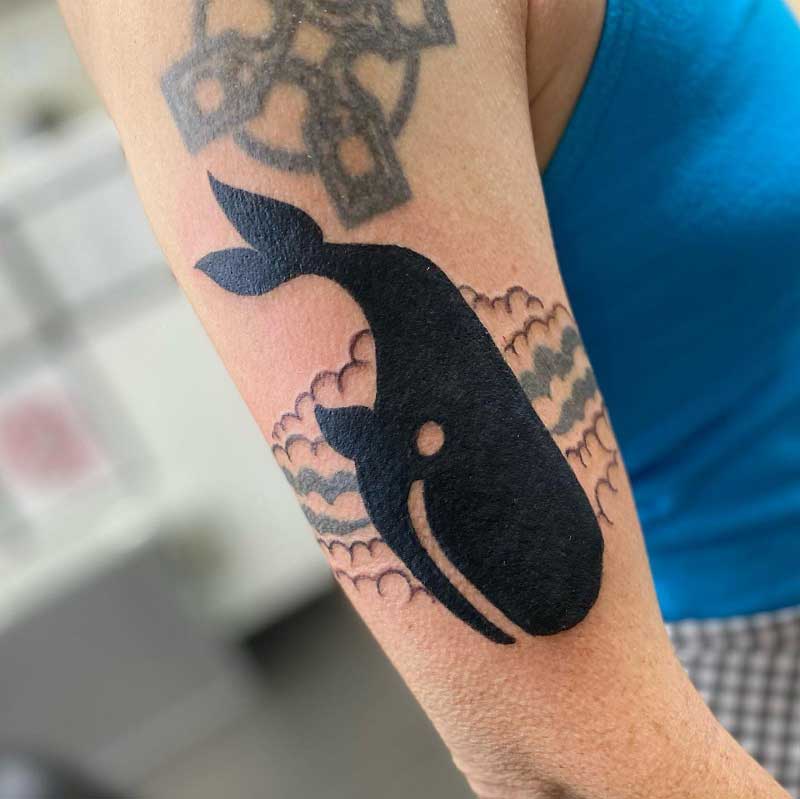 This is quite a simple-looking tattoo compared to the ones we have looked at previously. Nevertheless, most people like to keep things simple and this is why this design is for them.
21. Wisdom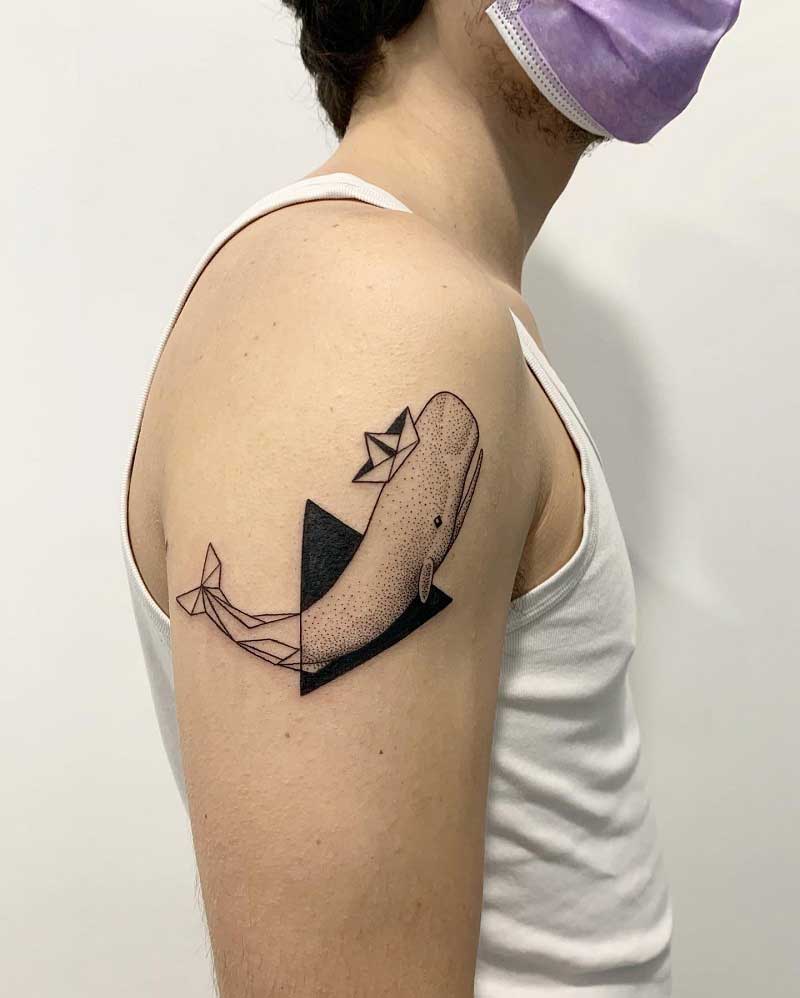 This tattoo of a whale represents the need or pursuit of wisdom. Wisdom is what prevents or protects an individual from getting into difficult situations and problems.
Minimalist Whale Tattoo
Minimalist tattoos focus only on the basic elements of the tattoo design. Shading and detailing are quite limited and colors aren't used that much either. Here are some awesome minimalistic whale tattoos for you to go through:
22. Manifestation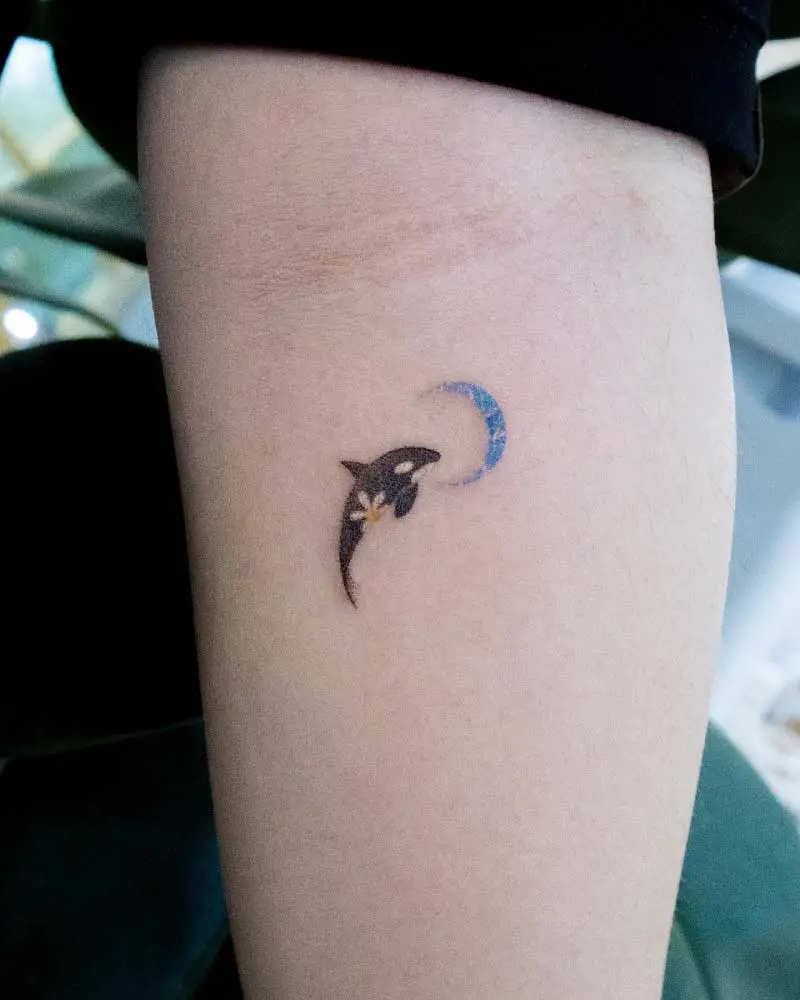 The combination of a whale and moon tattoo symbolizes manifestation. Or, you might not want this tattoo to mean anything at all and have gotten it because of how good it looks visually.
23. Serenity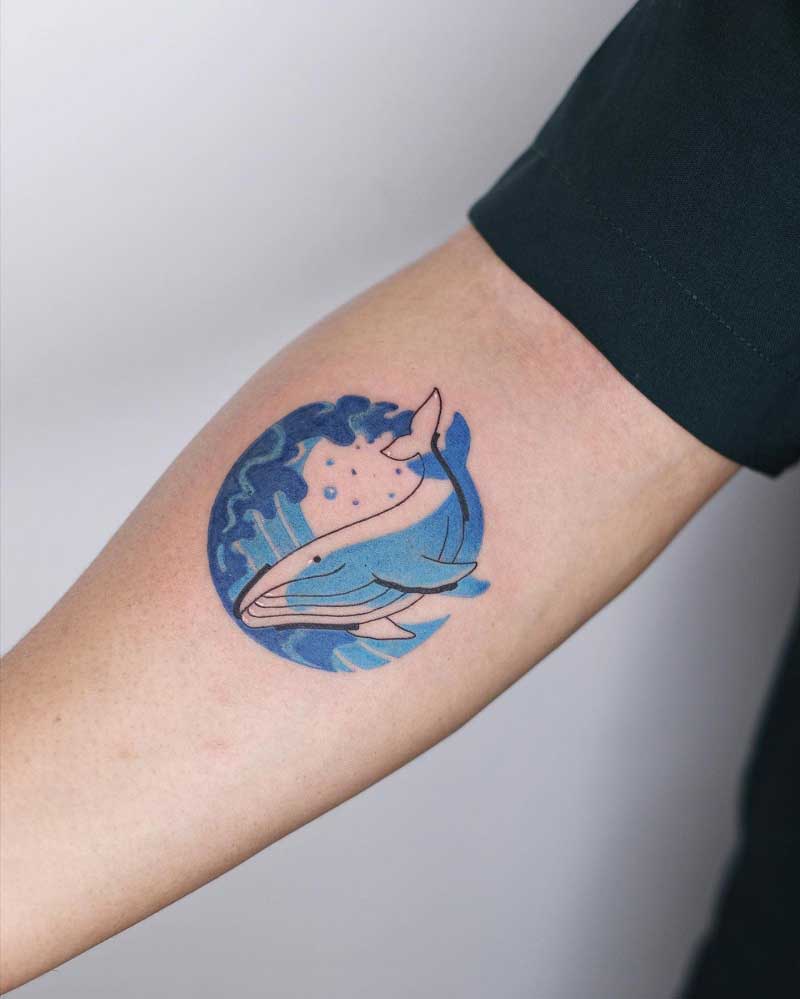 As you can see, colors have been used in this minimalistic tattoo but not to an excessive degree and that is the whole point of minimalism. You deliver the message conveyed by the tattoo by keeping everything simple.
24. Utopia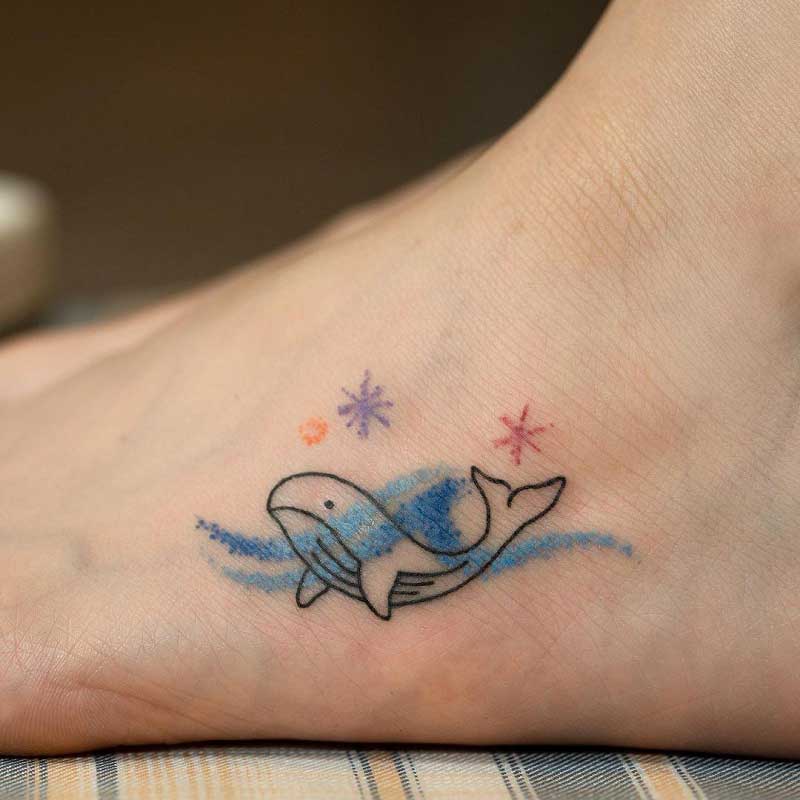 Things could not get any more basic than this but the meaning is more far-reaching than you think. Utopia refers to an imaginary place where everything is absolutely perfect- something that is not seen in the real world.
Traditional Whale Tattoo
Classic designs, bright colors, and bold lines are what define traditional tattoos. Scroll down below to come across some unique traditional tattoos of a whale.
25. Intelligence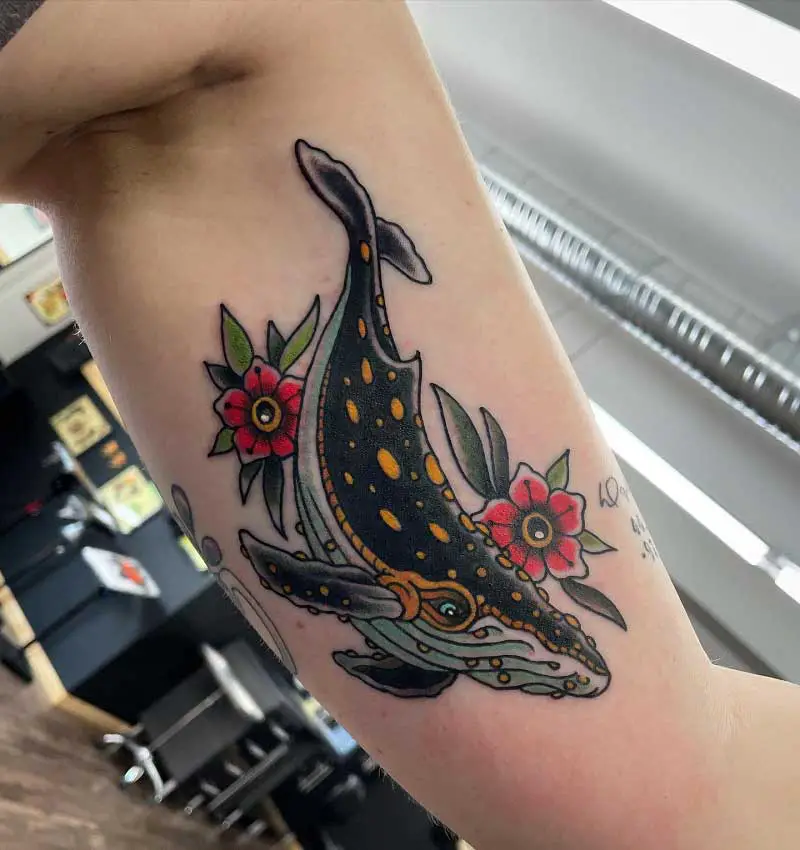 Whales don't look like this in real life at all but that's the whole point of traditional tattoos. They are characterized by bright colors and bold strokes, as seen in the photo above.
26.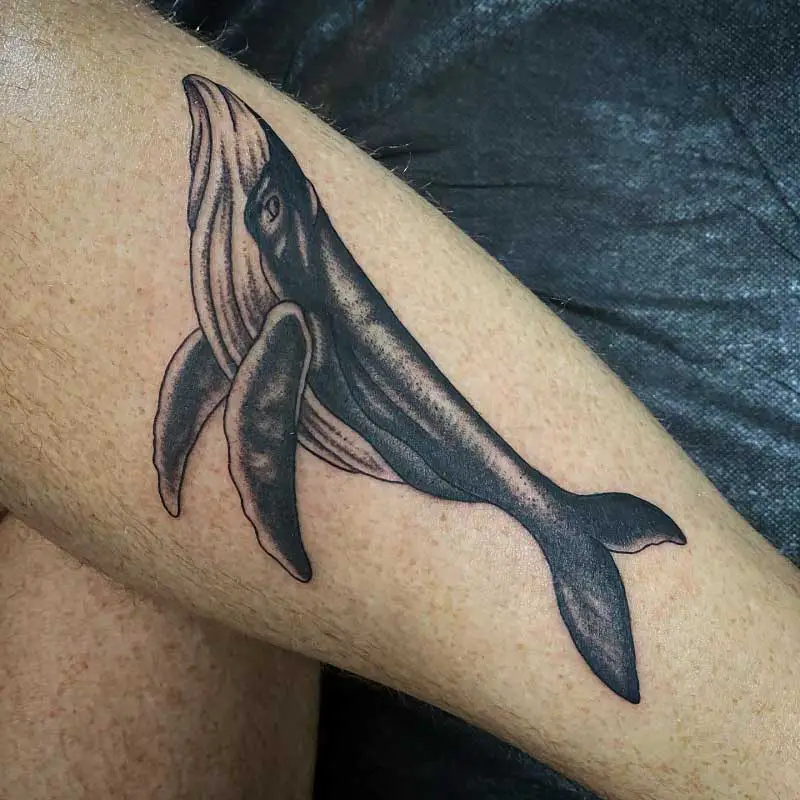 27.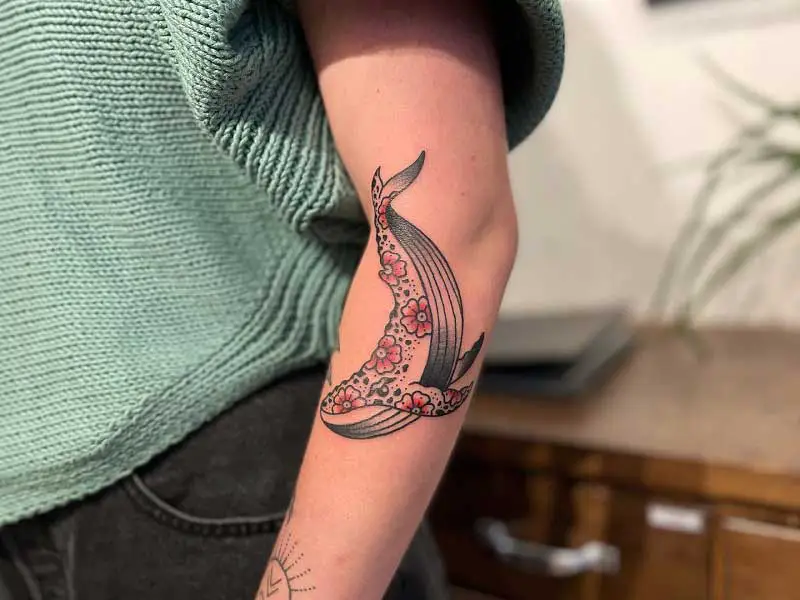 Great Whale Tattoo
28.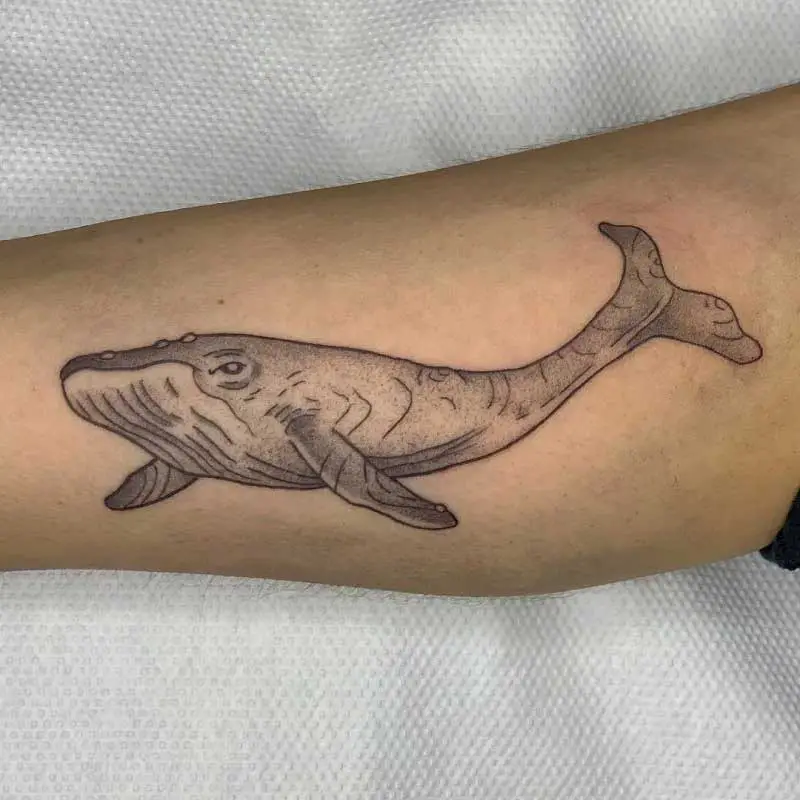 29.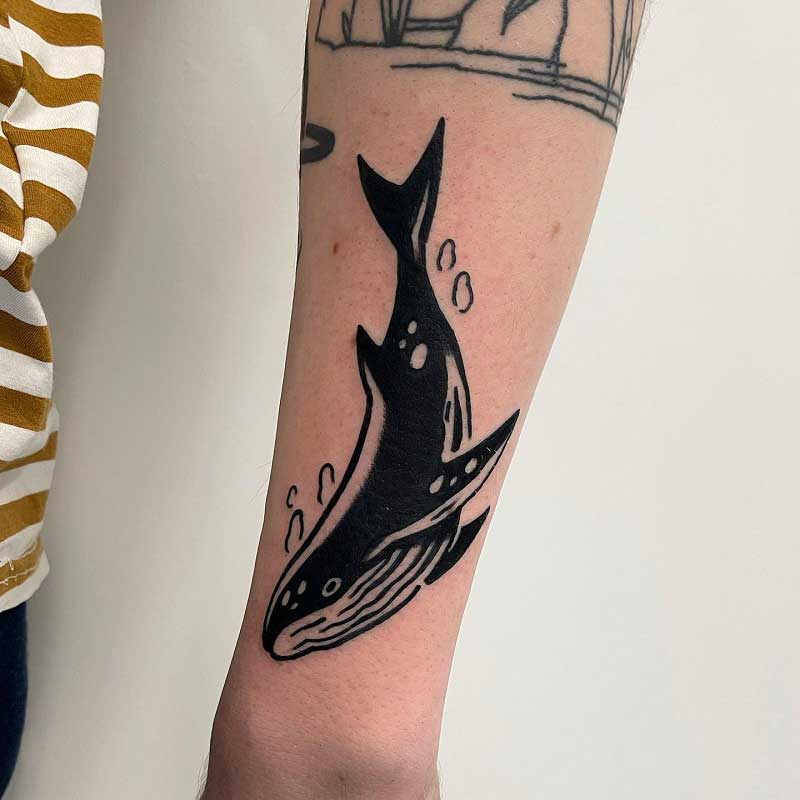 30.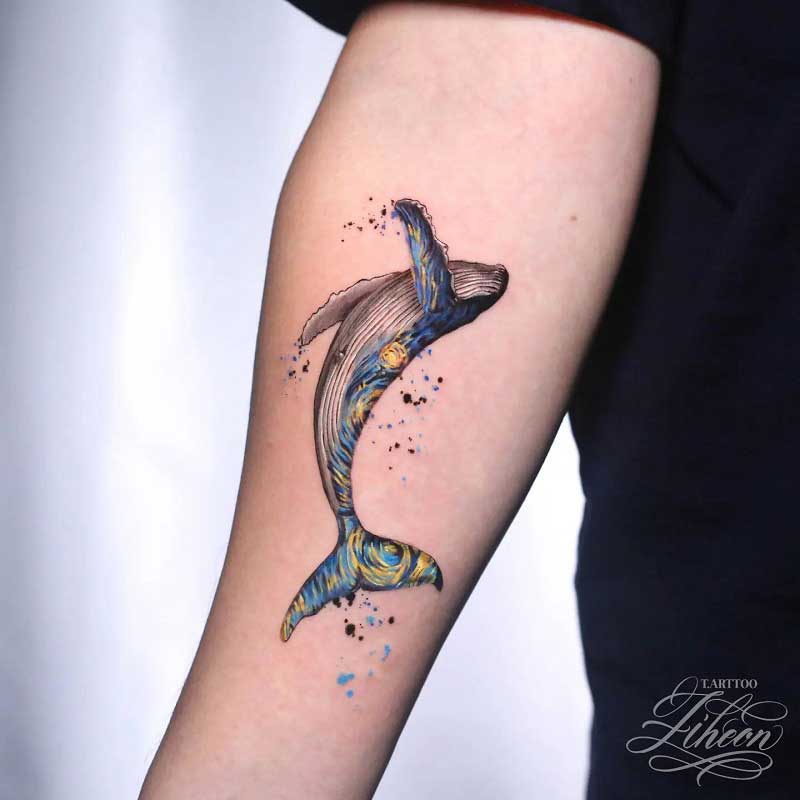 Dead Whale Tattoo
31.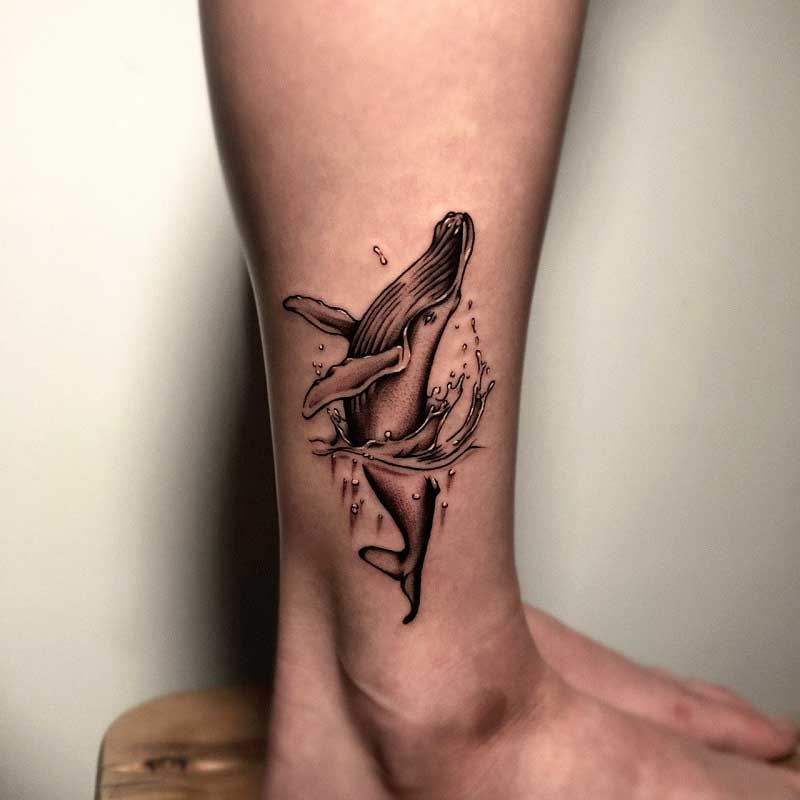 32.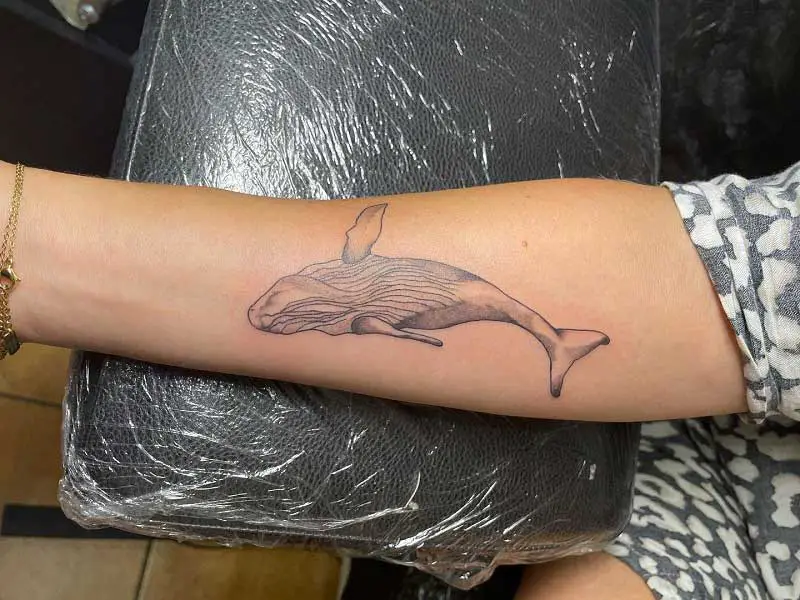 33.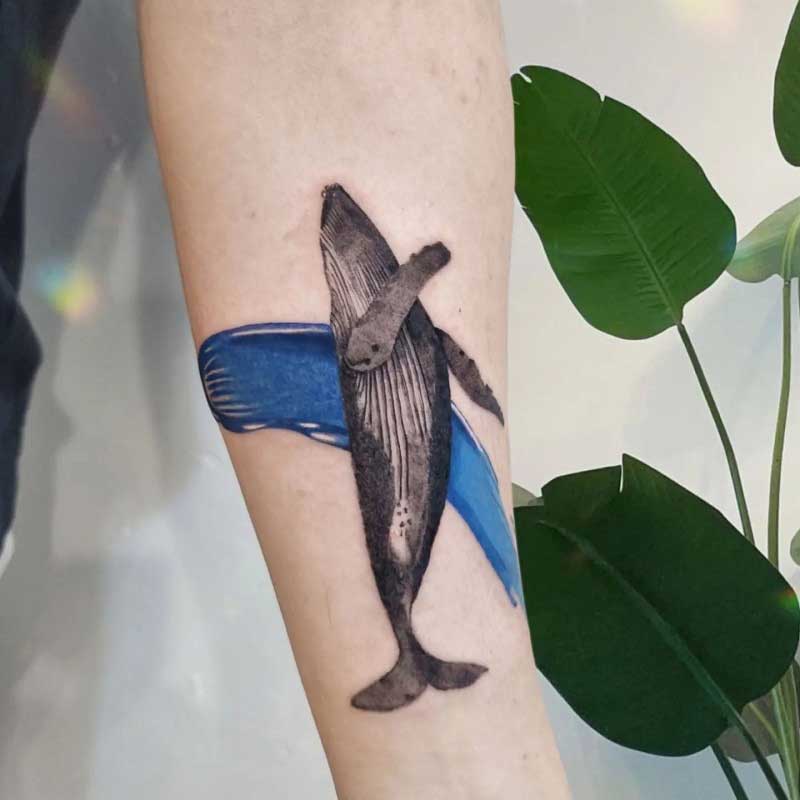 Geometric Whale Tattoo
34.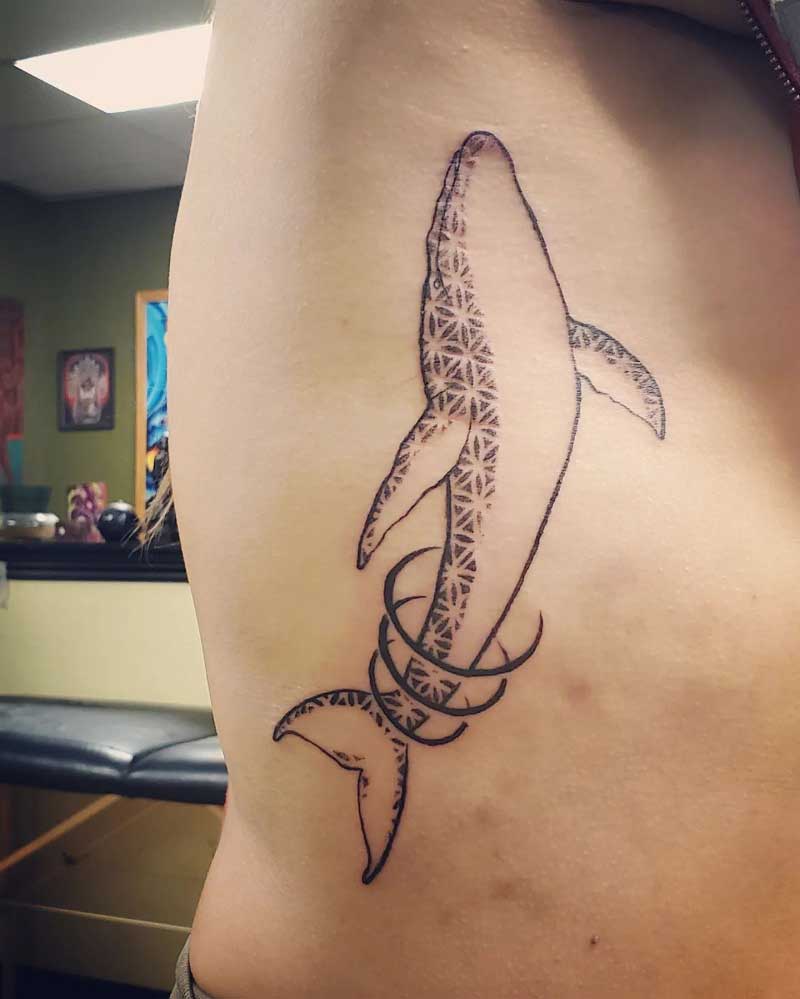 35.
36.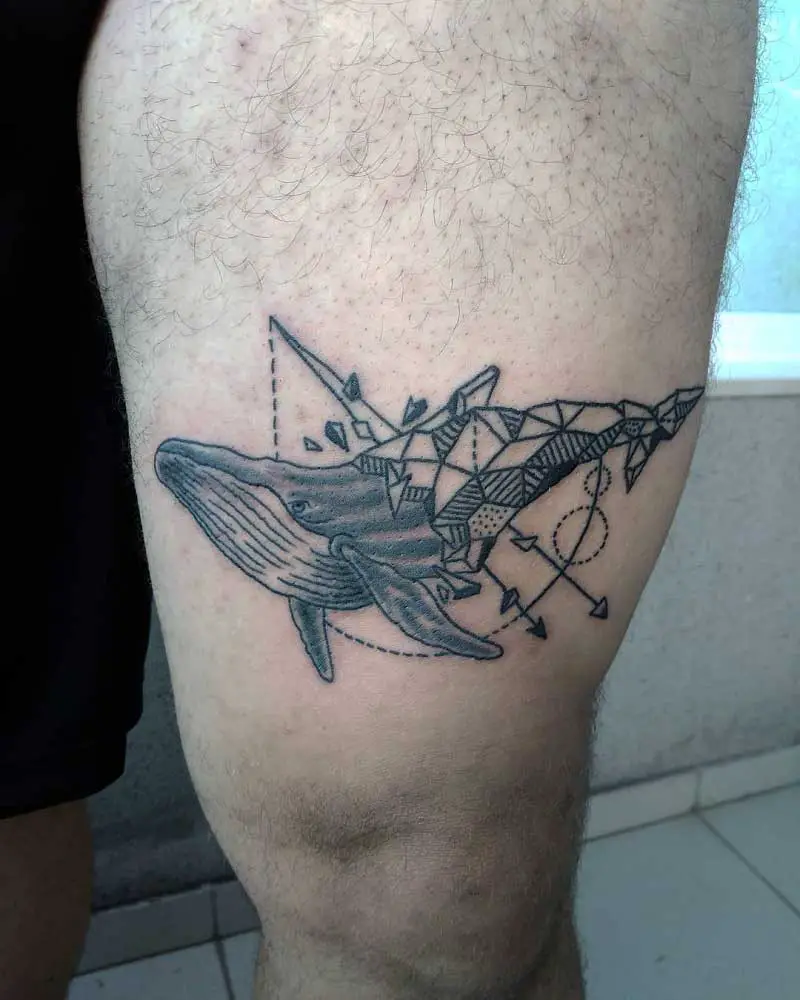 Tribal Whale Tattoo
37.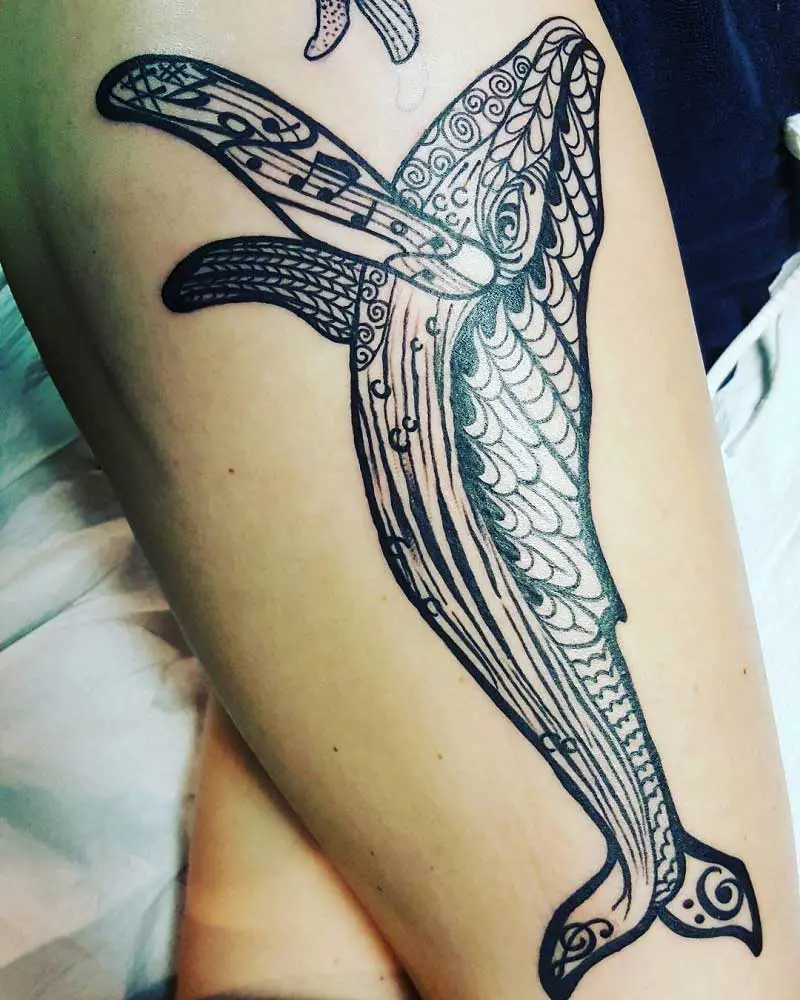 38.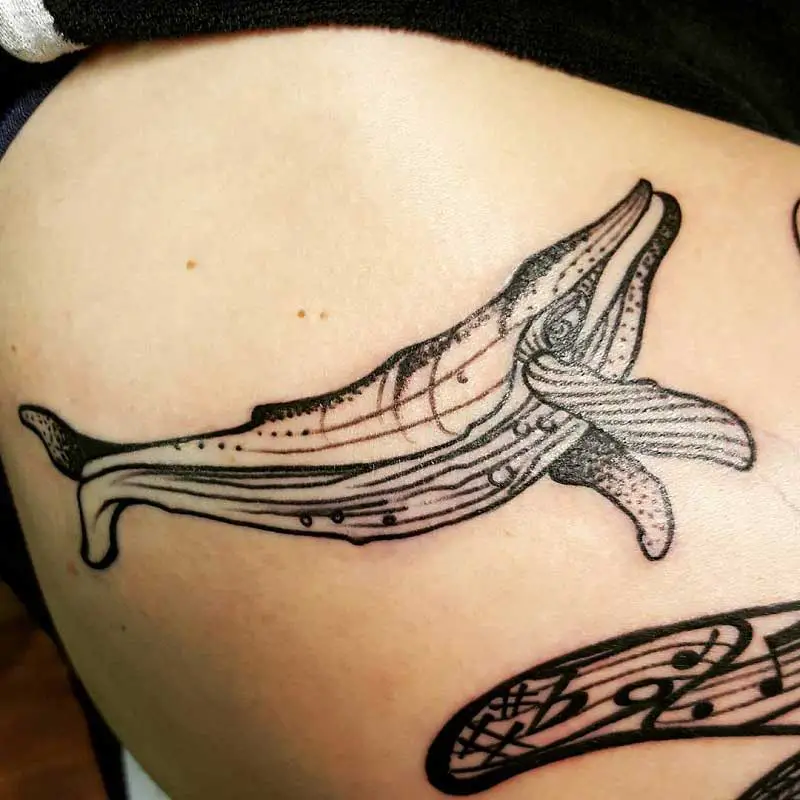 39.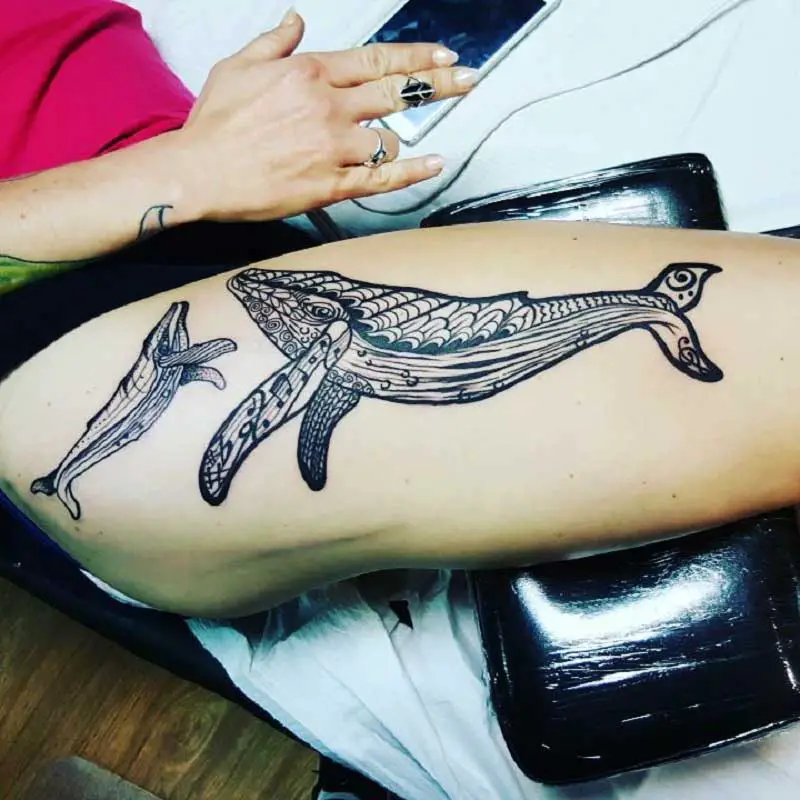 Space Whale Tattoo
40.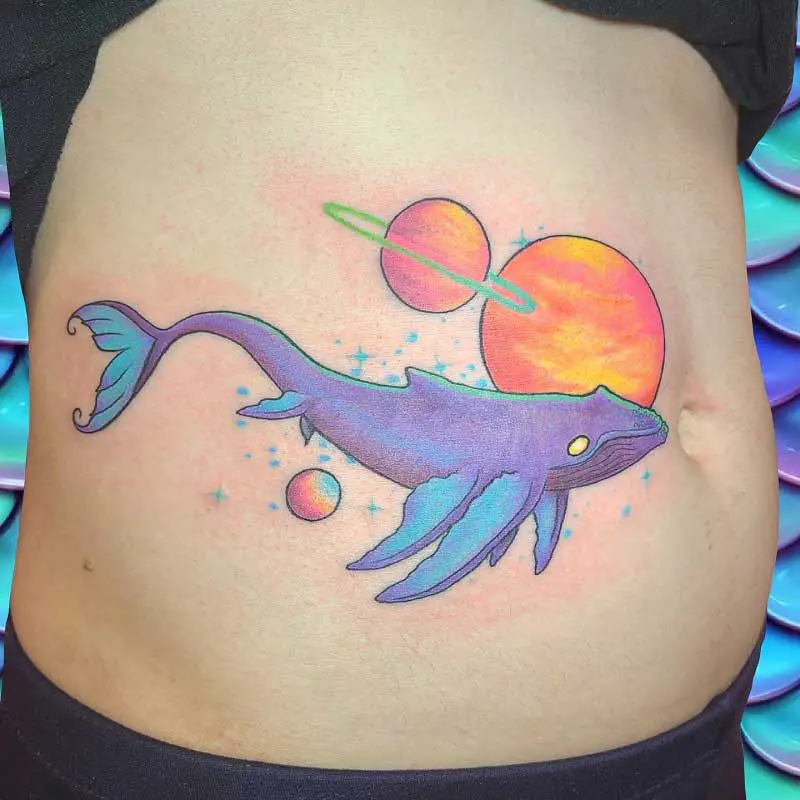 41.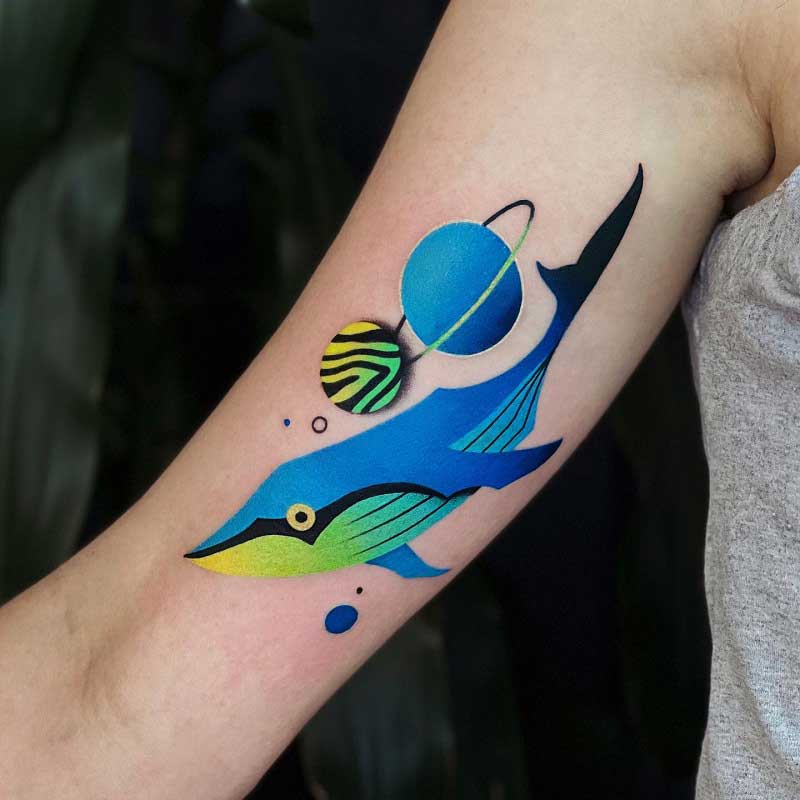 42.
Whale Skeleton Tattoo
43.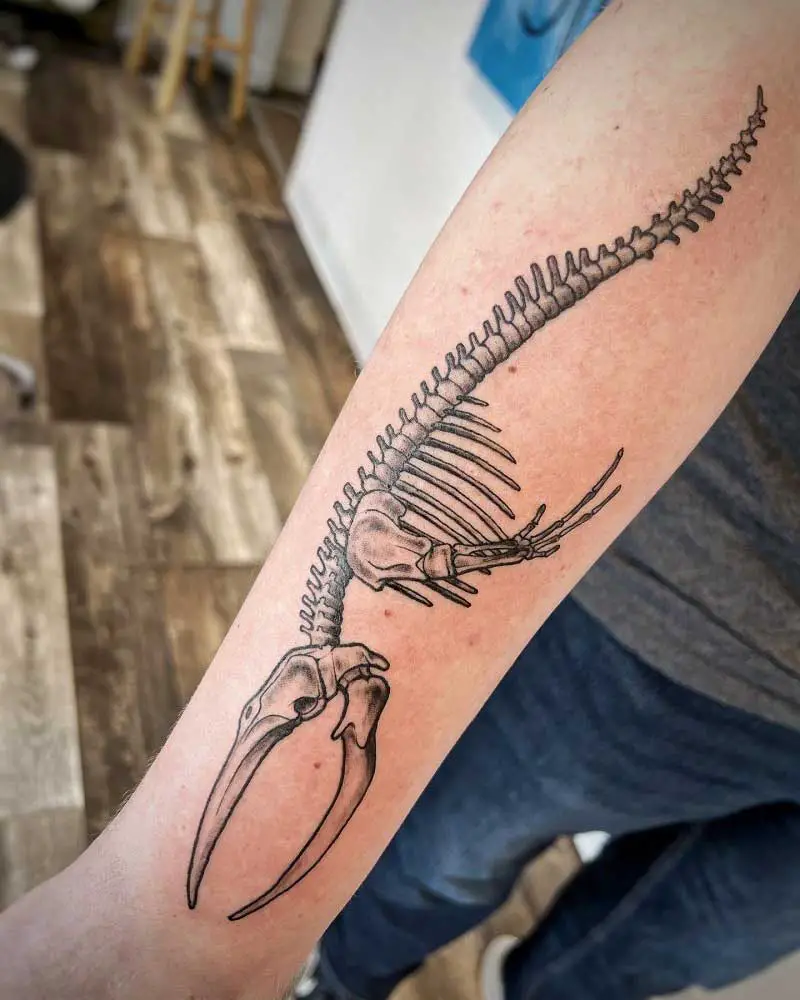 44.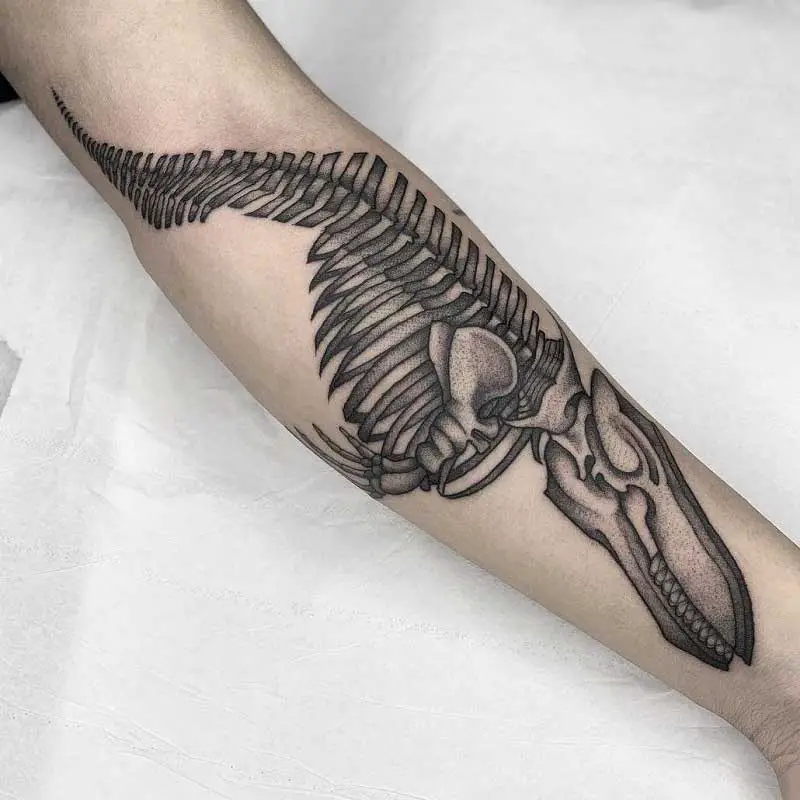 45.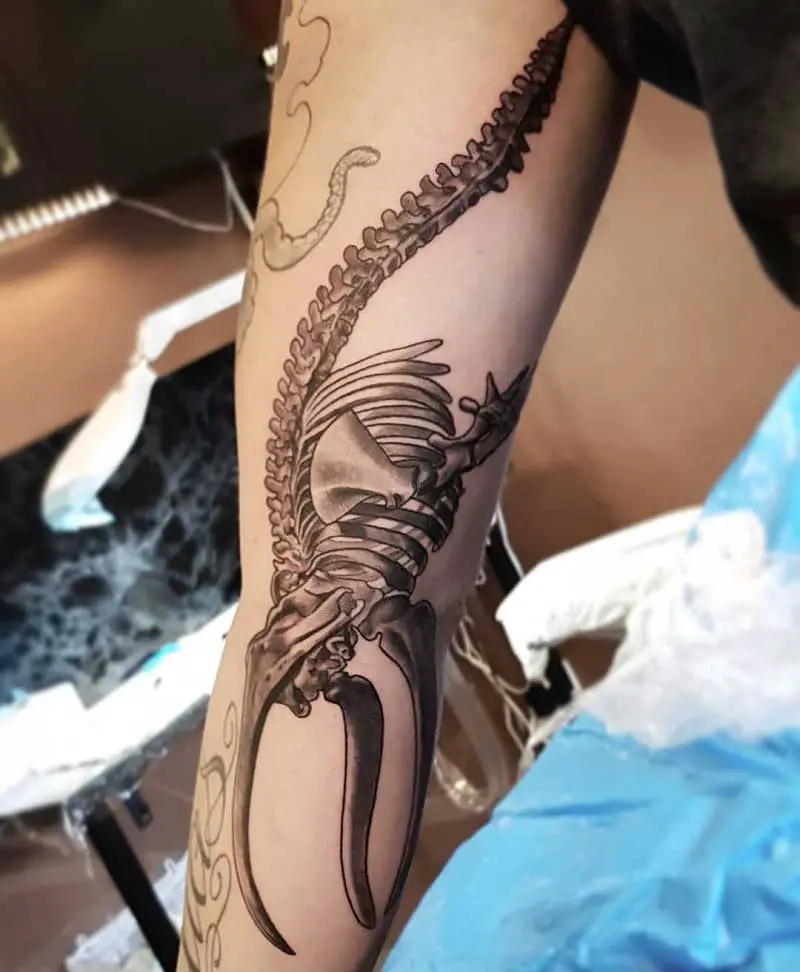 52 Hertz Whale Tattoo
46.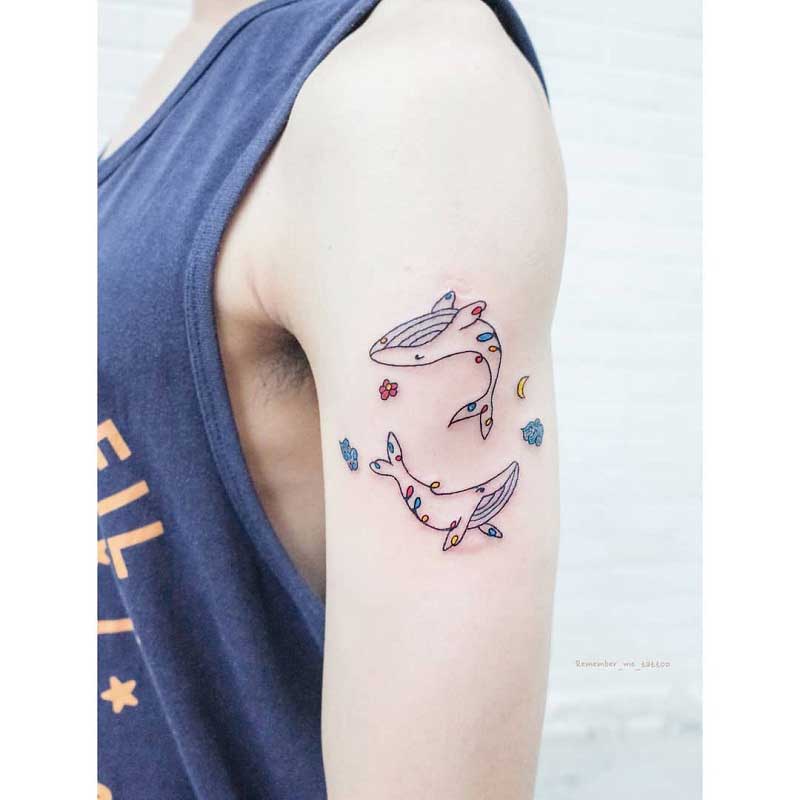 47.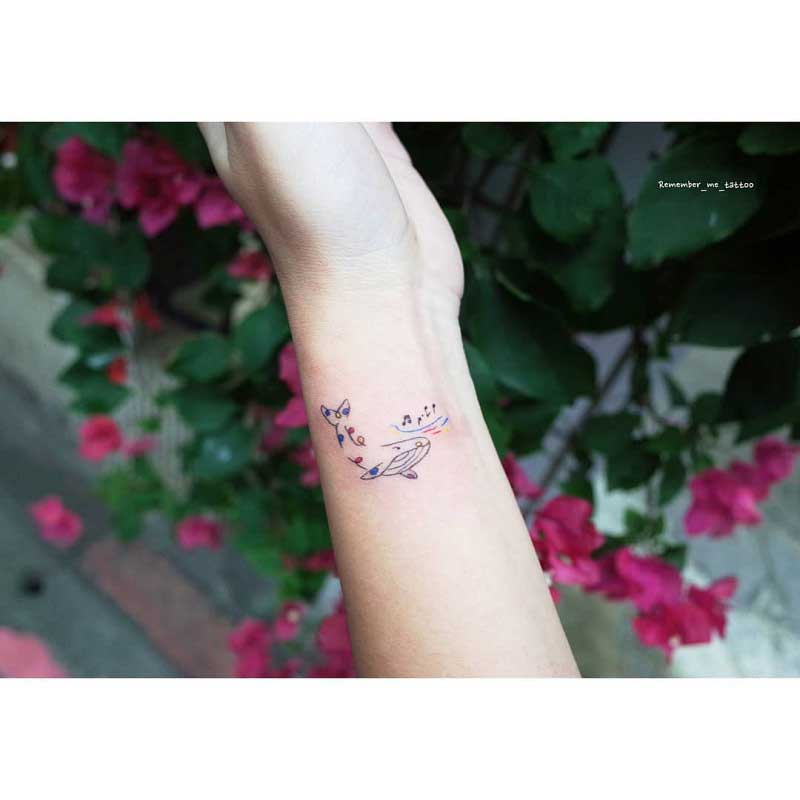 Cartoon Whale Tattoo
48.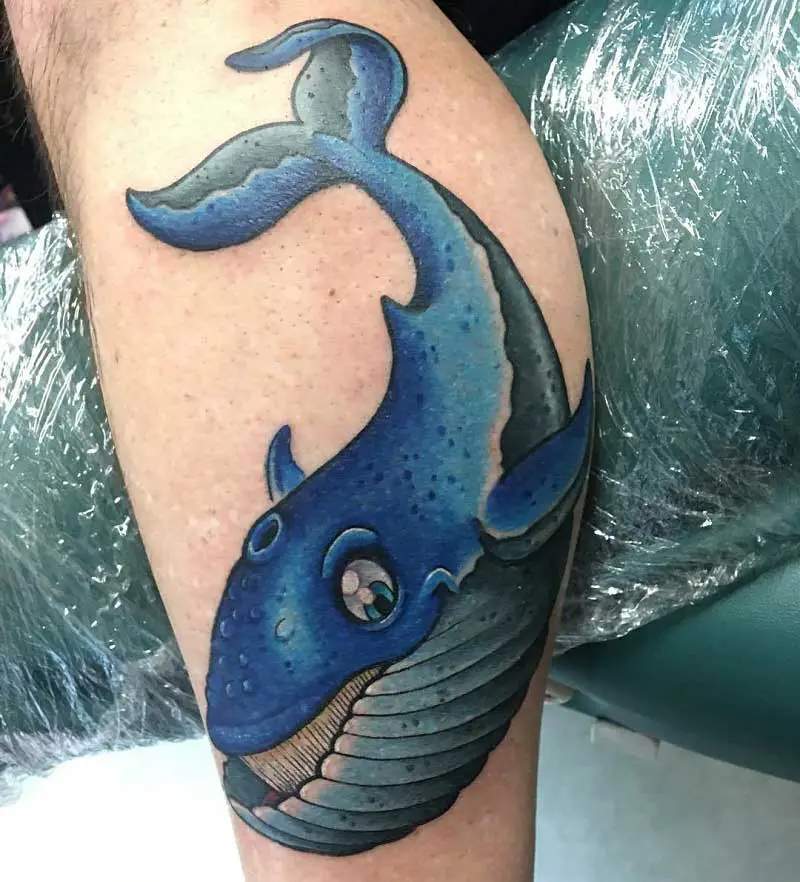 49.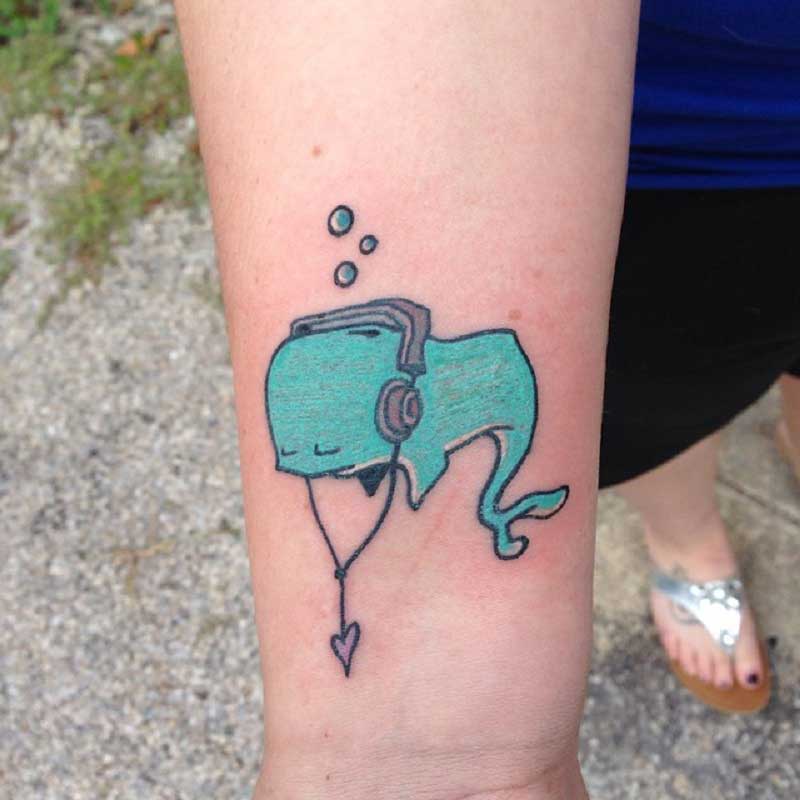 Polynesian Whale Tattoo
50.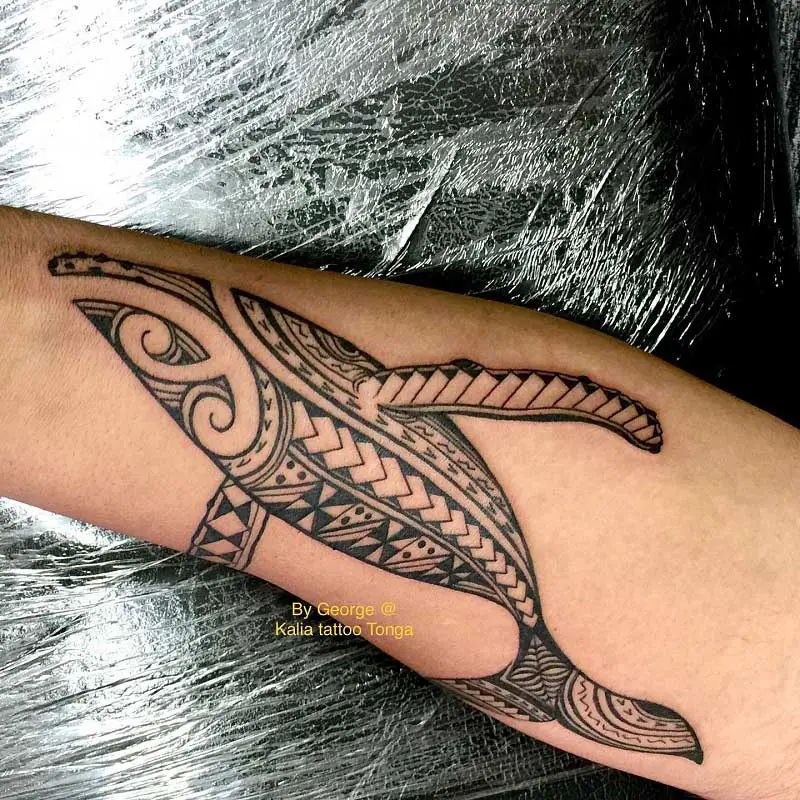 51.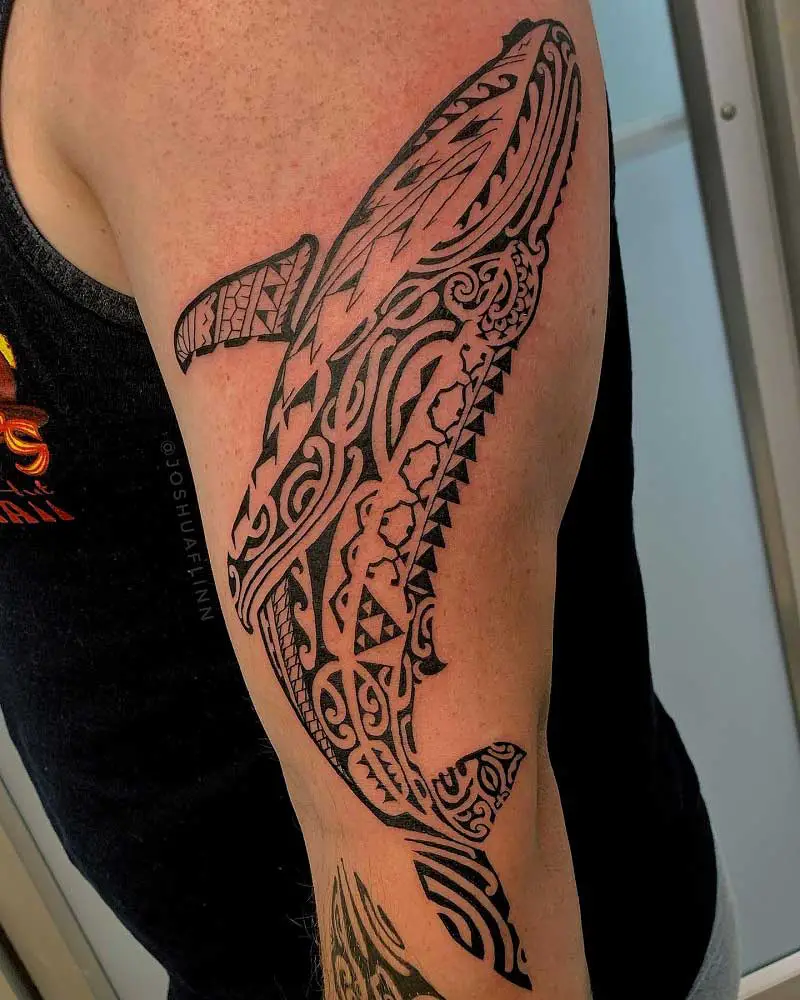 52.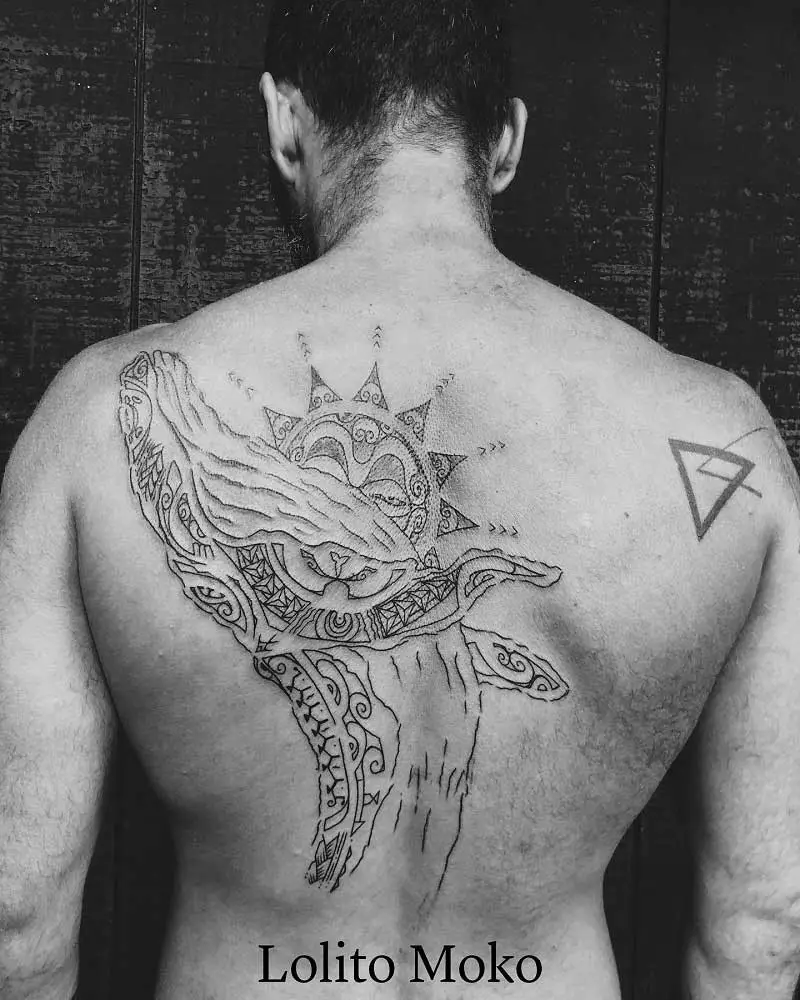 Abstract Whale Tattoo
53.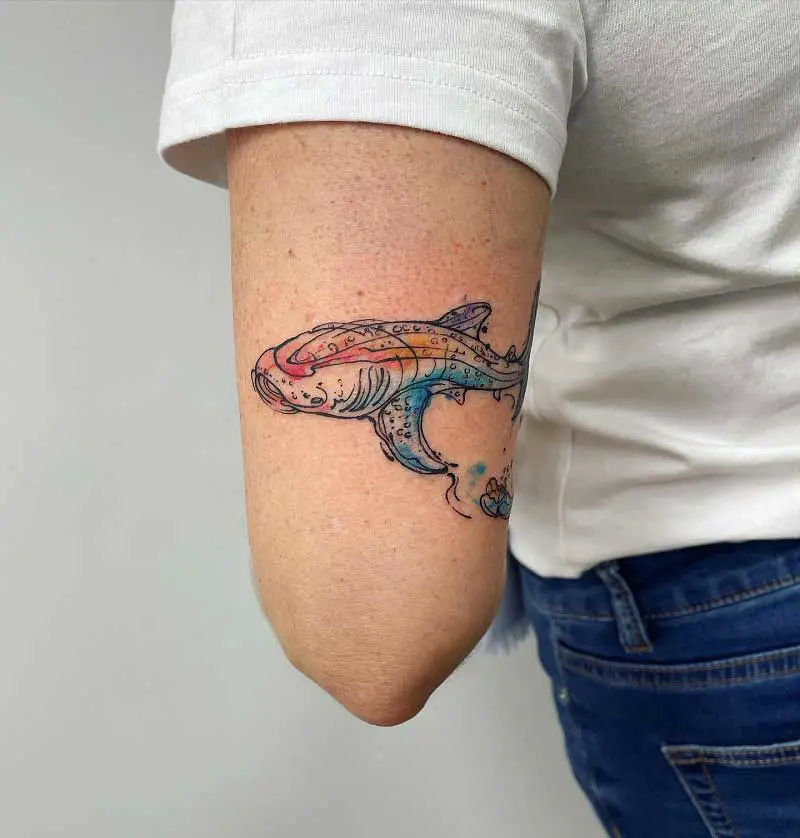 54.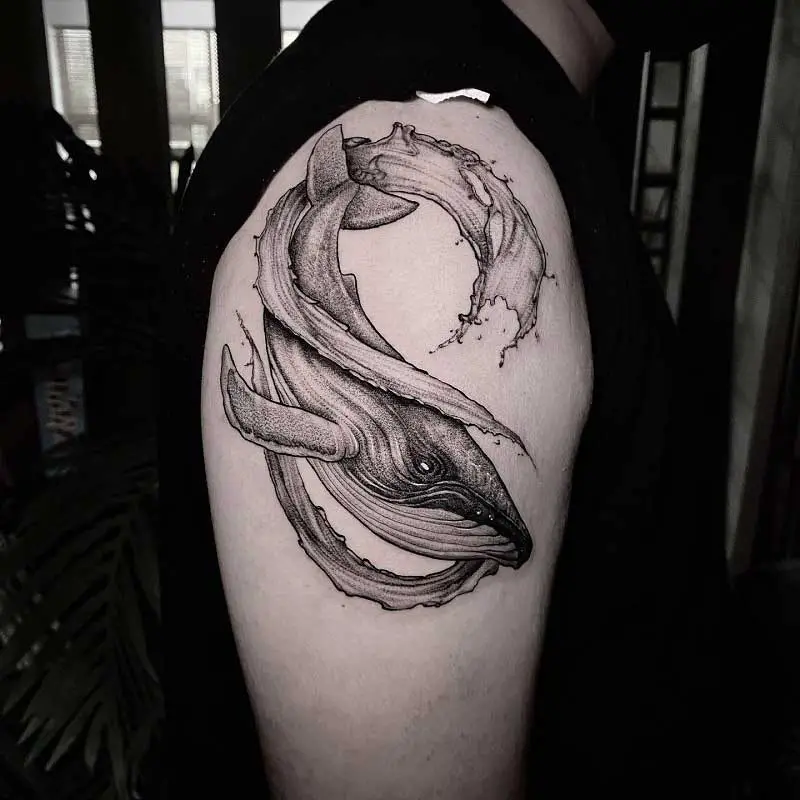 55.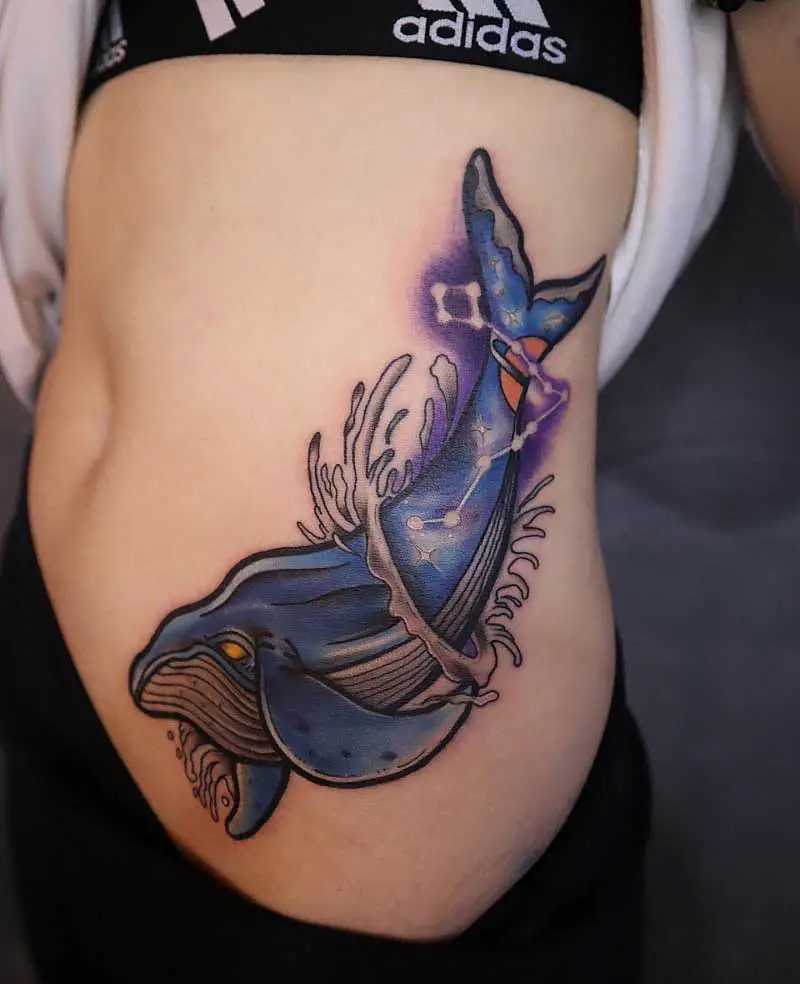 Fail Whale Tattoo
56.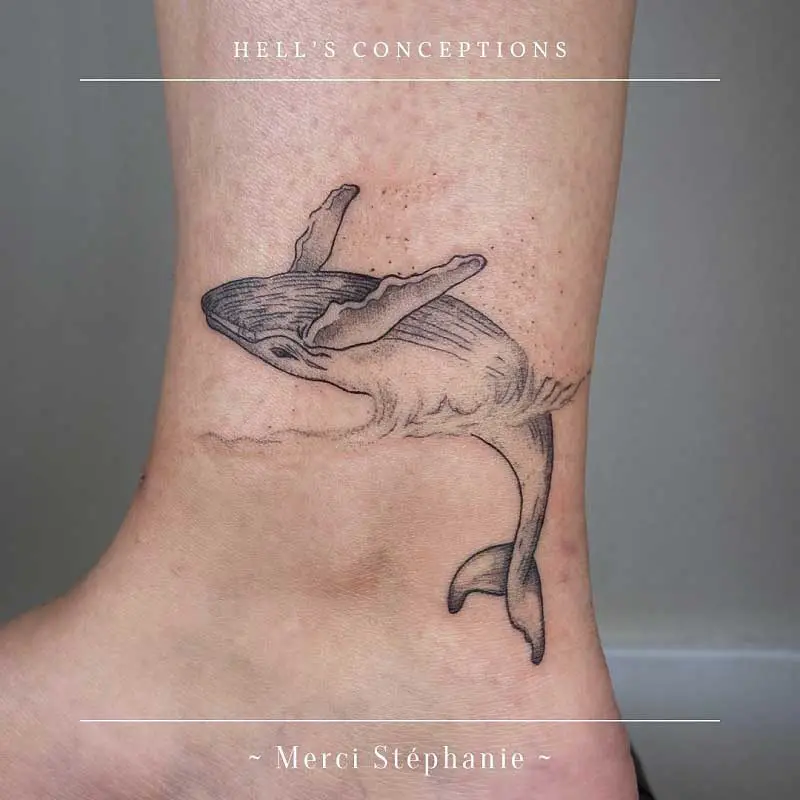 57.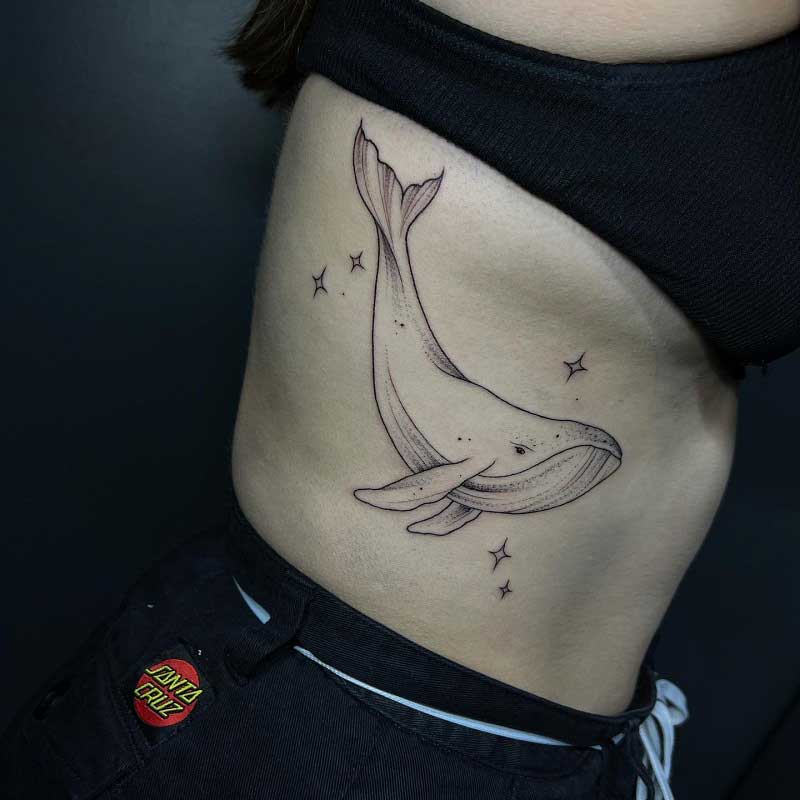 58.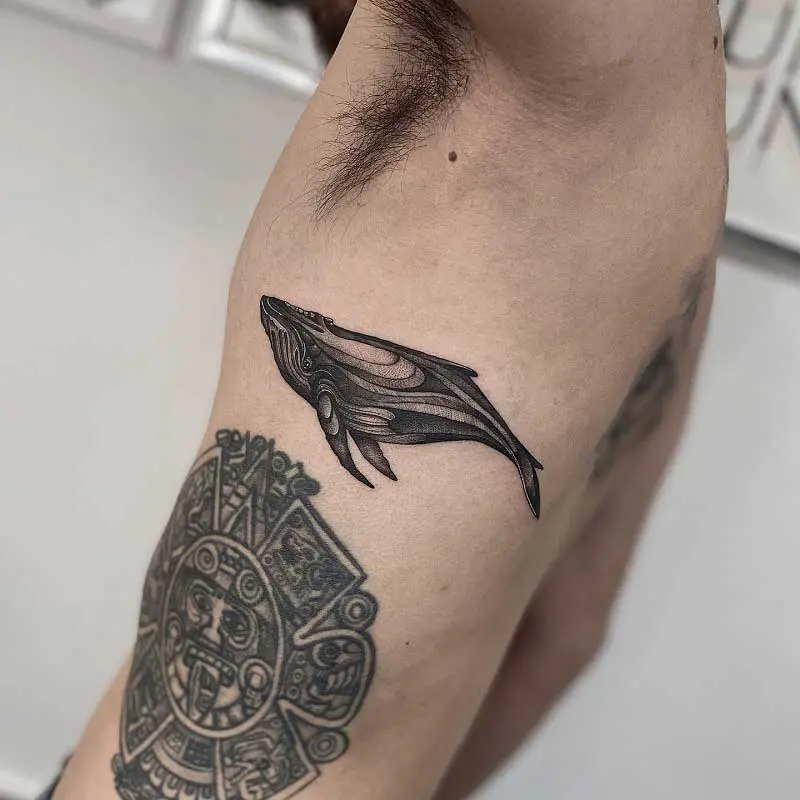 Galaxy Whale Tattoo
59.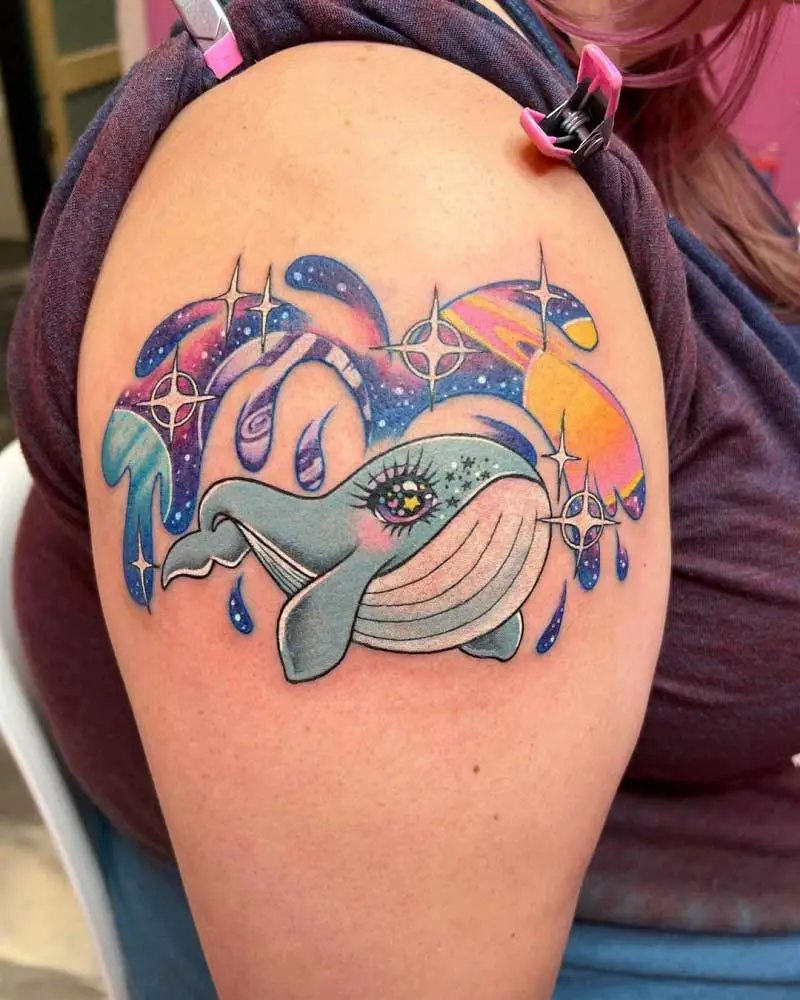 60.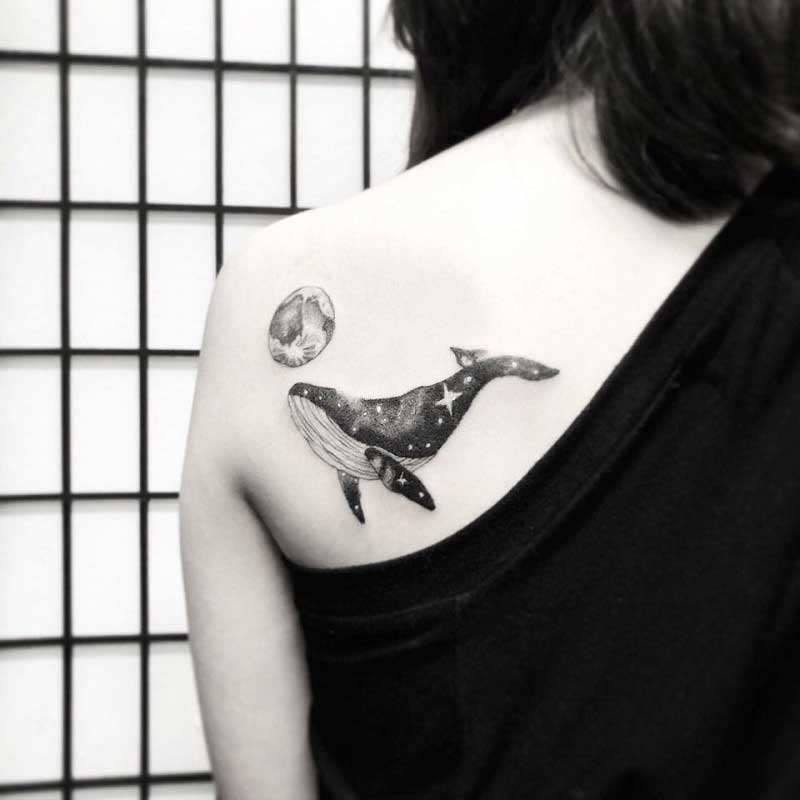 61.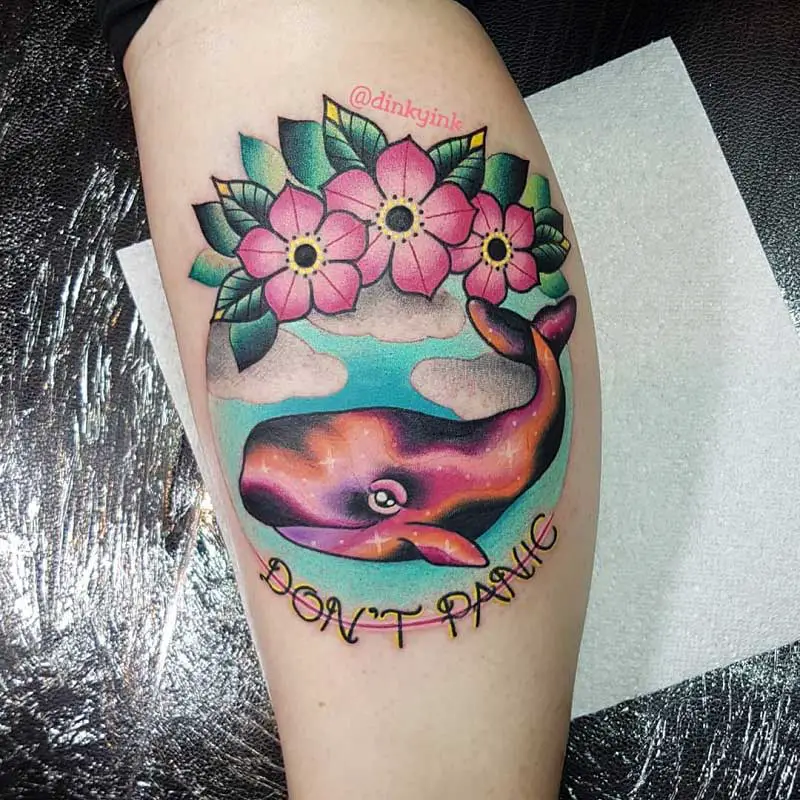 Japanese Whale Tattoo
62.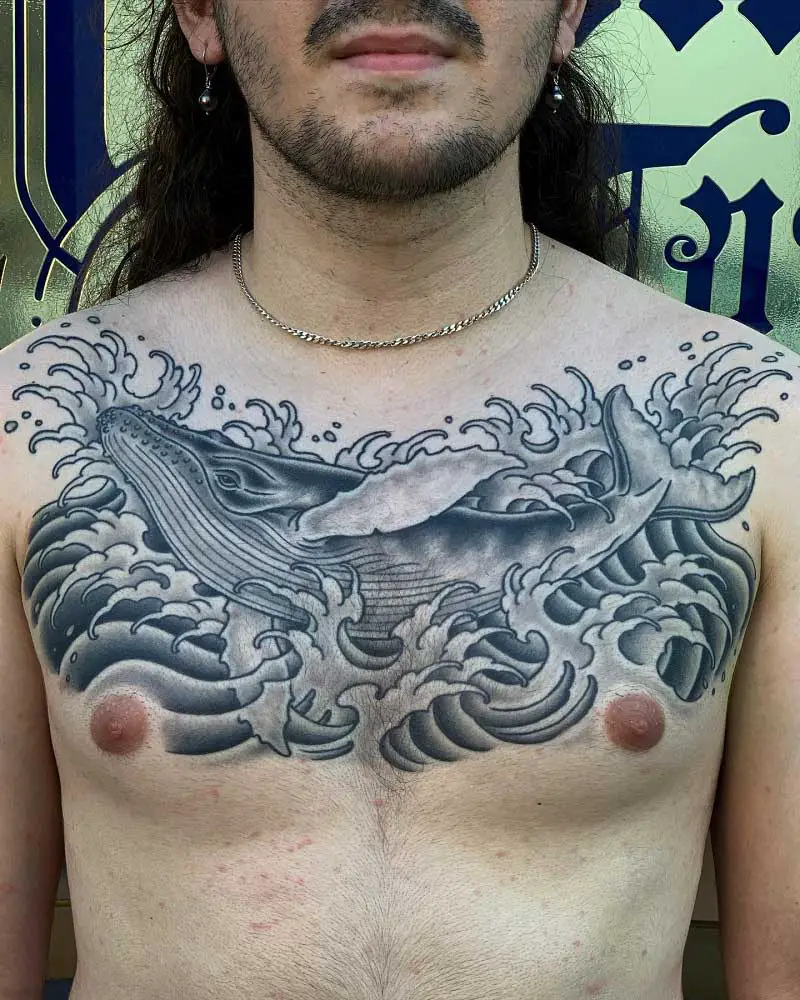 63.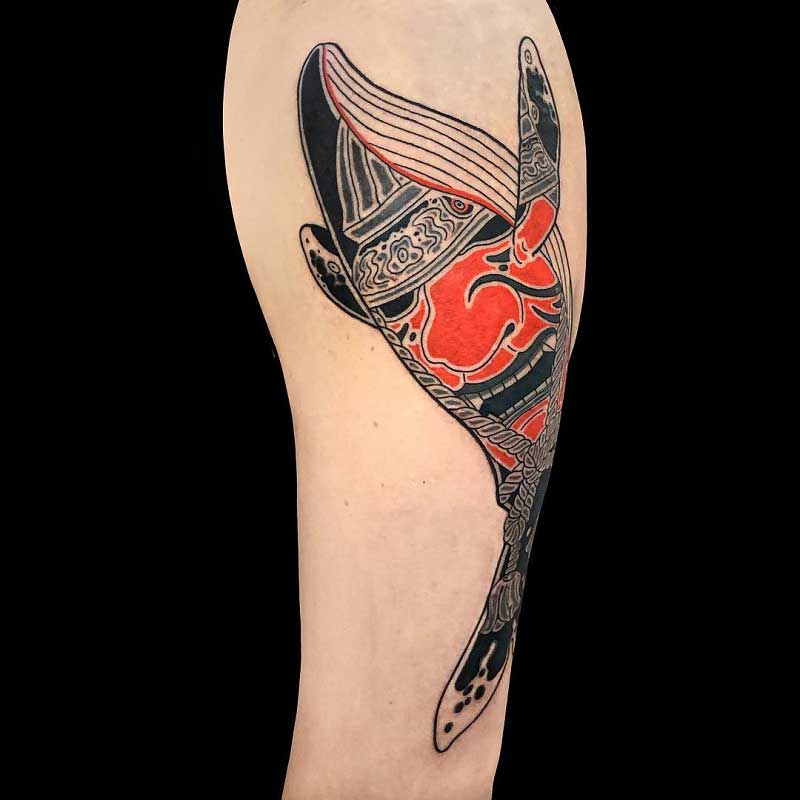 64.
Line Whale Tattoo
65.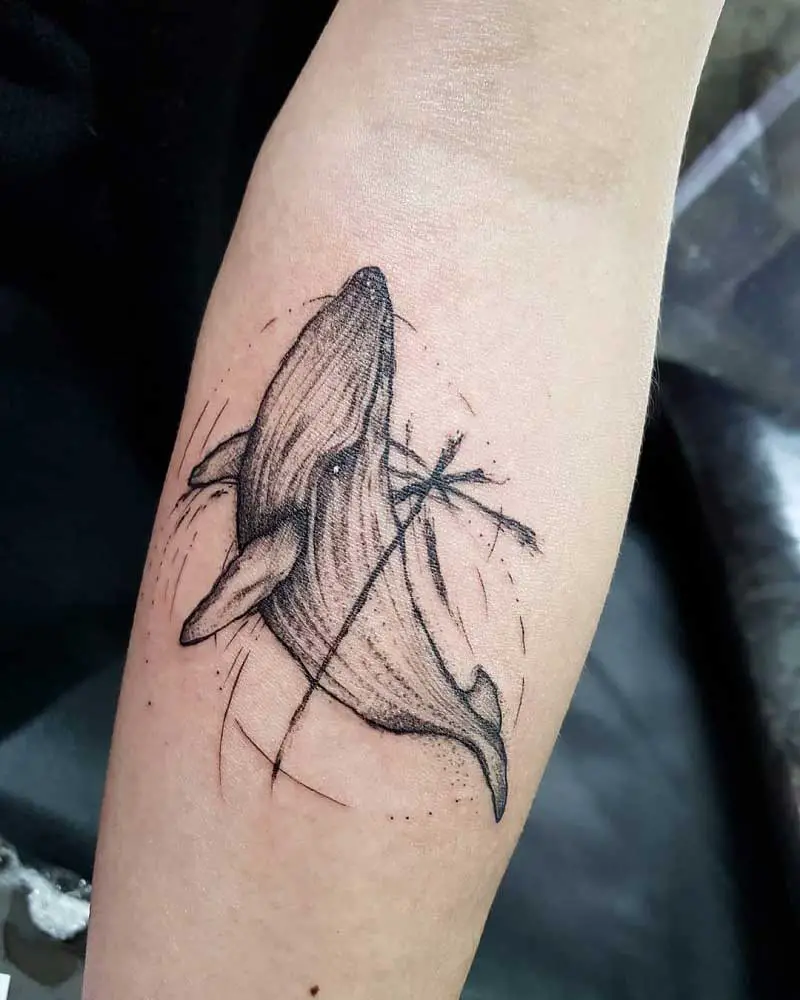 66.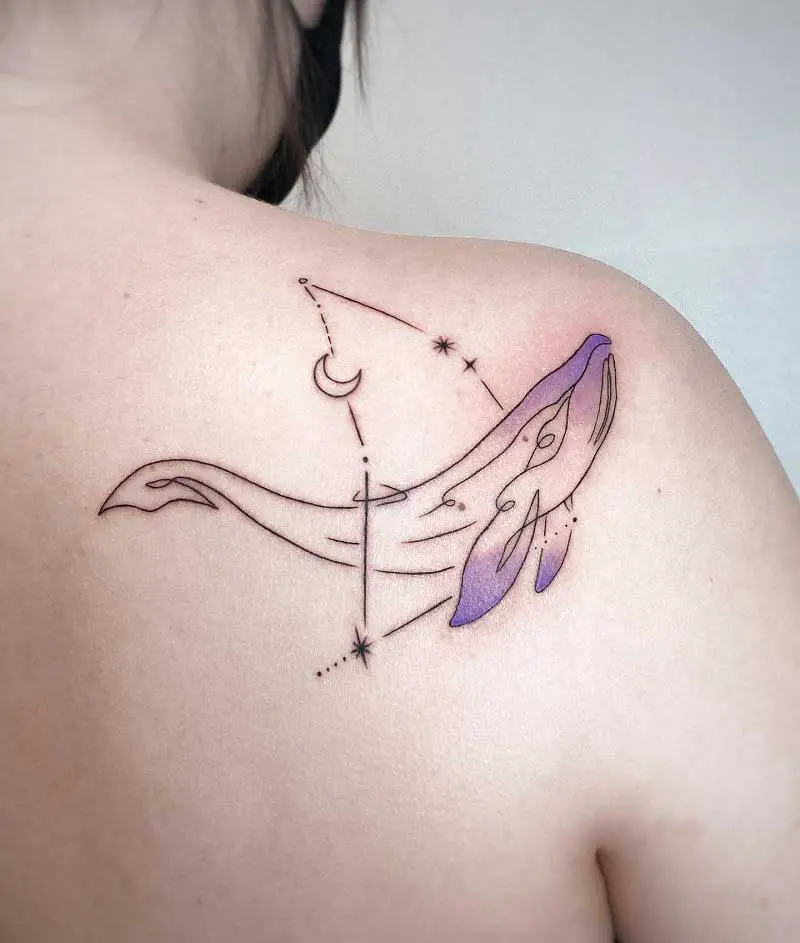 67.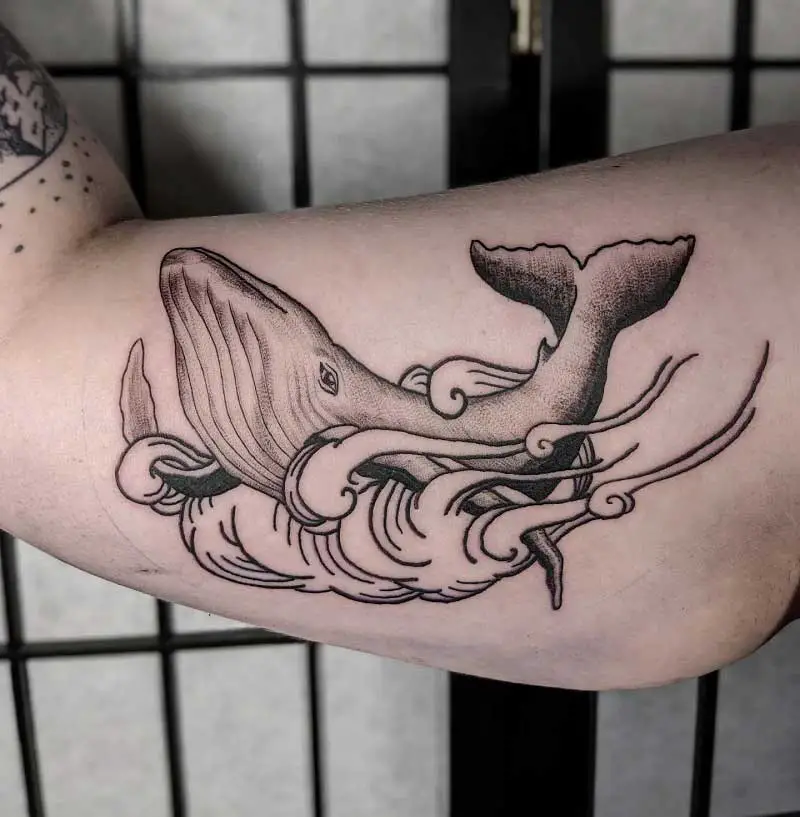 Maori Whale Tattoo
68.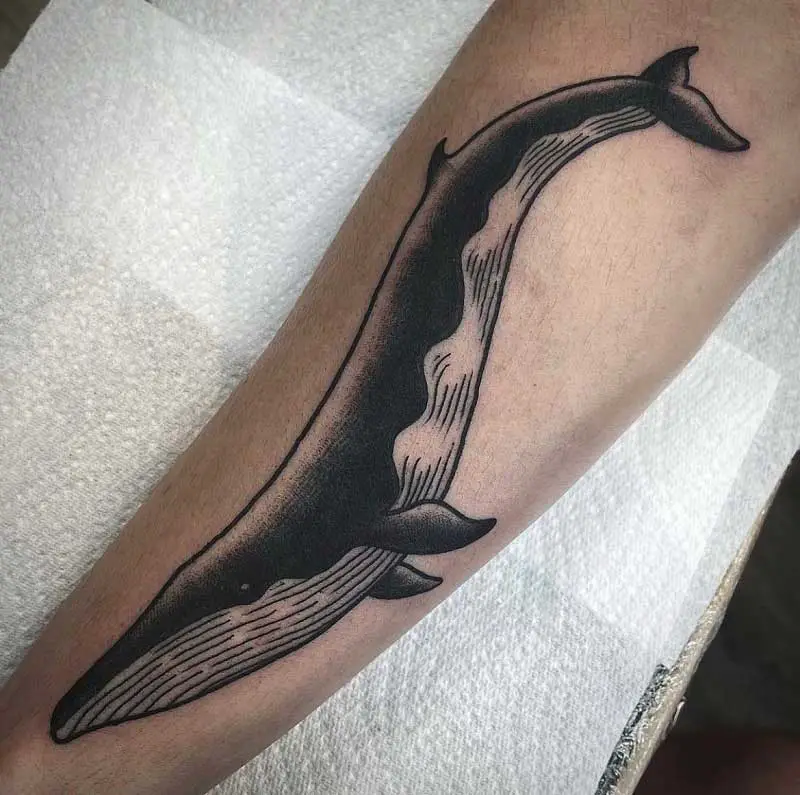 69.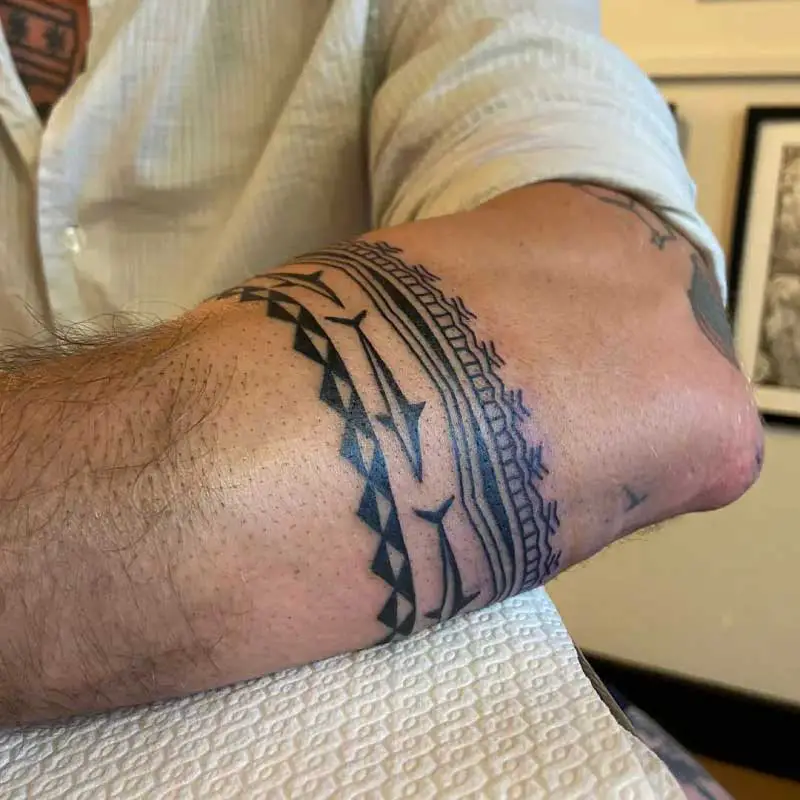 70.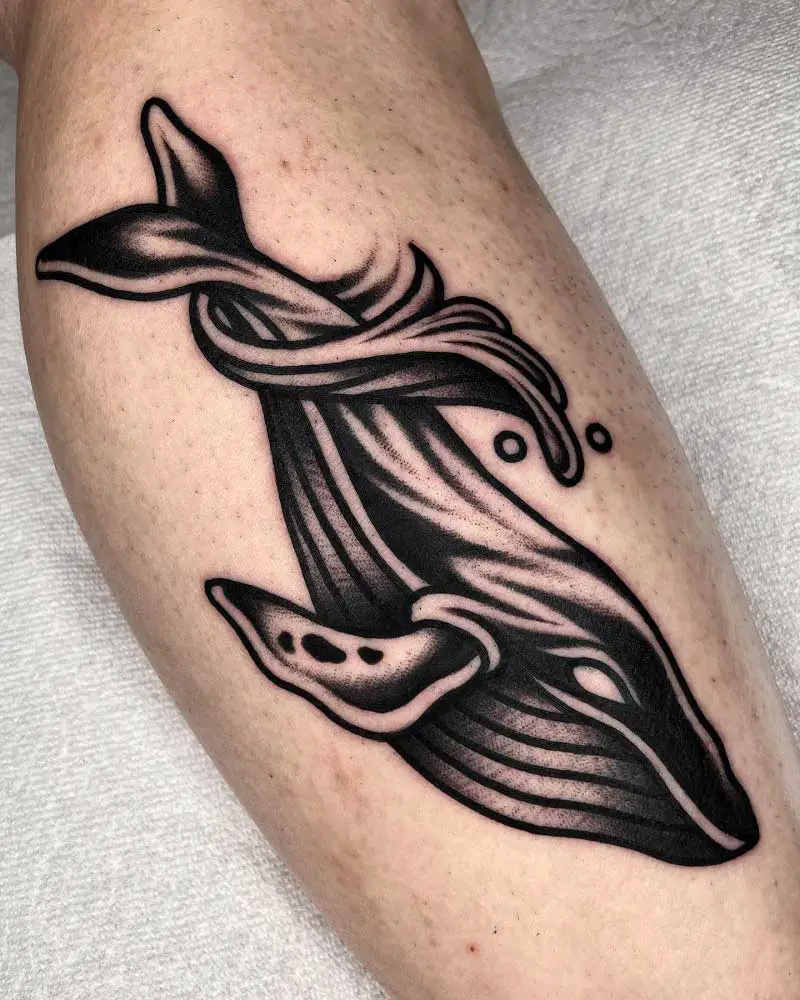 Native American Whale Tattoo
71.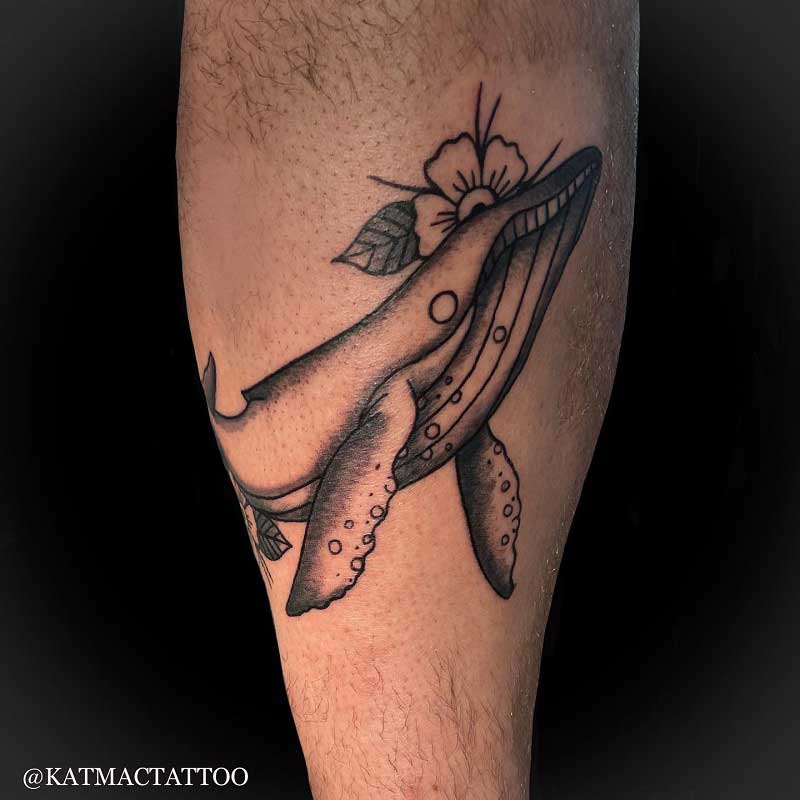 72.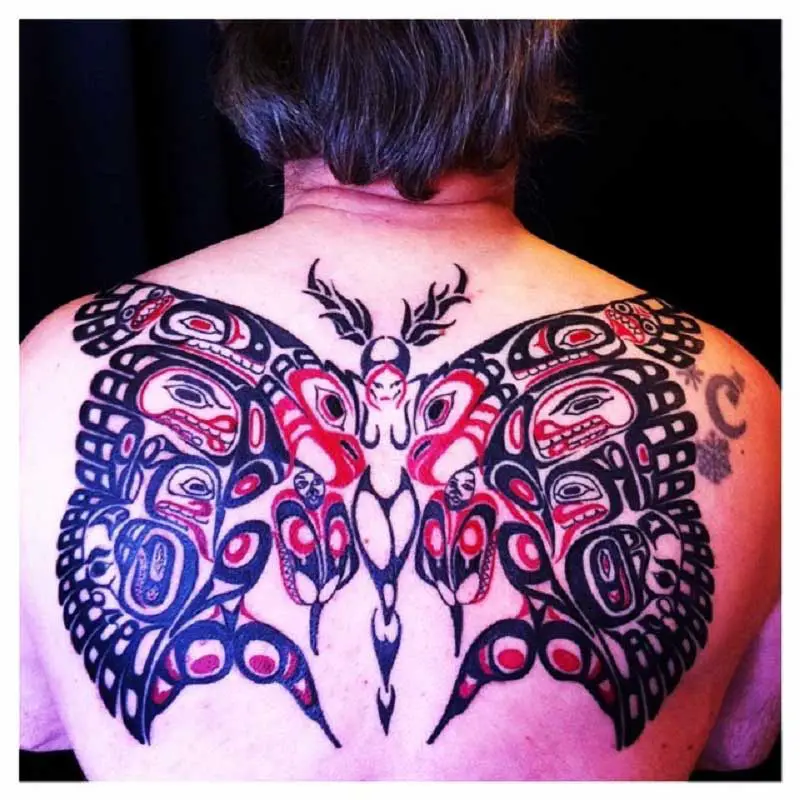 Whale Back Tattoo
73.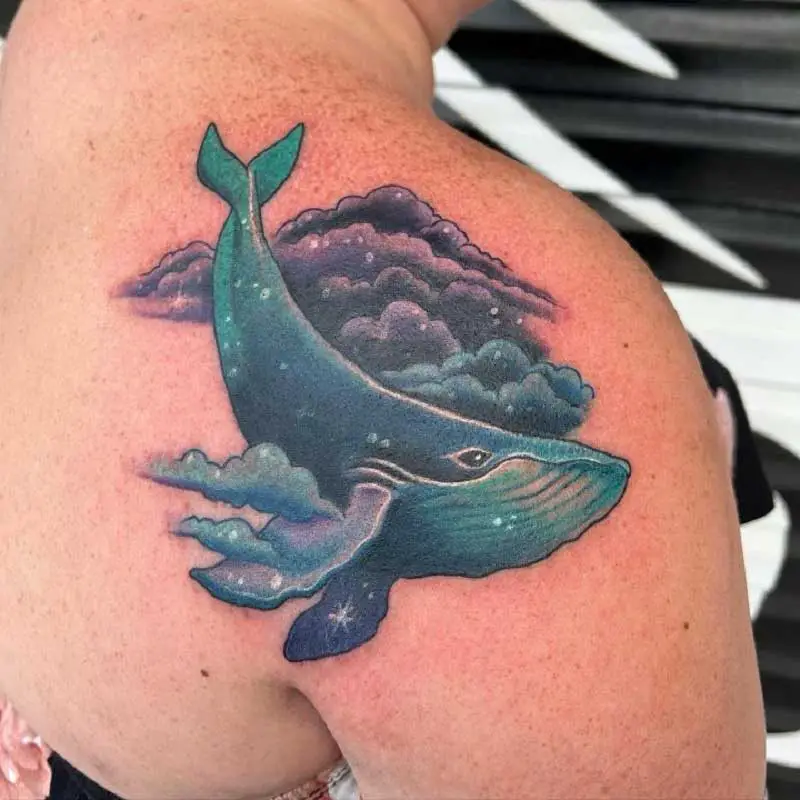 74.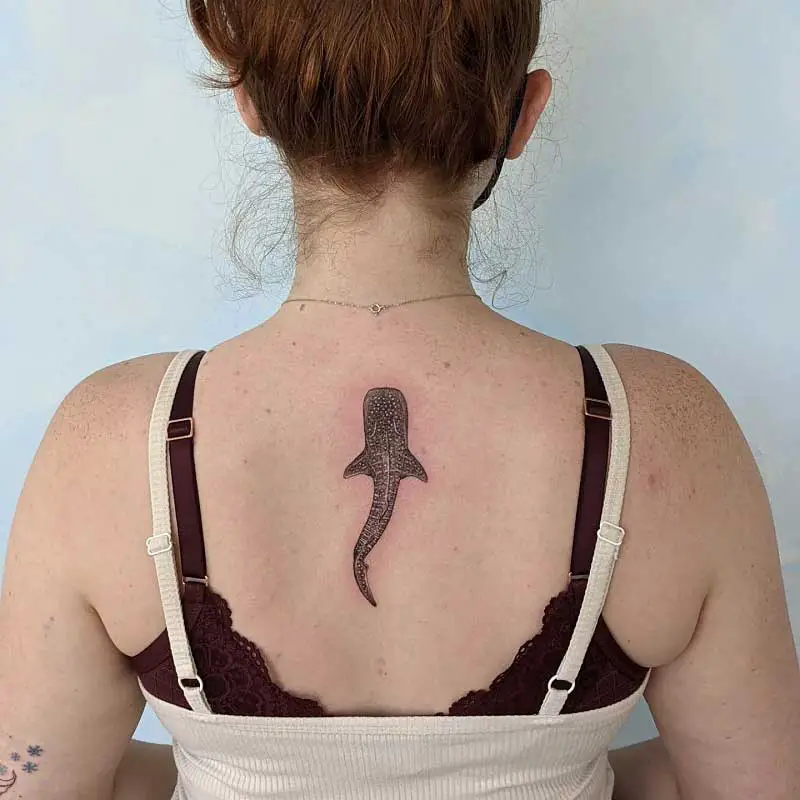 75.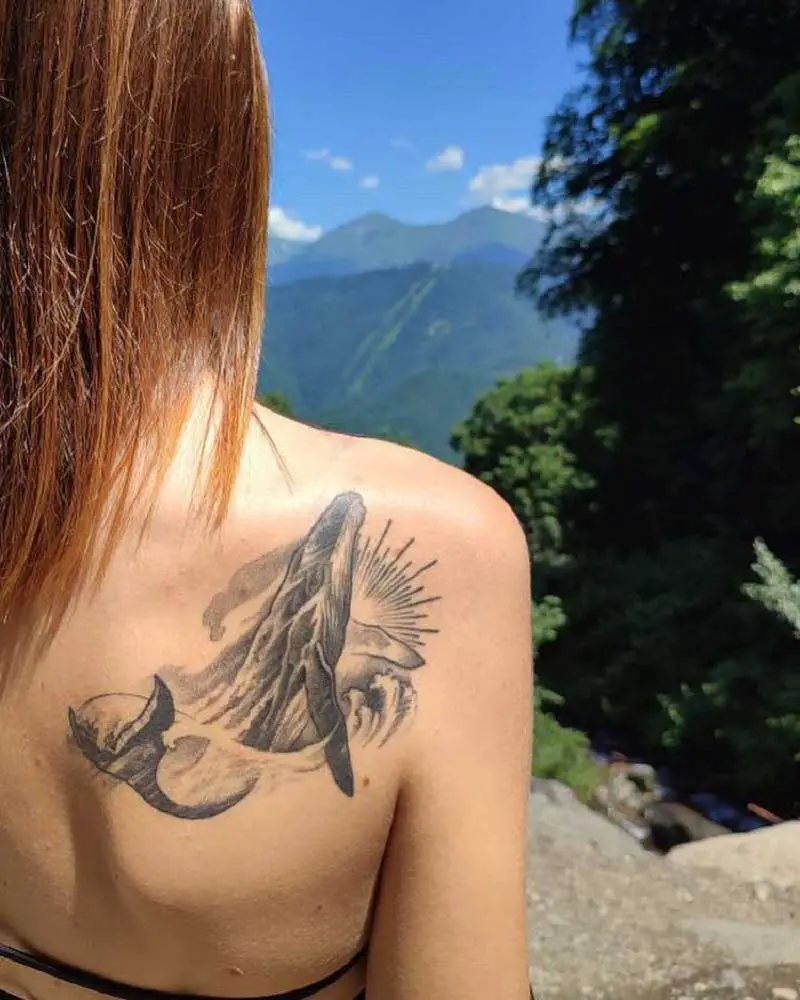 Whale Compass Tattoo
76.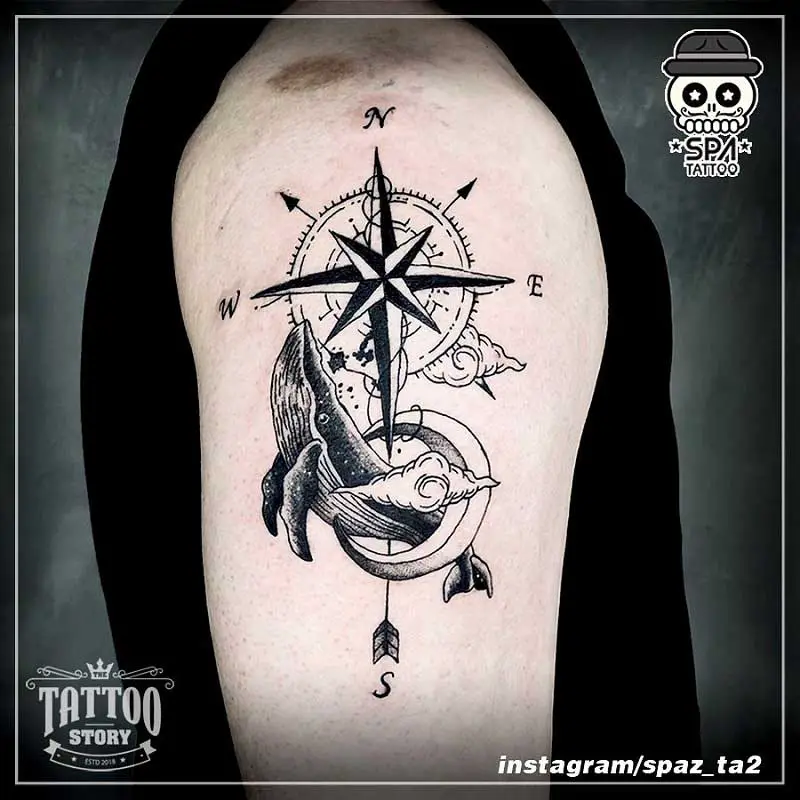 77.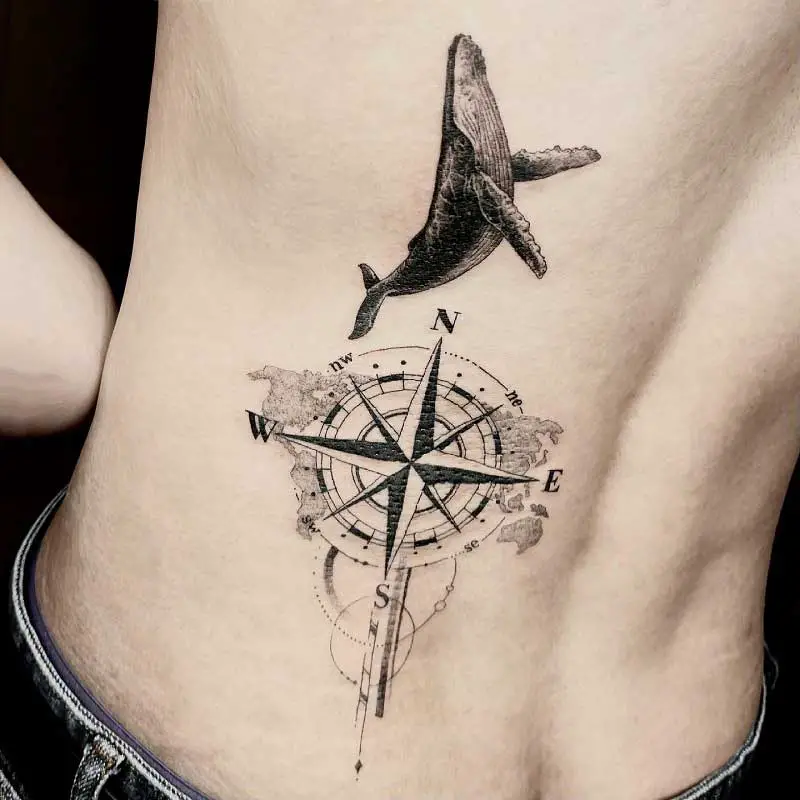 78.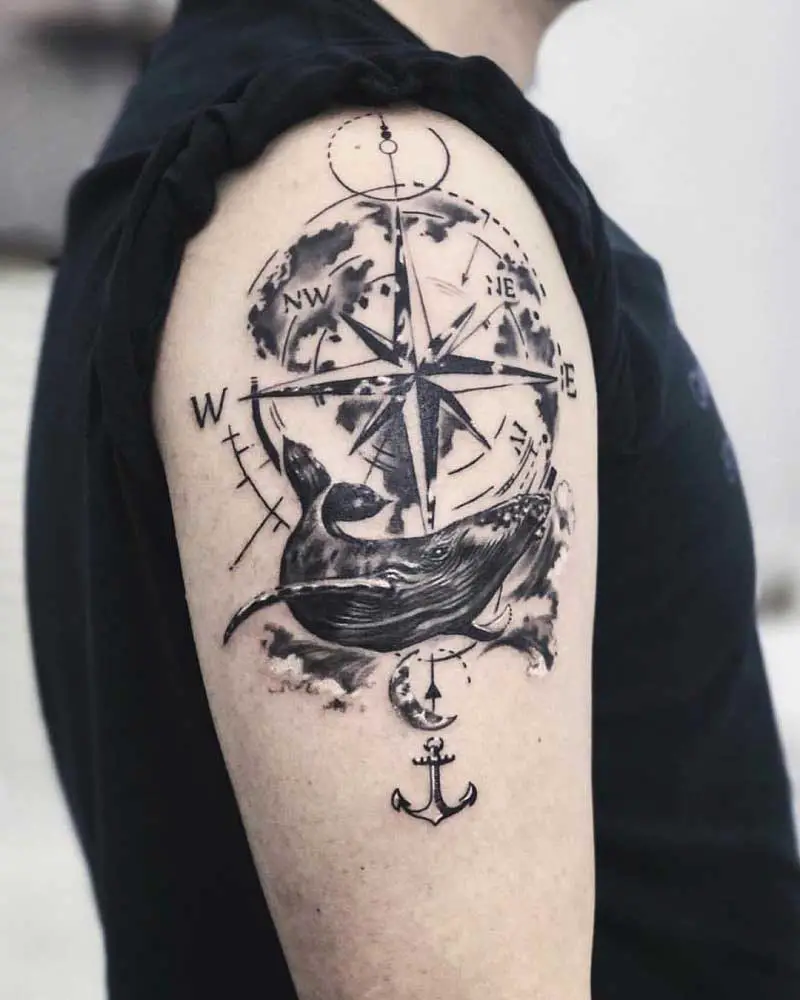 Whale Fin Tattoo
79.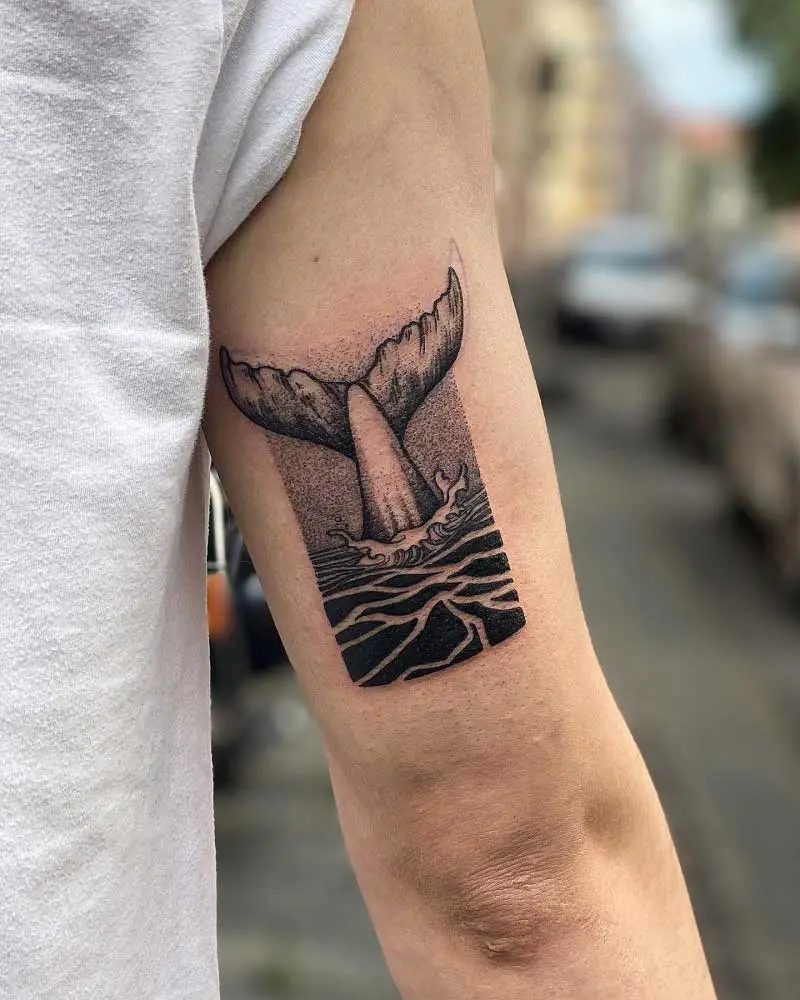 80.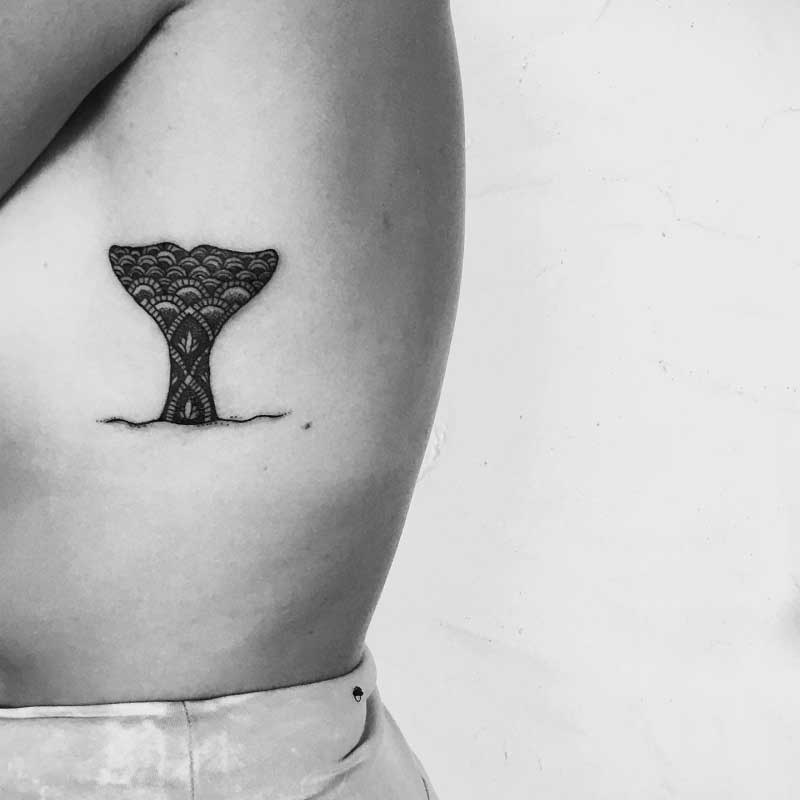 81.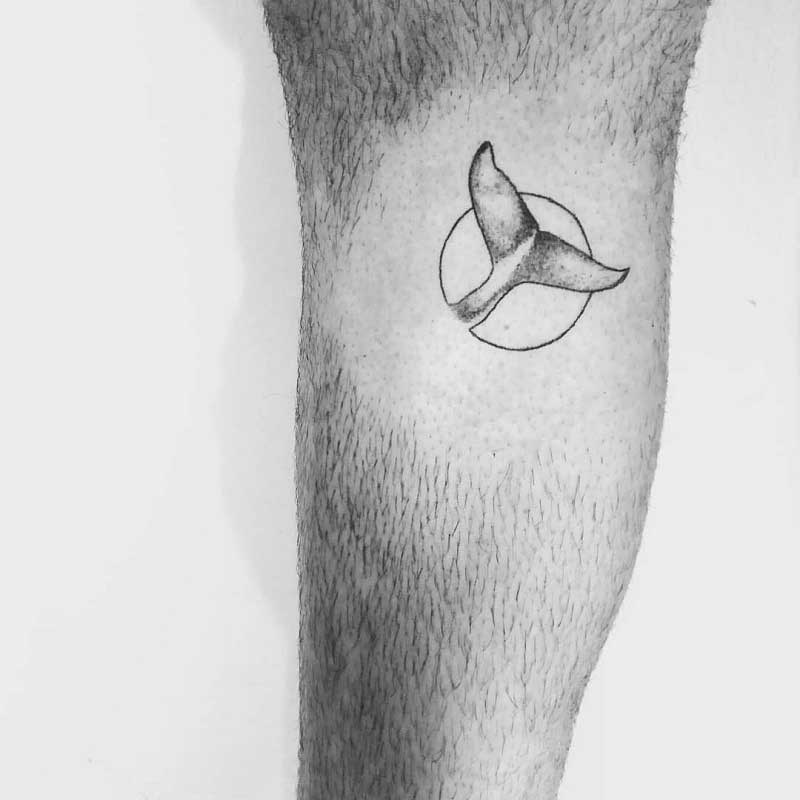 Whale Fluke Tattoo
82.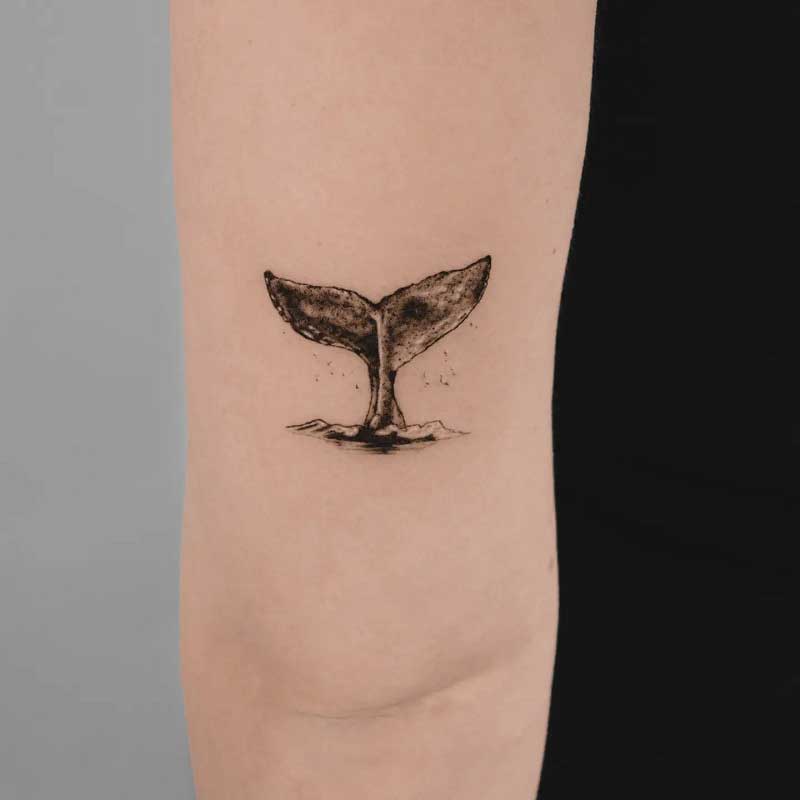 83.
Whale Ocean Tattoo
84.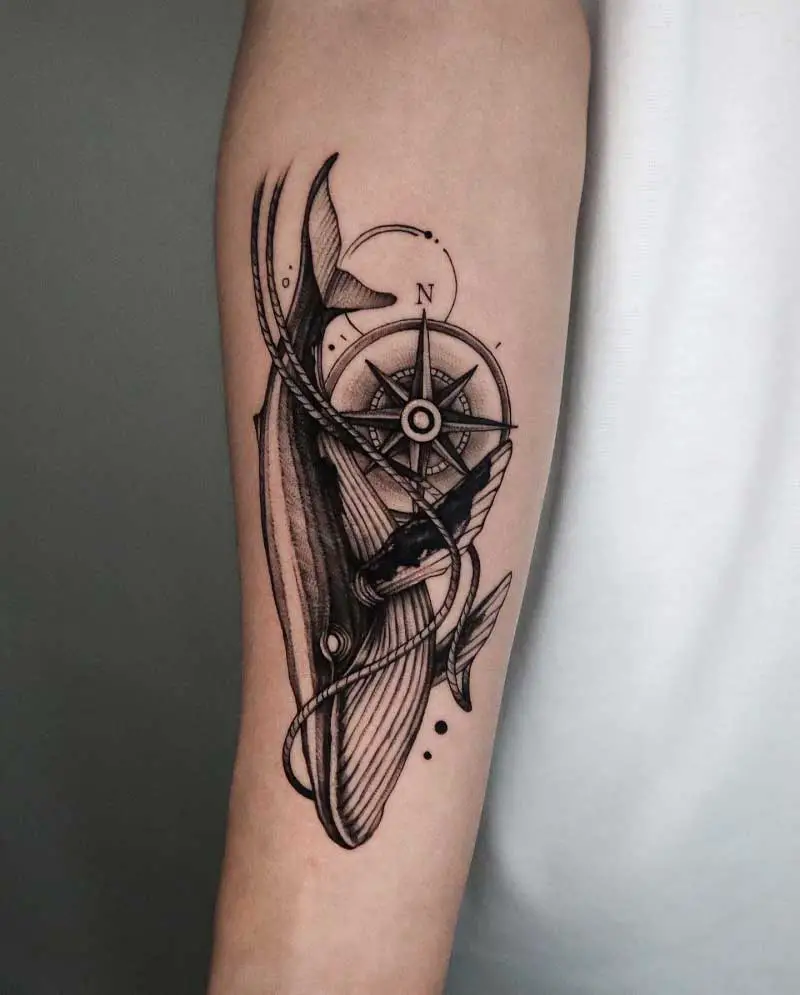 85.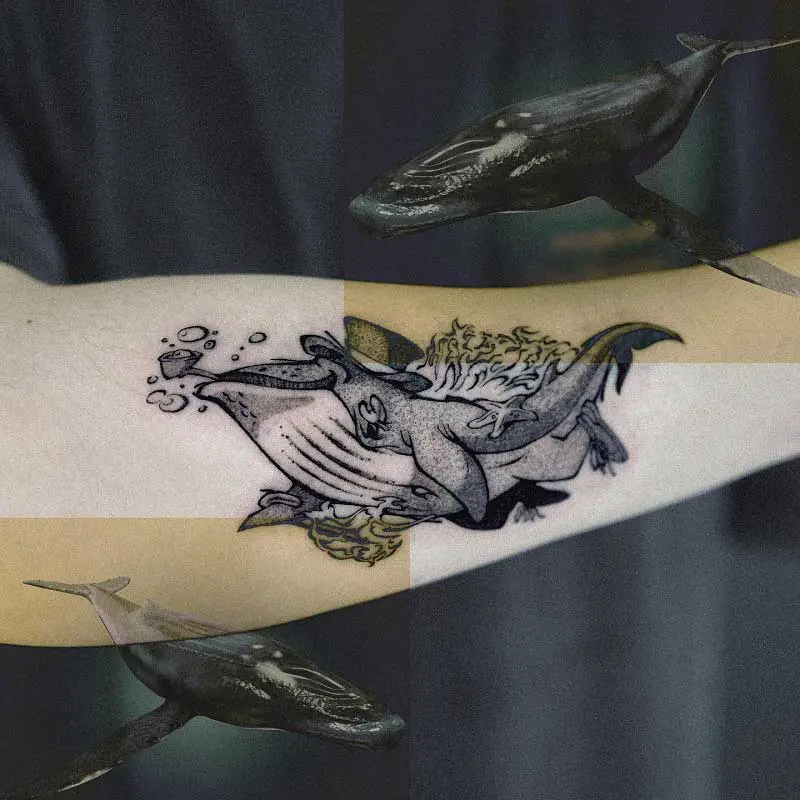 86.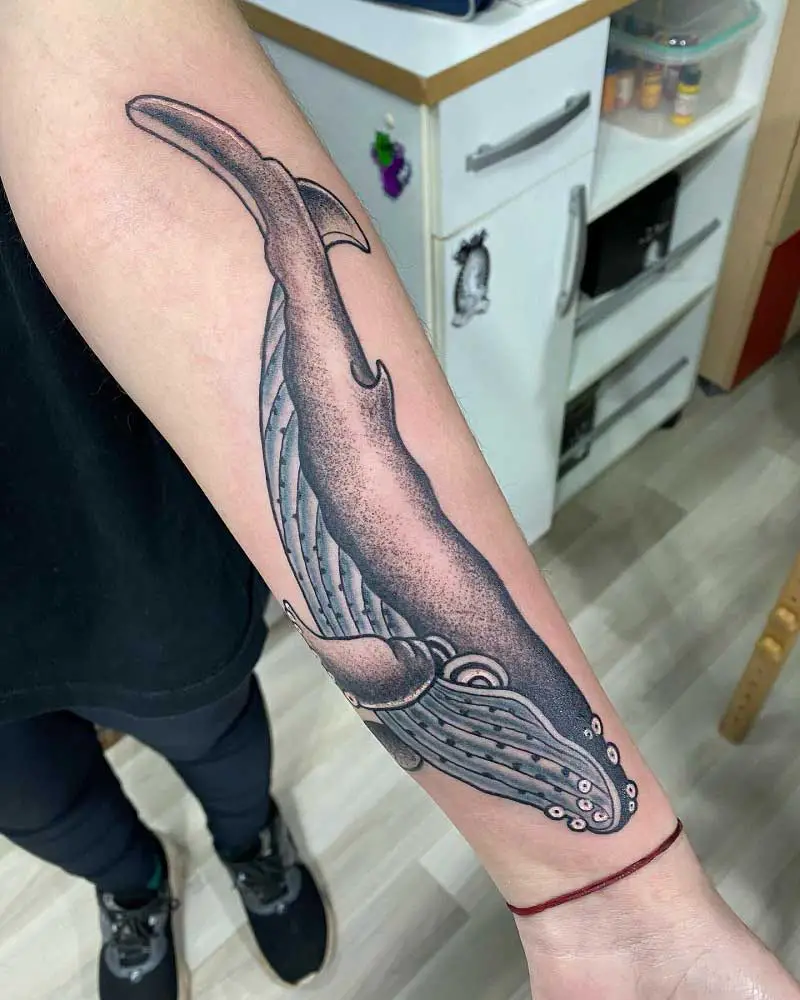 Whale Rider Tattoo
87.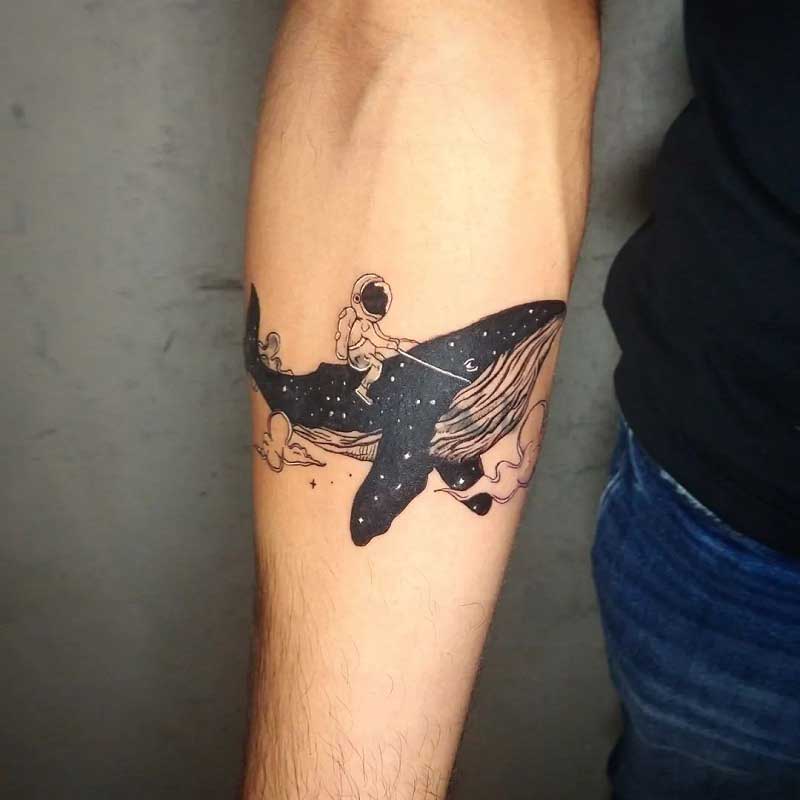 88.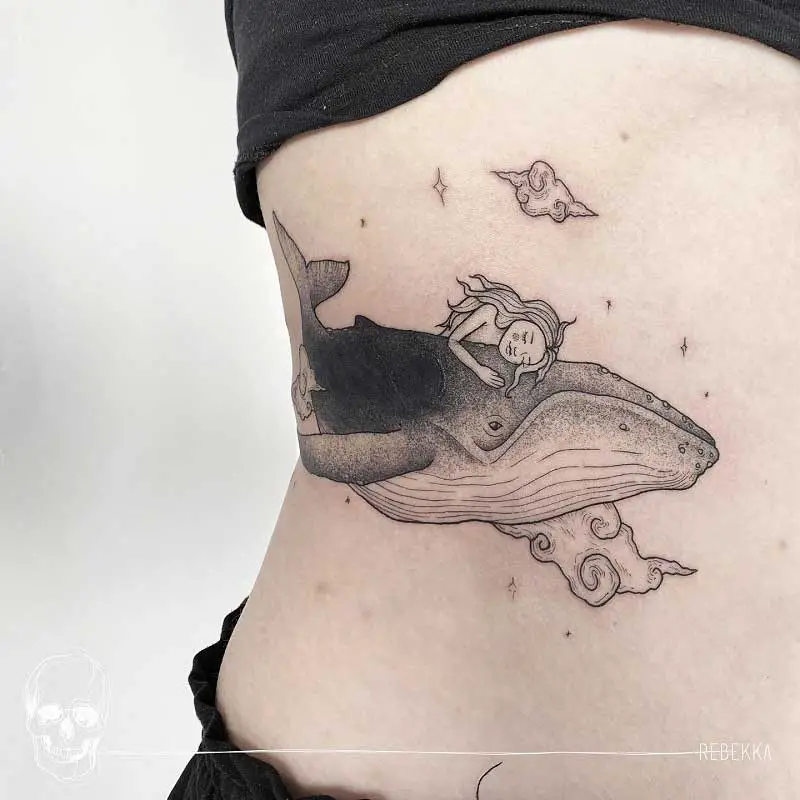 89.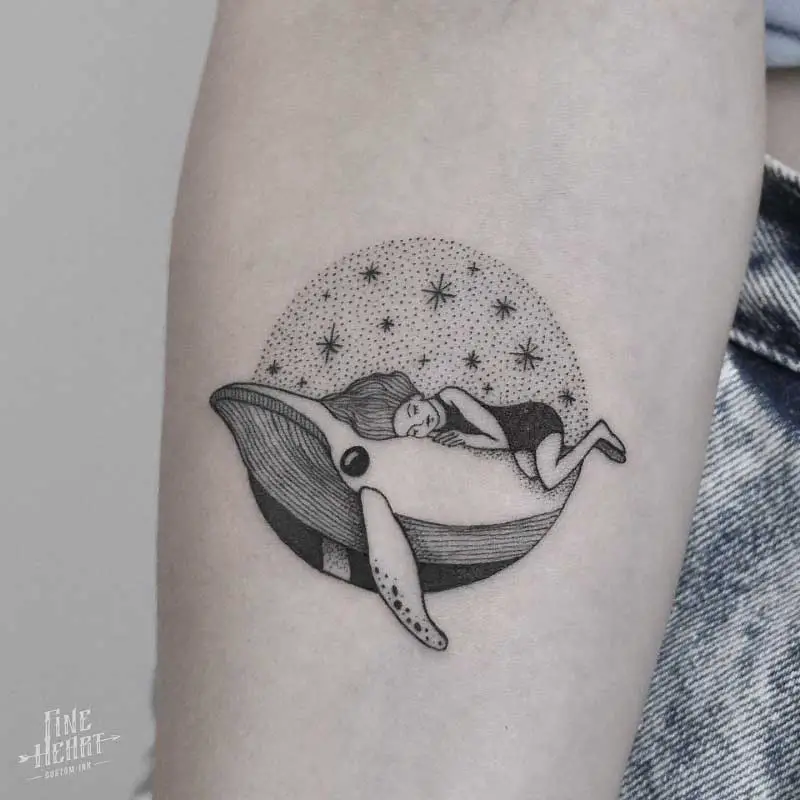 Flying Whale Tattoo
90.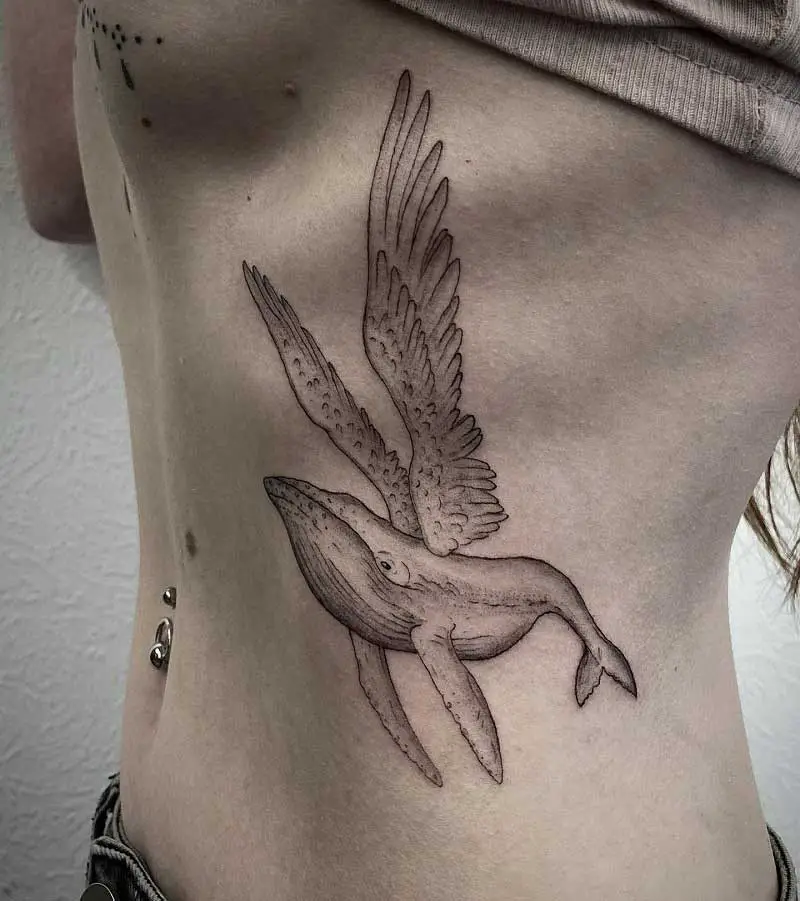 91.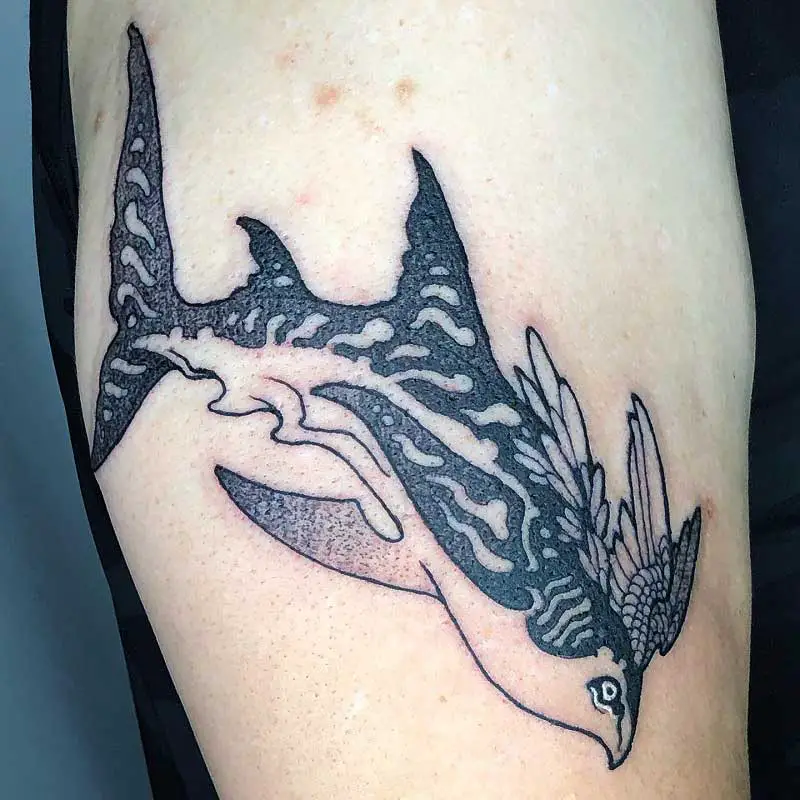 92.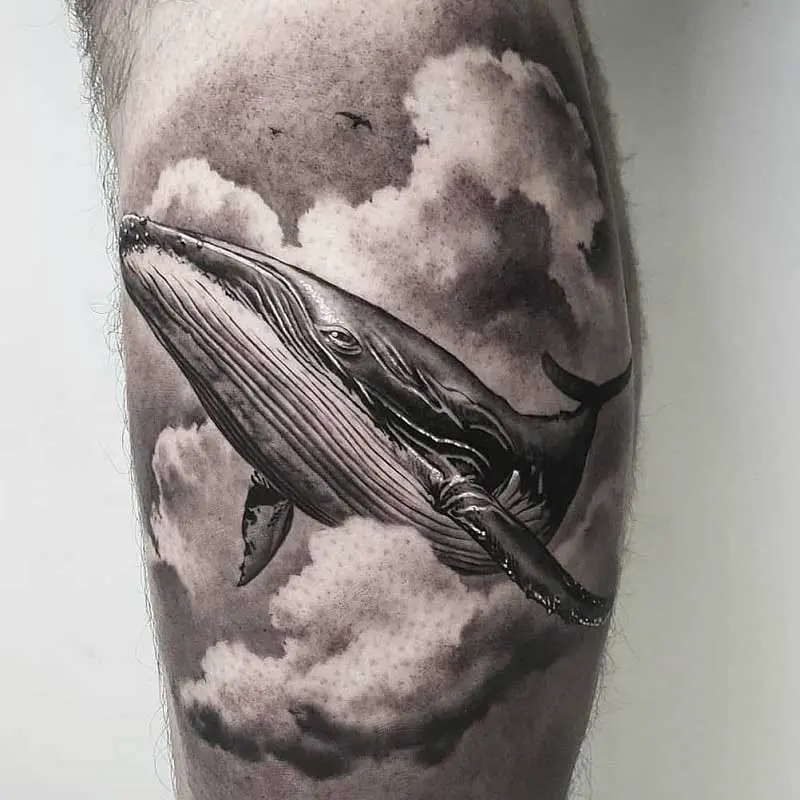 One Line Whale Tattoo
93.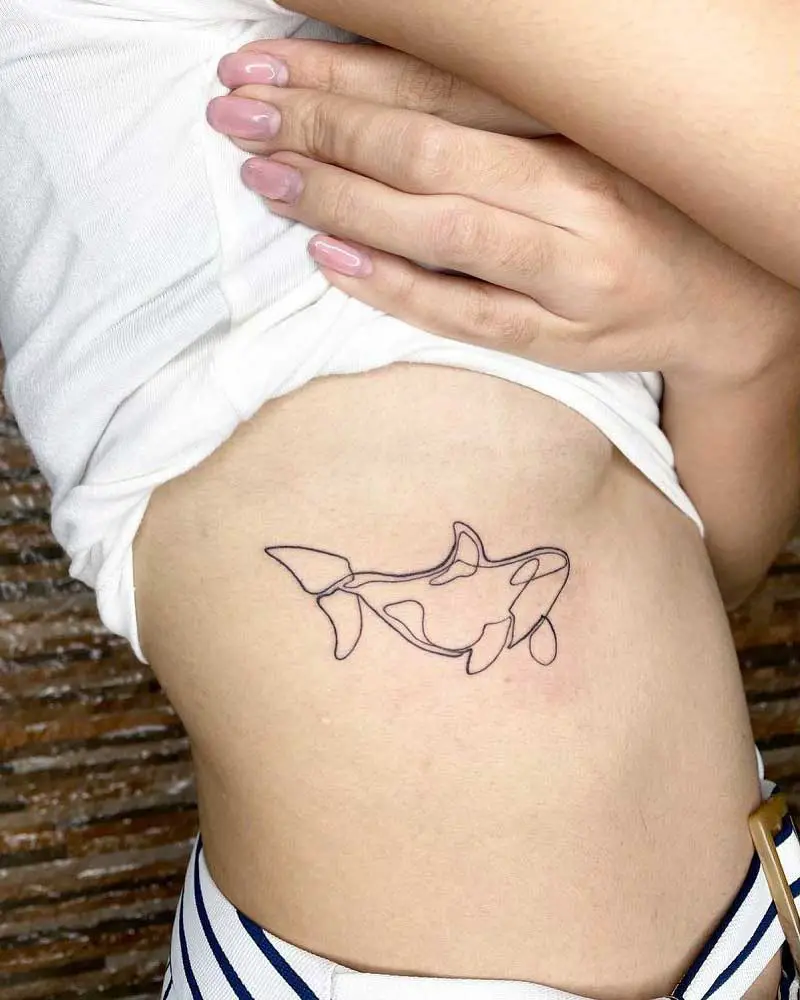 94.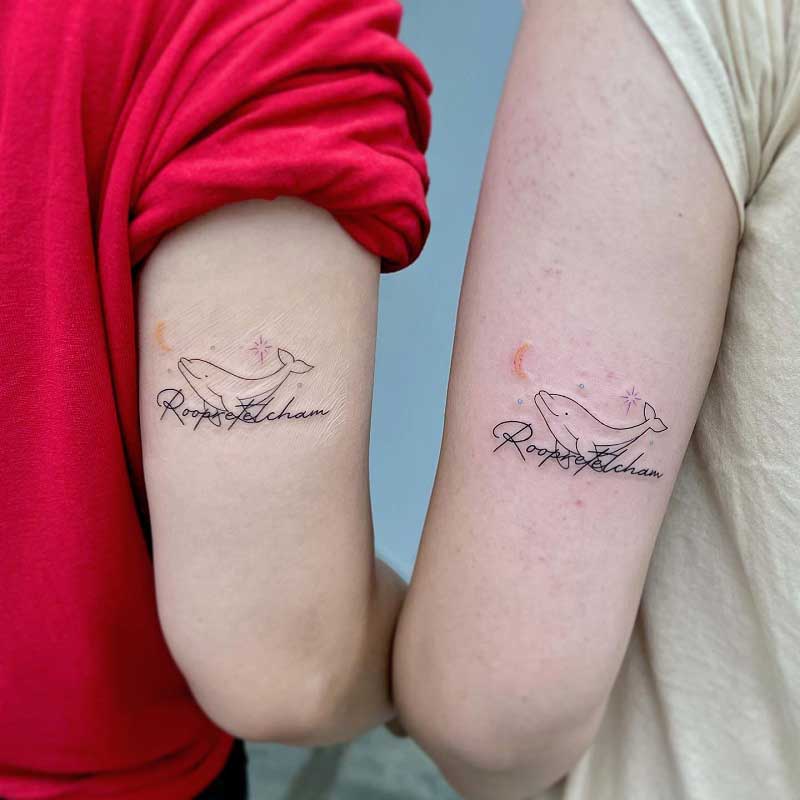 95.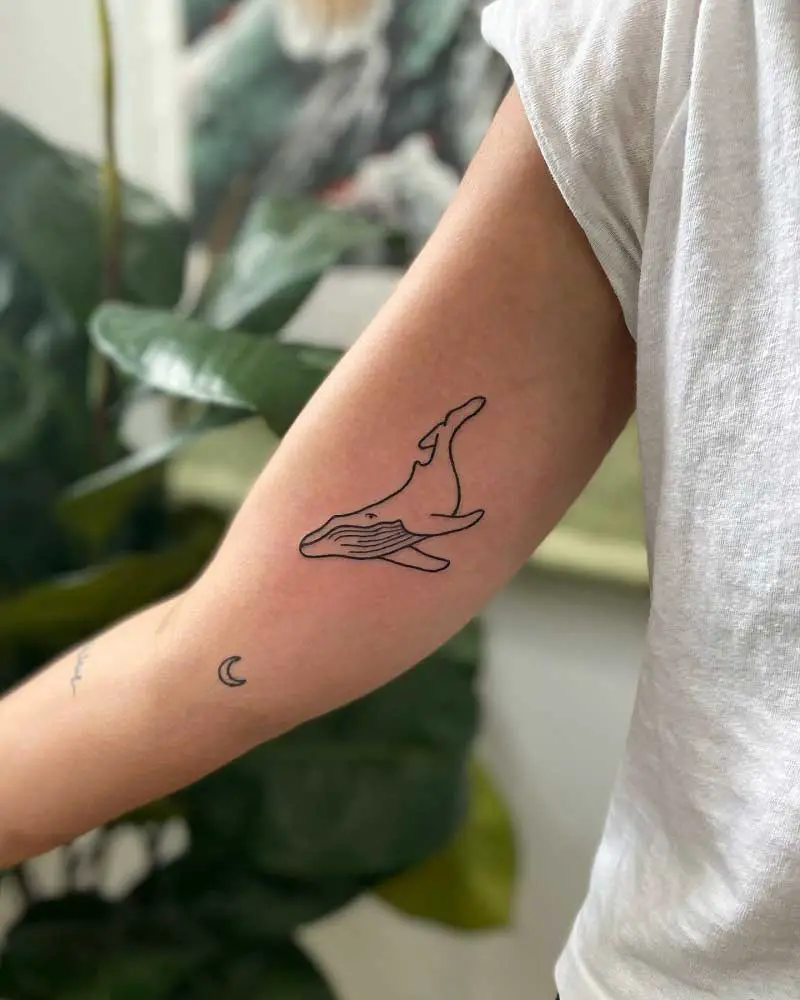 Conclusion
And that's a wrap! Once you're done exploring these designs, we bet you will be encouraged to go under the needle and get your first-ever or next whale tattoo design. Just make sure that you pick the tattoo carefully and with utmost patience so that you can wear it confidently.
Frequently Asked Question
What does a whale tattoo mean?
Whale tattoos signify faithfulness, kindness, wisdom, peace, harmony, balance, and good luck.
What does the blue whale symbolize?
A blue whale symbolizes a life of hope
What does a humpback whale symbolize?
A humpback whale stands for compassion, peace, and love.