Before modern technology, the lighthouse has been a significant part of the sailors' lives. They used it to guide themselves and protect them from any potentiometer danger in the sea. Even though lighthouses are not mainstream these days, they hold the ancient aesthetic that people are still very much fond of.
Out of that nostalgia and admiration, many people get lighthouse tattoos to decorate their bodies. If you are reading this article, you too might be one of them. But have you decided what kind of tattoo to get that will represent a lighthouse and your personality in the best possible way?
Well, don't worry. This article will help you decide which tattoo to get with xx different options to choose from! Just dive in and find the perfect one for you.
87 Lighthouse Tattoo Ideas, Designs and Meanings
In general, a lighthouse tattoo can symbolize protection, protection, and hope. It often represents overcoming the toughest challenges and finding one's way through all the difficult times.
The light of the lighthouse acts as a beam of guidance, leading ships safely through stormy waters, which can also be interpreted as a comparison with navigating the challenges of life.
The tattoo of a lighthouse can hold personal significance depending on your struggle and experiences in life. 
Nonetheless, the tattoo can be there without any significant meaning. You can simply get one just because you are fascinated by the concept of a lighthouse being a guide in so many ways. It all depends on your choice and creativity!
Lighthouse Traditional Tattoo
You can start by looking at some traditional tattoos of lighthouses as they are the classic choices. If you do not wish to experiment a lot with your new tattoo and would like someone unique but traditional, you are going to love these ones.
1. Red Rose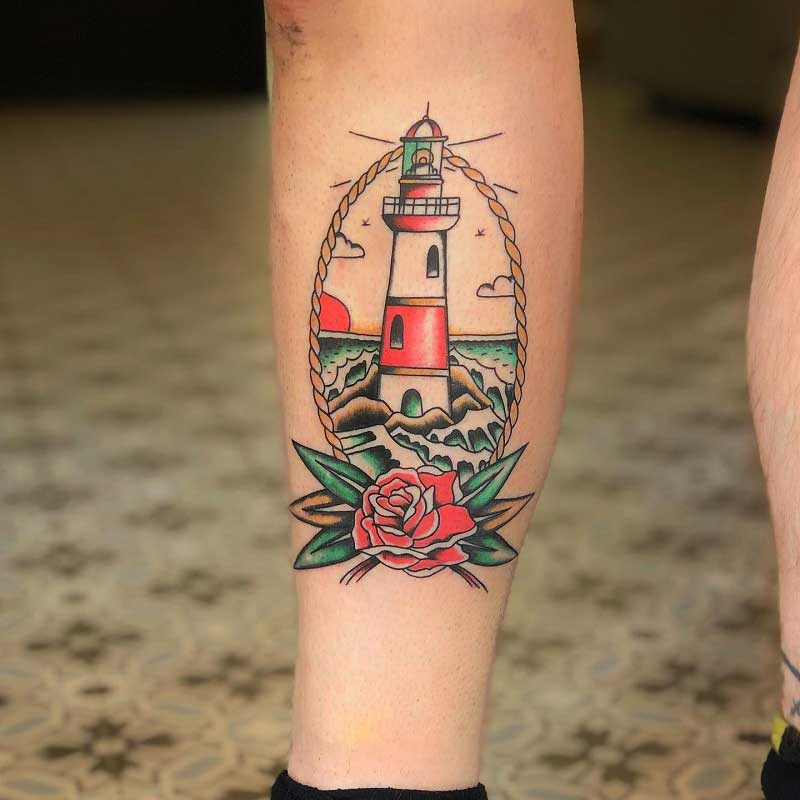 The tattoo has a focus on the red rose and the lighthouse. The basic theme colors of this one are bluish-green and bright red which covers most of the calf tattoo. The rose is drawn beautifully with three leaves on each side. It overall looks like a lighthouse packaged in a rose basket because of the braided rope.
2. Wings Of The Lighthouse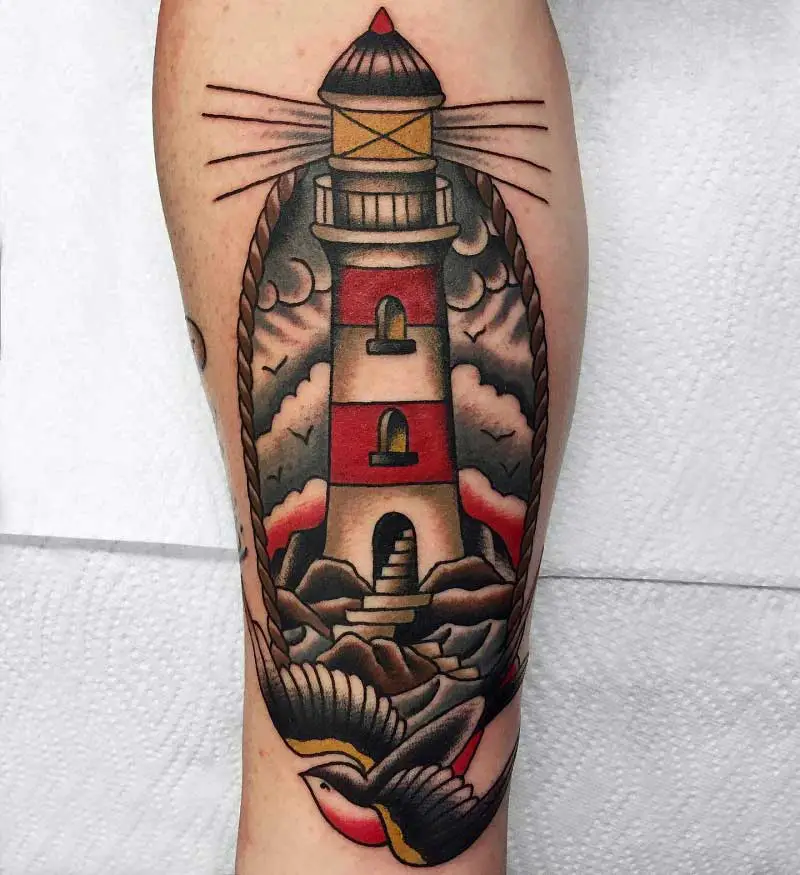 The theme of this tattoo is pretty dark and warm. You can see a lighthouse rising from the clouds and a bird flying away. The red and blue colors complement the design of the tattoo pretty well. The beams of light emerging from the top of the lighthouse can also be seen which is lighting up everything around it.
3. Blooming Around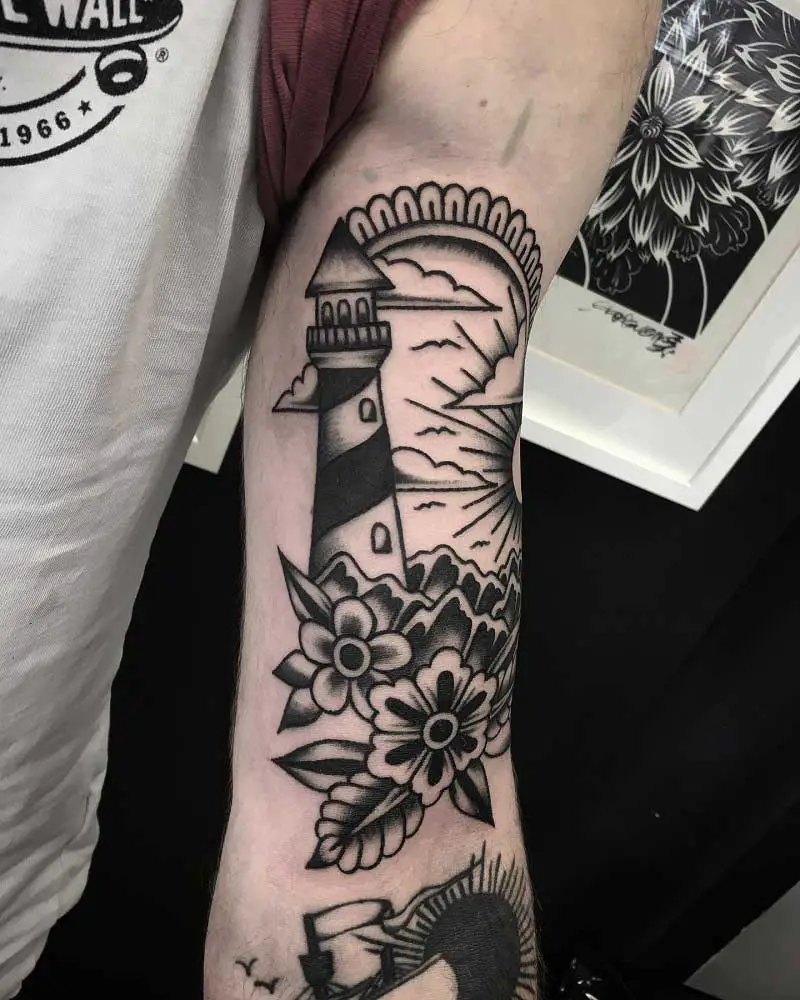 Even though it is a black-and-white tattoo, the beautifully blooming flowers add a sense of liveliness to this tattoo. The lighthouse has thick striped patterns over it with a sun shining bright beside it. The lighthouse is floating high in the sky since there are floating clouds around it. It is a beautiful representation of imagination in the form of a tattoo.
Lighthouse Tattoo Ideas
You will find some amazing tattoo ideas for a lighthouse that you can even customize by adding words, colors, or patterns! How cool is that? Nonetheless, these tattoos on their own are very special for their details and realistic effects.
4. The Rise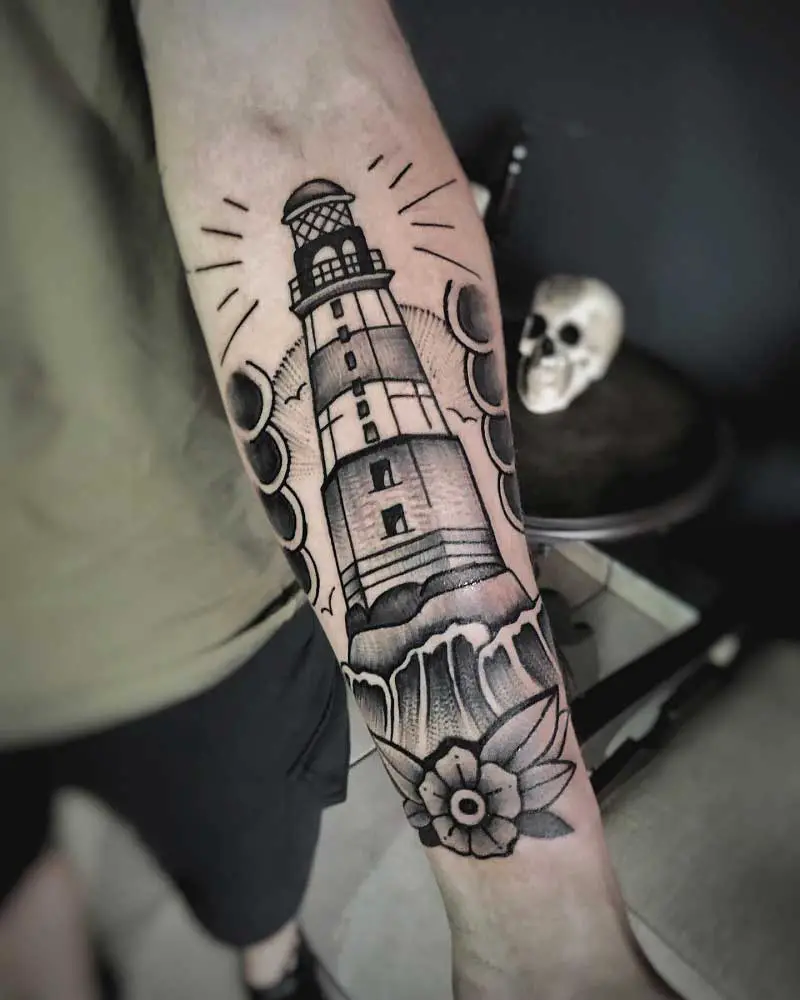 You can represent yourself rising from a dark time with this tattoo. The lighthouse in this image is rising high from the ocean leaving every obstacle behind. It is also shining bright which can be seen by the lines around the top of the lighthouse. Overall, the tattoo is a great way to decorate your sleeve and show ambition towards life at the same time.
5. Shining Beam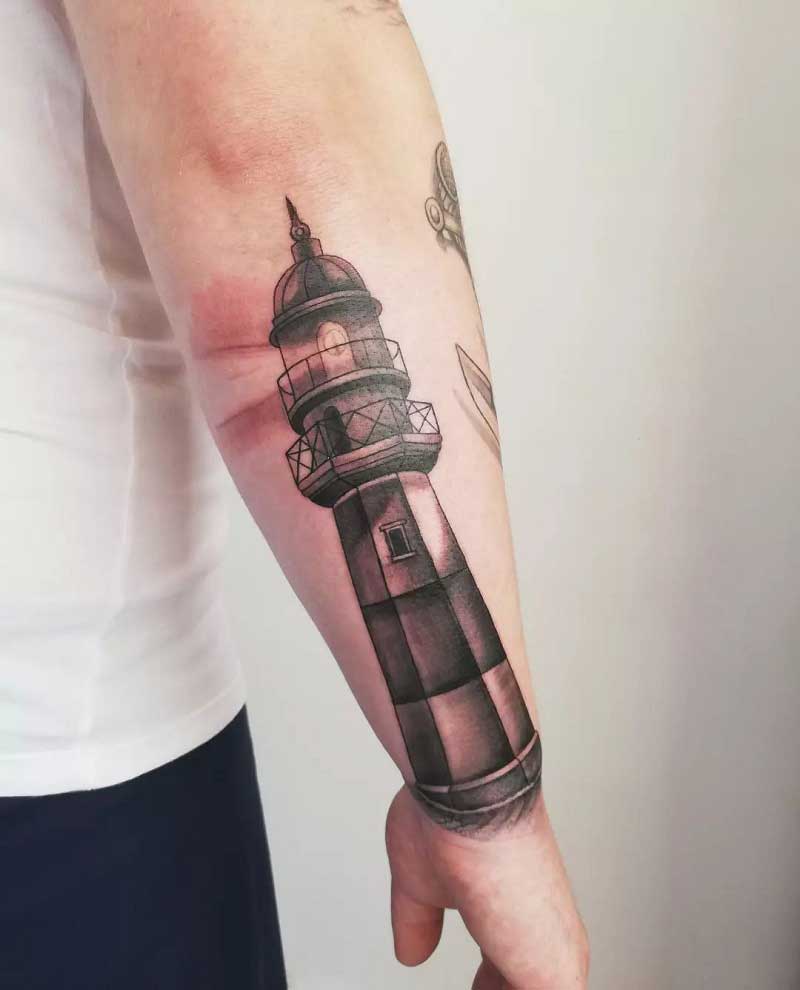 This is a super cool tattoo as you can almost get a 3-D vibe from the shape of the lighthouse. There is a single window on the body of the structure with light beaming out of the top floor. This almost looks like the building that Rapunzel was stuck in with no place to escape!
6. The Deck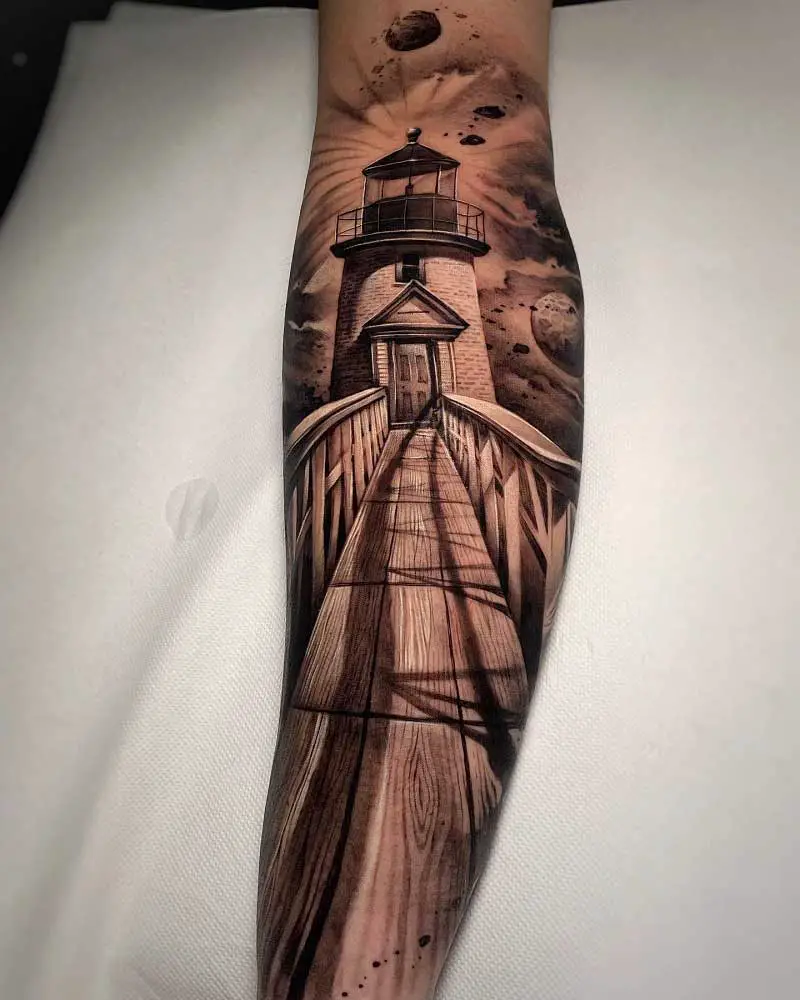 Now this is a true work of art. Isn't it? Just look at the details of the wooden deck! The tattoo has incredible imagination and creativity in it with planetary bodies around it and dark clouds here and there. The walls look super real for the details of the bricks and give a spooky vibe. It can tell a lot about you as a person who probably loves out-of-the-box gothic content.
If you have struggled a lot in life, you can show it off to the world by adding fierce waves to your lighthouse tattoo. The waves signify all the struggles and obstacles that you have overcome in life to become the amazing person you are.
7. Lighthouse Of The Heaven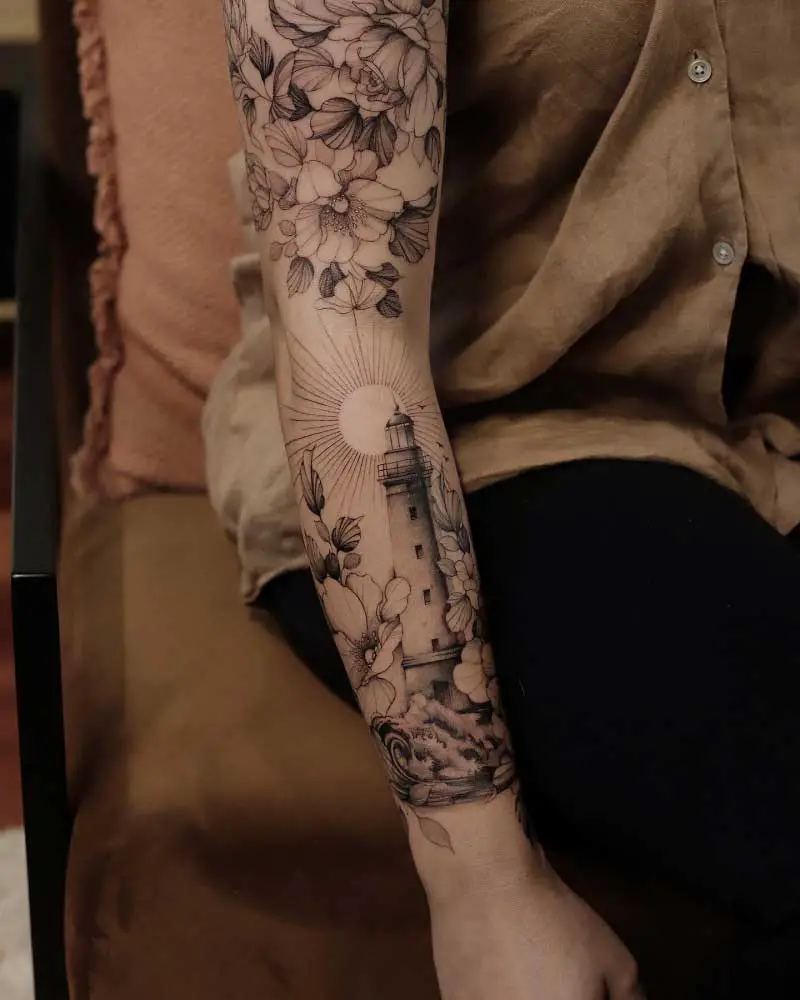 If you love the idea of heaven and the atmosphere we imagine in it, you can get this tattoo. The aura of this tattoo with a bright sun and flowers surrounding it looks absolutely positive and heavenly.
8. Storming In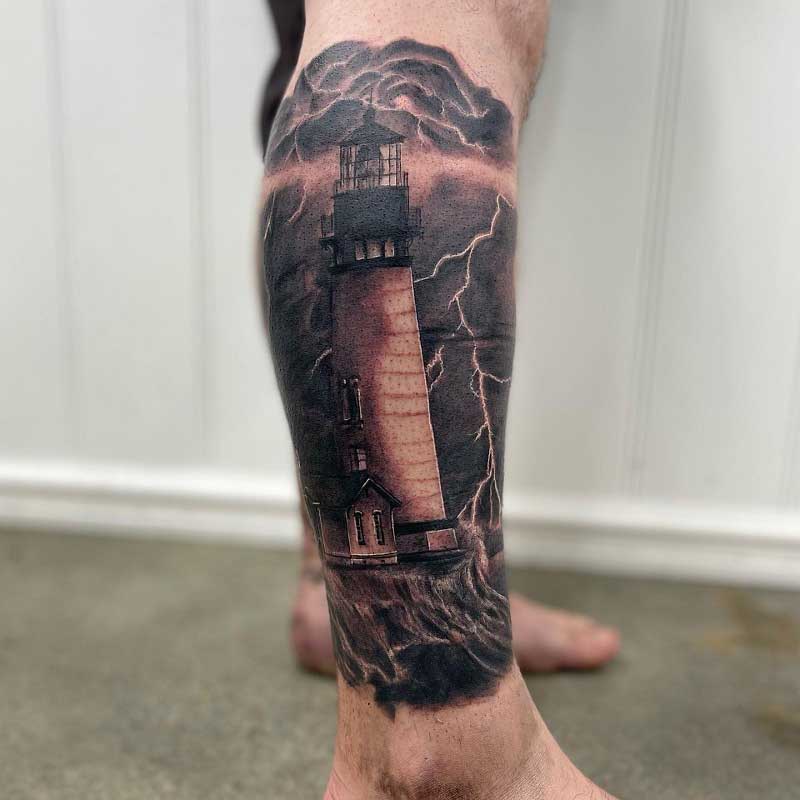 I would definitely be scared of the struggle that someone went through in life if I saw this tattoo. Fierce waves, dark clouds, and scary thunderstorms surround the lighthouse in this tattoo. This could be a reflection of the struggle of the person wearing it.
9. Love You Dad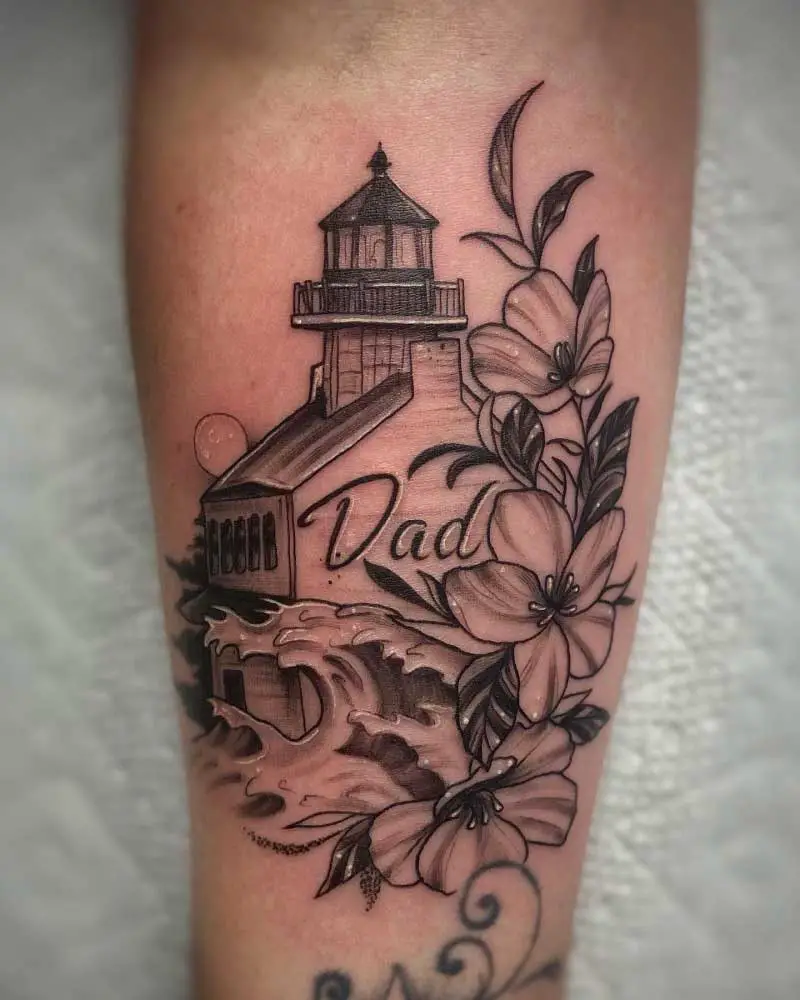 Since the lighthouse is a symbol of protection, writing dad on a tattoo of it says well about your view towards fatherhood. You have a strong bond with your father and want to dedicate his lifelong protection towards you through a tattoo. The beauty of the tattoo is enhanced by the big flowers on the outline that may portray the beauty of your relationship with your father.
Bioshock Lighthouse Tattoo
The lighthouse in BioShock has a different meaning than usual. In the video game, it is a gateway to the extraordinary and often disturbing environments that the player explores. The tattoo might reflect a fascination with the theme of the game, the consequences of power, and the difficult moral choices faced by the characters.
10. Holding The Shine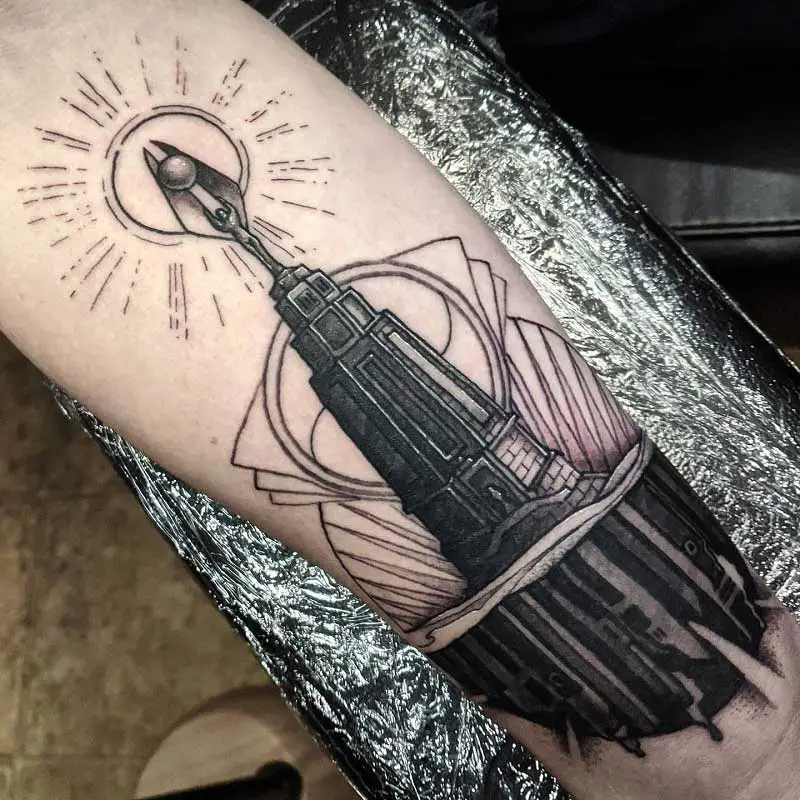 The main focus of this lighthouse is the shining pearl. The top of the lighthouse has a pearl stuck into it that is shining super bright. The shine looks almost like a sun behind it. The lighthouse itself is submerged half underwater and there are unique patterns surrounding it. One of the most incredible features of this tattoo is the little details of different parts.
11. Would You Kindly?
You can see a unique tattoo of a lighthouse with a BioShock theme. "Would you Kindly?" is a BioShock reference that is added to this beautiful view of the lighthouse in the middle of the deep blue water. Your expertise in shooting games will be quite visible with this tattoo.
12. Sparking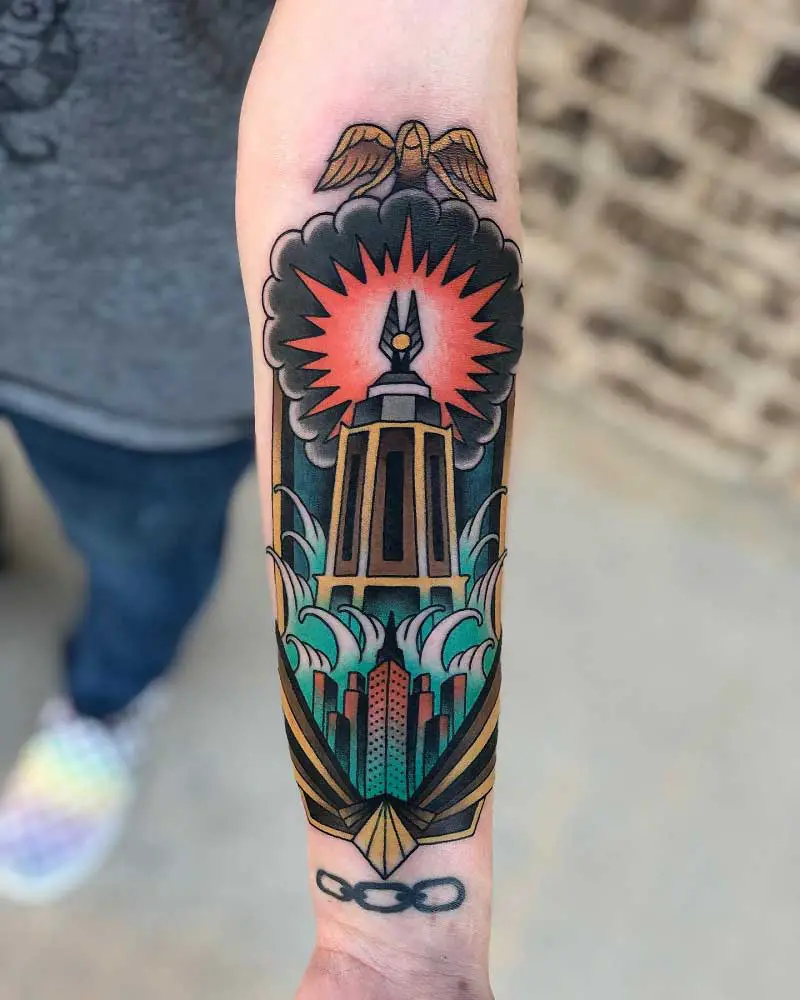 The sleeve tattoo on a man's hand above is quite vibrant and electric. Strong colors are used to decorate it with the shining pearl above being the center of attention. It has an entire town under control and has a body with wings on top. The chain in the bottom could mean some kind of trap.
Cape Hatteras Lighthouse Tattoo
Lighthouses usually represent a sense of hope and a source of guidance, while Cape Hatteras specifically is known for its history and resilience against the elements. This adds a layer of strength and endurance to the tattoo's meaning. A lighthouse tattoo of Cape Hatteras could symbolize guidance, protection, and navigation through the challenges of life.
13. Fall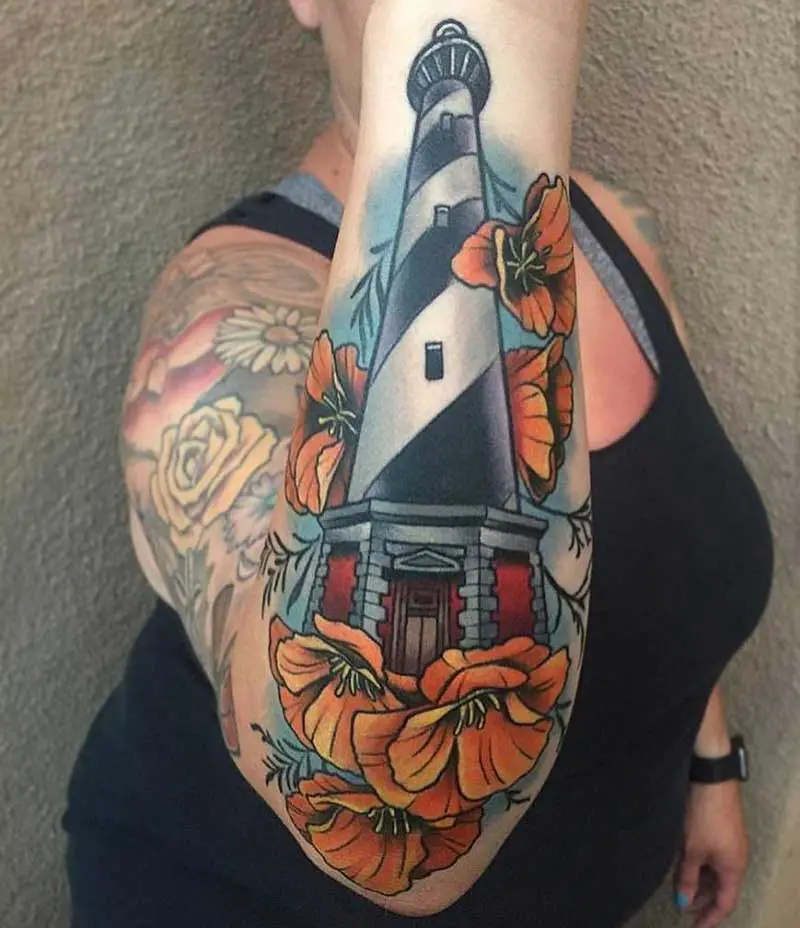 Doesn't that tattoo remind you of the fall? The spooky lighthouse gives a Halloween vibe along with the big brown flowers that almost look like maple leaves. It covers the entire sleeve of the woman in the picture but you can also decorate your thighs or calves with this tattoo.
14. Message To The World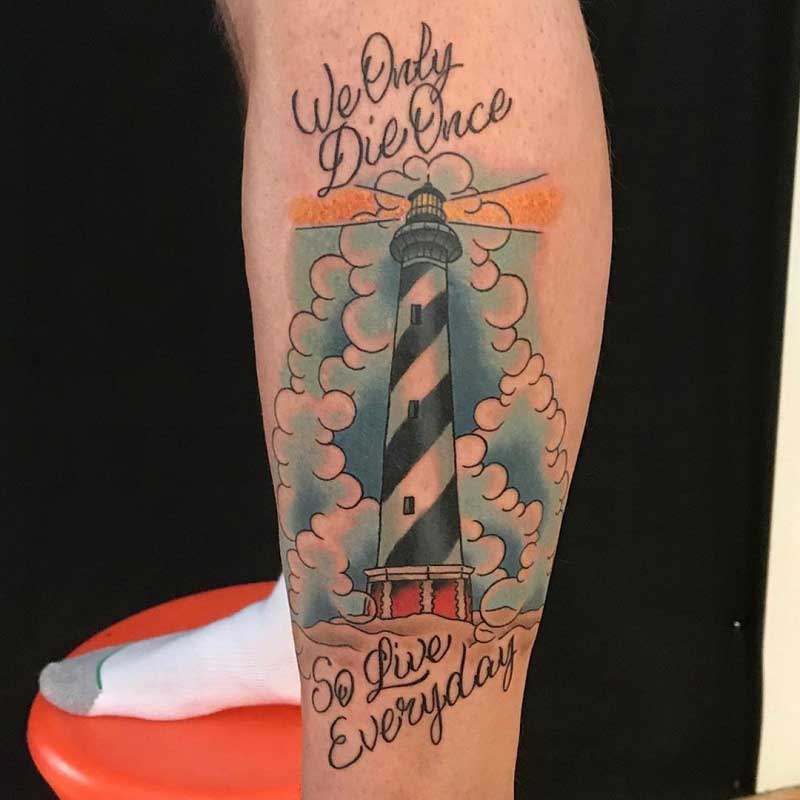 The given tattoo of the Cape Hatteras comes with a positive message. The overall vibe of the tattoo is kept nice and beautiful with the light and vibrant colors. You can customize this tattoo with your own message and make it truly portray your personality.
15. Rage Of The Ocean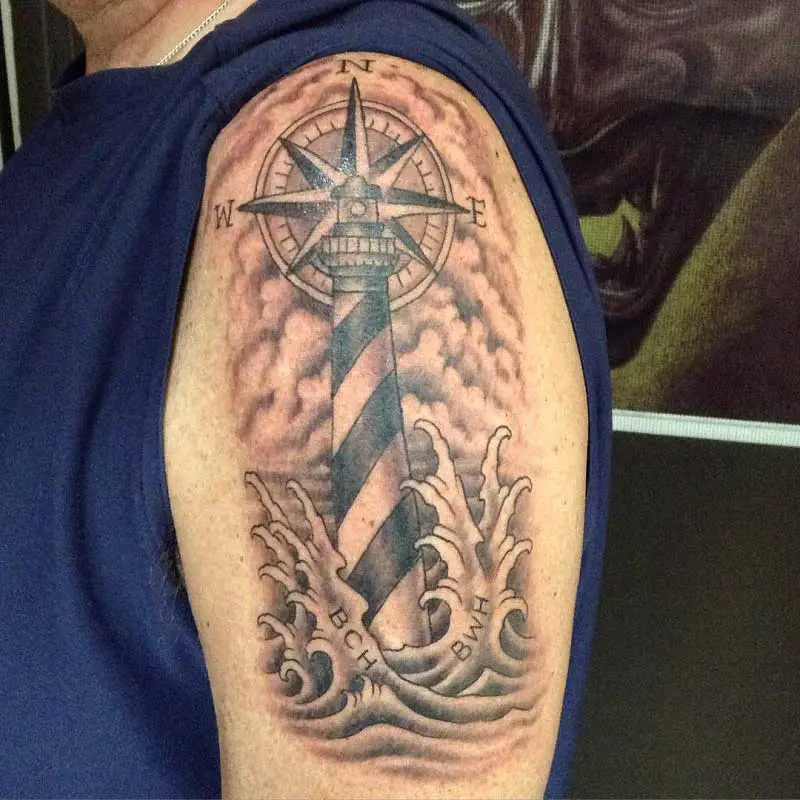 This raging scenery of a lighthouse in the middle of the sea can be tatted by sailors to represent their biggest fear and struggle. There are fierce waves fighting against each other at the bottom of the structure with a huge compass on top of it. The clouds are heavy and dark which is always a piece of bad news for the sailors.
Anchors mainly portray stability. The combination of a lighthouse and anchor in a tattoo can be used to show the idea of finding direction in life while staying firmly rooted and secure. It shows your determination to hold stability in life whilst moving forward.
16. Diving In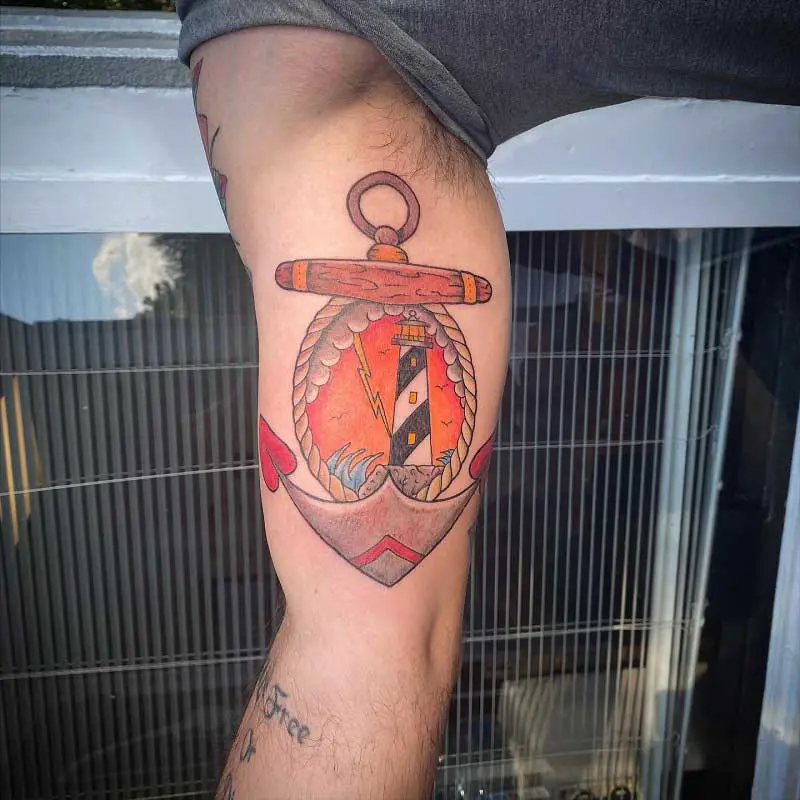 A colorful tattoo of a lighthouse inside the shape of an anchor can be seen above. It can be a frame or a showpiece that shows the intense relationship between the struggle of leaving bulky anchors and the signals from a lighthouse. Overall, the image is quite cartoonish and colorful which can make your muscles look funky and interesting.
17. Flowers And Anchor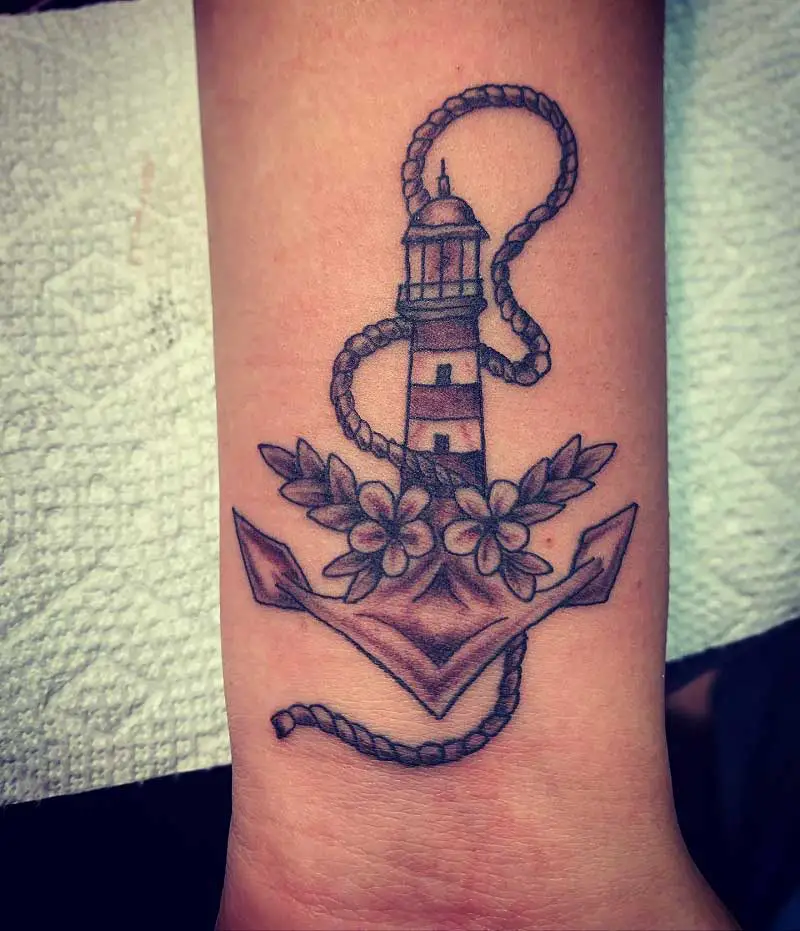 If the concept of ships and sailors attracts you, you can consider getting this one on your wrist or anywhere you like. This one basically has an anchor and a lighthouse combined in a shape with a rope around it. You can also see beautiful deep-sea flowers decorating the tattoo to give it a more light-hearted essence.
18. Wonderland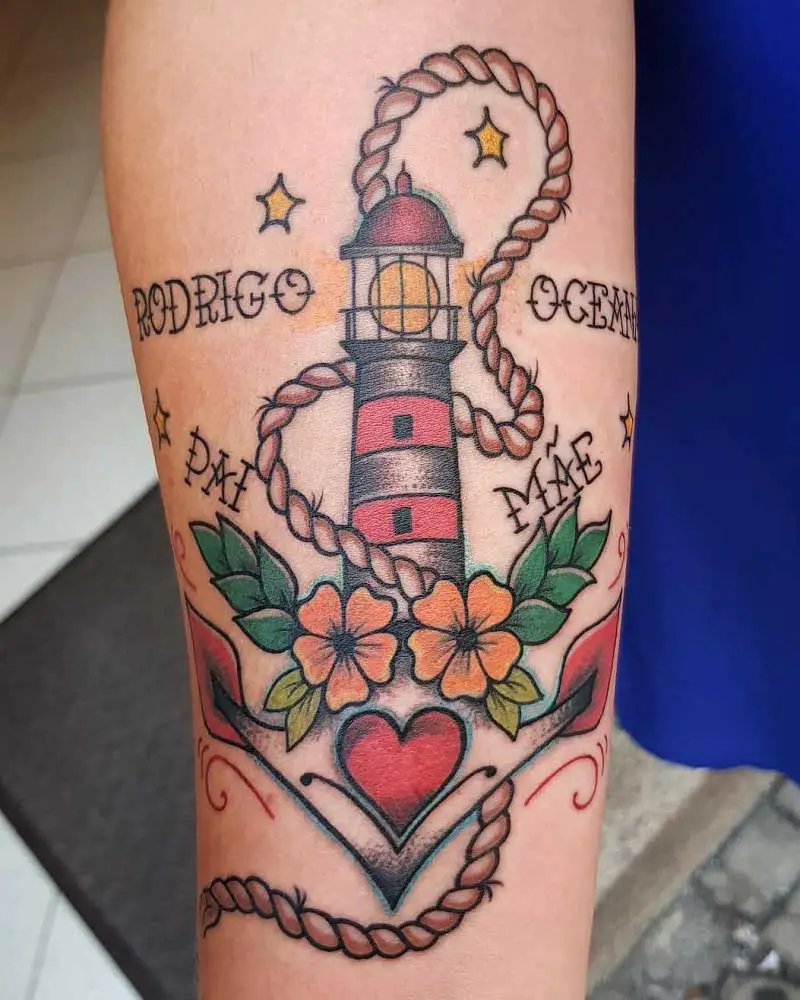 If you think you have a joyful and bubbly personality, this one can be perfect for you. Just look at the bunch of colors! The flowers, the hearts, the twinkles – everything is so pretty! From far away, you can also loosely connect the shape with the face of a clown. It could mean that you believe in spreading positivity and making people laugh.
Lighthouse Leg Tattoo
Leg tattoos are versatile in terms of hiding them and showing them off anytime you want. Decorating your legs with a meaningful tattoo of a lighthouse can be a great idea for a super cool look.
19. Dark Shadow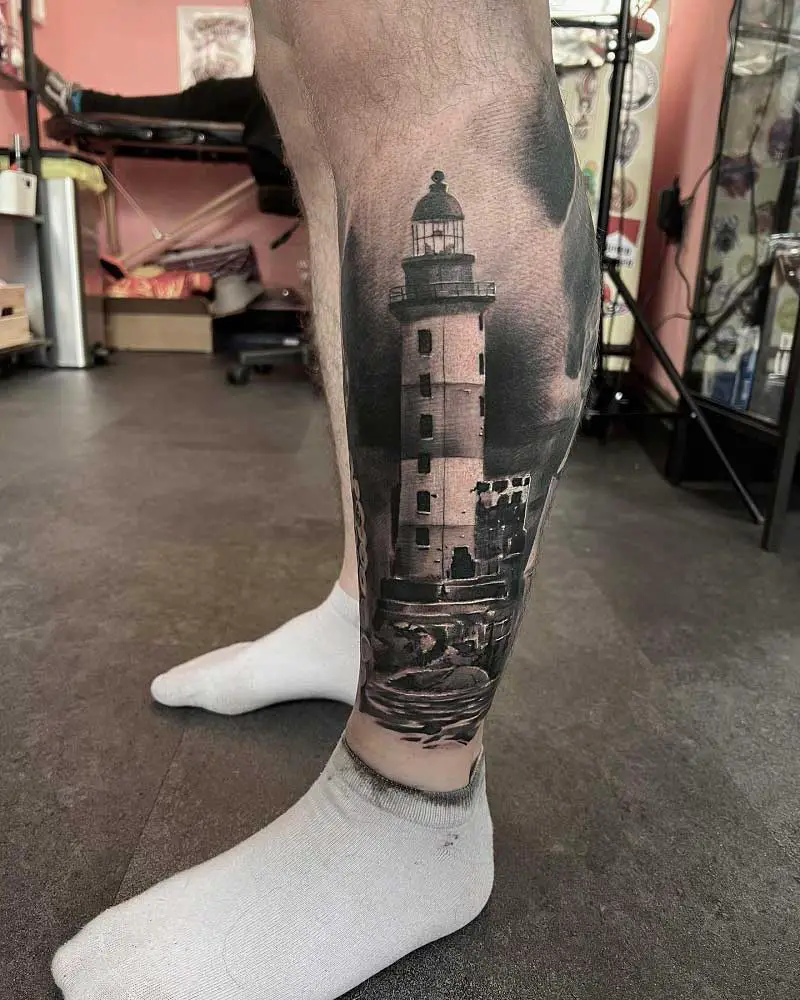 I love the spooky and dark aesthetic of this tattoo. It almost looks like an apocalypse with a surviving lighthouse. It has a dark sky above and disastrous ruins underneath. If you relate to such dark vibes, definitely consider getting something like this!
20. Deep In Sea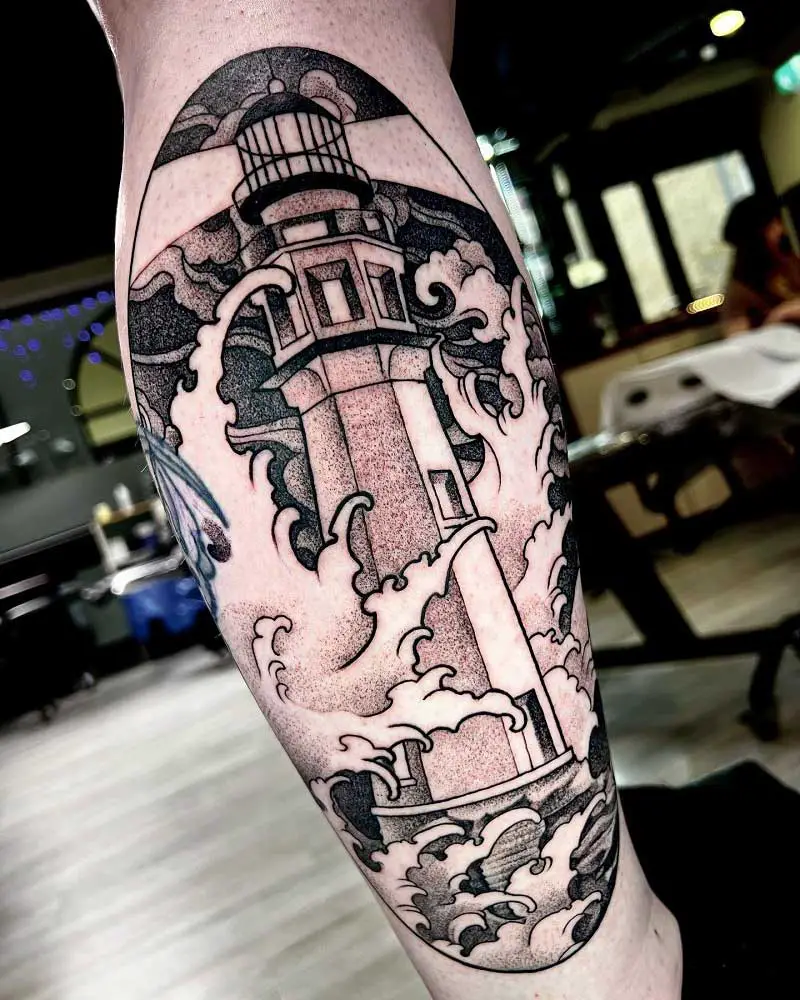 Isn't the calf tattoo above beautifully graphic? The dark outlines and the shape of the waves are super catchy. It shows a lighthouse surrounded by fierce waves! You can get it tatted on your calf if it matches with your personality of surviving in chaos.
21. Flowery Lighthouse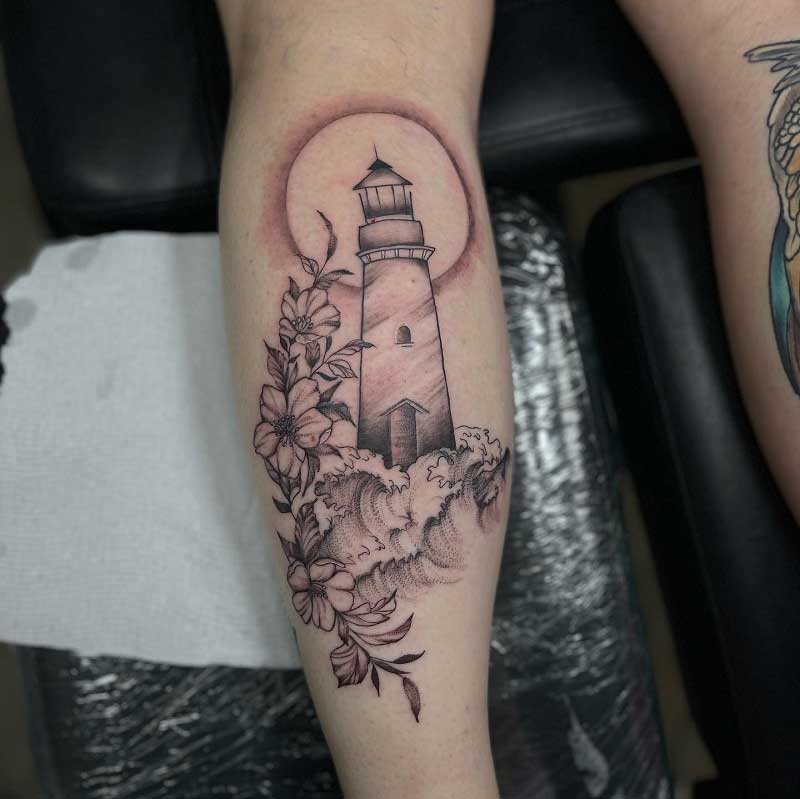 This one is a soothing tattoo of a lighthouse floating in between the serene waves. It has a huge sun in the background with pretty flowers to the side. It is calming to the eyes and can say a lot about your calm and peaceful personality.
A tattoo is a great way of holding memories. Combining your memories with the tattoo of a lighthouse is very unique and interesting. It could mean how the event or the person to remember helps you navigate through the difficult times of life.
22. Date To Remember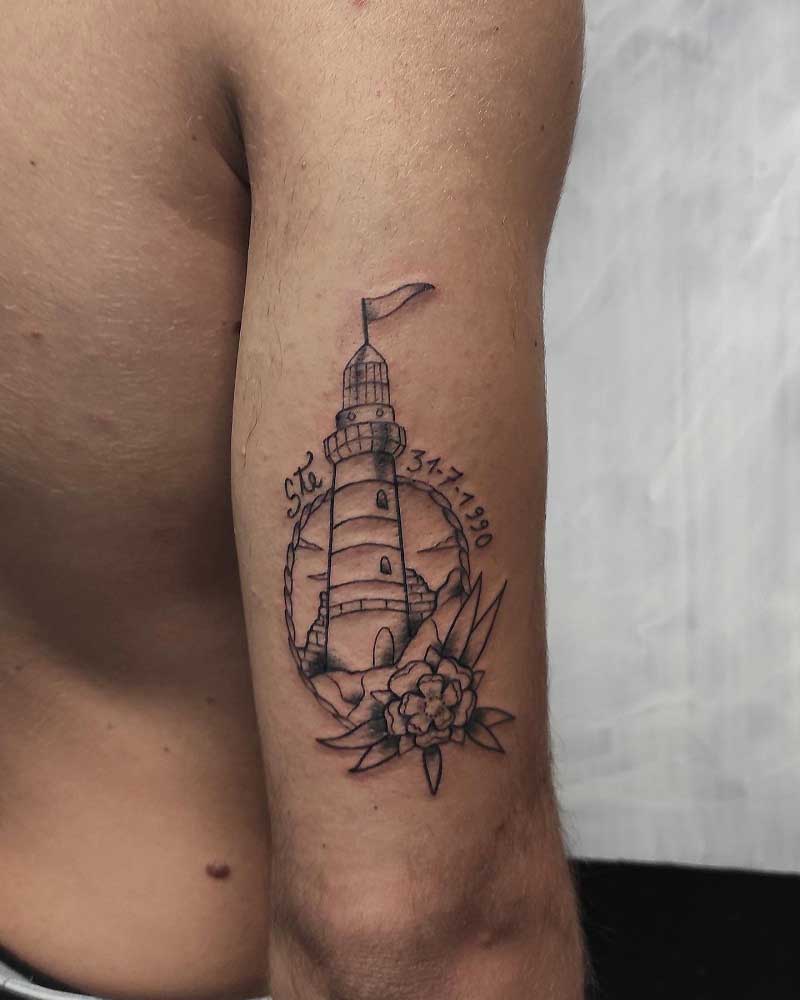 The tattoo shows a beautiful way to permanently stamp a memorable date on your body. The lighthouse in the tattoo has a flag on top and a huge flower at the bottom. In short, it could be any special date that you want to remember in a unique way.
23. Love You Mom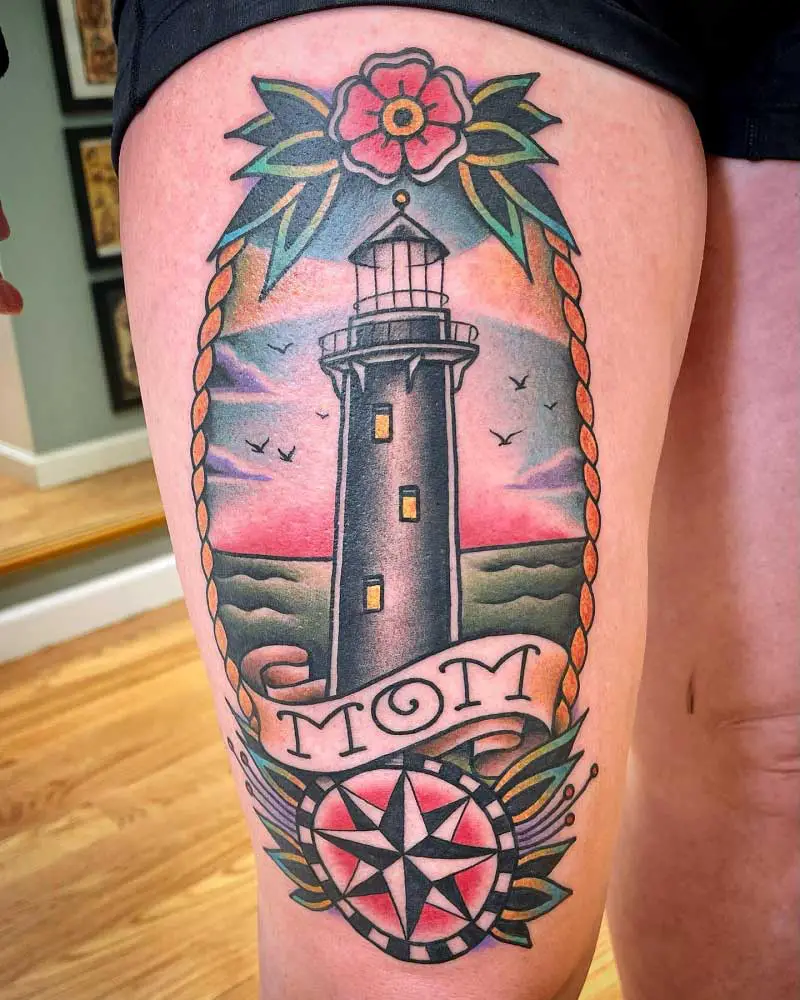 Everything about this tattoo shows how much someone can love their mother. The lighthouse itself is a sign of hope and protection while the compass symbol shows a sense of direction. It could mean how you consider your mom to be always there for you and guide you in life. The overall colorfulness of the tattoo shows a happy and positive bonding of the wearer with their mom.
24. The Direction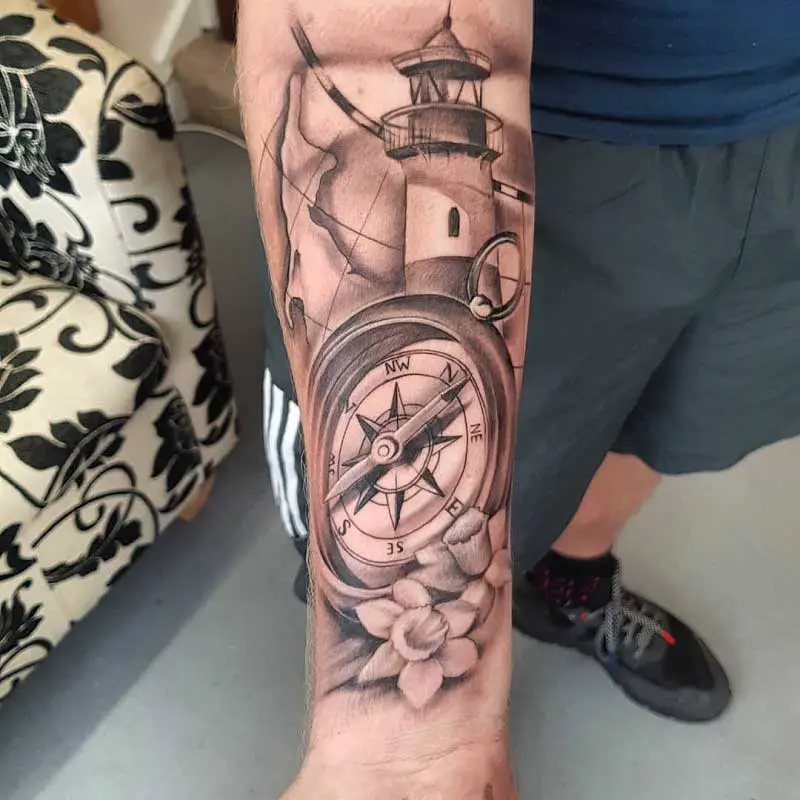 This can be a good tattoo for sailors or people who can relate their lives to the sea. The tattoo has three major structures – a lighthouse, a map, and a compass. It all relates to cruising in the sea with flowers as a decorative element at the bottom.
Lighthouse Chest Tattoo
Committing to a tattoo on your chest is one of the most significant commitments. Every time you open your shirt and see yourself in the mirror, you can see and get reminded of the message that your chest tattoo of a lighthouse holds for life.
25. Chaos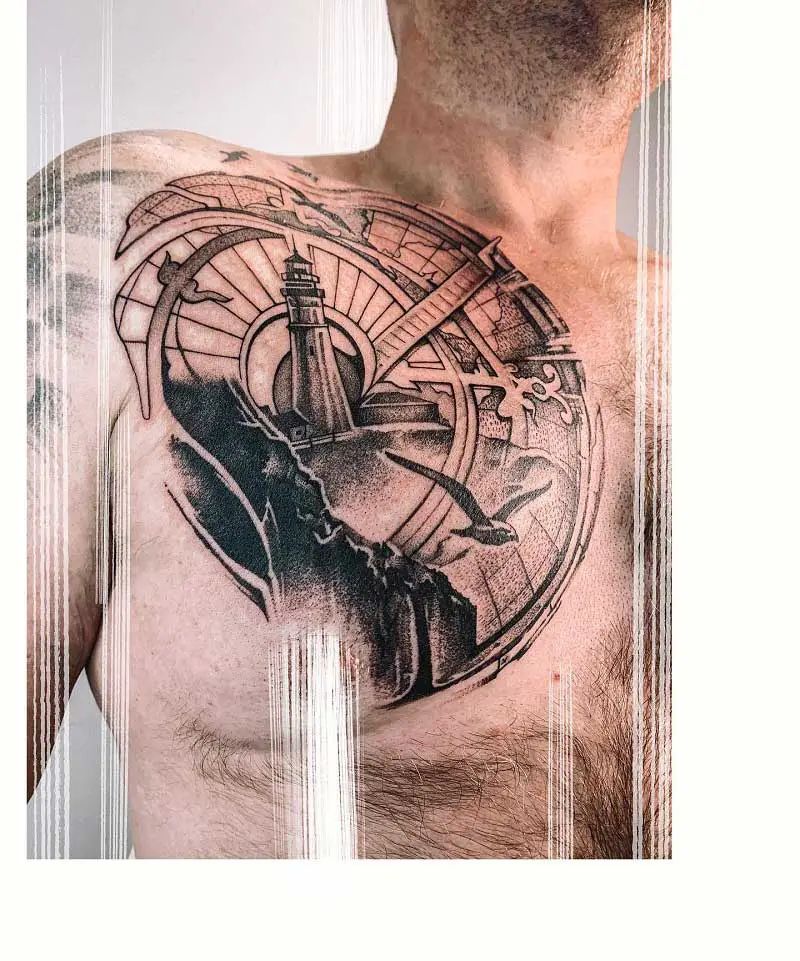 You can decorate your entire chest with a chaotic tattoo of a lighthouse to represent your inner chaotic personality. The tattoo looks like a never-ending maze with birds flying everywhere and a gigantic rock in front.
26.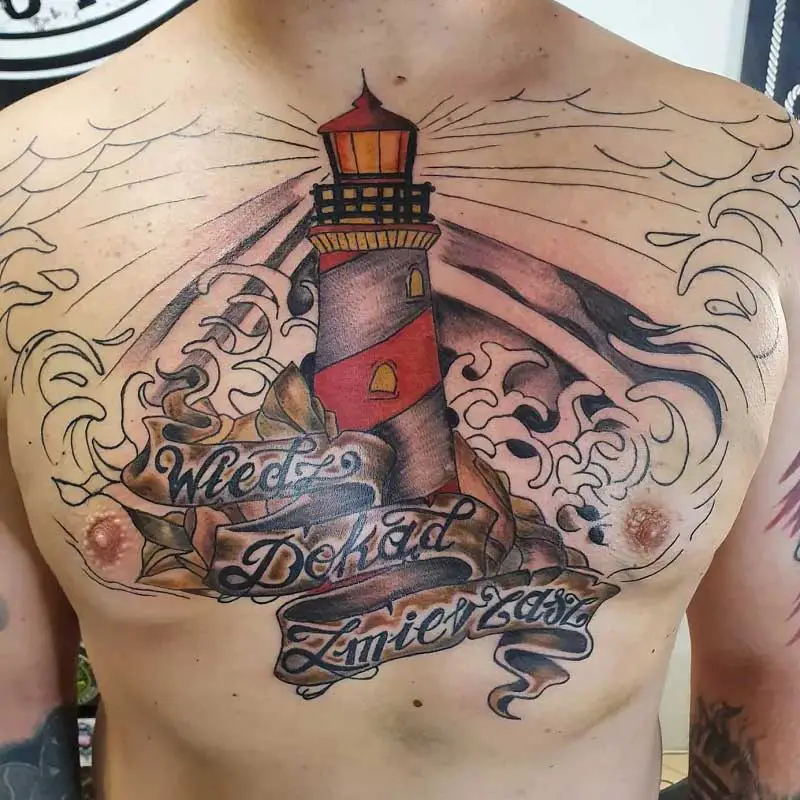 27.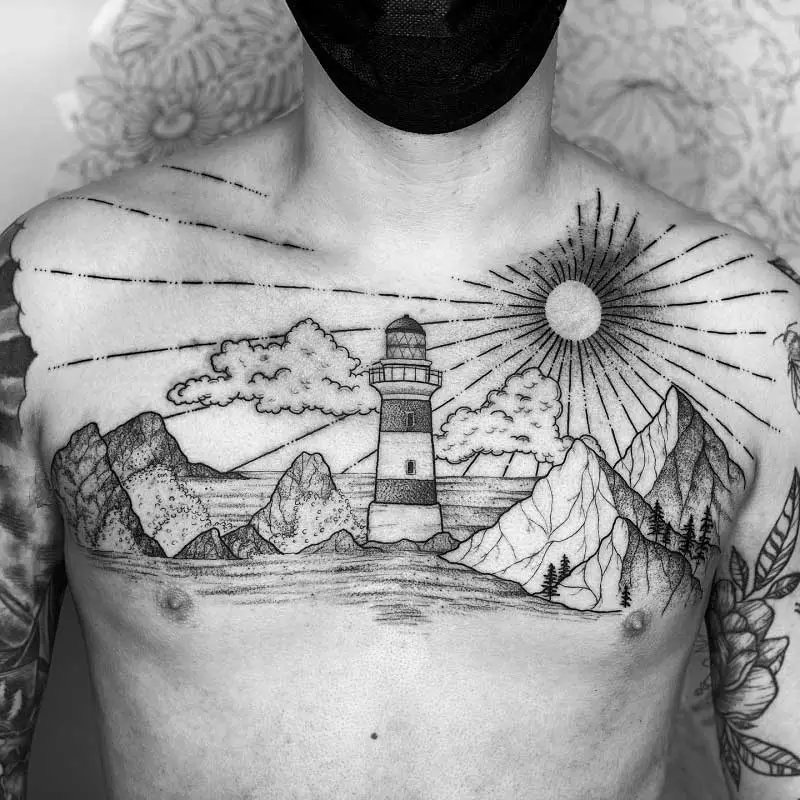 Lighthouse Storm Tattoo
28.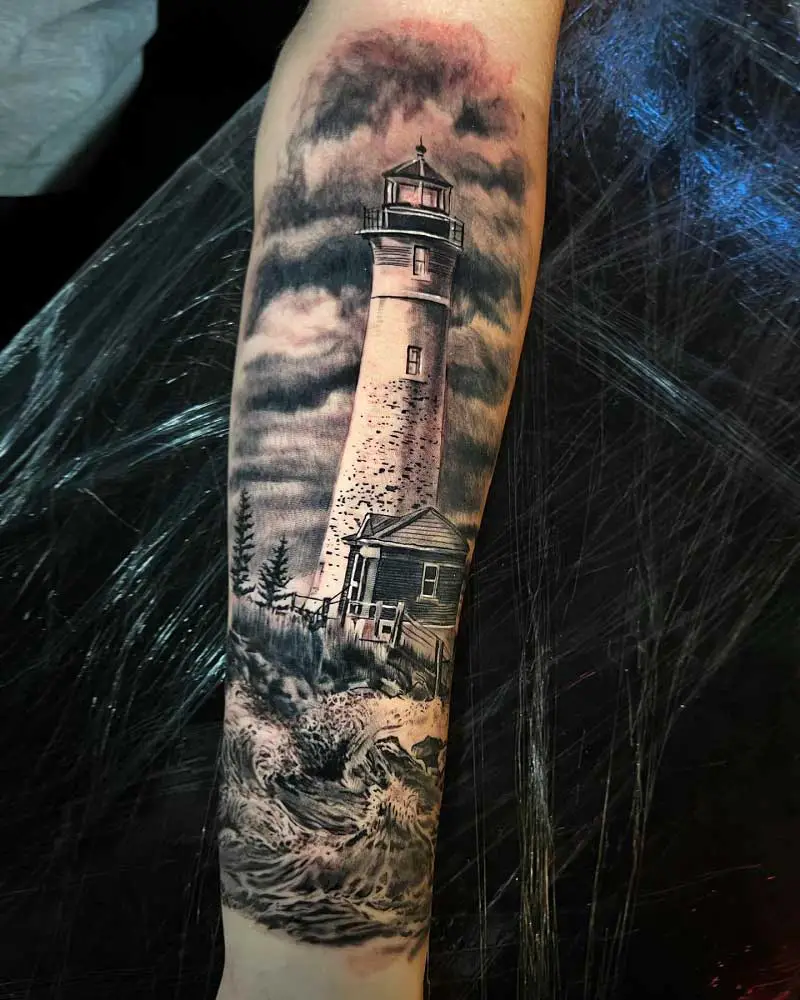 29.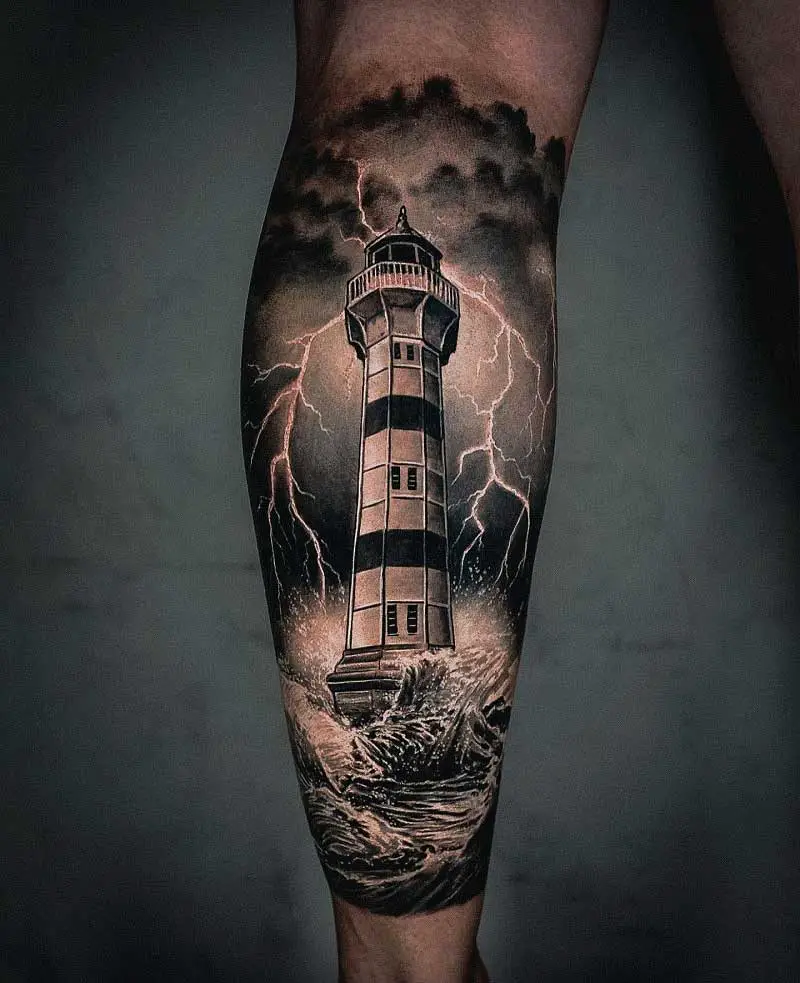 30.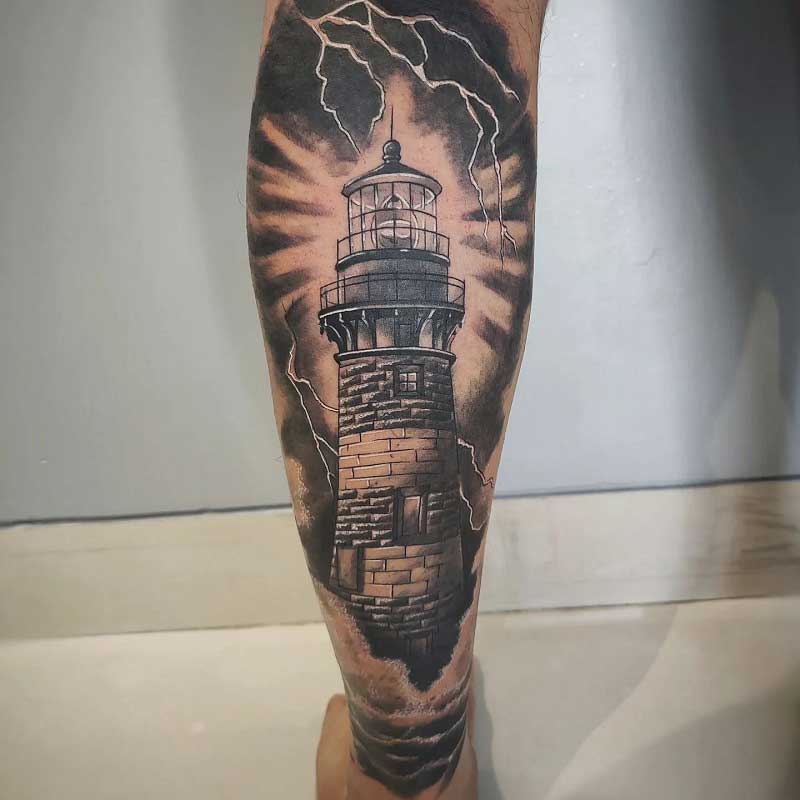 Montauk Lighthouse Tattoo
31.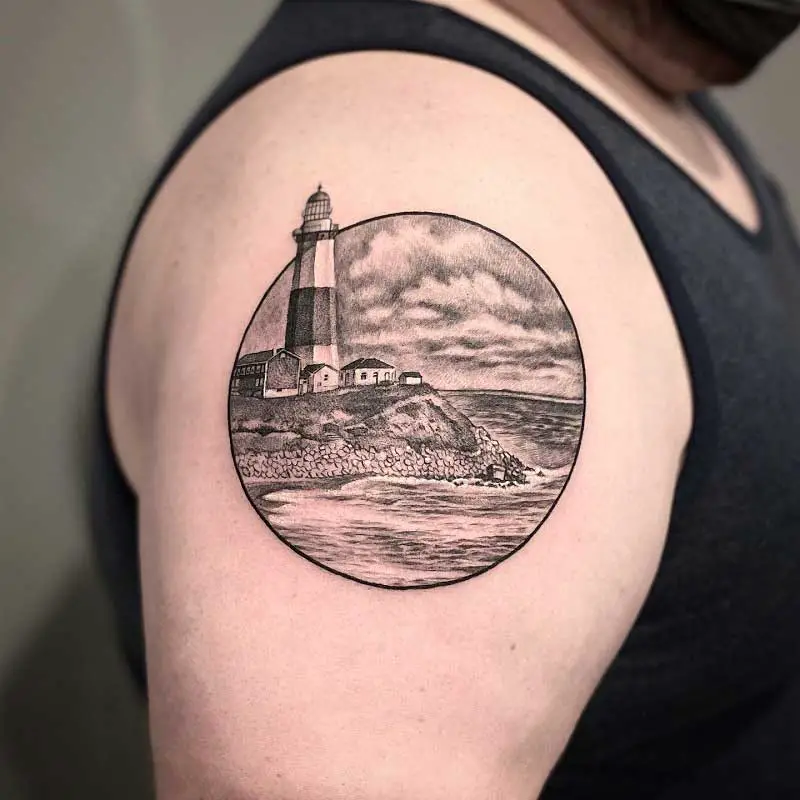 32.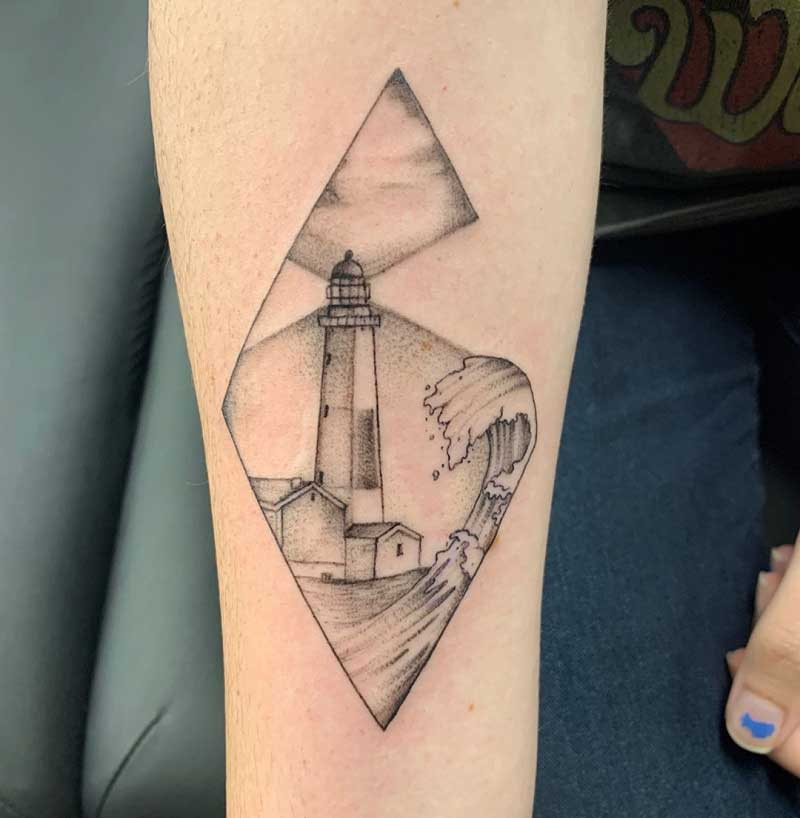 33.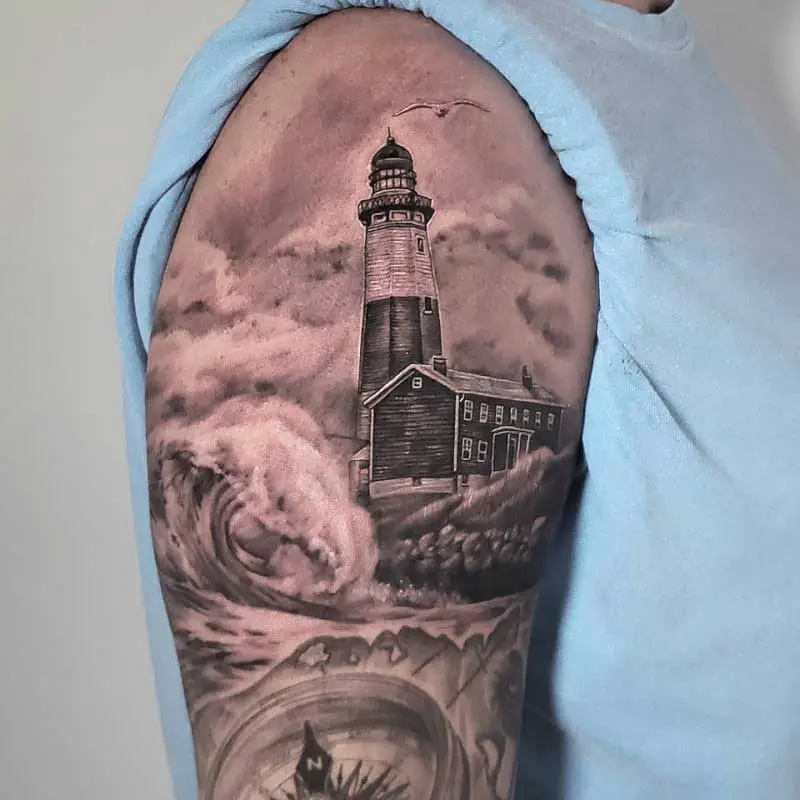 Nautical Lighthouse Tattoo
34.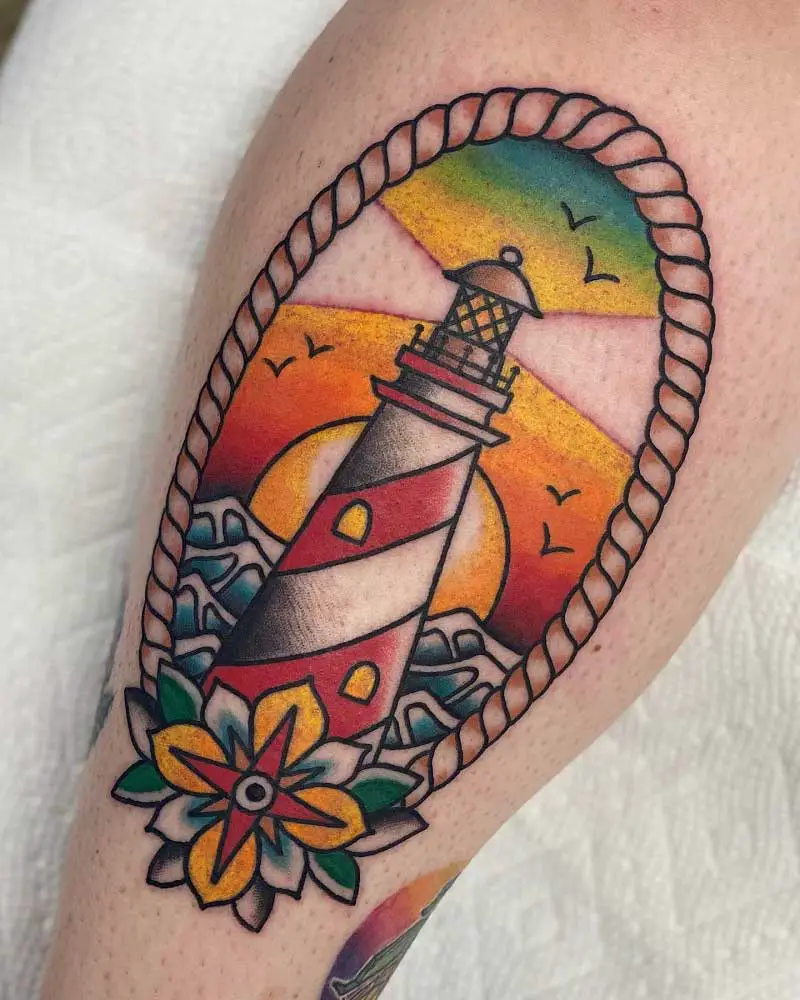 35.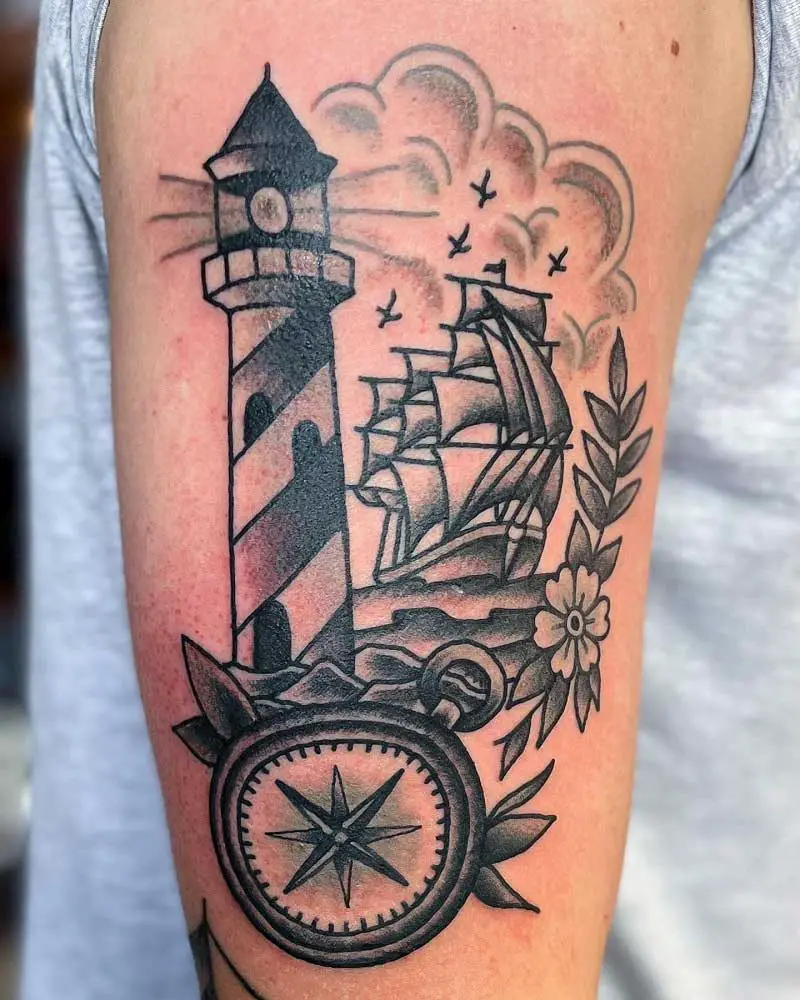 36.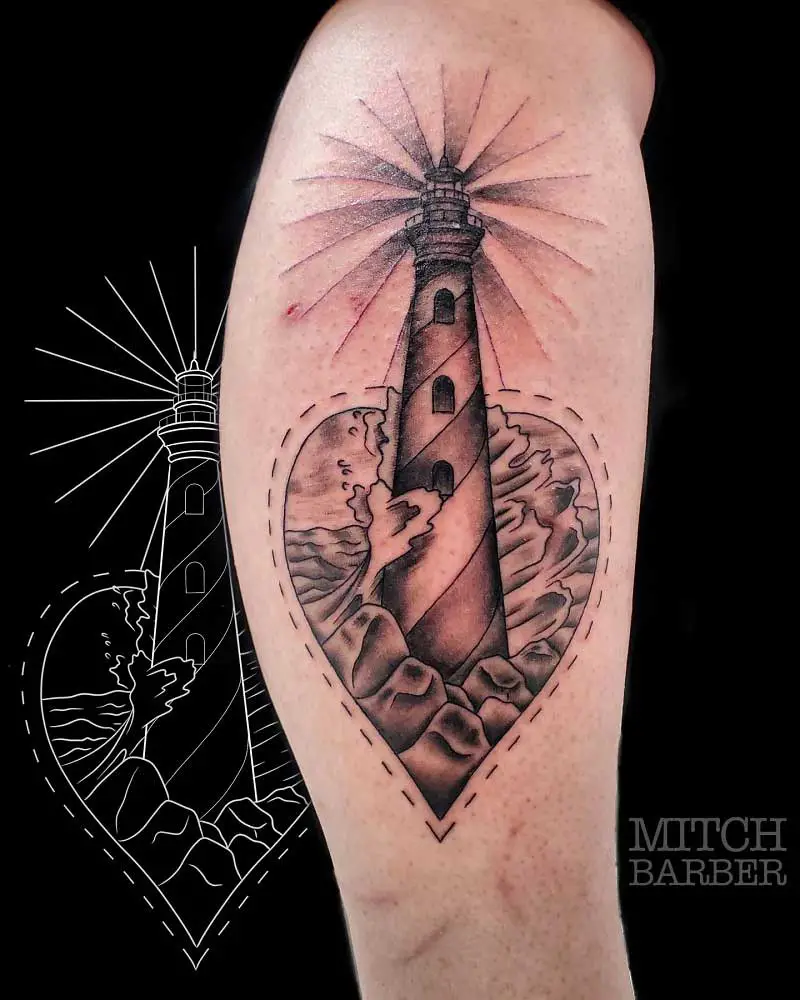 Octopus Lighthouse Tattoo
37.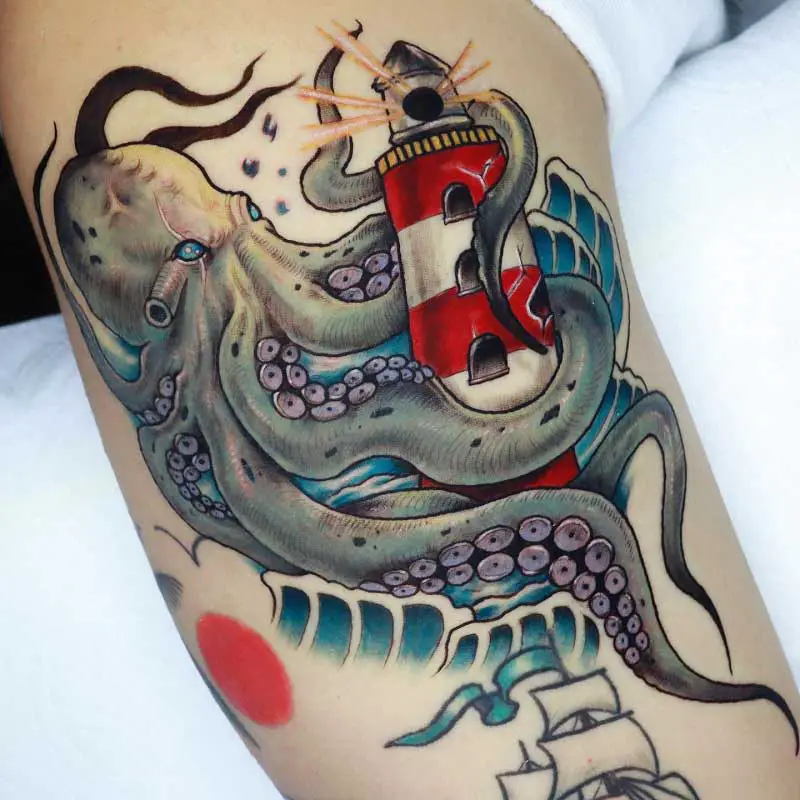 38.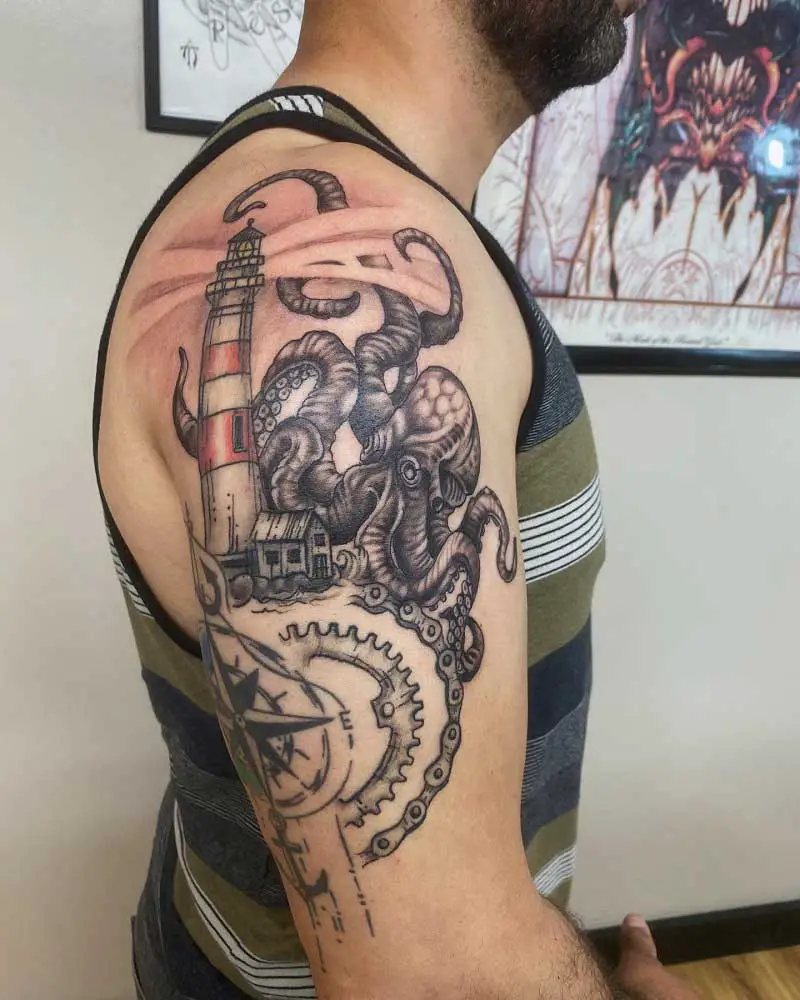 39.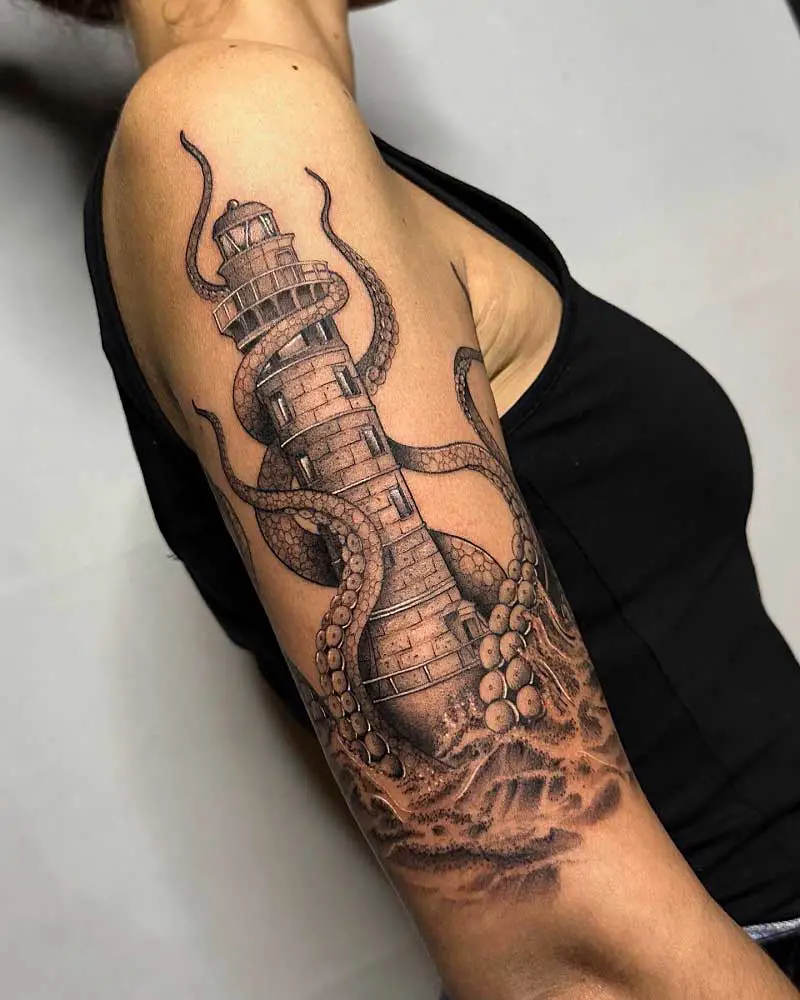 Christian Lighthouse Tattoo
40.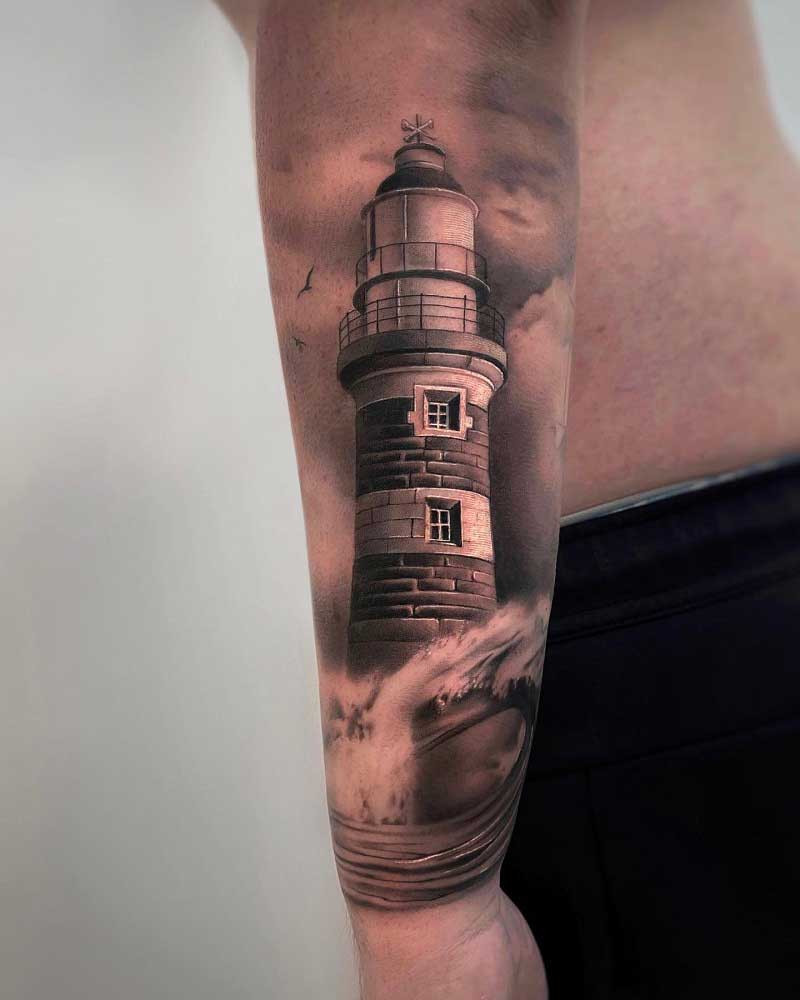 41.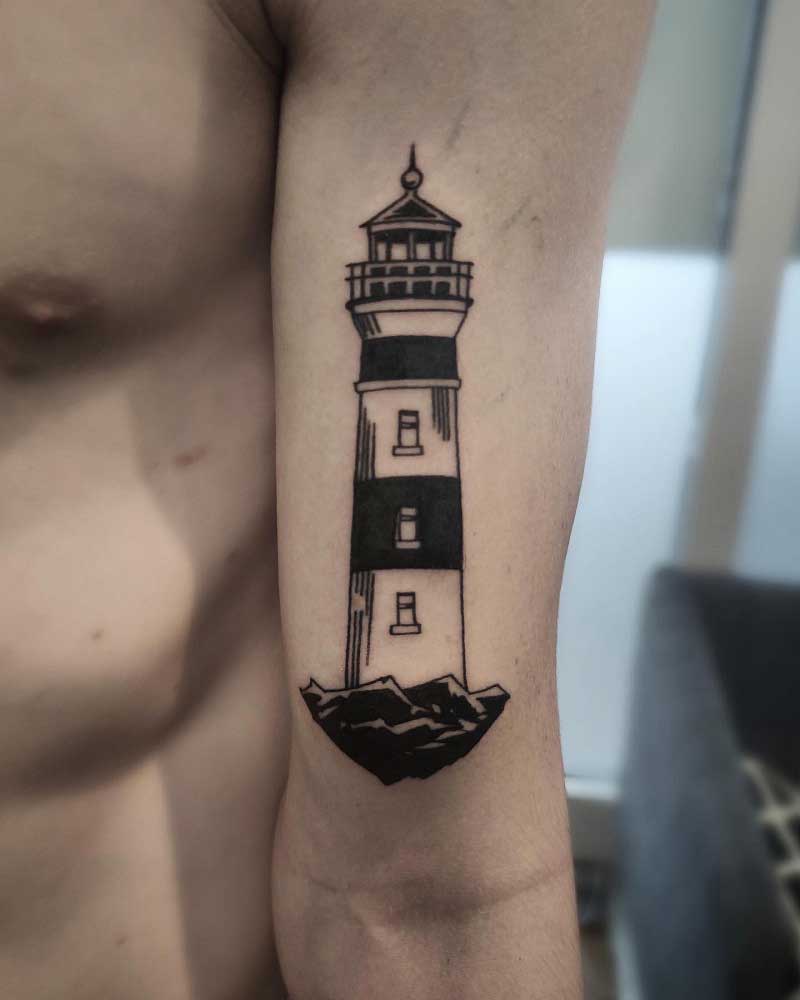 42.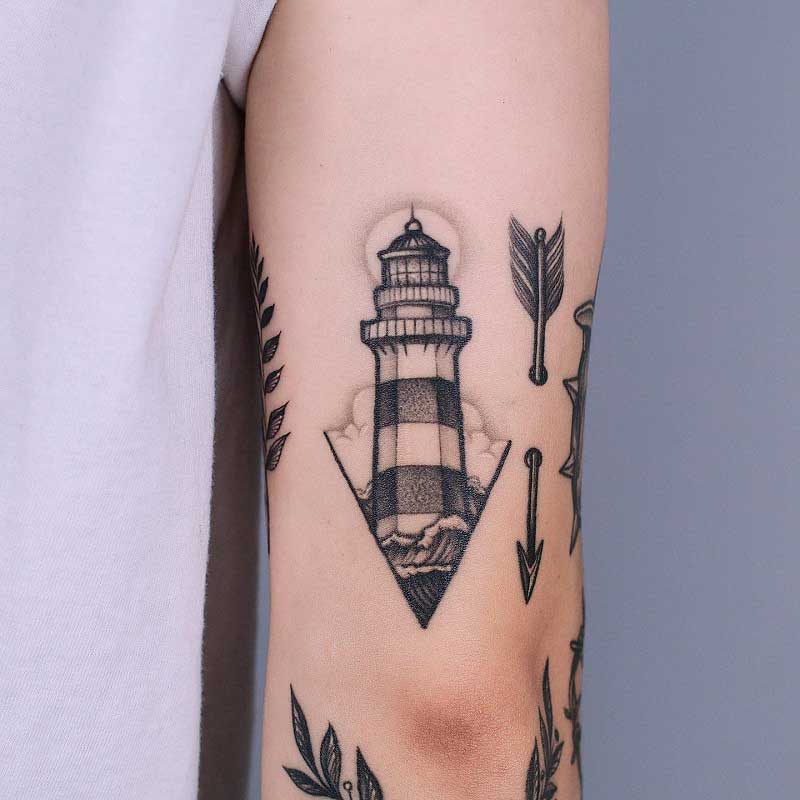 Compass Lighthouse Tattoo
43.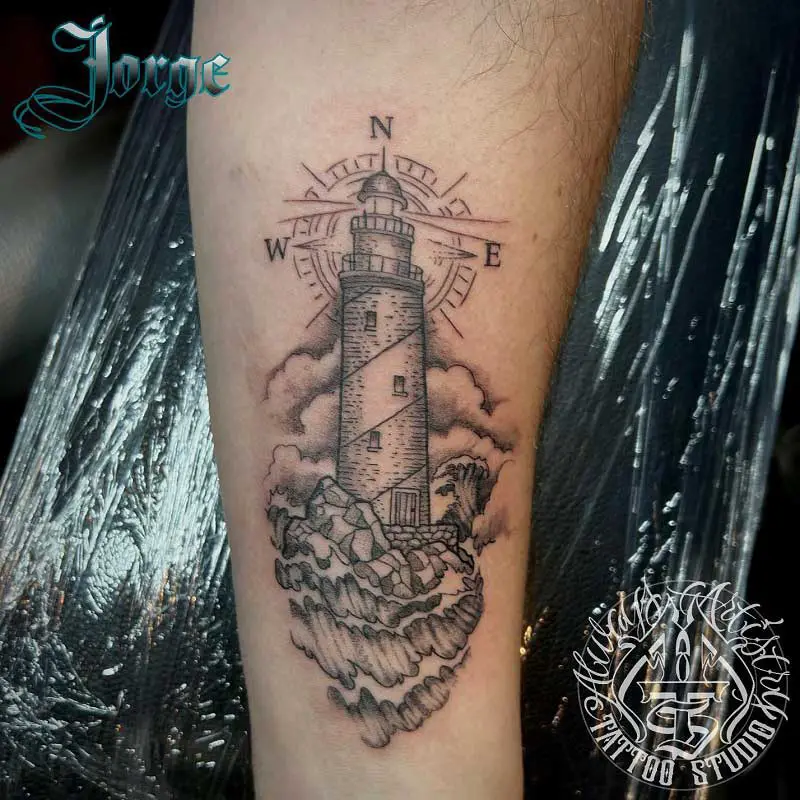 44.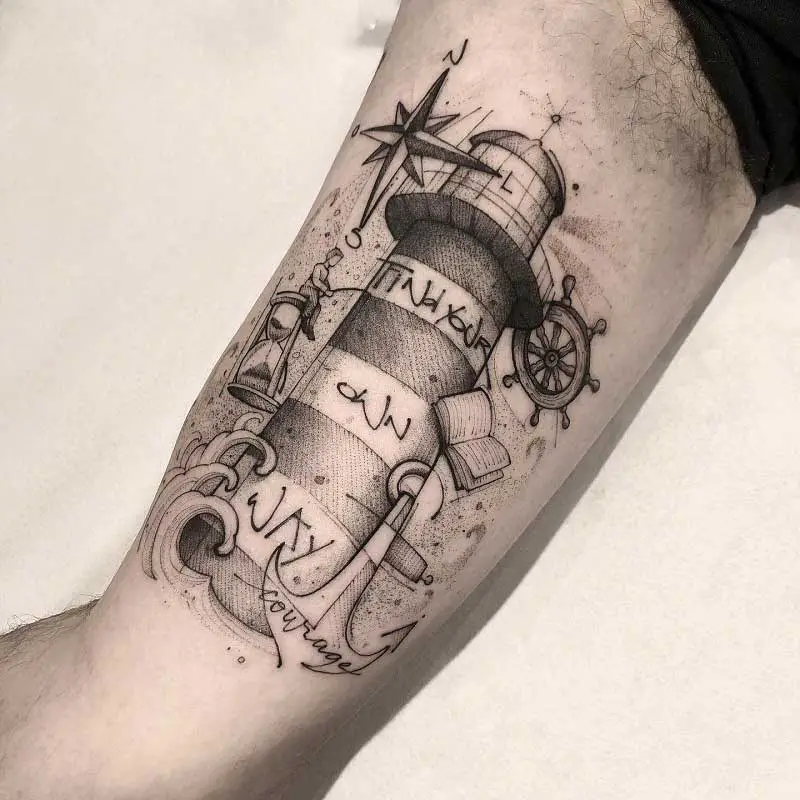 45.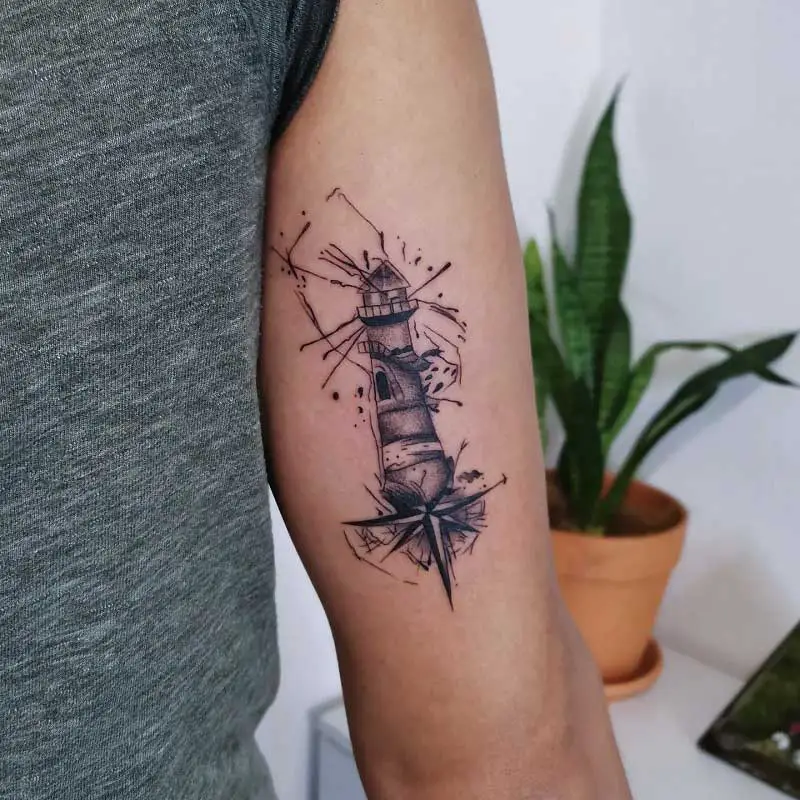 Fire Island Lighthouse Tattoo
46.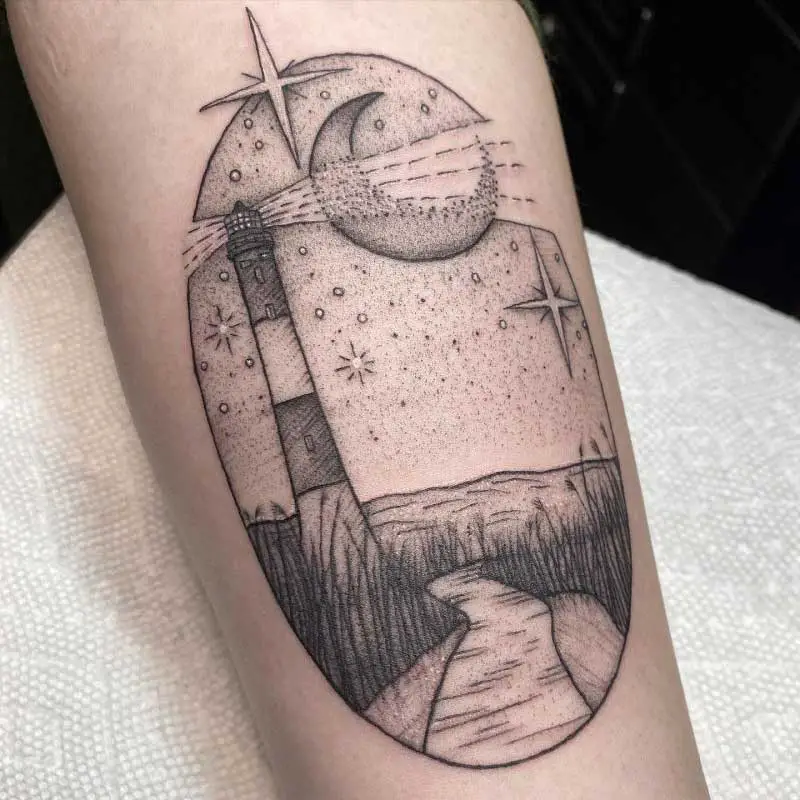 47.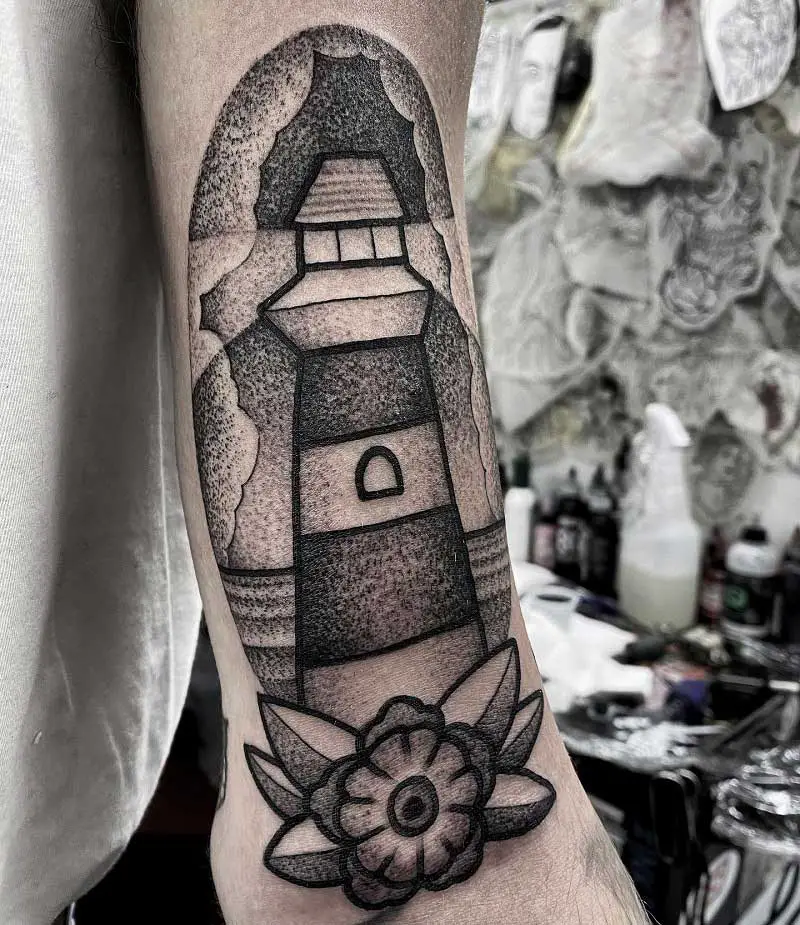 Japanese Lighthouse Tattoo
48.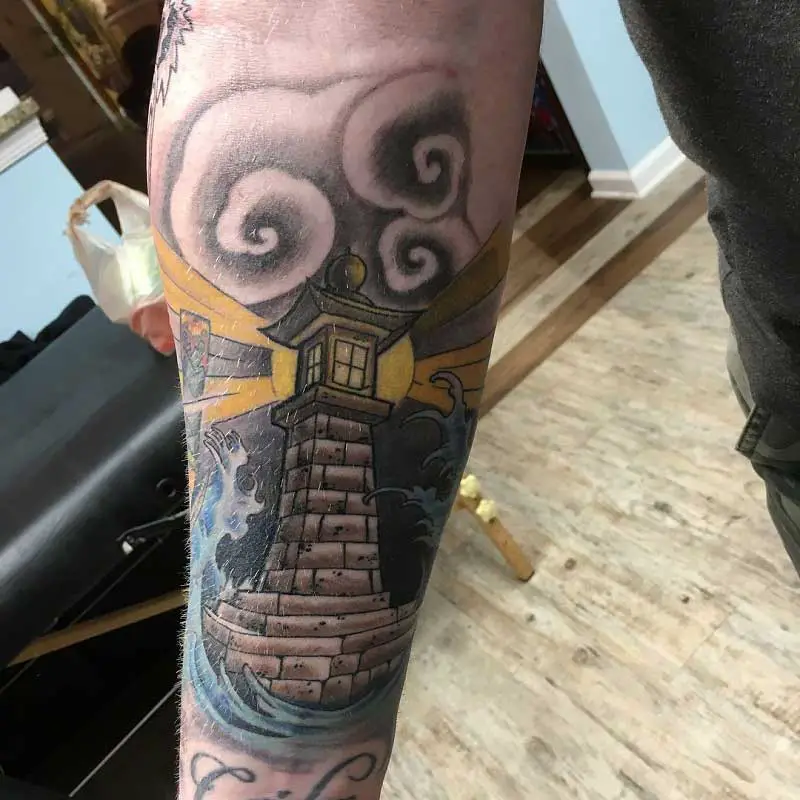 49.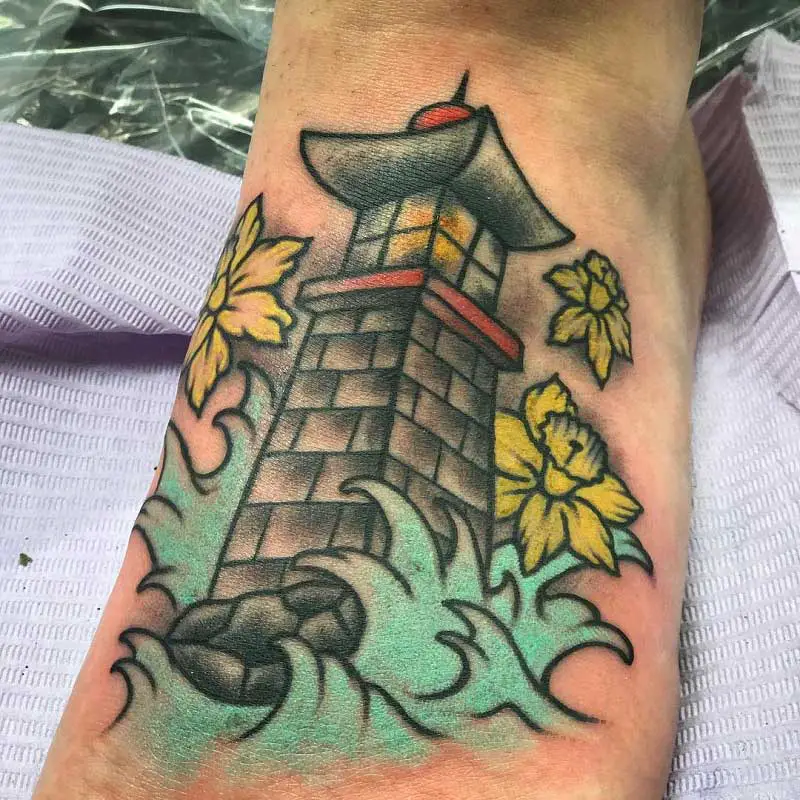 Kraken Lighthouse Tattoo
50.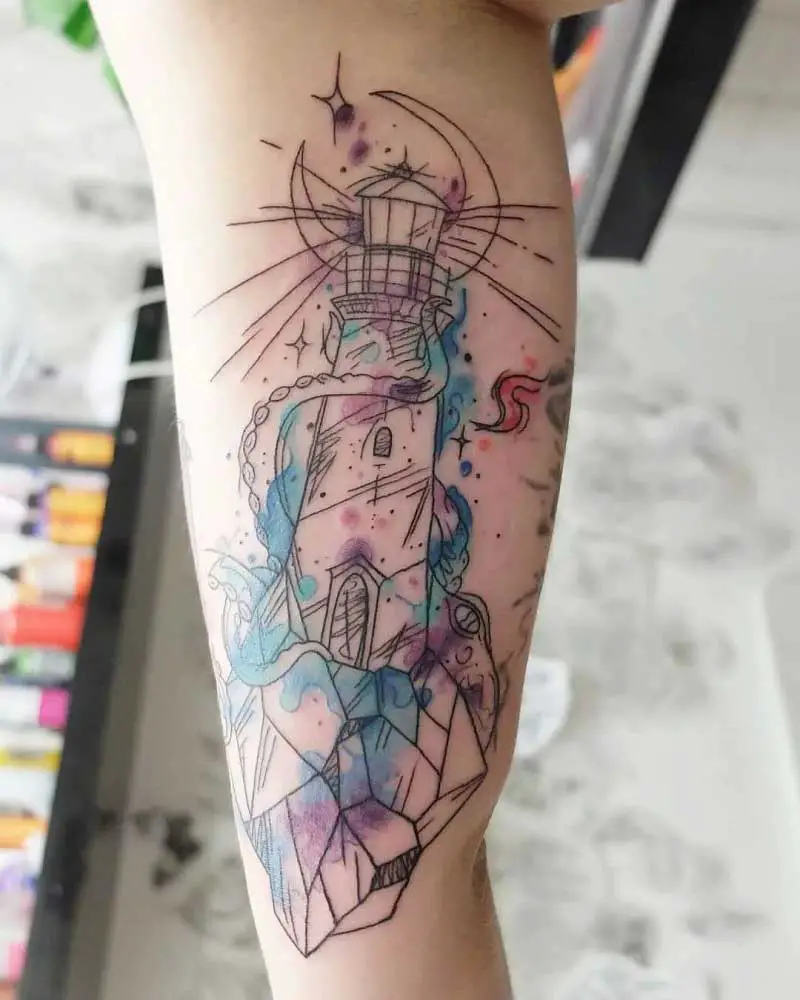 51.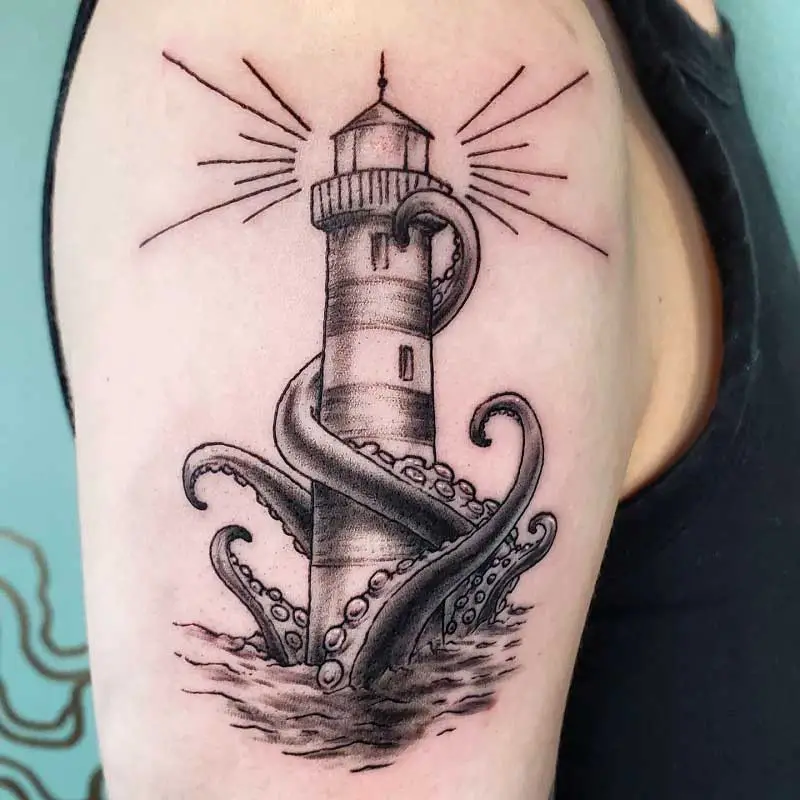 52.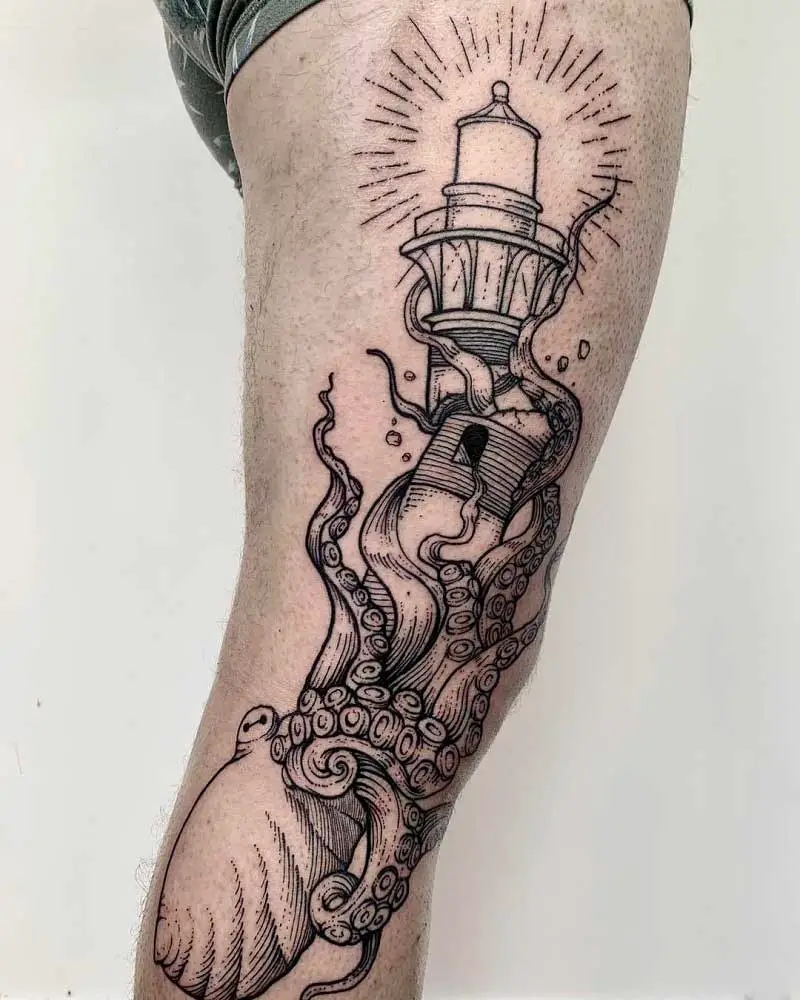 Lighthouse Ocean Tattoo
53.
54.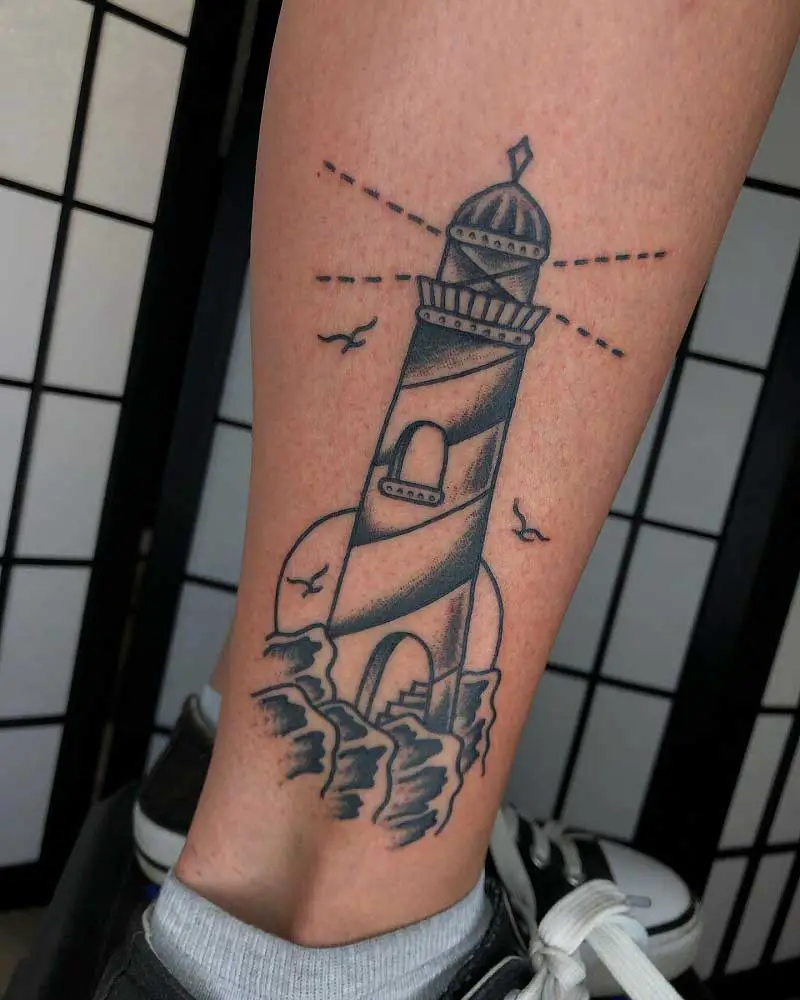 55.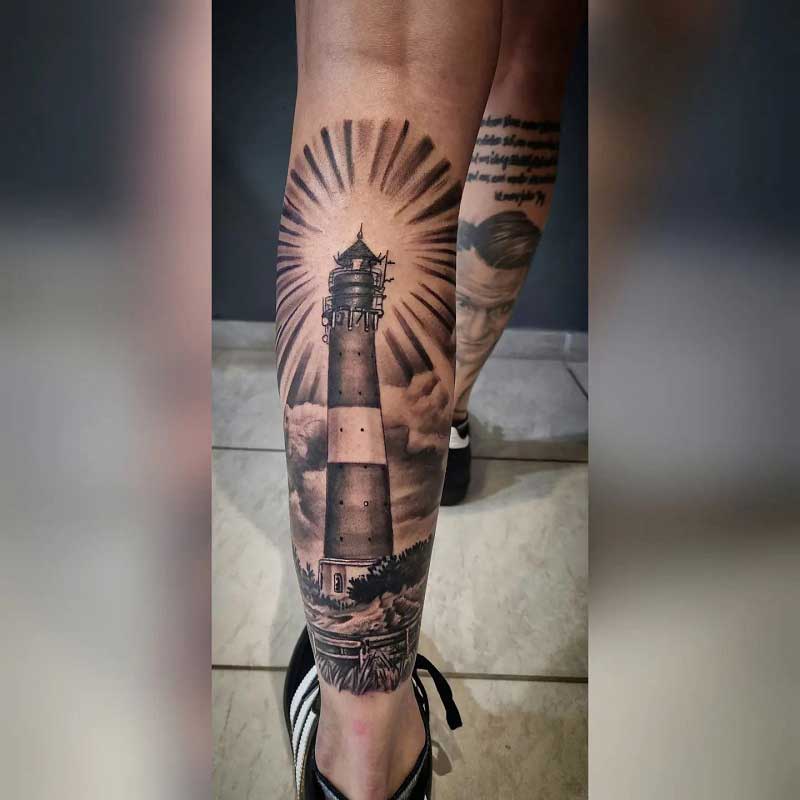 56.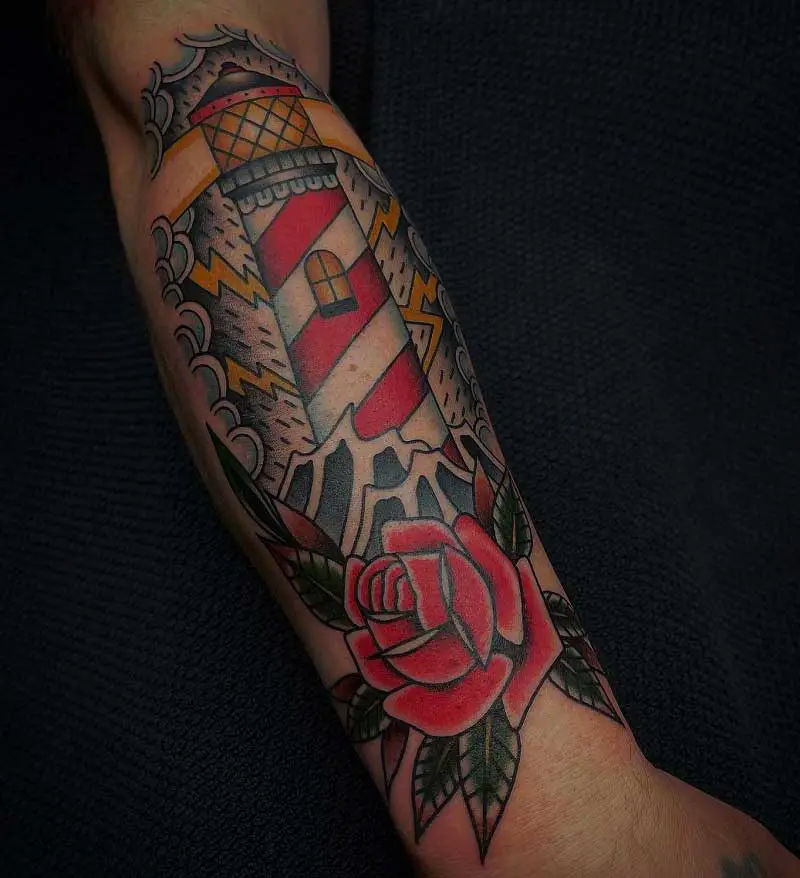 57.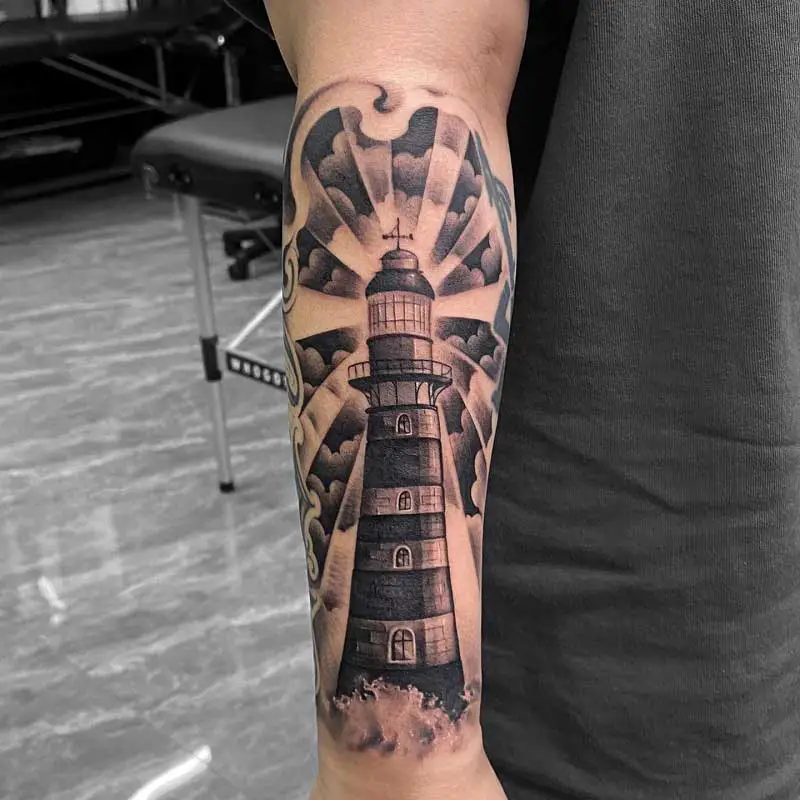 58.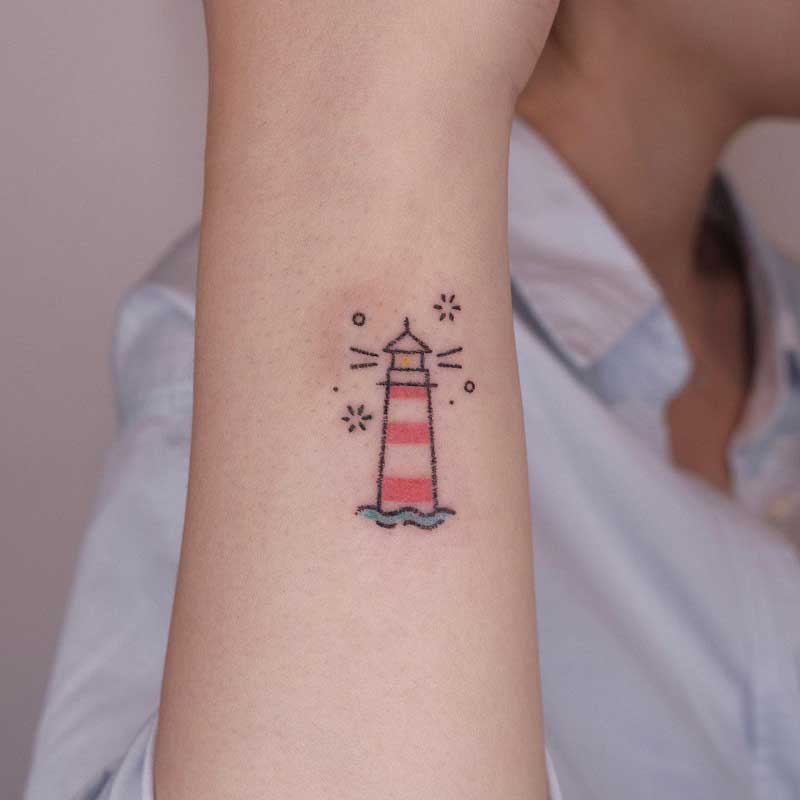 59.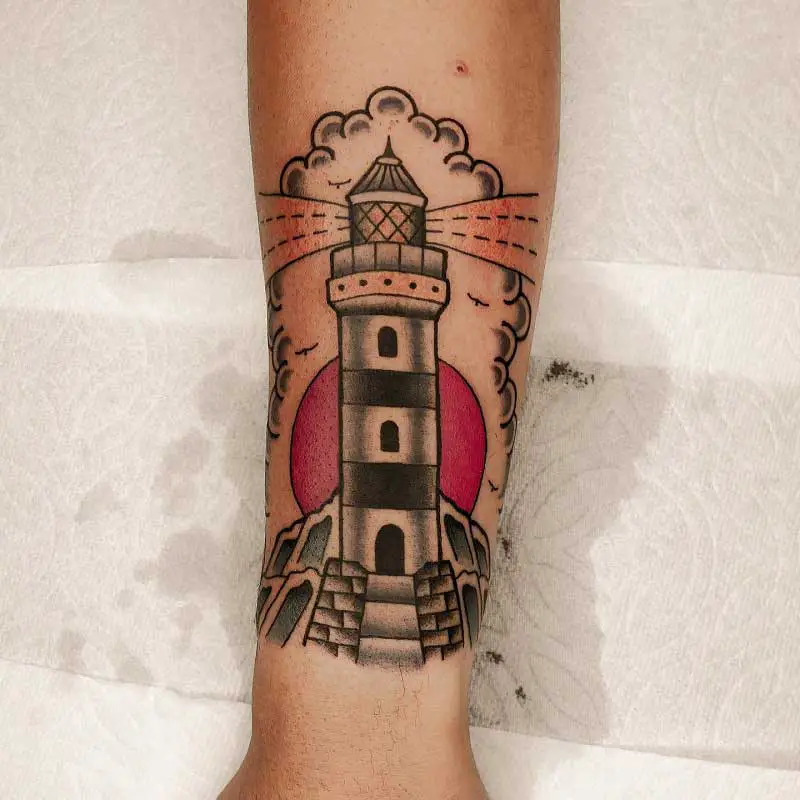 60.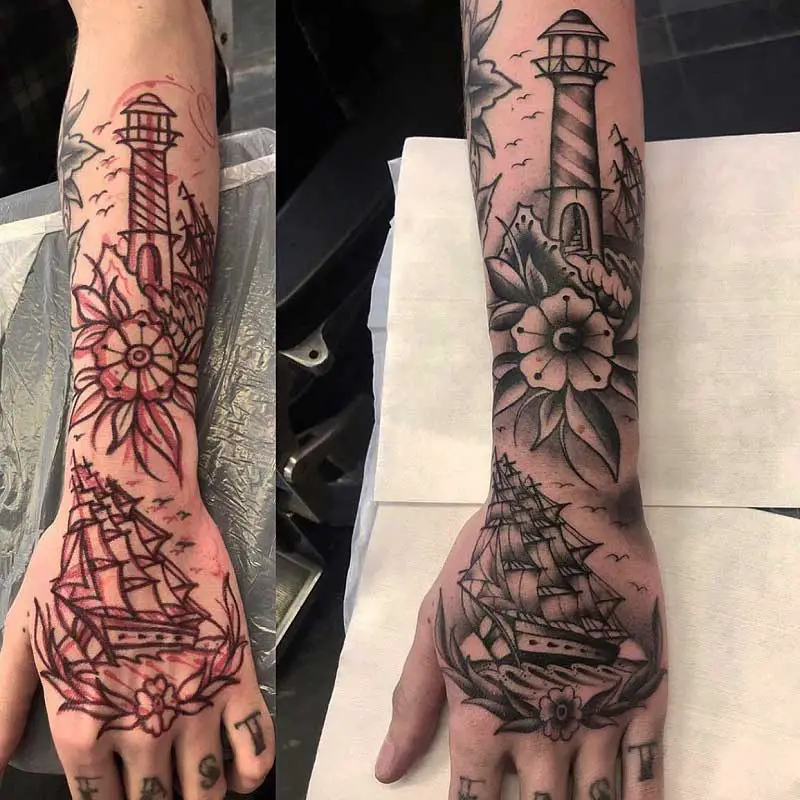 61.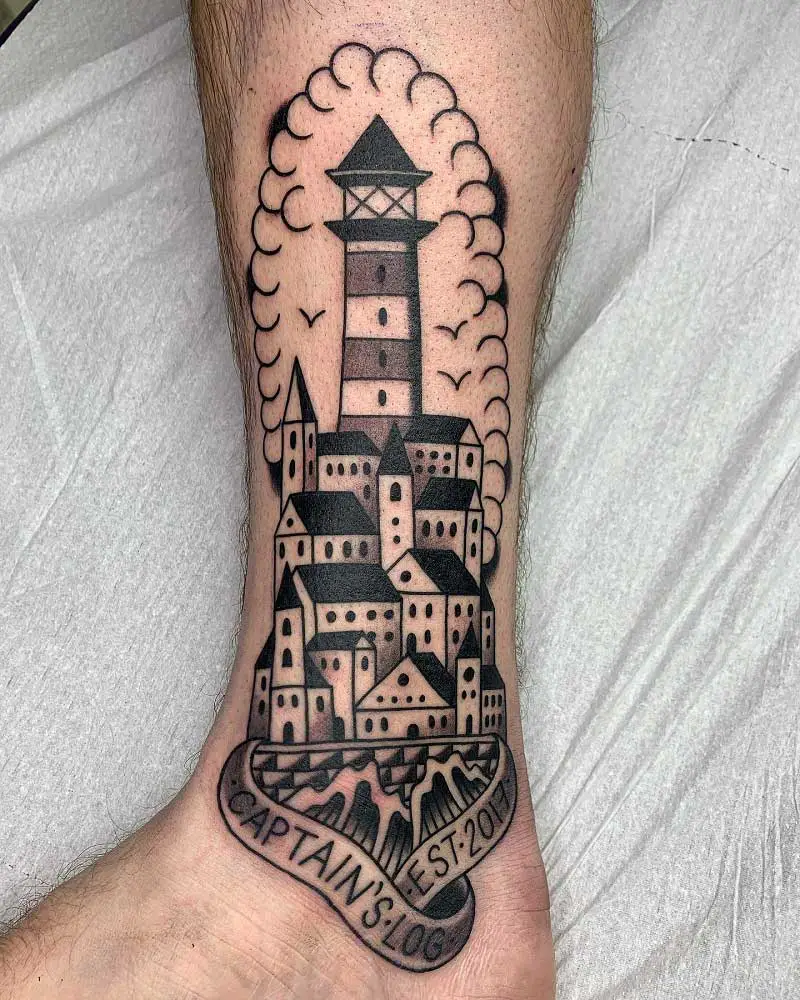 Sailboat Lighthouse Tattoo
62.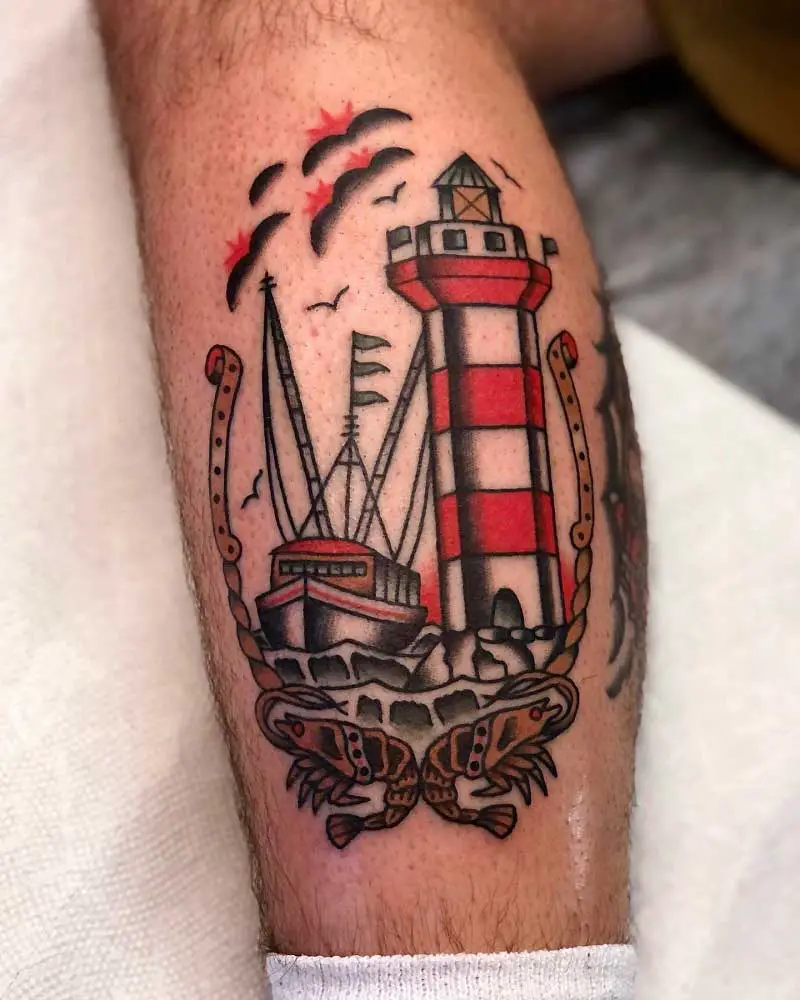 63.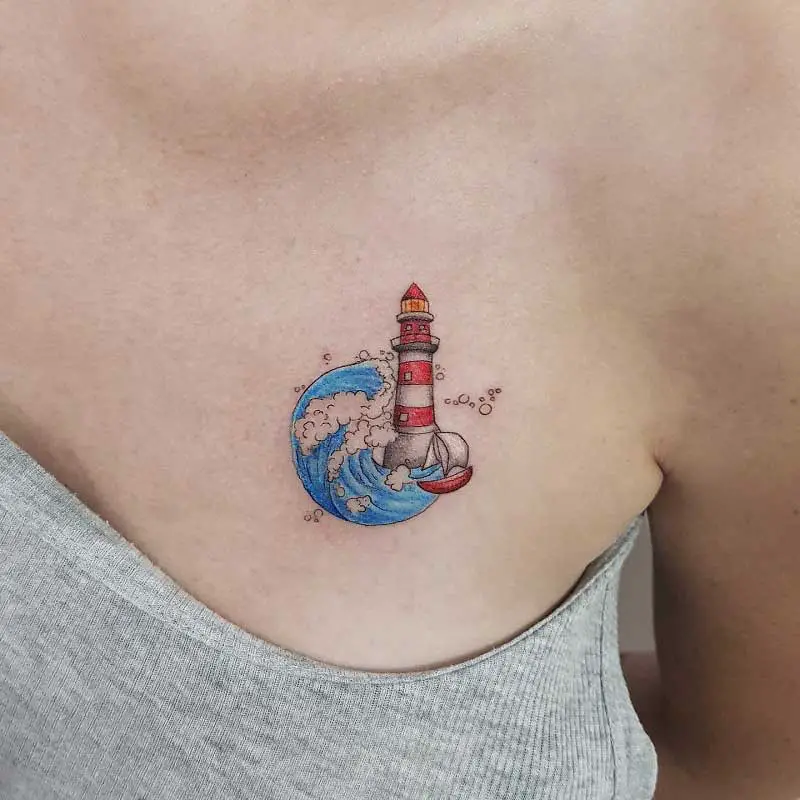 Sailor Jerry Lighthouse Tattoo
64.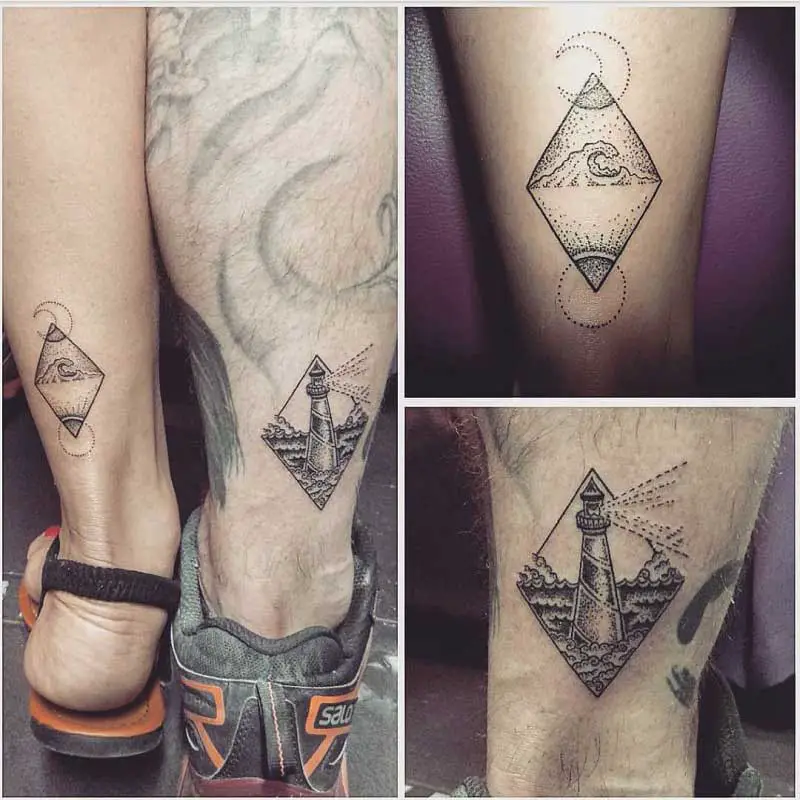 65.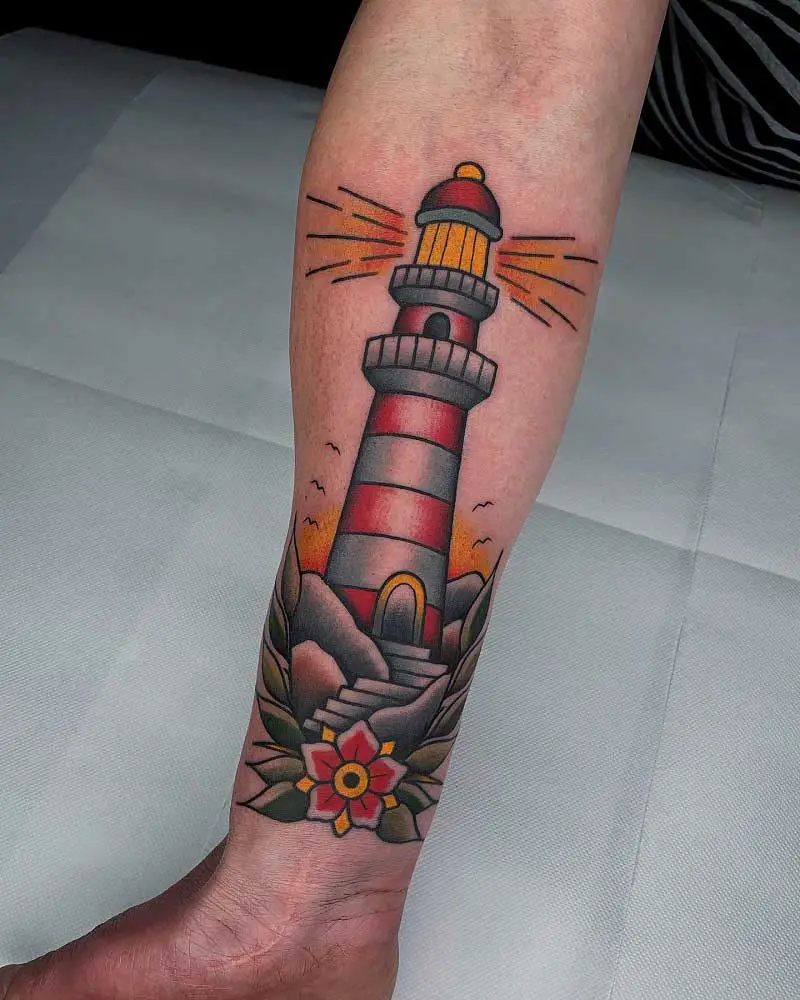 66.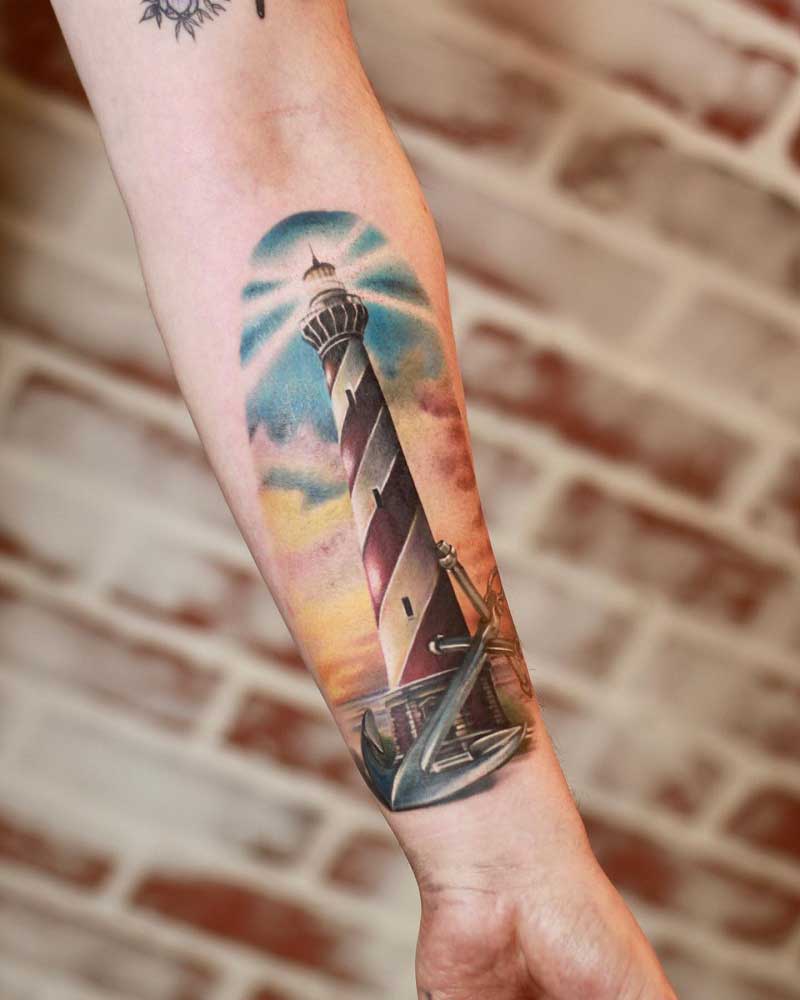 Ship Lighthouse Tattoo
67.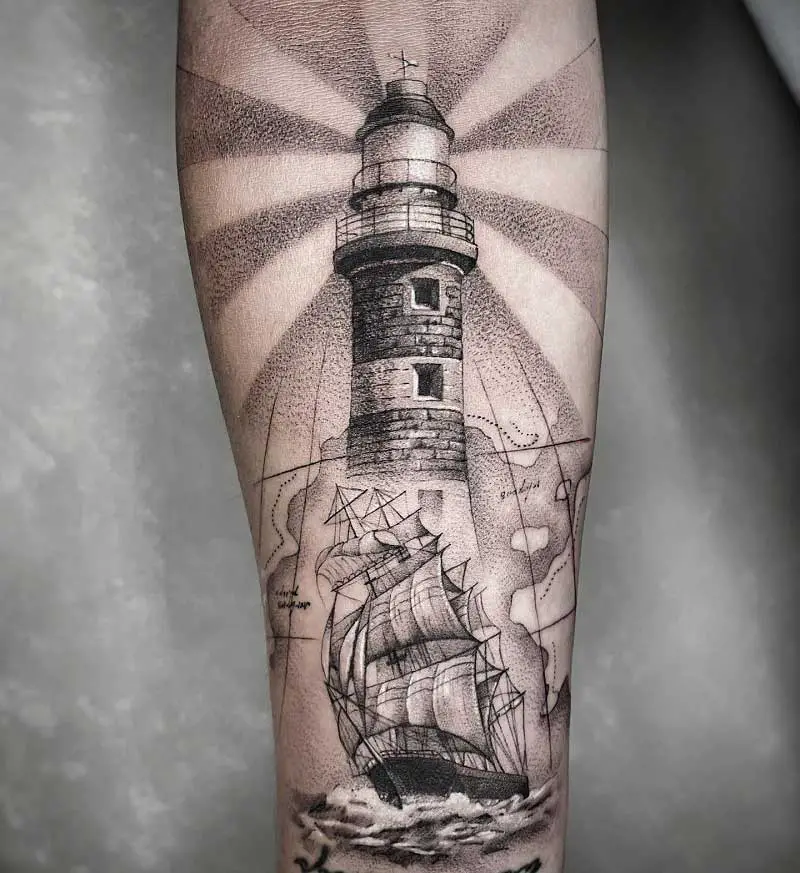 68.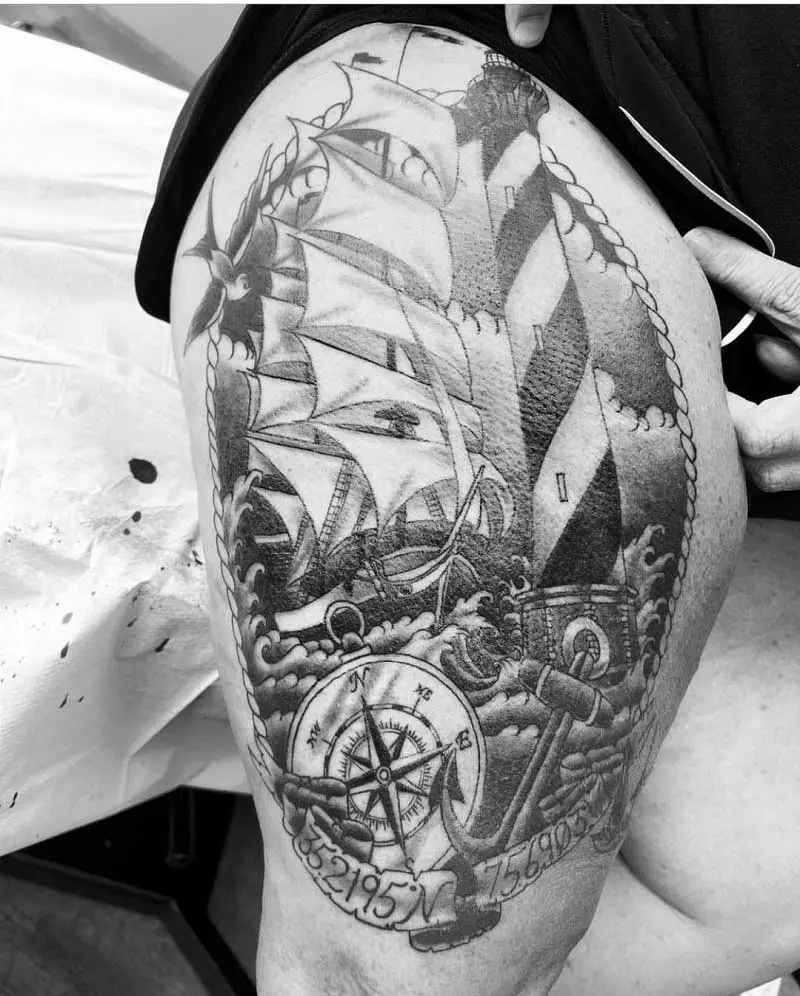 69.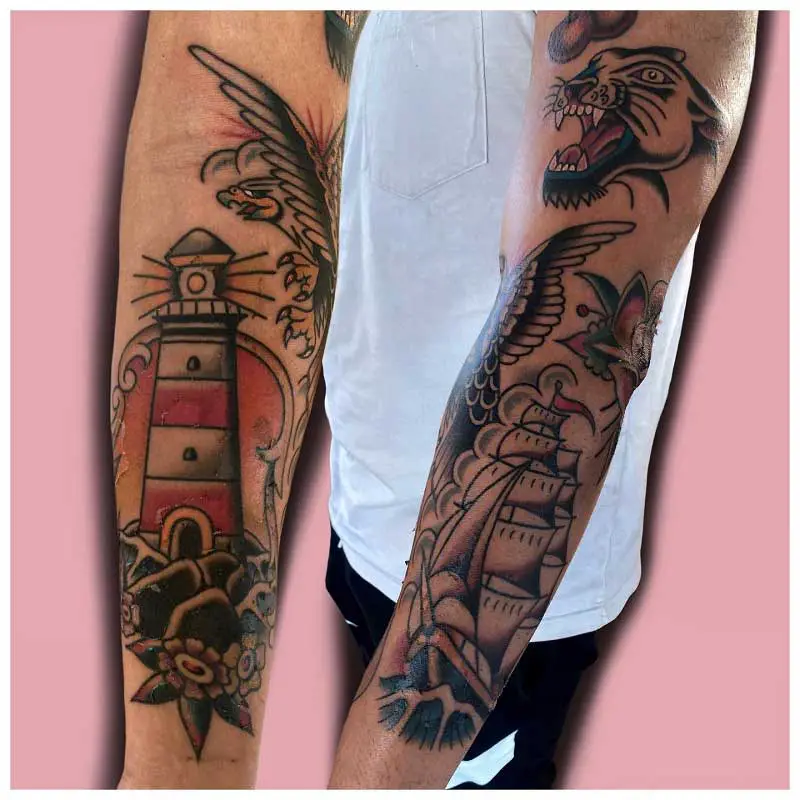 Stormy Lighthouse Tattoo
70.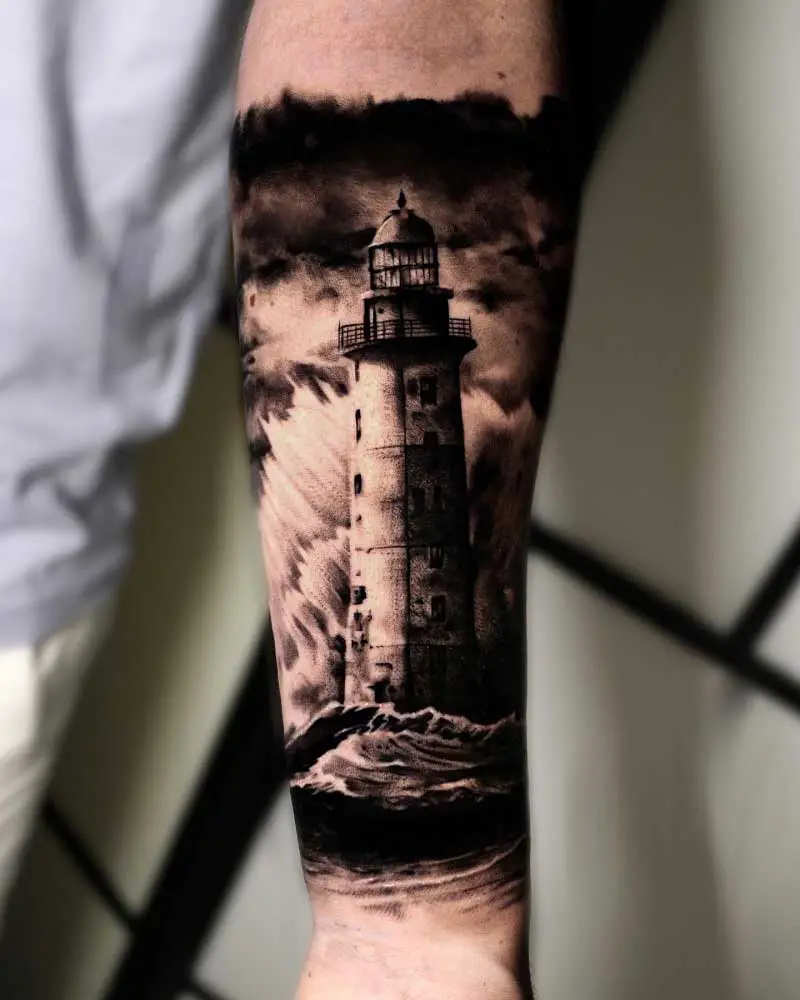 71.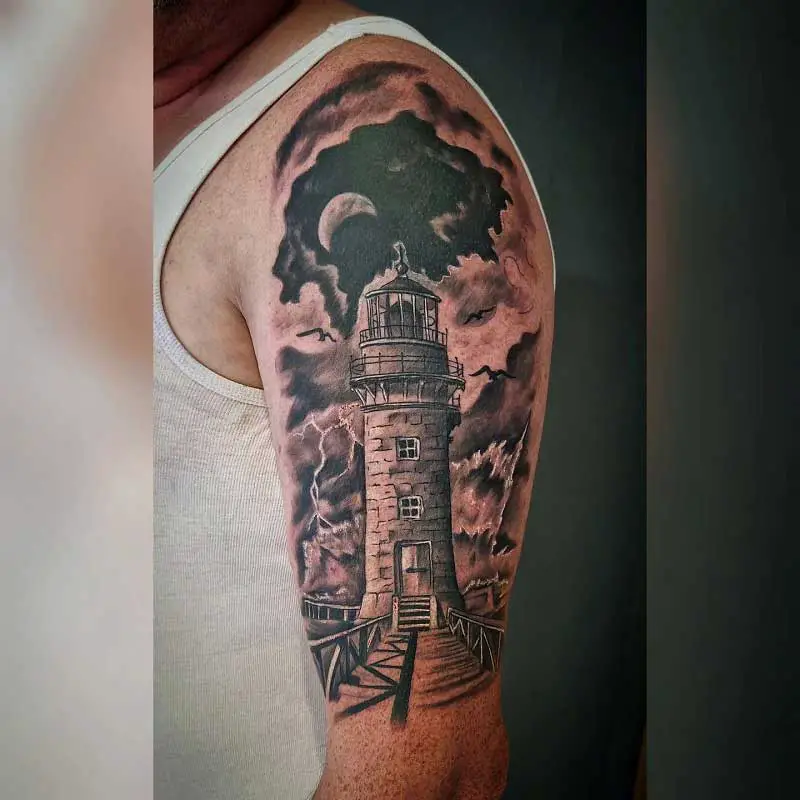 72.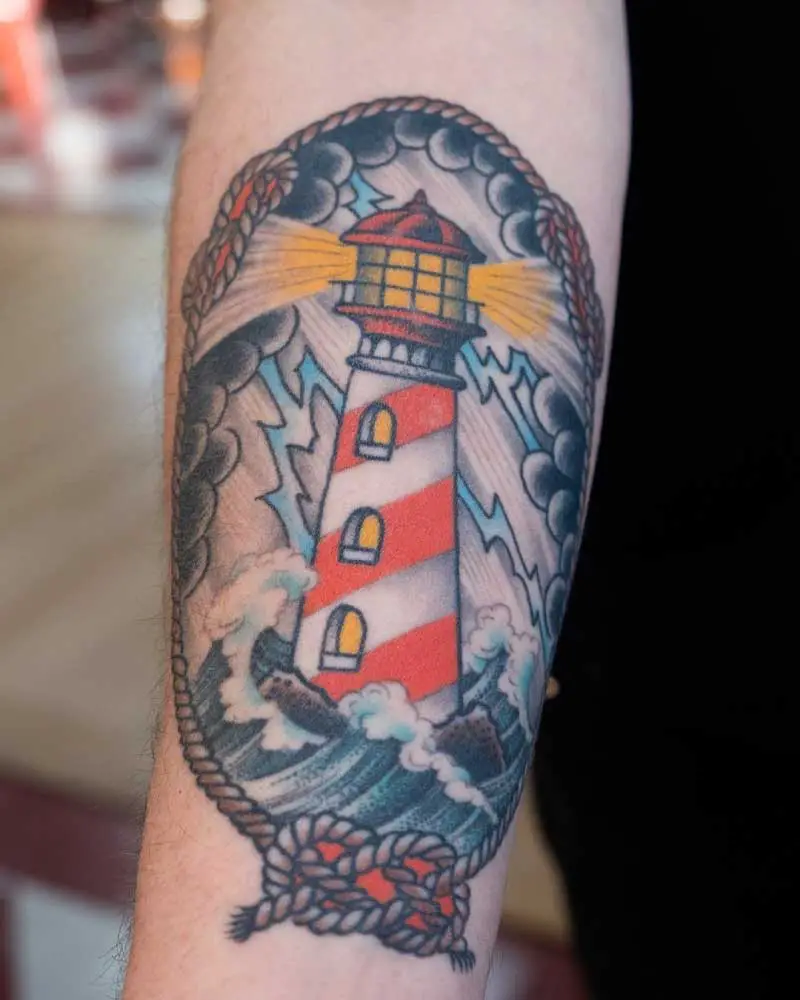 Abstract Lighthouse Tattoo
73.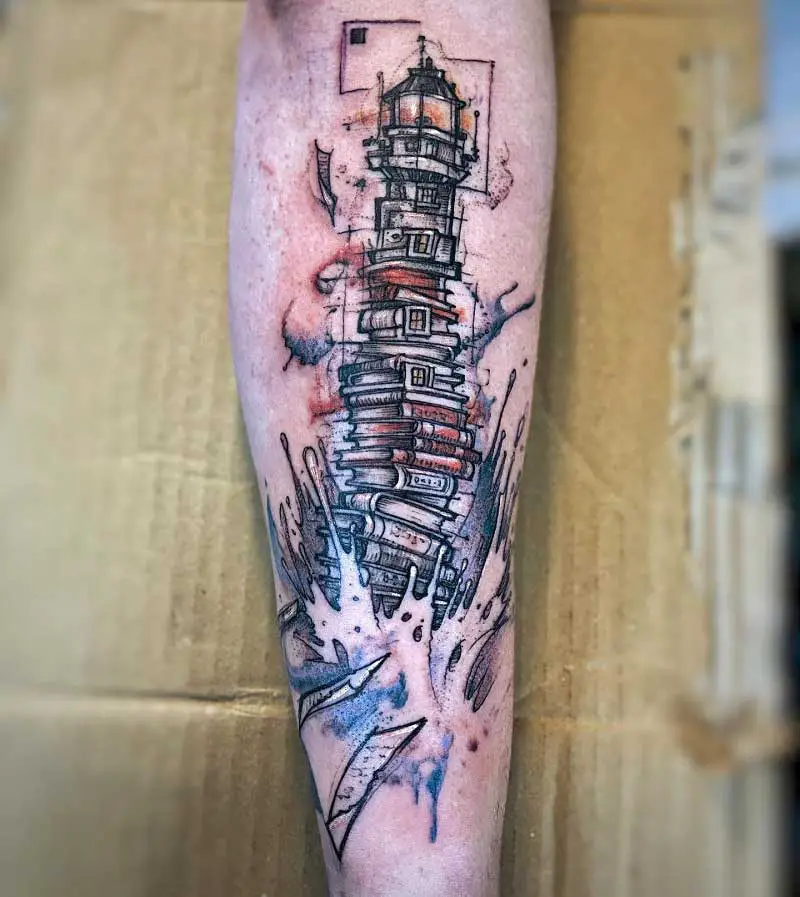 74.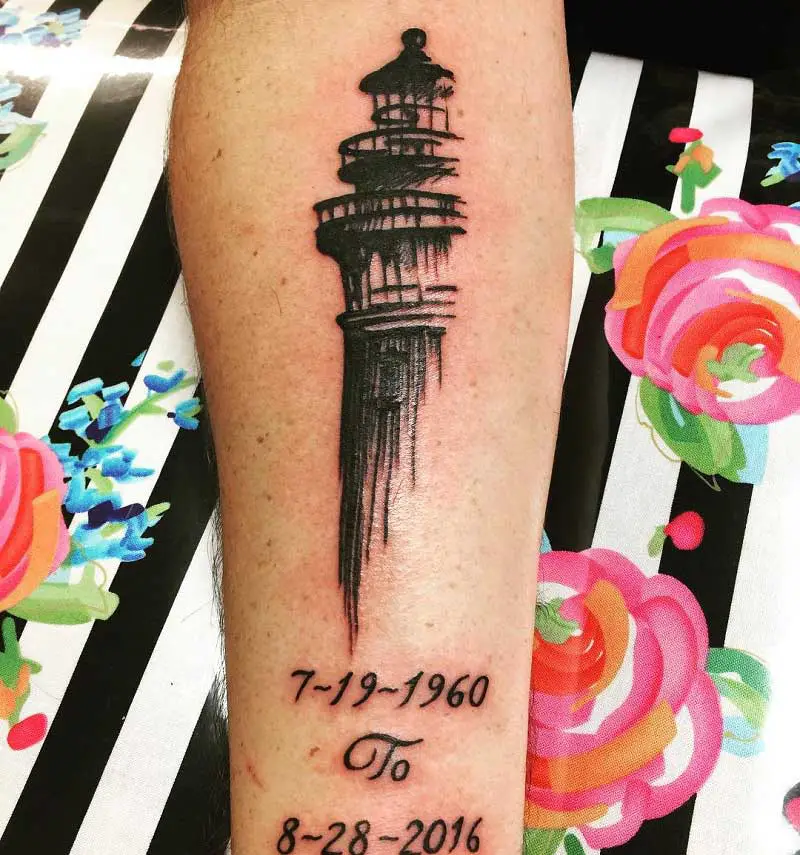 75.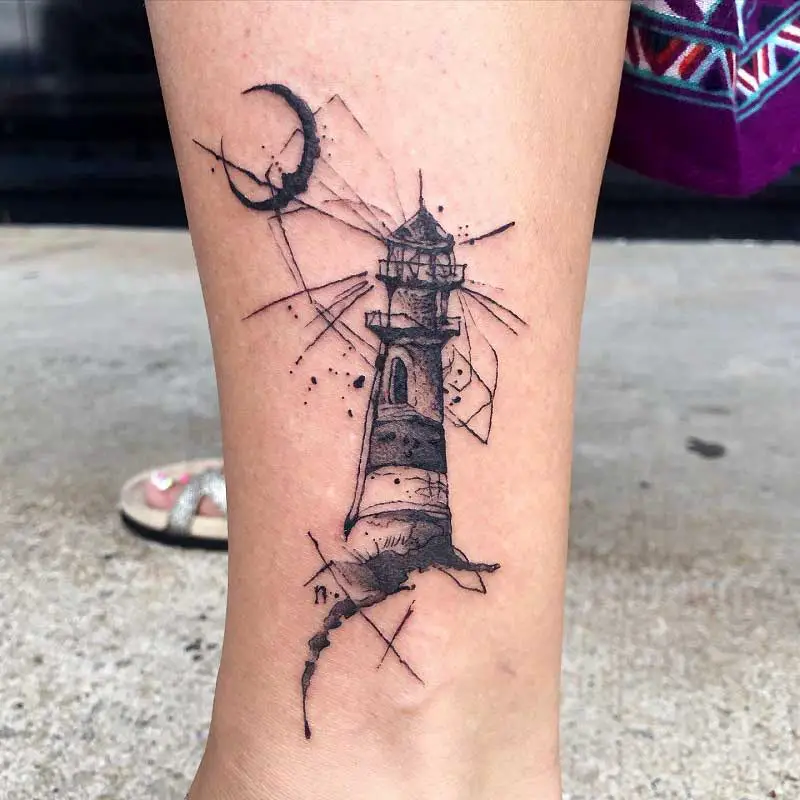 Barnegat Lighthouse Tattoo
76.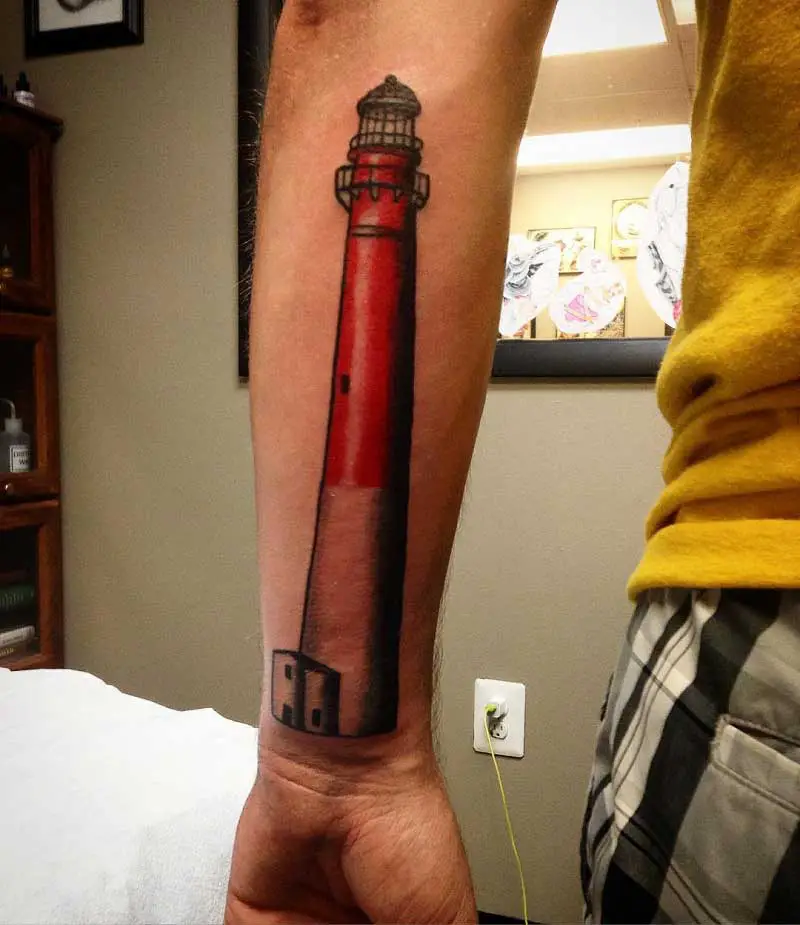 77.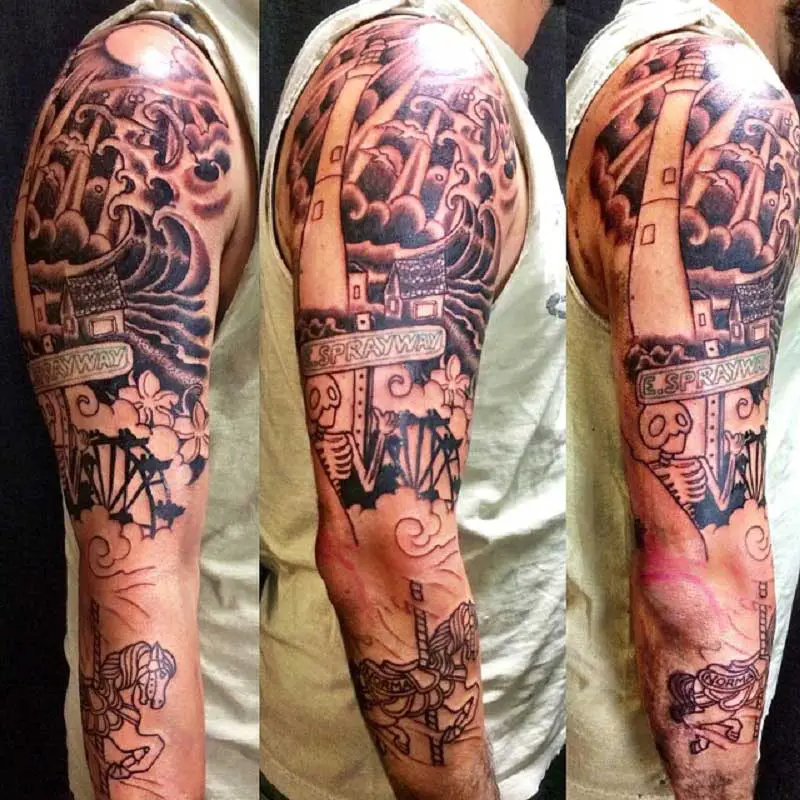 78.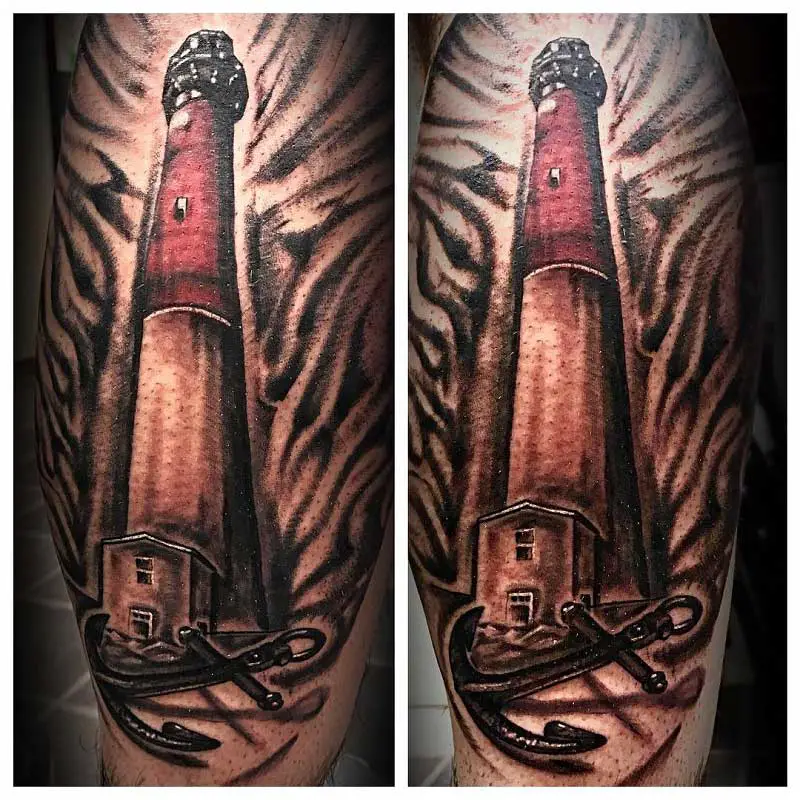 Geometric Lighthouse Tattoo
79.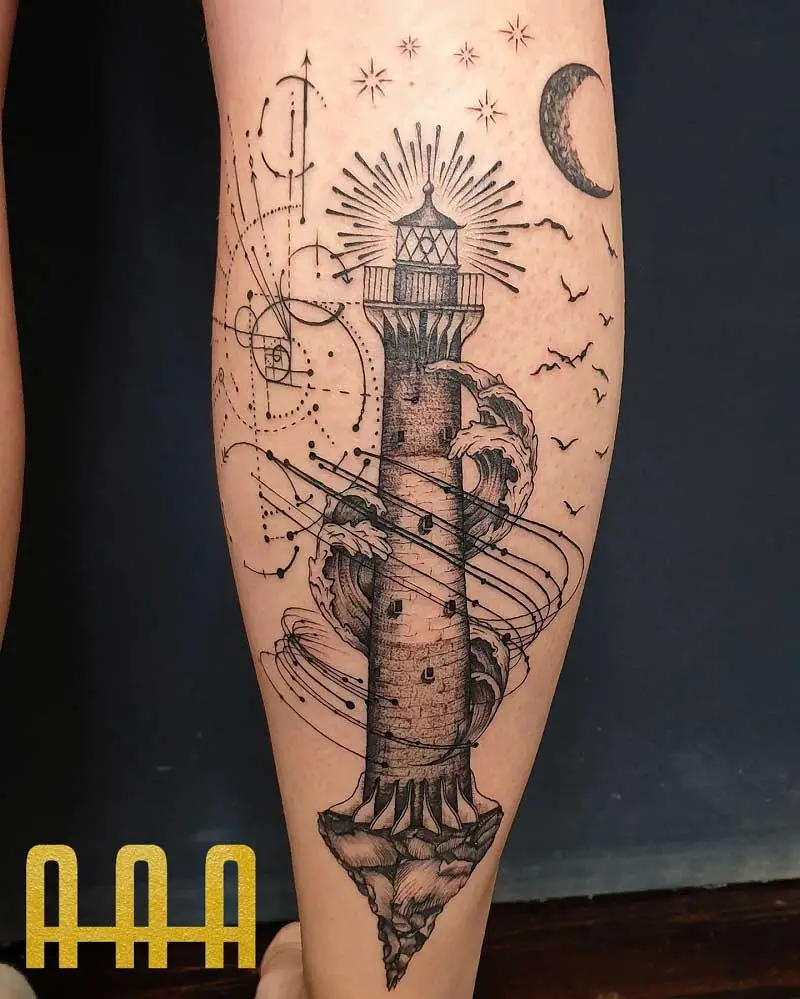 80.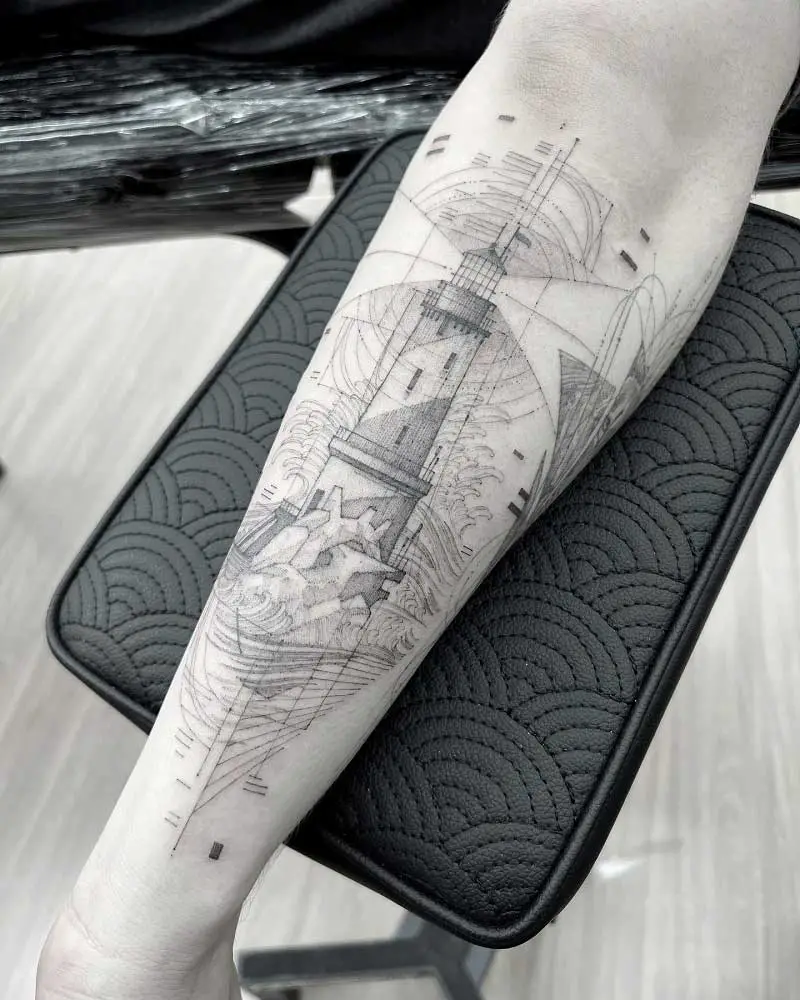 81.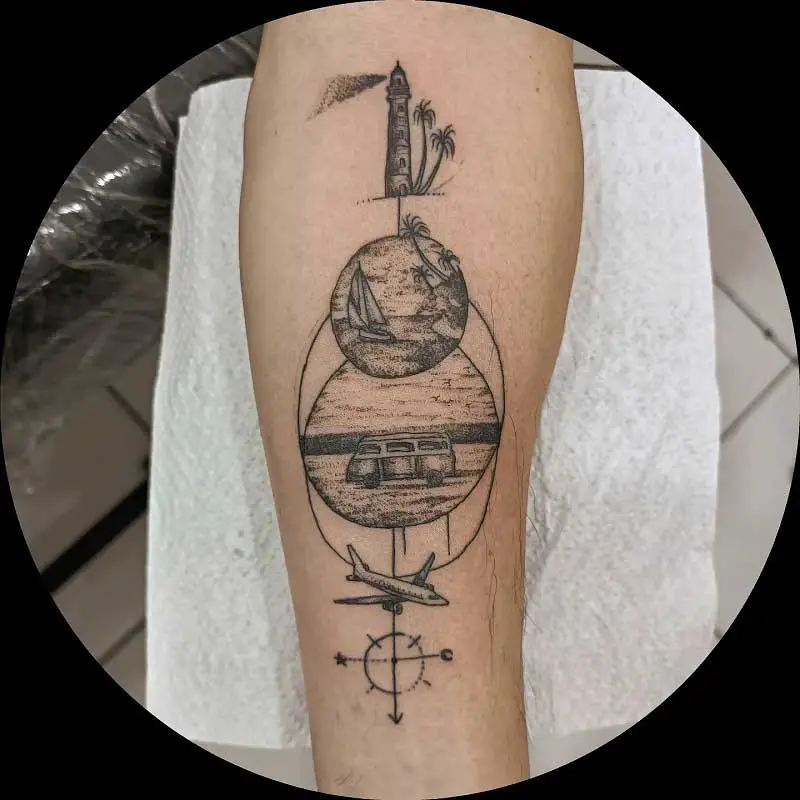 Lighthouse Minimalist Tattoo
82.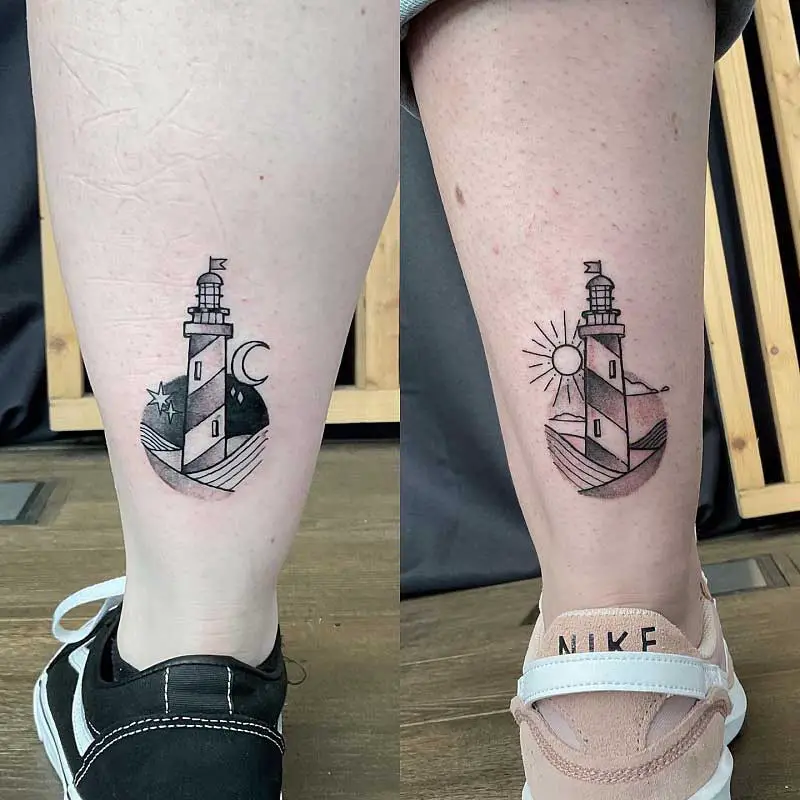 83.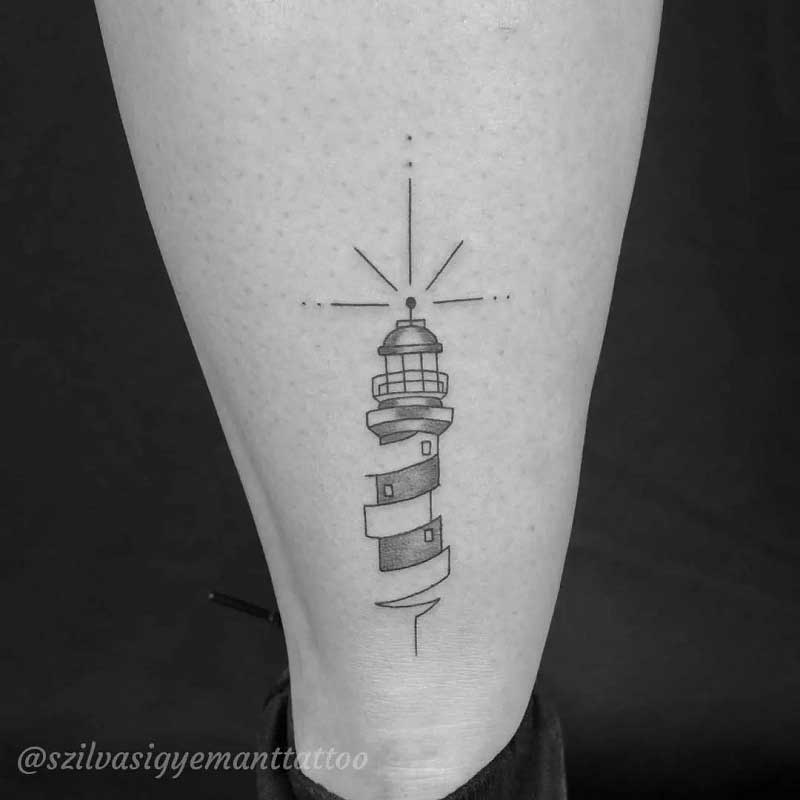 84.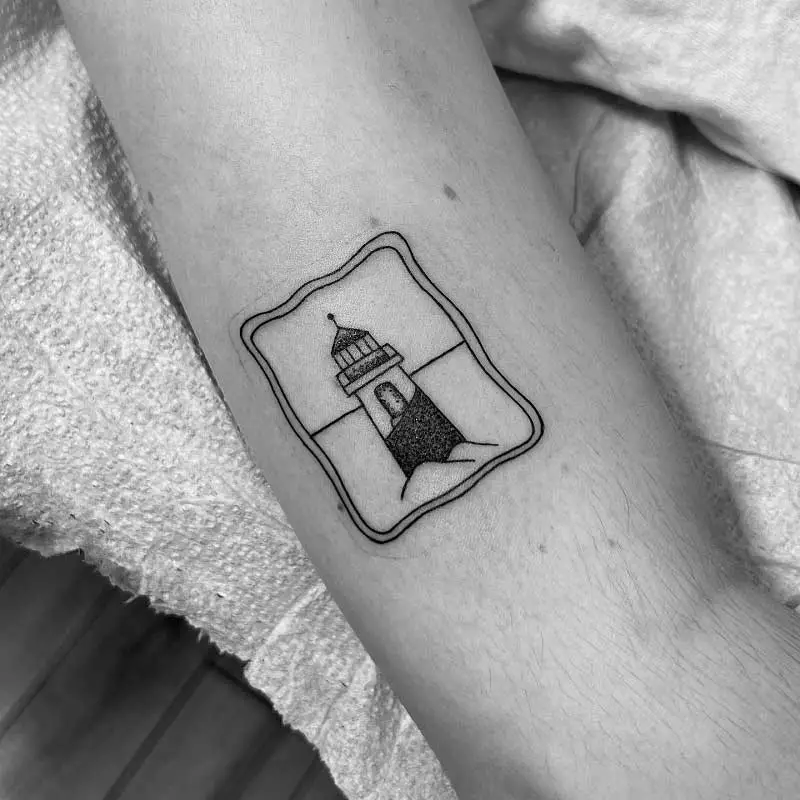 Trash Polka Lighthouse Tattoo
85.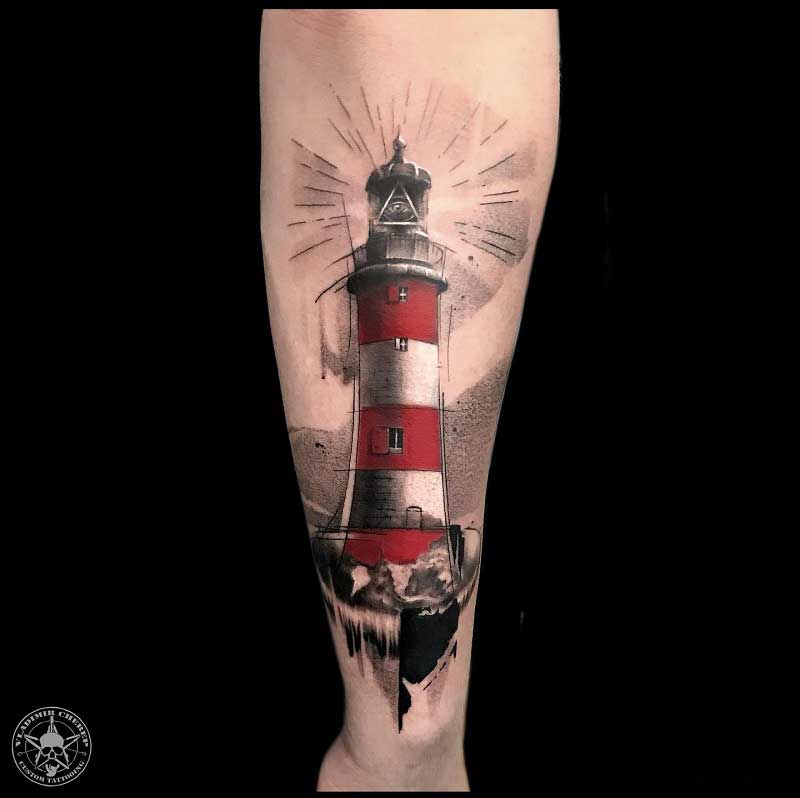 86.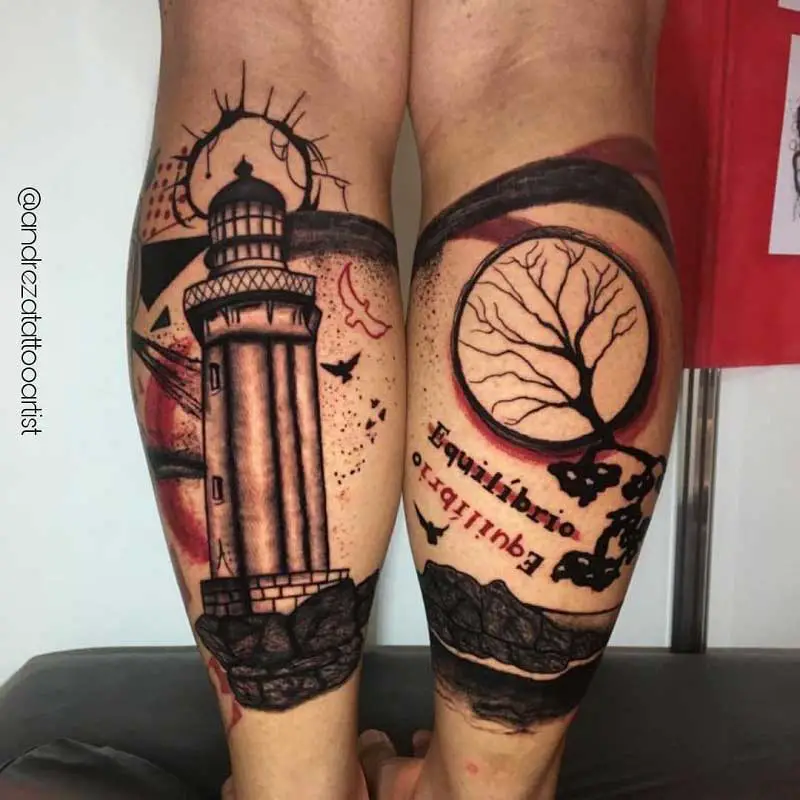 87.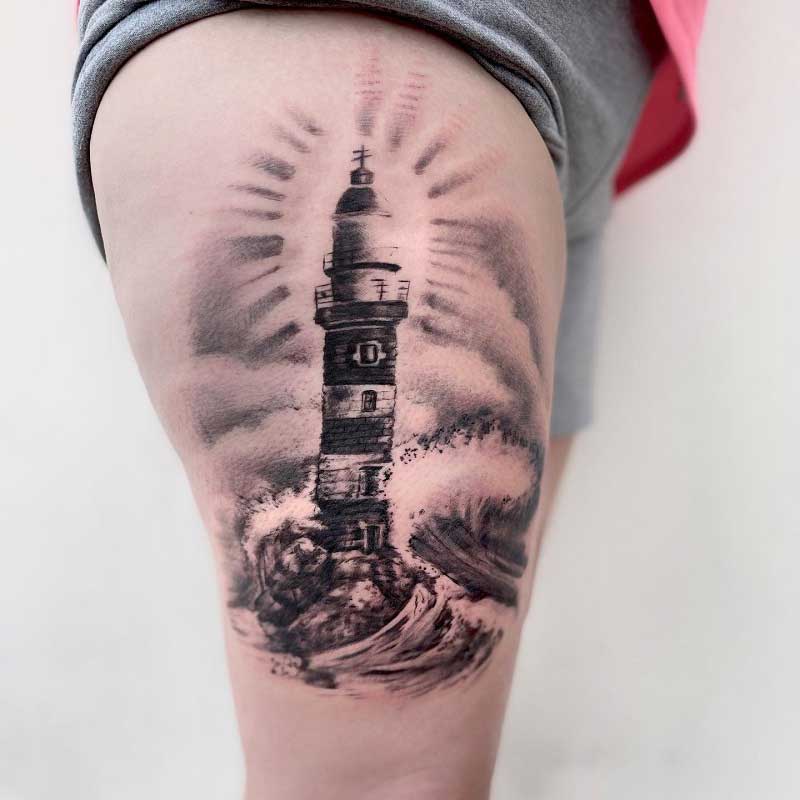 Concluding Words
Which one was your favorite lighthouse tattoo?  I know it will be a tough choice with all those amazing options but you can definitely find the one that matches best with you!
If you are super confused, you can always send this blog to your friends and family to see which one fits you the best.
Frequently Asked Questions
What does a lighthouse tattoo symbolize?
In general, the most common use of a tattoo of a lighthouse is to symbolize some form of navigation and protection. It usually means a way forward while overcoming adversity.
Why do people get lighthouse tattoos?
When someone relates to the idea of serving as a body to guide and protect, they can get a lighthouse tattooed on their body. However, it can mean different things to different people.
What goes with a lighthouse tattoo?
Lighthouse figures can be mixed with several other elements such as anchors, clouds, waves, etc. It can also be combined with your favorite theme!
What does the lighthouse tattoo mean for sailors?
Sailors have been using the lighthouse for safety and guidance for a long time. They can get a tattoo of this theme as an admiration towards it.