In the 21st century, ship tattoos are not necessarily a thing just for sailors. The symbolic meanings they carry are seen almost in all cultures. In human consciousness, they are deeply ingrained.
These tattoos are popular mostly among men. Primarily, they signify adventure, hope, journey, discovery, courage and last but not least, the desire to explore the unknown. Ship tattoos can be shown with a variety of nautical symbols such as waves, anchors, swords, pirates and many more. Stick around as we are about to walk you through all of them.
Ship Tattoos Designs
We have gathered over 90 unique ship tattoo designs for you to go over, each one with their own symbolism. Please note that you do not necessarily have to copy the whole design we have shown you here. Let your creativity run free and make your own adjustments to the designs.
Now without further do, let's get started, shall we?
Traditional Ship Tattoo
By getting a tattoo that is traditional, you are respecting the art form and keeping the tradition alive. Here are some cool traditional ship tattoos for you to go through:
1. A Way of Life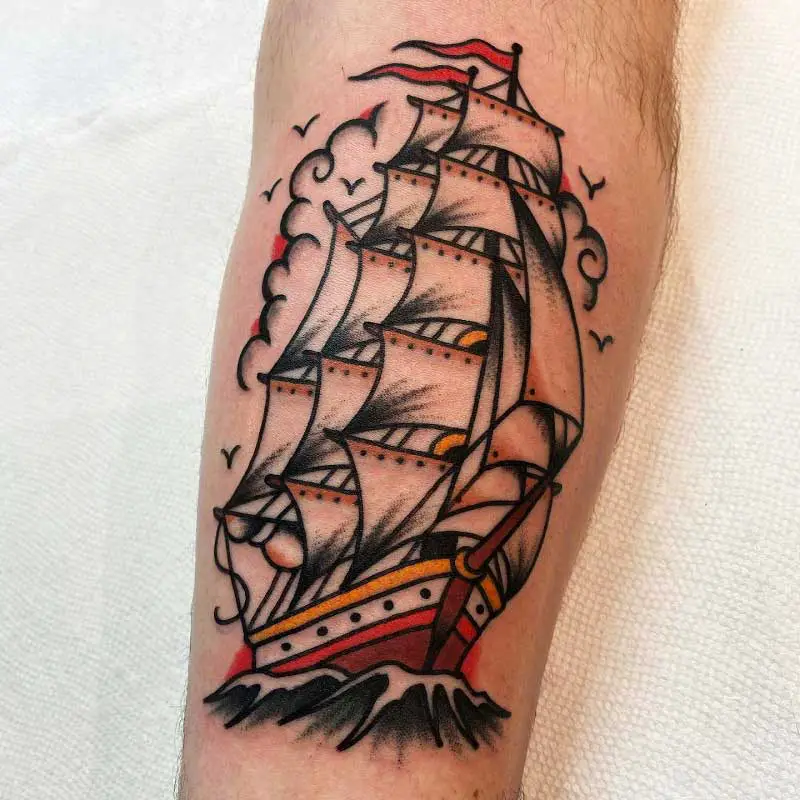 Tattoos don't always need a lot of detailing in order to look stylish and this tattoo of a ship is a prime example of that. You can also change the colors used in this design to suit your needs.
2. New Beginnings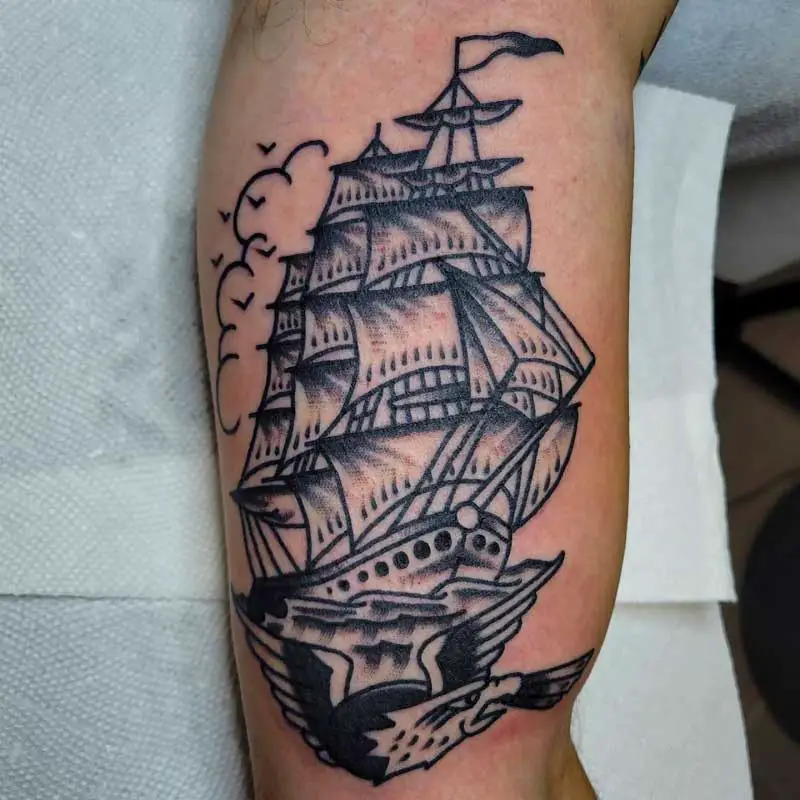 These tattoos are also known for symbolizing new beginnings. This is important because it gives us the chance of starting over and knowing our worth once again.
3. Monochrome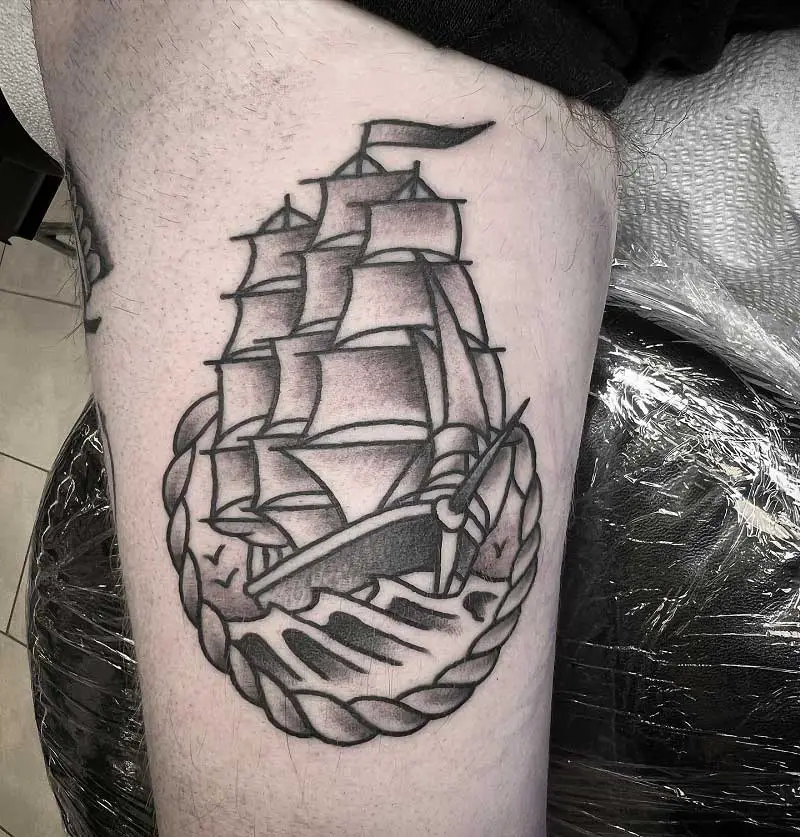 Some tattoos look quite good only in black ink and this is one of them. For more complexity, you can throw in some more elements into the tattoo if you want.
Viking Ship Tattoo
These tattoos typically stand for recklessness and bravery. Viking ships looked like there were always going to be some raids and battles that followed.
4. Heart Full of Courage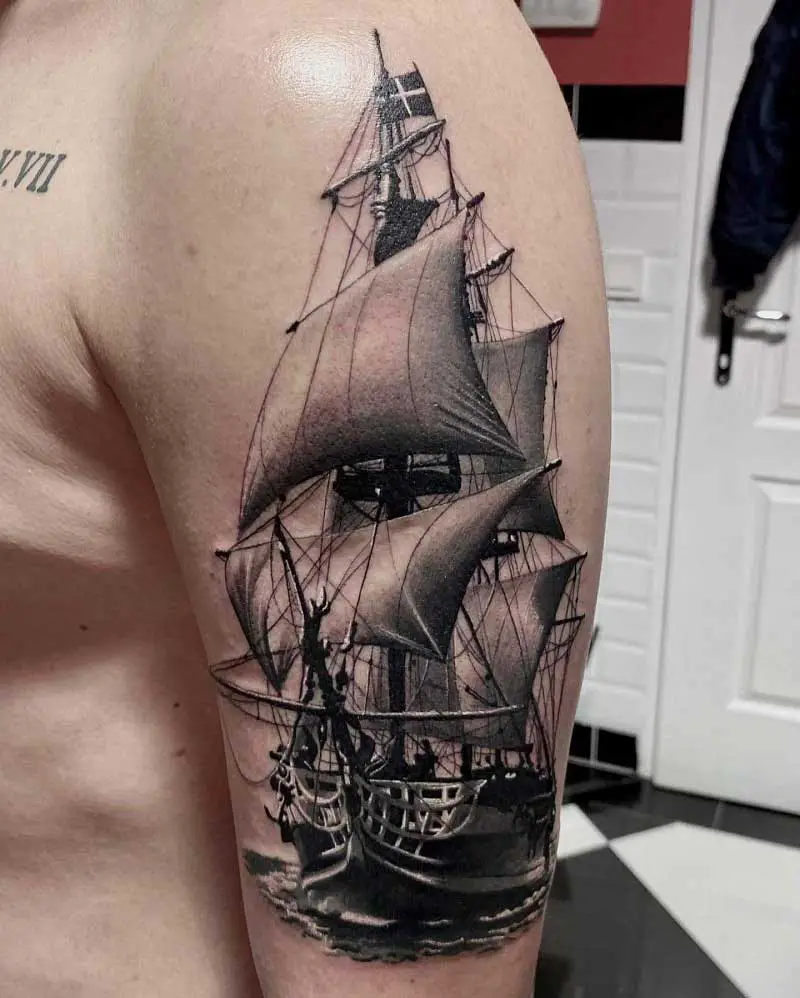 The artist has done an exceptional job at making this tattoo design come to life because a tattoo just cannot look any more realistic than this. An ideal choice for a realistic ship tattoo.
5. Bravery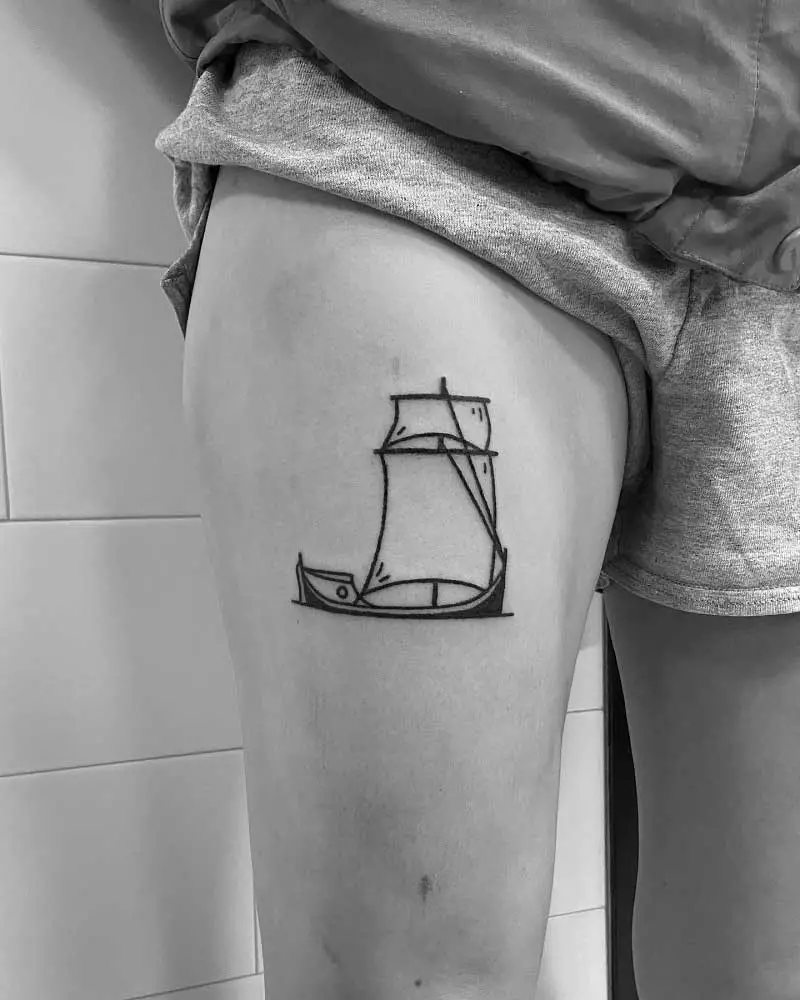 Some of these tattoos also look quite good on the thighs and just on the thighs, especially if they're minimalistic in nature. It does look very simple but that's what makes the tattoo look elegant.
6. Recklessness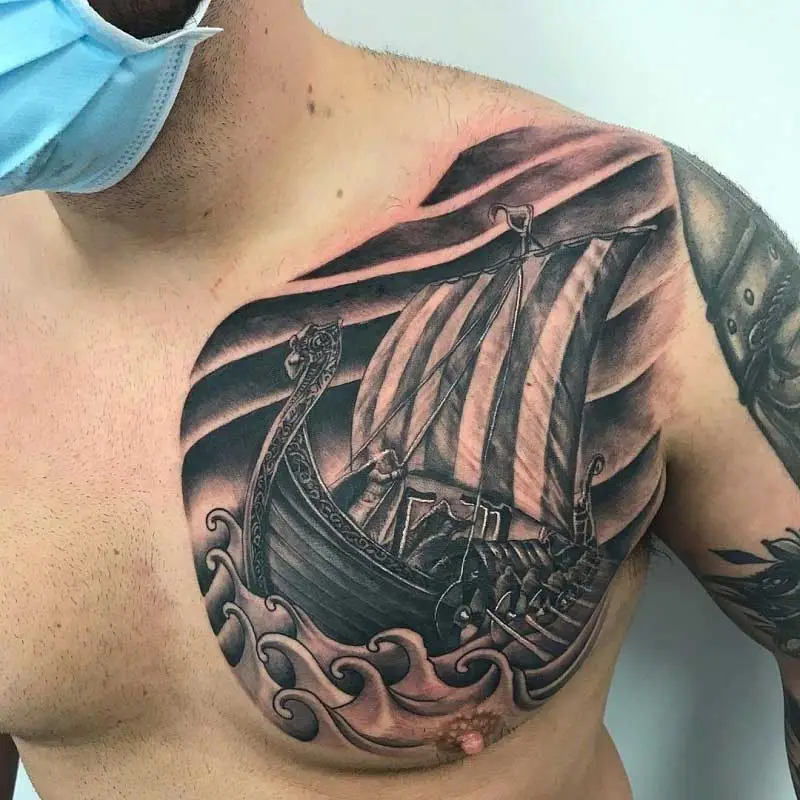 Viking ship tattoos are known for representing recklessness because the people themselves possessed that kind of quality. An individual having the same kind of character trait may find this design appealing.
Sunken Ship Tattoo
The tattoos in this section symbolize the risks and dangers one might face when they lead a life at sea. Some of these tattoos can also be used to honor the lives lost at sea.
7. Falling Apart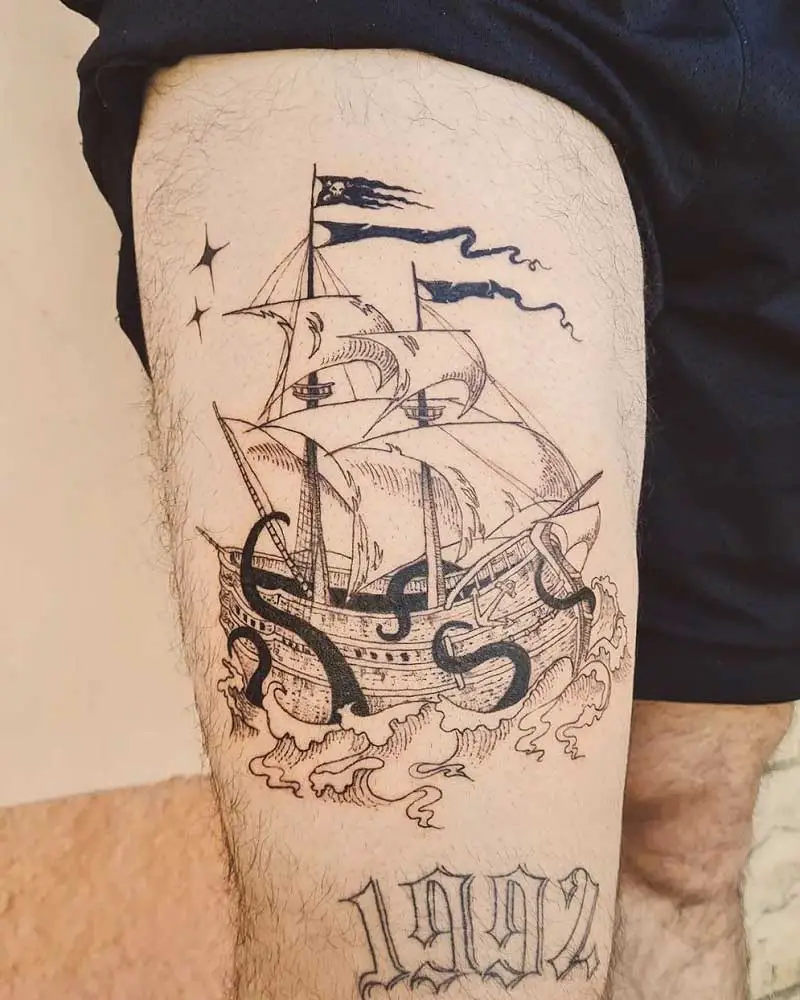 Another great example where only the black ink gets the job done. The image of a ship that is just about to sink has been captured here quite beautifully.
8. Troubled Waters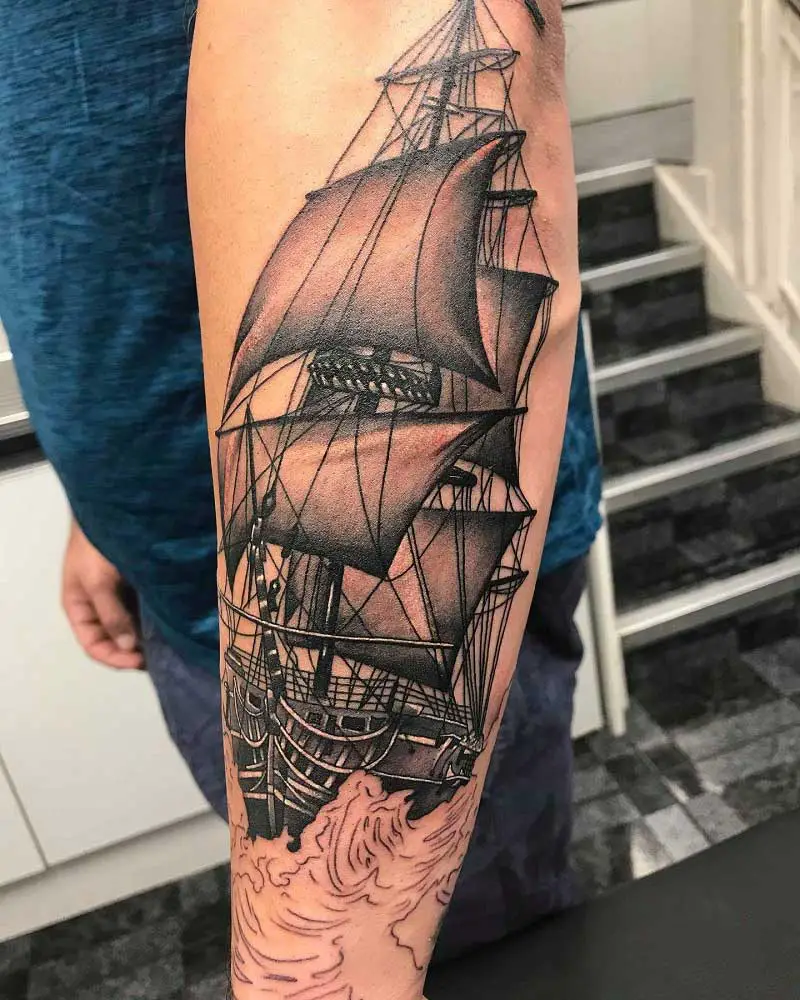 A tattoo looks best when the perfect amount of detailing has been put in and this ship tattoo strongly supports that statement. If you're looking for a tattoo that is quite noticeable, this is the one.
9. At Wit's End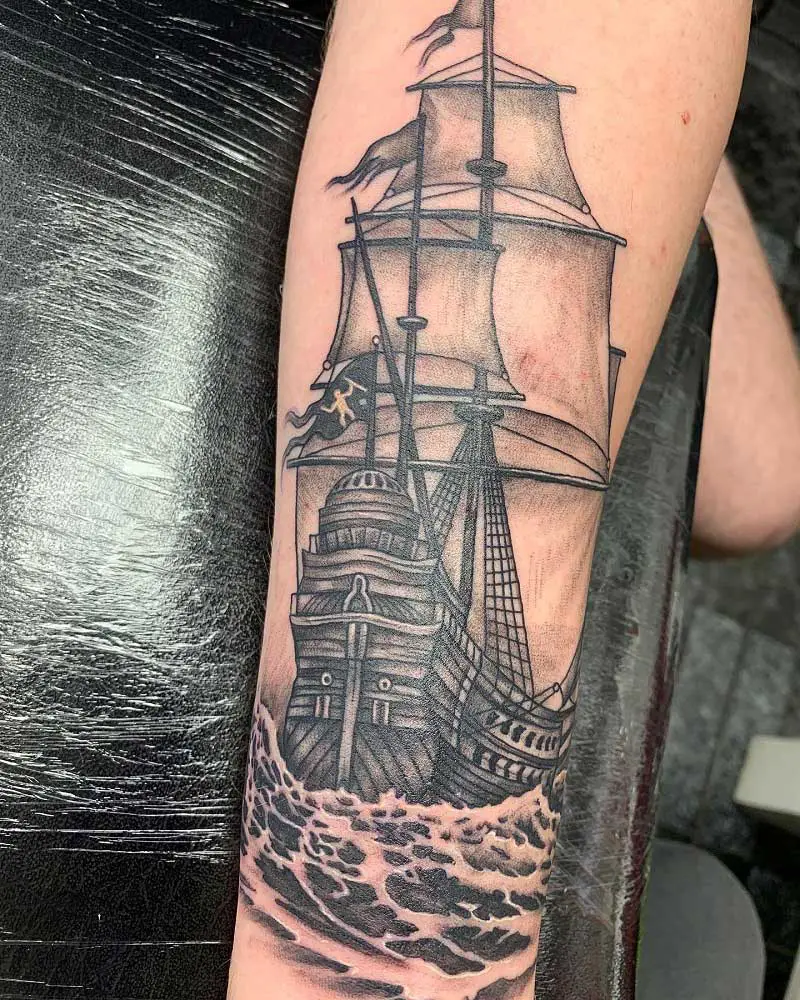 This tattoo design symbolizes the dangers and perils of life at sea. The tattoo can also serve its purpose as a commemorative symbol for those people who lost their lives at sea.
Clipper Ship Tattoo
Clipper ships were actually renowned for their grace, beauty, and speed. In their day, these ships indicated the highest level of shipbuilding. Below you'll find some head-turning clipper ship tattoo designs:
10. Honor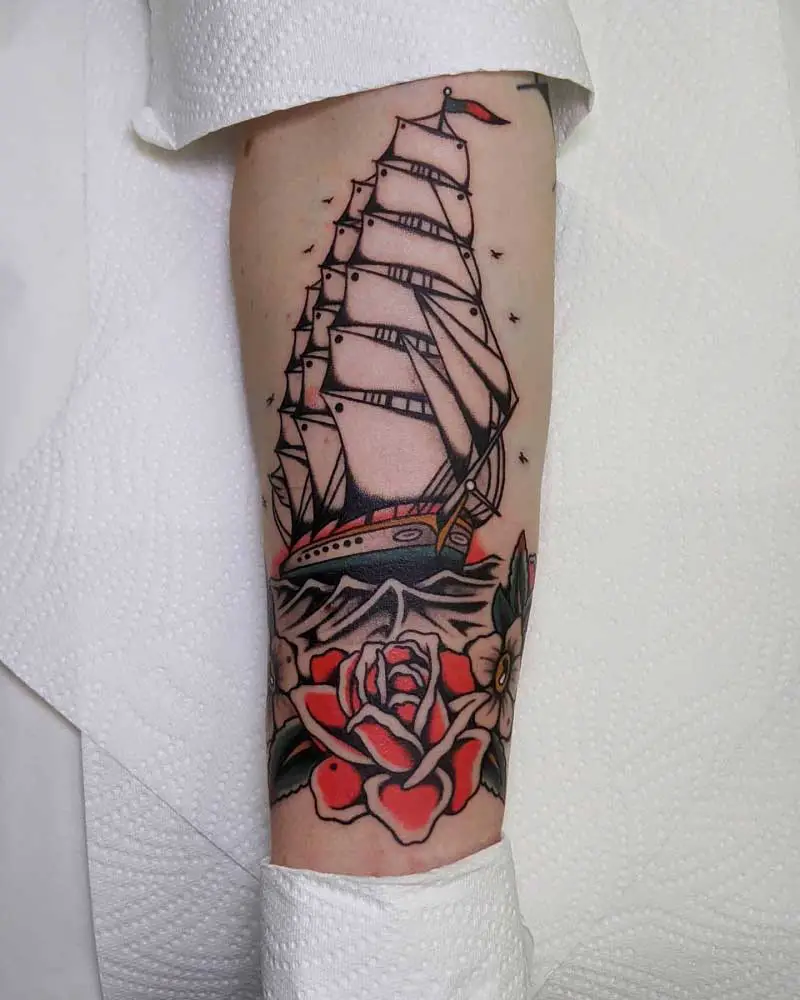 This tattoo design stands for honor and glory. With honor comes dependability and trust and it is what defines you to others. Again, you could change the colors of the tattoo if you want.
11. Call To Adventure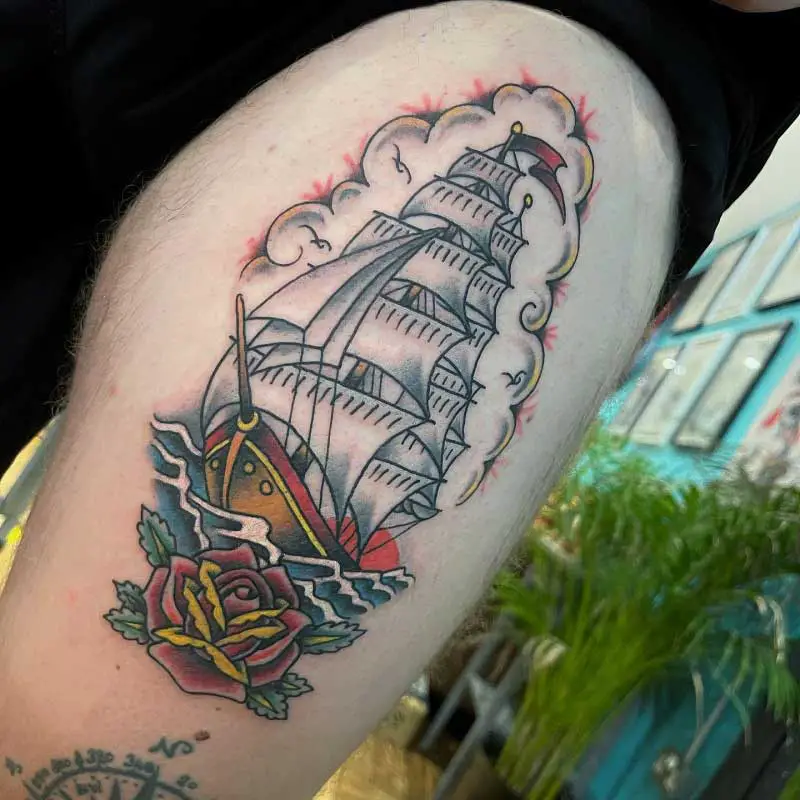 If you compare this tattoo design with the previous one, you will notice that this one is more comprehensive because of the inclusion of the clouds and the sun at the back. The color combination is perfect too.
12. Spiritual Voyage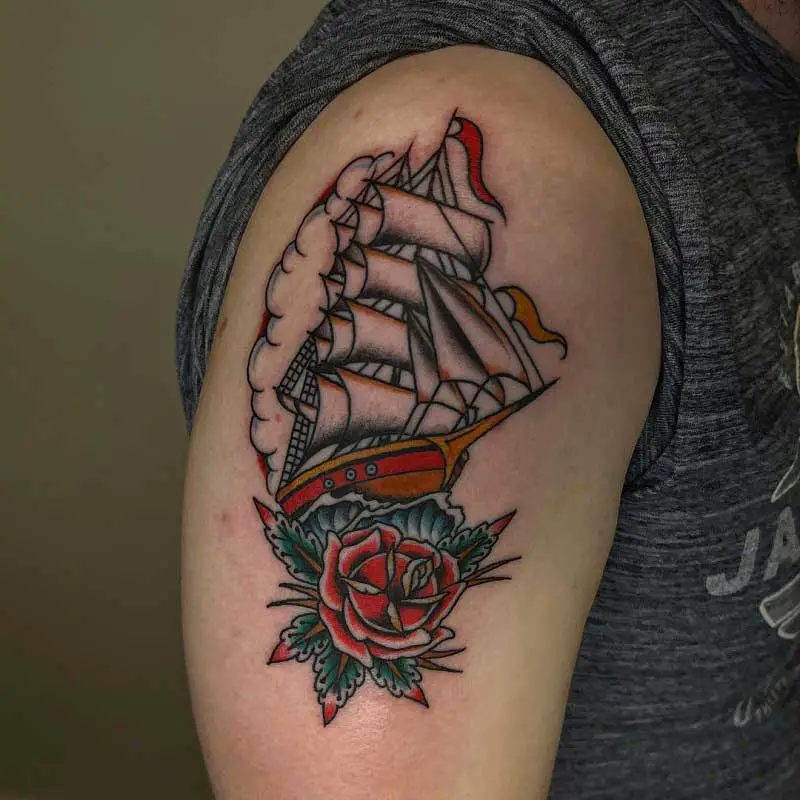 This tattoo design of a ship represents an individual's spiritual voyage. It could refer that a person with this tattoo is probably heading toward their own enlightenment.
Rocket Ship Tattoo
Rocket ship tattoo designs express the desire to travel and explore. They signify a man's thrust beyond the earth, technology, and science. Check some of them out below!
13. Explorer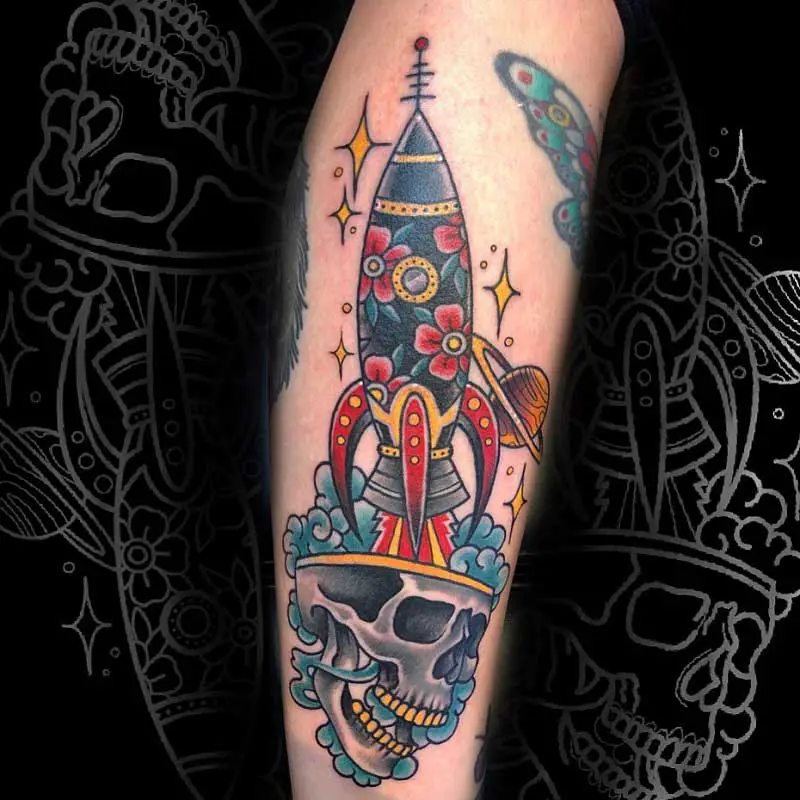 "Vibrancy" is the first word that typically comes to one's mind when they see this tattoo of a rocket ship. As with any other tattoo, you can use other colors in this one as per your choice.
14. Shooting For the Stars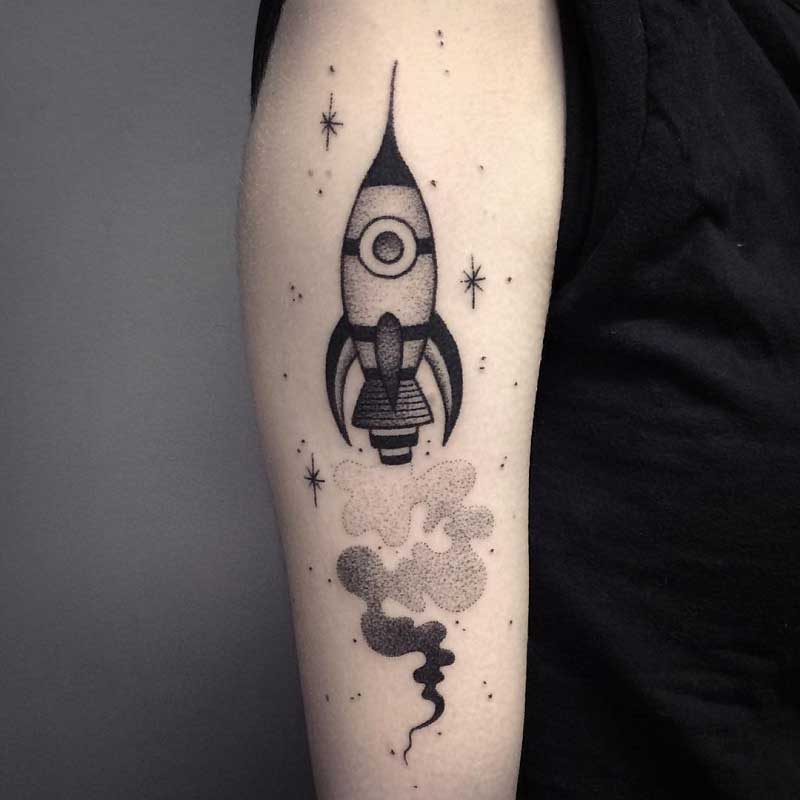 The phrase in the caption is not meant to be taken literally. It means to aim high or to set one's ambitions or goals super high. A person with high ambitions may be able to relate to this tattoo on a spiritual level.
15. Aesthetically Pleasing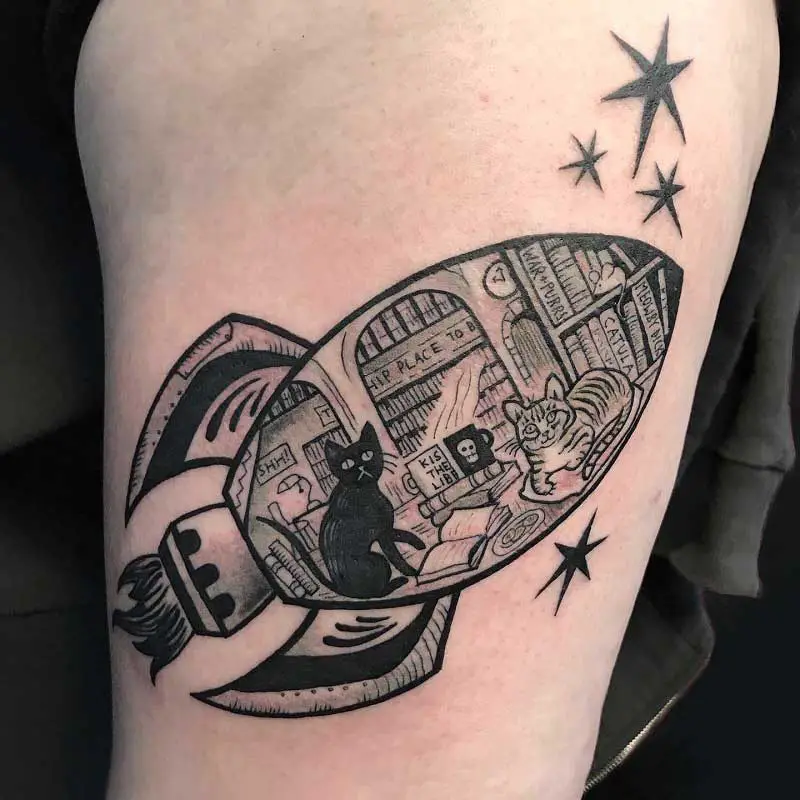 This tattoo concept of a rocket blasting through space is actually pretty cool. This is one of those tattoo designs where there is no logical interpretation for it but visually, it just seems aesthetically pleasing.
Ship Wheel Tattoo
The wheel of a ship represents a journey. It also stands for a lot of other things such as destiny, purpose, discovery, and life's path. Scroll down to find some of the best-looking ship wheel tattoos:
16. Guidance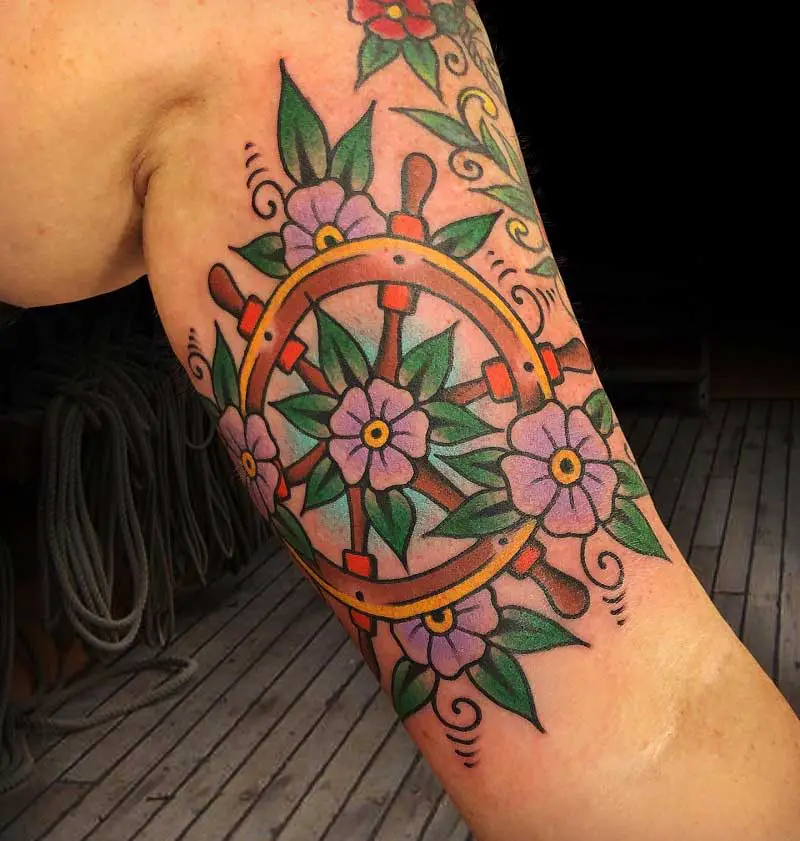 This tattoo design can symbolize an individual trying their best to find their way through life. It reminds the tattoo bearer that right or wrong, we all must choose a path.
17. Finding Oneself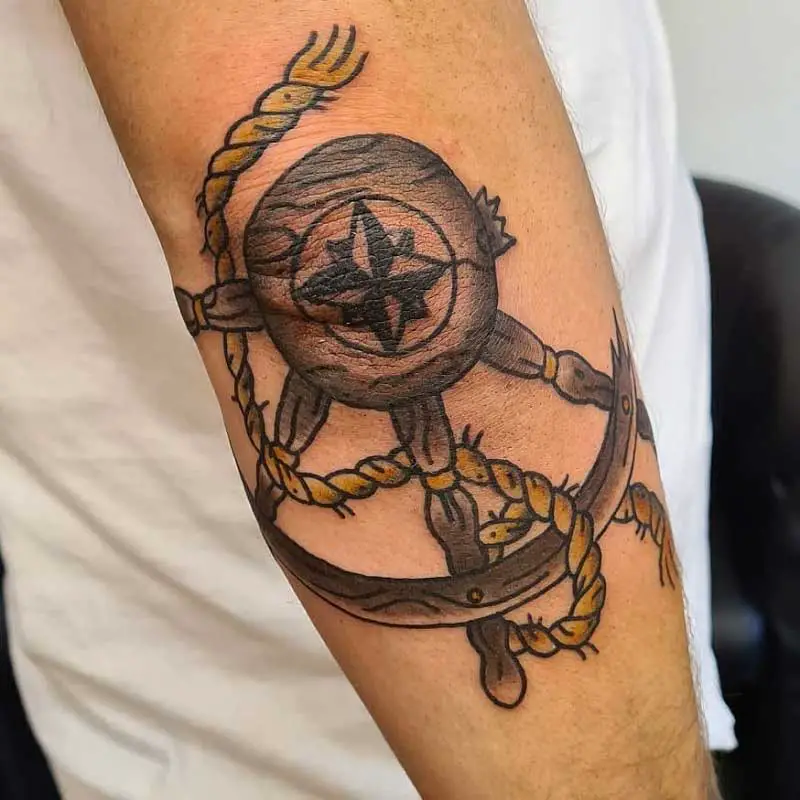 The tattoo etched on the man's forearm kind of symbolizes spiritual enlightenment. The design is also pretty realistic because that's what a ship's wheel usually looked like: old and wretched.
18. Purpose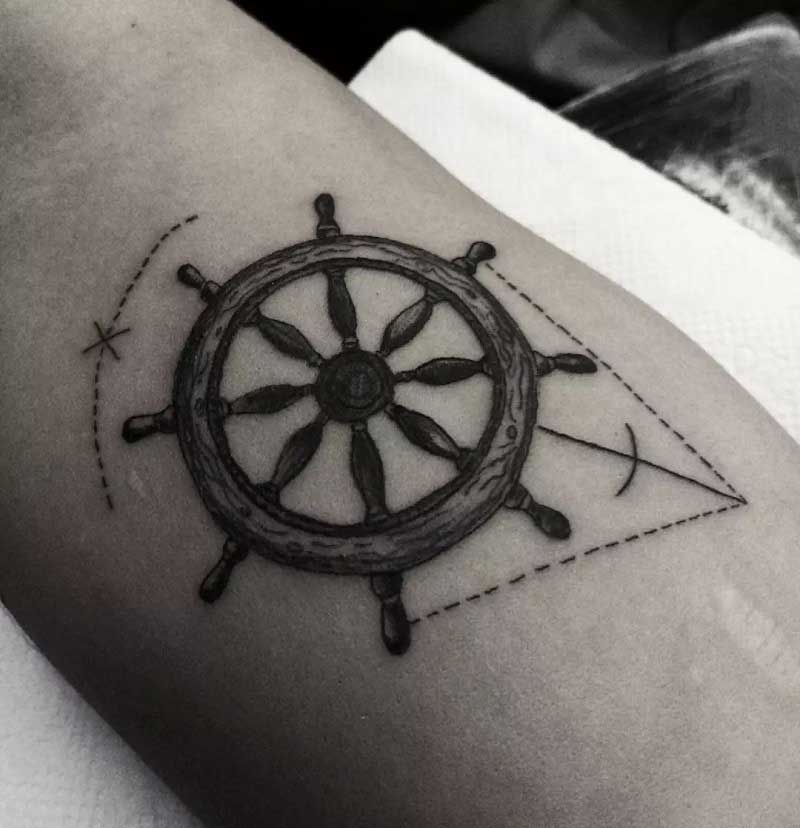 Of all the wheel tattoos we have looked at so far, this one is probably the most simple-looking but it allows you to come up with your own powerful interpretation, so get creative with it!
Ghost Ship Tattoo
Ghost ships are actually worn and torn-down vessels in which there is no living crew. Tattoos on such ships typically give off an ominous vibe. People get them mainly because they just look cool and stylish.
19. Red Alert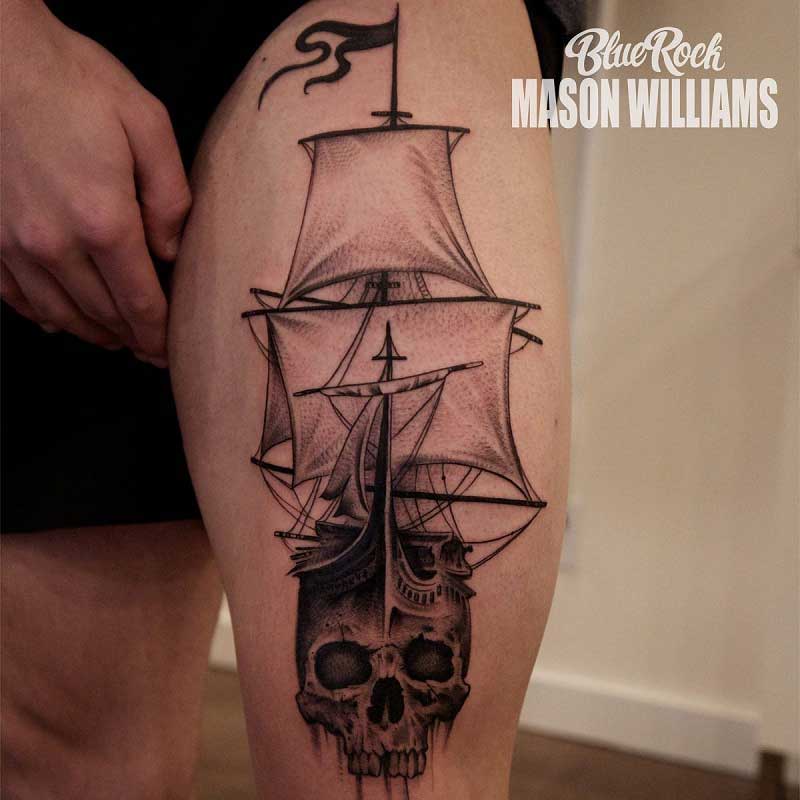 Skull tattoos, in general, look quite cool. But who would have thought a skull tattoo combined with a tattoo of a ship will look even better?
20. No Mercy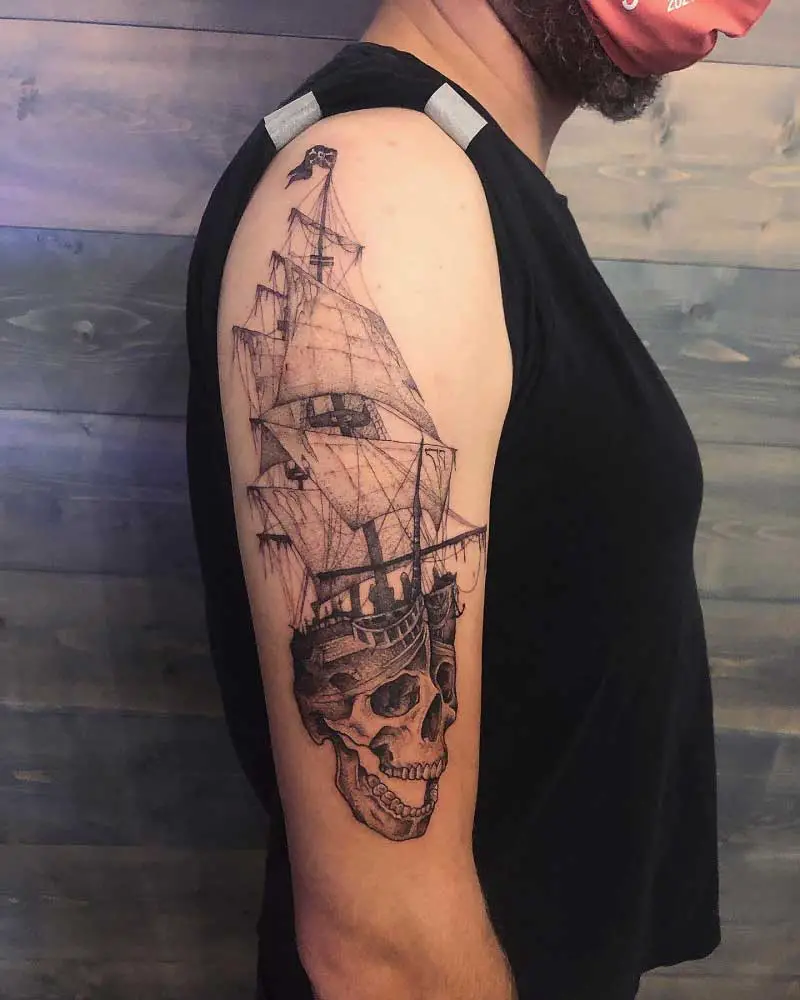 This is what a combination of a skull and a ship tattoo looks like from the side. Vertical tattoos such as this one look best on people's arms so take that into account as well.
21. Bloodthirst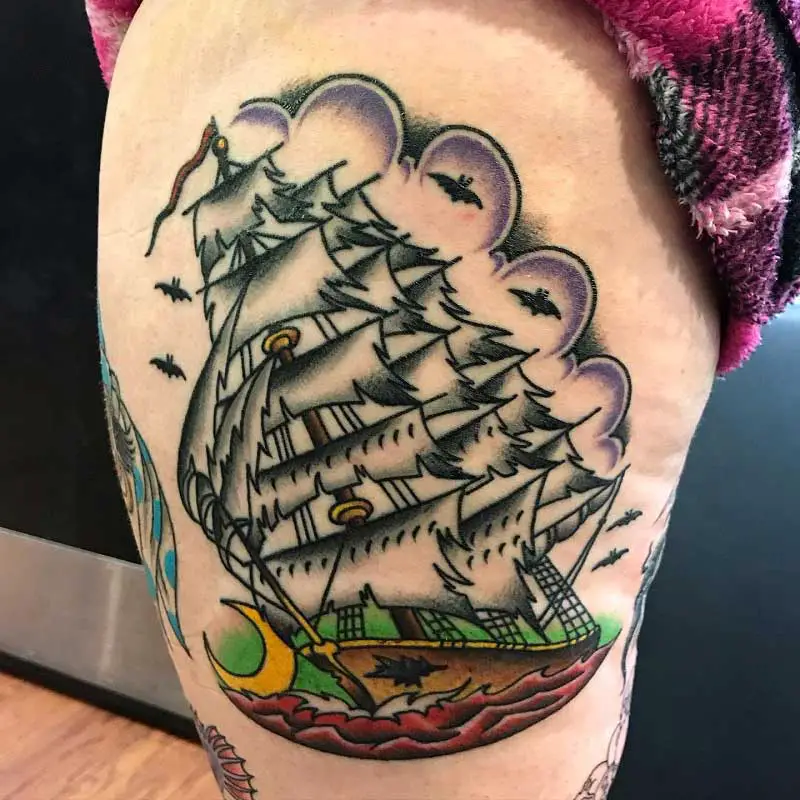 This tattoo is somewhat related to pirate tattoos. Pirates were violent in nature and would not show any mercy to their enemies. Therefore, the red-colored sea symbolizes their thirst for blood.
Loose Lips Sink Ships Tattoo
This phrase was first used in the Second World War. It means that careless talks and conversations can create huge problems by passing on useful pieces of information to enemies.
22. Consequences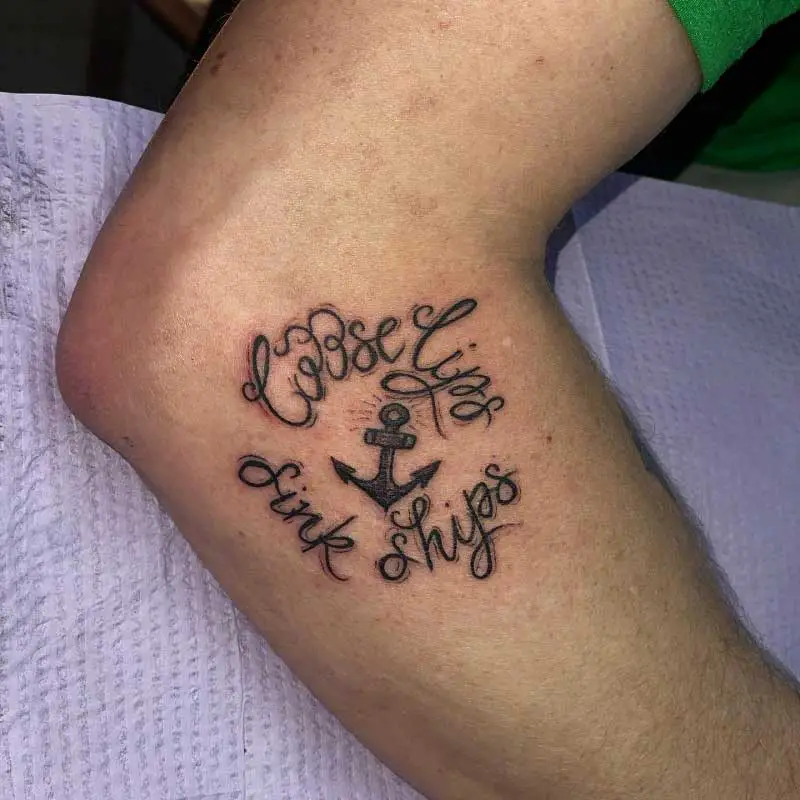 This tattoo might be referring to a tight-lipped individual who is really good at keeping secrets and can be trusted almost with anything.
23. Brute Force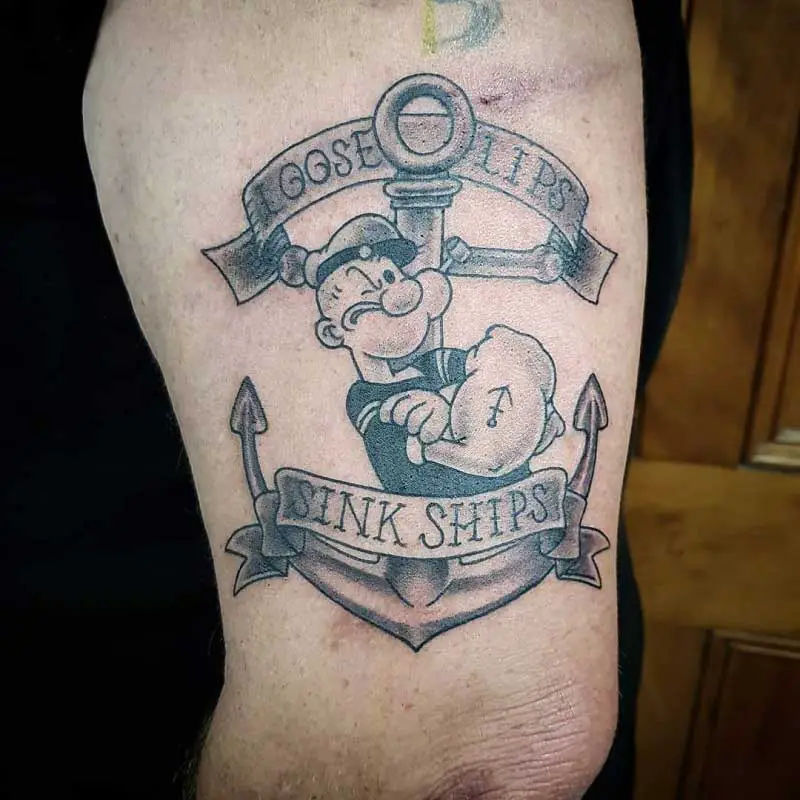 The tattoo design shown in the photo above is a true work of art as the detailing here is absolutely on point. The inclusion of the Popeye cartoon character also adds some edginess to it.
24. Hope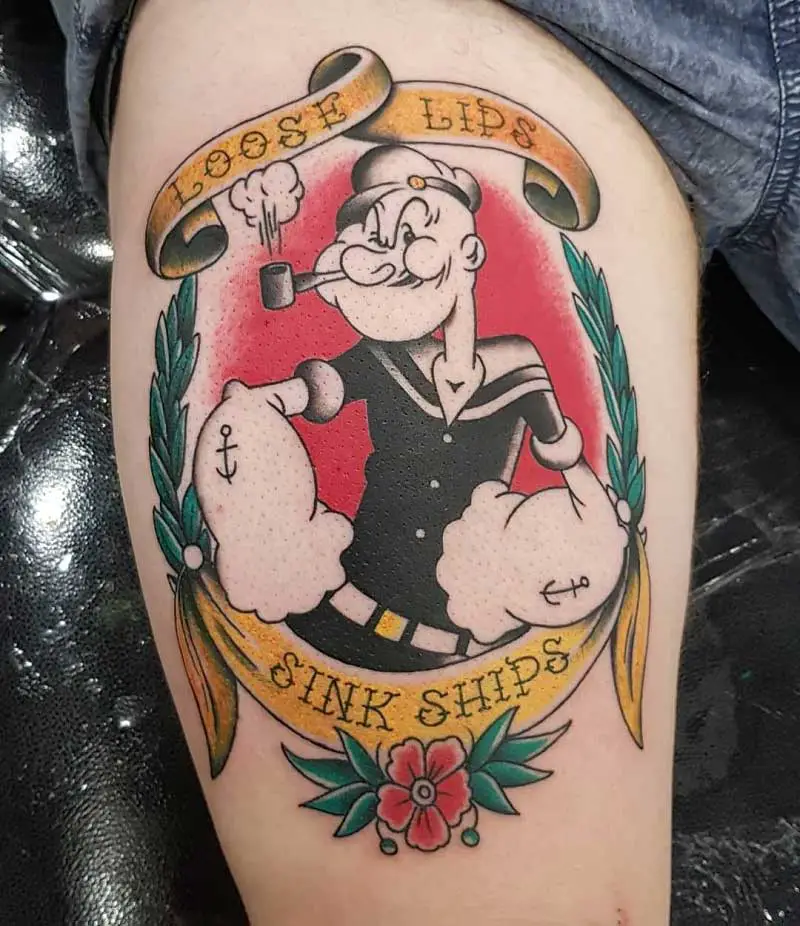 The tattoo etched on the girl's thigh in the picture above is a remarkable example of a good color combination that also goes well with the vibe the design is giving off.
Kraken Ship Tattoo
Some people believe that these tattoos are a sign of fear and power. Some people also believe that they represent the unknown. The interpretation actually depends on the person wearing the tattoo.
25. Terror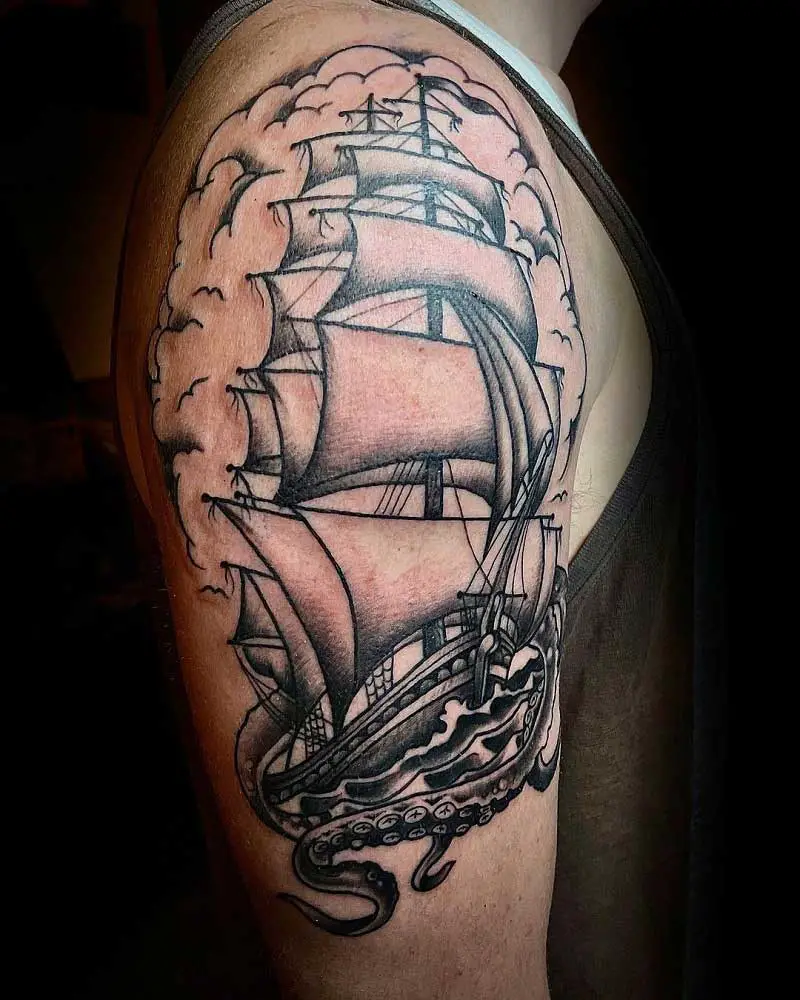 The tattoo above represents an individual who has the capacity to strike intense or overwhelming fear into someone else with their words or actions.
26.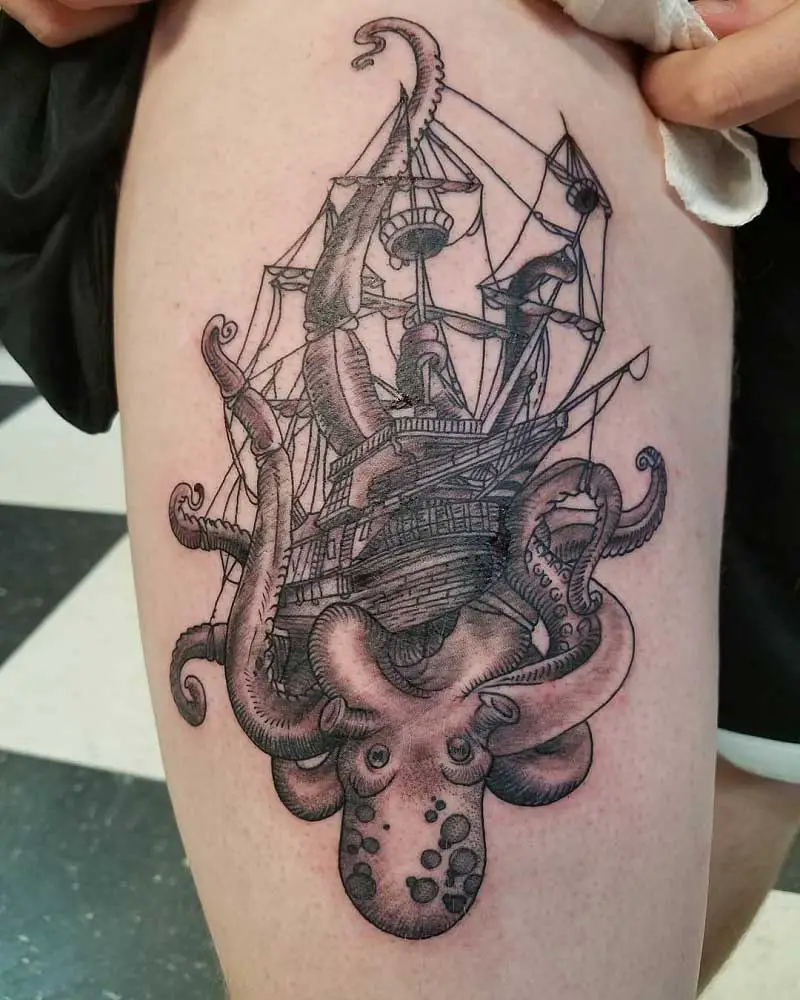 27.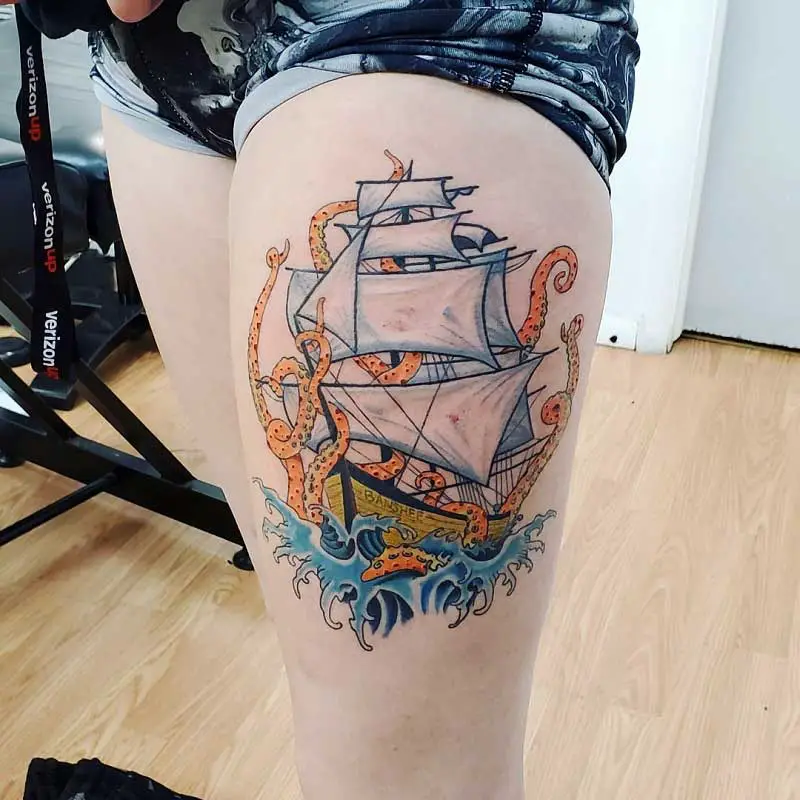 Sailing Ship Tattoo
28.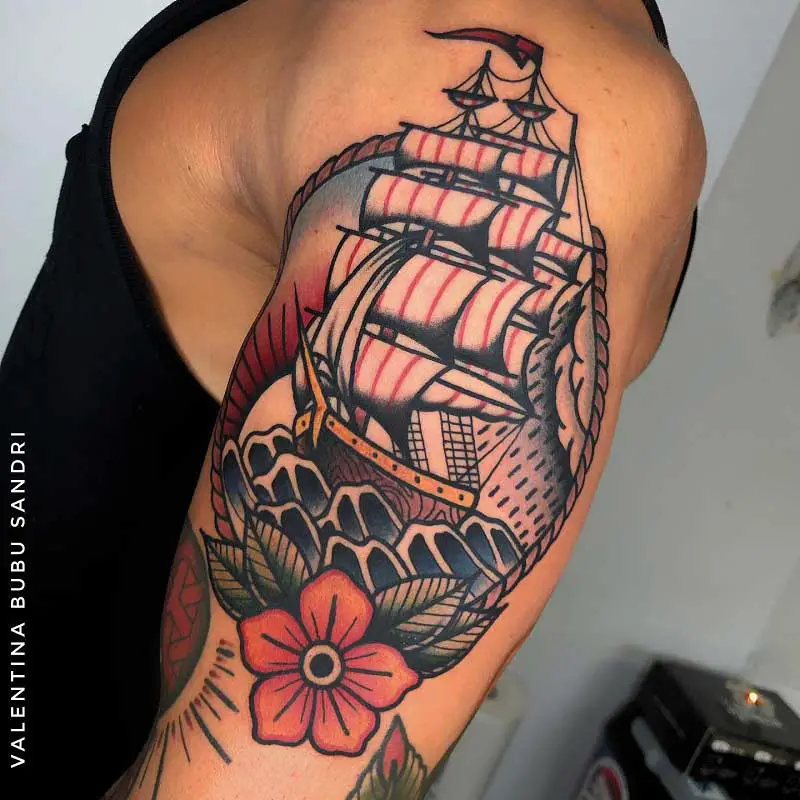 29.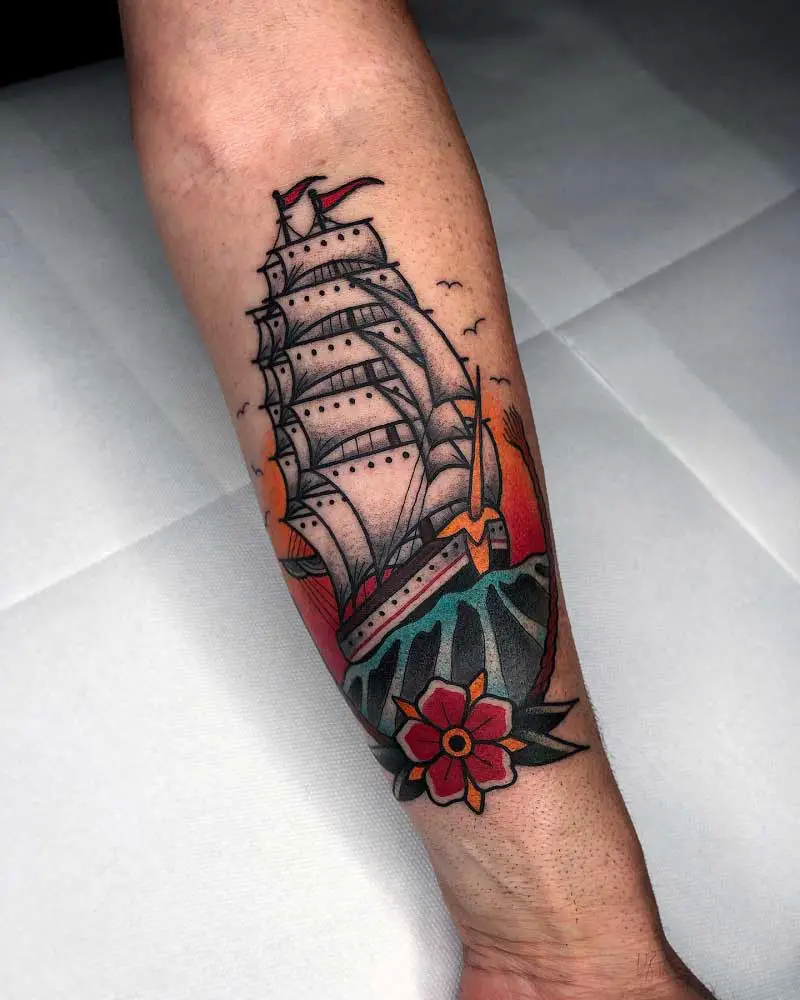 30.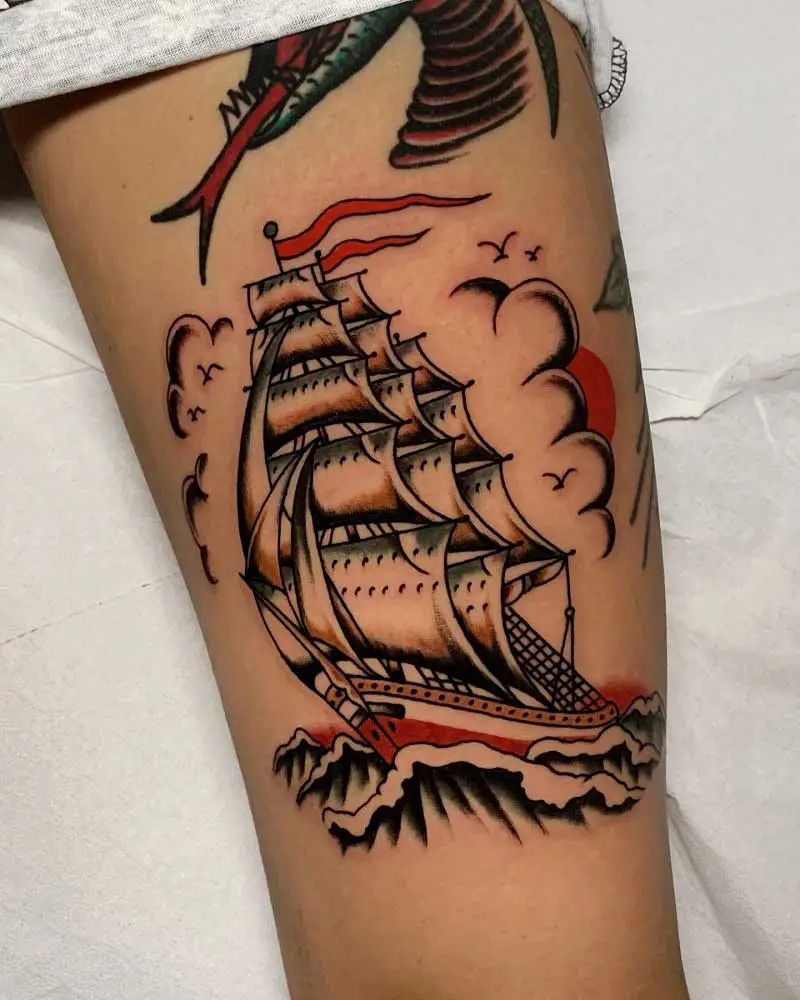 Sailor Jerry Ship Tattoo
31.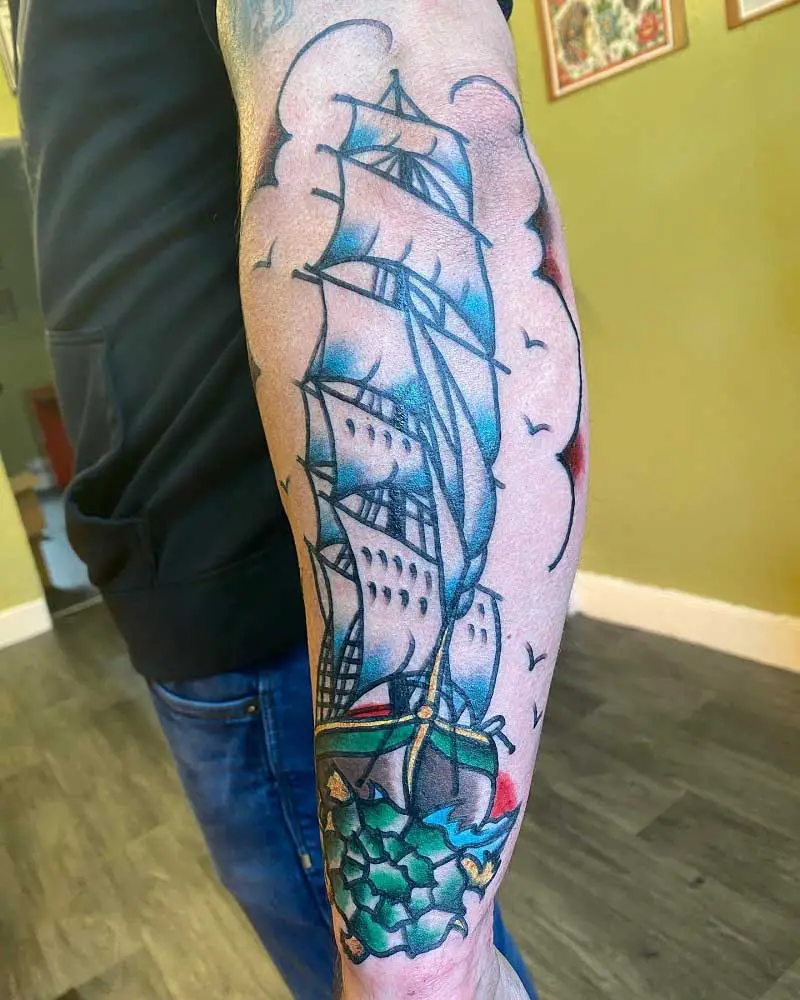 32.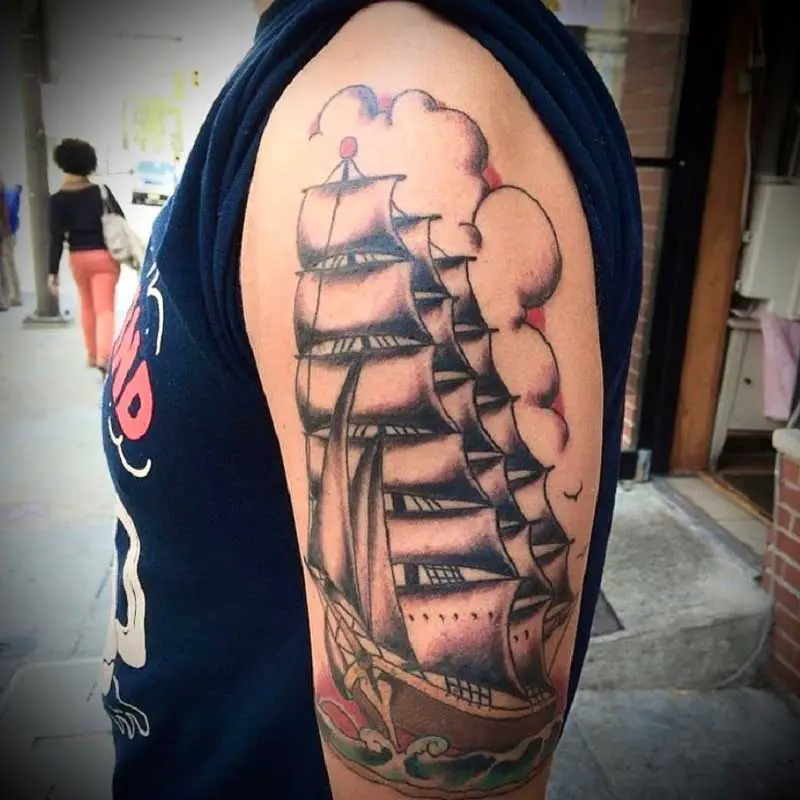 33.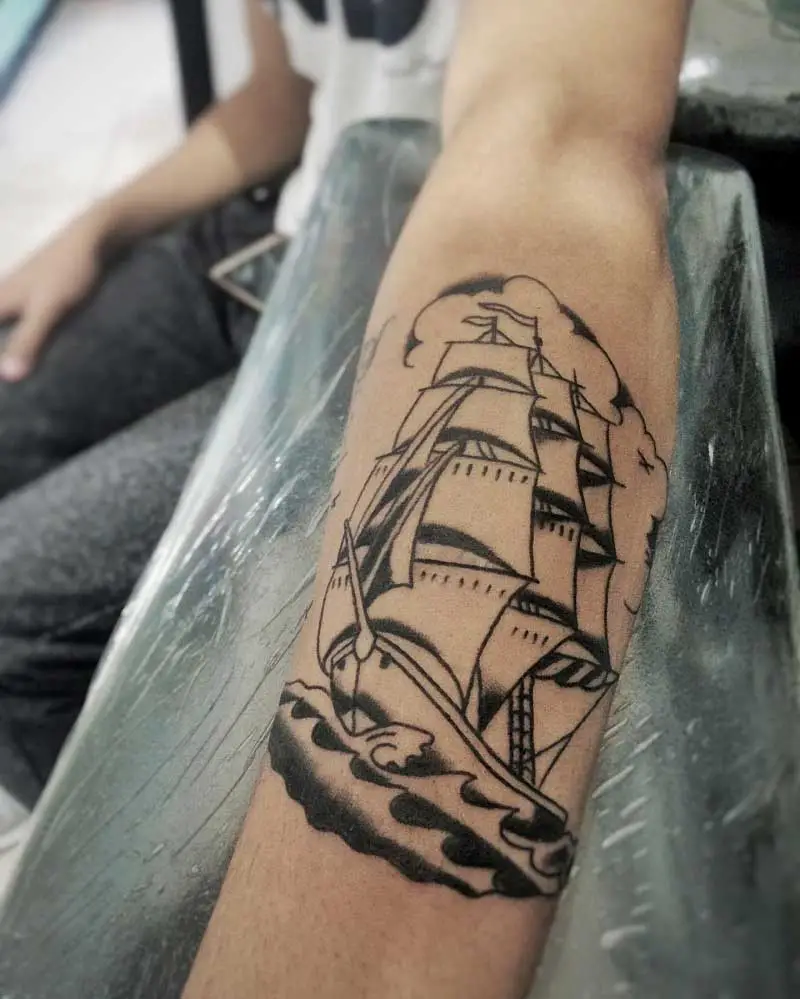 Small Ship Tattoo
34.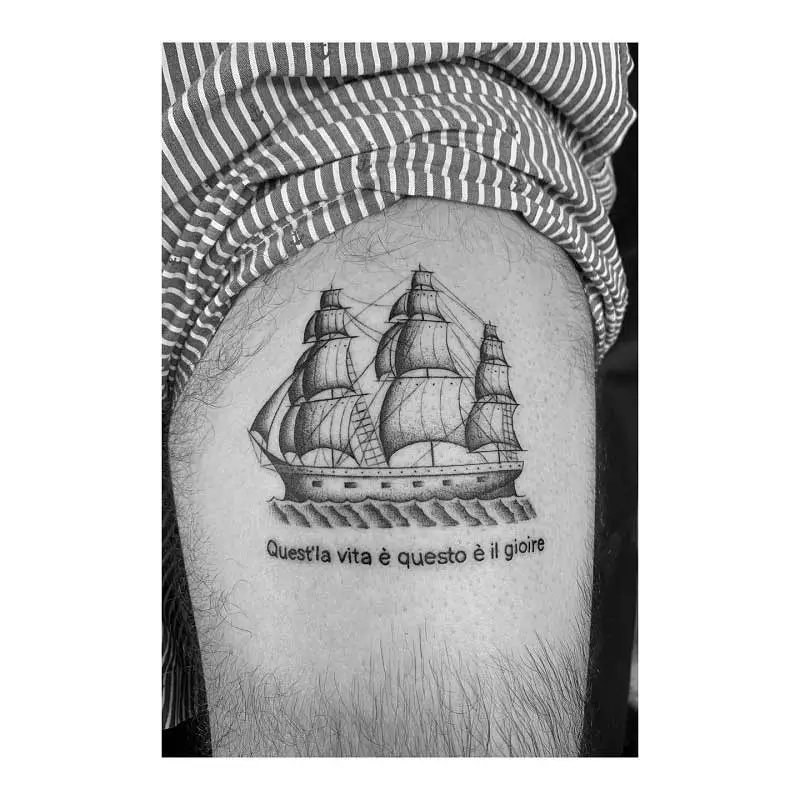 35.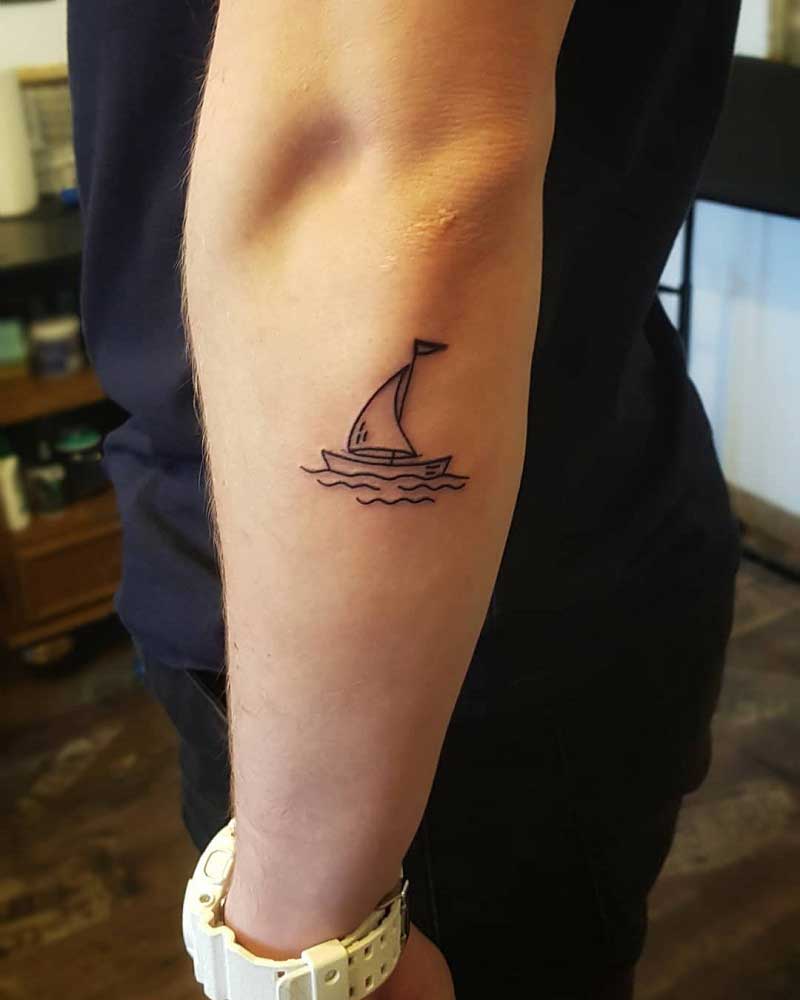 36.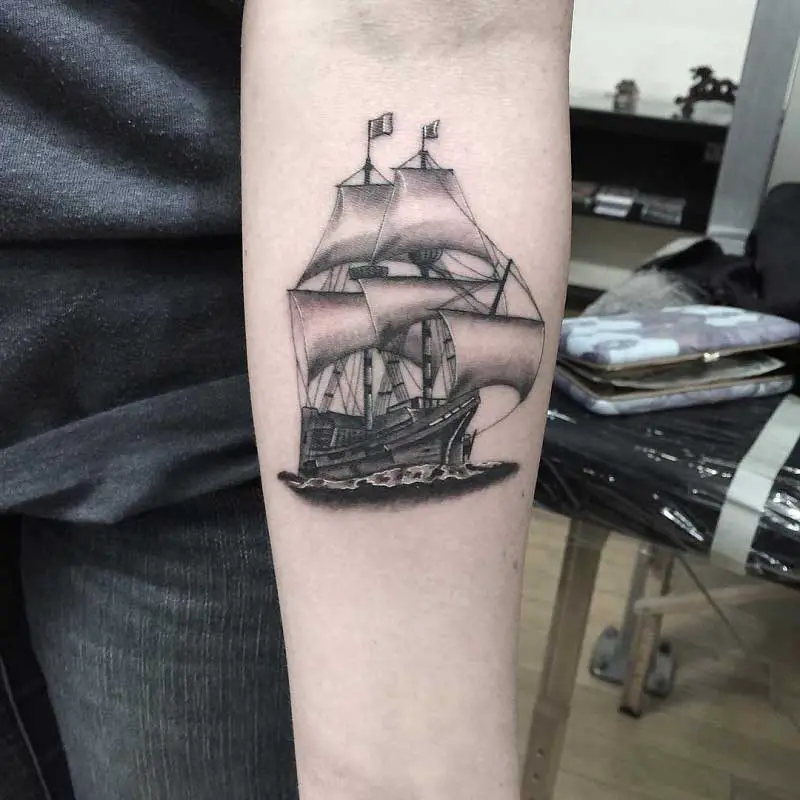 Trad Ship Tattoo
37.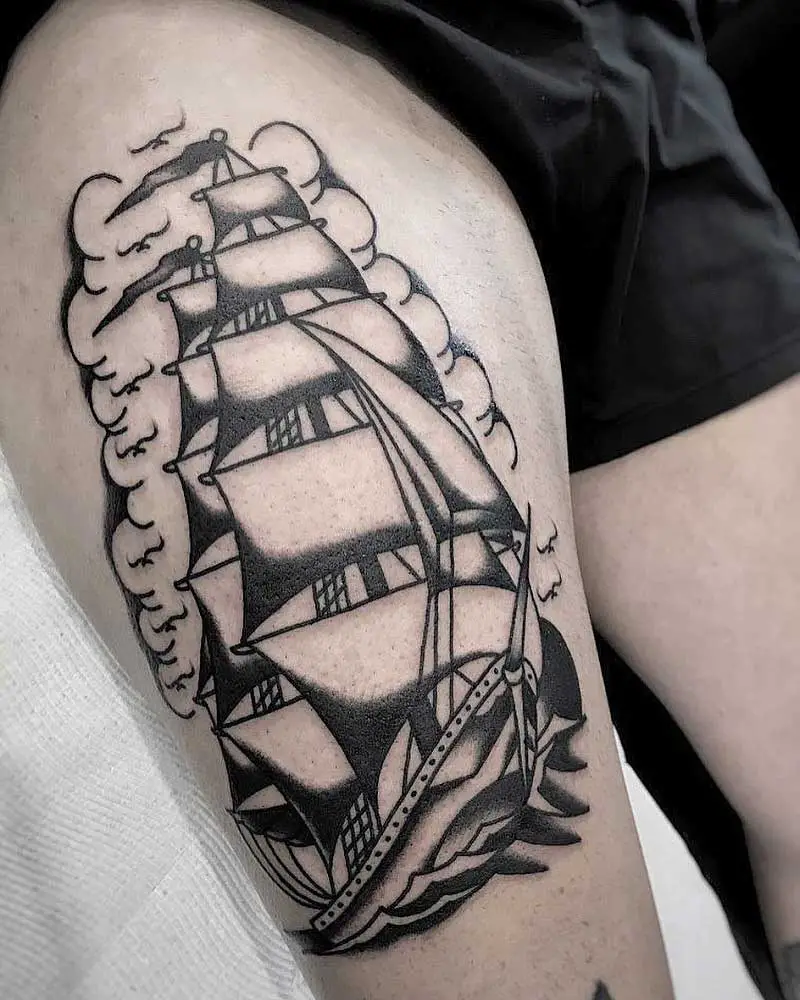 38.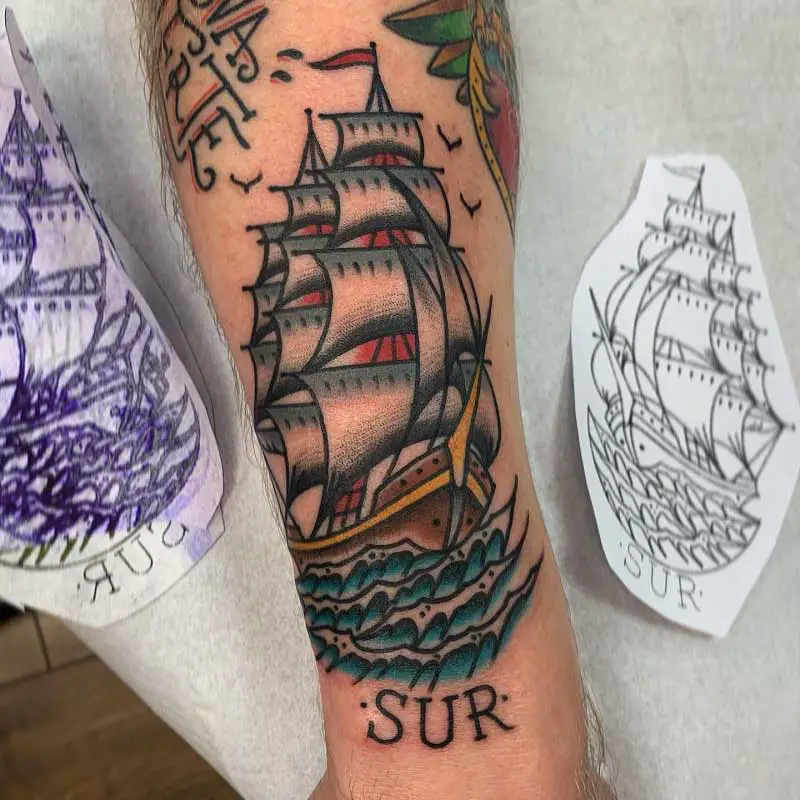 39.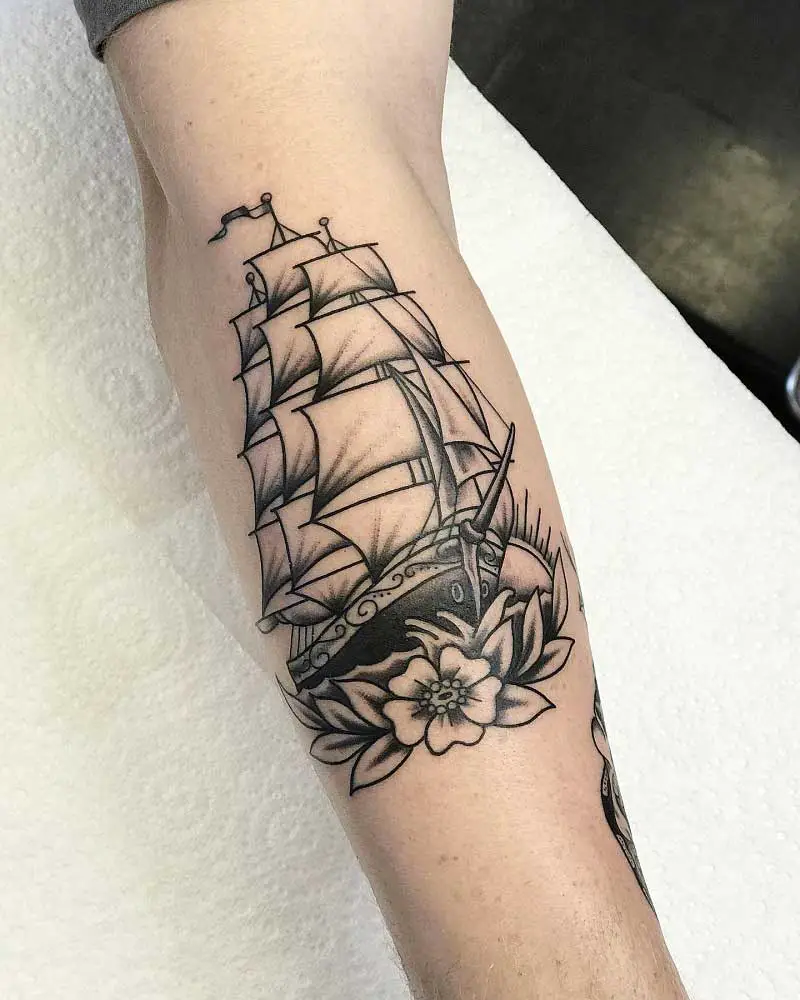 Navy Ship Tattoo
40.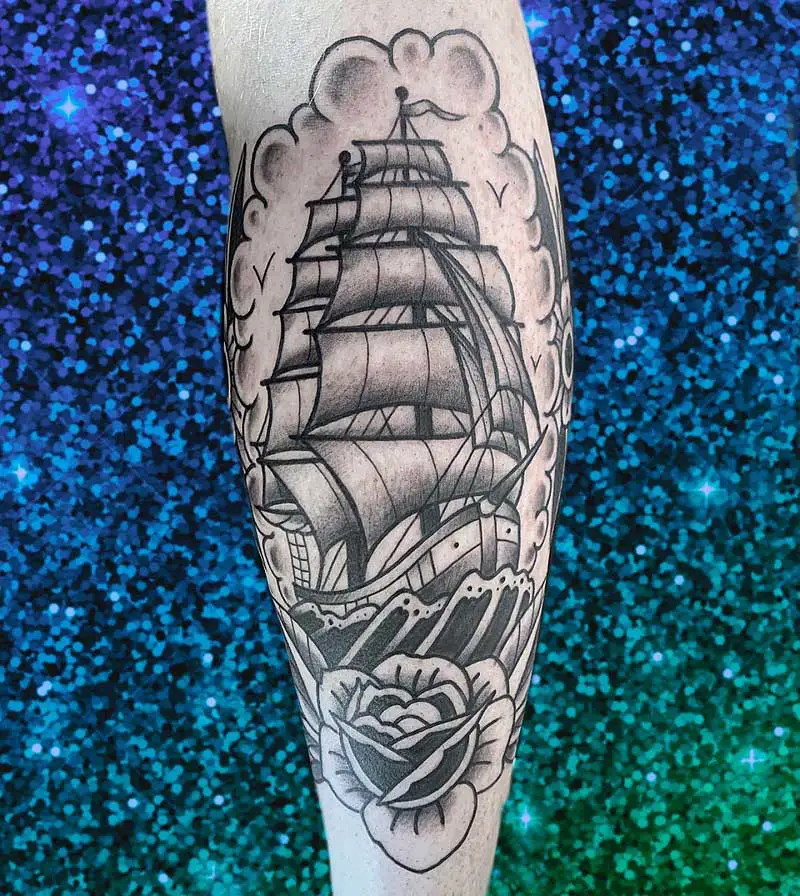 41.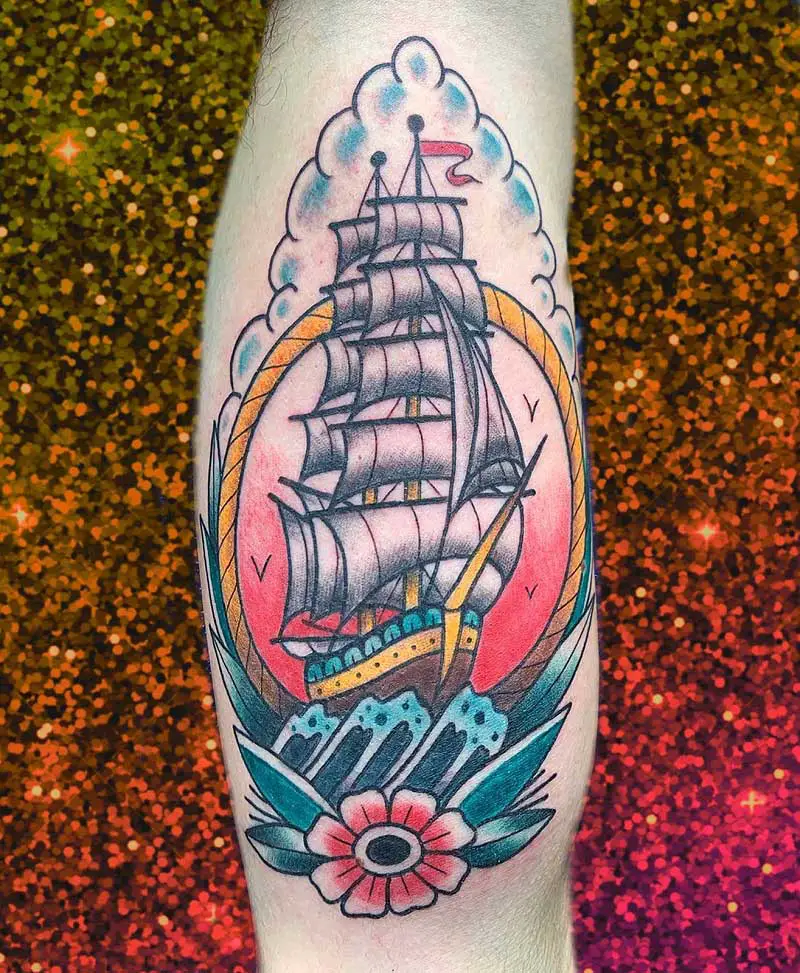 42.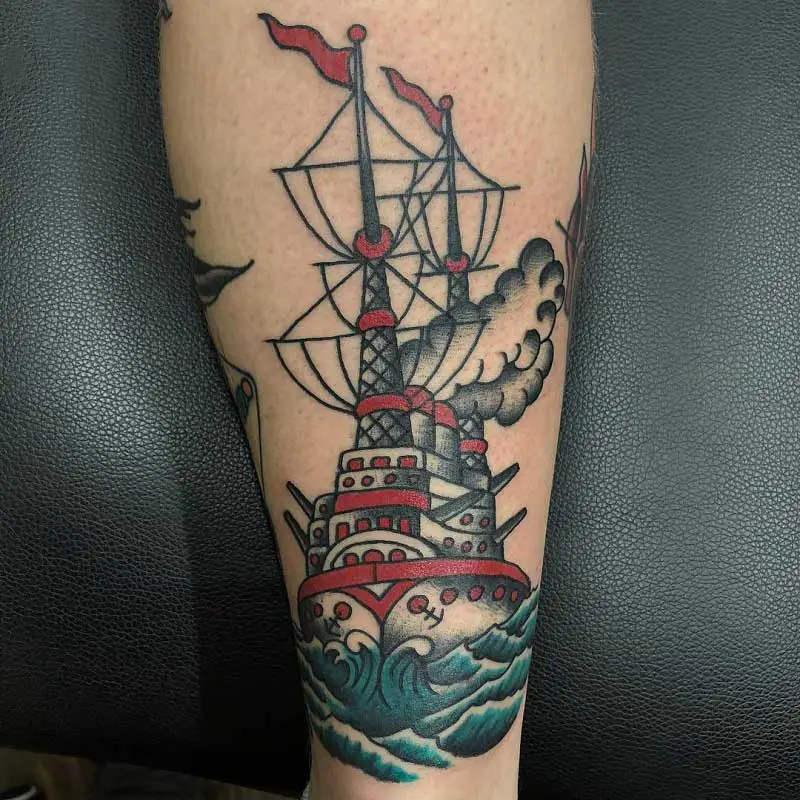 Old School Ship Tattoo
43.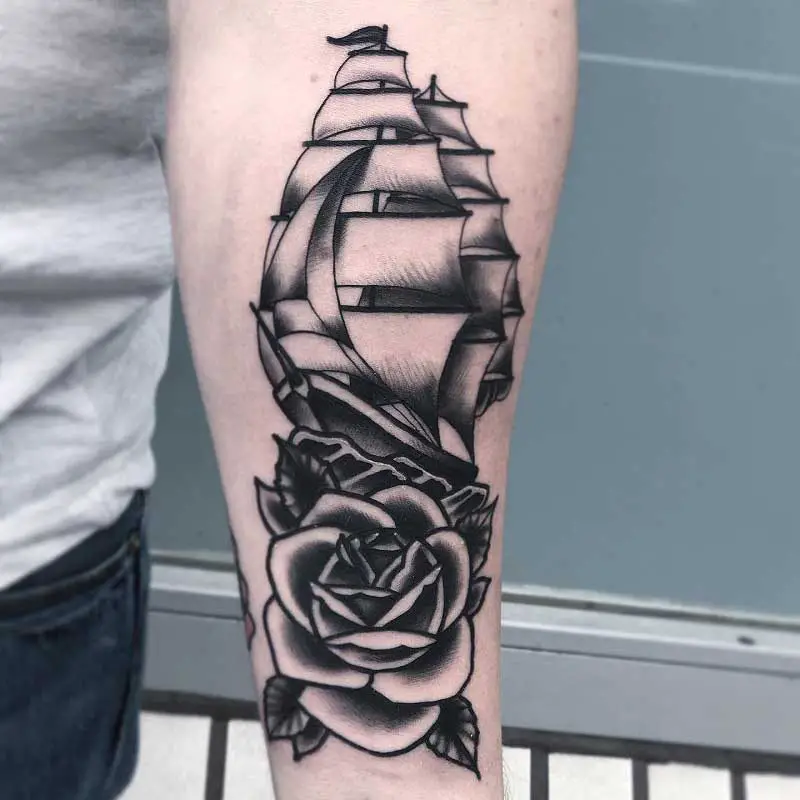 44.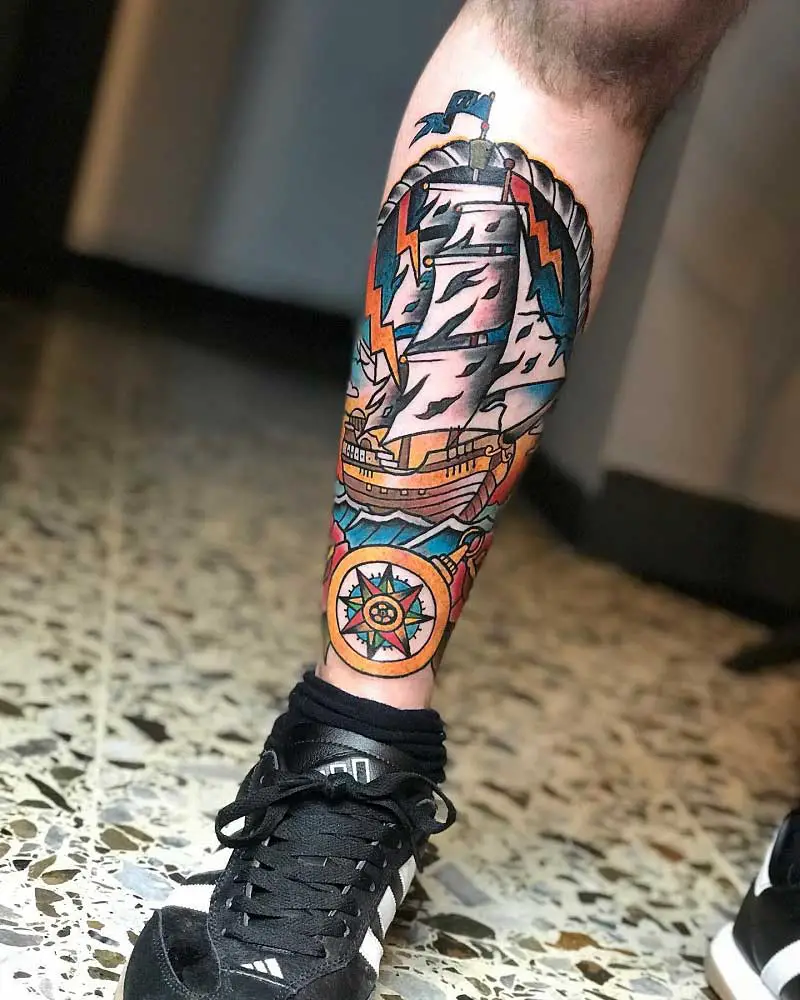 45.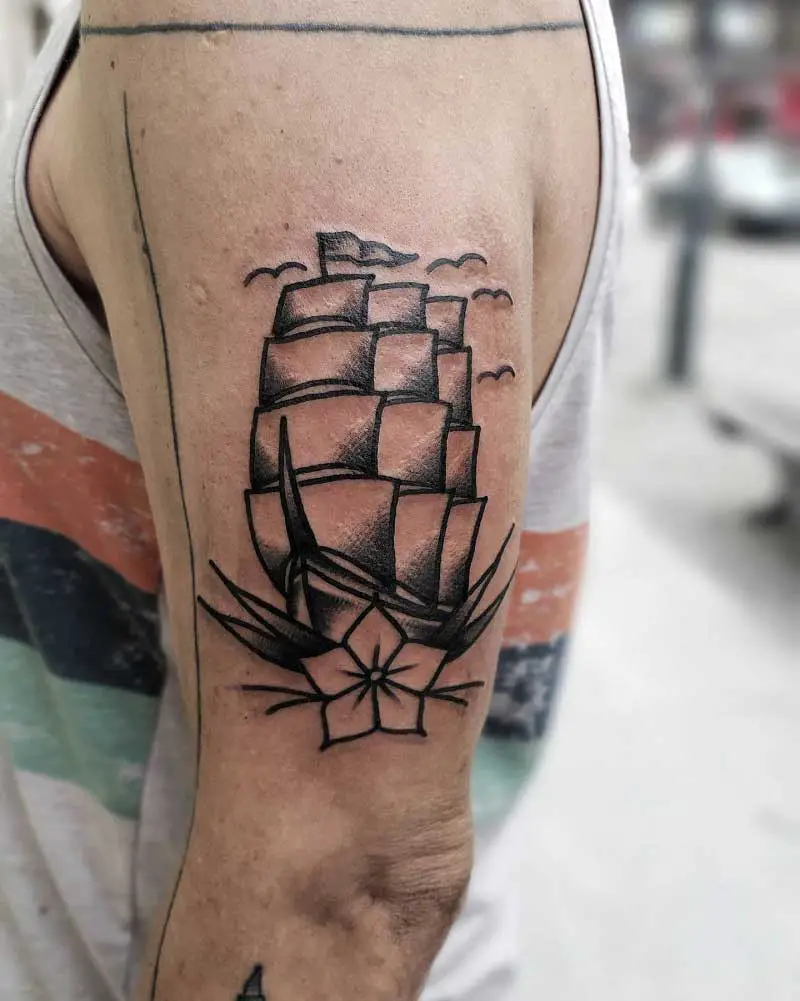 Space Ship Tattoo
46.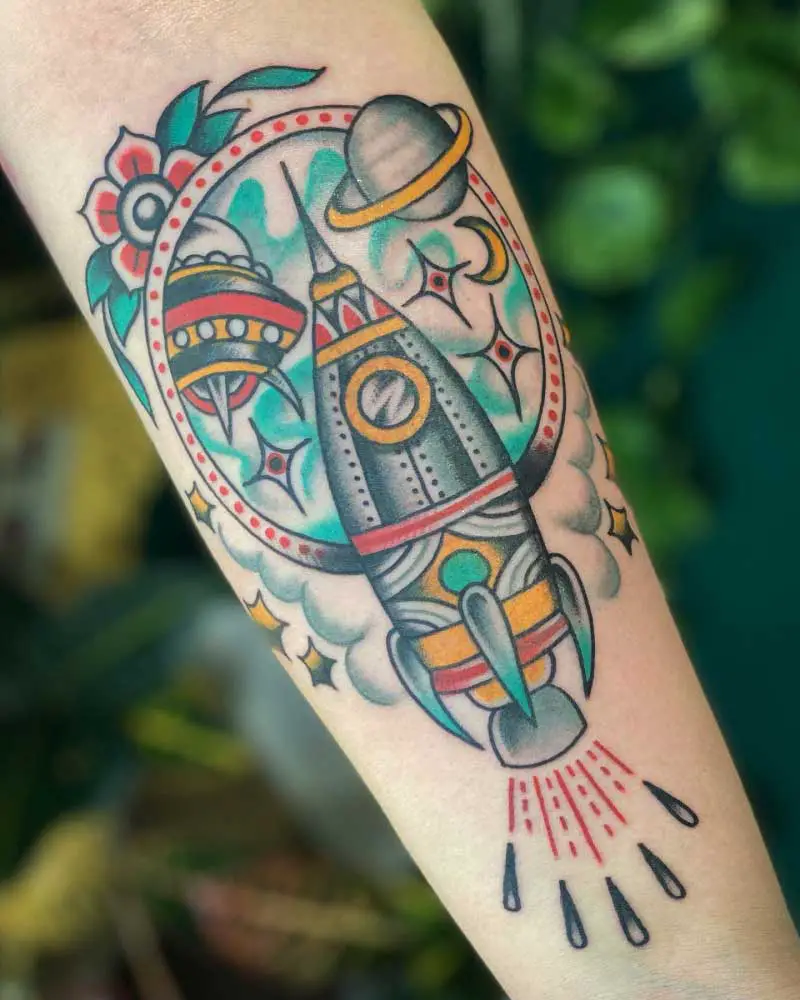 47.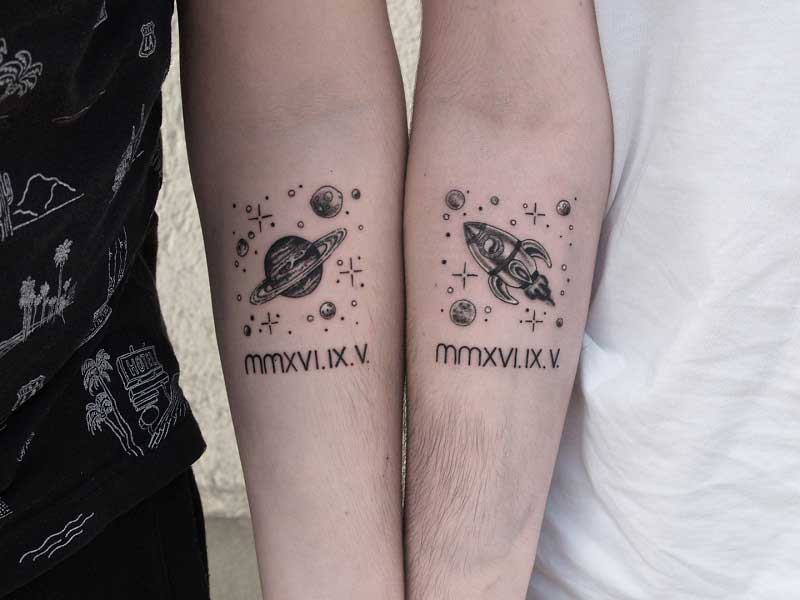 48.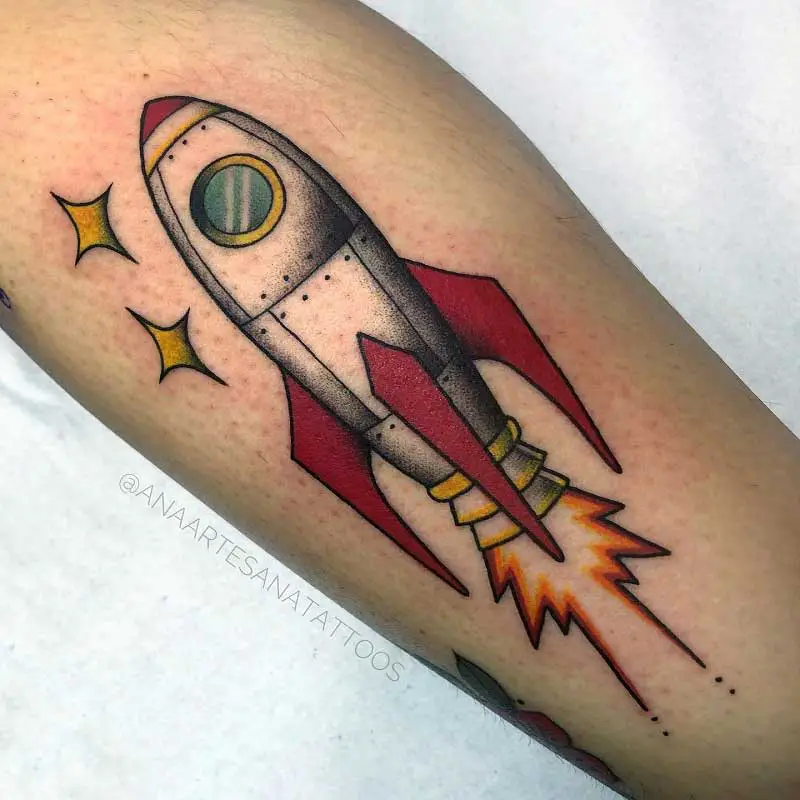 Burning Ship Tattoo
49.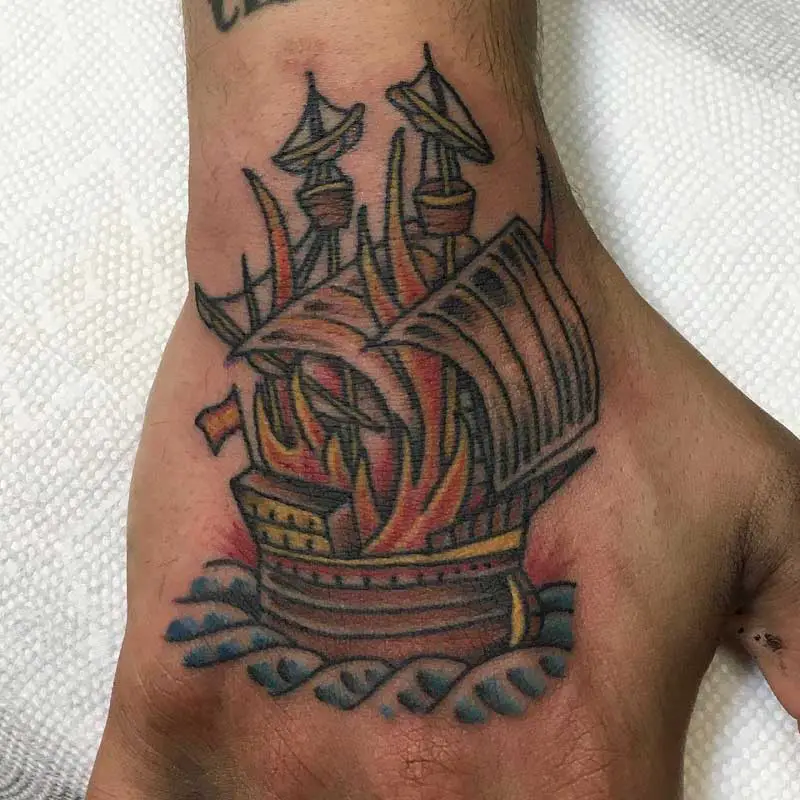 50.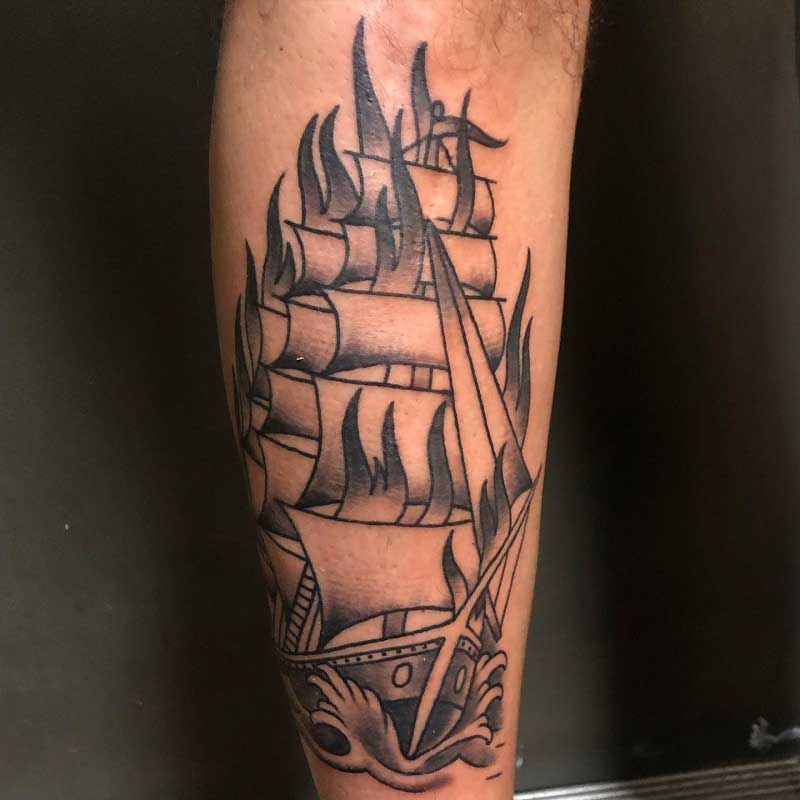 51.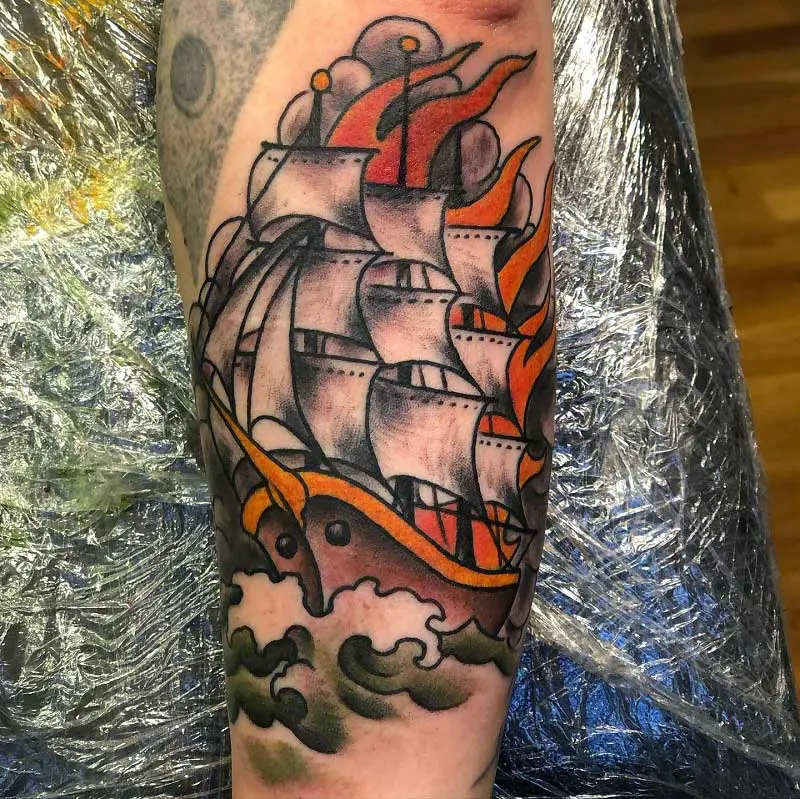 Ship Wreck Tattoo
52.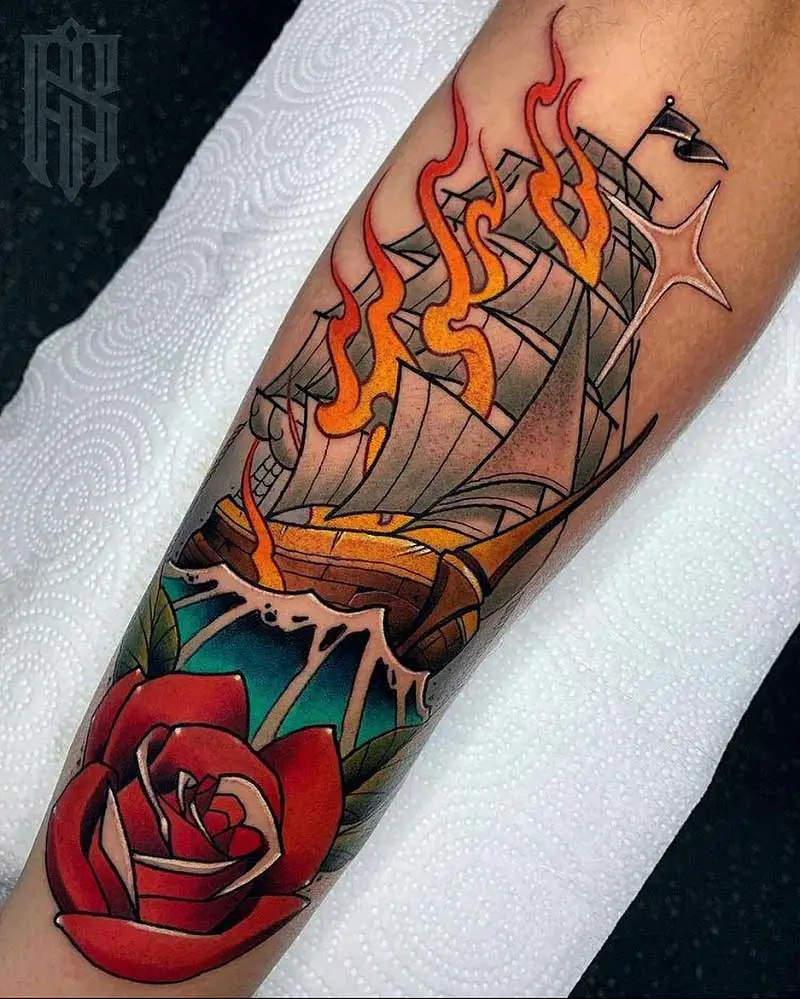 53.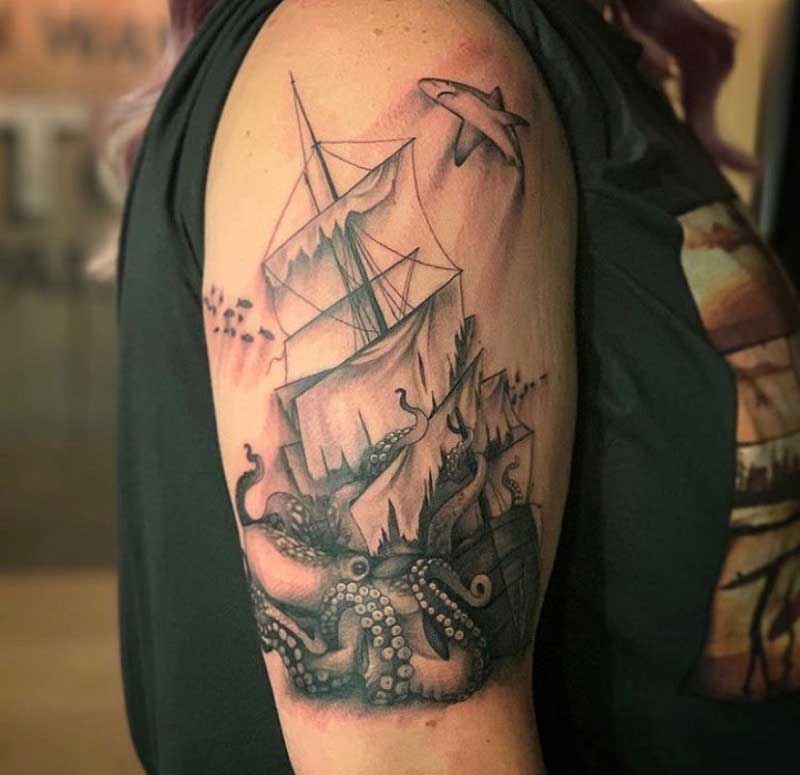 54.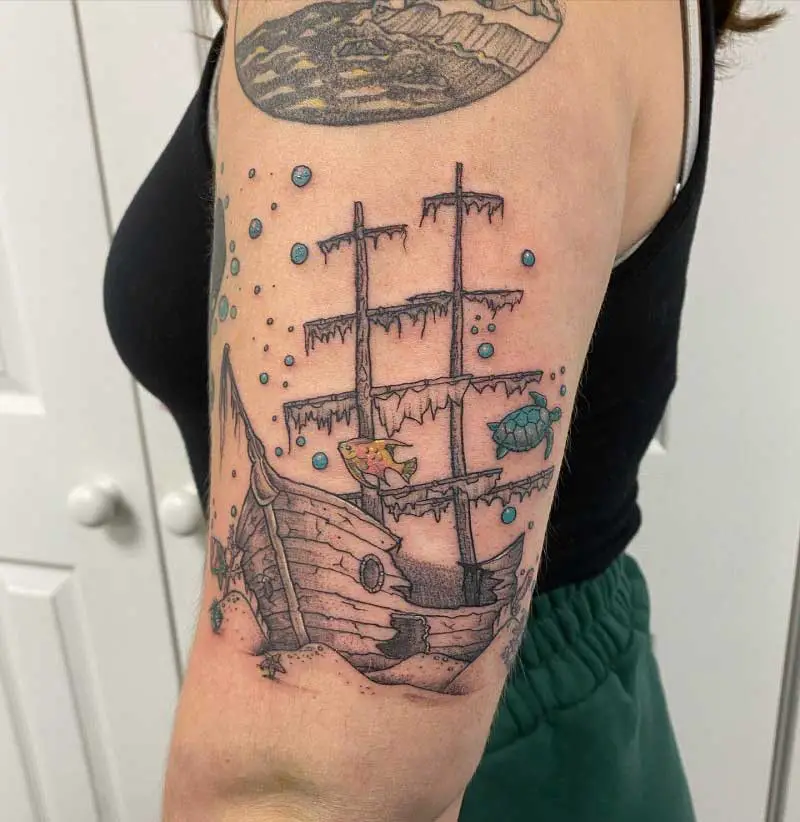 Tall Ship Tattoo
55.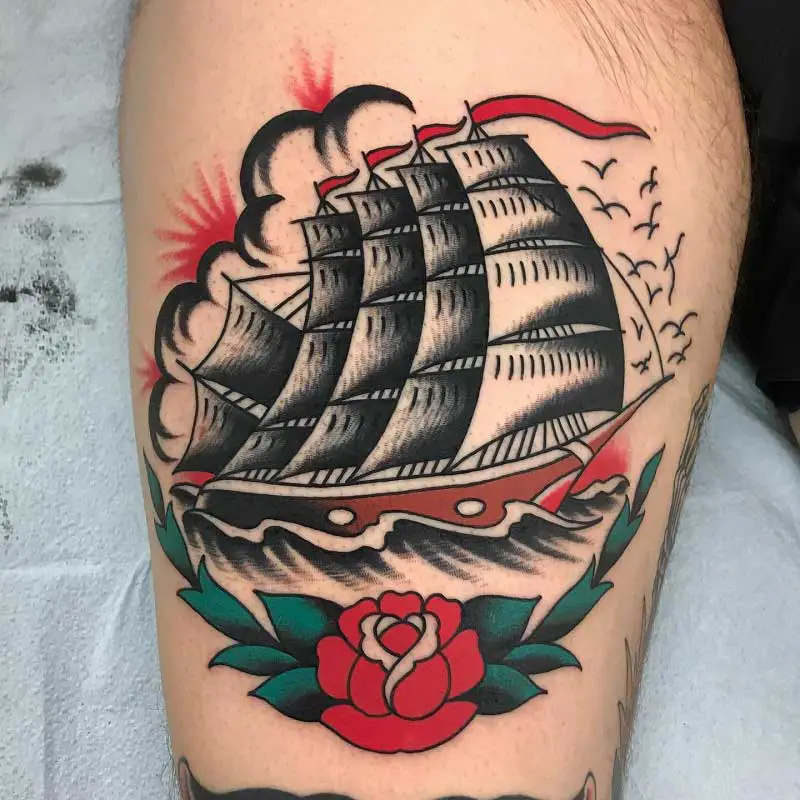 56.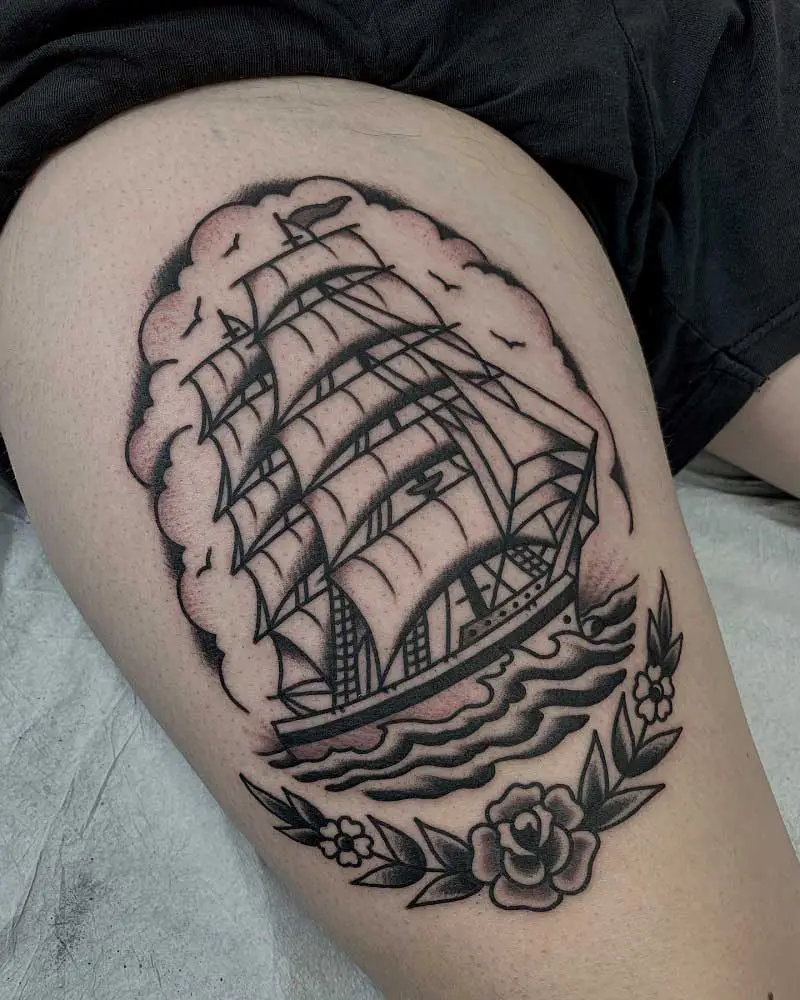 57.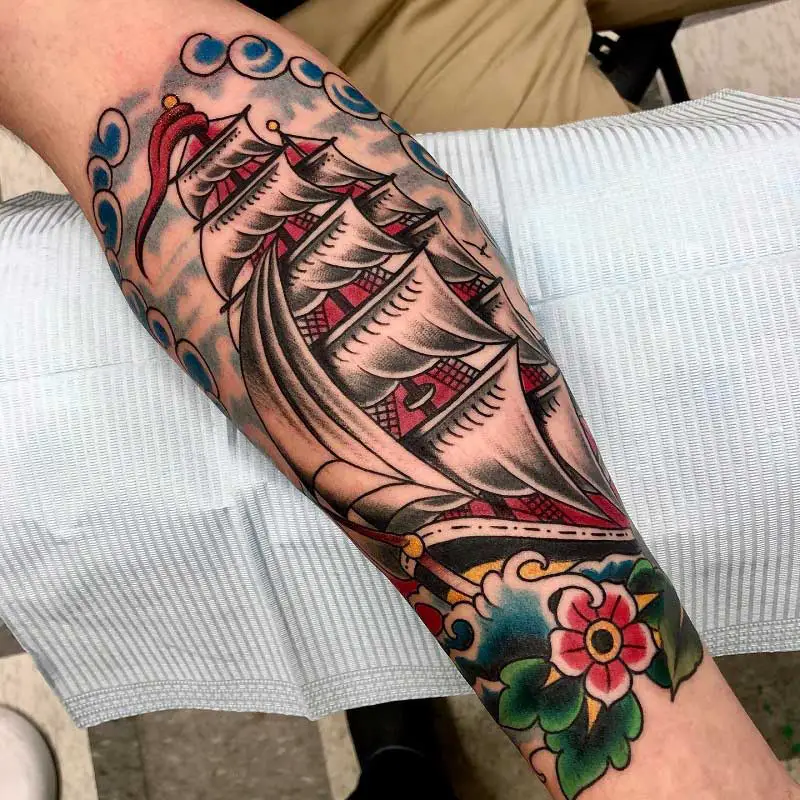 Anchor Ship Tattoo
58.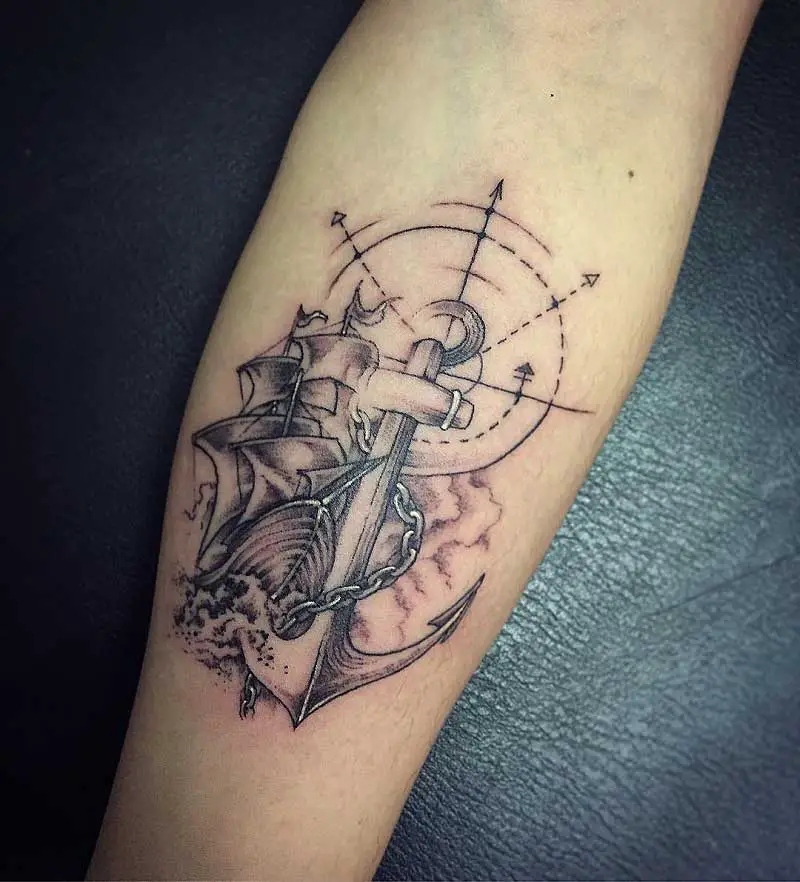 59.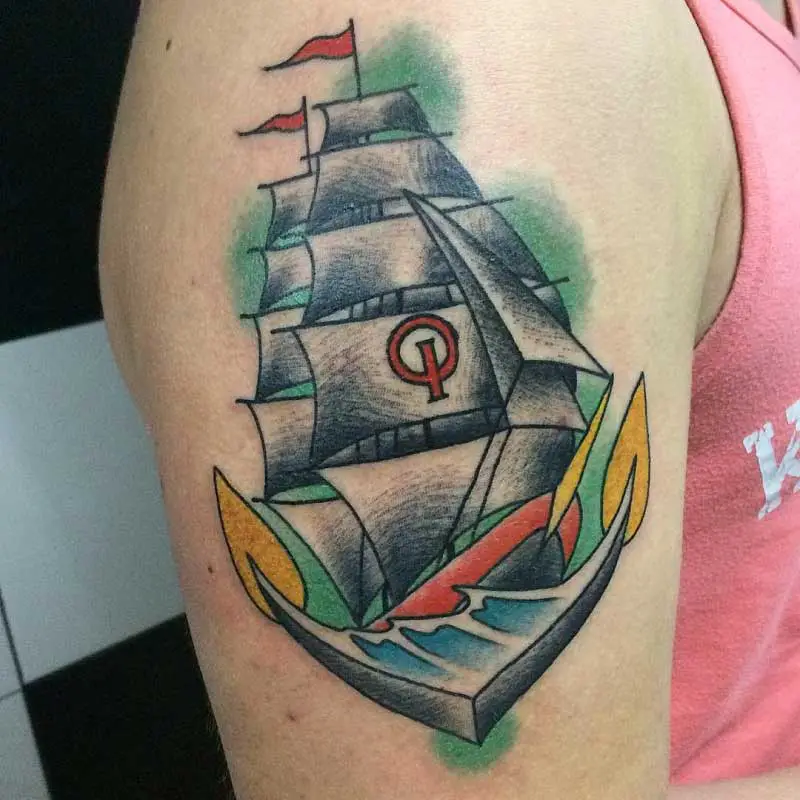 60.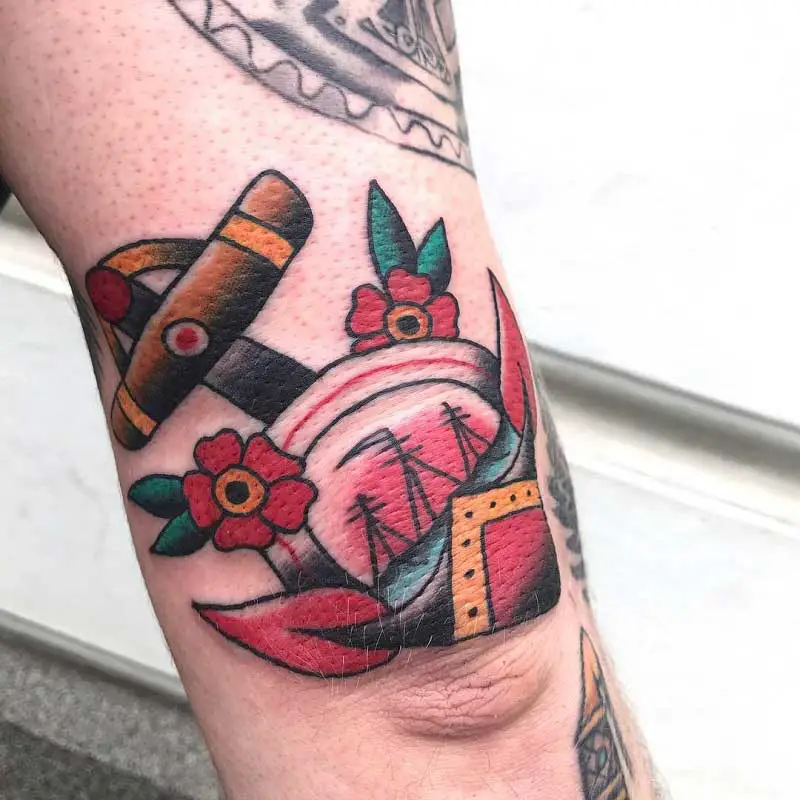 Octopus Ship Tattoo
61.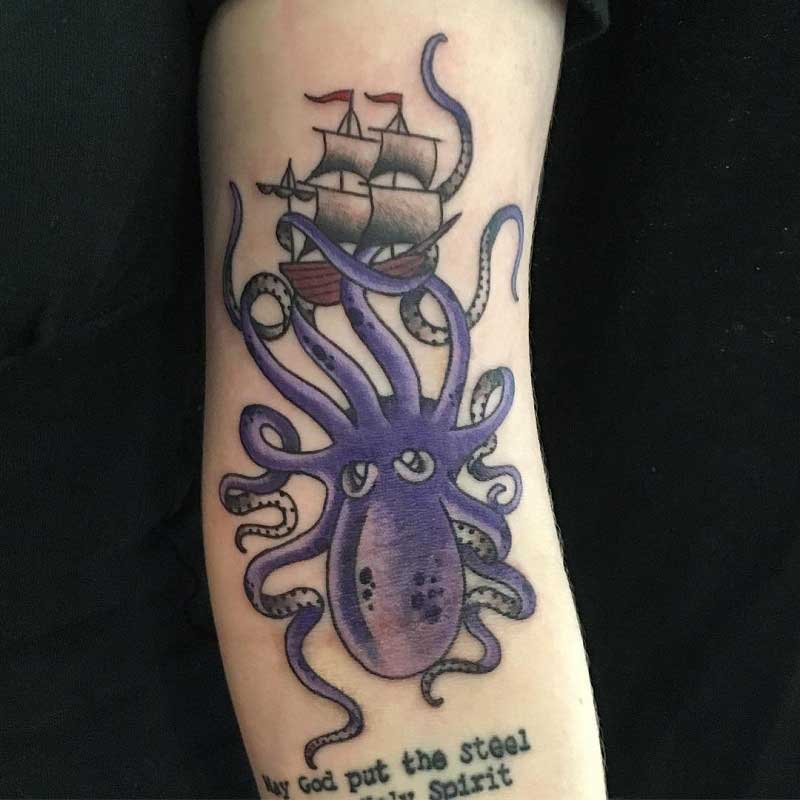 62.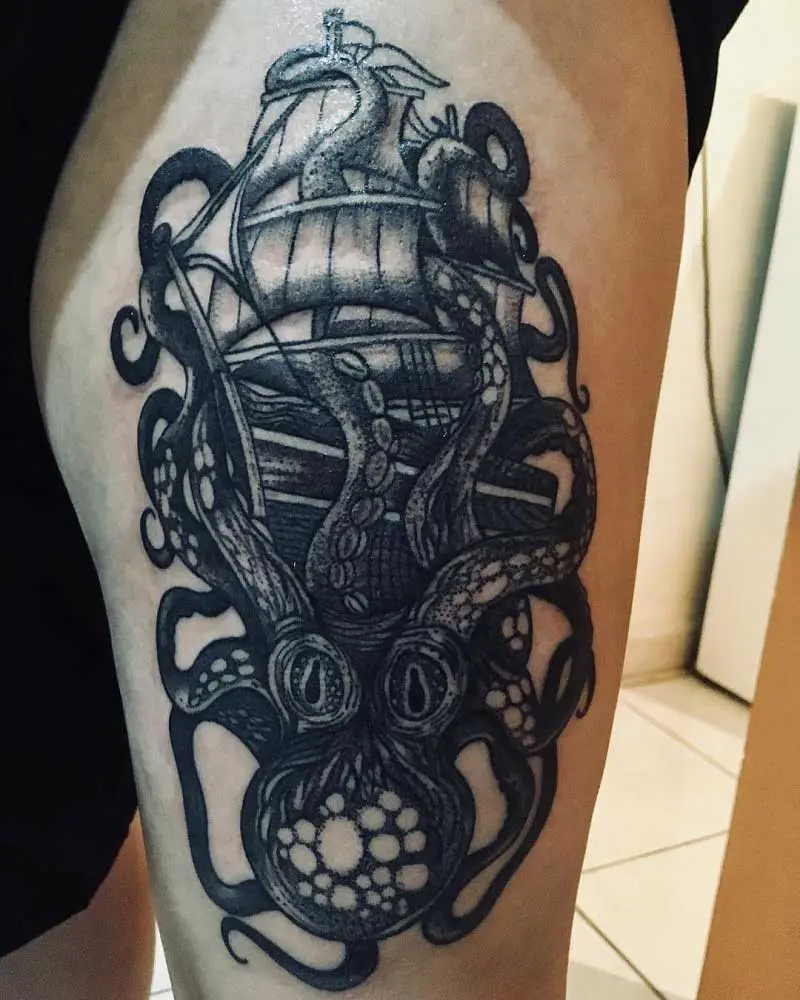 63.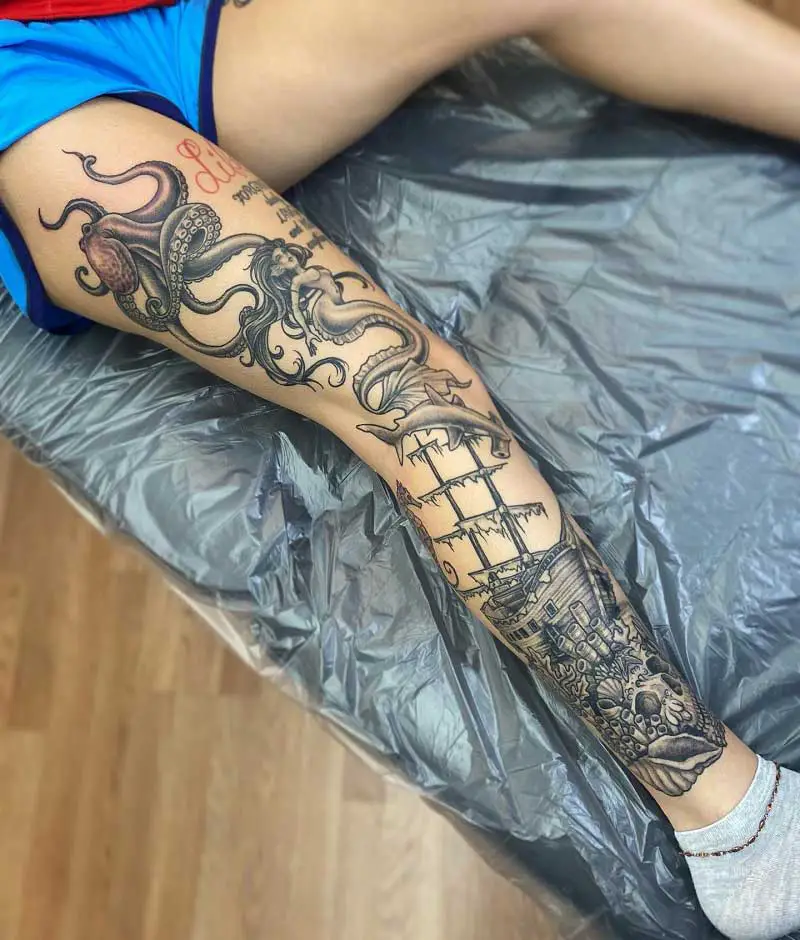 Ship Anchor Tattoo
64.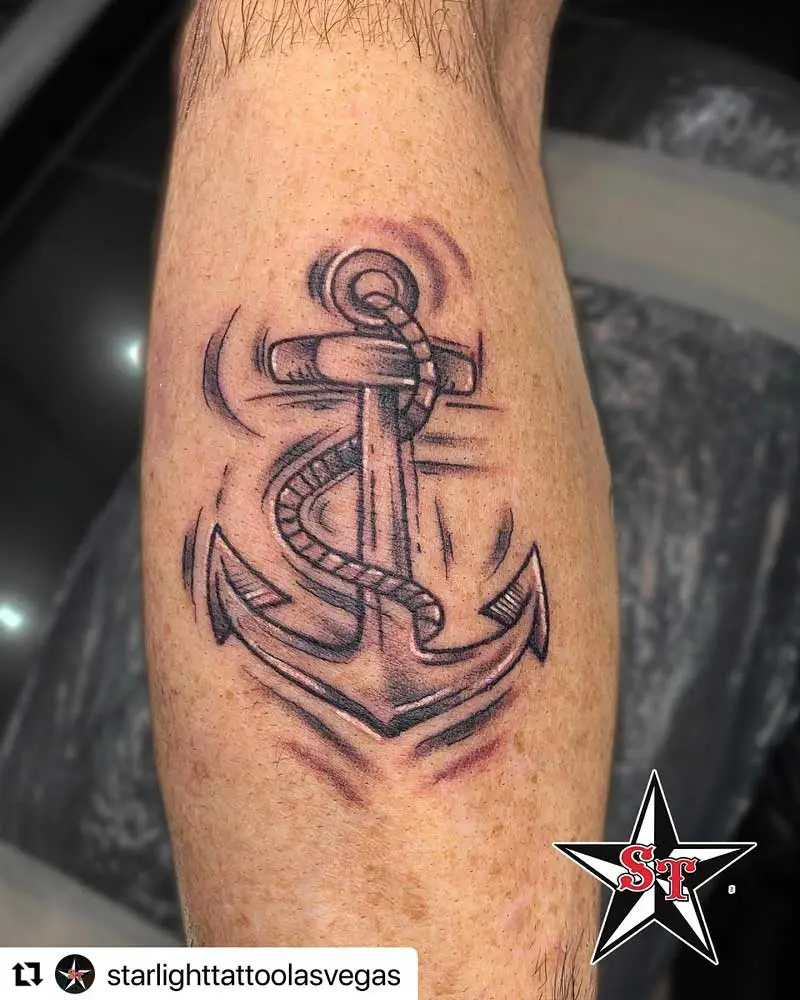 65.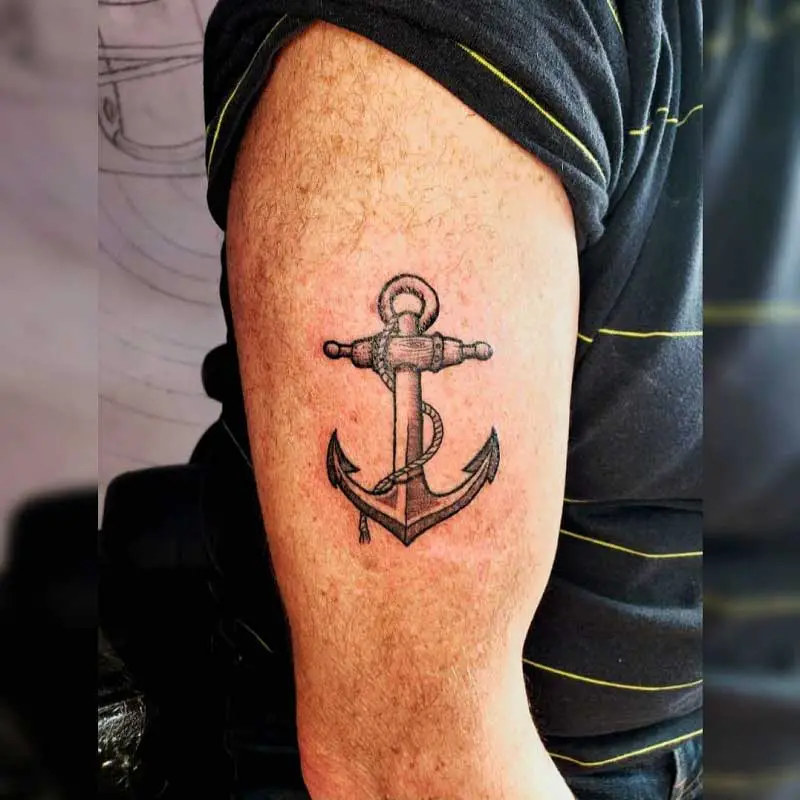 66.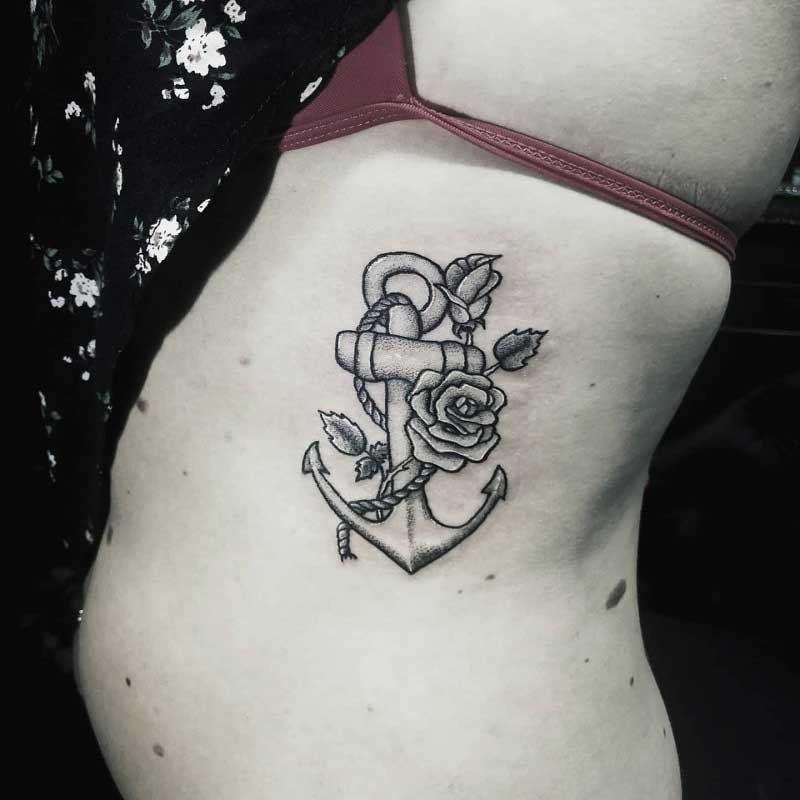 Ship Steering Wheel Tattoo
67.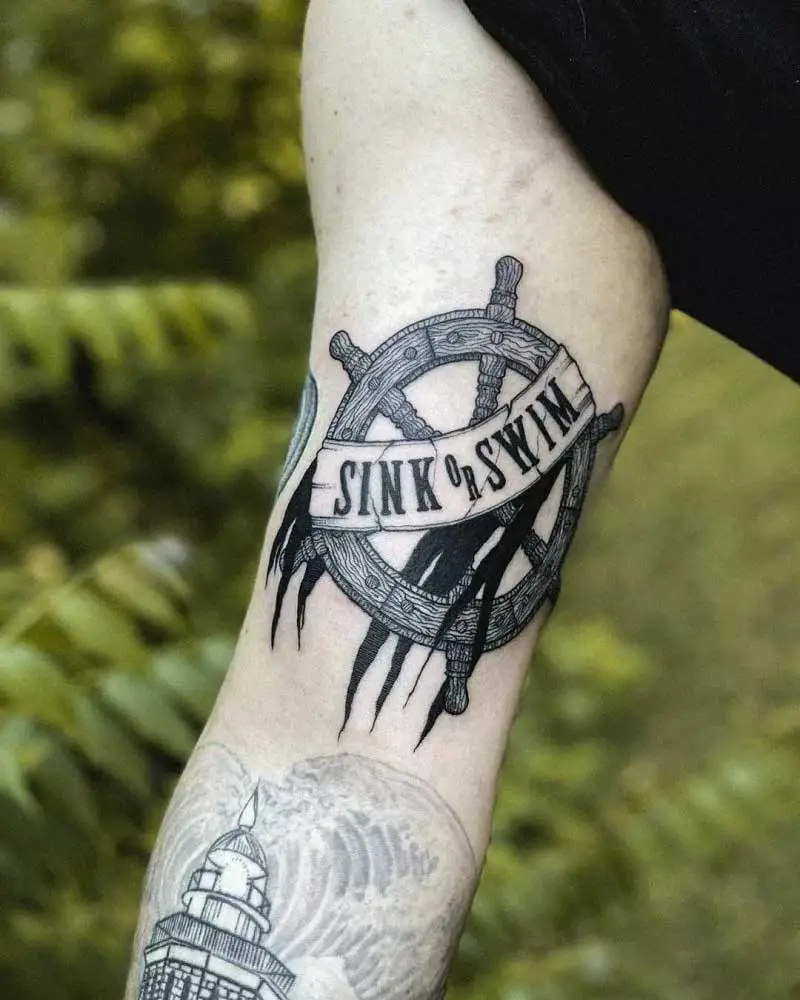 68.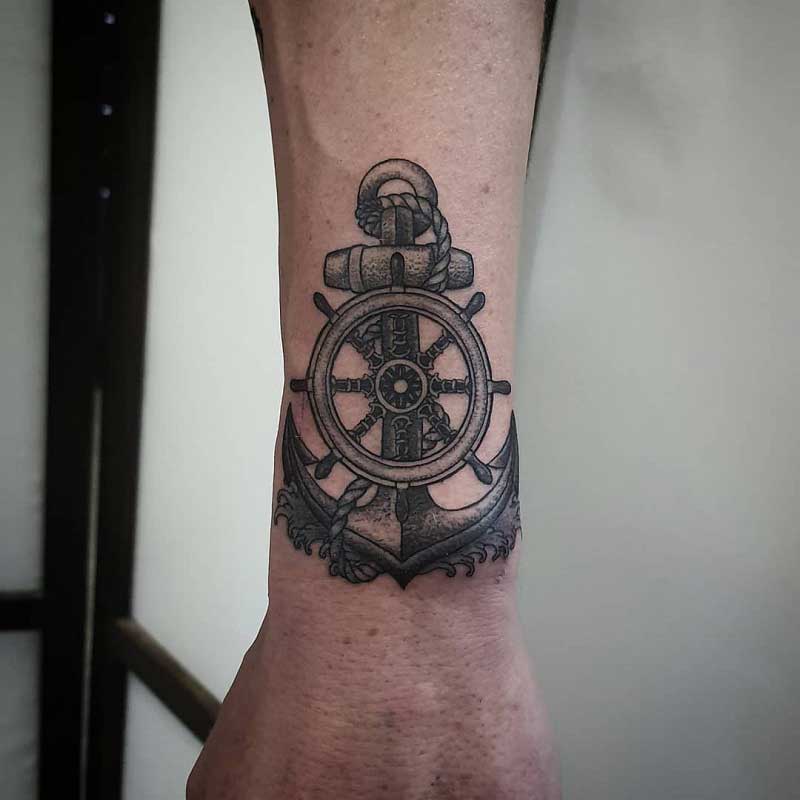 69.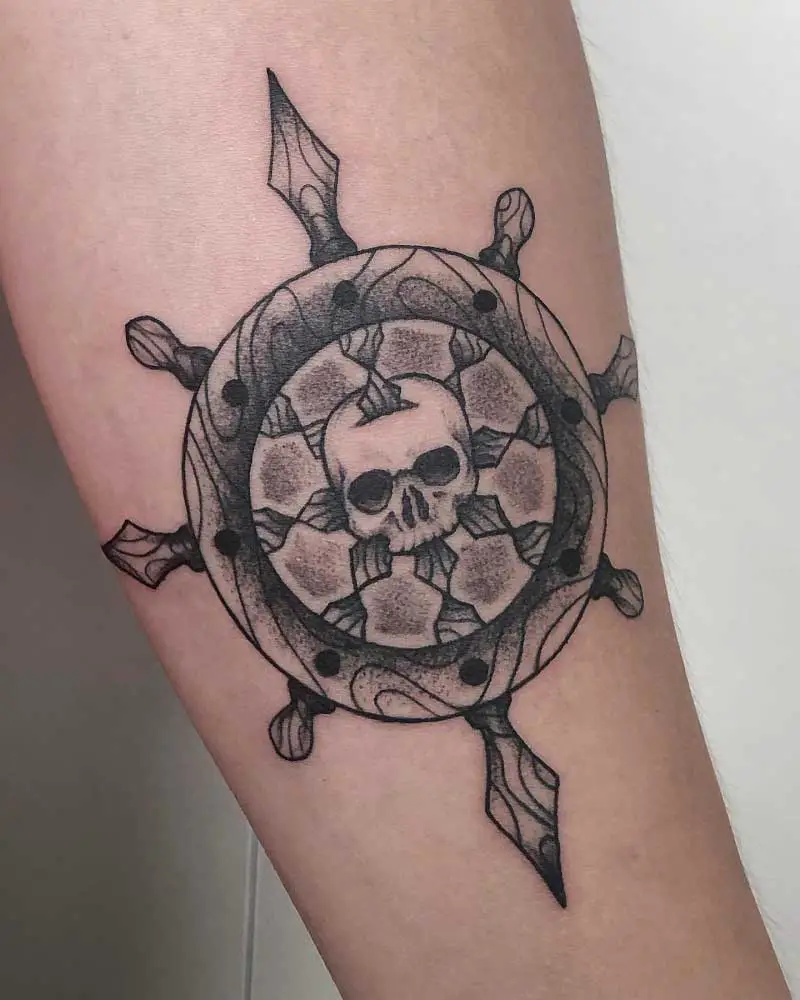 Planet Express Ship Tattoo
70.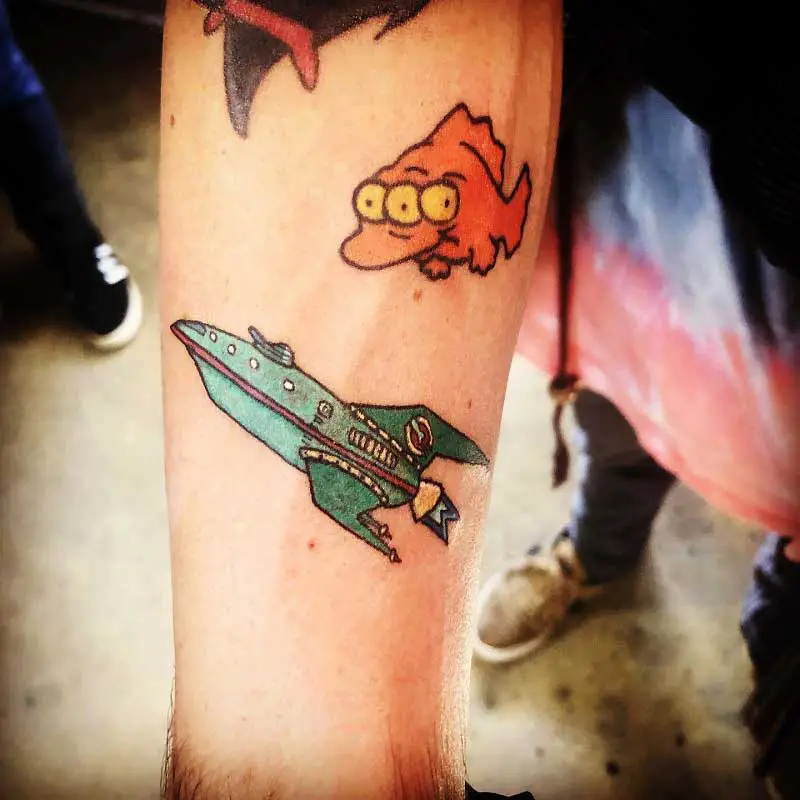 71.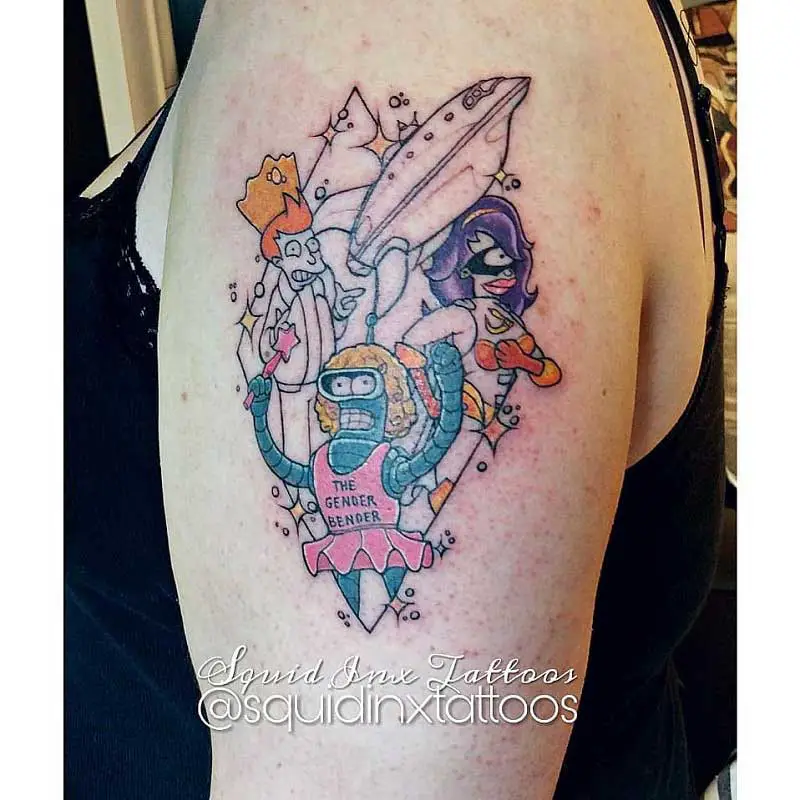 72.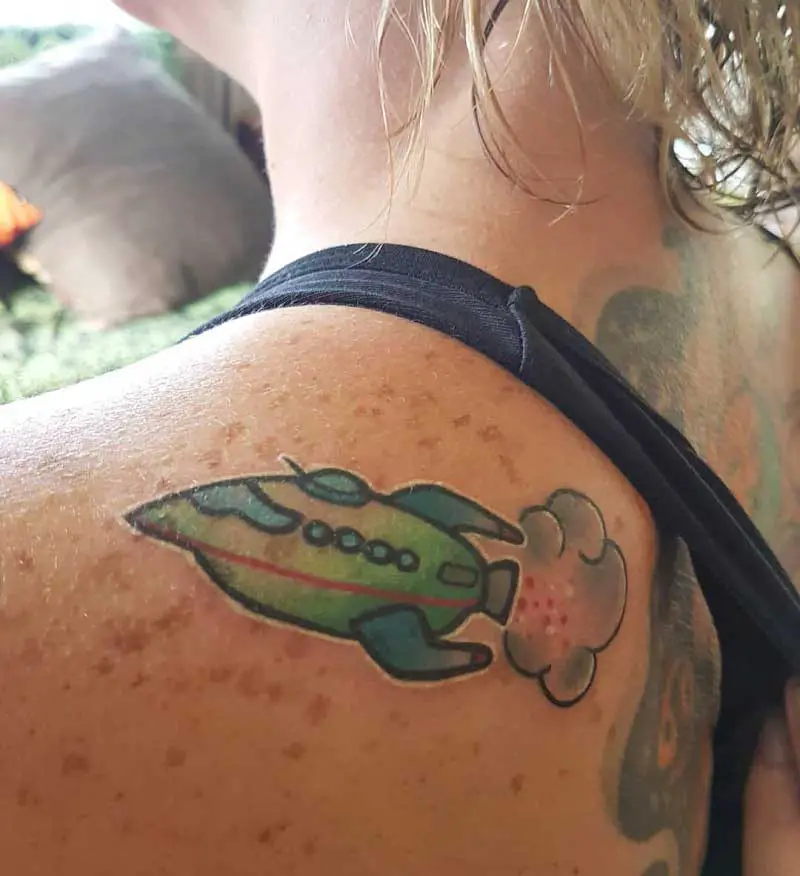 Ship Helm Tattoo
73.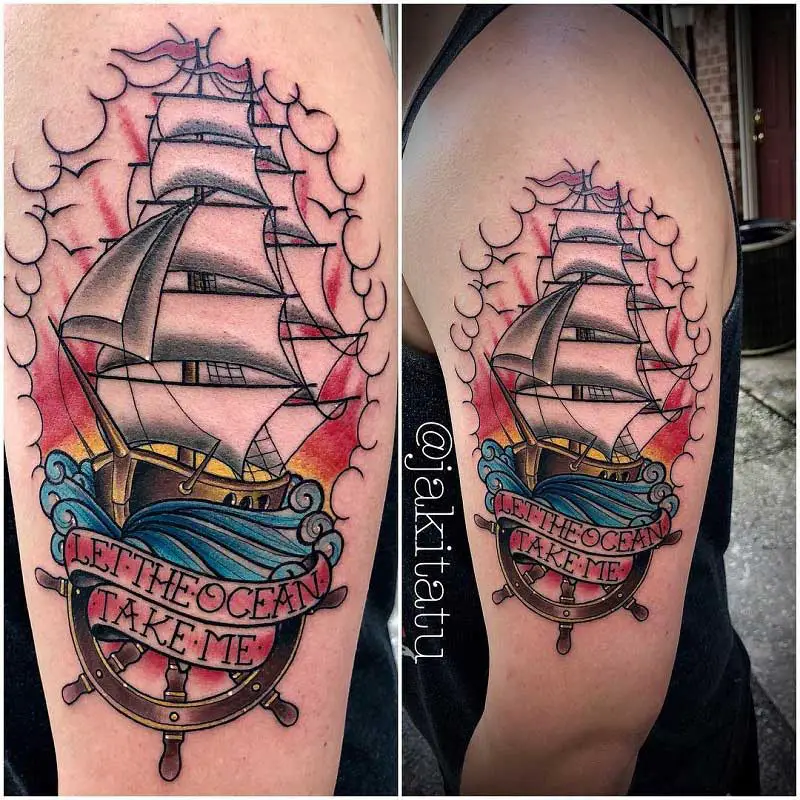 74.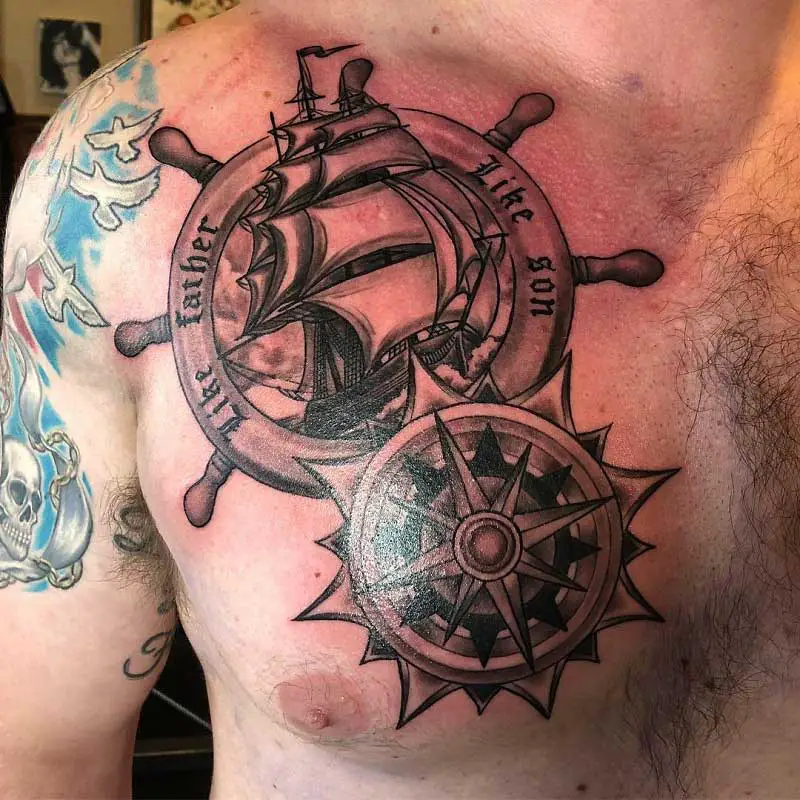 75.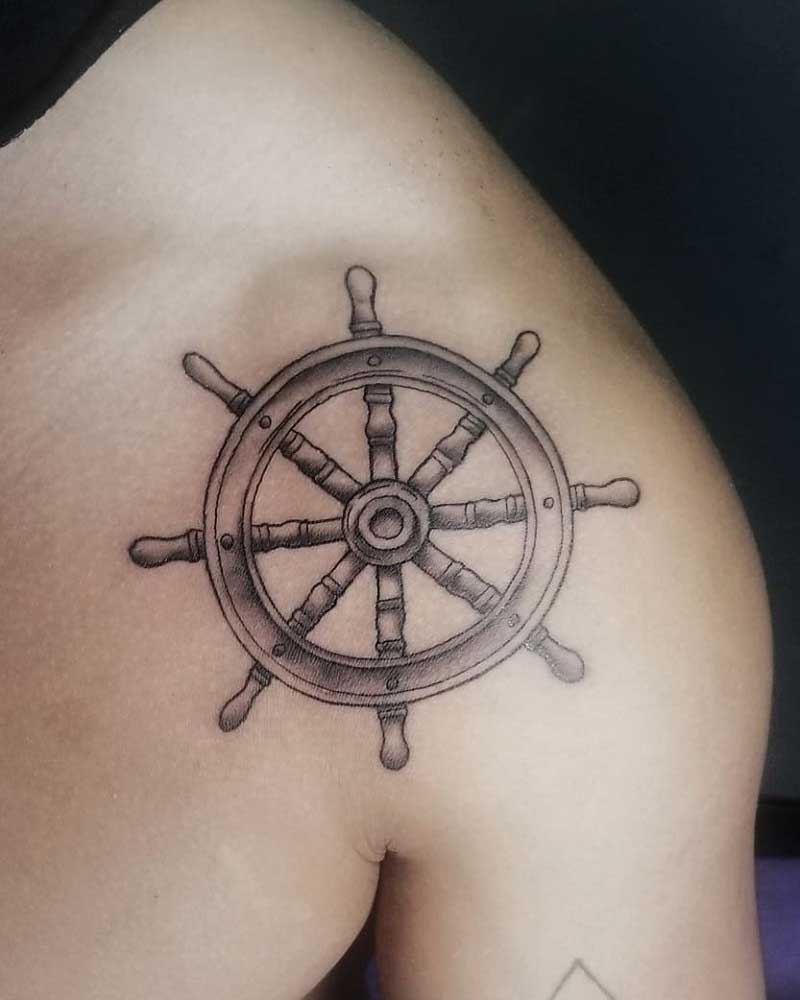 Skull Ship Tattoo
76.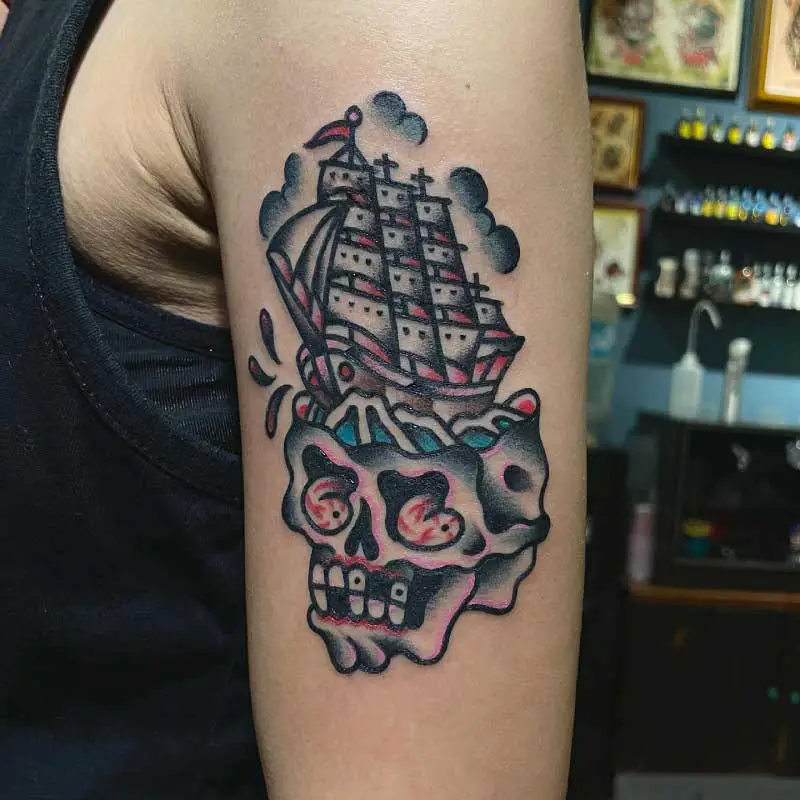 77.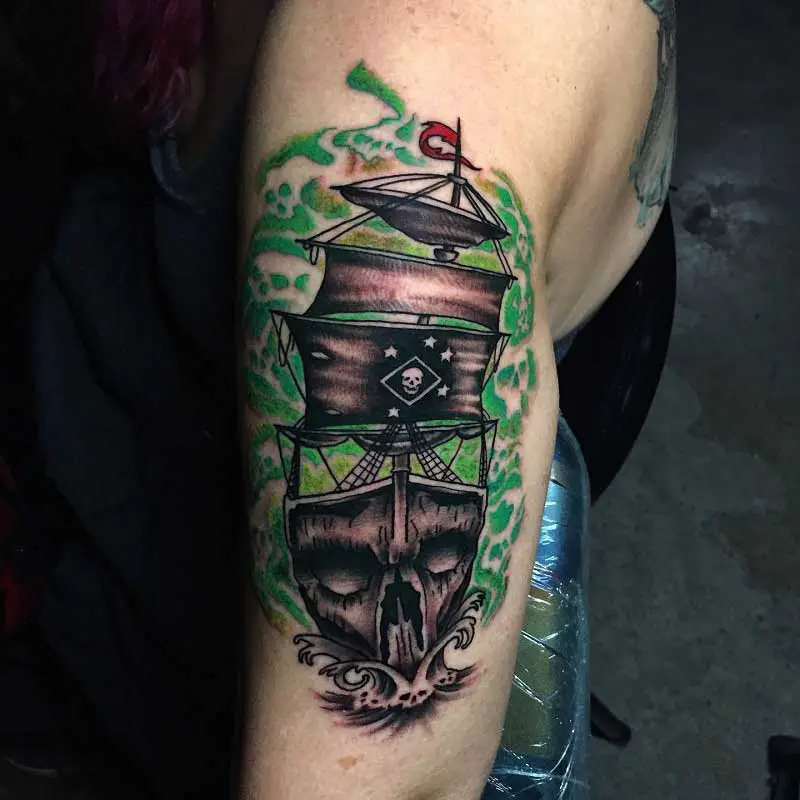 78.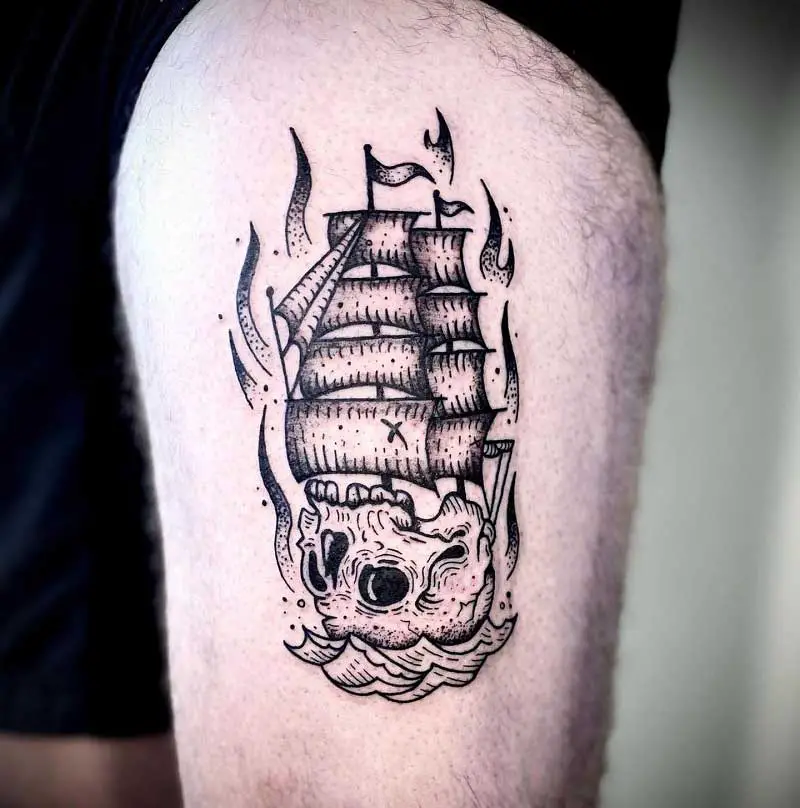 Abstract Ship Tattoo
79.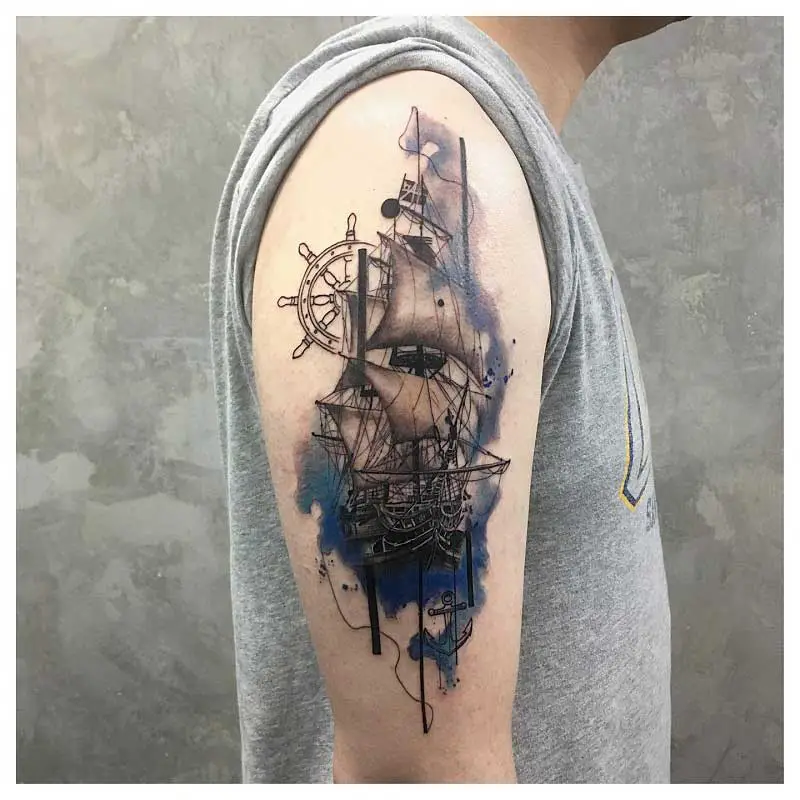 80.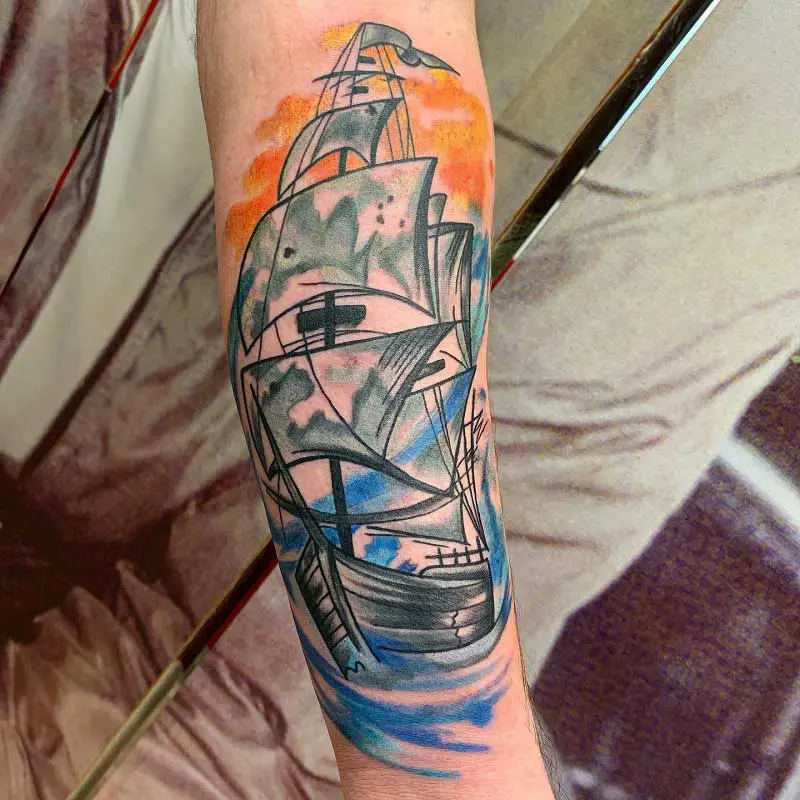 81.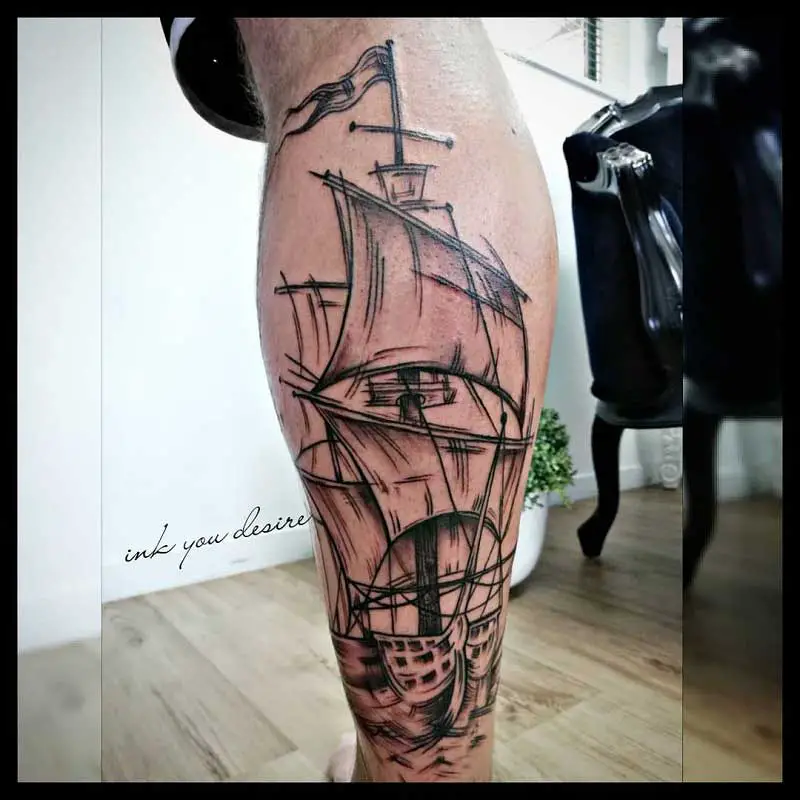 Ship Forearm Tattoo
82.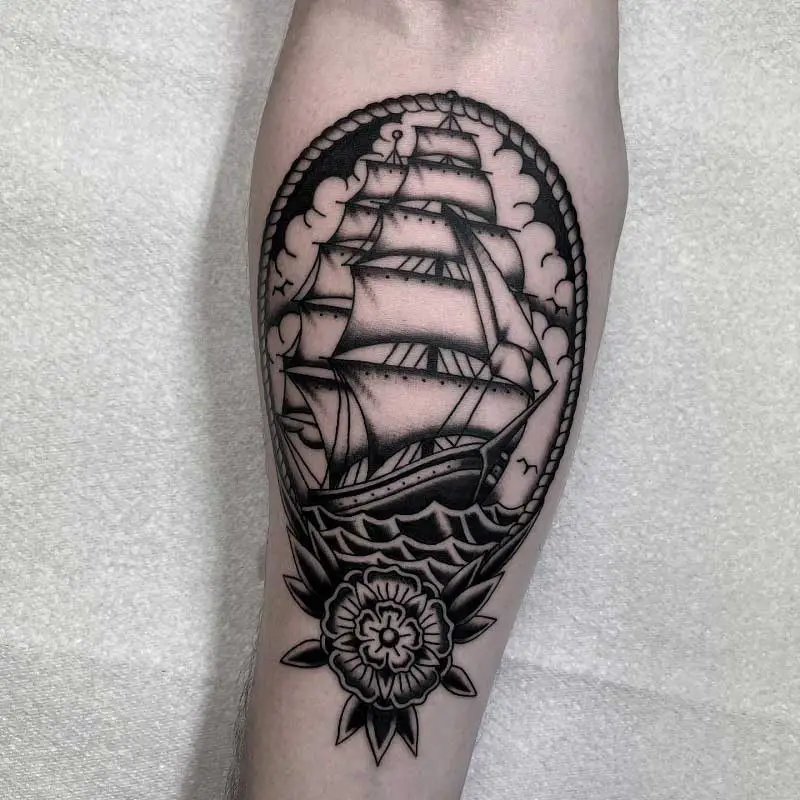 83.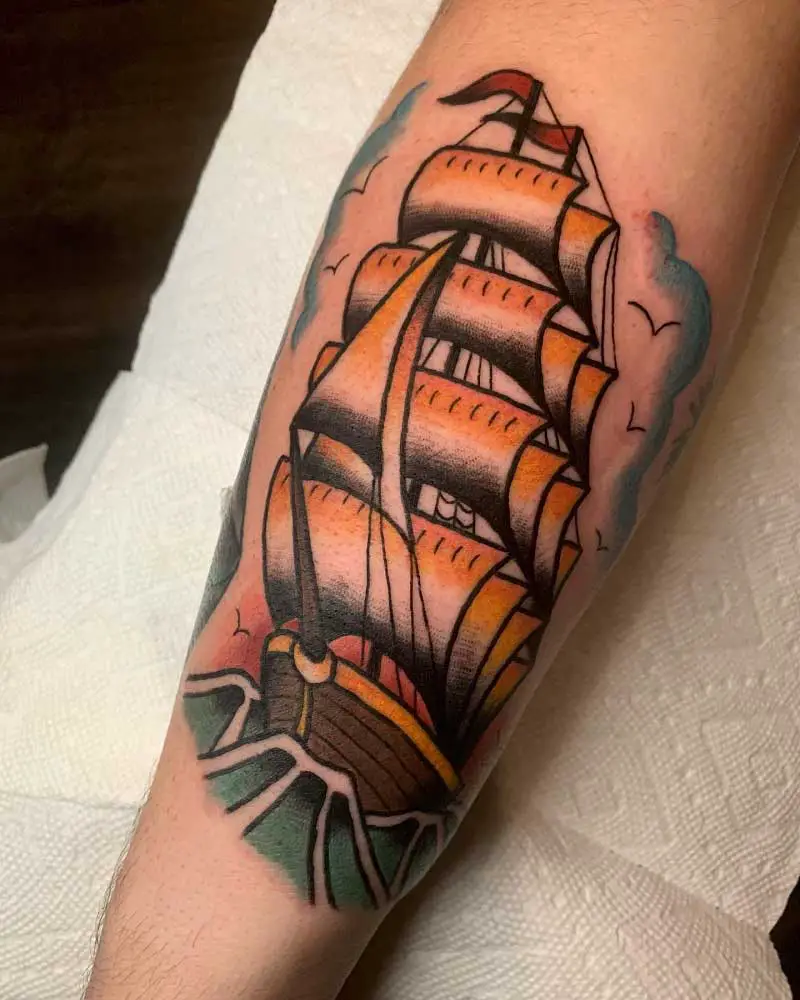 84.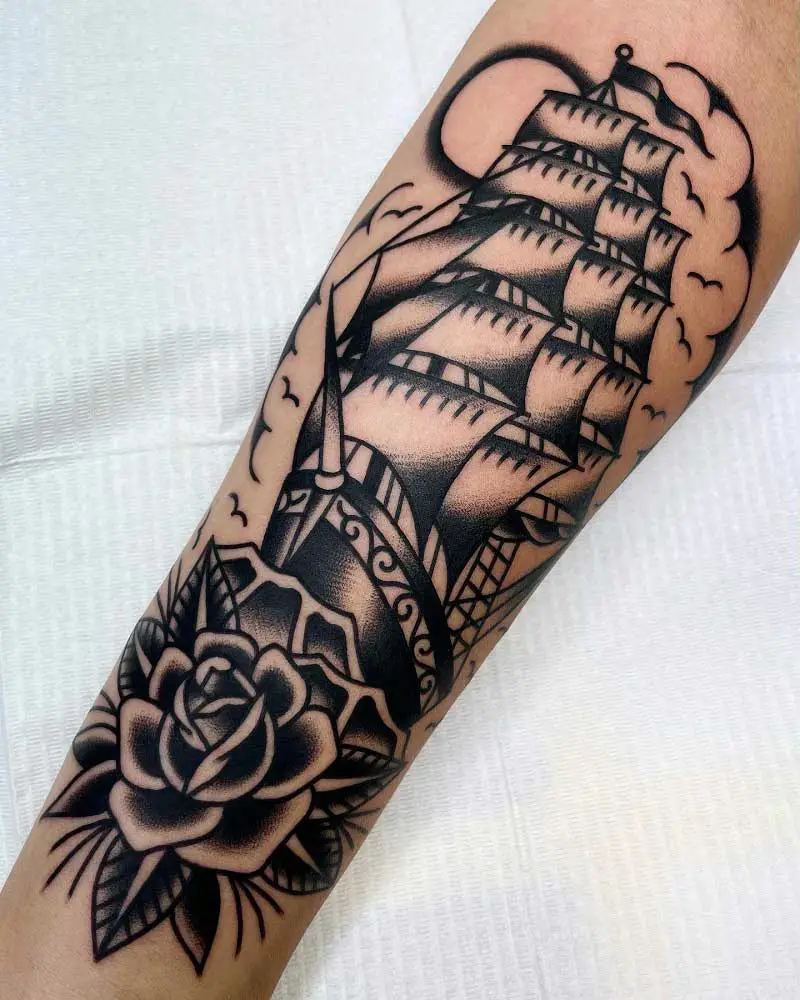 Minimalist Ship Tattoo
85.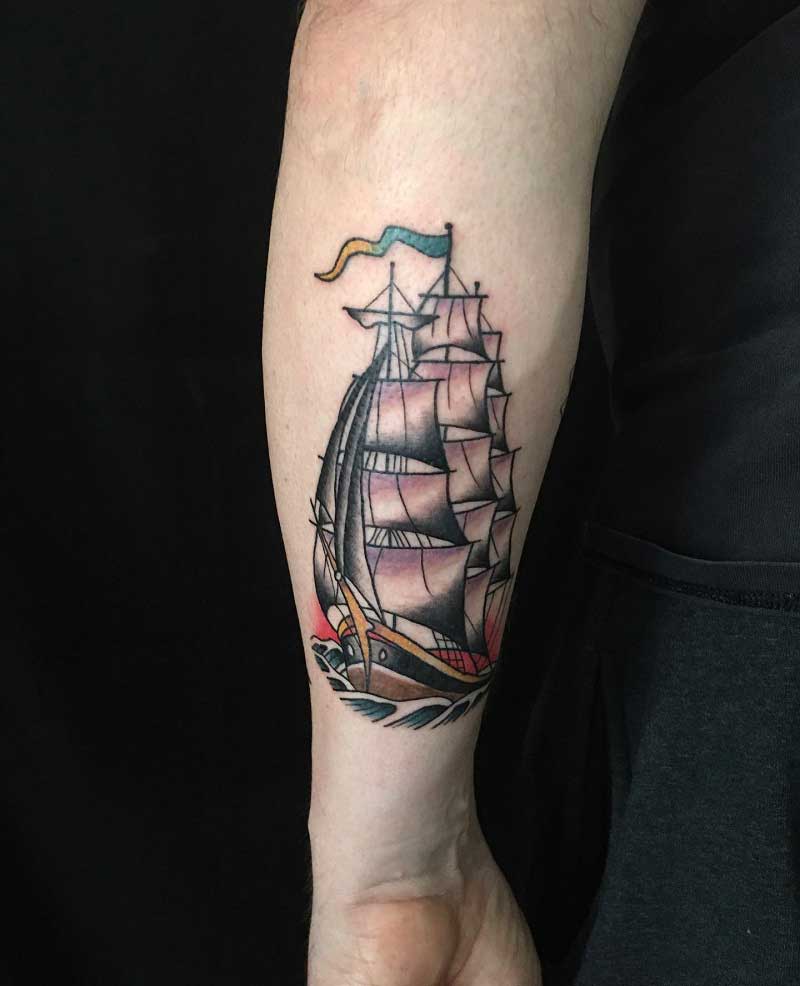 86.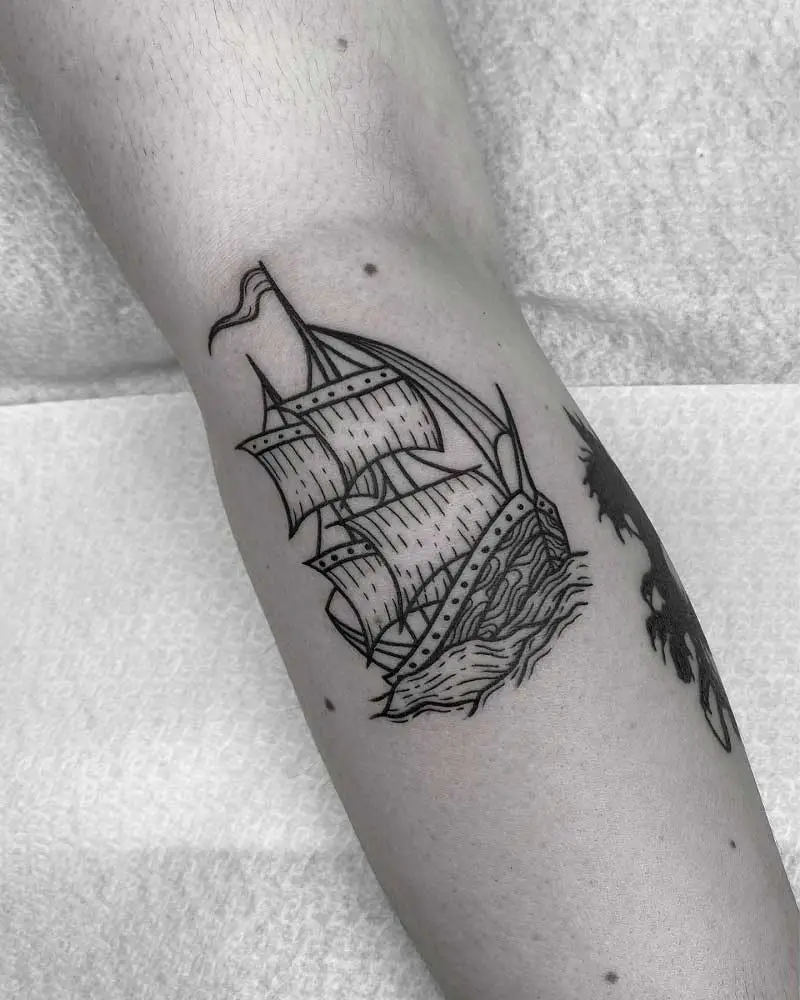 87.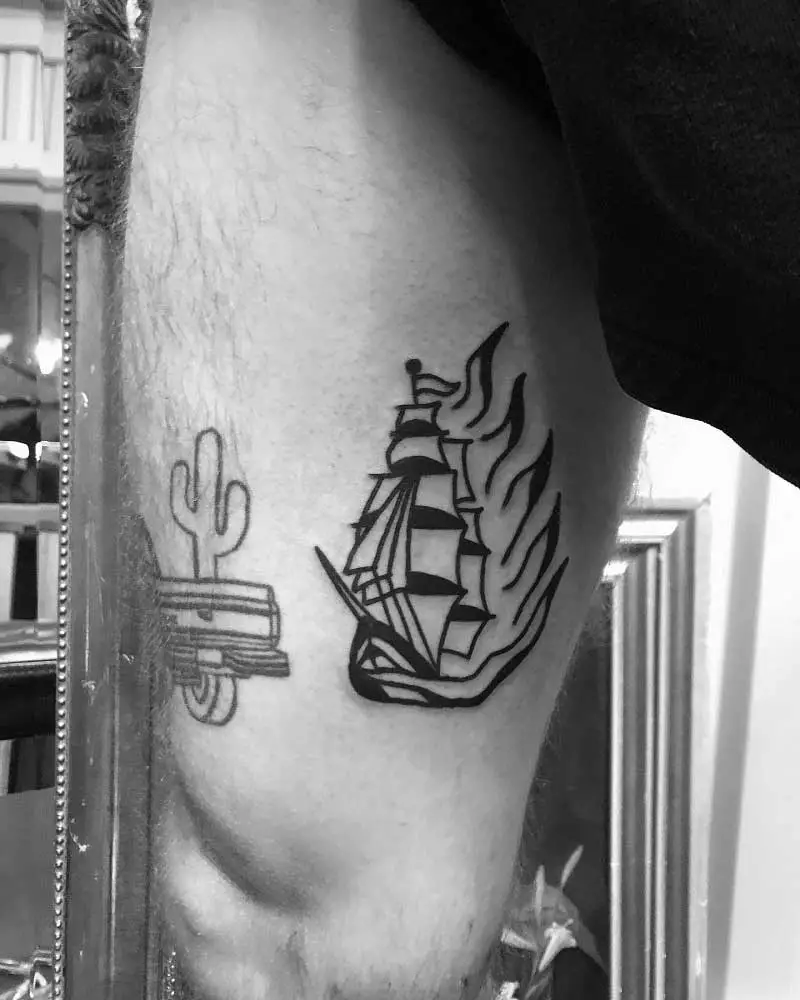 Ship Chest Tattoo
88.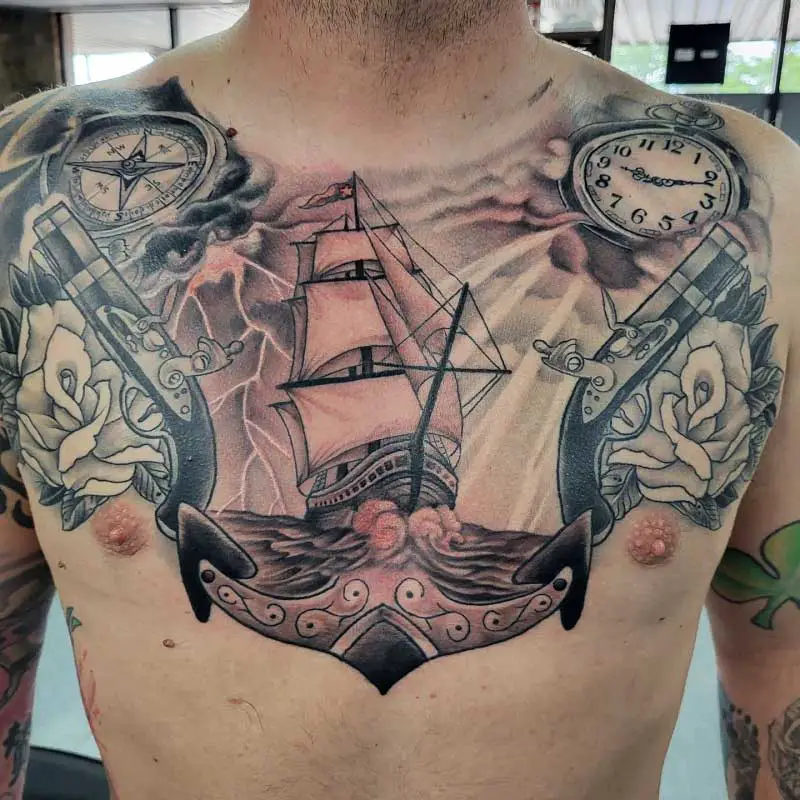 89.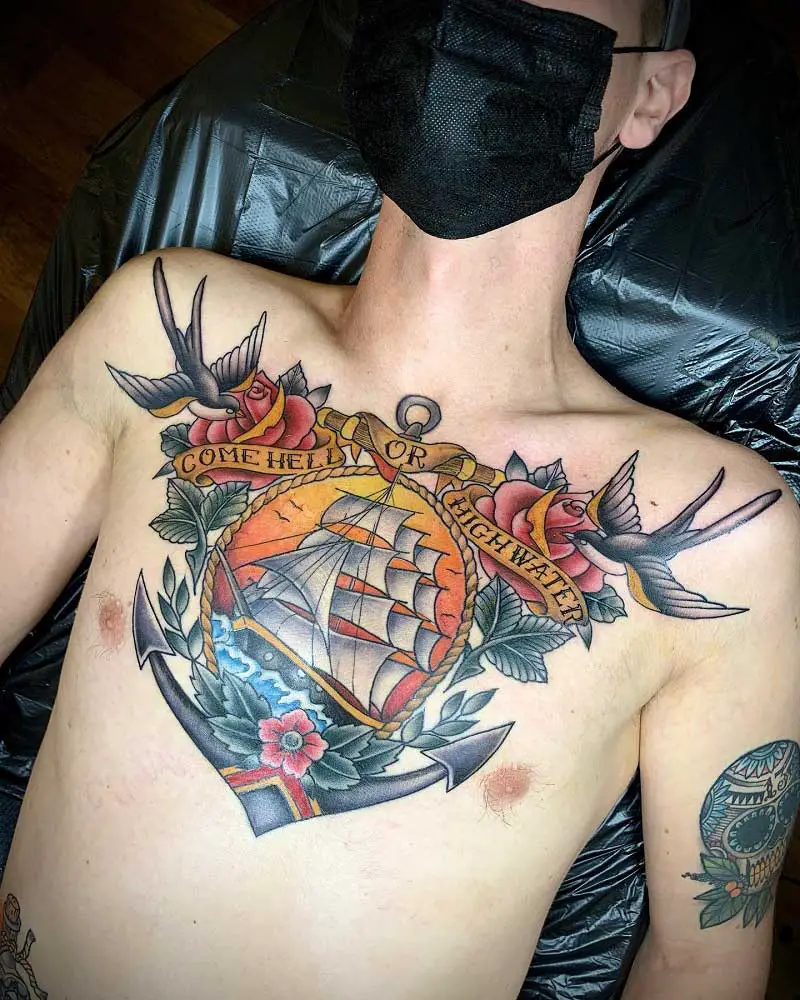 90.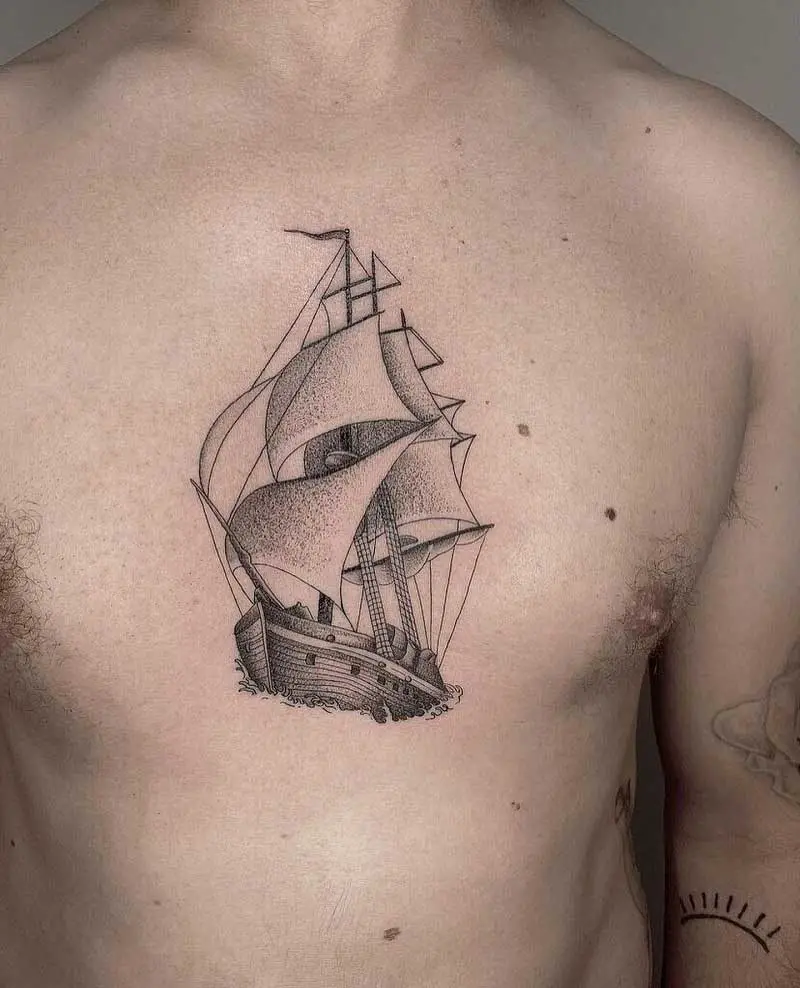 Odin Viking Ship Tattoo
91.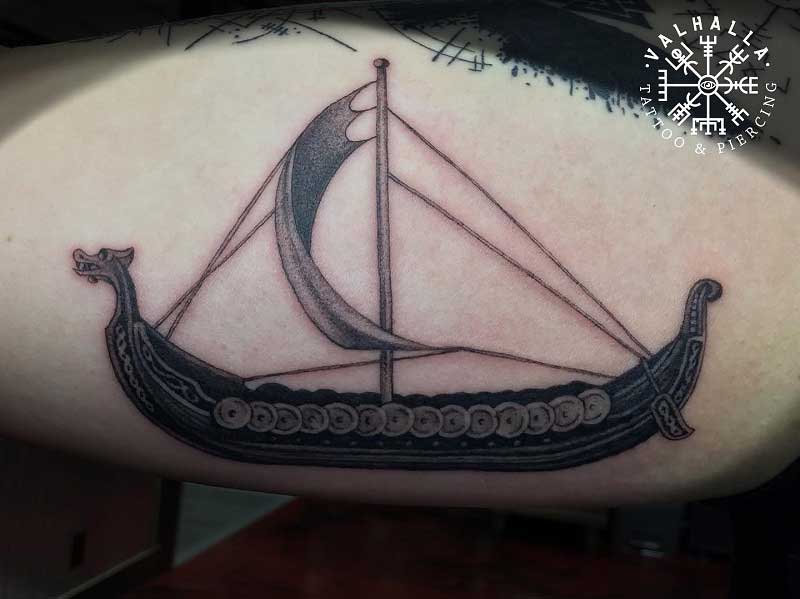 92.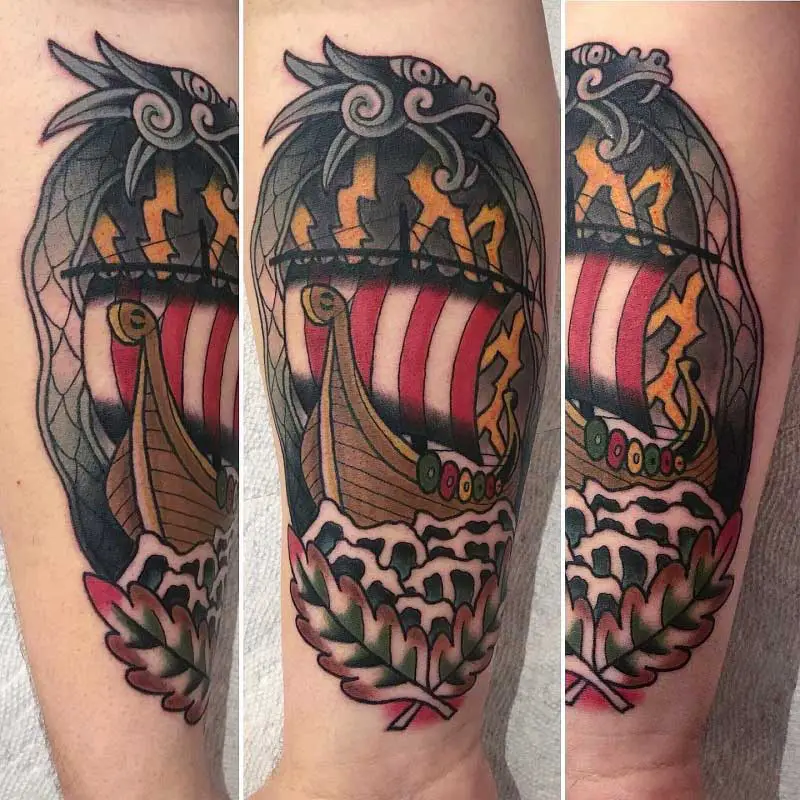 93.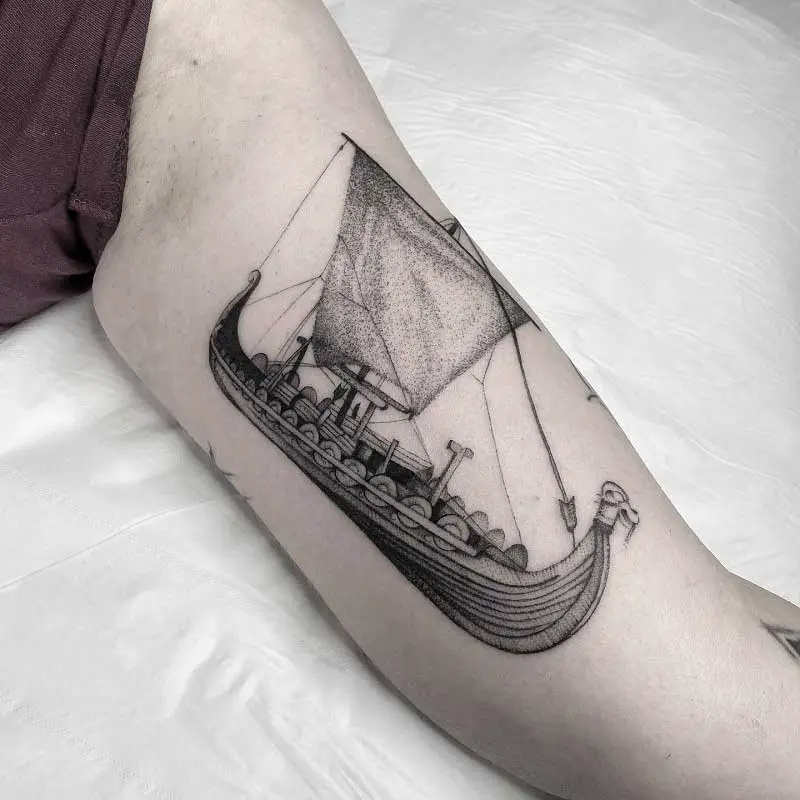 Conclusion
That will be all for now! These were some of the most unique and striking tattoo collections we had in store for you and we hope this article has made things easier for you in choosing your next tattoo design .
The next step can be a bit overwhelming but if you're looking for the perfect tattoo design of a ship, you must do it. You're going to have to go through all of the designs one at a time and pick the ideal design you would want to get etched onto your body. Once you've completed that, it's all smooth sailing from there.
The last and probably the easiest step will be to consult your local tattoo artists and make sure they get the job done perfectly. After that, you're definitely going to be ready to get the tattoo design. Good luck!
Frequently Asked Questions
What does a ship tattoo mean?
Ship tattoo designs are typically associated with new journeys or beginnings, good luck, direction, a way of life or even a troubled past.
What does a sinking ship tattoo mean?
These tattoos symbolize the dangers and perils one faces at sea.
What does a ship symbolize?
Spiritually, a ship signifies the voyage of life.
What does a ship in a bottle symbolize?
For associating oneself with the maritime domain, ships in bottles are a great way to do so.