Humans are always fascinated by what lies beyond the blue sky; the craze for Astronaut Tattoos proves that. 
Space enthusiasts see tattoos on astronauts as a medium to show support for space exploration programs or even to reminisce about their childhood dreams of going to the moon. Almost all of us wanted to be an astronaut at some point in our life – including you!
If you are fascinated by intergalactic adventures, you should definitely consider getting inked with an astronaut tattoo. What better way to show love for the outer world than by having a space explorer tattoo on your body? 
Always ready with his tumultuous space exploration tales!
92 Astronaut Tattoo  Designs and Meanings
If you are considering getting an astronaut tattoo next to satisfy your space fantasies, you have ended up in the right place.  Below we will explore some of the most trending tattoos with astronauts, and also delve deeper to know what meanings they hide. We are doubtless that from the plethora of tattoo ideas that we have lined up, you are sure to find one that will complement your personality.
Small Astronaut Tattoo
These small astronaut tattoos are perfect for your limbs. Best of all, they can fit in tight places! Getting a small astronaut design also allows you to leave more space for cosmic details, making the whole design look more breathtaking!
The Martian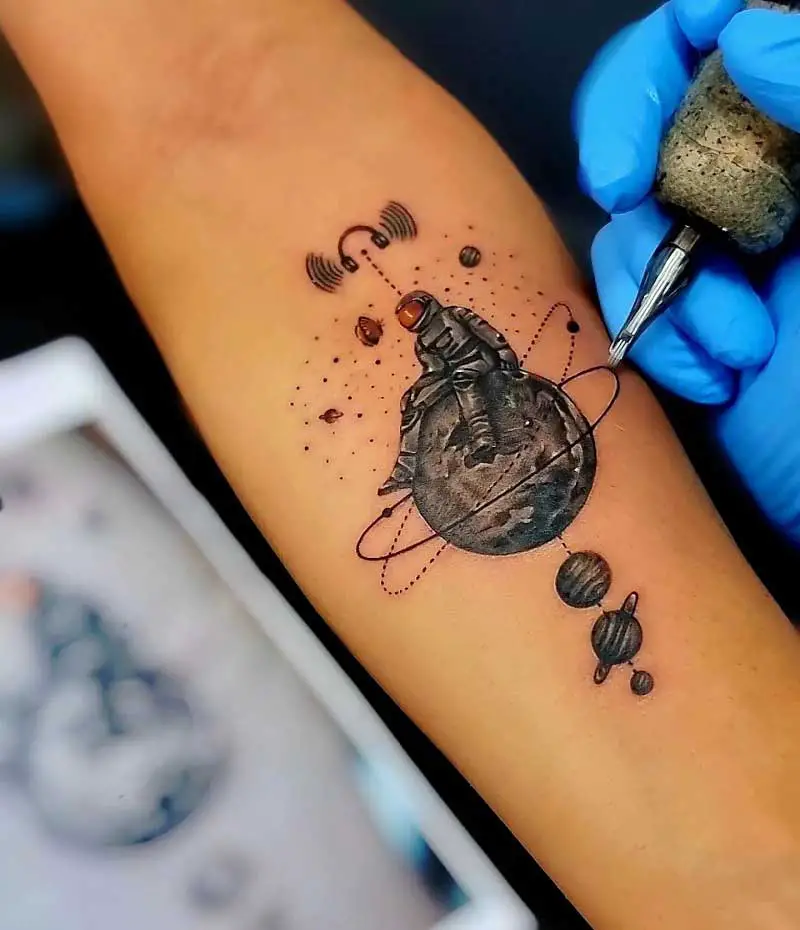 This tattoo depicts an astronaut sitting on the planet Mars trying to connect to his home planet. If you are a fan of the movie 'The Martian', you can consider getting inked with this one.
2. The Moon Swing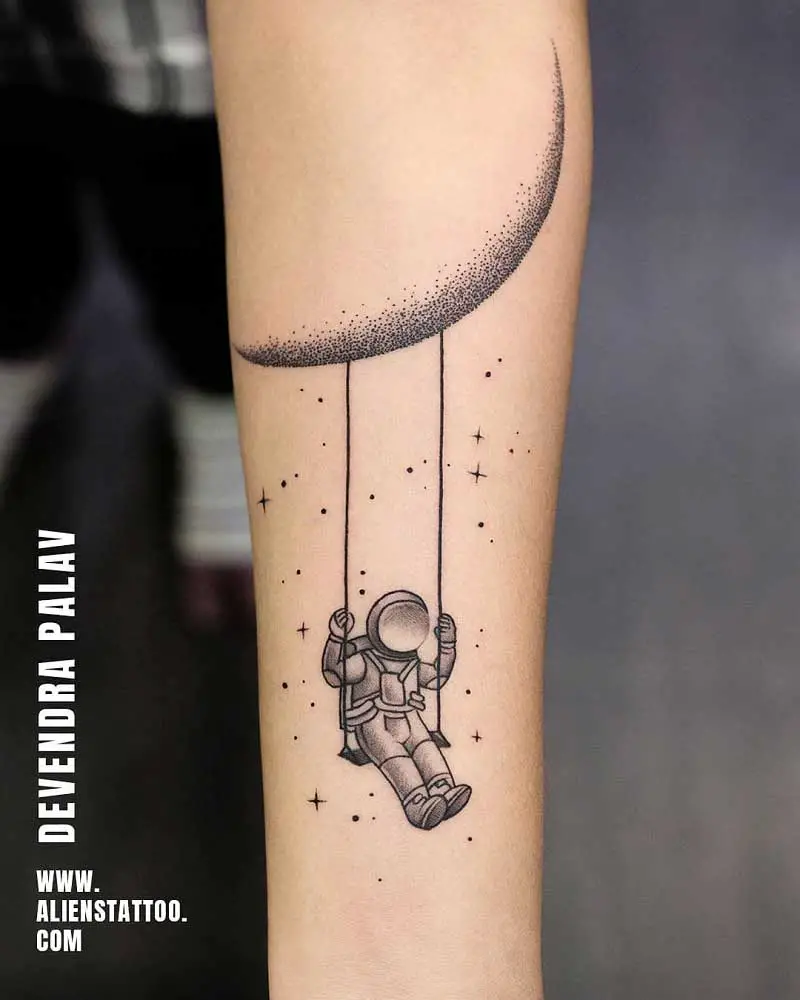 If you fancy the moon landing of 1969, this tattoo is for you! The little astronaut (probably Neil Armstrong) hanging from the moon in a swing showcases his carefree nature.
3. Saturn In My Hands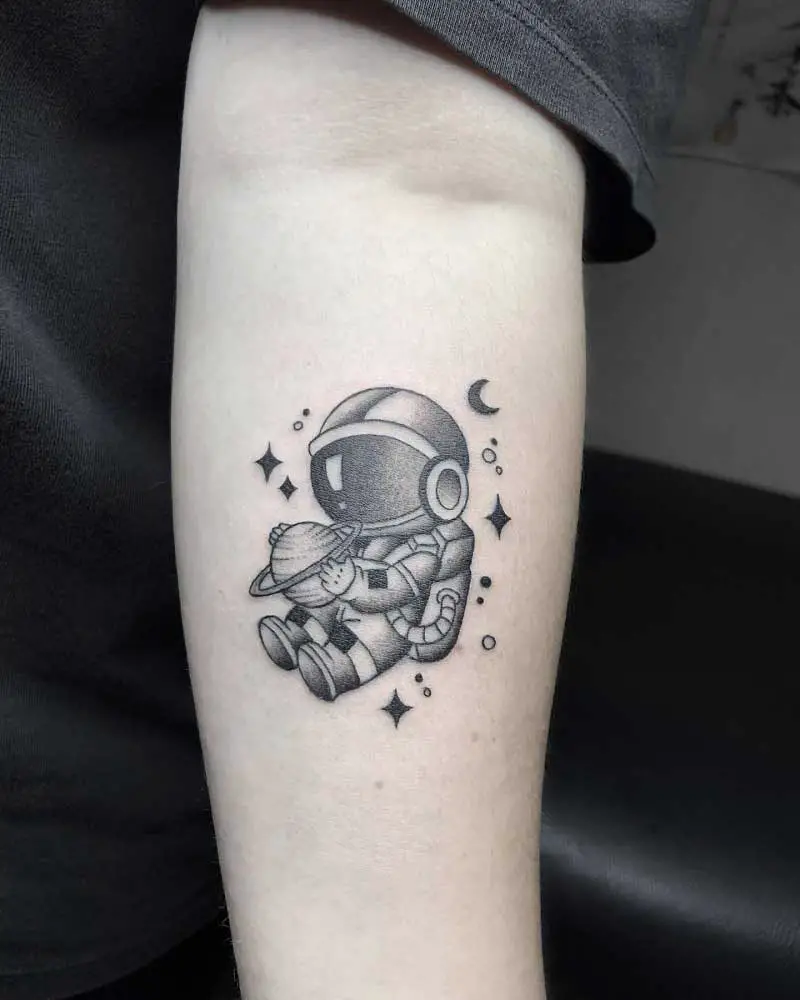 A larger than life tattoo of an Astronaut holding Saturn in his hands. Carrying the weight of this mega planet is no big deal for the little man just how you handle the enormous tasks in life with ease.
Astronaut Helmet Tattoo
You can always opt for Astronaut Helmet Tattoos, rather than getting a full astronaut. The reflection of stars and planets on the visor surely looks very aesthetic. It is also a great way to add more detail to the astronaut itself and make it look more appealing.
4. Space and Time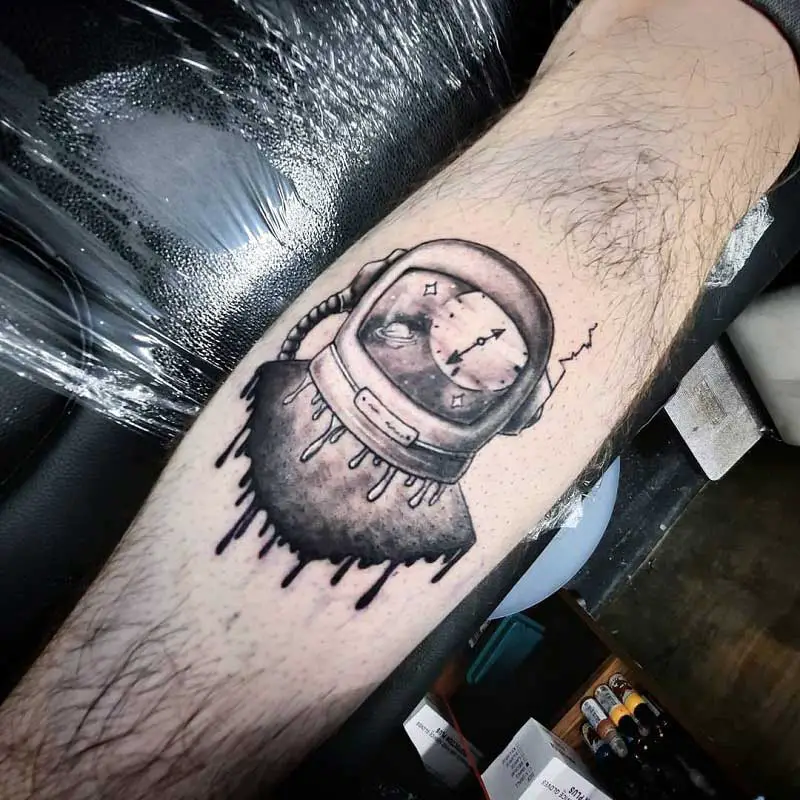 Time is what completes the 4 dimensions of space. A true scientific art that helps state the relationship between space and time. If you are a fan of science and space. This is a great art piece you can consider getting inked with.
5. Cyberpunk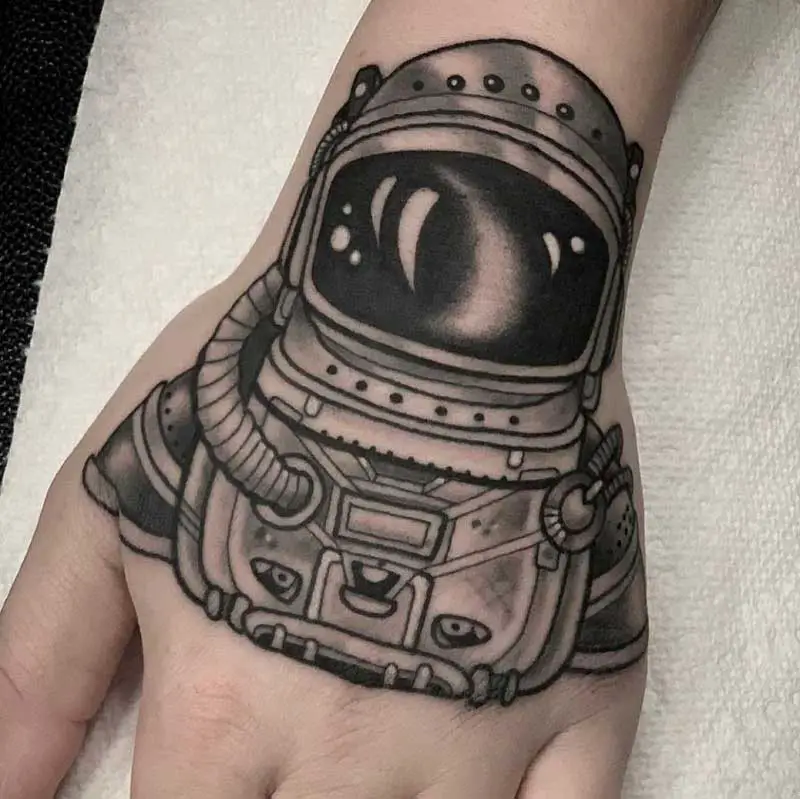 A very minimalistic design, if you are someone who believes in simplicity this tattoo will surely get you intrigued. If you are someone who can find details in simplicity, then we believe you have already noticed the void space the astronaut is looking into.
6. Intergalactic Traveller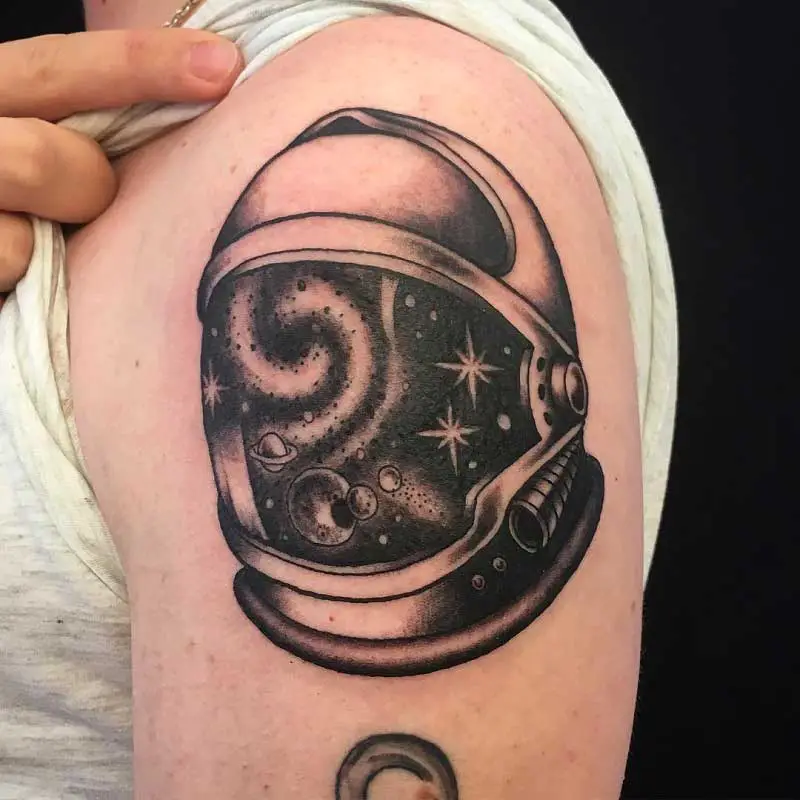 A reflection of all the planets and stars in the far distance for the space traveler to explore. You can certainly get the upper section of your arm inked with this aesthetic design, add some color to it and the sight of this one would be breathtaking!
Monkey Astronaut Tattoo
We all know that the first mammal to leave the boundaries of planet Earth was Albert the 2nd – A monkey! Sadly Albert couldn't return back to Earth due to a parachute failure. The monkey astronaut tattoos below are a great way of giving tribute to Albert for his sacrifice.
7. The Smiling Monkey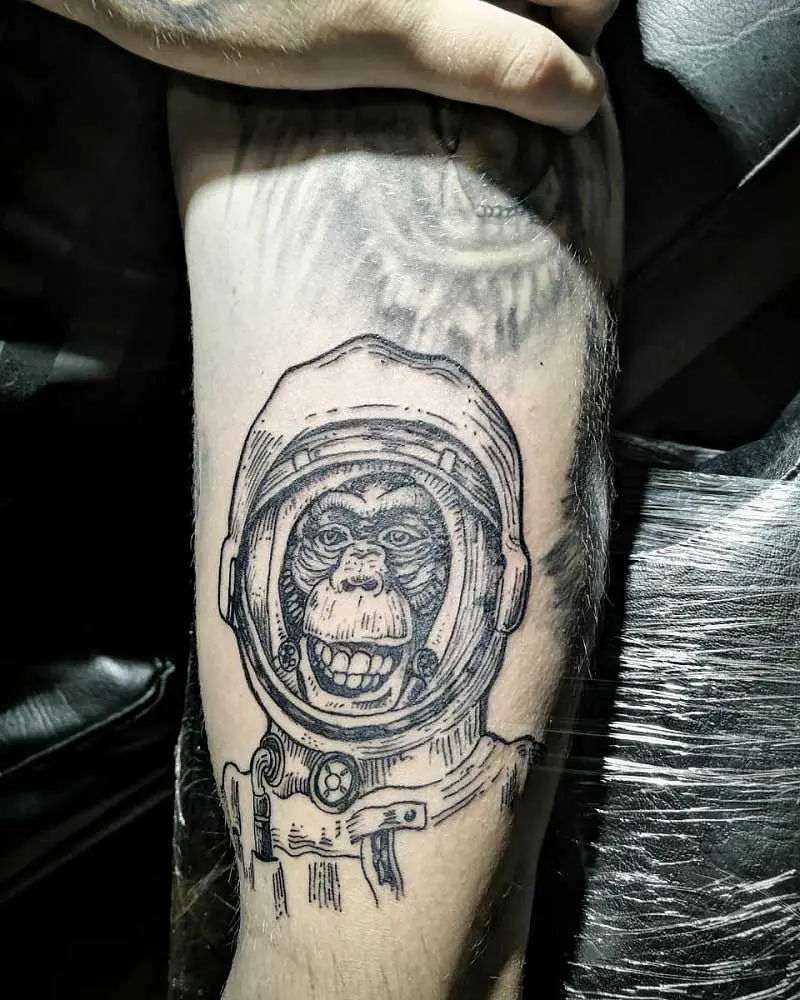 This monkey's smile symbolizes everything great about breaking through the bounds of captivity and flying to achieve greatness! If you share the same passion as this little astronaut consider getting your bicep inked with this design.
8. Monkey Space Warrior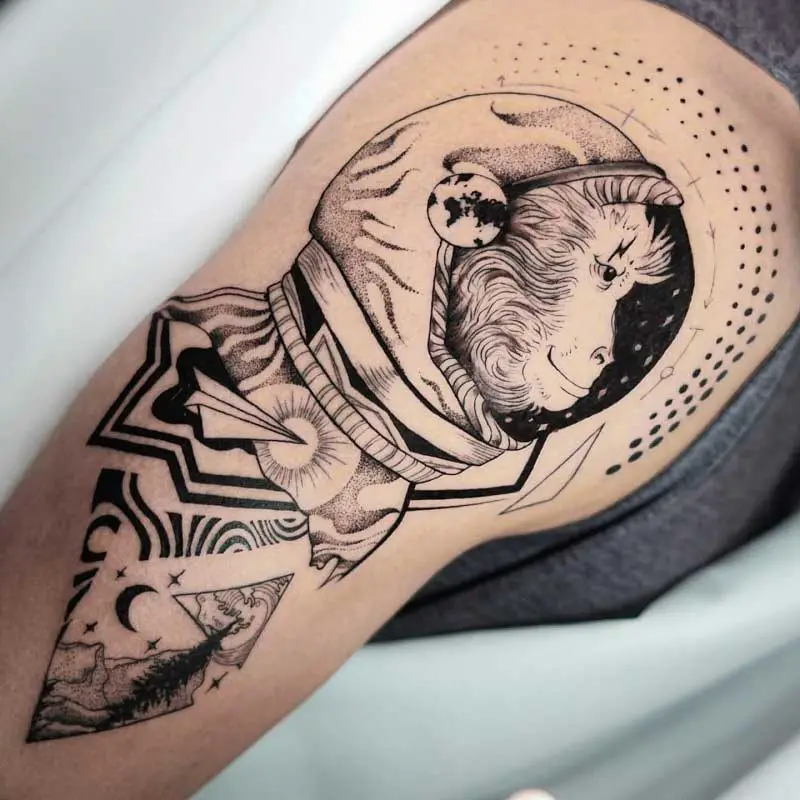 The little scar on this monkey's face tells us stories of all the great fights he had to endure in his life. He certainly looks ready to conquer planet Earth next. A detailed monkey astronaut tattoo for a space warrior like you.
9. Wise Cosmic Ape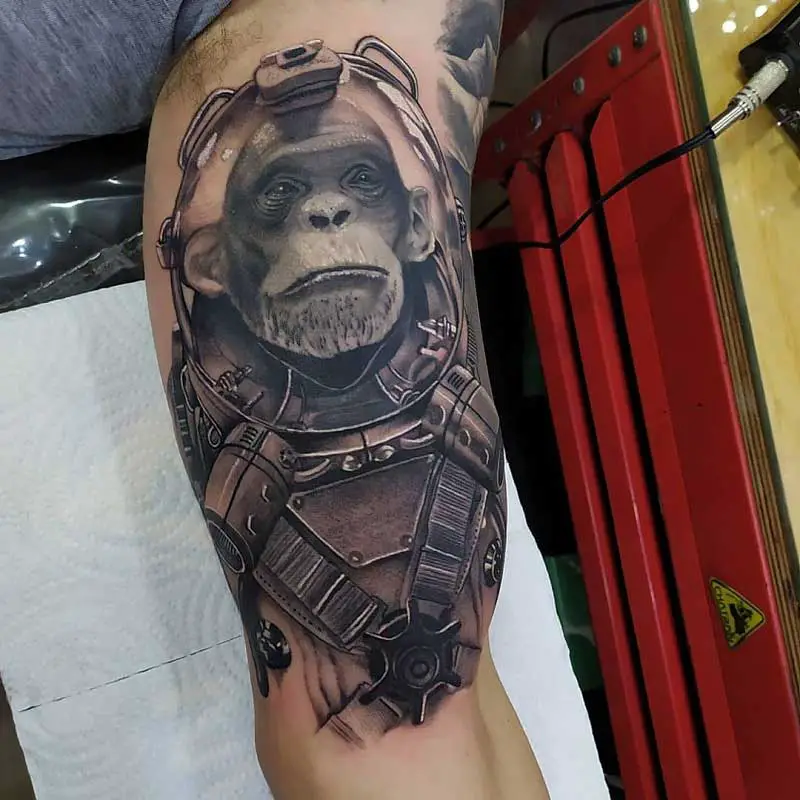 We just love the attention to detail on this tattoo. The art itself is larger than life and would look great on your upper arm. You'd always want to go sleeveless if you get inked with this one to show off to friends and family.
Astronaut Tattoo Design
Plain Astronaut tattoo designs for the space wanderers. The designs here are simple and would easily fit your arm or your legs. These full-body astronauts put more emphasis on the meaning of reaching out for the sky and beyond and conquering it!
10. Feeling The Void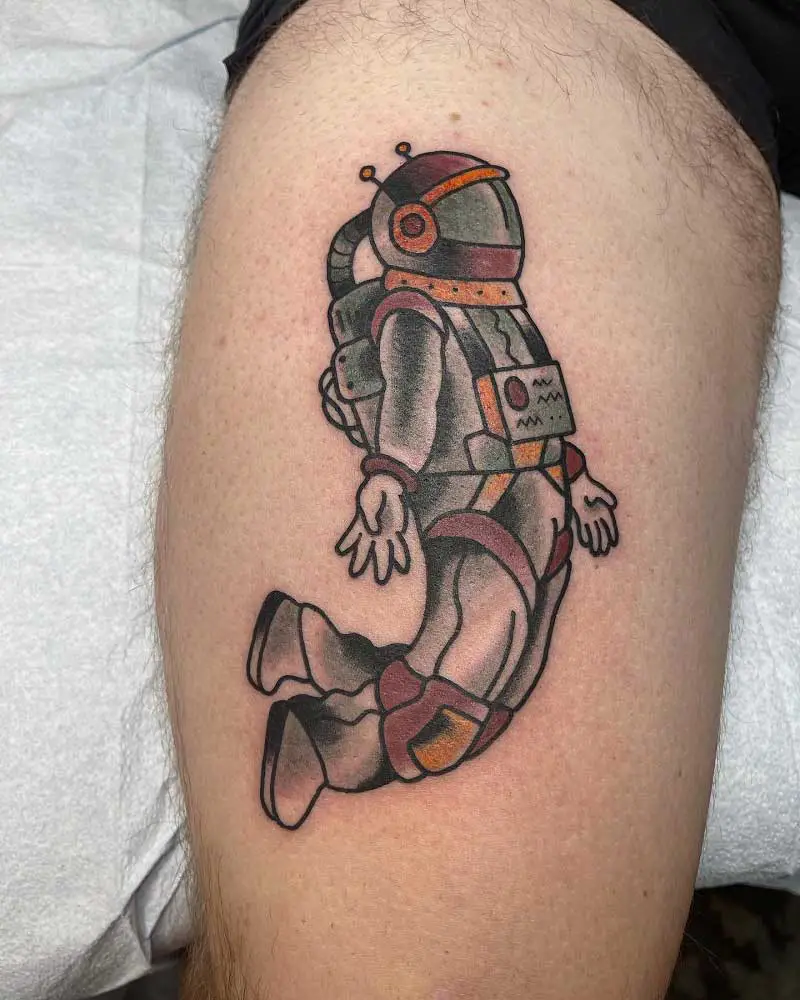 This Astronaut is certainly enjoying the emptiness, not having to worry about paying bills and doing taxes. Also, the hint of shades of color on this tattoo makes it stand out really well.
11. Space Conqueror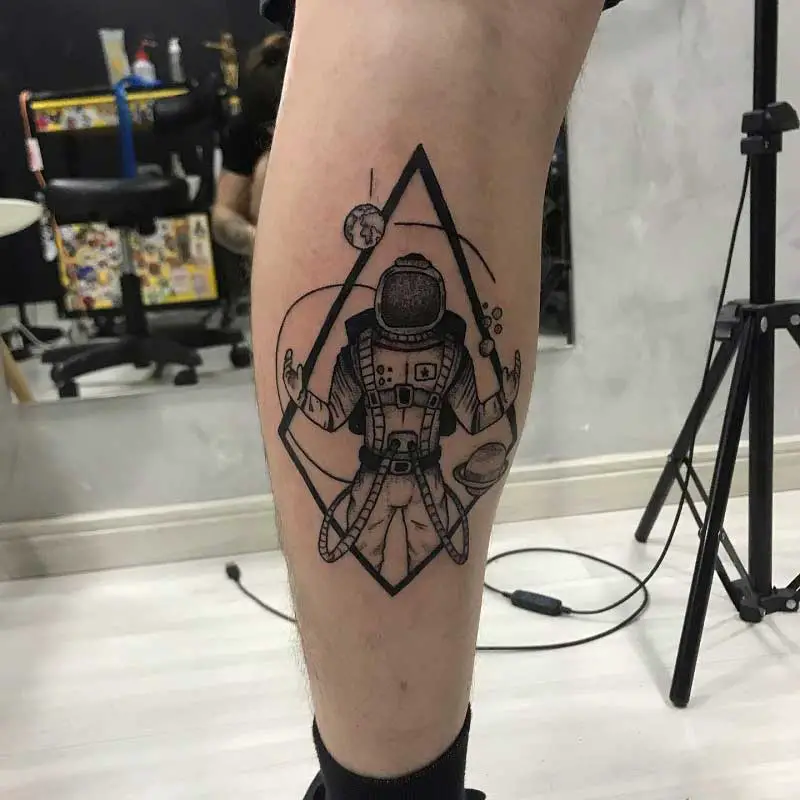 Are you someone who has conquered all the hardships in life just like this galactic explorer? This astronaut tattoo on a man's leg looks really great with the geometric art adding to the detail.
12. Always By Your Side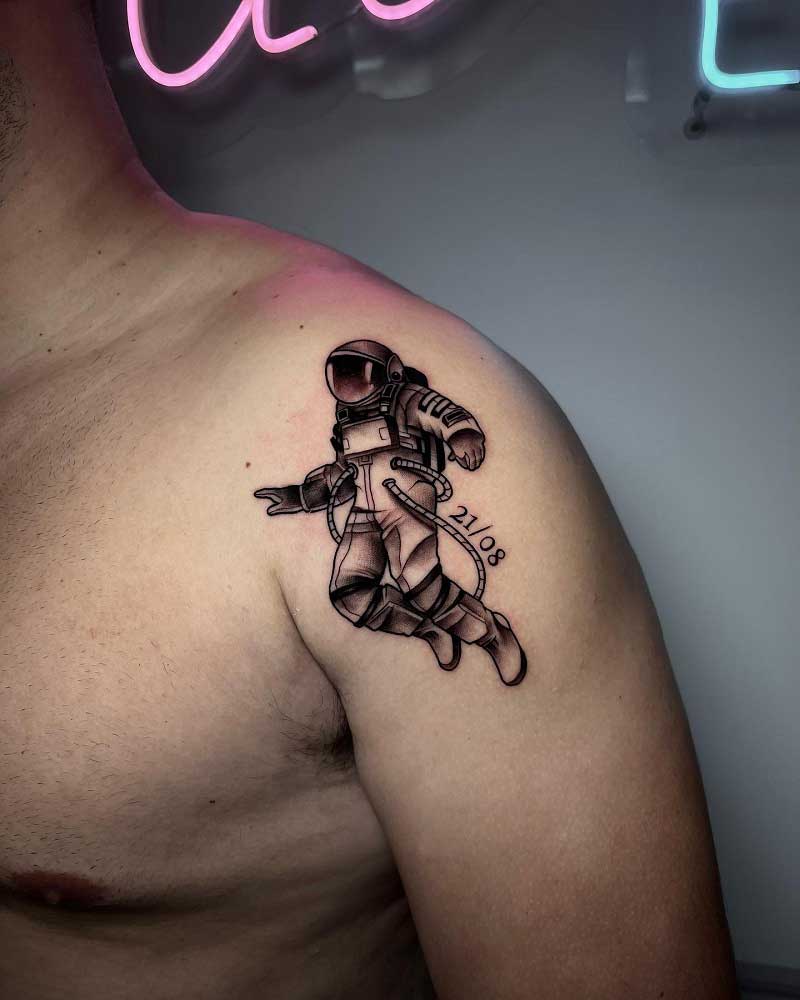 Who doesn't want an experienced traveler by their side, always advising them to traverse the hardships of life with ease? The sight of this tattoo on your shoulder is sure to motivate you to keep marching ahead in life with confidence.
Minimalist Astronaut Tattoo
Minimalist Astronaut Tattoo designs for those who seek simplicity. If you are looking for a tattoo design that concentrates more on the astronaut rather than its surroundings, then you can certainly opt for one of these tattoos below.
13. Mini Astronaut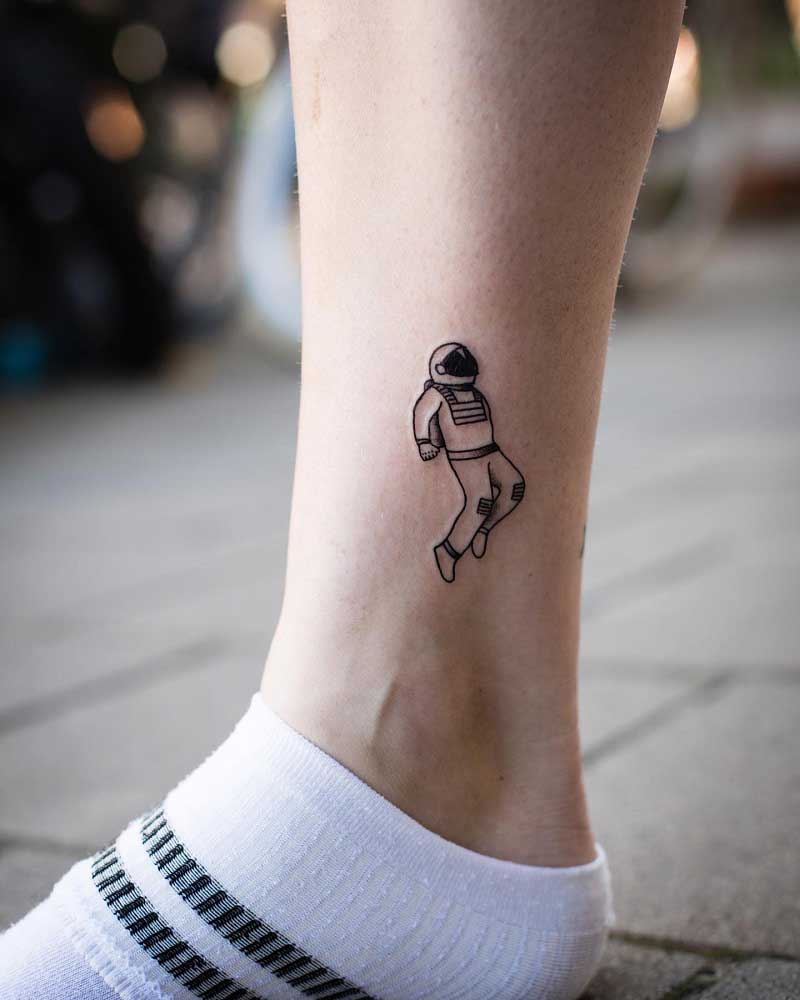 We really find this tiny astronaut on a man's leg cute. A very simple tattoo design that really complements the skin as well. The astronaut peeking through your long pants would be a sight to behold.
14. Aim For The Moon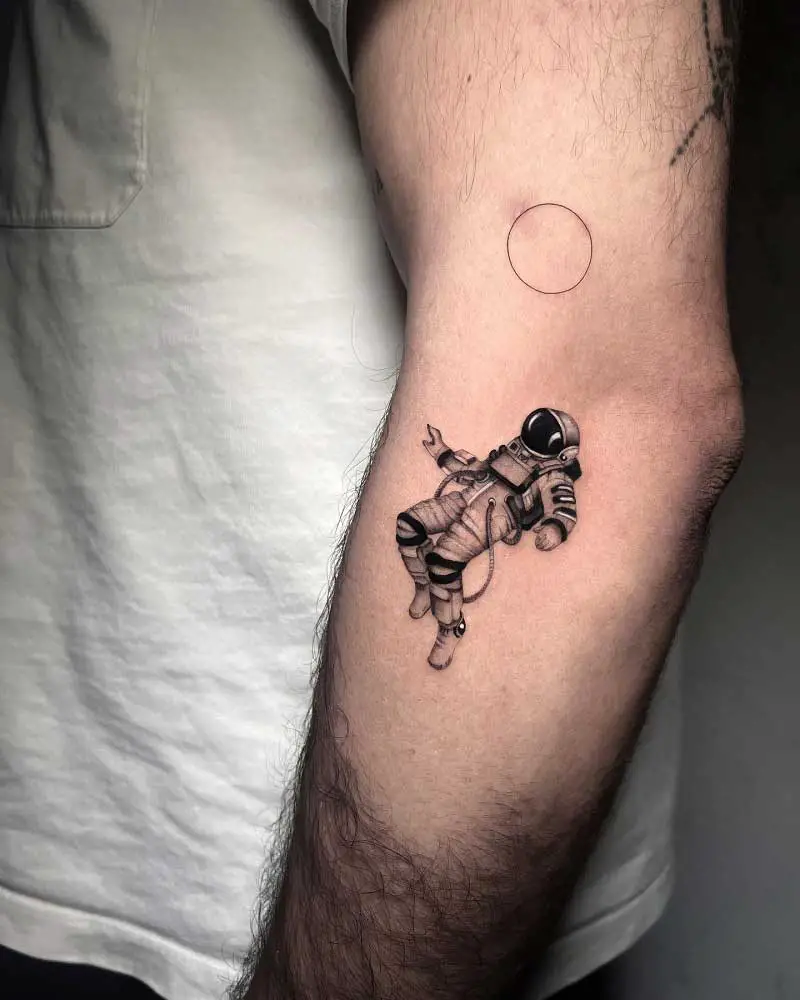 This Astronaut has his eyes set on the moon, just as you should have your eyes set on all the goals you want to achieve. Simple yet meaningful, this tattoo design is for high achievers.
15. The Lone Star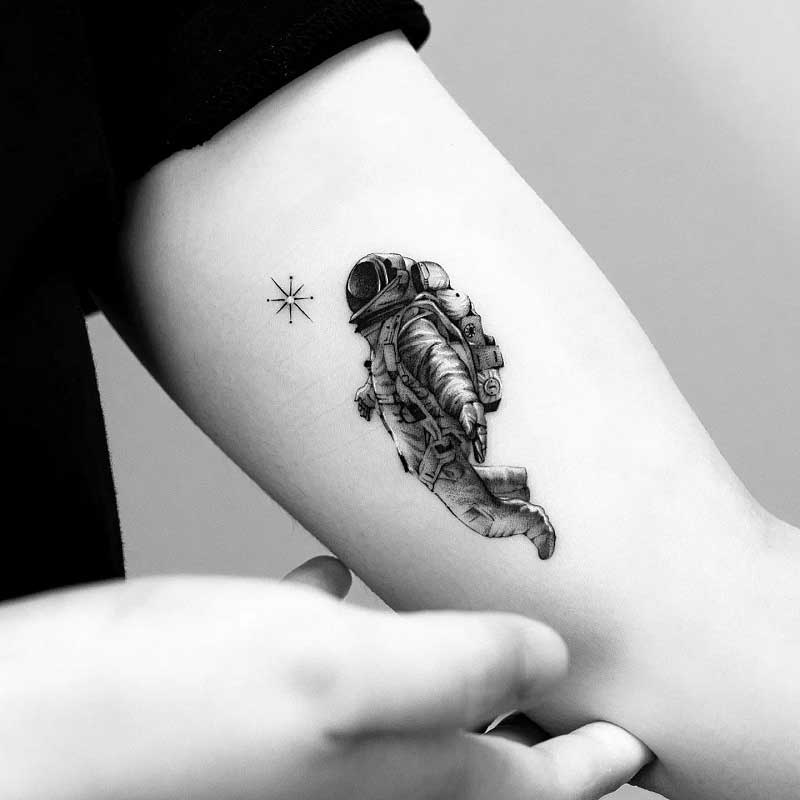 Gazing at the lone star, this astronaut is getting ready for his new adventures. With a lot of attention to detail on the Astronaut's suit, this tattoo is simple but at the same time marvelous.
Traditional Astronaut Tattoo
These traditional astronaut tattoo designs are the most popular tattoos that people sought to get inked with. Whenever we think about tattoos depicting astronauts, the most common things that come to our mind are astronauts floating in space with a carefree attitude, and the tattoos lined up below are the best examples.
16. The Musical Spacefarer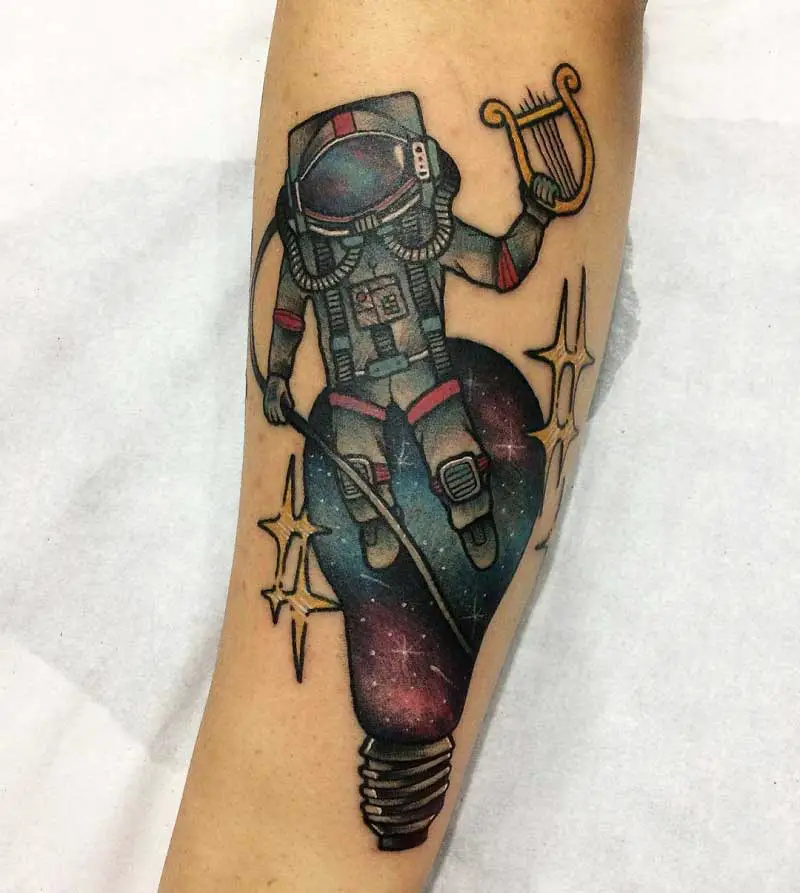 This astronaut holding a lyre is connected to a lightbulb, conveying the many important inventions by mankind that enabled us to go beyond the atmosphere and conquer space. Get inked with this tattoo if you value technology
17. Fly Me To The Moon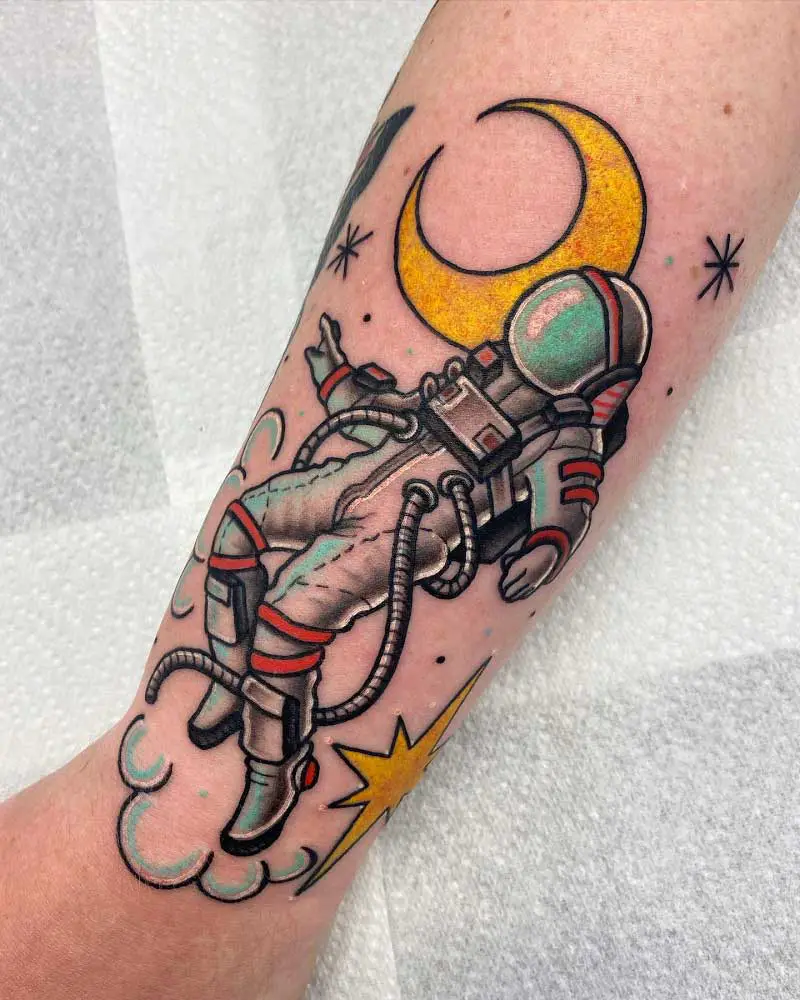 We certainly love the song just as much as we love this traditional tattoo design of an astronaut floating all the way to the moon. The addition of different color shades on the tattoo really looks great on the man's arm.
18. Starry Night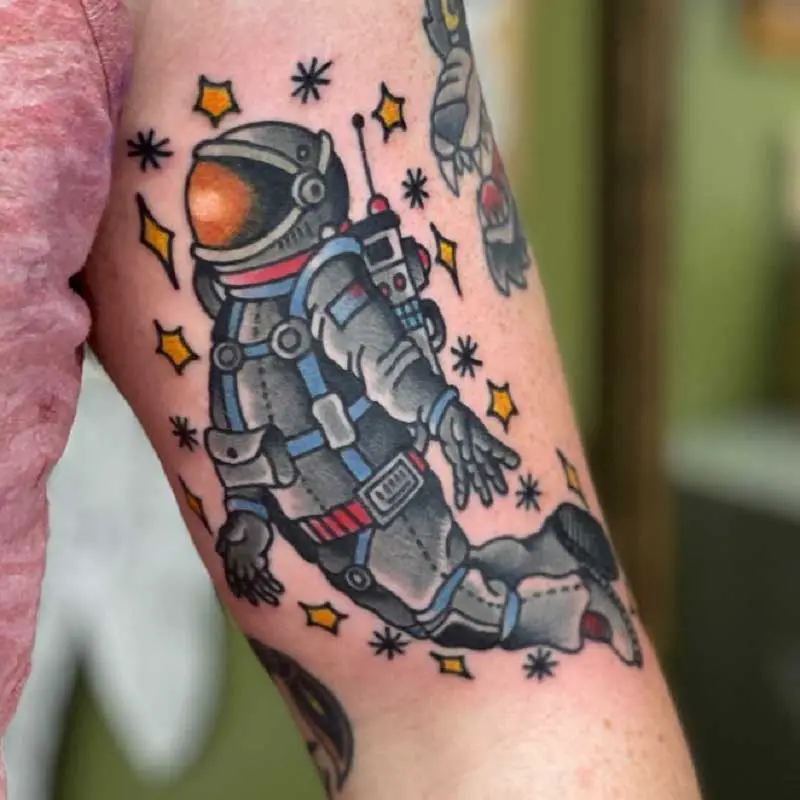 Floating between the stars is something all of us wish to do. This astronaut tattoo illustrates our wish to keep floating higher through the stars until we reach our goal. A piece of art that would look great on your bicep.
Dead Astronaut Tattoo
Not everything goes as planned in the outer world. The tattoos below show us the dark reality of space. If you do not tread carefully, anything could go wrong. Get these cool realistic dead astronaut tattoos just for the vibes.
19. Lost In Space: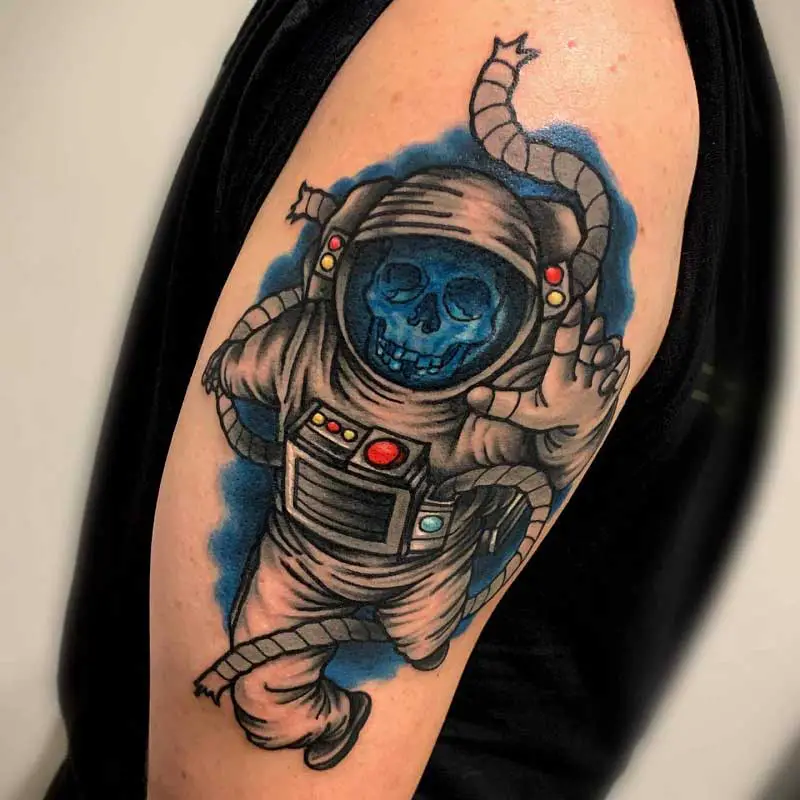 The poor astronaut probably got disconnected from his spaceship before he got lost in the void and lost his life. Having this tattoo on your arm would surely give your friends the chills!
20. Keeping The Planets Together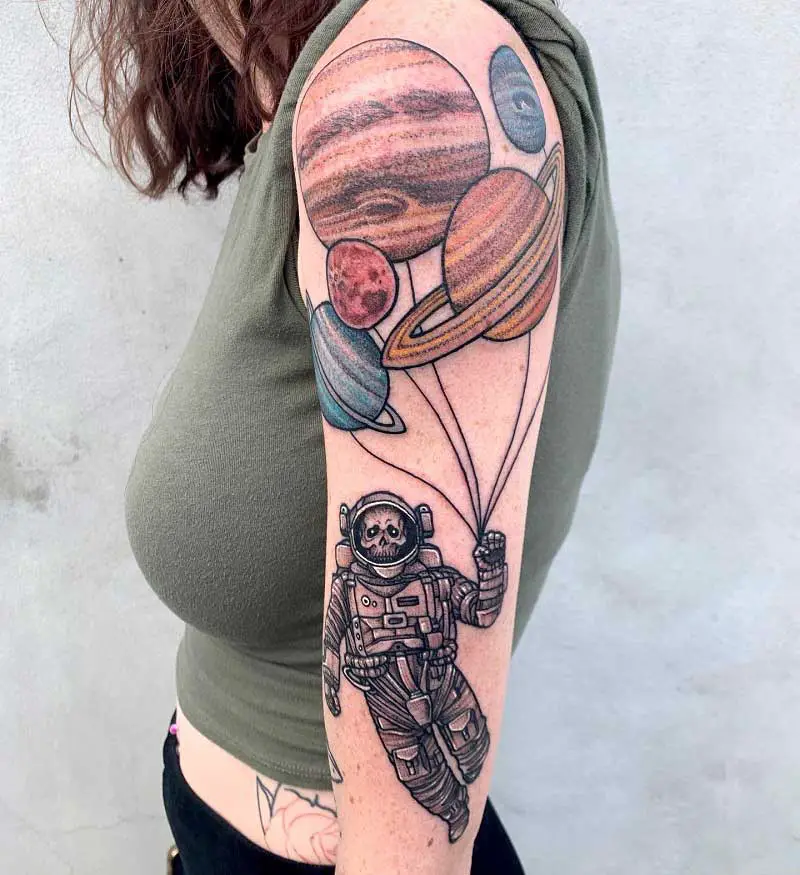 Legends say that a dead astronaut holds the planets together so that they do not fall out of the solar system. Not convincing enough? Well, you can make up another story for this mysterious tattoo on a woman's half sleeve.
21. The Forgotten Astronaut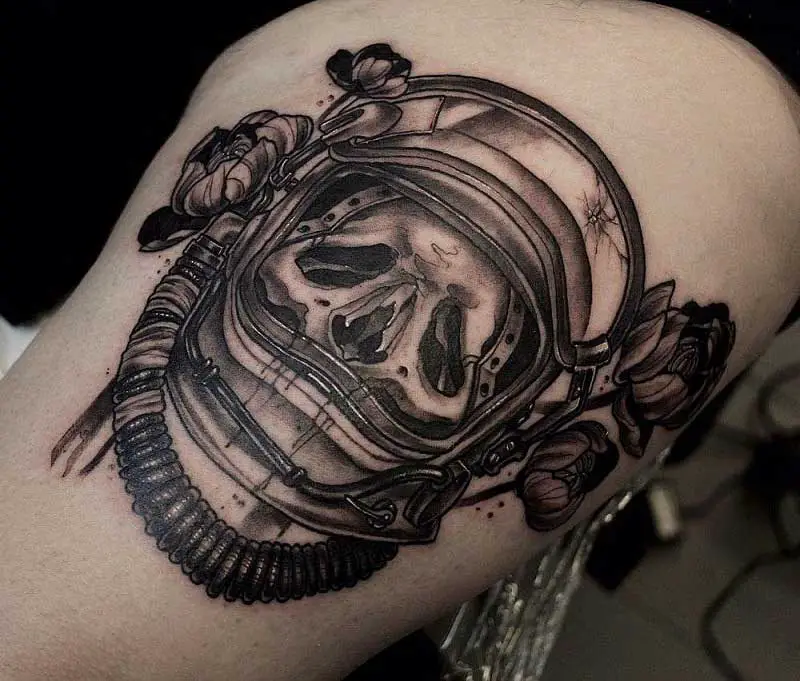 This black-and-white dead astronaut tattoo is a striking design and would surely look amazing on your skin. The amount of detail on the decaying skeleton head and the patched-up helmet does look very intriguing.
Geometric Astronaut Tattoo
Combining the artistry of astronaut tattoos with the precision of geometry gives birth to deeply meaningful tattoo designs. All these shapes contrast the mighty cosmic travellers and the results are breathtaking. Check out the options below for the best geometric astronaut tattoos that you can get for yourself.
22. Falling Apart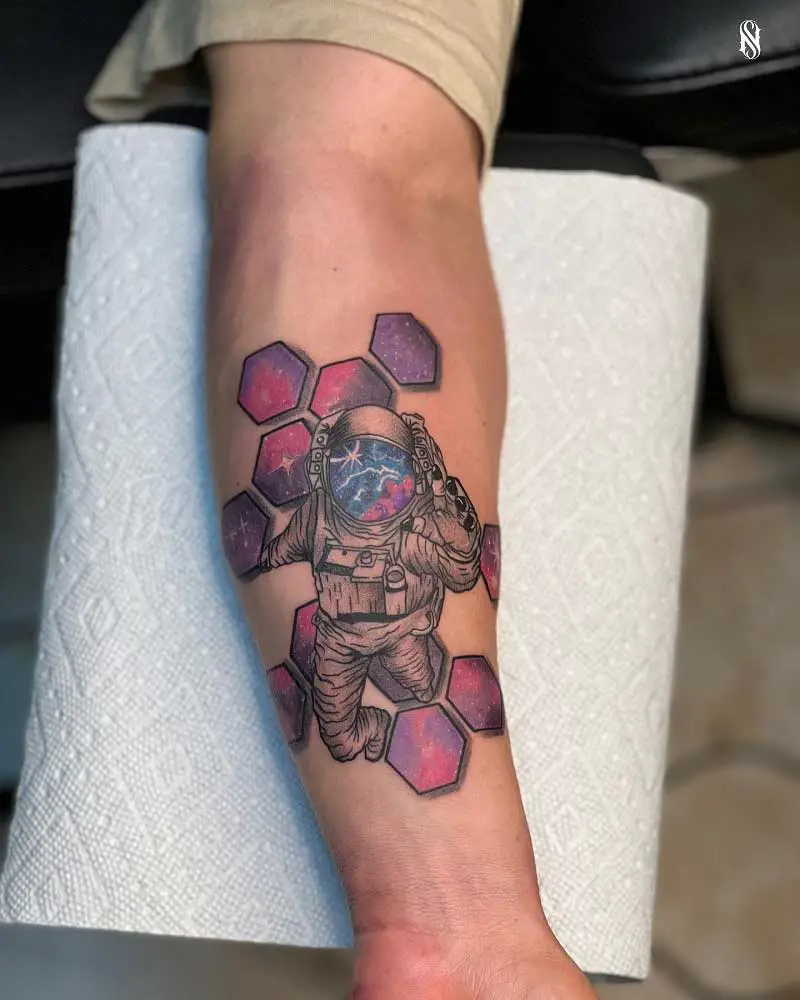 This tattoo  shows an astronaut trying to float away as the space behind him breaks down into hexagonal pieces. Make your imagination go wild with this reality bending geometric astronaut tattoo design.
23. Middle Of The Solar System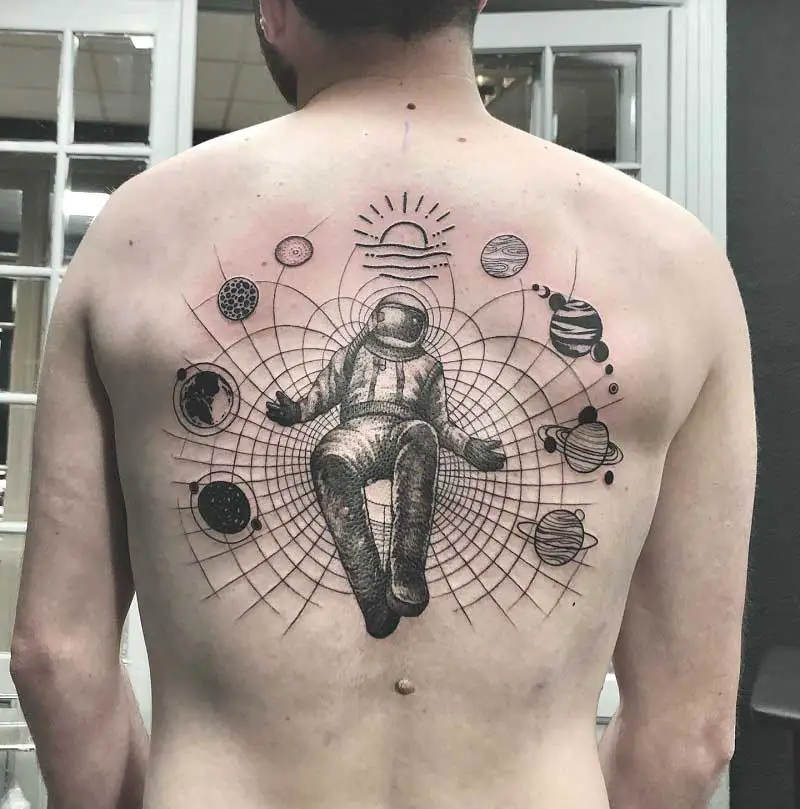 We absolutely love this tattoo design and it certainly is one of the best tattoos on this list. The mathematical precision of the magnetic field created around the astronaut not only keeps the planets in line but also keeps our eyes hooked to the man's back.
24. Geometric Balance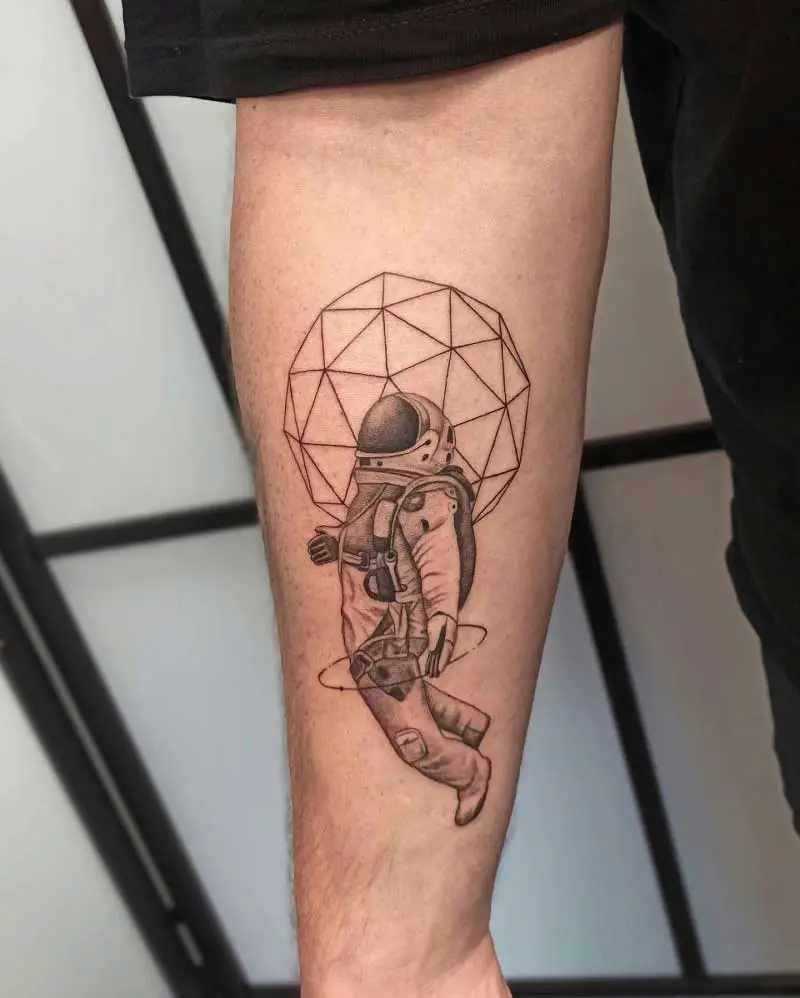 An Astronaut floating through space and reaching out for the geometric orb right behind him. This black and white tattoo would motivate you to keep things in balance in life.
Space Astronaut Tattoo
The idea of astronauts faring through space in their high-tech suits fascinates us all. These space astronaut tattoos illustrate the intergalactic travelers cruising away through the planets and many celestial objects that outer space possesses.
25. Tangled In Space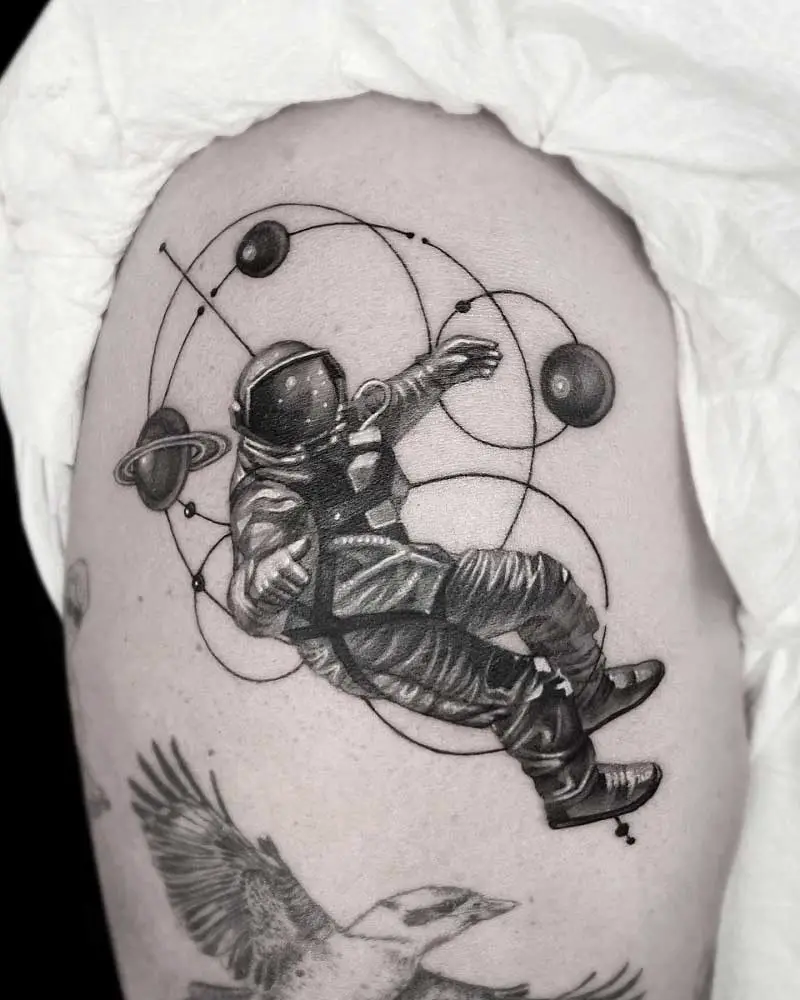 Intertwined between the various orbits of neighboring planets, it looks like this astronaut is really having a hard time getting himself out of the trap. This tattoo design would look great on you thanks to the precision of details and also the orbital lines connecting the planets.
26.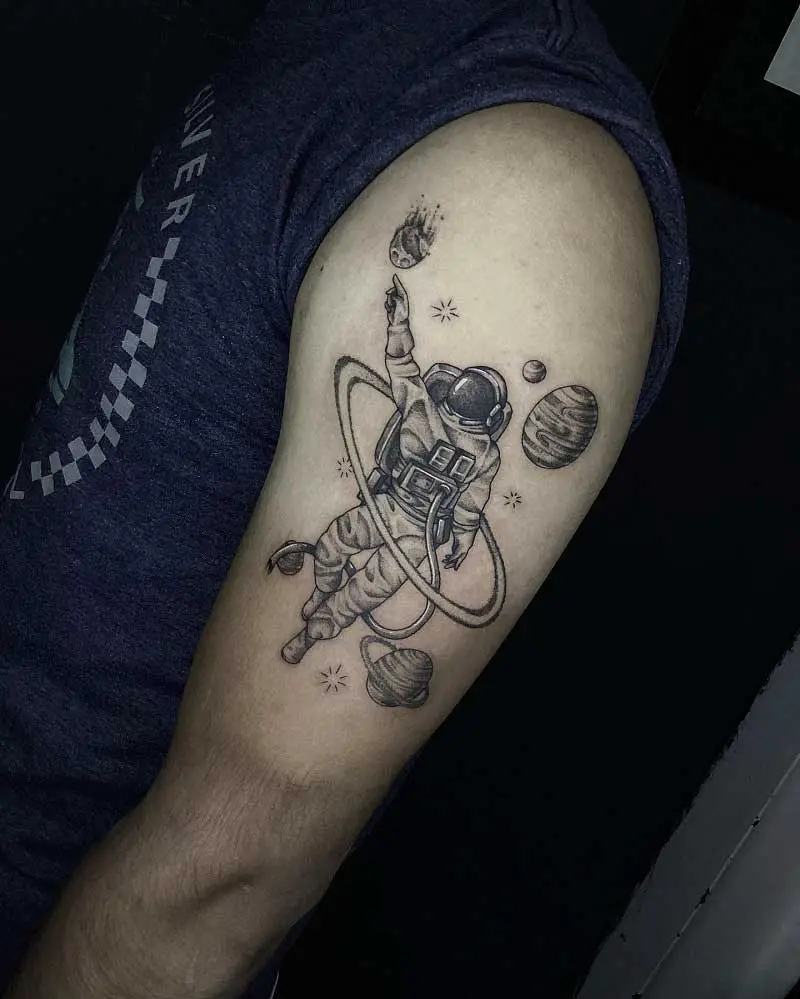 27.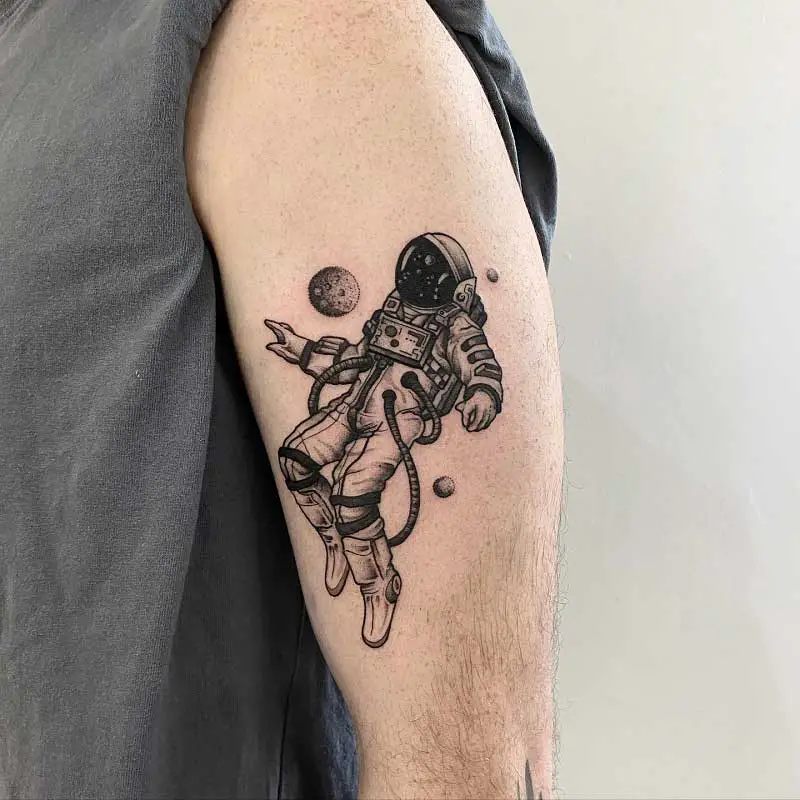 Astronaut Sleeve Tattoo
28.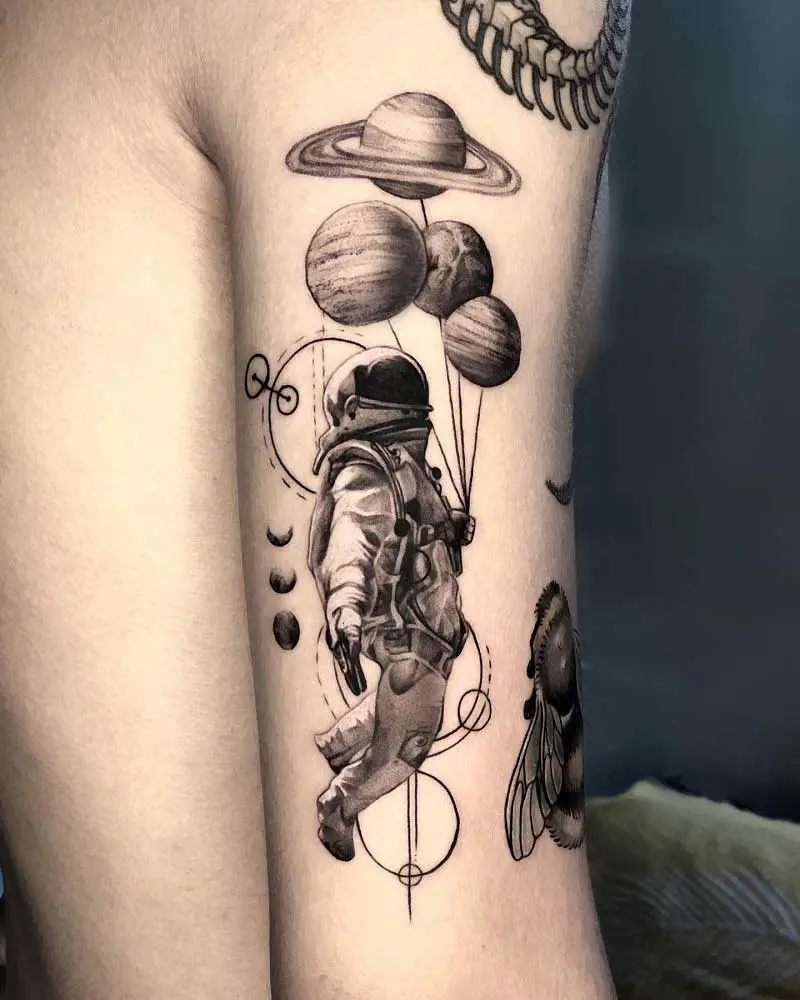 29.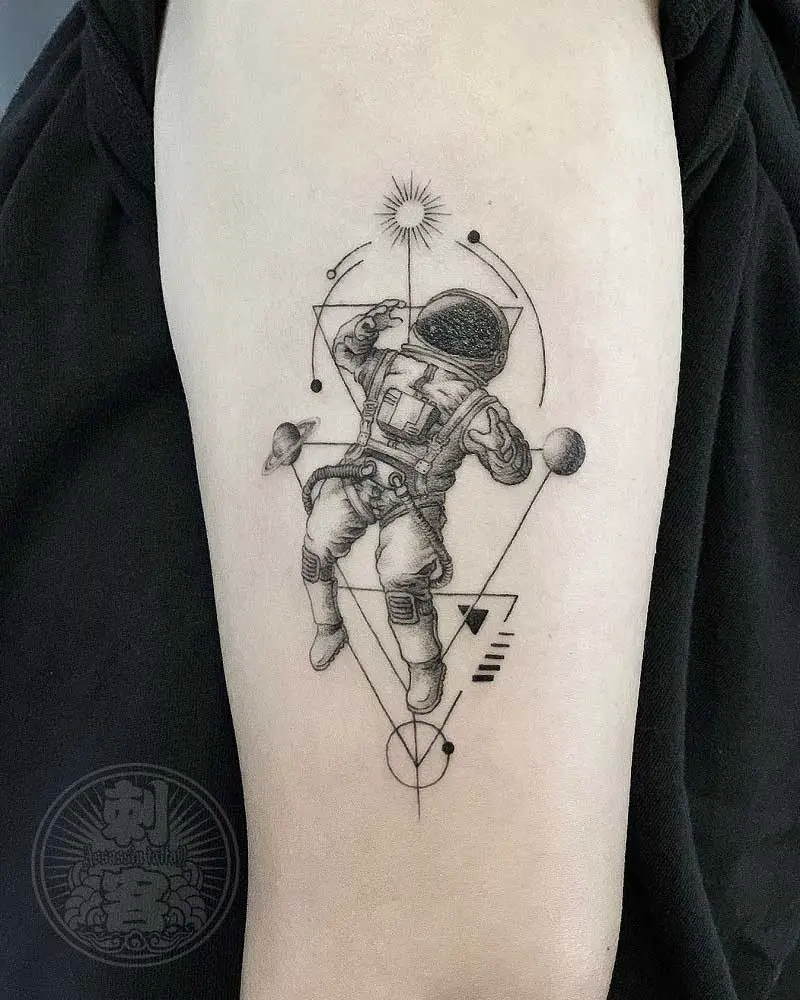 30.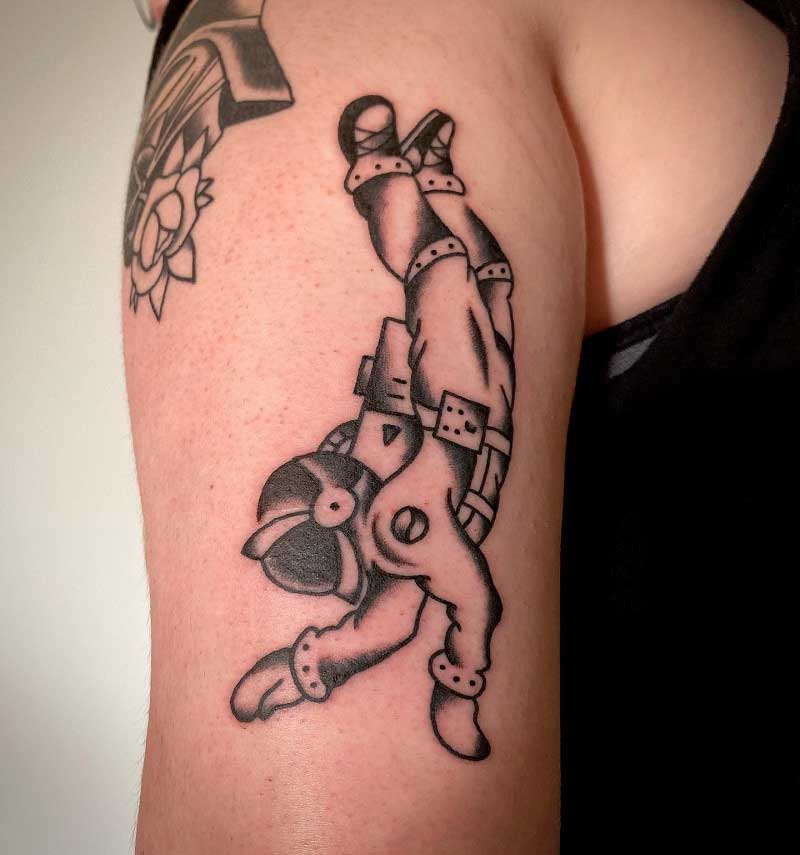 Galaxy Astronaut Tattoo
31.
32.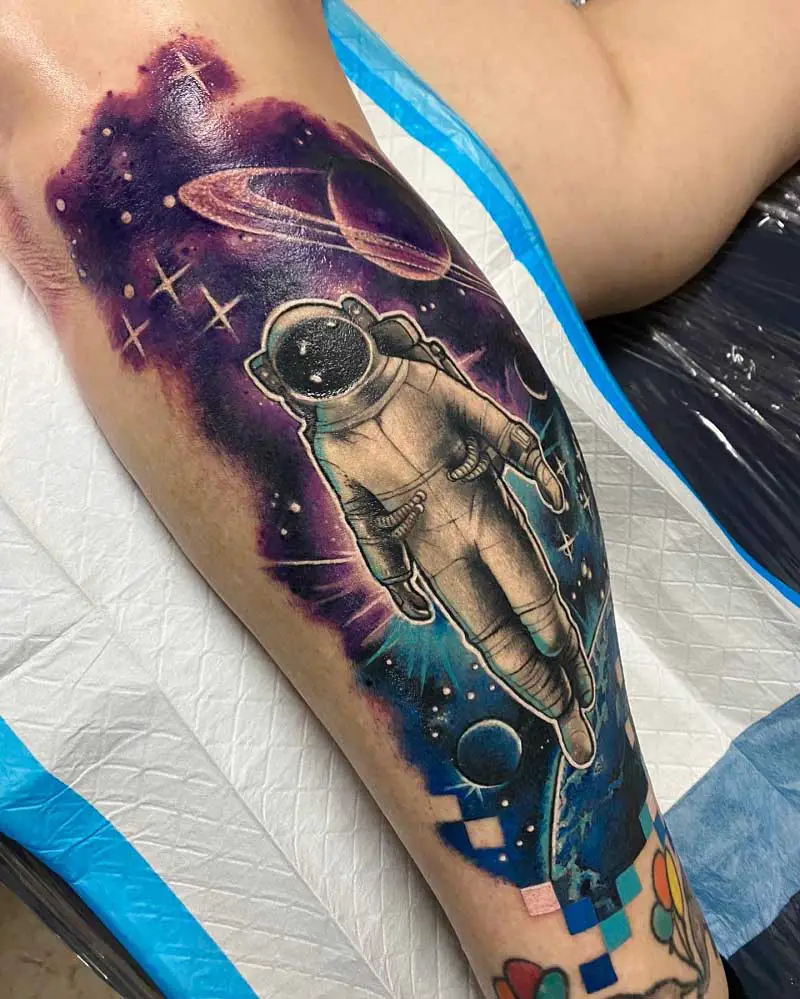 33.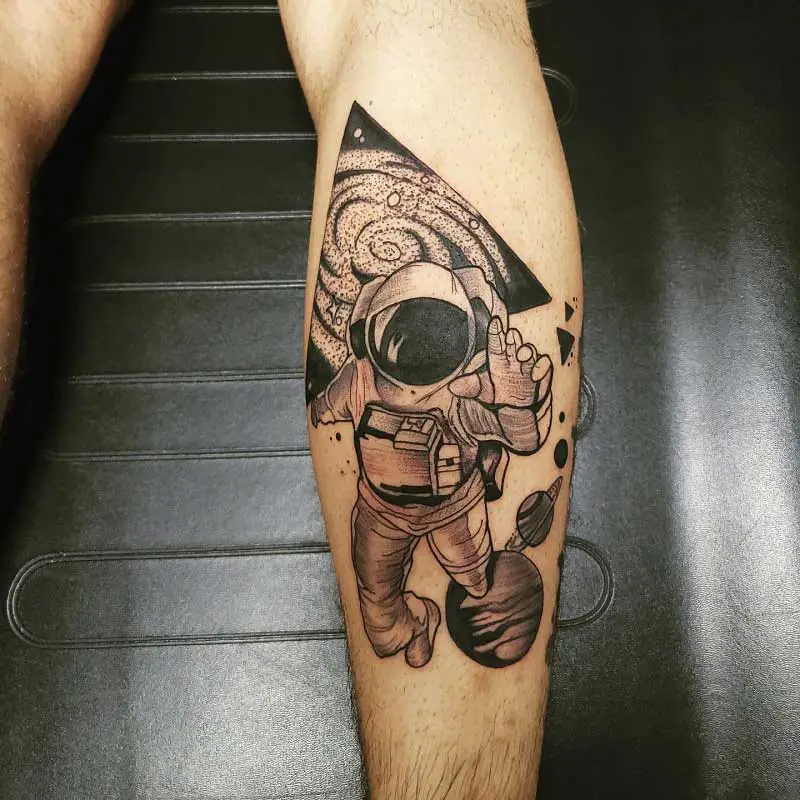 Astronaut Forearm Tattoo
34.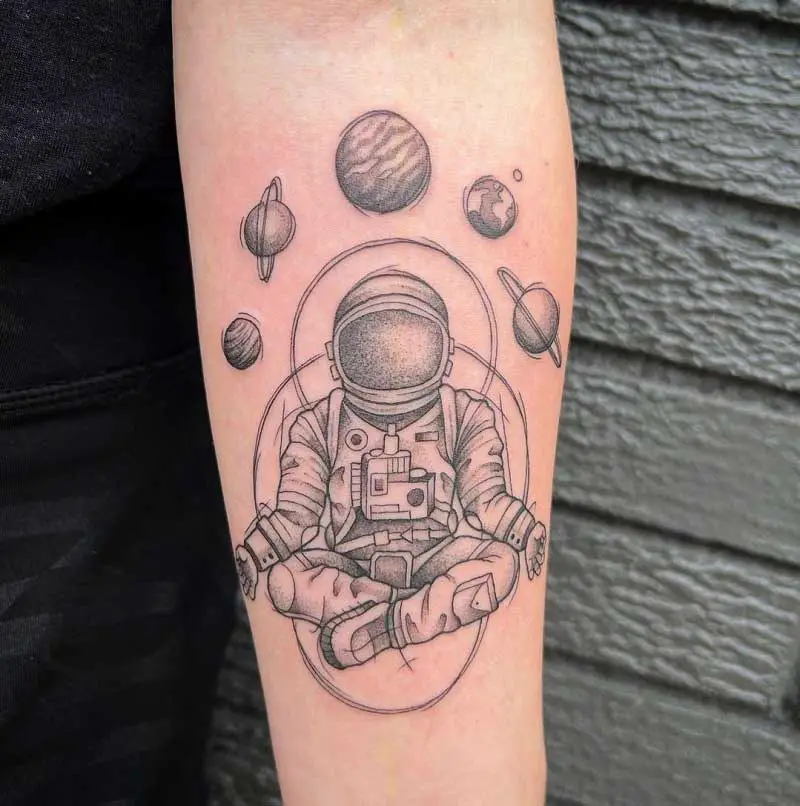 35.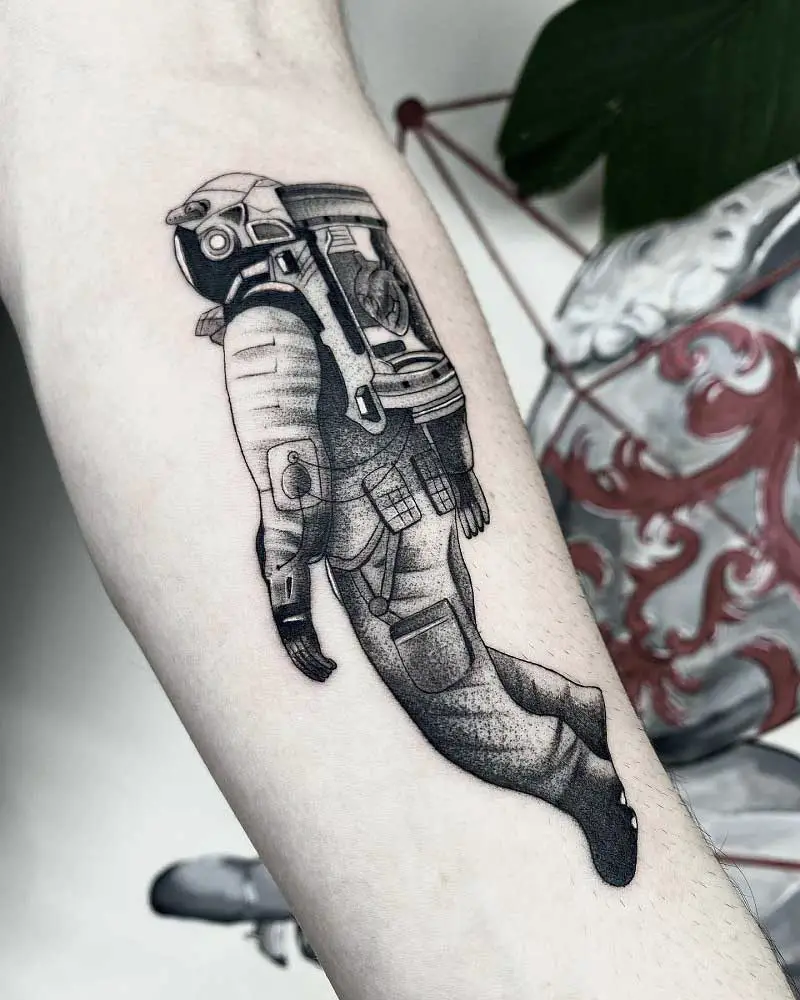 36.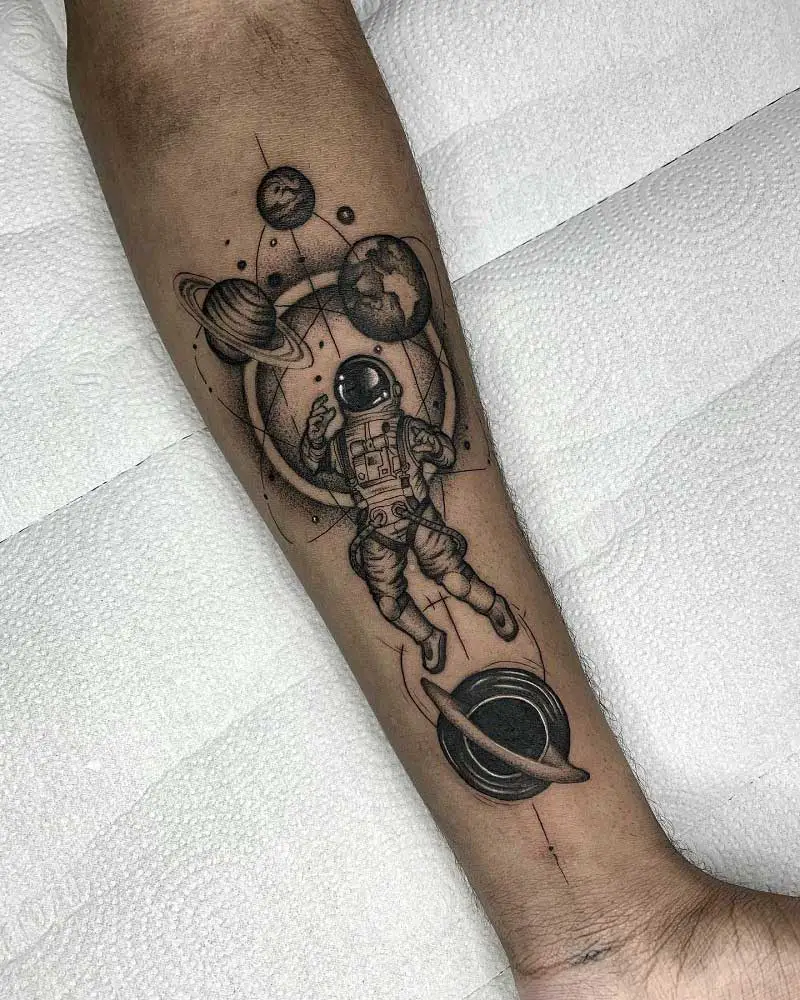 Floating Astronaut Tattoo
37.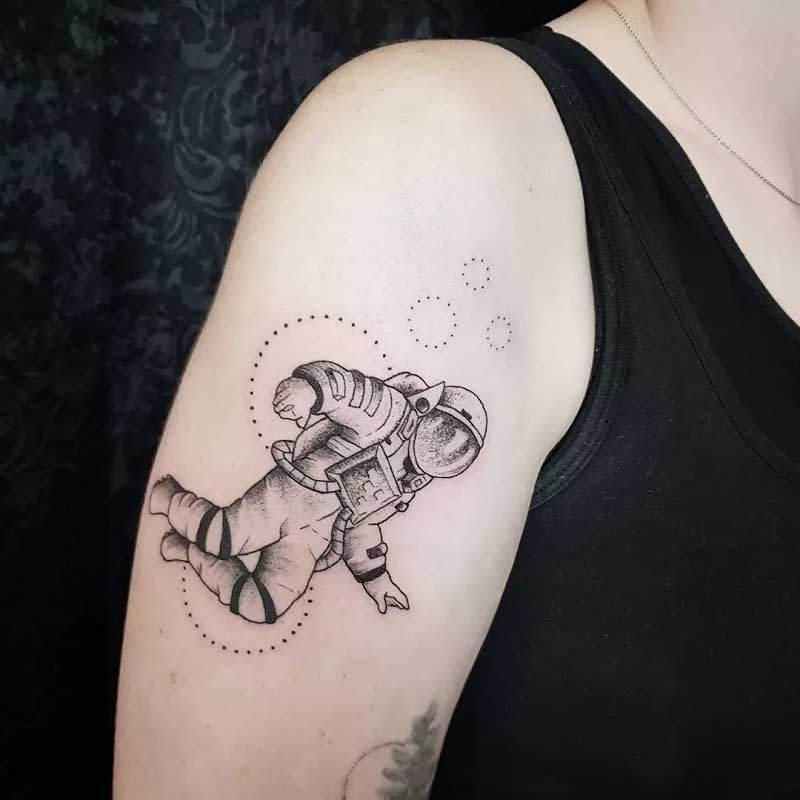 38.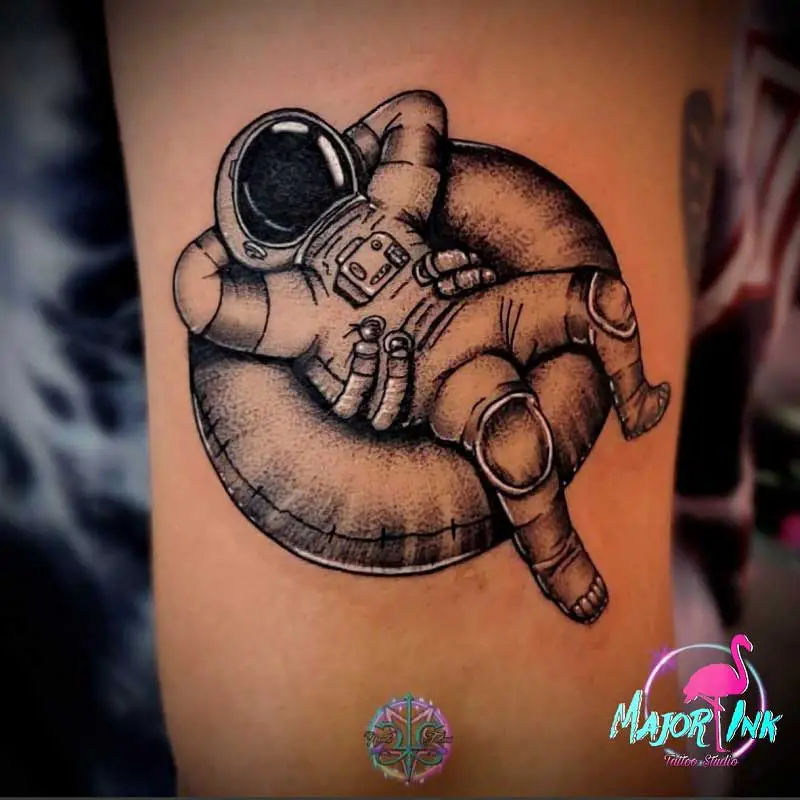 39.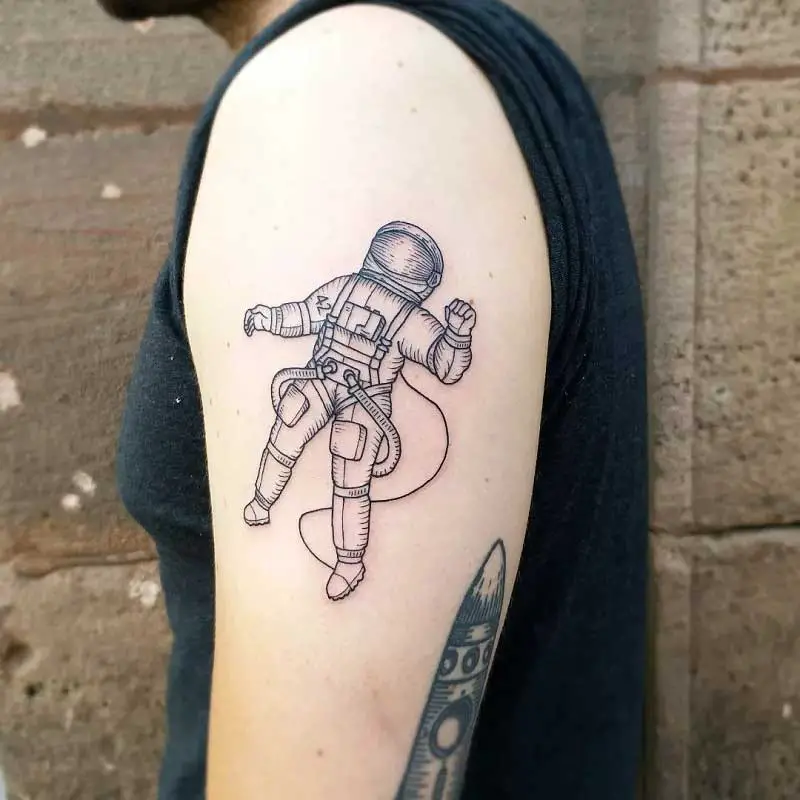 Astronaut Cat Tattoo
40.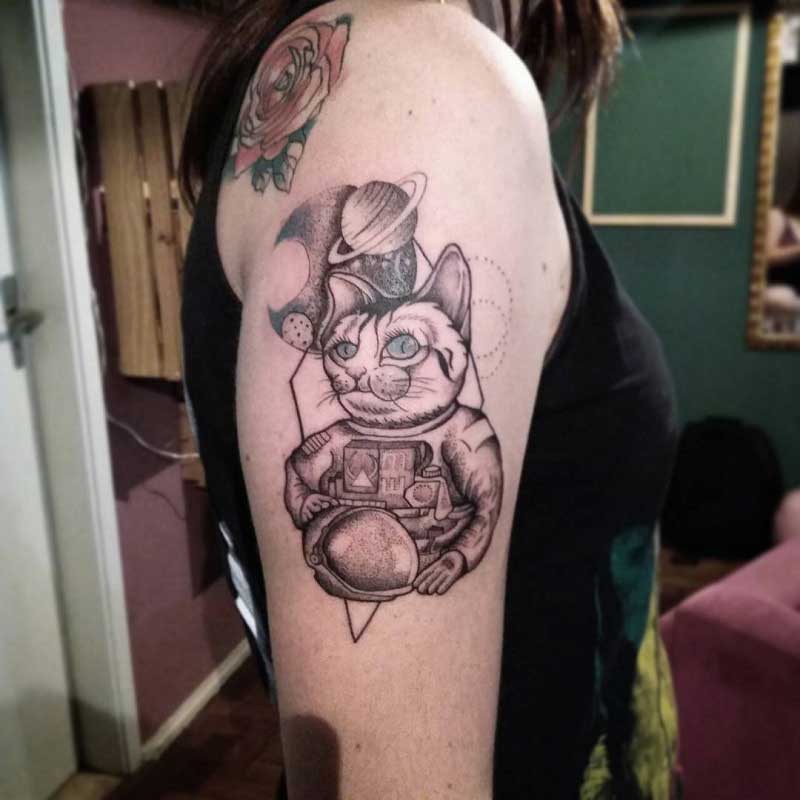 41.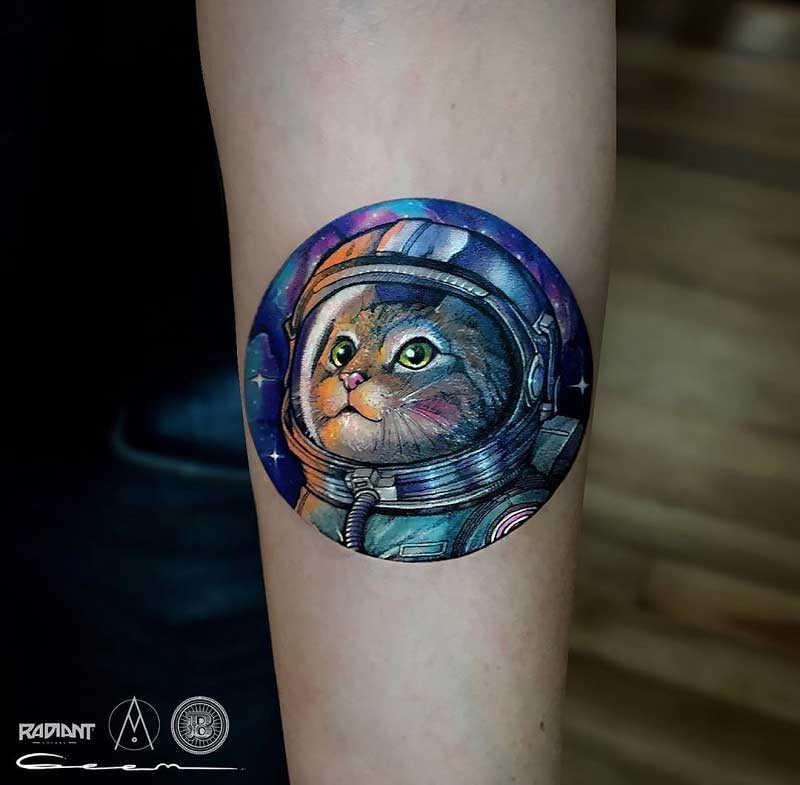 42.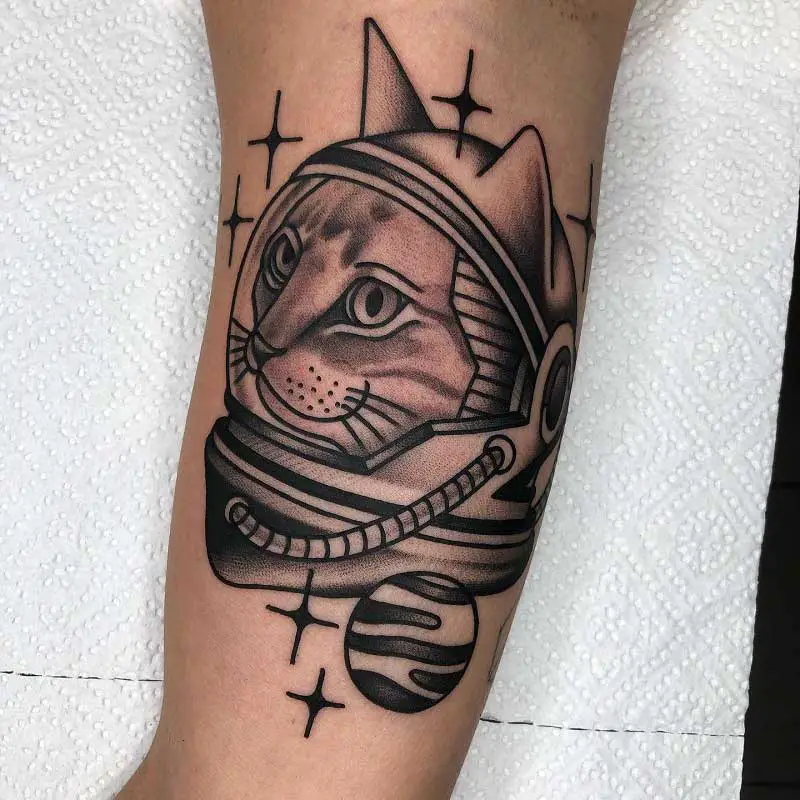 Dog Astronaut Tattoo
43.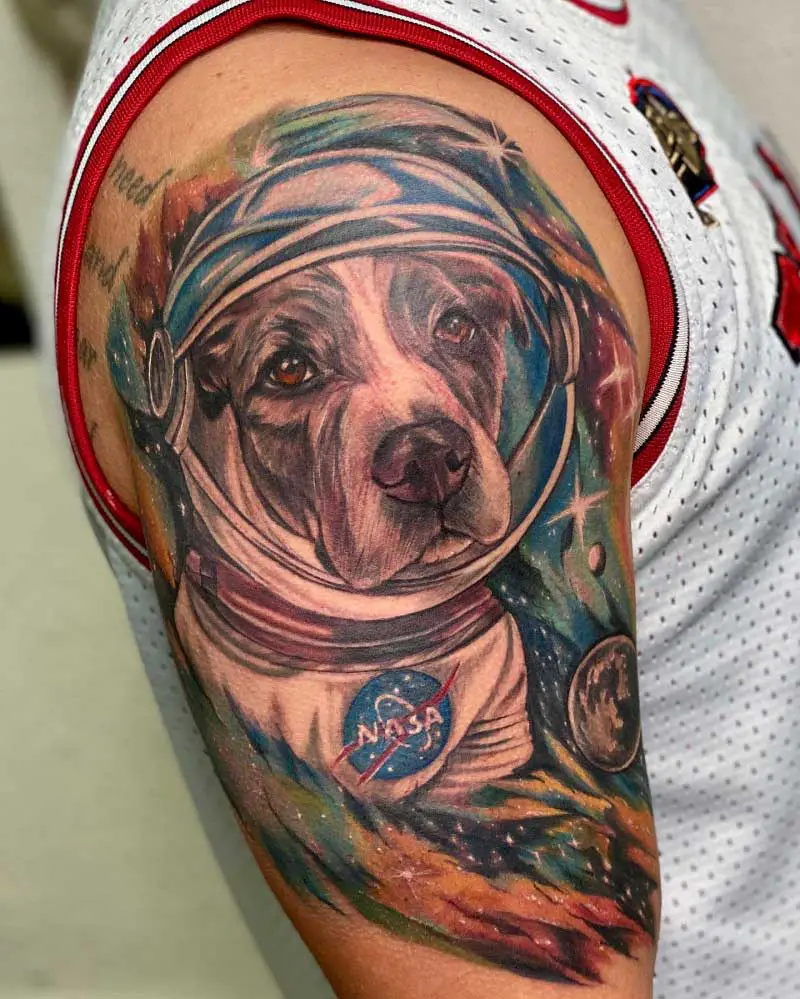 44.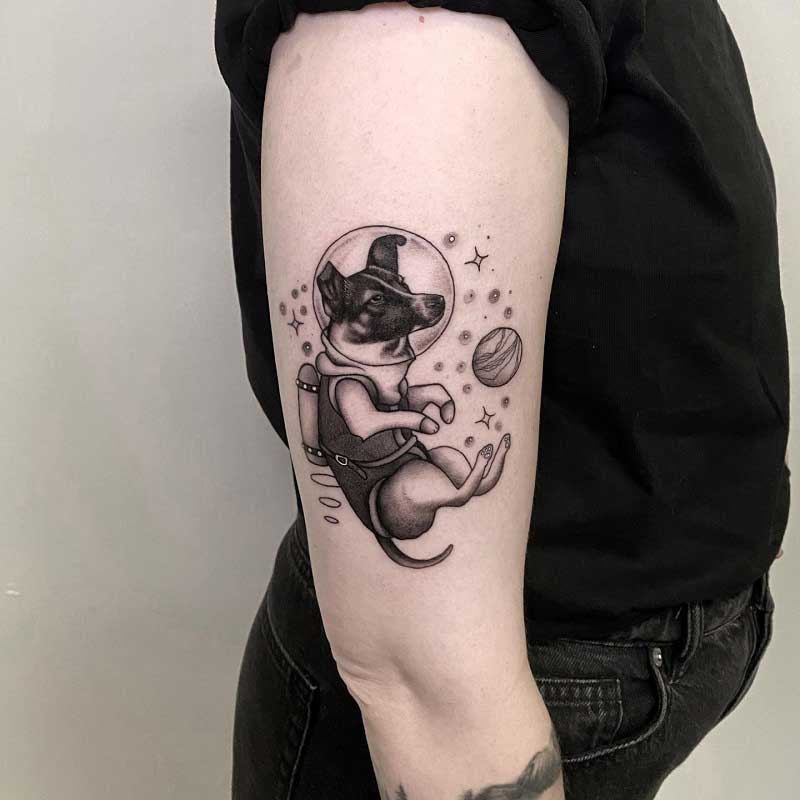 45.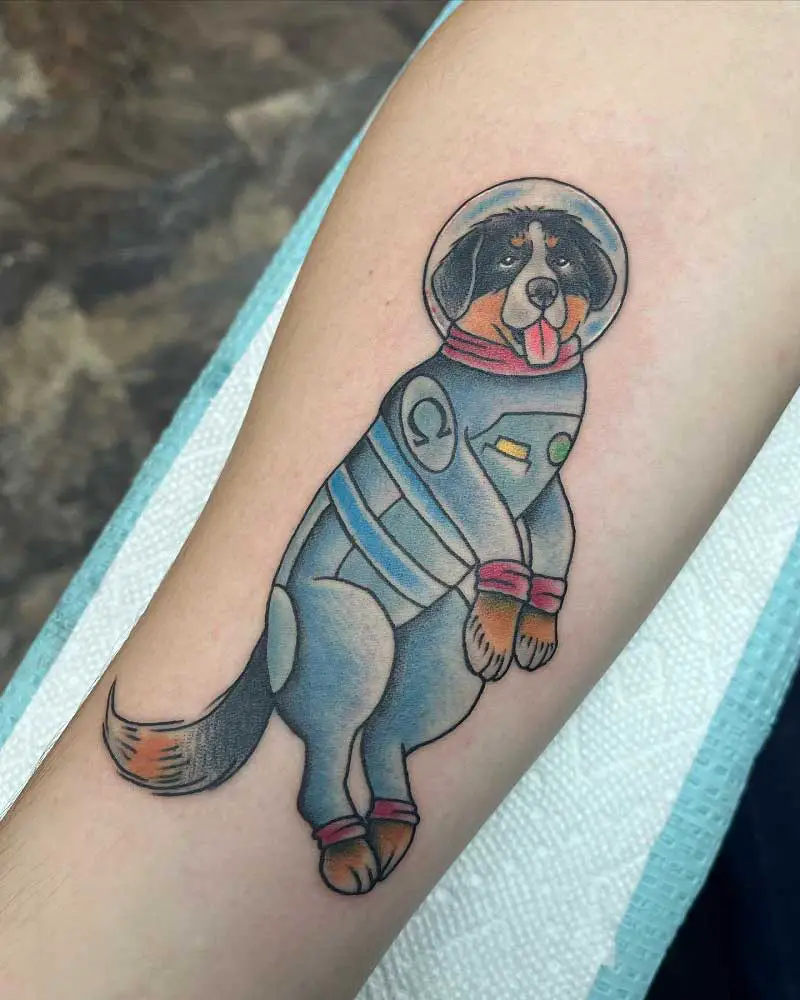 Skull Astronaut Tattoo
46.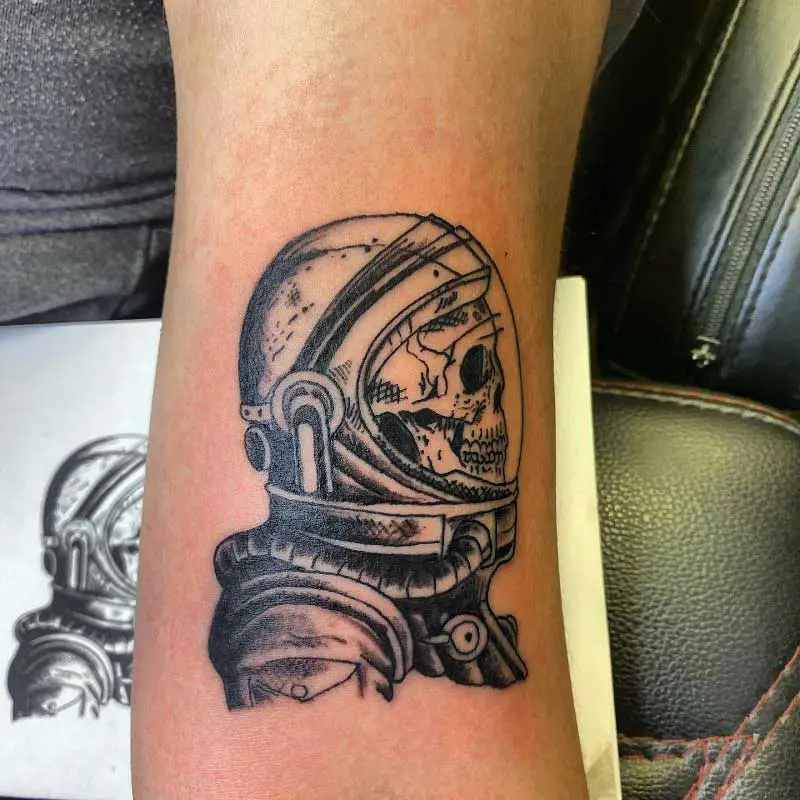 47.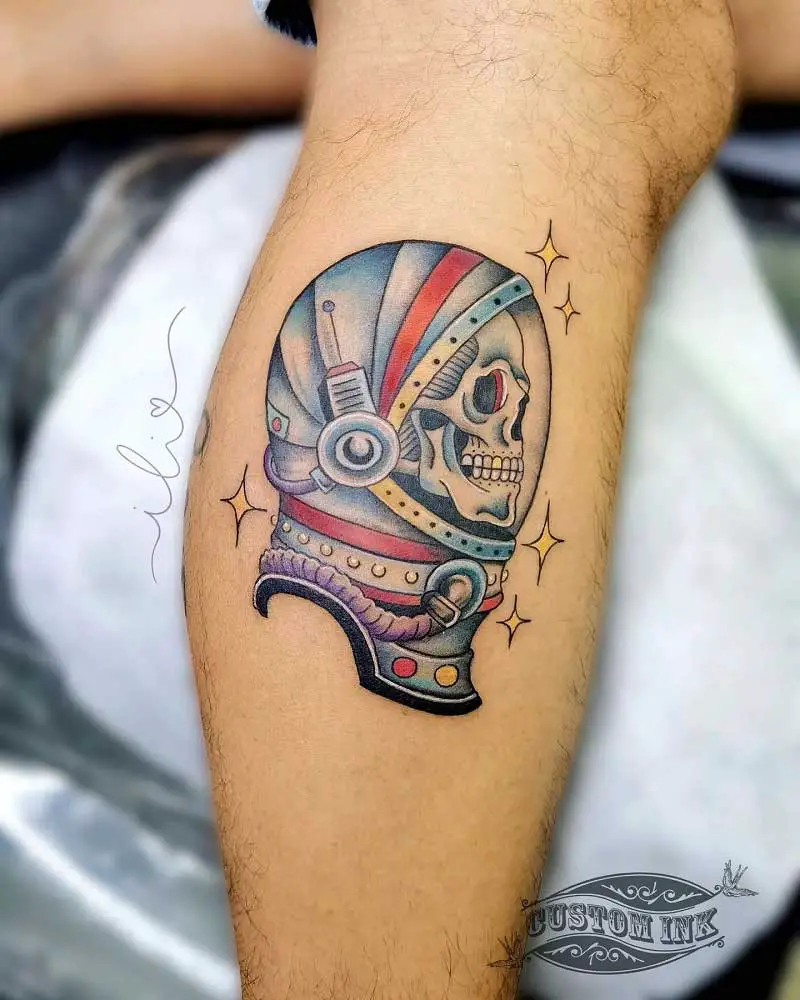 48.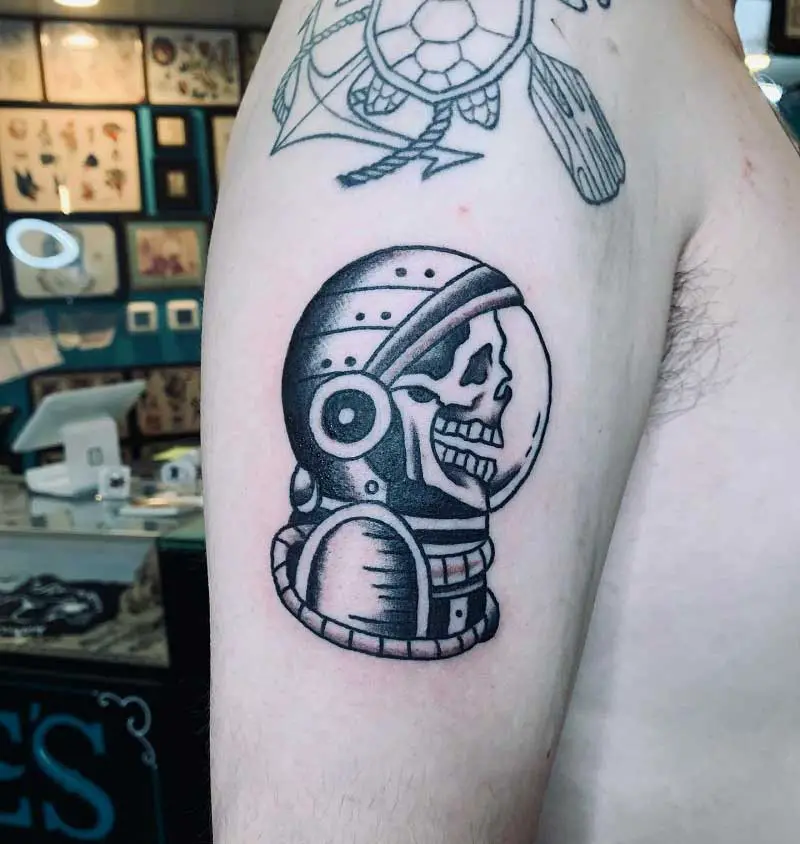 Skeleton Astronaut Tattoo
49.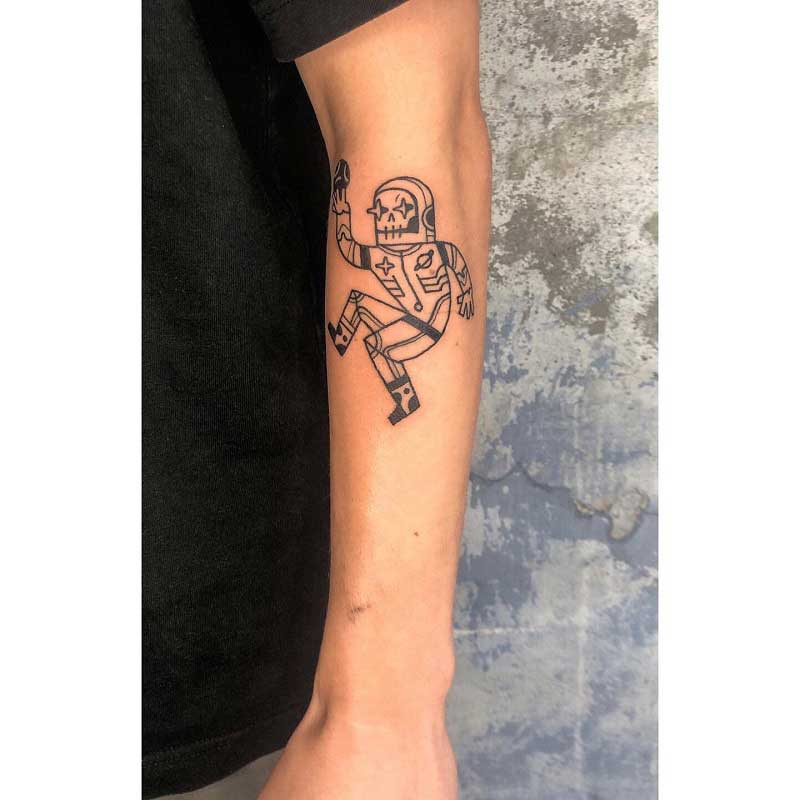 50.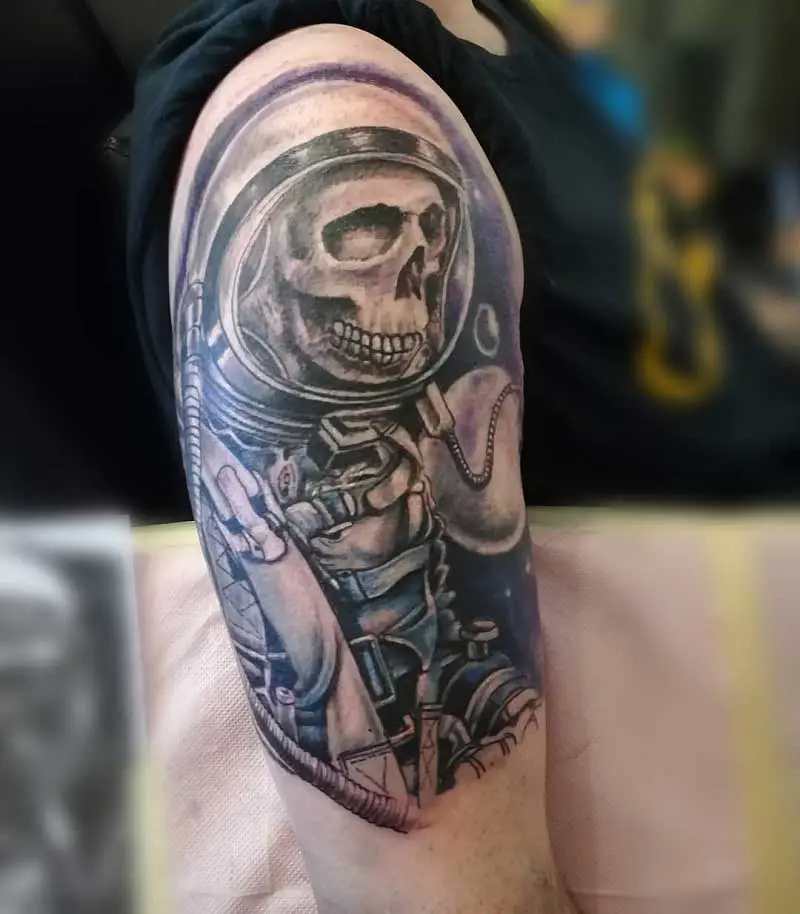 51.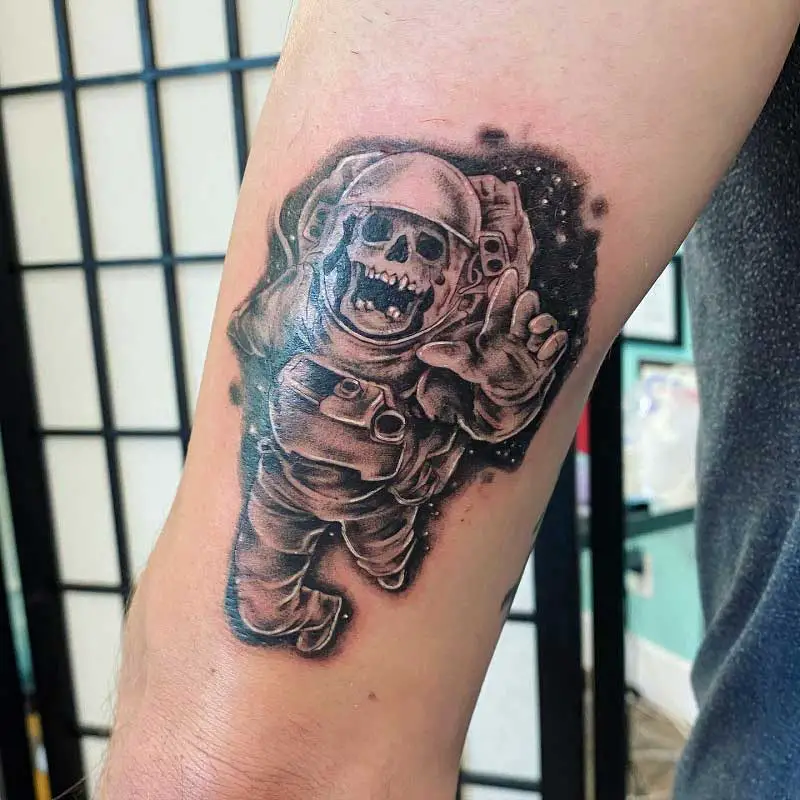 Astronaut Helmet Reflection Tattoo
52.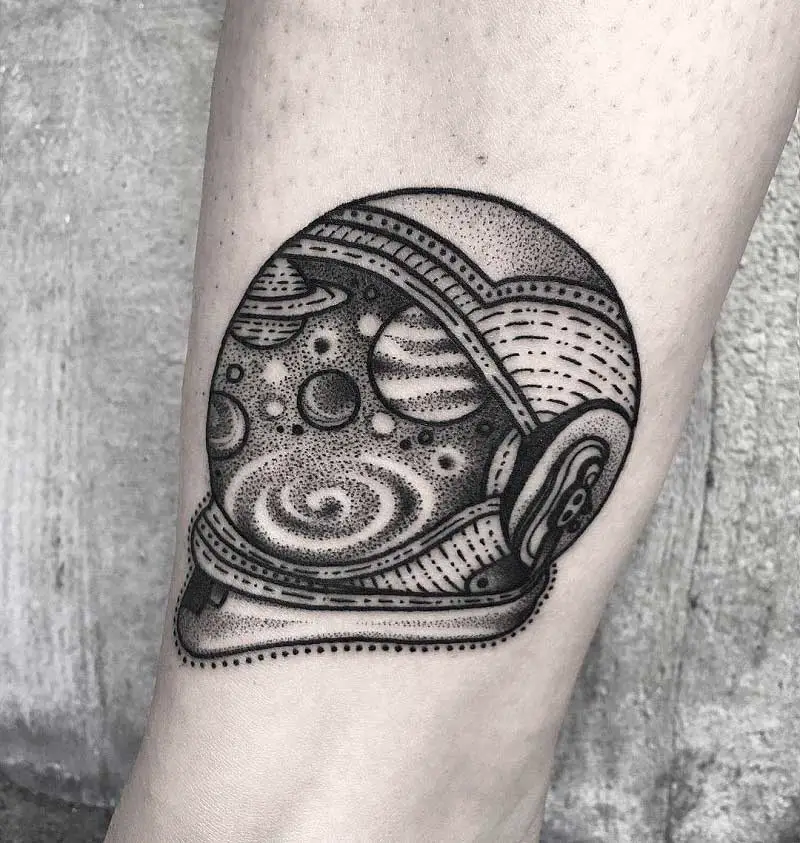 53.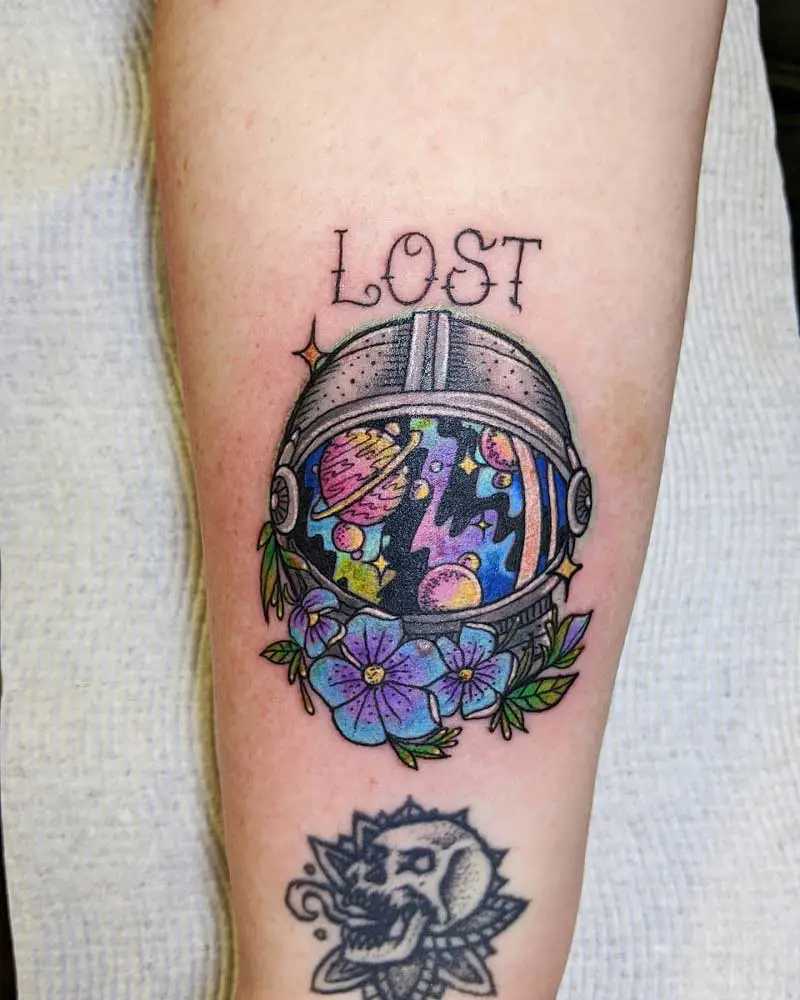 54.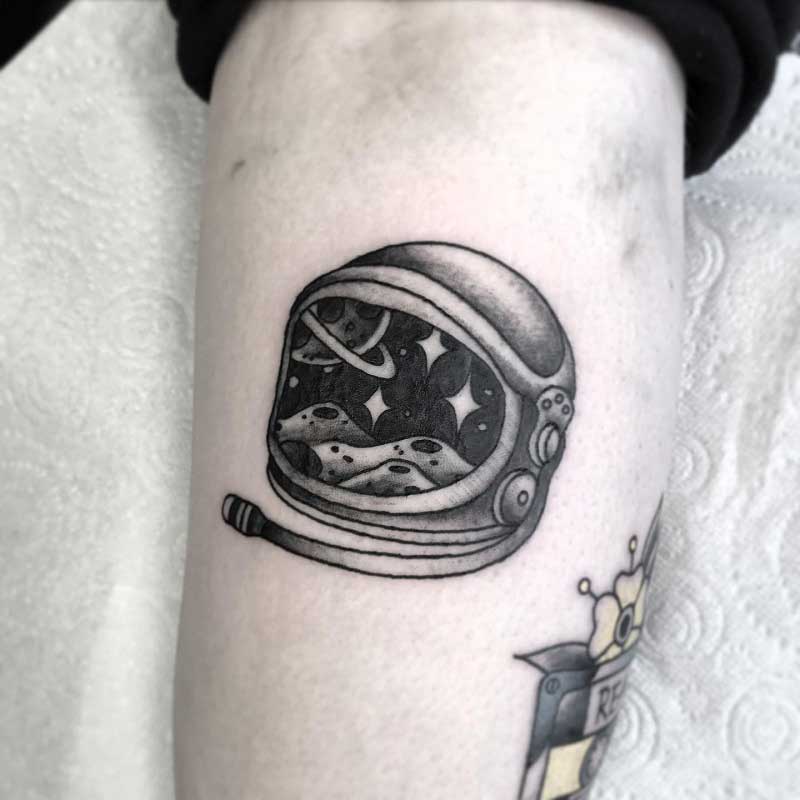 Astronaut Holding Planet Balloons Tattoo
55.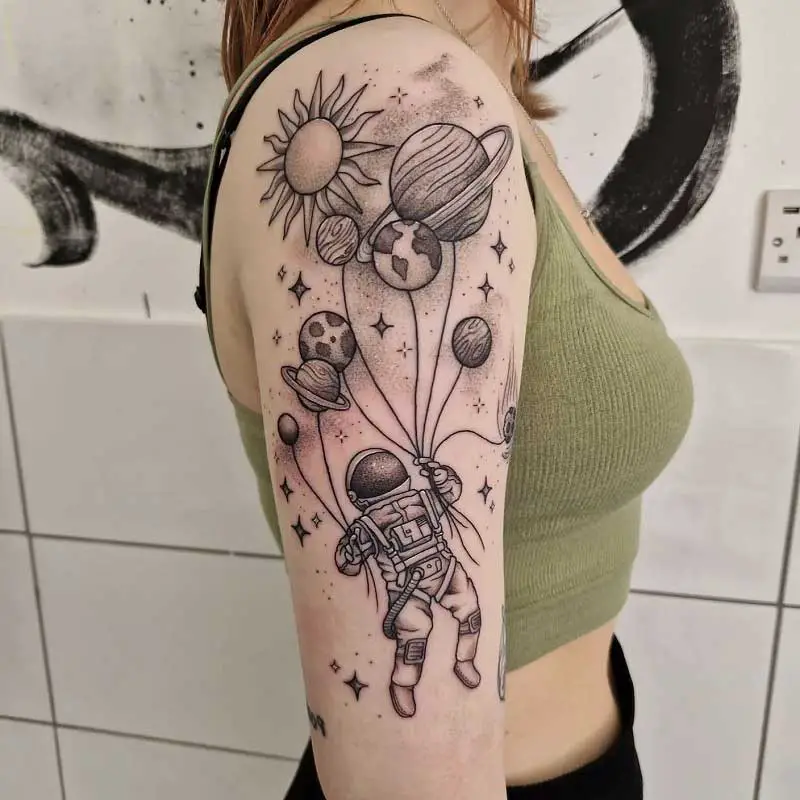 56.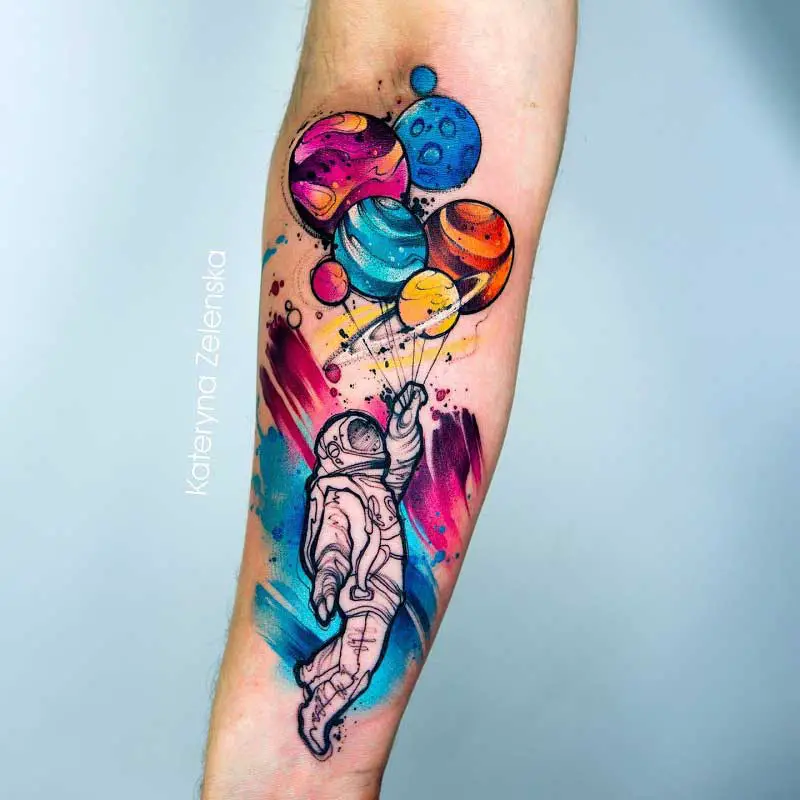 57.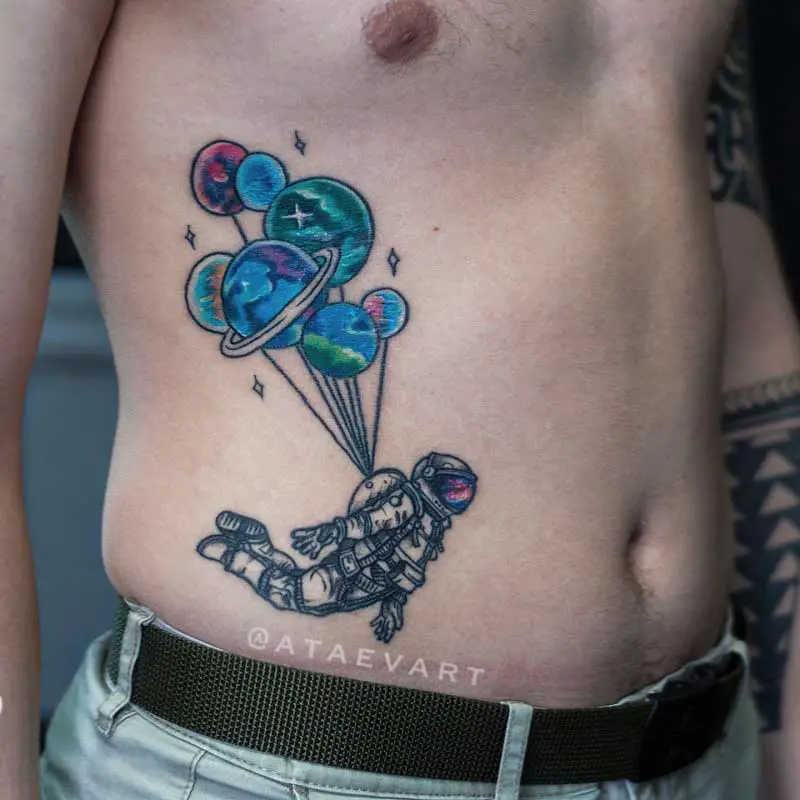 Alien Astronaut Tattoo
58.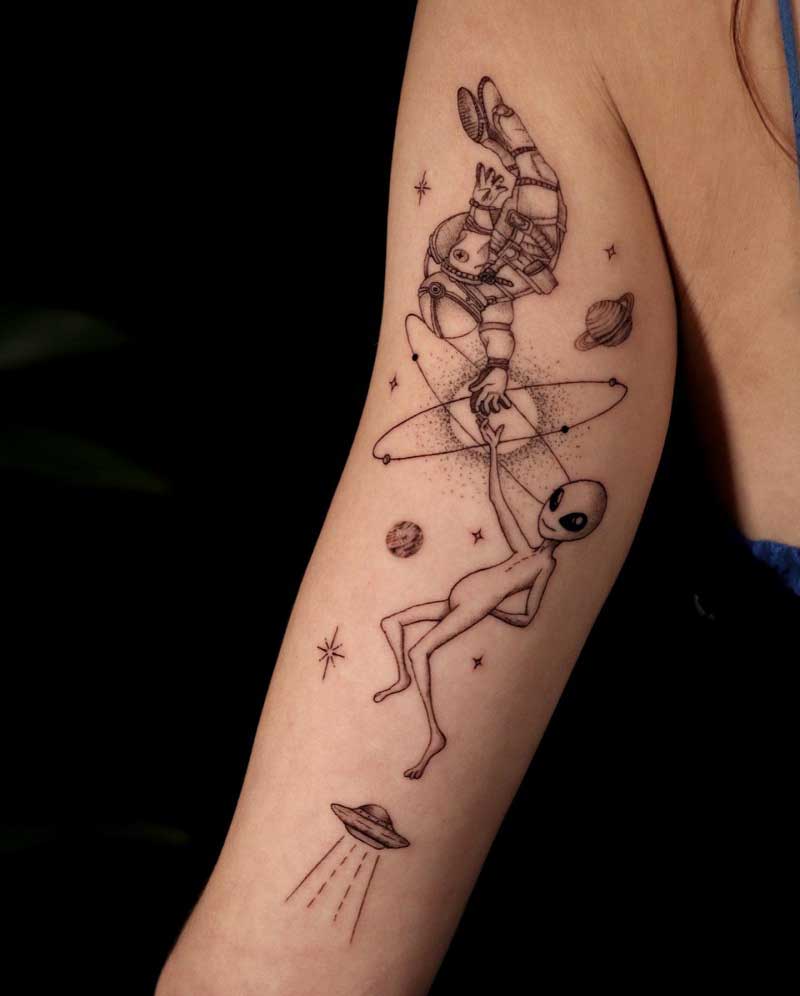 59.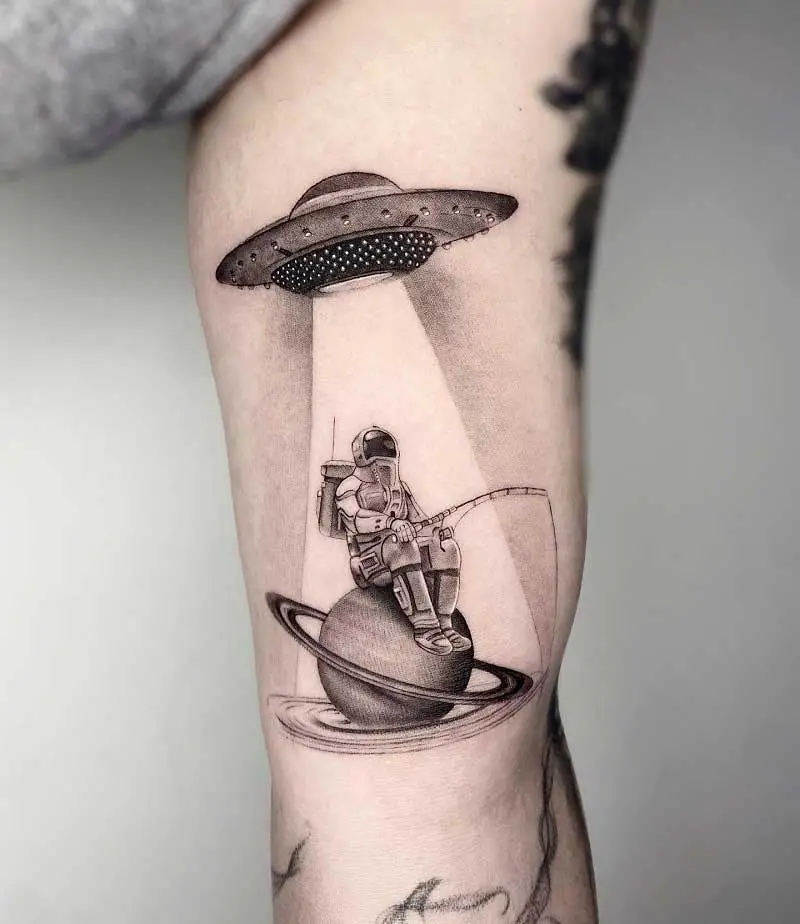 60.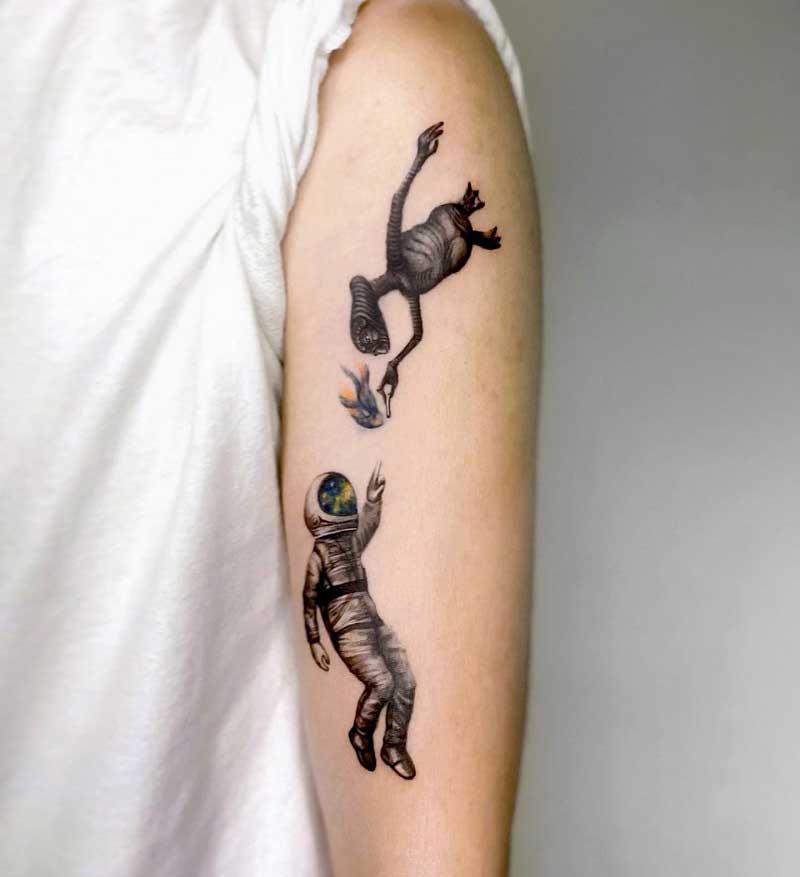 Astronaut Cartoon Tattoo
61.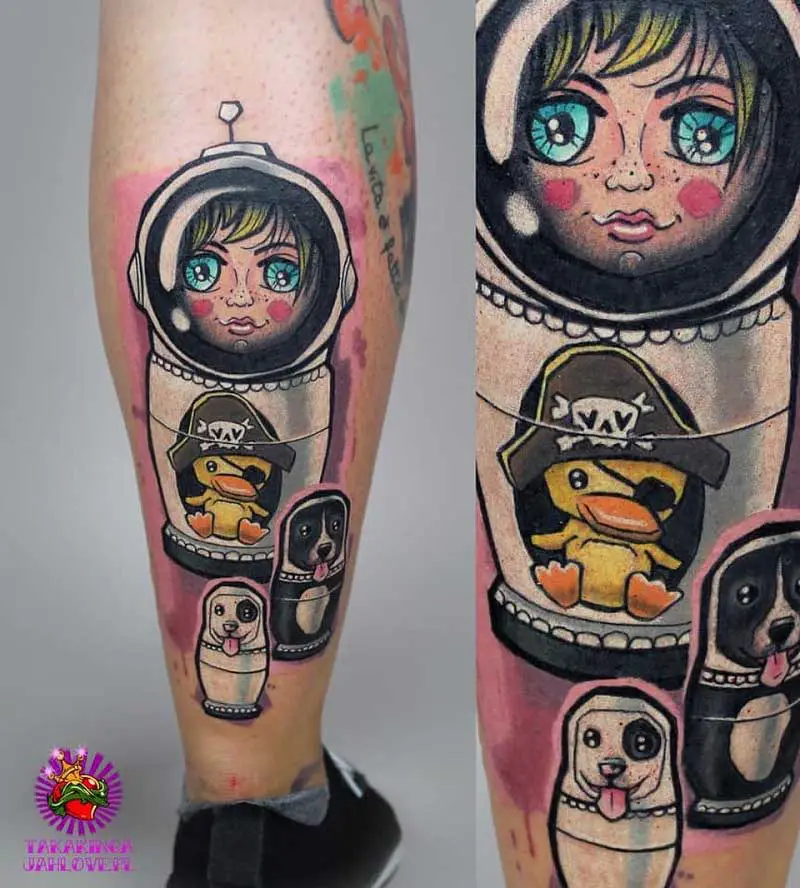 62.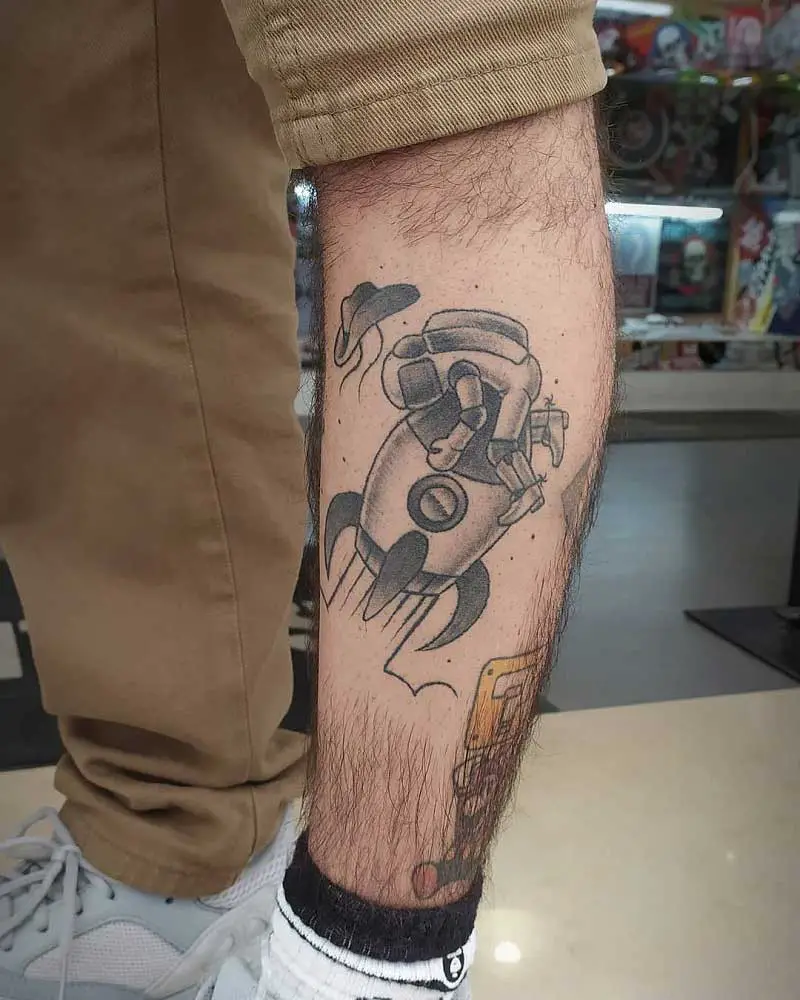 63.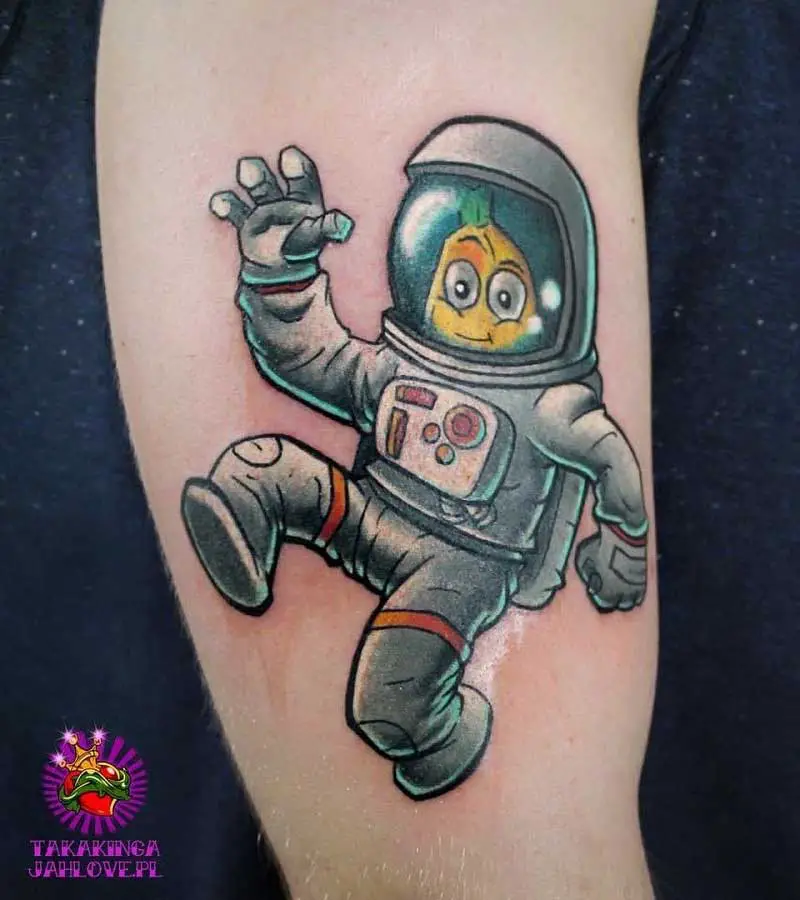 Astronaut Deep Sea Diver Tattoo
64.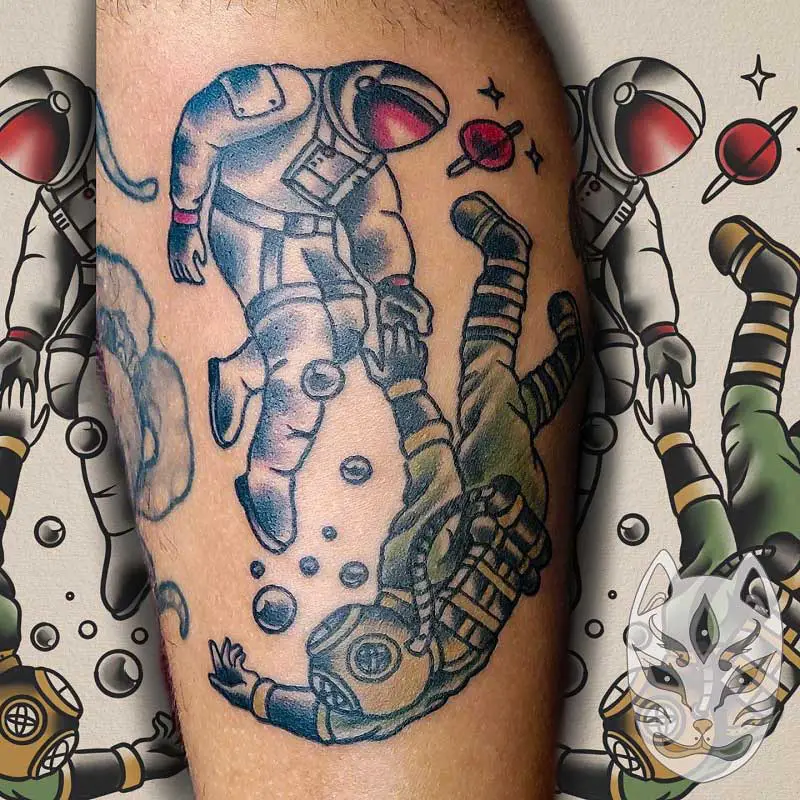 65.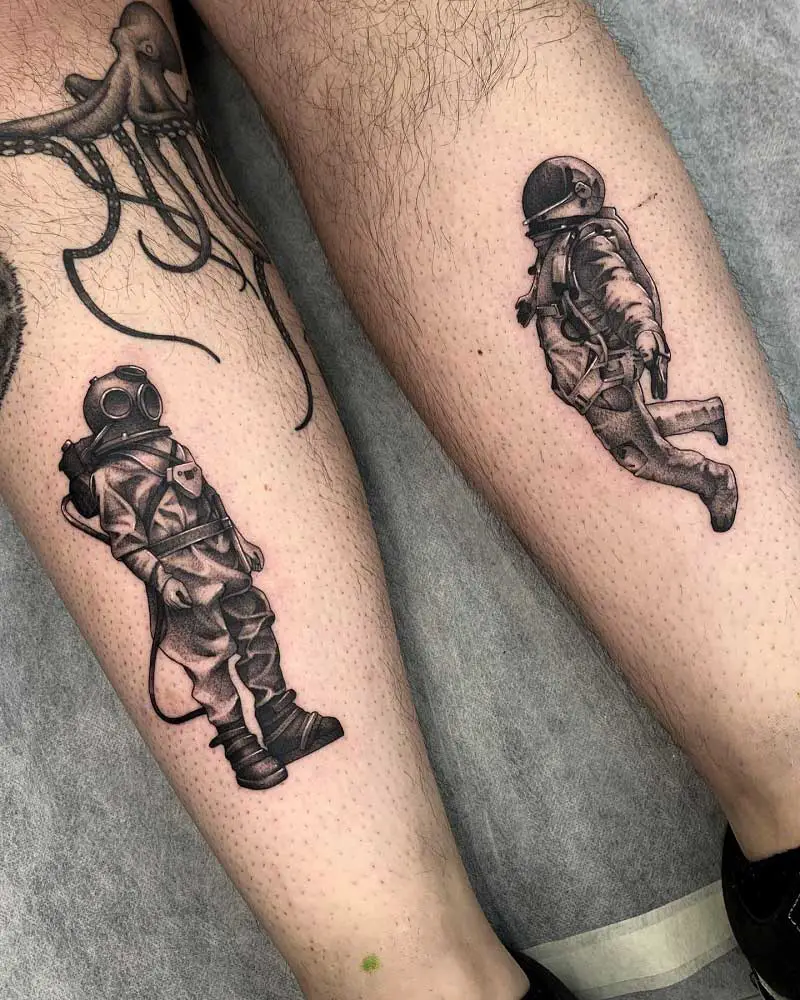 66.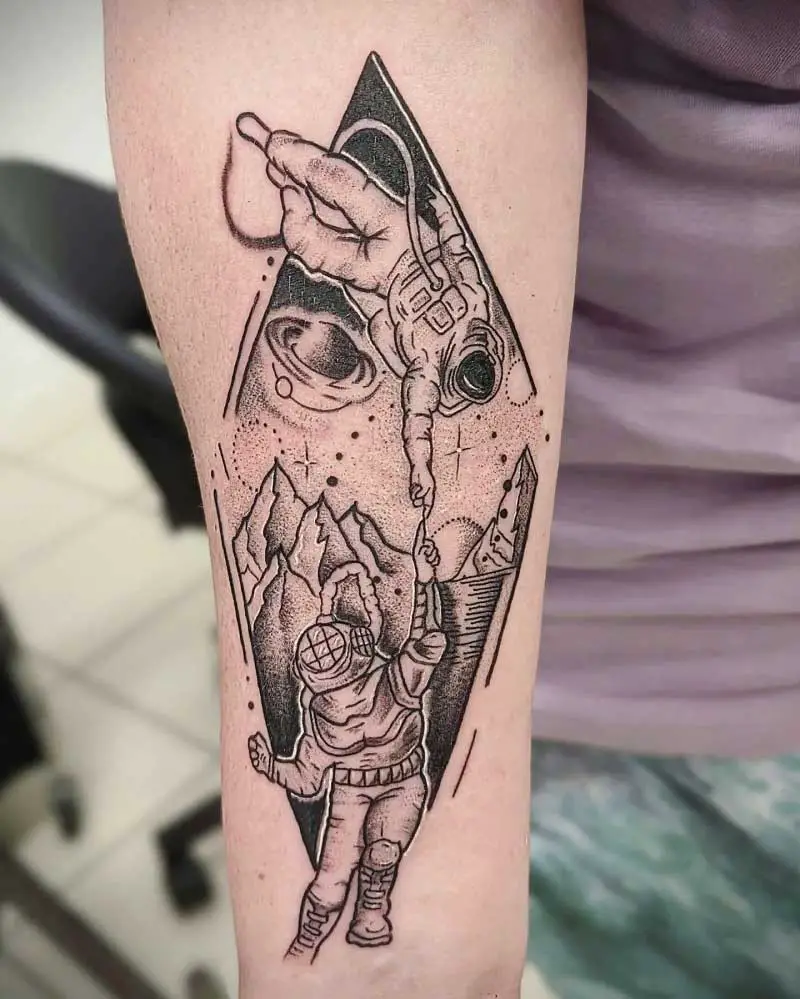 Astronaut Moon Tattoo
67.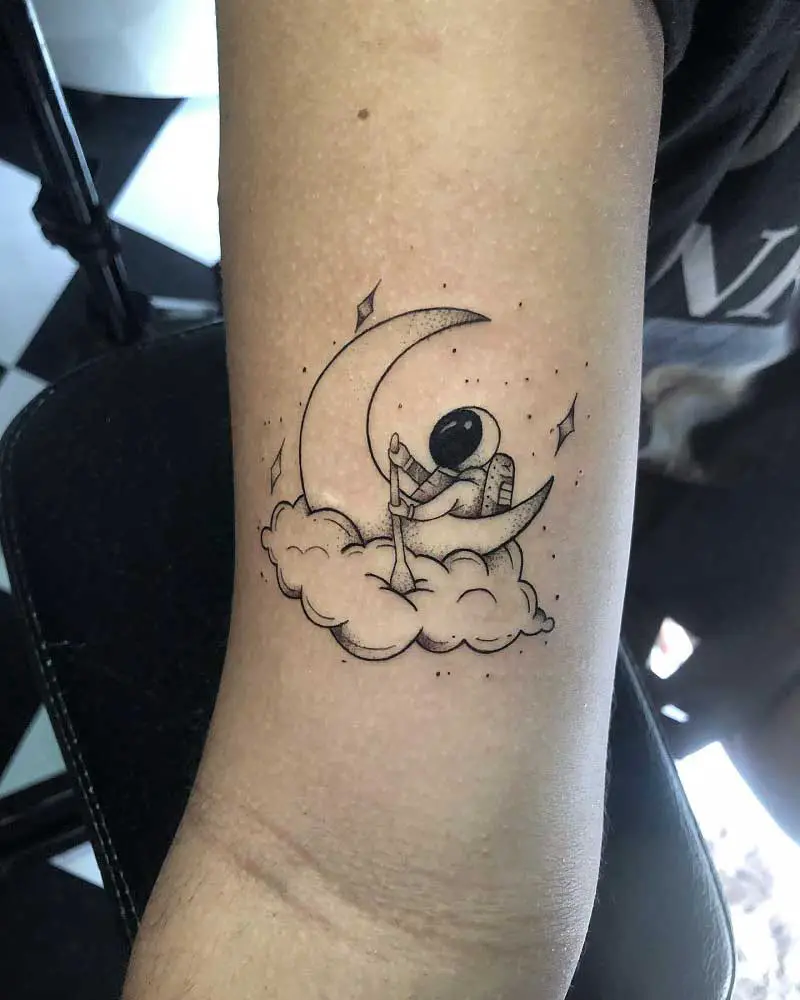 68.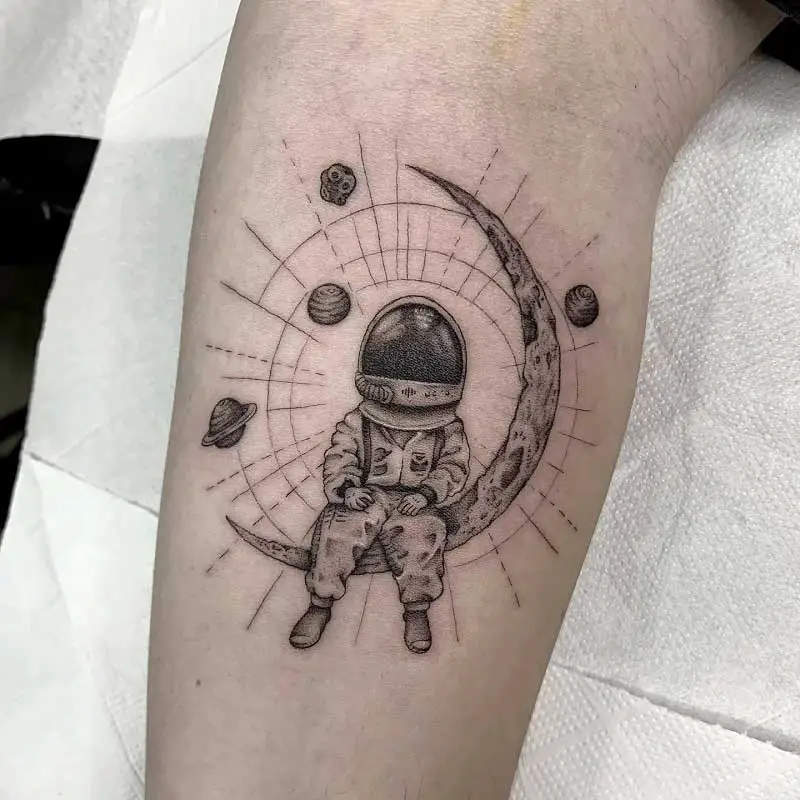 69.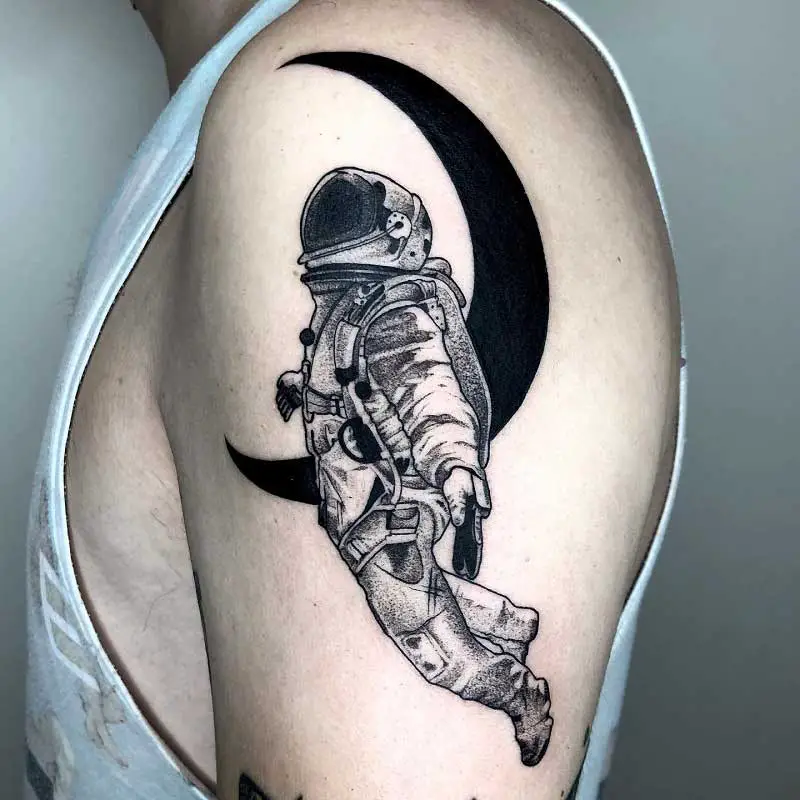 Astronaut Suit Tattoo
70.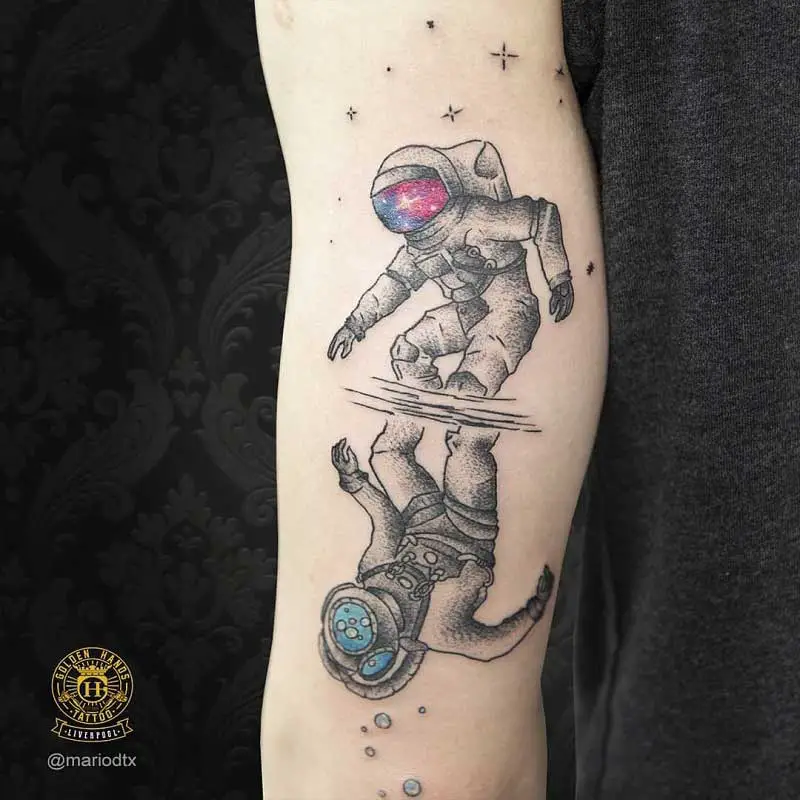 71.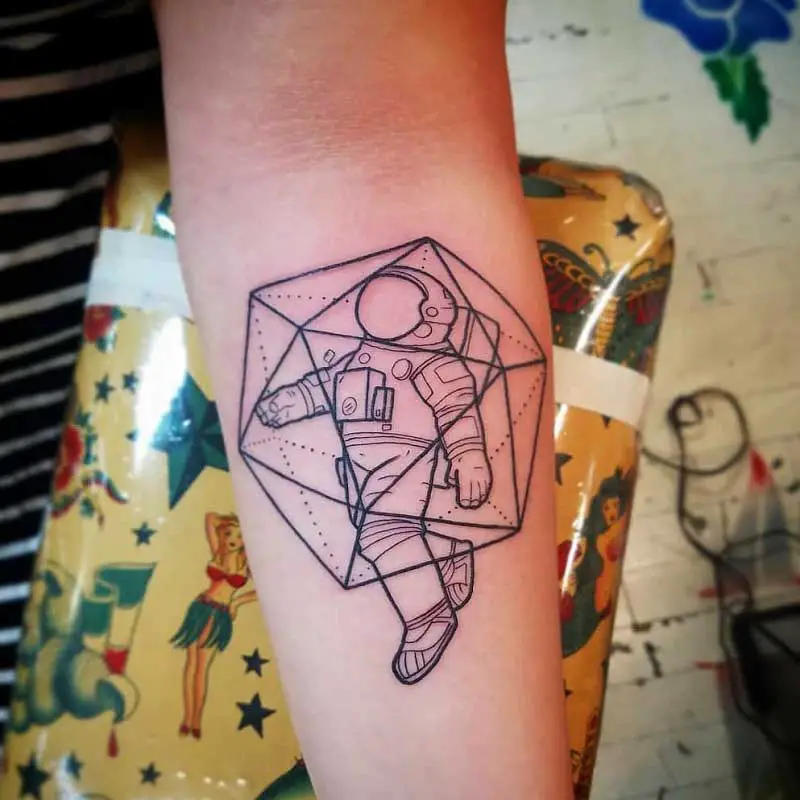 Lego Astronaut Tattoo
72.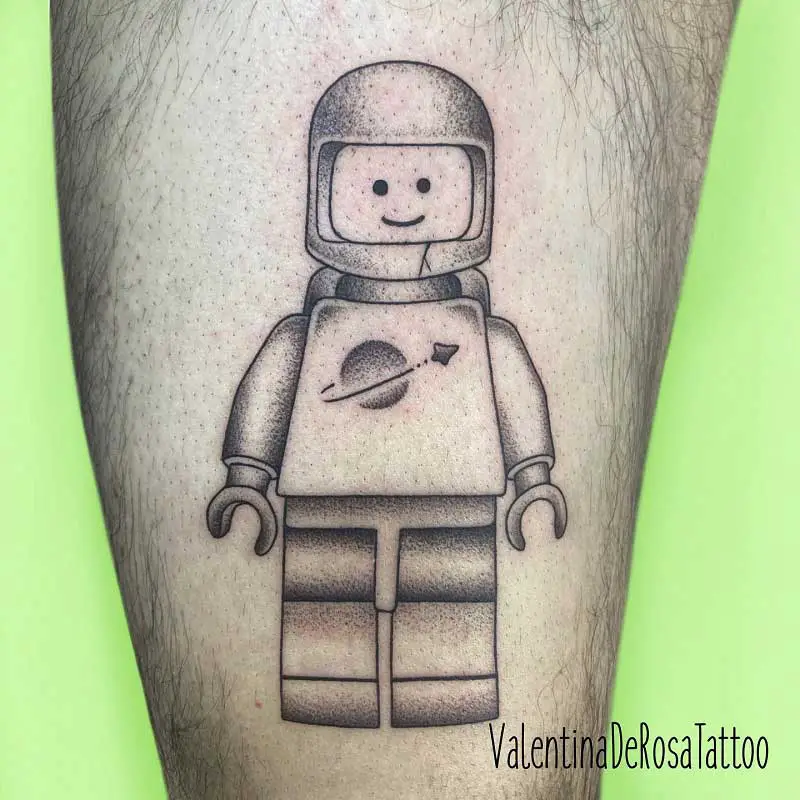 73.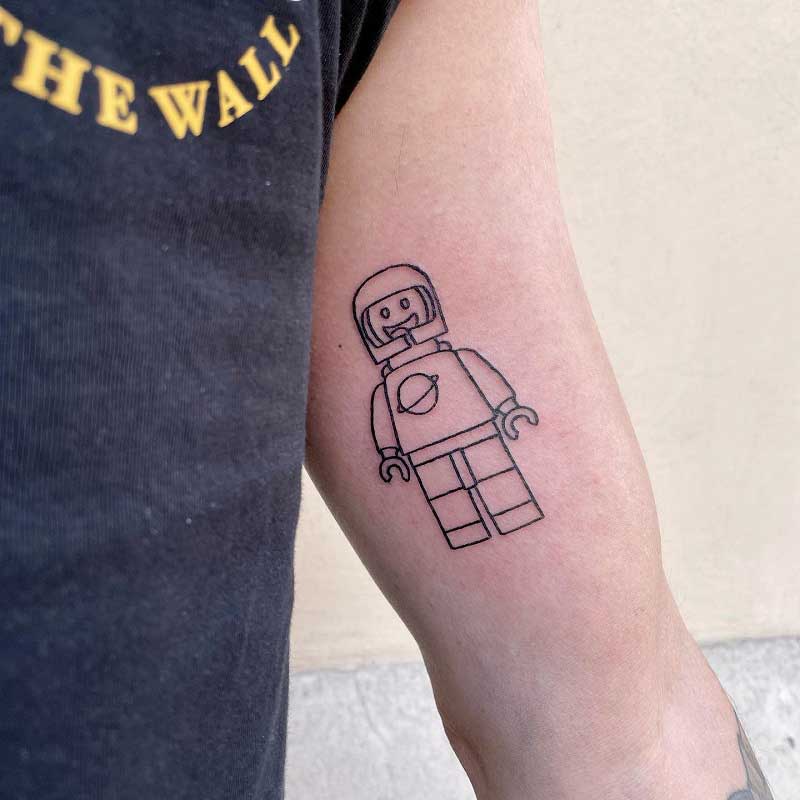 74.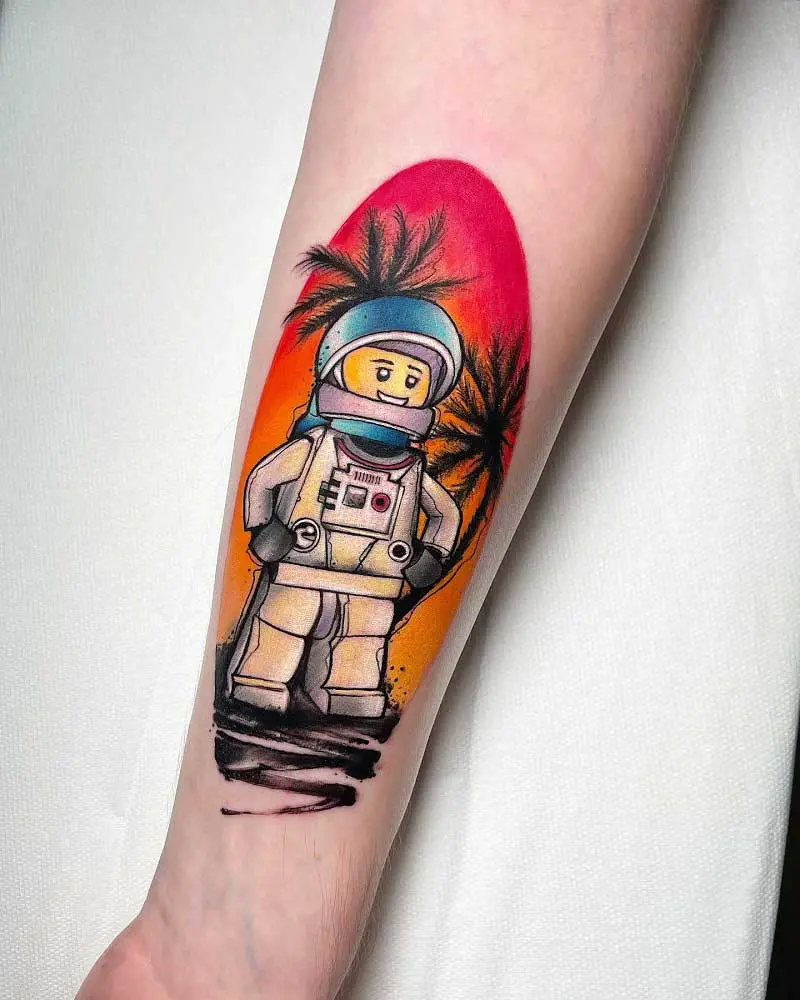 Mayan Astronaut Tattoo
75.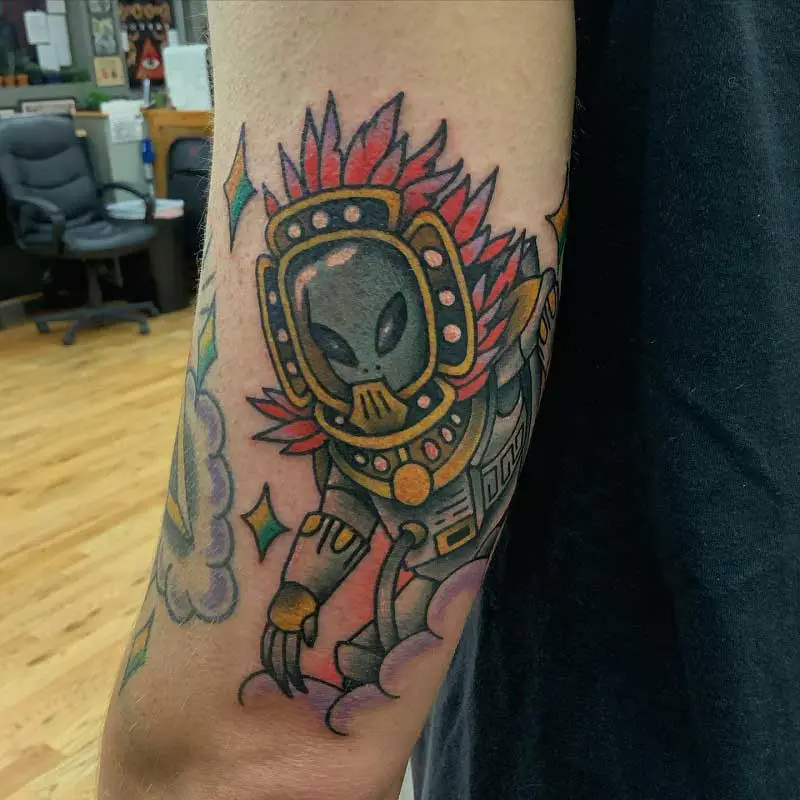 Sloth Astronaut Tattoo
76.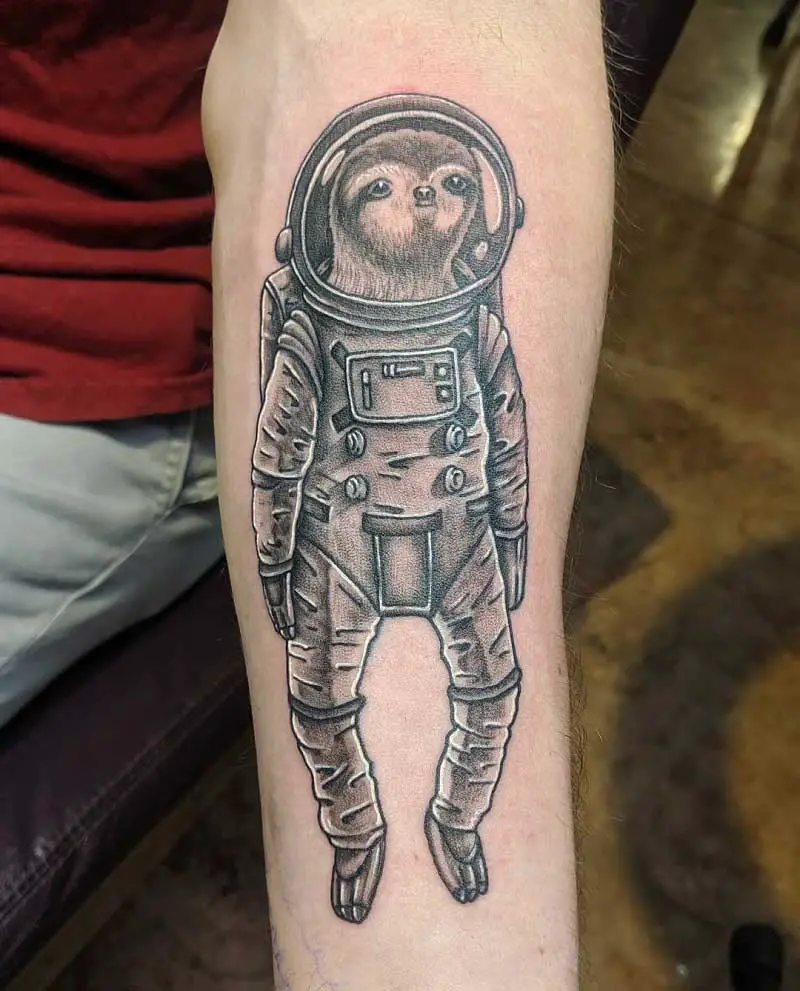 77.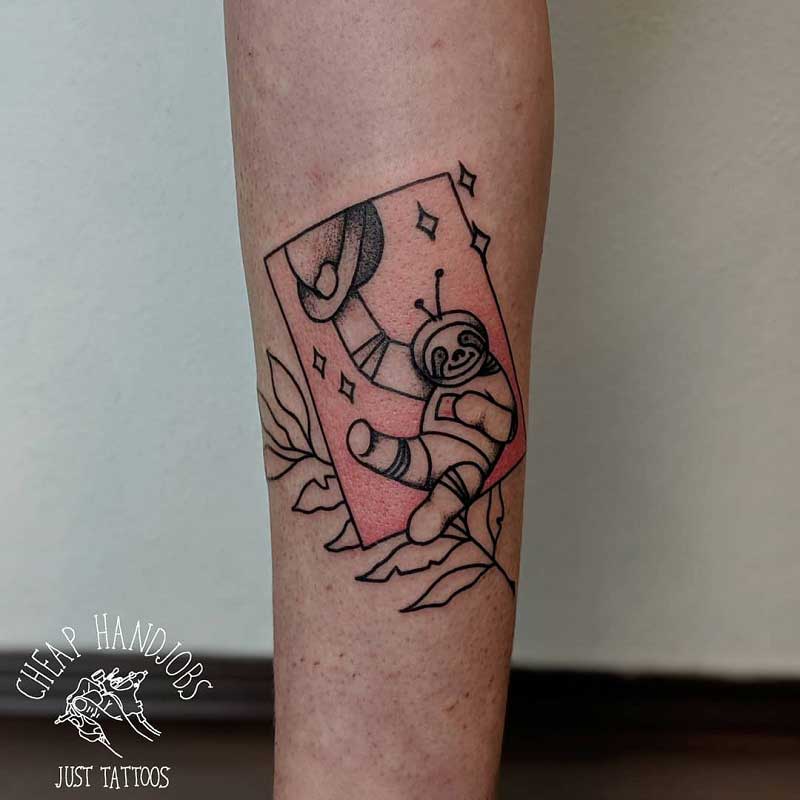 78.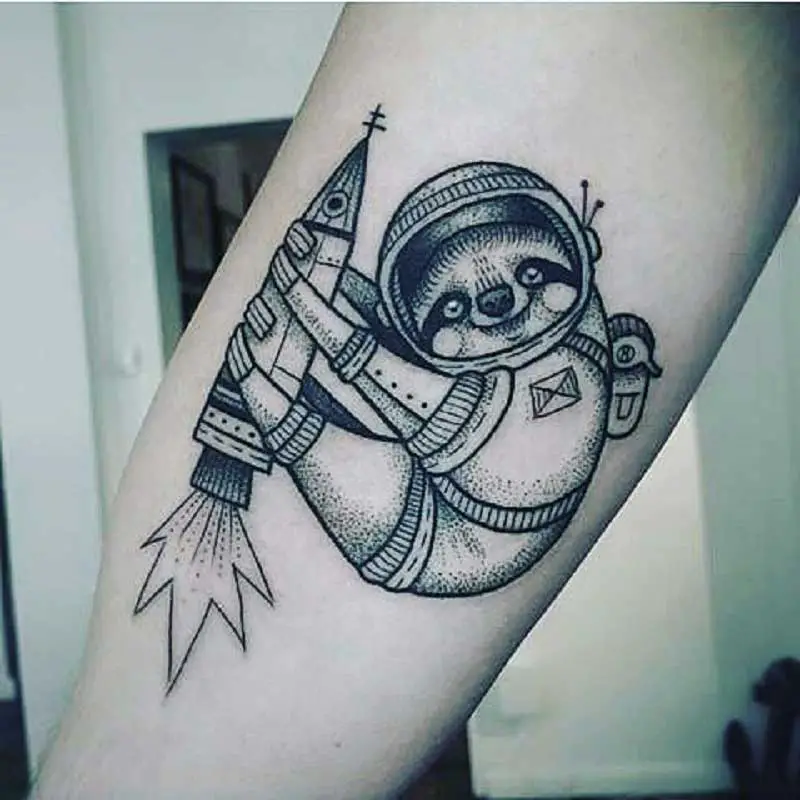 Vintage Astronaut Tattoo
79.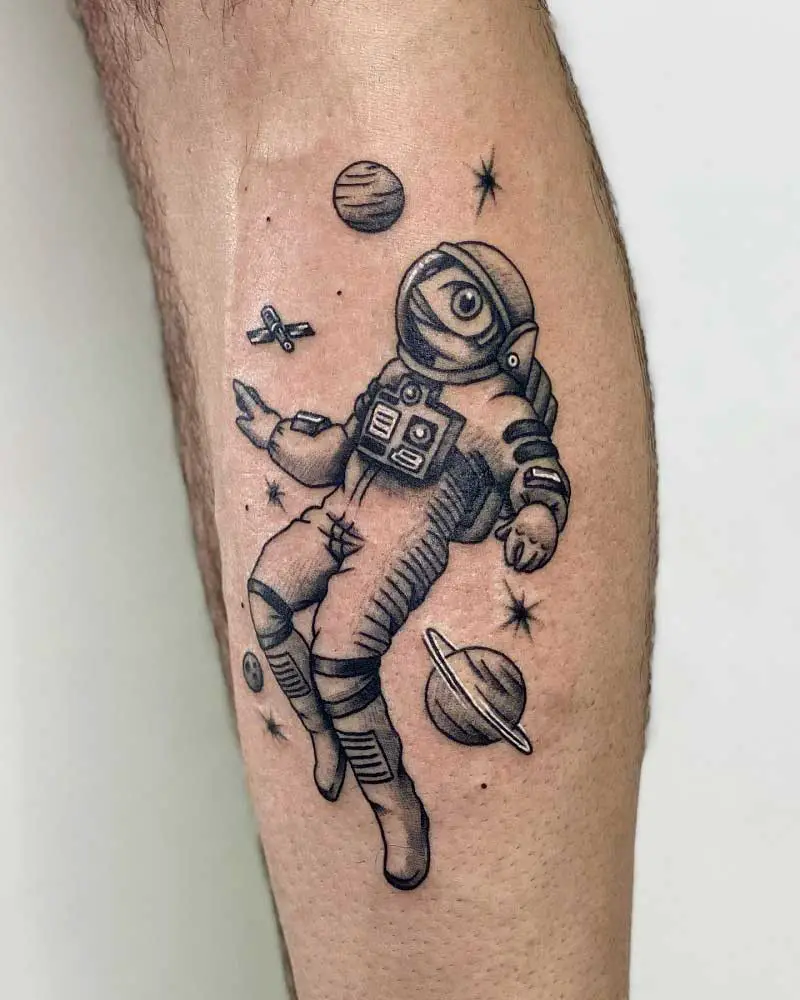 80.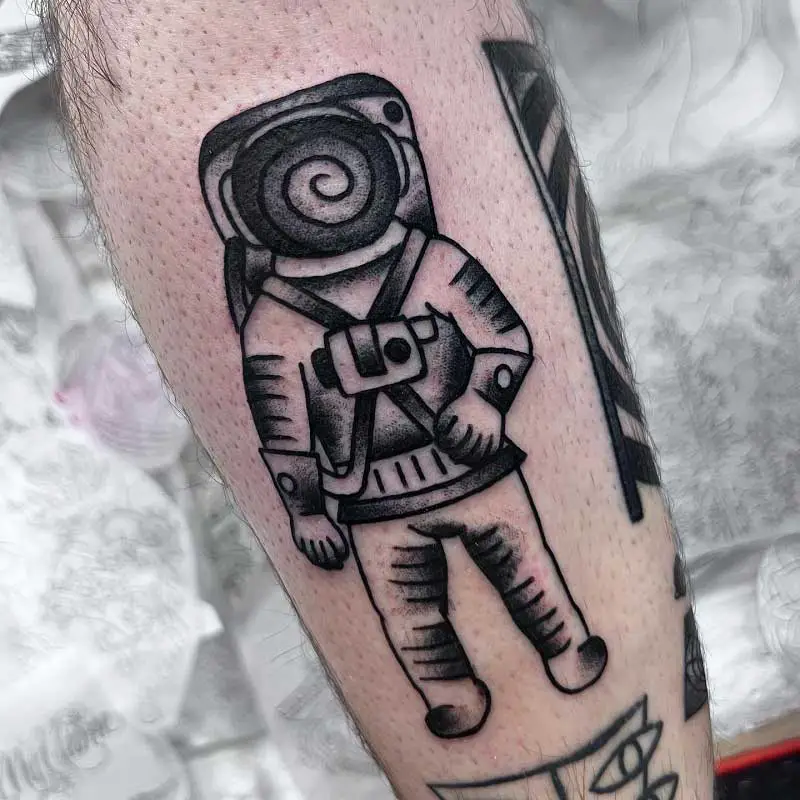 81.
Astronaut Bear Tattoo
82.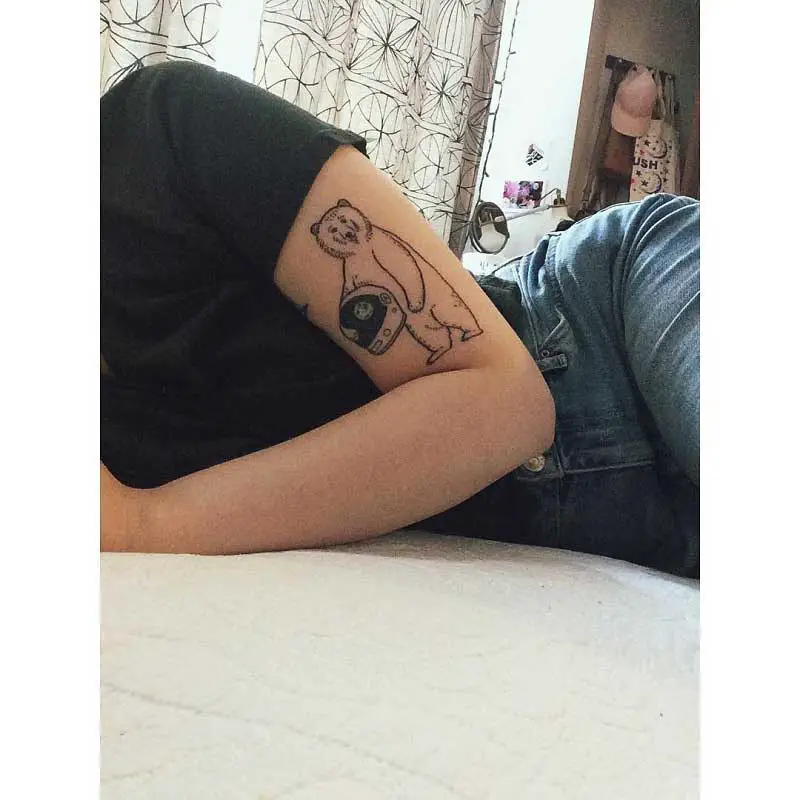 83.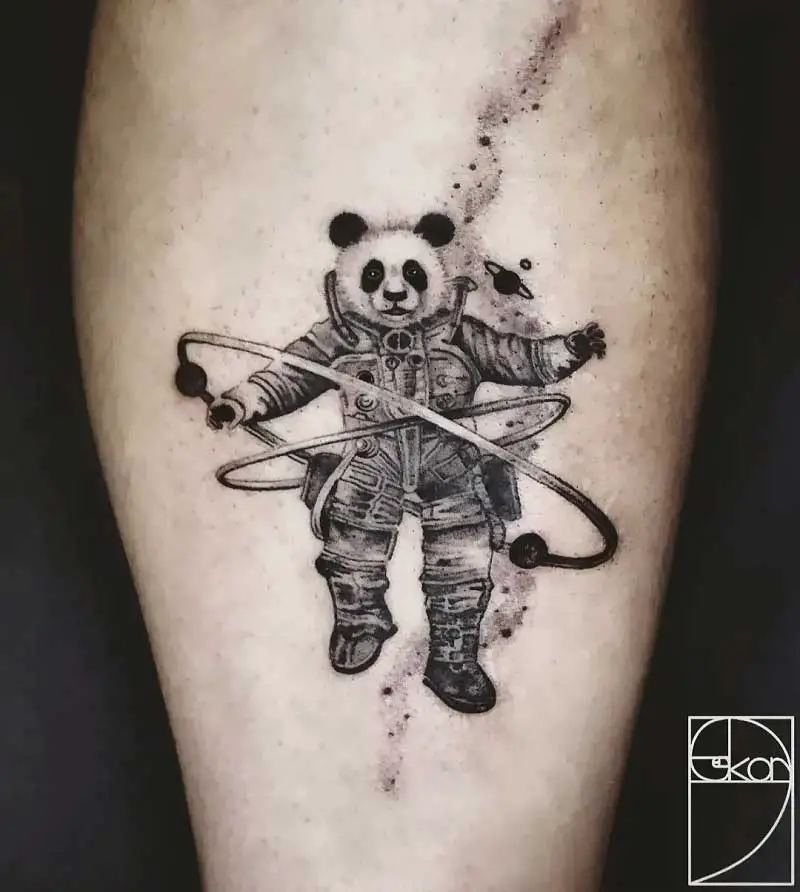 84.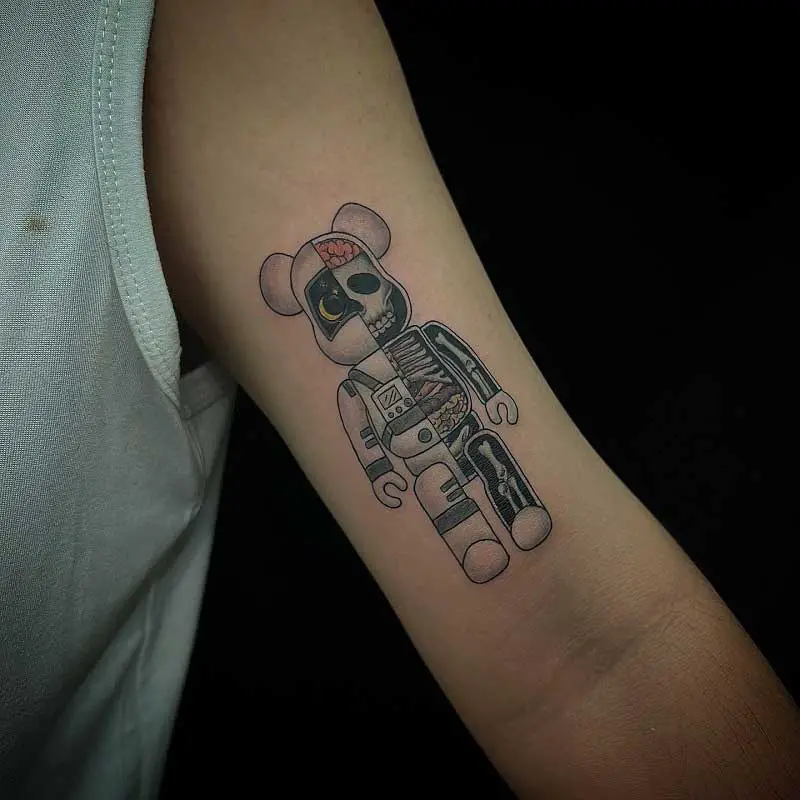 Astronaut Dinosaur Tattoo
85.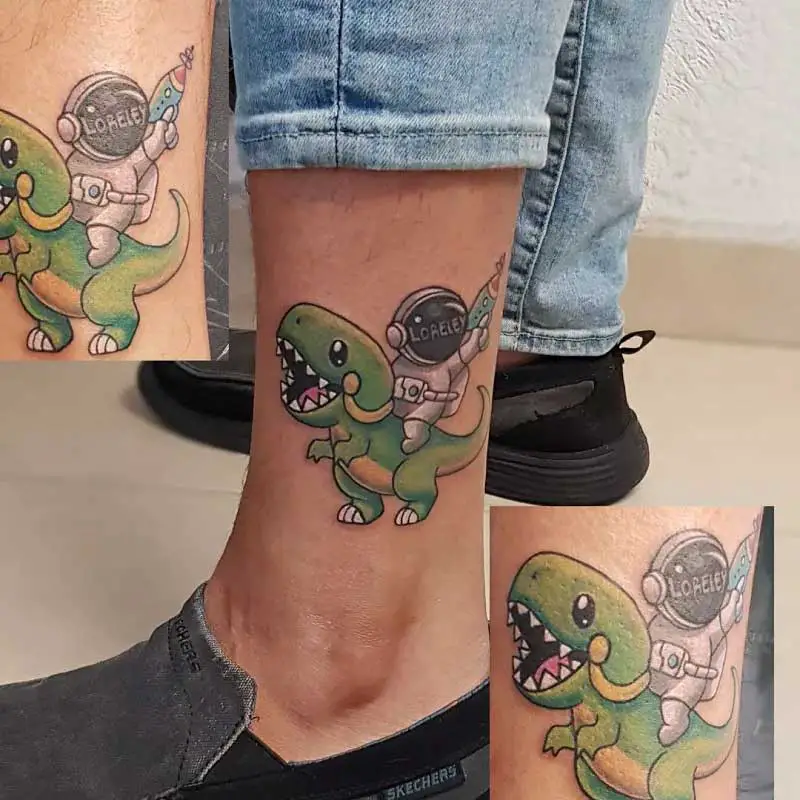 86.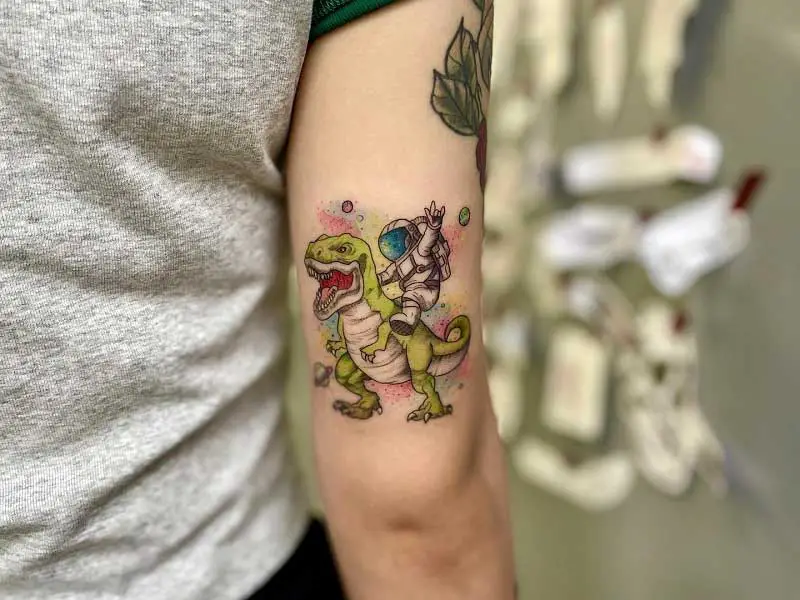 87.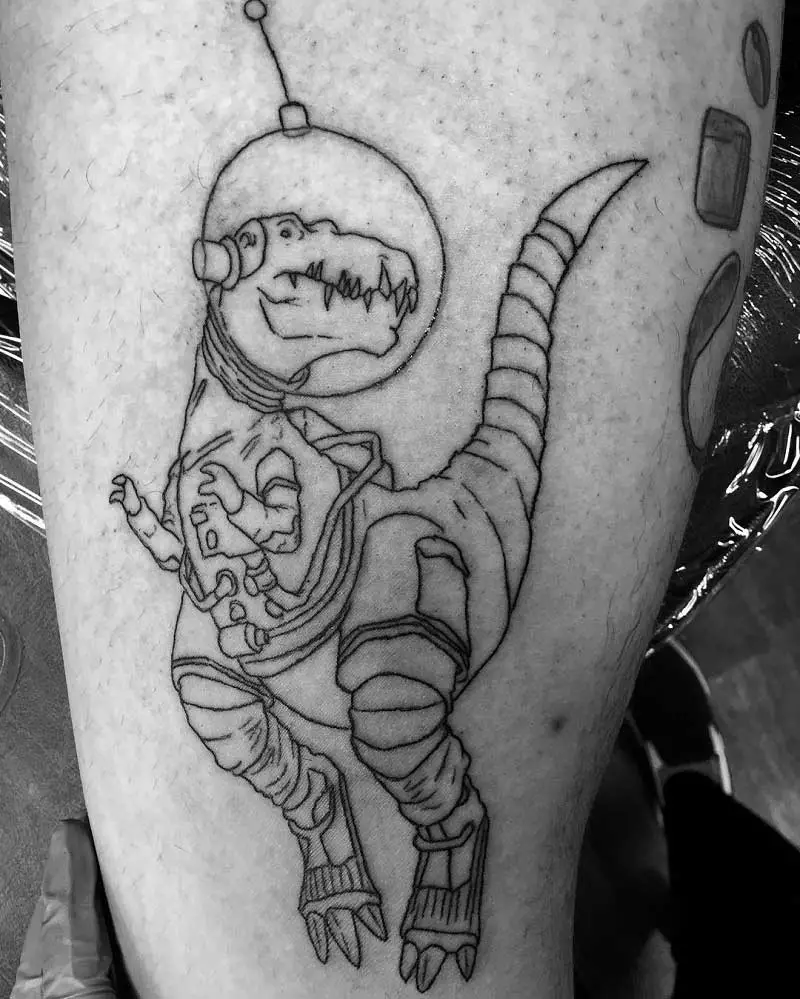 Astronaut Octopus Tattoo
88.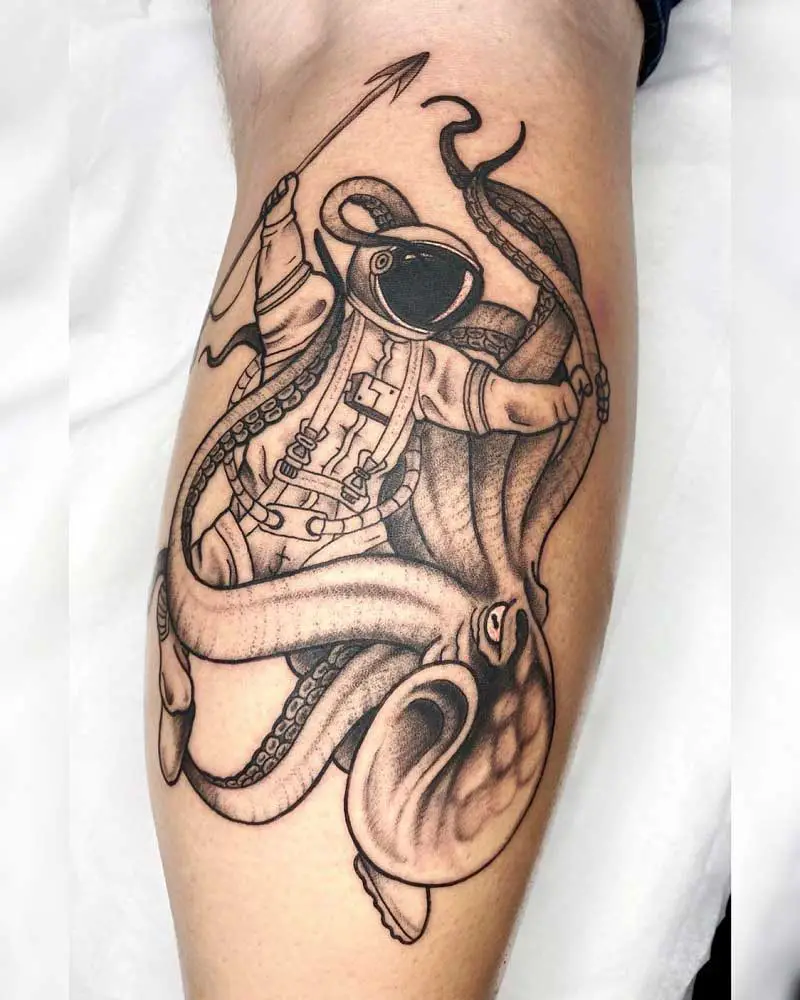 89.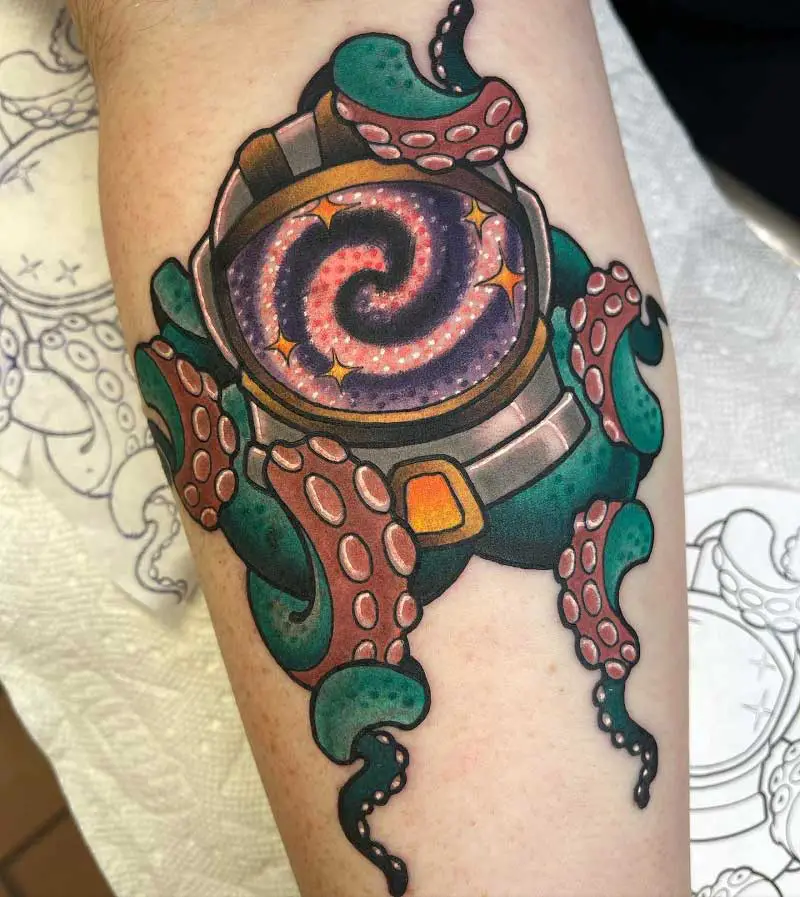 Inkbox Astronaut Tattoo
90.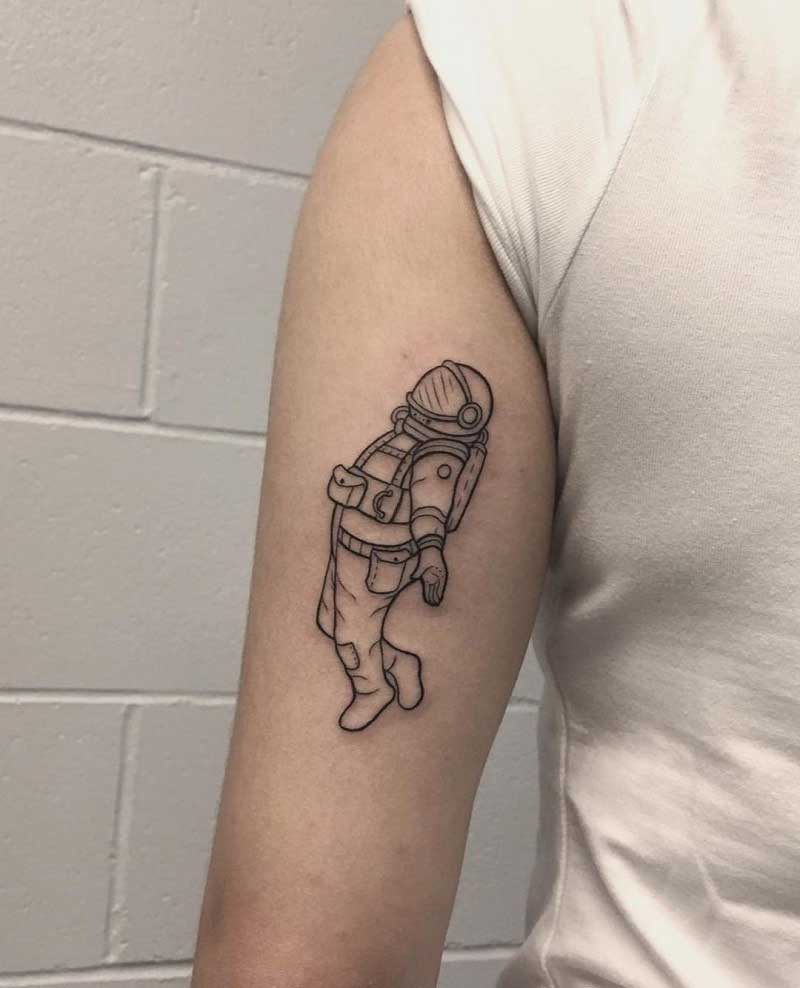 91.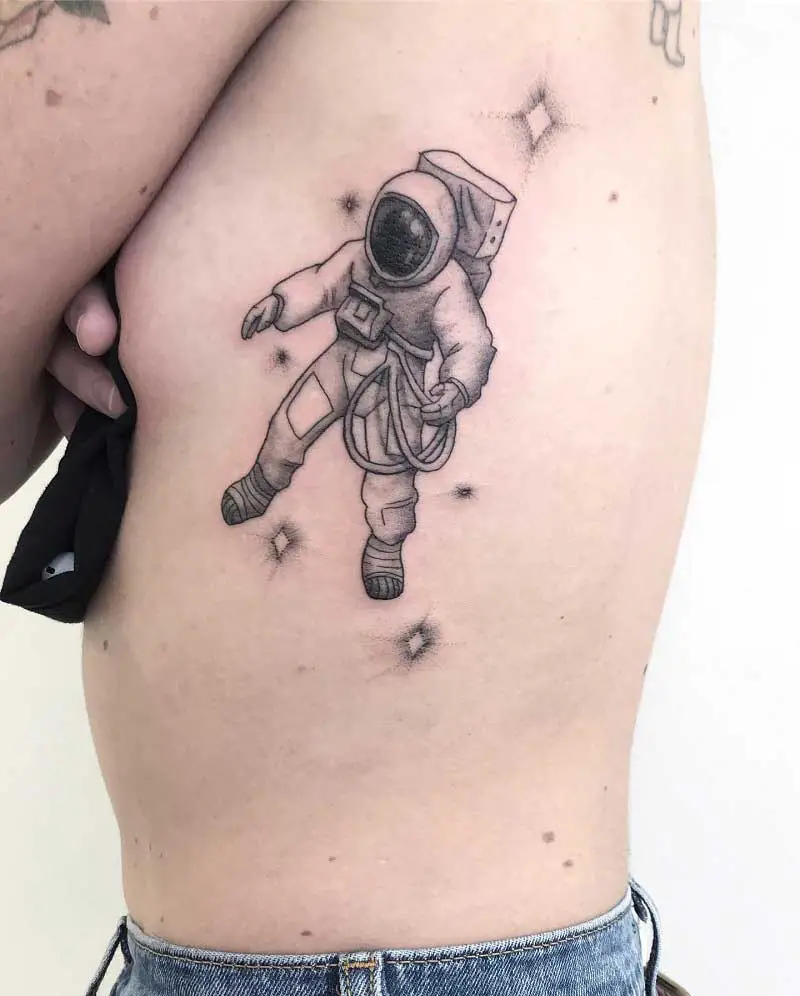 92.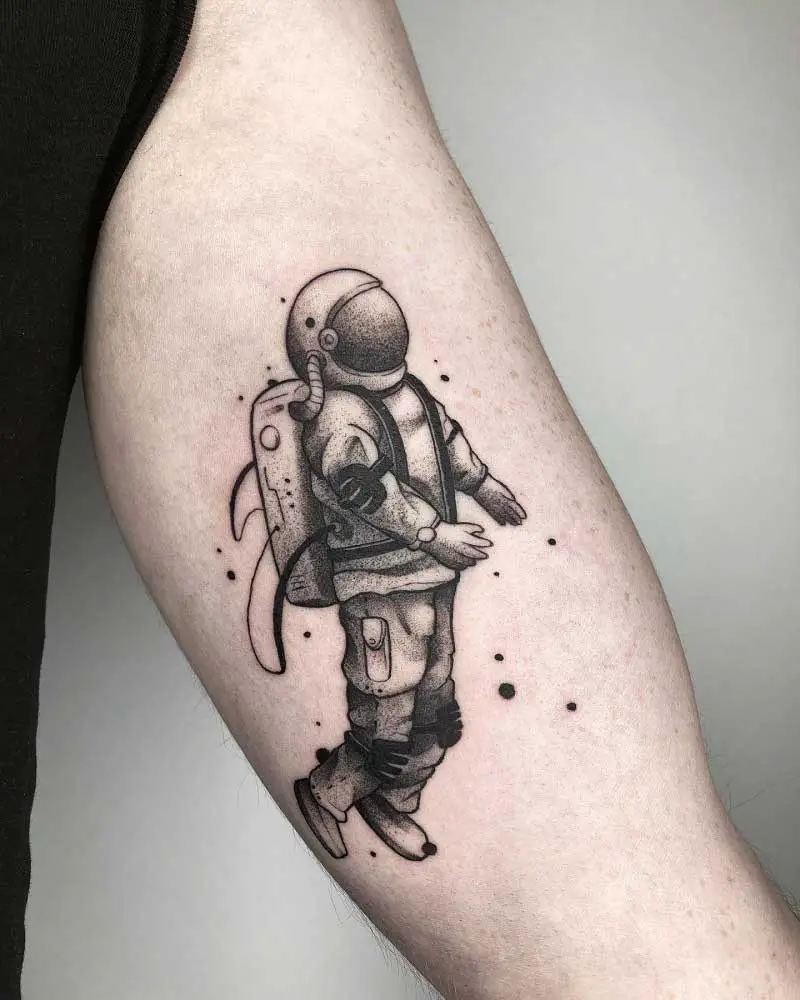 Conclusion
It is certain that an astronaut tattoo is much more than mere skin art, it is something that encapsulates the spirit of reaching the stars, fulfilling one's dreams, breaking away from the shackles, and flying to the top. We hope that you consider getting your body inked with one of these space explorer tattoos because they help remind you that nothing is impossible, not even traveling to space. With that, we would like to end our great cosmic adventure.
Frequently Asked Questions
What is astronaut as a symbol?
Astronauts symbolize hope. They are living examples to remind human beings that anything is possible if you are able to break through your boundaries to achieve something great – success.
What does the skeleton astronaut tattoo mean?
Skeleton Astronaut tattoos may depict death or literally a dead astronaut. However, in some cases, it might symbolize nothing. A lot of people look at it as a means of art and aesthetically they do look great.
Does NASA allow tattoos?
Yes, they do. There is no record of NASA not allowing tattoos in their selection of staff or space explorers. Therefore, we can say that NASA allows tattoos.
Why get a moon tattoo?
The moon tattoo signifies purity and feminine divinity as well. Moon tattoos also depict strength and are often chosen by people who have overcome the hardest phases of their lives.