A jellyfish tattoo can symbolize your multiple attachments and bonds in life. It also shows how life goes on in its own way leaving strands of memories and relationships behind. Some jellyfish tattoos can also mean the duality of human nature. It reflects the contradiction of love and power, strength and vulnerability.
Looking for inspiration for jellyfish tattoos? This blog is your guide to all versions of jellyfish tattoos with the best 93 designs and the meaning behind them.
Best 93 Jellyfish tattoo designs and meanings:
If you are looking for a unique and meaningful tattoo design, a jellyfish tattoo can be your answer. The unique structure of the head and tails of jellyfish has made it a popular choice for tattoo lovers. As it's a colorful and mystical creature, you can get really creative with the design of it.
Because of its versatility, there is a type of jellyfish tattoo for every personality. The types include : realistic , watercolor, geometric, floral, stick and pokes, traditional and many more customized styles. Scroll below to know more about them in details and see which one is a match for you!  
Realistic Jellyfish Tattoo
If you share a personal connection with the nature and life of jellyfish, realistic jellyfish tattoos can be a great way to represent it. The natural beauty of jellyfish is extraordinary. You can always choose to stay original and get a large realistic jellyfish tattoo anywhere on your body. The vibrant color and detailed tentacles with the ocean background will capture the true essence and vibe of jellyfish.
1. Jellyfish in ocean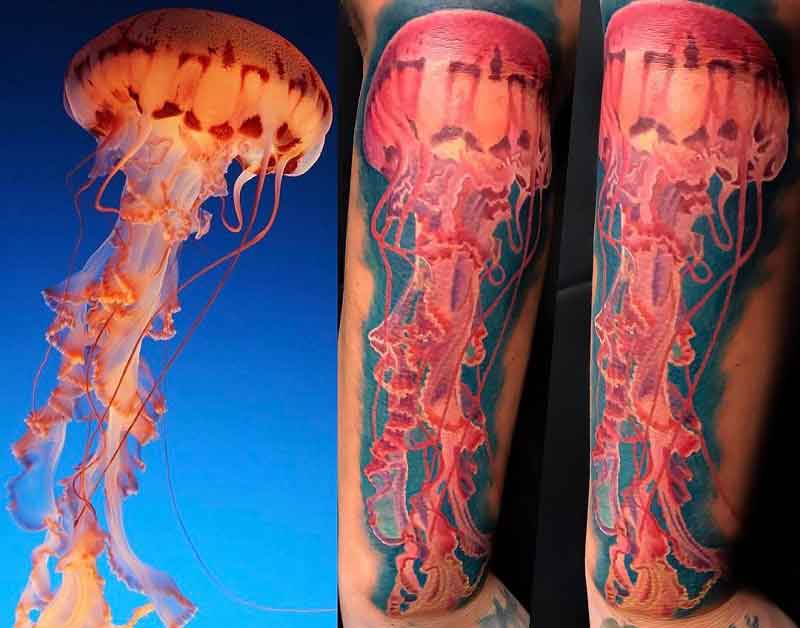 The best type of realistic jellyfish tattoo is a large one with an ocean-colored background. Just replicate a real image of jellyfish in detail and you are good to go! It will be as if you are carrying an ocean with you. 
2. Watercolor Wonders: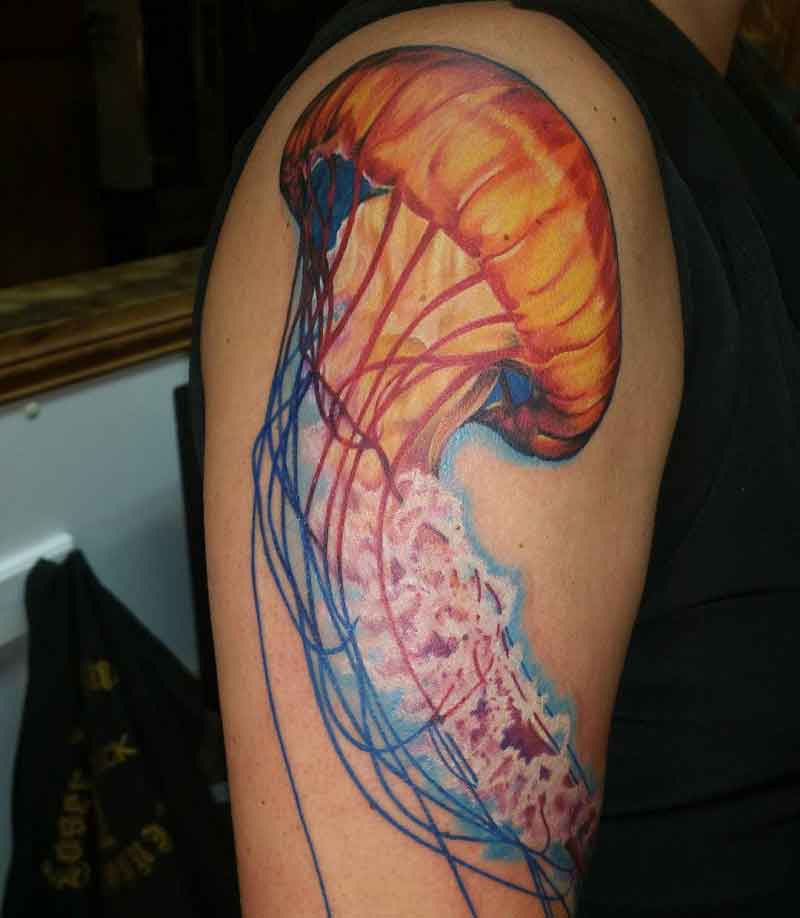 If you have a vibrant personality, a watercolor jellyfish tattoo is perfect for you. The shades of red and orange with strokes of blue can be very eye-catching. It also expresses your connection with the colorful underwater world.
3. Gothic Black work :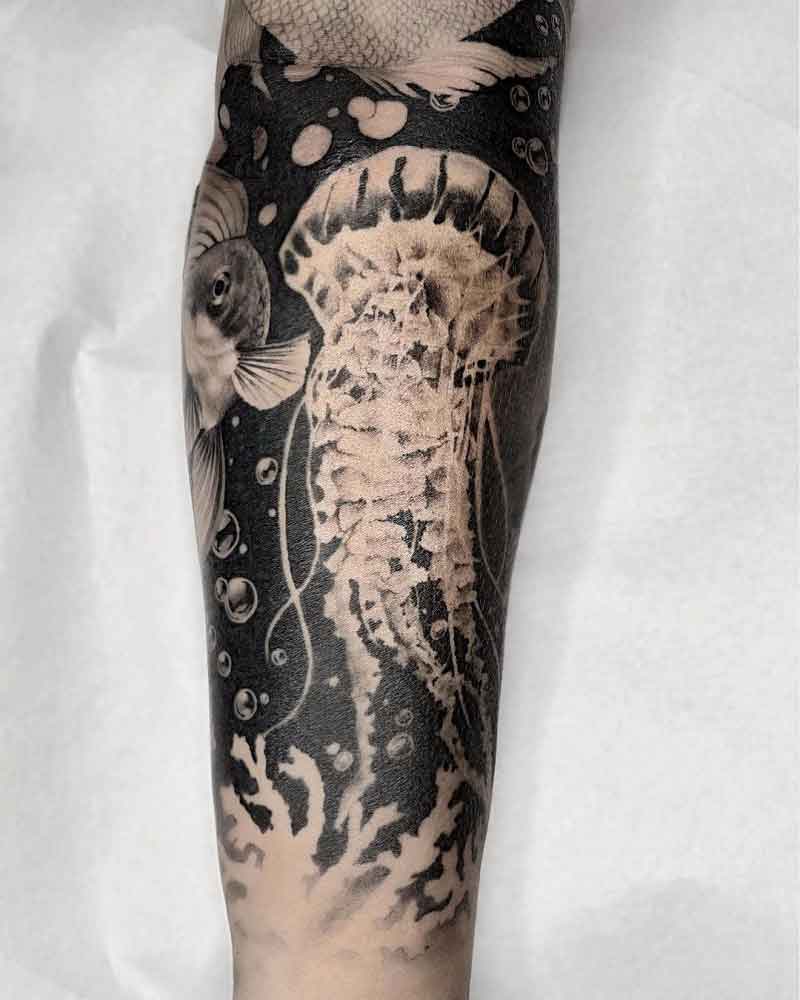 A black work jellyfish tattoo creates a contrast with the skin and makes the jellyfish pop out. The black ink highlighting the jellyfish over a black background can look unique bold and powerful. They are great for people with a dark, mysterious personality. 
Minimalist Jellyfish Tattoo
Minimalist jellyfish tattoos are the new vibe. They elegantly capture the soft beauty jellyfish hold on the outside. The deeper meaning of it carries how jellyfish may look innocent but can be deadly when they are under threat. Minimalistic jellyfish tattoos can look great on arms, wrists, and waist for both men and women.
4. Simple Jellyfish Tattoo: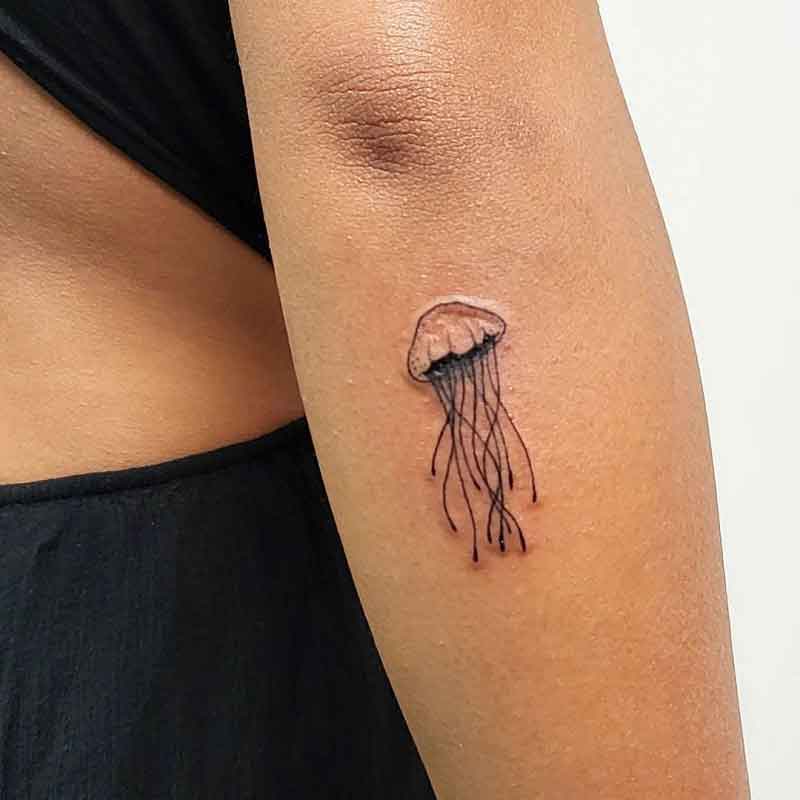 Small jellyfish tattoos are perfect for any part of the body. The minimalism of it with fine lines and negative space makes it neat and defined. If you want a clean design and serene design, this is perfect for you!
5. Minimalism with a quirky twist: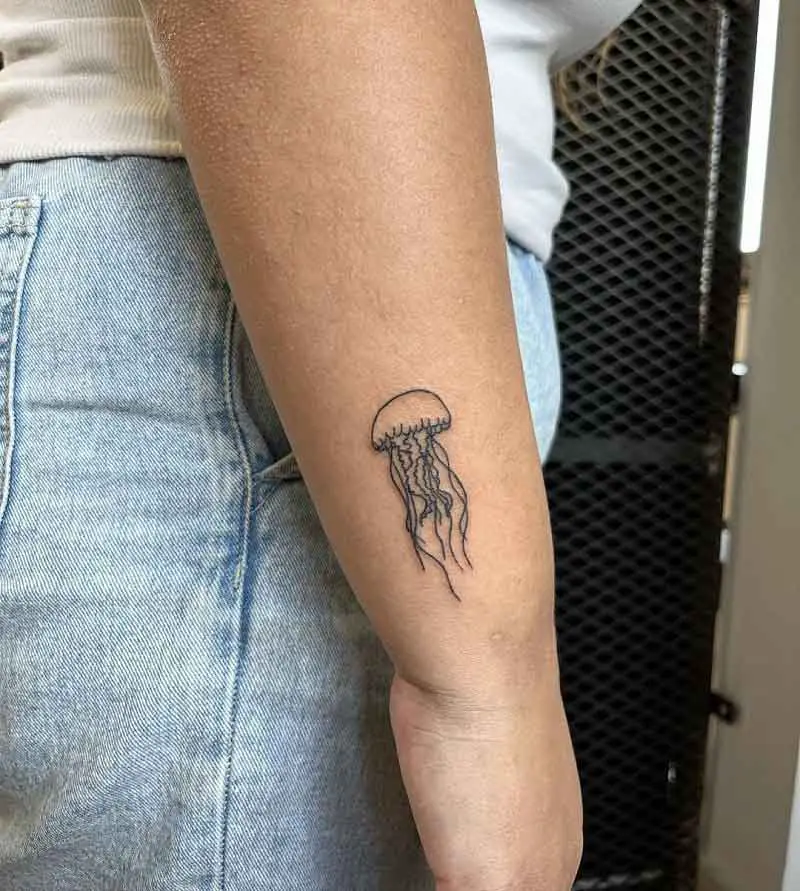 A bit bent-out bell shape with irregular tentacles can be cute and quirky! Although it's minimalistic, it's very attention-grabbing. It can easily reflect your unique personality. 
6. Waist Jellyfish Tattoo: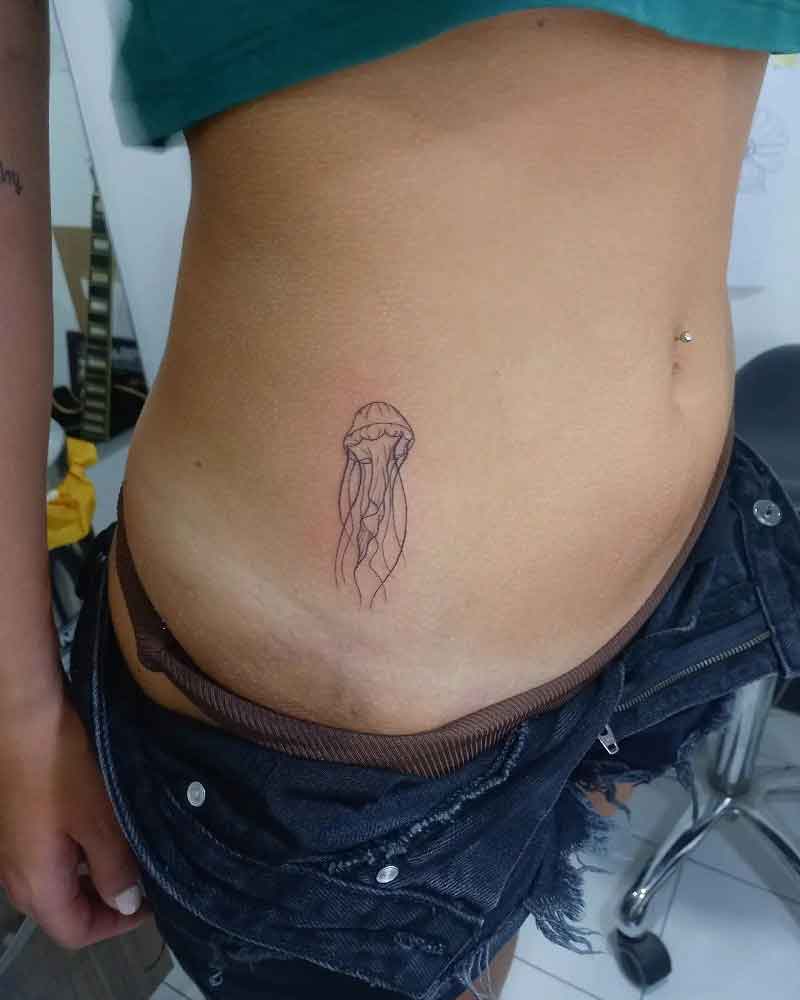 The simplicity and flexibility of jellyfish are truly reflected in the minimal waist jellyfish tattoos. For women, it's particularly great as they highlight the curves. It's both mysterious and stylish! 
Geometric Jellyfish Tattoo
Yes, you can get a jellyfish tattoo in a geometric pattern! Jellyfish inked with geometric patterns are a very popular modern style. The fine lines and definite shapes of geometry represent balance and order of life. Combine geometry with the versatile designs of jellyfish and you will have a meaningful tattoo about your smooth sailing life.
7. Triangles and Tentacles: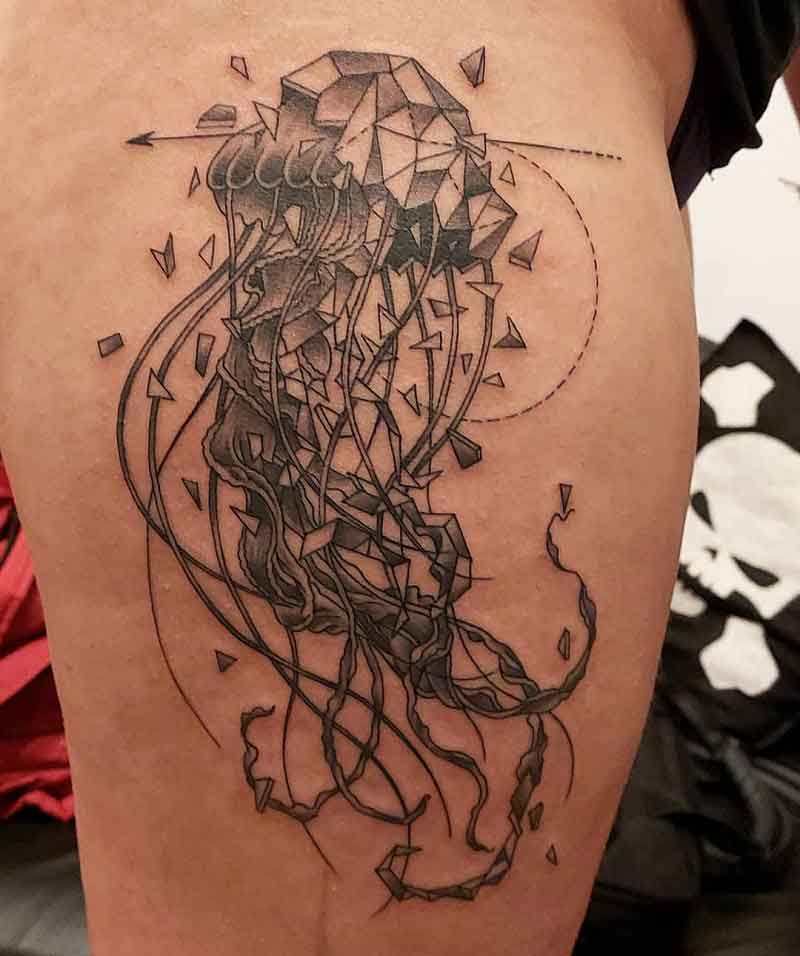 Triangular motifs are the latest and greatest pattern. To give a jellyfish tattoo an edge, have it drawn with triangles in black and gray. The irregular triangle can give the head a new shape and the scattered triangles reflect the complications and edges of life. 
8. Colored and spooky: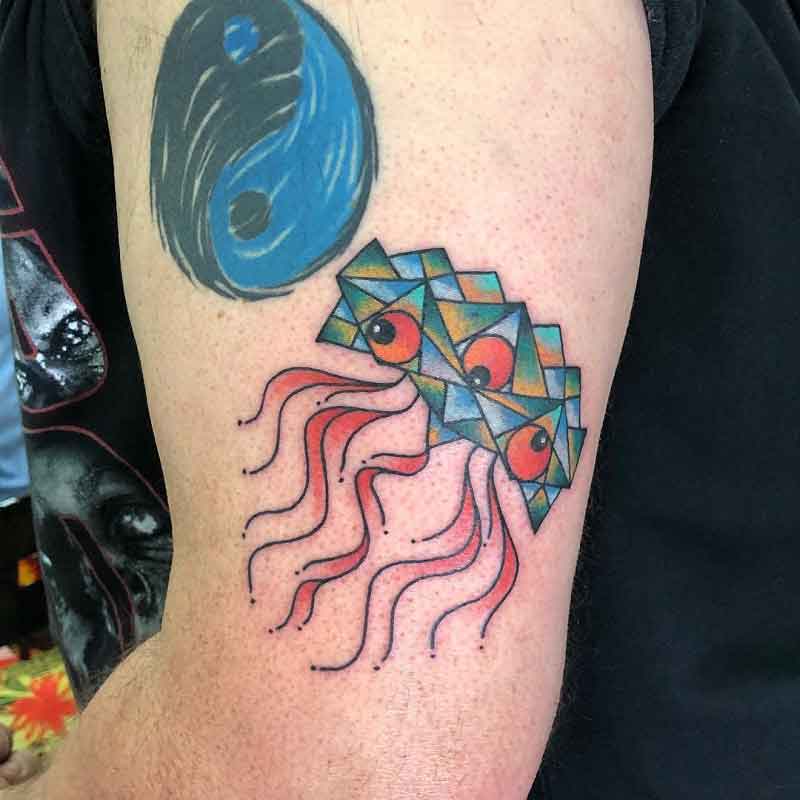 People who love colors and geometric patterns can definitely opt for this. The three big eyes over the top represent your observant skills with a brave and bold touch. It can look pretty intimidating and bold. 
9. Stick and Poke Jellyfish Tattoo: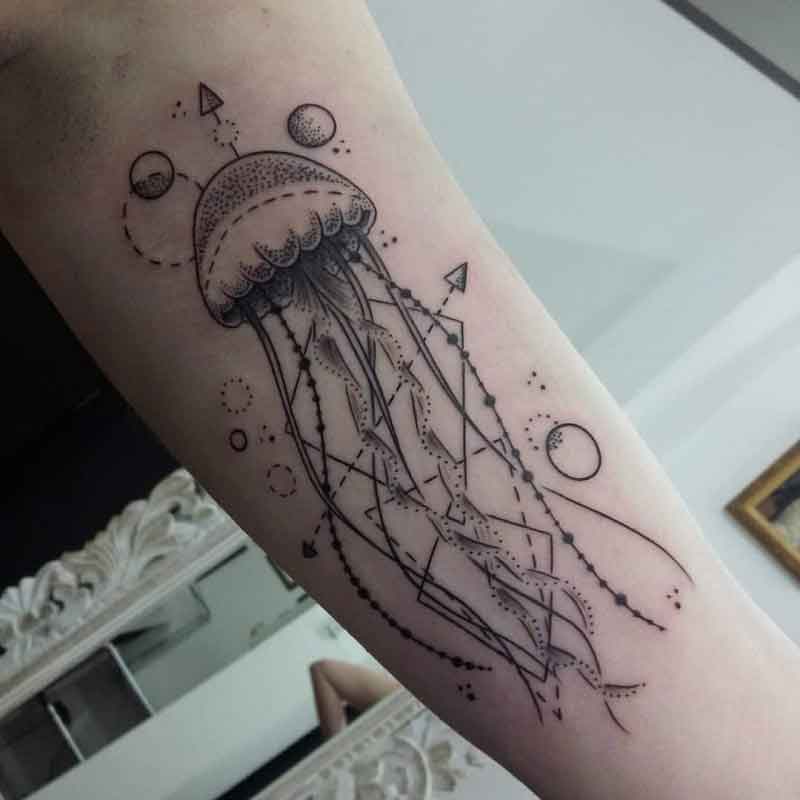 They are easy, simple, and versatile. The dotted pattern can really enhance the beauty of the tattoo and give it a new look. Stick and poke tattoos have a combination of shading, geometry, and line art reflecting your many traits and styles.
Traditional Jellyfish Tattoo
Did you know that jellyfish are older than dinosaurs? That's why they are often associated with adaptability, strength, and protection. Traditional jellyfish tattoo tells the story of the survival and the hardship of life. Traditional jellyfish tattoos have beautiful blends of color and unique shapes.
10. Multilayered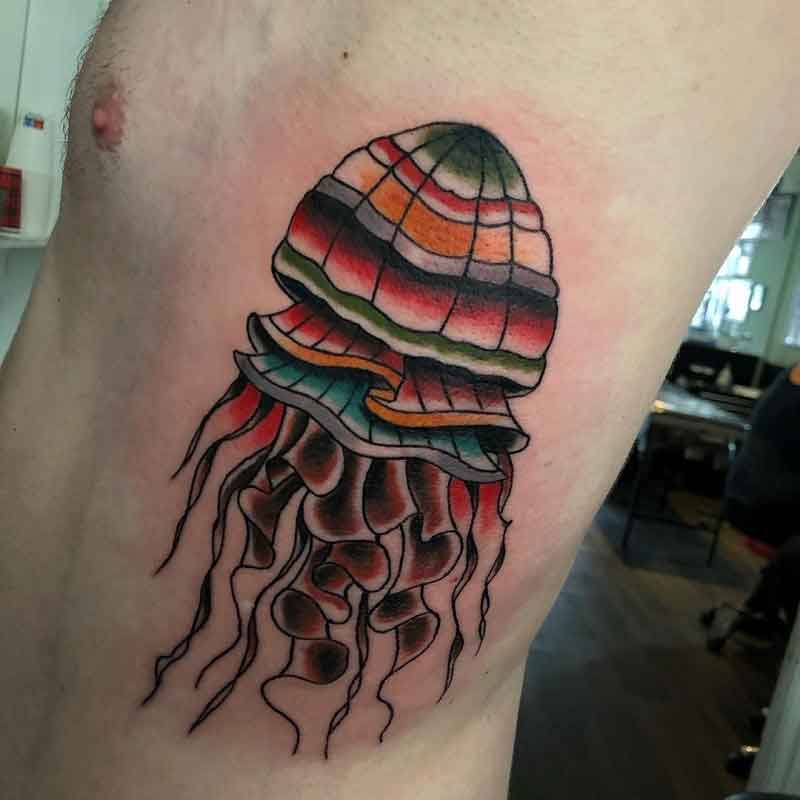 Multiple layers mean more opportunities to get creative. The layers can be decorated with multiple colors which expresses the versatility of jellyfish and your life! As they are big in size, you can ink it all over your chest! 
11. Multicolored: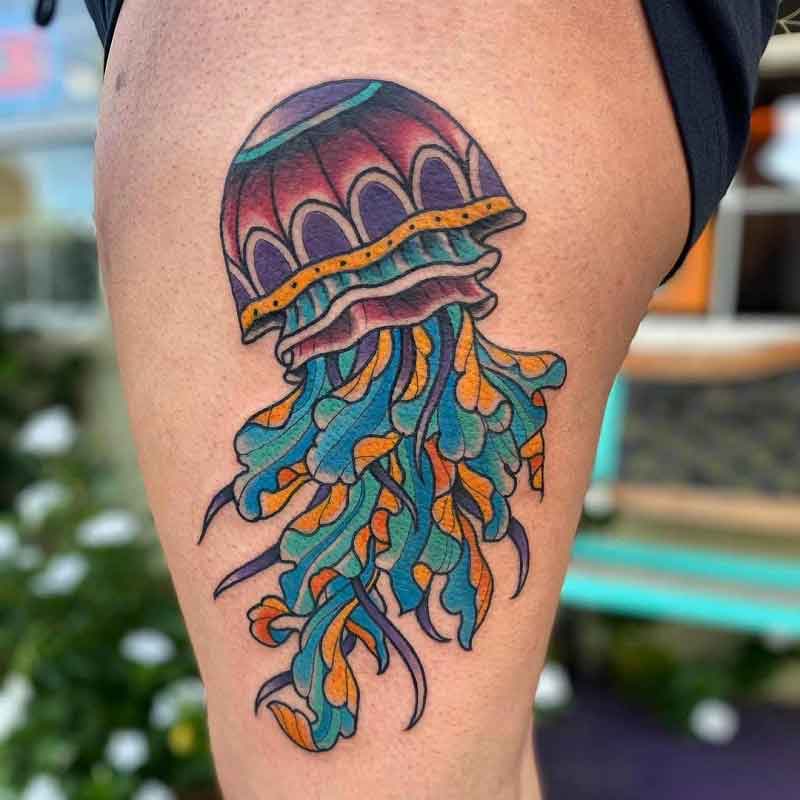 The striking combination of purple blue and yellow captures all the colors of sea creatures. Your tattoo will be one of a kind with the blend of such colors, especially when they are combined with unique leaf-like tentacle designs.
12. Spikes with Eyes: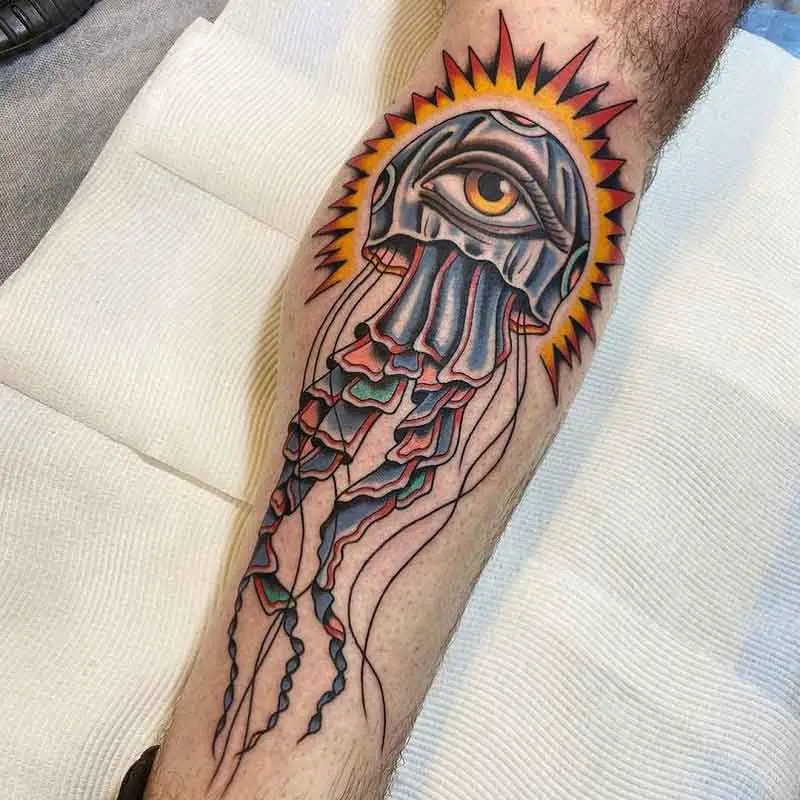 Tattoos with eyes on the jellyfish head have both artistic and symbolic value. It tells the story of survival and expresses the power of observance. Some also draw eyes on jellyfish because it's visually appealing!
Box Jellyfish Tattoo
Box jellyfish are the deadliest jellyfish. So box jellyfish tattoos can symbolically express the inner power and warrior spirit of human life. It can mean different things to different people, truly portraying the thrilling nature and adventures of life.
13. Cardboard Box Symbolism: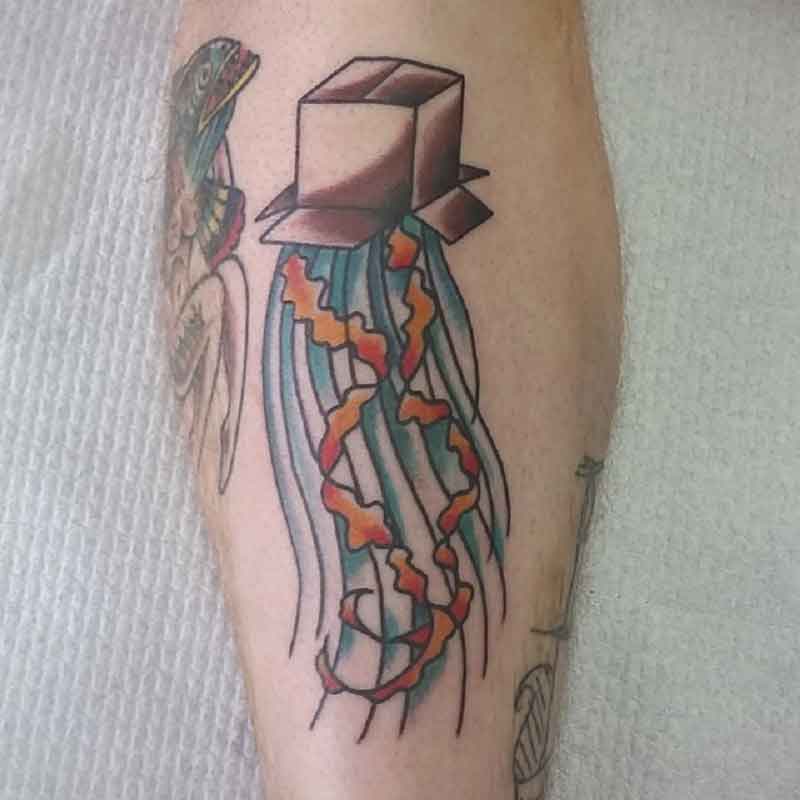 Cardboard box jellyfish tattoos are more meaningful than they seem. It expresses the love for mystery and exploration. It can also have a deeper meaning about being trapped in reality with multiple attachments.
14. Classic and Colorful: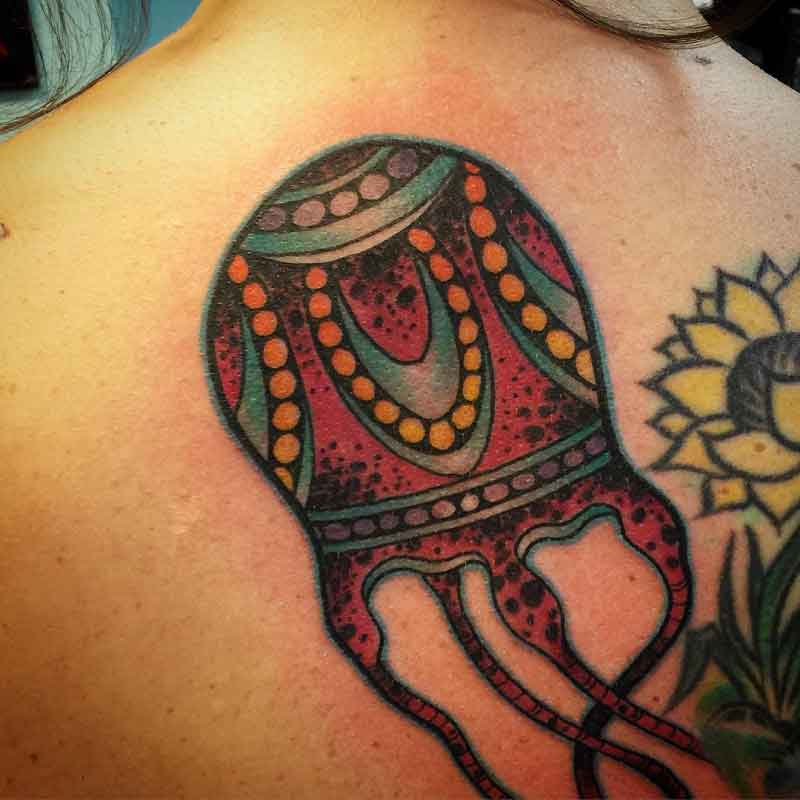 This is a very creative tattoo style. You can create motifs and patterns in the jellyfish body with all your favorite colors. It's famous for its bold use of colors and reflection of strong imagination.
15. Human Skull Aesthetics: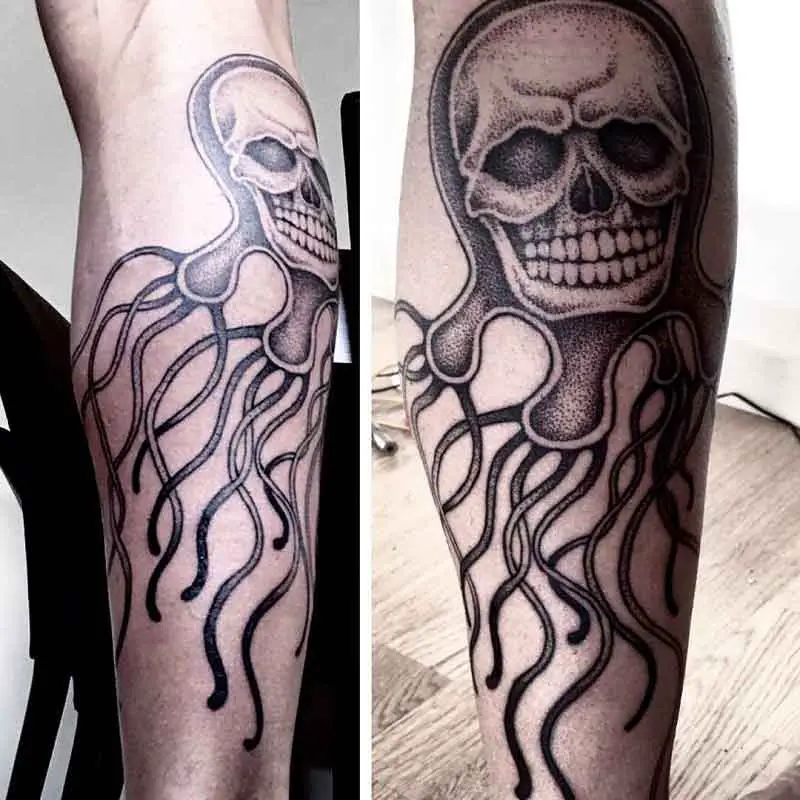 Skull imagery can also be a part of jellyfish tattoos. If you have a gothic aesthetic or a strong similarity with the journey of life of a jellyfish, a skull head jellyfish tattoo can be a way to represent it. 
Jellyfish Thigh Tattoo
Thigh tattoos are famous because it calls fit big and detailed tattoos. And something about the secrecy of it makes it more interesting and unique. Due to the long tentacles and big head structures, jellyfish tattoos look great on the thighs. Women often ink jellyfish tattoos on their thighs reflecting their inner passion and beauty.
16. Leaves and Flowers on Tentacles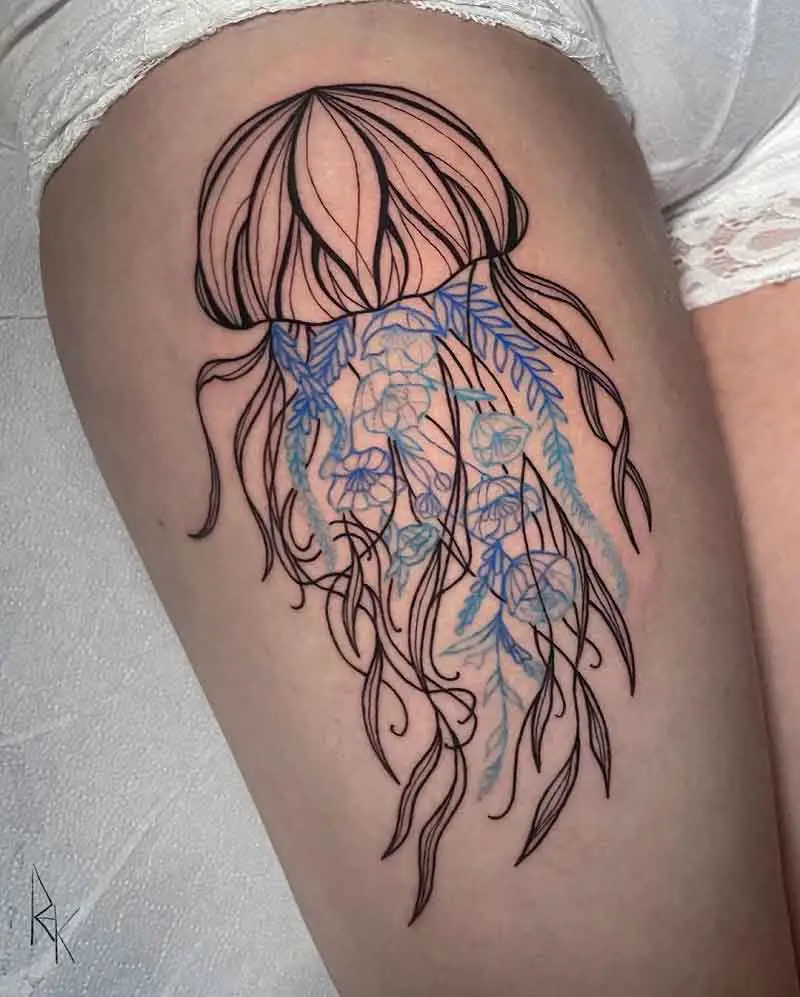 To radiate feminine energy and the beauty of nature, you can add leaves on the tentacles of jellyfish. They create a beautiful blend of beauty and strength and look amazing in the thigh area. It also reflects how good things can happen even in the darkest places.
17. Flowers meets Jellyfish: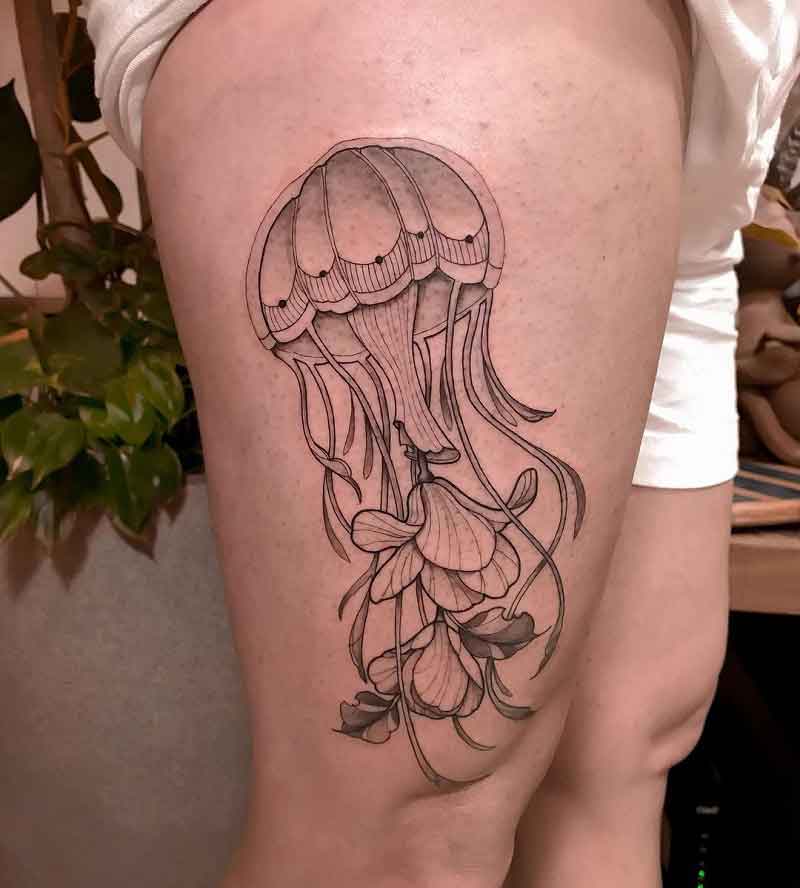 Flowers blooming out of tentacles express the duality of life. The innocence and beauty of flowers emerging from deadly tentacles show how life can take different turns. It shows positivity and growth. 
18. Sea World  Jellyfish Tattoo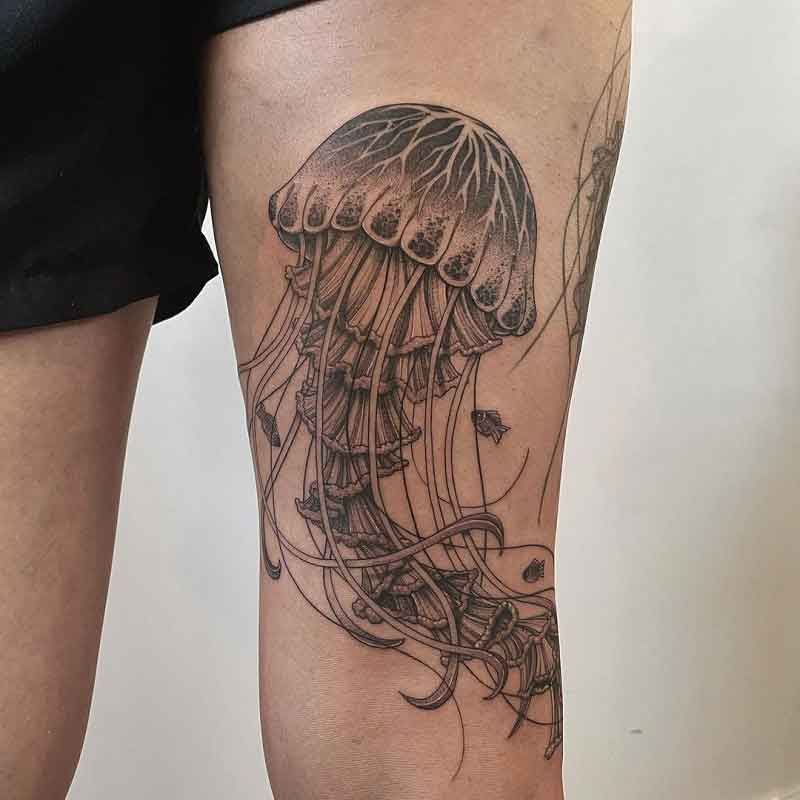 Jellyfish have been a part of the sea world for centuries. This tattoo shows the harmony and love that jellyfish has for its surroundings. The fish and plants around a beautiful jellyfish can symbolize your presence, impact, and value in your family and society.
Moon Jellyfish Tattoo
Moon jellyfish tattoos have a special structure that looks great on arms as tattoos. It can be decorated with other styles and patterns to make it one of a kind. So to make a statement, moon jellyfish tattoos can be a perfect choice.
19. Moon Jellyfish on a Triangle: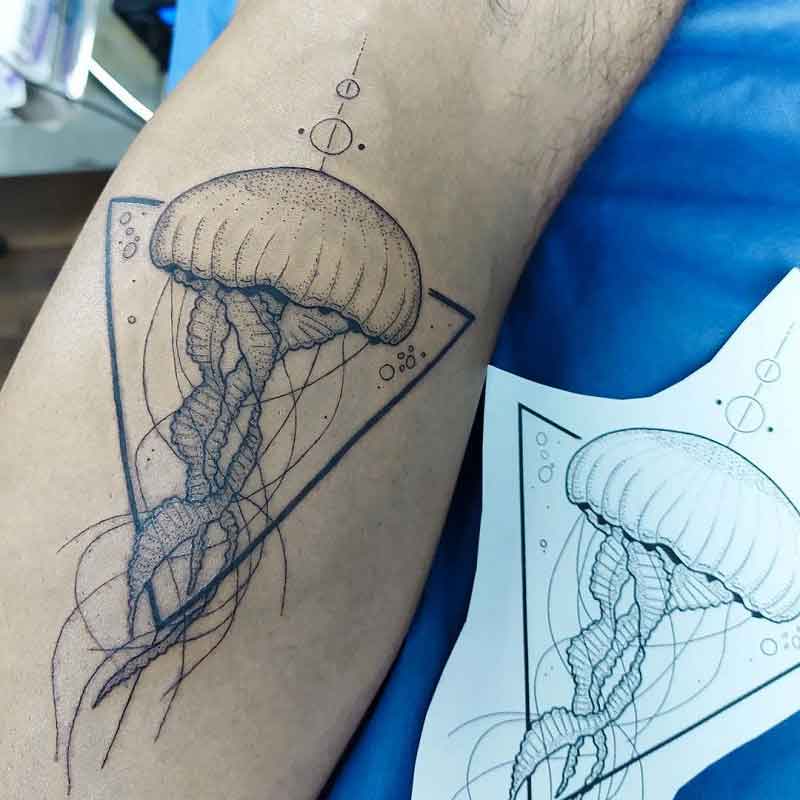 This is a blend of art and geometry. The detailing of the jellyfish carries artistic interest and creativity. The triangle behind carries spiritual meaning and fictional tales about life and life after the world.
20. Three cheers: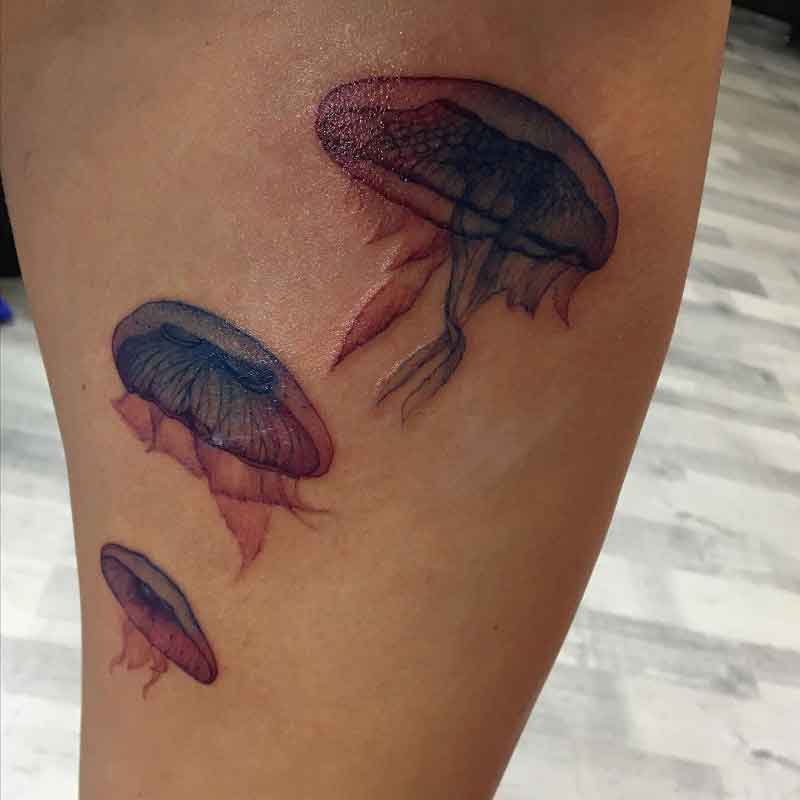 Do you know what's better than one jellyfish tattoo? Three jellyfish tattoos! The three jellyfish of different sizes in a soft blend of red and blue colors symbolize harmony and freedom. If red and blue is your color, this can show your own story. 
21. The underwater world: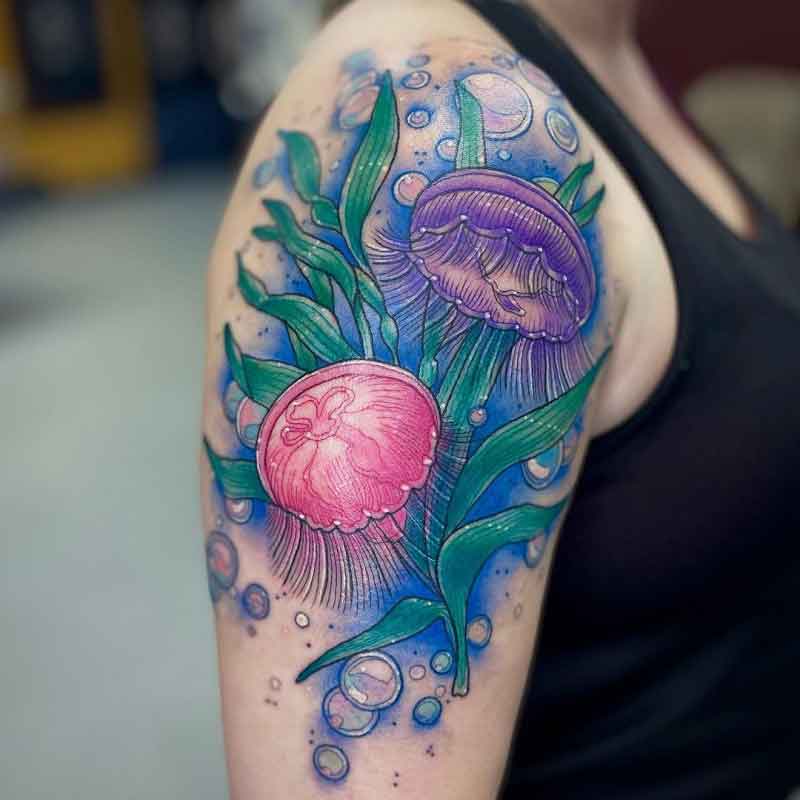 Jellyfish lies in the heart of the underwater world. Jellyfish in the brightest shades of pink and purple depict the diversity of the creatures. A blue ocean background and plants around it can make you feel like you took a dive in the ocean! 
Jellyfish Flower Tattoo
The tentacles of the jellyfish are very similar to the strands of leaves and flowers. So the addition of flowers with the tentacles shows beauty, sophistication, and love for nature. The room for creativity with floral jellyfish tattoos is endless. You can add it on the jellyfish, on the tentacles, and around the jellyfish as well!
22. Flower blossom: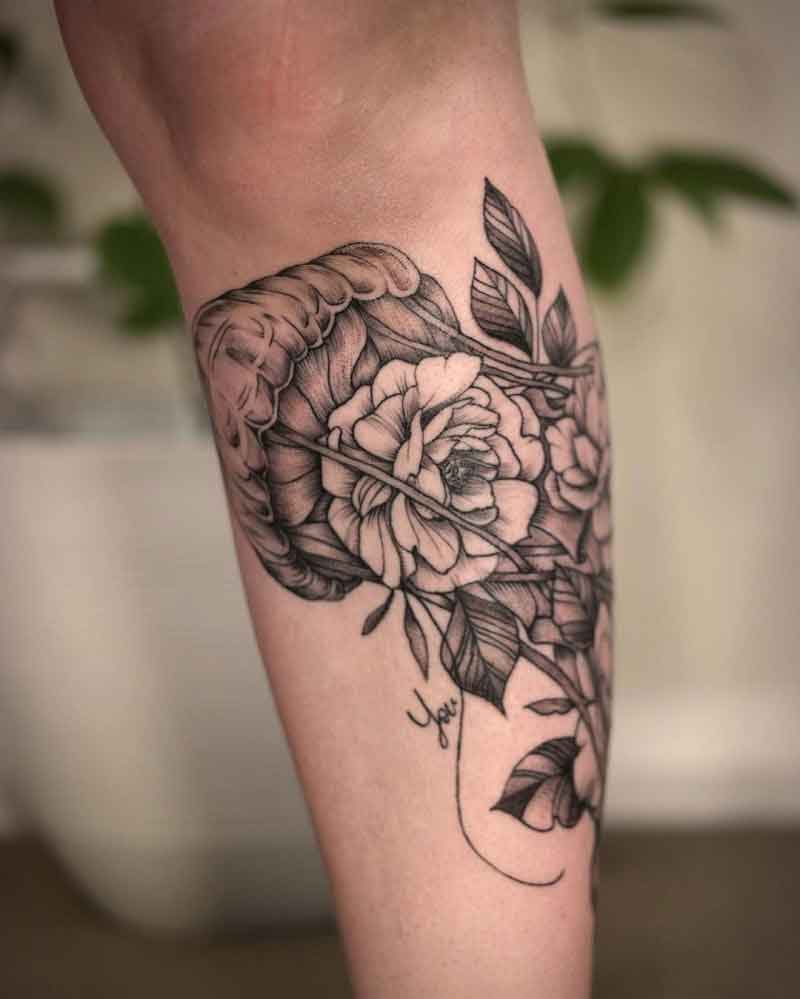 Floral goes with anything and everything! But a flower at the back of a jellyfish is particularly special because of its deep meaning. It symbolizes power and vulnerability, it can also portray your mysterious and complex personality.
23. Flower on tentacles: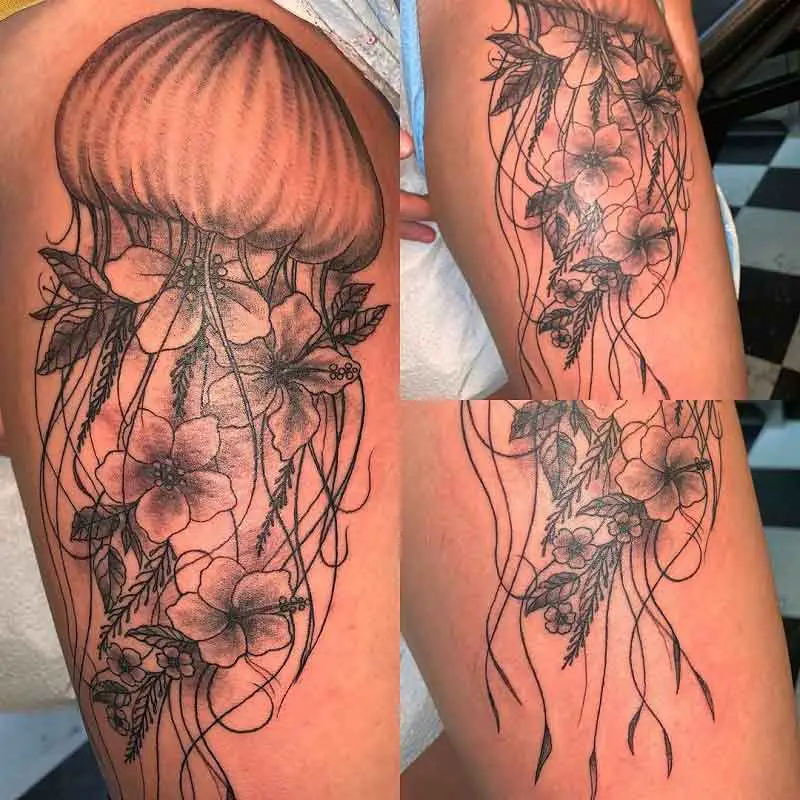 Thinking of getting creative with jellyfish tattoos? Add flowers to the tentacles! The china rose symbolizes love and passion, and the jellyfish signifies strength and survival. So with this tattoo, you will truly have your life's journey written over you. 
24.Floral Fiesta: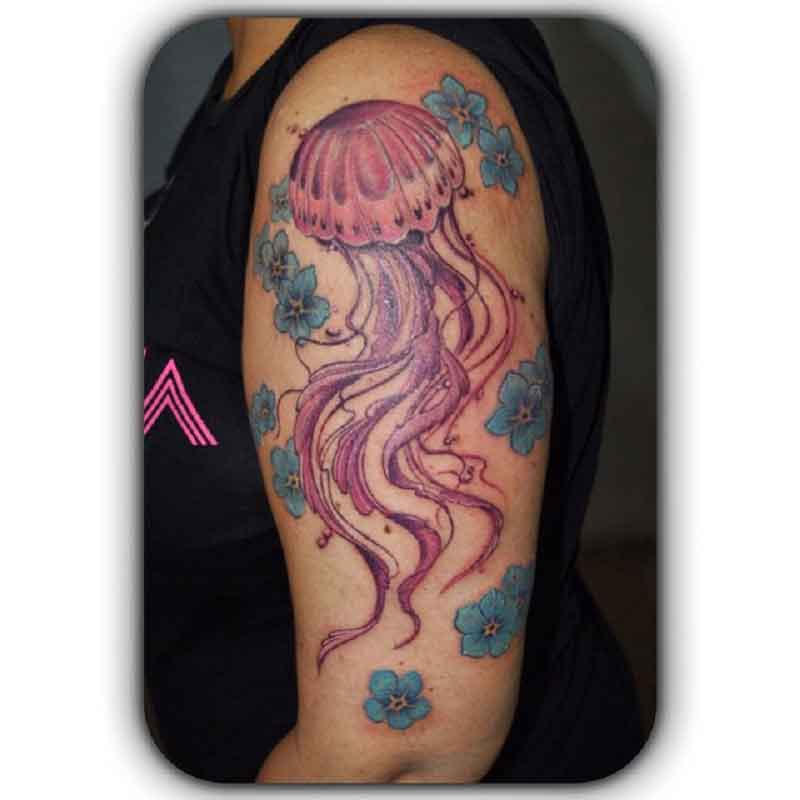 To elevate a realistic, colorful jellyfish tattoo to the next level, you can add flowers around it. It can be any flower of your choice, just make it colorful and add as many as you can! It symbolizes the coexistence of strength and vulnerability, light and darkness. 
Jellyfish Tattoo Designs
Jellyfish tattoo designs can be done in lots of styles. You can have any type of jellyfish tattoo matching with your personality. If you like colors, you can get classic, watercolor or floral ones. If your aesthetic is black white and grey, you have multiple options to choose from like stick n poke, black work etc.
25. Black and Grey Jellyfish Tattoo: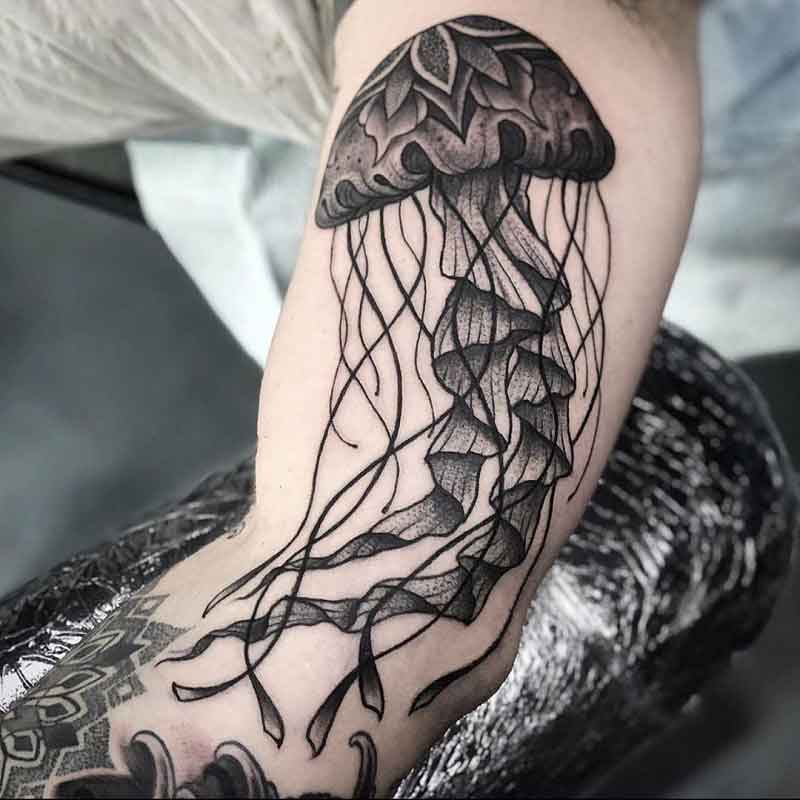 Black and grey jellyfish tattoos are a classic. If black and grey is your vibe, get an artistic jellyfish tattoo in that color. The dark shades symbolize dominance and artistry. They are timeless, you'll never go out of style with a black and grey jellyfish tattoo.
Overall, Jellyfish tattoos can be drawn in different shapes and sizes. You can customize the design to your personal style and preference and make a statement with your tattoo. As they look great on every part of the body, it's really up to you where you want to place your next jellyfish tattoo!
26.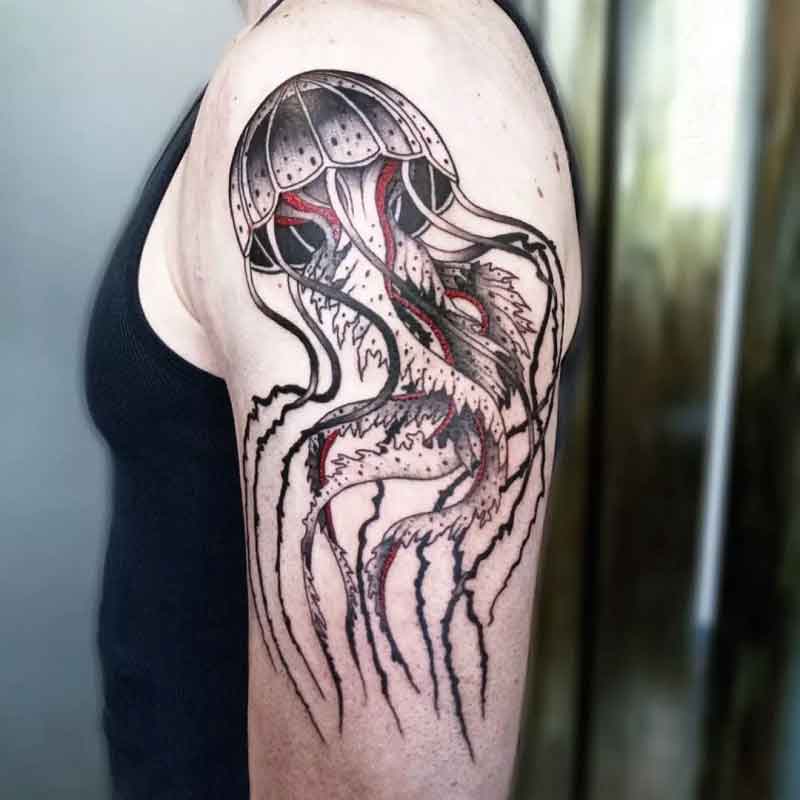 27.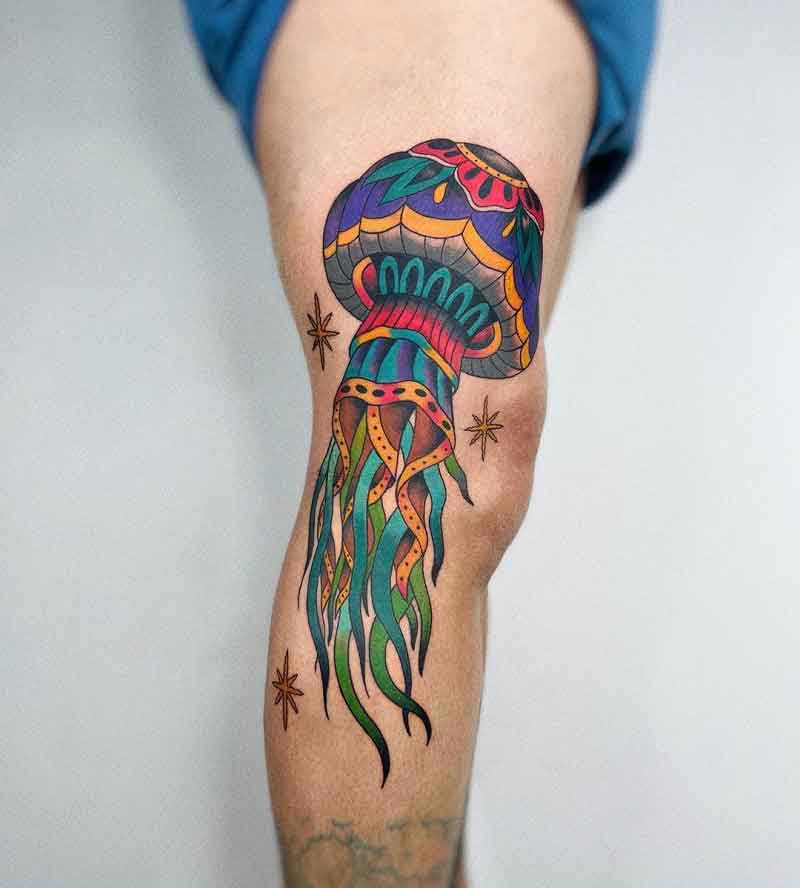 Jellyfish Hand Tattoo
28.
29.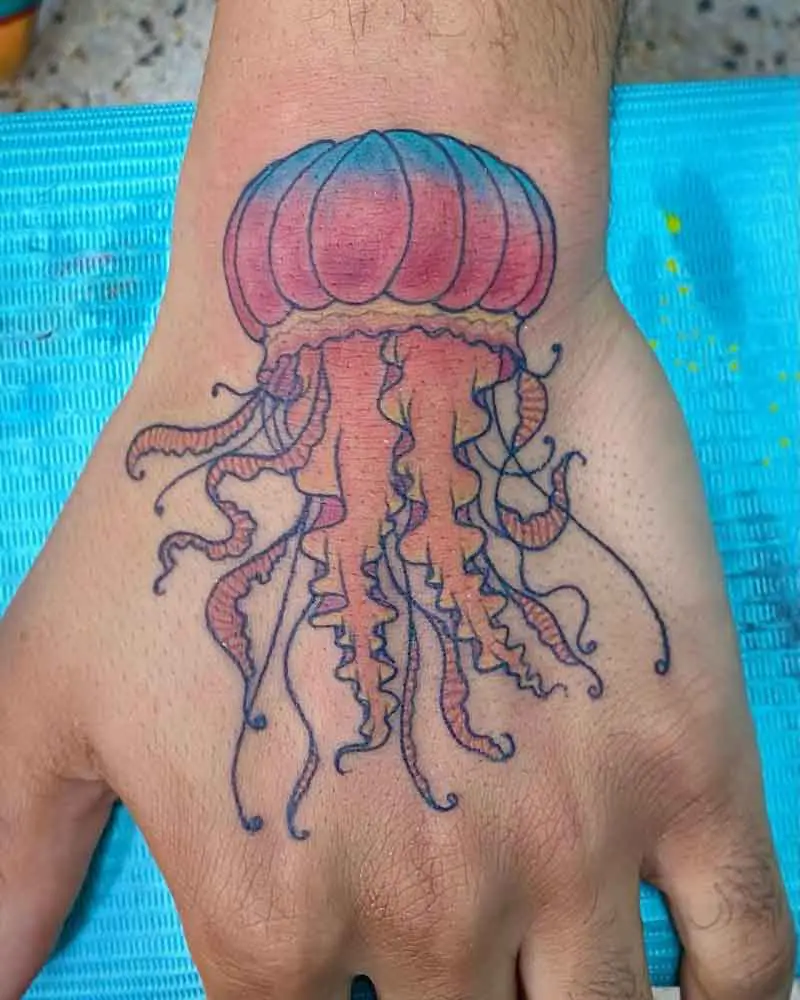 30.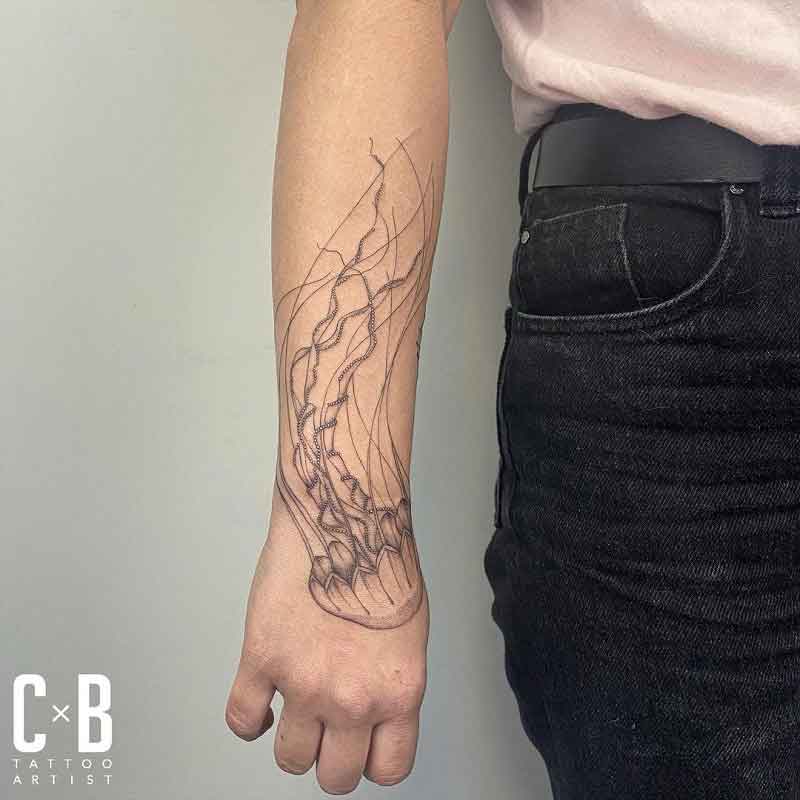 Tribal Jellyfish Tattoo
31.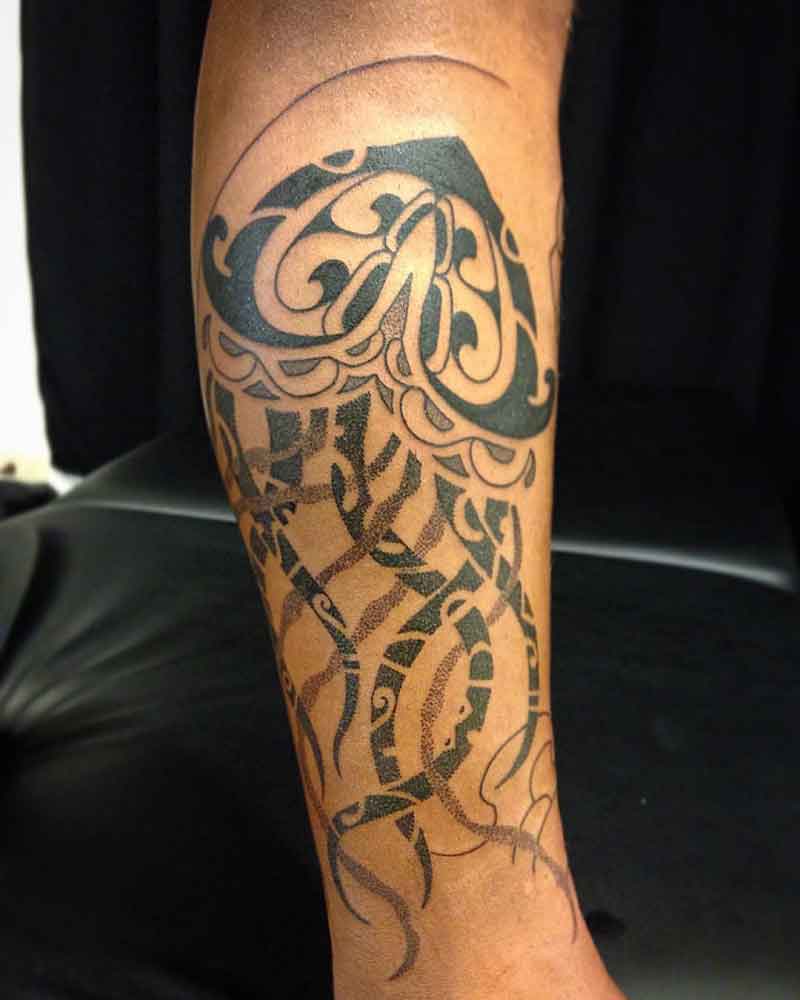 32.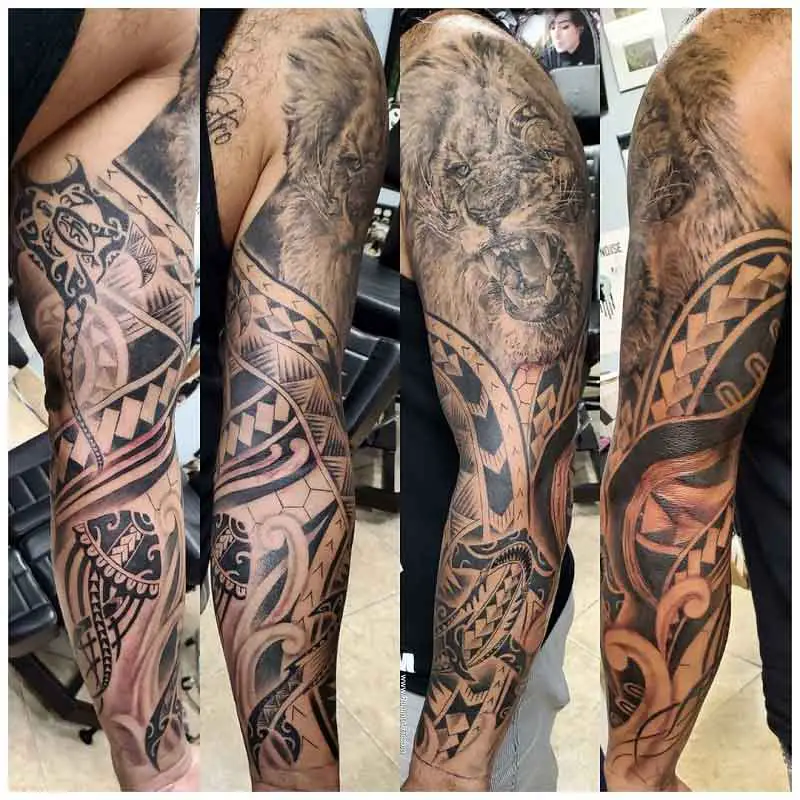 33.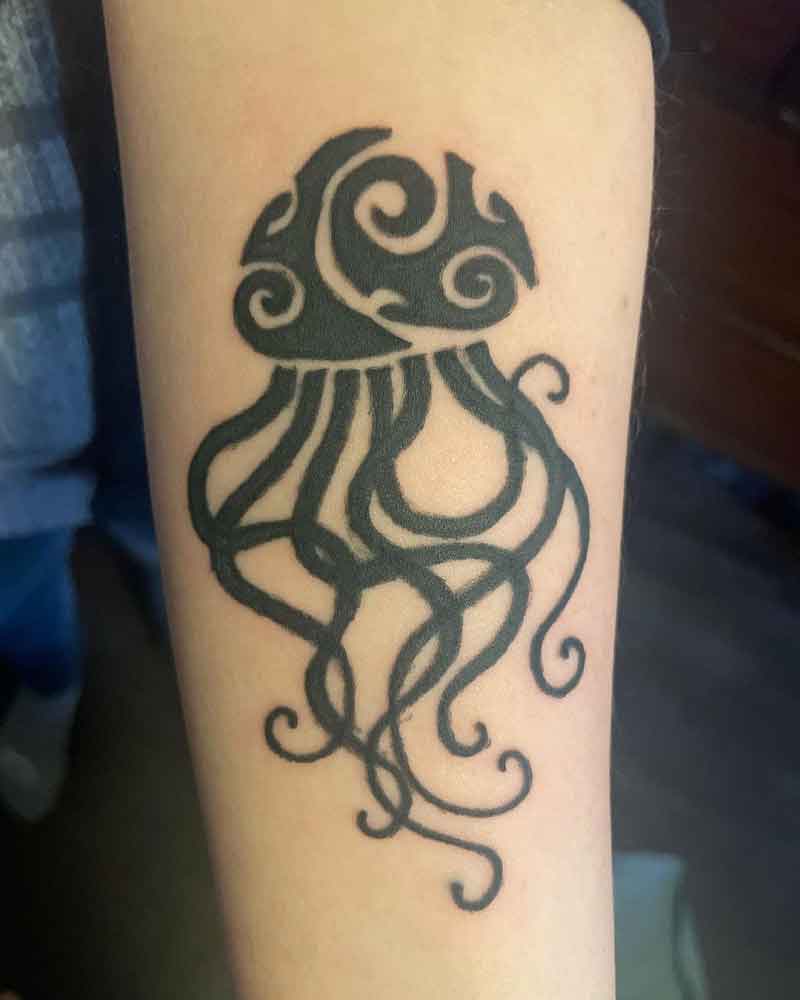 Jellyfish Leg Tattoo
34.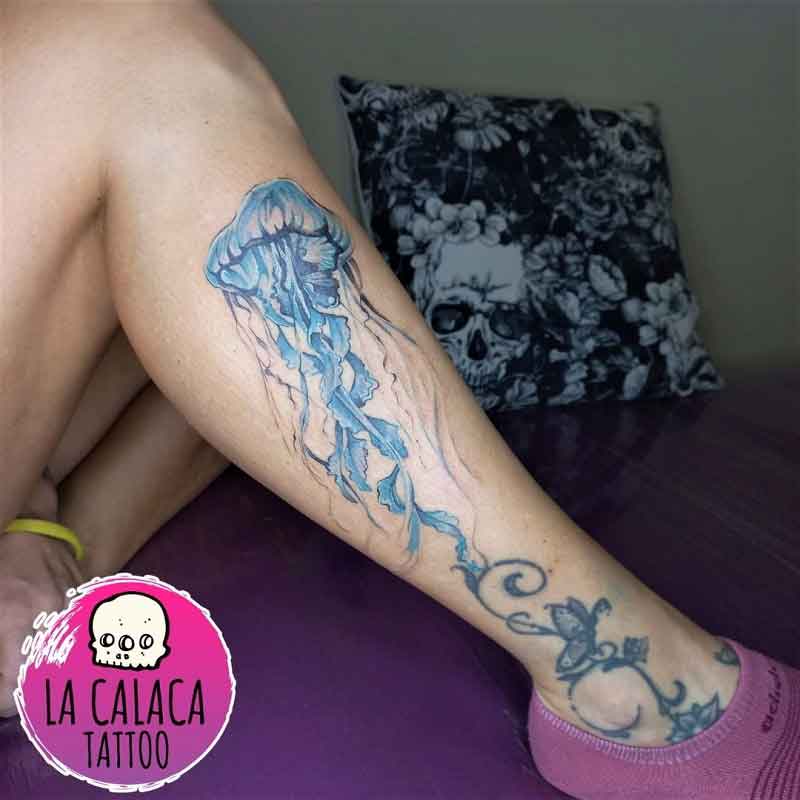 35.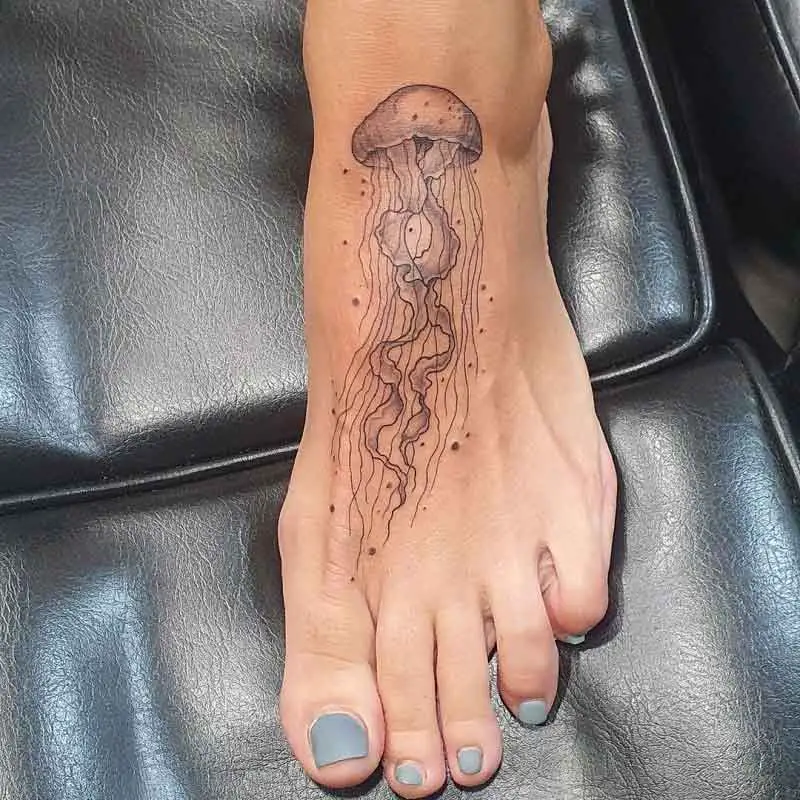 36.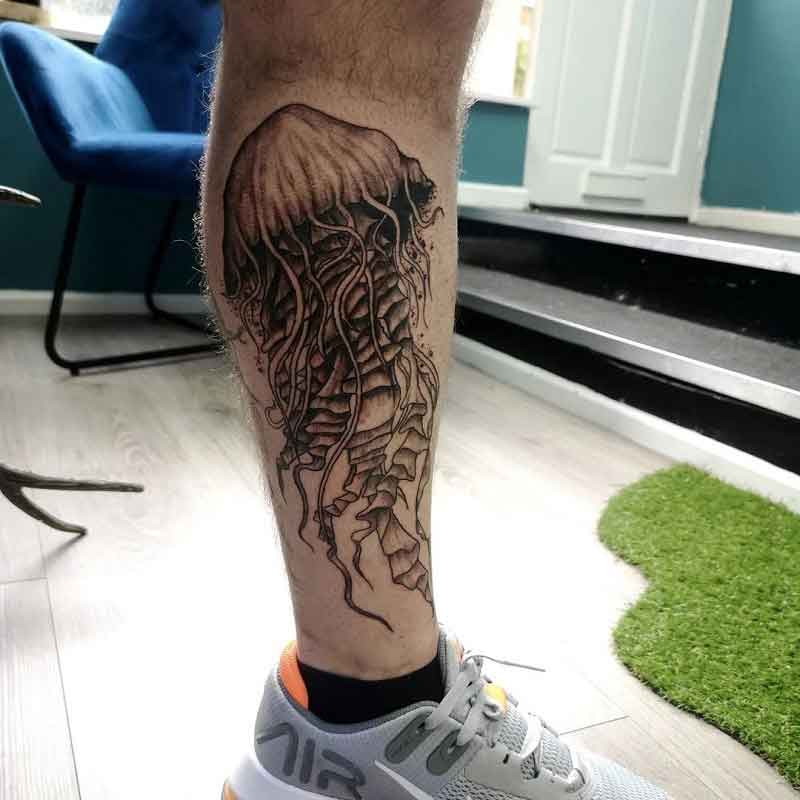 Jellyfish Sleeve Tattoo
37.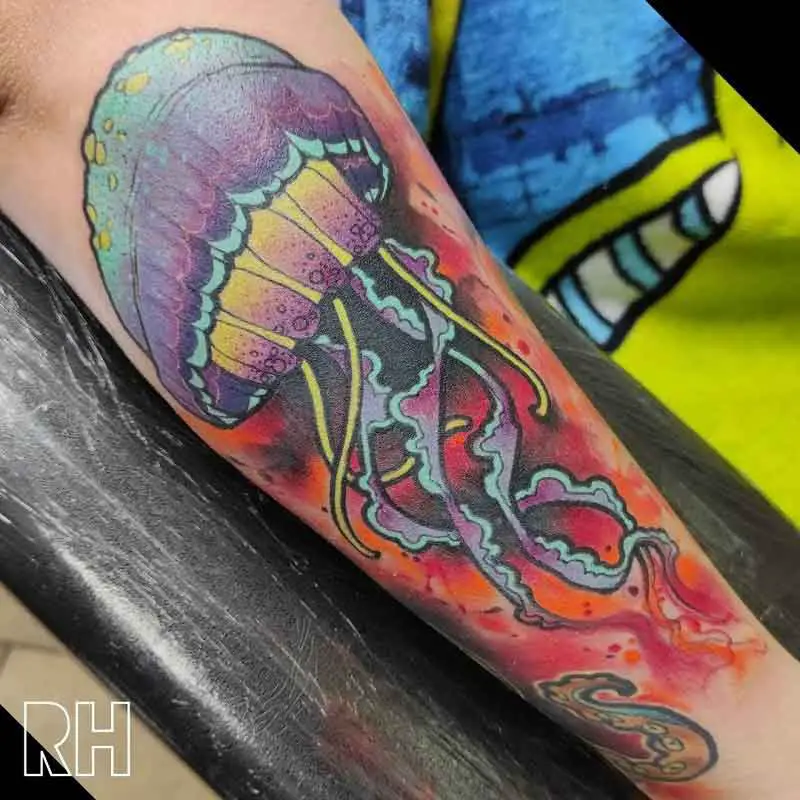 38.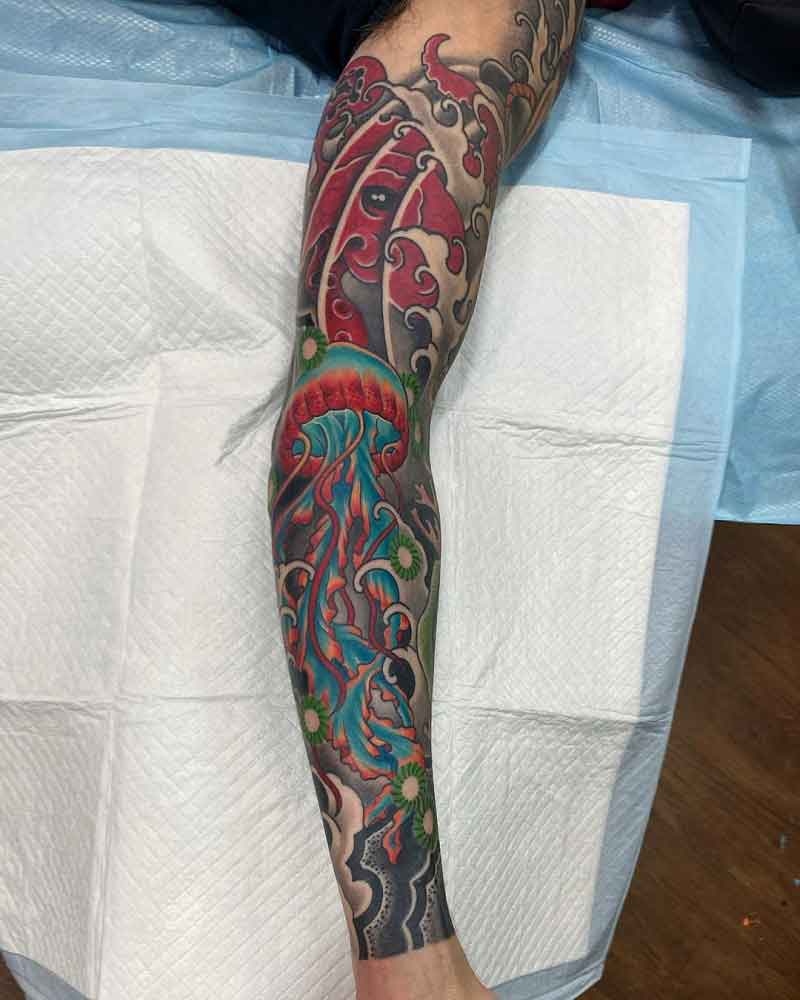 39.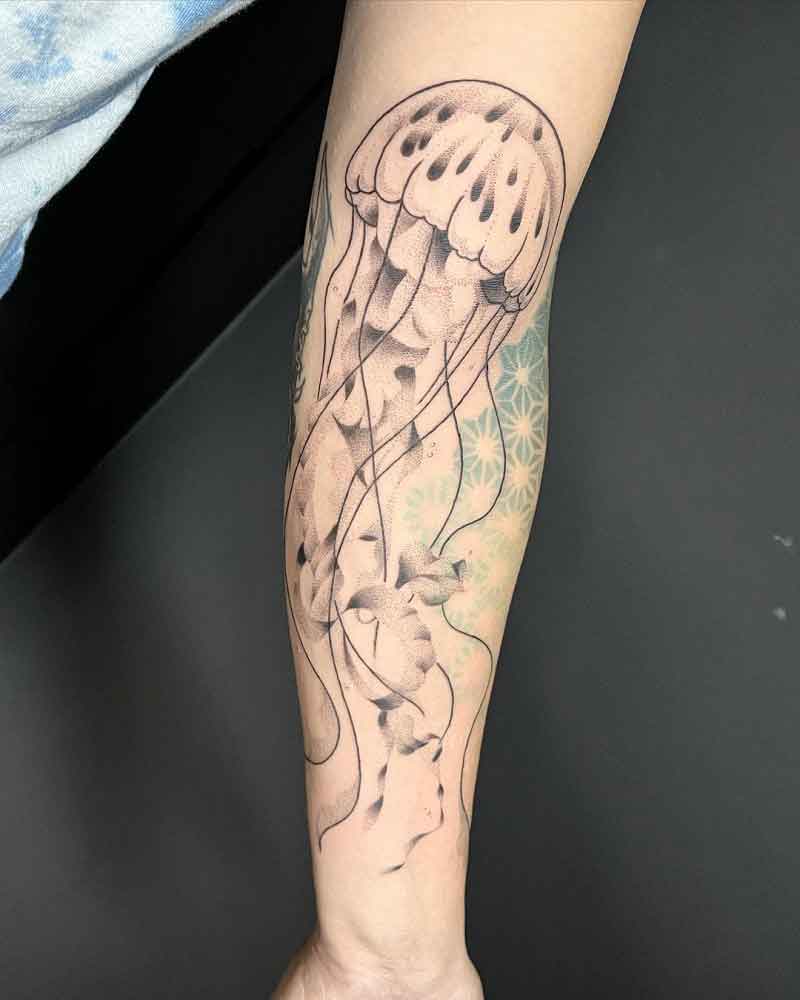 Floral Jellyfish Tattoo
40.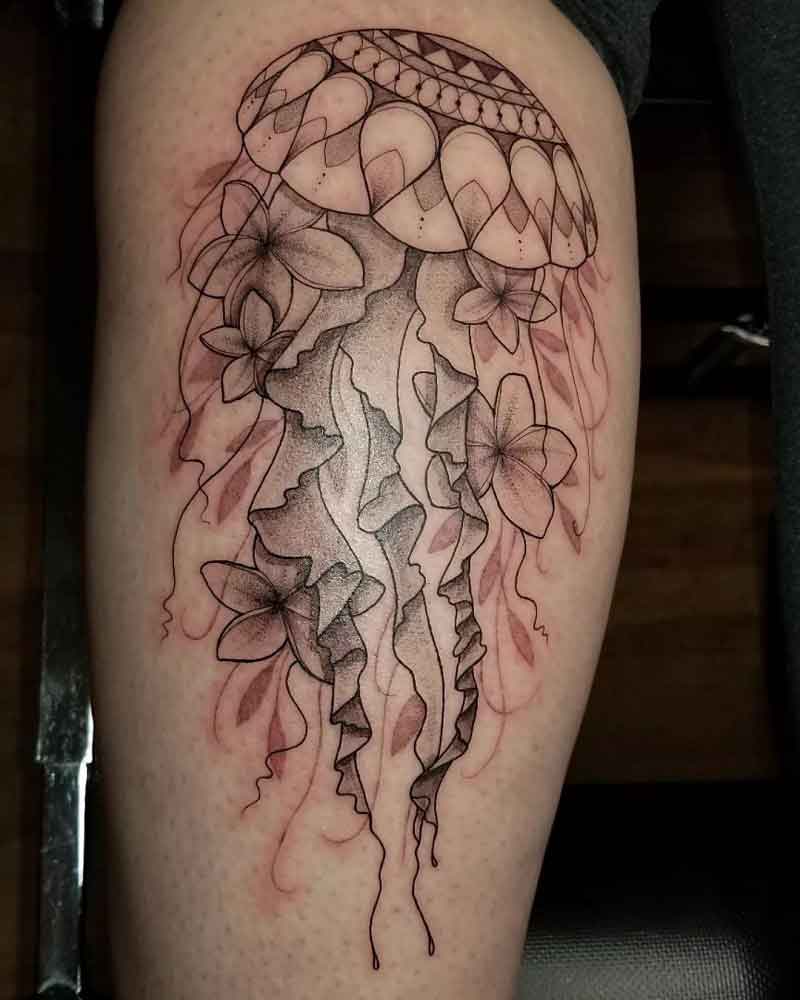 41.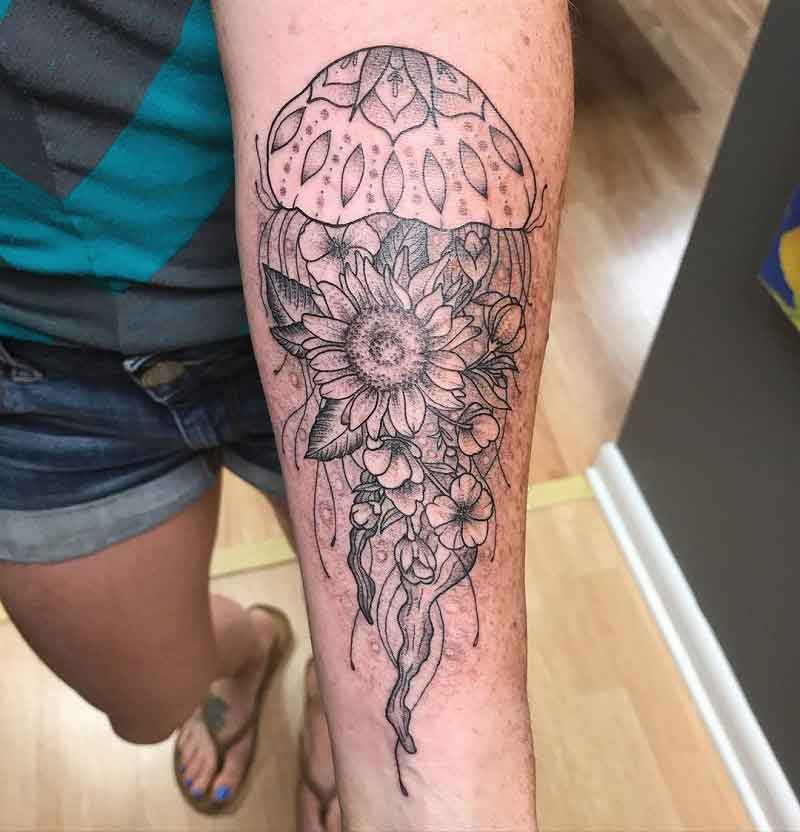 42.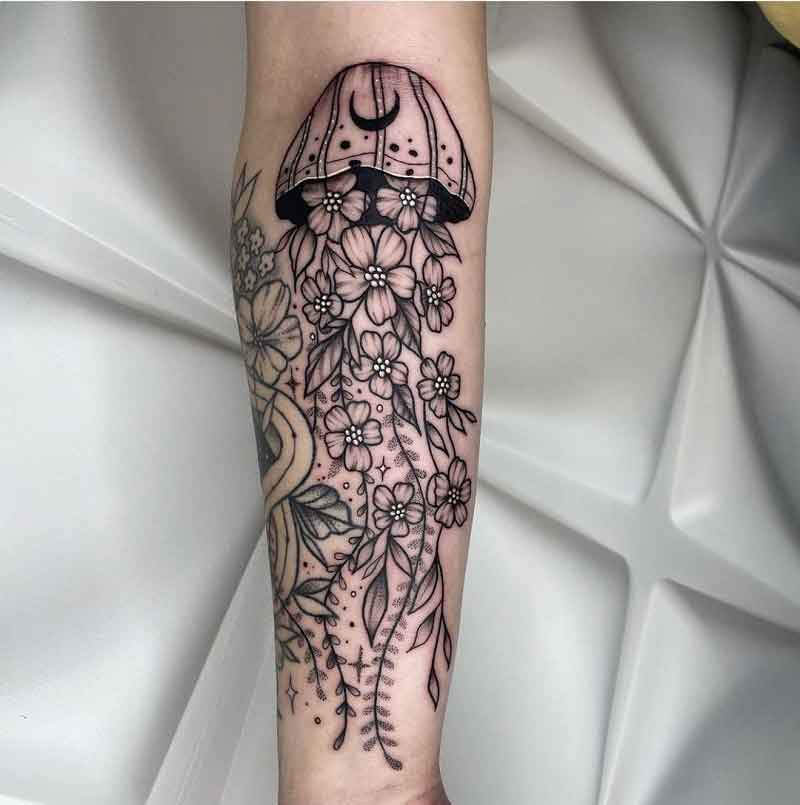 Abstract Jellyfish Tattoo
43.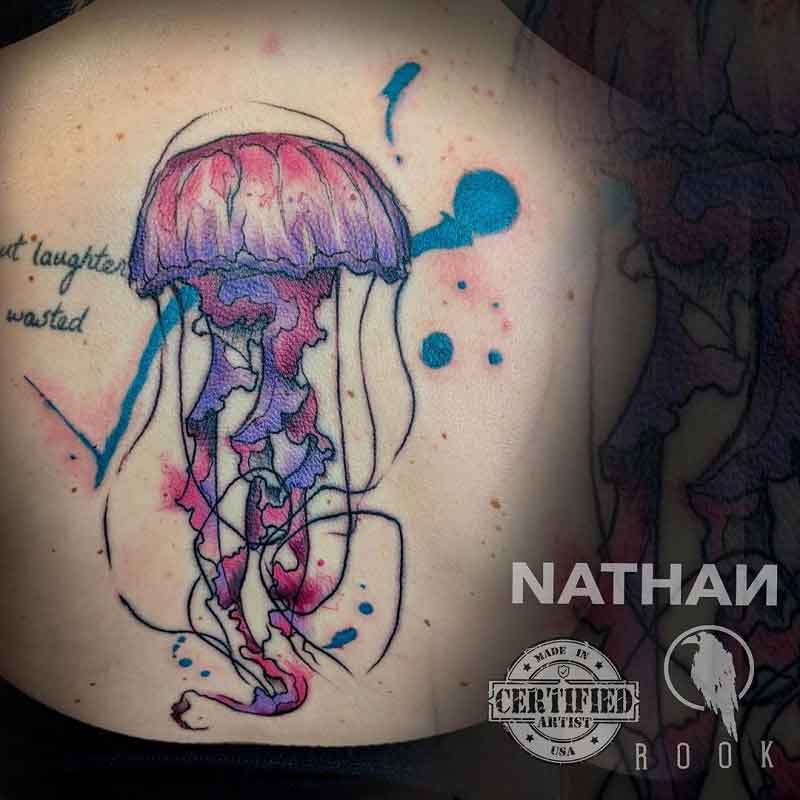 44.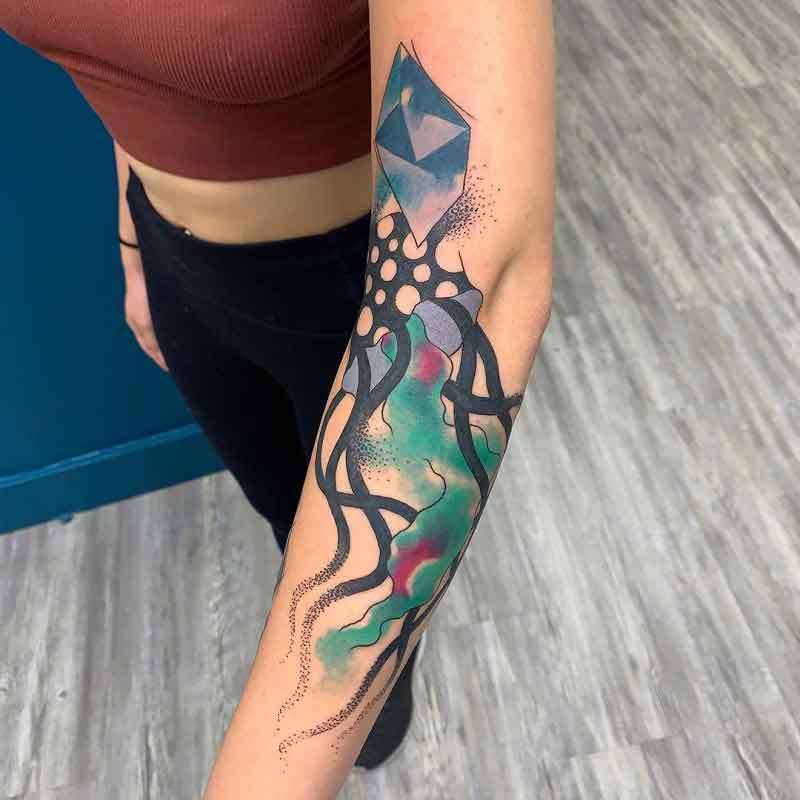 45.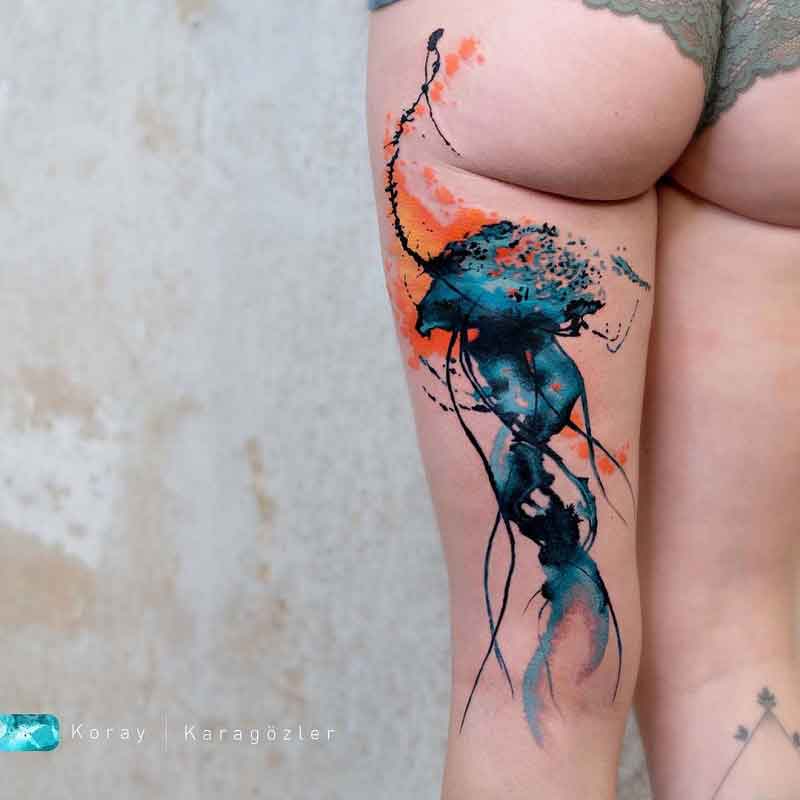 Jellyfish Cover Up Tattoo
46.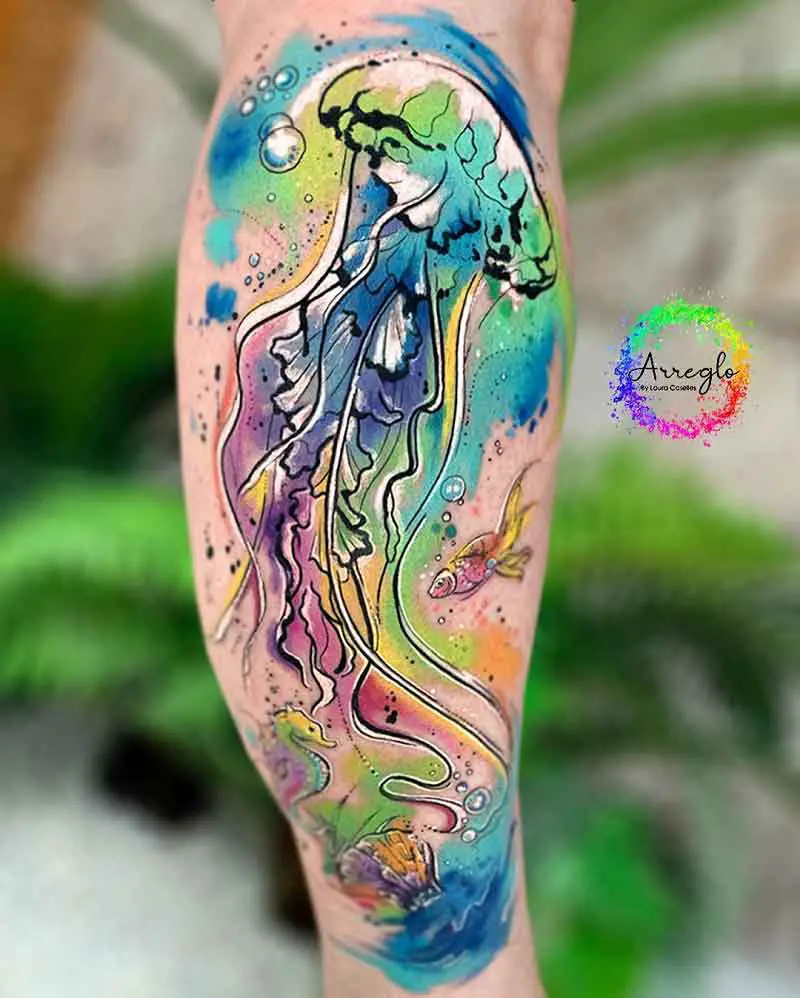 47.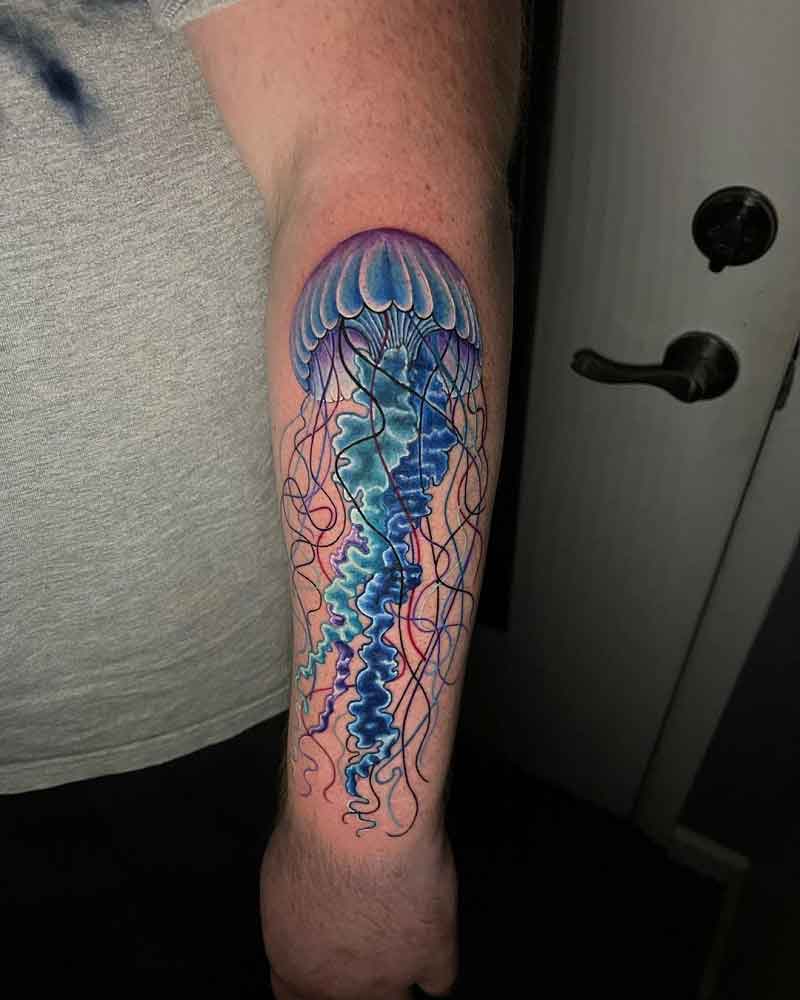 48.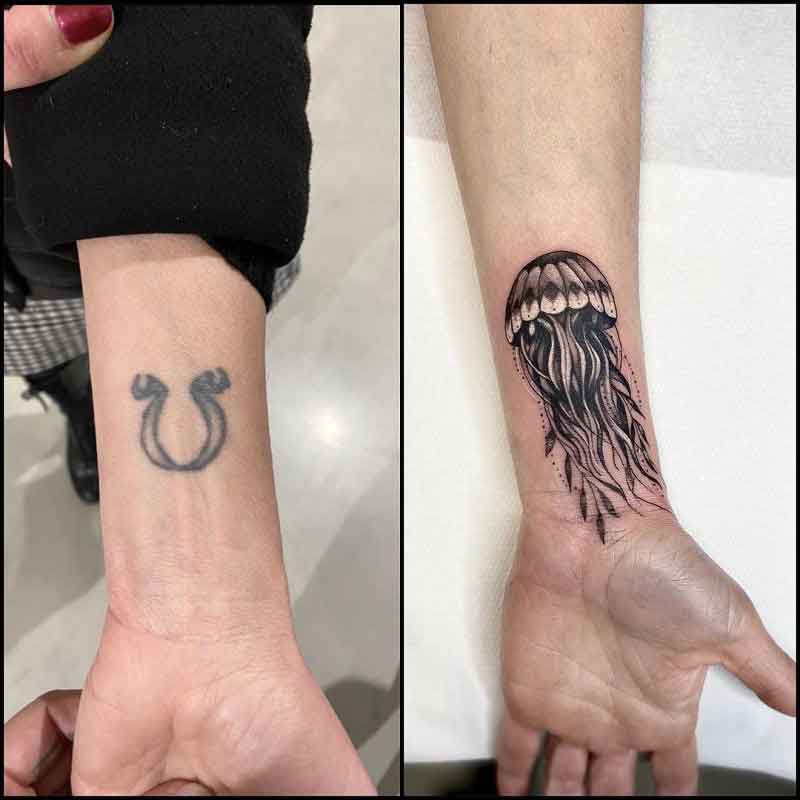 Jellyfish Henna Tattoo
49.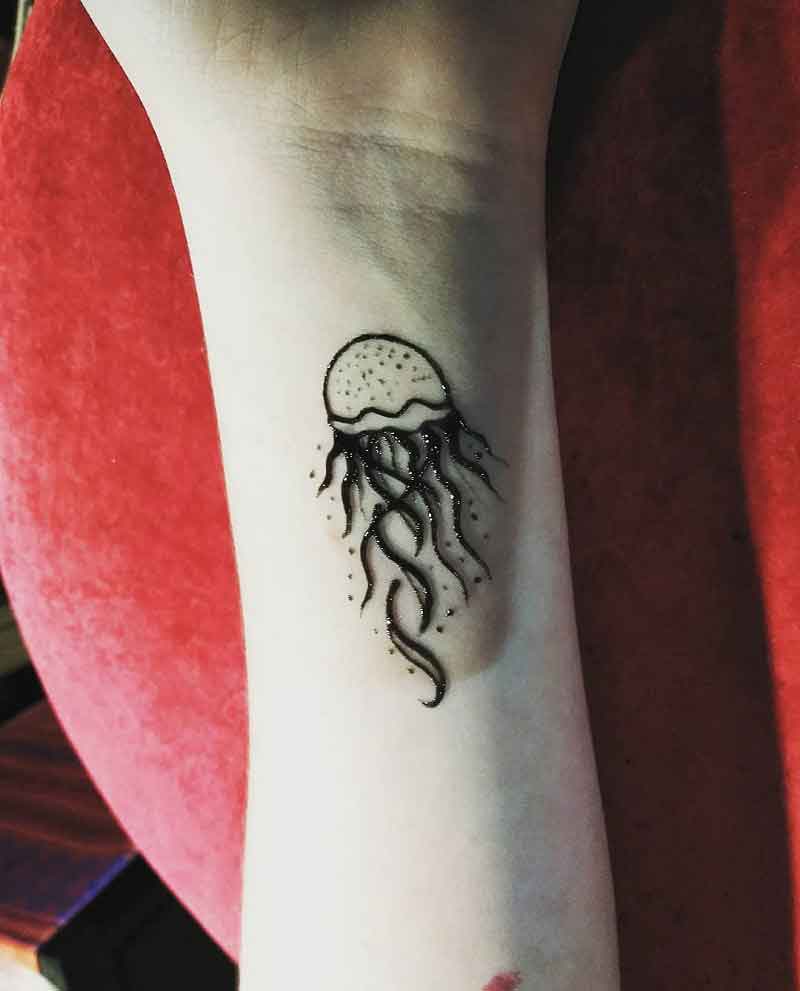 50.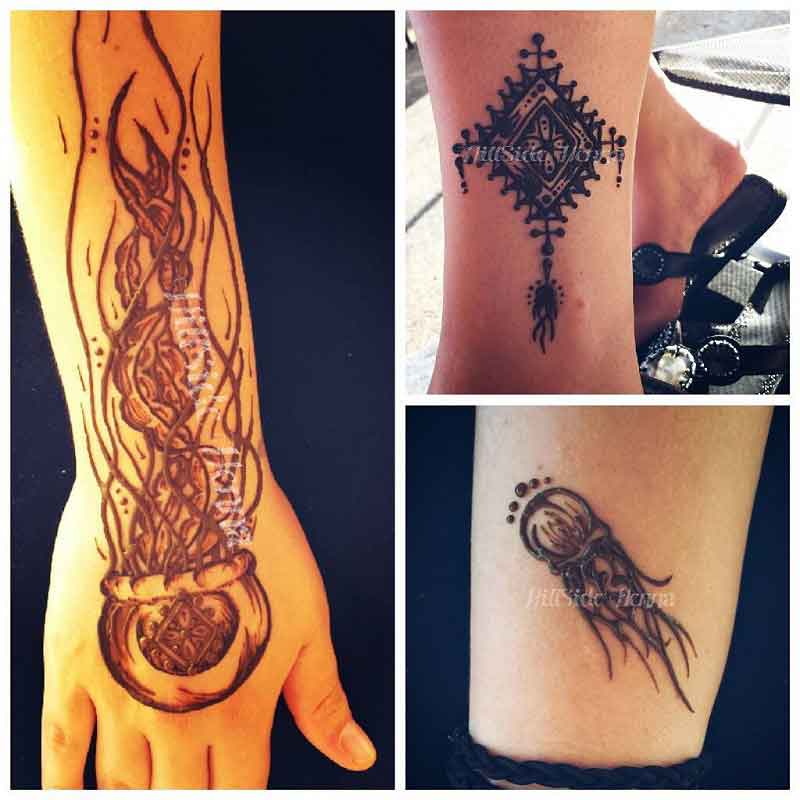 51.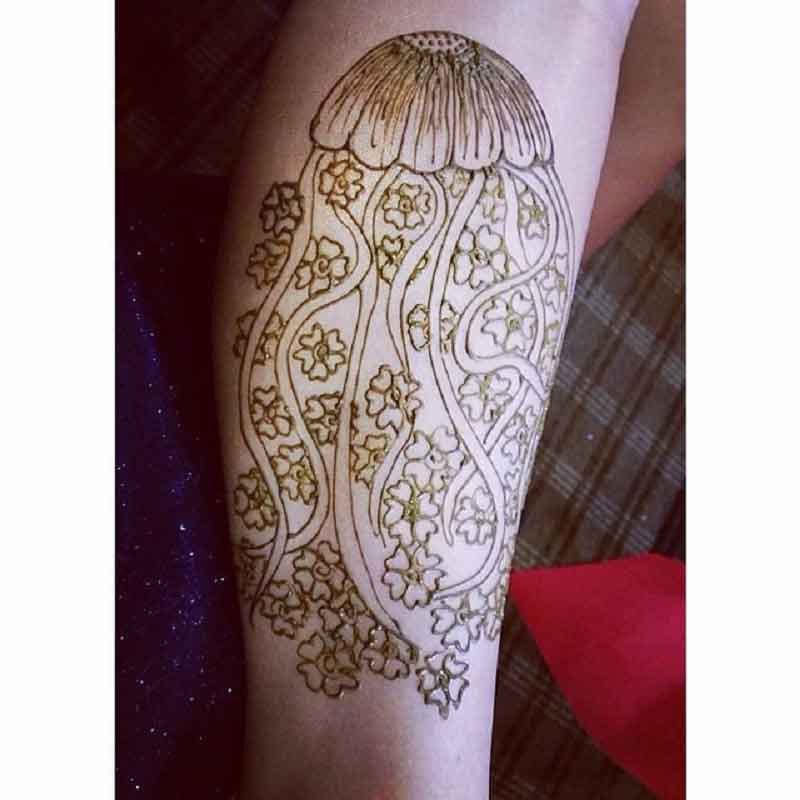 Manowar Jellyfish Tattoo
52.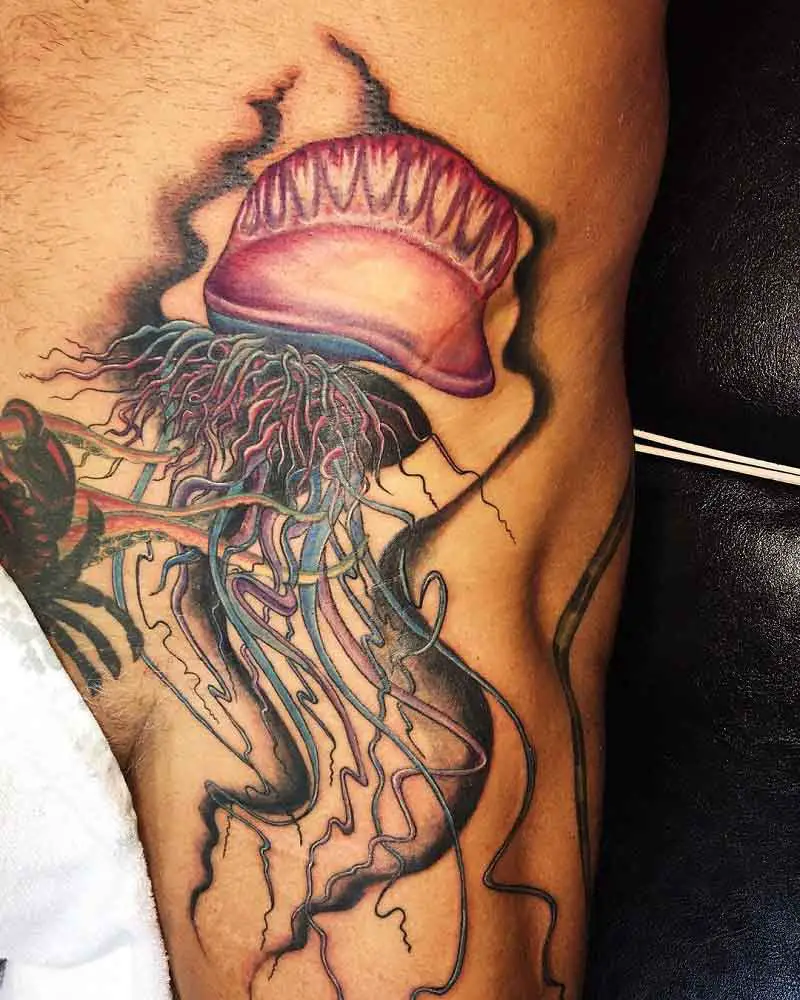 53.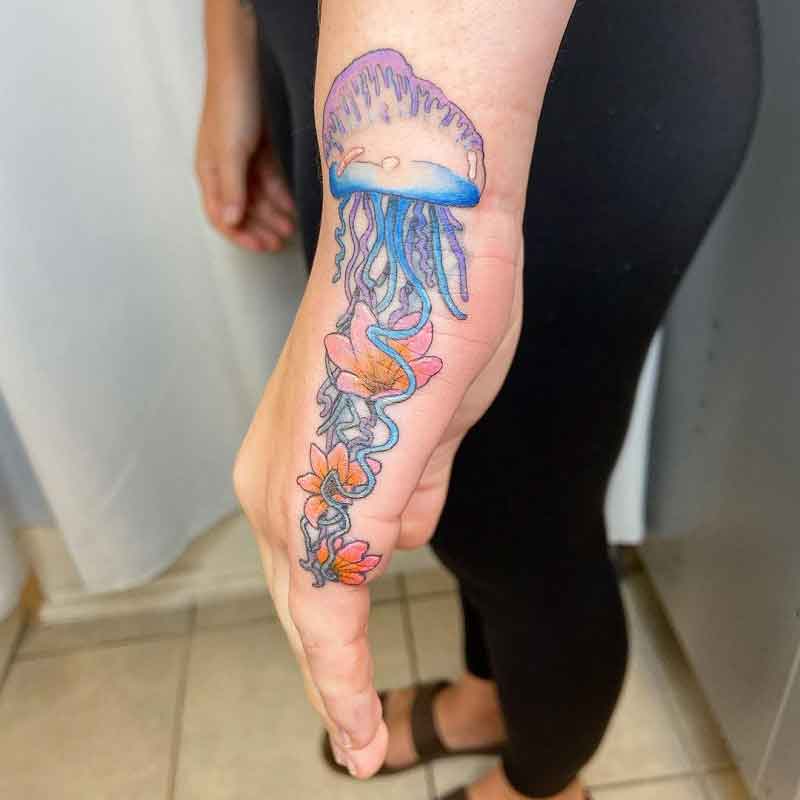 54.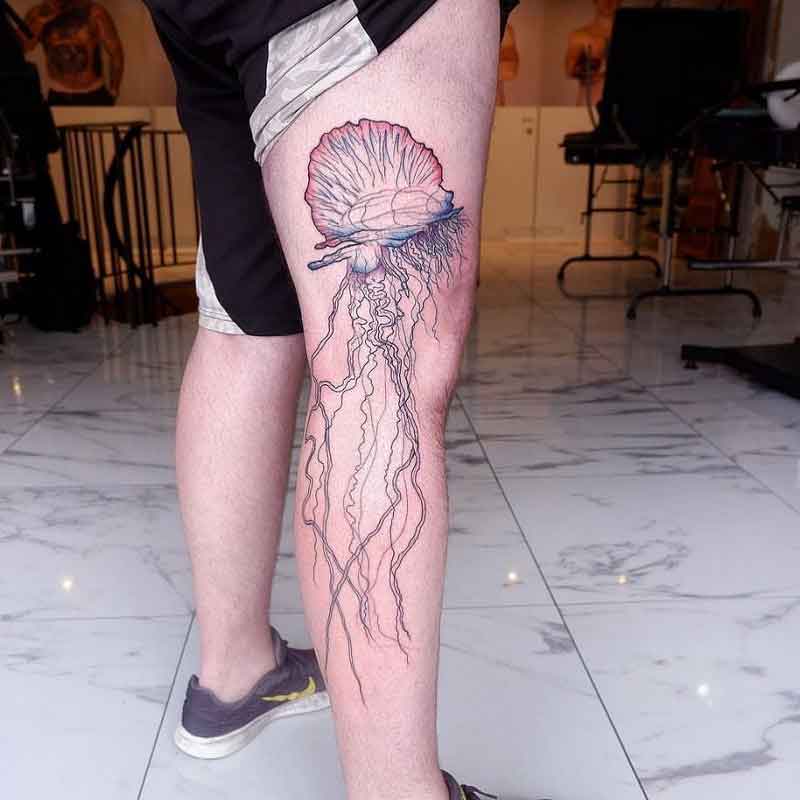 Negative Space Jellyfish Tattoo
55.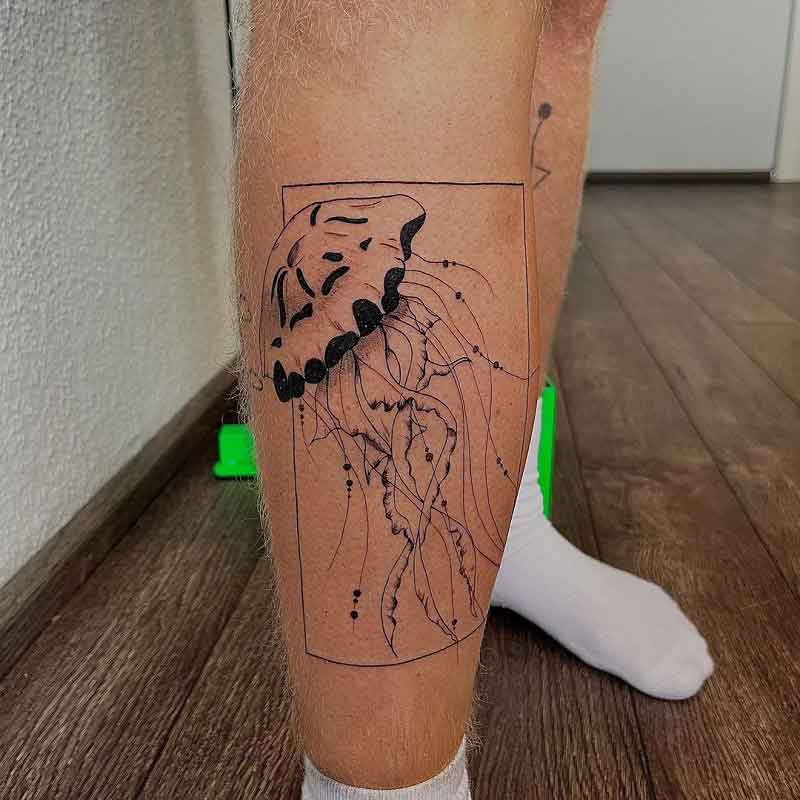 56.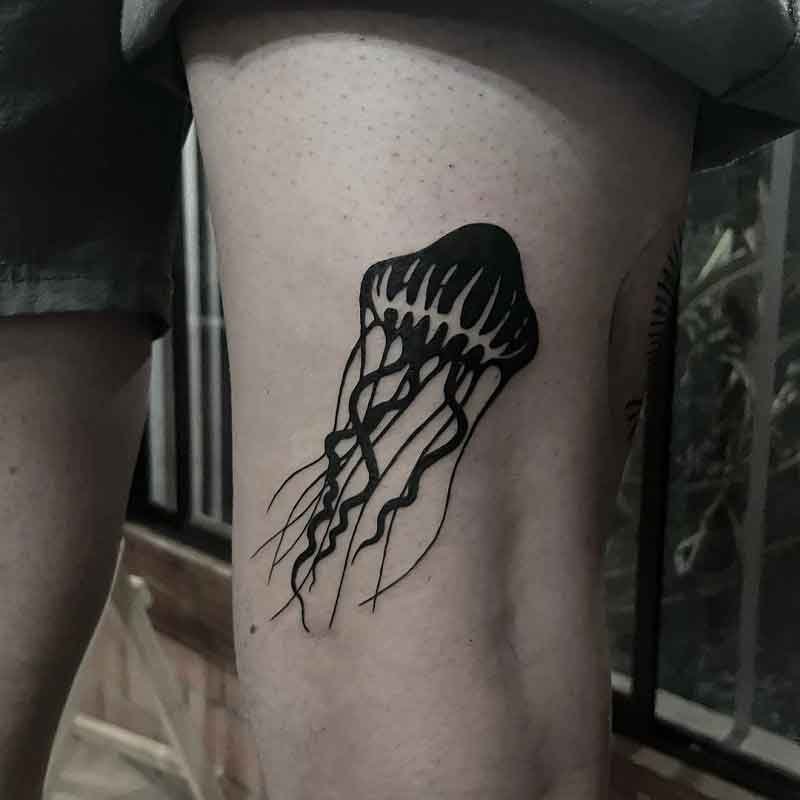 57.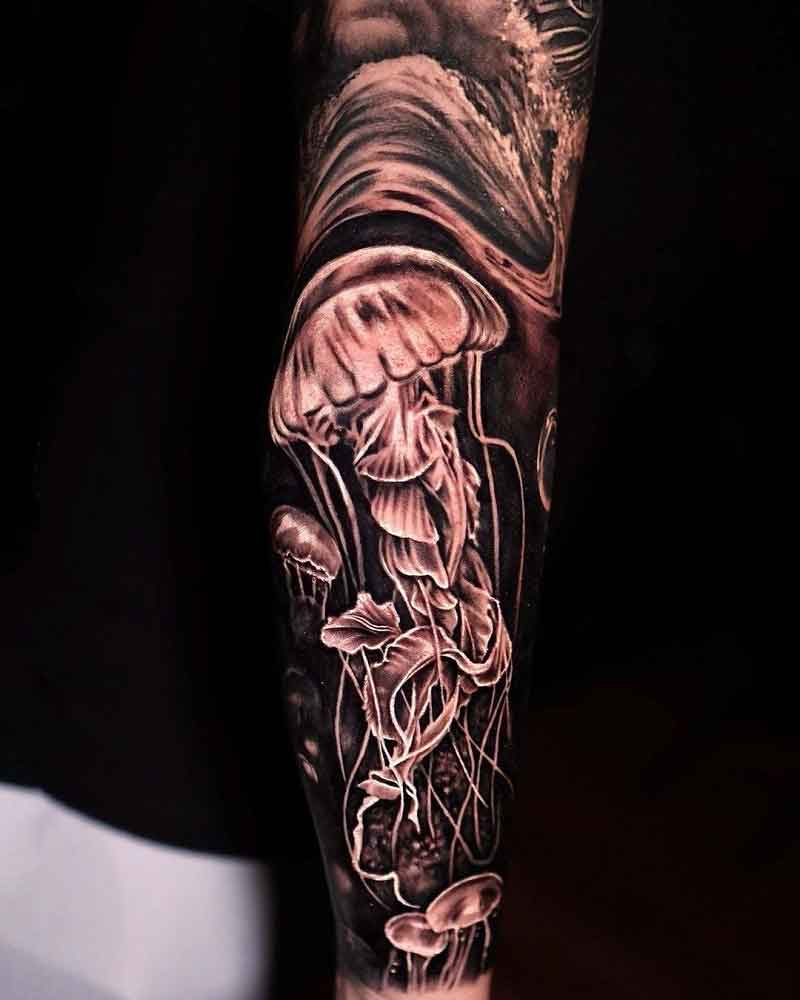 Skull Jellyfish Tattoo
58.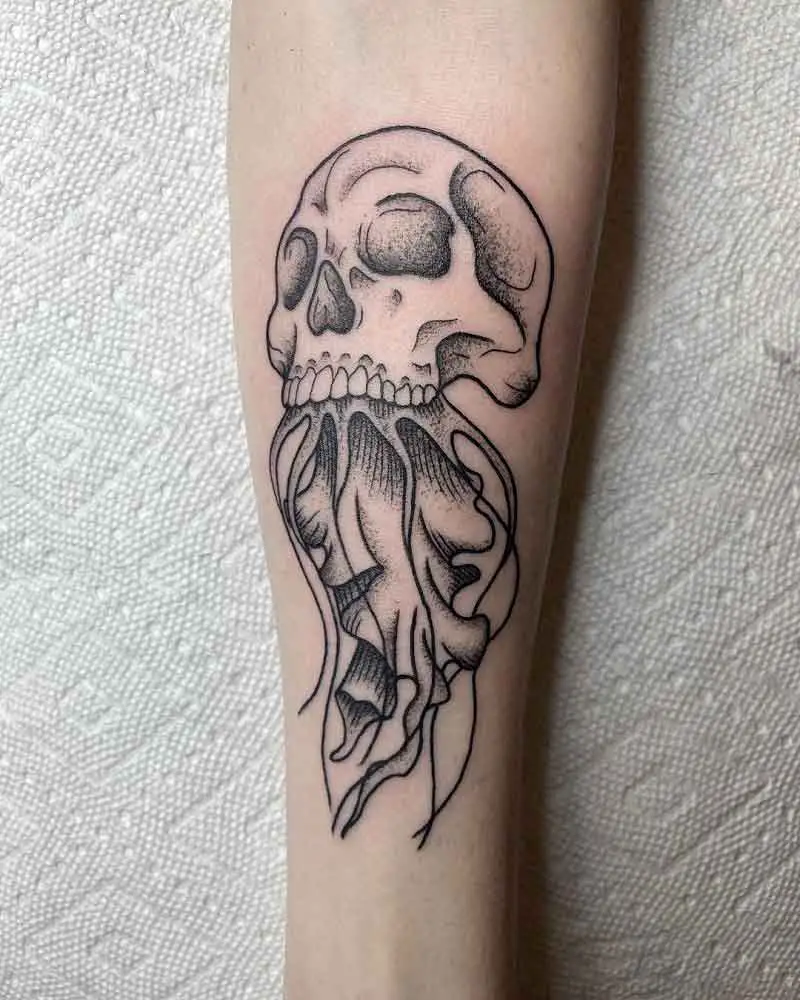 59.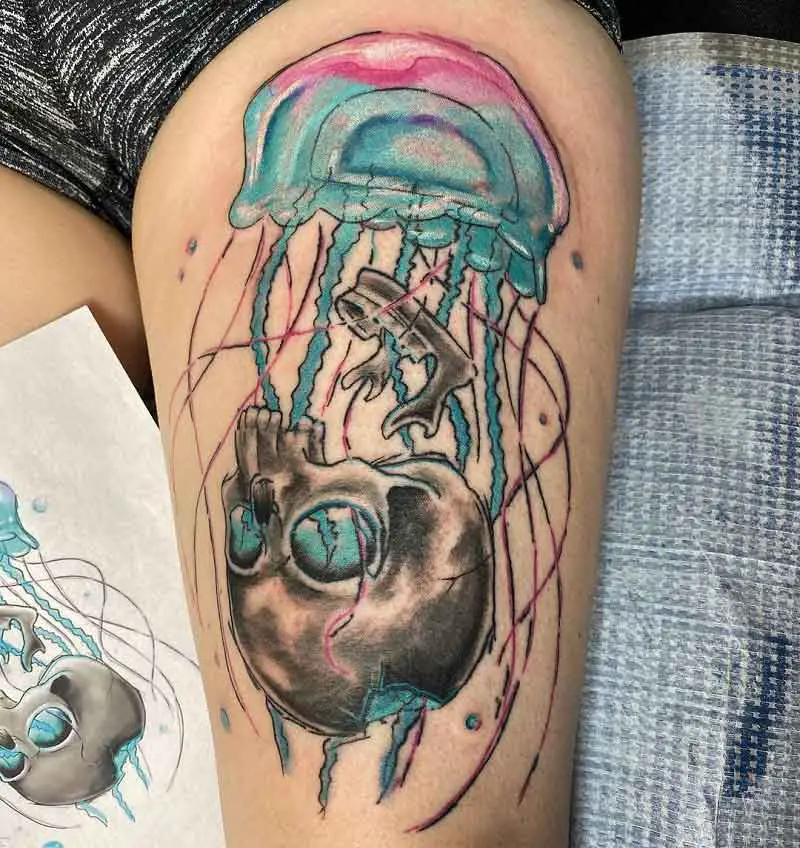 60.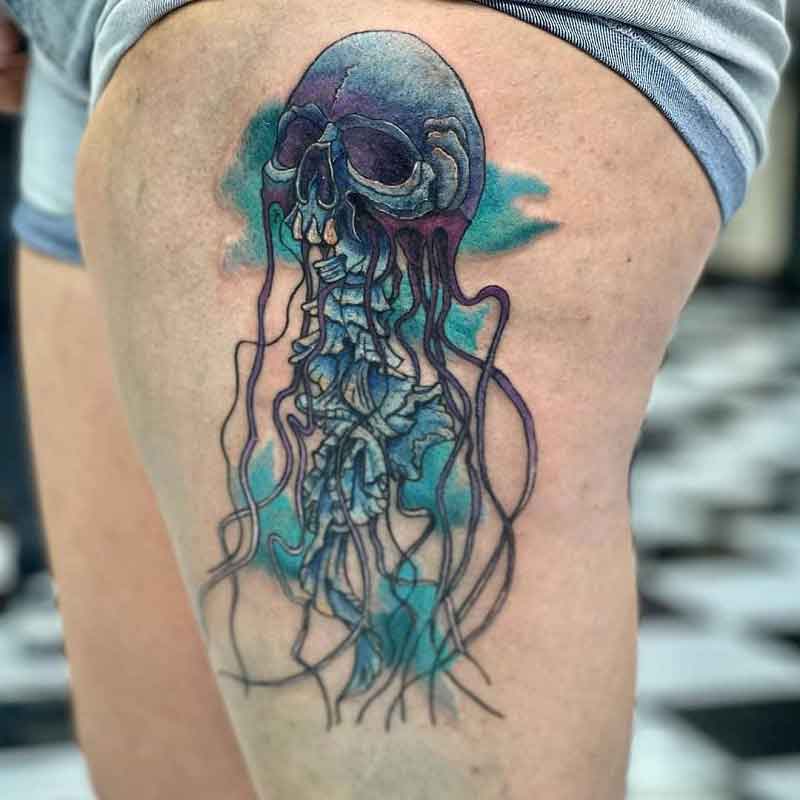 Uv Jellyfish Tattoo
61.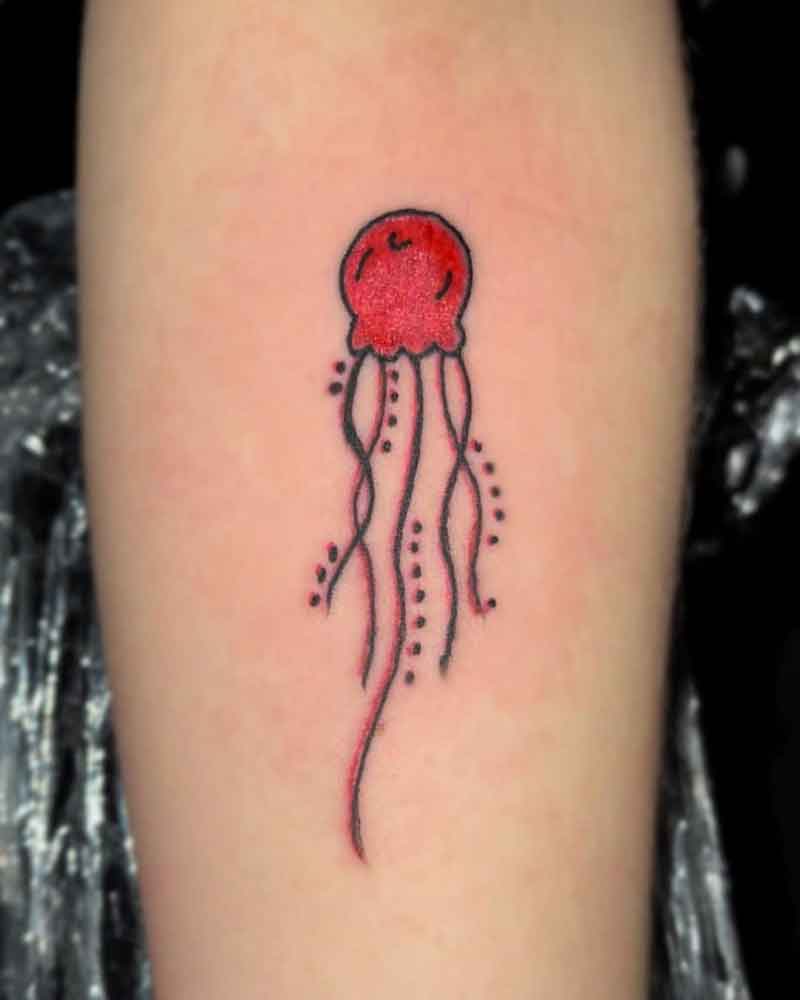 62.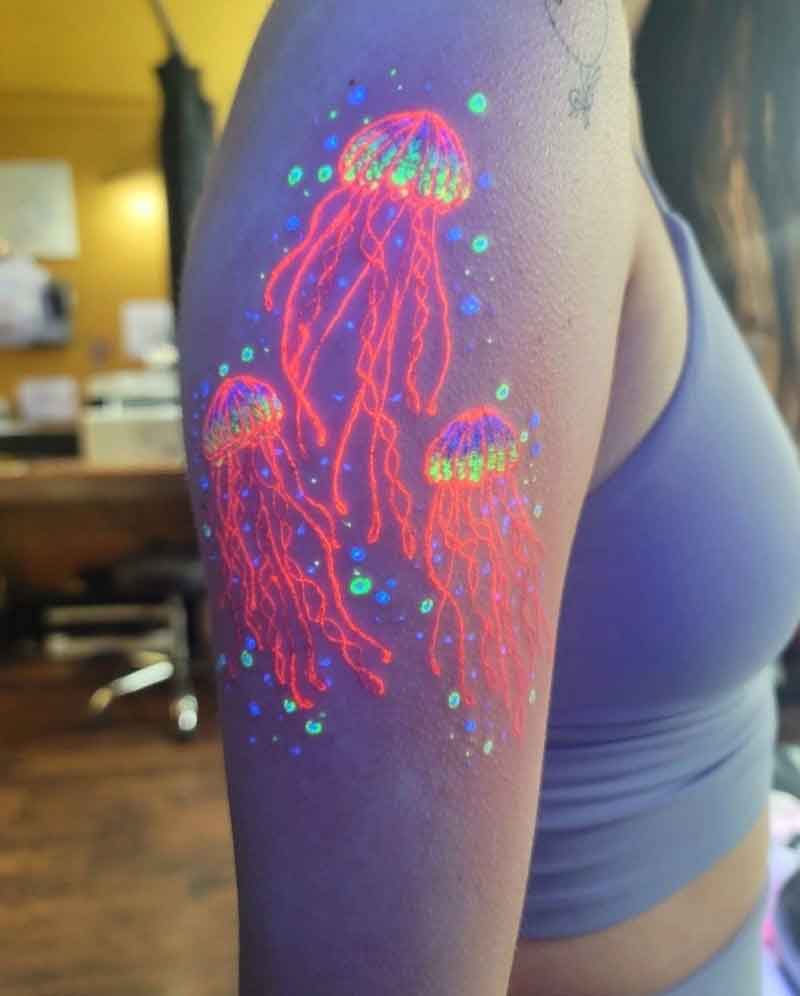 63.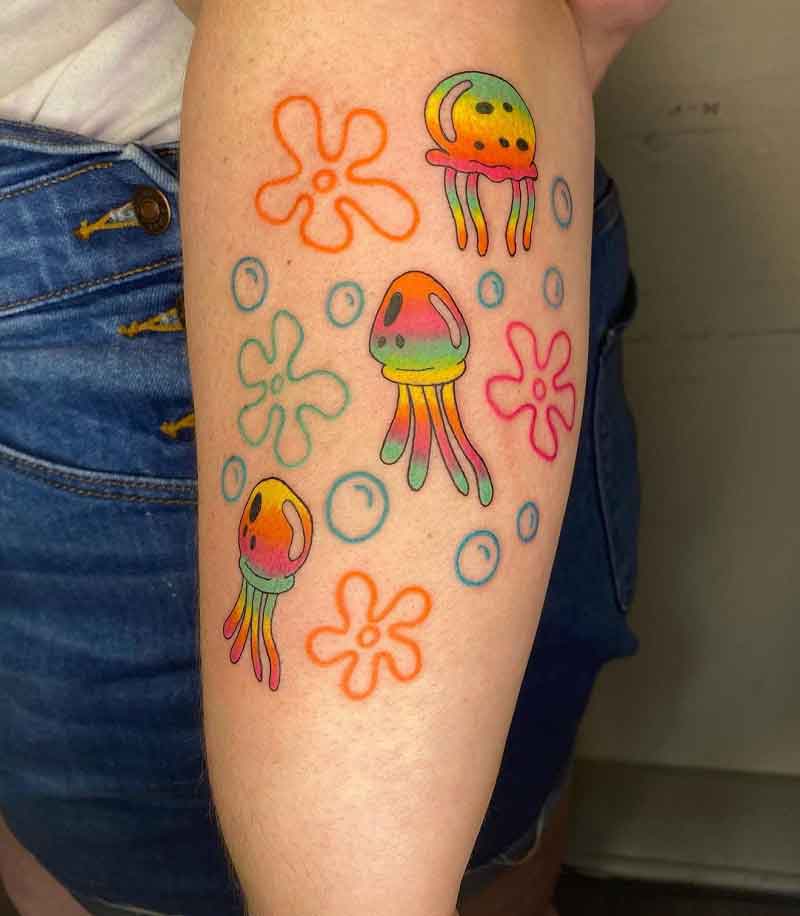 Cartoon Jellyfish Tattoo
64.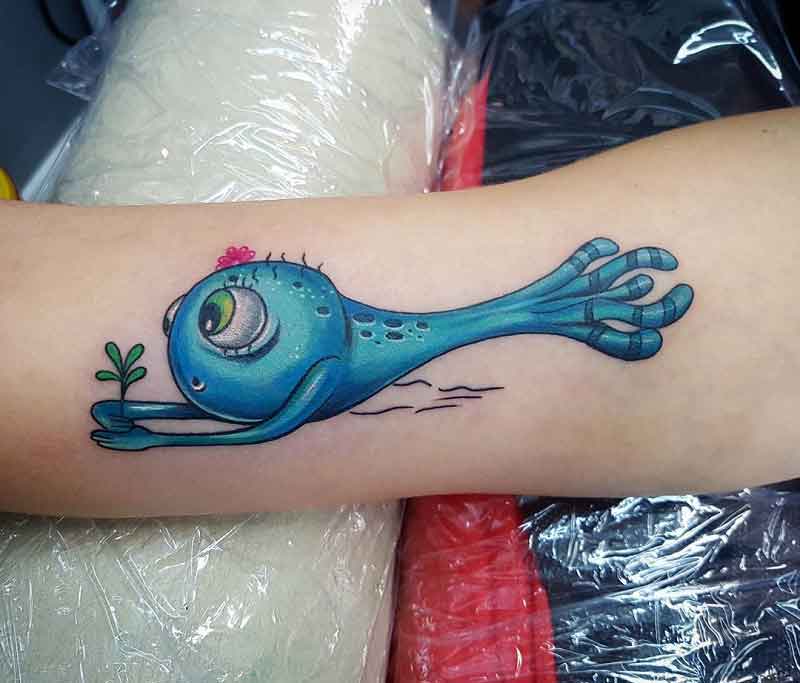 65.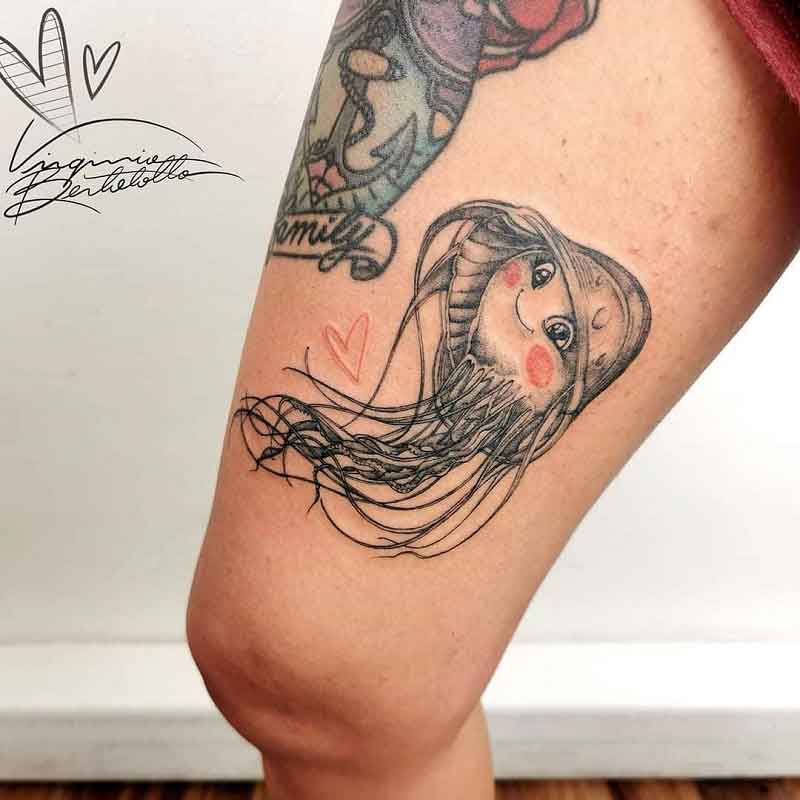 66.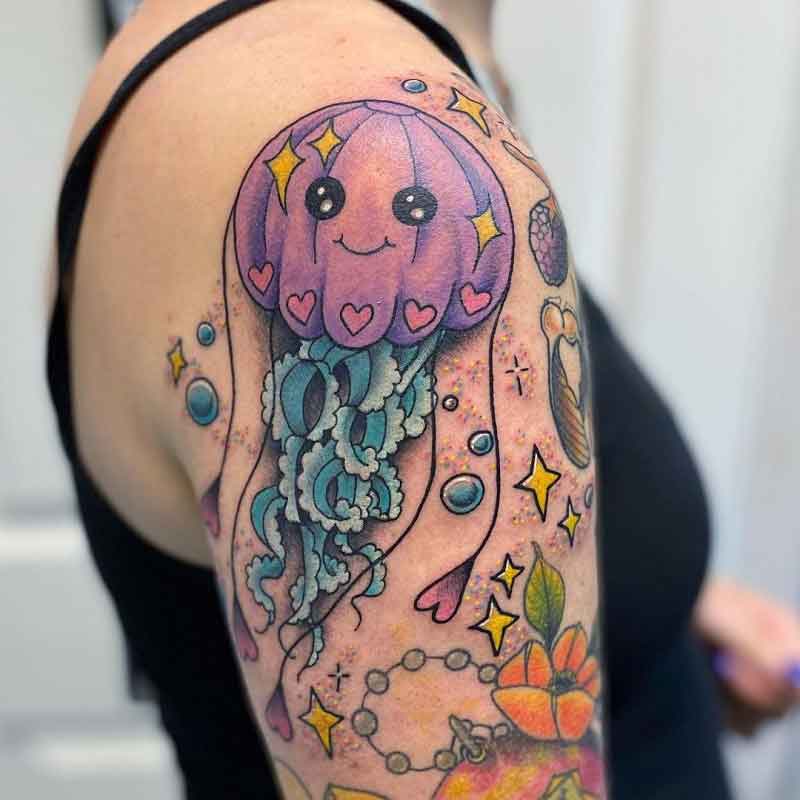 Immortal Jellyfish Tattoo
67.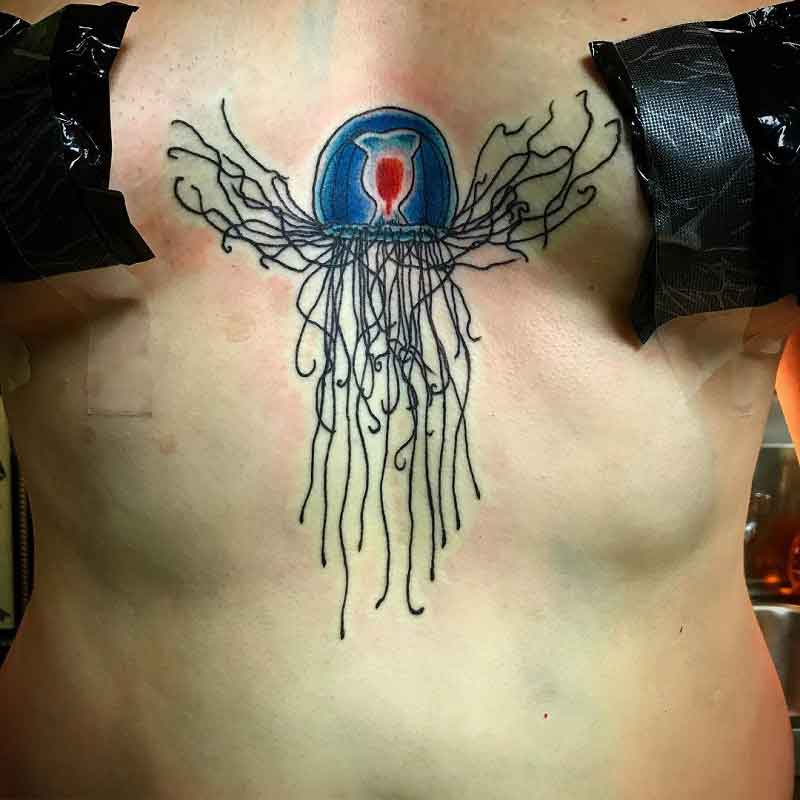 68.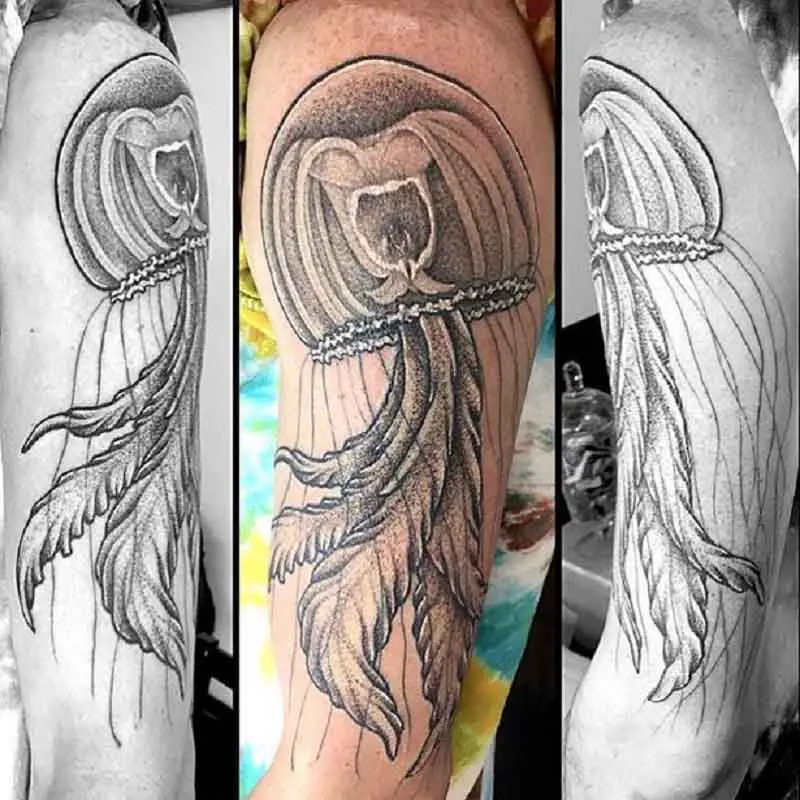 69.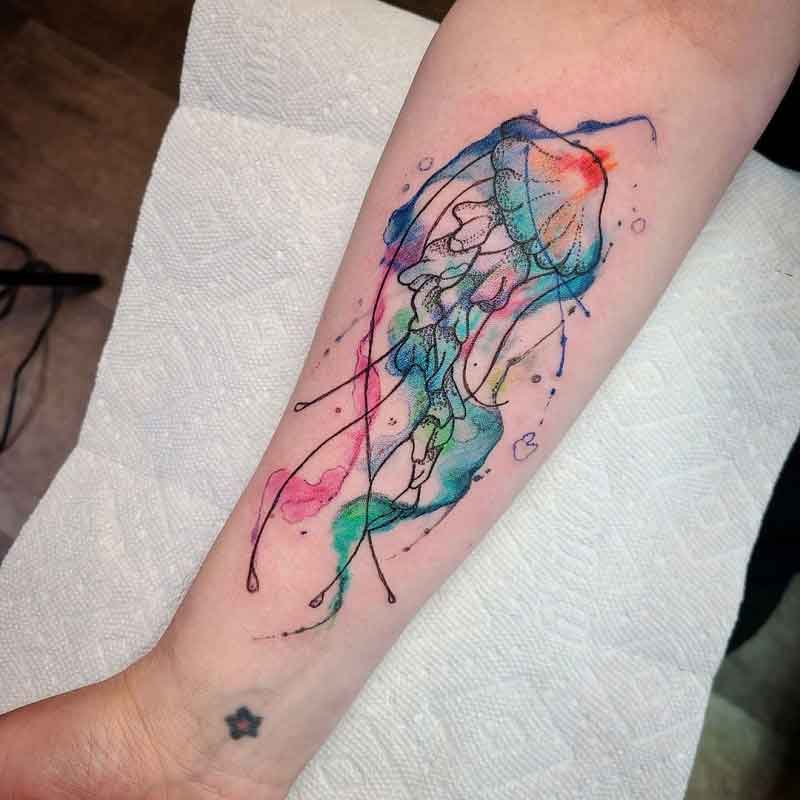 Japanese Jellyfish Tattoo
70.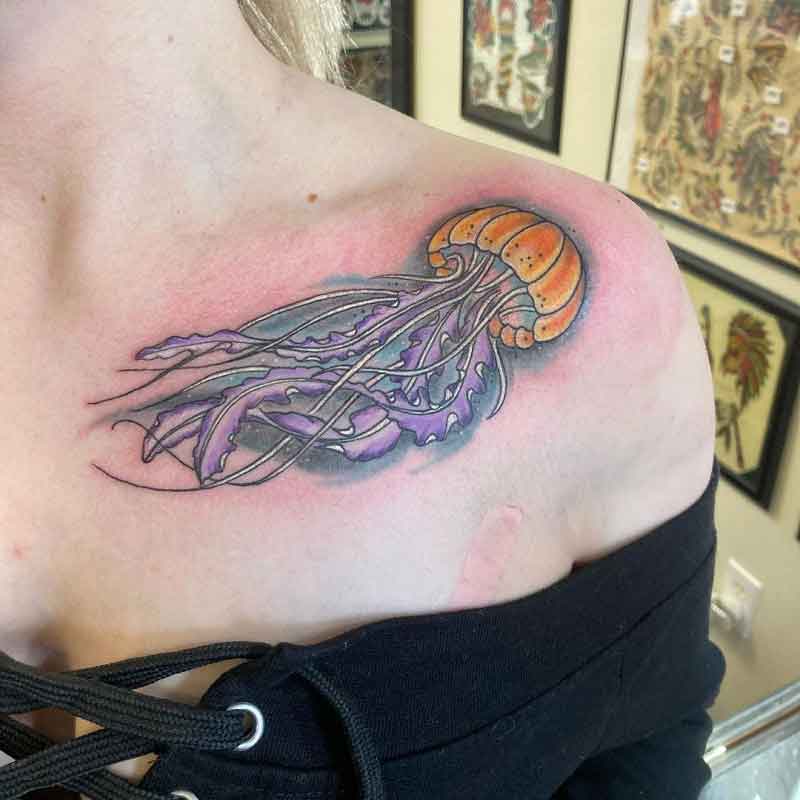 71.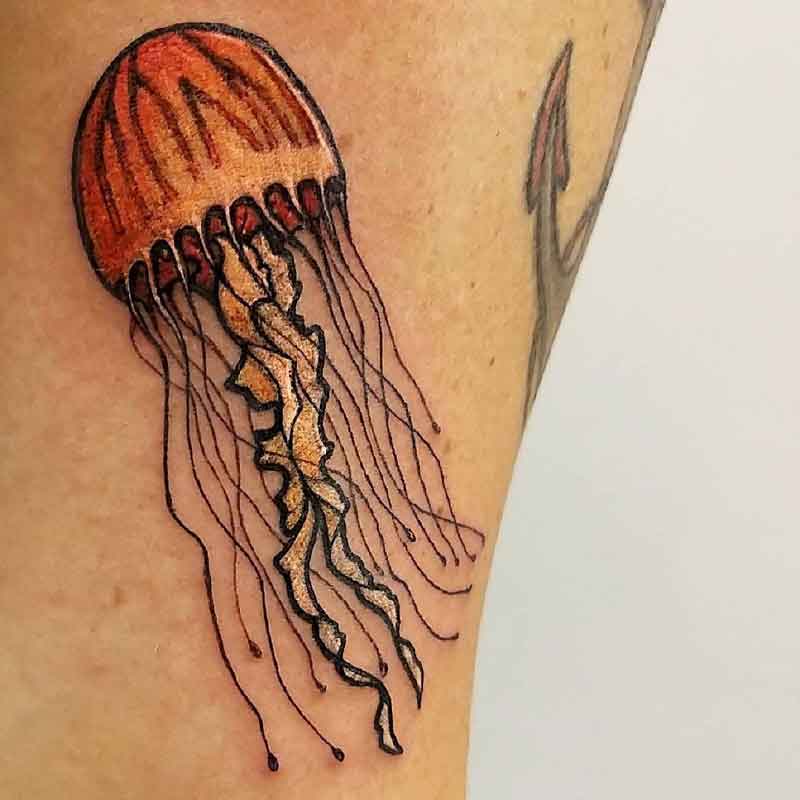 72.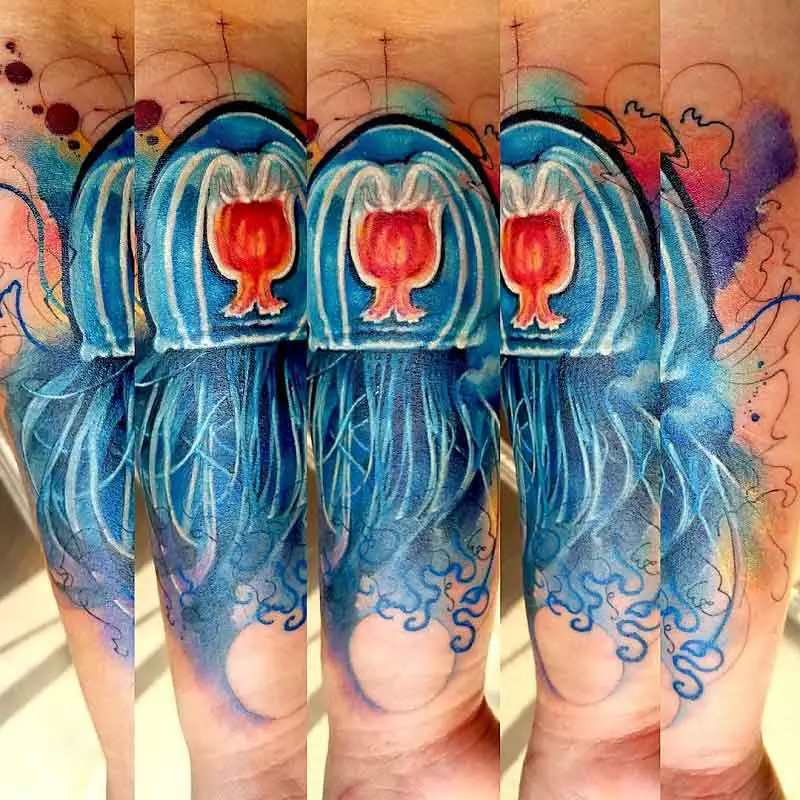 Jellyfish Finger Tattoo
73.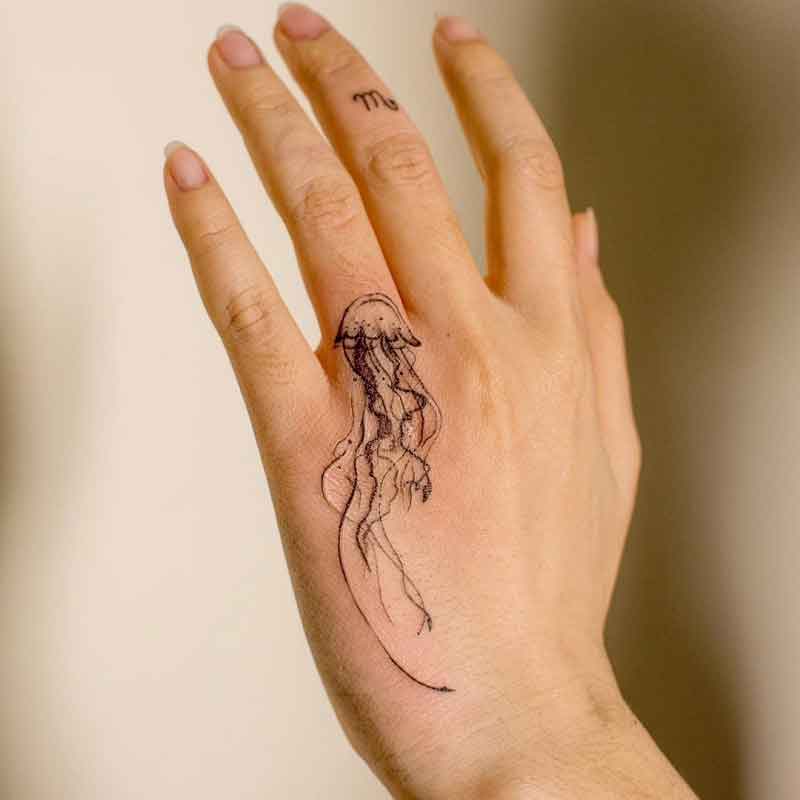 74.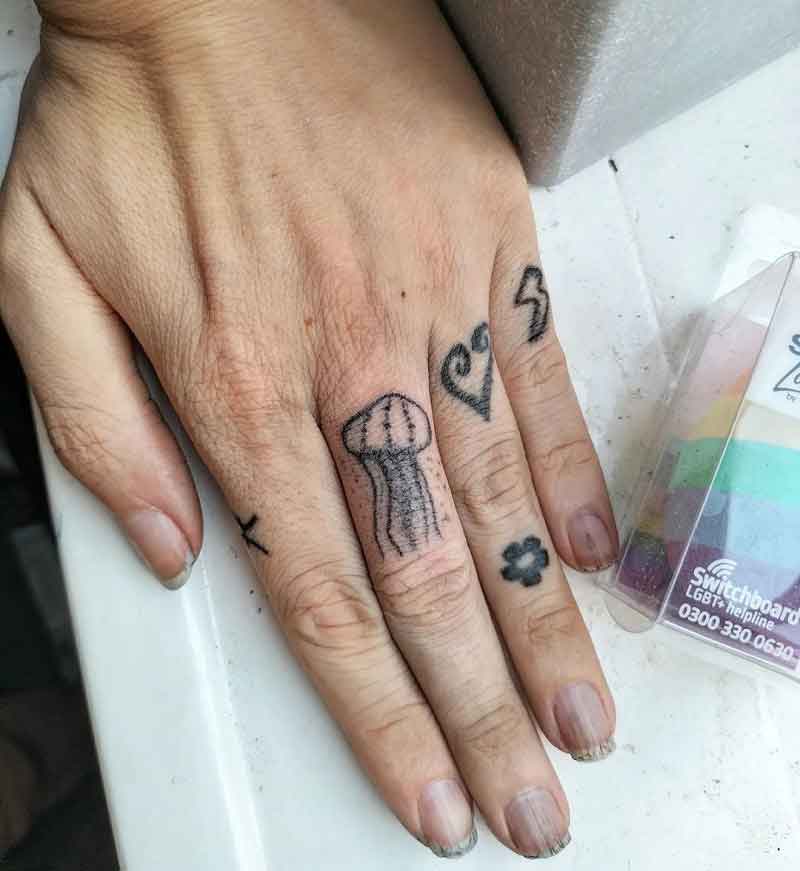 75.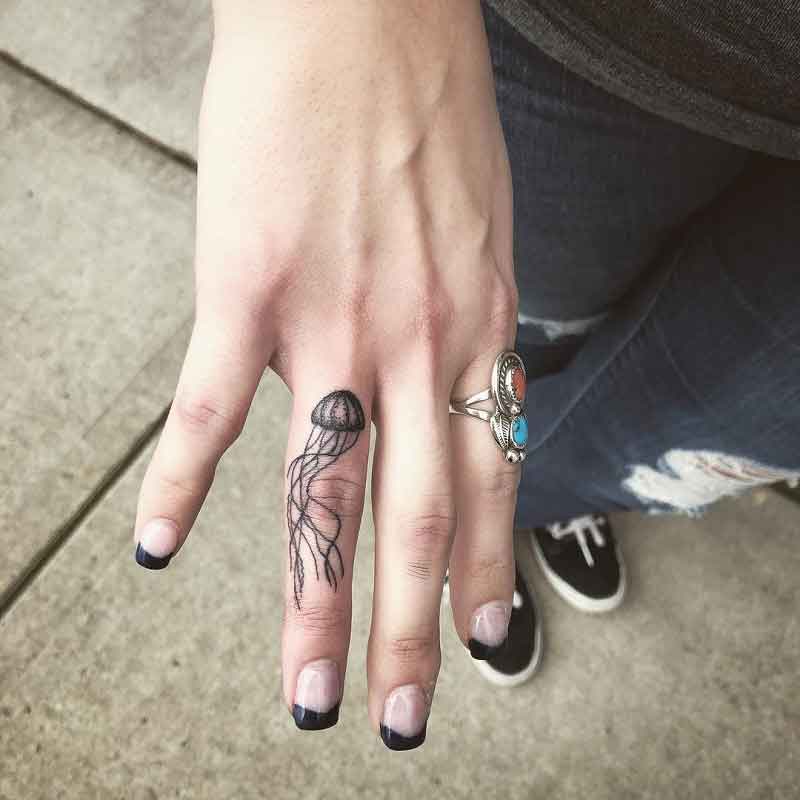 Jellyfish Mandala Tattoo
76.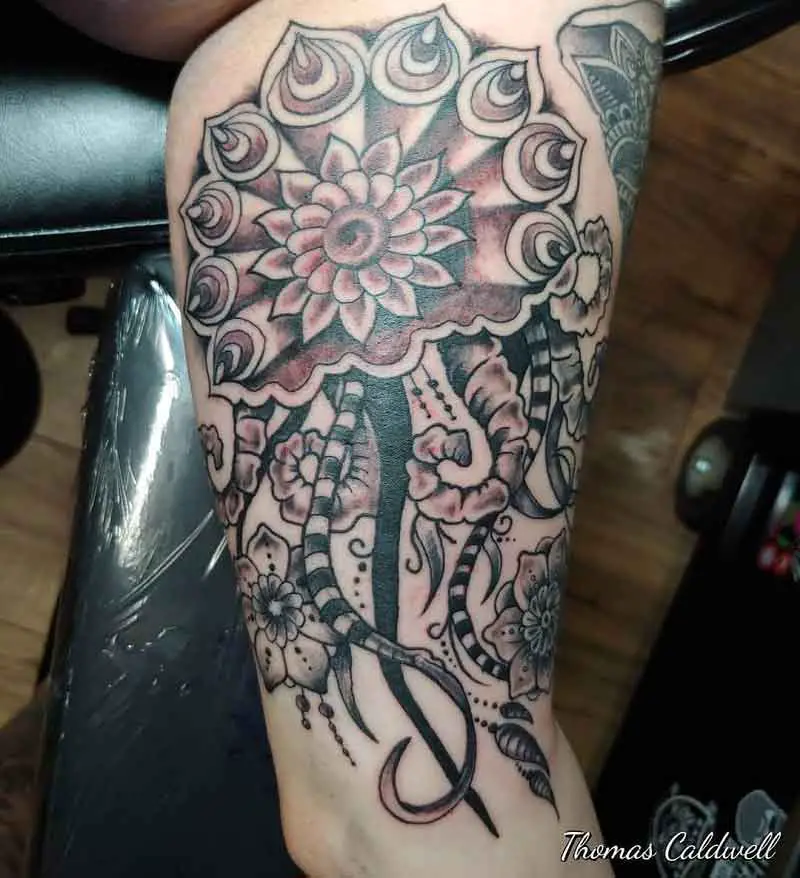 77.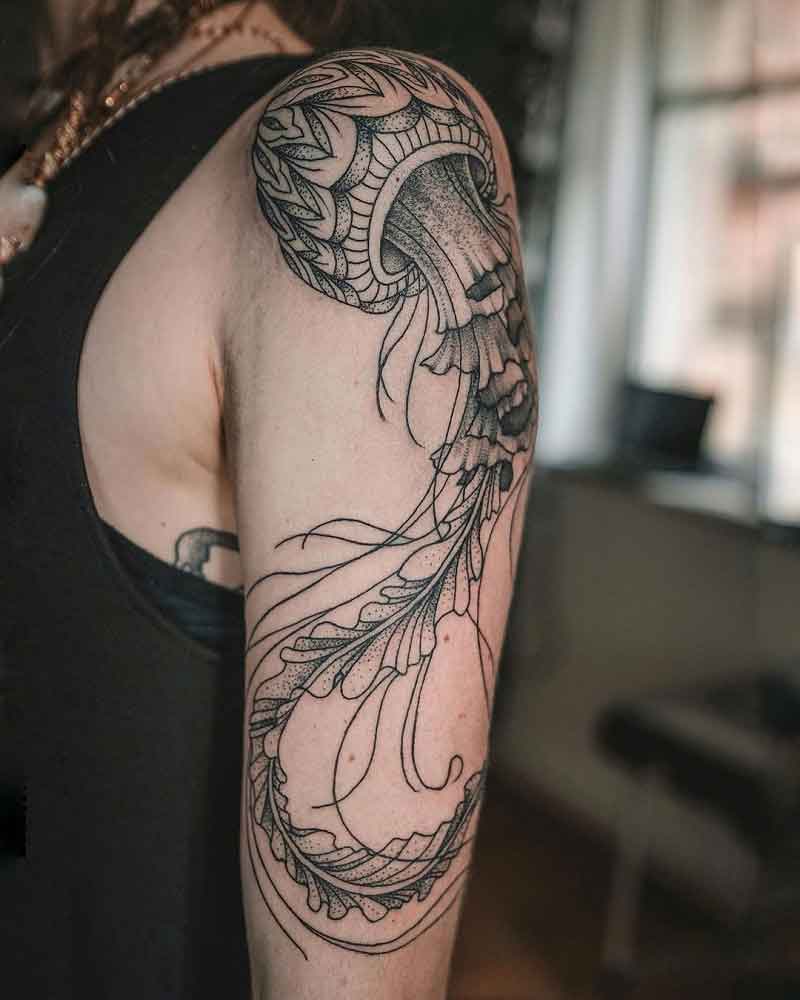 78.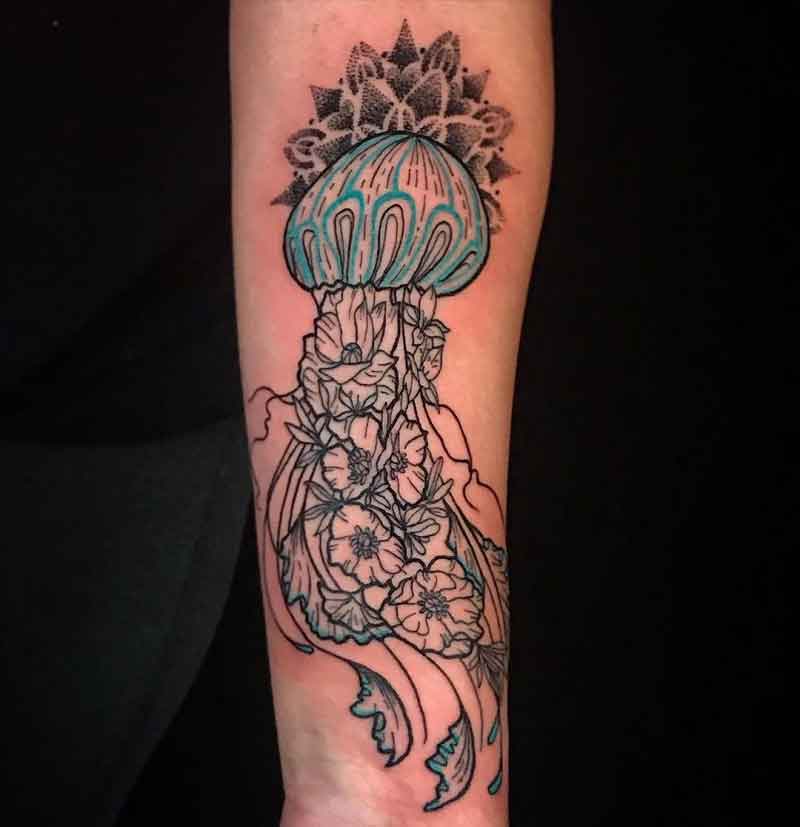 Psychedelic Jellyfish Tattoo
79.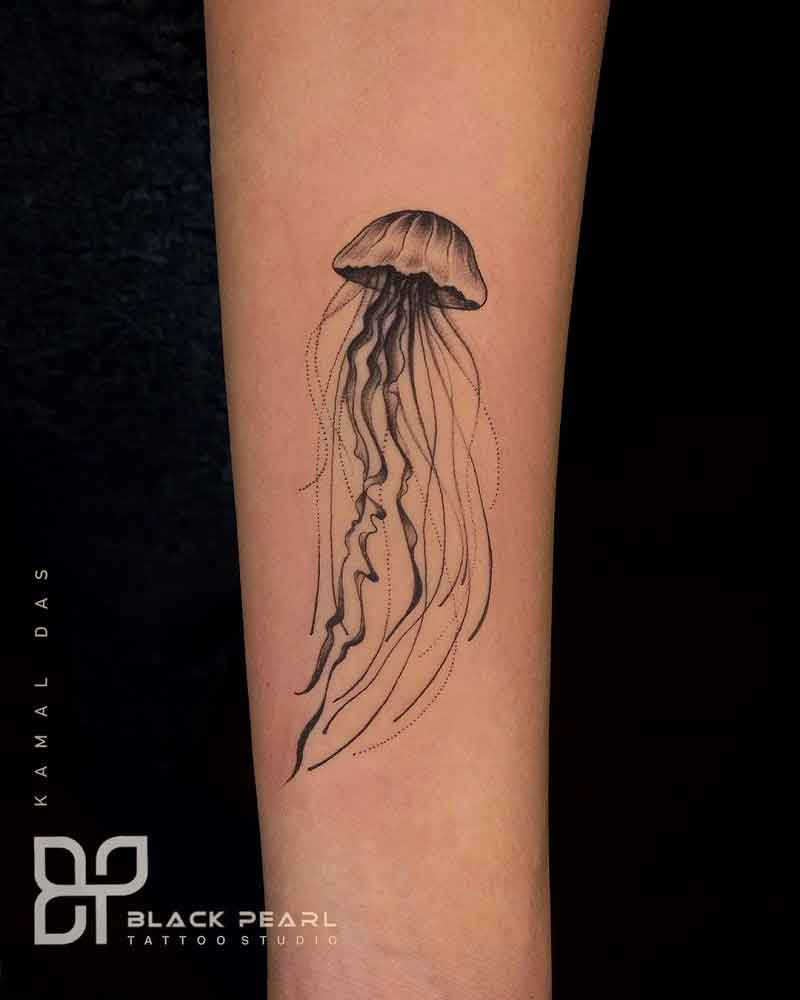 80.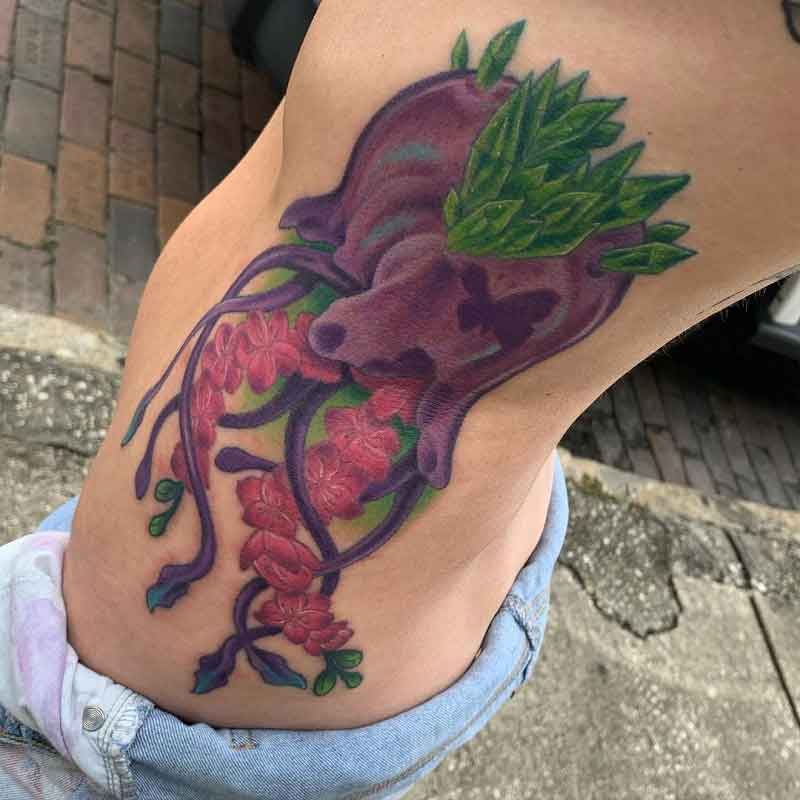 81.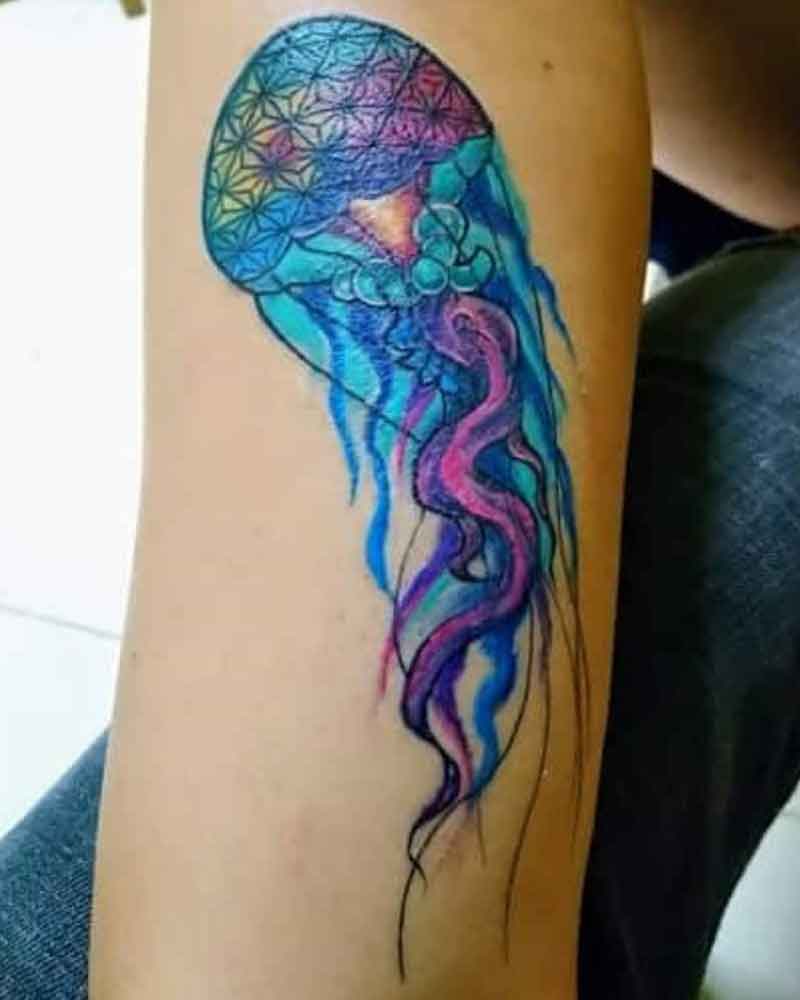 Jellyfish Shoulder Tattoo
82.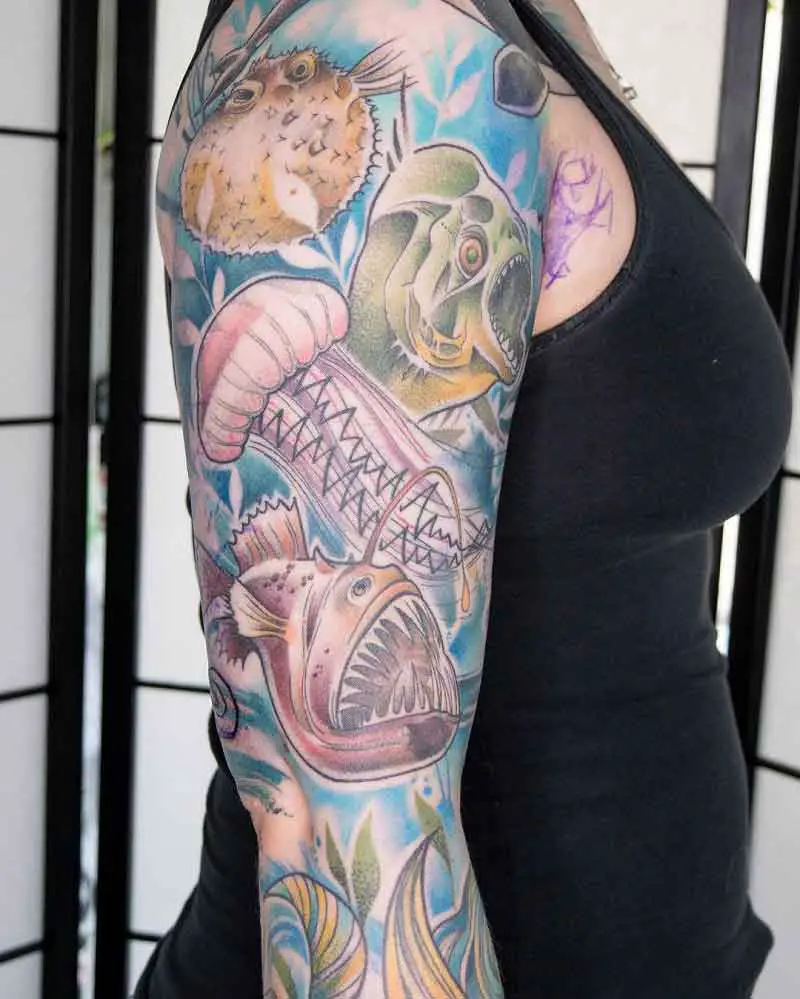 83.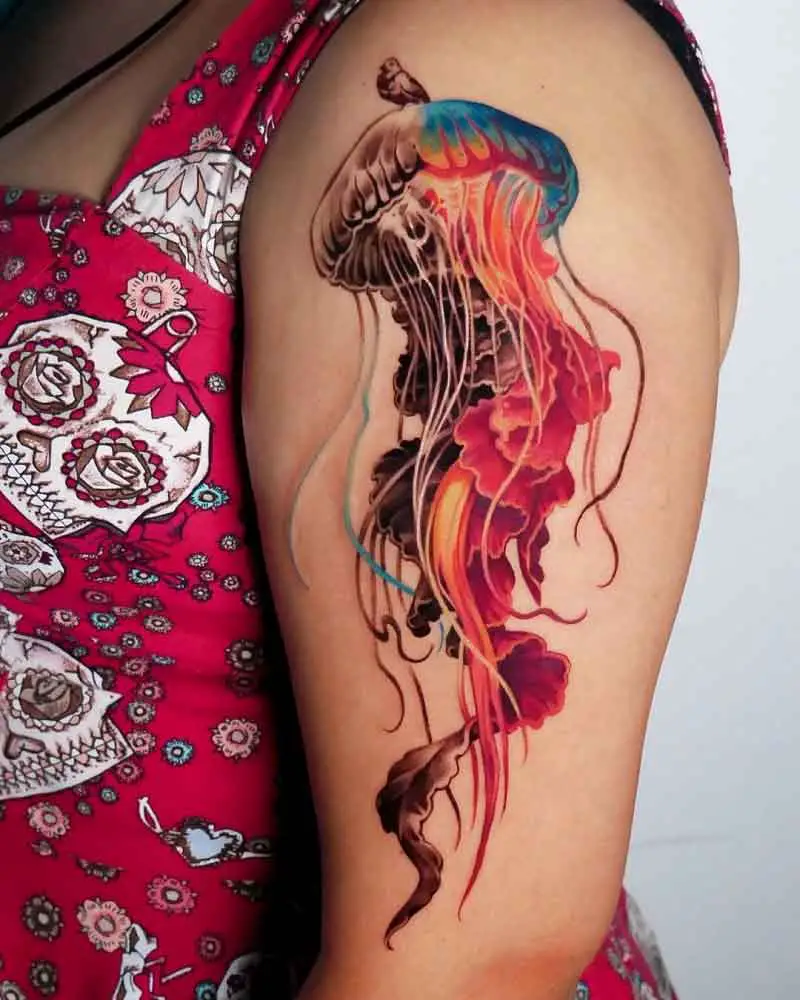 84.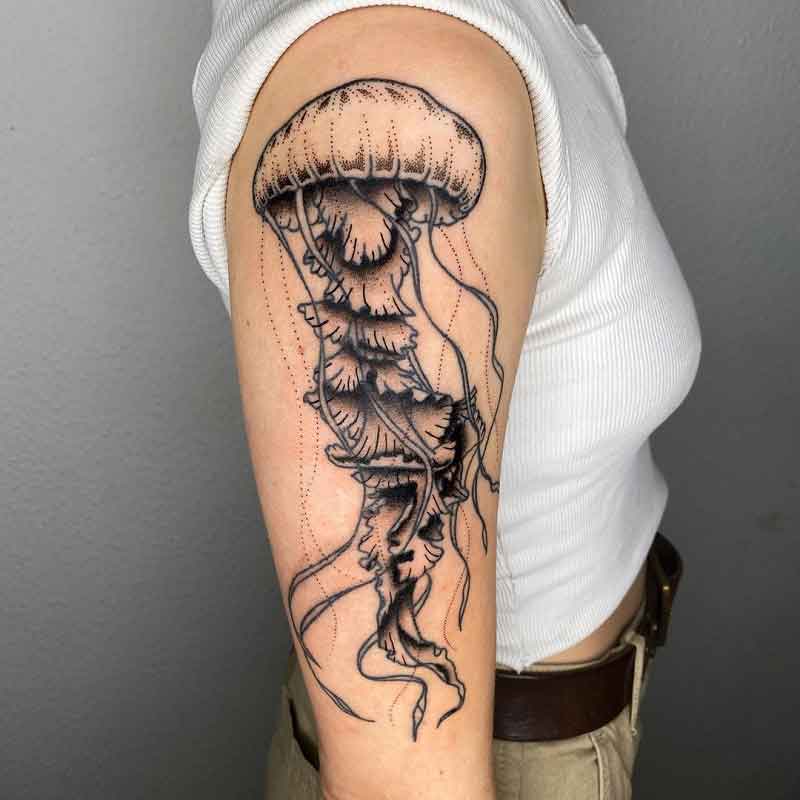 Jellyfish Side Tattoo
85.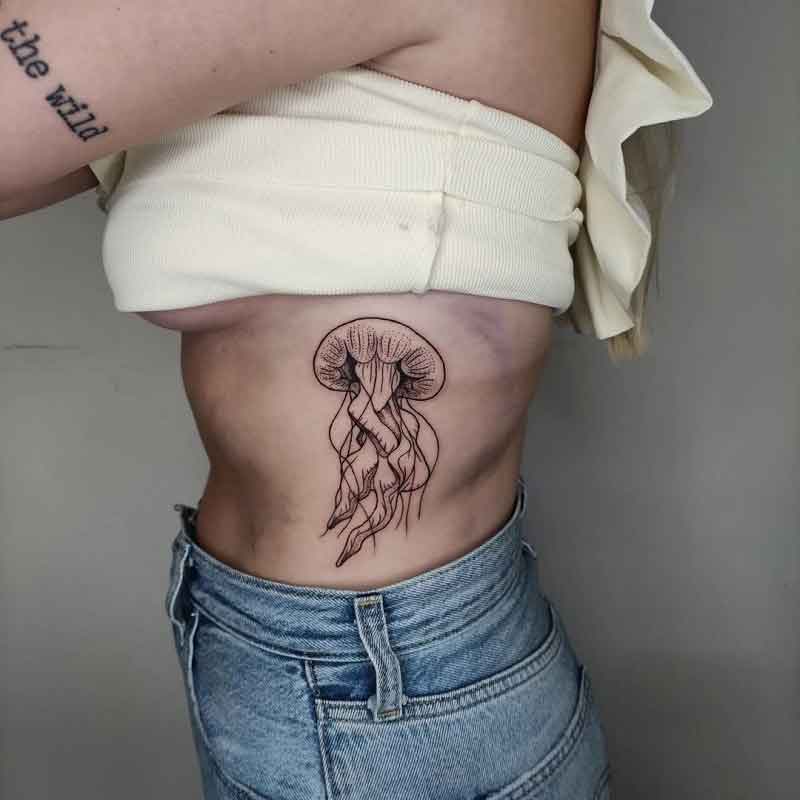 86.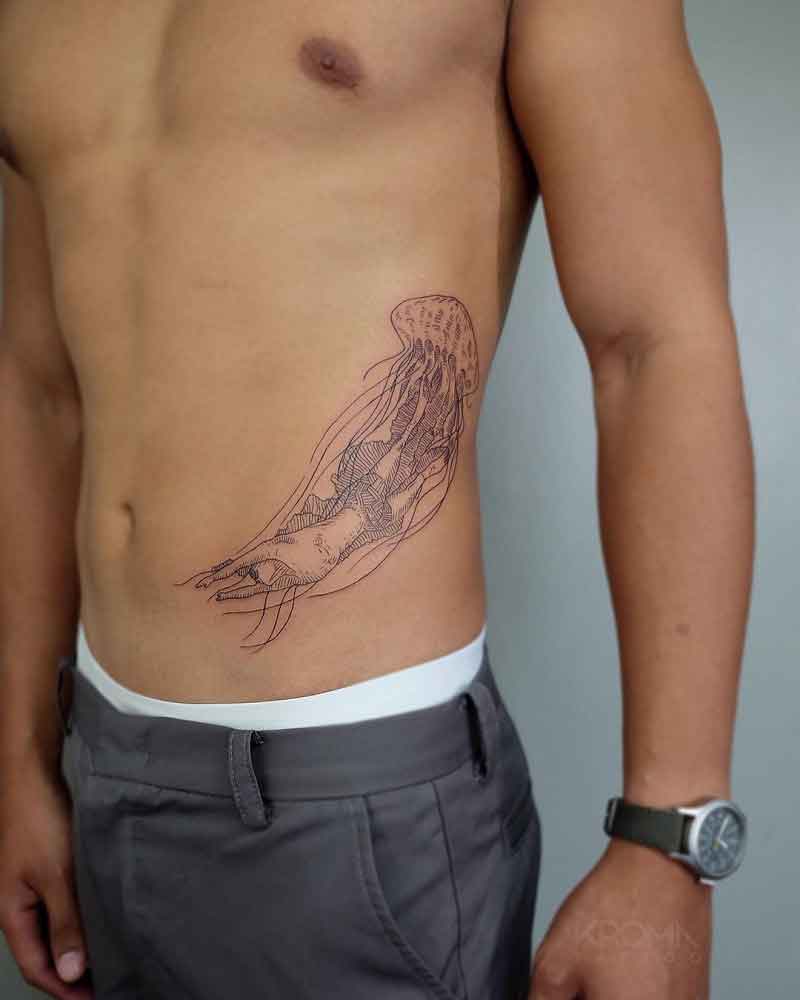 87.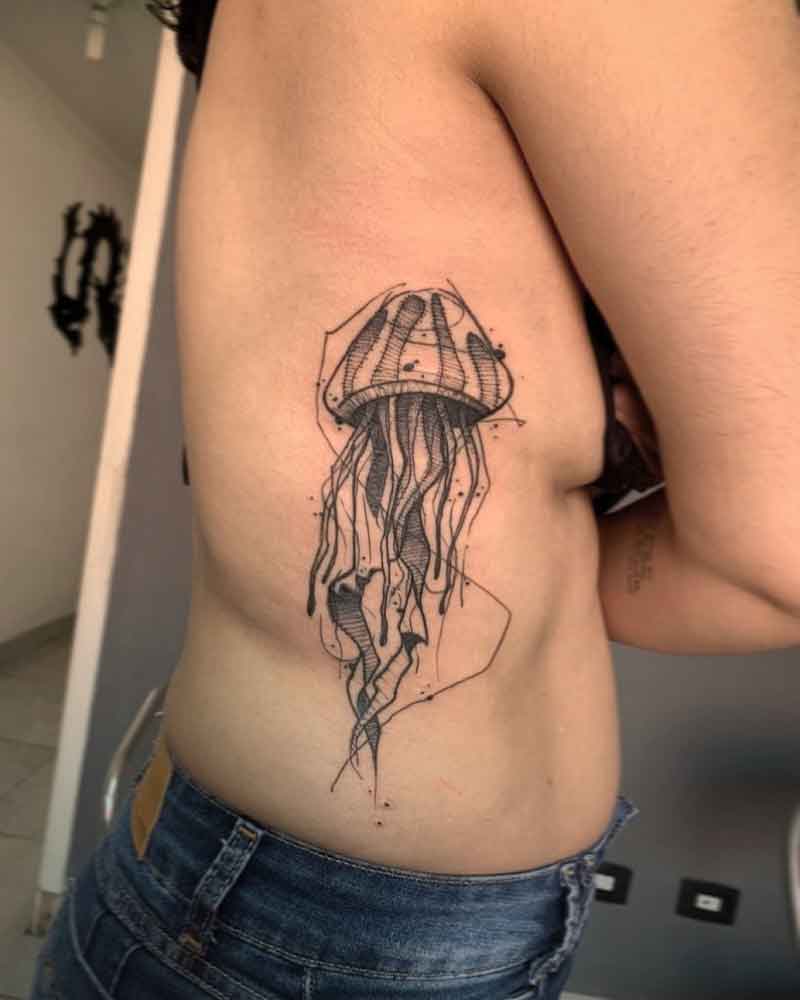 Polynesian Jellyfish Tattoo
88.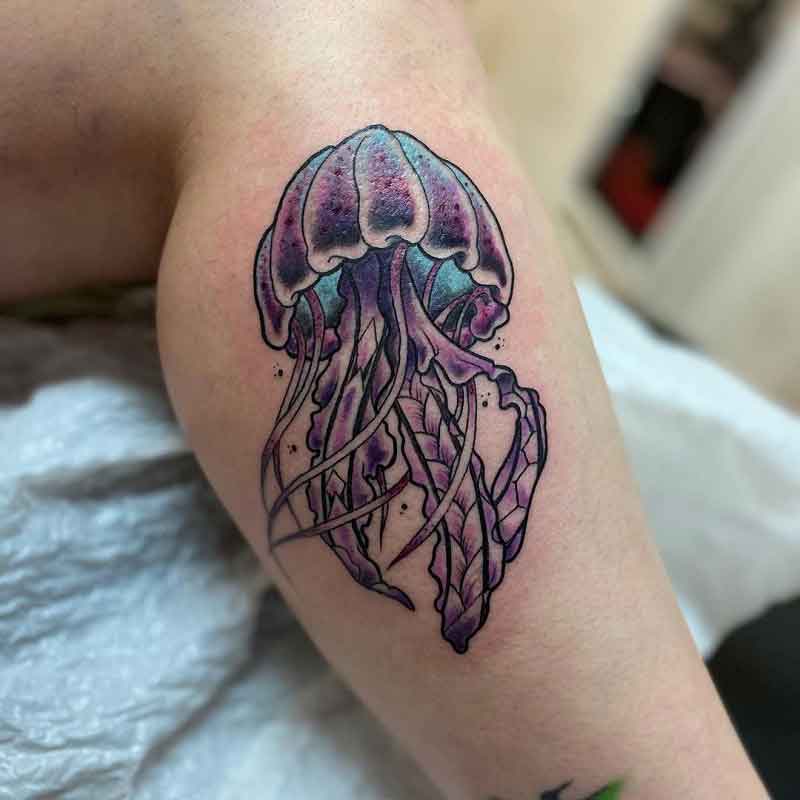 89.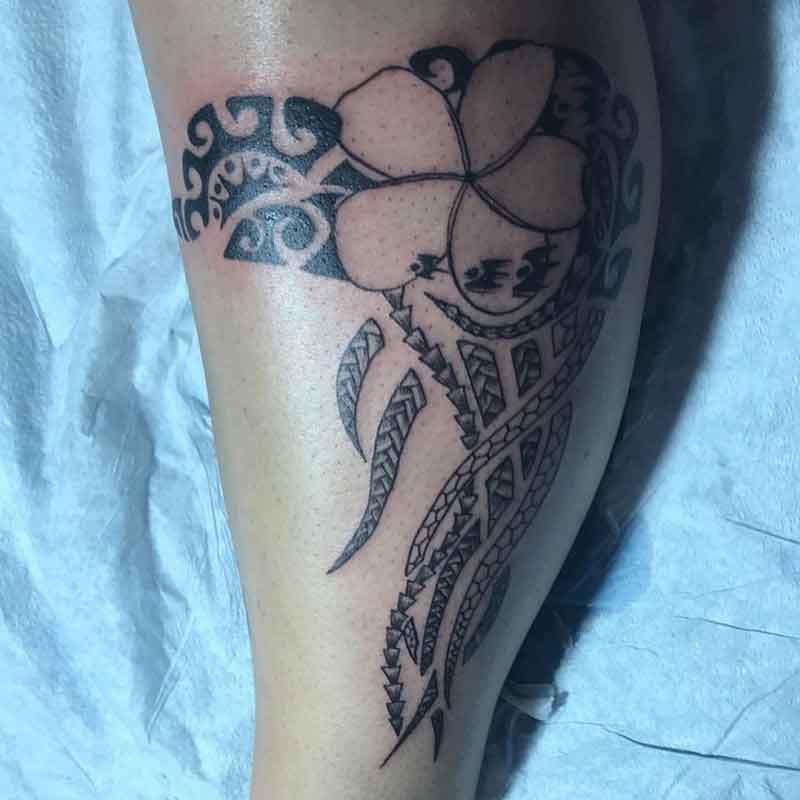 90.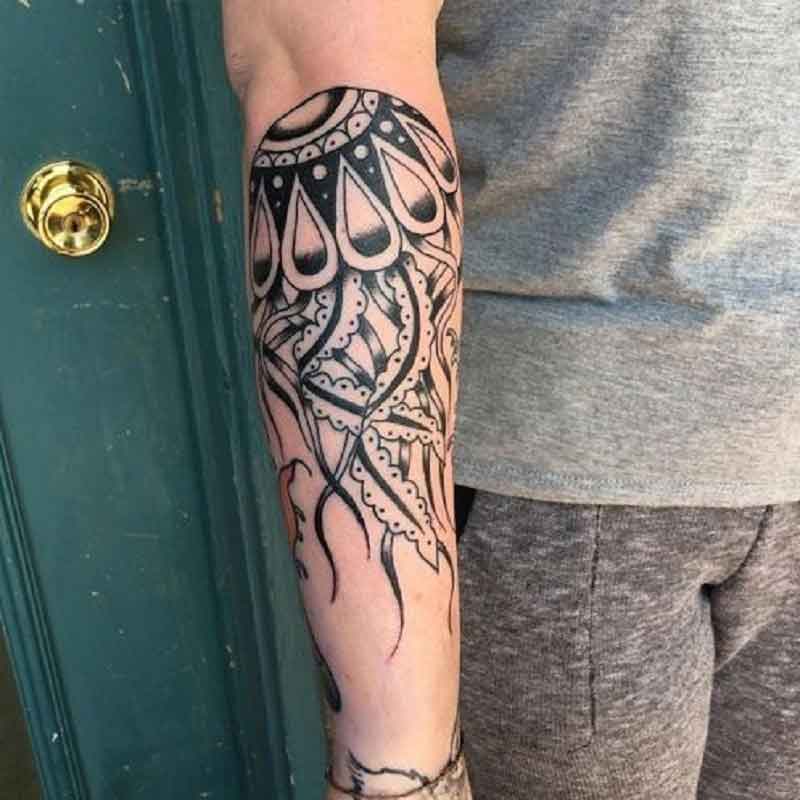 Asian Jellyfish Tattoo
91.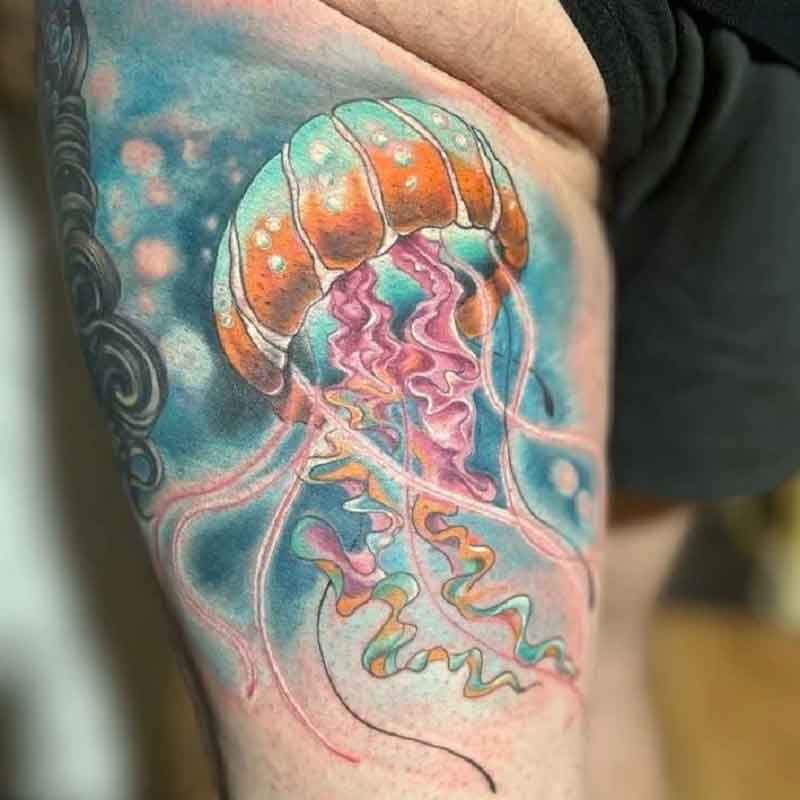 92.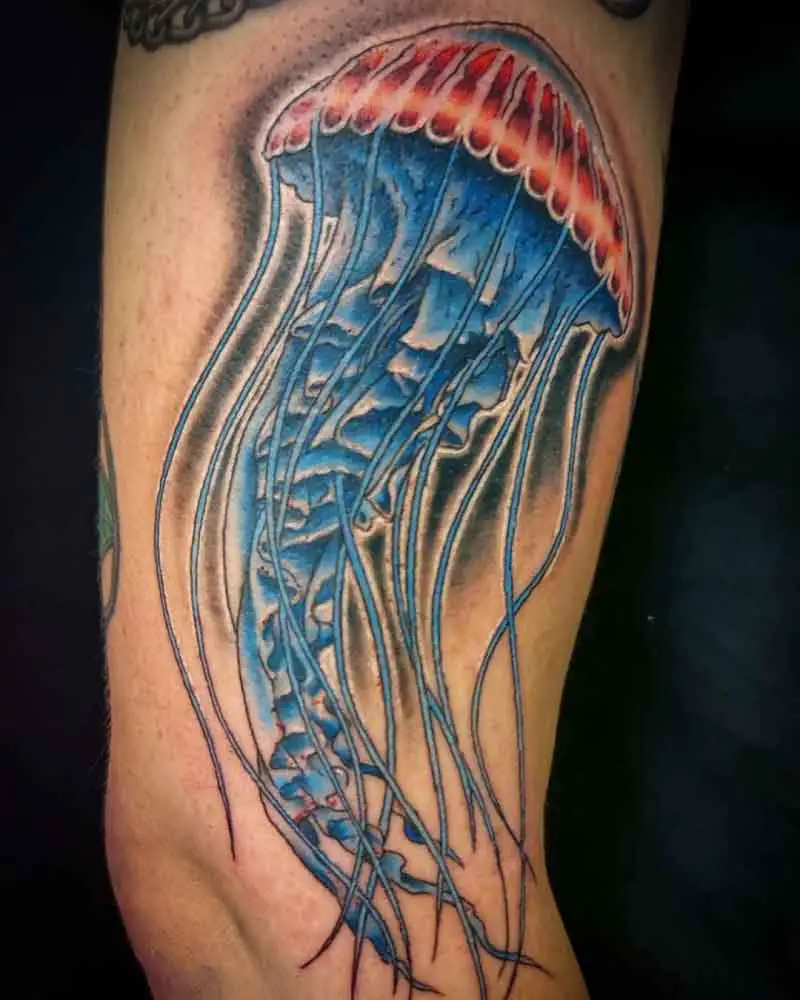 93.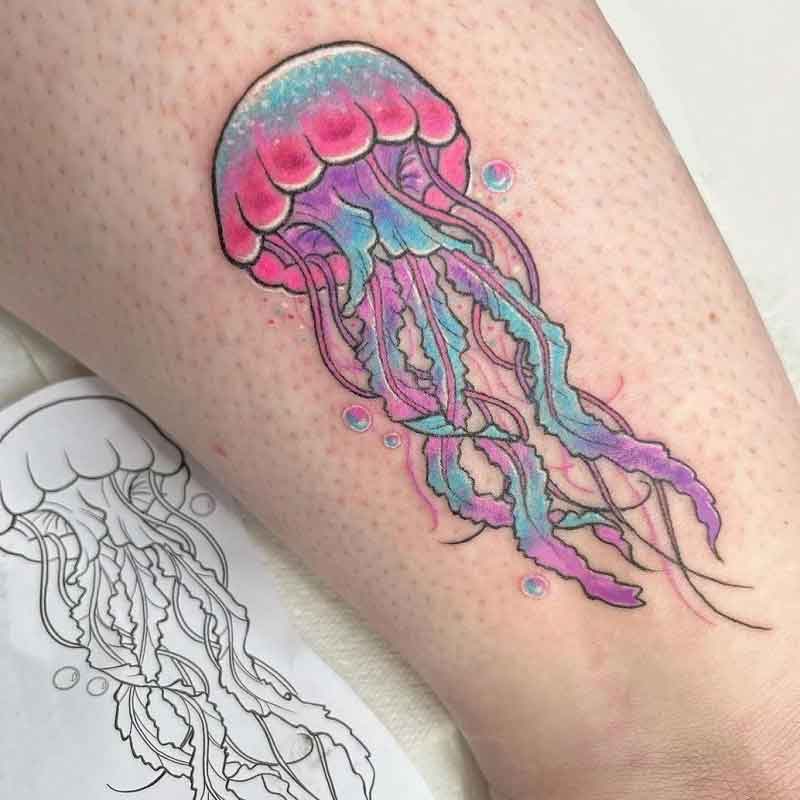 Frequently Asked Questions
What is the ideal placement for jellyfish tattoos?
If you want a big and detailed jellyfish tattoo, you can consider the back, thighs, or chest to make it pop. Minimalistic jellyfish tattoos look great everywhere starting from wrist, arms, back of the arm, waist, etc. The ideal placement of a jellyfish tattoo really lies in your choice of size, design, and aesthetic.
What does Jellyfish Tattoo mean?
Jellyfish Tattoo carries deep meanings that align with our life's journey and relationships. The soft texture yet deadly tentacles are often symbolized by our protective nature for loved ones. It can also mean a strong survival instinct. The multiple tentacles with one head reflect our many beloved bonds and attachments.
Does the Jellyfish tattoo on arm look good?
Yes, they do! The jellyfish tattoo look great on both the front and upper arm. Large-sized jellyfish tattoos are more suitable for the back of the arm. But minimal, small-sized ones fit perfectly on both the front and back arms.
What does a Jellyfish Tattoo Symbolize?
Jellyfish tattoo symbolizes spiritual connections, branches of life and relationships, and the power of adaptability. It signifies the connection and resemblance of human life's journey with the underwater life of jellyfish. It's full of mystery and surprises, challenges and rewards.