Are you surfing the Internet for some unique and head-turning bull skull tattoo designs? Then look no further as we have compiled over 86 distinct and striking tattoo works for you to take a look at.
These tattoos serve as a powerful symbol in the Mexican and Native American cultures.  It can feature basic elements such as feathers, flowers, stars, and many more. The tattoo can appear in several styles and this blog will cover each and every one of them.
The bull is considered as a strong spirit animal by many and the symbolism of its skull is attached to both destruction and strength. However, the meaning of your tattoo design totally depends on what you would want it to mean.
Bull Skull Tattoos Designs and Ideas
Primarily, these tattoo designs stand for protection, strength, courage, honor, and leadership. Besides, if you are searching for a neat tattoo design, a bull skull tattoo might be exactly what you are looking for.
To provide you with some ideas and inspiration for your first/ next bull skull tattoo, we are going to walk you through all the different styles and sizes of this particular tattoo. Let's begin then, shall we?
Simple Bull Skull Tattoo
Simple tattoos with meaning are actually quite beautiful. A tattoo that is simple or delicate can speak volumes about one's character or emotions. Here are some simple yet unique bull skull tattoos for you to go through:
1. Survivor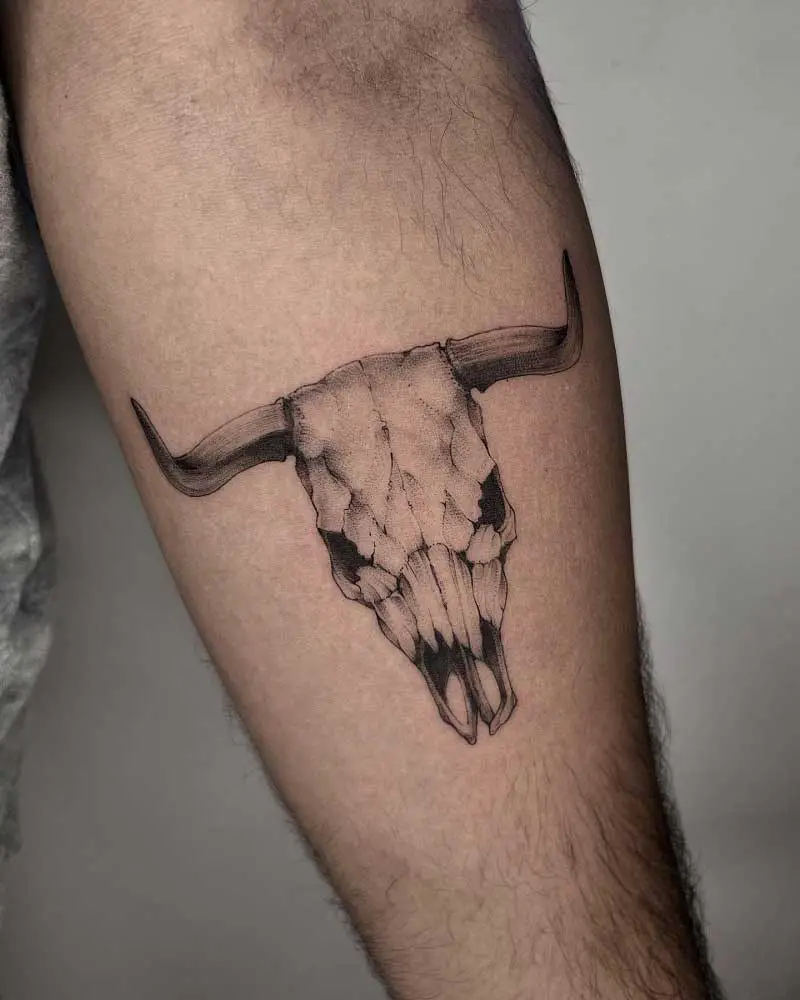 This almost-symmetrical bull skull tattoo on the man's leg is the epitome of a tattoo design that looks very simple, yet elegant. The tattoo will also look good on the arm or in the center of the chest area.
2. Durability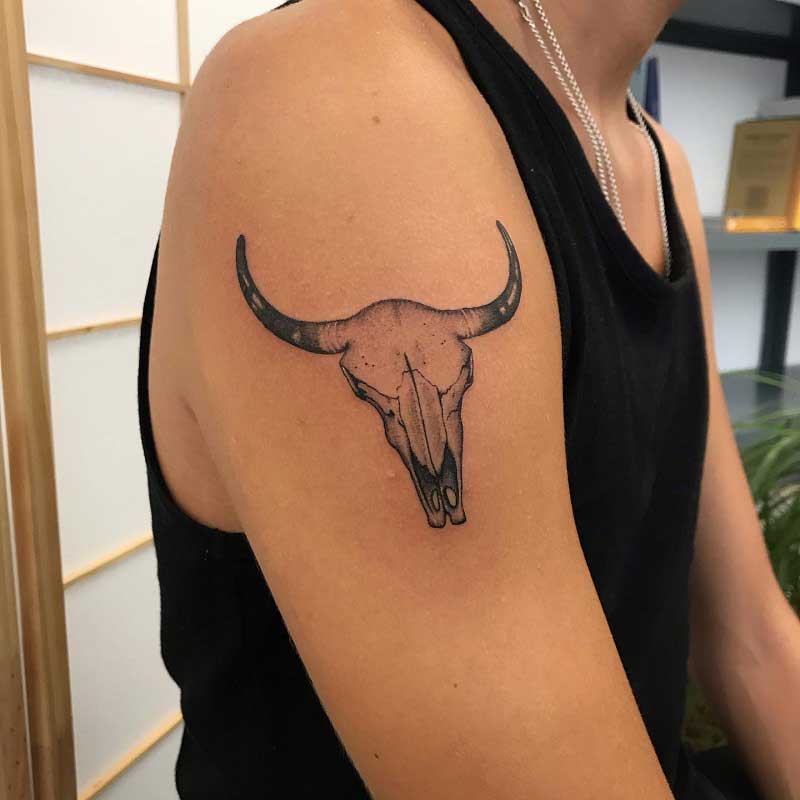 The design above is probably not as detailed as the previous one but nevertheless, the long, pointy horns of the bull give the tattoo a stylish look.
3. Brute Force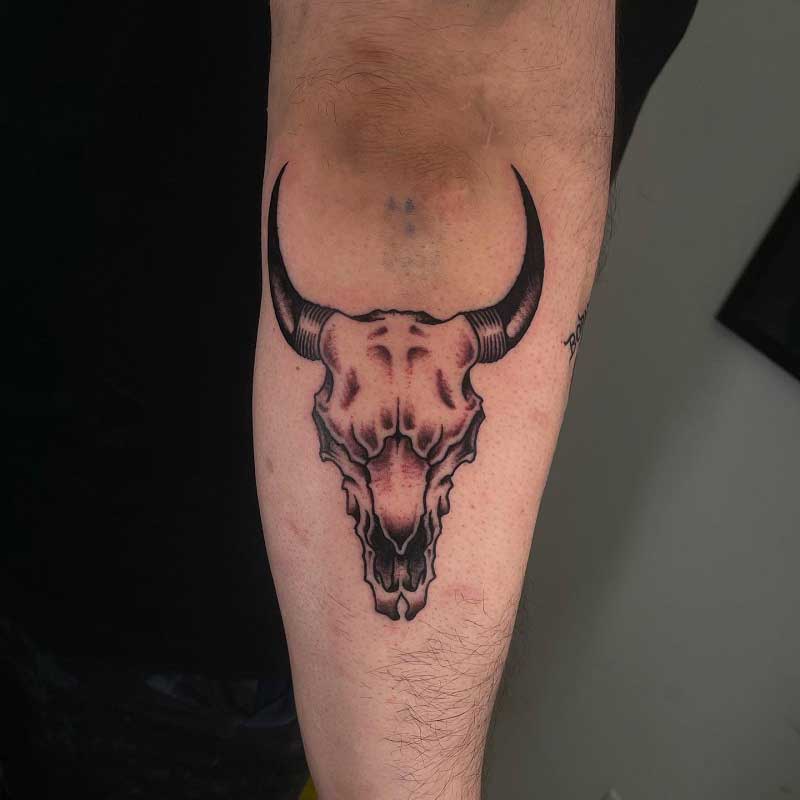 Some designs look best on the back of the elbows and this tattoo of the bull skull is a prime example. Props to the tattoo artist for capturing the details of the skull so accurately.
Longhorn Bull Skull Tattoo
As the subheading suggests, longhorns are larger in length and their tattoo designs take up more space than a regular-sized bull skull tattoo does. Here are some of them for you to go through:
4. Behemoth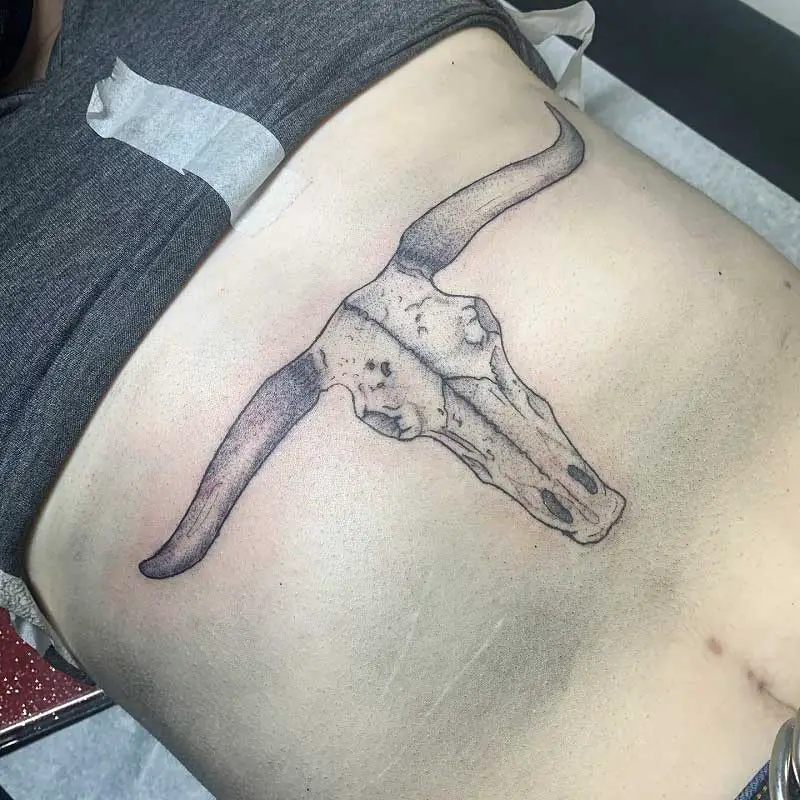 The abdomen is not preferred by many when it comes to getting tattoos and where to get them. However, tattoo designs that take up plenty of space look incredibly good on the stomach.
5. Purity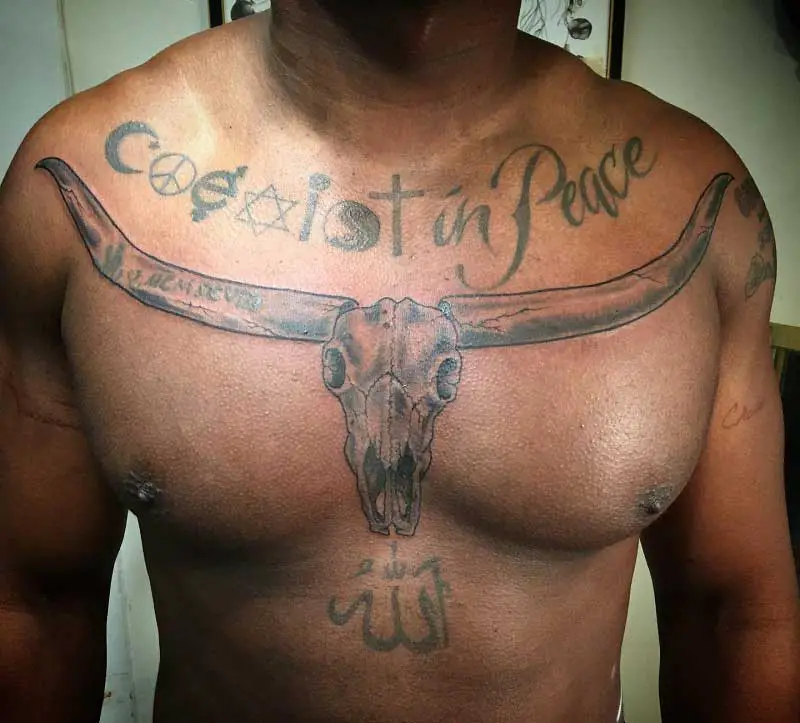 Some large-sized tattoo works also look best on the chest. Look how the horns are spread out. You can also add a special message or just writings, in general, above or beneath the design.
6. Protection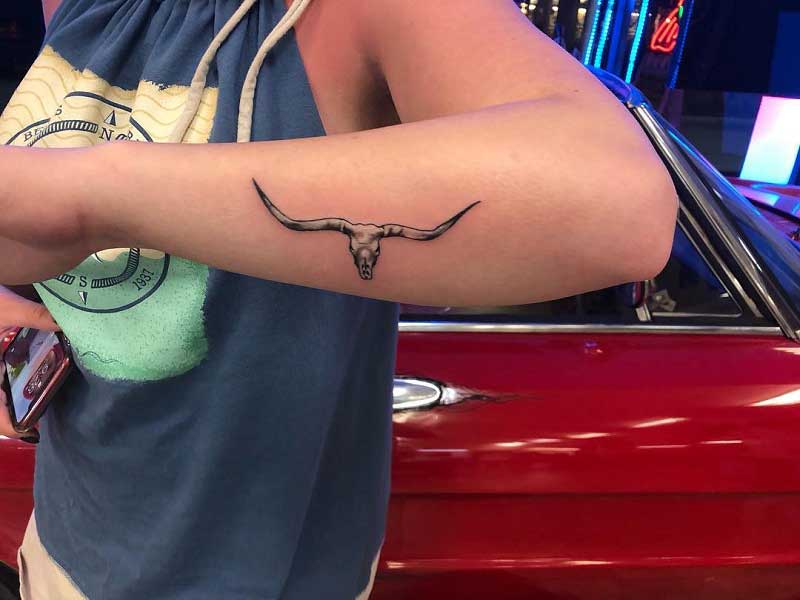 Longhorn bull skull tattoos can also be in miniature form and still manage to look great. The location chosen for this particular tattoo is perfect too. The design symbolizes the need for protection.
Geometric Bull Skull Tattoo
Usually, geometric designs symbolize harmony, order, and stability. They also represent balance, symmetry, intelligence, and much more. Scroll down below to go through some of the most unique geometric tattoo designs of the bull skull.
7. Balance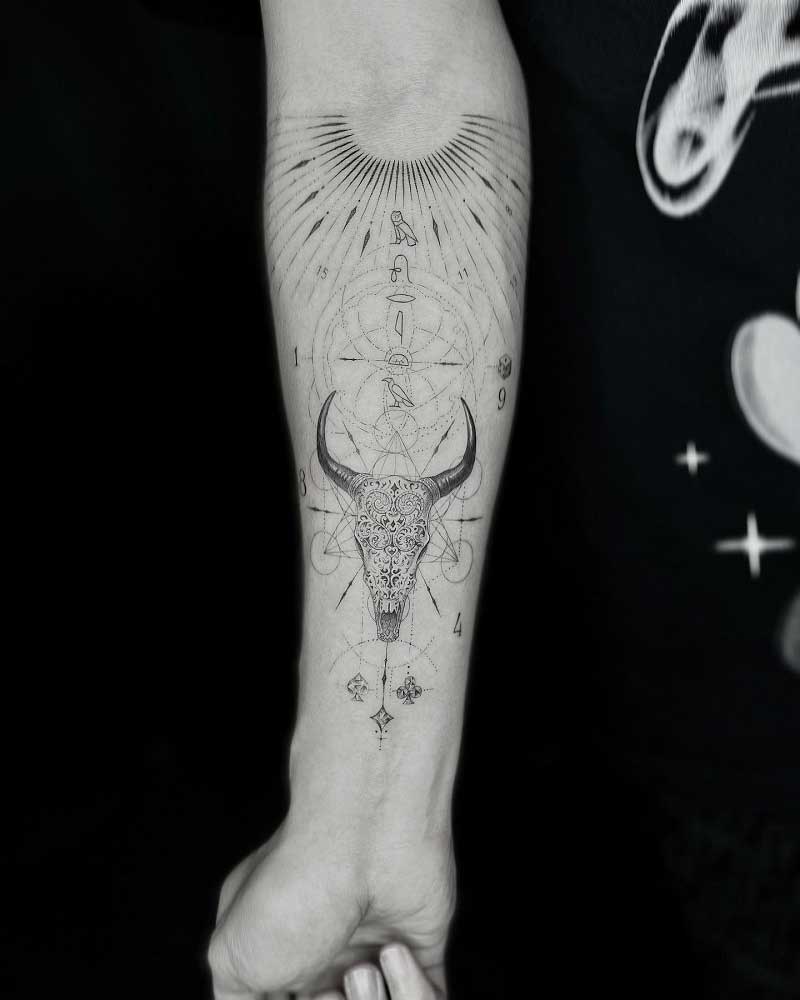 As mentioned earlier, geometric tattoos stand for balance and so does this tattoo design. The geometric shapes and lines will look a lot better in dotwork design.
8. Indomitable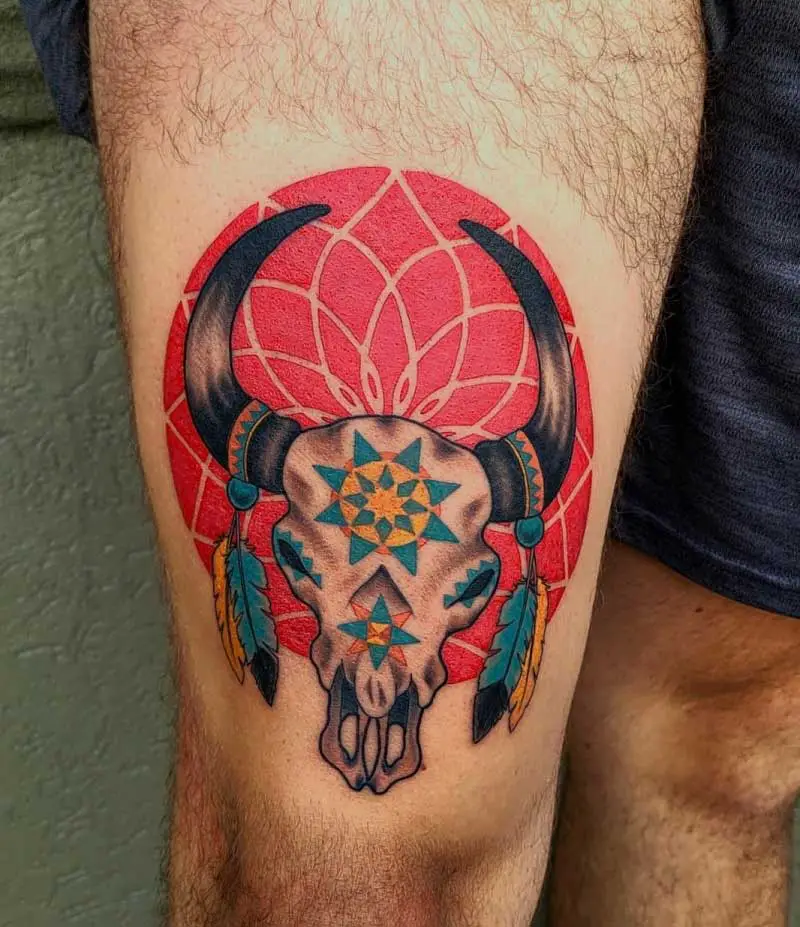 In general, the combination of the bull skull and feathers represents pure strength and courage. You can also add a circle or a triangle design at the back for more complexity.
9. Spiritual Enlightenment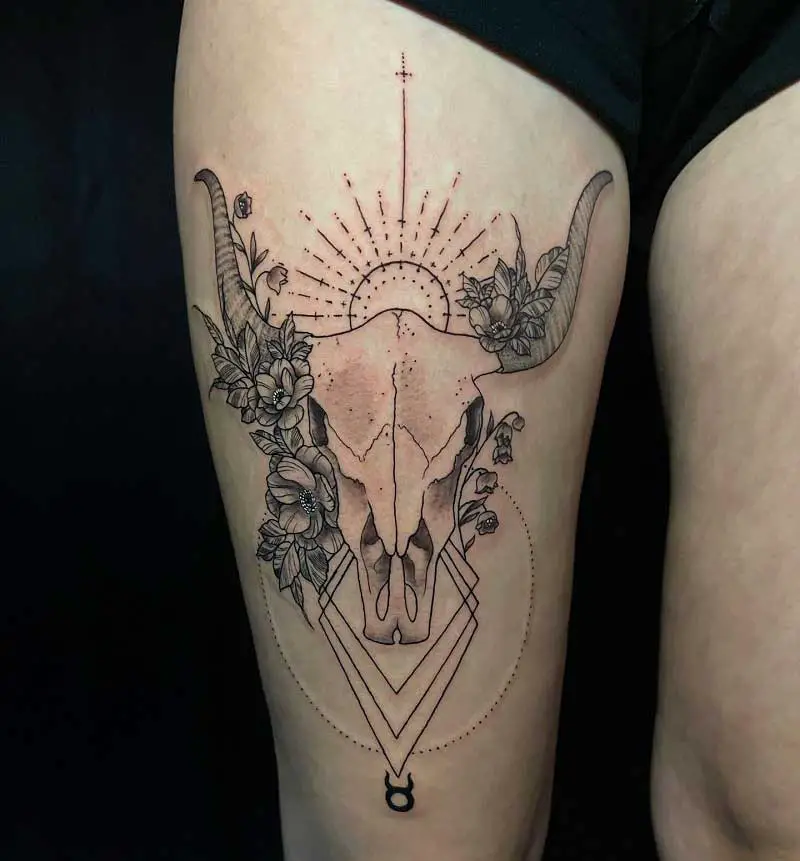 Skull tattoos, generally, have negative meanings attached to them. However, if flowers are added, the interpretation can be seen in a positive light. People also might just get this tattoo because of how good it looks visually.
Traditional Bull Skull Tattoo
Typically, traditional tattoos focus on the use of bright colors and bold strokes/outlines. Here are a few traditional bull skull tattoos for you to go through:
10. Agility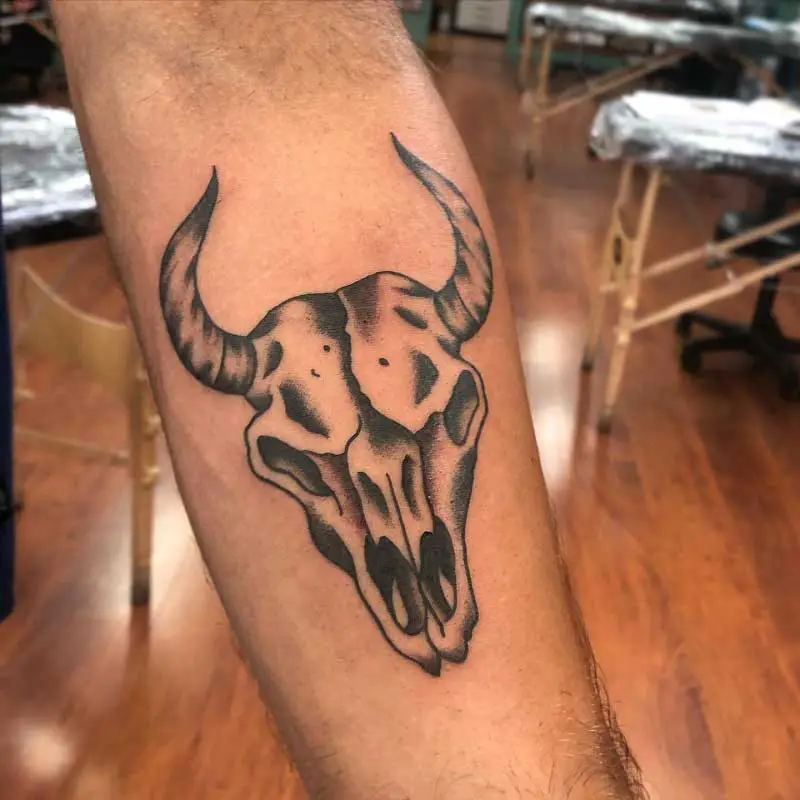 This tattoo design shows that you don't always need to include colors or random elements such as flowers or feathers for a tattoo to look good. Try not to over-complicate things.
11. Unorthodox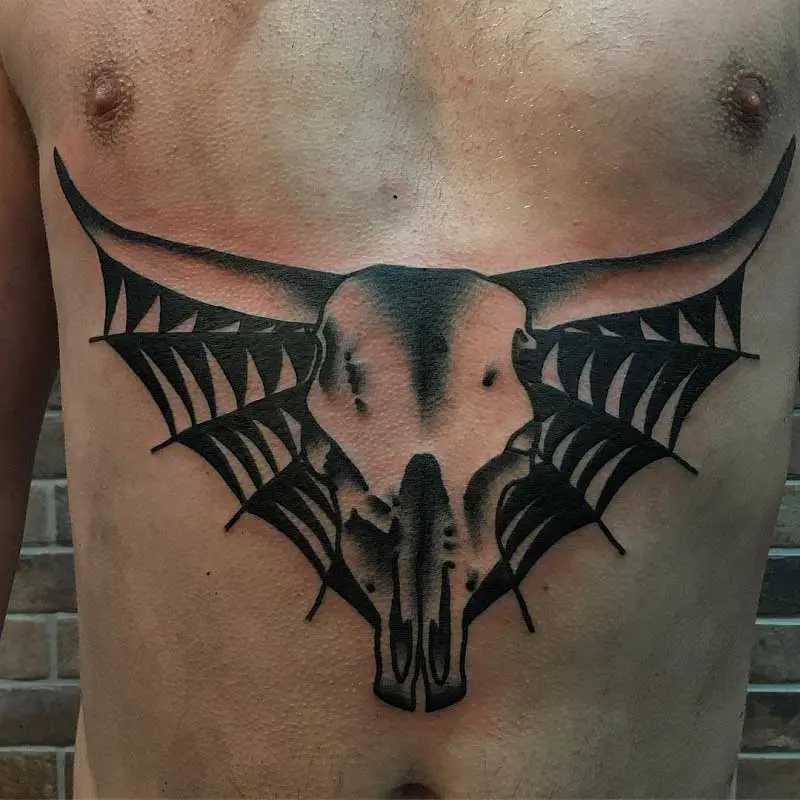 A bull skull combined with cobwebs is not something you see quite often and there are no definite interpretations for this design. But who cares about the meaning of the tattoo manages to look good, right?
12. A Little Bit Floral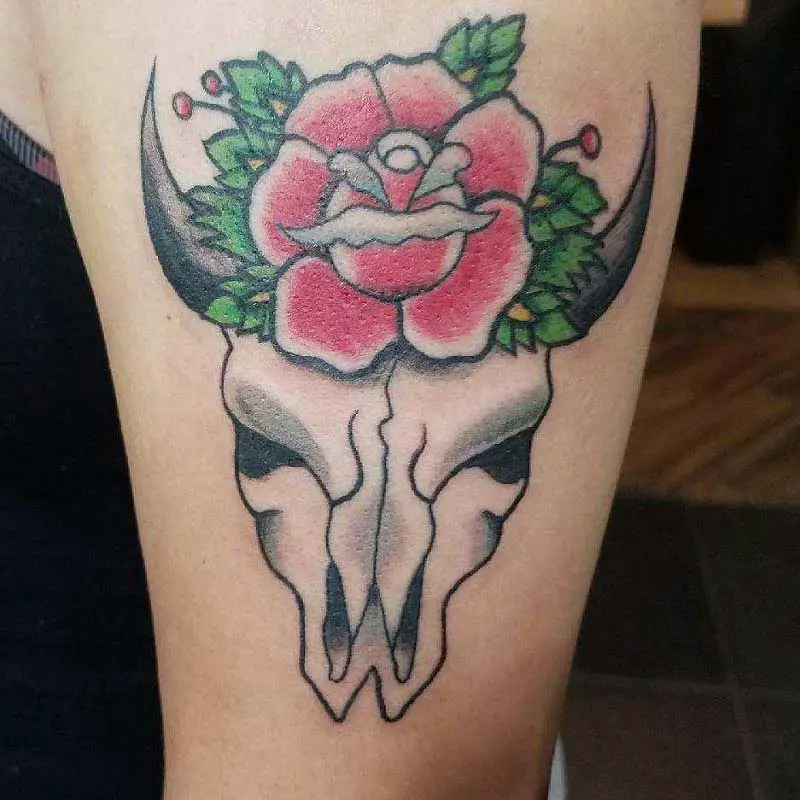 Many people might argue that this design will mostly appeal to women because of the floral element that is present here. However, anyone can actually get this as long as they like it and can wear it with great pride.
Tribal Bull Skull Tattoo
Tribal tattoos tell stories of the wearer's heritage. Usually, these tattoos are inked in black or dark blue. Scroll down below to check out some of the bull skull tattoos in this form:
13. Last Man Standing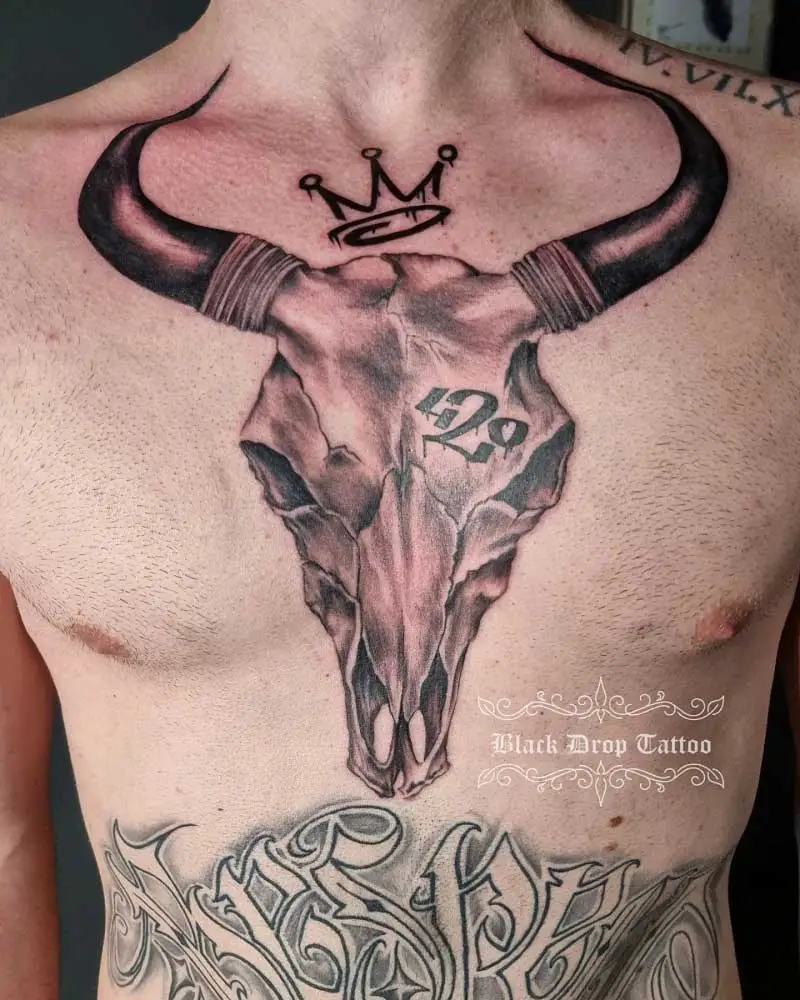 A tattoo that is perfectly aligned at the center sure does look stylish. You can add elements such as crowns or tiaras at the top to make it look even better.
14. Aesthetically Pleasing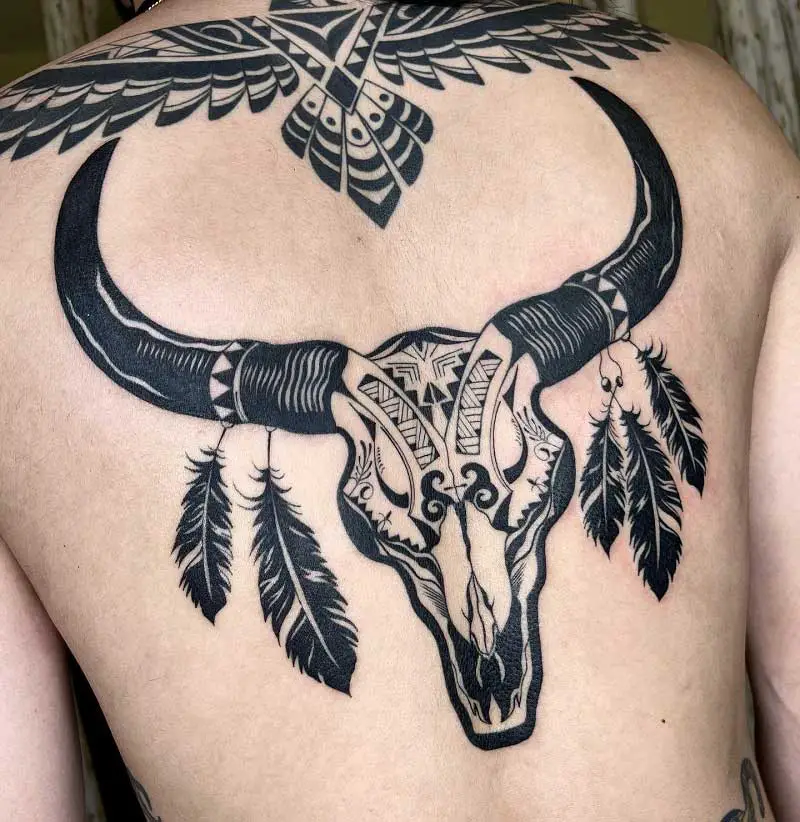 These tattoos can also look really good if they are etched on the back. It will allow the artist to have more space to draw and also let them use their creativity to the max.
15. Feisty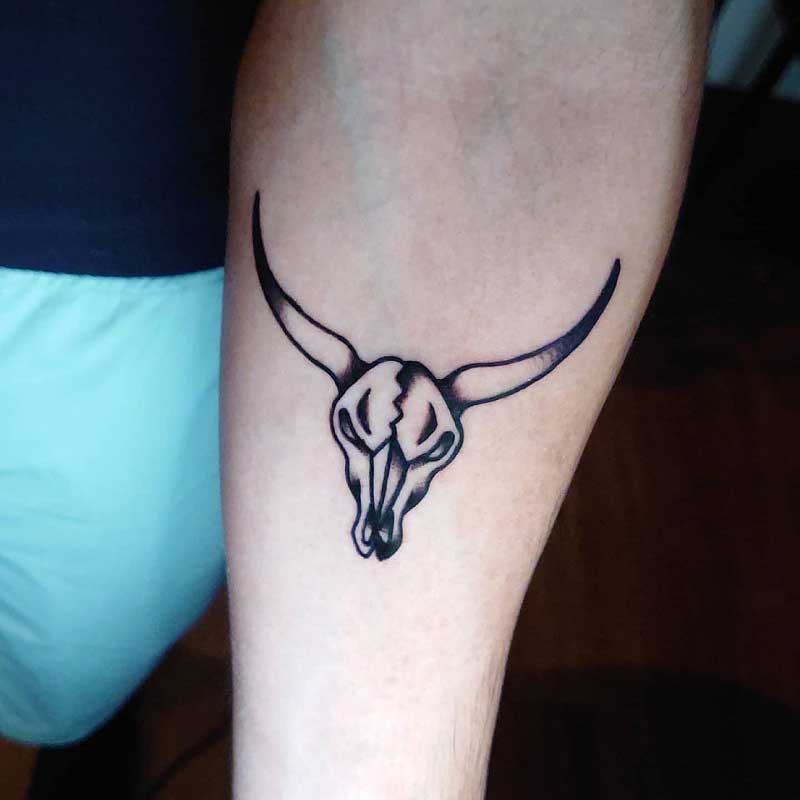 Not all tattoo designs of the bull skull have to be large in size and complex in order to look impressive. A smaller version of the design with an appropriate amount of detailing can get the job done.
Bull Skull Chest Tattoo
Chest tattoos give the artists more space or room to draw. This also gives them the opportunity to show off their creativity. Below are some head-turning chest tattoos of the bull skull:
16. Heart Of Steel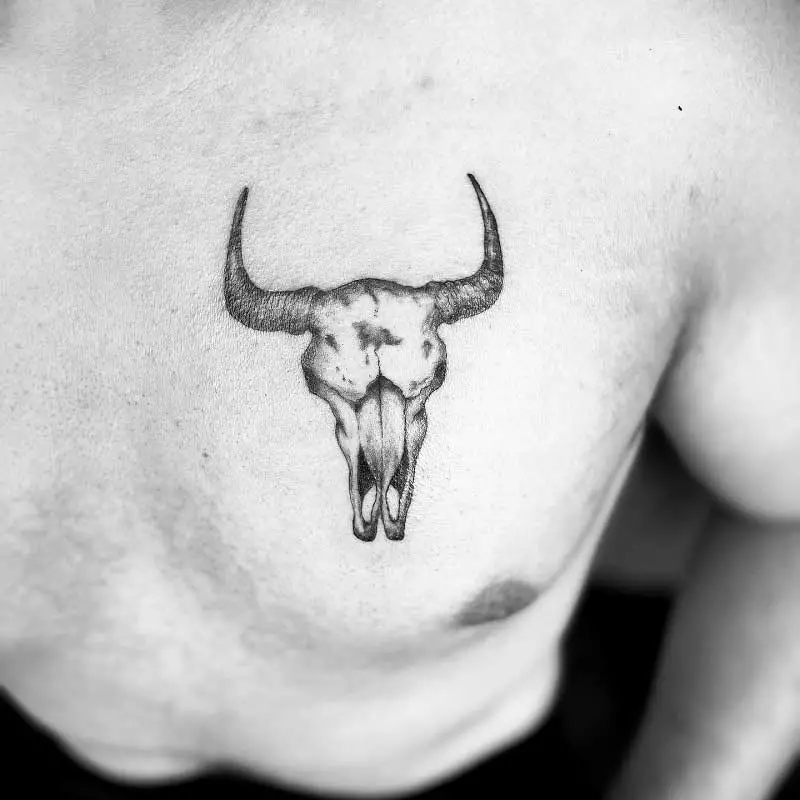 Bear in mind that if you are getting a bull skull tattoo on your chest, it does not necessarily have to be aligned at the center and take up plenty of space. A small-sized tattoo placed on one side will also look just as good.
17. Hope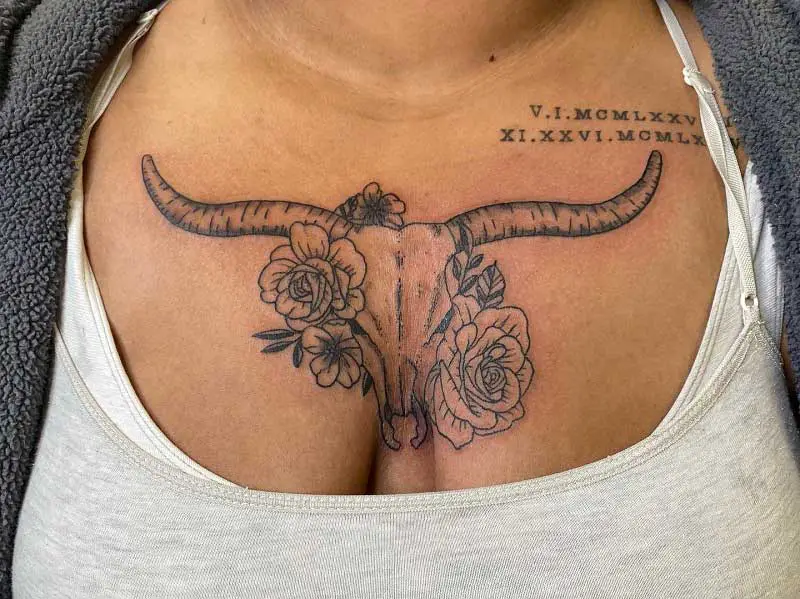 You are probably familiar with these types of artworks by now and yes, you can also get them on the chest if you wish to. Consider adding a special message or a significant date consisting of roman numerals anywhere at the top.
18. Good Fortune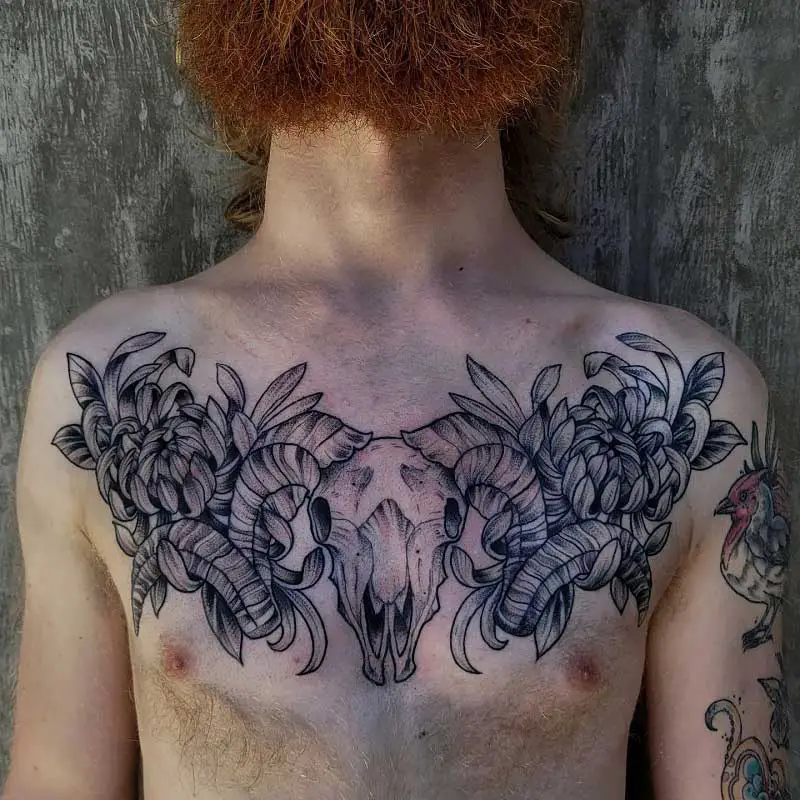 To some people, this design may seem a bit over the-top. However, if you really like it, no one's going to stop you from getting it. Just don't over-complicate it while adding other elements since the skull is the focal point here.
Native American Bull Skull Tattoo
Across Native American society tattoo art was considered to be a spiritual ritual. Therefore, it was more than just getting tattoos. Check some of them out below:
19. Immortality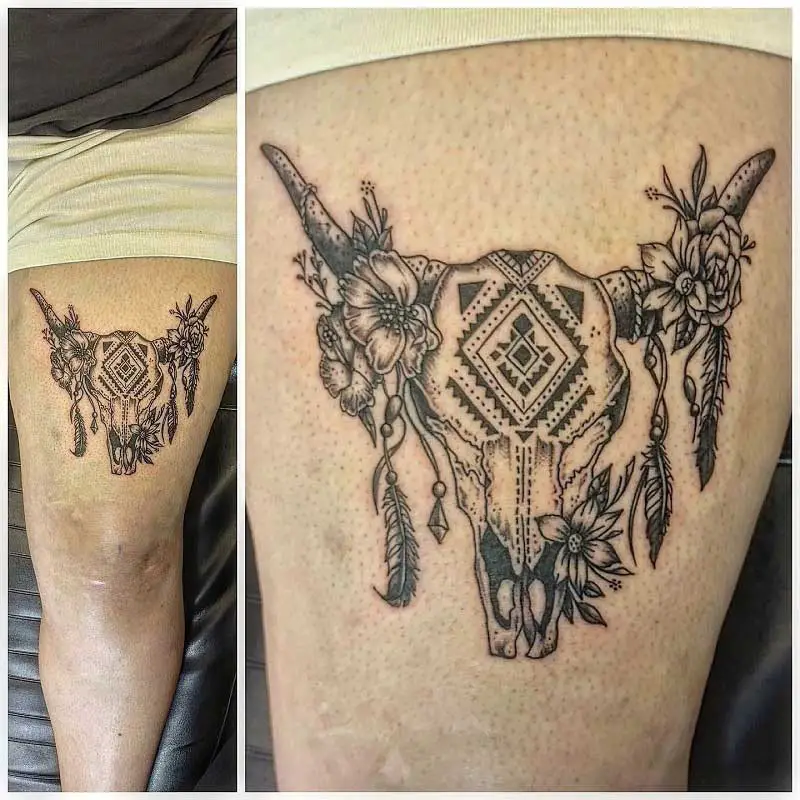 A bull skull tattoo combined with feathers and flowers stands for immortality. You can add unique geometric patterns to the skull to make the tattoo look cooler.
20. A True Warrior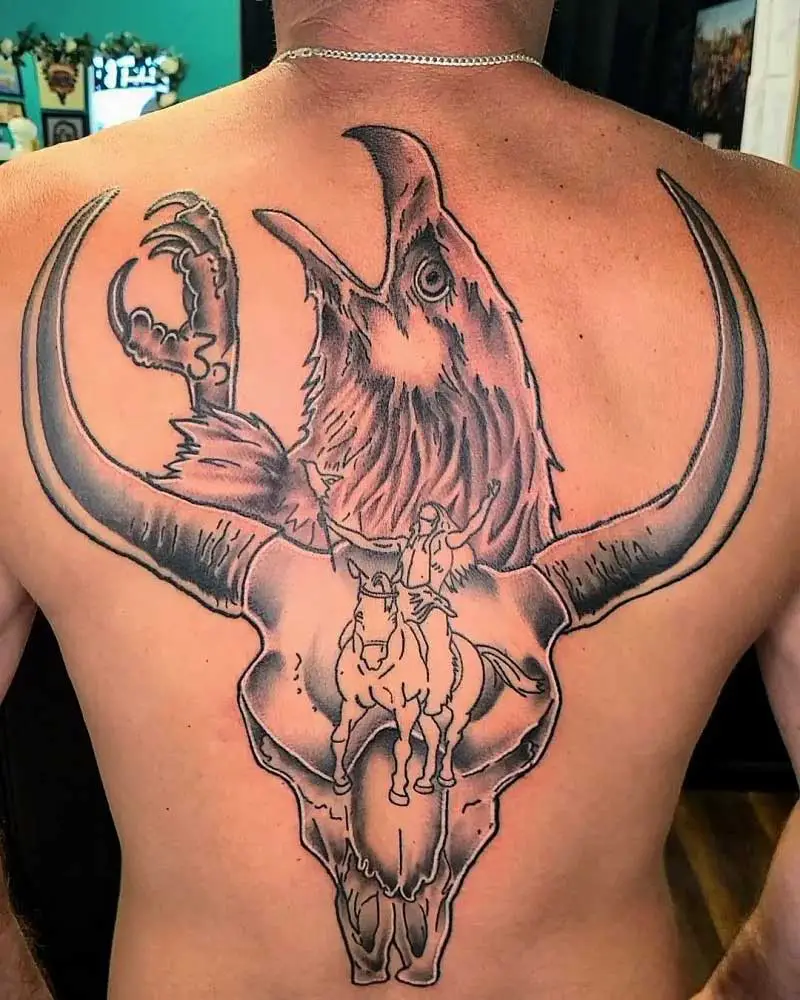 If you're looking for a tattoo design with the most powerful meaning ever, this might be the one. Each of the elements you can see in this design stands for true strength.
21. Tough Old Bird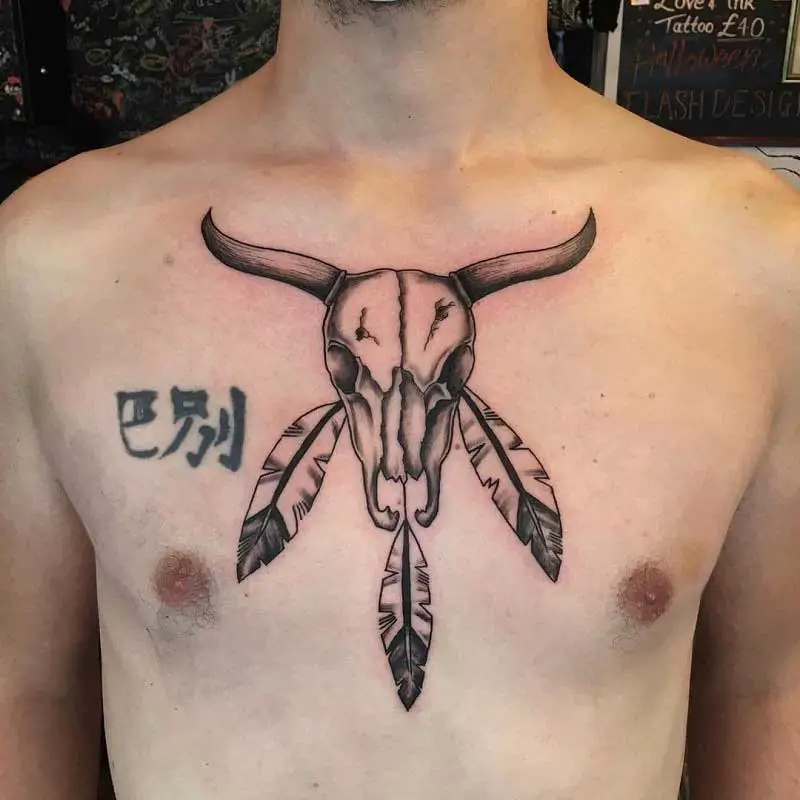 As mentioned earlier, these tattoo designs symbolize courage and strength. The feathers can also hang from the horns as well as from the sides of the skull. Consider adding a message near the tattoo to make it more meaningful.
Taurus Bull Skull Tattoo
The horned bull skull also represents the determined characteristics of the Taurus. It also symbolizes their reliability and noble qualities. Here are some tattoo designs of the Taurus bull skull for you to take a look at:
22. Nobility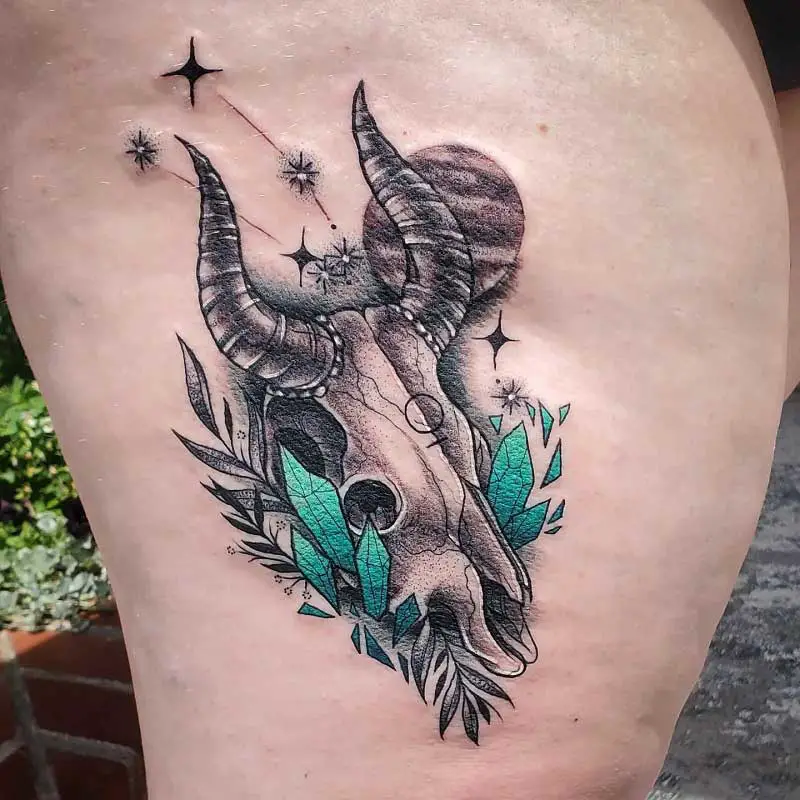 Those who are into astrology will find tattoo designs of this sort very appealing. Elements such as stars and crystals add more richness to the design so consider including them.
23. Recklessness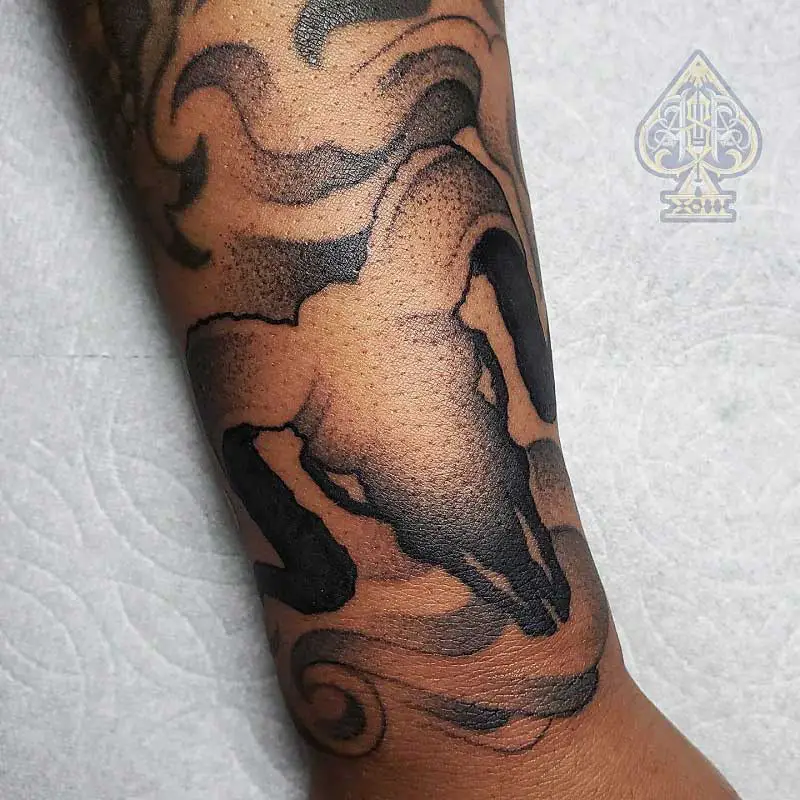 Some bull skull tattoos, such as this one, look really good on the forearms. With the appropriate amount of shading and detailing, the design can look incredibly striking.
24. Mess With The Bull, You Get The Horns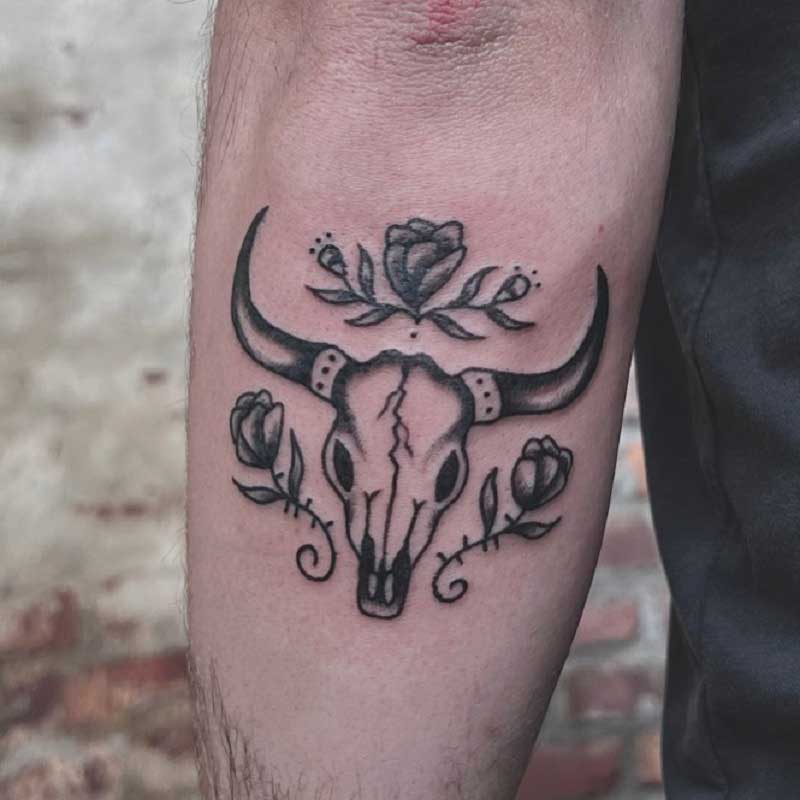 We have looked at plenty of tattoos so far where the bull skull and the flowers are combined. However, this one is a bit different because of the way the three roses are aligned with the skull. Simple but super creative.
Western Bull Skull Tattoo
These tattoo works directly refer to the designs that were inspired by the American west. It mainly features wastelands, dunes, cowboys, rocky hills as well as bull skulls.
25. Resilience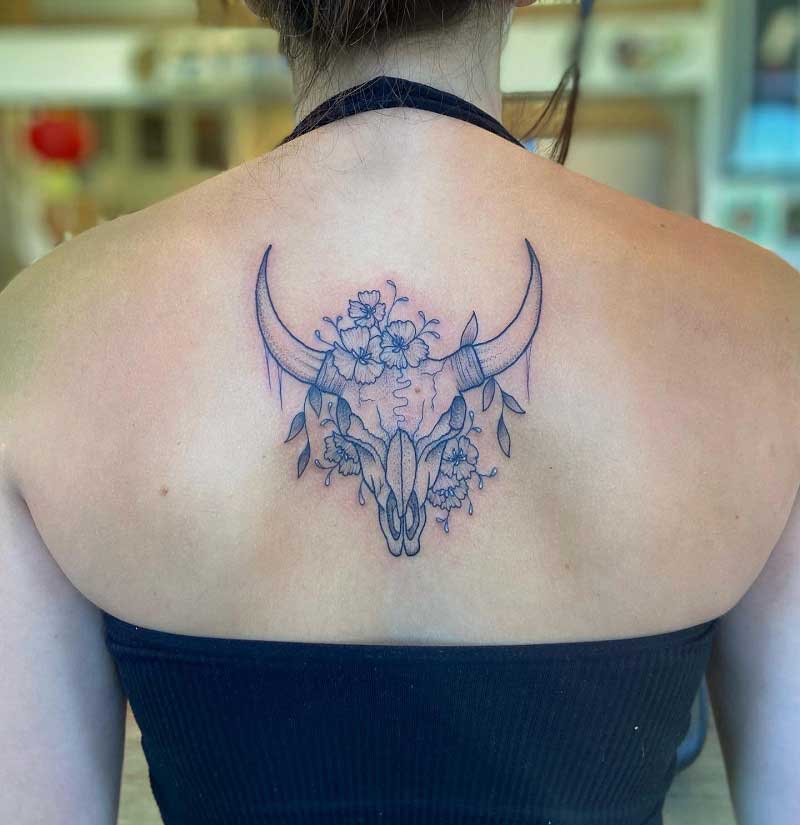 This tattoo work symbolizes an individual's ability to be resilient. Resilience is extremely necessary in order to process and overcome misery or hardship.
26.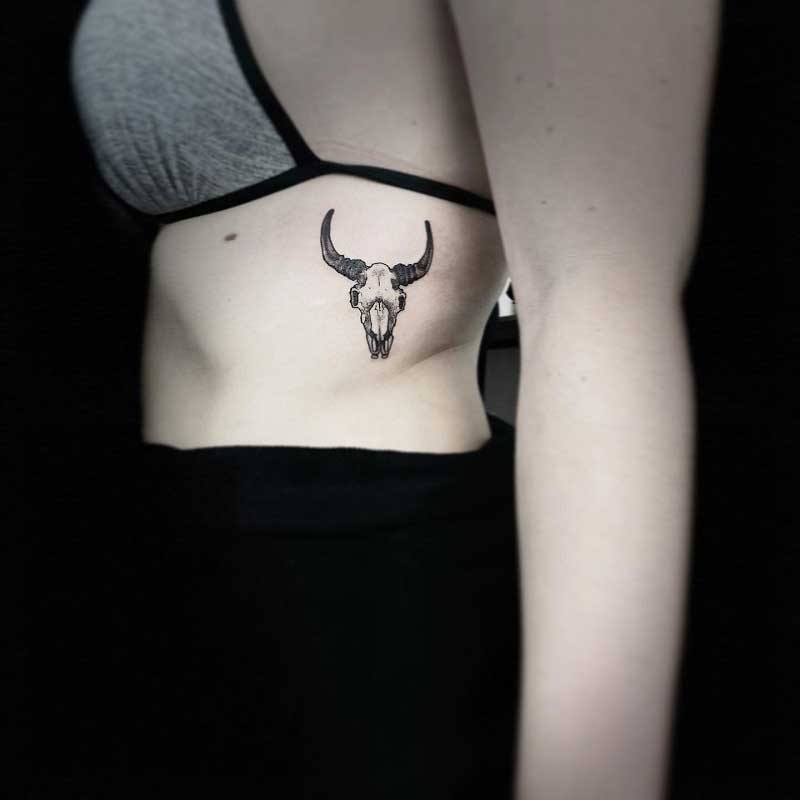 27.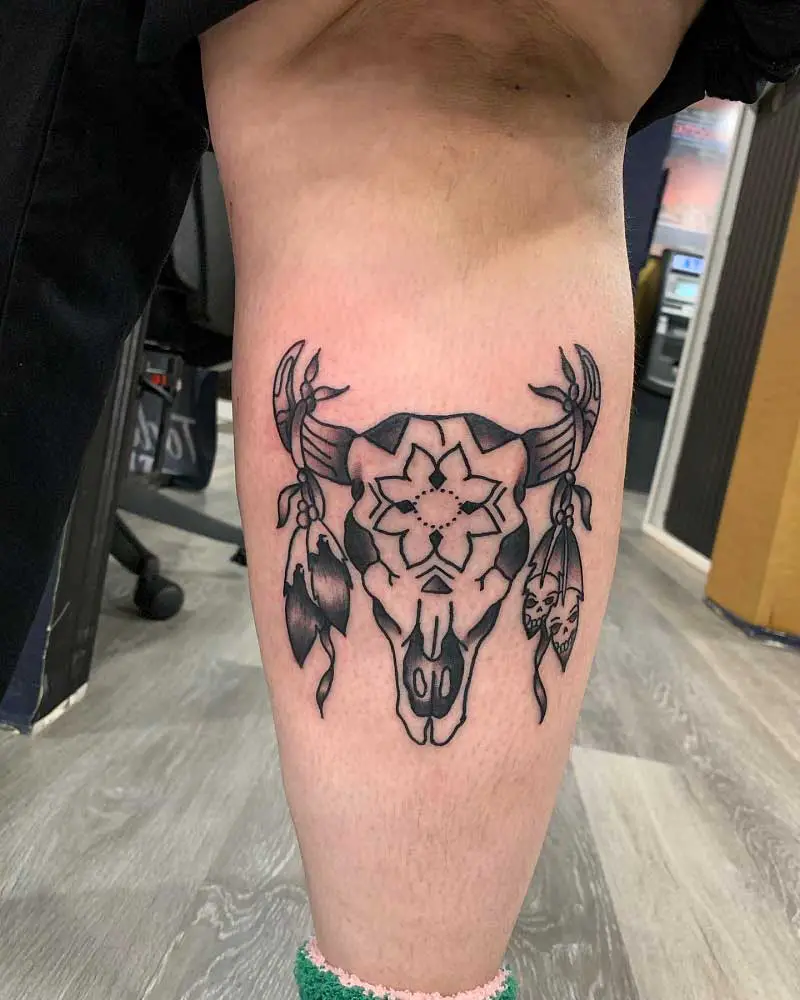 Bull Skull Back Tattoo
28.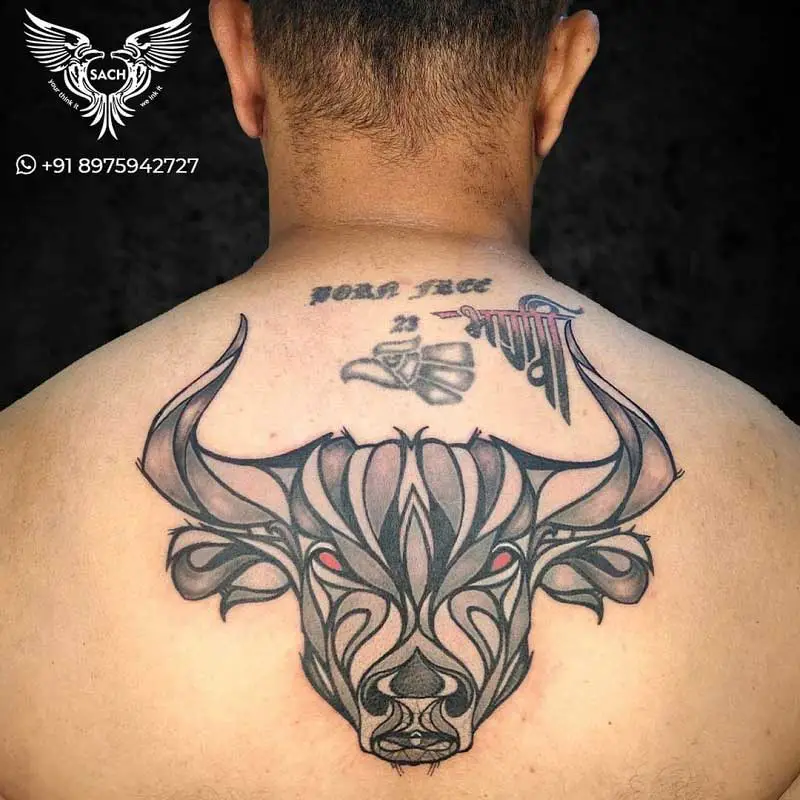 29.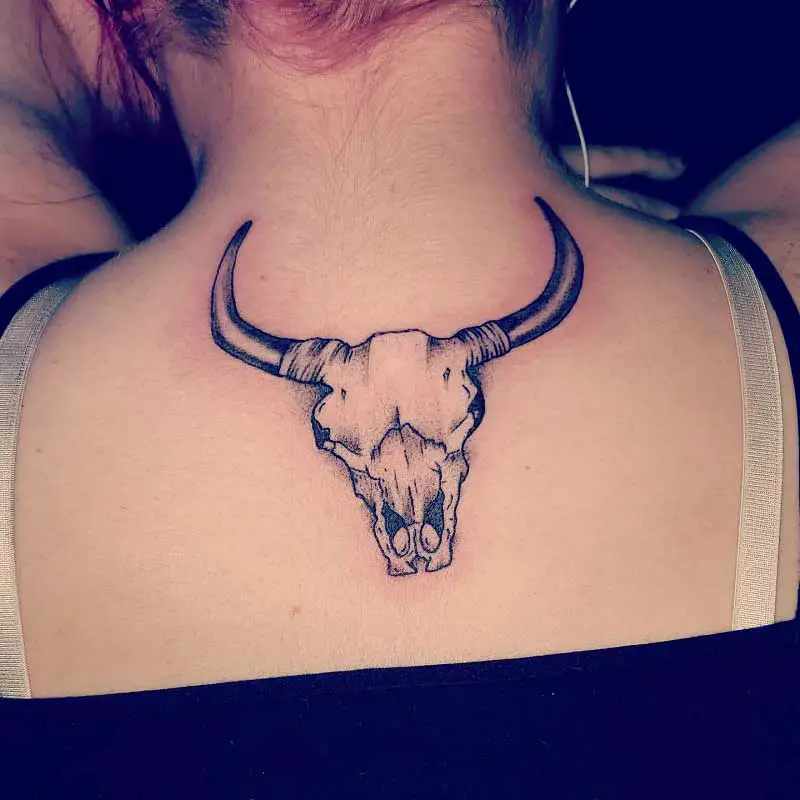 30.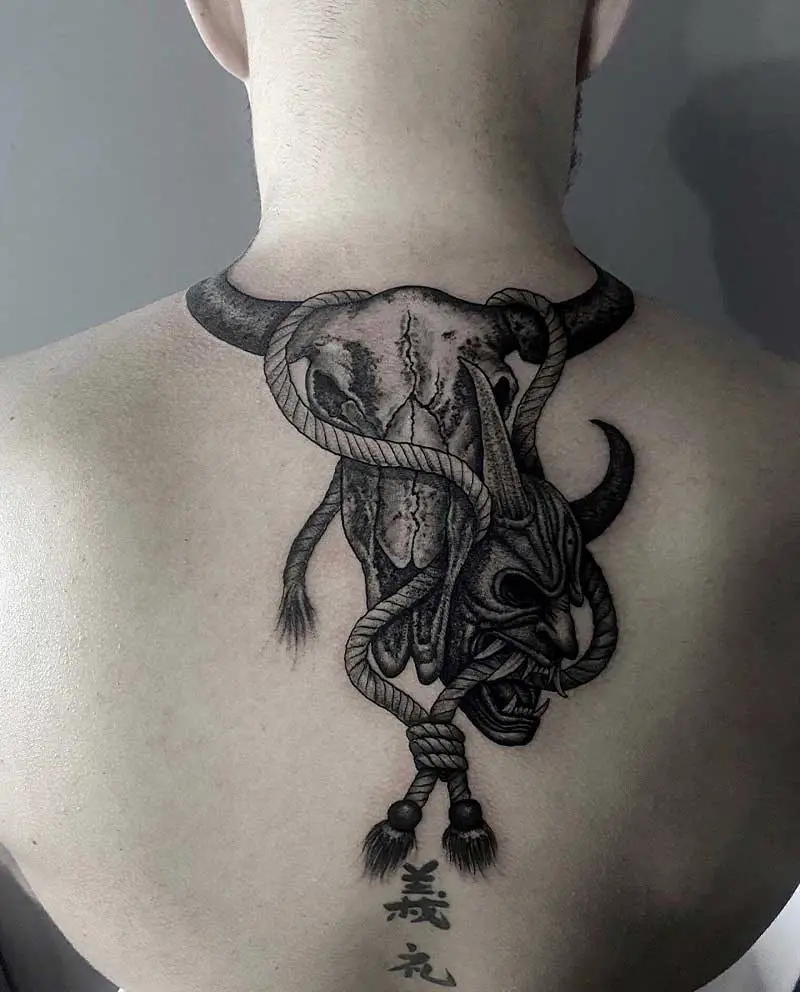 Bull Skull Dream Catcher Tattoo
31.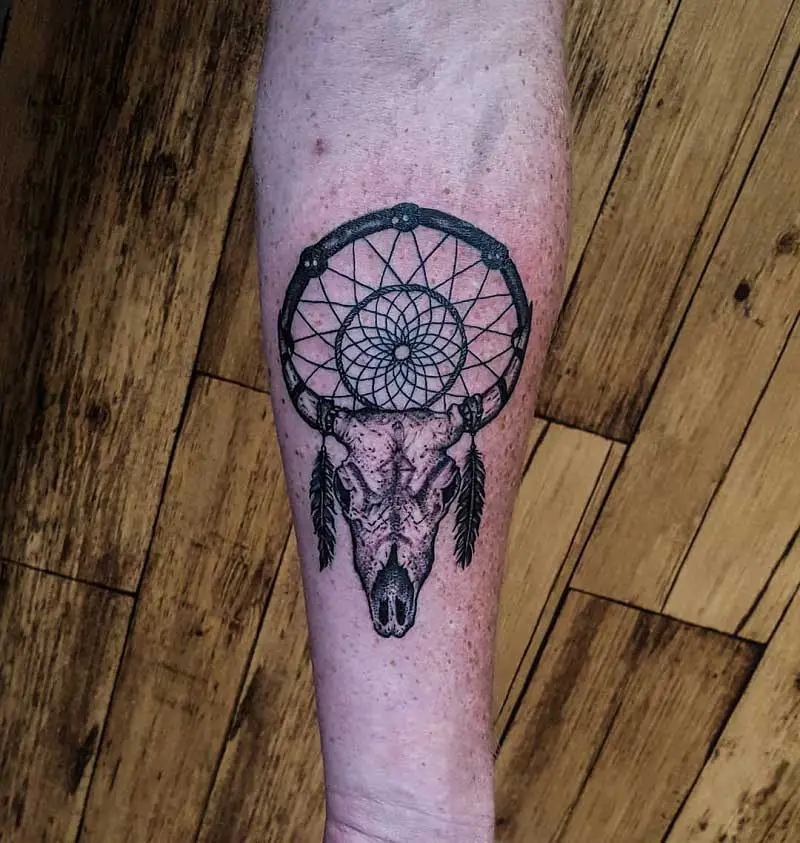 32.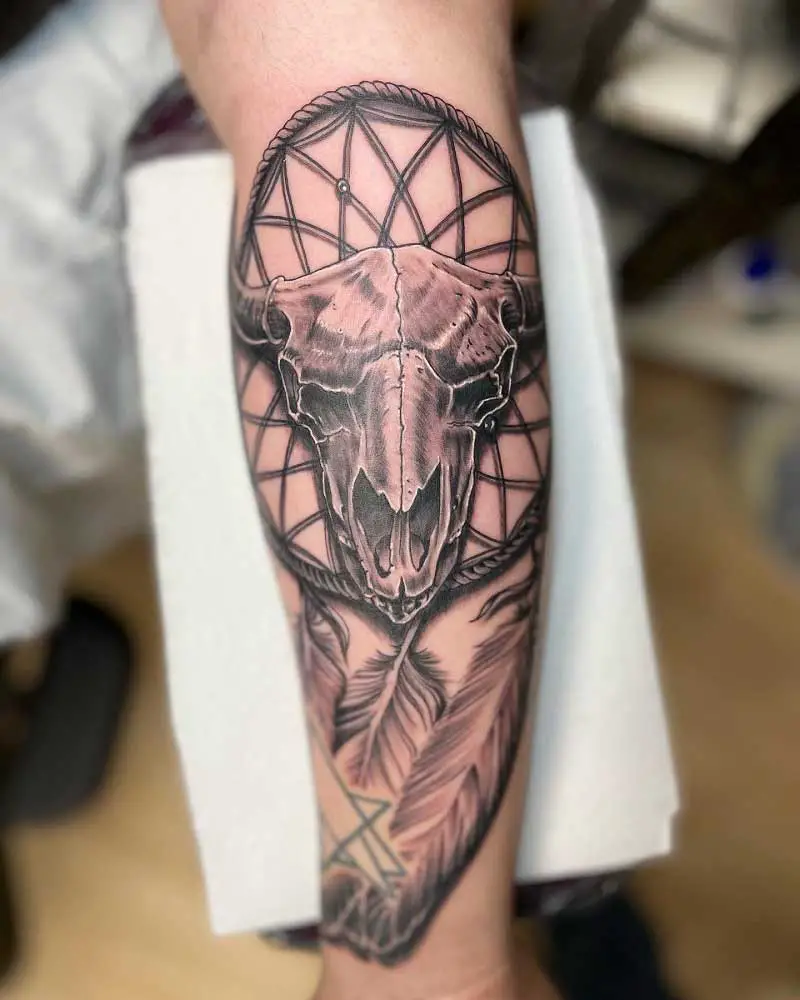 33.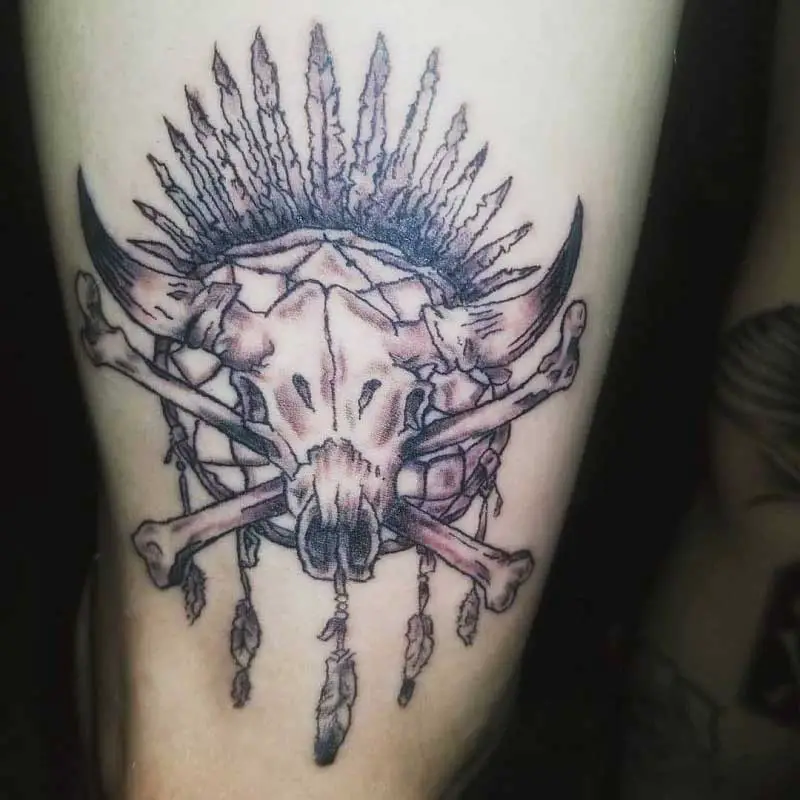 Bull Skull Sternum Tattoo
34.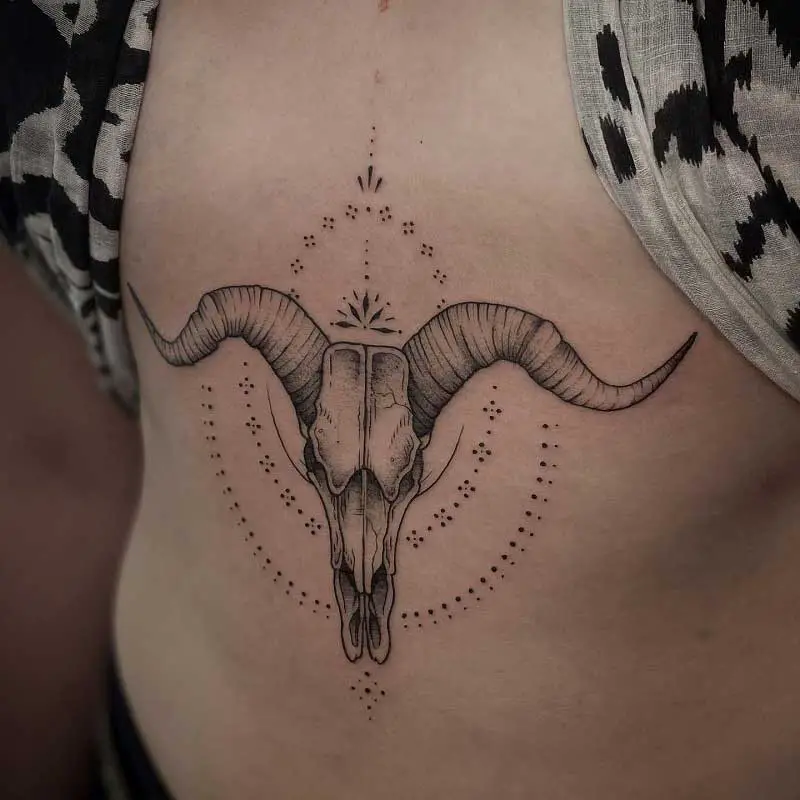 35.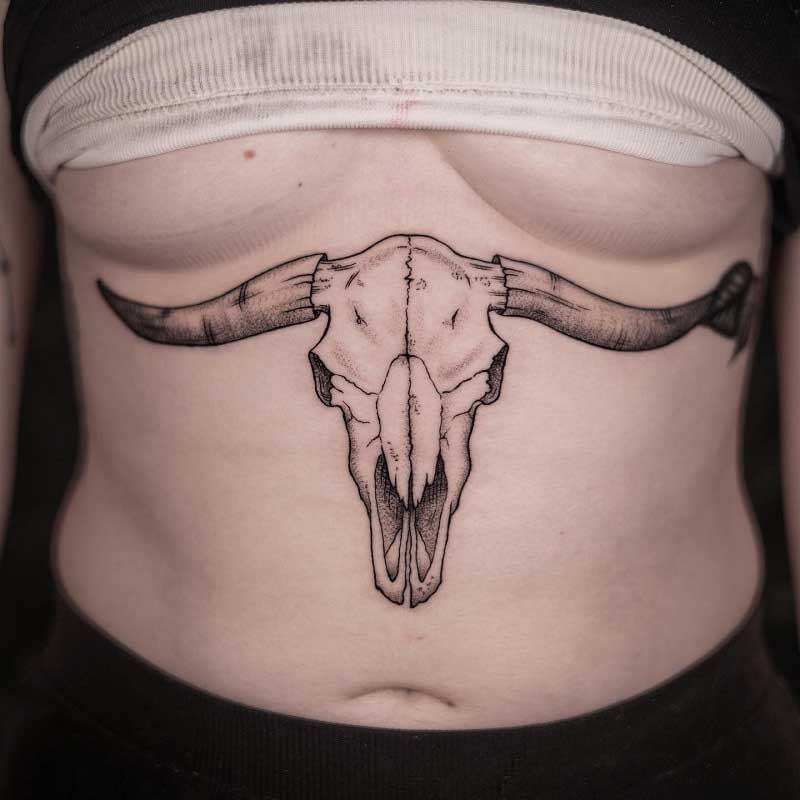 36.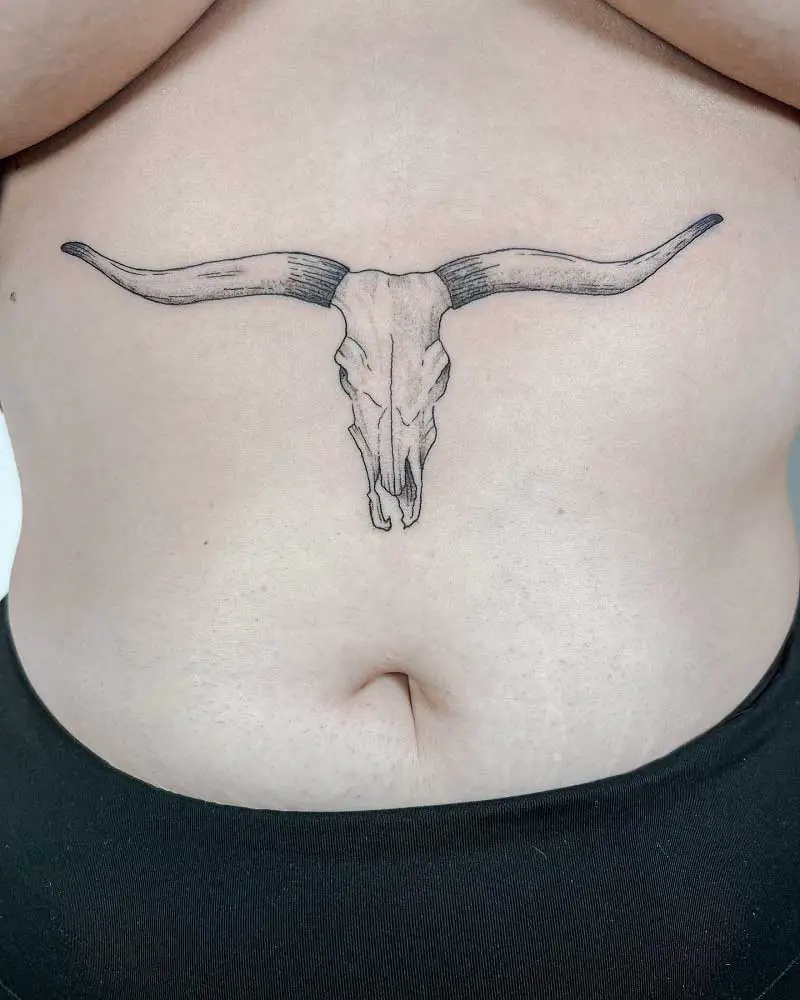 Bull Head Skull Tattoo
37.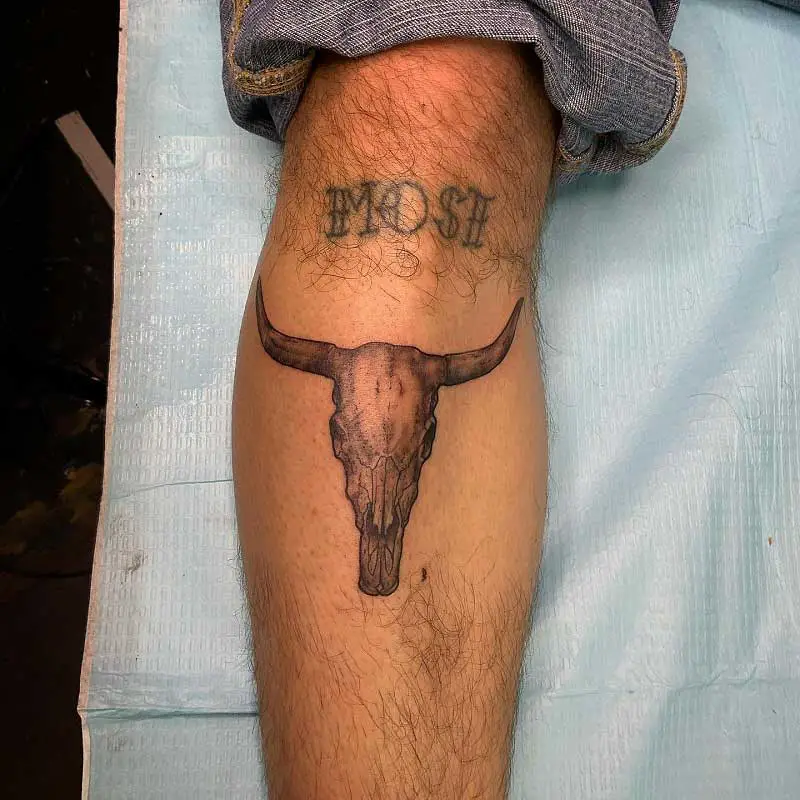 38.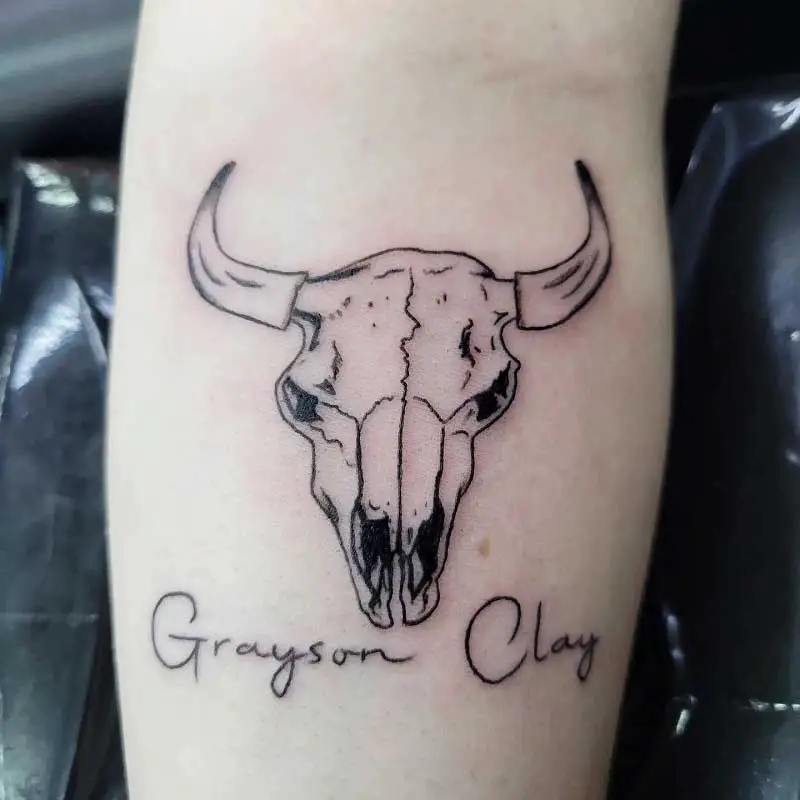 39.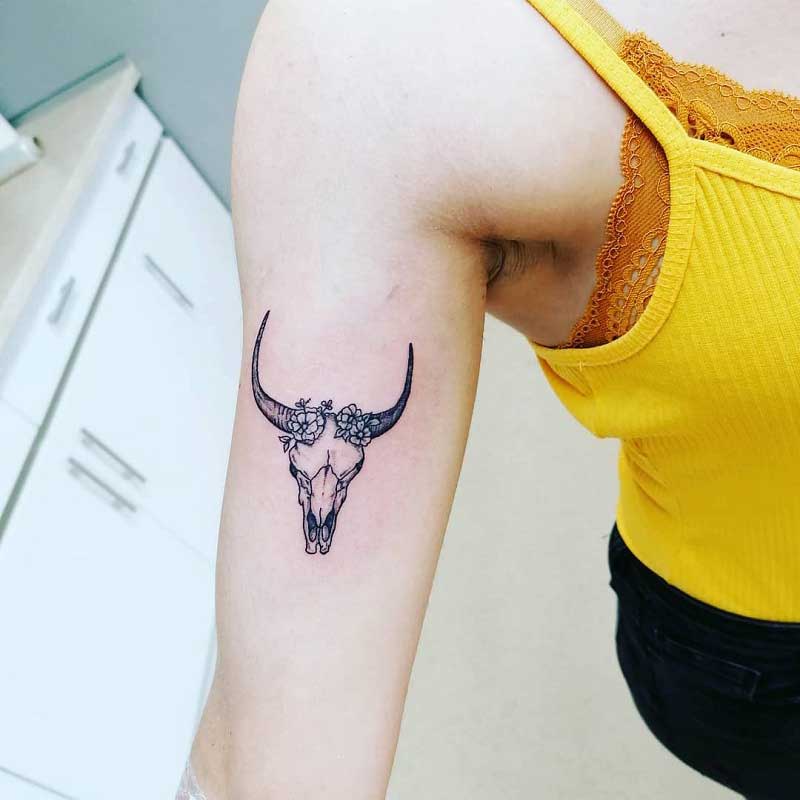 Bull Skull Flower Tattoo
40.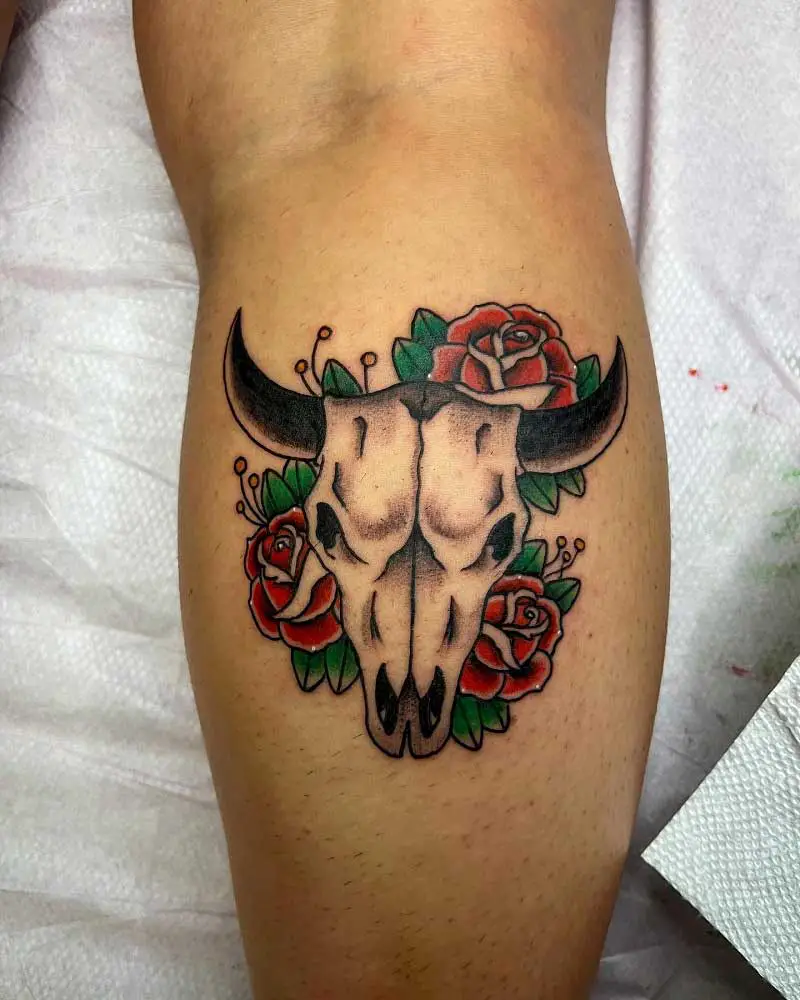 41.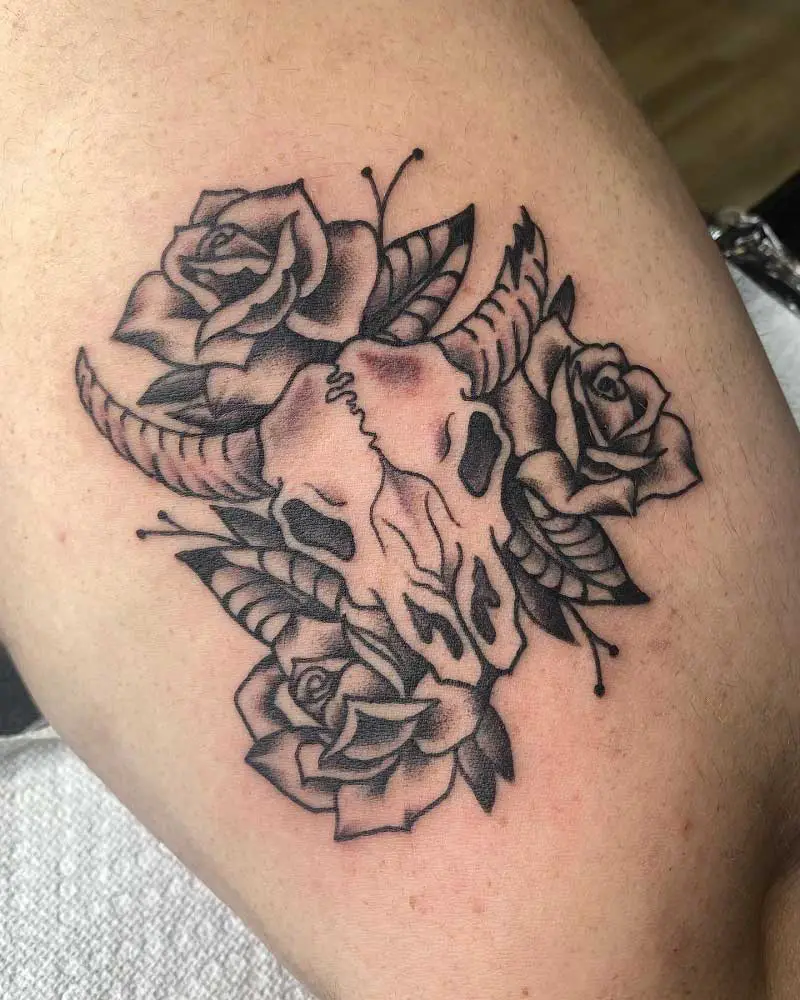 42.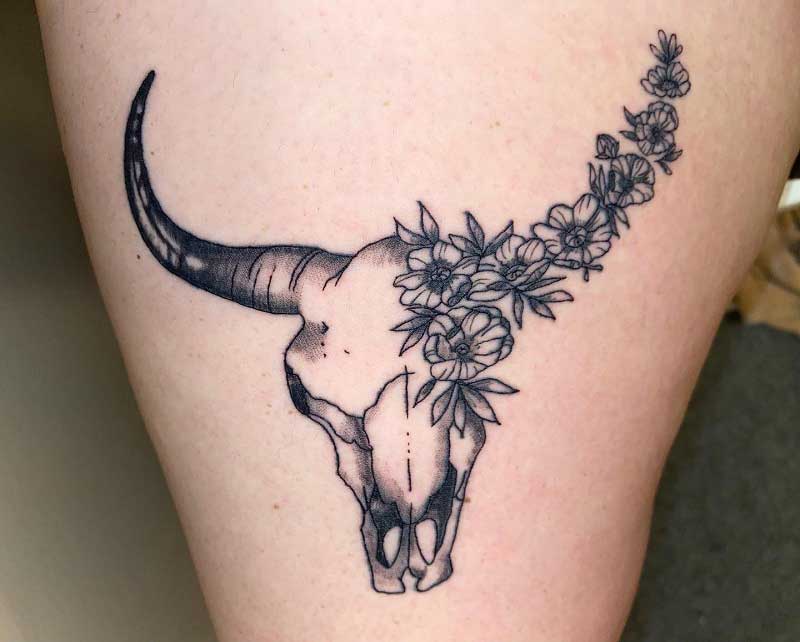 Bull Skull Sleeve Tattoo
43.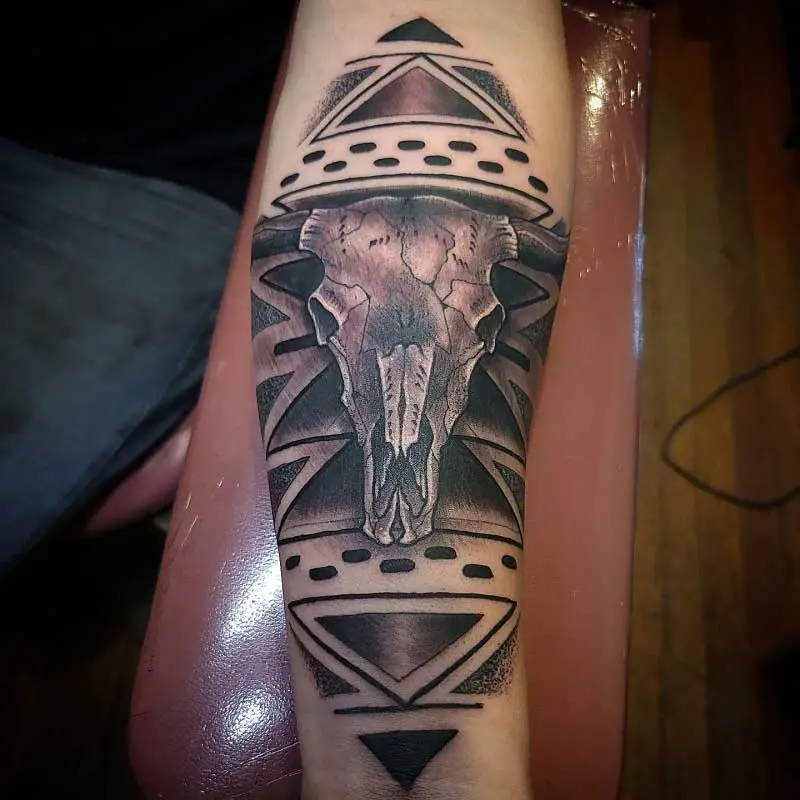 44.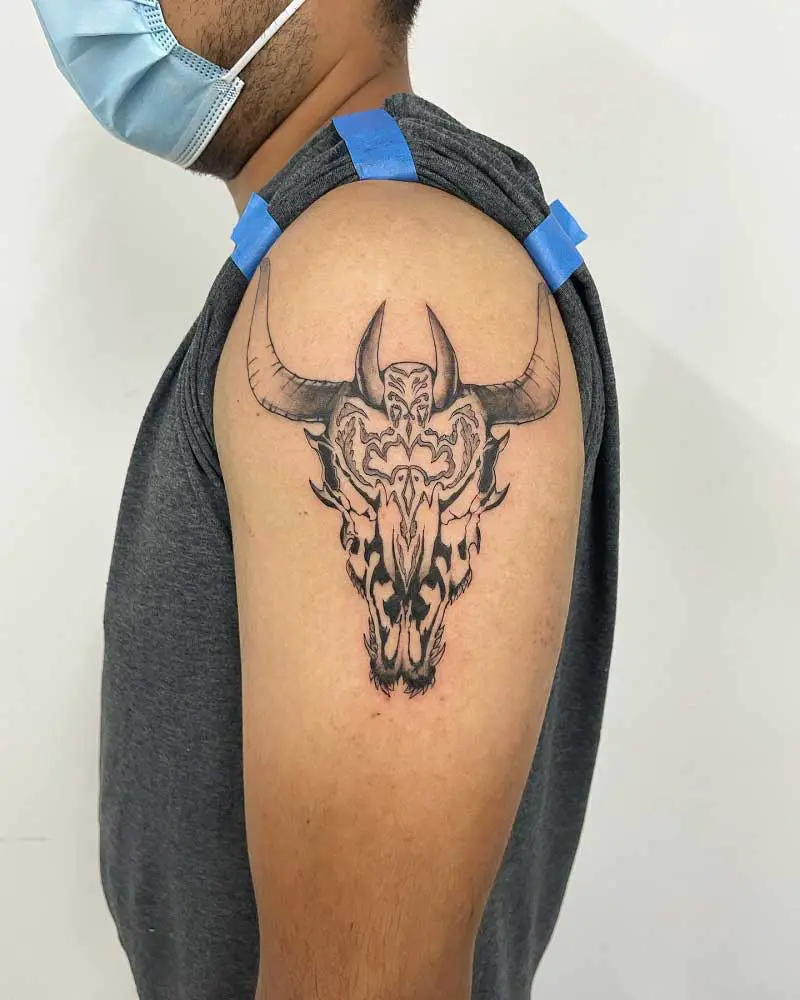 45.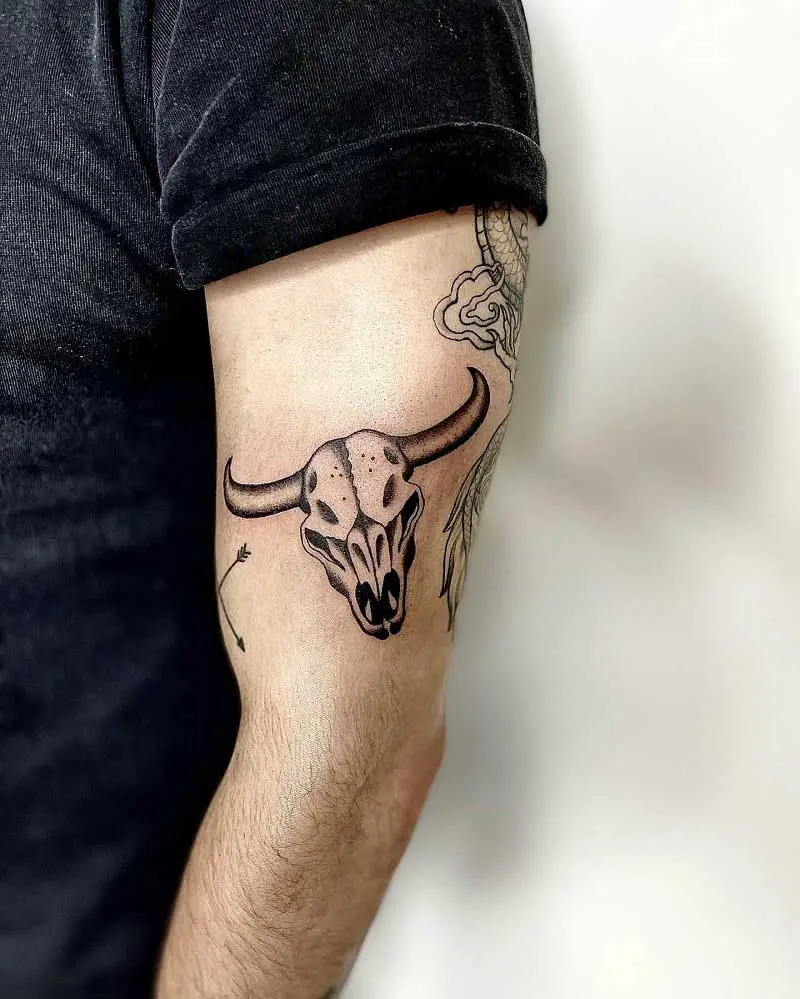 Indian Bull Skull Tattoo
46.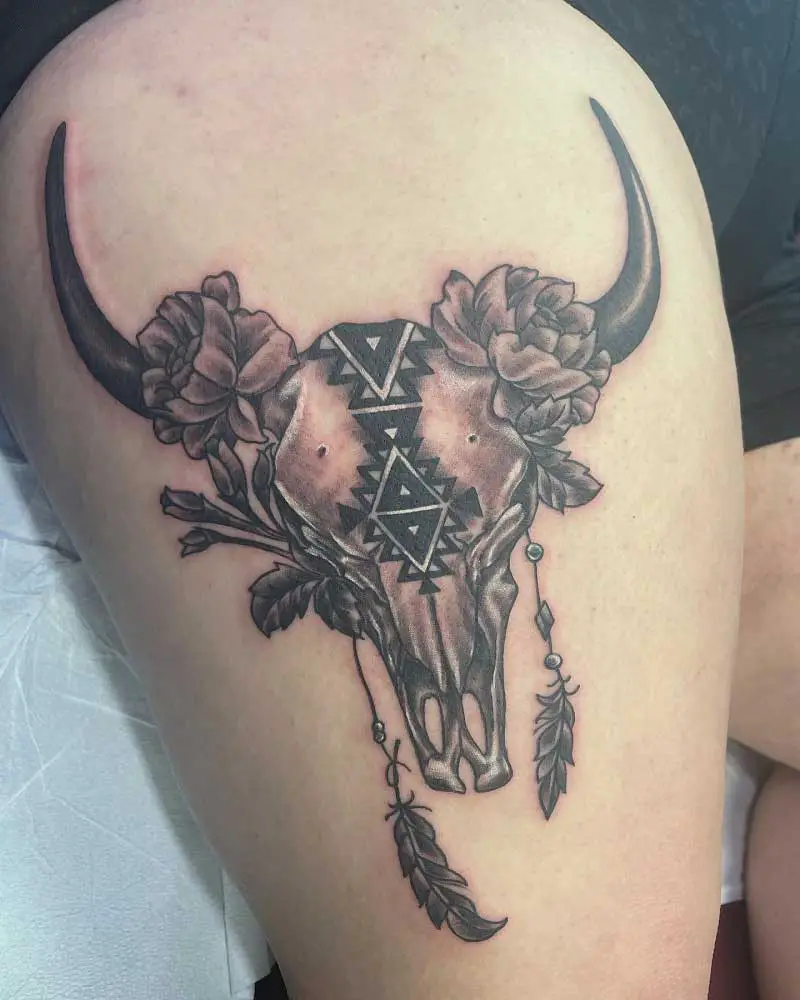 47.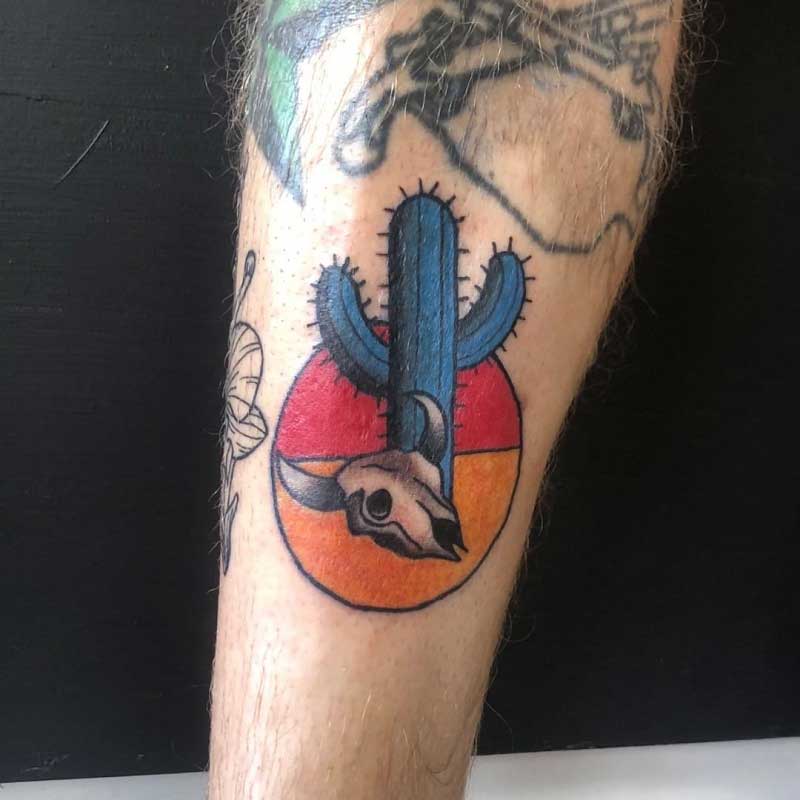 48.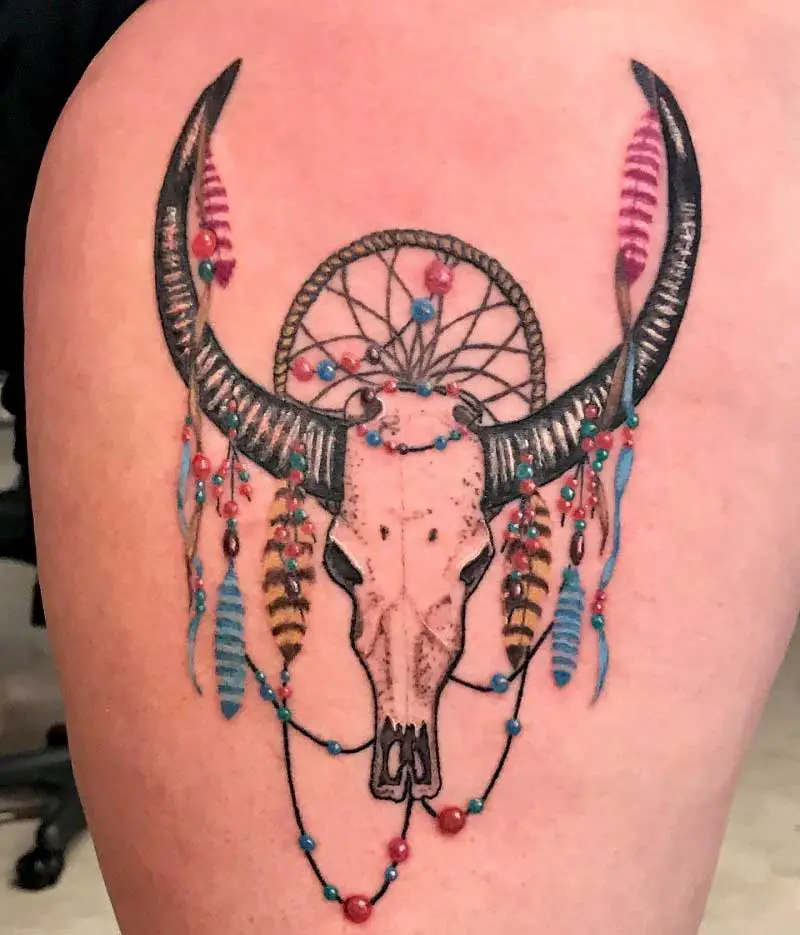 Realistic Bull Skull Tattoo
49.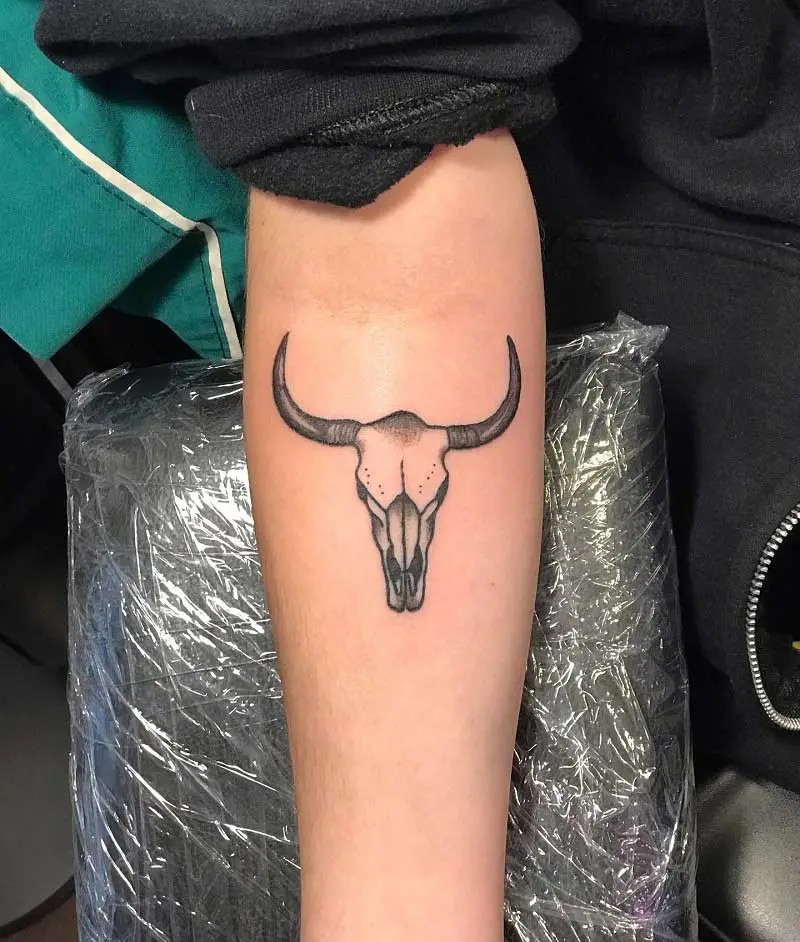 50.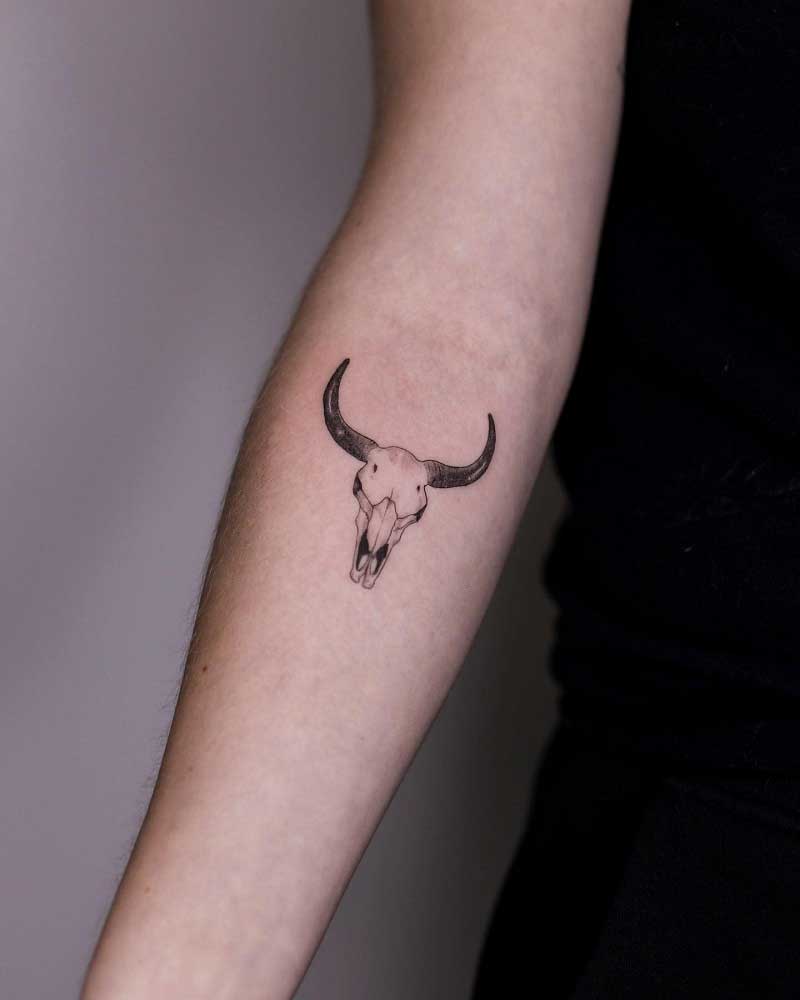 51.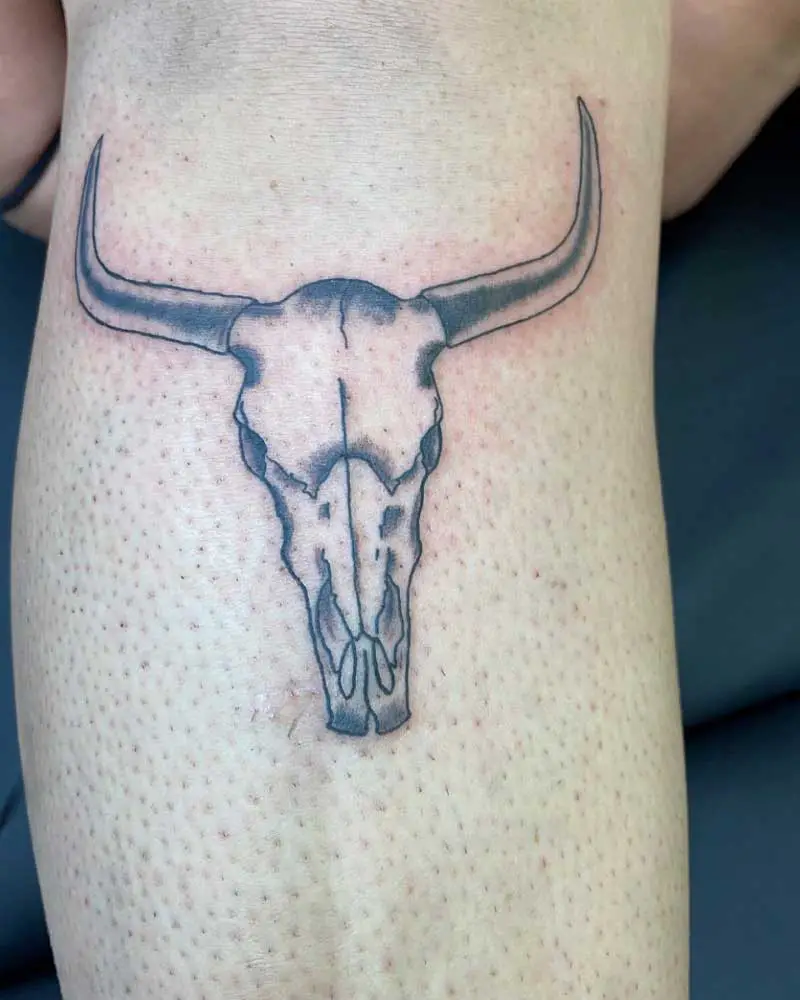 Bull Skull Hand Tattoo
52.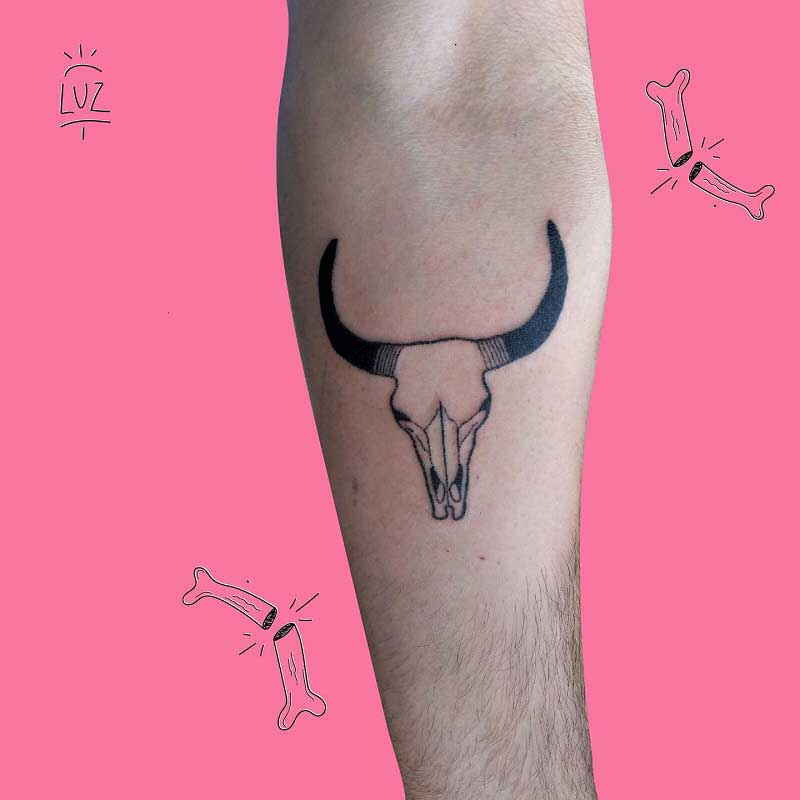 53.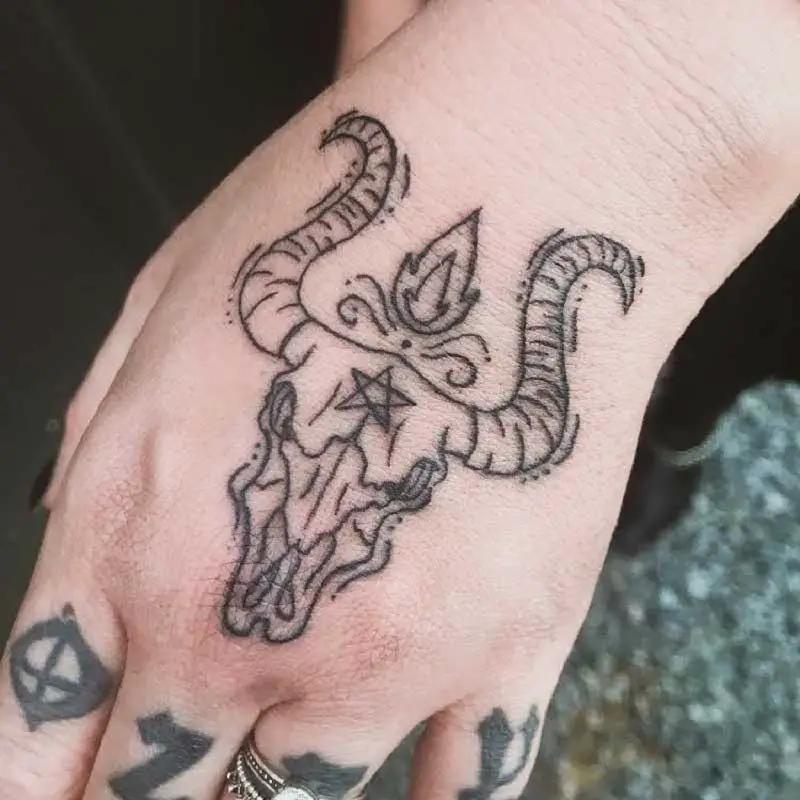 54.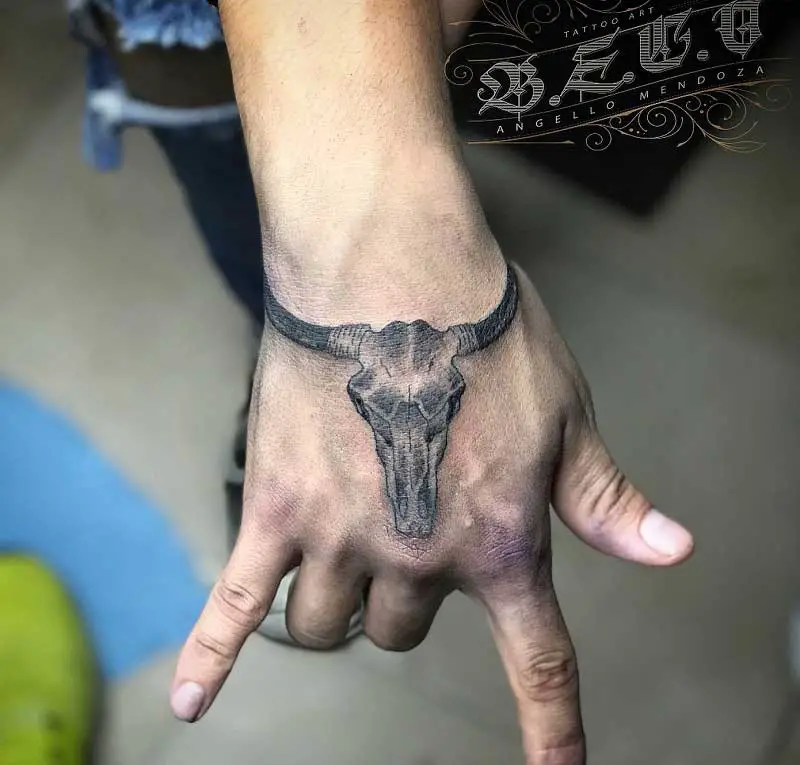 Bull Skull Head Tattoo
55.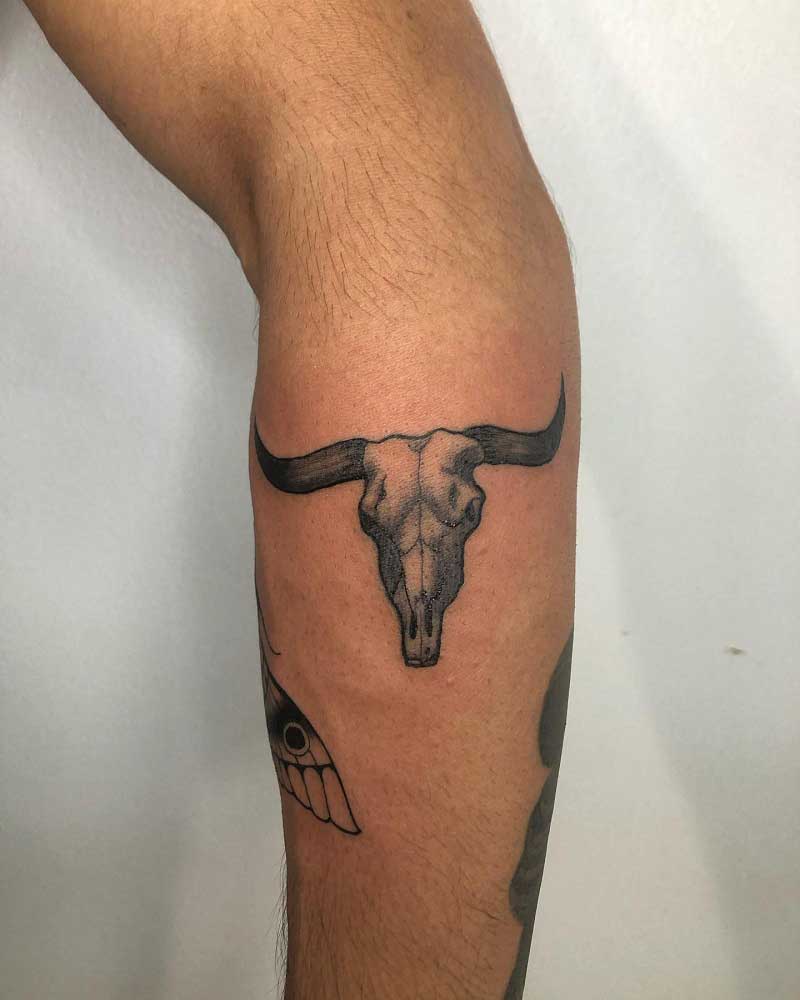 56.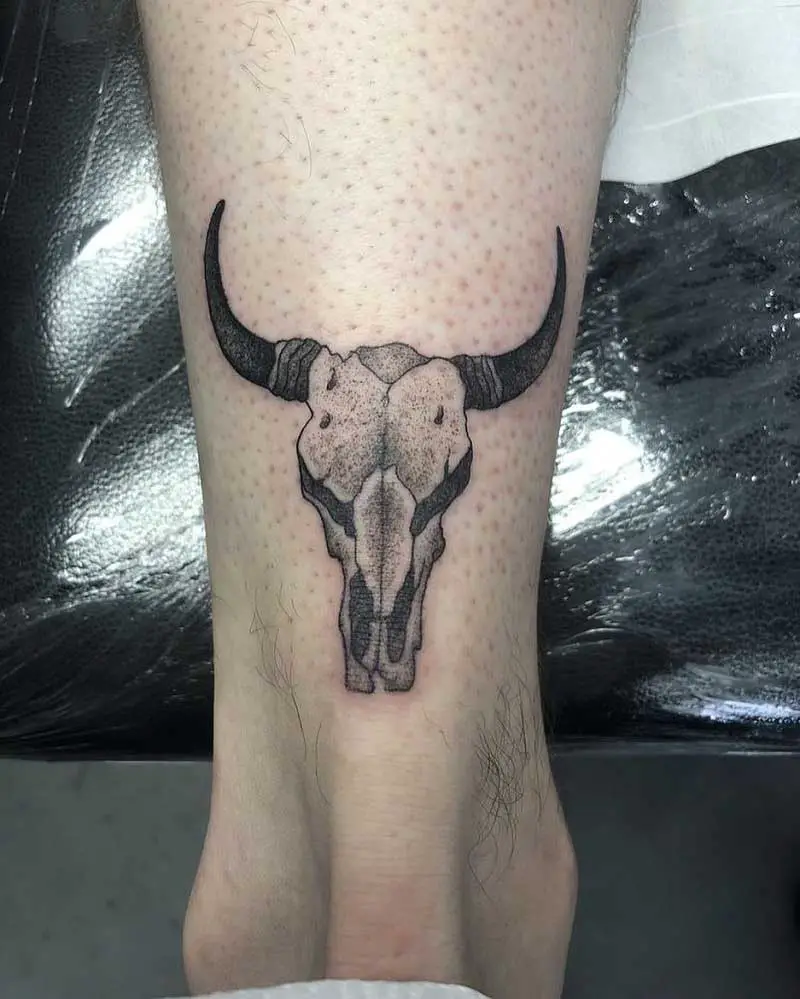 57.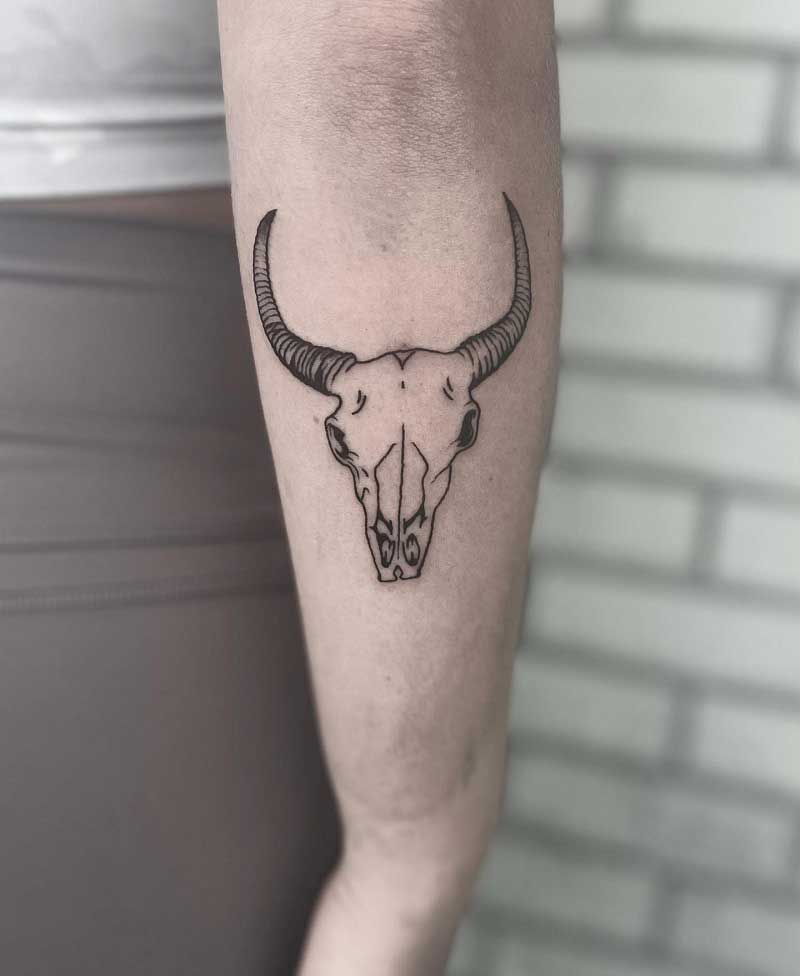 Bull Skull Mandala Tattoo
58.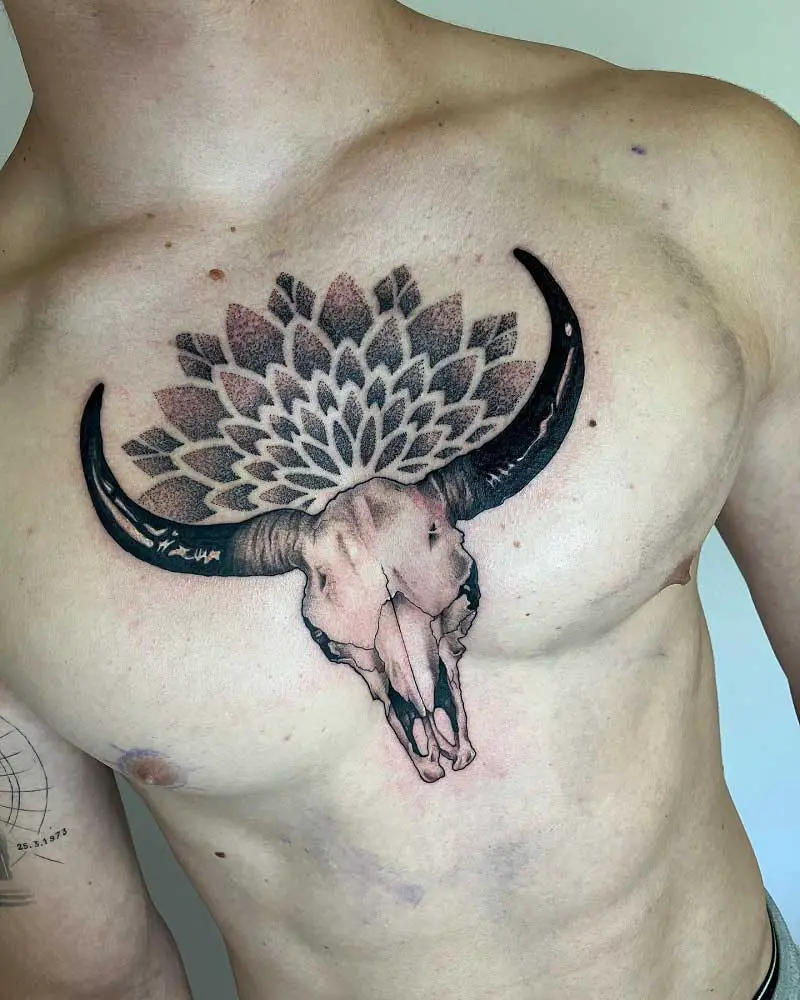 59.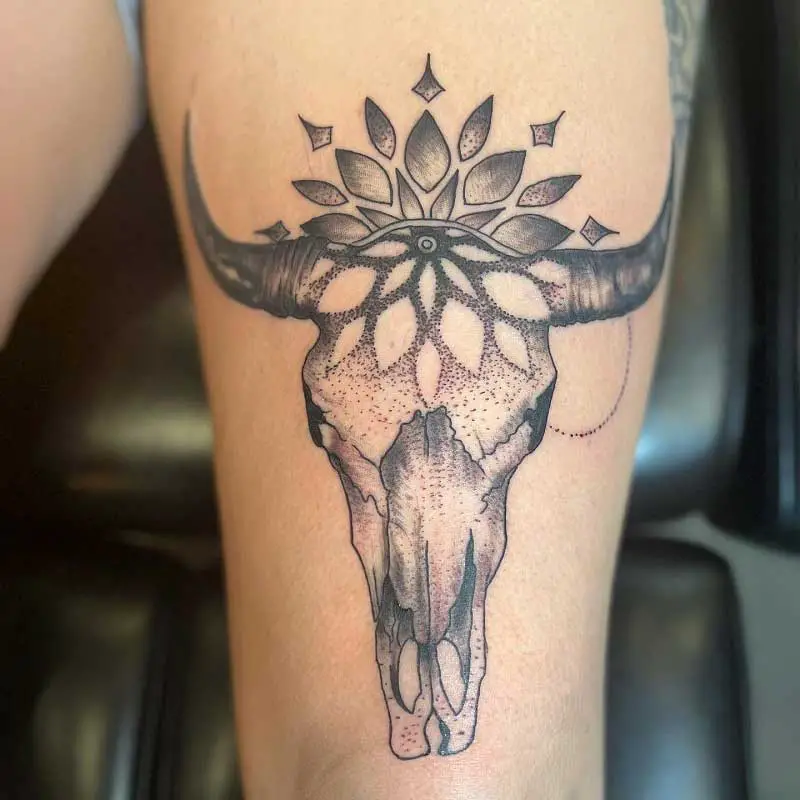 60.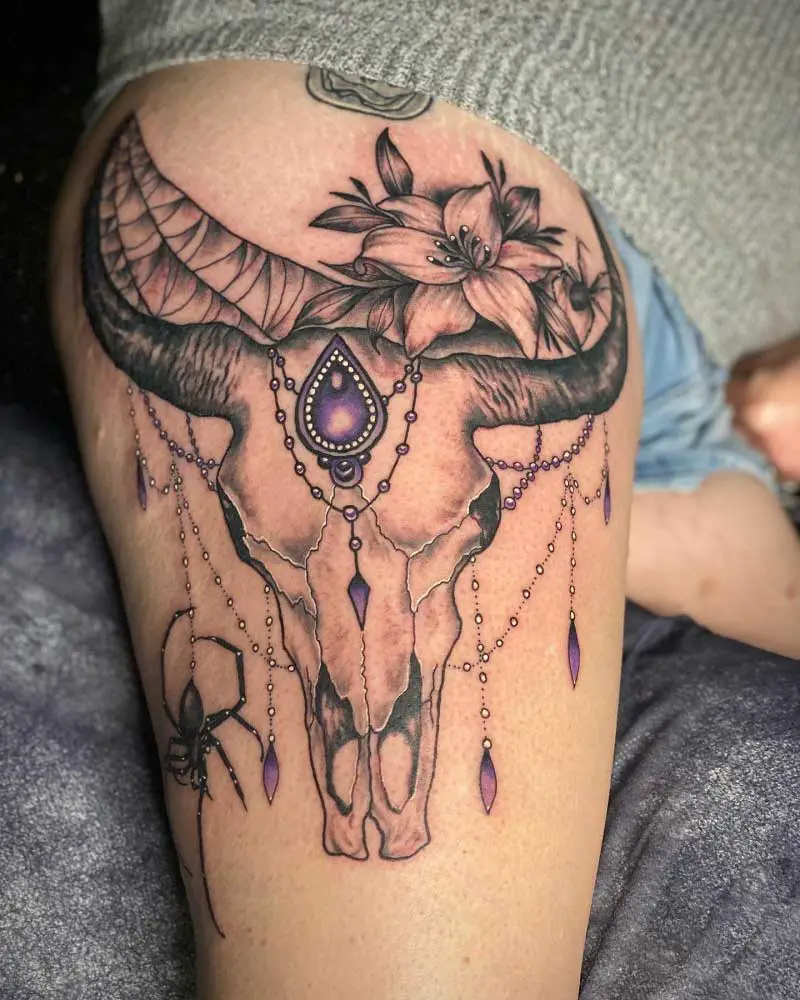 61.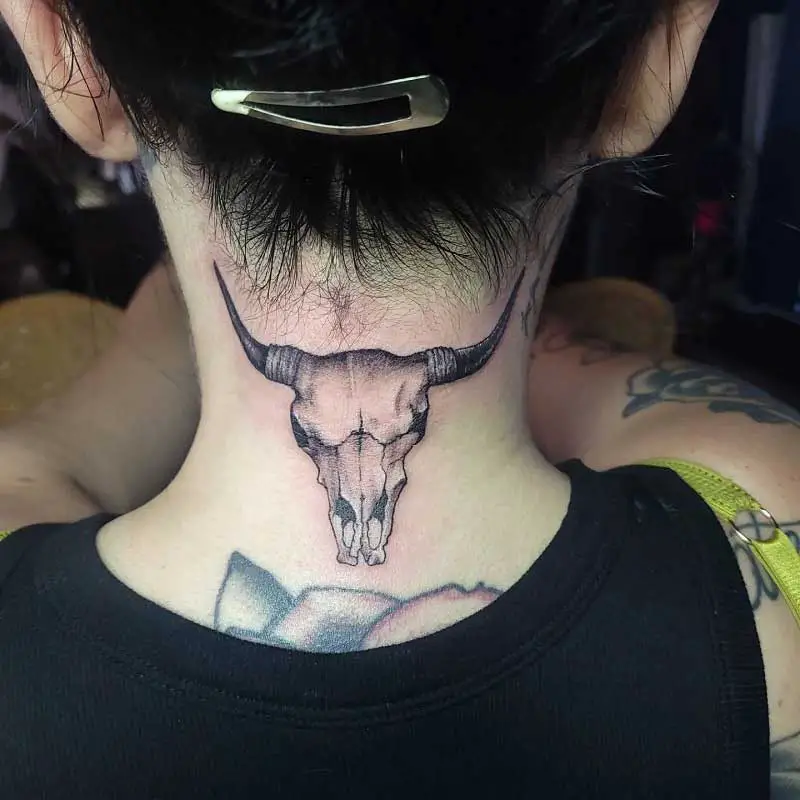 62.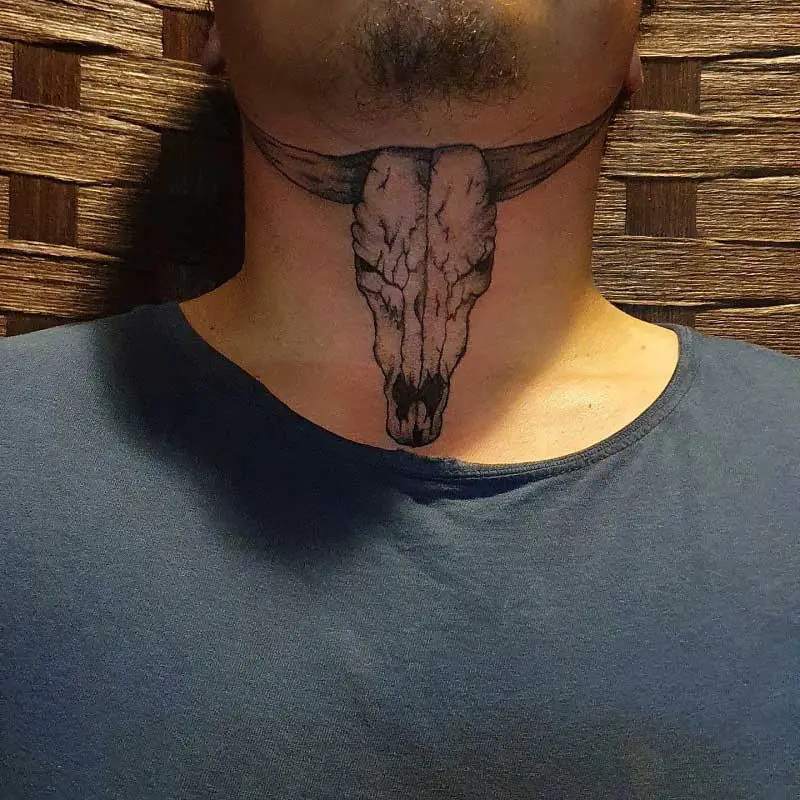 63.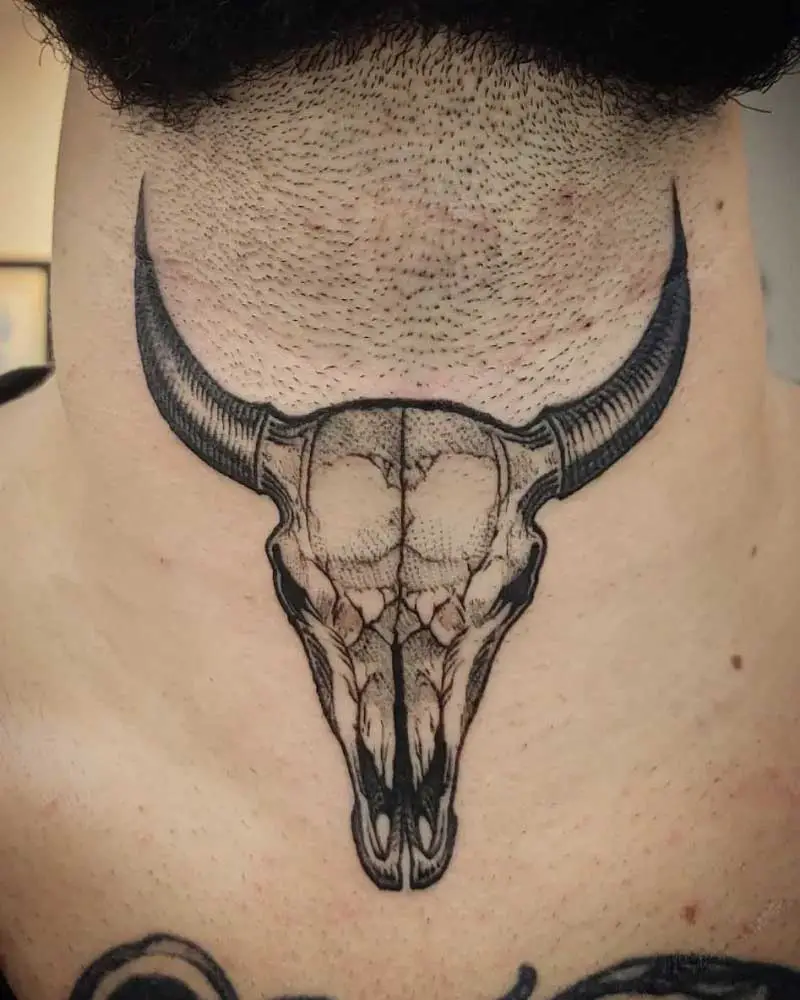 Bull Skull Shoulder Tattoo
64.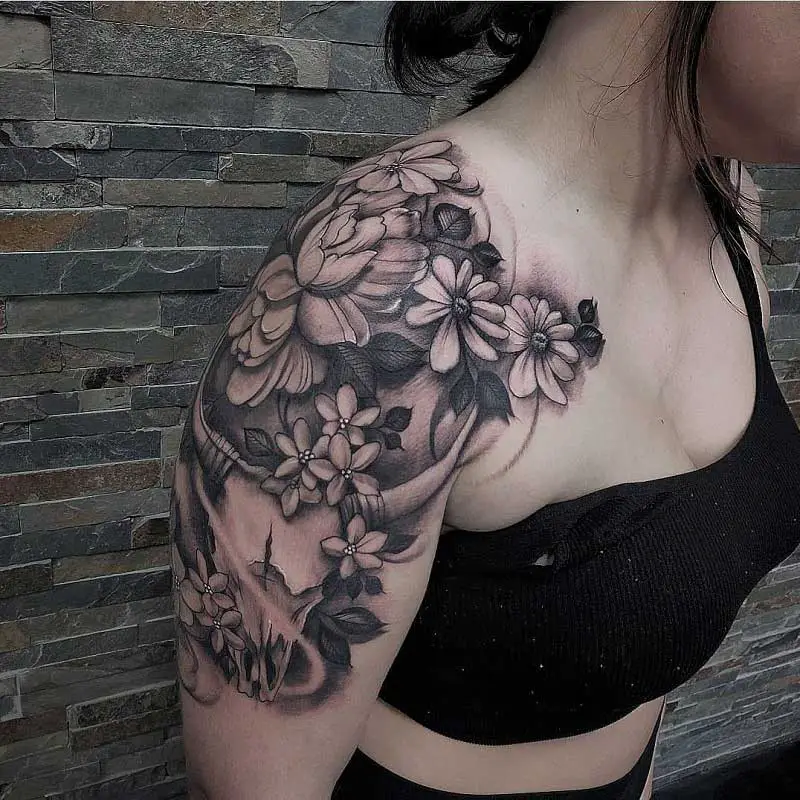 65.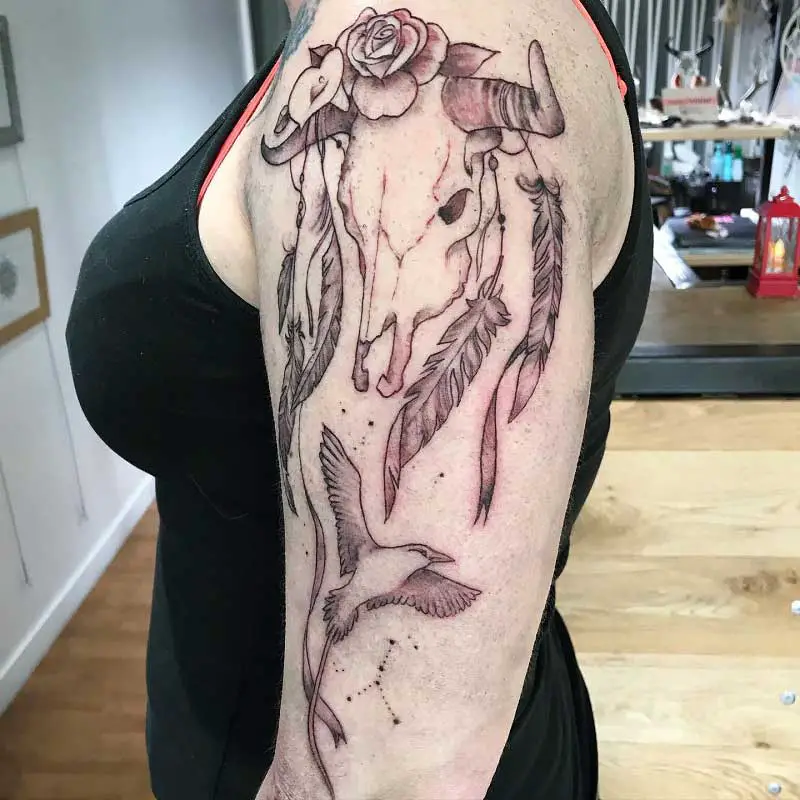 66.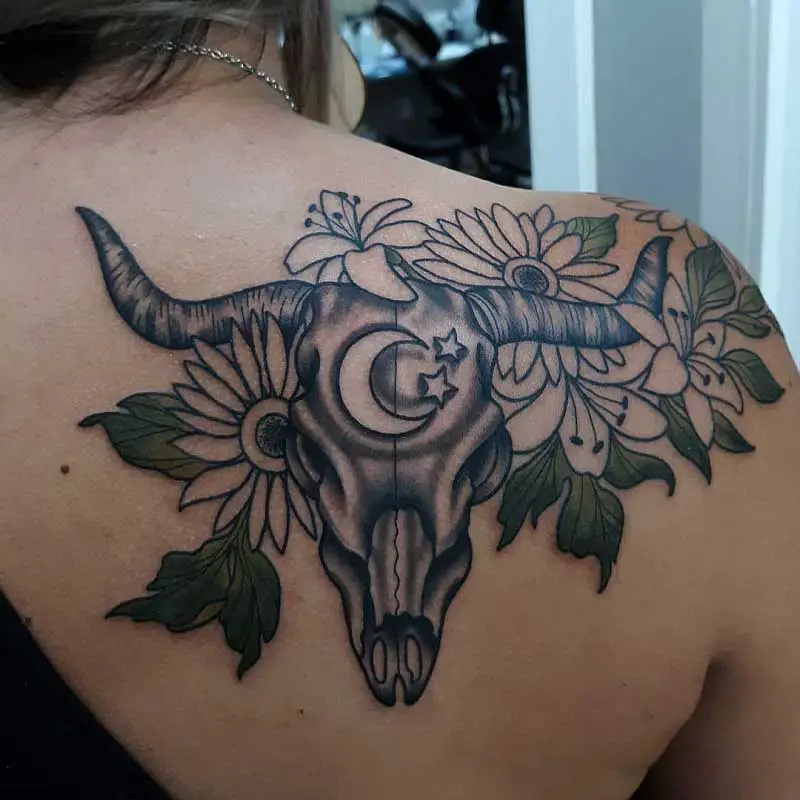 Bull Skull Outline Tattoo
67.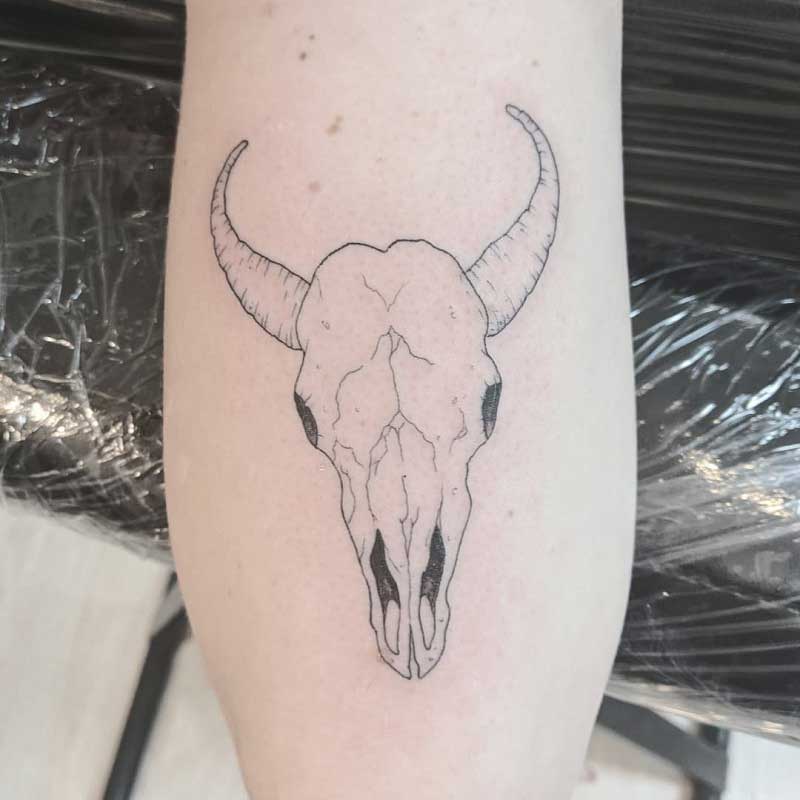 68.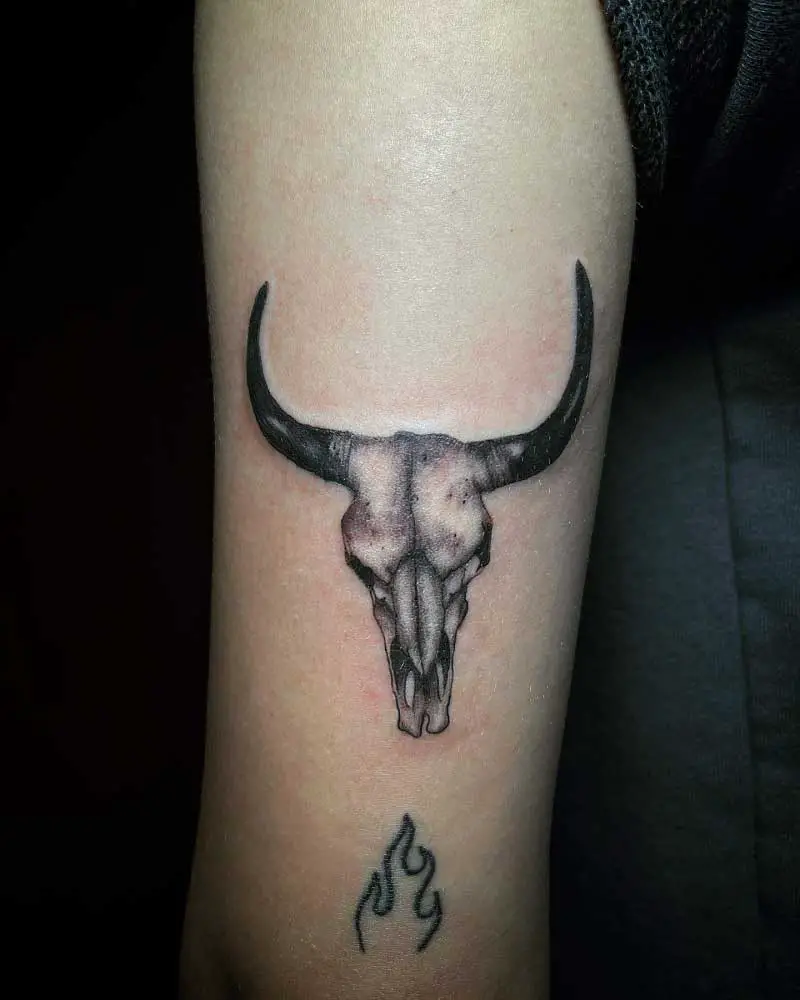 69.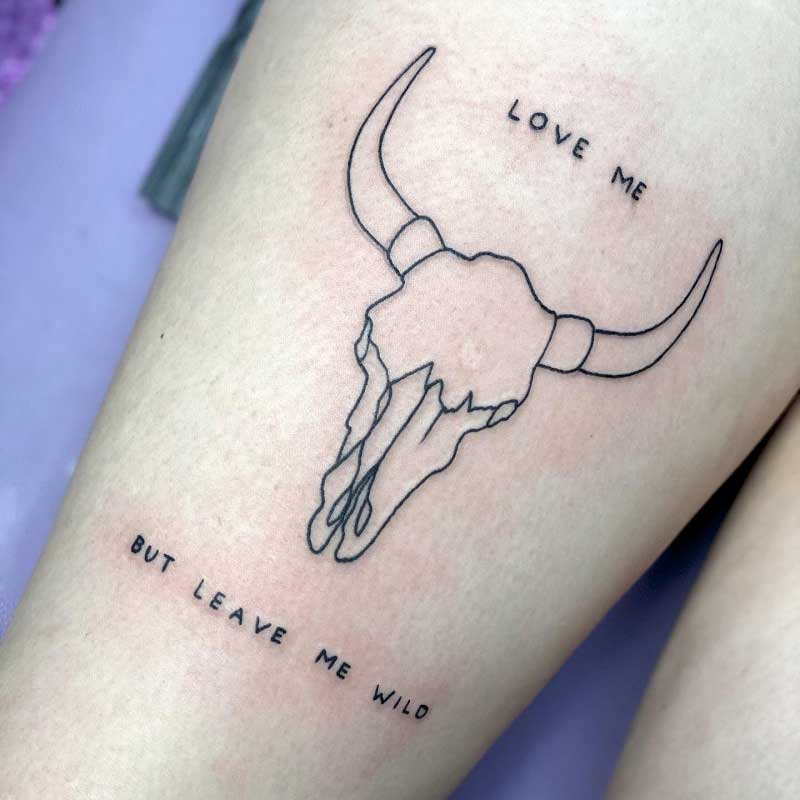 American Flag Bull Skull Tattoo
70.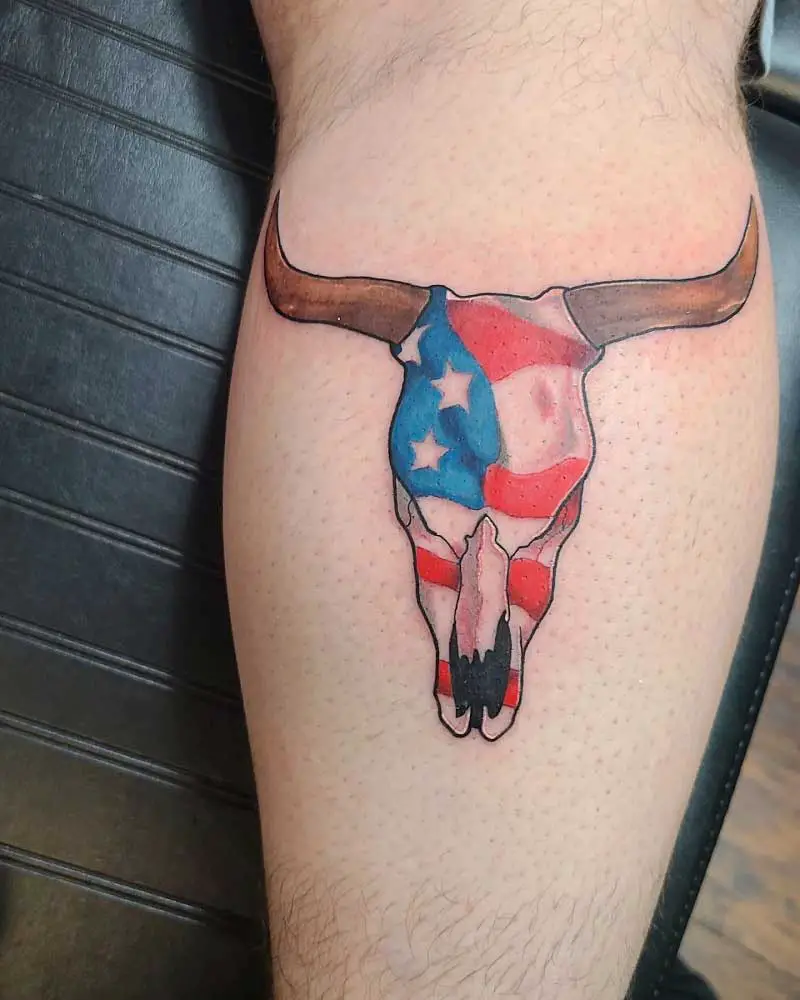 71.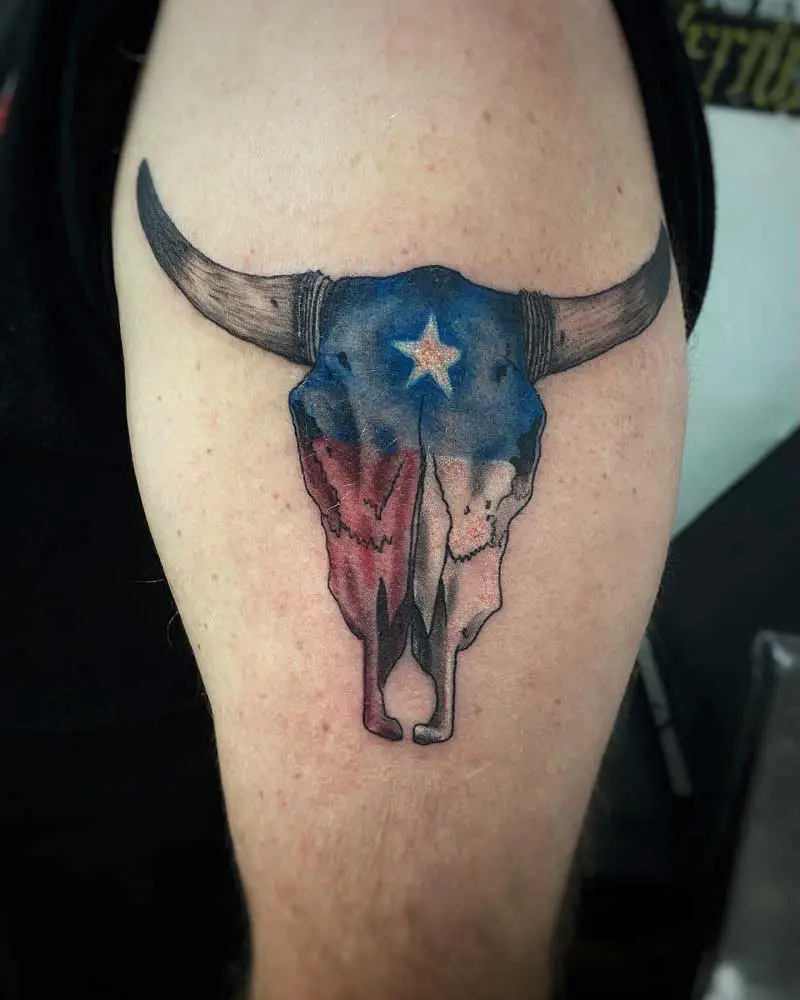 72.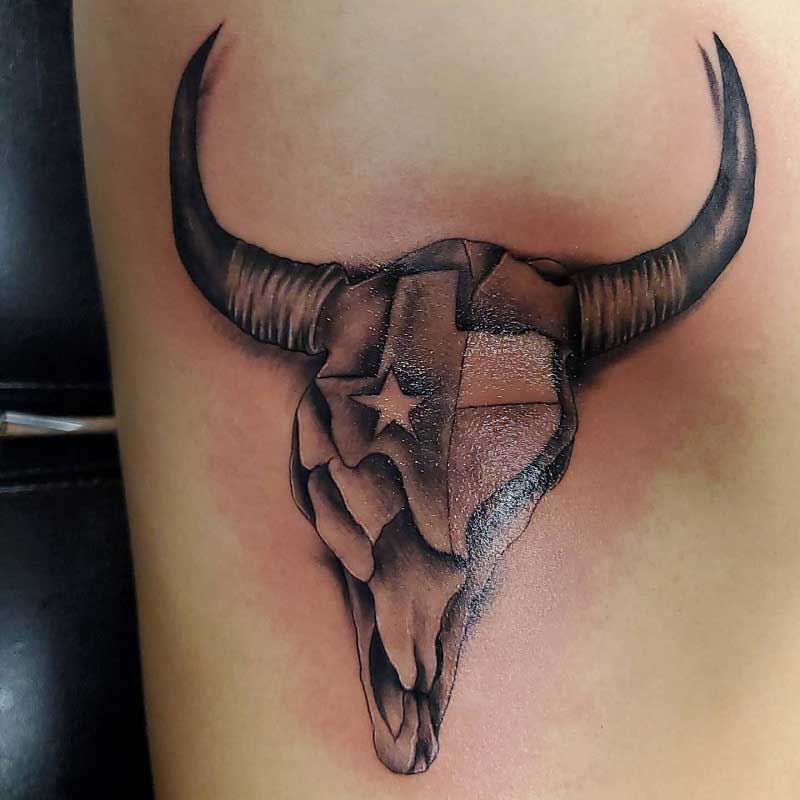 Aztec Bull Skull Tattoo
73.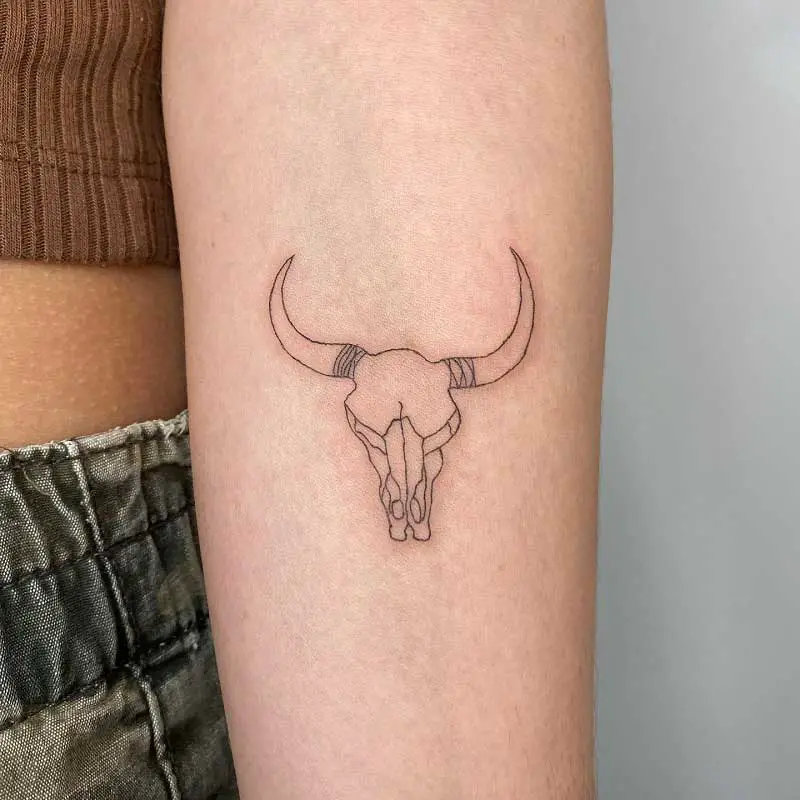 74.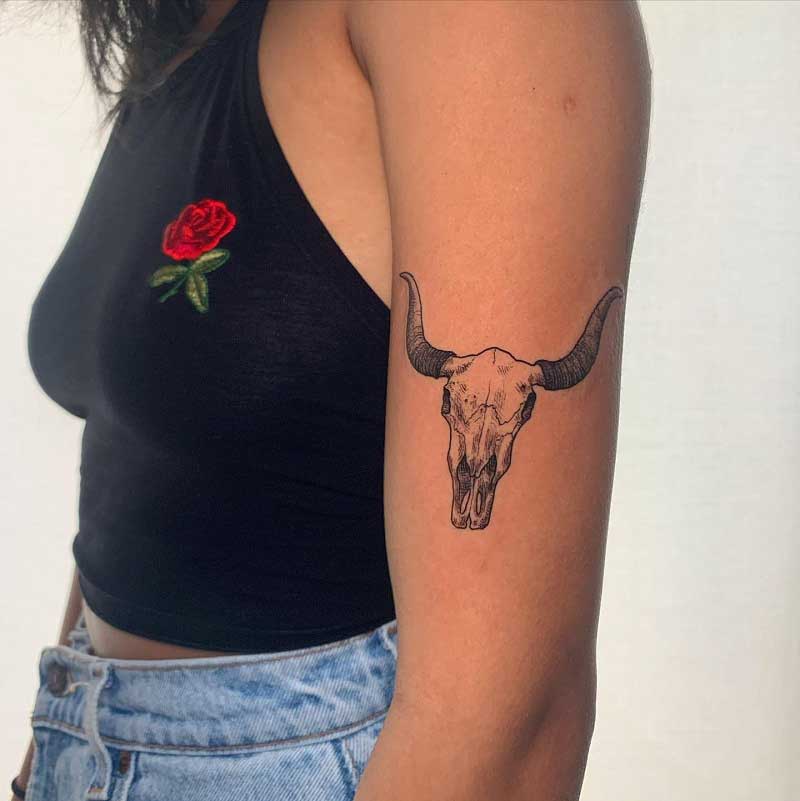 75.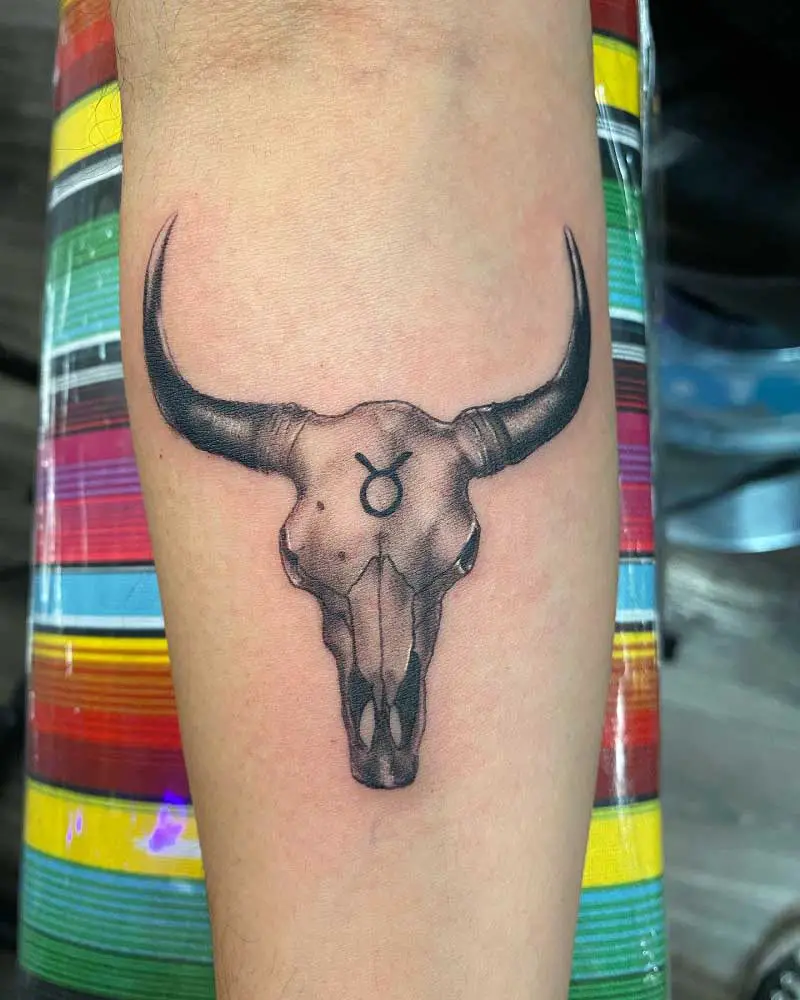 Bull Skull Feathers Tattoo
76.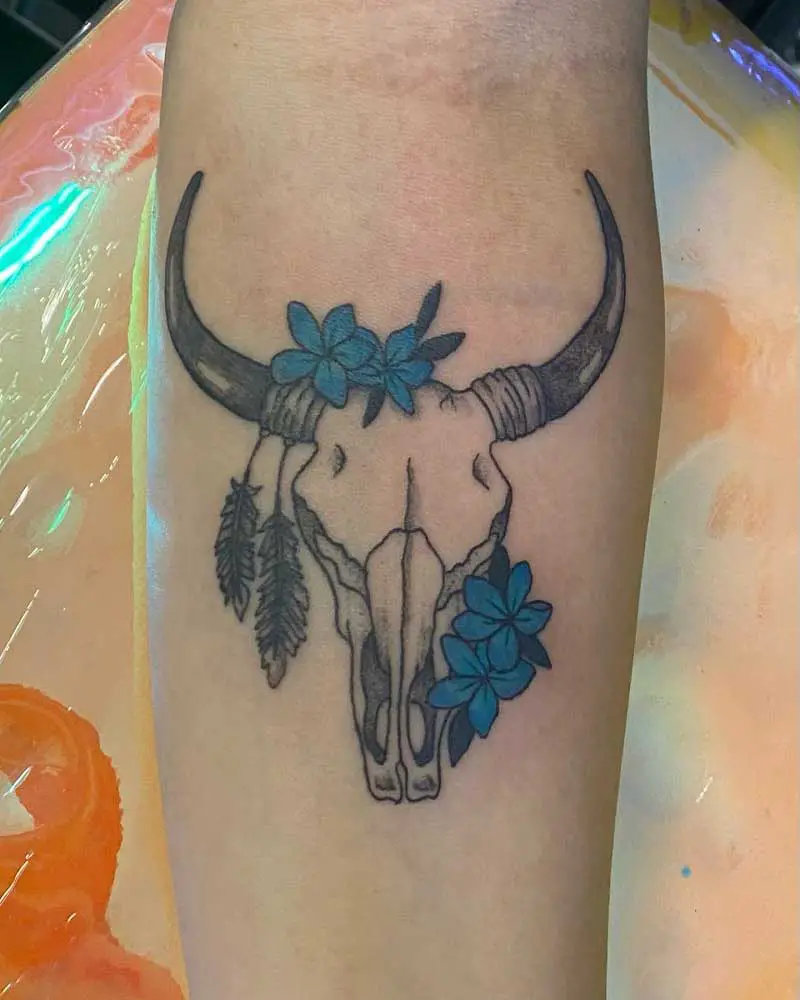 77.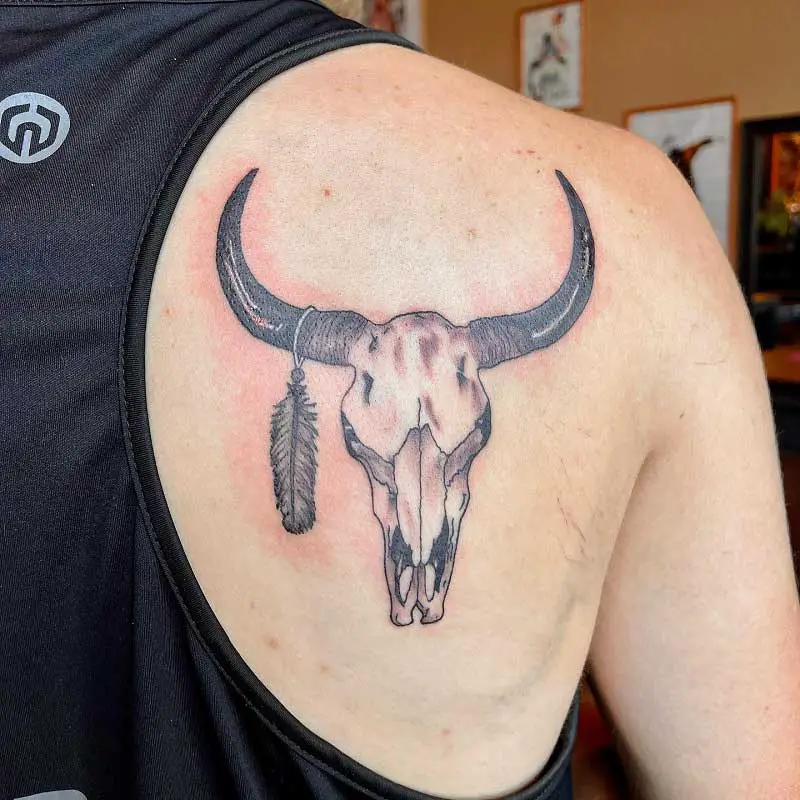 78.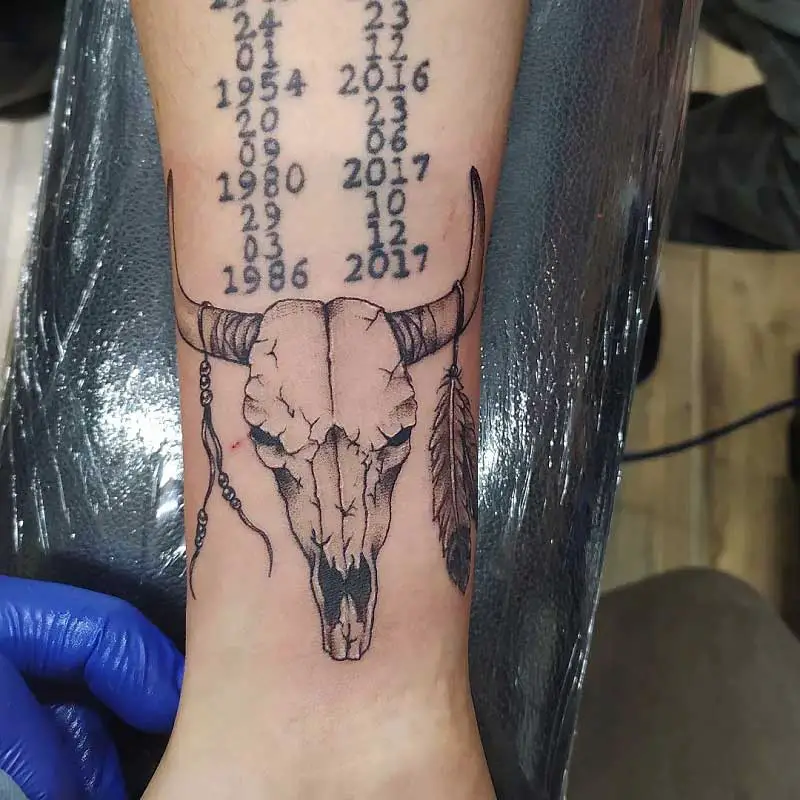 Bull Skull Snake Tattoo
79.
80.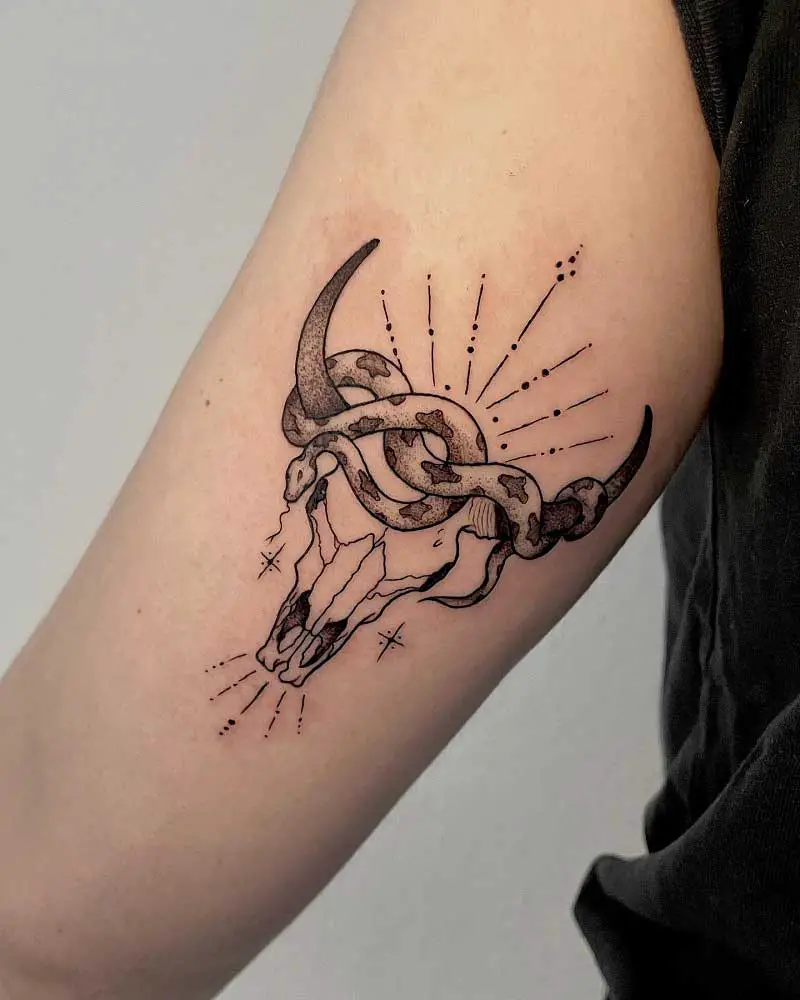 81.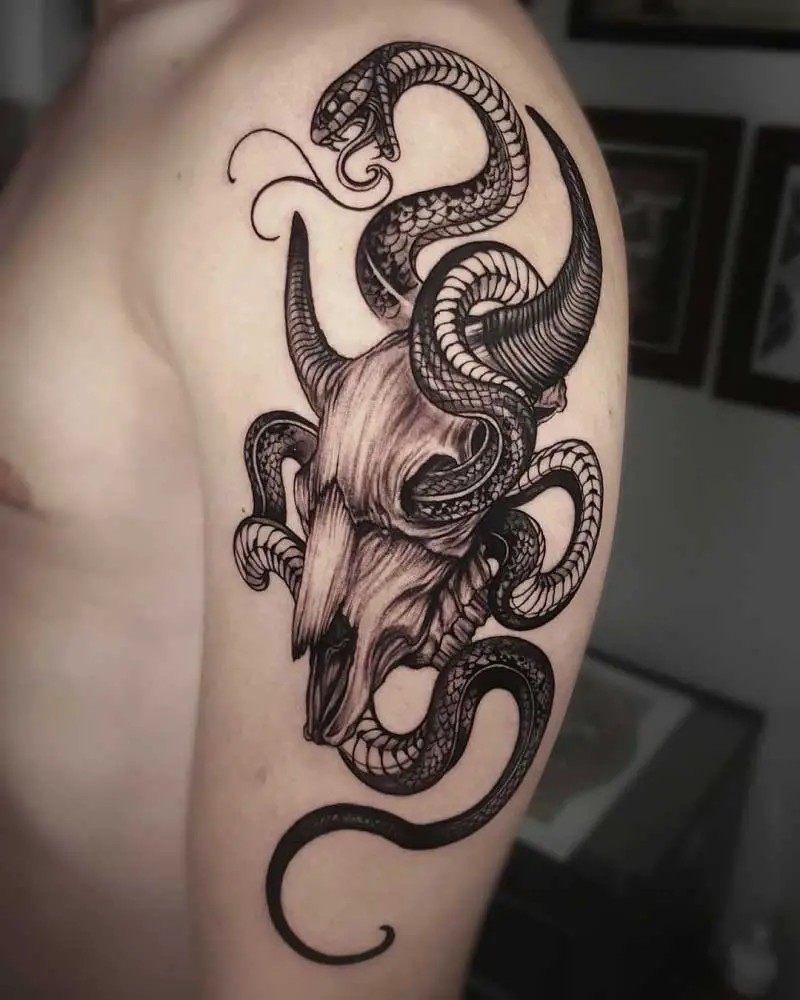 Bull Skull Headdress Tattoo
82.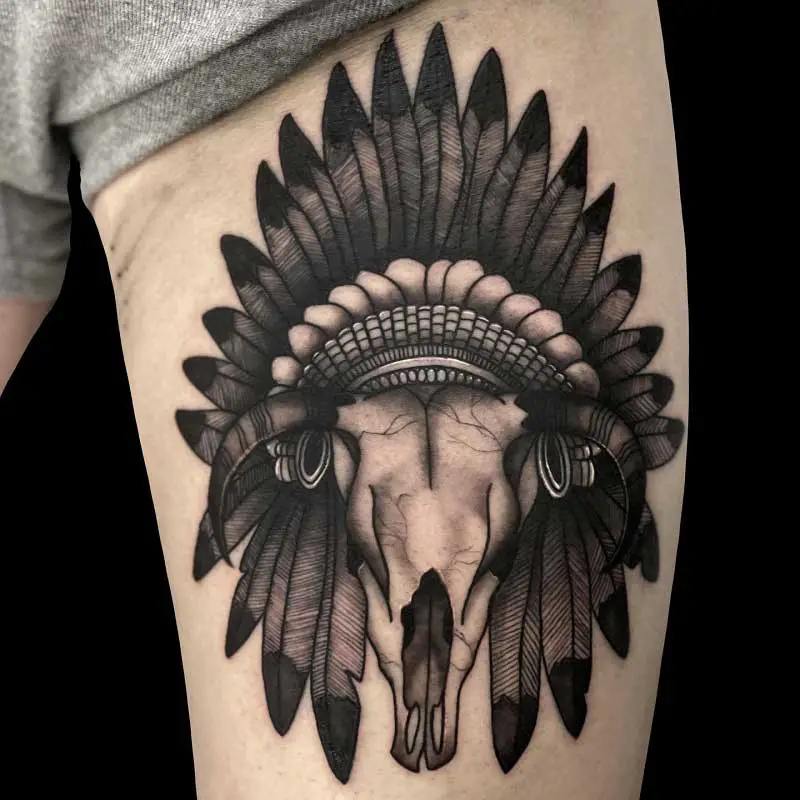 83.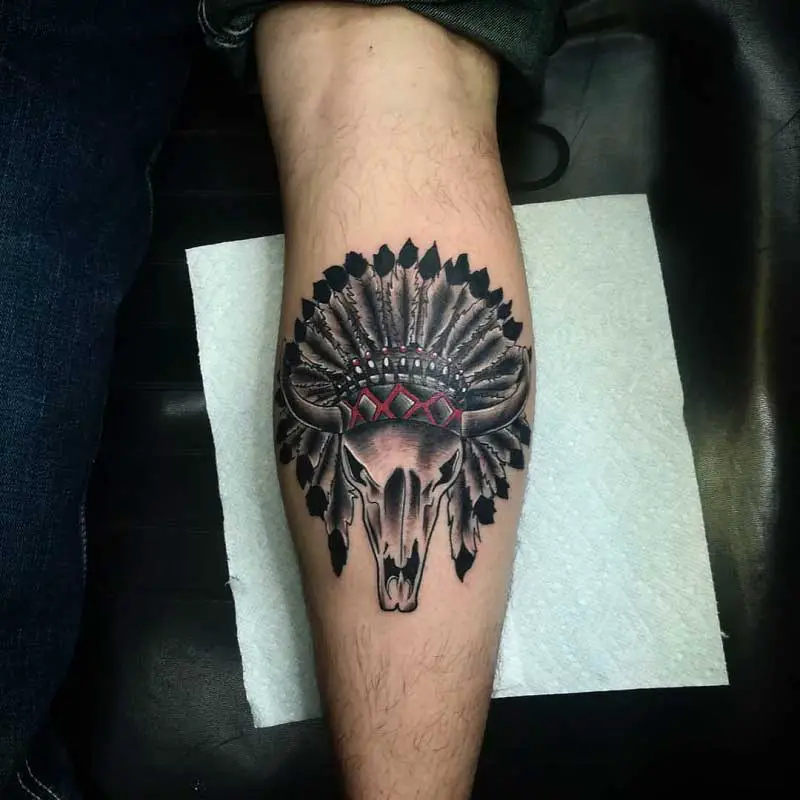 84.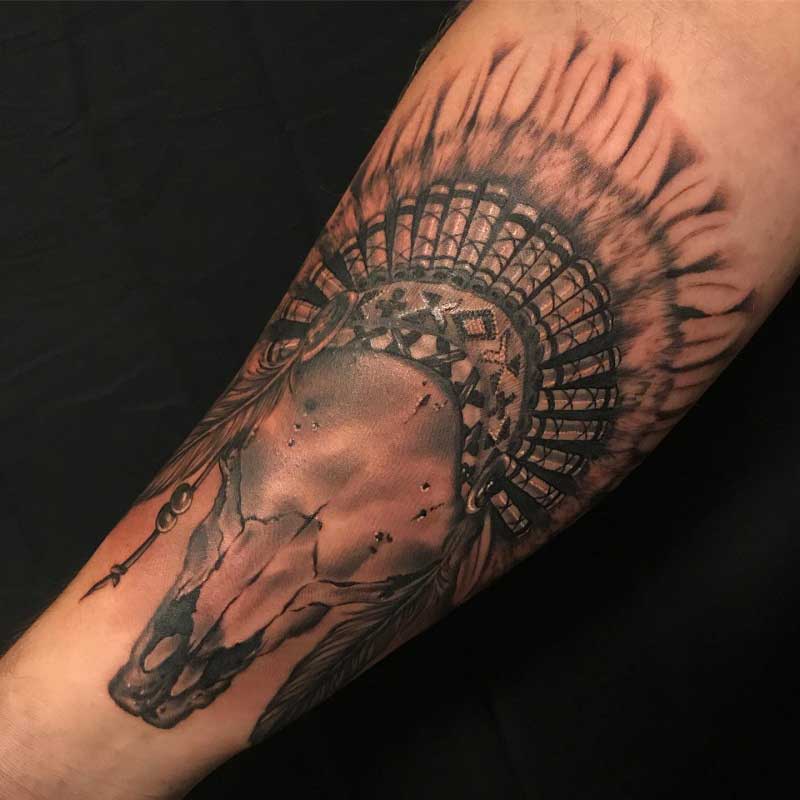 Bull Elk Skull Tattoo
85.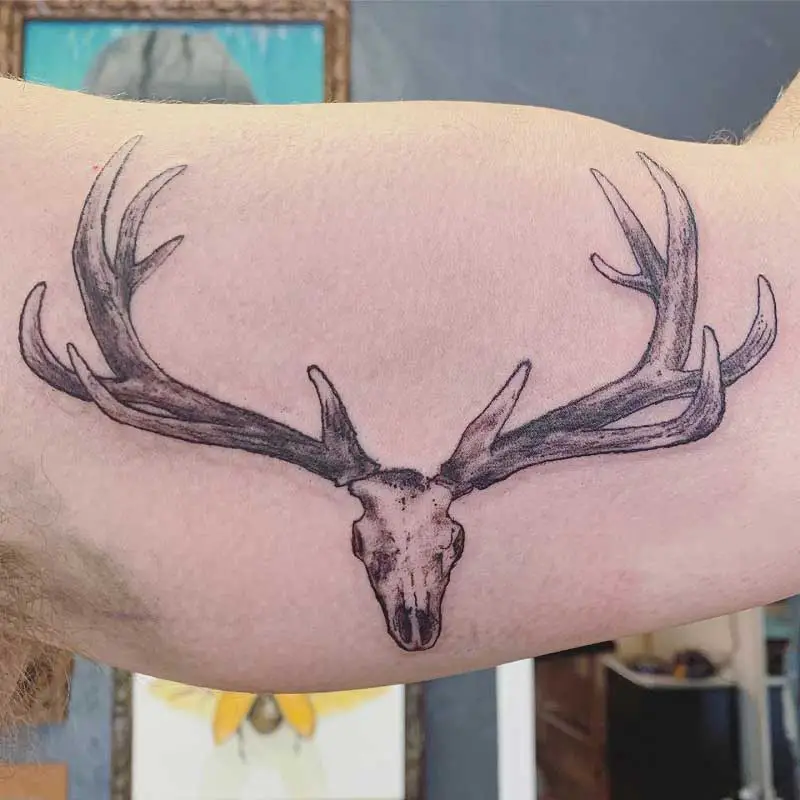 86.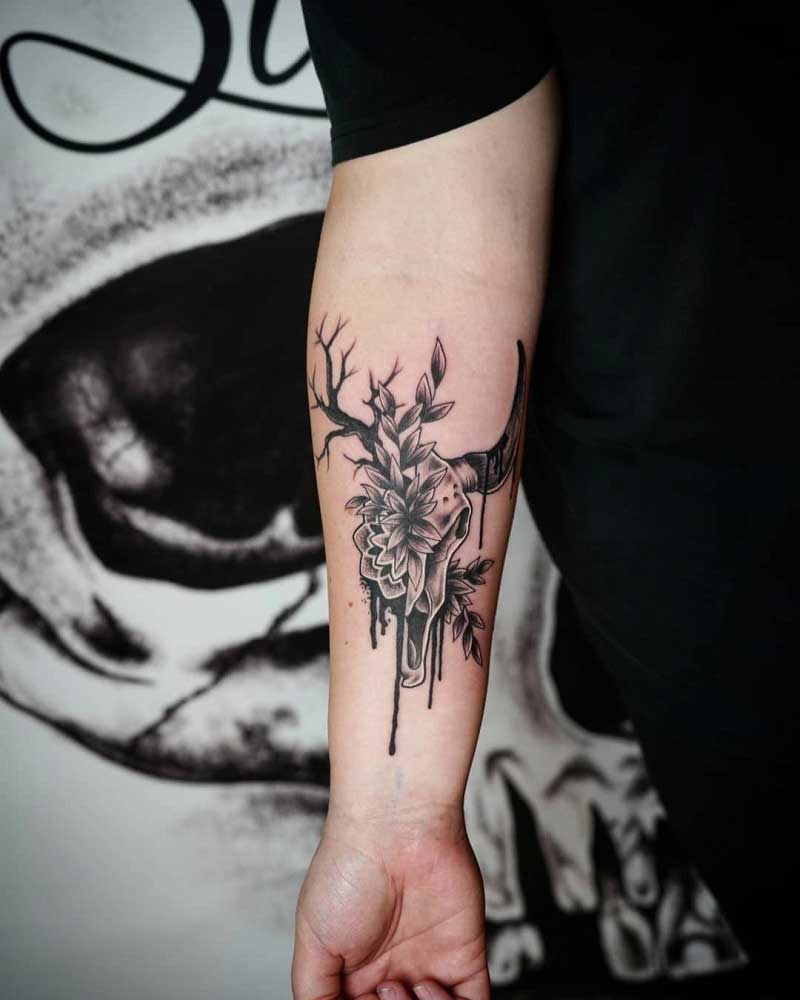 Conclusion
That will be all for now! We really hope this article will help you in the best way possible in picking your bull skull tattoo design. The process of choosing the perfect tattoo will not be easy at all. It requires immense patience to pick the ideal tattoo from such a long list of designs.
Once you have completed that stage, however, it's all smooth sailing after that. Last but not least, consult your local tattoo artist and make sure they are the right person for the job. This step is crucial solely because you wouldn't want your tattoo to look distorted or ruined as it's going to be there permanently. After that, you're all set!
Good luck!
Frequently Asked Questions
What Do Bull Skull Tattoos Mean And Symbolize?
Typically, bull skull tattoo designs stand for strength, courage, durability, leadership, honor, and agility.
Where To Get A Bull Skull Tattoo?
People usually get bull skull tattoos on the upper chest, lower calf, and back.
How Much Do Bull Skull Tattoos Cost?
The smaller ones will cost anywhere between $100-$450. Medium-sized bull skull tattoos will cost anywhere between $300-$700 on average.
Which Celebrities Have A Bull Skull Tattoo?
Both Maren Morris and Jordan Hinson have a bull skull tattoo.