Every time picking up the right tattoo asks for an expert opinion. But if you have a specific genre, like triangle tattoos, to choose from, this expert's opinion is a must. Not only that, but you will also need to find something that matches your ideology or personality, right?
Considering all the facts you are going to need for your amazing tattoo, we have gathered them all here for you. So, say bye-bye to all your worries and find what you need from here.
78 Triangle Tattoo Designs and Meanings
We have a collection of 78 triangle tattoos here including almost all kinds of variations. Every single one of them is beautiful in its own way. So, what you need to do is, find the exact one that will let you feel like it is only for you. To find that ONE, please check out all of them. Eventually, you will find something which will match your vibe. Also, you will find the meanings of the tattoos with the design. So, wait no more!
Triangle Eye Tattoo
An eye and a triangle are wonderful combinations to decorate yourself. It shows that you have a mystic zone you carry with you and also the essence of the trinity. A triangle eye tattoo is a great choice for a nifty personality.
All Seeing Eye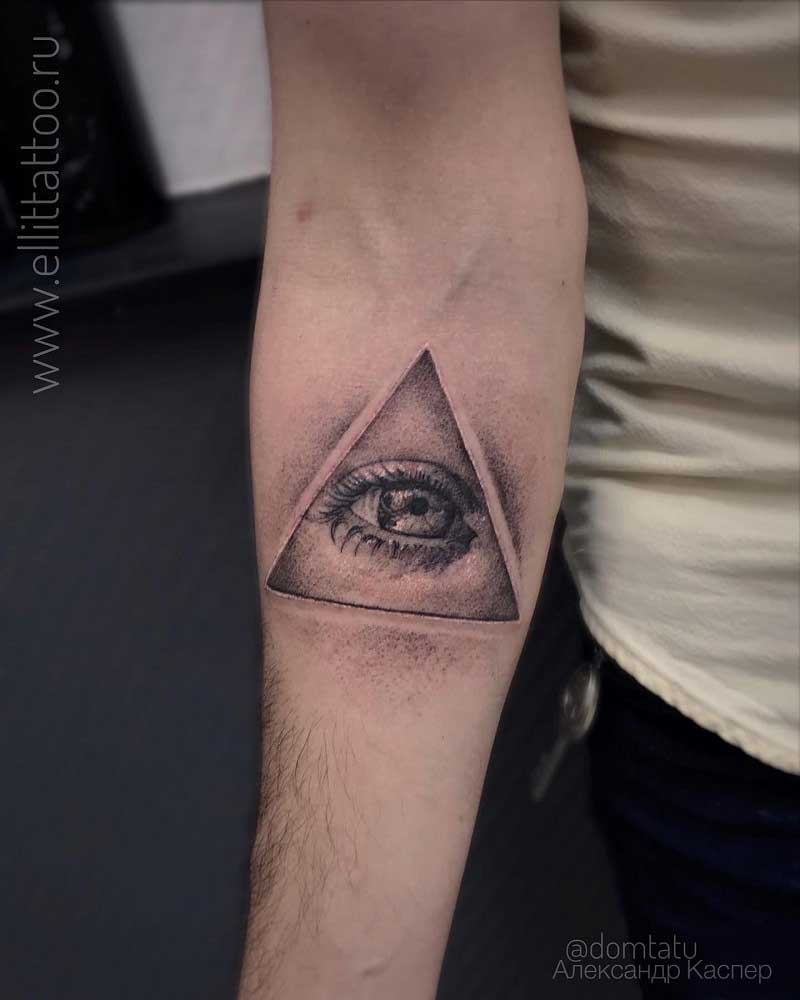 A glassy eye caged in a triangle of dark shades. A tattoo like this will perfectly represent masculinity with a swift touch of wisdom and mysticism.
2. Eye of Magic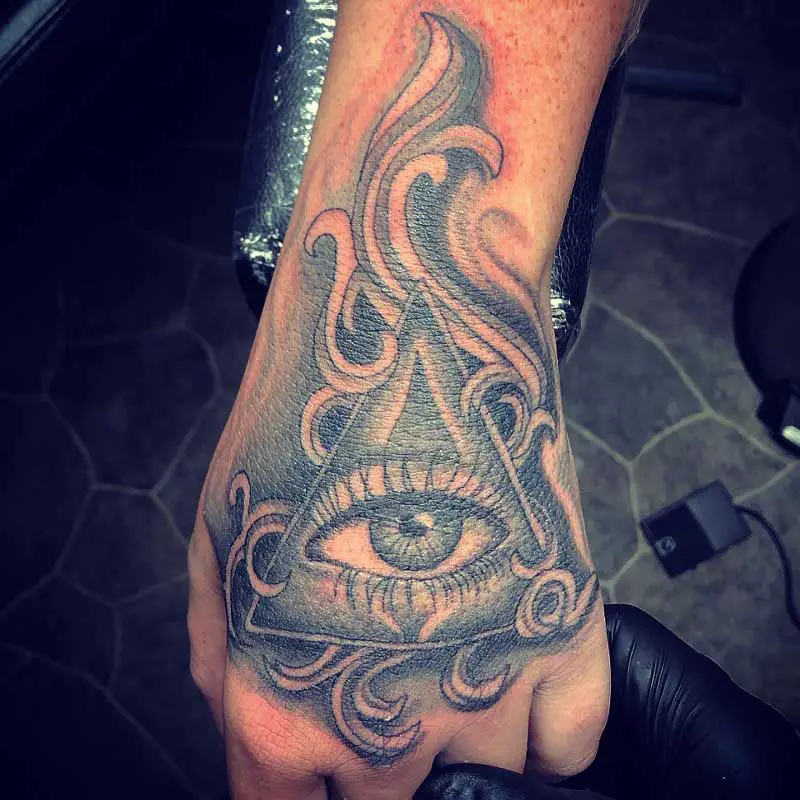 We see a black shaded tattoo with an eye in the triangle and floating trunks in it. Such a tattoo on the dorsal side of a man's hand can really upgrade your looks.
3. Medieval Eye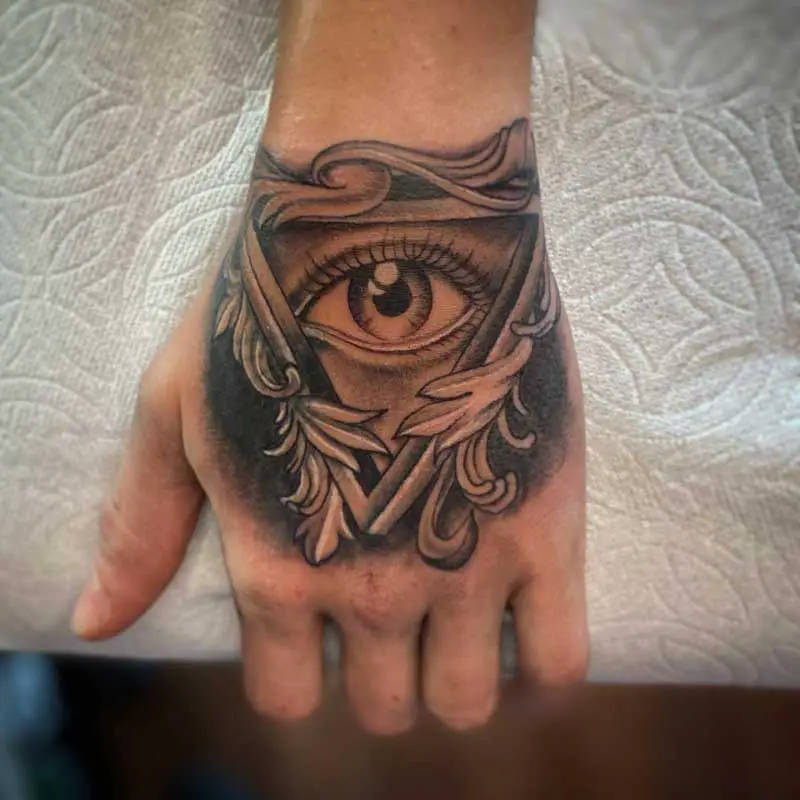 An eye is watching over you from a flowery frame with a black background. Does it give you goosebumps? Well, have it and others will feel the same!
Penrose Triangle Tattoo
A Penrose triangle is technically impossible to exist in this world. That means a Penrose triangle is a symbol of impossibility. So, curving a Penrose triangle will say that you are truly determined to turn the impossible into the possible.
4. Circle of Impossibility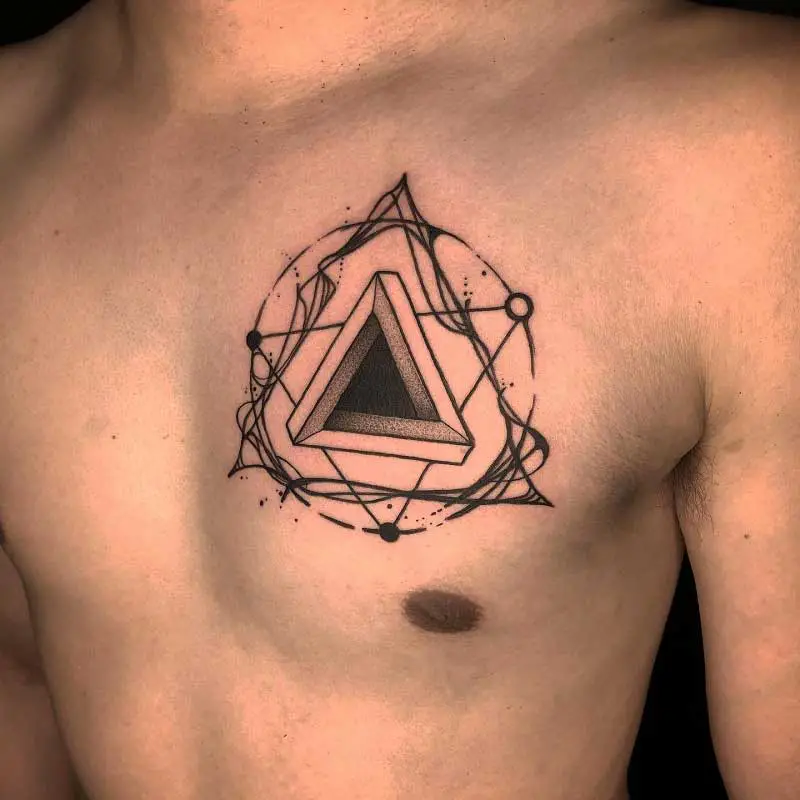 This one here is of a Penrose inside two criss-cross triangles which are also inside of a circle. Such a tattoo, on a gentleman's chest, is a complete package of extraterrestrial vibe!
5. Colorful Uncertainty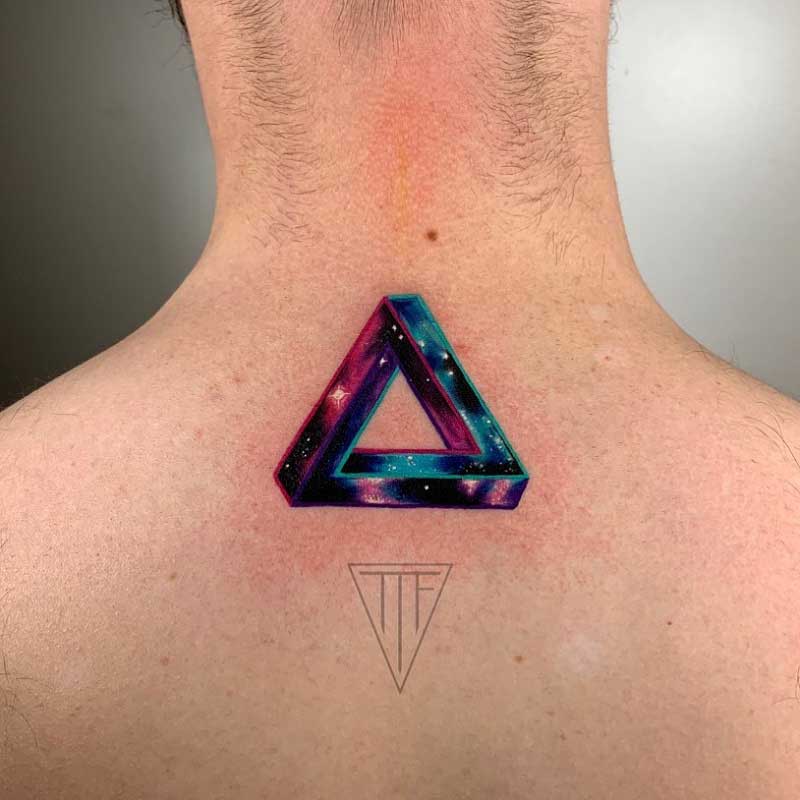 A Penrose is logically inexistent, right? Now imagine you have a colorful Penrose triangle tattooed behind your neck. It will say you are jolly enough to see every uncertainty from a colorful glass.
6. Classic Penrose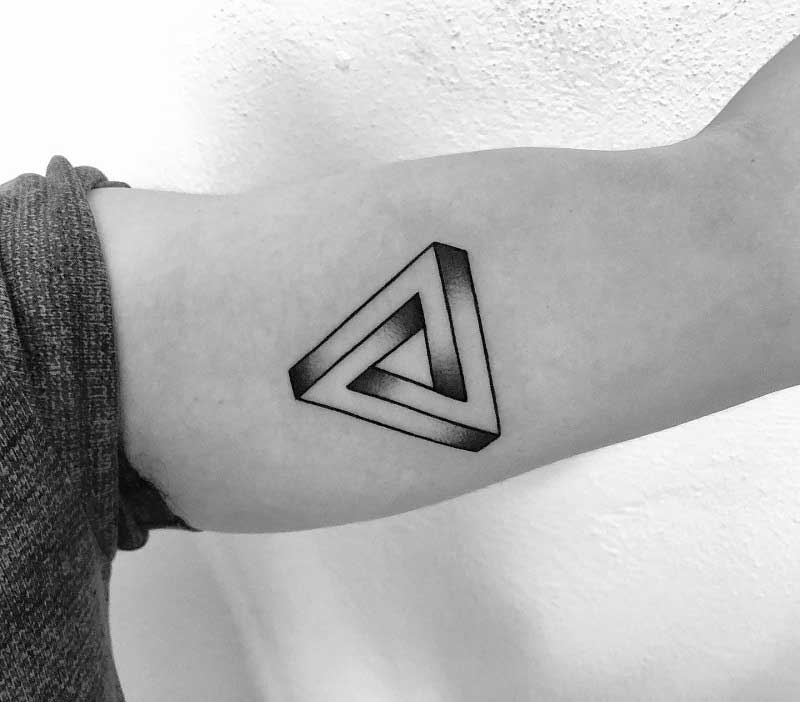 This is a good old classic Penrose triangle tattoo here which is carved on the bicep of a young man. The black and white version with the precise shadows ensures its classic vibe.
Illuminati Triangle Eye Tattoo
The Illuminati sign has been a highlighted topic for a couple of centuries now. As it has an arcane appearance, it has become an exciting choice as a tattoo among lovers. Let's check out some of the Illuminati triangle eye tattoo variants.
7. Floral Sentinel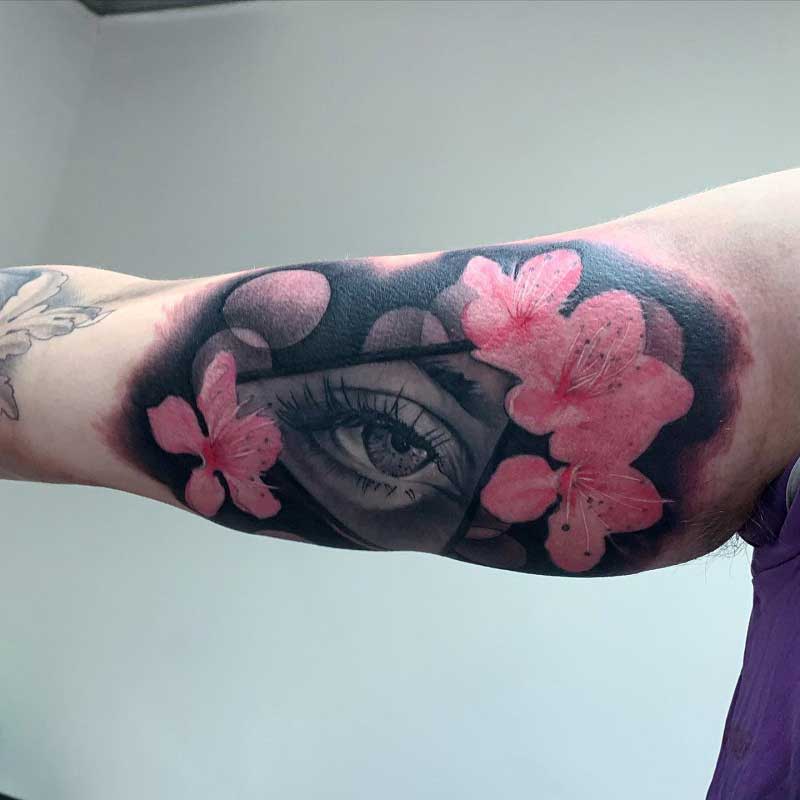 Beware! The Eye is watching you. Well, this warning may give you a thrill, but as a tattoo enthusiast, the floral appearance along with the eye in the triangle will definitely amaze you.
8. Warful Eye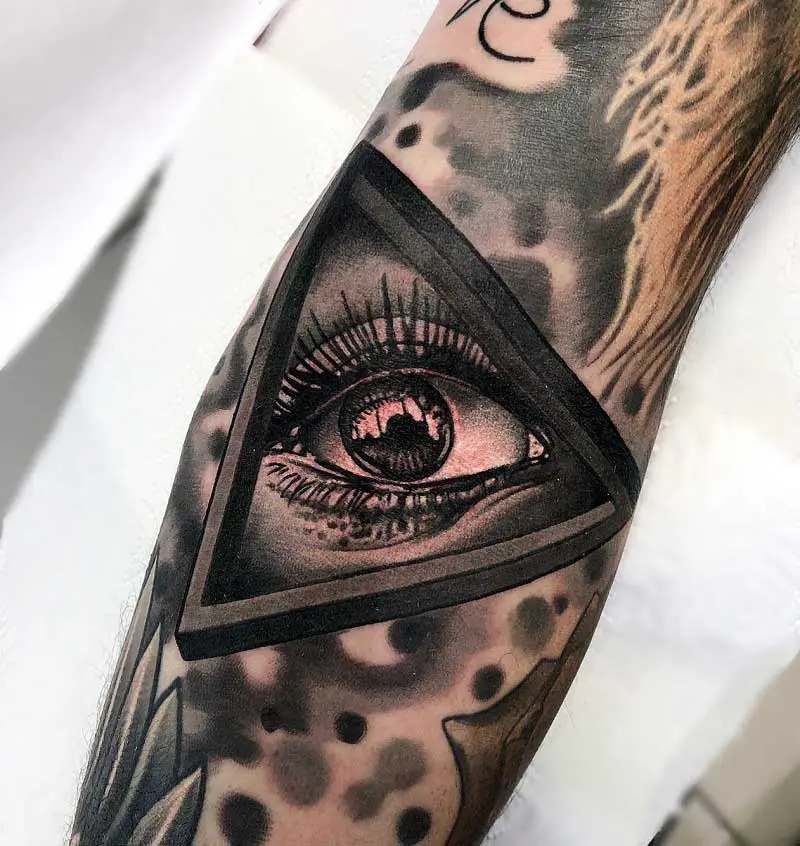 A wide-open eye inside a triangle of a trinity, looking directly at you. Also, with the dark artistic background, isn't it the kind of triangle tattoo you desire to have?
9. Eye of the dark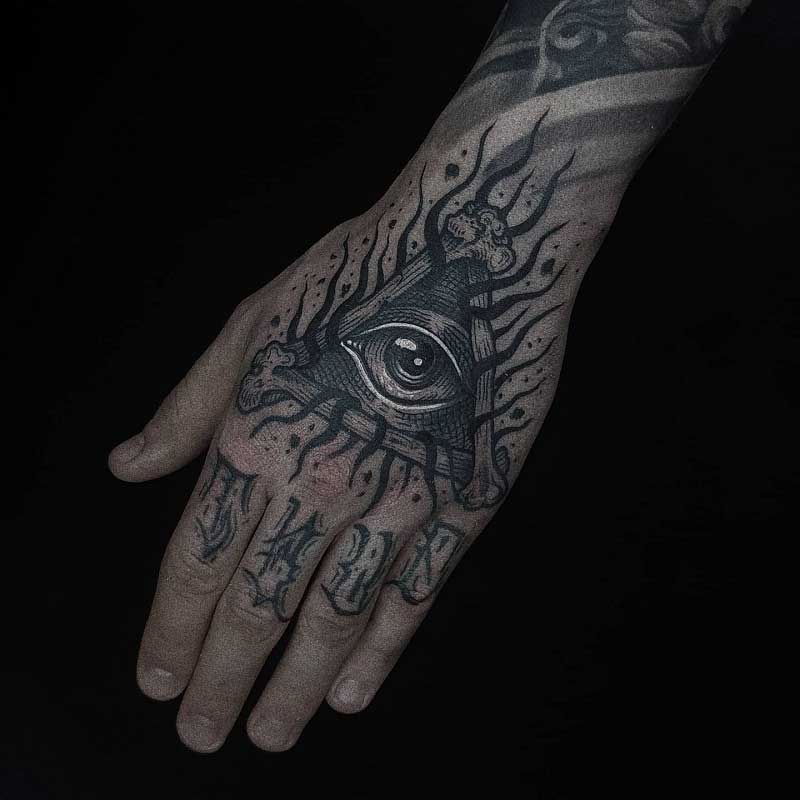 This tattoo here has wonderful detailing. The triangle in it seems to be made of wood and the eye inside is quite alert, also dark wavy trunks coming out of it surely give chills!
Pink Triangle Tattoo
Pink triangles, as a symbol has quite a history lining up behind them. The earliest date recorded goes up to the 1940s, to Nazi Germany. Keeping aside its dark history, a pink triangle as a tattoo has now become a symbol of pride in this modern world.
10. Symbol of pride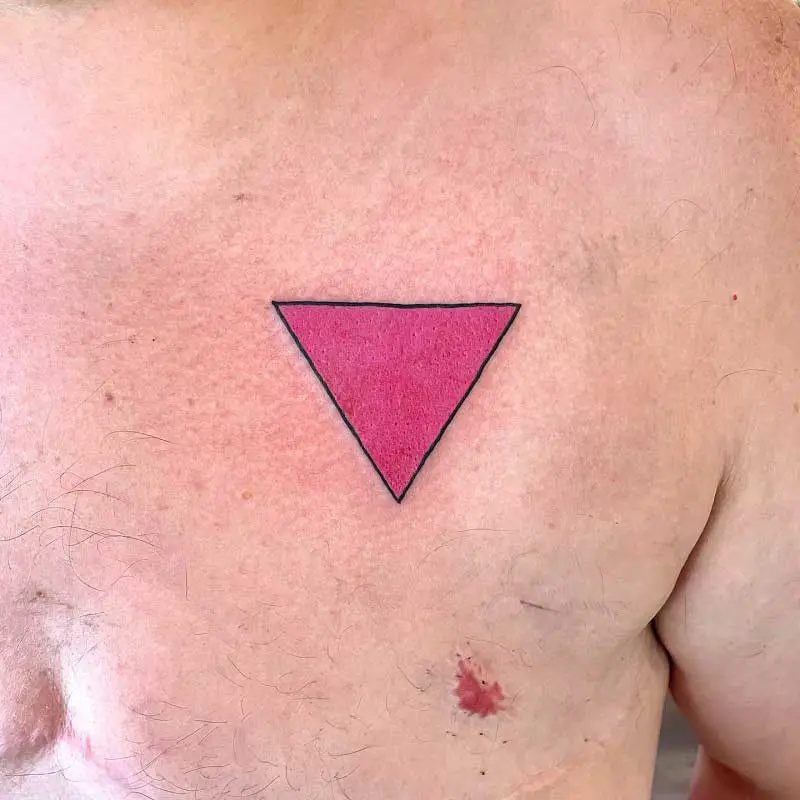 The pink triangle is now related to gay pride. If you are one who has a man reigning over your heart, be proud to wear this as a symbol of identity.
11. Triangle of Identity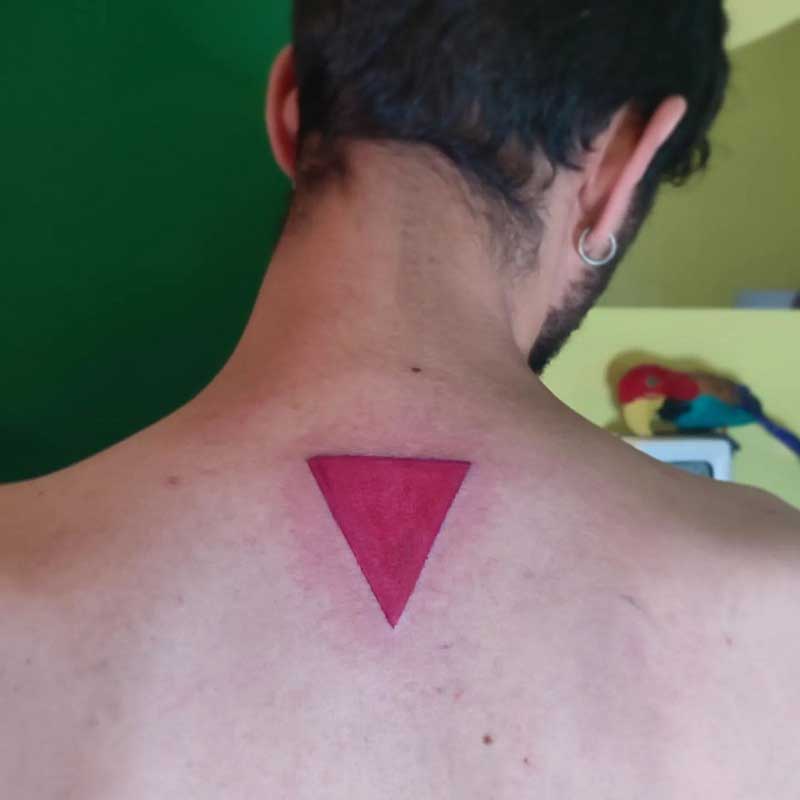 Nature is full of new's and nothing is incompatible here. So, If you are a gay person, tattoo this pink triangle and carry it with pride and be brave about your identity.
12. Symbol of pride V. 2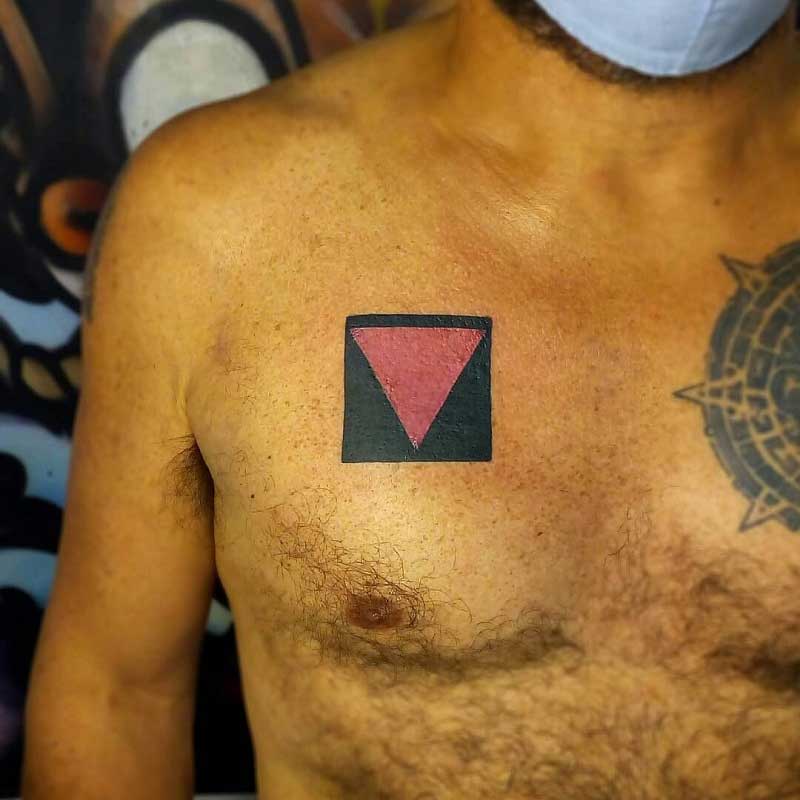 This is a variation of the previous pink triangle tattoo. In this one, the pink triangle is inside of a black colored square. When it's about carrying your identity, a little variation doesn't hurt, right?
Triangle Rose Tattoo
A  rose means passion and love, while a triangle is a trinity, the strongest shape. So, when a rose is inside of a triangle, it symbolizes that pure love is always the strongest force that binds a heart.
13. Shape of love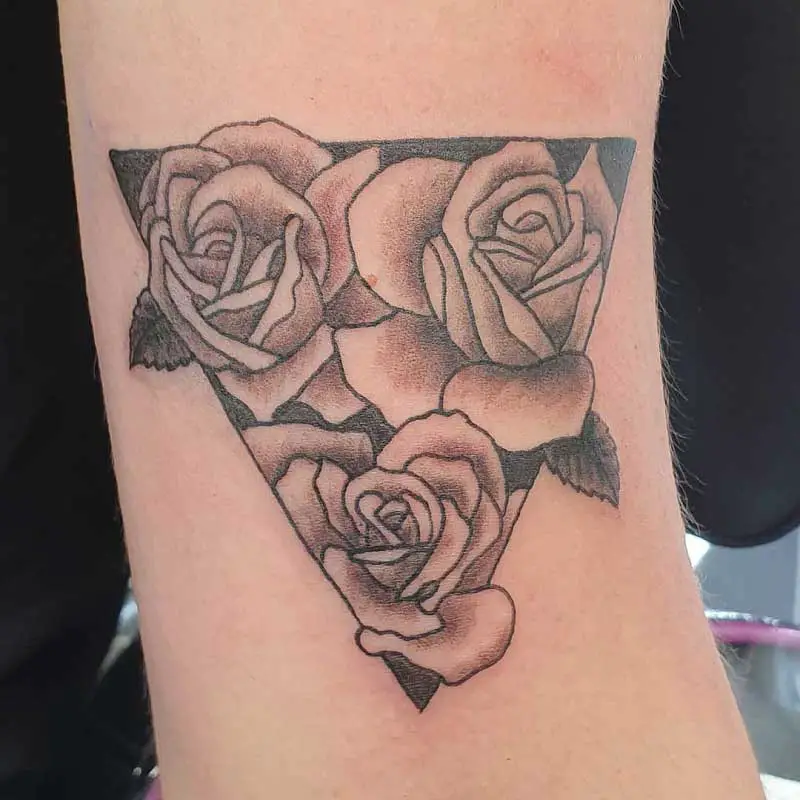 Tattoos can express your love for your partner, your parents, siblings, children, or for anyone or anything is sacred to you. You always want to hold that love very close to your heart, right? Well, then this is the triangle you would want to ink on your body.
14. Forever Love!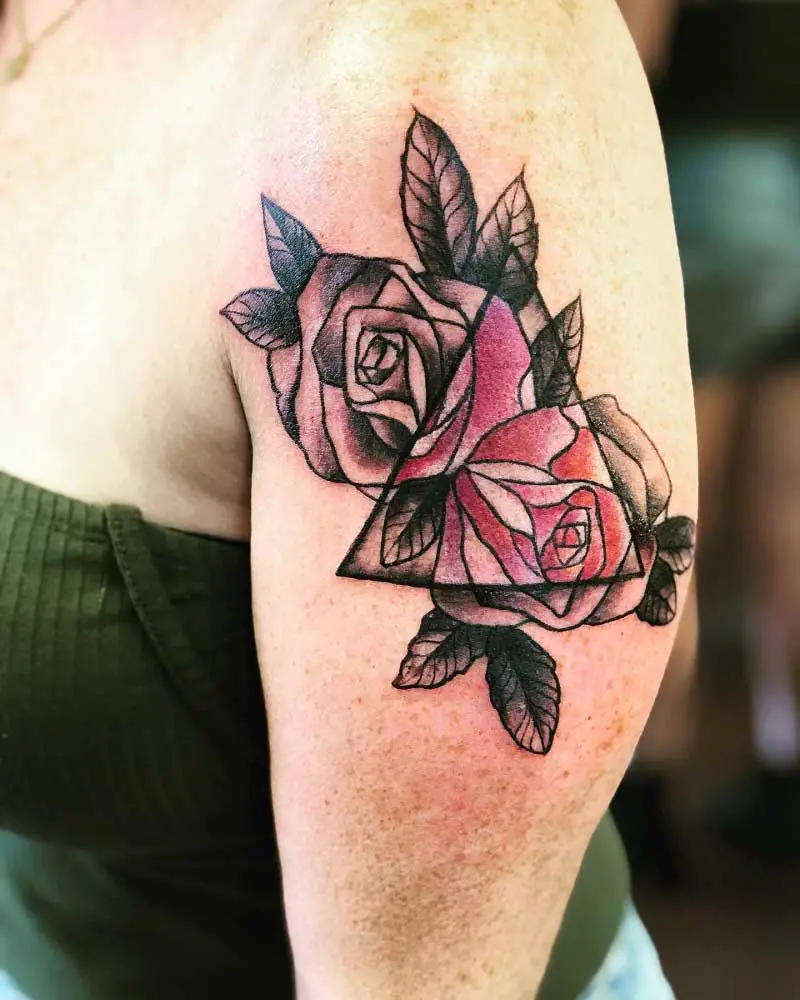 A red rose is equivalent to love. When this red rose is inside of a triangle, the strongest shape, your love becomes indestructible! So, wait no more to ink this cute triangle on a girl's sleeve.
15. Triangle of rose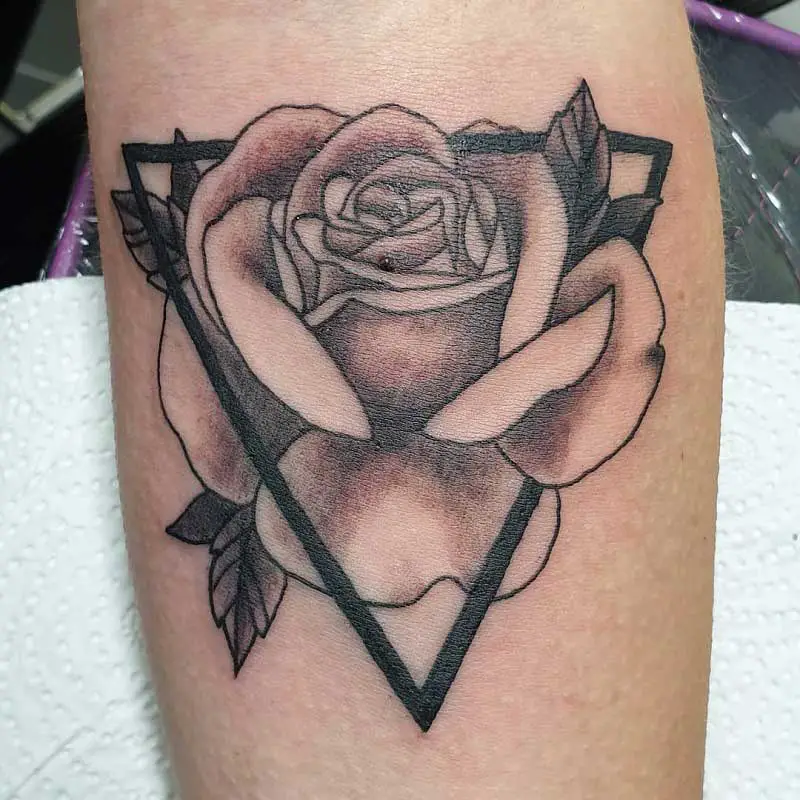 We have here a genuine cutie. A triangle full of roses is what it is. Besides, as the triangle is upside down in this tattoo, it adds a different touch to its meaning. It is power and strength with love and passion, the deadliest of combinations.
Small Triangle Tattoo
Small triangle tattoos are also known as valknut tattoos. They are quite historical and have a classic vibe in them. These tattoos are a representation of continued willpower along with strength.
16. Knot of the slain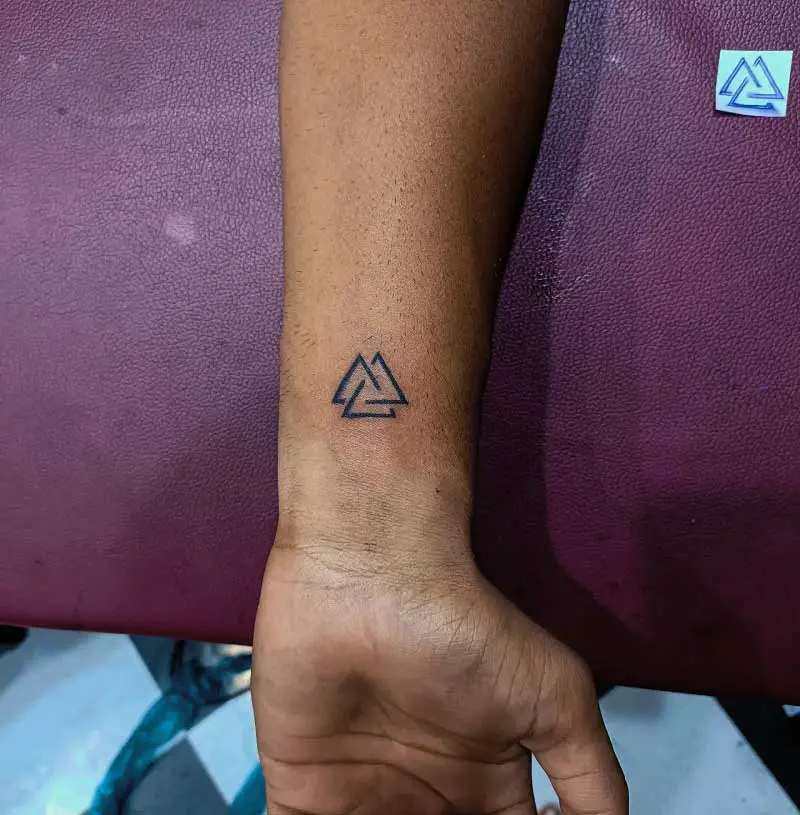 This triangle of triangles refers to the afterlife, rebirth, and the concepts of continuity. A person carrying this tattoo will definitely strike as a mystic personality.
17. Heart of vala.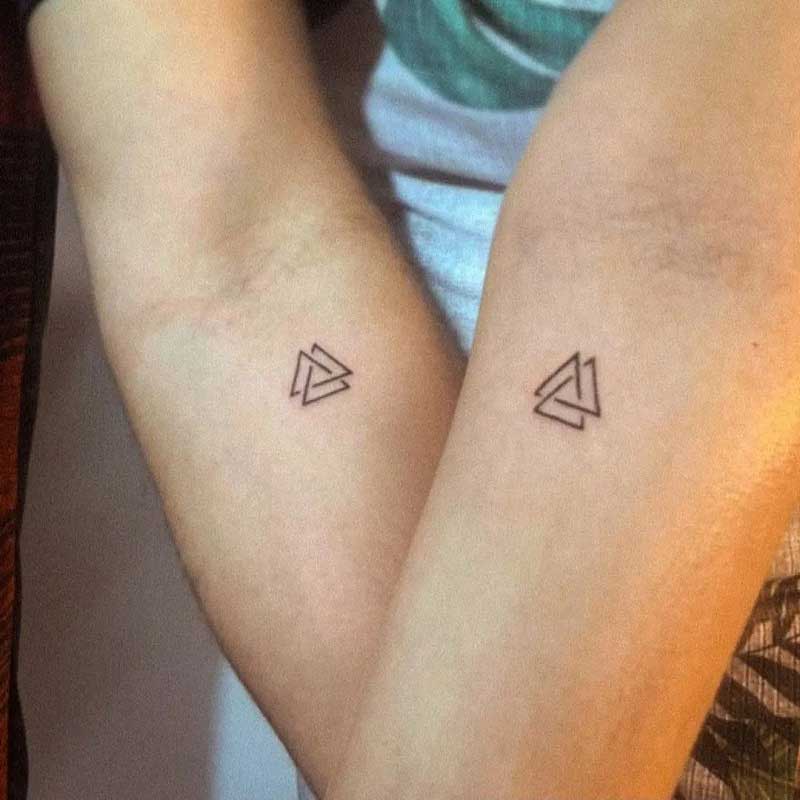 This triangle tattoo is basically a variation of the previous one you just saw. This one here has lighter lines than the previous one. Also, it gives a cleaner look. Besides, having it on the upper forearm will give a more clear sight.
18. Dreamland!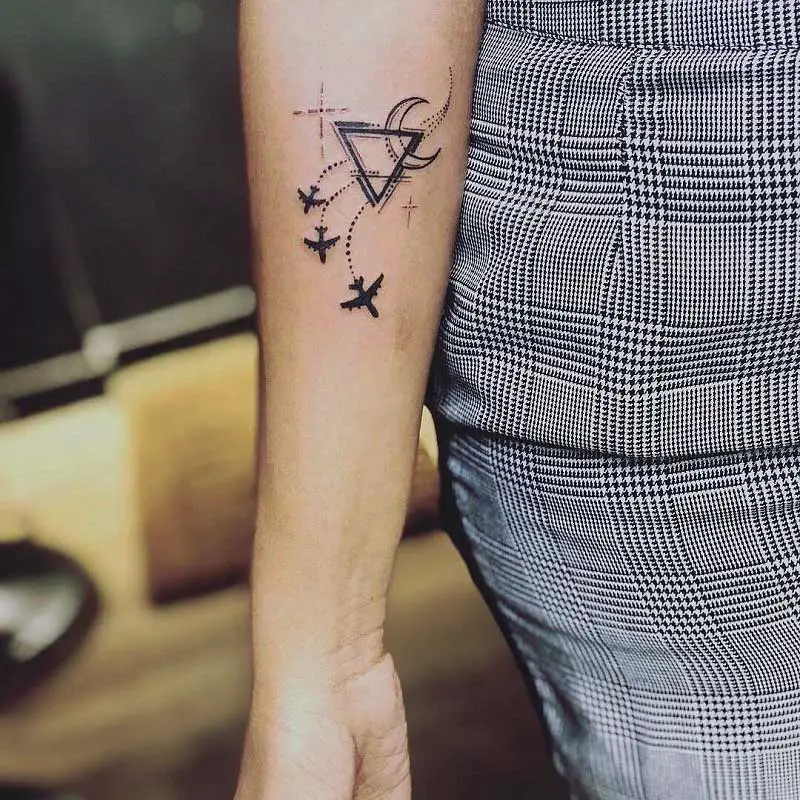 What do we have here? A crescent moon, three airplanes, twinkling stars, and obviously a triangle. What more do you need for your very own dreamland? Curve this and own your dreams.
Harry Potter Triangle Tattoo
Harry potter triangle tattoos are basically the deathly hallows. Here the triangle represents the cloak of invisibility, the circle is the resurrection stone and the line at the center is the Elder wand. In terms of meaning, this tattoo has a wide variety of interpretations. That's why it is suitable for anyone irrespective of age and gender.
19. Classic Hallows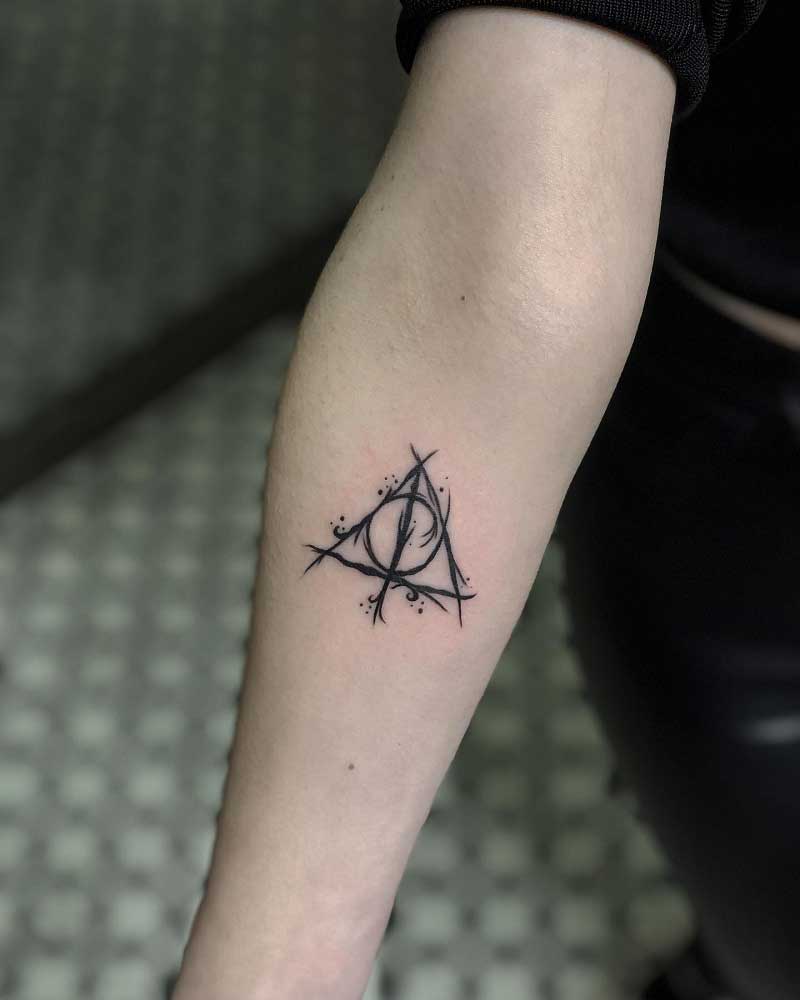 This Harry Potter triangle tattoo contains a classic old look. The curvy lines and shades make it a minimal yet compact package for you.
20. Hallows of dots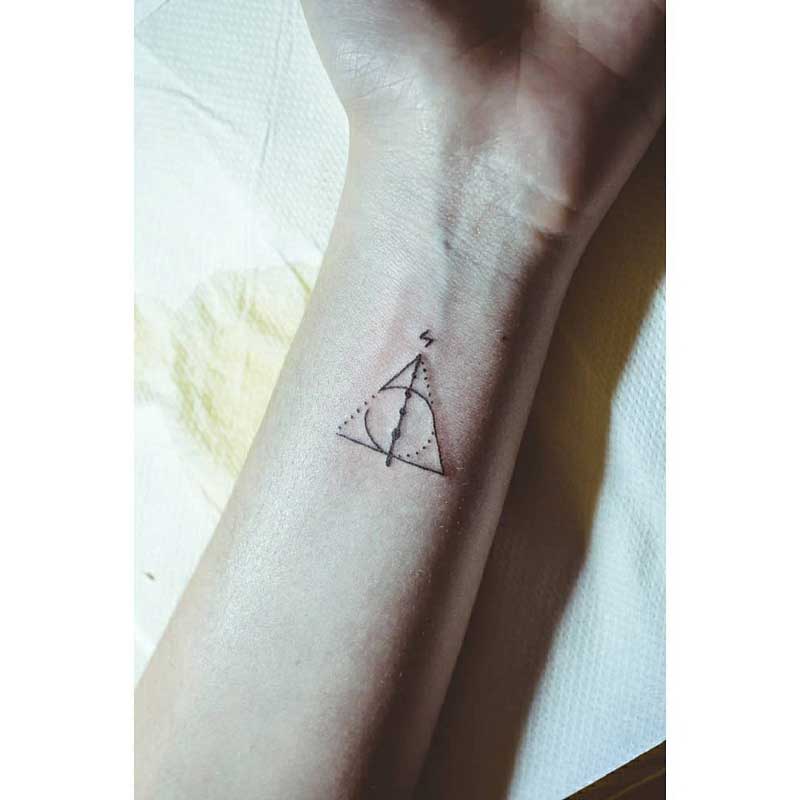 On this one, you will have the deathly hallows with some dotwork in them. This minimalist version is a good little piece to decorate your wrist. It will surely put a spike in your casual or semi-formal looks.
21. Simplicity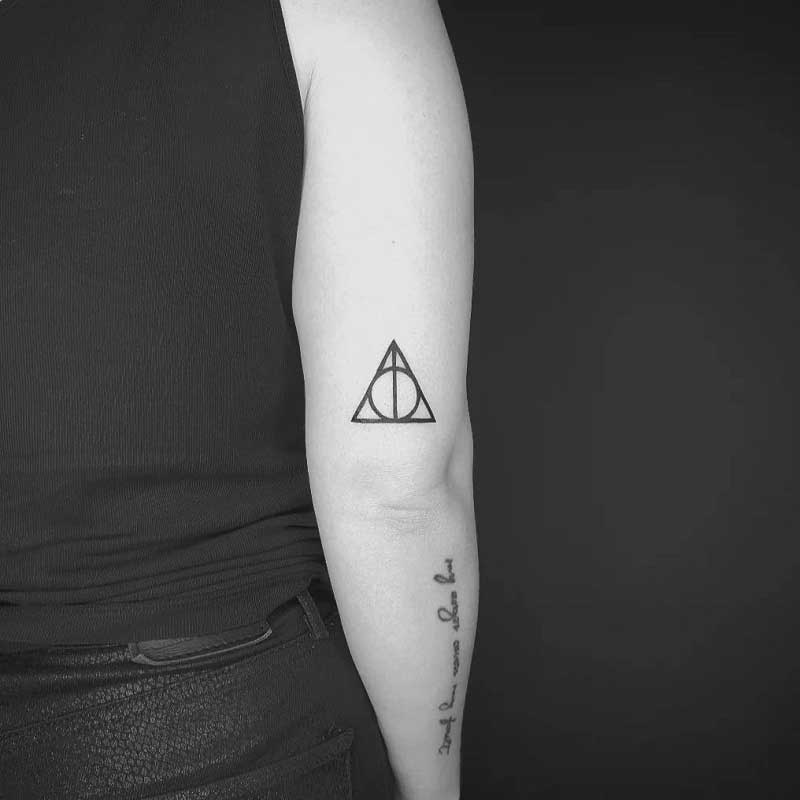 A tattoo with a triangle that also offers you a clean slate, won't you love it? If it's a yes, this is for you. This sits at the back of your arm. Clean and gorgeous!
Triangle Finger Tattoo
Cute little triangles on fingers are quite a popular choice among tattoo lovers as a symbol of Christian belief. The triangle, aka the trinity, holds a very sacred position in Christianity. That's why people often pick this type of triangle tattoo to hold their spiritual and religious position.
22. Finger of Trinity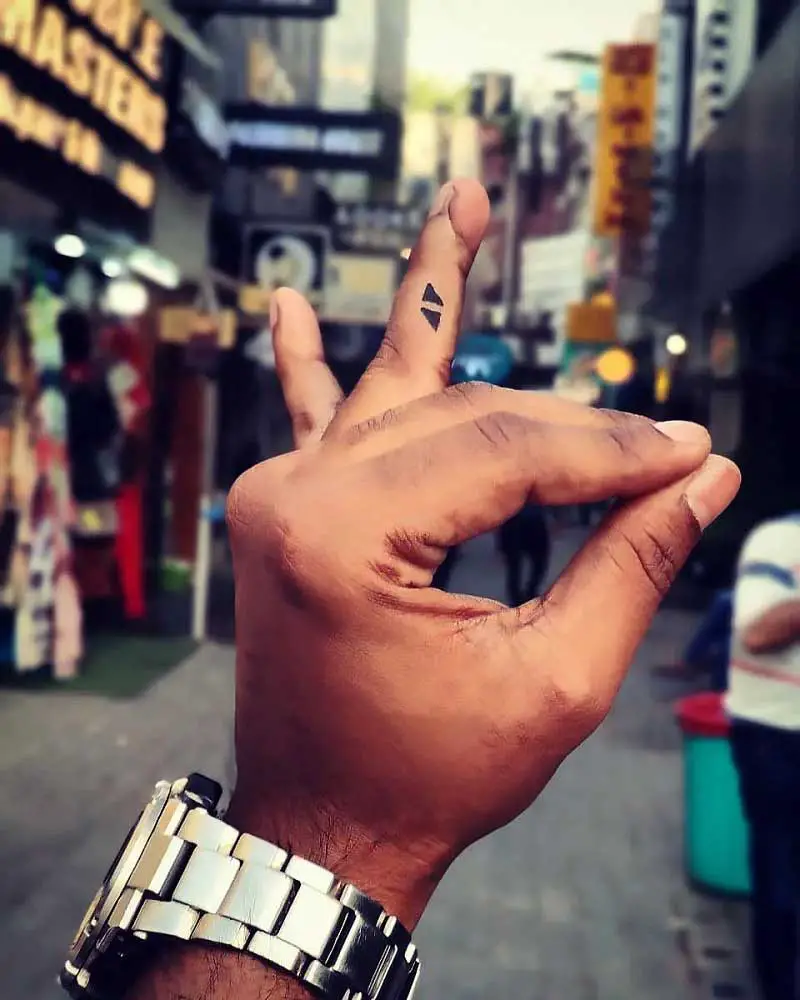 That's right! When you carve the trinity on your fingers, that becomes the finger of the trinity! Show that finger and people won't get offended anymore!
23. Down towards belief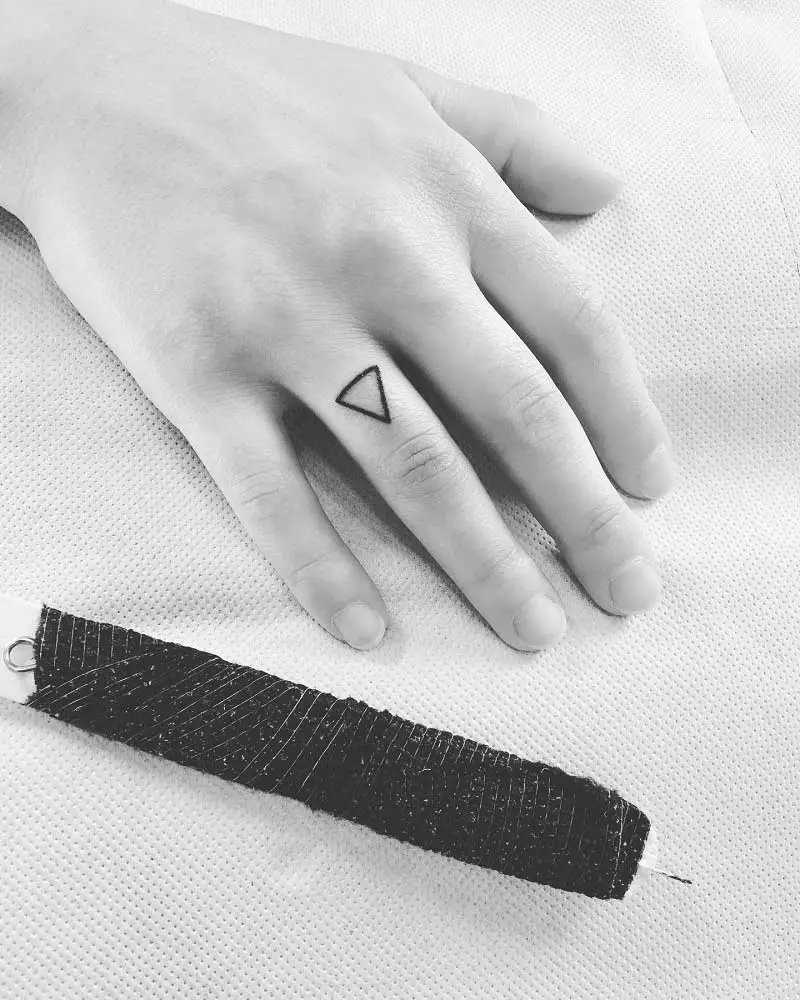 An easy, simple triangle inked with lines on a girl's finger. Ink it just below your knuckles and everybody will know your core of belief. With this triangle inked, you get to keep your style while carrying your symbol of ideology.
24. Trinity on the thumb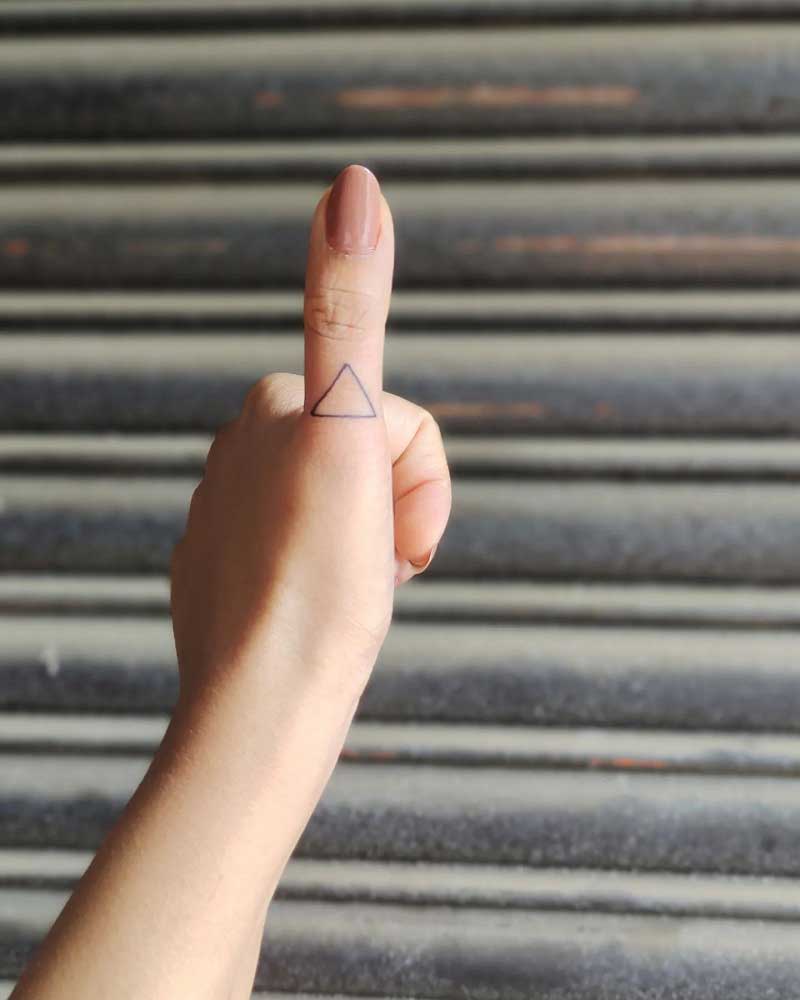 Having a simple triangle done on the thumb is also a good choice. This is a line tattoo. So, it will just blend in. You won't need to give it any extra notice, meanwhile, it will do what it is supposed to.
Triangle Tattoo Forearm
Arms or forearms are always best in terms of placement for a tattoo. Having a triangle tattoo on your forearm can be a perk to give an extra push to your overall style. With many other things, it will definitely provide you with masculinity.
25. Band of belief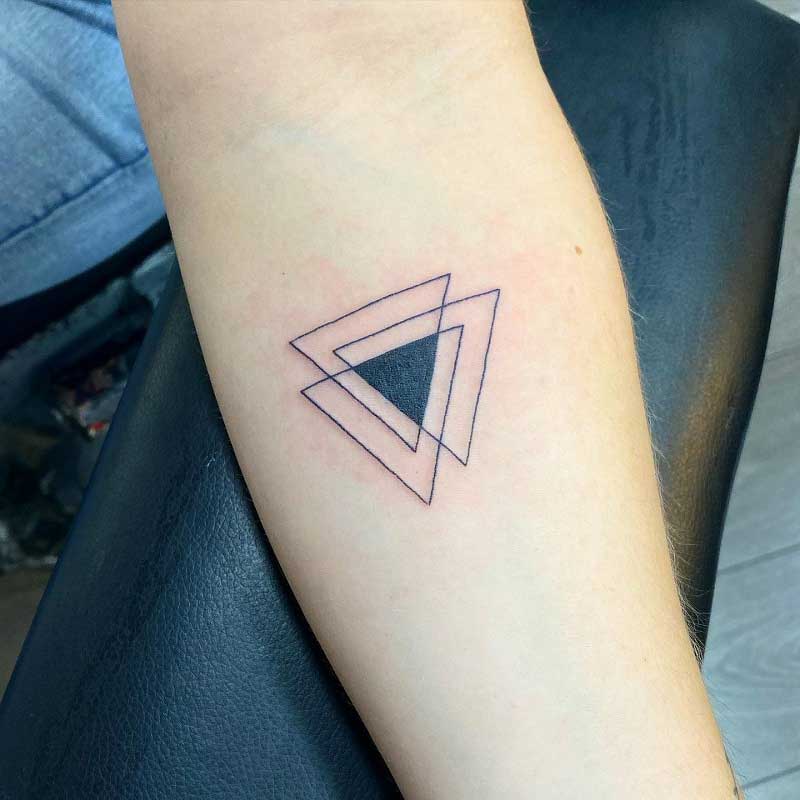 A holy trinity on a lady's forearms that seems like an armband, right? This tattoo is historical, classic, and very meaningful. So, it will definitely uplift your style while giving an extra modification to your personality.
26.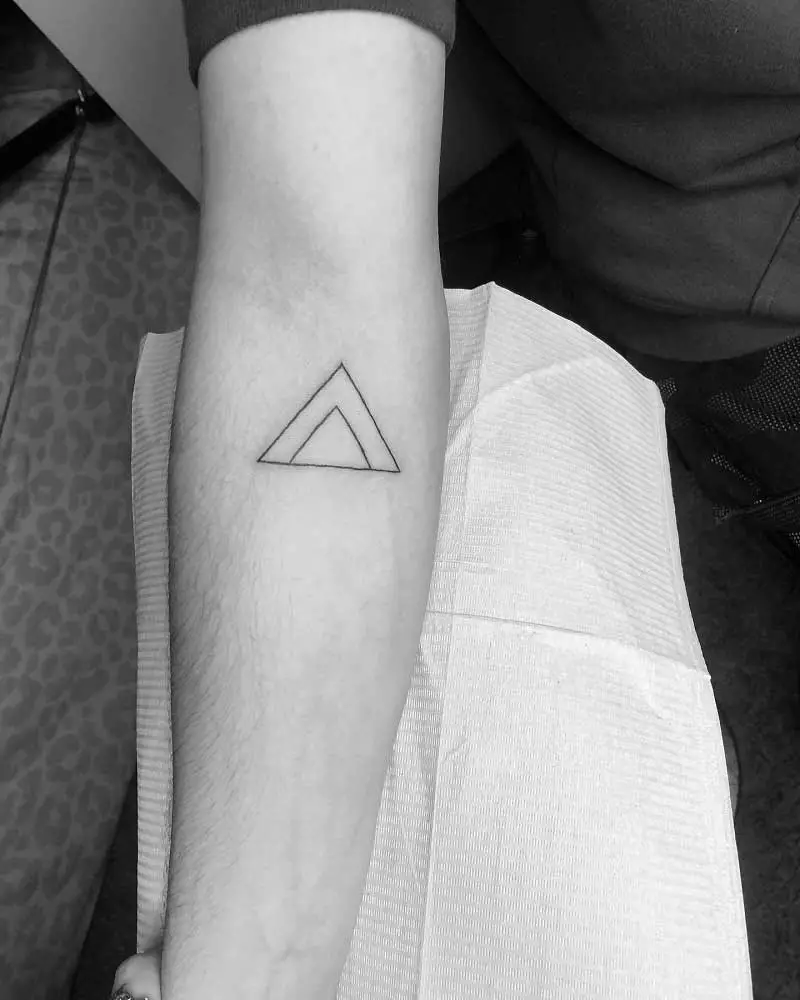 27.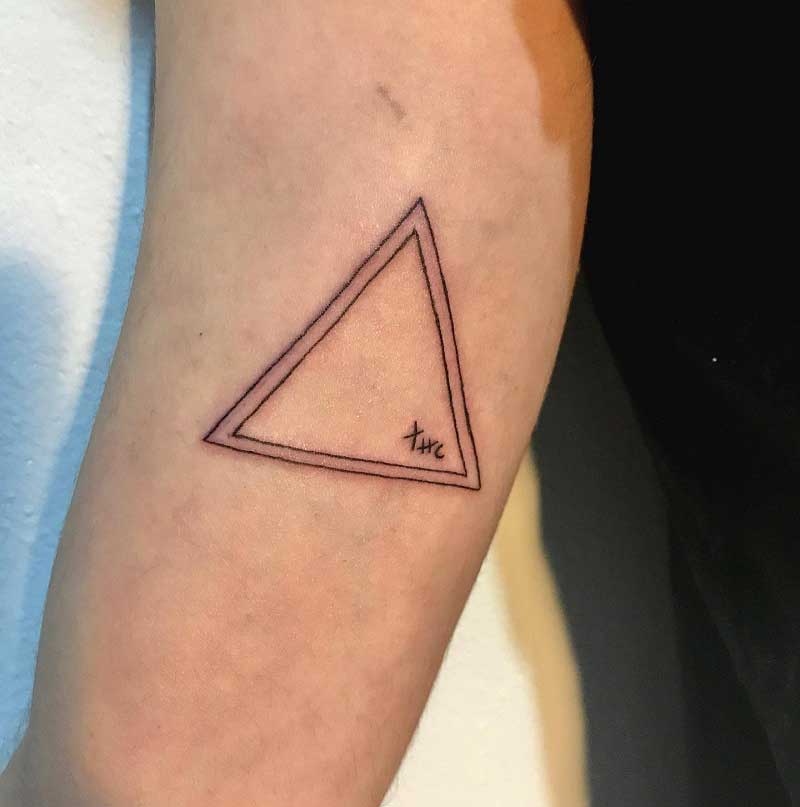 Cool Triangle Tattoos
28.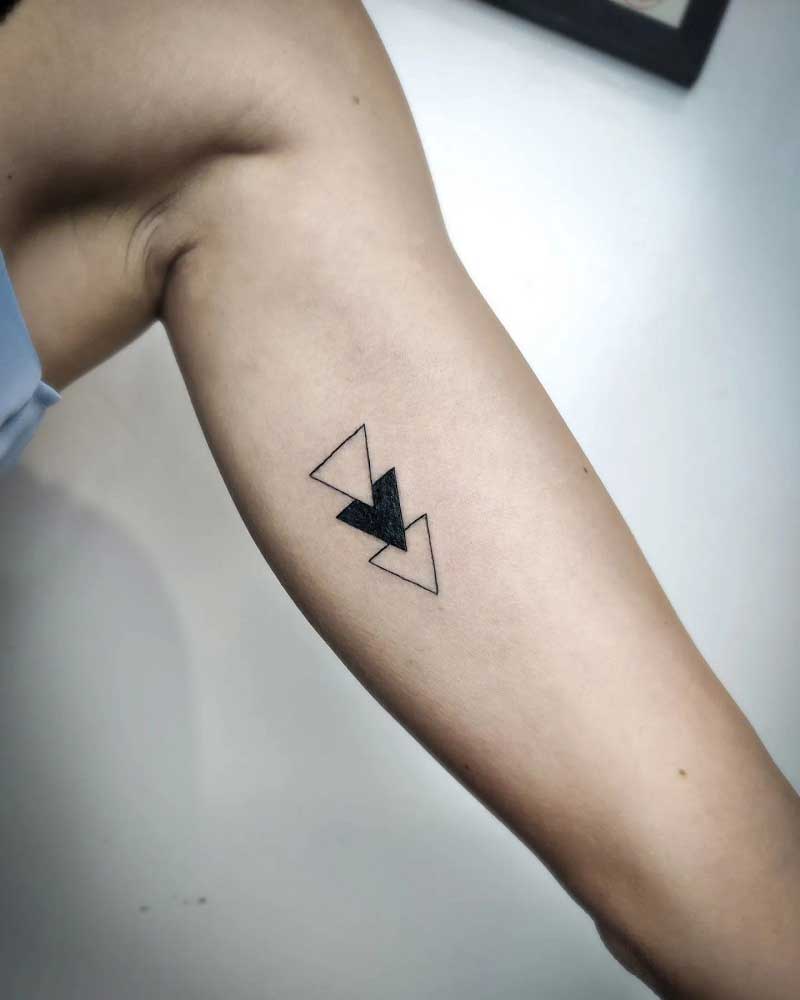 29.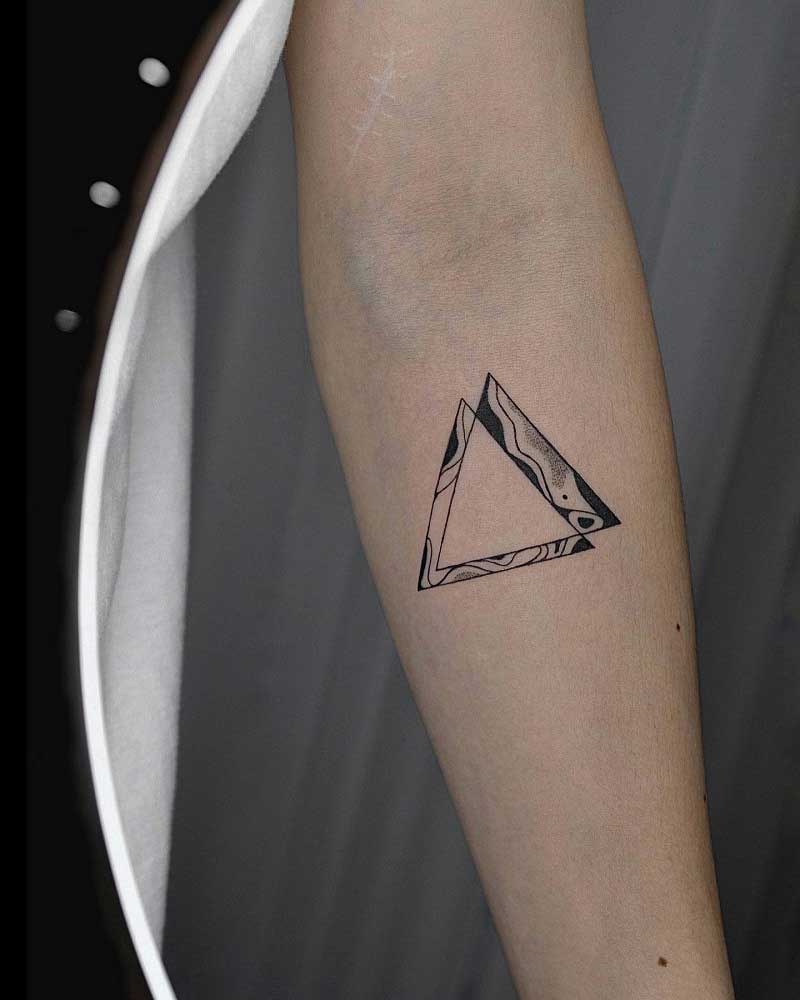 30.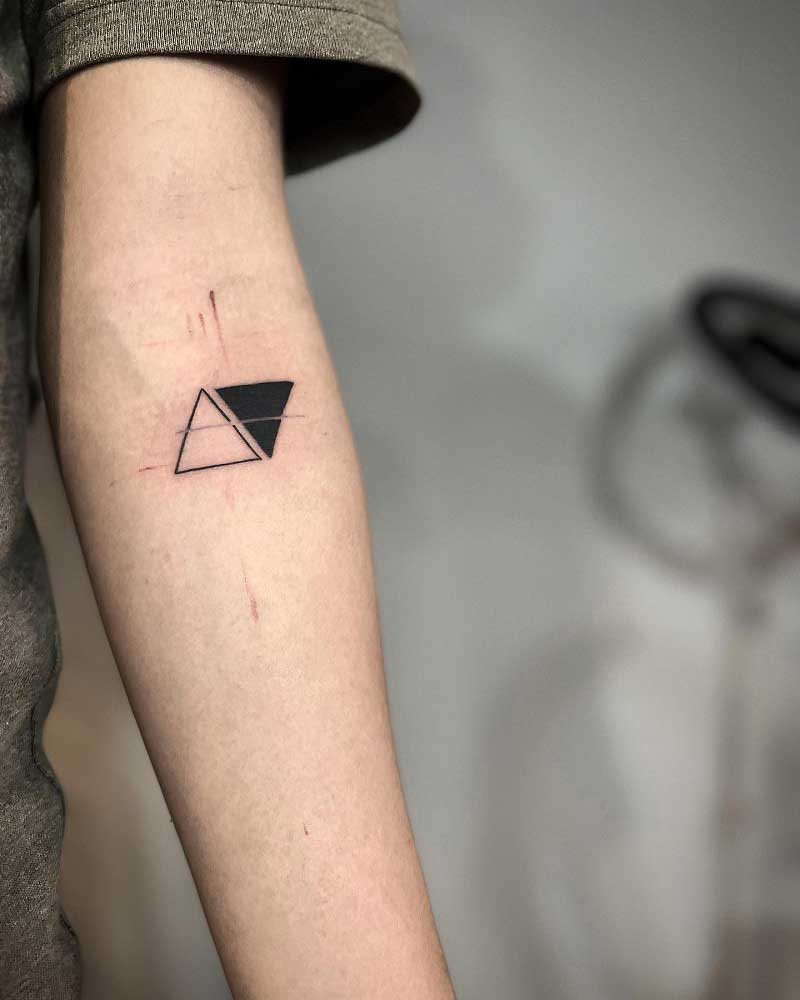 Hawaiian Triangle Tattoo
31.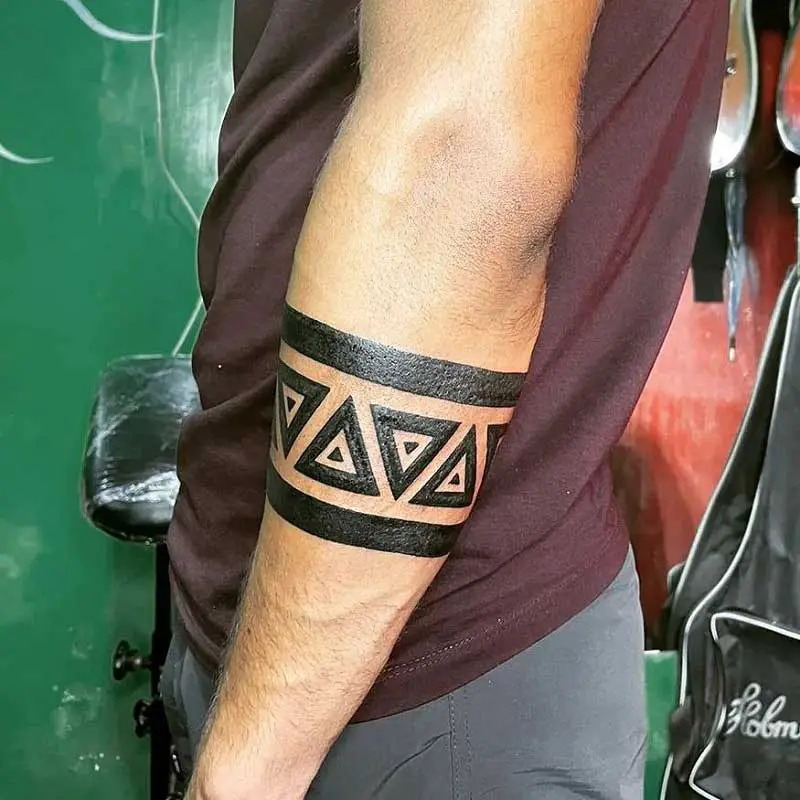 32.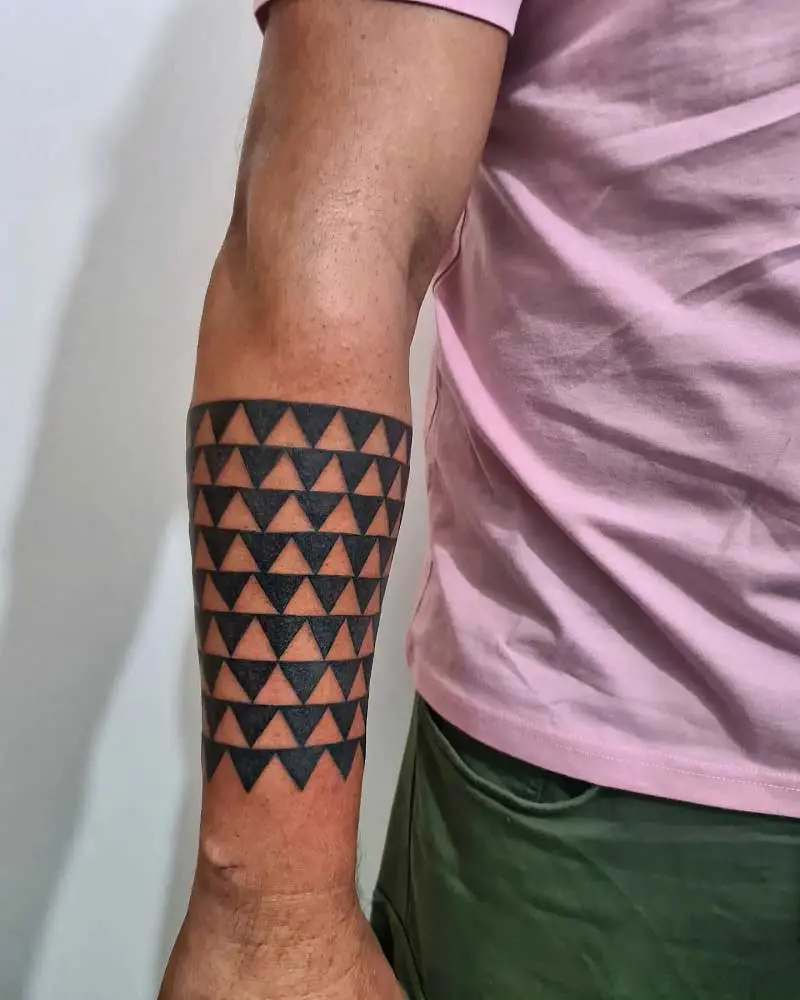 33.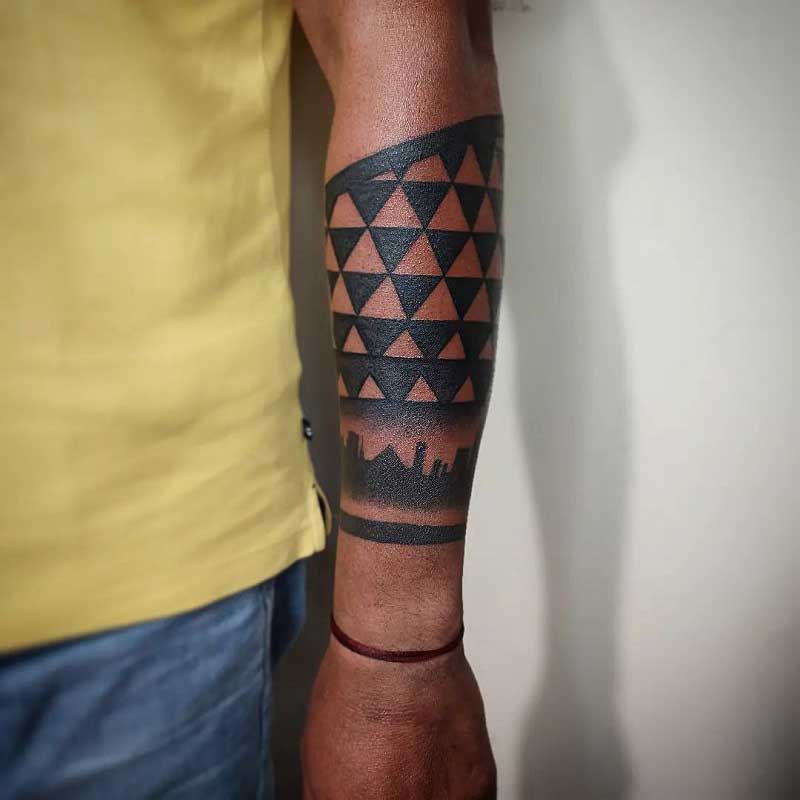 Impossible Triangle Tattoo
34.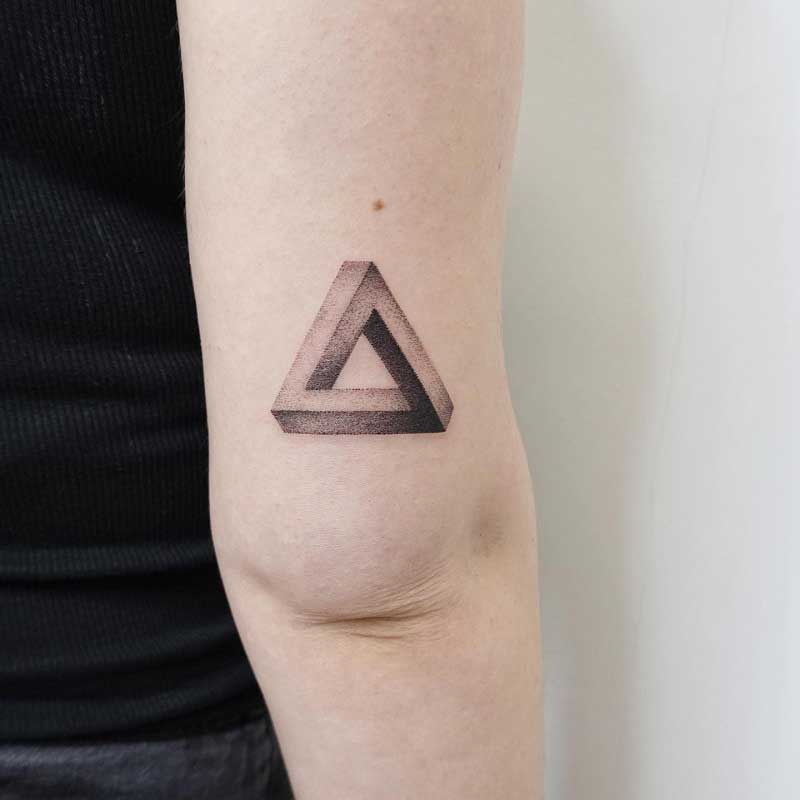 35.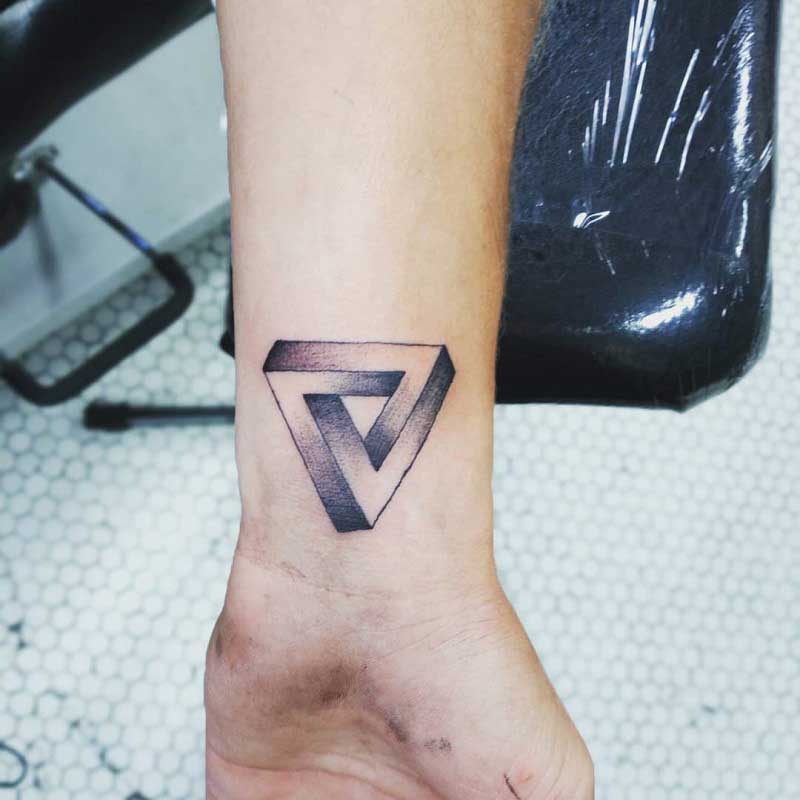 36.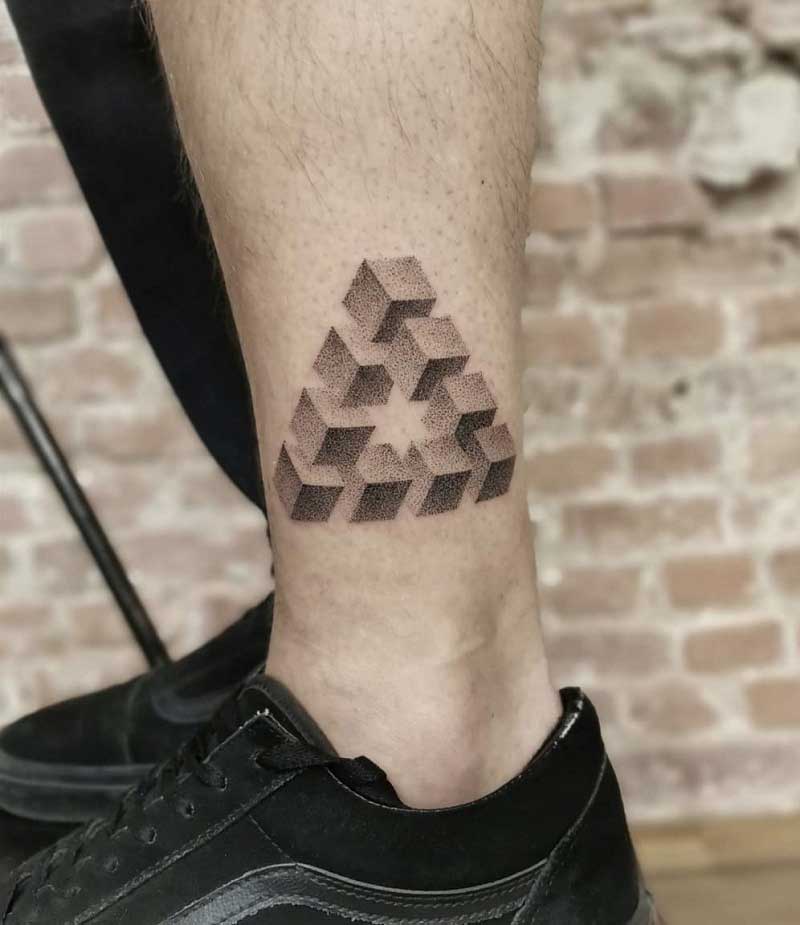 Infinity Triangle Tattoo
37.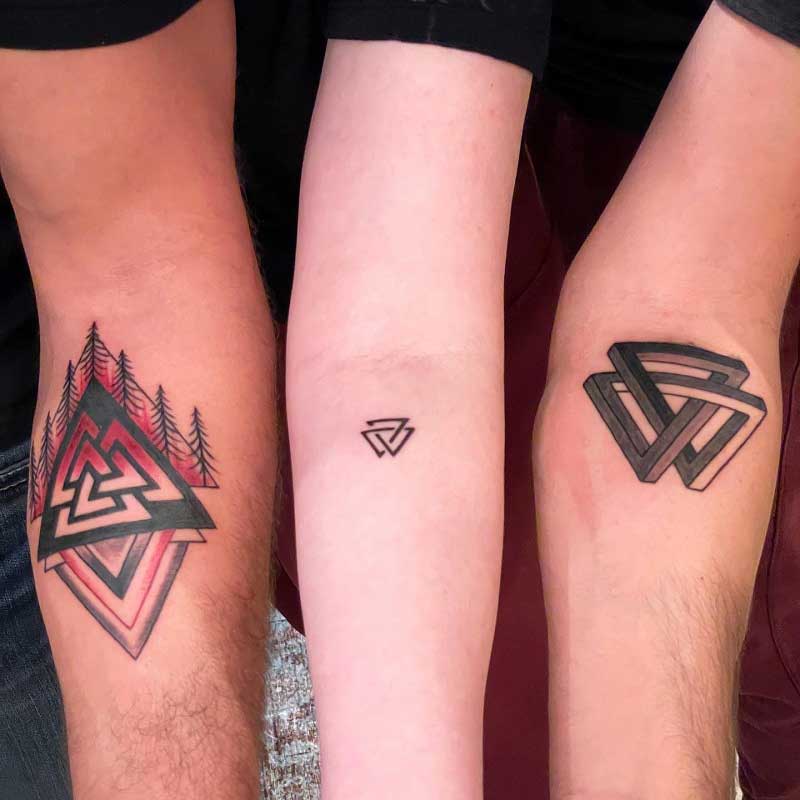 38.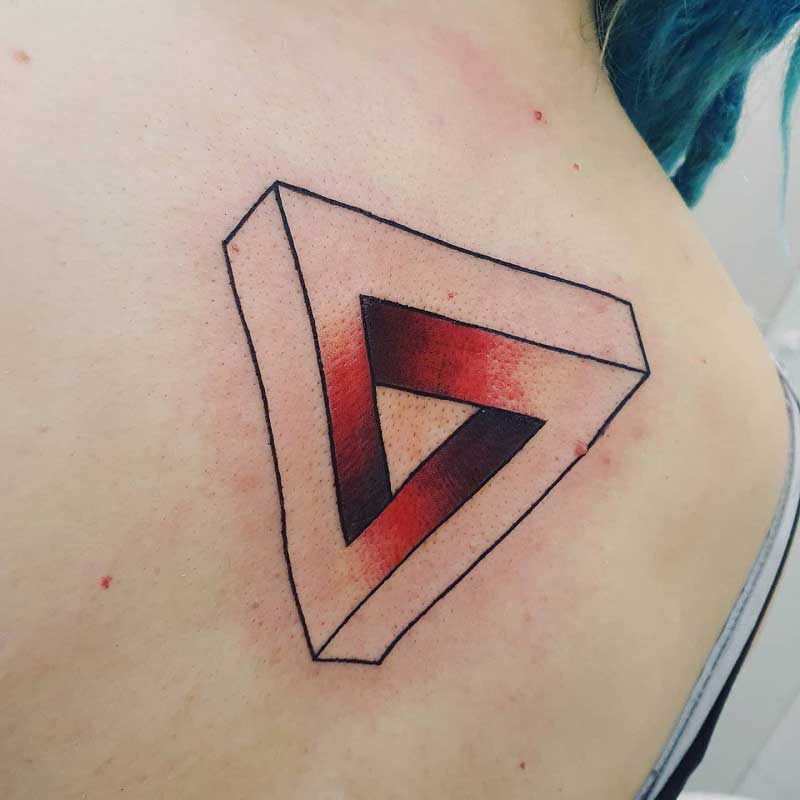 39.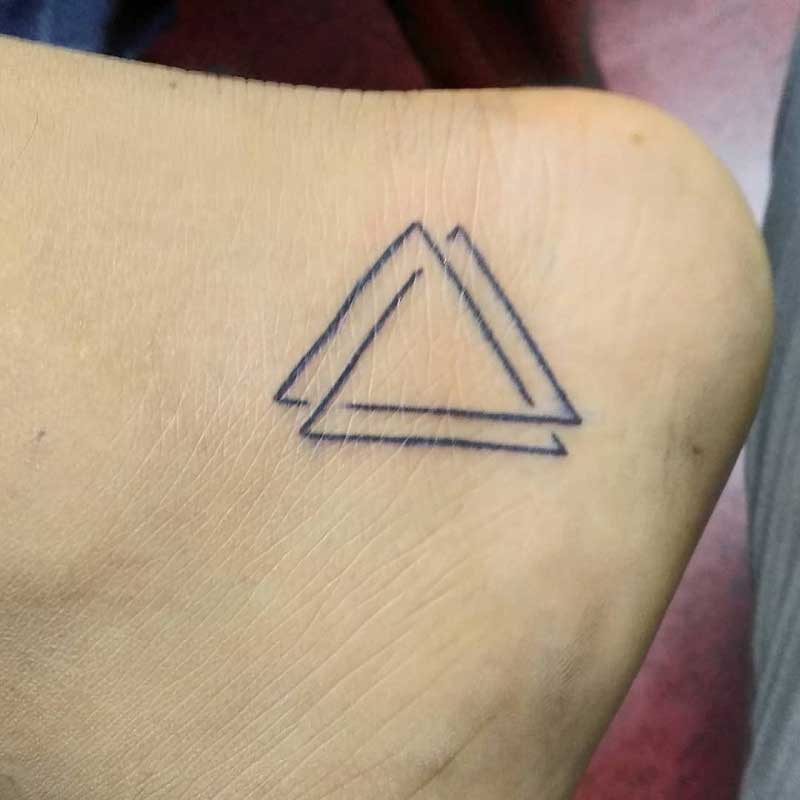 Triangle Eye Of Horus Tattoo
40.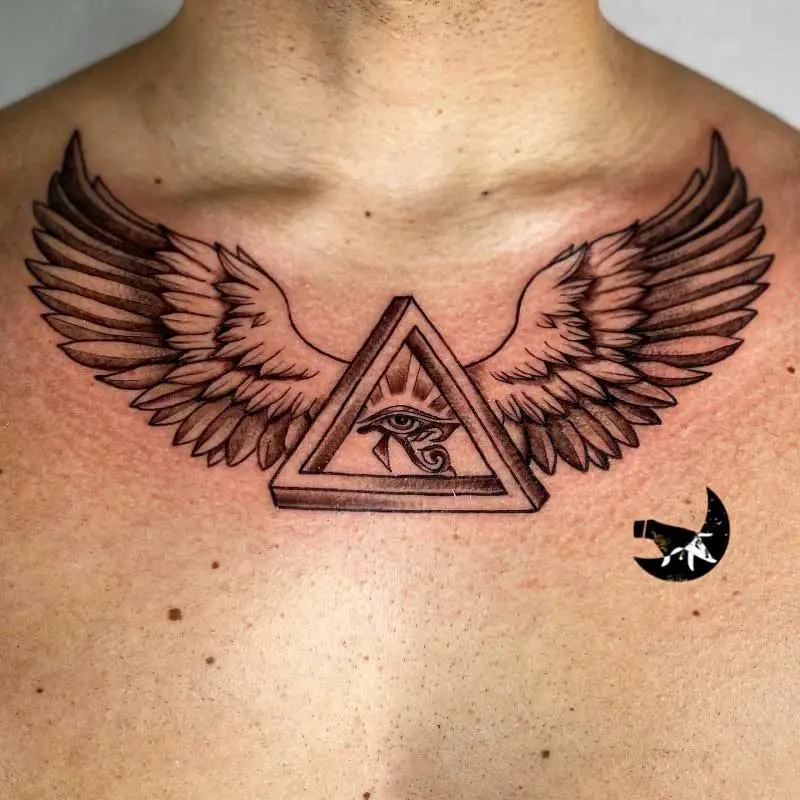 41.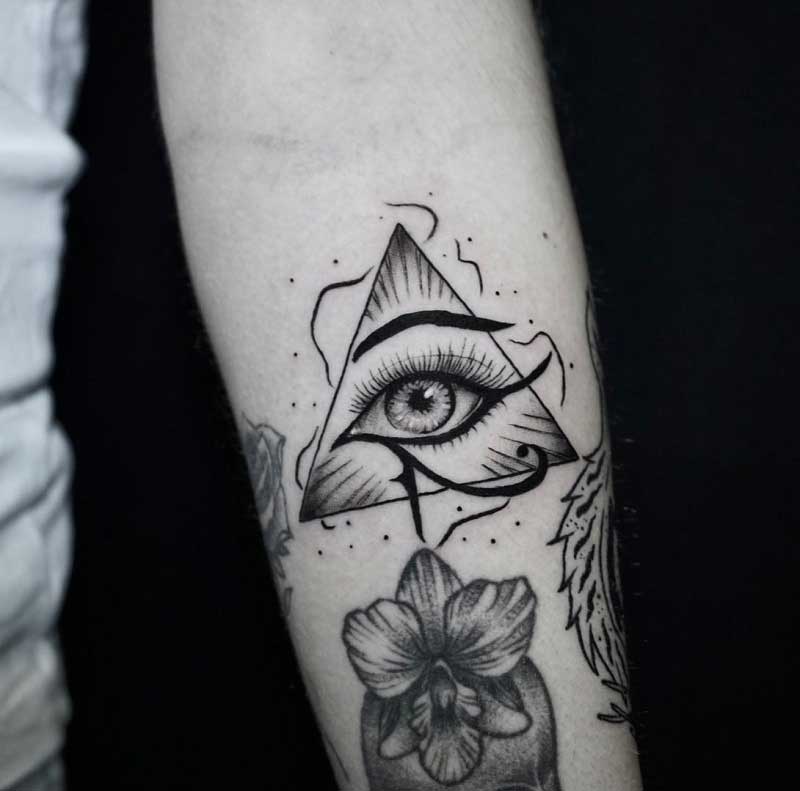 42.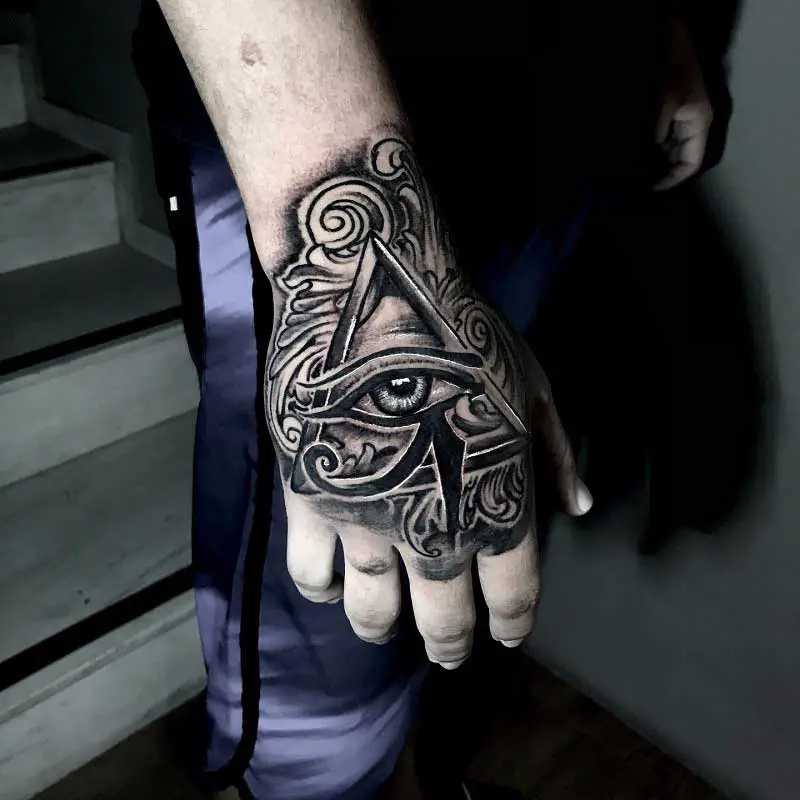 Geometric Triangle Flower Tattoo
43.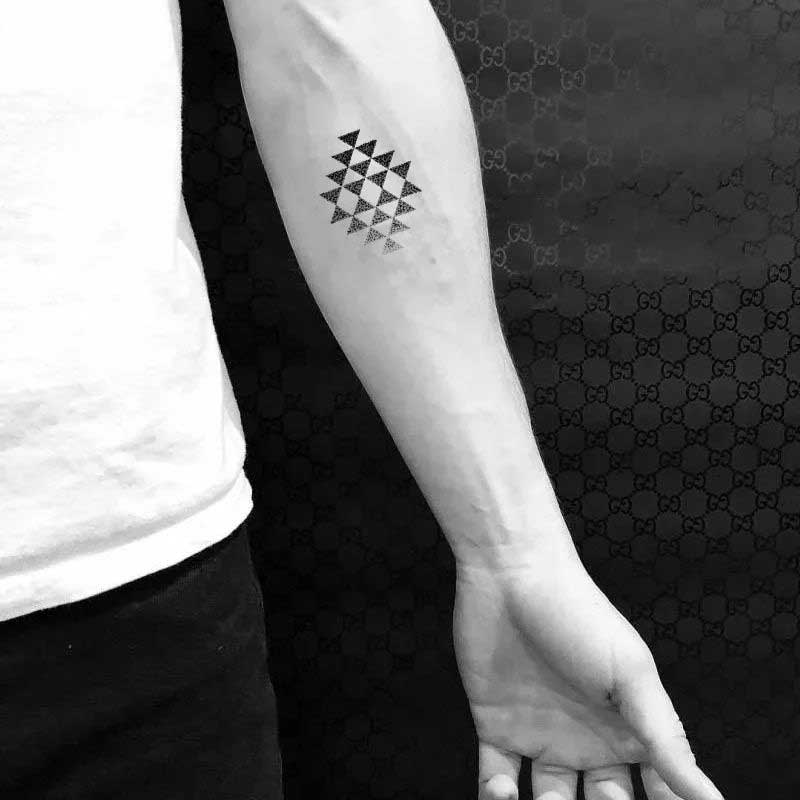 44.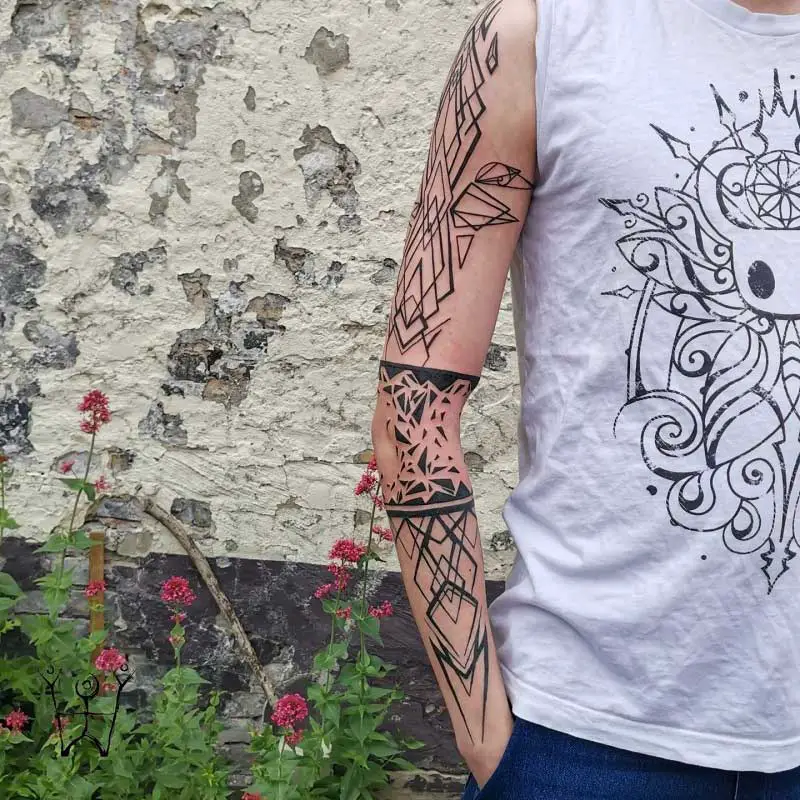 45.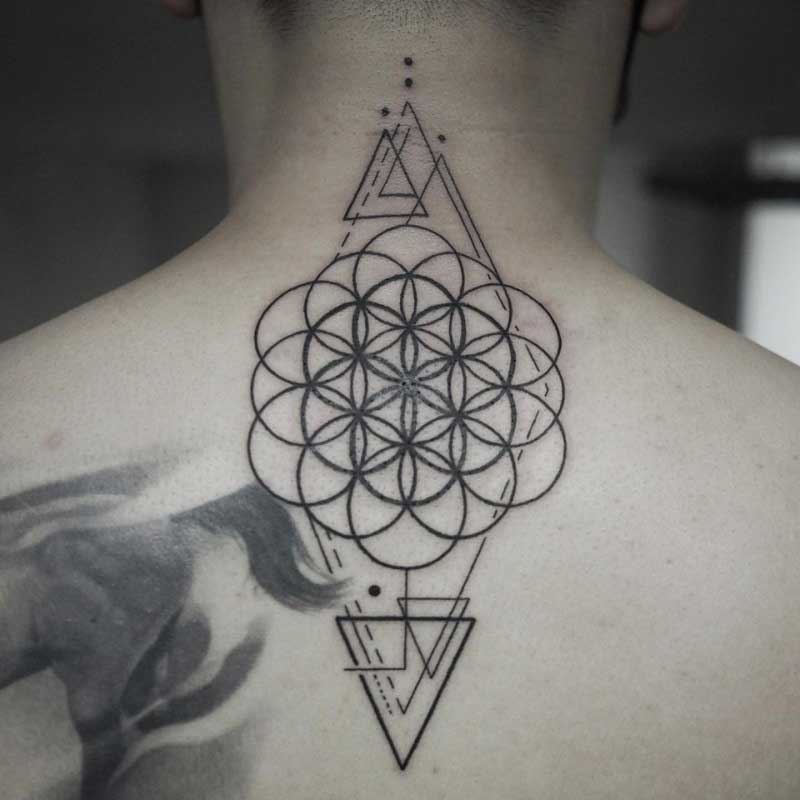 Golden Triangle Tattoo
46.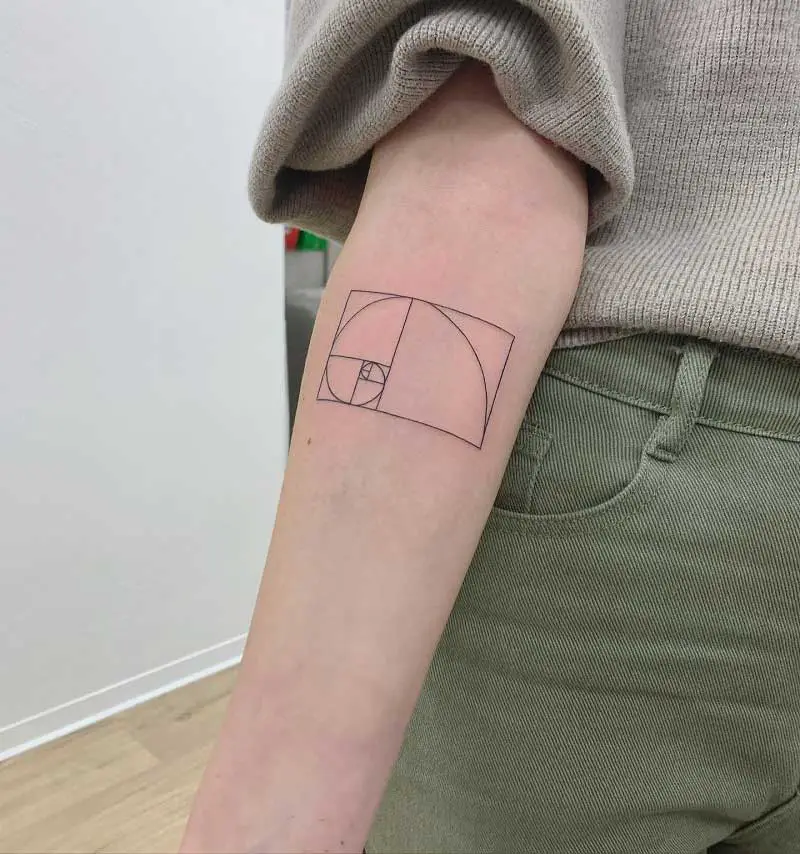 47.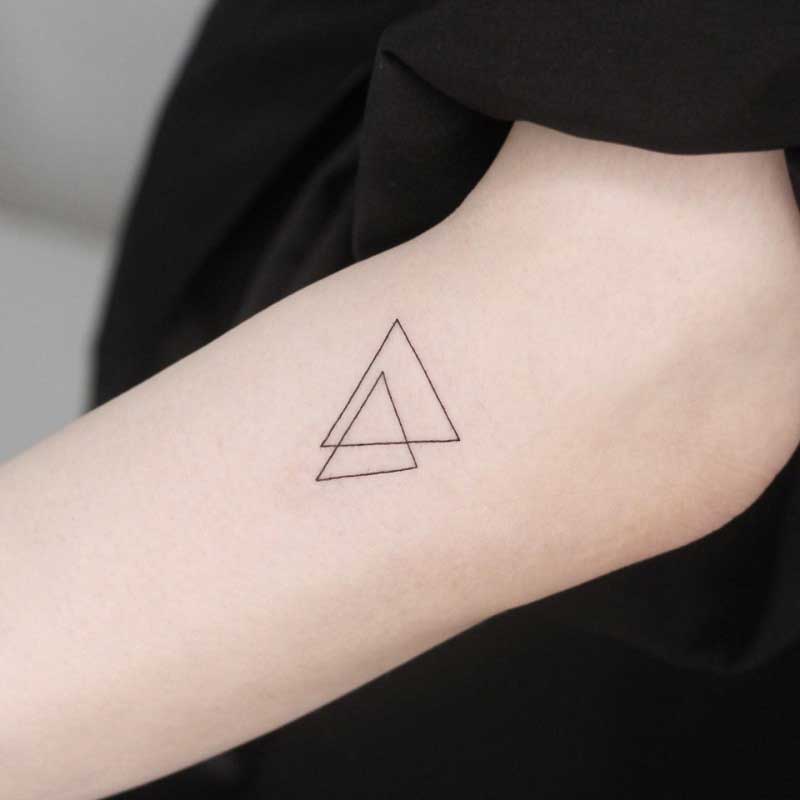 48.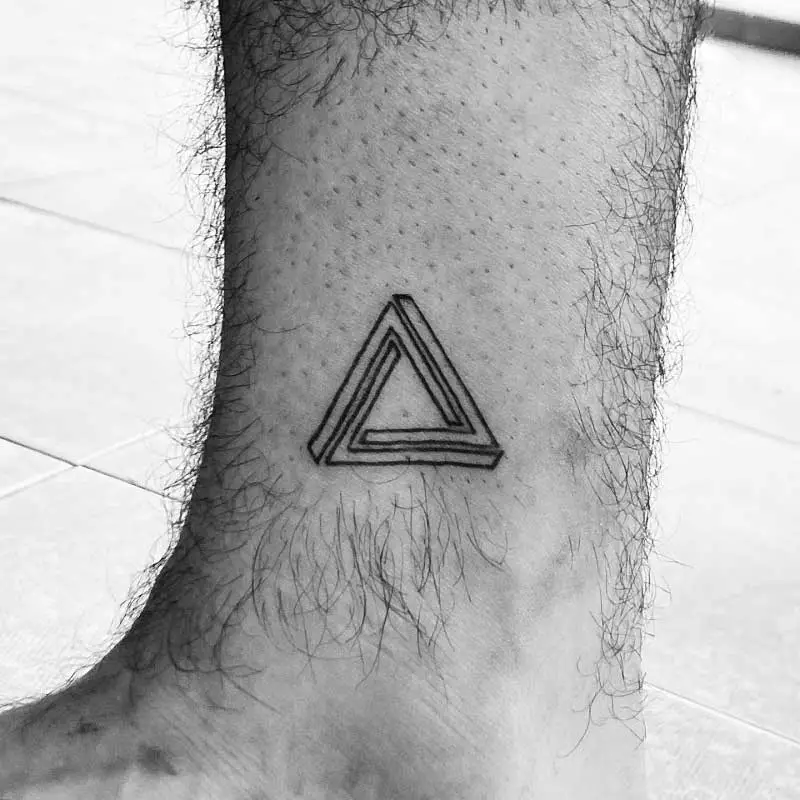 Triangle Sibling Tattoo
49.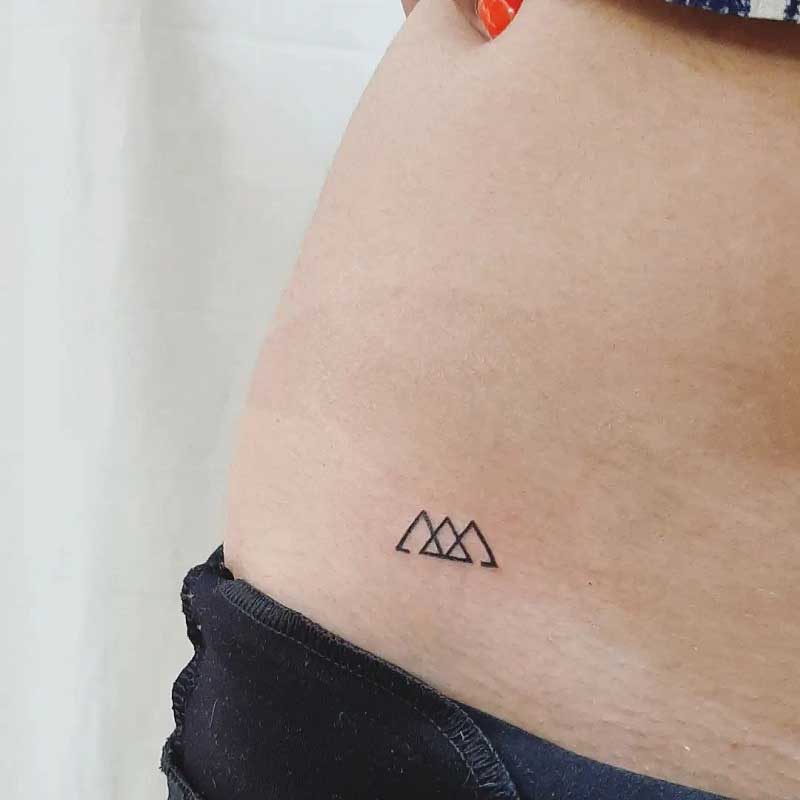 50.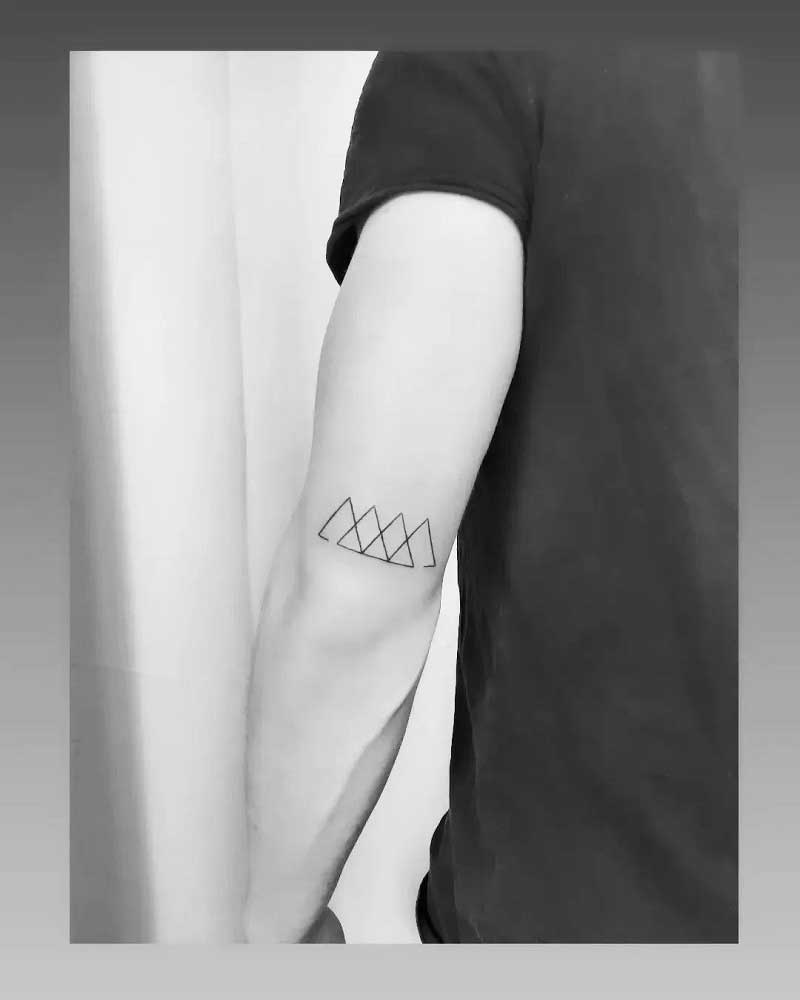 51.
Triangle Tattoo On Chest
52.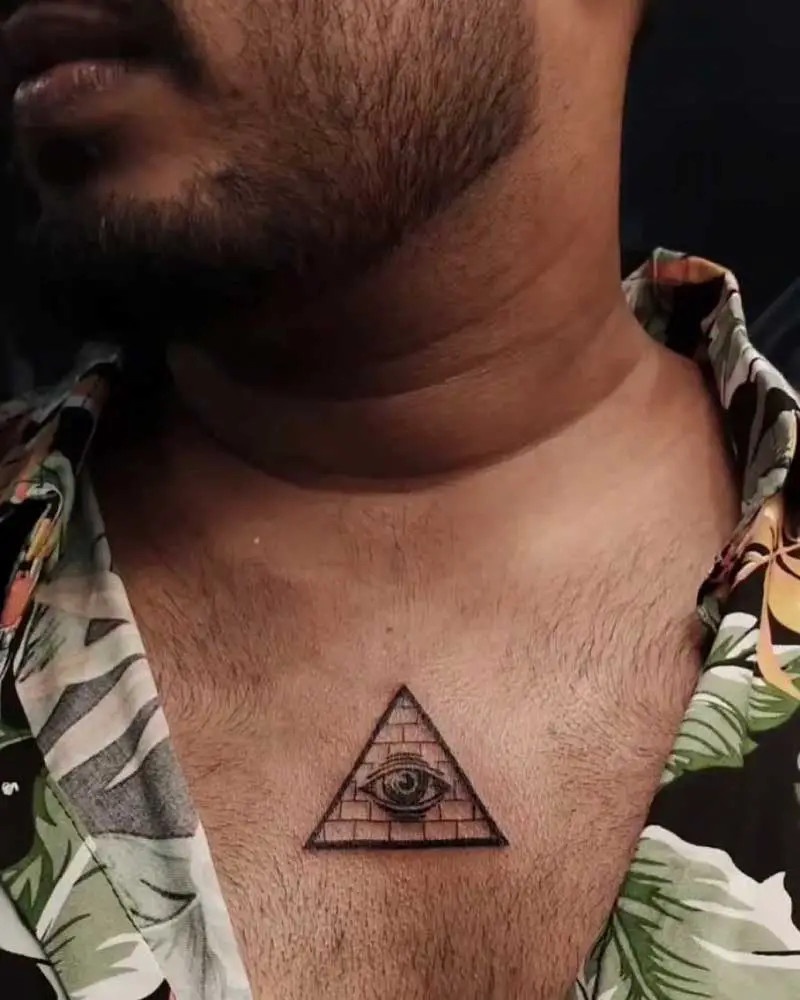 53.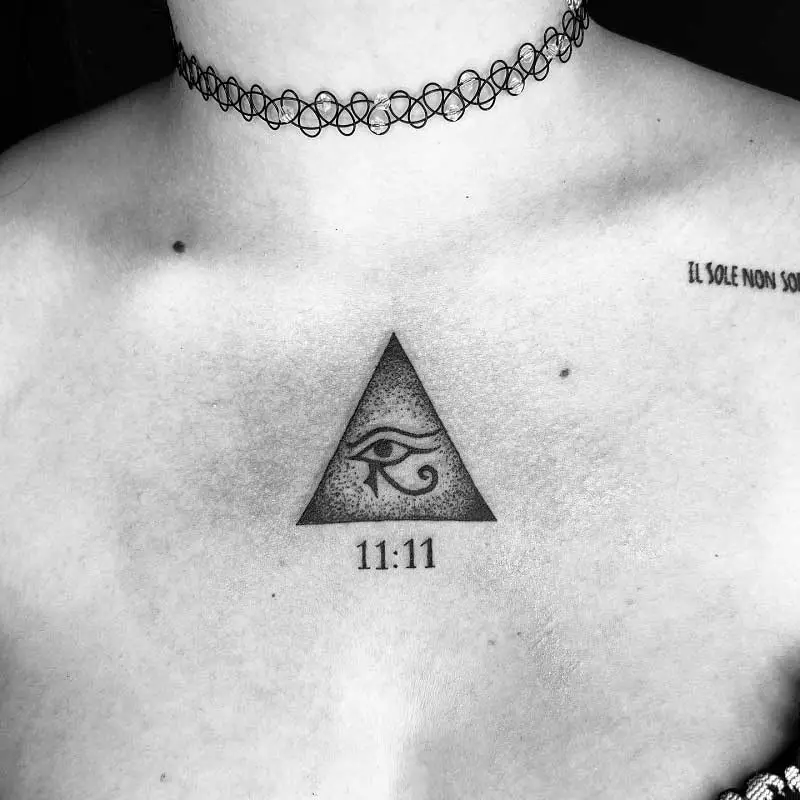 54.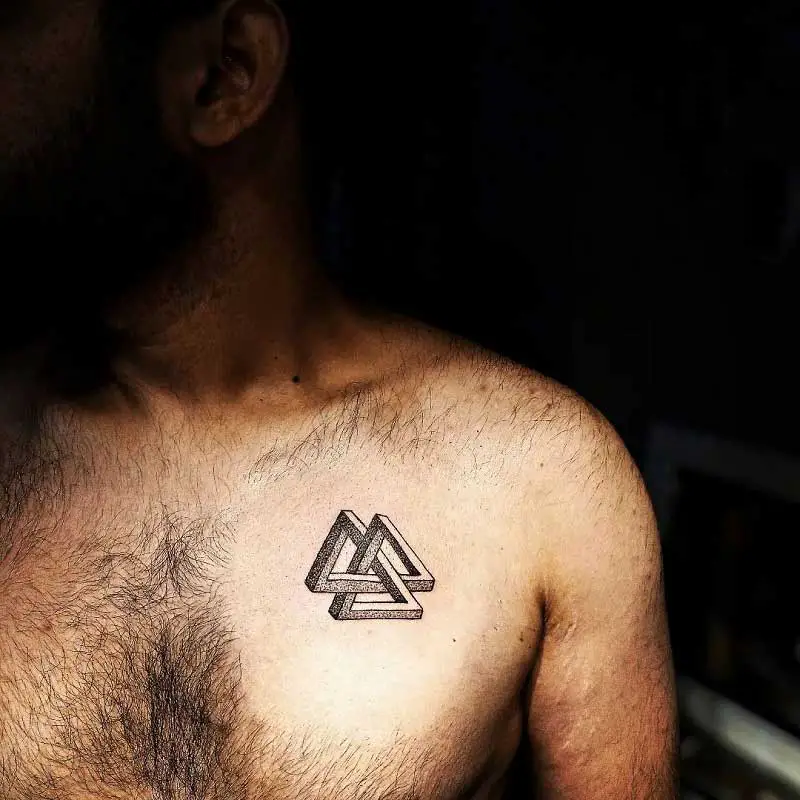 Triangle Tribal Tattoo
55.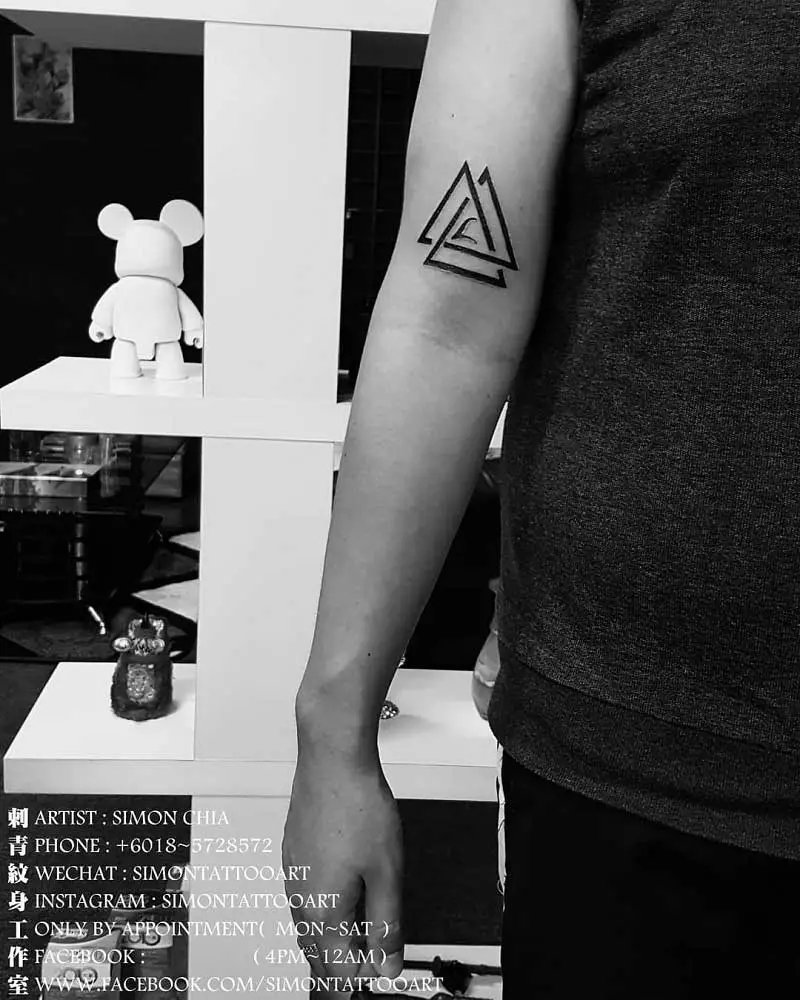 56.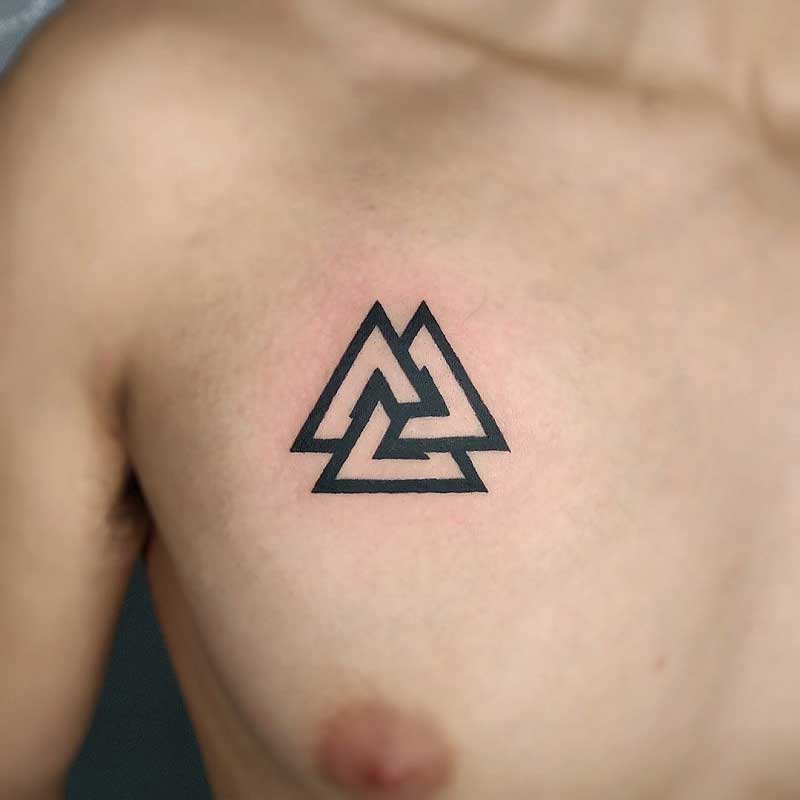 57.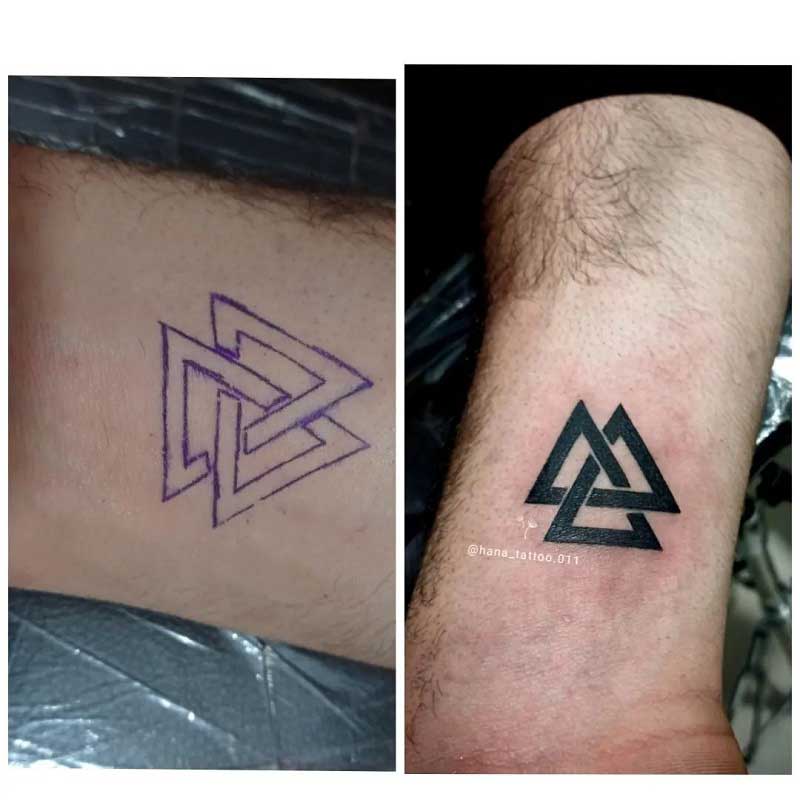 Viking Triangle Tattoo
58.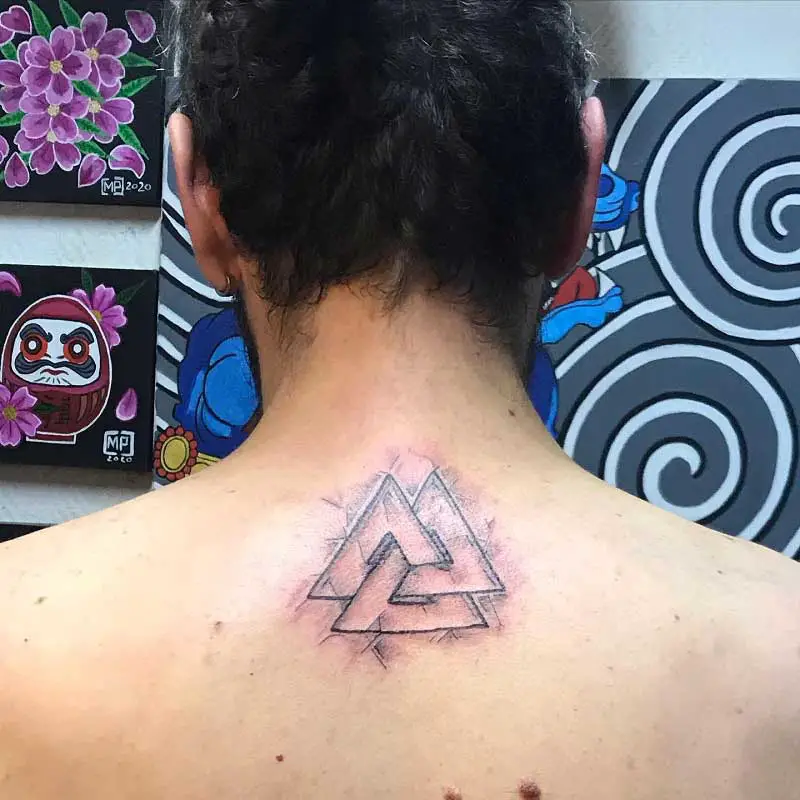 59.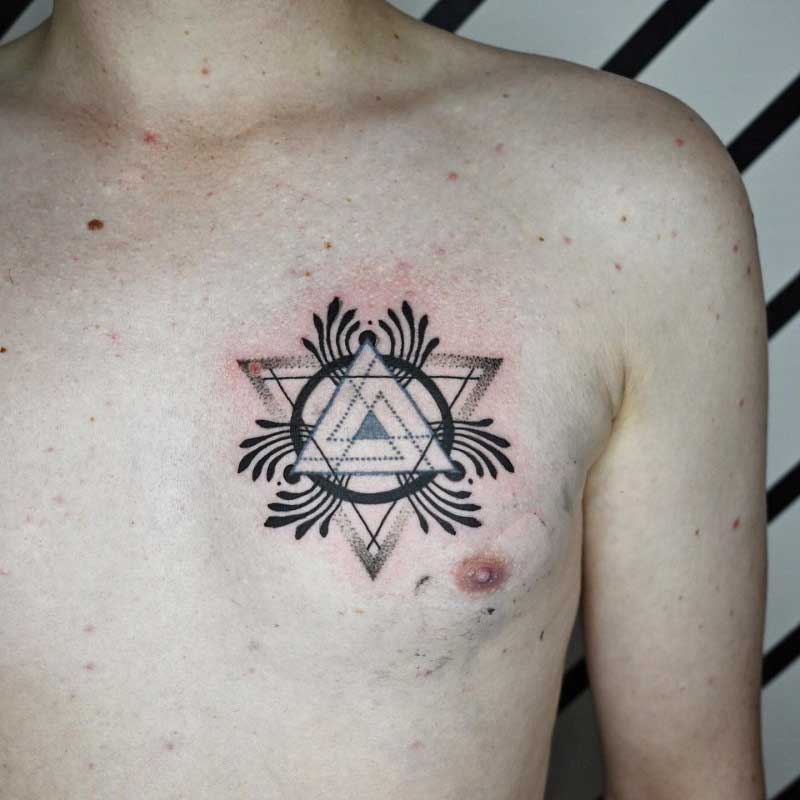 60.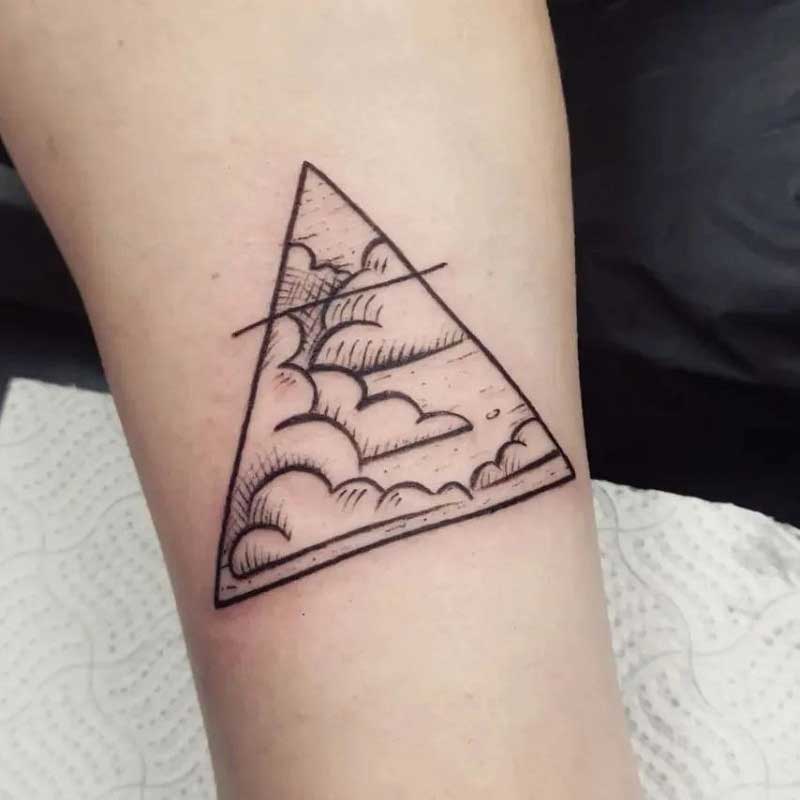 Flower Triangle Tattoo
61.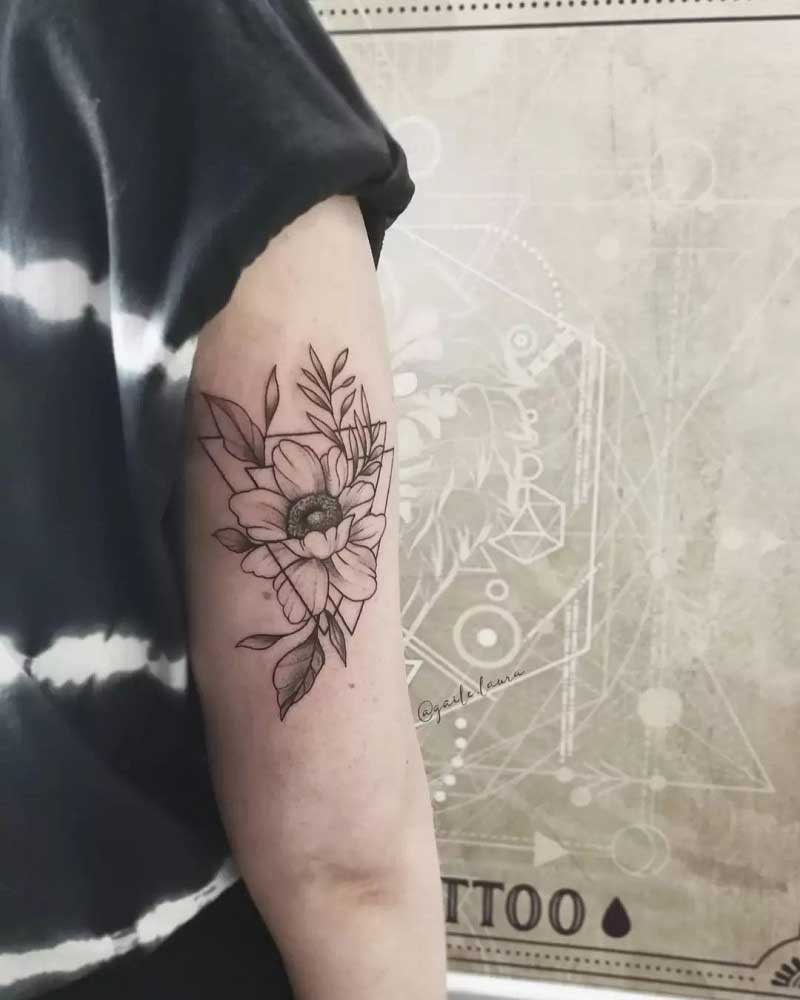 62.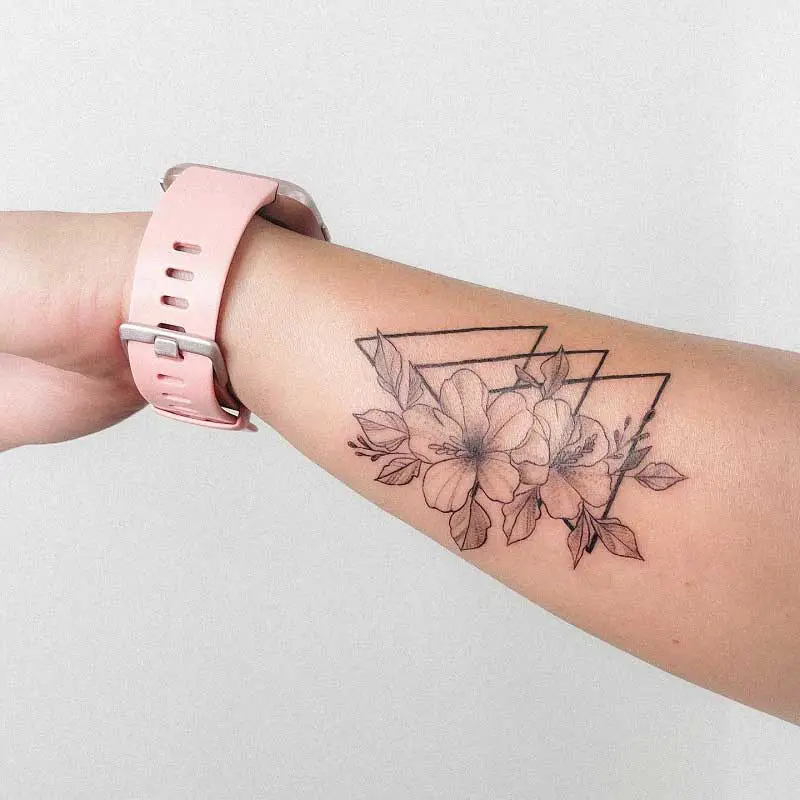 63.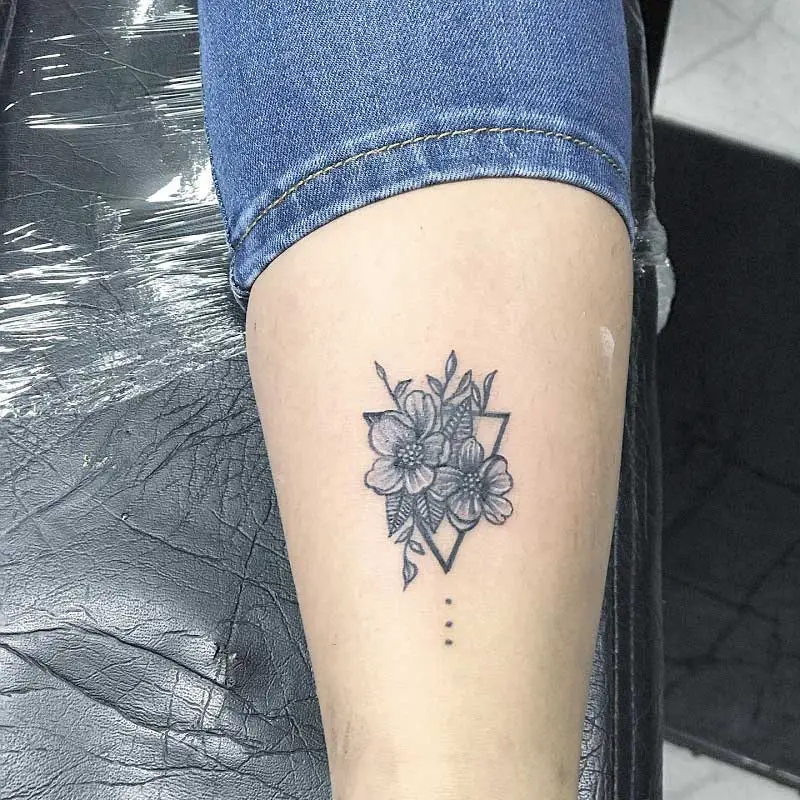 Cover Up Triangle Tattoo
64.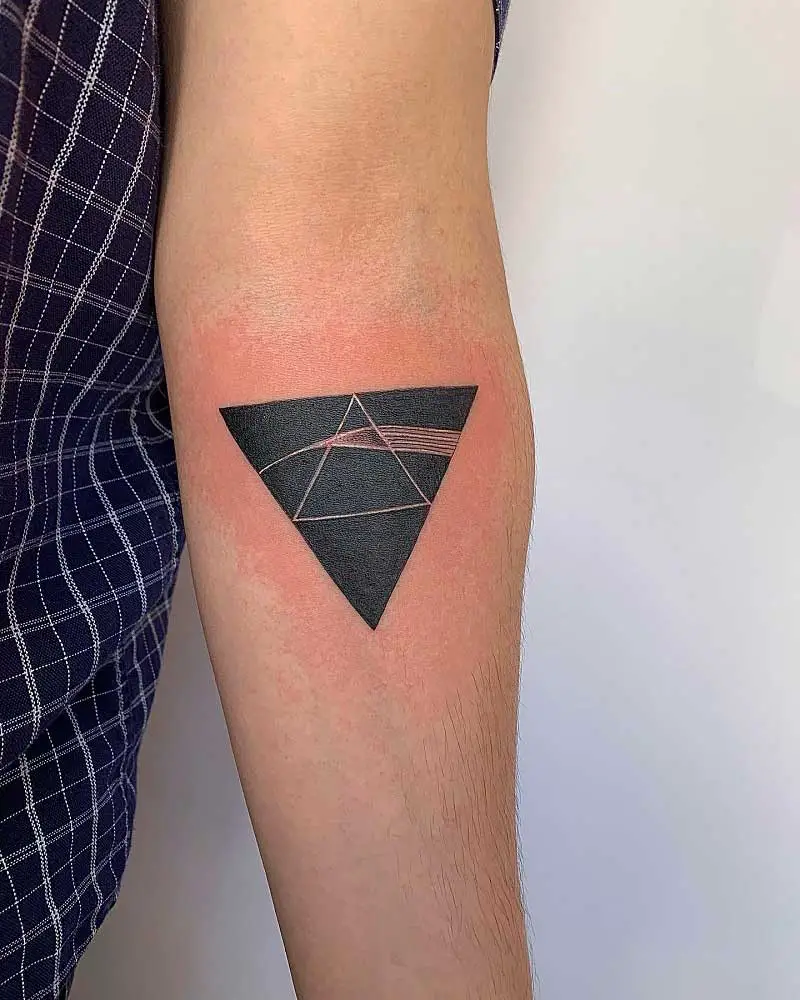 65.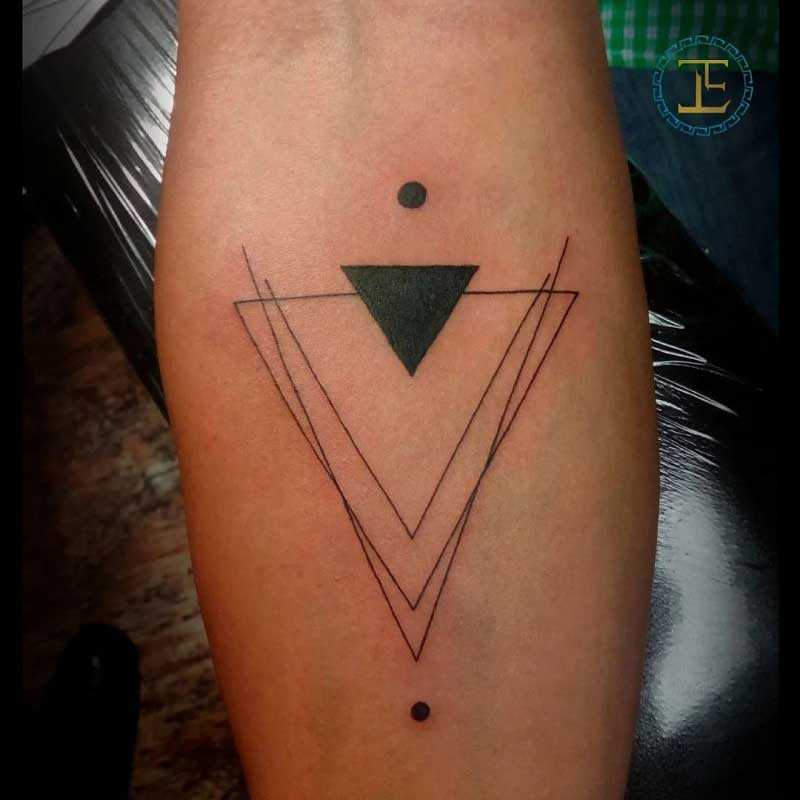 66.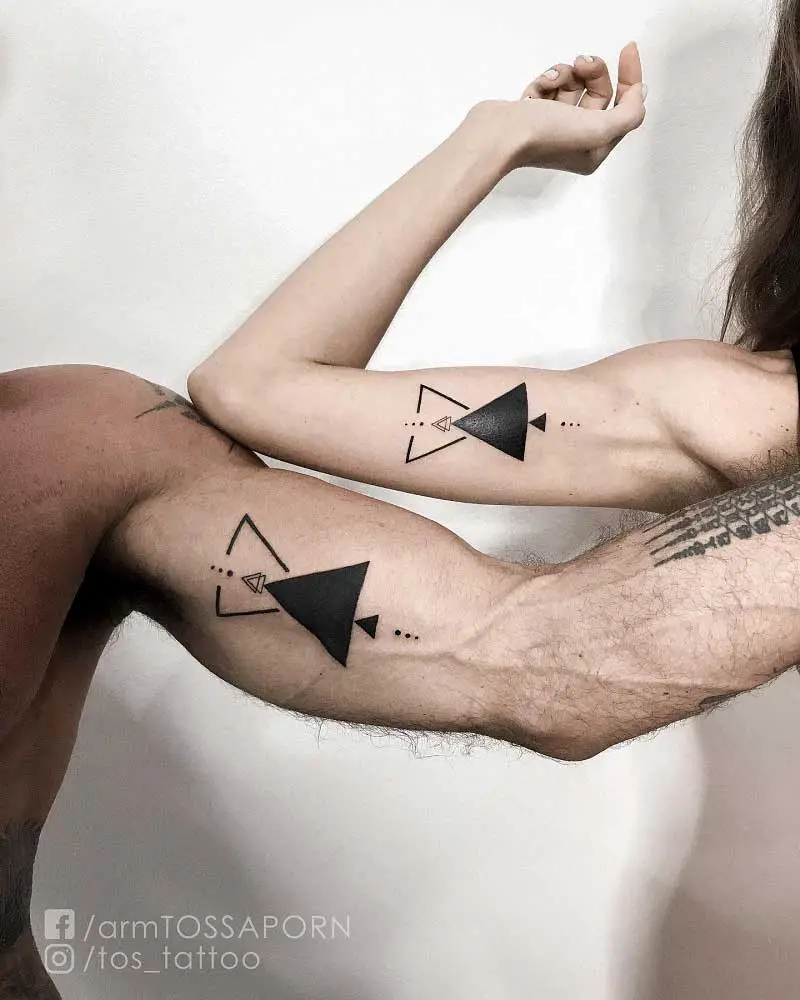 Egyptian Triangle Tattoo
67.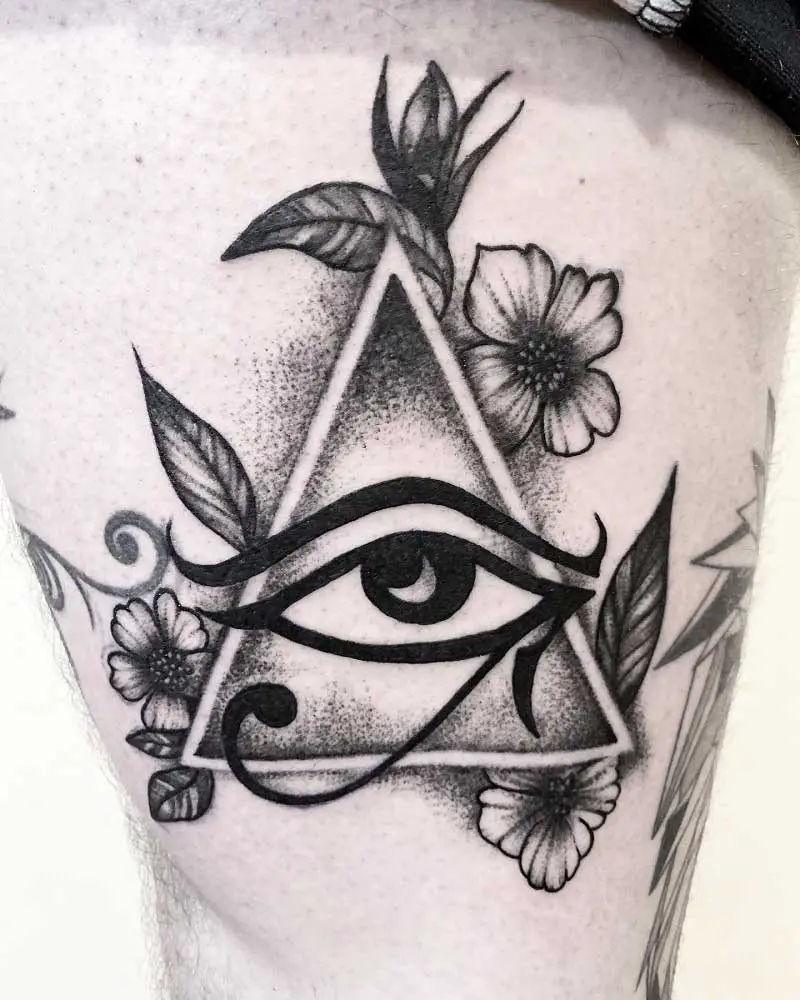 68.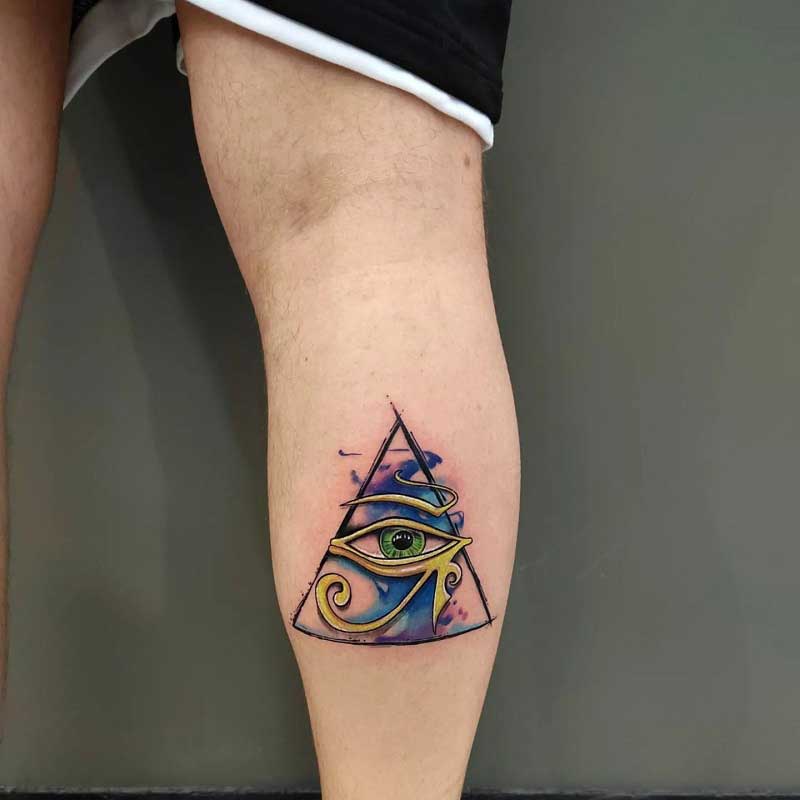 69.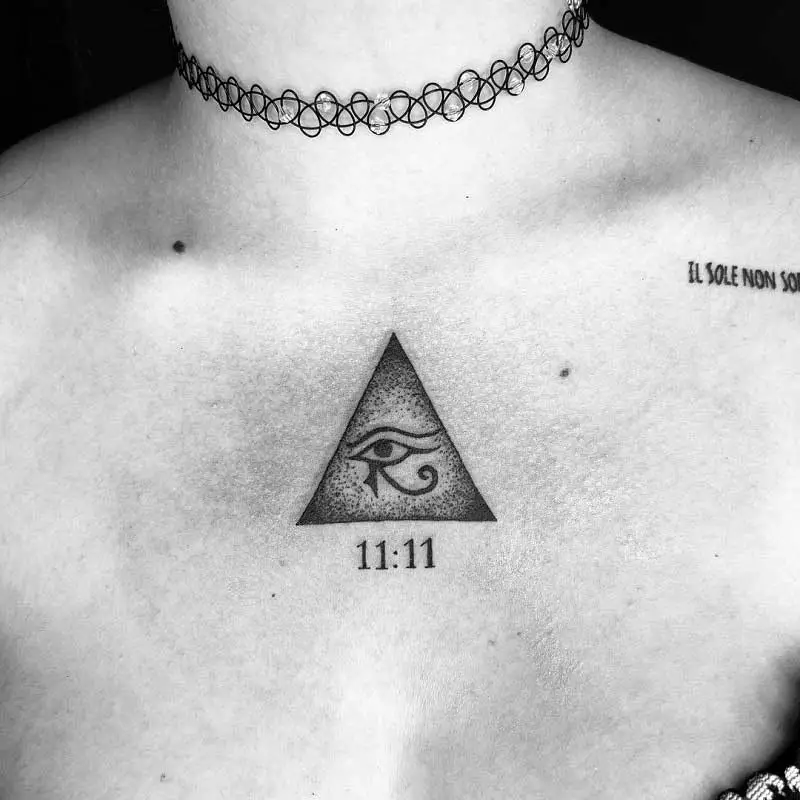 Fire Triangle Tattoo
70.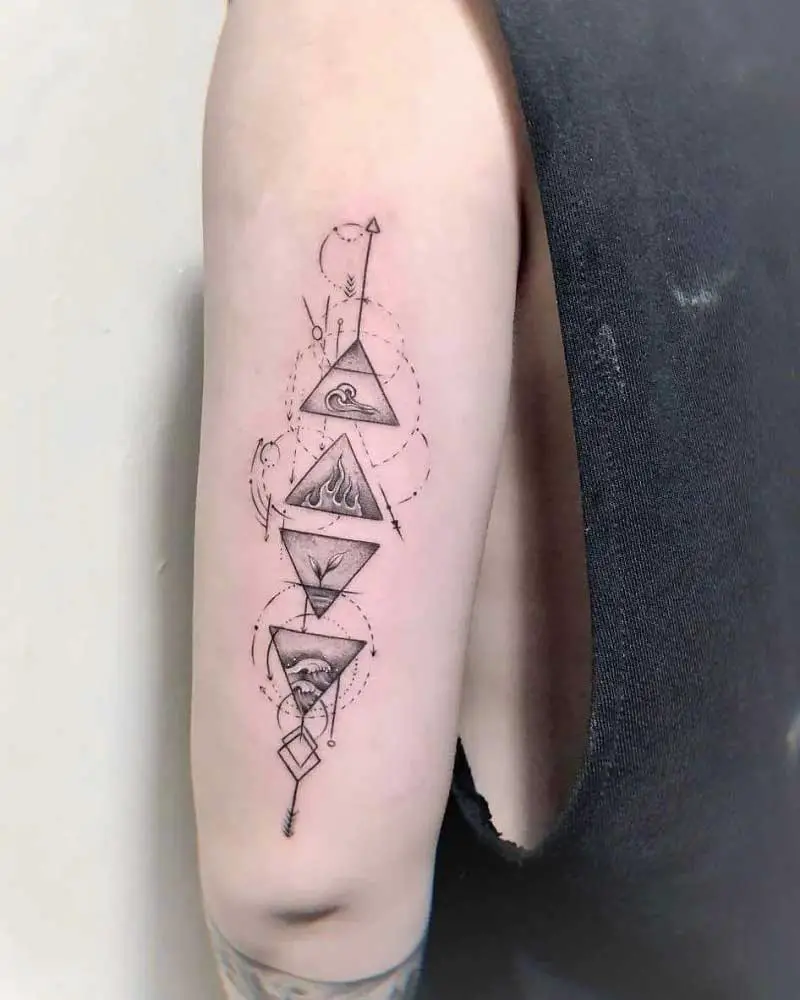 71.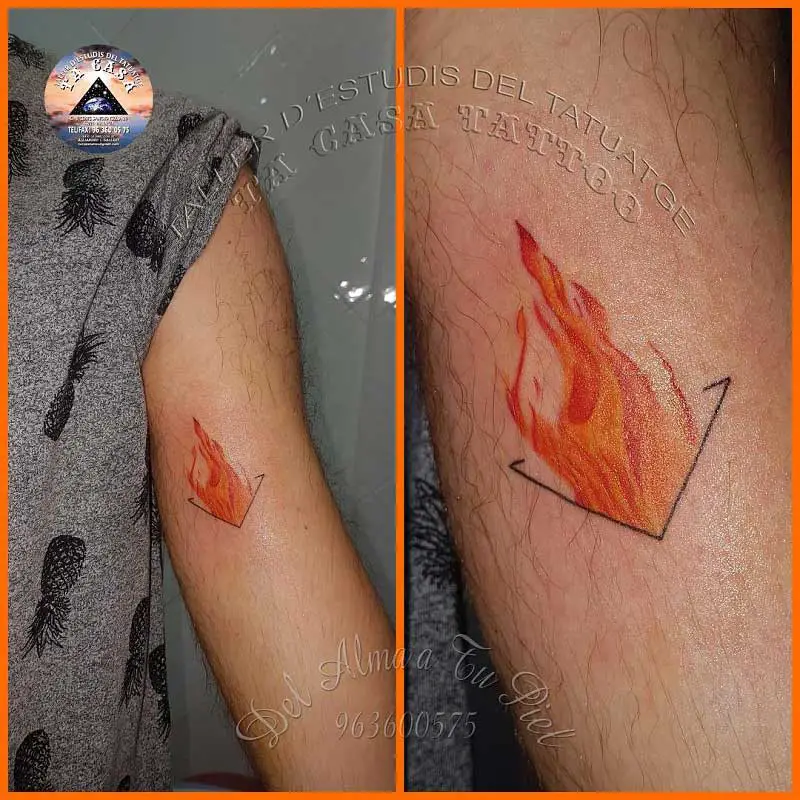 72.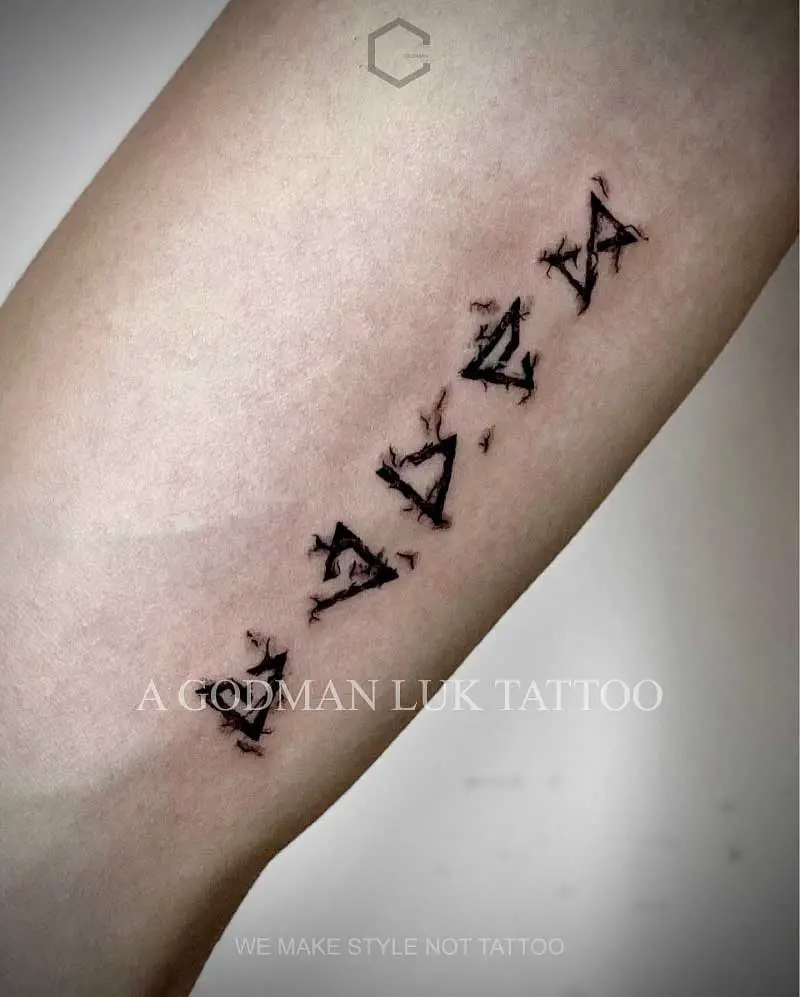 Inverted Triangle Tattoo
73.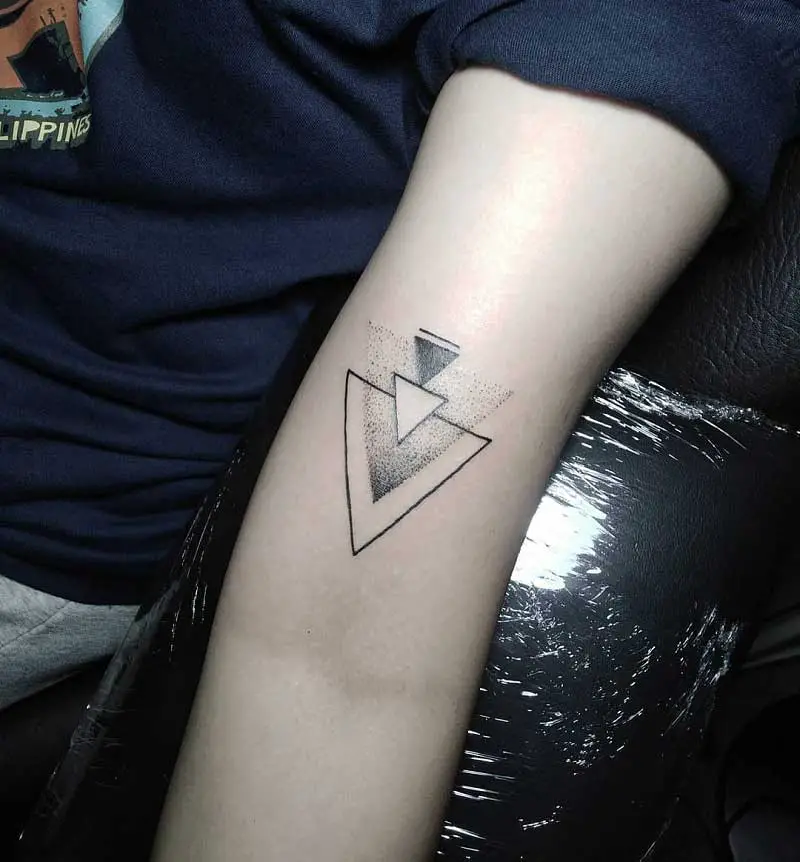 74.
75.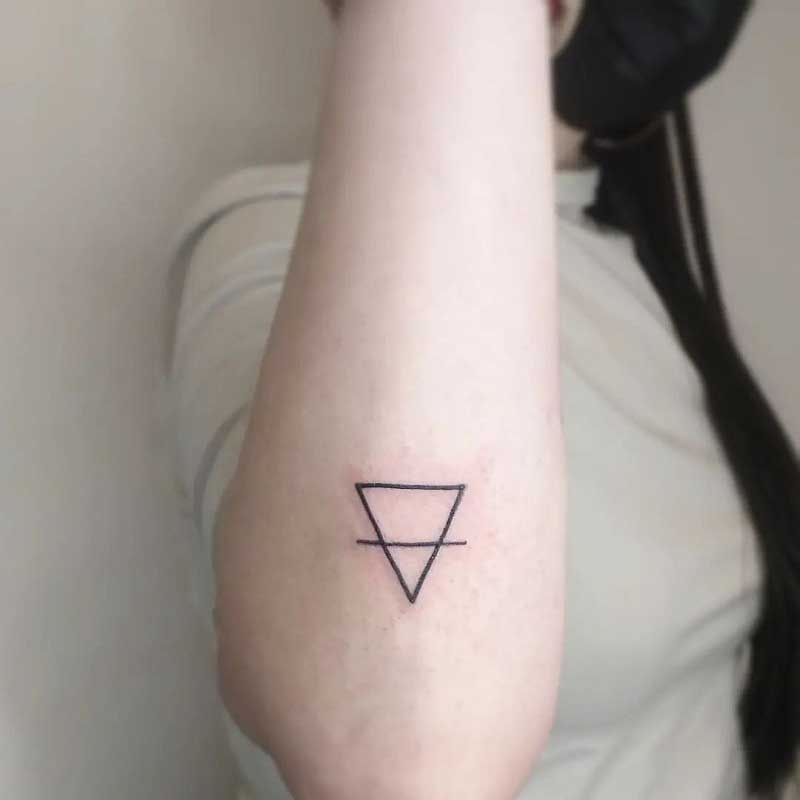 Polynesian Triangle Tattoo
76.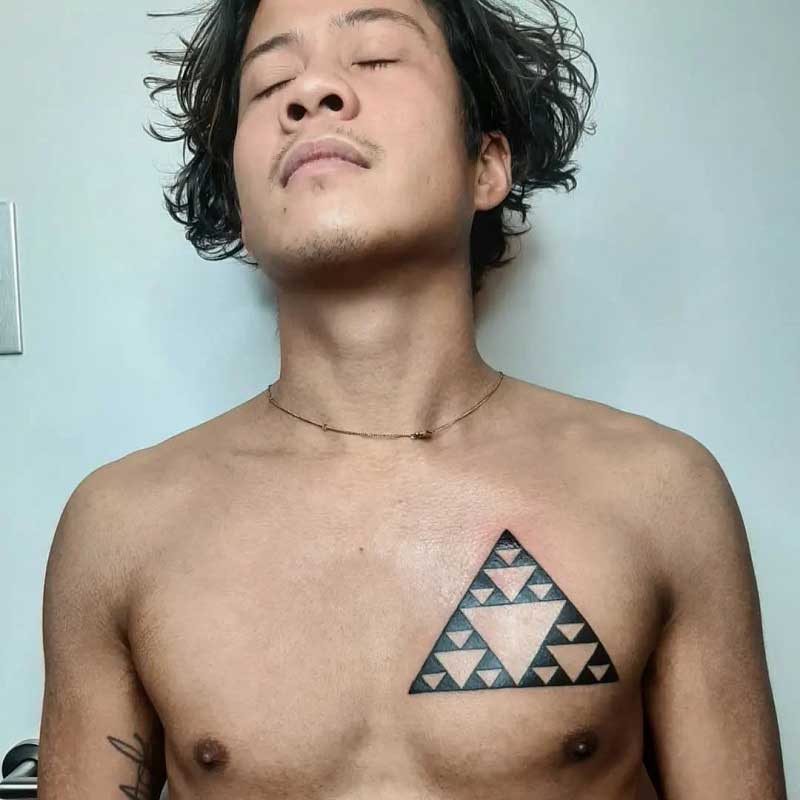 77.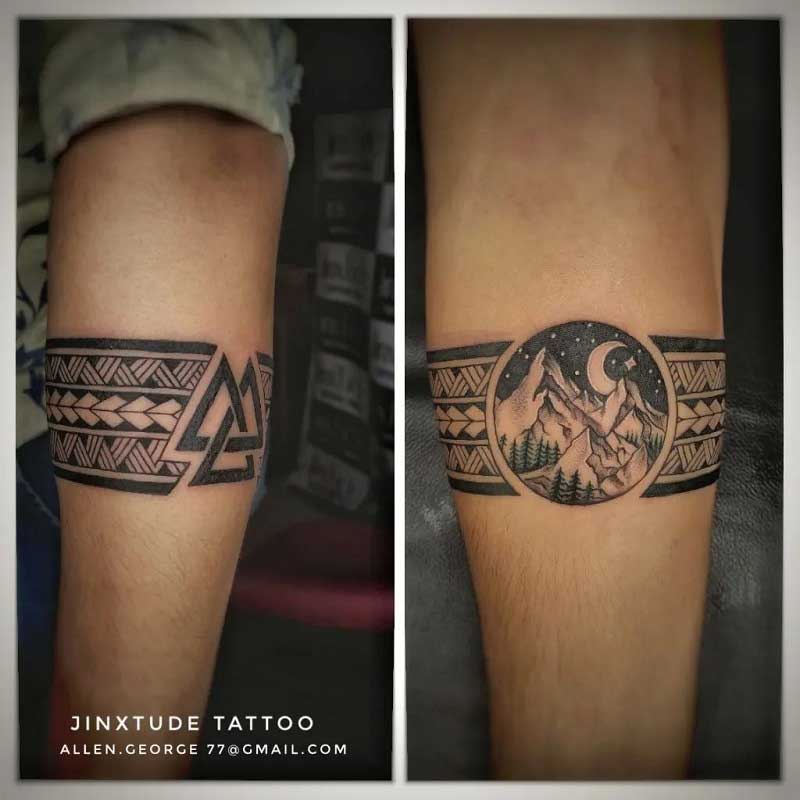 78.
Conclusion
Considering your choice and ideology, wearing a triangle tattoo is obviously a smart choice. But it needs to fit your overall look.
Keeping it in mind, we have gathered around quite a collection of this genre here. You just need to pick the right one for yourself. Hopefully, you have already found the one you were looking for. So, ink it and enjoy your new look. Best of luck.
Frequently Asked Questions
What's the meaning of a triangle tattoo?
A triangle tattoo is related to the concept of the trinity, the father, the son, and the spirit. Normally, it means connectivity, wisdom, and harmony.
What does a 3 dot triangle tattoo mean?
A 3 dot triangle tattoo is basically the "therefore sign" which is used to conclude a logical argument, a Syllogism. That means this tattoo will promote logic.
What does a 3 triangles tattoo mean?
A 3 triangles tattoo refers to the afterlife, rebirth, and the concepts of continuity. It also means strength along with continued willpower.
What does a double triangle tattoo mean?
A double triangle tattoo can be interpreted as a dependency, a support system for each other. On females, when upside down, they can mean maternity, femininity, mother nature, or the cosmic world.
What does the upside down triangle mean?
An upside down triangle tattoo can be related to femininity while the regular one indicates manhood. The pink upside down refers to gay people. It also has quite a historical background.
What does a triangle with a circle tattoo mean?
A triangle tattoo with a circle inside goes back to the deathly hallows mentioned in the Harry Potter series. In this, the triangle is the cloak of invisibility and the circle is the resurrection stone. It also has a line at the middle which is the elder wand.