A knife may not be one of the important elements to you, but a knife tattoo is something that can give your body a sharper look. The meaning of these tattoos is also grave. It is considered that these are the ancient designs of tattoo history.
Until the mid-20th century, knives were essential survival tools. They were also used s weapons. In some rituals, they were also used as ceremonial tools. Even in this modern era, they are essential tools in the kitchen.
Having this much of a historic story, a knife tattoo surely deserves to take place on your body, isn't it? Below are the most popular and fascinating knife tattoos you can wear to beautify your body.
Best 103 Knife Tattoos Designs and Meanings
Knife tattoo designs simply contain knives, blood, and flowers. Some of them will have skulls and butterflies, and snakes. The diversity of these tattoos is going to make you thrilled.
Chef Knife Tattoo
A knife is a useful element for a chef. They use this tool to make food and ensure the survival of mankind. Therefore, chef knife tattoos may look appropriate on your body.
1. Daredevil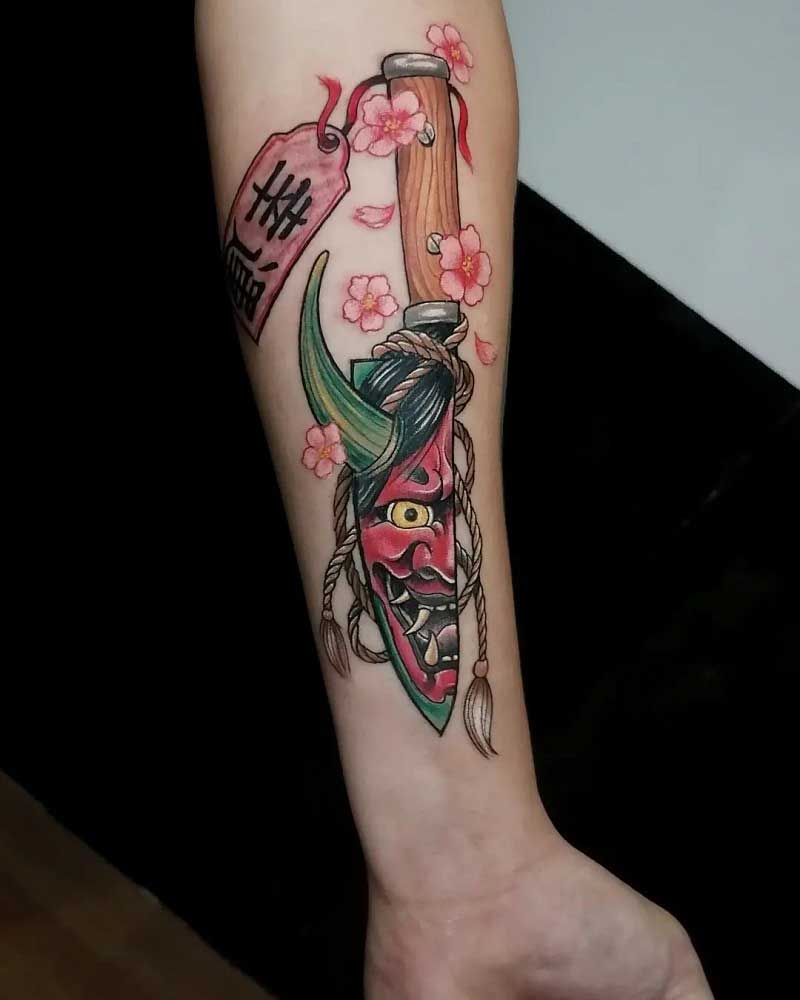 A devil's face on the surface of the knife makes this tattoo intense. There is a rope hanging with the knife and the Chinese word "Xingyun" is written on a piece of paper at the top. The word means "lucky", and this indicates you will be fortunate if you buy this tattoo.
2. Solitary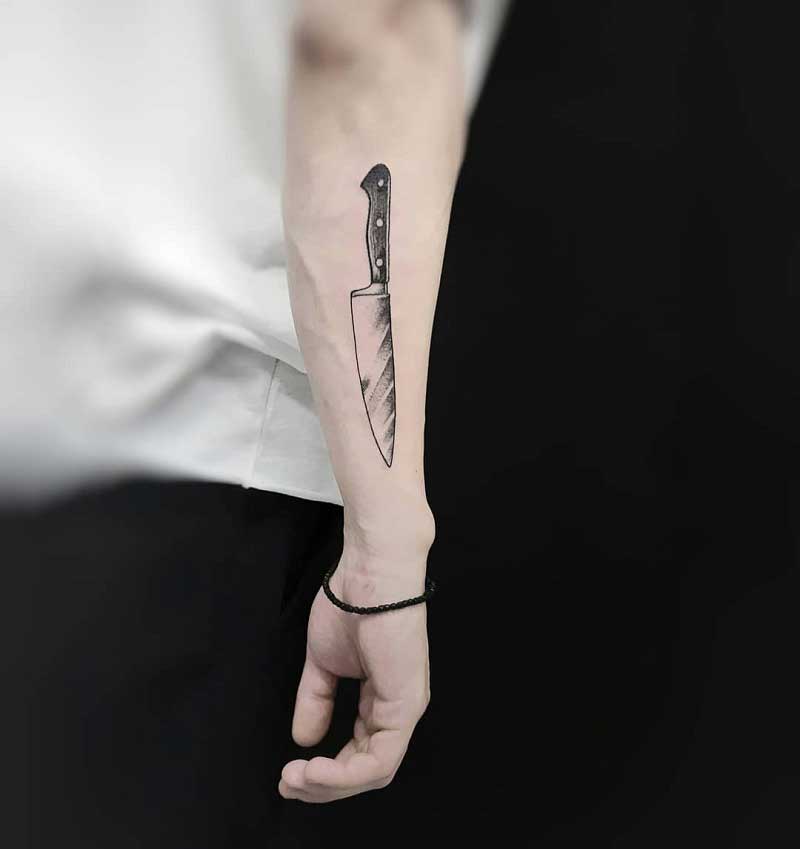 This knife appears alone with no illustration on its body, It's the most simplest design you can get among knife tattoos. The simplicity of this tattoo makes it unique.
3. Moss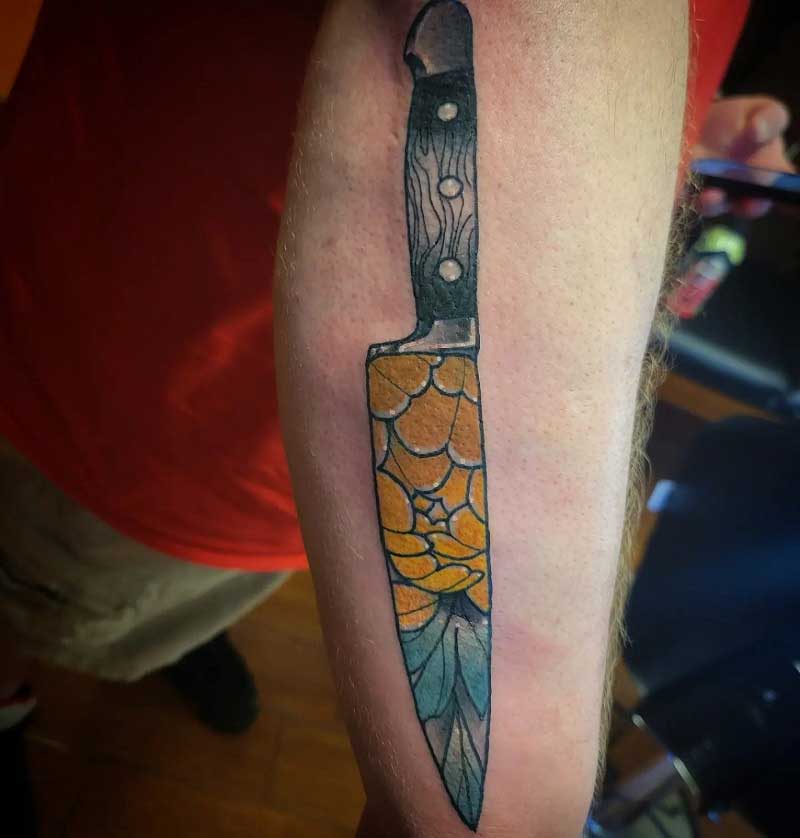 The last chef knife tattoo has moss on its body. This indicates how old the knife is. So many things have been crushed through this knife.
Traditional Knife Tattoo
The traditional knife tattoo brings glamour as they are designed creatively. These are the famous tattoo you can wear. The first one with a woman's face will most likely be your liking.
4. Senorita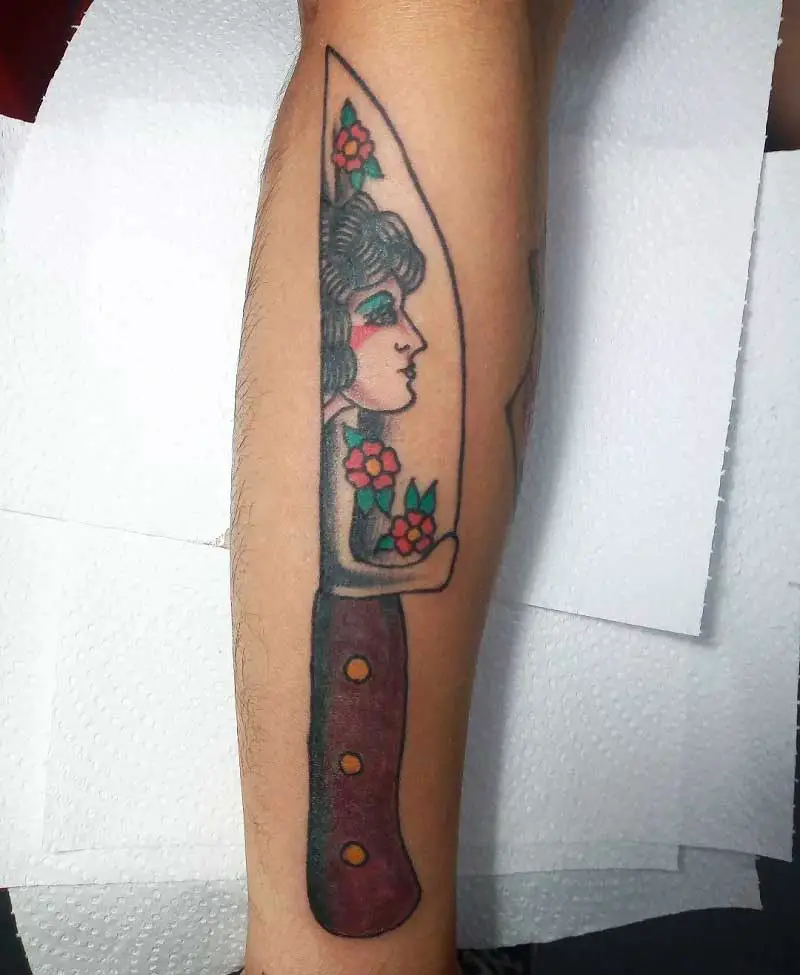 A face of senorita comes on the surface of this knife. There are some flowers to enhance the beauty of this tattoo. Three dots on the bottom of the knife indicates birth, life, and death.
5. Adornment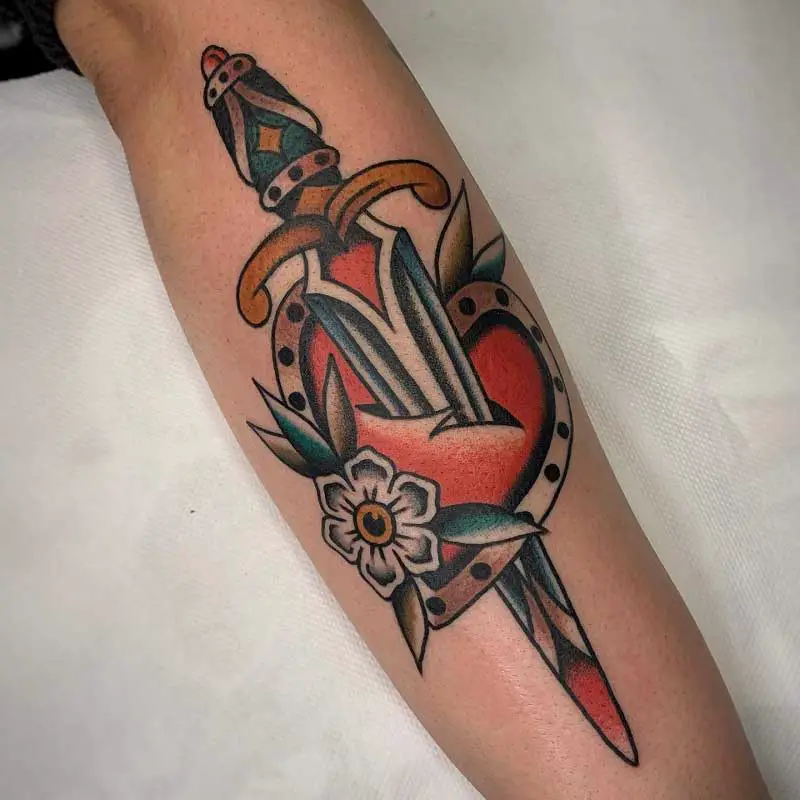 Lots of illustrations of flowers adorn this tattoo in a great way. The flowers are red. You can say the blood of the victims turned the flowers red.
6. Eye dagger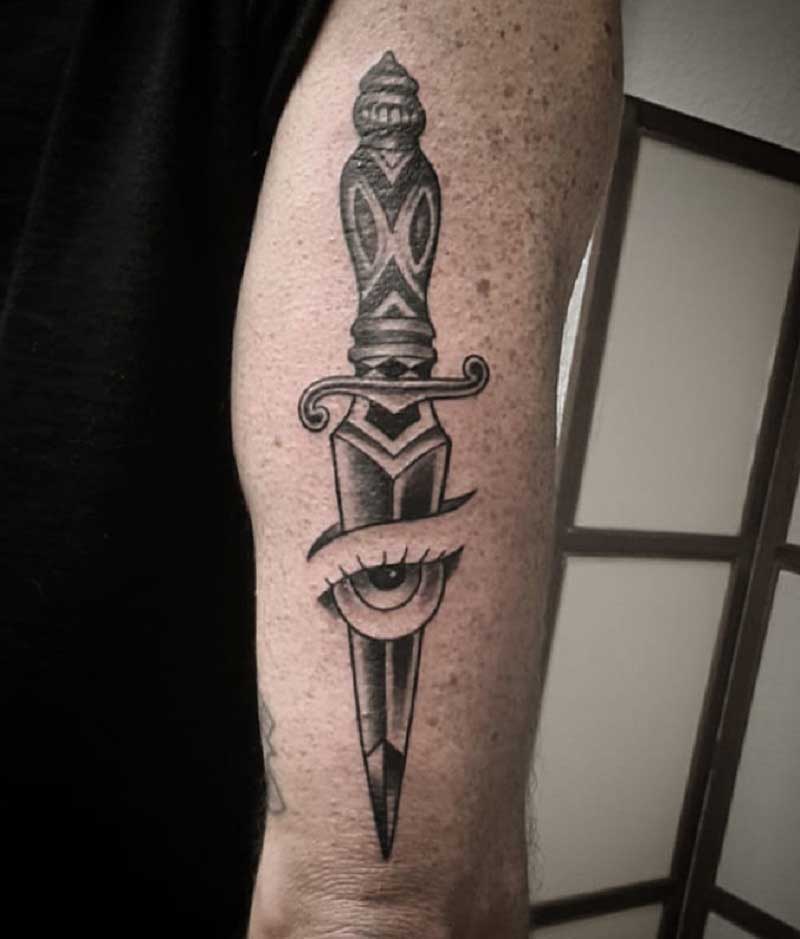 The knife goes through an eye. But the eye looks okay as it peers with a vile stare. The tattoo comes in black, which is a standard color according to many.
Butterfly Knife Tattoo
Butterfly knife tattoos may reduce your dread a bit. They are designed so beautifully that you will forget the negative sides of a knife.
7. High-flyer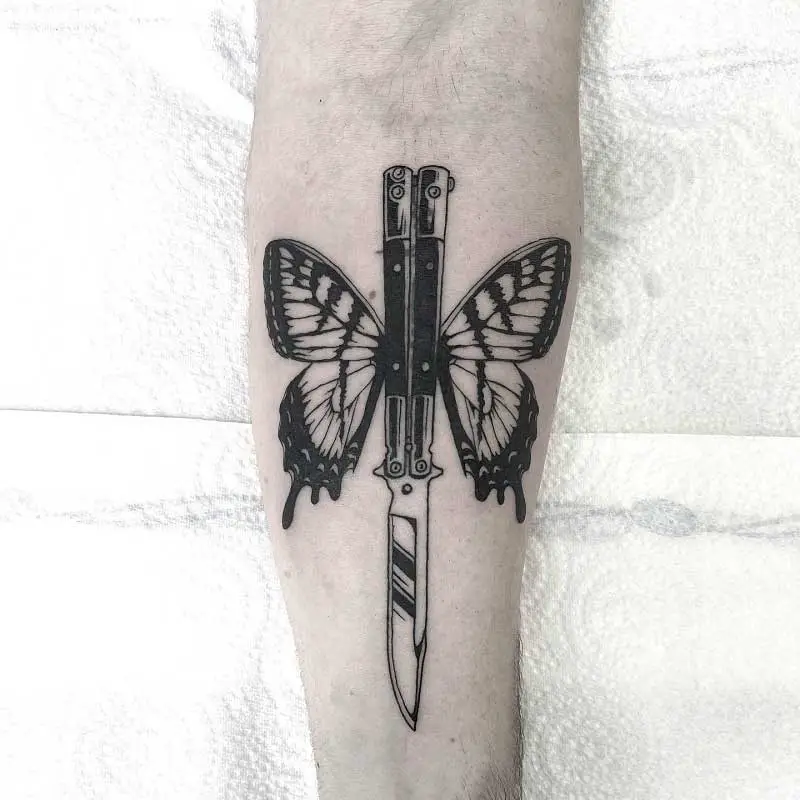 With butterfly wings, this knife flies high. It appears with a butterfly appearance that looks beautiful. The tattoo will look great if you put this exact in the middle of your back.
8. Lilavati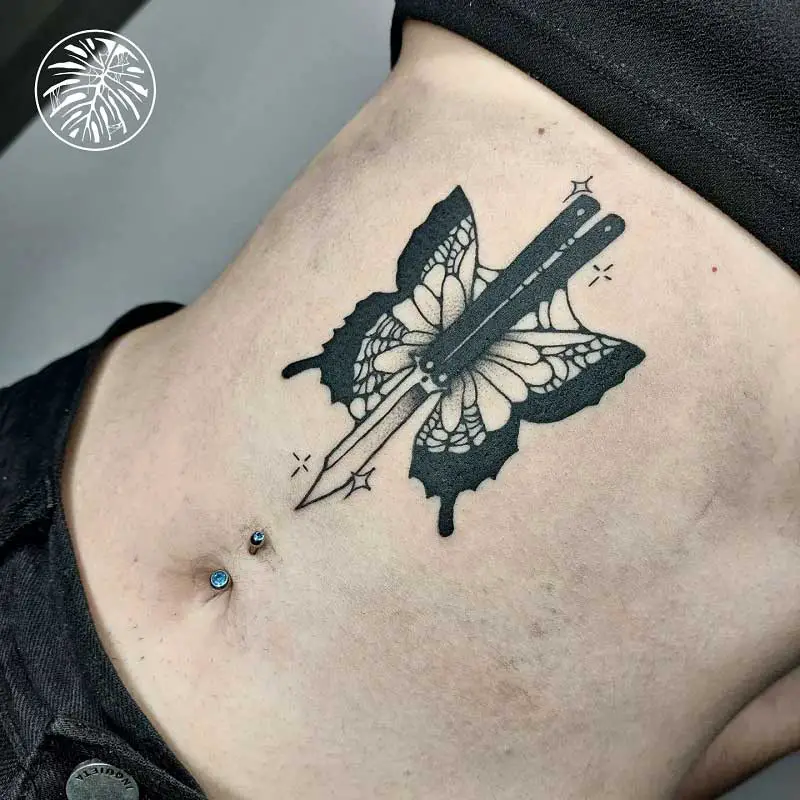 Lilavati means amusing. The tattoo amuses us with its colourful appearance. It has got a bit of amber hue that seems attractive.
9. Papilio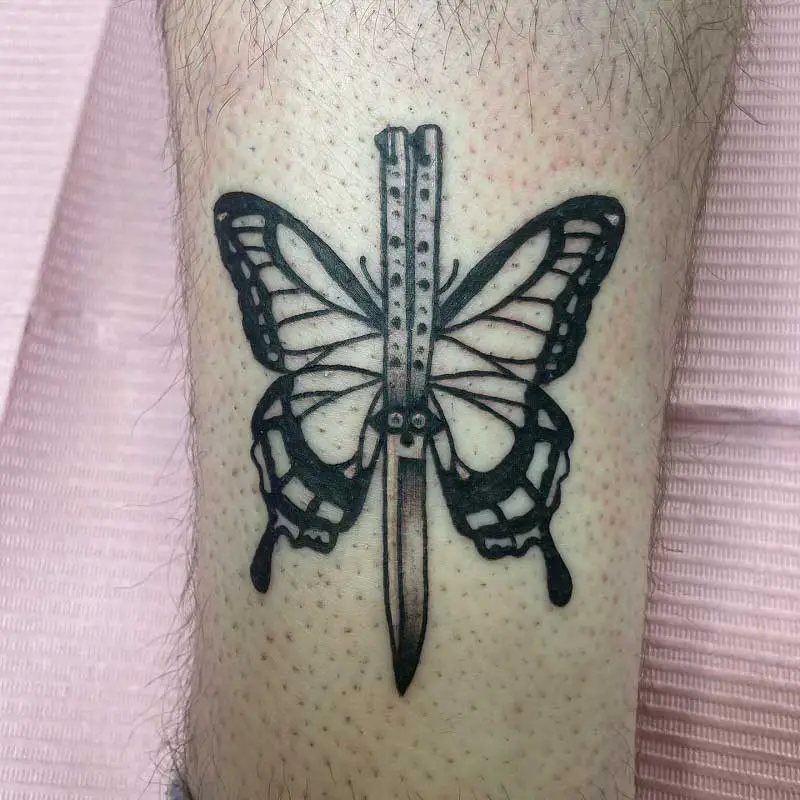 Papilio is a dark species of butterfly. This knife has got wings of one of those butterflies. It looks sharp and poisonous.
Knife Heart Tattoo
A knife in the heart is not always a pathetic imagination. You will have a beautiful illustration of these tattoos in the end. But the first two of this section are about to hurt your vision.
10. Heart-breaker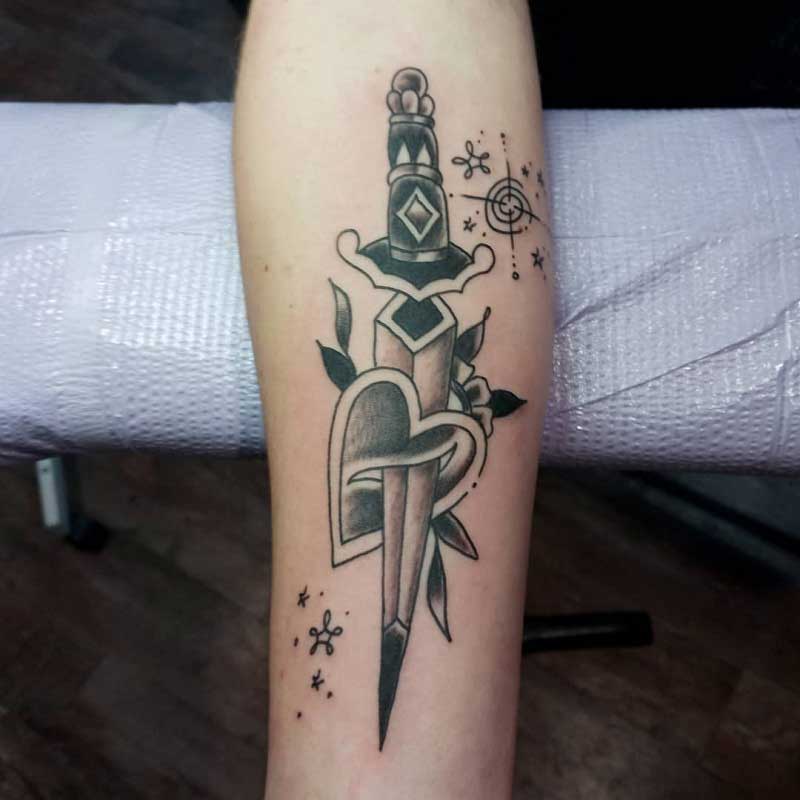 This knife goes straight through the heart. There's a bit of blood drop aside in the shape of stars. The tattoo comes in standard black color that most likely suits everyone.
11. Crusher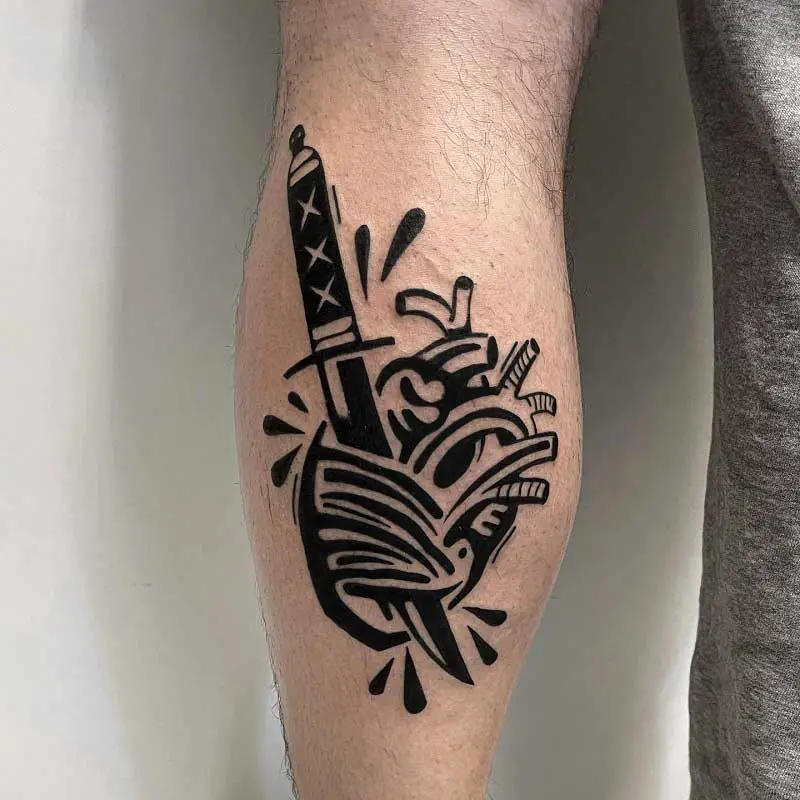 This one is a crusher of a knife. It has torn the heart as much as it could. It also comes in deep black color, which is a sign of misery.
12. Storge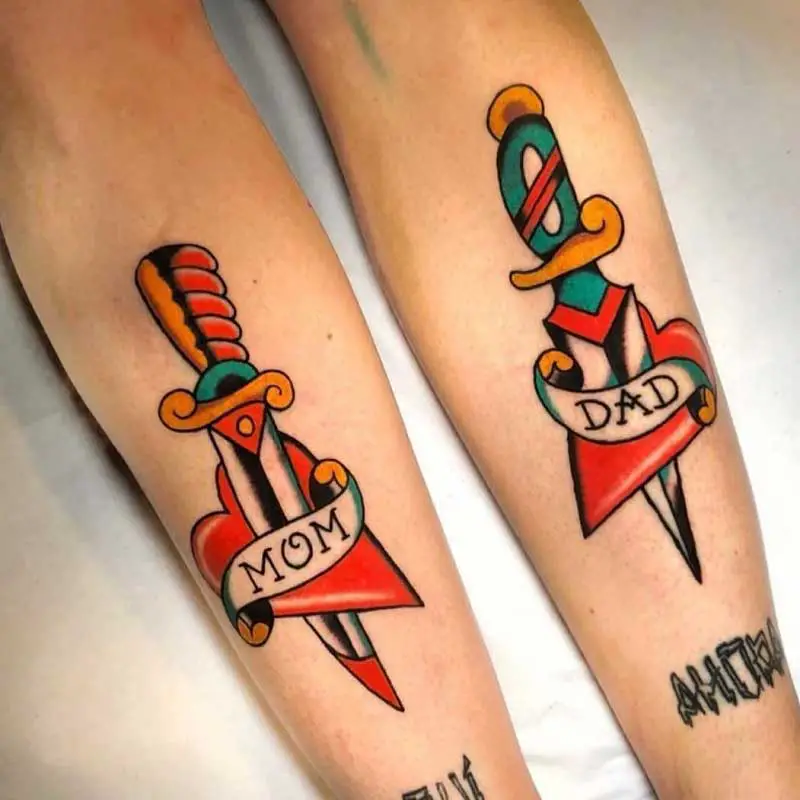 The storage tattoo will represent your love for your parents. In this tattoo, you can get two packages, one for your mother and the other for your dad. The tattoo comes in pure reddish color.
Knife Snake Tattoo
The snakes with knives increase the dreadfulness of these tattoos a lot more. Every three of them look furious and are able to catch the attention of others in no time.
13. Red Dragon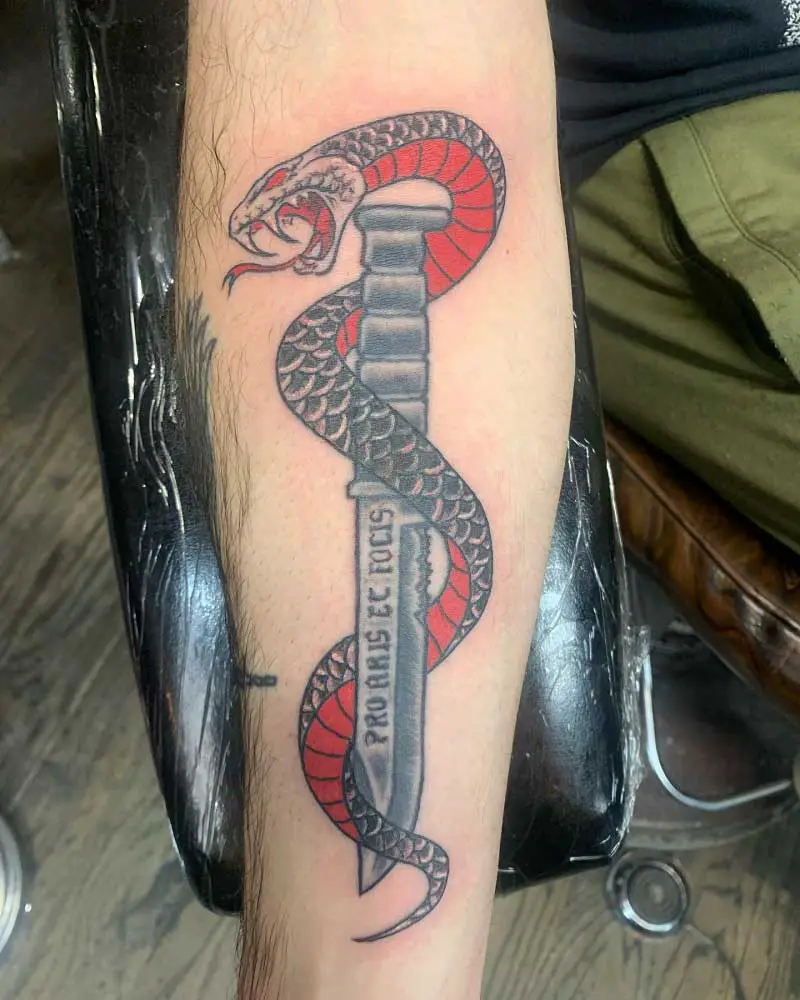 A poisonous snake of reddish color appears in this long knife. The complexion of this snake makes it look like it's one of the dragon species. The frightfulness shines a lot here.
14. Tad python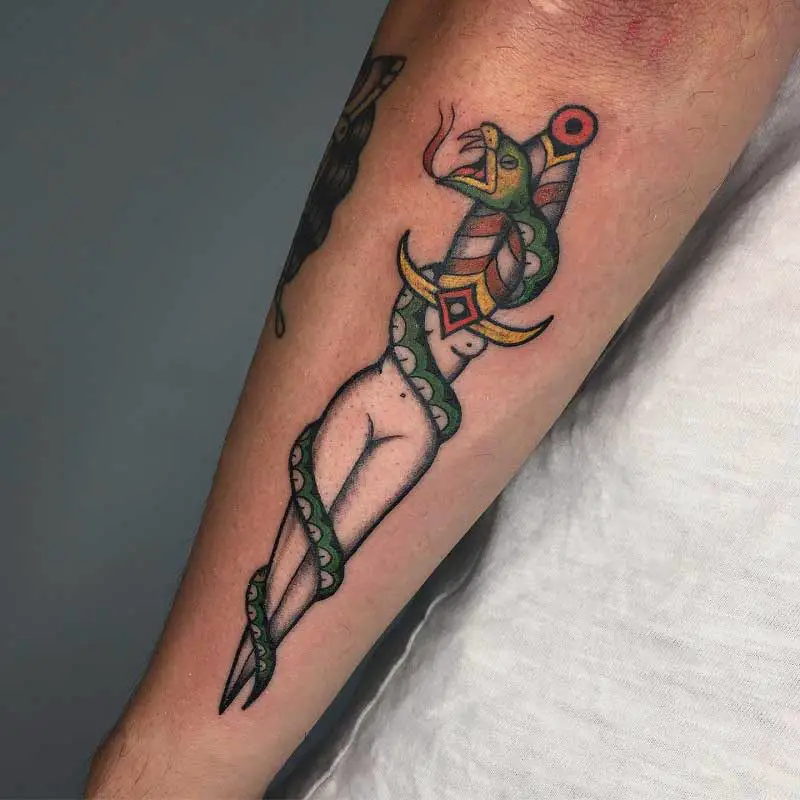 A greenish snake with more of a python complexion wraps this knife. The snake comes in a small size, as if it's a tad. Despite being of small size, it looks so poisonous.
15.  Poison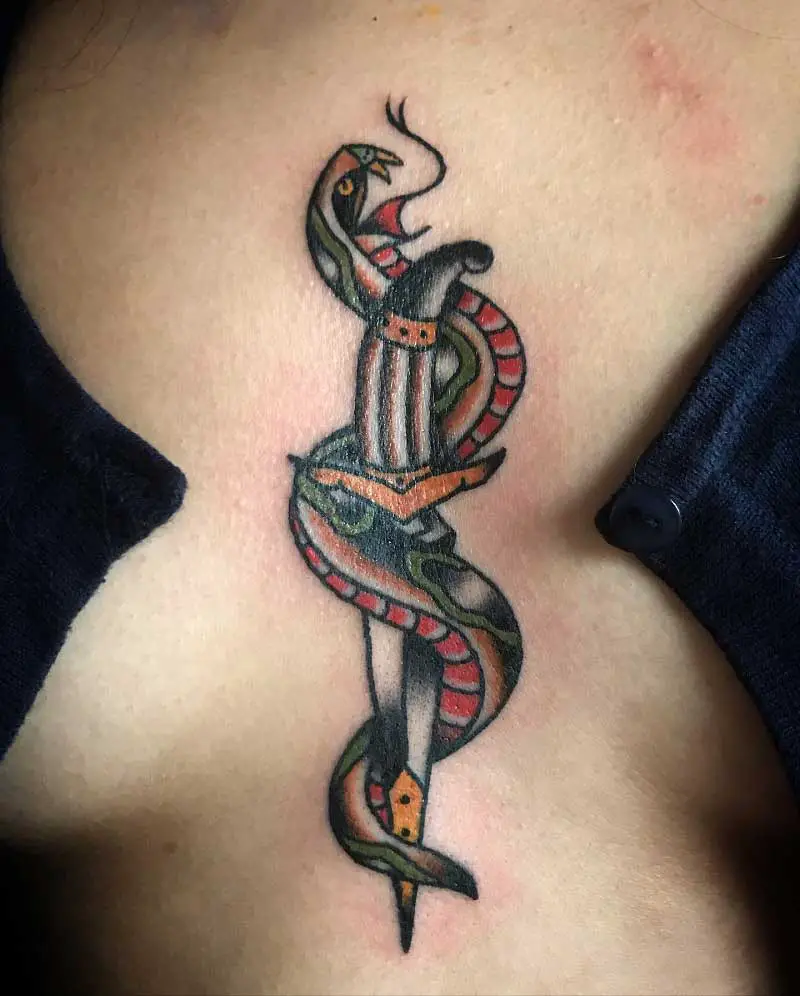 A red worm snake wrapped with the knife with its poisonous hood. The knife is small so is the snake. Wearing it in the middle of your chest will make you look poisonous.
Knife Tattoo Designs
Knife tattoo designs come in various shapes of knives with attractive illustrations on them. All the knives are eye catchy, but the first one will impress you the most.
16. Moon Knives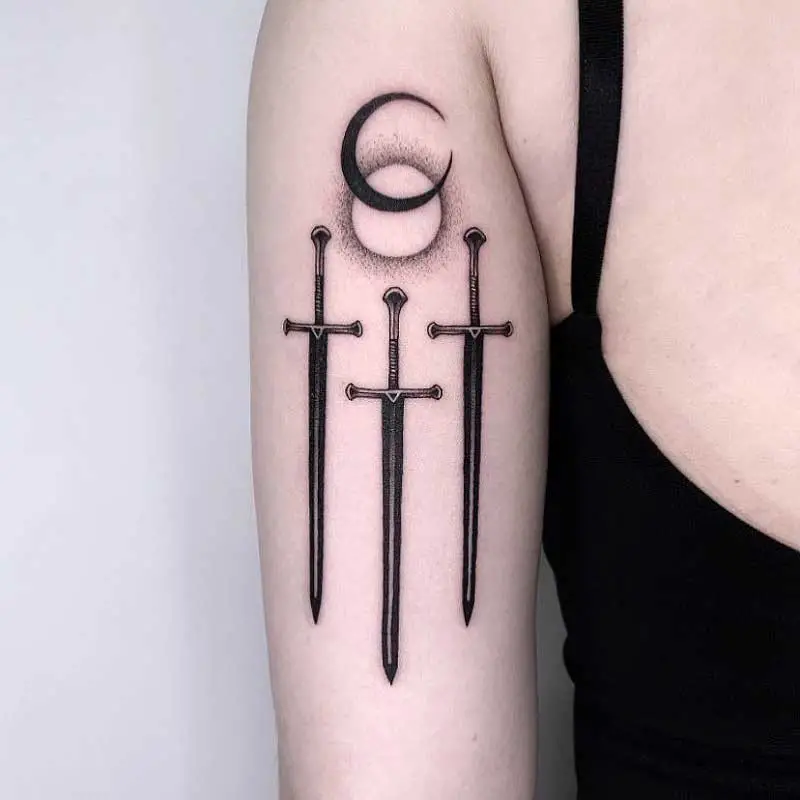 Three knives with a moon at the top is simply an ironic design for a tattoo. All the knives come in black color with the same shape yet are placed randomly. The moon is curvy and also has the sun beneath it.
17. Curvy curse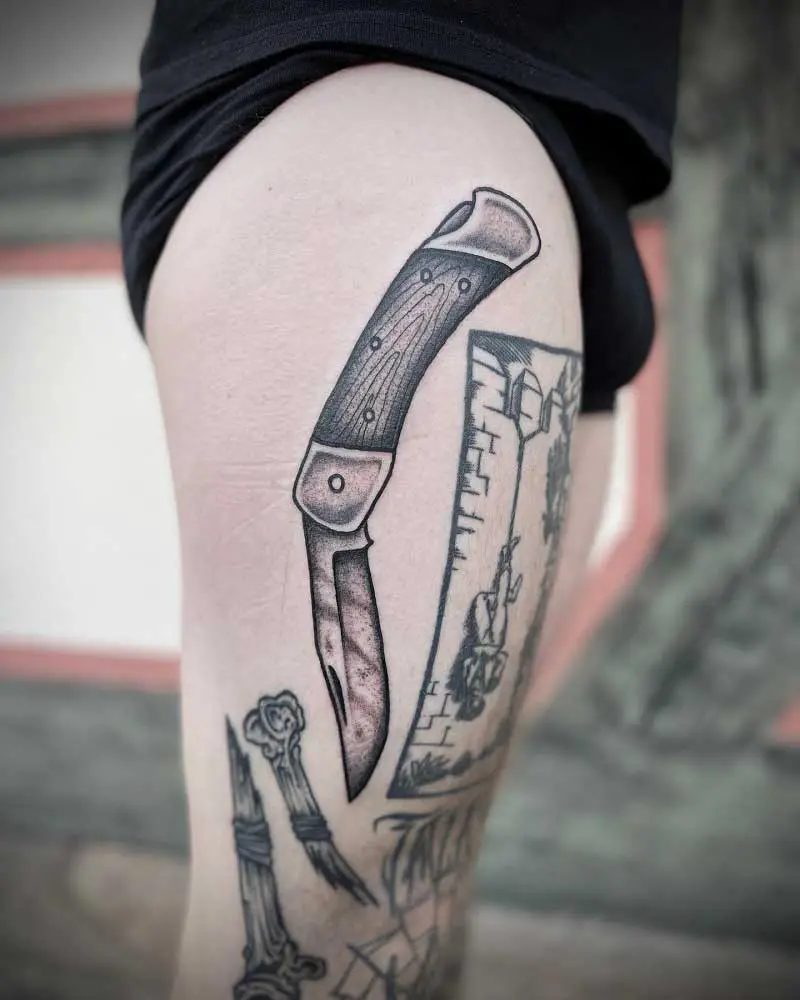 The knife has a real surface illustration and comes in a curvy shape. Mostly it is found in the pocket of the real gangster. That's why it's a curse in a curvy shape.
18. Valerian steel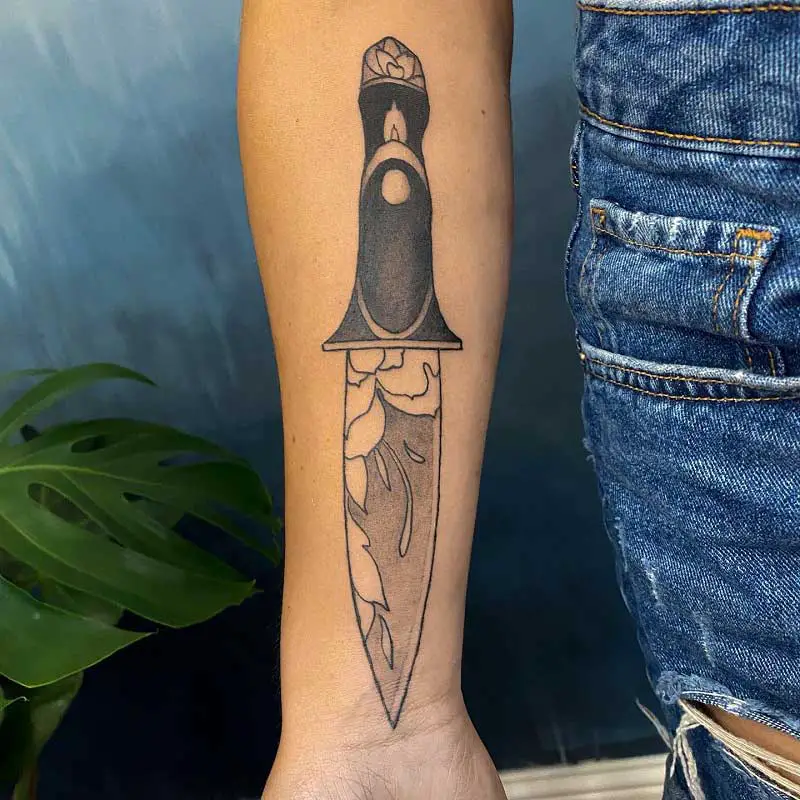 Valerian steel is a fictional element that can kill death. The beautiful tattoo over here is worth the name, we suppose. Wearing it to your body will make you strong to win the battle of life and death.
Kunai Knife Tattoo
Kunai is a Japanese tool, a kind of knife, used by samurai or ninja freaks. In naruto, we saw Shinobi using this tool. Kunai knife tattoos bring this tool with beautiful illustrations of flowers.
19. Flowery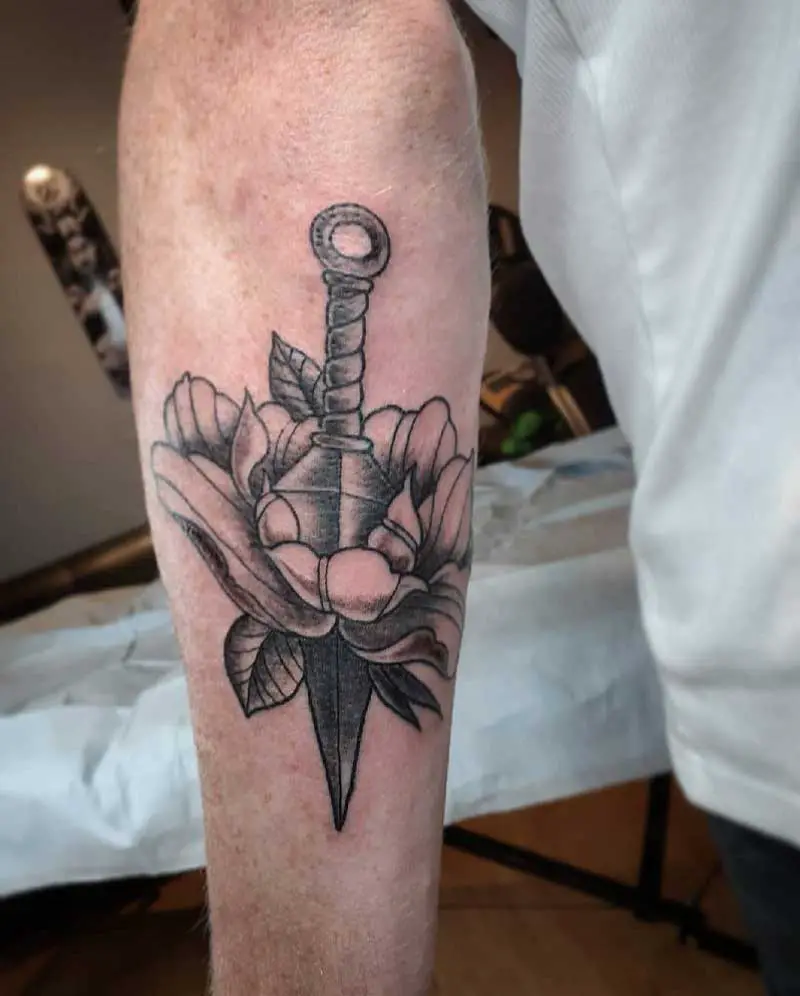 This kunai knife is illustrated nicely with a beautiful flower. The way it has been decorated, it seems like the knife is only meant to use for good things. The upper handle makes it looks like it's the kunai of a samurai.
20. Sharp stare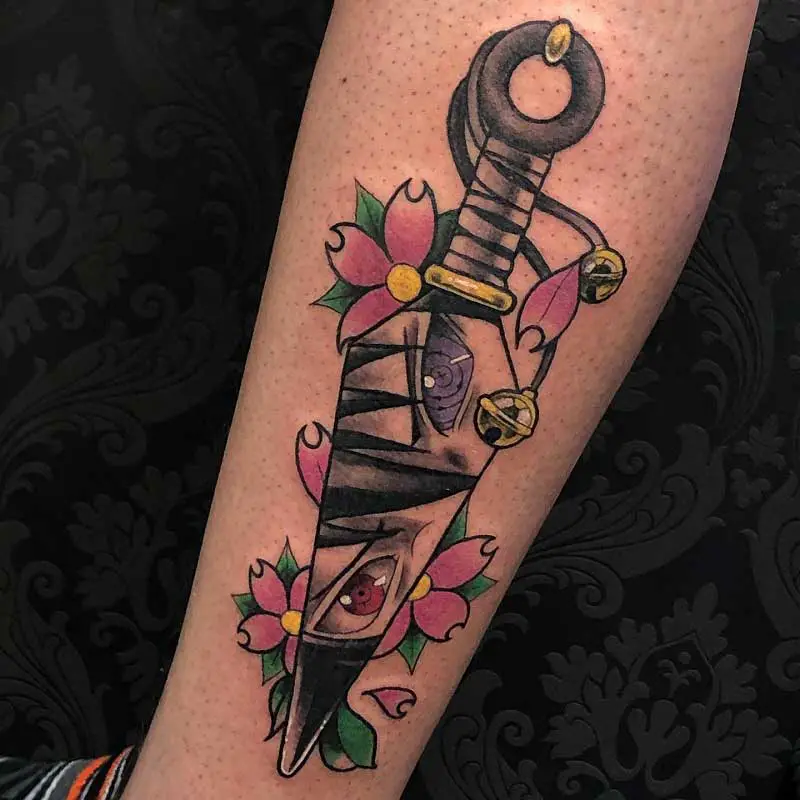 The sharpened surface of the knight shows the two eyes of an anime character. The stare that those eyes have are extremely sharp. If you notice carefully, you'll see those eyes are of different colors.
21. Knife of trust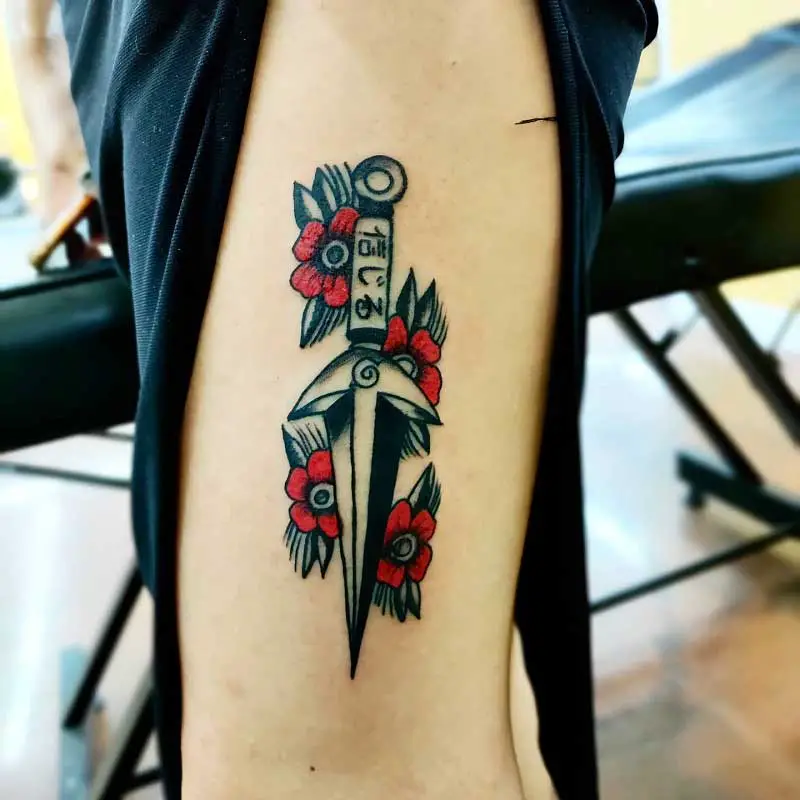 This is the most sharpest knife in this section. It also appears in black color. But this doesn't spread negativity. The knife has the word 'Shinjiru' at the top, which means belief.
Scream Knife Tattoo
Usually, whoever is cut with a knife screams. But here, you will see knives screaming. The illustrations of flowers and the screaming faces on the surface of the knife will make these tattoos special.
22. Melted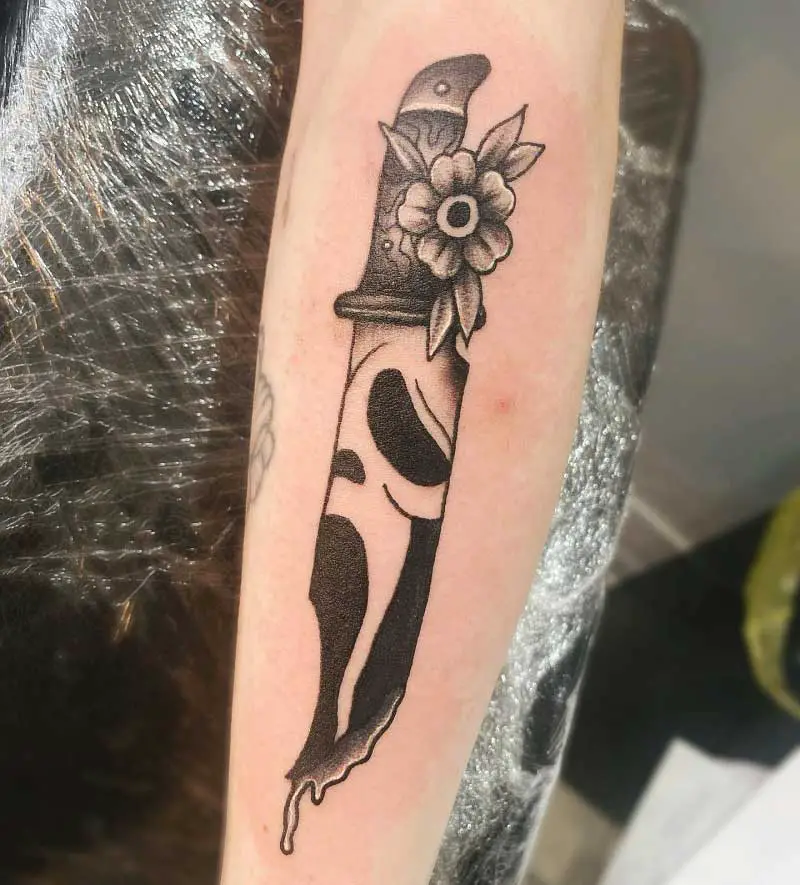 This knife has melted itself by cutting things year after year. There is a screaming face that shows how pathetic the knife is. Though the flower gleam at the top, the knife is melted.
23. Desolated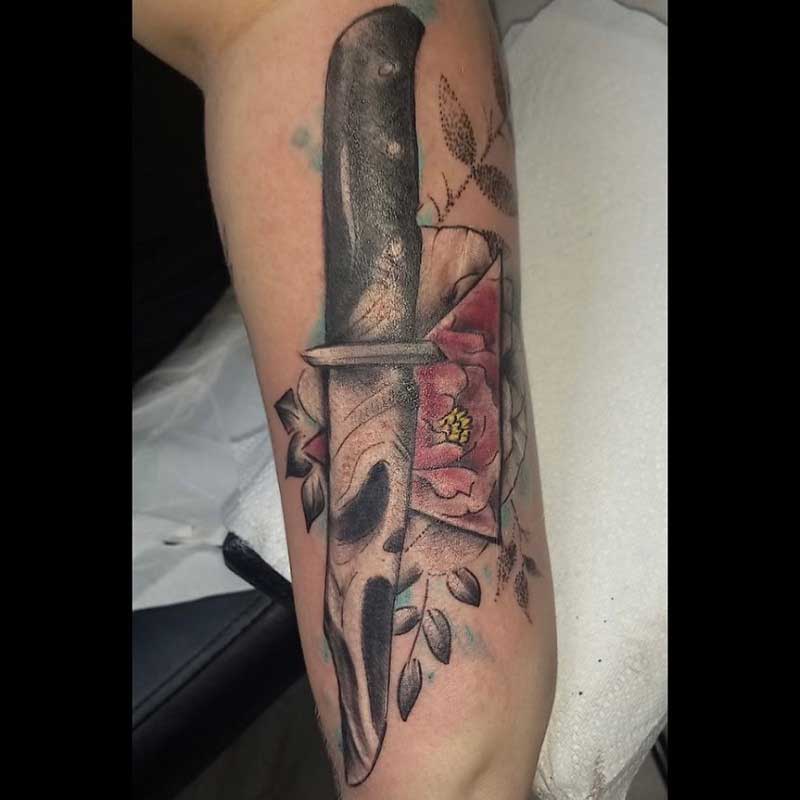 This one looks rusty. It was as if nobody had used this knife for a long time. That's why it's screaming to become useful. If you relate it to your life, you can wear this tattoo.
24. Barren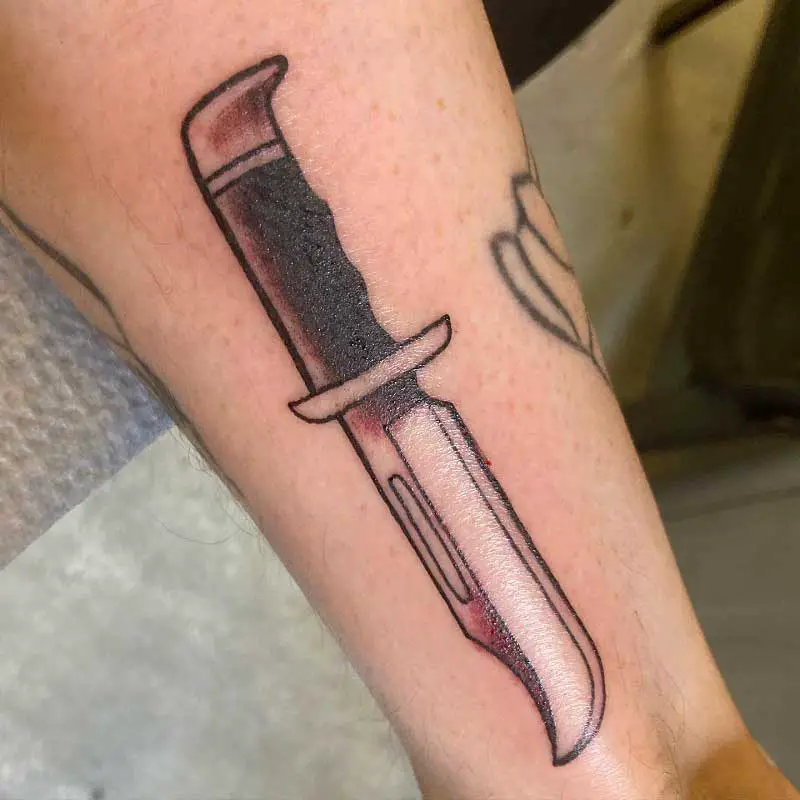 Though the knife has no screaming face on its surface, it looks like it's screaming silently. The knife has no sharpness as it is barren. The ineptness of this knife makes it sad.
Skull Knife Tattoo
A knife of the skull is definitely going to be a freighting scene. You will have this thrilling in this section one by one.
25. Gorilla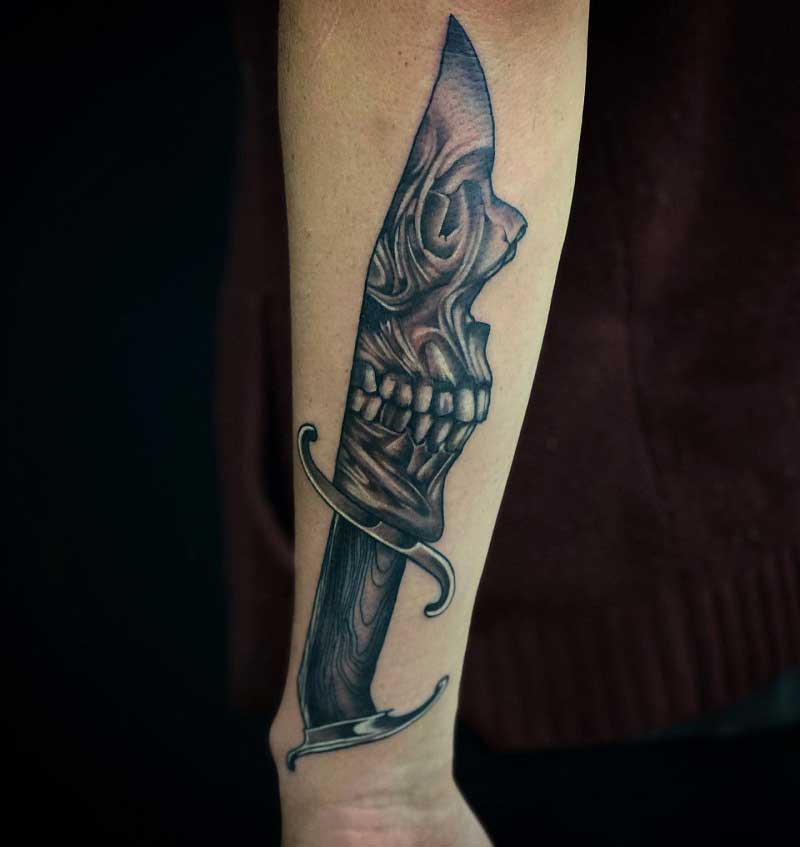 Looks like the skull that the knife got is of a gorilla. The skull isn't illustrated but is shaped like a knife. The black color of it makes it looks more dangerous.
26.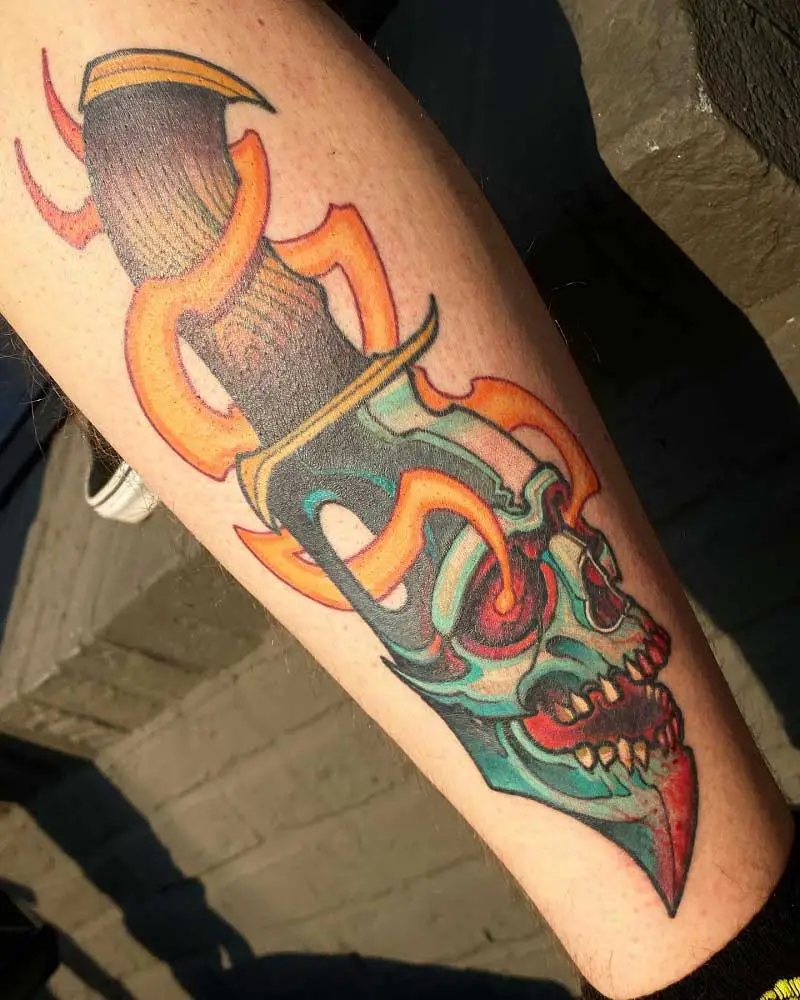 27.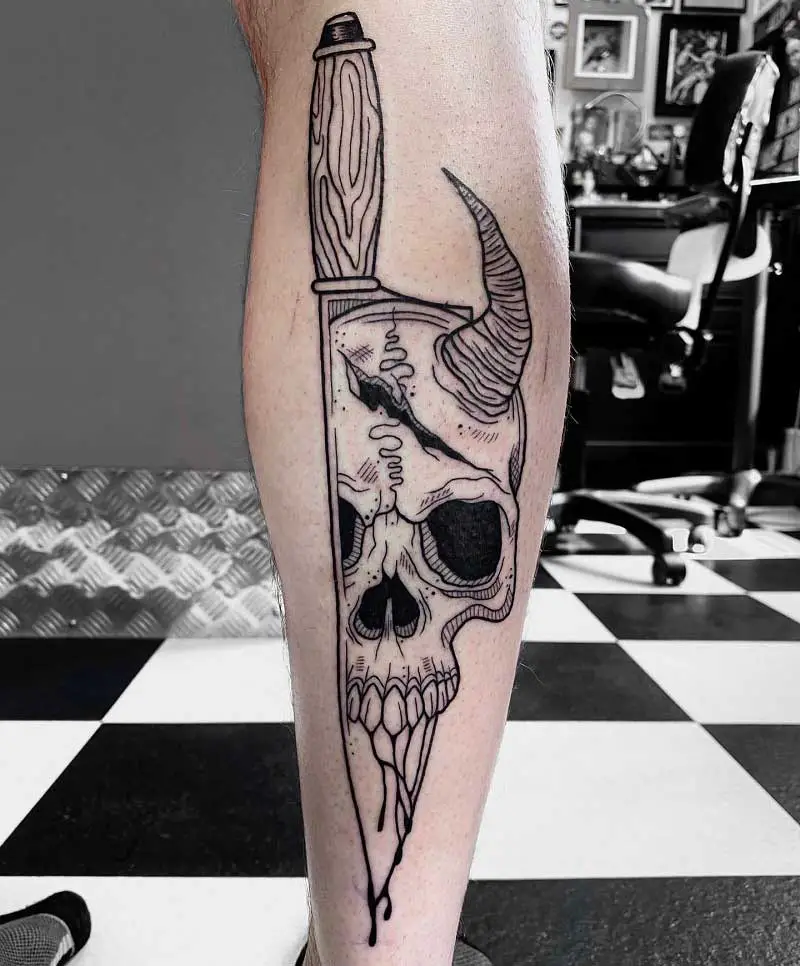 21 Savage Knife Tattoo
28.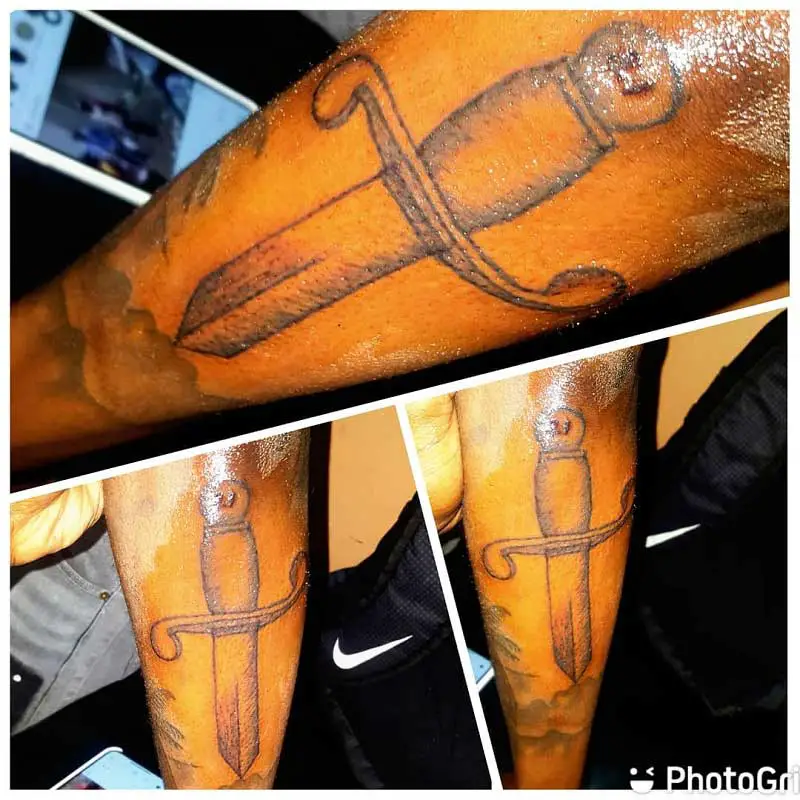 29.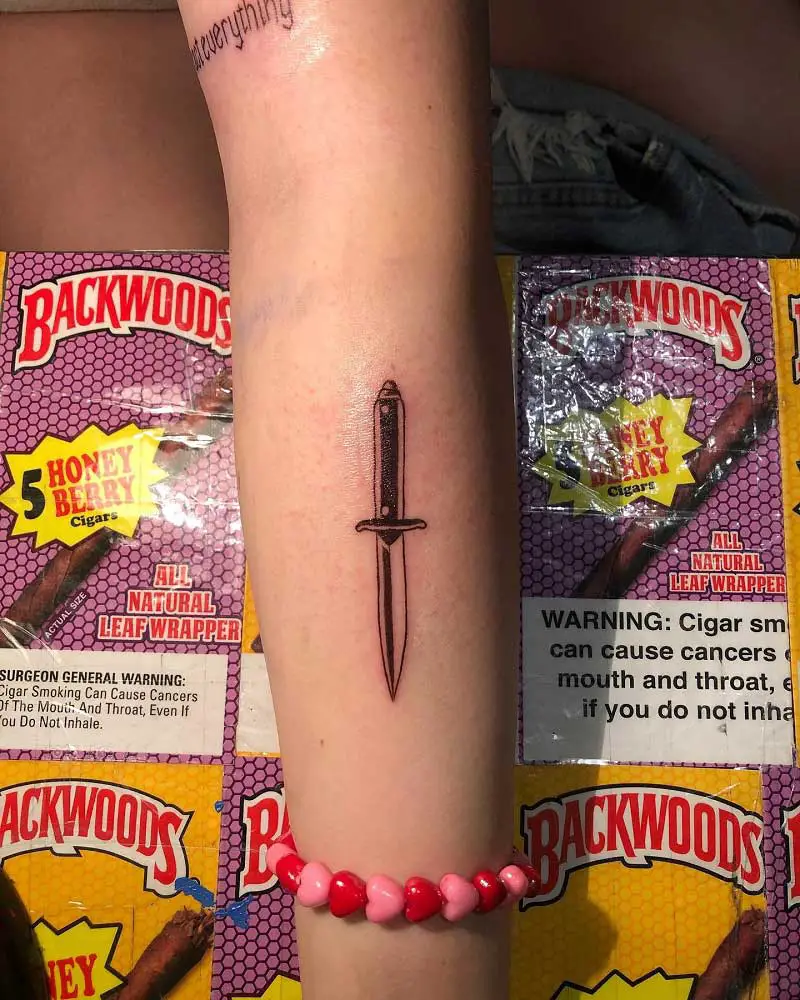 Butcher Knife Tattoo
30.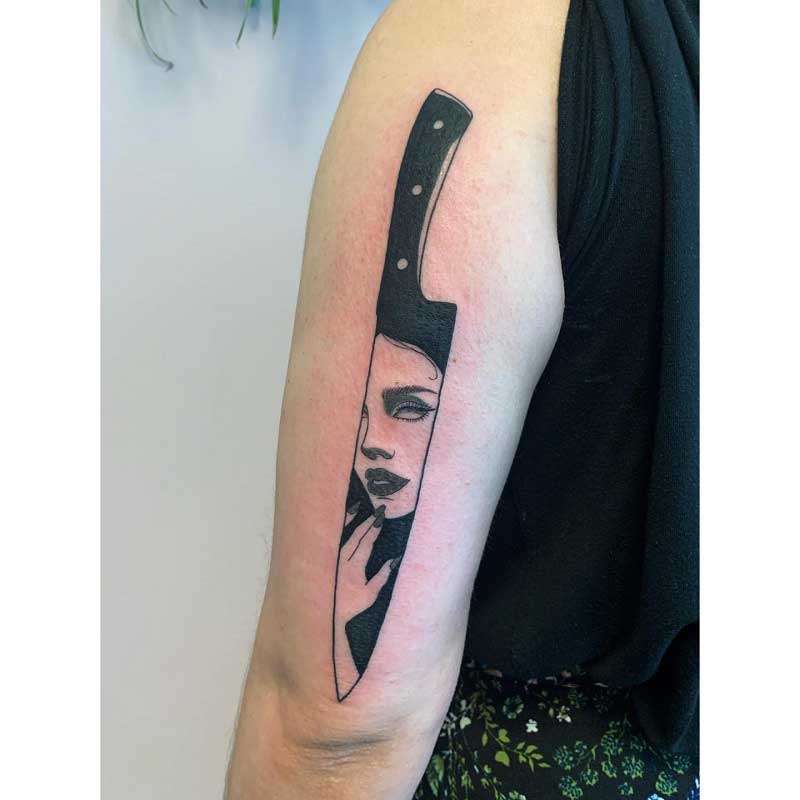 31.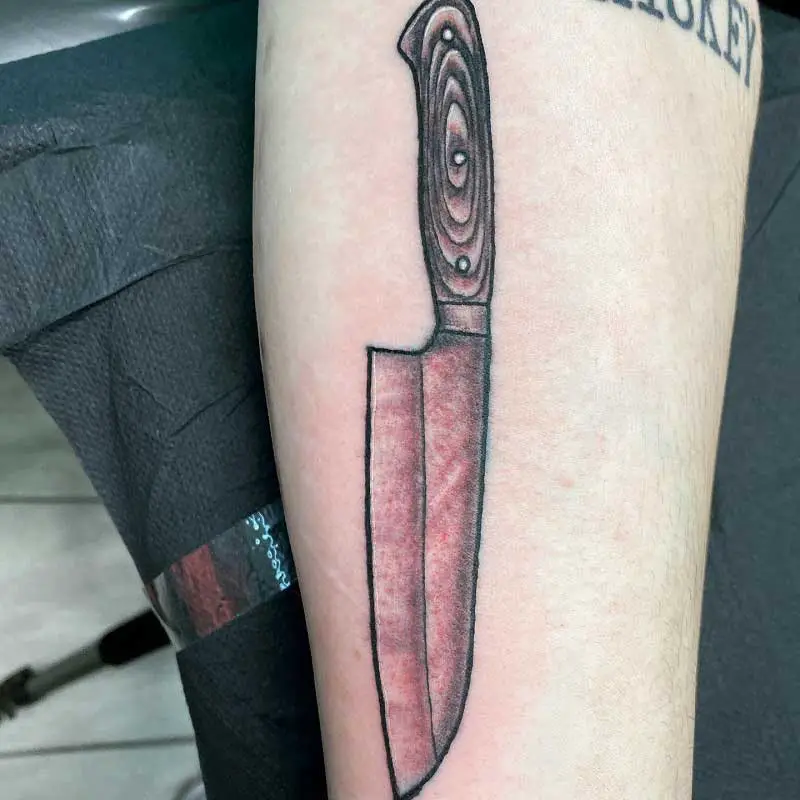 32.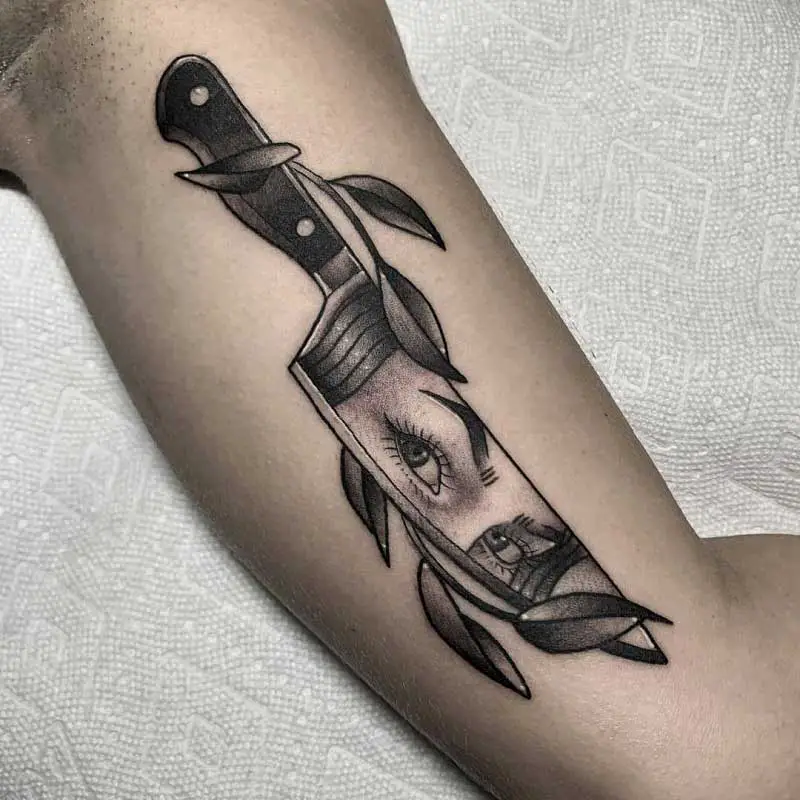 Small Knife Tattoo
33.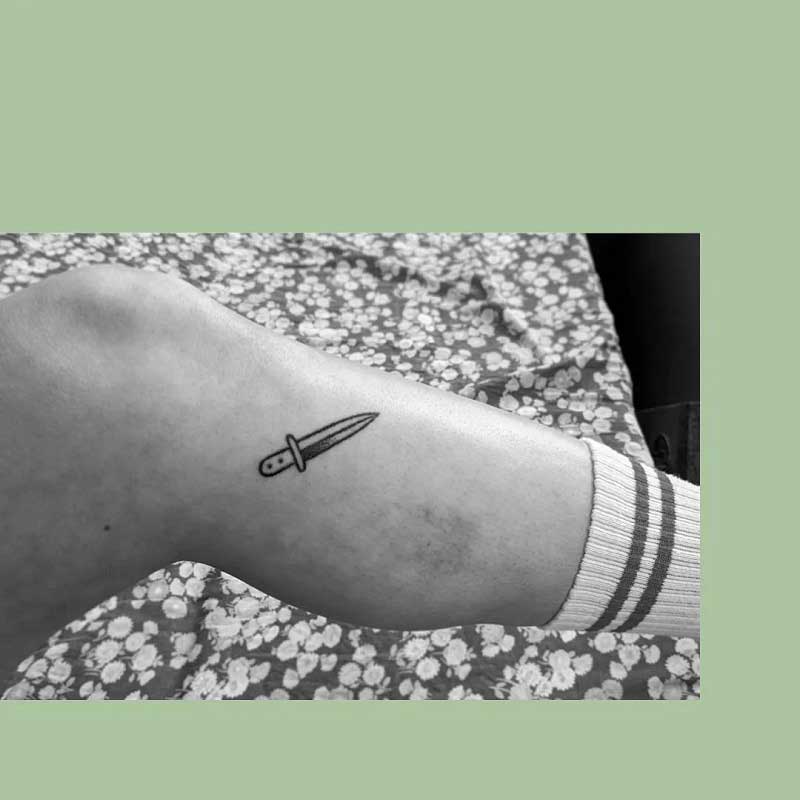 34.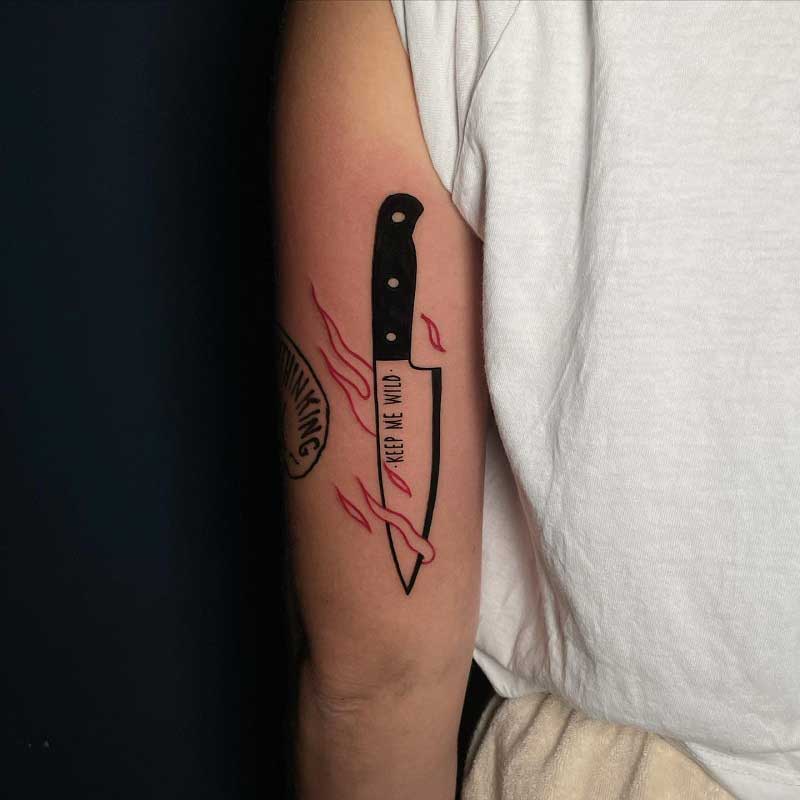 35.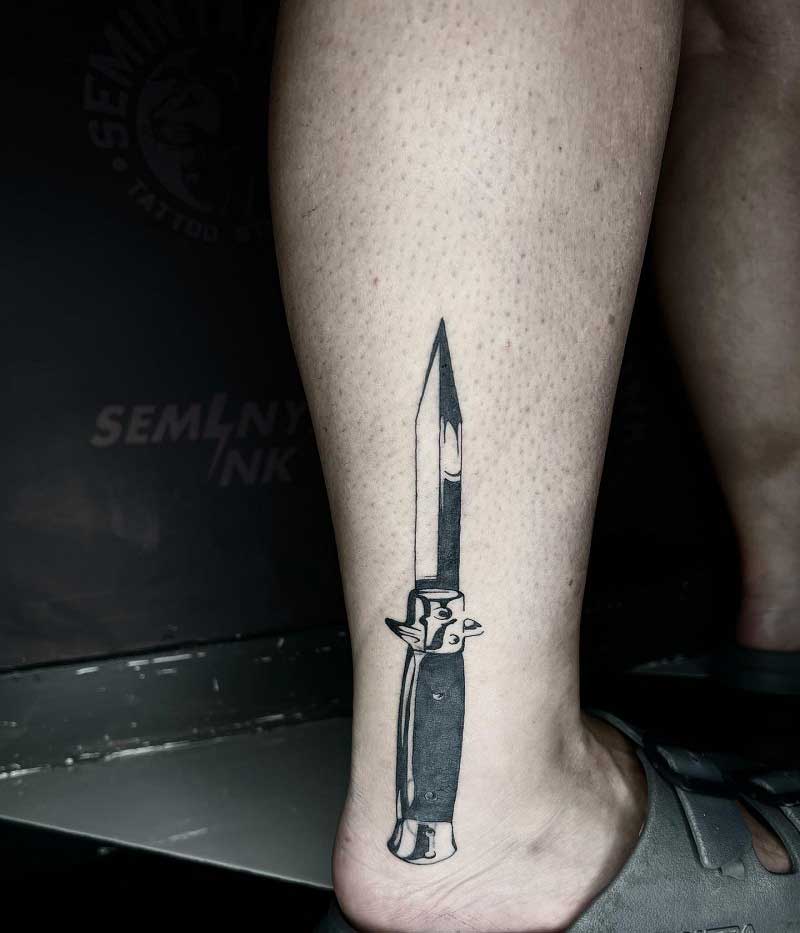 Knife Finger Tattoo
36.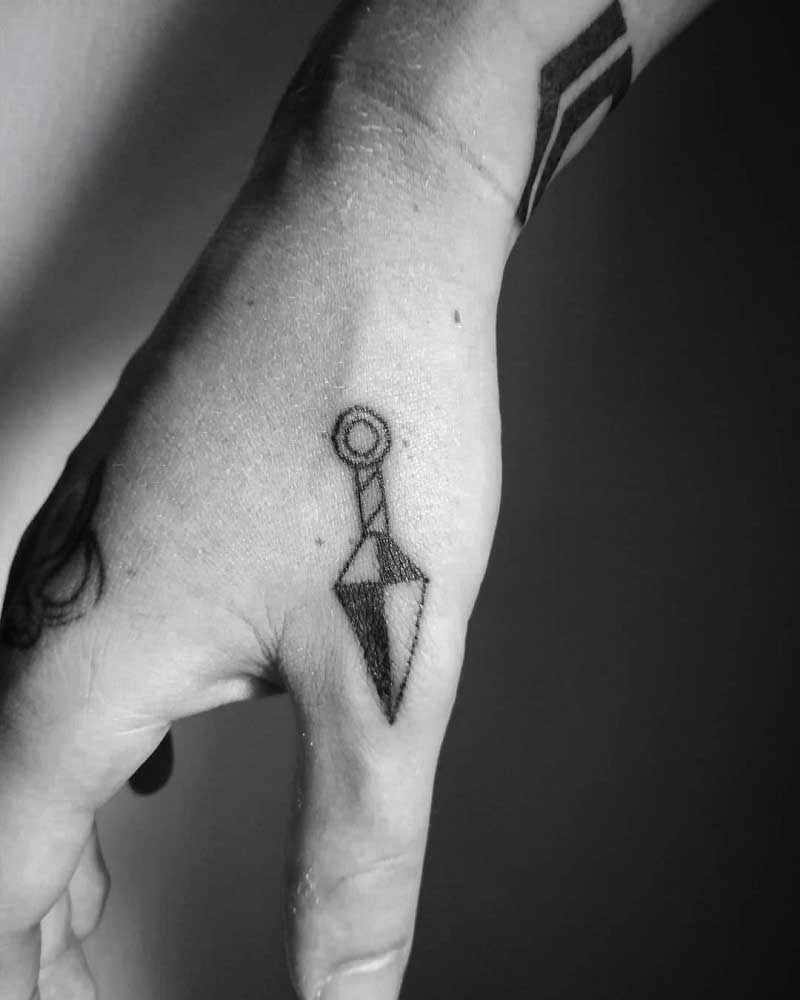 37.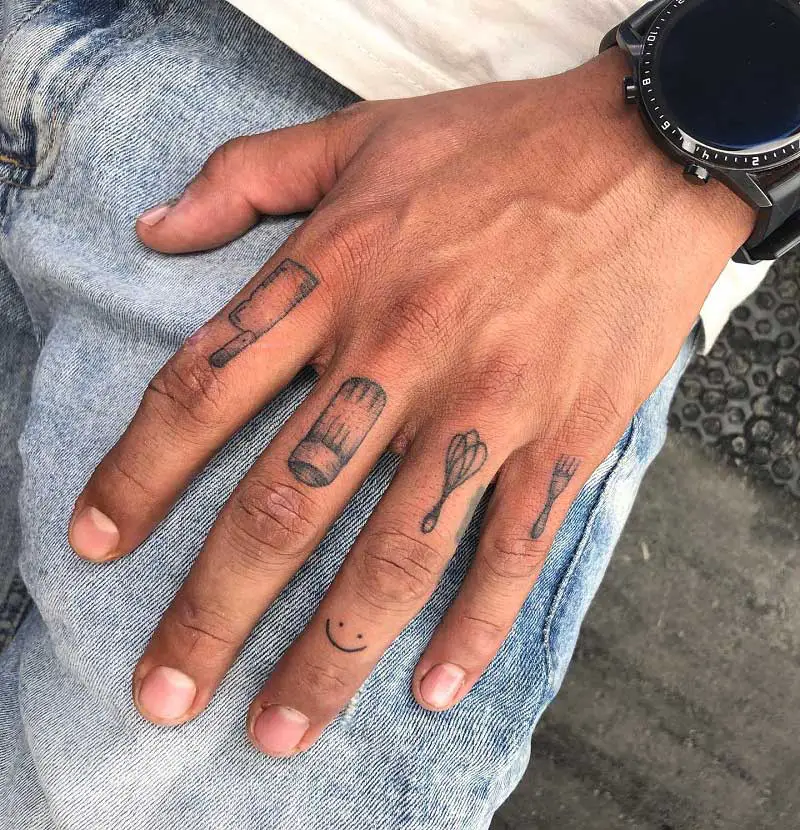 38.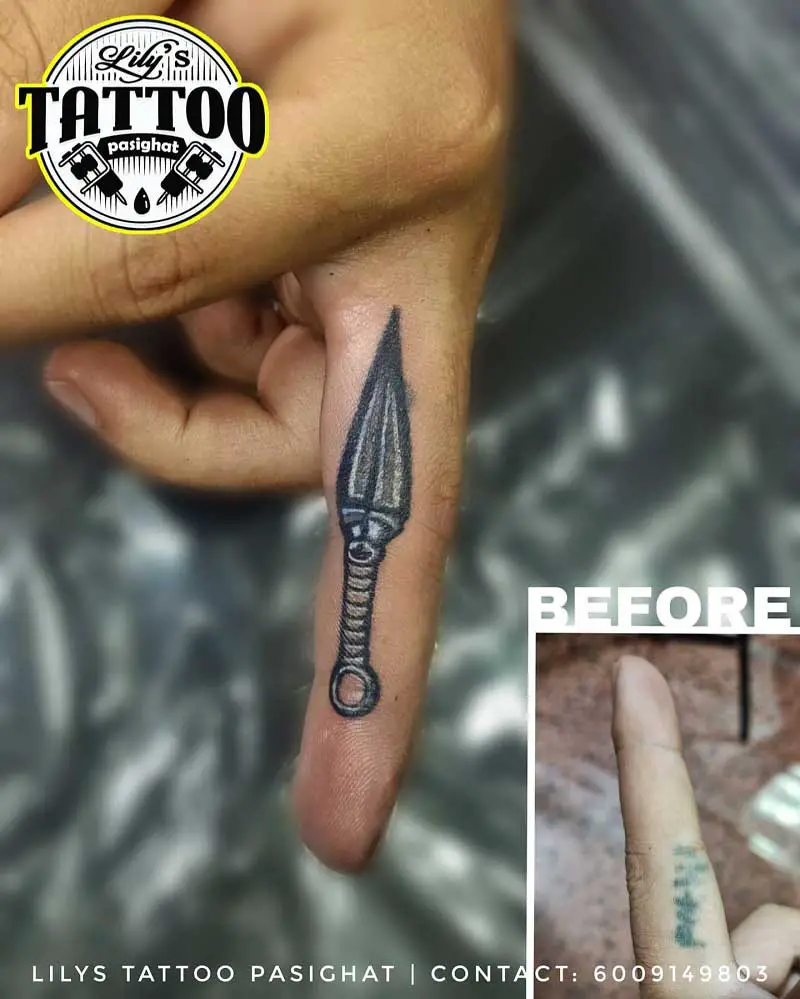 Knife Rose Tattoo
39.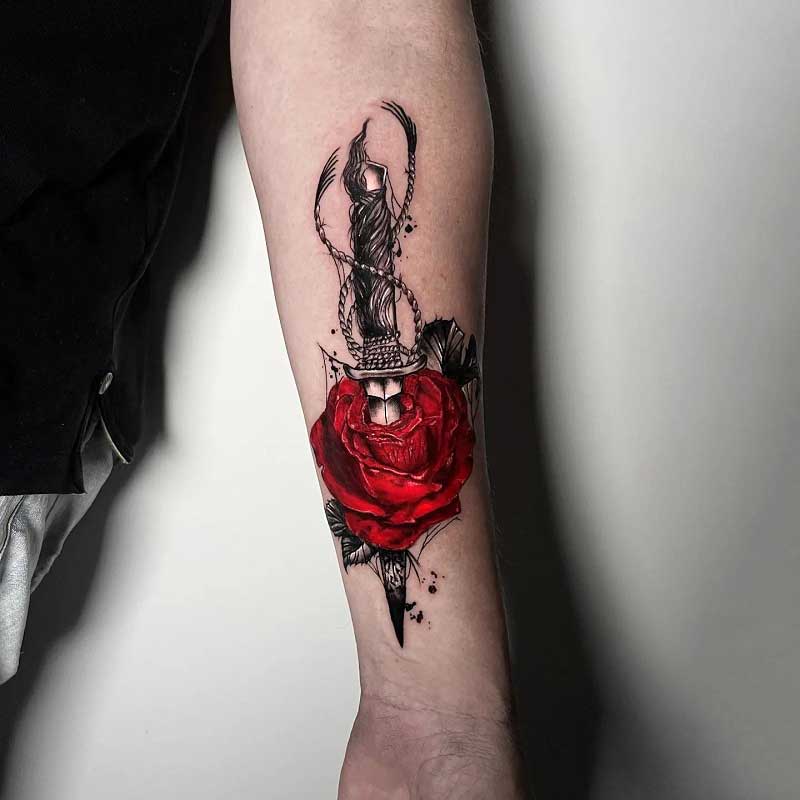 40.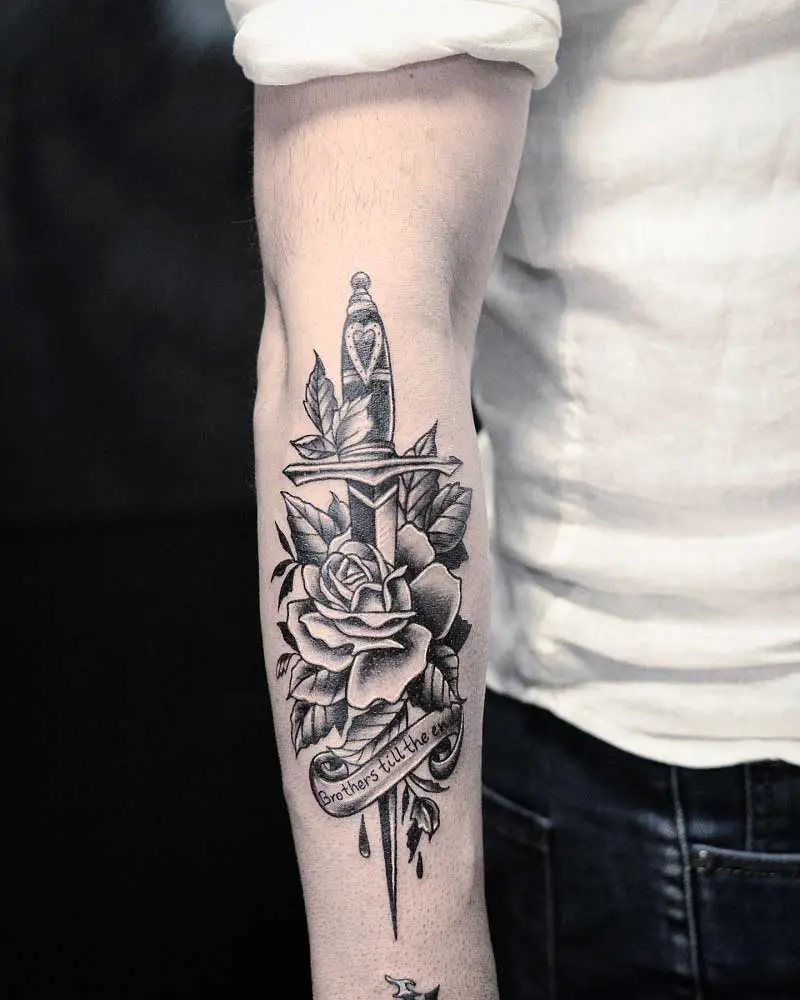 41.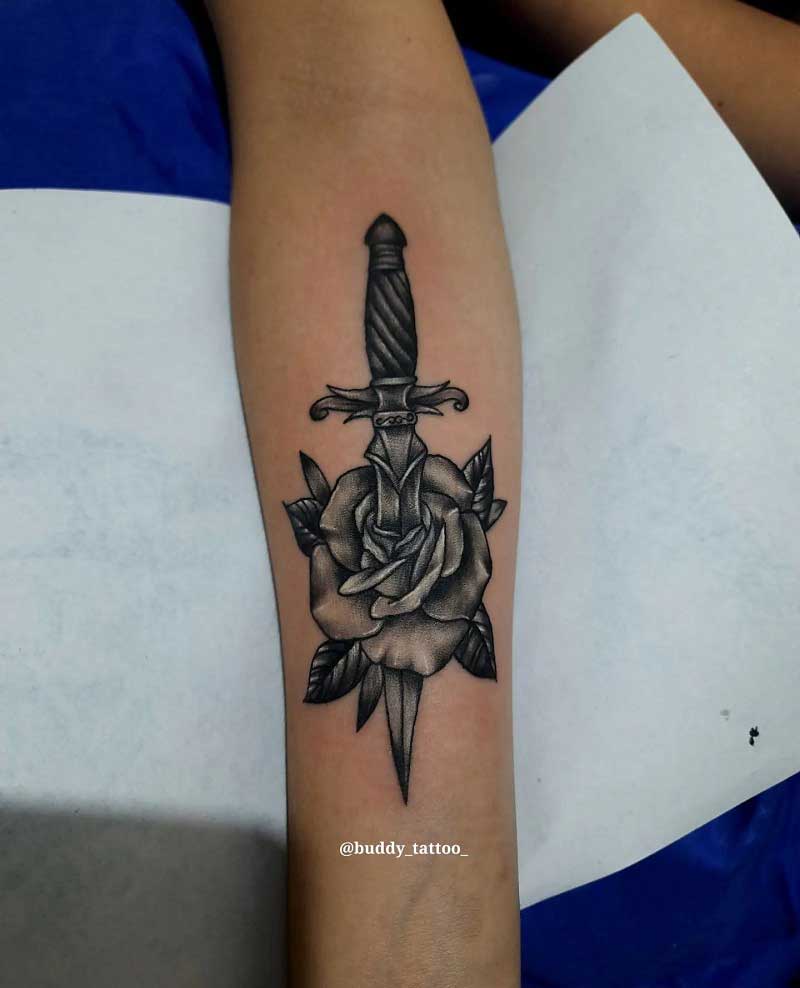 Minimalist Knife Tattoo
42.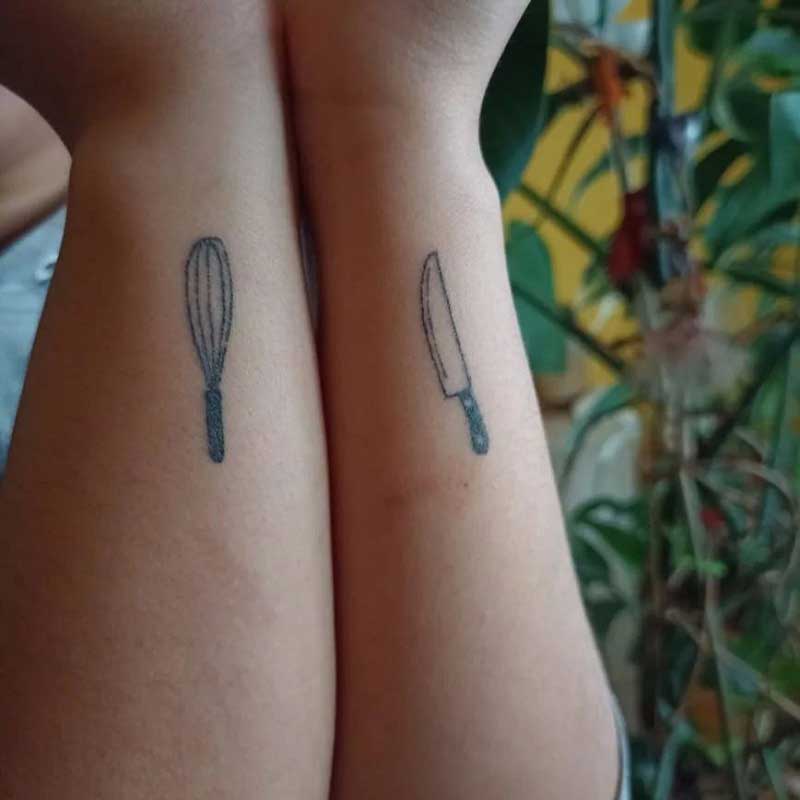 43.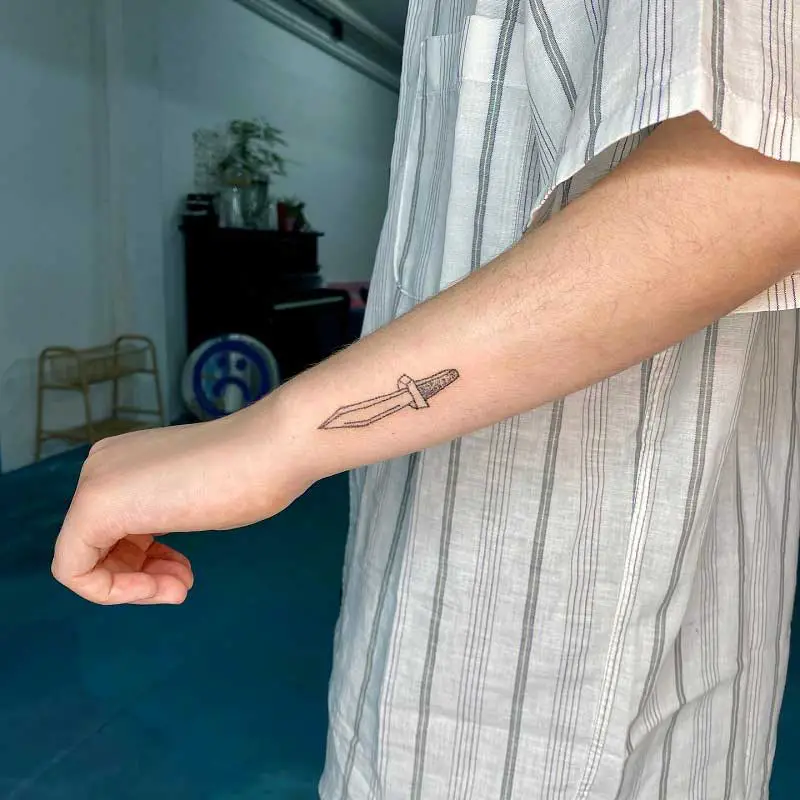 44.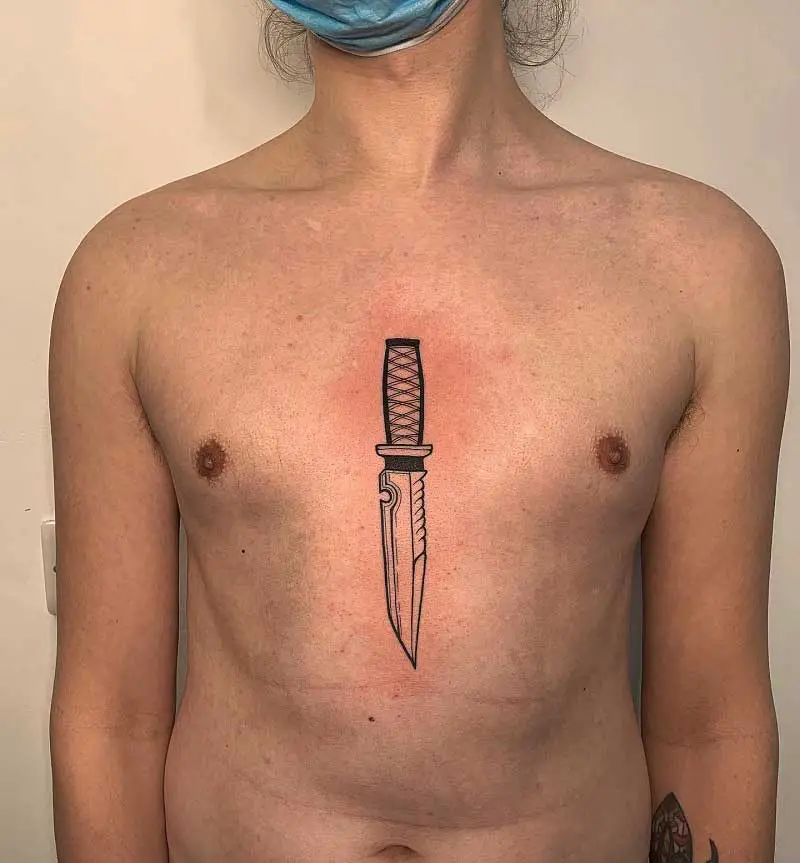 Chucky Knife Tattoo
45.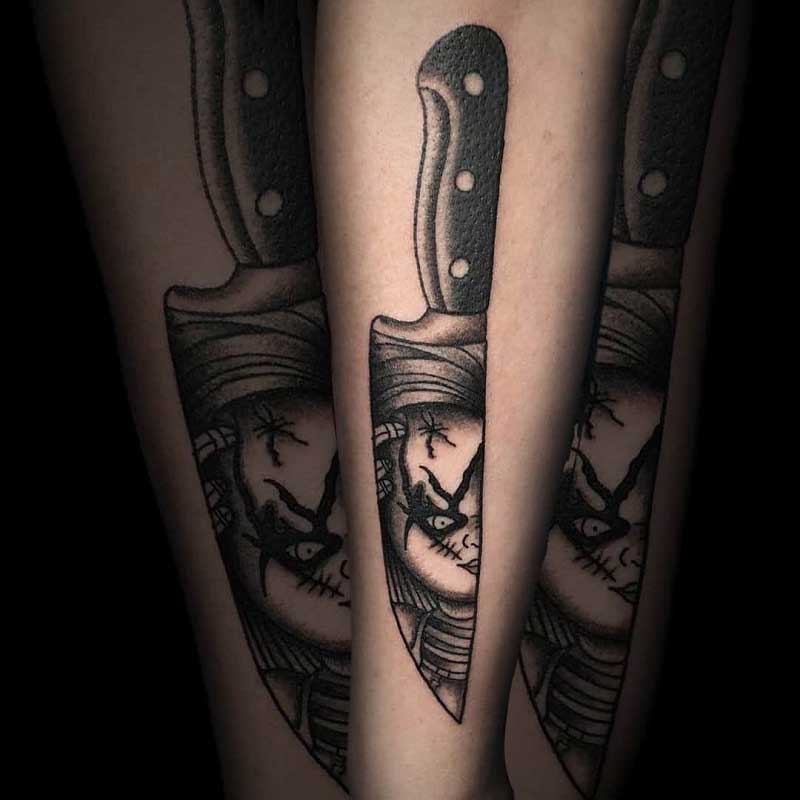 46.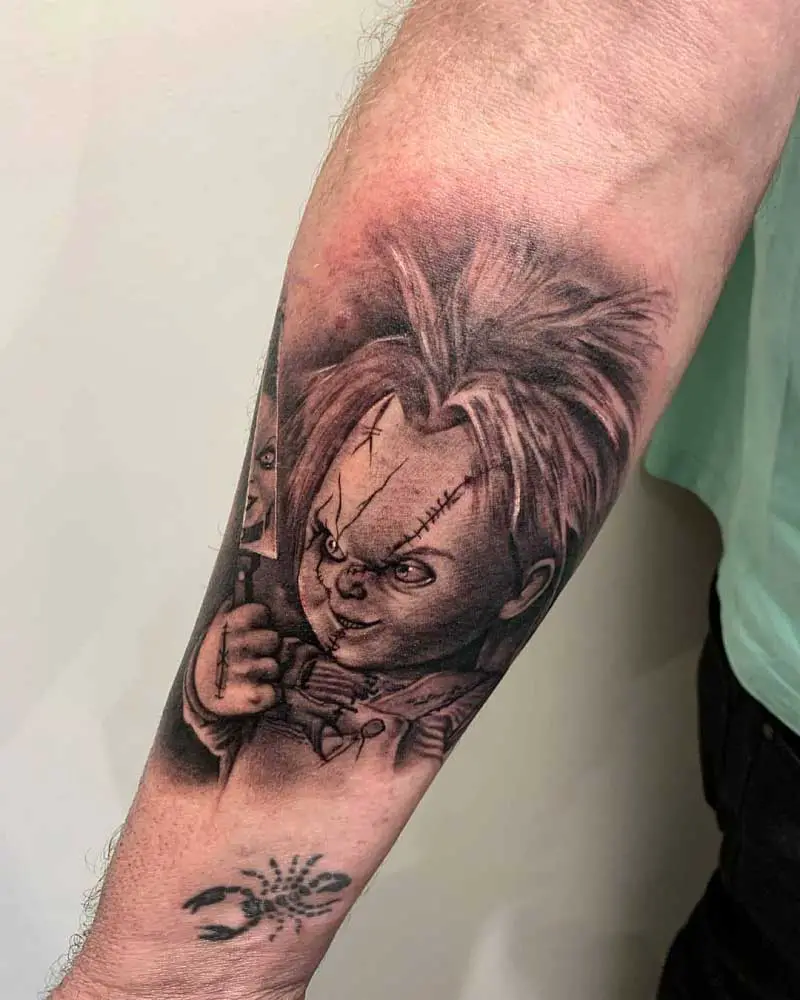 47.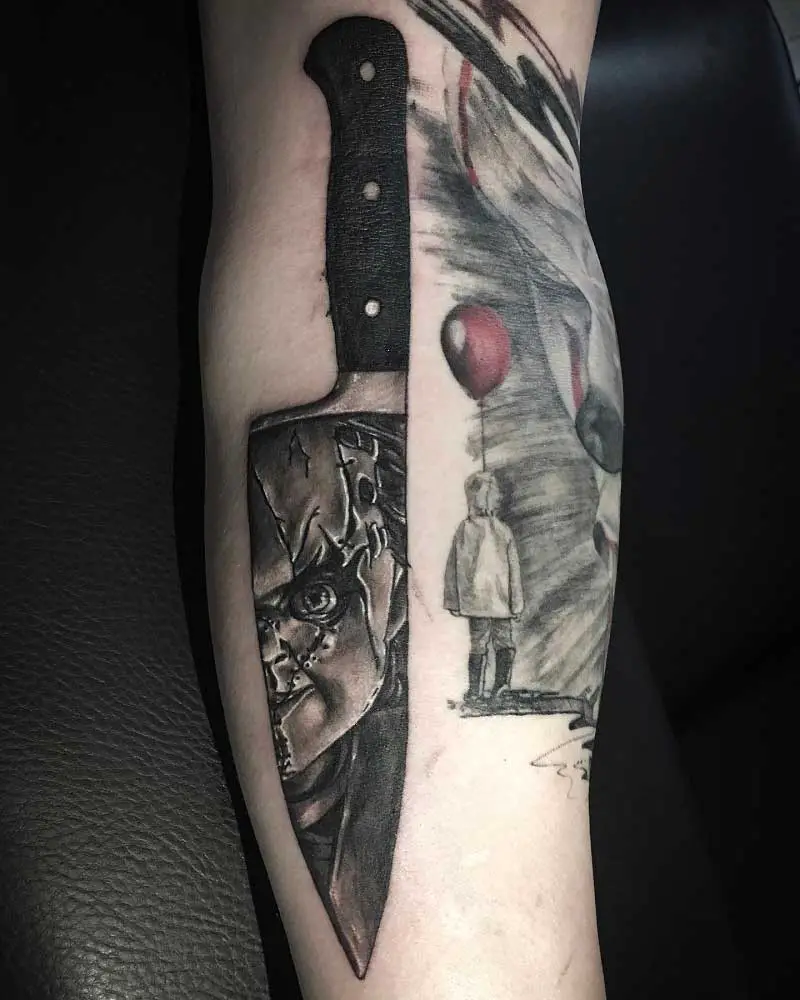 Knife Flash Tattoo
48.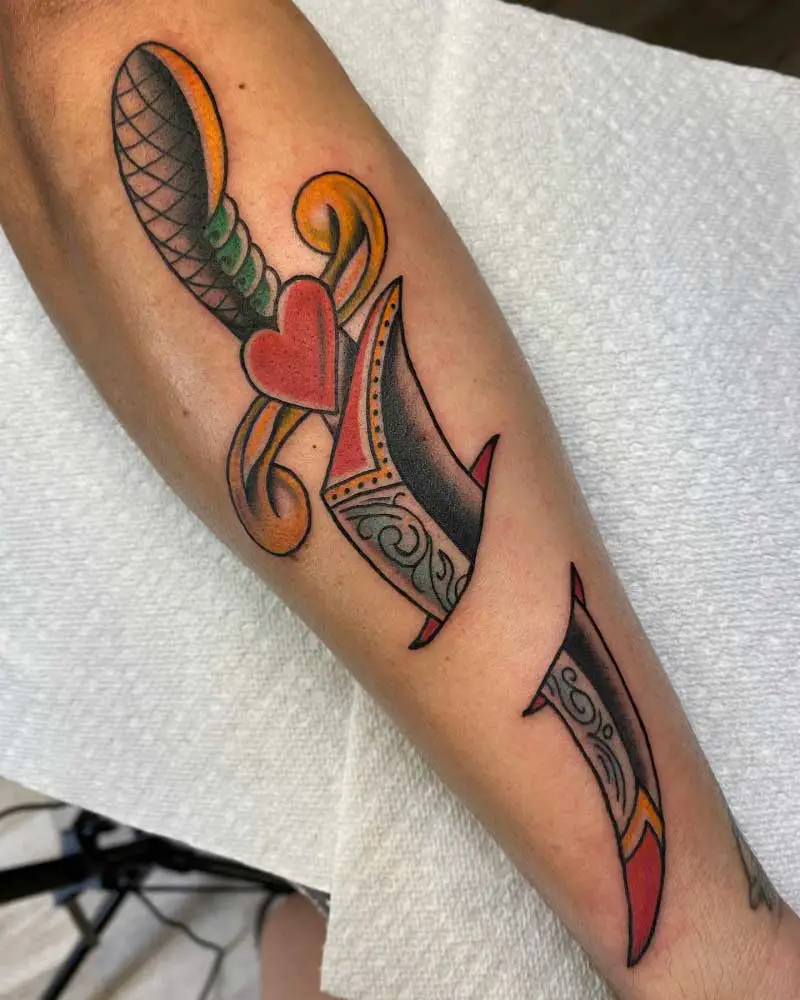 49.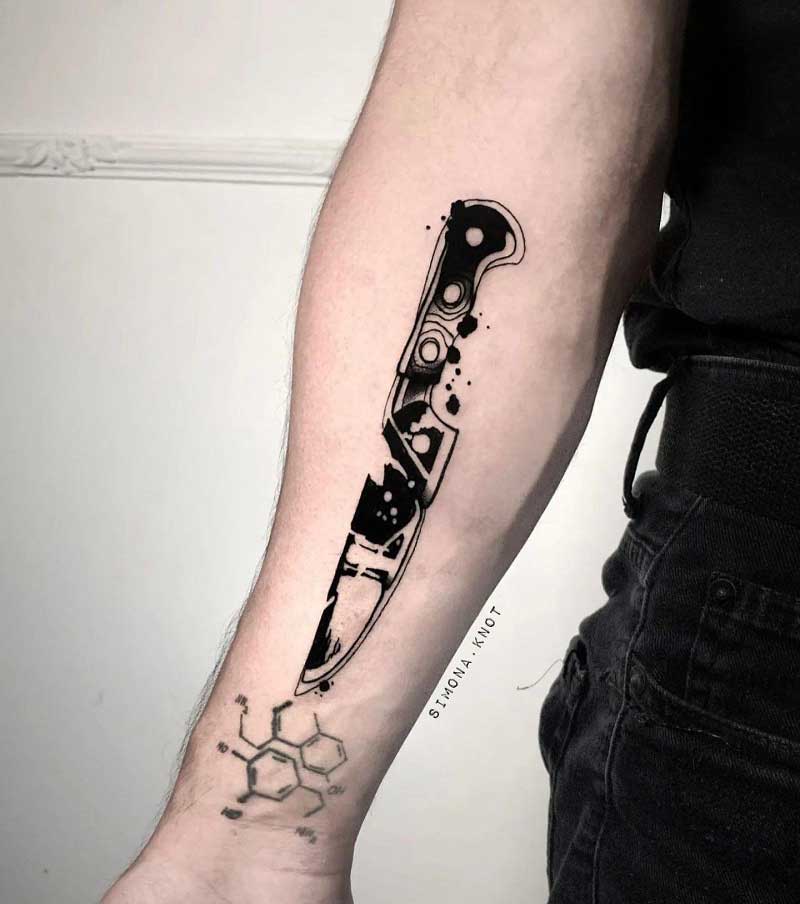 50.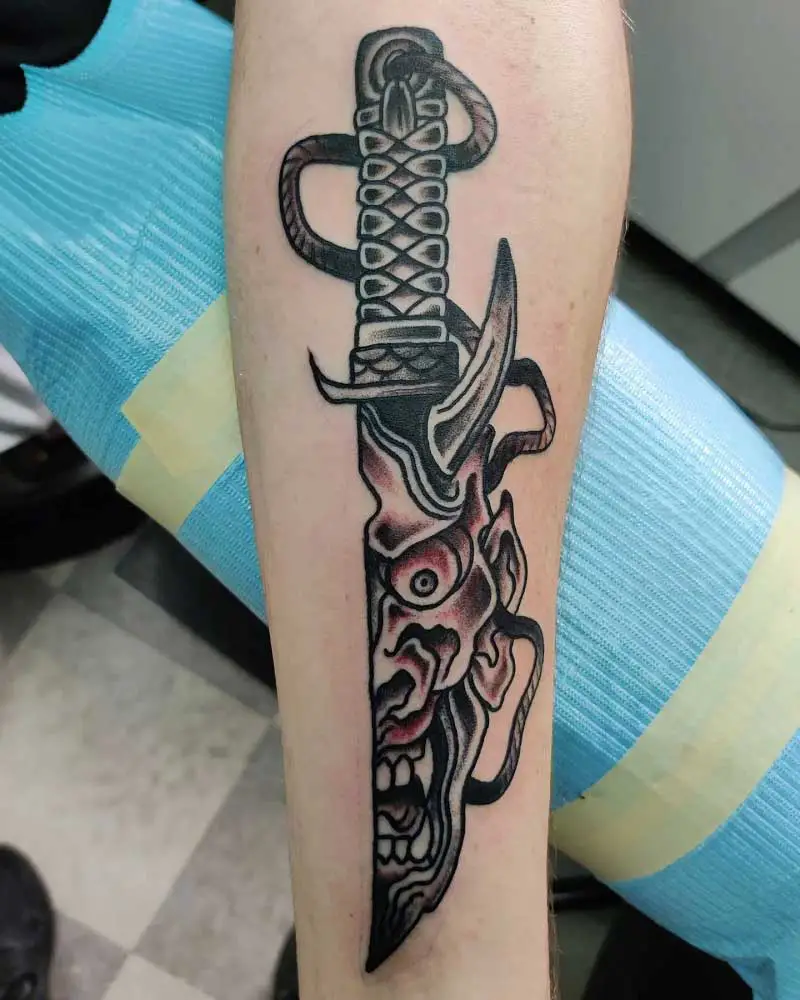 Ghostface Knife Tattoo
51.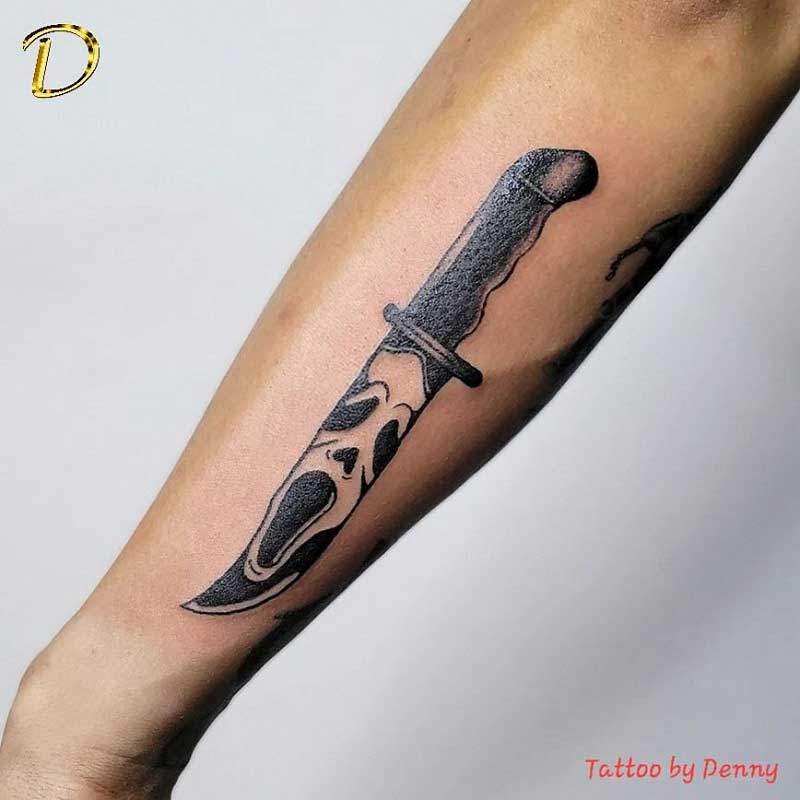 52.
53.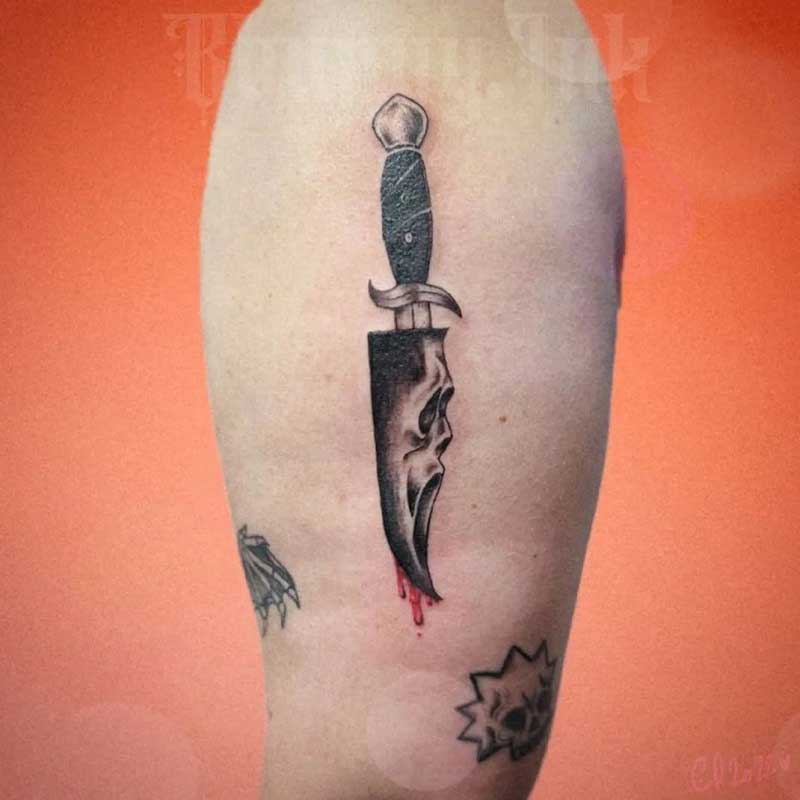 Bloody Knife Tattoo
54.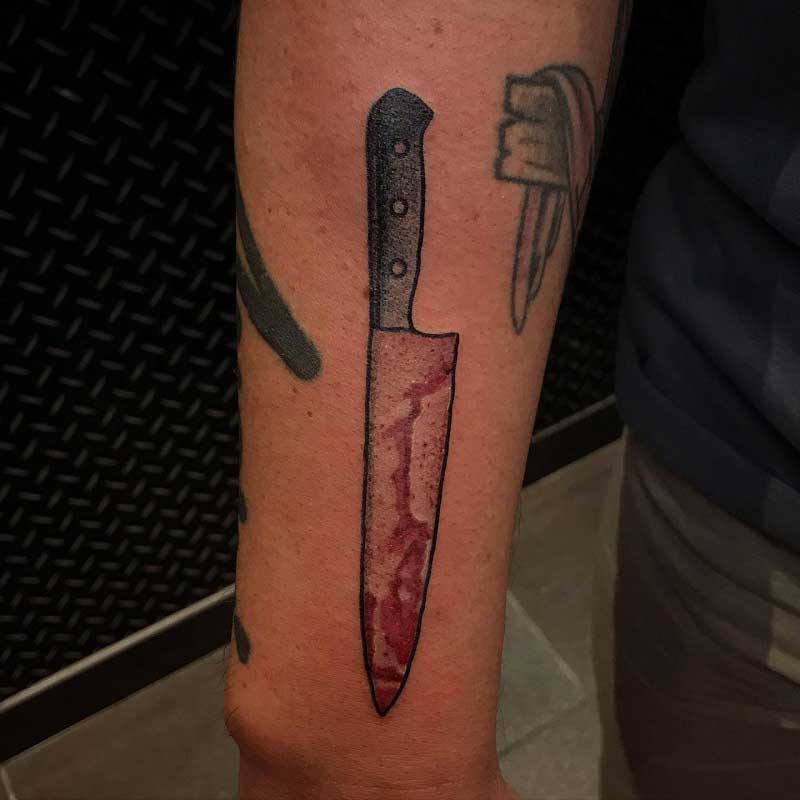 55.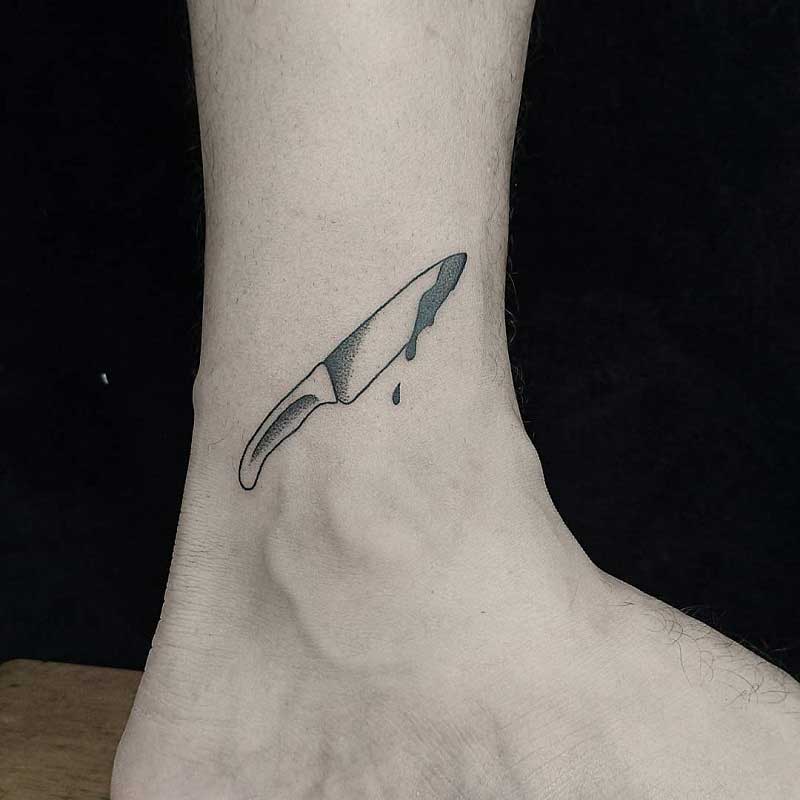 56.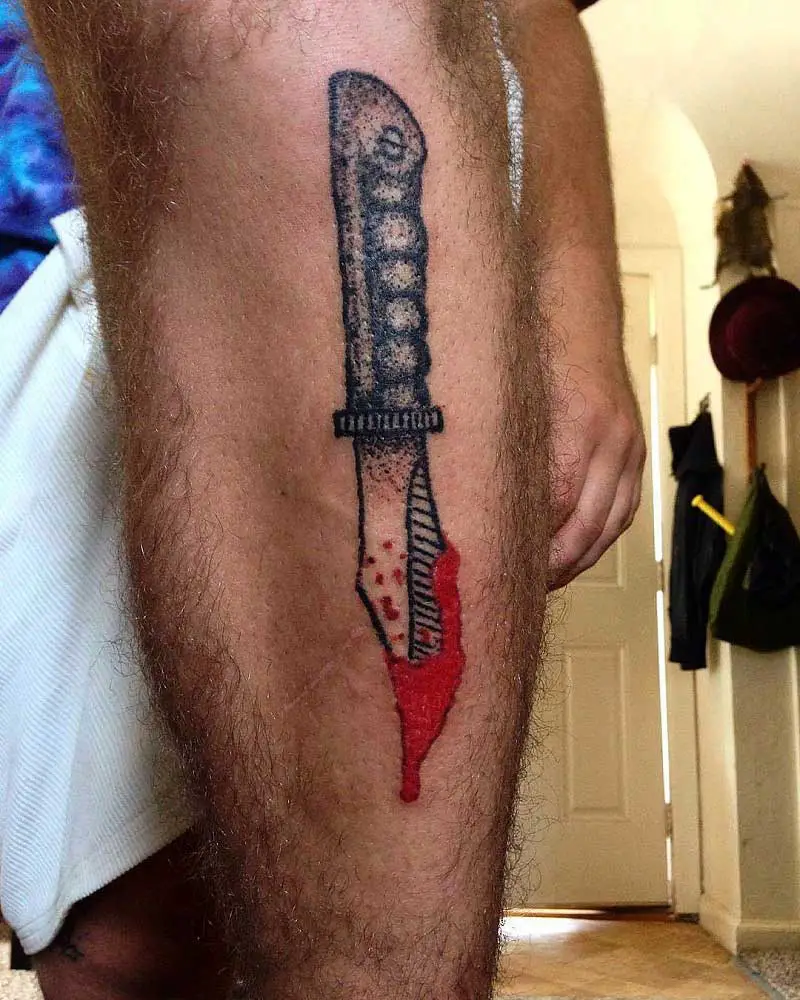 Bowie Knife Tattoo
57.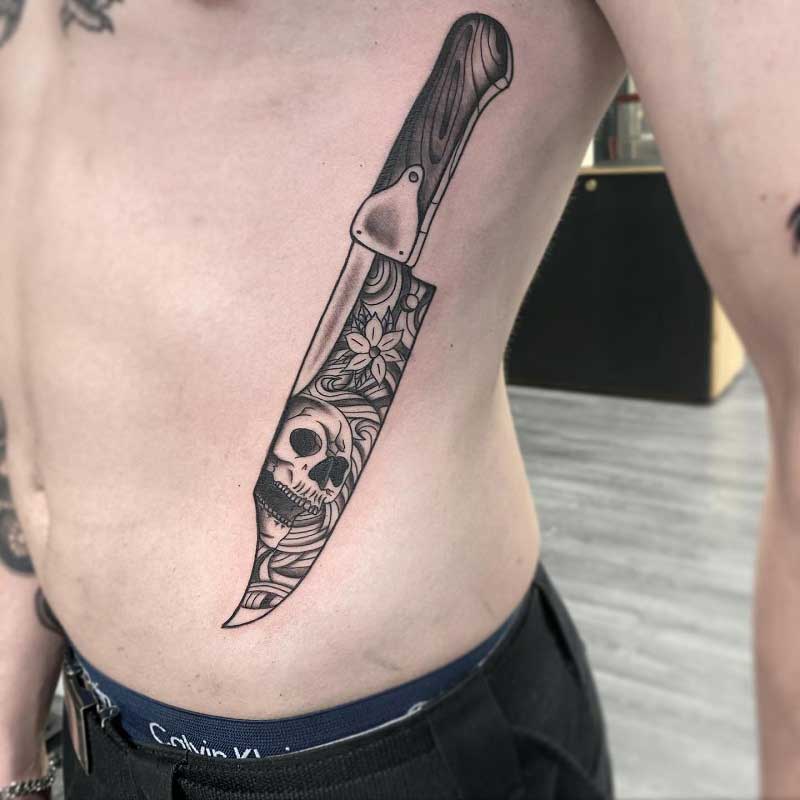 58.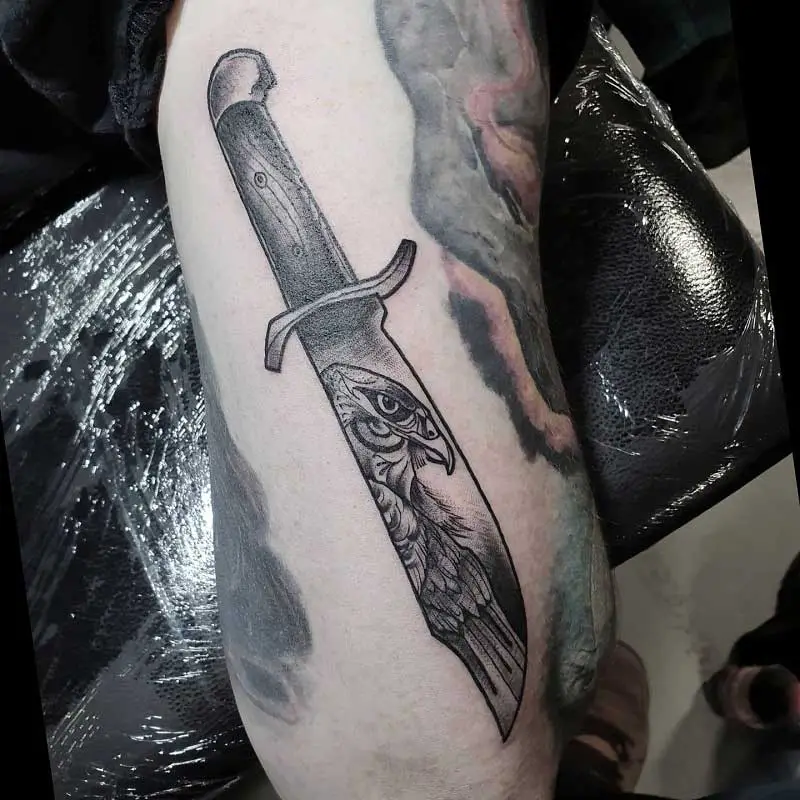 59.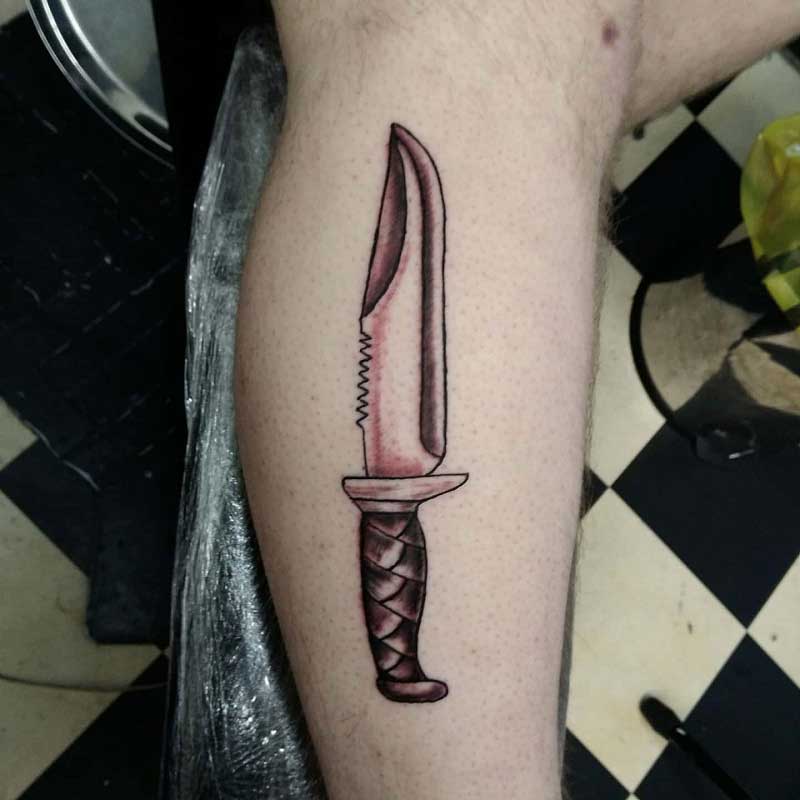 Japanese Knife Tattoo
60.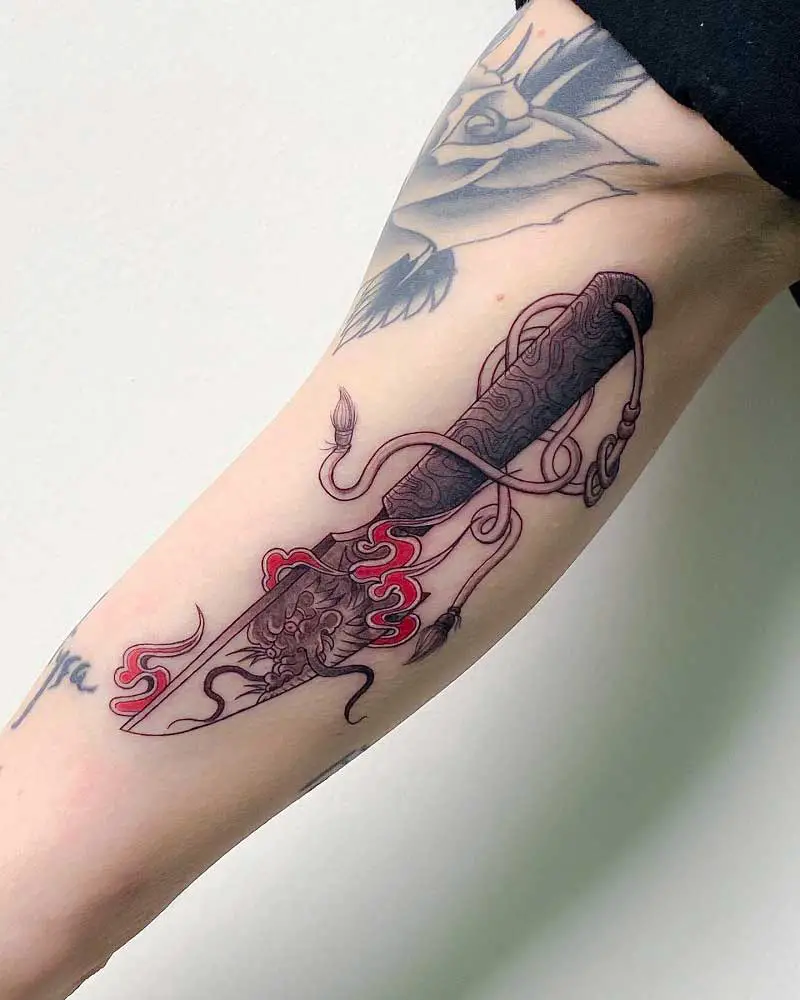 61.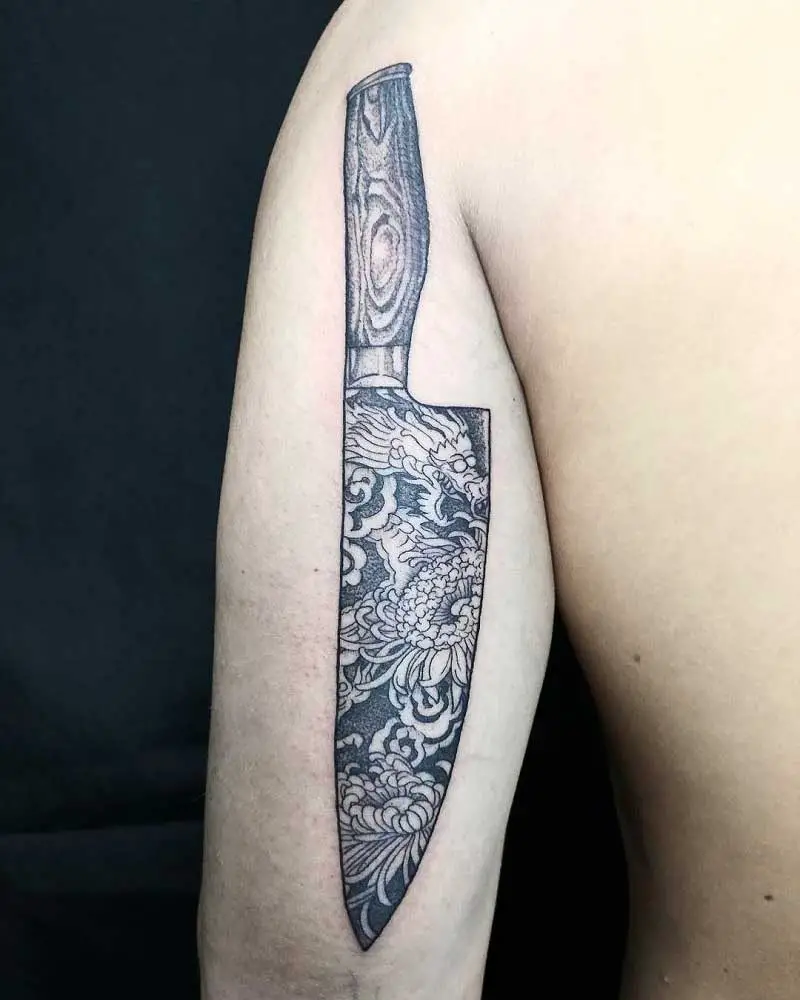 62.
Knife Through Skin Tattoo
63.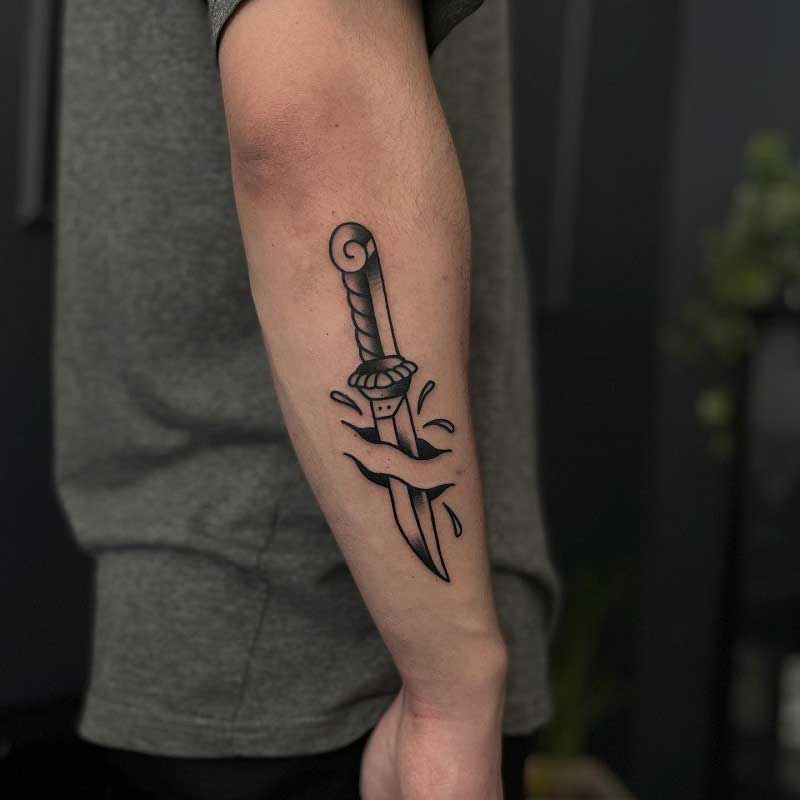 64.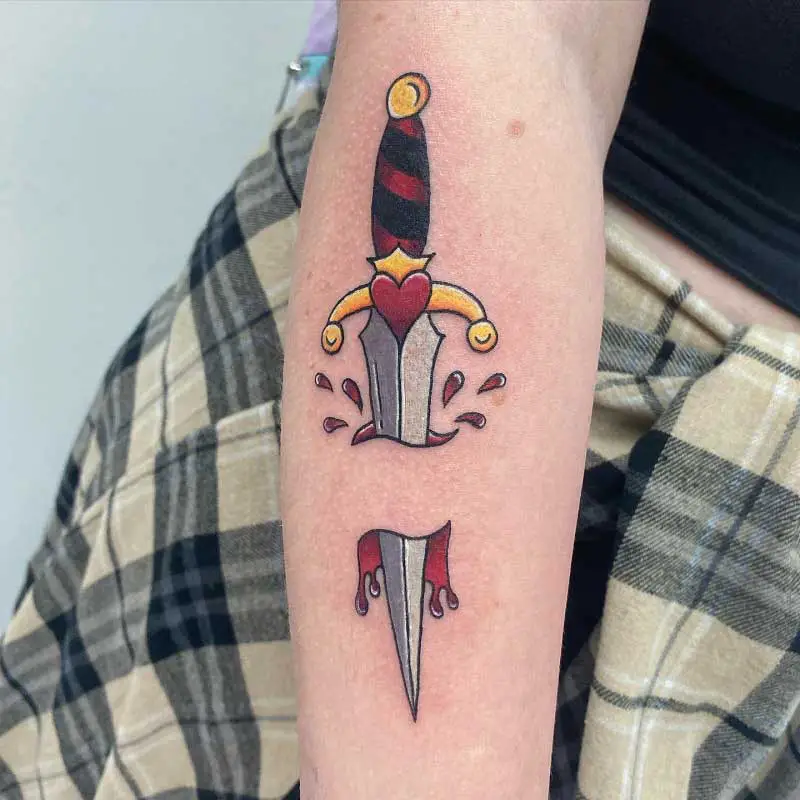 65.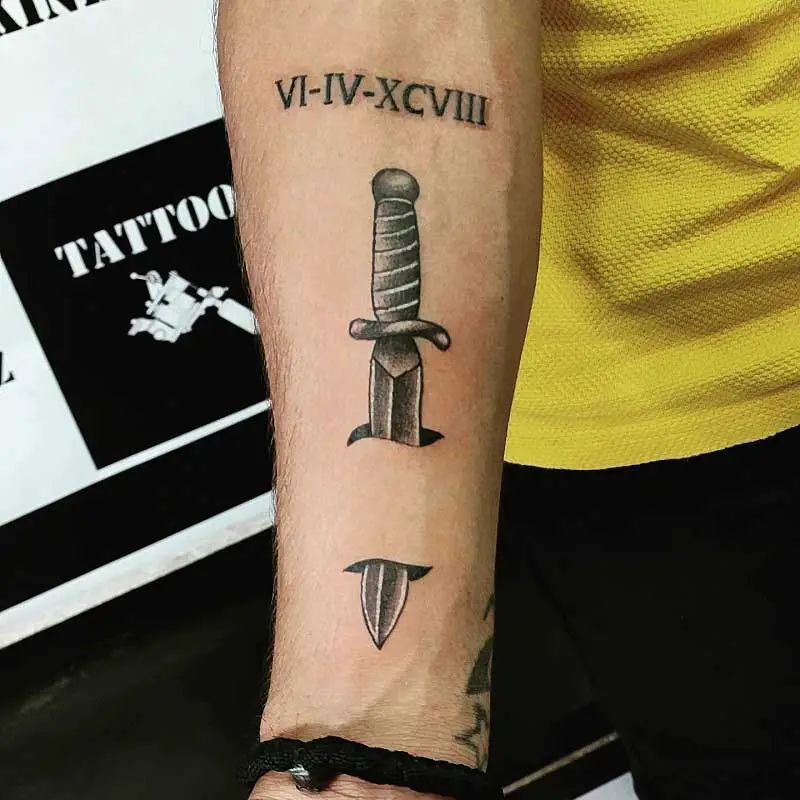 Stiletto Knife Tattoo
66.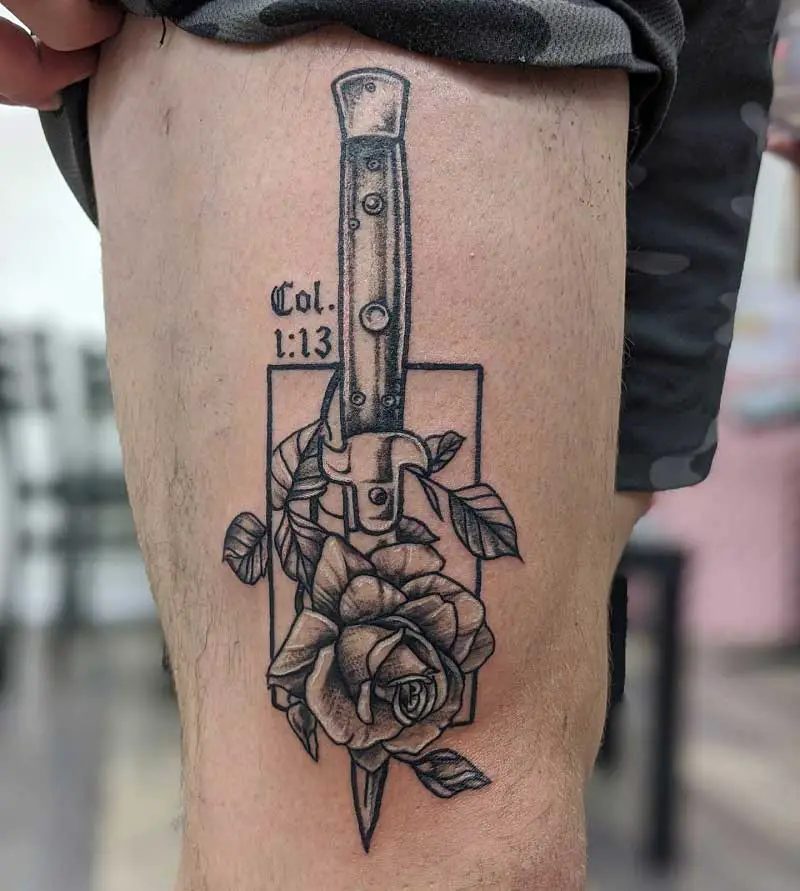 67.
68.
Swiss Army Knife Tattoo
69.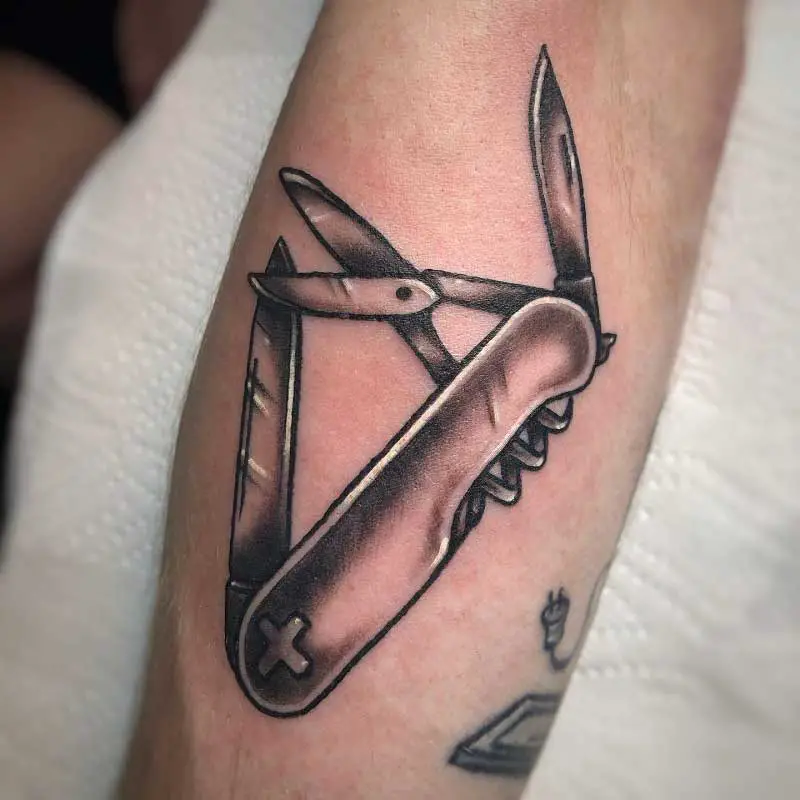 70.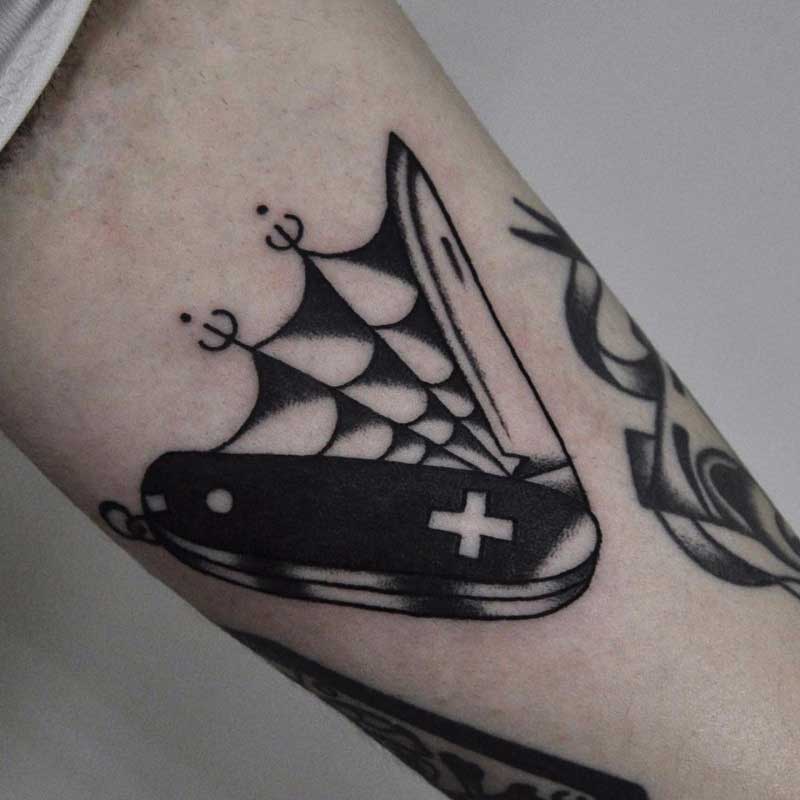 71.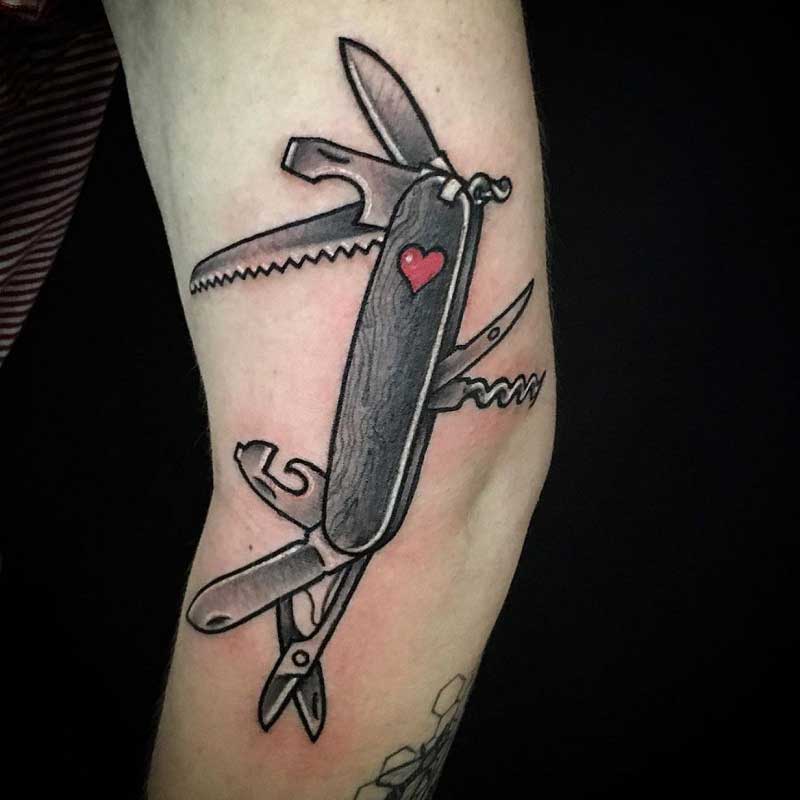 Buck Knife Tattoo
72.
73.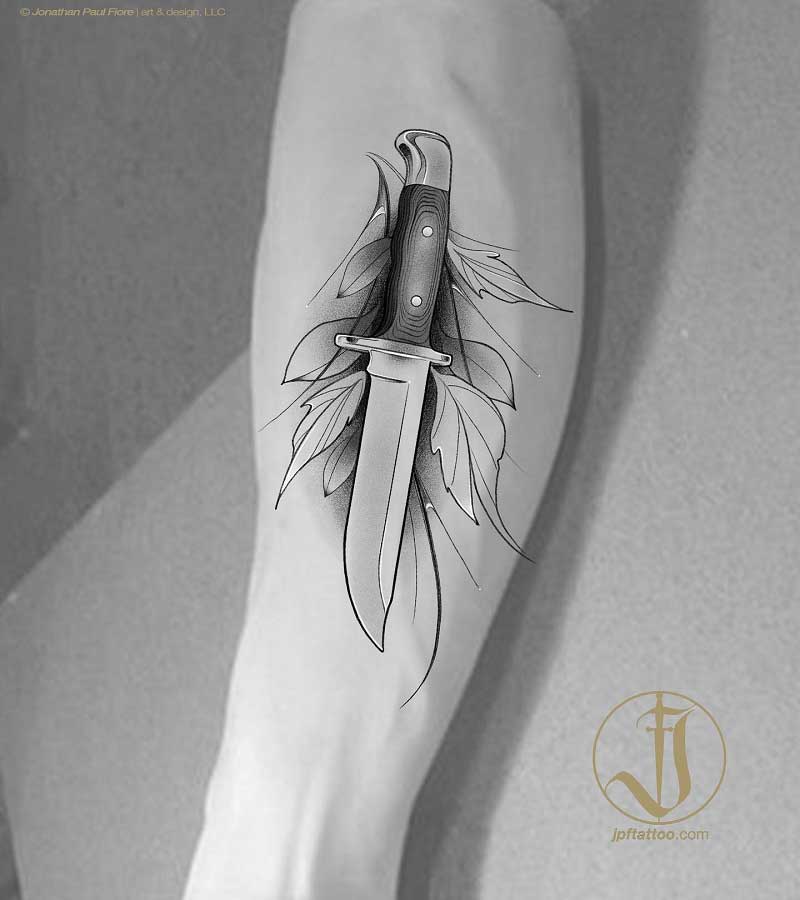 74.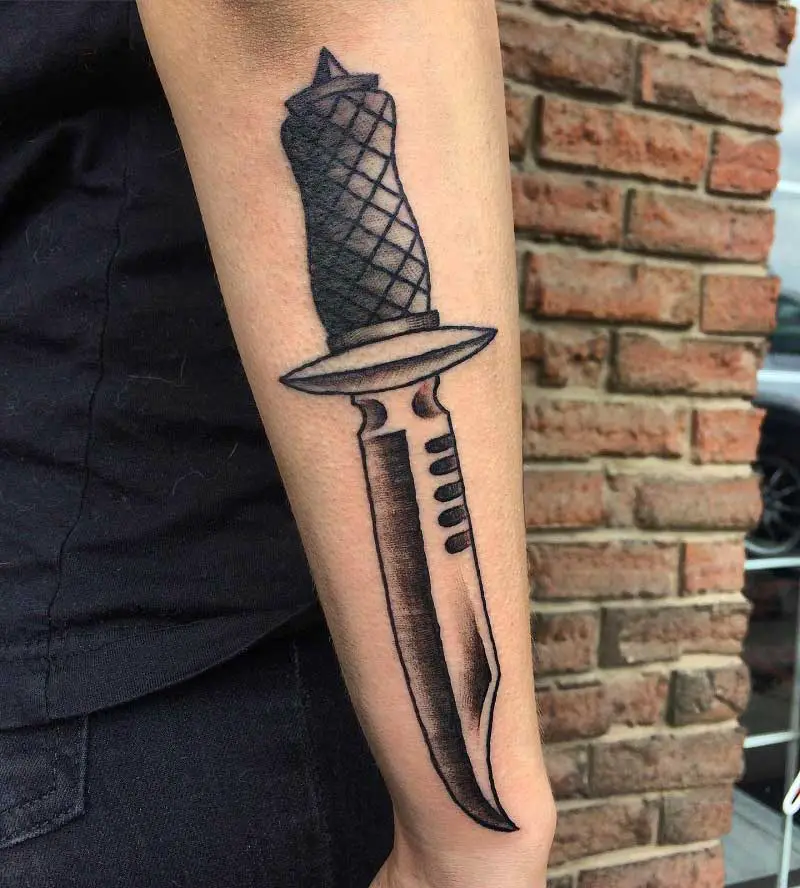 Knife Sternum Tattoo
75.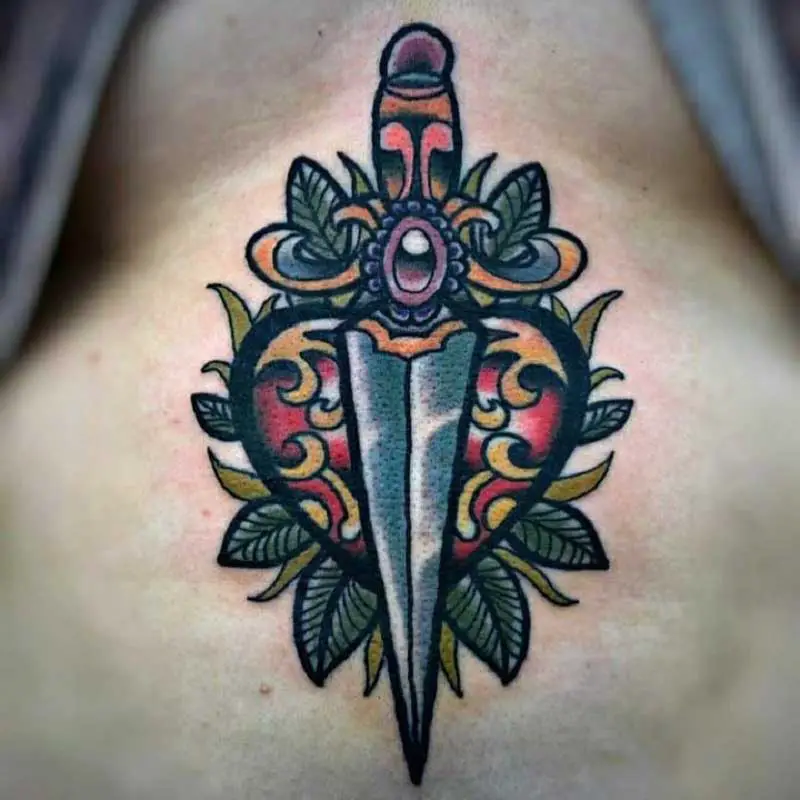 76.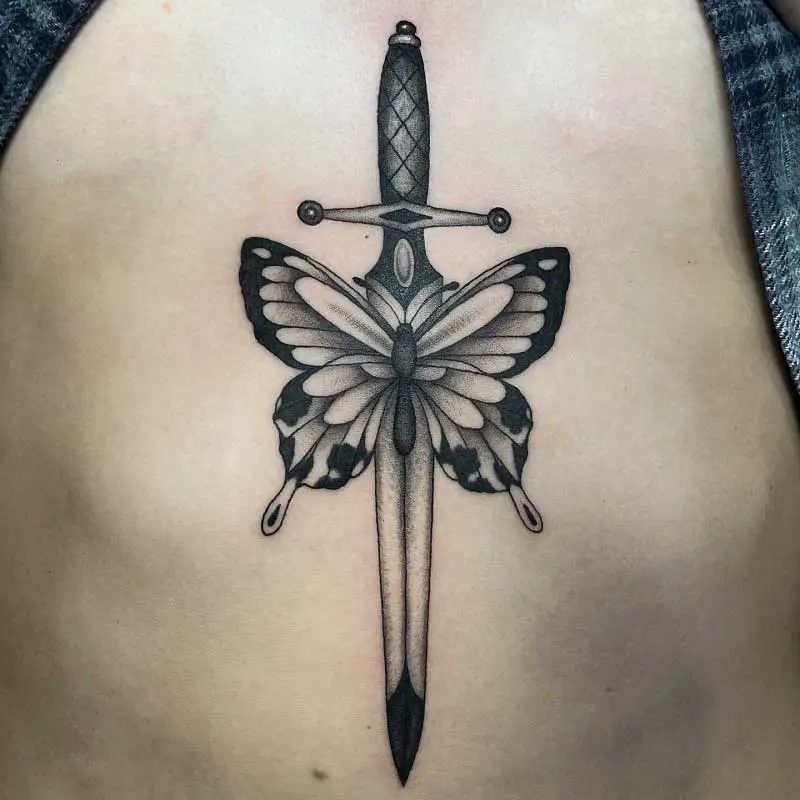 Minato Kunai Knife Tattoo
77.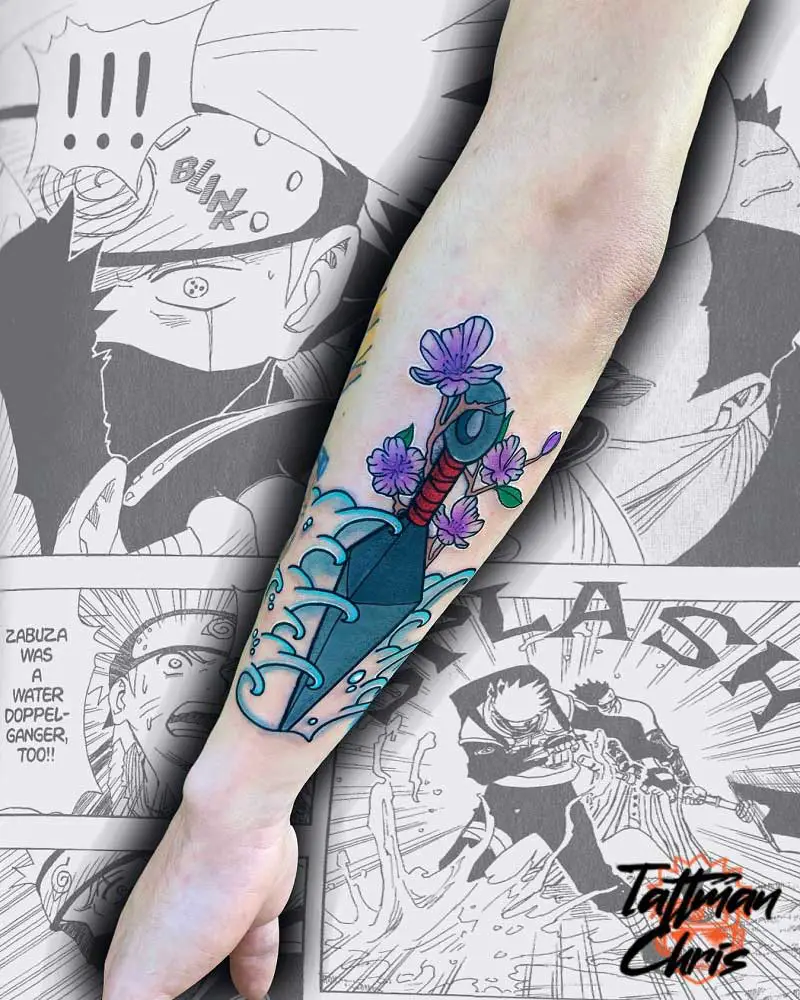 78.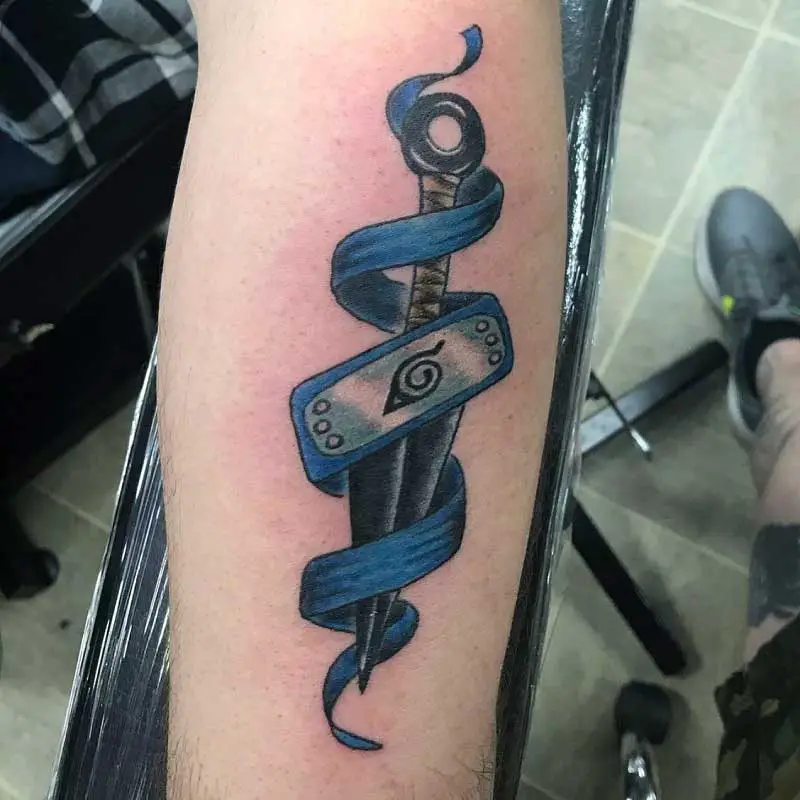 79.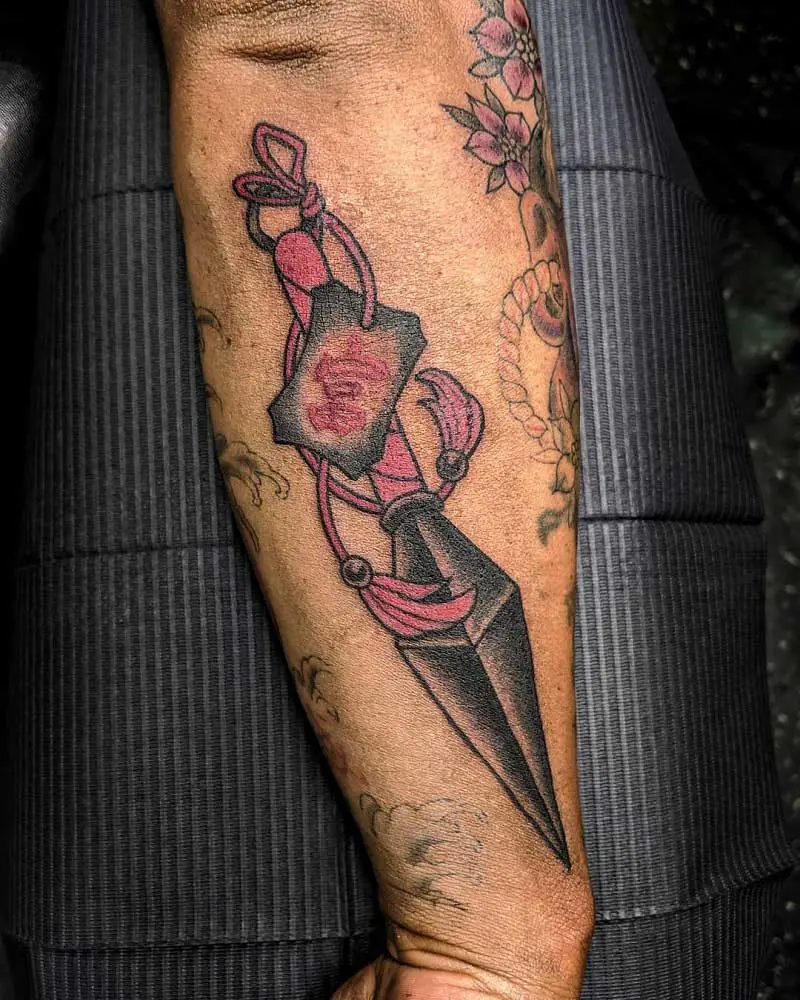 Knife Hand Tattoo
80.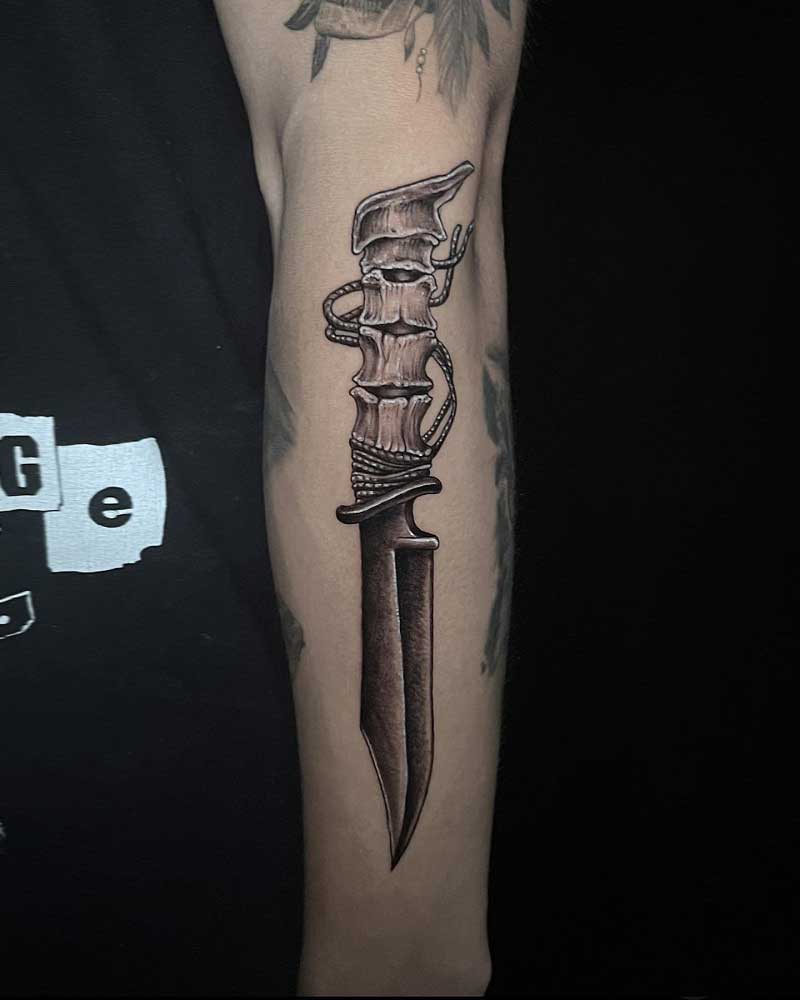 81.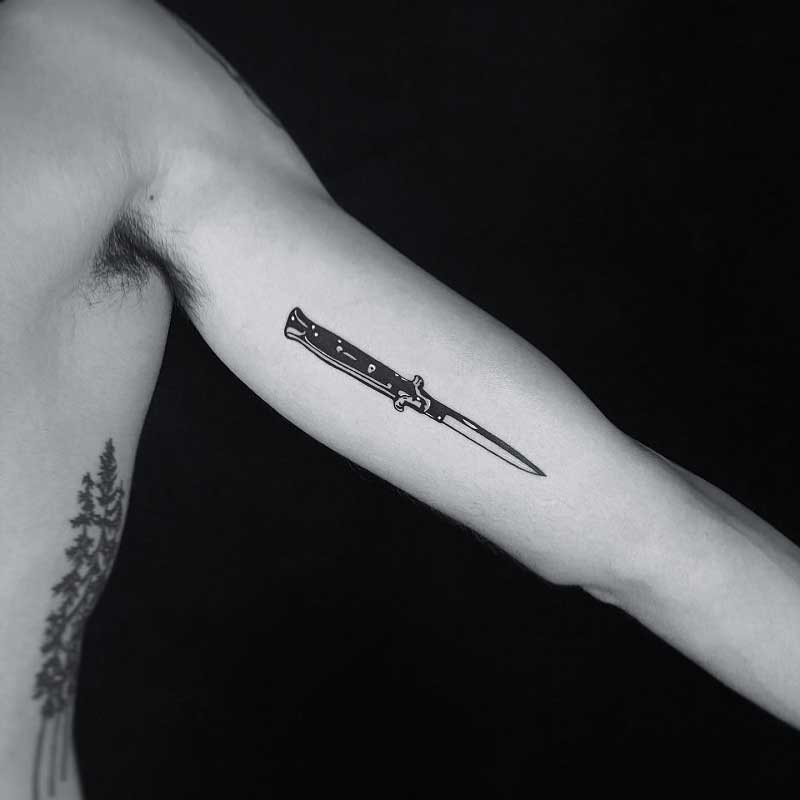 82.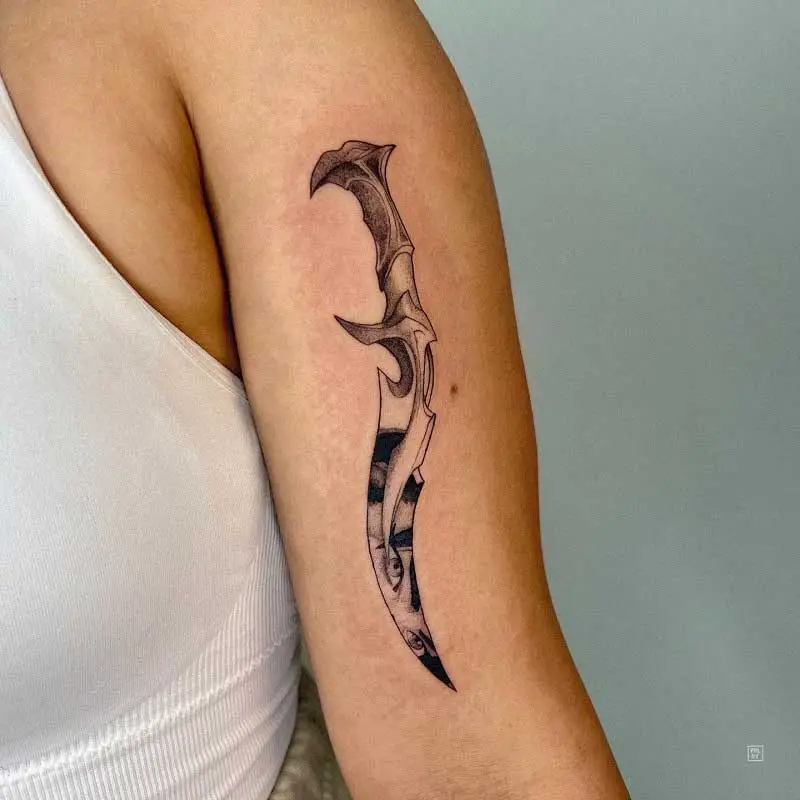 Knife Reflection Tattoo
83.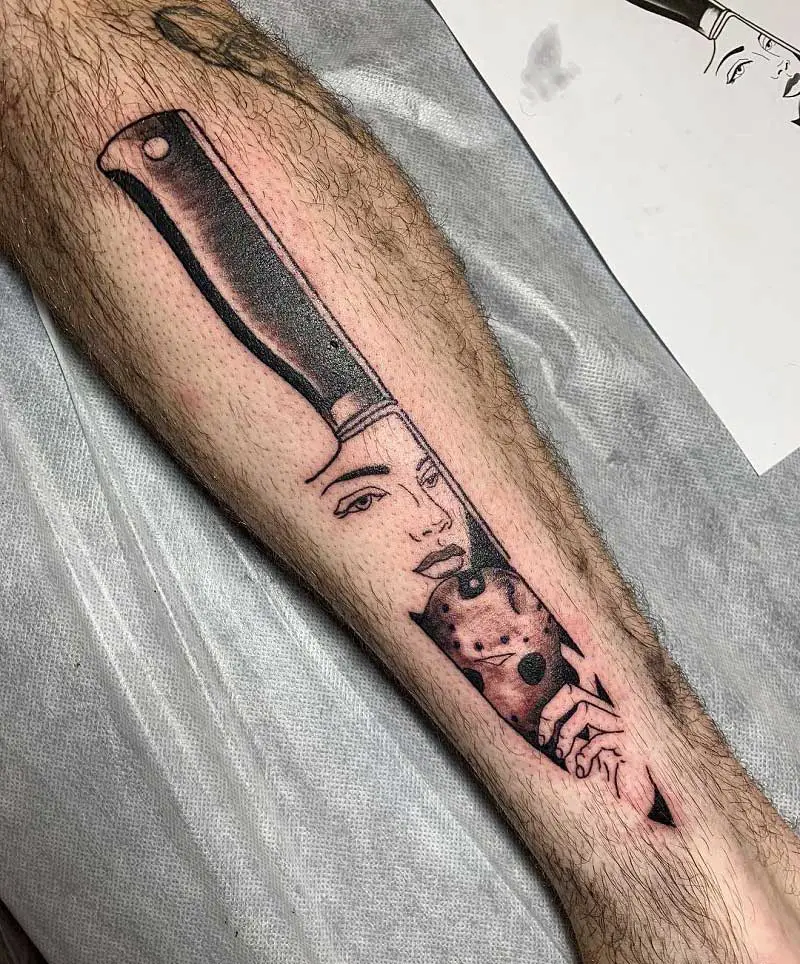 84.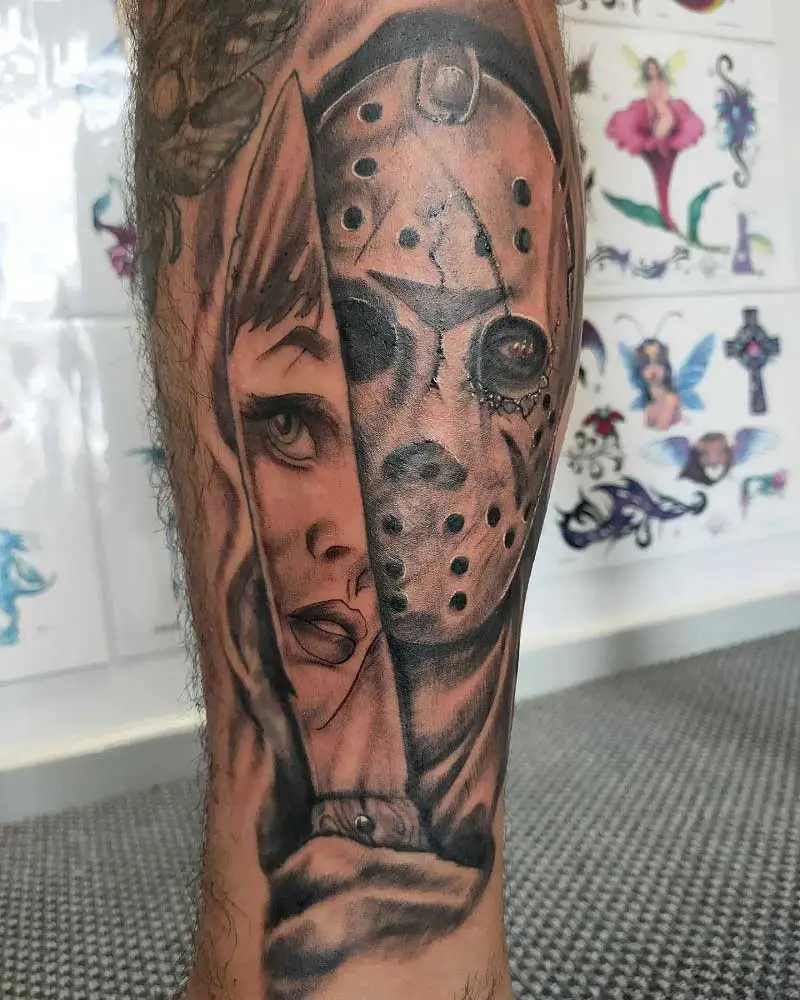 85.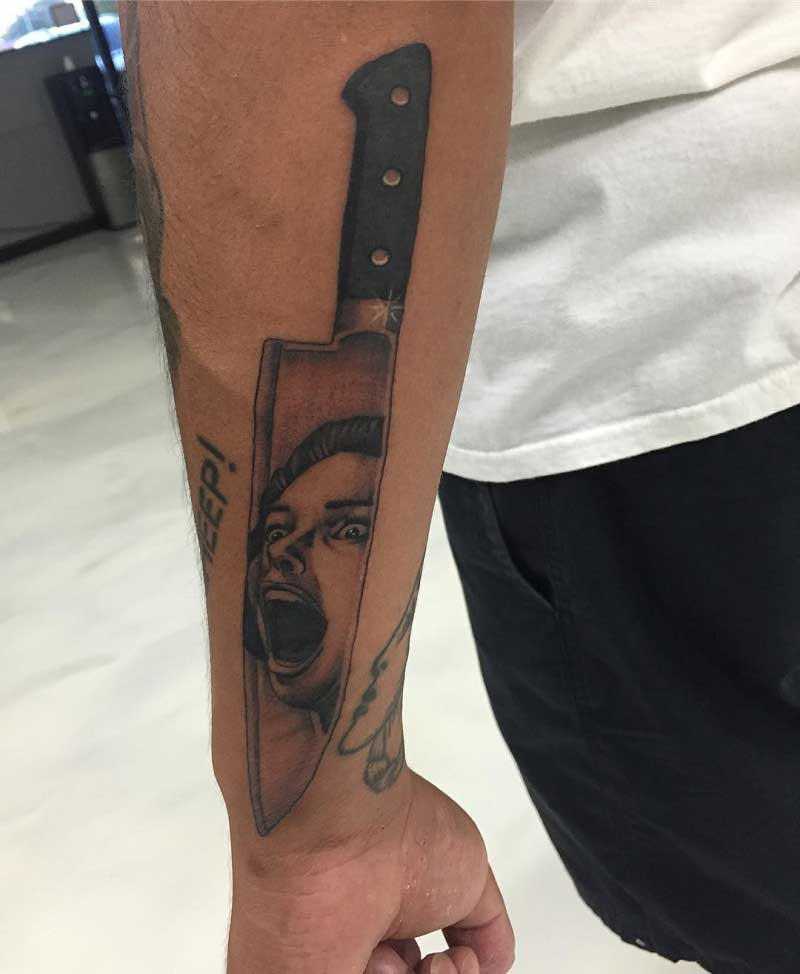 Naruto Knife Tattoo
86.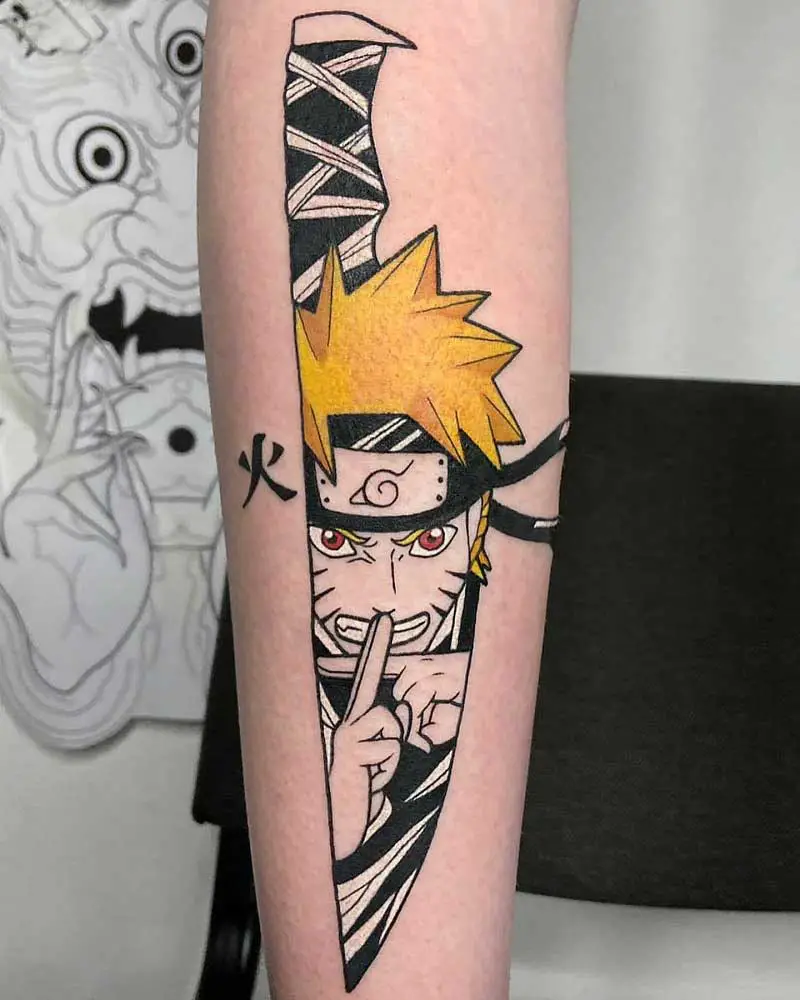 87.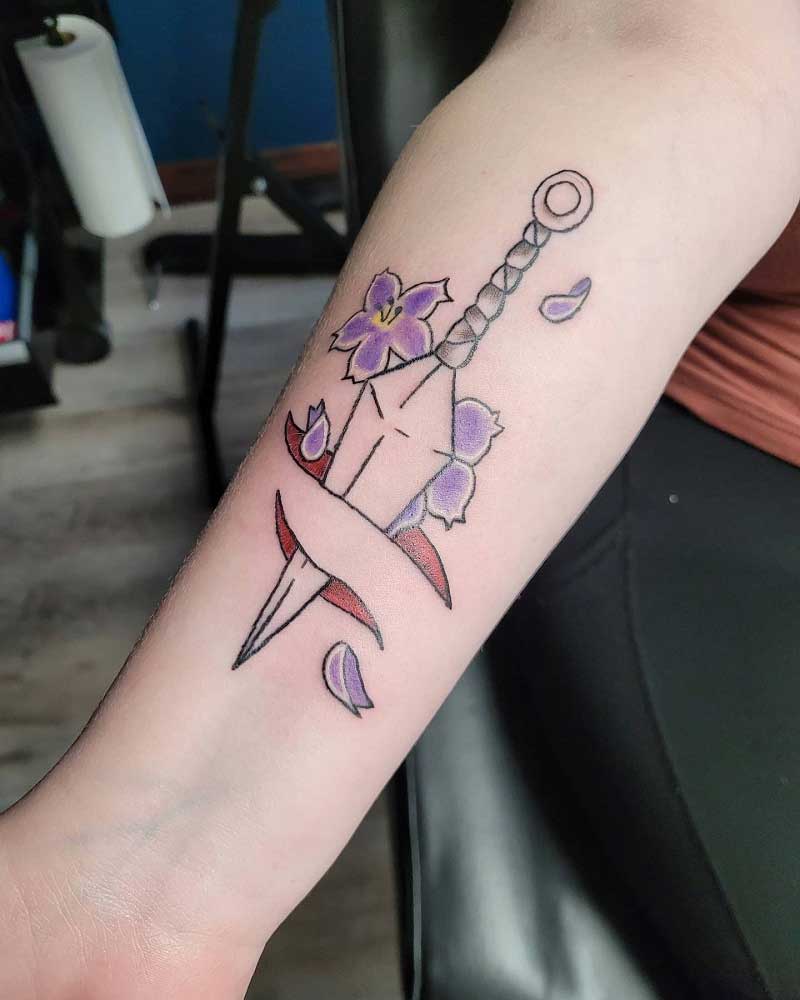 88.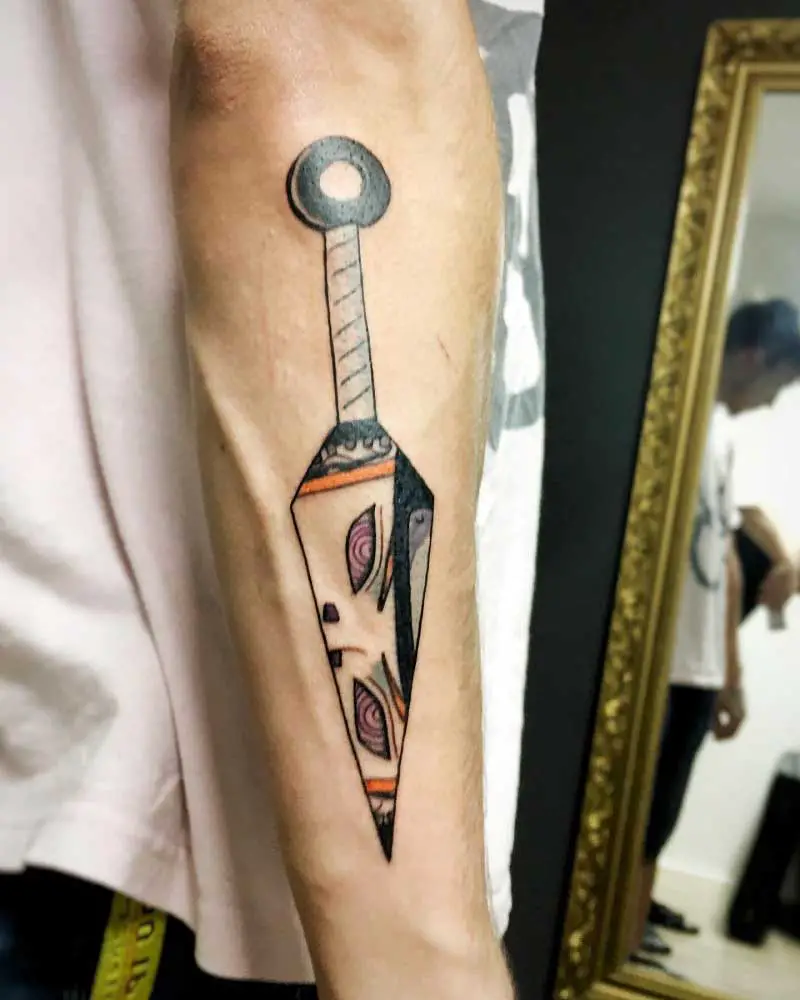 Trench Knife Tattoo
89.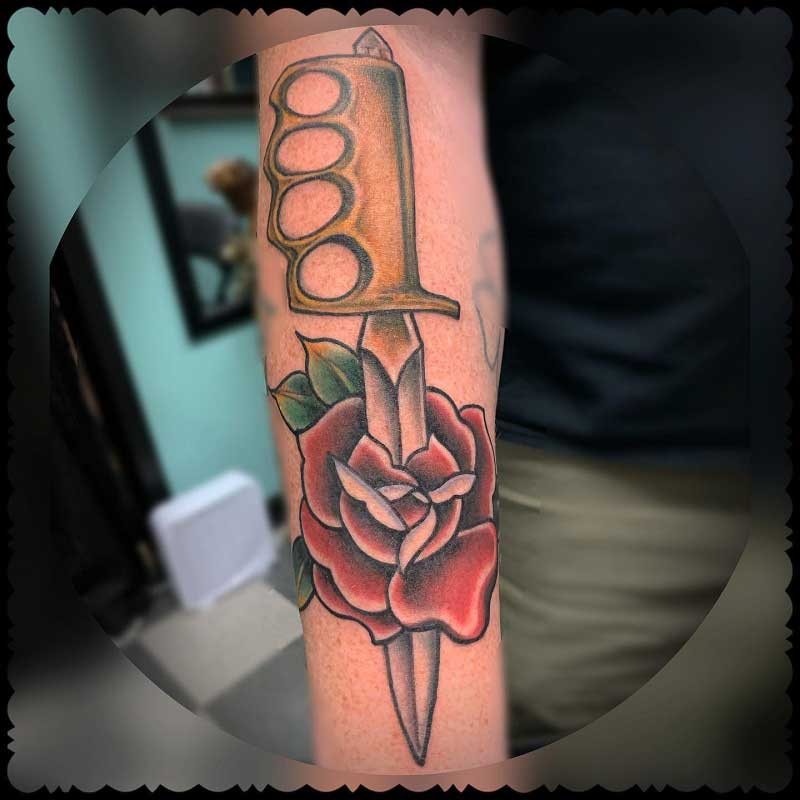 90.
91.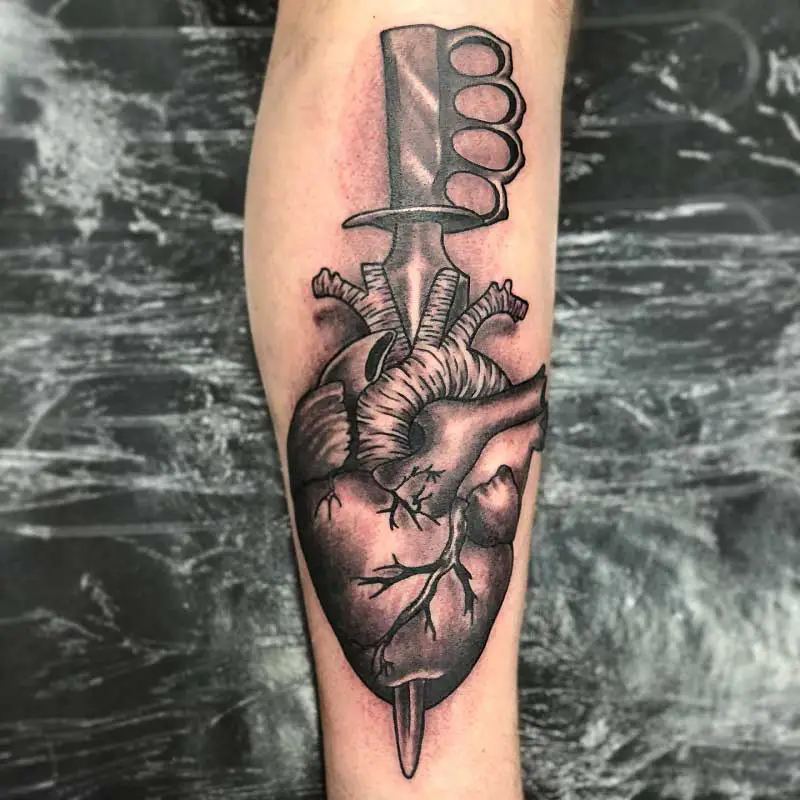 Cleaver Knife Tattoo
92.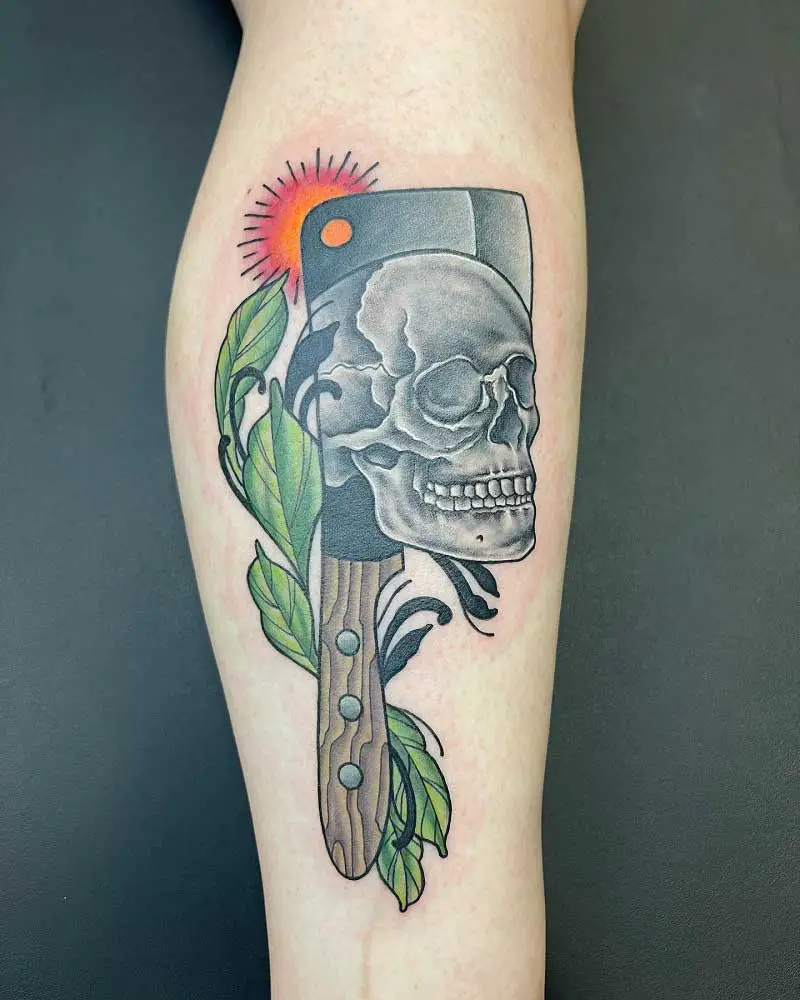 93.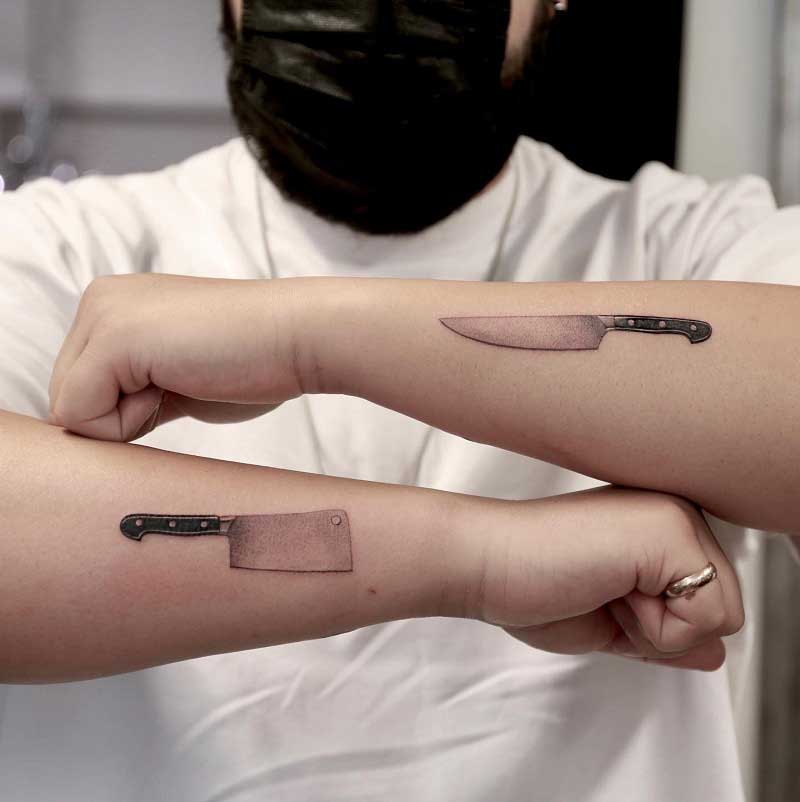 94.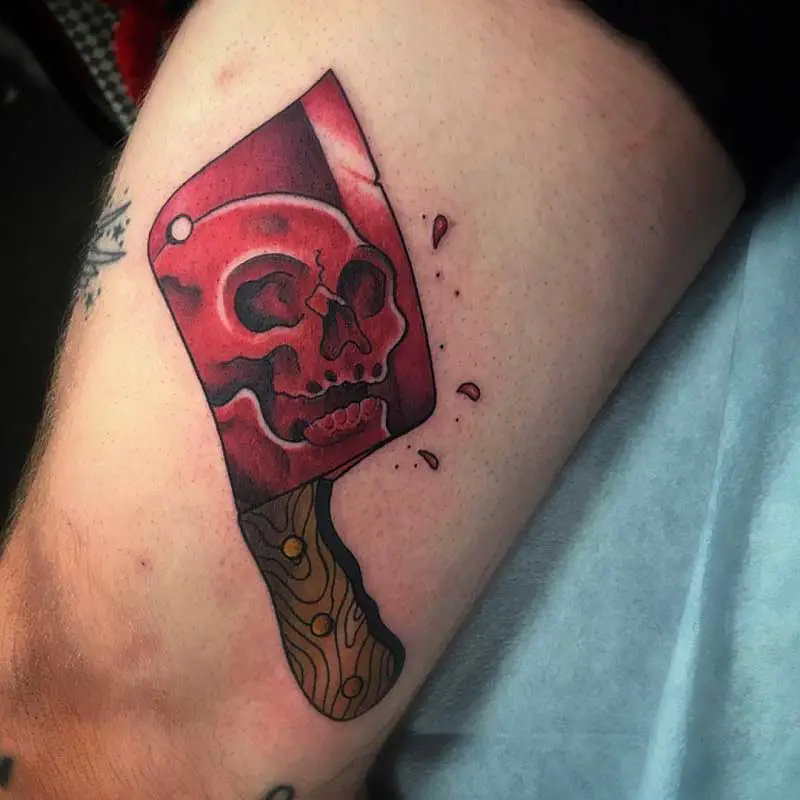 Cross Knife Tattoo
95.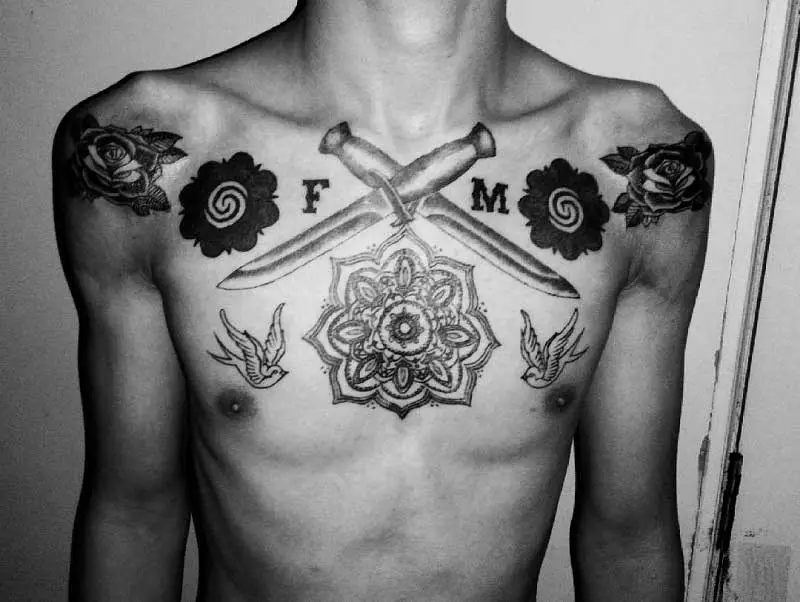 96.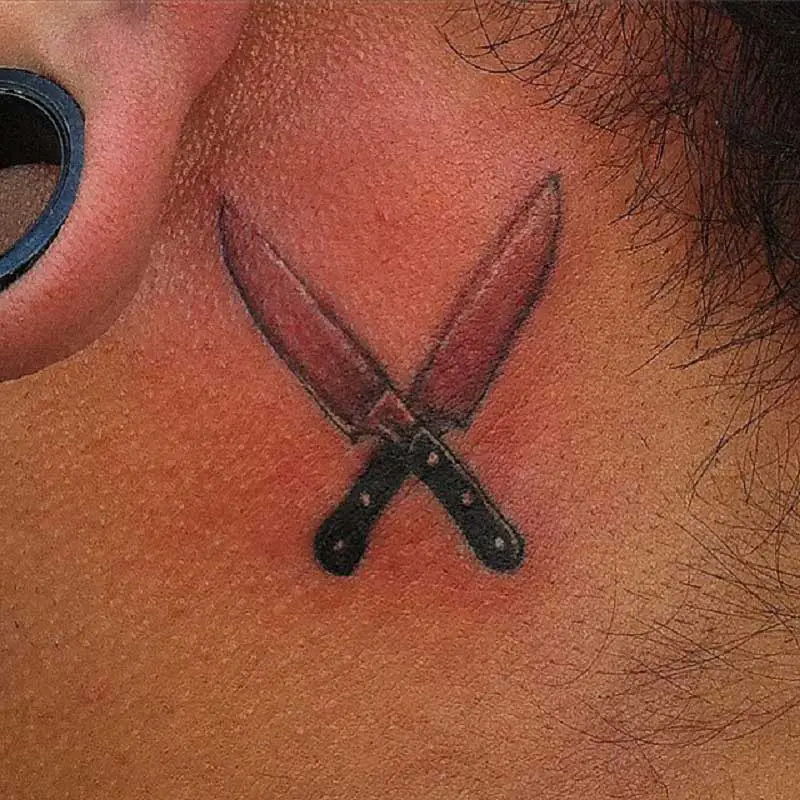 97.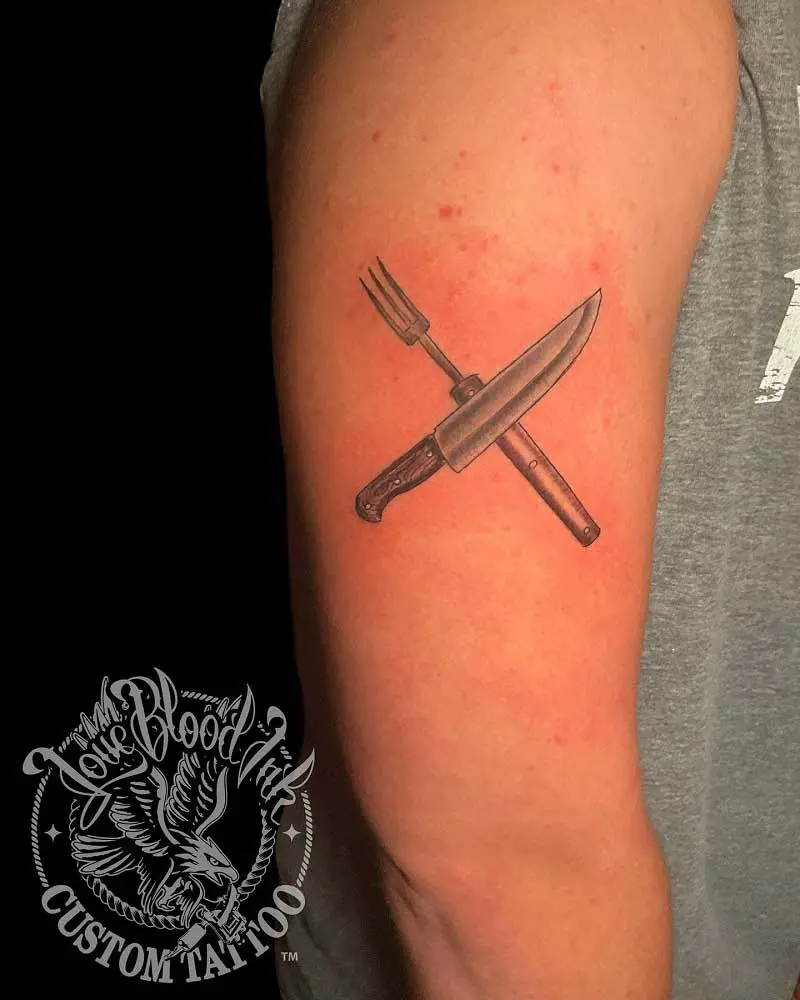 Dragon Knife Tattoo
98.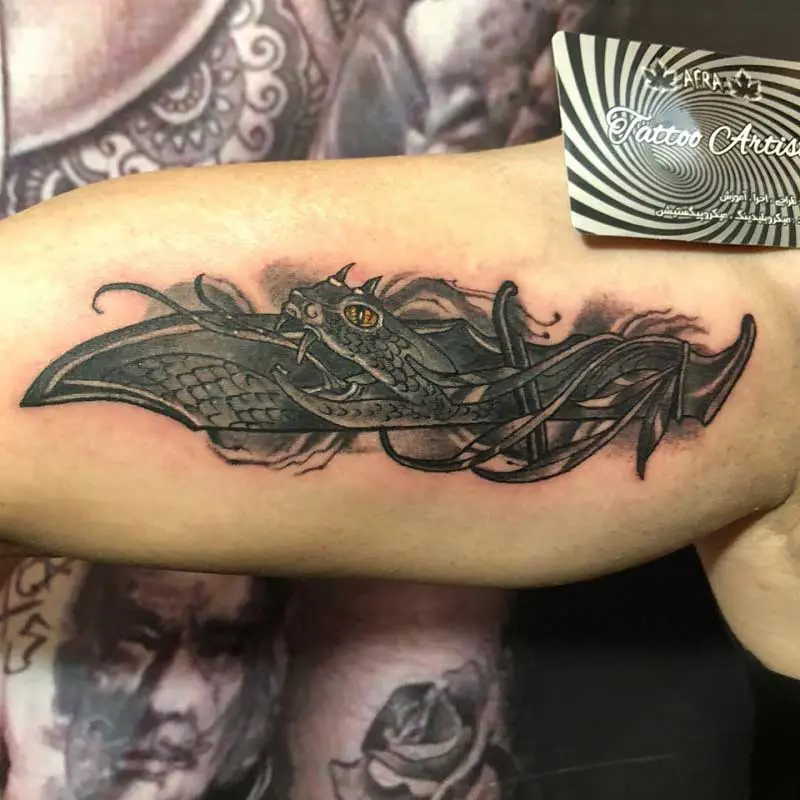 99.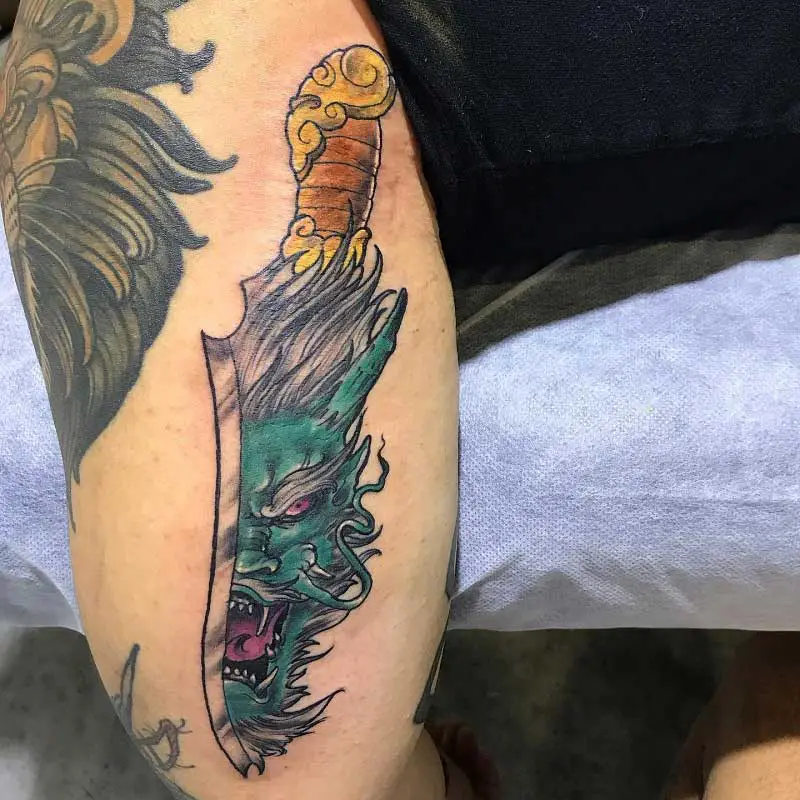 100.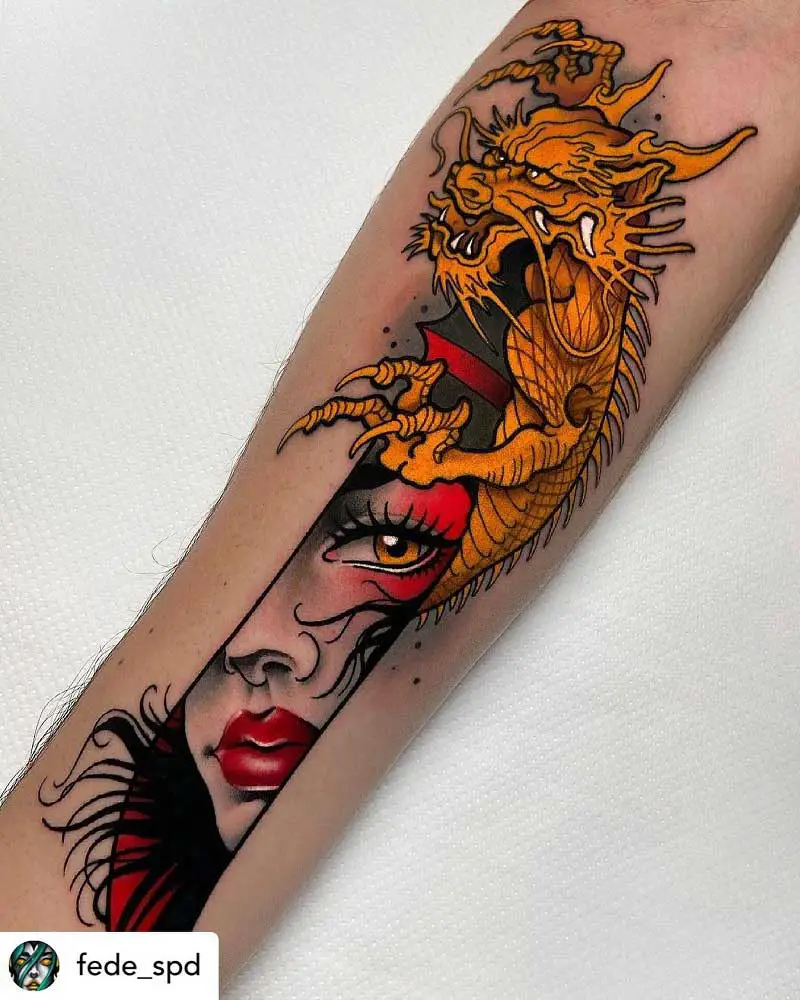 Halloween Knife Tattoo
101.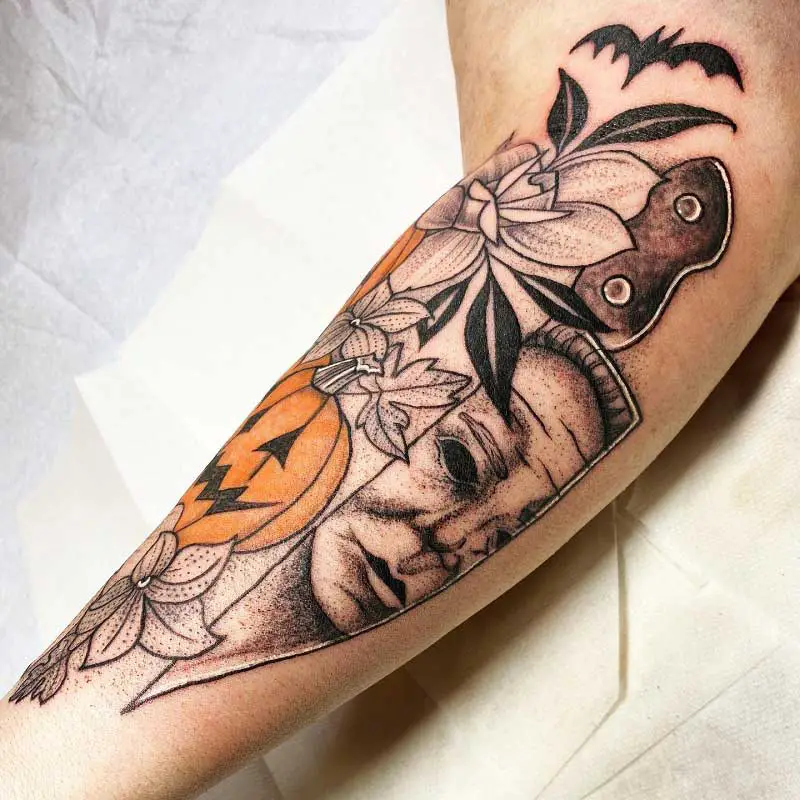 102.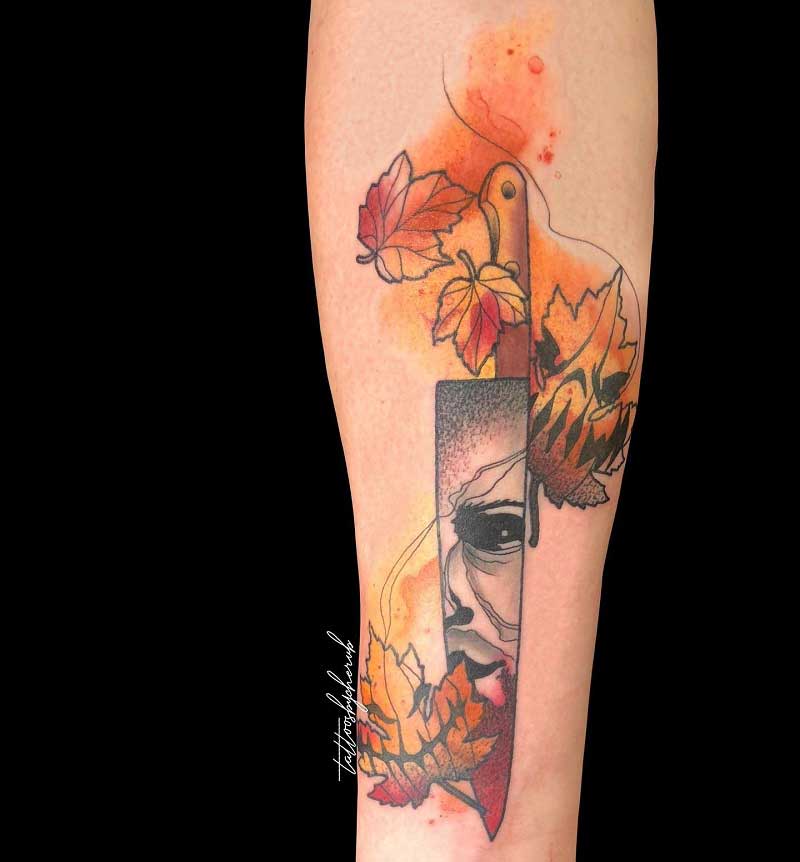 103.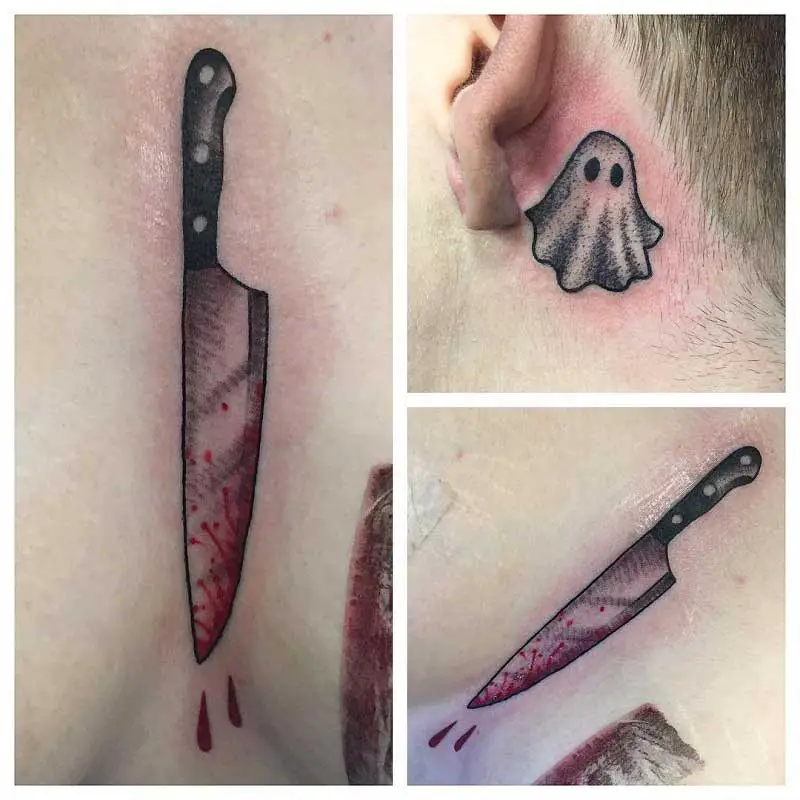 FAQs
Q: What does a knife tattoo symbolize?
A: A knife tattoo represents both virtue and adversity in life. The main element of this tattoo is death. The other elements that knife tattoos expose contradict themselves. It symbolizes betrayal, loss, danger, protection, bravery, and sacrifice.
Q: What does a butcher knife tattoo mean?
A: A butcher knife tattoo is the primary level tattoo in the knife tattoo world. However, it symbolizes many things. Liberation, sacrifices, death, division, and severance are those elements that a butter knife tattoo means.
Q: What does a pocket knife tattoo mean?
A: The pocket knife tattoo meaning is a bit ironic. It indicates encouragement to face any kind of fear. The knife is an individual's weapon to crush anything that comes their way. You can say it exposes one kind of motivation.
Q: What does a knife through the neck tattoo mean?
A: A knife through the neck tattoo simply contains a creative meaning. It indicates a murderer who has killed several people and is available to be hired for further killing. The blood drops on the knife signify the number of murders he has committed. Apparently, it's the most badass tattoo according to its meaning.
Q: What does a dagger through the hand mean?
A: A dagger through the hand tattoo indicates the self-destructive behavior of mankind. The tattoo often appears with a knife piercing through a hand or held by the opposite hand. In the traditional section, you may see some inclusion in these tattoos. No matter the illustration, this kind of tattoo symbolizes the self-harm tendency, such as suicide or drug addiction.
Q: What does a rose and knife tattoo mean?
A: Rose and knife tattoo is the most popular traditional tattoo. They represent both the good and bad sides of the world. According to the most popular tattoo artist Jennifer Melaugh, they represent the duality of life. She said, "The knife relates to a strong, dark side, where the rose is love, joy, and beauty. They both coexist together."
Conclusion
The fascinating collection of knife tattoos ends here., Hope you have so many chosen tattoos that it has confused you about which one to wear. Don't hurry. You have plenty of time to decide. In fact, you can wear more than one knife tattoo as they come at a cheap rate. These furious-looking tattoos are also known to be painless.