Plague doctor tattoo designs mostly appeal to gothic lovers. In the 17th century, after the bubonic plague badly hit Western Europe, plague doctors would treat the patients who were affected by the plague. Although they were considered life savers, their arrival was not actually received well as it meant a person's death would follow.
These doctors would don full black suits and wear a bird-face mask with a long, sharp beak pointing outwards. This is where the tattoo designs originated from and while most of the meanings of these designs have a negative connotation attached to them, people still get them purely because of how good the tattoos look on their skin.
Plague Doctor Tattoo Designs
For today, we have gathered over 80 unique tattoo designs of plague doctors that will surely leave you in awe after you have finished going through them. Please note that you do not necessarily have to imitate the designs you see here. You are strongly encouraged to let your creativity run free and make your own adjustments to your desired tattoo work.
The same principle applies to the meanings and interpretations of the designs. Since you are the one who's getting the tattoo, YOU get to decide what it would look like and what it will mean.
Now with everything cleared up, let's get started, shall we?
Creepy Plague Doctor Tattoo
These tattoos have a very dark vibe attached to them. For this reason, people tend to believe they represent evilness. Here are some unique plague doctor tattoos for you to take a gander at:
1. Imminent Death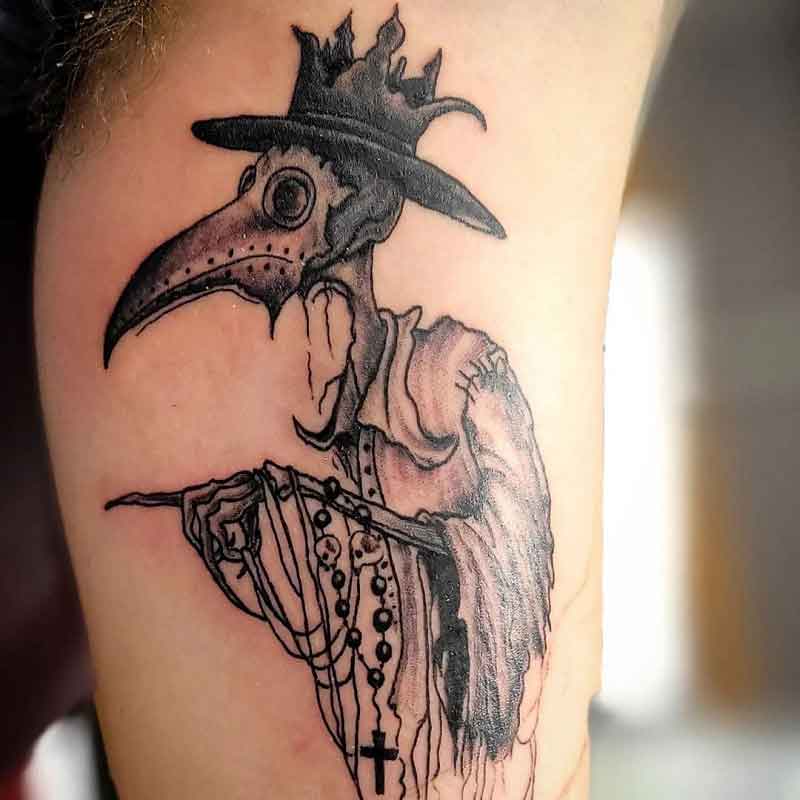 The bony structure of the body and raggedy clothes almost makes it look like the person's been brought back from the dead. Nevertheless, a very cool tattoo to have on your body.
2. Soulless Eyes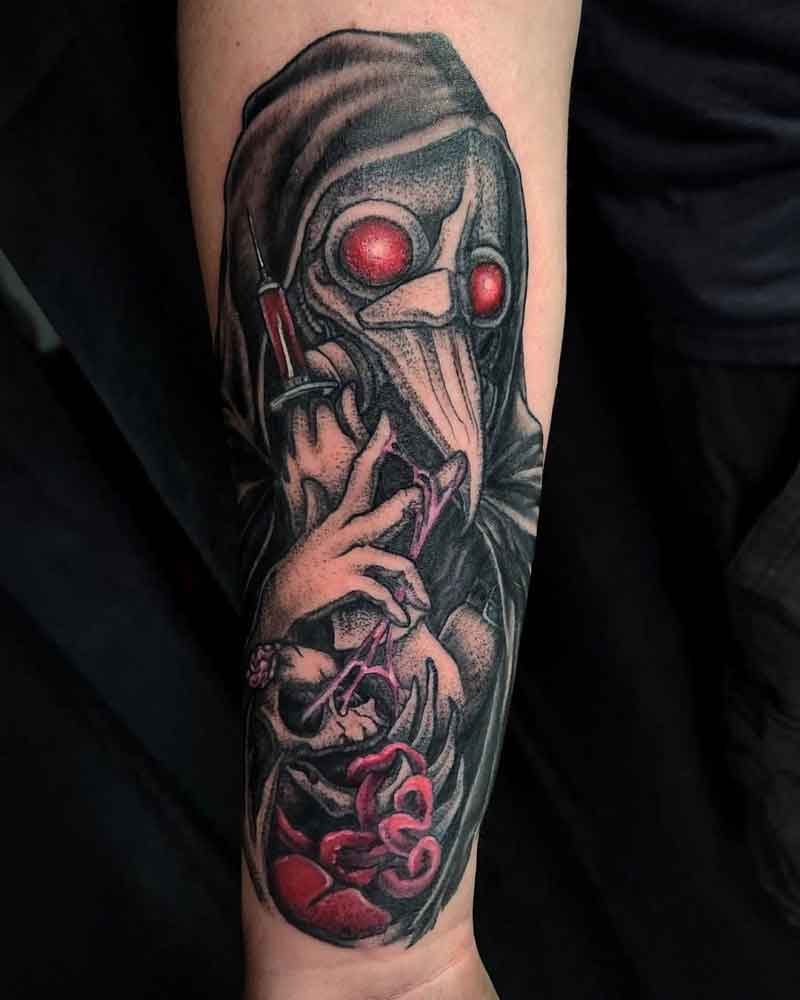 The dark, red eyes look like there is nothing but emptiness and hollowness in there. If tattooed perfectly, the tattoo will look incredibly stylish on the forearm.
3. Game Over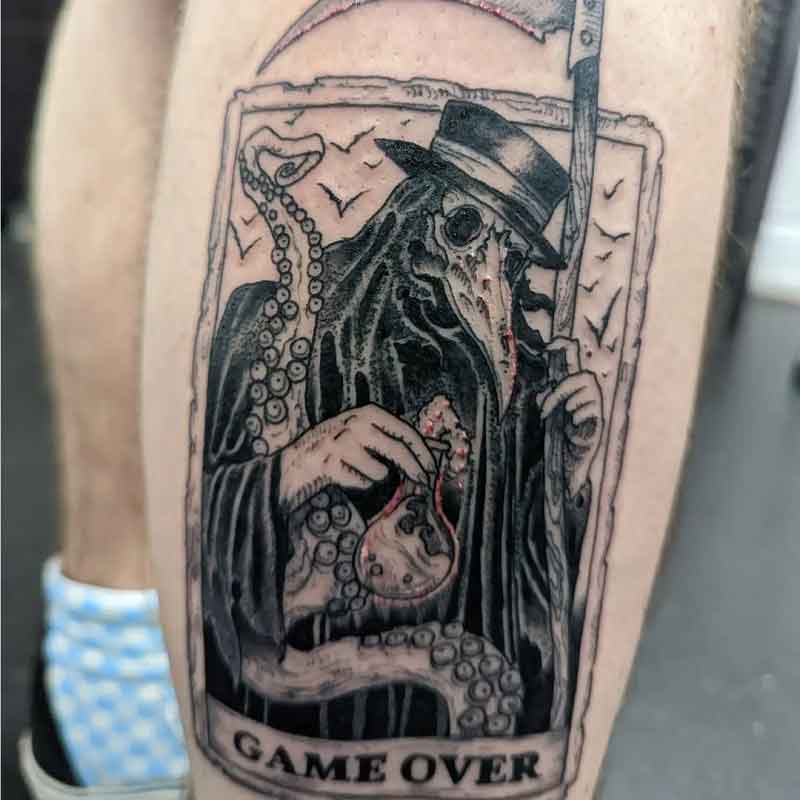 This tattoo design of the plague doctor can look really good on your calves or arms if the scaling is correct. The inclusion of the axe and the dilapidated frame also adds more complexity to the design.
Traditional Plague Doctor Tattoo
By getting a traditional tattoo design, you are paying your respect to the art form and keeping the tradition alive. Here are some unique traditional tattoos of the plague doctor for you to go through:
4. Bold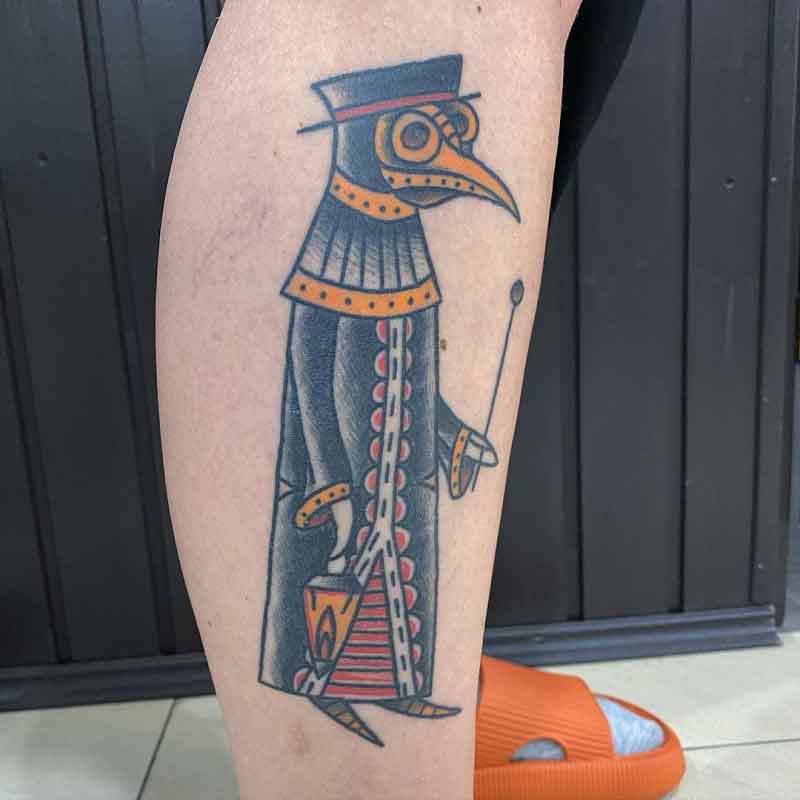 This colorful tattoo design stands for boldness and confidence. If you are bold, you start to believe in yourself and trust your instincts more than you ever have before.
5. Last Resort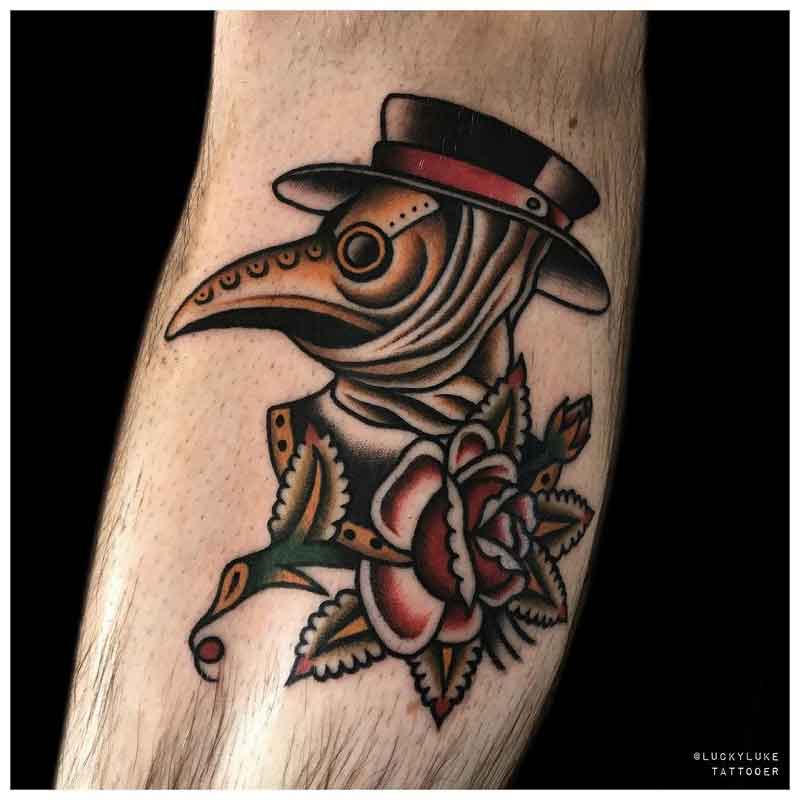 This is what a proper traditional tattoo looks like- nothing but the use of bold lines or strokes and bright colors. You are allowed to use different shades of colors if you wish to.
6. Memento Mori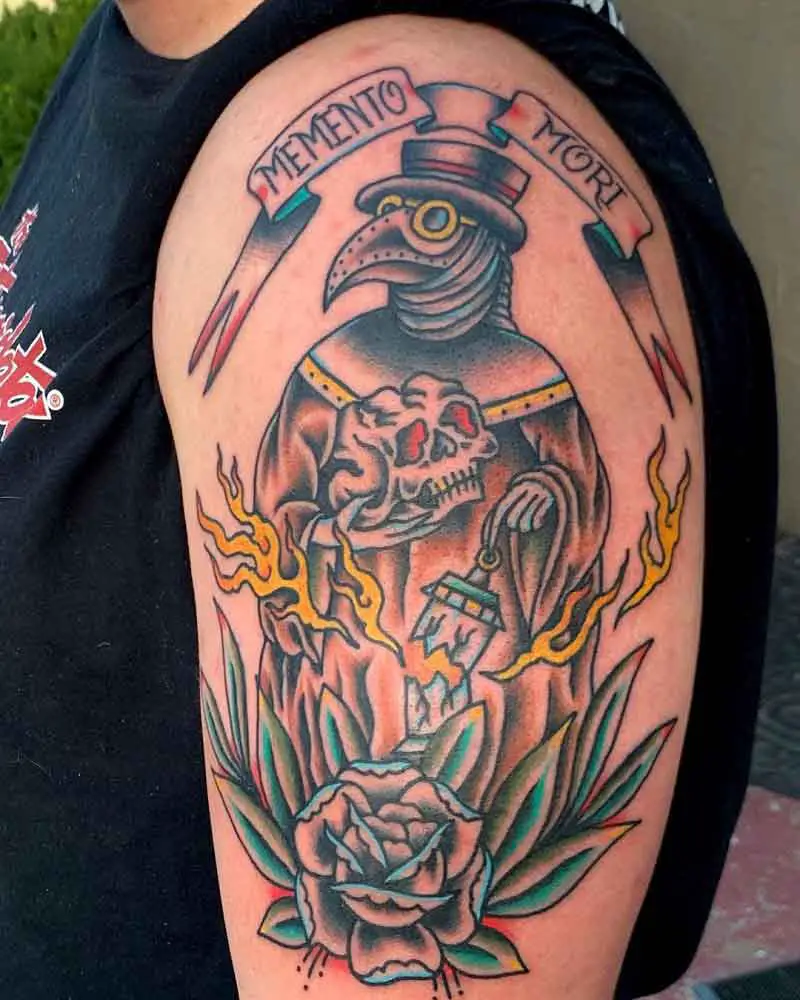 The literal meaning of the term "memento mori" is "remember you must die". This means that life is short and everyone will die at some point in their lives.
Plague Doctor Tattoo Design
This section of the article covers some more unique and stylish tattoo designs of the plague doctor. Stick around so that you don't miss out on any of them!
7. The Purge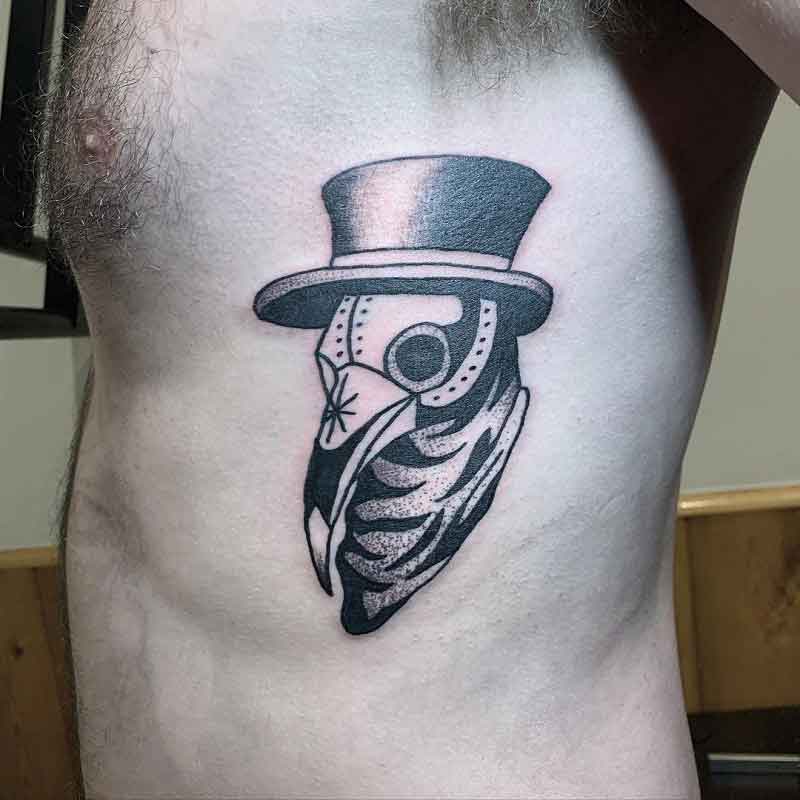 The dotwork tattooing style has been used in majority parts of the tattoo design. It adds more details to the artwork and gives it a more realistic look.
8. Apocalypse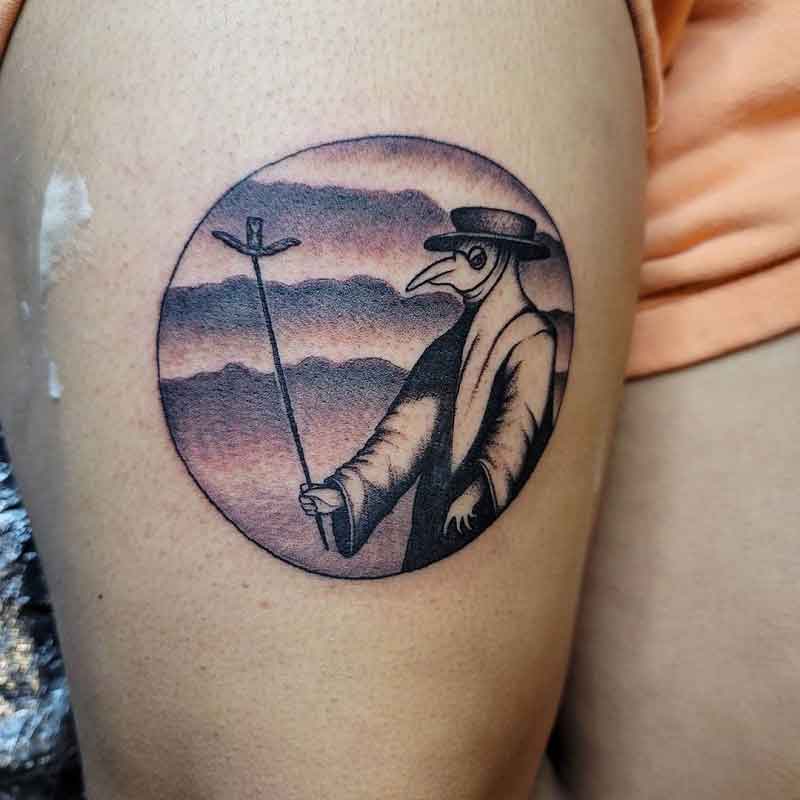 Consider adding frames to your designs. The frames can be square-shaped, rectangular and circular too (as shown in the photo above). This makes the tattoo look neat.
9. Darkness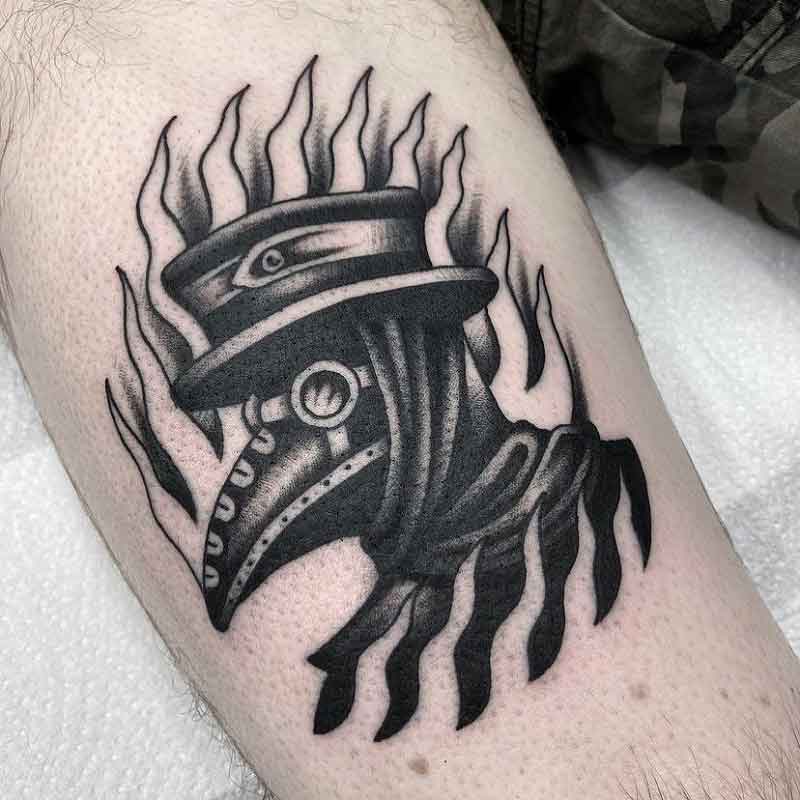 The use of bold strokes and dark black ink makes the tattoo work on the man's leg very noticeable. You can also include random tribal patterns to add more richness to the design.
Minimalist Plague Doctor Tattoo
These tattoos refer to a style that primarily focus on just the basic elements of the tattoo design. Below, you'll find some elegant minimalistic tattoos of the plague doctor:
10. Effortless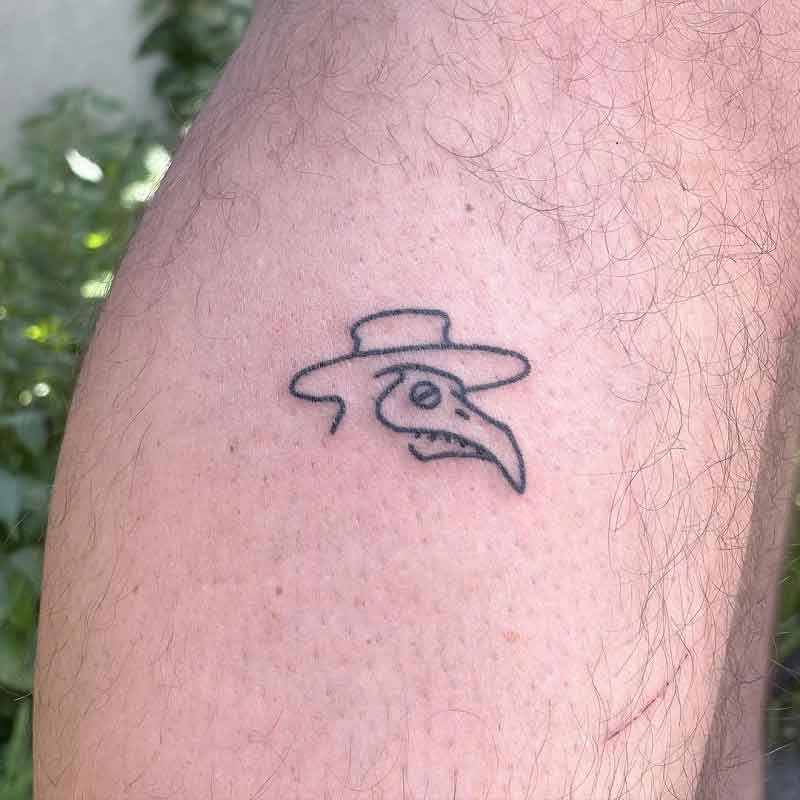 Although the tattoo looks incredibly simple, do not let the simplicity fool you. The meaning behind the design is still the same and visually, it just looks stylish, doesn't it?
11. One Last Breath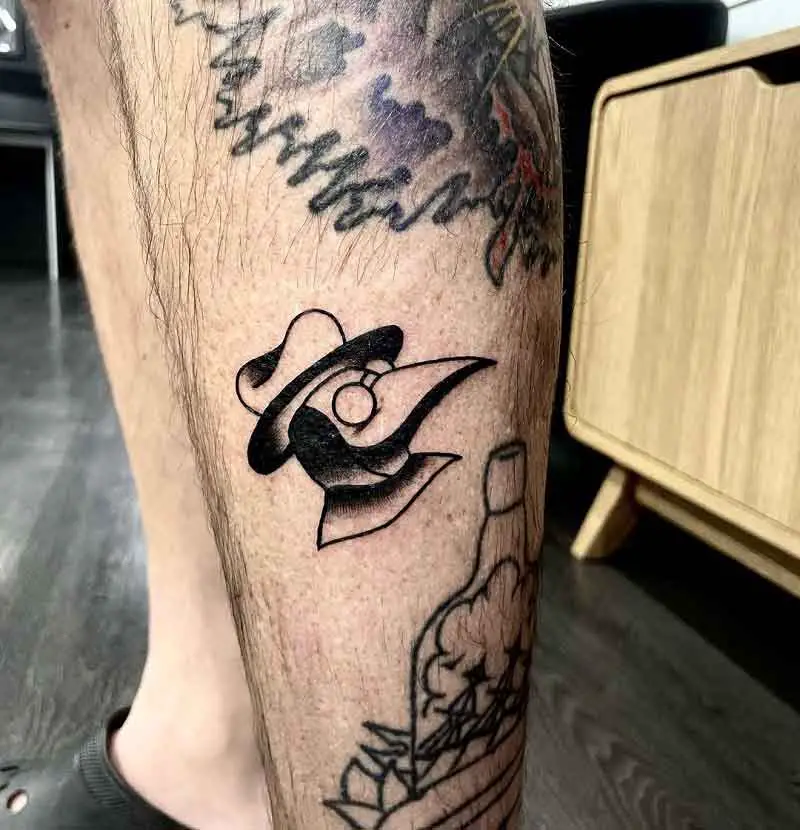 With an appropriate amount of detailing, any tattoo design will look stunning and this is one of them. It just shows how a tattoo doesn't need the use of bright colors to look good.
12. Withering Away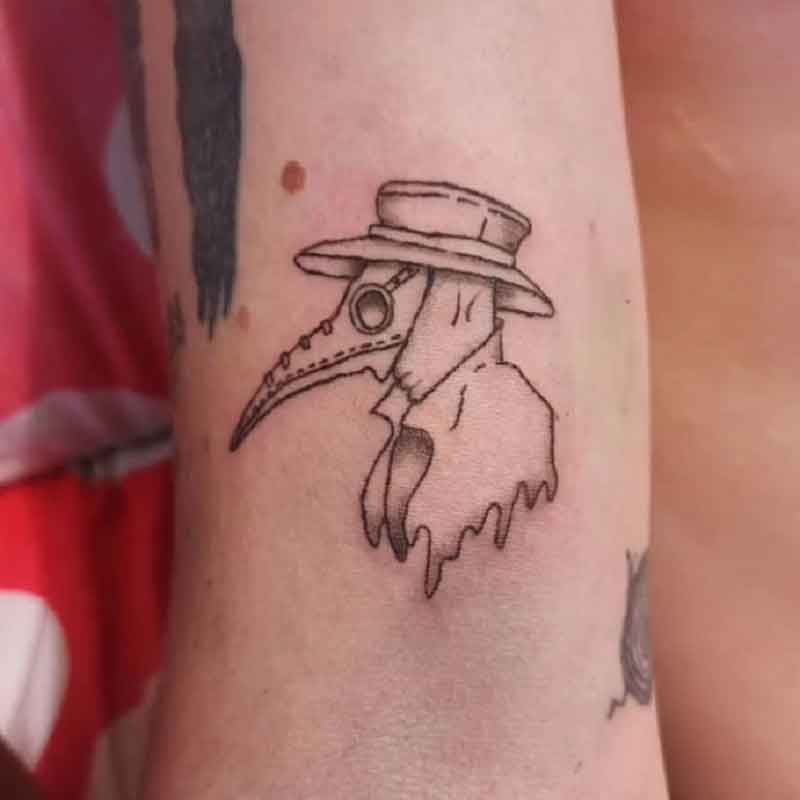 This tattoo design of the plague doctor on the man's arm just oozes with simplicity and elegance, both at the same time. Bear in mind that you are allowed to bring changes to the design as per your choice.
Dark Plague Doctor Tattoo
Plague doctors were always around dying people. For this reason, many people think they symbolize death. It is also, for this reason, people seem to think these tattoo designs have a dark vibe attached to them.
13. Time Is Ticking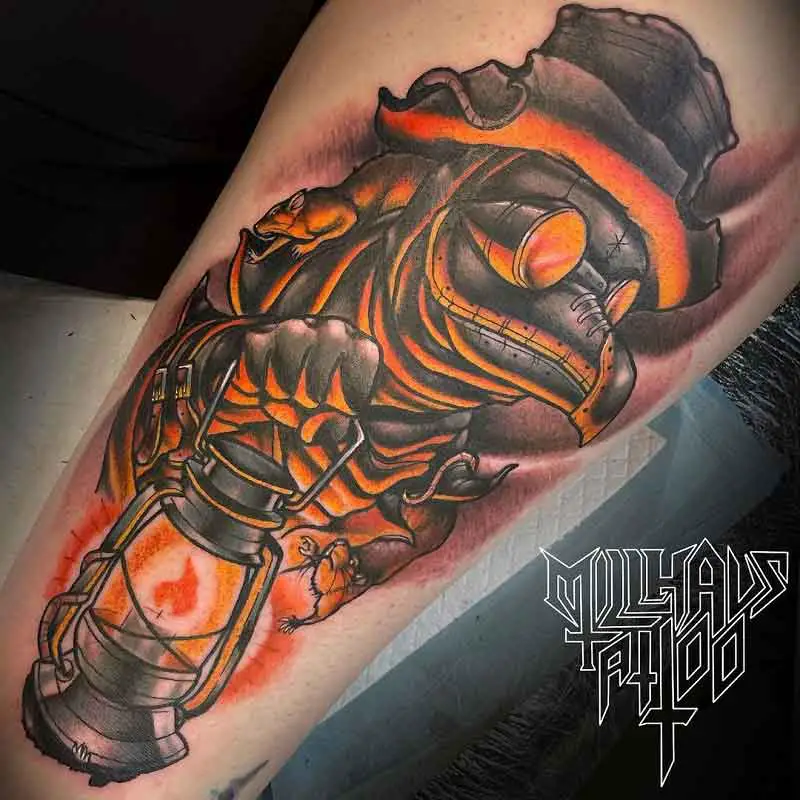 This is truly the work of a genius. The way the fire lamp just lights up everything makes the tattoo design incredibly realistic. It's almost like the tattoo has come to life.
14. Eerie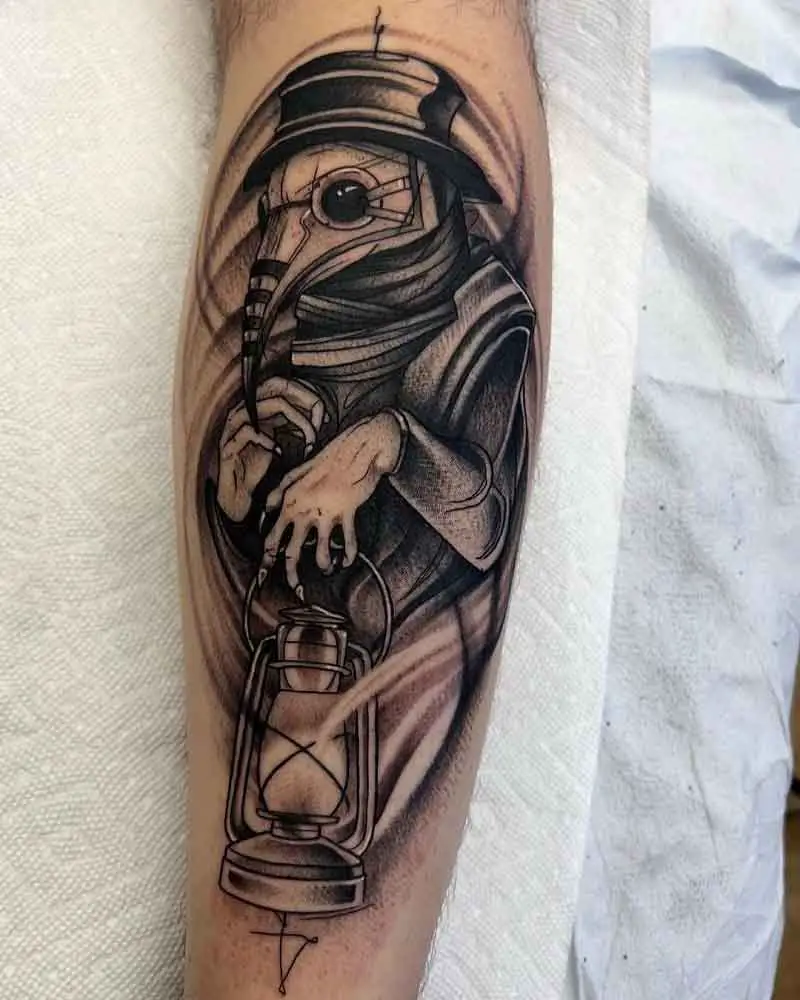 The term "eerie" means "strange and frightening" and those are exactly the two words that pop up in one's mind when they take a look at this tattoo.
15. Armageddon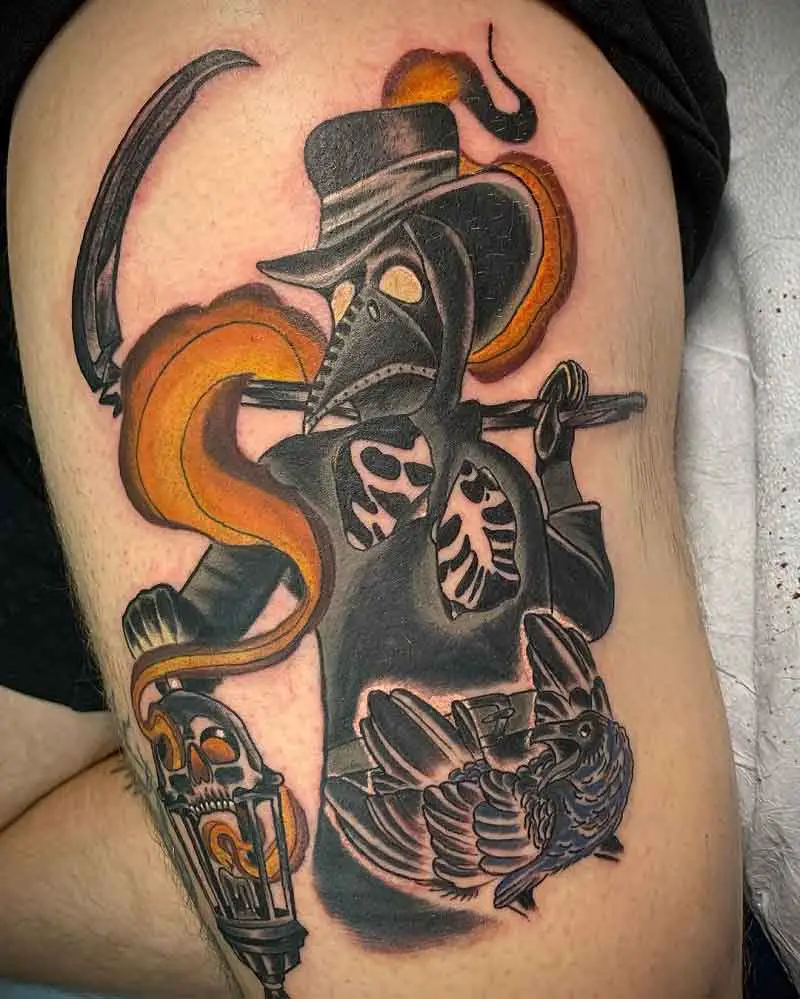 The long, sharp axe and the skull-shaped fire lamp gives the tattoo design a diabolical look and that is what most people go for sometimes.
Realistic Plague Doctor Tattoo
Who doesn't like a tattoo that looks genuine and lifelike? This section will walk you through some of the most unique, head-turning realistic tattoo designs of the plague doctor:
16. Dead Man Walking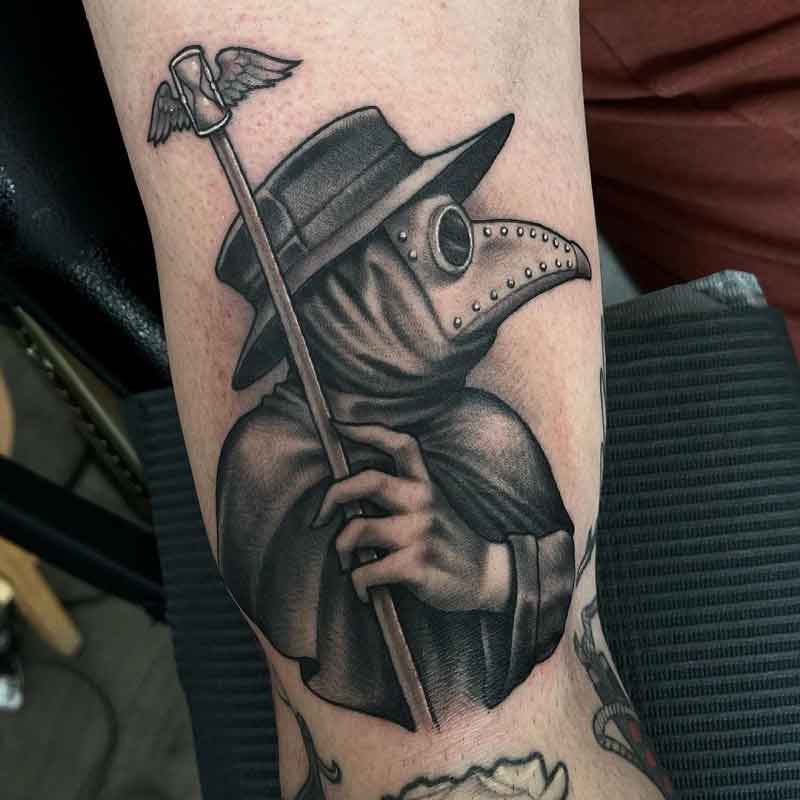 The tattoo design looks like it will come to life at any second now. The inclusion of the scepter in the doctor's hand also gives the tattoo a nice touch.
17. Protection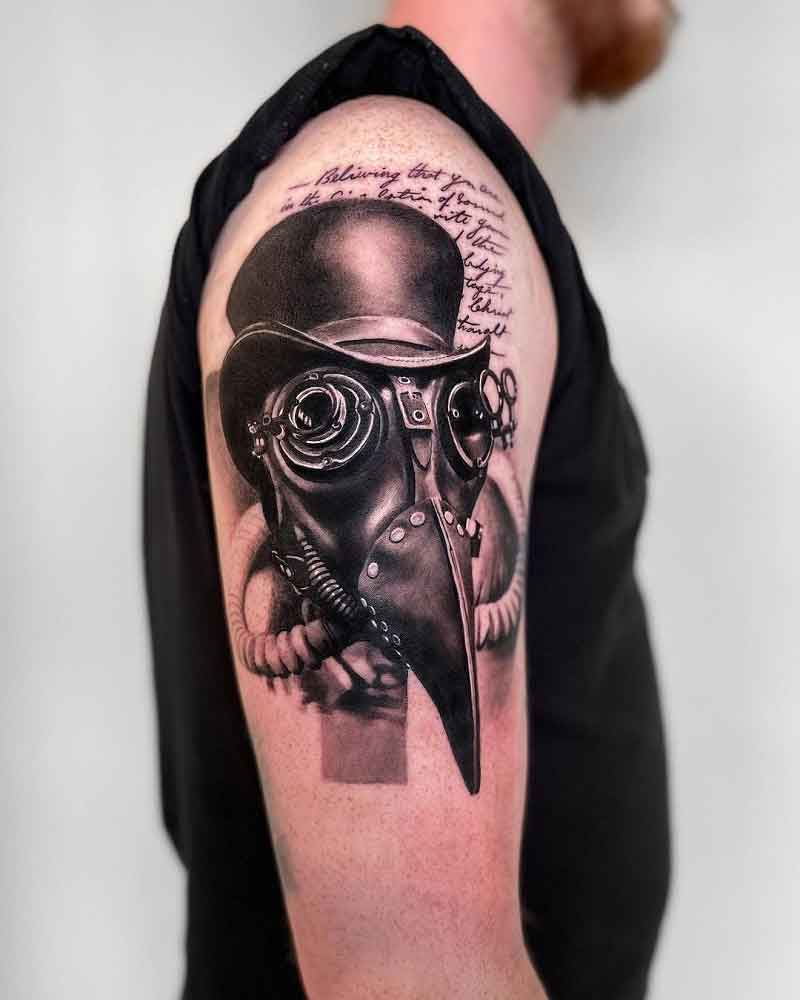 This plague doctor tattoo design stands for protection solely because the mask would protect the doctors from the bubonic plague back in 1348. The meaning can also be used in a spiritual sense.
18. Menace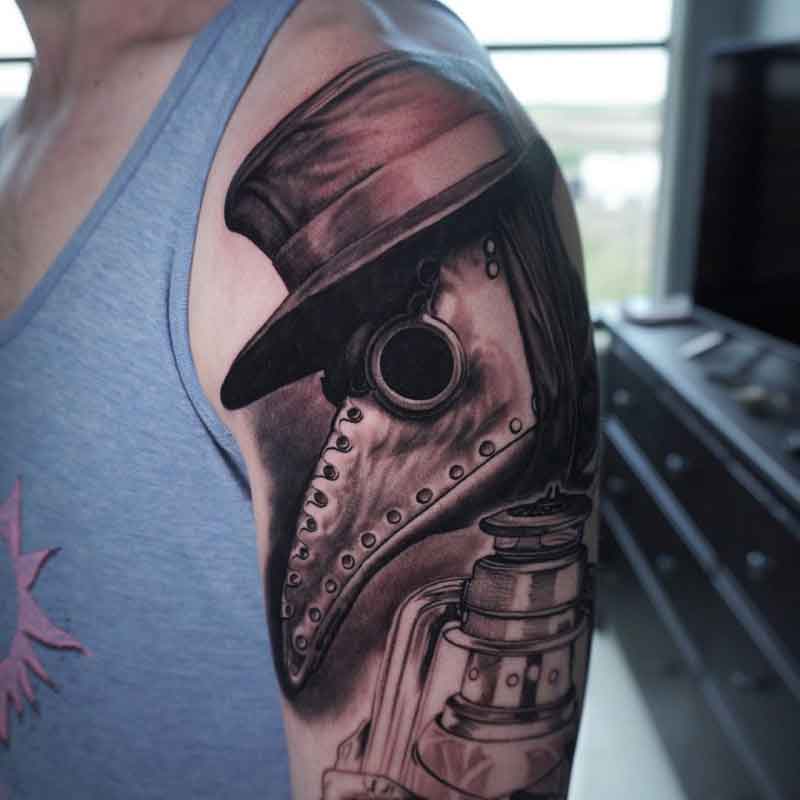 The mask alone worn by the doctors looks both cool and menacing at the same time. The silhouette at the back also adds a lot of complexity or richness to the design.
Steampunk Plague Doctor Tattoo
Steampunk tattoos are basically designs of futuristic technologies combined with retro imagery. Below are some stylish steampunk tattoos of the plague doctor for you to take a look at:
19. Ahead Of Its Time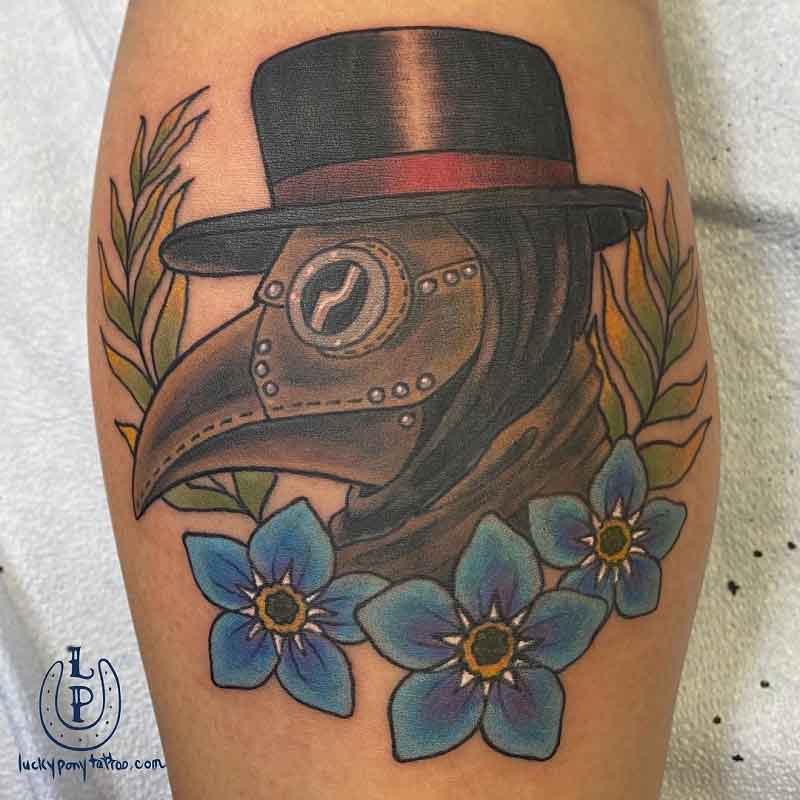 People get steampunk tattoos mostly because of their futuristic look. The plague doctor's mask looks quite advanced and stylish in this theme and you can also include more elements such as flowers to add more depth to the design.
20. Sentinel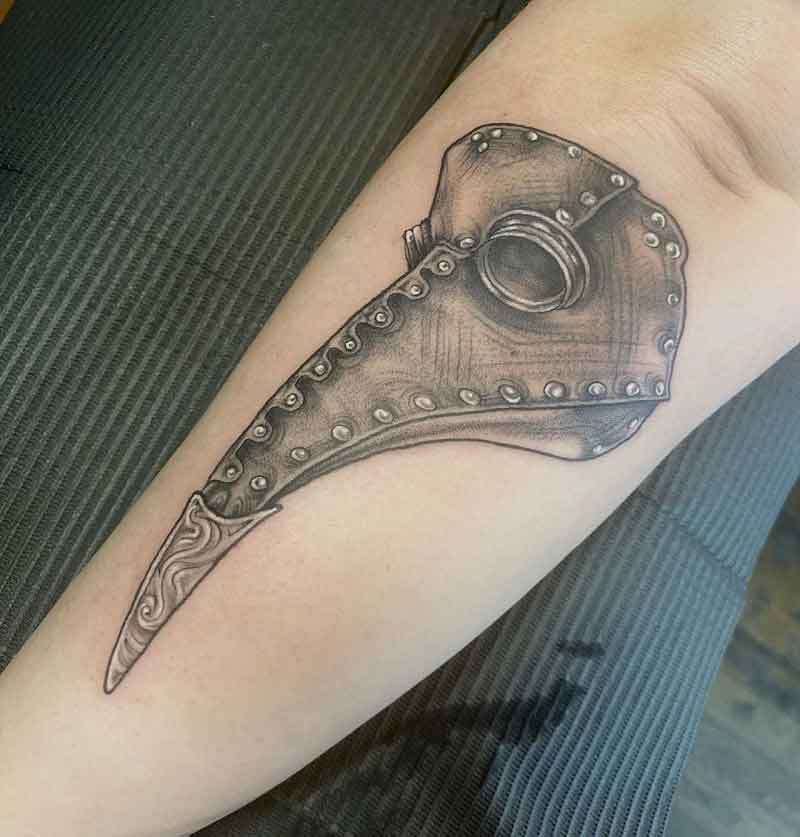 The mask can also be used as a commemorative sign to honor the lives lost during the bubonic plague in 1348. The arrival of a plague doctor meant death would come your way.
21. Decay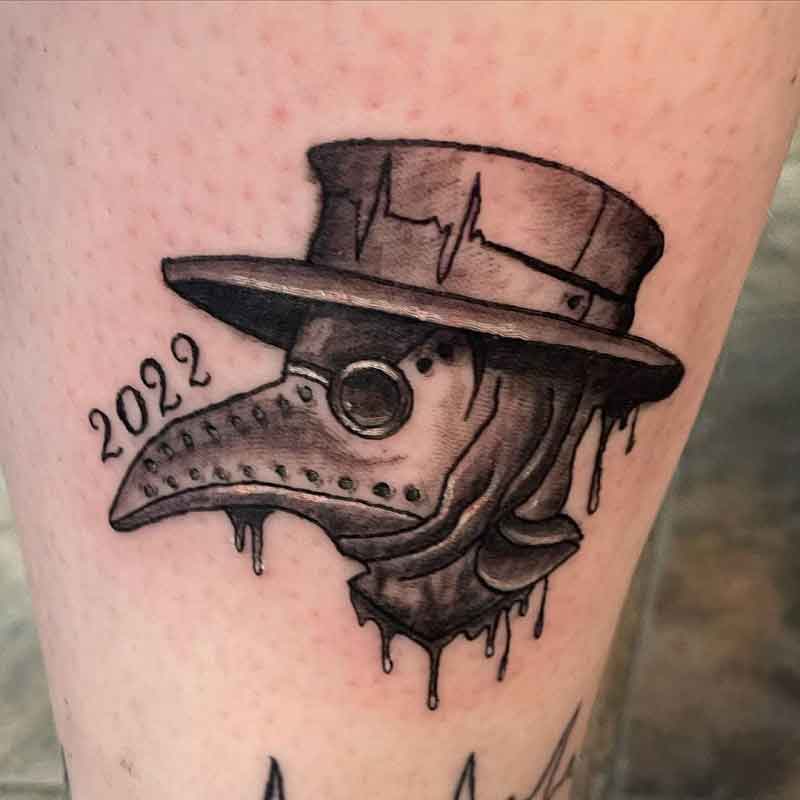 The melting silver oozing off the mask would mean that a person's time in this world was almost up. If we put that dark interpretation aside, the tattoo actually looks awesome and quite striking.
Plague Doctor Tattoo Flash
These tattoo designs have become increasingly popular over the past few years and people get them solely because of how stylish they look. Here are some more of them where the creativity has been put to use:
22. Abyss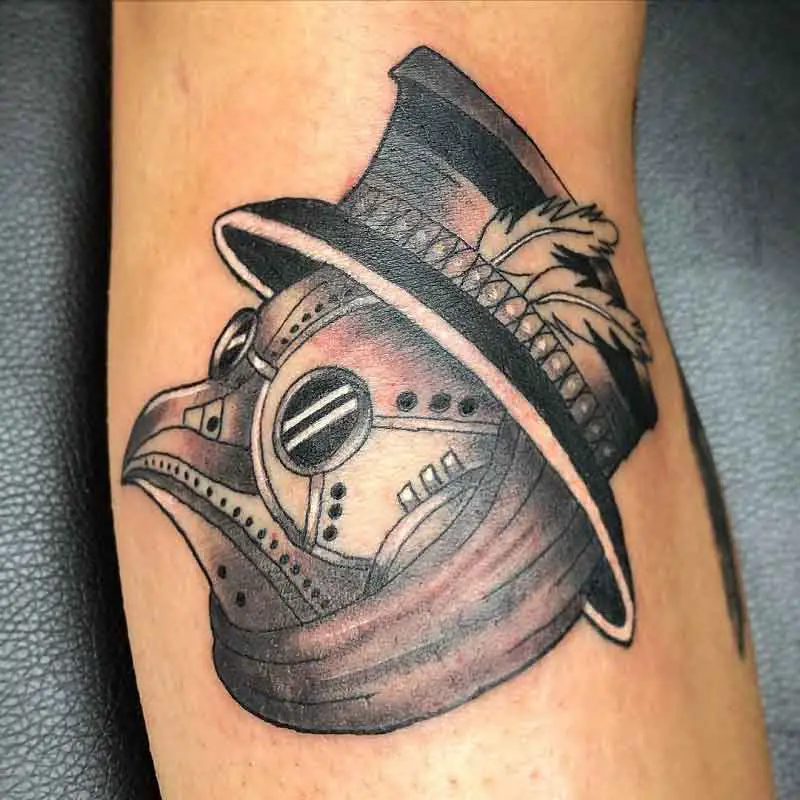 As you can clearly see, the hat and the mask seem a bit different here but the concept is still the same. You are advised to go through all the designs and take ideas from here to get a tattoo that suits your needs.
23. No Way Out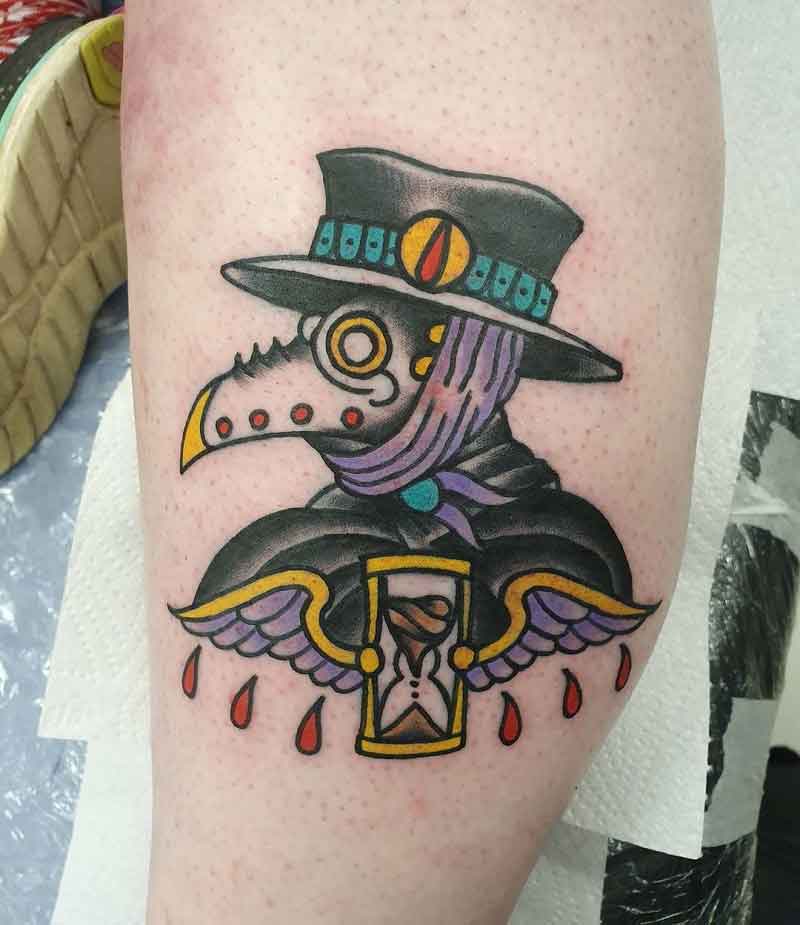 The hourglass at the front symbolizes that death is near and very little time is left. Feel free to use different shades of color and let your imagination run free since you're the one who's getting the tattoo.
24. Death Is Inevitable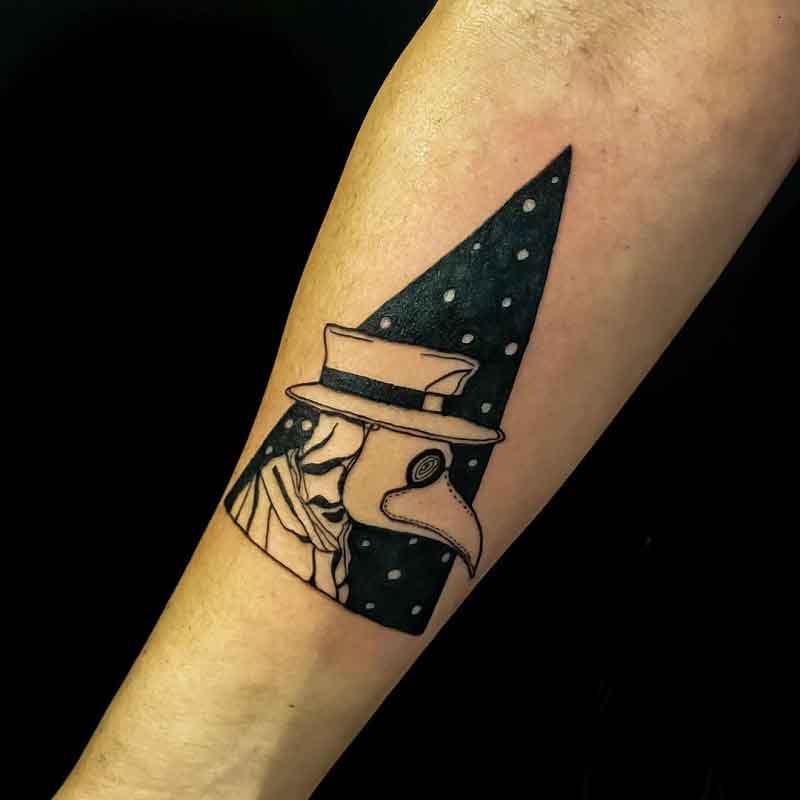 The inclusion of frames was discussed earlier in the article. Frames can be triangular in shape too and they can overlap with the main element of the tattoo as well.
Scary Plague Doctor Tattoo
Plague doctors themselves are not actually evil at all. However, it was their arrival that would strike fear into people's minds. Not to mention their creepy-looking masks as well.
25. Time's Up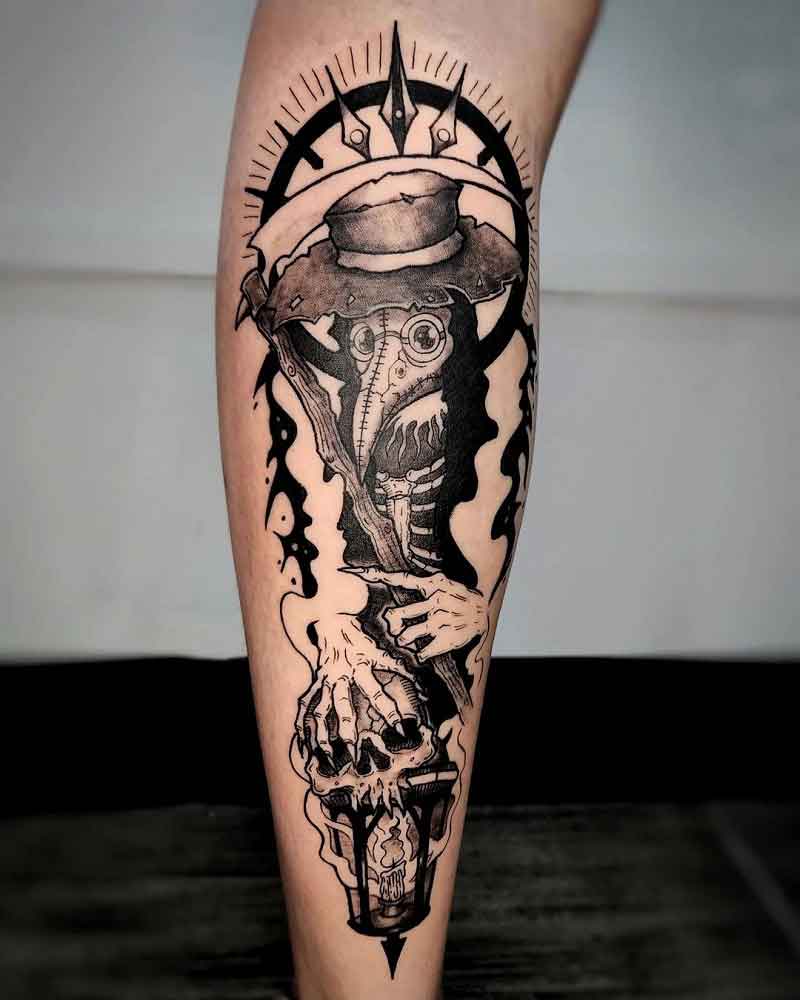 One cannot possibly make anything positive out of this tattoo design. That is because the horrifying physical features of the plague doctor as well as the skull represents pure evil and darkness.
26.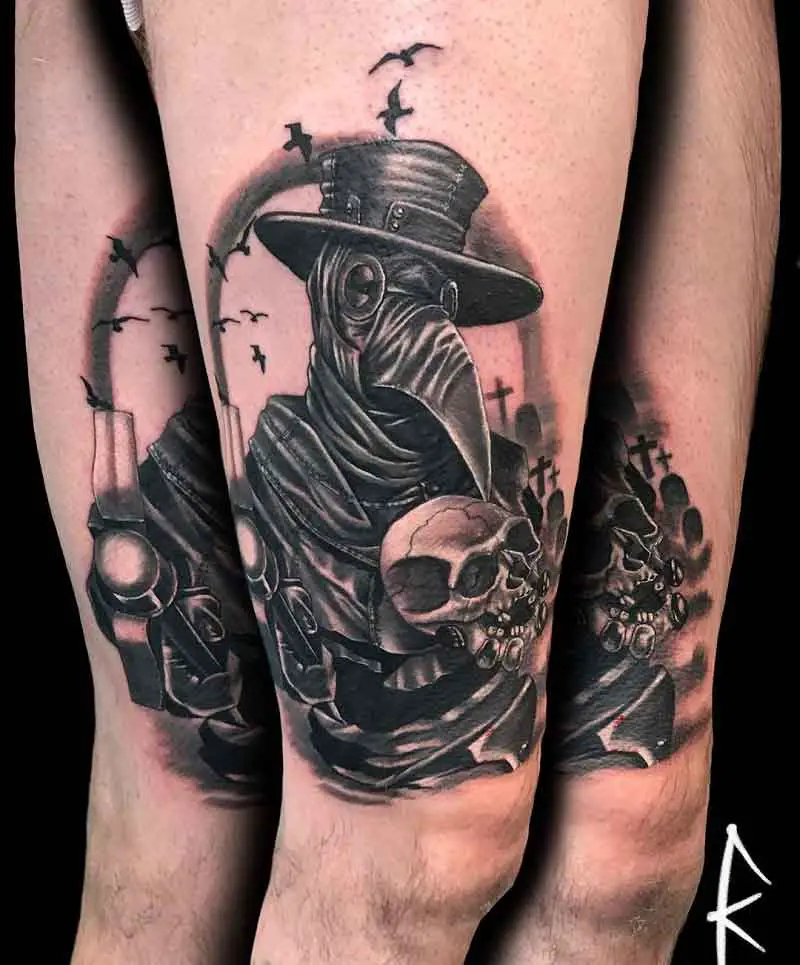 27.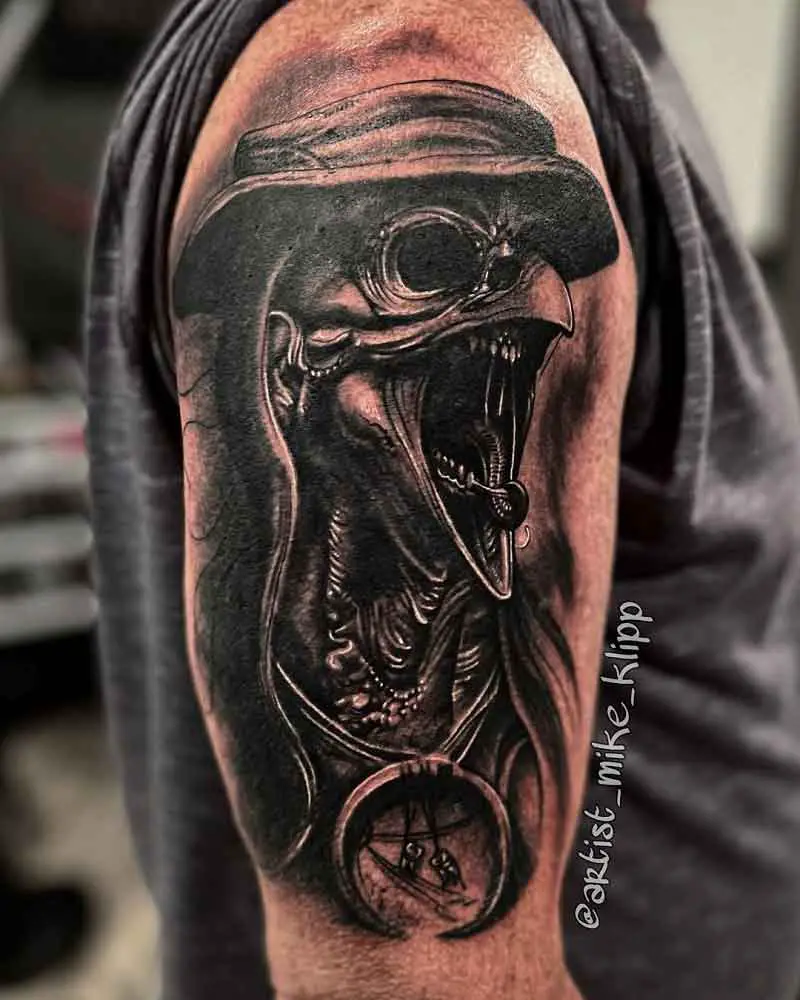 Victorian Plague Doctor Tattoo
28.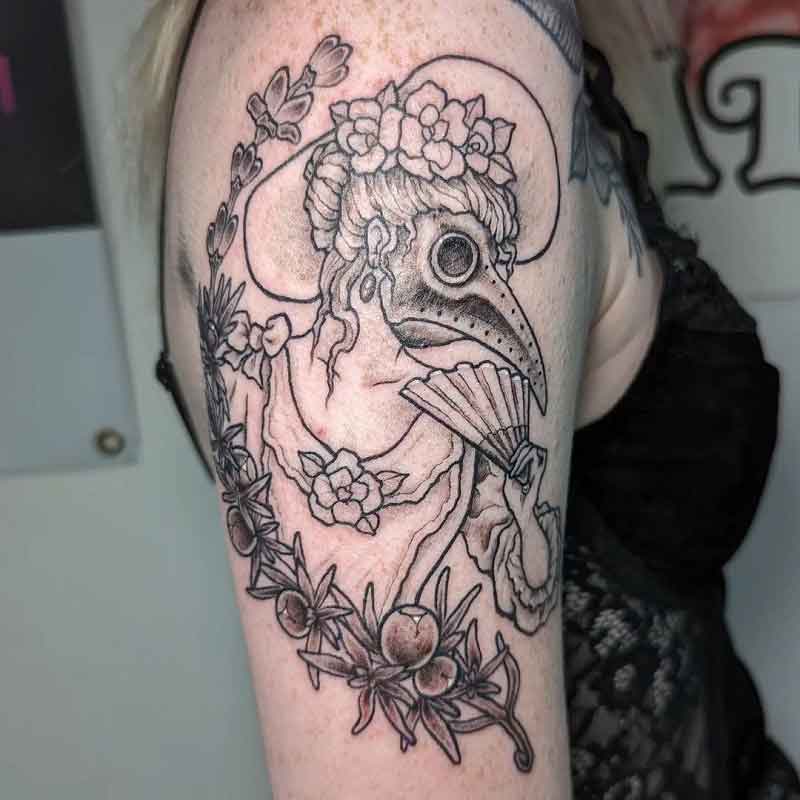 29.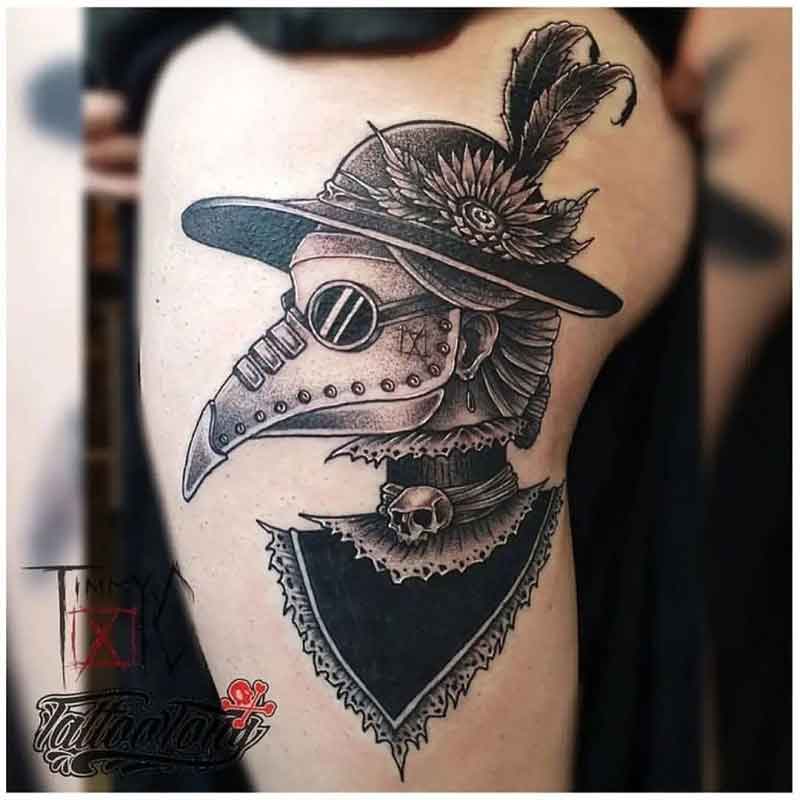 30.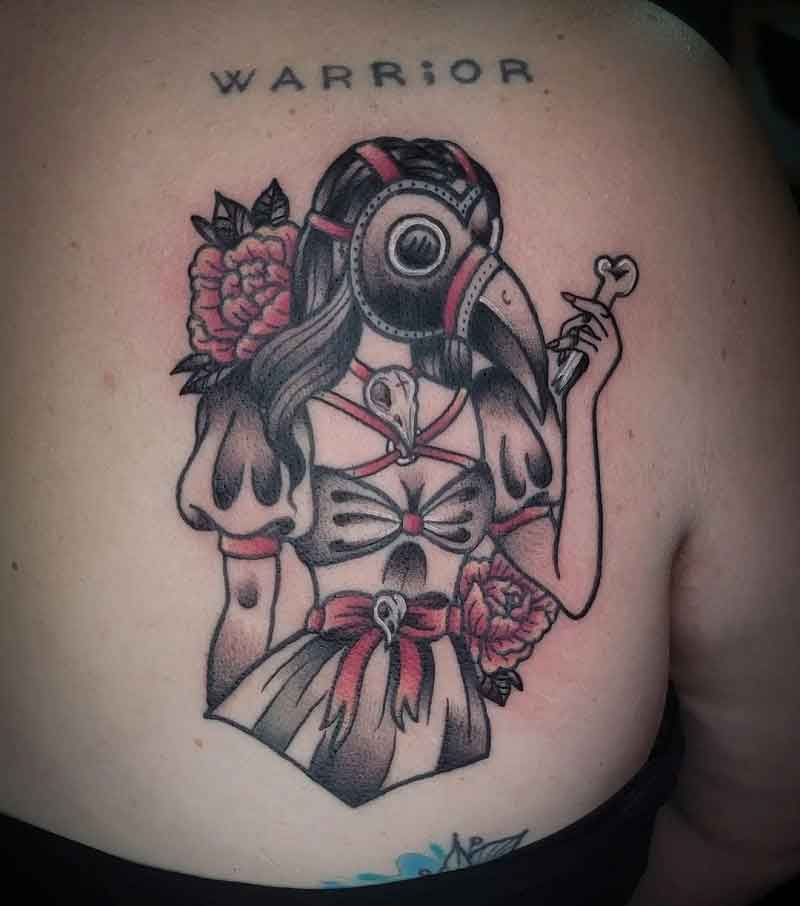 Medieval Plague Doctor Tattoo
31.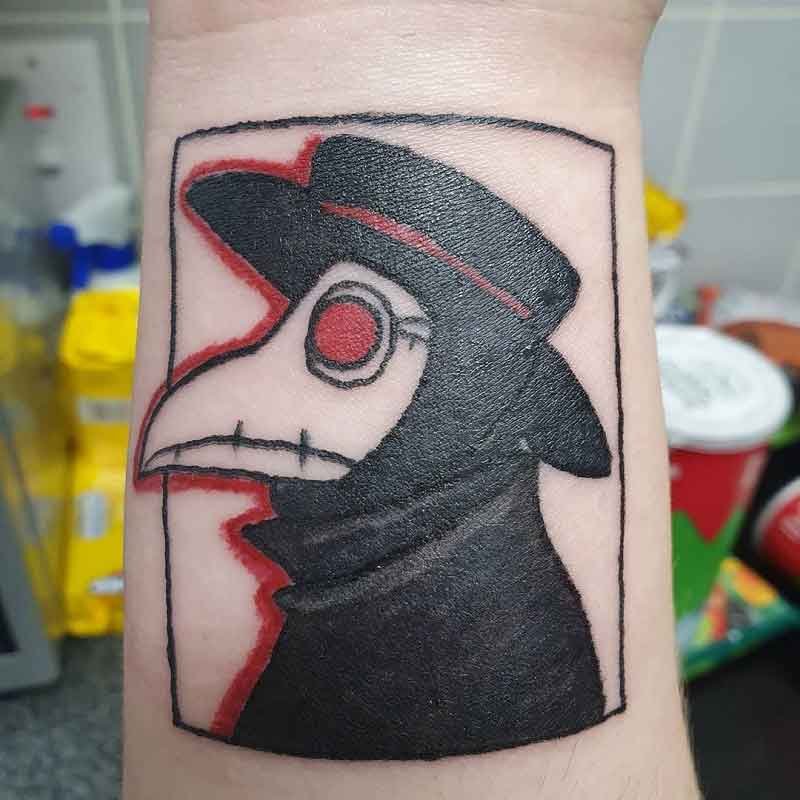 32.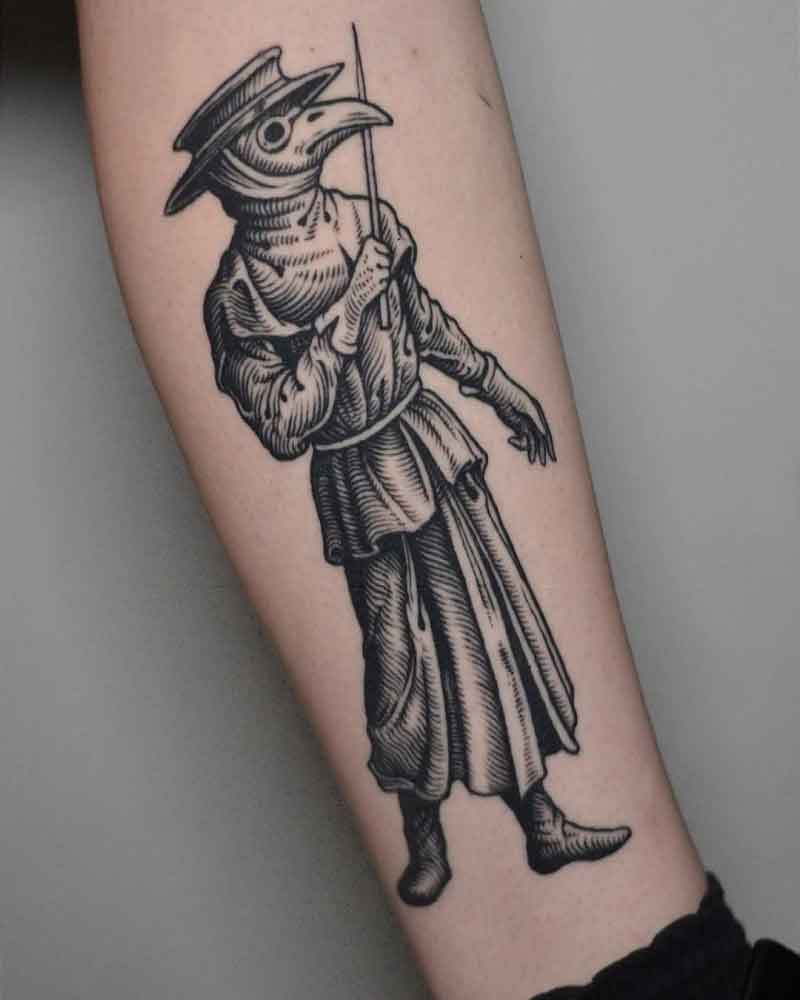 33.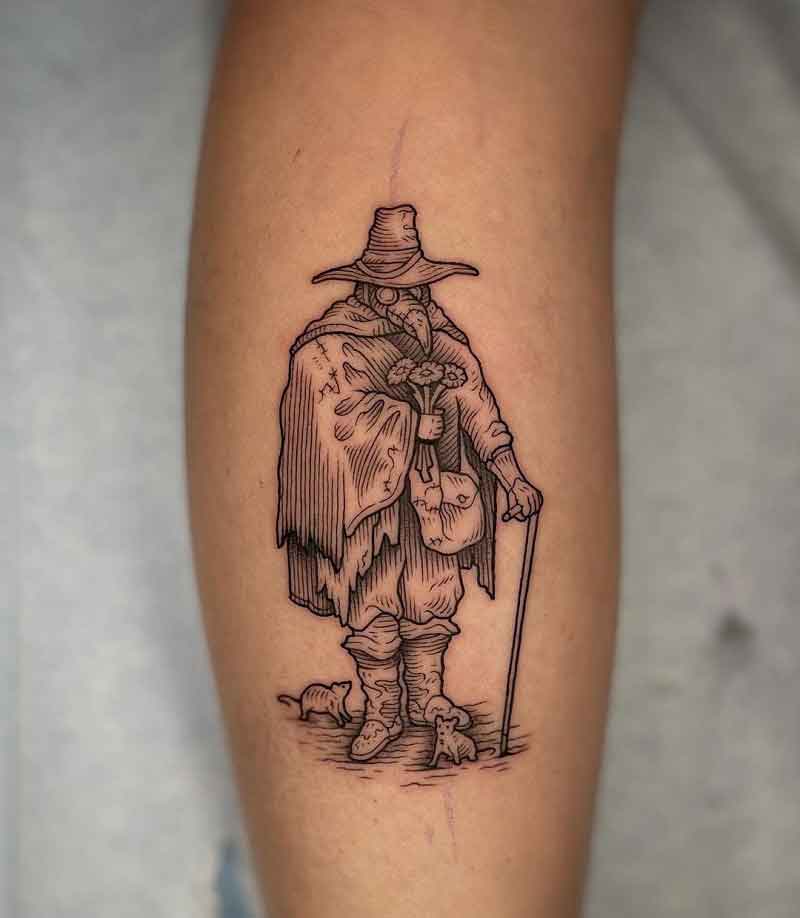 Bubonic Plague Doctor Tattoo
34.
35.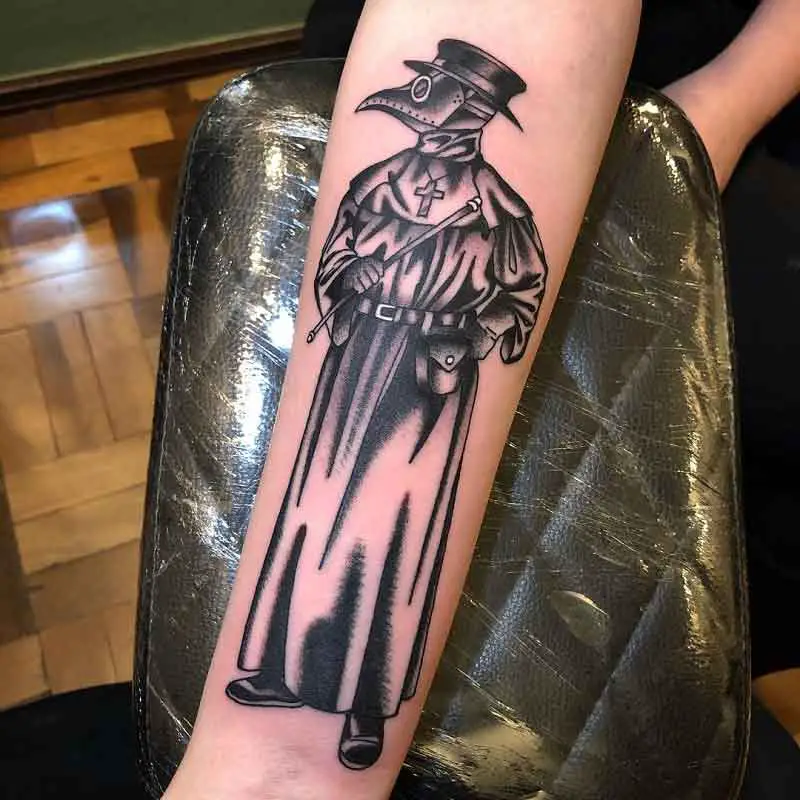 36.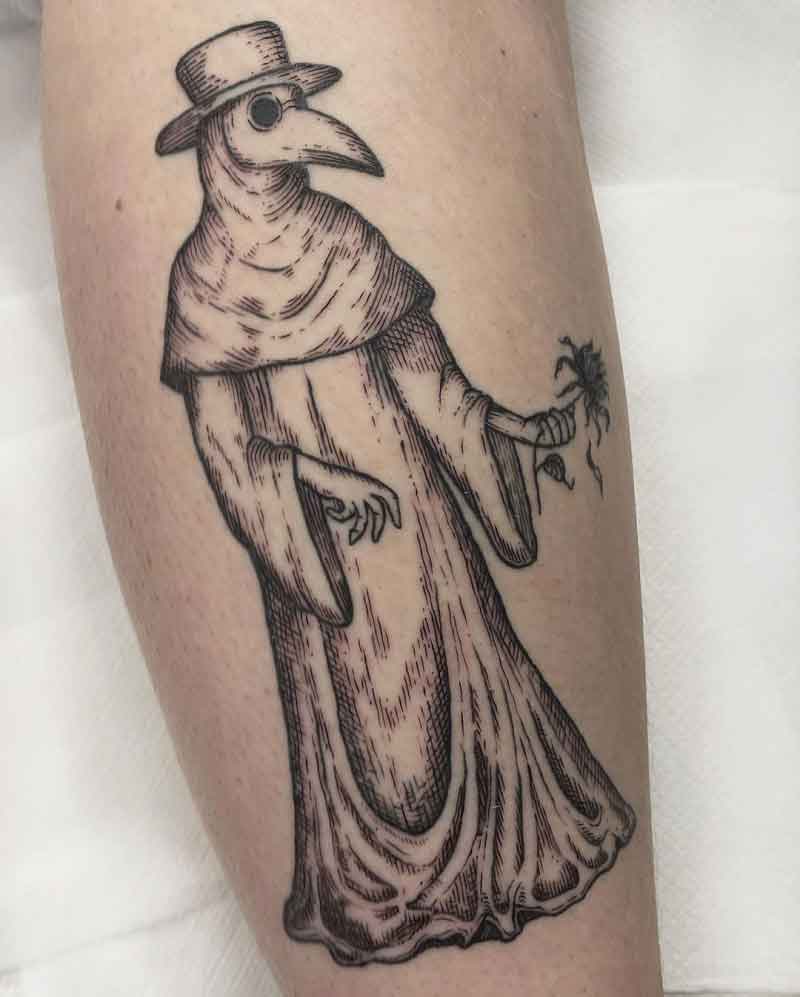 Cartoon Plague Doctor Tattoo
37.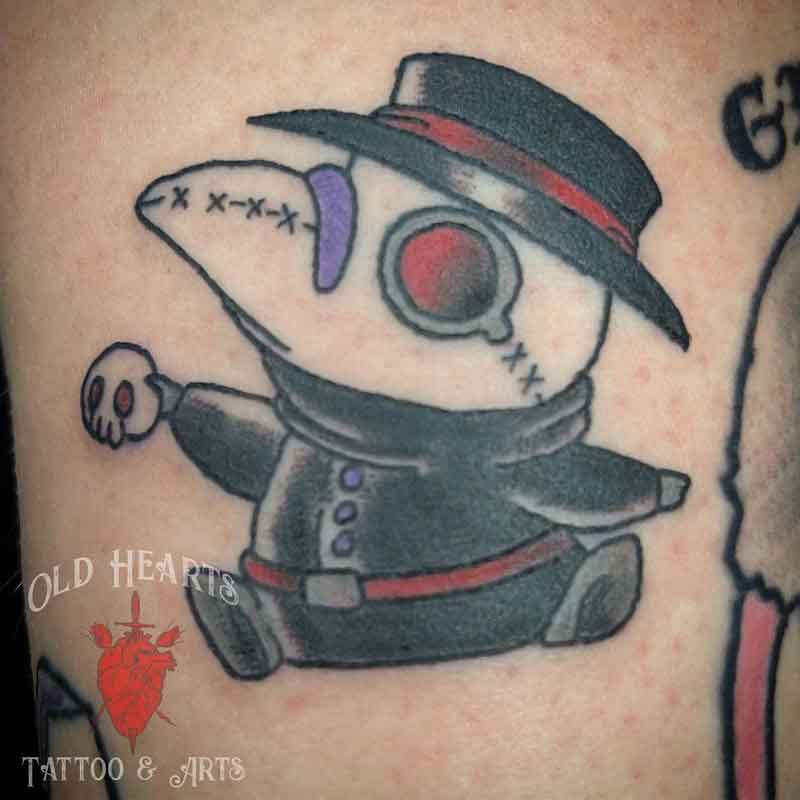 38.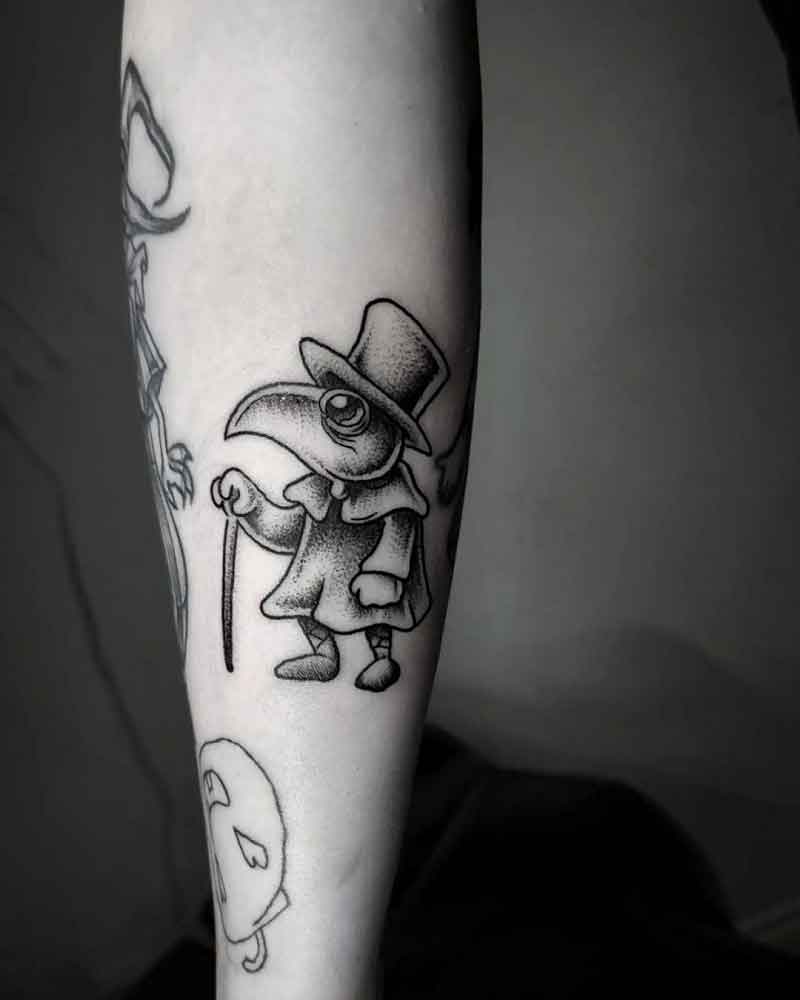 39.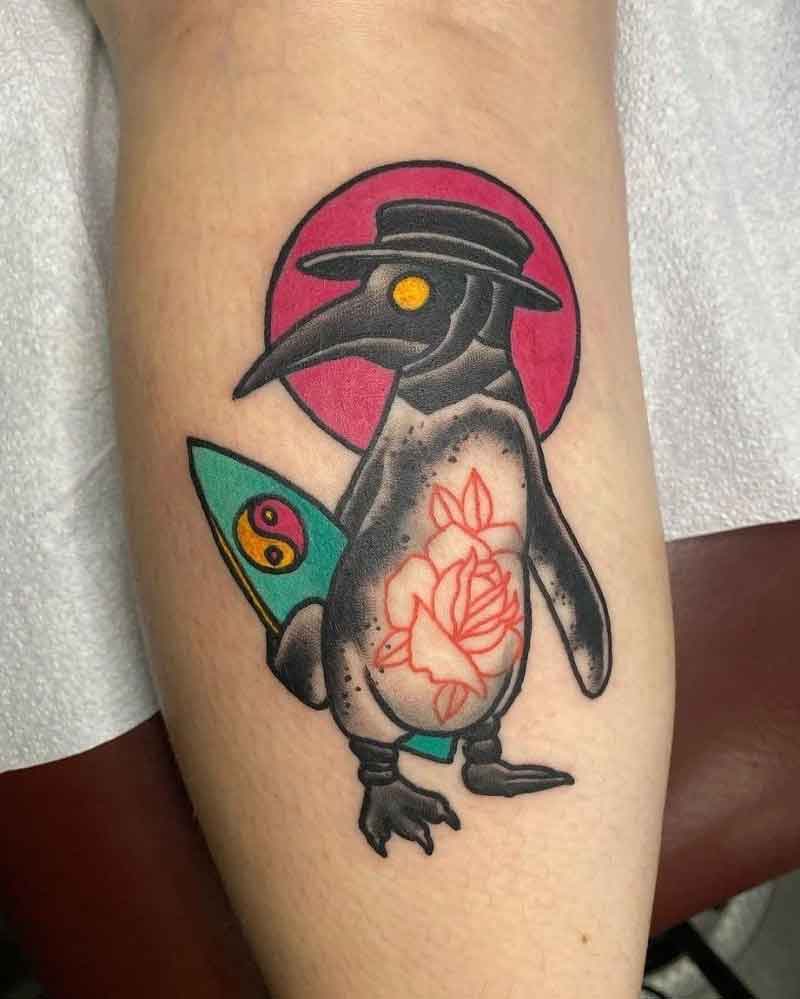 Crow Plague Doctor Tattoo
40.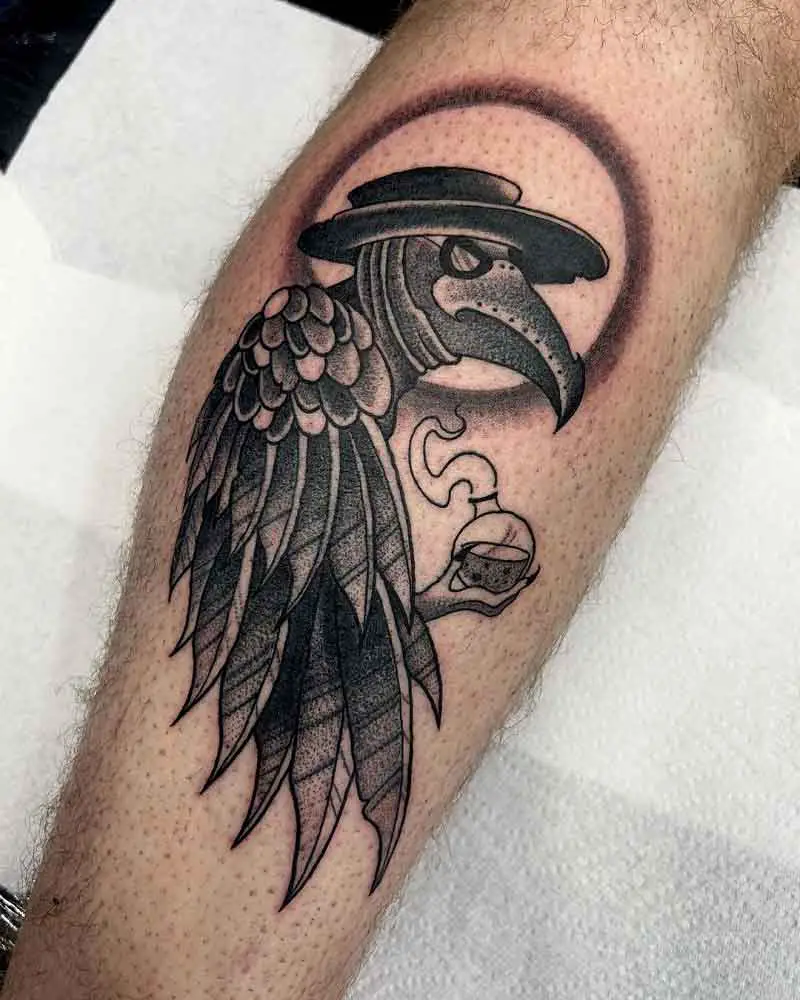 41.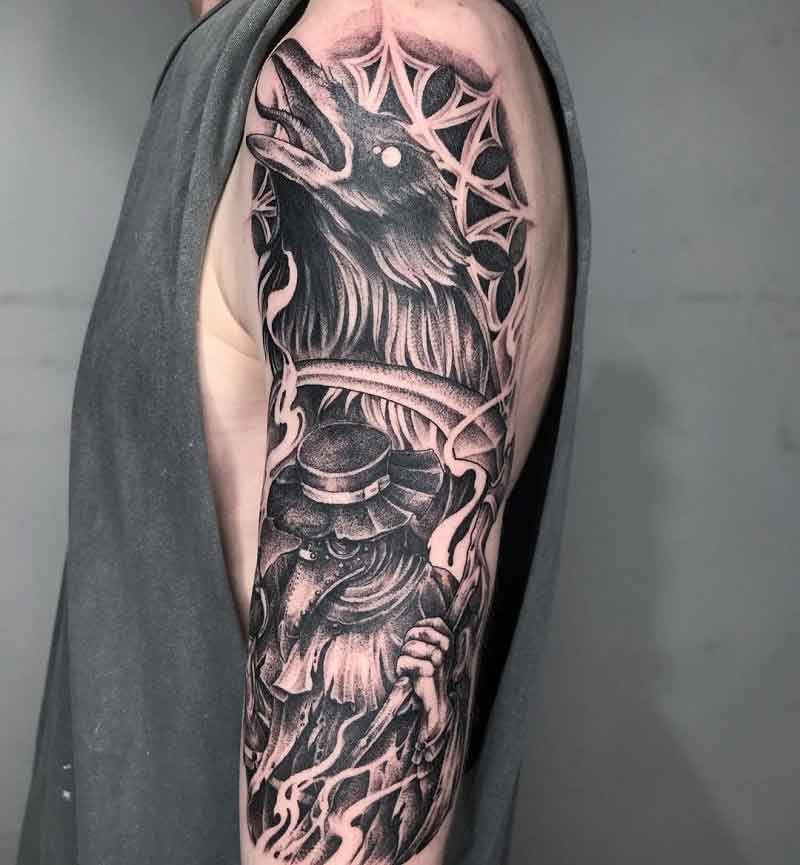 42.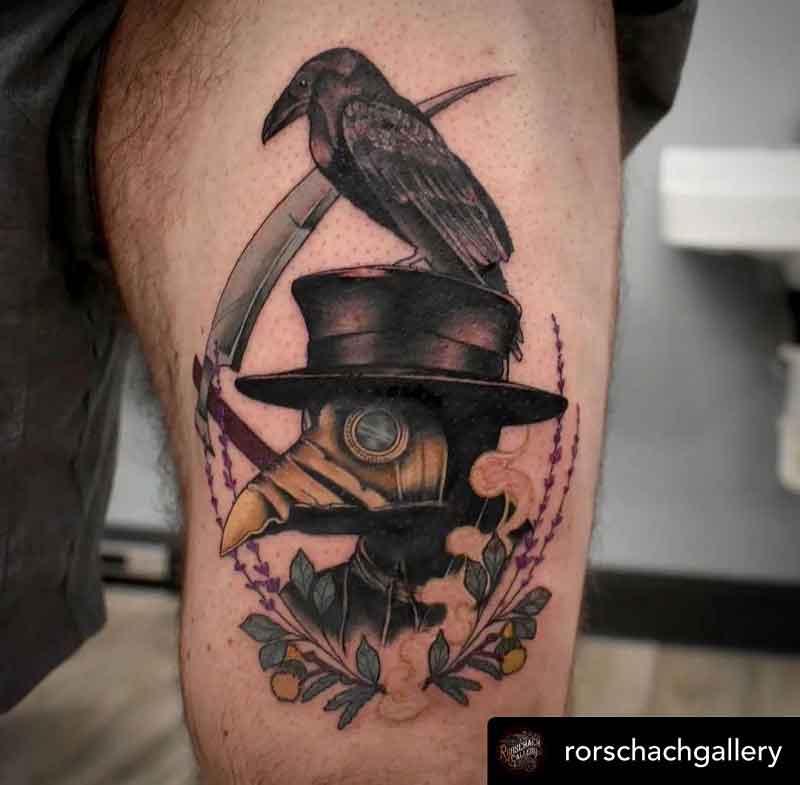 Doctor Plague Mask Tattoo
43.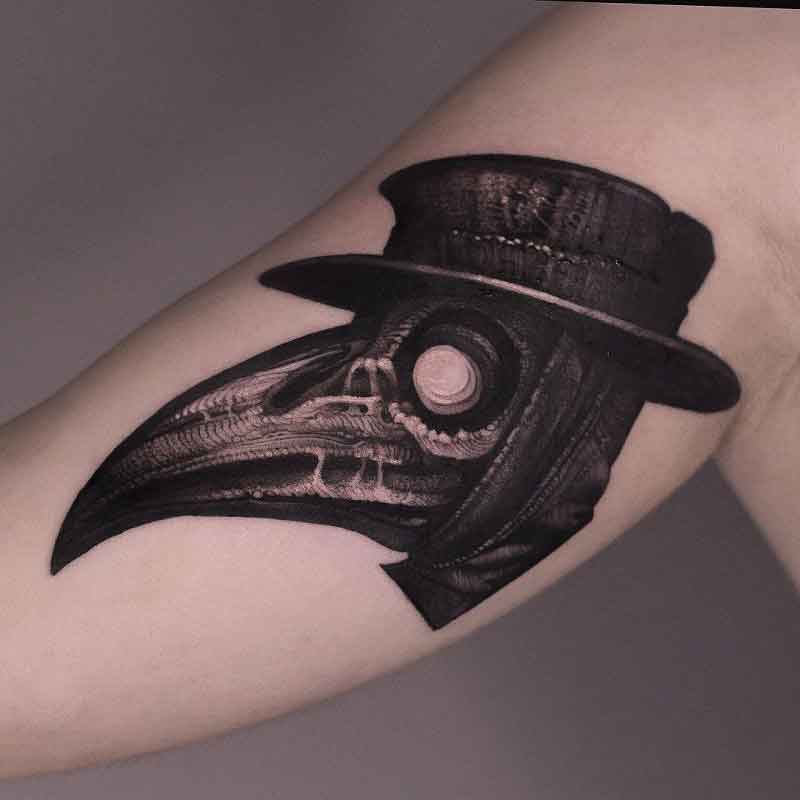 44.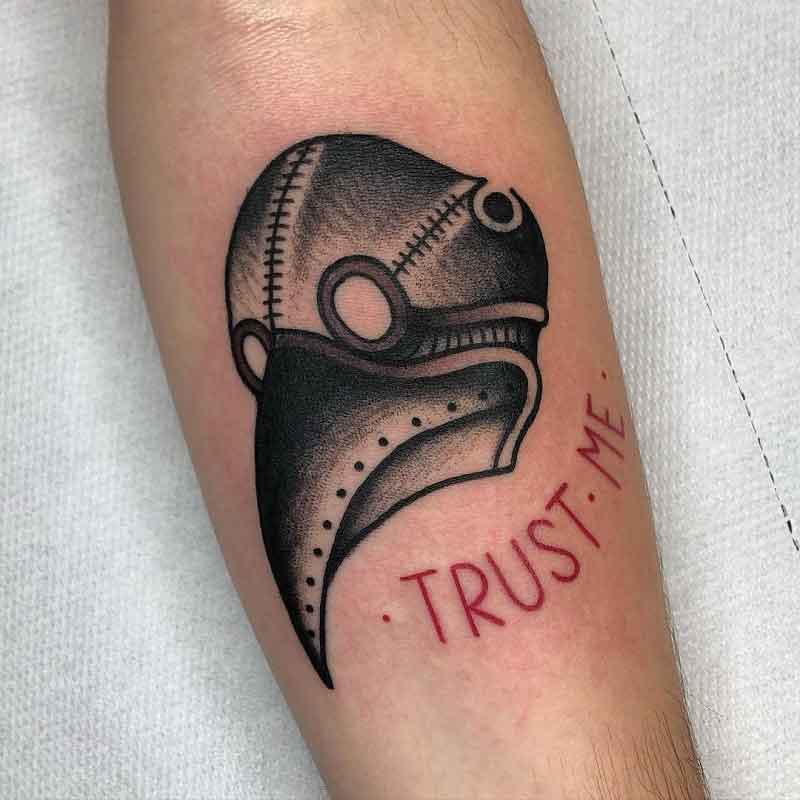 45.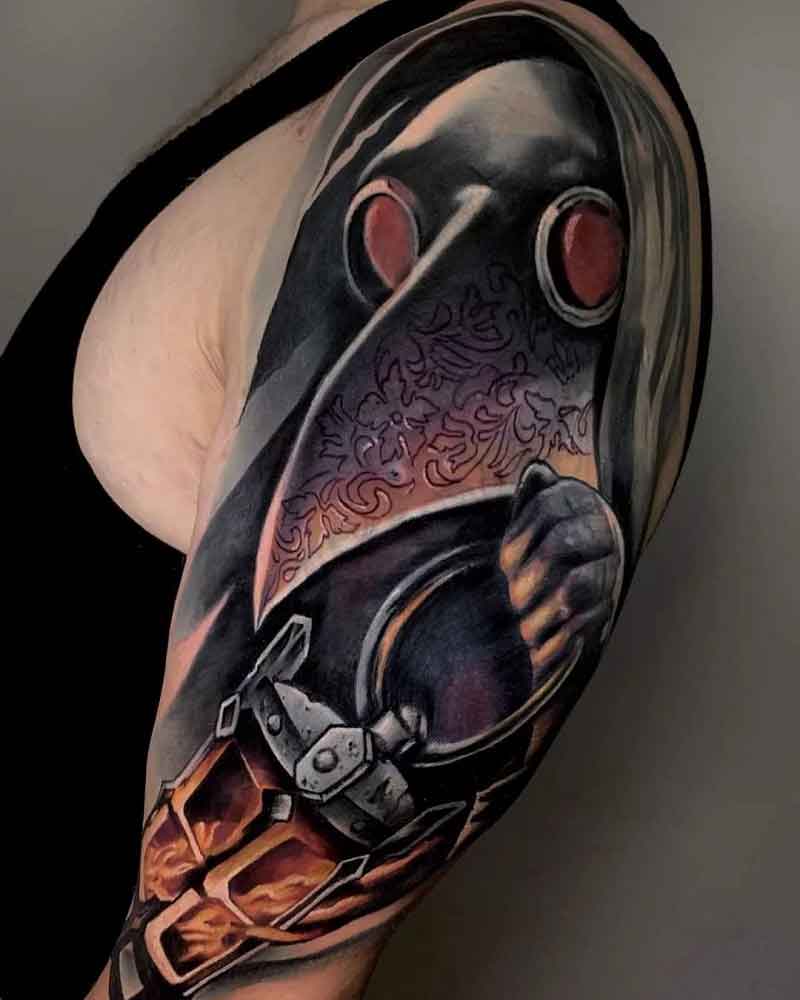 Forearm Plague Doctor Tattoo
46.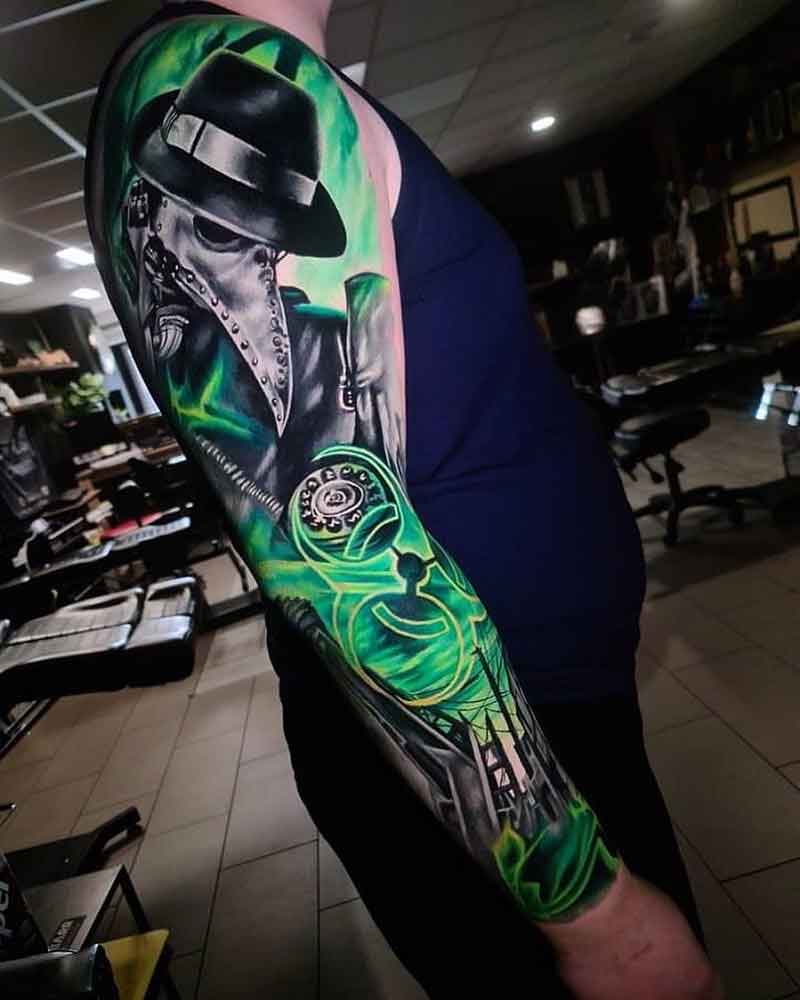 47.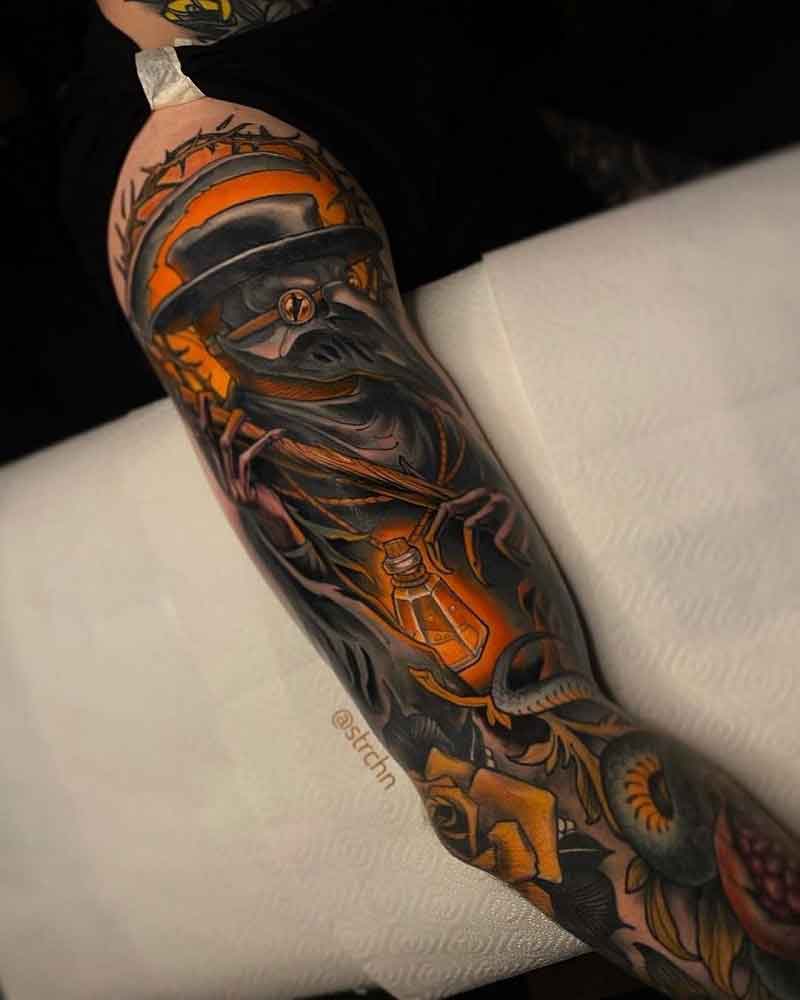 48.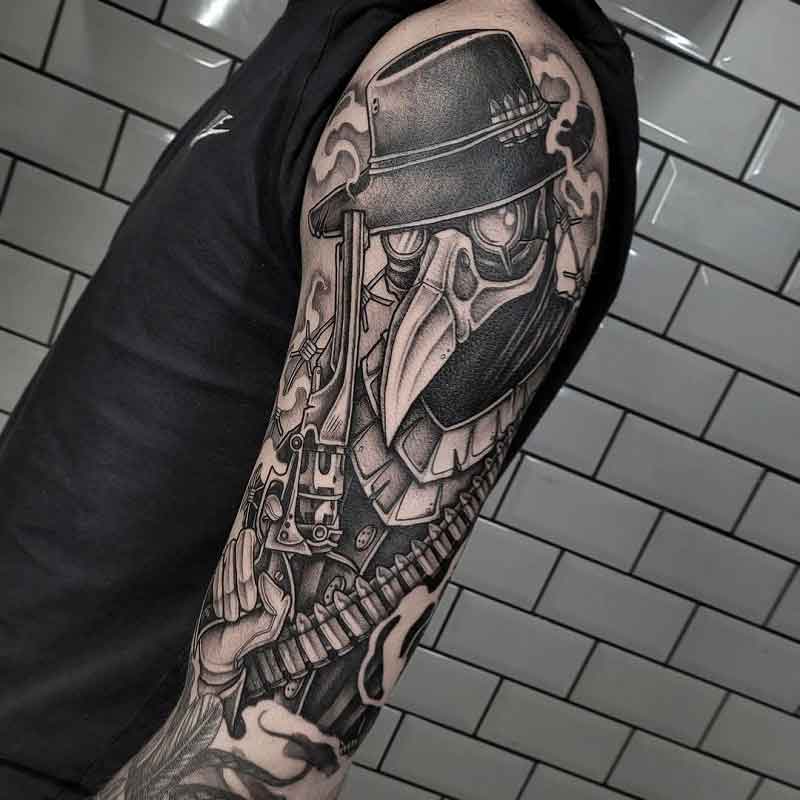 Geometric Plague Doctor Tattoo
49.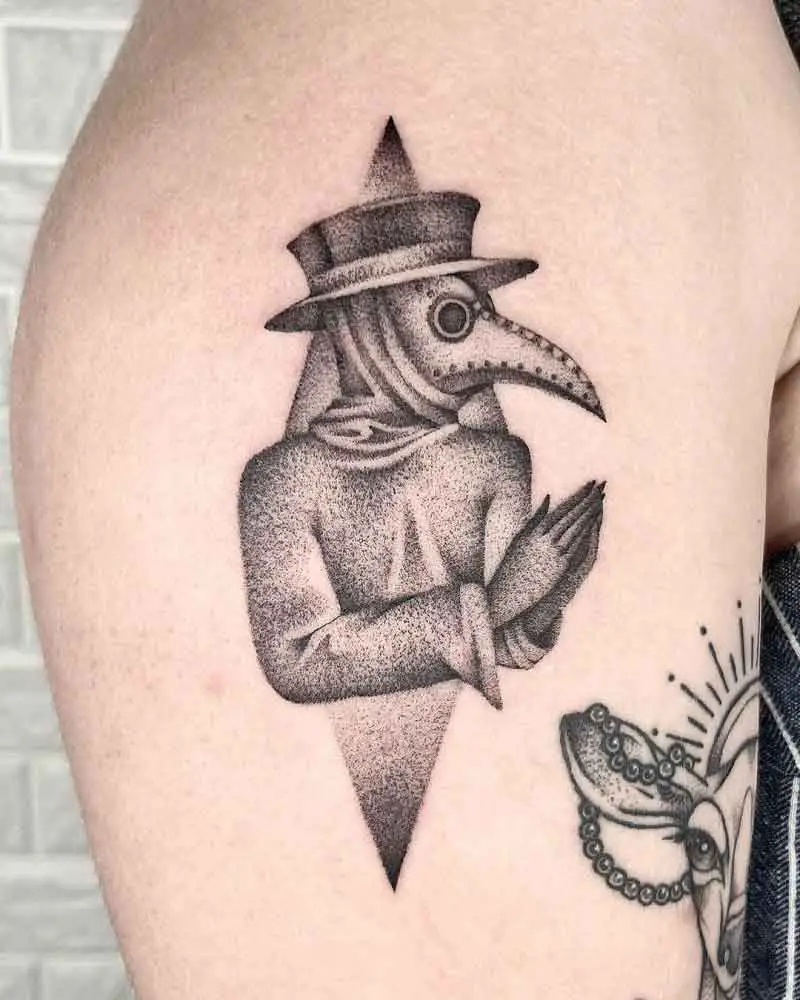 50.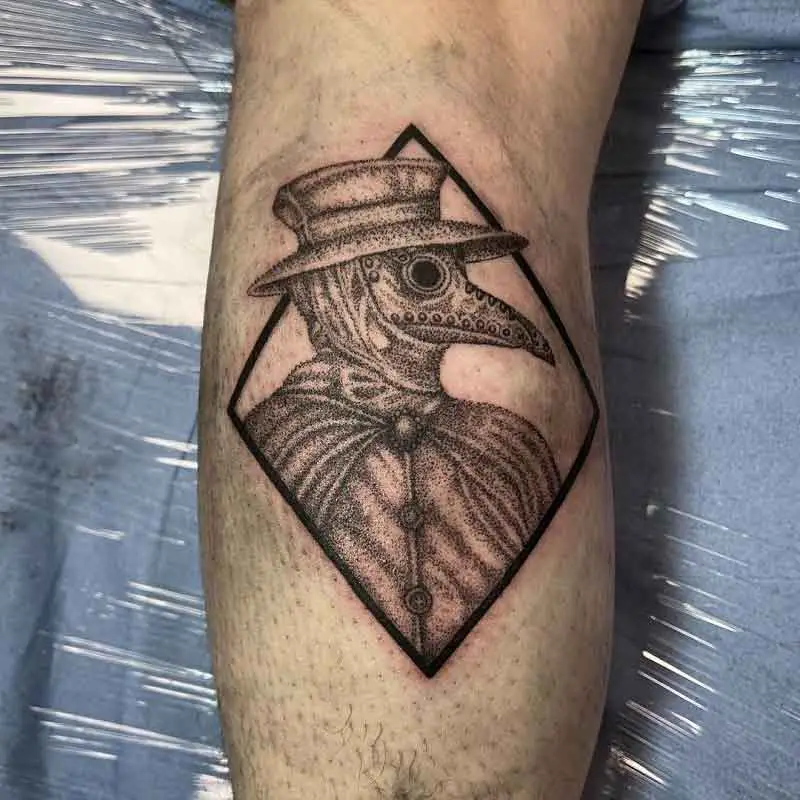 51.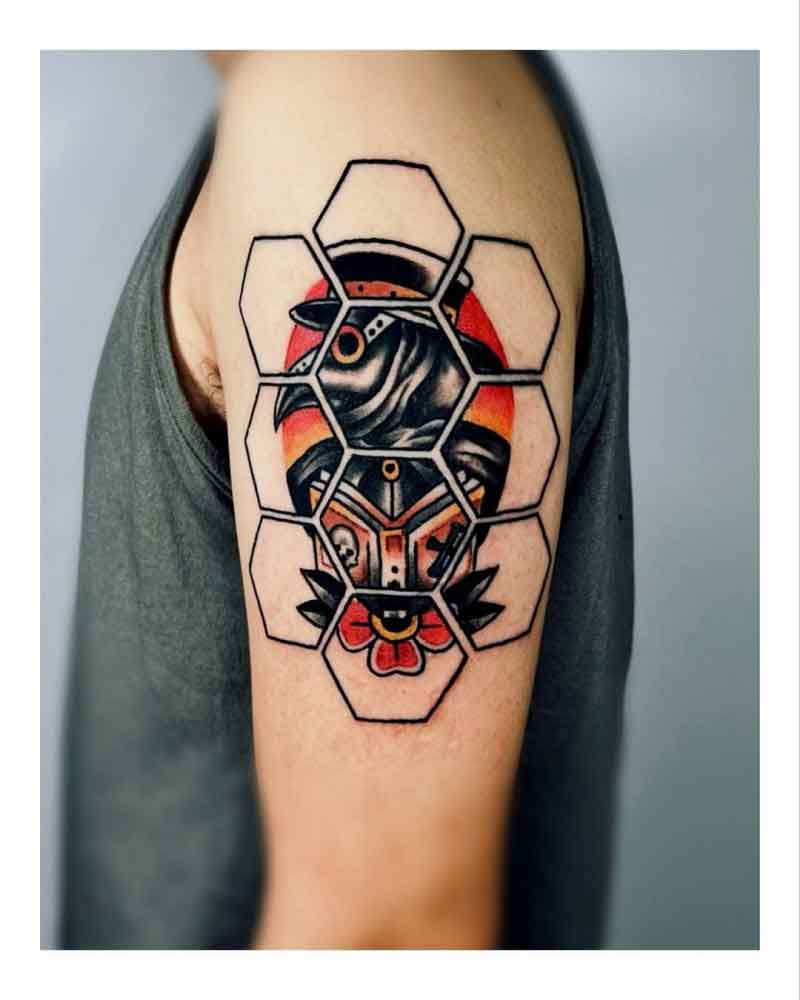 Horror Plague Doctor Tattoo
52.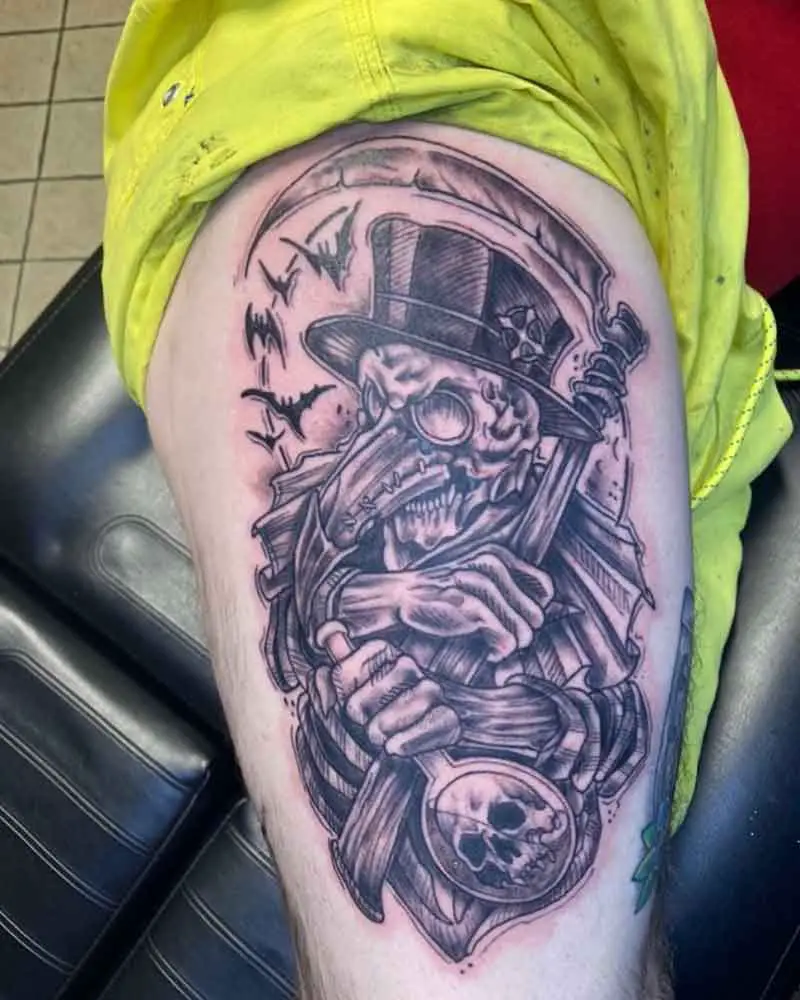 53.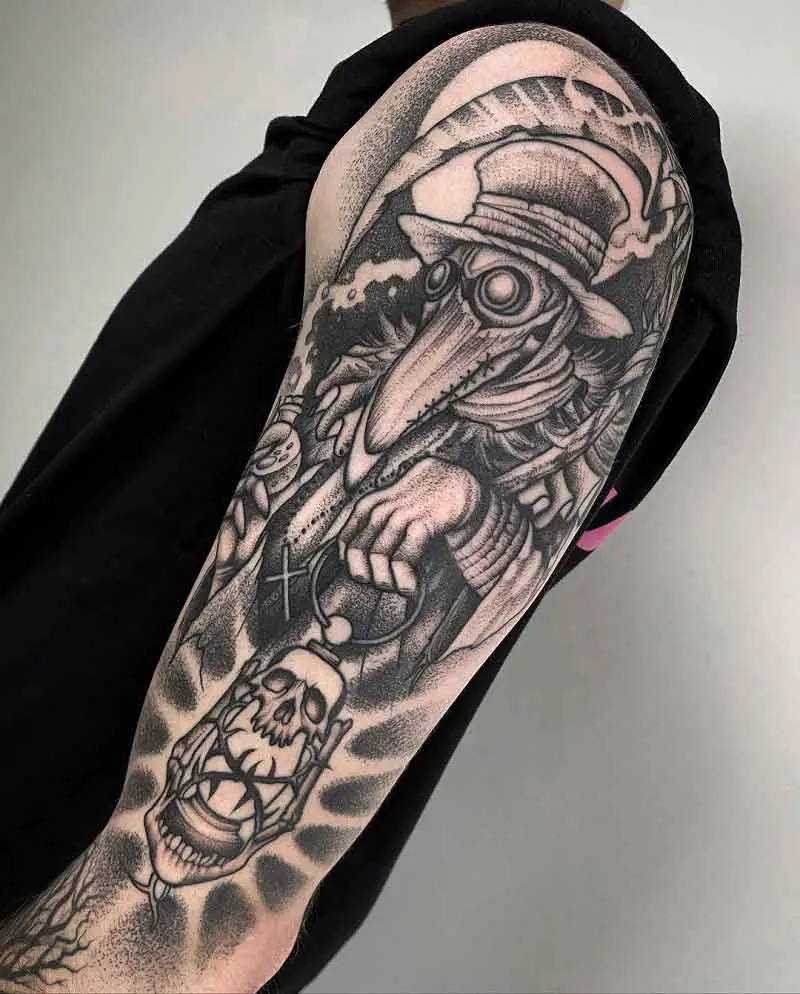 54.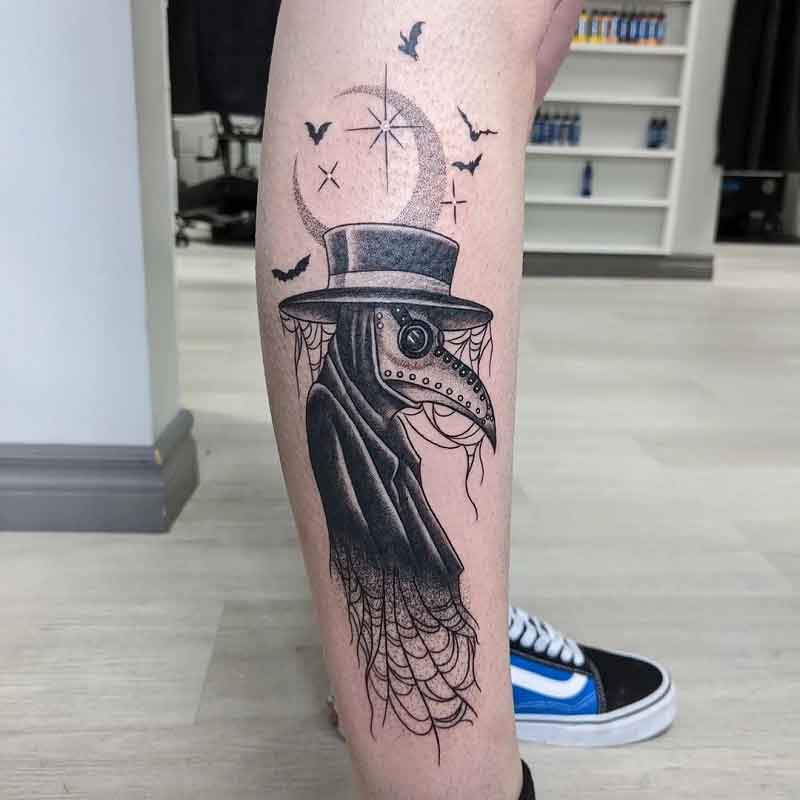 Lines Plague Doctor Tattoo
55.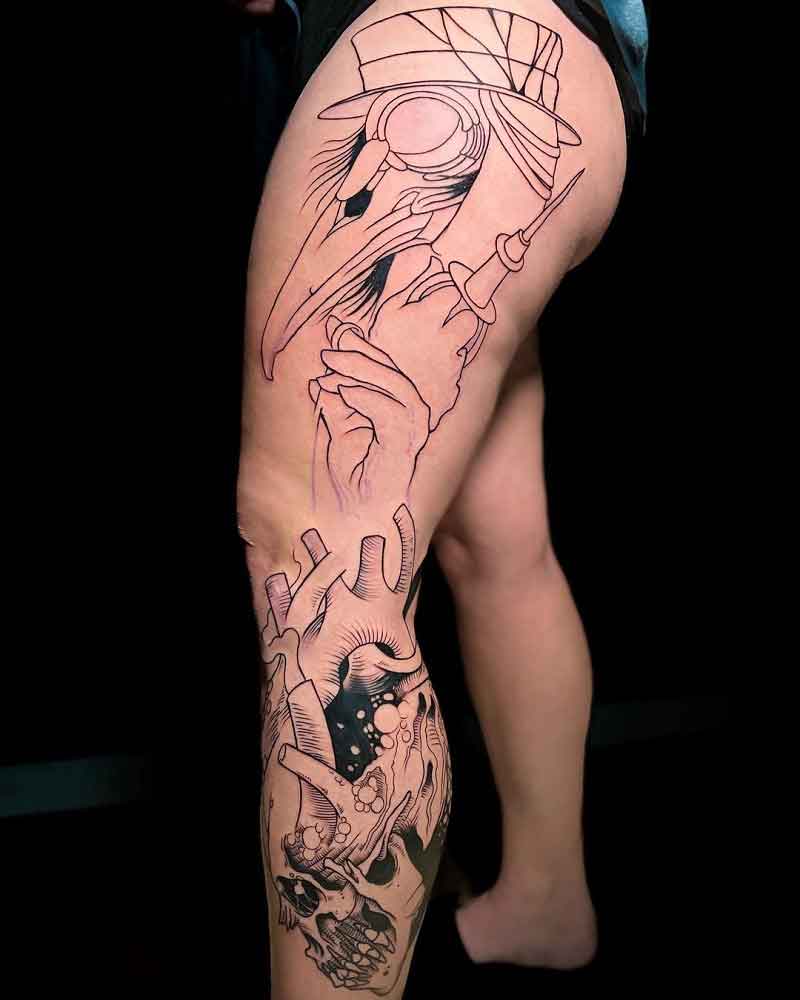 56.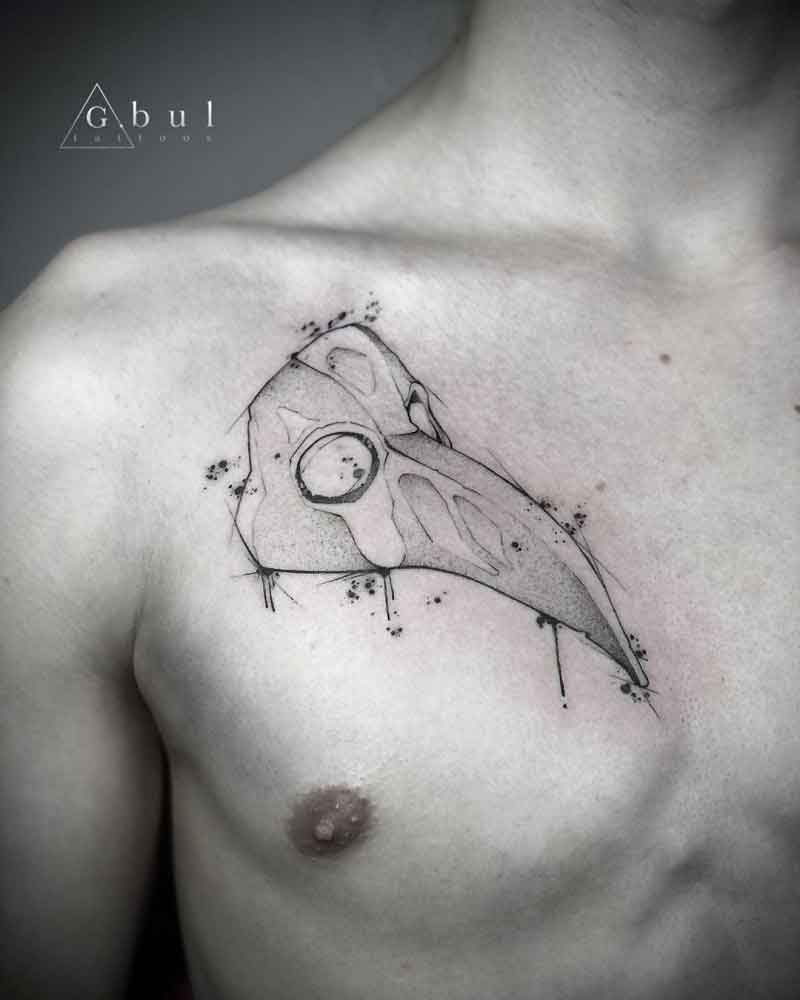 57.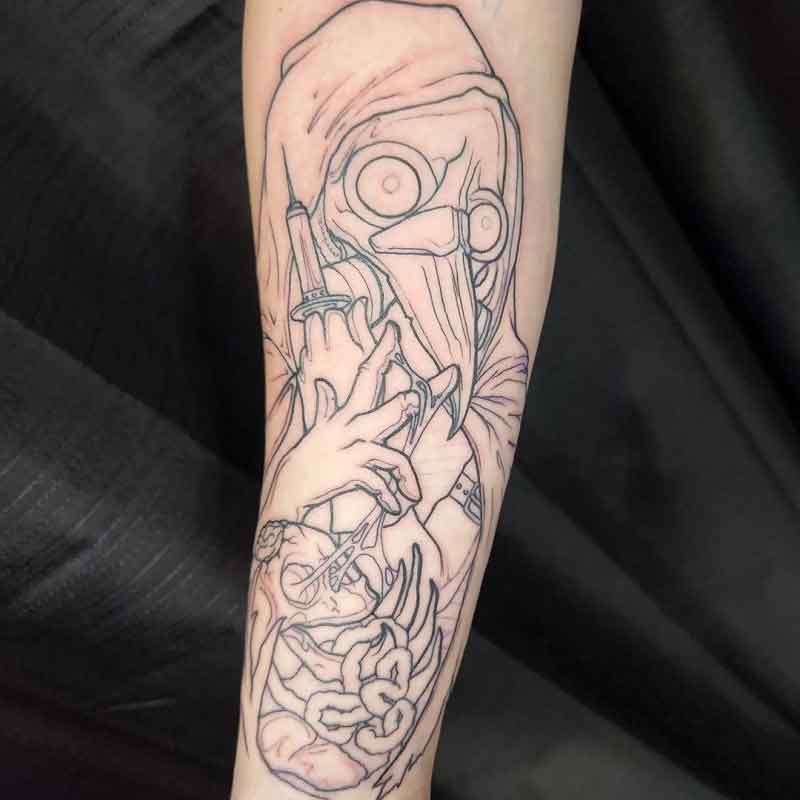 Old School Plague Doctor Tattoo
58.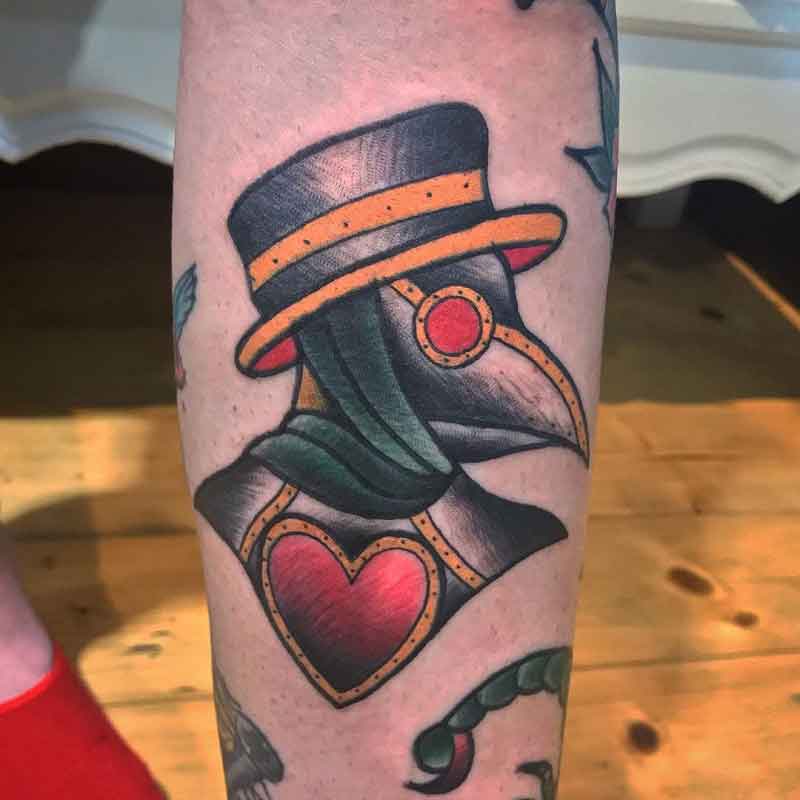 59.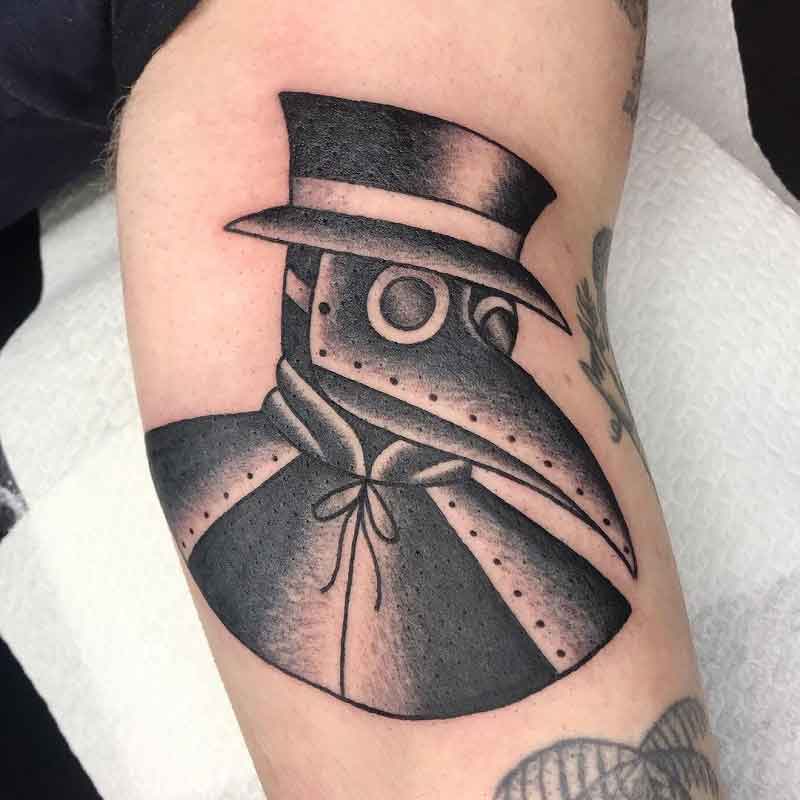 60.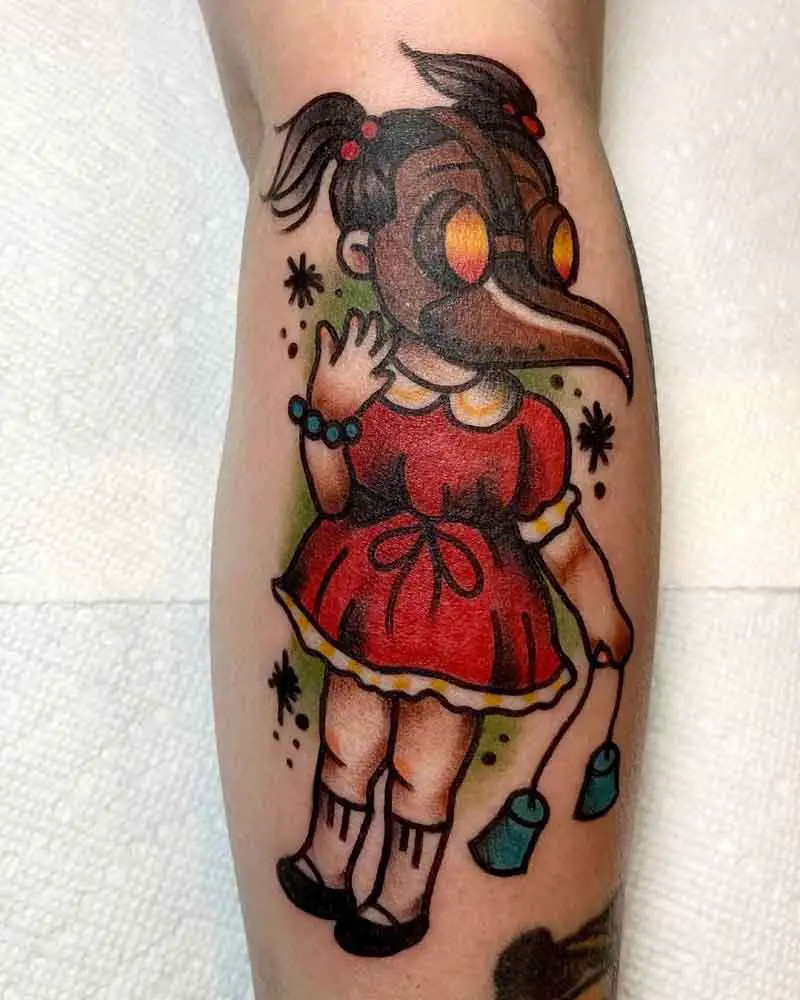 Plague Doctor Back Tattoo
61.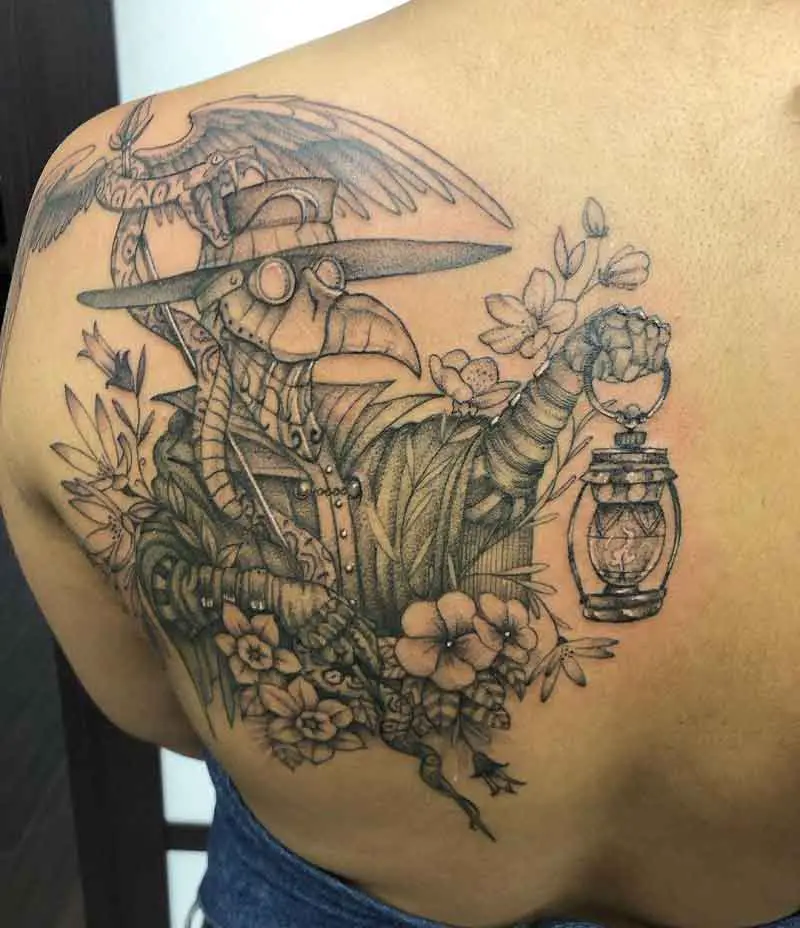 62.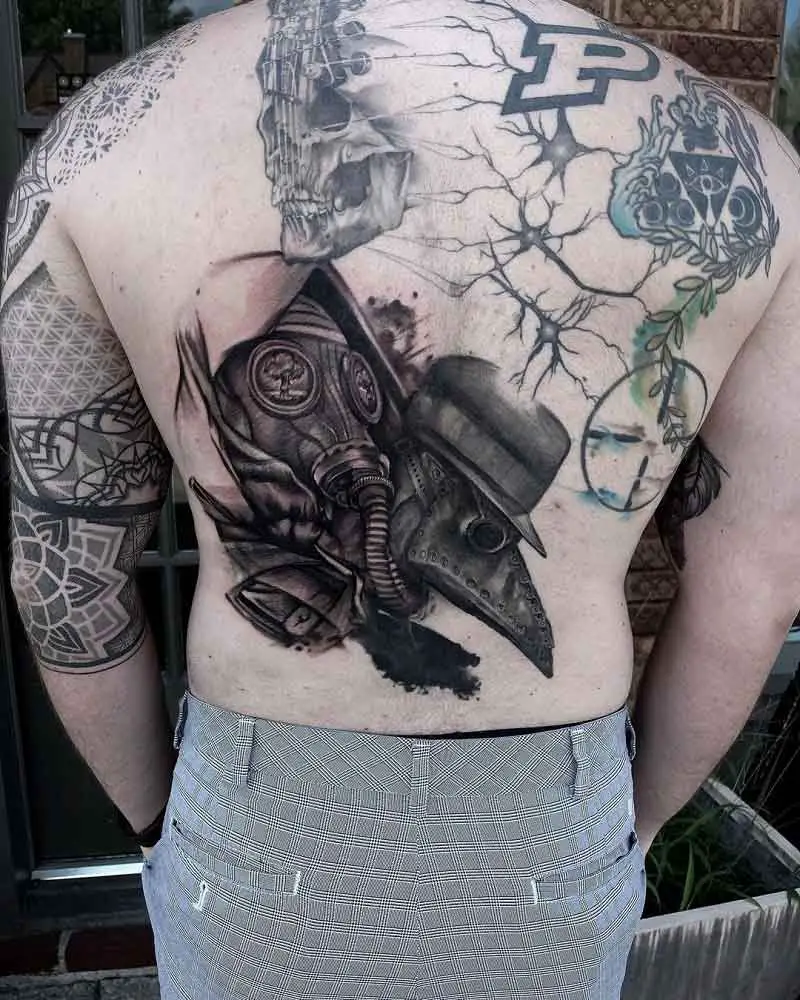 63.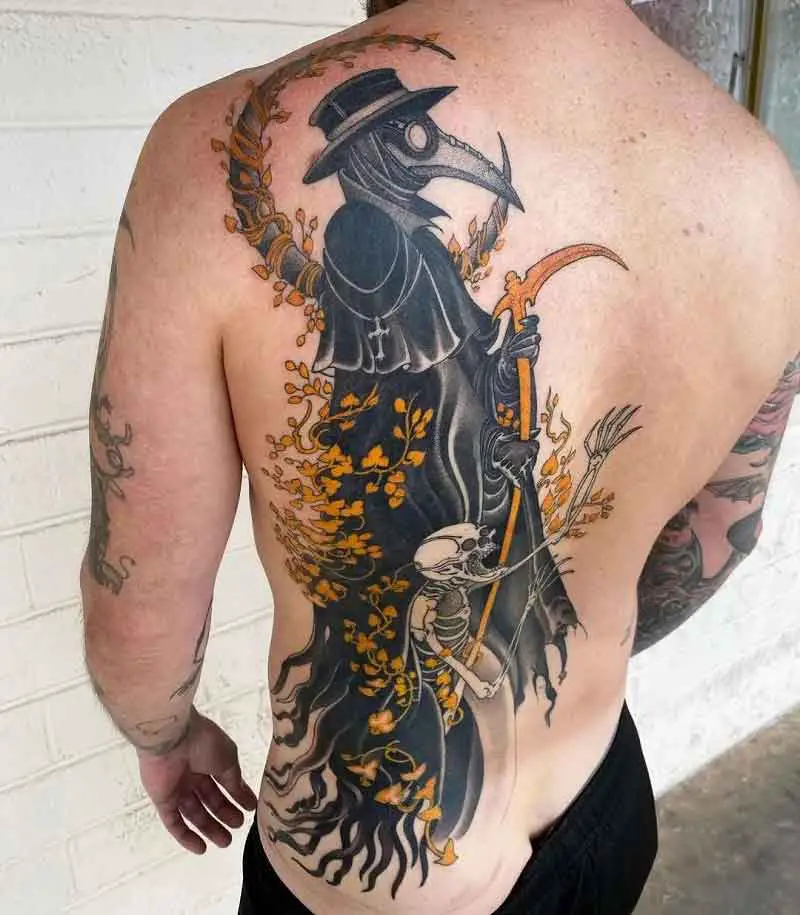 Plague Doctor Black Death Tattoo
64.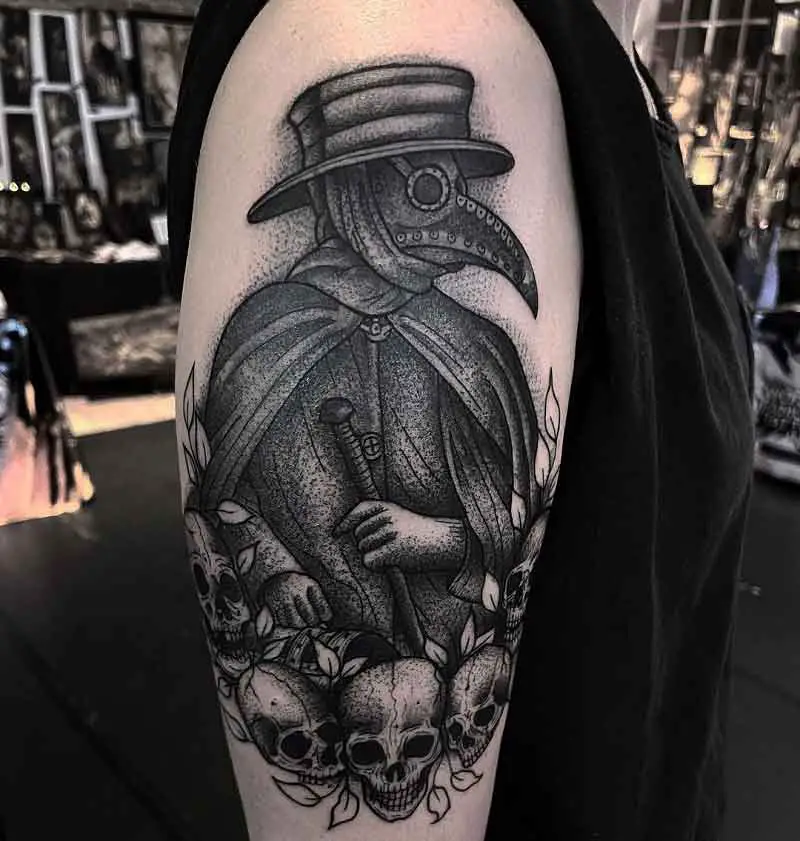 65.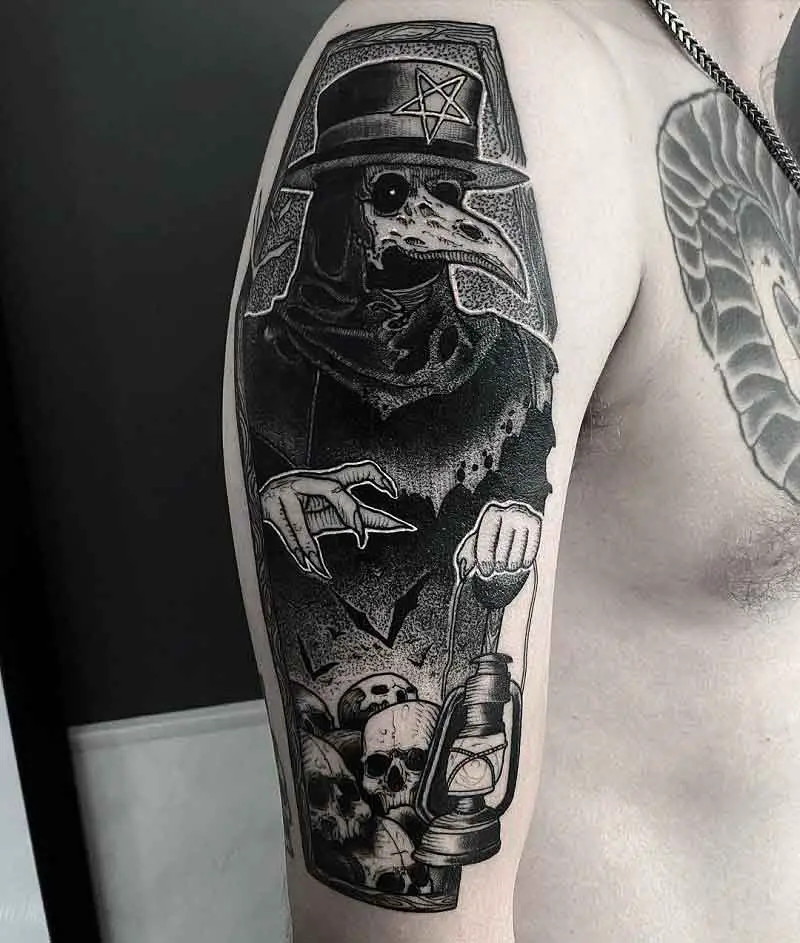 66.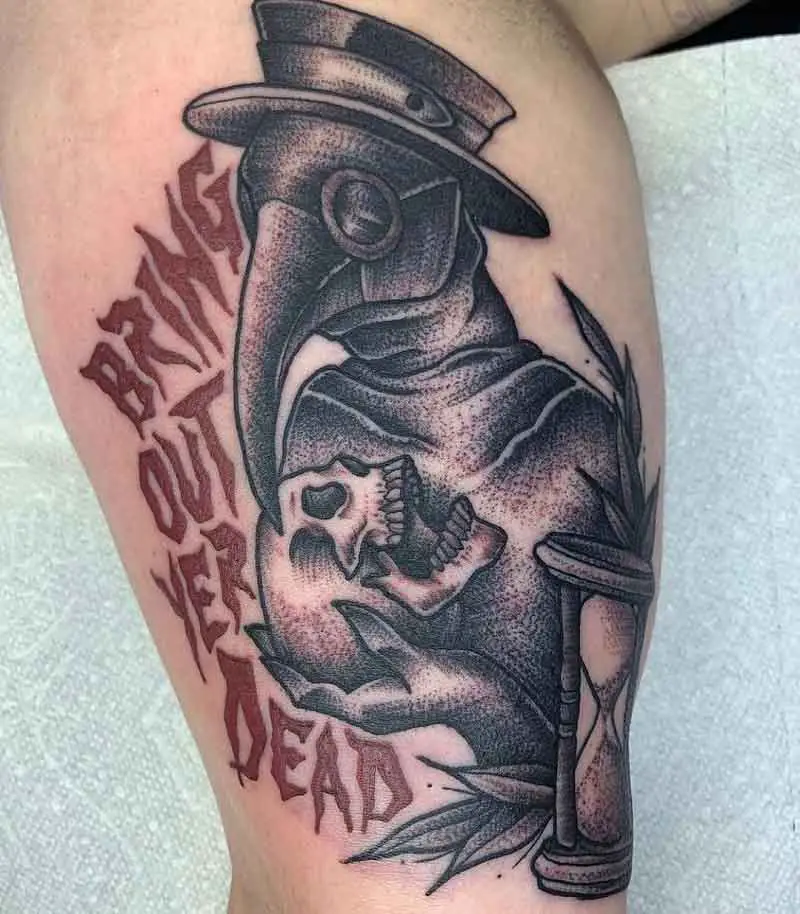 Plague Doctor Cat Tattoo
67.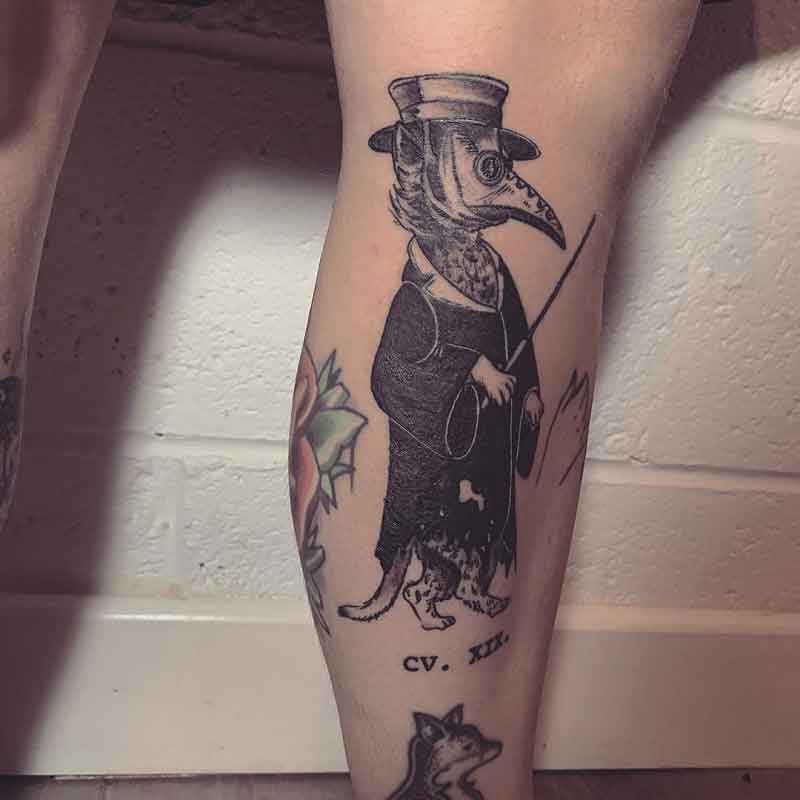 68.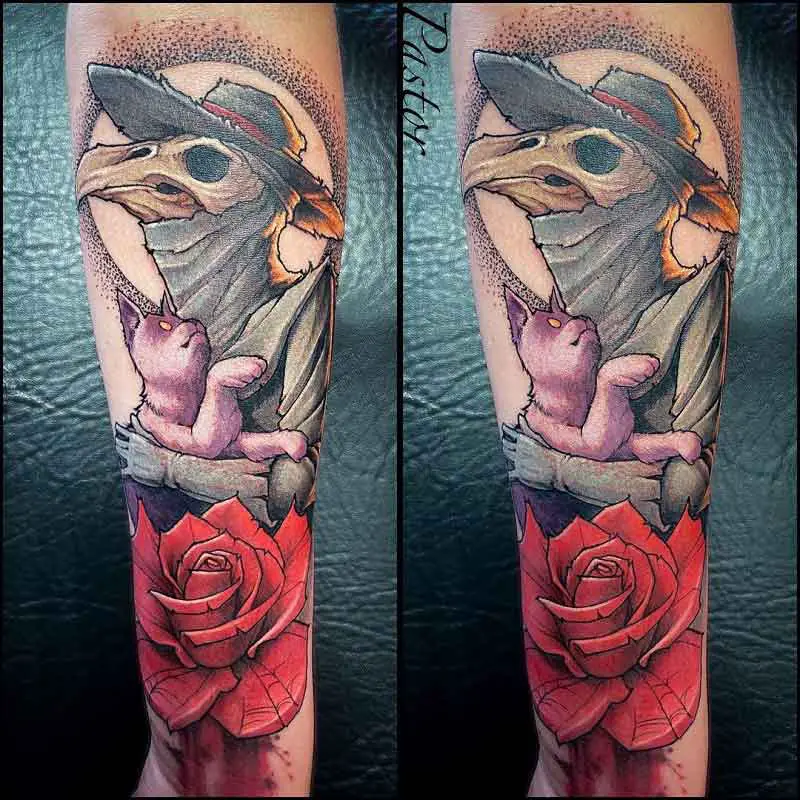 69.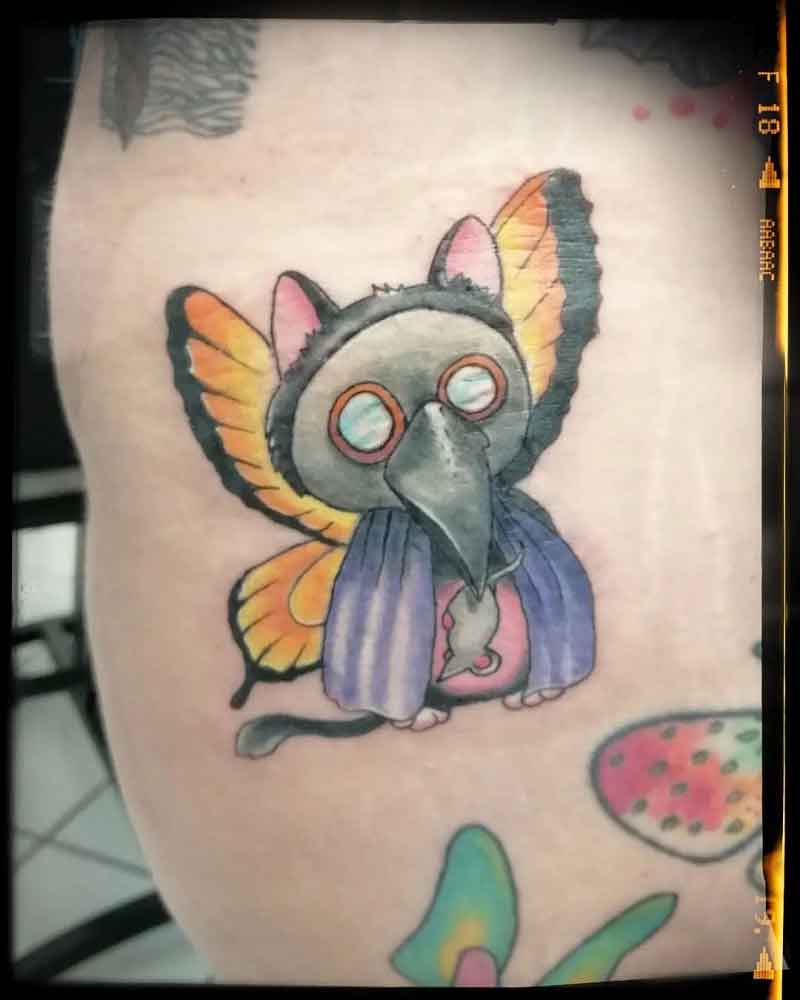 Plague Doctor Grim Reaper Tattoo
70.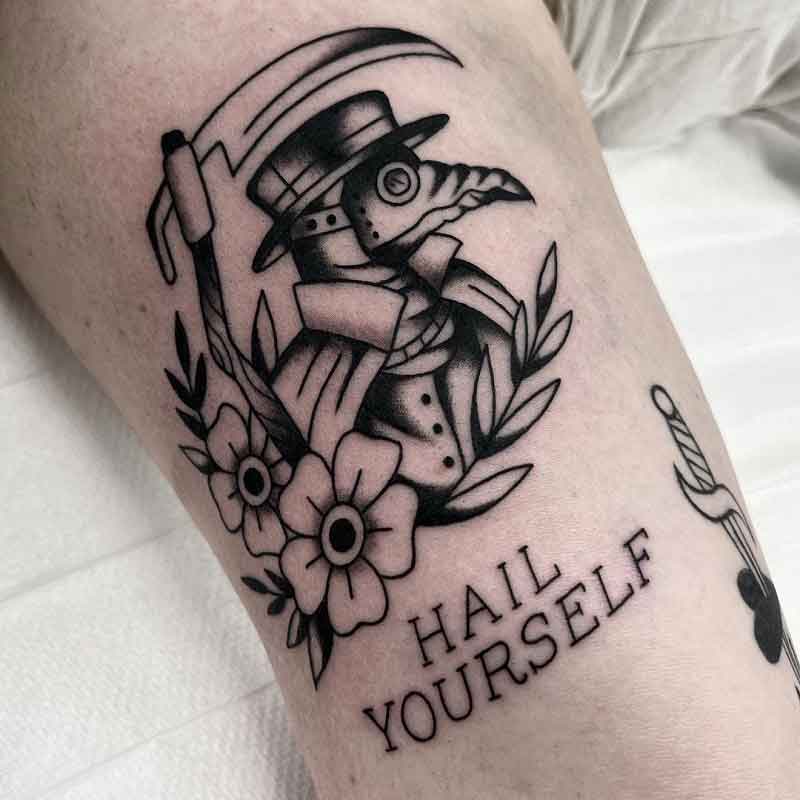 71.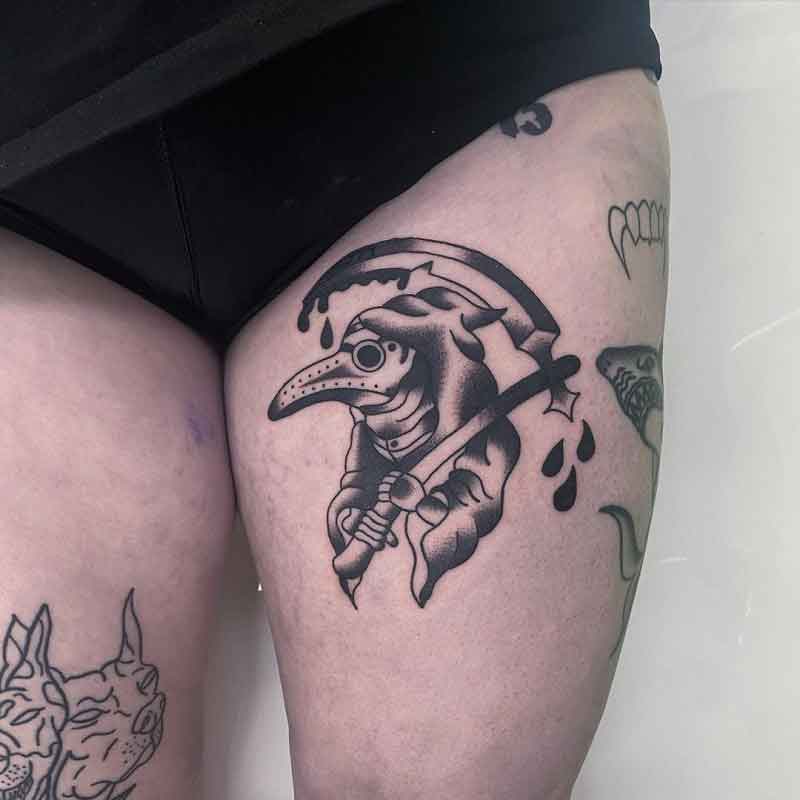 72.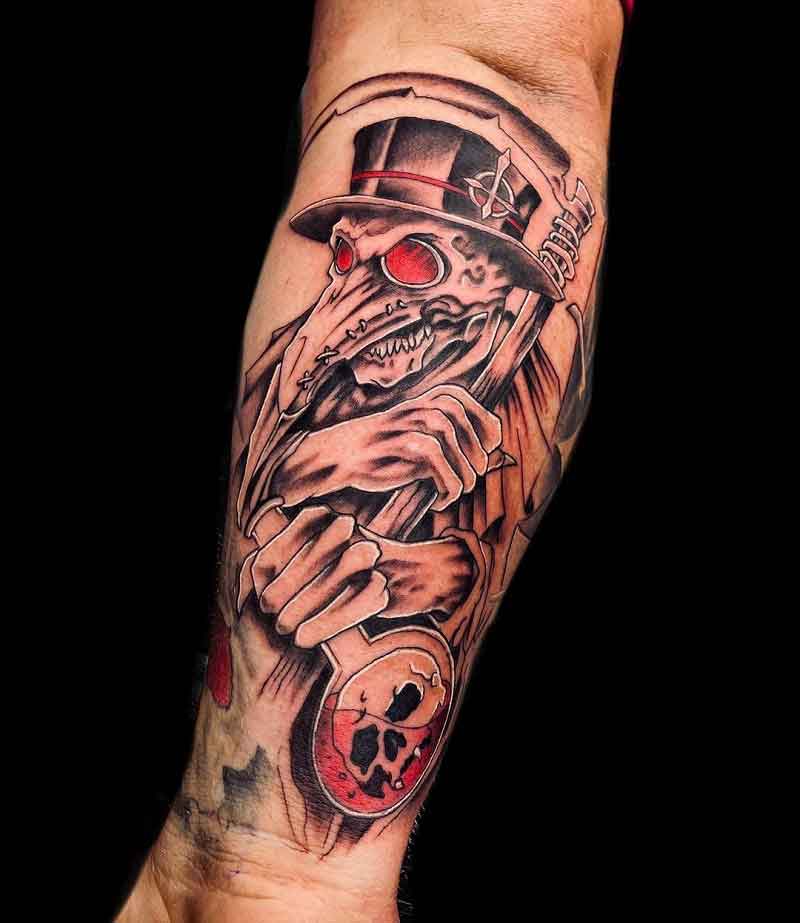 Plague Doctor Leg Tattoo
73.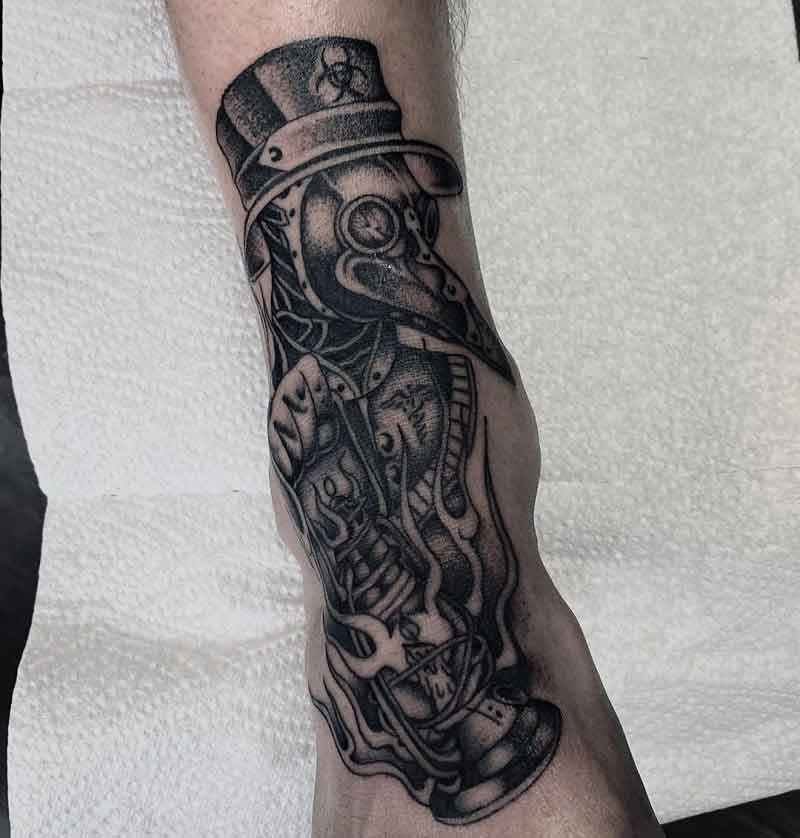 74.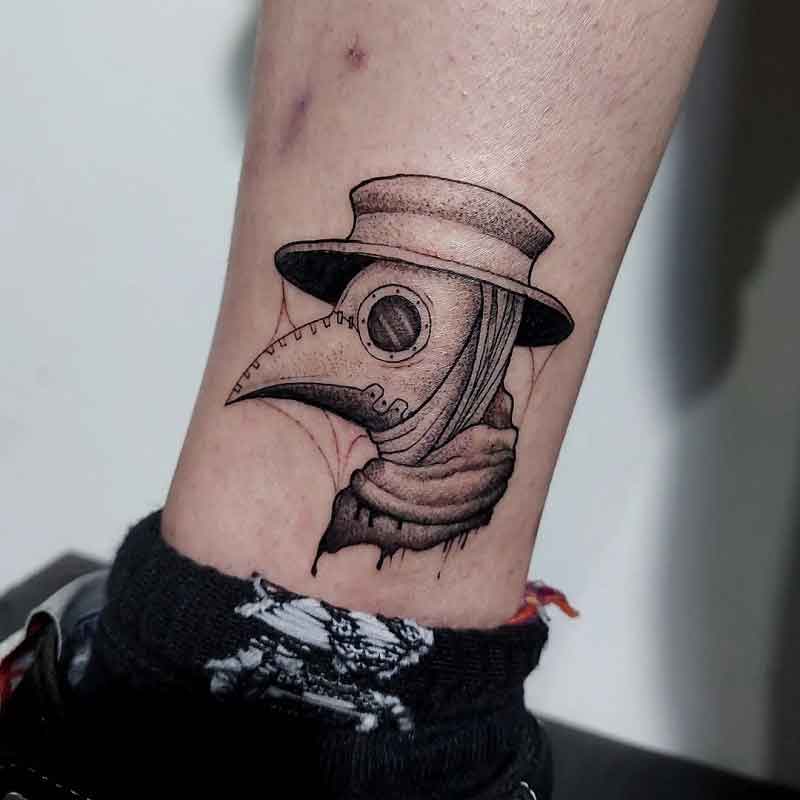 75.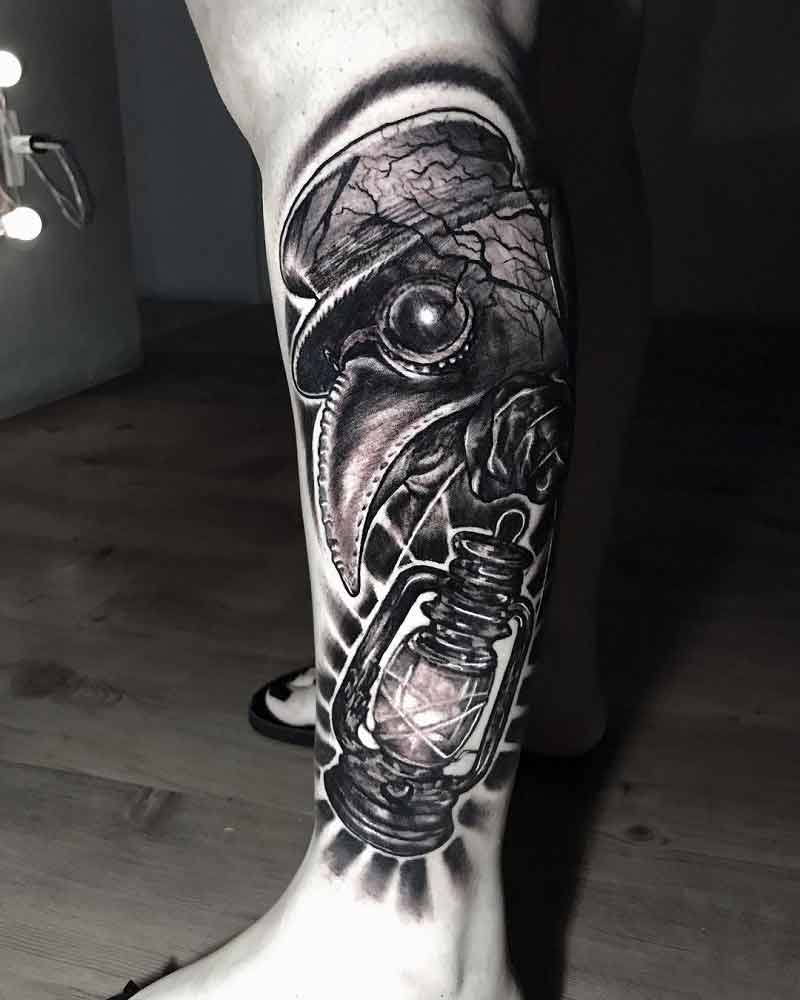 Plague Doctor Rat Tattoo
76.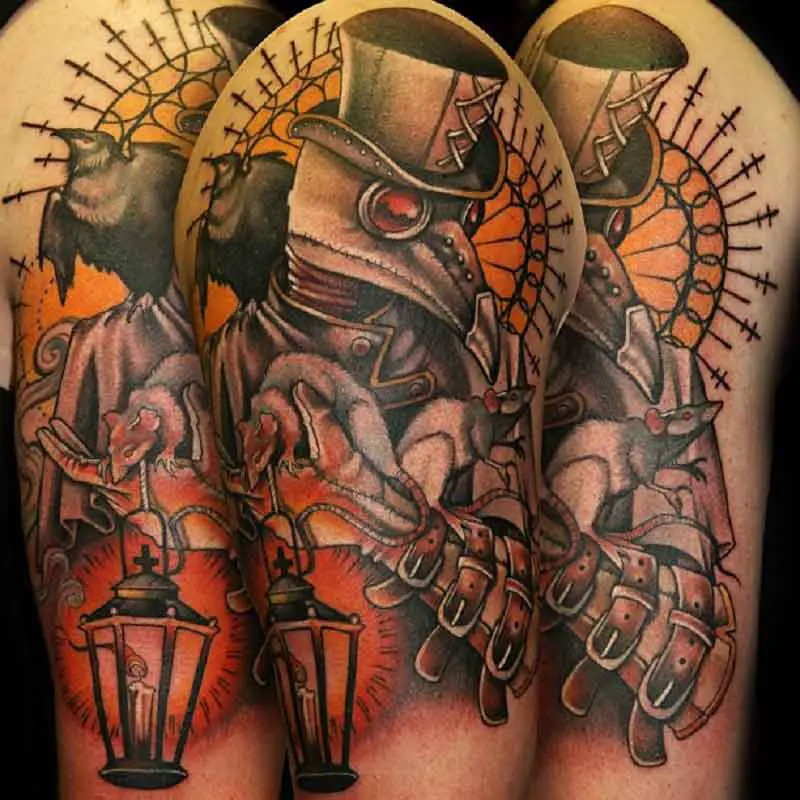 77.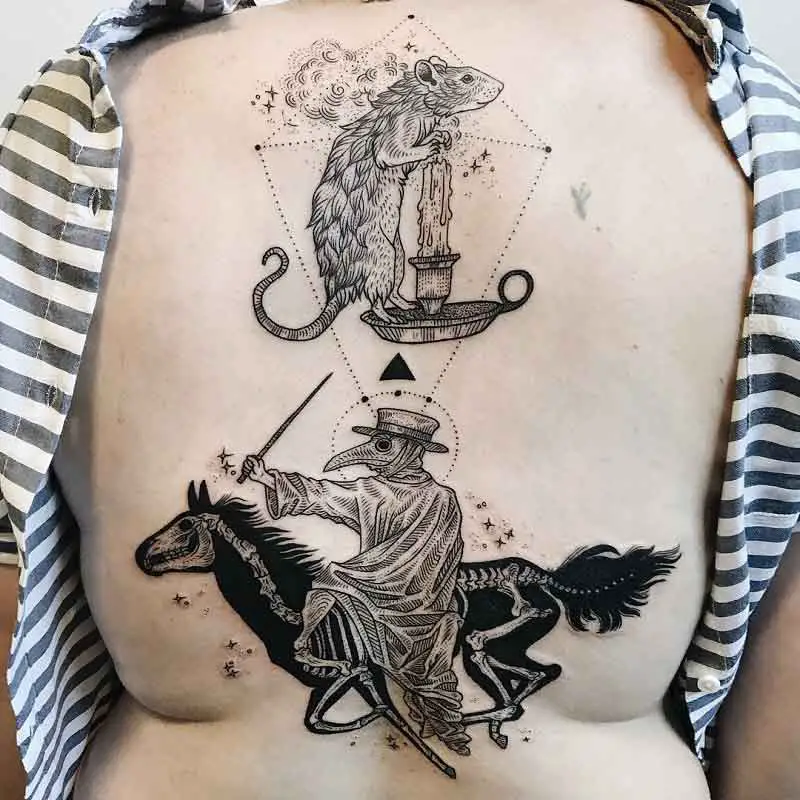 78.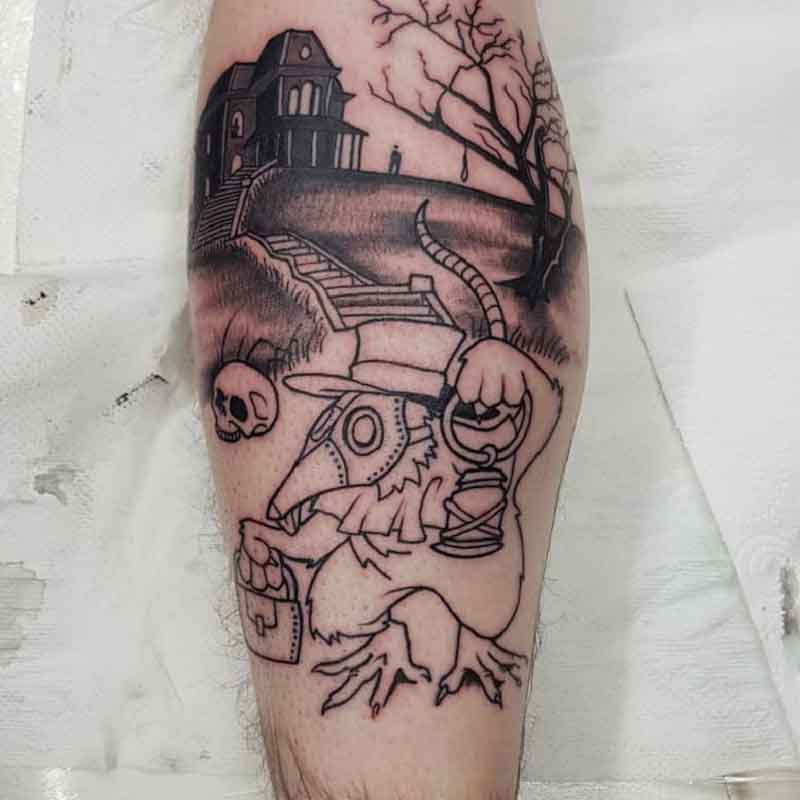 Plague Doctor Raven Tattoo
79.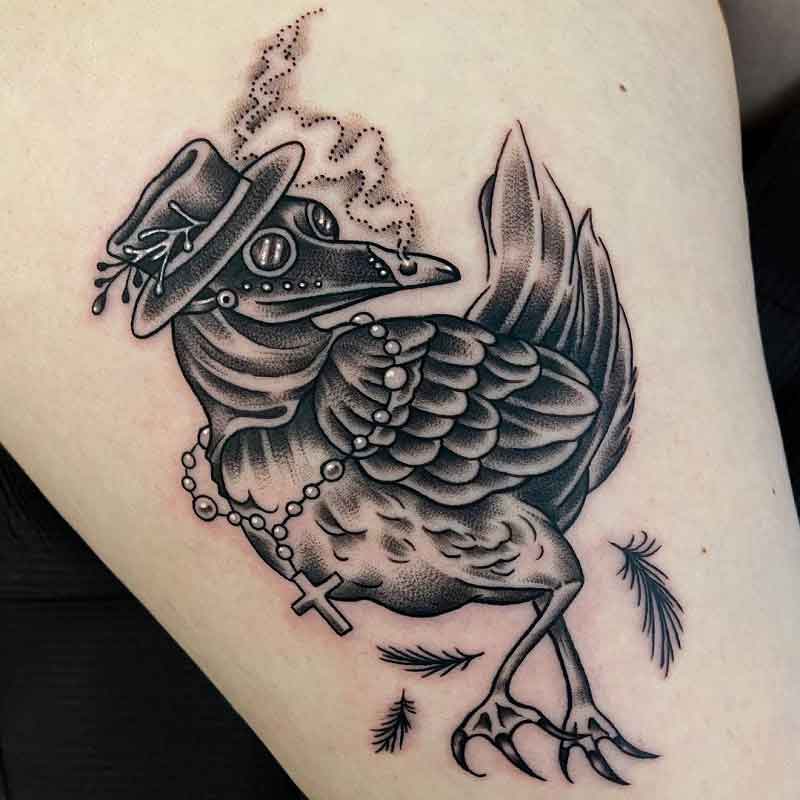 80.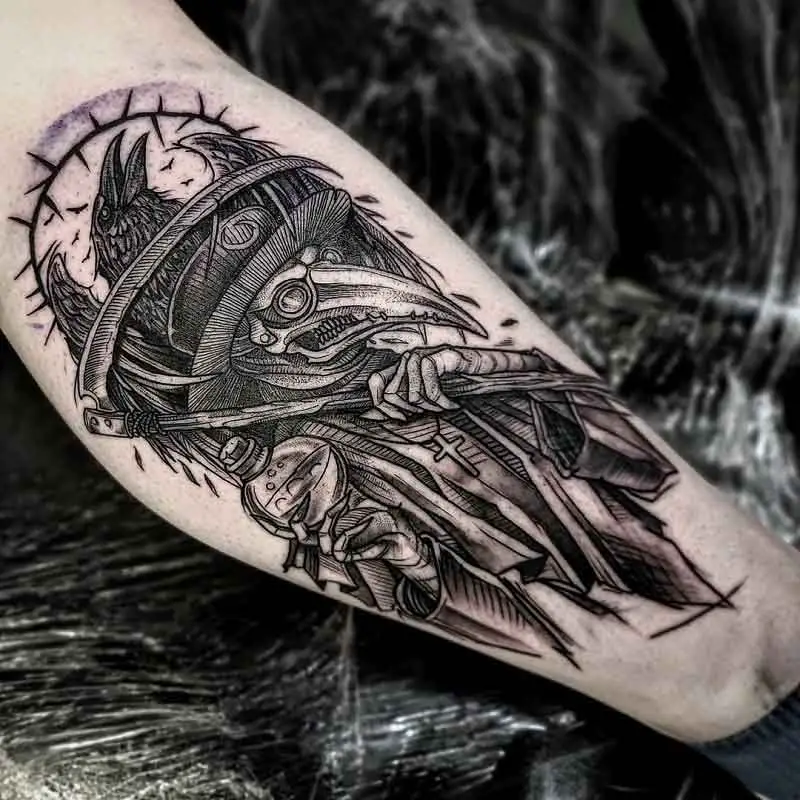 81.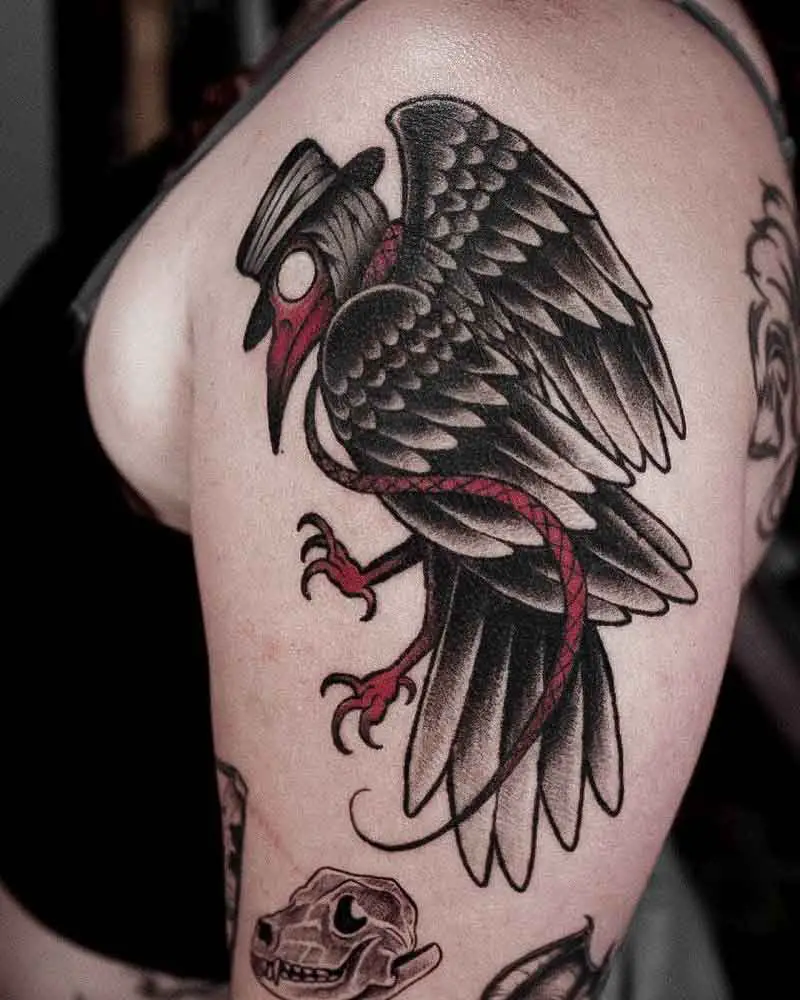 Plague Doctor Shoulder Tattoo
82.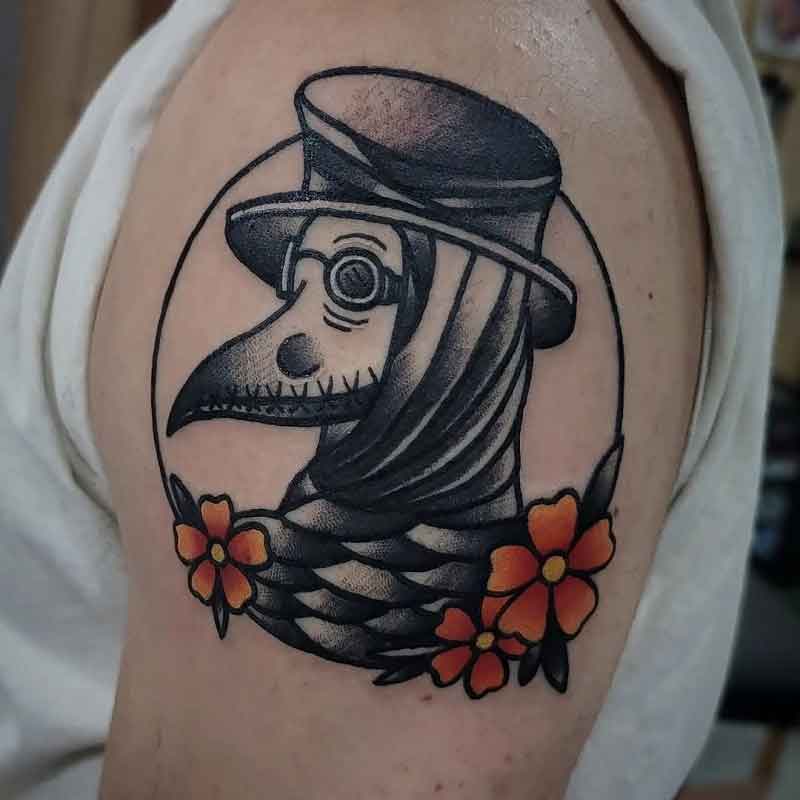 83.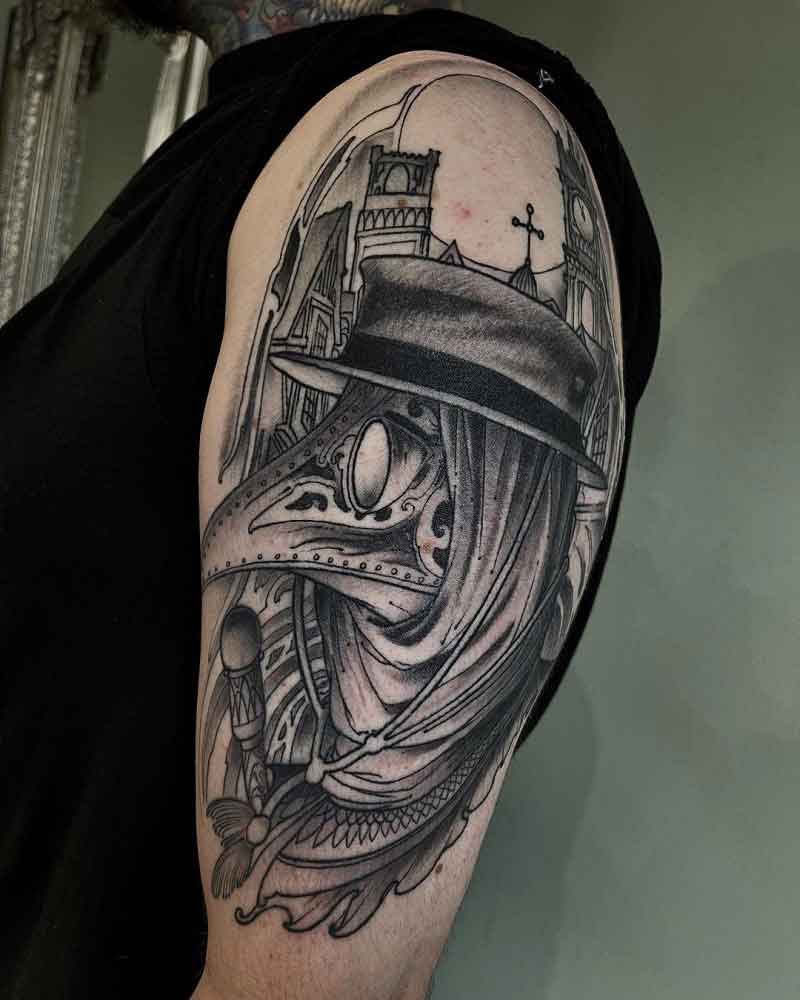 84.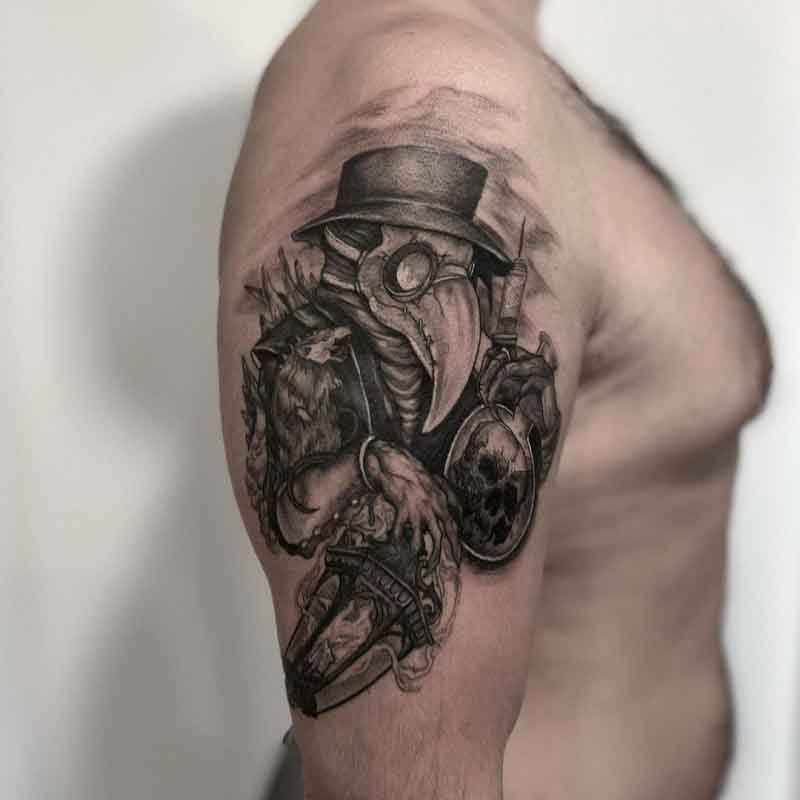 Conclusion
And that's a wrap! If you've made it till here, congratulations! Now that you've gone through all of the designs as well as their interpretations, you probably have some idea about the kind of plague doctor tattoo design you wish to get. If you're still unsure, feel free to go through them again one at a time and make sure to choose the ideal design for yourself.
After that, consult your tattoo artist and make sure they are the right person for the job. A distorted tattoo on your body is the last thing you'd want so you must be careful and immensely patient.
Good luck!
Frequently Asked Questions
What does a plague doctor tattoo symbolize?
Primarily, a plague doctor tattoo stands for darkness and death.
How Much Will Your Plague Doctor Tattoo Cost?
The rates start at $299.
How long will it take to get a plague doctor tattoo?
If you wish to get a medium-sized plague doctor tattoo, it shouldn't take longer than 2-3 hours. However, if your design requires a lot of detailing, it can take about 6 hours.