There's certainly nobody who didn't watch cartoons in their childhood. Every morning on Saturday, we had a good thing to watch on TV. We have a feeling for those prominent cartoon characters and we lead a great world of fantasy in our boyhood. A cartoon tattoo is a way to express that feeling of our inner child. 
If you follow this content you'll get to know many more cartoon characters. Wearing their tattoos, you can go back to your childhood. These tattoos are vastly popular amongst all ages and give your body a new look. 
99 Cartoon Tattoo Designs
Cartoon tattoo designs are bold and bright compared to other tattoo designs. And the great thing about these tattoos is they express literally anything. Below we have a vast list of 99 cartoon tattoo designs that illustrate most of your favourite cartoon characters.
Alien Cartoon Tattoo
Alien cartoon tattoo contains aliens of different kinds. The most iconic alien you may find on the unexpected guest tattoo in this section. The rest of the alien is no less to please you with their appearance.
1. Alien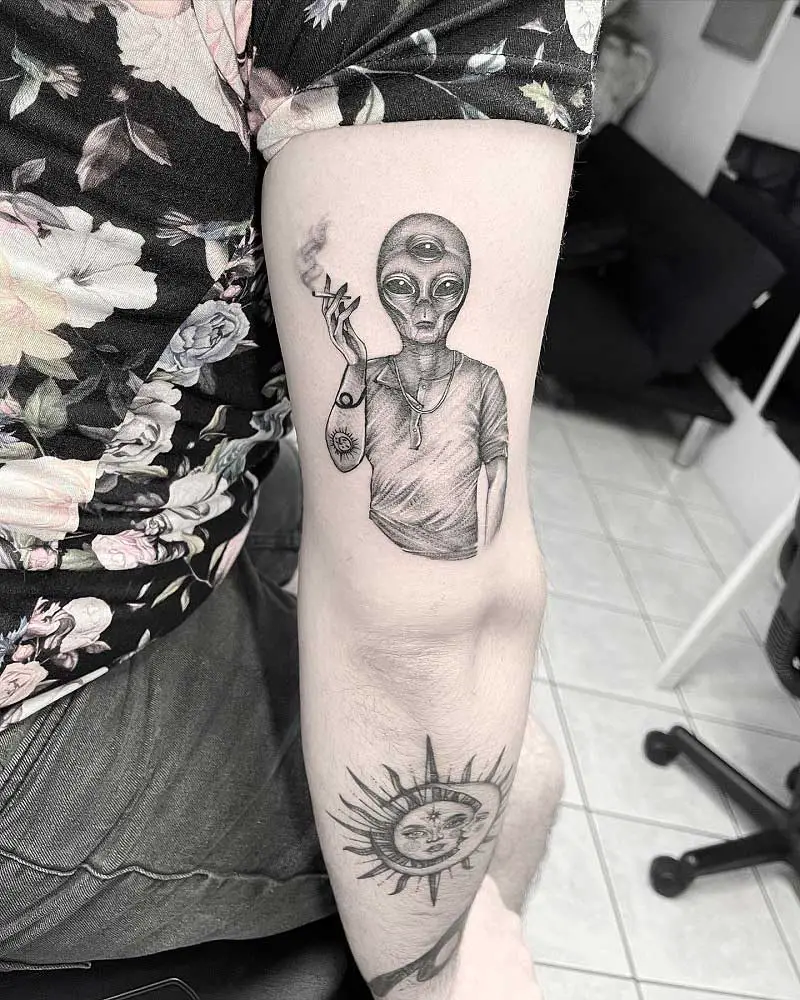 The alien tattoo brings an alien that has a cigarette in its hand. He has a three-eyed face with no expression. You can see a chain on his neck and an illustration of the sun on his hand. The sun will also be scratched underneath the alien on your hand if you wear this cartoon tattoo.
2. Unexpected guest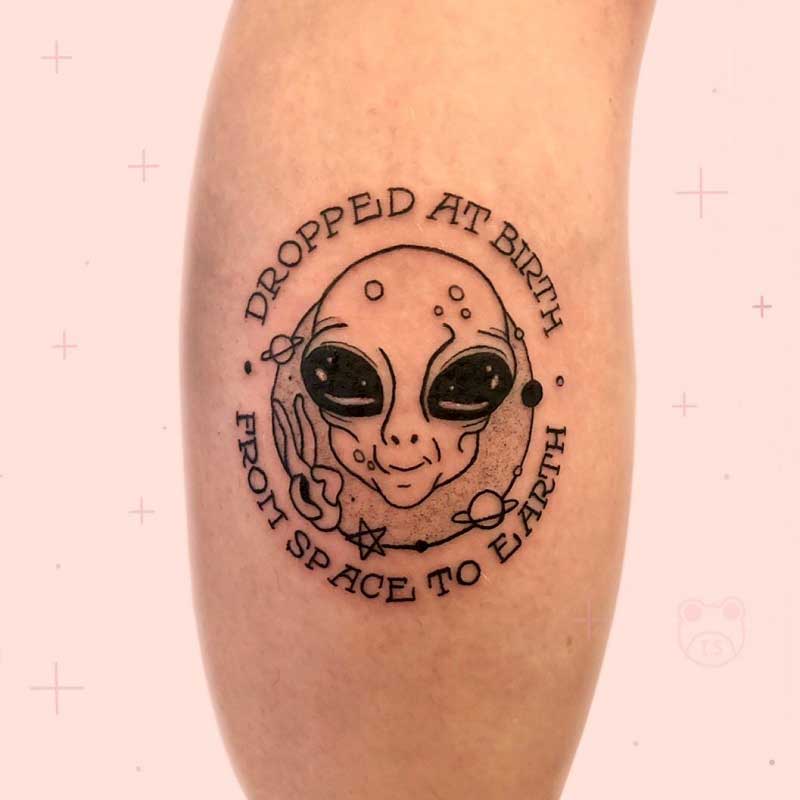 This tattoo comes with the cute little face of a baby alien who's just been born. There are a lot of words around his face. On the top of his head is written: "Dropped at Birth." Underneath his face, you can see the comments, "From space to earth." The words simply indicate the alien has fallen on the earth unexpectedly from space.
3. Narc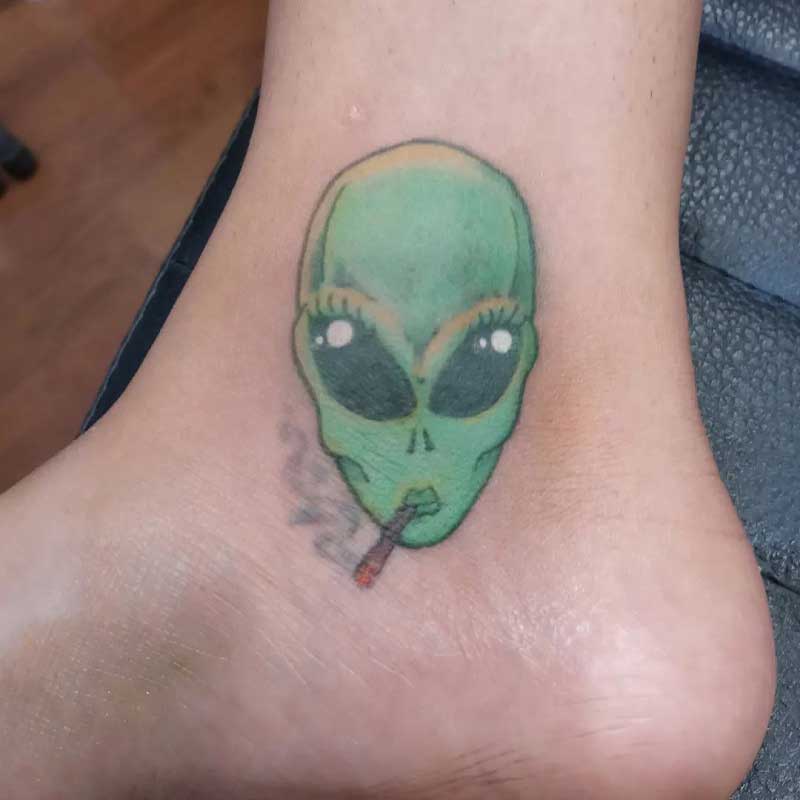 The Narc tattoo also shows an alien face. But this time it's not a baby, it's a narc. The alien has a greenish complexion and holds a cigarette in its mouth. It has two black eyes and a killer look that makes it look like a narc. And surely the face is of a female alien on the ankle.
Skull Cartoon Tattoo
Skull cartoon tattoos show three different skulls with creative designs. Exploring the section, you'll surely see something new about skull tattoos.
4. Walking head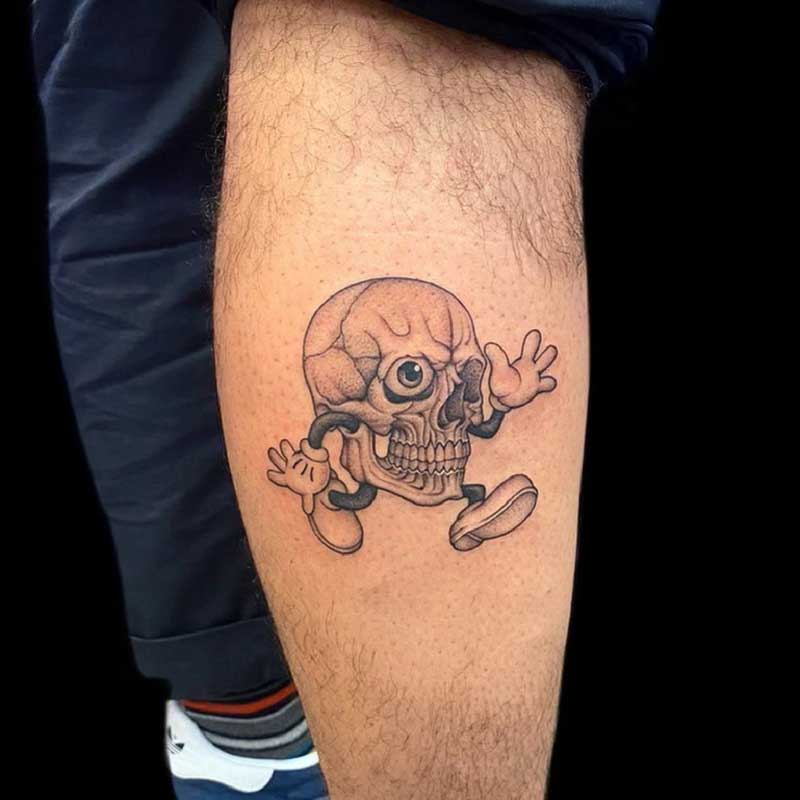 How would you imagine a skull with two hands and legs? If you think this illustration of the skull is nice, this tattoo is for you. The tattoo shows humour as well as the creative mind of imagination. If you want to wear a cartoon tattoo, this one can be simply gorgeous.
5. Avenger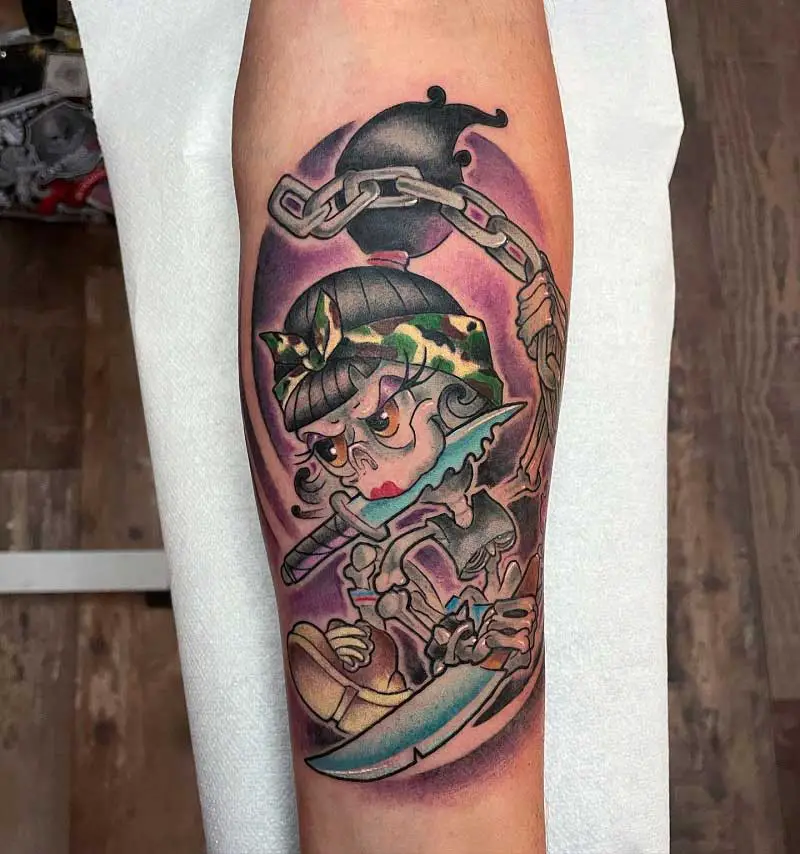 The Avenger tattoo is one of the most glorious tattoos on our list. The alien that's been scratched here holds two swords; one in his hand and the other in her mouth. Surely it's the toughest look of an alien you have ever seen. She has a ponytail that's also tied with a shackle.
6. Broken Head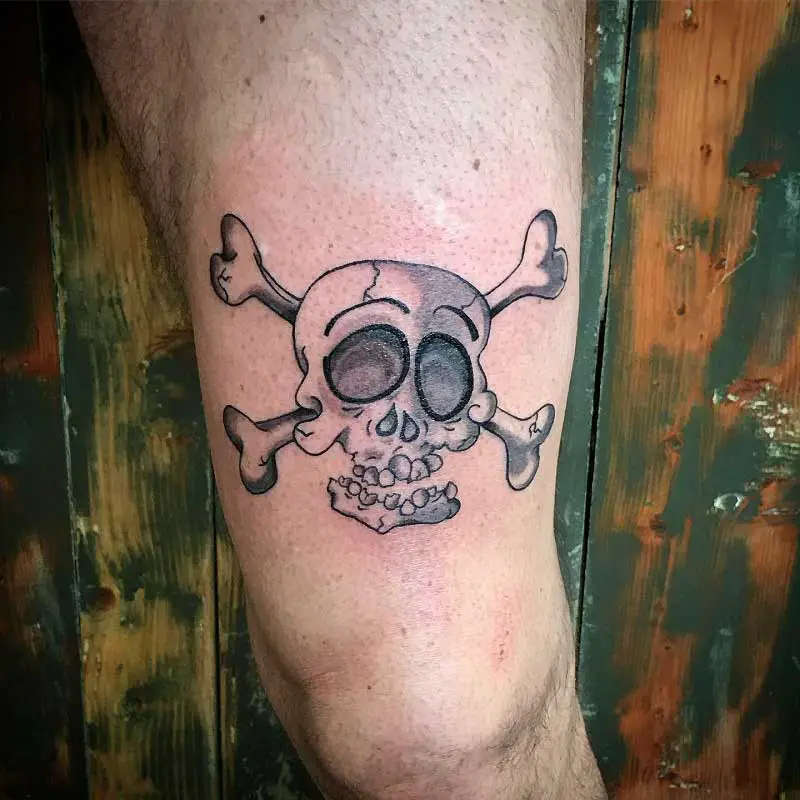 A broken skull with two bones is always a scary image. In fact, it's a sign of danger. Therefore, wearing this tattoo will surely bring a dangerous look to you. You can wear this tattoo anywhere on your body and it is perfect for both males and females.
Bee Cartoon Tattoo
Here you'll see different images and various information about bees. Albert Einstein once said that "If the bees disappear from the surface of the earth, man would have no more than four years left to live." He said that because the bees make pollination the majority of trees. If there's no tree, there's no world. Now you may get interested in wearing a bee cartoon tattoo.
7. Tri bee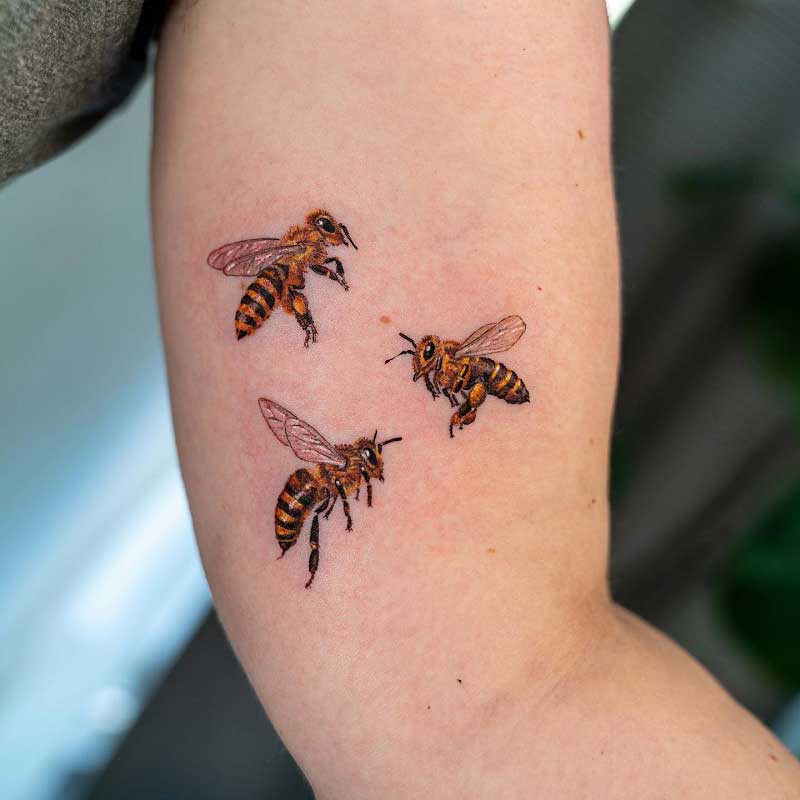 Here we see three bees flying randomly. It is as if they are playing. The tattoo symbol many things such as friendship, teamwork, etc. You can wear this tattoo on such an area of your body with ample space.
8. Helicopter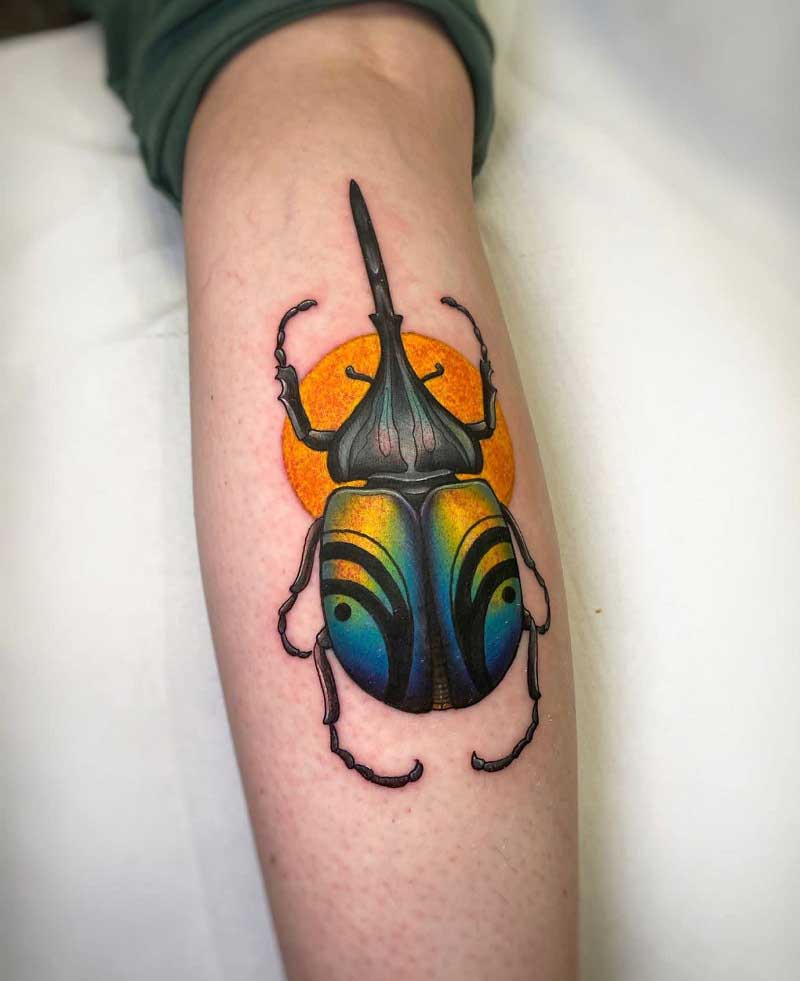 Here we see a bee that looks like a helicopter. This bee has a gilded complexion and looks poisonous as well. The place where it'll be scratched will also evolve into golden skin. People of white complexion will fit nicely with this tattoo.
9. Drone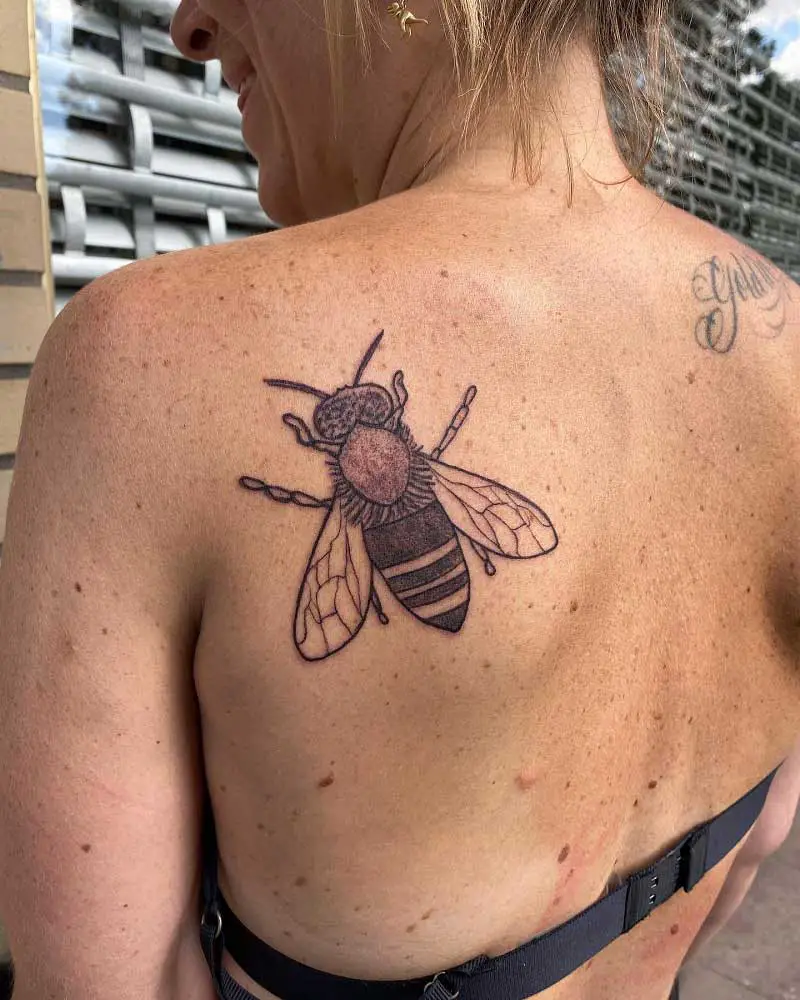 Drone bees are male bees and they don't make honey. Instead, they just mate with the queen. It's the only role they play in the hive and always try to get close to the queen. If you are a girl and wear this drone on your back then that makes you a queen.
Cat Cartoon Tattoo
There are very few people who don't like cats. Most cat cartoon characters are also vastly popular in the world. You aren't getting the Tom here though, yet the cutest cats are available for you in this section.
10. Luna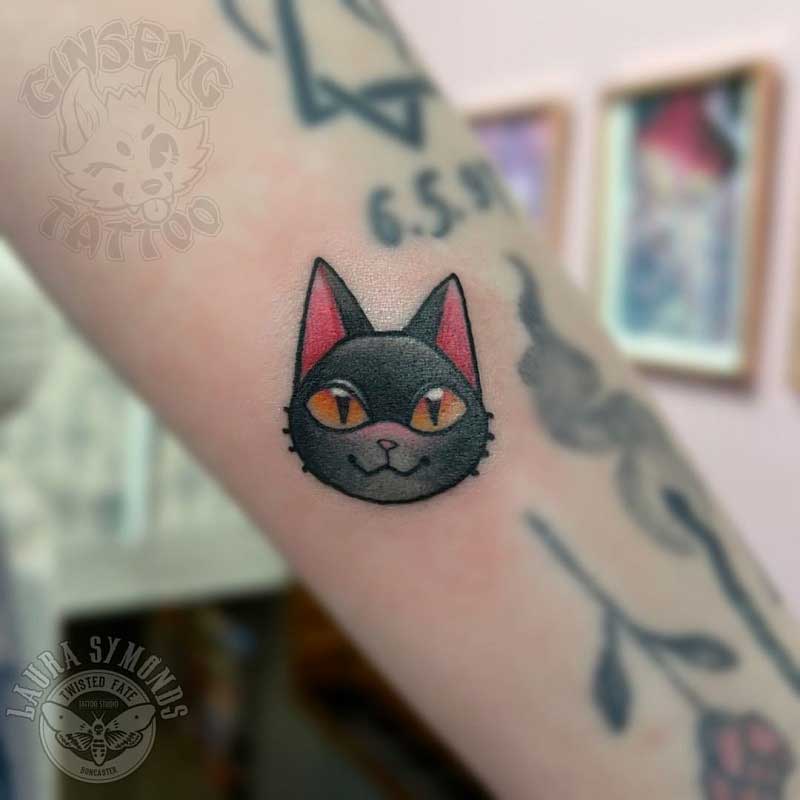 This cat cartoon tattoo brings a face of a cat. The cat is known by the name of Luna. Luna is a fictional character who has the ability to talk. The cat is a female and can turn into her human form as a young woman. So, basically, this tattoo is for girls.
11. Cruella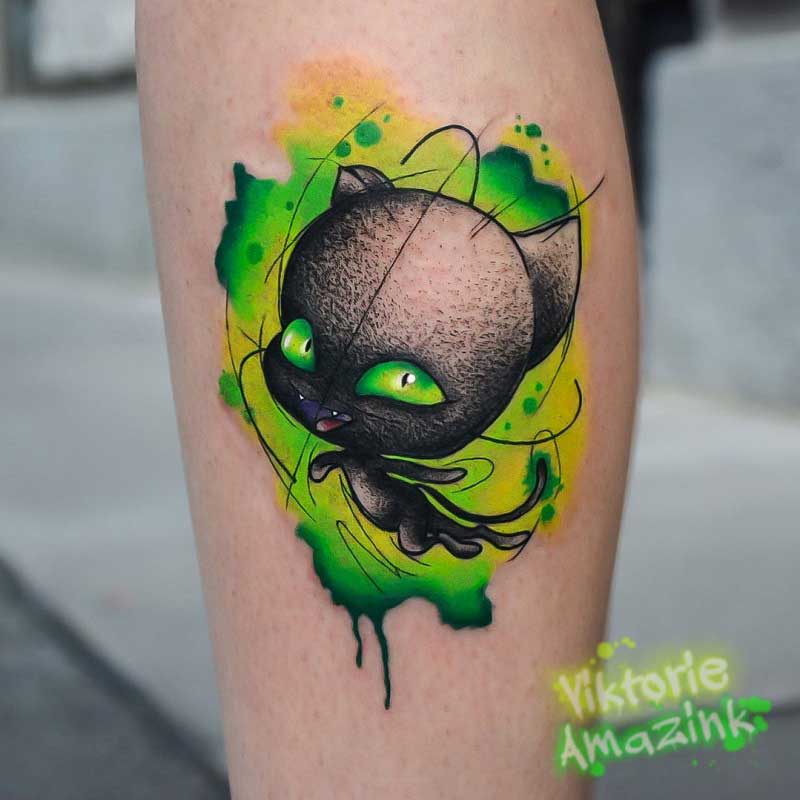 Here we see a female cat with a demon look. The cat is pure black and flies as if it has the power of doing unusual things. The name Cruella comes from the word cruel as the cat really looks cruel. Her greenish eyes can burn anyone only with one gaze.
12. Matroskin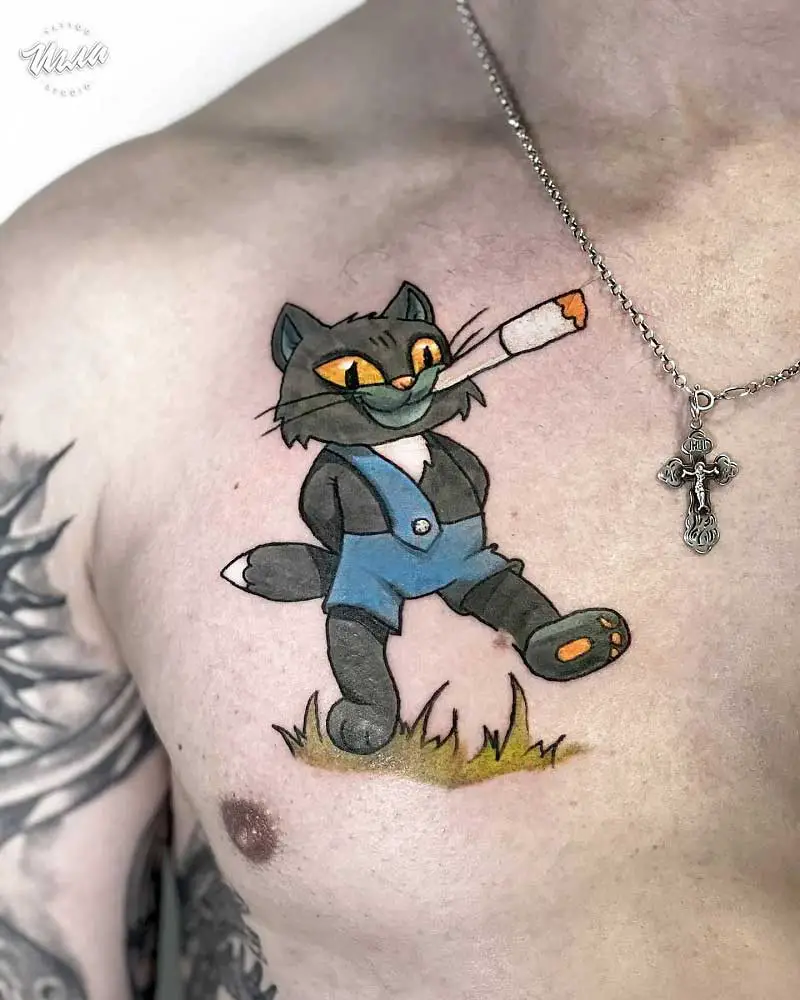 Matroskin is a cat character from the 1978 Soviet children's animation. The cat is funny and vastly popular in this region. In this tattoo, you can get that cat walking on your chest with a cigar in his mouth. The appearance of this cat is illustrated funny and in a charming way.
Dinosaur Cartoon Tattoo
Dinosaurs are long gone. Yet you can keep them alive on your body with the finest dinosaur cat tattoos below. Check here and see if something is to your liking.
13. Old timers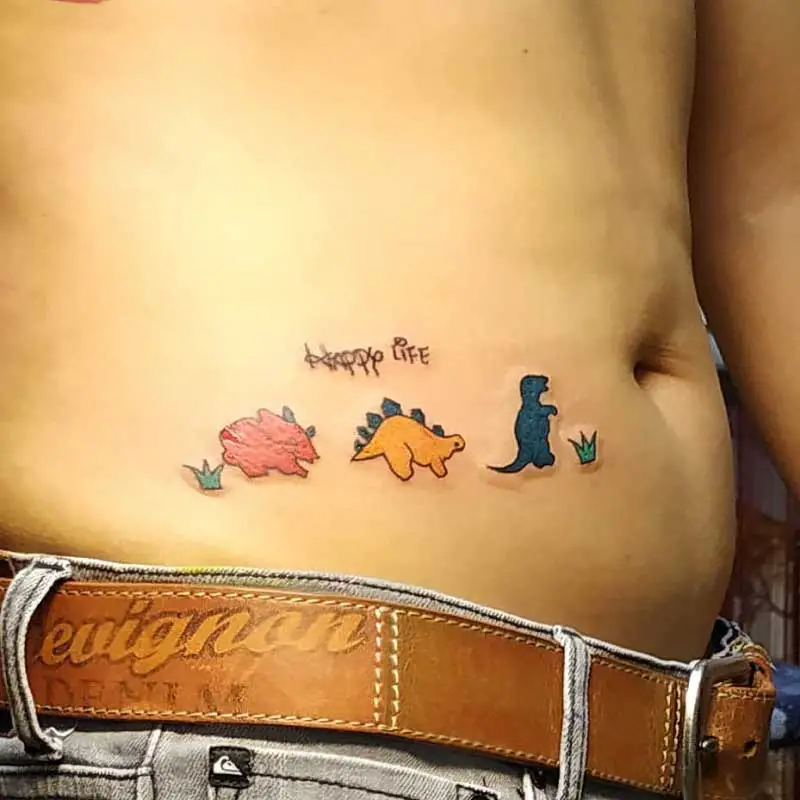 Do you know whom we refer to as old-timers? No, it's not about our ancestors but the dinosaur. Here we see three dinosaurs of different species walking in a line. Seeing their body language, you can say that they are happily leading their life together.
14. Sauropod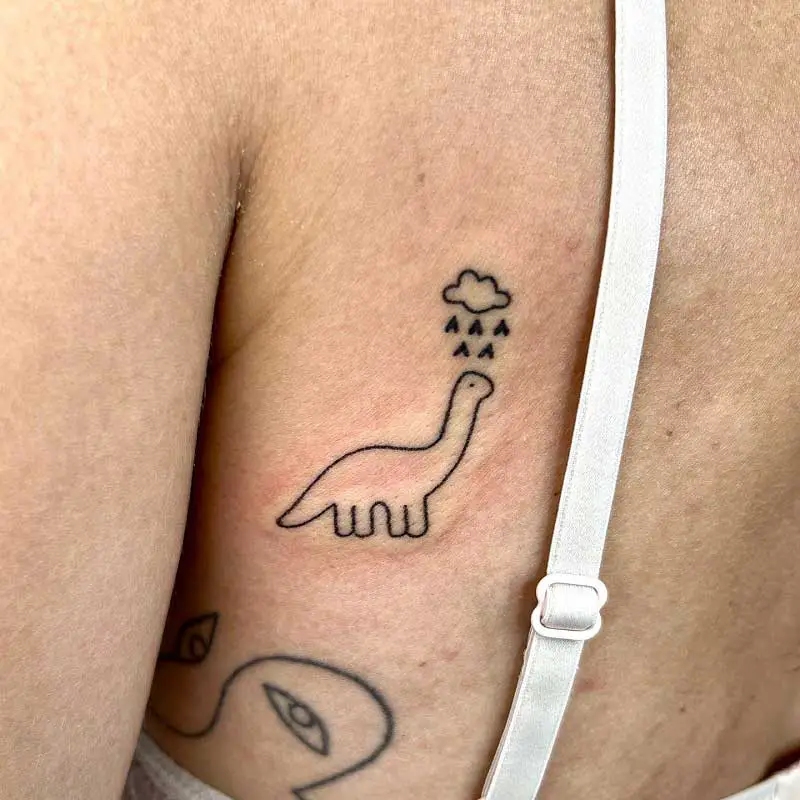 The sauropod is one kind of dinosaur that has four legs and a long neck. In the cartoon tattoo, we see a cute little dinosaur with a little cloud over its head. It was like the rain is falling from a cloud and the dinosaur is enjoying it. It's the cutest dinosaur you see.
15. Therapod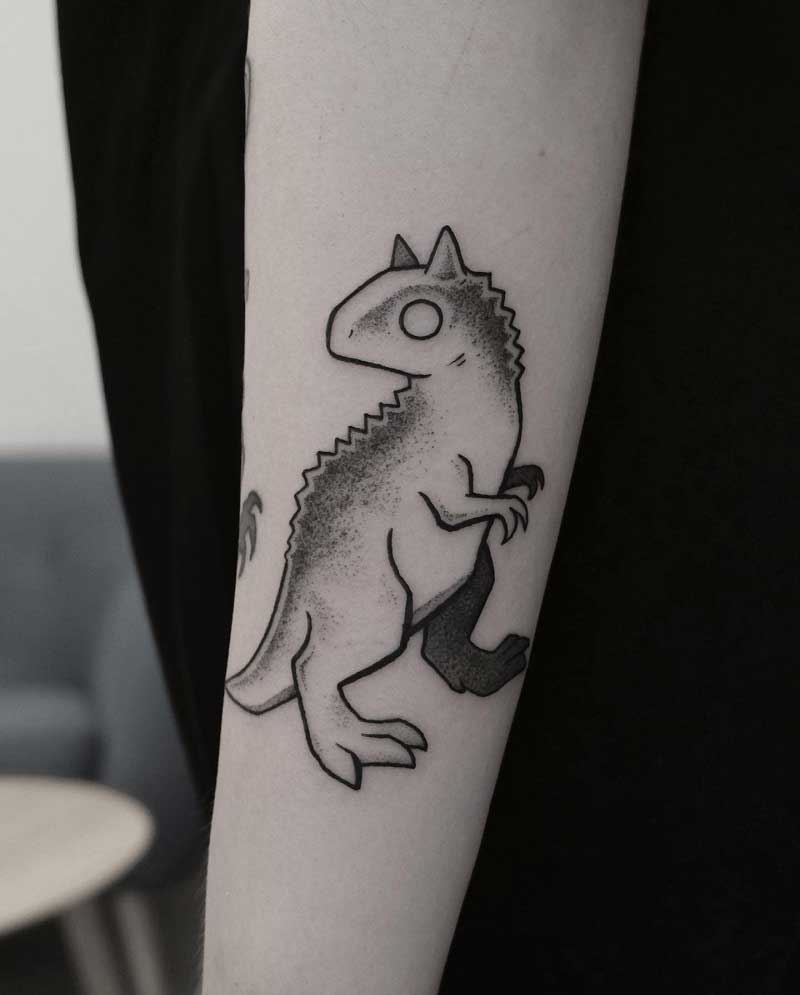 Therapod dinosaurs have two legs. This tattoo illustrates a therapod that looks confused as if it's don't know where to go. However, the tattoo isn't confusing at all. Here you get a cute dinosaur to make your body looks attractive.
Dragon Cartoon Tattoo
Dragons are symbols of power. But what if a dragon appears in its funny way? See three of the most cutest and funniest dragons in this section.
16. Mushu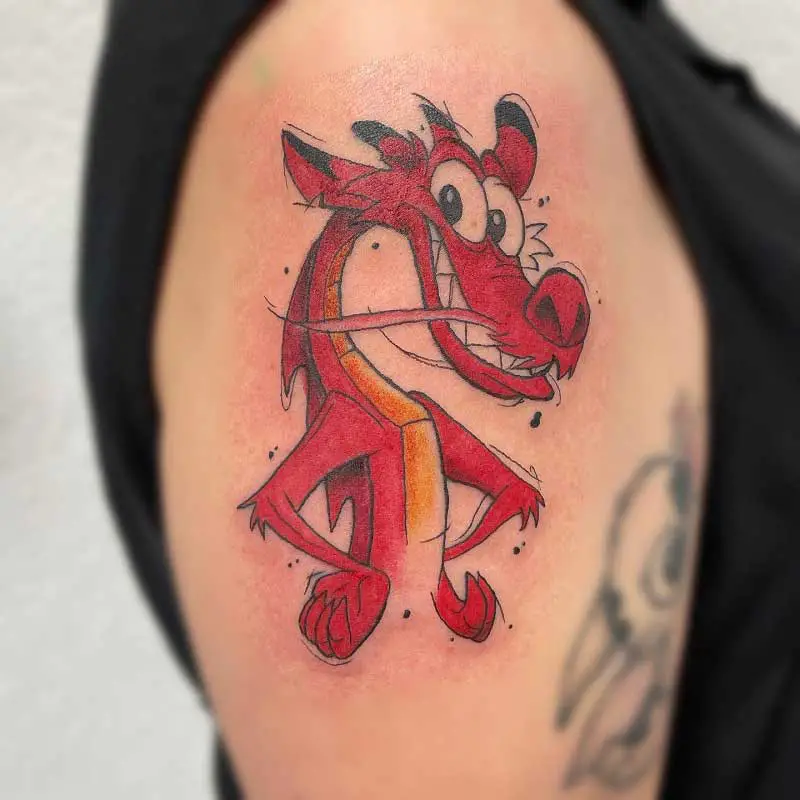 Mushu is a fictional character in the film named Mulan. It's basically a red dragon known for its funny behaviour. Here we see the dragon with a funny appearance as well. Anyone who loves to make everyone laughs all the time would be a great fit for this tattoo.
17. Adalina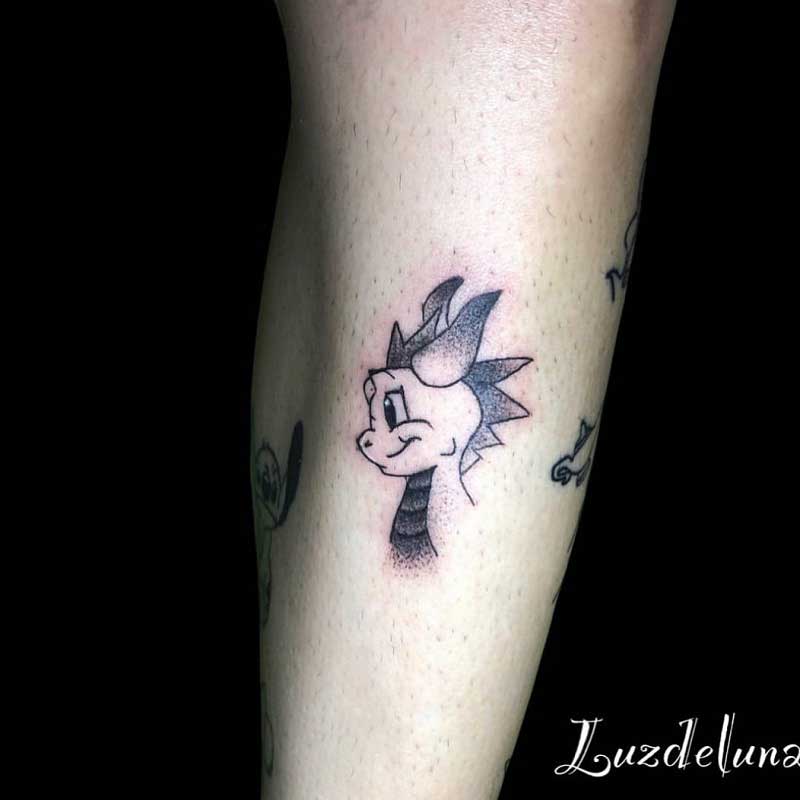 Adalina means noble. The dragon this cartoon tattoo illustrates seems very polite as well as cute. It's basically a female dragon who's standing sideways. The most unique thing is this dragon comes with a white complexion.
18. Naga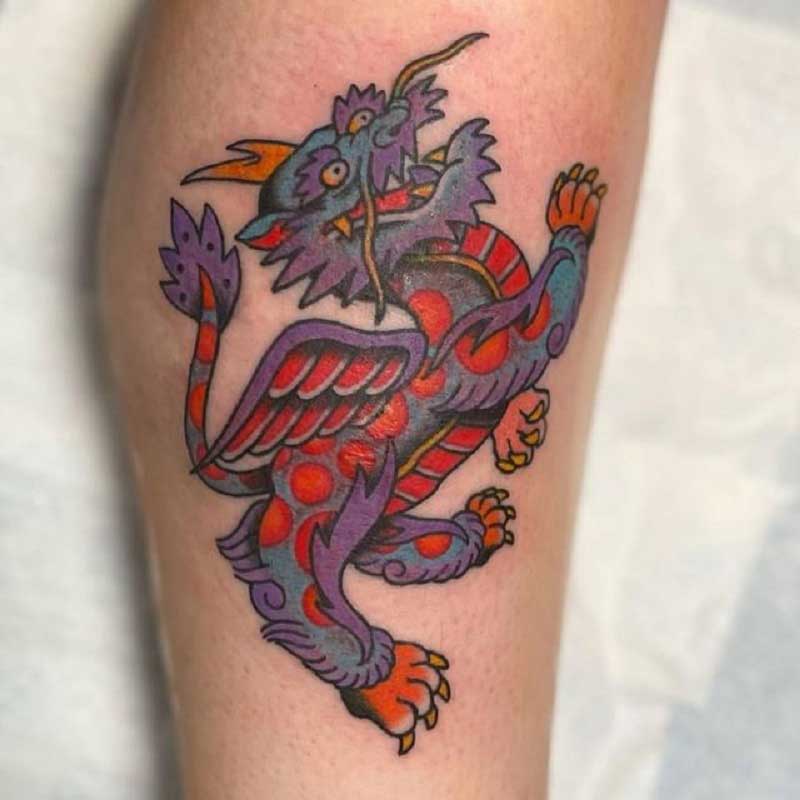 Shinryuji Naga is a dragon. It is considered the strongest dragon in the dragon ball z series. The dragon that comes with this tattoo looks similar to the Shinryuji Naga. It comes with the funniest yet scariest appearance.
Grim Reaper Cartoon Tattoo
Many cultures have represented death in many ways. One of the most words is the grim reaper. In these tattoos, you will most likely to see a skeleton body with a scythe coming to take your soul.
19. Grim reaper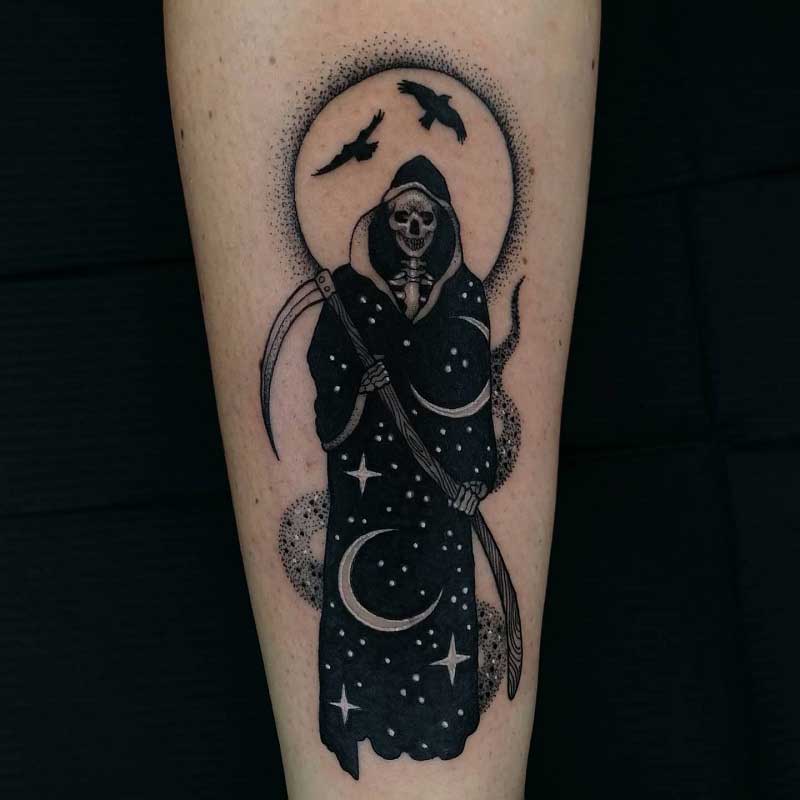 Grim Reaper means death. The demon we see here appears with a scythe to take human souls. There's a big moon over his head and two ravens are flying on the rays of the moon. This grim reaper tattoo has the scariest look so far on our list.
20. Striker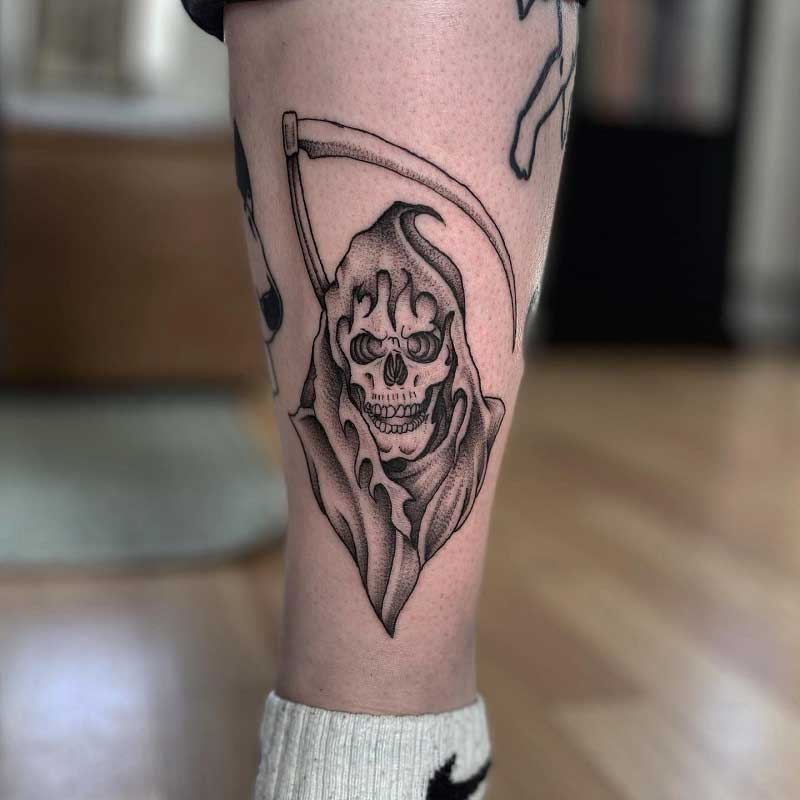 The face this demon has is scary. It has a scythe on its shoulder to strike you at the first chance it gets. The way its eyes have been illustrated, it looks like this monster is looking at you. Wearing this cartoon tattoo will surely evolve the look of your body into a dangerous one.
21. Pale rider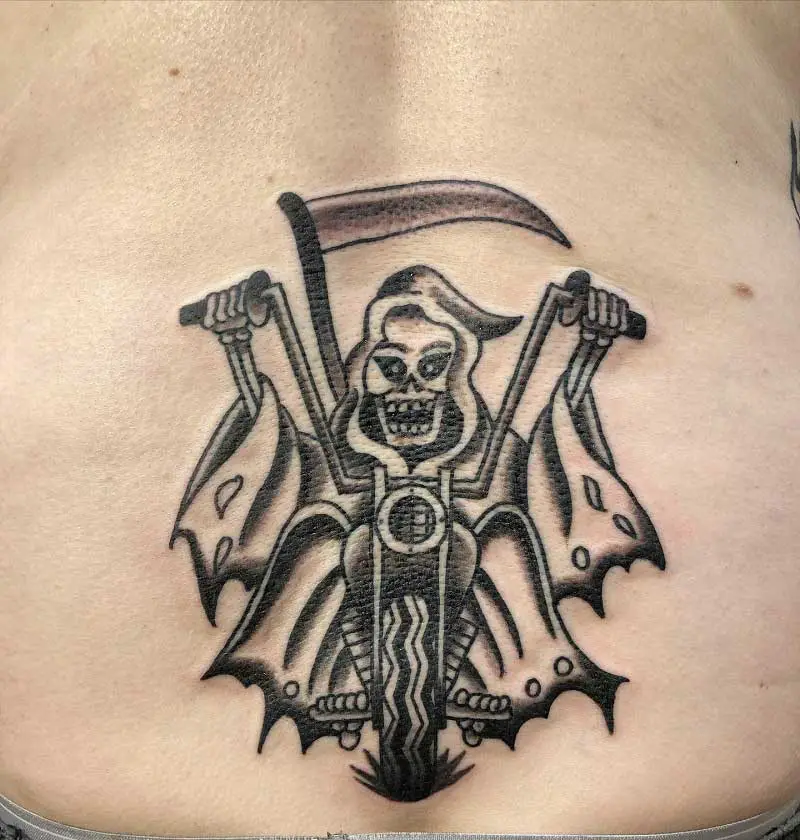 This monster comes to take your soul with a bike. It has a scary smile on its face as it drives. You wear this tattoo and you will be one of the pale riders which means death. The dress that the monster is wearing is also large which makes this demon more frightening.
Mini Cartoon Tattoo
Cartoons look cuter when they are scratched tiny. Also, the mini cartoons can be drawn anywhere on the body. Let us tell you that you can get two popular cartoon characters here.
22. Winnie-the-pooh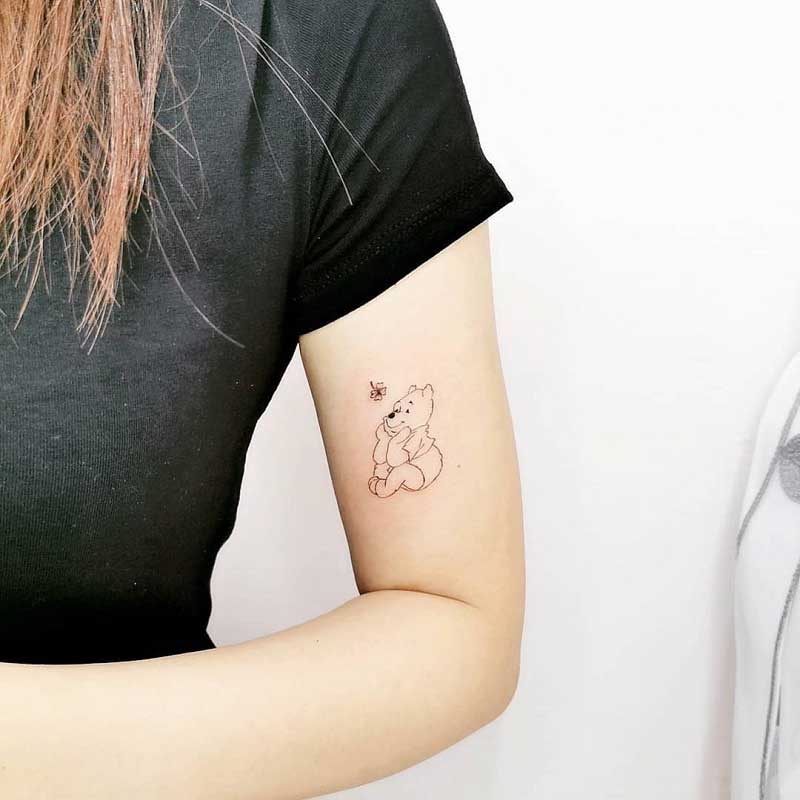 It's a fictional teddy bear that is known for its cuteness. The cartoon is created by English author A.A. Milne and it got vastly popular among many. Here we see the bear sitting in the most curest way and there's a little flower falling from the sky right in front of him. This cartoon tattoo will enhance your cuteness a lot more.
23. Sailor moon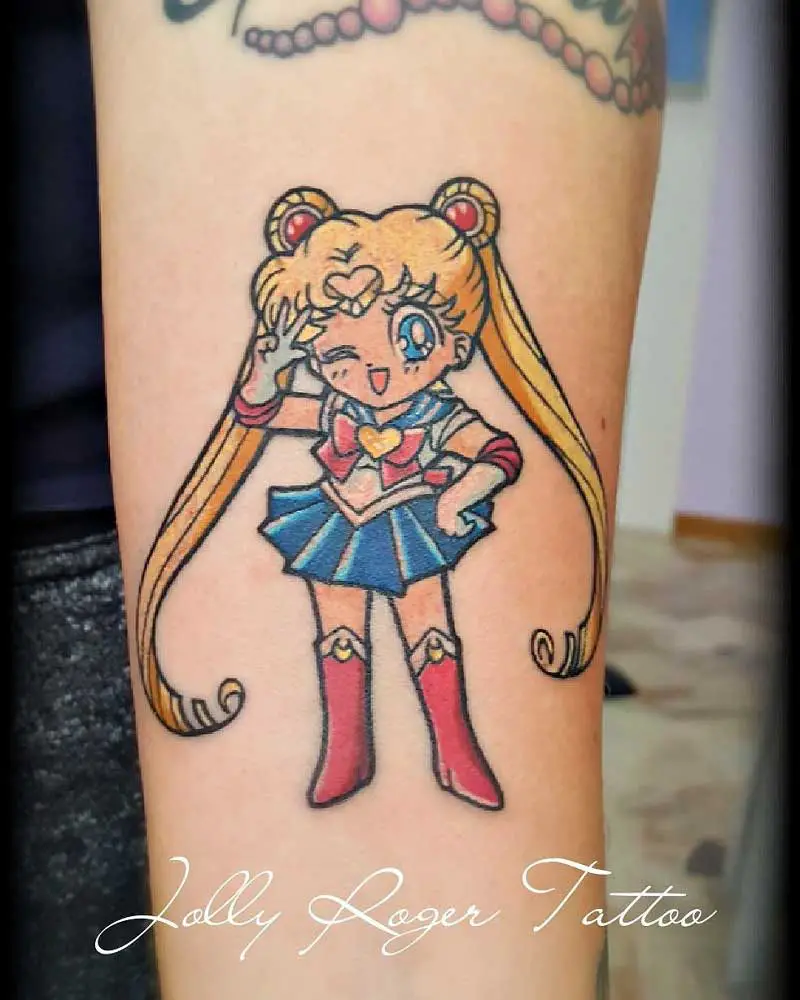 The sailor moon is a fictional character that comes from the ancient civilization that lived on the moon. It's basically a girl who can transform into a powerful hero to fight against evil. Here we see her charming showing the victory sign with two fingers. The tattoo will look good on the girl's hand.
24. Solus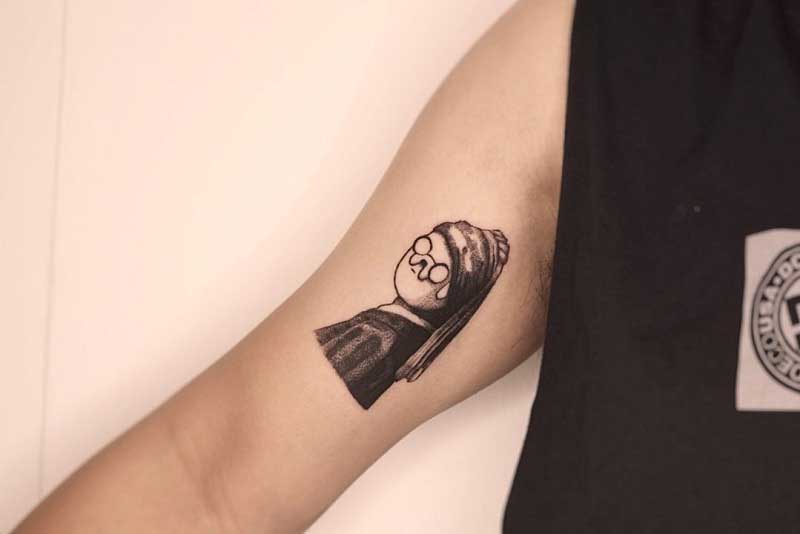 Solus means loneliness. Here we see a cartoon with a moustache who seems completely unaccompanied. It is as if he's leaving us and giving a last glance as a goodbye. The tattoo will be a great fit for those who love to be alone.
Pin Up Cartoon Tattoo
Pin-up tattoos illustrate girls in traditional ways. These tattoos always contain different meanings and show the body parts of the girls with unique indications. Following are the old-school pin-up cartoon tattoos you may like.
25. Batty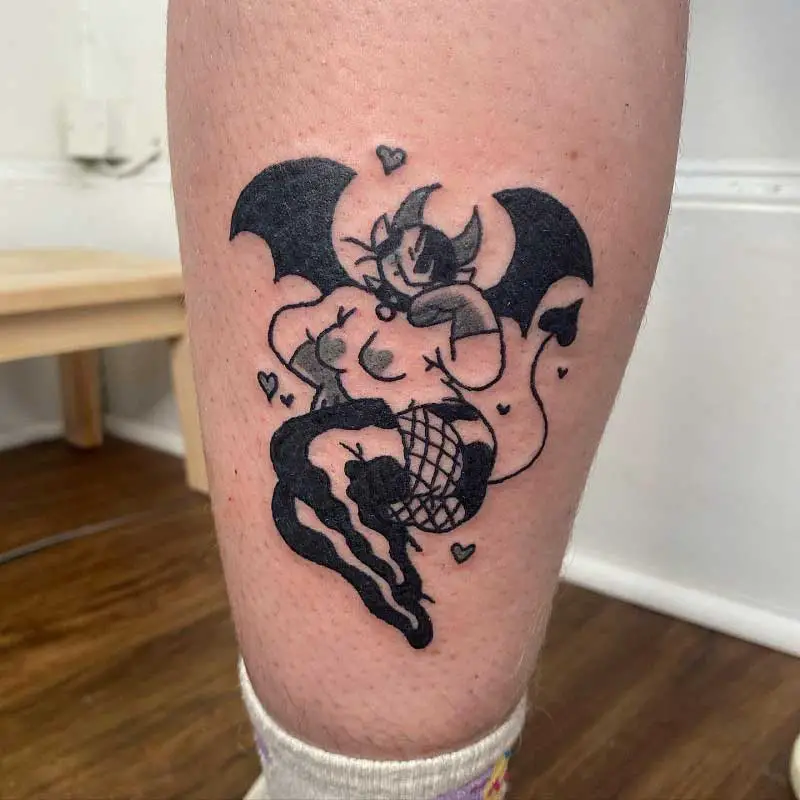 Batty seems like a female Batman with a fatty and hot appearance. As she poses for the tattoo she looks so hot with her inflated bust. If you are a woman with a big appearance and love the way you look, the tattoo will most likely be to your liking.
26.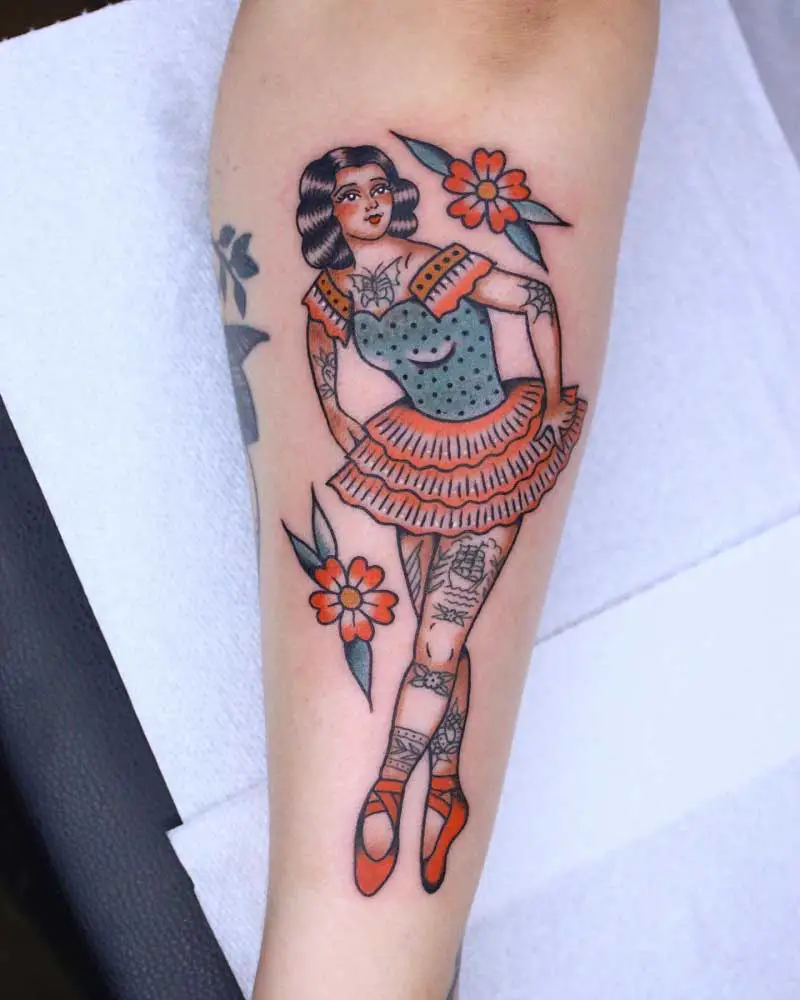 27.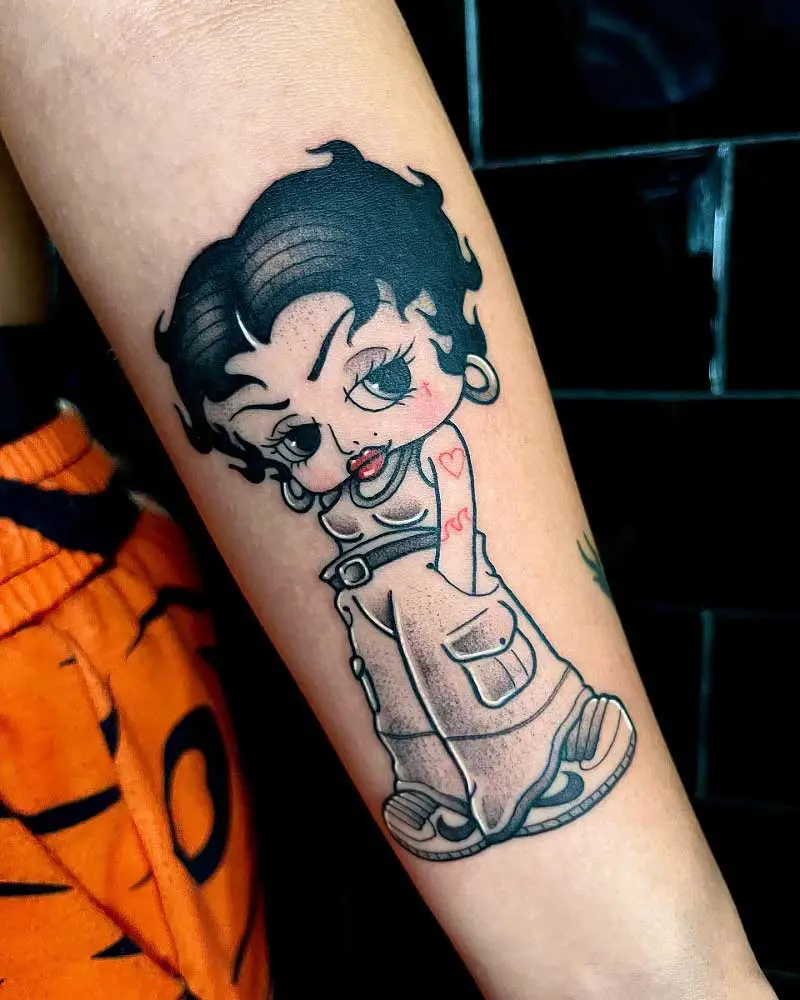 Angel Cartoon Tattoo
28.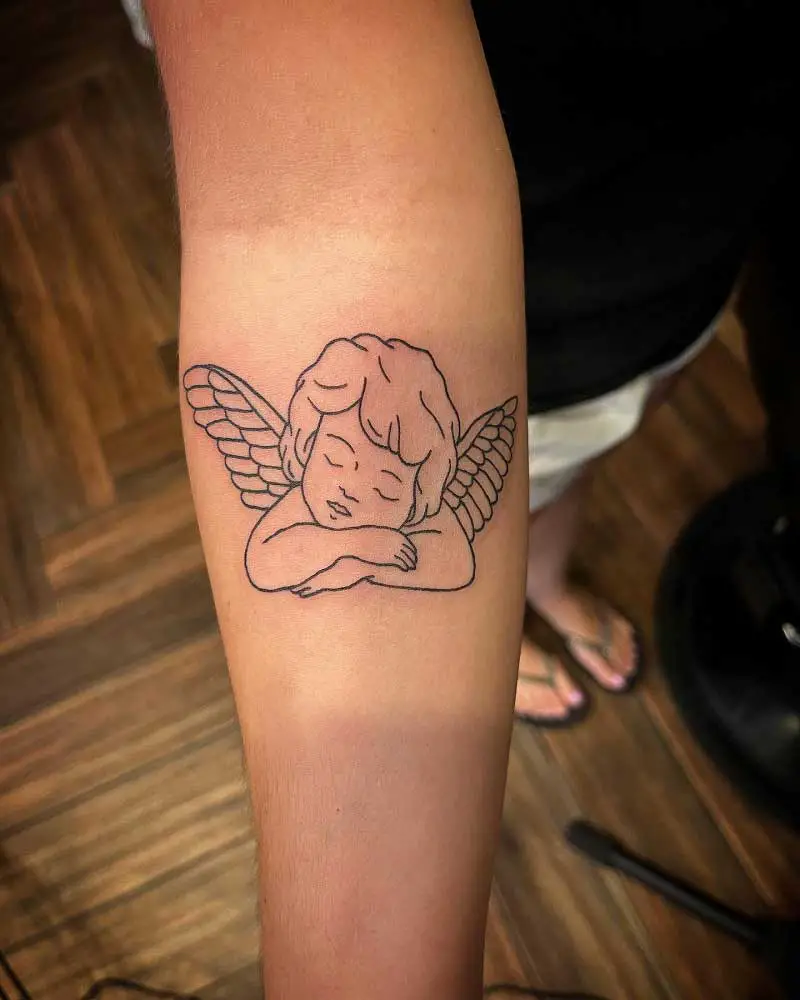 29.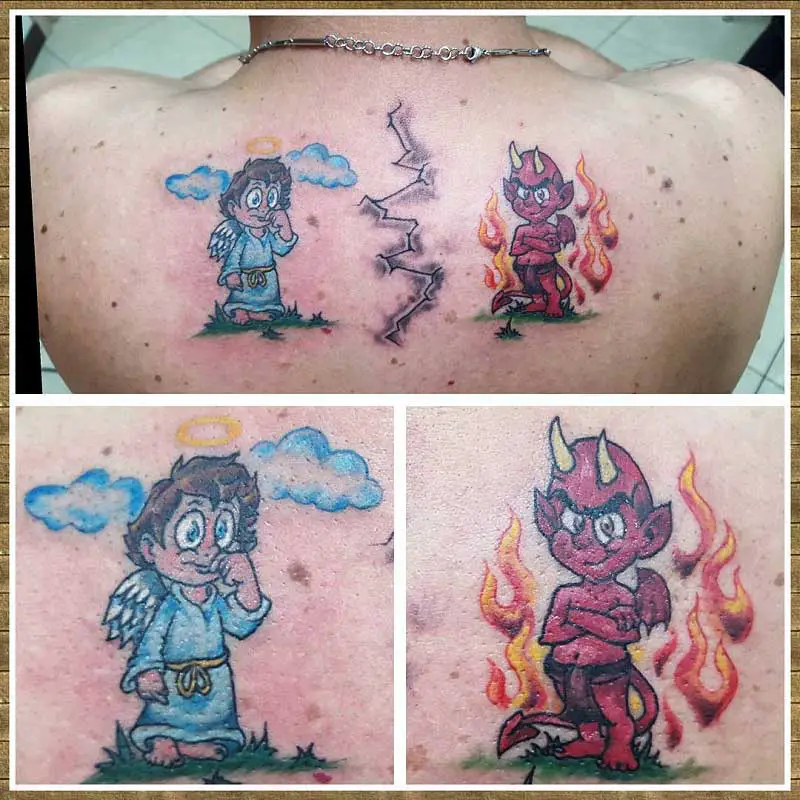 30.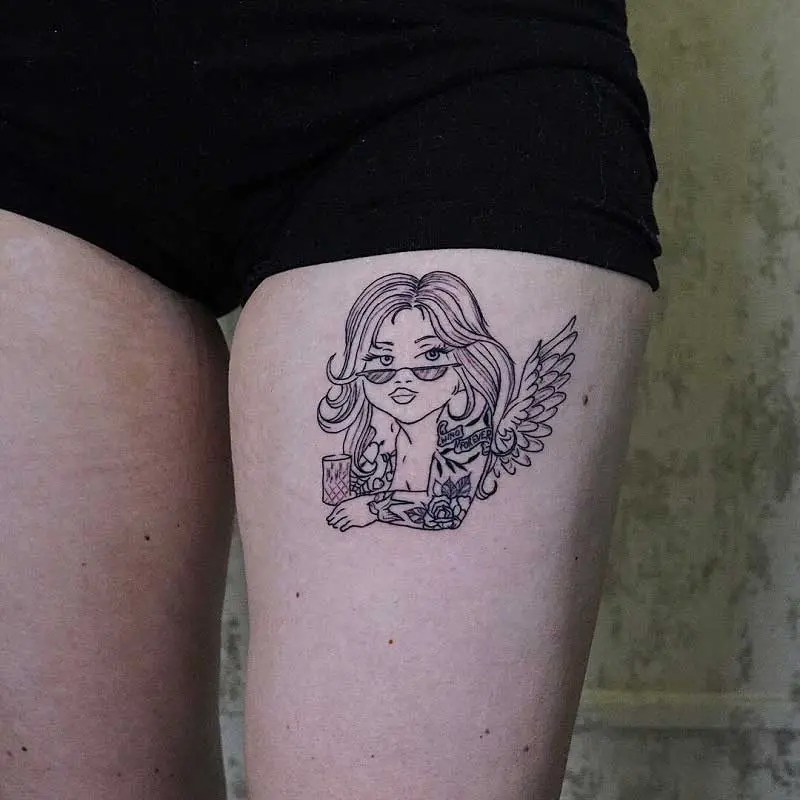 Astronaut Cartoon Tattoo
31.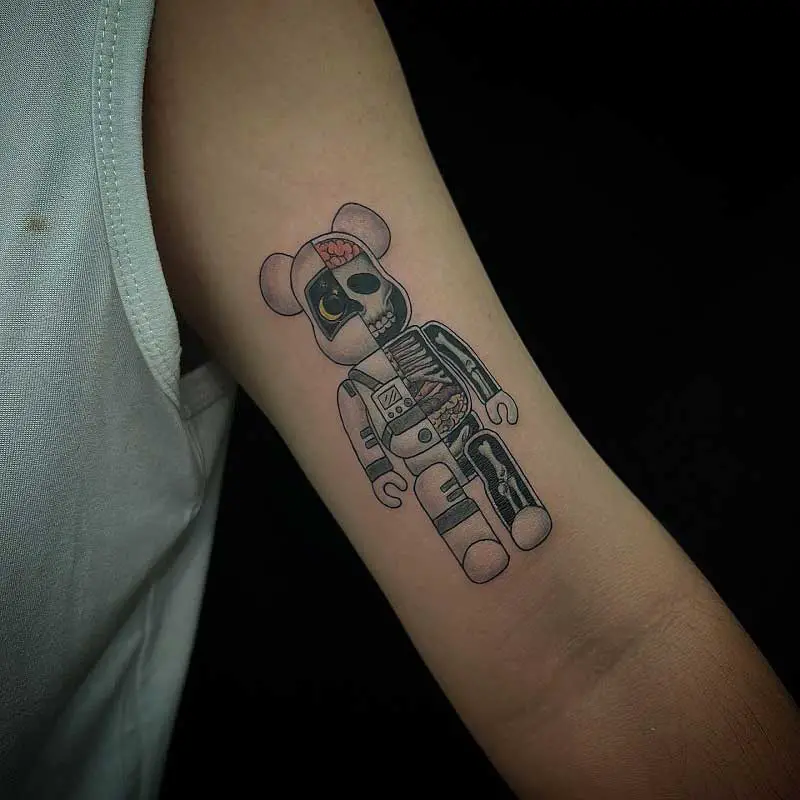 32.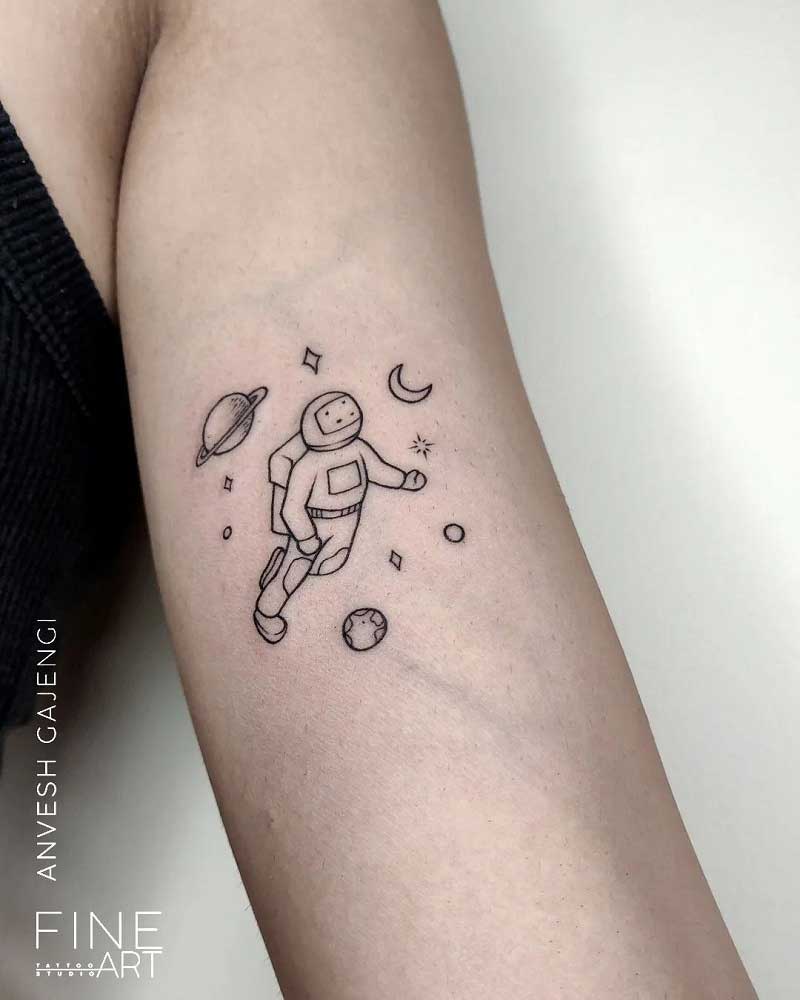 33.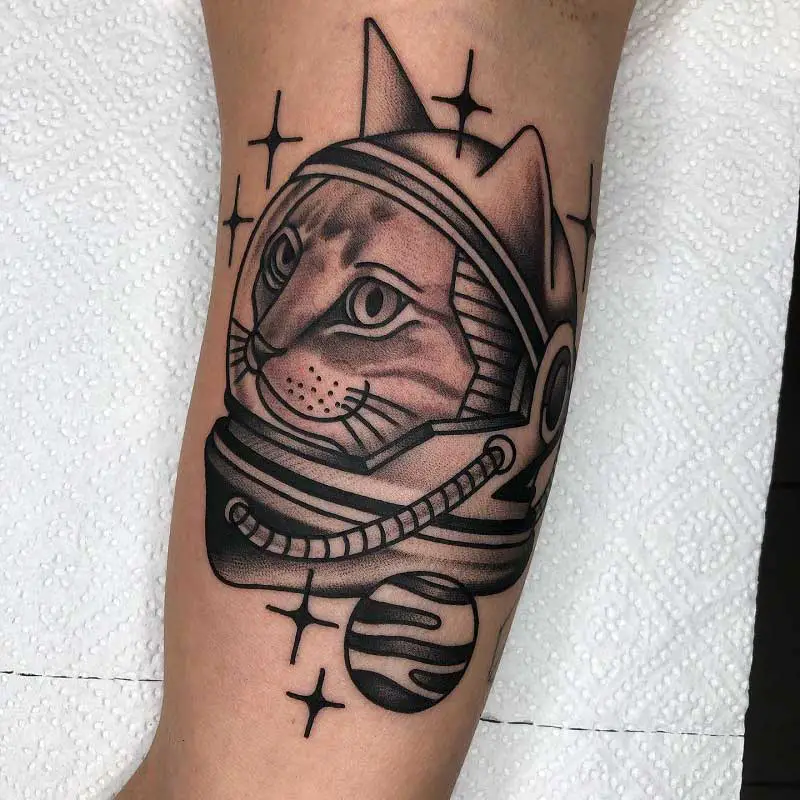 Bear Cartoon Tattoo
34.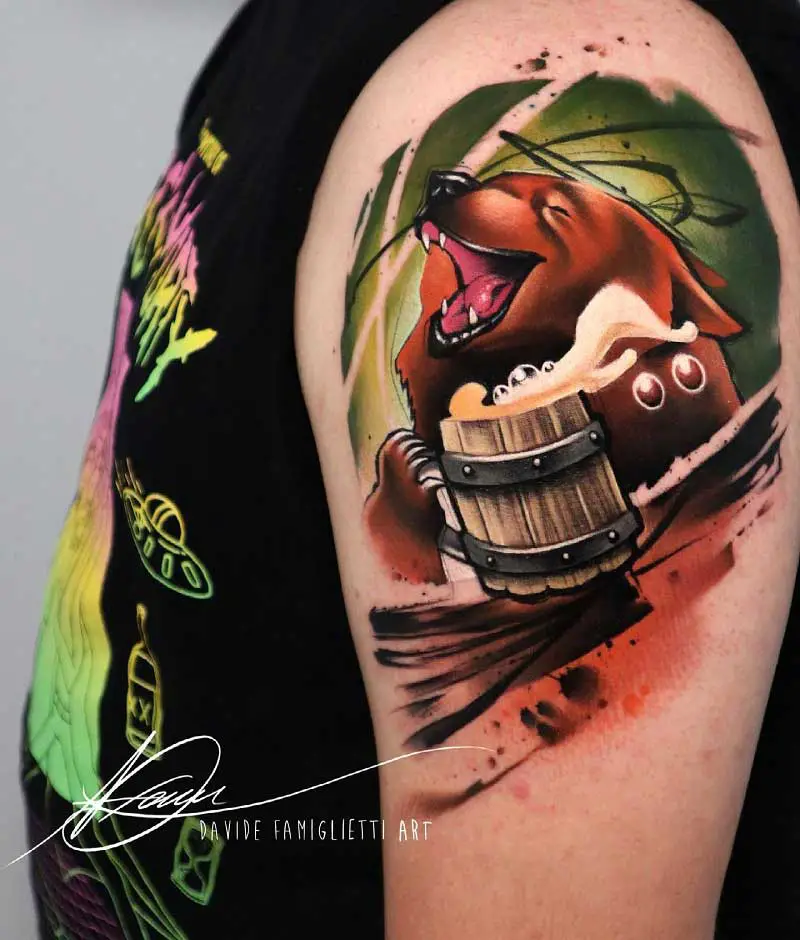 35.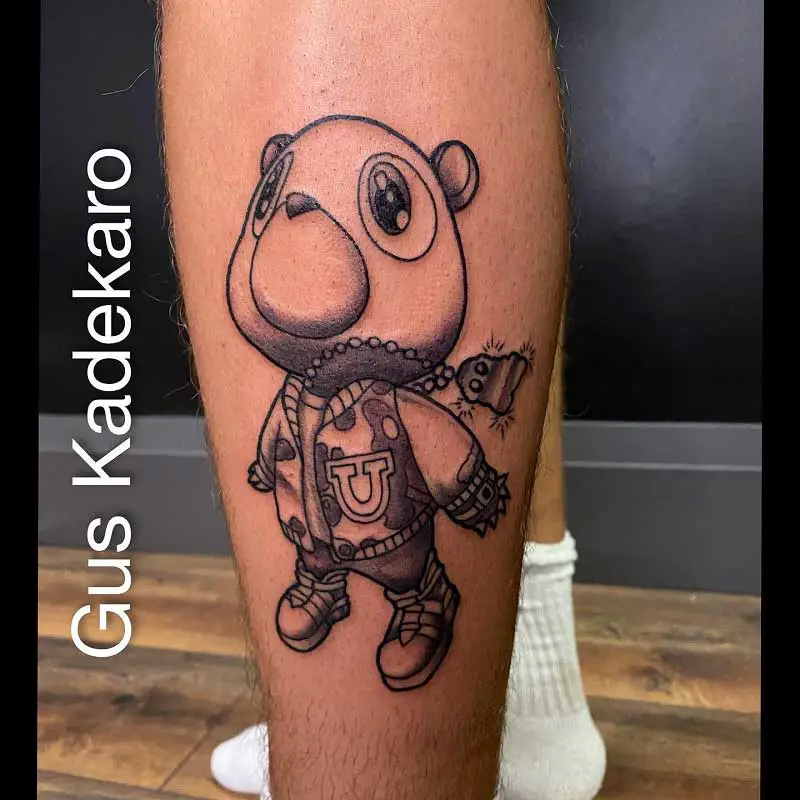 36.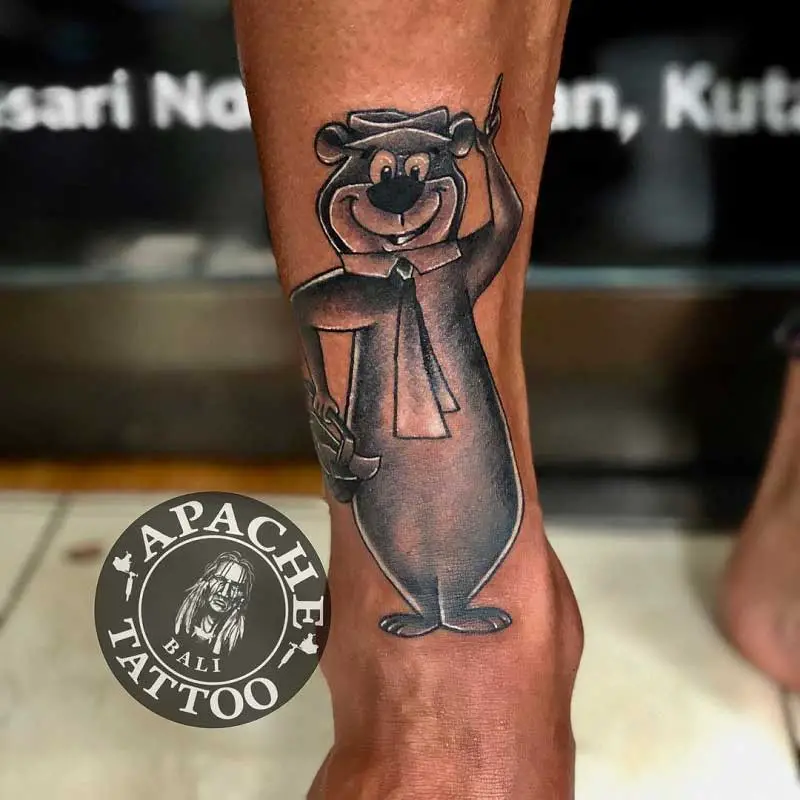 Beetlejuice Cartoon Tattoo
37.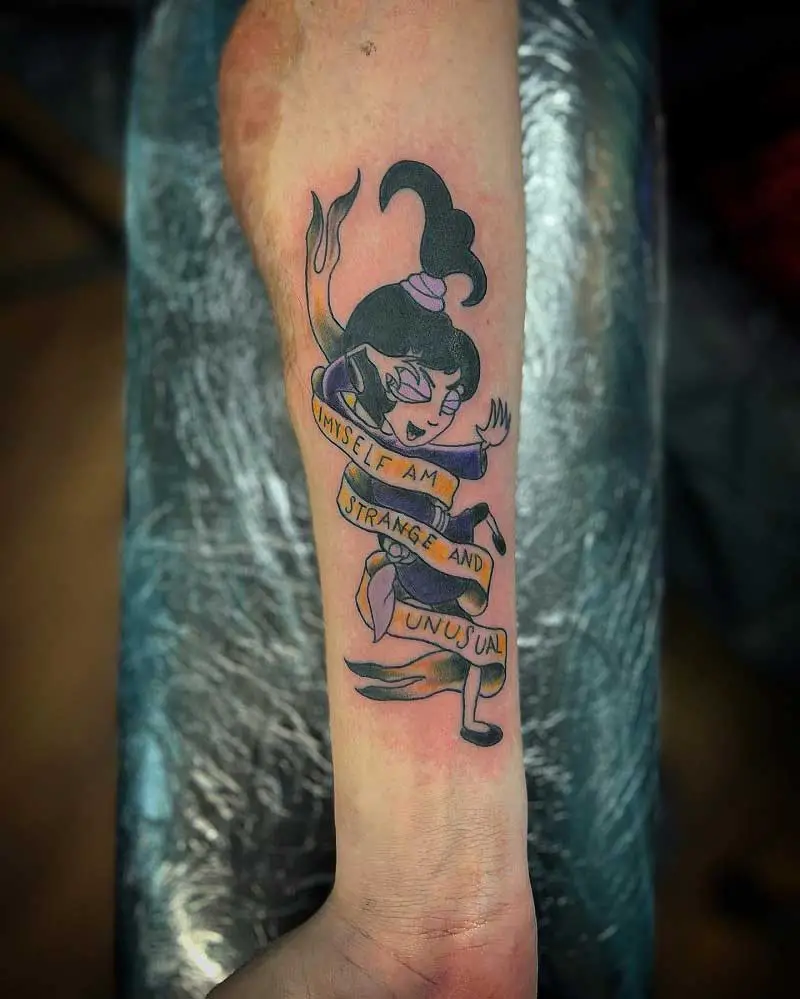 38.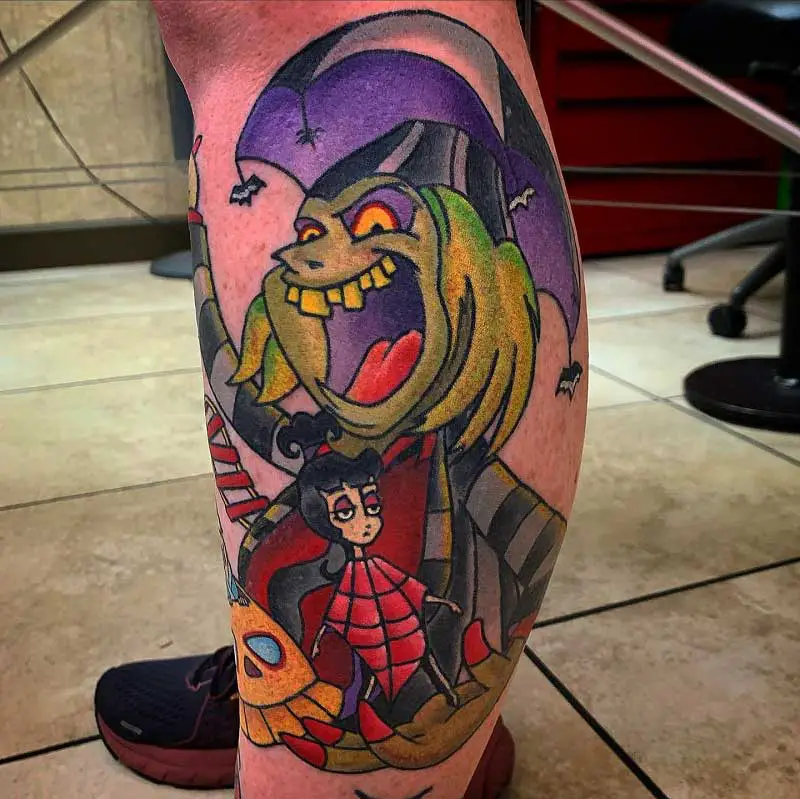 39.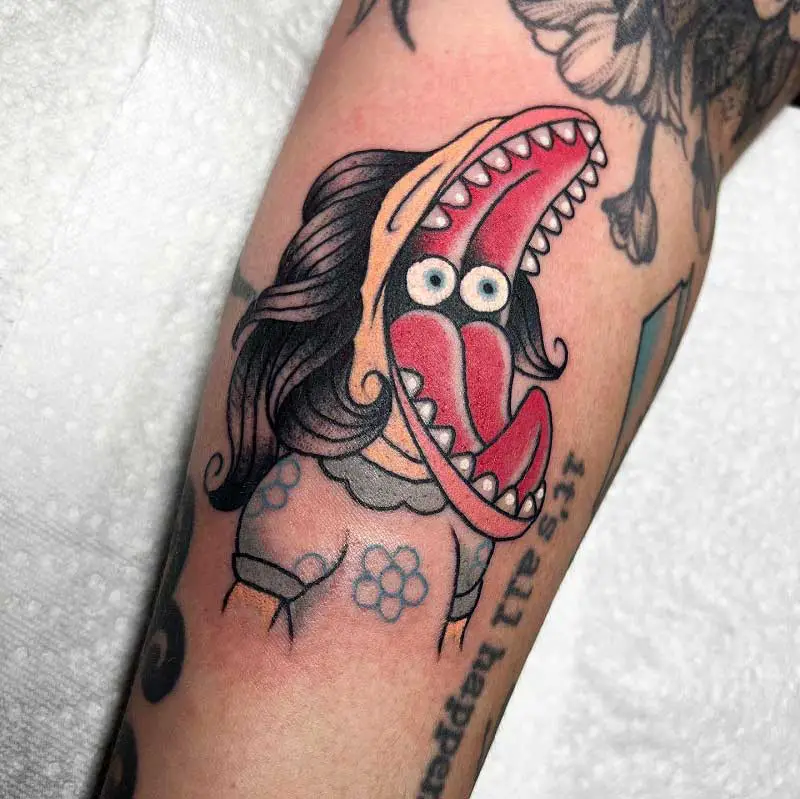 Butterfly Cartoon Tattoo
40.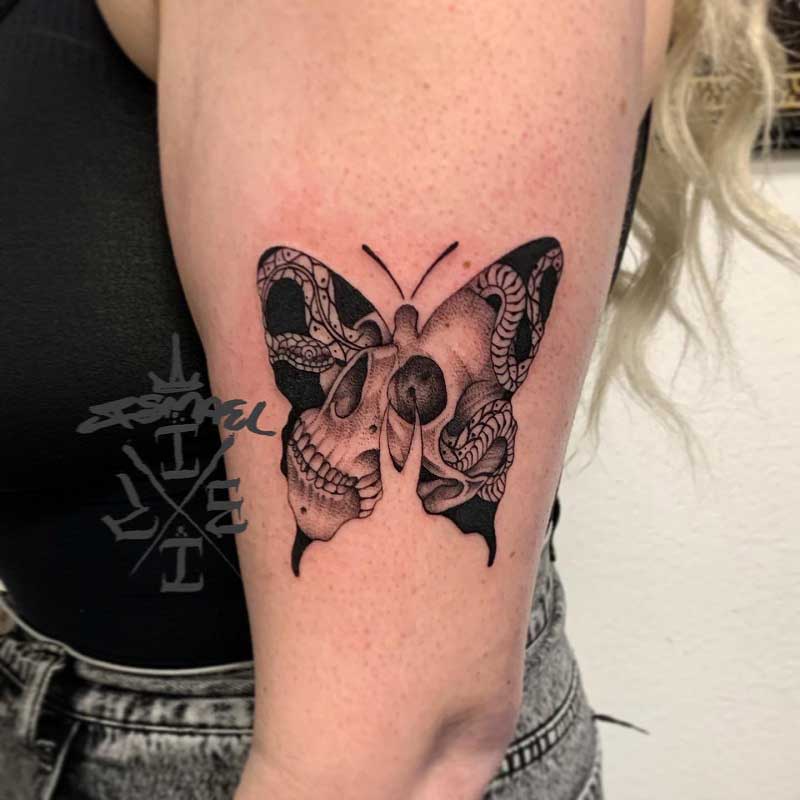 41.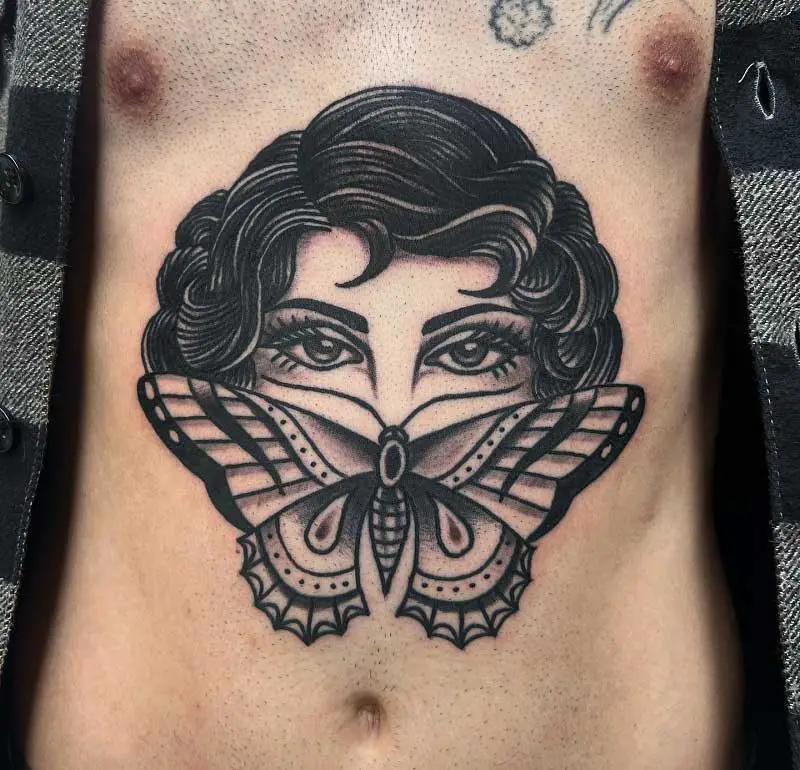 42.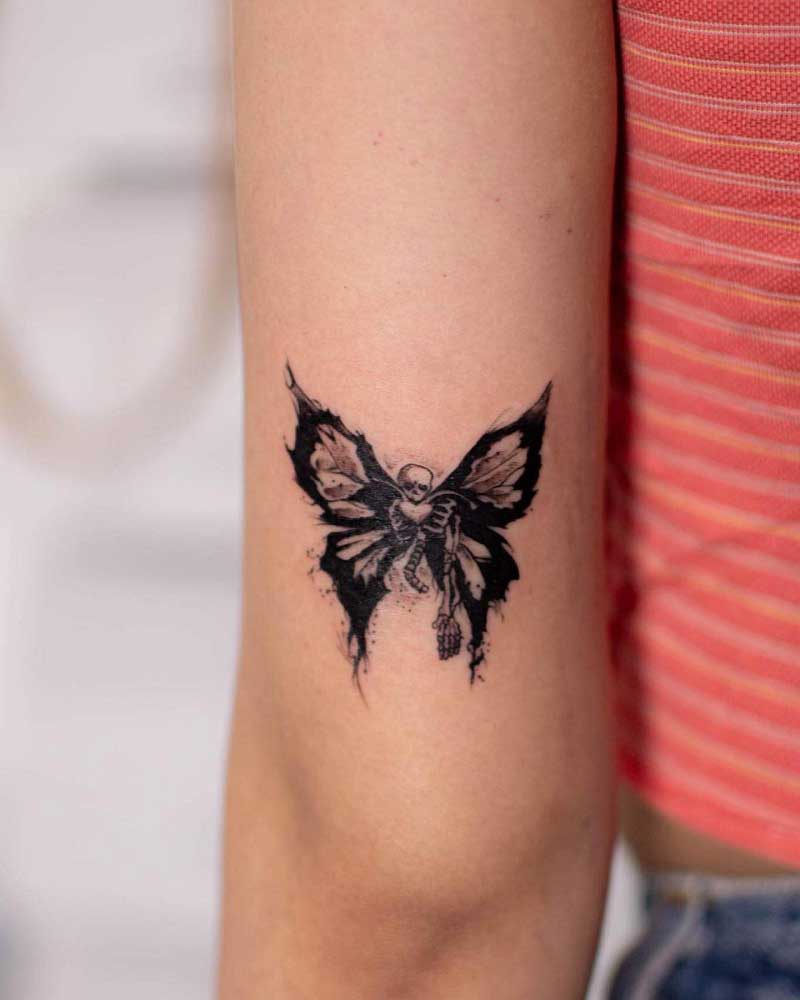 Cactus Cartoon Tattoo
43.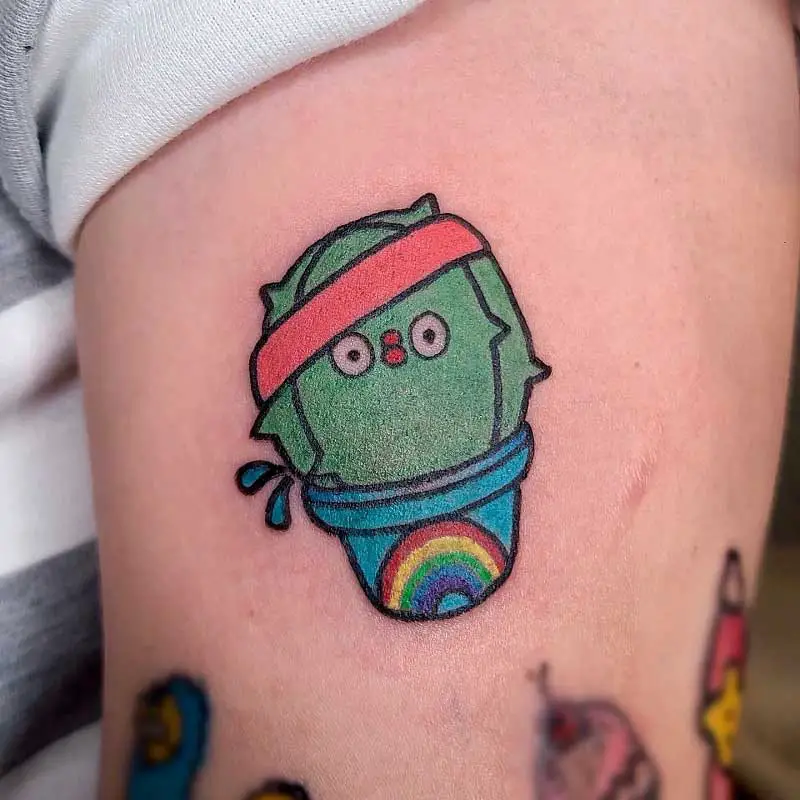 44.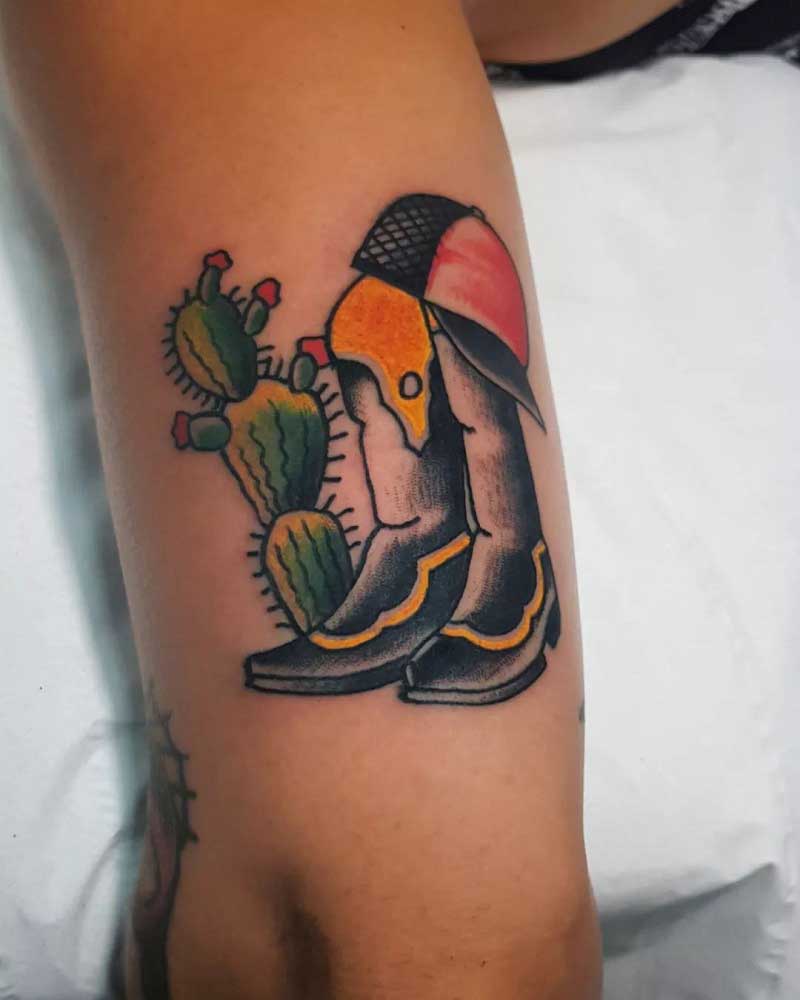 45.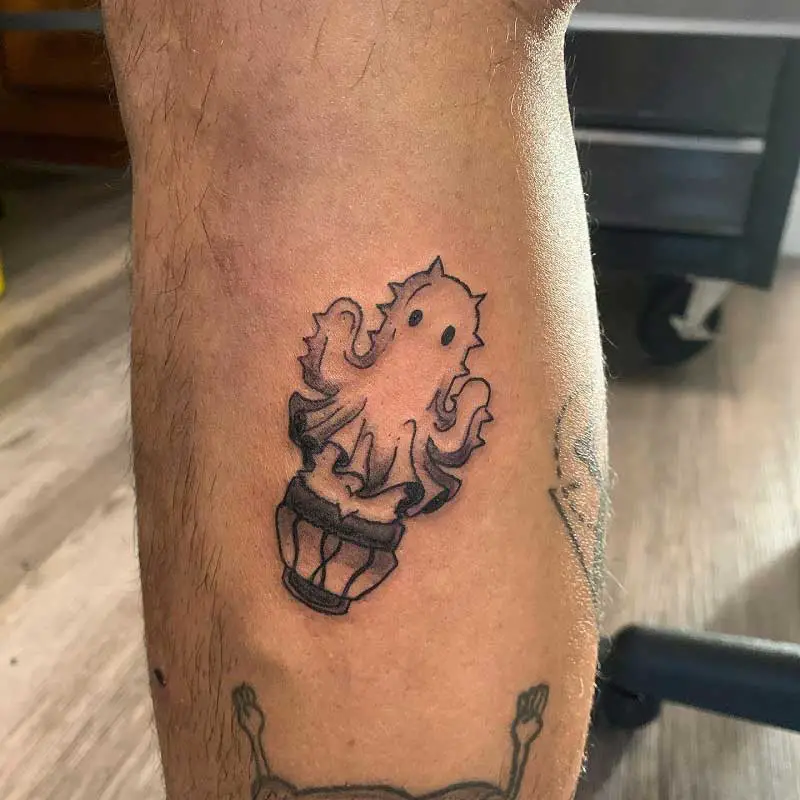 Cat Dog Cartoon Tattoo
46.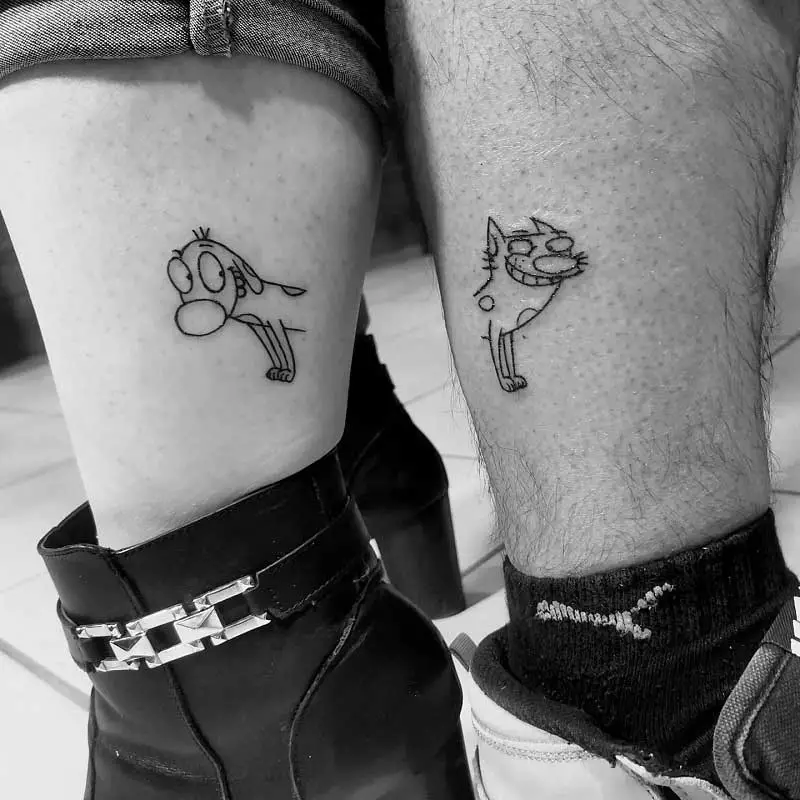 47.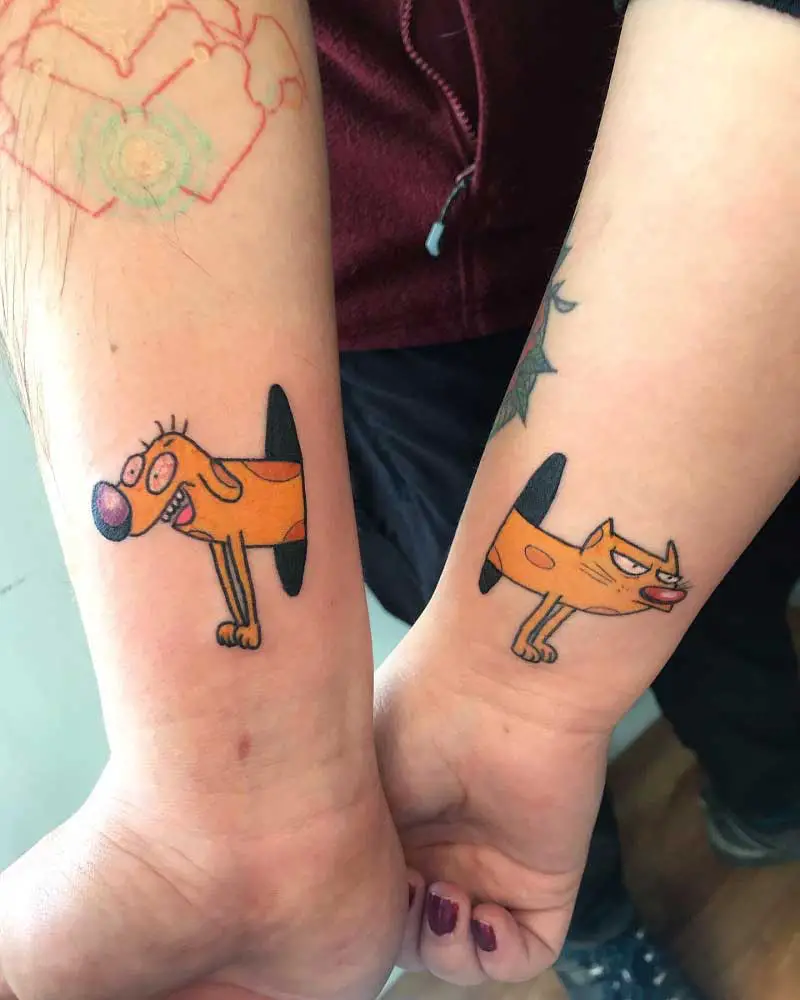 48.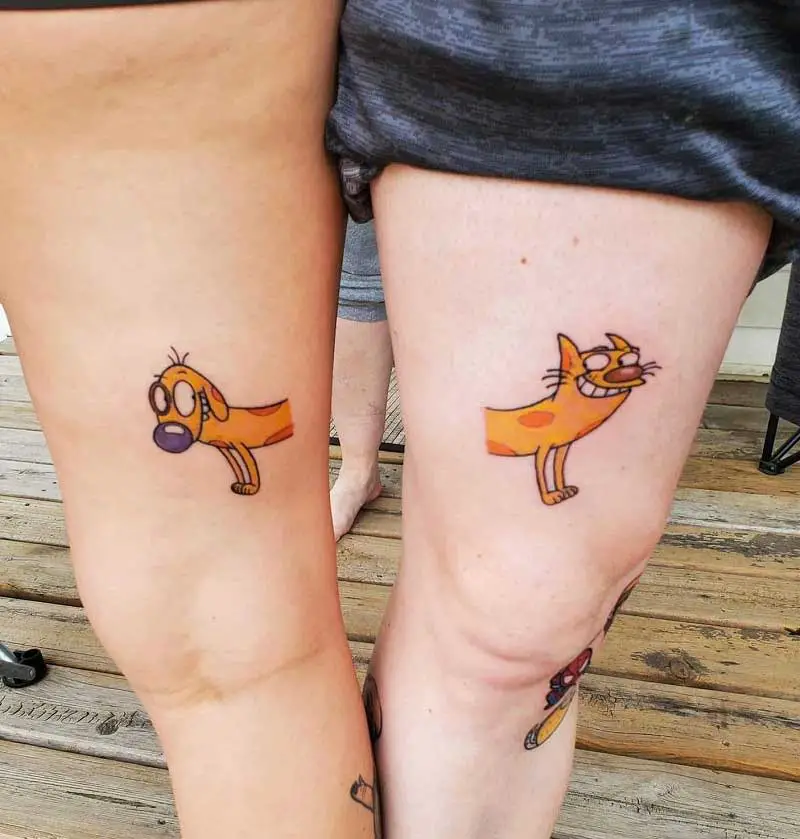 Coyote Cartoon Tattoo
49.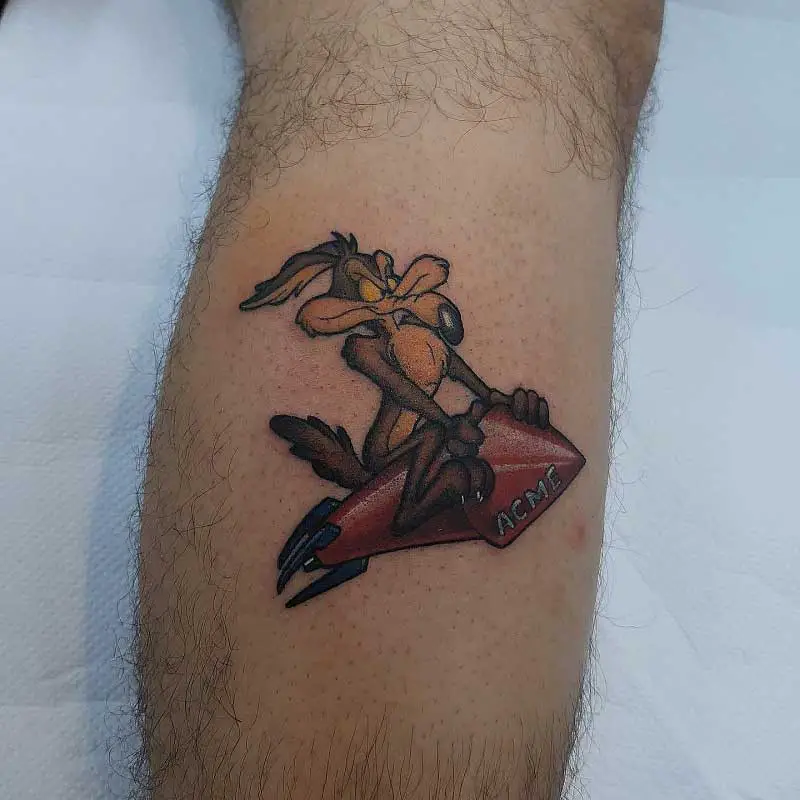 50.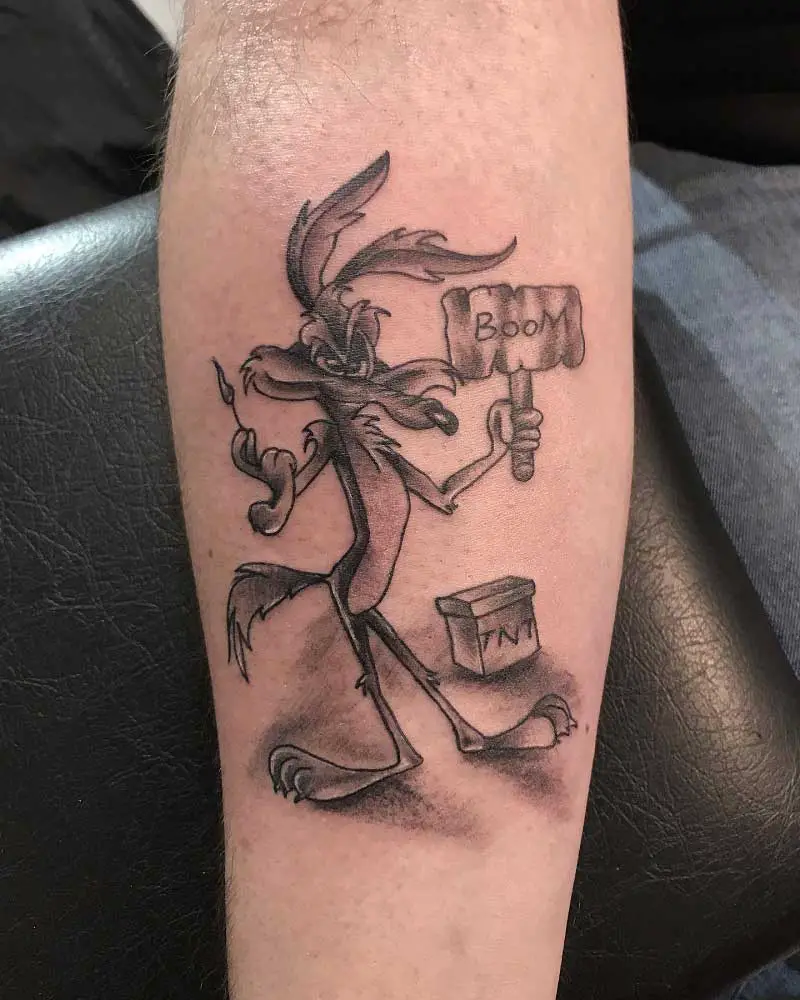 51.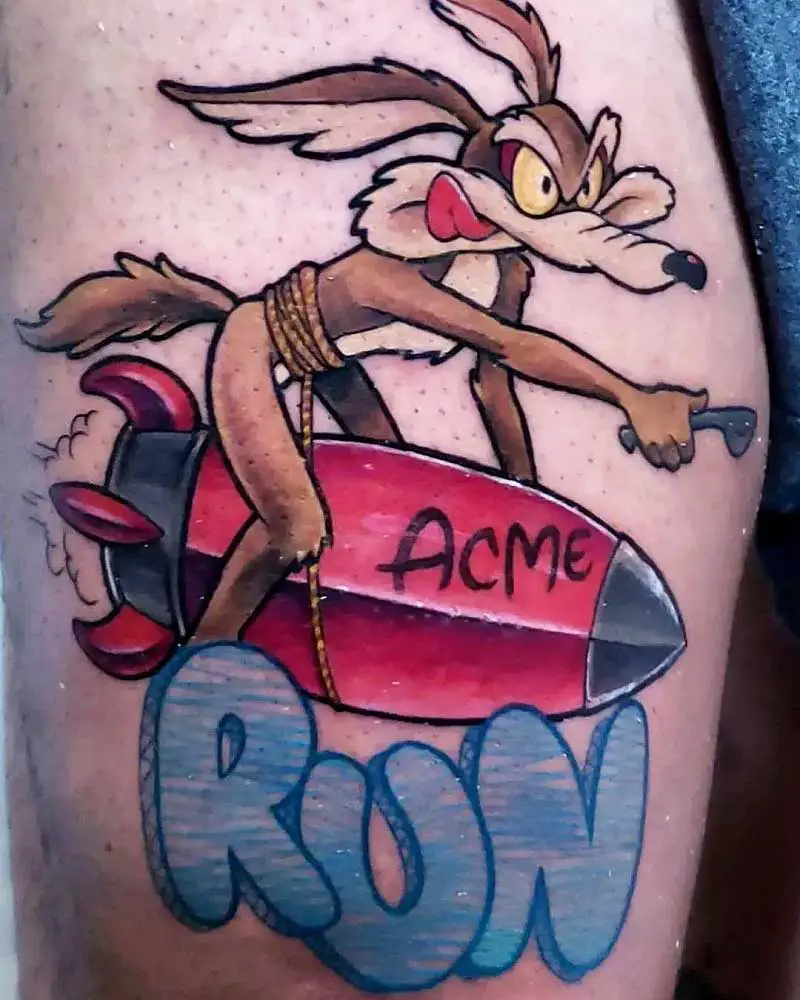 Deadpool Cartoon Tattoo
52.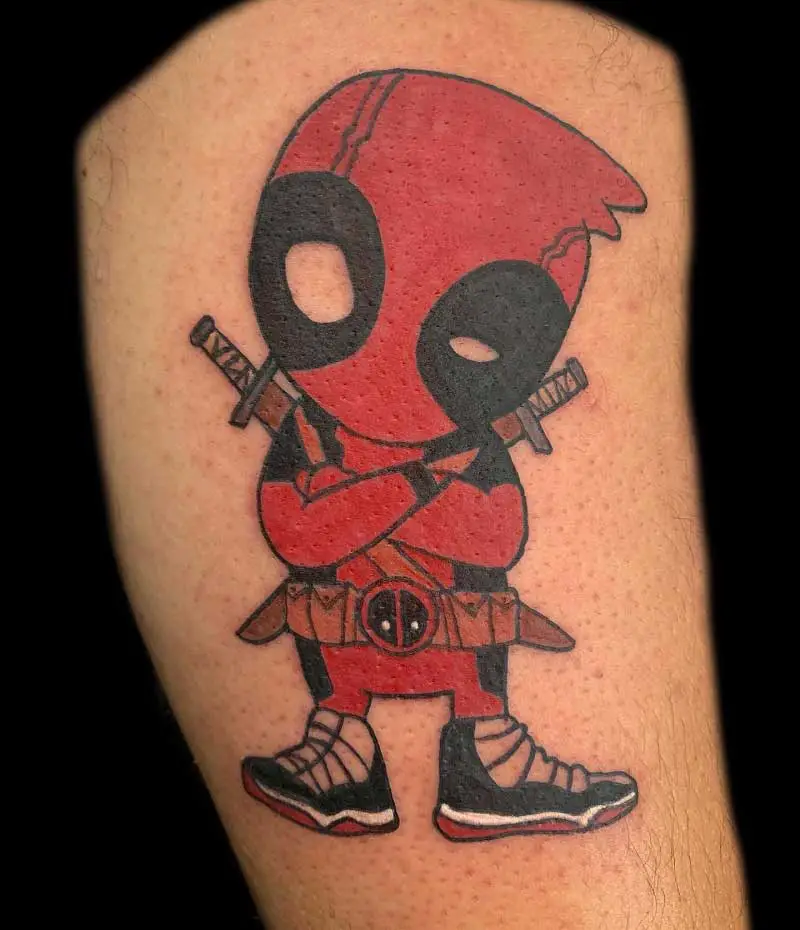 53.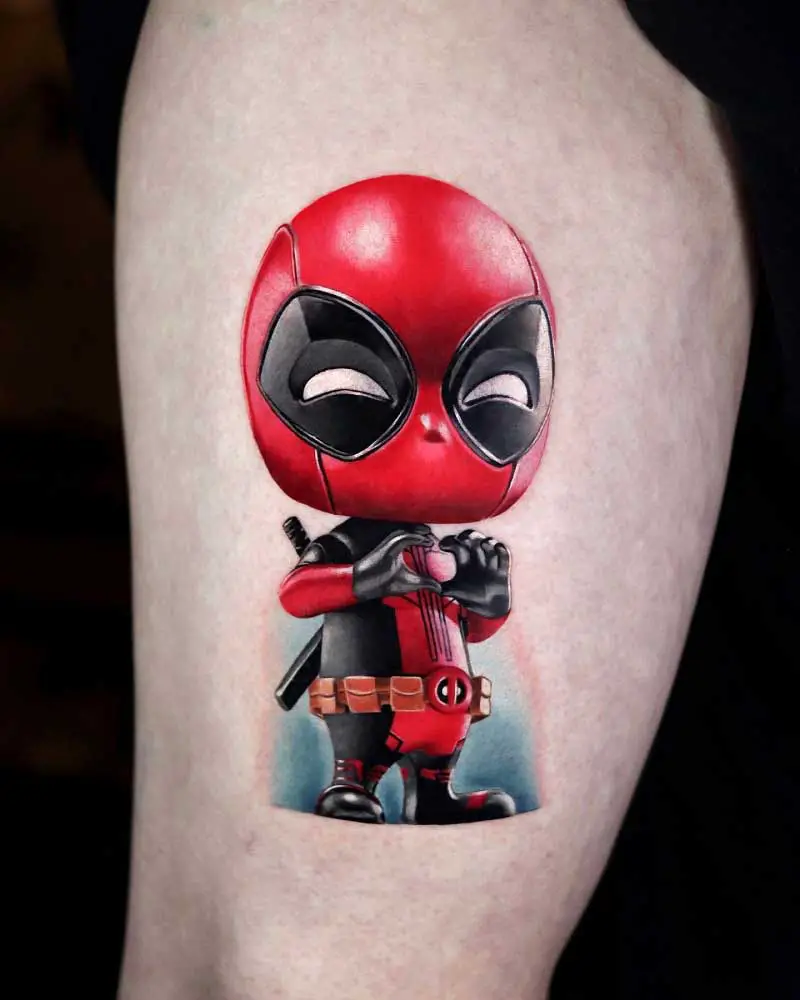 54.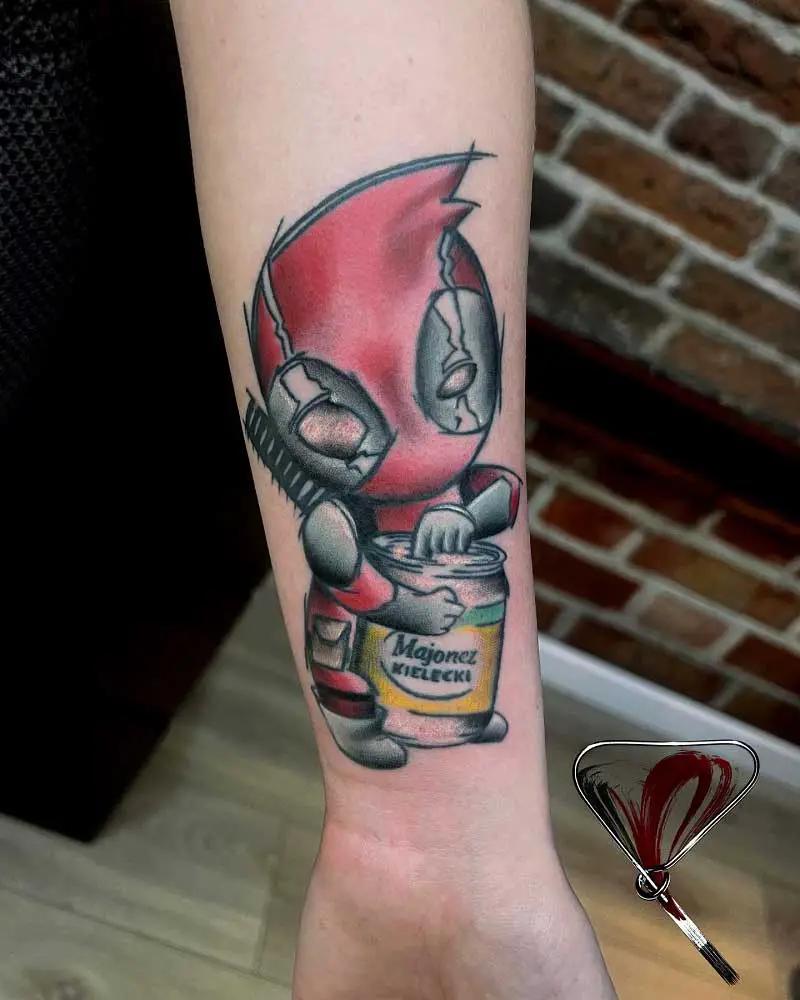 Devil Cartoon Tattoo
55.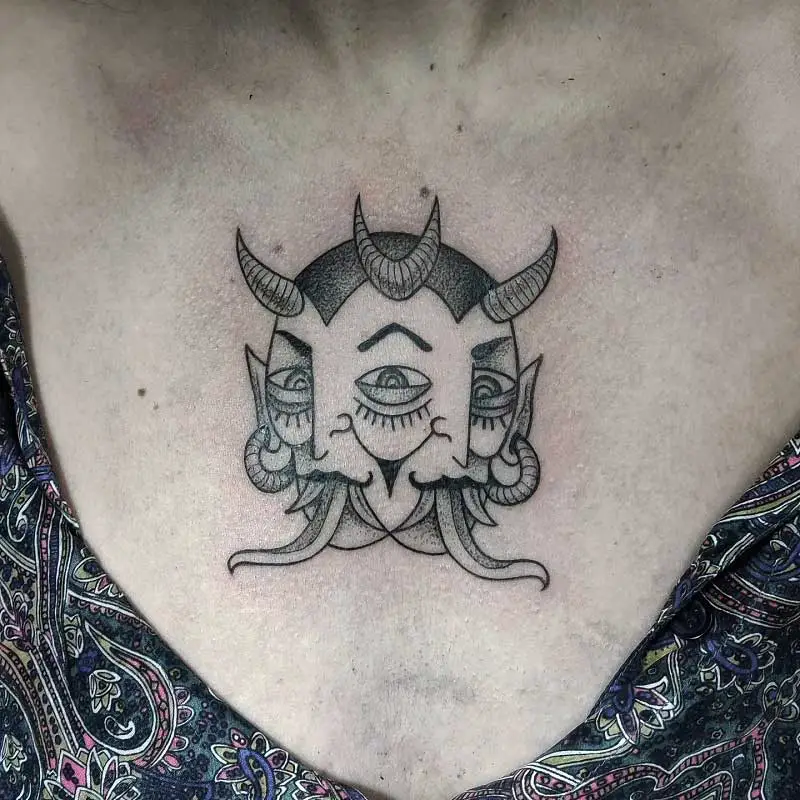 56.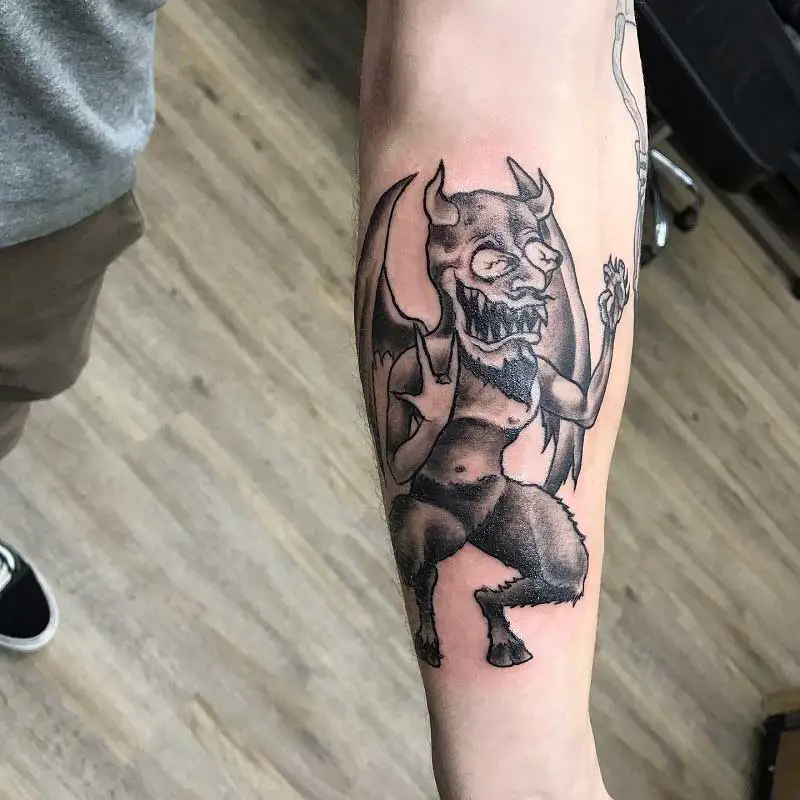 57.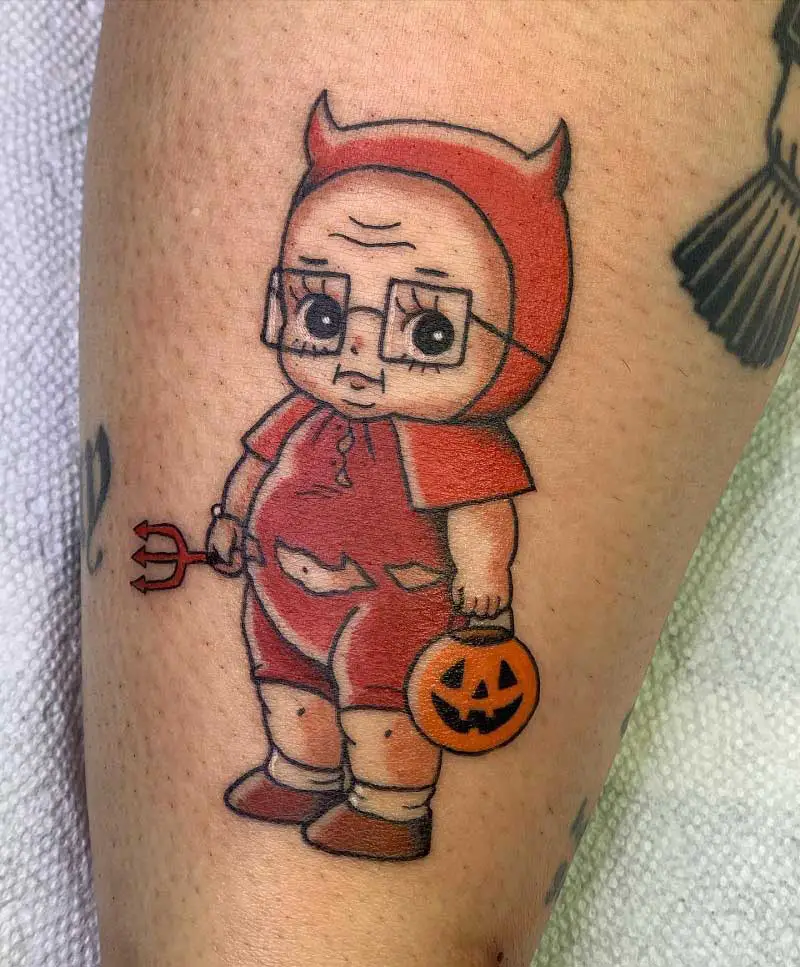 Elephant Cartoon Tattoo
58.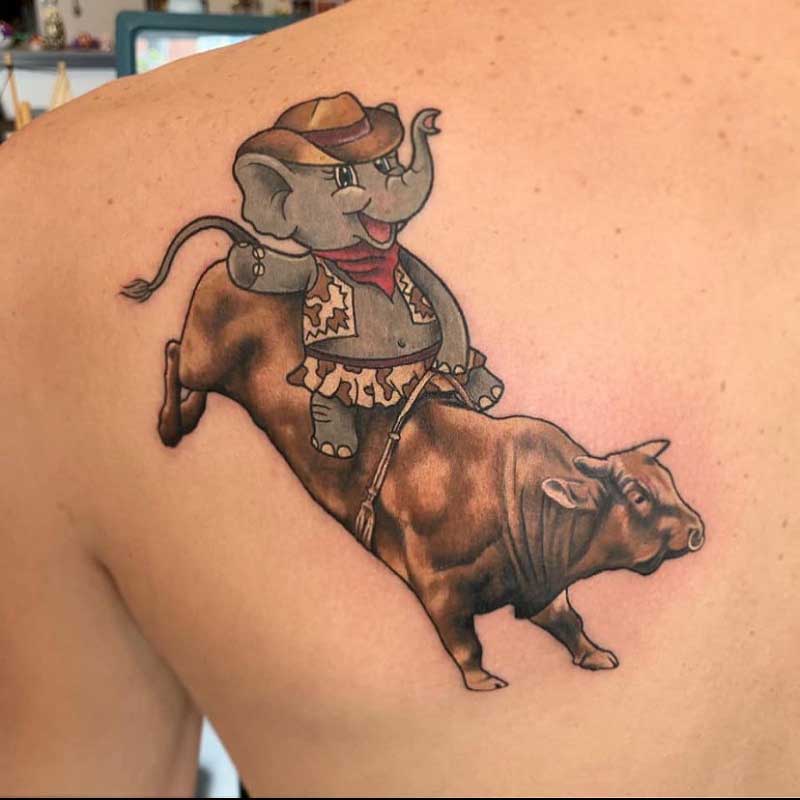 59.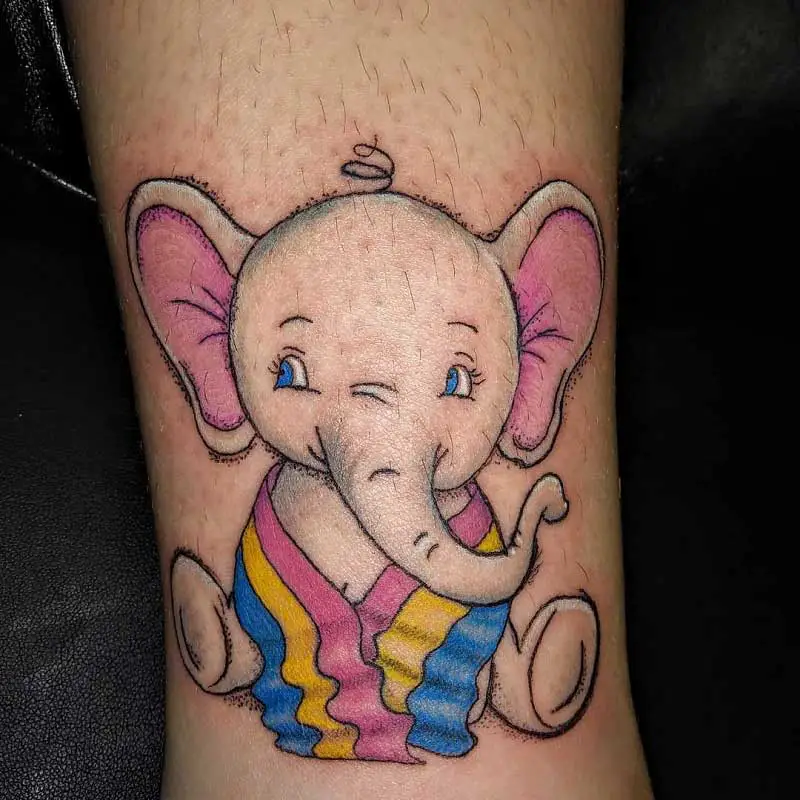 60.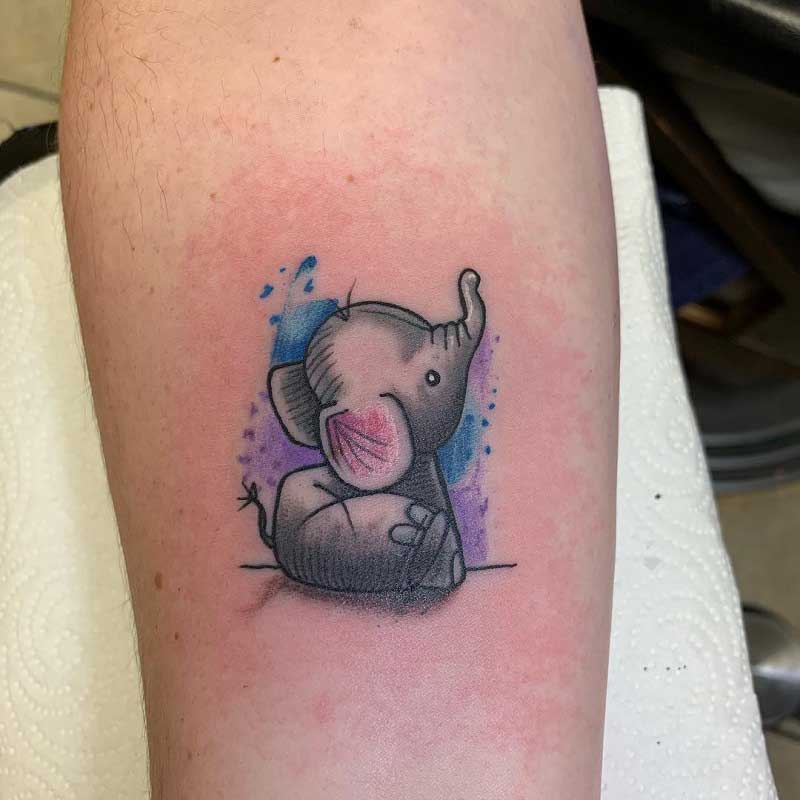 Fish Cartoon Tattoo
61.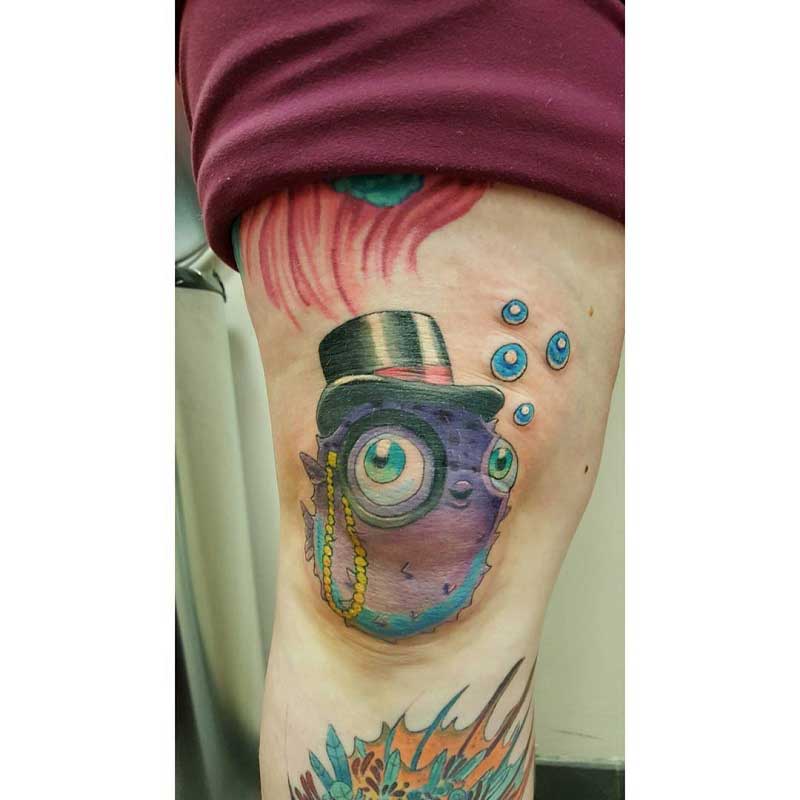 62.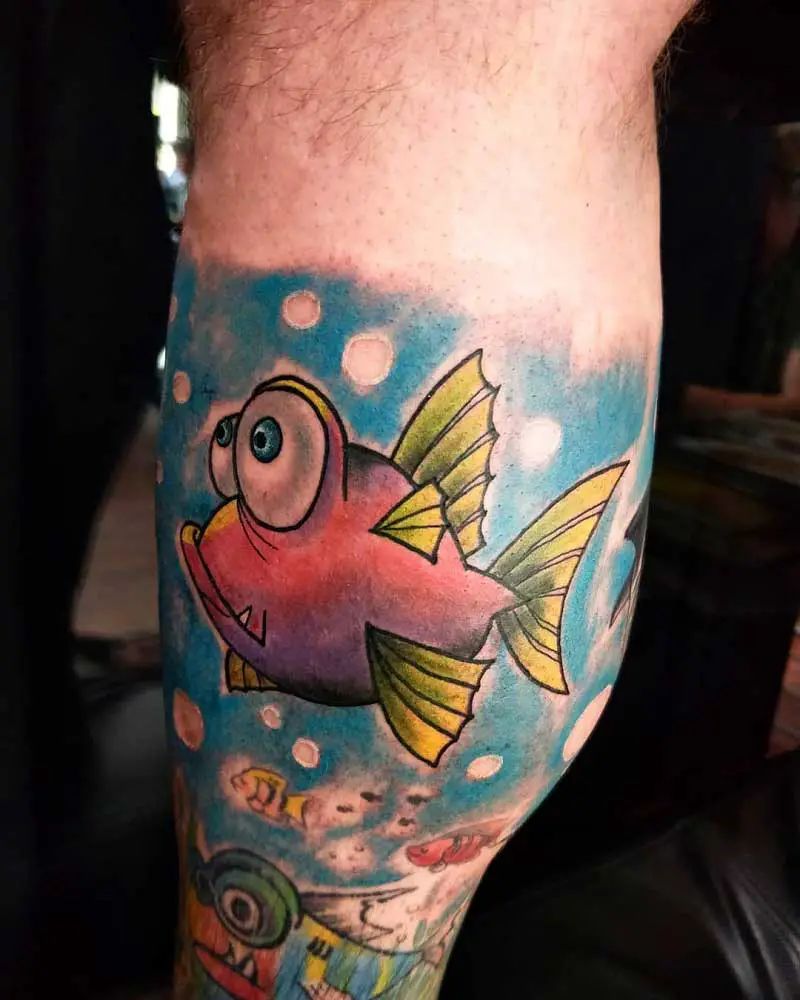 63.
Geisha Cartoon Tattoo
64.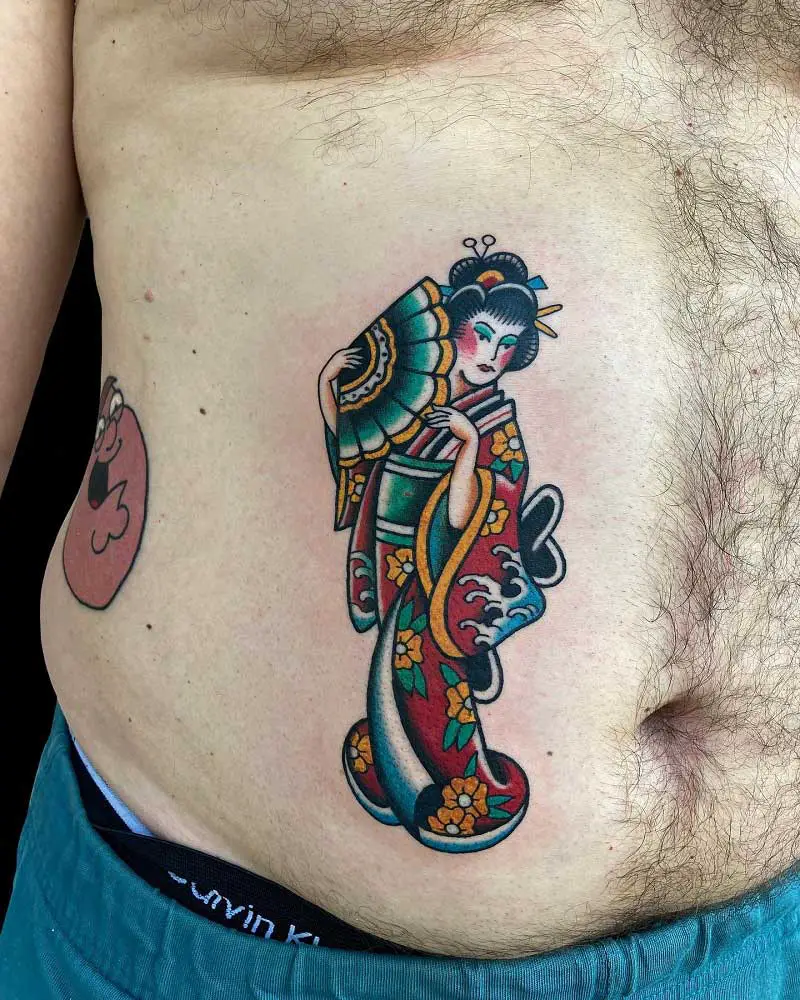 65.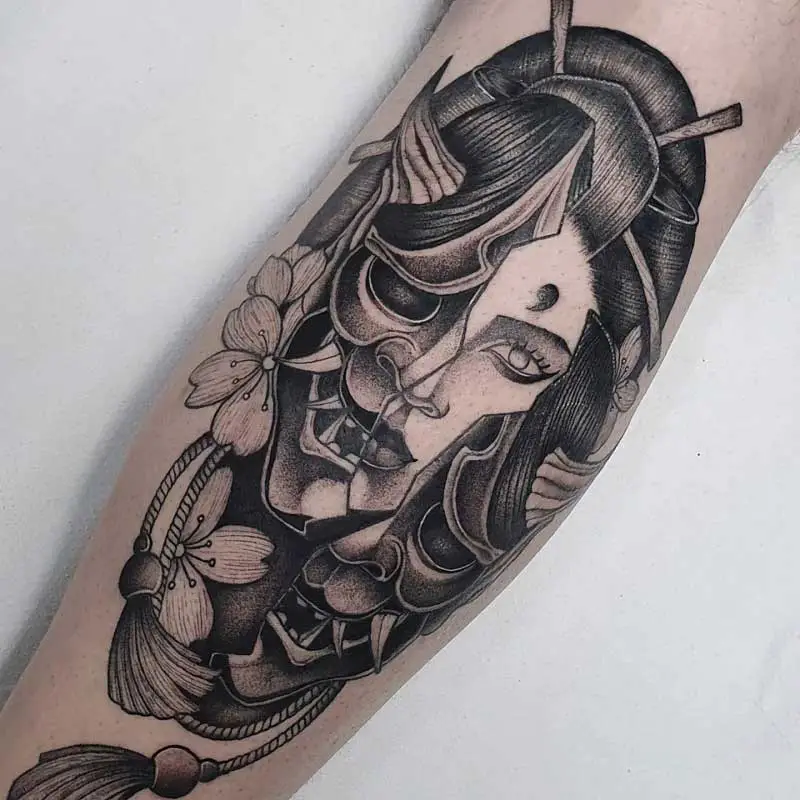 66.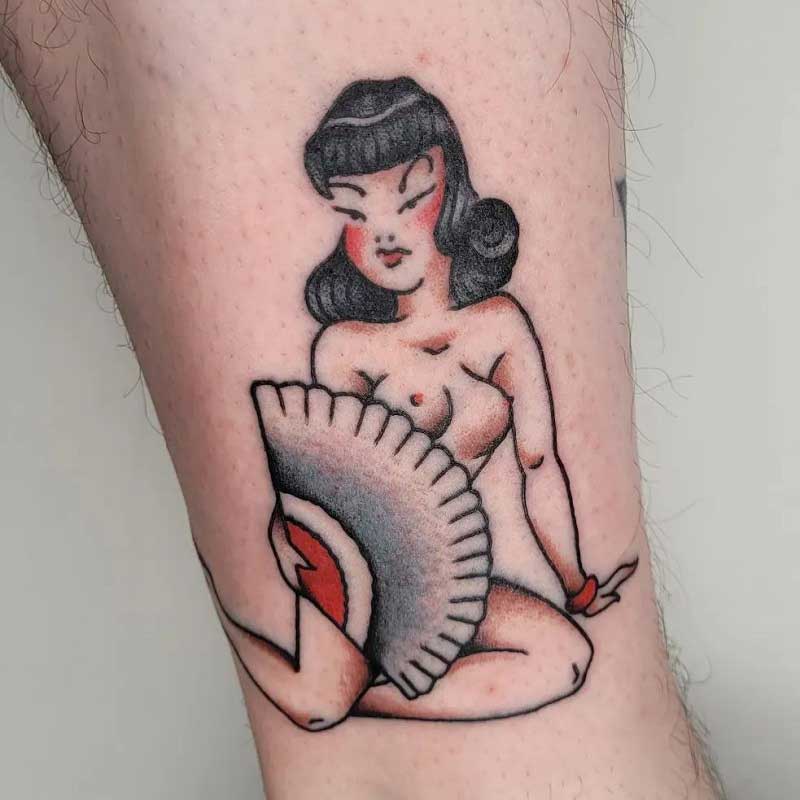 Gorilla Cartoon Tattoo
67.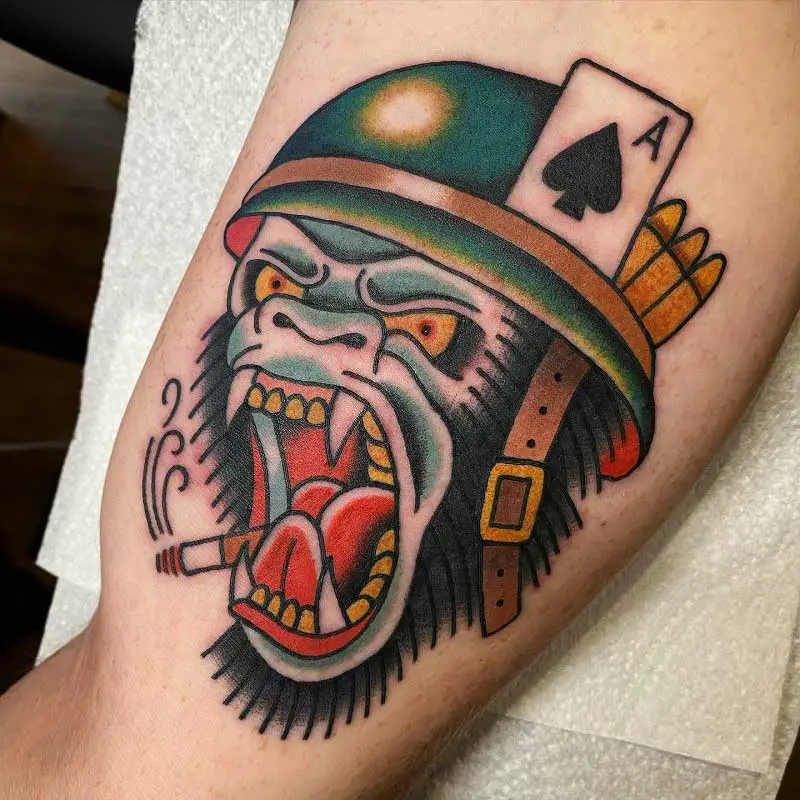 68.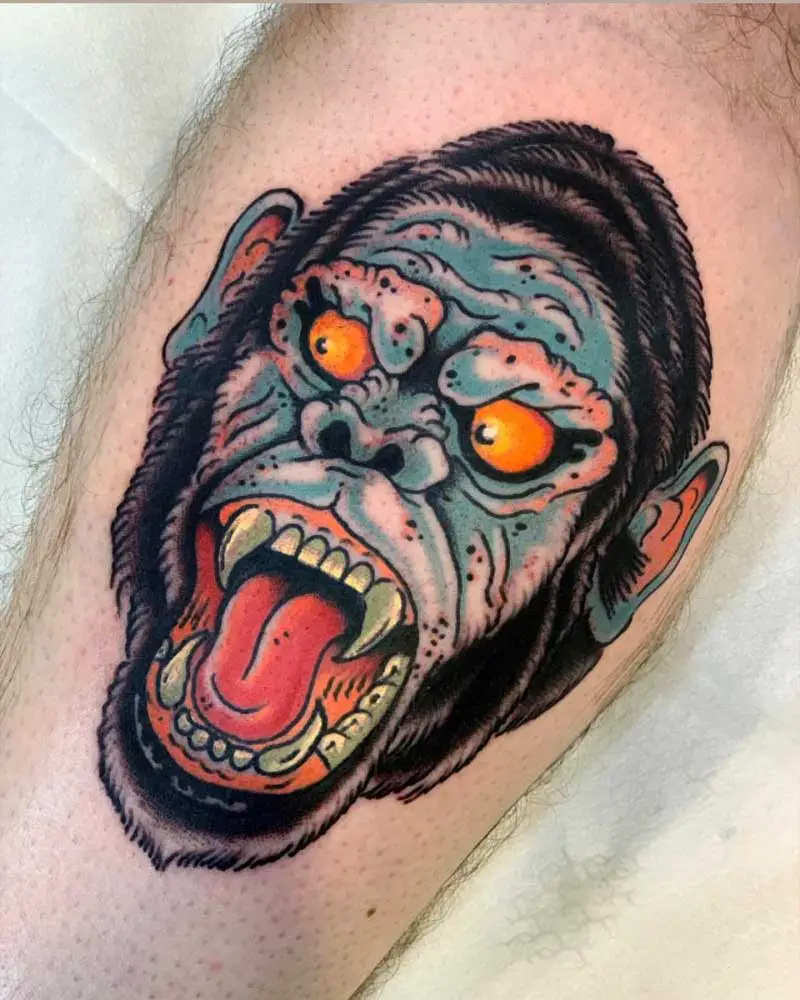 69.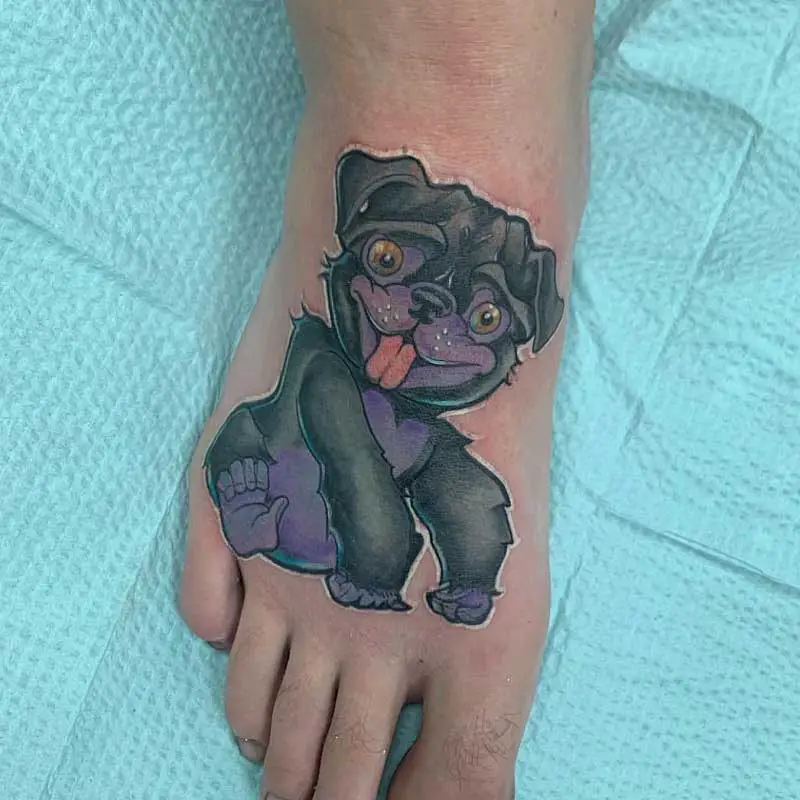 Horror Cartoon Tattoo
70.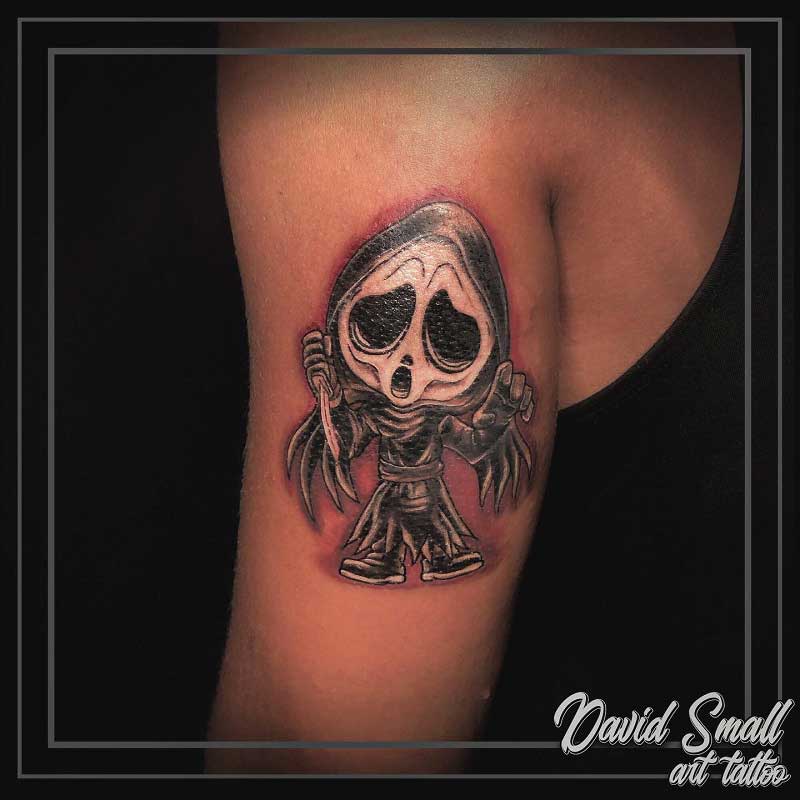 71.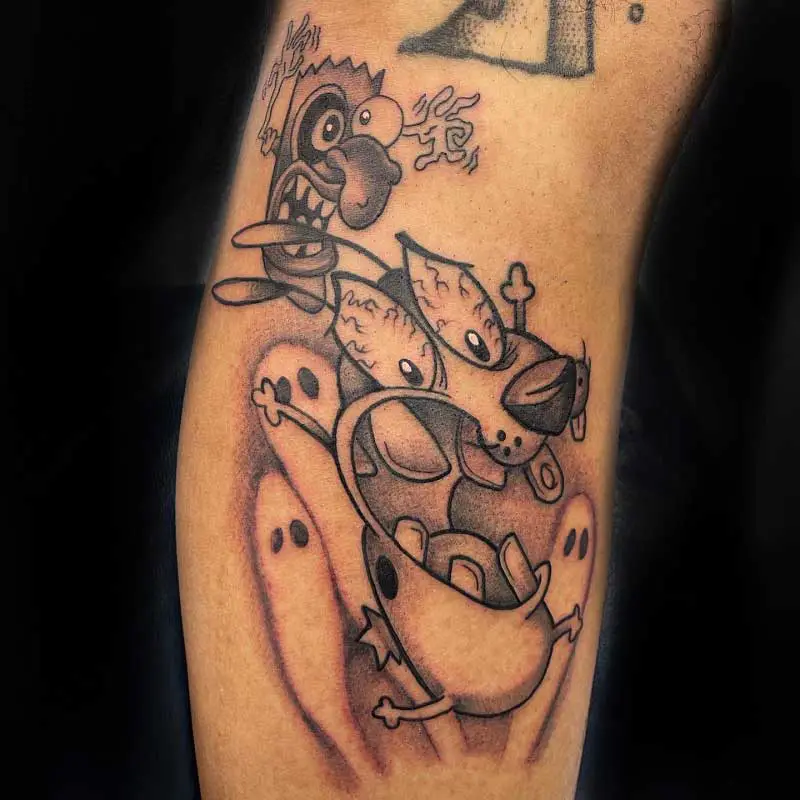 72.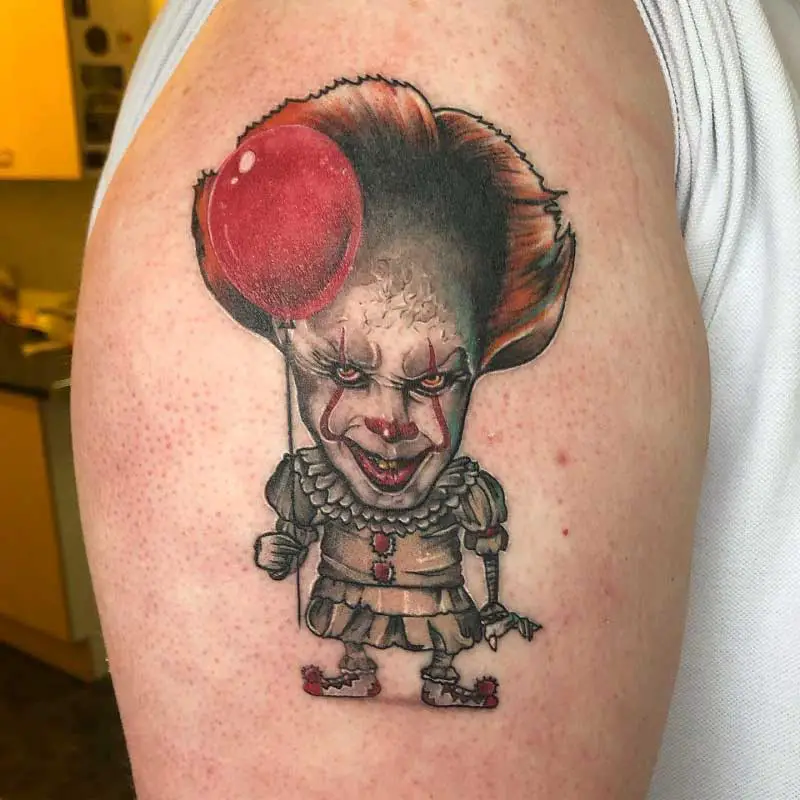 Japanese Cartoon Tattoo
73.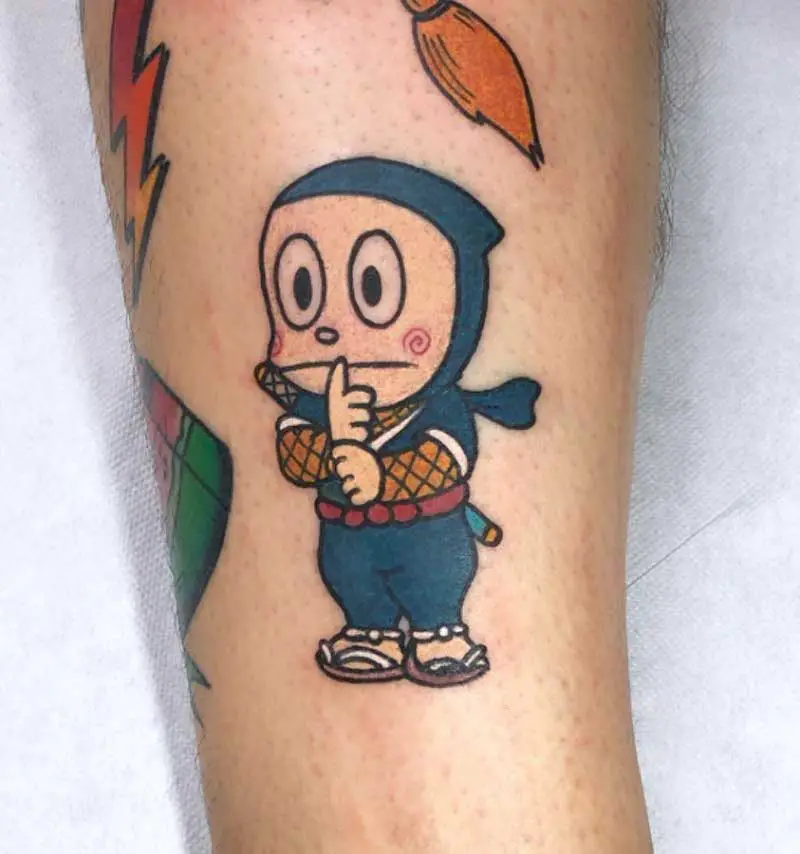 74.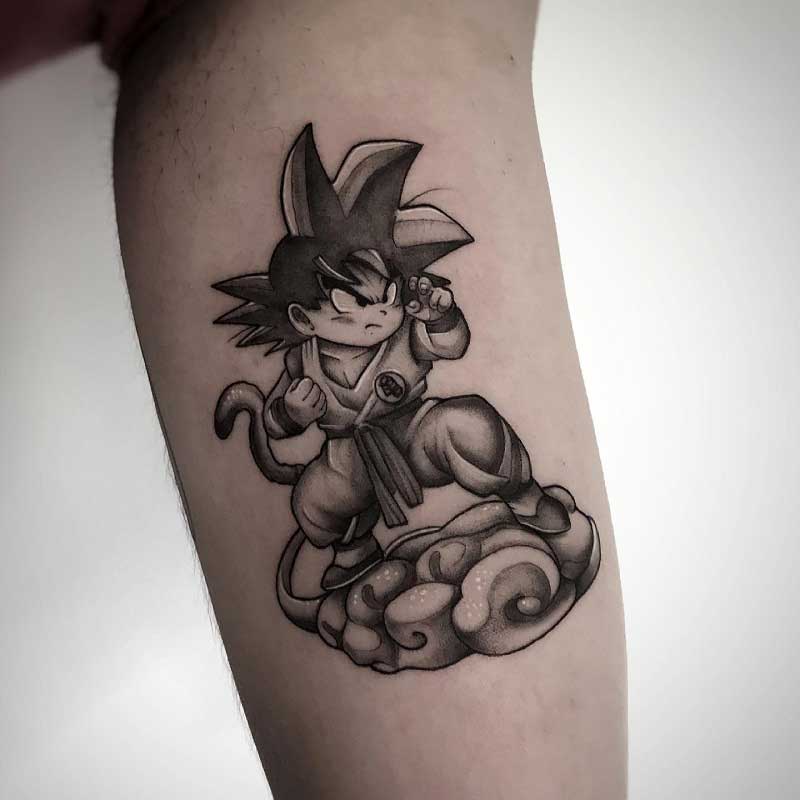 75.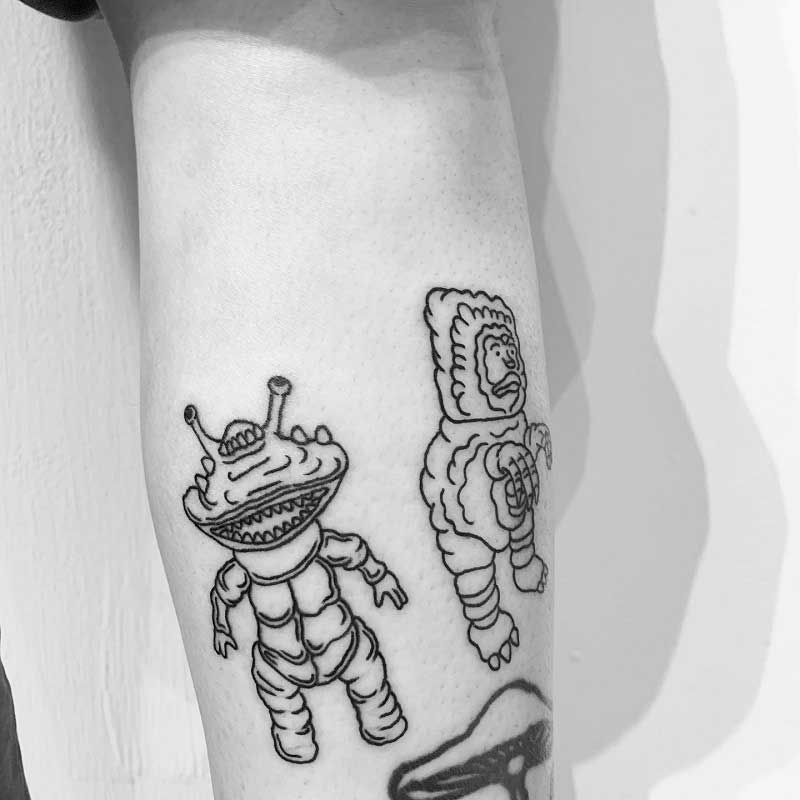 John Lennon Cartoon Tattoo
76.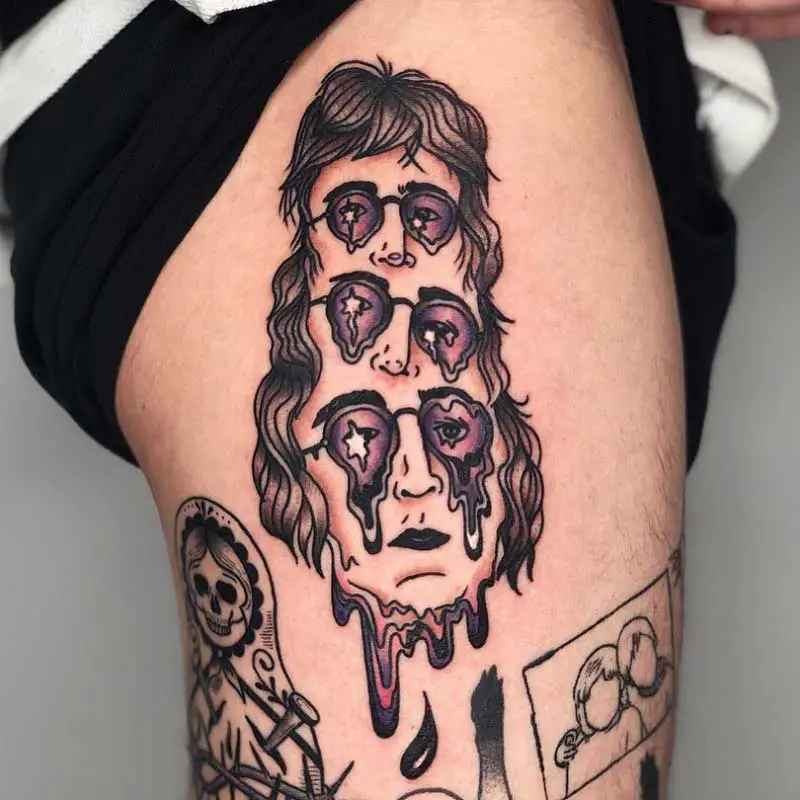 77.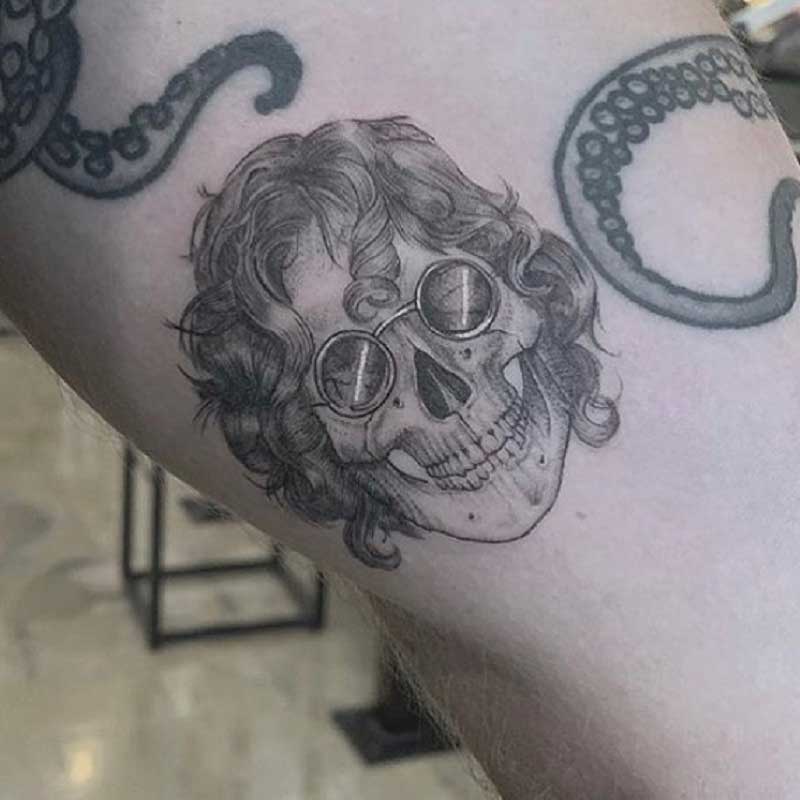 78.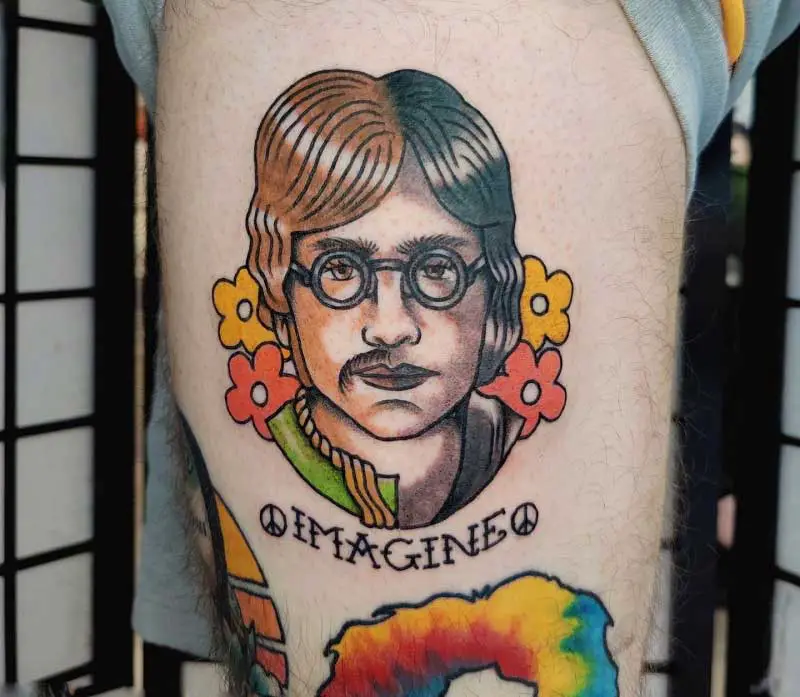 Lion Cartoon Tattoo
79.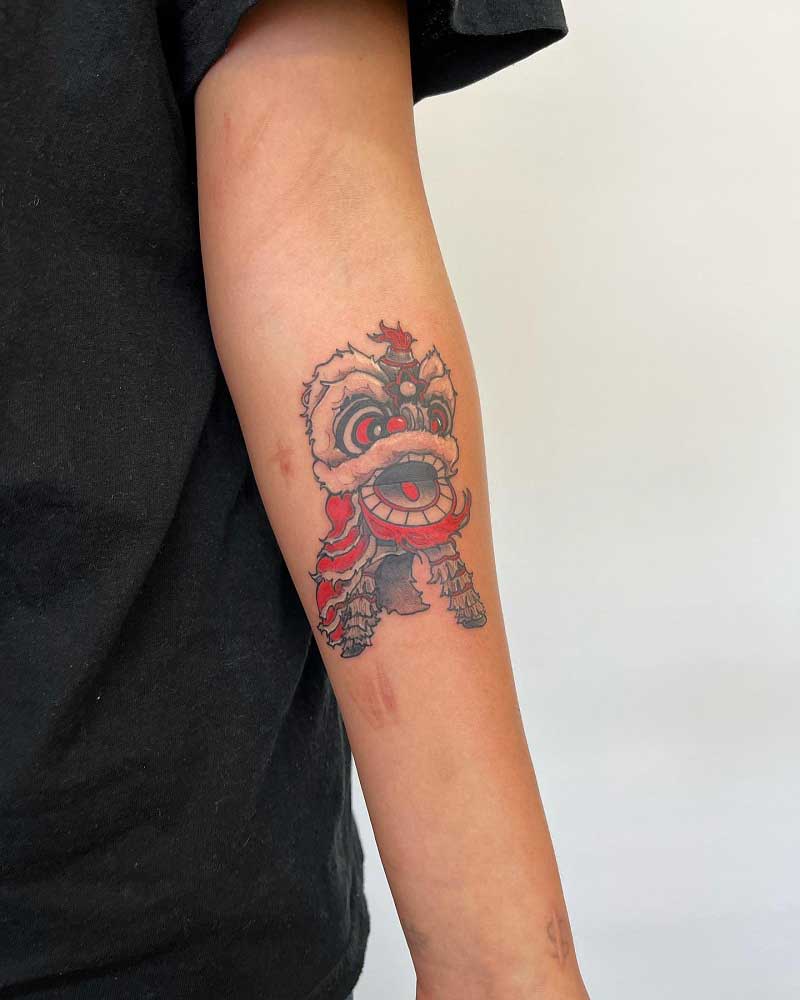 80.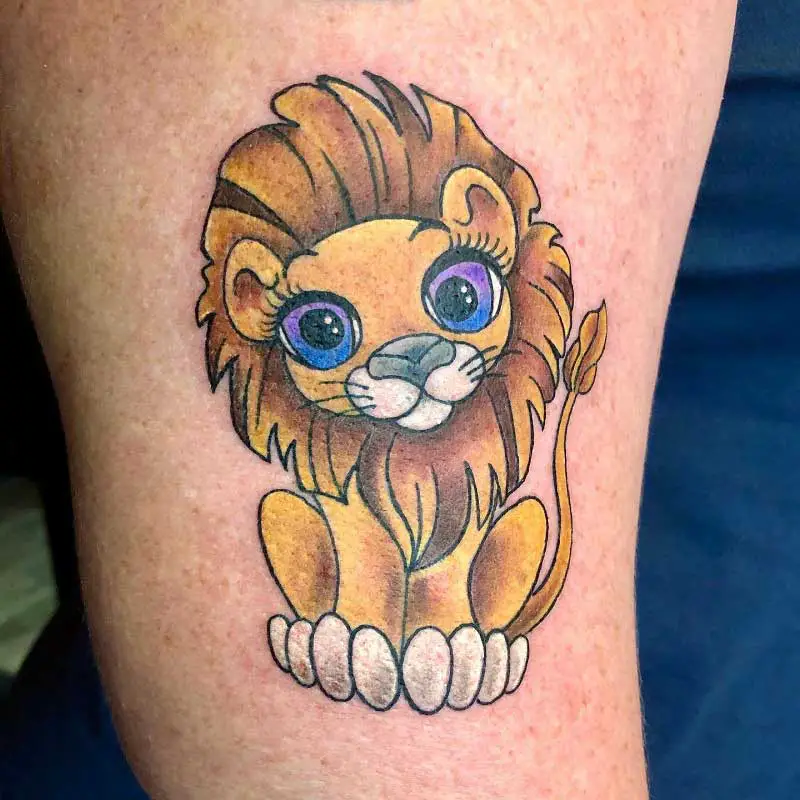 81.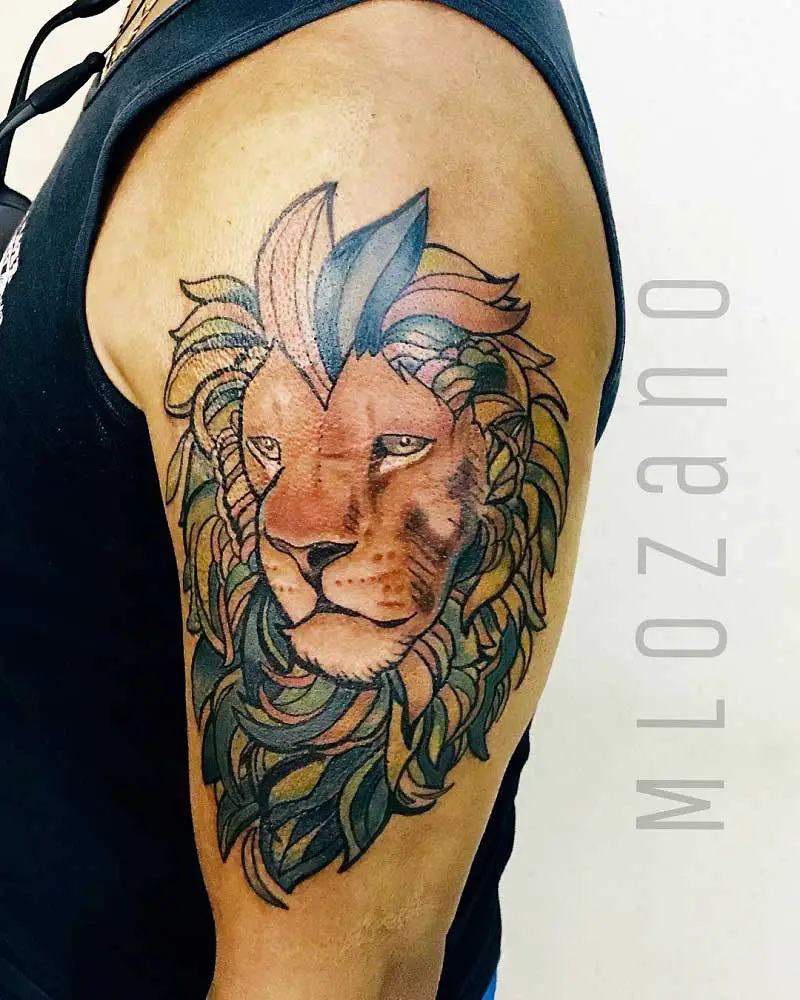 Mickey Mouse Cartoon Tattoo
82.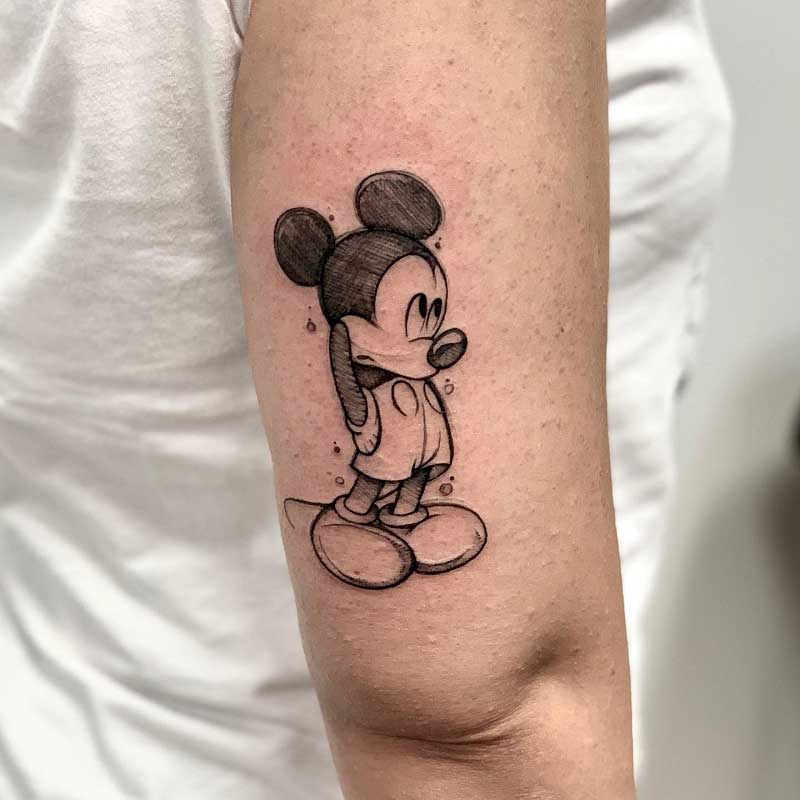 83.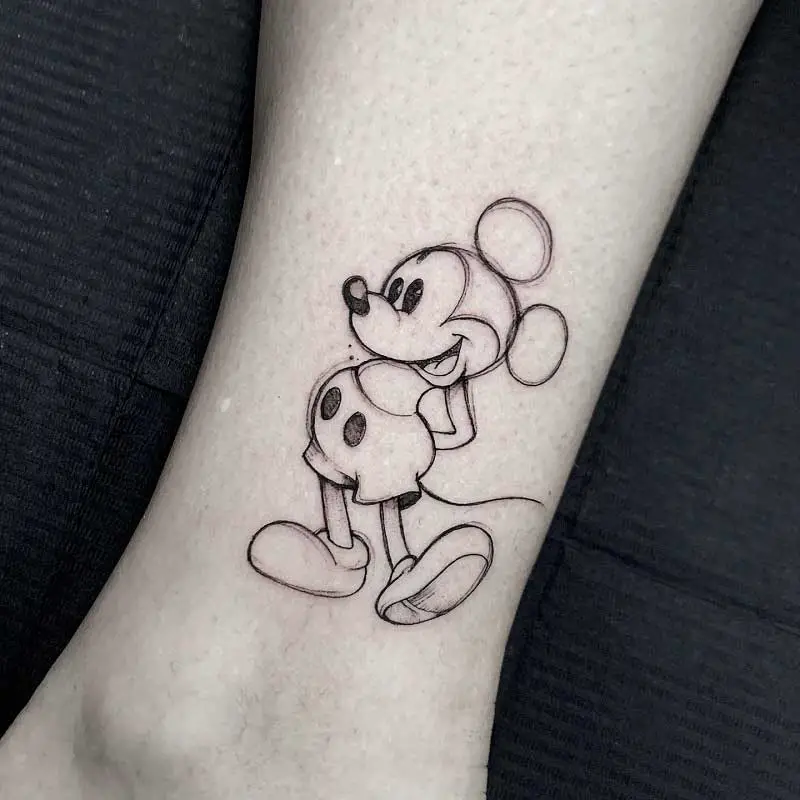 84.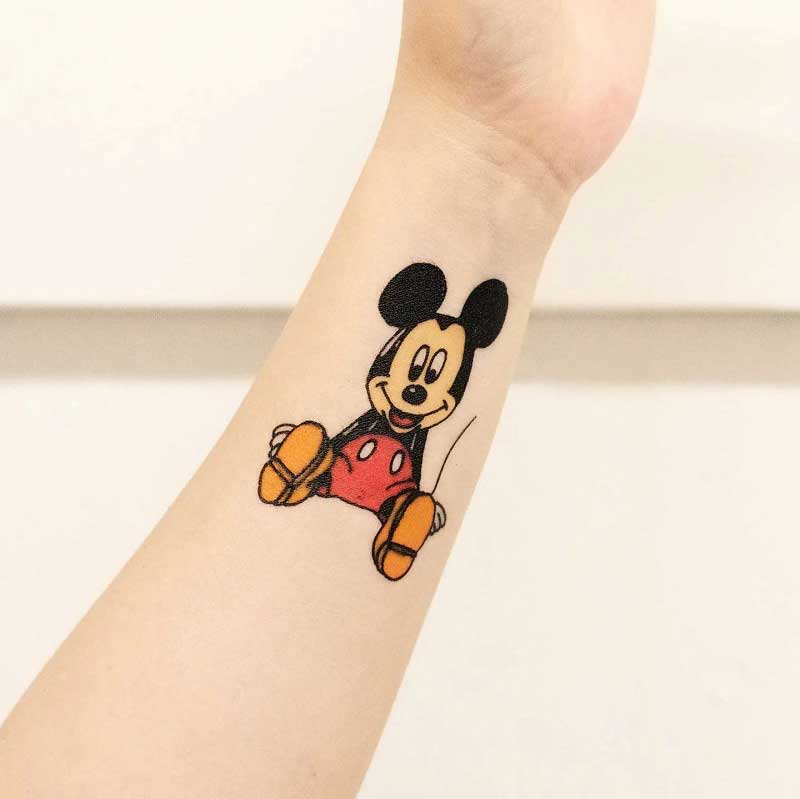 Minimalist Cartoon Tattoo
85.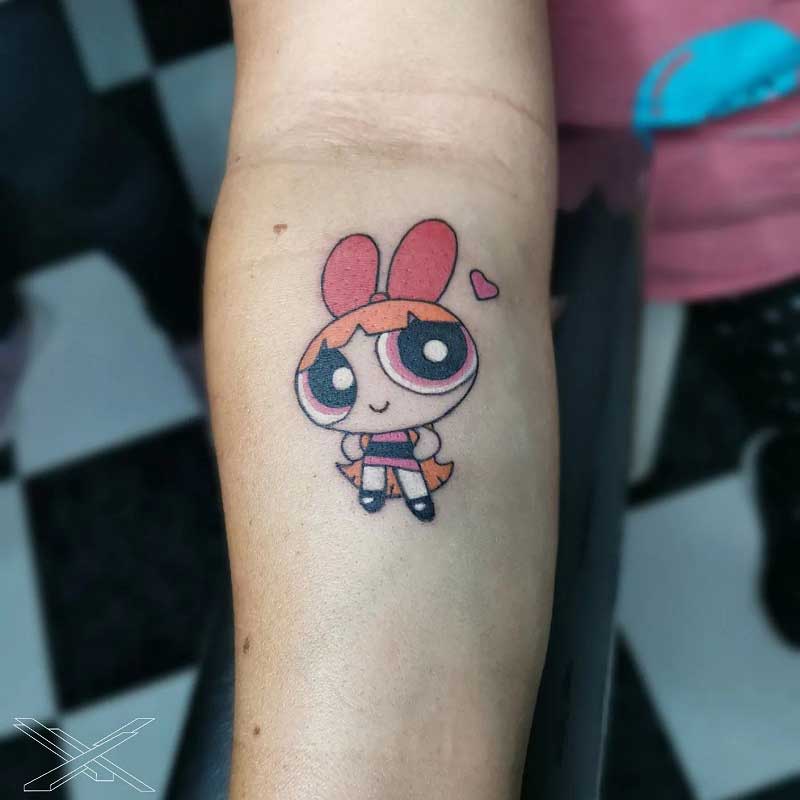 86.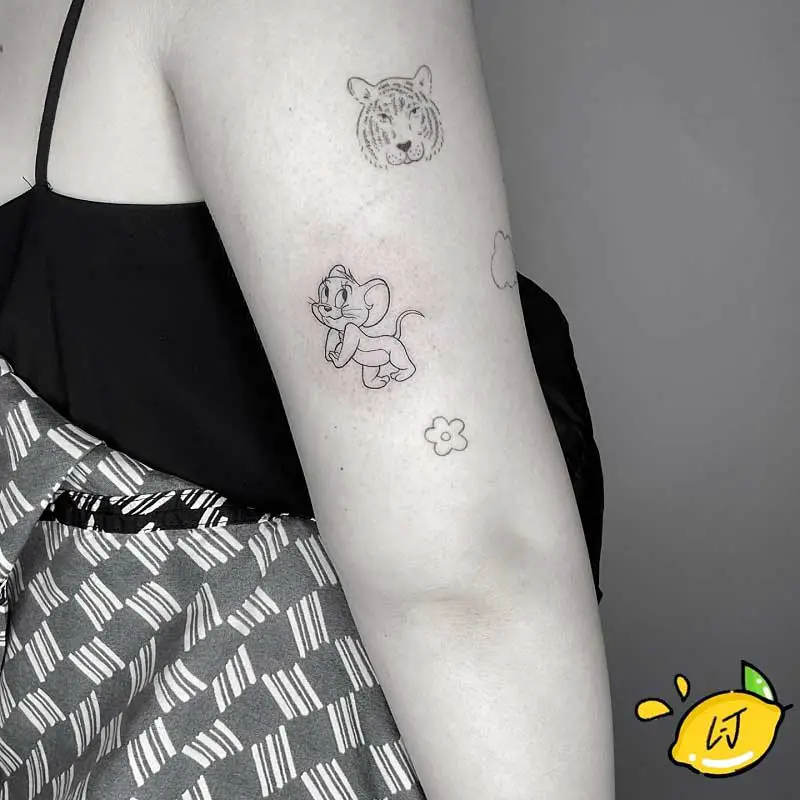 87.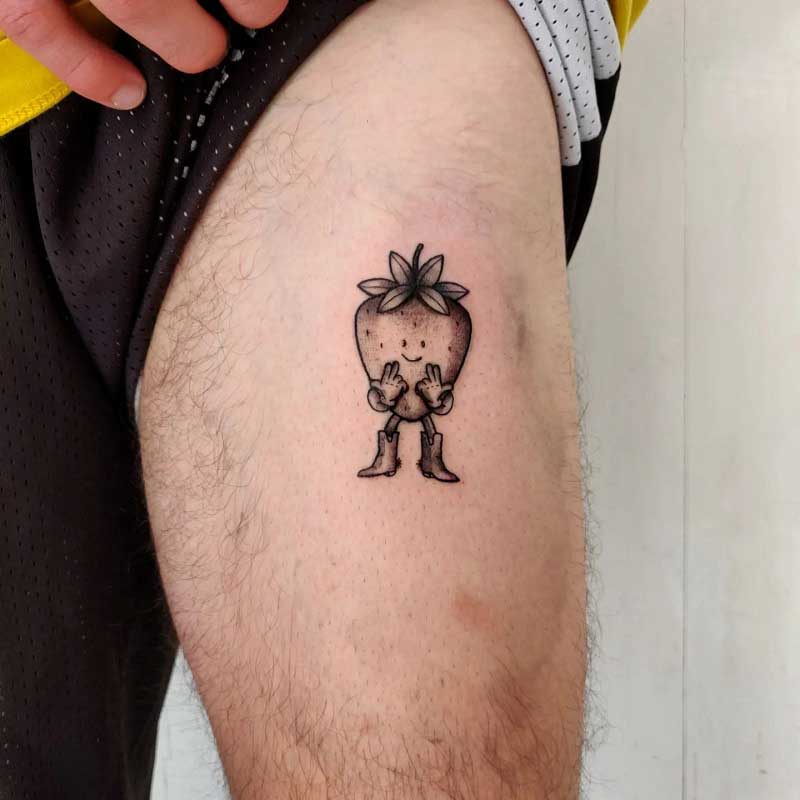 Owl Cartoon Tattoo
88.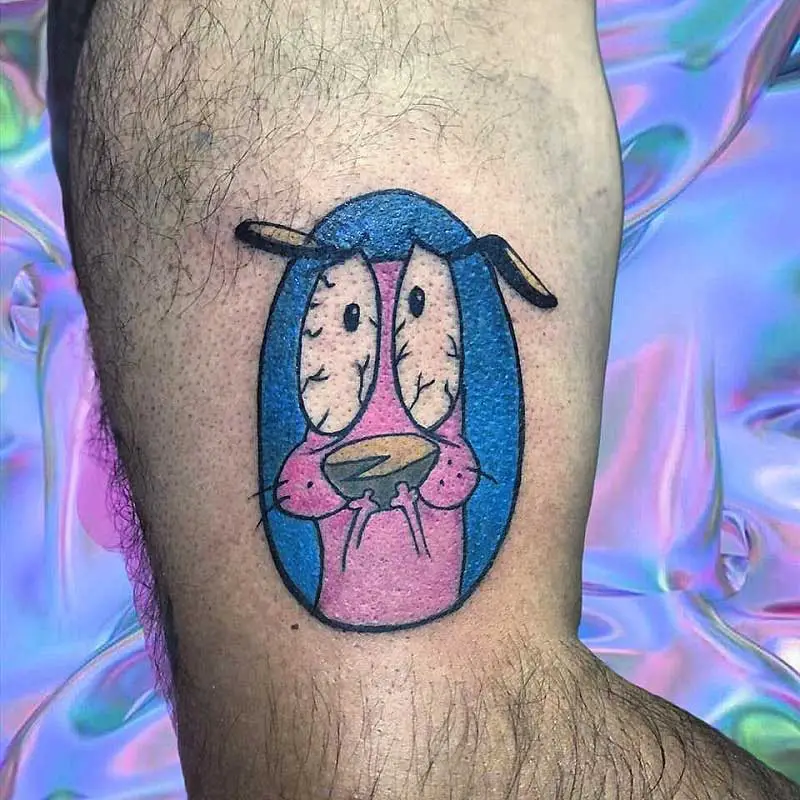 89.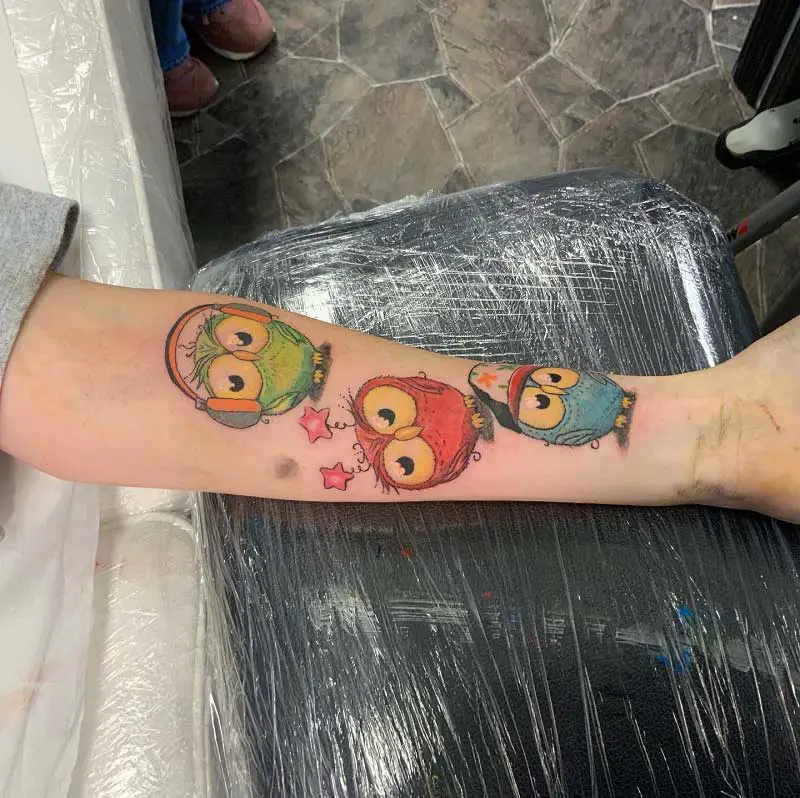 90.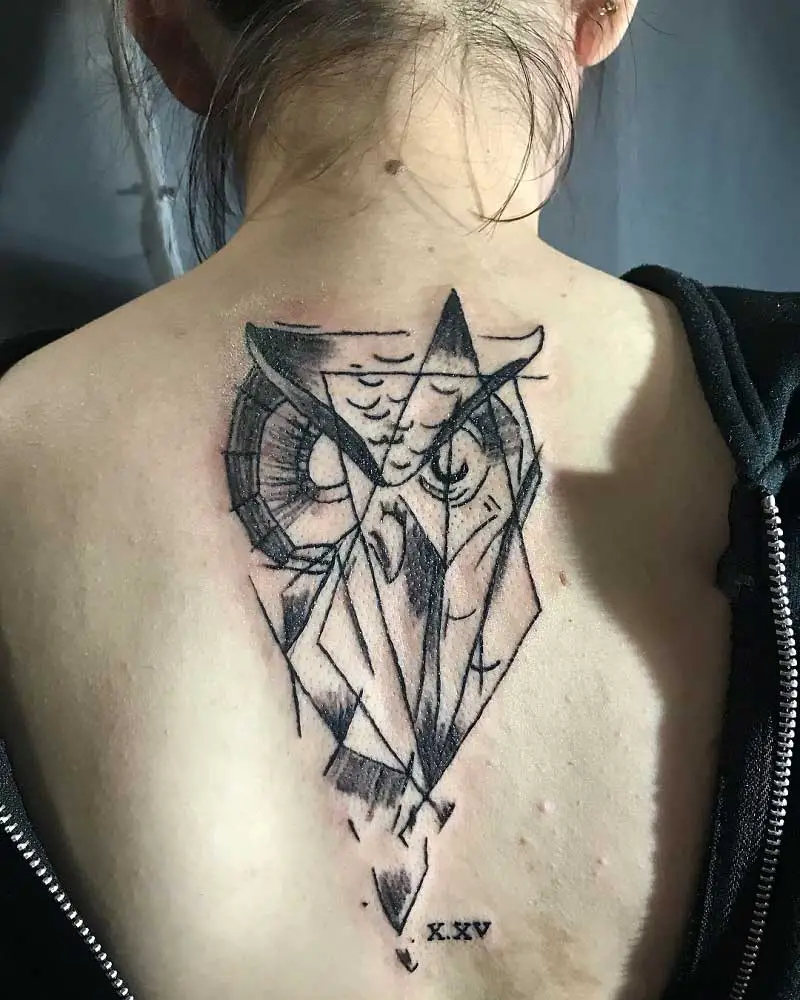 Popeye Cartoon Tattoo
91.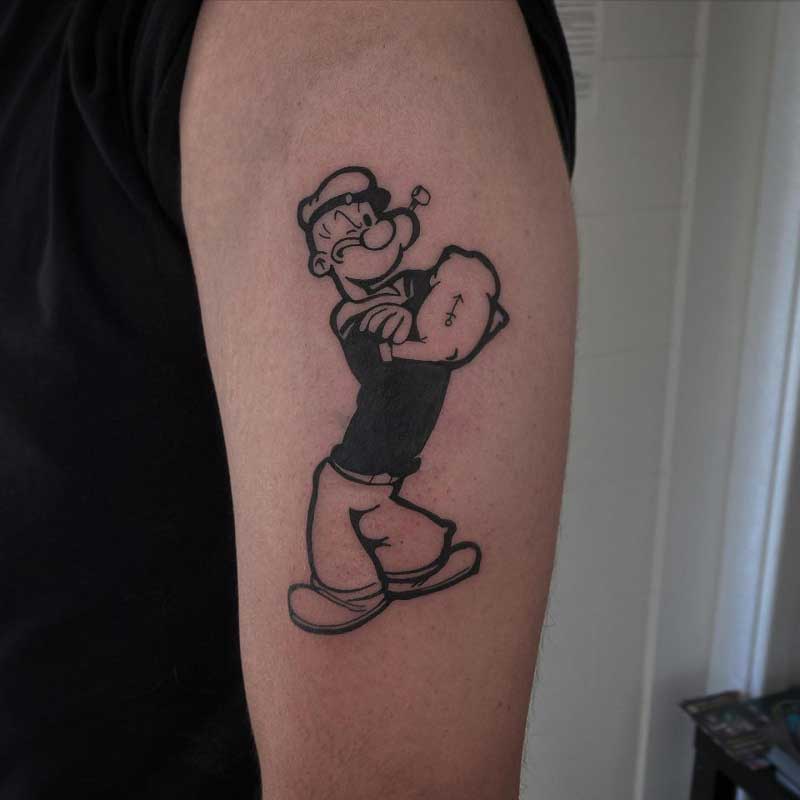 92.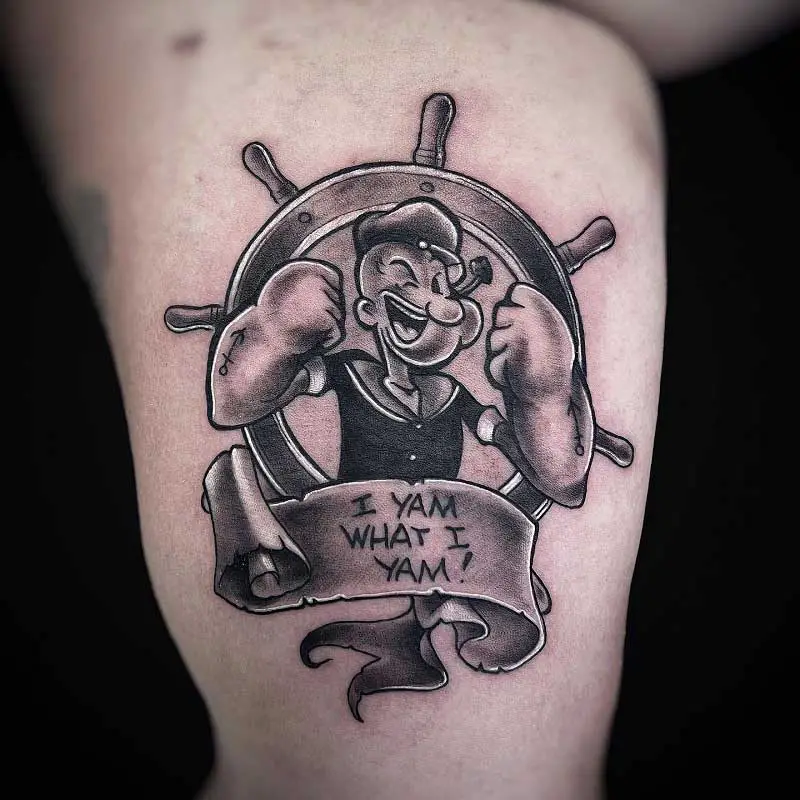 93.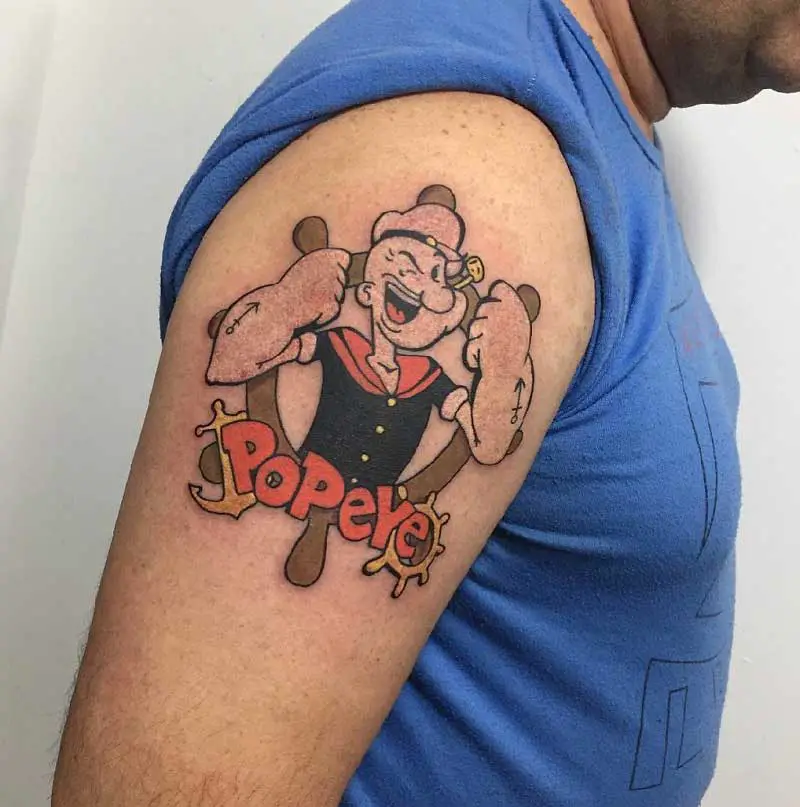 Roadrunner Cartoon Tattoo
94.
95.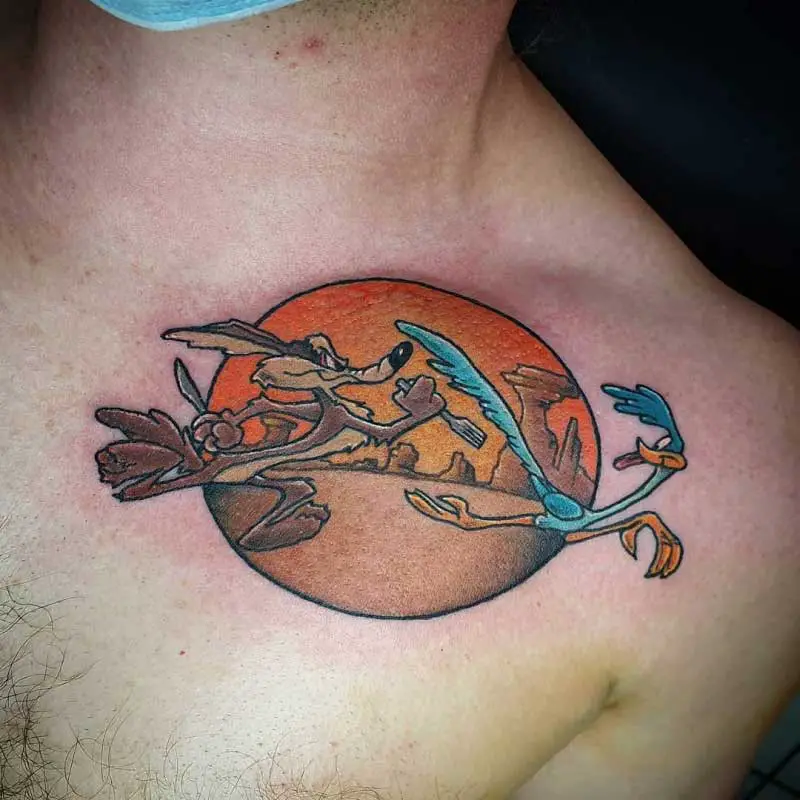 96.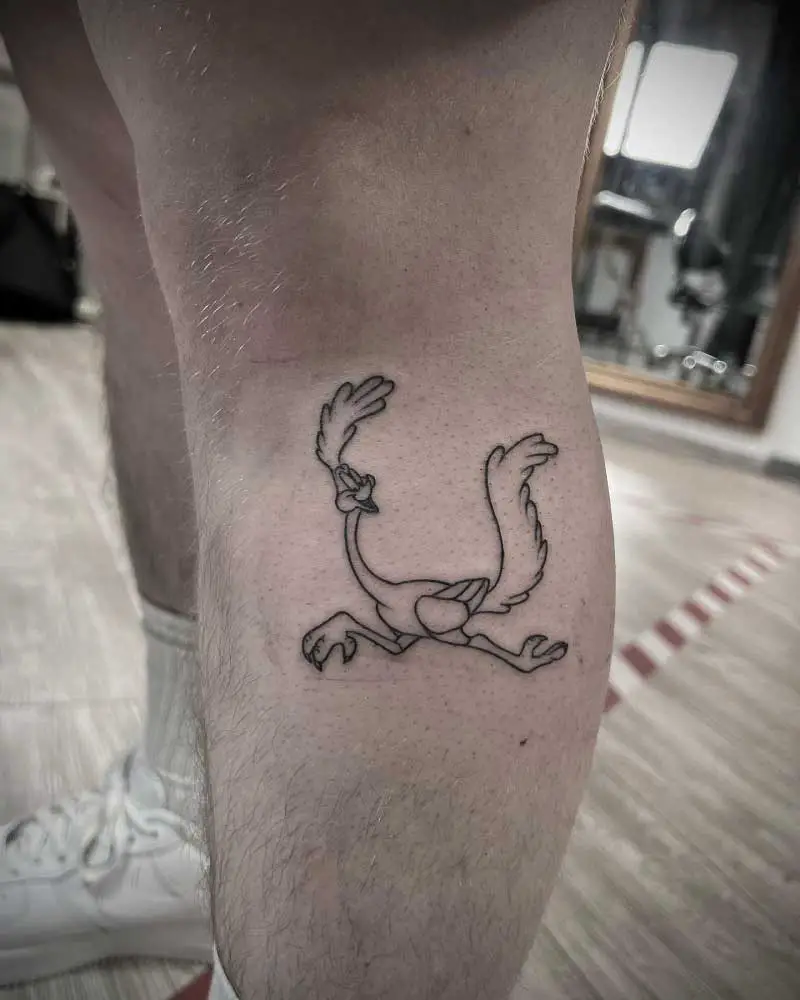 Stitch Cartoon Tattoo
97.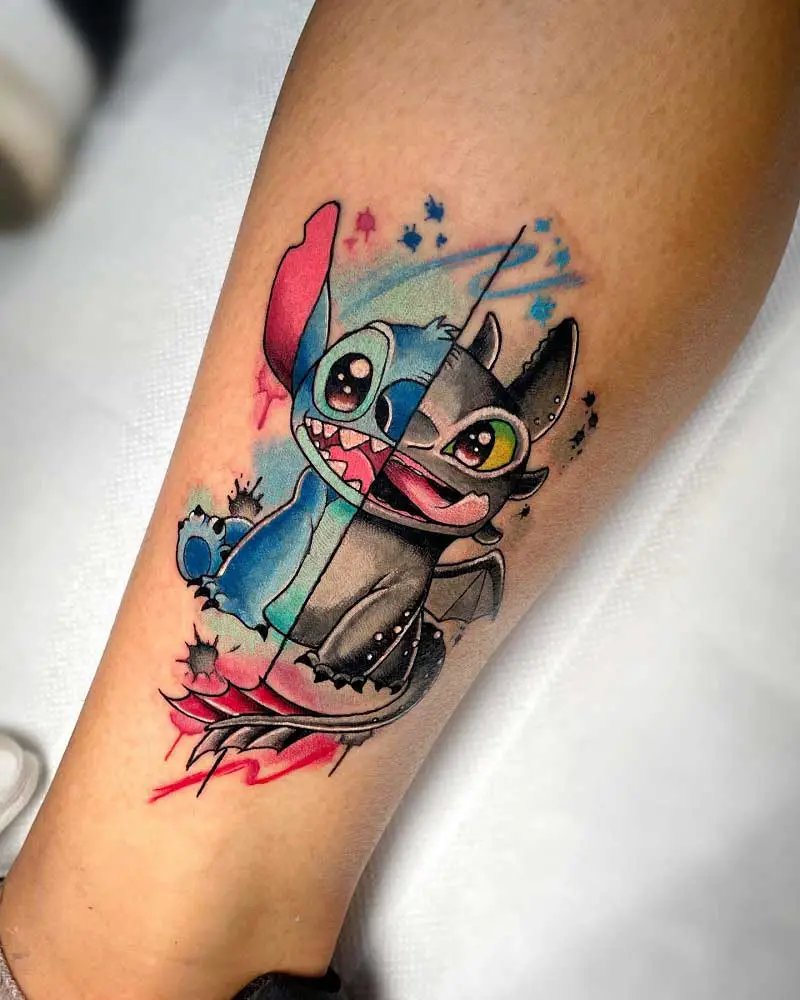 98.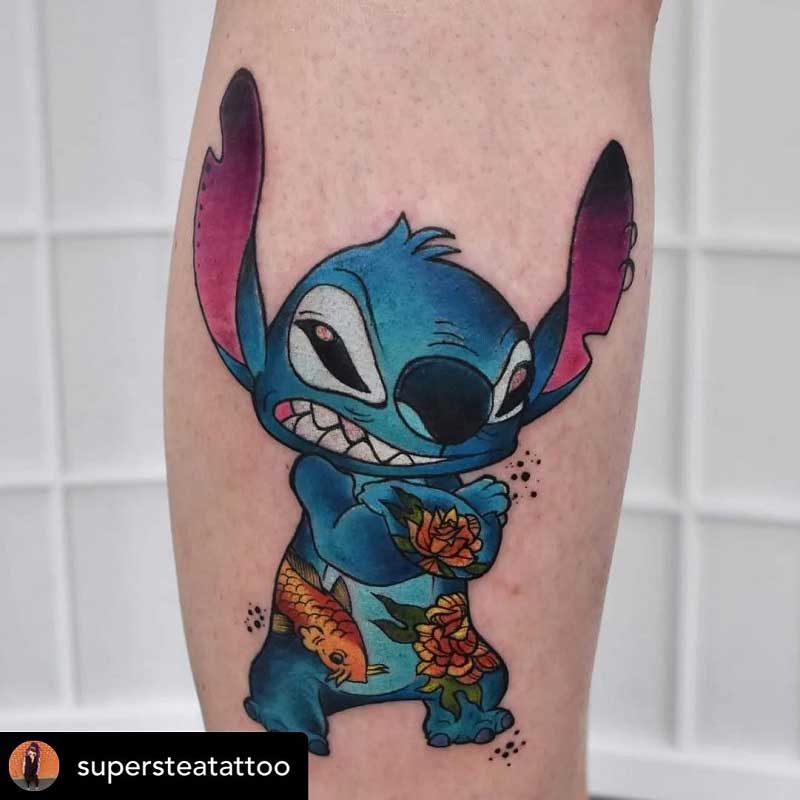 99.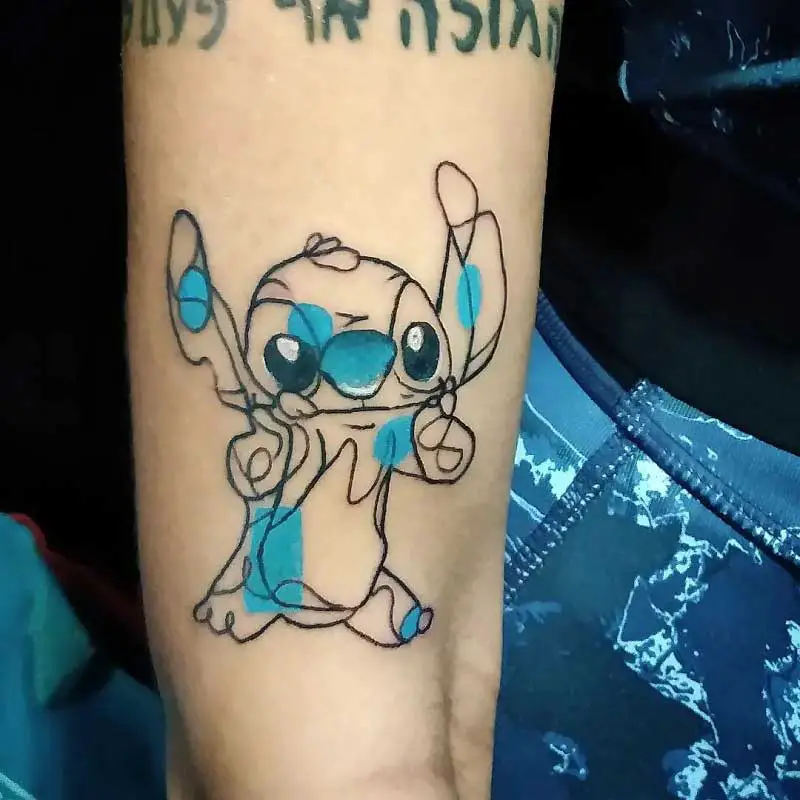 Conclusion
We hope you enjoyed our given list of cartoon tattoos. These tattoos are a great way to express your childhood. If you didn't select your tattoo yet, take a glance over the content again and find your favourite character to whom you are mentally connected.
Frequently Asked Questions
Q: Where Should I Get My Cartoon Tattoo?
A: You can get a cartoon tattoo anywhere on your body. As these tattoos are relatively small, they are flexible for wearing anywhere. It also depends on your preference and pain tolerance sensitivity. There is no particular guidance on wearing cartoon tattoos in specific spaces. However, we think wearing them on the neck may enhance their beauty a bit more.
Q: What is the Difference Between Cartoon Tattoo and Anime Tattoo? 
A: Cartoon tattoos and anime tattoos have slightly different aesthetics. In essence, Western comics and cartoons are the same as Japanese anime. Anime characters, on the other hand, have more recognizable features and lifelike movements, making them appear more realistic. Cartoons often look less realistic and are more two-dimensional. 
Q: What Cartoon Character Can I Get Tattooed on Me? 
A: In terms of what you can get tattooed on you, the possibilities are practically limitless. A Looney Tunes, Simpsons, or Disney character are examples of timeless animated characters that you might choose from. The more contemporary options are Family Guy or Rick and Morty. 
Every tattoo artist who specializes in tattooing cartoon characters has a particular style and a list of favoured subjects. You can obtain ideas for the kinds of cartoon characters they enjoy tattooing and are best at by looking at their portfolio. 
Q: How do I Find the Right Cartoon Tattoo Artist for Me? 
A: The first thing to look at when choosing the best cartoon tattoo artist is a portfolio. Most tattoo artists have a website where you can view their portfolio or social media accounts, typically on Facebook and Instagram. 
Cartoon tattoos stand out greatly from other tattoo designs in terms of colour and boldness. To get the ideal tattoo, you should pick a tattoo artist that is skilled with colours. 
Q: How Long will My Cartoon Tattoo Take to Heal? 
A: This answer depends on several factors, including your overall health and the location of the cartoon tattoo. In general, you should take care of your tattoo for the first two weeks because most tattoos heal in 7-10 days.
Tip: After 24 hours, you should take off any bandages or clingfilm that the artist may have used. Then use antibacterial soap and water to carefully wash the tattoo. Always let it dry; never rub. 
Q: How Long Will It Take to Get a Cartoon Tattoo? 
A: A skilled tattoo artist will never hurry up on the tattooing procedure. Larger or more difficult projects can require ten hours or so to complete. A maximum of two hours will be needed for a little piece. Your artist will be able to precisely estimate the time if you show them your design. 
Q: How Do I Maintain My Cartoon Tattoo? 
A: The tattoo should be kept dry and clean as part of proper aftercare. Using an authorized ointment, they must also maintain the skin's hydration and protection. To keep your tattoo in good condition, you can purchase an ointment at the drugstore.
Additionally, avoid placing your body art in water or direct sunlight. While your tattoo is healing, you shouldn't itch your skin. Peeling and scabbing are natural aspects of healing.