Pirate tattoos are a significant part of the tattoo culture even though they were not a big part of the pirate world. The special designs with unique attributes are highly creative and look perfect on all body parts. Improve your features and look with stunning style and artistic tattoos.
With over hundreds of possible designs, finding the right one is not the easiest task. So, to make the choice of your pirate design tattoo easier for you, we have put this guide together. Buckle up and dive deep into our collection of some of the most iconic ink styles.
96 Pirate Tattoo Ideas And Designs
Give yourself an amazing and pretty look with the pirate tattoo designs. All of these designs come with beautiful and deep meanings. With so many exciting styles to choose from, let us see the top ideas and designs for the tattoos.
Pirate Skull Tattoo
Pirate skull tattoo designs are popular among tattoo enthusiasts and artists for the intricate details and creativity. So, let us take a look at some of the top tattoo options for the impressive pirate skull.
1. The Dead Pirate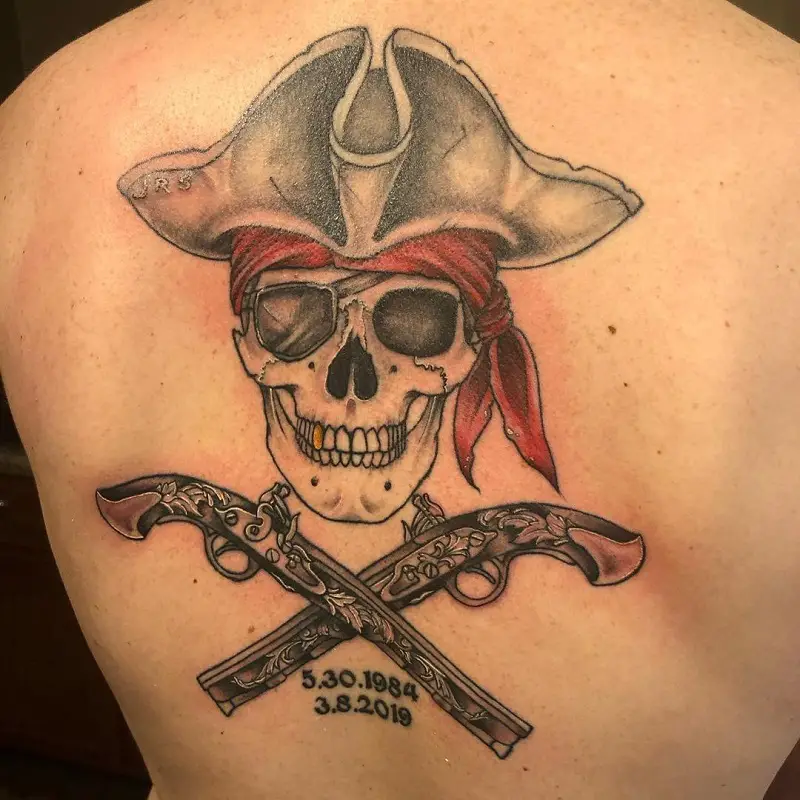 Show love and compassion to a loved one you have lost in life. This tributary pirate skull looks amazing on both men and women.
2. The Knife Pirates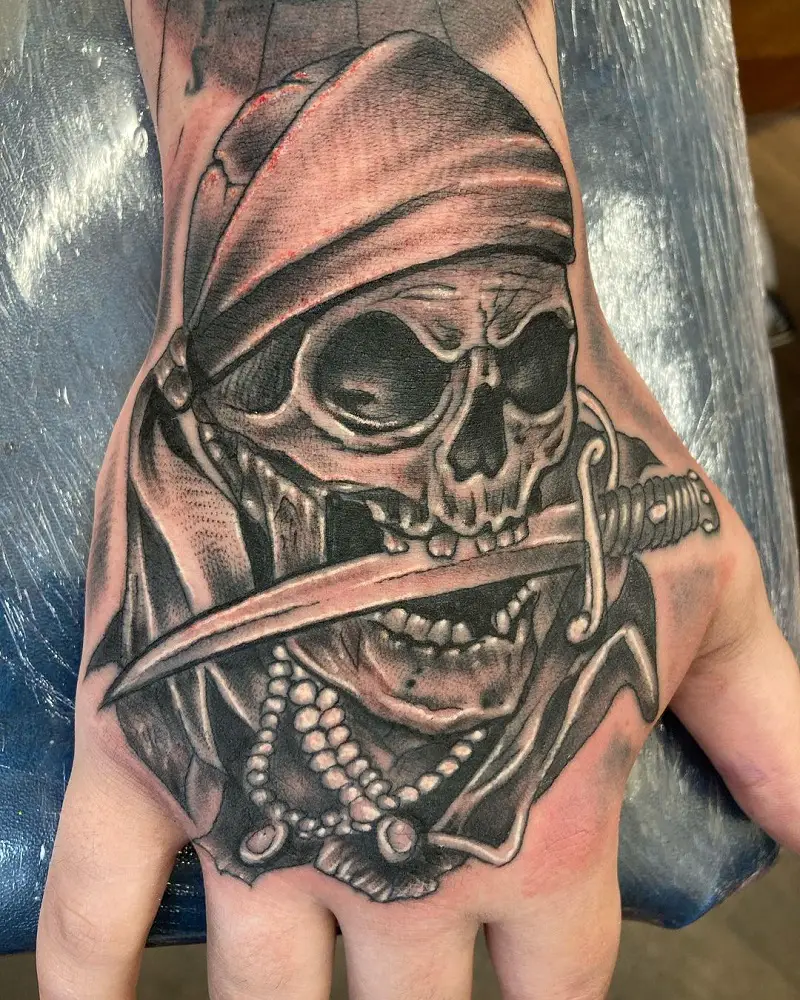 Turn your hand in an eye-catching view with the pirate skull tattoo with a knife. The intricacy of the design makes it hard to look away from the tattoo.
3. Scary Skull Pirate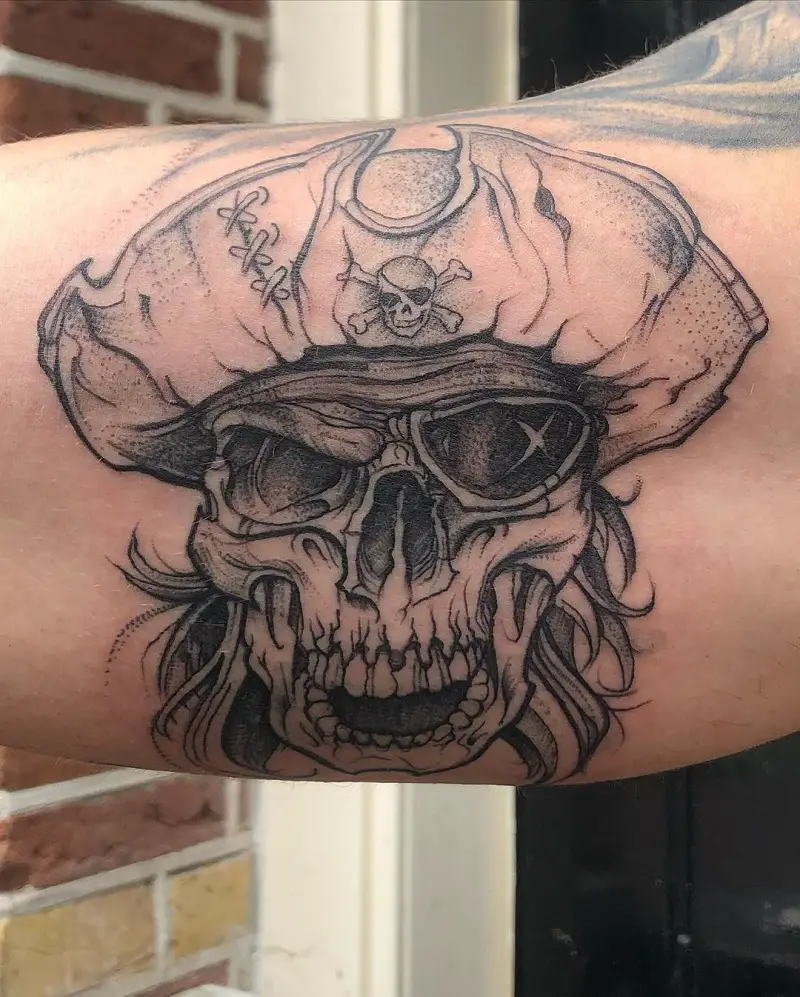 Let the artist unleash their creativity by putting up the perfect-looking pirate tattoo. This tattoo is a beautiful take on the pirates and will look amazing on any body part.
Pirate Flag Tattoo
Pirate flags represent the journey and the interesting adventures of the pirates. So, let us dive into the world of pirate flags and take a look at some eye-catching tattoos.
4. To Future Adventures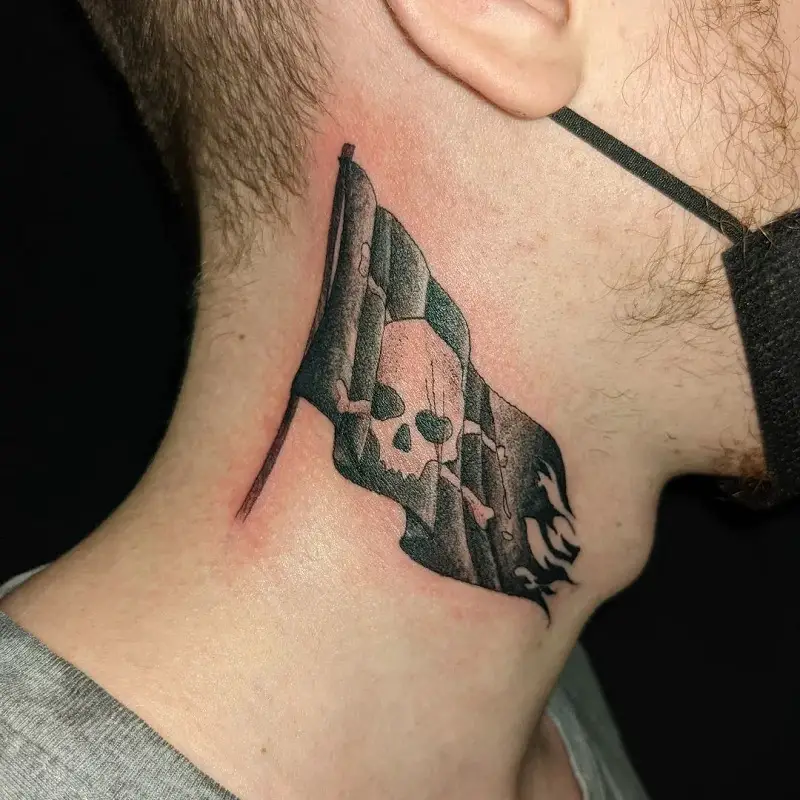 Get a waving flag tattoo as a sign of the adventure and the struggles of pirates. This design looks undoubtedly attractive on the man's neck.
5. The Rebellious Flag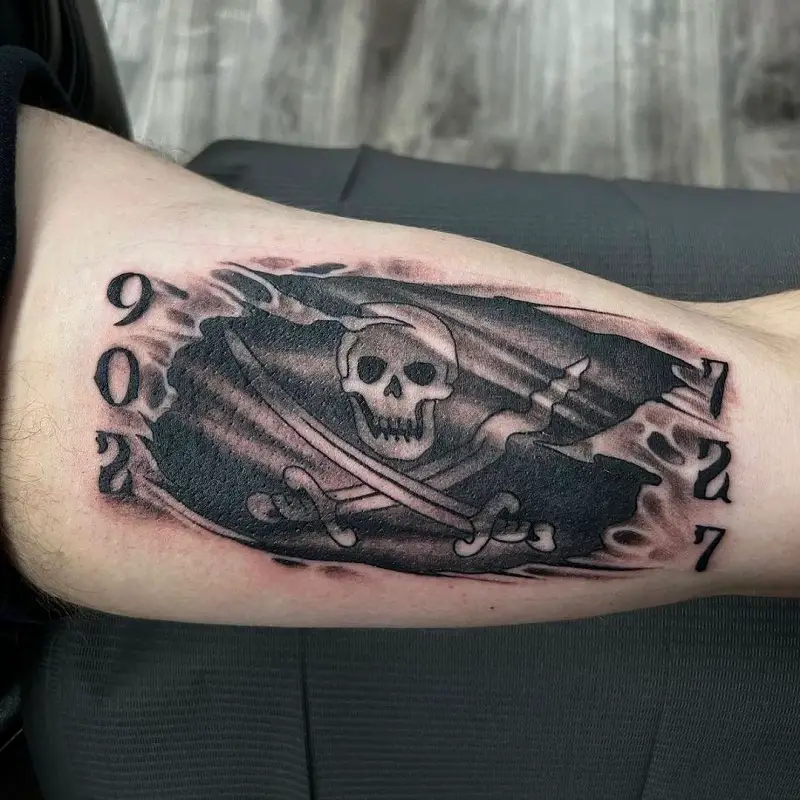 Give yourself a unique look with the stunning tattoo of a pirate flag. It is a representation of rebellion, struggles, and fights during the era of pirates.
6. The Motivating Pirate Flag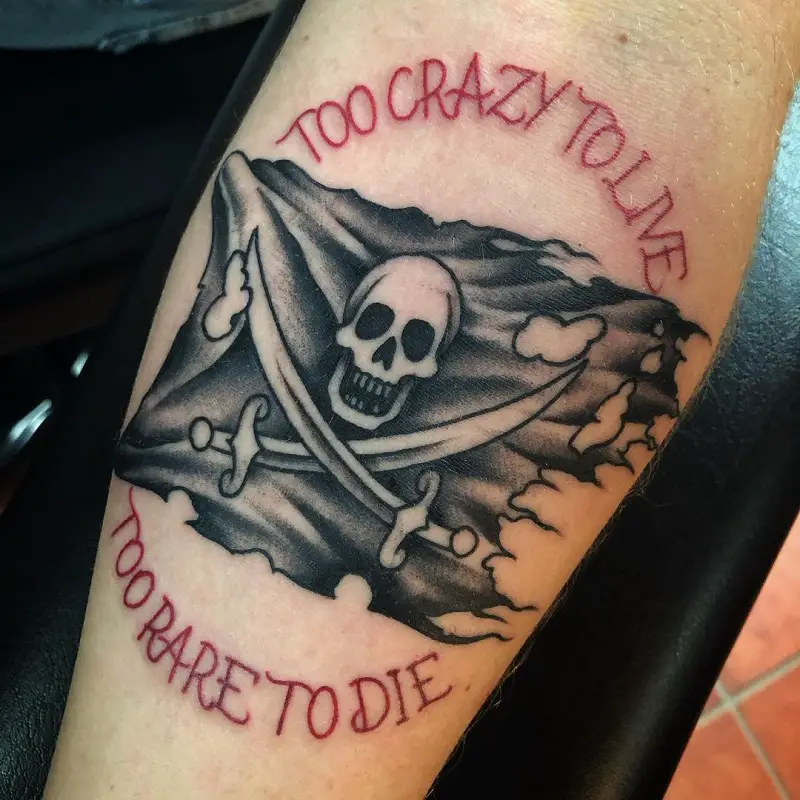 The crazy motivational quote combined with the pirate flag makes up the perfect design. It is a combination of art, creativity, motivation, and fun reminders.
Pirate Tattoo Sleeve
Sleeve tattoos always catch the eyes of viewers and the arms look more attractive with pirate tattoos. Let us see a few examples of some of the pirate sleeve tattoo designs.
7. The Jewel Thief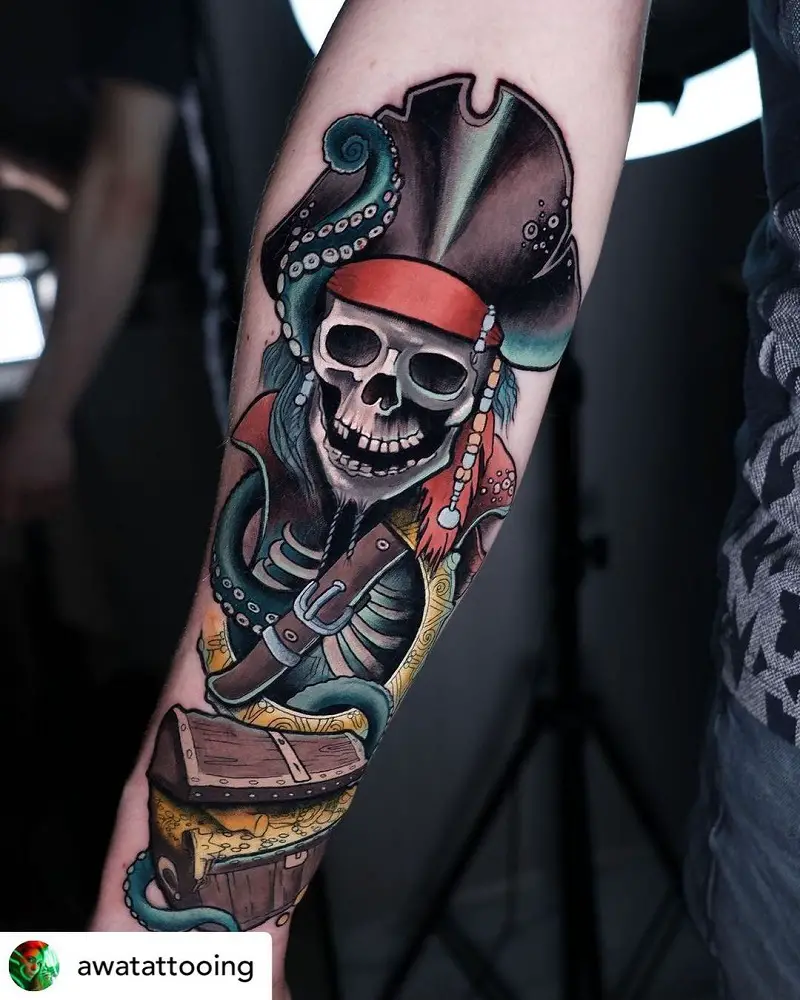 Make your sleeves look amazing and extremely eye-catching with the pirate design tattoo. The unique colors and intricate design look great and stylish on everyone.
8. Thinking Pirate Skeleton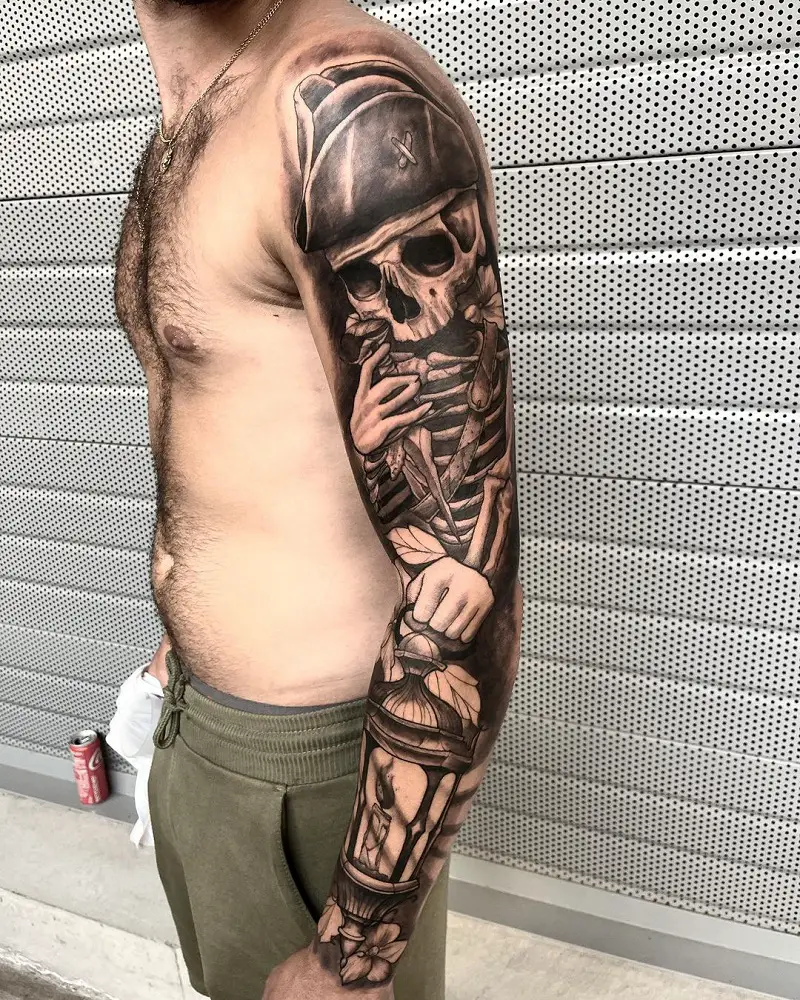 The skeleton of the thinking pirate with a candle lamp looks perfect on both men and women. It symbolizes the present and past uniquely and artistically.
9. The Beautiful Pirate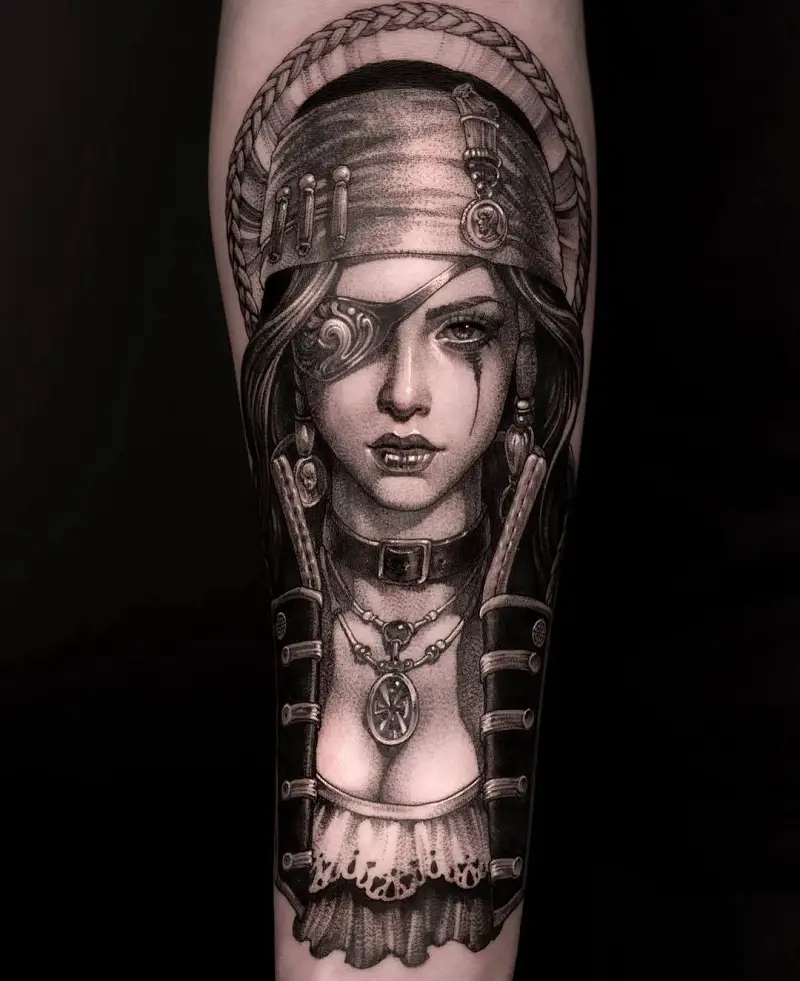 Appreciate beauty, power, courage, and bravery with this pretty lady pirate tattoo. This tattoo design will look quintessential on women, especially on the thighs.
Traditional Pirate Tattoos
The traditional tattoo designs of pirates look interesting and goofy. The designs look great and the colors make the tattoos more unique. So, let us see some of the top traditional pirate designs.
10. Woman In Charge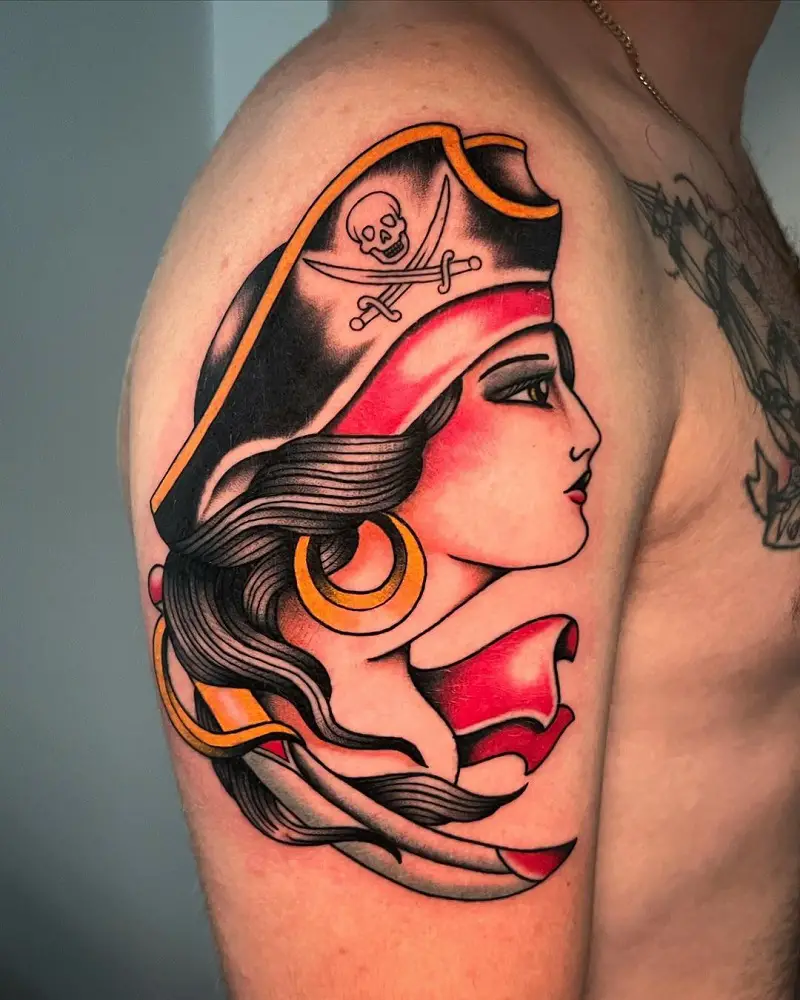 Choosing a different path out of the ordinary is difficult and requires courage. This traditional tattoo of a female pirate is an impressive take on strength, freedom, and power.
11. Goofy Head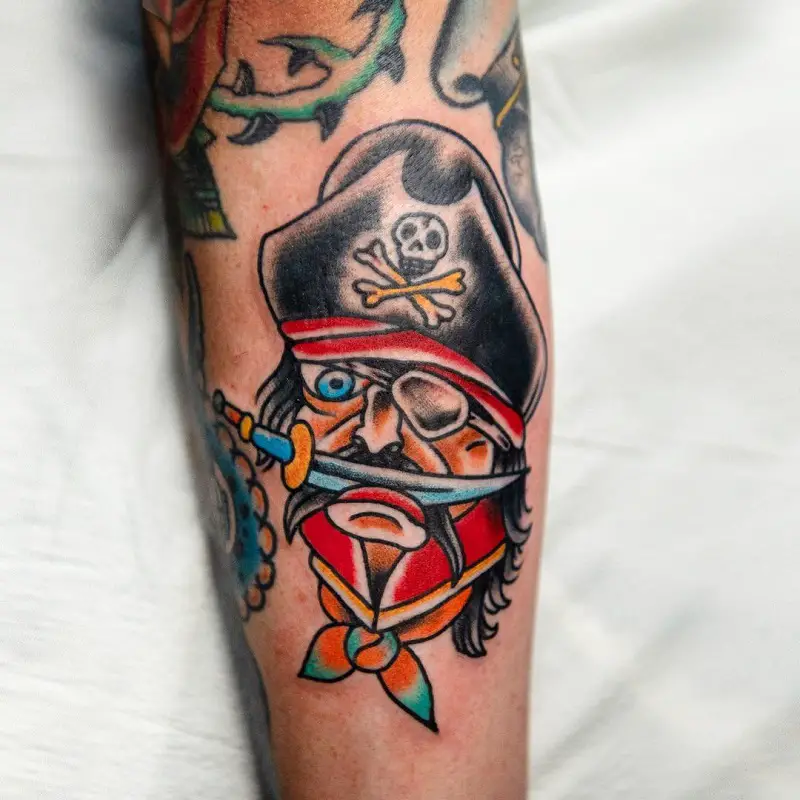 The goofy and fun tattoo shows the funny and good side of the pirates that we often fail to see. It is a portrayal that we often do not see the underlying meaning behind situations.
12. The Corrupted Pirate
Get the pirate with the funny expression inked on a guy's leg as a sign of letting loose. This tattoo design is perfect for guys looking for an amusing impression.
Traditional Pirate Ship Tattoo
13. The Blooming Sheep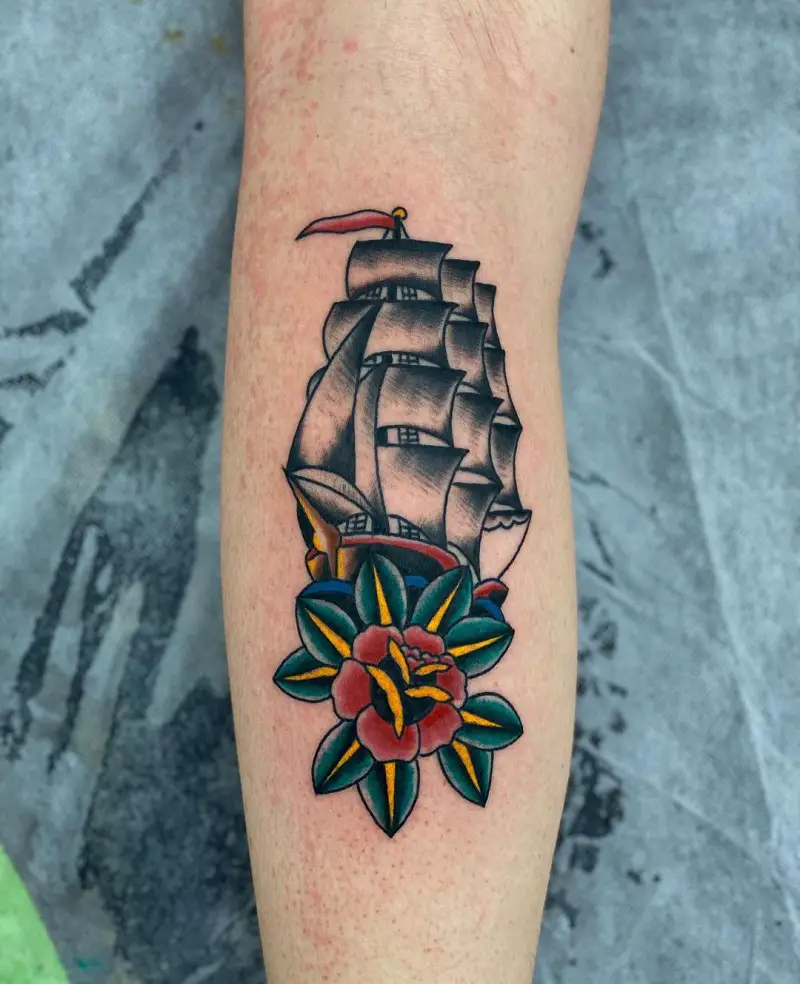 Turn heads wherever you go with this pirate ship with a flower under it. The design is a symbolization that you have to be ready and have the courage to fight the battles of life.
14. Worn And Torn Ship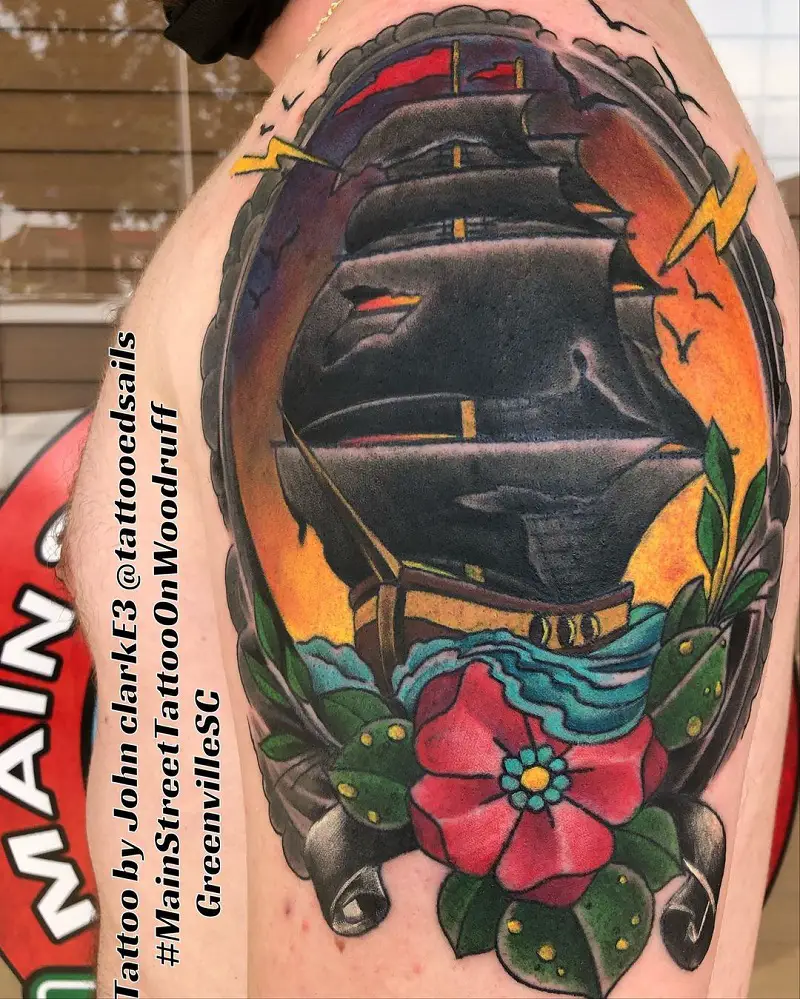 Get this pirate ship tattoo as a representation of the battles you have fought in life. It shows that life goes on despite all challenges.
15. Ship Art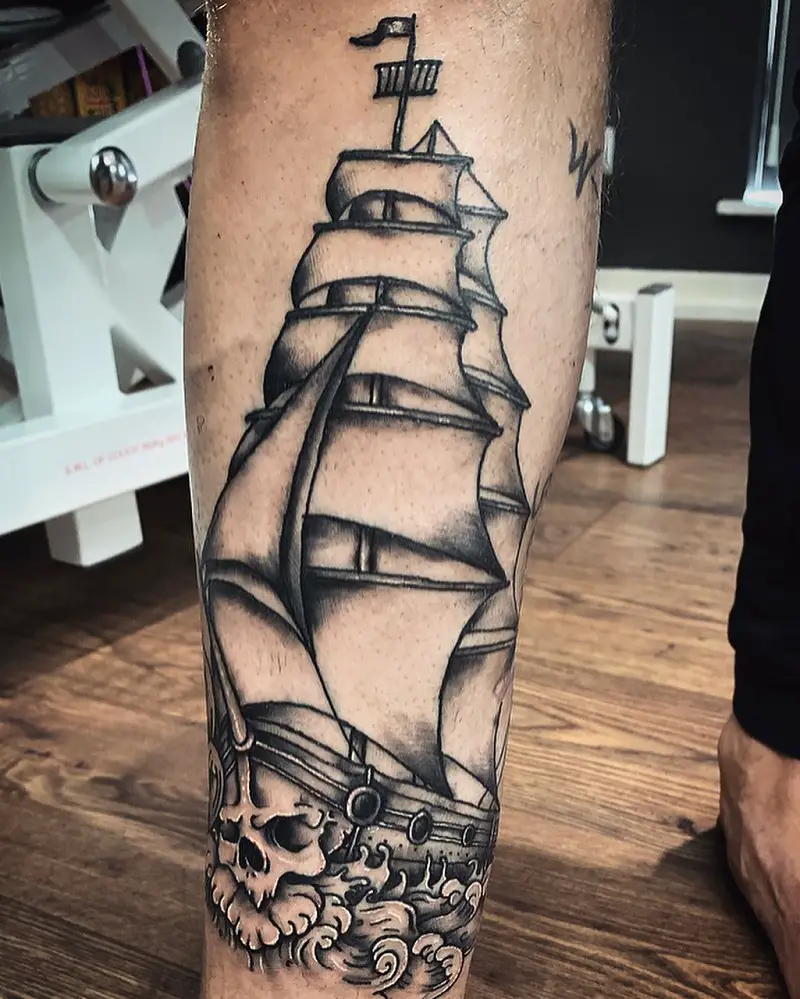 The intricate ship tattoo design of the pirates symbolizes their struggles and sacrifices on the ocean. This design looks attractive on the legs and back for women.
Pirate Compass Tattoo
Compass has been a major part of oceanic adventures since the beginning of time. From sailors to pirates, everyone relied on compasses to navigate through the water. Let us see a few examples of pirate compass tattoos.
16. The Pirate Package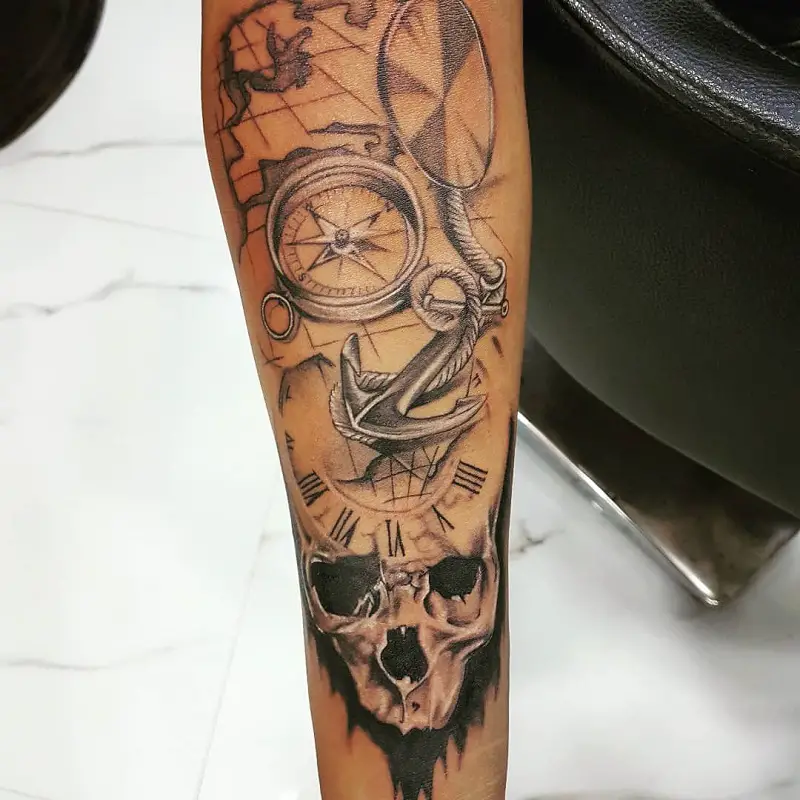 Combine compass, anchors, and maps as a complete pirate adventure package tattoo. The design is highly creative and undoubtedly impresses each and every viewer.
17. Finding Directions
Find your way through the struggles and challenges of life with this colorful pirate tattoo. The compass is a representation of finding the right directions in life.
18. Skull Compass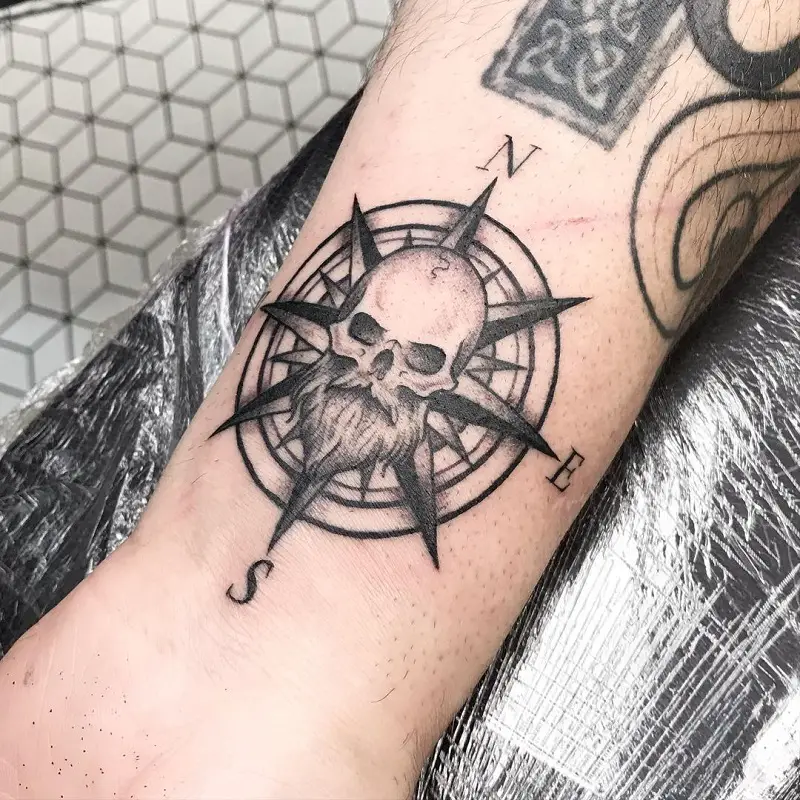 Attract all viewing eyes towards you with this highly impressive and details tattoo with a skull. The design is a proper addition to your arm and will also look amazing on a man's chest.
Skeleton Pirate Tattoo
Skeletons are meant to be scary, but with pirate tattoos, the meaning is deep and different. Pirate skeleton tattoos display struggles, fights, and death. And we will take a look at the top skeleton pirate designs.
19. The Finding Pirate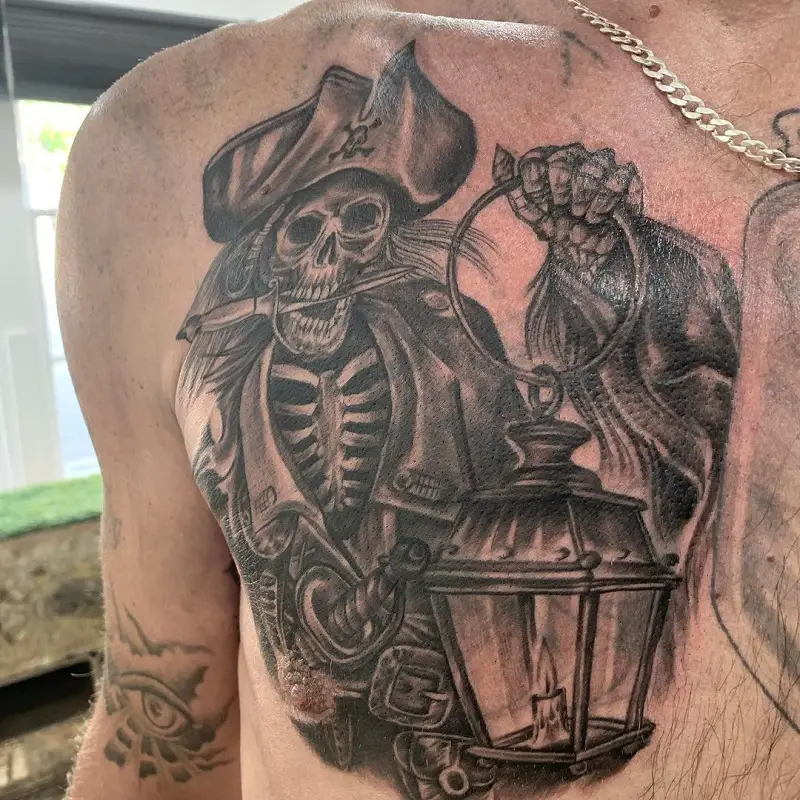 The detailed pirate skeleton looks great on a man's chest and portrays their dedication to their lives. The placement on the chest allows the artist to showcase their creativity in a pretty style.
20. Pirate And Tribute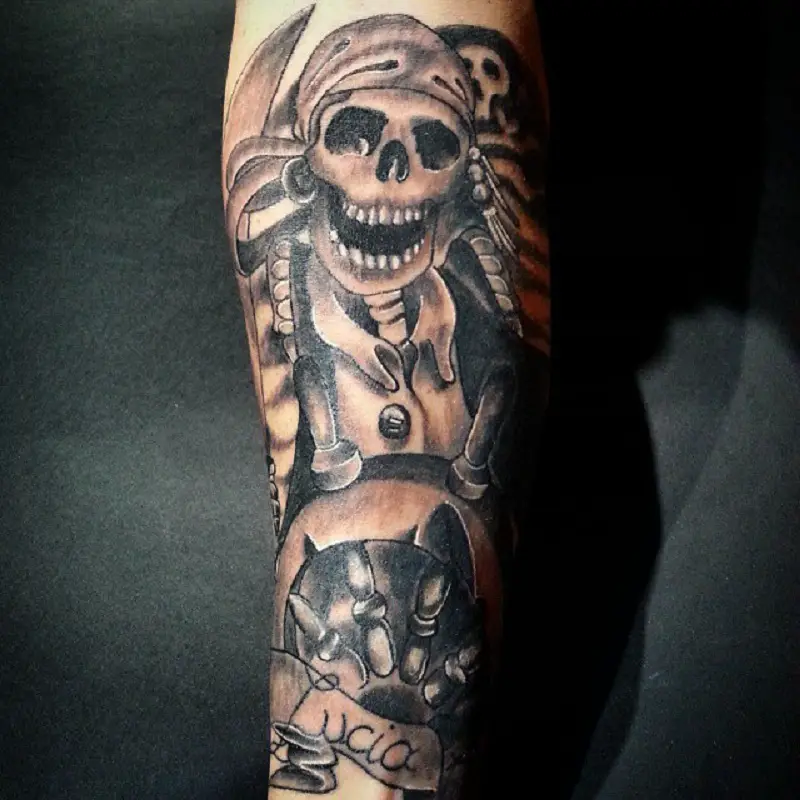 Pay your tribute to a pirate fan with this unique design. The name on the tattoo shows love, appreciation, and respect for the life choices of a loved one.
21. Fighting Pirate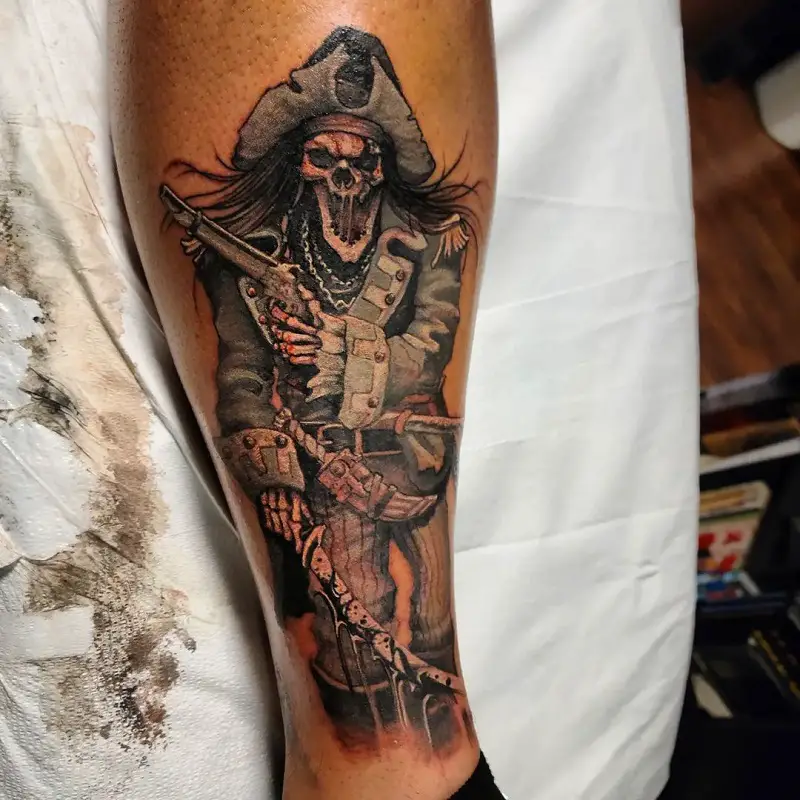 Pirates are known for their unmatchable bravery and courage along with their top-notch fighting spirits. It is a representation of power, strength, and sacrifices.
Pirate Face Tattoo
The facial features of the pirates are a proper representation of the struggles they went through while being on the ocean. The designs are a perfect choice for tattoos and look undeniably beautiful. Here we will discuss a few great pirate face tattoo examples.
22. One-Eyed Pirate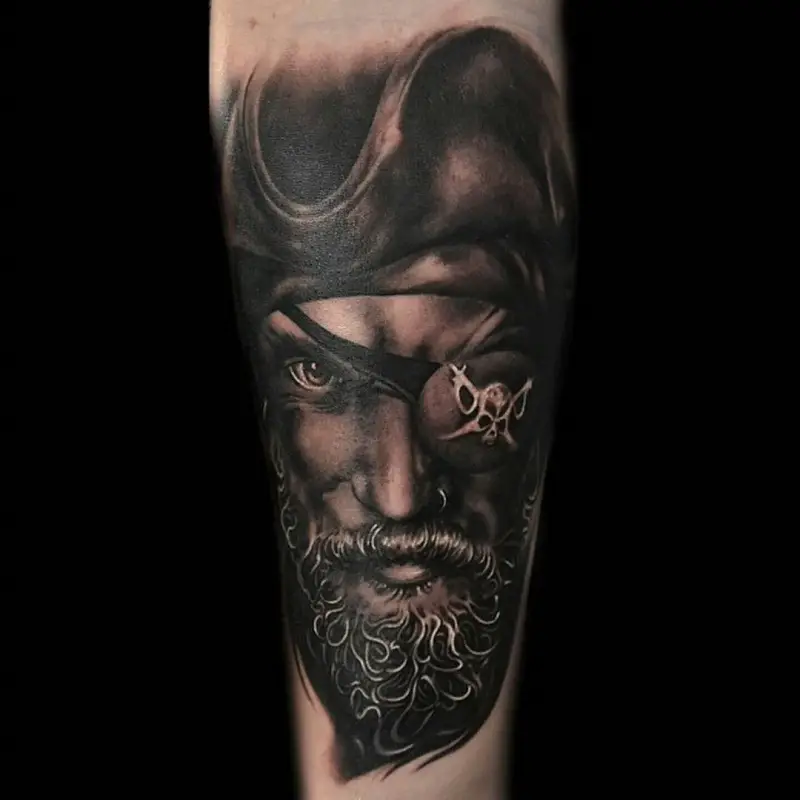 Receive appreciation and attraction from each and every viewing eye with the stunning tattoo of the pirate face. The eye patch is an iconic statement and a major part of pirate assemble.
23. Roses and Pirates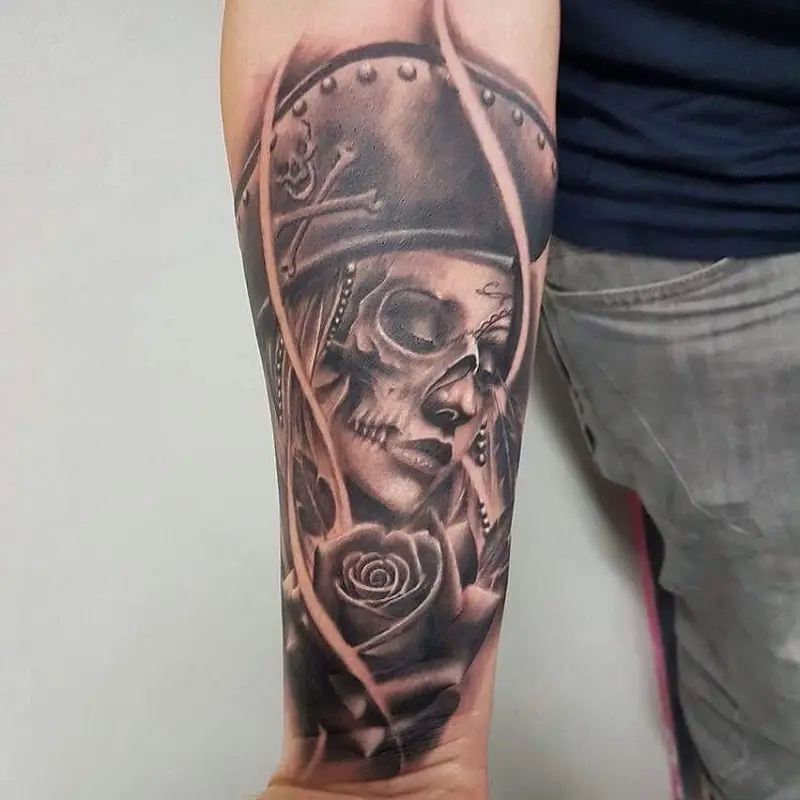 While pirates are seen as evil, flowers are viewed as a sign of purity and beauty. This tattoo design is a creative take on the beauty and evil aspects of life.
24. The Pirate Girl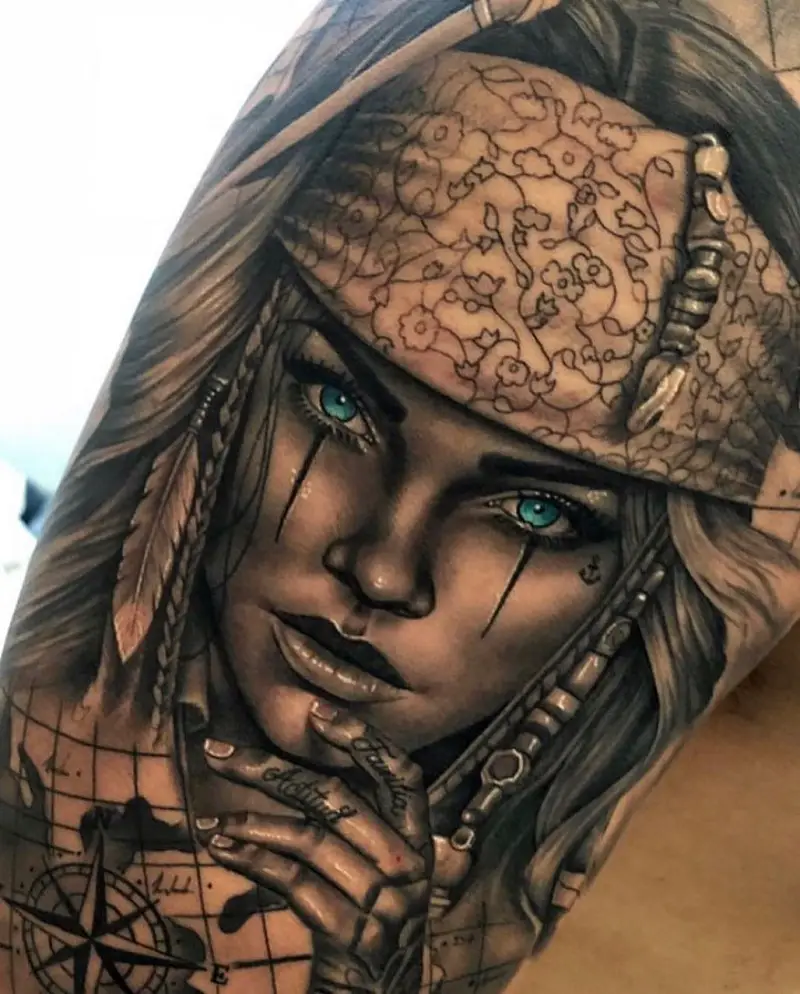 Show your love and appreciation to the pirate stories you listened to while growing up. It brings back several memories while being an outstanding addition to your tattoos.
Pirate Map Tattoo
Maps are a major part of the pirate world. Associated with the ocean and secret treasure markings, these maps are also a significant sector of pirate tattoos. So, dive into a world of pirate map designs.
25. Pirate Chronicles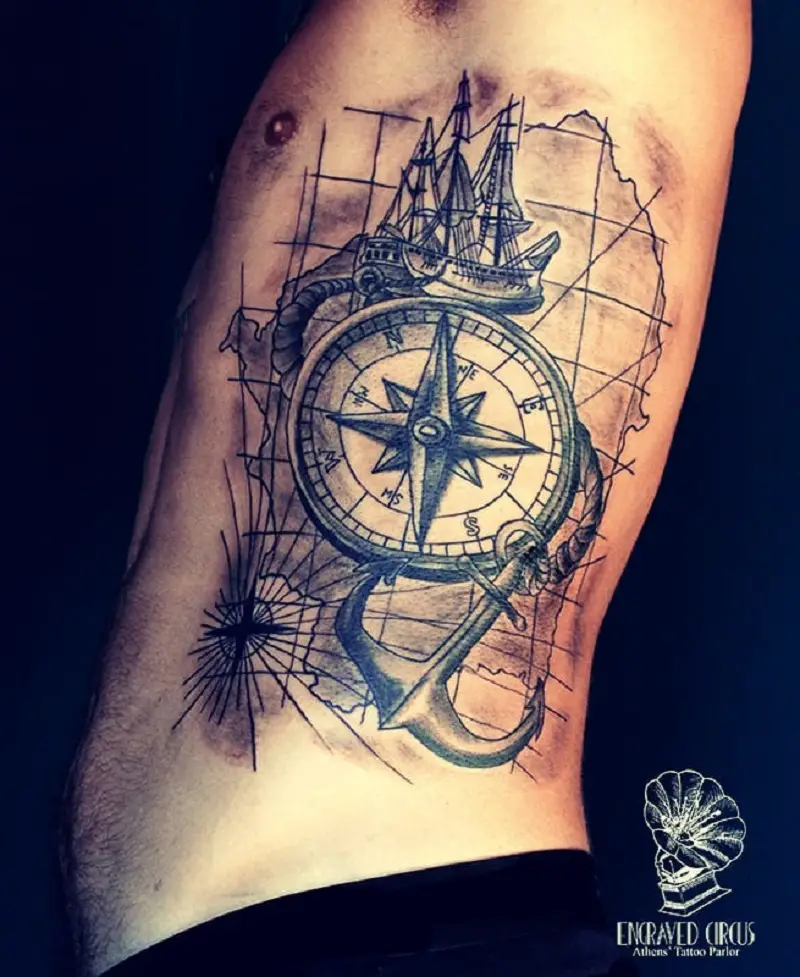 The compass, anchor, and ship on the pirate map represent their culture well. This design will look outstanding on the back or side of the body on both males and females.
26. The Pirate Box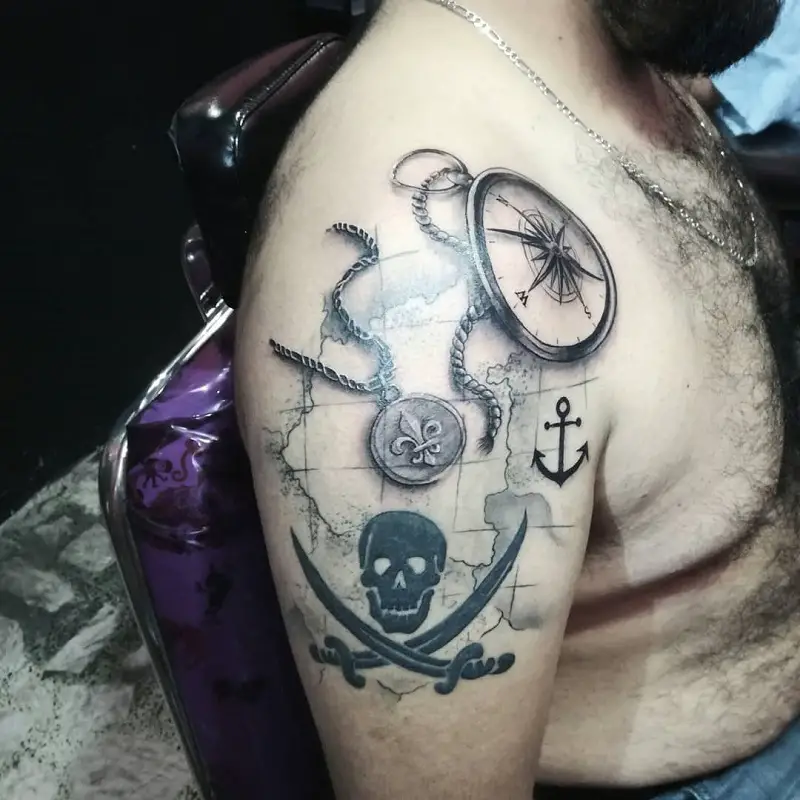 Make your arm look amazing and attractive with this pirate collection tattoo design. The smooth and intricate design displays the beautiful talent of the artist.
27. Skull On The Map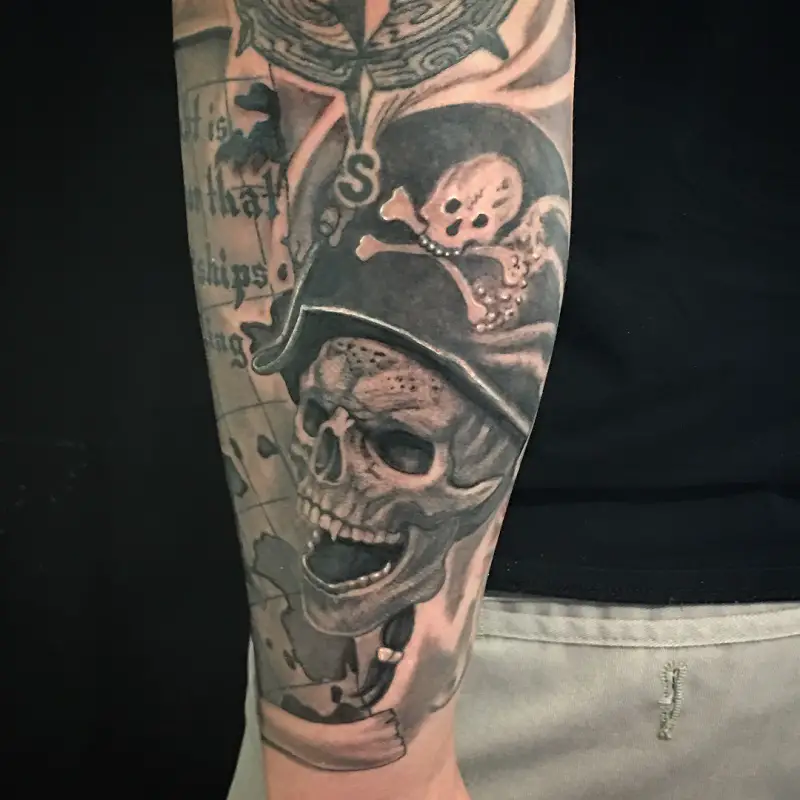 Whether you are looking for a special design or a tributary style for pirates, this tattoo is the right choice. It showcases freedom, power, courage, and a distinctive lifestyle.
Small Pirate Tattoo
Small pirate tattoos look extremely cute and pretty on the body. The designs are perfect for both males and females. So, look at the top tattoos under the small pirate category.
28. Cute Pirate Ship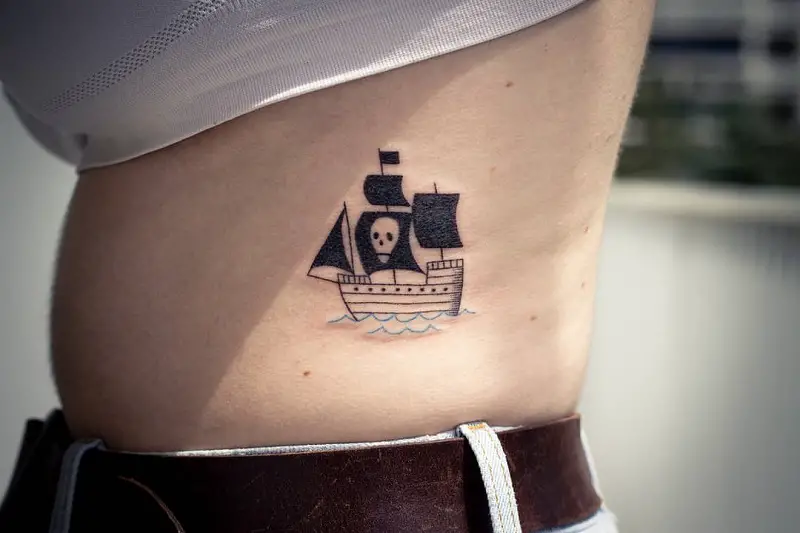 Get this cute and pretty pirate ship design as a fun and creative tattoo. It is a representation of courage and freedom in a simple and small way.
29. Minimalistic Skull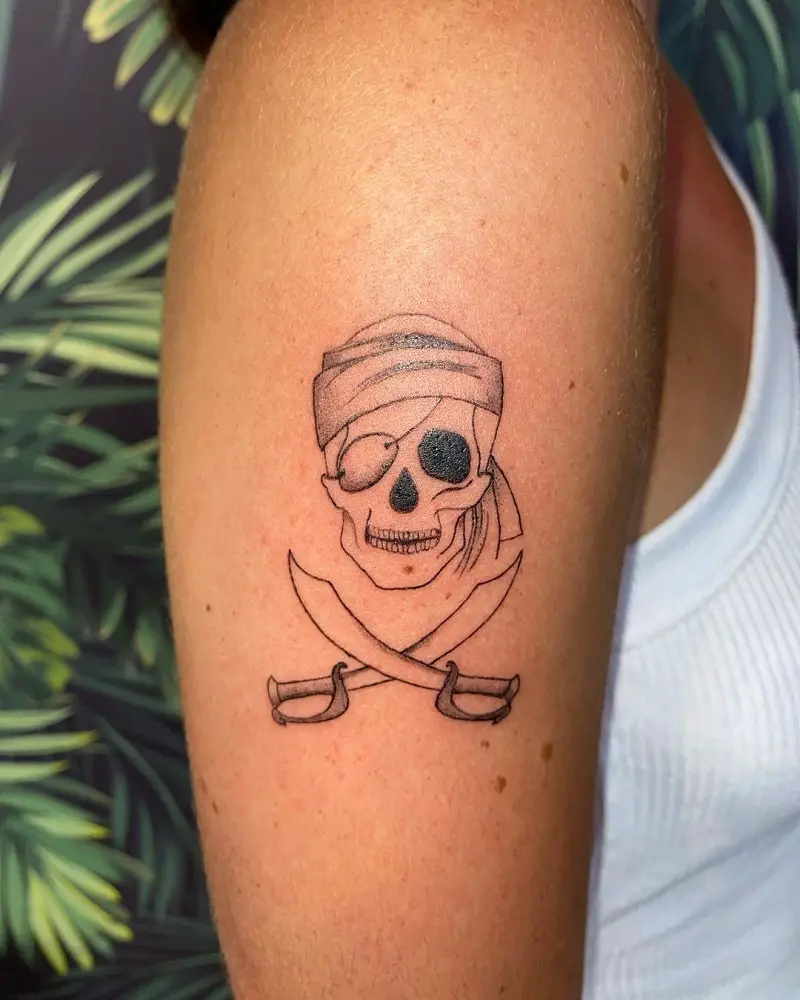 If you are in love with simple designs and pirates, then this is the perfect tattoo style. It looks stunning on the arm for both men and women.
30. The Fight Ship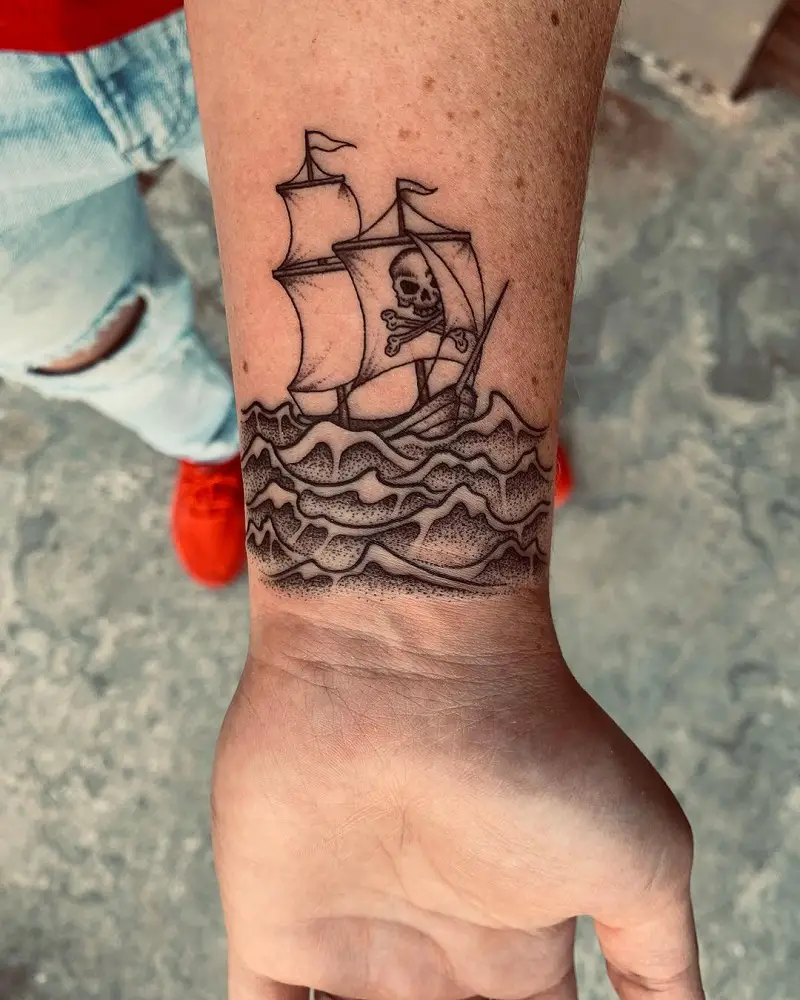 Turn attention to your wrist with the lovely and small pirate tattoo. The sailing ship design enunciates the freedom and power of the pirates.
Pirate Hand Tattoo
31.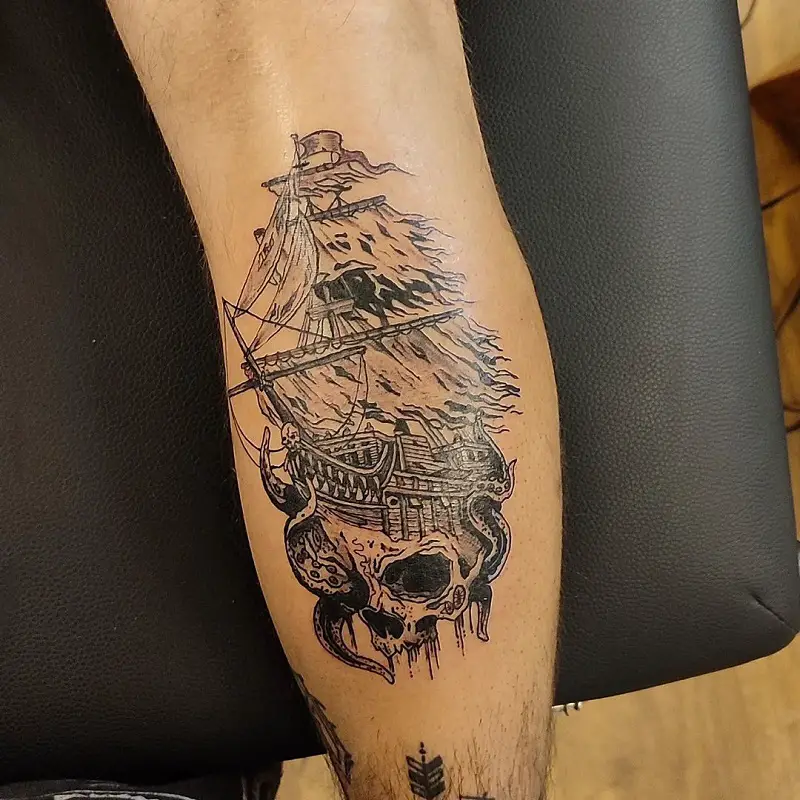 32.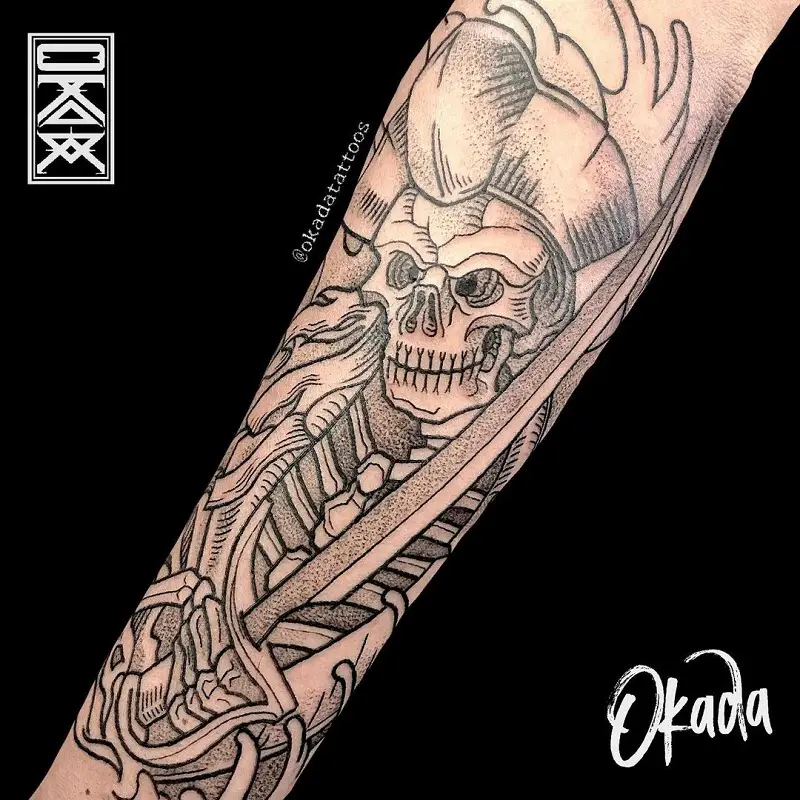 33.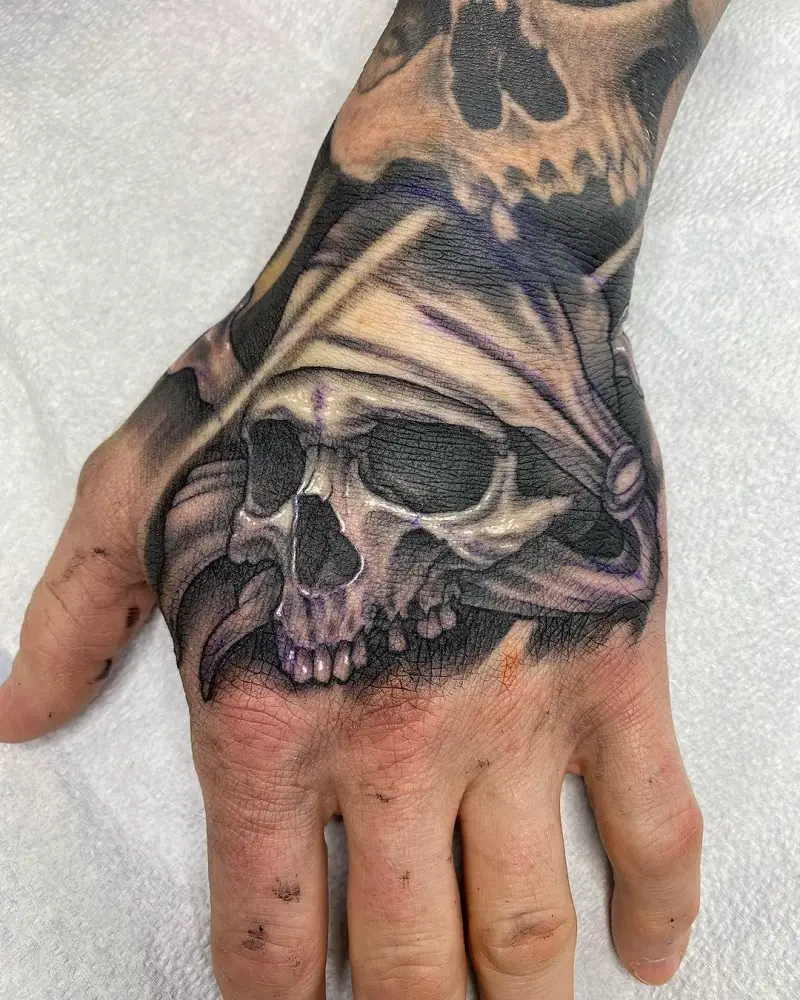 Pirate Sword Tattoo
34.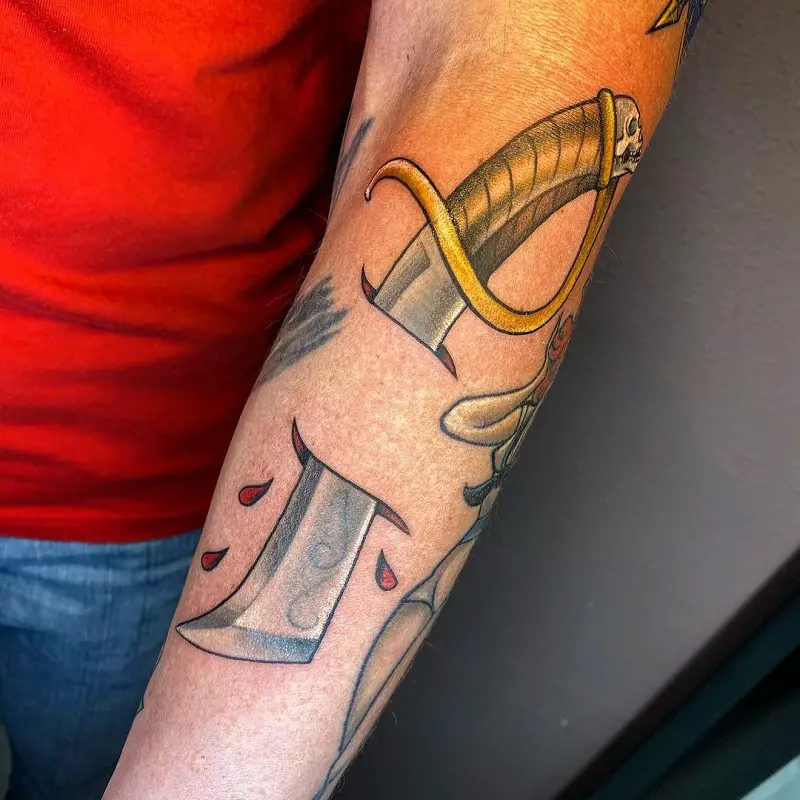 35.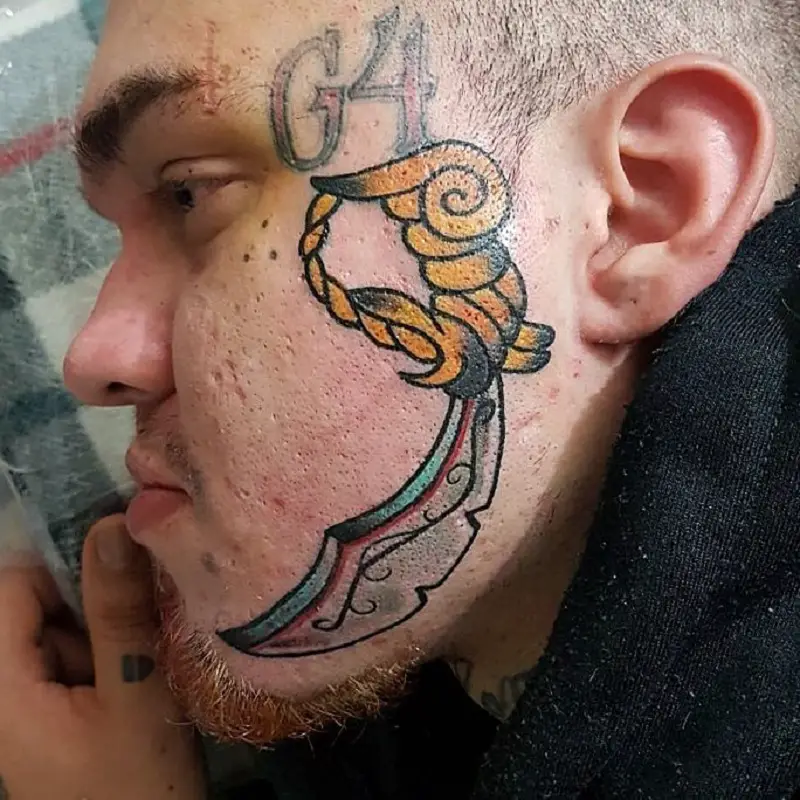 36.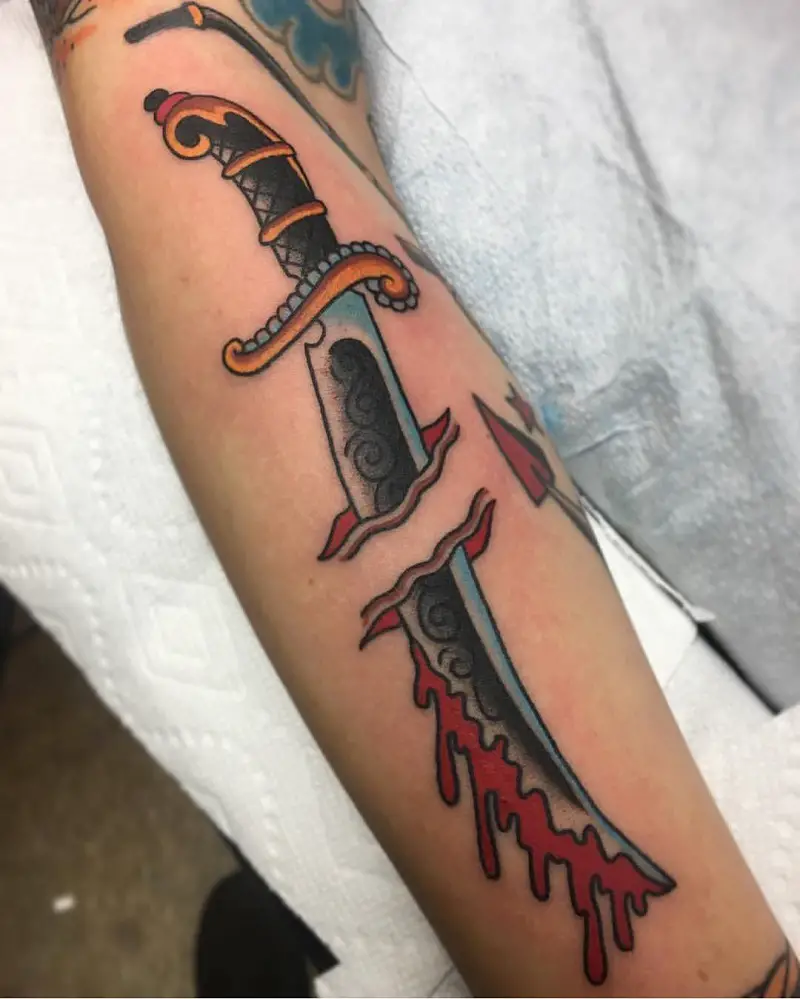 17th Century Old Pirate Tattoos
37.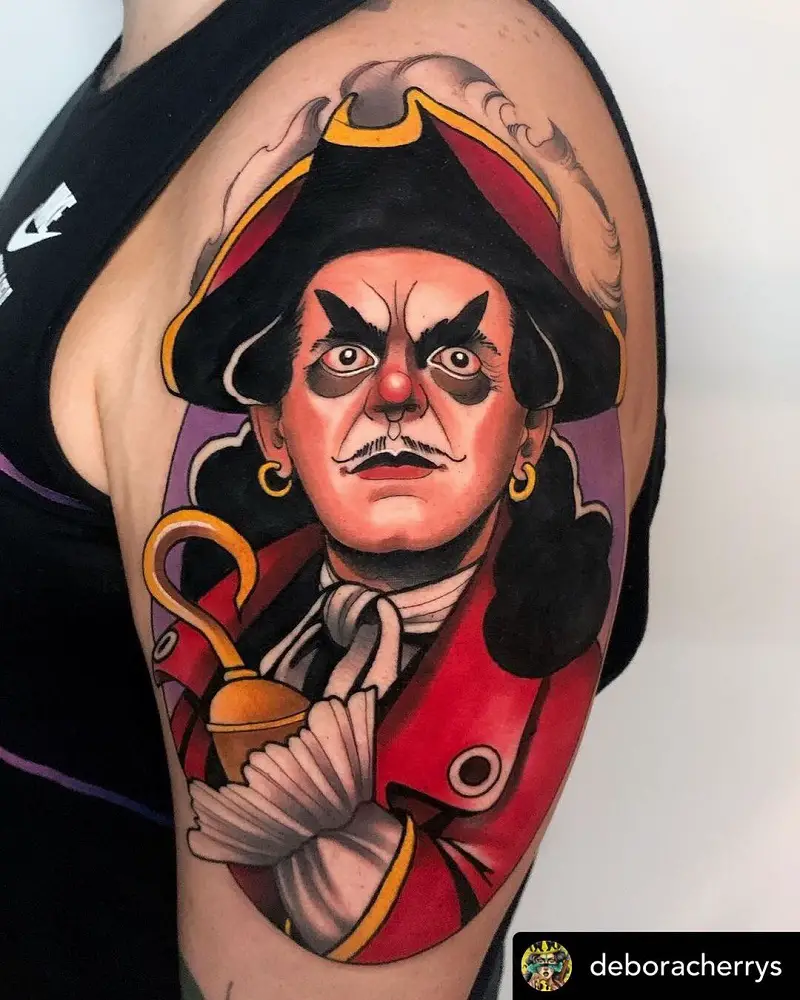 38.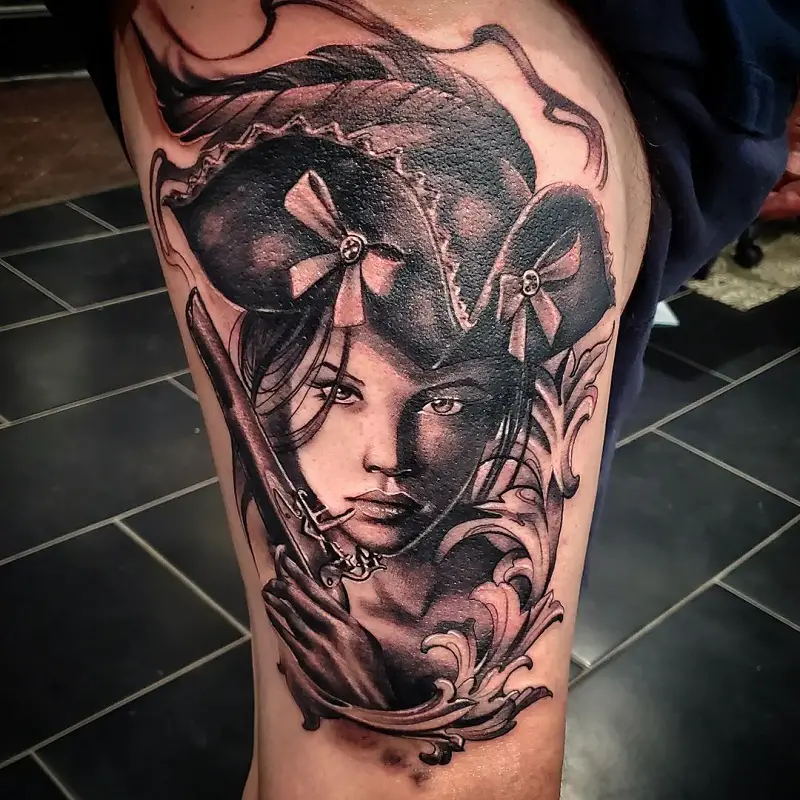 39.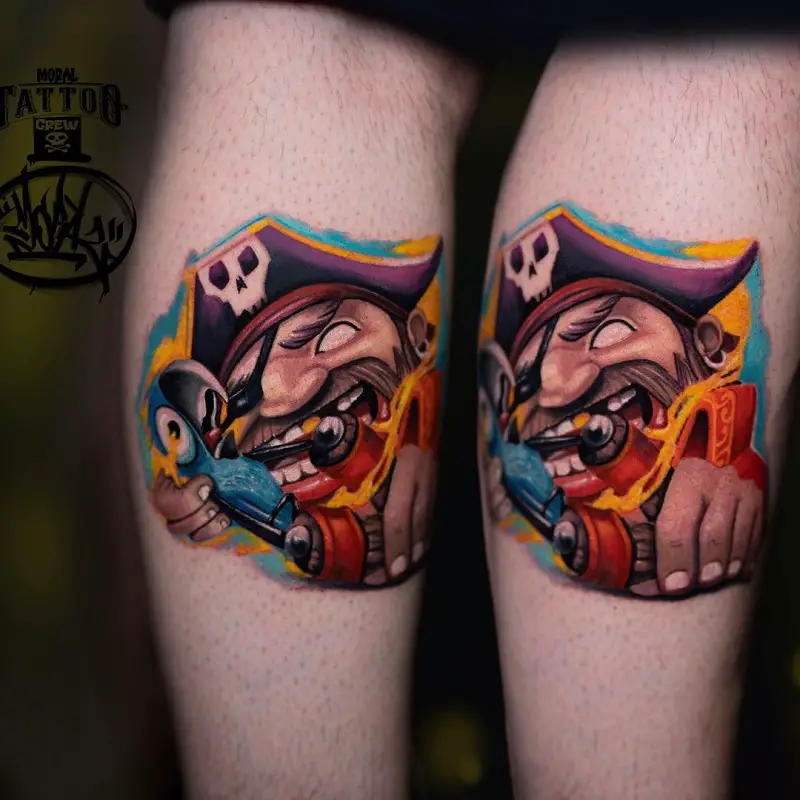 Heart Pirates Tattoo
40.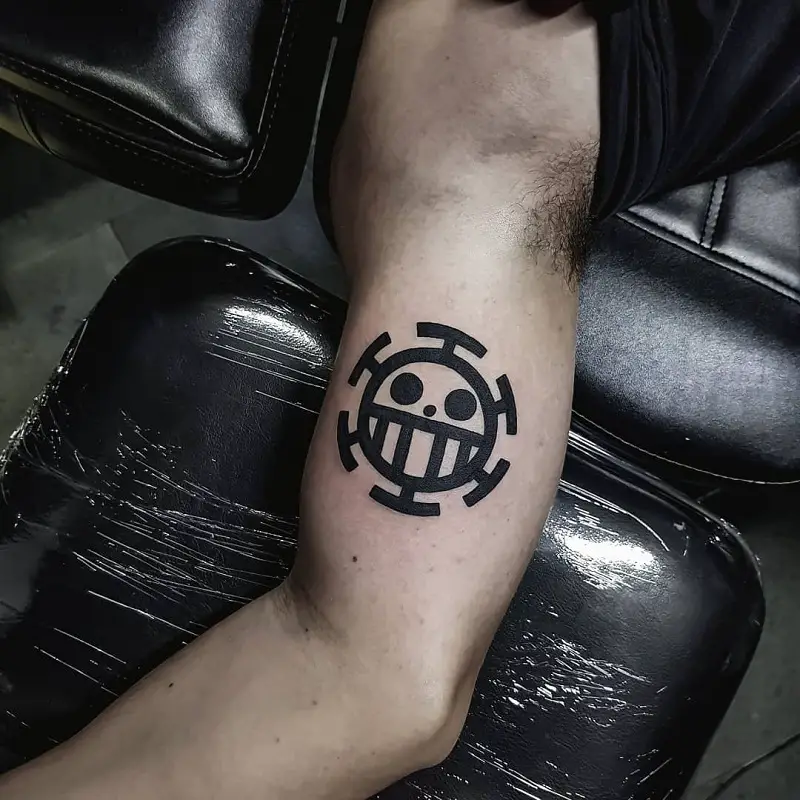 41.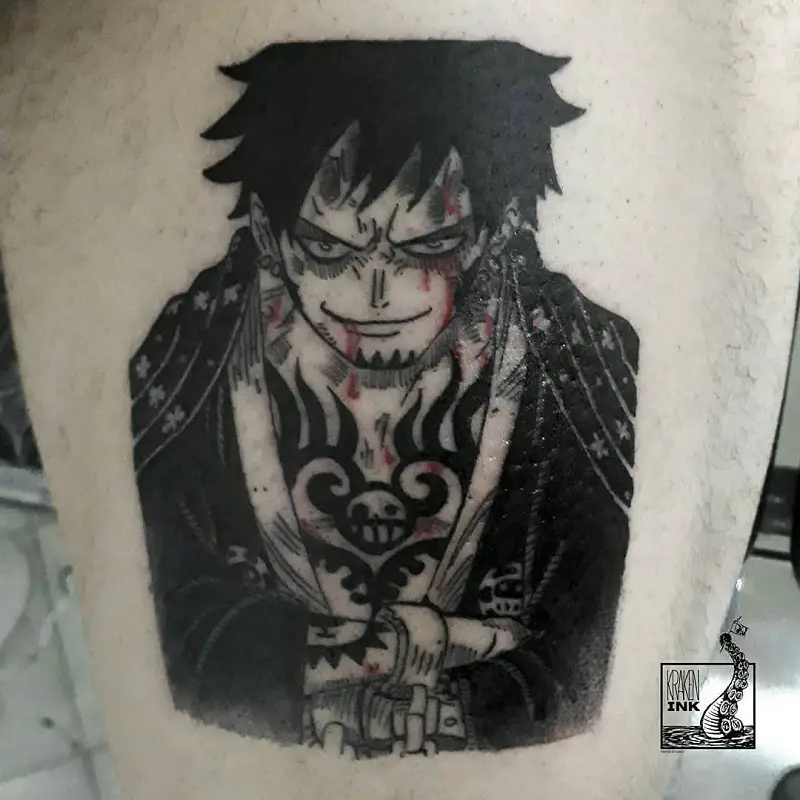 42.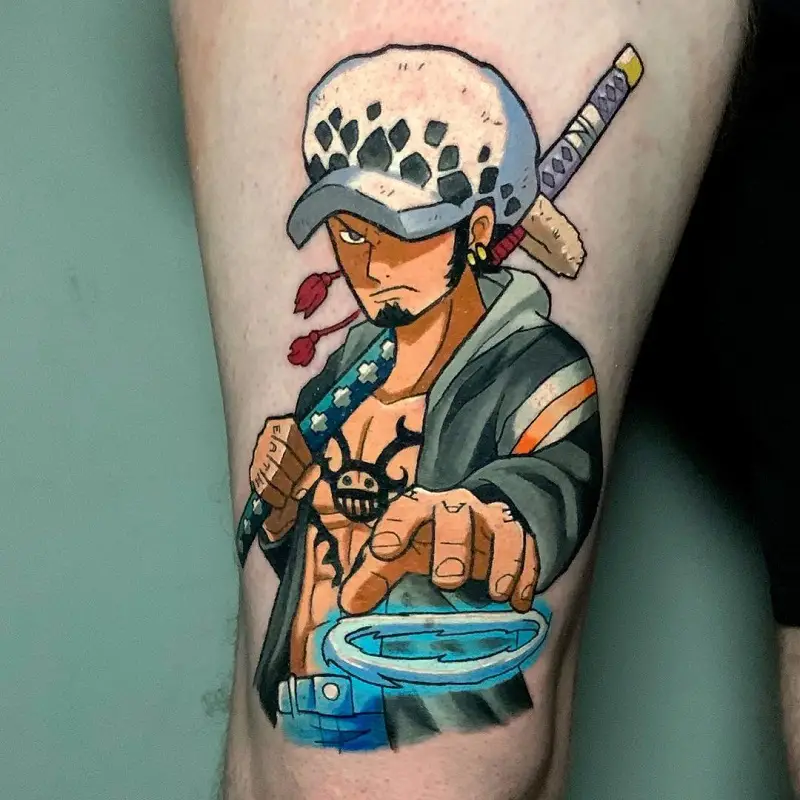 Whitebeard Pirates Tattoo
43.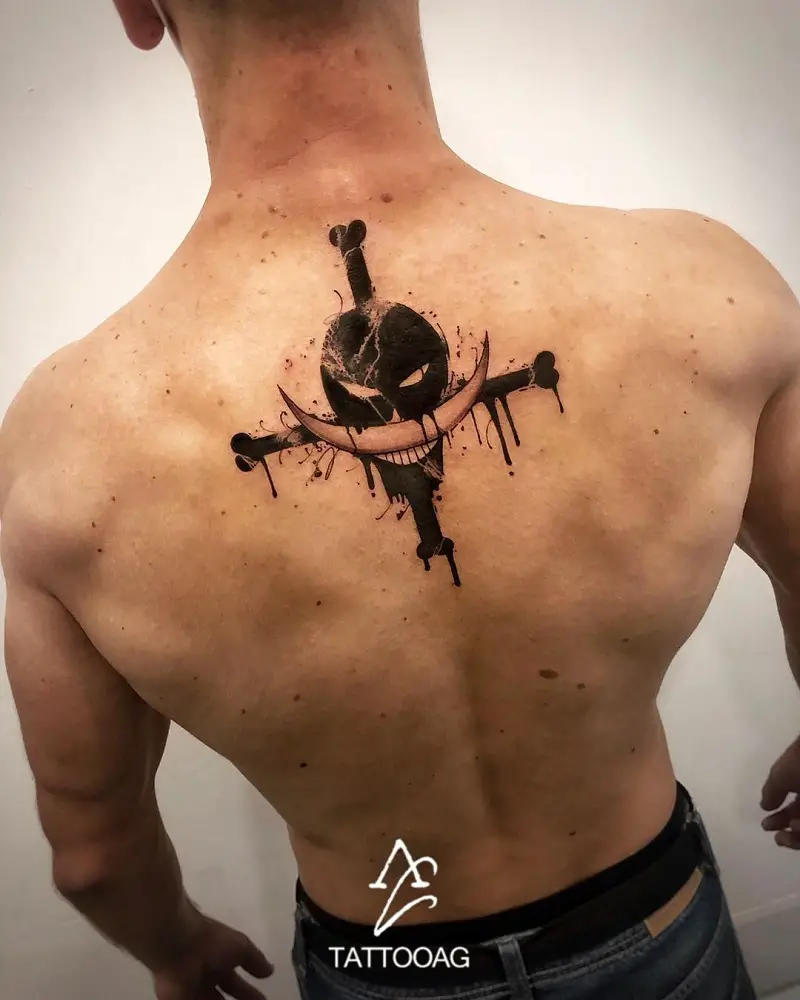 44.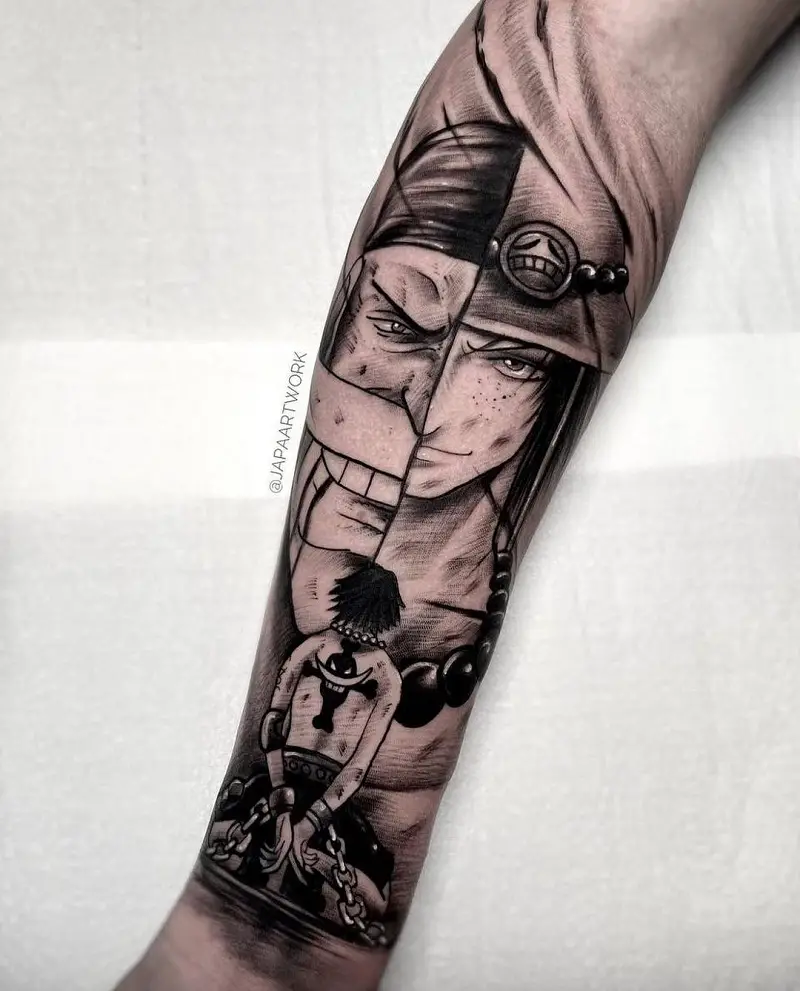 45.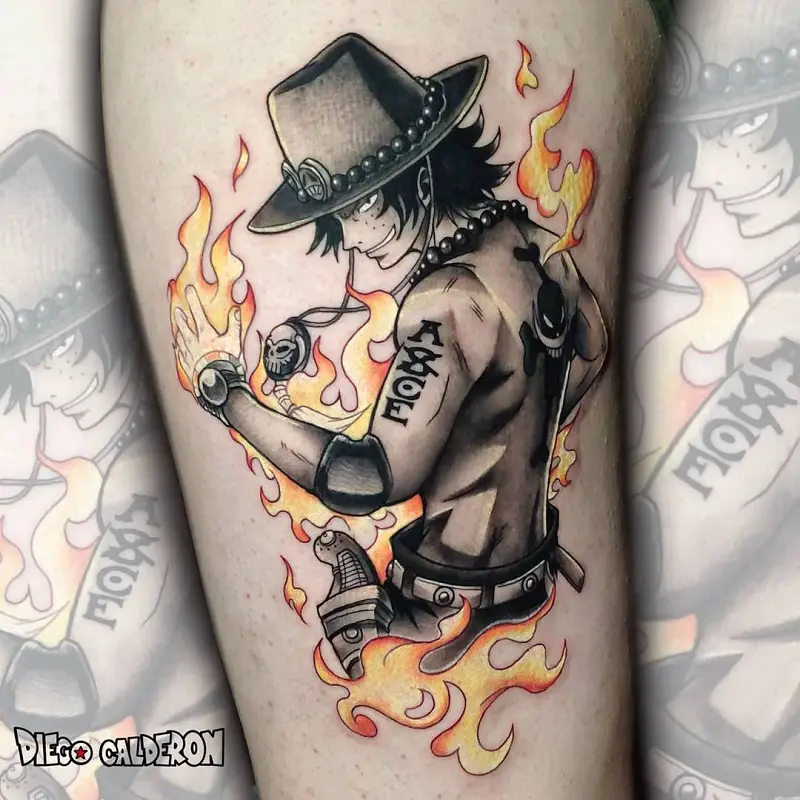 Pirate Chest Tattoo
46.
47.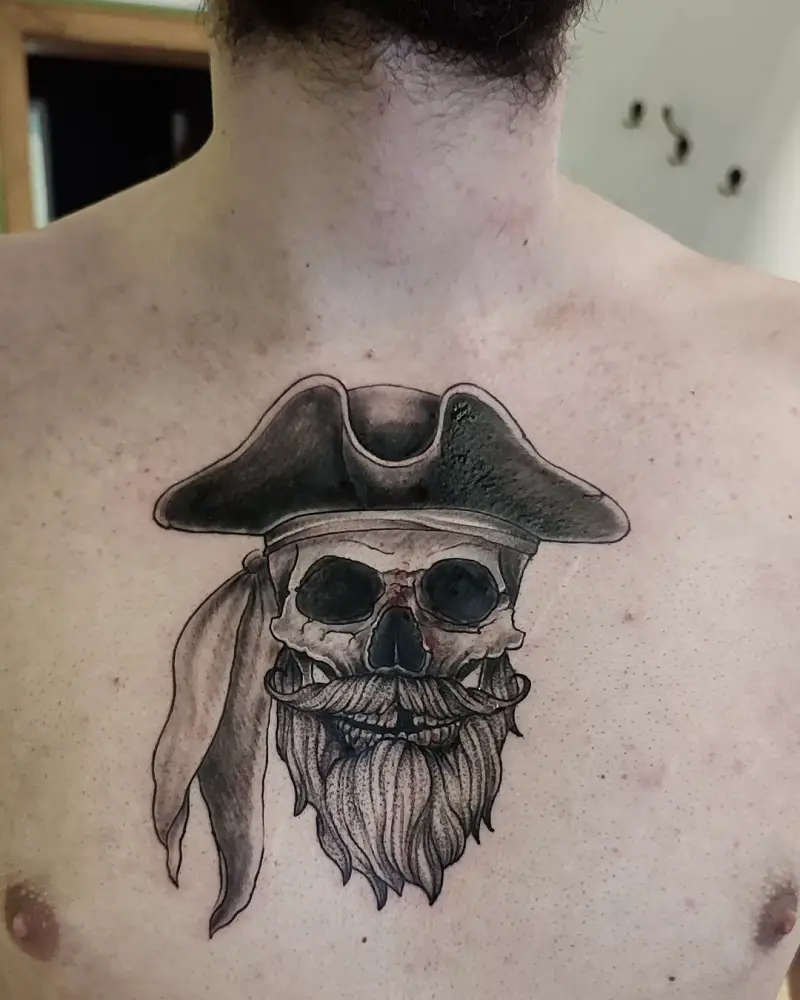 48.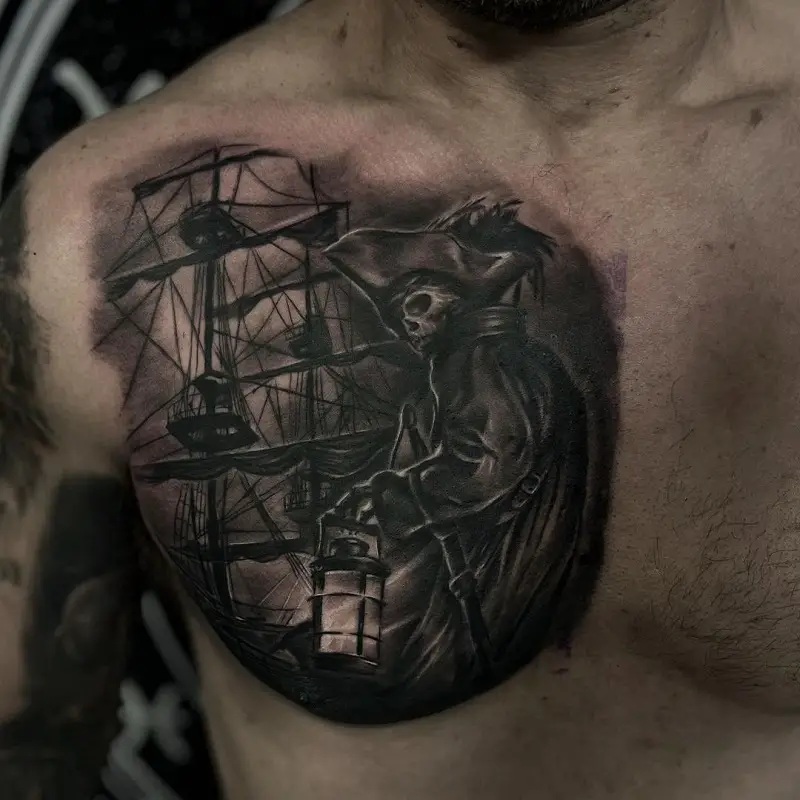 Pittsburgh Pirates Tattoo
49.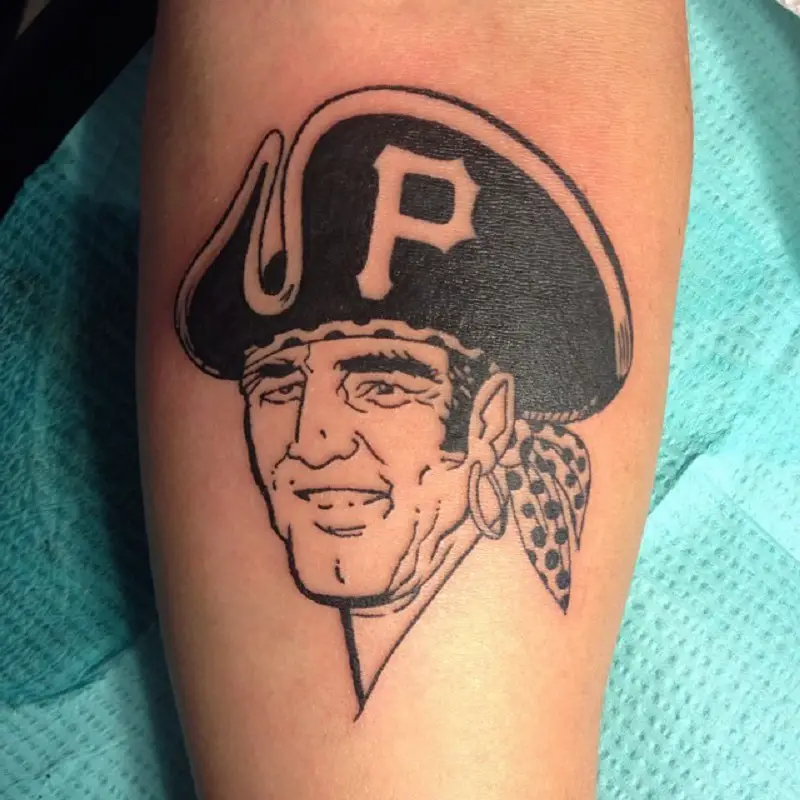 50.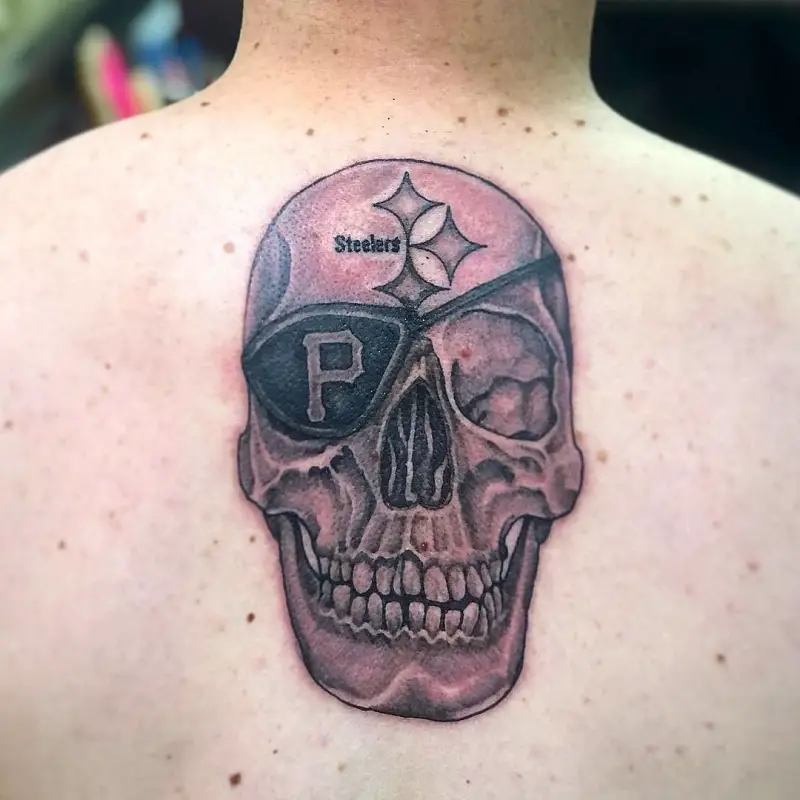 51.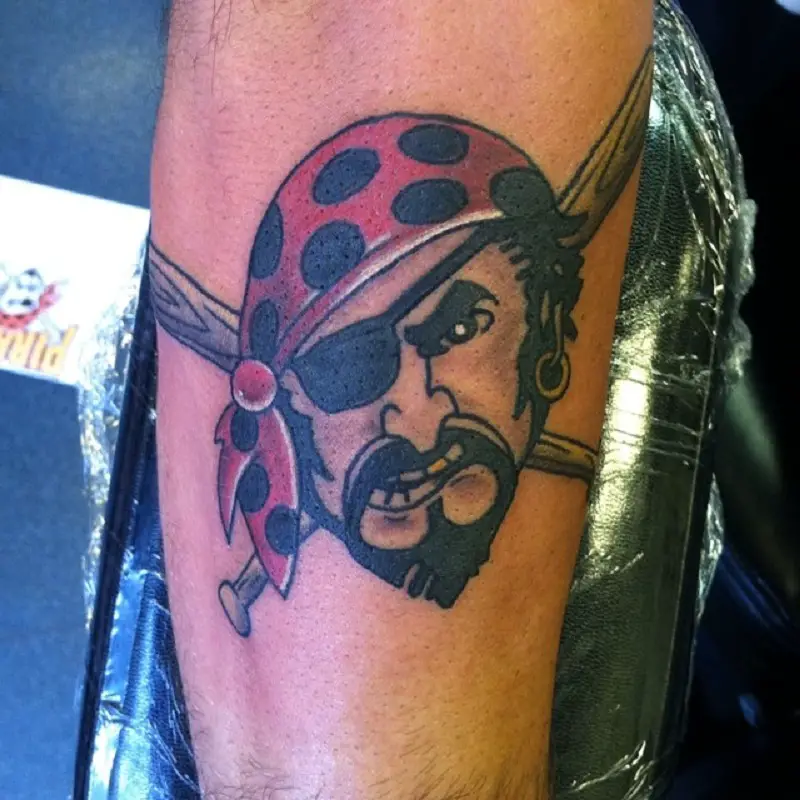 Forearm Pirate Tattoo
52.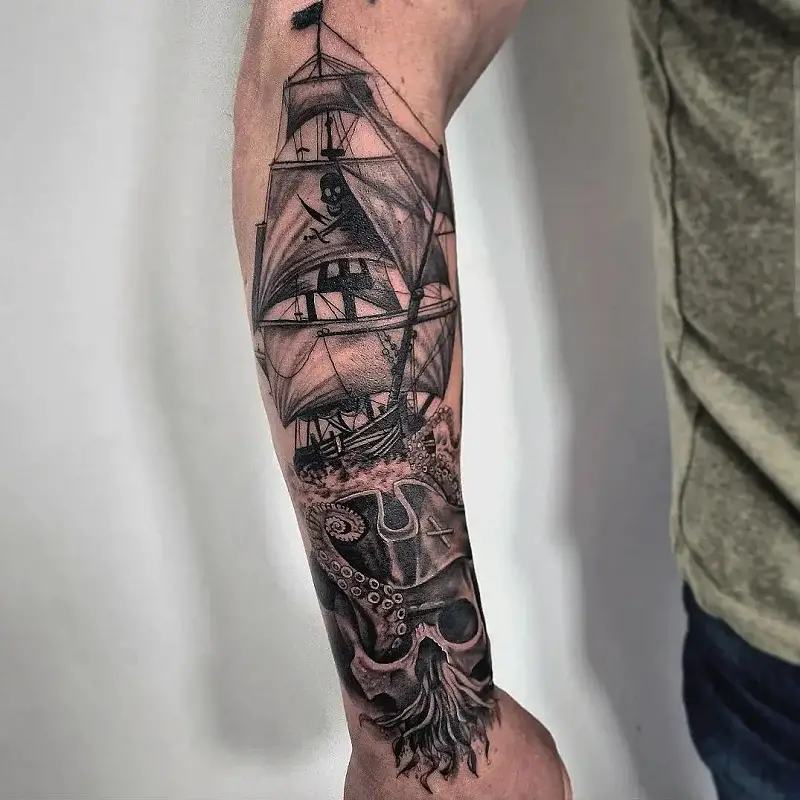 53.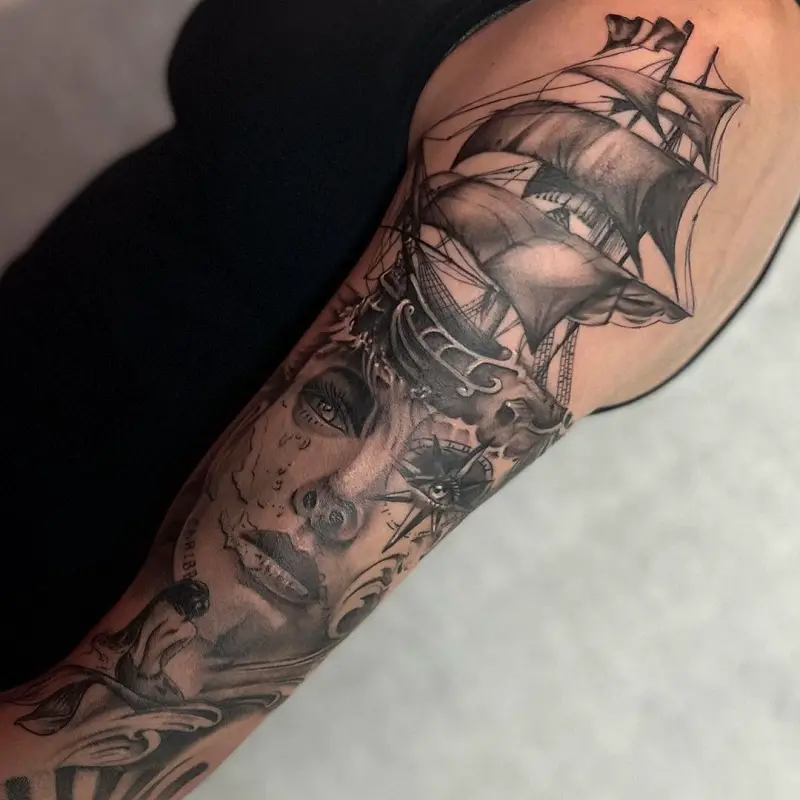 54.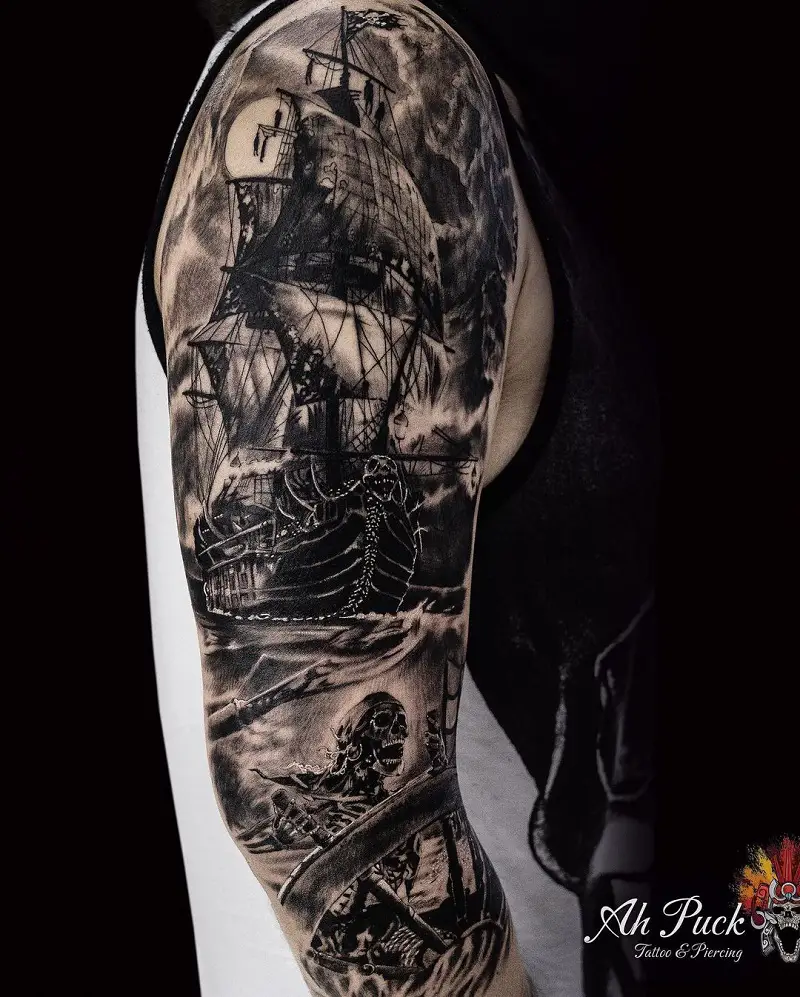 Historical Pirate Tattoos
55.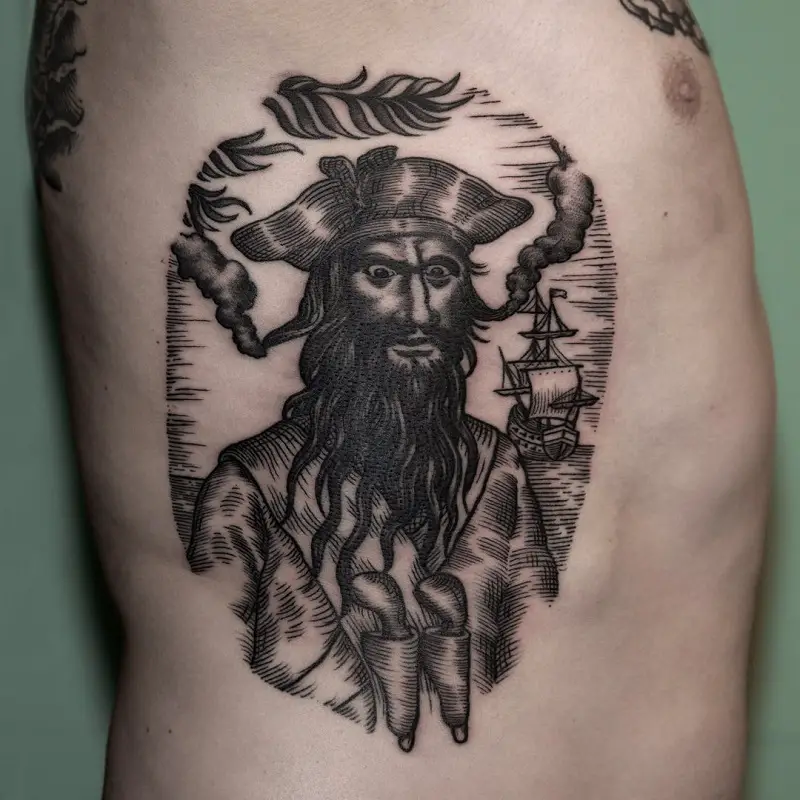 56.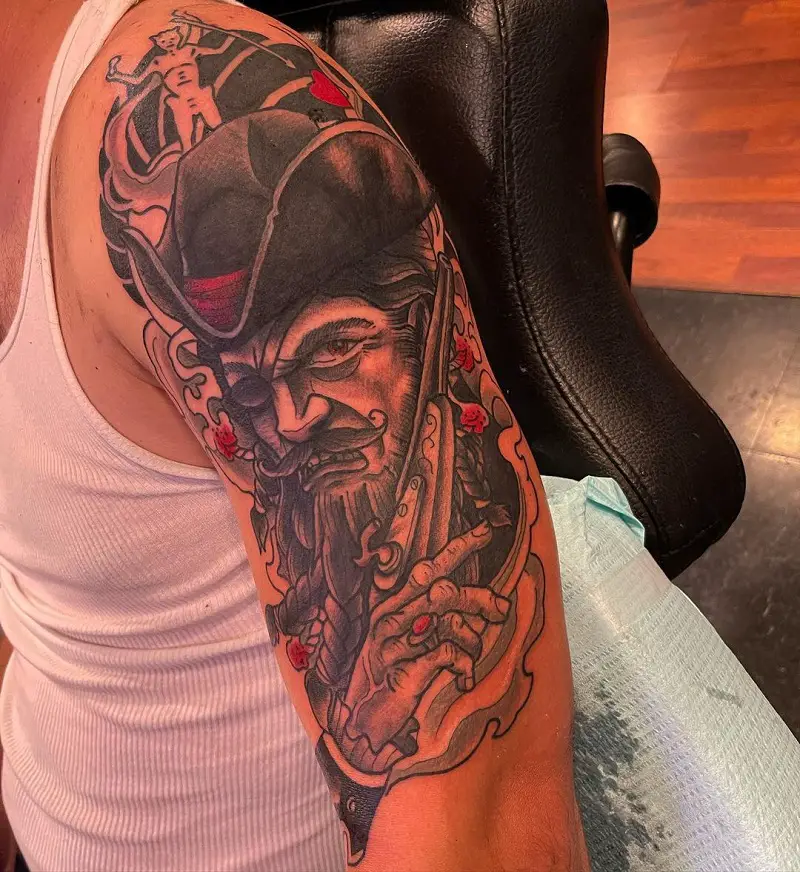 57.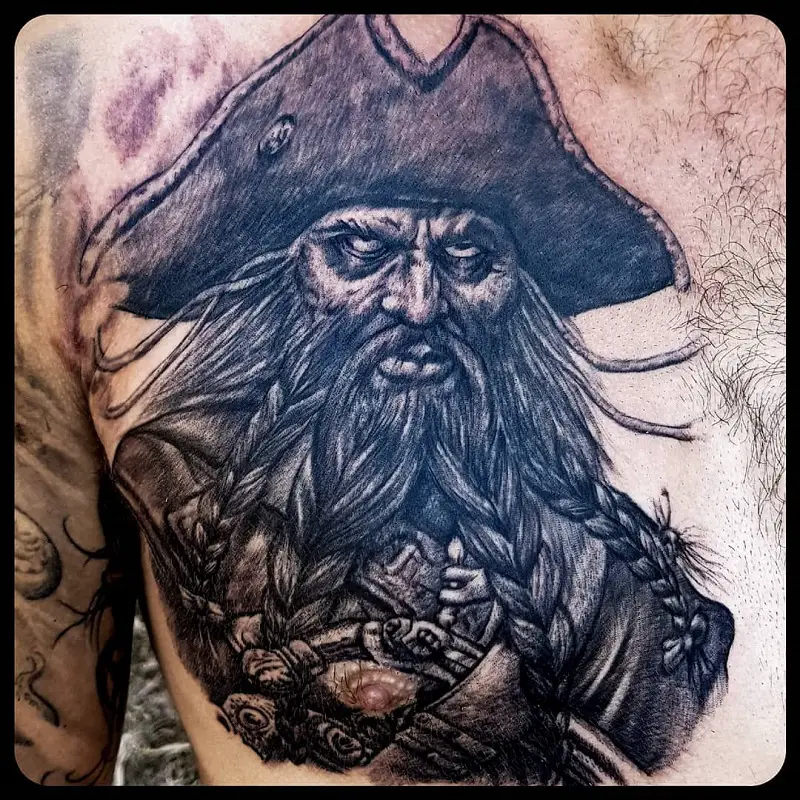 Real Pirate Tattoos
58.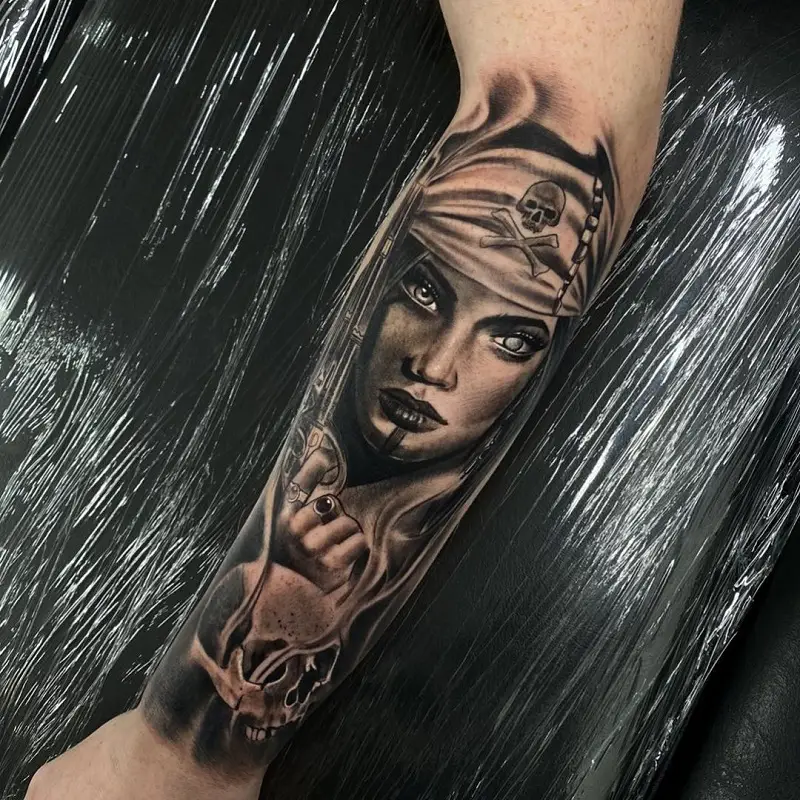 59.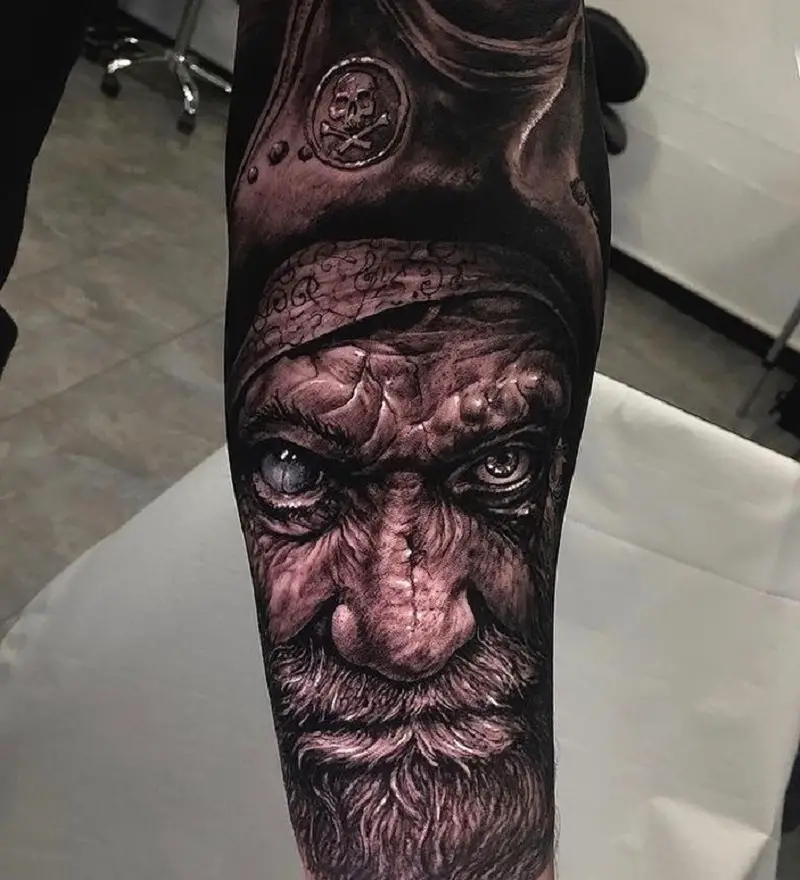 60.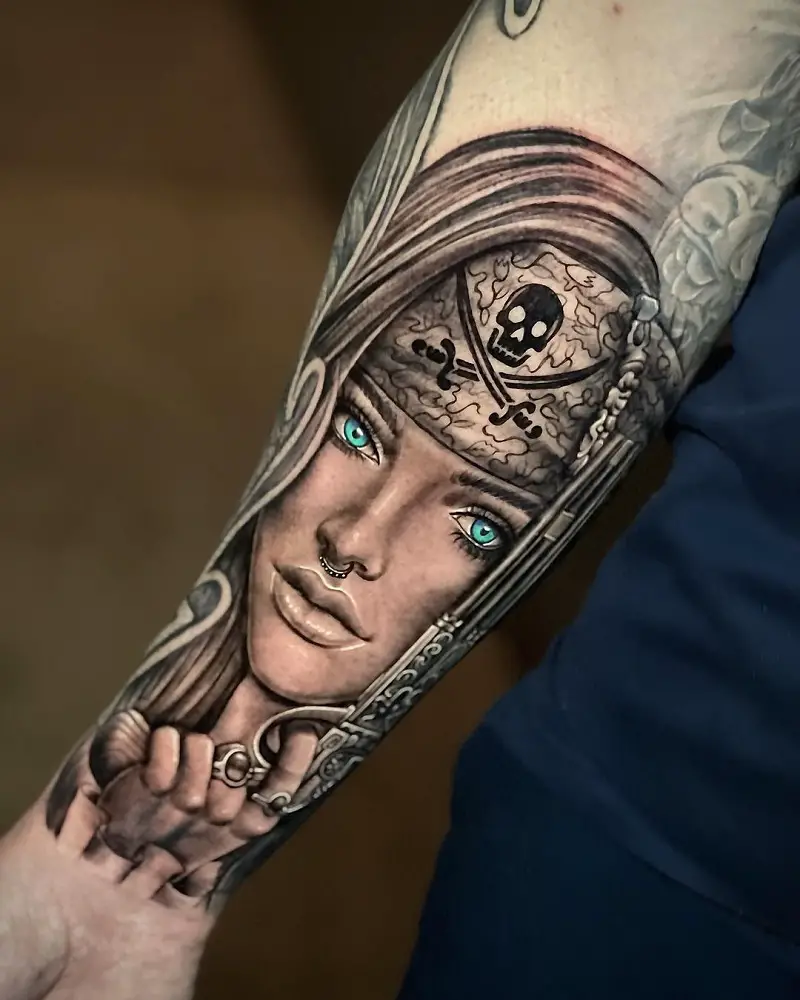 Straw Hat Pirate Tattoo
61.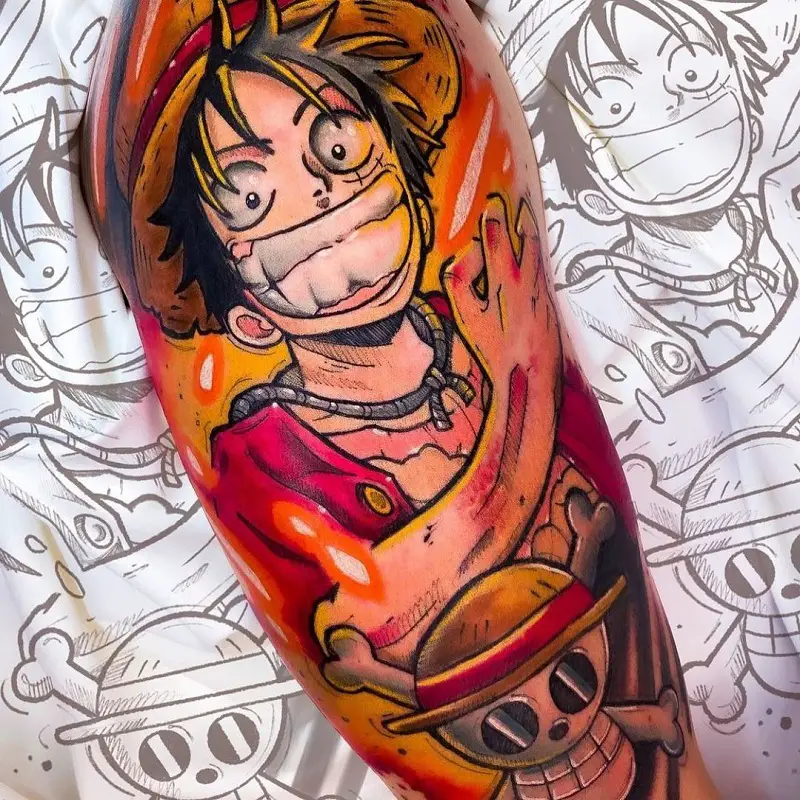 62.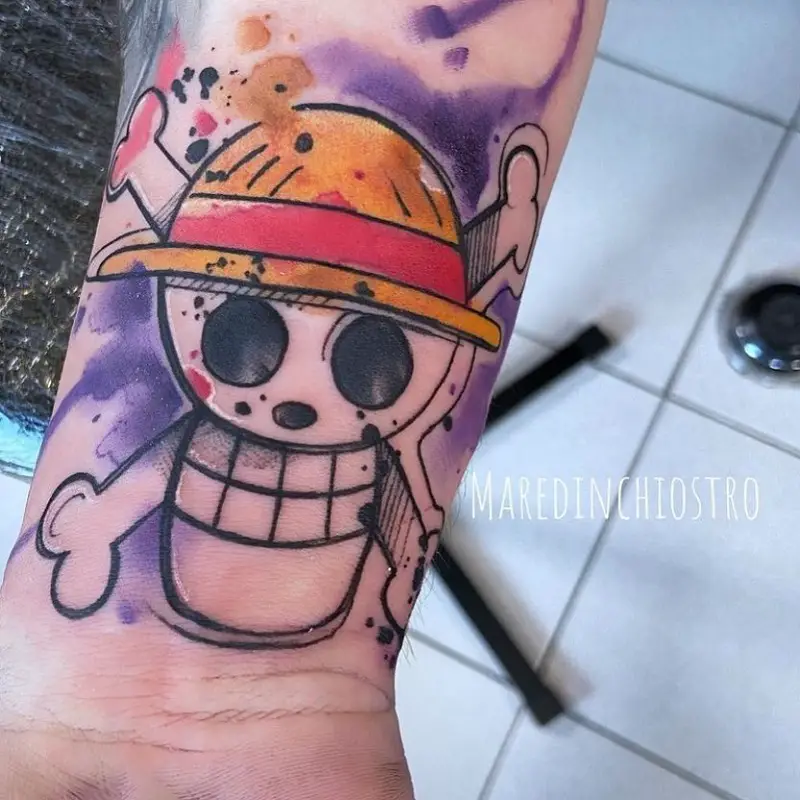 63.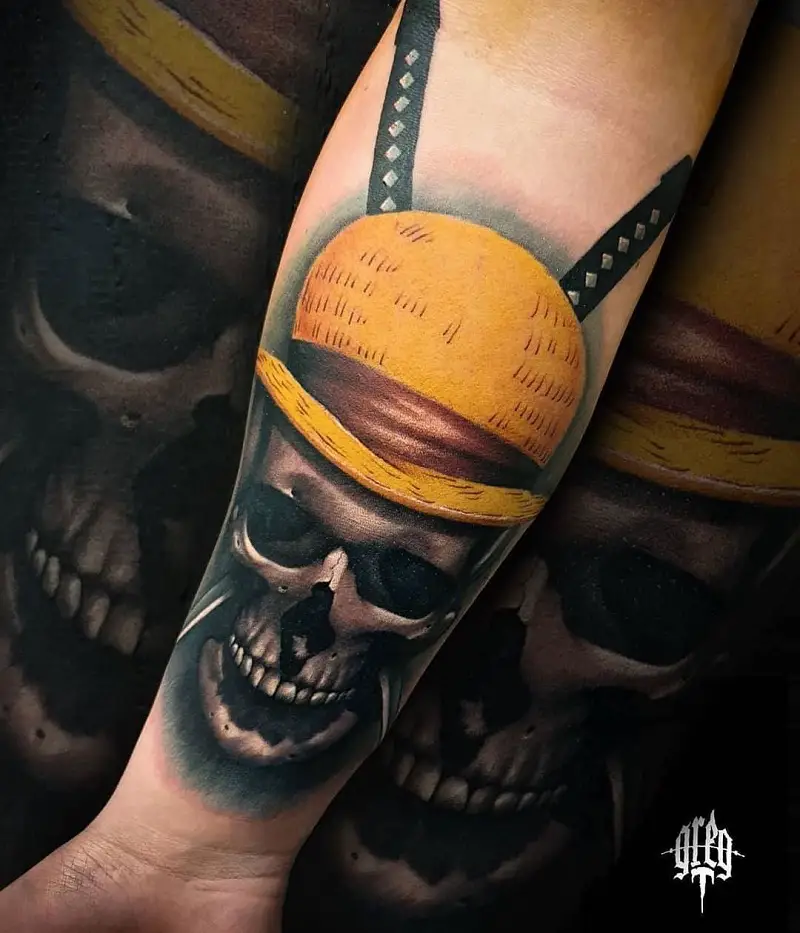 Easy Pirate Tattoo
64.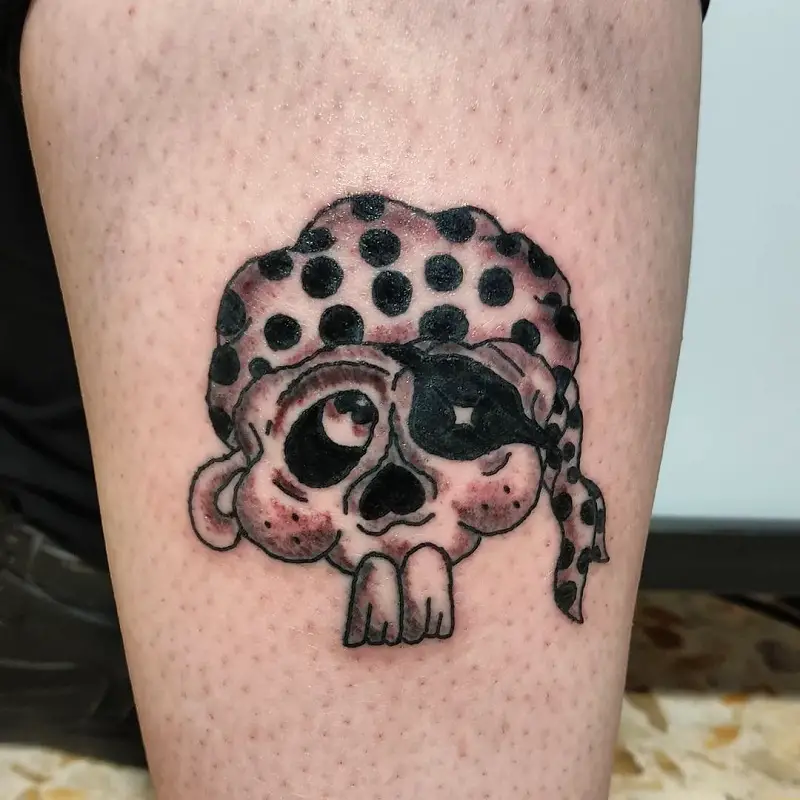 65.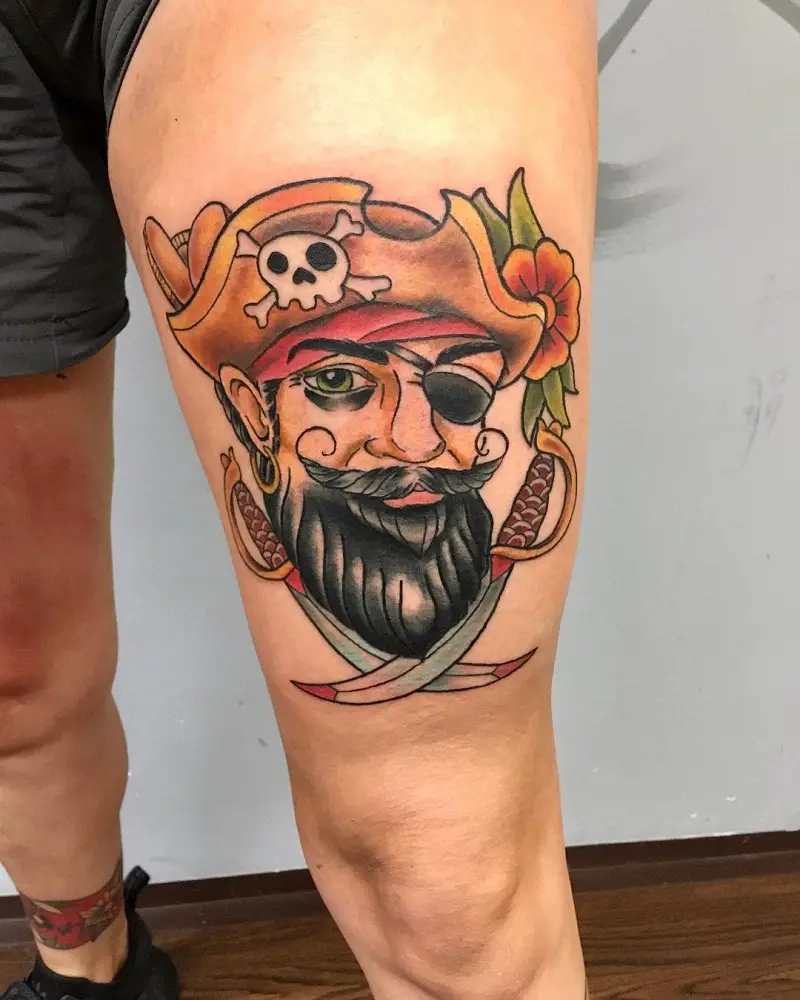 66.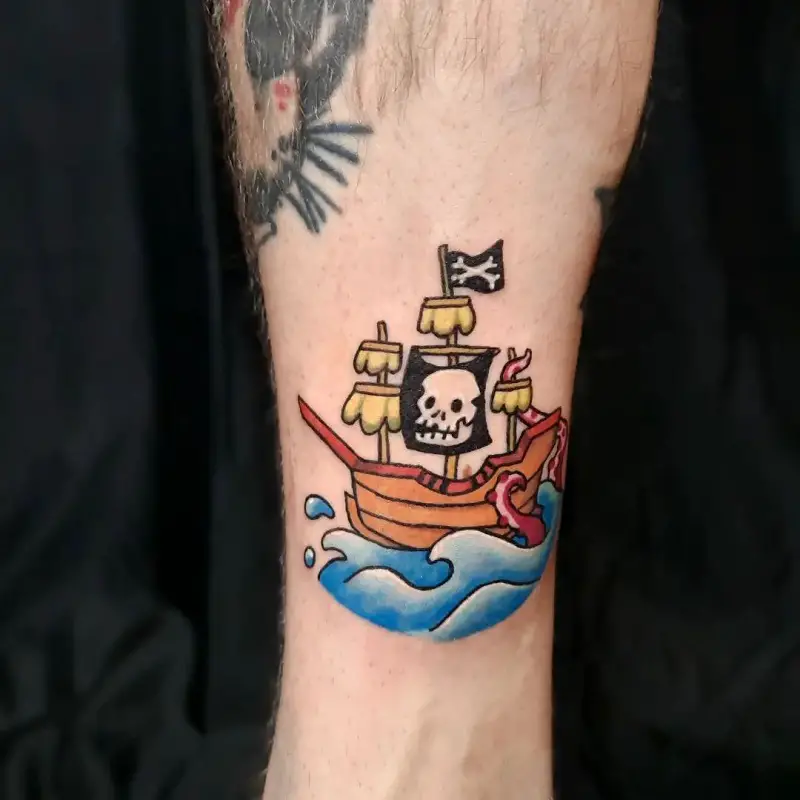 Pirate Mermaid Tattoo
67.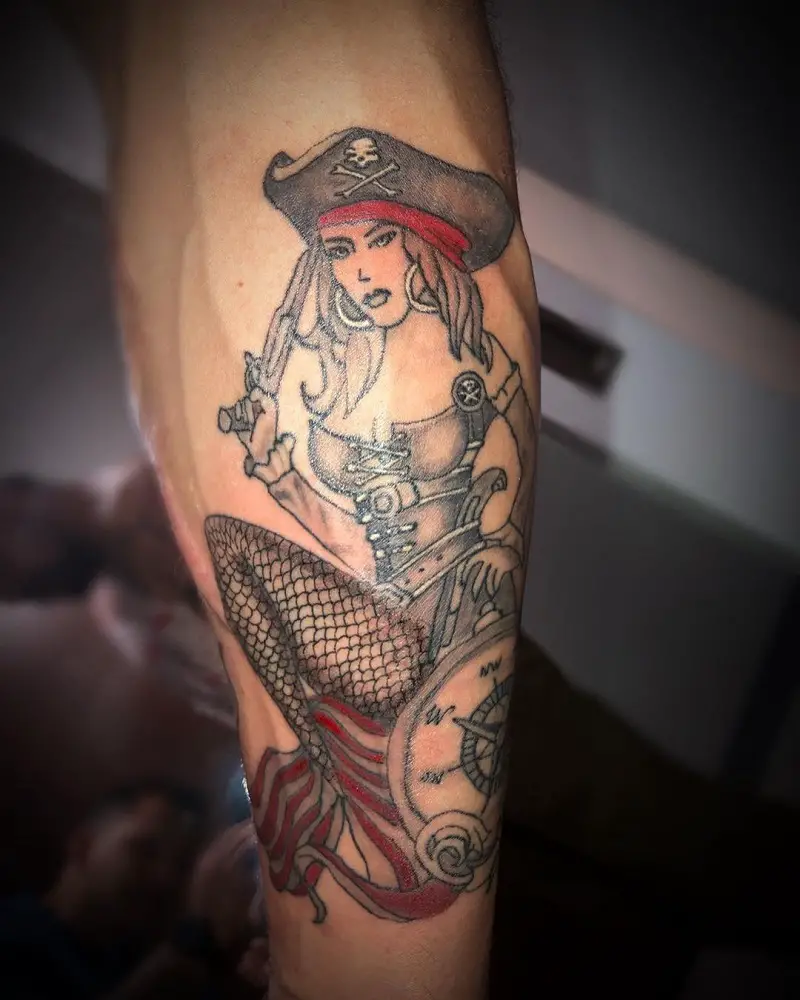 68.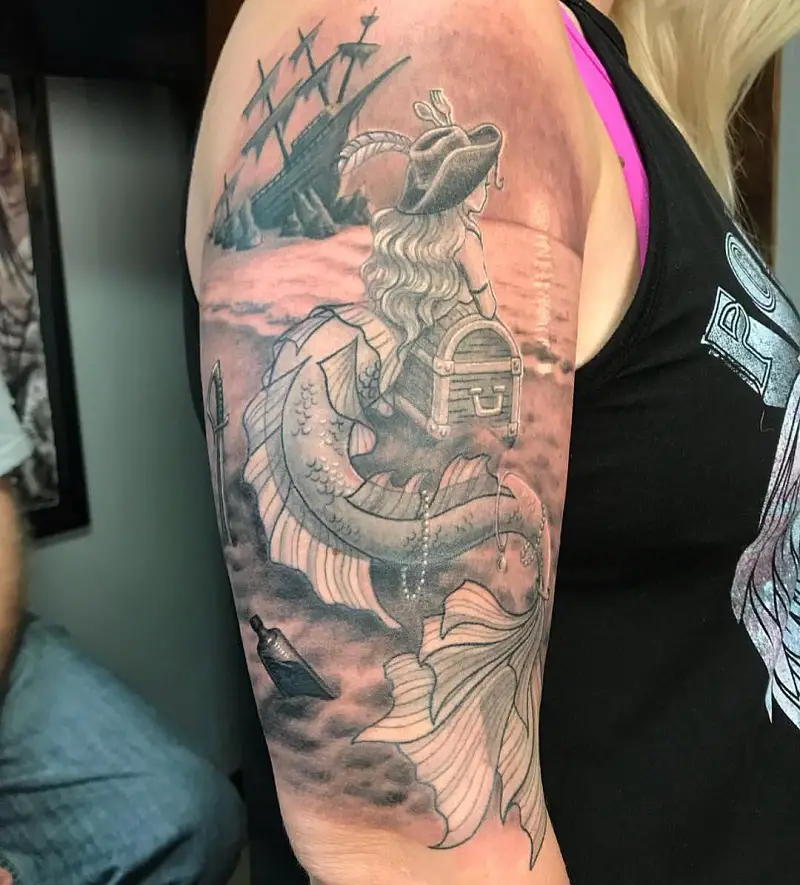 69.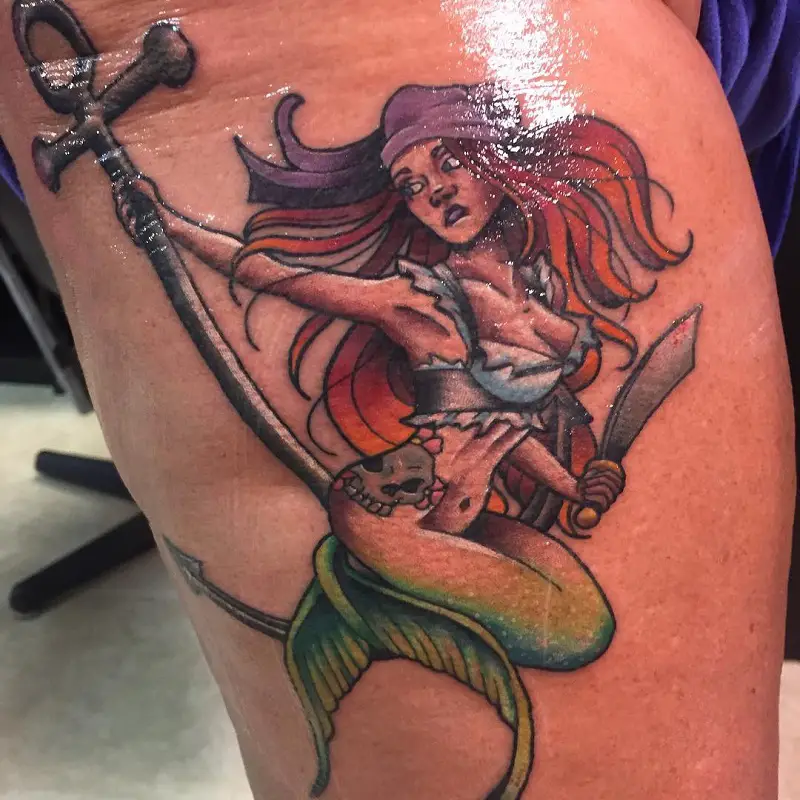 Pirate Ship Wheel Tattoo
70.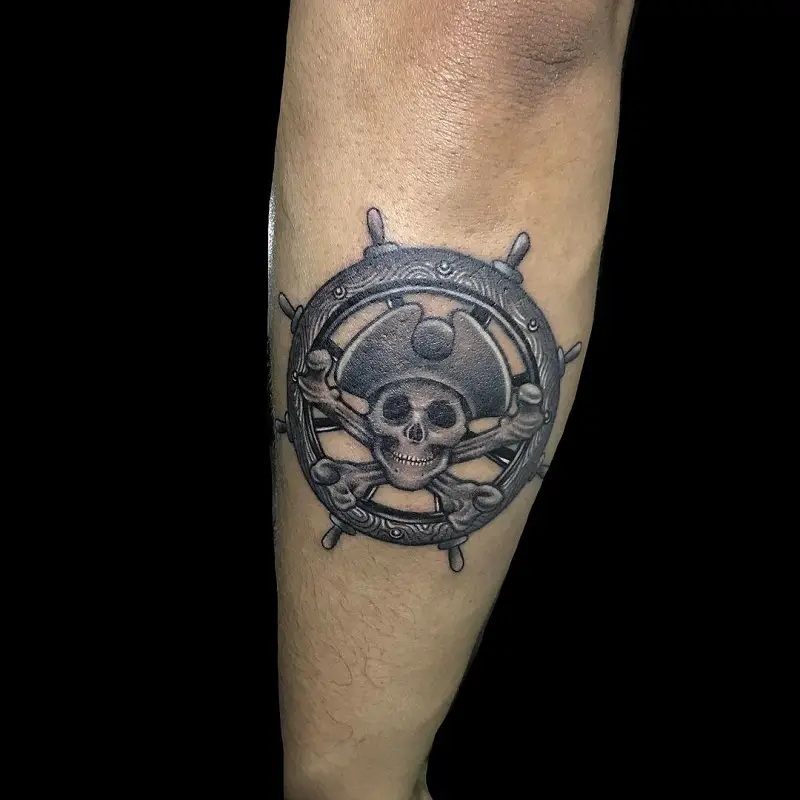 71.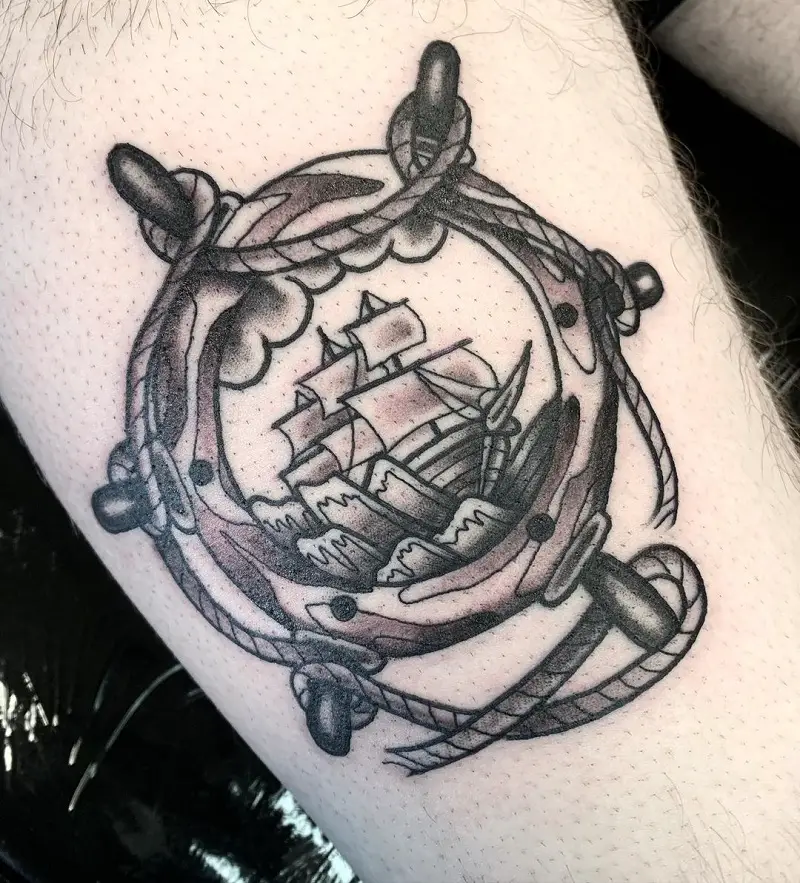 72.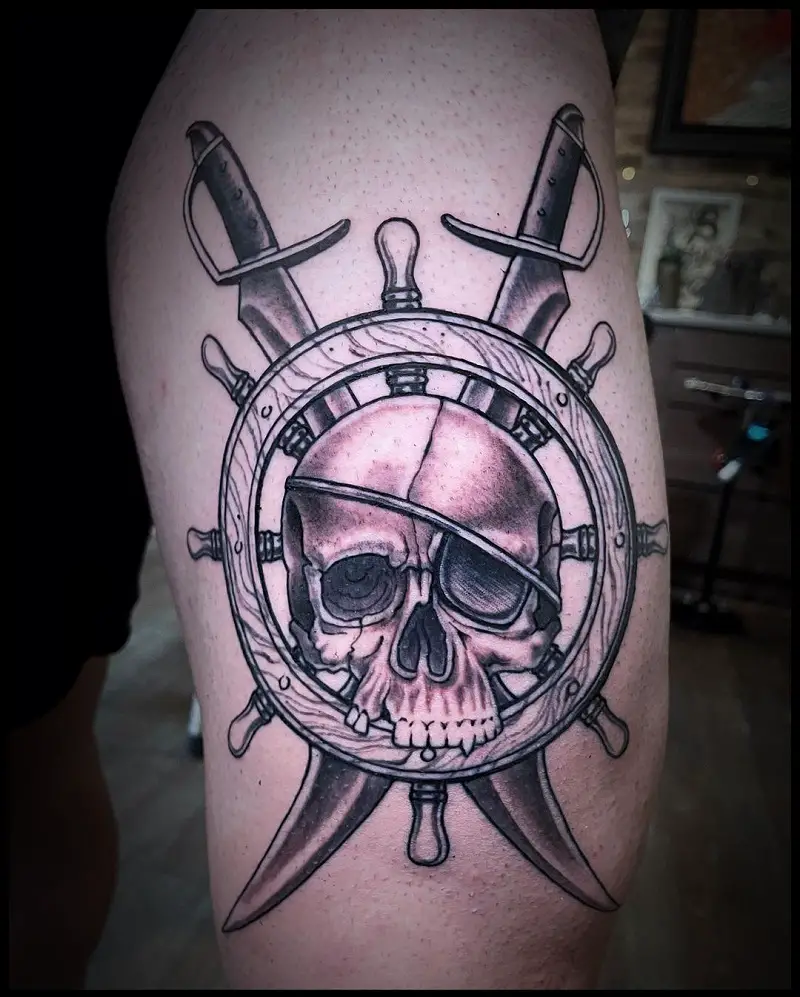 Ghost Pirate Ship Tattoo
73.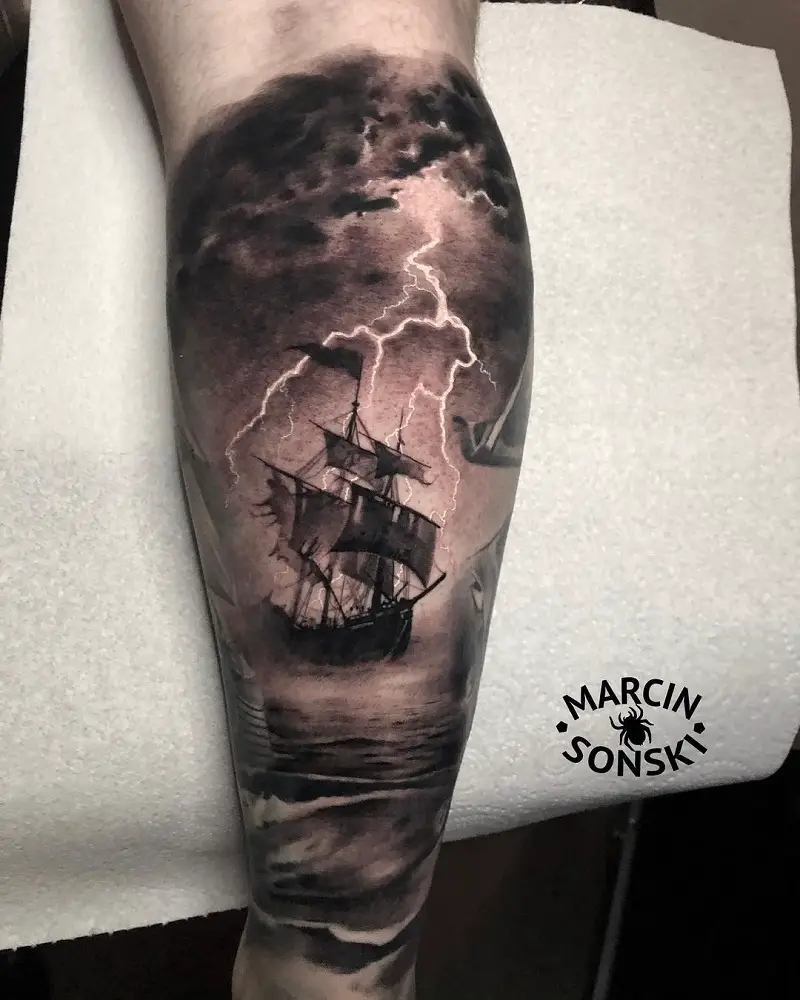 74.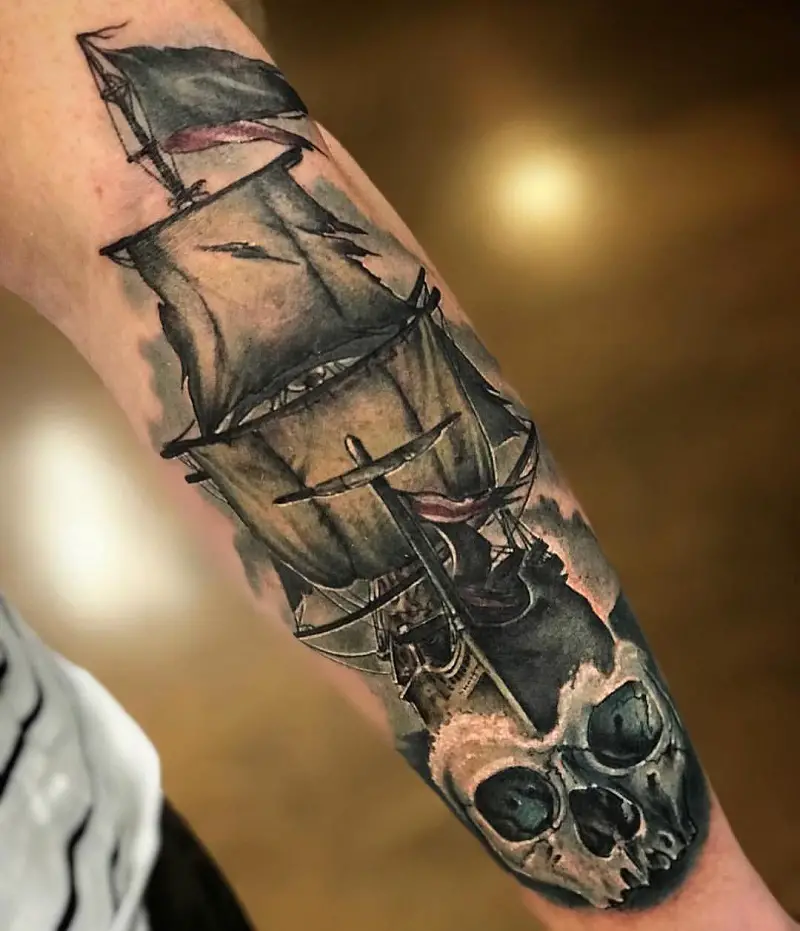 75.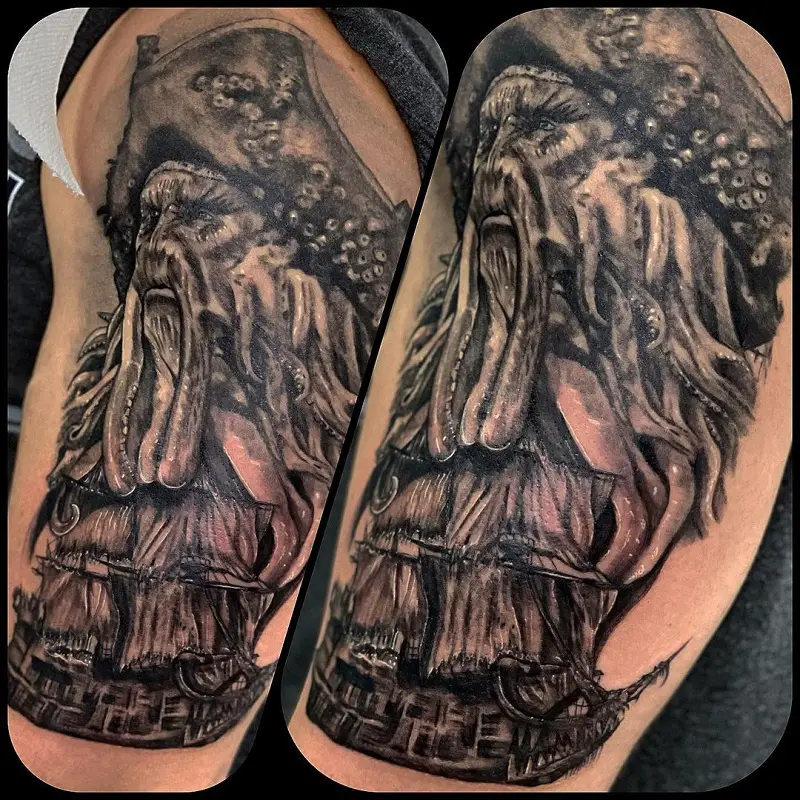 Pin Up Pirate Tattoo
76.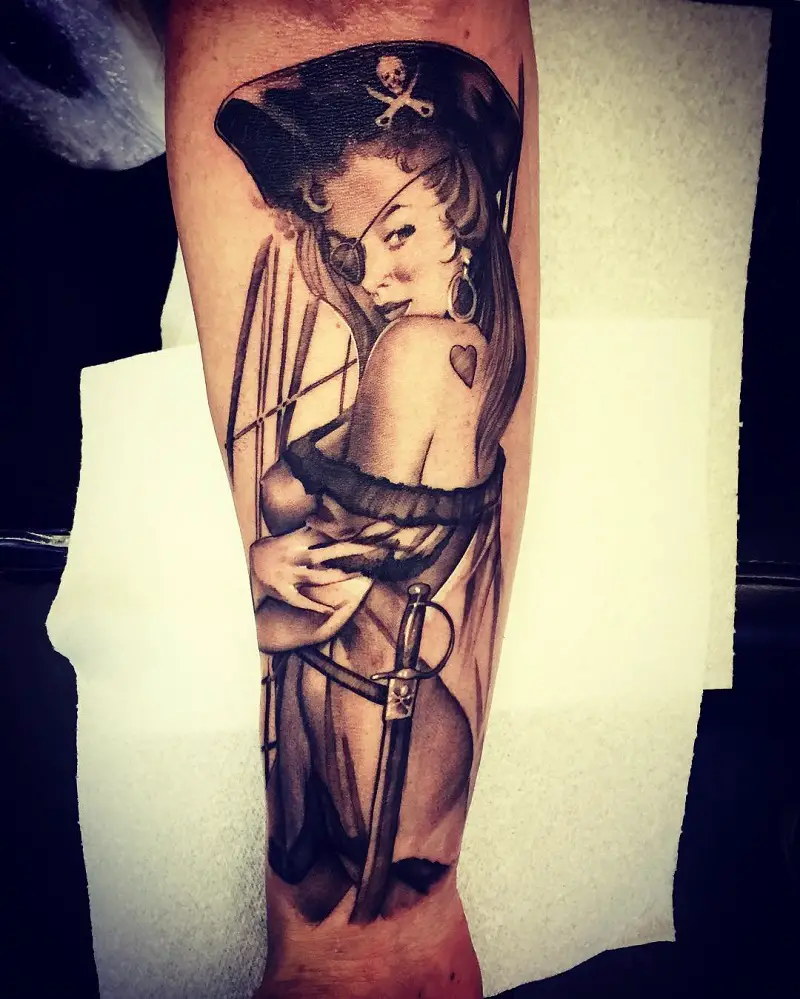 77.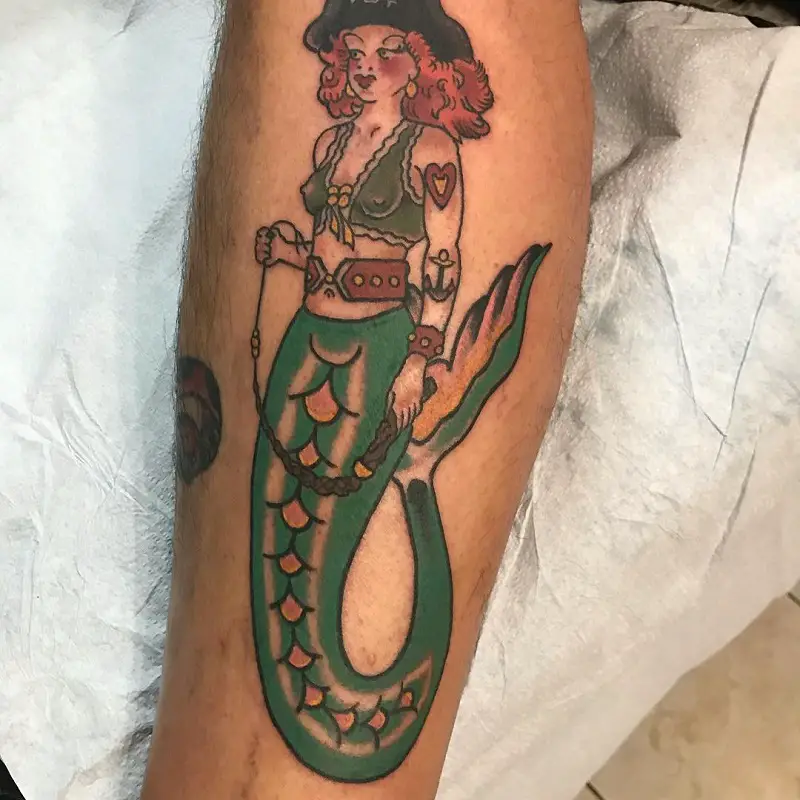 78.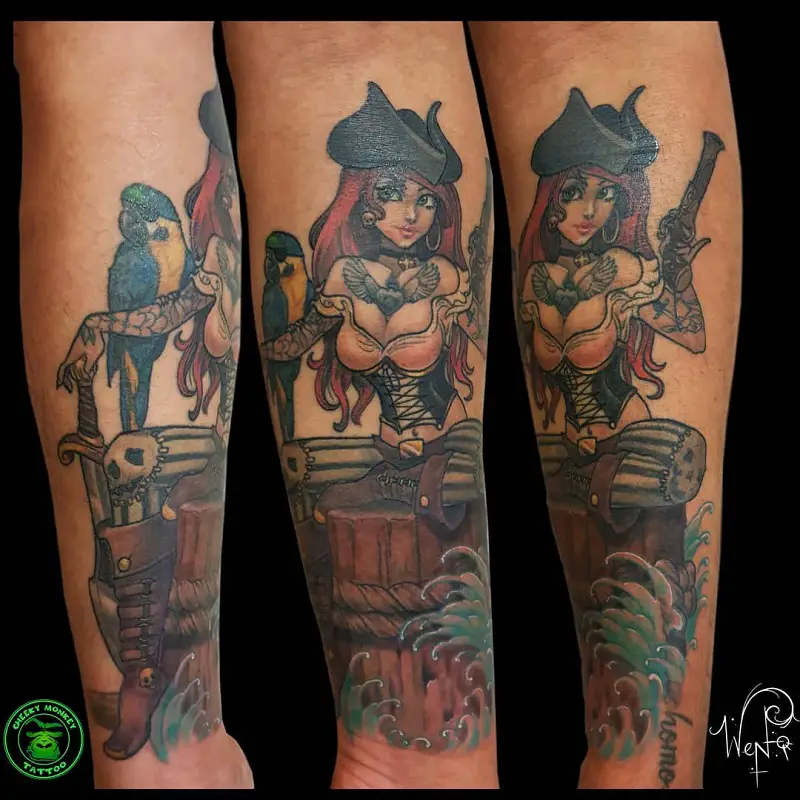 Pirate Coin Tattoo
79.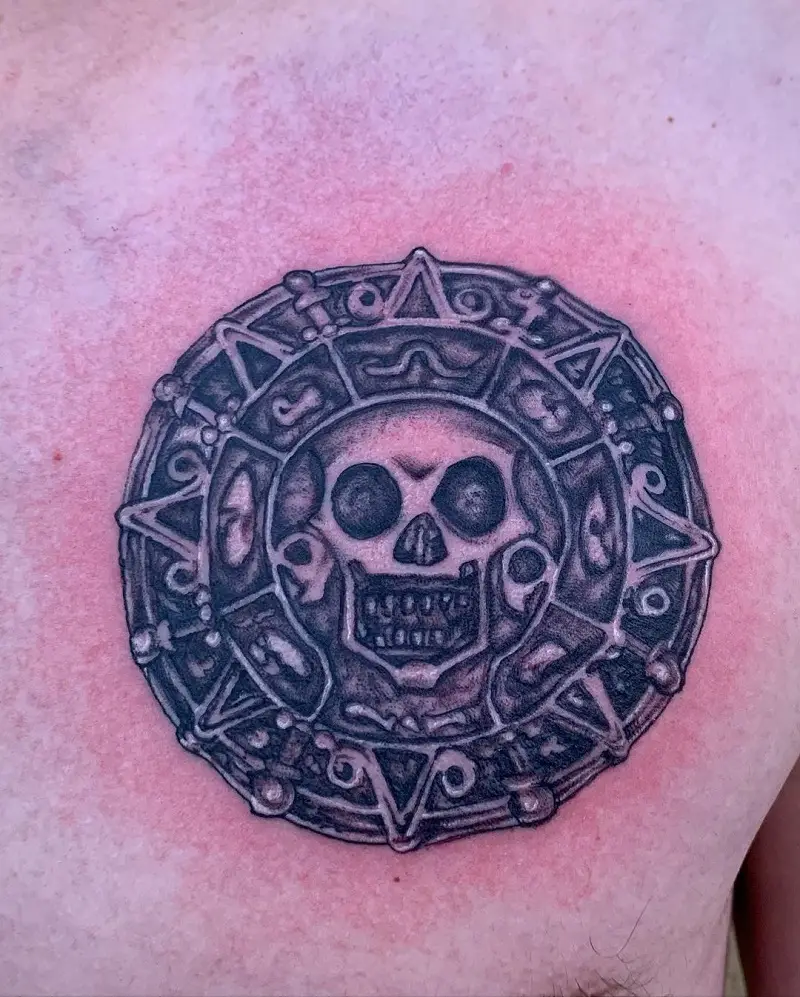 80.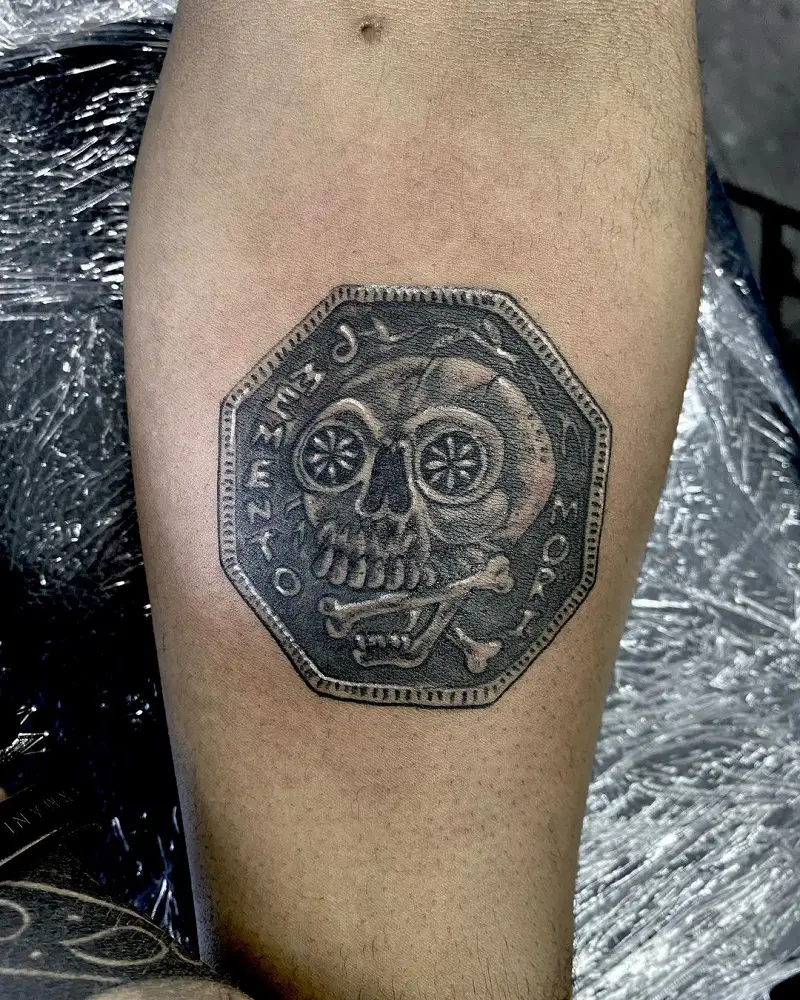 81.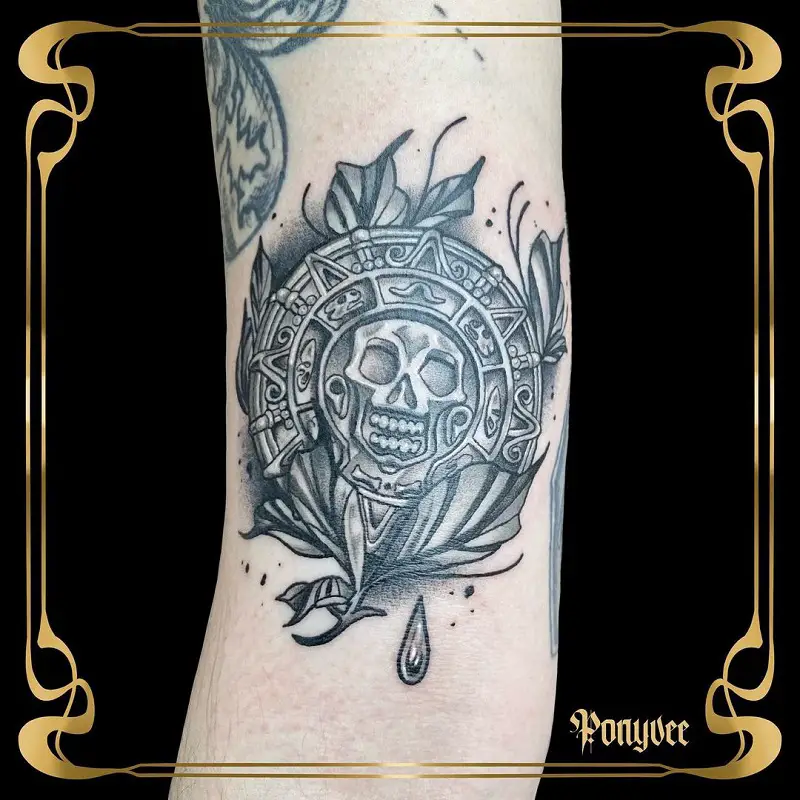 Pirate Finger Tattoo
82.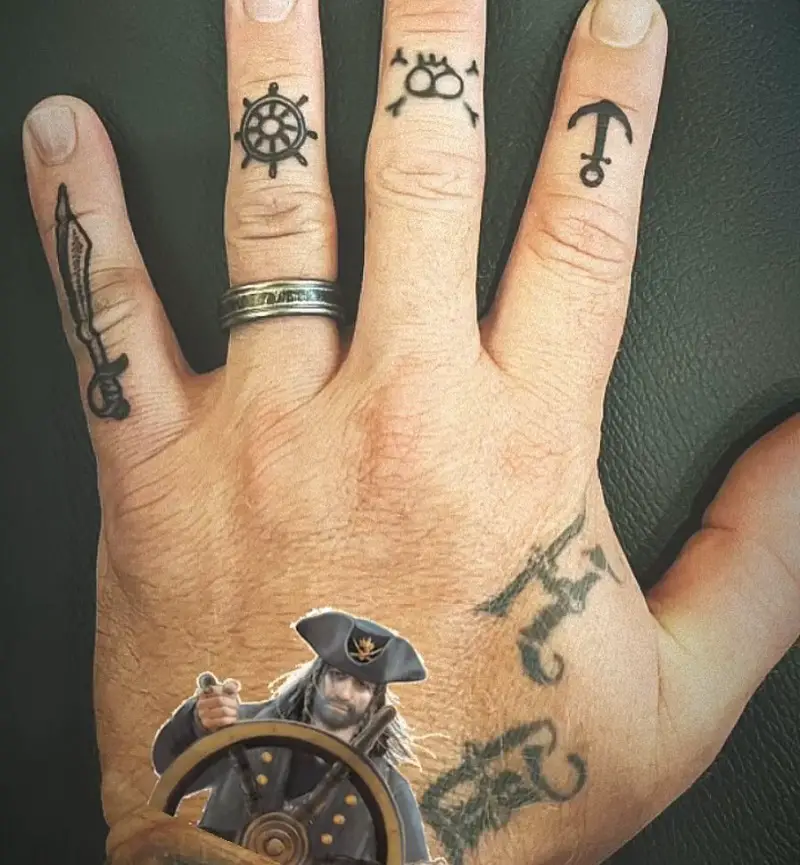 83.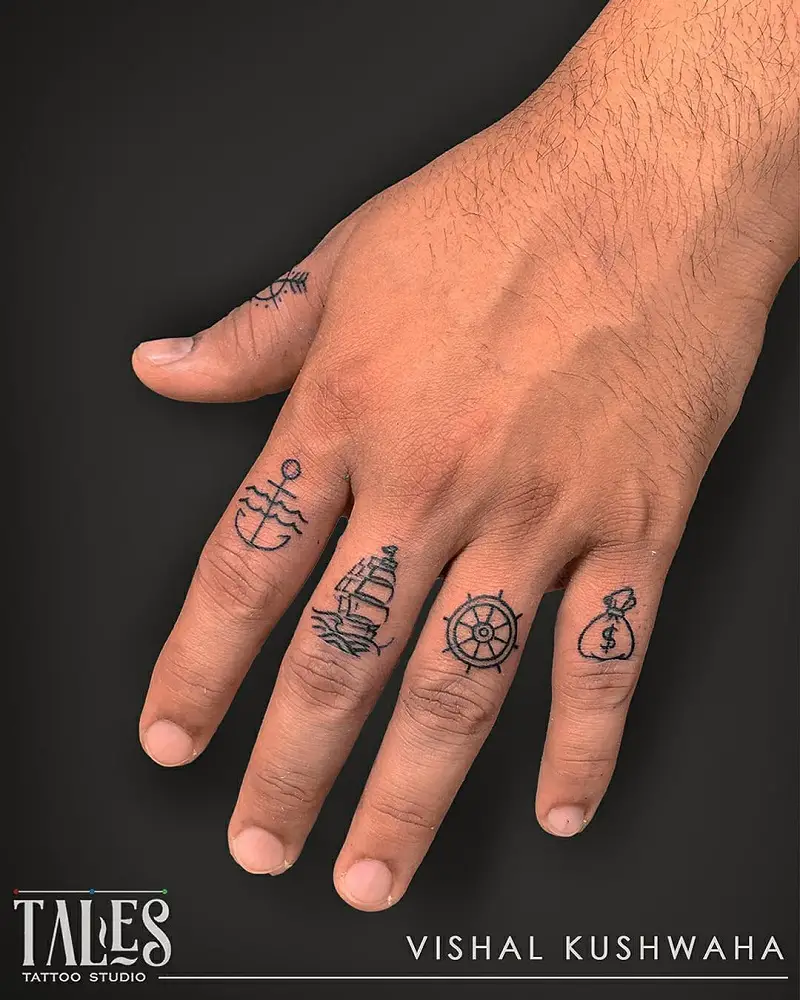 84.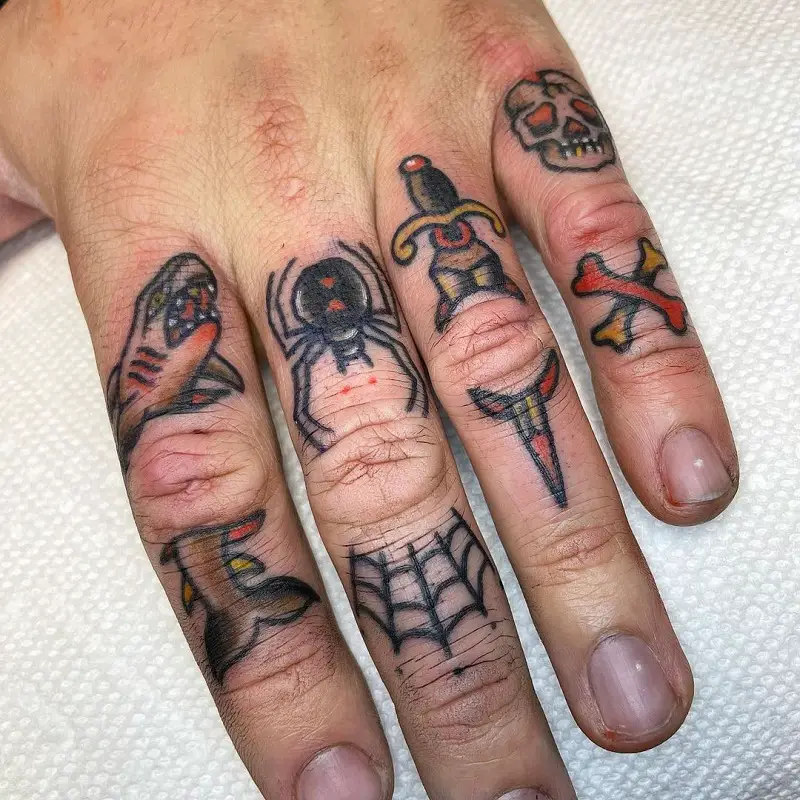 Pirate Hook Tattoo
85.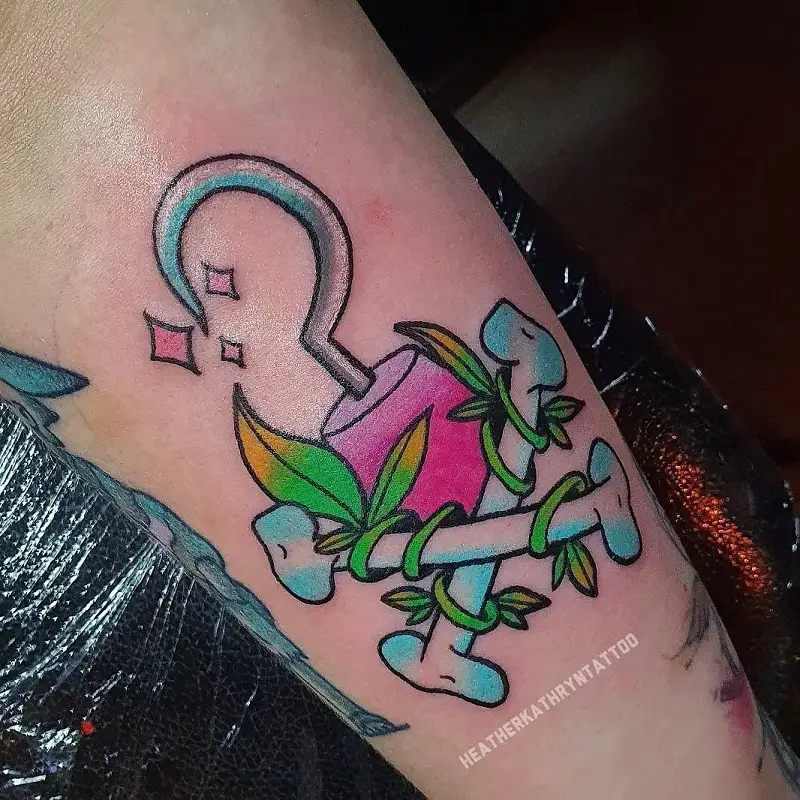 86.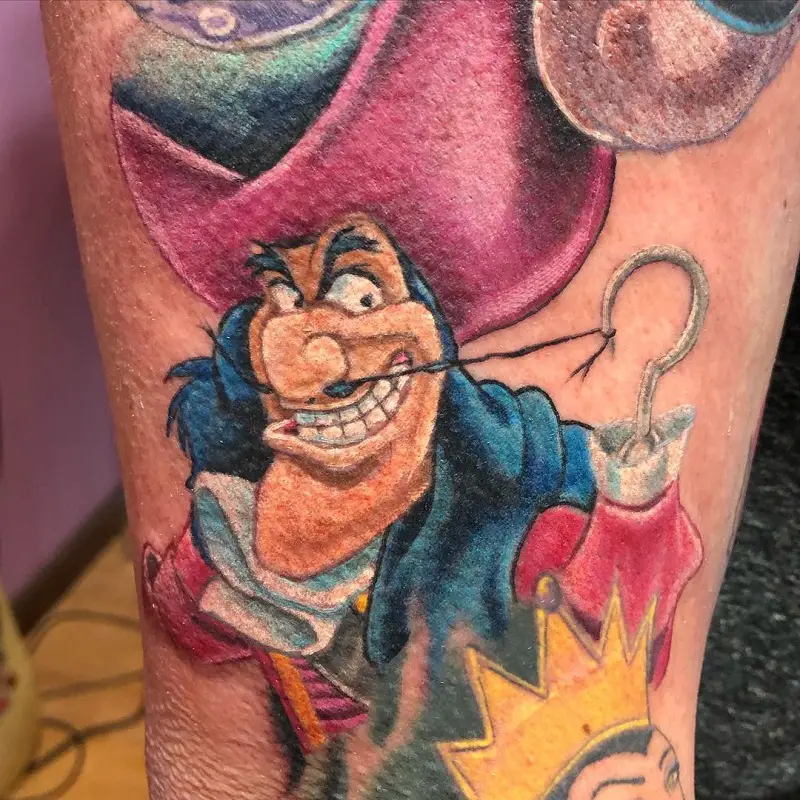 87.
Pirate Lantern Tattoo
88.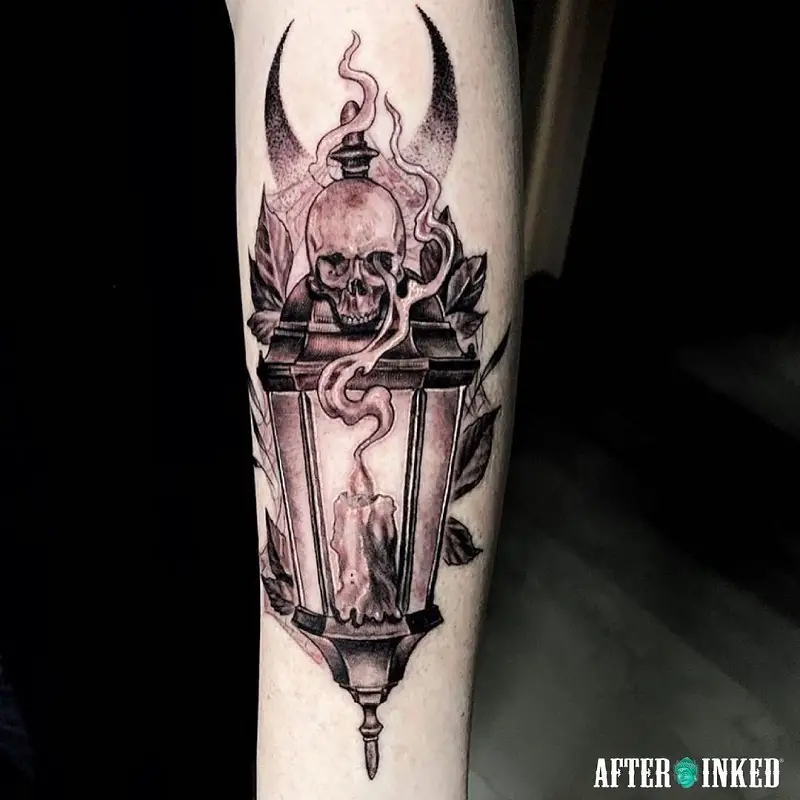 89.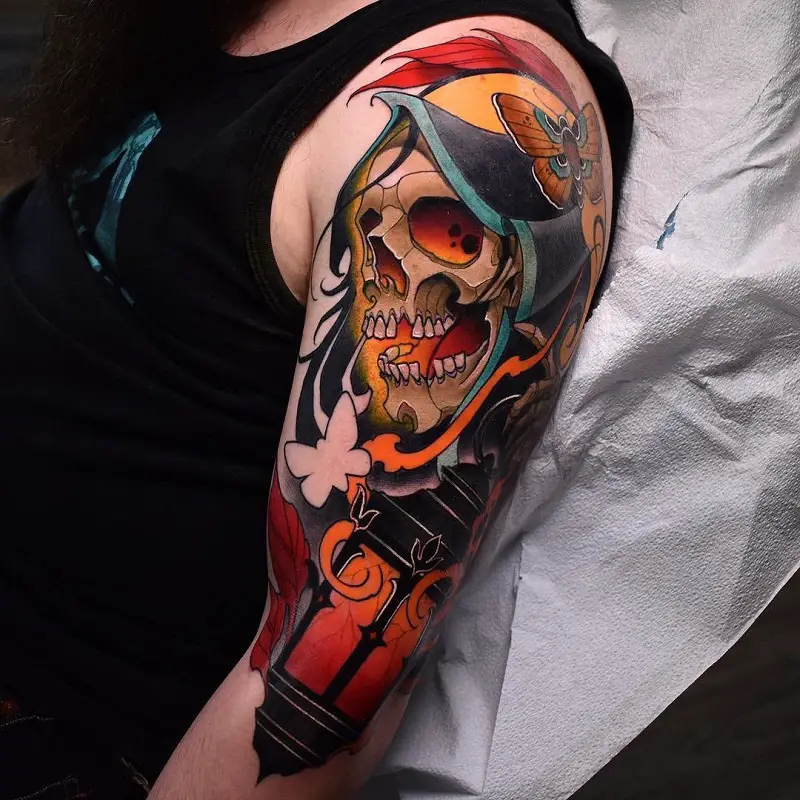 90.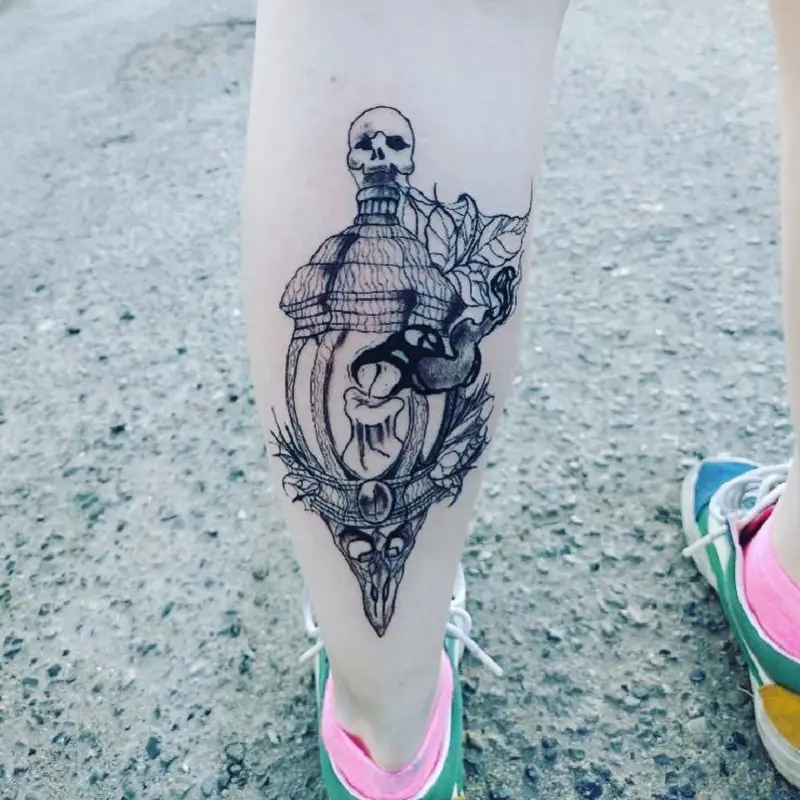 Pirate Nautical Tattoos
91.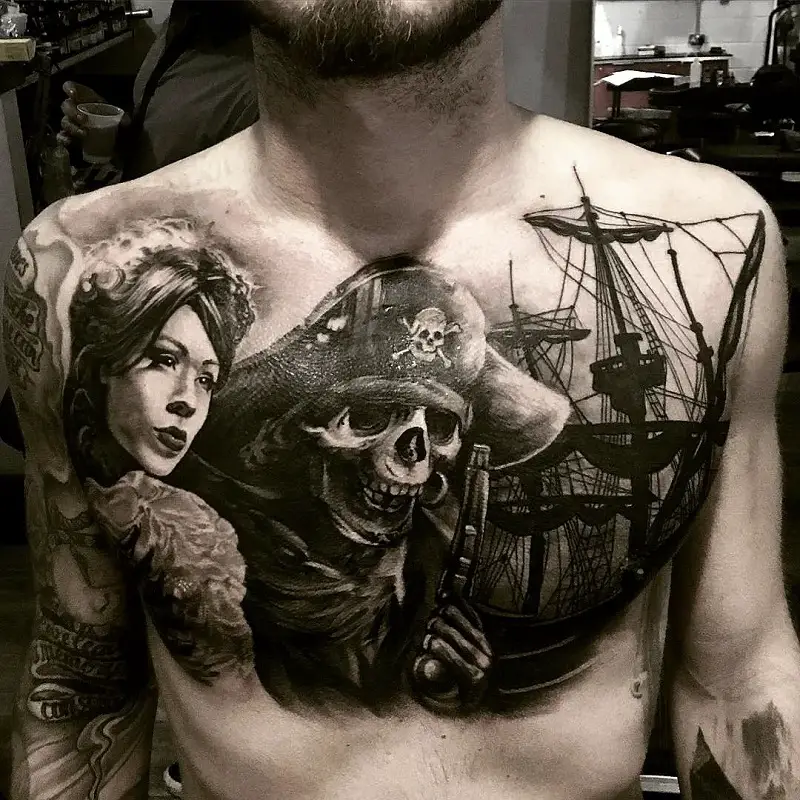 92.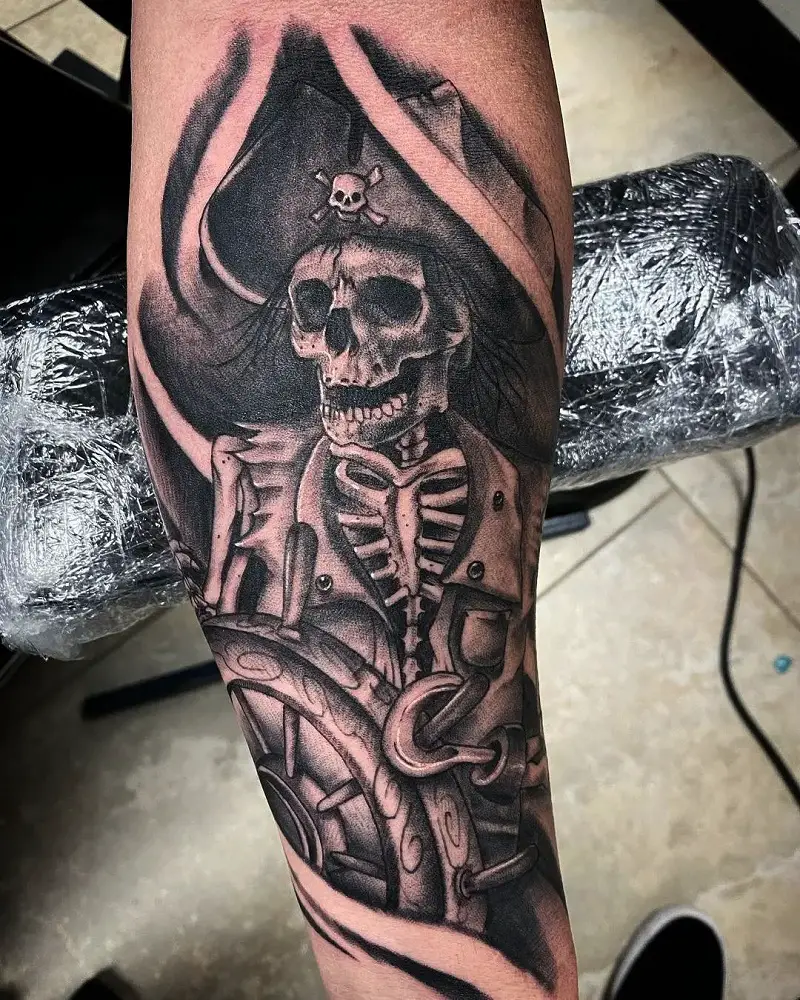 93.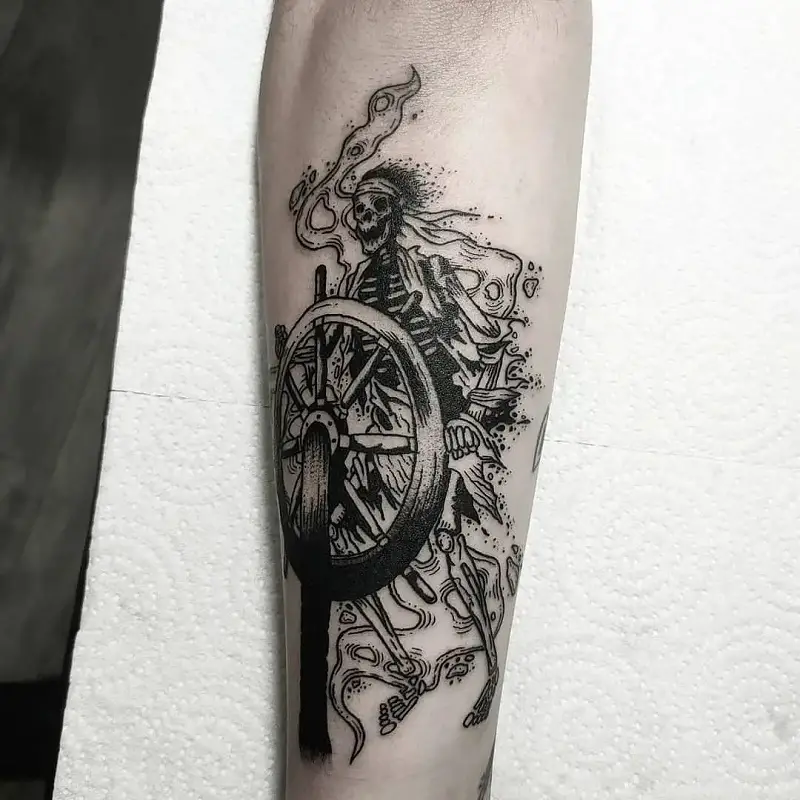 Pirate Parrot Tattoo
94.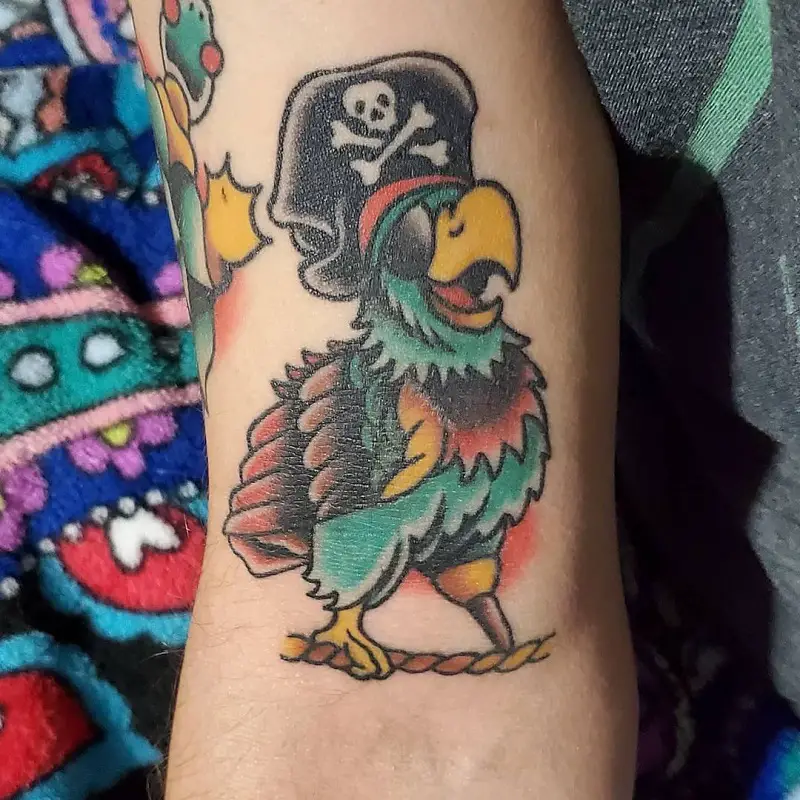 95.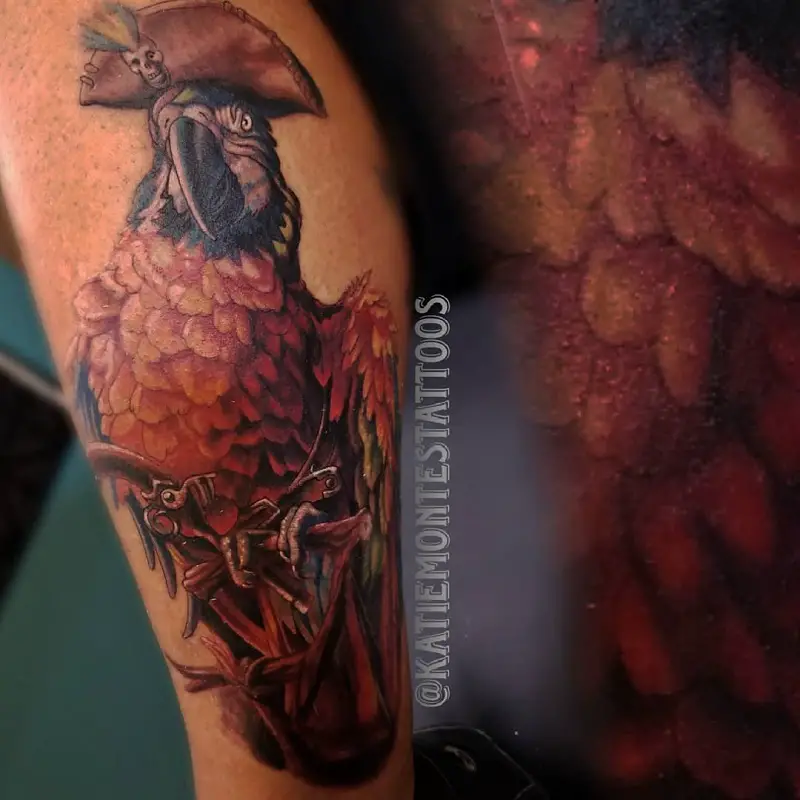 96.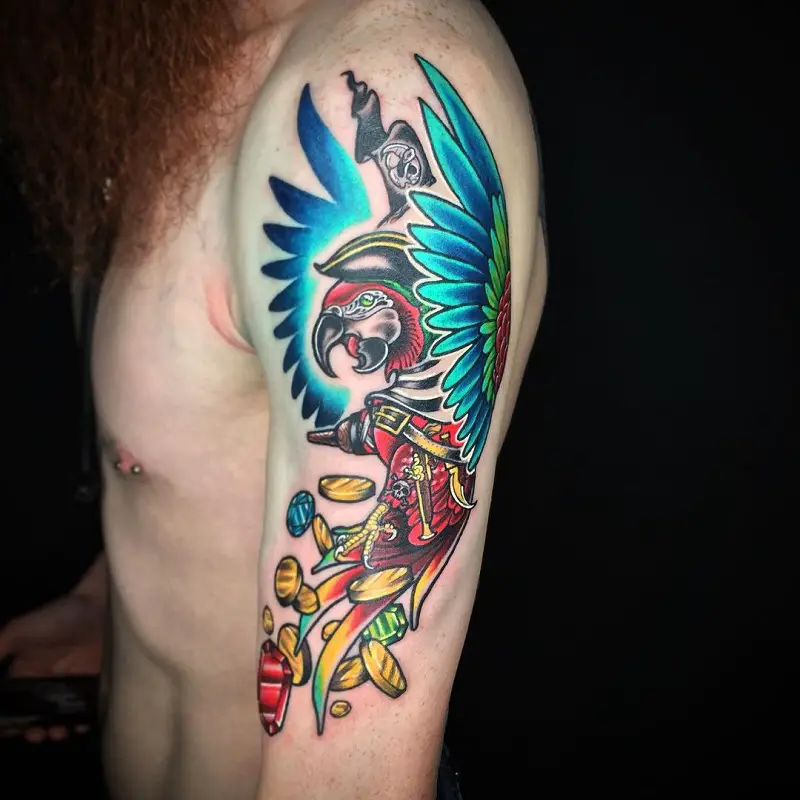 Conclusion
The world and lives of the fearless pirates were filled with sacrifices. Although we usually consider pirates to be evil, that is not always the case. The pirate tattoo designs look absolutely stunning for both men and women if you can pick the right design.
With us being at the end of our pirate tattoo journey, I sincerely hope you have selected the design you want to get inked. Now go ahead to get your desired design tattooed and attract eyes wherever you go.
Frequently Asked Question
What do pirate tattoos mean?
The pirate tattoo designs are seen as a symbolization of courage, power, and bravery. These styles are also seen as signs of freedom and loyalty.
What do pirate ship tattoos mean?
Pirate ship tattoos are a representation of the journey of life in the right direction. It also symbolizes new beginnings and luck in life.
Did pirates have tattoos on their faces?
Tattoos on pirates' faces were not very common during the early decades. However, most of them had unique piercings on their ears and noses along with markings on their cheeks.
What kind of tattoos did Pirates have?
While tattoos on pirates were rare, a few of them had ropes or nautical stars on their arms, hands, or wrists.