Bison are considered to be the largest mammal in the whole of North America. These creatures weigh up to two thousand pounds and are about 6 feet tall. Because they're so enormous and majestic, people get bison tattoos in order to relate to the powerful interpretations attached to the designs.
Not only are they big, but bison are also pretty fast and agile. This may be another explanation as to why so many people get tattoos of these massive-looking creatures.
Bison Tattoos Designs and Ideas
We're about to walk you through some of the most unique and beautiful-looking bison tattoo designs as well as the meanings tied to each one of them. Keep in mind that you are allowed to come up with you own interpretation for your tattoo design or it doesn't have to have any meaning at all. You got the tattoo simply because it looked cool and stylish. You're also free to make your own modifications or adjustments to your tattoo after taking some ideas from this article.
Now that everything's out of the way, let's begin!
Bison Skull Tattoo
A bison's head is quite thick and large. These tattoos symbolize perseverance, protection, determination, adaptability, fortitude, etc. Below you'll find some cool design ideas:
1. Agility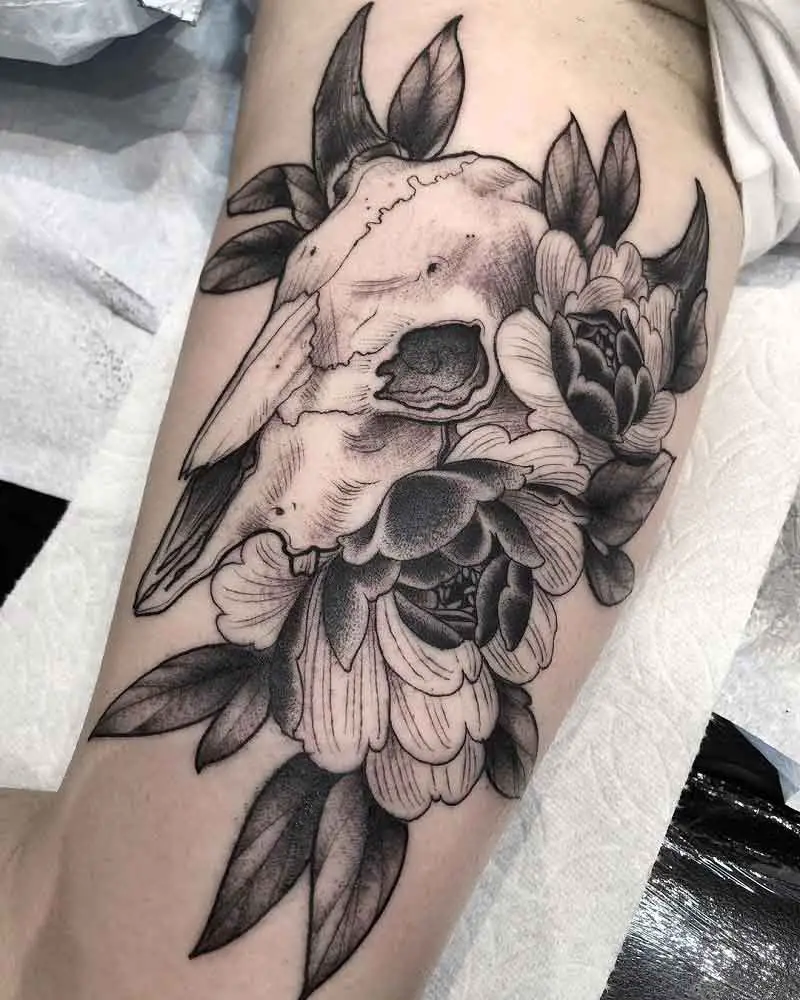 The basic meaning of the word "agility" is to understand and think quickly. In a spiritual sense, it is a practice that enables us to respond to our changing realities with dexterity and stability.
2. Endurance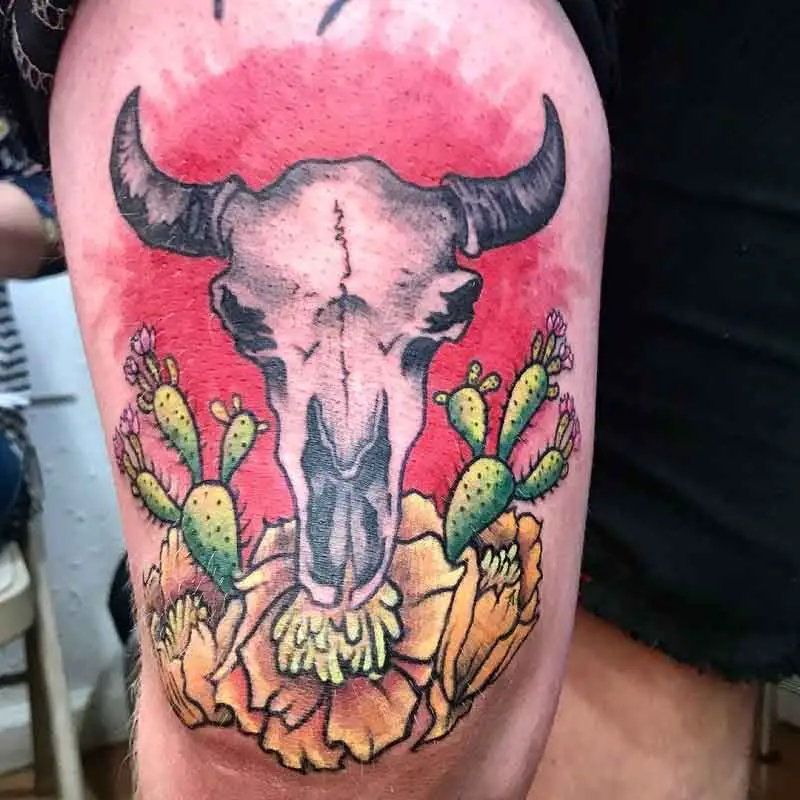 Another reason why people get bison skull tattoos is that they want to show how enduring or durable they are. Not many people possess this quality, which is why the meaning is so powerful.
3. Toughness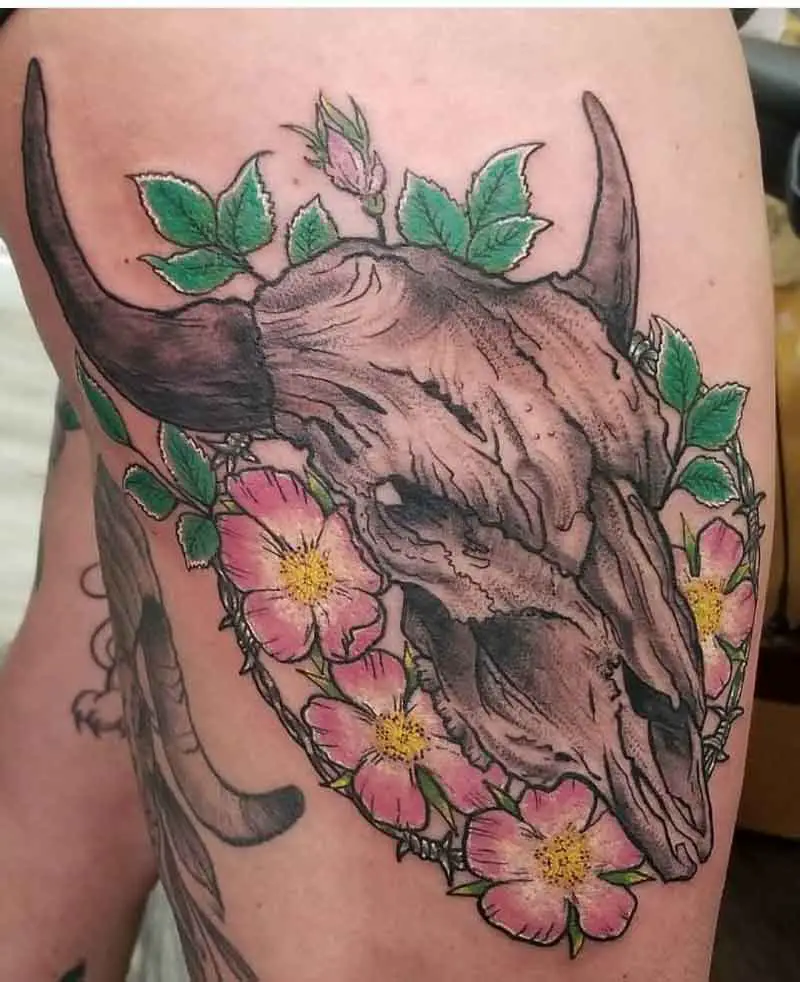 Bison tattoos also represent mental toughness. Despite the difficult conditions, mental toughness provides you with the confidence you will need to keep pushing forward.
Bison Head Tattoo
The most common reason why people get these tattoos is that they signify fortitude, strength, freedom, protection, abundance, and many more. Check some of them out below:
4. Courage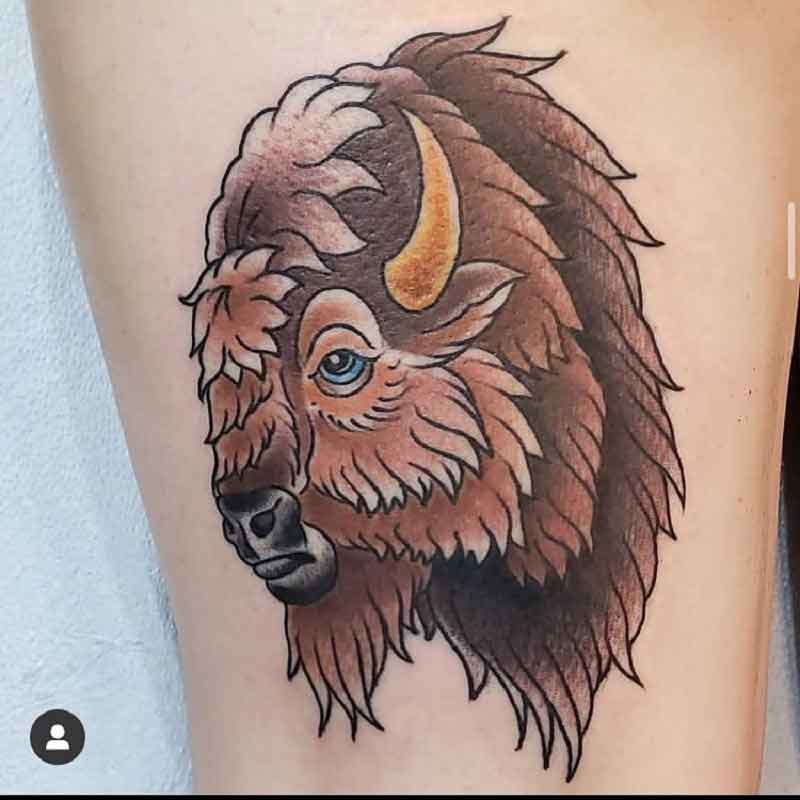 Facing consequent challenges and tackling them is not something everyone can do. It takes great courage and heart to deal with them and this bison tattoo paints that picture quite beautifully.
5. Strength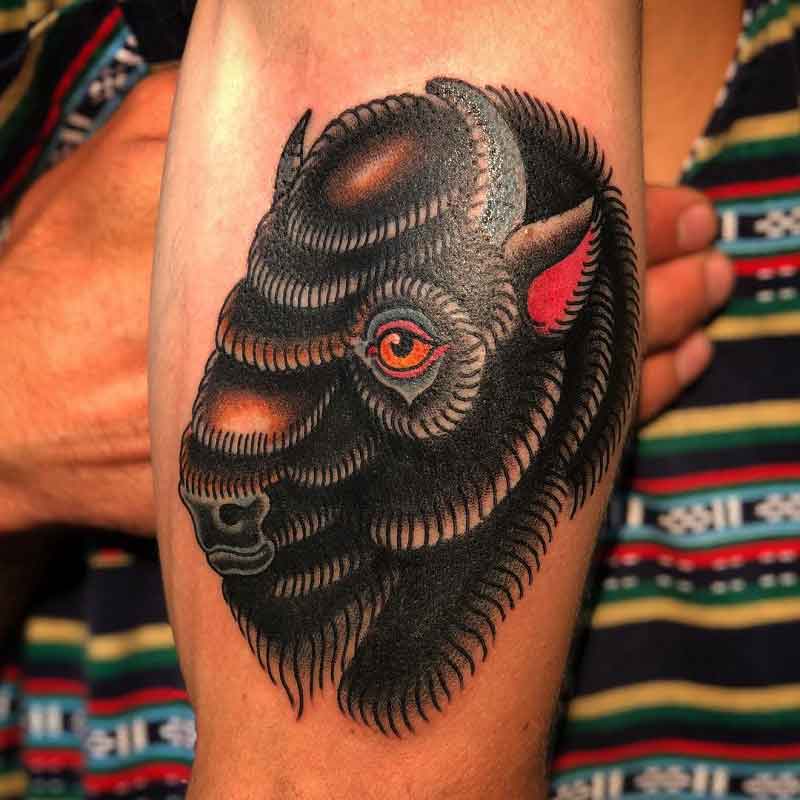 Bison are large powerful bovines. They do not always represent mental strength and toughness. The tattoo is also ideal for an individual who is physically robust.
6. Valor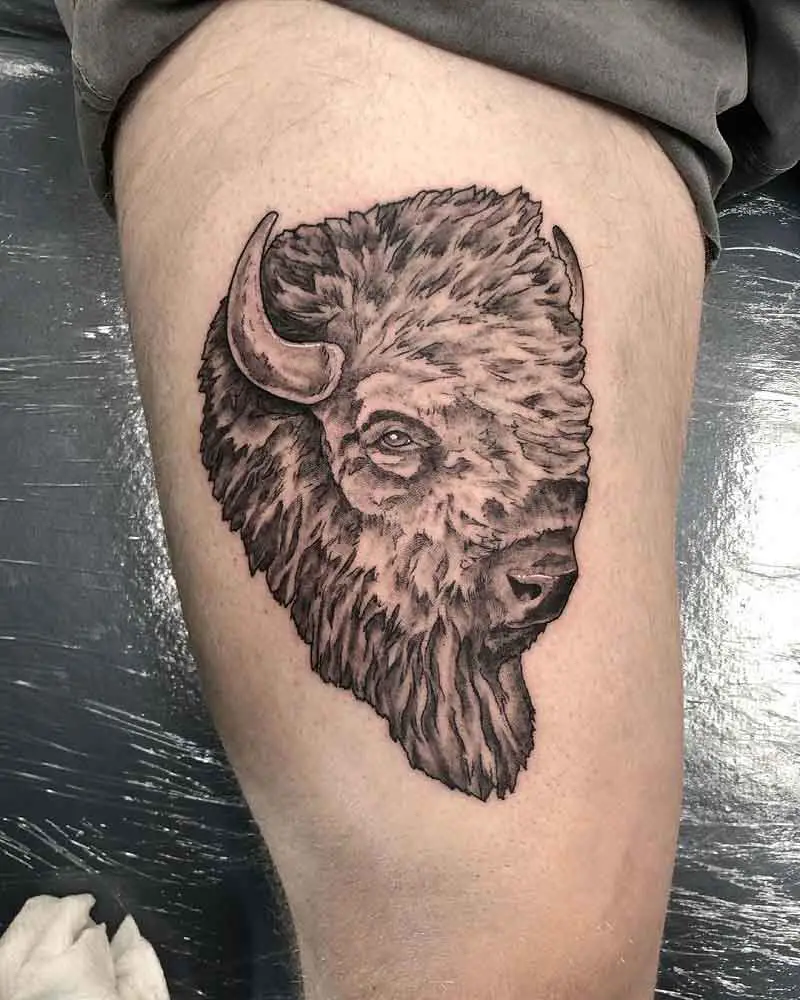 The bison tattoo above signifies fearlessness and braveness. The design is totally ideal for an individual who has a bold and powerful personality.
Realistic Bison Tattoo
You can also make these tattoos look very realistic by adding an appropriate amount of details. It can be done with or without the help of colors. Here are some cool concepts below:
7. Determination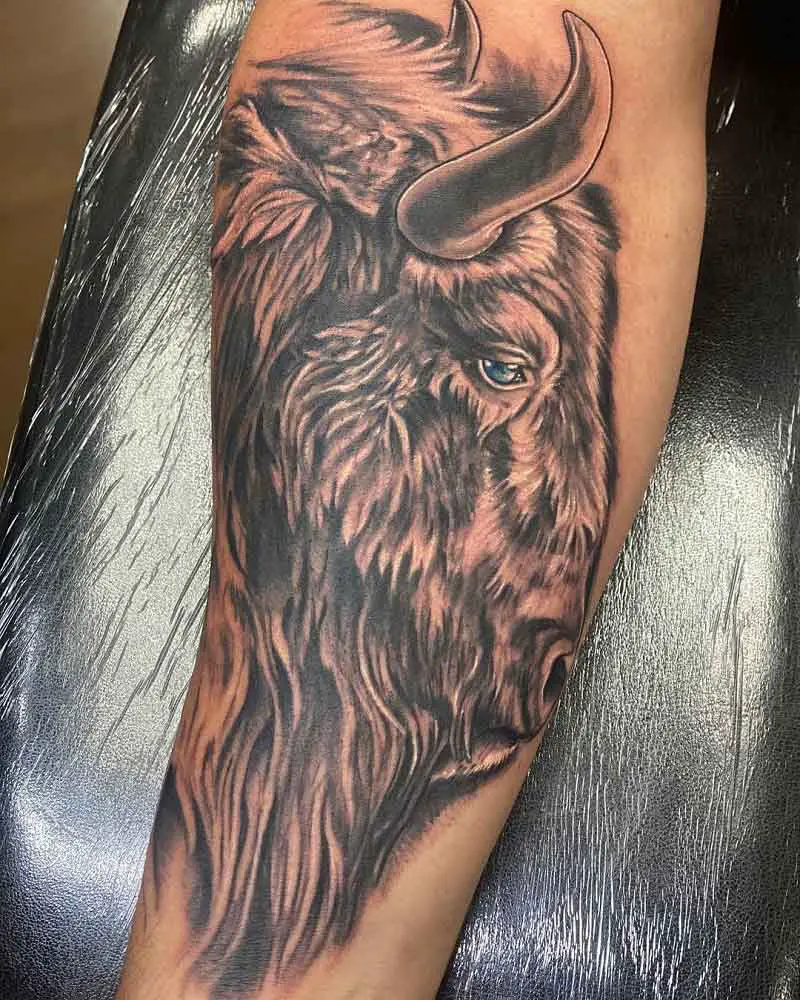 Life isn't perfect and many of us fail when we come across huge obstacles. For this reason, a determination is required to help us push forward and that is exactly what this tattoo portrays.
8. Unstoppable Force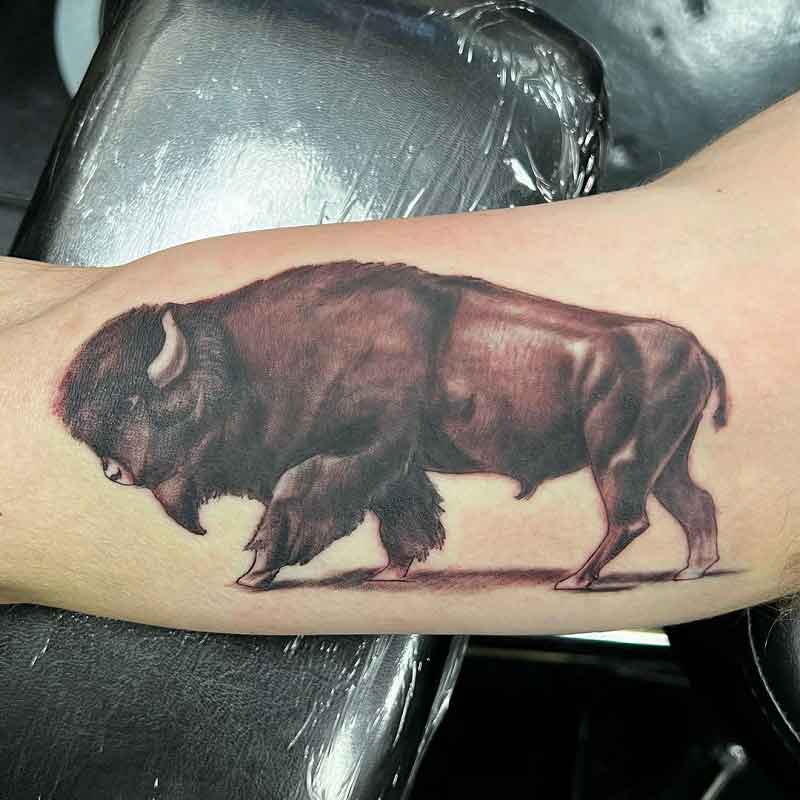 The interpretation of this bison tattoo may seem somewhat similar to some of the previous designs we've looked at but visually it looks completely different. You can also get the full body of this animal tattooed on your bicep.
9. Rebirth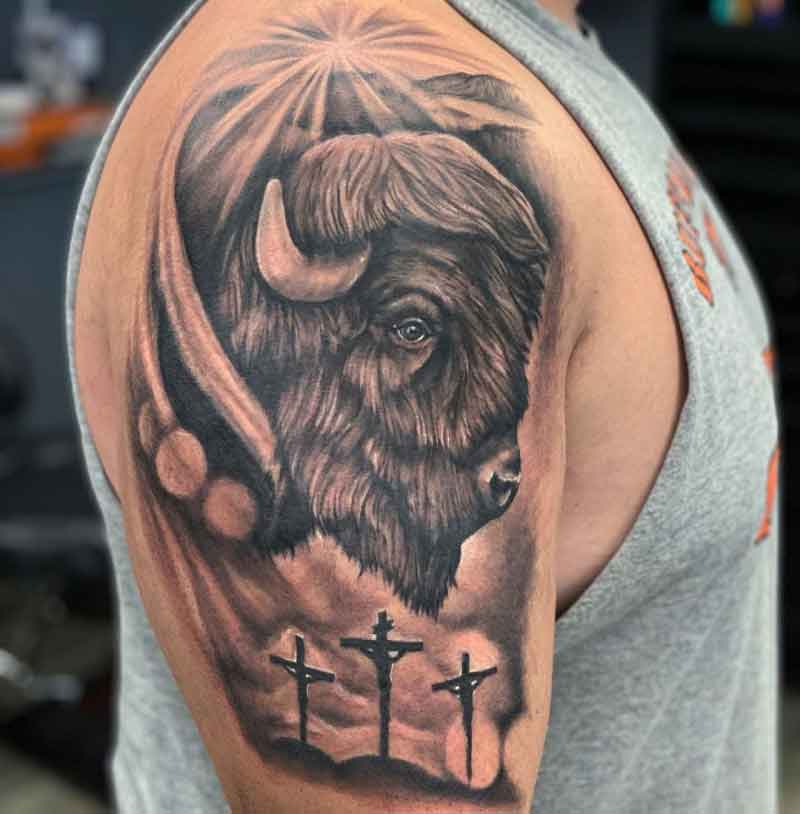 Spiritual enlightenment or rebirth is what causes an individual to turn over a new leaf and start a completely new life. This tattoo will look absolutely perfect on the man's arms.
Traditional Bison Tattoo
The designs in this part of the article are mostly traditional. You are honoring the history of the art style by getting a traditional bison tattoo. Check them out below!
10. Doom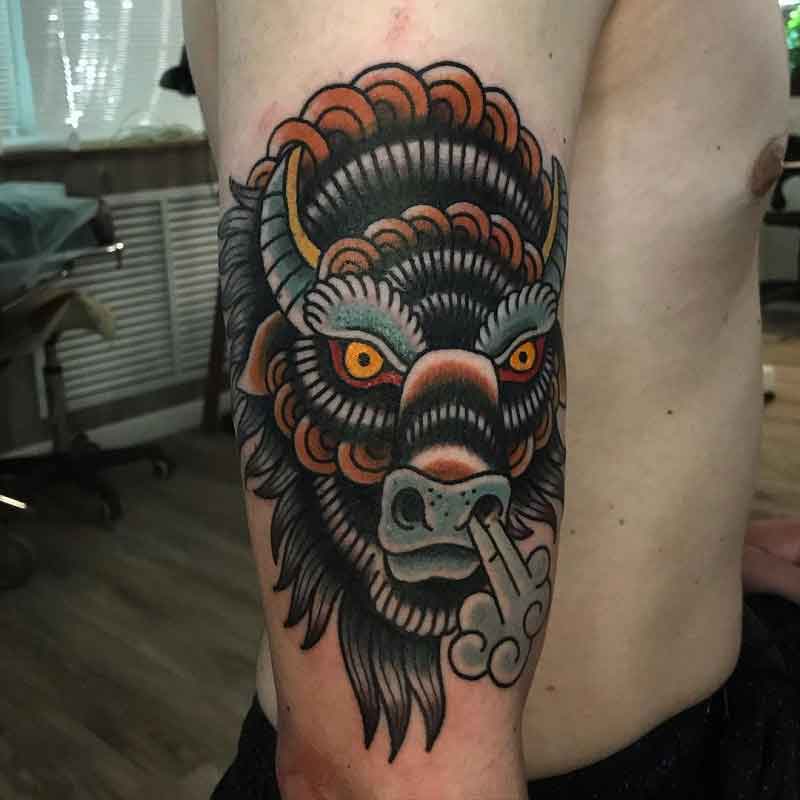 The term refers to a very dangerous situation that cannot be avoided in any way whatsoever. We get this feeling by looking at this blood-thirsty bison.
11. Immortality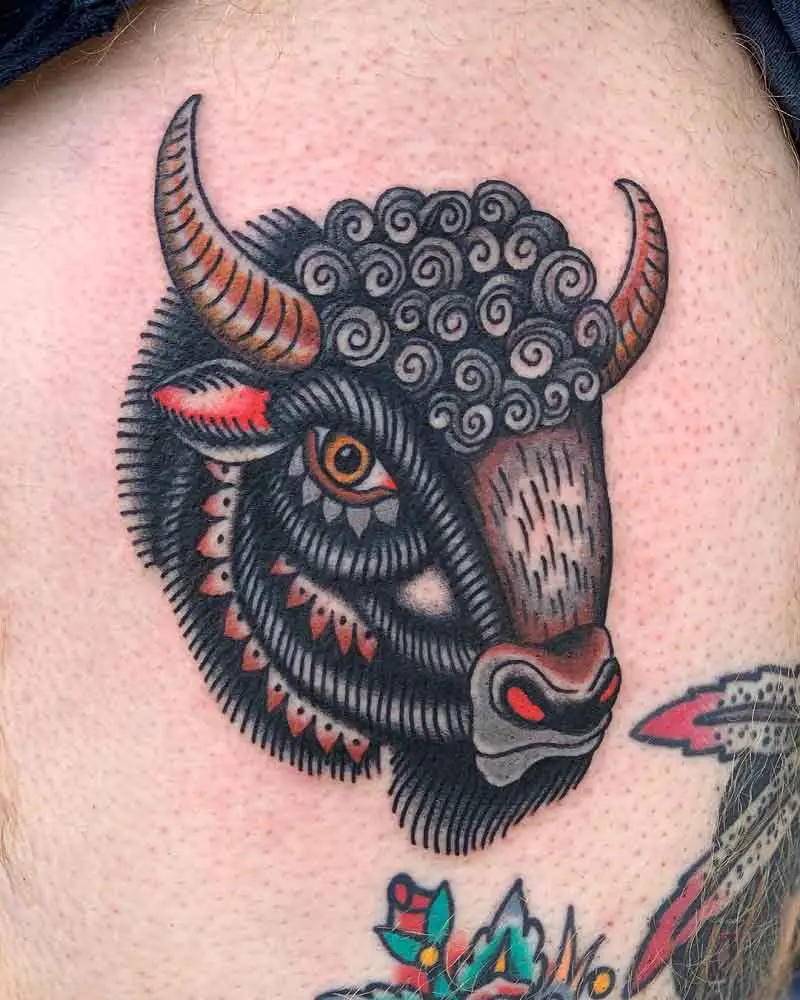 The most general meaning of immortality is when a person constantly avoids death and always maintains conscious thought. People who view themselves in this way may find this bison tattoo appealing.
12. Last Man Standing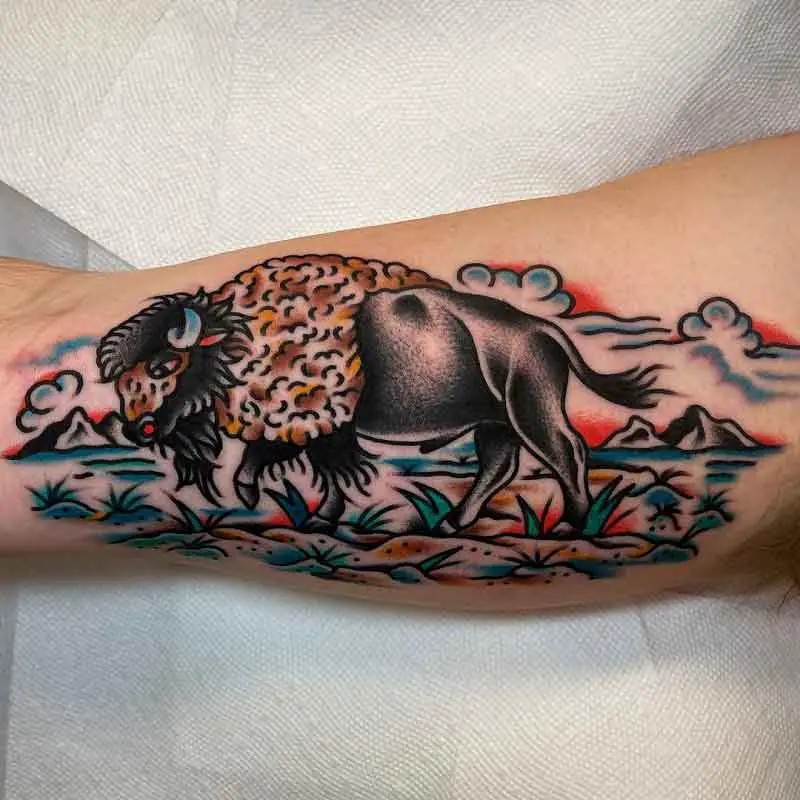 The phrase is a direct reference to a sole survivor of a war or battle after everyone else has fallen. Figuratively, it is used to describe an individual who has outlasted or outlived other similar things.
American Bison Tattoo
The bison tattoos, in this section, are more American-themed. We're going to be walking you through the meanings of each of them so stick around!
13. Abundance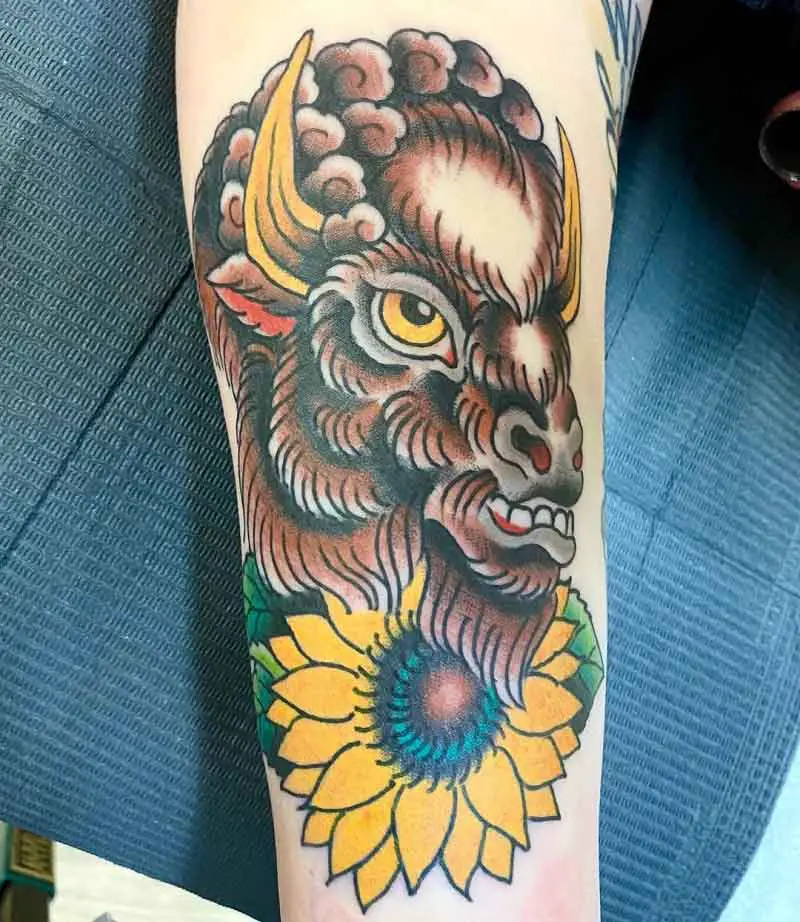 The notion of abundance, in a spiritual context, is less about materialistic stuff and more about an appreciation of life in its joy and strength of mind.
14. Pure Linework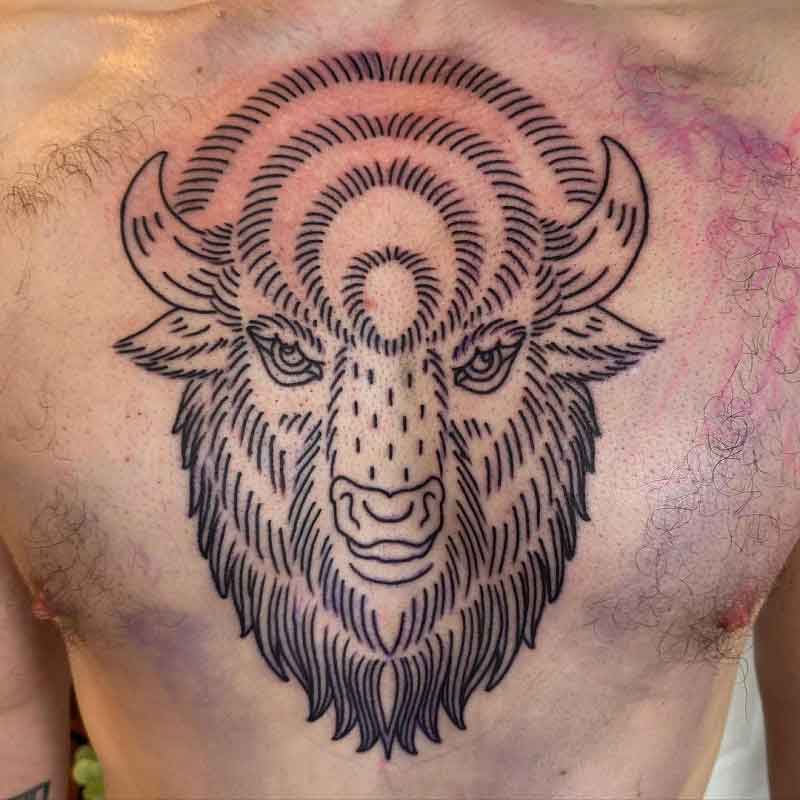 Bison tattoos can look really cool and stylish in linework style. This doesn't require the use of colors and it keeps everything plain and simple.
15. Invincibility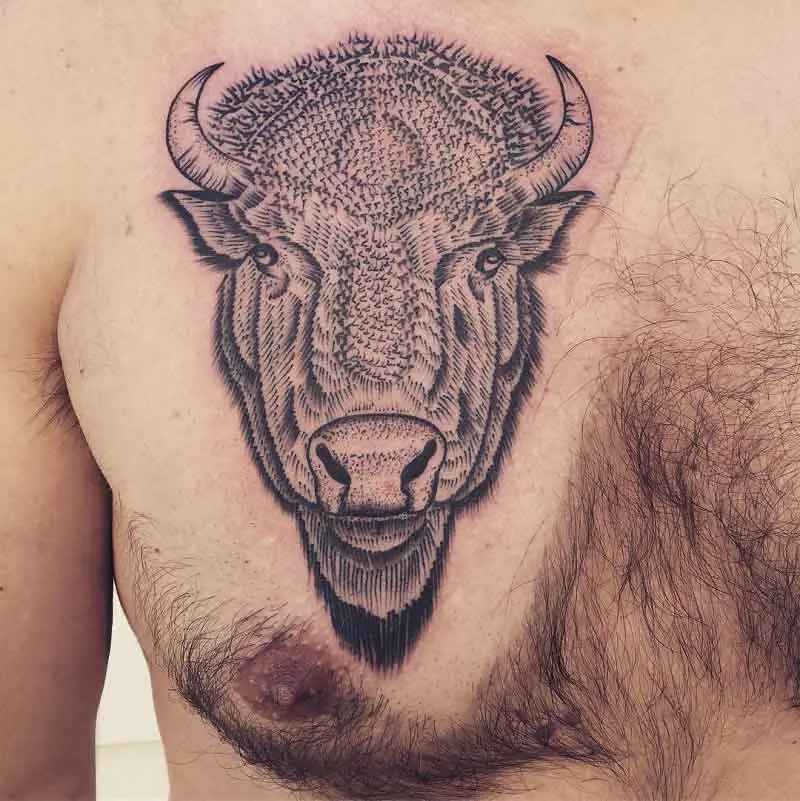 The term "invincibility" means an individual who is too powerful to be overthrown or defeated. The tattoo above is ideal for a person who possesses this quality.
Geometric Bison Tattoo
Geometric tattoos, in general, symbolize balance, stability, and symmetry. This style of tattooing has become increasingly popular and bison tattoos would look definitely cooler if it's incorporated.
16. Loyalty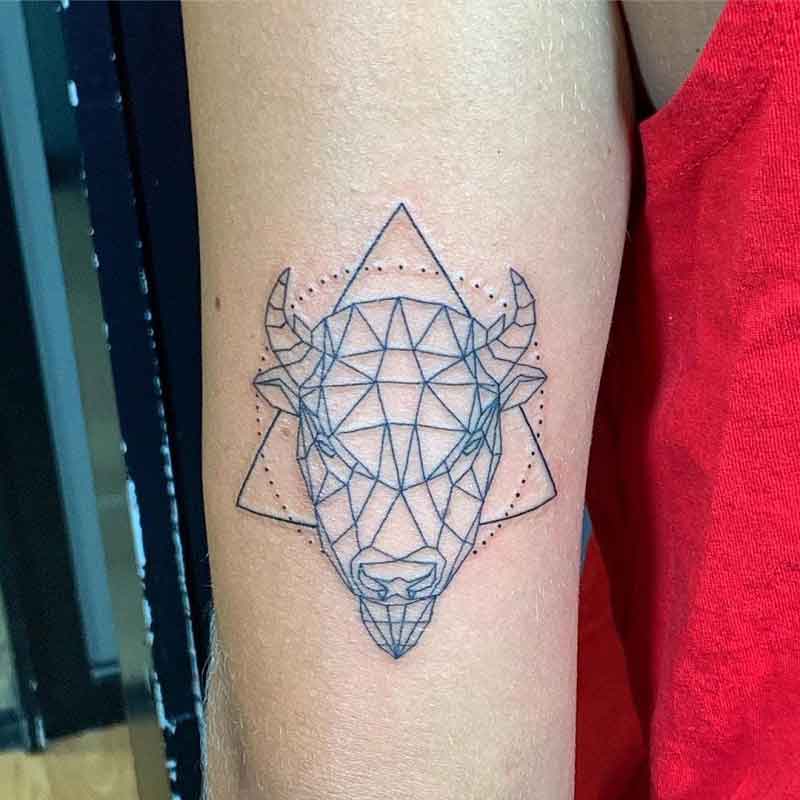 Bison tattoos also symbolize loyalty. Their toughness and perseverance are matched by their gentleness as well as their loyalty. The tattoo also keeps things simple.
17. Two Sides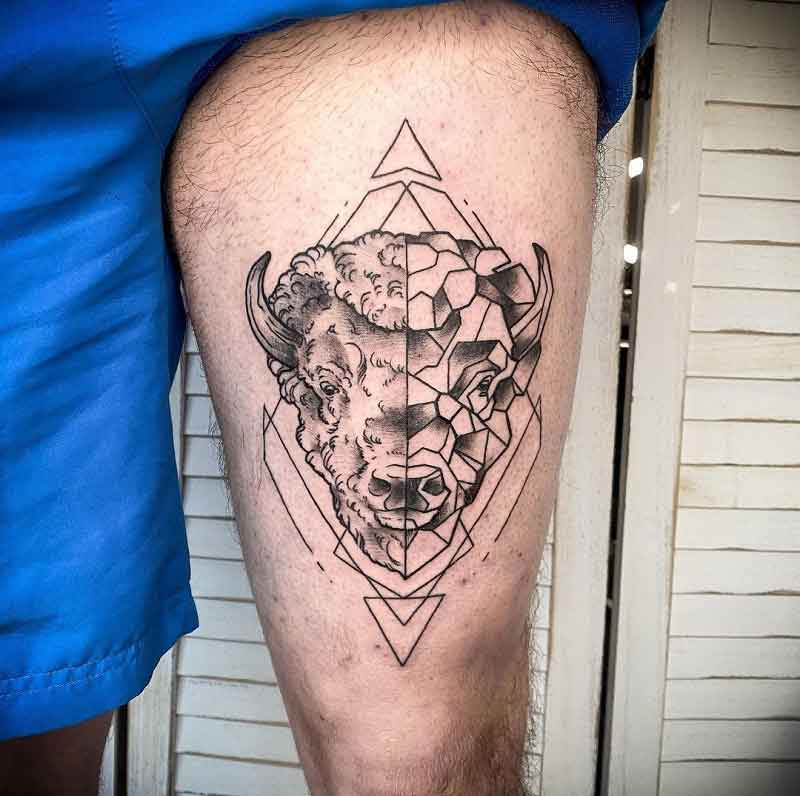 There are always two sides to every story. Similarly, a person also has two sides- one that is revealed to the world and another that is hidden. That is exactly what this tattoo on the man's thigh portrays.
18. Protection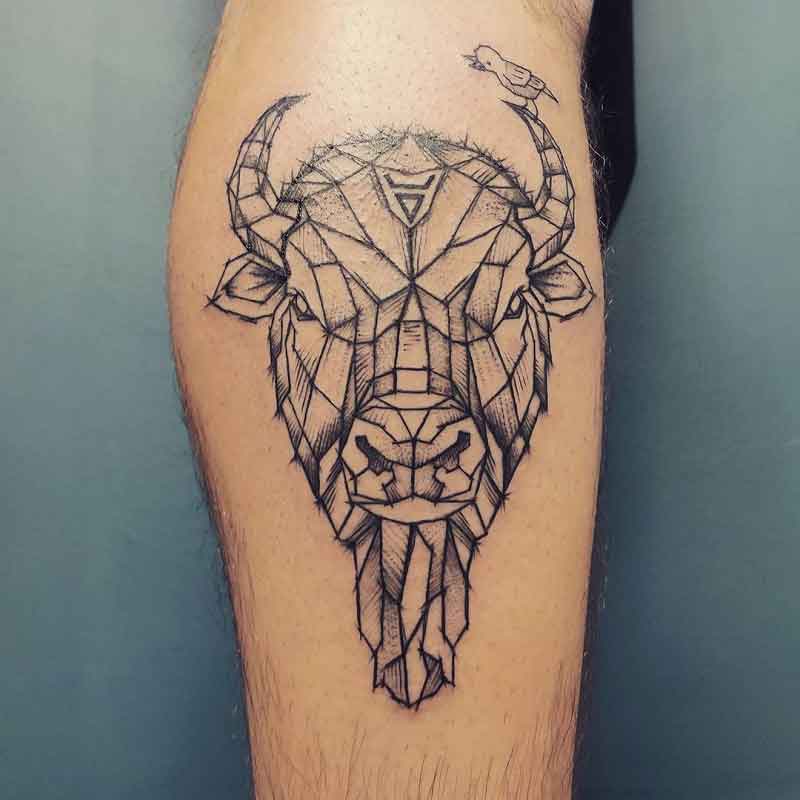 These tattoos also signify protection and guidance. A person who is in dire need of protection will find it extremely difficult to perform optimally. The tattoo, inked on a man's leg, can make them feel safe and protected.
Bison Face Tattoo
Although these tattoos take up less space, their meanings are quite deep and powerful. You are also free to come up with your own interpretations of the designs.
19. Going Strong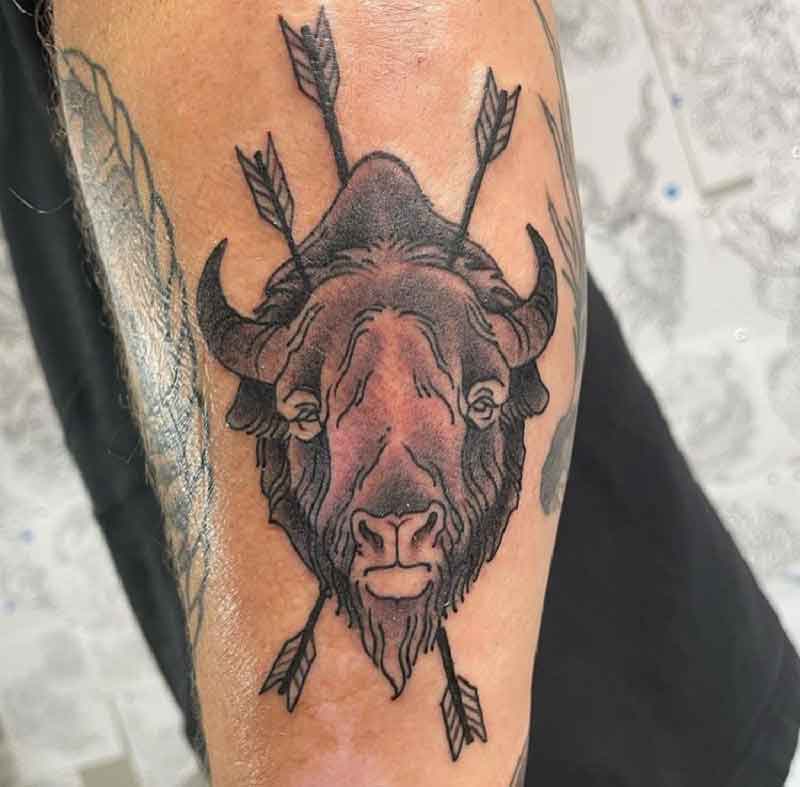 The tattoo above is referring to an individual's durability or capacity to tolerate all sorts of difficult conditions in life. You can add details wherever necessary for better visuals.
20. Willpower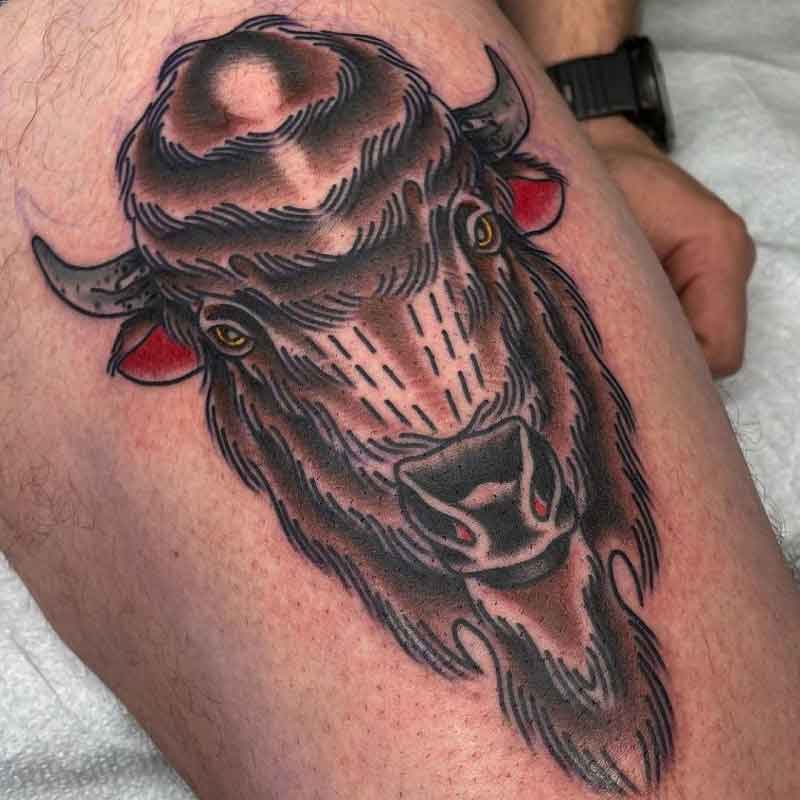 Willpower is what enables us to pursue our long-term career goals and stay motivated all the time. We will never put in our best work if we don't have willpower. This is exactly what the bison tattoo symbolizes.
21. Unyielding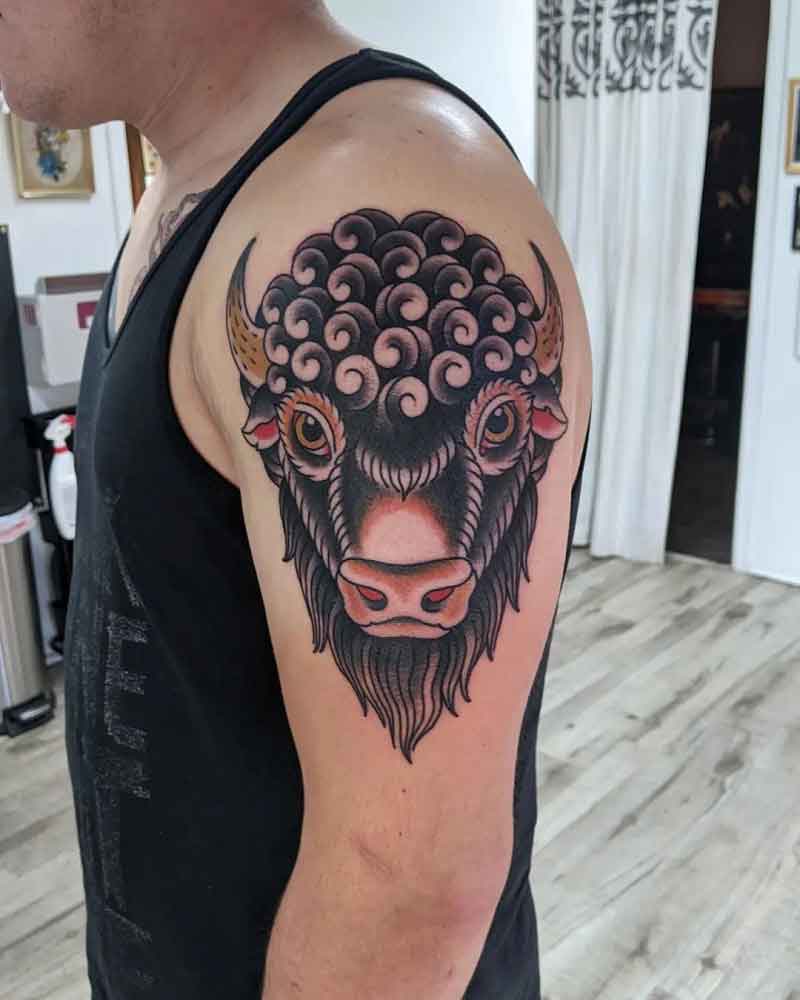 This tattoo design represents a person who can handle just about anything that is thrown his/her way. These tattoos are a perfect symbol for interpretations such as this one.
Bison Sleeve Tattoo
Sleeve tattoos go from the wrist all the way to one's shoulder and they don't even hurt that much. Besides, bison tattoos can look pretty cool in this area of the body so why not get them?
22. King of the World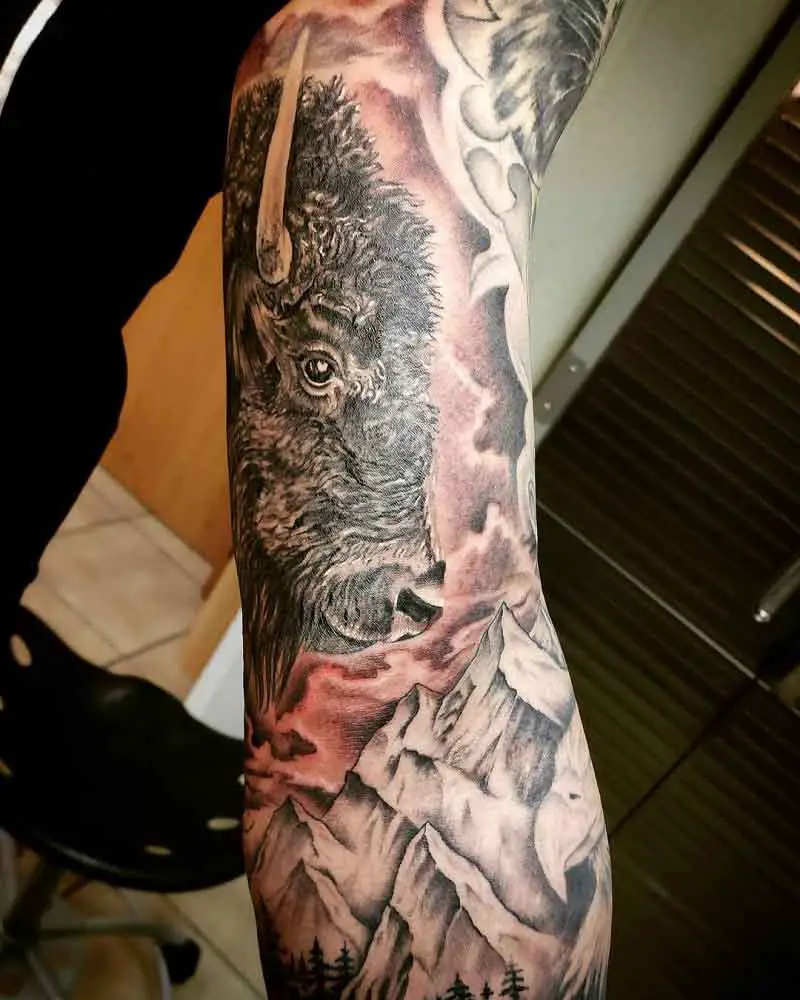 Since bison tattoos represent invincibility and immortality, they can make you feel like you're at the top of the world. Rather than adding colors to it, the tattoo looks better in the B&W effect.
23. Forbearance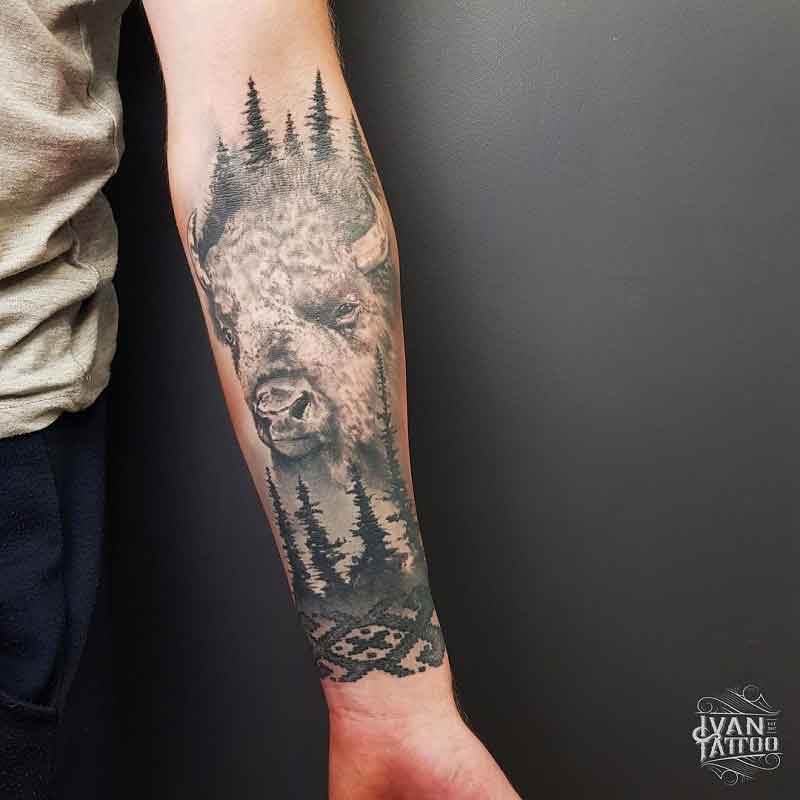 Forbearance is the state or quality of showing great self-control and this is exactly what the design above signifies. It's more like a half-sleeve tattoo but nevertheless, the tattoo looks absolutely stunning.
24. Force To Be Reckoned With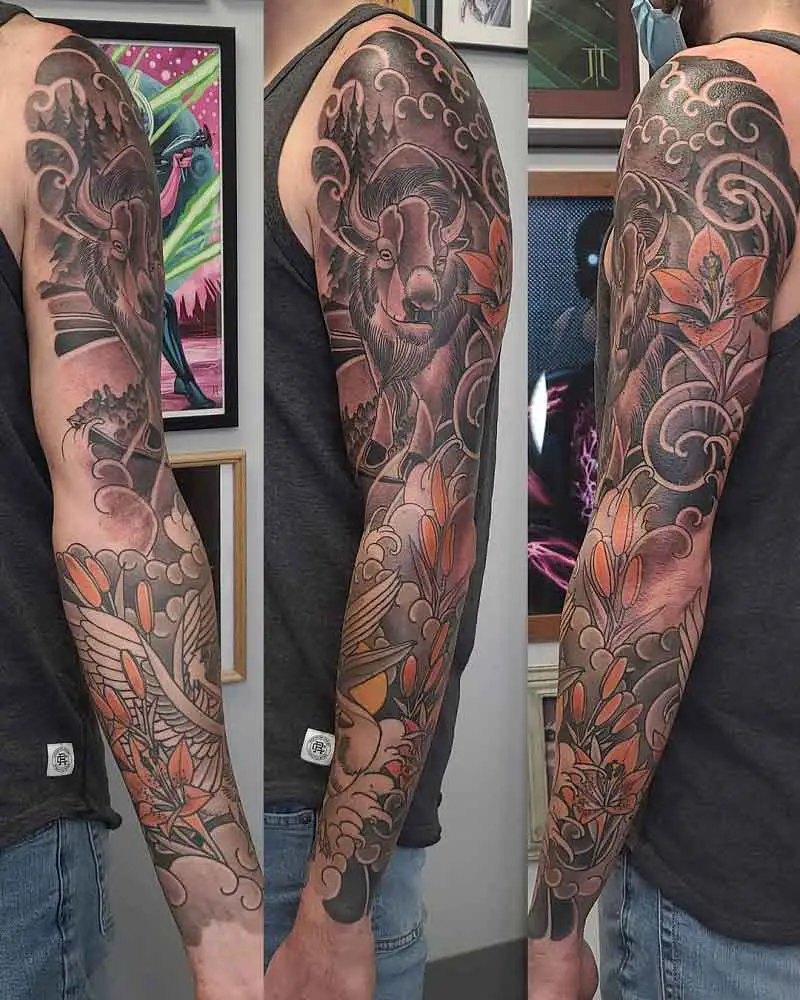 The phrase above means a powerful person or thing that should not be taken lightly when being faced with. The interpretation makes sense because that is what the tattoo depicts quite accurately.
Bison Tattoo Designs
In this section, you'll come across some more beautiful and unique bison tattoo designs. Colors have been used in every one of these designs and they definitely look sensational. Check them out below:
25. Astronomical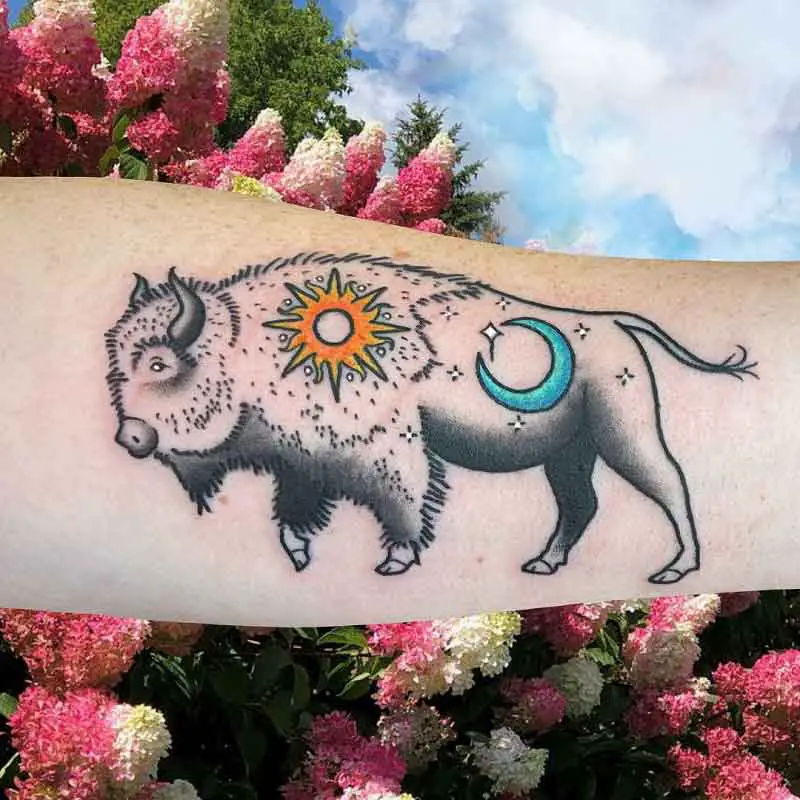 This is more of a double entendre. The term "astronomical" can refer to the two celestial bodies seen in the bison tattoo above. It can also refer to the vastness of this mighty creature.
26.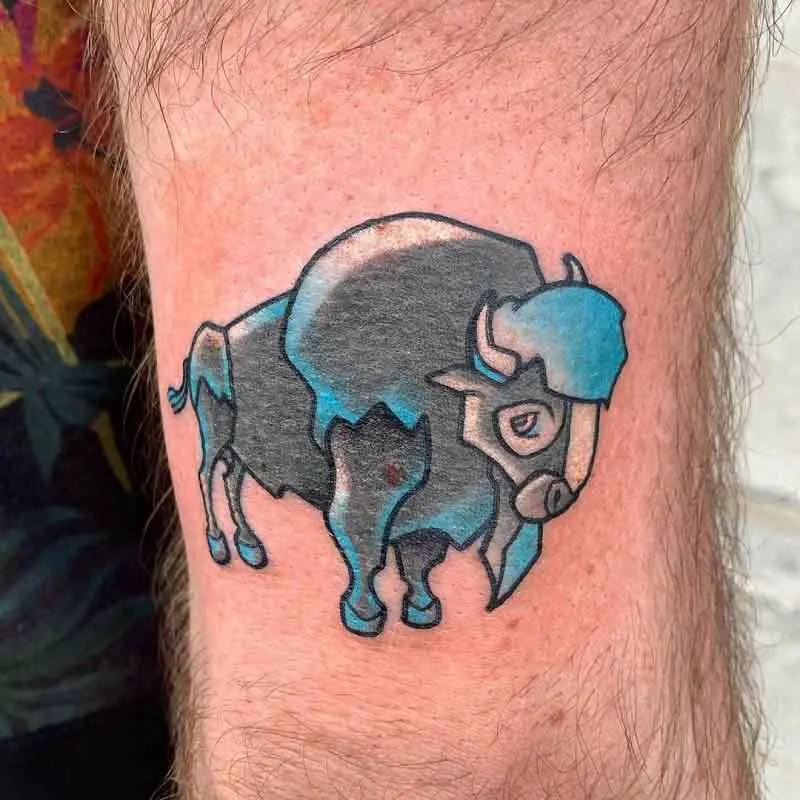 27.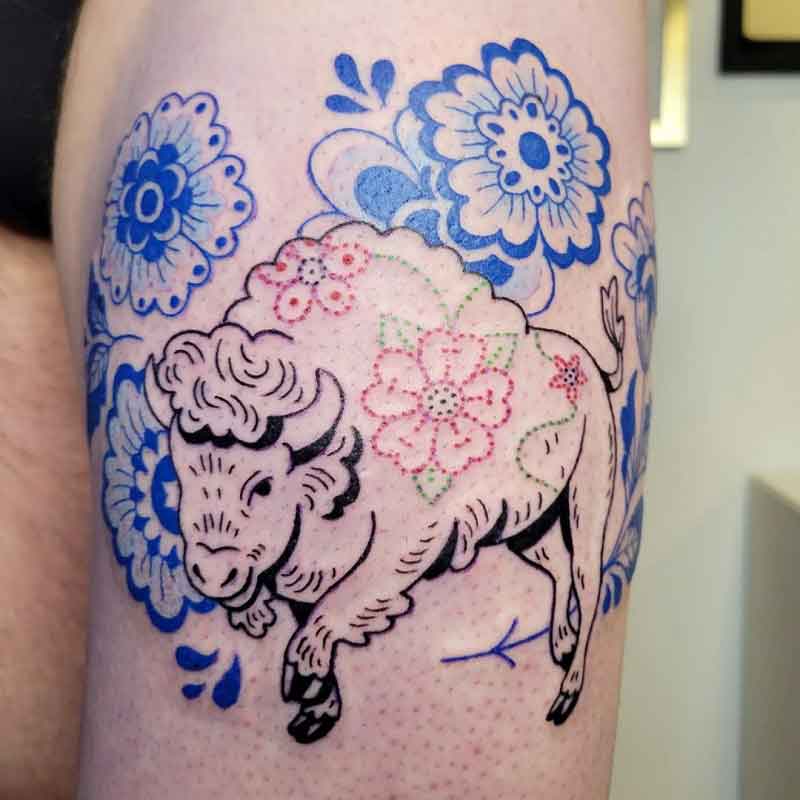 Tribal Bison Tattoo
28.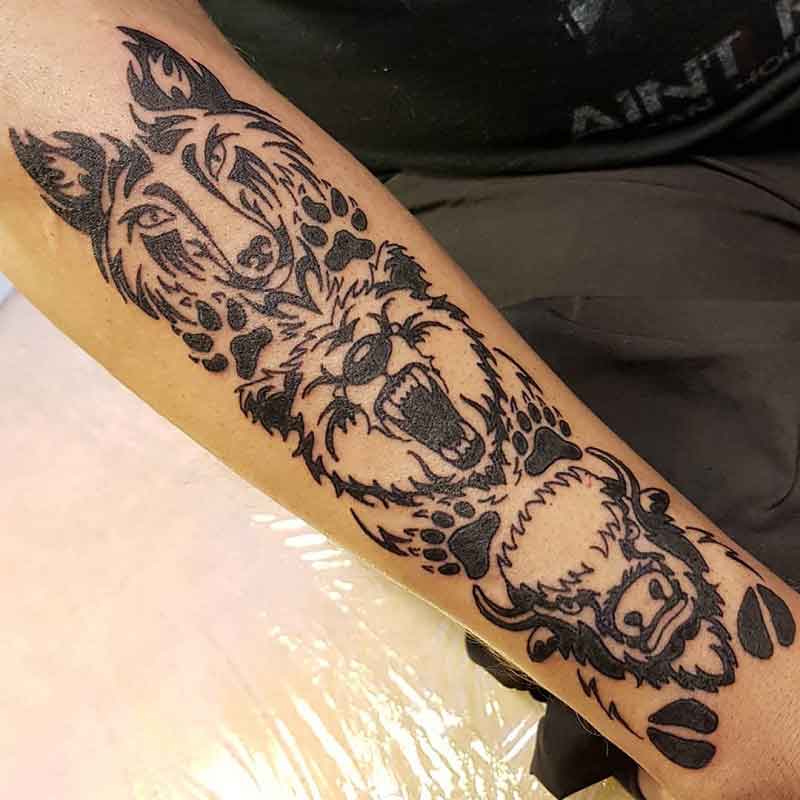 29.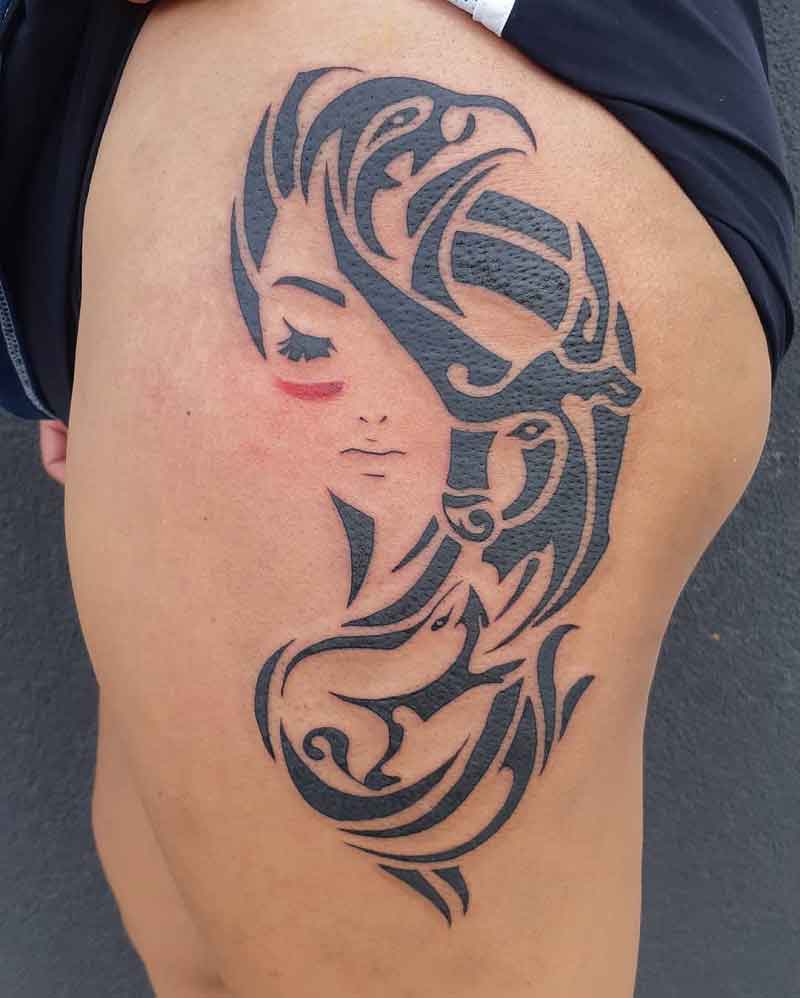 30.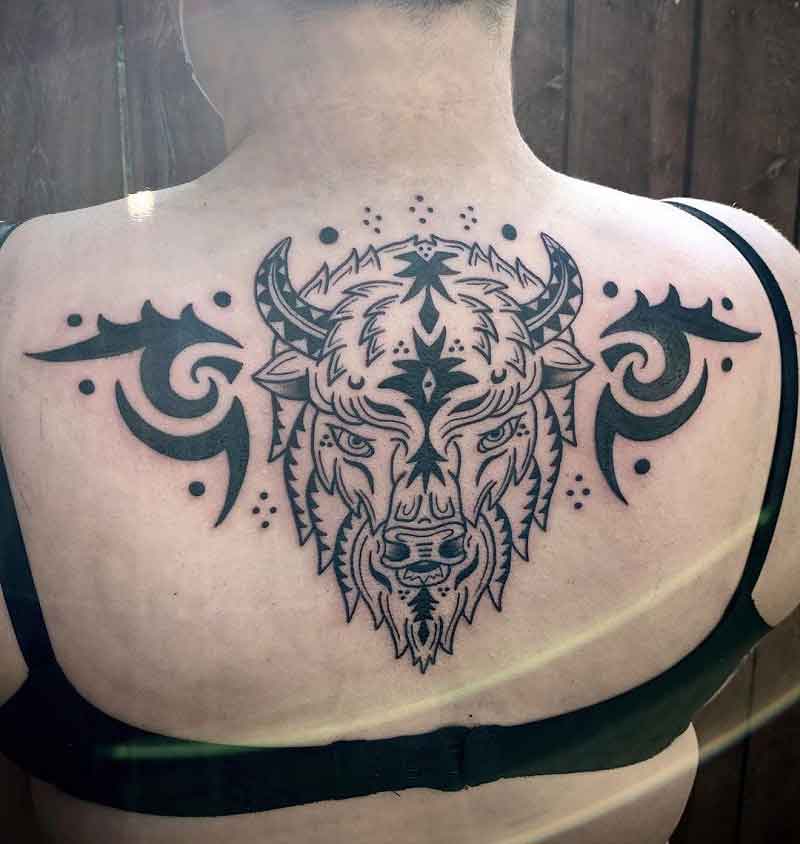 Bison Outline Tattoo
31.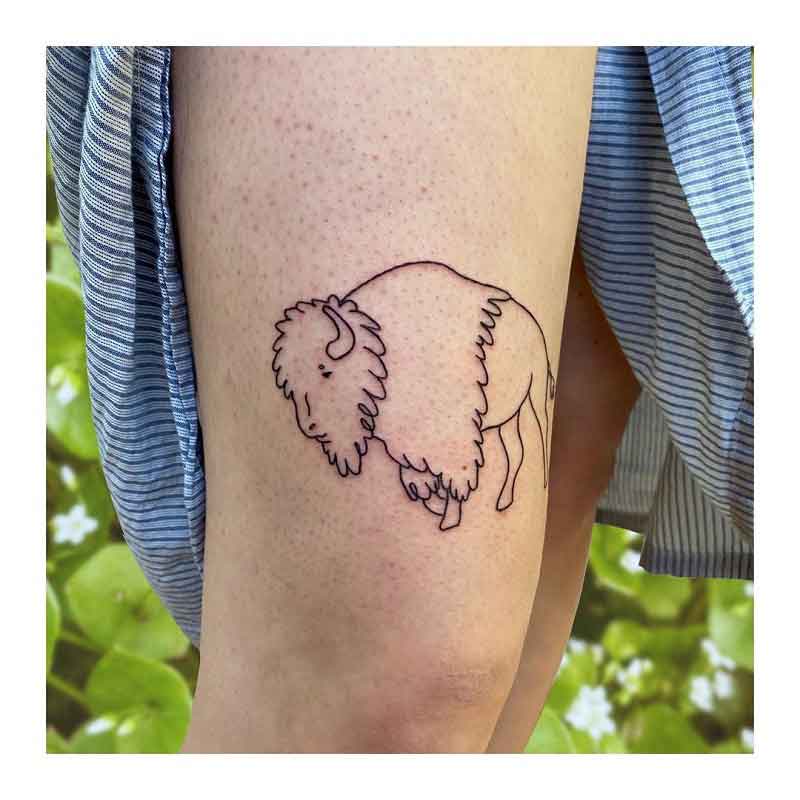 32.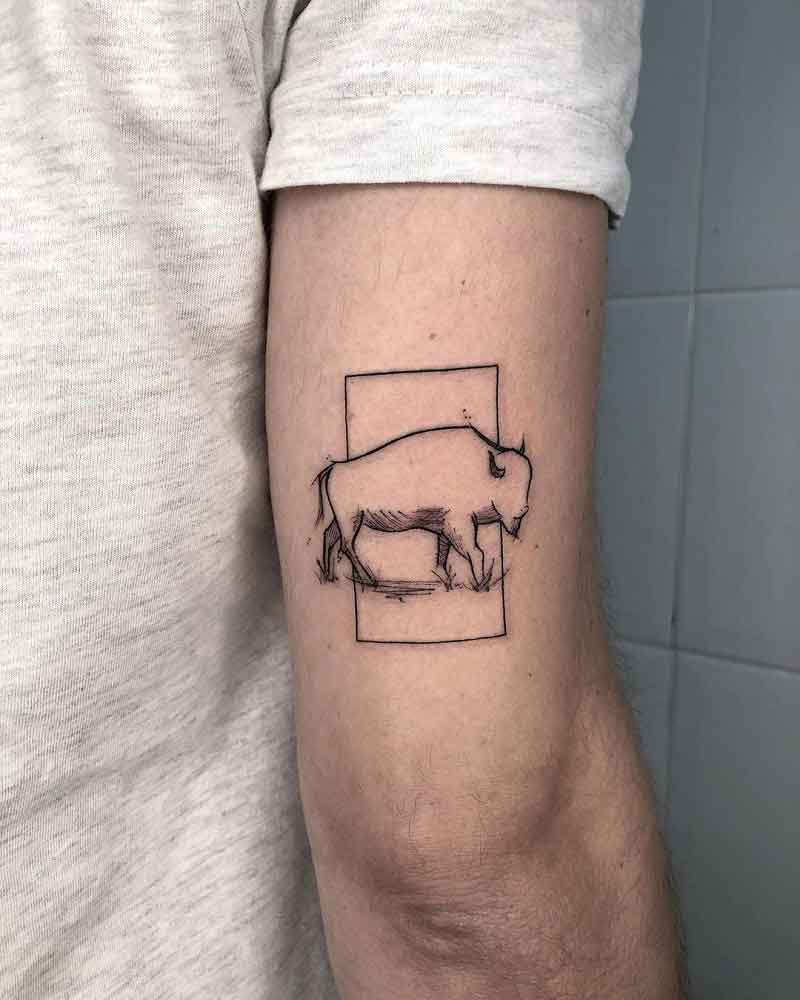 33.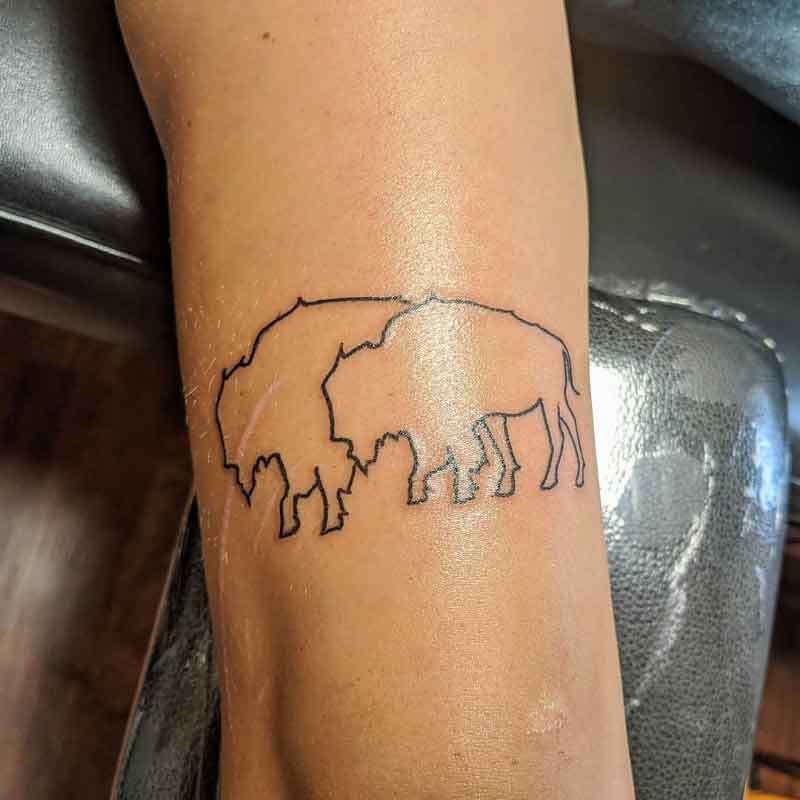 Minimalist Bison Tattoo
34.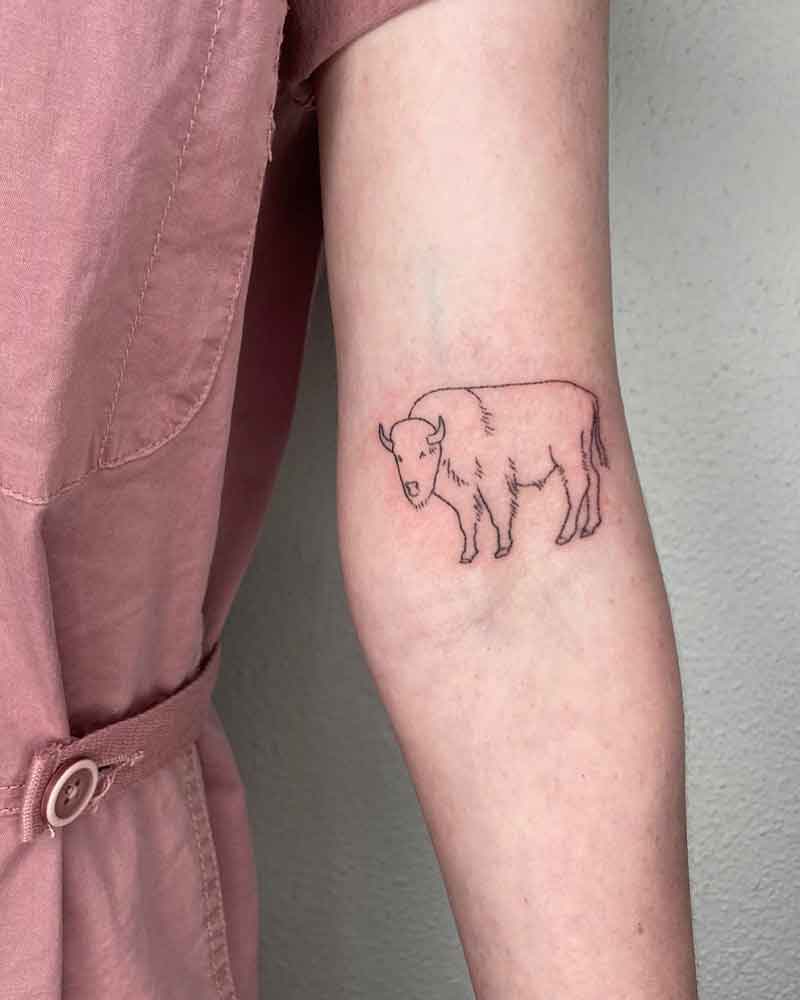 35.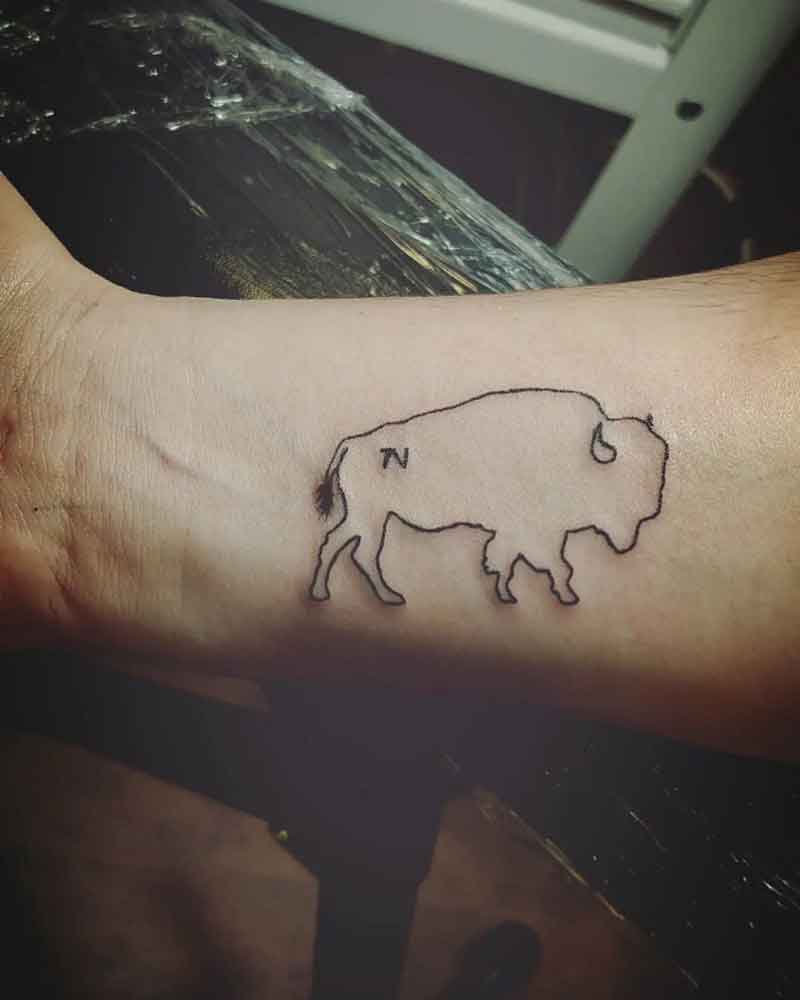 36.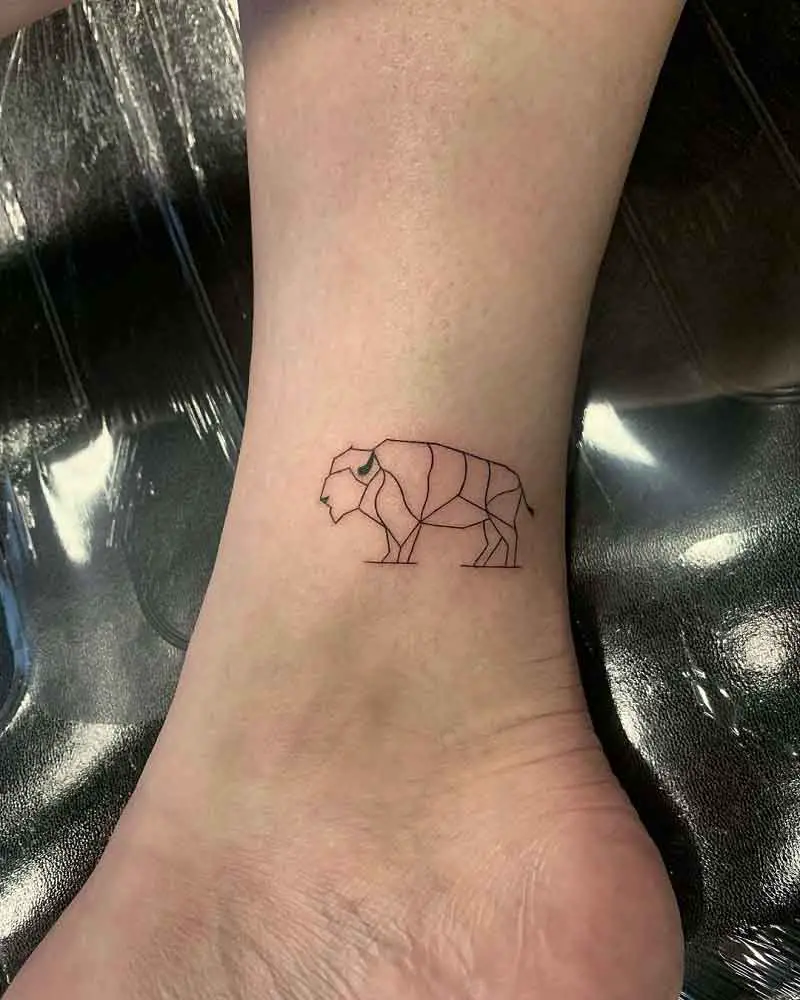 Iron Bison Tattoo
37.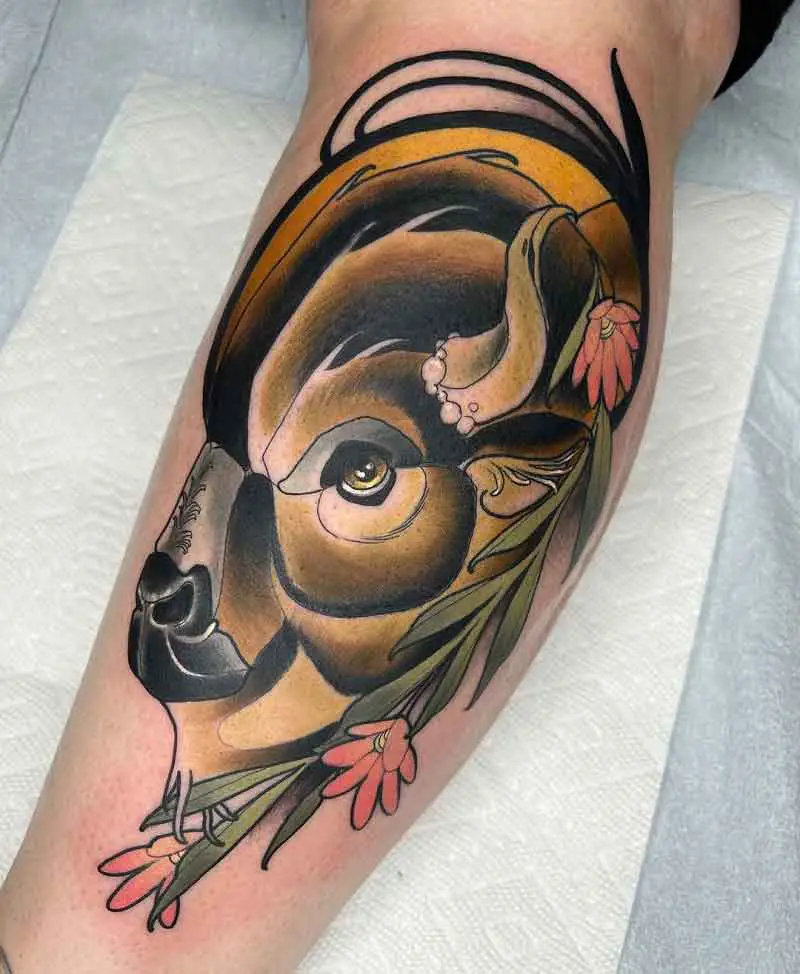 38.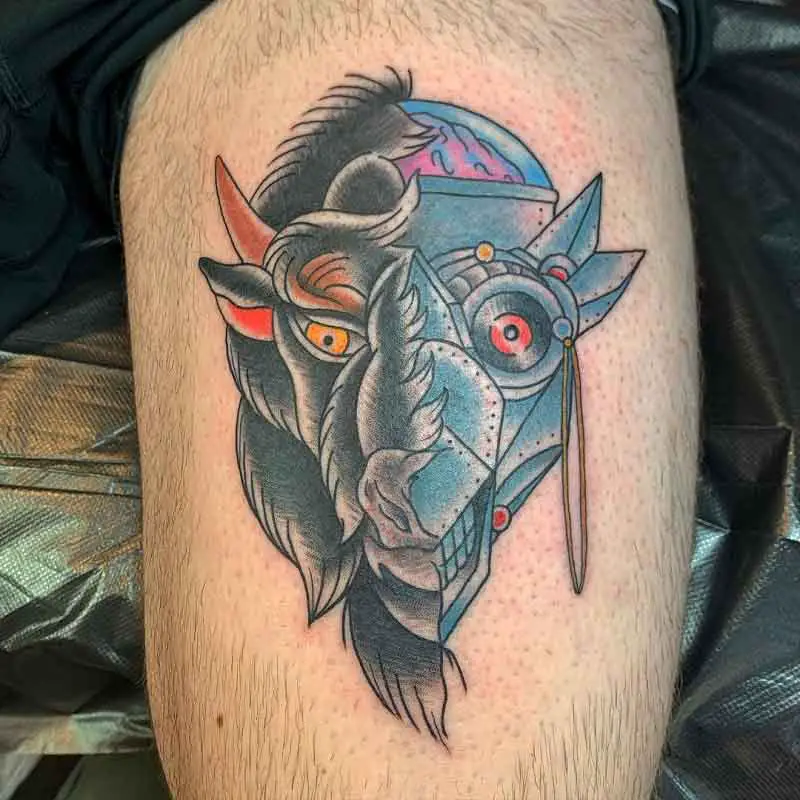 39.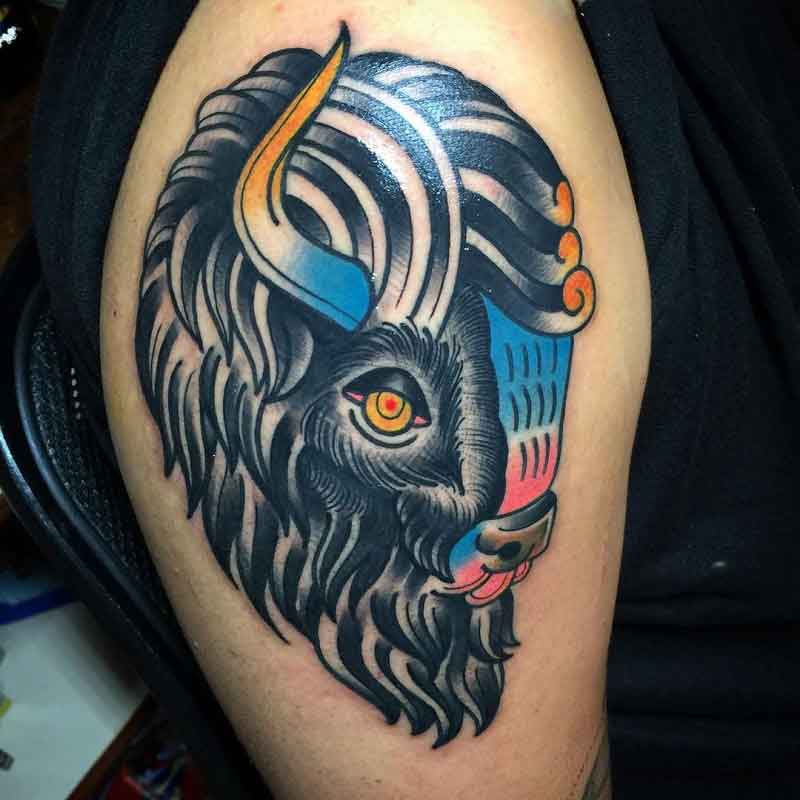 Angry Bison Tattoo
40.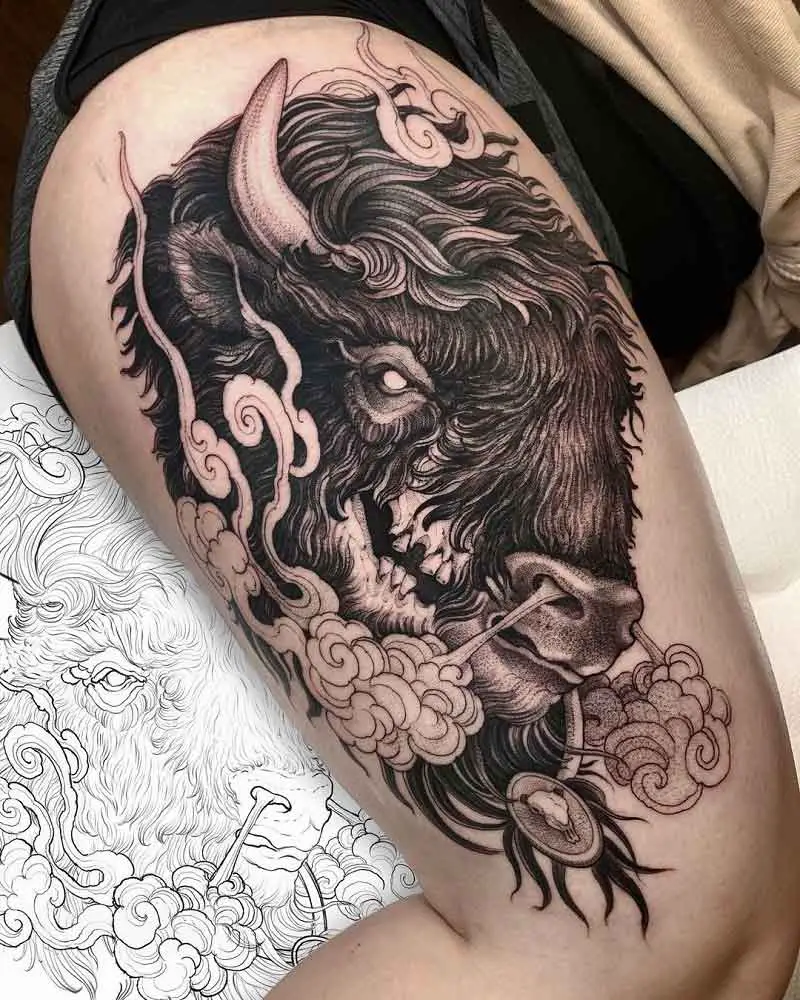 41.
42.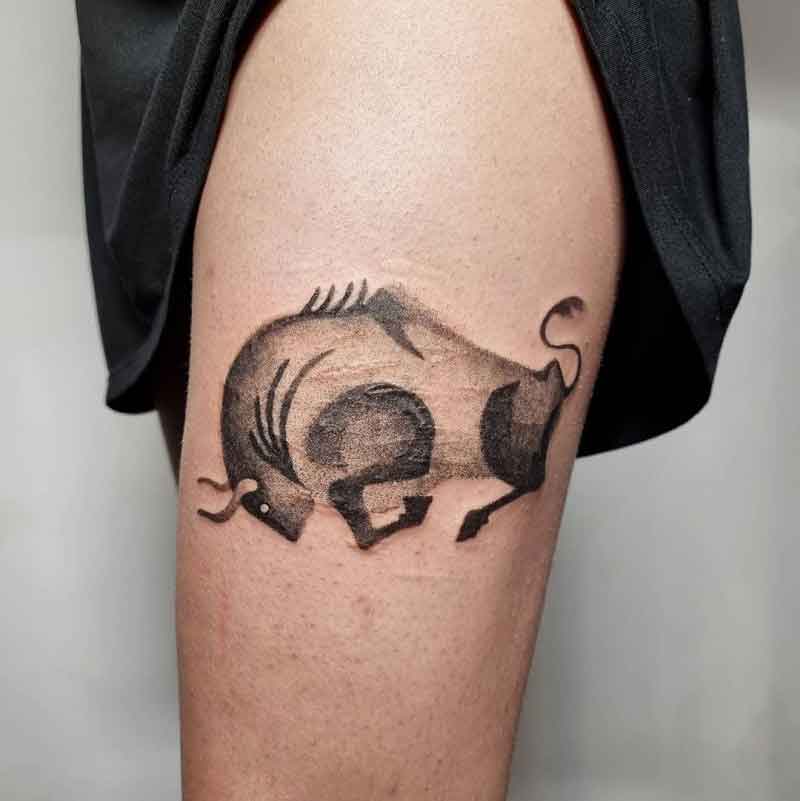 Bison Back Tattoo
43.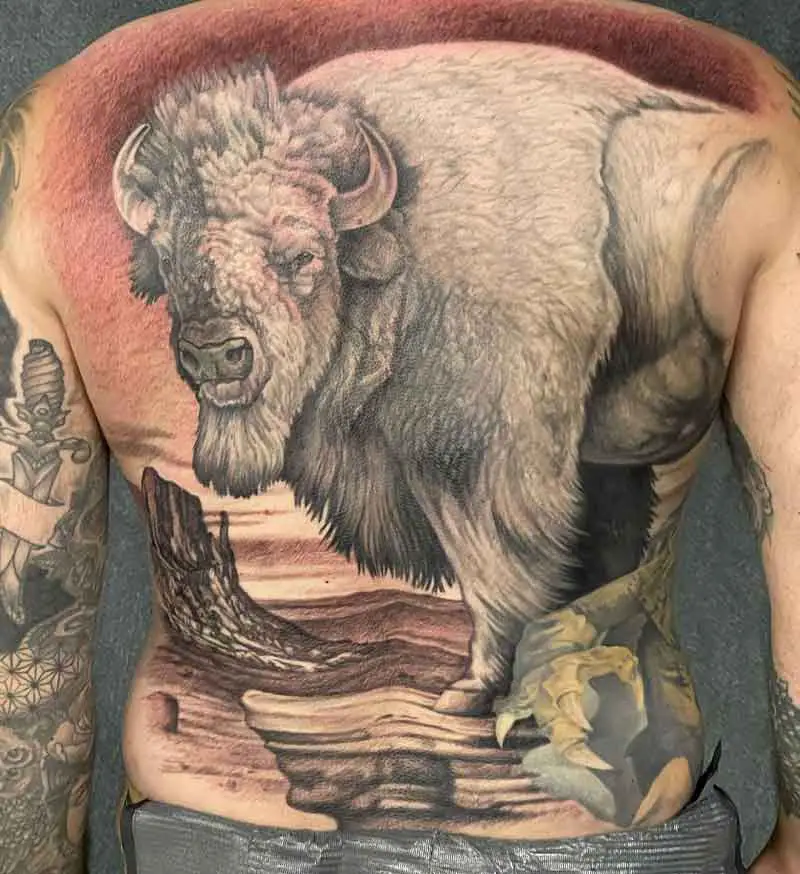 44.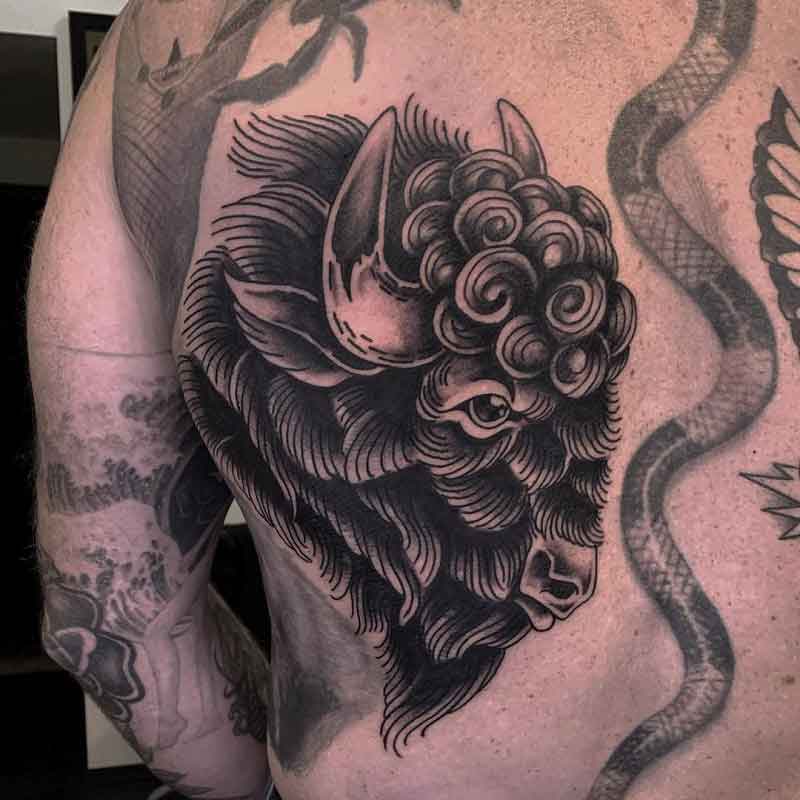 45.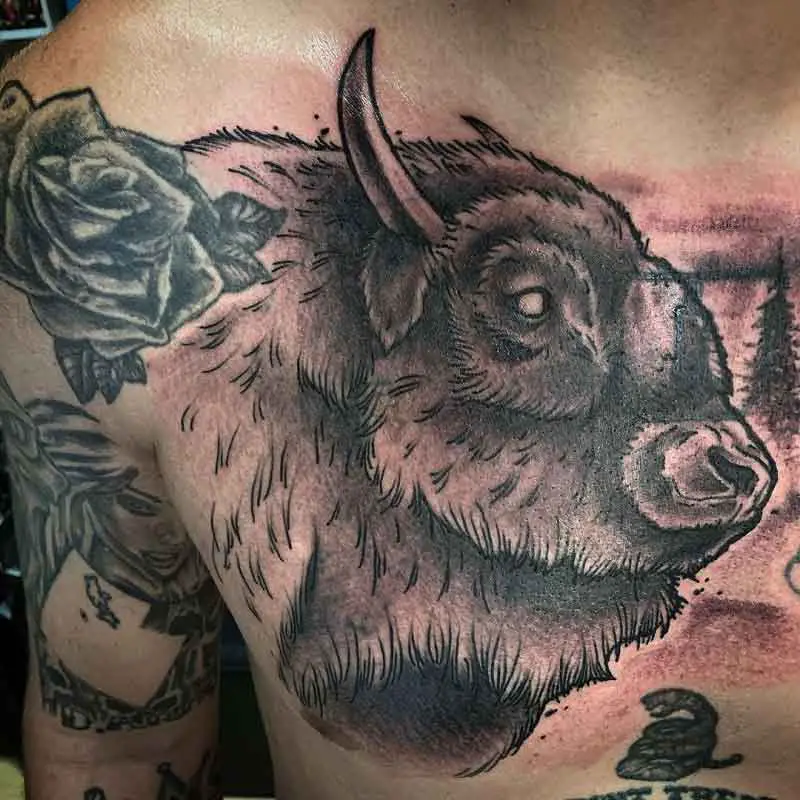 Bison Chest Tattoo
46.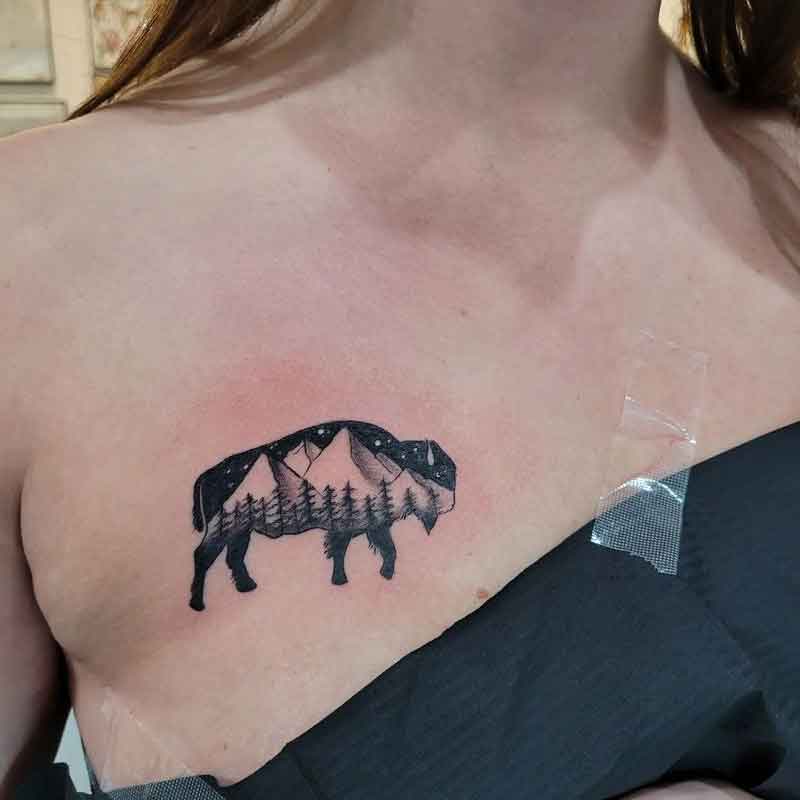 47.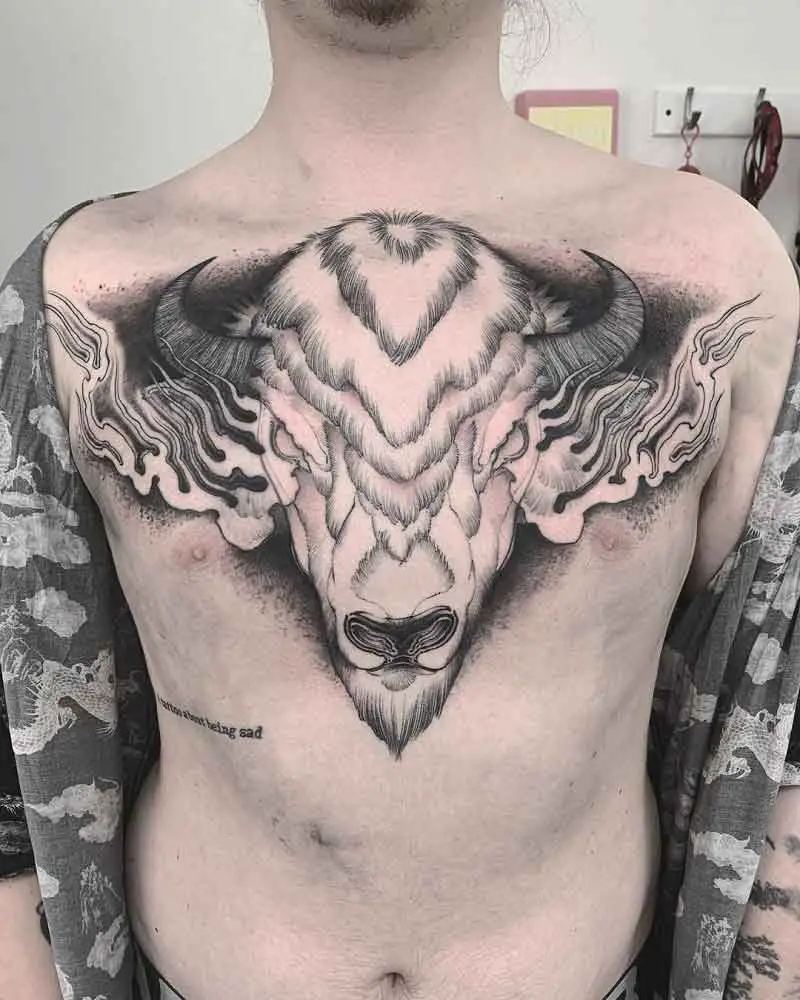 48.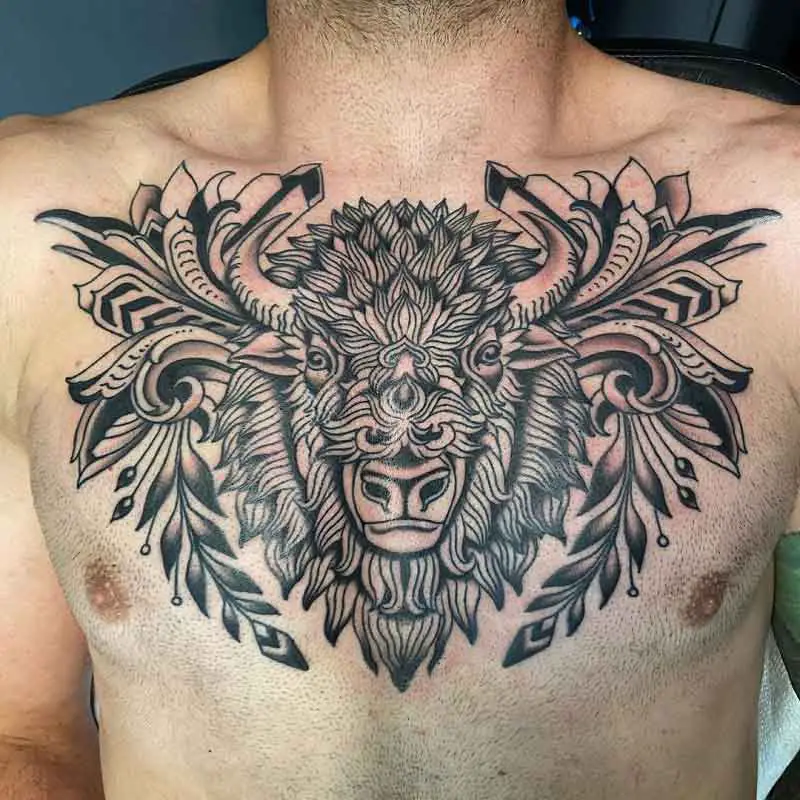 Bison Face Side View Tattoo
49.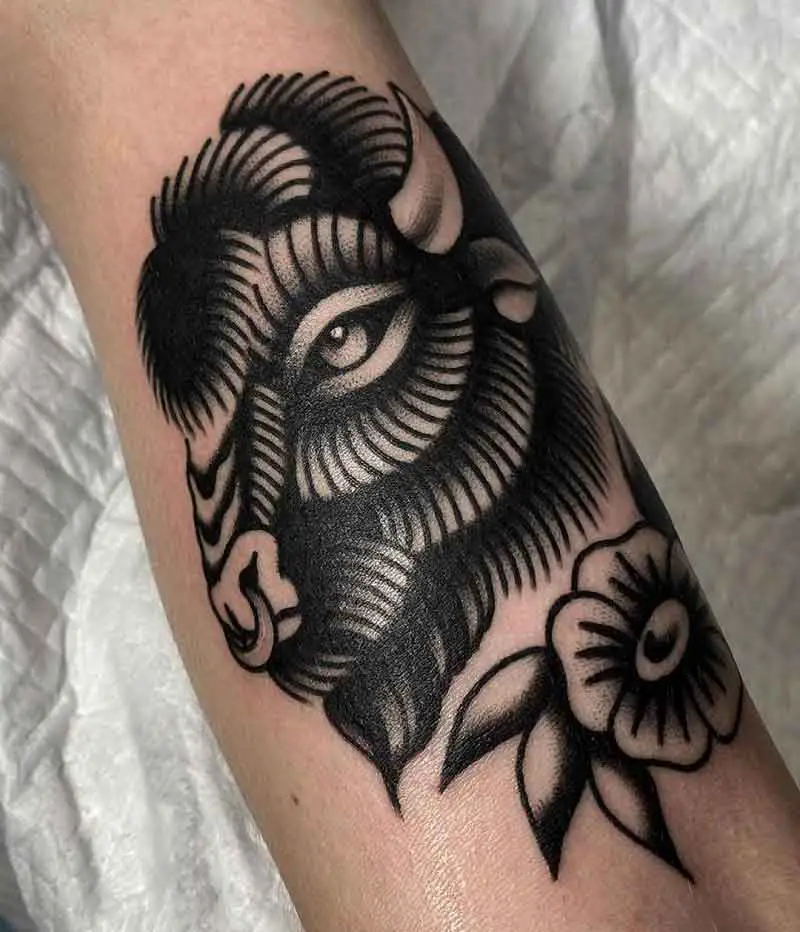 50.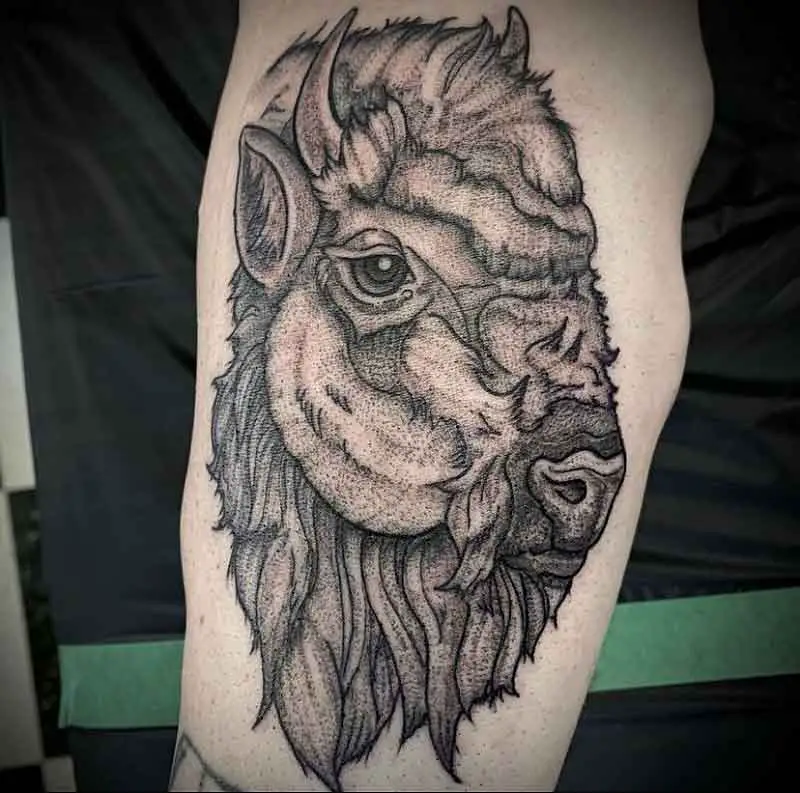 51.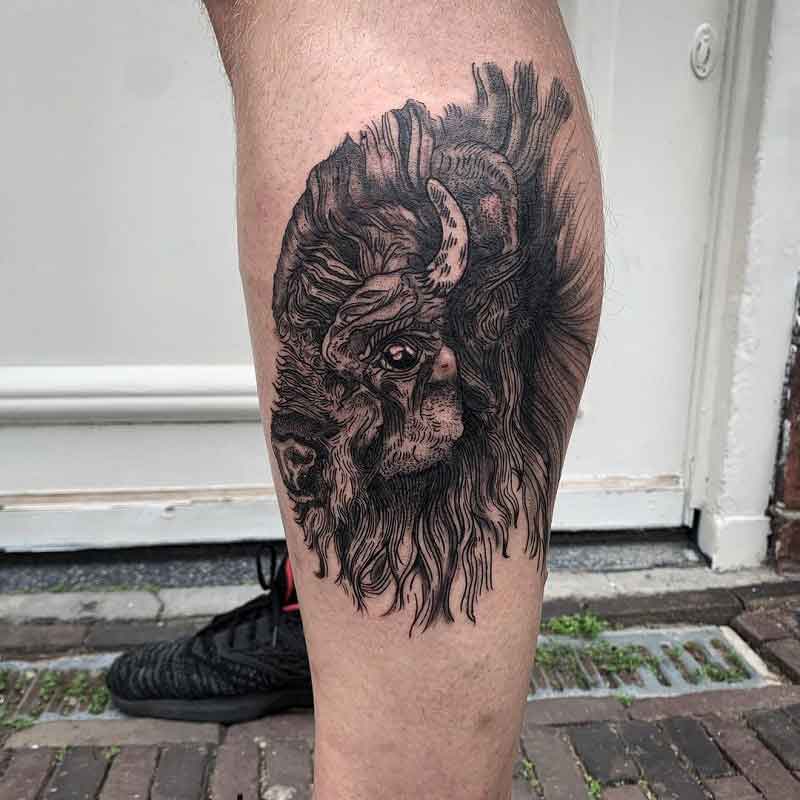 Bison Hand Tattoo
52.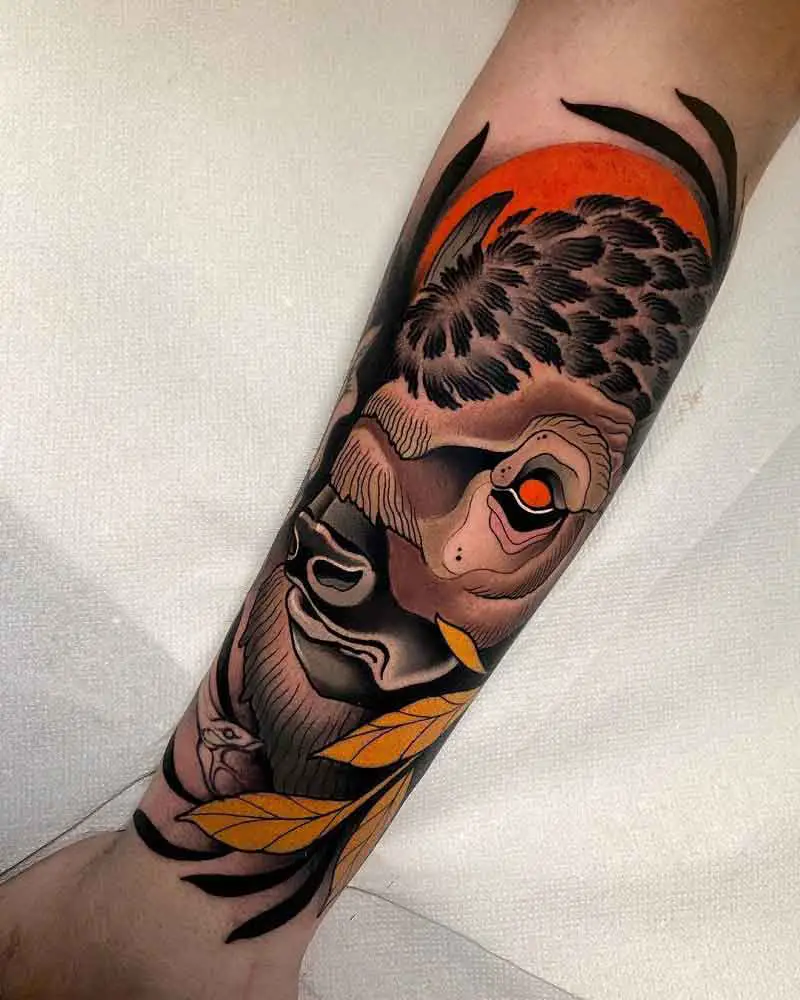 53.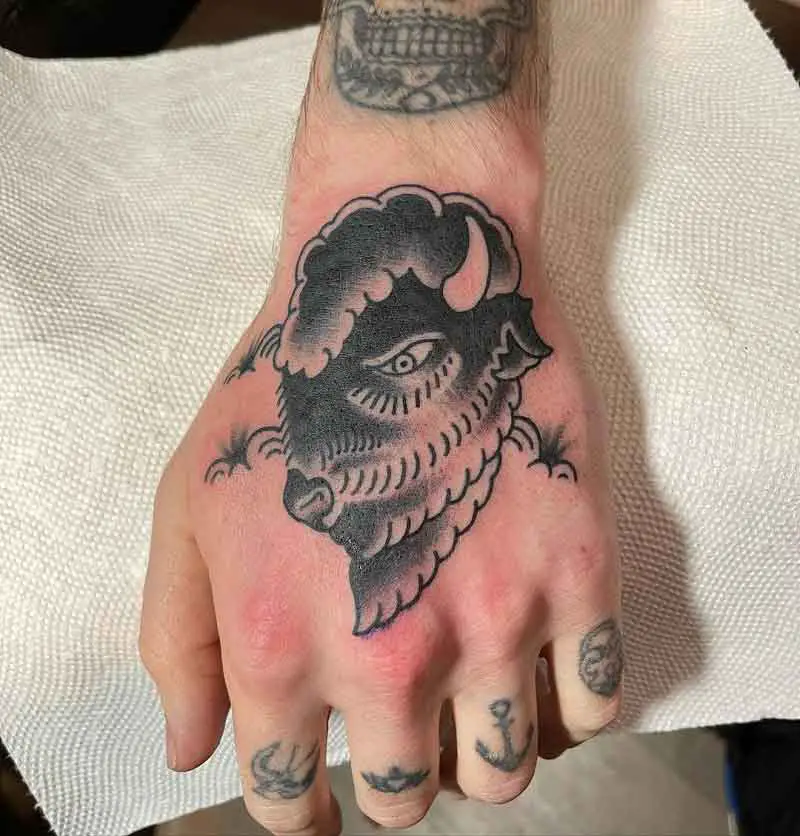 54.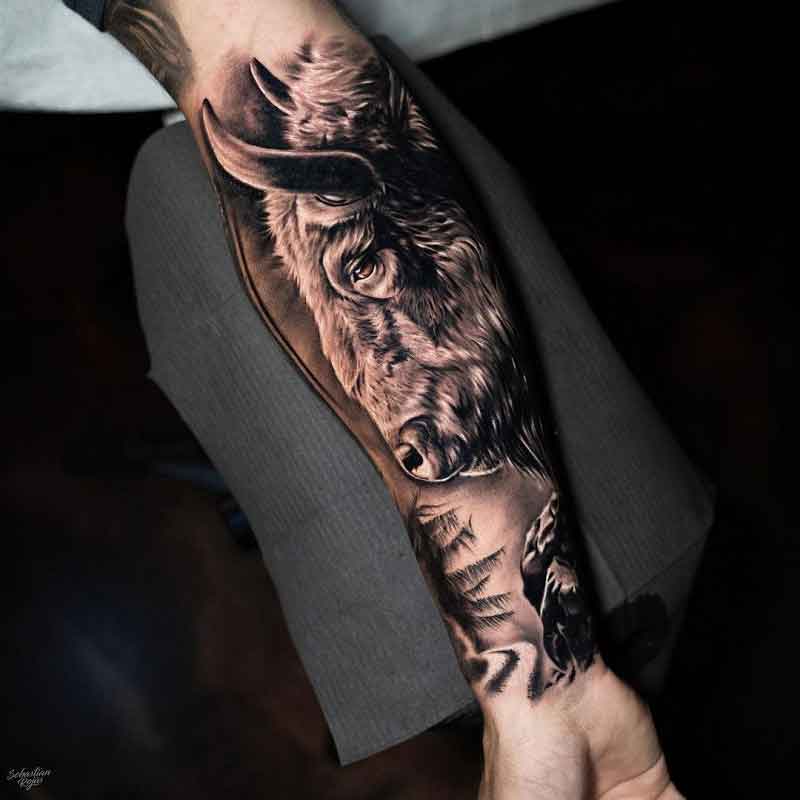 Bison Line Tattoo
55.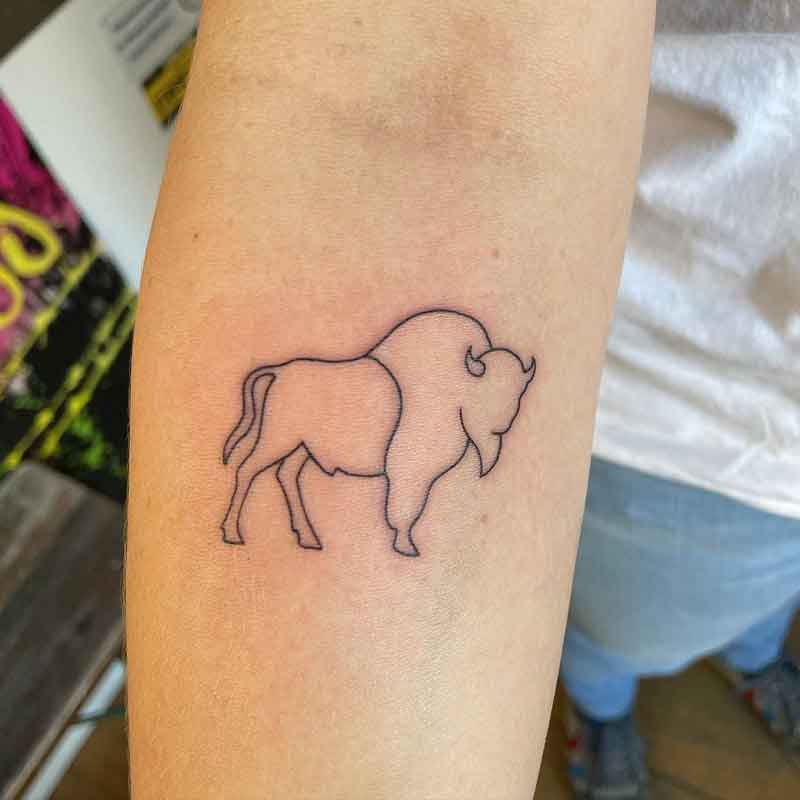 56.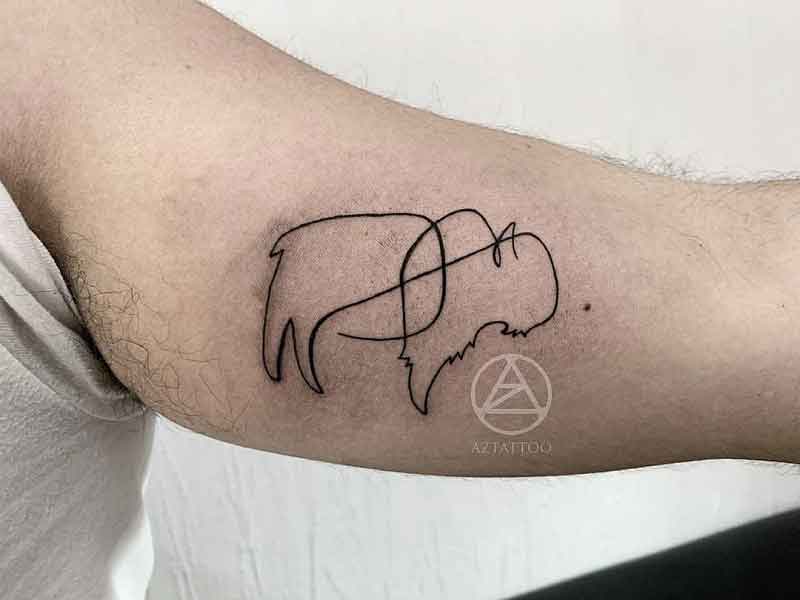 57.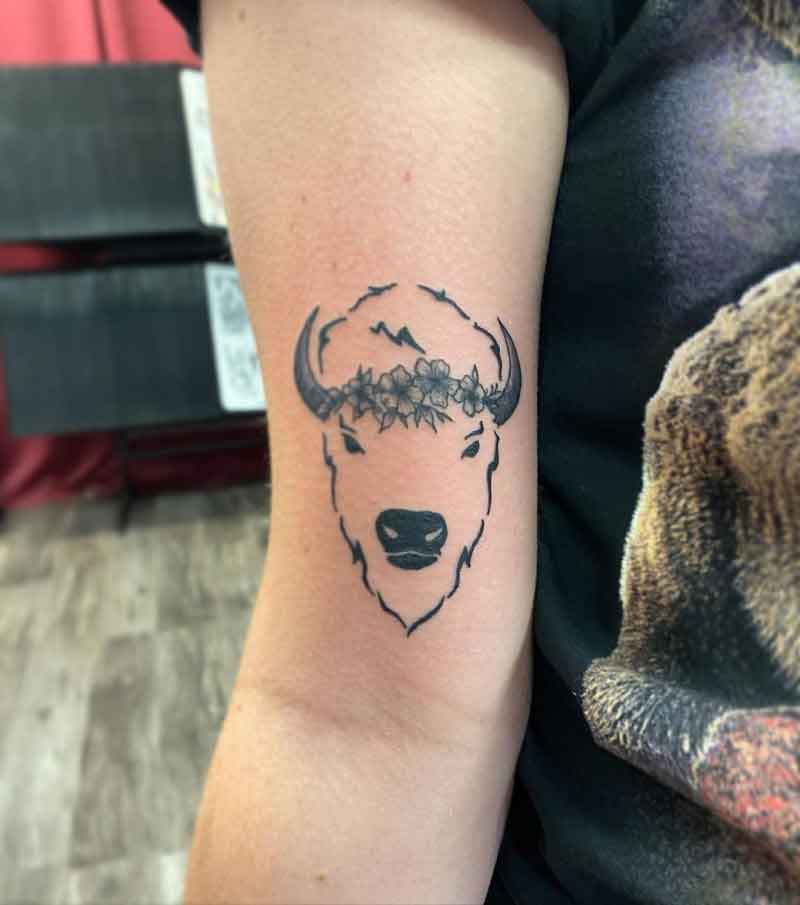 Bison Mountain Tattoo
58.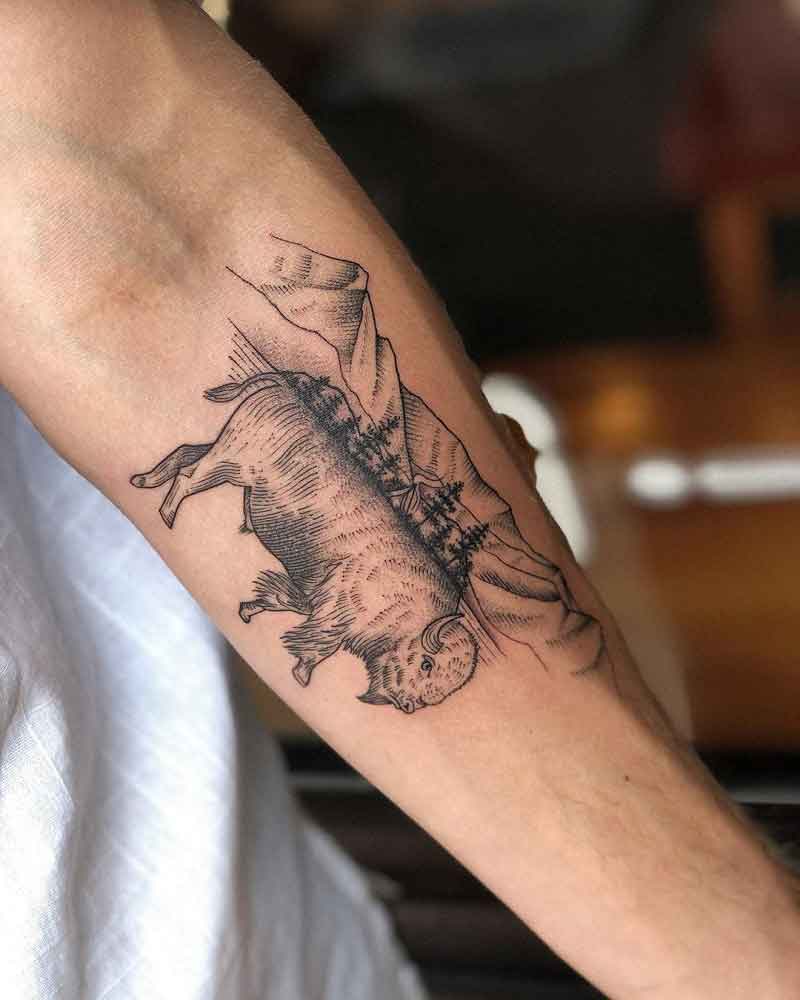 59.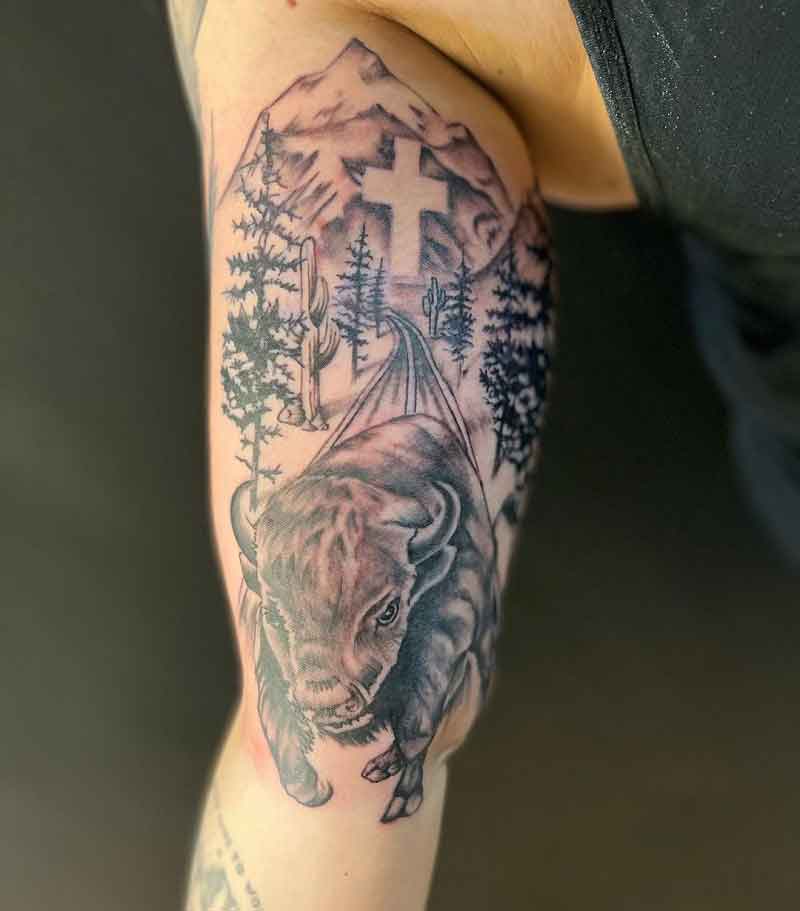 60.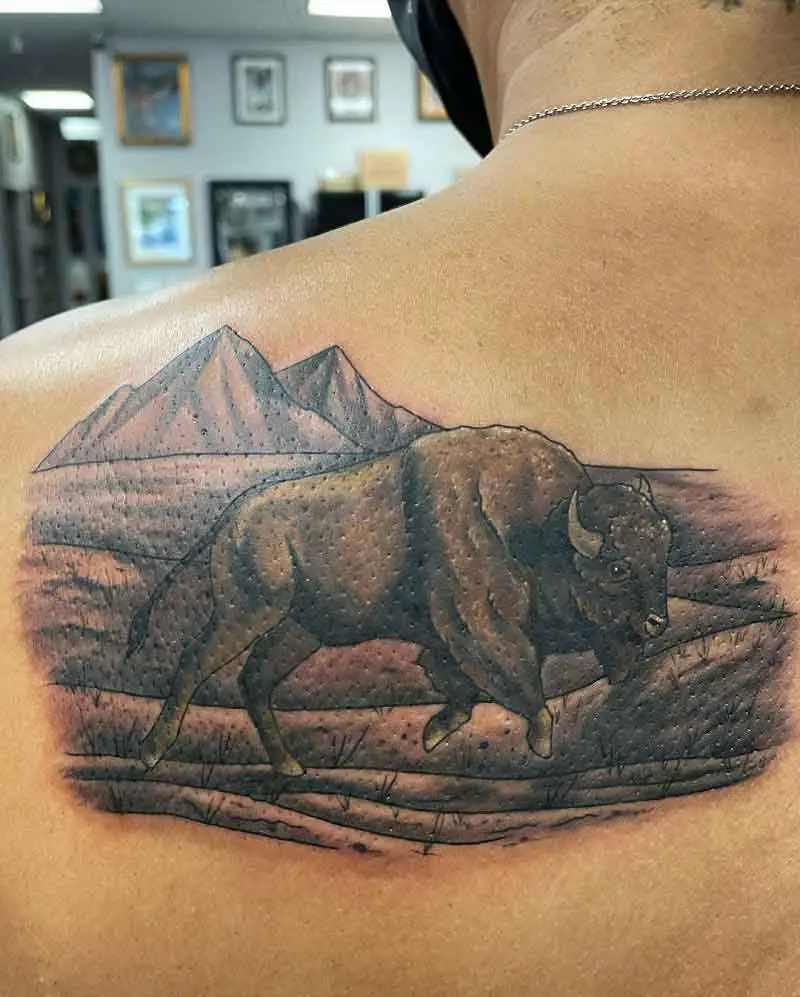 Bison Shoulder Tattoo
61.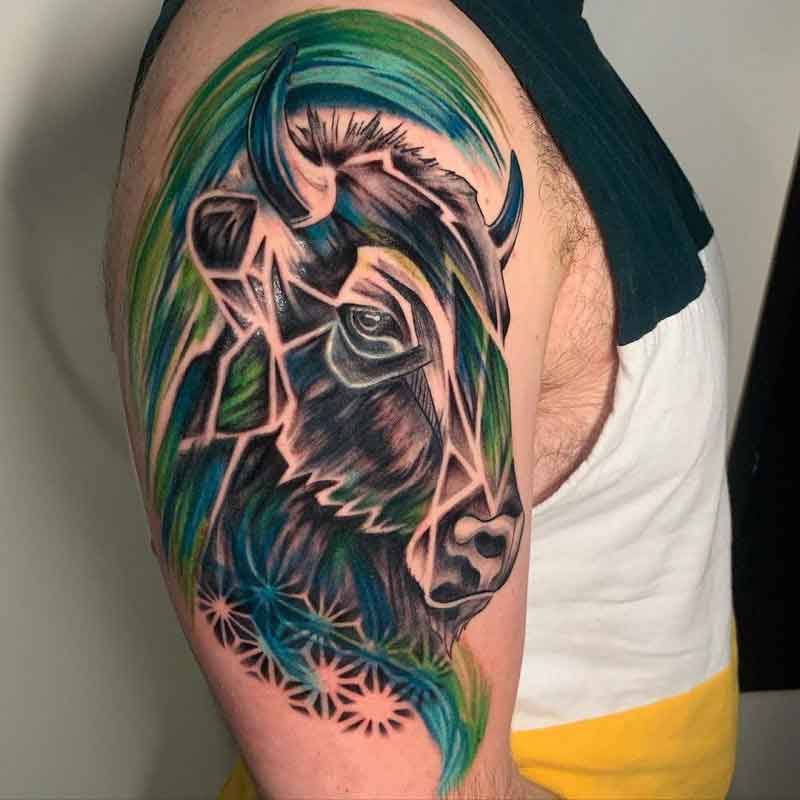 62.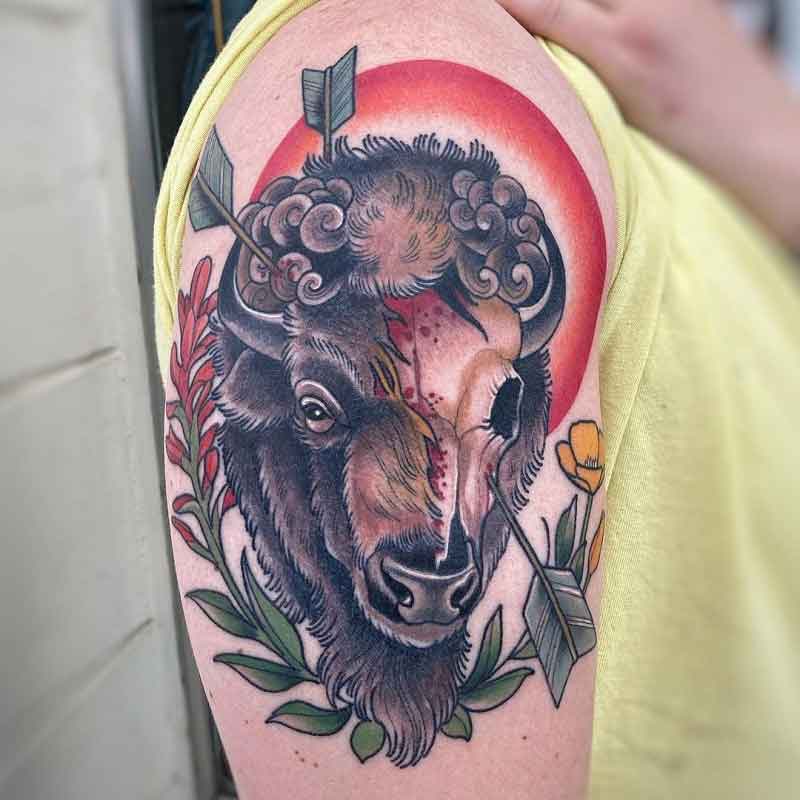 63.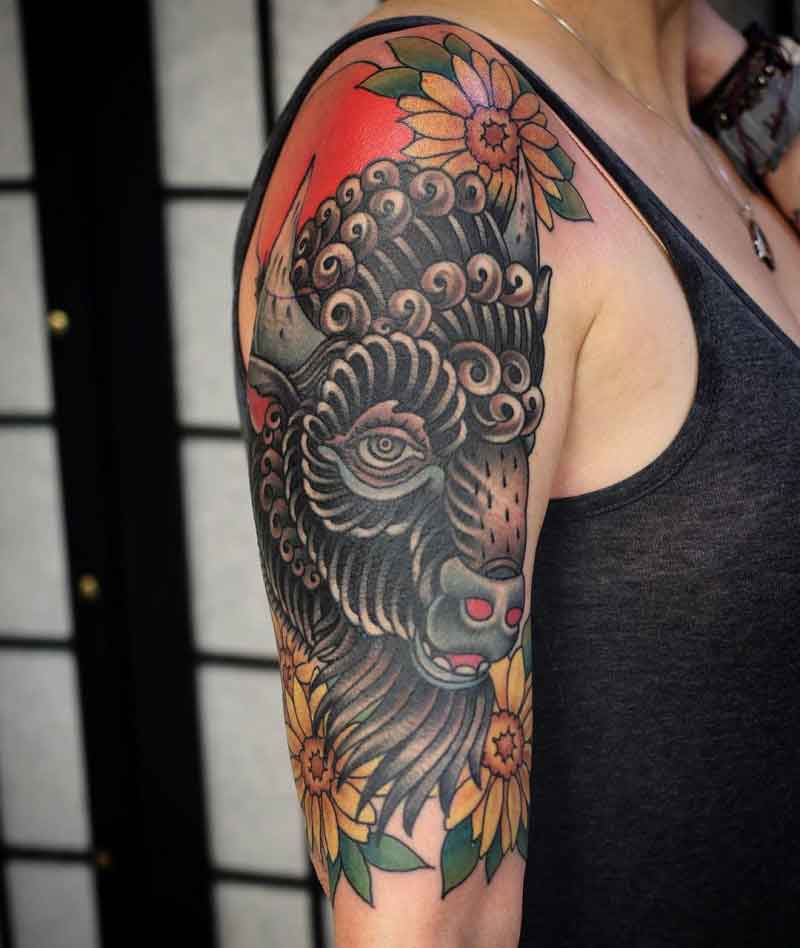 Bison Silhouette Tattoo
64.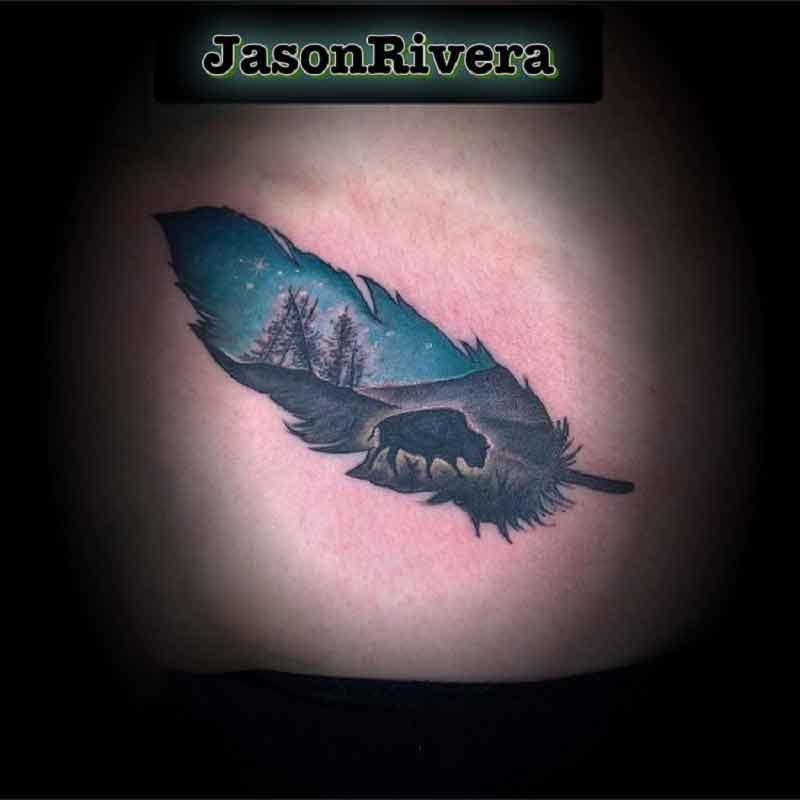 65.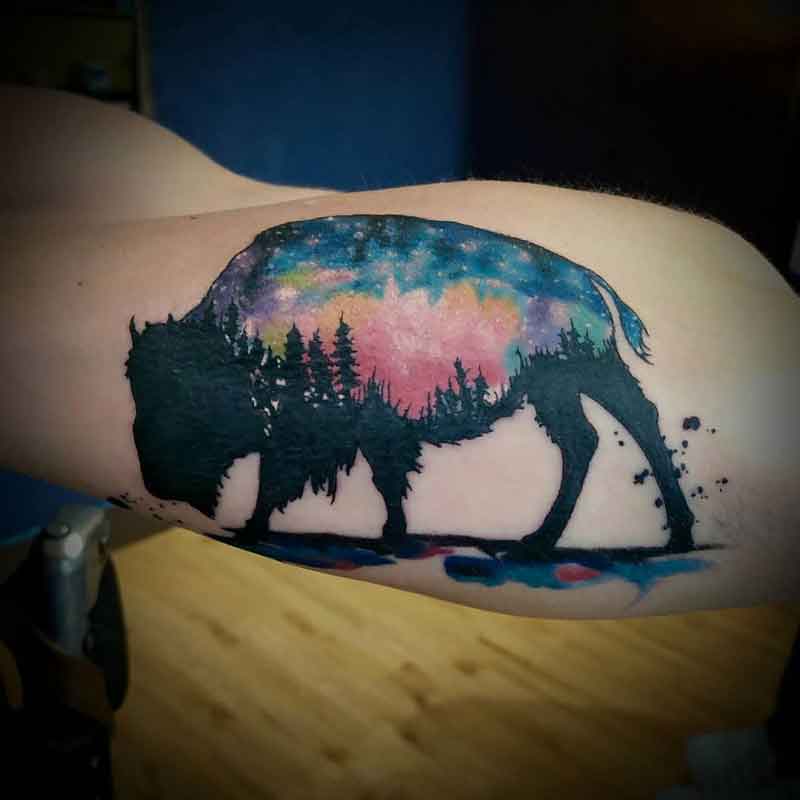 66.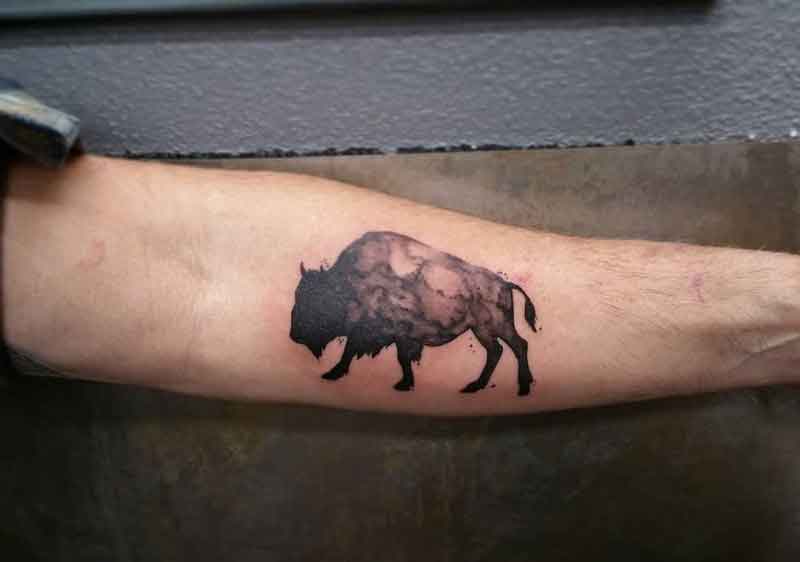 Bison Spirit Tattoo
67.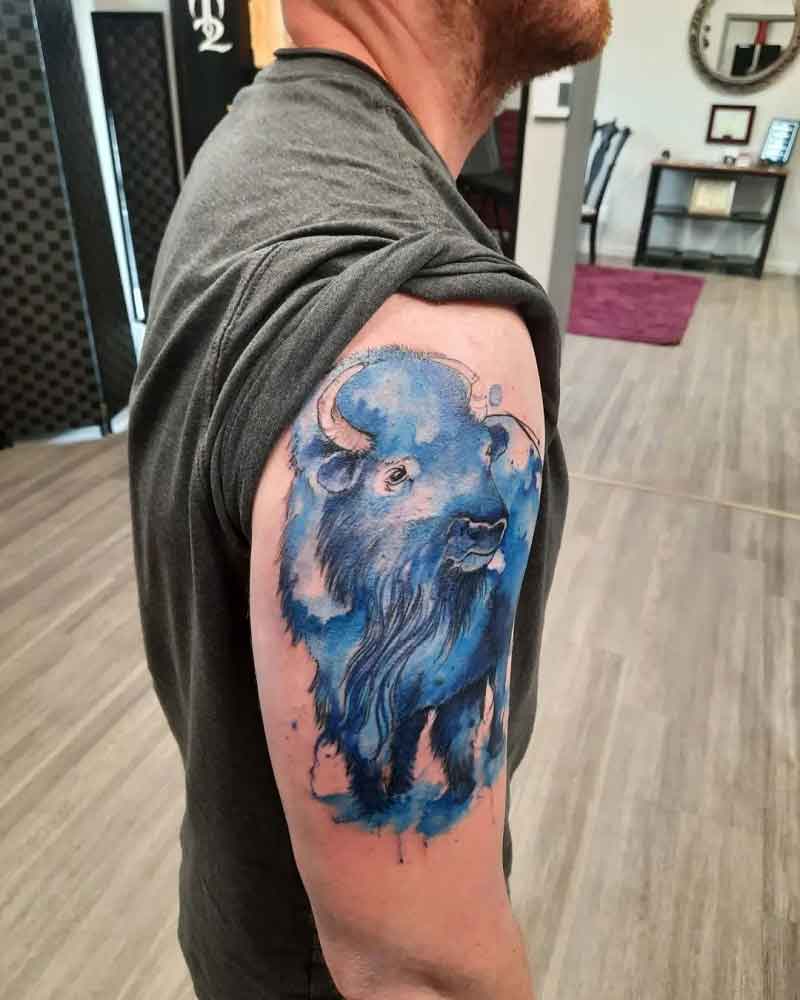 68.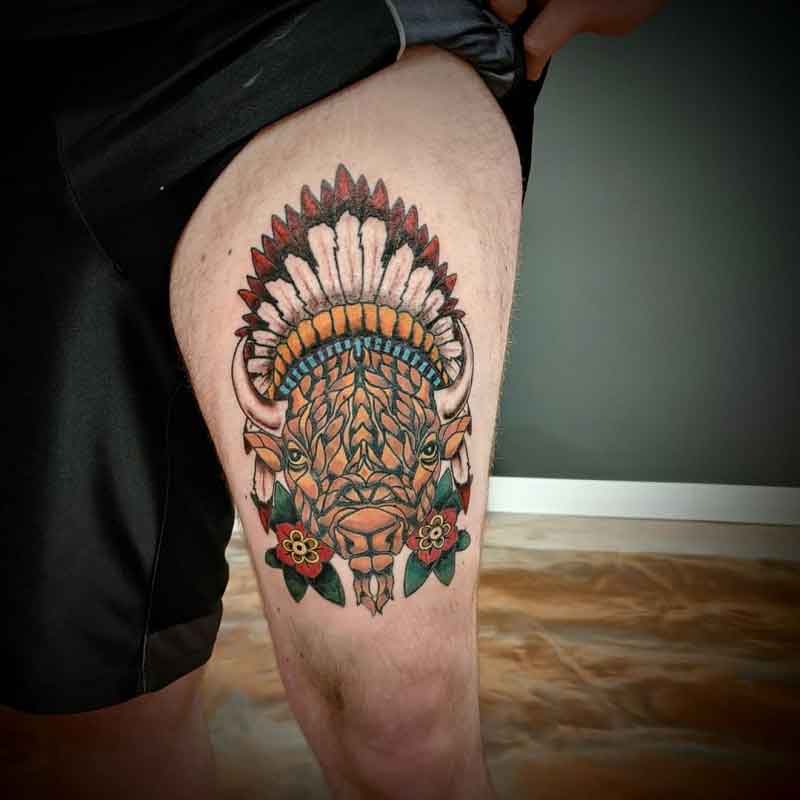 69.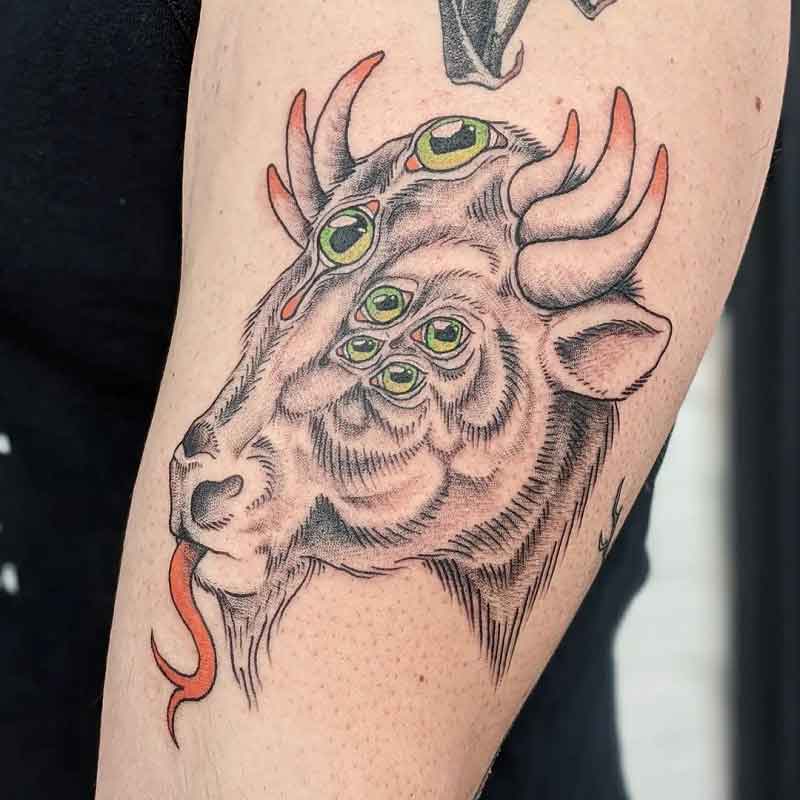 Bison Thigh Tattoo
70.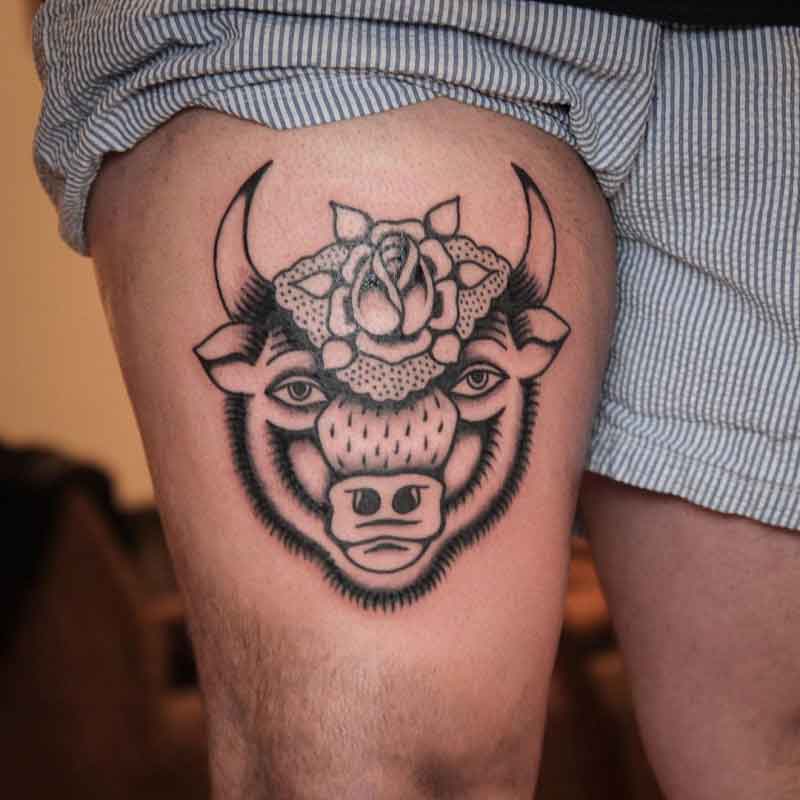 71.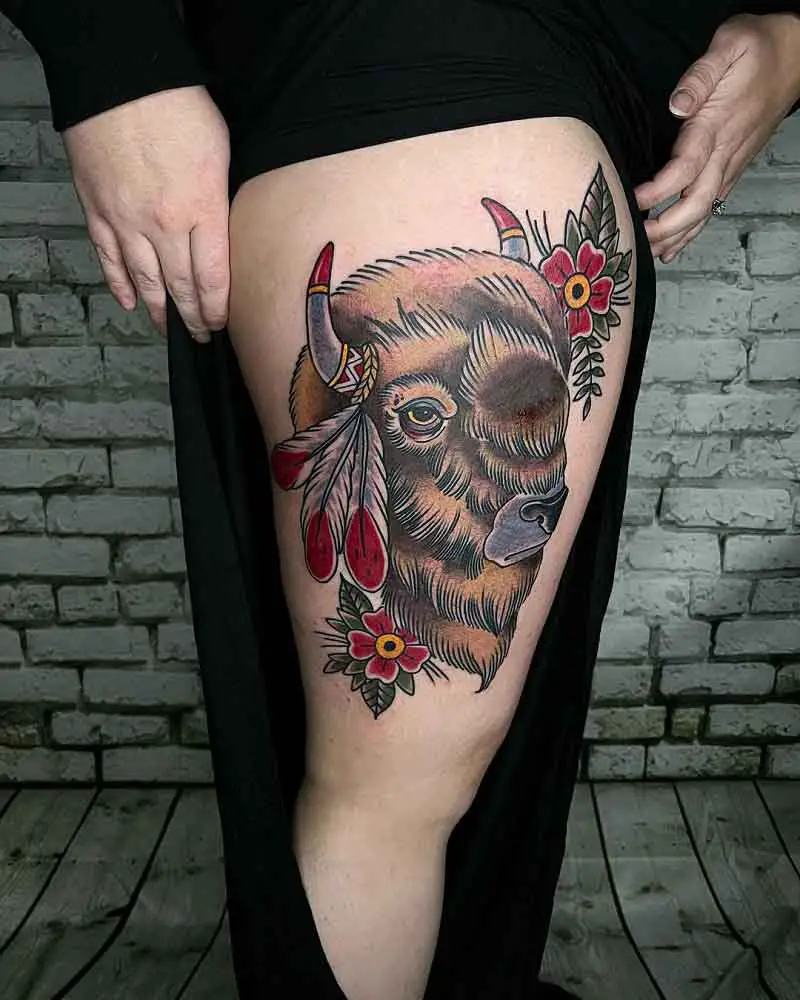 72.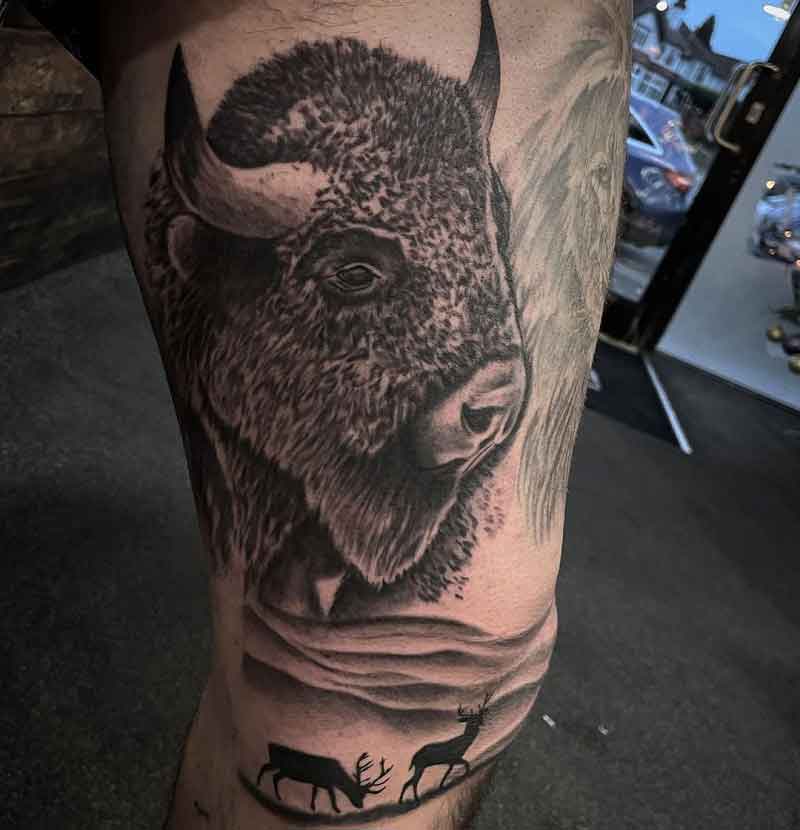 Bison Wearing Headdress Tattoo
73.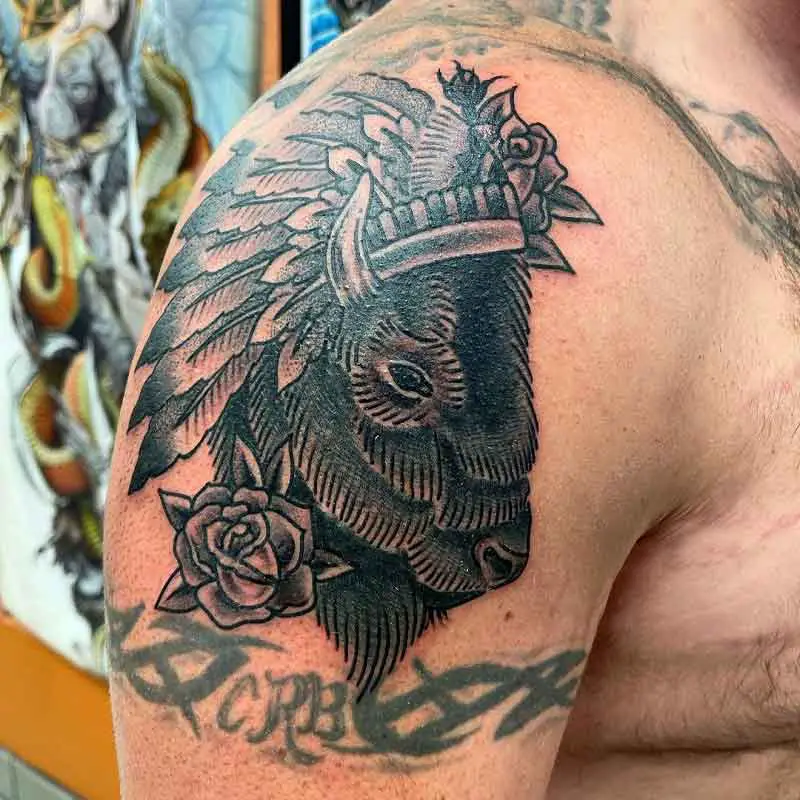 74.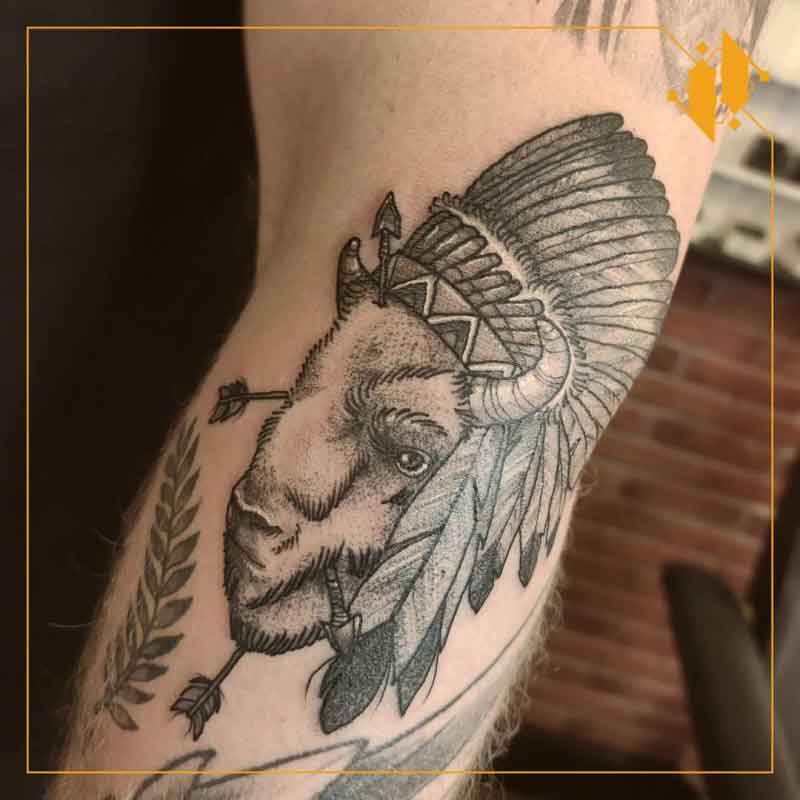 75.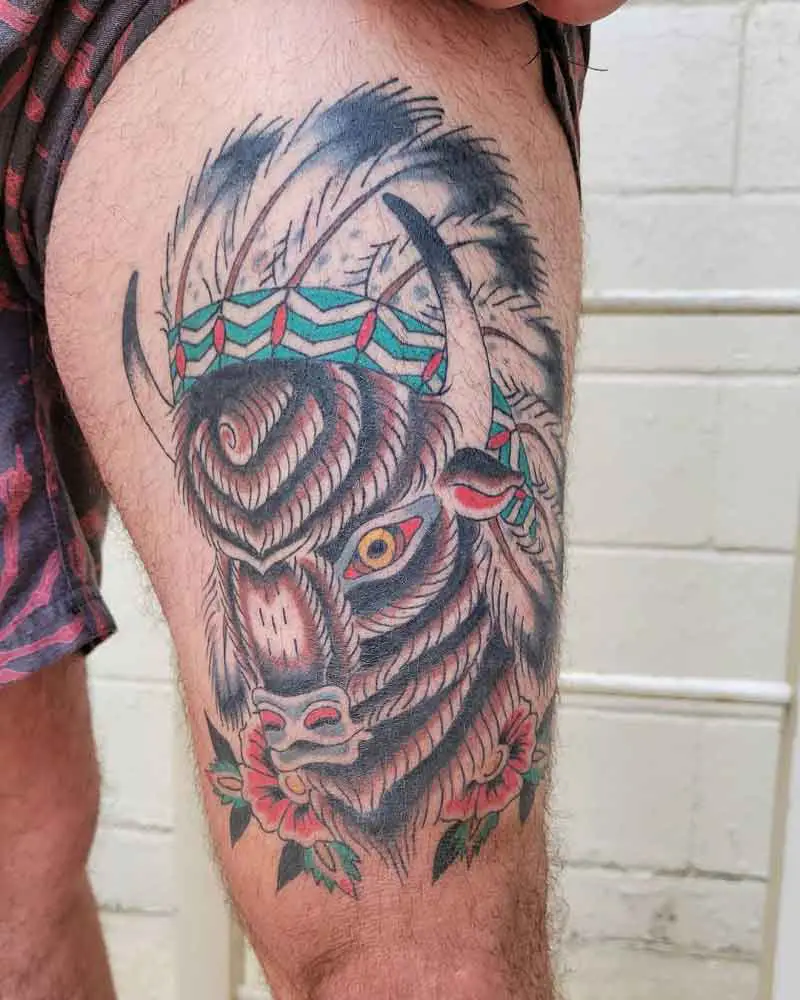 Buffalo Bison Tattoos
76.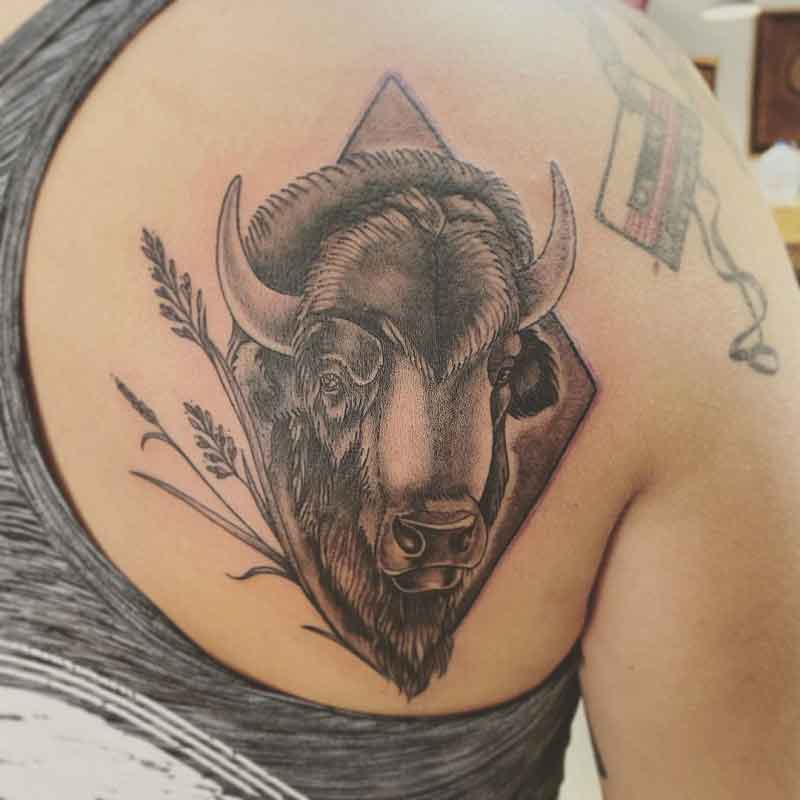 77.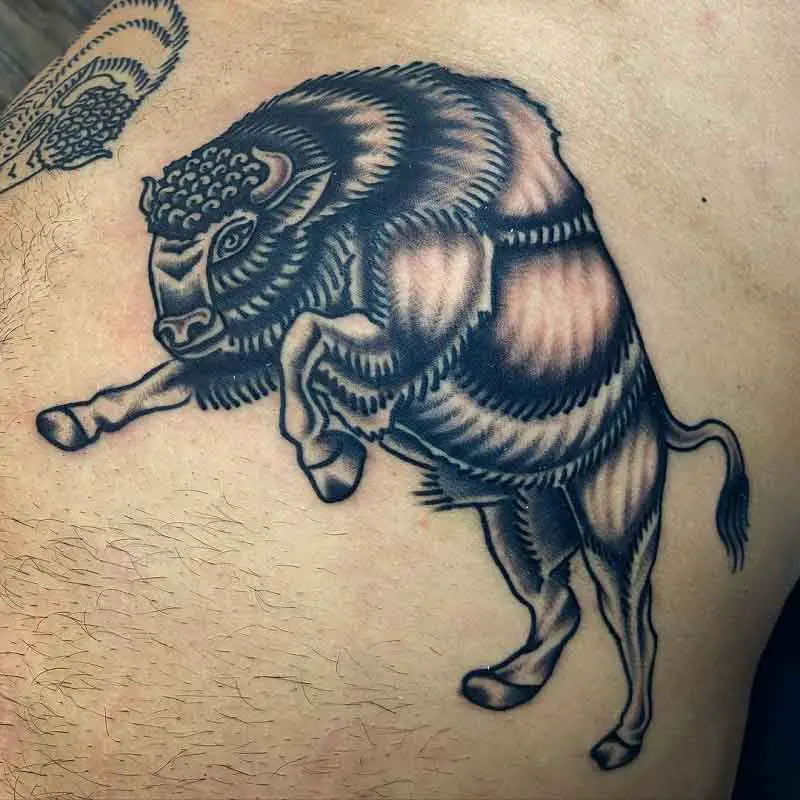 78.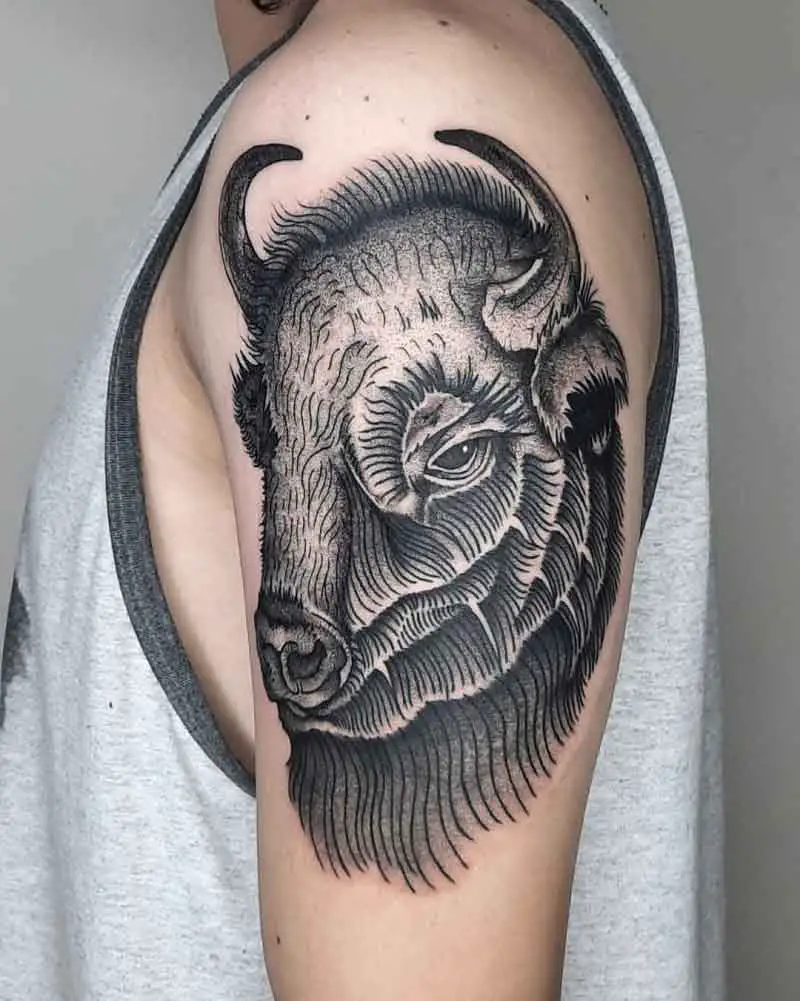 Flying Bison Tattoo
79.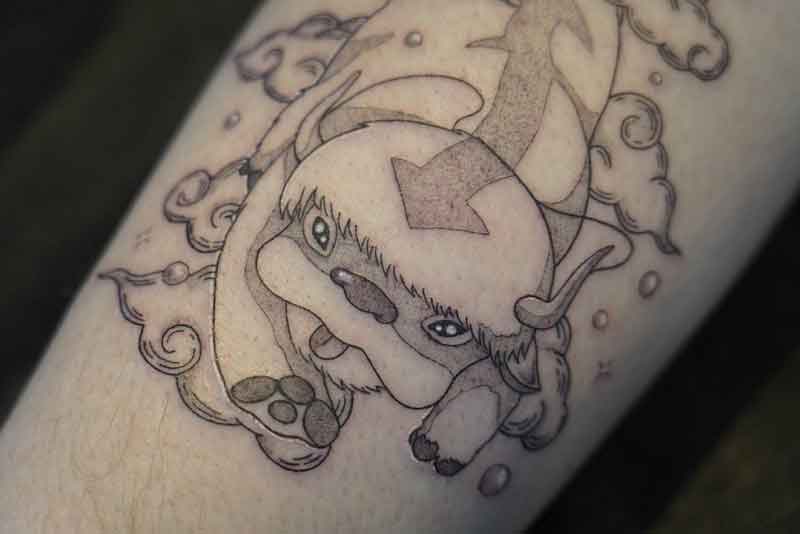 80.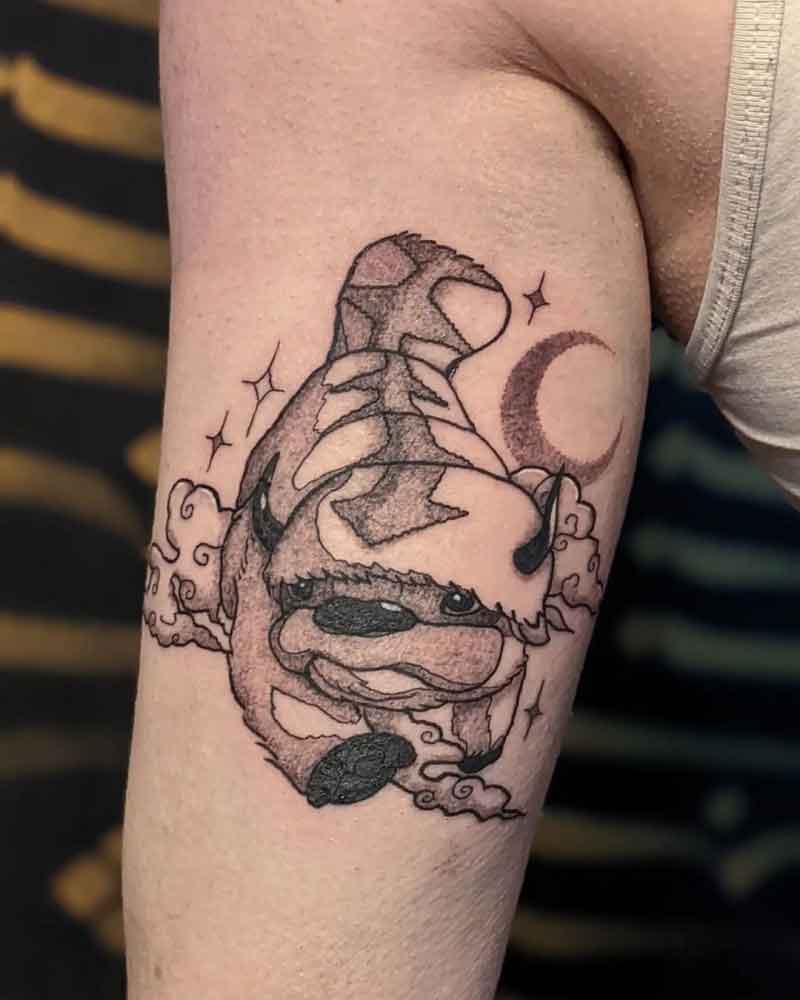 81.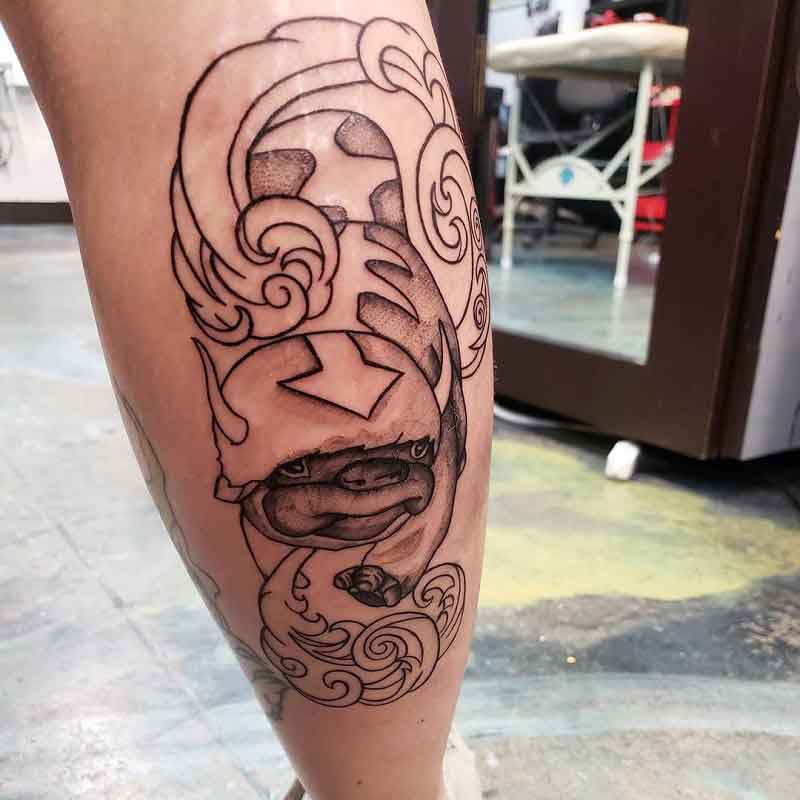 Indian Bison Tattoo
82.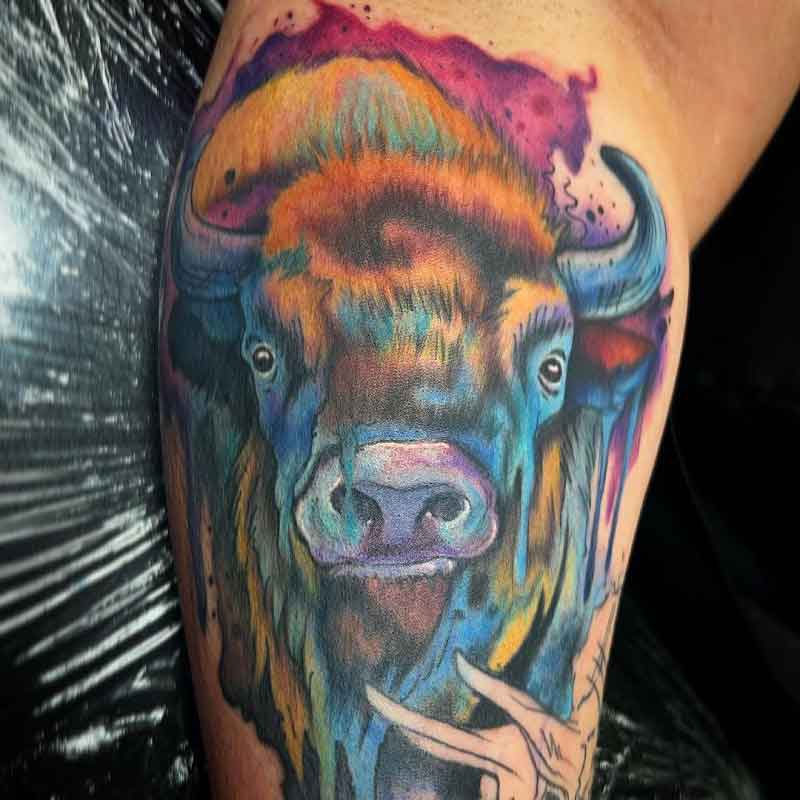 83.
84.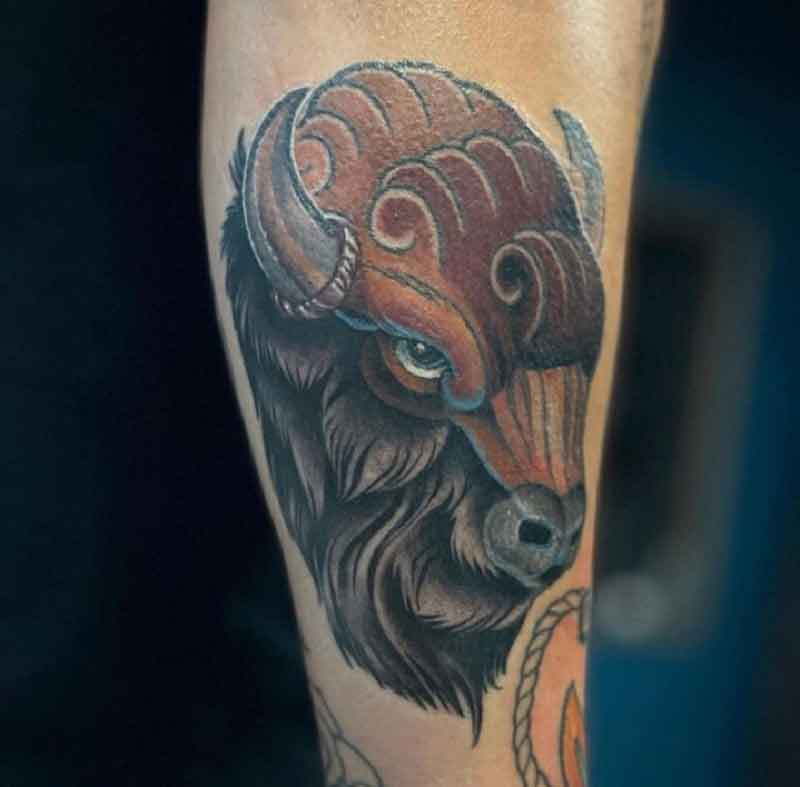 Jumping Bison Tattoo
85.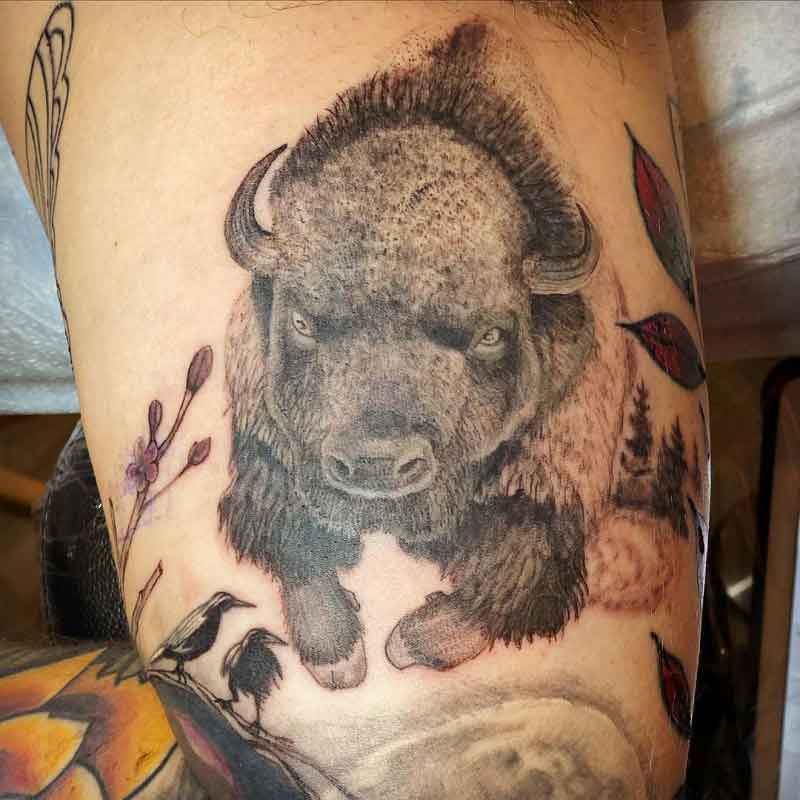 86.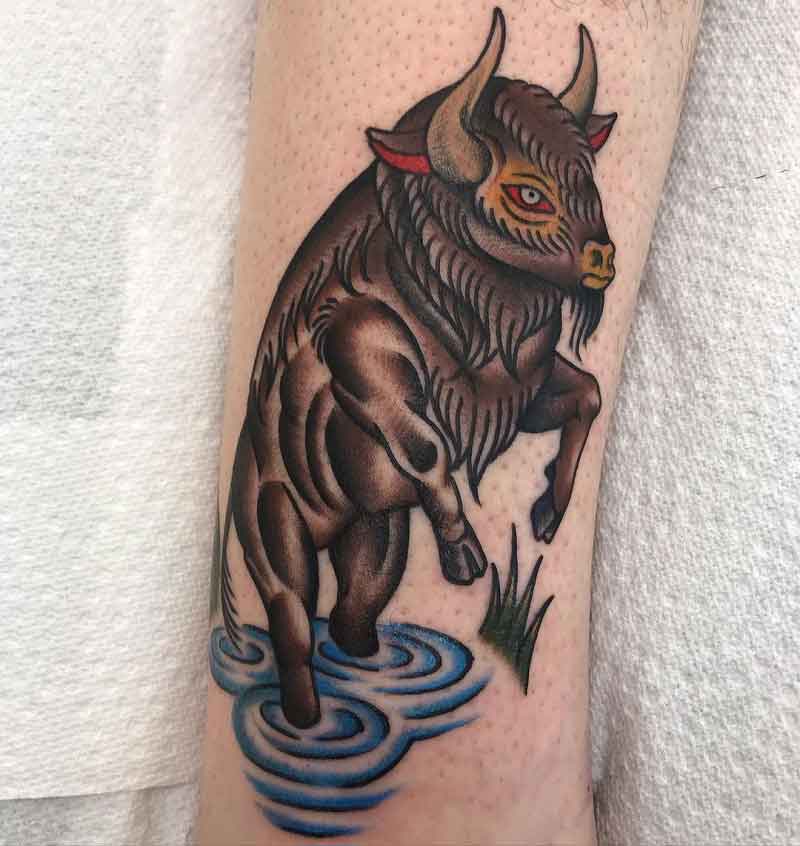 87.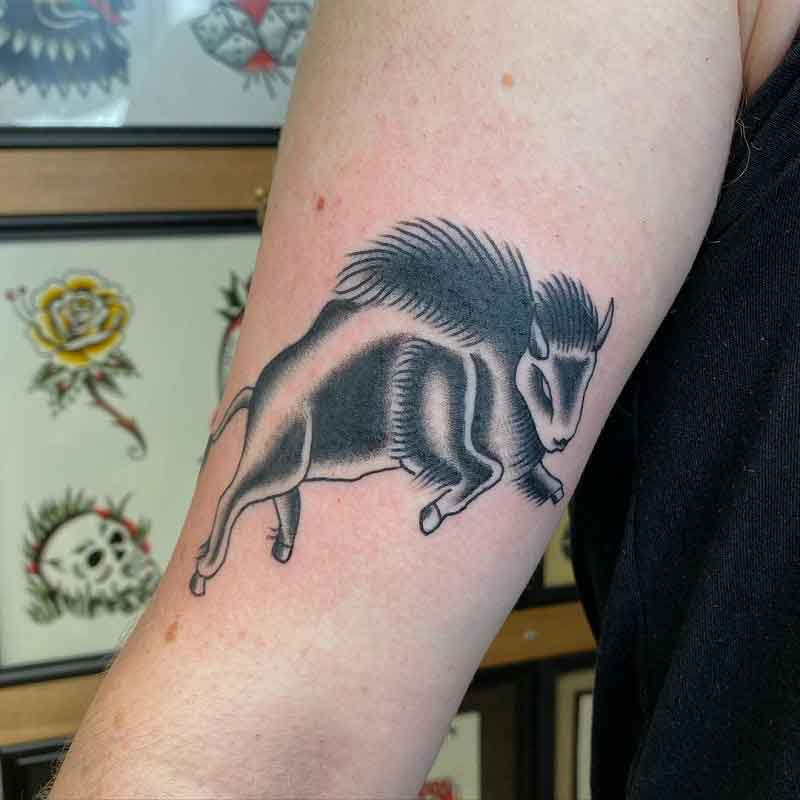 Leg Bison Tattoo
88.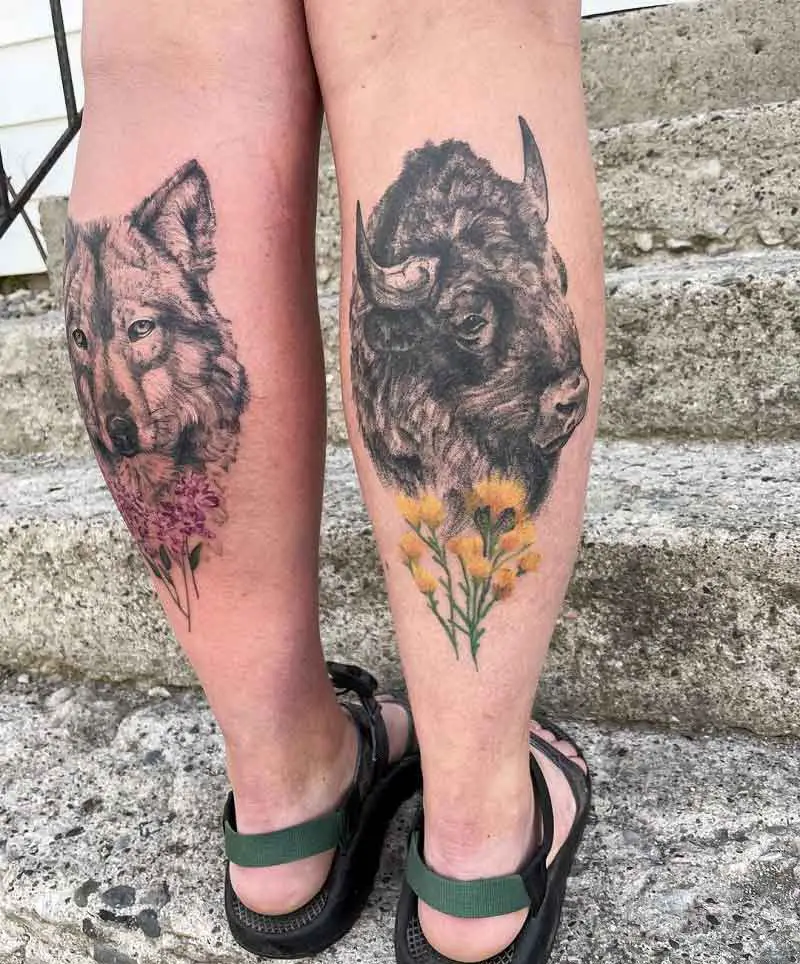 89.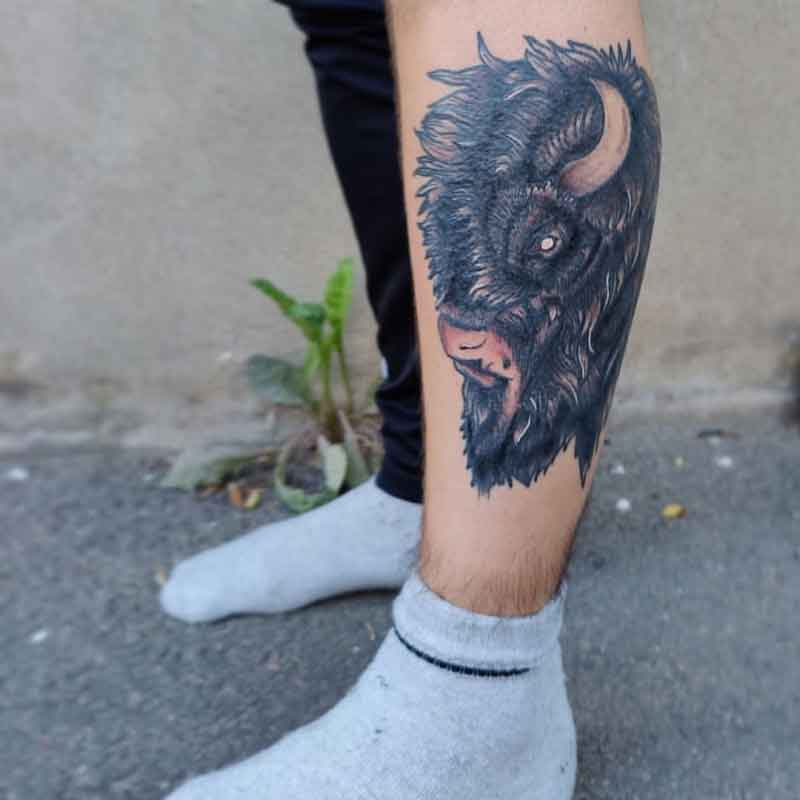 90.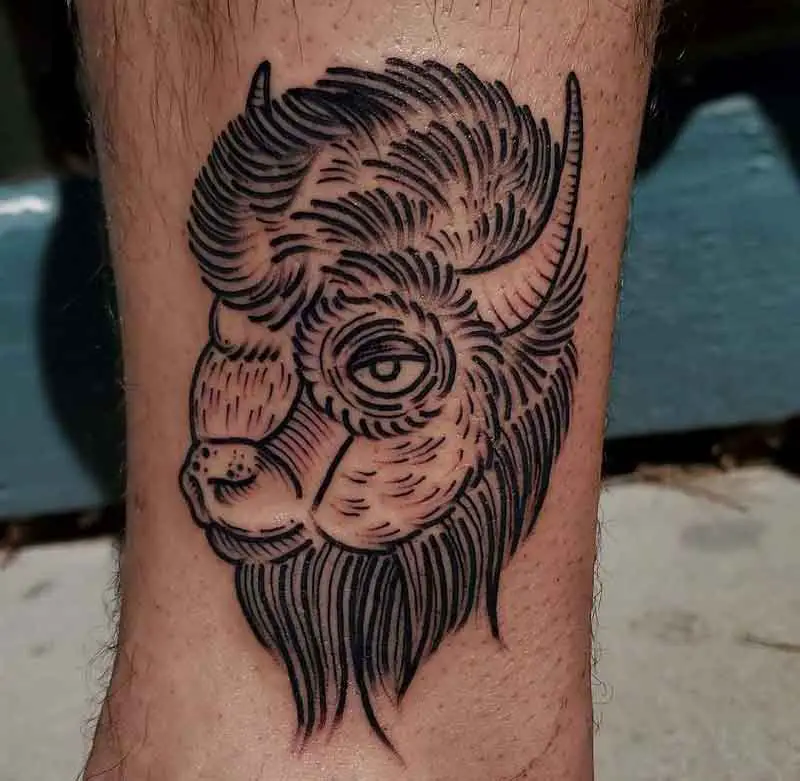 Conclusion
And that's a wrap! These were some of the most striking bison tattoos we had in store for you. If you've made it till the very end, congratulations!
Now all you have to do is just take time and find the ideal tattoo design for yourself. Tattoos are going to be there permanently so if you decide to change your mind later or come across a better-looking design, you would have to go through a lot of trouble to change it afterward. Once you've picked your design, it's all smooth sailing after that. We wish you all the best!
Frequently Asked Questions
What does a bison tattoo represent?
Power, invincibility, and strength.
What does a bison skull tattoo mean?
Endurance and survival.
Is a bison a buffalo?
Although both of these creatures are from the same family, they are two distinct animals and also have different physical features.