A dandelion tattoo indicates pure joy and bliss. This tattoo design shows that you crave more contentment and satisfaction in your life. It recalls our childhood memories and reminds us of our other youthful fancies.
The dandelion is also a long-established symbol of healing. It depicts a person's ability to withstand or tolerate all kinds of difficult conditions at any particular time in their life.
Dandelion tattoo designs come in many forms. There are designs of dandelions with birds, a white dandelion as well as a dead one, and the most popular one of all of them, a blowing dandelion. Each of them has its own separate meaning and the choice of which one to get is yours to make. So without any further ado, let's get started!
75 Dandelion Tattoos Designs and Meanings
Minimalist Dandelion Tattoo
People can get dandelion tattoos in many different styles and minimalist is just one of them. If simplicity is what someone's looking for, then they may find the following designs appealing:
1. Orange Mountain Dandelion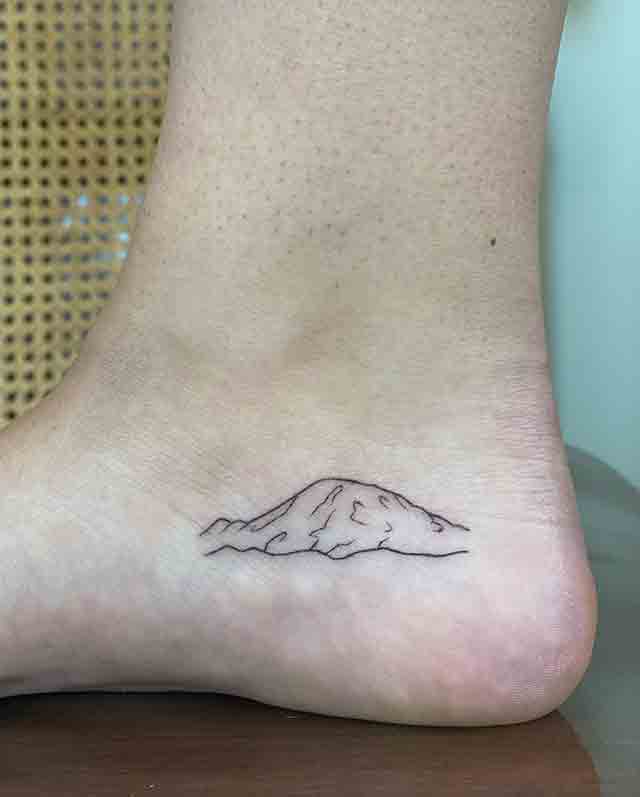 Orange mountain dandelion flowers grow in the foothills of certain mountain ranges, hence the mountain-shaped tattoo. It is quite simple but that is what makes it elegant.
2. Dorky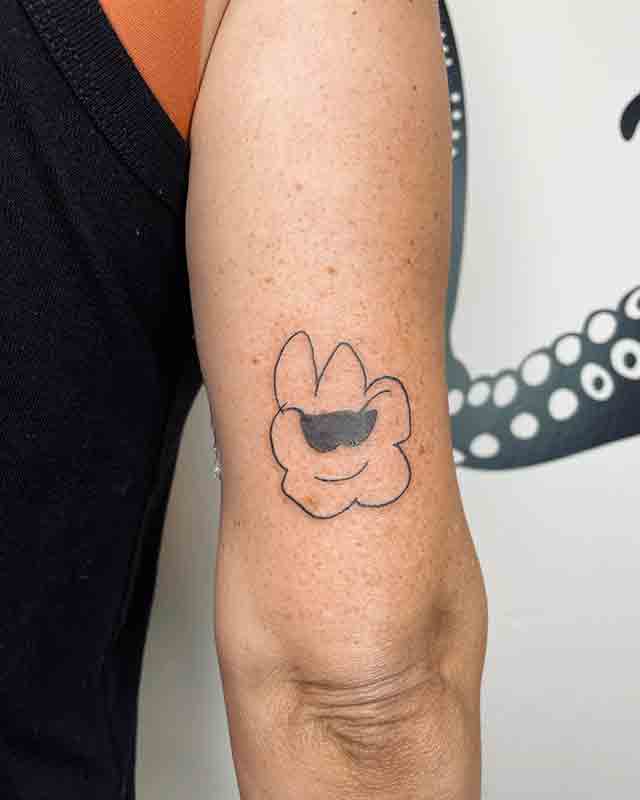 The flower, although does not resemble a dandelion that closely, looks kind of funny, and a person who is dorky in nature would probably get a tattoo like this.
3. Nostalgia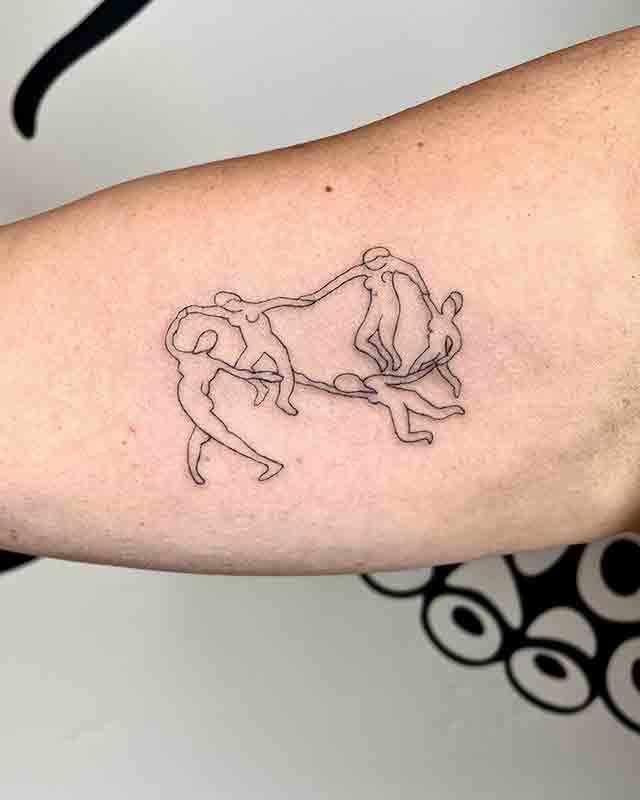 A dandelion tattoo has multiple meanings. One of the meanings is that- it recalls all of our childhood memories and it makes the tattoo meaningful in this particular scenario.
Small Dandelion Tattoo
If you do not want your tattoo to become too noticeable, you may get it in a much smaller size. Here are some cool dandelion tattoo designs for you to choose from:
4. Purity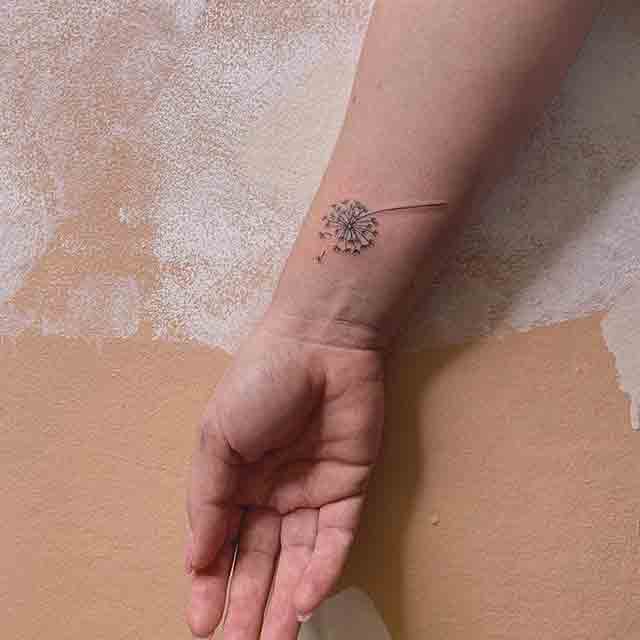 Among the several meanings this tattoo has, purity is one of them. For a person with a pure heart and soul, this is the perfect tattoo design.
5. Revival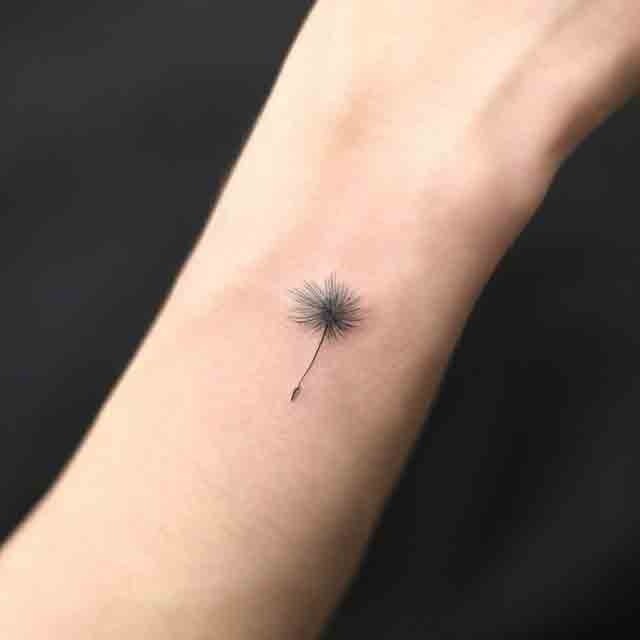 A dandelion tattoo is also known to symbolize the revival or rebirth of a person. The meaning is to be taken figuratively and not literally. Meanings aside, this tattoo actually looks very stylish.
6. Blue Shaded Dandelion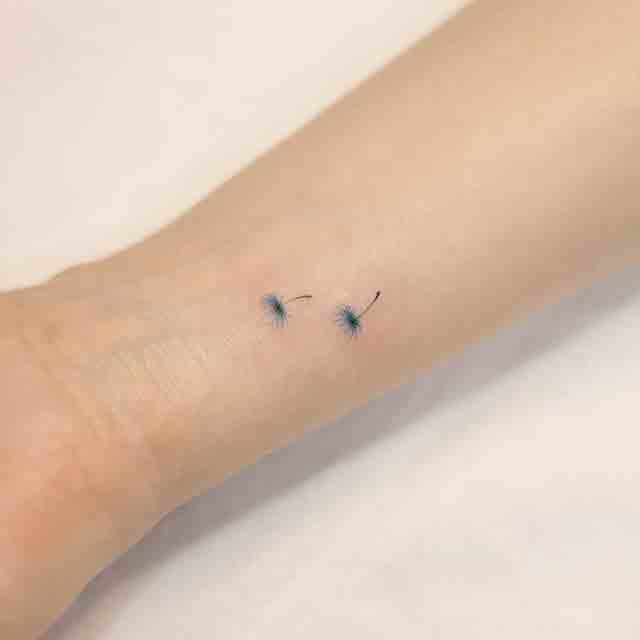 No, there is no such thing as a "blue shaded dandelion" but if the tattoo bearer wishes to add some color to the tattoo, he/she may do so. It definitely makes the tattoo look vibrant.
Simple Dandelion Tattoo
People can get tattoos of literally anything in any style they want and that is one of the best things about getting a tattoo. Below are some simple but stylish dandelion tattoo designs to pick from:
7. Withering Away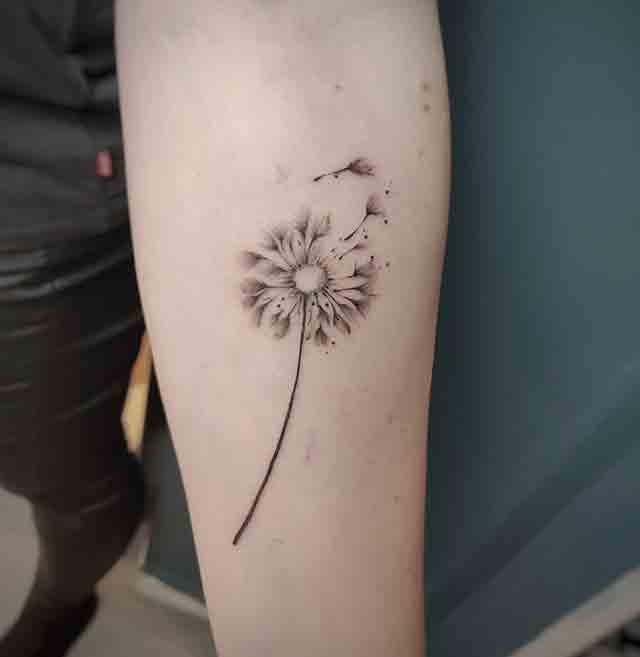 Human beings are mortal. We're all going to leave this world, sooner or later. This tattoo shows how a person's life is withering away as time goes on.
8. Mini Dandelion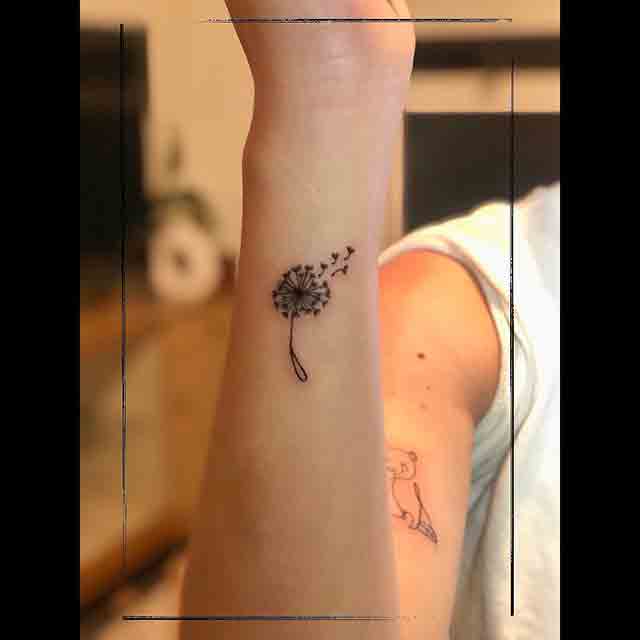 There are no distinct differences between this and the previous tattoo. In case anyone thinks the previous version is a bit much, they can opt to get this tattoo if they wish to keep things simple.
9. Letting Go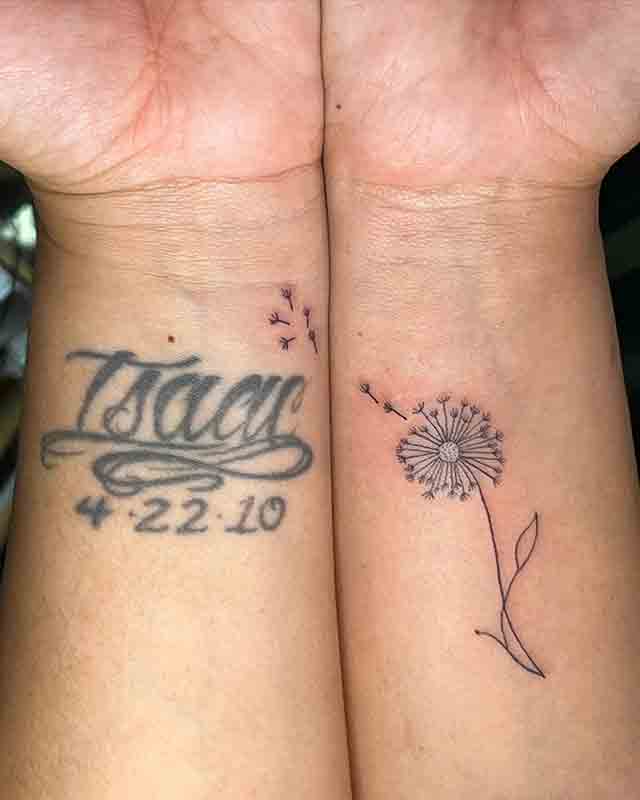 A dandelion tattoo also symbolizes the urge to move on from the past. It basically means to get over the death of a loved one and focus on what's ahead of one's life.
Colorful Dandelion Tattoo
Colors can be added to these tattoos as well. This makes the tattoo more noticeable and it grabs people's attention easily. Here are some colorful dandelion tattoo designs:
10. Vibrance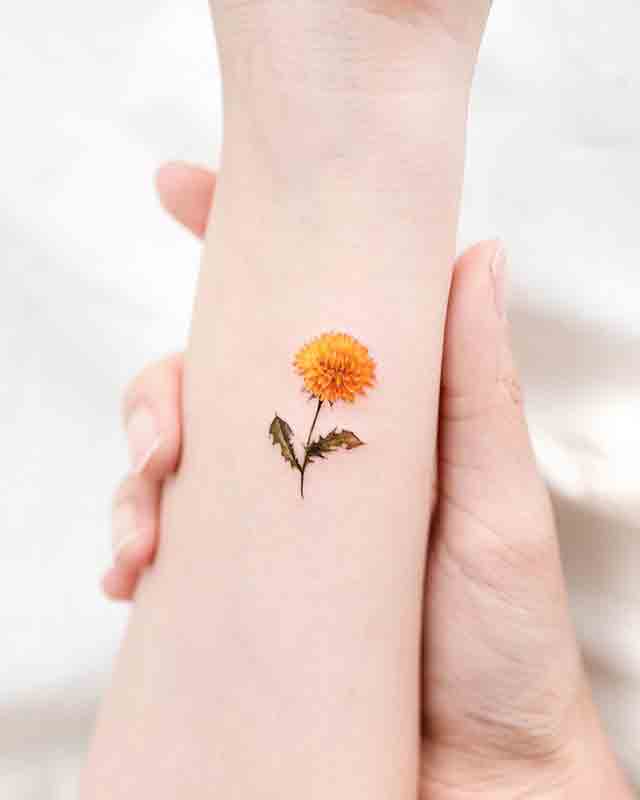 So far, we have seen tattoo designs of the dandelion flower where only black ink has been used. This is where we switch things up a little and add colors to make the tattoo look more realistic.
11. Bloom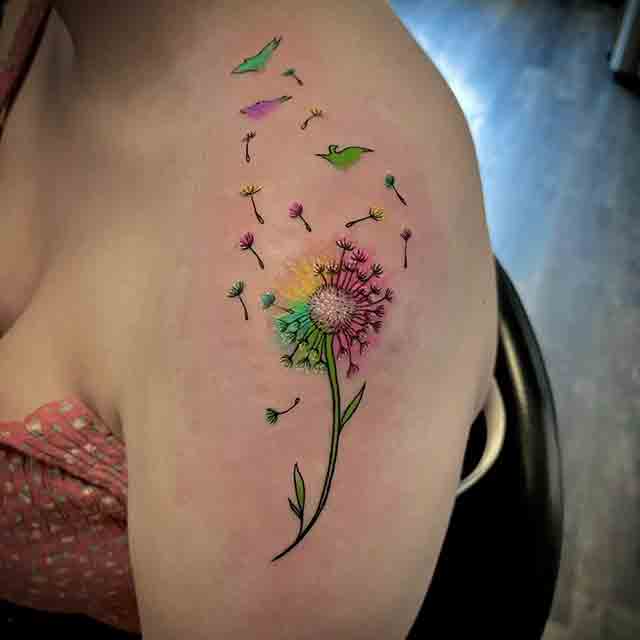 This blooming dandelion tattoo design is one of the best designs in the whole collection. Not only does it seem realistic, but there are also a lot of colors present here and everything just blends in perfectly.
12. Vivid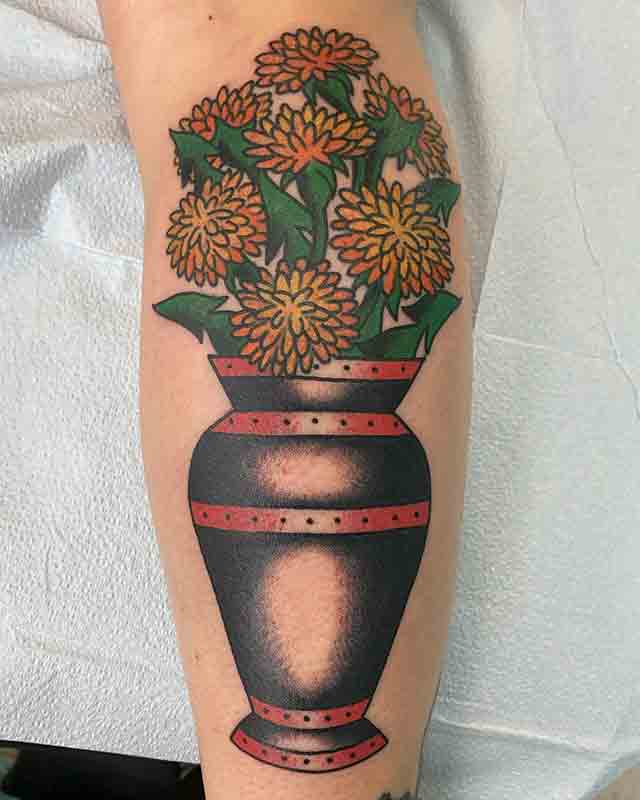 The image is titled "vivid" for all the bright colors that have been used here. While some may think it's a bit over the top, the amount of details in this tattoo makes it absolutely splendid.
Shoulder Dandelion Tattoo
Such tattoos, other than on the arms and legs, can also be etched on the shoulders. It definitely looks cool and people go around with it feeling way more confident than ever.
13. Abundant Strength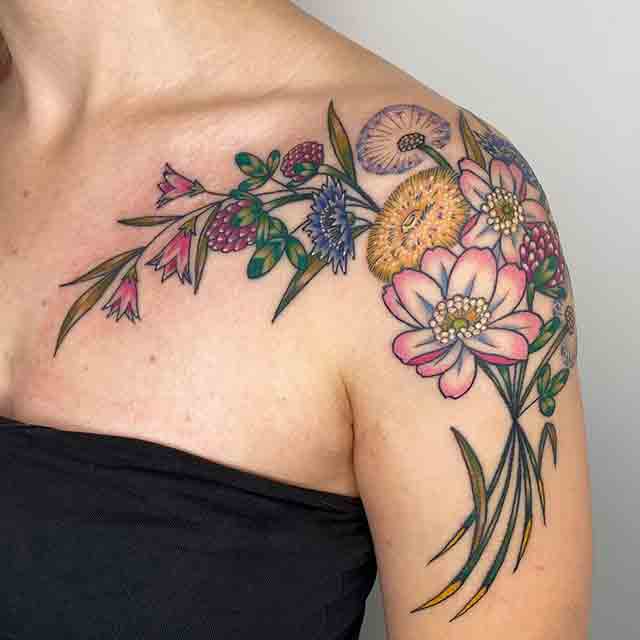 Dandelions are also known to symbolize immense strength. This tattoo tells a story about a person who's been through a lot and still managed to get back up on their own.
14. Vanish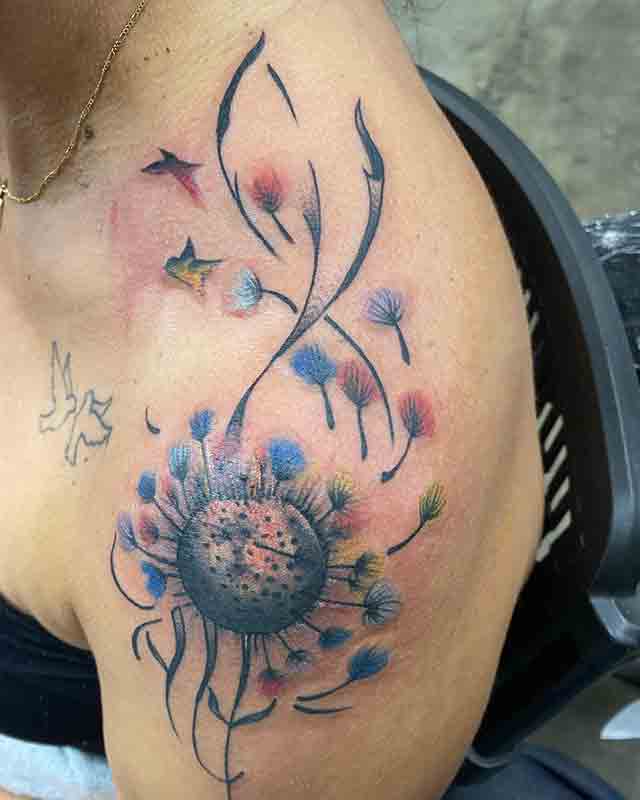 As mentioned before, dandelions also indicate letting go of someone or something. The meaning here is pretty much the same except a lot of colors and details have been added.
15. Simplicity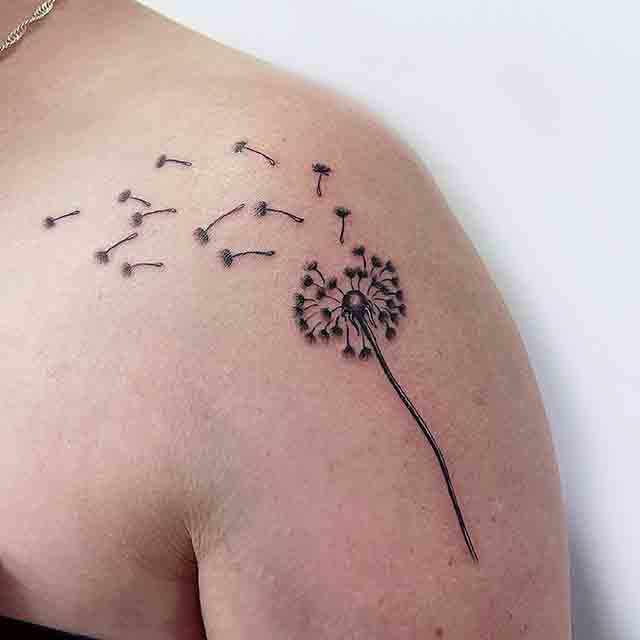 The concept here is almost the same as the last two tattoos we've gone through except everything here is quite simple to make the tattoo look more elegant.
Dandelion Tattoo With Names
You can also get this tattoo with names or just any meaningful text added to it. Doing so helps the tattoo to deliver the message more clearly and precisely. Here are some options below:
16. Vis ta vie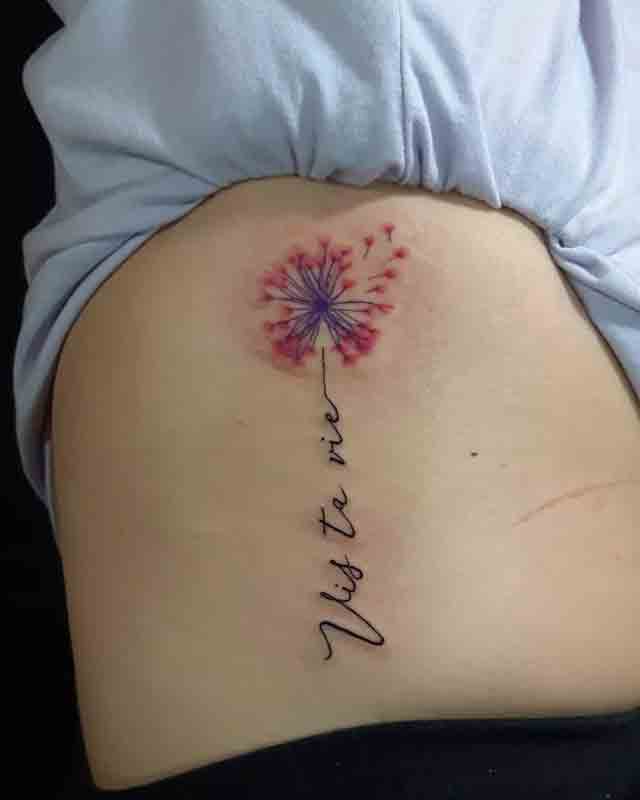 The phrase "vis ta vie" actually means "live your life to the fullest". Someone who enjoys living life to the fullest may get a dandelion tattoo like this. The text font also makes the tattoo look pretty stylish.
17. Family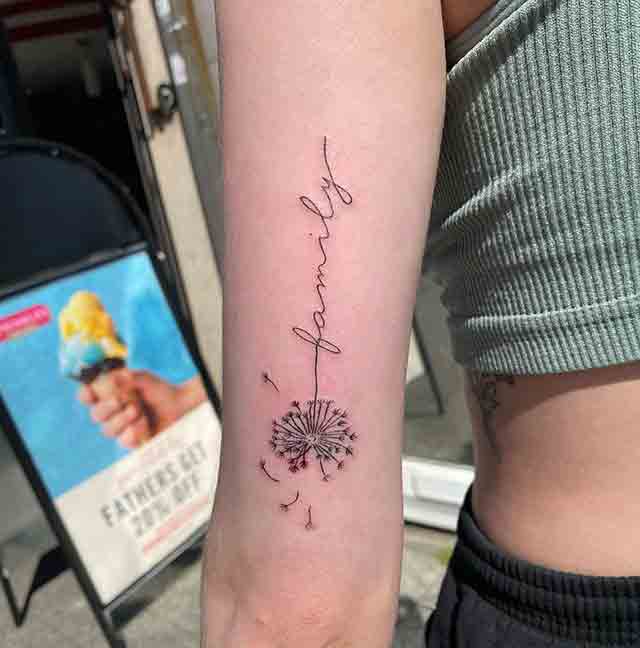 Dandelions, as discussed before, symbolize abundant power or strength. The person may be getting the strength to push through all the barriers in life from their family.
18. Bryonne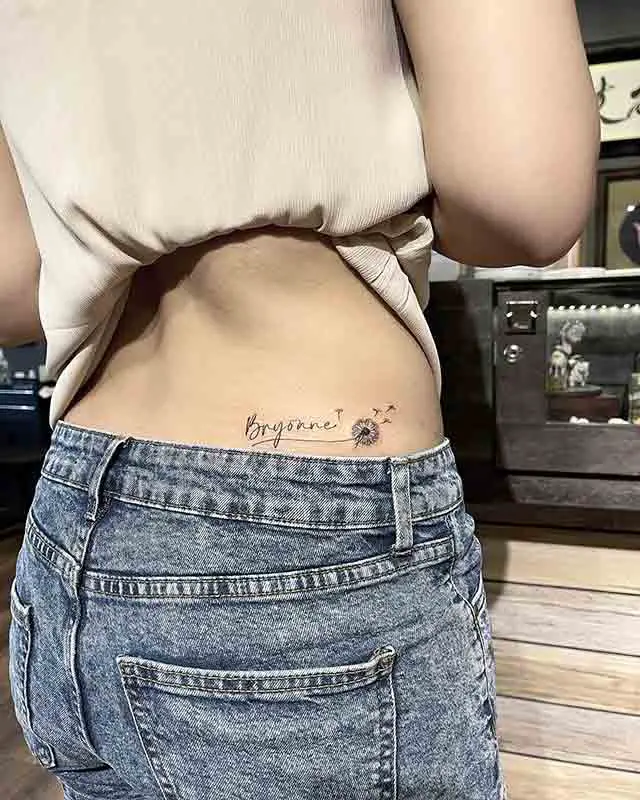 The text in the tattoo above is just a name and nothing else. It doesn't always have to be a short, meaningful message with a dandelion next to it. Make sure to choose a stylish font beforehand.
Dandelion Tattoo Birds
Dandelions and birds together have a couple of other meanings and these two elements just complement each other quite beautifully. We have some cool designs for you below:
19. Realization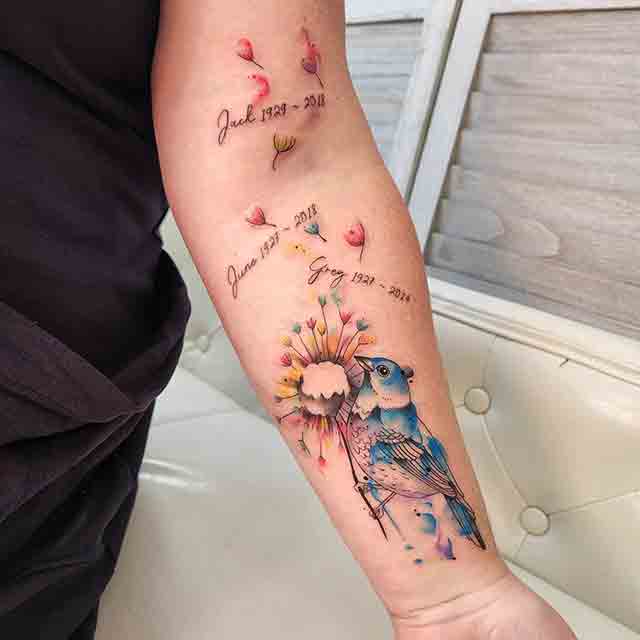 The tattoo symbolizes the realization of one's fate. This is something a lot of people cannot achieve and those who do can proudly wear this tattoo on their forarm.
20. Going Strong
For a couple, this is a great tattoo idea. The blooming dandelion and the birds somehow complete each other. Although on two separate hands it doesn't really mean much, it still is a wonderful design idea.
21. Fulfillment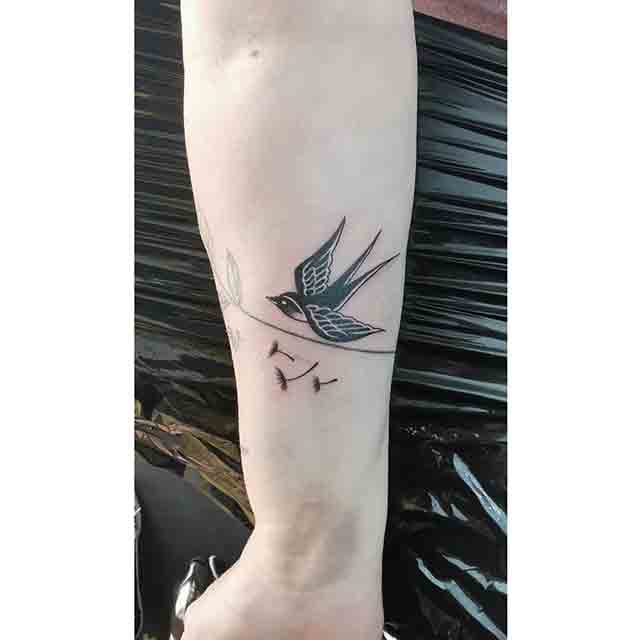 The design above also symbolizes the fulfillment of one's wishes. Meaning aside, the tattooing here is just sublime and it really is a beautiful sight to look at.
One can also get dandelion tattoos on the back. Since there is a lot of room at a person's back, there is also a lot of room for creativity. Pick whichever design you like the most:
22. Resilience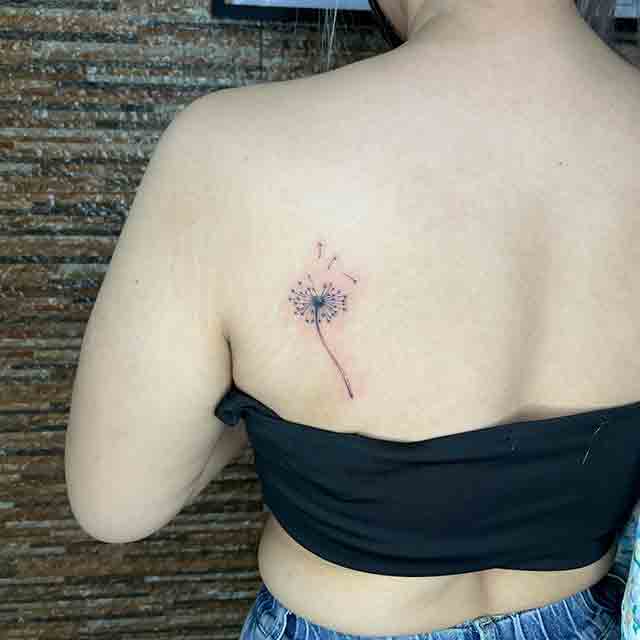 The tattoo symbolizes a person's ability to quickly recover from or withstand difficult conditions. A good tattoo artist will put their heart and soul into it, thus making the tattoo come alive.
23. Multiple Dandelions Tattoo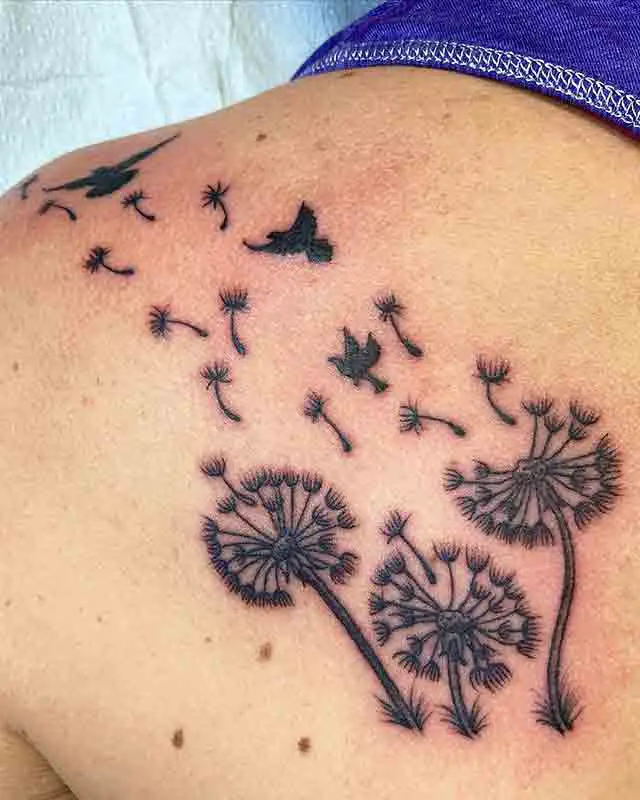 Adding more dandelions doesn't really change anything as the general meaning stays the same. However, in terms of looks and design, the tattoo doesn't look like an ordinary dandelion tattoo.
24. Surrender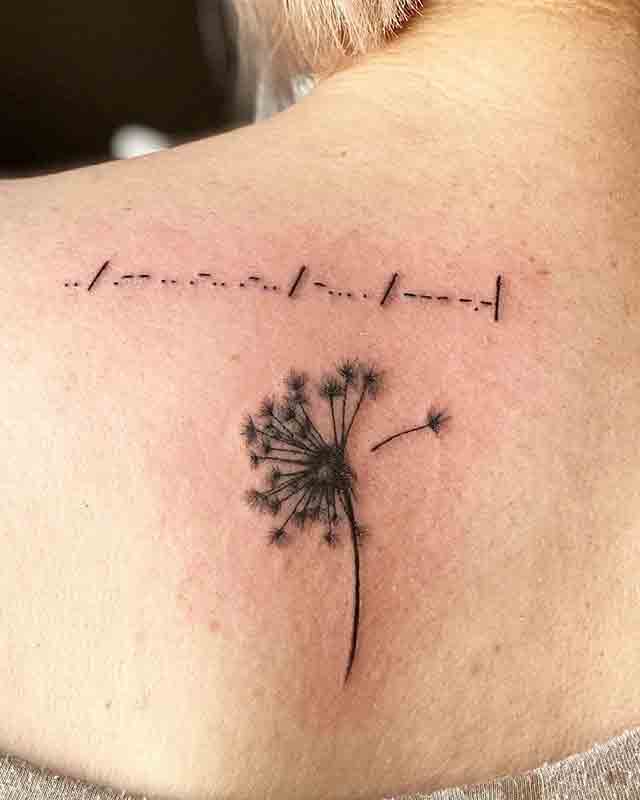 Letting go of someone or something is not easy, especially when you've become addicted to them. To celebrate getting over that addiction, one can get this dandelion tattoo.
Dandelion Tattoo On Ankle
People can get these tattoos etched on their ankles as well. Most people do not prefer to get tattoos on their ankles but if done right, it can definitely look stylish and unique.
25. Mini dandelion and bird tattoo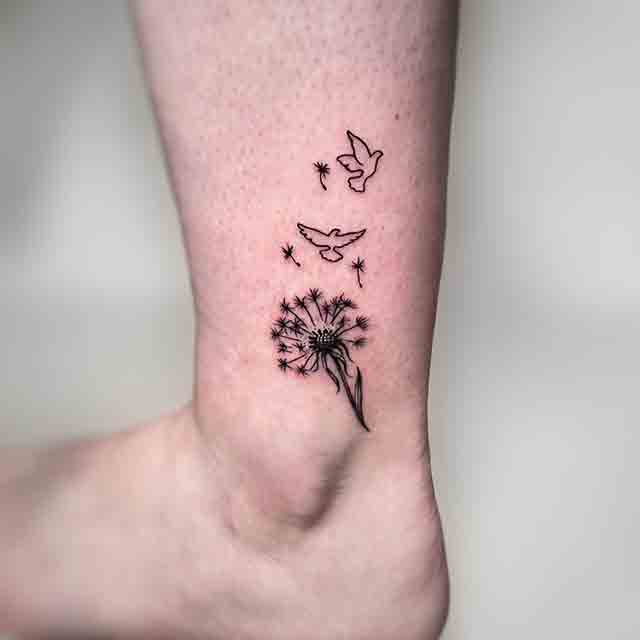 Dandelions paired with birds symbolize the fulfillment of a person's wishes as well as the realization of their fate. If you put the meaning aside, the tattoo just looks absolutely incredible.
26. Charm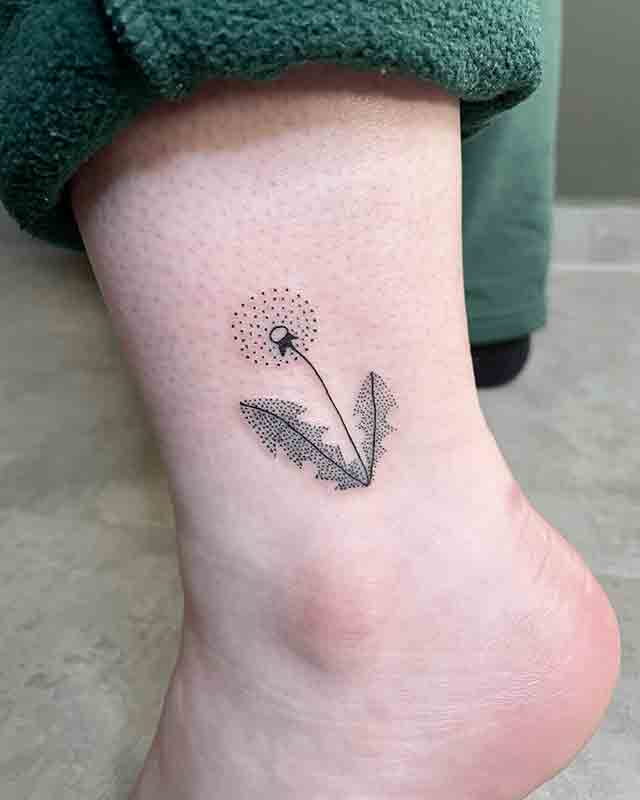 To some people, this may look like an ordinary dandelion tattoo. However, if looked at closely, it becomes clear how meticulously the leaves and the stalks have been inked.
27. Growth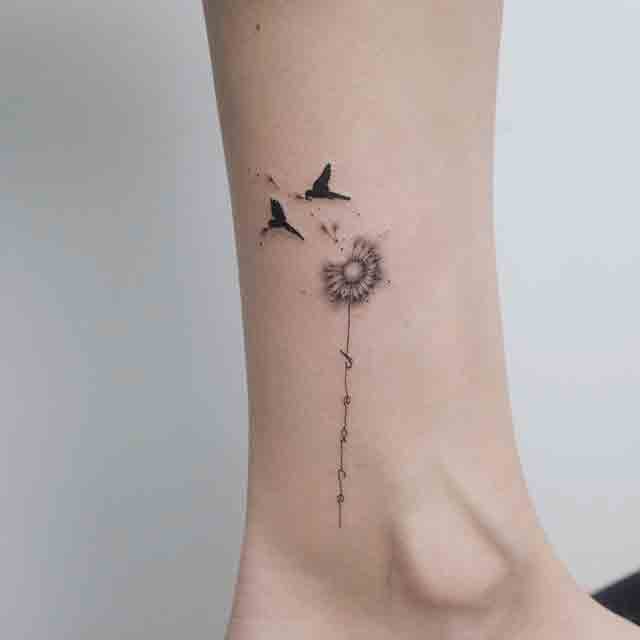 As mentioned before, the combination of birds and dandelions represents the realization of a person's fate and the fulfillment of their wishes. That is one way someone can experience growth.
Dandelion Tattoo On Forearm
If your tattoo is the first thing you would want people to look at when you meet them, then you might consider getting it on your forearm. Here are some cool dandelion tattoo designs for your forearm:
28. Abundant Power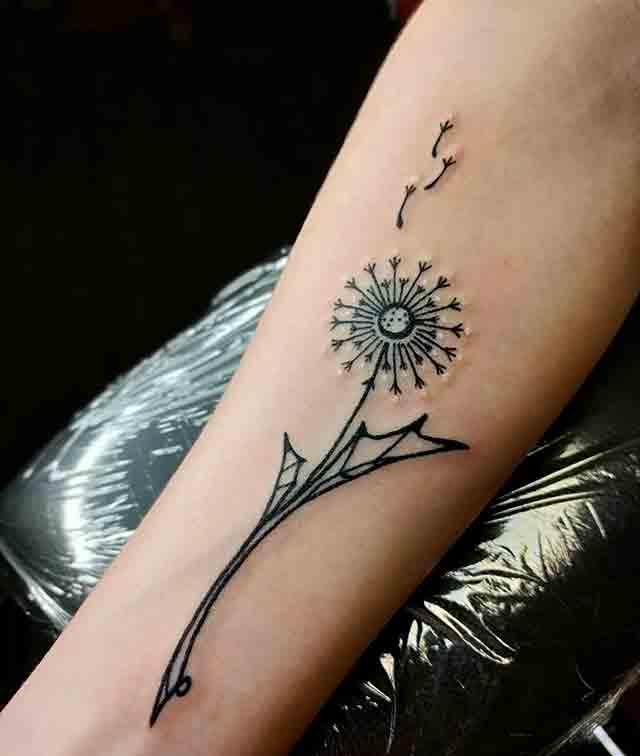 Despite some of the stalks withering away, the dandelion is still full of it. This shows a person's ability or willpower to bounce back despite so many setbacks in life.
29. Memories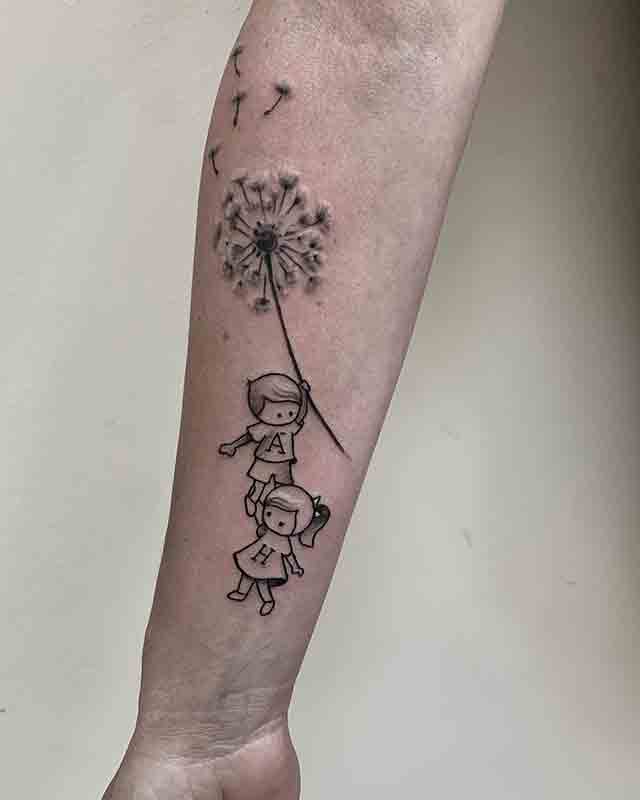 Dandelion tattoos symbolize the remembrance of our childhood memories. Among all the meanings this tattoo has, this one is the most appropriate. A great choice for recollecting one's childhood.
30. Make a wish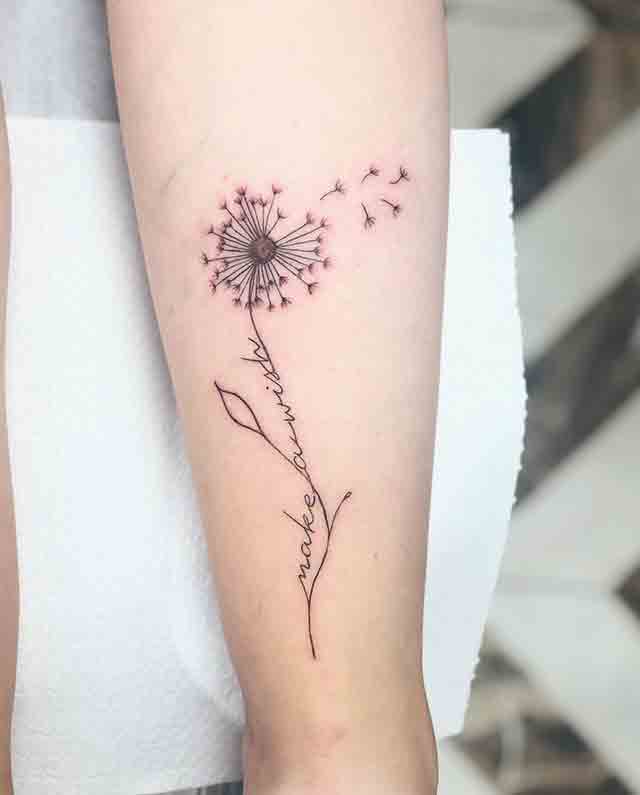 Some people have a superstitious belief that they can make a wish by blowing on dandelions. To earn good luck, they close their eyes and make their wish, hoping that it would come true.
Dandelion Flower Tattoo
31.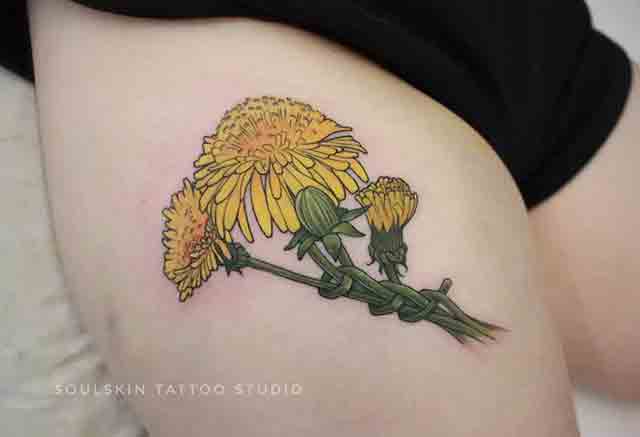 32.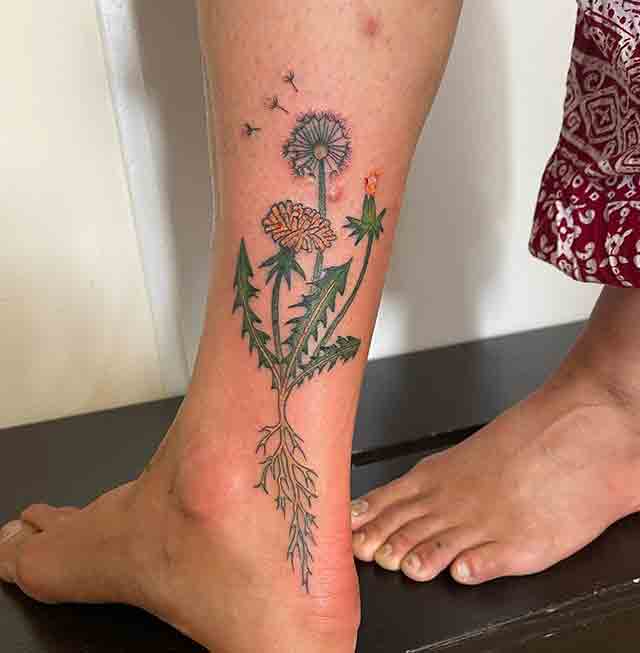 33.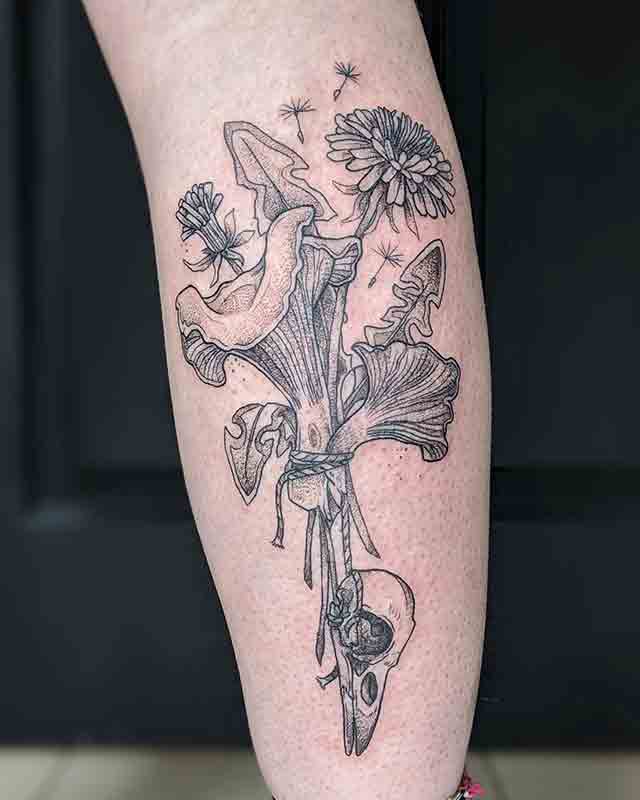 Dandelion Butterfly Tattoo
34.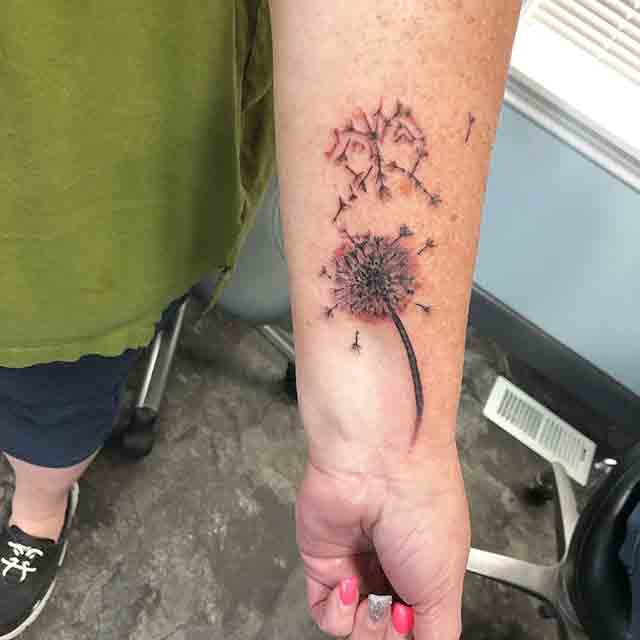 35.
36.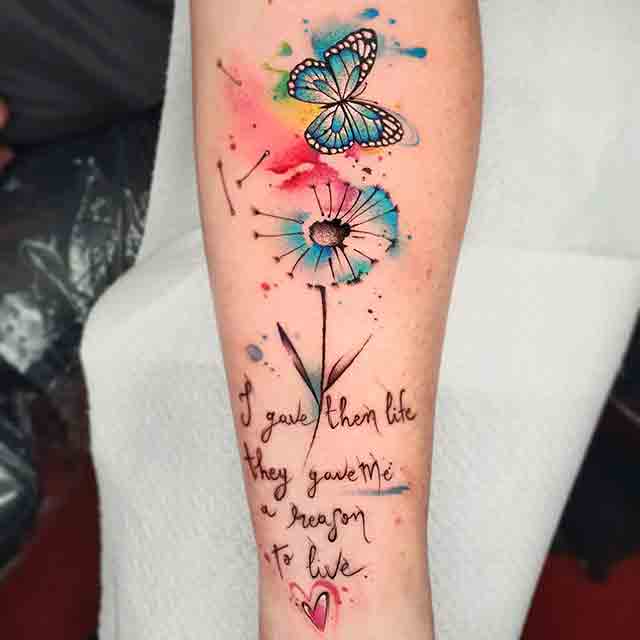 Dandelion Tattoo On Foot
37.
38.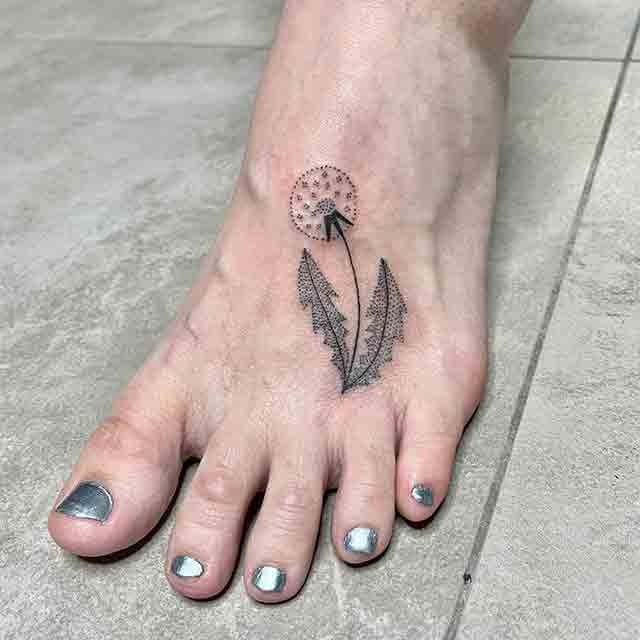 39.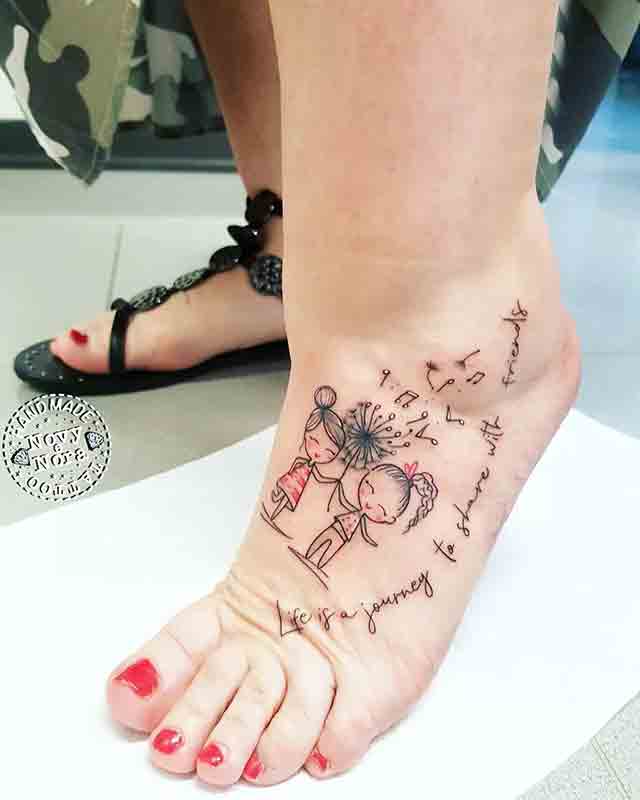 Dandelion Clock Tattoo
40.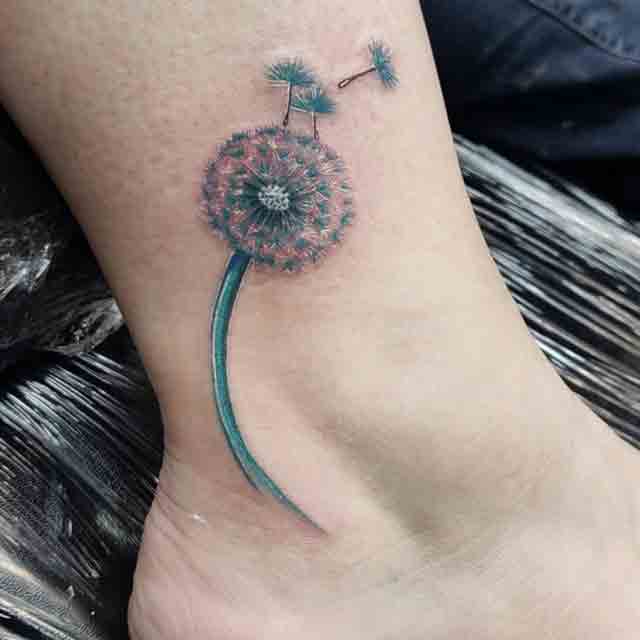 41.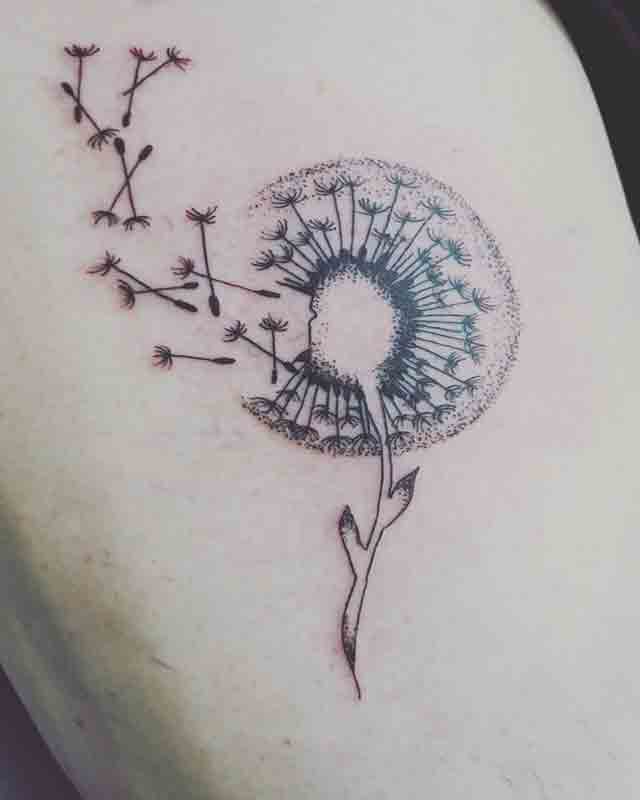 42.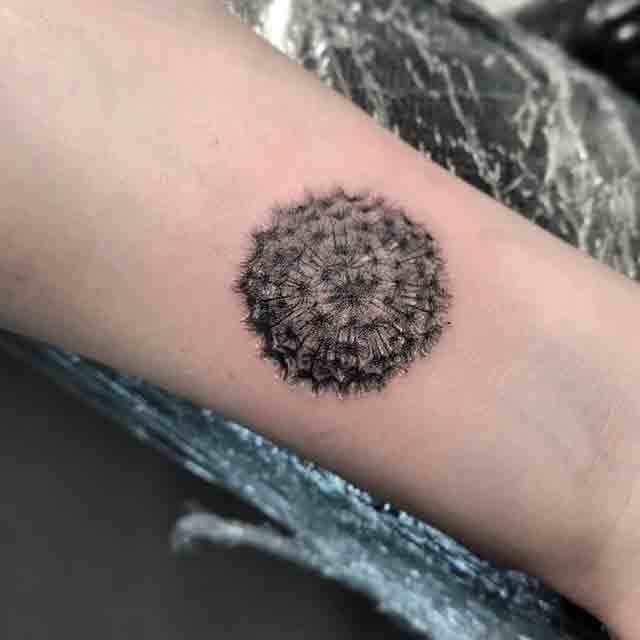 Blowing Dandelion Tattoo
43.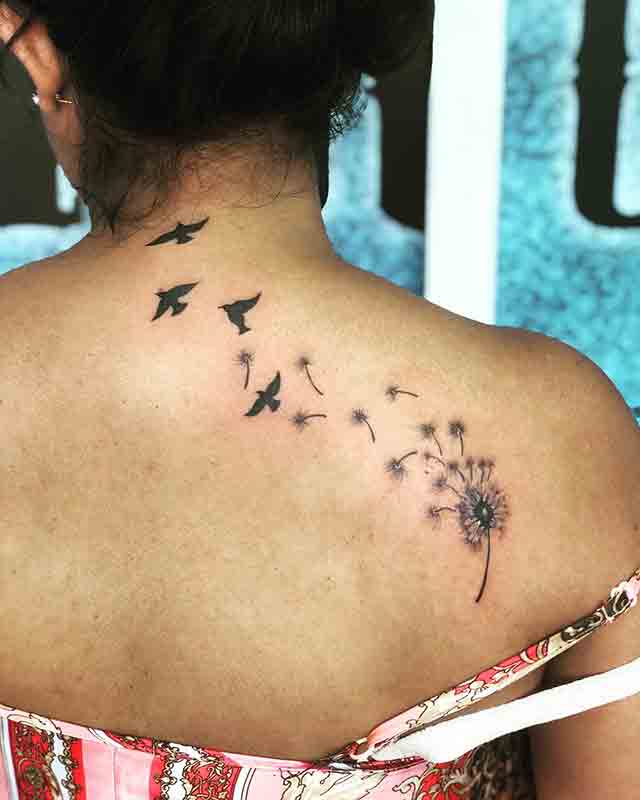 44.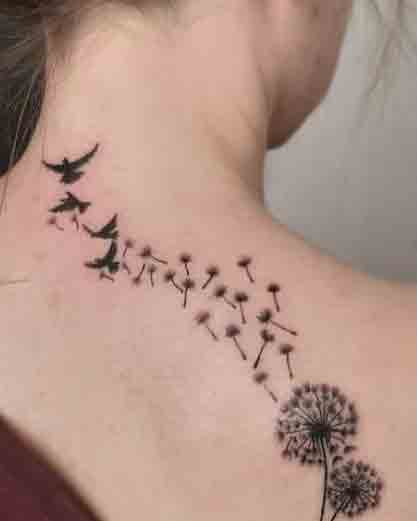 45.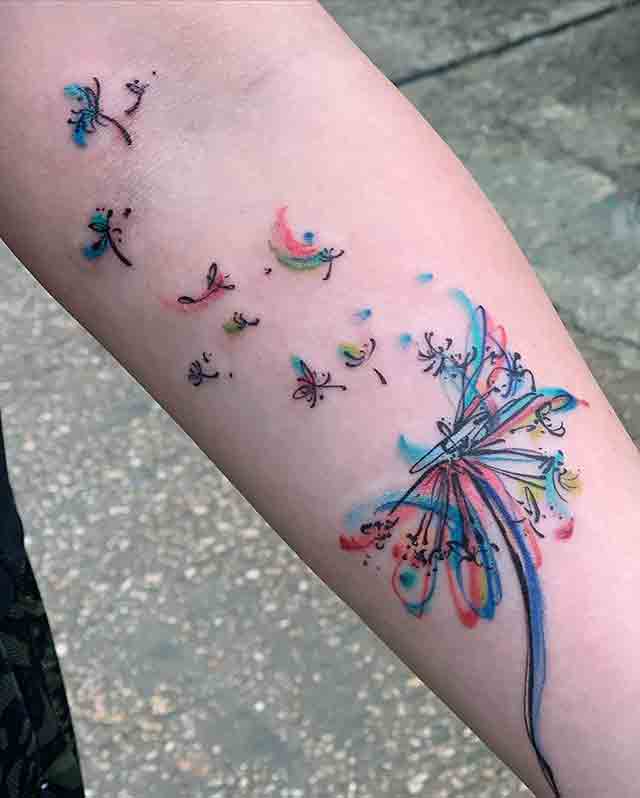 Dandelion Seed Tattoo
46.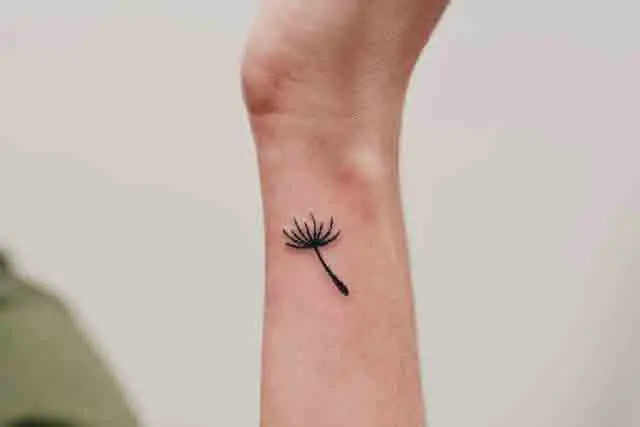 47.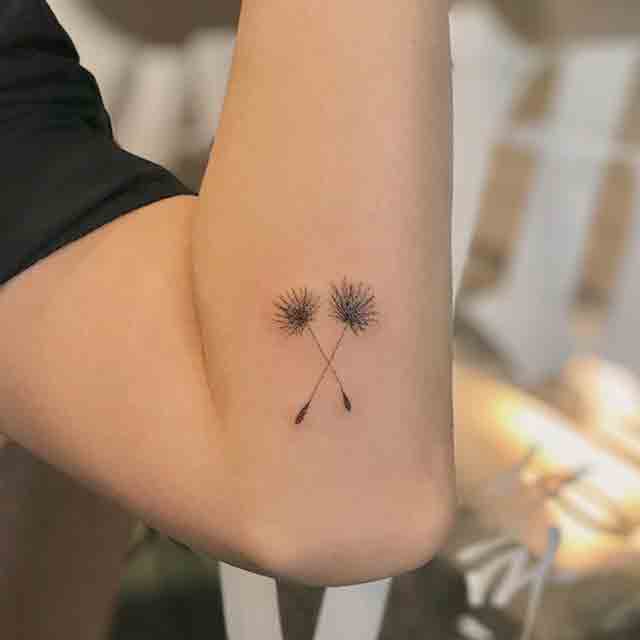 48.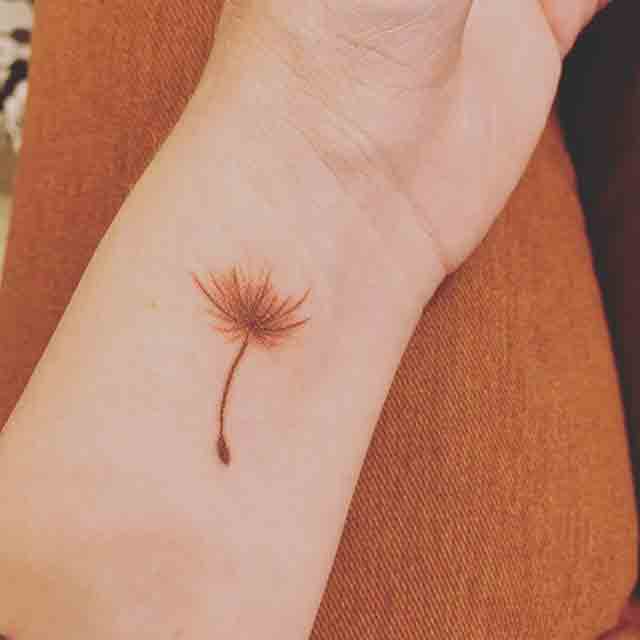 Just Breathe Dandelion Tattoo
49.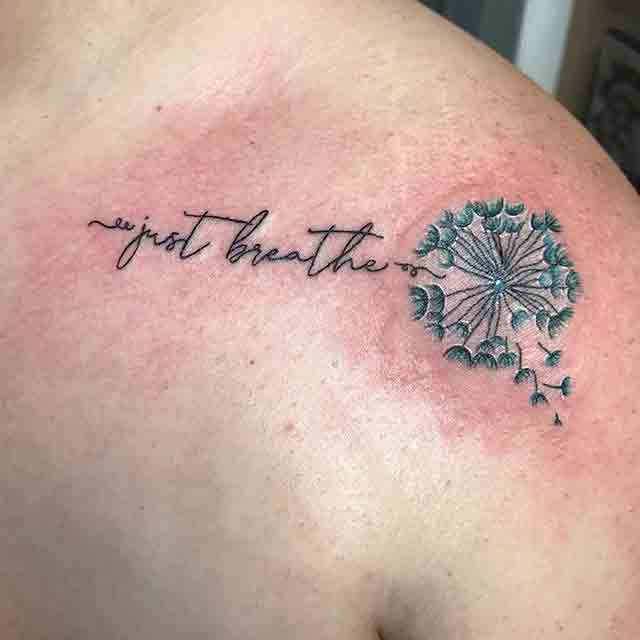 50.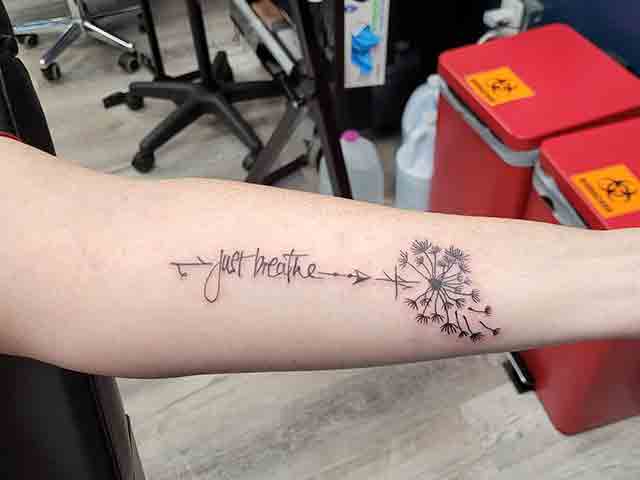 51.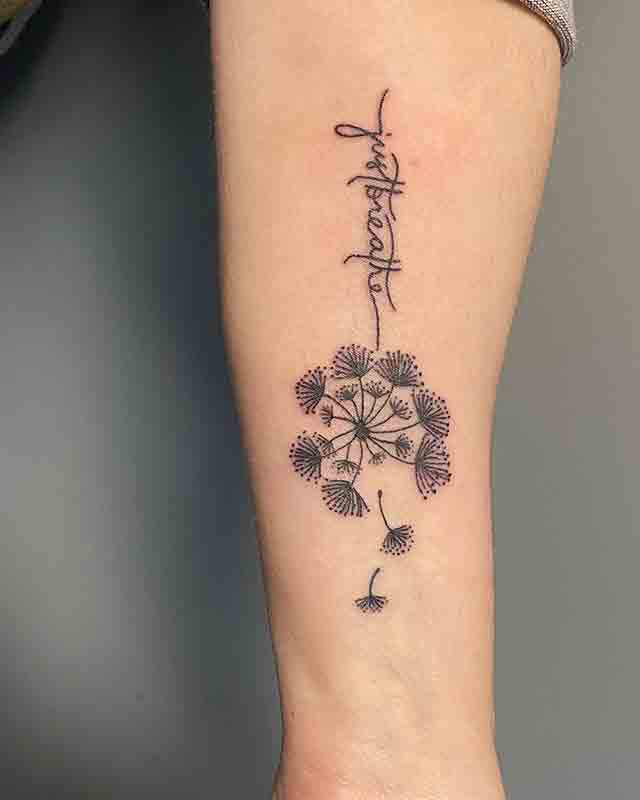 Dandelion Wish Tattoo
52.
53.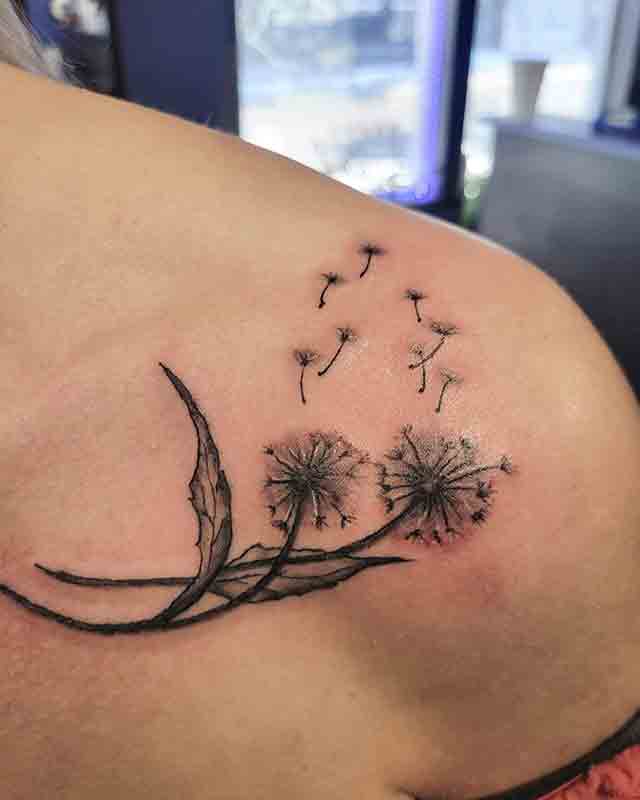 54.
Dandelion Tattoo Behind Ear
55.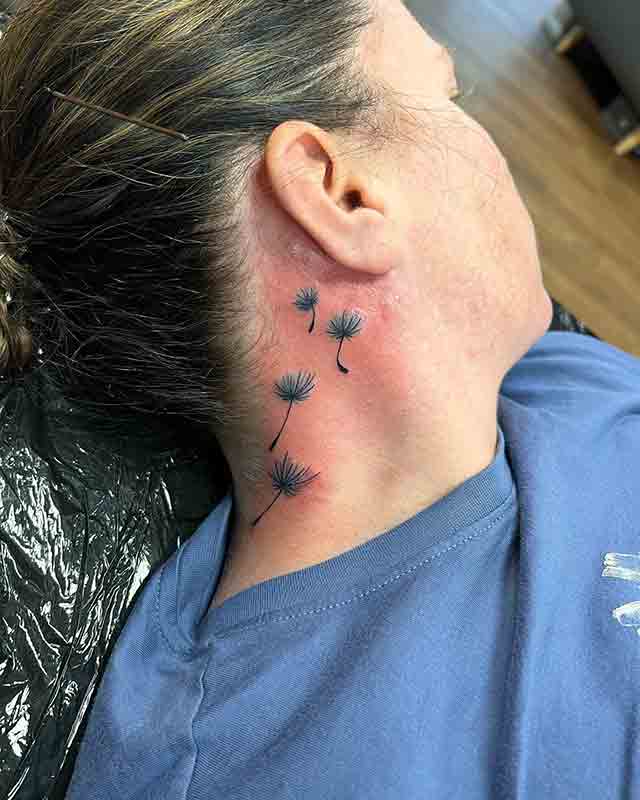 56.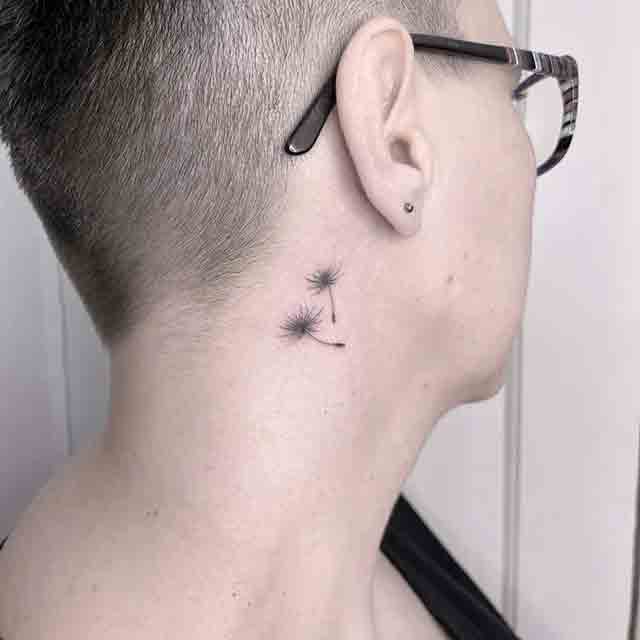 57.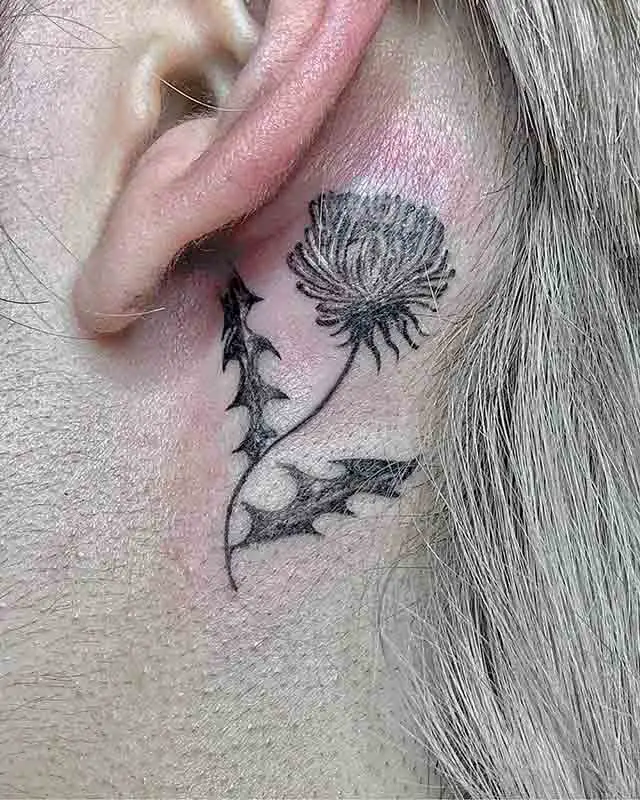 Dandelion Puff Tattoo
58.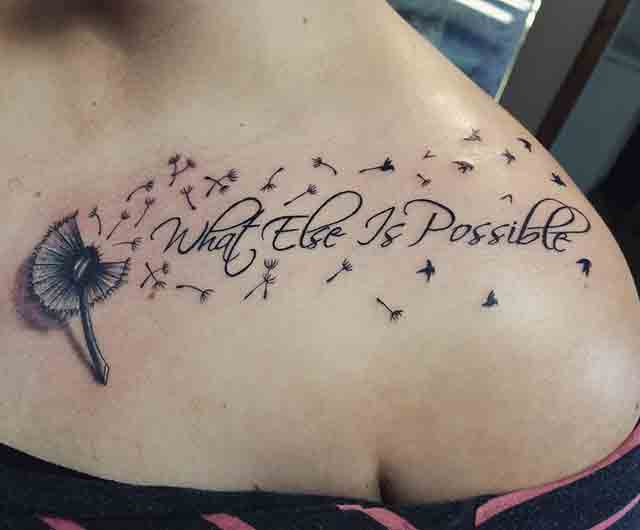 59.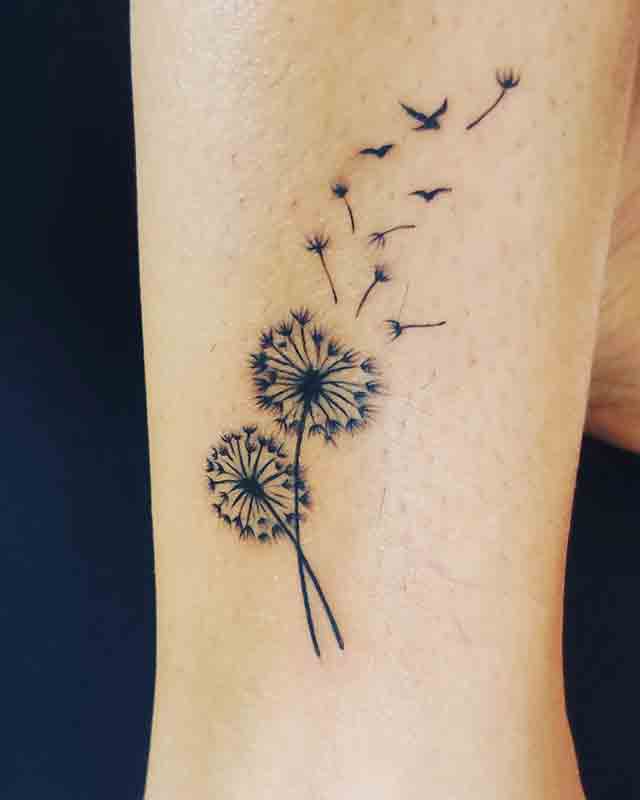 60.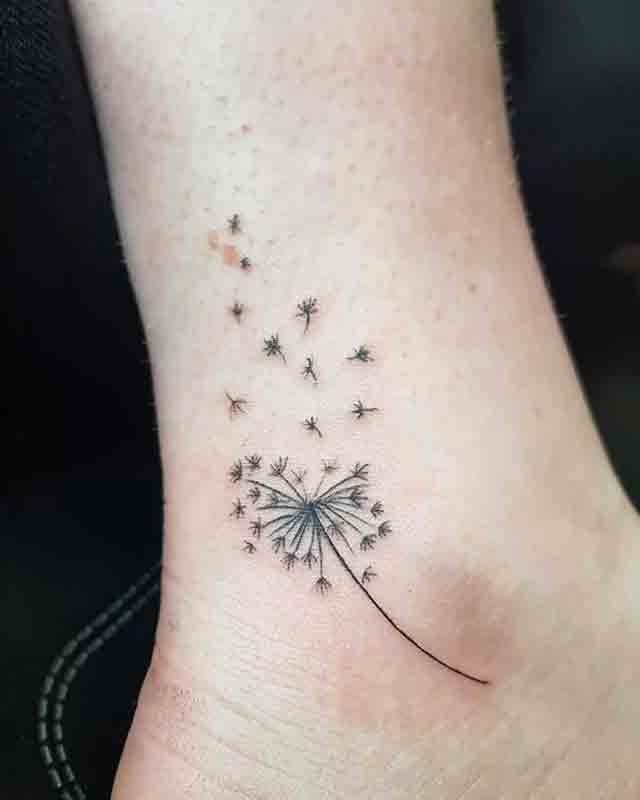 Tiny Dandelion Tattoo
61.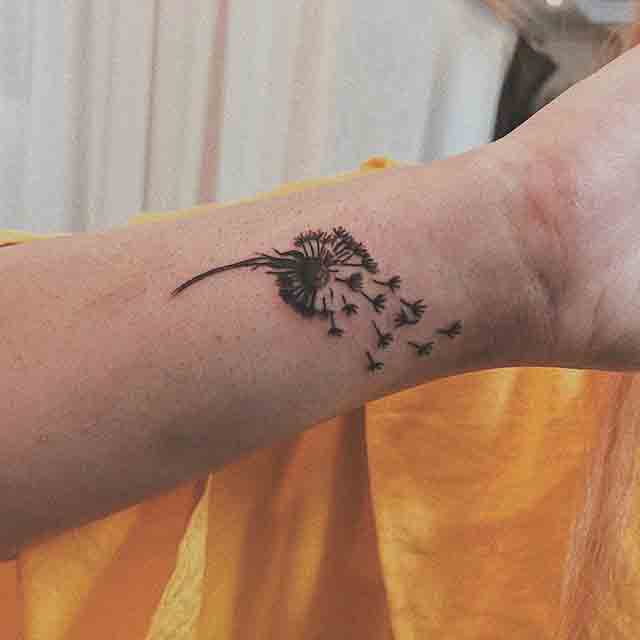 62.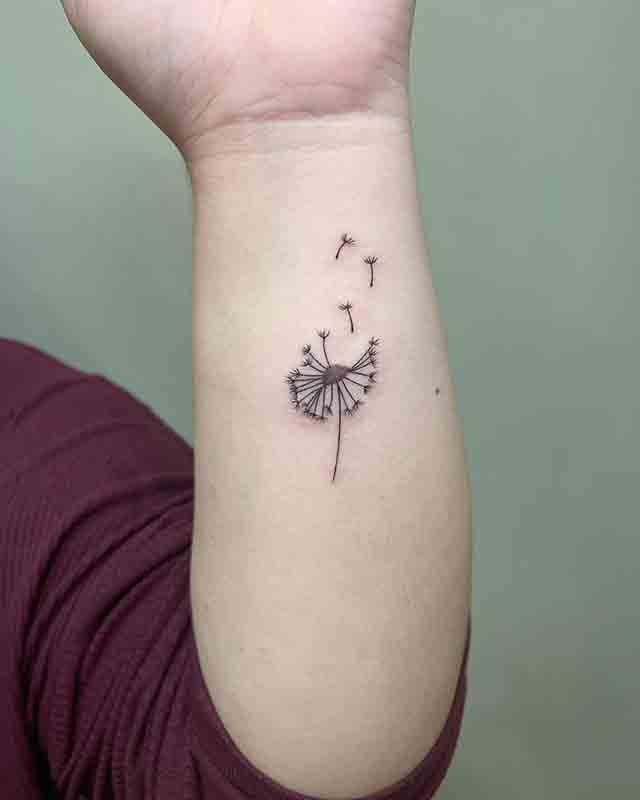 63.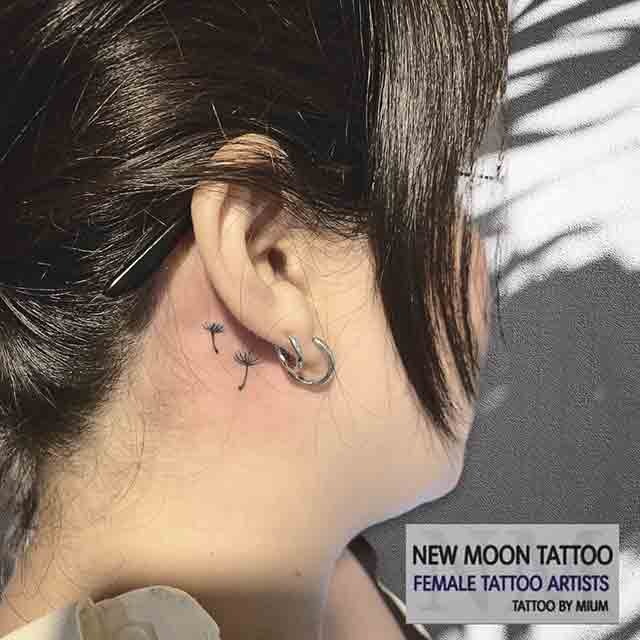 Mini Dandelion Tattoo
64.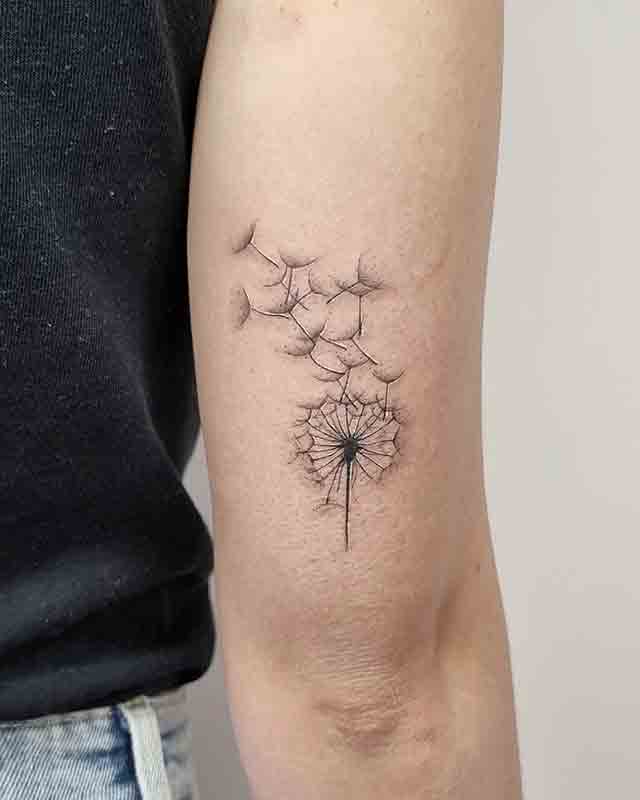 65.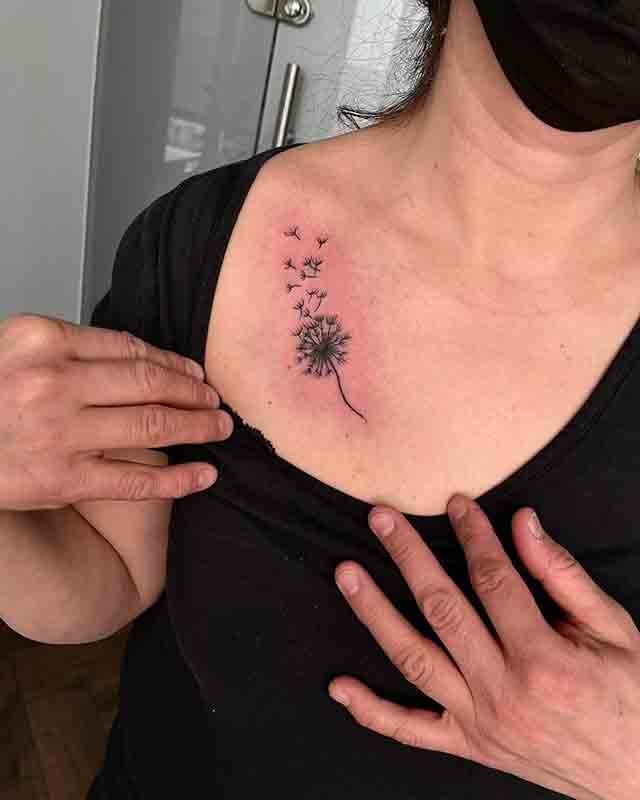 66.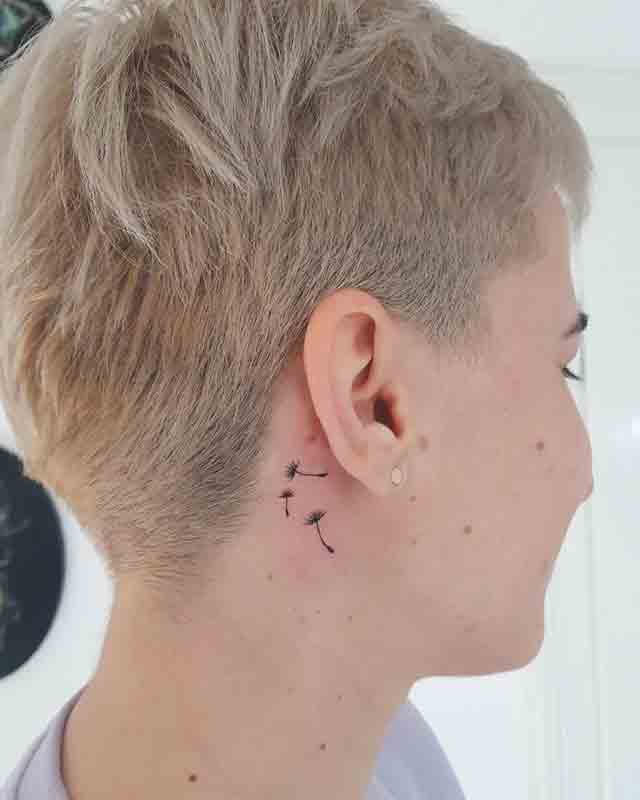 Dandelion With Butterflies Tattoo
67.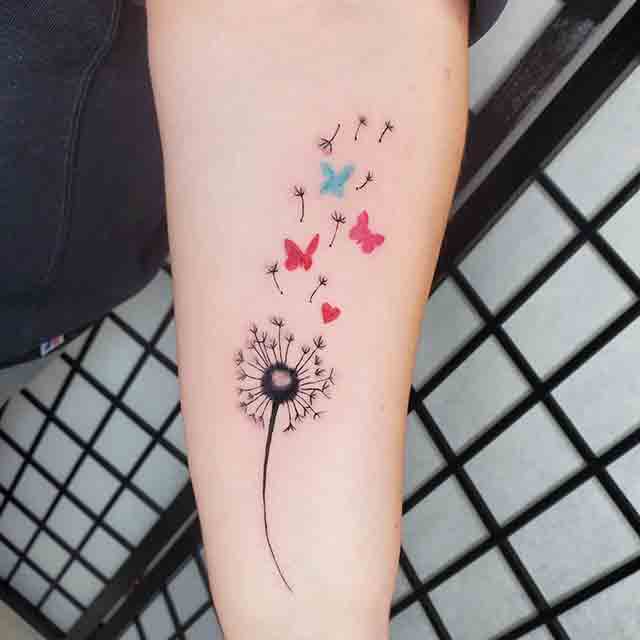 68.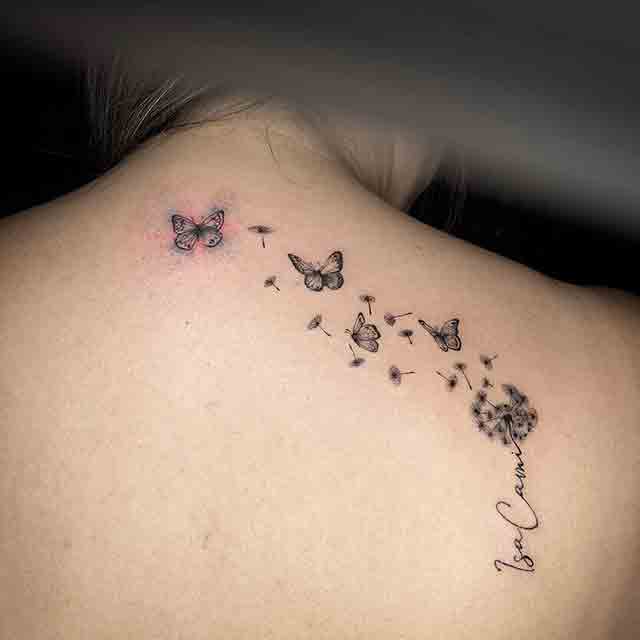 69.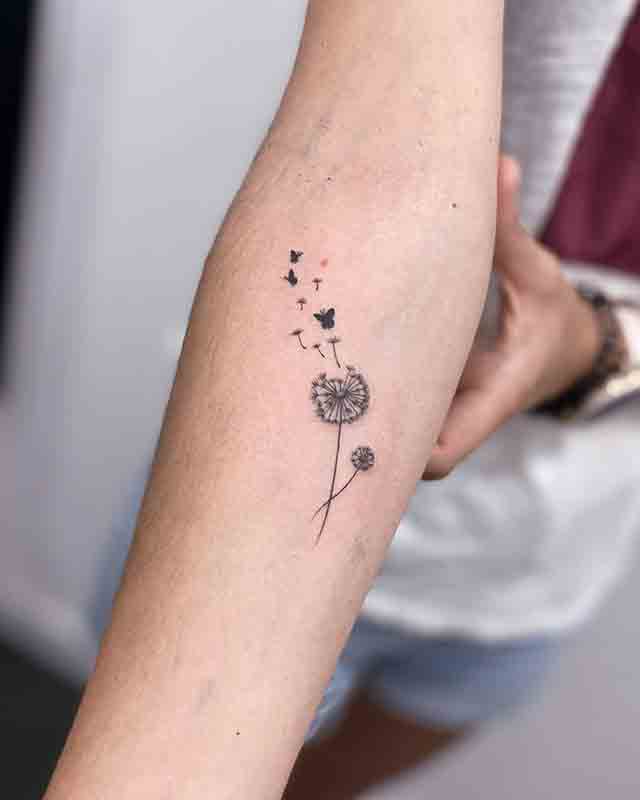 Dandelion Music Notes Tattoo
70.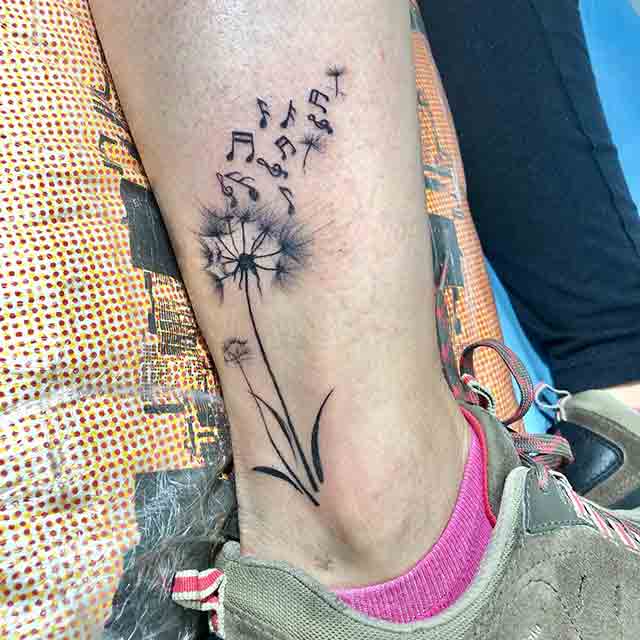 71.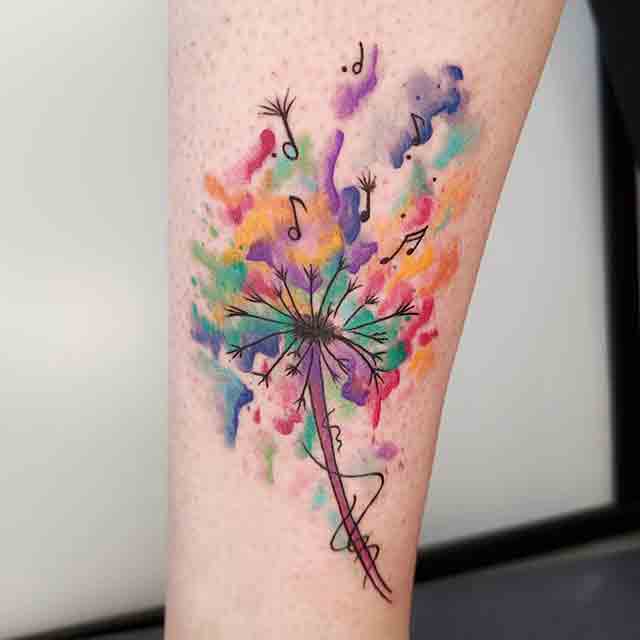 72.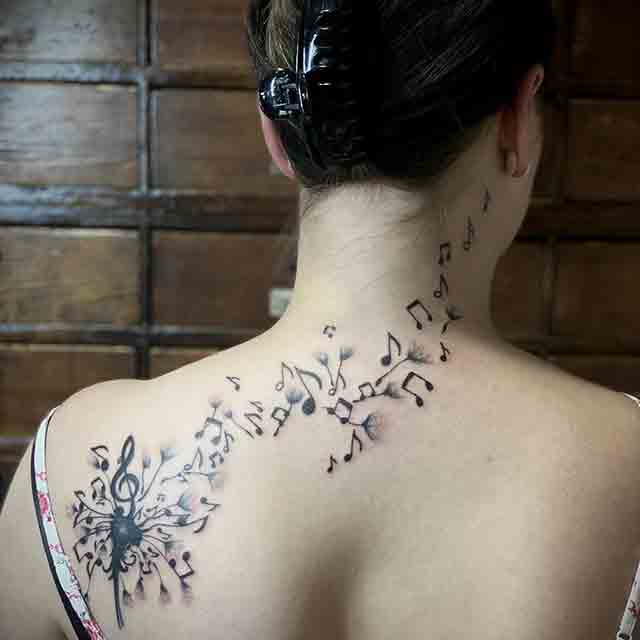 Dandelion Neck Tattoo
73.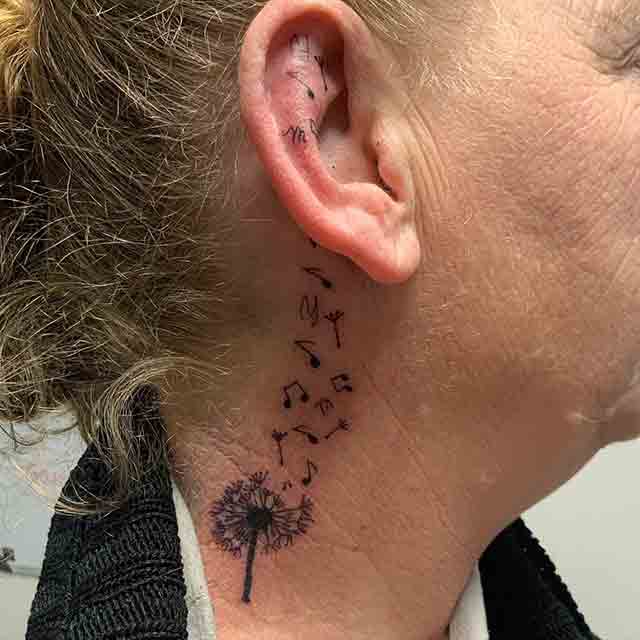 74.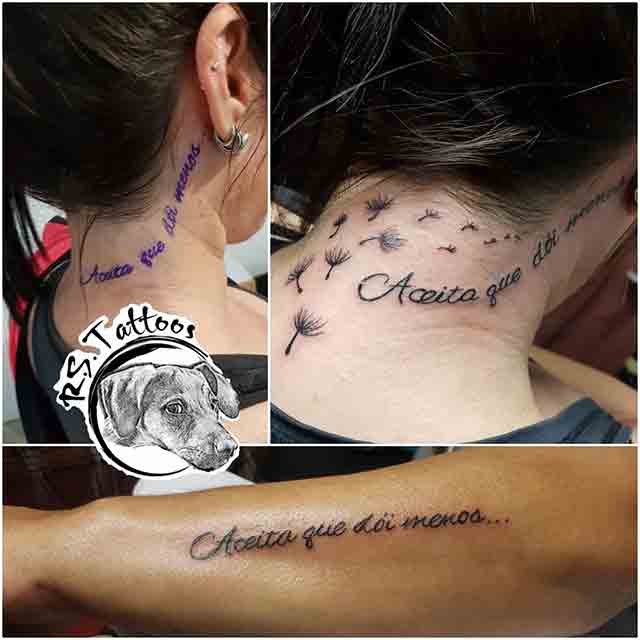 75.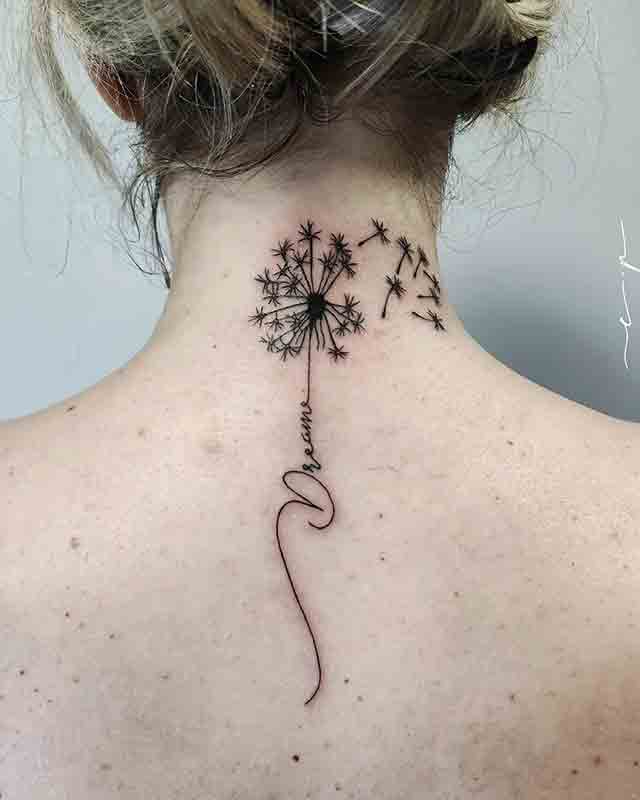 Conclusion
And that's a wrap! These are some of the most unique and coolest dandelion tattoo designs we've gathered for you. Now it's you who have to make the final decision. This is where you take all the time you'll need to choose a design. Go through each of the designs carefully while bearing the meanings in your mind.
Once you're done picking your design, consult a professional artist and be certain that they would get the job done. You wouldn't want your tattoo to look distorted or pulled out of shape as it's going to be there permanently. This is important because if your tattoo turns out perfect, you will be able to walk around with it feeling very confident and good about yourself.
Frequently Asked Questions
What does the dandelion tattoo mean?
Among the multiple meanings it has, the dandelion tattoo represents pure joy and bliss.
What is the symbolism of a dandelion?
Dandelions symbolize the return of one's life, the revival of growth and a display of plentiful courage and power.
What does a dandelion tattoo with birds mean?
A dandelion, paired with a bird, symbolizes the realization of a person's fate as well as the fulfillment of their wishes.