The idea of getting a dolphin tattoo is generally associated with carefree joy and spontaneity.
Women are the most common buyers of dolphin memorabilia, which comes in a wide variety of styles, interpretations, and materials. Tattoos of dolphins can range from small black line art to elaborate ocean and undersea settings, or even just the iconic picture of a dolphin breaching the surface of the water.
Even while males get dolphin tattoos too, they're more likely to get inked with sharks or other marine life to indicate how much they admire and care about the water.
This blog post explains the deeper meanings behind dolphin tattoos. Plus, we have got some exotic design ideas here with their meaning and symbolism explained. Whether you're a guy or a girl, the designs below can help you come up with a concept that your tattoo artist can use to make a masterpiece.
So, without any furhter ado, let's dive deeper-
99 Dolphin Tattoos Designs and  Meanings
Dolphins are symbols of peace because they avoid conflict with other marine life and with humans. They are selfless and considerate, putting the needs of others before their own.
This mammal serves as a conduit between humans and the animal kingdom, acting as a moderating force. The dolphin, which inhabits both aquatic and terrestrial environments, is a symbol of both the mind and the heart.
The dolphin represents safety since it is often shown in tales where it rescues humanity from peril, such as drowning sailors. A dolphin riding shotgun is a great omen for sailors, whether they're hoping for favorable conditions at sea or a visit to a particular beach.
Tribal Dolphin Tattoo
Like other animal patterns, tribal dolphin tattoo designs are linked to spiritual protectors, luck, and inner power. Along with life accomplishments, tribe rank, and individualized journeys in the case of Celtic tattoos, tribal tattoos may also allude to the warrior, fisher, and hunter lifestyles. These tattoos are gorgeous, eye-catchy, and can be a compliment to the body.
If you're a fan of tribal patterns and design then tribal dolphin tattoo design can be your next choice. Here are some exotic pieces-
King of The Blue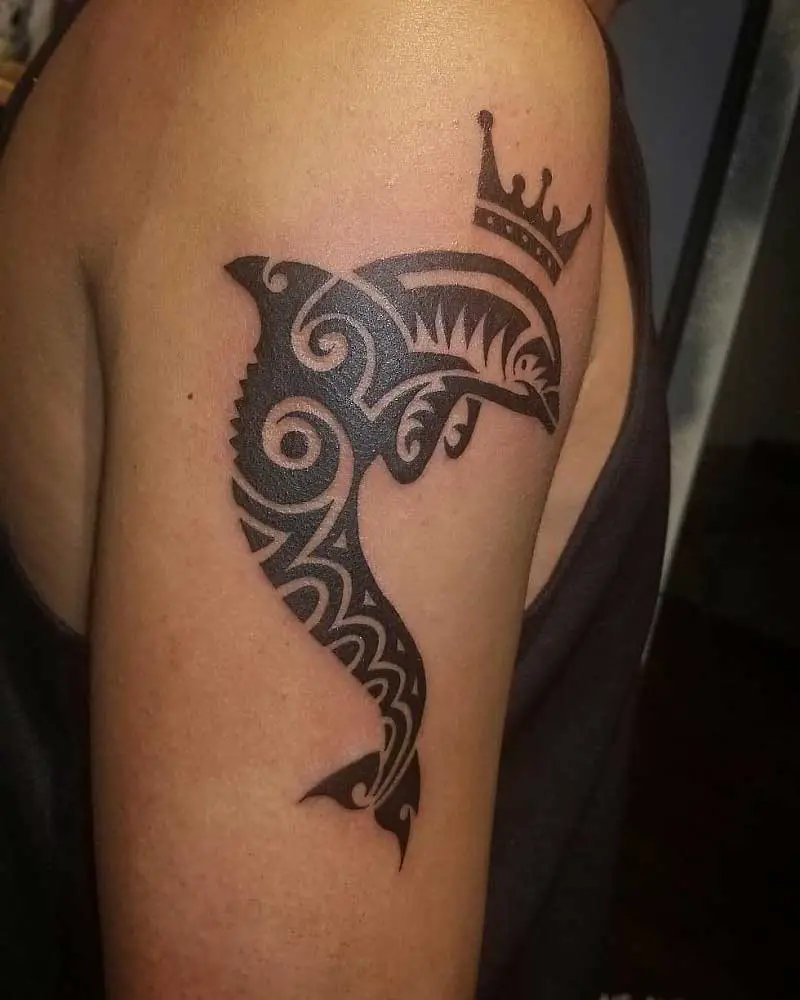 This upper arm tattoo is quite big and exotic with tribal design patterns. The dolphin has a handsome looking crown on its head. It reflects the wearer's character, which may be smart, self-reliant, and upbeat.
2. Sea Star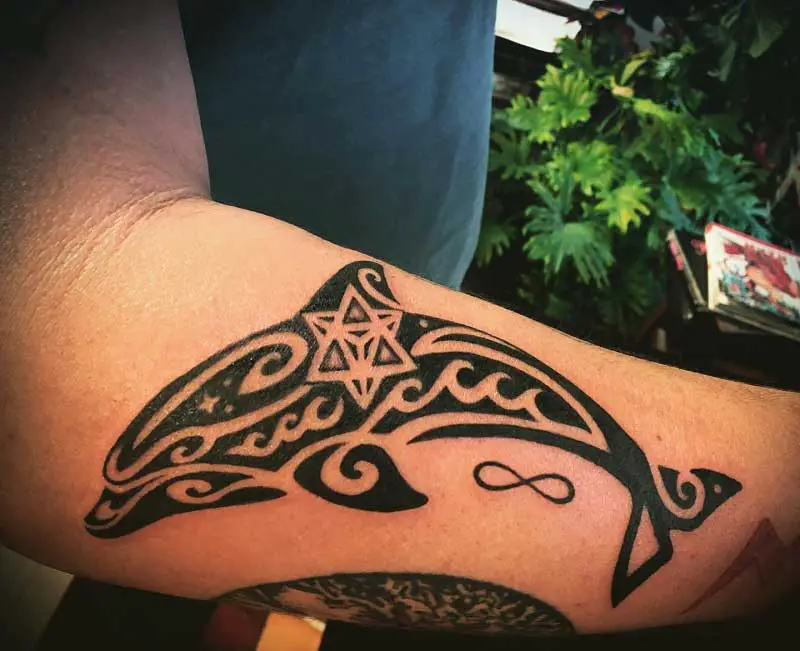 This piece is gorgeously designed with subtle tribal patterns. On top of that, the pattern also includes a nautical star which depicts the wearer's connection to nature. And for added symbolism, it is ornated with an infinity sign.
3. Queen Blue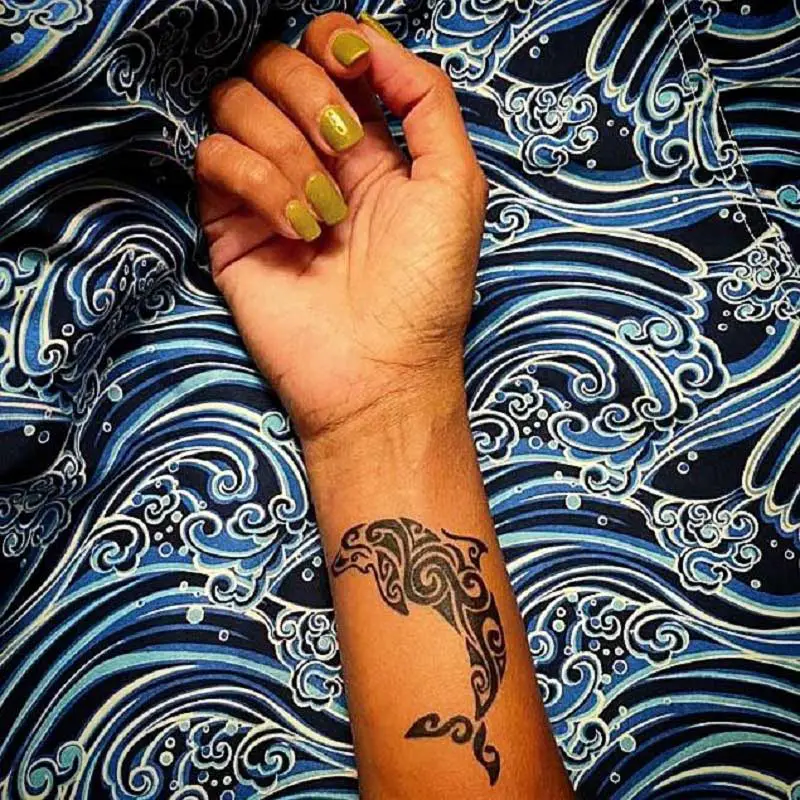 It's a majestic one. It's placed on the woman's arm and it's compact in design. However, the whole design is rich in symbolism as the wavy patterns imitate ocean waves. Just by looking at it, it gives a feeling that it's an ornament of Blue.
Dolphin Infinity Tattoo
This is a symbol of independence, boundless potential, hope, faith, eternity, rebirth, power, spiritual mortality, direction, autonomy, guidance, peace, knowledge, and love. It represents the wearer, who may be strong-willed, loyal, courageous, and committed. These designs are generally made in the shape of infinity. The infinity shapes usually consist of wavy water and two dolphins. They are very appealing and won't disappoint your sense of aesthetics.
Here are some cool dolphin infinity tattoo designs–
4. Cosmic Love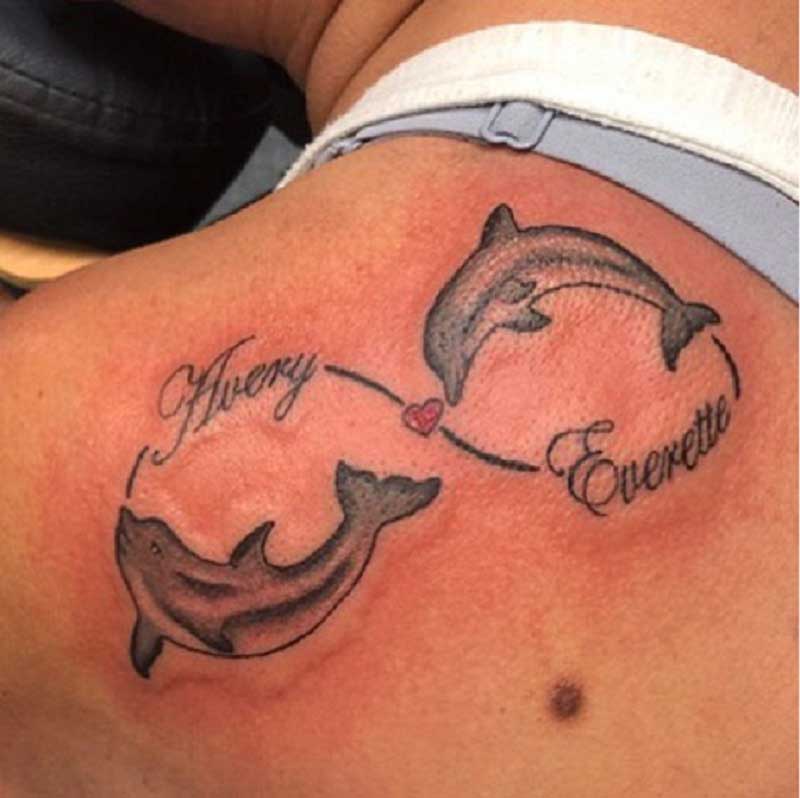 This particular design is a lovely tribute to love. It features the name of two lovers in the infinity shape. The infinity shape suggests the never-ending love or the love of eternity. And the two dolphins are imitating the wearer and his lover.
5. Splash of Infinity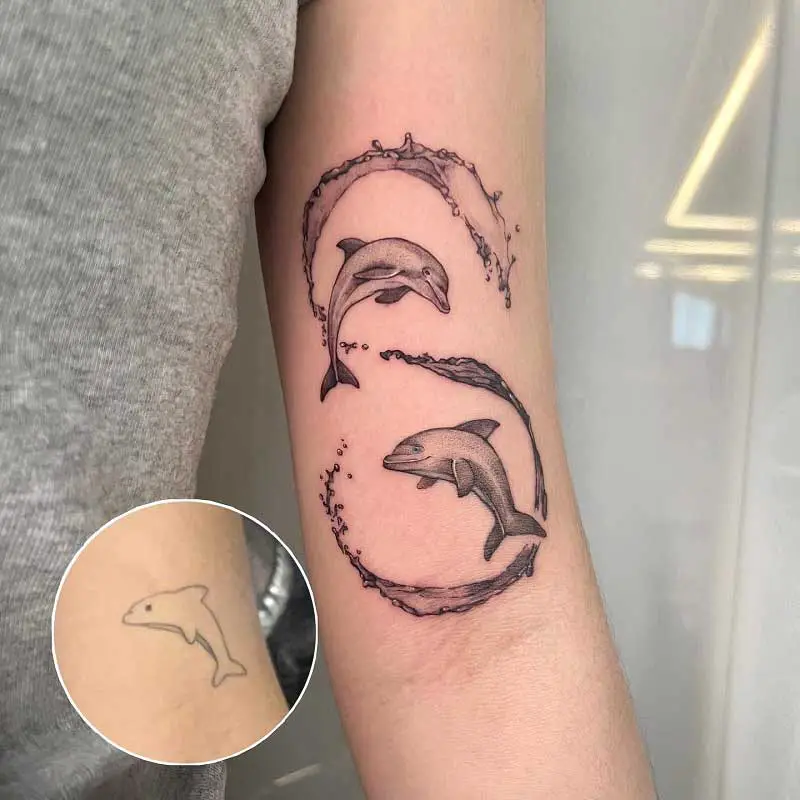 A simple but very lively design this one is. The shape of infinity is made out of the water and is inked brilliantly. Also, the dolphins are detailed with fluent expertise and they look very lively. Combining artistry and design, this piece is mind-blowing.
6. Ocean Dance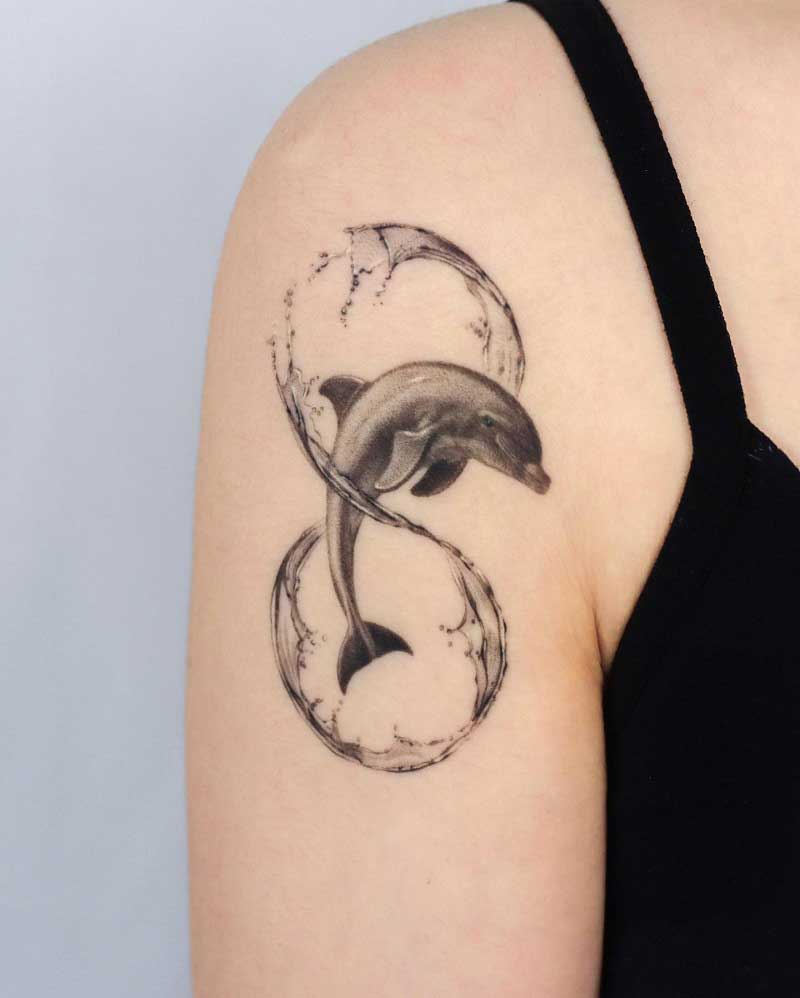 Dolphins are very lively and playful creatures and this tattoo is portrayed elegantly. The design depicts the wearer as free and filled with limitless possibilities. The detailed inking is also worth mentioning as it looks so much alive on the body.
Submarine Dolphins Tattoo
Submarine-qualified Sailors and Officers of the US Navy wear a fish uniform pin. Submarines are one of the Navy's three major enlisted warfare pins, along with Surface Warfare and Aviation Warfare specialists. To wear "fish" or "dolphins," potential submariners pass a one-year qualification course that covers all of the submarine's systems. And tattoo designs imitating the pin are known as submarine dolphin tattoos.
Here are the design ideas-
7. Pin of Honor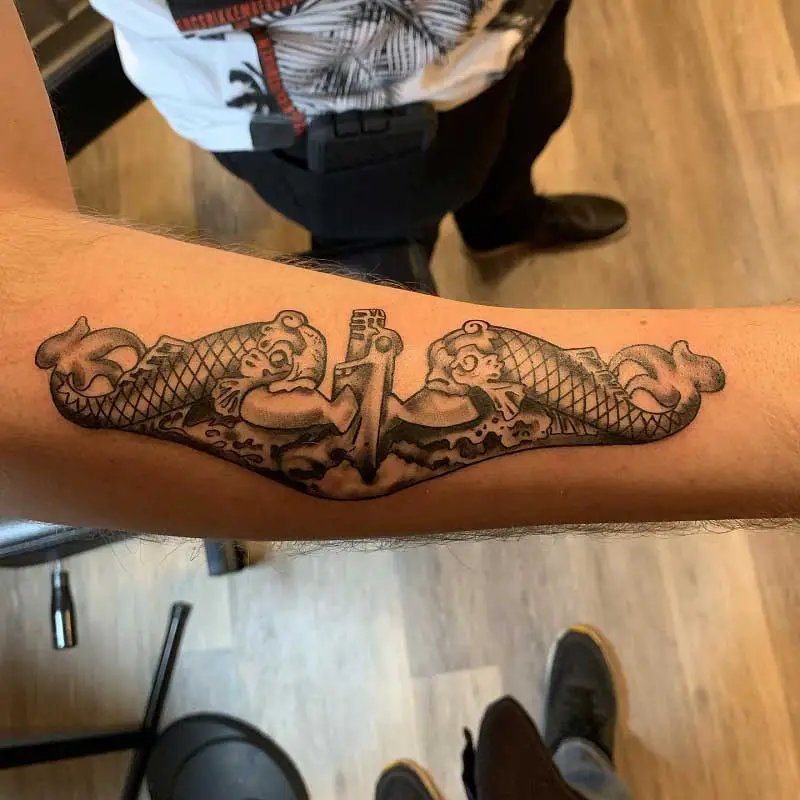 This design is directly inspired by the US Navy submarine warfare insignia. It's a very intricate piece design-wise. The metal thing between the two fish is the pin. It looks heavy and strangely appealing. Any former or in-service navy who is honored with the insignia can get this tattoo on his hand.
8. Dragon Pin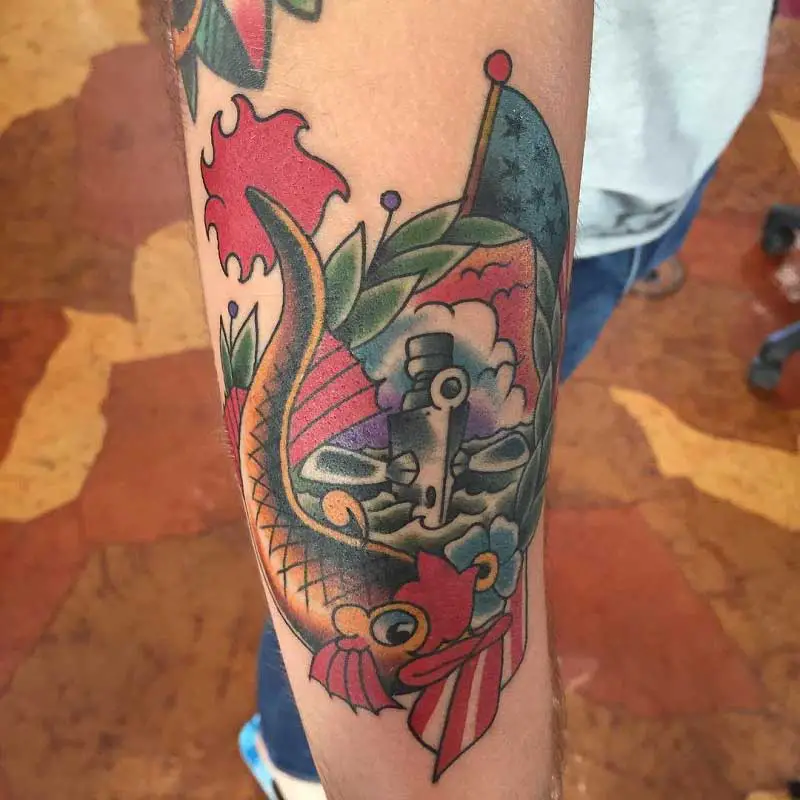 It's also a submarine warfare pin but not designed in a conventional way. It is linked with splashes of color and some floral designs. The fish resembles Chinese traditional dragon art and looks gorgeously cool.
9. Emblem of Glory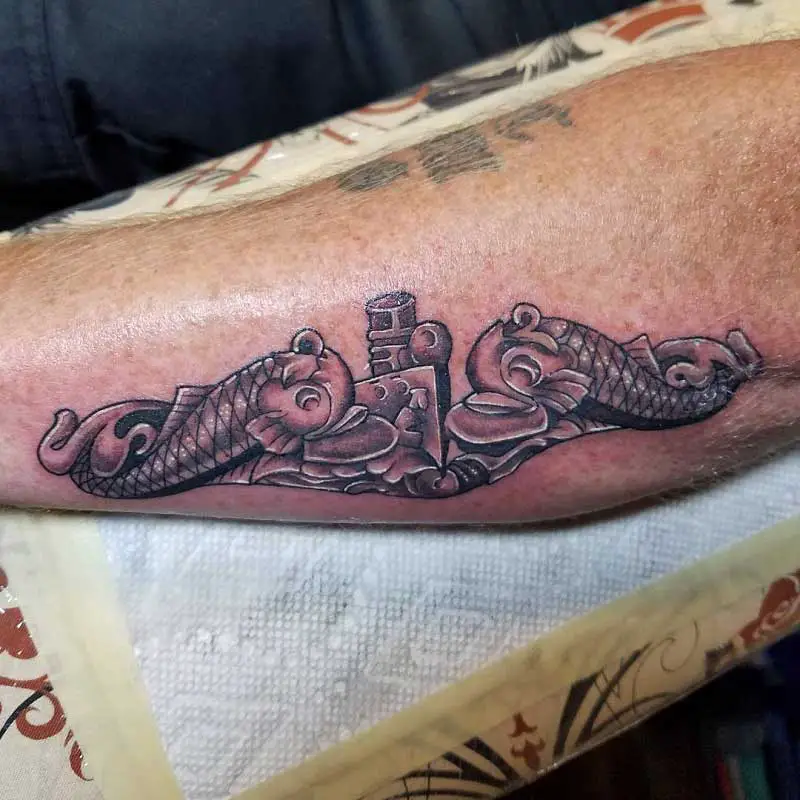 This piece is also a direct imitation of the submarine warfare insignia. But, it differs in the inking method. The piece is inked with a realistic flavor. The artist expertly inked it with every tiny detail and shading so that it looks very much alive and metallic.
Unique Dolphin Tattoos
Tattoo designs are always creative. It shows the designer's creativity and expertise. Designs can be simple and minimalistic or extensively detailed and artistic. And when it comes to the Dolphin tattoos, you will witness some of the supremely creative artistry. These intricate designs portray one aesthetic side in a manner he is most comfortable within. These designs are a great way to portray your unique personality and creative side.
So, if you're an avid admirer of art, then unique dolphin tattoos are for you. Here are some of our best designs-
10. Veiny Blue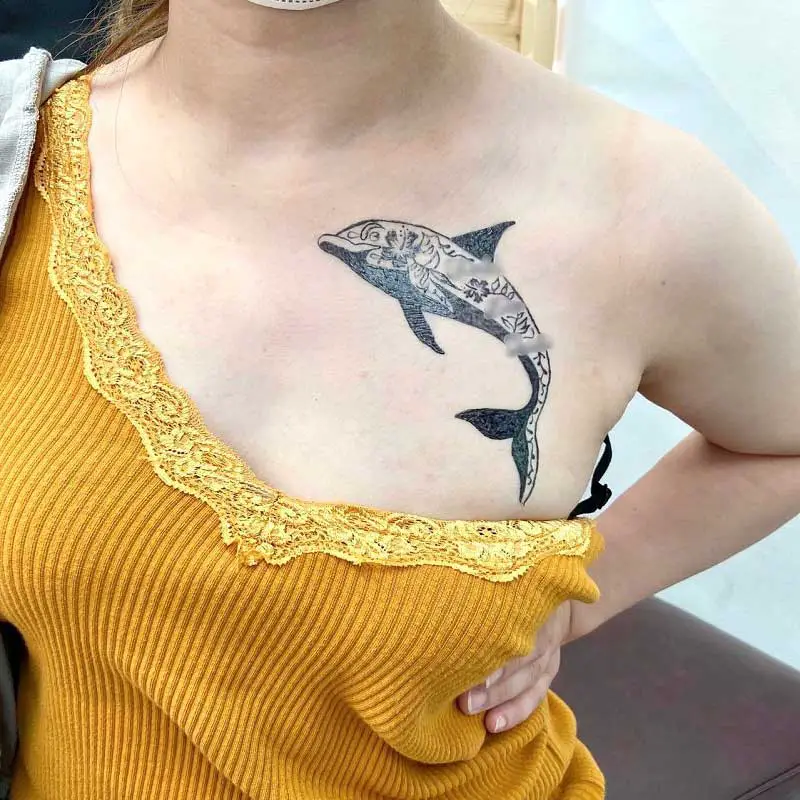 This one is a rather intricate piece. It's placed on the chest of a woman and it's literally a compliment. This piece's intricate veiny ornamental design really pops out the feminine side. Considering its design pattern and placement, it's undoubtedly the best dolphin tattoo design for women.
11. Waves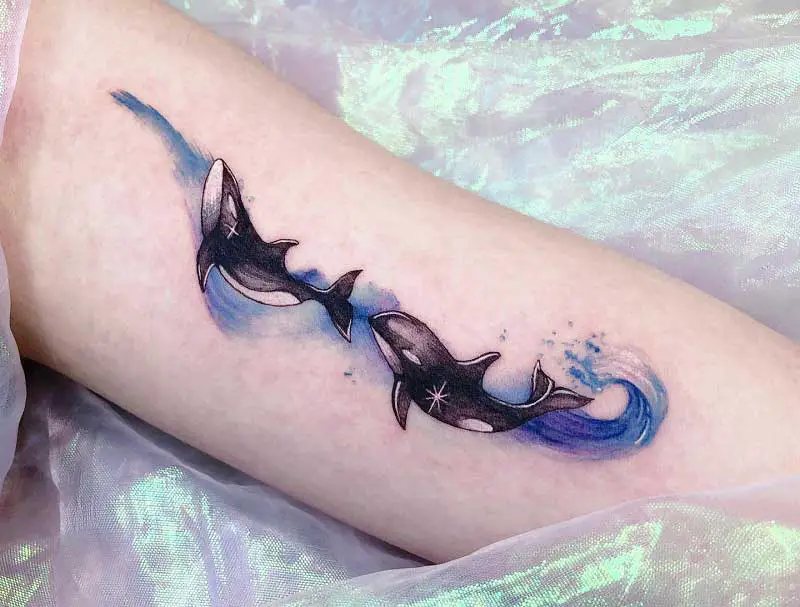 This particular piece emits a serene vibe. Two dolphins swimming through the endless blue of the ocean with freedom matched to none. The whole design depicts freedom, peace, and free-spirit. And, as for the design, it is gorgeously inked with fluent expertise on a woman's sleeve!
12. Flamed Heart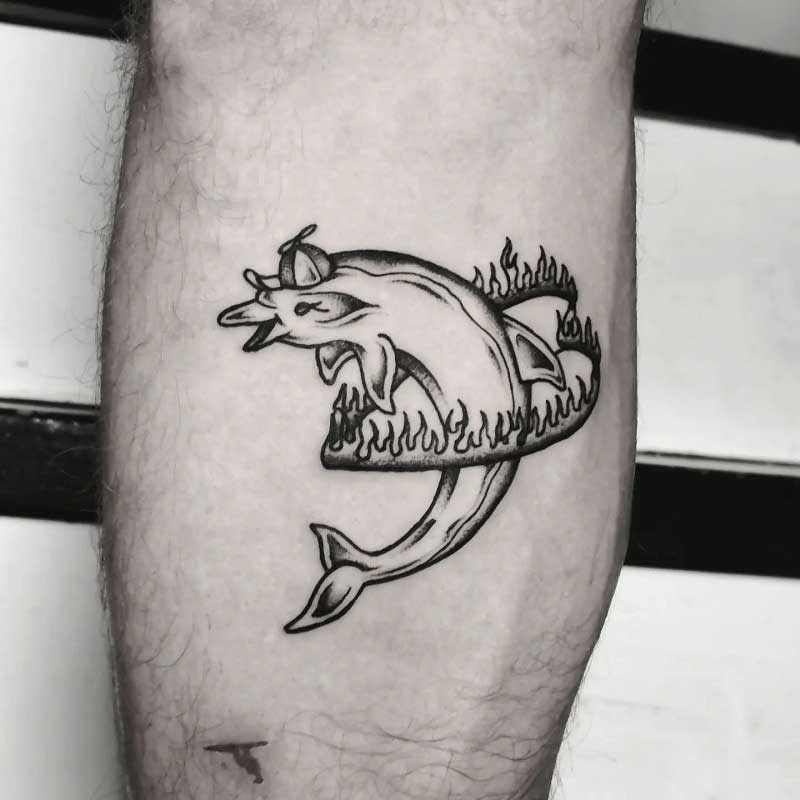 It's a monochrome piece yet exquisitely romantic and vibrant. This tattoo depicts concepts like compassion, aspiration, grace, and elegance. And if we talk about the design, it's exotic and vibrantly playful. This design will compliment your body no matter where you decide to put it.
The concept of getting a tattoo of a dolphin is frequently associated with a carefree and joyful attitude, but it also appeals to people who are serious about protecting marine life and the ocean as a whole. These designs come in different variations- from intricate to simplistic and minimal design. Placement of the simpler designs is often associated with ankles as these designs are usually quite compact in nature. The ankle placement of dolphin tattoos is quite exotic and sexy.
If you're looking for ideas for your new ankle tattoo designs, here are some simple but exquisite pieces-
13. Black Mermaid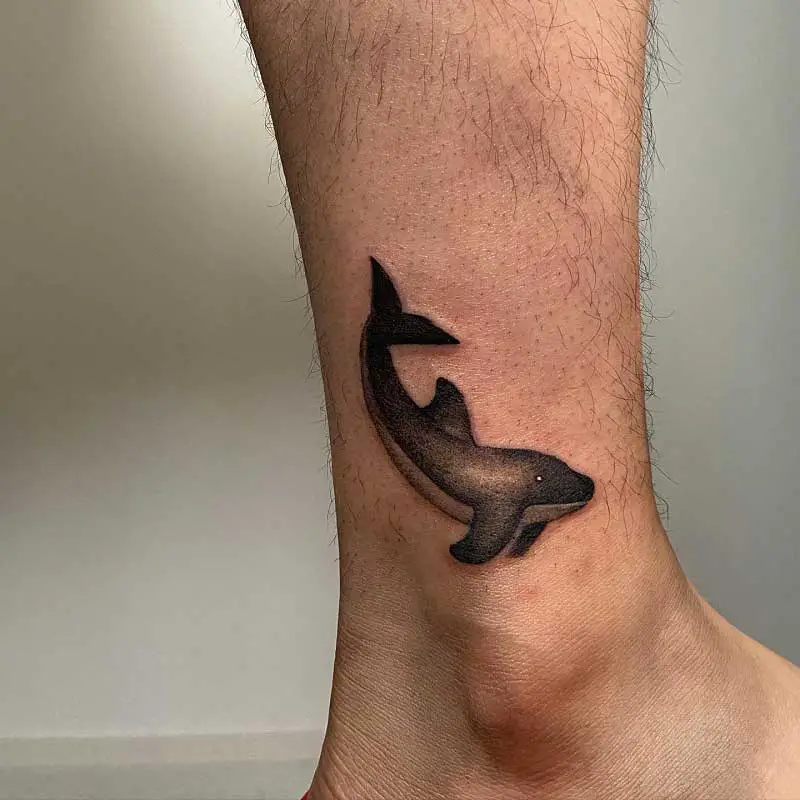 The piece is subtle and gothic. This particular design is gender neutral and will pop up with its unique aestheticism.
14. Joy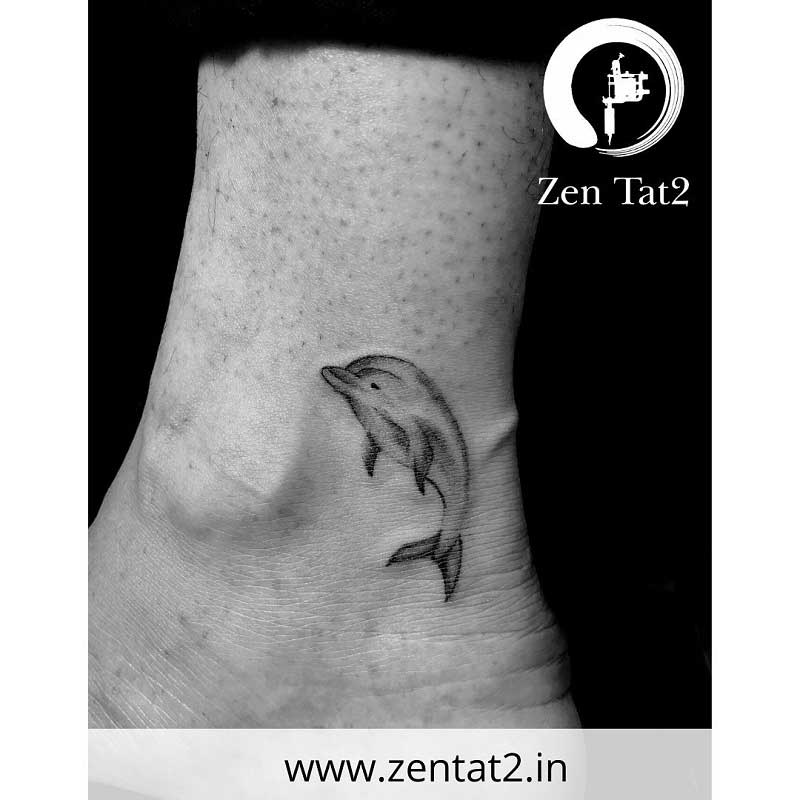 This is a very simple design with subtle gorgeousness. The design emits a joyful aroma with the utmost subtlety. It can be worn by any gender and this piece will nail it in the aesthetic department.
15. Leap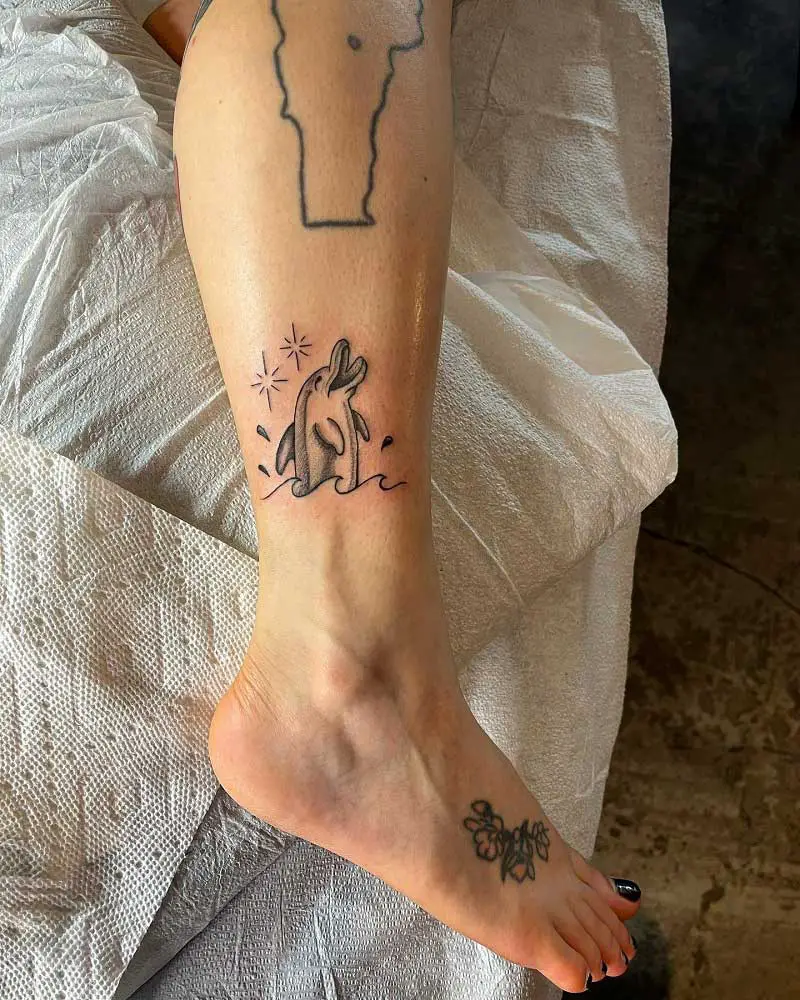 It's a leaping dolphin. The design is very compact but rich in symbolism. The desire to adopt the dolphin's carefree spirit, gregarious demeanor, and flair for theatrics is at the heart of this particular design.
Dolphin Outline Tattoo
This inking method of the dolphin tattoo represents the simple pleasures of life: liberty, joy, independence, tranquility, etc. These tattoos are designed in a very simplistic manner to portray simplicity, free-spirit, and concepts like peace. These designs can be worn by both sexes. These are quite intriguing and unique body art style that will blend with your aesthetics and personality seamlessly.
Here are some inspirational pieces, if you're searching for unique and simple designs for your next tattoo-
16. Blue Crescent
This one is a rather unique piece with a partly blue crescent moon. This pattern is meant to represent prosperity, originality, fertility, good fortune, togetherness, grace, and harmony. And it's a eye appealing piece too as its inking is very fluent.
17. Beats of the Blue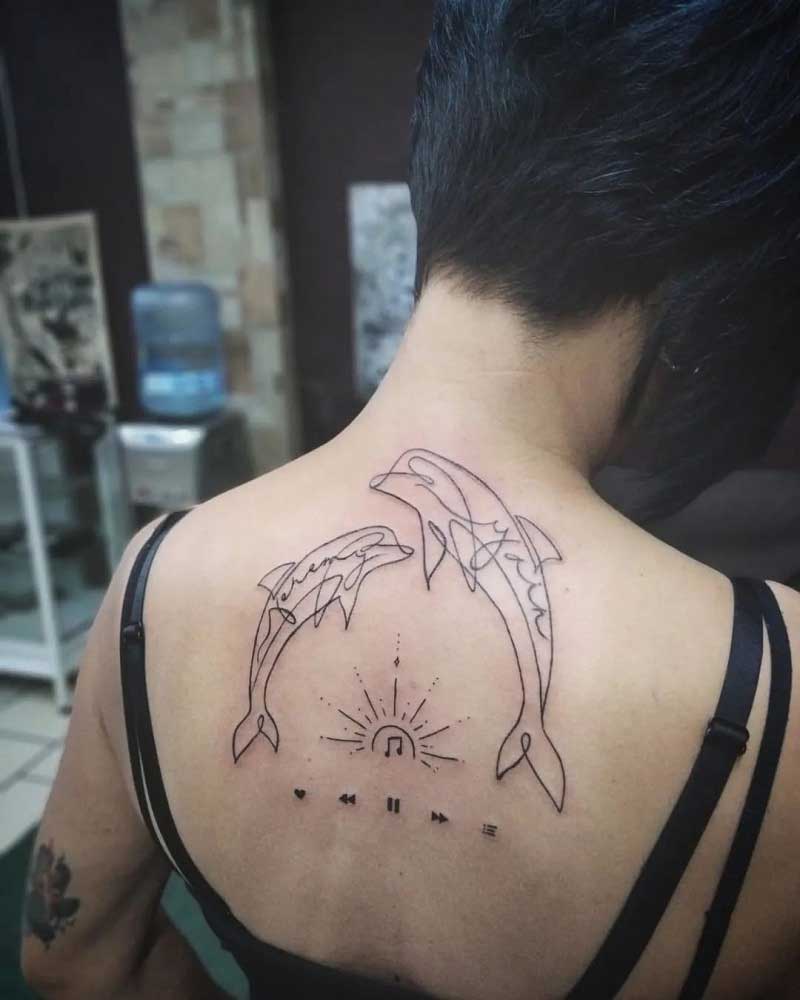 It's a richly symbolic tattoo on a woman's back that represents independence, harmony,  joy, hope, energy, love, devotion, and direction. It also represents the wearer's personality, who may be passionate about music. The best part is the line drawing; each dolphin is signed with names. And it's done with sheer expertise.
18. Sea Athlete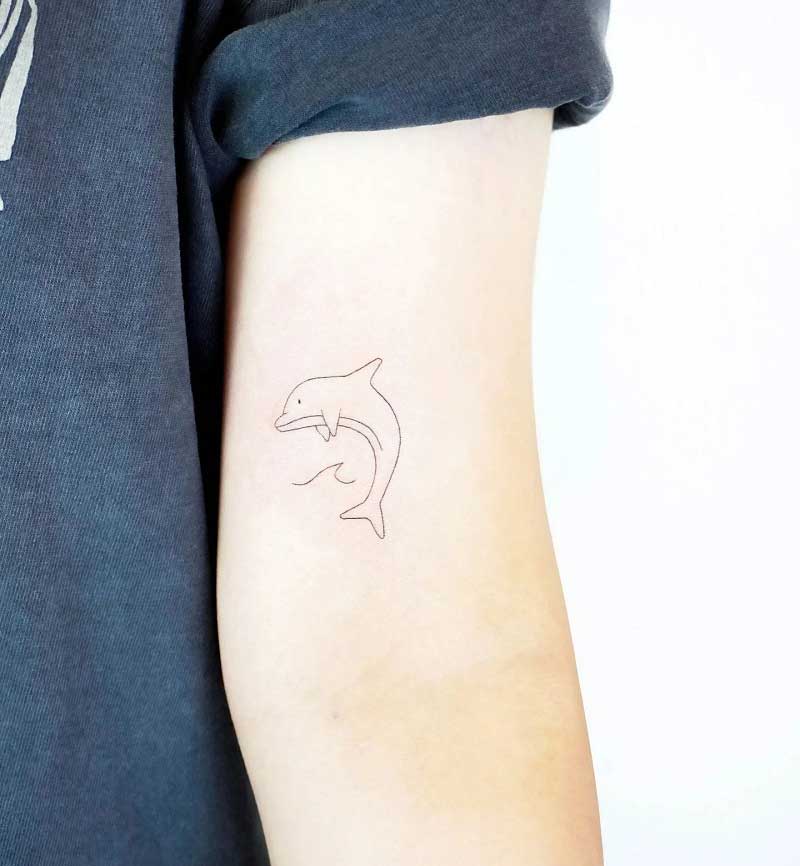 The piece is all about the joy and playfulness of these mesmerizing creatures. This design represents the joy, playfulness, and creative endeavors of the wearer's life. This is a simple and minimal piece that will look great in every situation.
Realistic Dolphin Tattoo
The qualities represented by these designs are those of an artistic mind: originality, wisdom, peace, success, independence, grace, and poise. What it really says about the person is that they are calm and practical in their outlook on life. Apart from the symbolism, these exotic designs have unique and enchanting appeal.
Here are some top-of-the-line realistic dolphin tattoo designs that will wrap you with enchantment-
19. BlackBird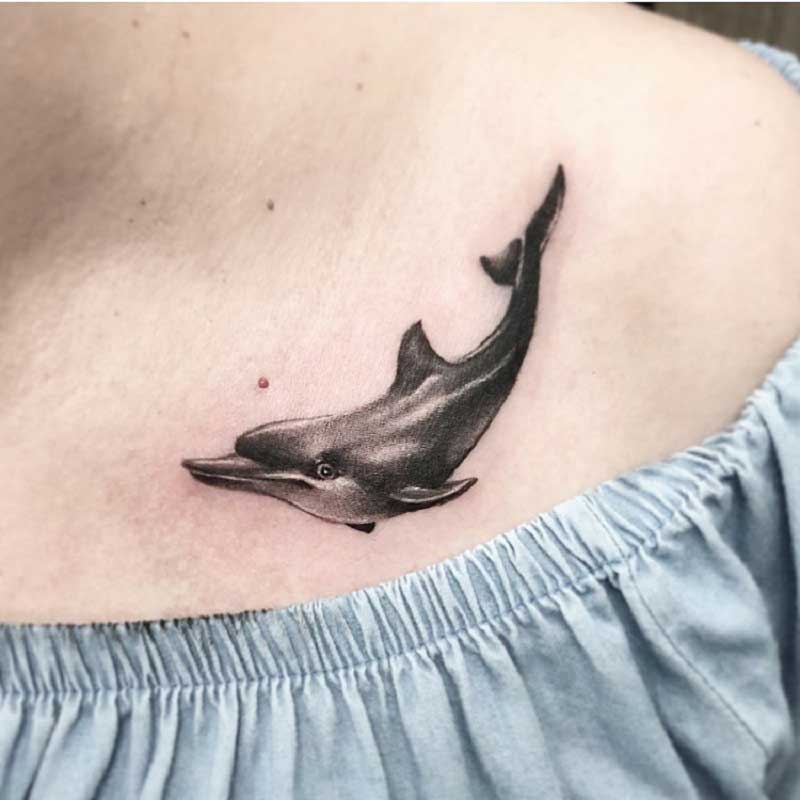 This black dolphin design represents independence, beauty, bravery, faith, protection, and good fortune. It looks very realistic and its placement made it look like it's swimming on the body. Talk about hyper-realistic inking!
20. Gorgeous Gray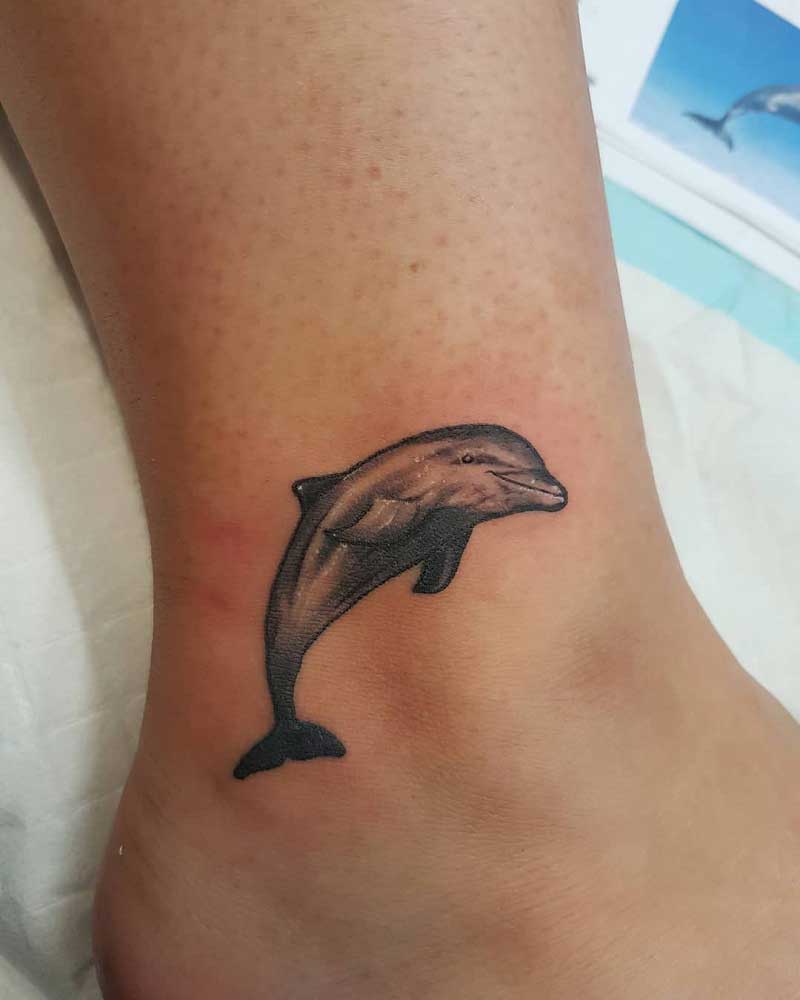 It's a gray dolphin tattoo with a realistic flavor.  It's placed on the ankle and quite compact in design. However, the detailing is over the edge and looks very much alive. Want a realistic and aesthetic piece? This is the design to go.
21. Mum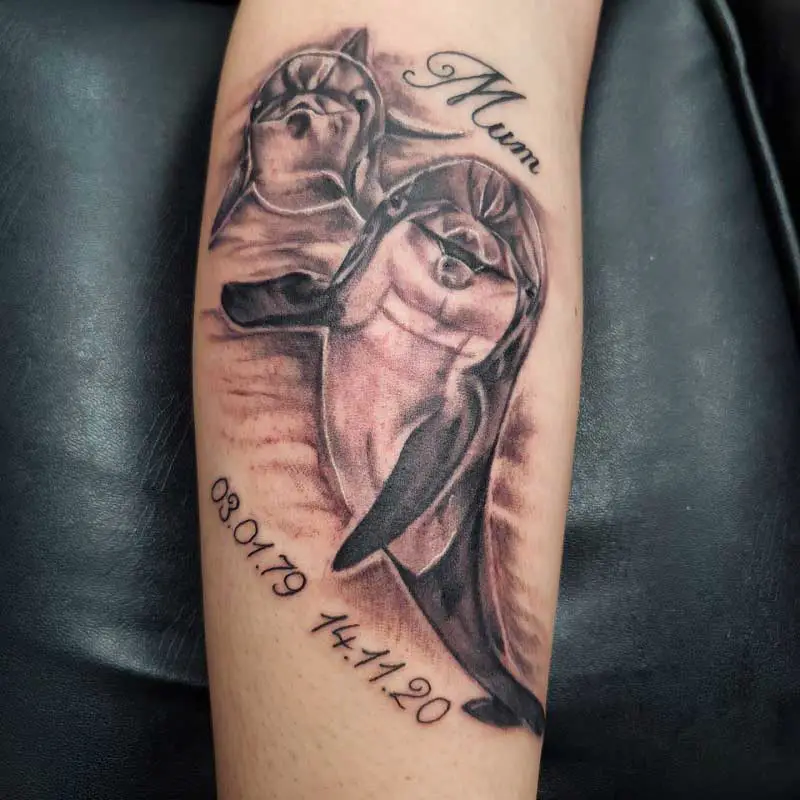 It's an adorable design that stands for adoration, guardianship, direction, harmony, wit, family, and respect. It also suggests the wearer has a strong bond with his or her mother. This piece has two dates inked that suggest the birthdate of the mother and her child. On top of that, it is inked in a very realistic manner.
A dolphin lover might get a tattoo of two dolphins emerging from the water facing each other in the shape of a heart if they are particularly passionate about the ocean (check some tattoos of the Ocean, btw) and its inhabitants. This is a unique way to express your support for dolphins and their natural environment.  Meanings associated with these tattoo designs include affection, kindness, warmth, development, aspiration, desire, maintenance, purpose, compass-point, brains, grace, honesty, and sophistication.
Here are some heartwarming pieces-
22. Love & Sea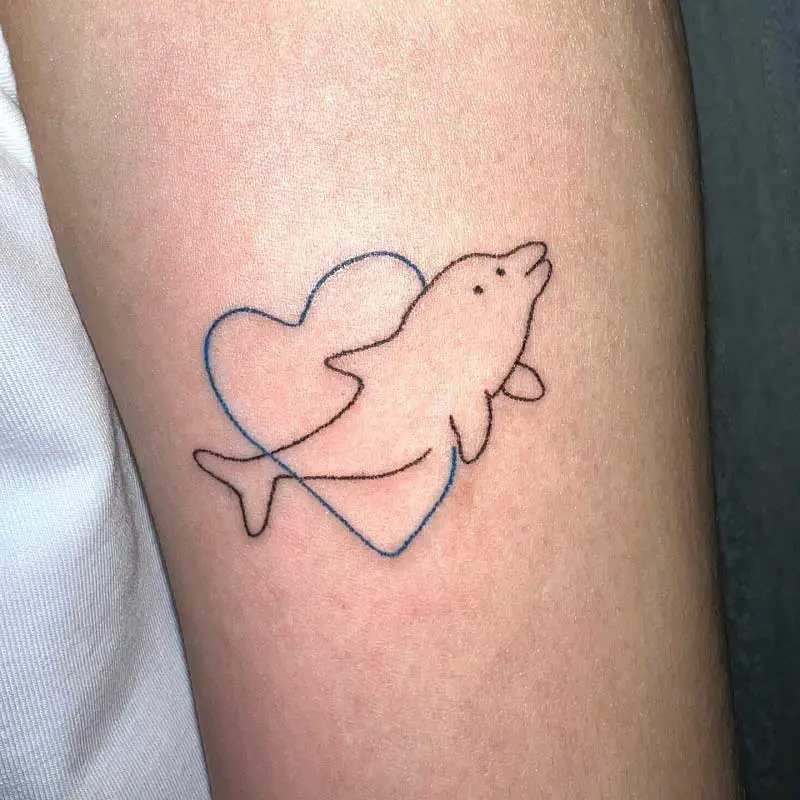 This is a simple line drawing with a good sense of artistry. It's a minimal design with a blue heart and a dolphin. If you want to show some affection towards these lovely creatures then there's no other better way than this design.
23. Call of the Blue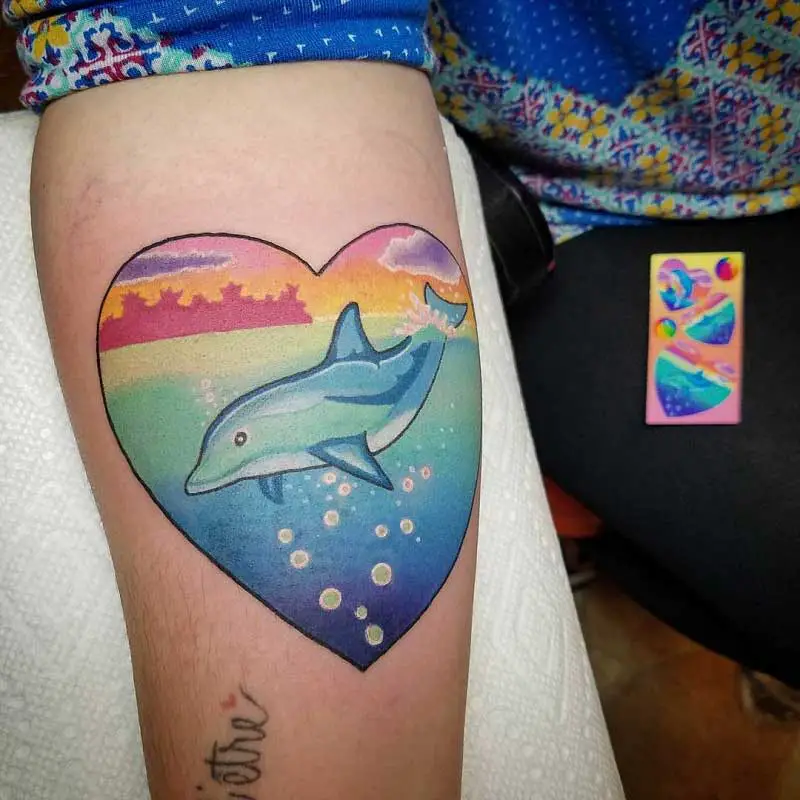 This one is rather colorful. The whole design is made out of splashes of colors and has a Hawaiian flavor to it. Also, it's very vibrant, appealing, and eye catchy. It has a heart shape outline that looks gorgeous with a variety of colors in it.
24. Splashes of Love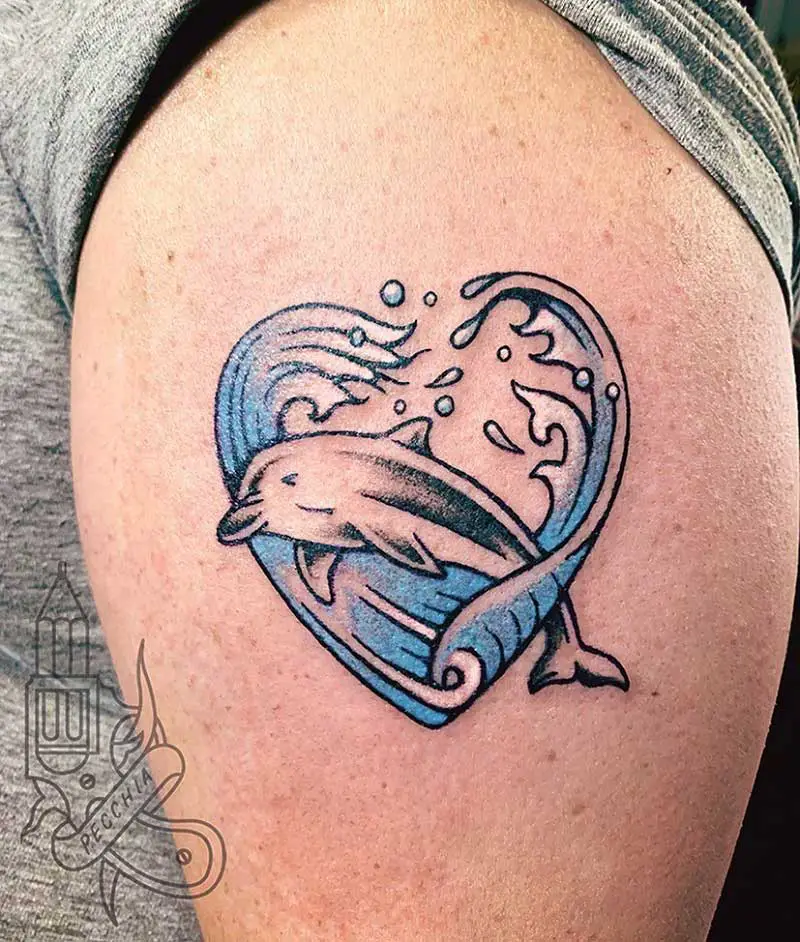 It's a creative piece with heart shape design. The heart is made out of wavy water which looks mesmerizing with the dolphin in it. It is moderately colorful and the dolphin is black with on-point detailing.
Dolphin Sunset Tattoo
Dolphin and sunset tattoos are a symbol of joy since seeing a dolphin at the beach is considered lucky and causes great excitement. Additionally, they stand for independence and the joy that comes from choosing one's own choices in life. These designs normally are quite colorful and cheerful. These designs have a beach vibe to them and sure are gonna wrap your skin in a delicate way.
Here are some authentic design ideas-
25. Sea Pearl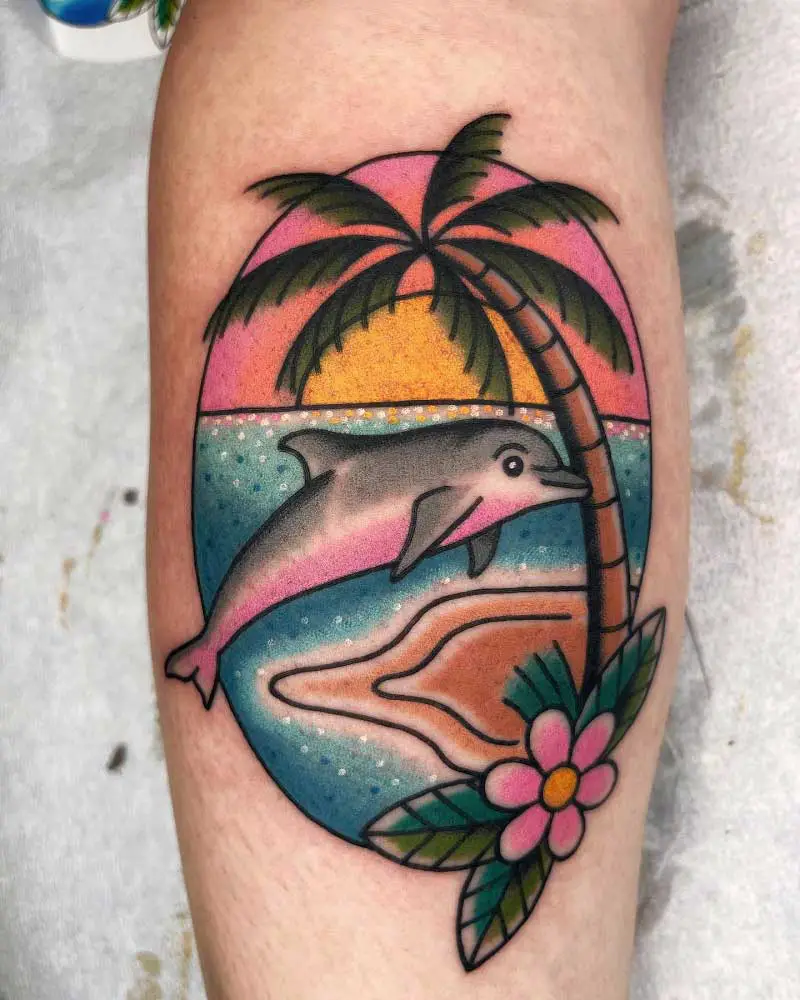 This particular piece has a glossy nostalgic feeling to it. Every time you look at this piece, you will be able to savor that salty northern wind from the beach. Glossy background, Warm colored dolphin, and floral arrangement made this design a dream-like piece.
26.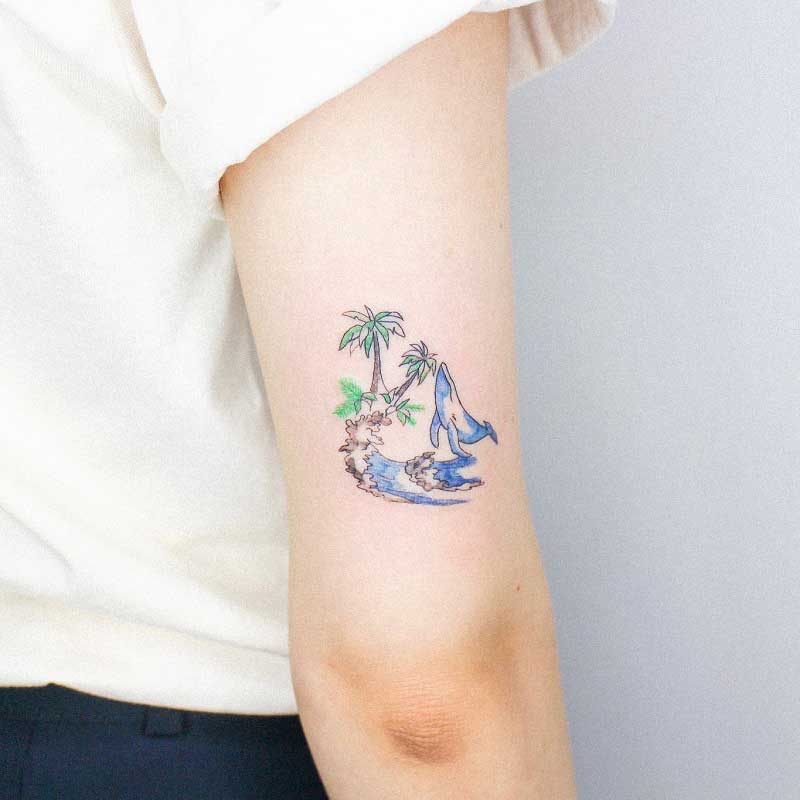 27.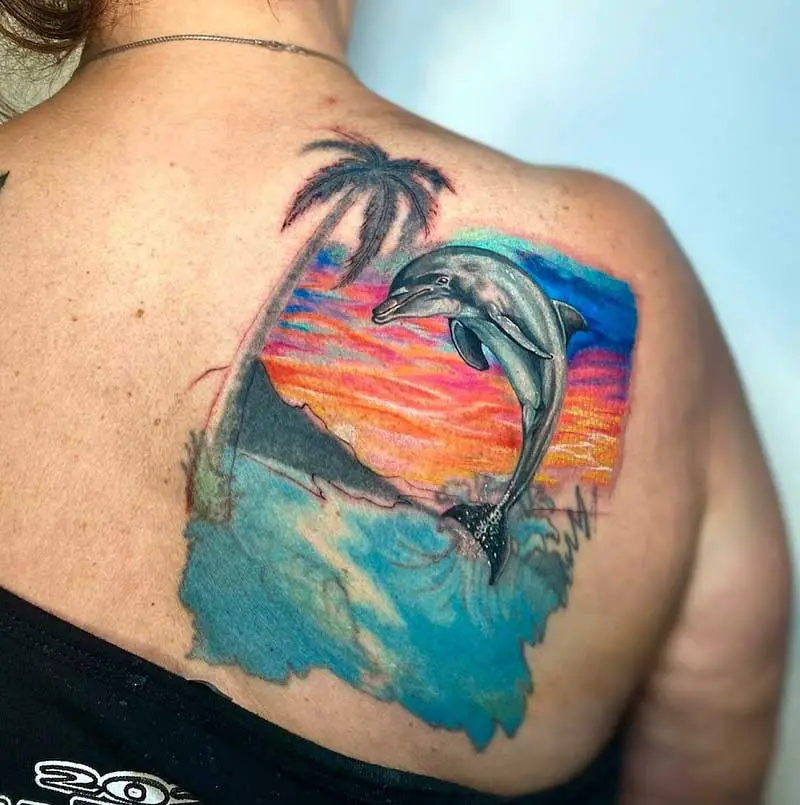 Dolphin Yin Yang Tattoo
28.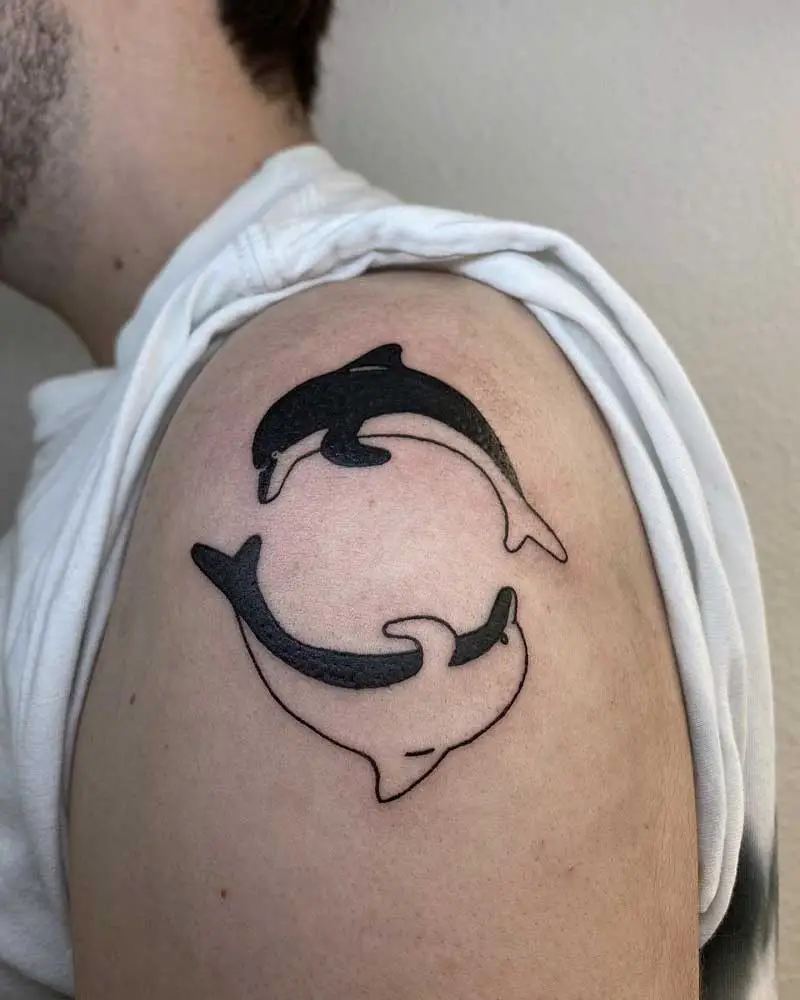 29.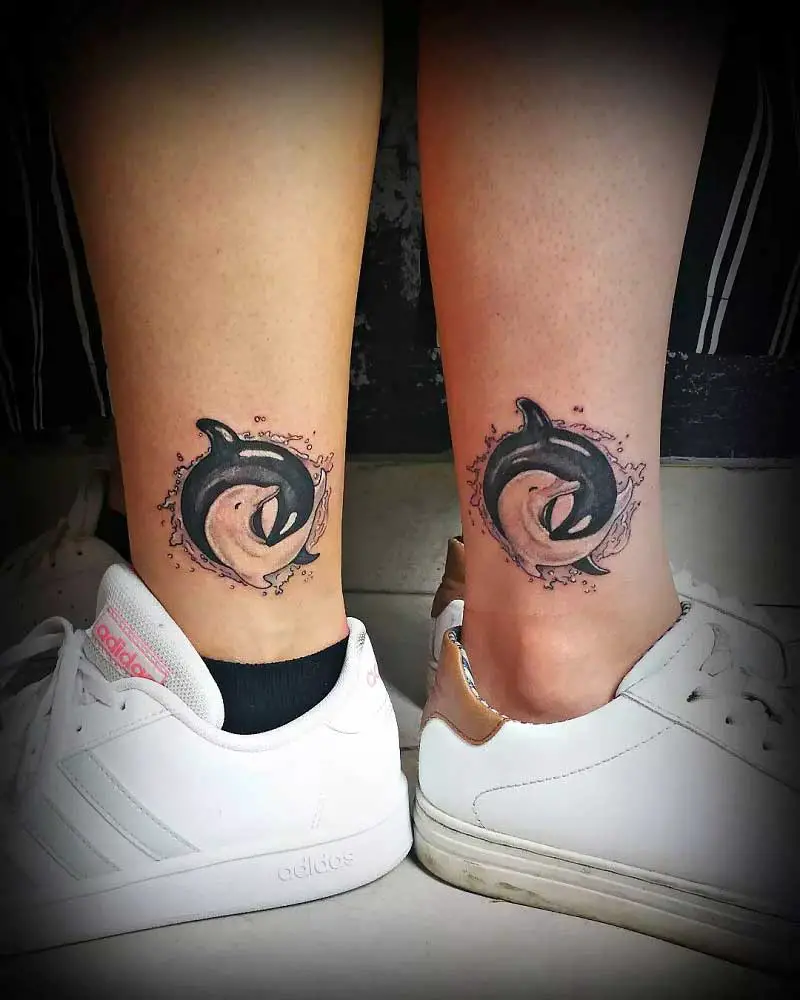 30.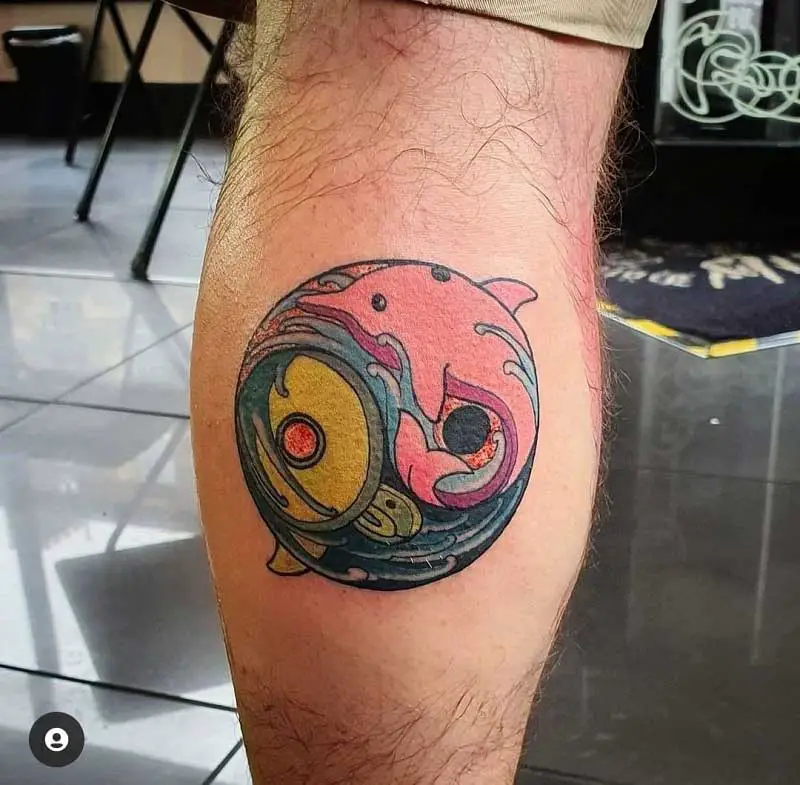 Traditional Dolphin Tattoo
31.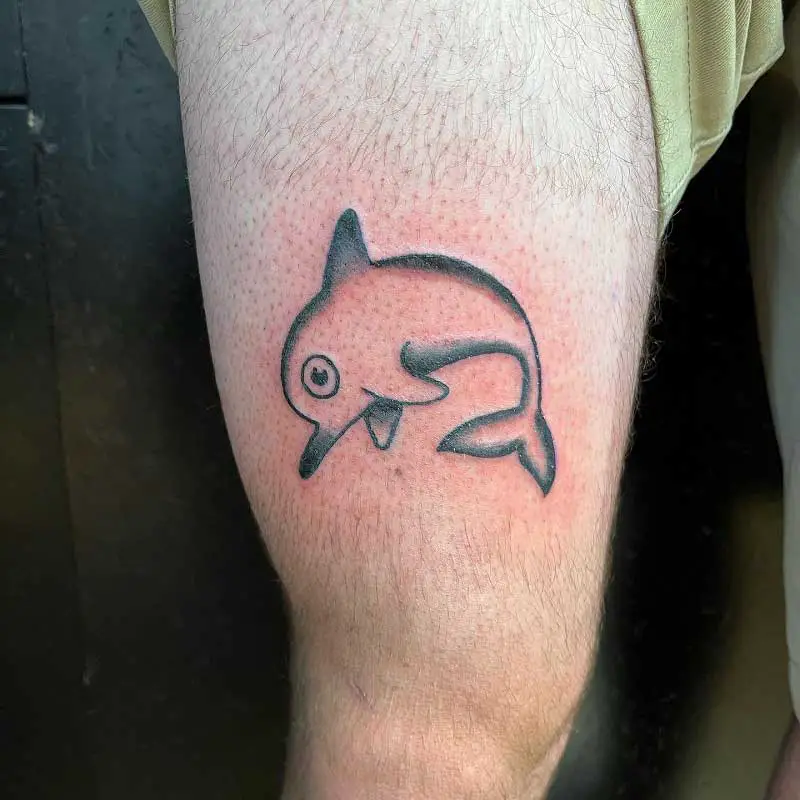 32.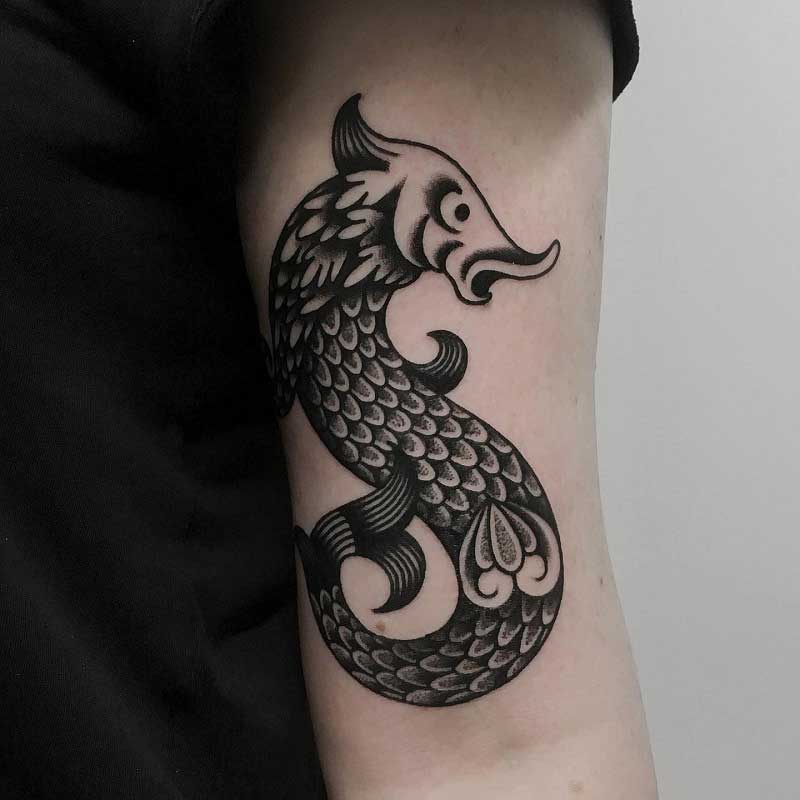 33.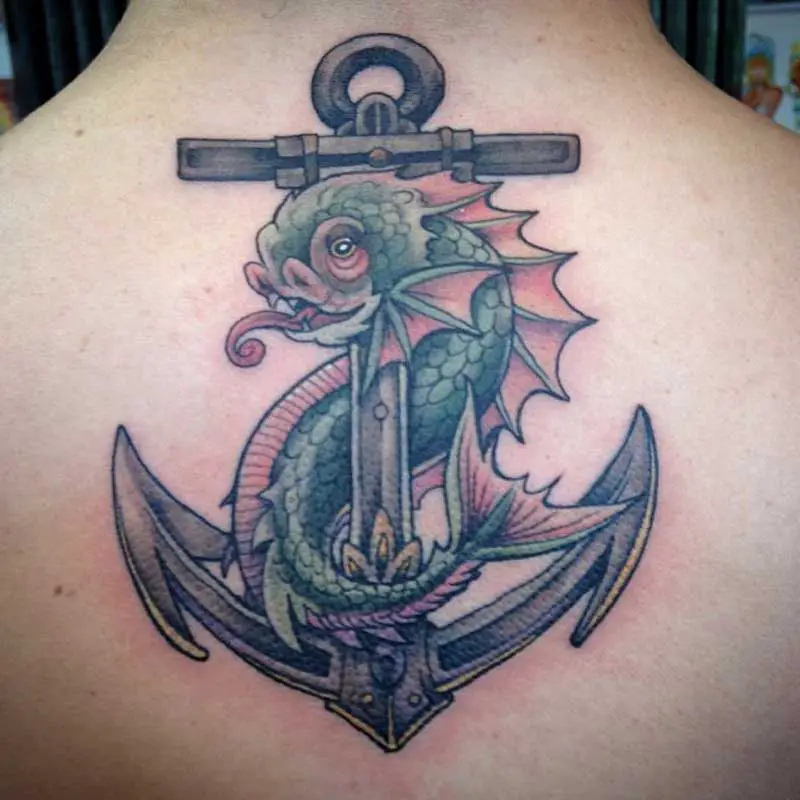 Dolphin Memorial Tattoos
34.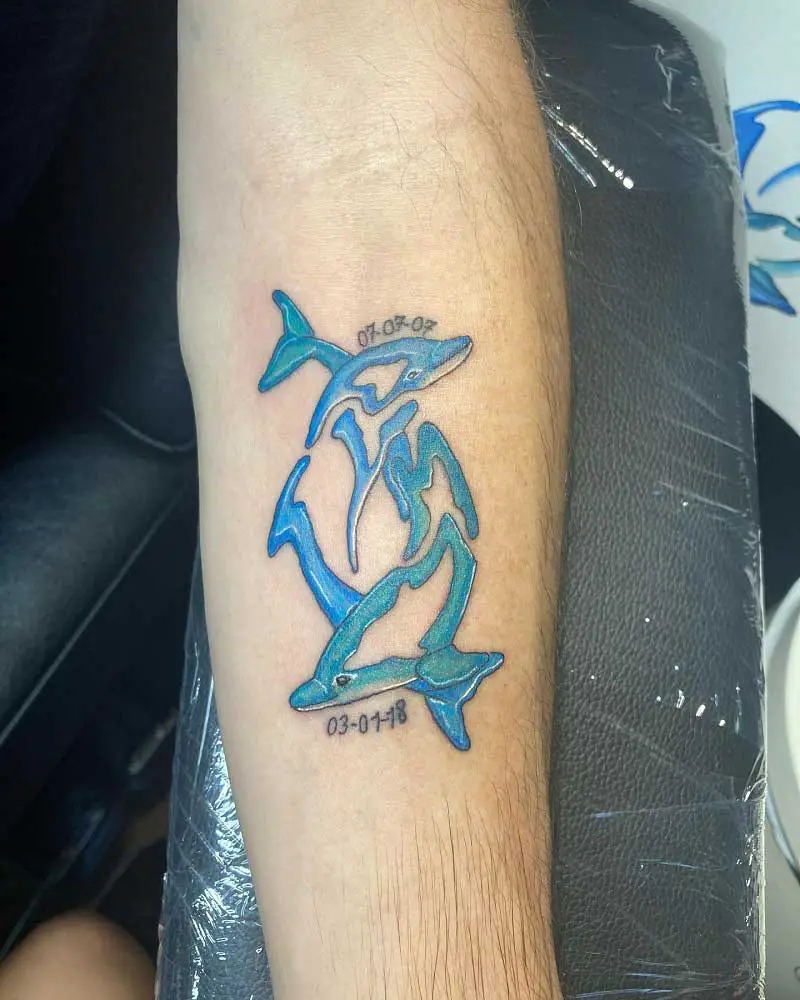 35.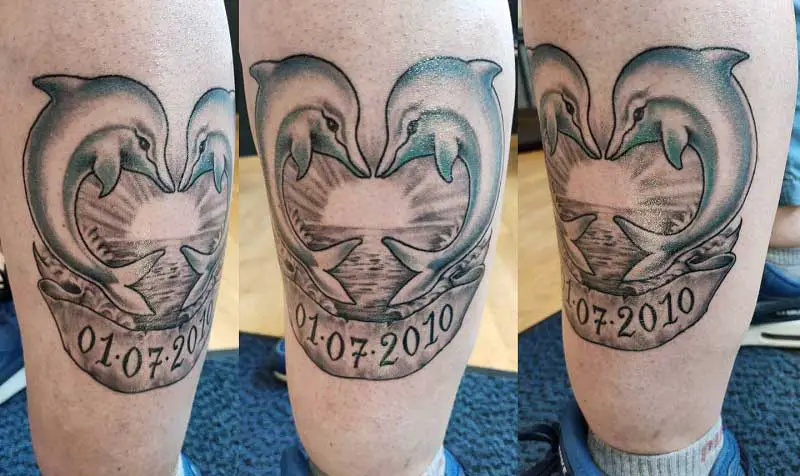 36.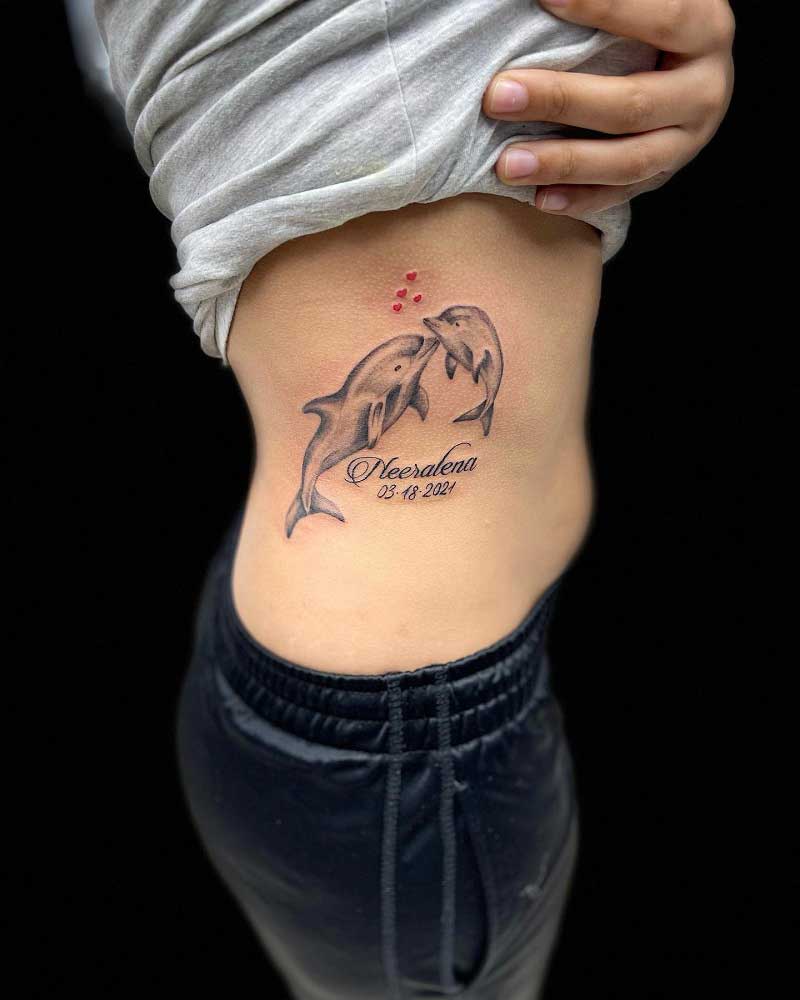 Two Dolphins Tattoo
37.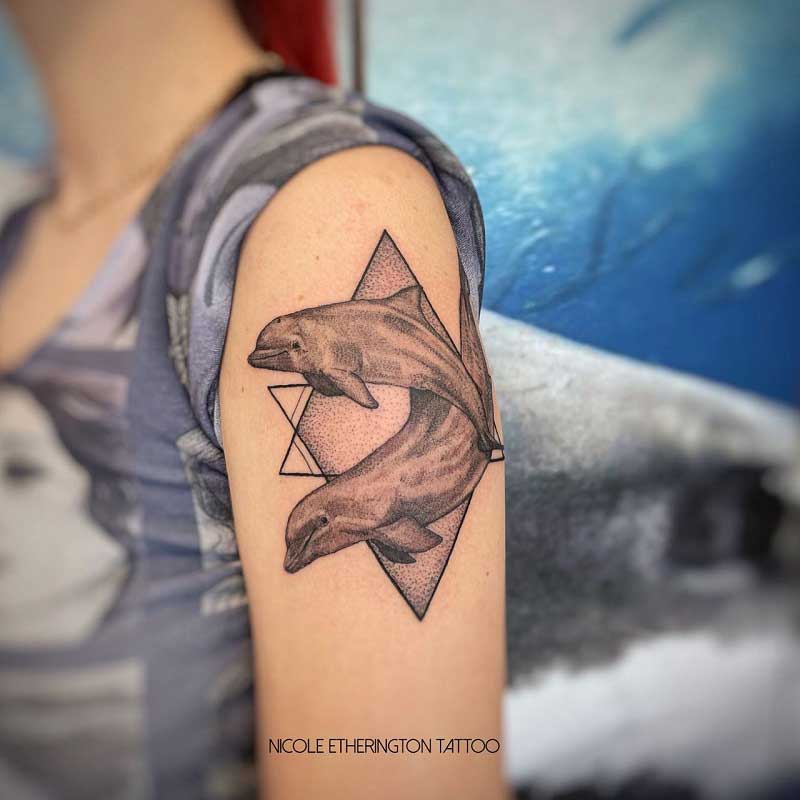 38.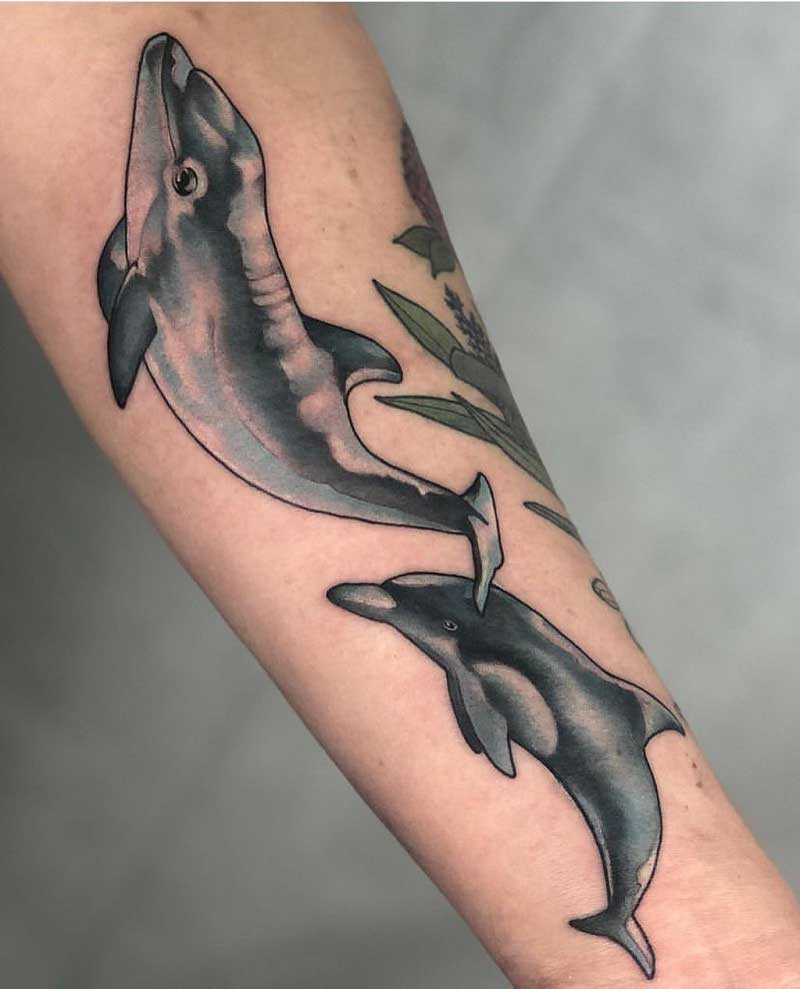 39.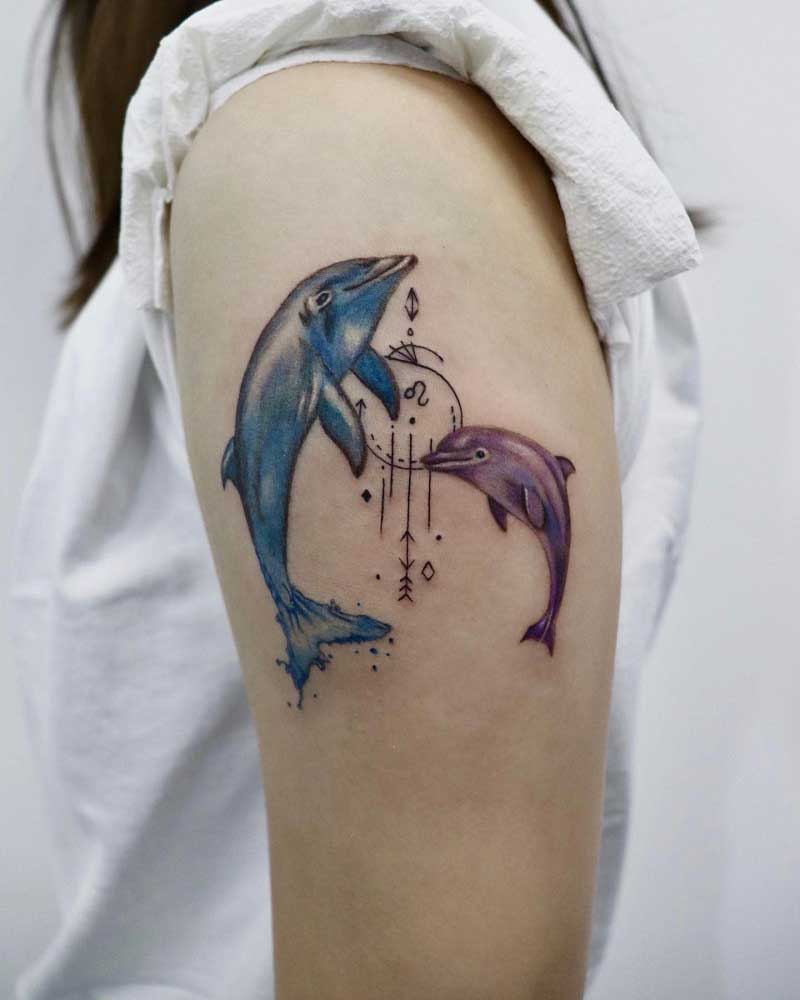 Dolphin Bracelet Tattoo
40.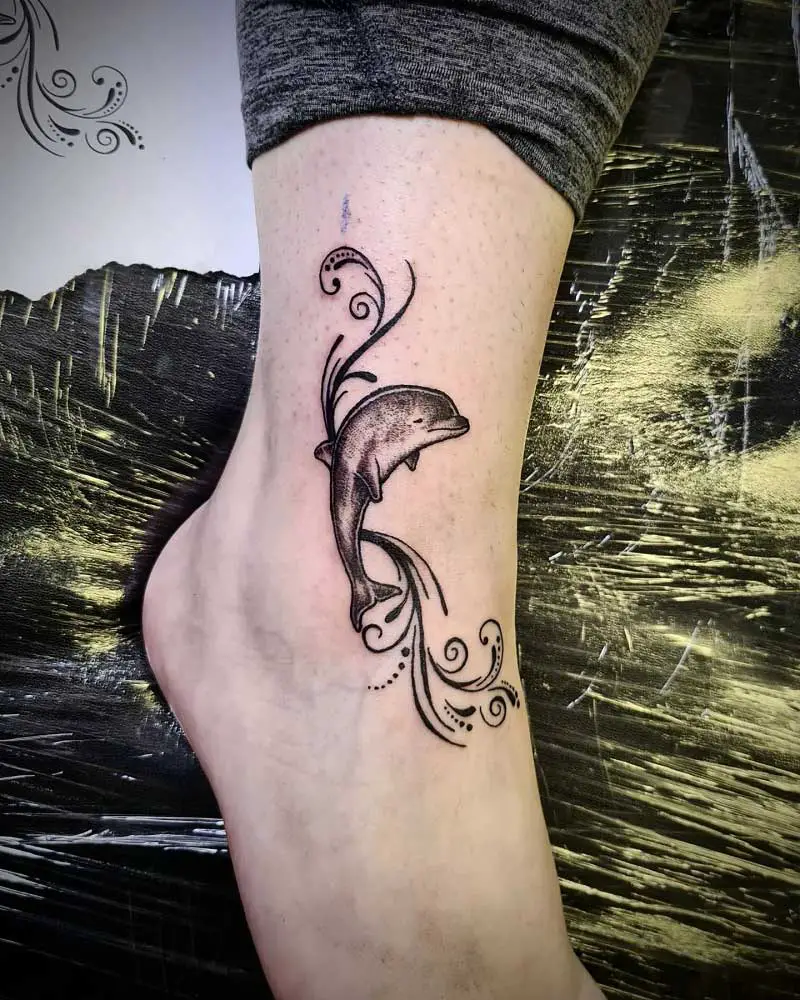 41.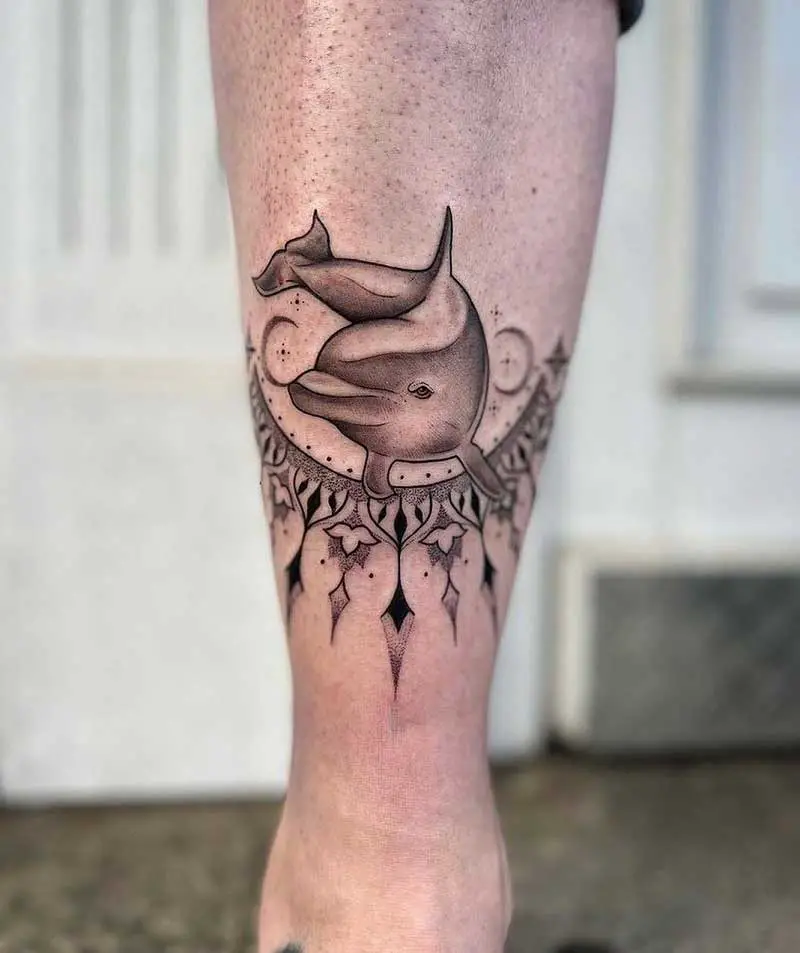 42.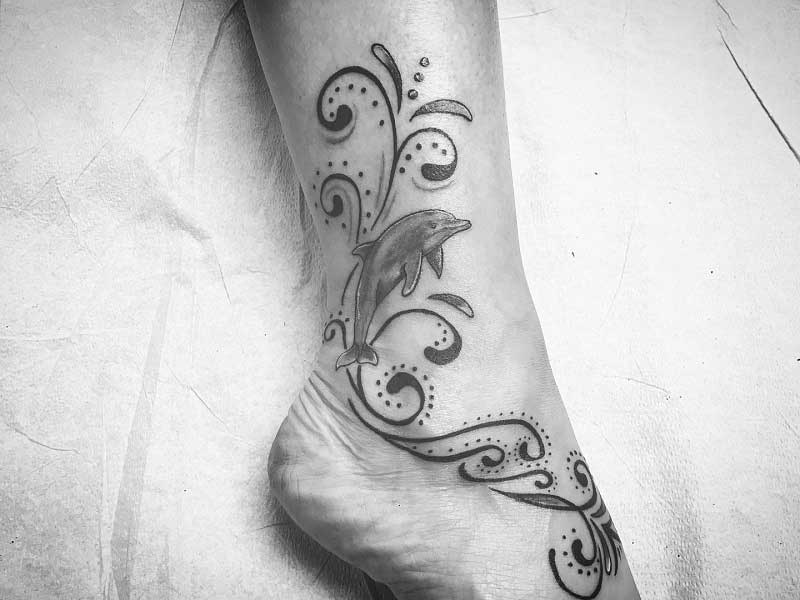 Polynesian Dolphin Tattoo
43.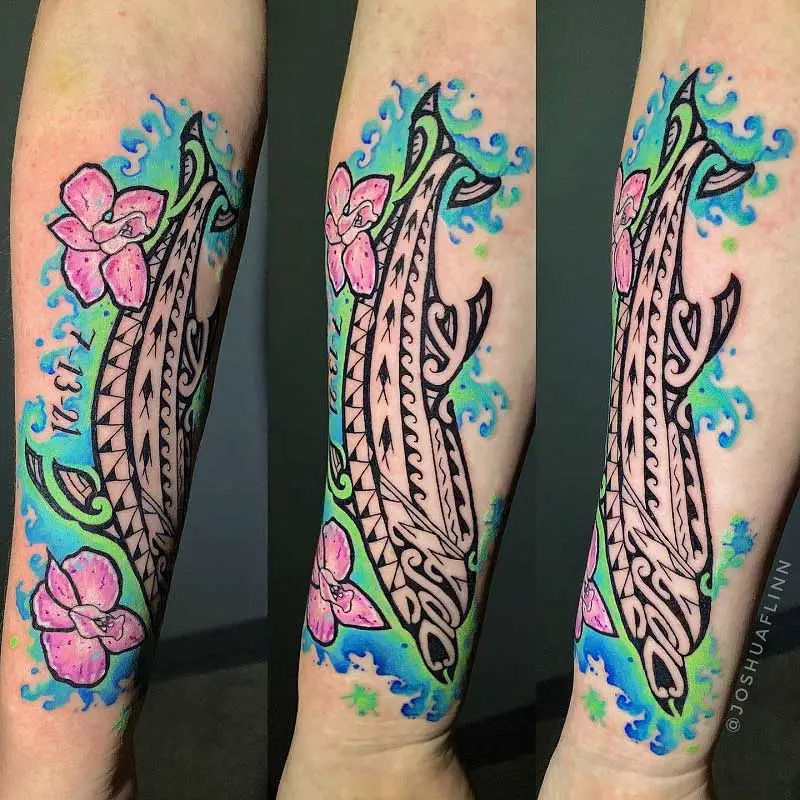 44.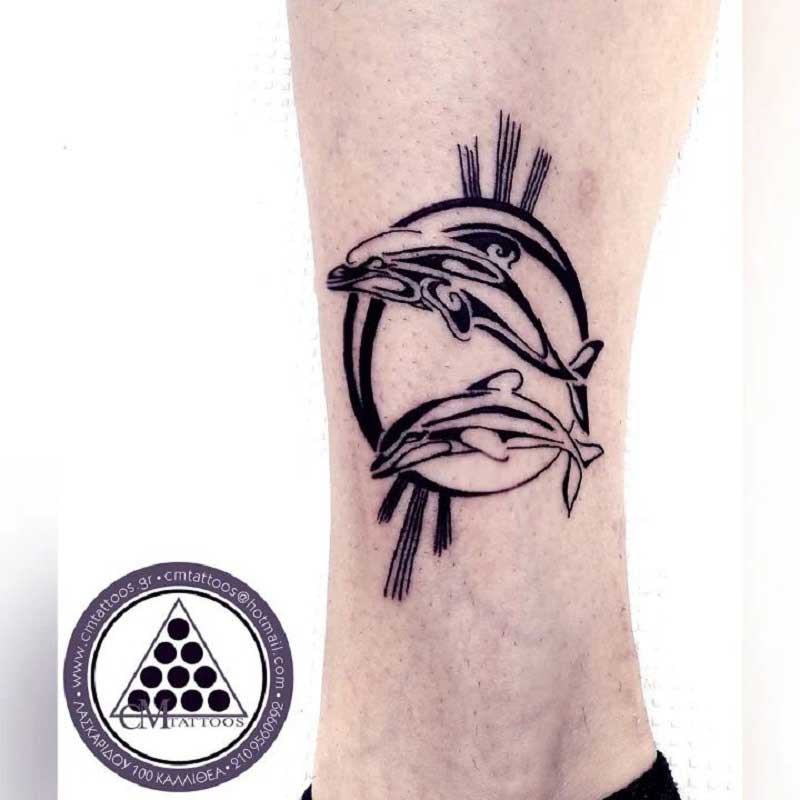 45.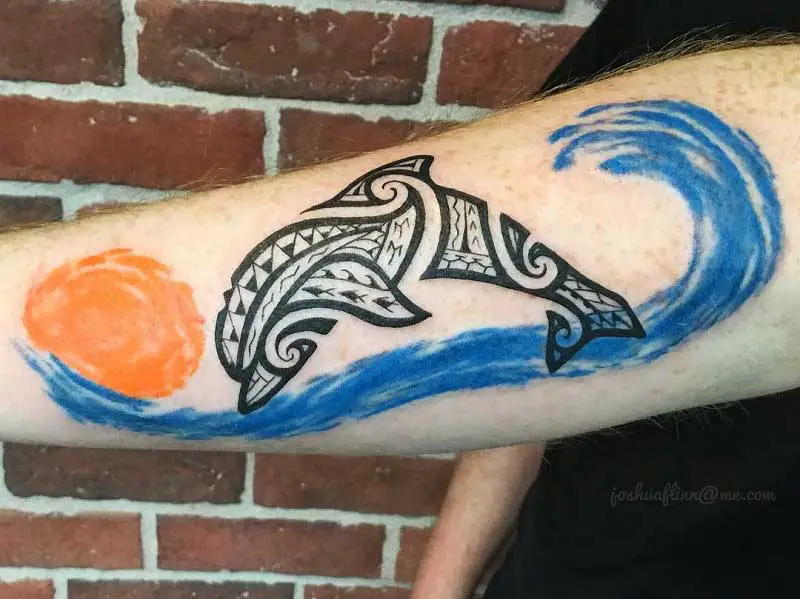 Rainbow Dolphin Tattoo
46.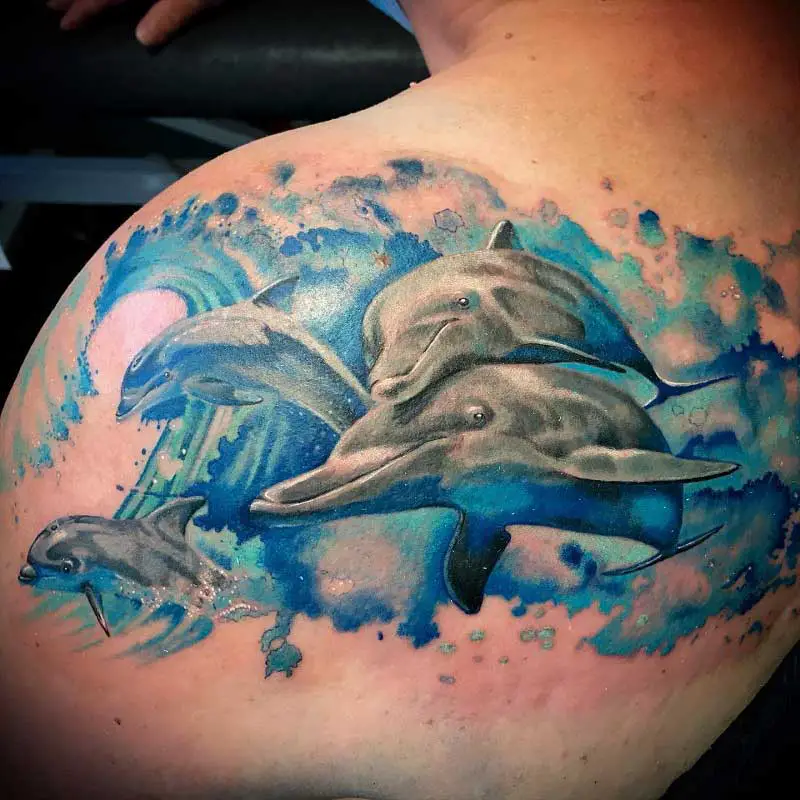 47.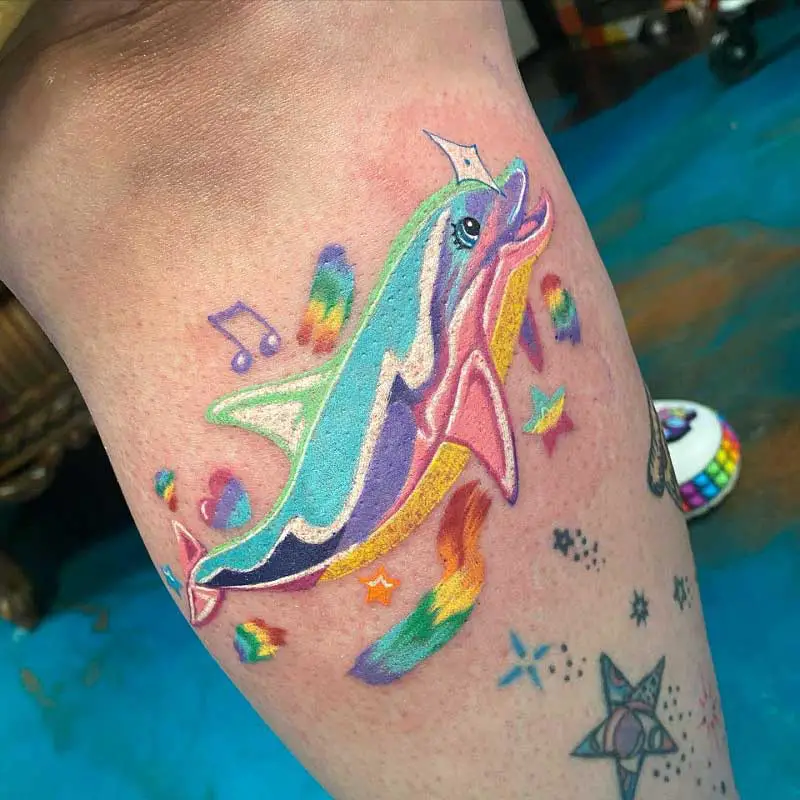 Wrist Dolphin Tattoos
48.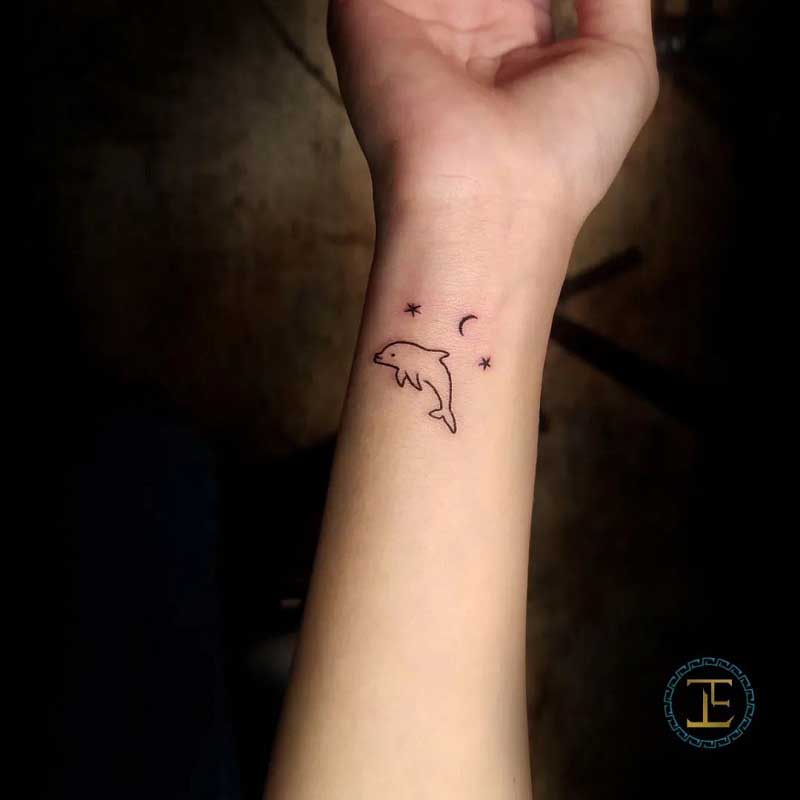 49.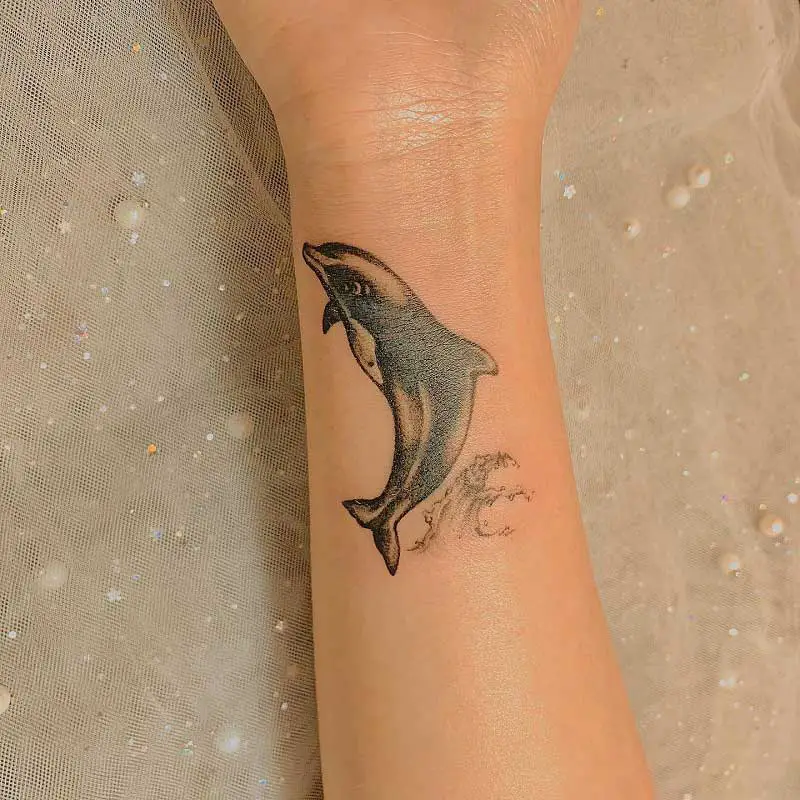 50.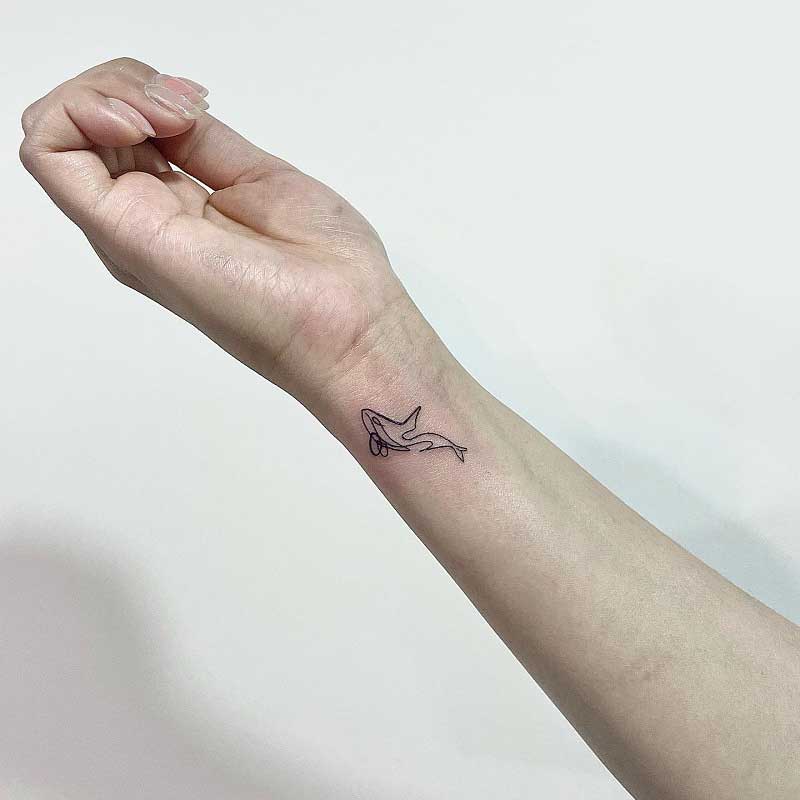 Young Dolph Dolphin Tattoo
51.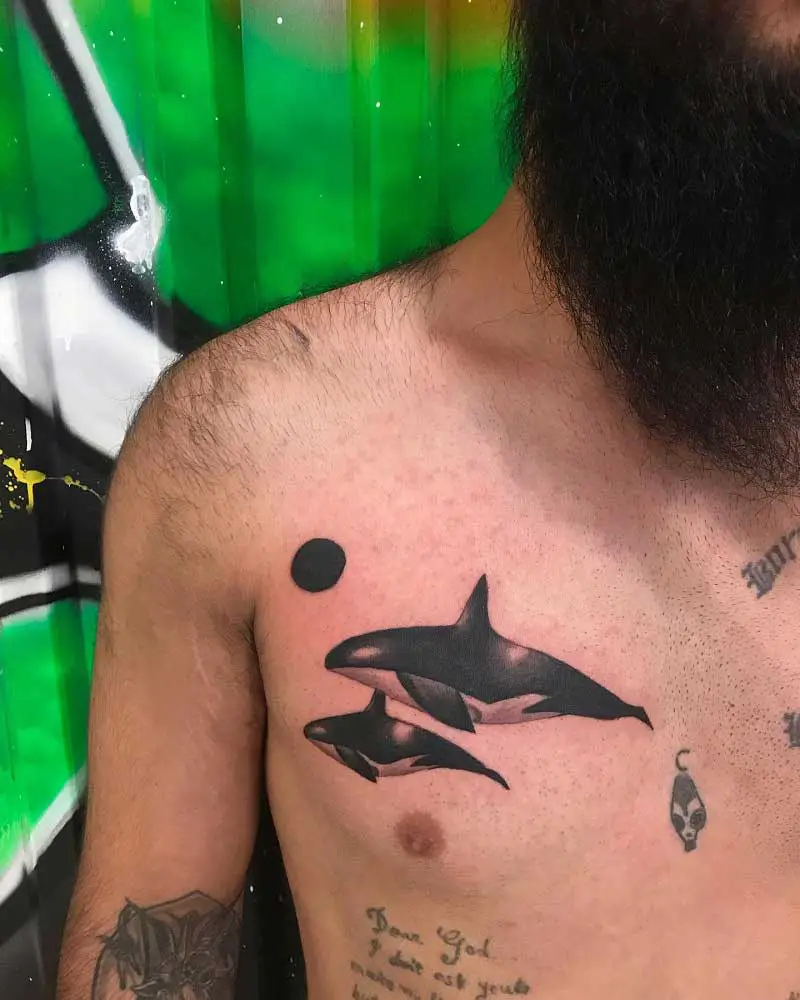 52.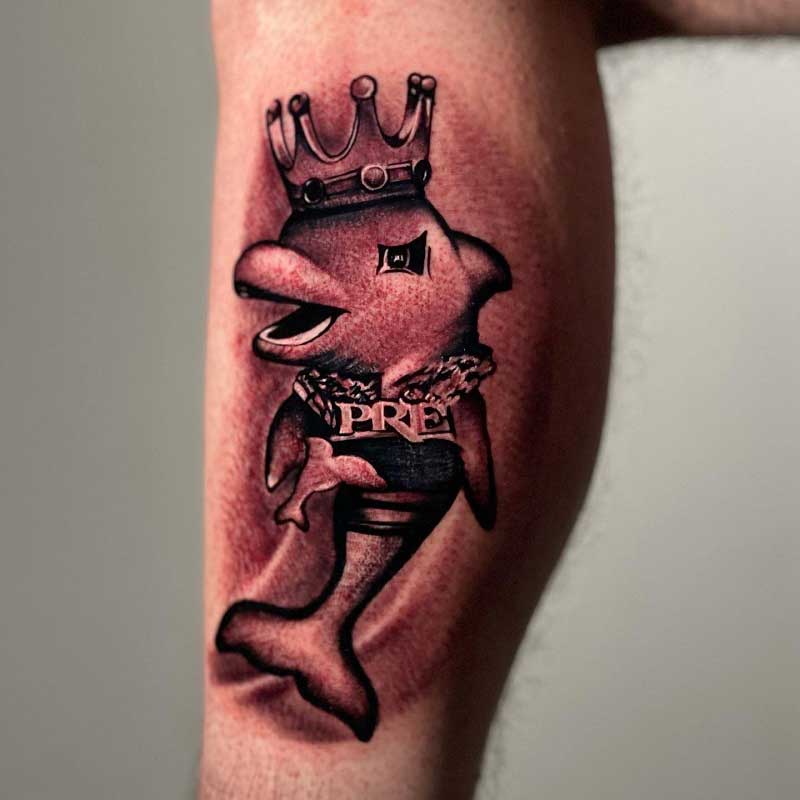 53.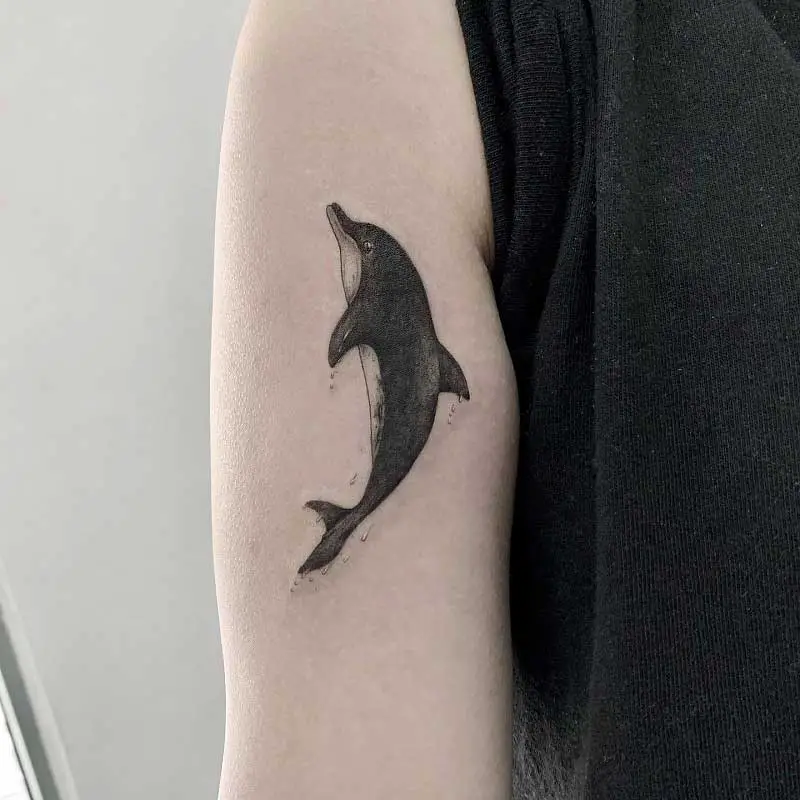 Bad Dolphin Tattoo
54.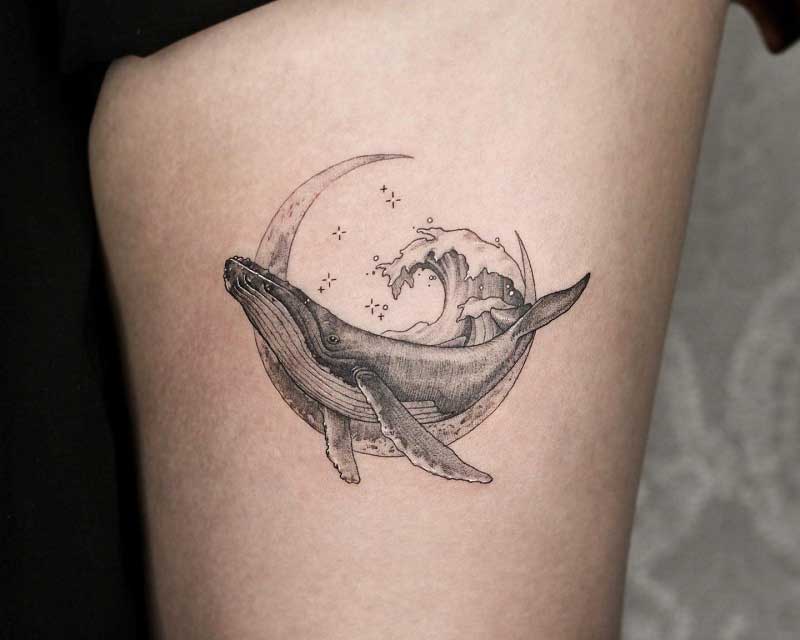 55.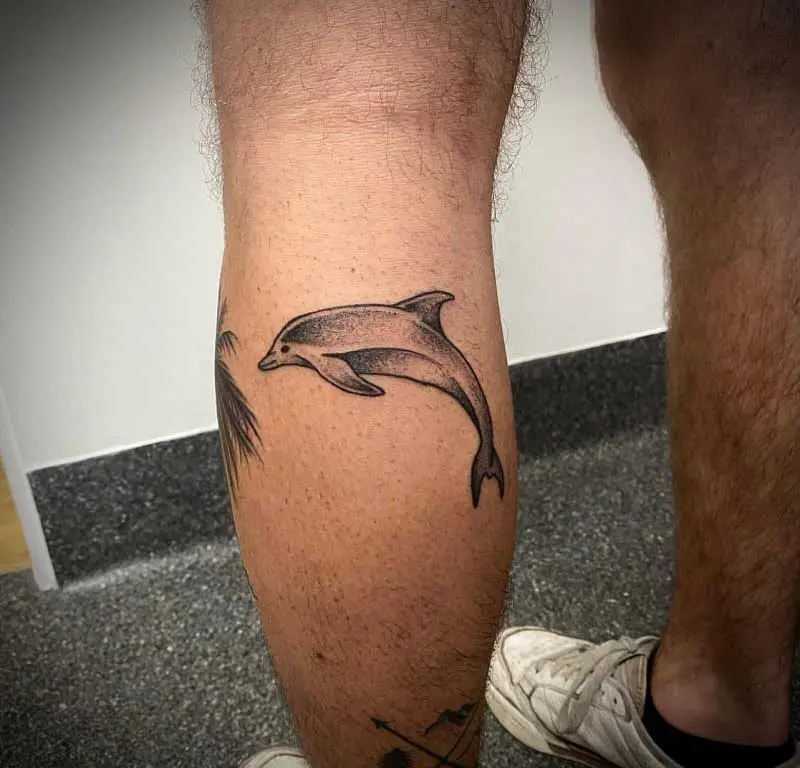 56.
Cartoon Dolphin Tattoo
57.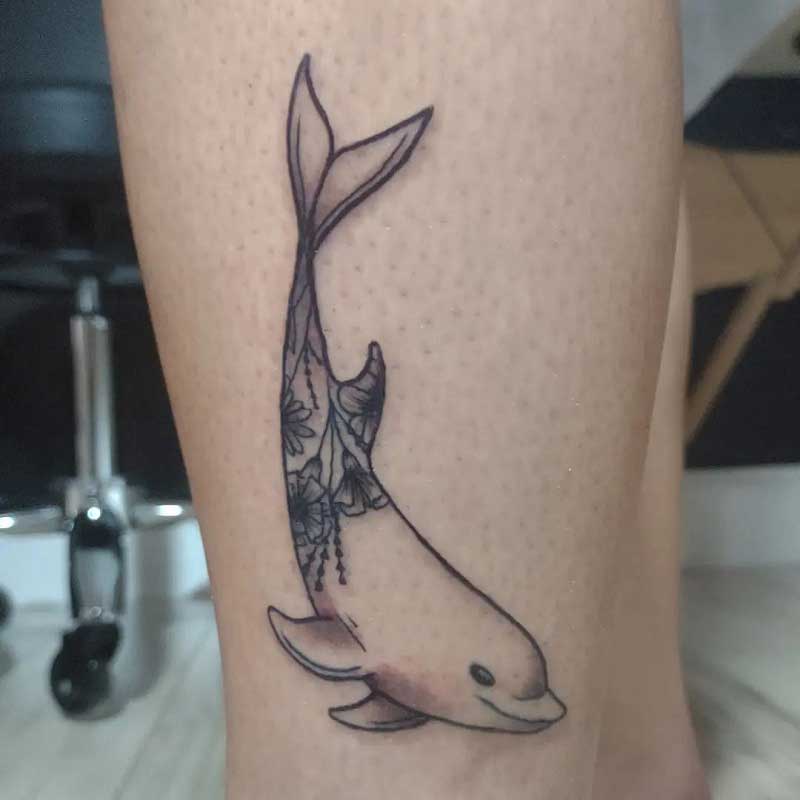 58.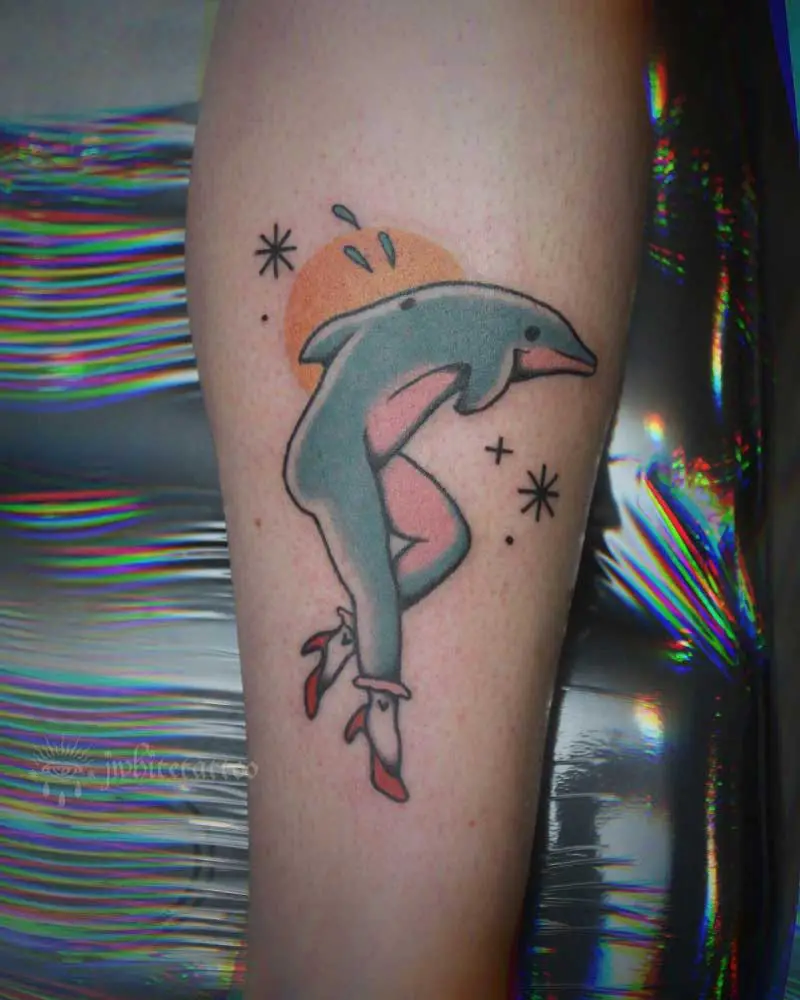 59.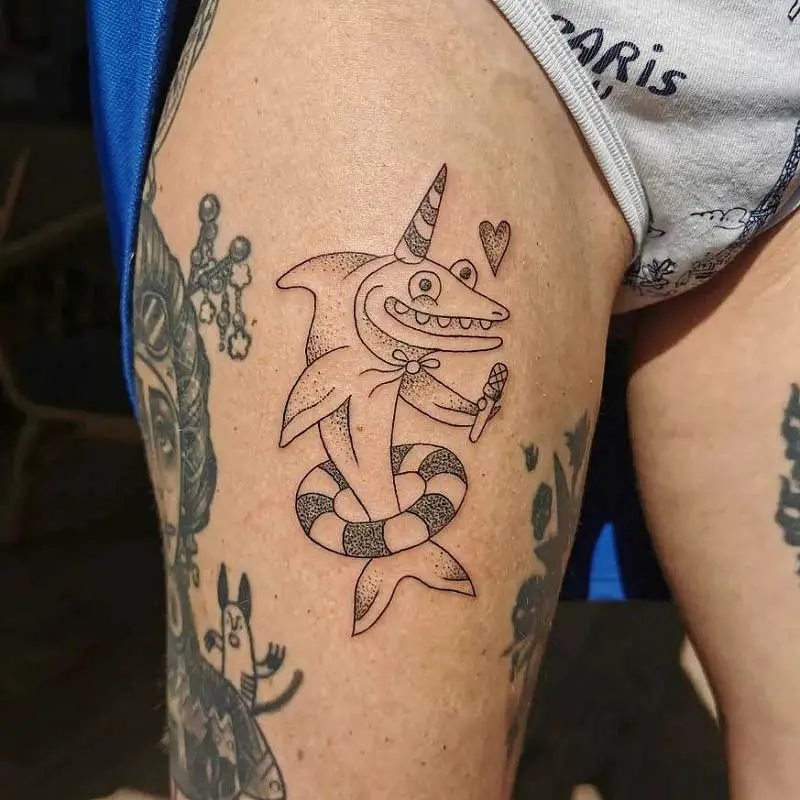 Dolphin Arm Tattoo
60.
61.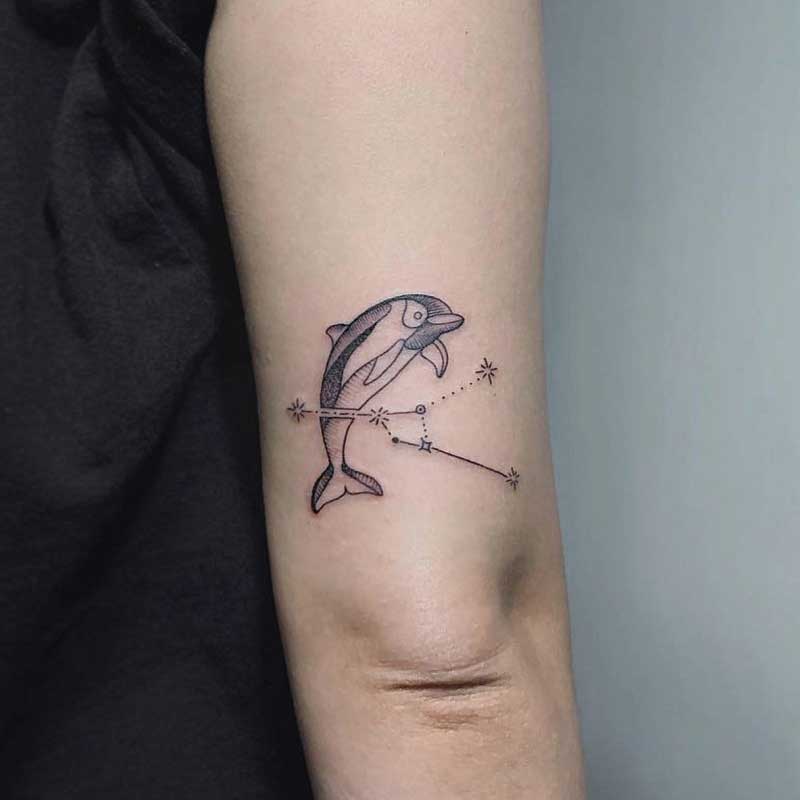 62.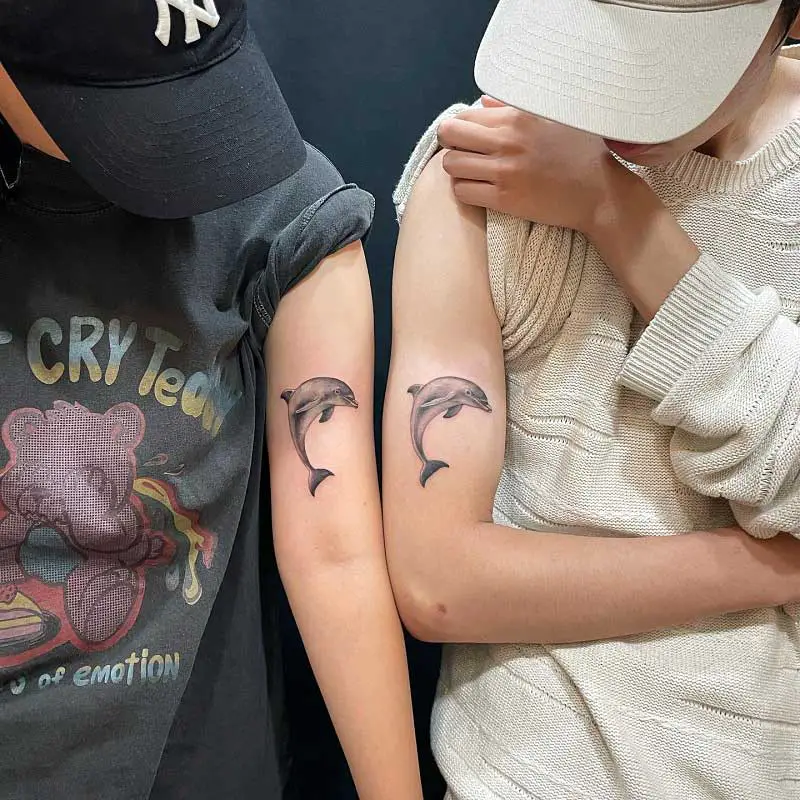 Dolphin Fish Tattoo
63.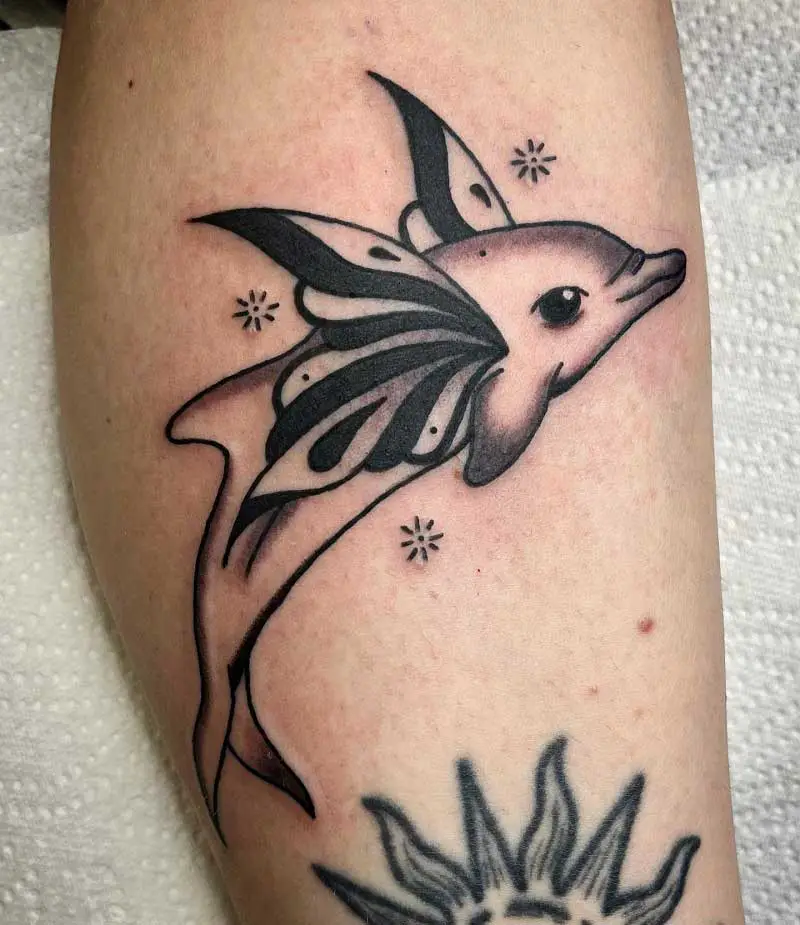 64.
65.
Dolphin Foot Tattoo
66.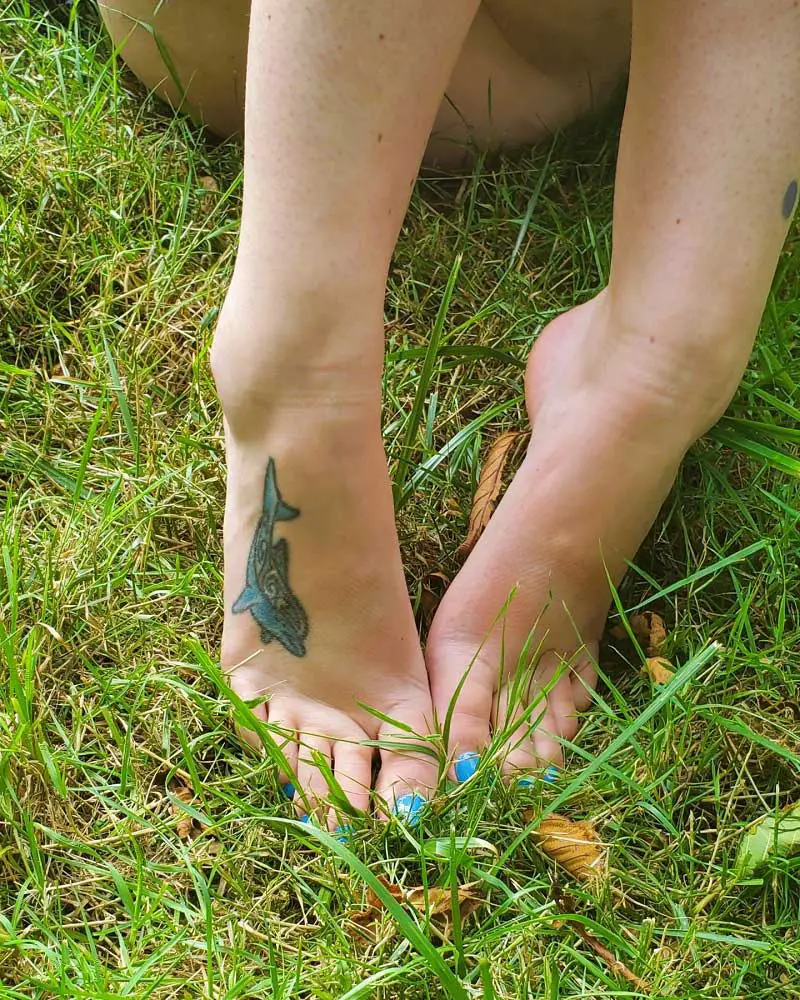 67.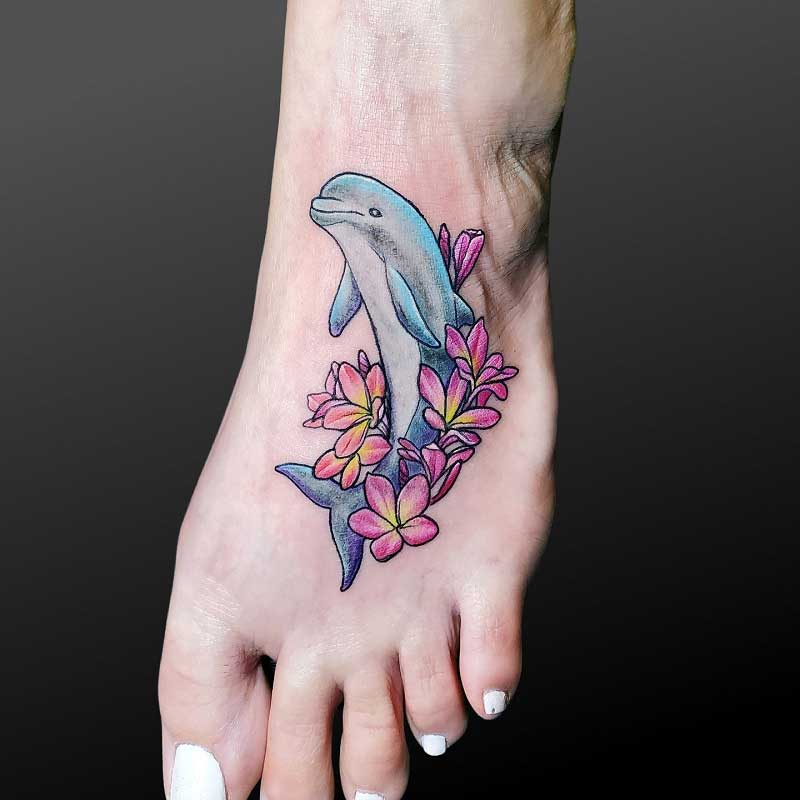 68.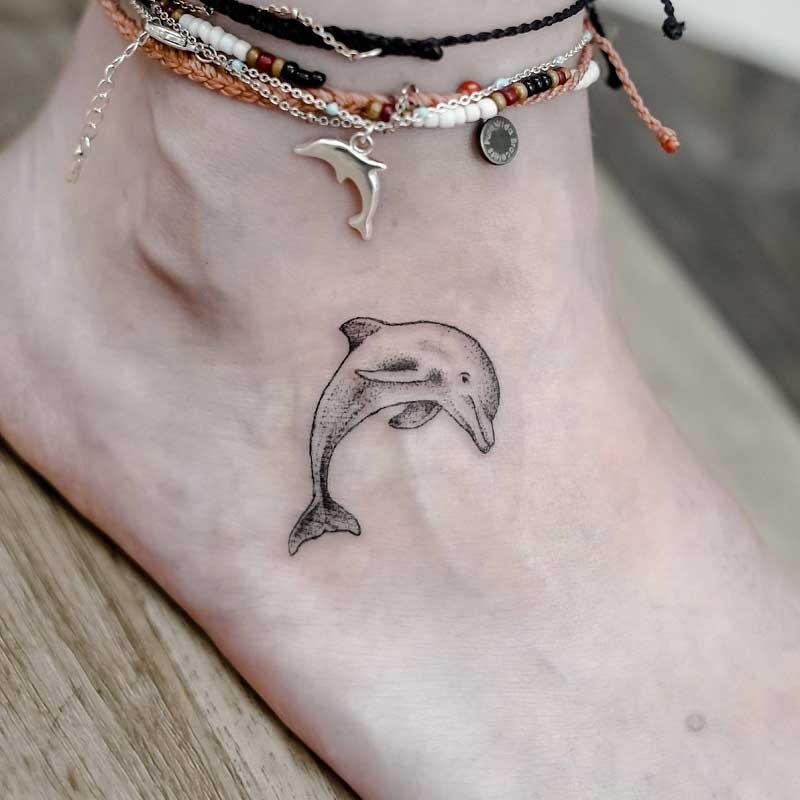 Dolphin Rose Tattoo
69.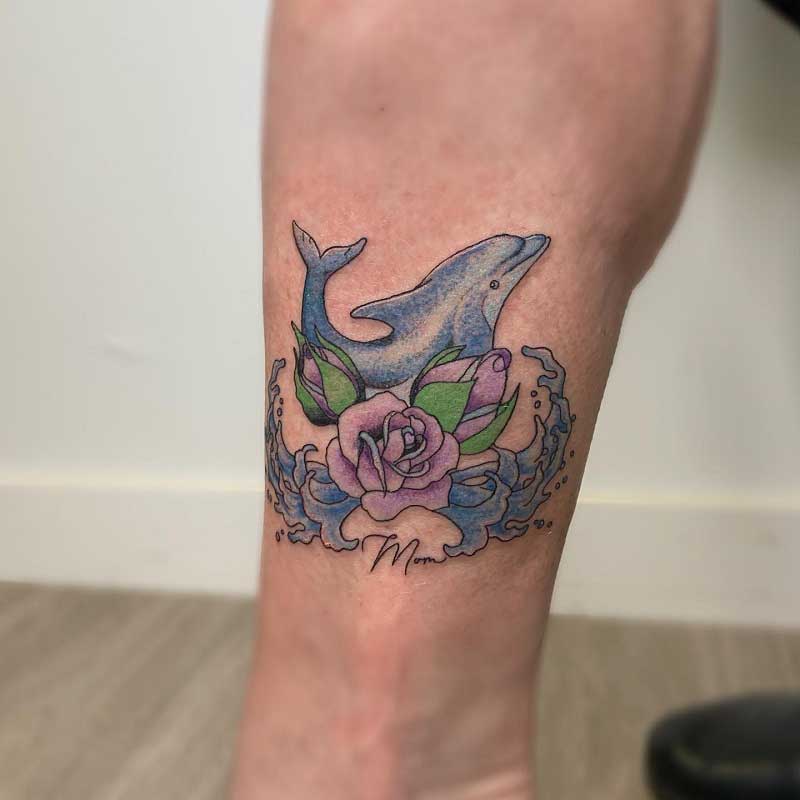 70.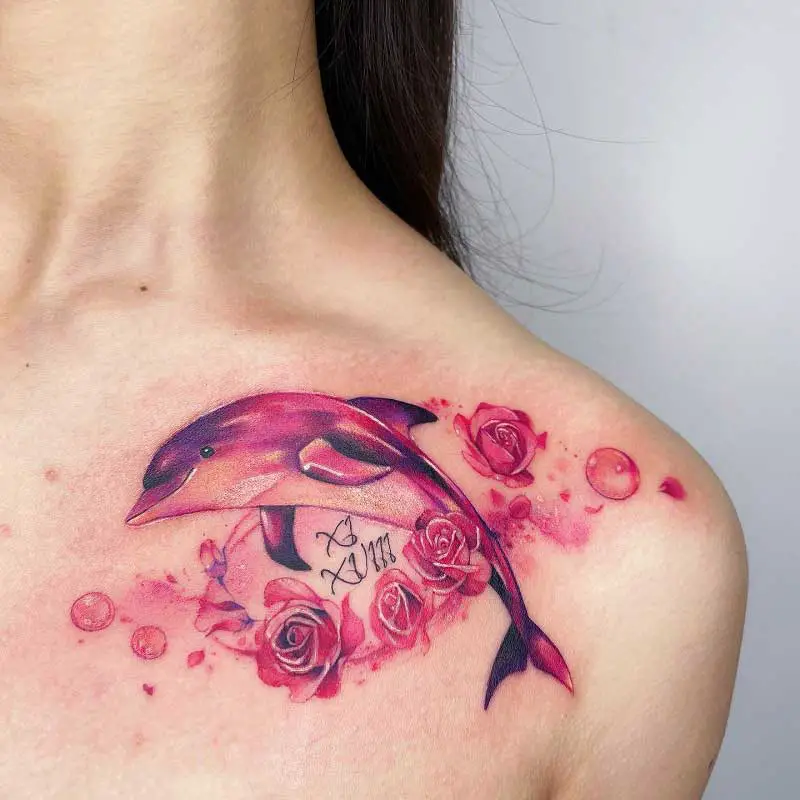 71.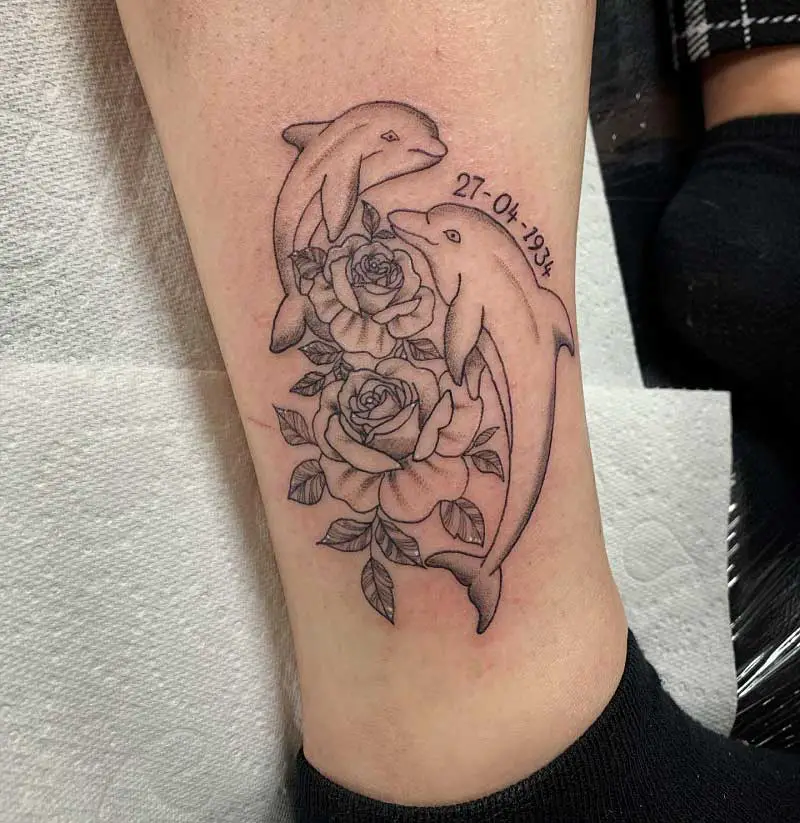 Dolphin Tail Tattoo
72.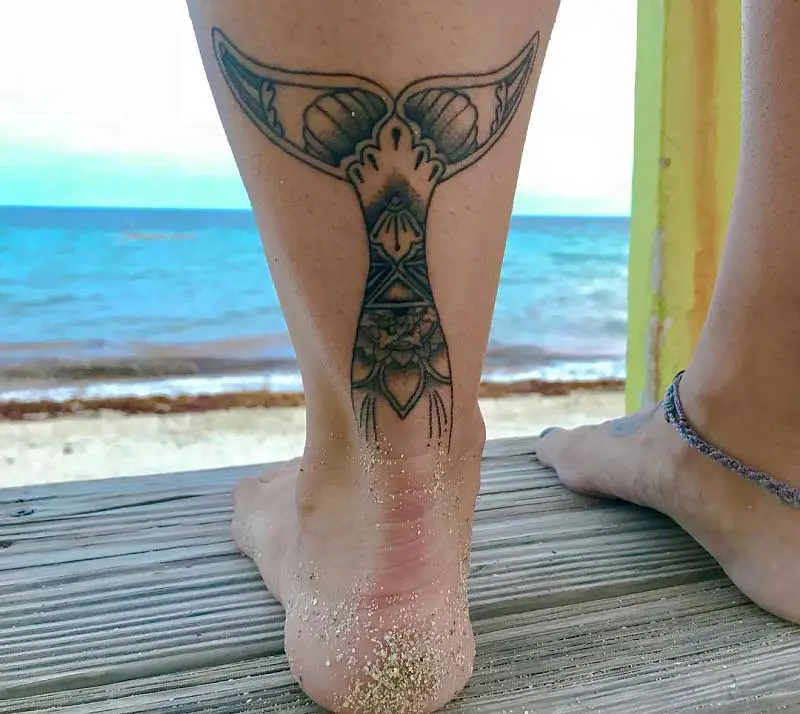 73.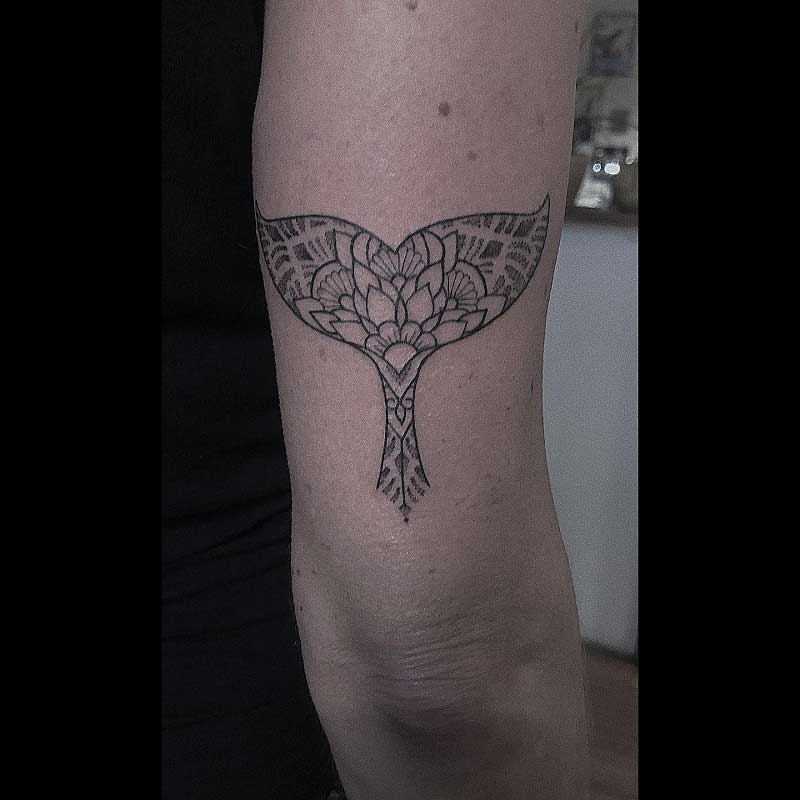 74.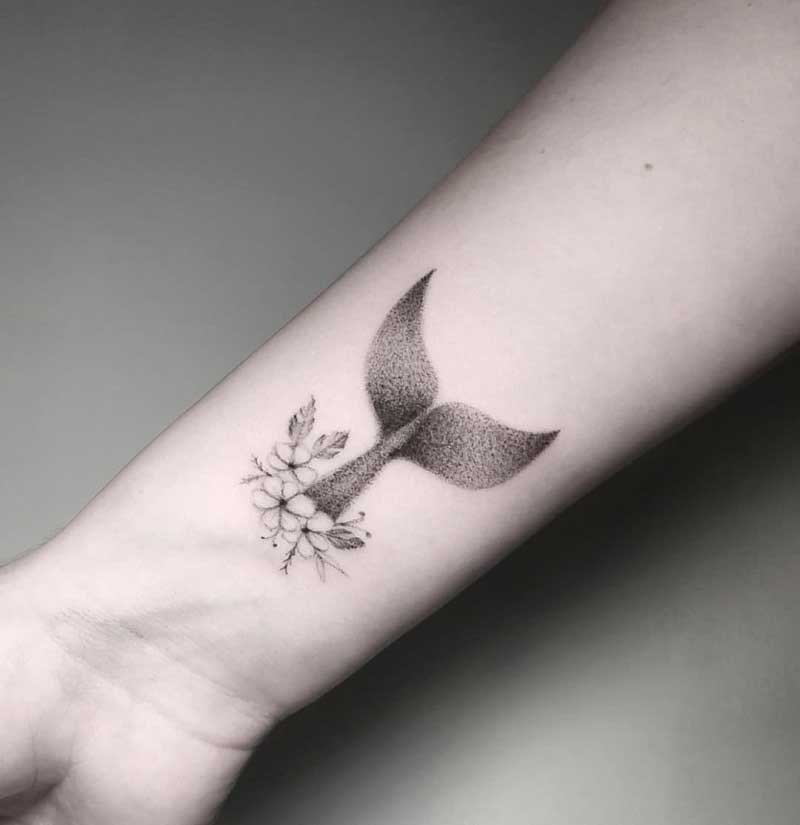 Dolphin Tramp Stamp Tattoo
75.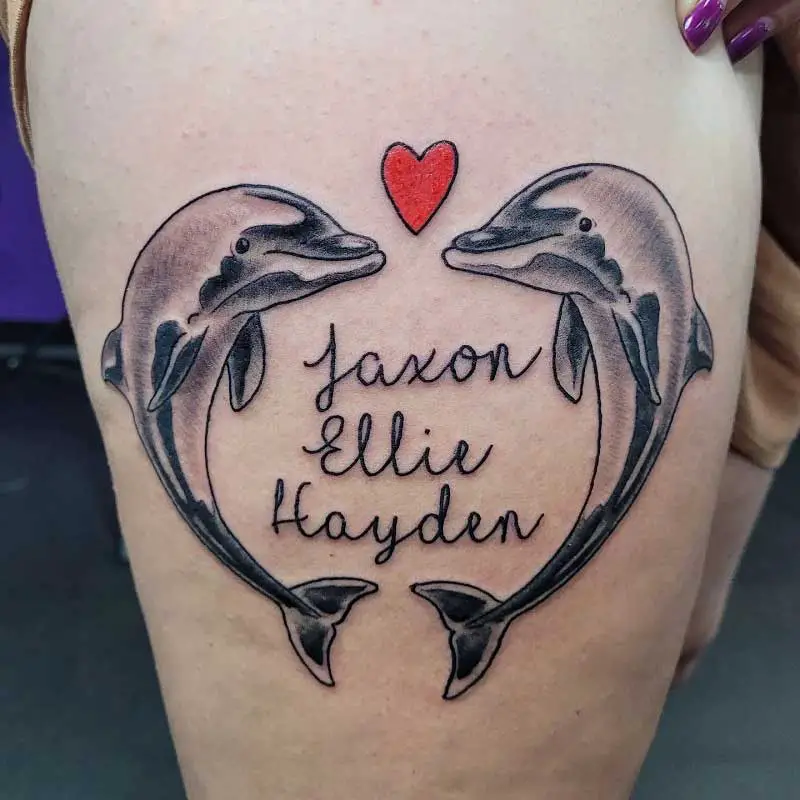 76.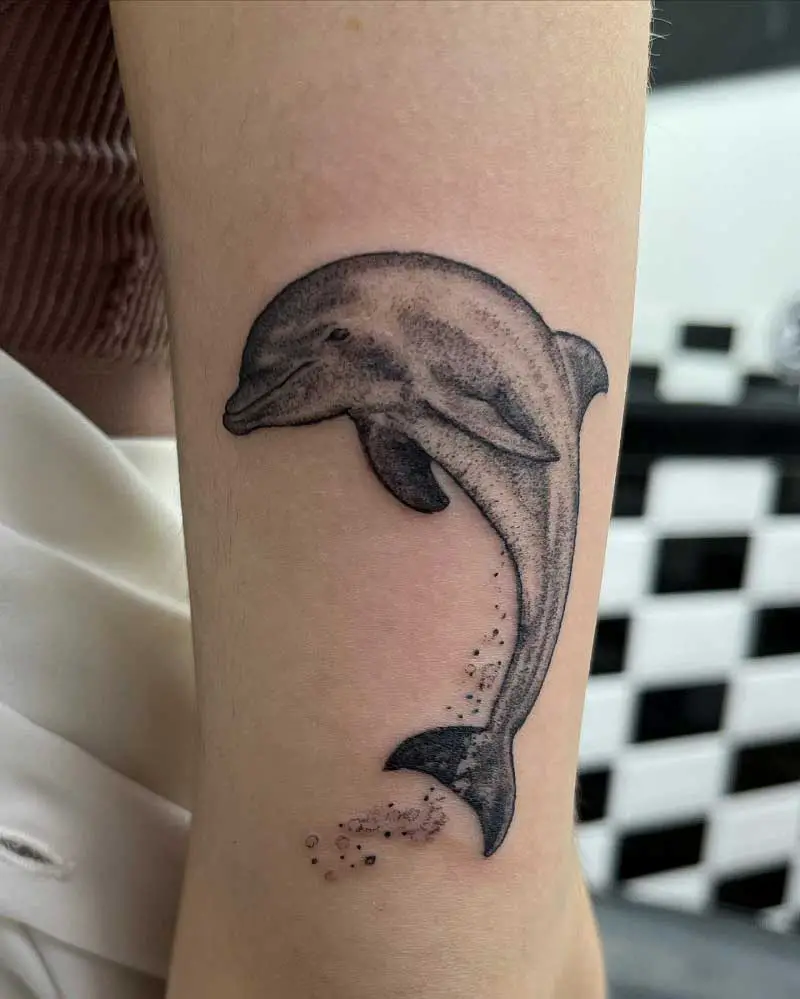 77.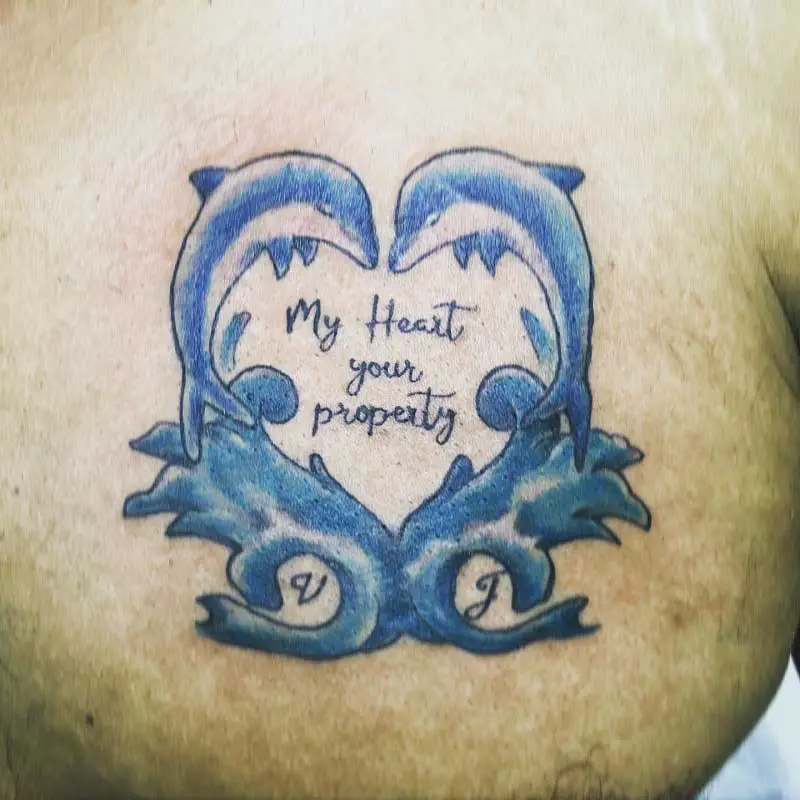 Geometric Dolphin Tattoo
78.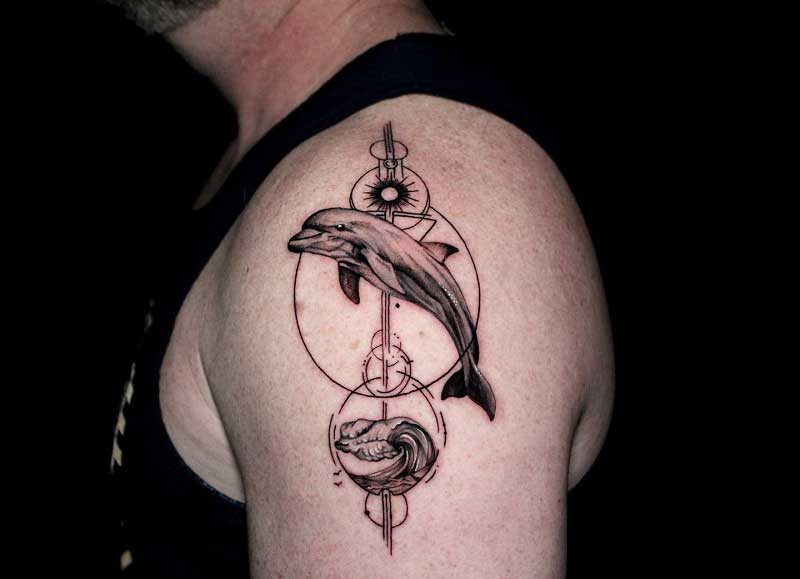 79.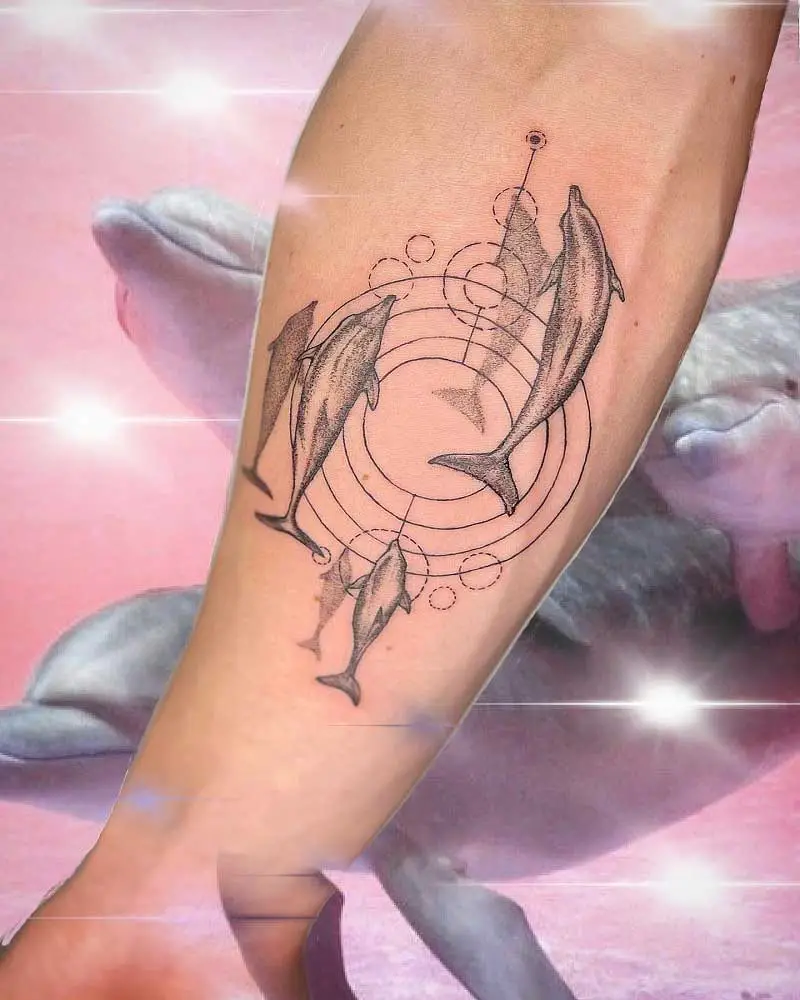 80.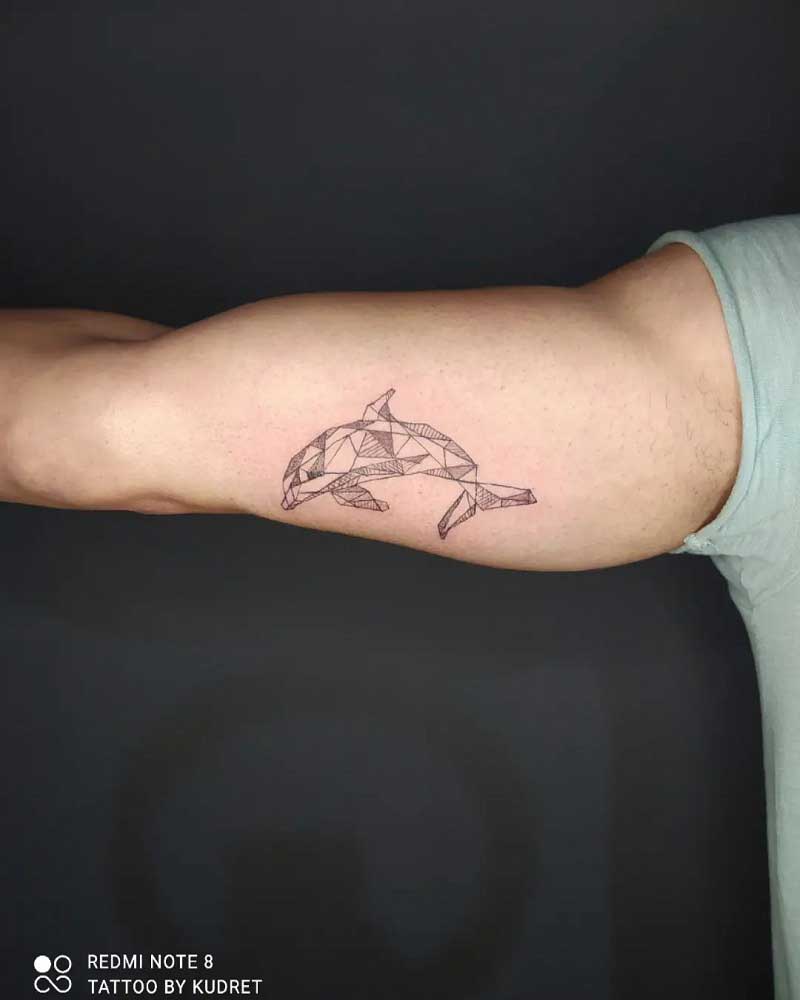 Glitter Dolphin Tattoo
81.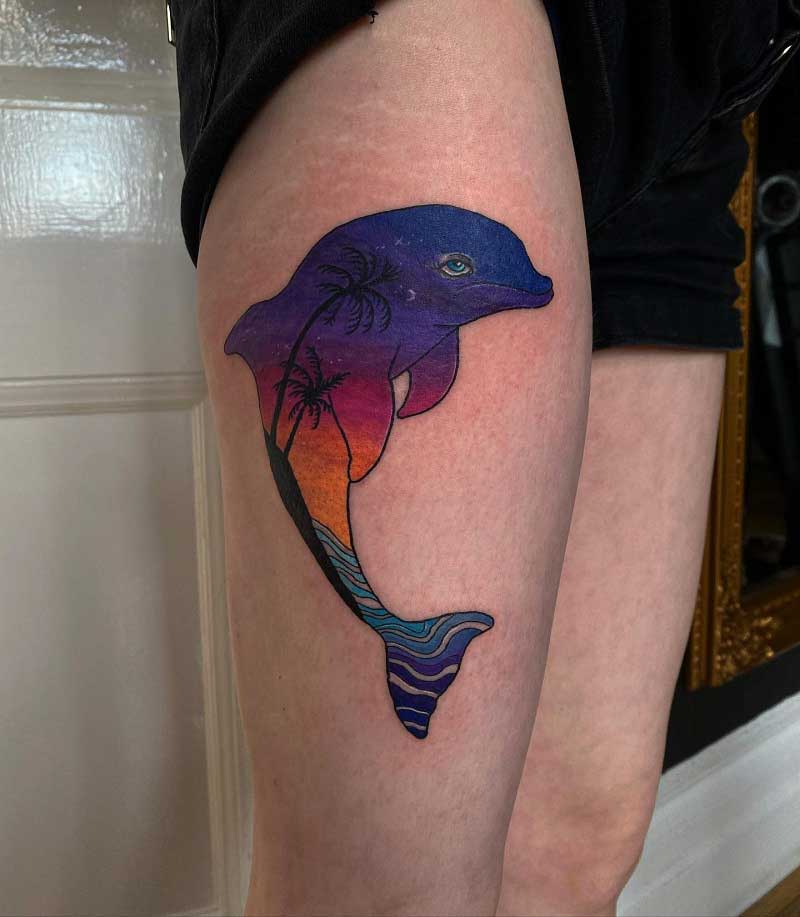 82.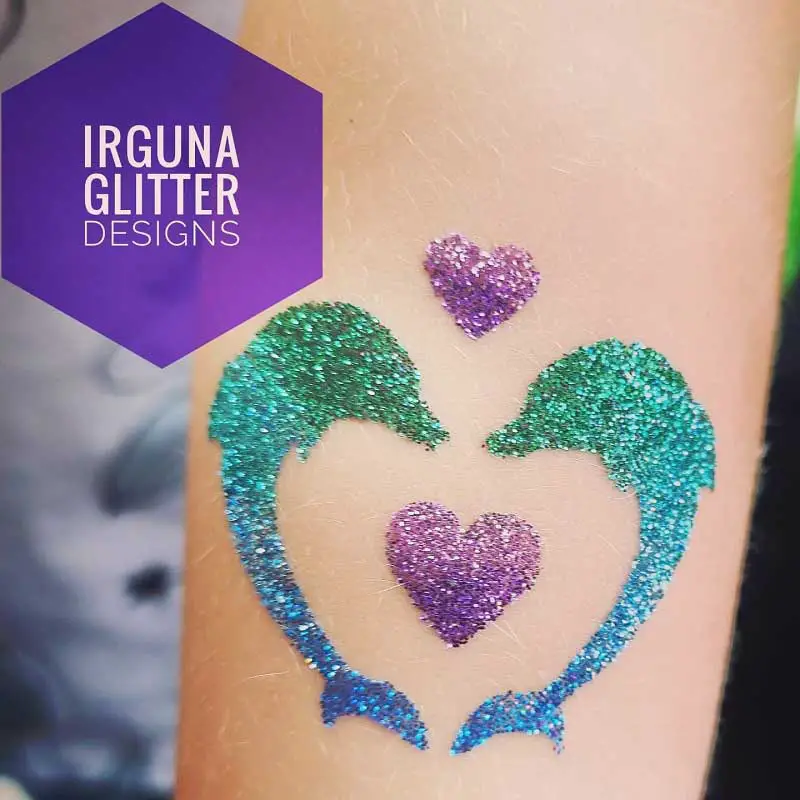 Navy Dolphins Tattoo
83.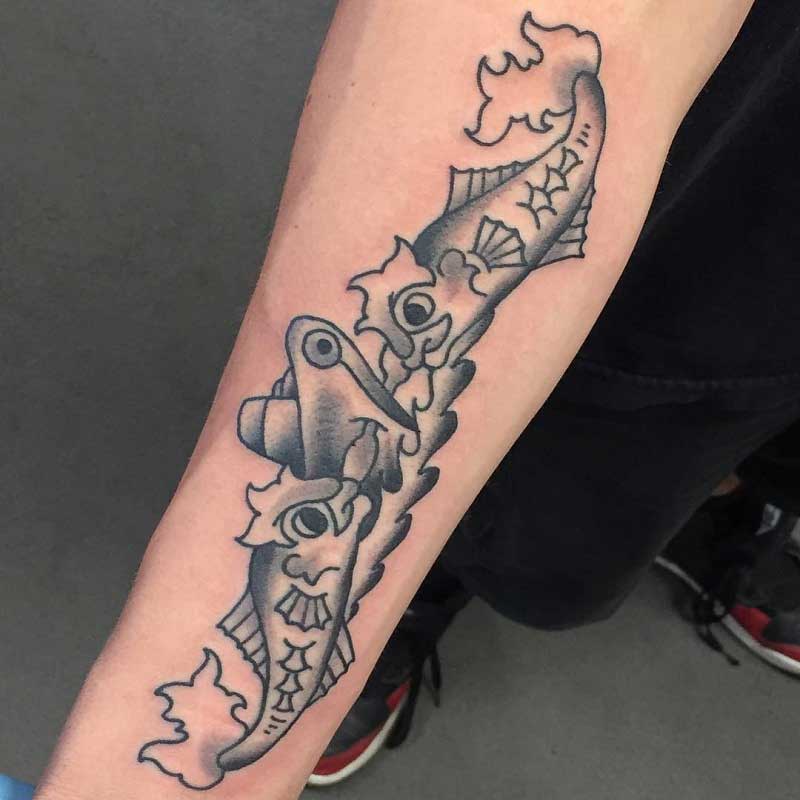 84.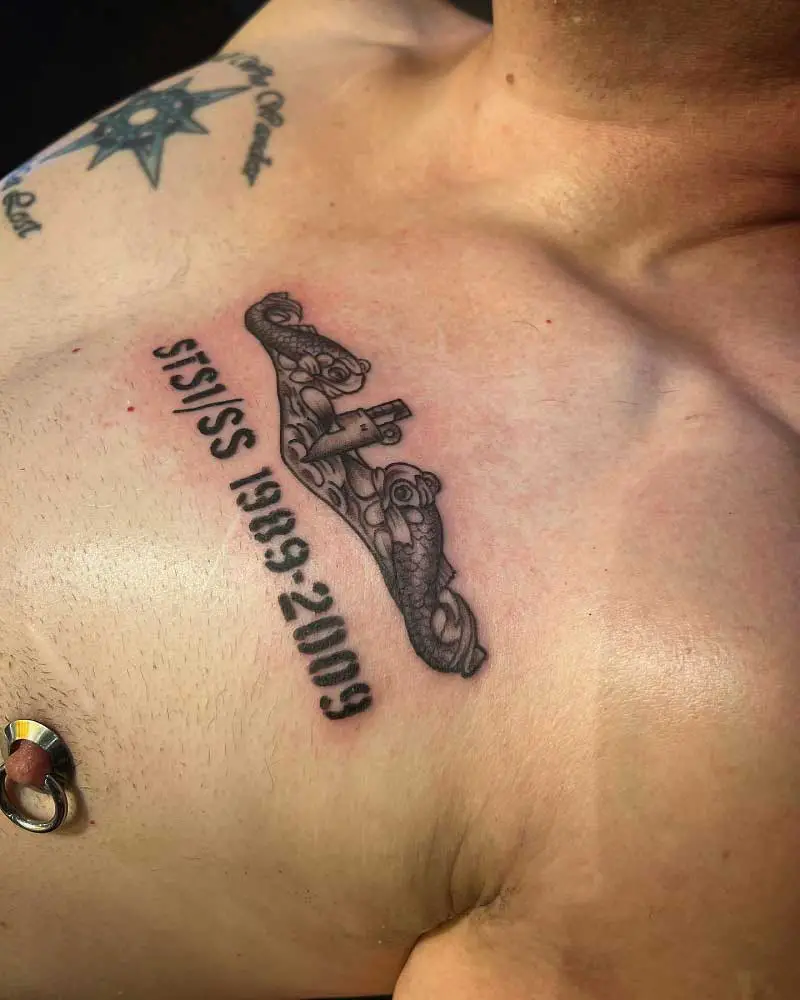 85.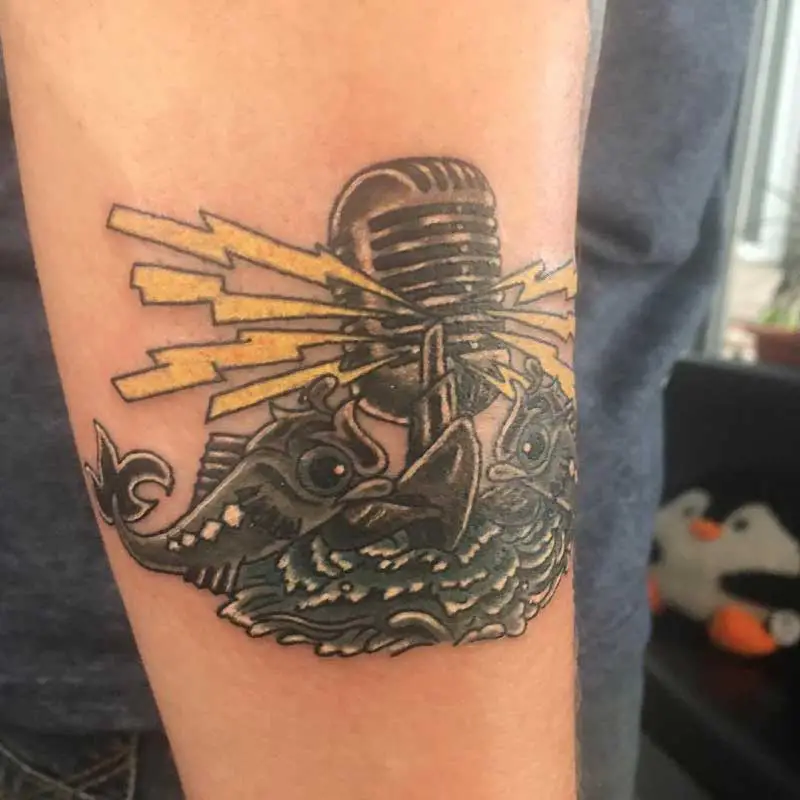 Three Dolphin Tattoo
86.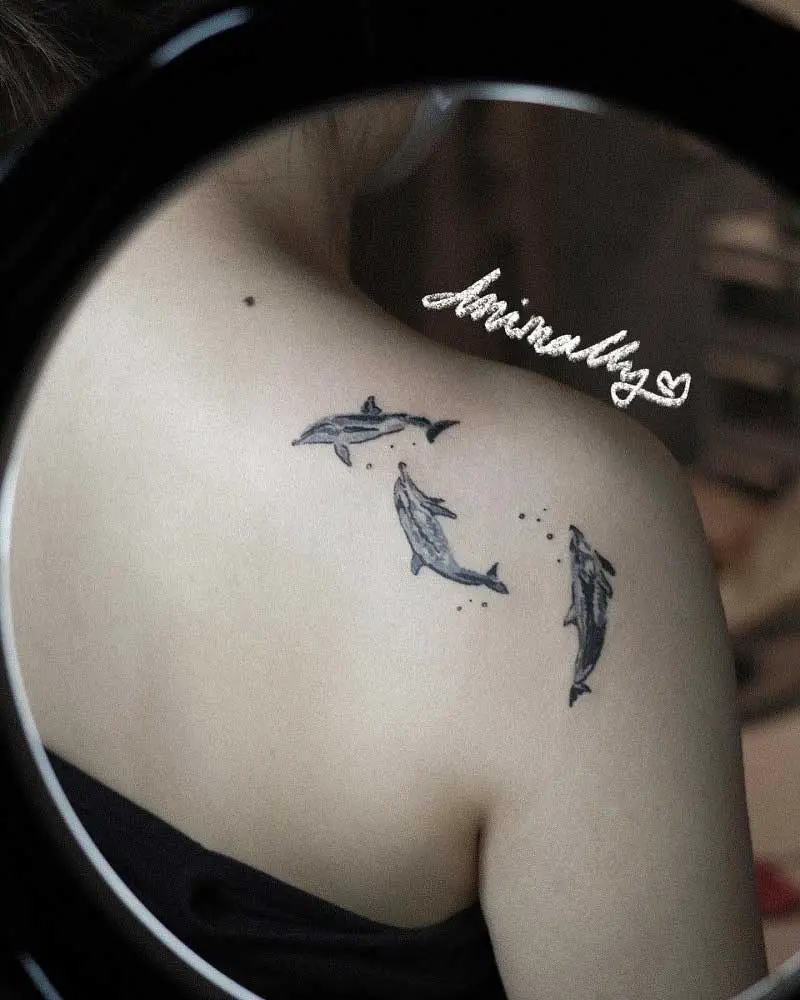 87.
88.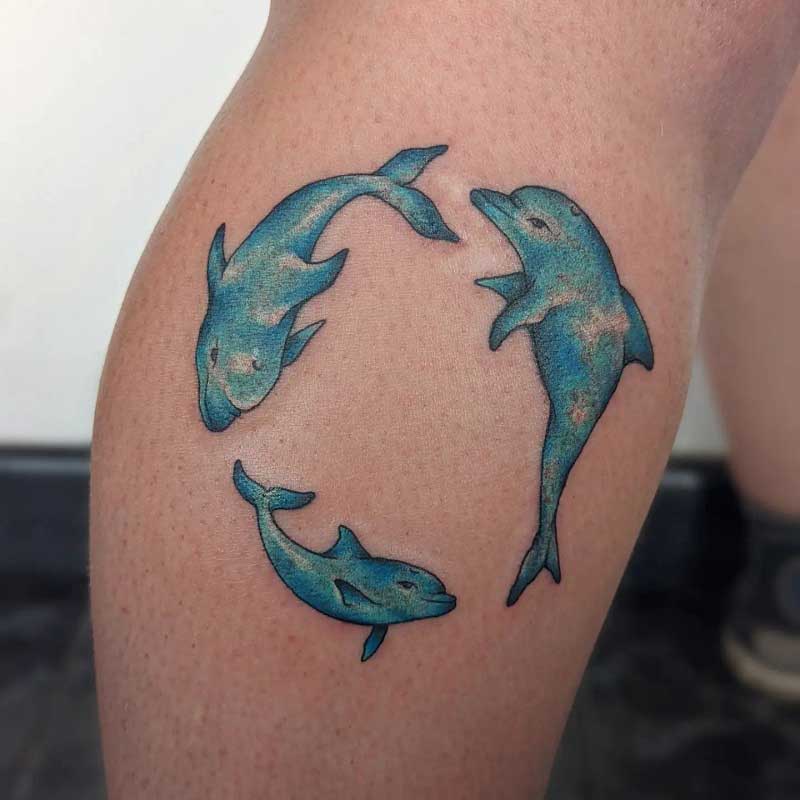 Abstract Dolphin Tattoo
89.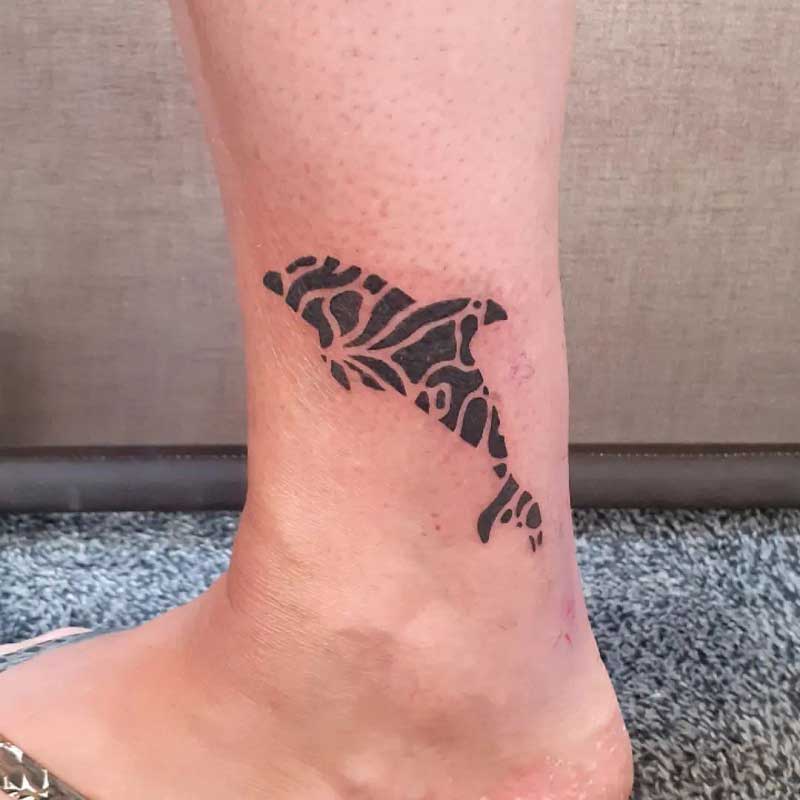 90.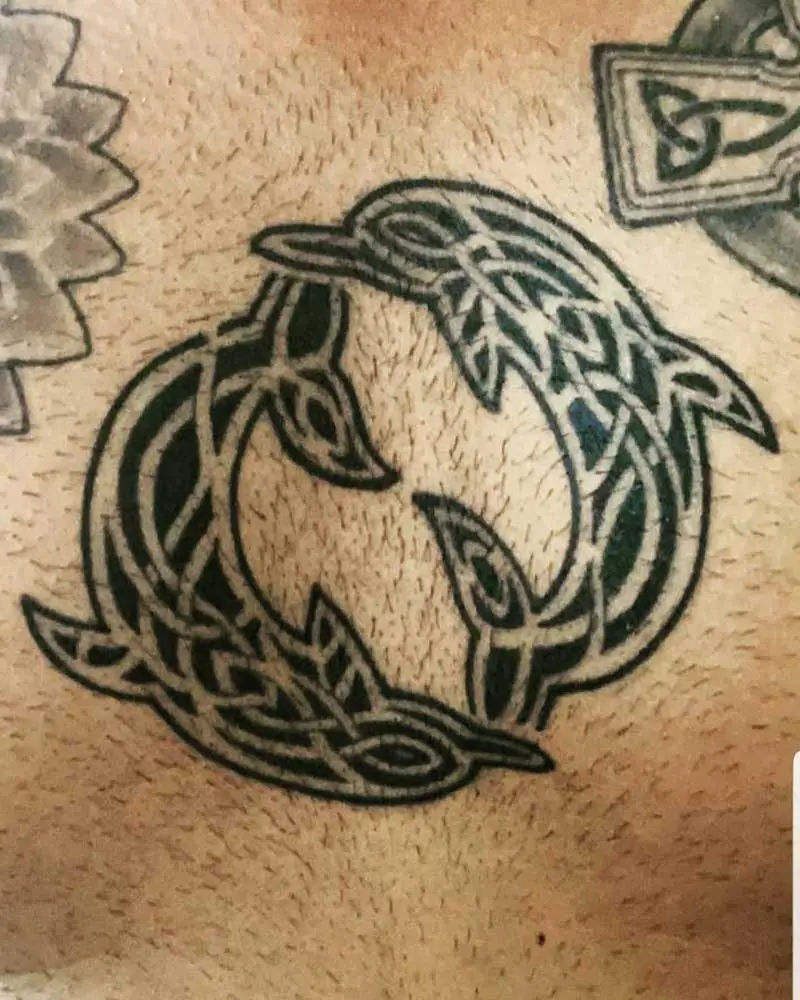 91.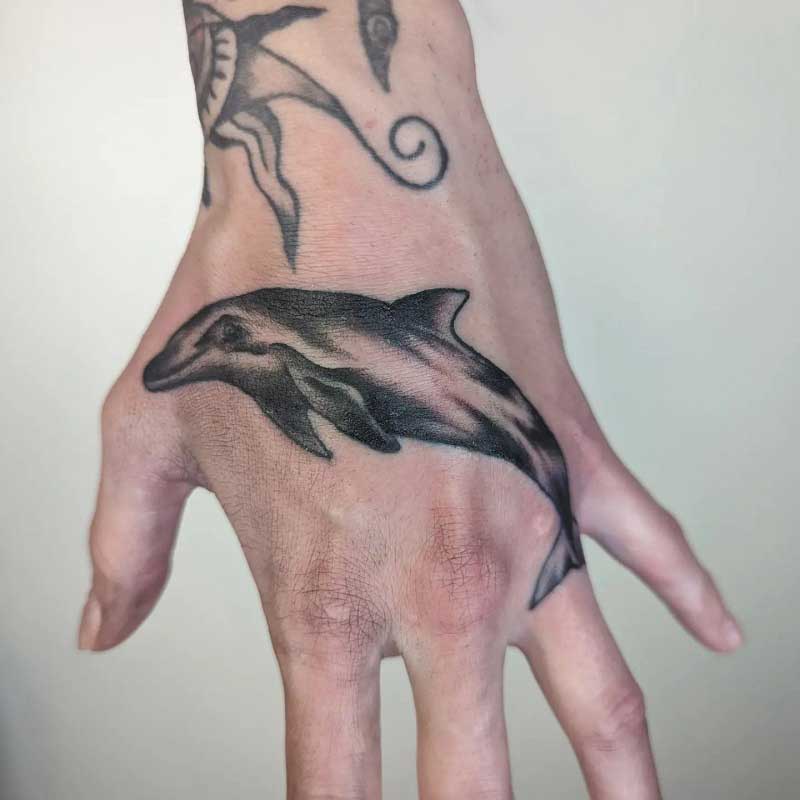 Anchor Dolphin Tattoo
92.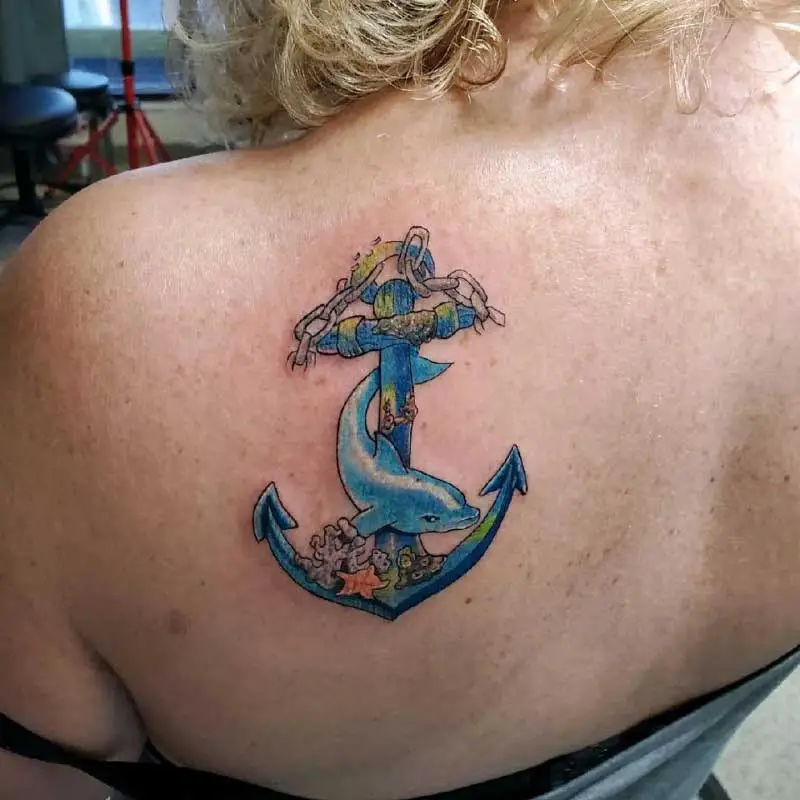 93.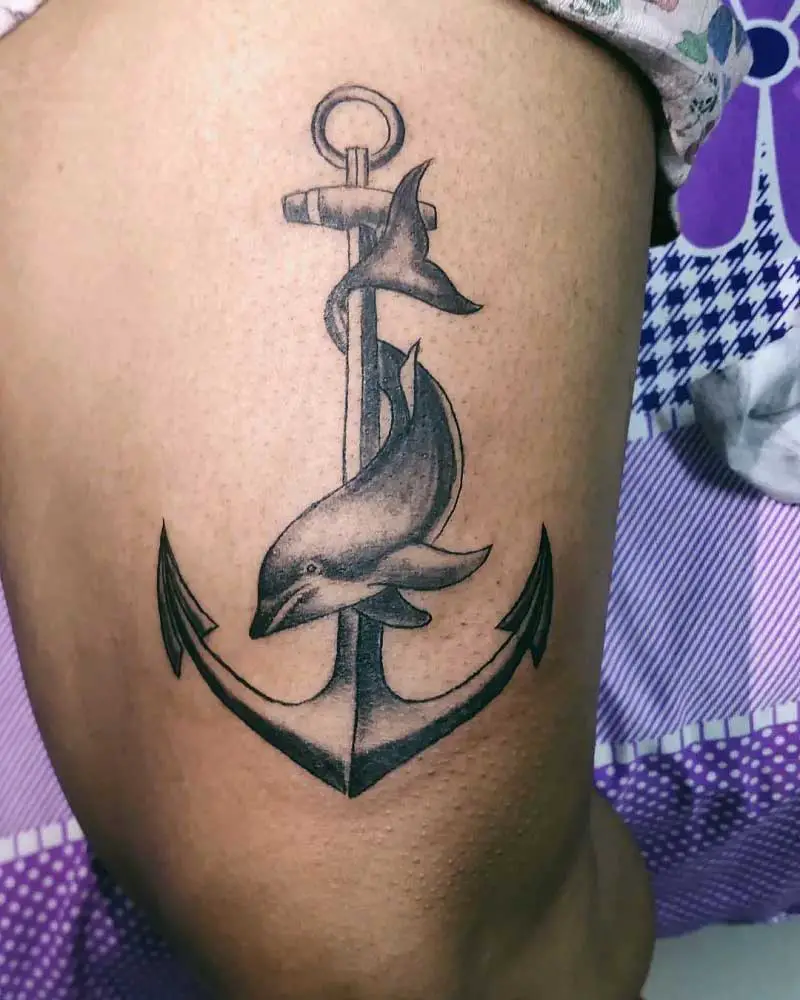 94.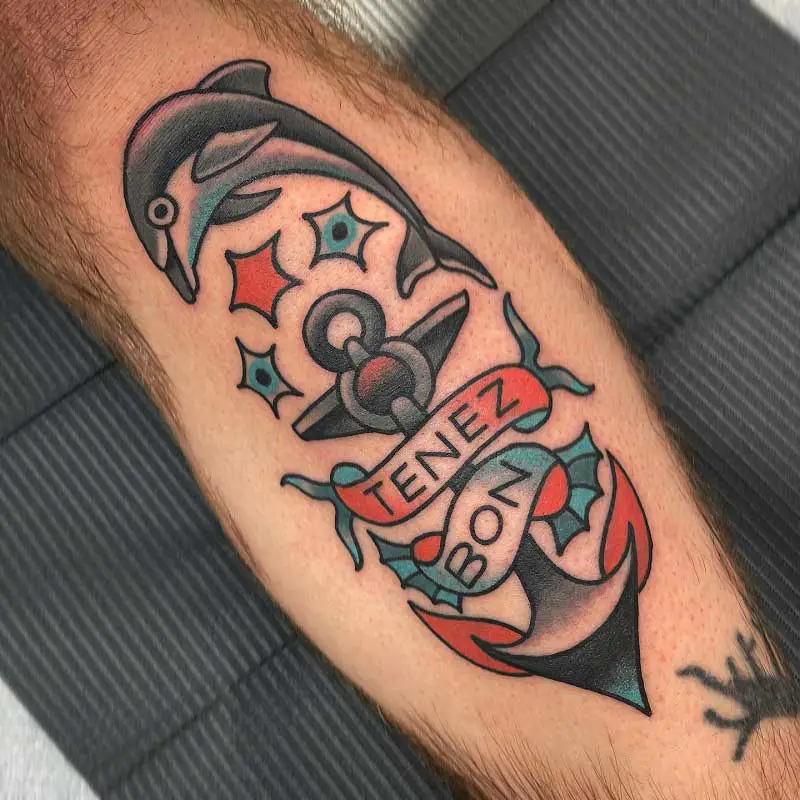 Best Friend Dolphin Tattoos
95.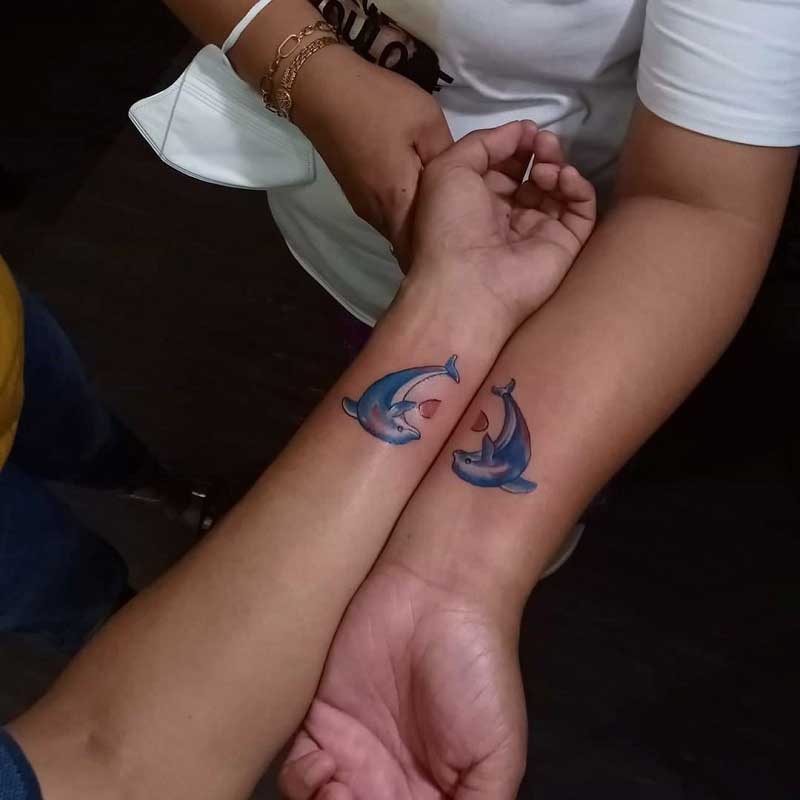 96.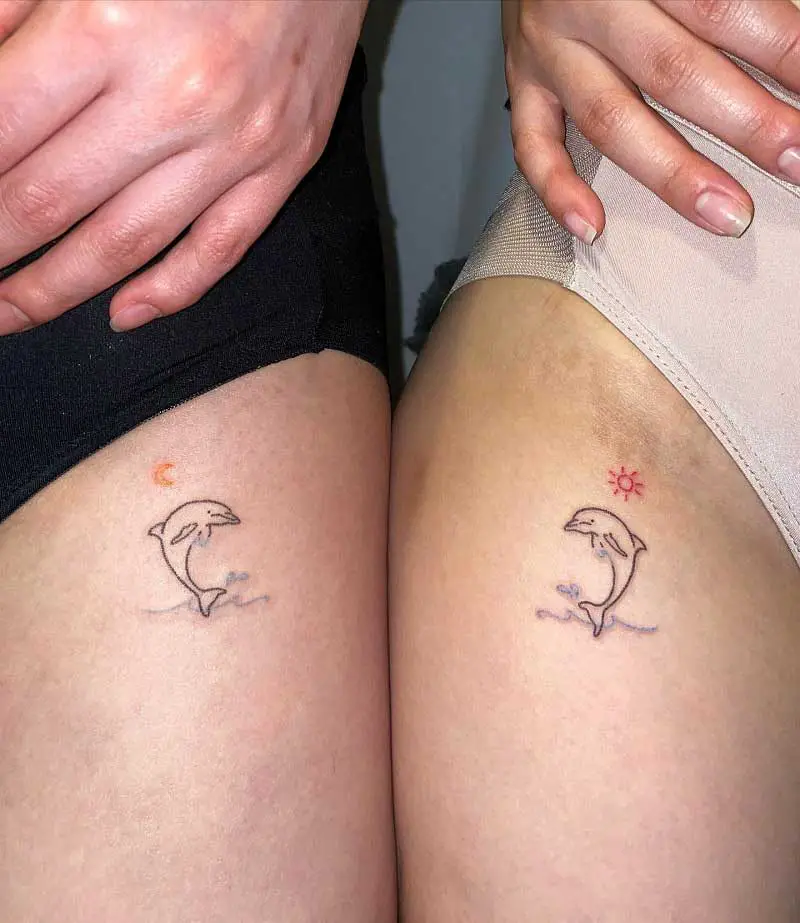 97.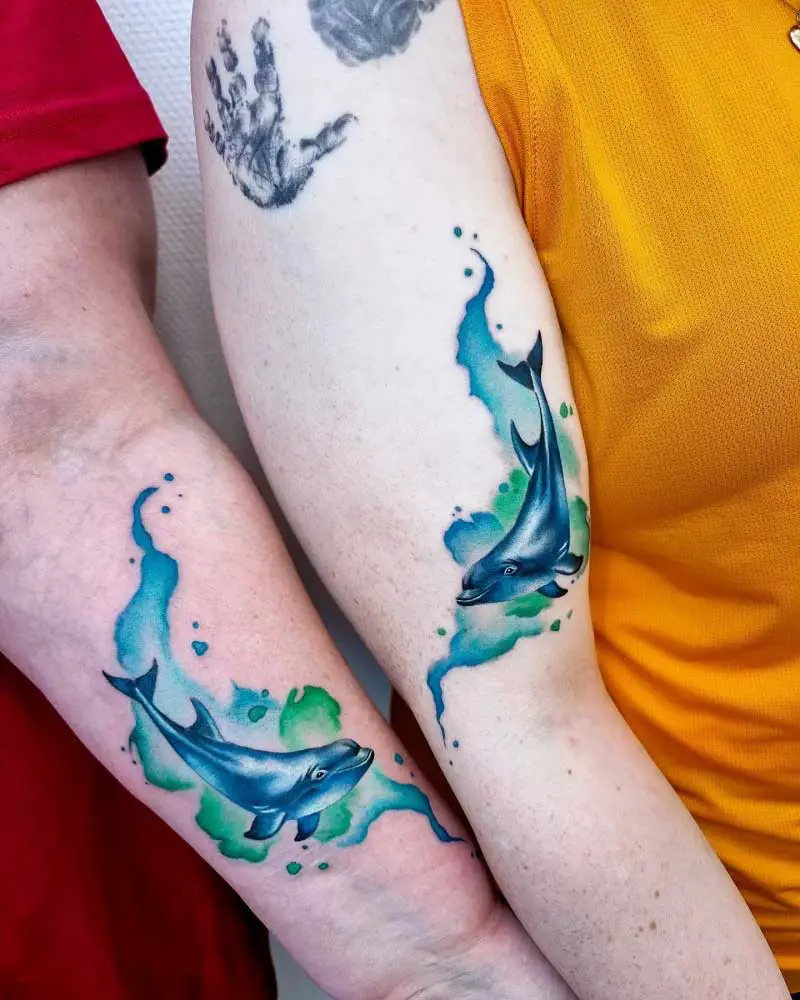 Celtic Dolphin Tattoo
98.
99.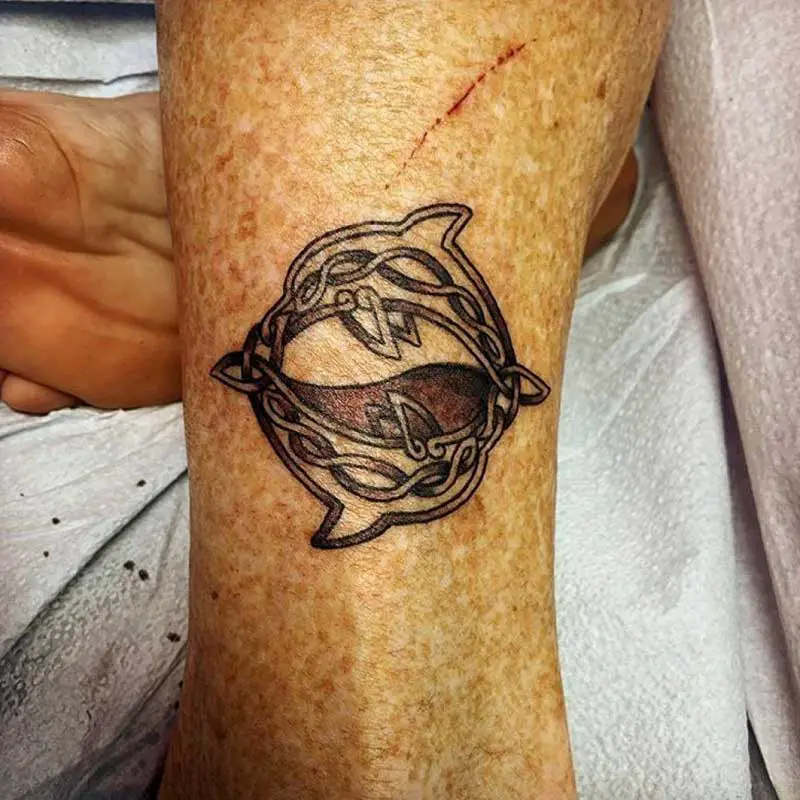 Conclusion
If you have a fascination for the ocean and marine life, or just want a tattoo that shows off your carefree and joyful spirit, consider getting a dolphin design. A dolphin tattoo can be anything from a modest, simple design to a massive, elaborate, full-color artwork with significant cultural significance or visual impact.
If you're looking for inspiration for your next piece then we think this blog post will come to your aid. Just pick up the design of your liking and the design describe or portray your philosophy best, and get it inked by a professional.
Frequently Asked Questions
Choosing a body art design is always a tough decision as you're gonna be stuck with it for the rest of your life. So, it's wise to look into every aspect before deciding to ink one. That's why here, we tried to answer some of the most asked questions by our readers.  Here are they-
1. What does a dolphin tattoo mean?
Dolphin tattoos are commonly associated with carefree, adventurous personalities, but they can appeal to those with a serious commitment to ocean preservation and protection.
The varied meanings, aesthetic interpretations, and technical depictions of the dolphin's iconography have made it a favorite among female collectors. Tattoos with dolphins can be as little and basic as a black line, or as large and elaborate as an undersea scene or the iconic picture of a dolphin breaching the surface of the water.
2. What celebrity has a dolphin tattoo?
Many celebs in both Hollywood and Bollywood have dolphin tattoos inked on their body. Celebs like Zara Larsson. Alyson Hannigan, and Jeannie Mai have dolphin tattoos on them. Zara Larsson has a twin dolphin design both on her lower ankle. Alyson Hannigan also has a twin dolphin design on her upper ankle of the right leg. And, Jeannie Mai has a single dolphin tattoo behind her right ear. On the other hand, Bollywood celeb Farhan Akhter has a dolphin tattoo on his right arm.
3. What are some good spots for getting a dolphin tattoo without hiding it?
If you want to show your dolphin tattoo to people then the ankle area is the perfect place for getting one inked. Other places like the wrist area, the forearm, or the upper arm is the best suitable place for inking a dolphin tattoo. However, if you want an unique placement, the neck area can be a good choice. Some people also ink dolphin tattoo behind the ear which looks extra aesthetic and cool. To tell the truth, the placement depends on you. You are the one who will wear the design permanently, so, you should choose a place where you think is best and comfortable for you.
4. Does JLo have a dolphin tattoo?
J Lo was spotted with a dolphin tattoo on her right shoulder back by some paparazzis. It is often held among ancient cultures that dolphins are the highest-ranking marine mammals. The symbolic connotation of the word "dolphin" is strongly linked to concepts of royalty.
Happy Tattooing!