Lotus flower tattoos are distinctive and quite personal since they represent a variety of different things. The flower is generally said to stand for overcoming temptation and improving oneself. Lotus flowers are known as the Padma in Hinduism and represent beauty, purity, and spiritual enlightenment.
A lotus flower is undoubtedly the ideal design for a tattoo that represents something significant to you, such as love or enlightenment. Therefore, with the help of the guidance of tattoo artists Brittany Randell and Rachael Ainsworth, we chose the best inspirations. To find some gorgeous lotus flower tattoo ideas for your next piece, keep scrolling.
93 Lotus Tattoo Designs and Ideas
Women who are seeking a tattoo that speaks to their own development and spiritual awakening often settle on a lotus blossom design. Because it blooms from the muck, the delicate blossom is a symbol of innocence and regeneration. Because of its significance and beauty, this flower can be displayed in a wide variety of contexts.
A red lotus is an excellent choice if you're looking for a piece that symbolizes the heart and passion; a blue lotus is a good choice if your emphasis is on spirituality. Knowing where on your body to have the tattoo is just as crucial as coming up with the design itself. As with anything, some locations are more painful than others. A tattoo can last a lifetime, but if you need ideas, we got you!
Iron Lotus Tattoo
Lotus is a symbol of purity, love, spiritual enlightenment, etc. These beautiful flowers are also a symbol of softness. On the other hand, a metal adaptation of the lotus flower denies that softness with rigidity. These tattoos are shaped and designed in a way that looks like metal to bare eyes. If you like such designs, these design ideas can catch your interest-
Carpe Diem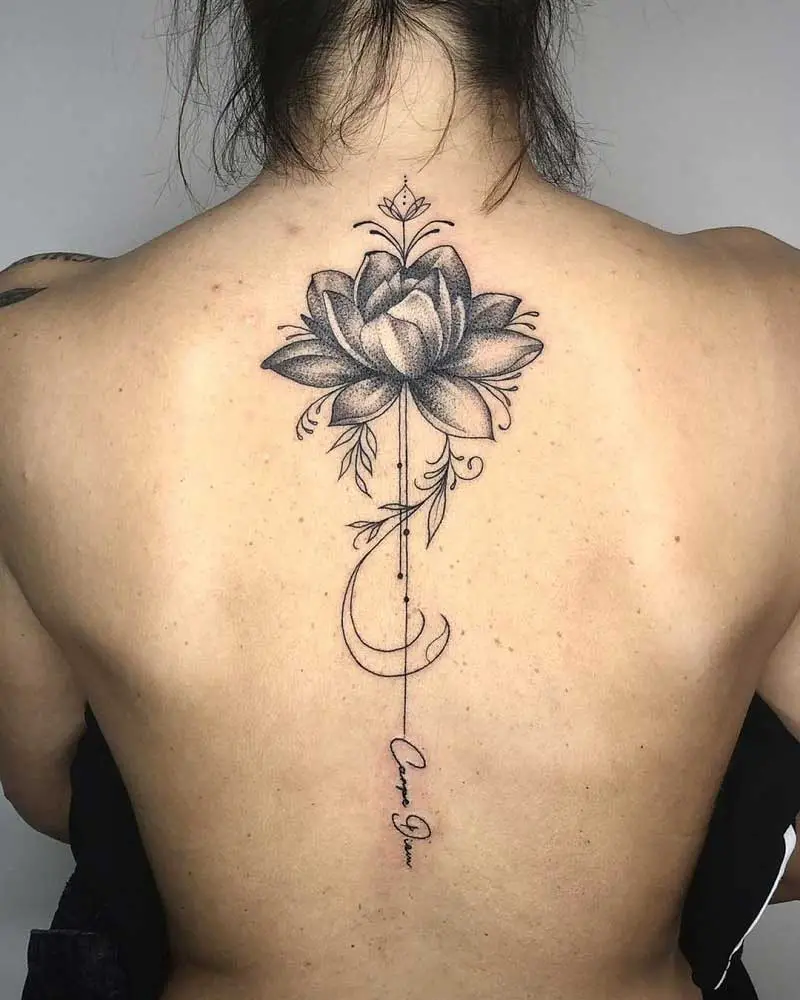 The design is purely monochrome. All with its veins and spinal line, it got a spiritual flavor with a subtle touch of aestheticism. And at the bottom, there are two words "Carpe Diem" which denotes "Sieze the day."
2. Sun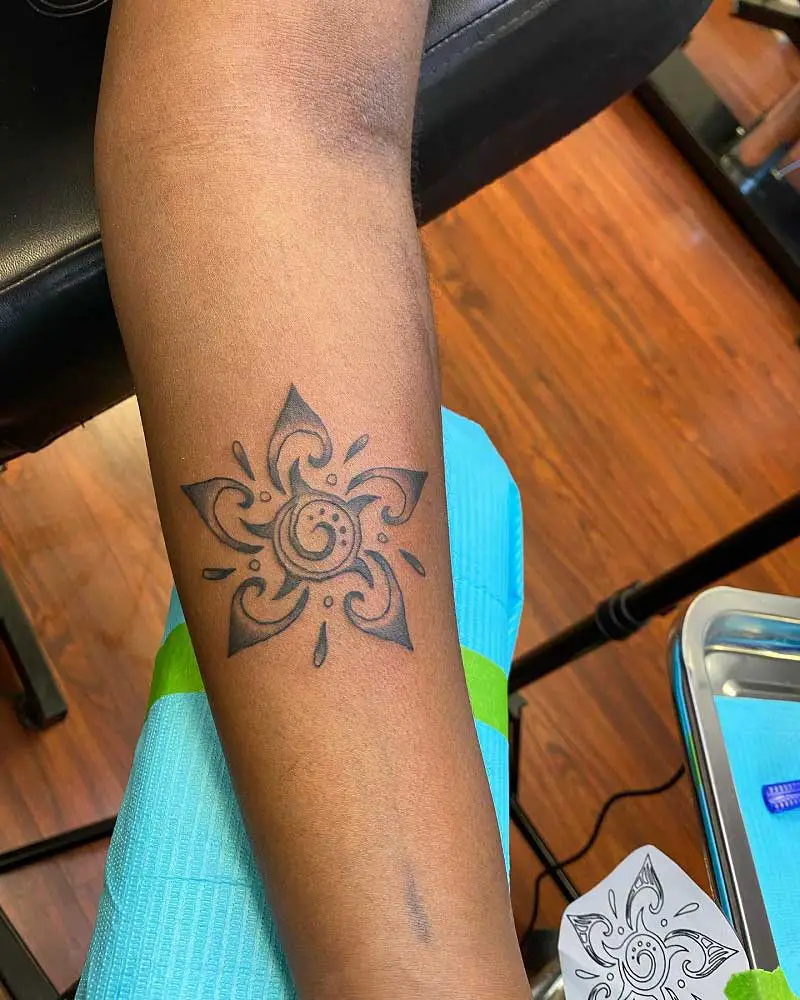 It is designed with quite a spiral pattern that makes it look alluring and mysterious. It's in the shape of a star but the spiral alignment gave it the aura of the sun. This particular piece has a distinctive look while emitting the softness of a lotus.
3. Serenity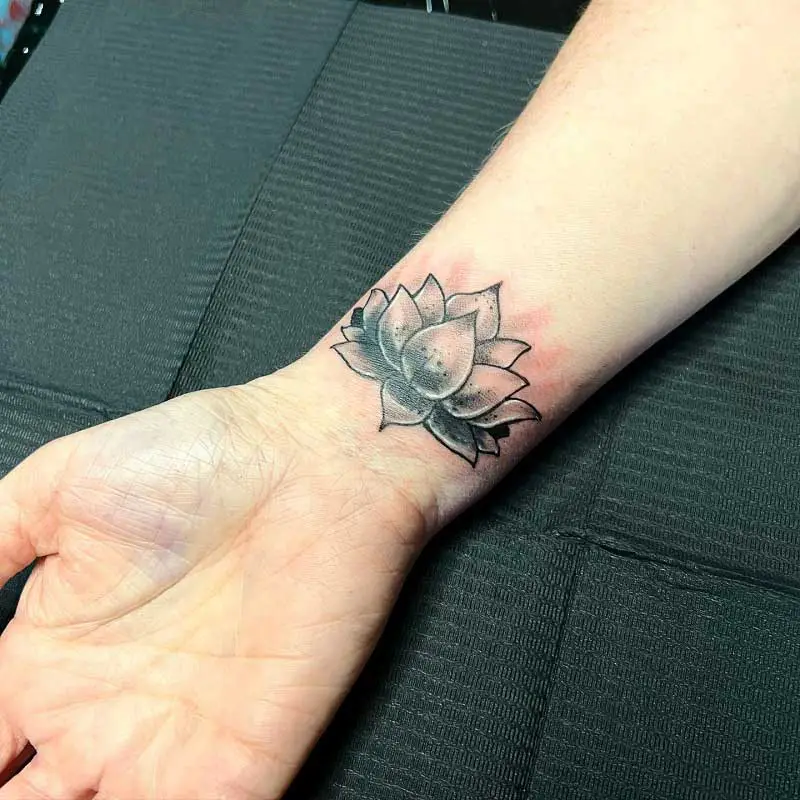 The design and placement gave the tattoo a serene and spiritual aesthetic. It is colored in an artistic way to give it a monochrome but glossy look. And this design mimicked the lotus that Buddha is seen often sitting on.
Japanese Lotus Tattoo
The lotus flower, a beautiful bloom that rises from a muddy pond, is a symbol of enlightenment and rebirth. Truth, faith, harmony, and a newfound awareness of the spiritual world are some of the other meanings that can be ascribed to this color. They go well with Kois and other water-based deities because of their shared affinity for the watery element and their use in tattoos. In Japanese culture, the enchanting lotus flower (Hasu) represents enlightenment and innocence.
Here are some Japanese lotus tattoos design ideas for you-
4. Yellow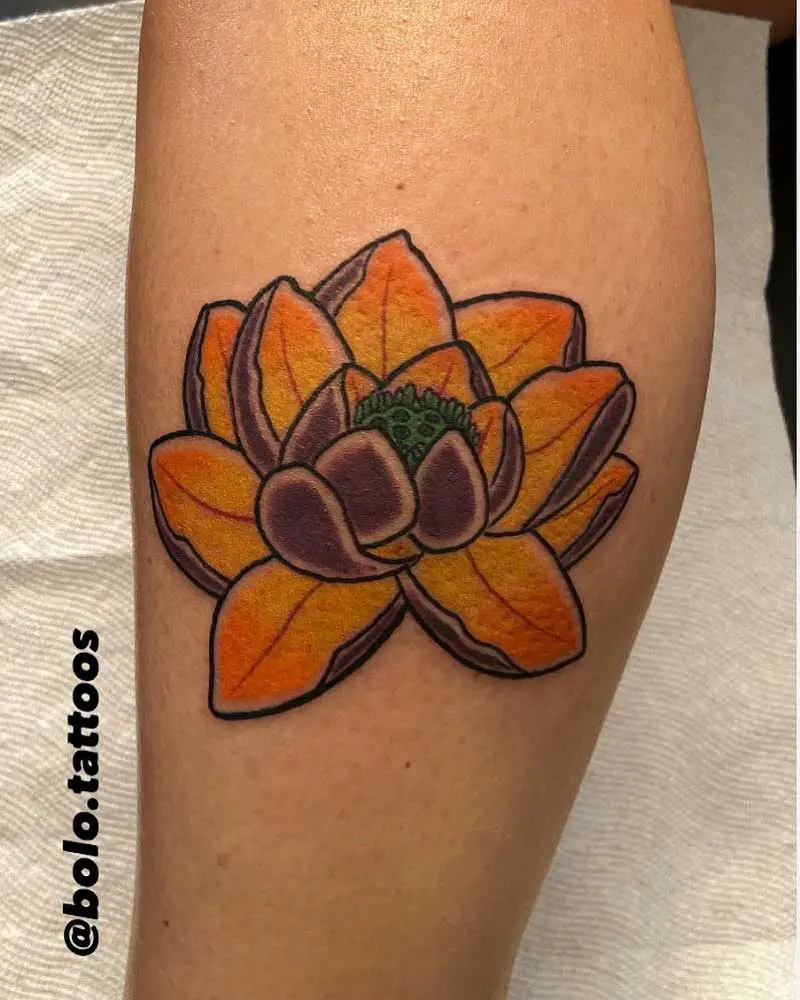 This particular piece is inked with splashes of colors. The mixture of dark violet on the outside and the bright orangish yellow made this a glowing piece to look at. Its coloring and design solely contributed to its aesthetics.
5. Violet Blue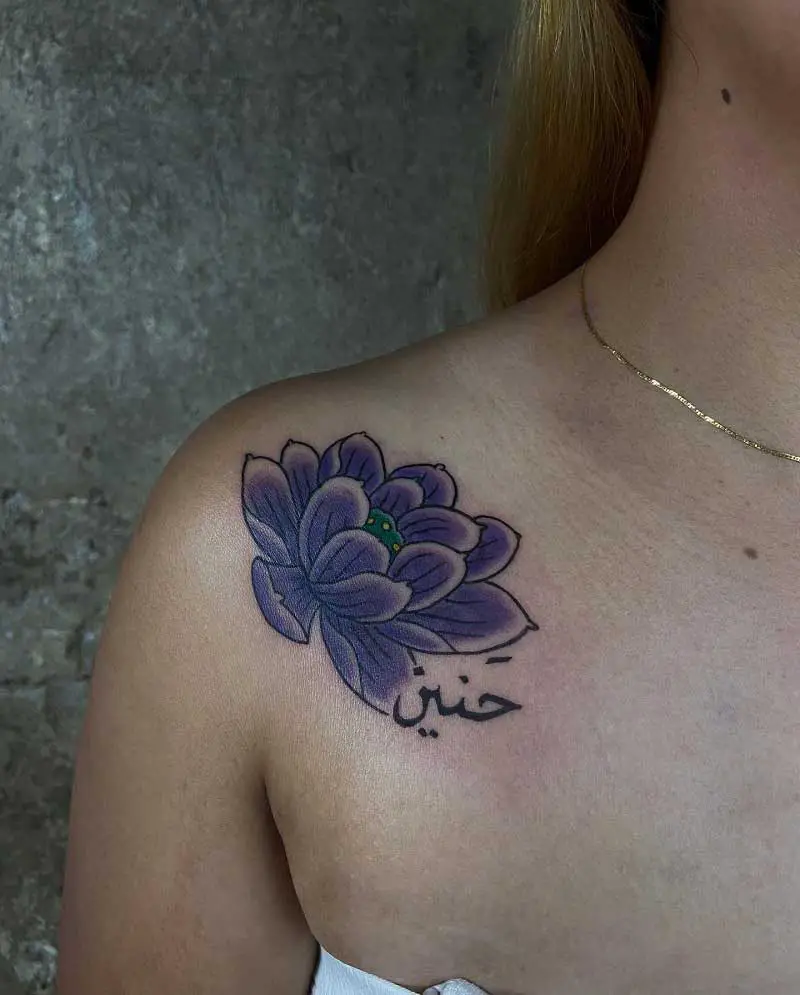 Lotus emits serenity, peace, spirituality, etc. But this particular one is ornated with a tragic tone. And the addition of that Arabic text made this tattoo a bit cryptic and mysterious.
6. Bloomed Beauty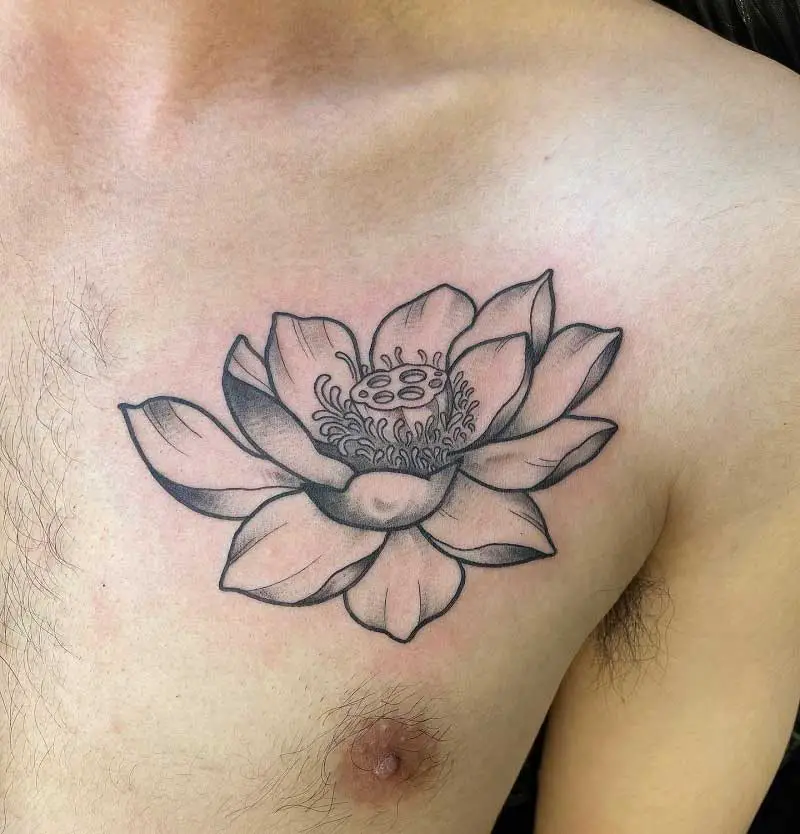 It's a black & white piece on a man's chest. The inked flower is bloomed perfectly. The design is placed on the heart which indicates enlightenment. Its core is also detailed in a perfect manner making it a bit more beautiful.
Burning Lotus Tattoo
Burning lotus tattoo has a special symbolism. The concept of this design came from the lotus burning ritual. To honor the departed, burn 9 blossoms from the "afterlife lotus," and 9 blooms from the "longevity lotus" to honor the god. Burning longevity money and Kitigarbha gold to the gods is a way to pray that the gods will guide the departed to the west happy land, where the Buddha and Tudi Gong reside.
Here are some burning lotus tattoo designs that will ablaze your soul-
7. Inferno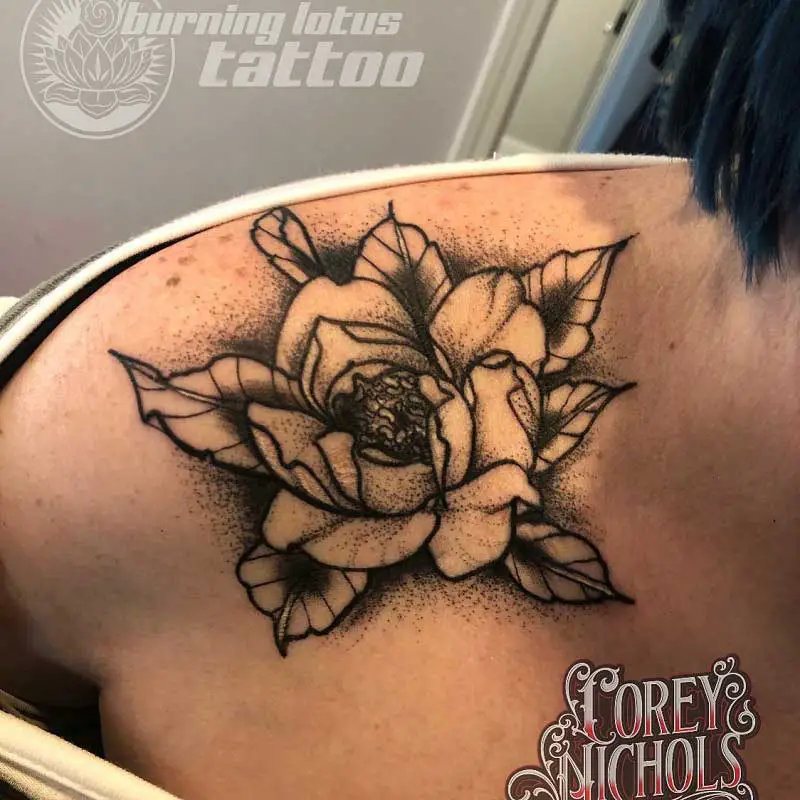 This particular piece is designed in quite a grotesque manner. The monochrome design is filled with black grains which looks like the lotus is in black flames. This design can be worn as a commemoration of any departed.
8. Violet Flame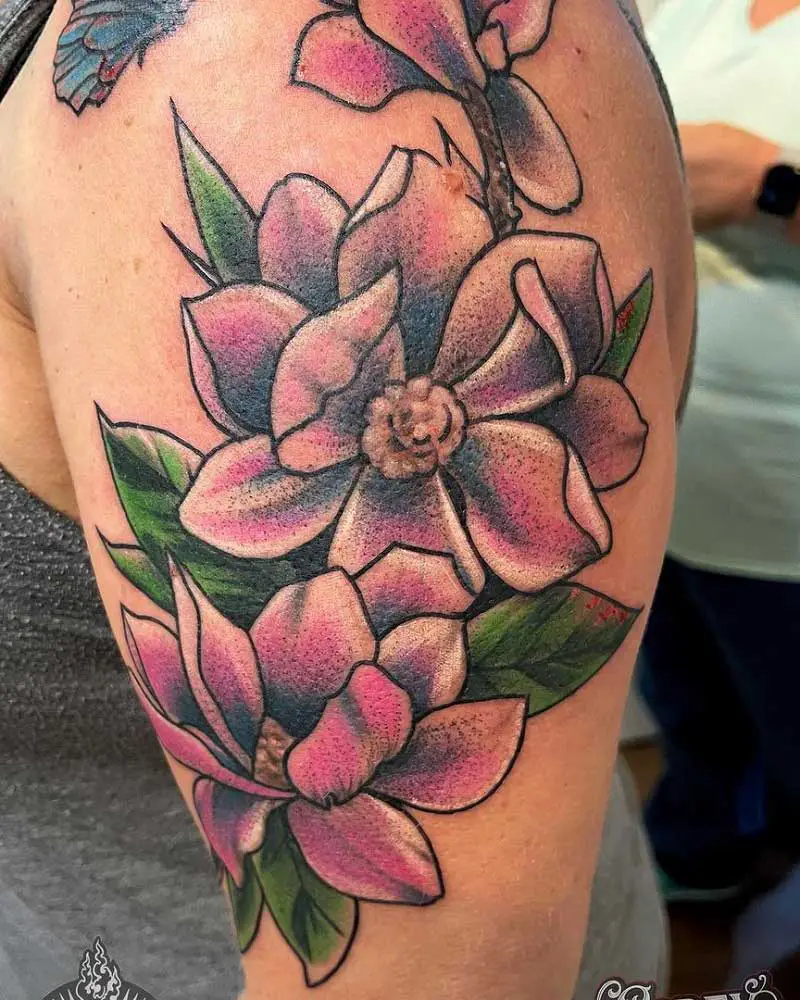 This one is a bit intricate with color and size. It starts at the shoulder and ends at the forearm of a man. The coloring is very vivid and the whole design is filled with tiny black dots which adds to its further aesthetics.
9. Sunflower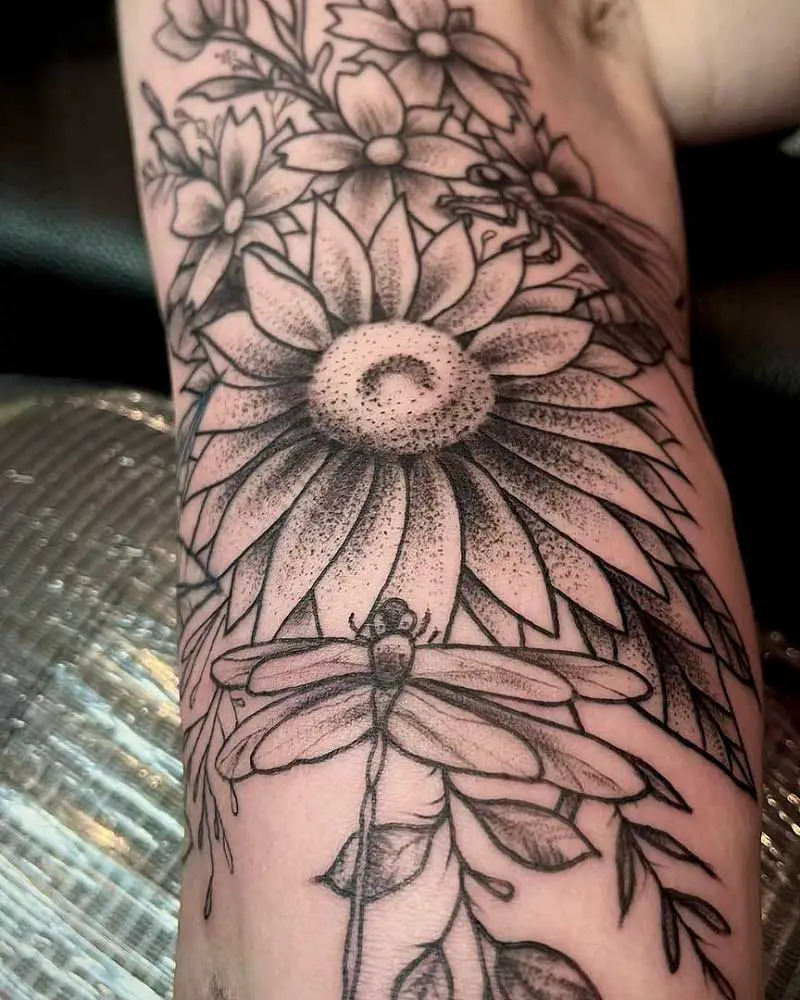 It's a very detailed design with a dragonfly and a big sunflower. This floral design has quite an appealing tone to it. In simpler words, it's monochrome and it's majestic.
Dark Lotus Tattoo
The dark, elegant, powerful, authoritative, and rebellious black lotus blossom represents many things. The black lotus is a symbol of darkness in Hinduism. For the ancient Romans, the dual meanings of the white and black lotus blossoms represented continuity from one life cycle to the next, as well as death and rebirth.
This section features some of the coolest dark lotus tattoo designs-
10. Dew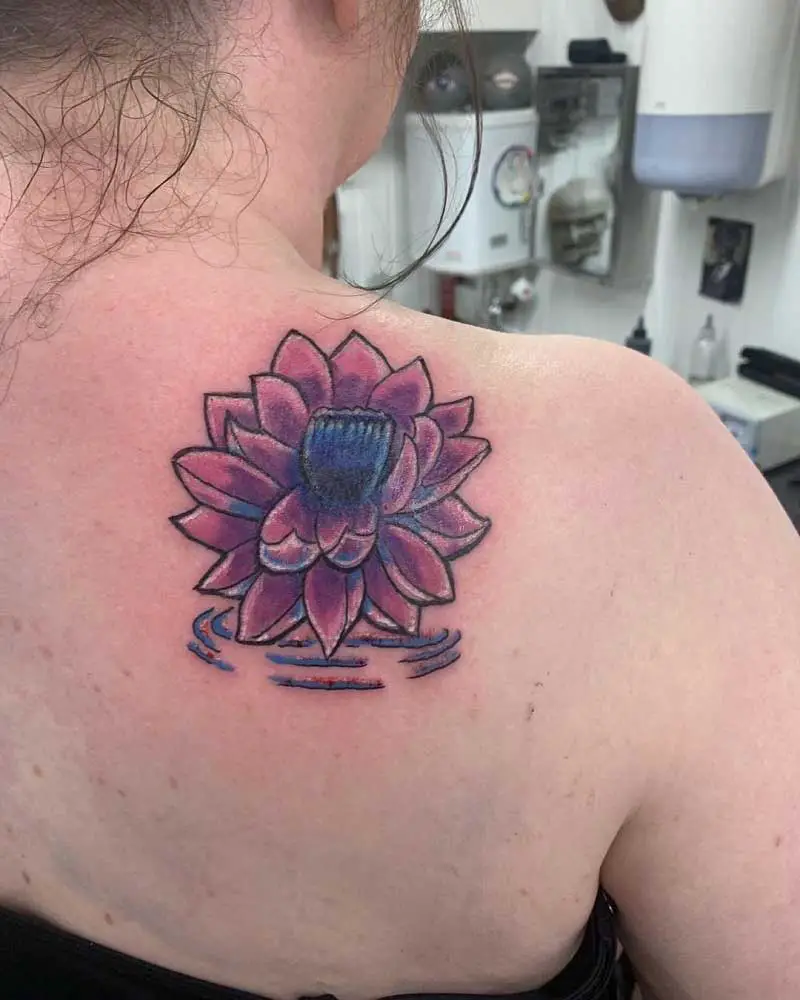 This design is colored in a dark violet color depicting a certain rigor. It is sitting on a watery surface like dew and thus the name. It looks visually pleasing and can be a compliment to your body.
11. Rebirth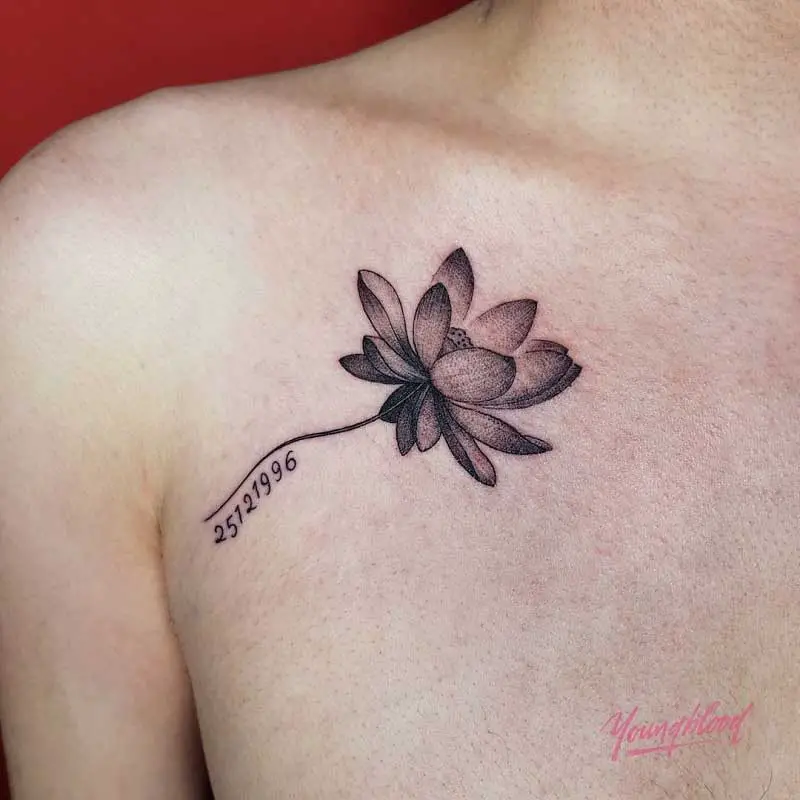 A rather simple and minimalistic design, this one is. It's small but very carefully detailed by the artist. And as the dark lotus symbolizes death and rebirth, it is marked with a date. This can be the date of death or birth date of the wearer or of anyone dear to the wearer.
12. Unalome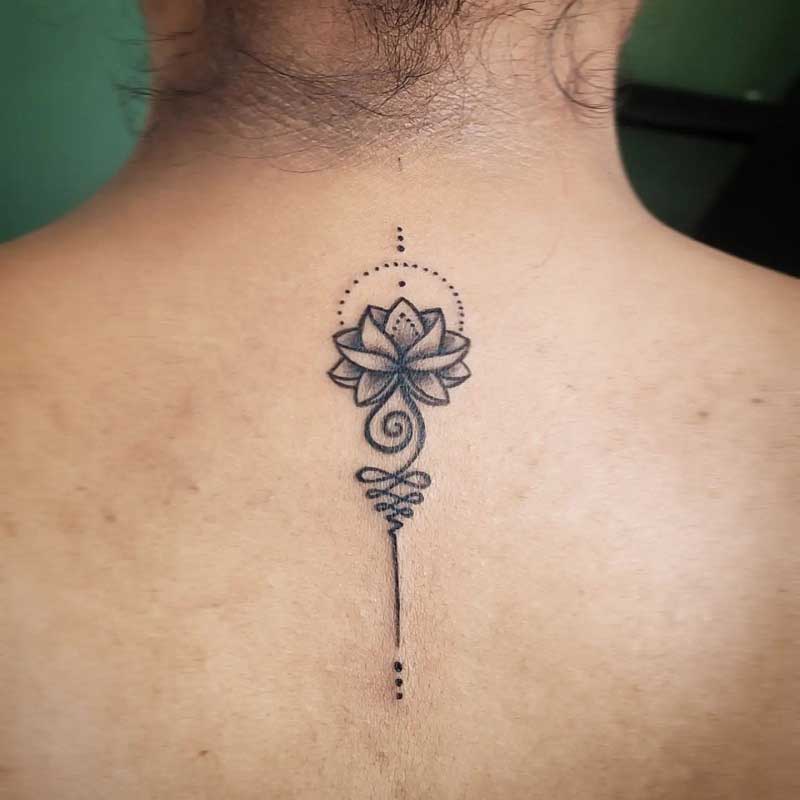 It is basically a tattoo with unalome symbol. The spiral pattern, a woman's back, means the crucial path of life and the dots at the end of the line suggest enlightenment. It's also a lotus tattoo and has spiritual meaning. It will show your connection to spirituality.
Geometric Lotus Tattoo
Geometric designs in tattoos are pretty common nowadays. They are symmetrical and they look cool. On top of that, when using basic geometric shapes, geometric patterns can convey a sense of stability and peace. They can also be invested with their own unique meanings, which range from the purely esoteric to the deeply personal. Lotus tattoos are also often ornated with geometric shapes. Lotus tattoos are quite appealing and the geometric shapes also add some extra glow to them.
Here are some cool lotus tattoo designs that include geometric shapes-
13. Yin & Yang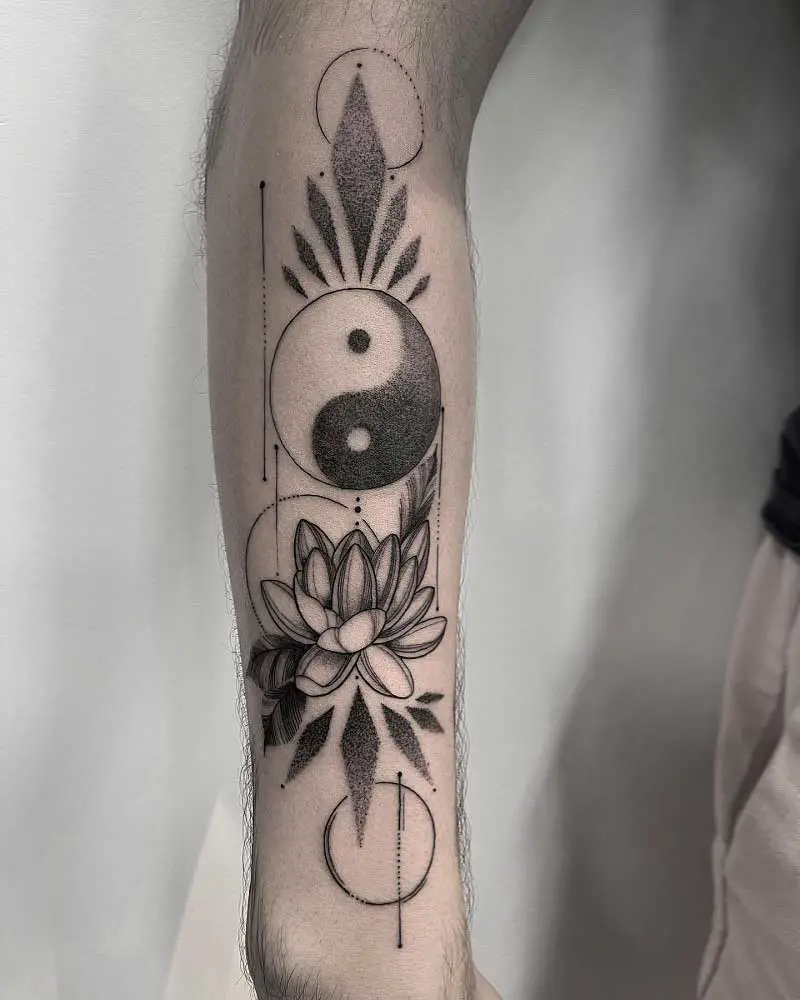 This design is richly meaningful and visually appealing. The inclusion of Yin and Yang symbol alongside the lotus, gave it a vast spiritual meaning. The lotus means death and rebirth and the Yin & Yang also suggests two opposite forces intertwined. A masterpiece's drawn on a man's hand.
14. Trinity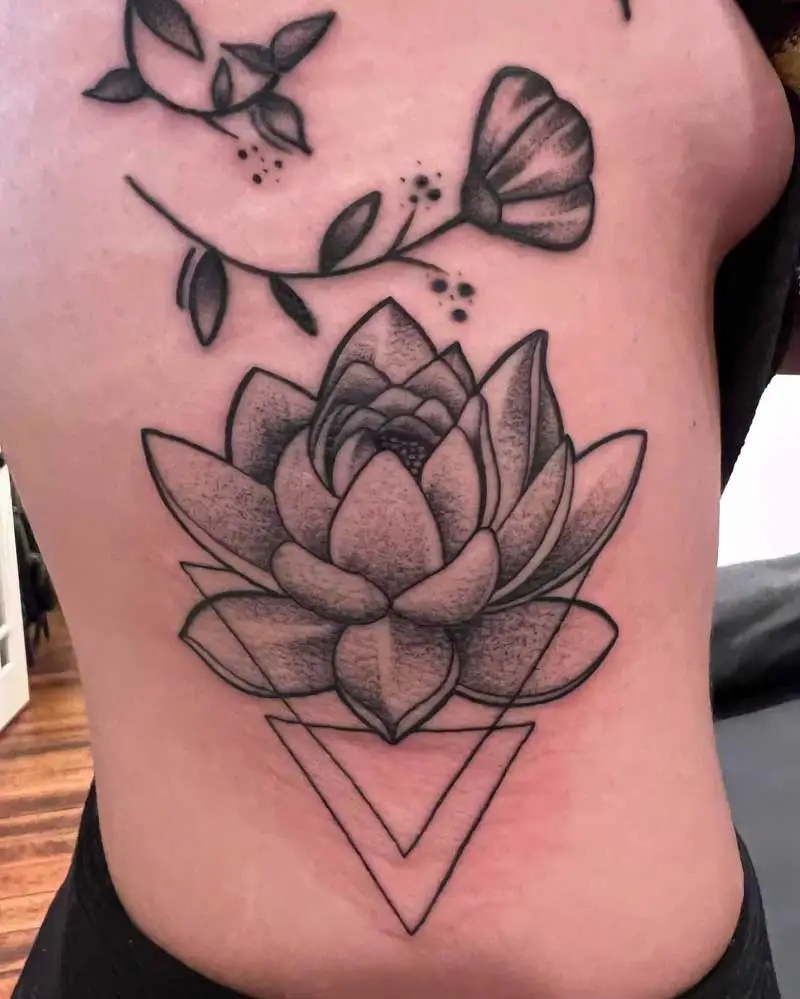 A simple bloomed lotus with triangle designs for extra appeal. The center piece, the lotus is exquisitely detailed with every tiny texture of its body. And along with that, the triangle shapes made this design a cool and meaningful one.
15. Lotus Heart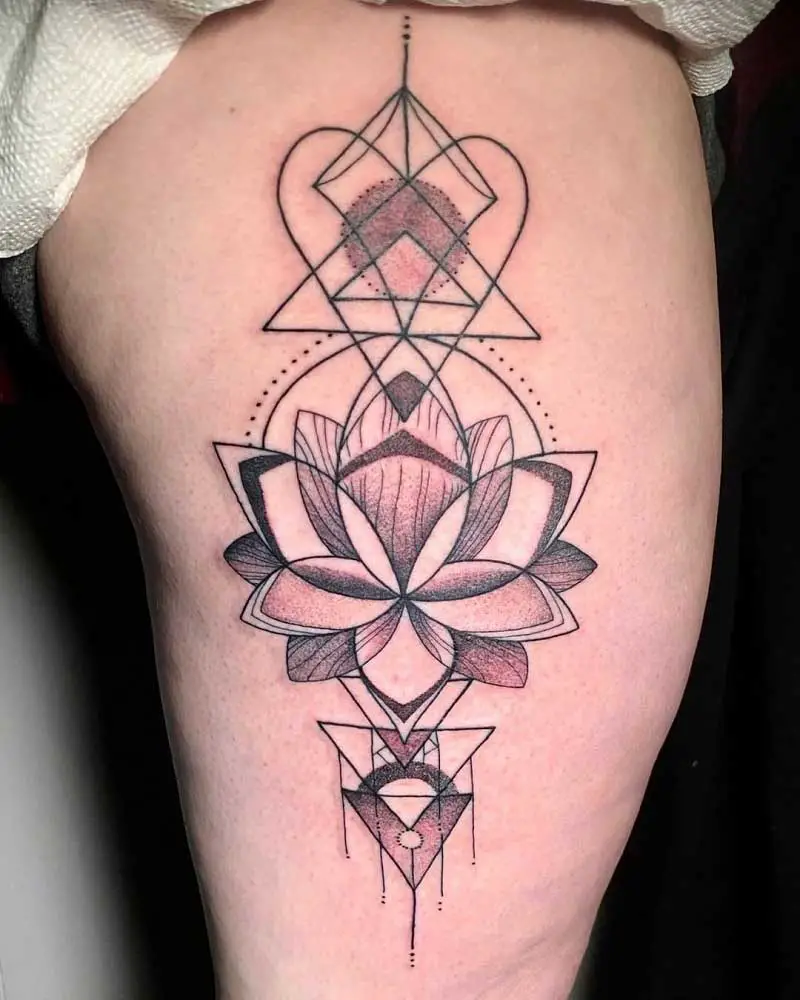 The geometric shapes on this woman's thigh are quite intricate. The whole lotus is outlined with half orbits in a precise manner. And the detail in it is more artistic. The dotwork symbolizes enlightenment while other geometric shapes in this piece make it supremely aesthetic to look at or wear.
Buddha Lotus Tattoo
In Buddhism, the lotus blossom is a sign of good fortune. The flower's first and most literal meaning comes from its natural habitat, where it thrives in murky water: emerging triumphantly from the depths of darkness to find the light.
The second, connected connotation is cleanliness. It's much like when a muddled soul is reborn as a clear one. There is also a third interpretation that emphasizes loyalty. Those who want to get out of the muck will have to be dedicated followers.
If one believes in this philosophy then body art is a great way to show respect. So, here are few tattoo designs in that regard-
16. Meditating Buddha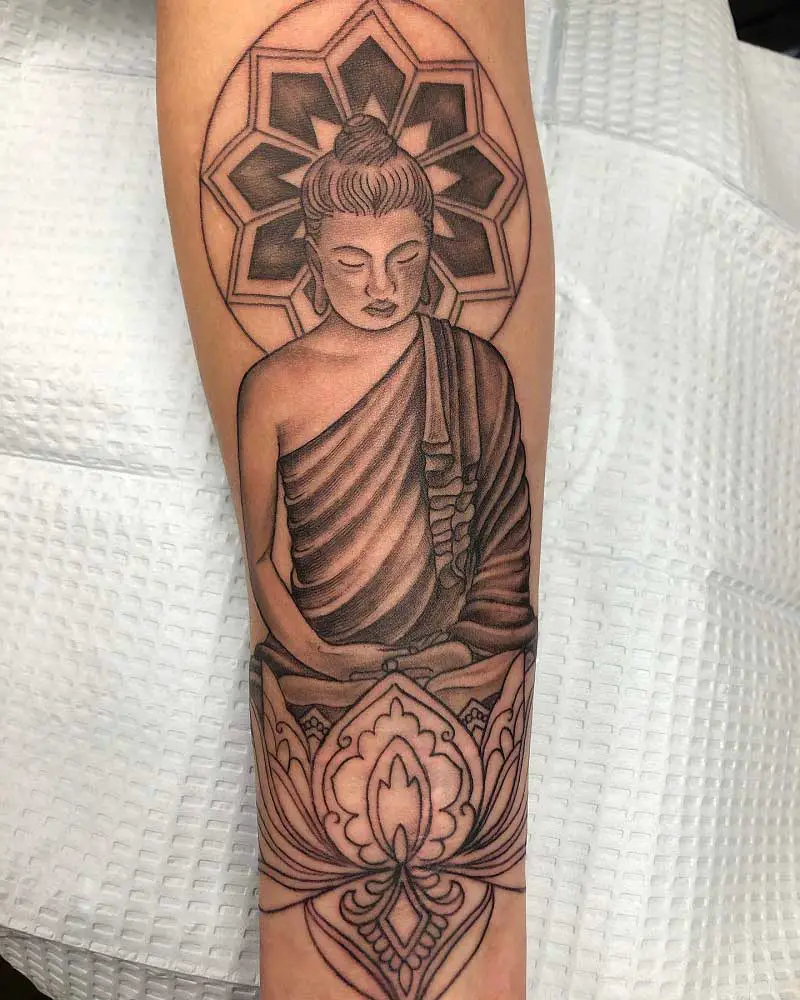 It's quite an elegant design. The lotus Buddha is sitting on is adorned with artistry and has a spiritual flavor to it. And there is a lotus mandala behind Buddha's head suggesting enlightenment. Overall, the design is eye catchy and heavy in spiritual meaning.
17. Love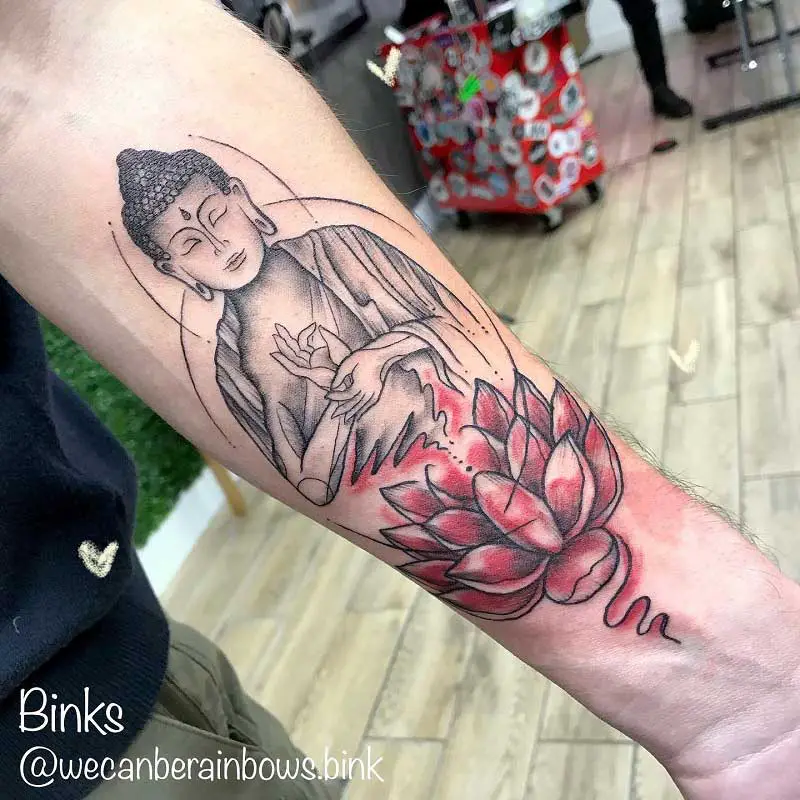 The lotus at the bottom is inspired by the Unalome design. It has a spiral section that depicts the hard path of life. And Buddha sitting on a red lotus means he is conveying the message of love and peace.
18. The Mandala
This one is rather gorgeous in every way. The symbolism is rich with mandala lotus, dotted lines, and ornamented lotus. The adorned lotus proudly states the philosophy of rising above the material world and freeing oneself in spirituality.
Sternum Lotus Tattoo
A sternum tattoo is typically tattooed directly on the breastbone, although on women, the tattoo is often designed to flow beneath the breasts and follows the natural curvature line of the cleavage. Tattoos on the sternum are bold and beautiful but can be excruciatingly uncomfortable. When a sternum tattoo is designed with a lotus, it is called a sternum lotus tattoo. And in women, these sternum lotus tattoos look sheerly sensual.
Here are some inspirational pieces-
19. Little Lotus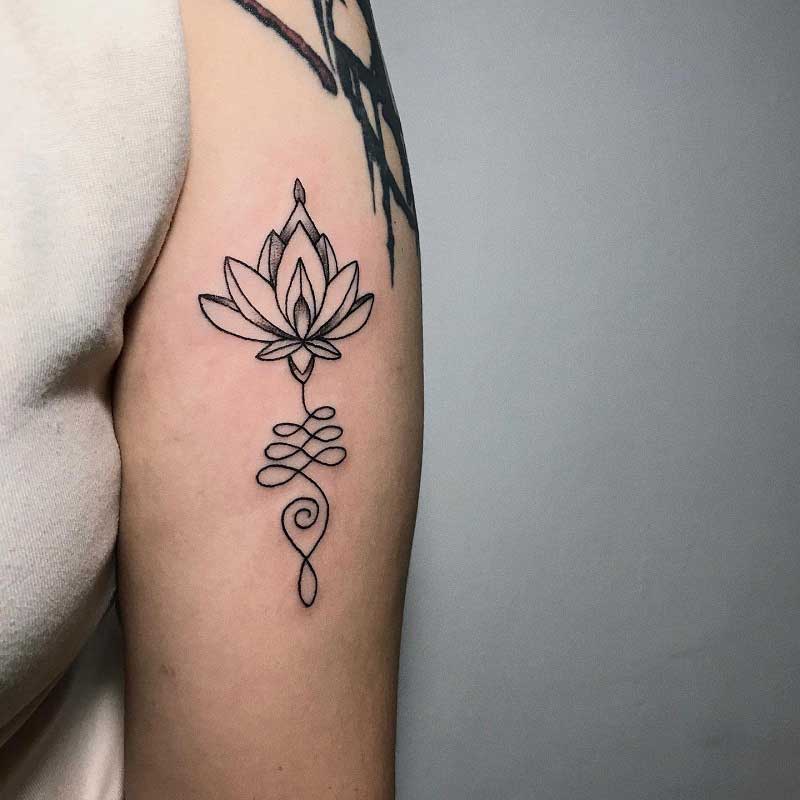 This is another unalome design on a woman's sleeve. The spiral part means the challenging road of life. But there is no dots in this design. This means the wearer didn't find her enlightenment in life till now. However, this is quite an appealing piece with its intricate and complex detailing.
20. Chain of Enlightenment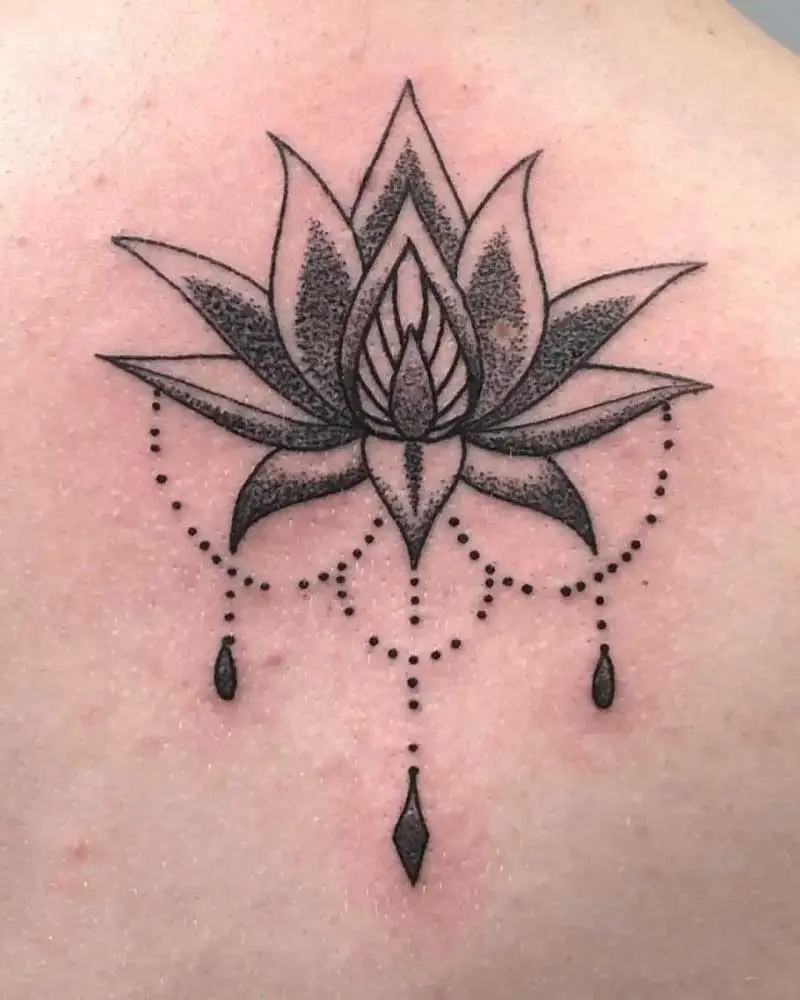 The dotted chains in this design suggest enlightenment. It's a big lotus design with a monochrome appeal. This design can be worn if one wants to portray the achieving of his enlightenment.
21. Spiritual Veins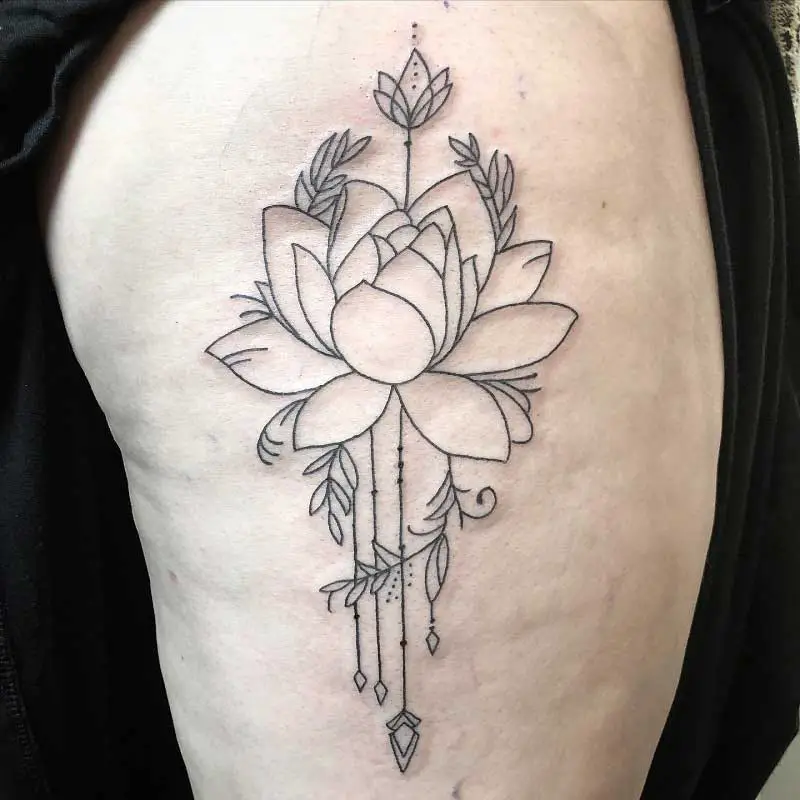 This one is simple and minimalistic. It's designed with single line drawing form and looks rather classic and elegant. The design is inspired from unalome symbol and presented in a modern and subtle way.
Unalome Lotus Tattoo
In Hinduism, the unalome depicts Lord Shiva, the ultimate Hindu God and Destroyer. Lord Shiva is known as the Protector of the Universe because he removes all impediments, ups and downs in life. And in Buddhism, in the Unalome emblem, the Lotus represents enlightenment and freedom. The lines within the Unalome depict our life's obstacles as we push through the dirt and muck to finally bloom and be the wonderful beauty we were designed to be.
Here are some beautiful unalome designs-
22. Compassion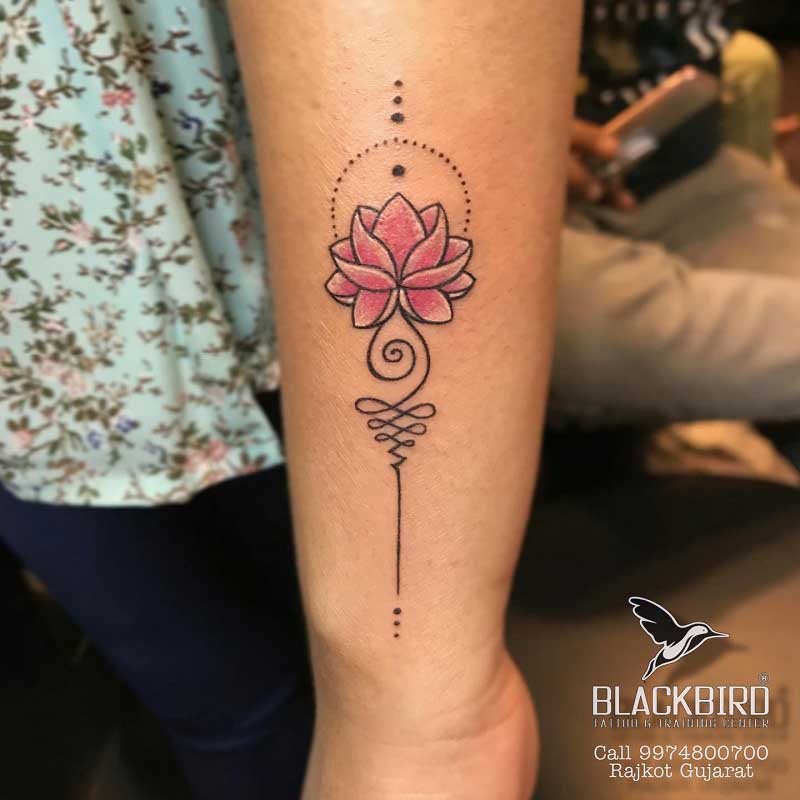 This particular piece is… soothing! Its compact design and slender artistry just take the breathe away. The soft pink color represents love. And the unalome symbol as a whole is depicting that the wearer got his enlightenment in regard to love.
23. Crescent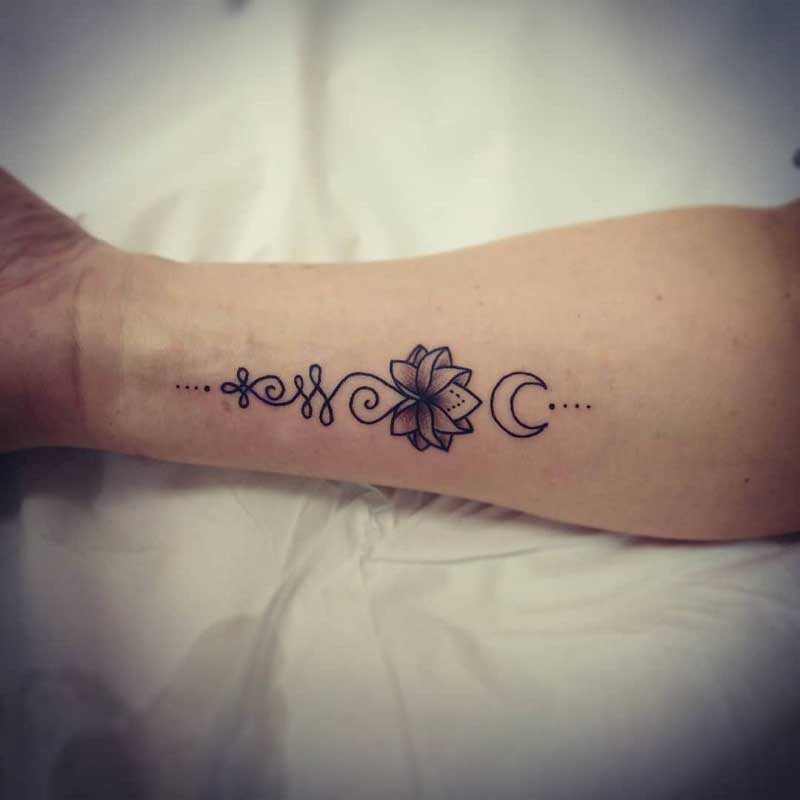 A simple unalome pattern with gothic artistry and a crescent moon. The design covers every aspects of a perfect design in a subtle way. And the crescent moon at the top, really adds to the aesthetics fluently.
24. Spiritual Triangle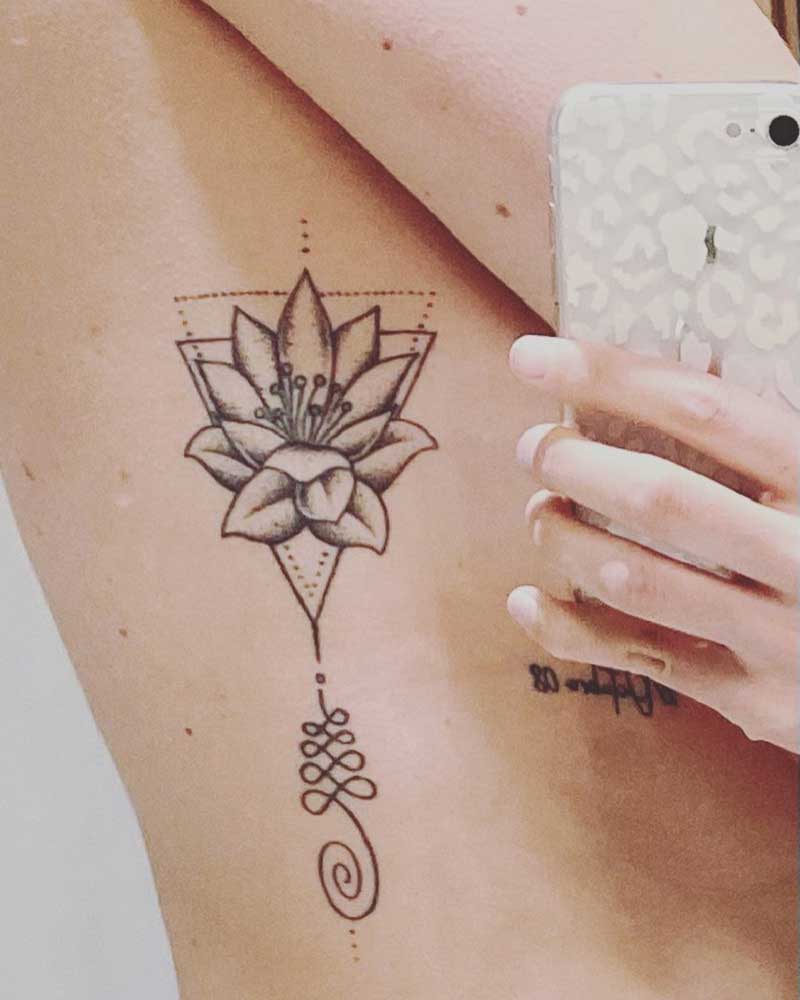 An eye-catching tattoo designed on a girl's side. It's shaped with geometric lines yet there is a spiral at the bottom and the lines are dotted. And, as you know, the dotted line means reaching enlightenment.
Tiger Lotus Tattoo
There is no special meaning behind the tiger lotus tattoo. It's just a creative way of portraying spirituality. Sometimes it is shown with a third eye. These designs are exotic and elegant yet not so complex in artistry. These tattoos are perfect for both sexes. This section contains some exotic design ideas, and you can choose any one of them-
25. Sphynx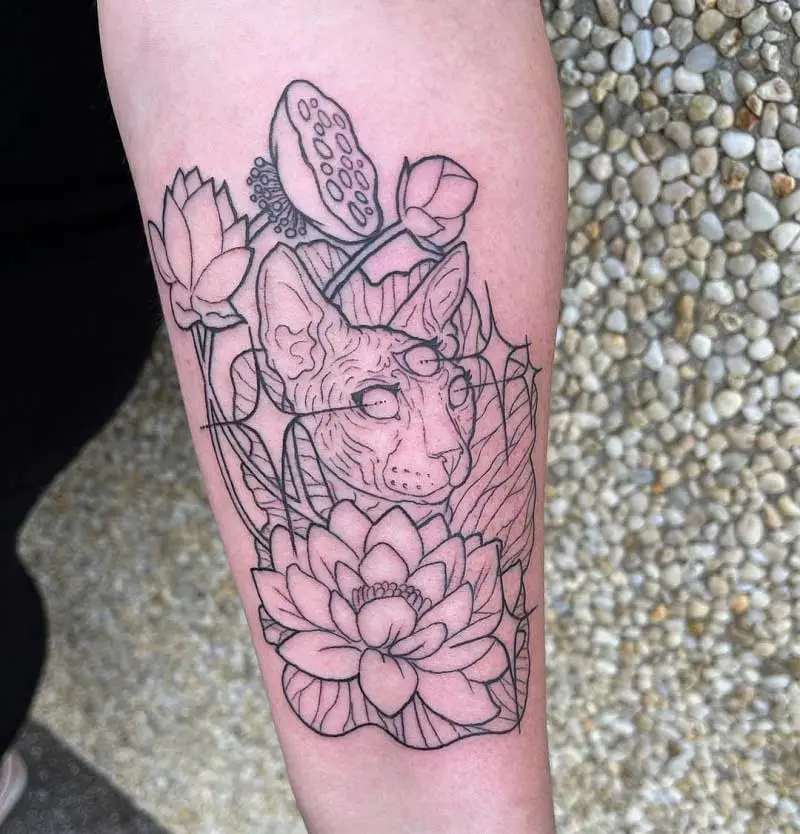 This one is, what one might say a sophisticated and modern design. With a three-eyed Sphynx cat and floral design all around it, it's an exotic design. The third eye of the cat depicts enlightenment and the lotus is a sign of purity, peace, and love.
26.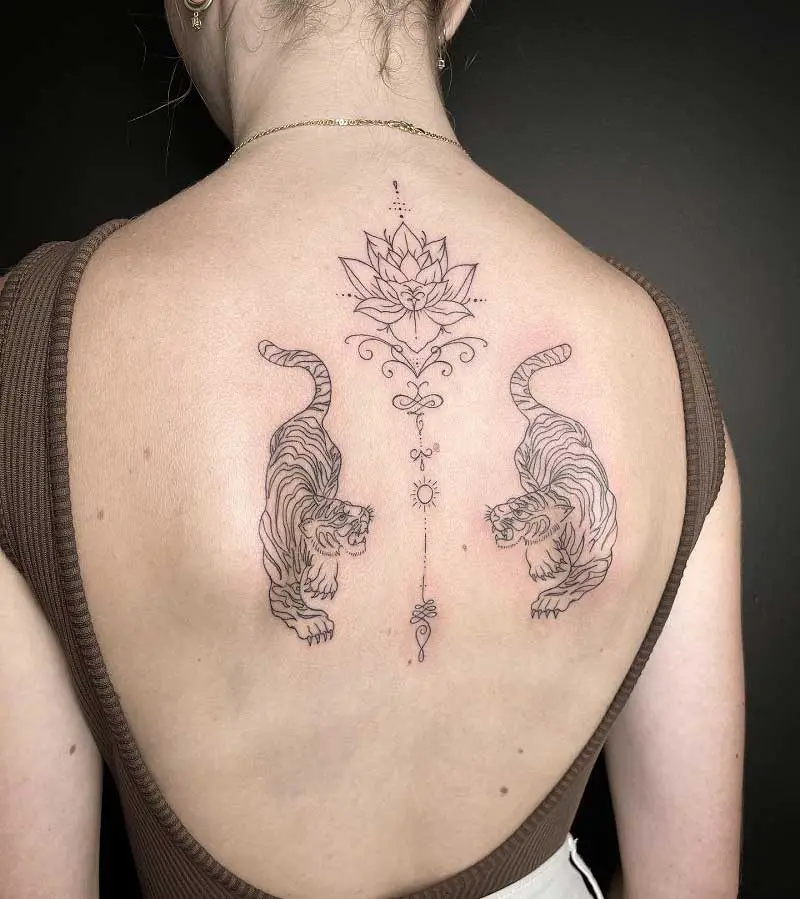 Atomic Lotus Tattoo
27.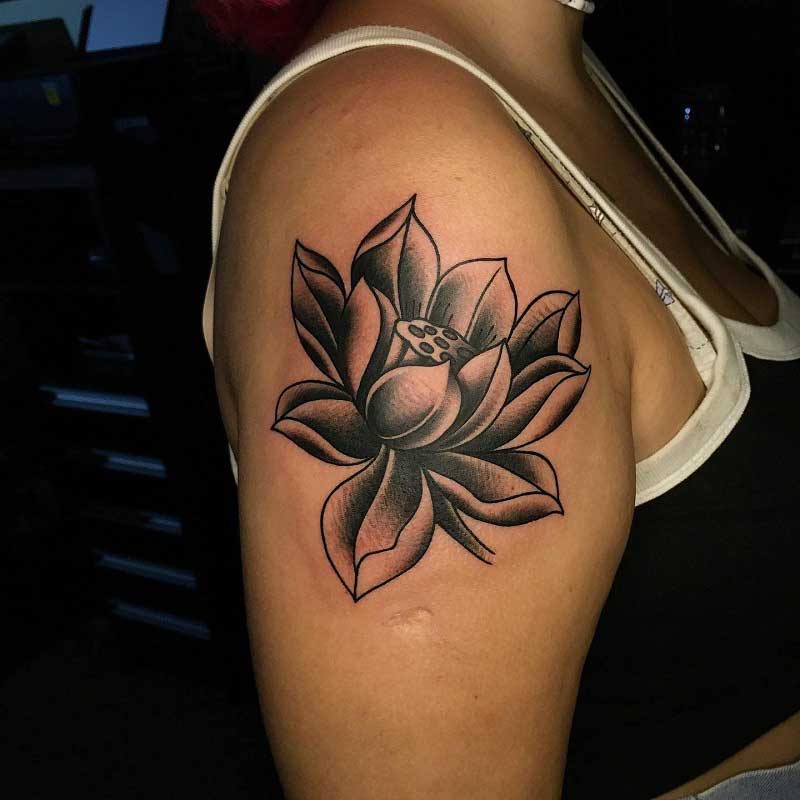 28.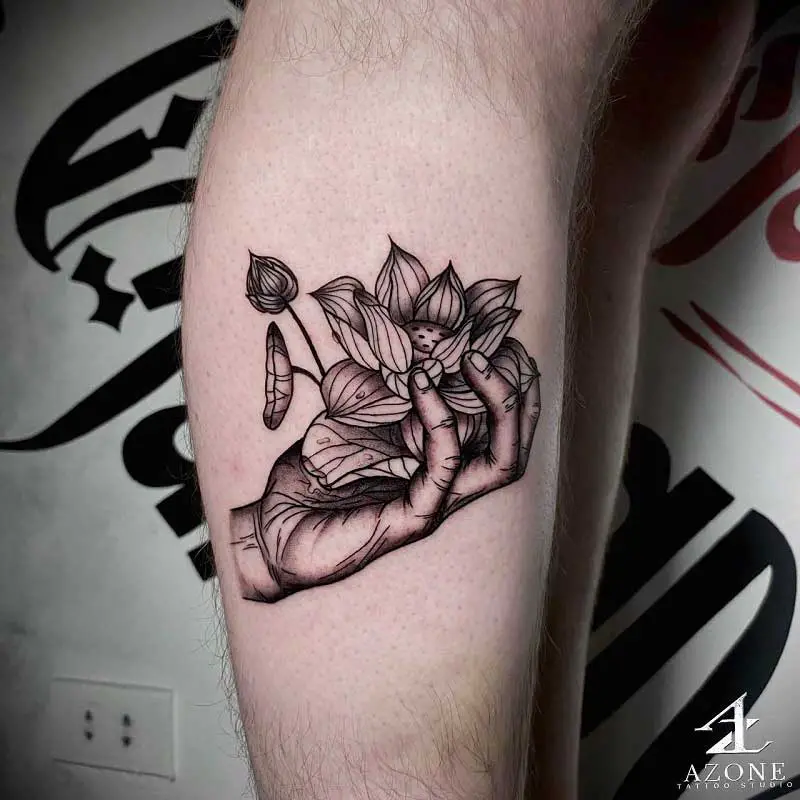 29.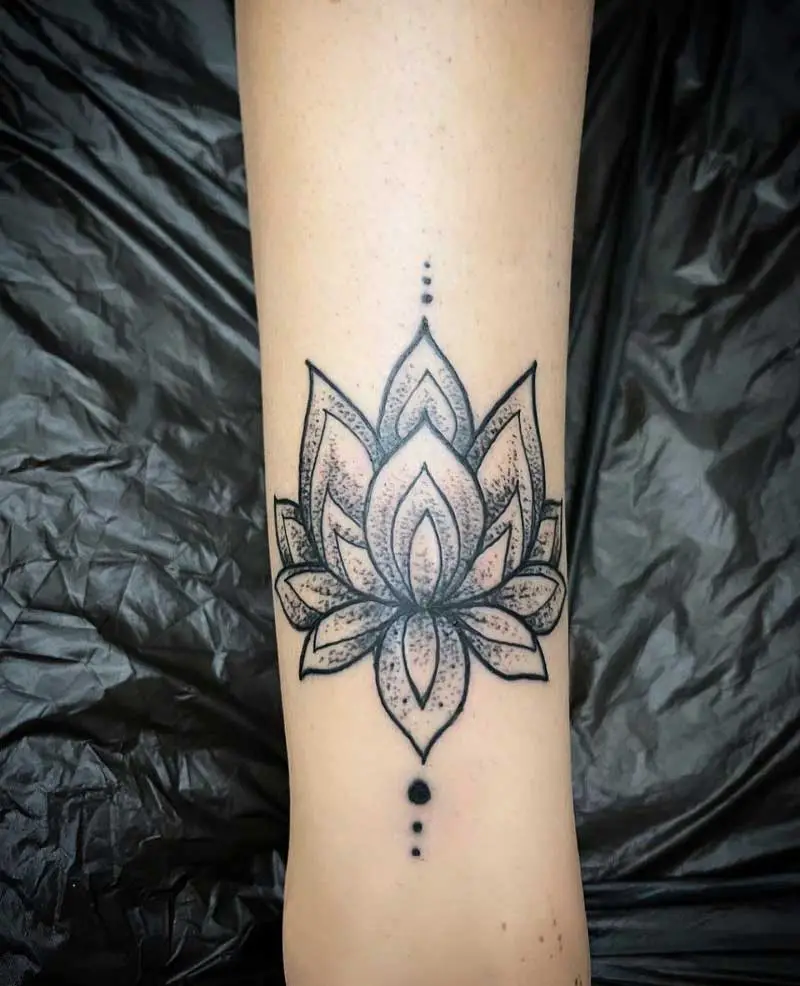 Om Lotus Tattoo
30.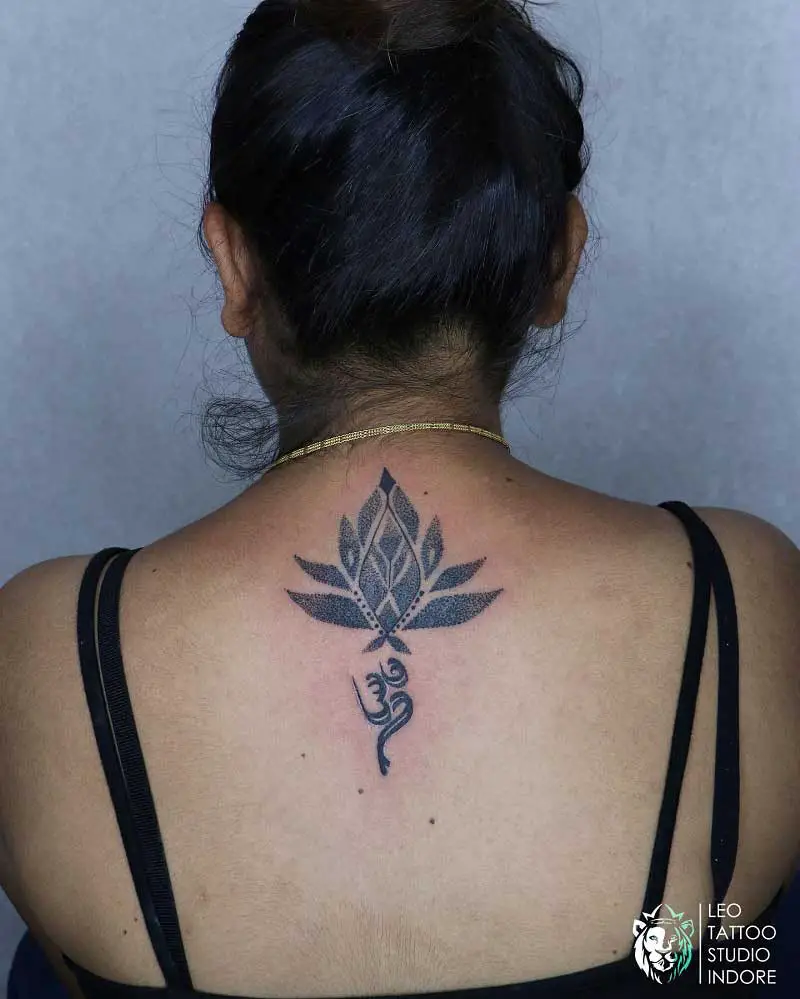 31.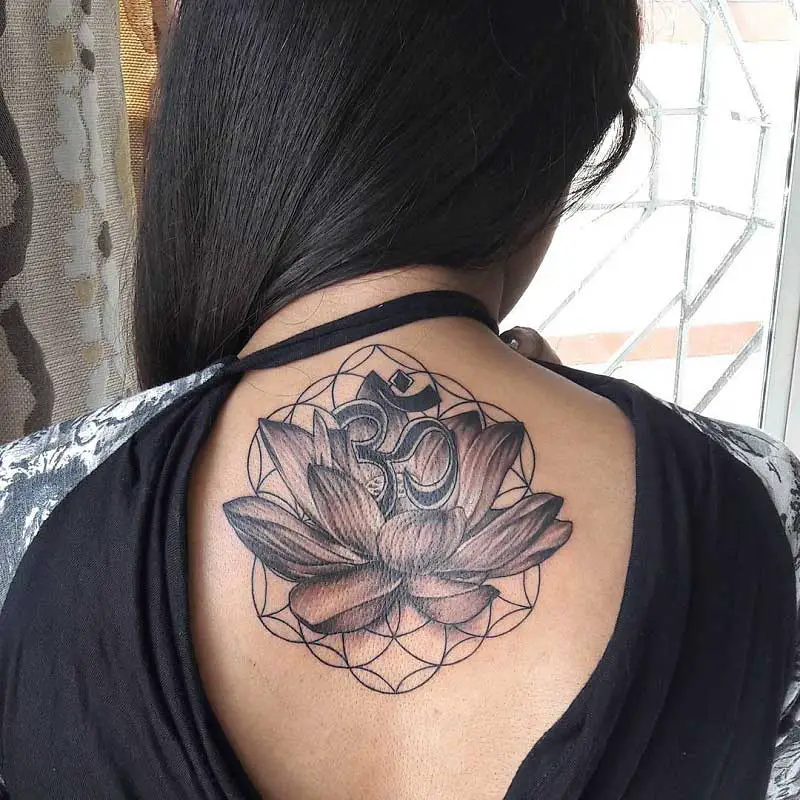 32.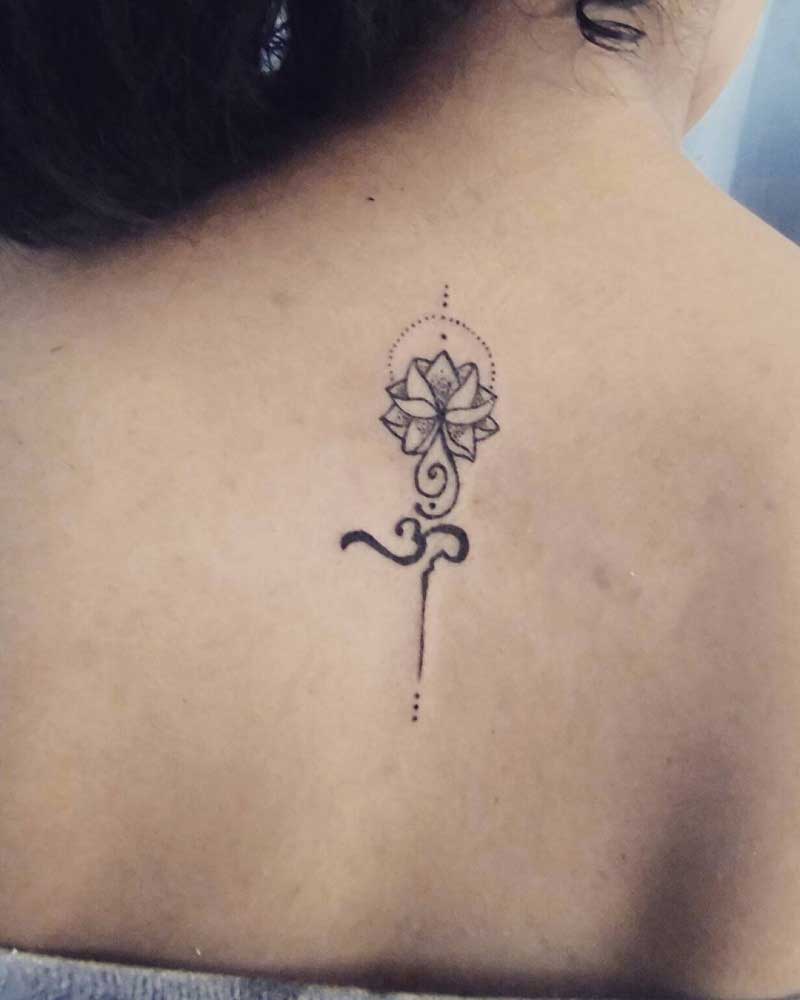 Shoulder Lotus Tattoo
33.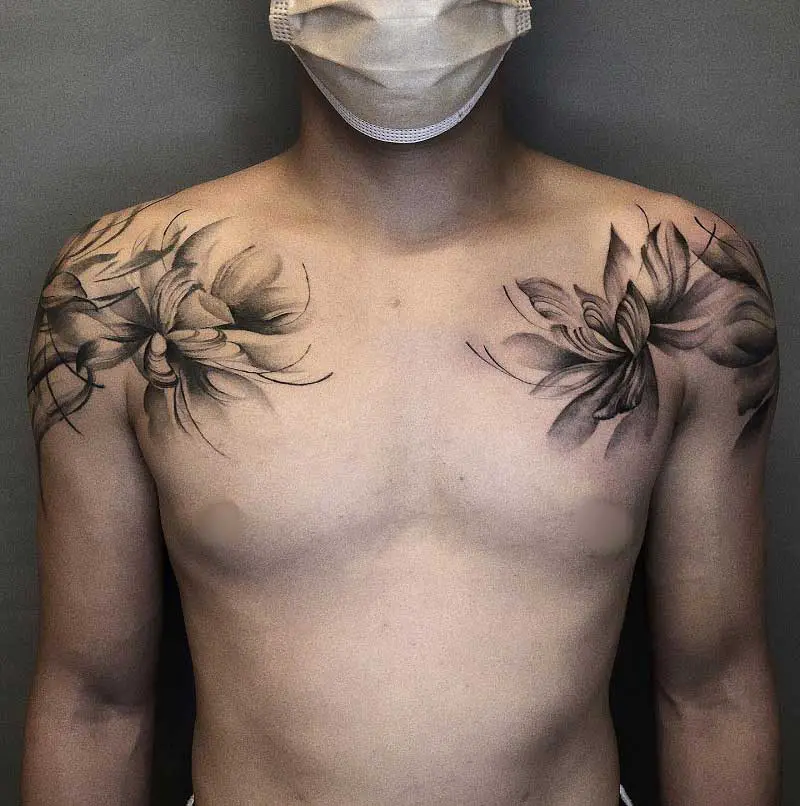 34.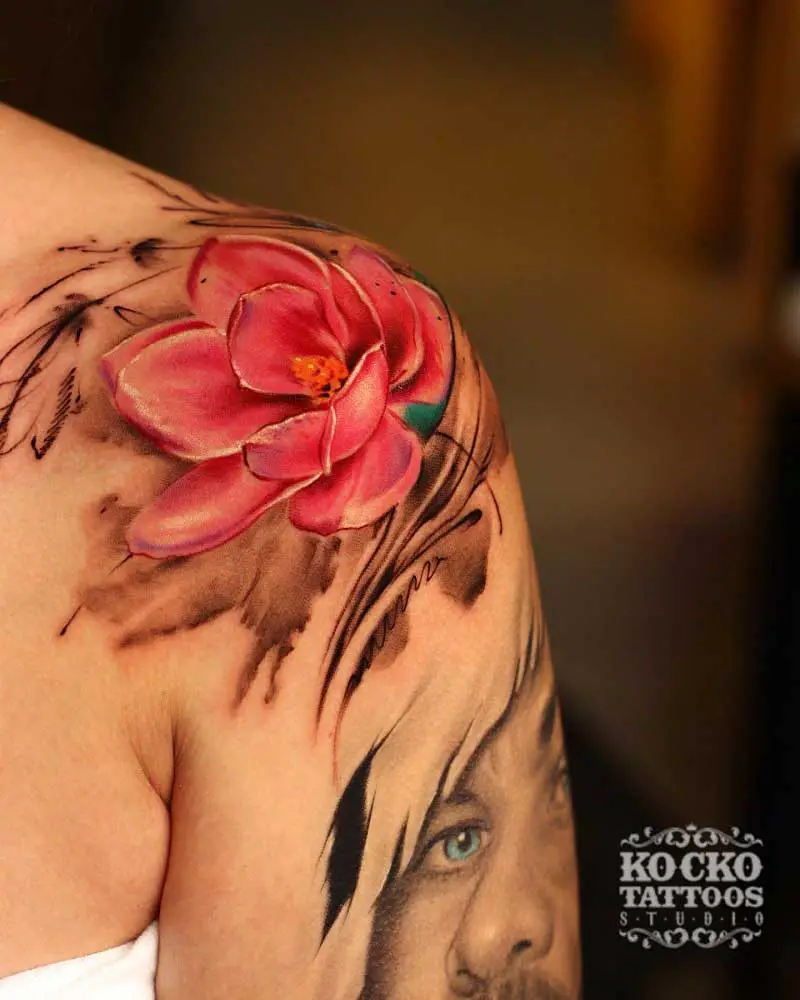 35.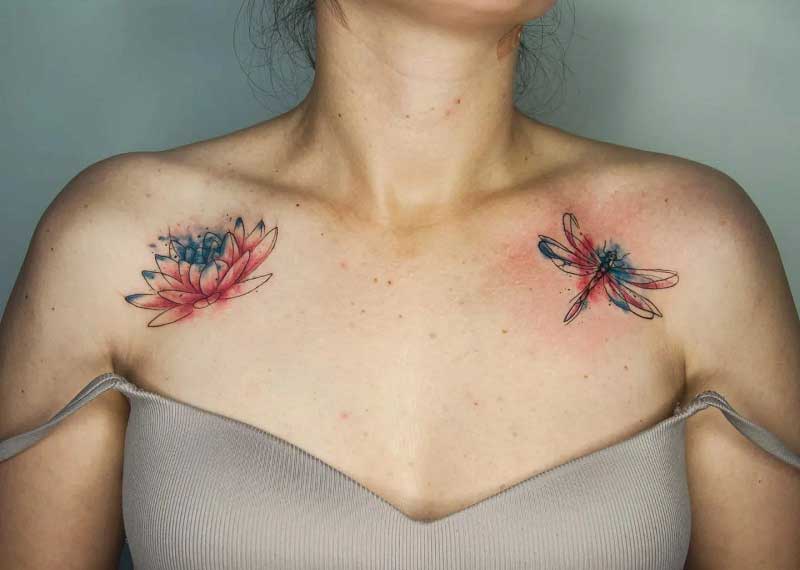 Egyptian Lotus Tattoo
36.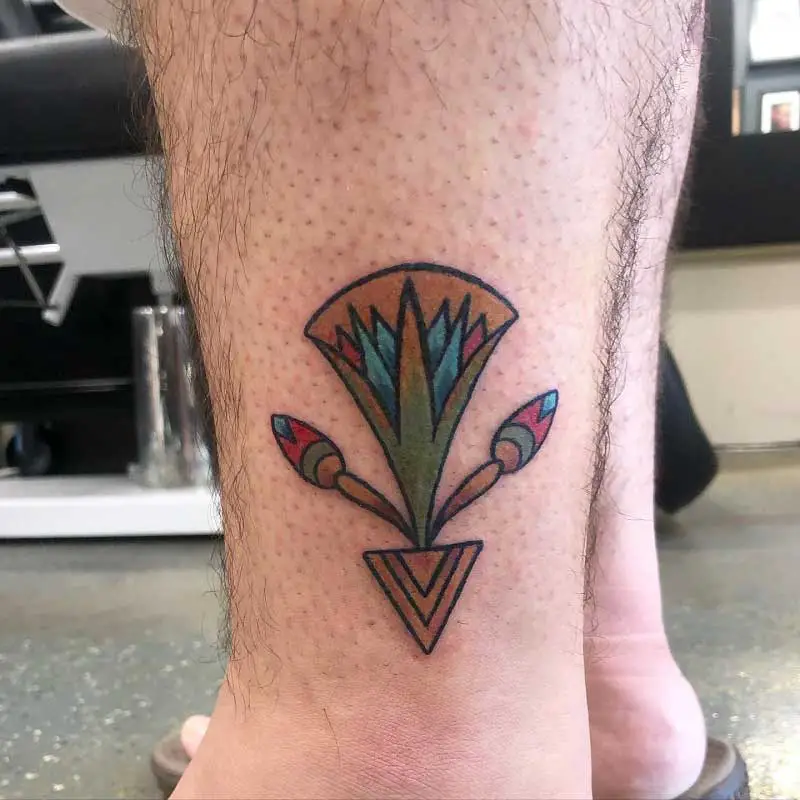 37.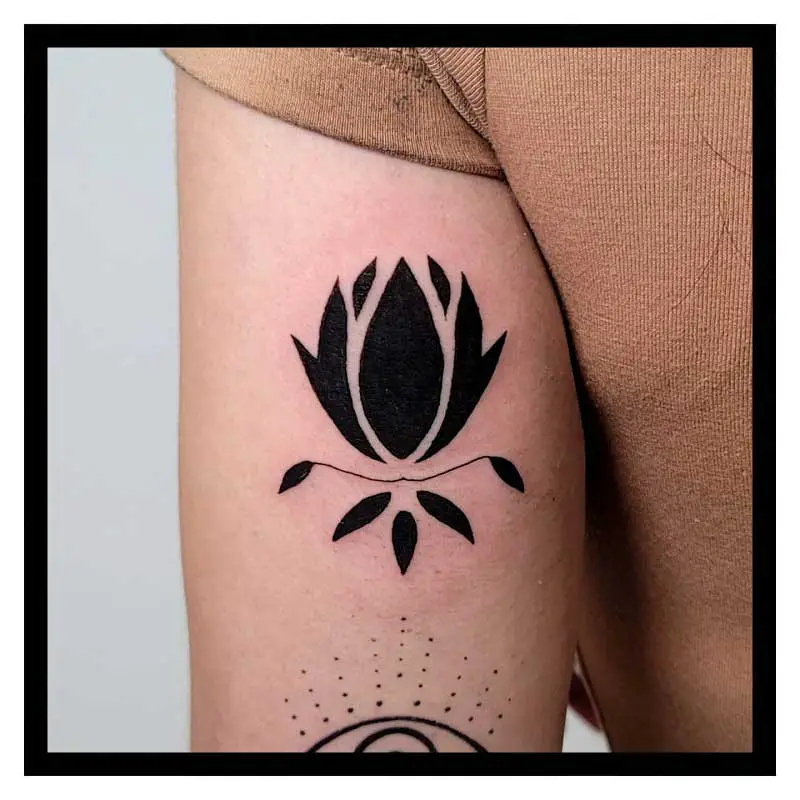 38.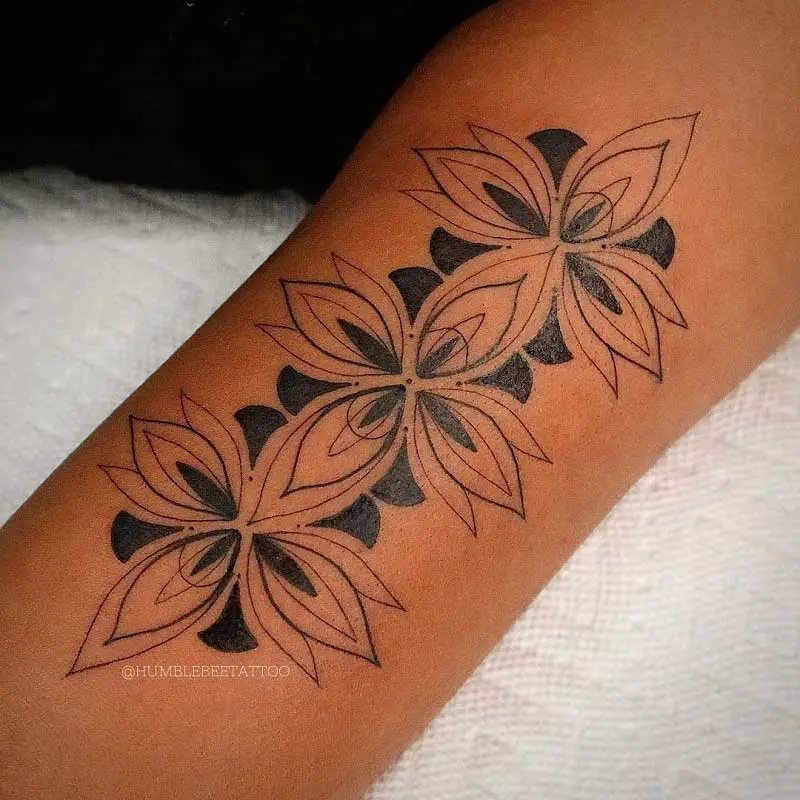 Gilded Lotus Tattoo
39.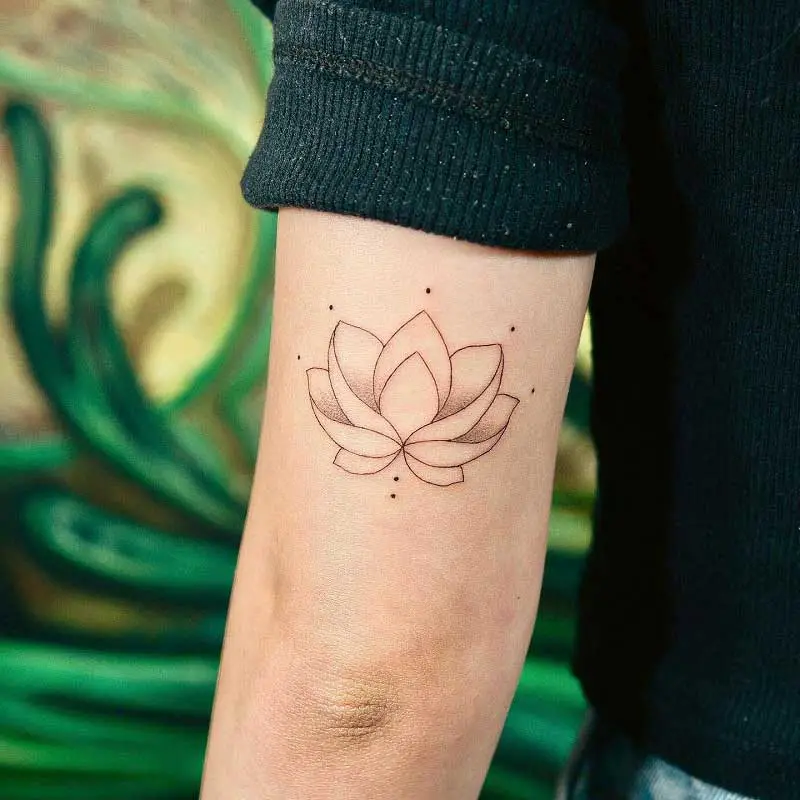 40.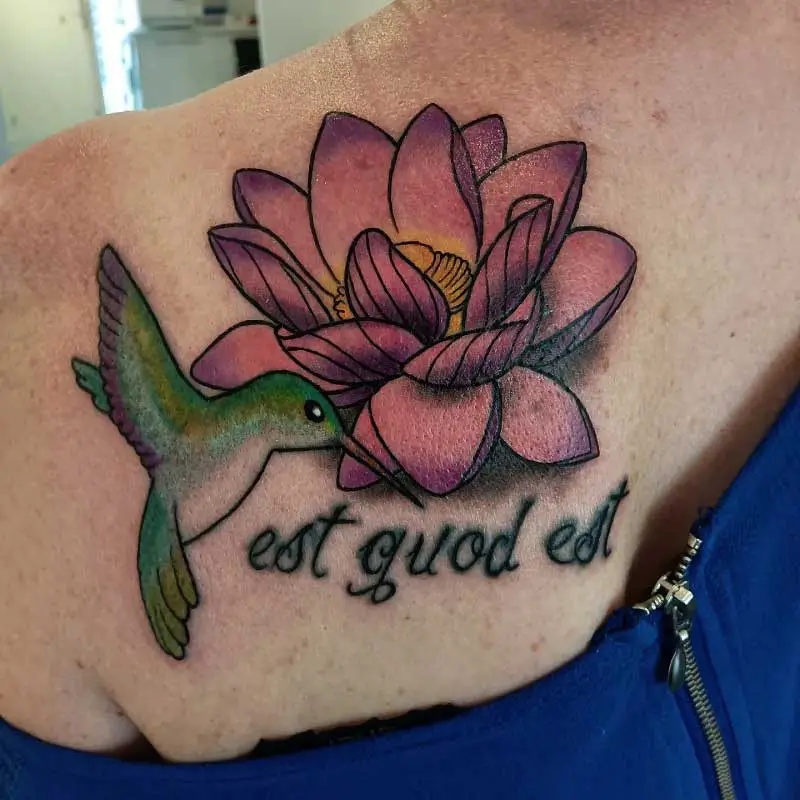 41.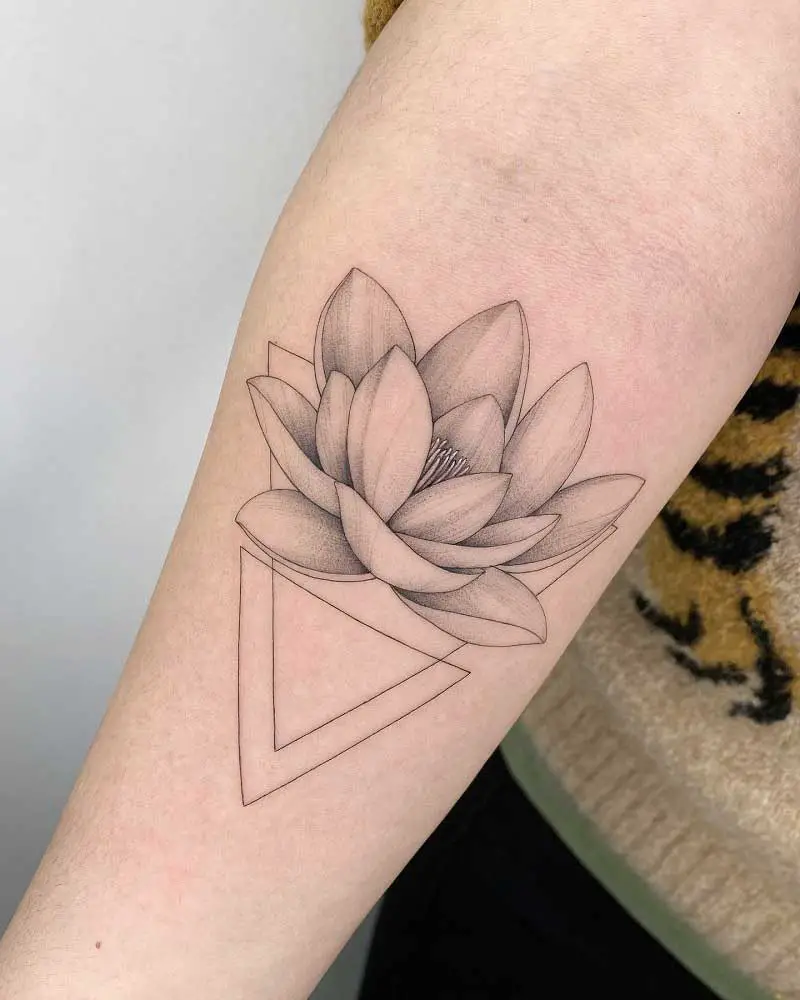 Minimalist Lotus Tattoo
42.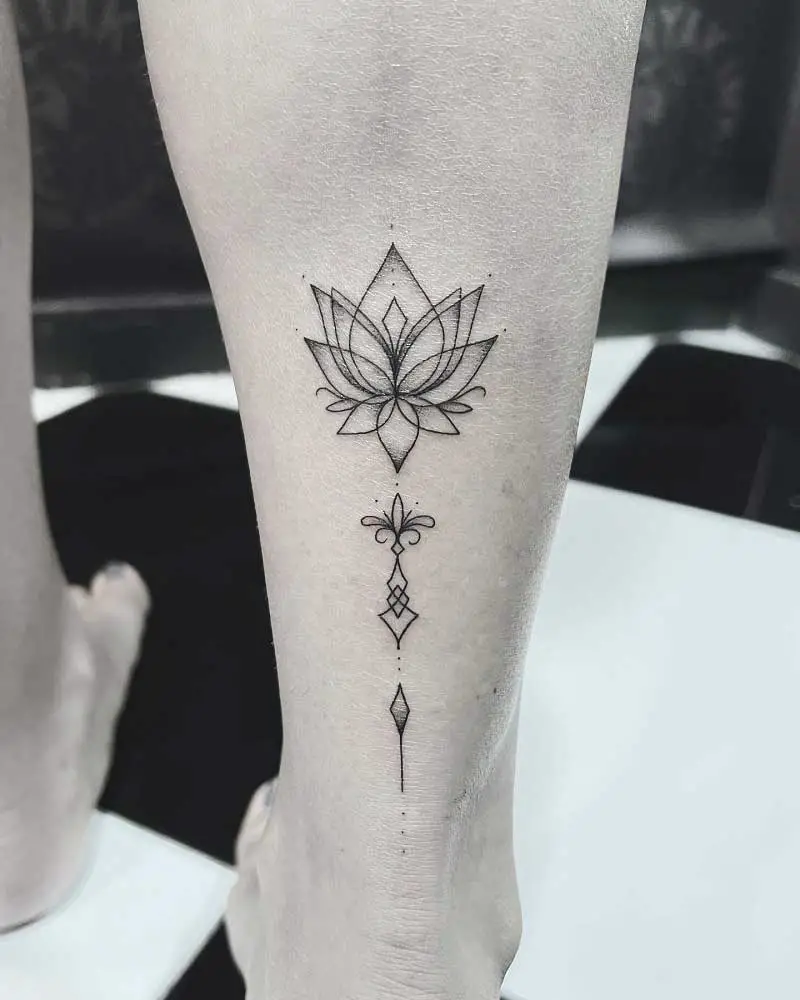 43.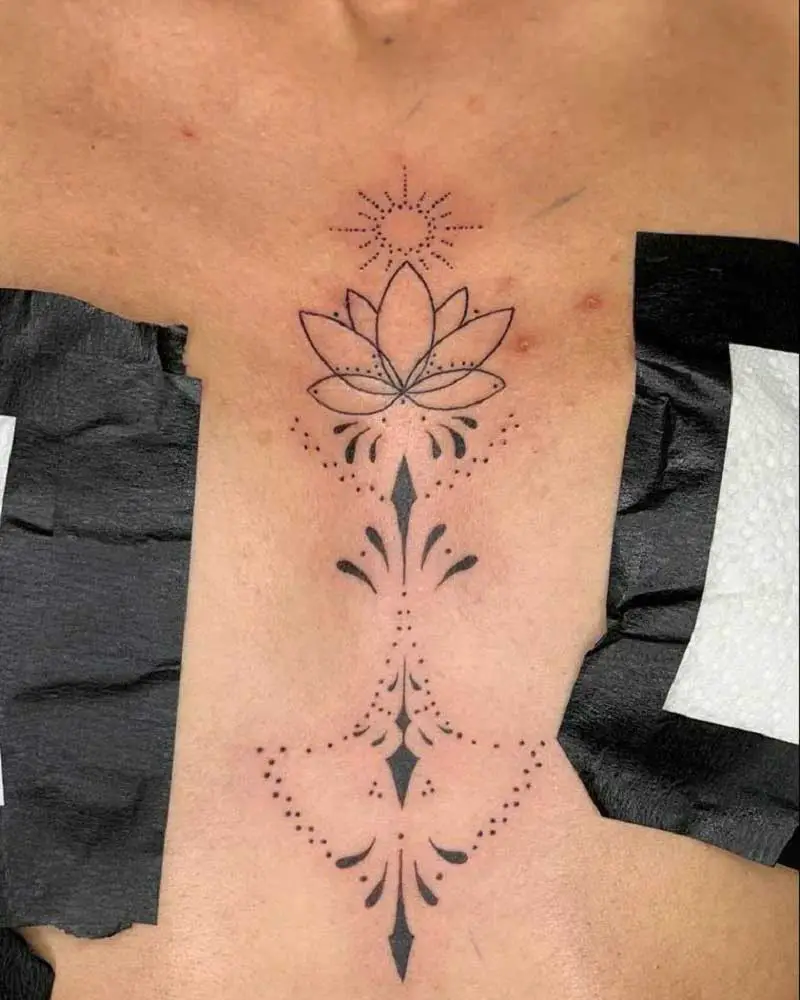 44.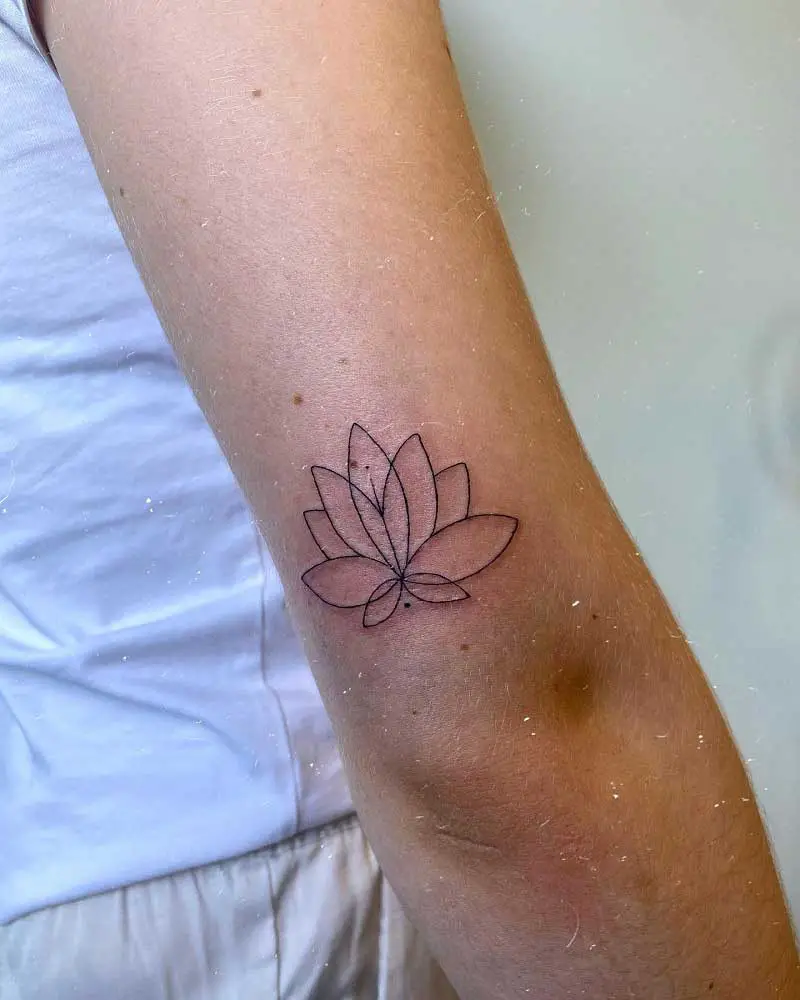 Traditional Lotus Tattoo
45.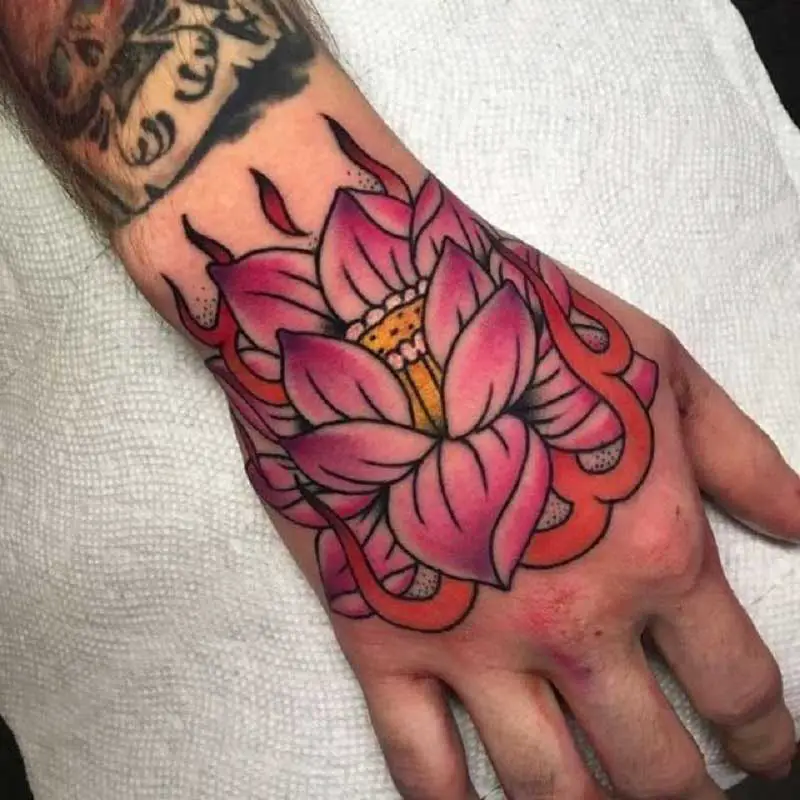 46.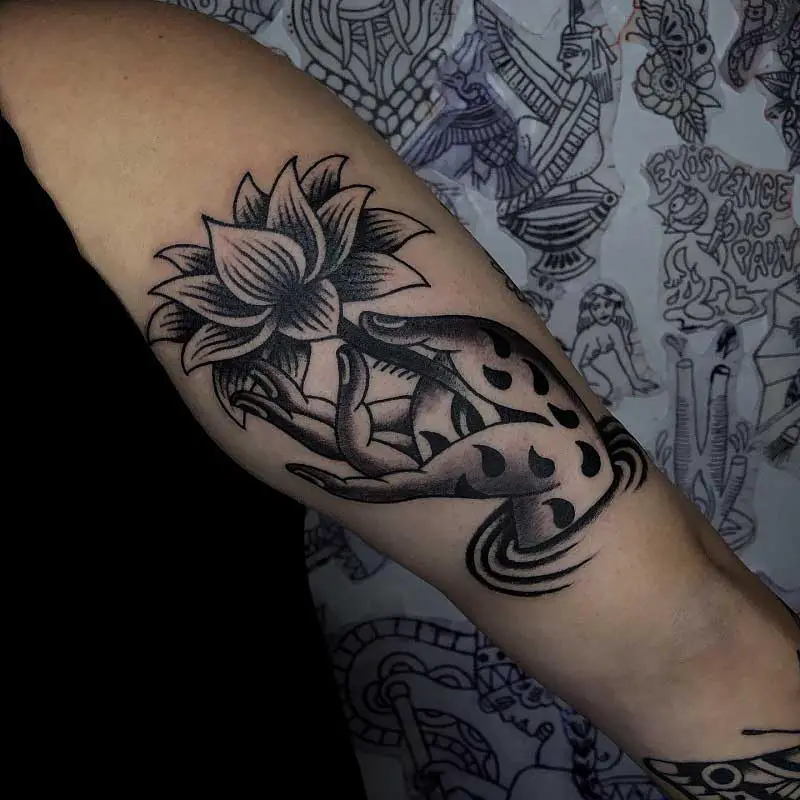 47.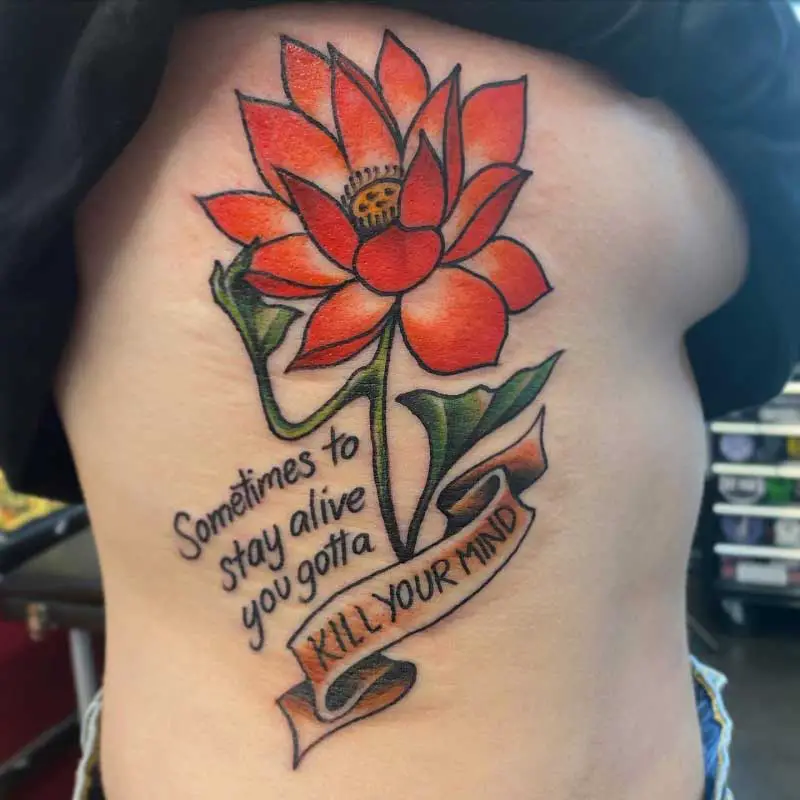 Electric Lotus Tattoo
48.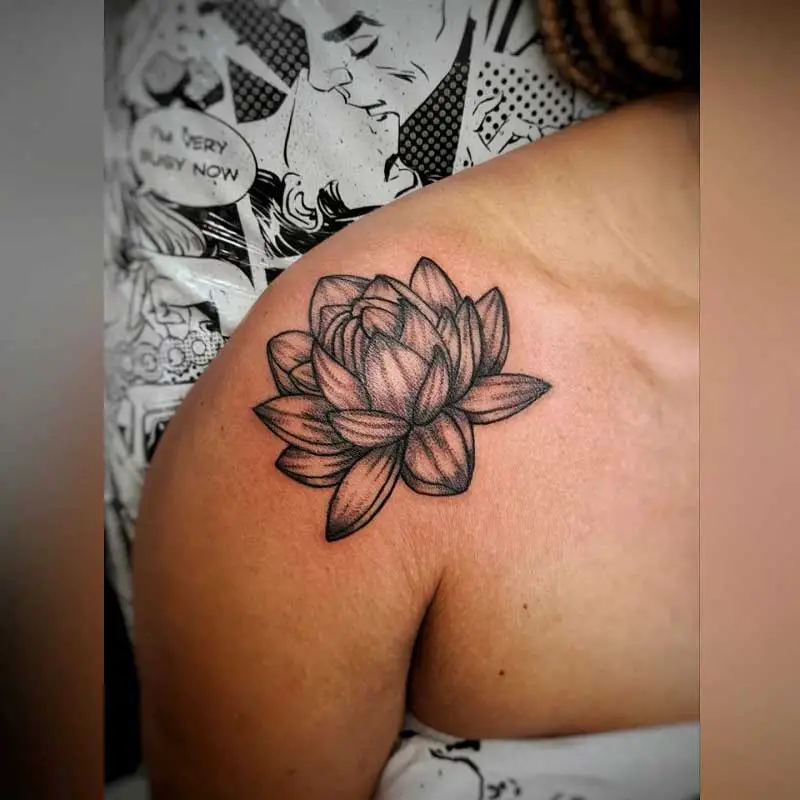 49.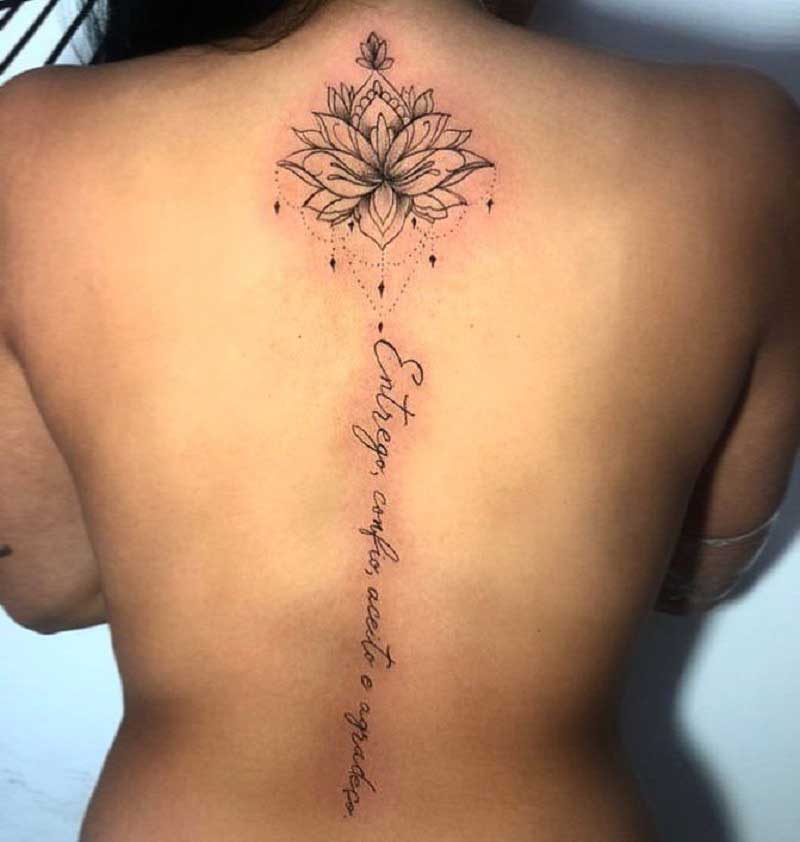 50.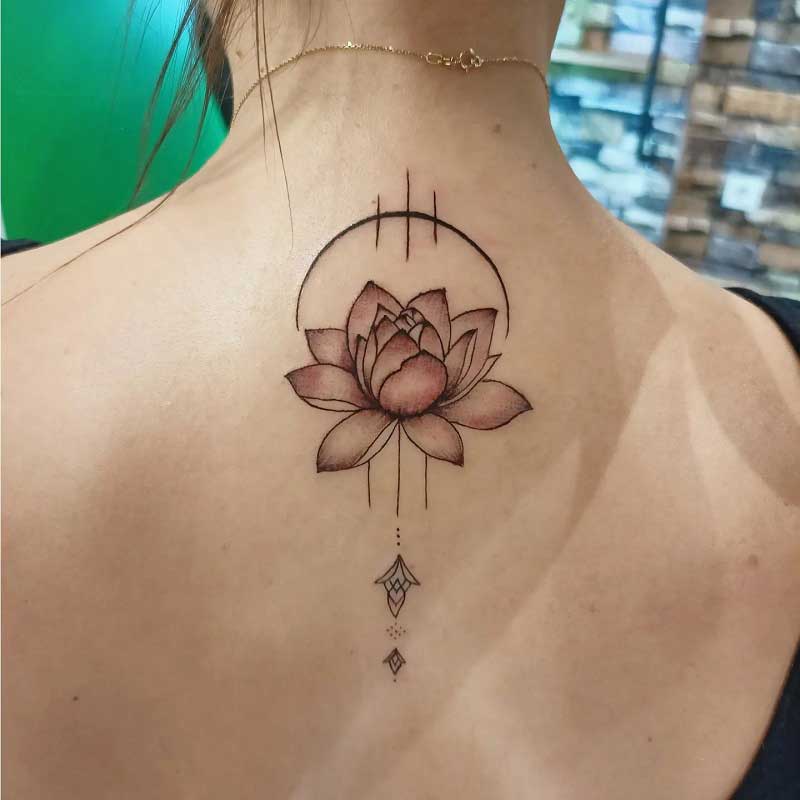 Floating Lotus Tattoo
51.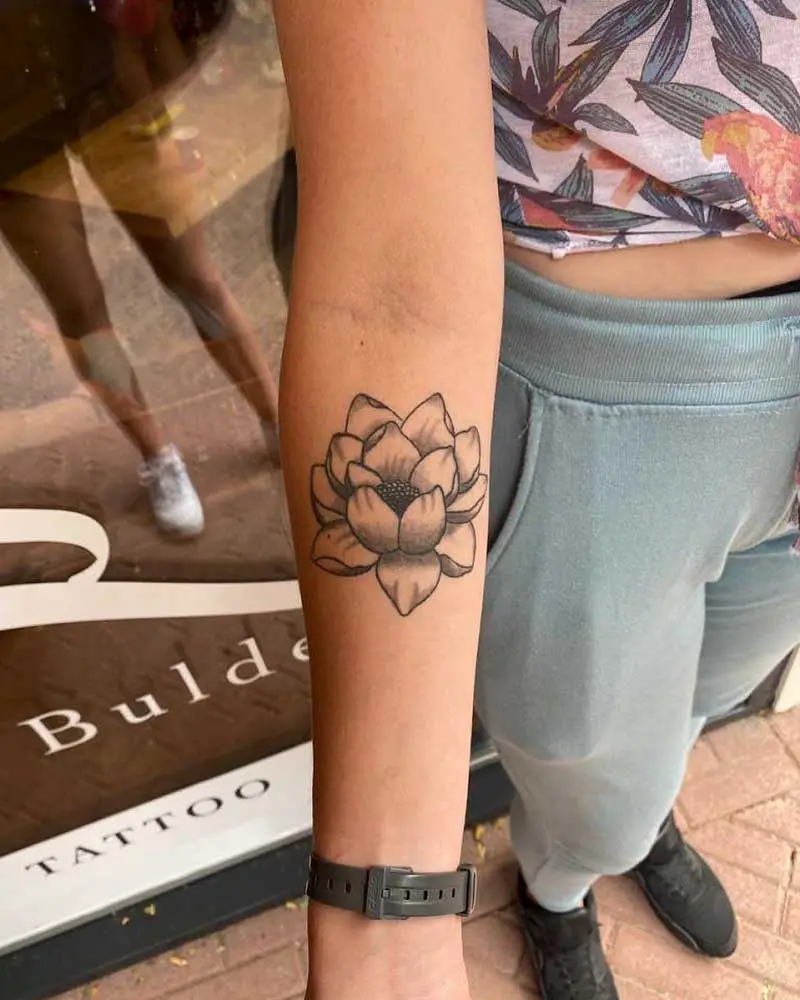 52.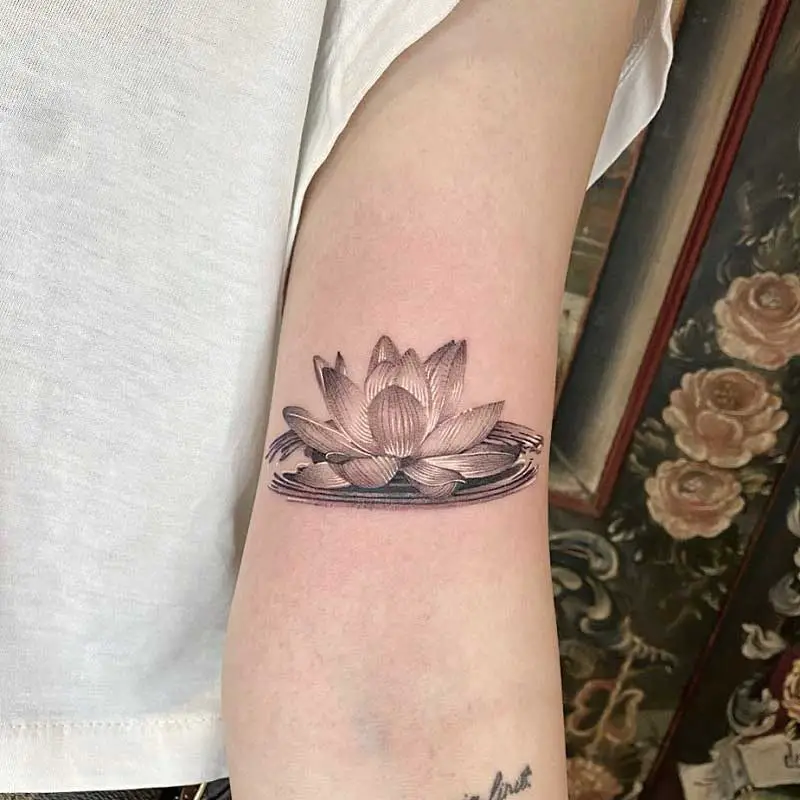 53.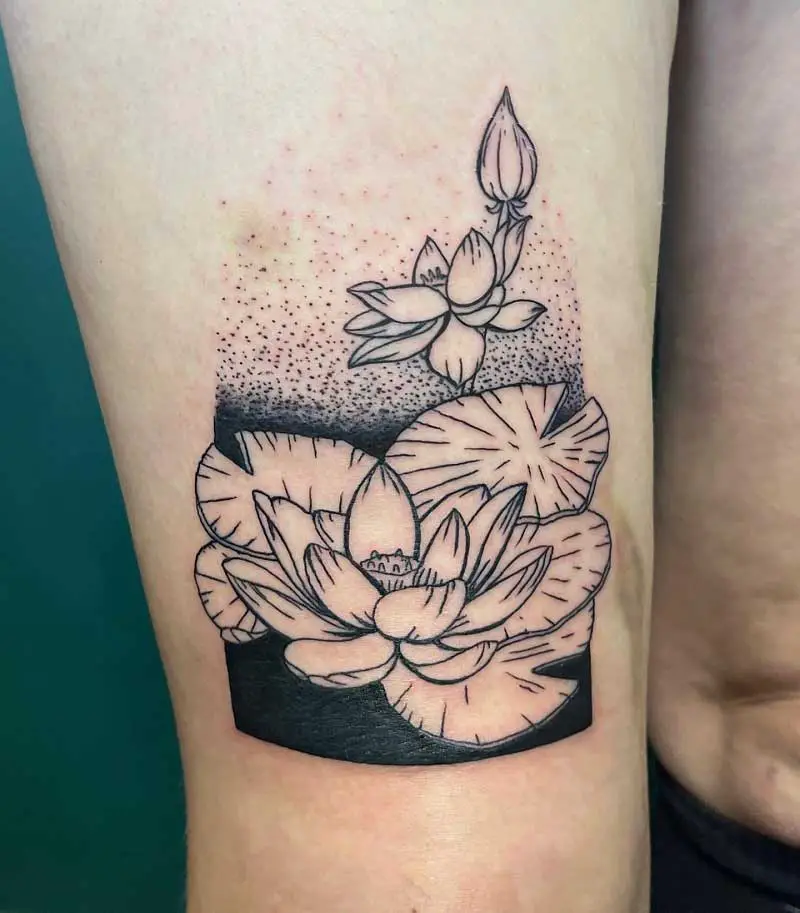 Ankle Lotus Tattoo
54.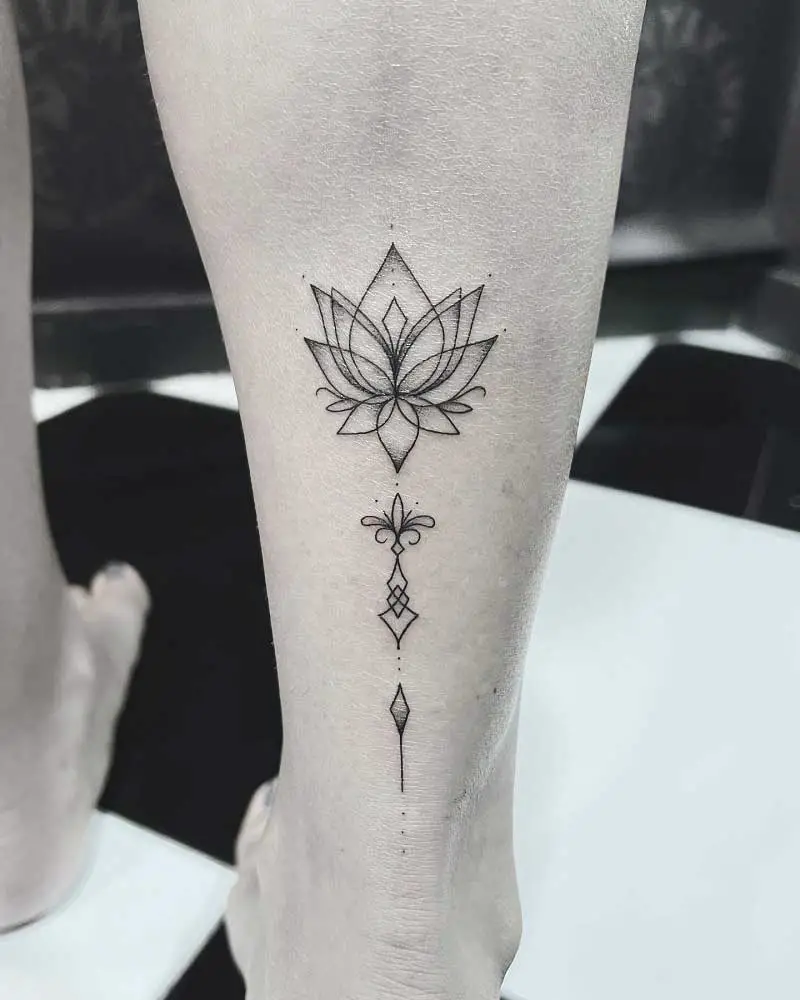 55.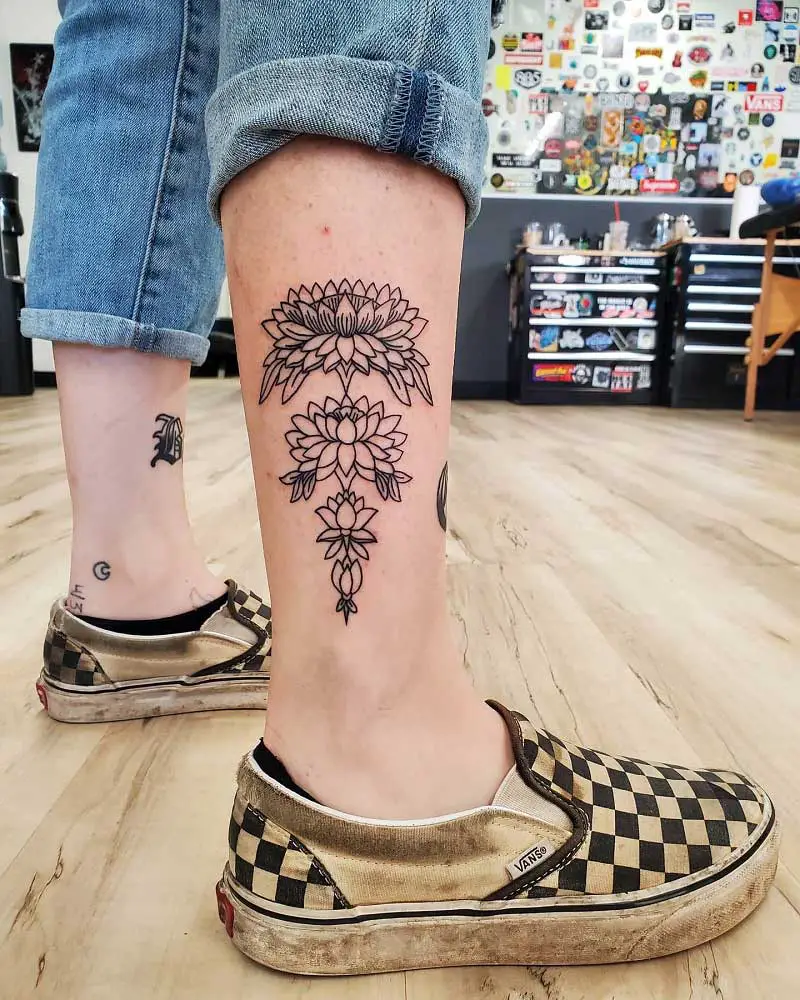 56.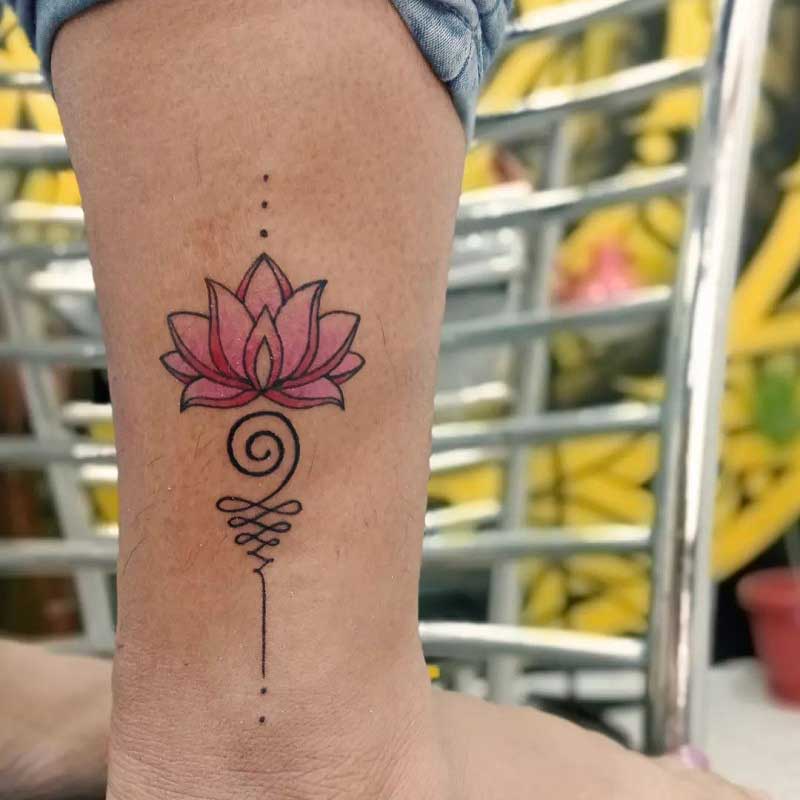 Butterfly Lotus Tattoo
57.
58.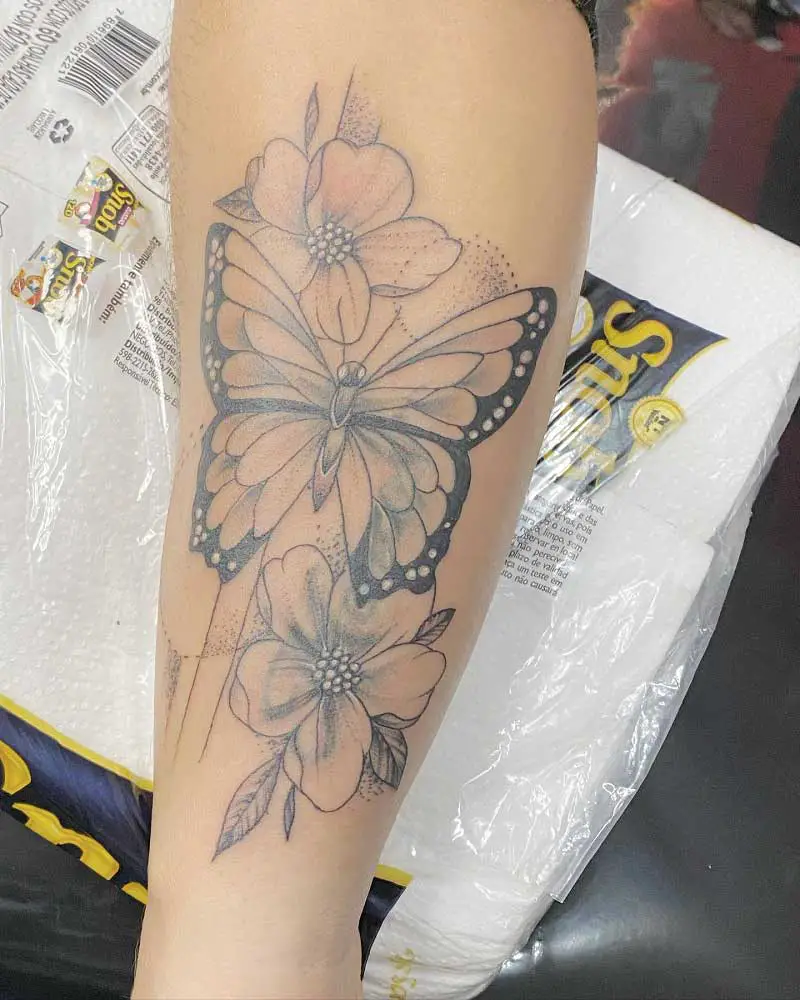 59.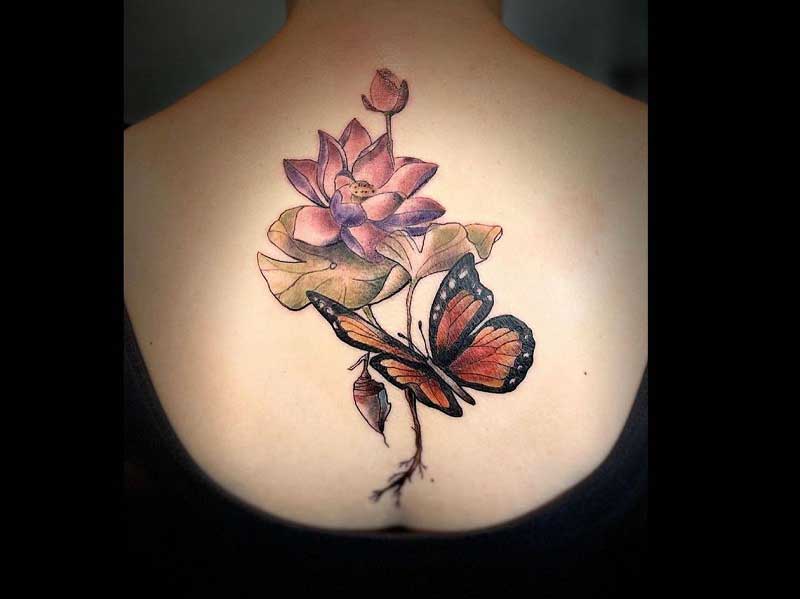 Dragonfly Lotus Tattoo
60.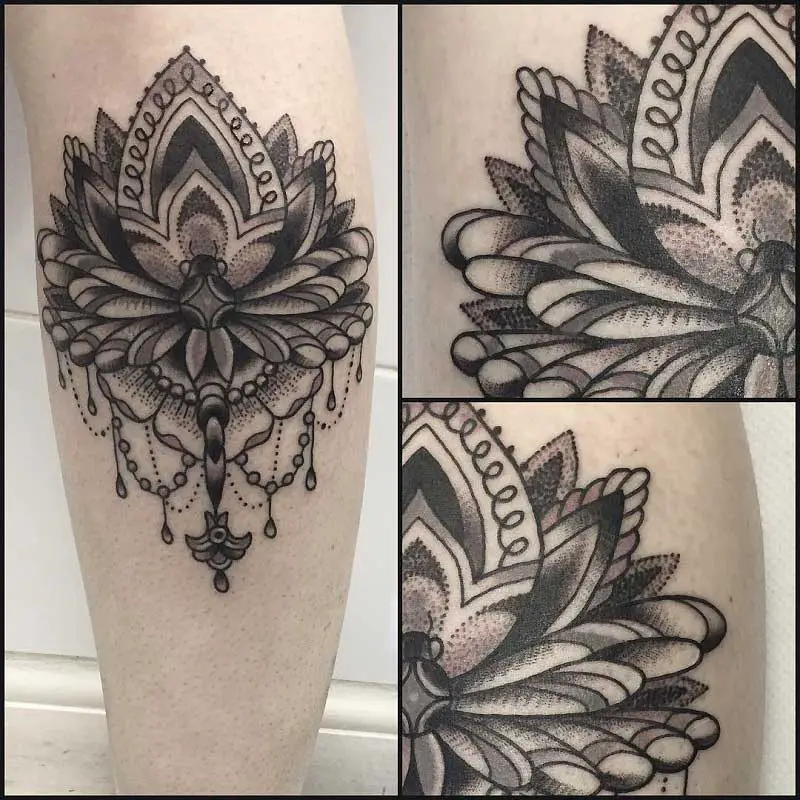 61.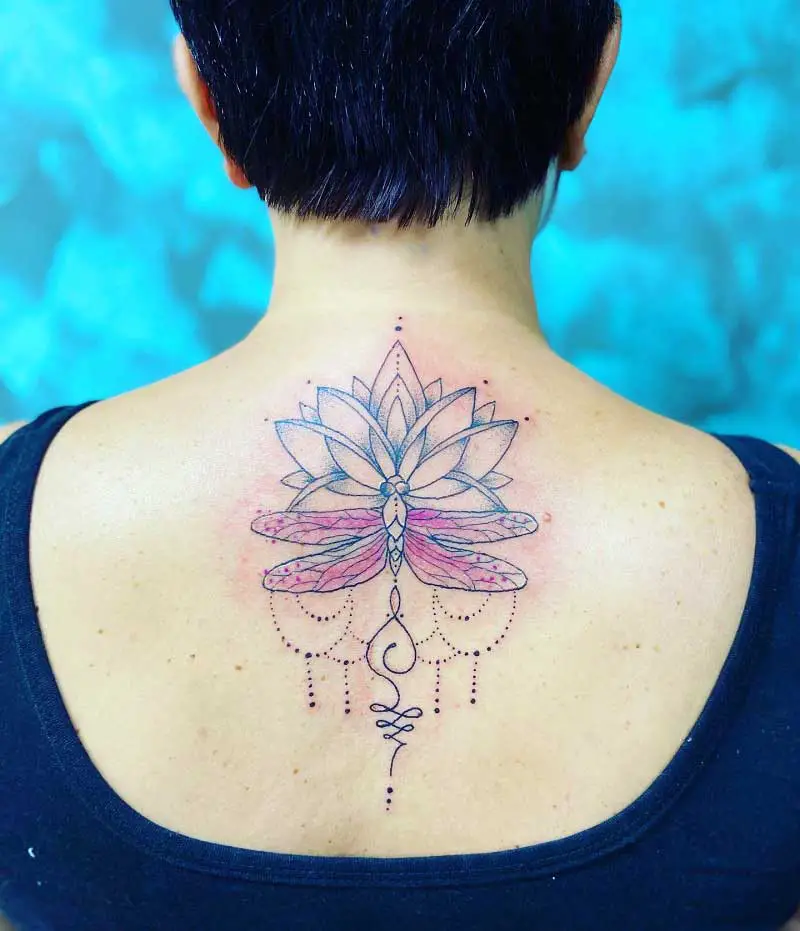 62.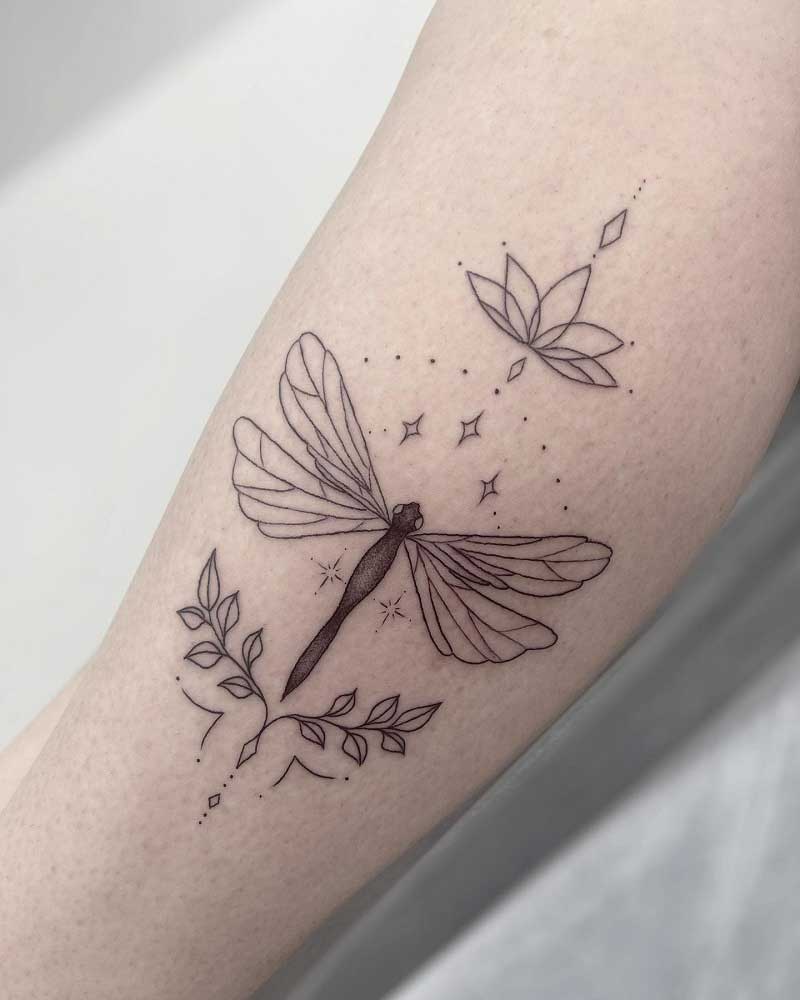 Moon Lotus Tattoo
63.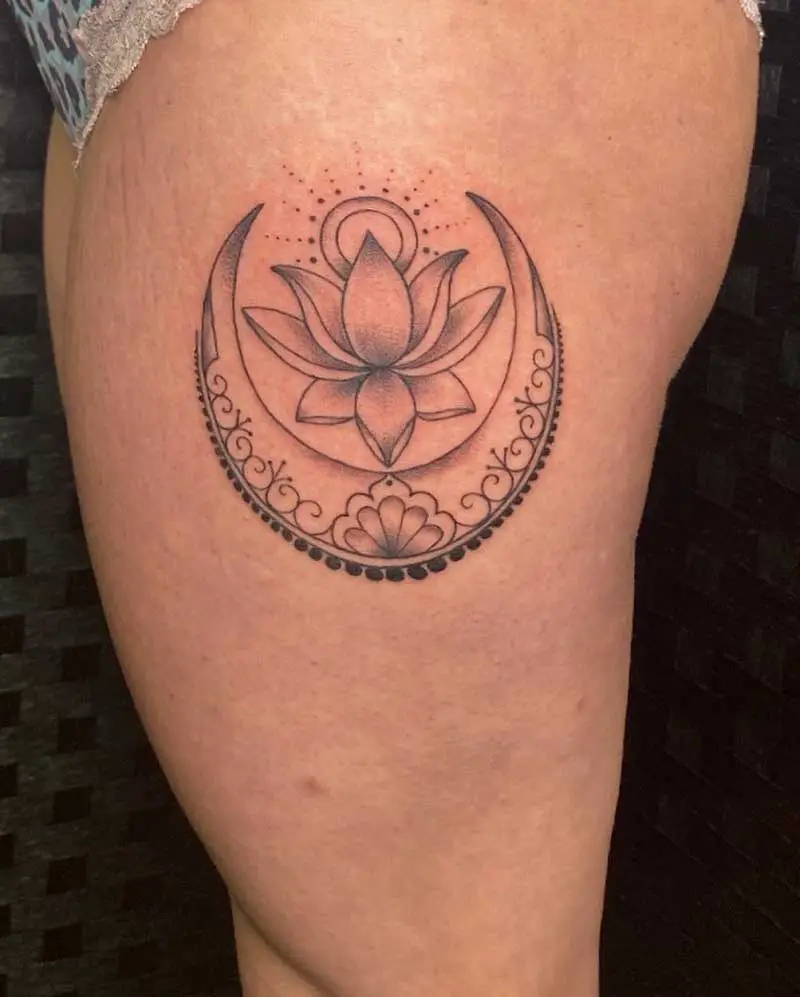 64.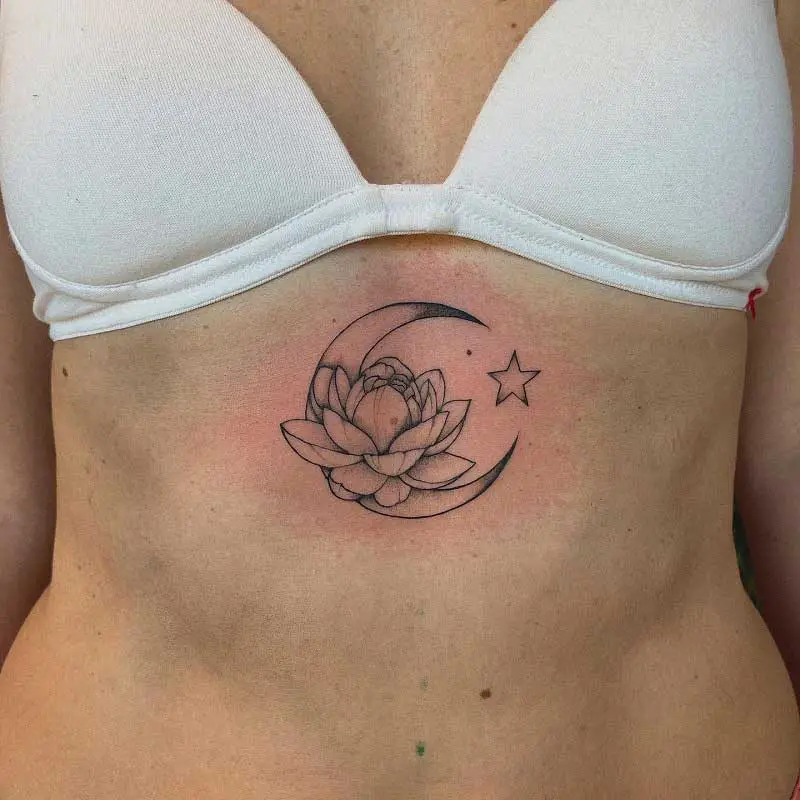 65.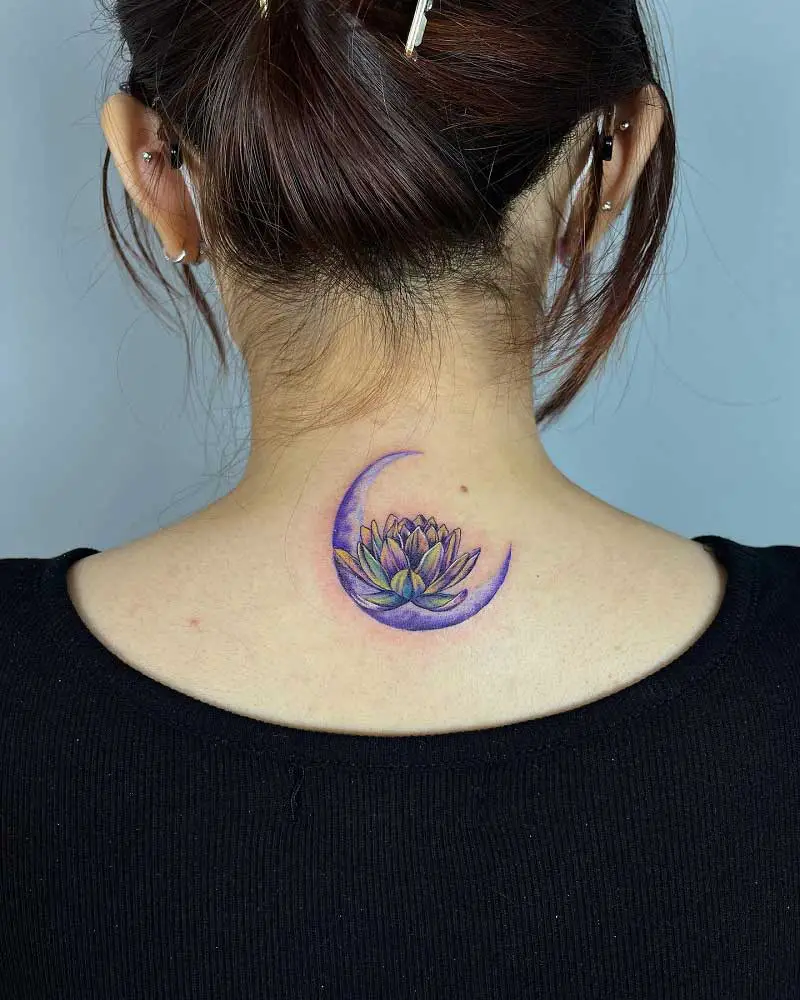 Realism Lotus Tattoo
66.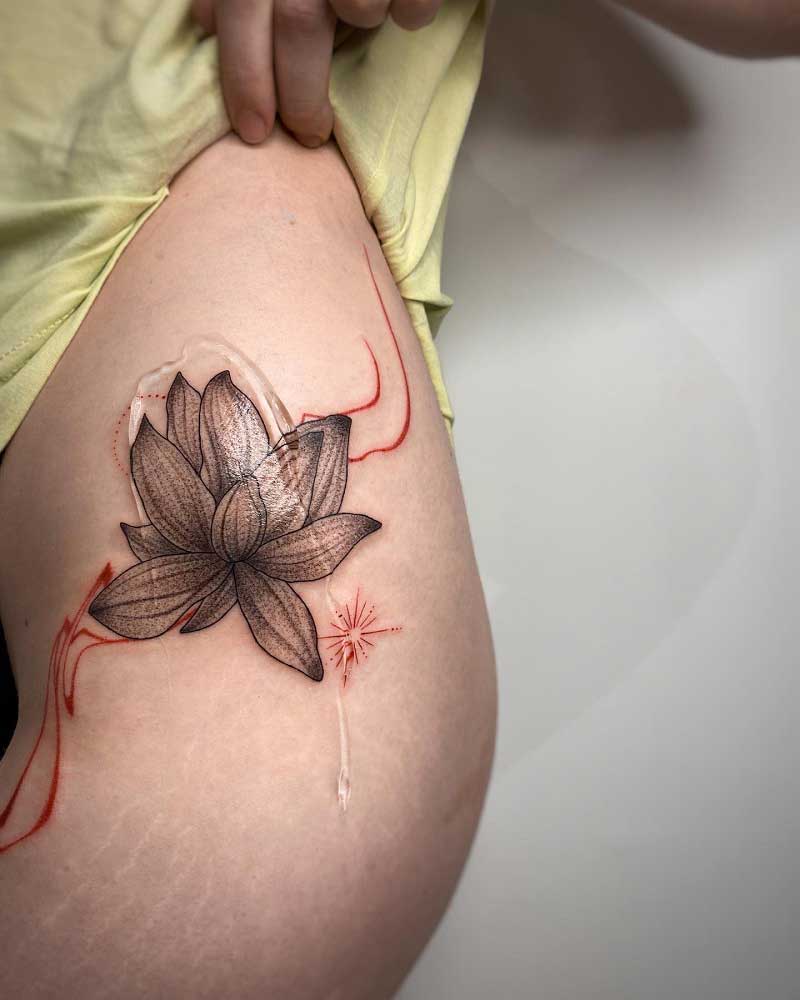 67.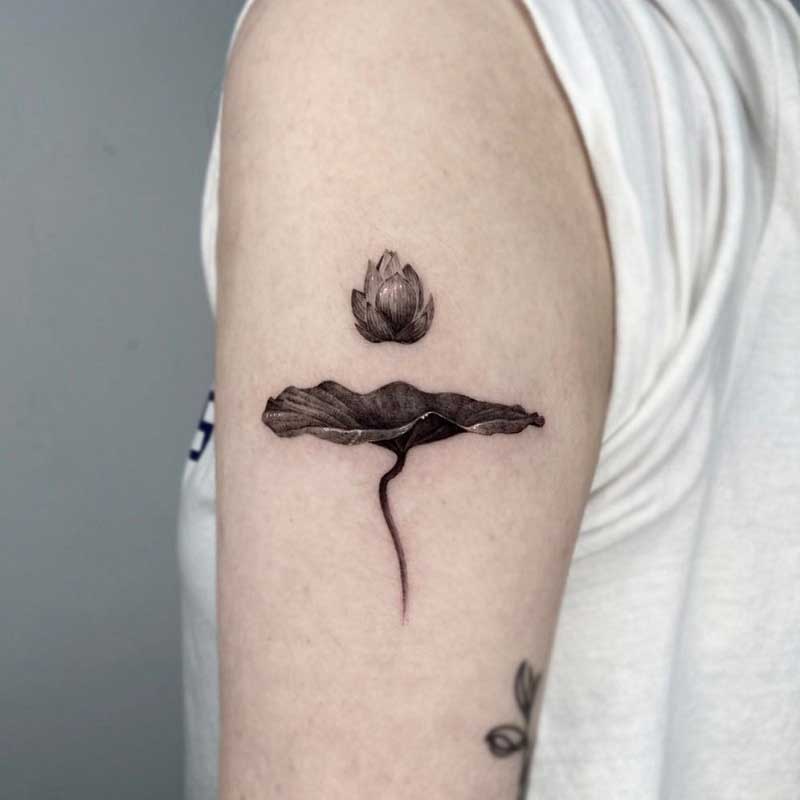 68.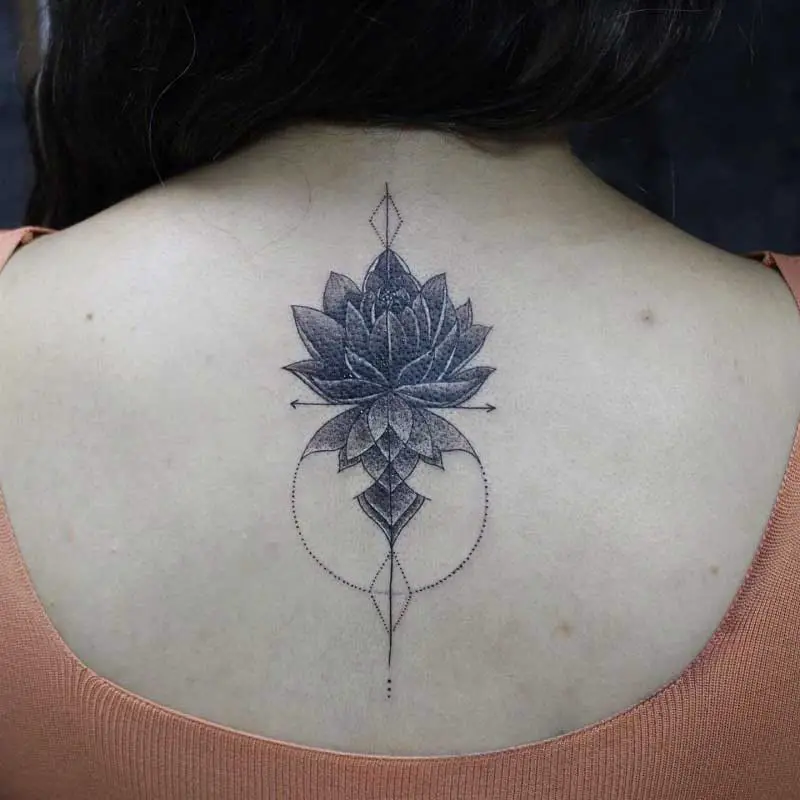 Thigh Lotus Tattoo
69.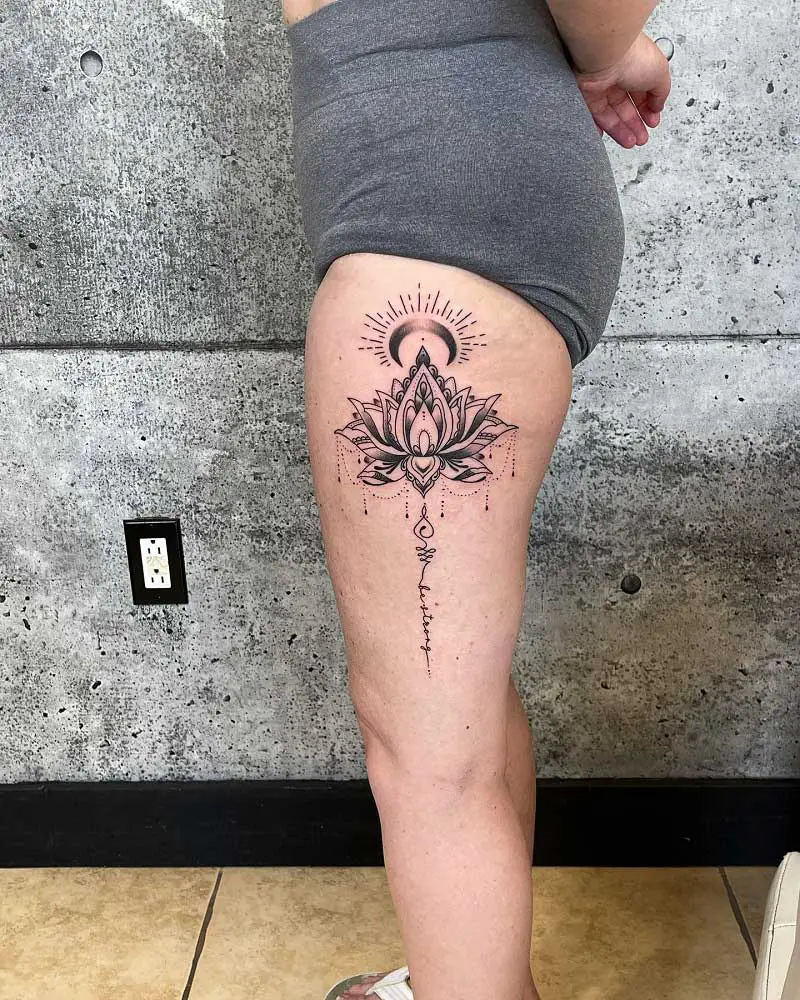 70.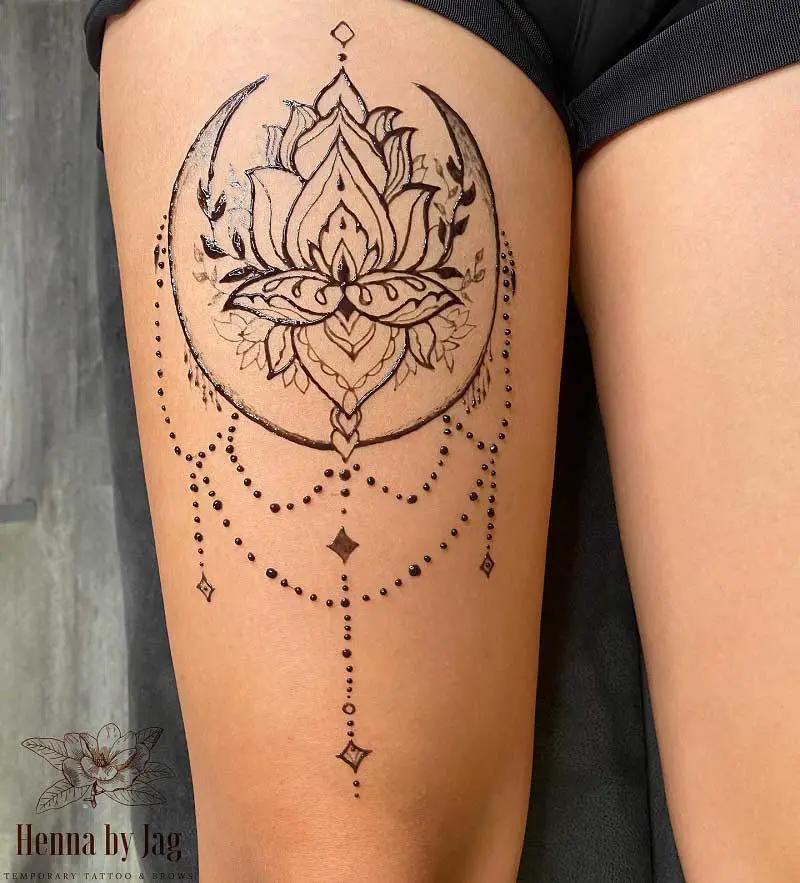 71.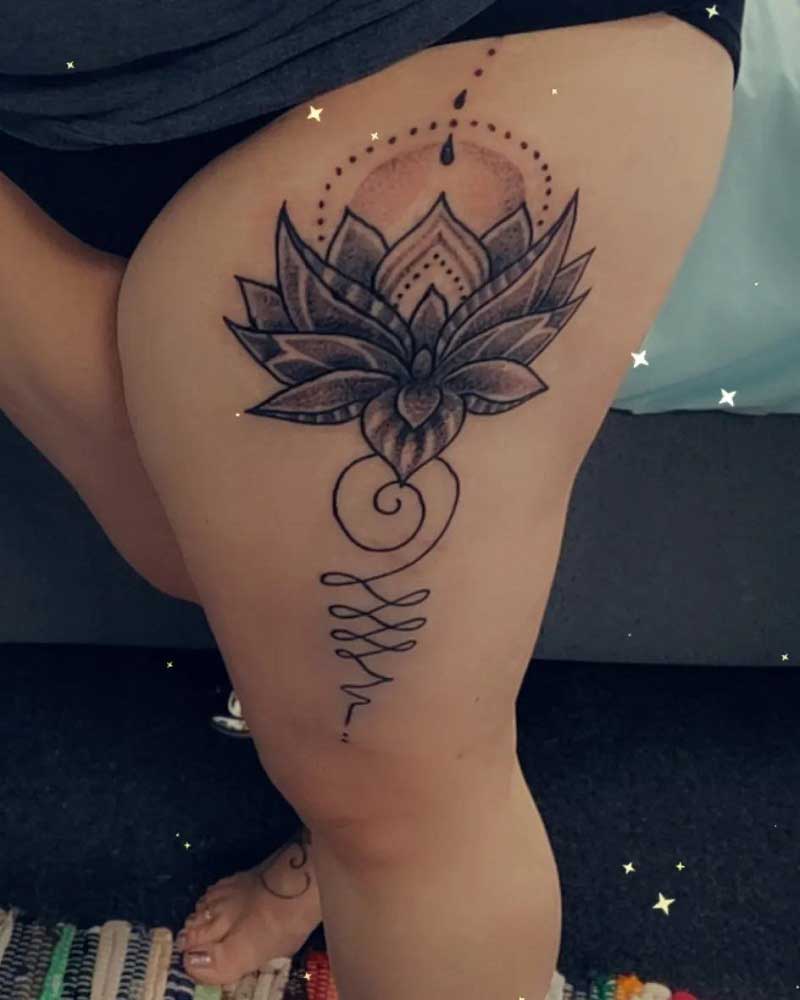 Tribal Lotus Tattoo
72.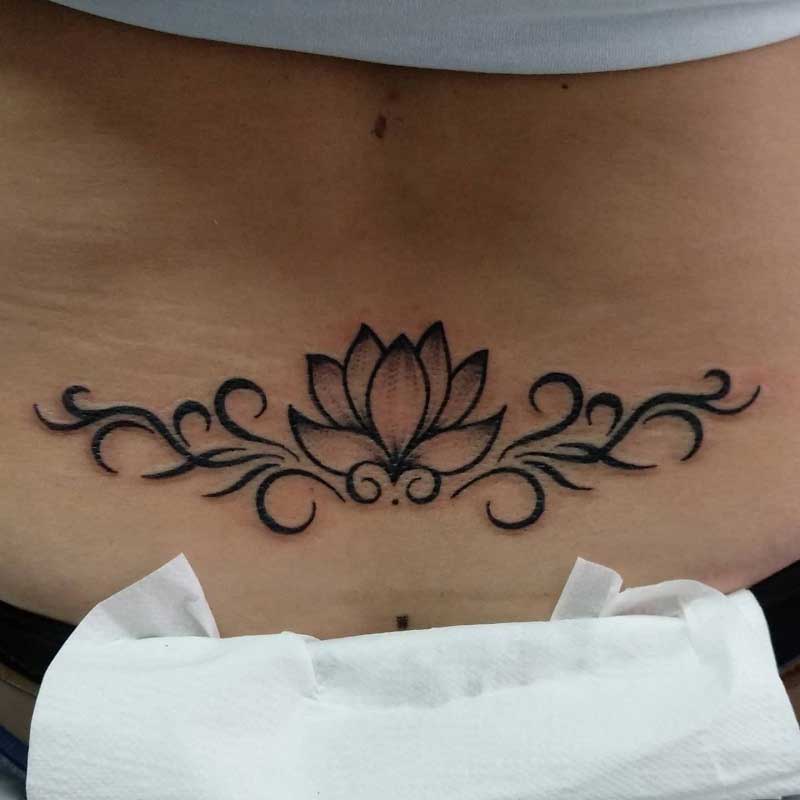 73.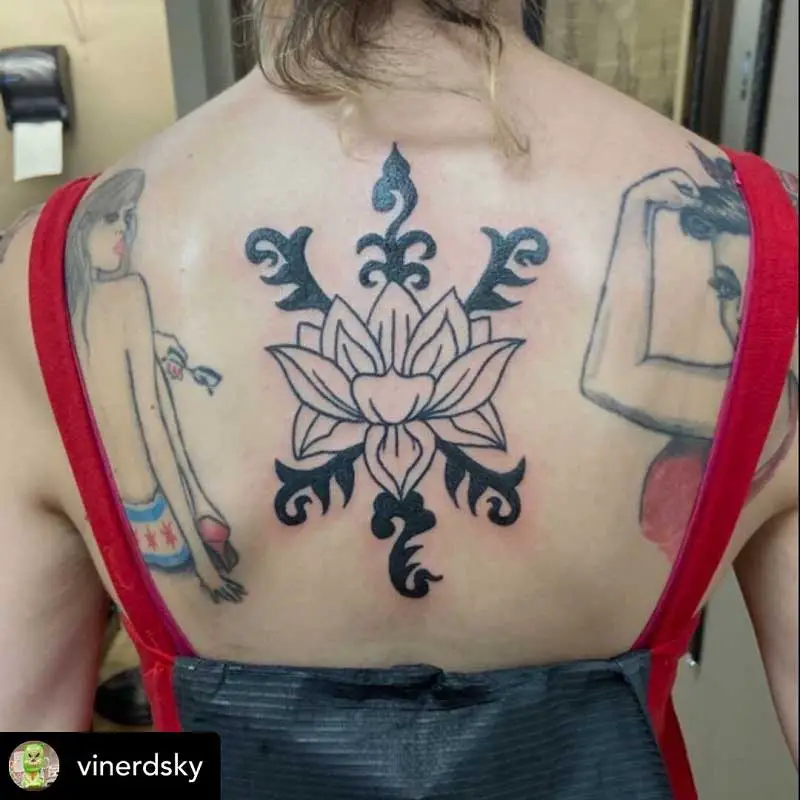 74.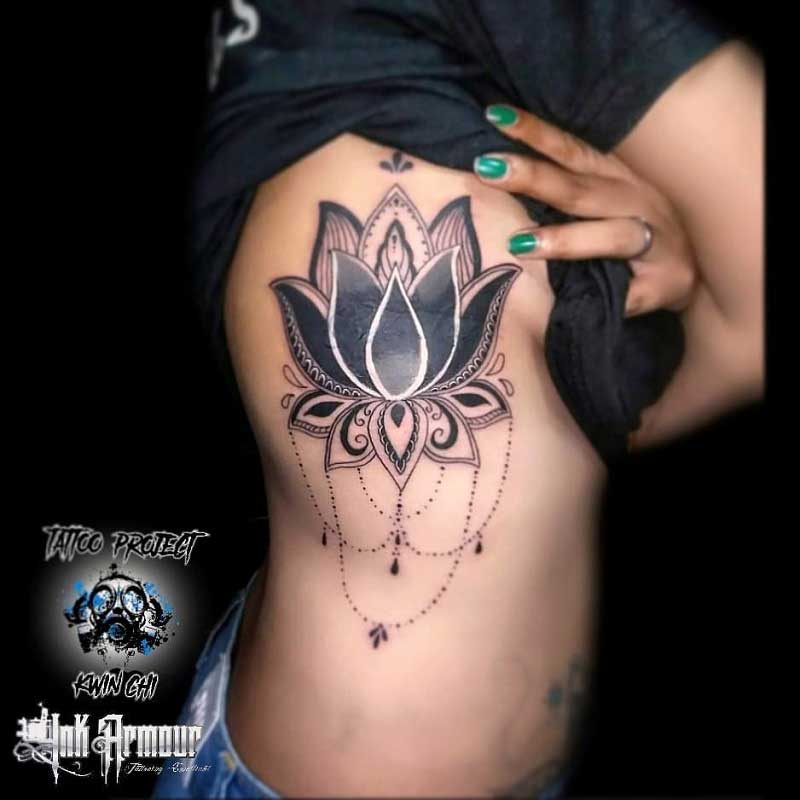 Secret Lotus Tattoo
75.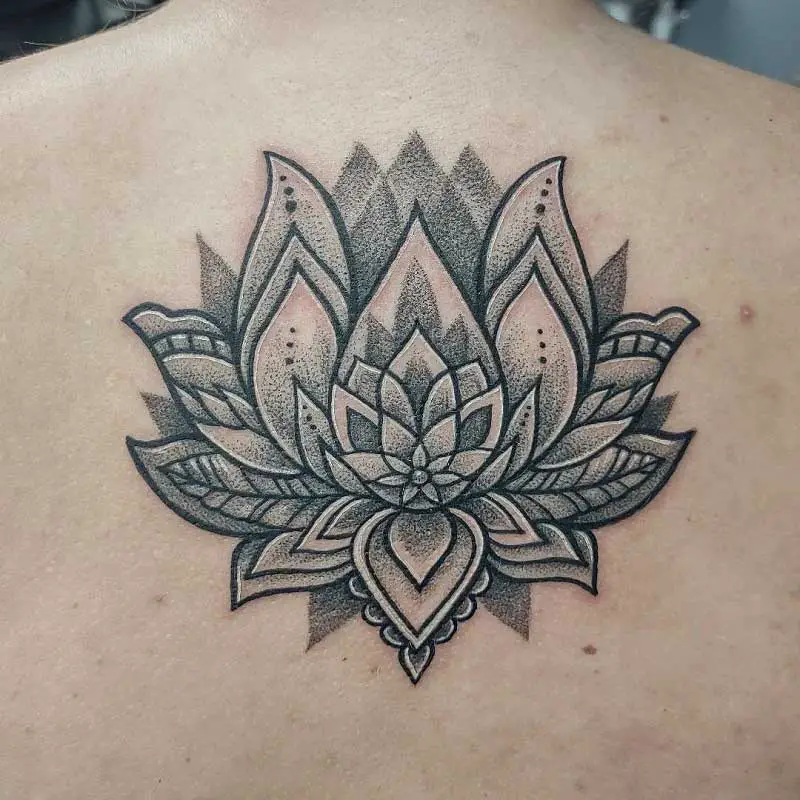 76.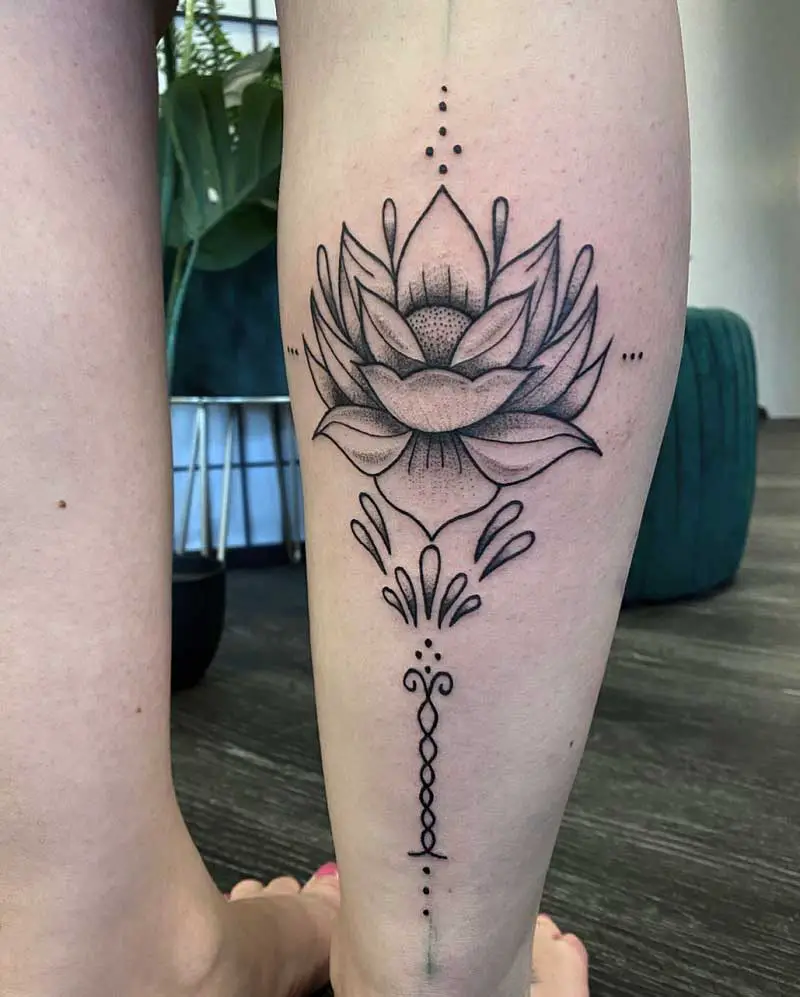 77.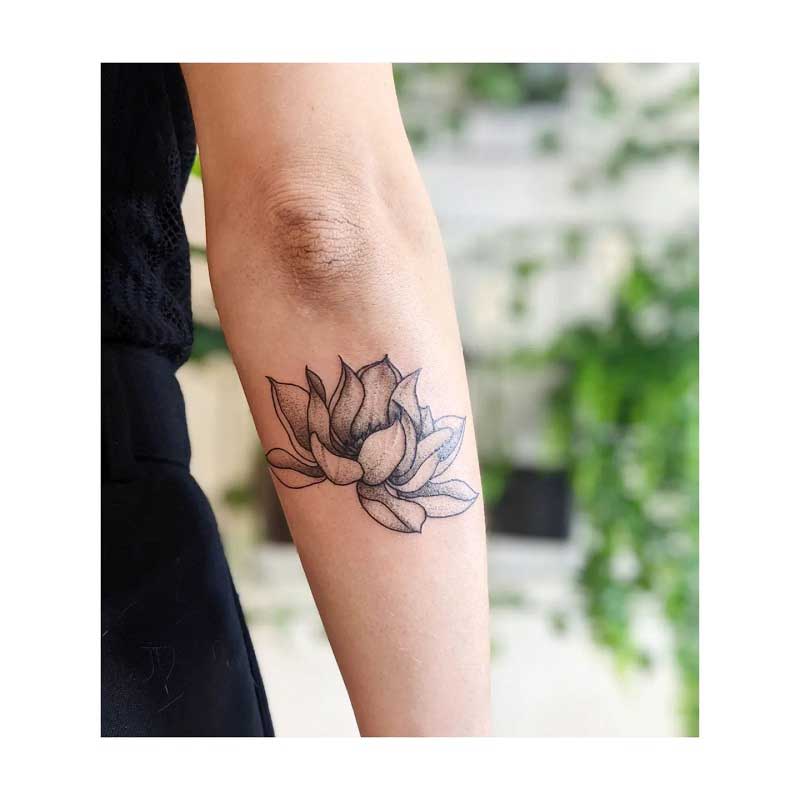 Blooming Lotus Tattoo
78.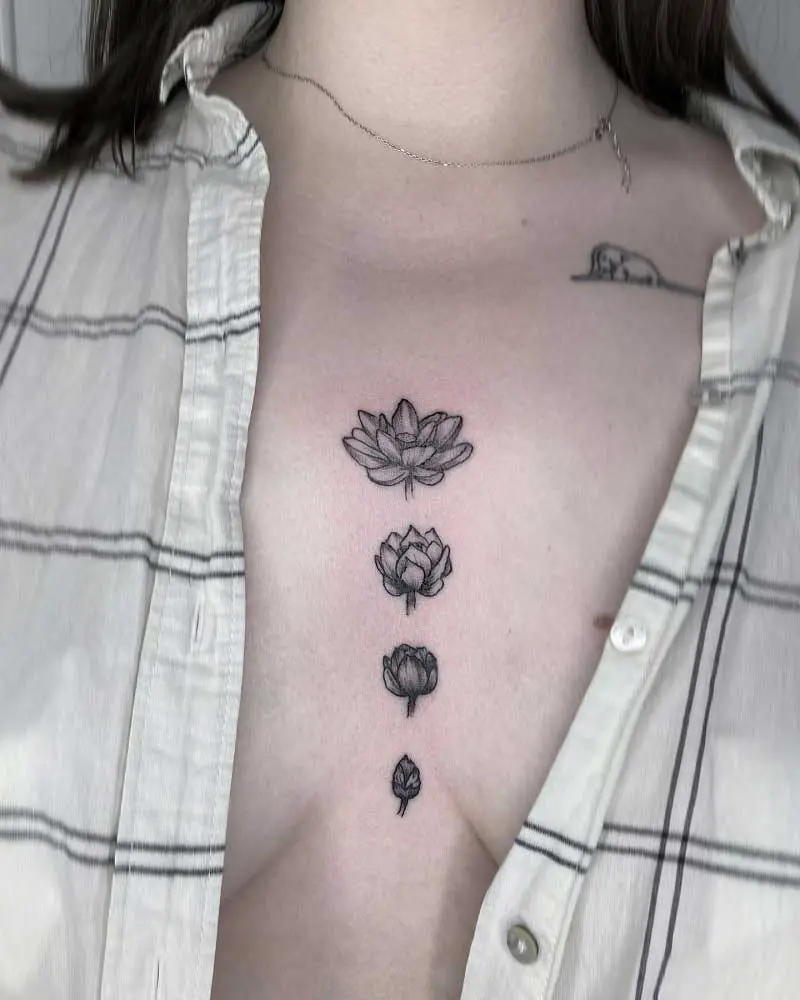 79.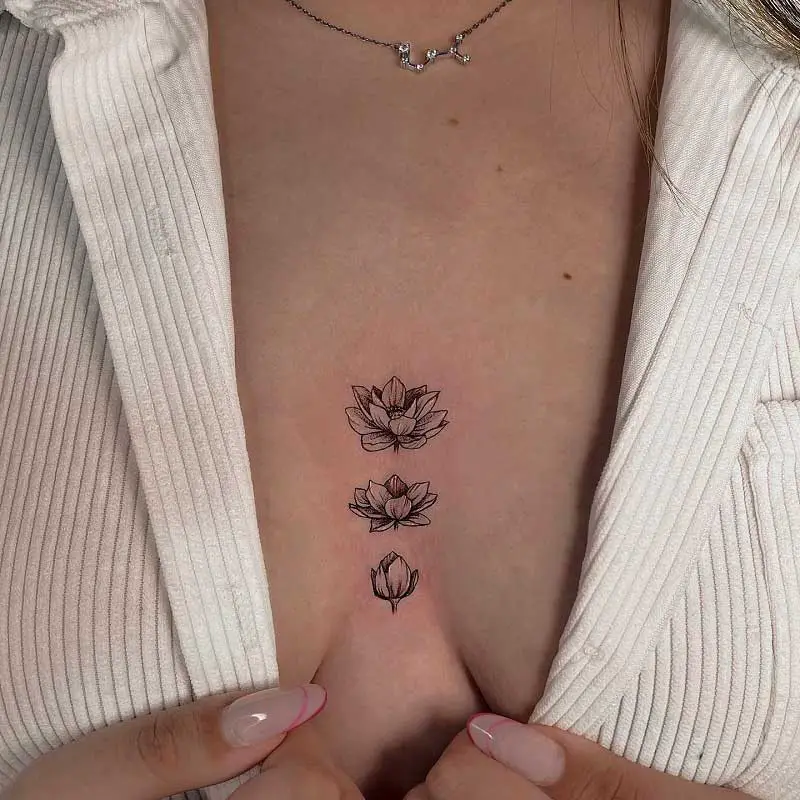 80.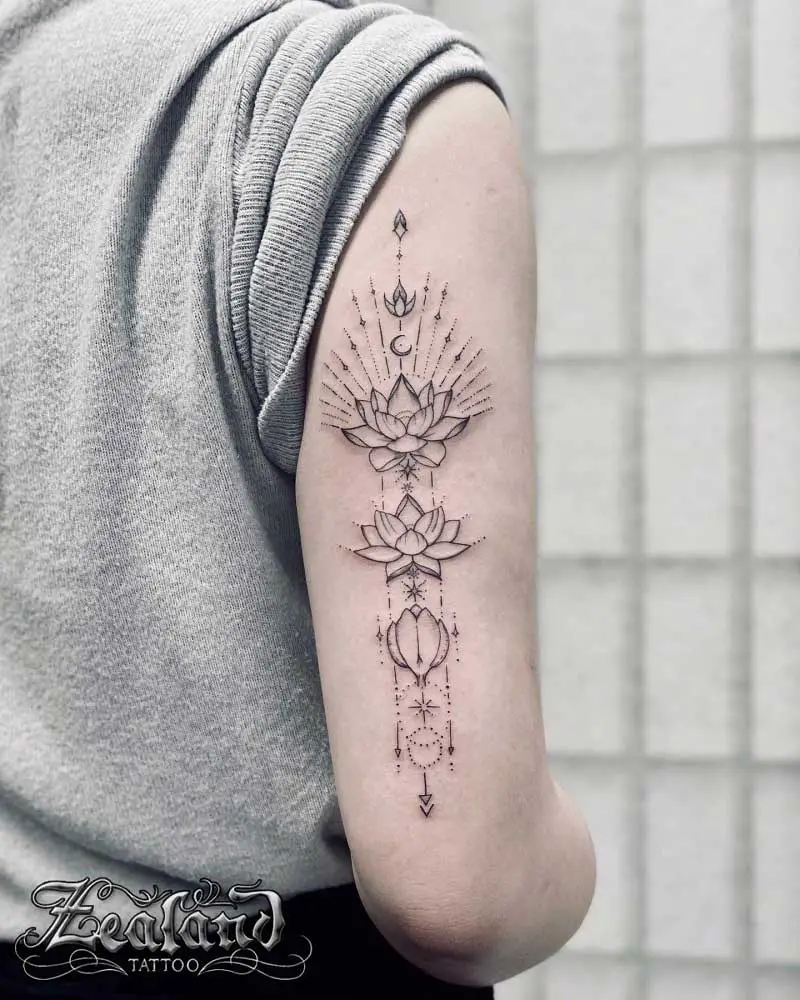 Breathe Lotus Tattoo
81.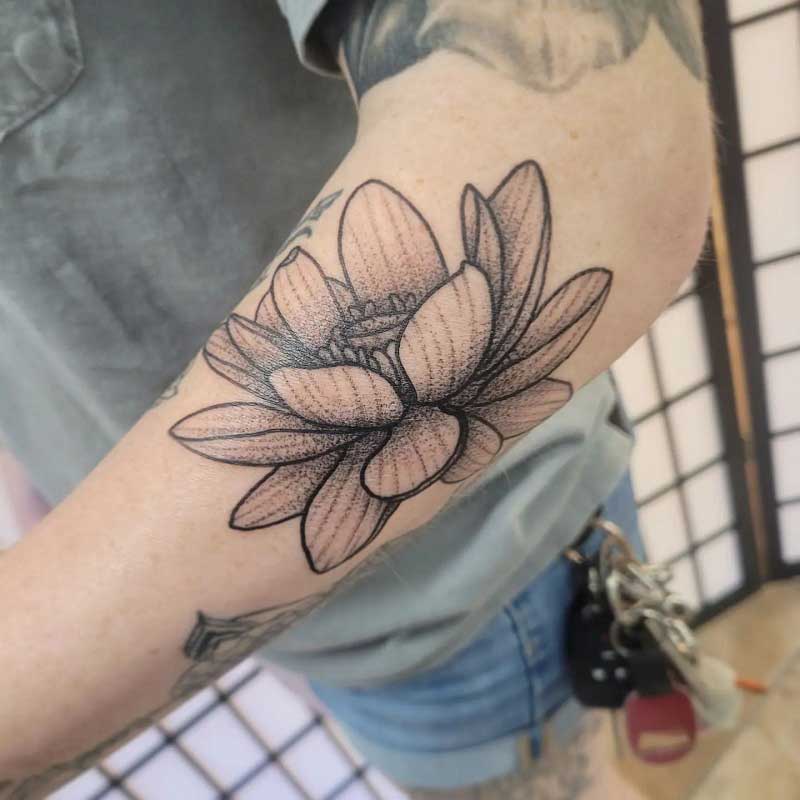 82.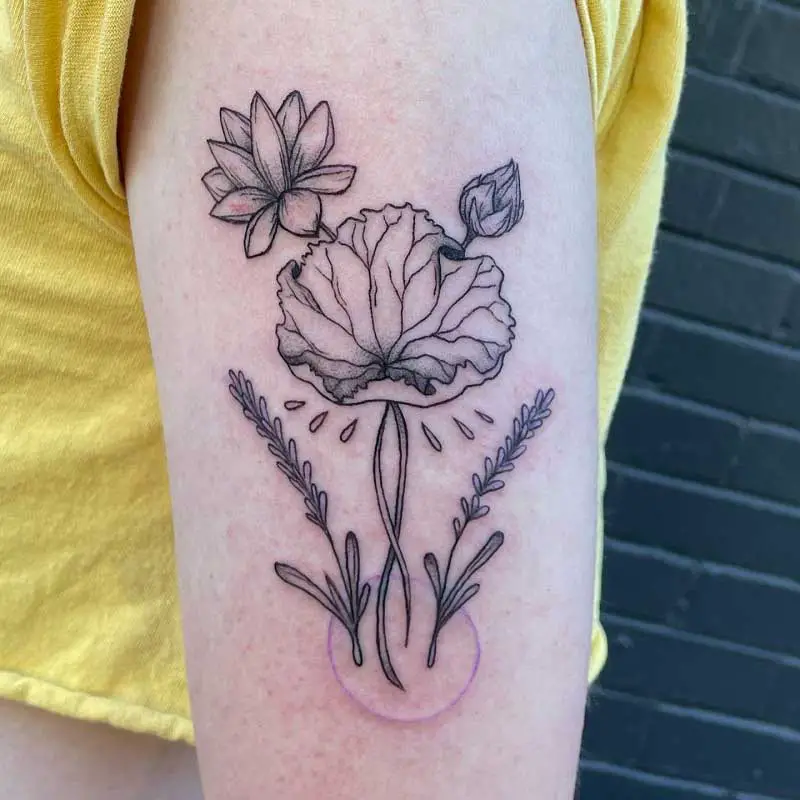 83.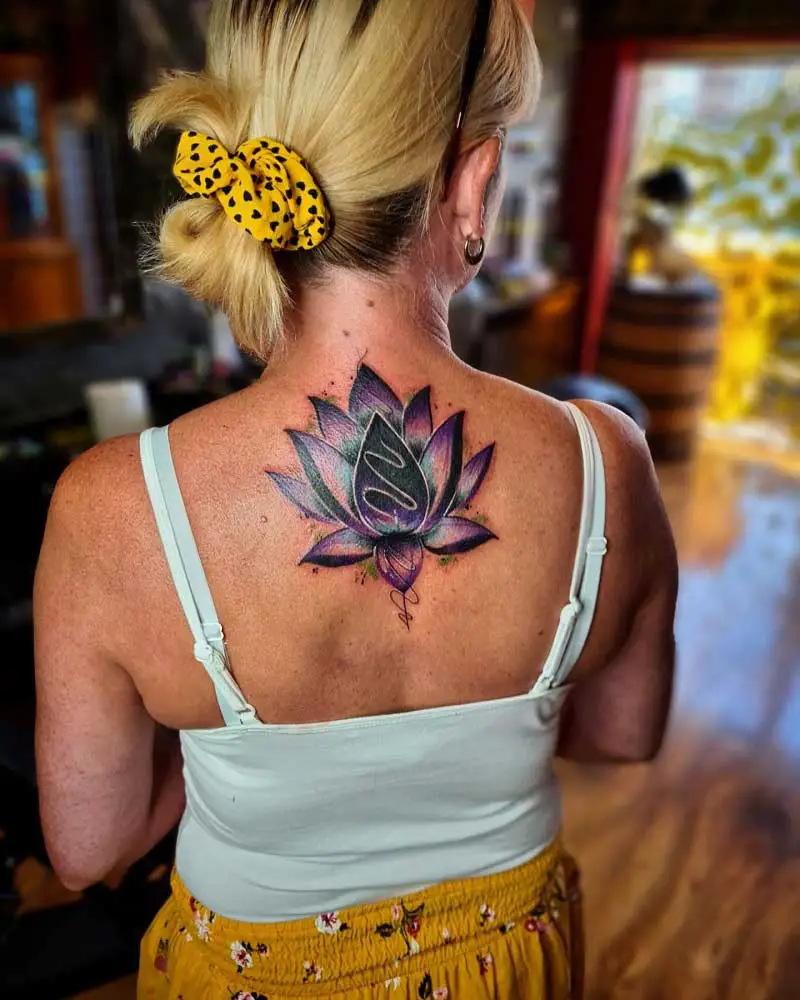 Hamsa Lotus Tattoo
84.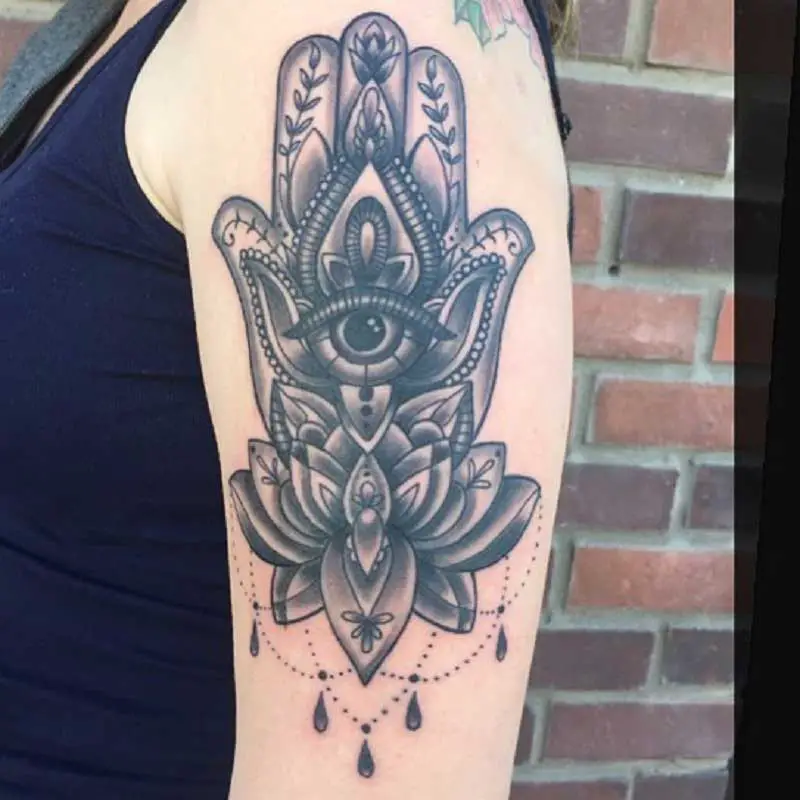 85.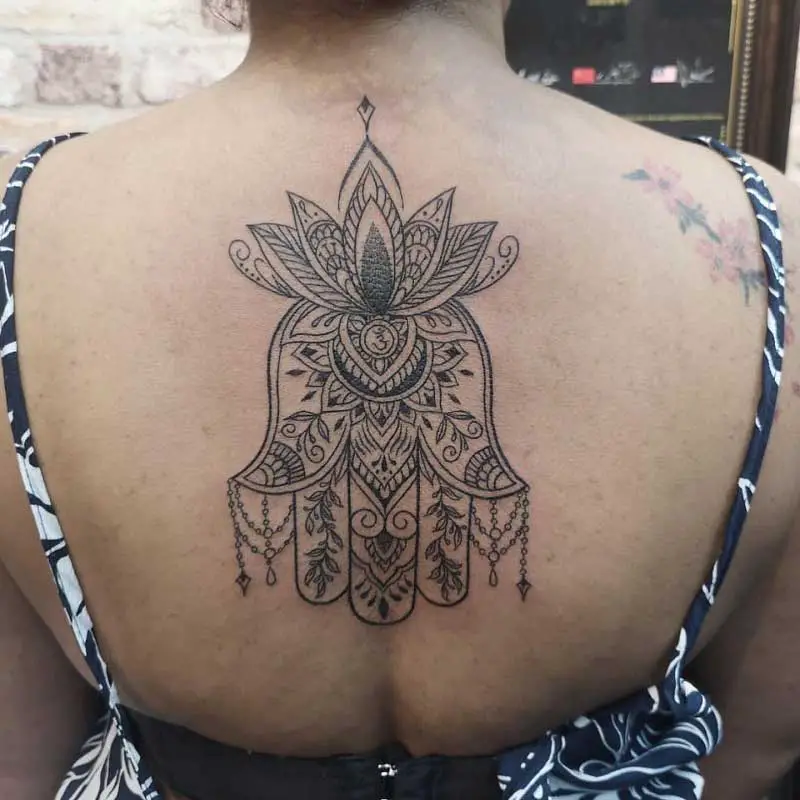 86.
Koi Fish Lotus Tattoo
87.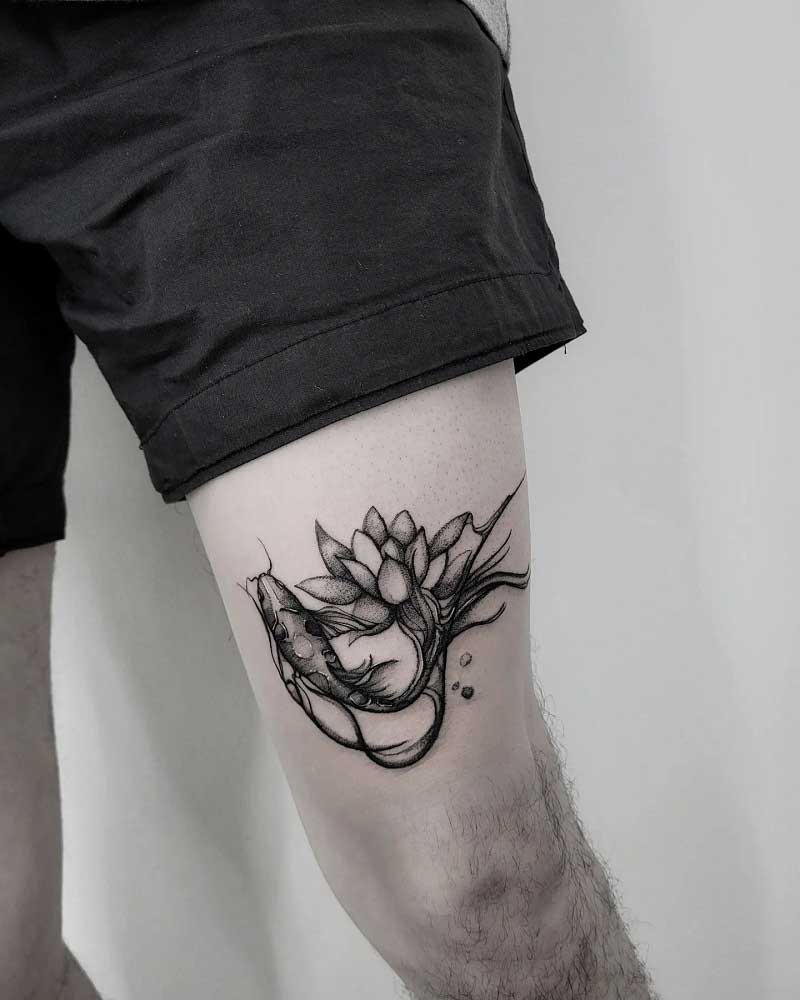 88.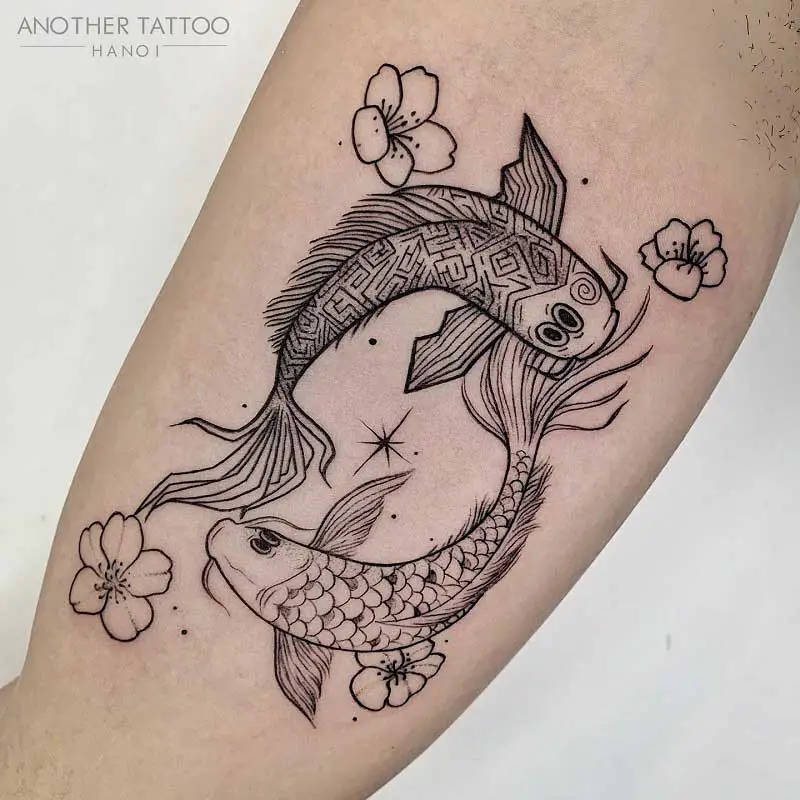 89.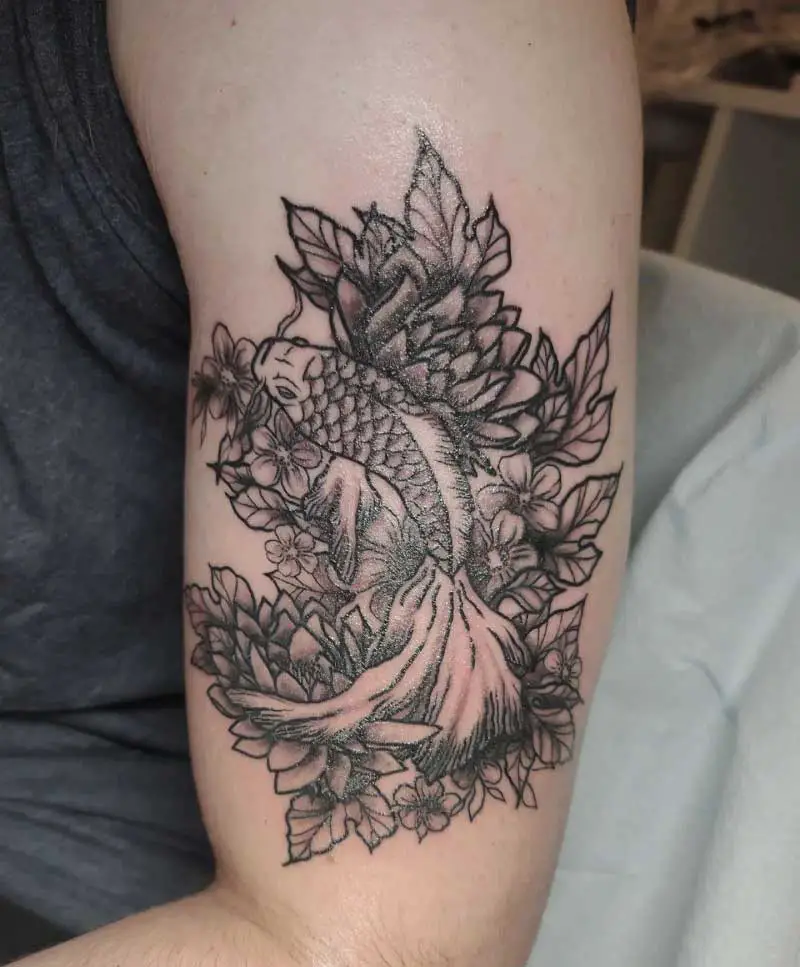 Nana Lotus Tattoo
90.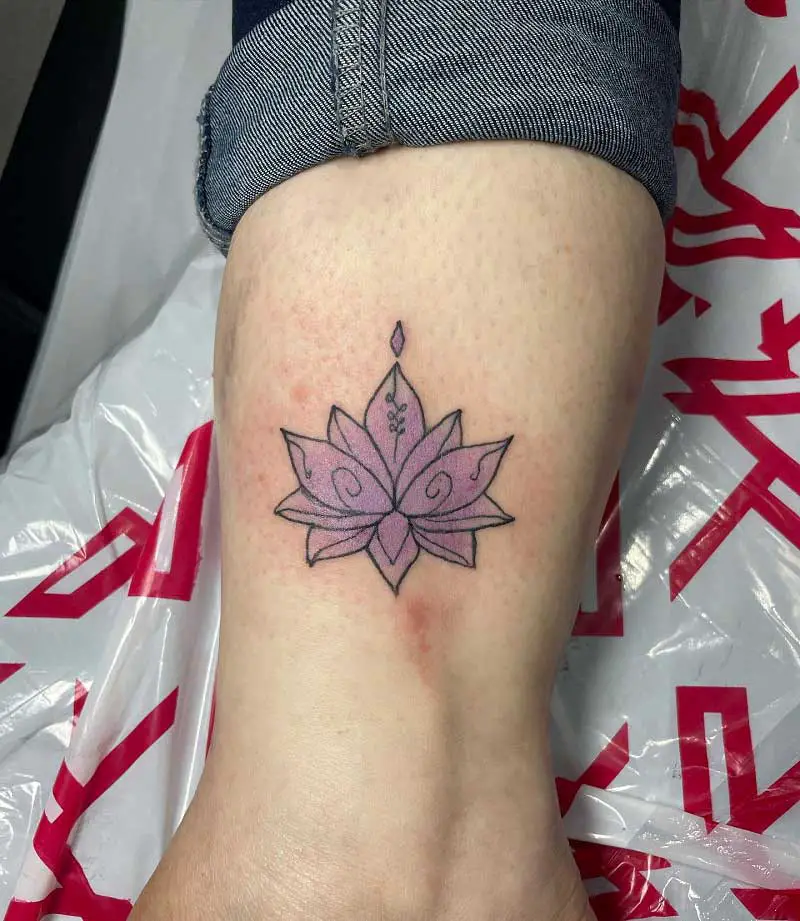 91.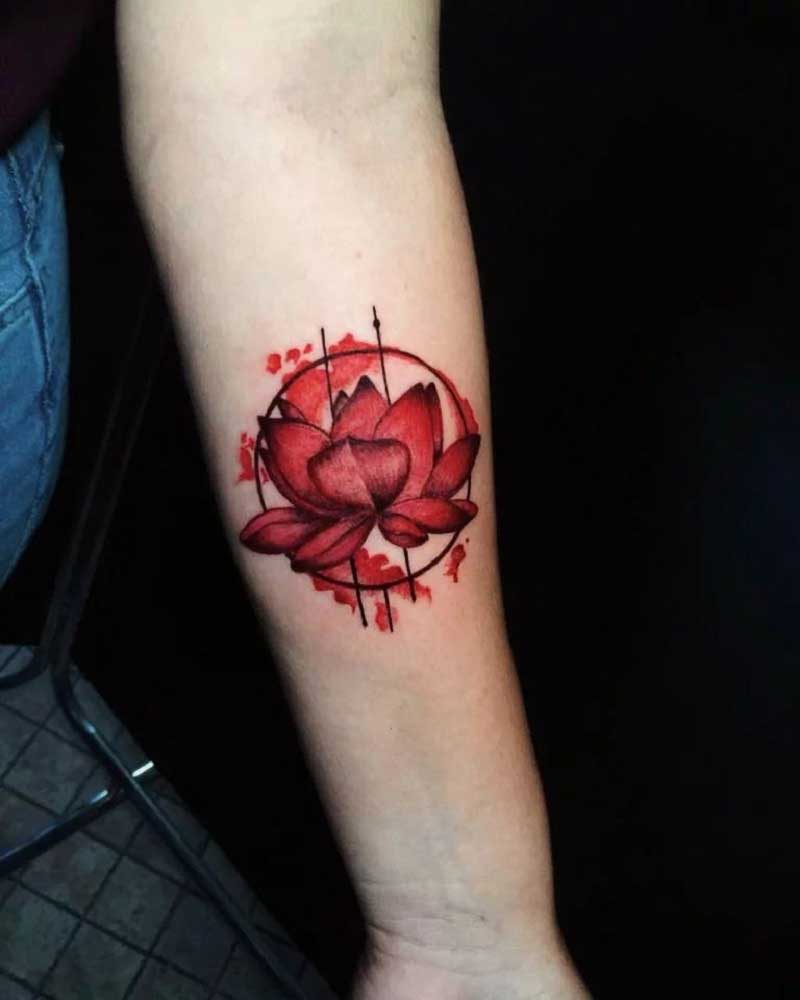 92.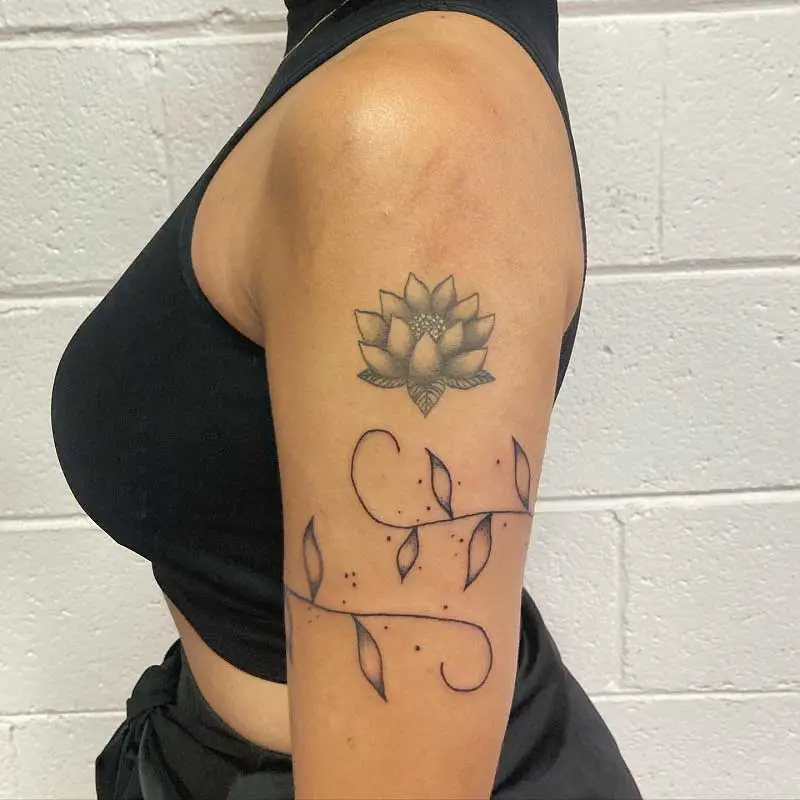 Conclusion
Tattoos are an excellent method of showcasing one's unique style. A person's emotions can be displayed (figuratively or literally) through a variety of tattoos, piercings, and other adornments. The selection of what to ink onto your body is a serious one, as there is a certain amount of skin to work with.
If you're a spiritual person or just love the symbolism of lotus flowers, then lotus tattoos can be the way to go. Here, in this blog post, we described the meaning and symbolism of our design ideas so you don't have a hard time choosing. Select one of your likings and get it done by a professional.
Frequently Asked Questions
1. What does a lotus tattoo symbolize?
As a religious emblem, the lotus blossom carries a wide range of connotations and meanings across cultures. Flower of Life refers to the cyclical nature of life, including birth, death, and rebirth. In addition, the lotus flower, and specifically the pink variety, is India's national flower.
These herbaceous perennials in the water rise from the murky depths of the pond or lake and float gracefully on the surface, where they bloom. Meanwhile, they've got their roots dug down into the silt at the bottom of a lake or whatever other body of water they're in.
This is interpreted as a transition from obscurity and doubt toward clarity, grace, and wisdom. It's a metaphor for the trials and tribulations of being human, through which we emerge wiser and more equipped to grasp the significance of our existence.
They symbolize as per the colour they have. As white lotuses represent calm and cleanliness, while red lotuses stand for kindness and empathy. In contrast, the deeper meaning of purple lotus flowers can be found in the fact that each of its petals symbolizes essential Buddhist teaching known as the Noble Eightfold Path.
2. What does Blue Lotus tattoo symbolize?
Some people's favorite color is blue. Getting a tattoo of a blue lotus flower symbolizes taking charge of one's emotions and habits while remaining in charge of one's spirit.
The blue lotus flower is also a symbol of enlightenment and a high level of intellect. Blue lotuses represent the never-ending development of the soul even when they are only partially open. The blue lotus flower represented both rebirth and the afterlife in Ancient Egyptian culture.
3. What does a white lotus tattoo mean?
A white lotus tattoo symbolizes moral rectitude, spiritual enlightenment, and unblemished beauty. A lotus flower of this hue is considered to be one of Buddhism's most sacred symbols, since it represents the highest ideal one can hope to realize on their path to enlightenment.
4. What does a lotus flower tattoo mean on a man?
Tattoos depicting lotus blossoms have a rich history and a wide range of meanings for their wearers. Among many cultures, this blossom is a symbol of triumph over bad habits and self-improvement. Padma, the Sanskrit word for the lotus flower, is a symbol of enlightenment, chastity, and a new beginning in Hinduism. No, matter the sex, the lotus flower tattoo bears the same meaning.
5. What does a Black lotus mean?
The meaning of the black lotus is less clear than that of the other colors.
A black lotus could be seen as the antithesis of the very significant white lotus. The Buddha is frequently depicted sitting meditatively in the lotus position, atop a white lotus flower at its peak of bloom. That's supposed to stand for the idea that unless one is enlightened from within, through teachings, their spiritual awareness and heart remain closed.
While the flower's petals are pristine white, the plant's roots are firmly established in murky water. It symbolizes the stark difference between bright and dark, and clean and soiled.
To grasp the significance of the black lotus, one must first become familiar with the many interpretations ascribed to the color black.
The color black is typically associated with bad feelings and doubt. Many cultures associate the color black with death and the end of things. On the other hand, it's also a color associated with revolt, power, and authority. The color black is often associated with class and sophistication.
6. What does a pink lotus tattoo mean?
Buddhism places a special emphasis on pink lotus blooms. The pink lotus flower has long been associated with enlightenment, chastity, and loyalty. The fact that lotus blossoms may grow in murky water lends credence to this idea. Achieving enlightenment is the act of rising above one's circumstances, according to Buddhism.
According to Buddhist tradition, each of the lotus flower's color varieties represents a different aspect of the Buddhist ideal. One example is the lotus flower, whose pink hue is universally recognized as representing "genuine" lotus.
7. What Does a Lotus Flower Mean Spiritually?
The lotus flower is often used in religious contexts, as a symbol of rebirth. In response to the sun's rays, the petals of lotus flowers unfold, and after sundown, they close again. There is a spiritual connection between the flower and the concepts of new beginnings and resurrection. Rebirth is intrinsic to the lotus's everyday routine. The lotus flower is a symbol of reverence in many eastern civilizations. Because it represents human behavior, it is held in the highest regard as a religious emblem. The historical Gautam Buddha, the one who reached enlightenment, is depicted sitting on a lotus because it is believed he will be reborn.
8. Where Do You Put A Lotus Flower Tattoo?
According to Ainsworth, "the tricep" (the area just above the elbow) is a common spot for tattoos of various sizes, not only lotus designs. An arm tattoo of a lotus blossom is supposed to be viewed by the world rather than the wearer, who thereby underlining the tattoo's universal significance.
Happy Tattooing!