Family tattoos are used to represent someone's family. It can represent their past or present.
Sometimes other elements such as crests, birth flowers, etc. are used in these tattoos. Family tree tattoos are also an effective way to show one's devotion to their family.
They are one of the oldest tattoo styles. It is used to show respect love & honor to the family. Usually, they are small in size but there are some exceptionally gorgeous family tattoos too.
In this article, we'll discuss everything you need to know about these caring tattoos. We'll also answer some of the most asked questions related to tattoos that represent the family.
93 Family Tattoos Ideas and Designs
Here are some of the best family tattoo designs for you to take inspiration from. There's an option for almost every skin tone and type. Depending on your preference you can go with the smaller simpler ones or you can go with the larger gorgeous ones too.
Family Tree Tattoo
Family tree tattoos are used to visualize the relationship between different generations on someone's skin. These tattoos are a true display of a person's attachment to their family. These designs are suitable for everyone.
1. Leafless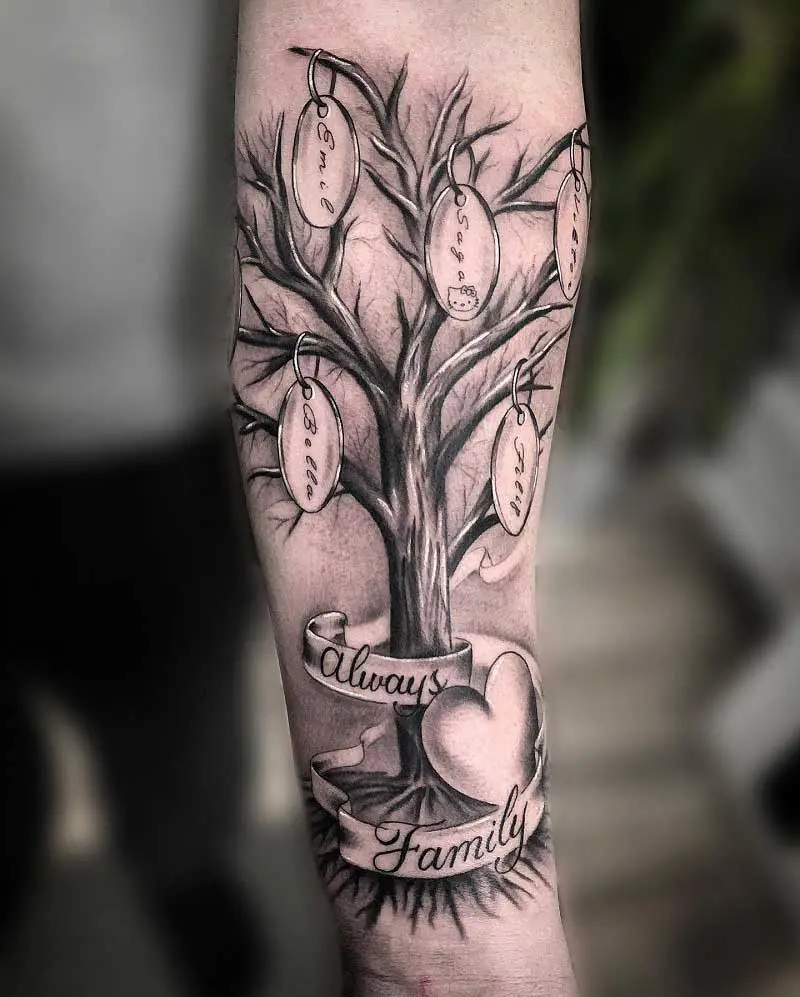 A tree that consists of only the branches and the tree structure is used in this tattoo. There are some names on them hanging in a nametag. The bottom of this tattoo says always love family. A wholesome family tattoo suitable for forearms.
2. Sunset View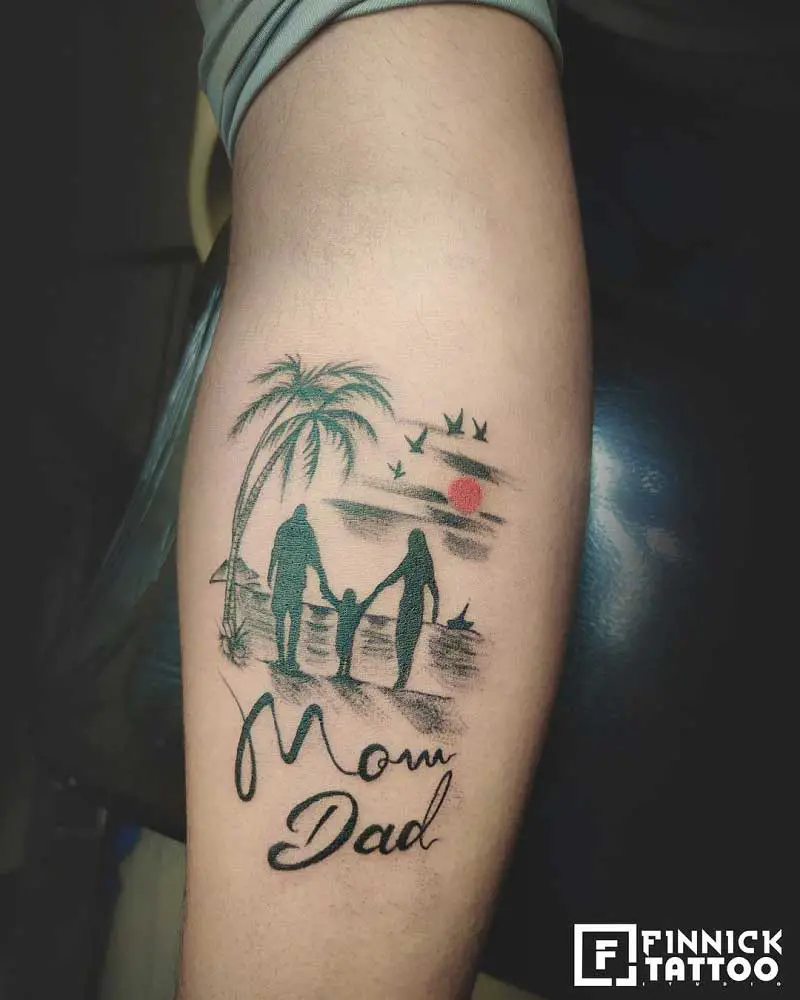 Some birds are flying across the sky in a gorgeous sunset view. A couple is holding their children in the middle. It is a view of the beach with the writing "Mom and Dad". This shows the kid's love for his parents.
3. Bright Lights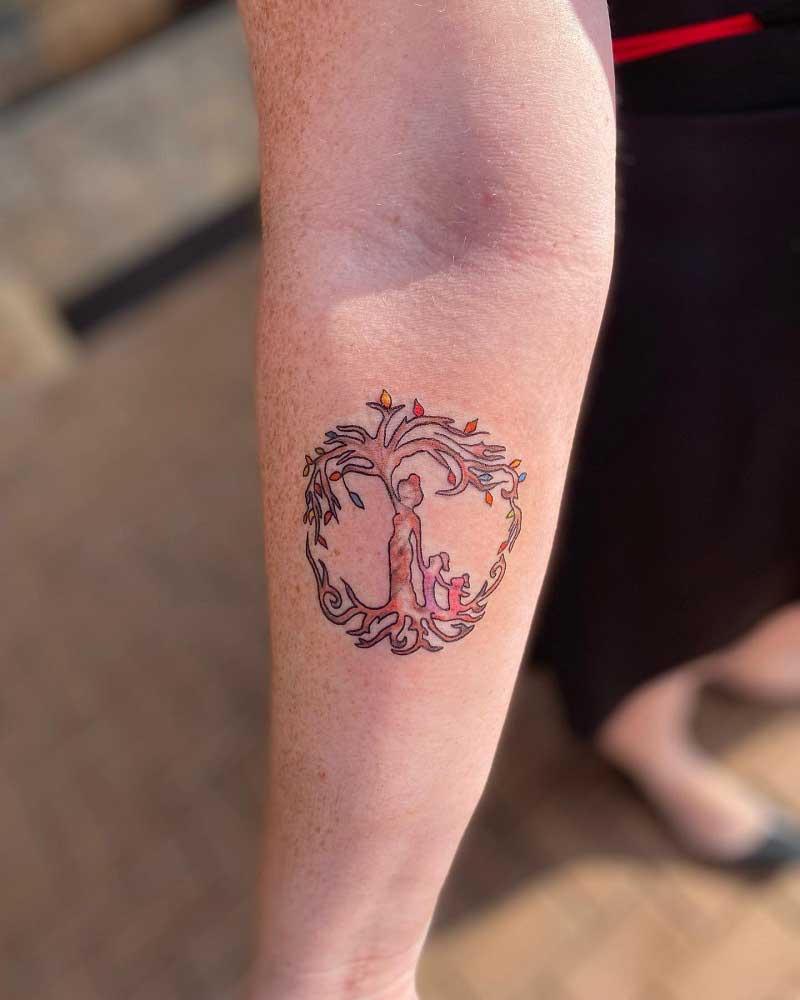 A multi-colored family tattoo is drawn on this lady's arm. A woman has her hand up that slowly transitions to a tree with bright leaves on it. It looks like colorful flames that surround her and two kids.
Family First Tattoo
Family always comes before everything. Family first tattoos tell the world that you put your family first in every situation. They are a great way to show appreciation for your family too.
4. Fancy Font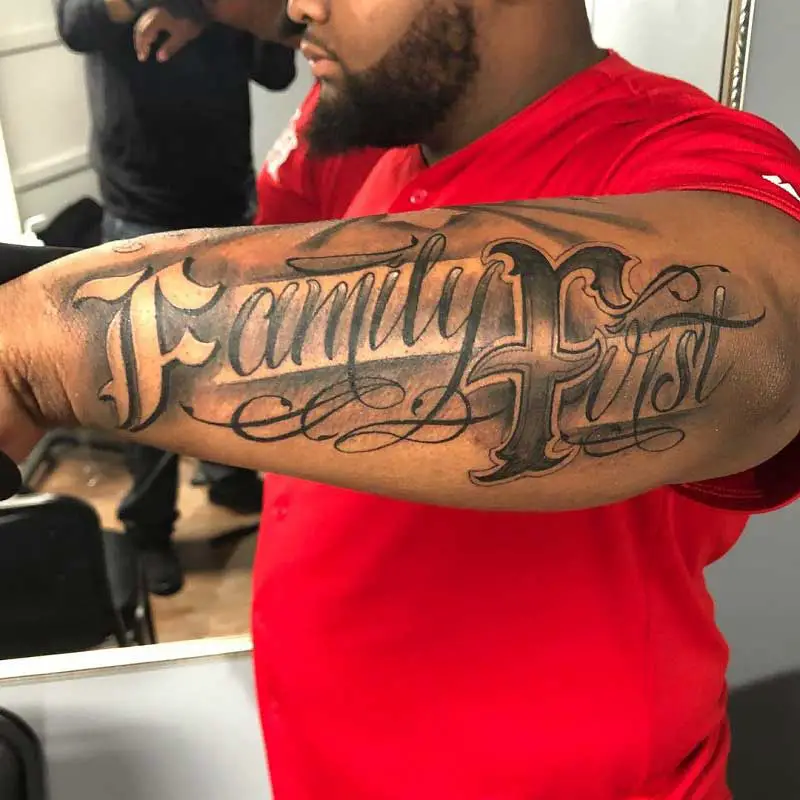 The first two letters of each word in this family tattoo are inked with a bold font. The side of his forearm is totally covered with this fancy design. It's suitable for men with wide forearms.
5. Chest Text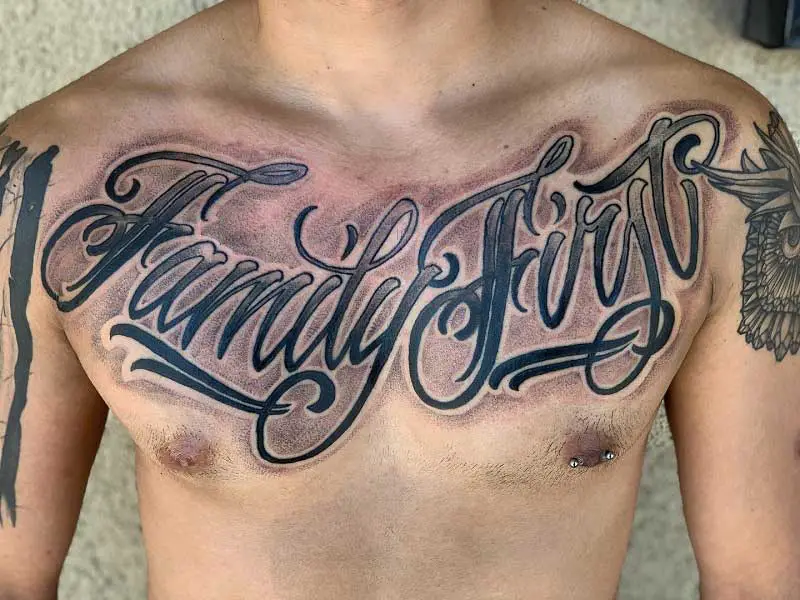 The entire chest of this young man is covered with the text "family first". It indicates that to him his family is the main priority & he'll go to unimaginable lengths to protect his family.
6. Family First Ankle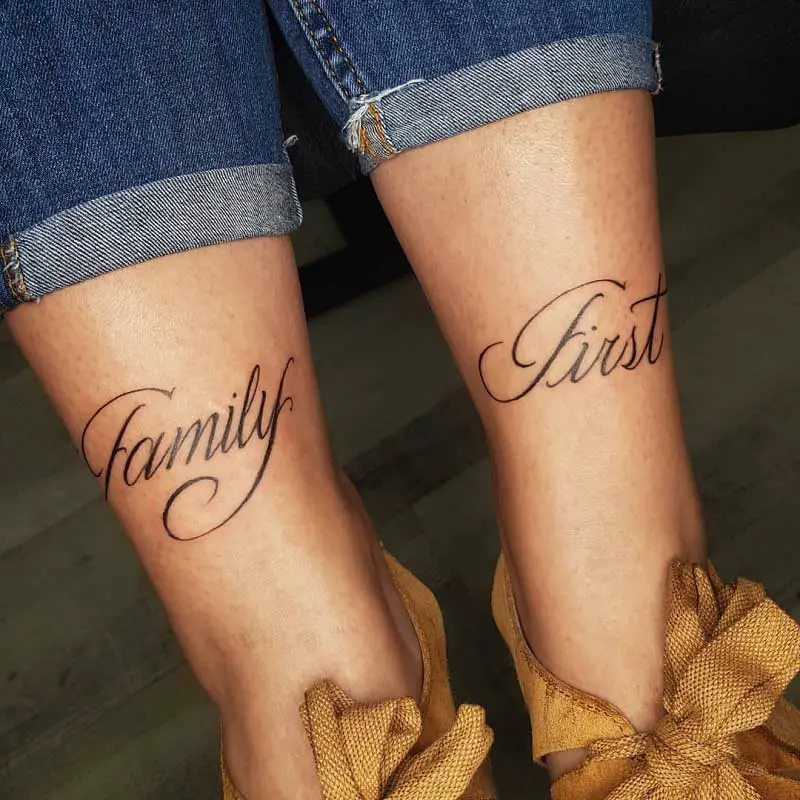 This lady has the word family on one ankle and first on her other ankle. Both of them together create this amazing ankle piece. However, it'll be a bit painful to get.
Family Birth Flower Tattoos
Birth flowers are used to represent the birth month of a person. They can be used to describe someone and their roots too. Family birth flower tattoos are used to show the birth month of their family members.
7. Colorless Birth Flower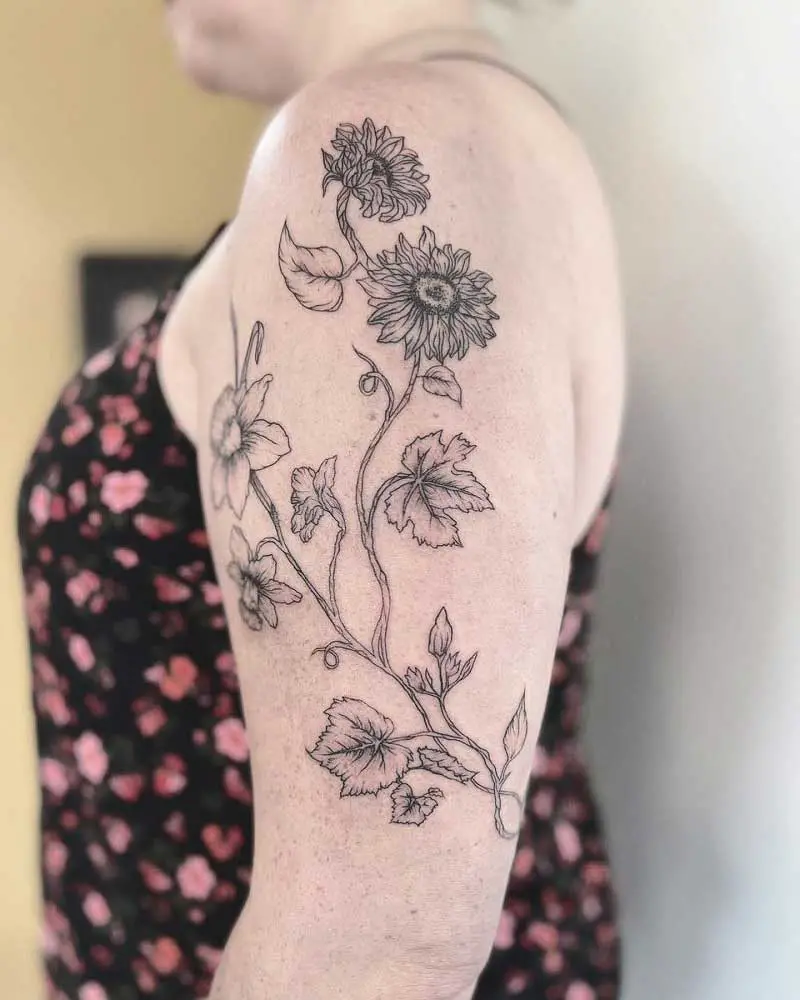 This woman has a birth flower tattoo on the side of her arm. Each flower represents each family member's birth month. The only thing missing from this tattoo is the colors.
8. Colorful Birth Flowers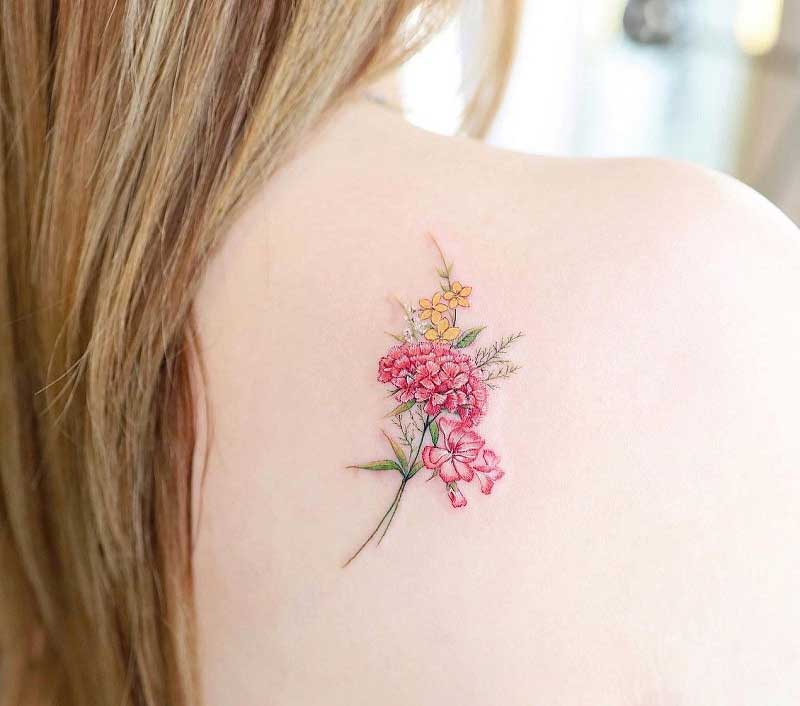 There are three flowers on the back of this young lady. The flowers she has are Carnation, Chrysanthemum, and Daffodil. They represent the months of January, November, & March. They compliment her fair skin nicely.
9. Fresh Birth Flowers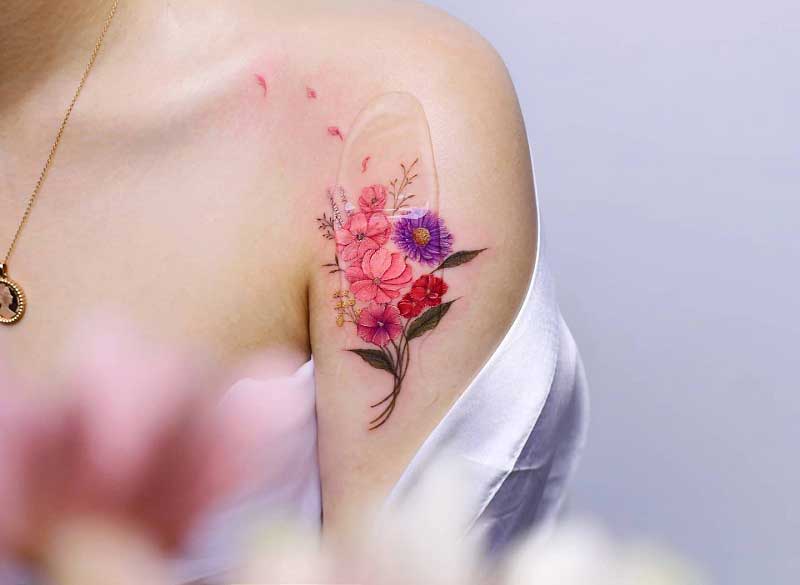 This piece on her arm is freshly inked. The vibrant colors make it pop from the background. The five different flowers represent the five birth months of her family members.
Family Crest Tattoo
Family crest tattoos are used to represent one's family's heritage and pride. They have an antique look to them. They tend to have a bold design compared to other family tattoos.
10. Collar Crest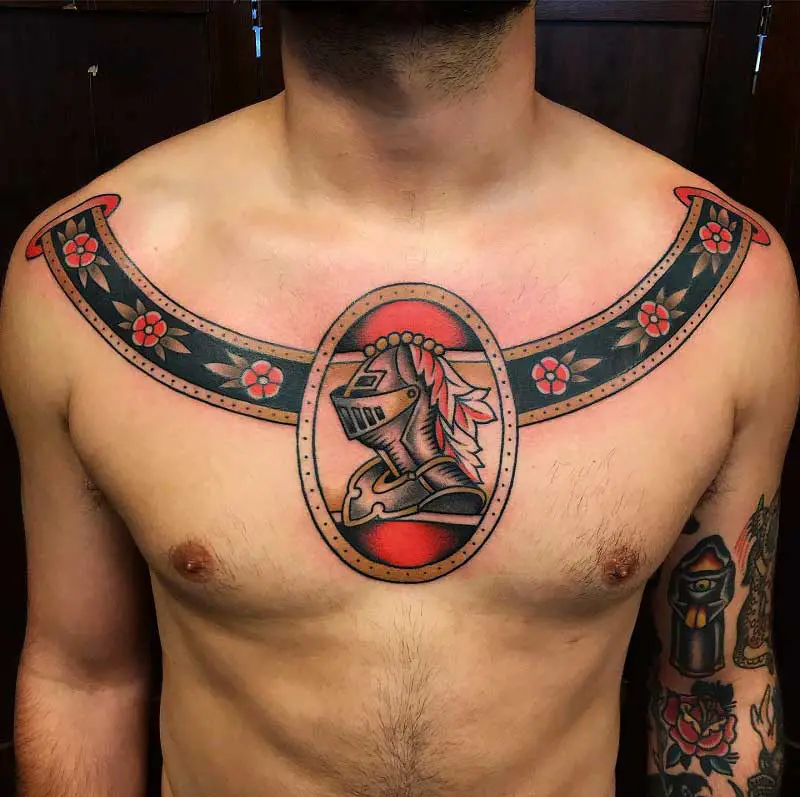 The upper section of his chest is covered with a tattoo that has a portrait of a knight in the middle. It symbolizes their family's power and responsibilities. He is also prepared to fulfill the duties every time.
11. Blue Guard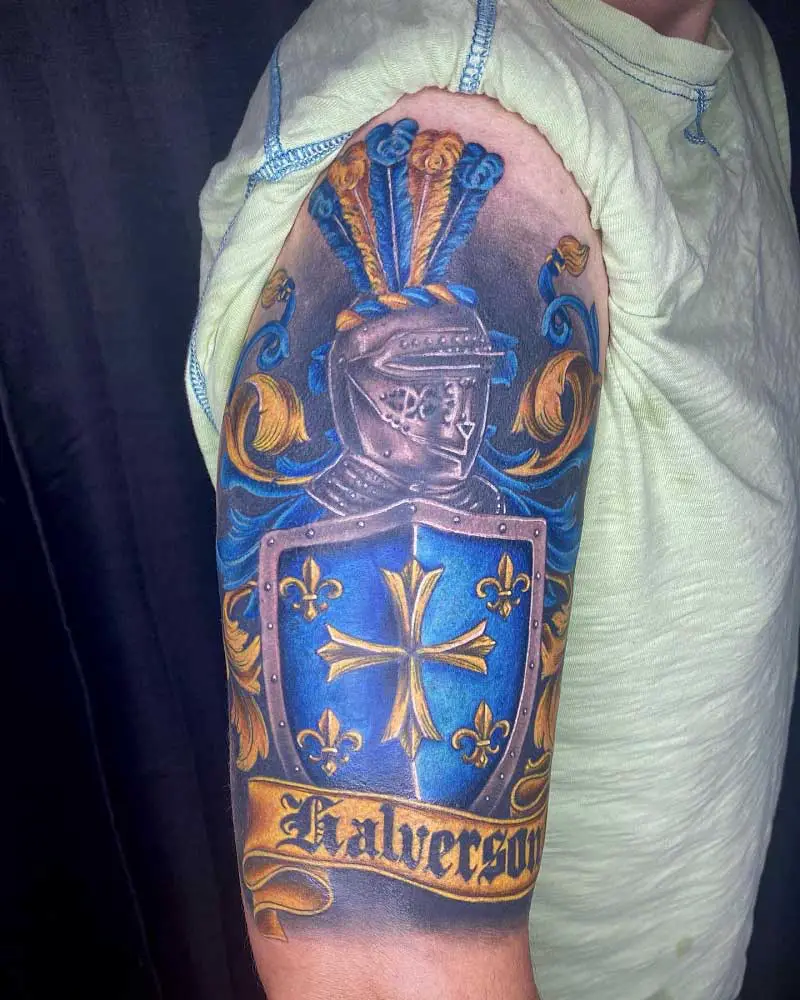 A guard with shining armor is tattooed on the side of this man's arm. The name Galverson is written at the bottom of the golden plate. It represents his family tradition and glory.
12. Kings & Wings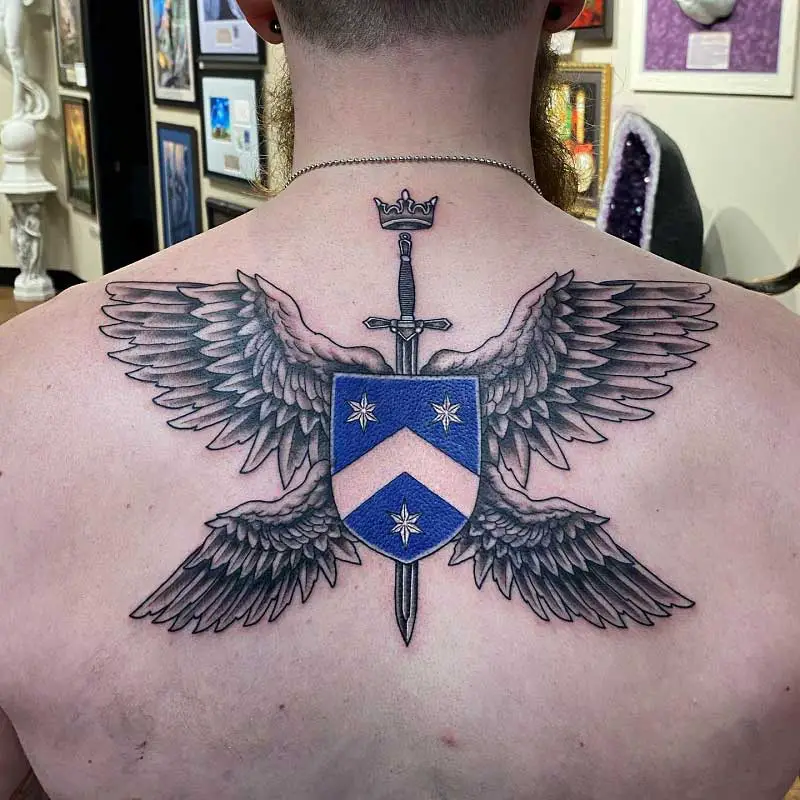 A king's sword is accompanied by a crown on top. There are four wings coming out of the back of his shield. The three stars symbolize the number of his family generation.
Family Forearm Tattoo
Forearms are one the most popular place to get family tattoos. These tattoos are easily visible. Plus they are small in size and less expensive. If you want to get a tattoo as a group, this is a great choice.
13. Mother & Daughters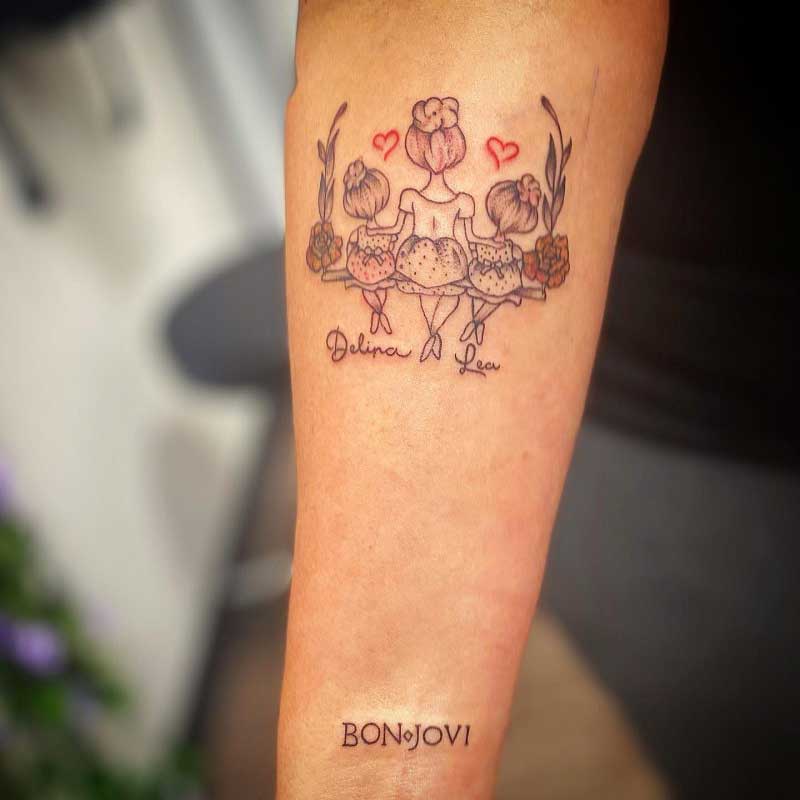 A mother has her hands around her daughters. They're relaxing on a swing and looking at the horizon. It shows the caring bond between them all. An amazing family tattoo for mothers.
14. Balloon and Paw
All of the family members got the same tattoo. They are holding a balloon with a dog's paw drawn on it. It tells us that a dog was also a part of their family. If you're a pet lover this is a perfect choice for your family.
15. Three Angels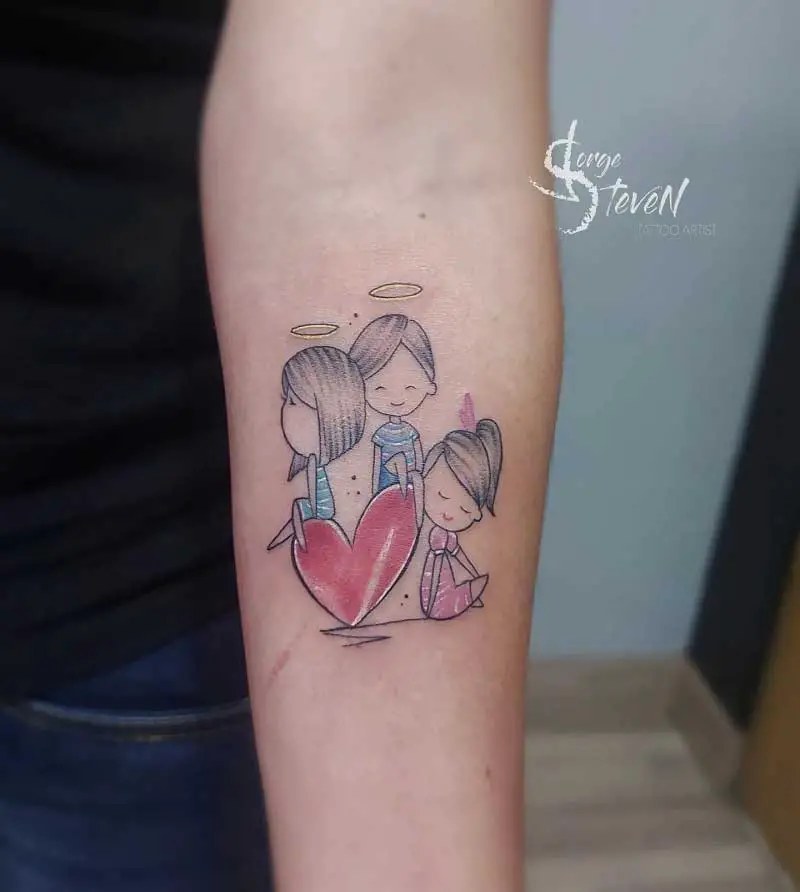 Three girls are sitting on a heart symbol. They all have floating rings over their head. The man is most likely the father. To him, all of her daughters are an angel.
Elephant Family Tattoo
Elephants are well known for protecting and taking care of their family. They are one of the most family-oriented animals found in the wild. They are heavily used in daily tattoo designs.
16. Family Lead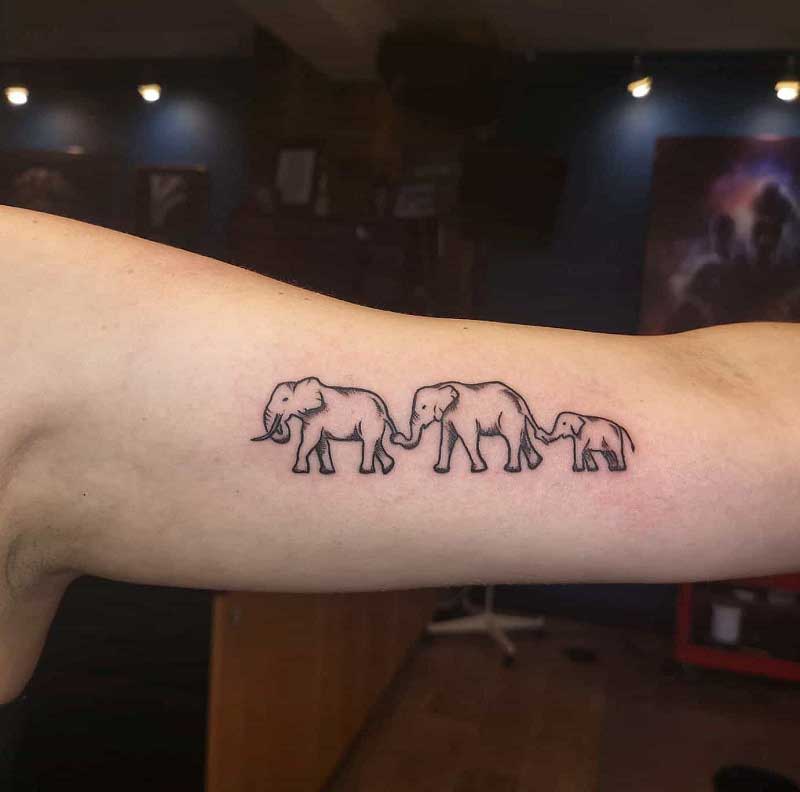 A father elephant is taking his family to someplace more secure. He is leading the way and looking out for danger. He is going to do whatever it takes to keep them safe.
17. Fully Covered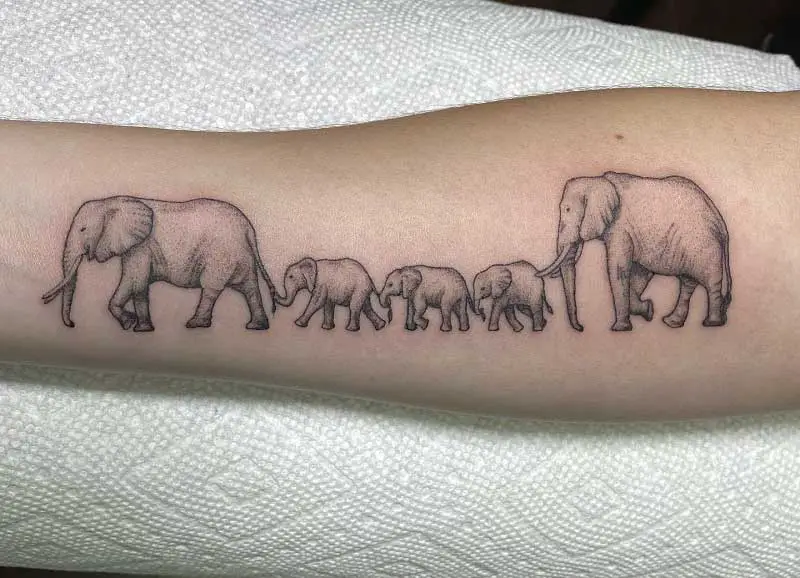 A pair of parent elephants have their three children in the middle of the line. The father is taking care of the dangers in front of him & the mother is looking out for any danger from the back. It shows how much they care about their children.
18. Shelter Seeker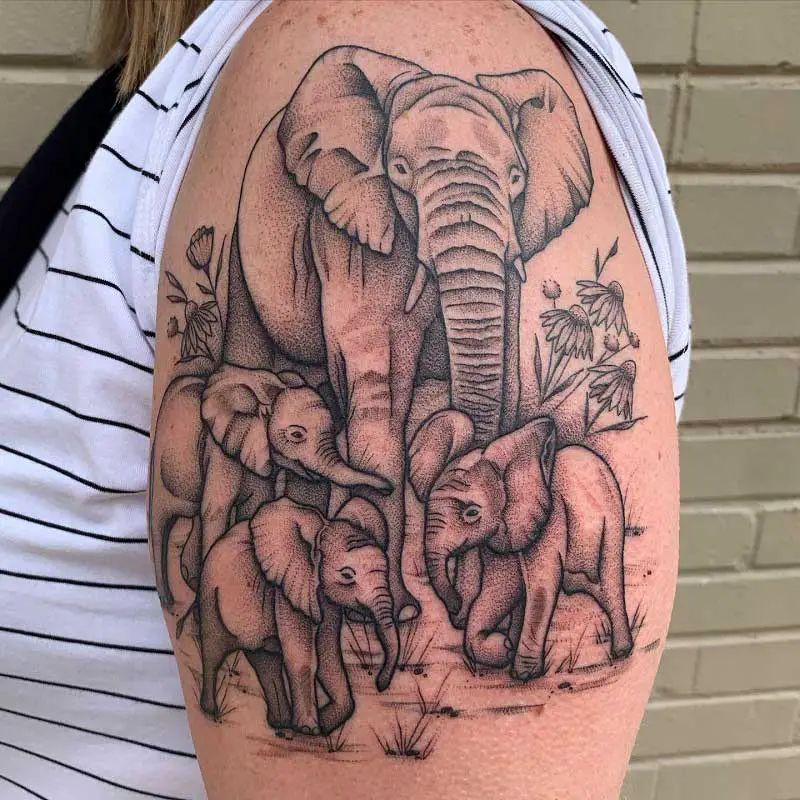 The baby elephants on this tattoo look frightened. They are rushing toward their mother for protection. The mama elephant is giving shelter to her kids. It shows a mother's love.
Family Infinity Tattoo
The infinity sign means something is endless. Often in family tattoos infinity sign is used to describe endless love and care for one's family. They are combined with other styles too for a more meaningful look.
19. Family With Infinity Heart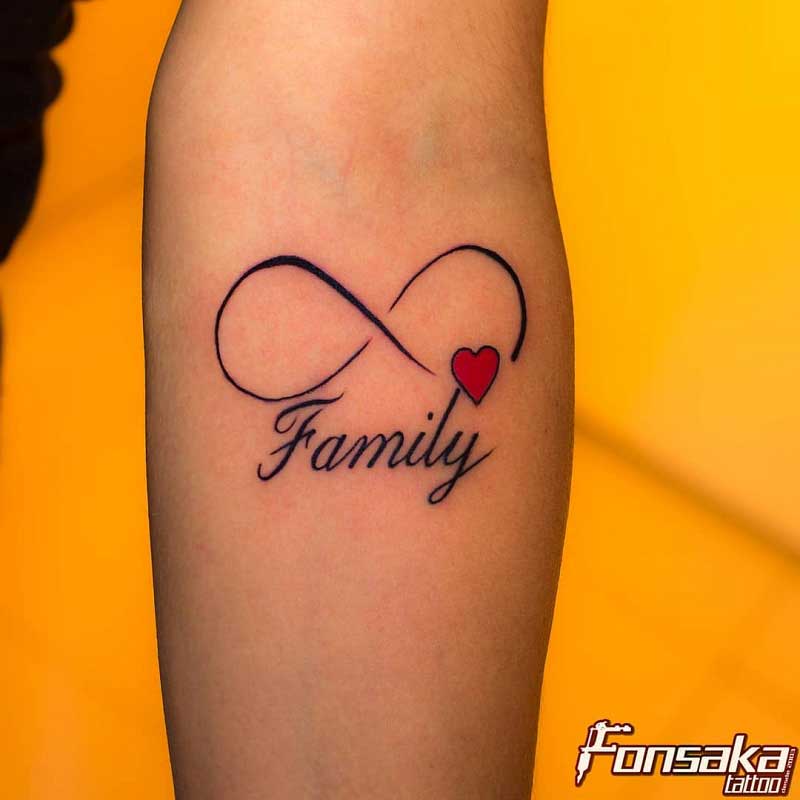 A sleek design is inked on this person's hand with an infinity sign and a heart. It tells us about the endless love the person has for his family.
20. Family In The Middle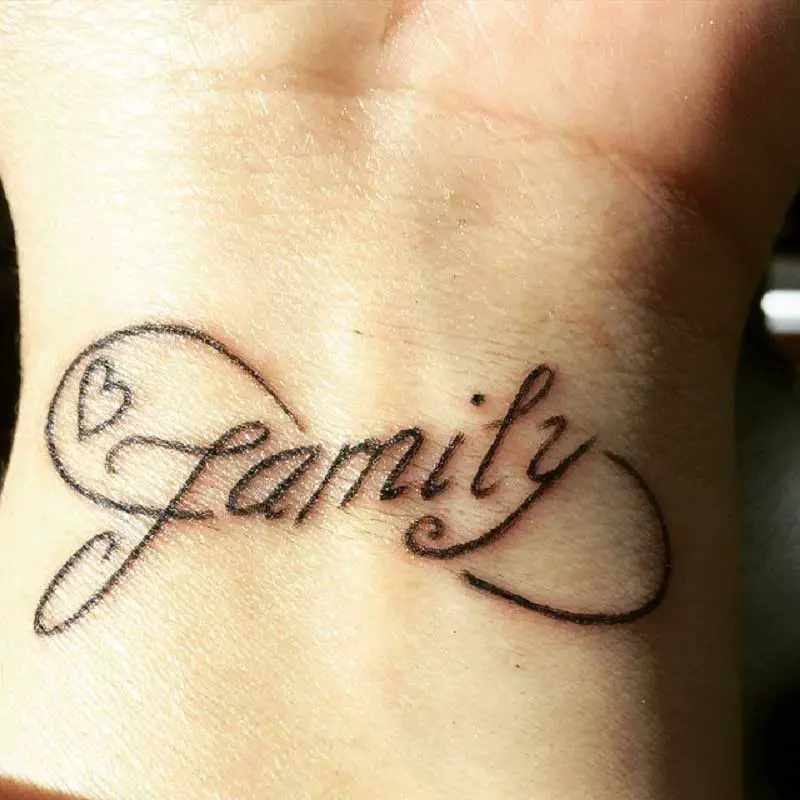 The word family is written in the middle of this woman's wrist. By drawing it in the middle he demonstrates that his entirety revolves around his family. If you have a thin wrist this will look best on you.
21. Family & Rose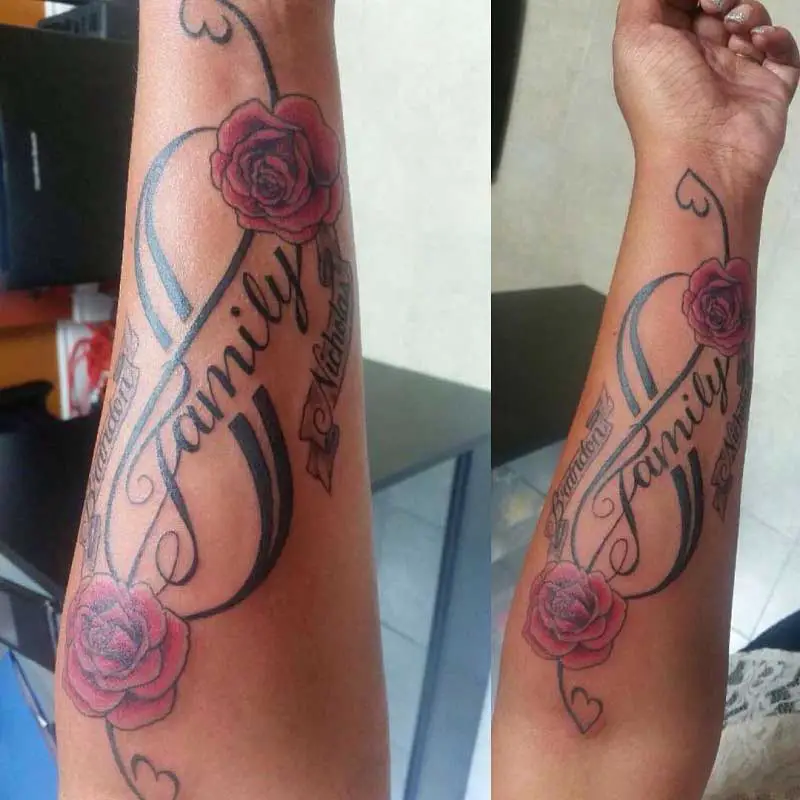 Two gorgeous massive roses are on the two ends of the infinity symbol. It highlights his delicate touch towards his family. It is also a representation of love and trust.
Family Tradition Tattoo
Every family has some unique traditions. These tattoos are used to describe those same traditions. You can incorporate your family's own traditions into these tattoos.
22. Blue Butterfly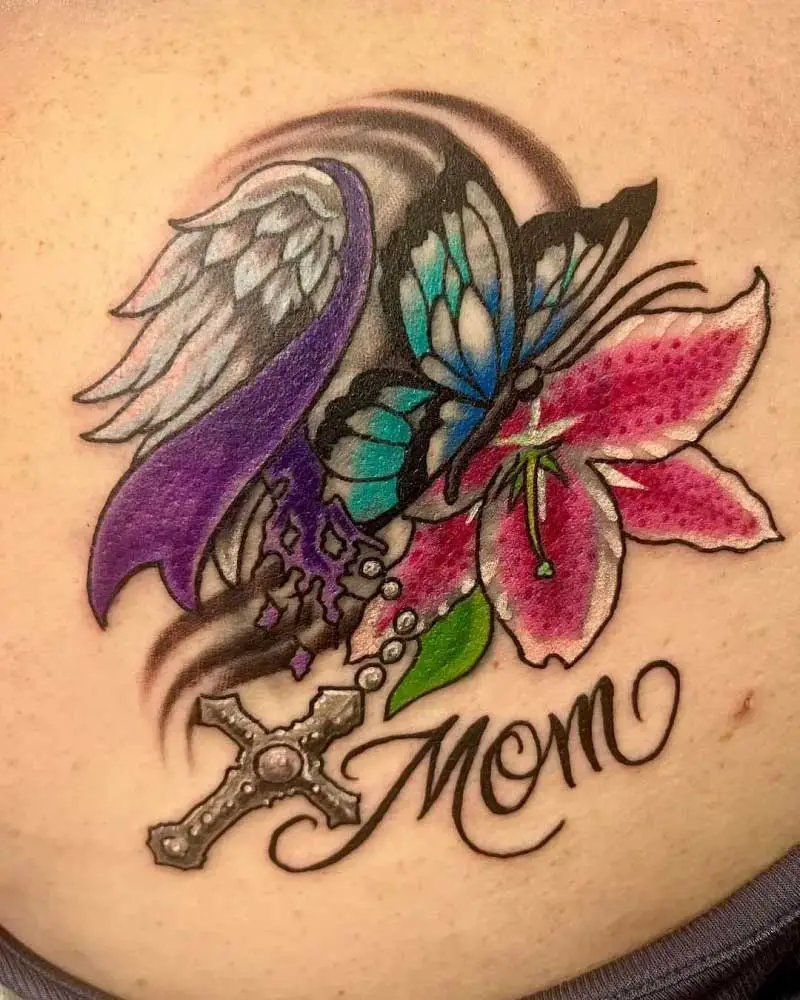 A colorful family tattoo is drawn on this woman's chest. The blue colors of the butterfly create a nice contrast against the red flower. The cross on the bottom adds a bit of religious touch. A tattoo that shows love for mother.
23. Shedding Tears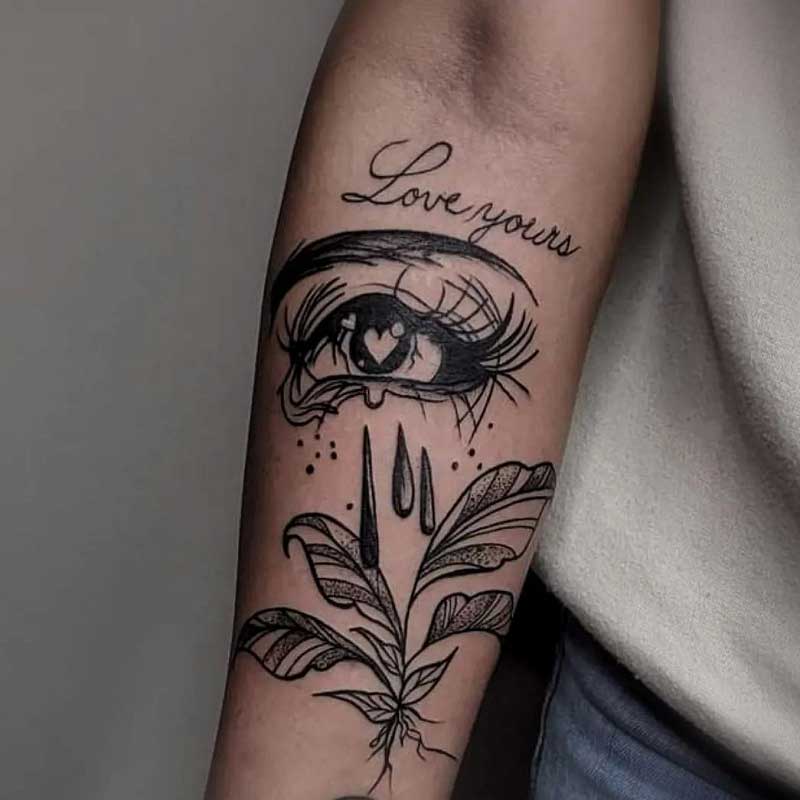 The crying eye in the middle of this tattoo grabs all of the attention. Teardrops are dripping down and falling on the grass underneath. A family tattoo that shows sadness & loss.
24. Lost Eye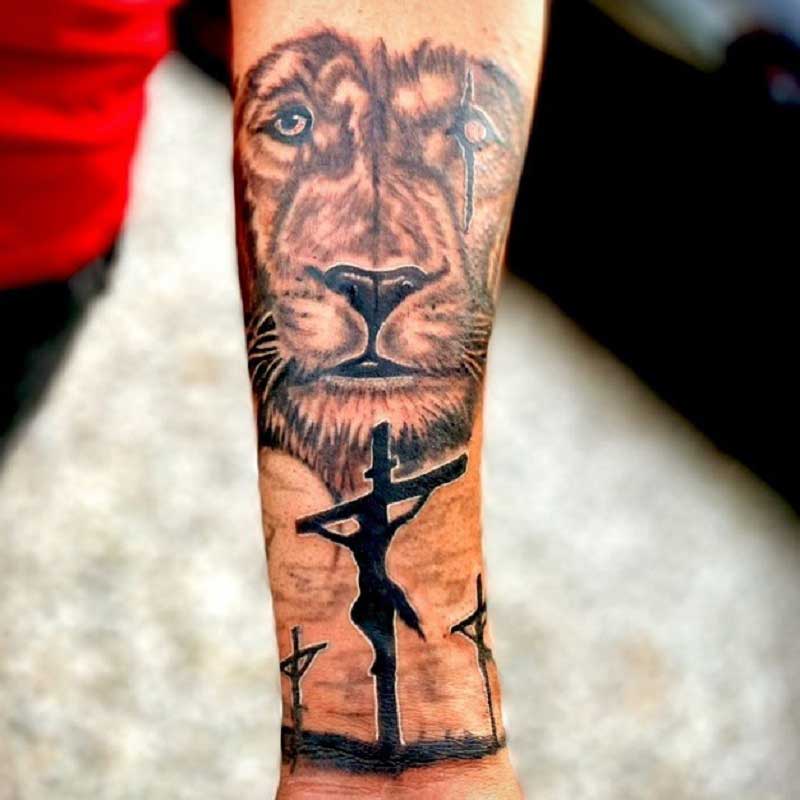 The lion has one of its eyes missing and there is a man hanging on a cross in front of it. It shows the hardship one has to go through to have their family together. It also teaches about sacrifice.
Lion Family Tattoo
As the king of the jungle, a lion has lots of responsibility but it still finds time for its family. A lion stands behind his family and takes care of everything. This teaches us the value of having strong support from your family.
25. Kings Family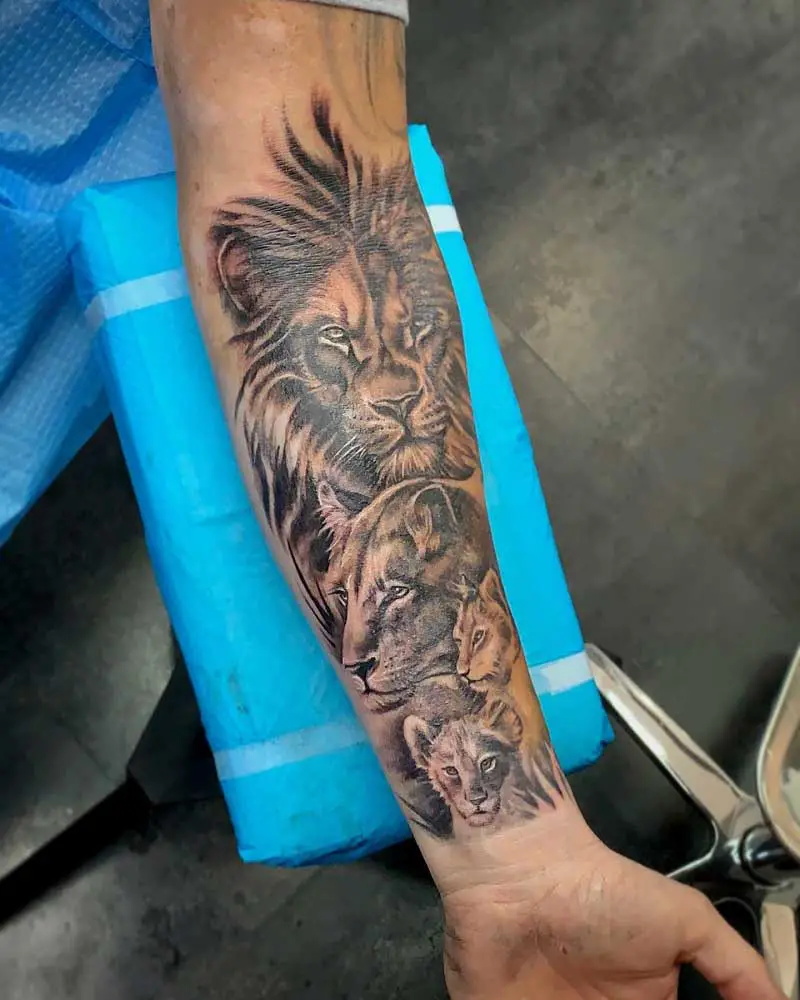 An aggressive father lion is standing tall behind his family. He is providing protection and courage to his calves and also empowers their mother. A solid representation of a family tattoo.
26. Full Back Lion Family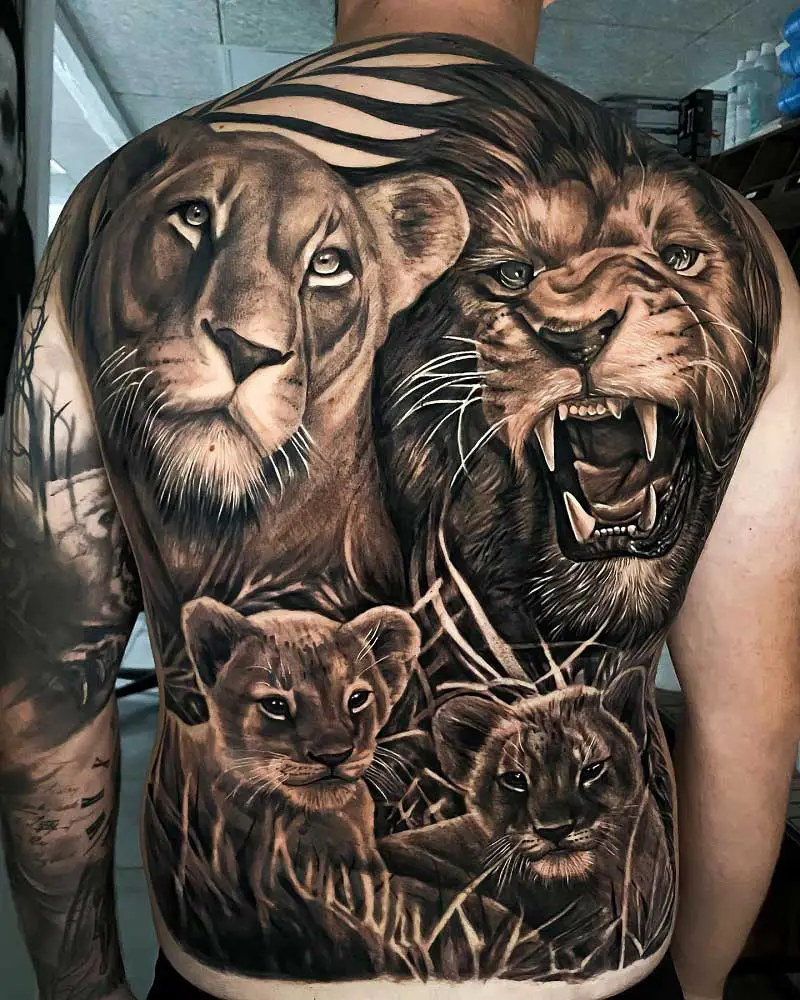 The entire back of this man is covered with a tattoo of a lion's family. The details on this tattoo are mind-blowing. It also shows the angry nature of the father lion.
27. Fatherlike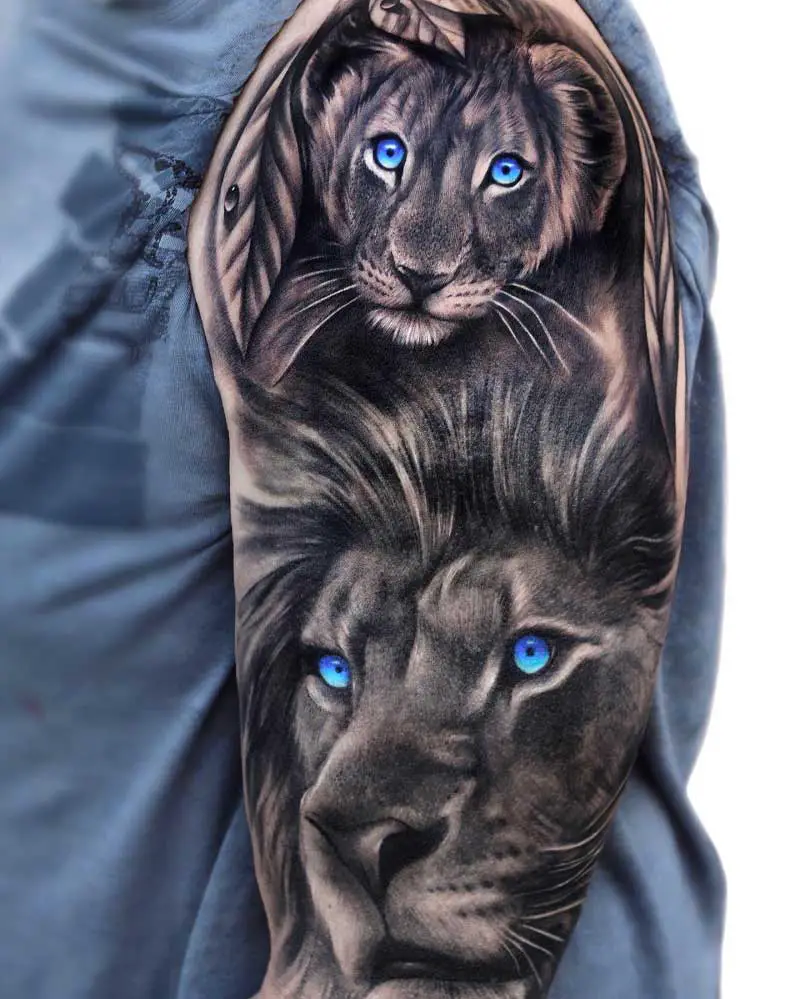 The baby lion has the same colored eye just like his father. He is on his father's back which shows the patience of his father. A tattoo that encourages the man to become just like his father.
Small Family Tattoos
Smaller family tattoos are often drawn on forearms, the back of the neck, or near the joints. They are quick and simple to get. If you are a minimalist lover they are a perfect fit for you.
28. Baby Elephant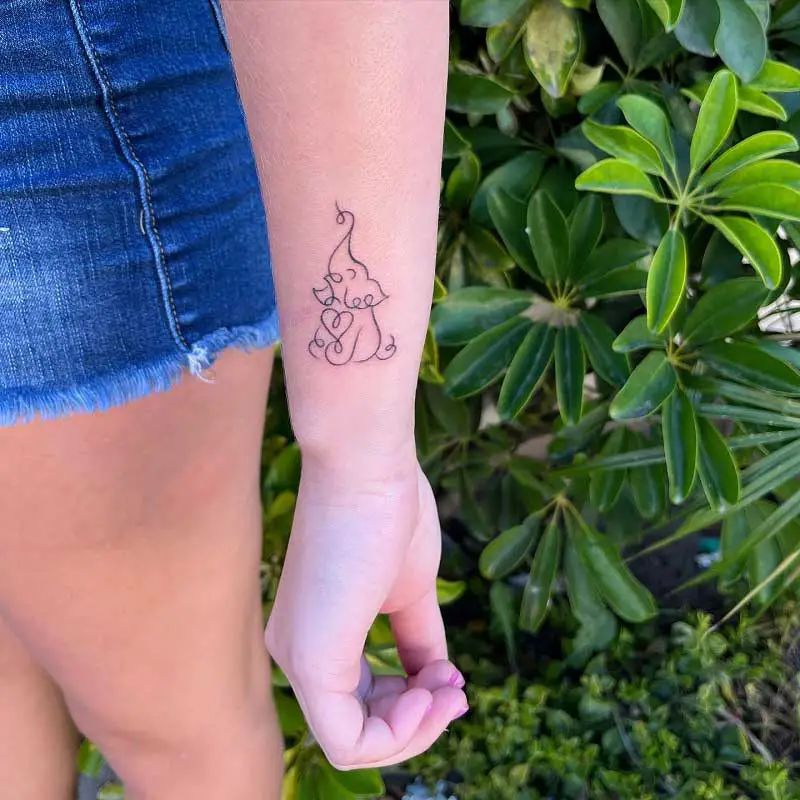 A baby elephant is drawn with just thin lines. There is a heart symbol in the middle of the elephant. It rests gently on the side of her hand. It is calling for its daily with its trunk held high
29. Family Doodle
All three member of this family has the same tattoo on their arm. It has a minimal look and looks like a doodle. A fun and clean family tattoo indeed.
30. Birth Years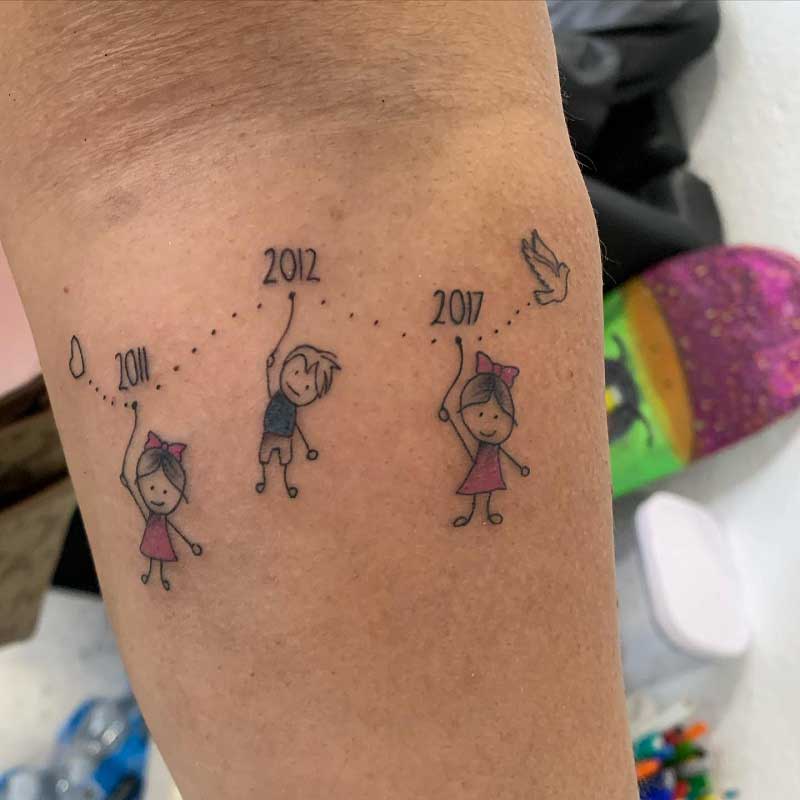 Three kids are hanging on to a string that comes out of their birth year. It shows the journey of their kids. It commemorates the birth of these family members. The dove symbolizes the pure soul of the kids.
Family Name Tattoos
Sometimes names are also used in family tattoos. They add a more personal touch to the design. They are also used to show devotion towards that person.
31. Shaded Rose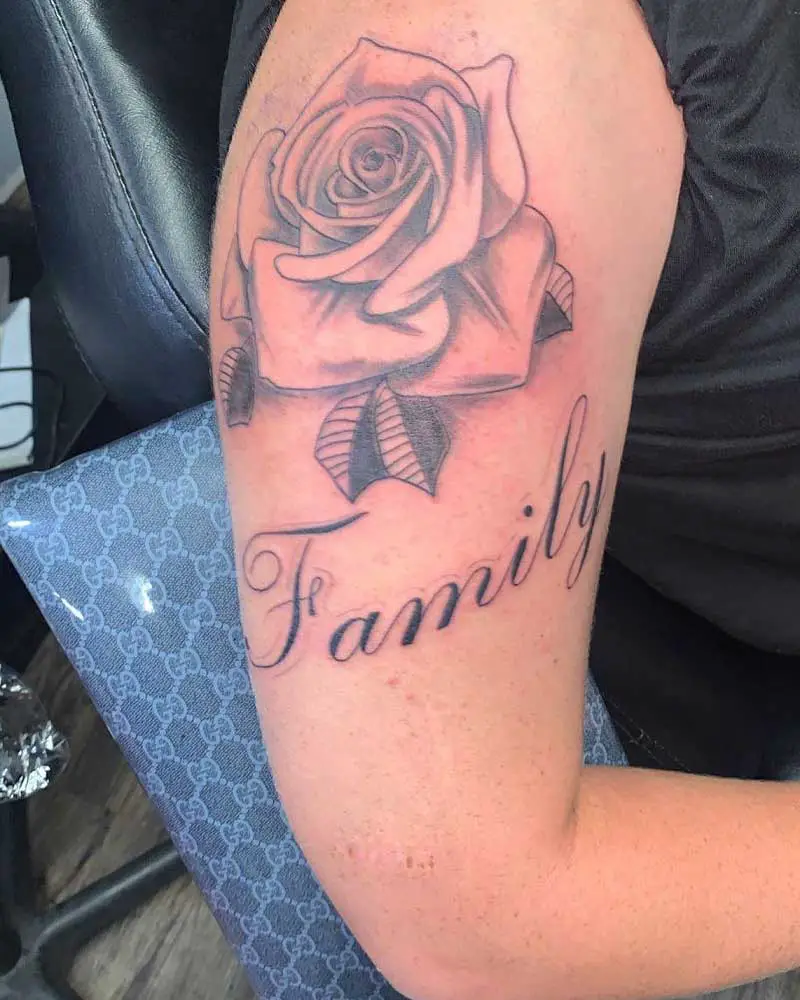 The shadows on this rose add some extra dynamics to this tattoo. The word family is inked in huge font. It means that she devoted the piece to her entire family.
32. Child's Name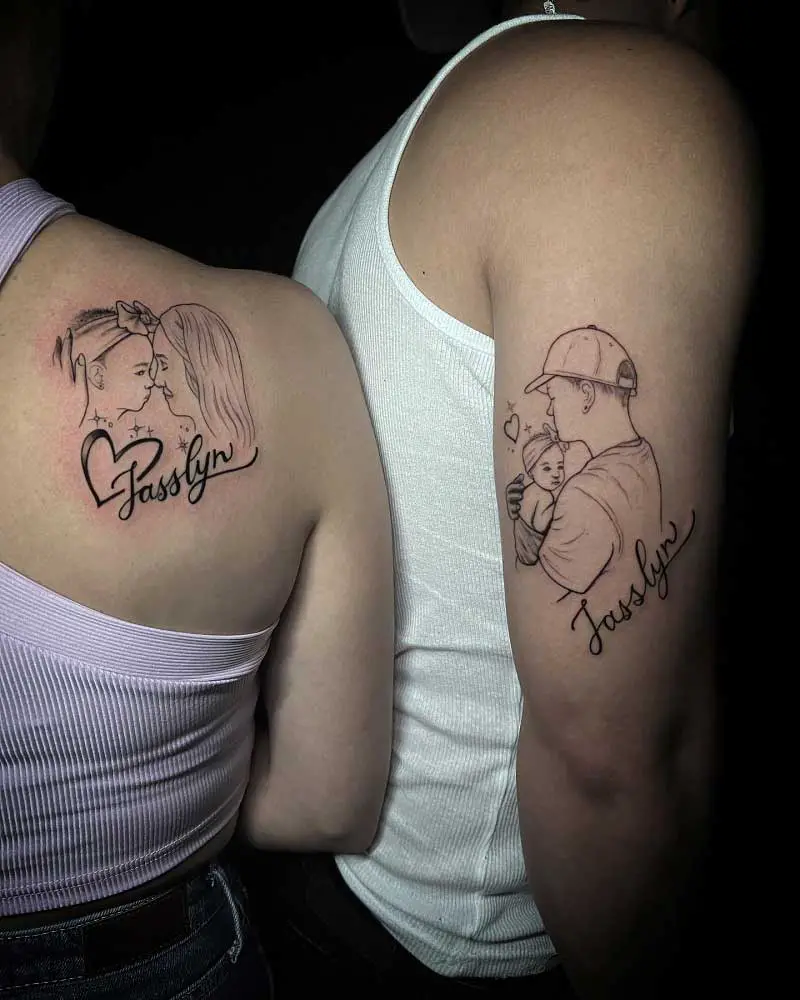 Both the parents have a tattoo of their daughter. The mother has the tattoo on her back and the father has it on his arms. It shows the massive amount of affection they have for their kid.
33. Zoe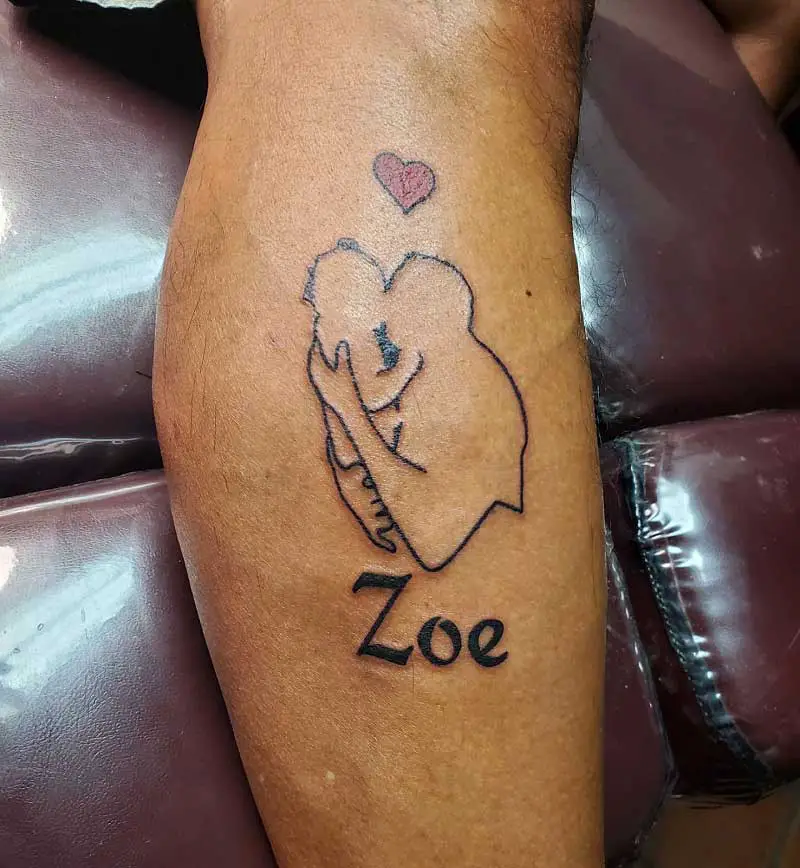 The name Zoe is written on this tattoo. A father can be seen holding his daughter and kissing her. There is a red heart on the very top of this tattoo. A father's love can be clearly seen in this tattoo.
Family Heart Tattoo
Heart symbols are very common in family tattoos. When a heart is used to portray the majority of a family tattoo it is considered a family heart tattoo. Love and family go well with each other.
34. Father Figure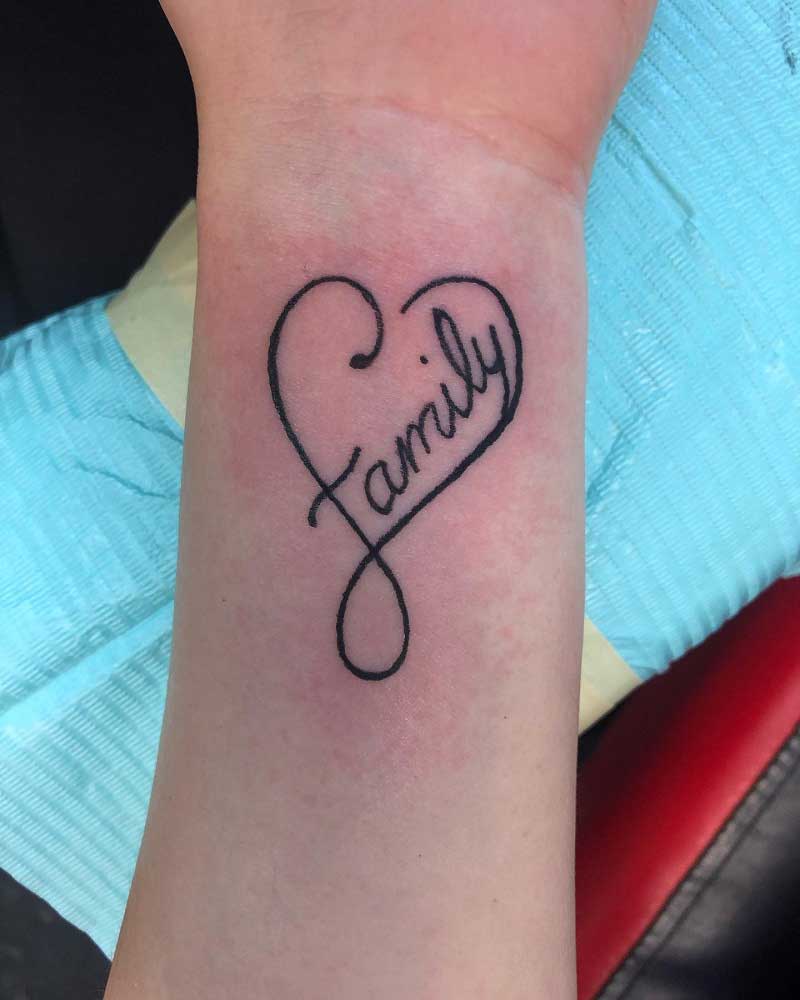 The letter "F" extends and curves around the rest of the word. It is guarding the rest of the family. The f symbolizes a father trying to guard his family.
35. Flower In Darkness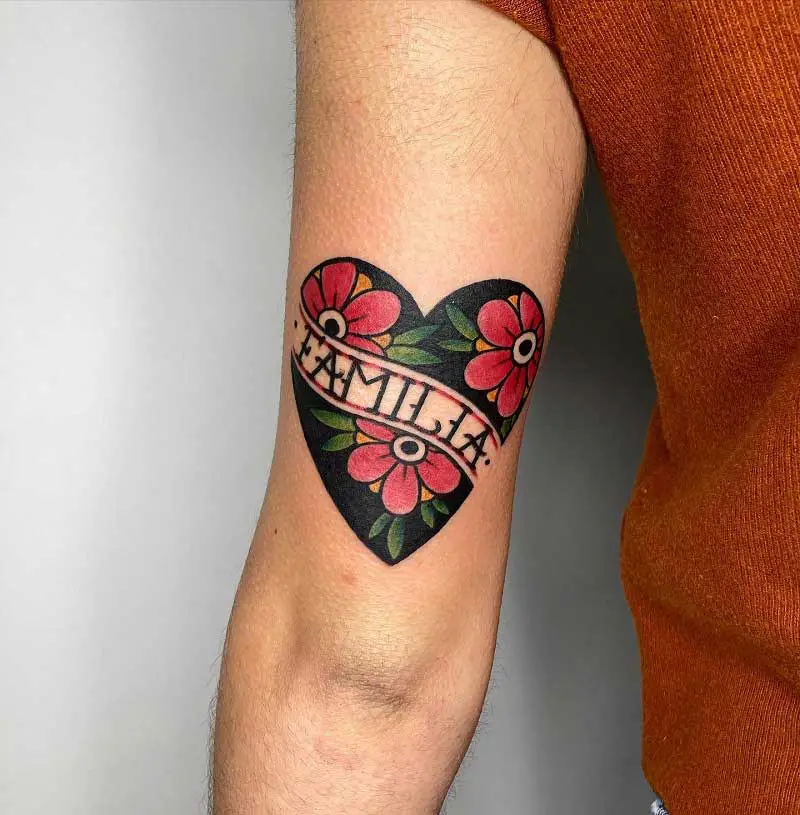 Three flowers are behind a ribbon that says the word family. The pitch black color creates a heart shape which represents the emptiness he feels without his family.
36.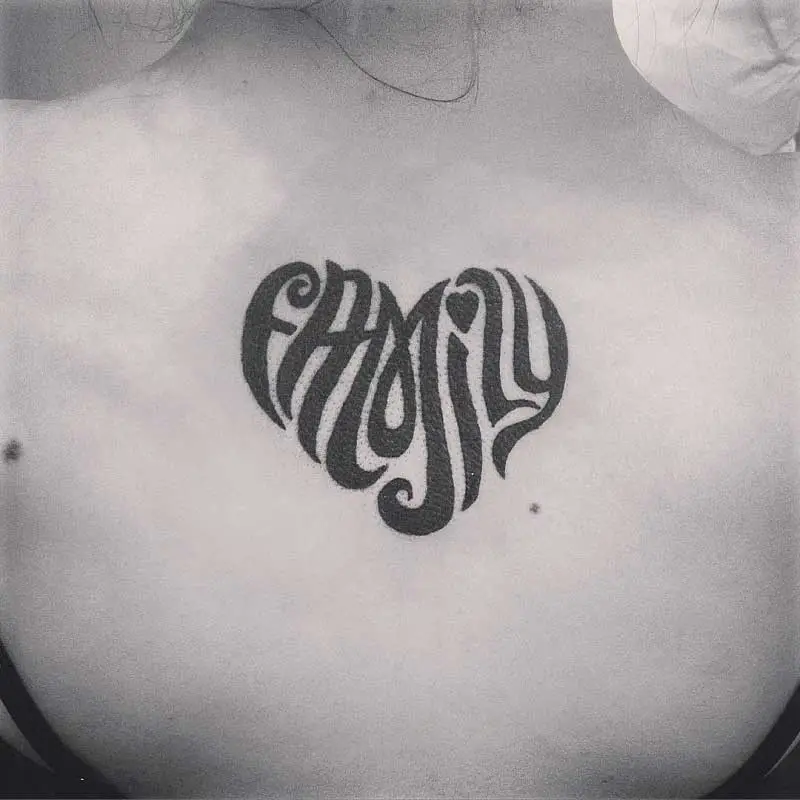 Family Tattoos On Arm
37.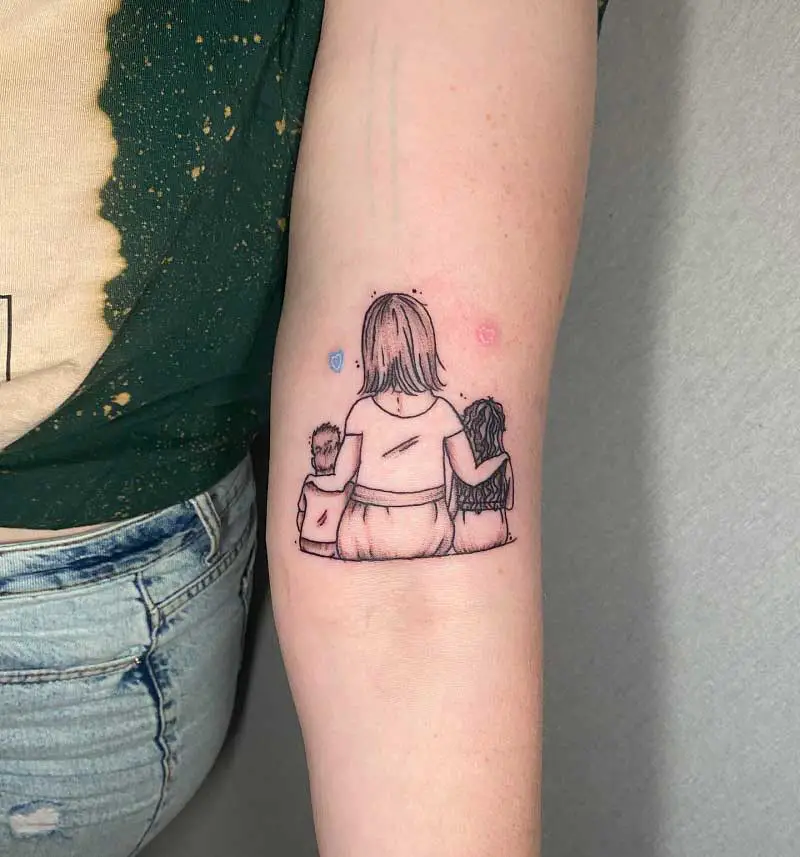 38.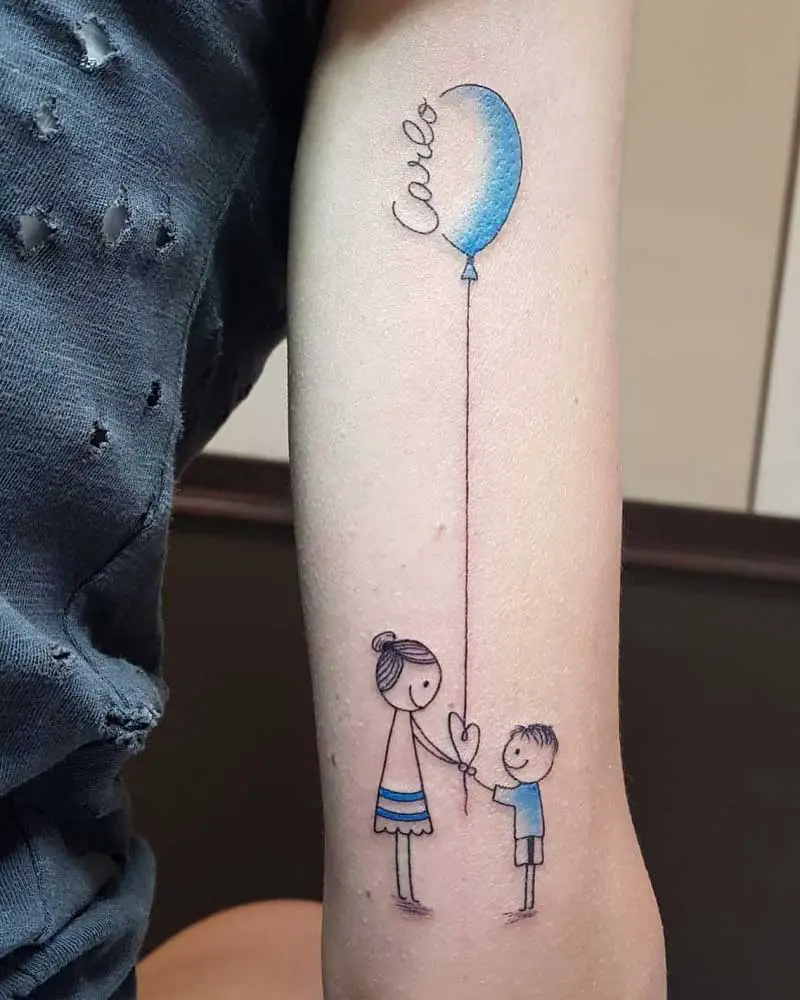 39.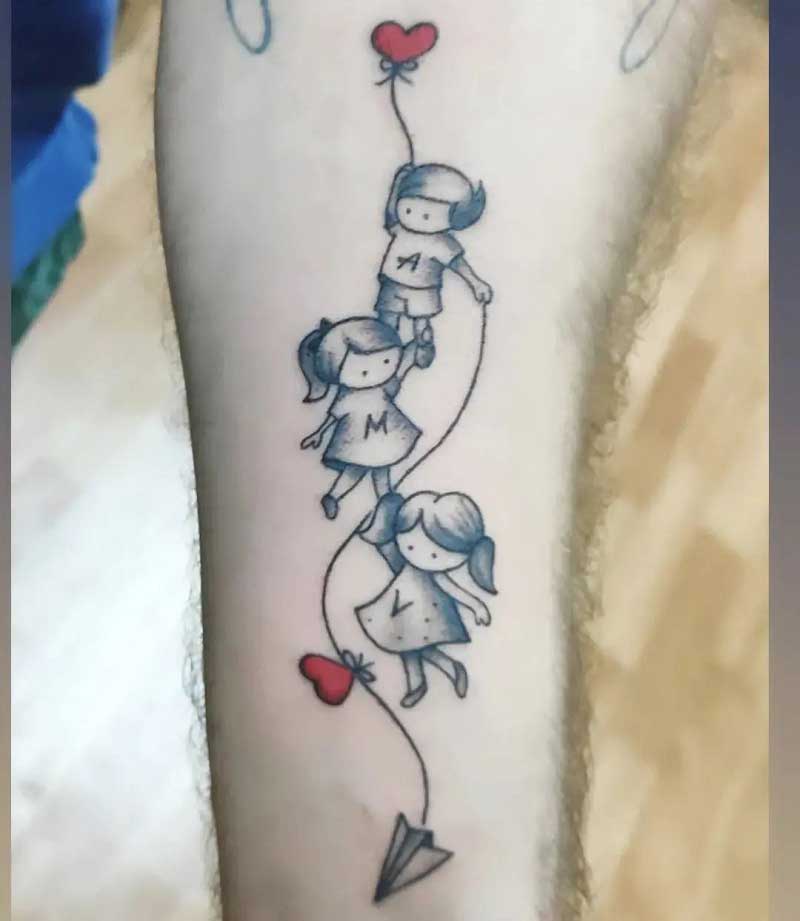 Family Wolf Tattoo
40.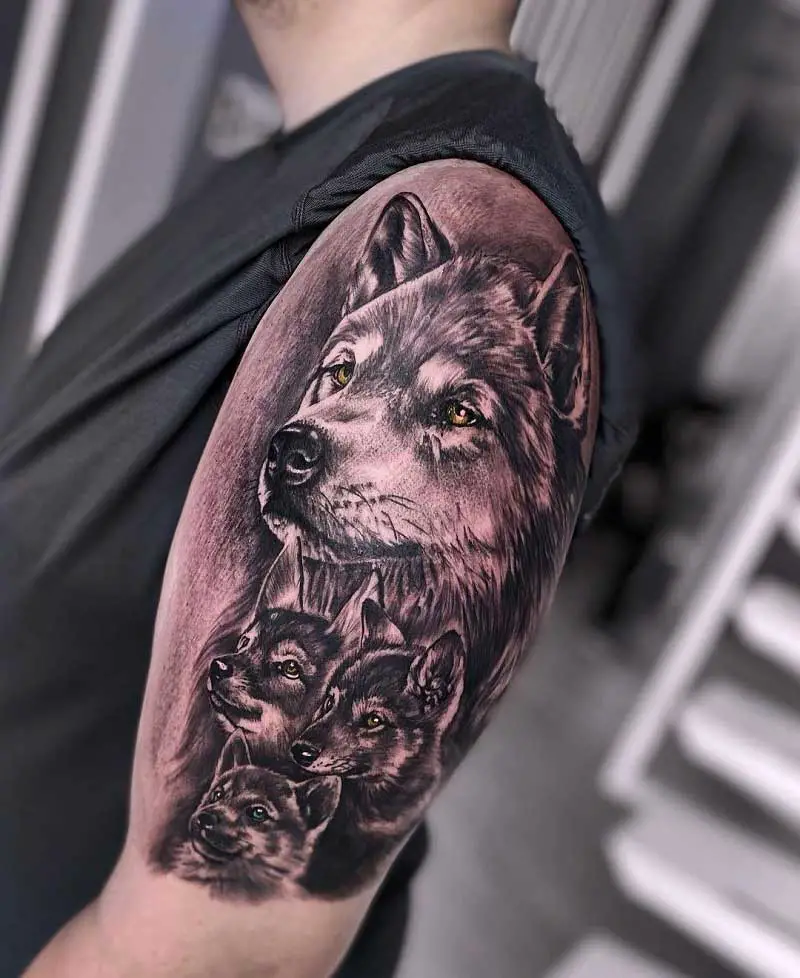 41.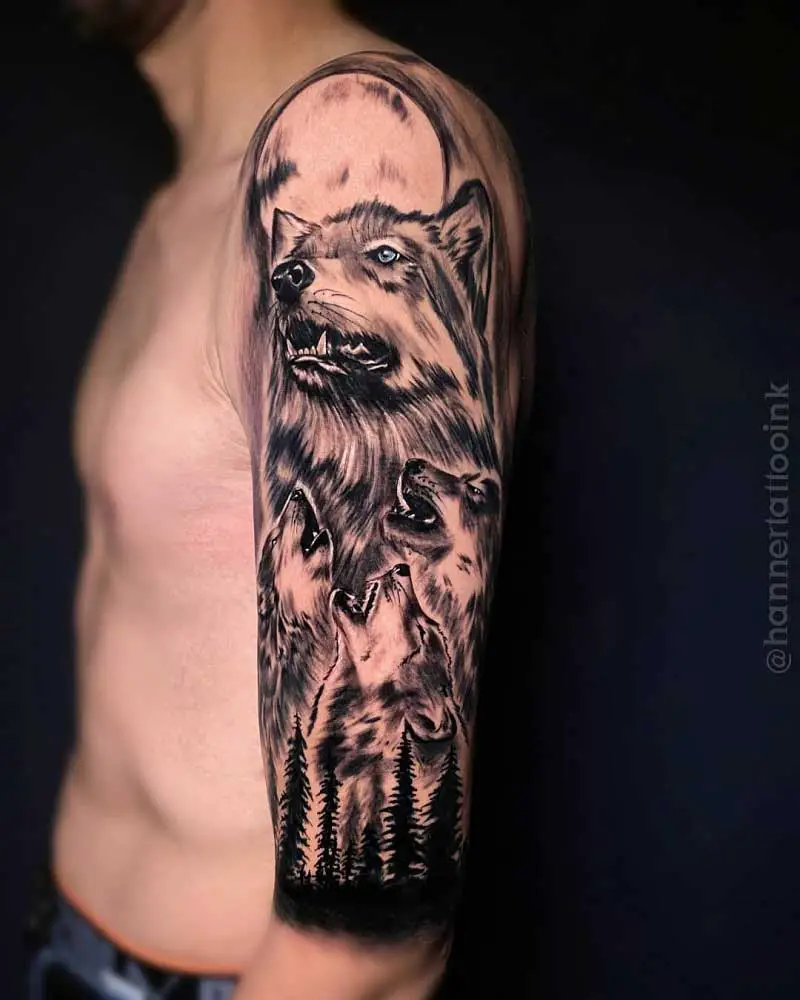 42.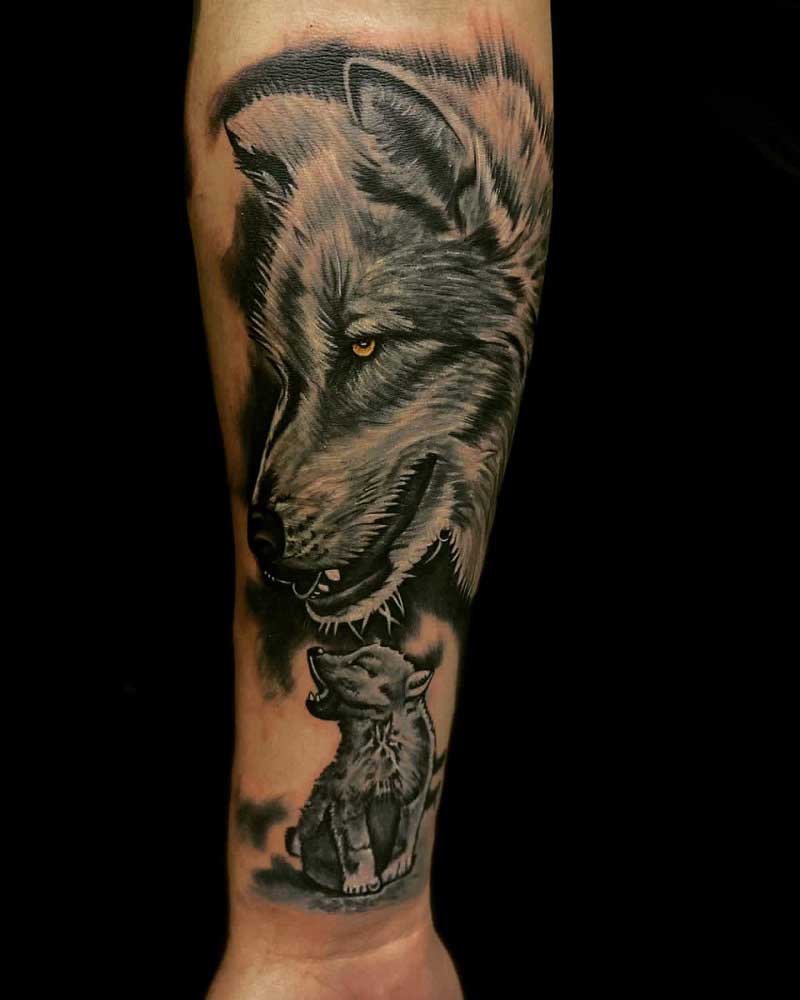 Family 3 Birds Tattoo
43.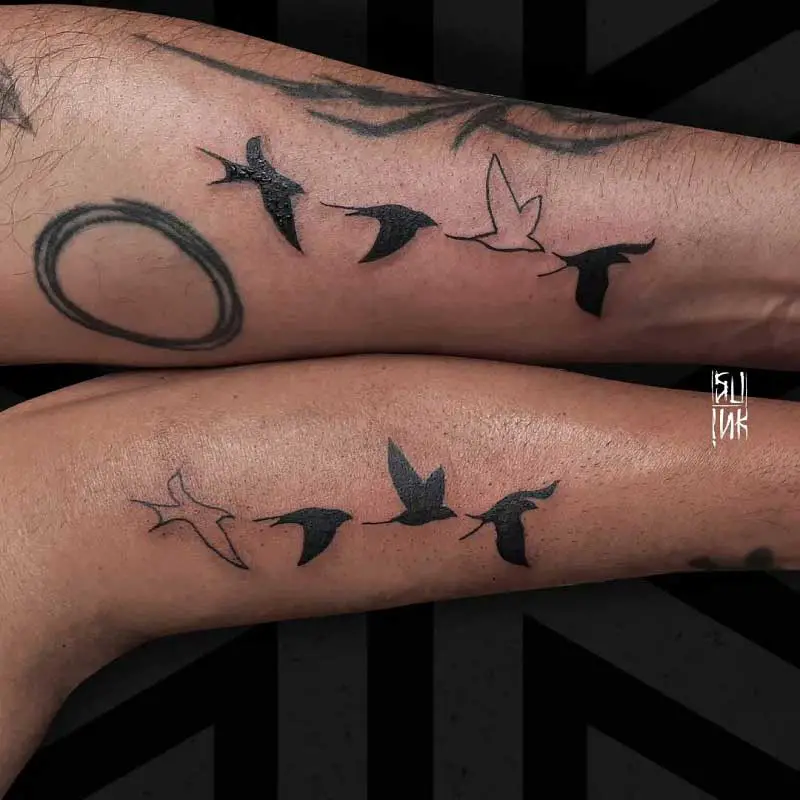 44.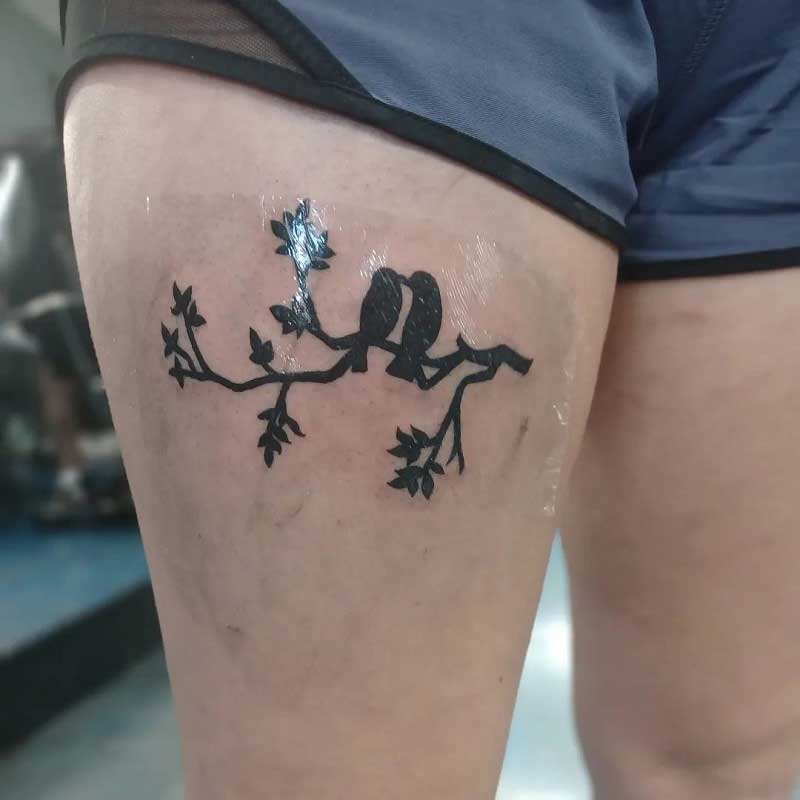 45.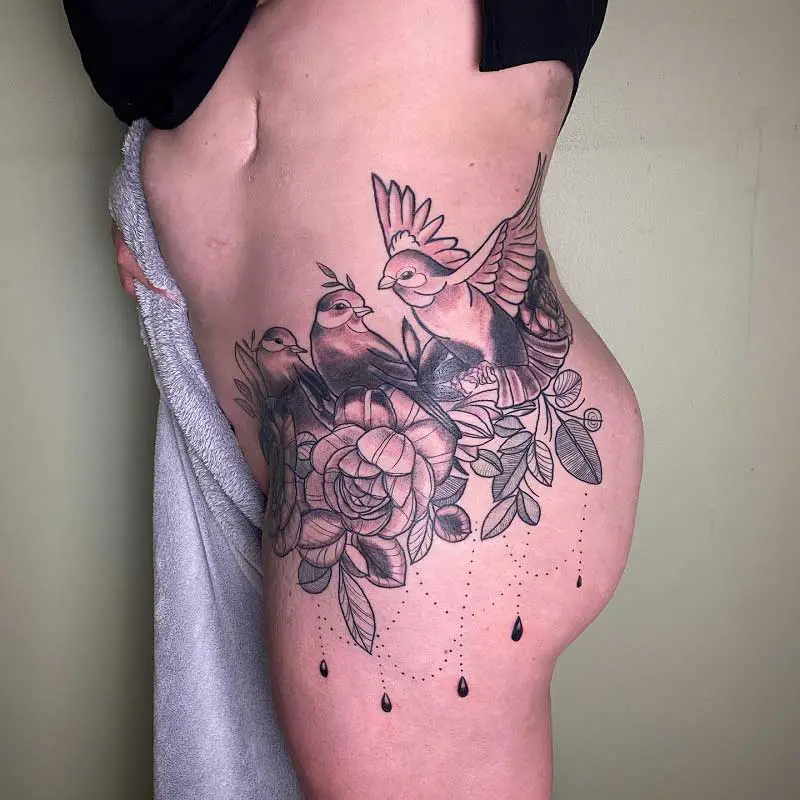 Family Brother And Sister Tattoos
46.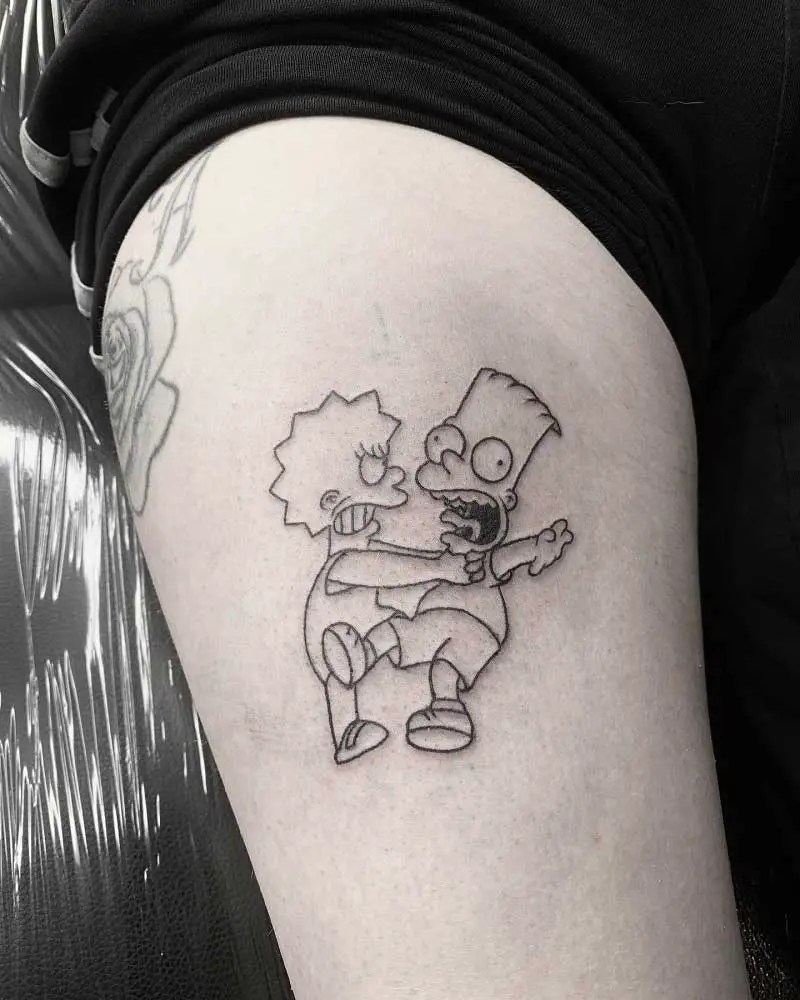 47.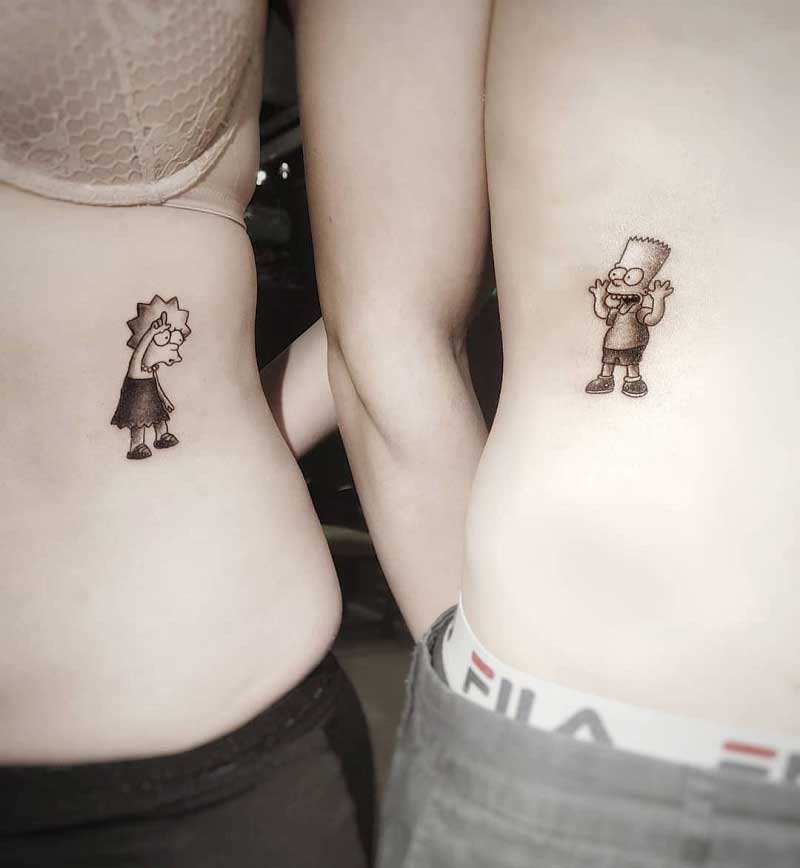 48.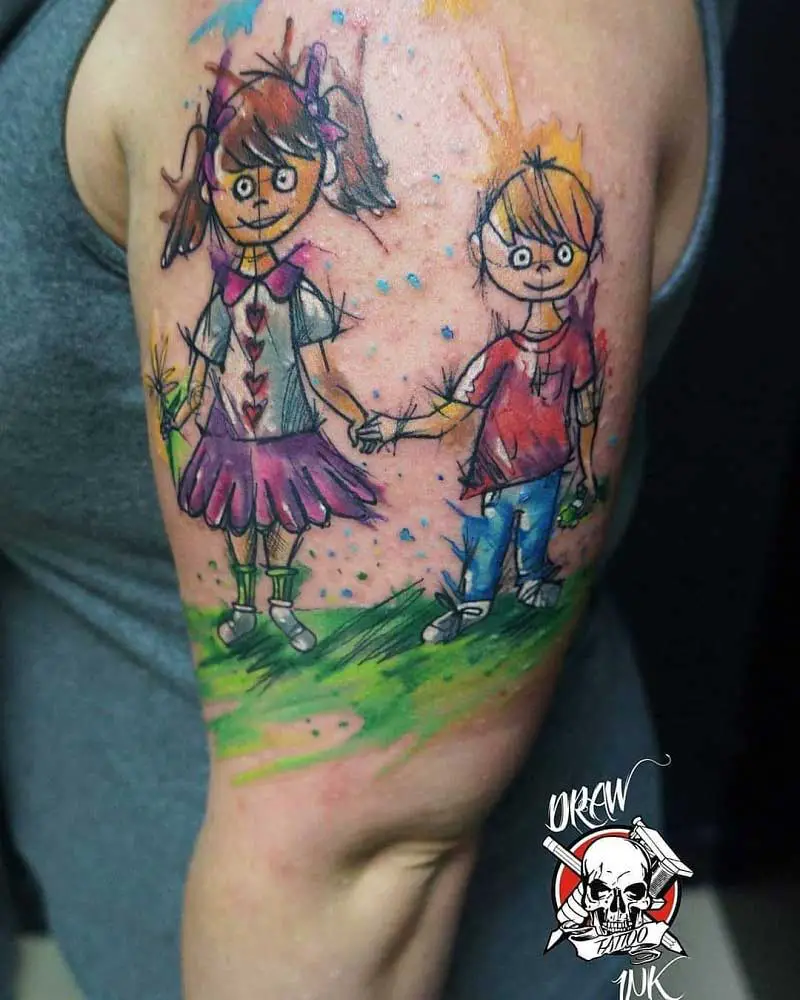 Family Matching Tattoos
49.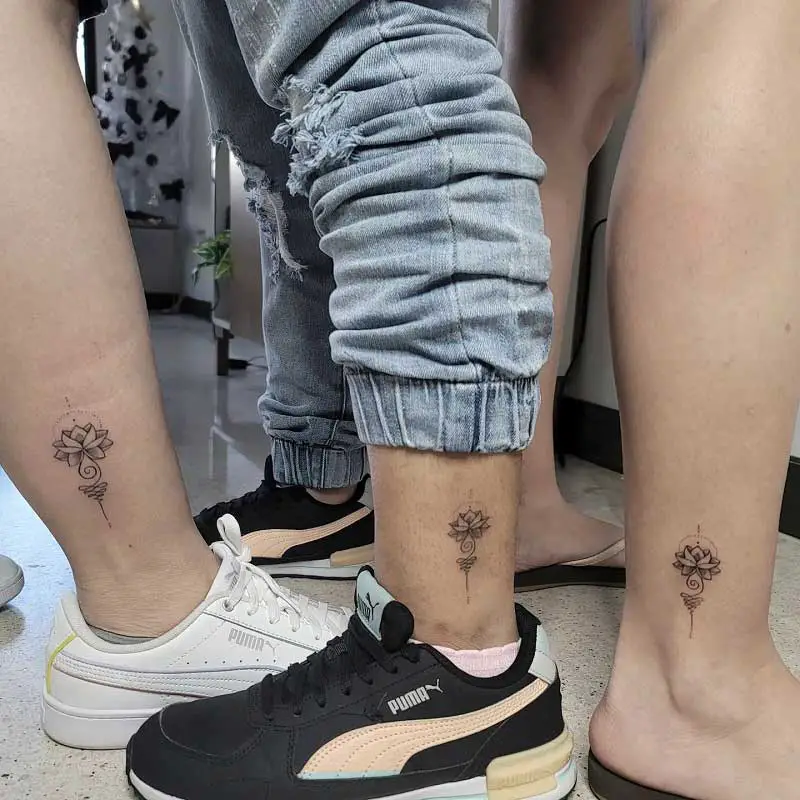 50.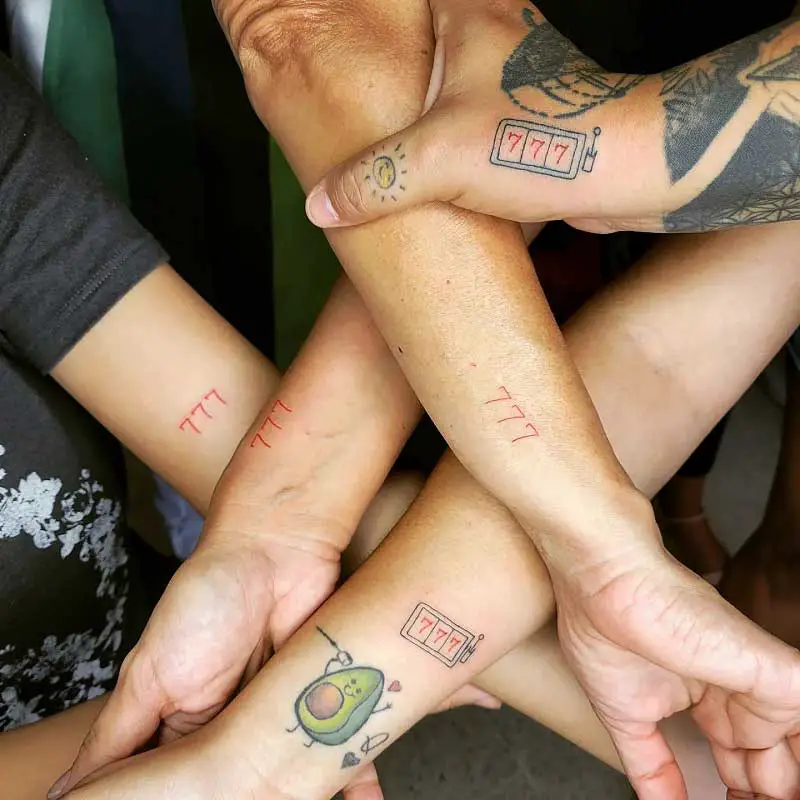 51.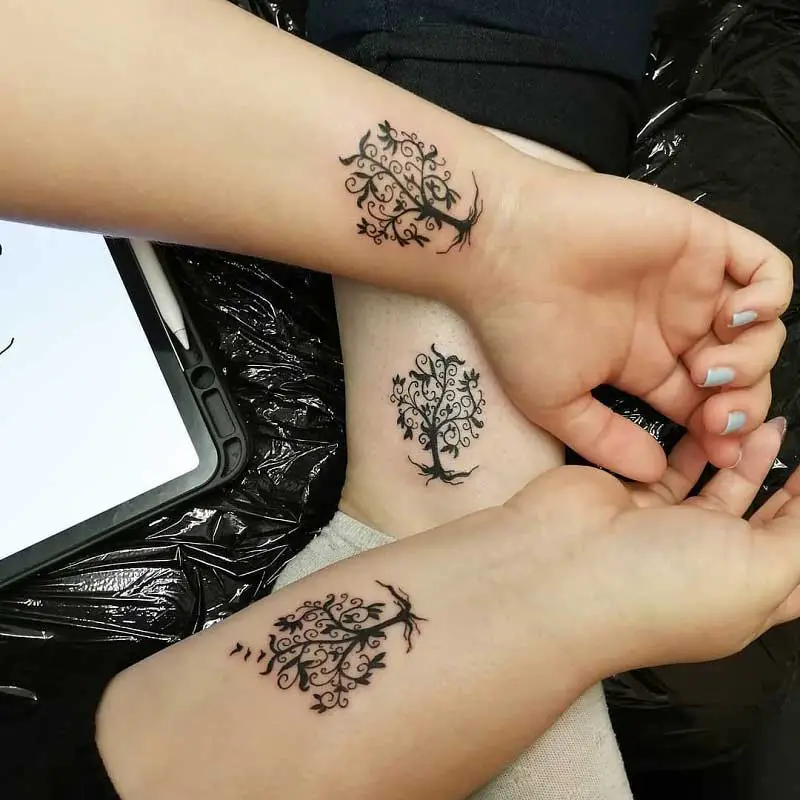 Chinese Tattoo Family
52.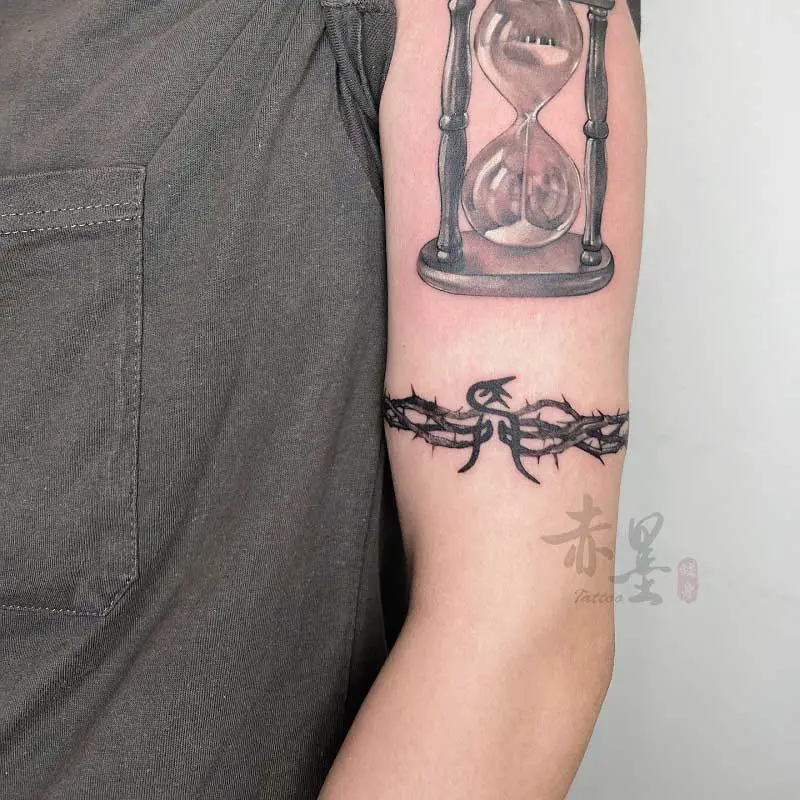 53.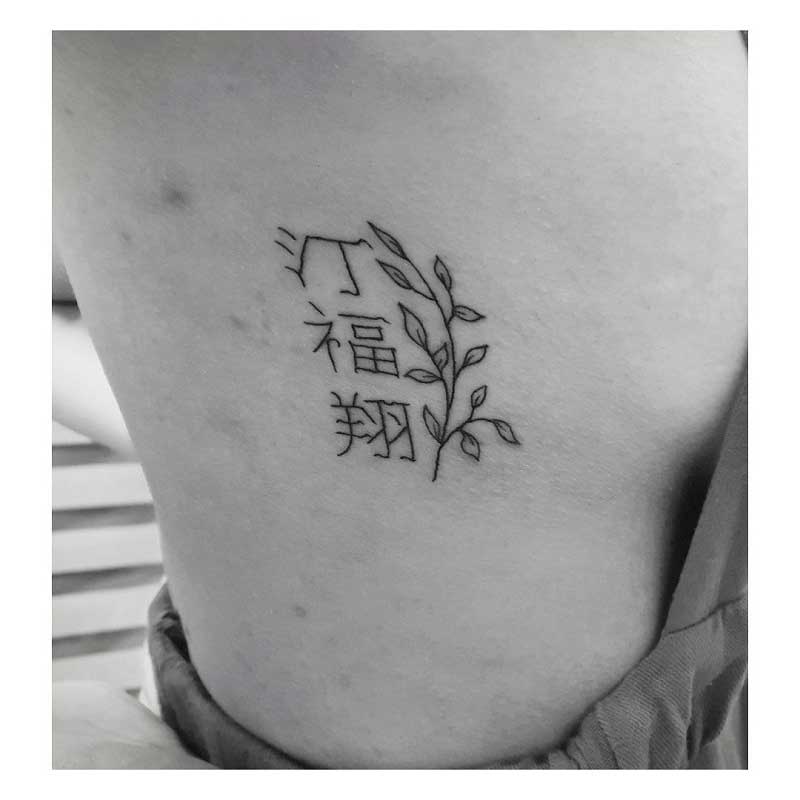 54.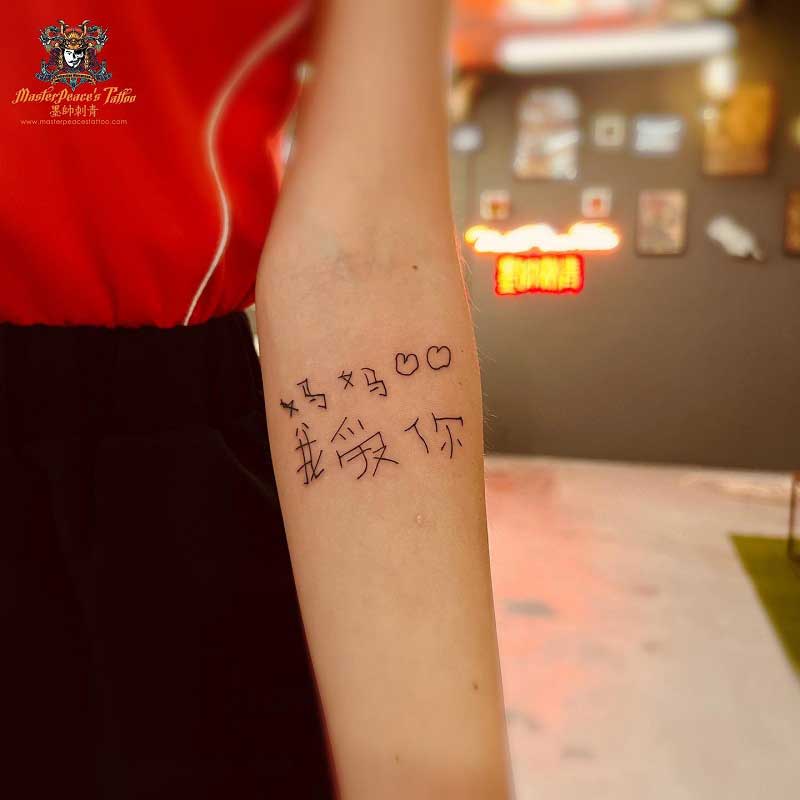 Family Birthstone Tattoos
55.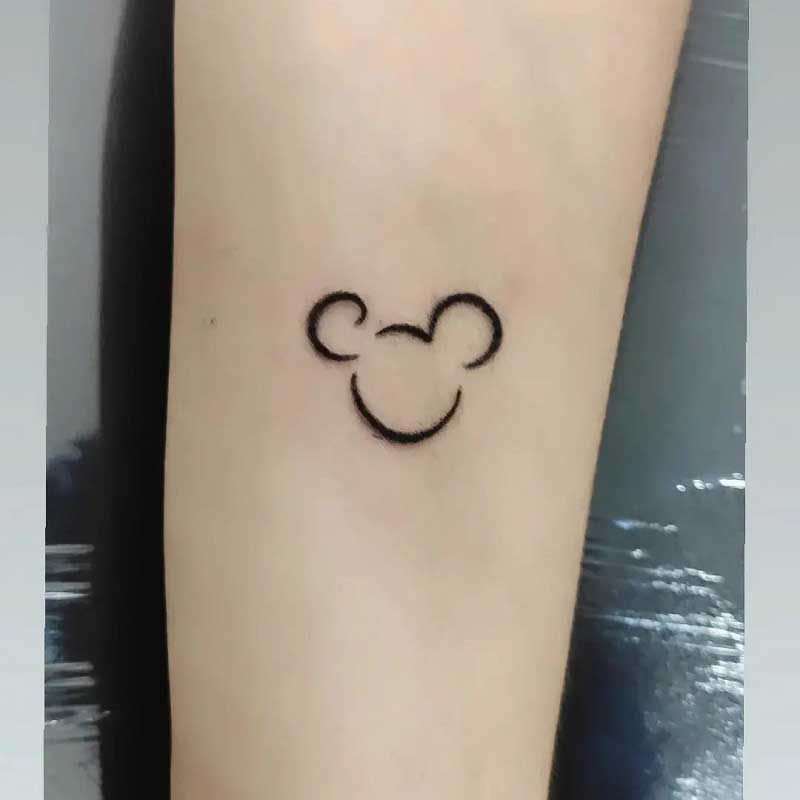 56.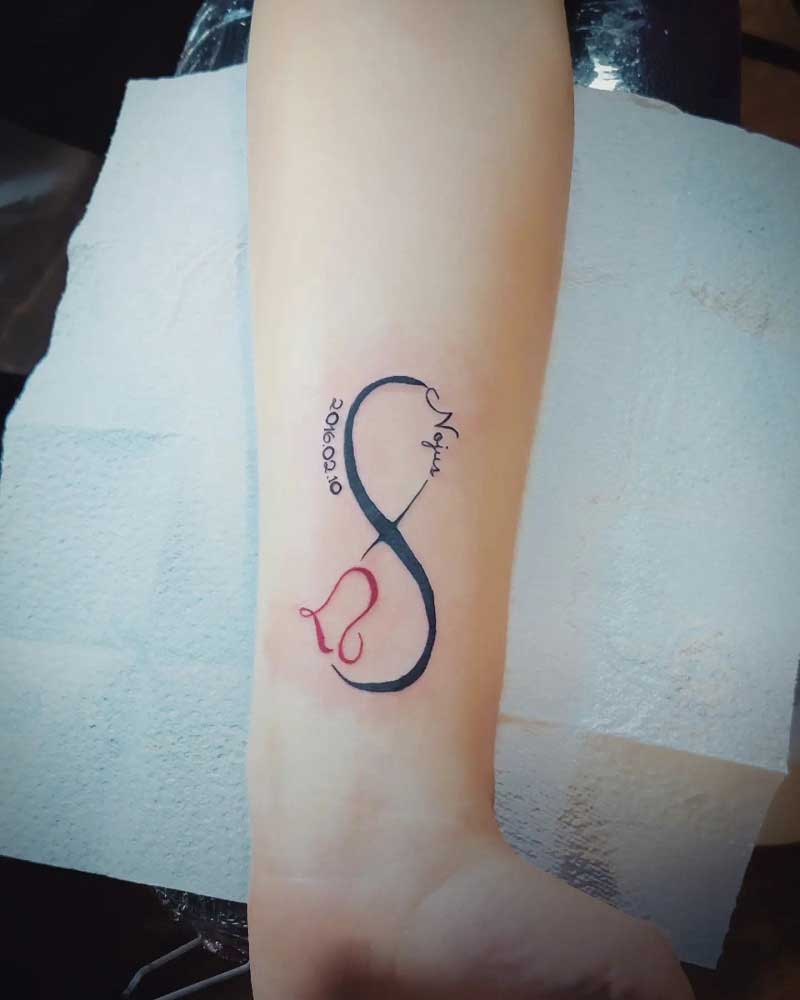 57.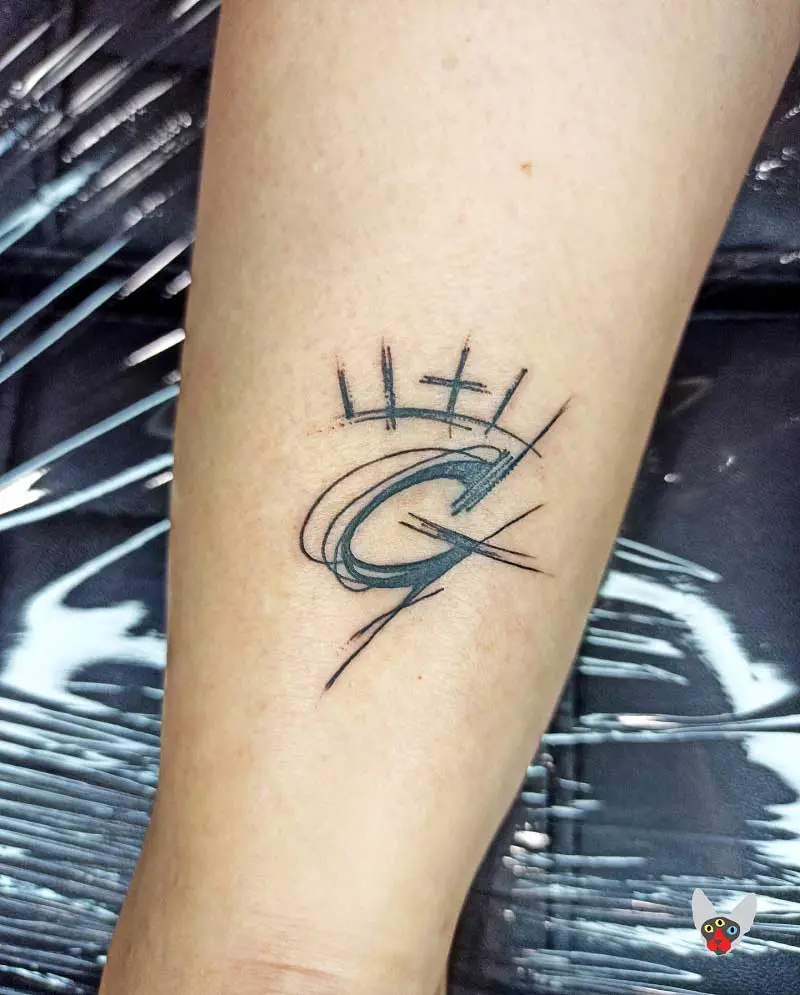 Family Hand Tattoo
58.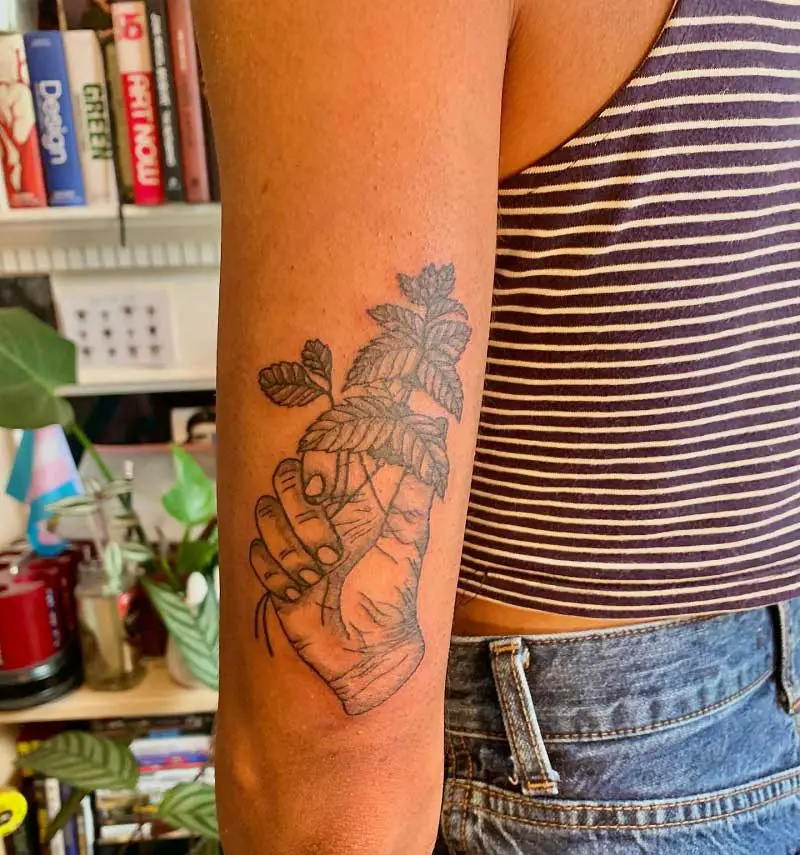 59.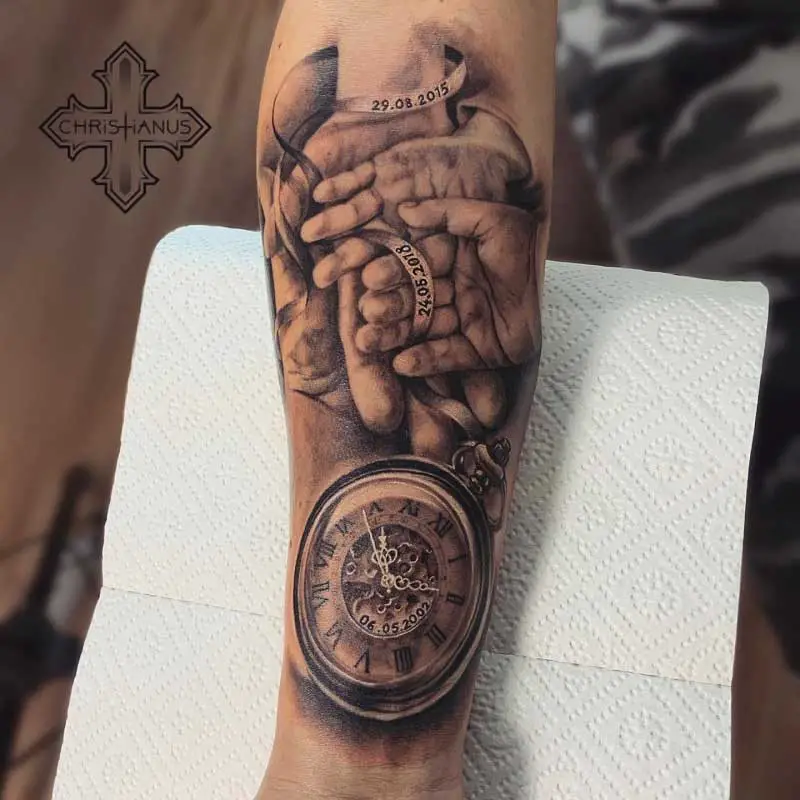 60.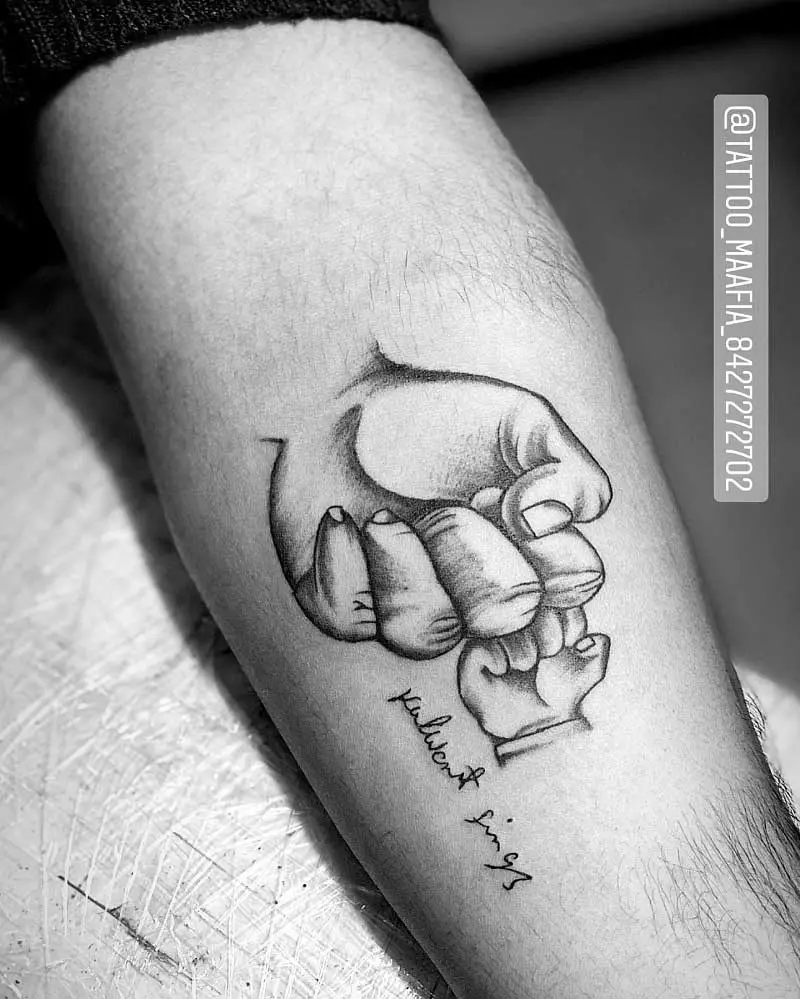 Family Protector Tattoo
61.
62.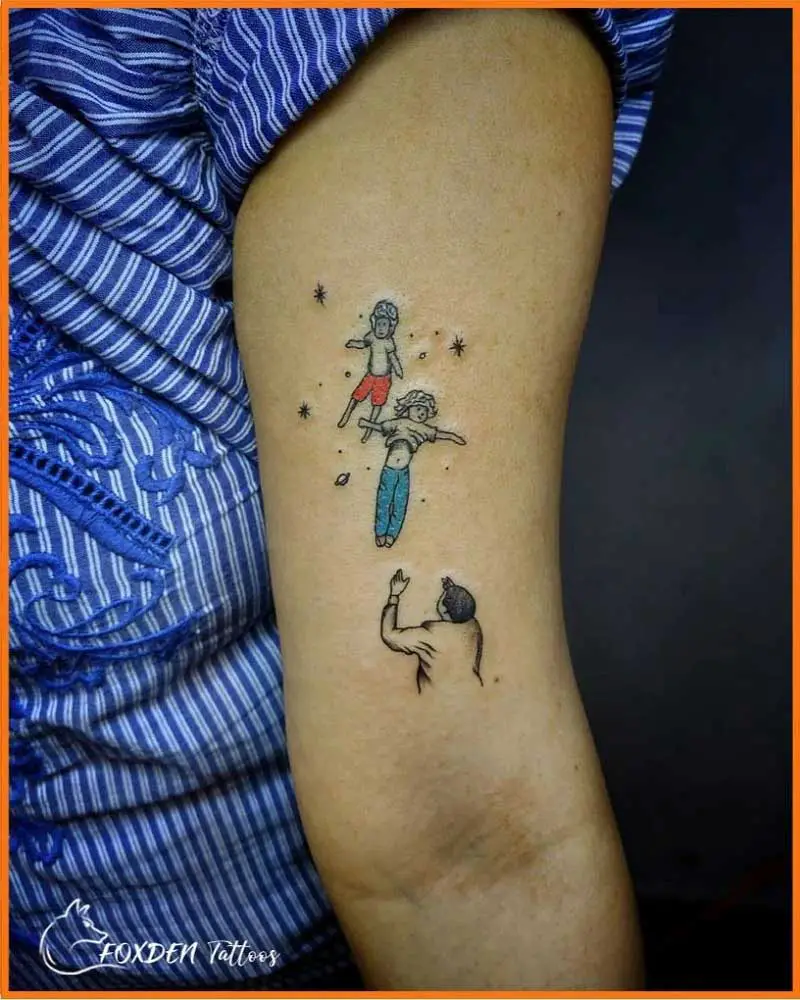 63.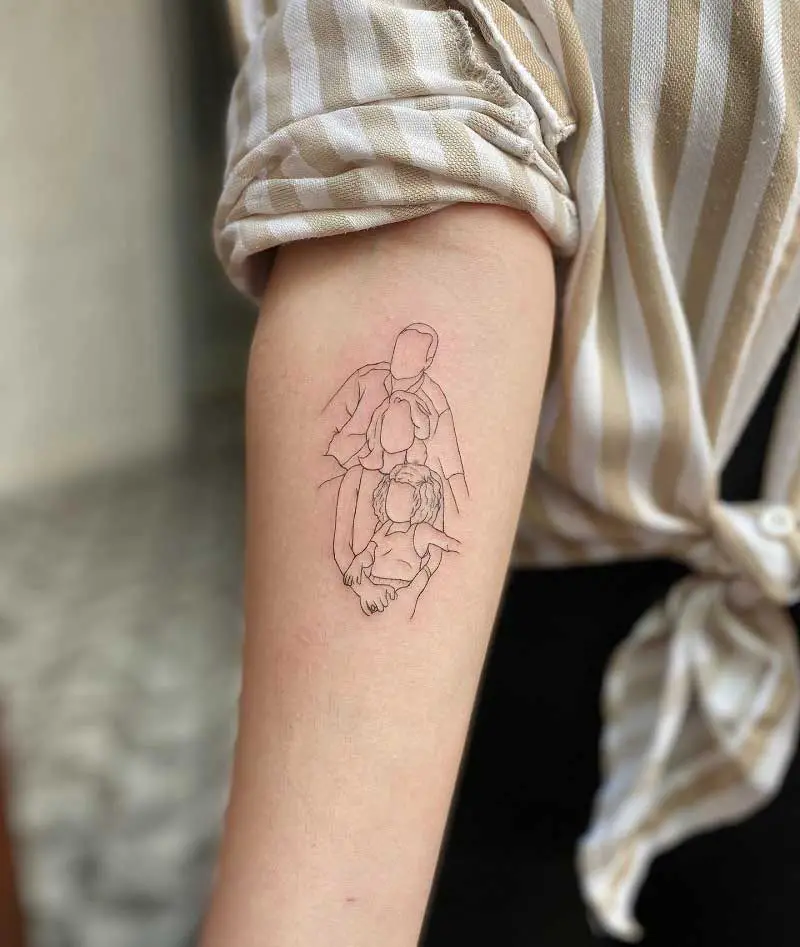 Family Tattoo Japanese
64.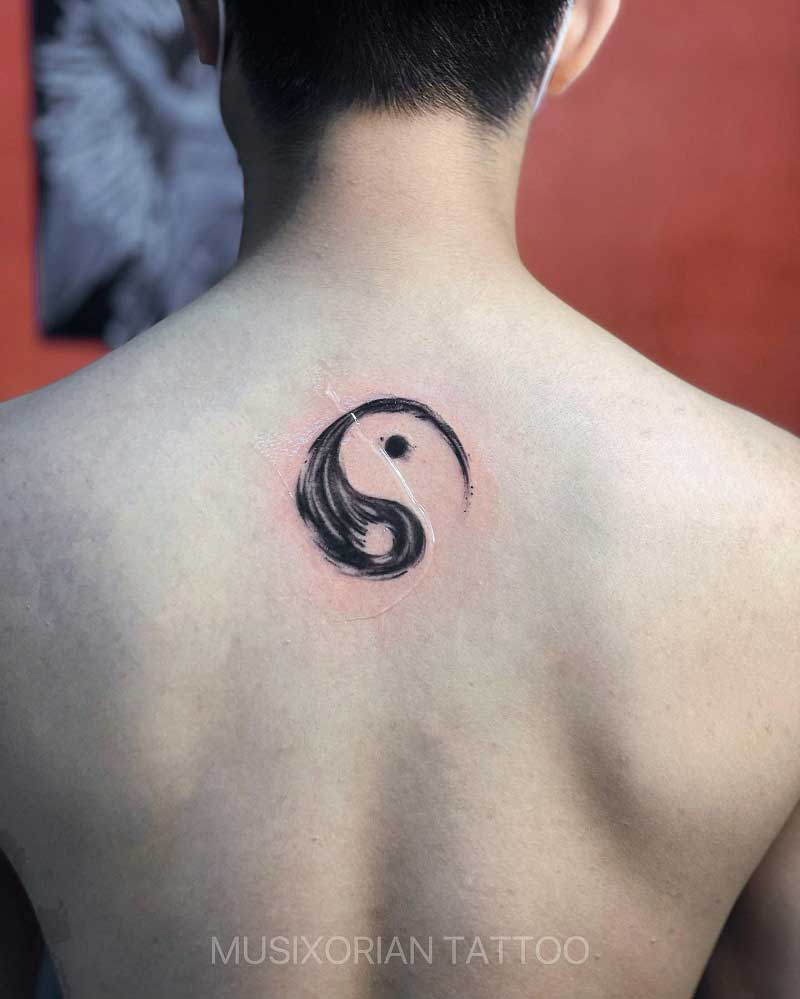 65.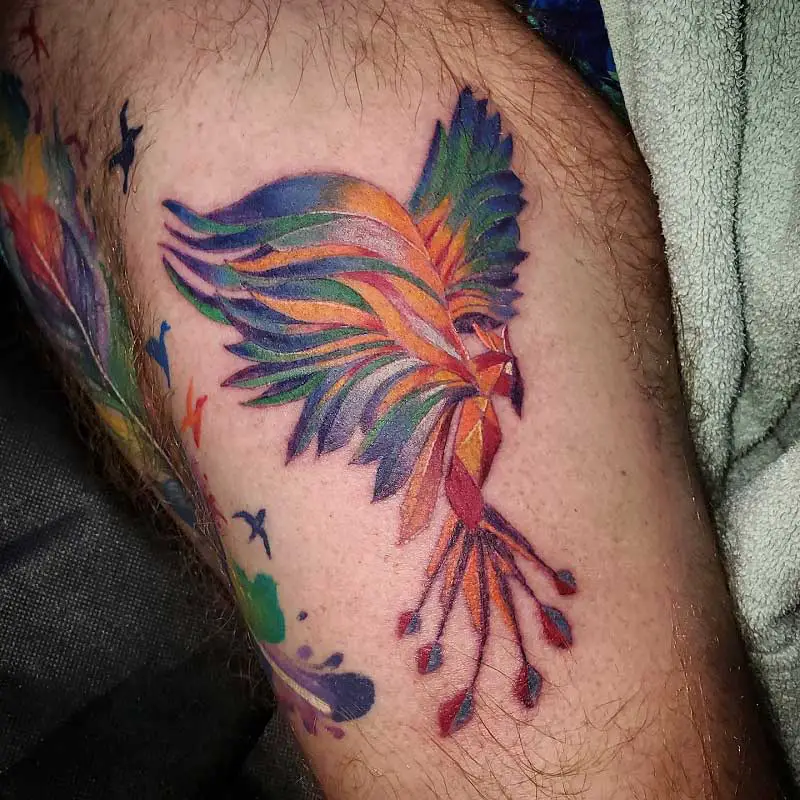 66.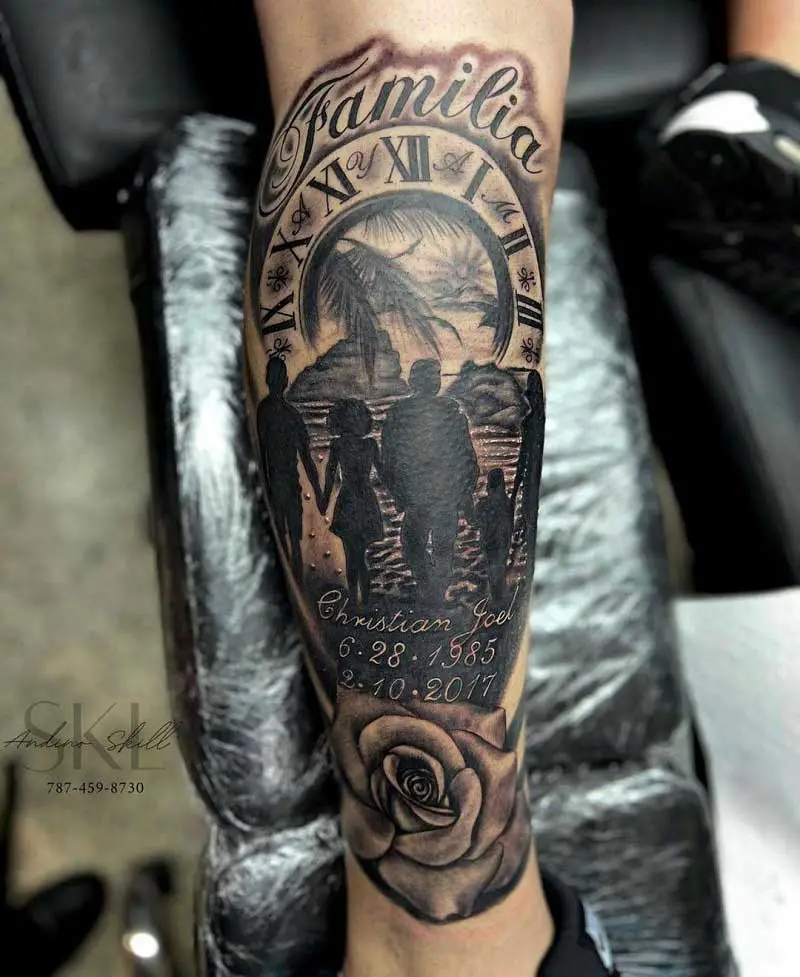 Family Tribal Tattoo
67.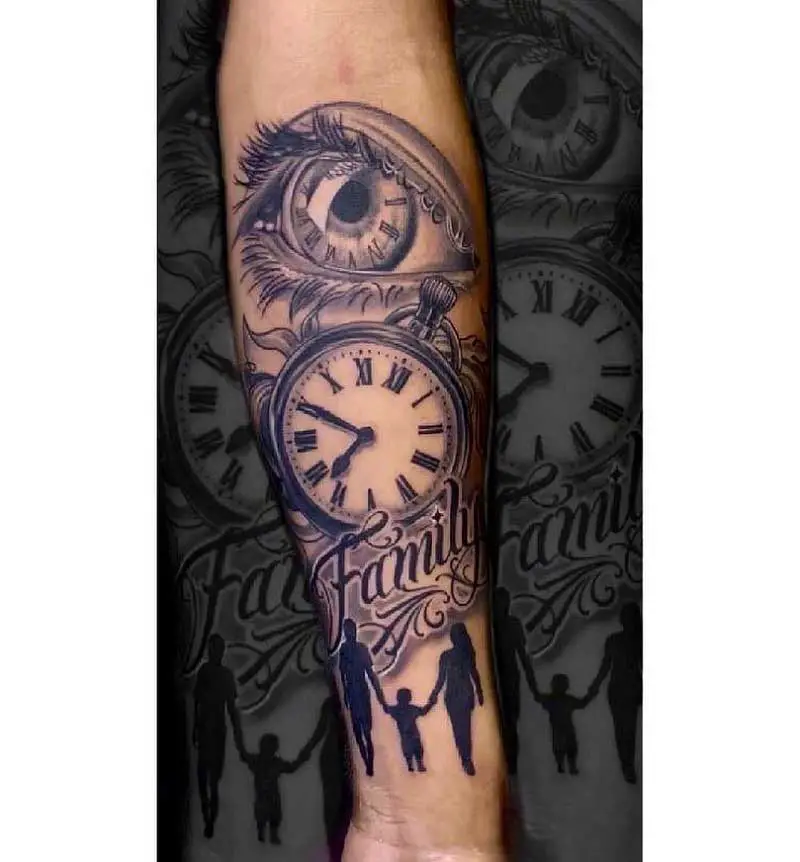 68.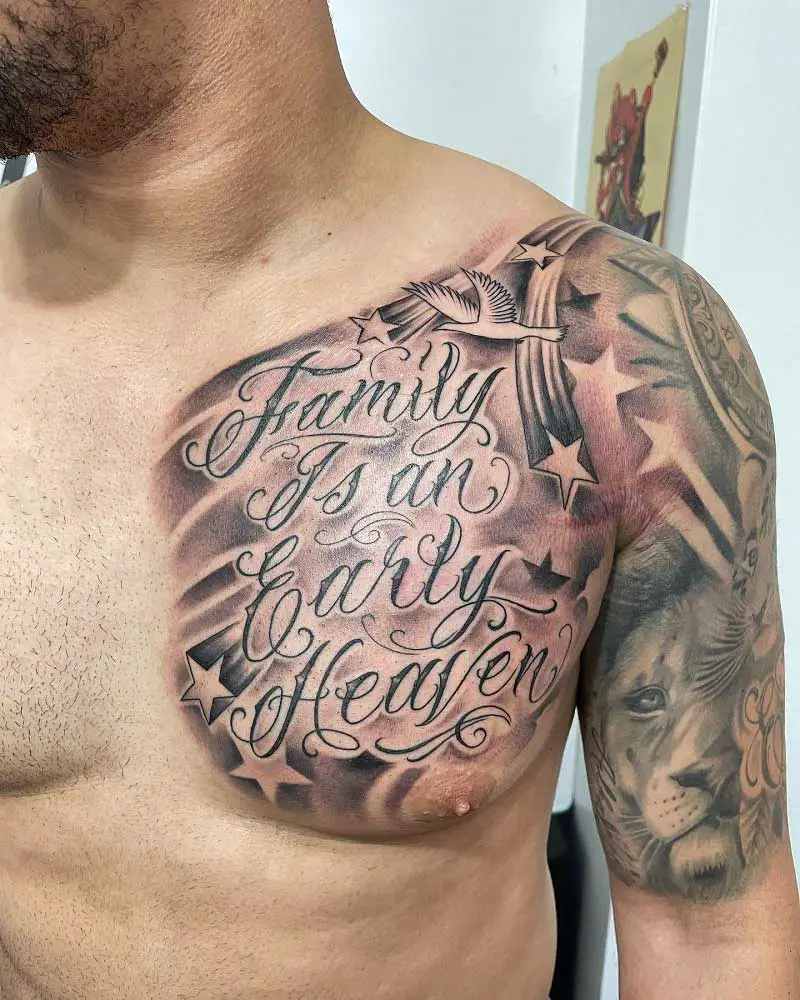 69.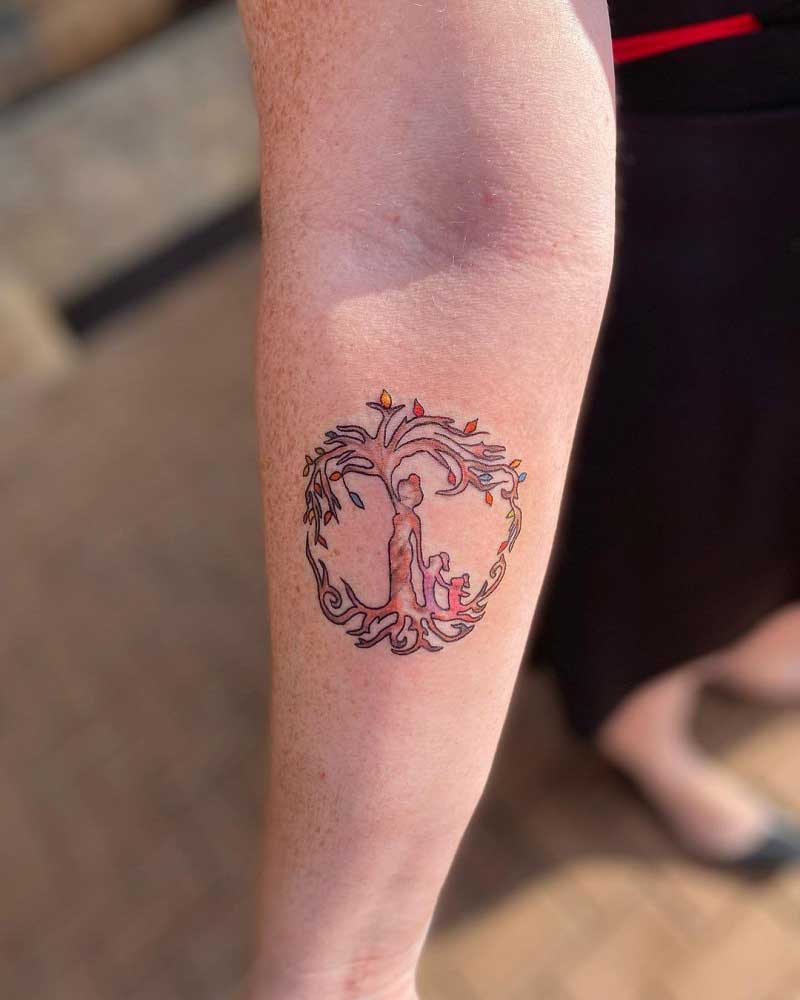 Only The Family Tattoo
70.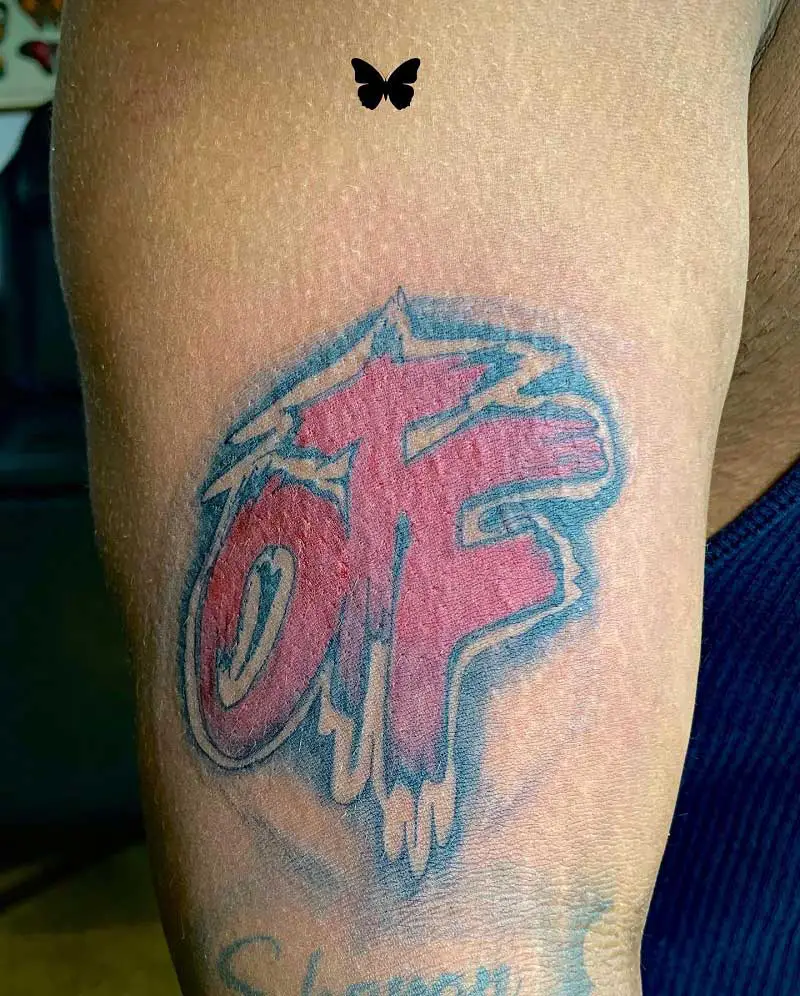 71.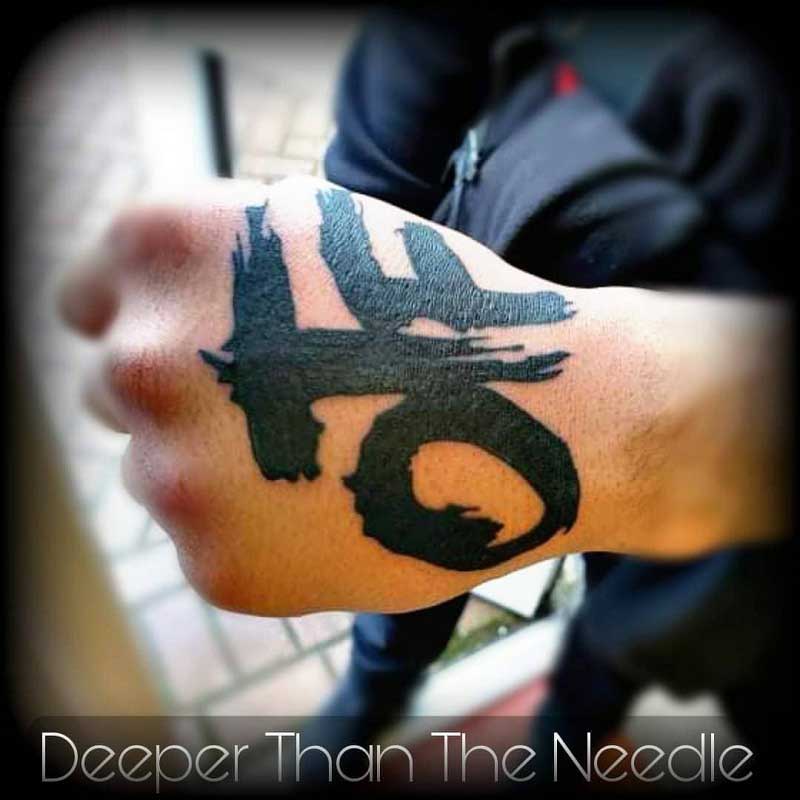 72.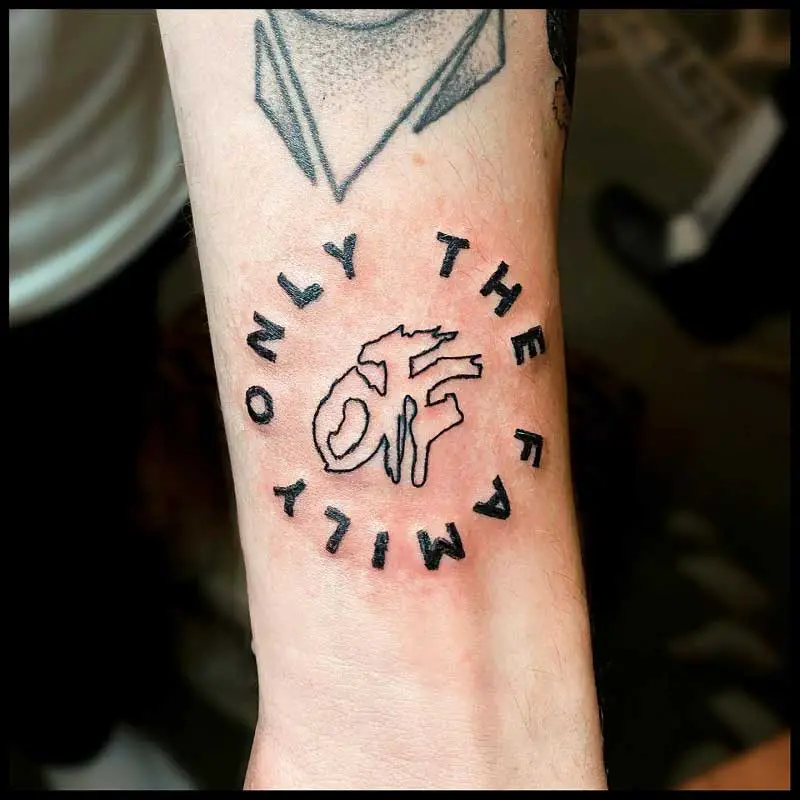 Bear Family Tattoo
73.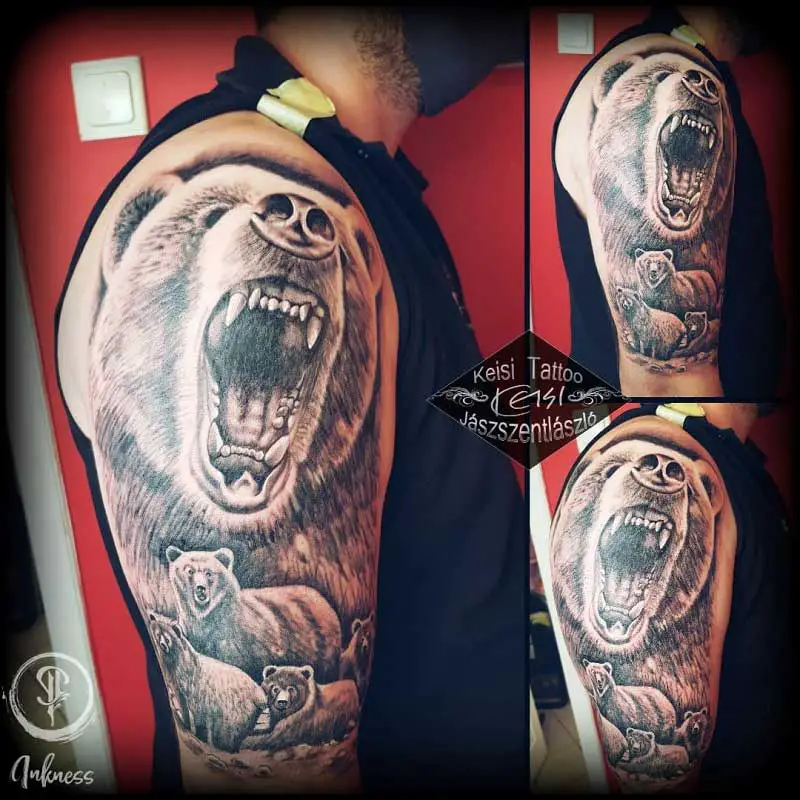 74.
75.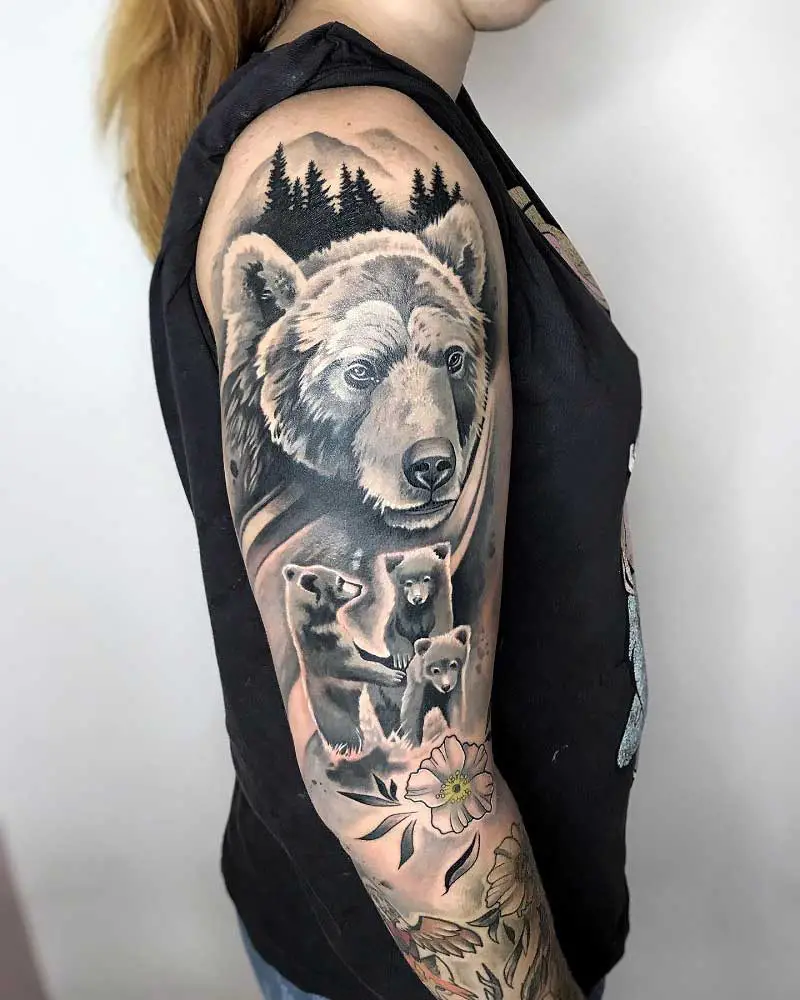 Bird Family Tattoo
76.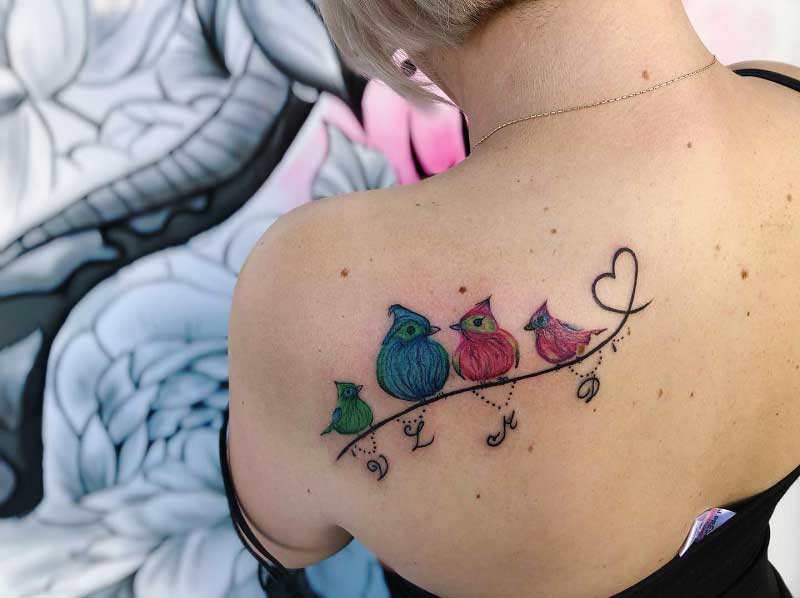 77.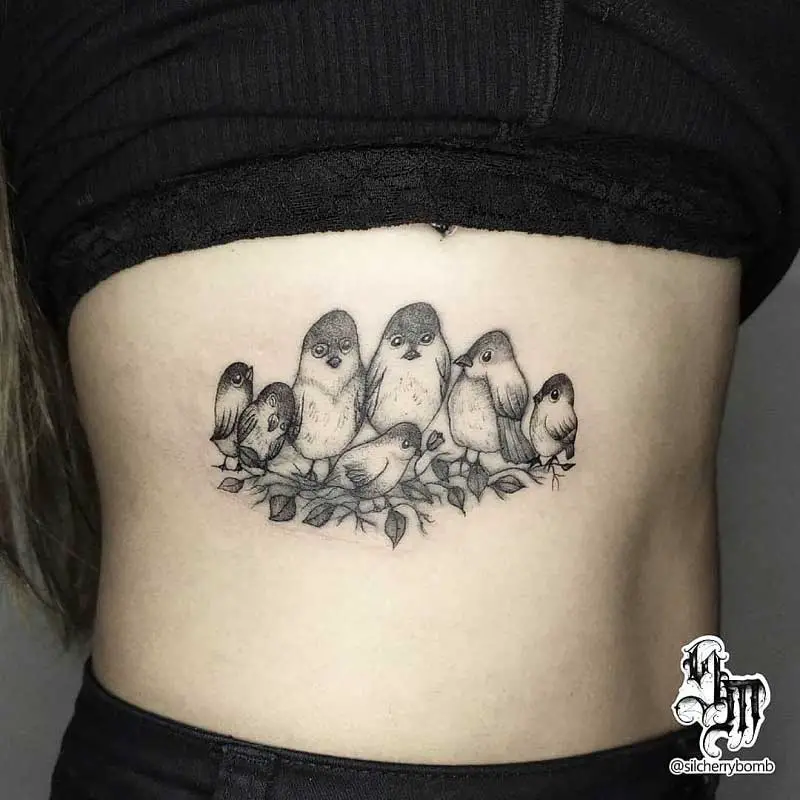 78.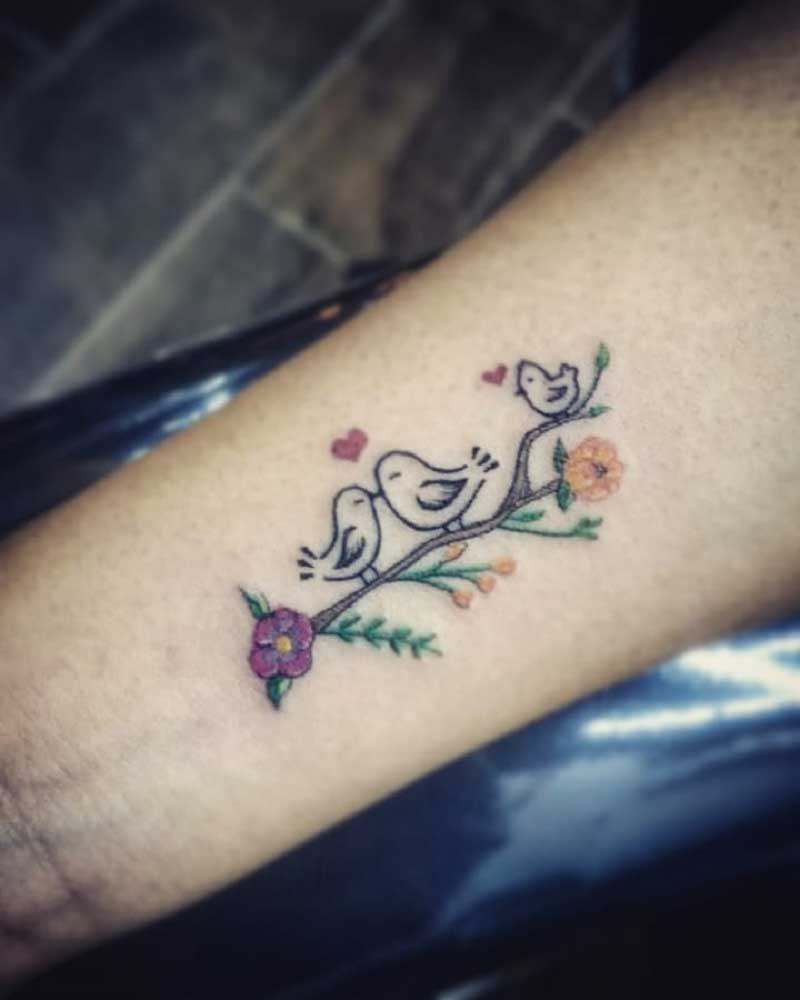 Cool Family Tattoos
79.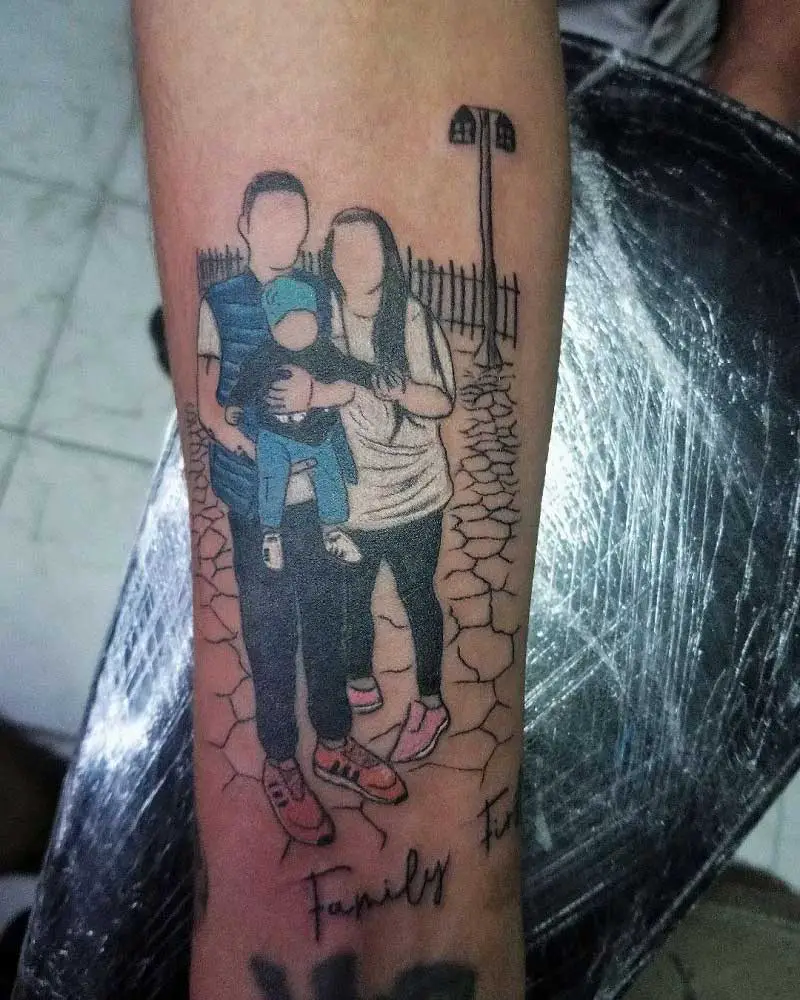 80.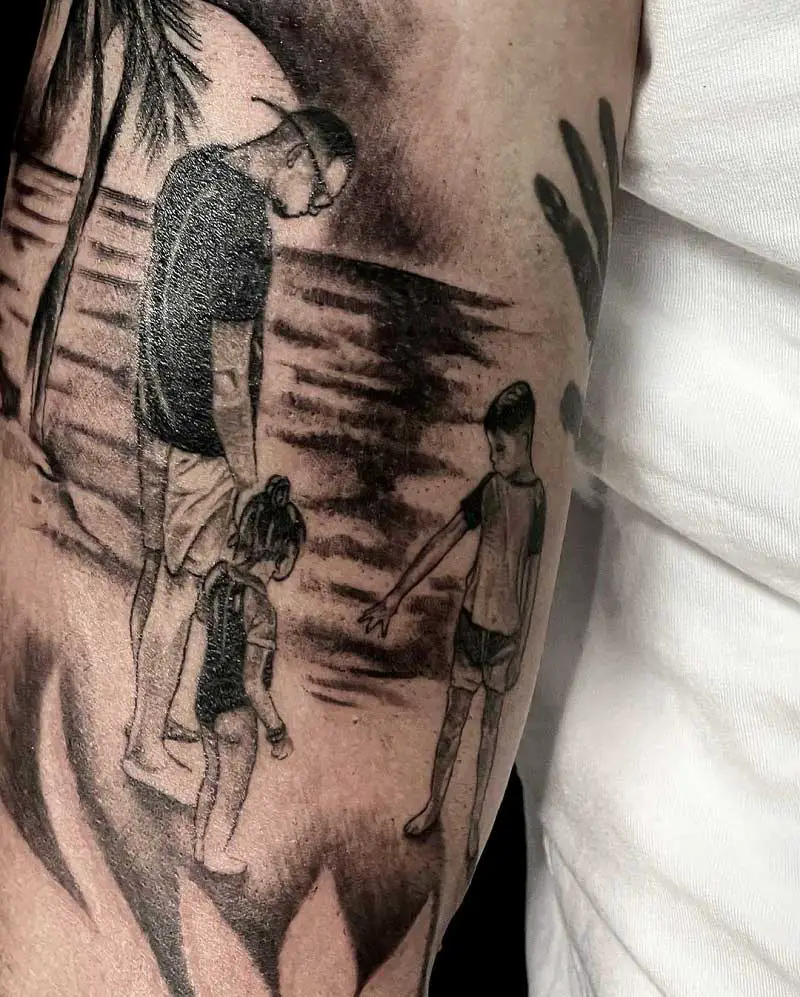 81.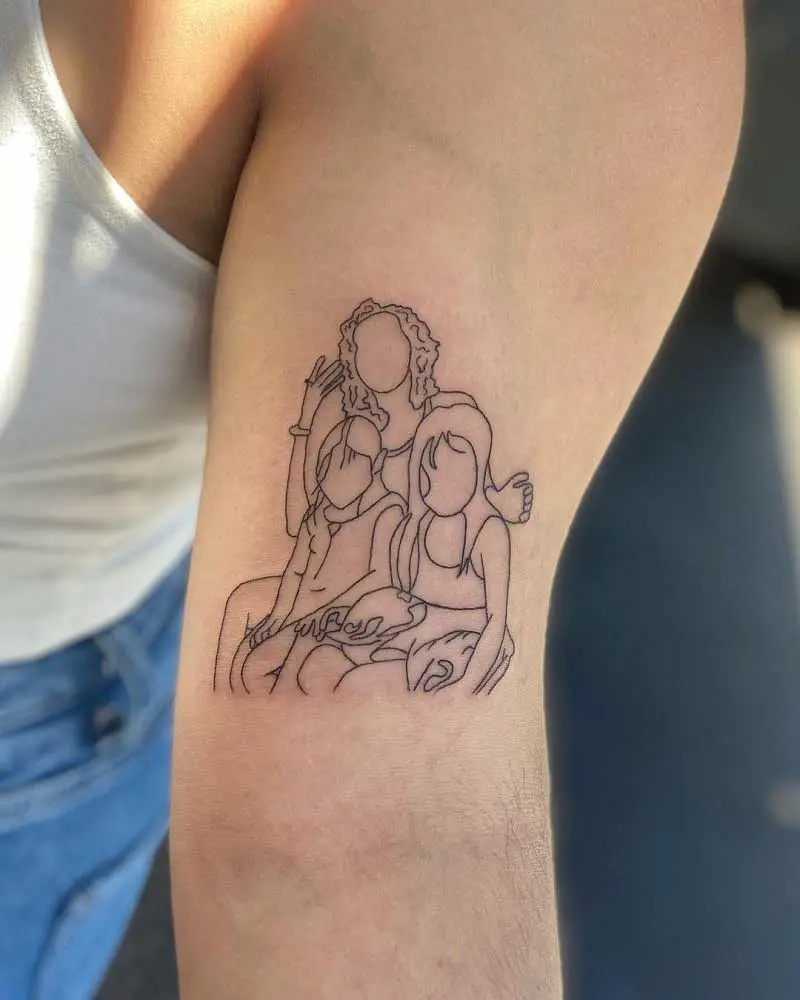 Cursive Family Tattoo
82.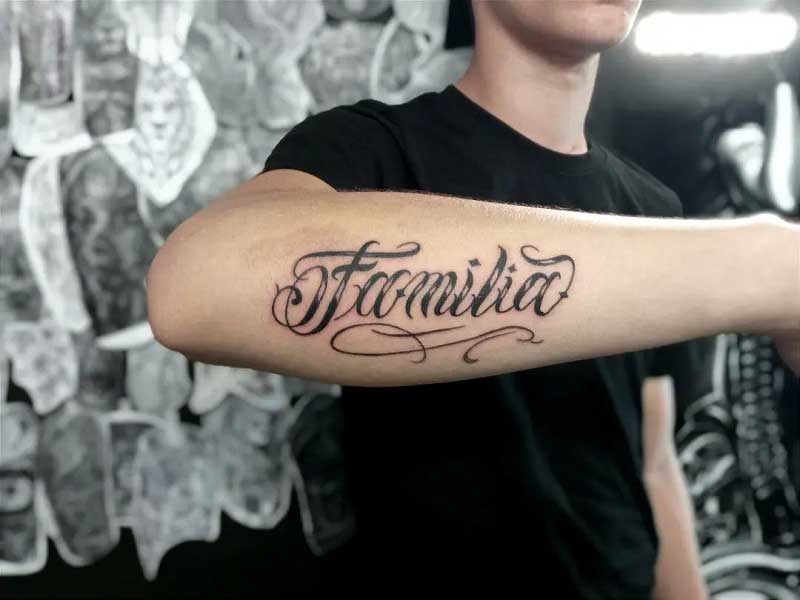 83.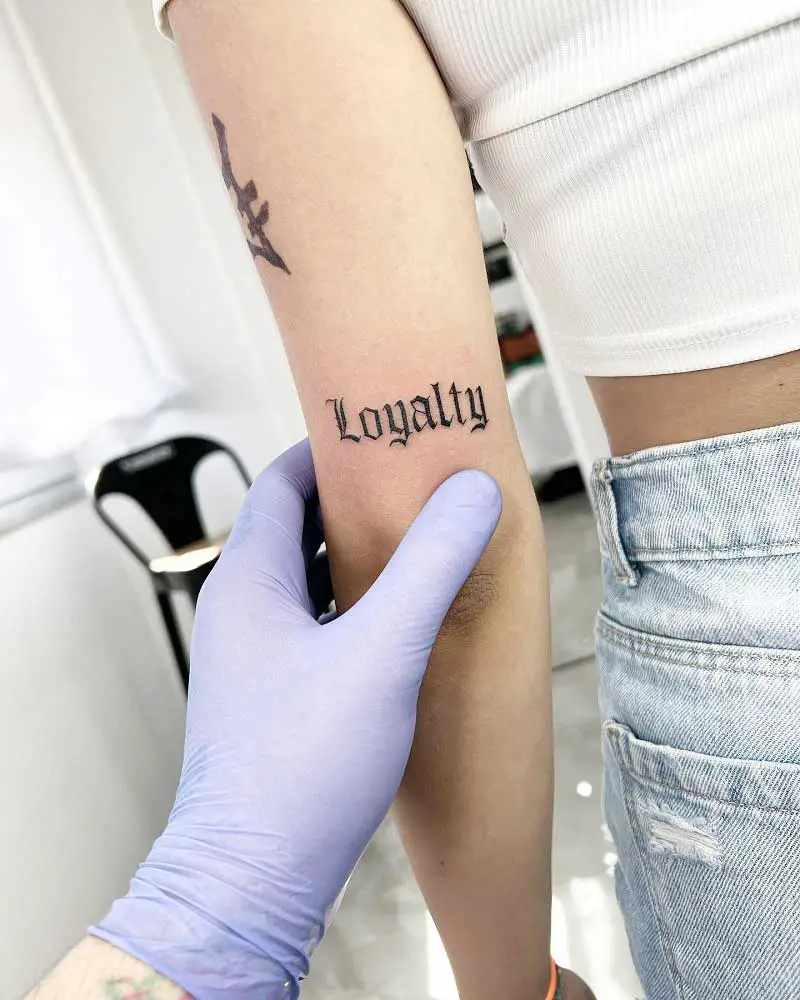 84.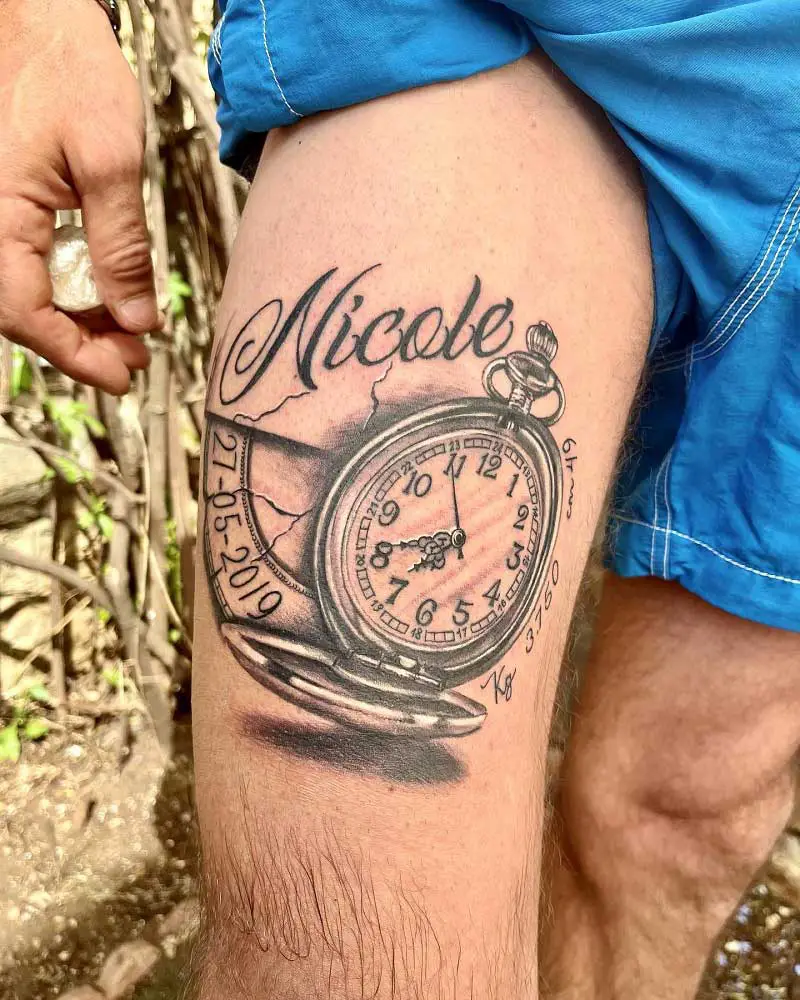 Family Anchor Tattoo
85.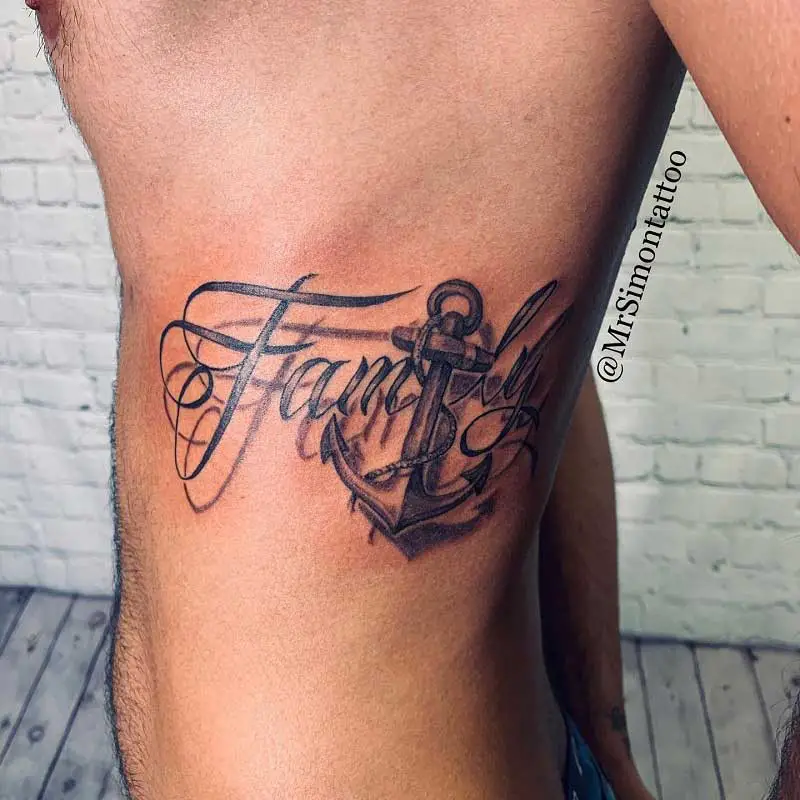 86.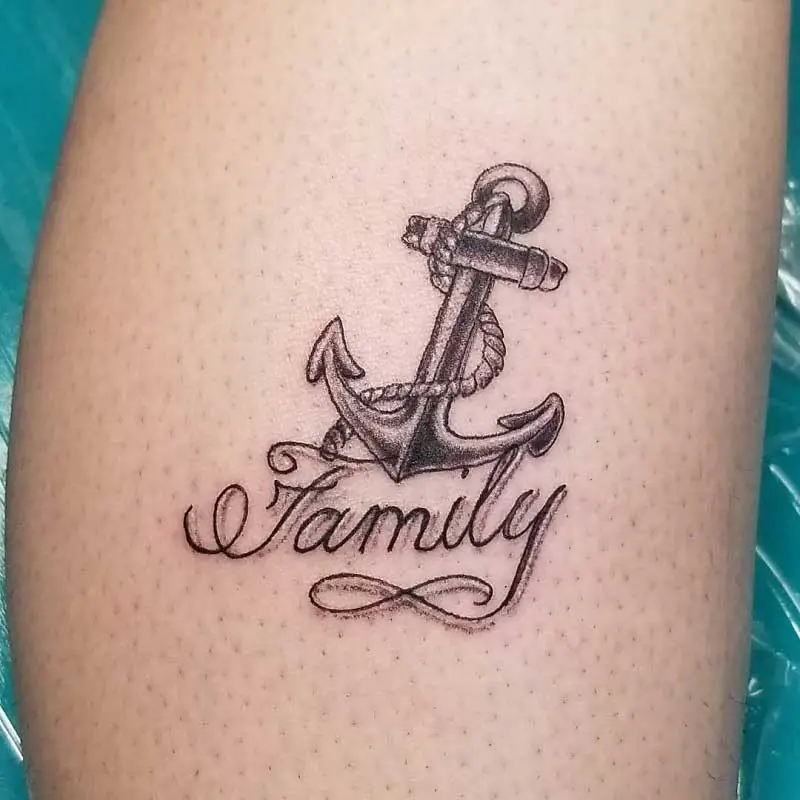 87.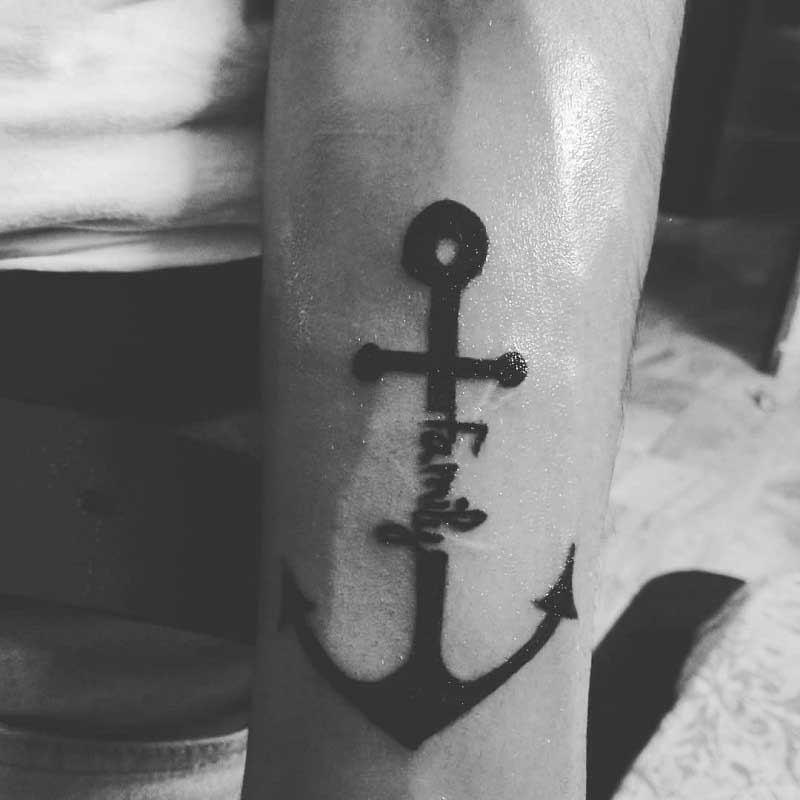 Family Chest Tattoo
88.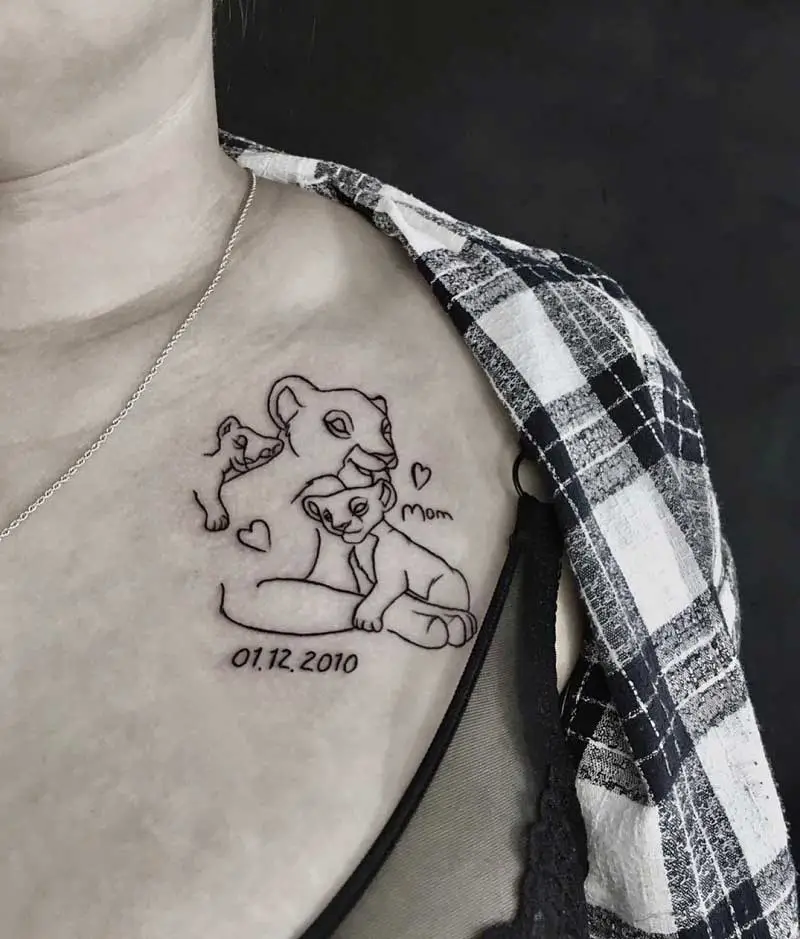 89.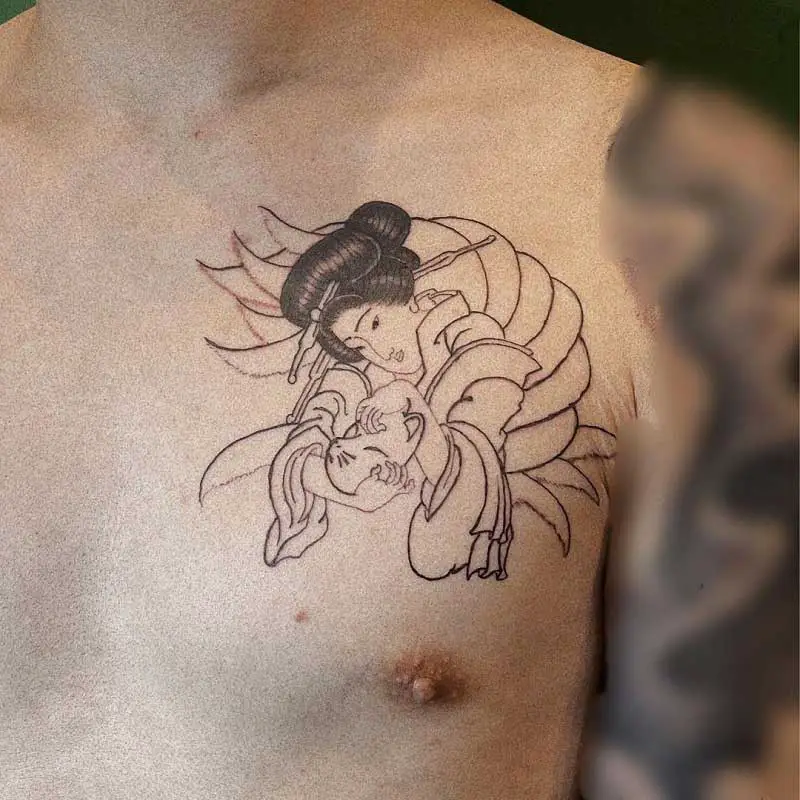 90.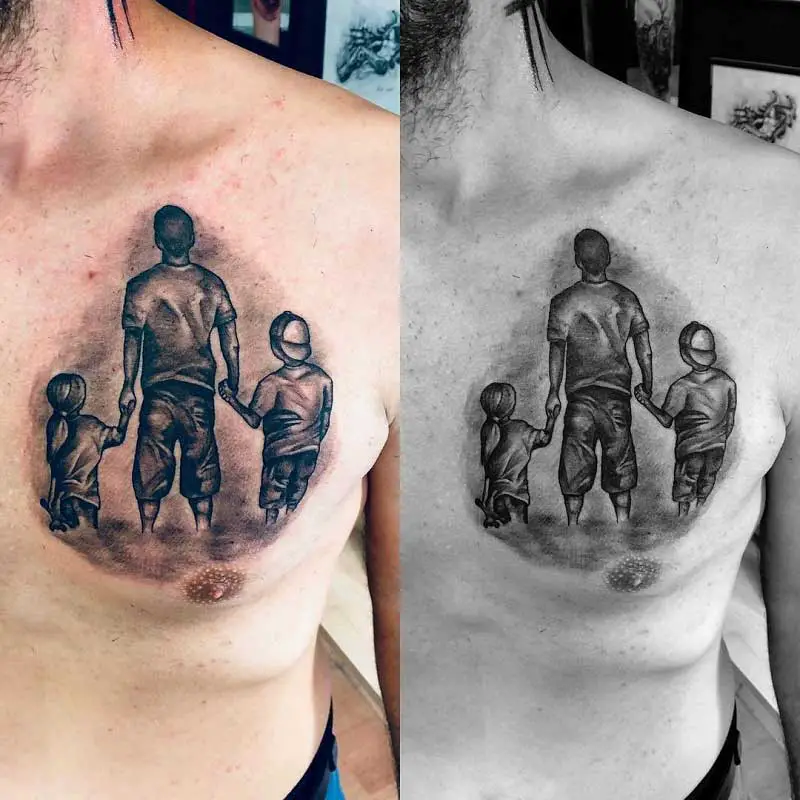 Family Mother Daughter Son Tattoo
91.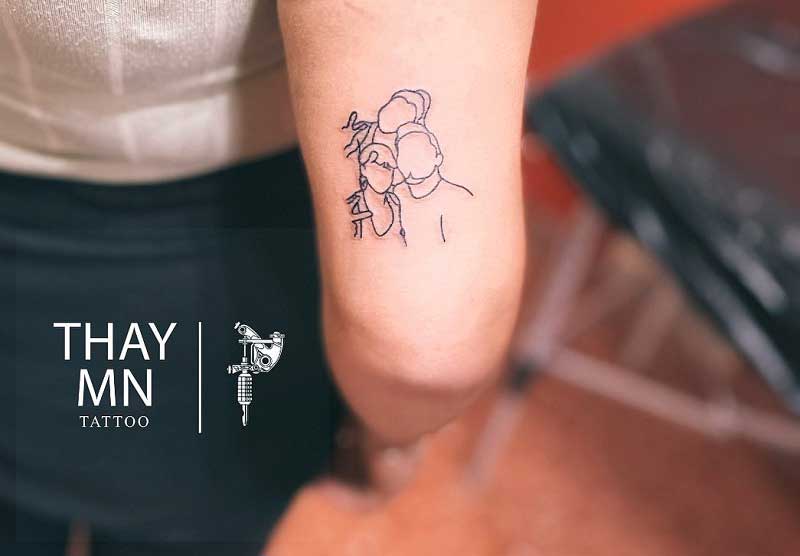 92.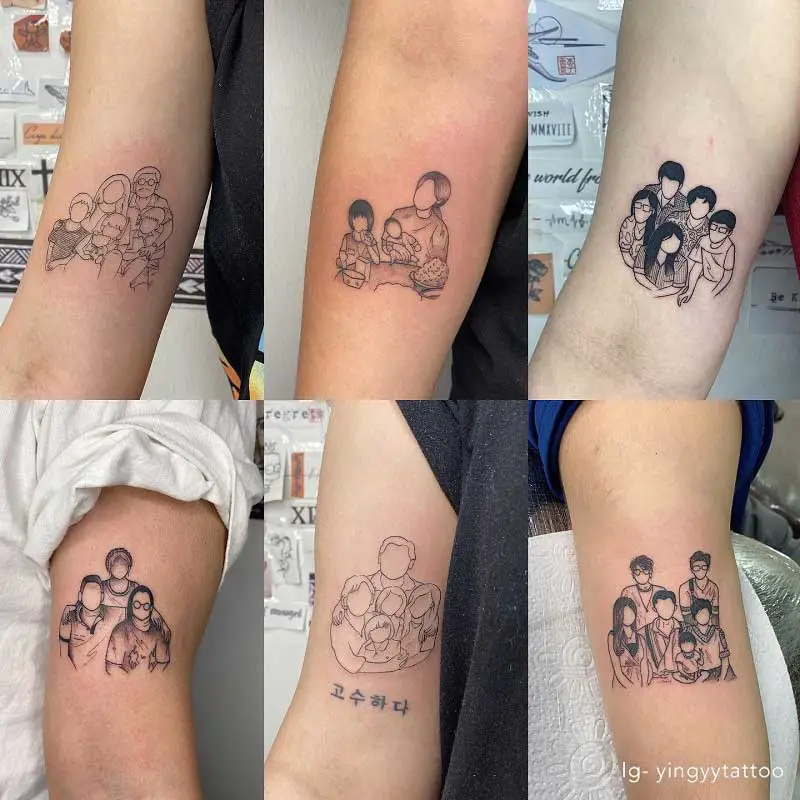 93.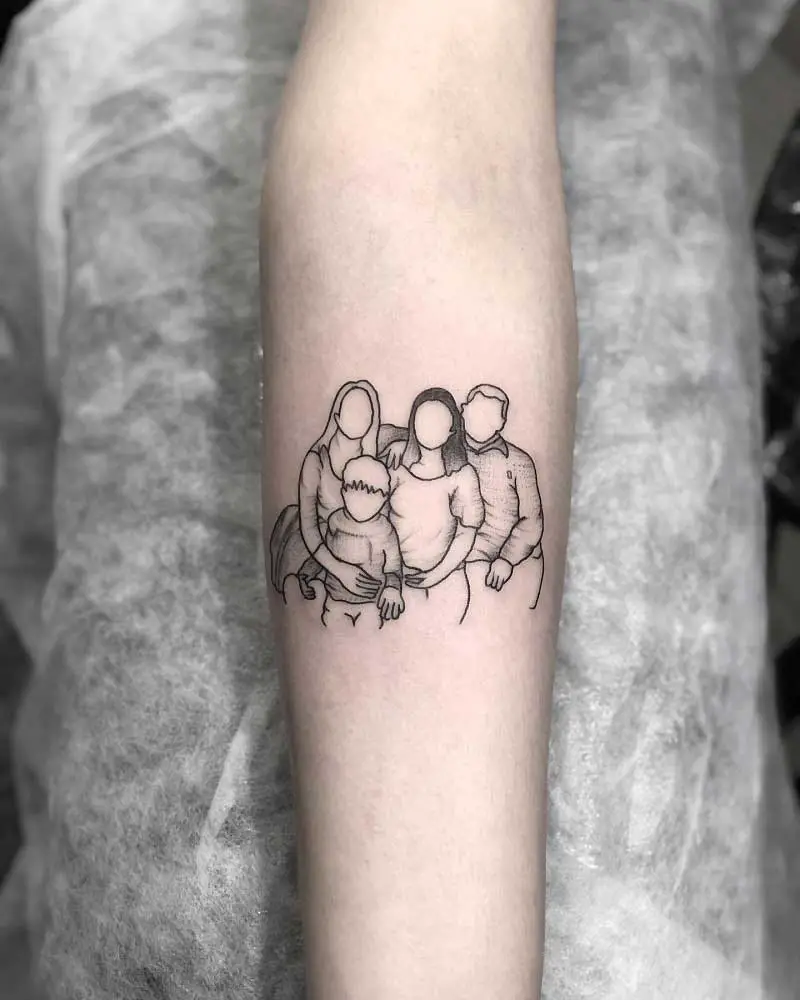 Blended Family Tattoo
94.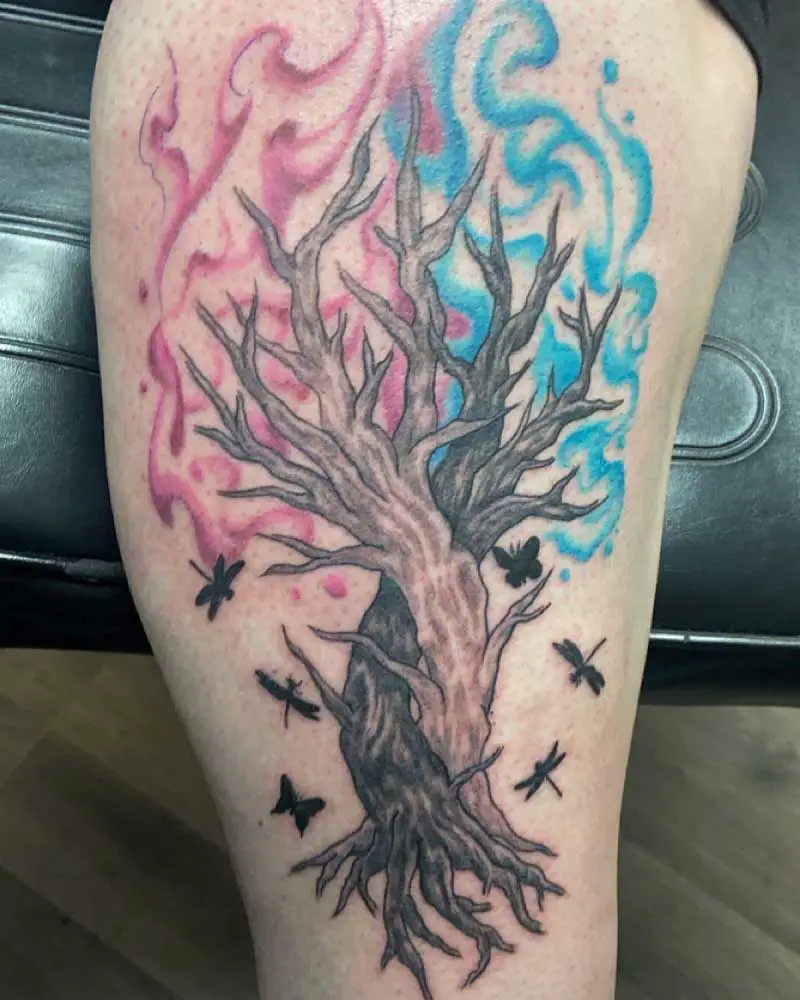 95.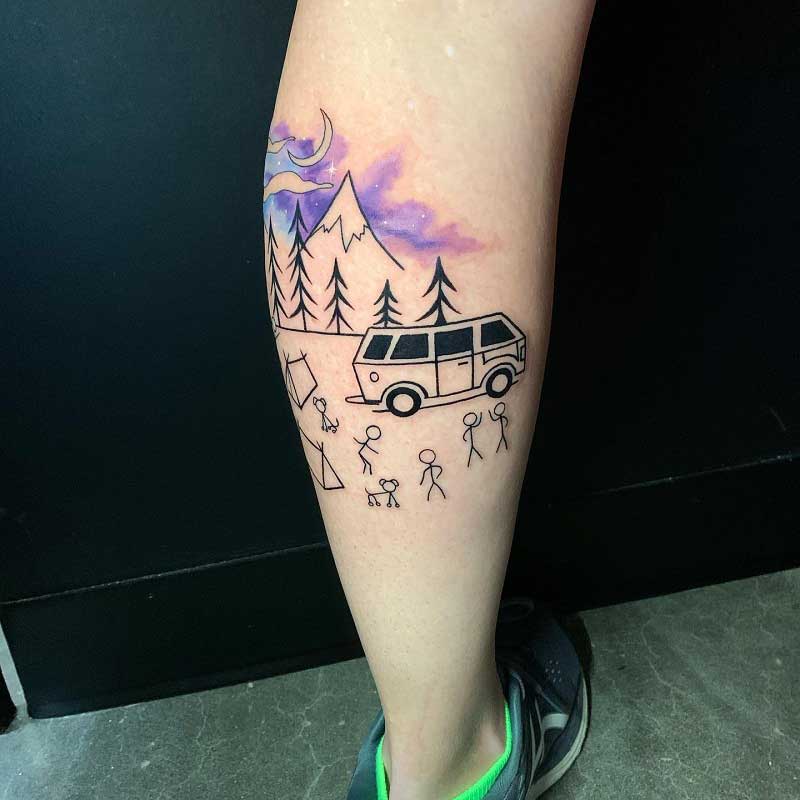 96.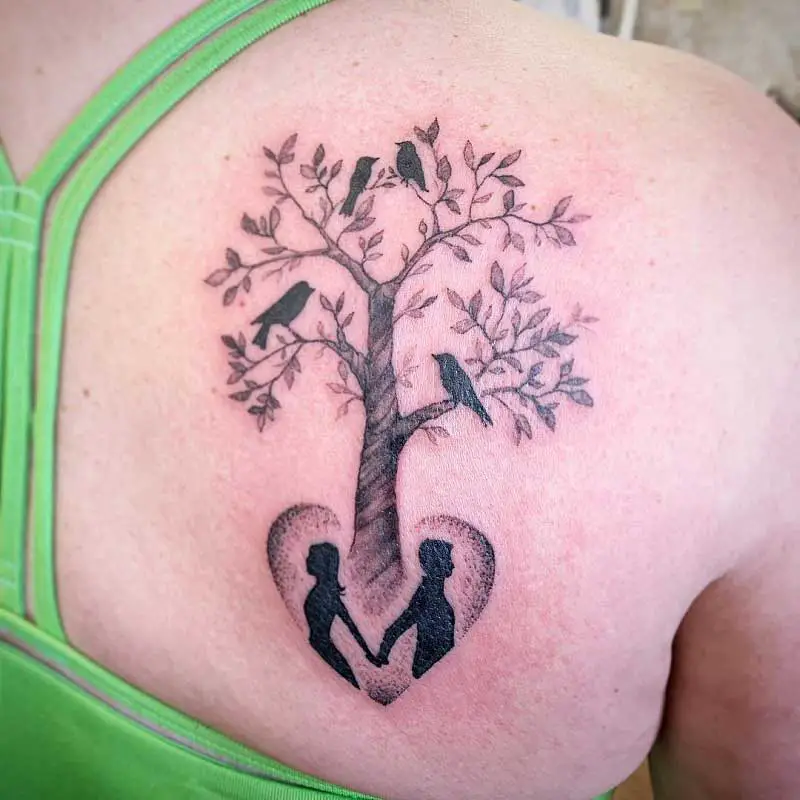 Family Cross Tattoo
97.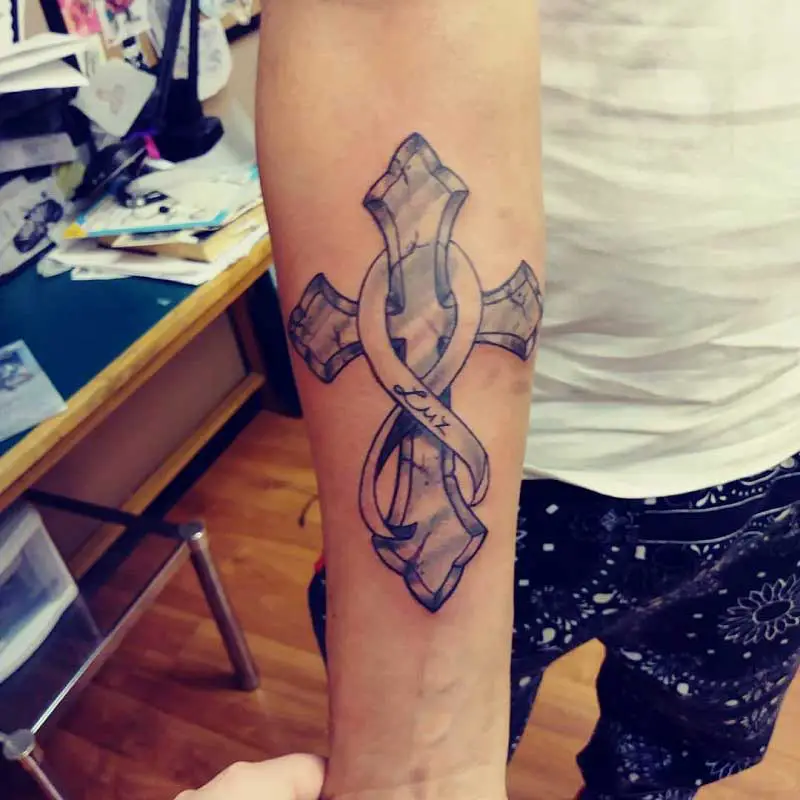 98.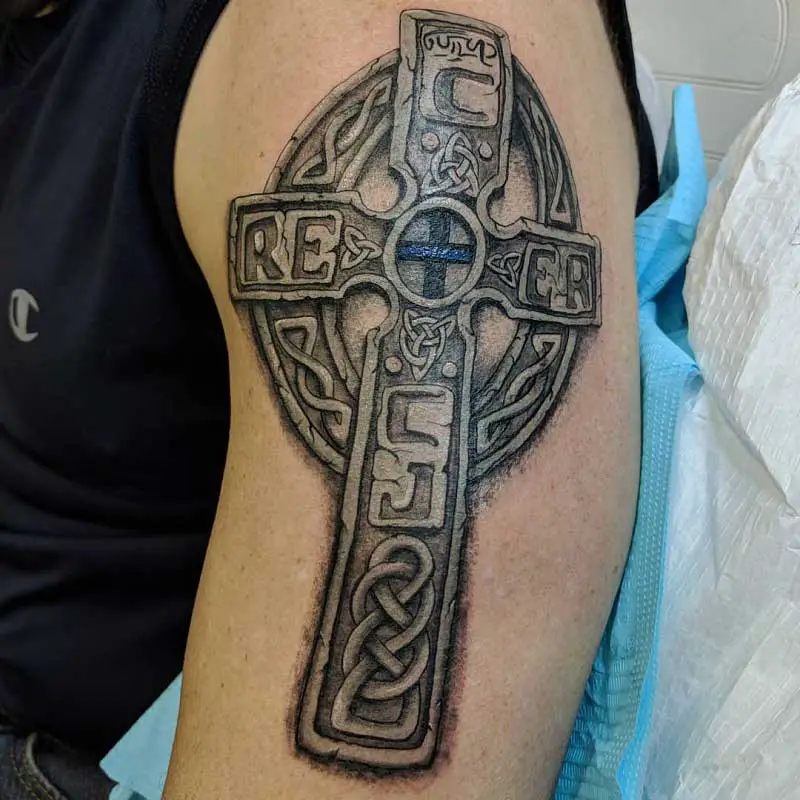 99.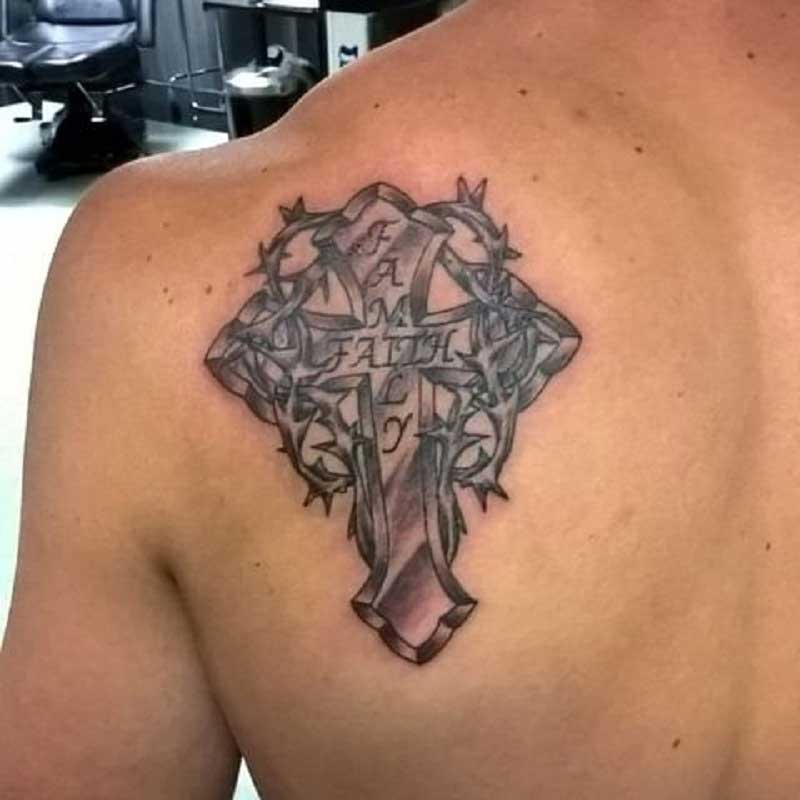 Conclusion
These amazing family tattoos will definitely bring joy to every person who loves their family. Feel free to customize them and add your own perspectives and views to them. It's recommended to get these tattoos in an easily visible place like the forearms, chest, and side of the arm. However, there are also some great options for the back and legs too.
Frequently Asked Questions
What is a good tattoo for a family?
A good tattoo for a family could be a symbol or something that represents the family nicely such as family forearm tattoos, birth flower family tattoos, etc.
What is a family tattoo?
A tattoo that reminds us of our family and shows off our connection is considered a family tattoo.
Where do I put my family tattoo?
The best places to put on a family tattoo are the forearm, chest, and side of the arms.