Polynesian tattoos are the most popular body art designs in the world. People from all different backgrounds and cultures have adopted the design over time. There are limitless possibilities for creating a Polynesian tattoo, and the designs can convey a lot of meaning.
There are many popular Polynesian tattoo designs, with some looking more like traditional ones while others look more like geometric ones.
This blog will show you some of the most popular Polynesian-style tattoos and their designs, such as tribal, traditional, shark, spearhead tattoo designs, and so on. However, I strongly advise you to look at 25 to 35 tattoos that are now trending.
Again, If you're considering getting a tattoo of the Polynesian mythologies, this article lists top Polynesian tattoo designs and ideas.
With so many different cultural and mythological designs to choose from, you'll be sure to find something you like.
Here Are The Top 87 Polynesian Tattoo Designs and Ideas:
The idea of picking up a traditional Polynesian-style tattoo is fun and easy, but many people are looking for something a little more unique and trendy. This blog will discuss some Polynesian tattoo ideas and designs that explore new directions of old classic tattoos.
Polynesian Tribal Tattoo
Polynesian style & design of tribal tattoos are considered some of the most popular in the world. The design is literally used as a sign of cultural identity and a way to express the wearer's opinions and personality.
Little Bird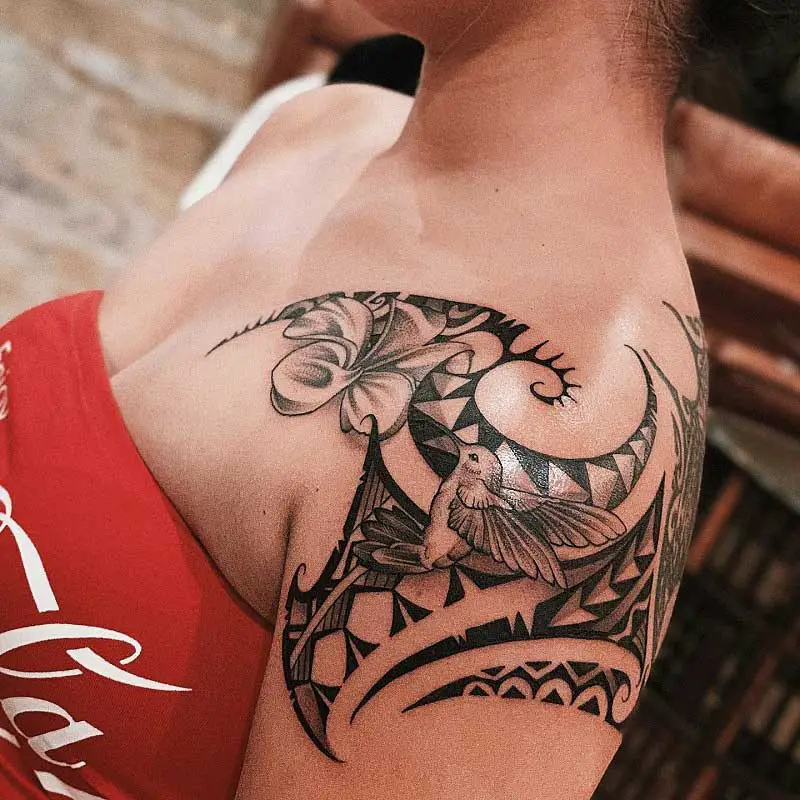 A little bird flying toward a flower appears natural, and the tribal black pattern behind the bird is stunning. You may get a unique style by drawing a little bird Polynesian tattoo on your upper arm.
2. Shark Teeth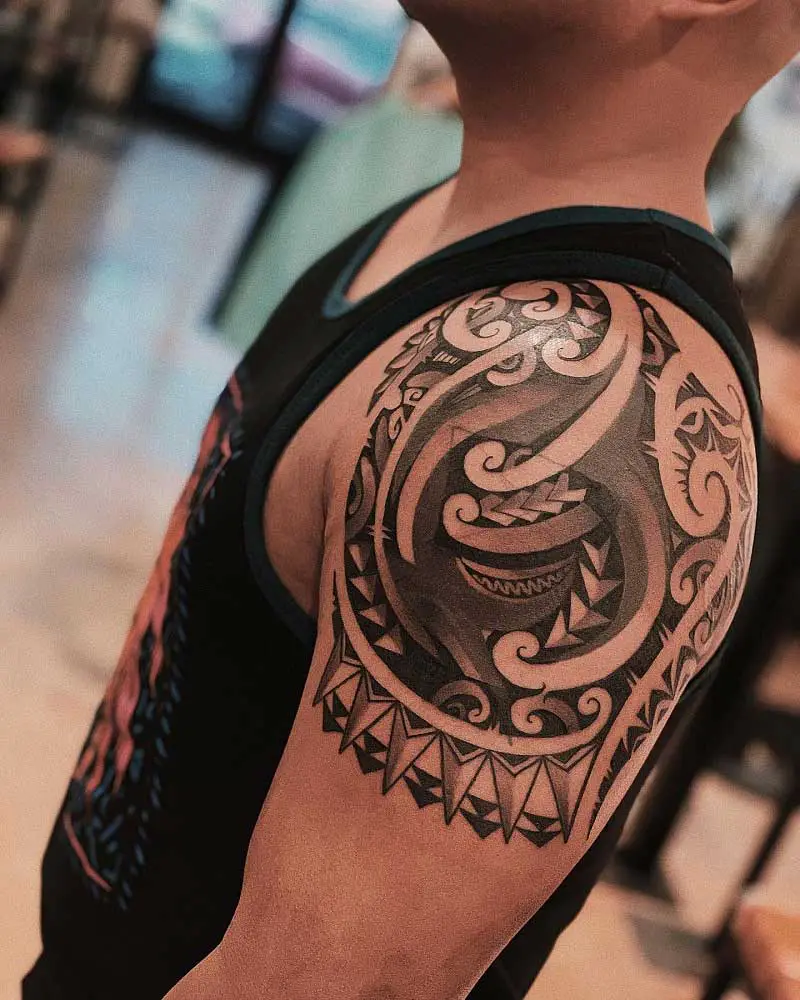 This tattoo includes a four shark teeth pattern inside and six teeth at the bottom, making it incredibly eye catchy. Shark teeth symbolize protection, direction, power, and ferocity in Polynesian culture.
3. Fire Dragon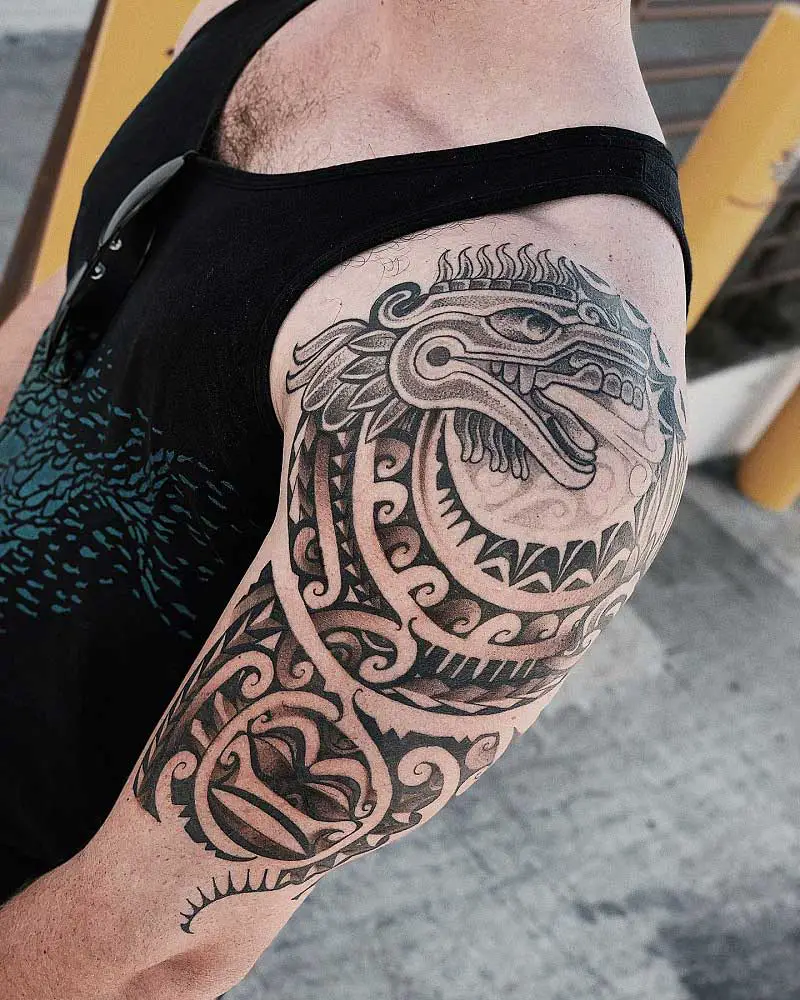 The tattoo shows a dragon throwing flam; on the downside, it has a human face design. This Polynesian tribal tattoo represents self-assurance and the power to live a confident life.
Polynesian Forearm Tattoo
Forearms are the perfect canvas for a Polynesian tattoo design. They are discreet and in a place not often covered by clothing. From generation to generation, tattoos are a form of body art in Polynesian culture.
4. Arrow head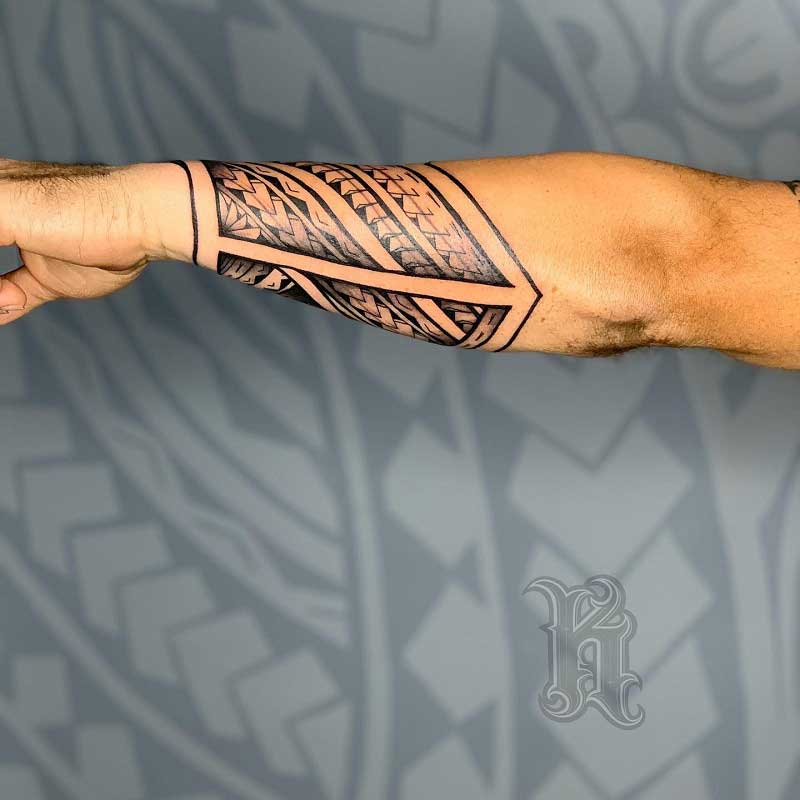 It appears to be a book cover with an arrow head pattern that continues from one page to the next. This style of Polynesian forearm tattoo is quite popular among today's youth.
5. Seven Shark Teeth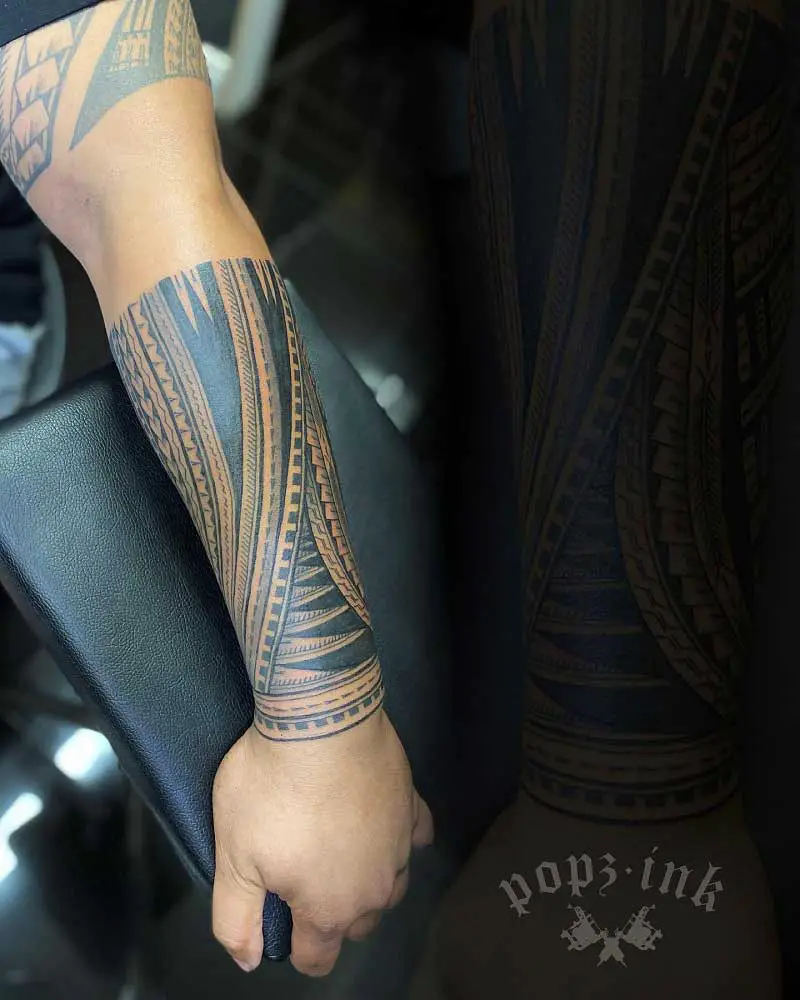 This tattoo features seven shark teeth designs that range in size from small to large and appear to be actual shark teeth. This type of tattoo represents guardianship and wisdom in Polynesian civilization.
6. Twin Flower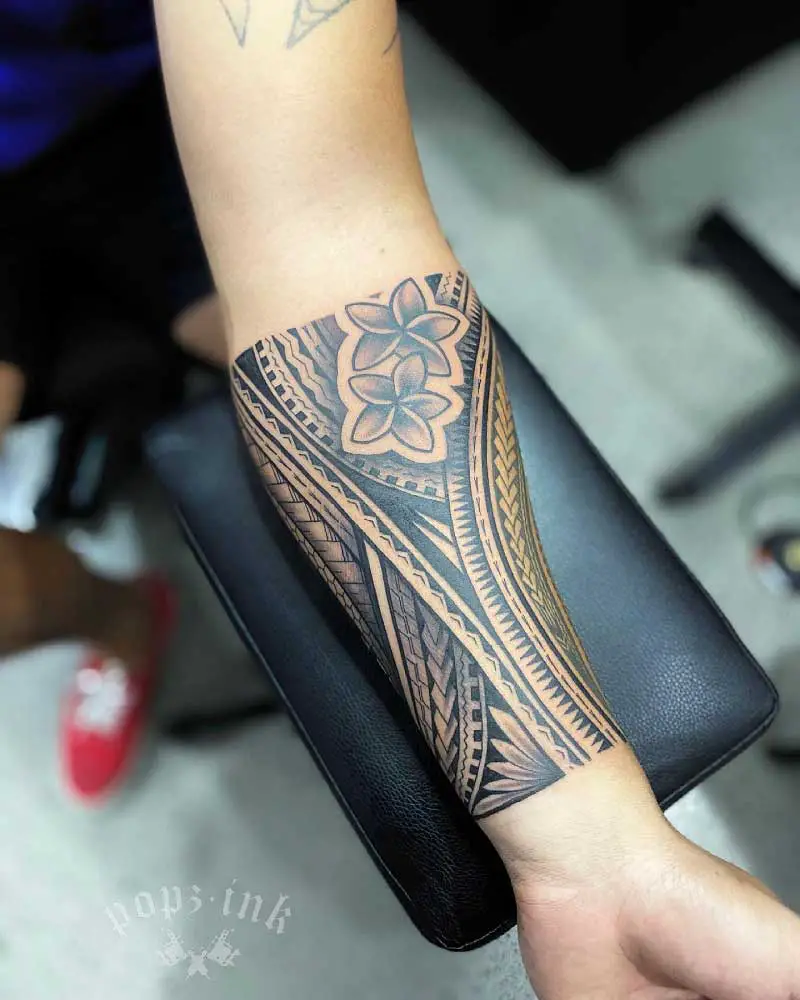 The Spearhead pattern surrounding this tattoo makes it distinctive, as it appears to be a twin blossom floating in the ocean. This Polynesian tattoo depicts a love of nature and marine life.
Polynesian Tattoo Design
Polynesian tattoo designs are famous for their intricate designs, vibrant colors, and unique symbols. There are many designs that are popular, but these designs are also open to interpretation.
7. One Spearhead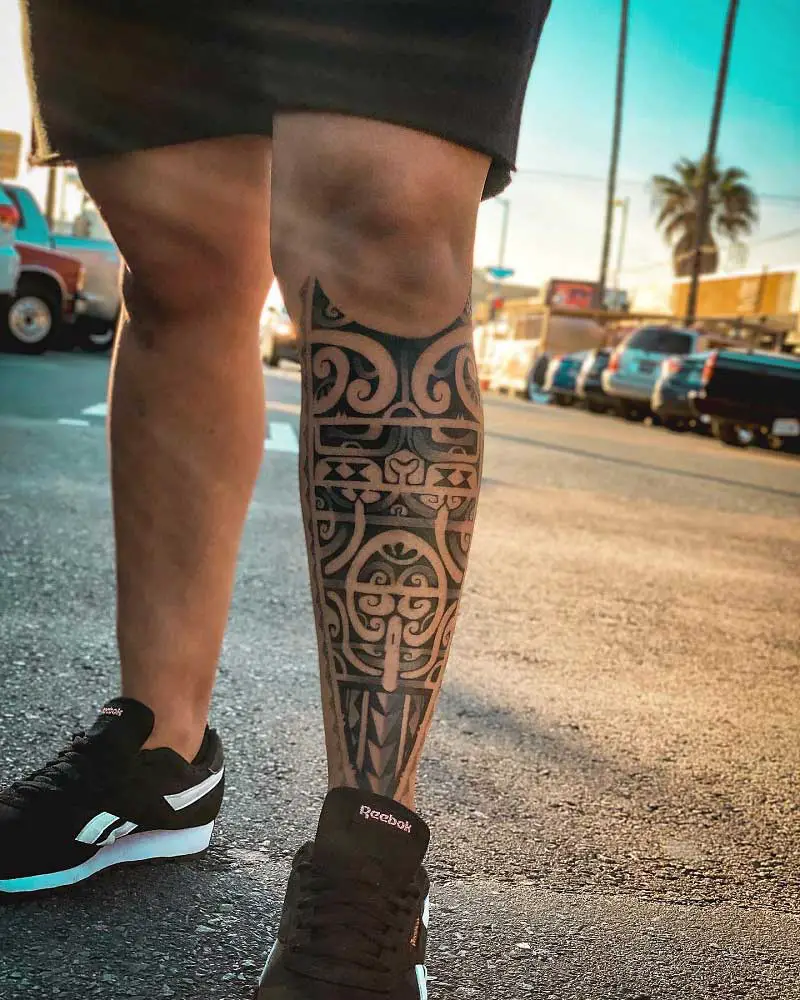 It's a Polynesian mans' leg tattoo that resembles a large spearhead. There are various Polynesian cultural patterns inside the tattoo, making it worth having and stylish.
8. Spear Shield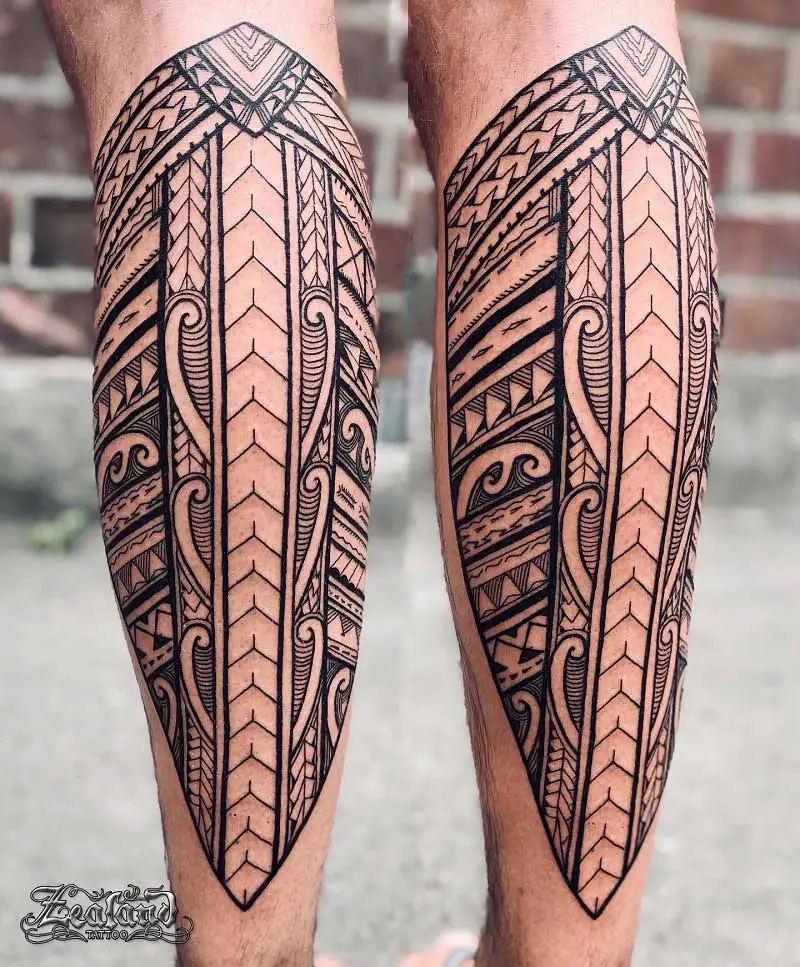 This tattoo resembles a shield with a spearhead pattern design. And the Polynesian cultural design pattern amid the tattoo makes it incredibly stylish and cool.
9. Snake spearhead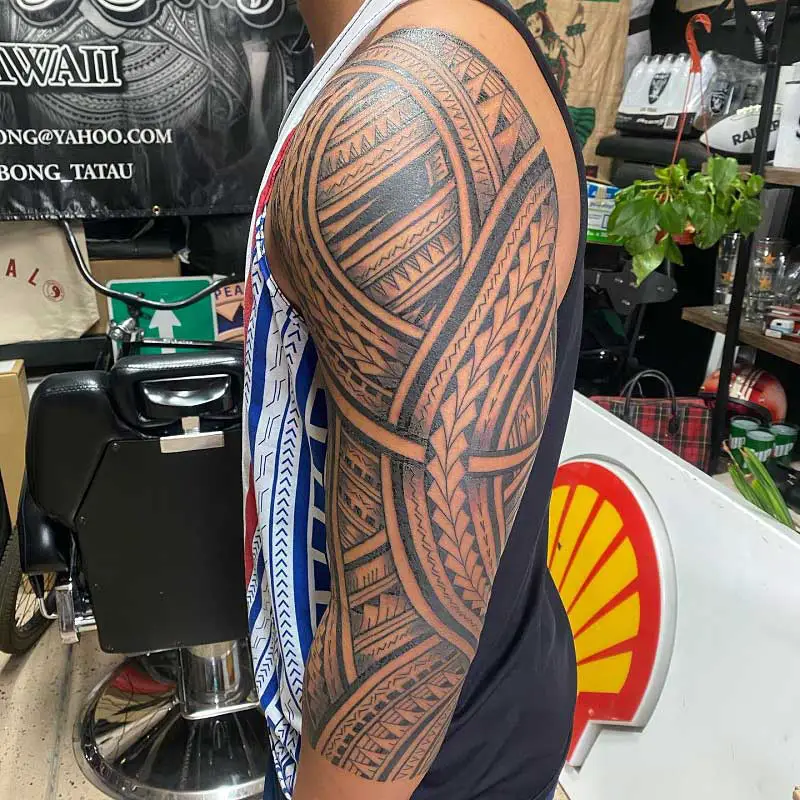 A snake-like Polynesian tattoo pattern on a man's upper sleeve gives the hand a gigantic remarkable aspect. If you are a lover of Polynesian culture, you can draw this design on your bicep.
Polynesian Turtle Tattoo
The Polynesian turtle tattoo design has been around for centuries. This tattoo is an ancient Polynesian design that has been passed on from generation to generation.
10.  Little Turtle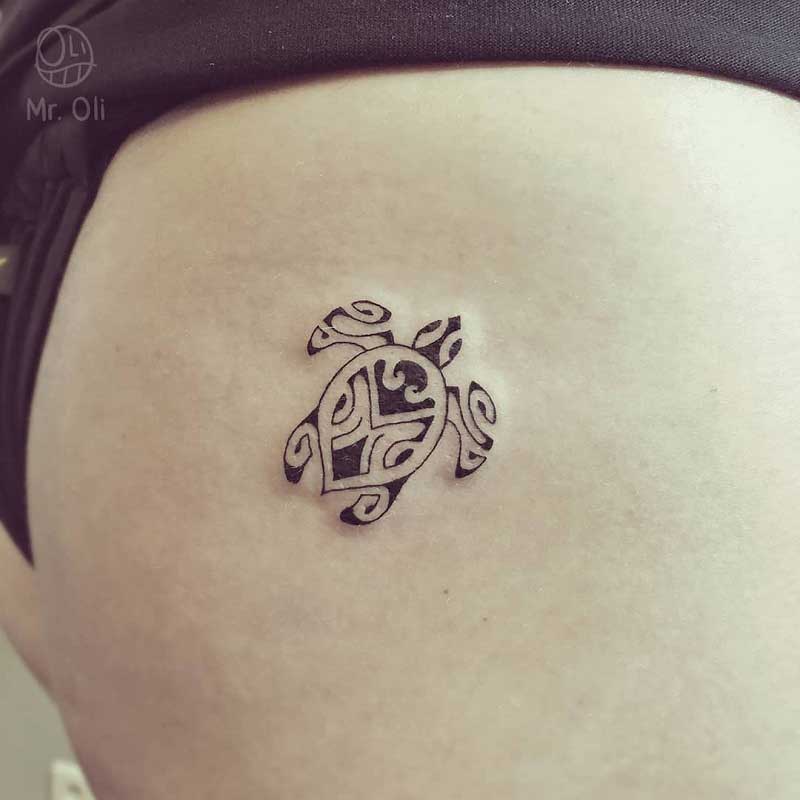 A fundamental and appealing Polynesian turtle design. And its dark color pattern is appealing. Tattoo enthusiasts may get this tattoo done on their hands, biceps, abdomen, and other areas.
11. Dark Honu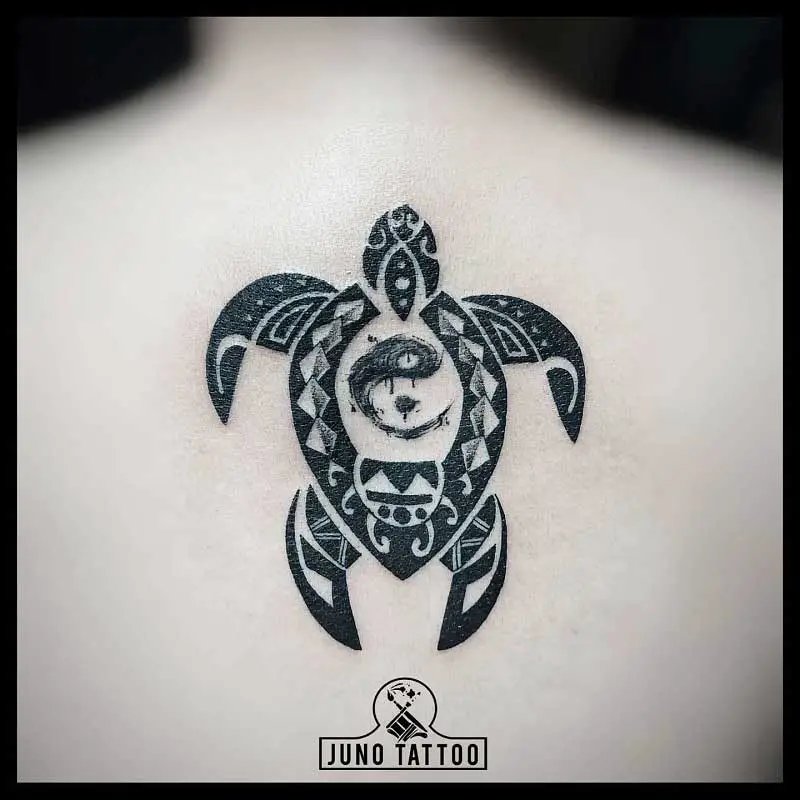 This turtle features several Polynesian motifs, including an ocean, spearhead, and a martial art circular design in the center. This Polynesian tattoo can be drawn on young females' backs or upper sleeves.
12. Circle Honu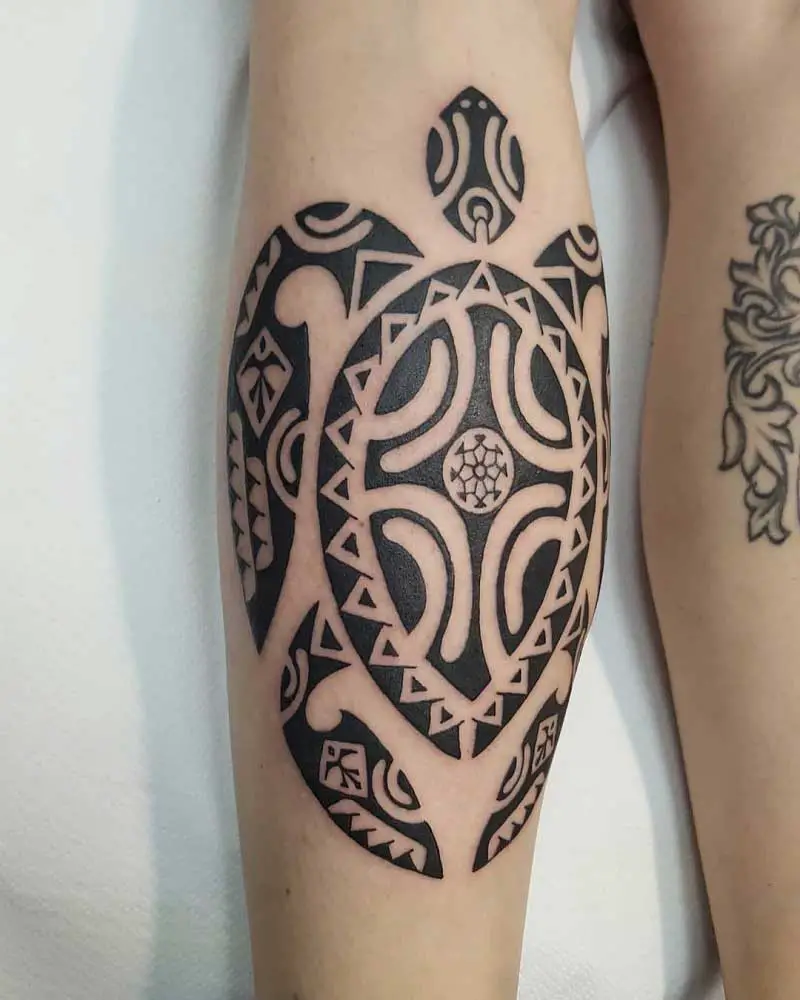 There is a little circle with a Polynesian cultural motif in this Polynesian tattoo. Turtles have numerous meanings, the first being that they represent health, fertility, longevity in life, stability, tranquility, and repose.
Polynesian Leg Tattoo
Polynesian Leg Tattoos are a style of tattoo that is quickly becoming popular. These tattoos are usually found on the lower leg and are typically colorful and intricate.
13. Dual Tiki eyes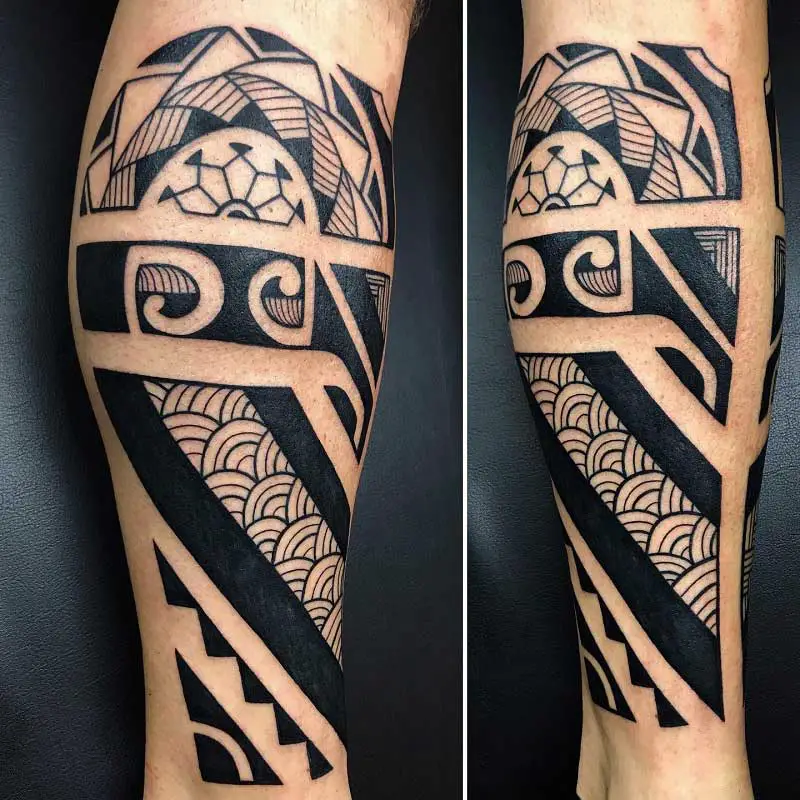 It appears to be the English letter P, but it is actually a dual Polynesian Tiki eyes symbol.
14. Box Flower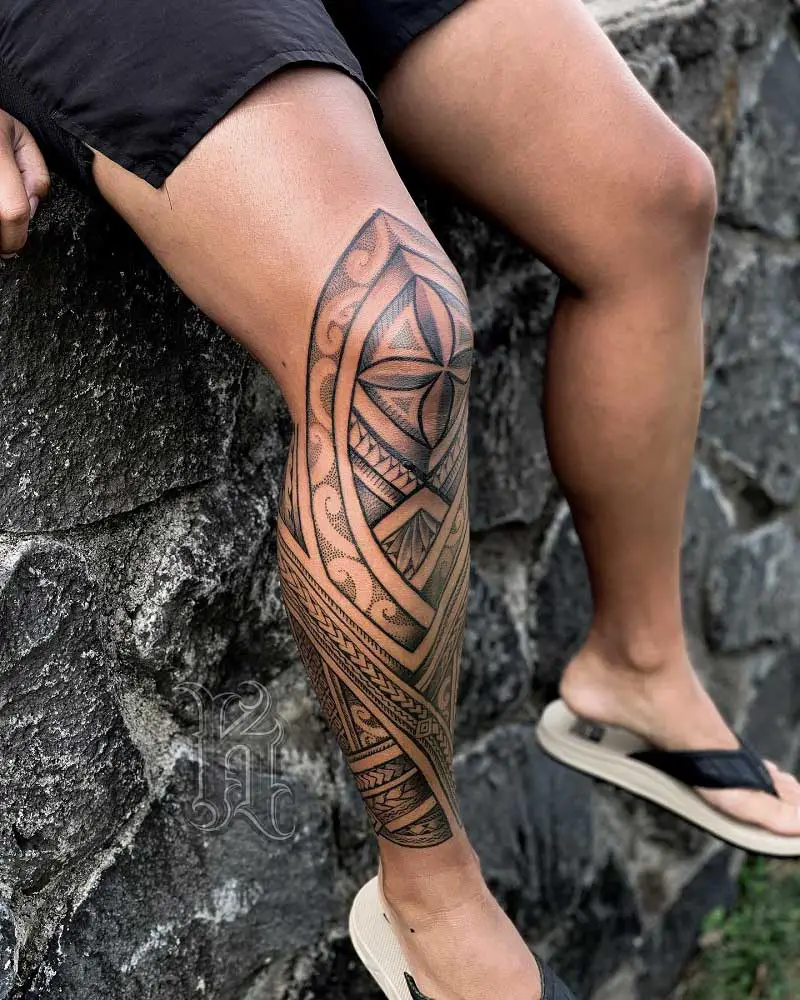 Four flower leaves in a box are captured on the top of the tattoo. Various Polynesian design patterns surround the tattoo, making it an incredible Polynesian woman's leg tattoo.
15. Teeth Society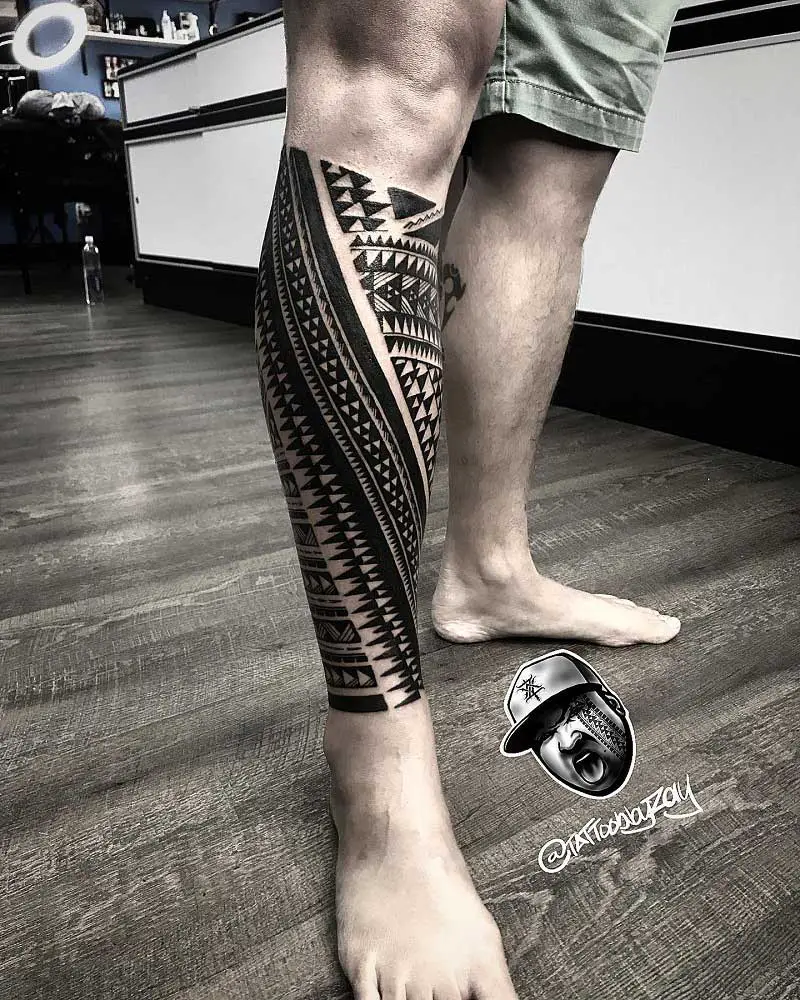 This tattoo is one of a kind since it incorporates distinct shark teeth patterns throughout the tattoo. Young lads that like Polynesian culture will undoubtedly get this tattoo.
Polynesian Shoulder Tattoo
Polynesian shoulder tattoo designs are a cultural identifier for Polynesian peoples. Polynesian tattoo designs are often associated with the tropical ocean, and the idea is that the design represents the ocean's waves.
16. Hunter Teeth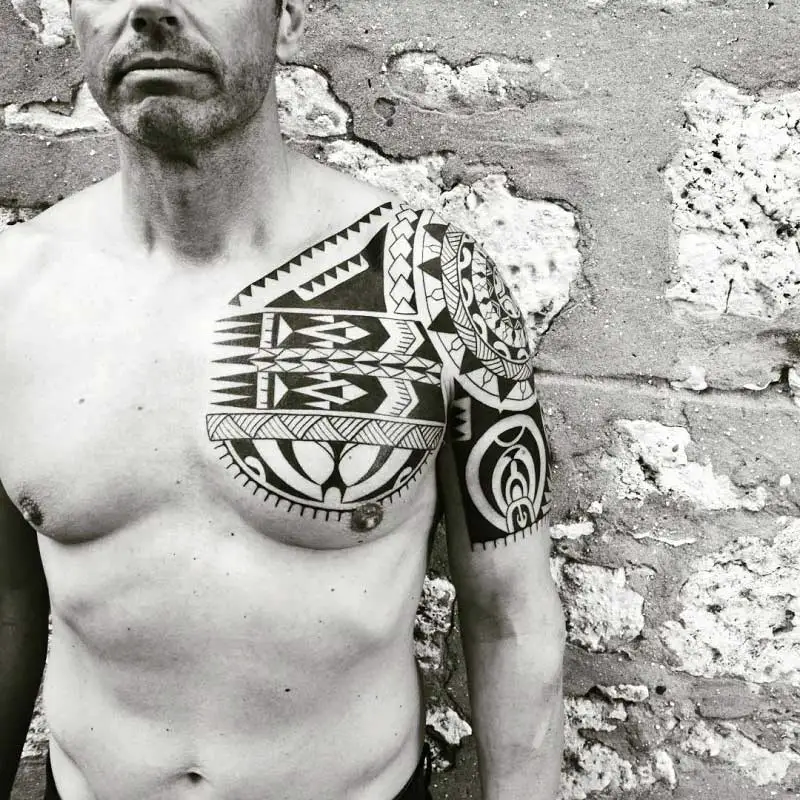 Hunter teeth tattoo, which covers the shoulder and chest area with numerous shark tooth designs, looks incredibly macho and handsome. The Polynesian circle on the shoulder gives this tattoo a unique touch.
17. Three Polyrose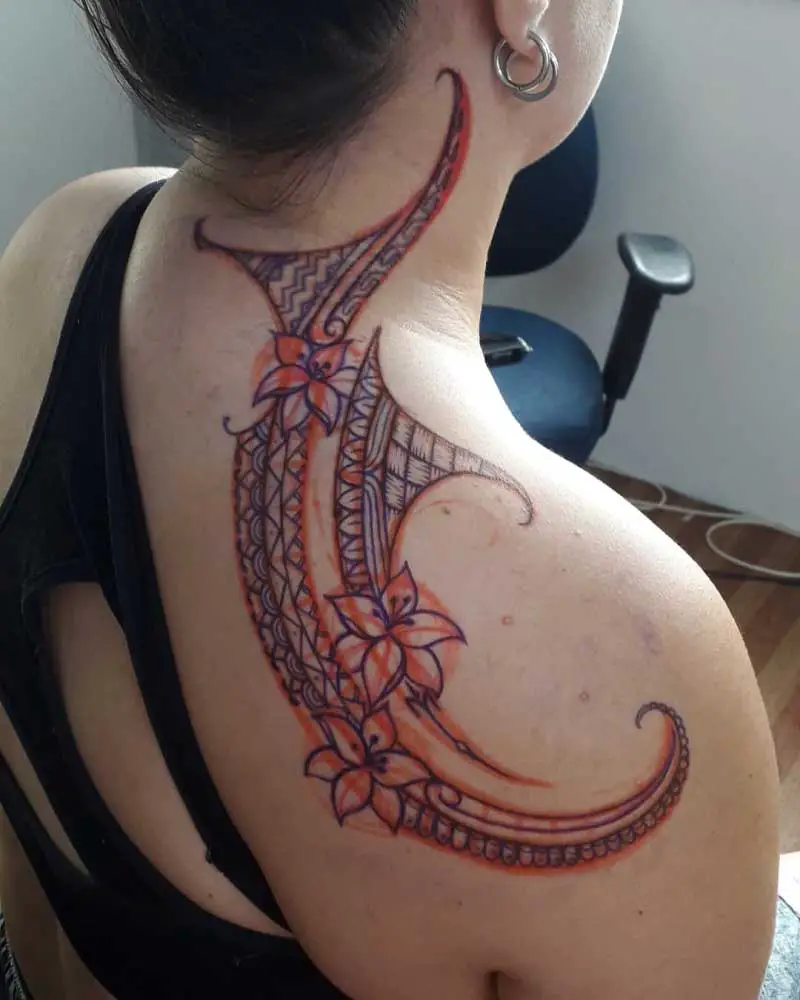 Three polyroses in a unique Polynesian design look fantastic on a girl's shoulder. This tattoo's orange color tint makes it stylish and ideal for a girl's neck.
18. T polynation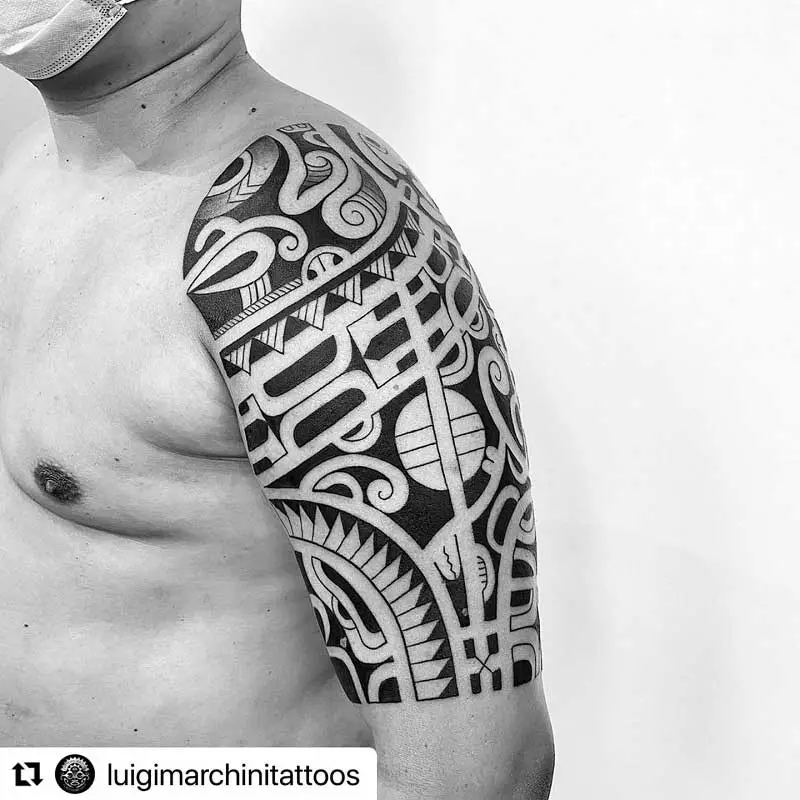 A T sign with surrendering diverse Polynesian cultural signs looks wonderful on a boy's shoulder. The dark tone of this tattoo pattern makes it more appealing to the younger generation.
Chest Polynesian Tattoo
When it comes to choosing a chest tattoo, there are a lot of options. The chest is the best place for a Polynesian tattoo because it can be seen from the front, back, and from the side.
19. Black Diamond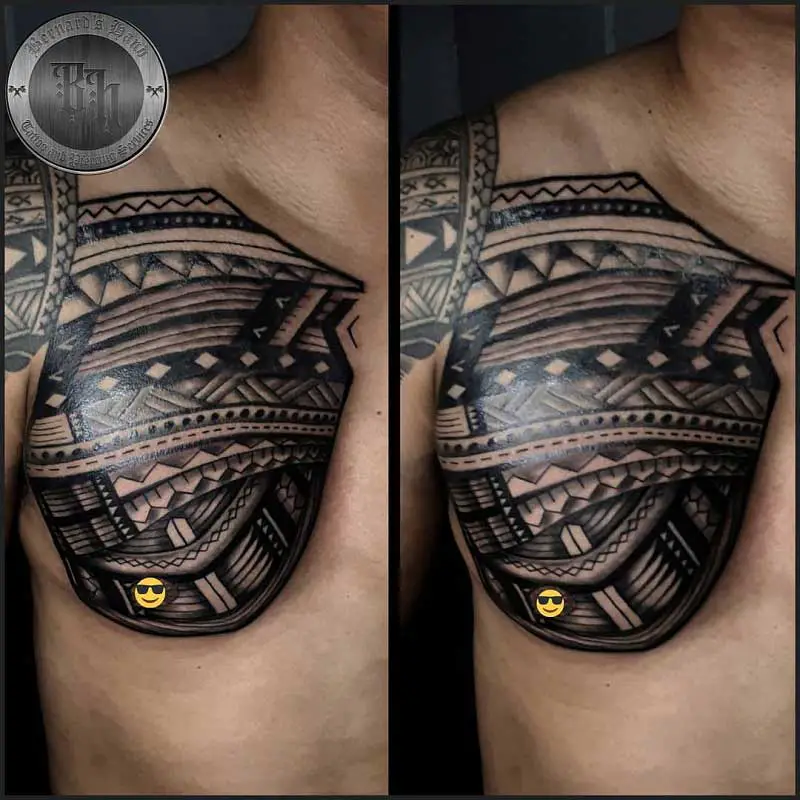 This tattoo has a novel fence pattern, and the color of this tattoo is really black, which appears good from a distance. It also features a section of the design on the shoulder, which is distinctive.
20. Chest Shield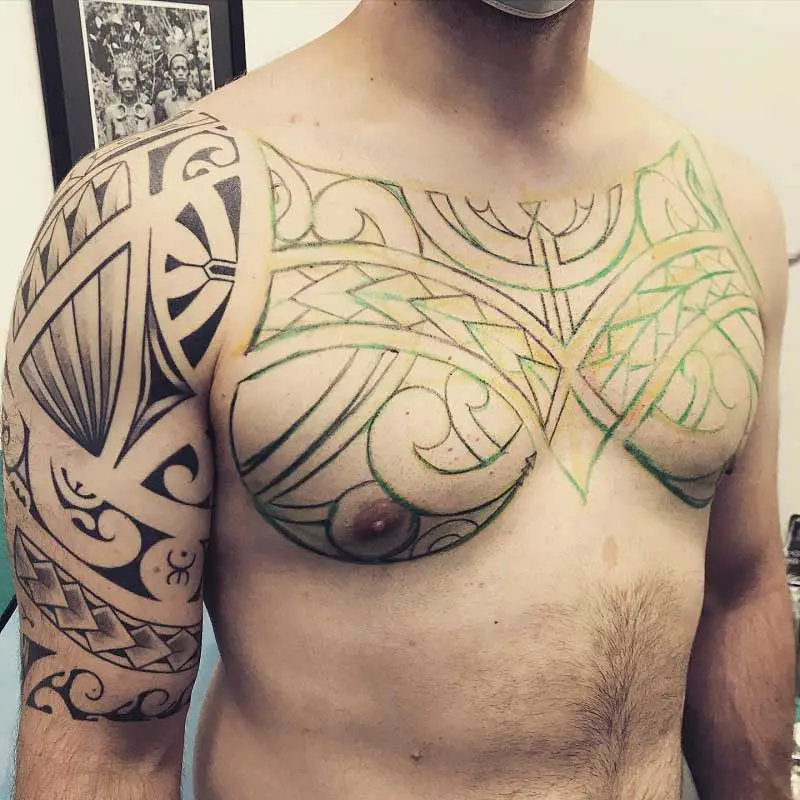 This tattoo, which resembles an upper body shield with a traditional Polynesian design pattern, is one of the greatest Polynesian tattoos. However, we suggest this poly tattoo for males in particular.
21. Li Snake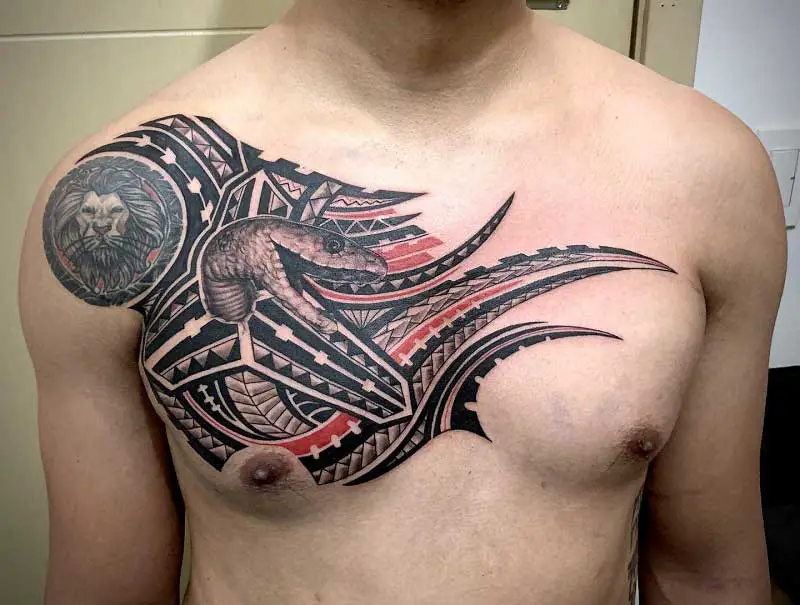 This tattoo clearly depicts a lion with a snake, indicating the confidence and concentration of a man's intellect. Lions and snakes are symbols of manhood in Polynesian culture.
Polynesian Tattoo Arm
The designs on the arms of Polynesian tattoos are also known as Moko. The designs are often symbolic, and they are designed to convey the wearer's status and authority.
22. Poly Chain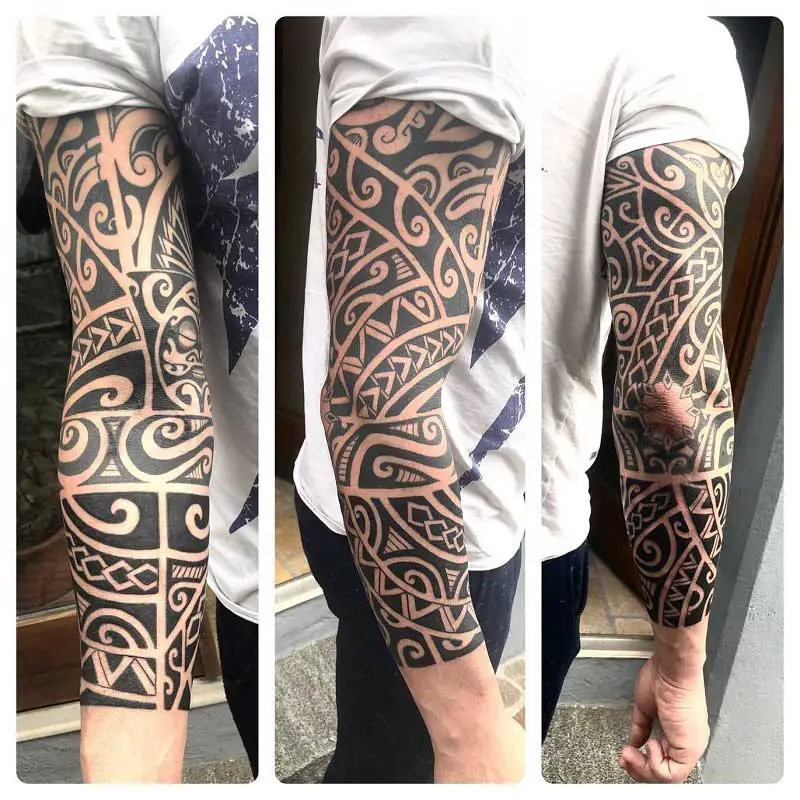 This tattoo has several Polynesian cultural symbols that are connected by numerous chains, indicating that the bearer is an authentic Polynesian. This tattoo's chain design is built from top to bottom and looks wonderful.
23. Chain Spearhead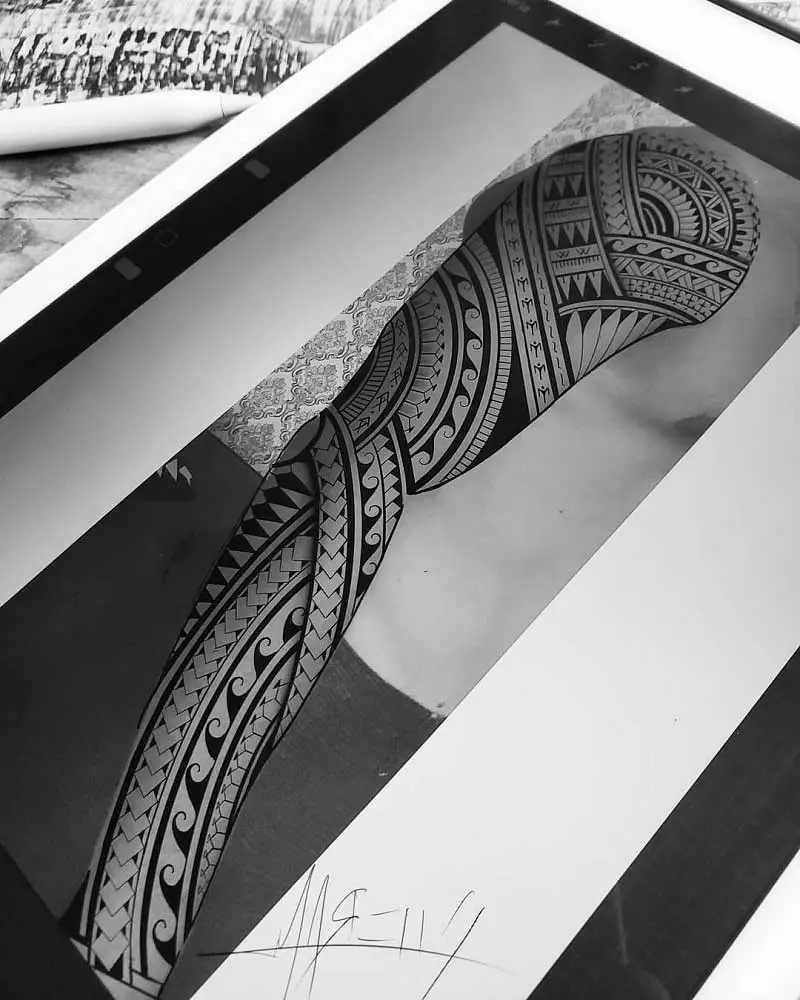 This Polynesian arm tattoo features shark teeth patterns, spearhead patterns, ocean patterns etc, making it incredibly appealing. However, the ocean design gives the tattoo a modern look that is sure to be popular in today's age.
24. Tiki Tat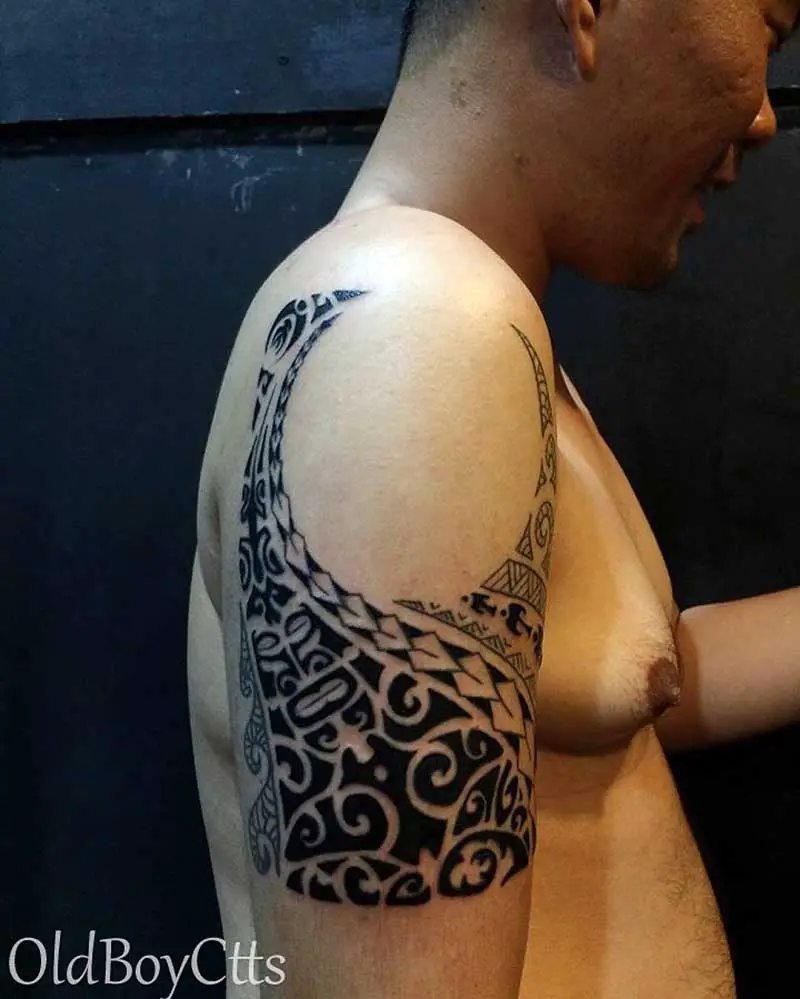 A tiki is a human-like figure who generally depicts half-gods, as opposed to atua, who appear to mankind as animals such as lizards. This type of tattoo is quite popular among the younger Polynesian generation.
Polynesian Shark Tattoo
The Polynesian Shark Tattoo is a Polynesian tattoo that comes in various designs. This is a tattoo that is commonly seen on some Polynesian islands. This tattoo is trendy in Hawaii, Samoa, and American Samoa.
25. Shark Bone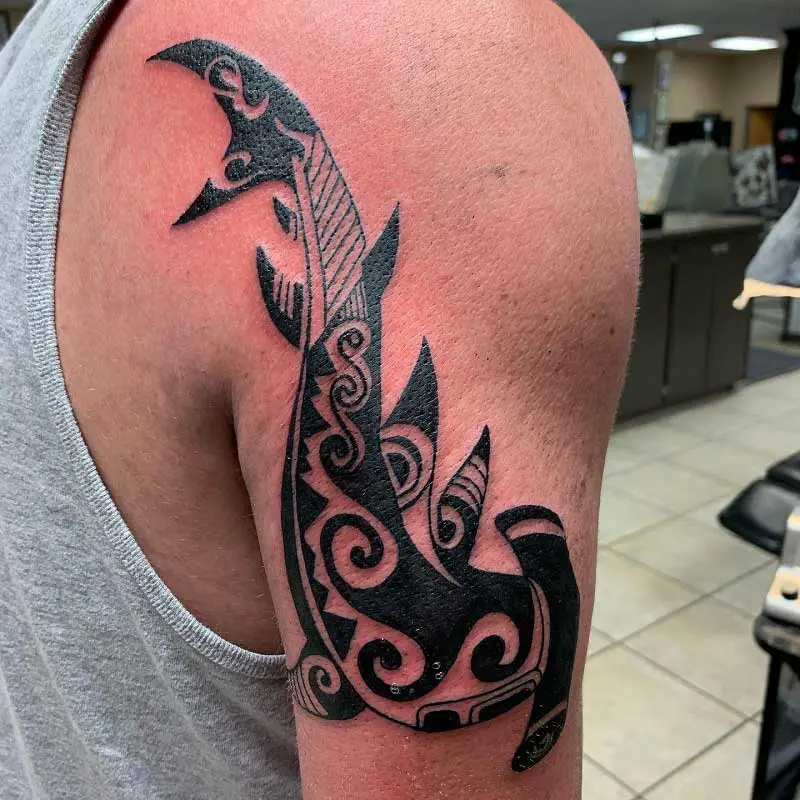 A shark with a bone in its jaws swimming with power looks fantastic. There are Polynesian ocean motifs in the body of this tattoo, indicating a love for the water.
26. Star Shark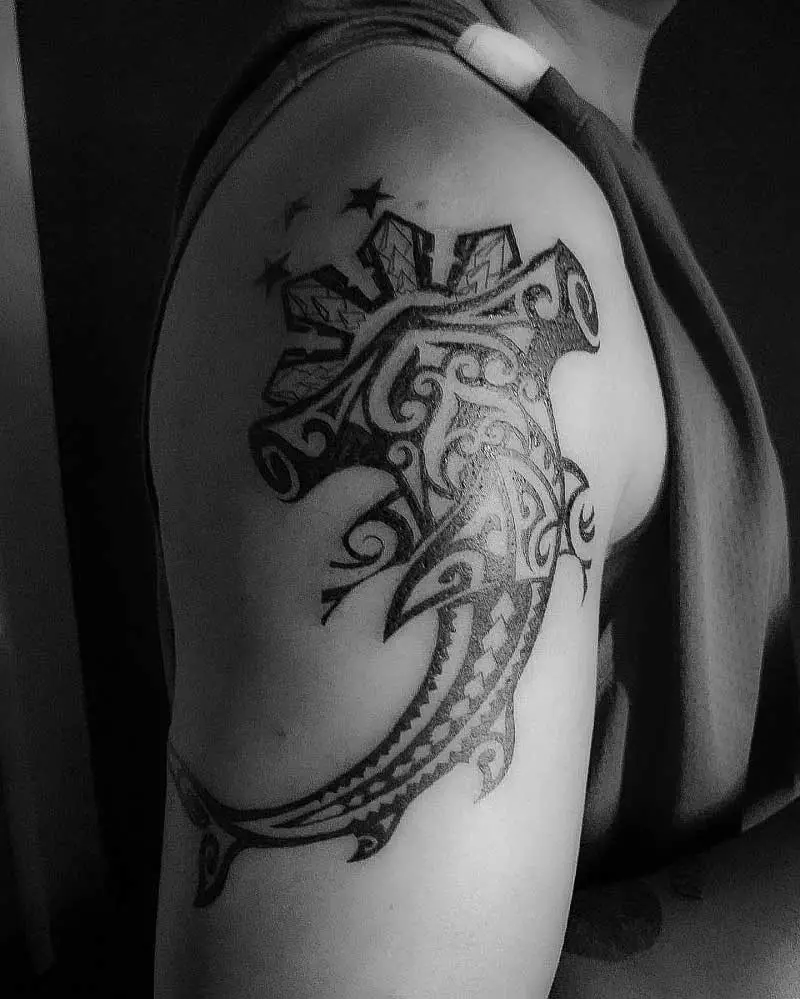 A shark observed some starfish and sought to capture them before fleeing, which appears to be quite realistic. The Spearhead Polynesian symbol may also be seen on the back of this shark tattoo.
27. Rose shark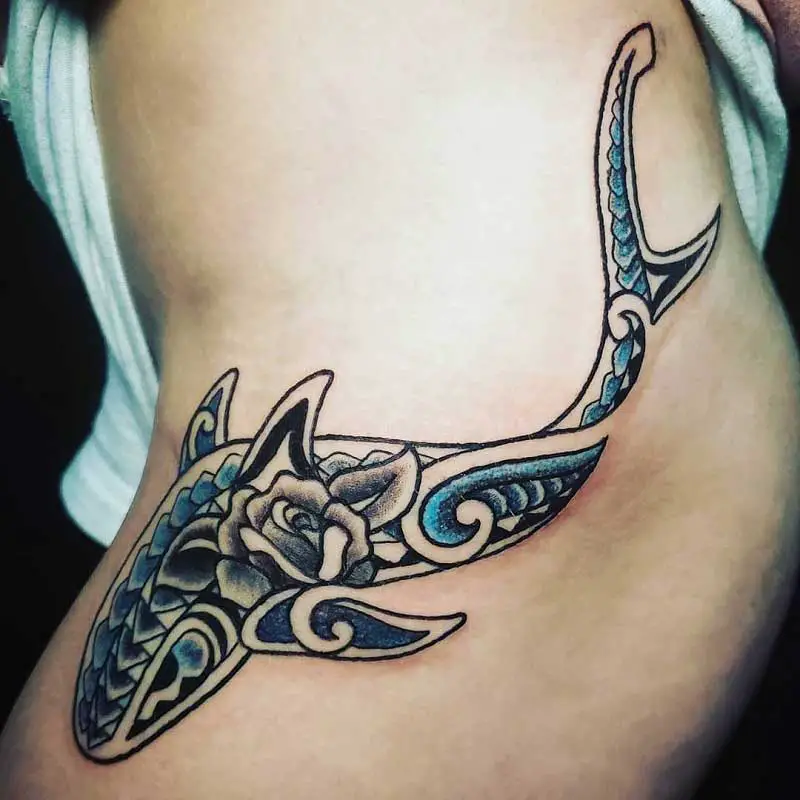 A shark with a rose on its back that is blue looks wonderful. This tattoo's blue hue makes it beautiful and popular among female tattoo enthusiasts. Stylish Polynesian Shark Tattoo!
Traditional Polynesian Tattoo
Traditional Polynesian Tattoos are designs that were used in ancient times and were meant to offer protection and healing. The designs were made with particular symbols, which are often referred to by their Hawaiian name.
28. Double M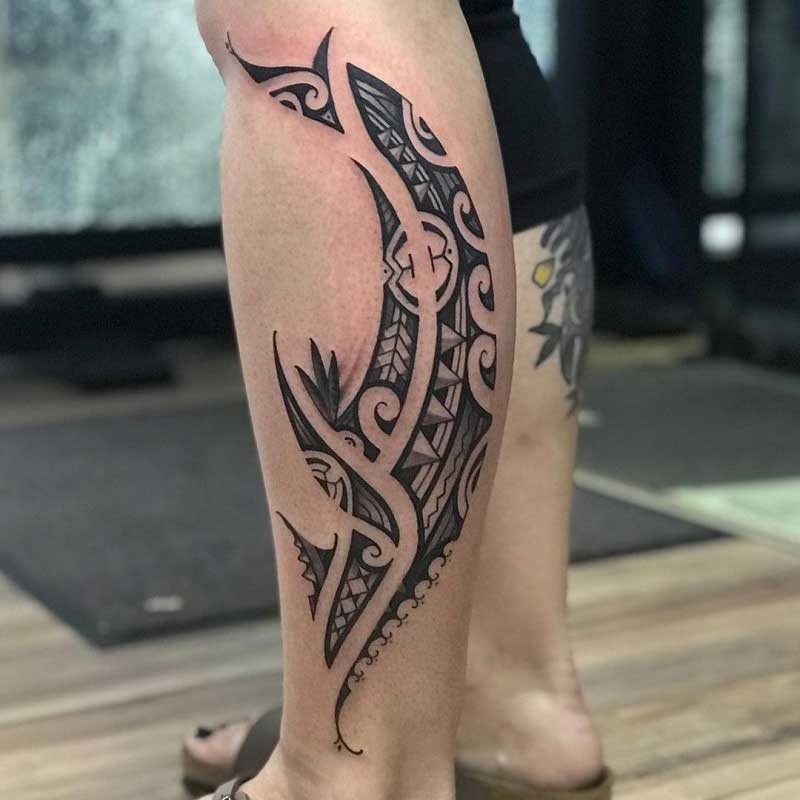 This tattoo resembles a shark; however, on its body, there are two t symbols that contrast well. The rest of this tattoo features typical Polynesian cultural symbols.
29. Maze circle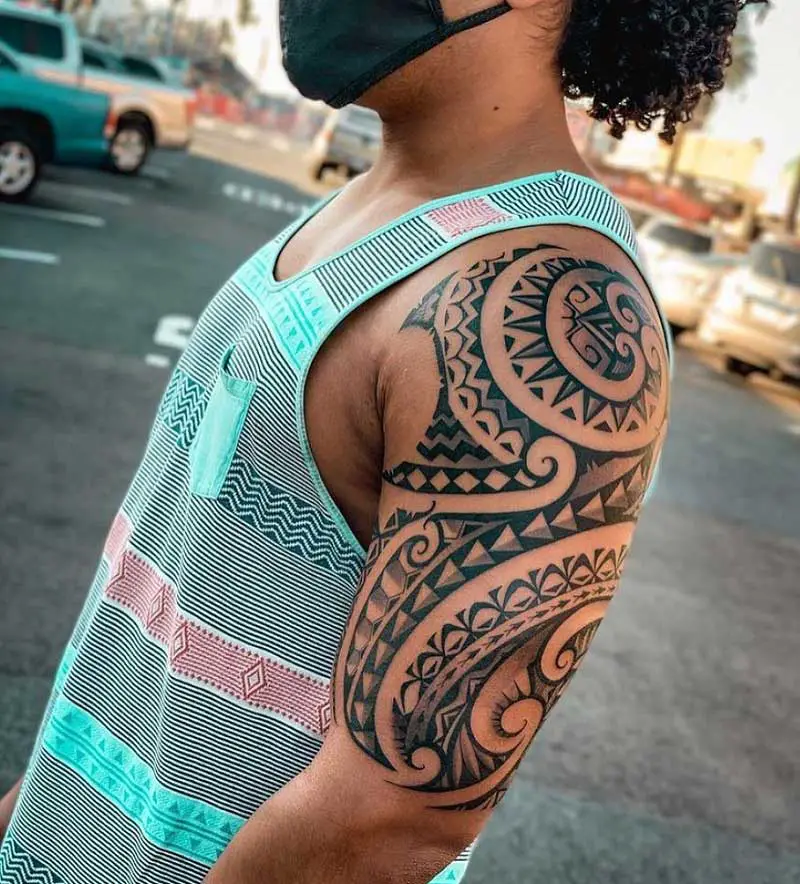 This tattoo has a maze circle with a Polynesian pattern; people enjoy this type of tattoo idea since it depicts Polynesian culture. This tattoo also contains some bright and dark color shades that look wonderful together.
30. King Circle
A Polynesian circle with a royal crown and a deep black hue looks fantastic. This type of tattoo color combination demonstrates your appreciation for Polynesian culture.
Armband Polynesian Tattoo
31.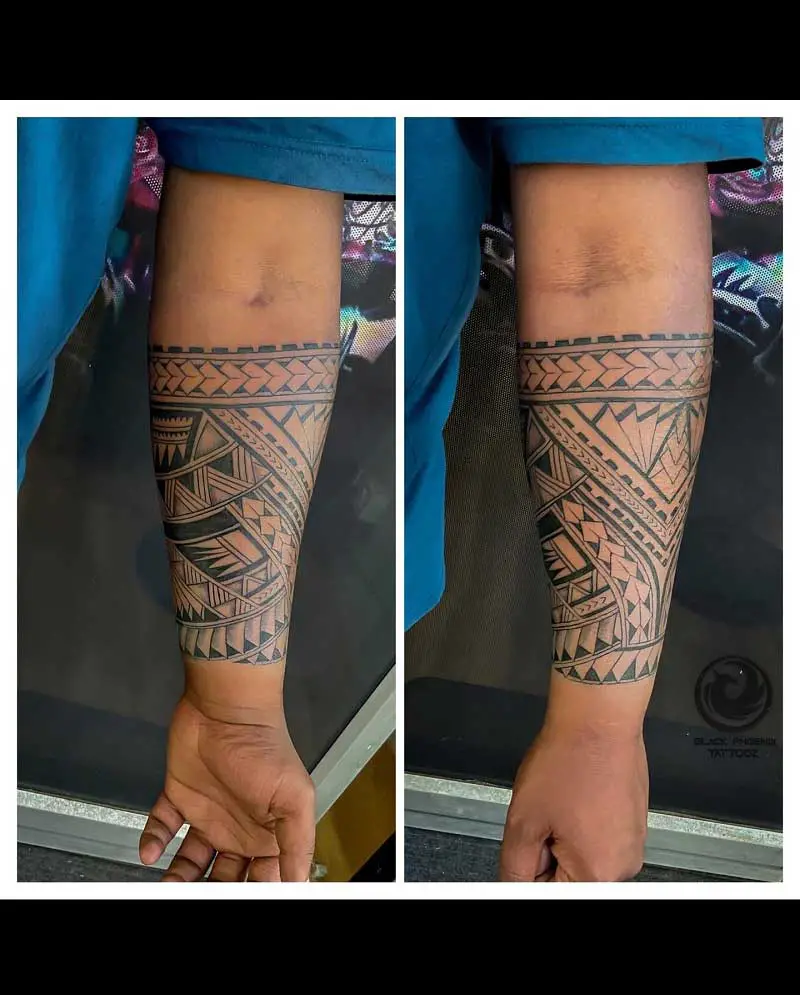 32.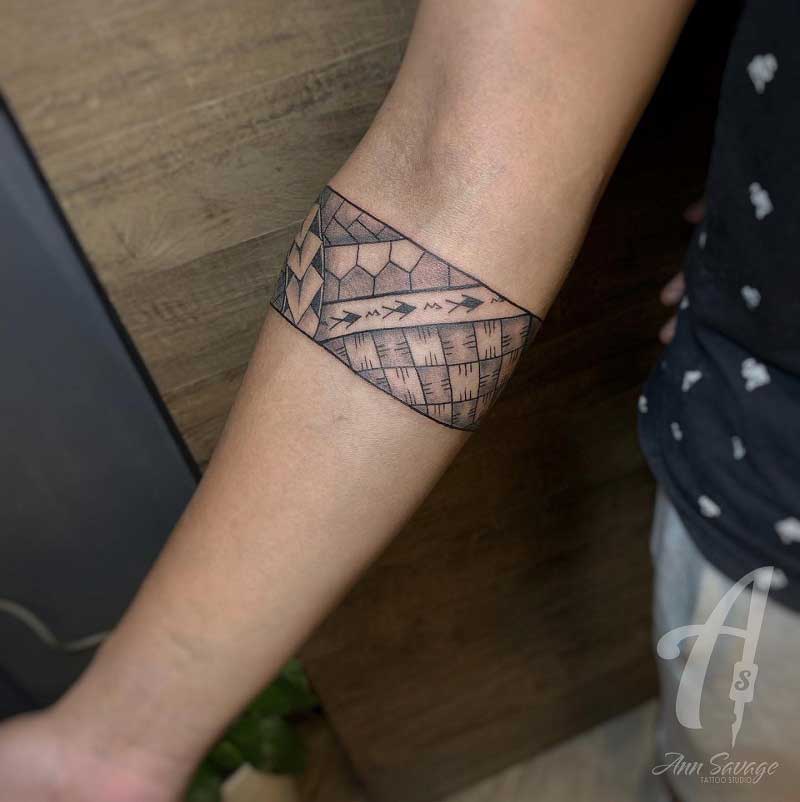 33.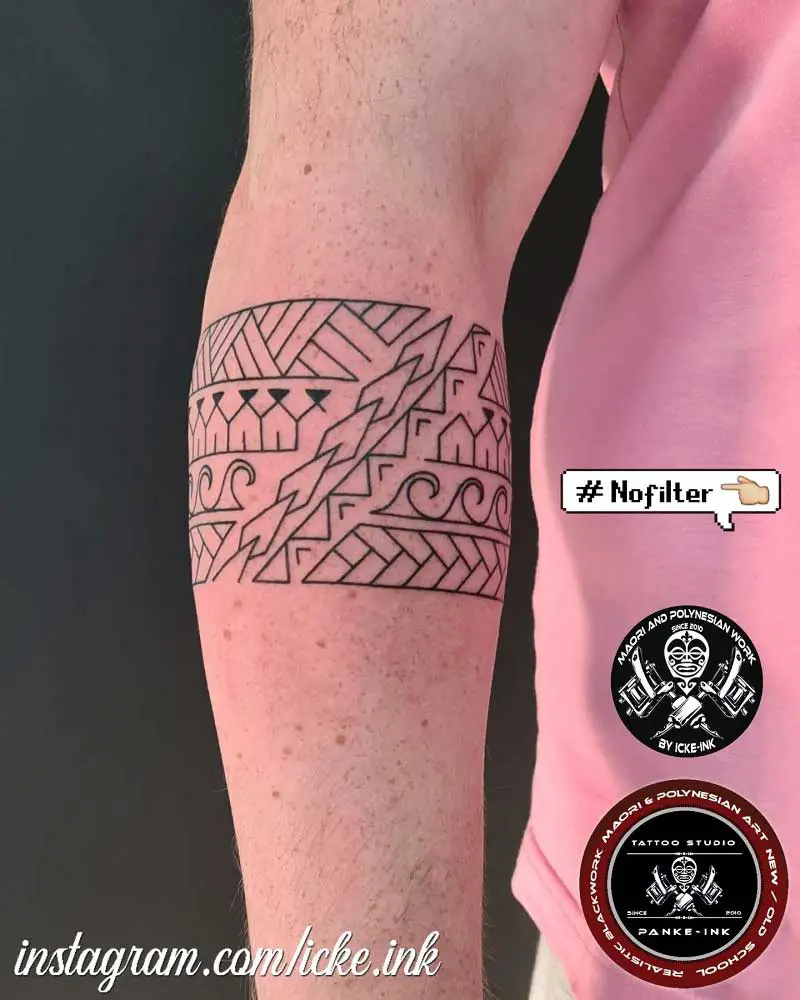 Half Sleeve Polynesian Tattoo Stencil
34.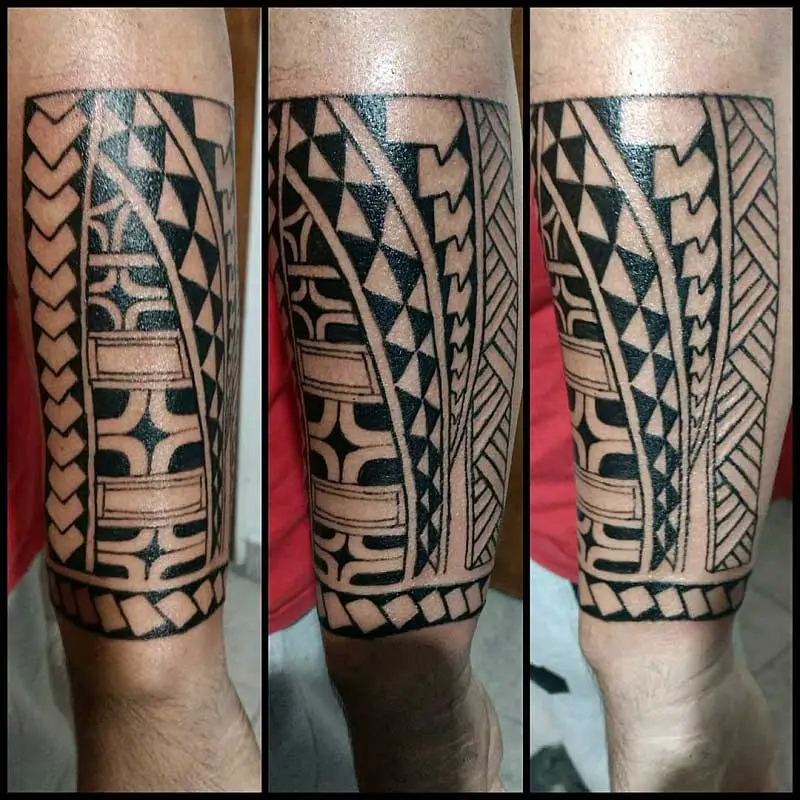 35.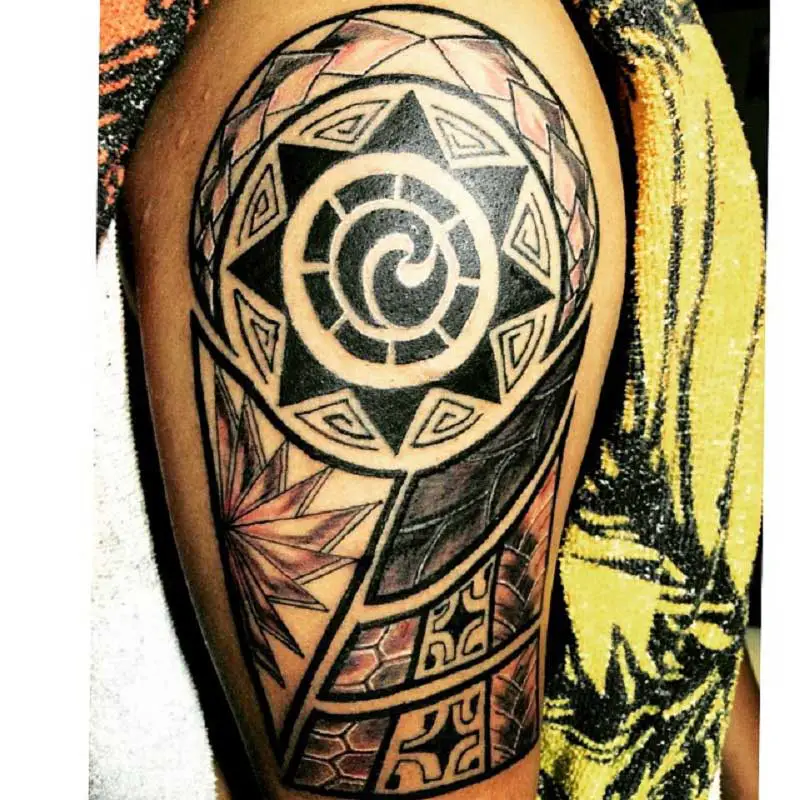 36.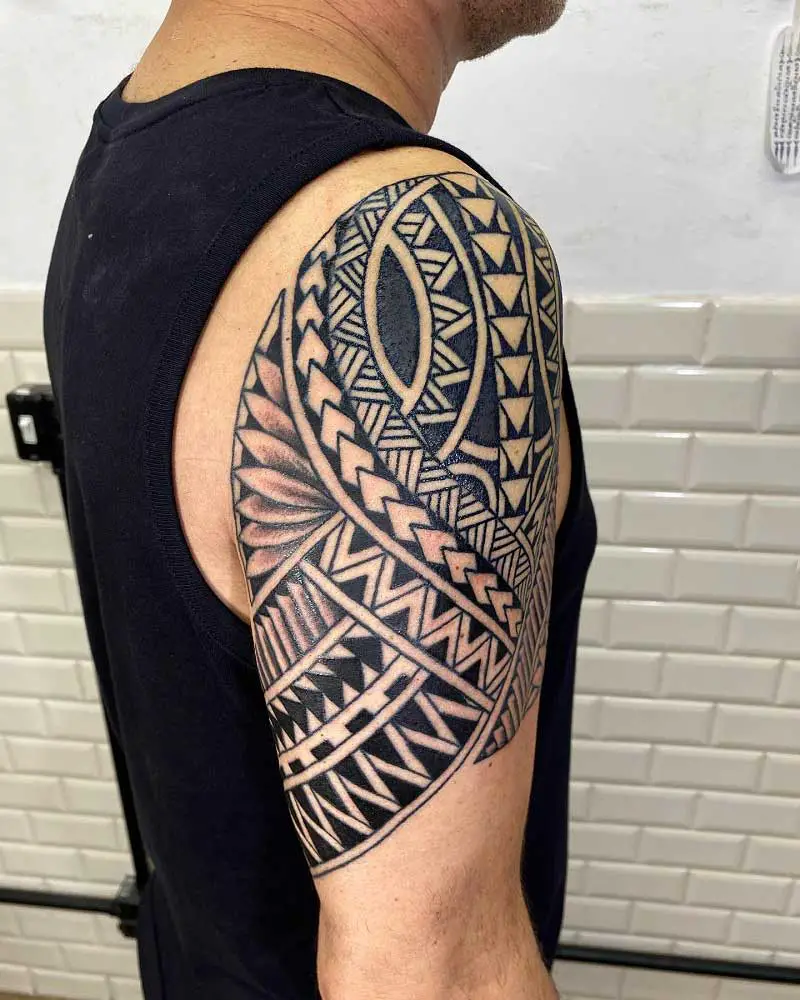 Polynesian Flower Tattoo
37.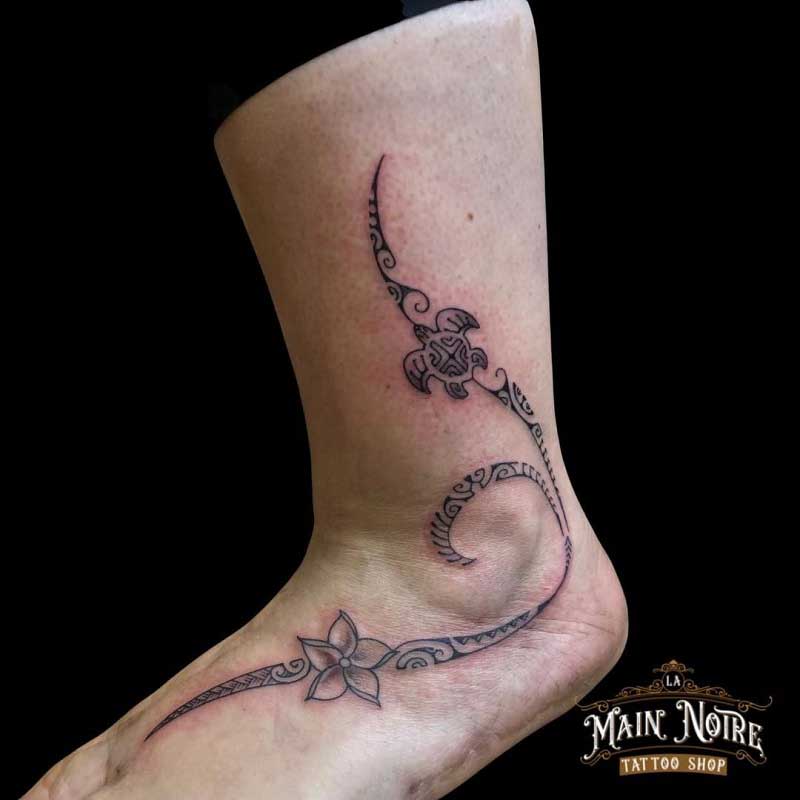 38.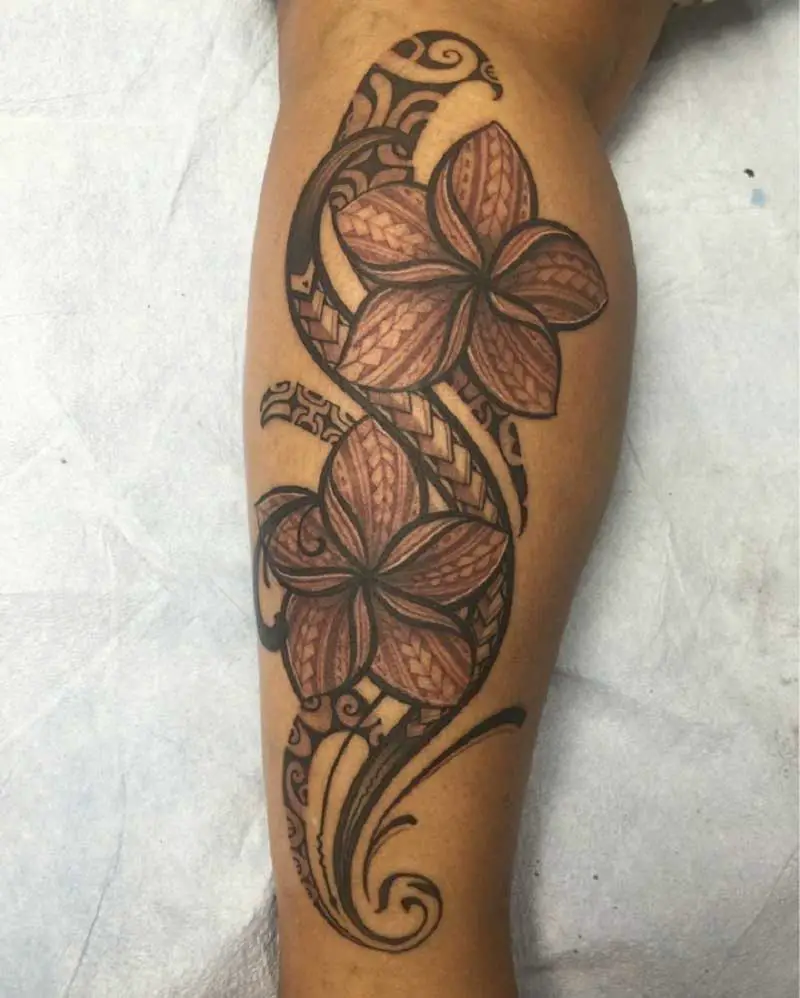 39.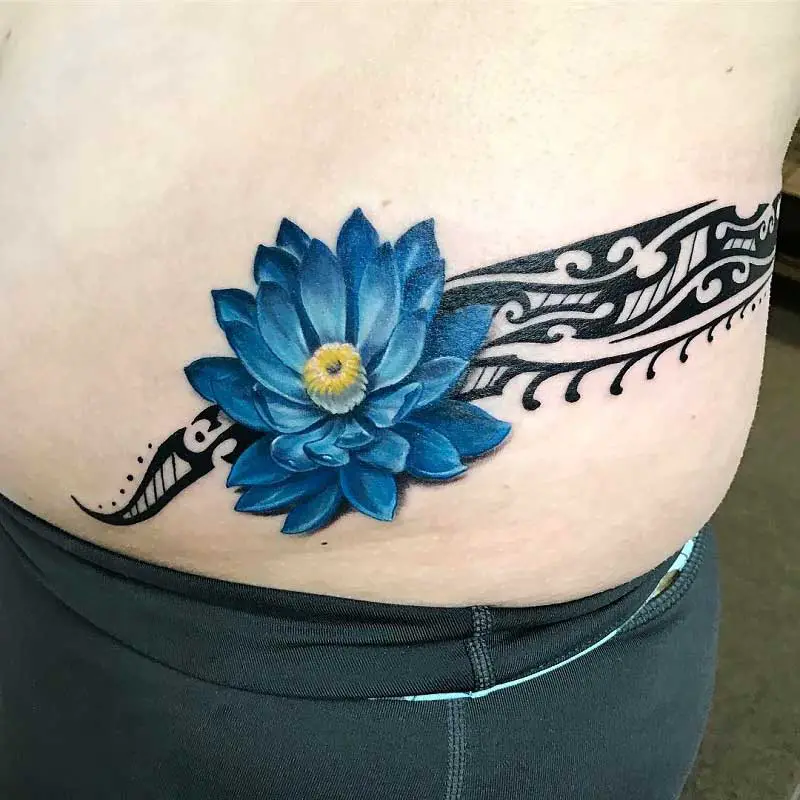 Polynesian Face Tattoo
40.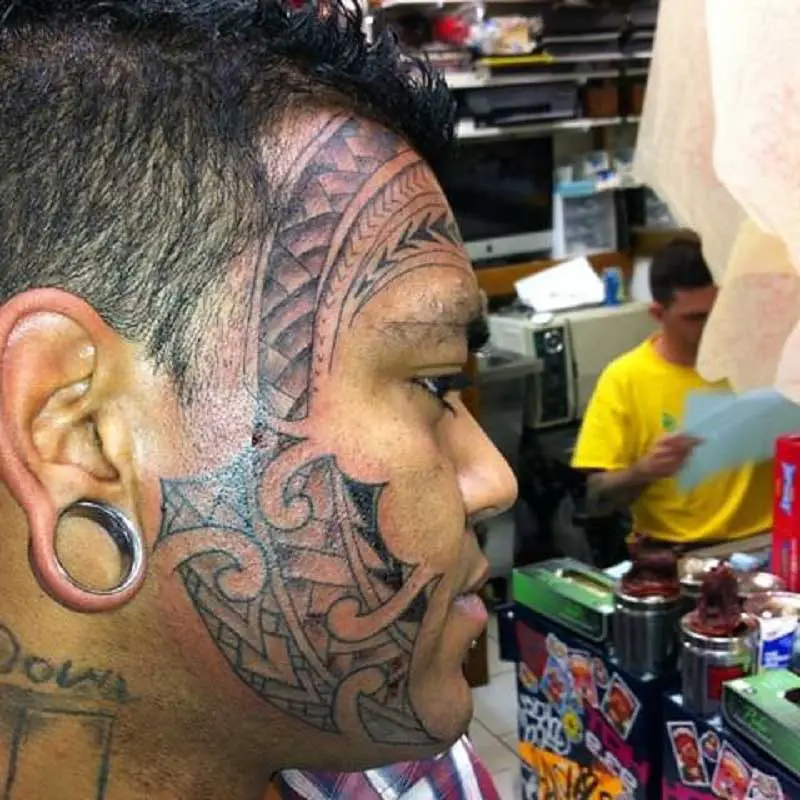 41.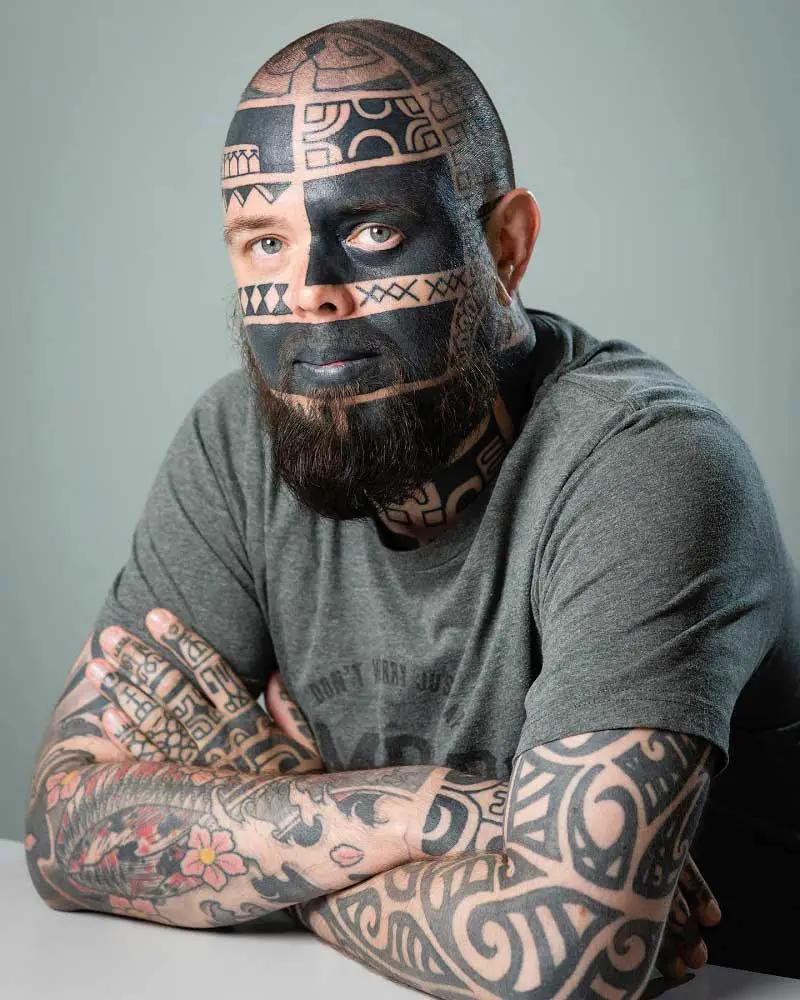 42.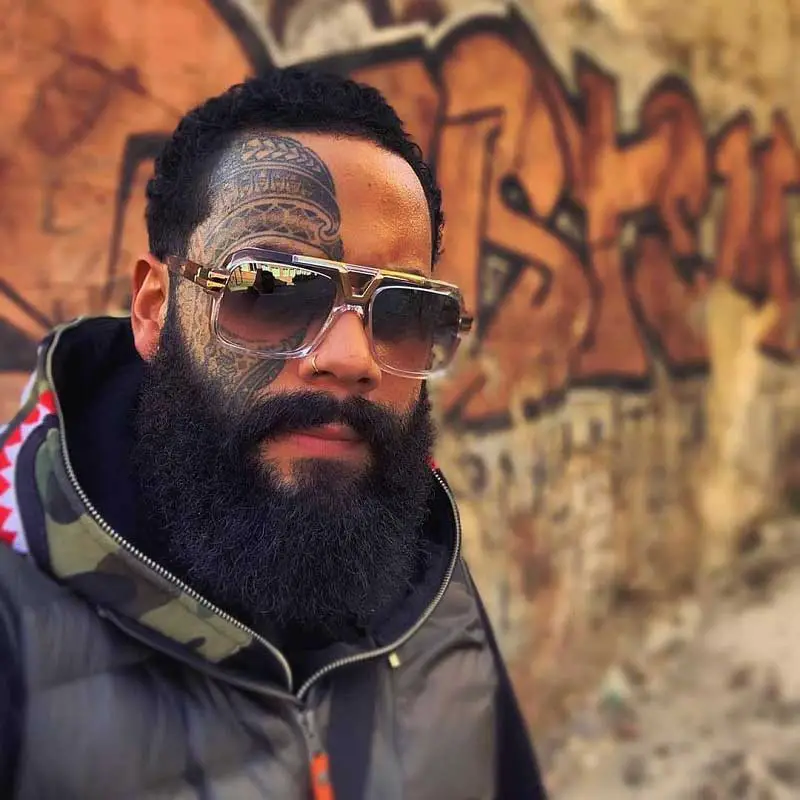 Polynesian Neck Tattoo
43.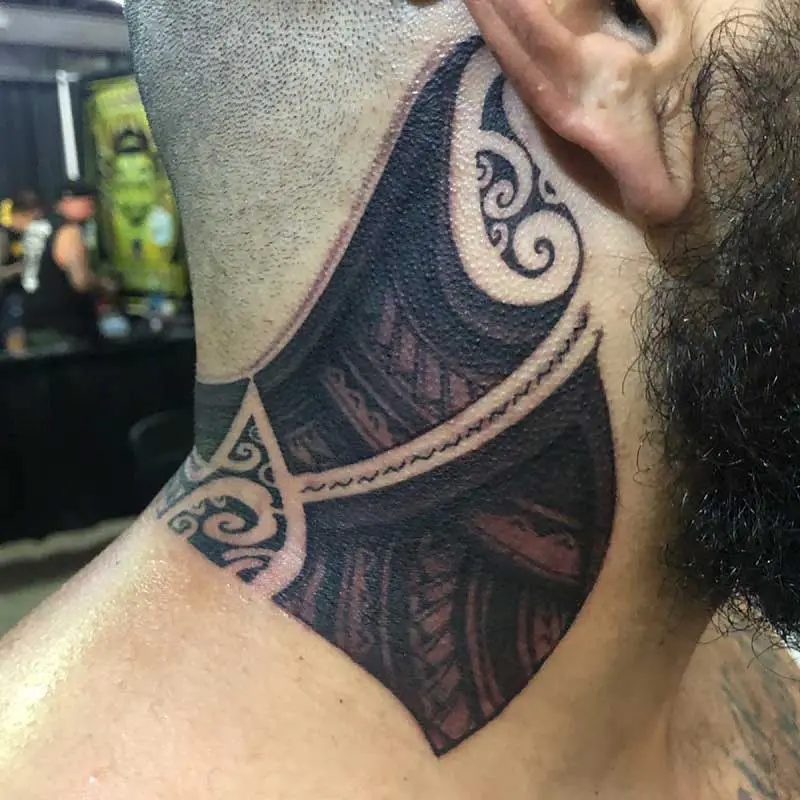 44.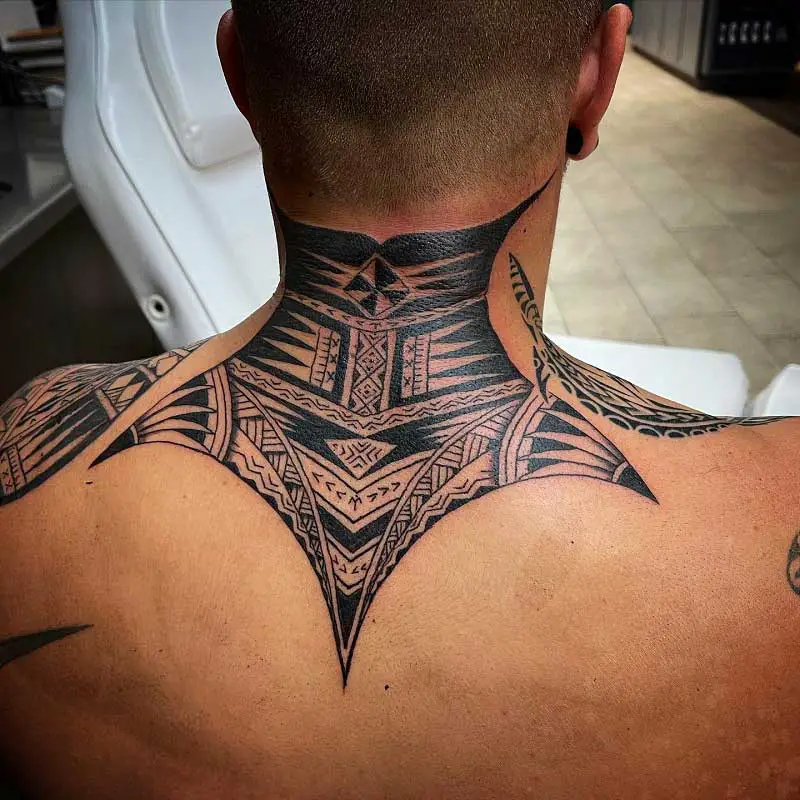 45.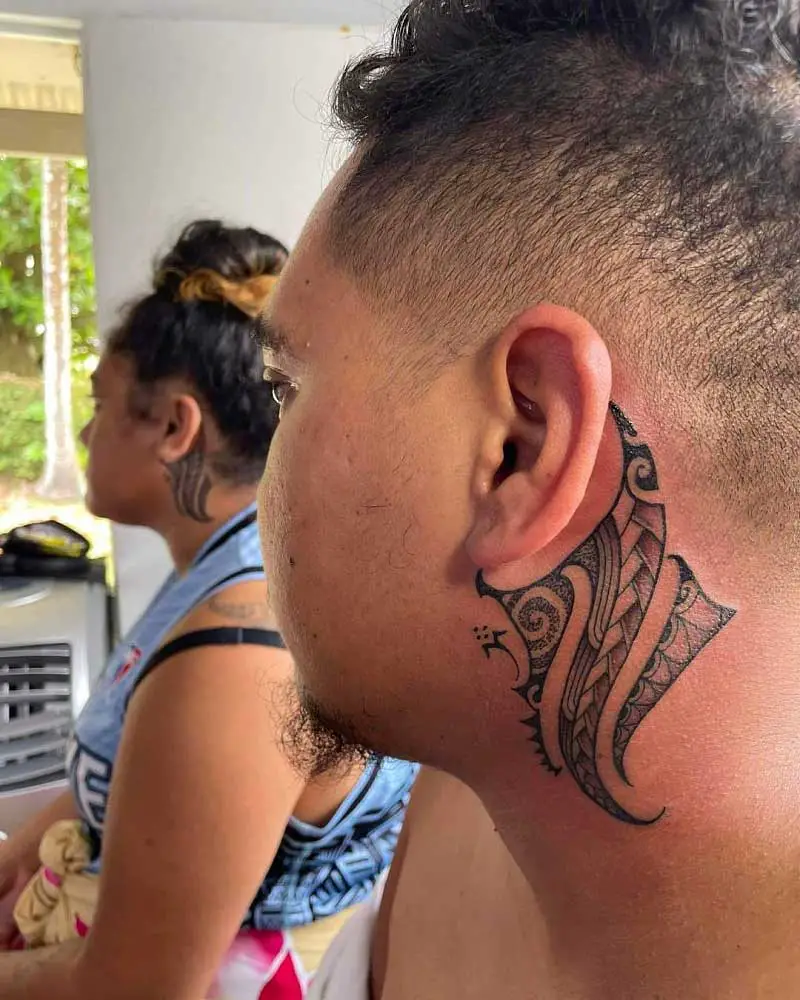 Paka Polynesian Tattoo
46.
47.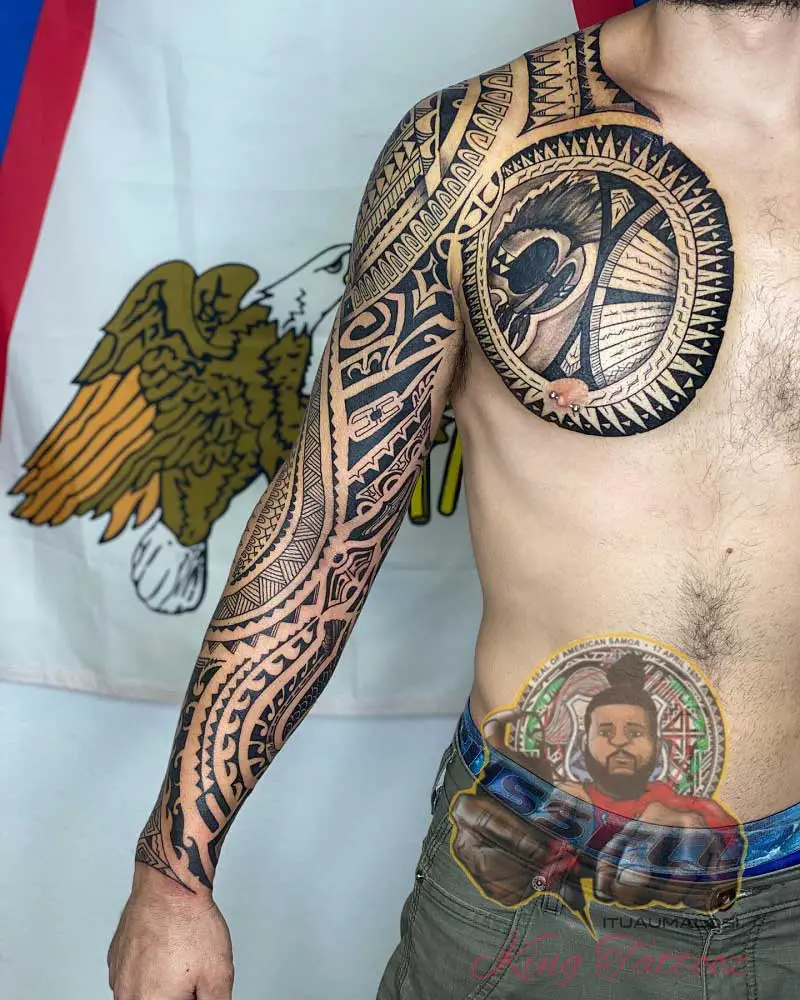 48.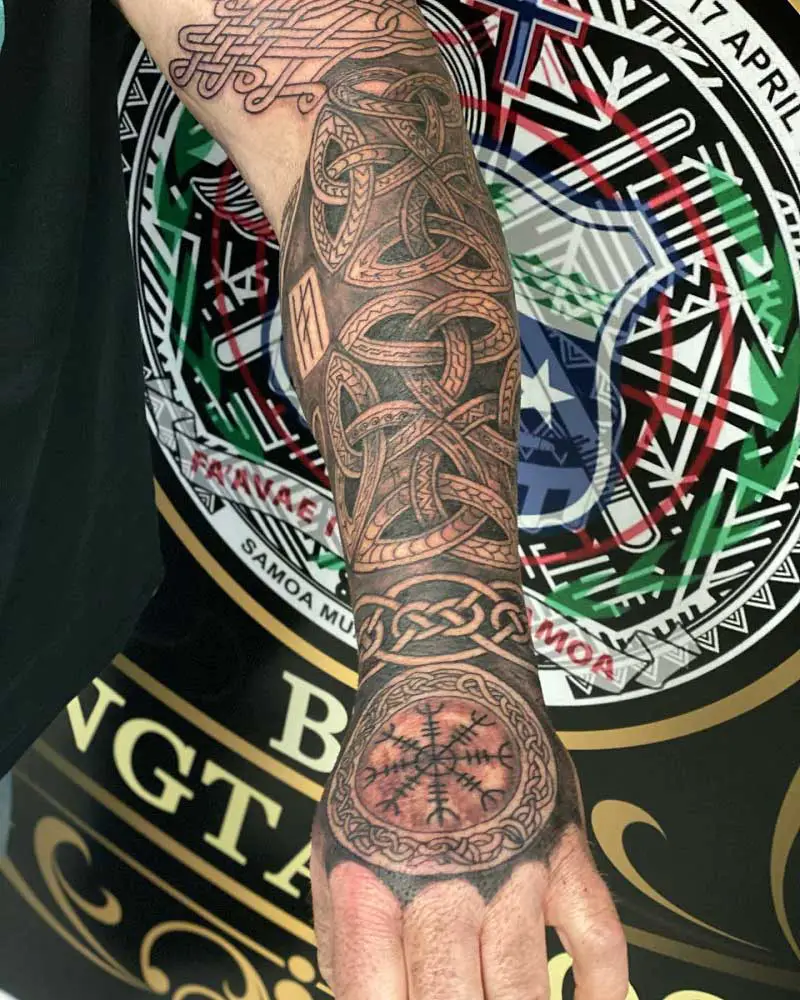 Polynesian Manta Ray Tattoo
49.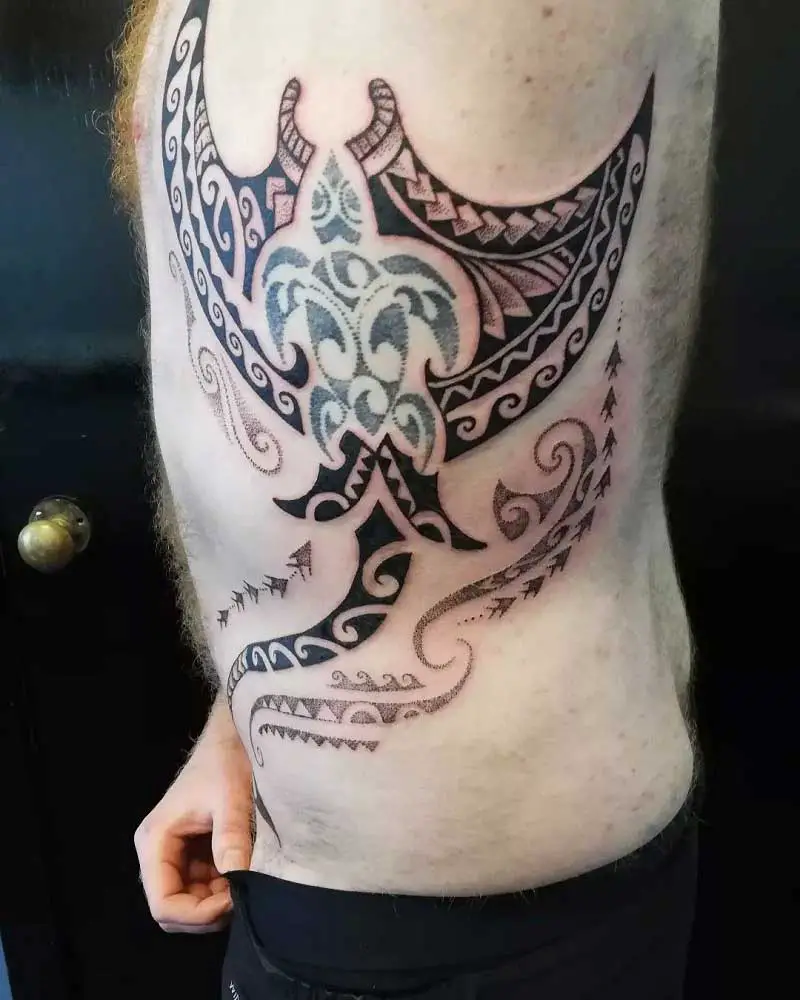 50.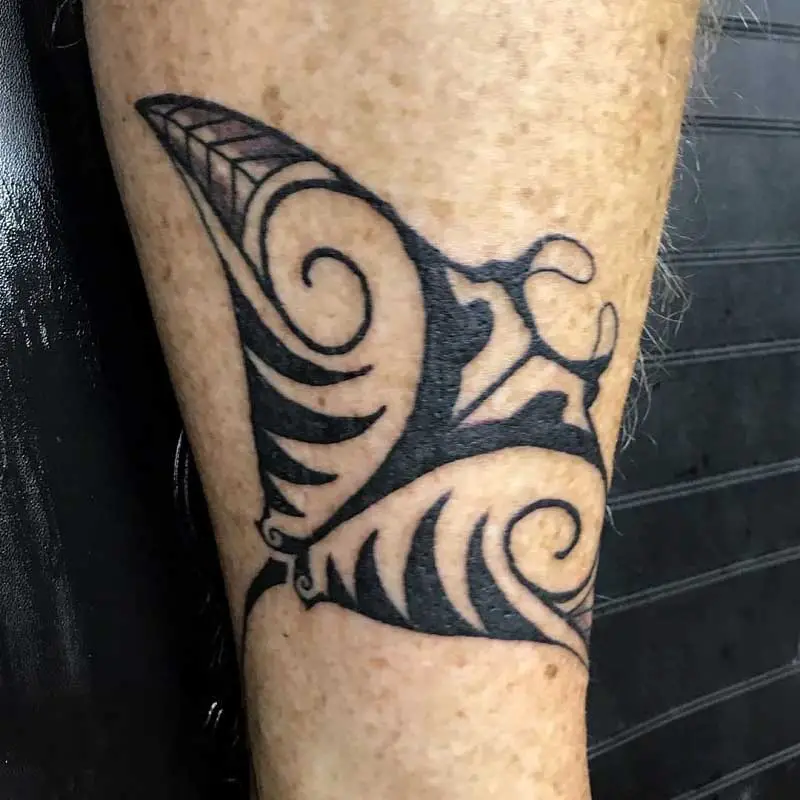 51.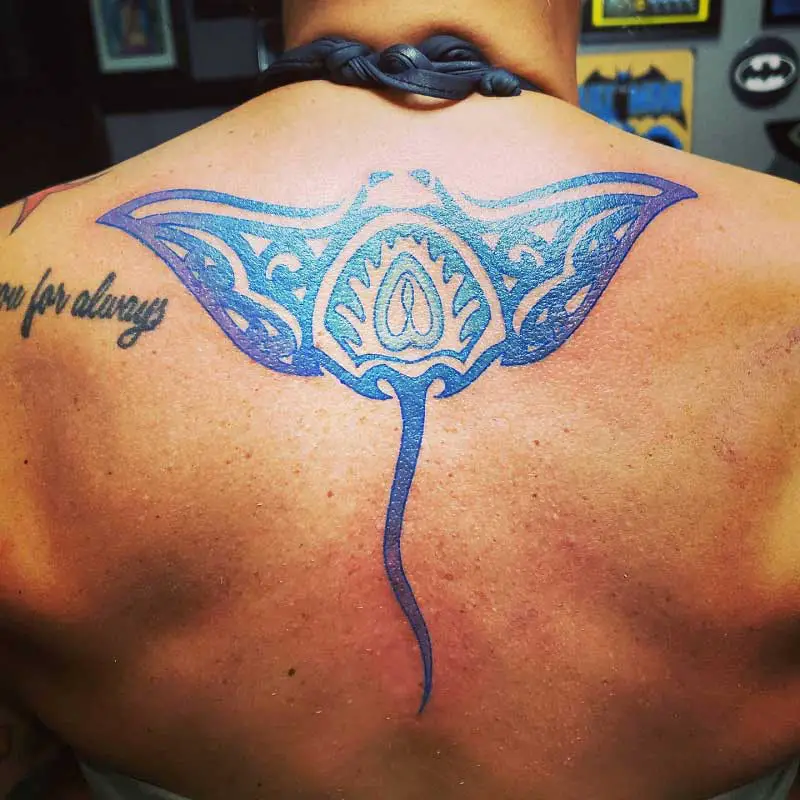 Polynesian Wave Tattoo
52.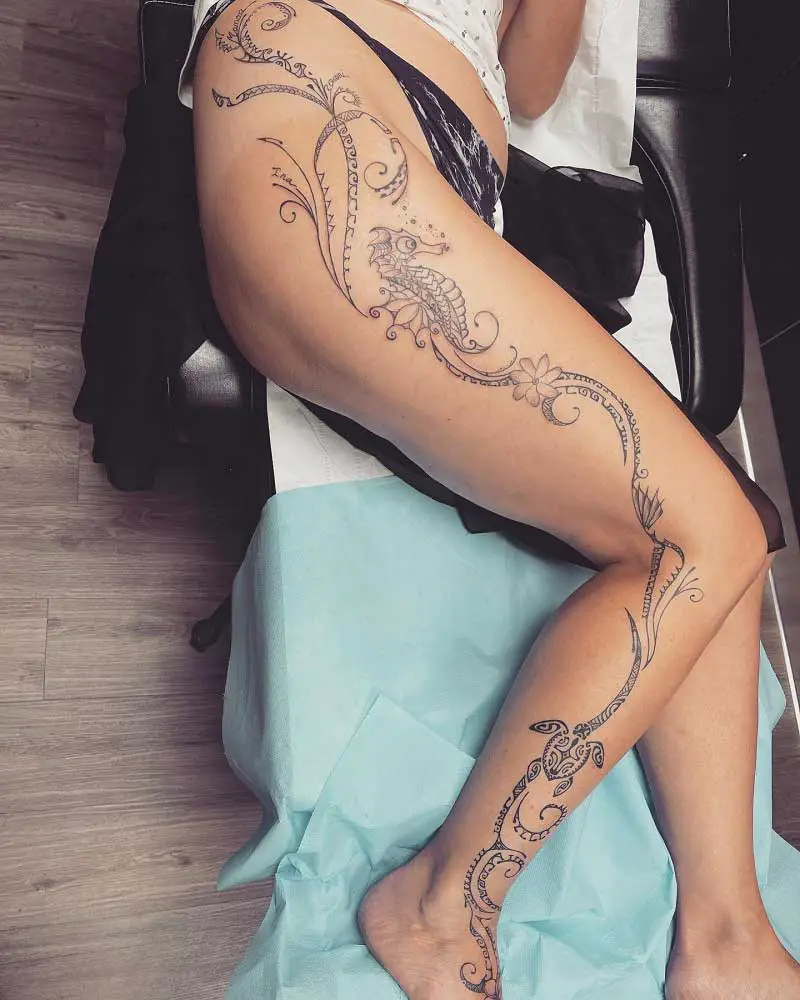 53.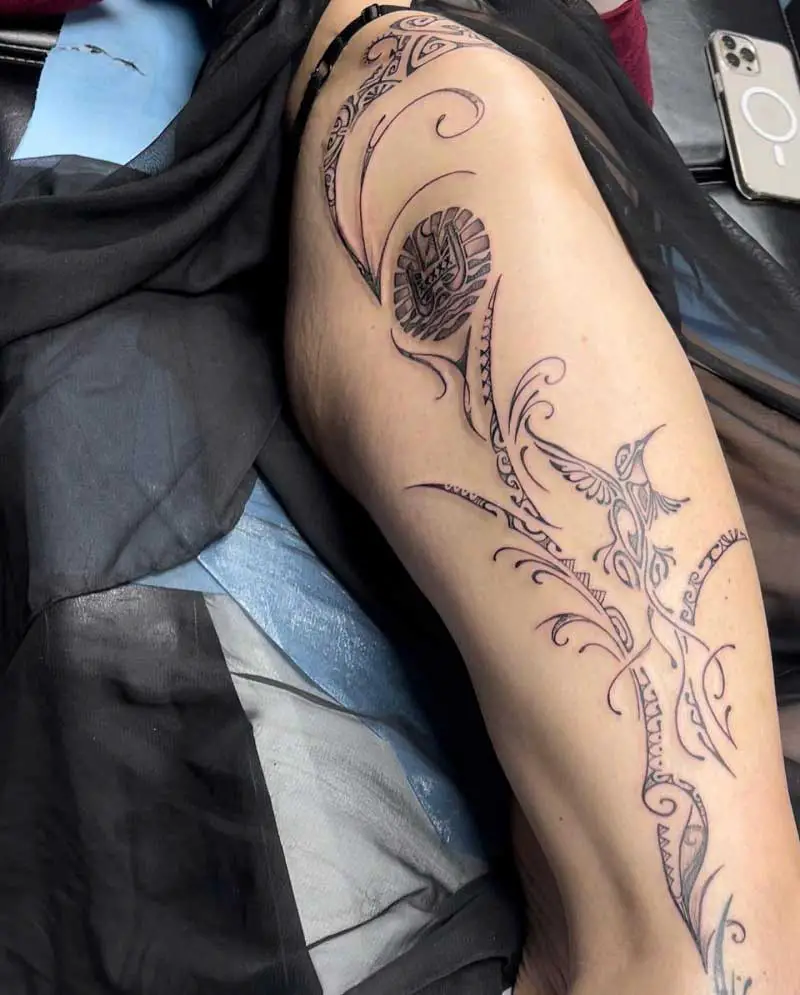 54.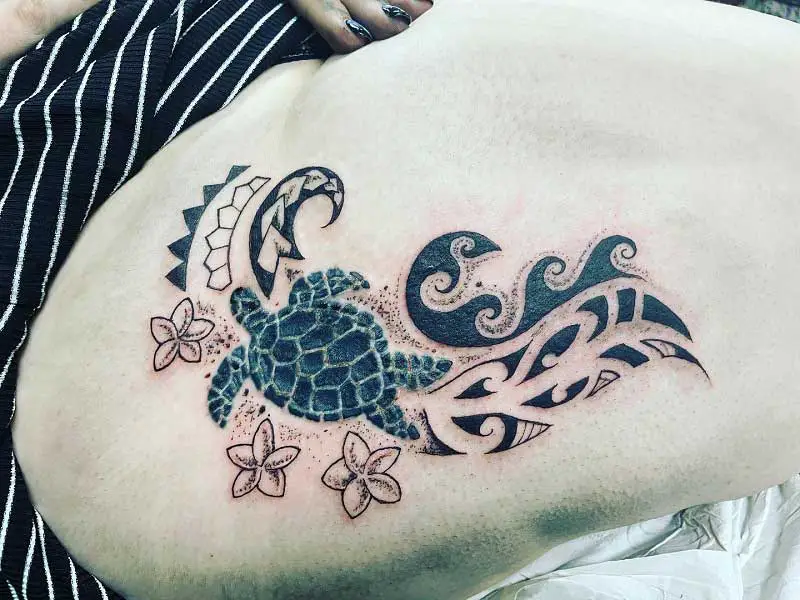 Polynesian Animal Tattoo
55.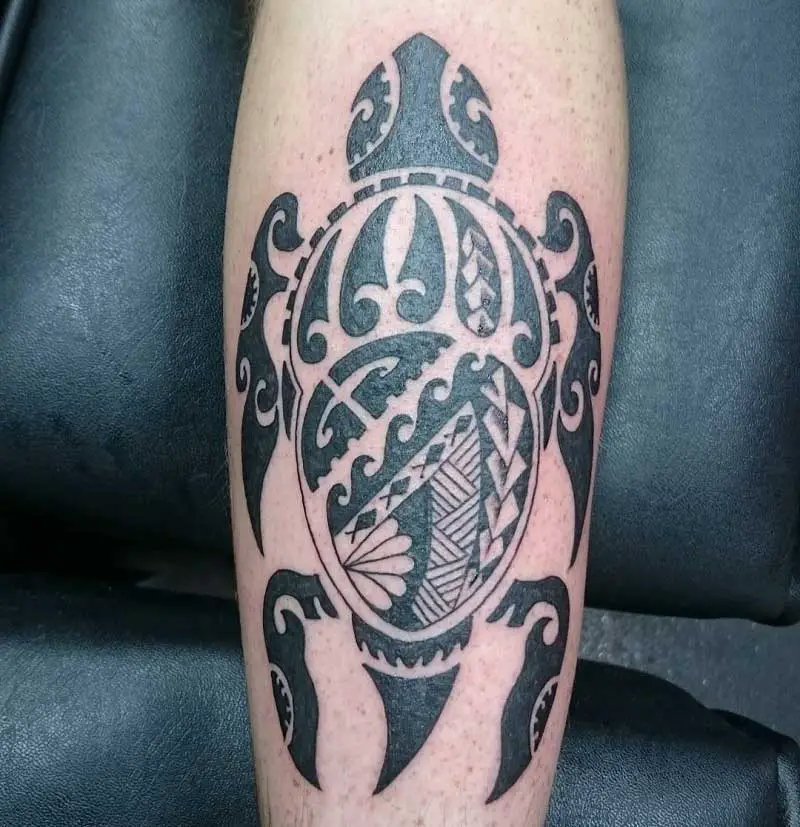 56.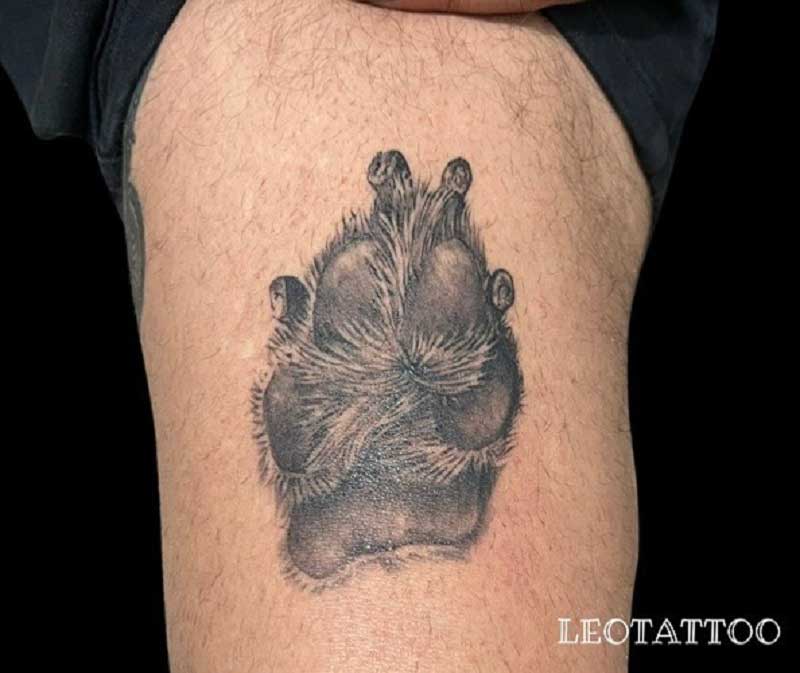 57.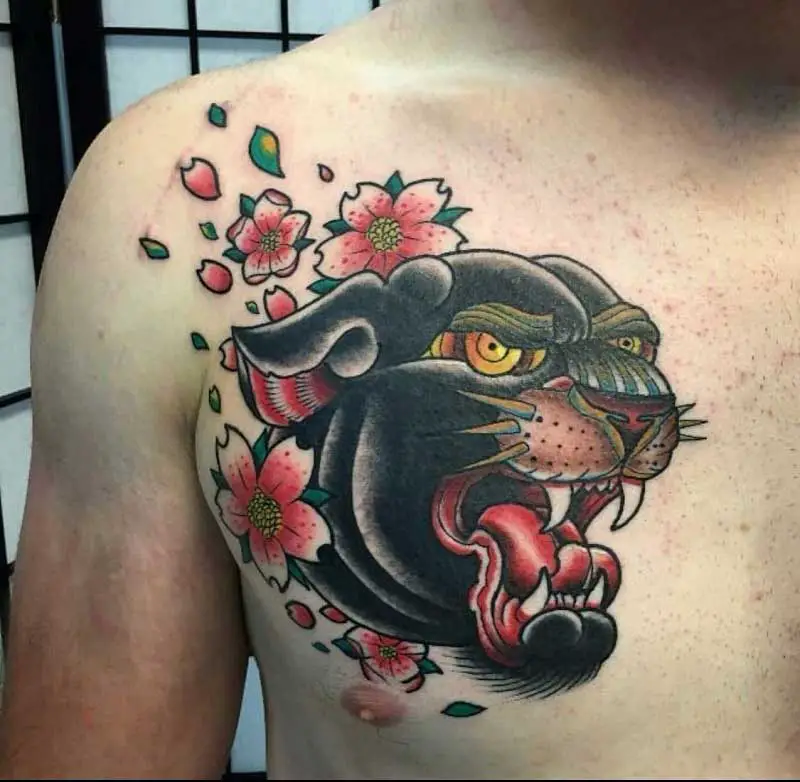 Polynesian Octopus Tattoo
58.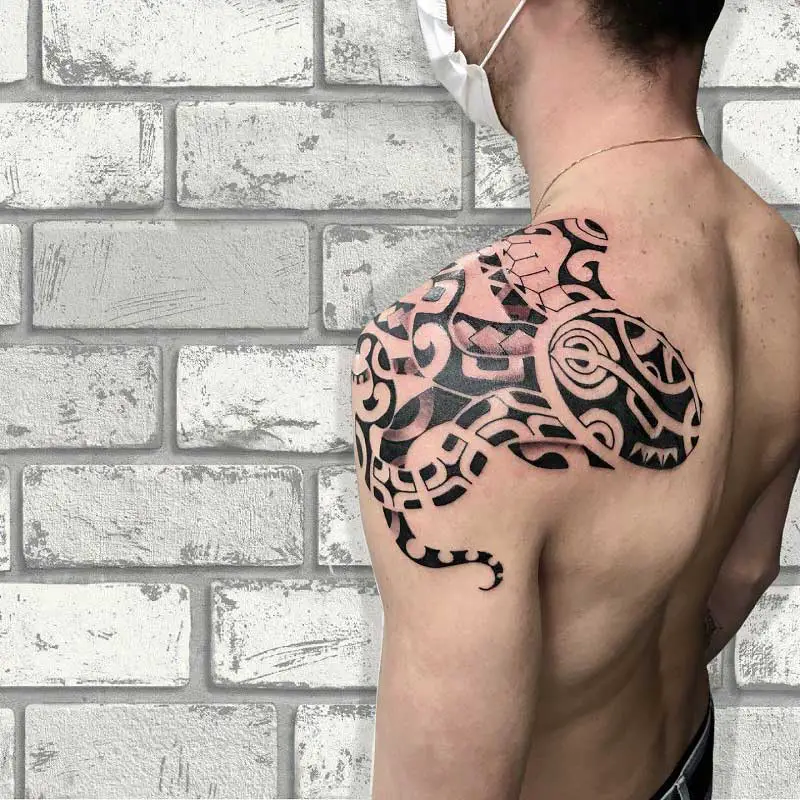 59.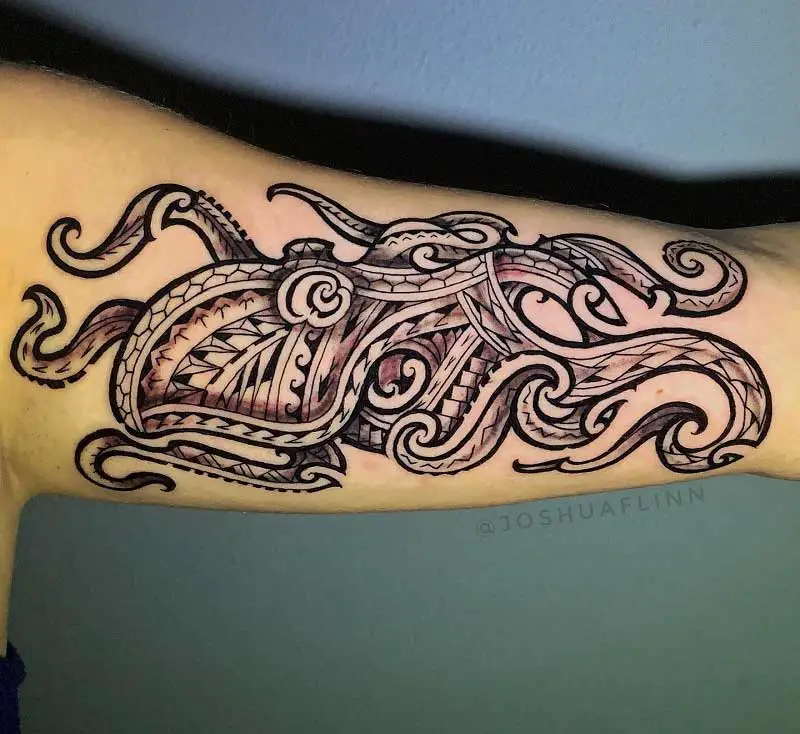 60.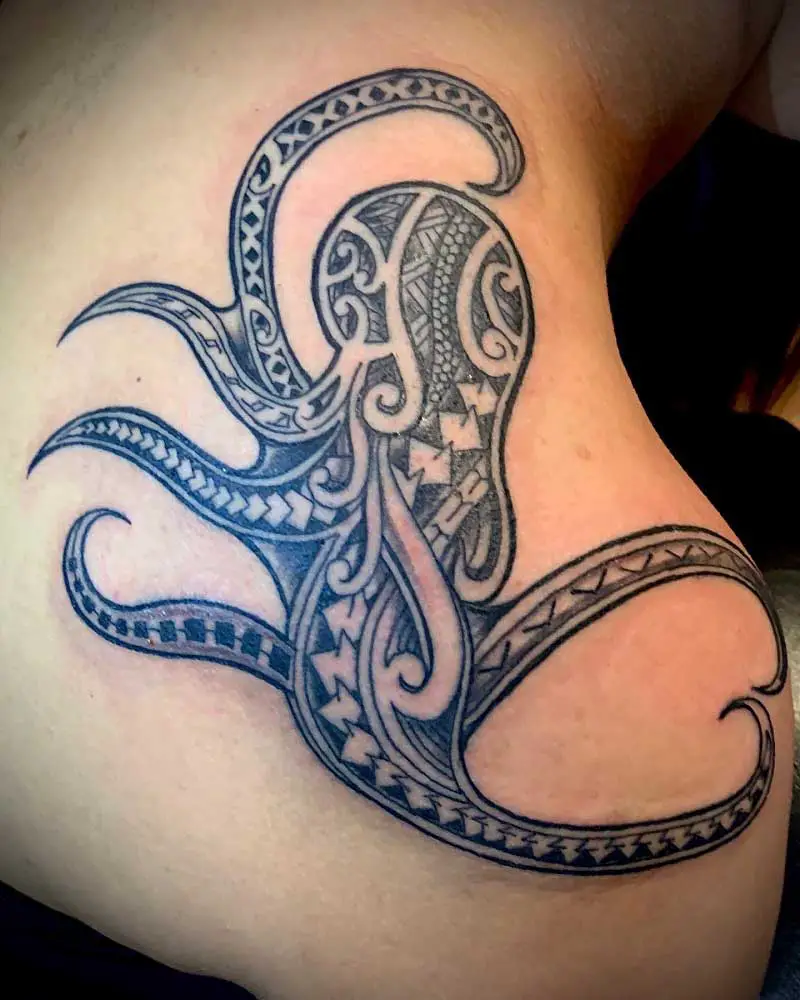 Warrior Polynesian Tattoo
61.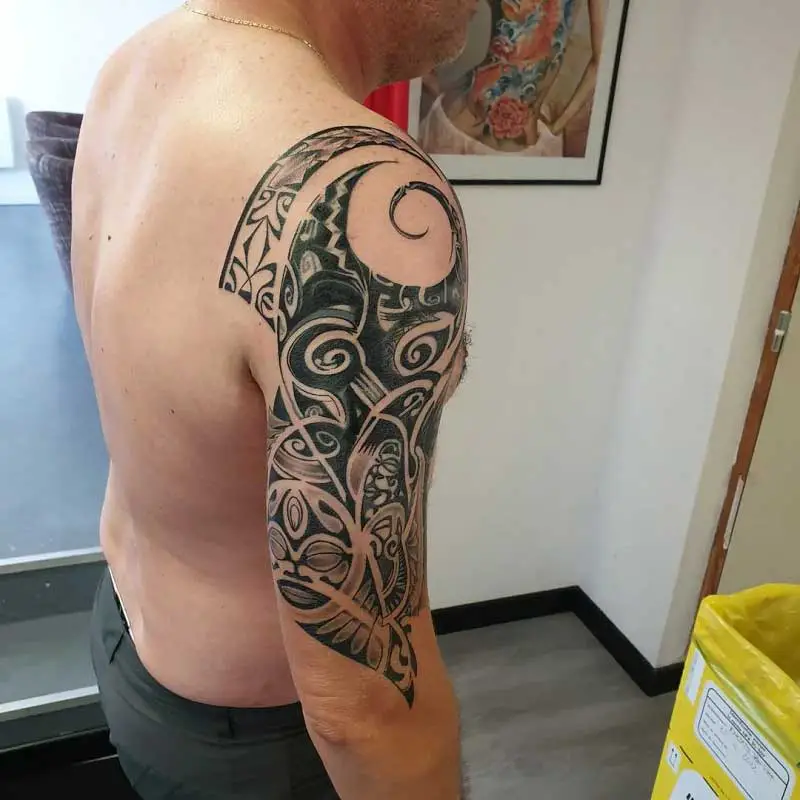 62.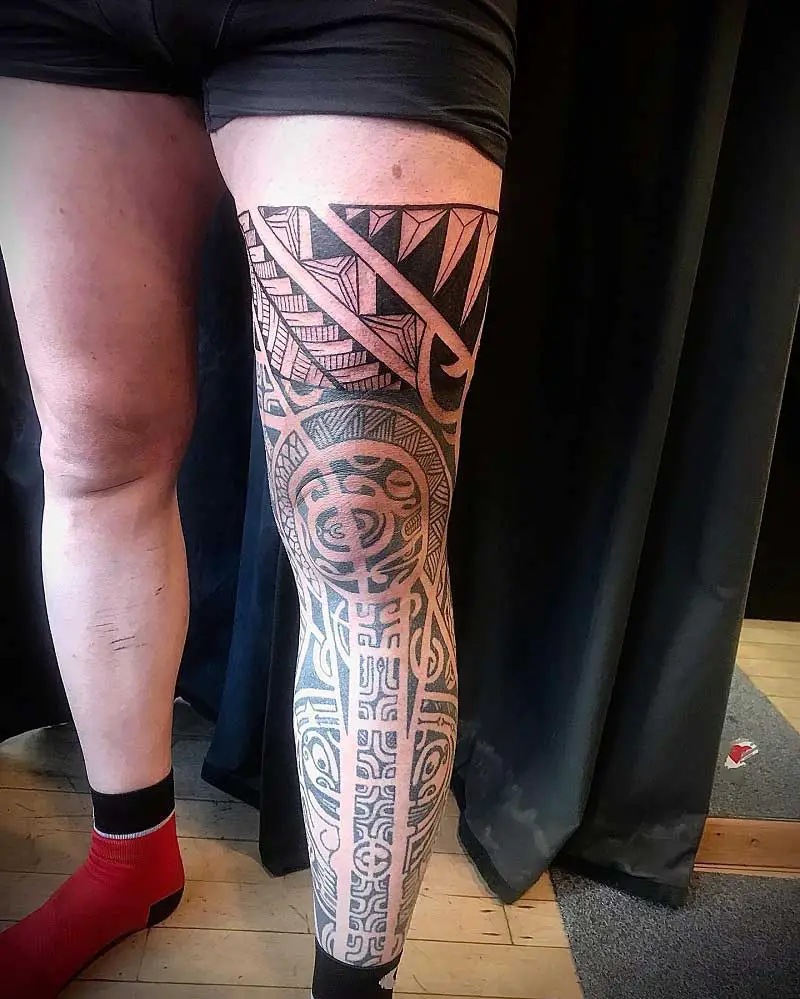 63.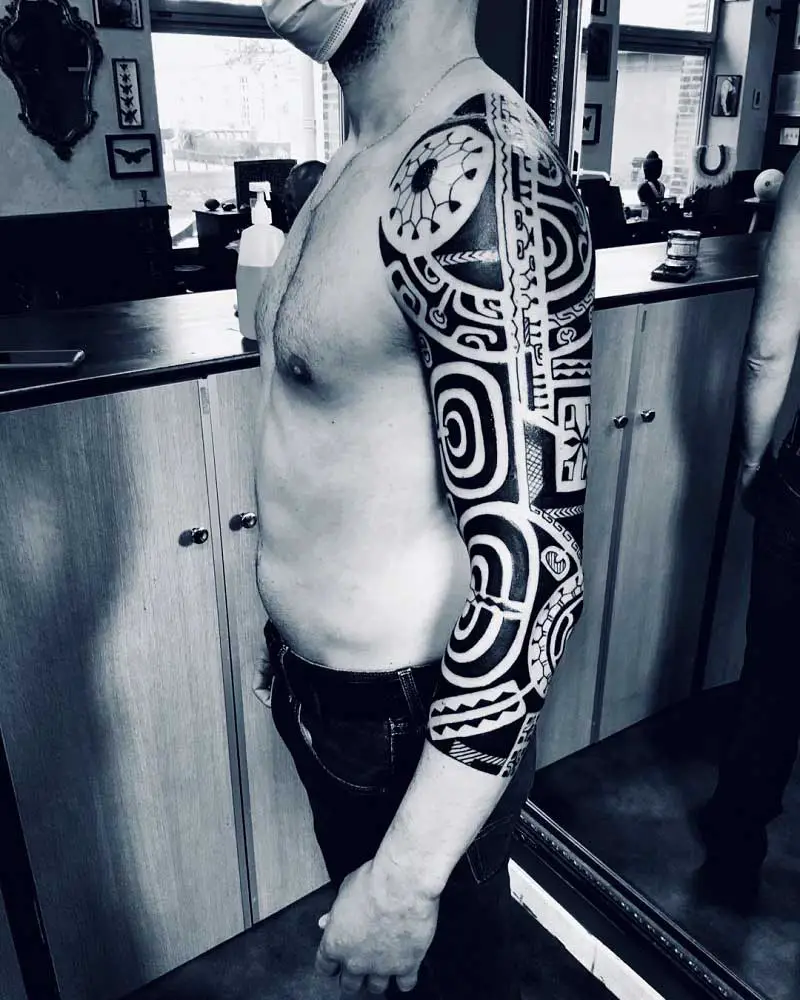 Polynesian Lion Tattoo
64.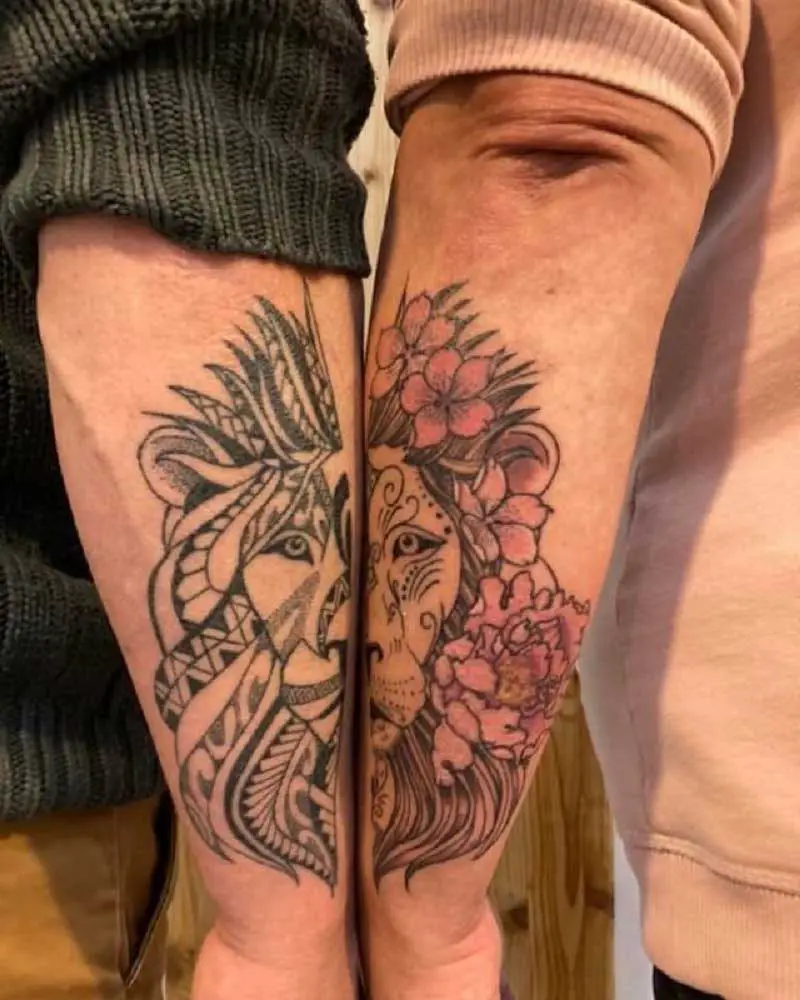 65.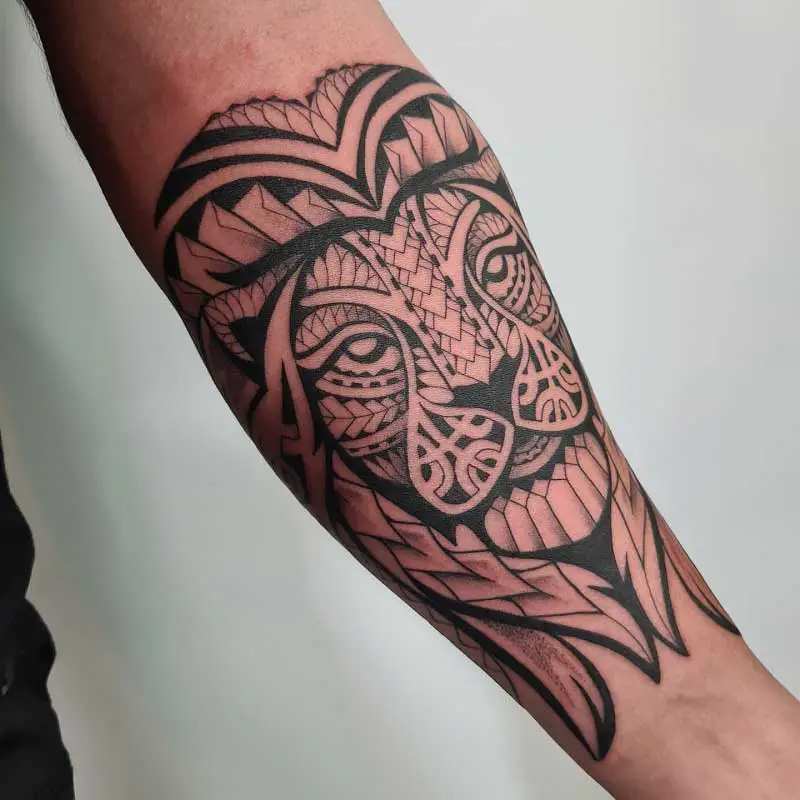 66.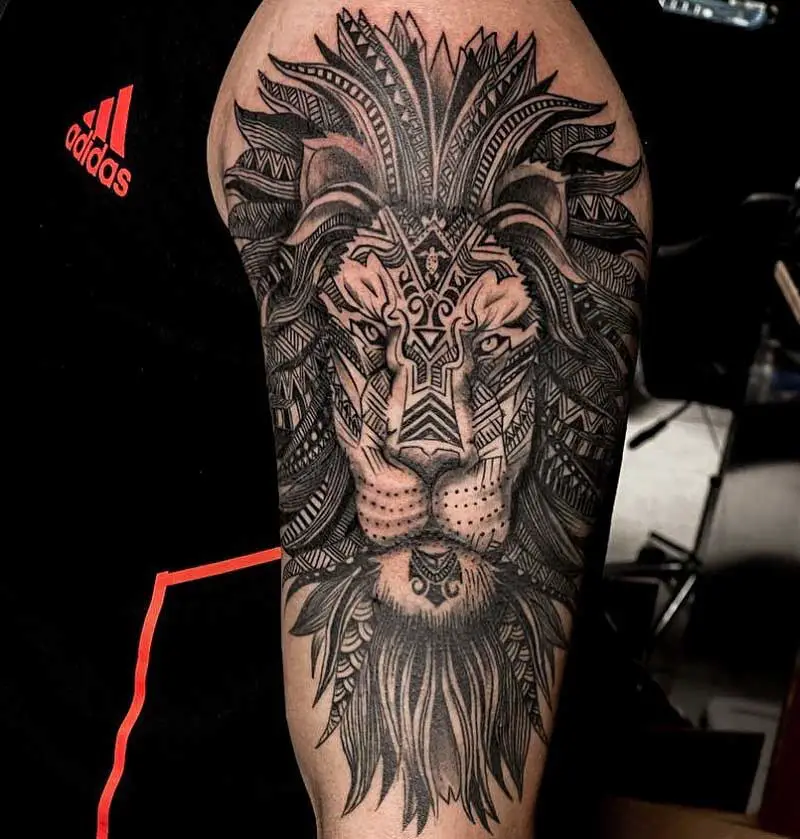 Polynesian Plumeria Tattoo
67.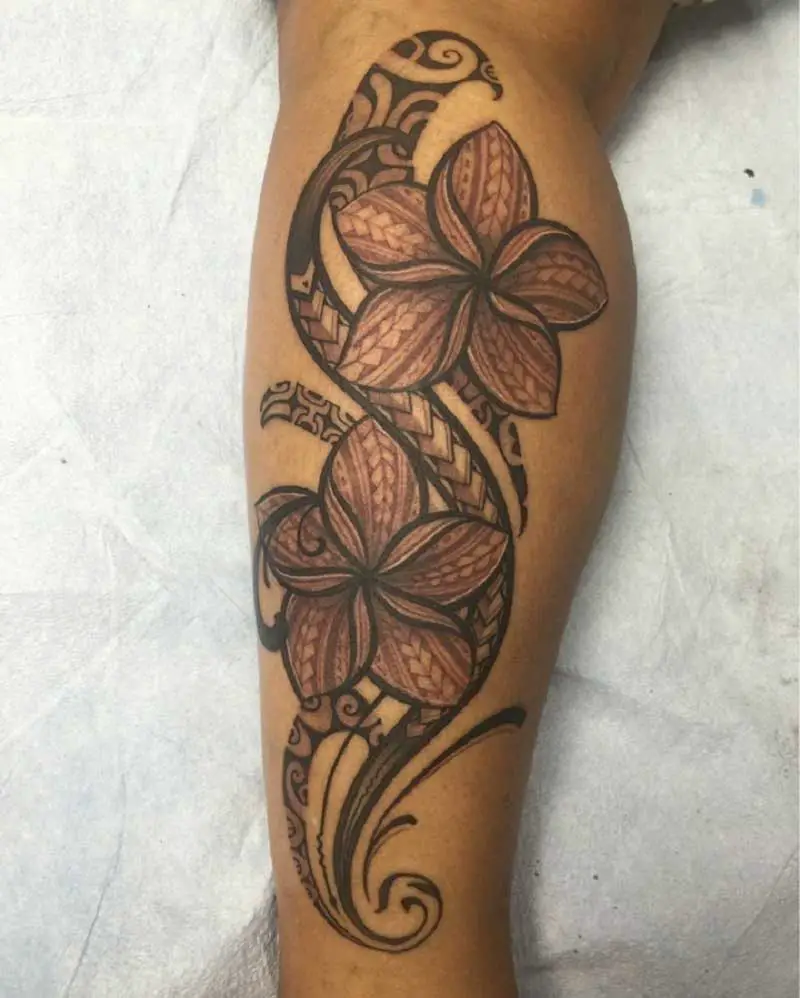 68.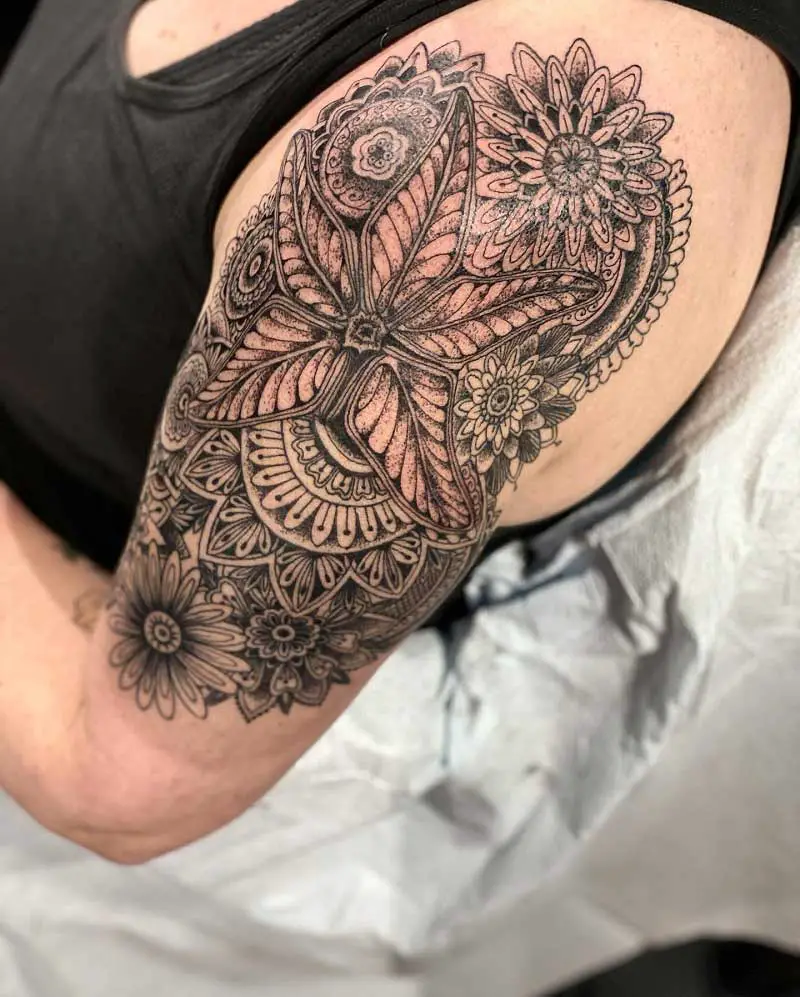 69.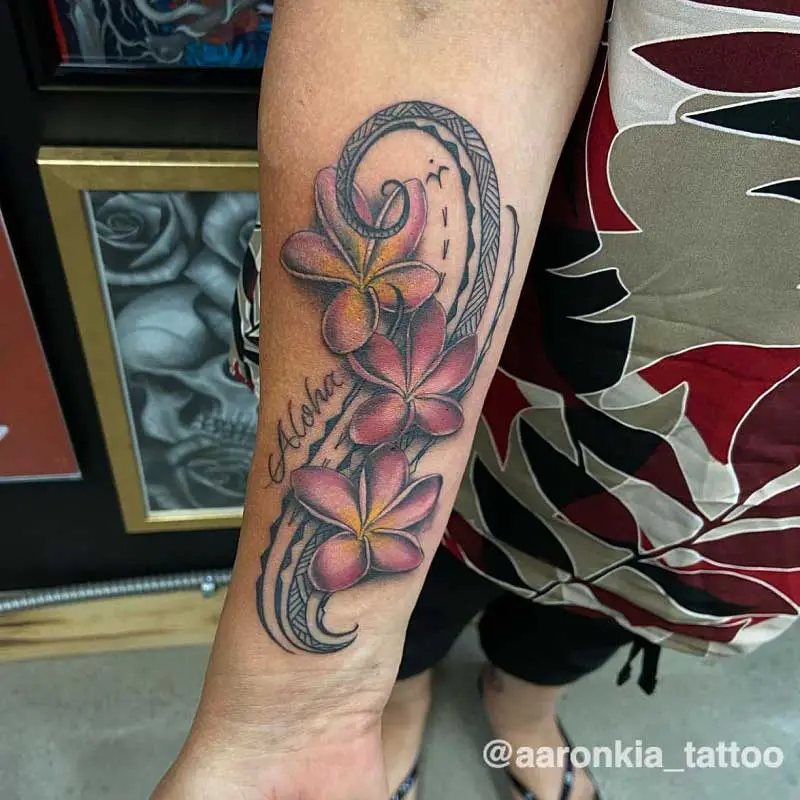 Polynesian Stingray Tattoo
70.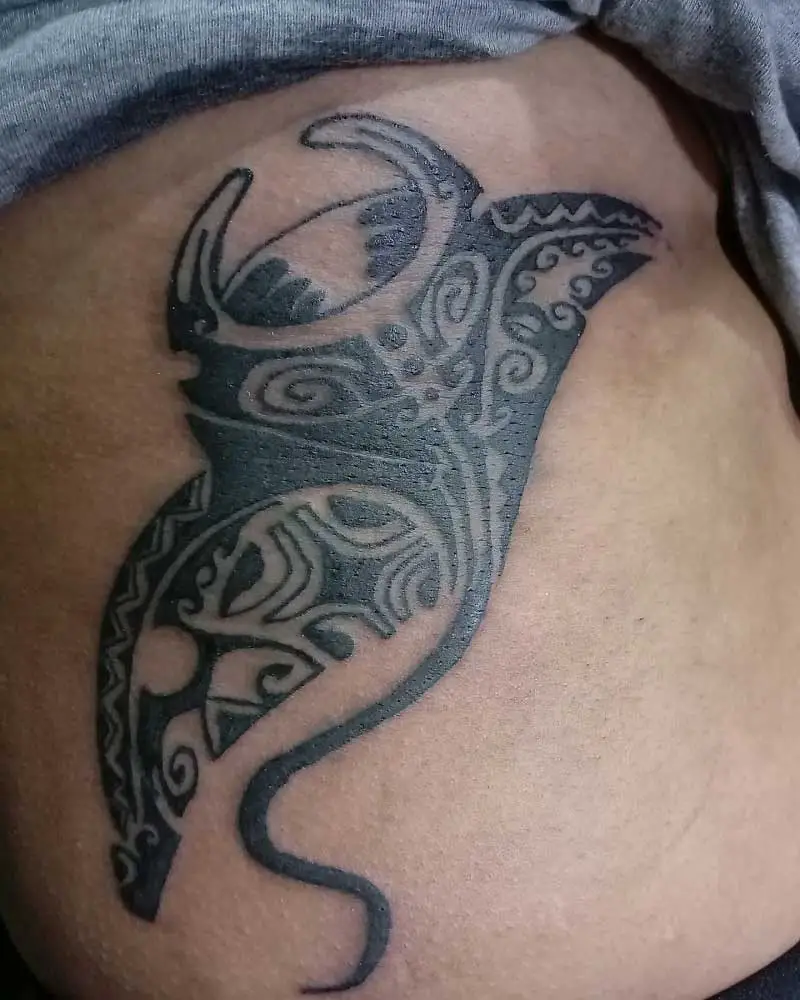 71.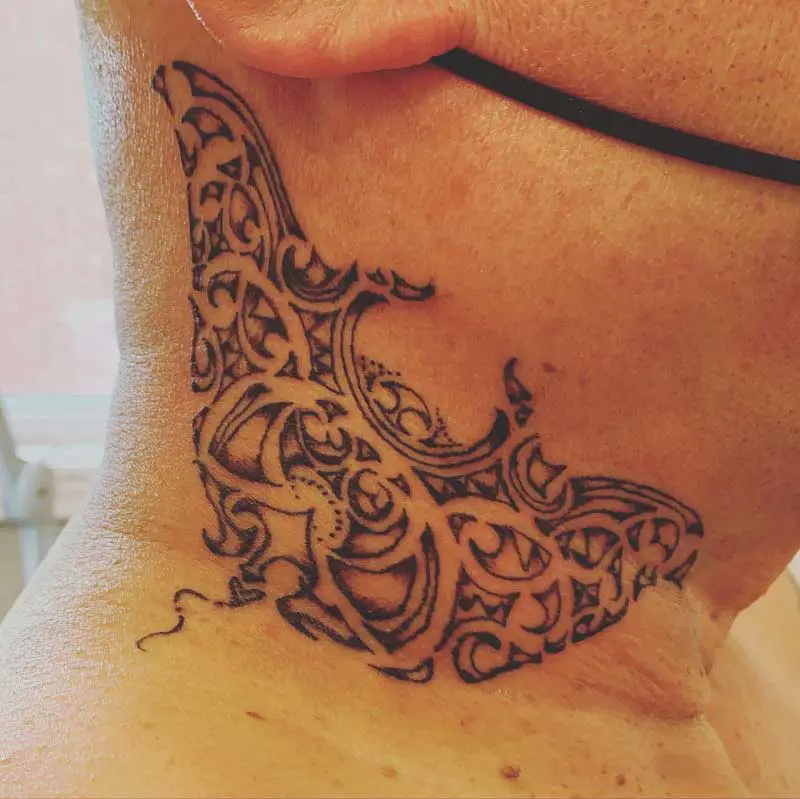 72.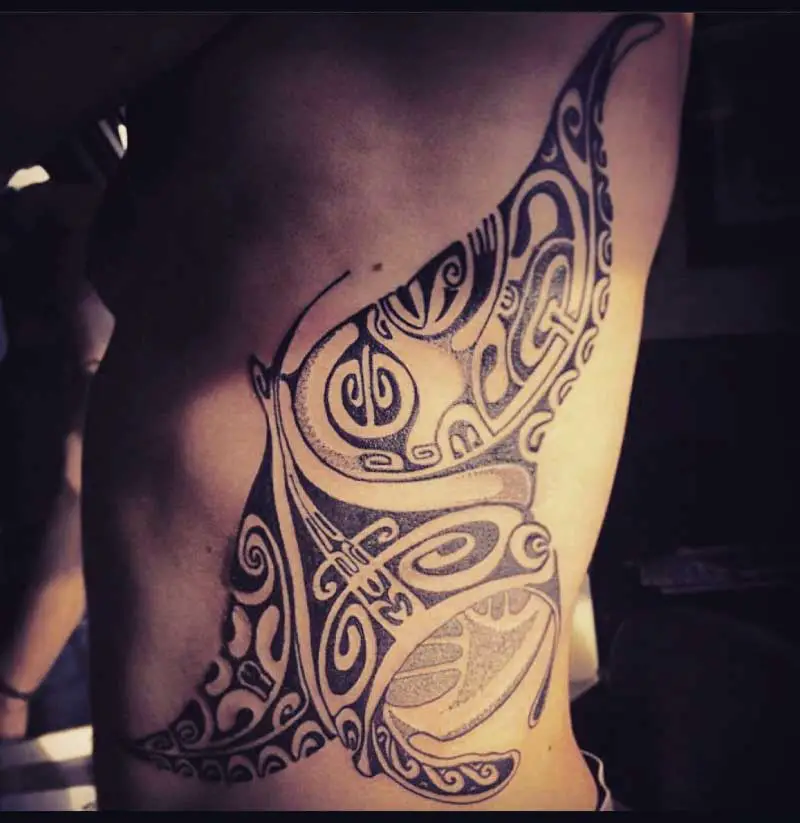 Fish Polynesian Tattoo
73.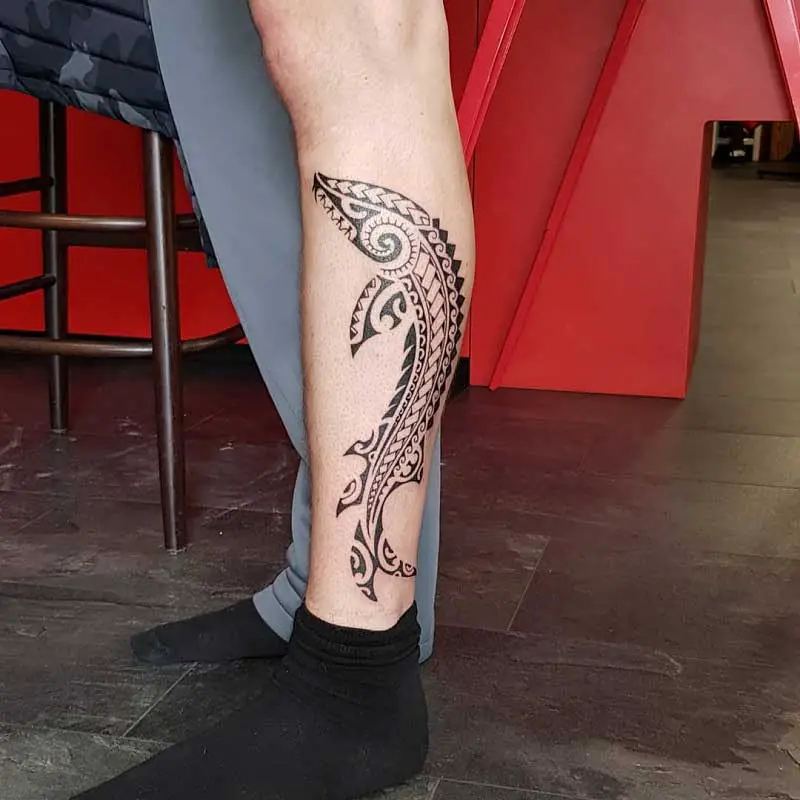 74.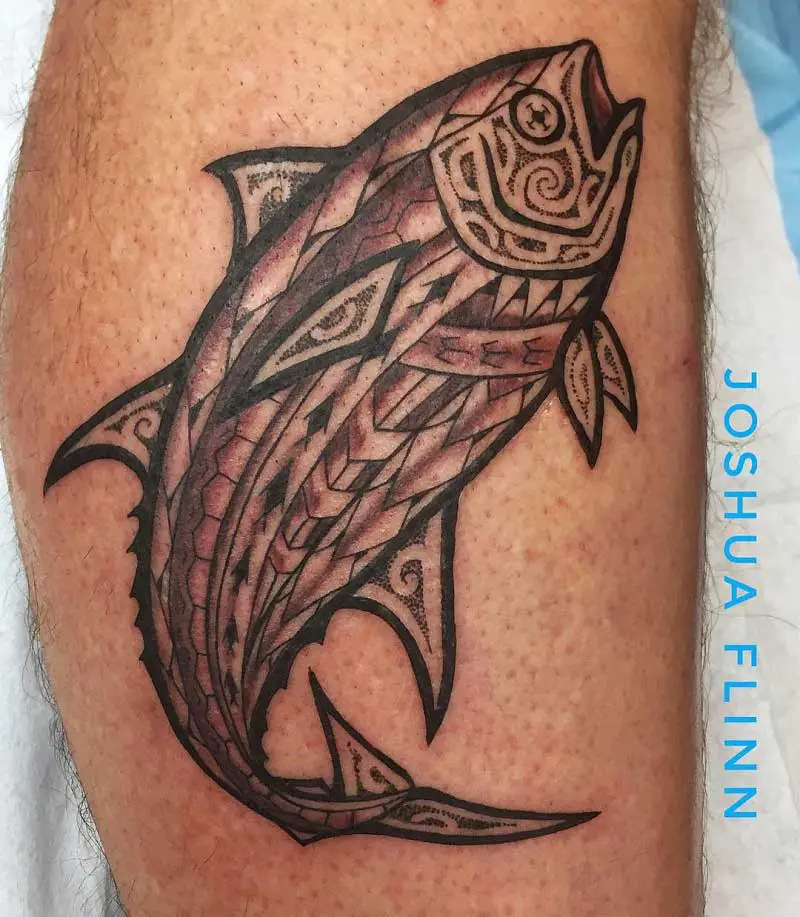 75.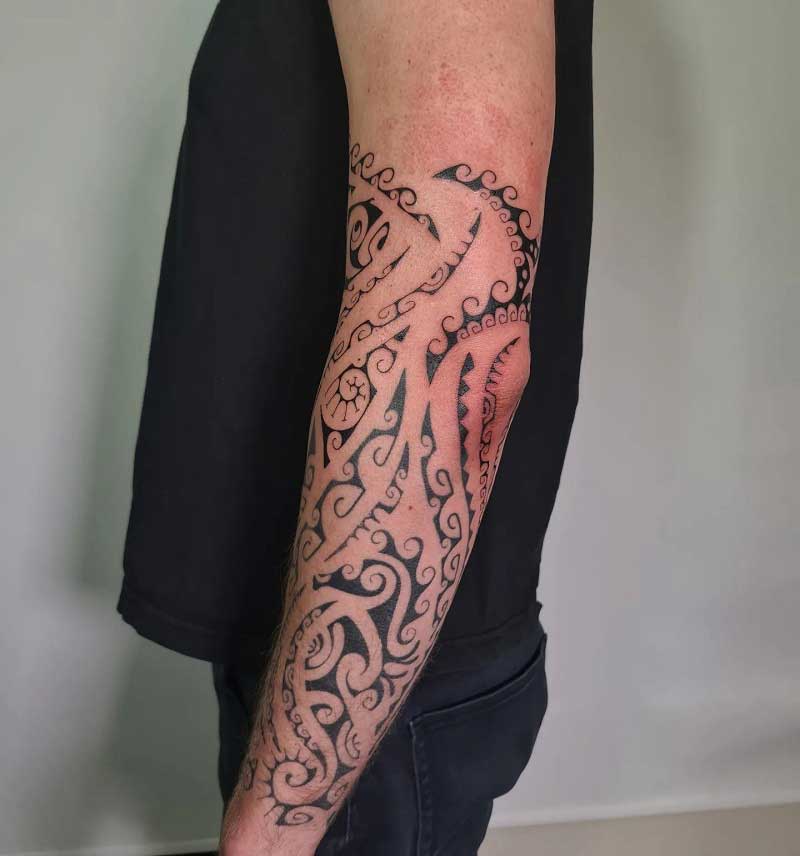 Polynesian Dragon Tattoo
76.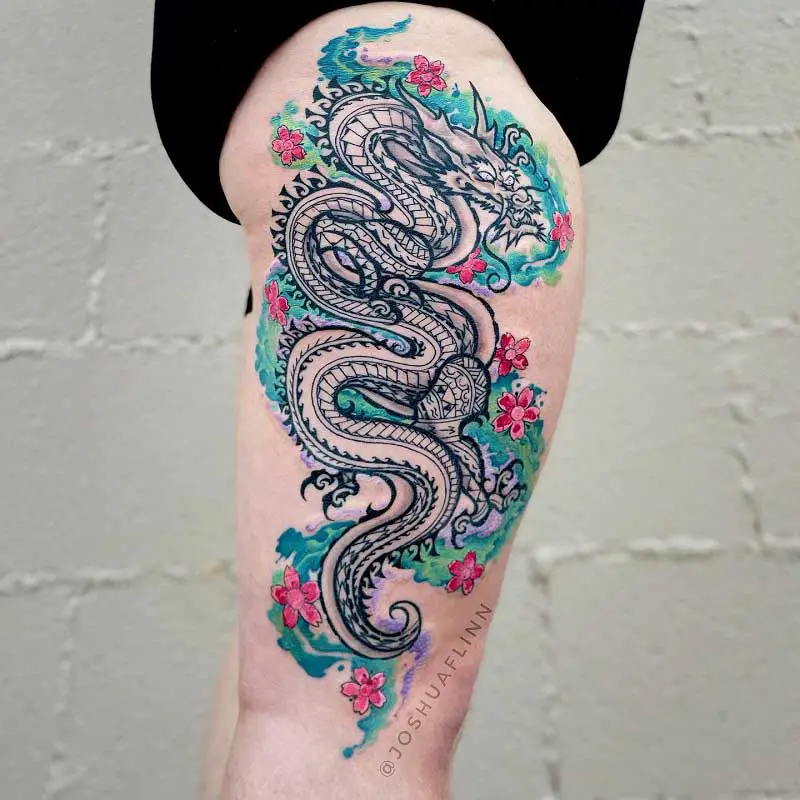 77.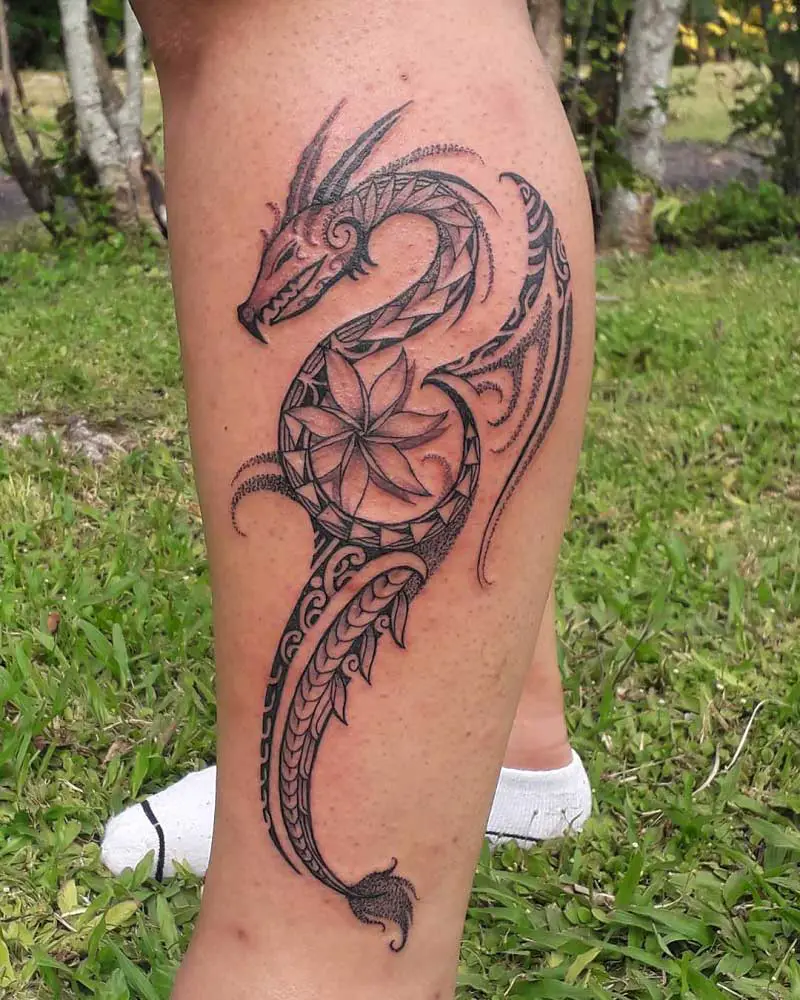 78.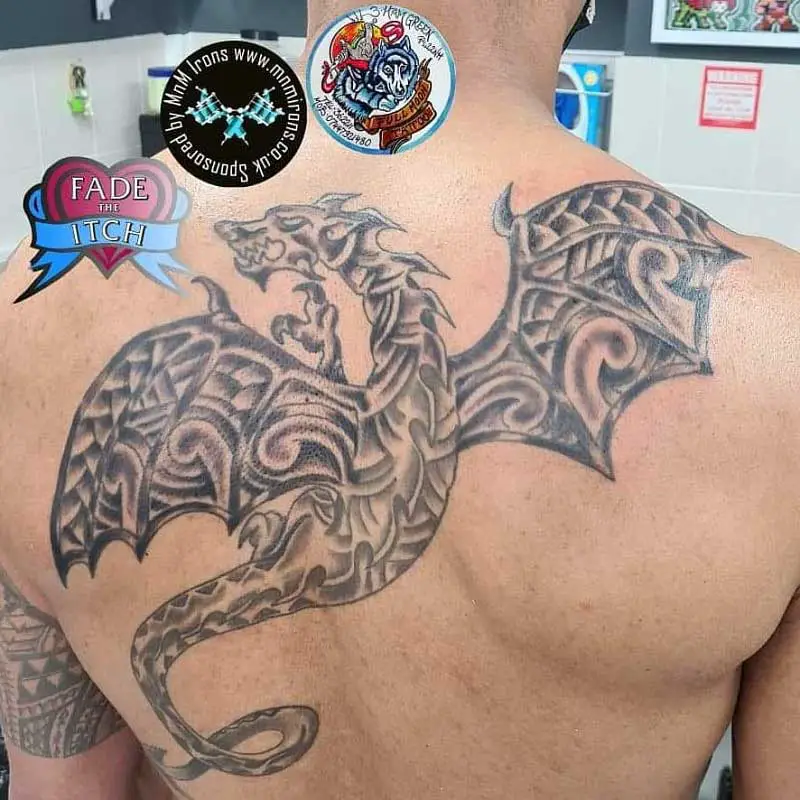 Polynesian Ocean Tattoo
79.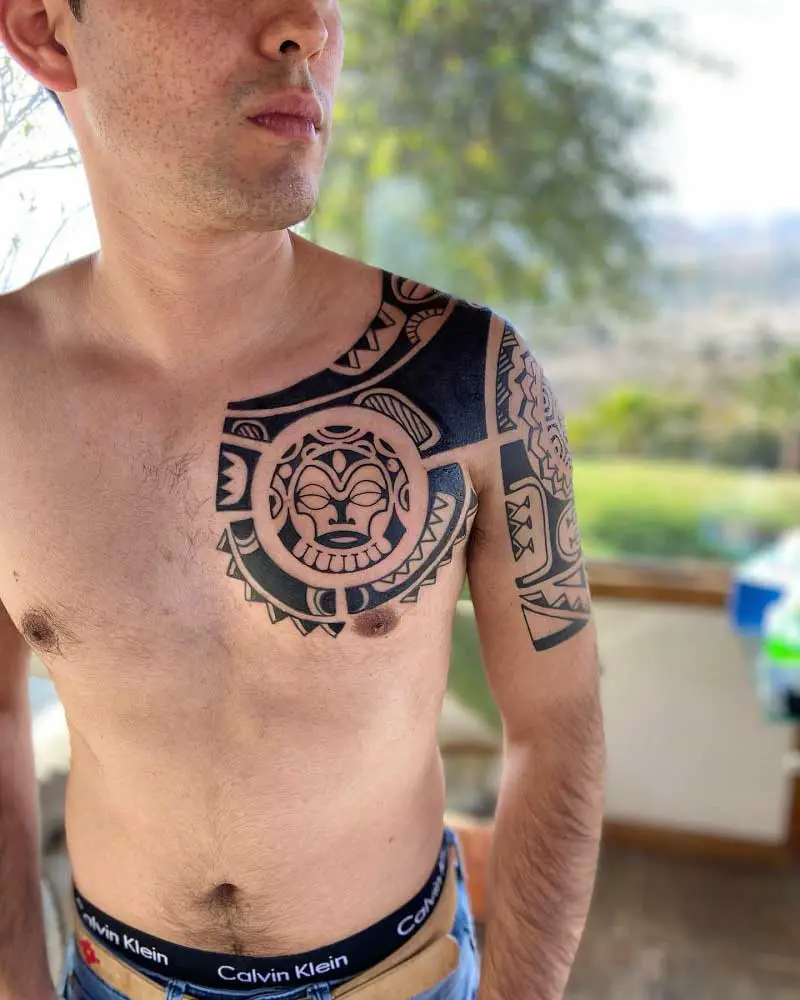 80.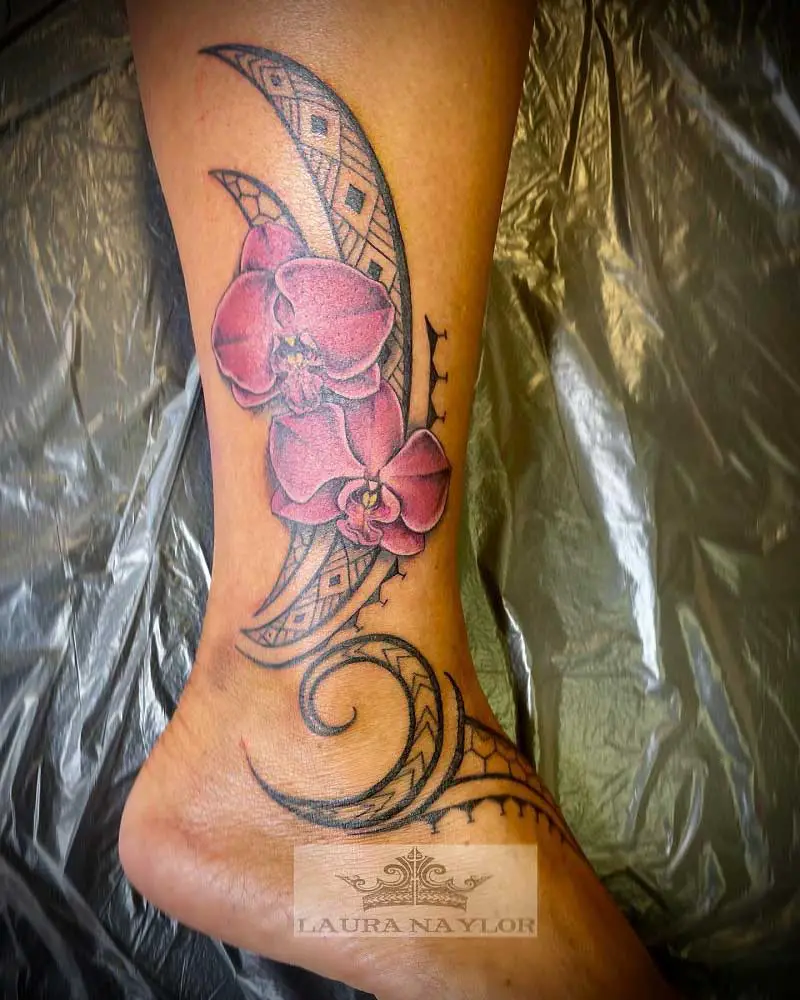 81.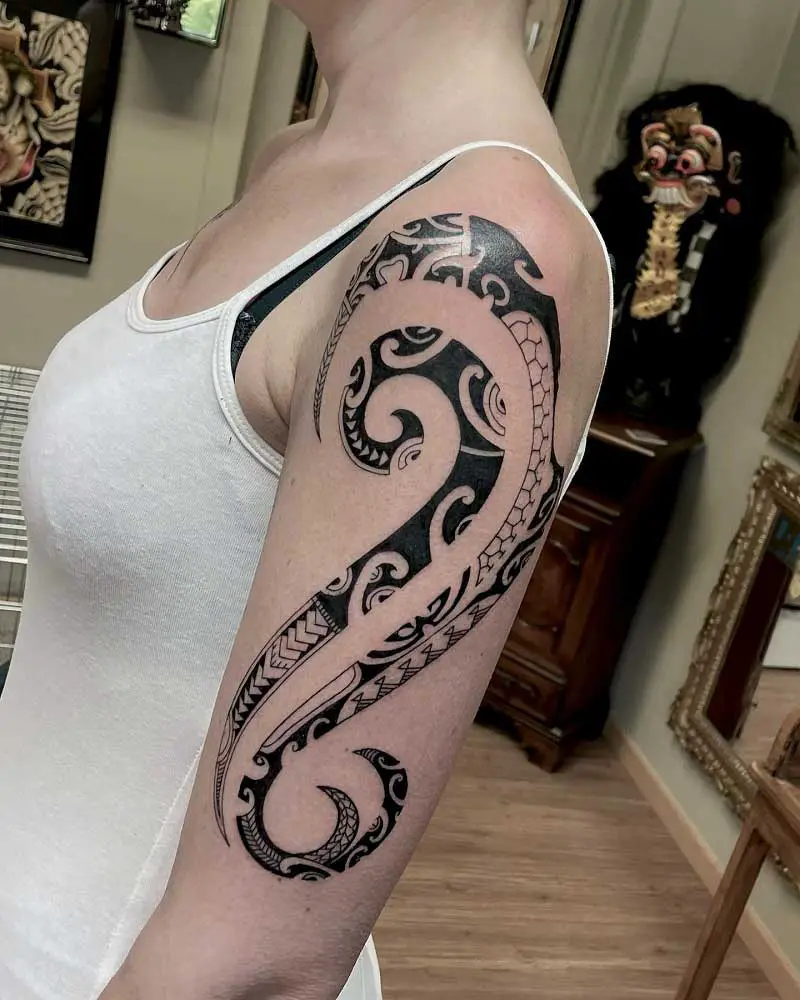 Polynesian Scorpion Tattoo
82.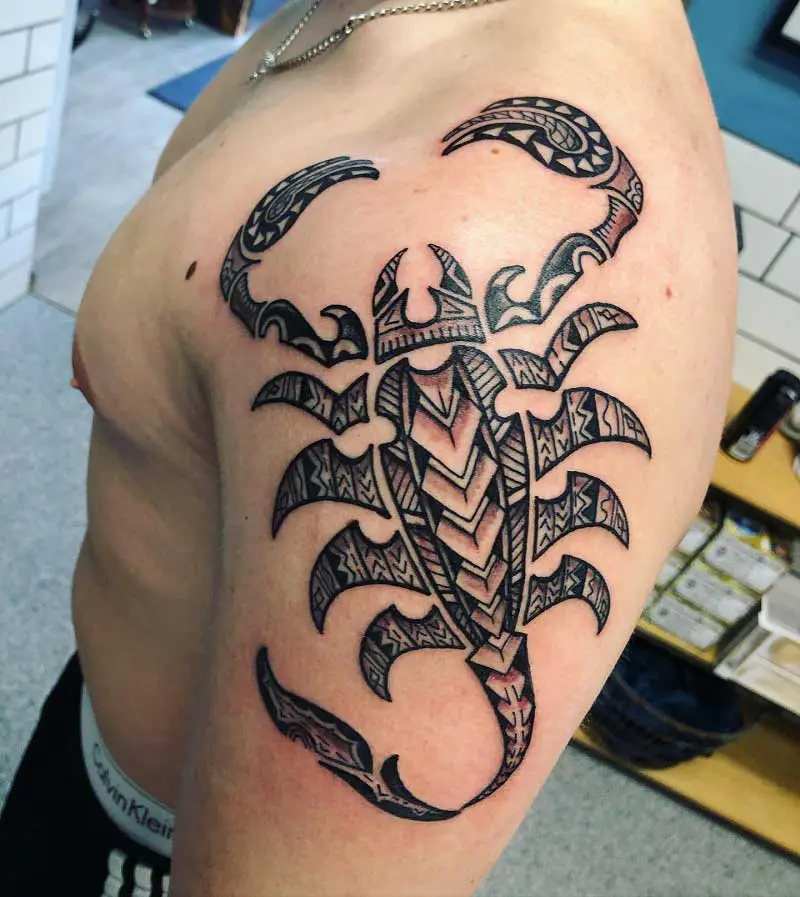 83.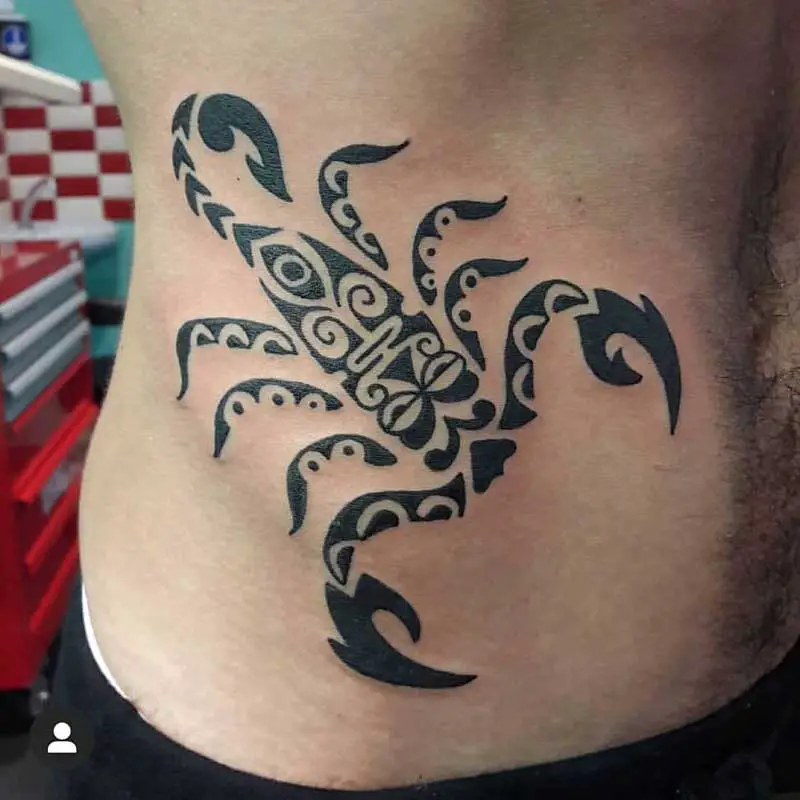 84.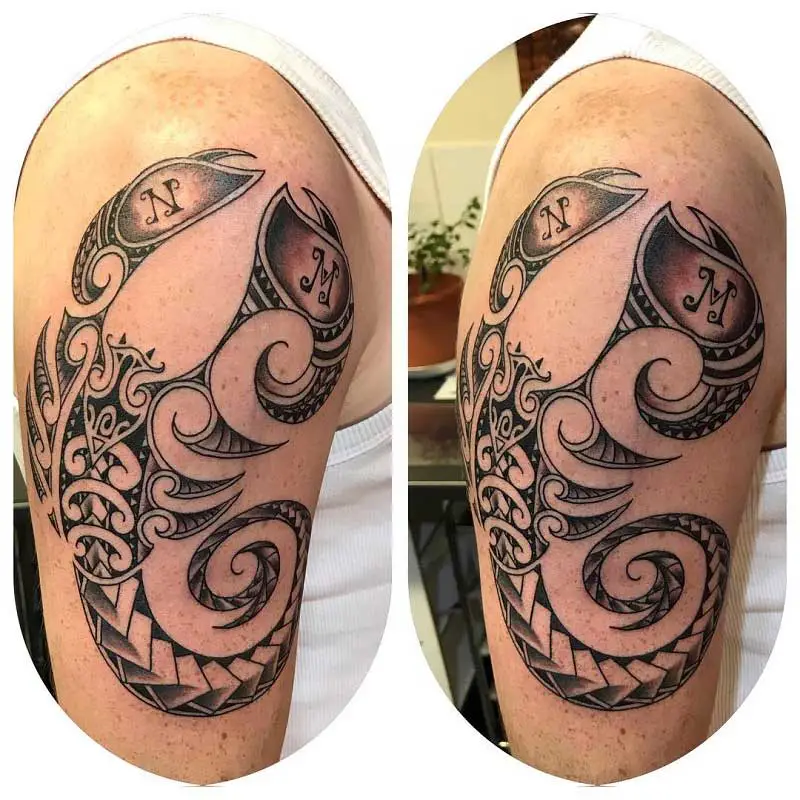 Hawaii Polynesian Tattoo
85.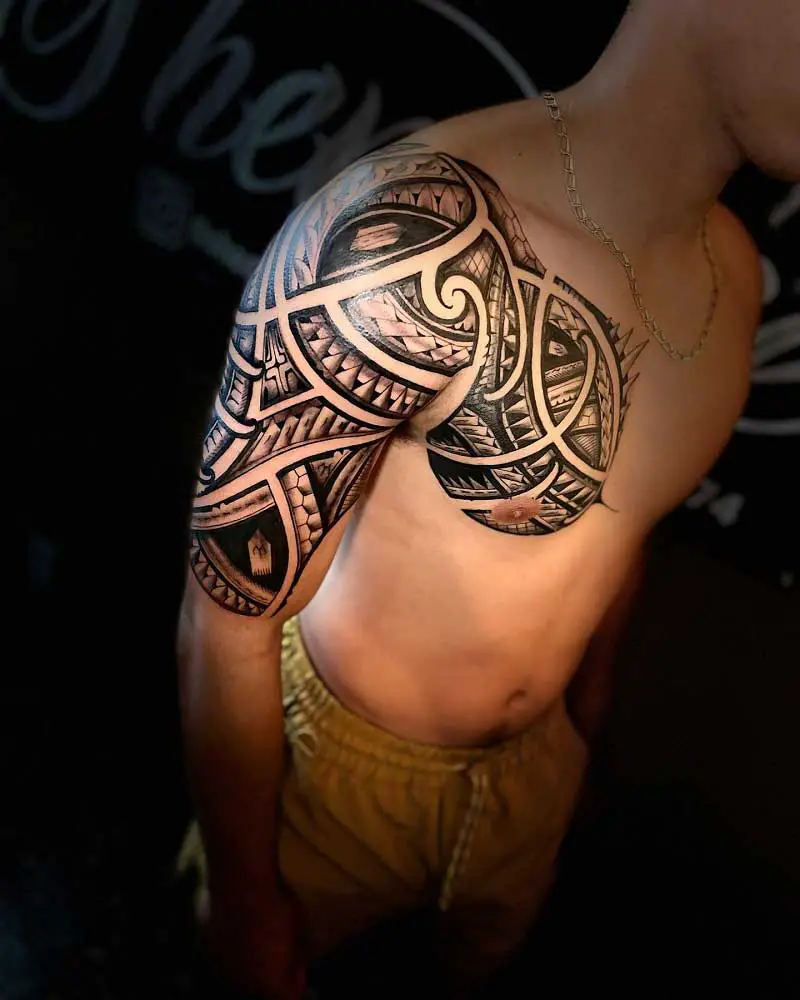 86.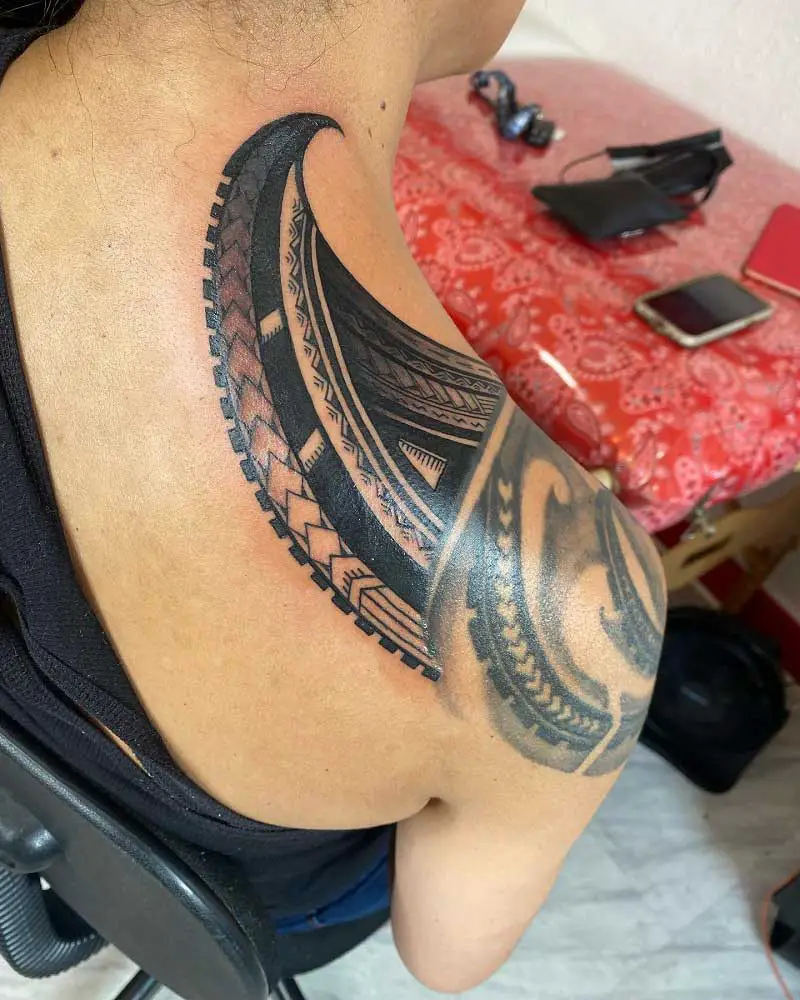 87.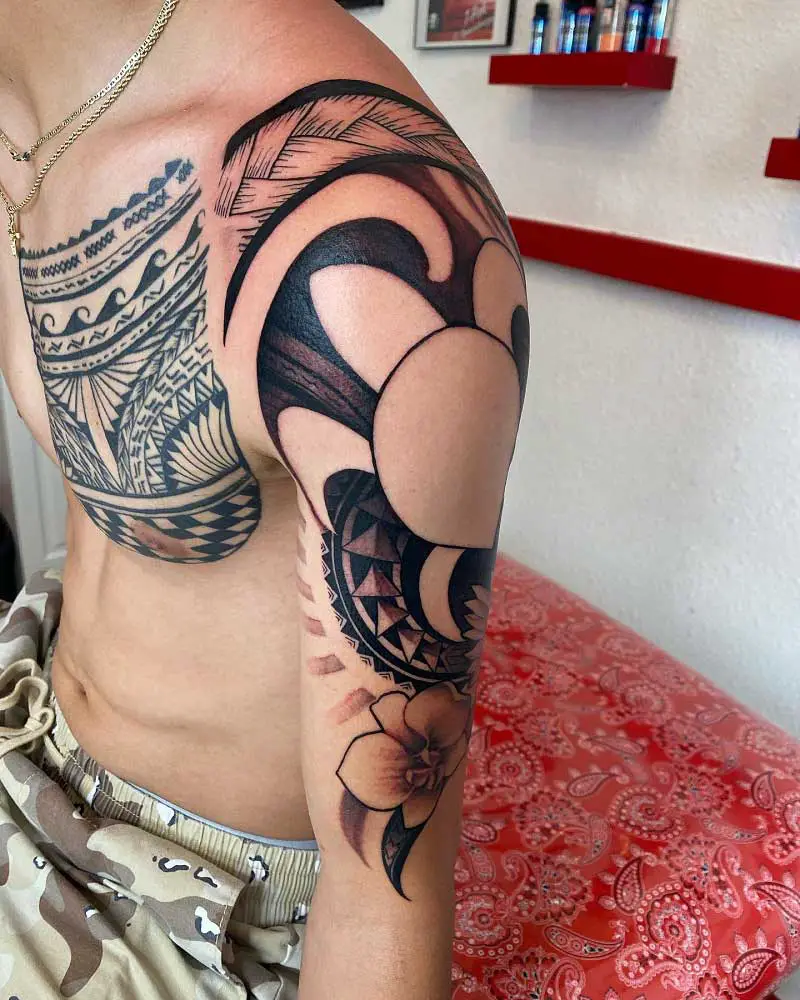 Final Words:
We hope you enjoyed our article on the top Polynesian Tattoo designs and ideas. We love all our readers and know that there will be some who may want to get a tattoo inspired by one of the designs listed in this article. 
There are many different designs and ideas to choose from, so please contact us if you would like a custom design or if you want to know more about any of the designs in our article.
Frequently Asked Questions
Is A Maori And Polynesian Tattoo The Same?
Maori tattoos are characterized by a swirling, coiling pattern, while Samoan tattoos tend to be more geometric in shape, with leg and buttock tattoos.
Is It Disrespectful To Get A Polynesian Tattoo?
It is not considered disrespectful to create a Polynesian tattoo that tells your own story, knowing what it stands for and then being able to explain its significance.
What Do Polynesian Tattoos Mean?
A Polynesian tattoo would indicate one's status within a hierarchical society, as well as one's sexual maturity and genealogy.
How Painful Is A Polynesian Tattoo?
The Polynesian tattoos were not only extremely painful to perform, but they also took a long time to complete.
How Much Does A Polynesian Tattoo Cost?
Normally, a Polynesian tattoo costs approximately 15,000xpf (about $150 USD).
Did Polynesia Tattoos Originate?
Polynesian tattoos date back more than 2000 years and are as varied as the people who wear them.
Why Are Tattoos Important In Polynesian Culture?
People in the Polynesian culture wore tattoos as visible signs of their rank and ancestry. In addition to physical protection, tattoos offer spiritual protection as well.
Are Tattoos Part Of Polynesian Culture?
Yes, across all Polynesian island groups, tattoos have been an integral part of the culture for more than 2,000 years.