There's nothing like the freedom of the open road. There's nothing like breathing in the fresh air, seeing the sun in the sky, and feeling the wind in your hair and the pavement at your feet. 
There's nothing like motoring down the highway, speeding past cars and trucks, and feeling the power of your 650cc machine as you hit 80mph. 
Motorcycle tattoos depict this beautifully. You'll see it on the biker's chest, the backs of their hands and feet, and anywhere else they can put it on their skin. So we bring you some motorcycle gear, traditional, Indian, helmet, heartbeat, skull, etc types of tattoos.
It's a beautiful reminder of the freedom motorcycle riders feel. Here are the top motorcycle tattoo designs and ideas for you to check out.
Here Are The Top 87 Motorcycle Tattoo Designs and Ideas:
Motorcycle tattoos have been a part of American culture for a long time. And even if you don't have a motorcycle, you can still get a great motorcycle tattoo. Here are some of the best motorcycle-themed tattoo designs and some ideas for what you can do with a motorbike tattoo.
Motorcycle Gear Tattoo
The motorcycle gear tattoo may symbolize freedom, the number of miles, a motorcycle club, or a bike brand. These tattoos are popular because they are easy to make, and they can be customized to whatever you want.
Skull Gear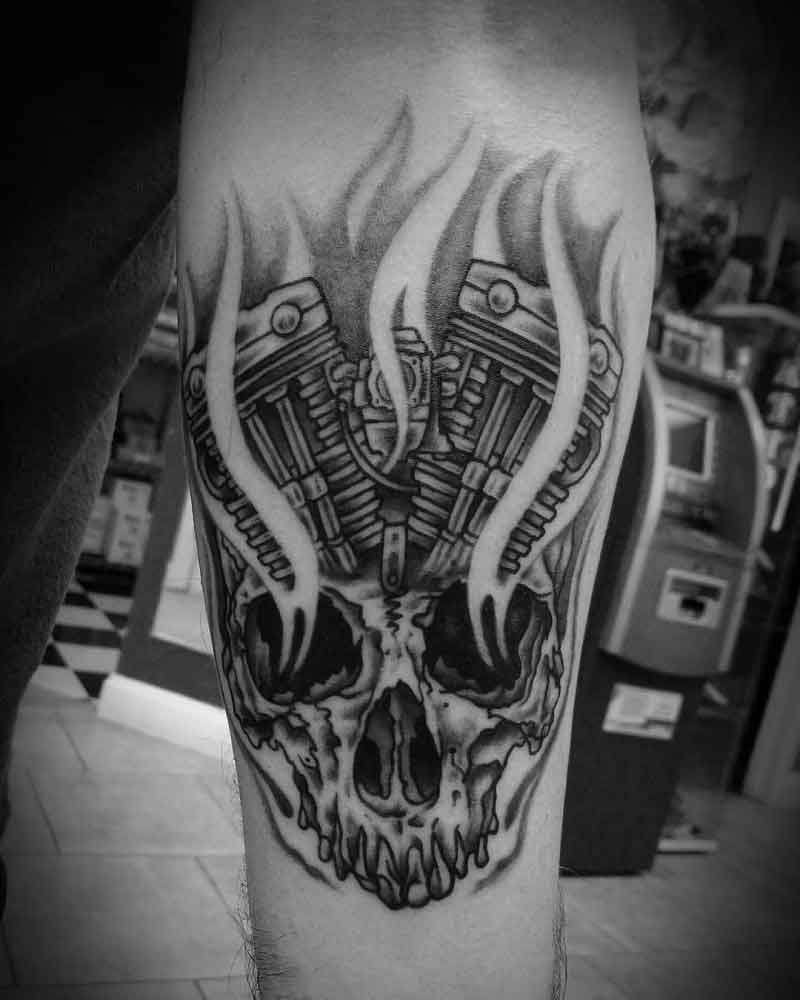 A motorcycle gear based on a flaming skull looks incredibly cool and stylish. In addition, the tattoo has swirling fire flames created in black and white.
2. 65432N1 Gear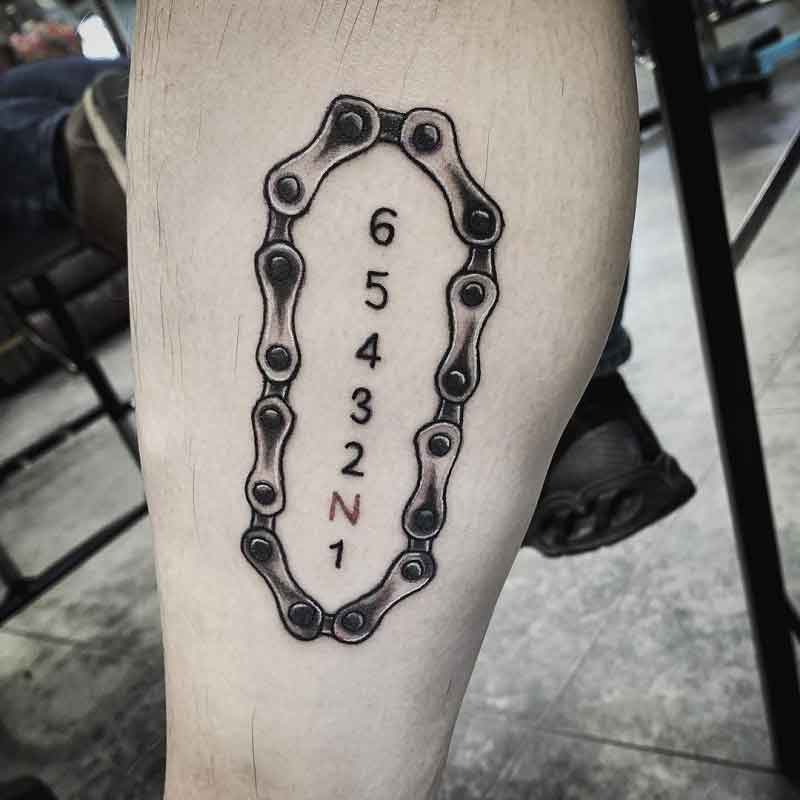 A particular number 65432N1 in a circle of motorcycle chain reminds someone of their favorite bike. People who have a strong attachment to their motorcycle would appreciate this tattoo.
3. Speed Meter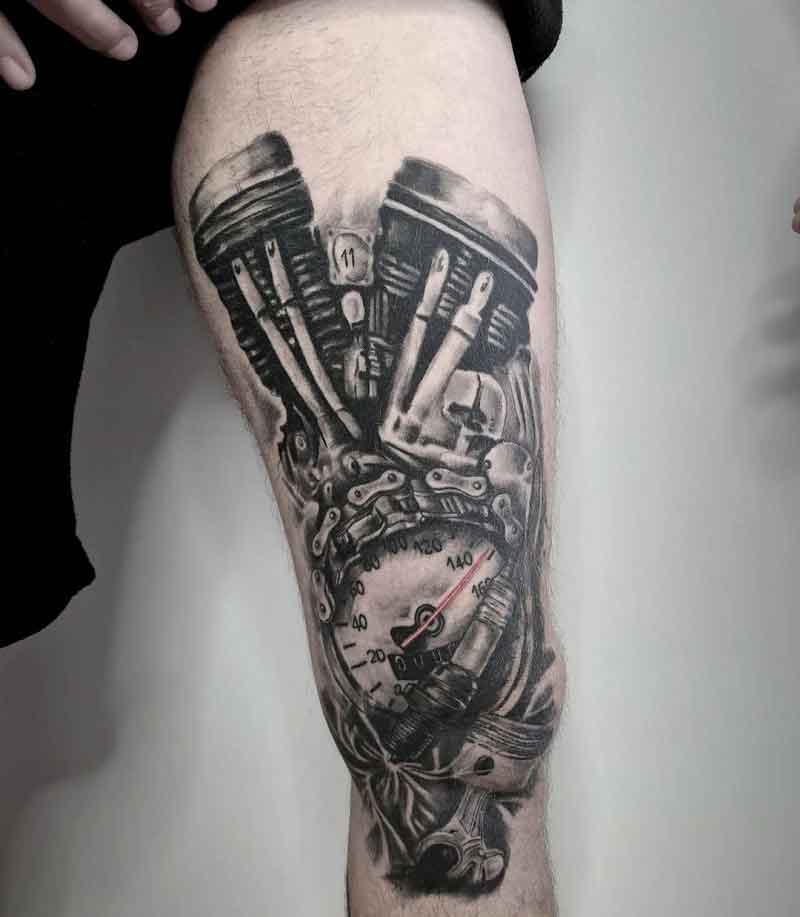 We can see motorcycle gear and a motorcycle speed meter here. And the meter shows that the bike is running at 140+ mph; this tattoo represents a man's free existence.
Traditional Motorcycle Tattoo
A traditional motorcycle tattoo is timeless; every design is unique and tells a story. However, there are so many different designs that it can be hard to decide which design you want.
4. Holiday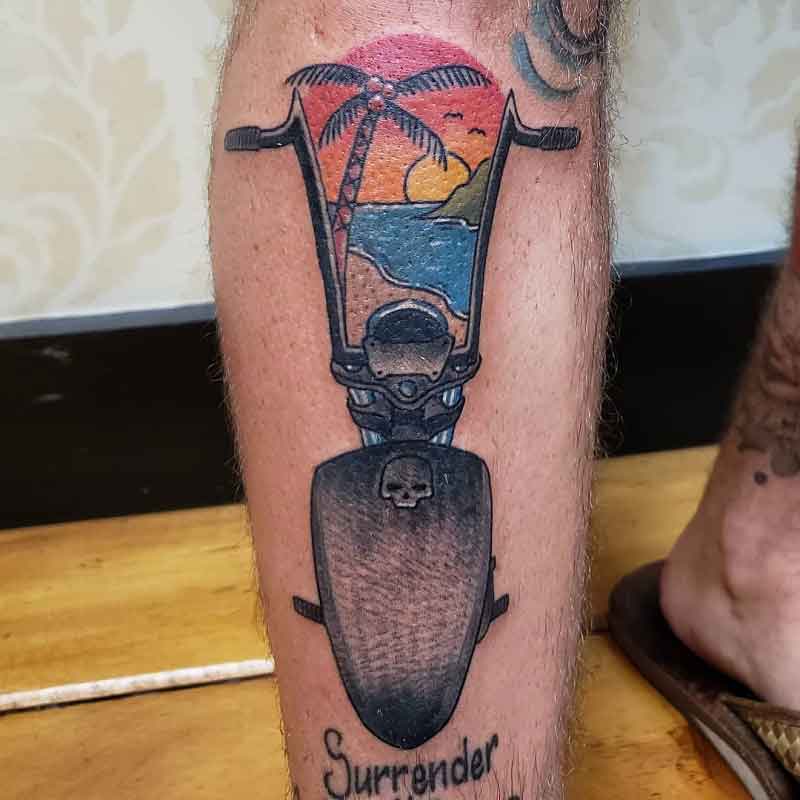 People like riding their motorcycles to a beach and relaxing with friends and family. This tattoo depicts a man's desire to relax in a beach environment.
5. Happy Rider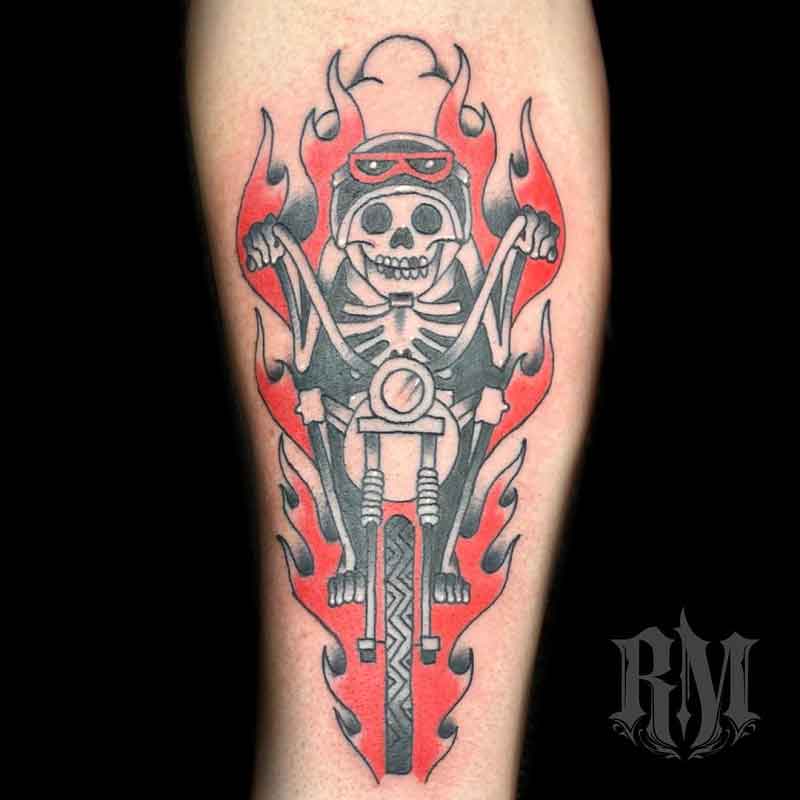 A skull rider rides a motorcycle on a hellfire highway, smiling and laughing. It symbolizes life as a fiery path, yet we must keep pushing forward with a smile on our faces.
6. Rain Cutter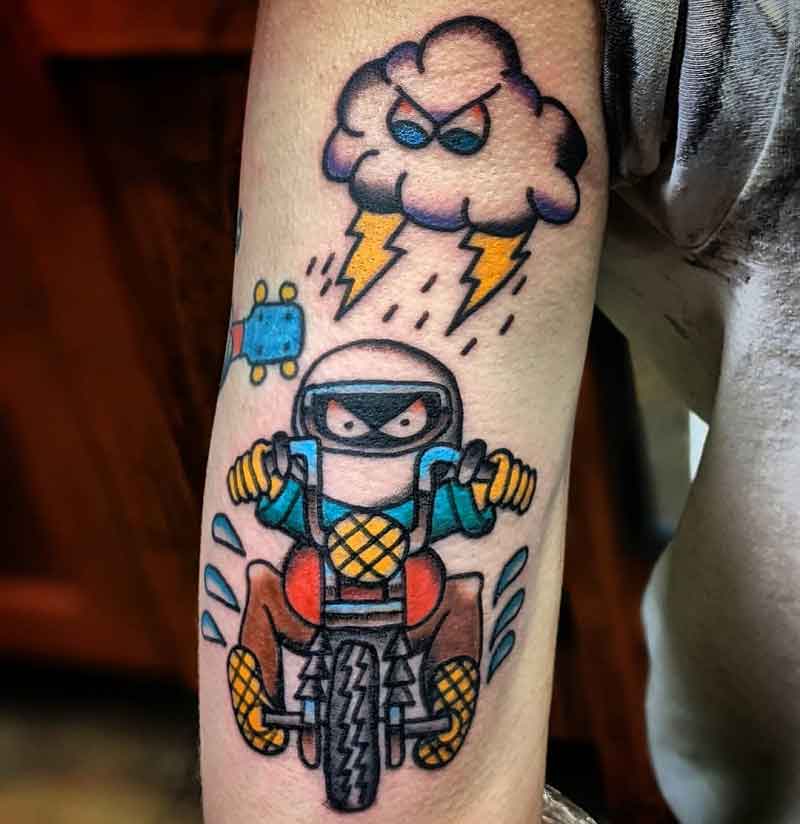 A terrible storm wants to scare a rider, but he is riding his motorbike at full speed. The tattoo reminds us that many people will try to stop us from doing good, but we must persevere.
Indian Motorcycle Tattoo
Indian Motorcycle Tattoo designs are a great way to express yourself and the uniqueness of your personality. We have provided some of our favorite Indian Motorcycle themed tattoo designs.
7. Bird Feather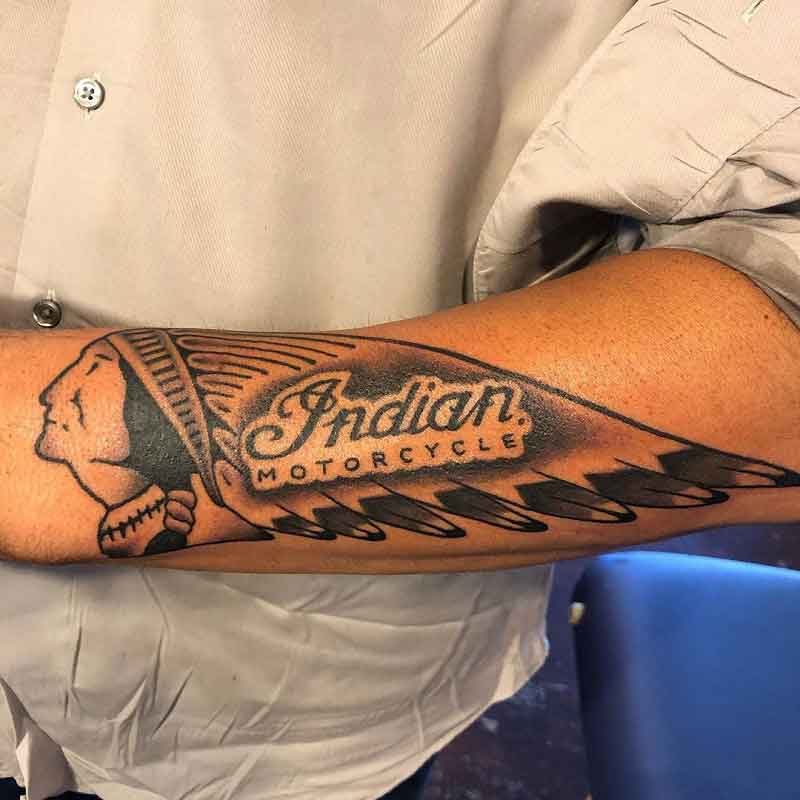 A man wearing a hat shaped like a bird feather looks fantastic. And in that feather is written "Indian Motorcycle" words. This sort of native American tattoo symbolizes love for liberty.
8. Couple Ride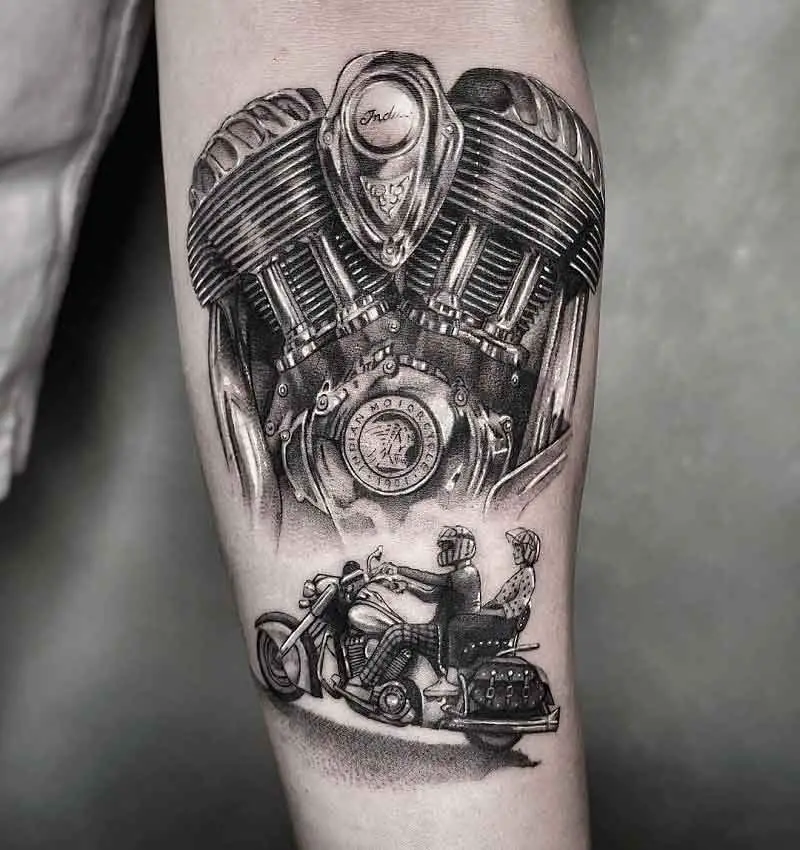 A lovely couple going on a motorcycle ride, and in the sky, there is an Indian Motorcycle bike motor logo that looks unique. This tattoo shows how a motorcycle can make life easy for a small family.
9. Old Bike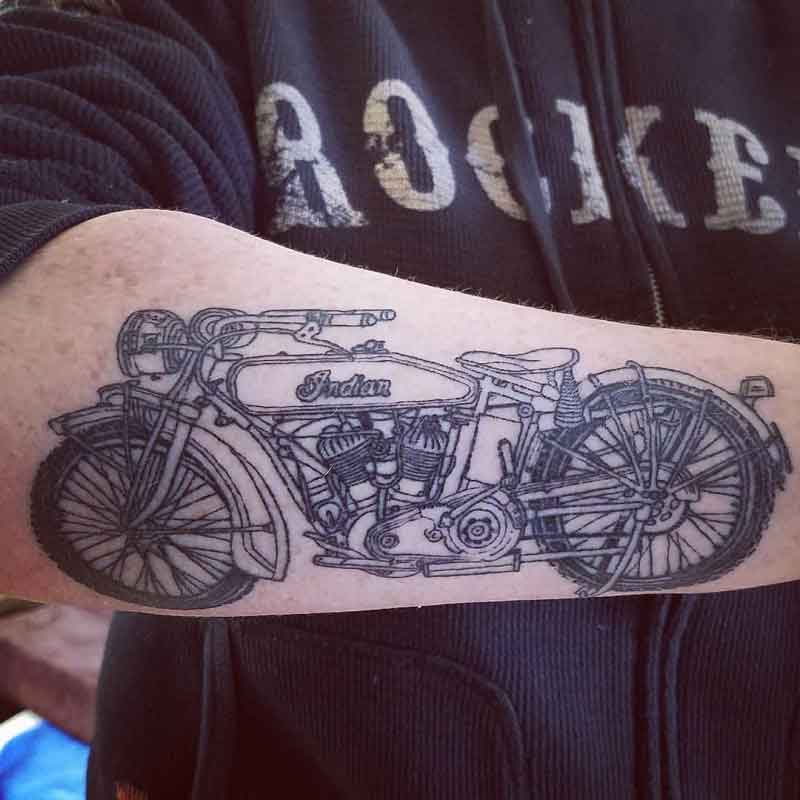 An ancient motorbike model with an Indian brand logo shows a glimpse of old Indian motorcycle culture. This tattoo is appropriate for vintage bike enthusiasts or those who operate a vintage bike riding organization.
Motorcycle Chain Tattoo
A motorcycle chain tattoo can add a bit of originality to a biker's ensemble. There is a range of design options, but the focal point is always the same – the motorcycle chain.
10. Star Chain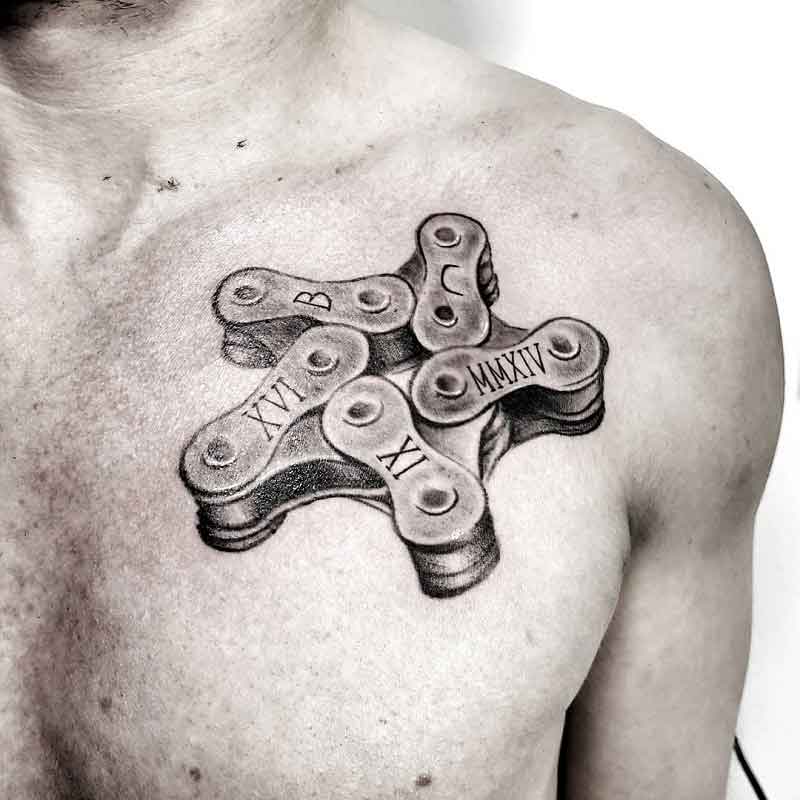 A star symbol made of five pieces of motorcycle chain appears superb. This tattoo is ideal for famous motorcyclists who have accomplished something noteworthy in their careers.
11. Circle 13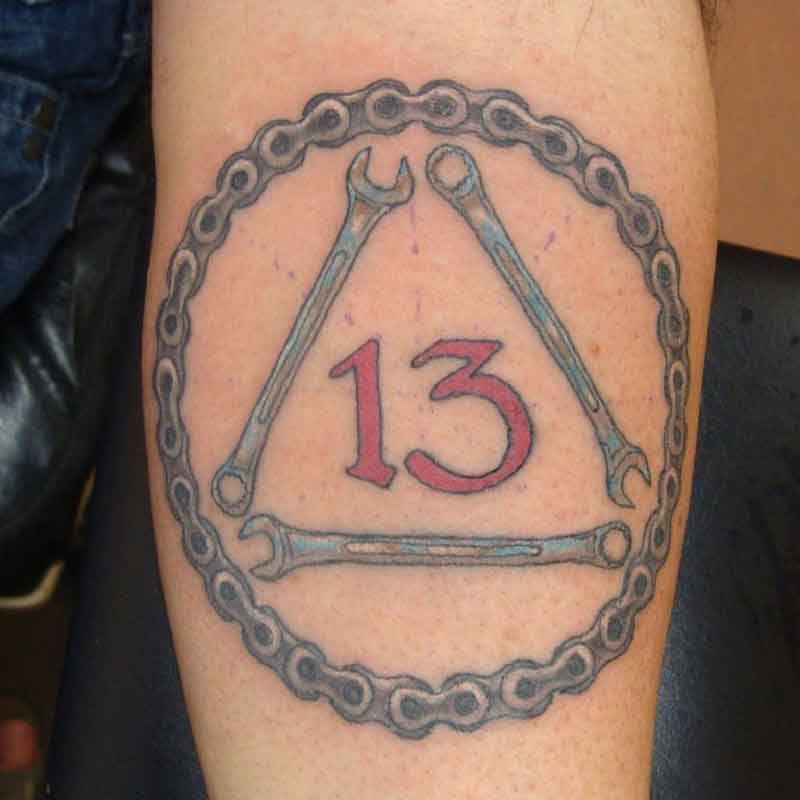 A circle formed of a motorcycle chain with the number 13 written inside it. This tattoo portrays a 13-member biker gang that will stick by one another in times of trouble.
12. Lenny Leo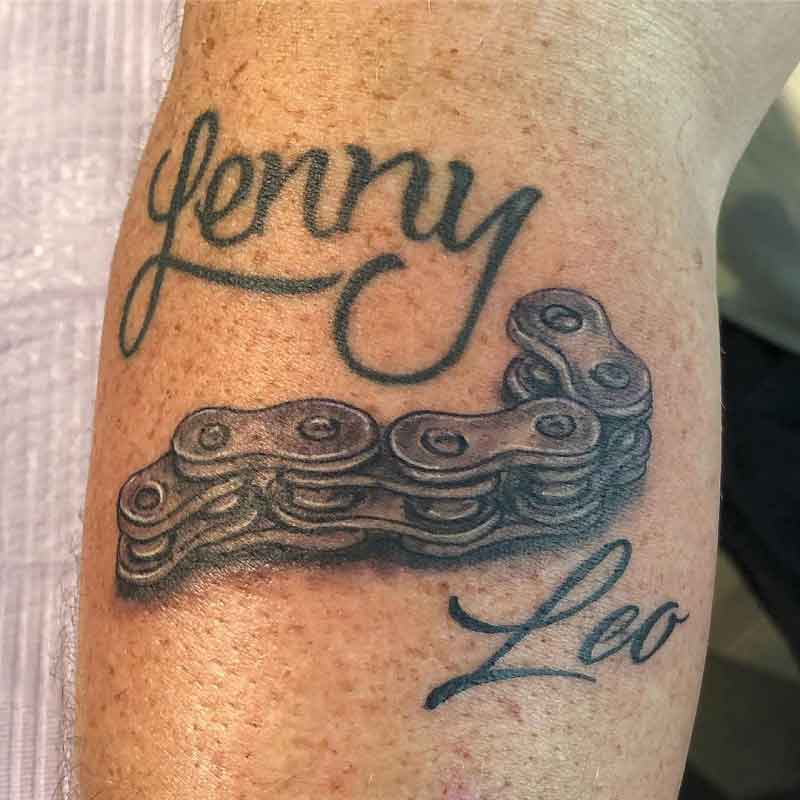 Here we can see a curb motorcycle chain named Lenny and Leo on a man's leg. This type of tattoo represents love for lost ones. However, the details of this tattoo are quite realistic.
Motorcycle Helmet Tattoo
A motorcycle helmet tattoo is a great way to show your love of riding. Whether you have a Harley Davidson or a Suzuki, a helmet tattoo is a cool way to show your passion for motorcycles.
13. Yellow Helmet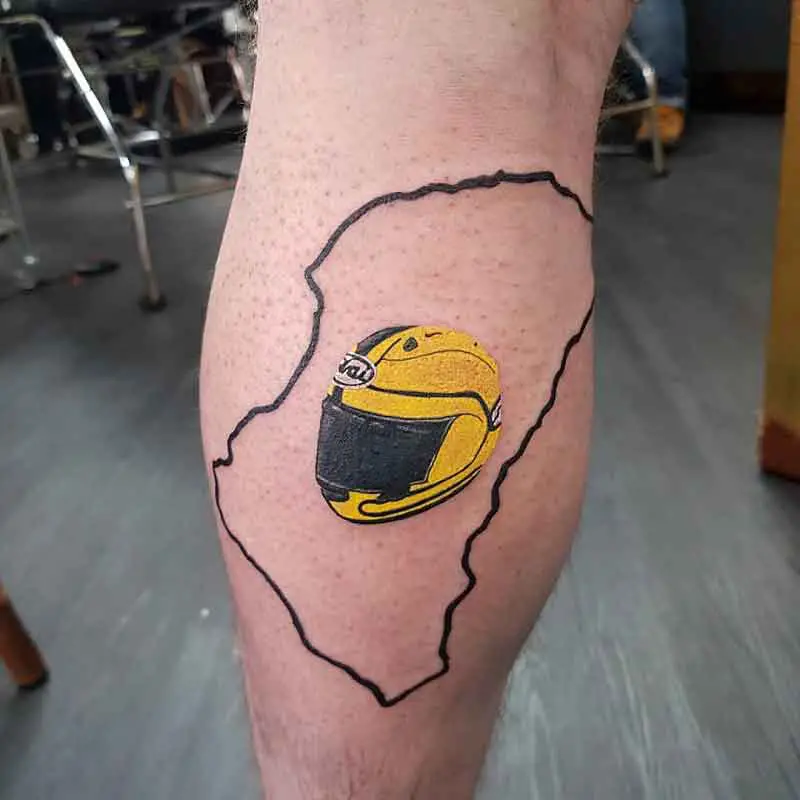 A yellow motorcycle helmet sits inside a racing lane, indicating a racing event. This tattoo symbolizes a great champion rider who won this race.
14. Old 87 Helmet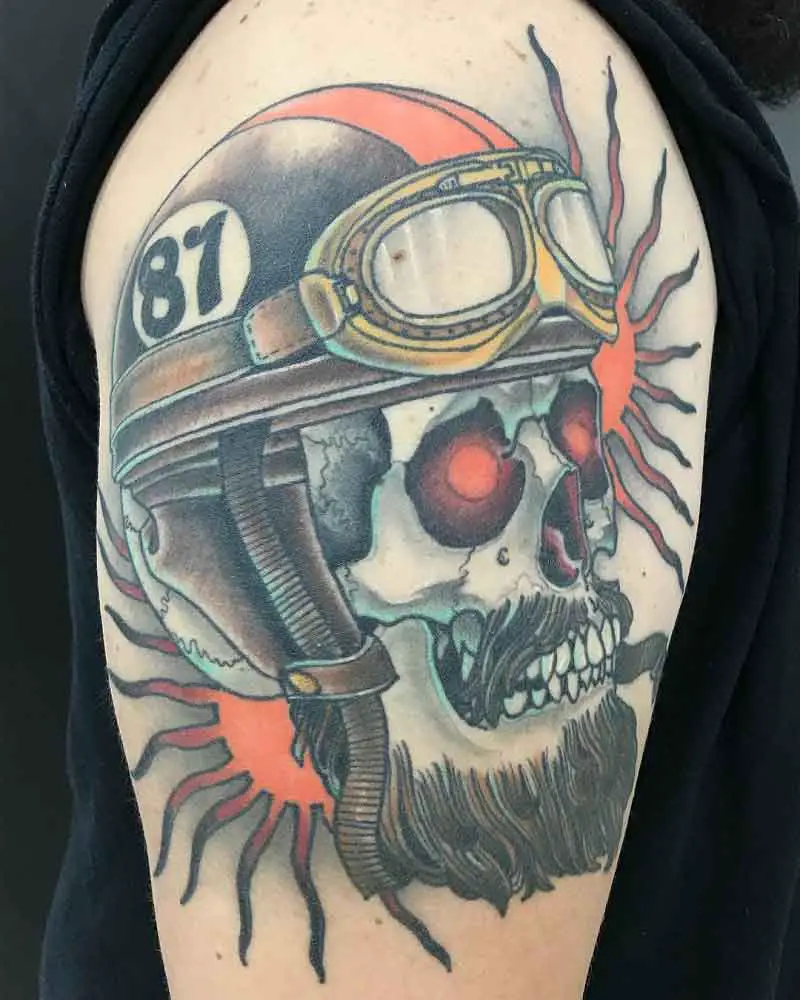 An elderly skull with a beard and a motorcycle 87 helmet appears to be antique. It also has red eyes and a sun symbol behind it. This tattoo symbolized a man's peak career in 1987.
15. Just Ride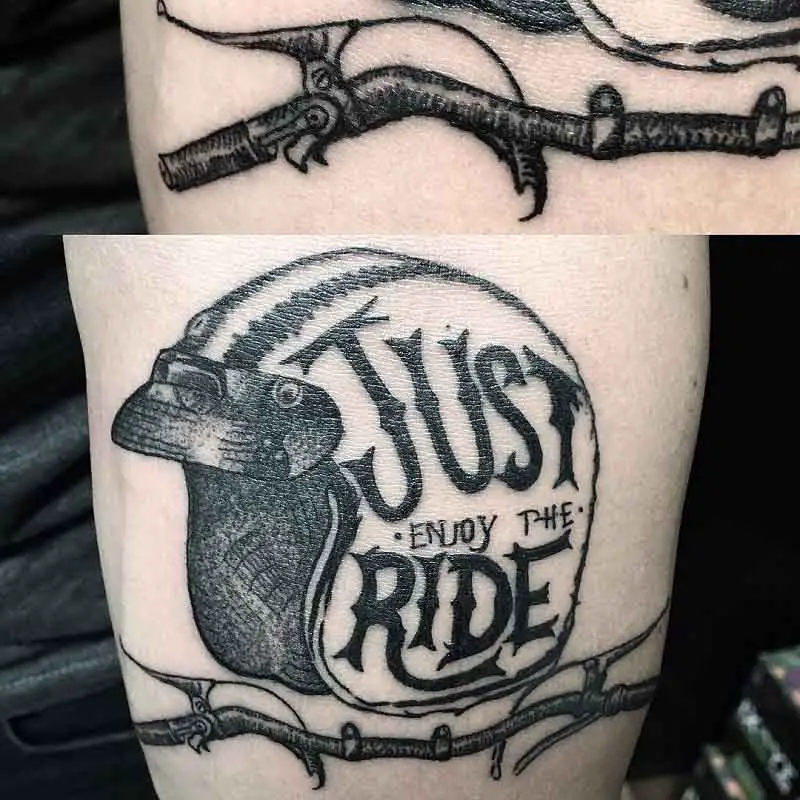 A dark-colored motorcycle helmet with the phrase "Just enjoy the ride" written on it. This tattoo is ideal for those that enjoy taking lengthy rides.
Motorcycle Heartbeat Tattoo
The motorcycle heartbeat tattoo design usually features a motorcycle with a heartbeat line running through it. This tattoo signifies a person's love for motorcycles and the freedom of riding them.
16. Bike Heart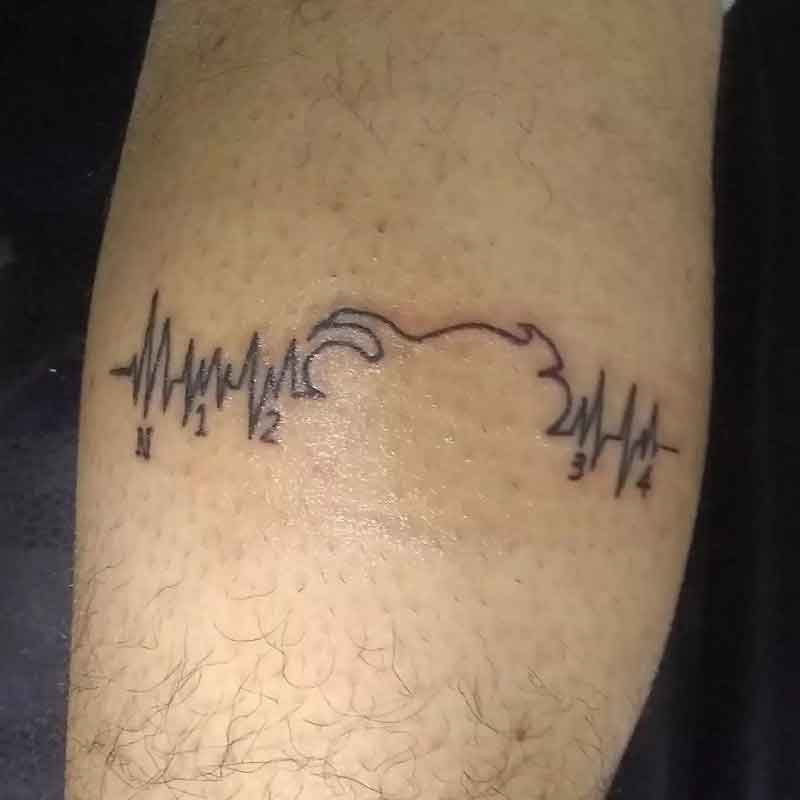 A human heart rate with a motorcycle pattern indicates that a biker cannot live without his motorcycle. This tattoo is ideal for both females and boys who enjoy riding motorcycles.
17. Pulse Rate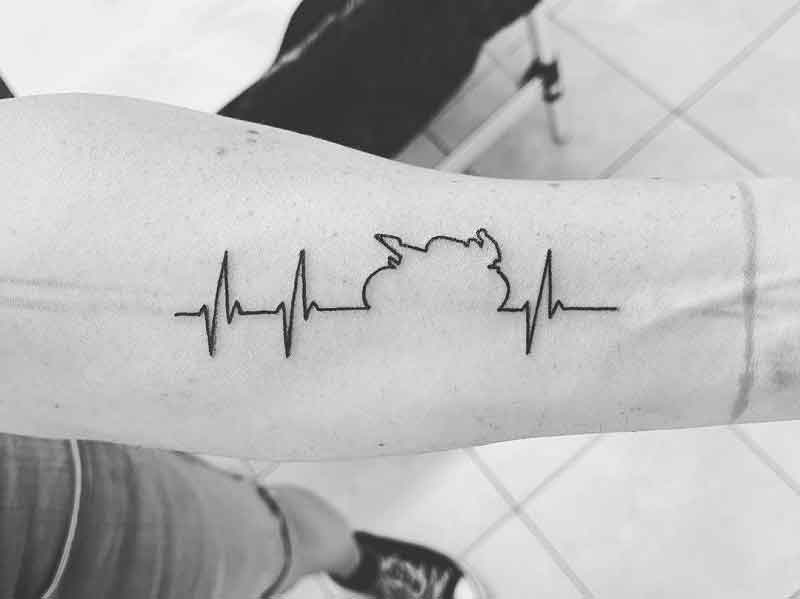 We can notice one's pulse indications here, which has accelerated for a motorcycle. This motorbike tattoo, on a woman's hand, expresses admiration for American biking culture.
18. Big Heartbeat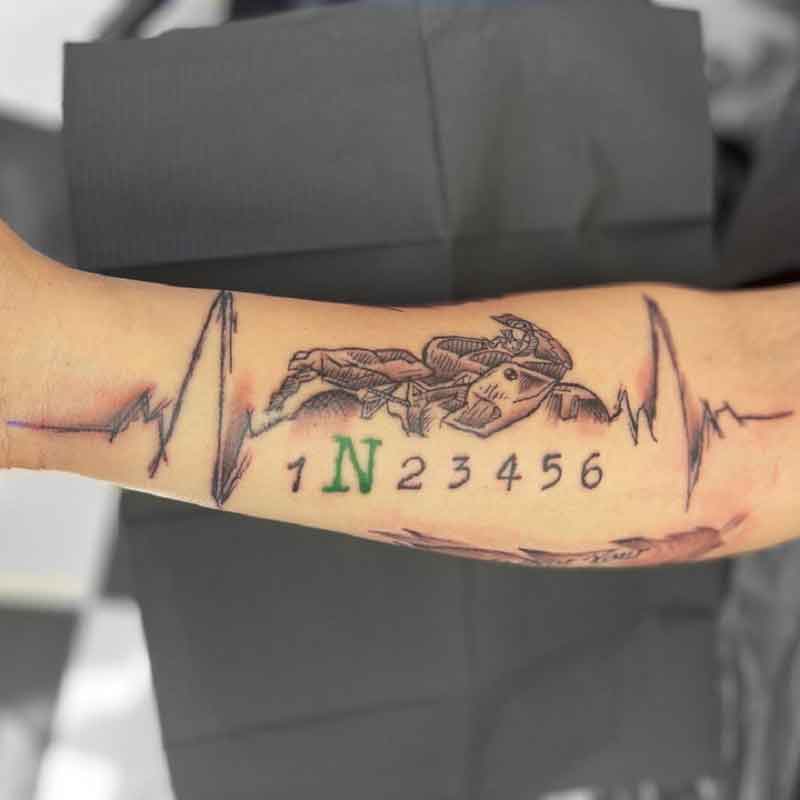 A motorcycle is speeding up a racing track, and underneath it has a number 1 N 2 3 4 5 6 that appears to be quite interesting. This motorcycle-themed tattoo is ideal for a man's hand.
Motorcycle Tribal Tattoo
Motorcycle tribal tattoos are colorful and show a vibrant and detailed representation of a tribal icon. These tattoos are usually found on a person's upper body and sometimes on the back, but they can also be found on a person's legs.
19. 3 M A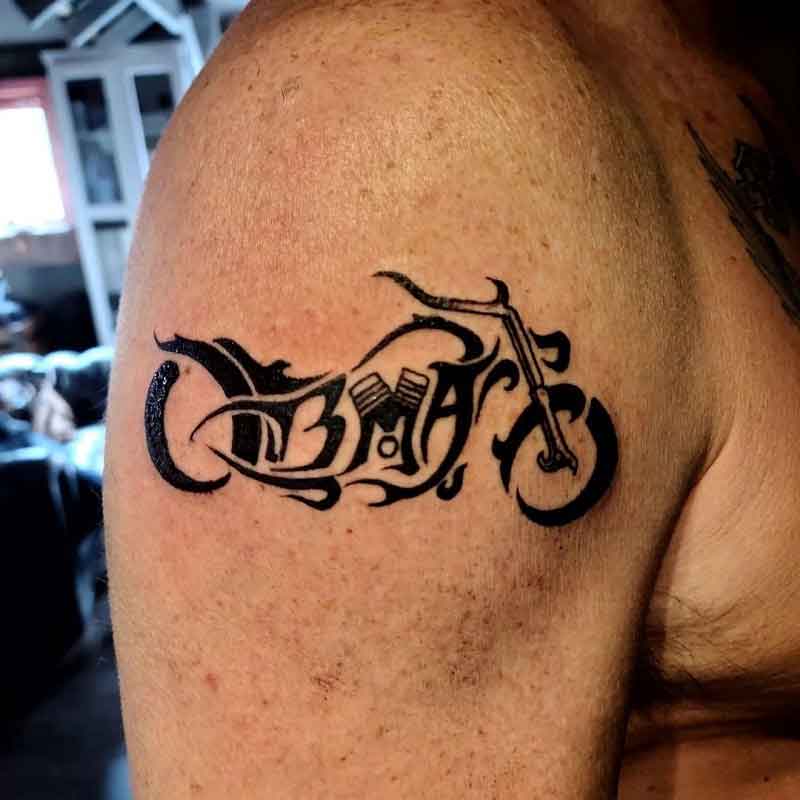 If you look closely at this motorcycle tattoo, you will notice three letters: 3 M A. And the rich black tone of this tattoo adds to its style.
20. J K P Tiger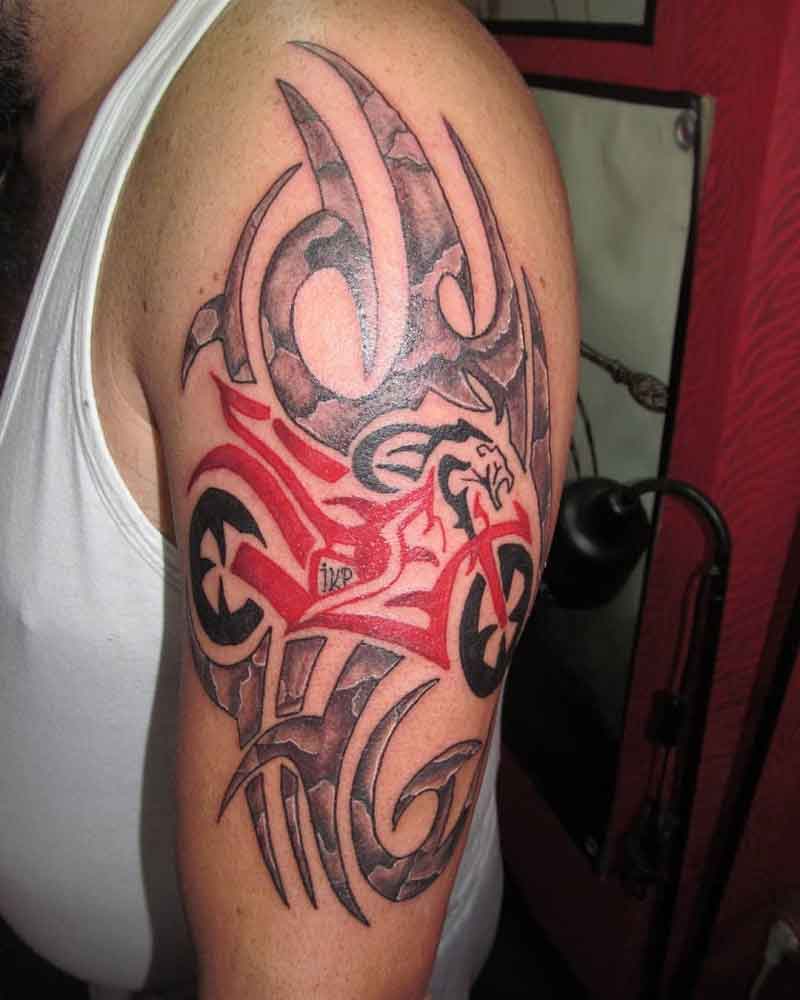 Here we can see a red motorcycle with a tiger logo on the front and a JKP sign inside. This tattoo depicts a tiger's fierce speed and a confident man's aura.
21. Arrow Bike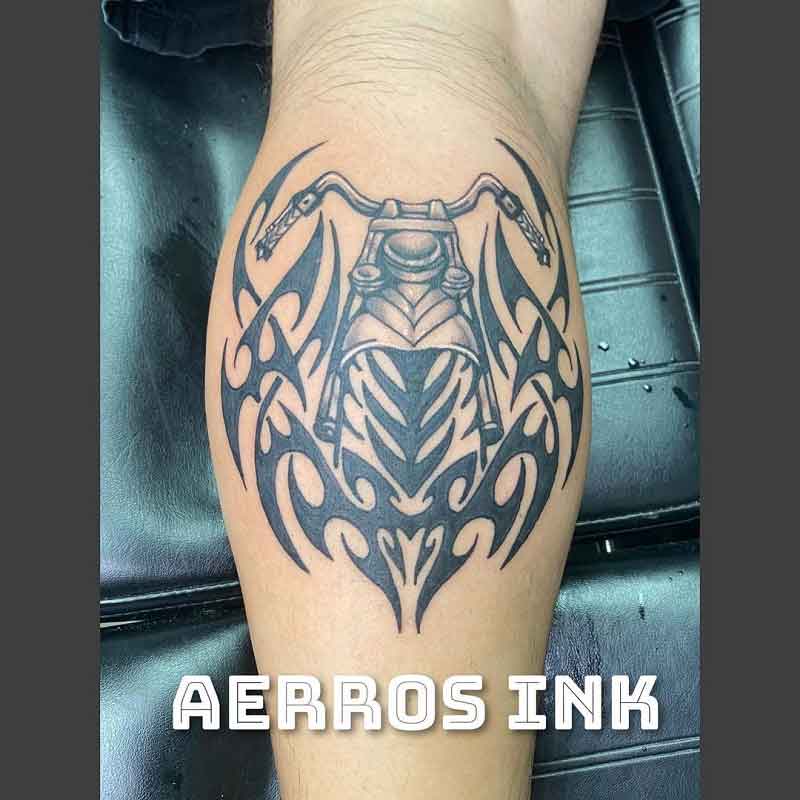 A motorcycle with a tribal design pattern and some tribal arrow design seems wonderful. This motorbike tattoo is distinguished by its dark color and intricate design and is best for people's calves.
Motorcycle Skull Tattoo
There are many motorcycle skull tattoo designs, but the most popular is a skull with flames coming out of the eye sockets. This is a popular design because it symbolizes the passion for the ride that all riders share.
22. Blue Jeans Skull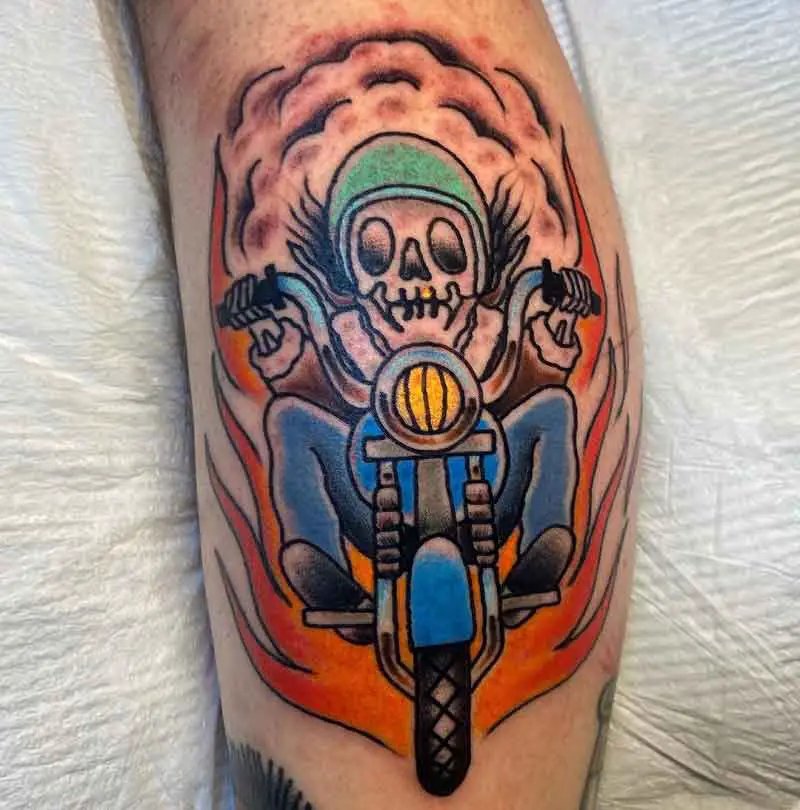 A Skull wearing blue jeans and riding a motorcycle at high speed appears to be a motorcycle gang member. This tattoo's workmanship and color scheme are stunning.
23. Fire Skull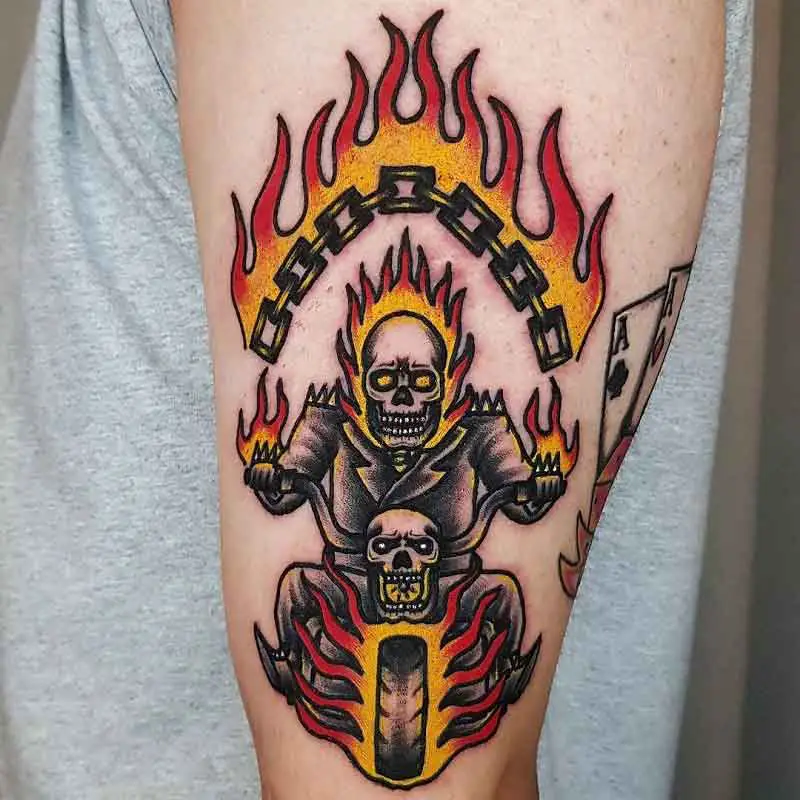 A skull riding a fire-breathing motorcycle and a chain that spreads flames look cool. This tattoo is reminiscent of the film Ghost Rider, starring Nicolas Cage.
24. Star Rider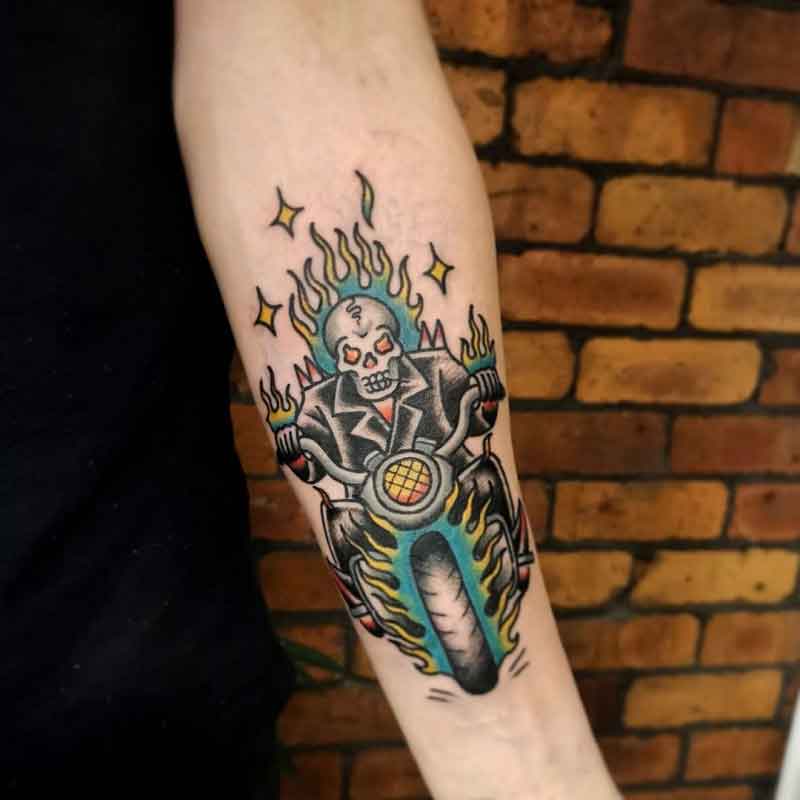 People are celebrating the success of a skull motorcycle racer who came first in a bike race. This tattoo is ideal for remembering one's success in a race. And the blue and the black color combination is great.
Motorcycle Tattoo Designs
Motorcycle tattoo designs are a popular trend. They are typically very large, bold, and detailed. If you get a tattoo, you might as well get one that will last for a long time.
25. Mountain Home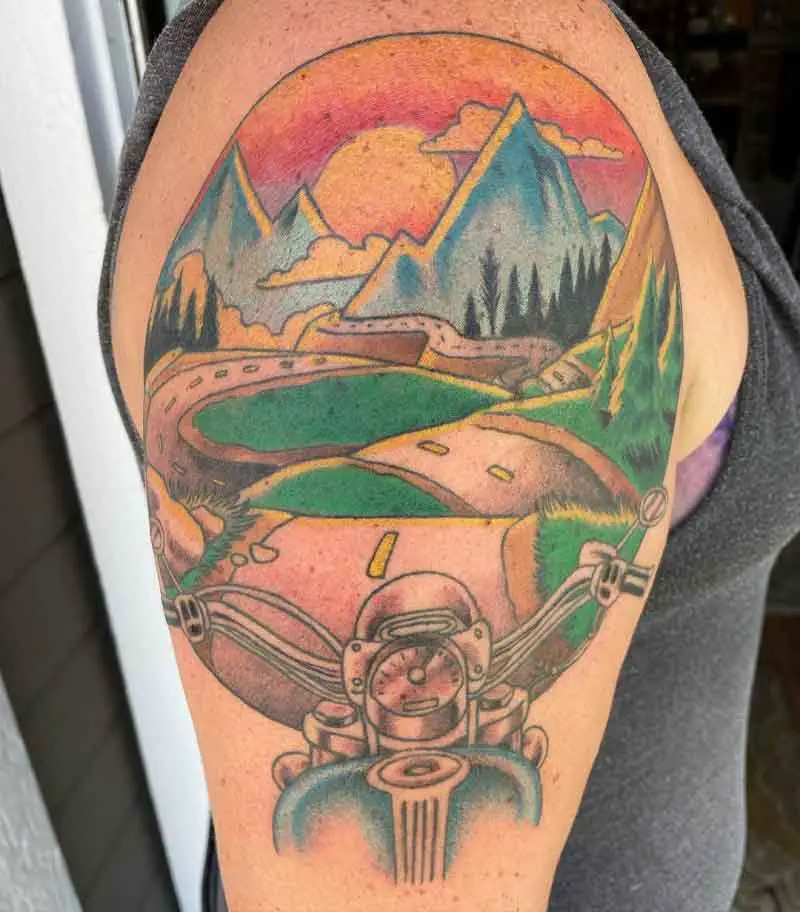 This motorcycle theme tattoo expresses a person's affection for his motherland, which is located on a mountain. So, whenever he had free time, he rode his bike to see his folks.
26.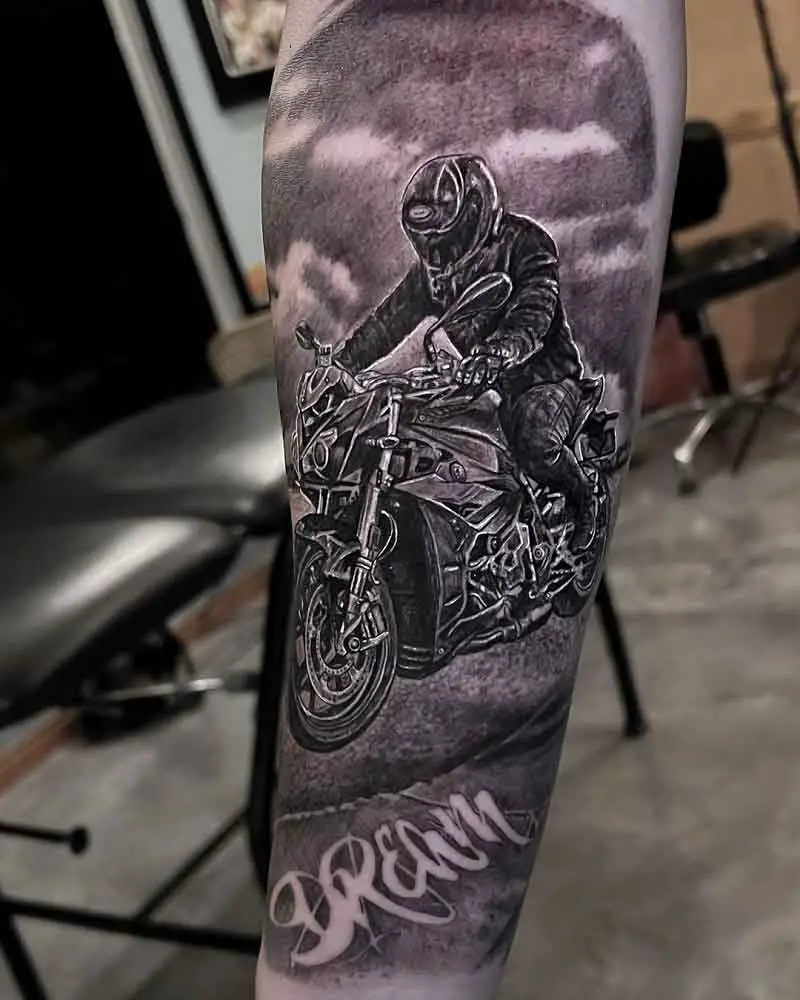 27.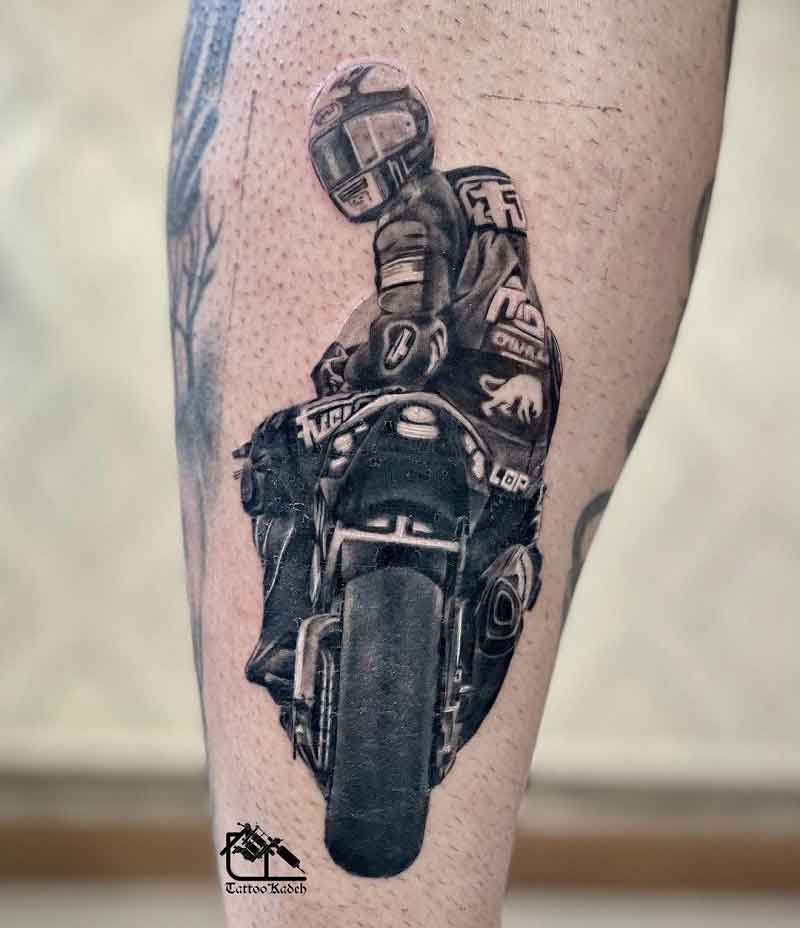 Motorcycle Engine Tattoo
28.
29.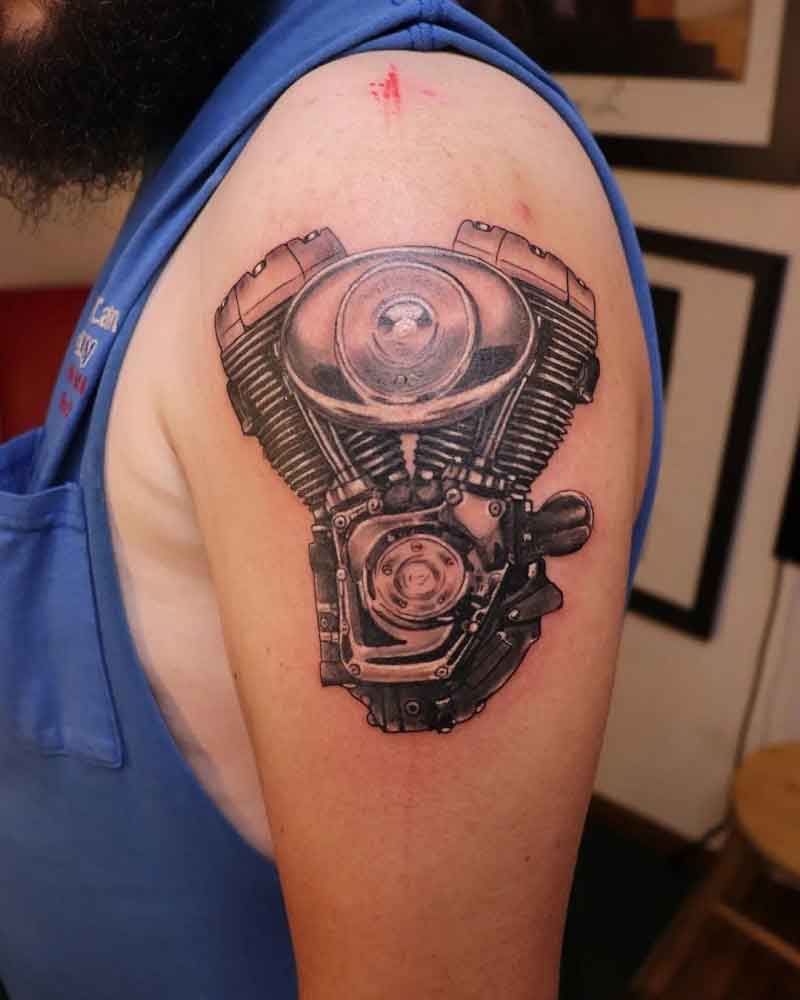 30.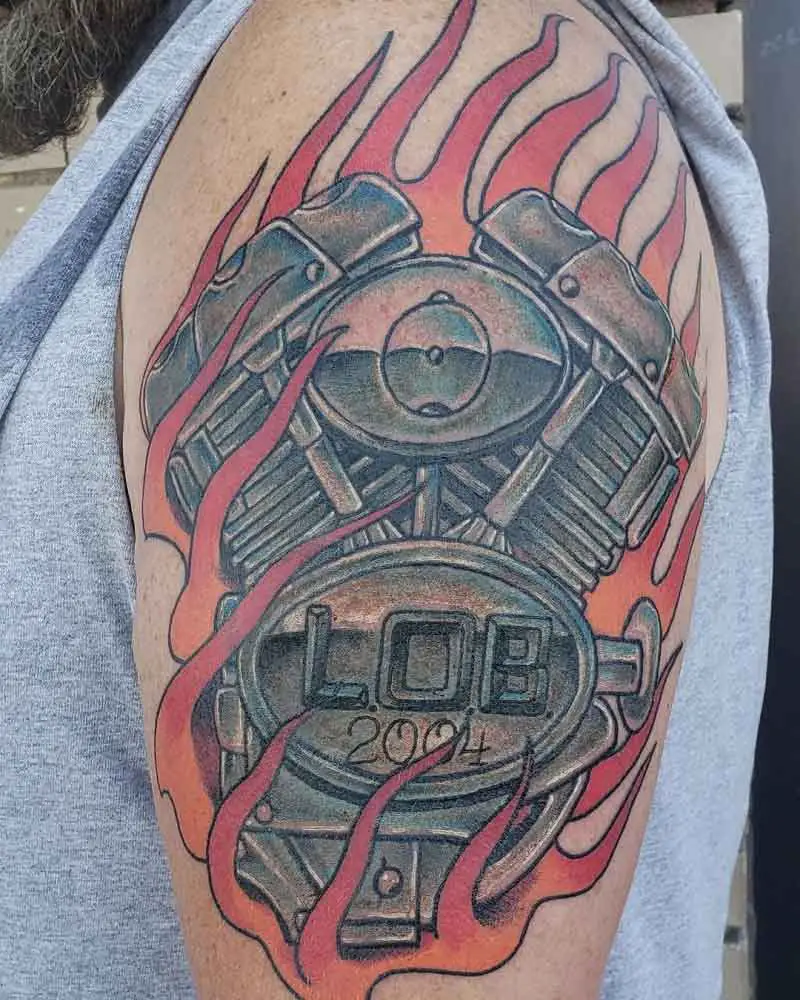 Motorcycle Wings Tattoo
31.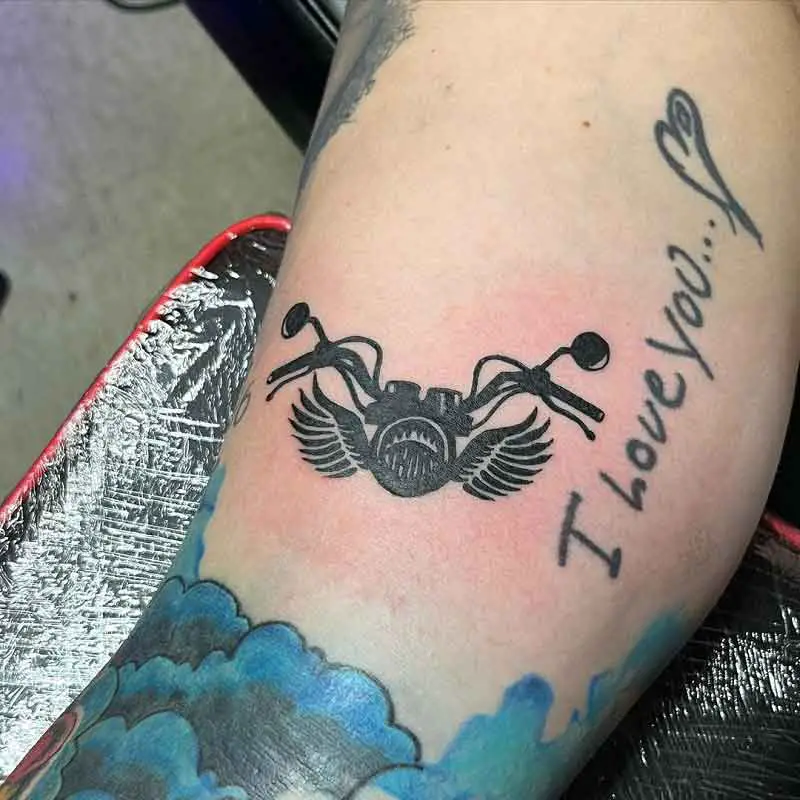 32.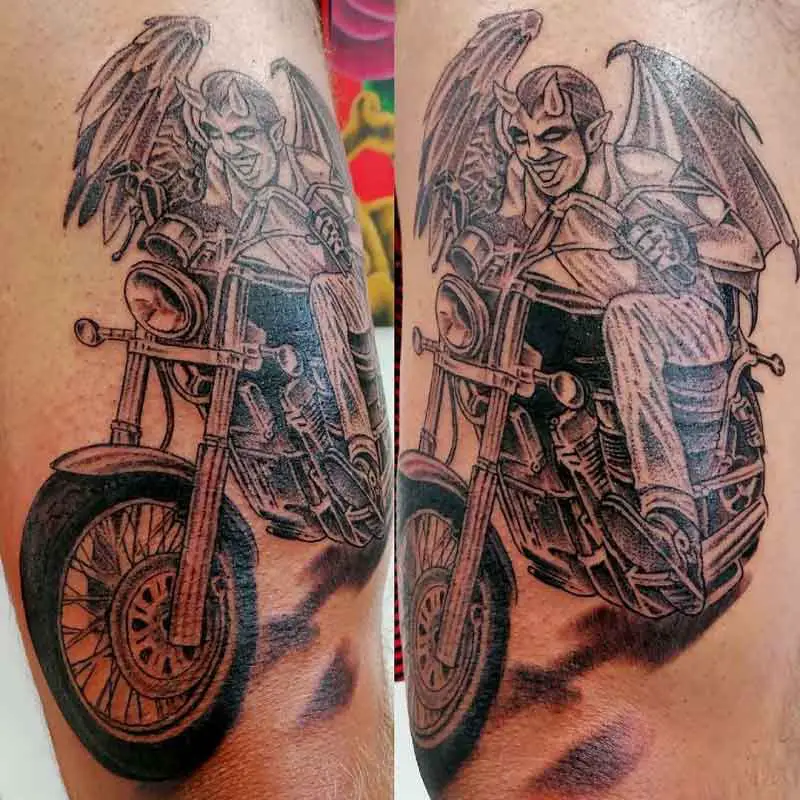 33.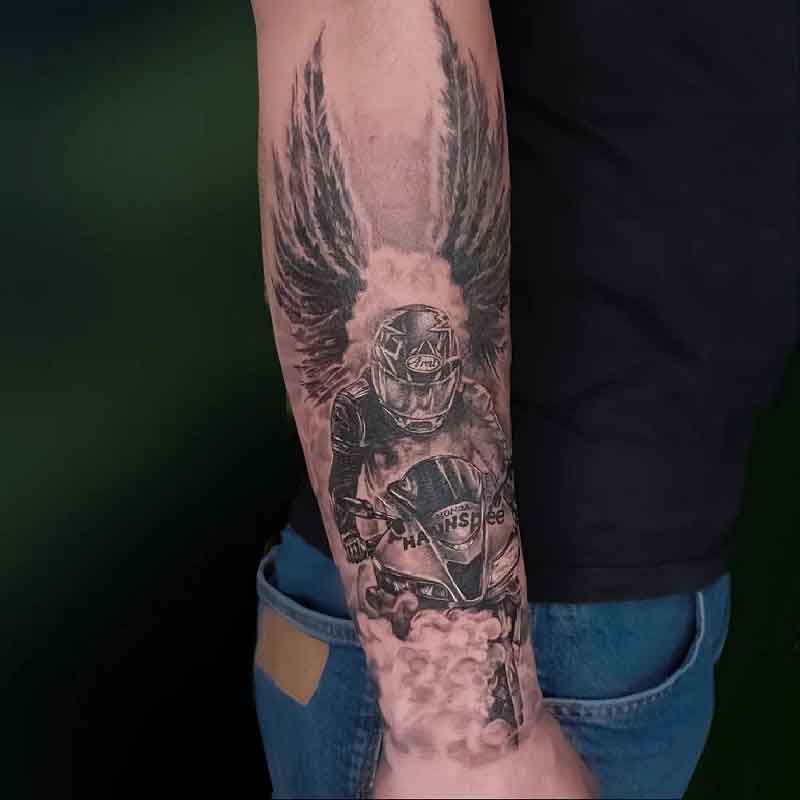 Harley Davidson Motorcycle Tattoo
34.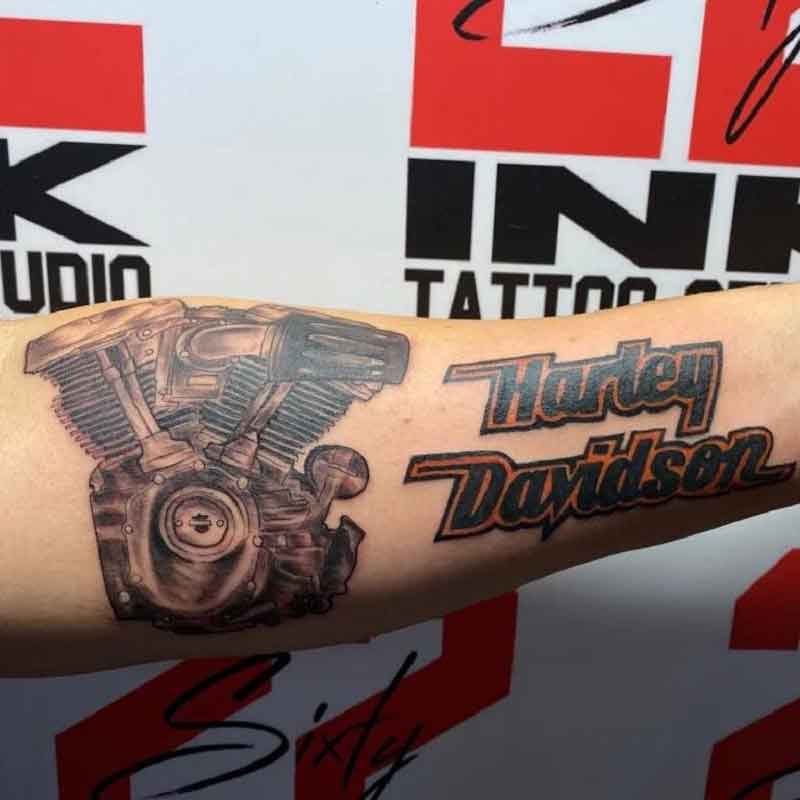 35.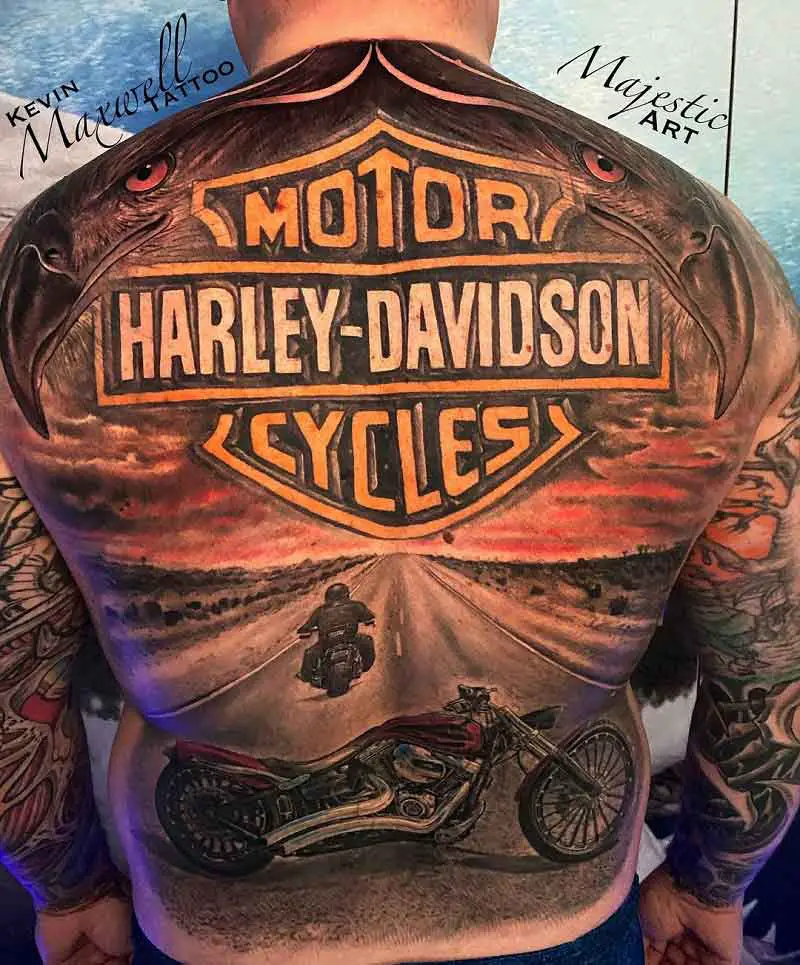 36.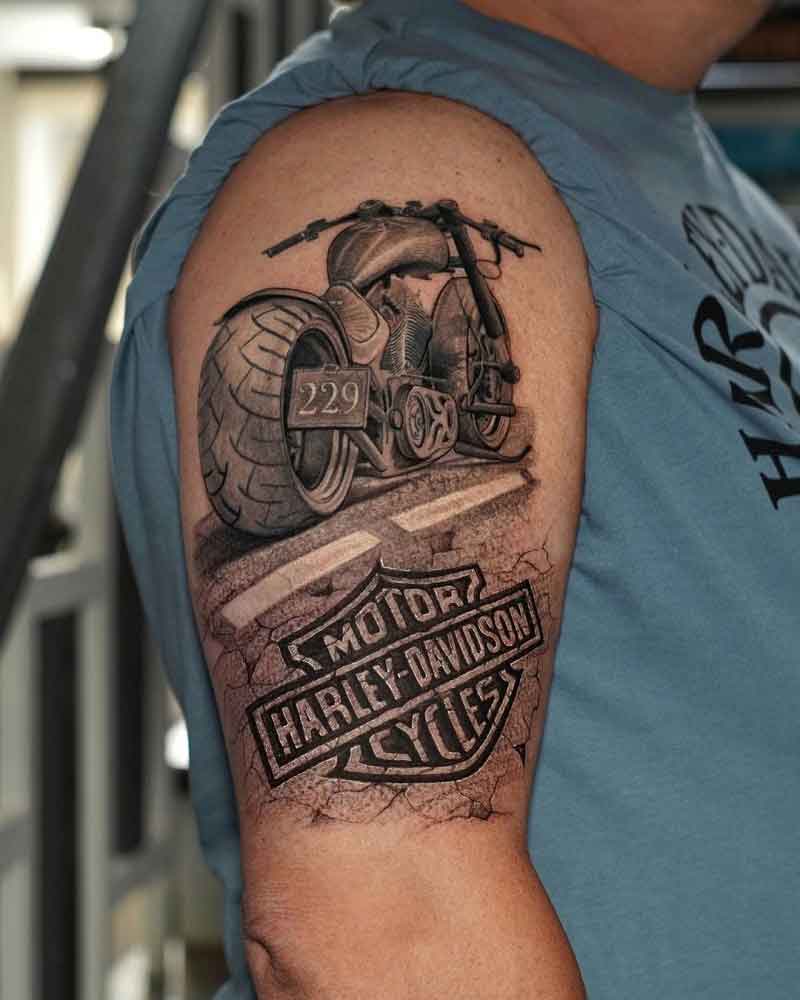 Motorcycle Handlebar Tattoo
37.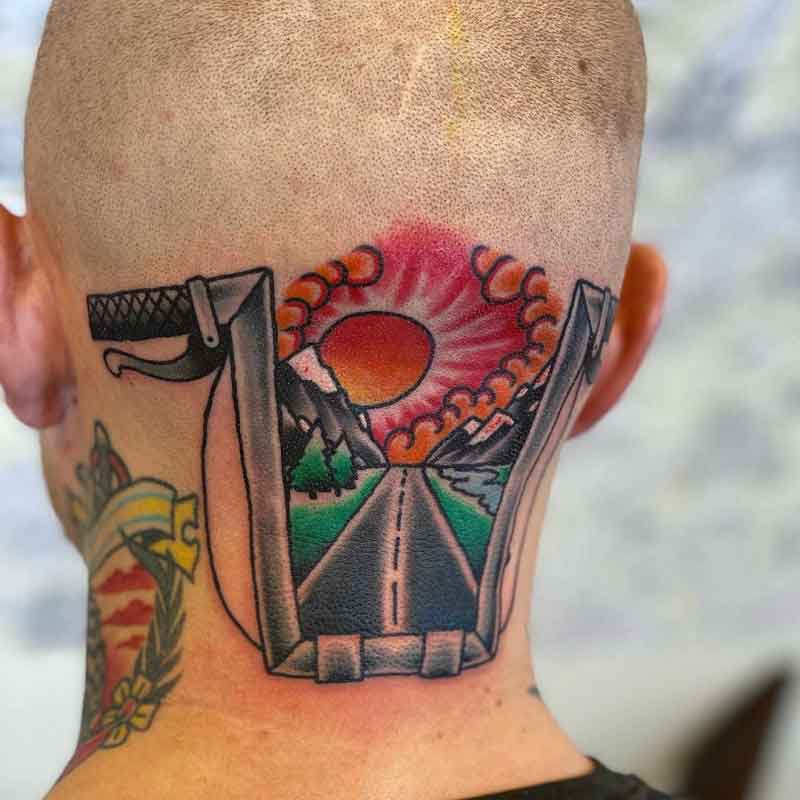 38.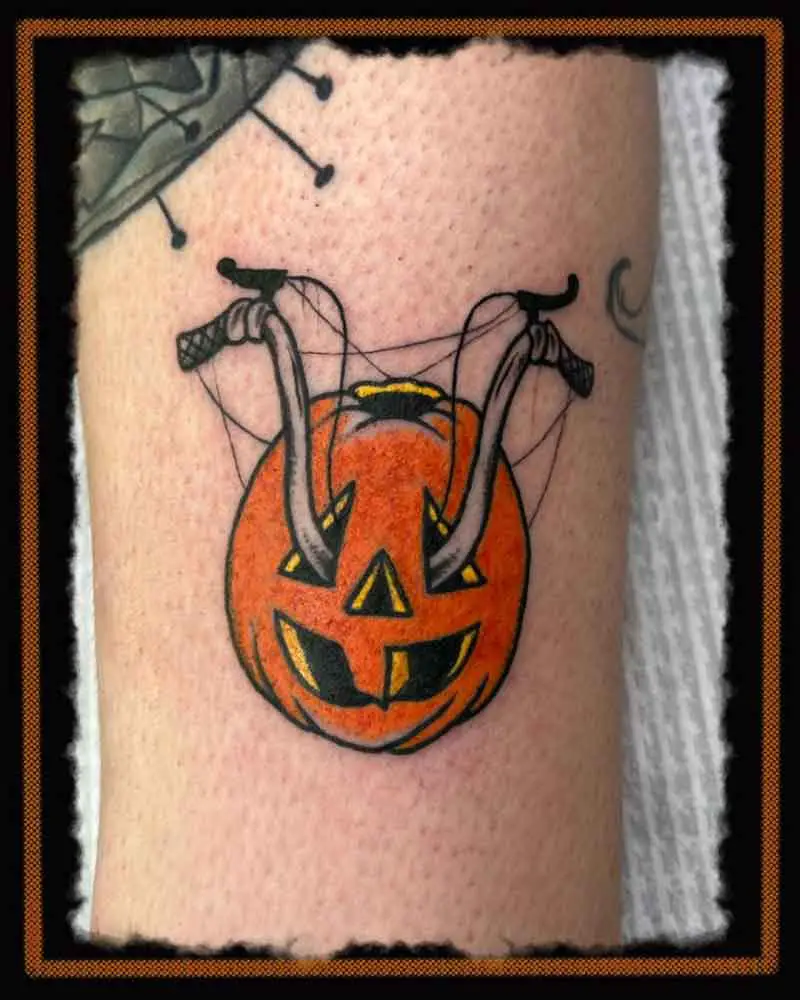 39.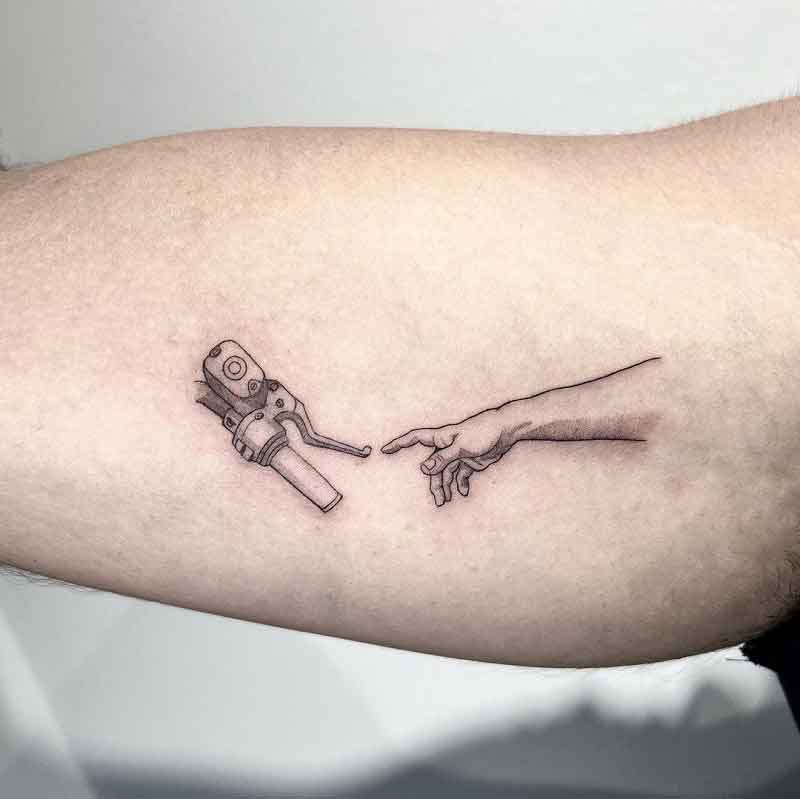 Motorcycle Shift Pattern Tattoo
40.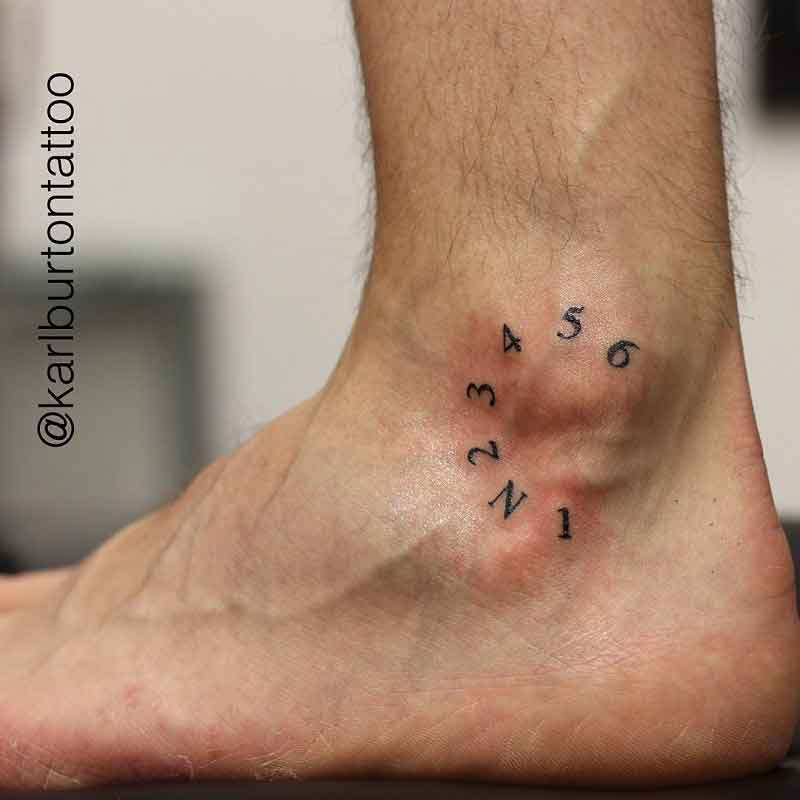 41.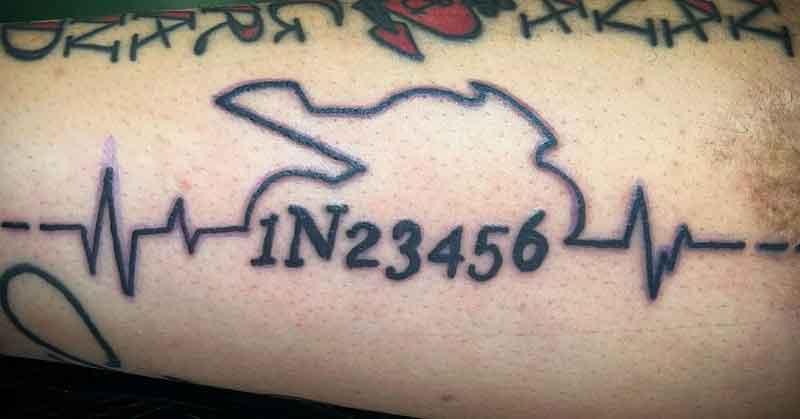 42.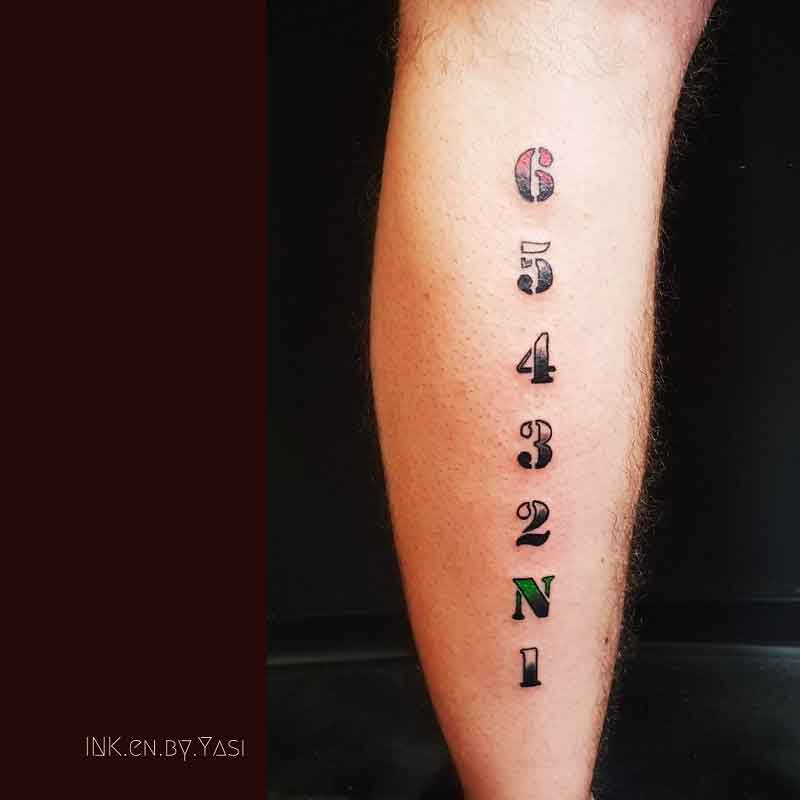 Motorcycle Wheel Tattoo
43.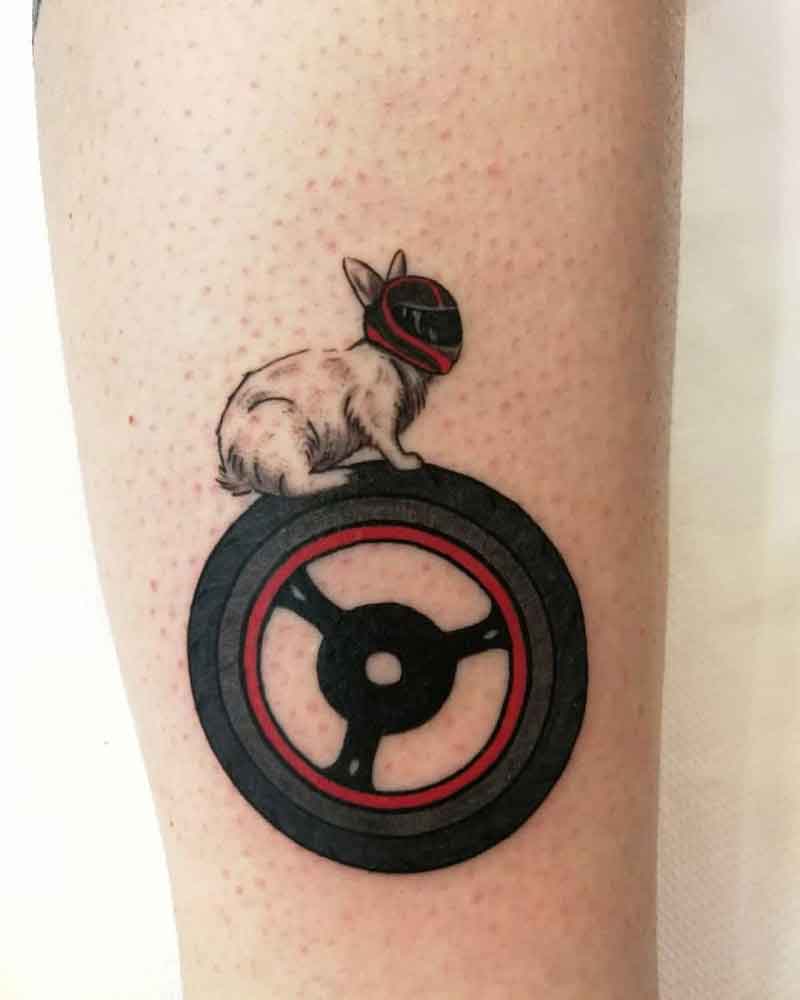 44.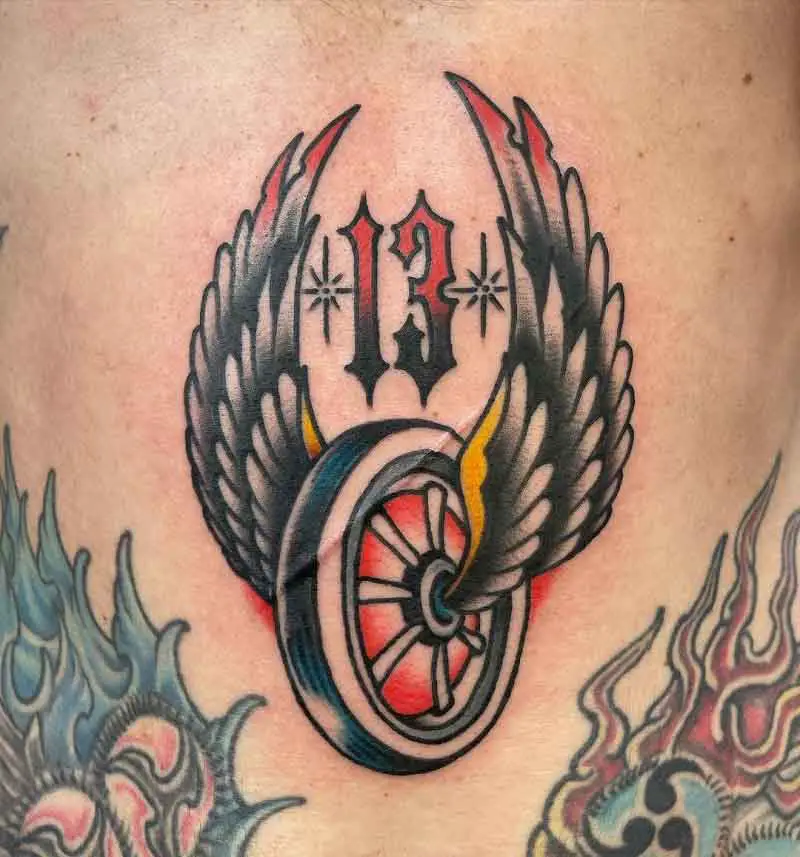 45.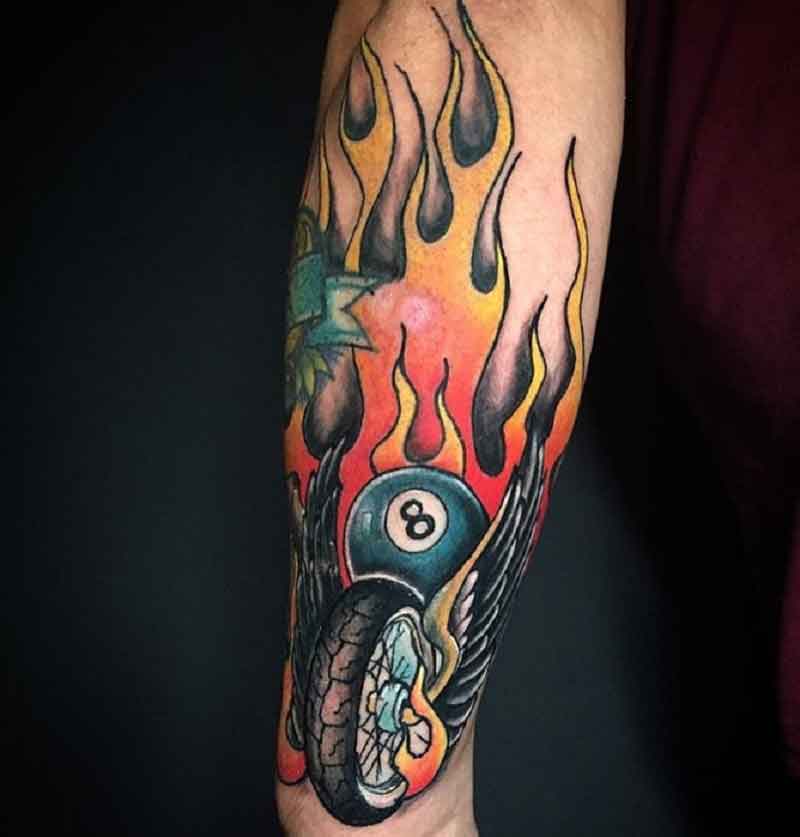 Motorcycle Hand Tattoo
46.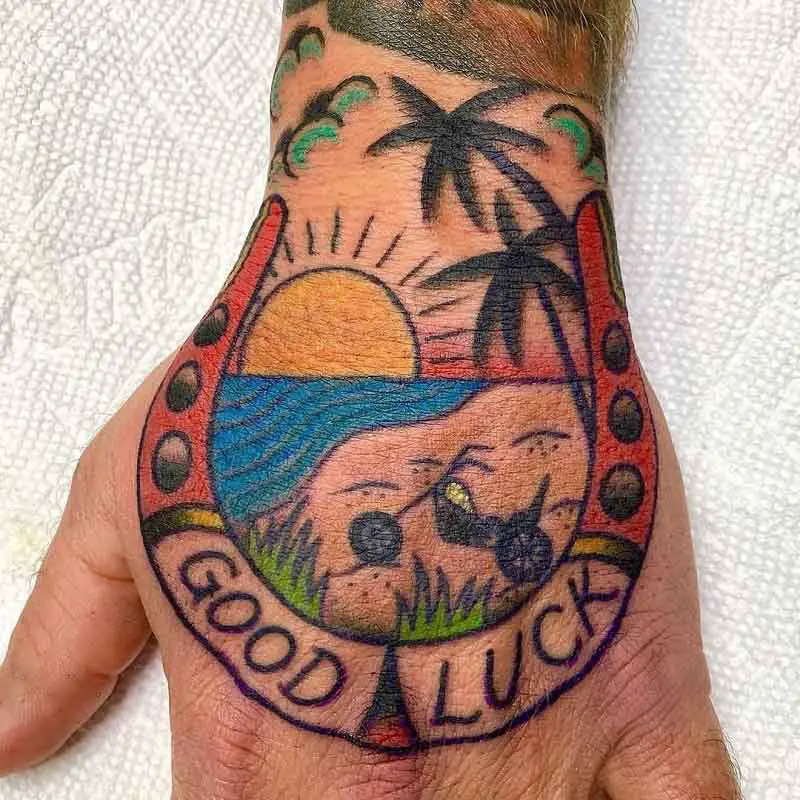 47.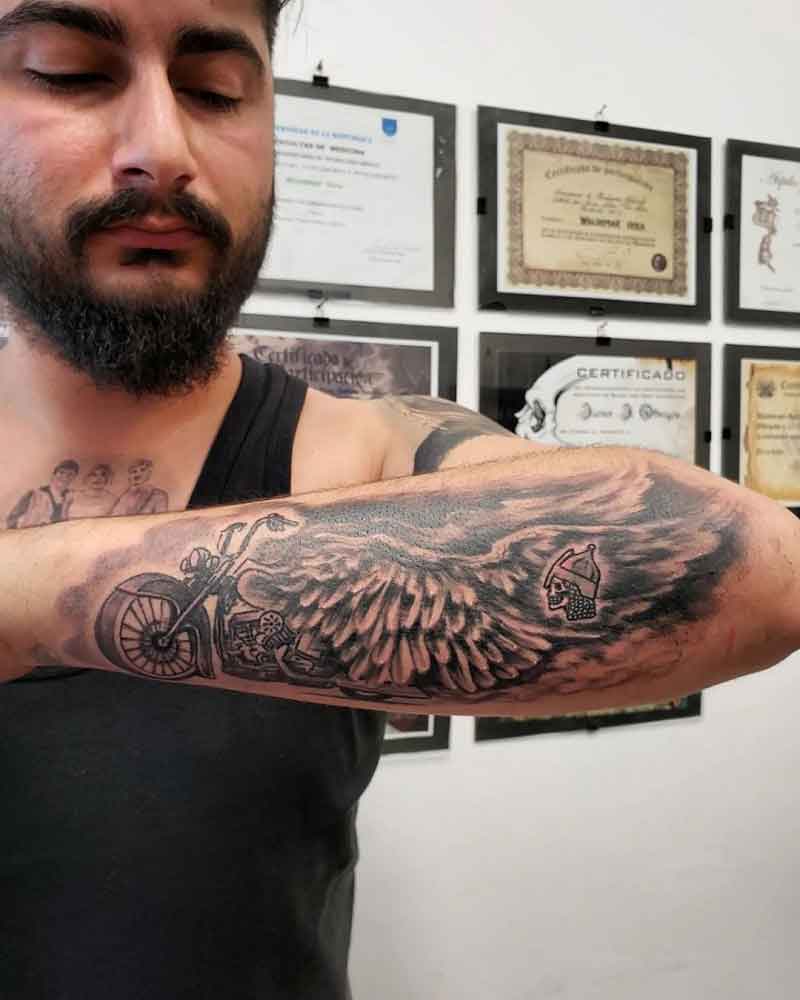 48.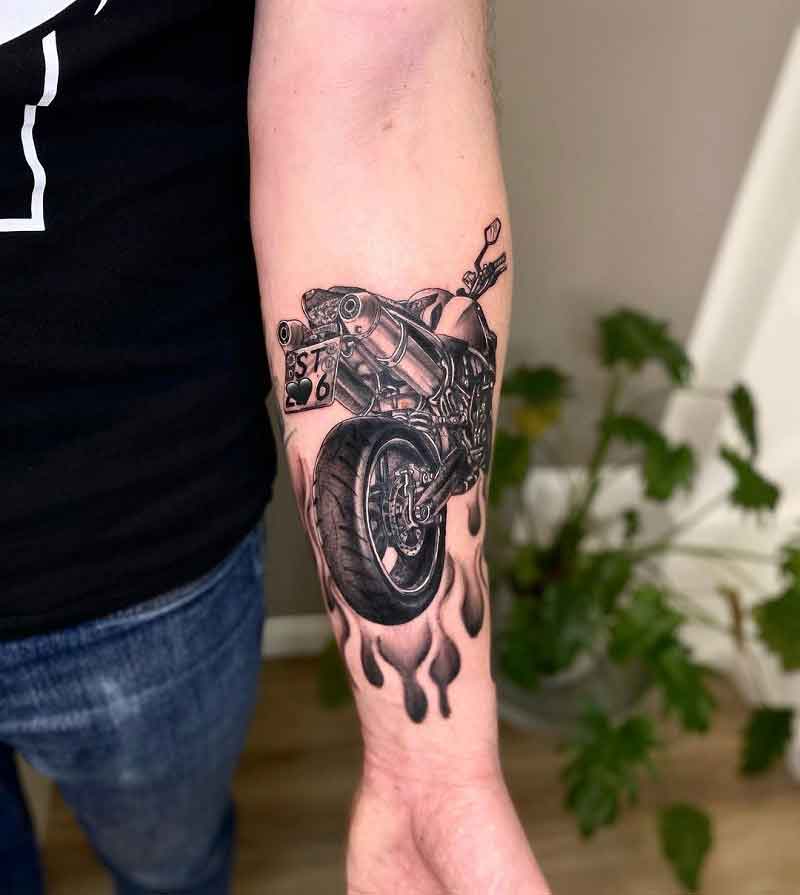 Motorcycle Outline Tattoo
49.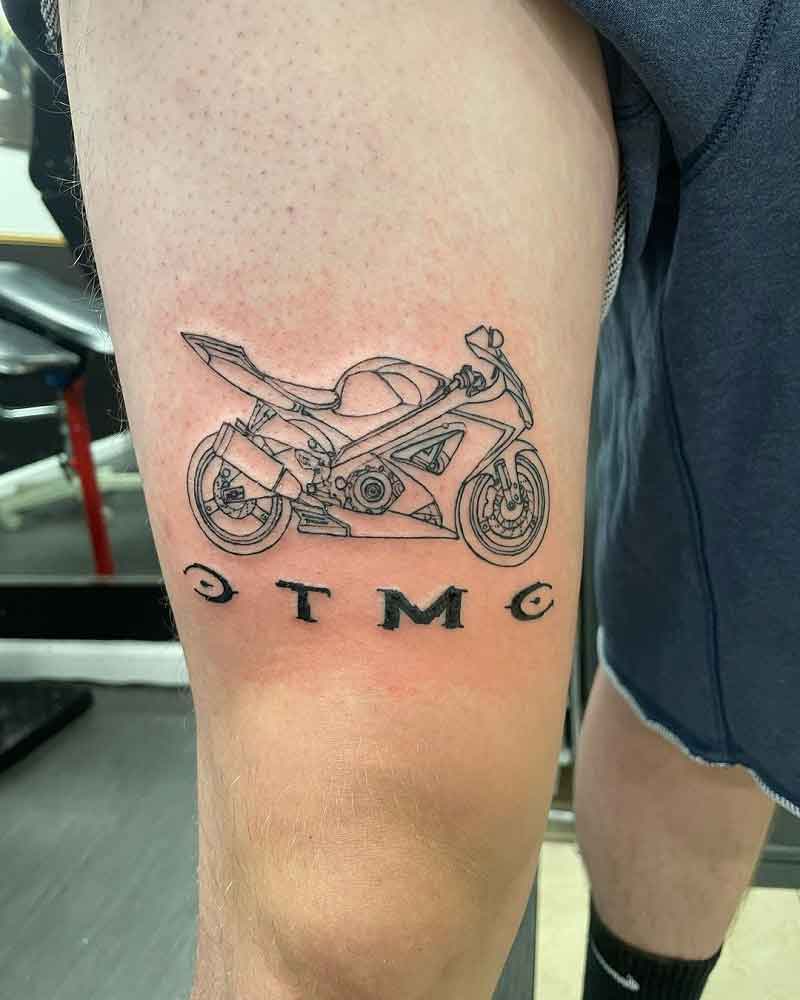 50.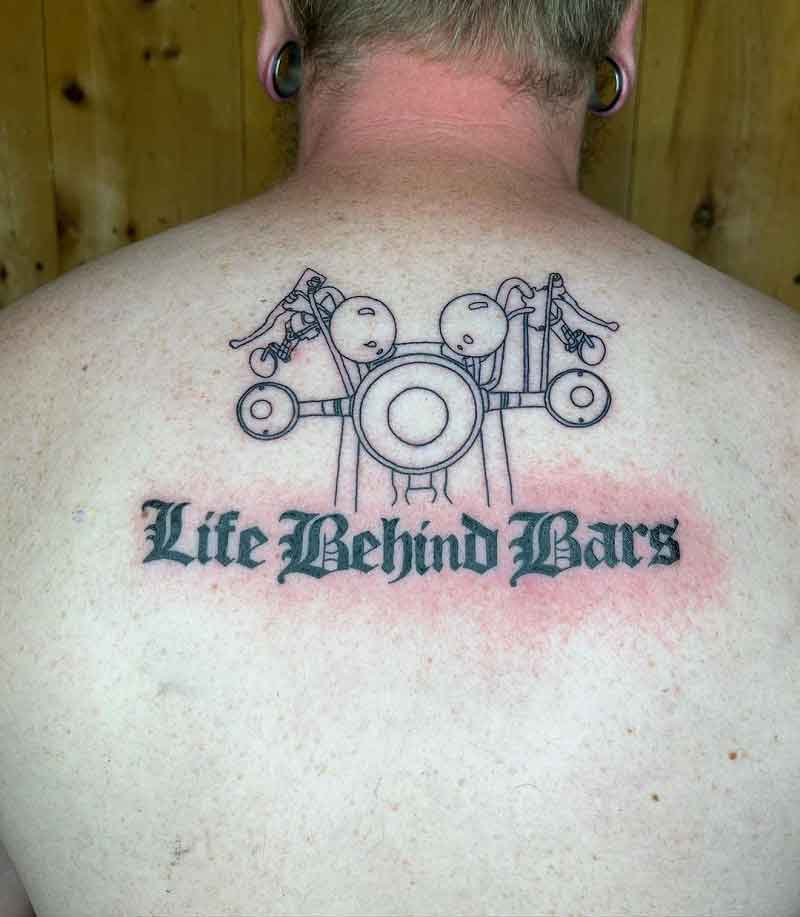 51.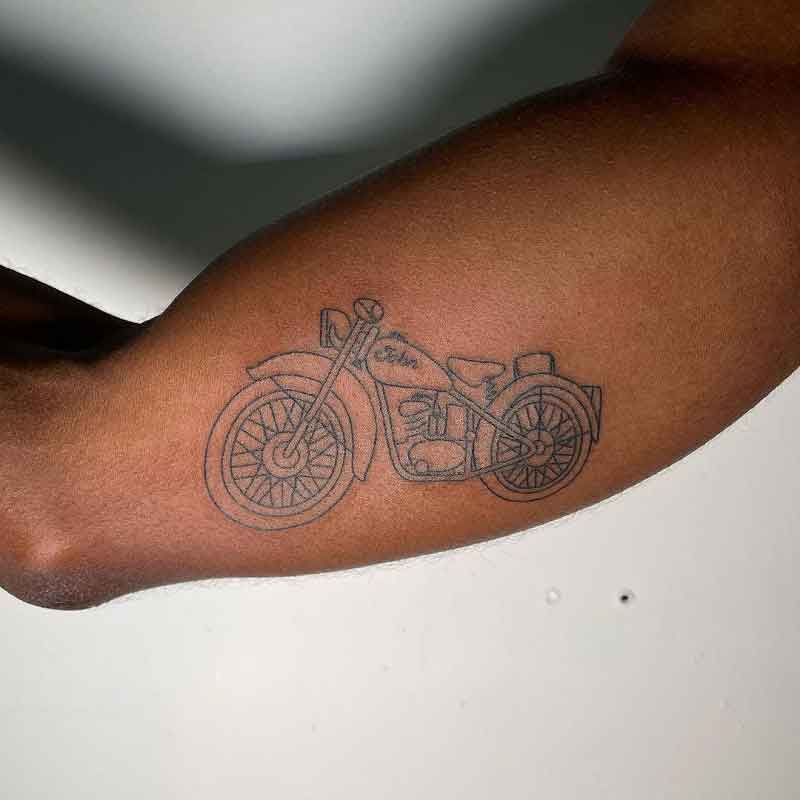 Honda Motorcycle Tattoo
52.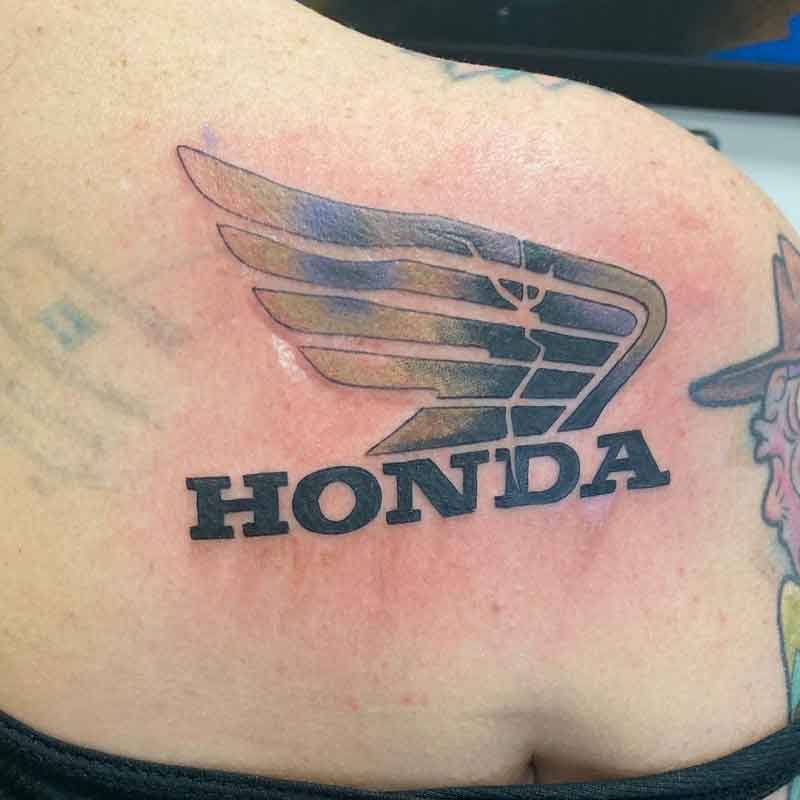 53.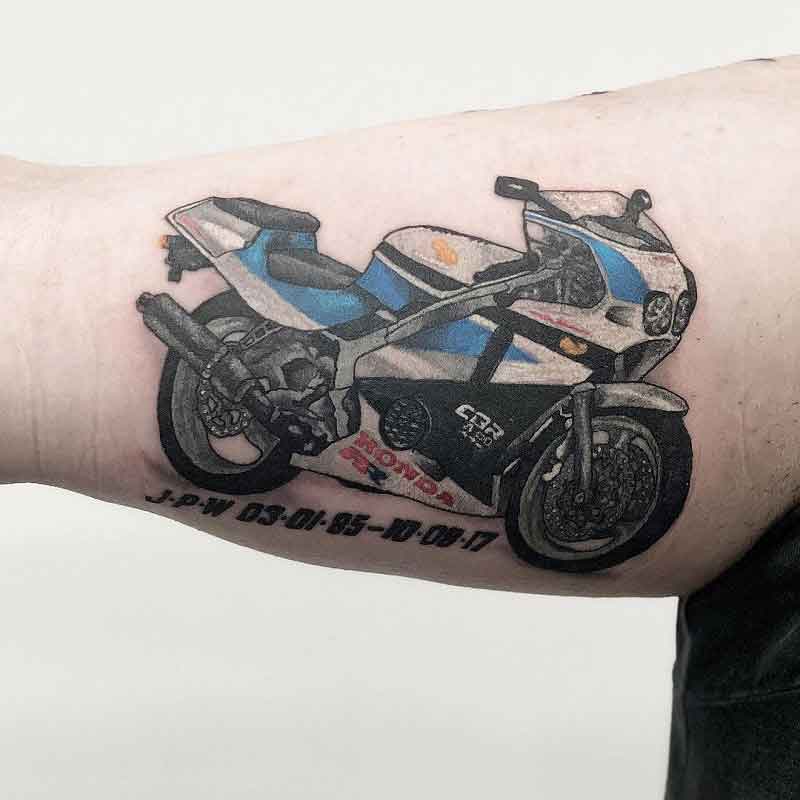 54.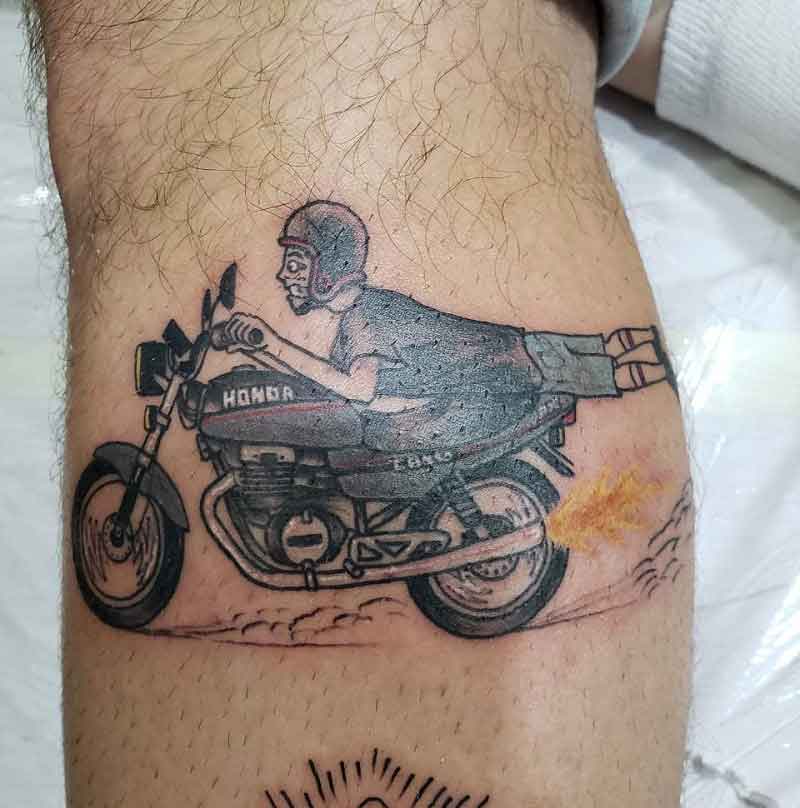 55.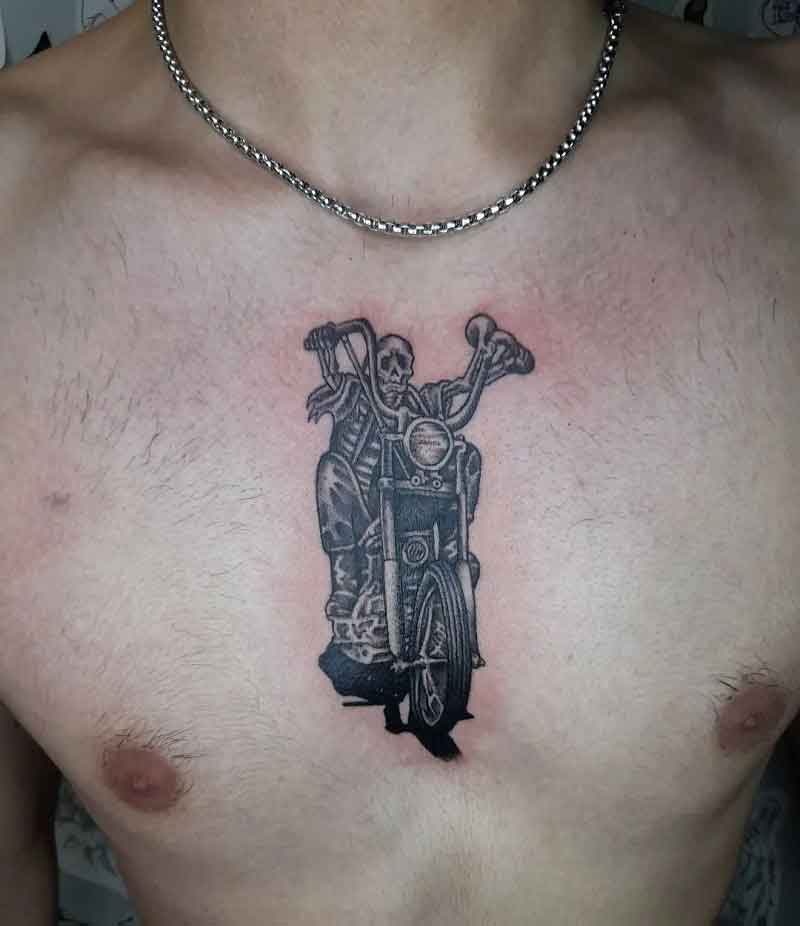 56.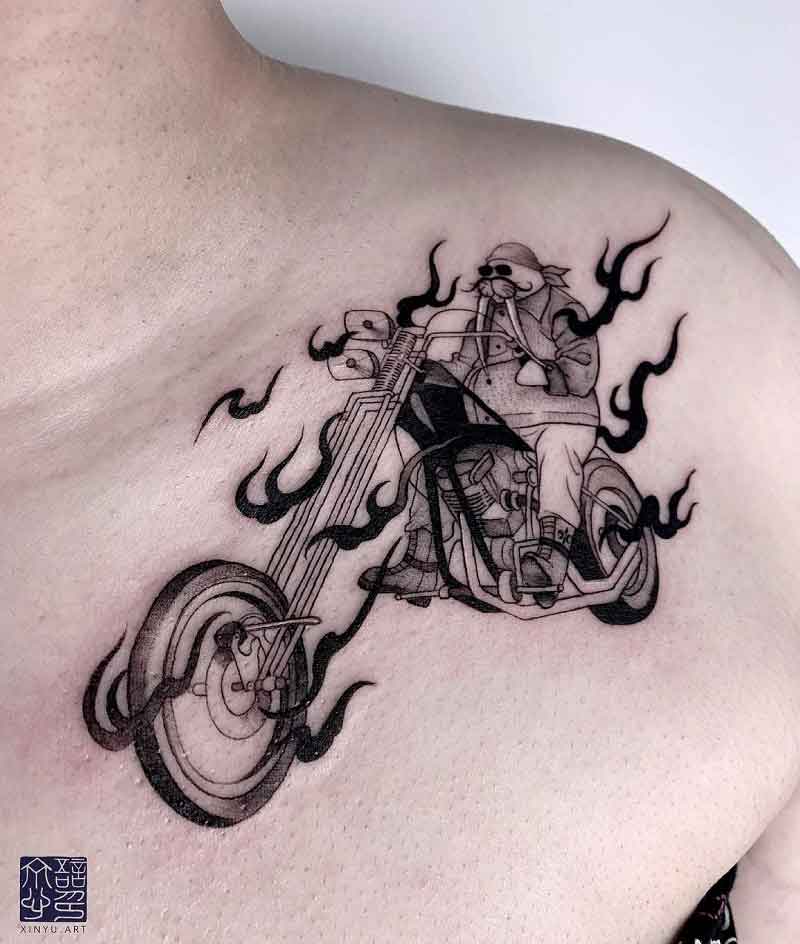 57.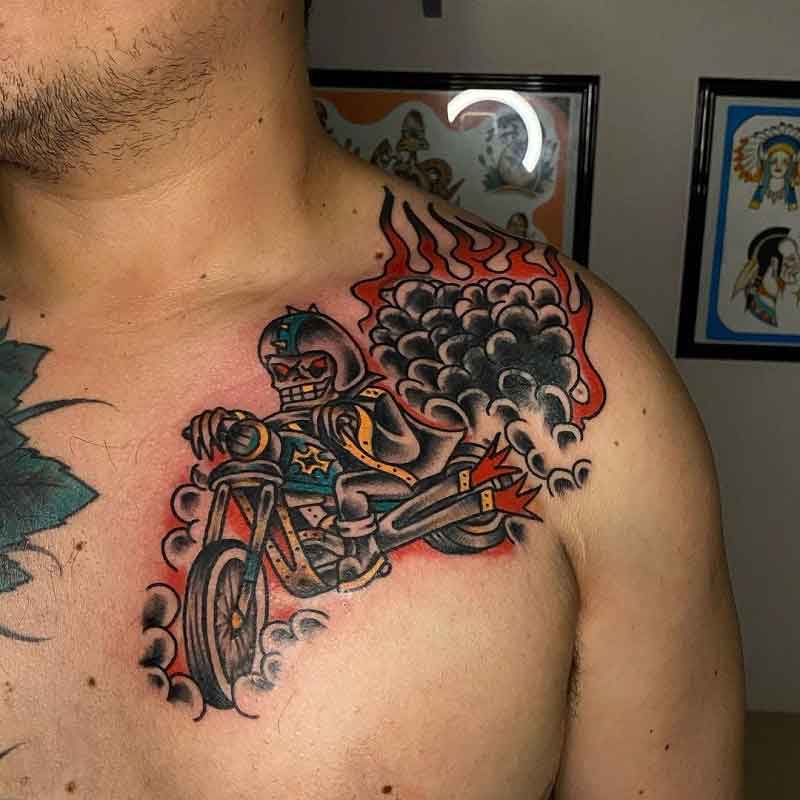 58.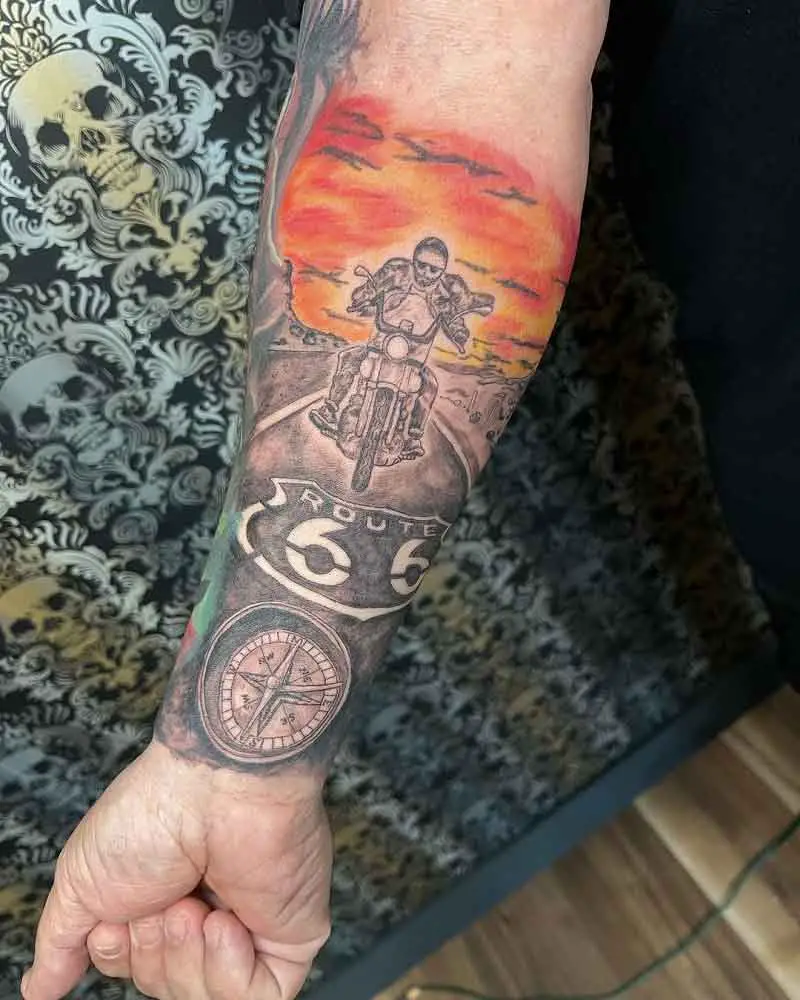 59.
60.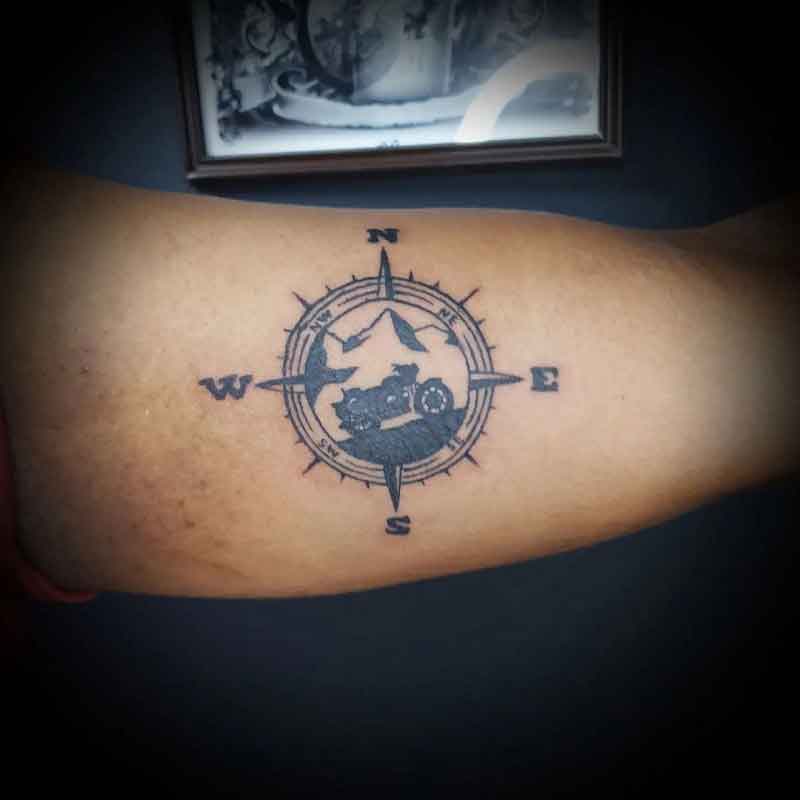 Motorcycle Pin Up Tattoo
61.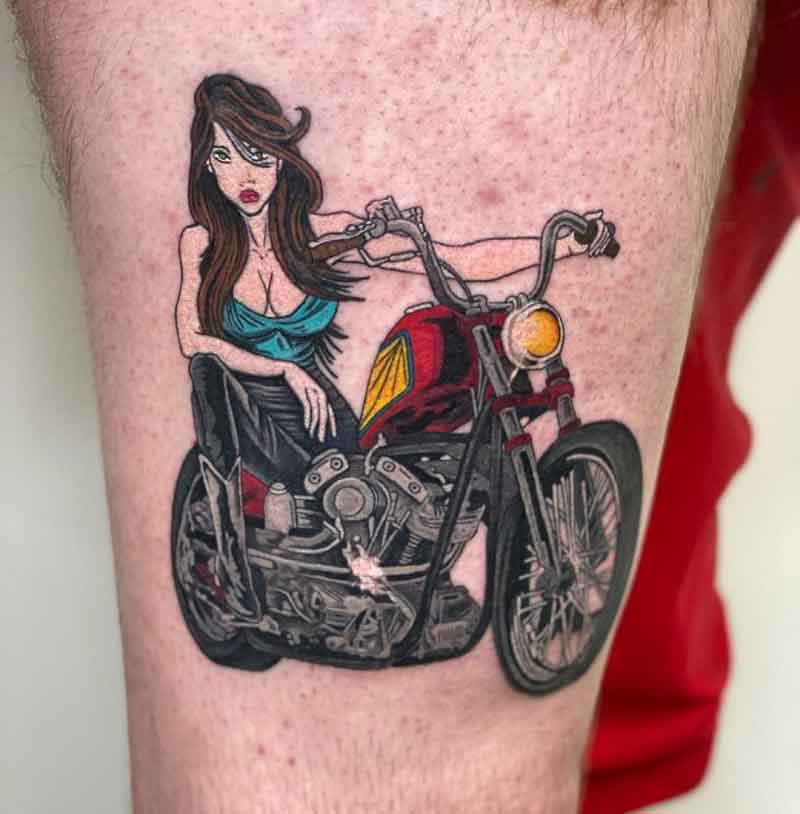 62.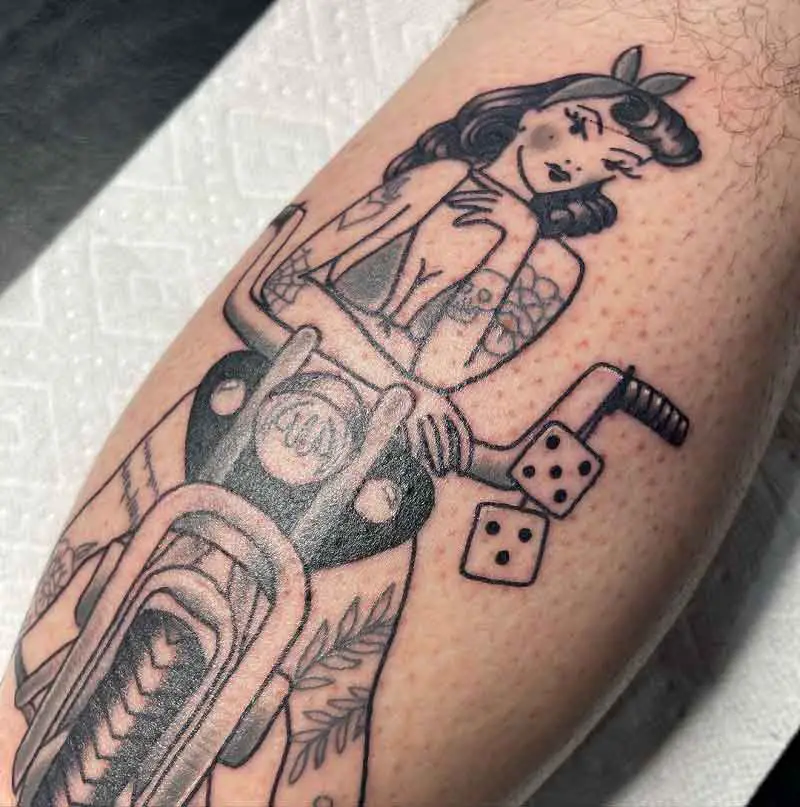 63.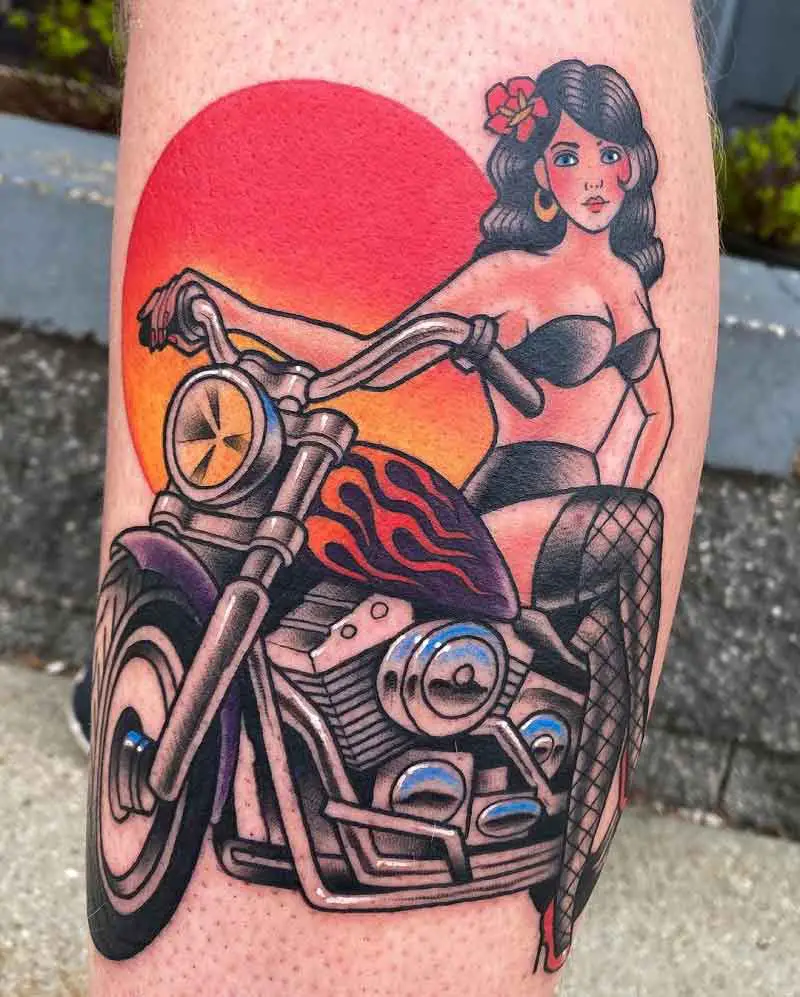 Motorcycle Piston Tattoo
64.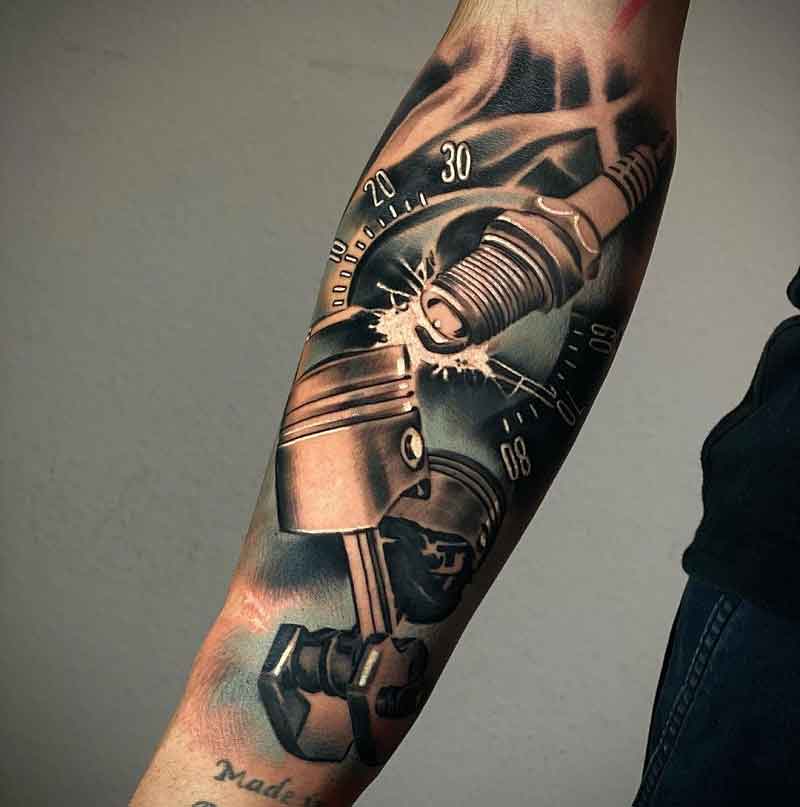 65.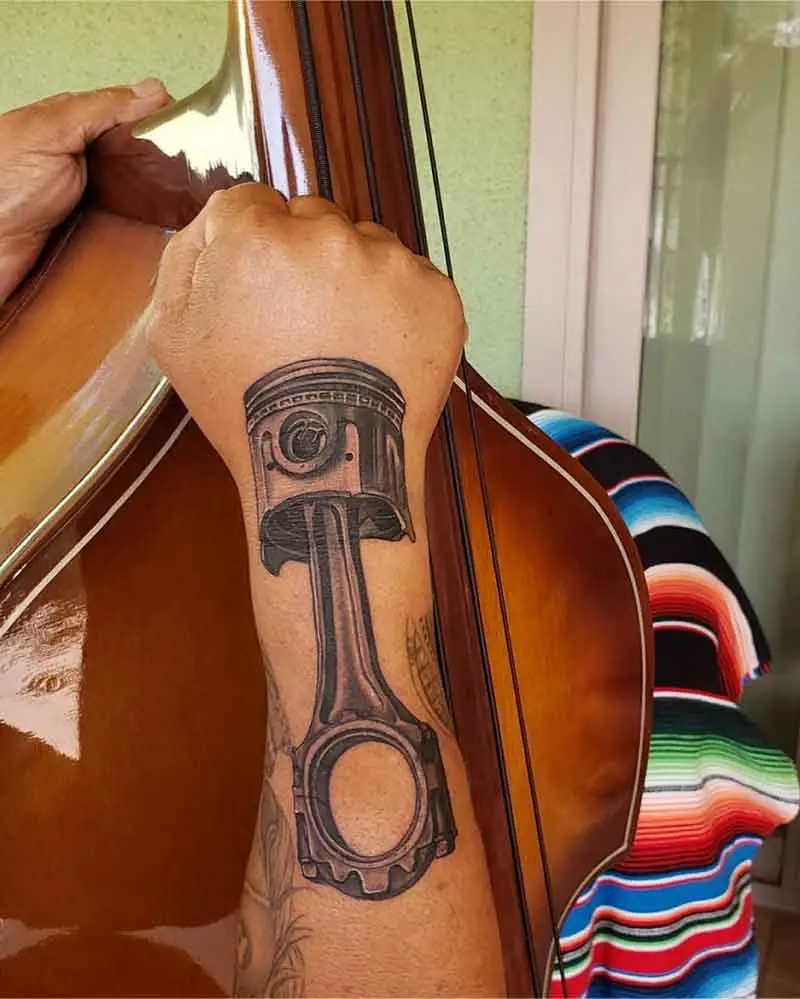 66.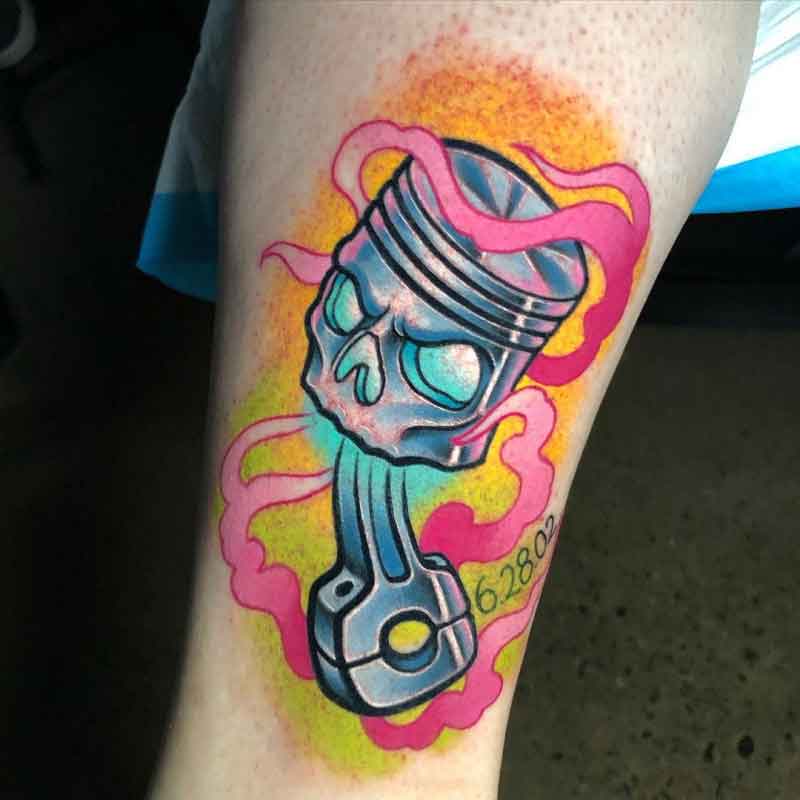 Motorcycle Speedometer Tattoo
67.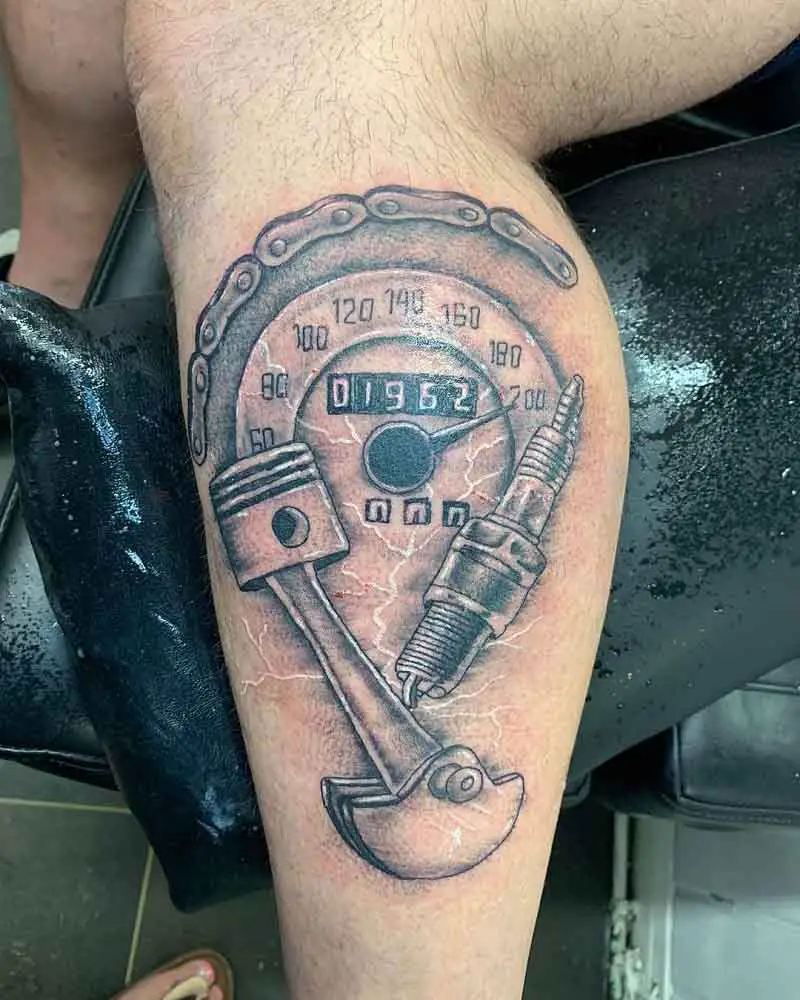 68.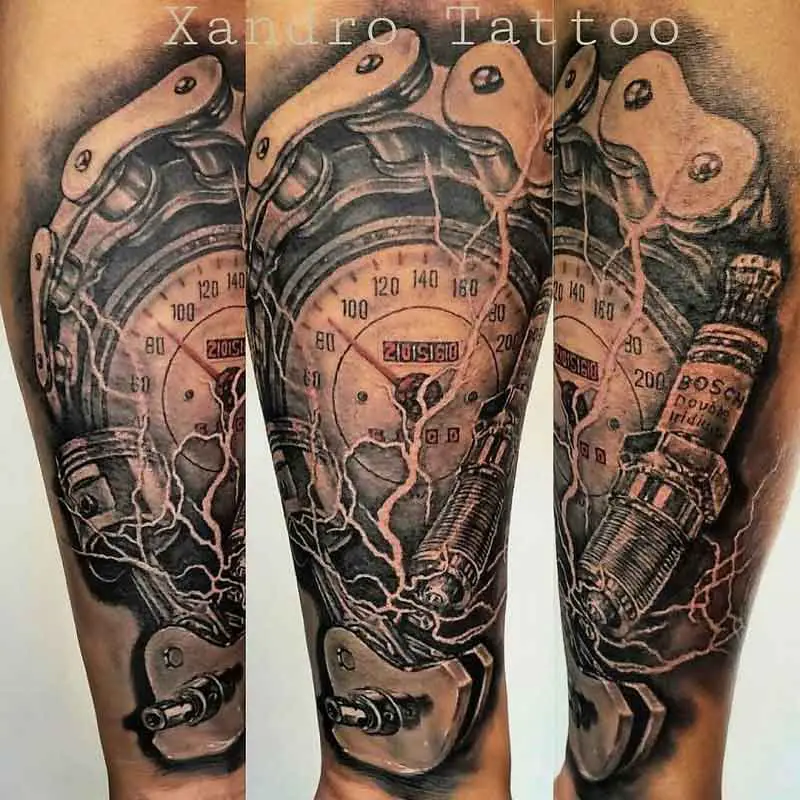 69.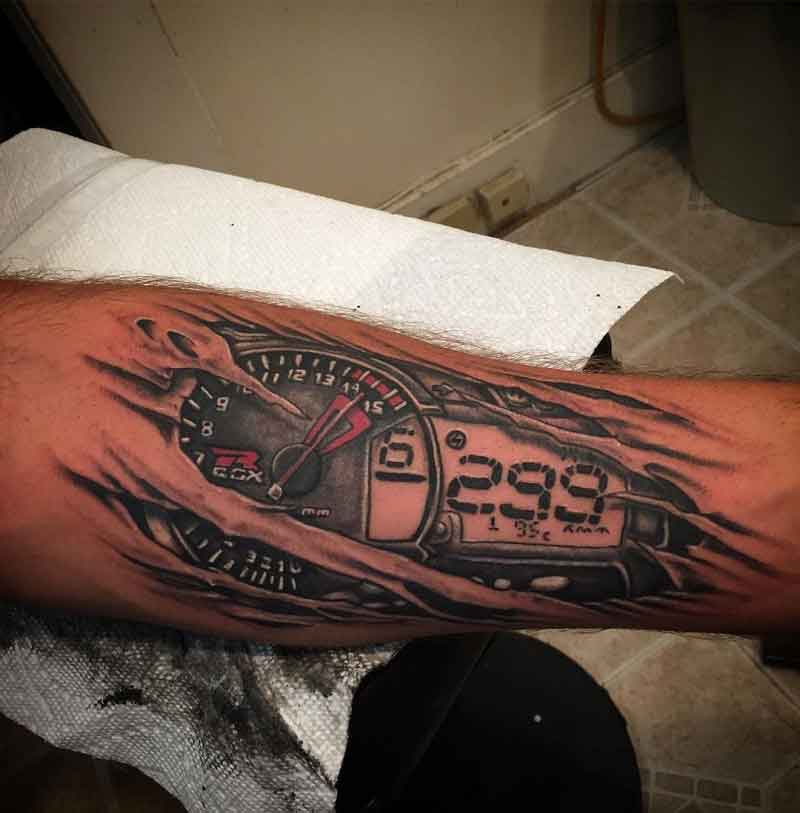 Grim Reaper Riding A Motorcycle Tattoo
70.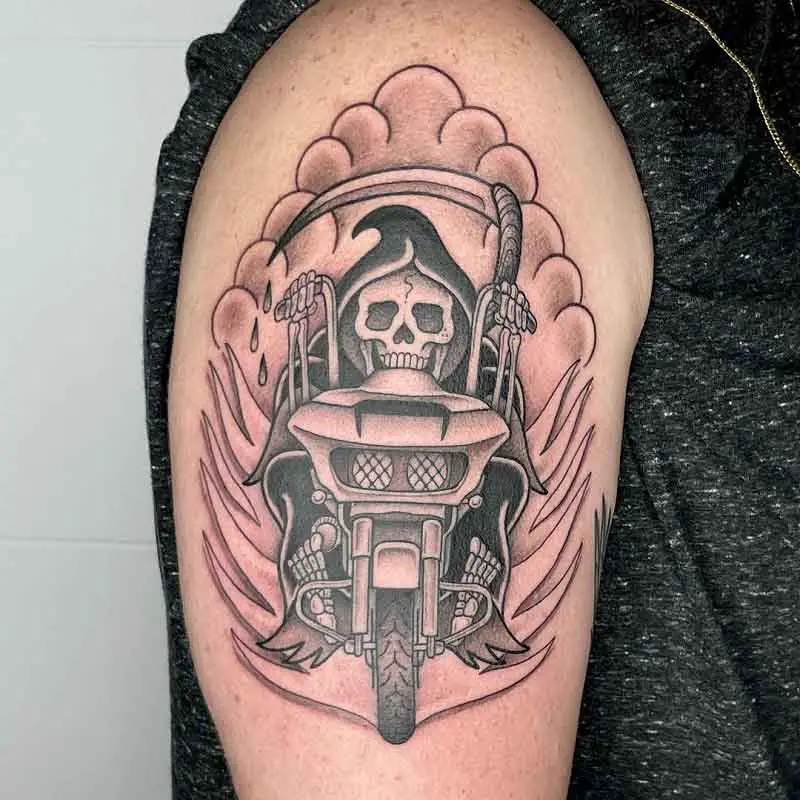 71.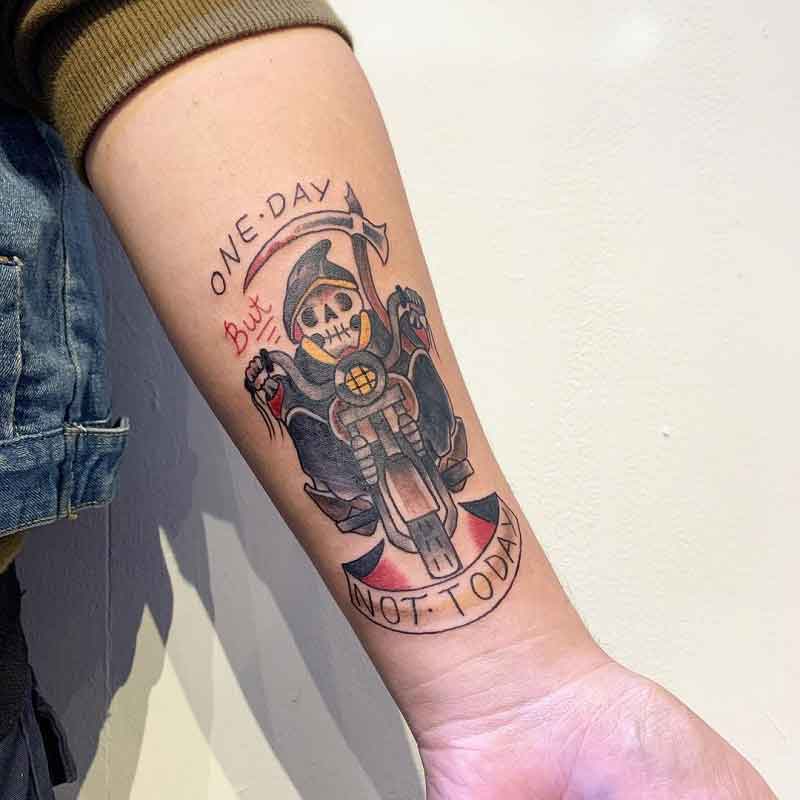 72.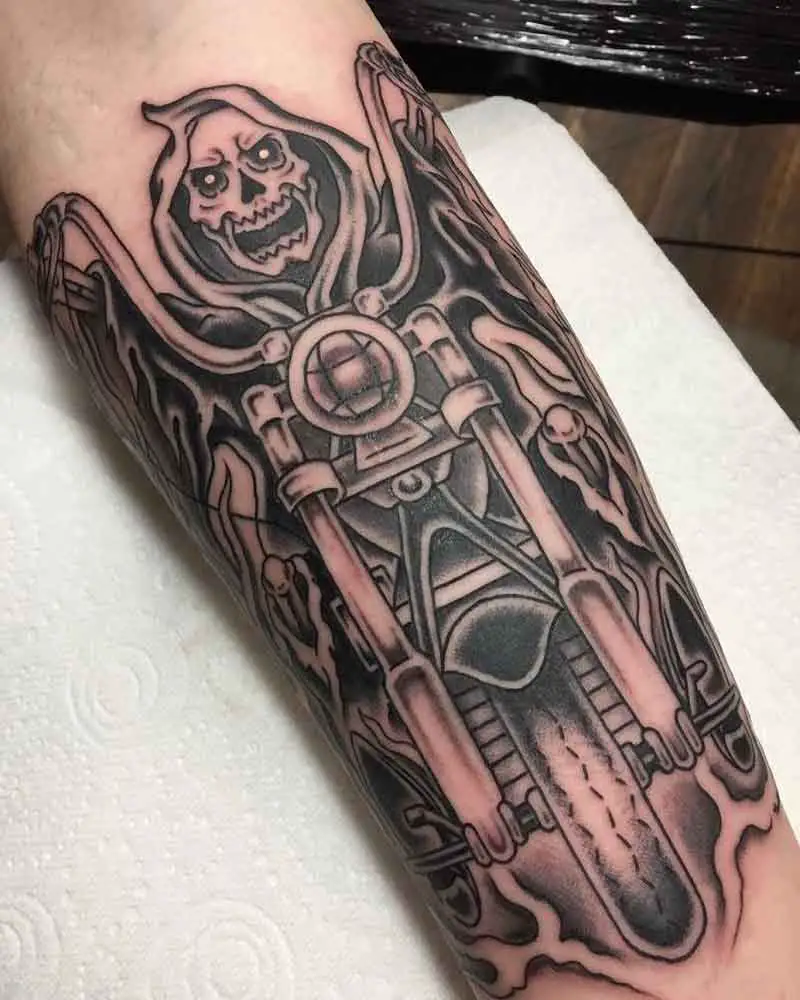 Minimalist Motorcycle Tattoo
73.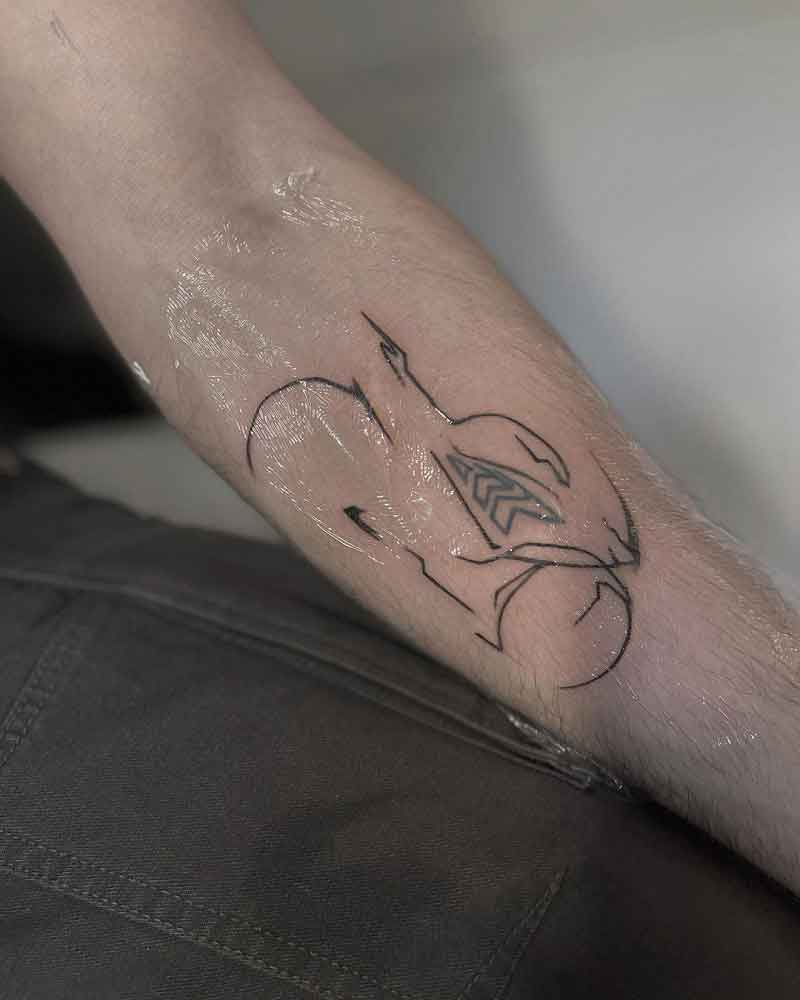 74.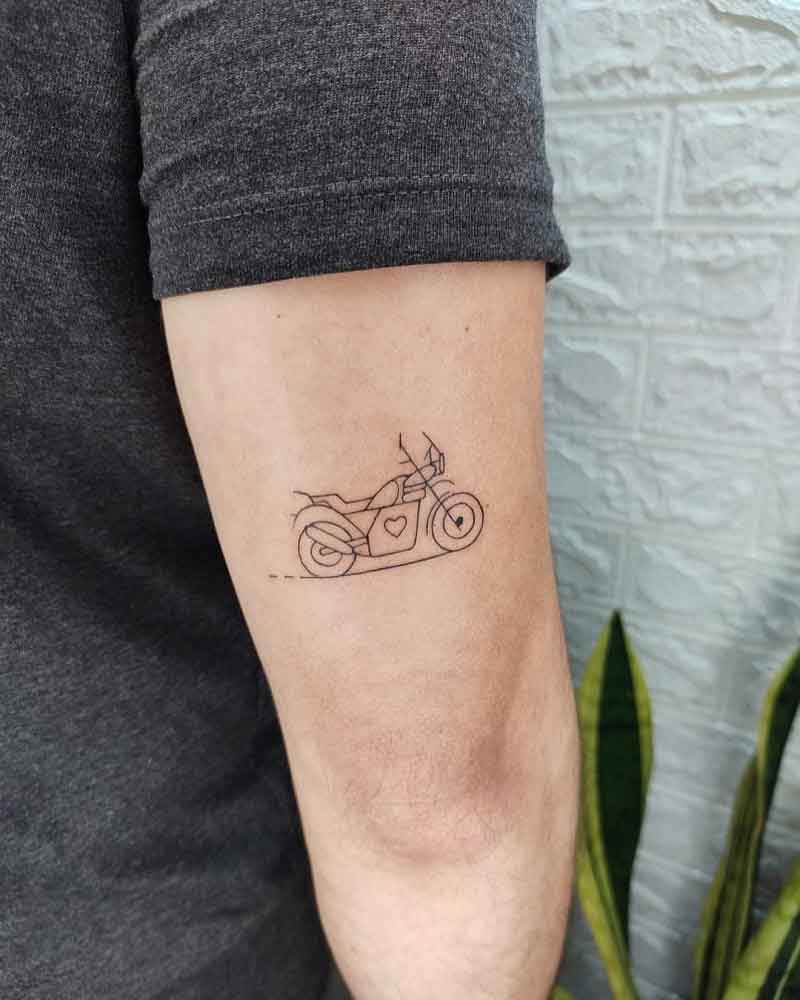 75.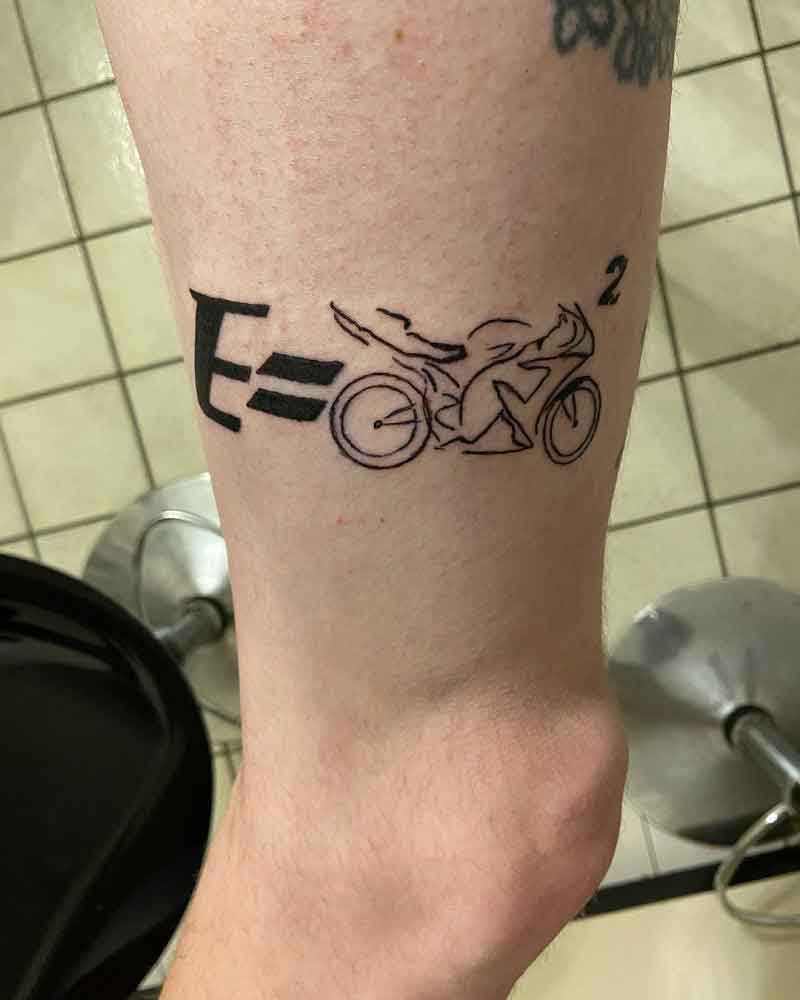 Motorcycle Shoulder Tattoo
76.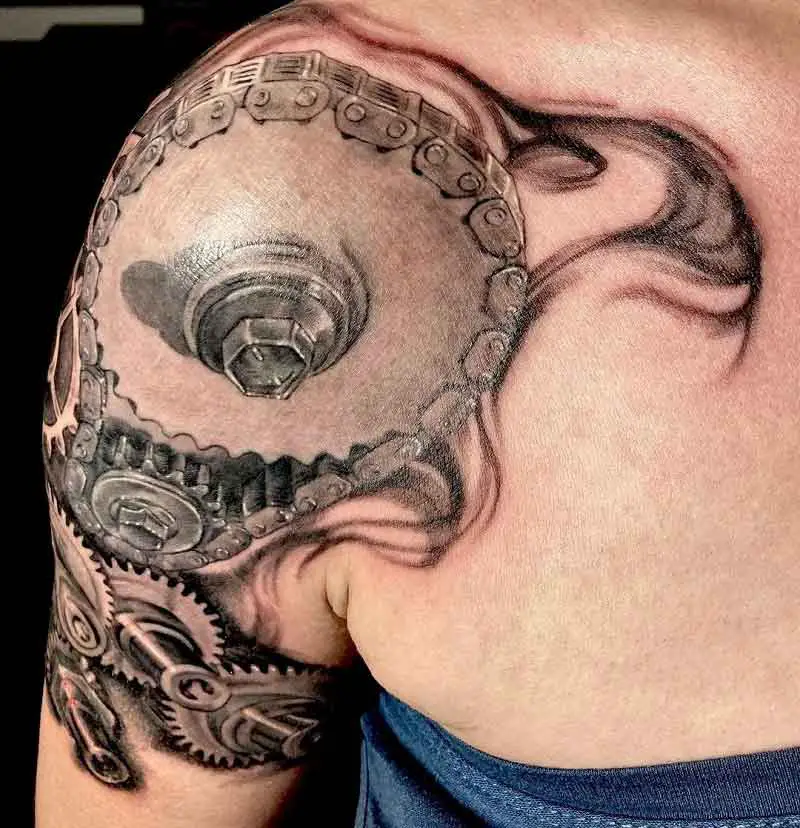 77.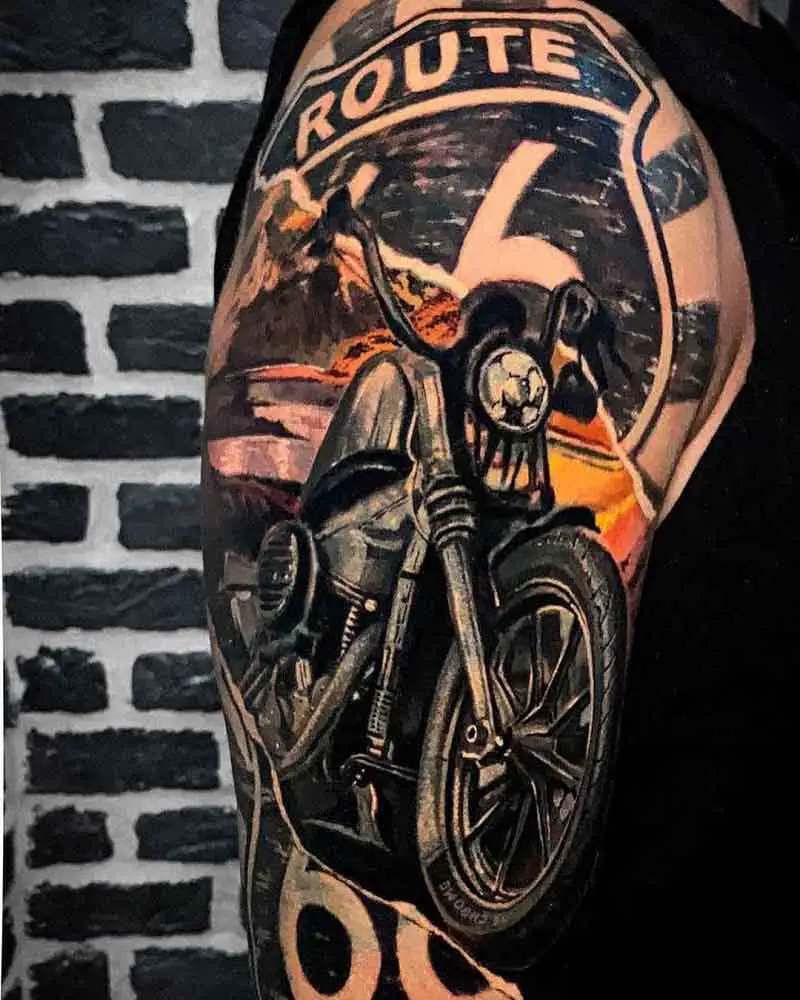 78.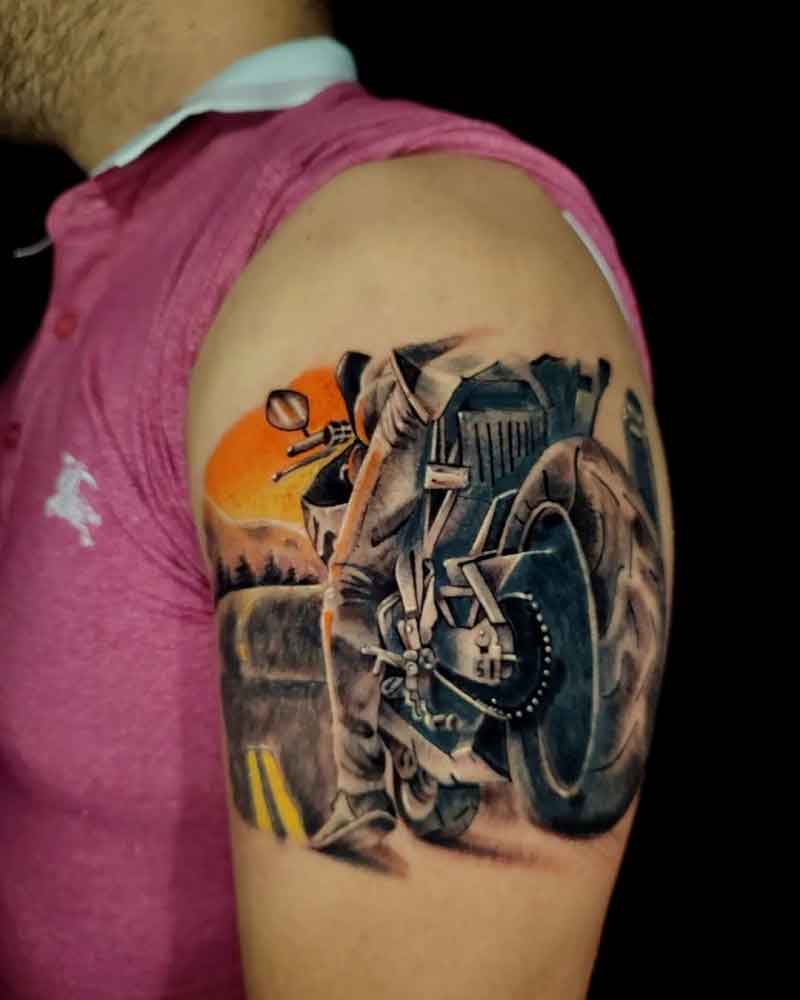 Motorcycle Travel Tattoo
79.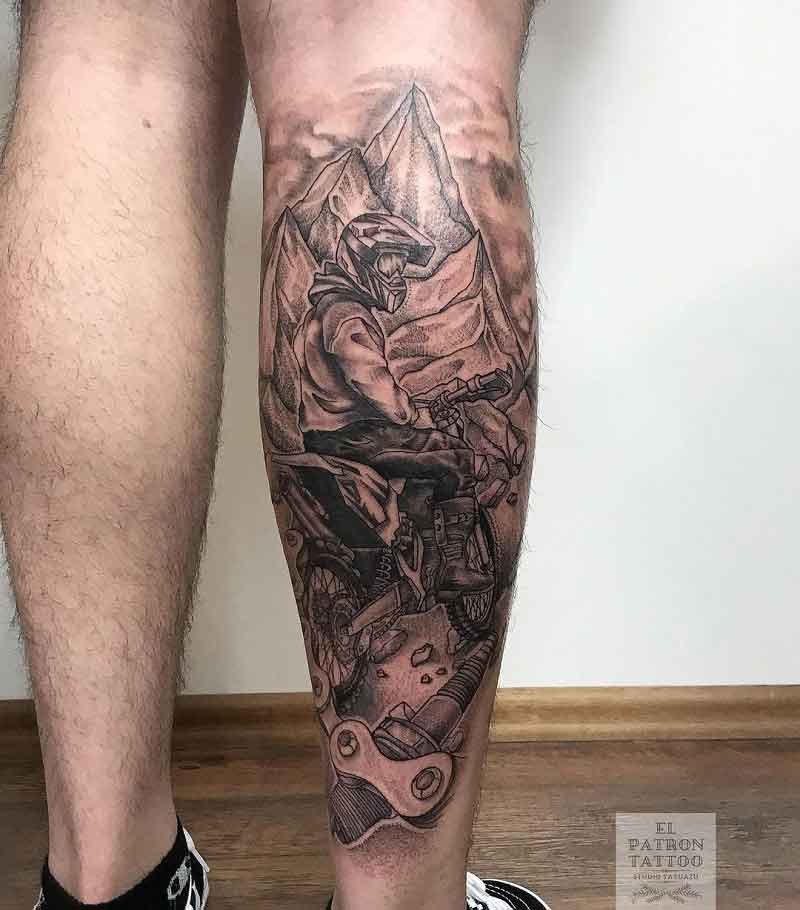 80.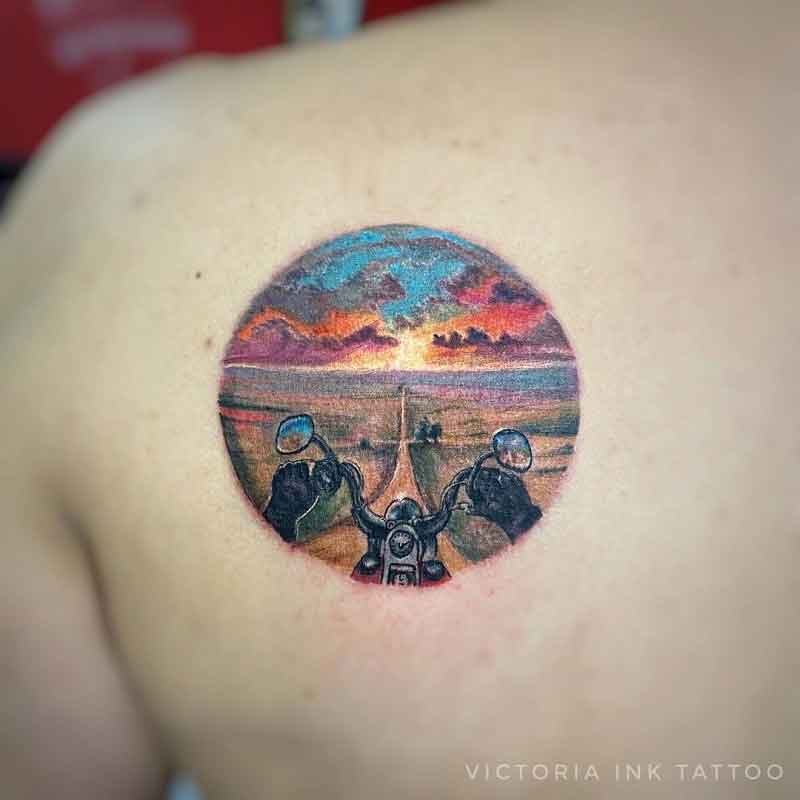 81.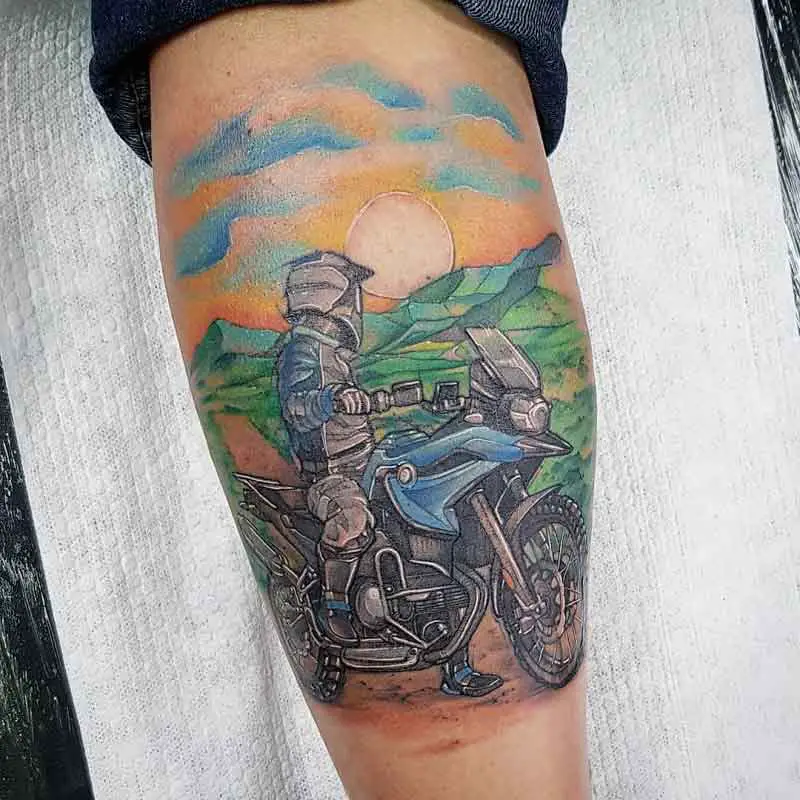 Rat Fink Motorcycle Tattoo
82.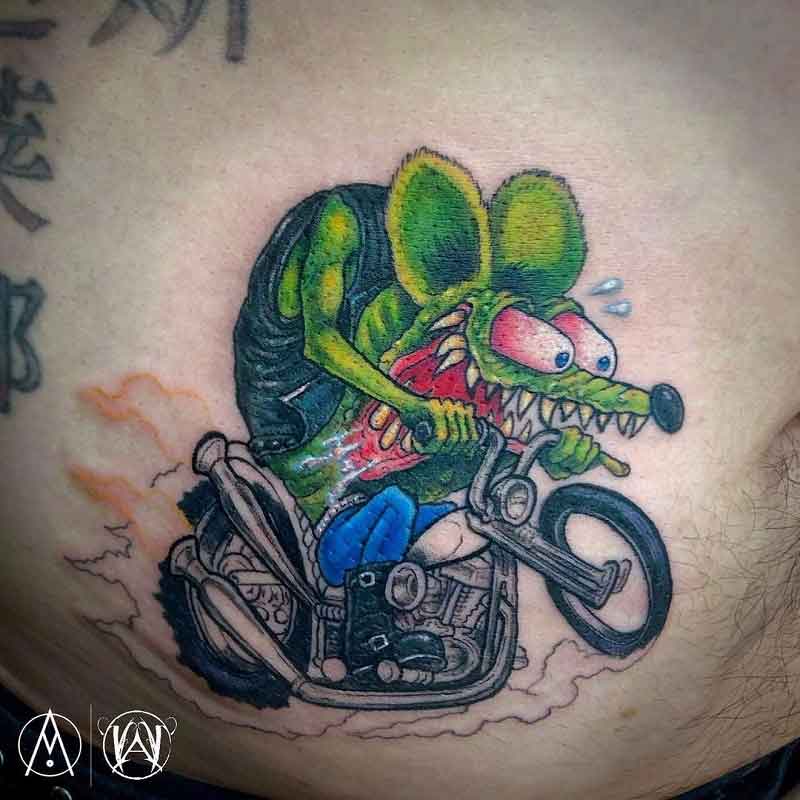 83.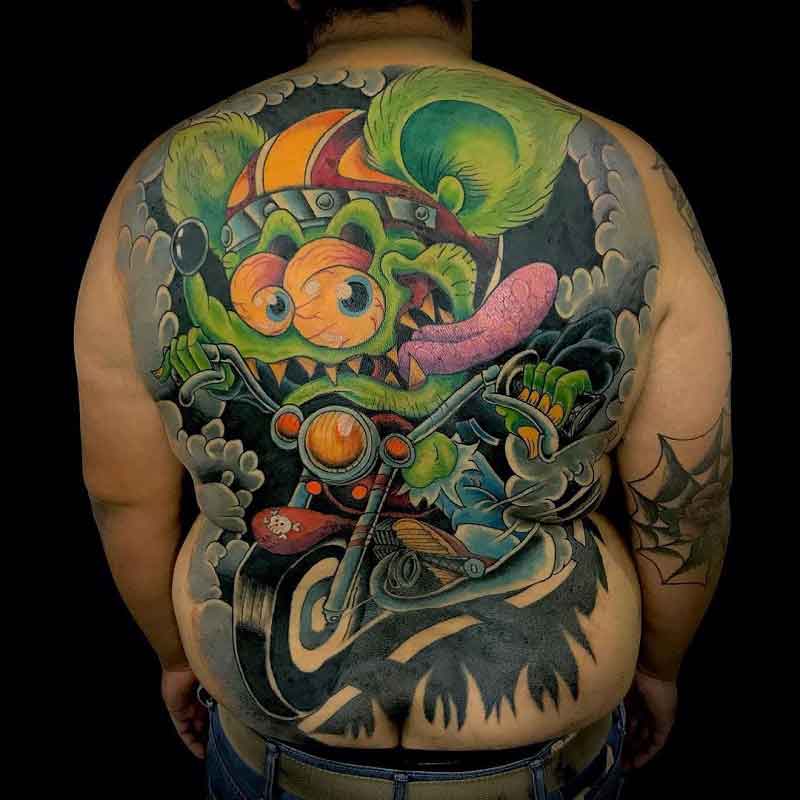 84.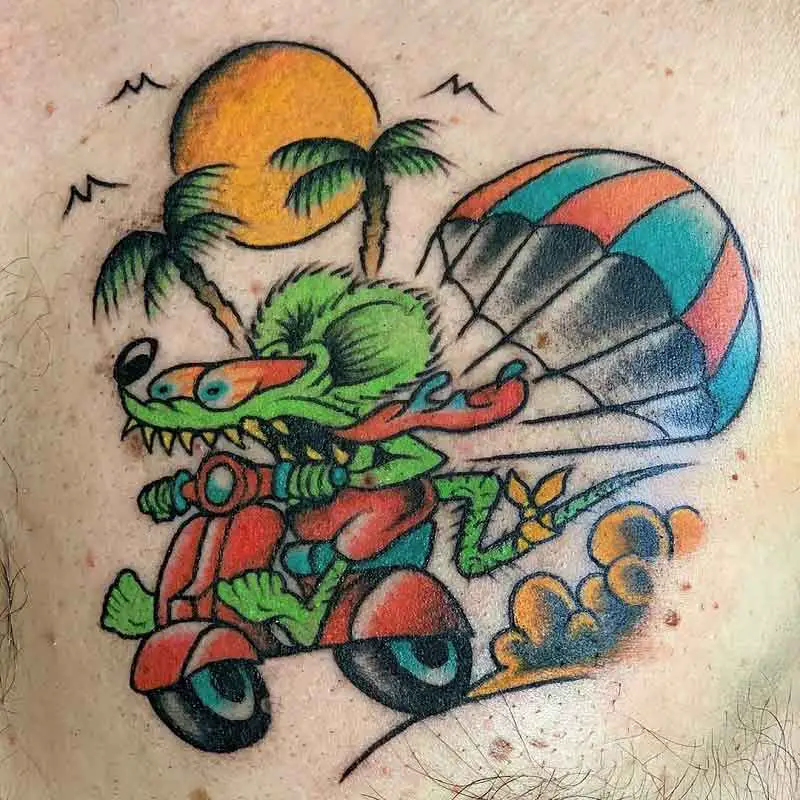 Adventure Motorcycle Tattoo
85.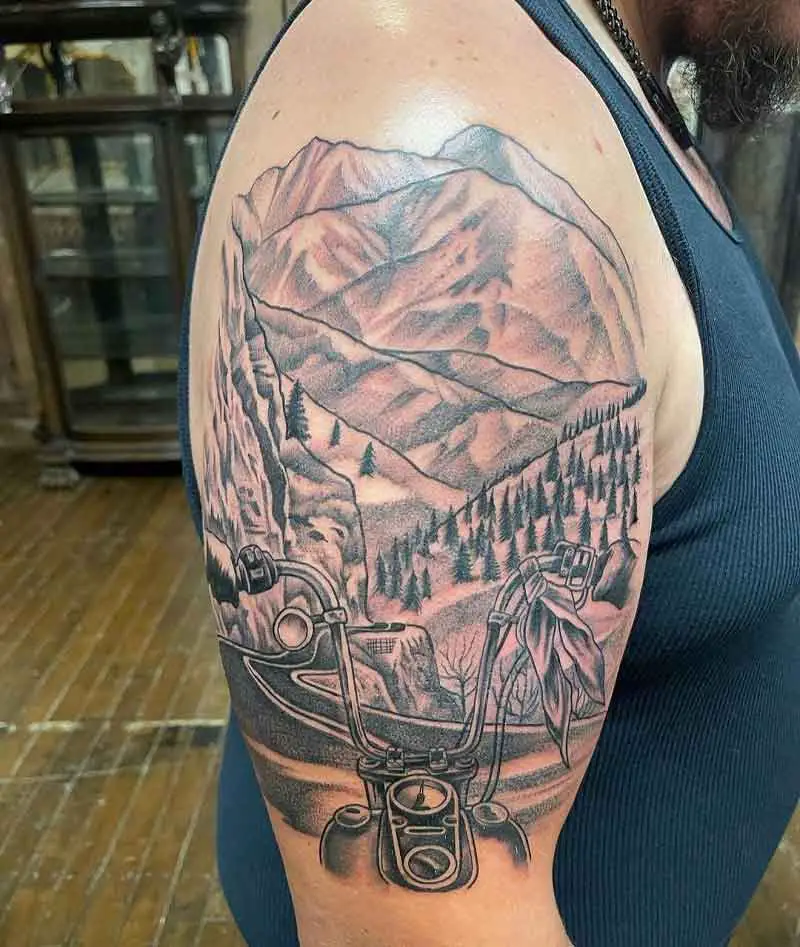 86.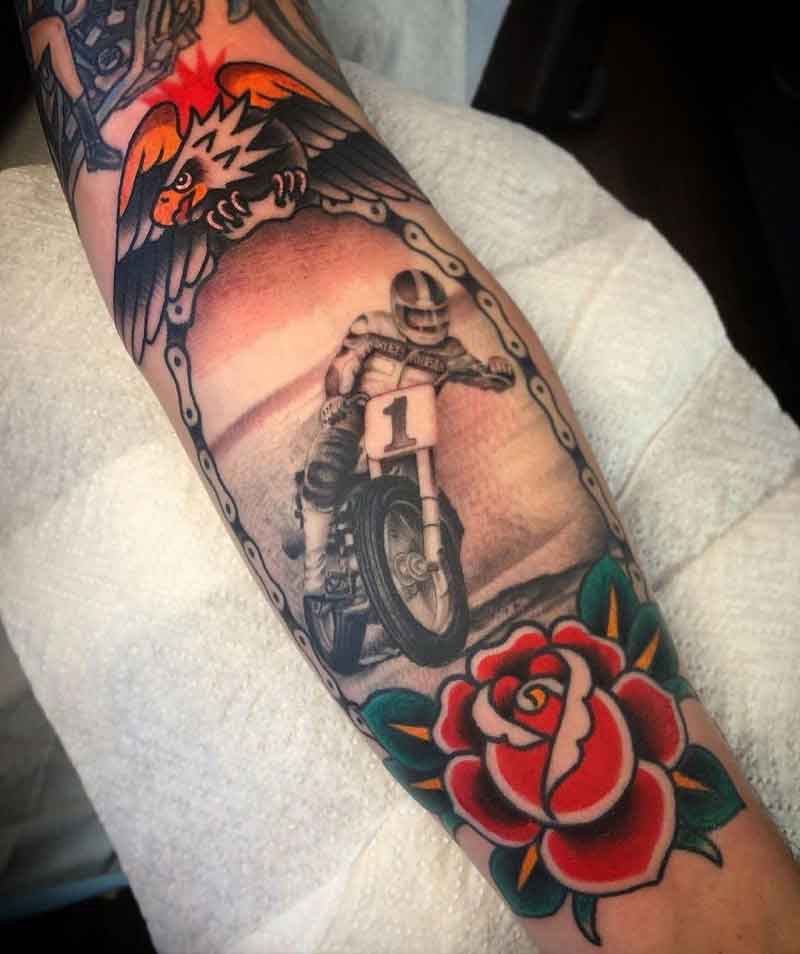 87.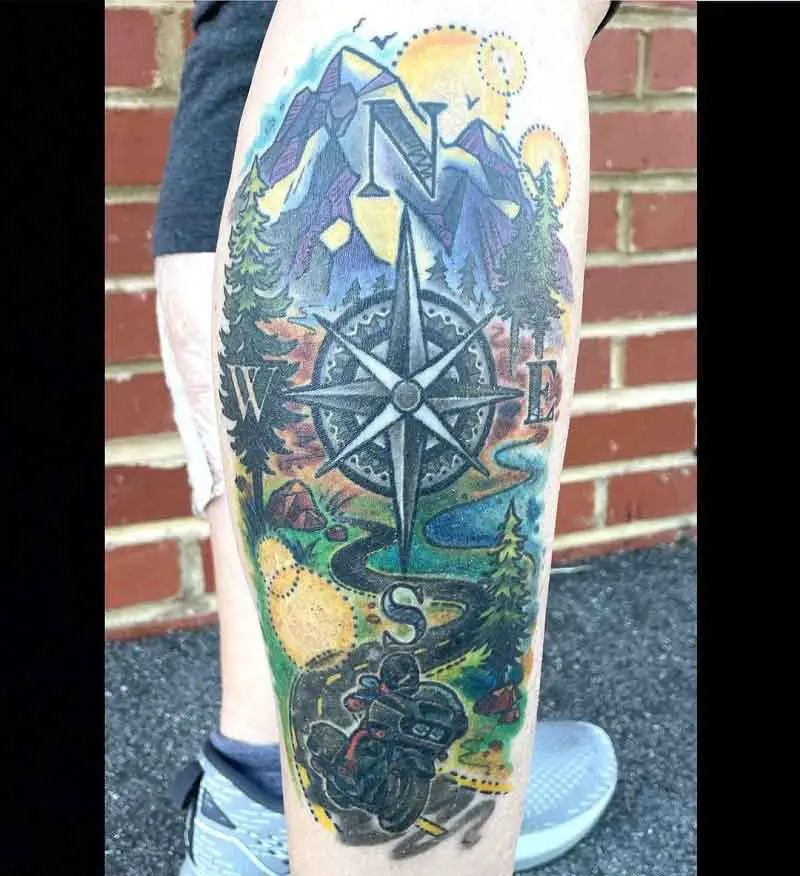 Final Words:
We hope you enjoyed our roundup of the top motorcycle tattoo designs and ideas! Whether you're looking for something small and simple or big and bold, there's sure to be a design out there that's perfect for you. 
And if you're still unsure what you want, remember that your artist can always help you come up with something custom. So what are you waiting for? Get out there and get inked!