Peacocks are undoubtedly one of the most attractive and eye-pleasing creatures to grace the Earth. With its bold blue color and vibrant feathers, the peacock tattoos created a revolution in the world of tattoos.
Known for their intricate and pretty details along with deep meanings, these tattoos are favorite among many enthusiasts and artists. The tattoo artists get to showcase their talent and creativity, whereas you get to ink an amazing and attractive peacock on your body.
However, with so many tattoo designs available of the mighty peacock, picking the perfect one is quite difficult. Therefore, we have put this guide together for you to help choose the perfect peacock tattoo.
83 Peacock Tattoo Ideas And Meanings
Peacock tattoos are available in several sizes and designs and are suitable for each and every body part. The meaning behind these tattoo ideas of peacocks is as beautiful and warm as the design. Without further ado, let us take a look at the top tattoo ideas and meanings.
Peacock Thigh Tattoo
Peacock tattoos on the thigh look absolutely stunning, no matter the size of the tattoos. The beauty of these designs is hard to beat, so let us take a look at some of the best peacock thigh tattoos.
1. The Big Peacock Train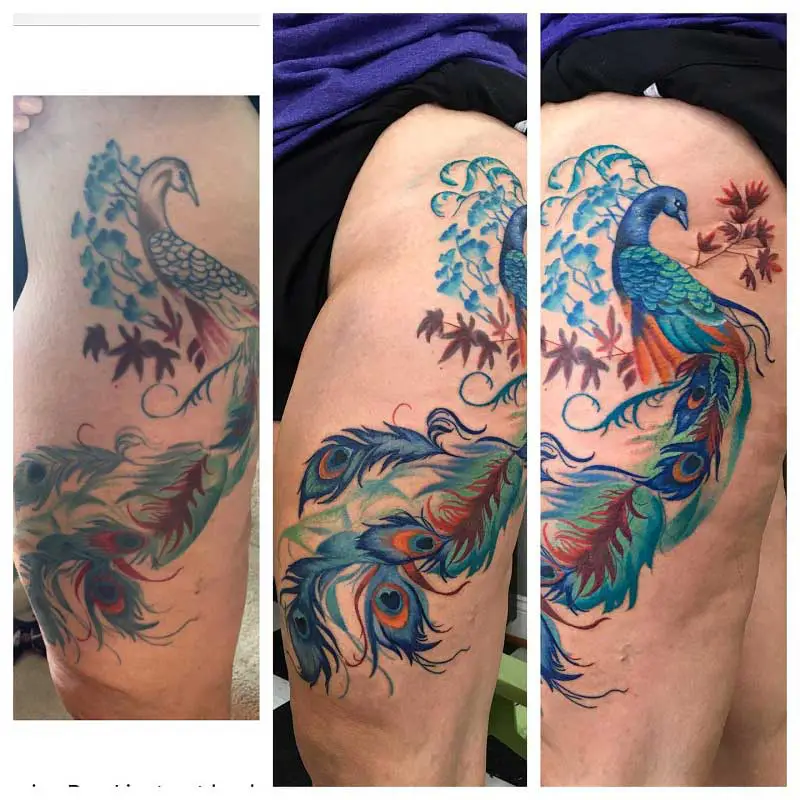 Give yourself an amazing look with a royal peacock with a stunning train inked on your thigh. It is a representation of protection, love, and desire.
2. Peacock in Nature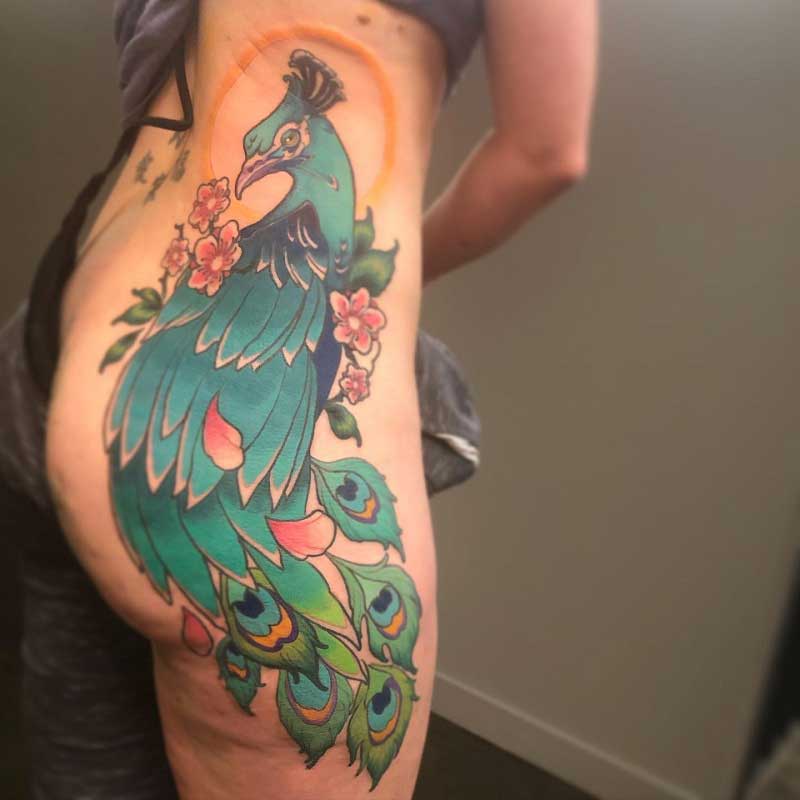 Peacock is one of the most beautiful creatures you will find in nature. This tattoo symbolizes love, loyalty, and the beauty of the animal.
3. The Uncolored Peacock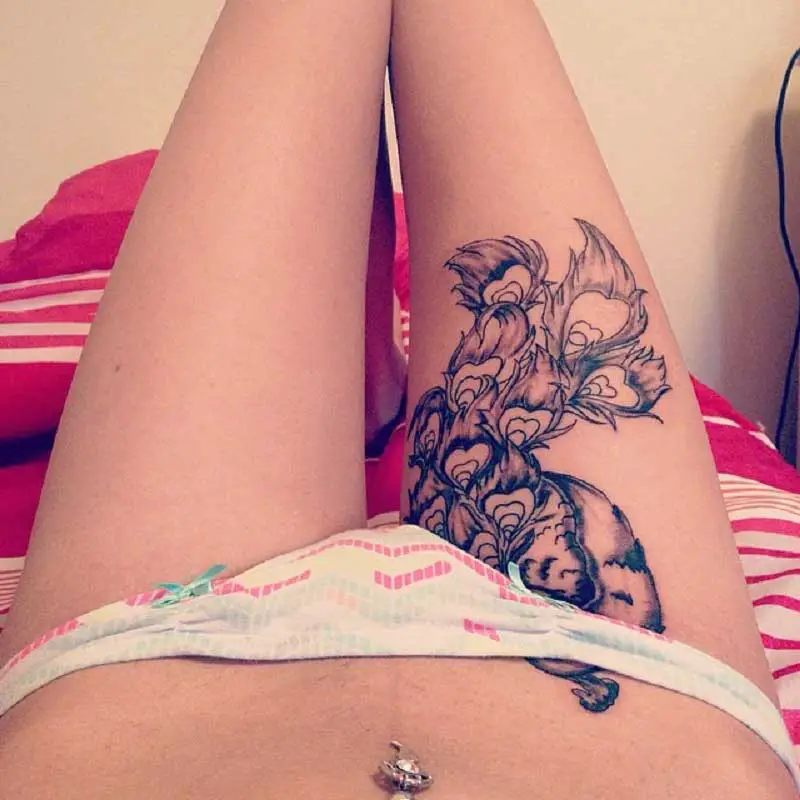 Many tattoo enthusiasts love the monotone and prefer to get their tattoos in black ink only. Add this peacock tattoo to your collection without the traditional colored design.
Peacock feathers are very pretty and hold an attractive beauty as a single feather. Here, we will see a few examples of small peacock feather tattoos.
4. Baby Feather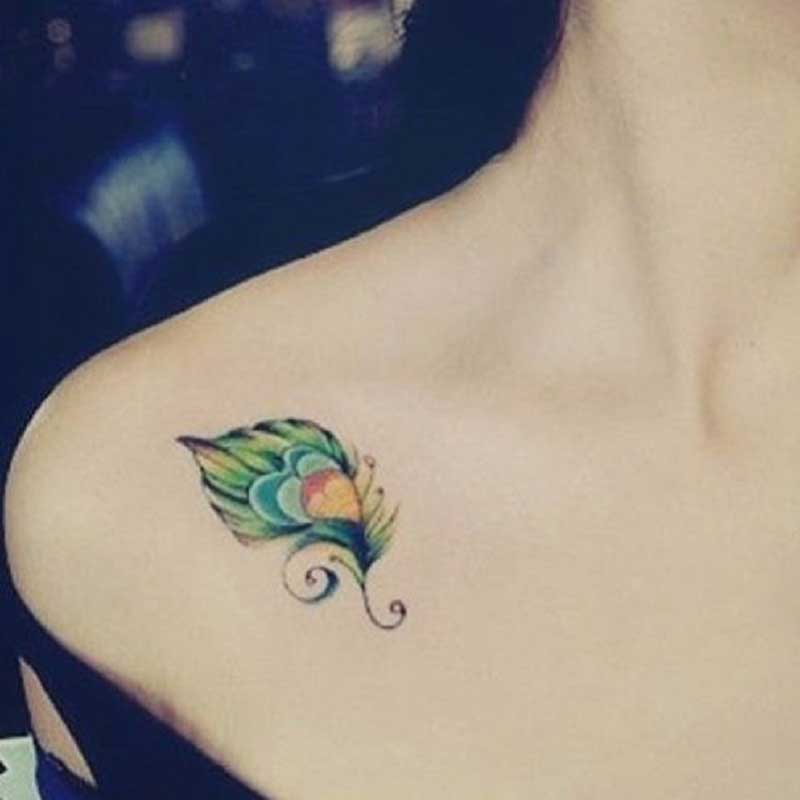 Get this small peacock feather tattoo as a symbol of love and acceptance towards yourself. It is an expression of gratitude and pride towards all the good things in life.
5. Musical Feather
Show your appreciation and love for music with this cute and colorful peacock feather tattoo. It is a symbolization of awakening, love, spirituality, and many more.
6. The Natural Colors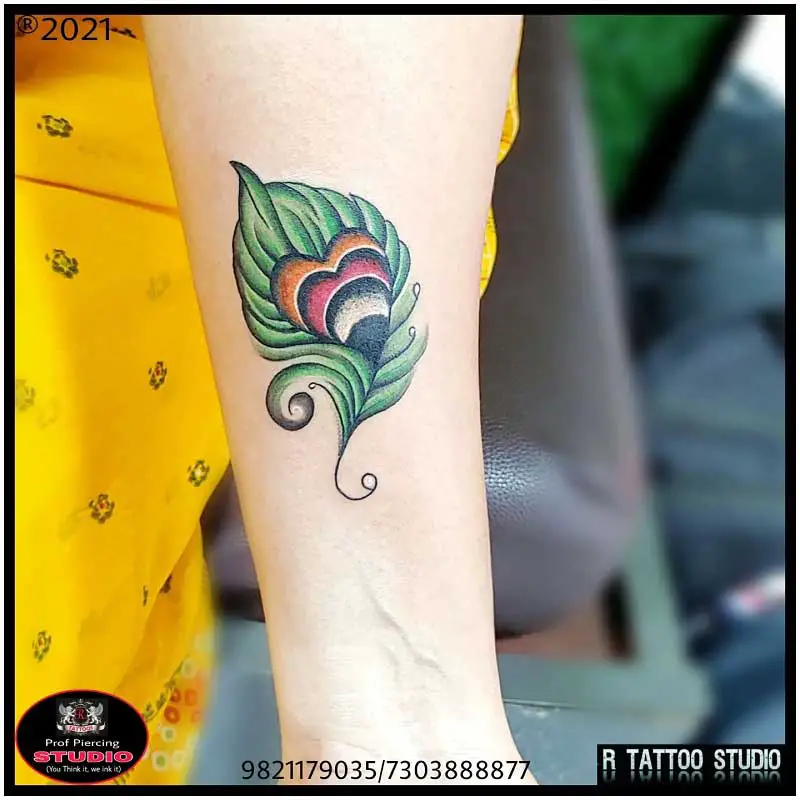 Turn attention towards you everywhere you go with the pretty design of the peacock feather. This tattoo design is a representation of sensuality, attention, and attraction.
Cardi B Peacock Tattoo
The super popular American singer and songwriter, Cardi B, has a giant peacock tattoo on her hip. Many fans and followers are taking this tattoo design as an inspiration and rushing to get one. So, let us see the hype about the Cardi B tattoo of the peacock.
7. Party On The Hips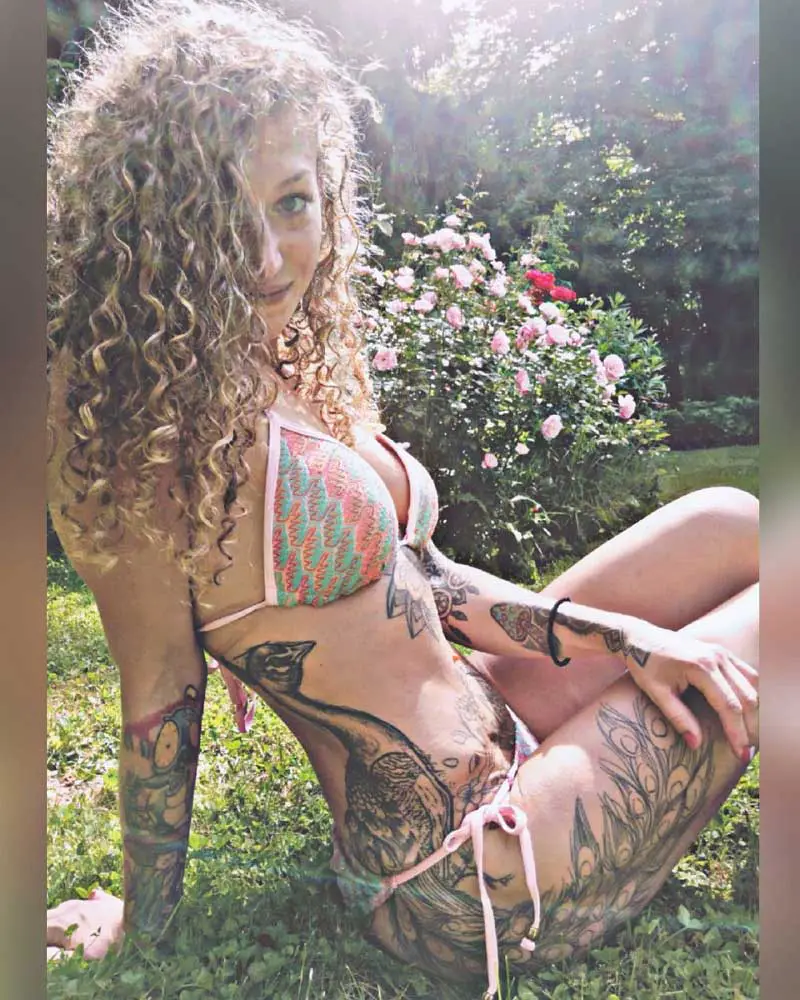 Peacocks are known for their beauty and diversity in nature. Get this giant peacock tattoo as a reminder of self-love and acceptance of your beauty and features.
8. The Majestic Peacock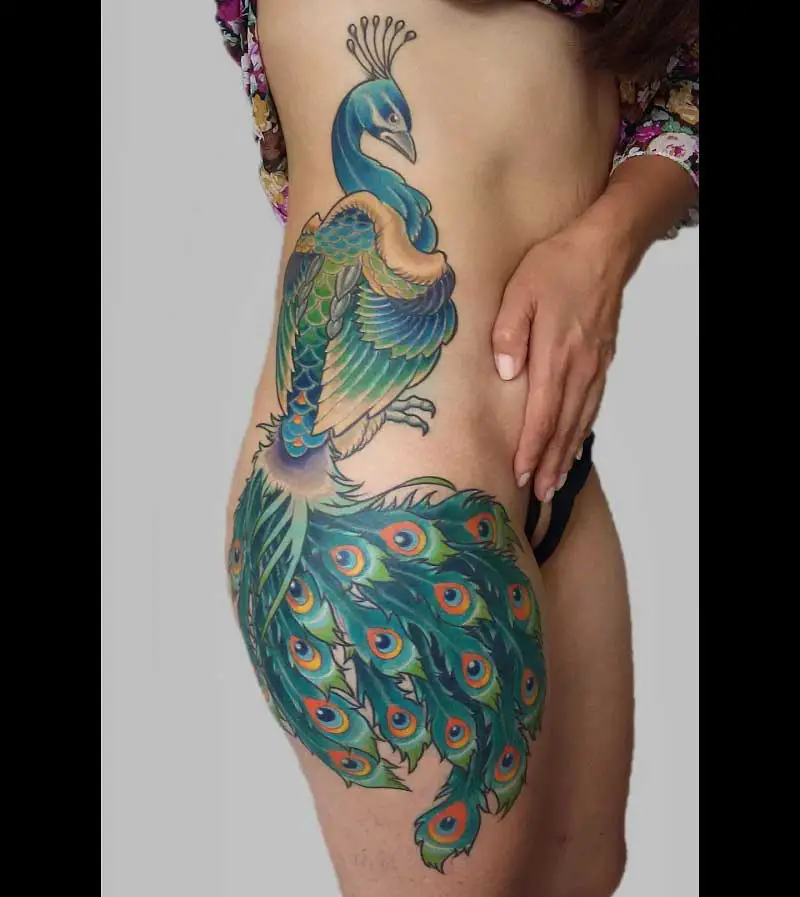 Express your inner self and a touch of outstanding and beautiful nature with this alluring tattoo featuring a peacock. It symbolizes pride, nature, versatility, and love in an attractive form.
9. Floral Peacock Train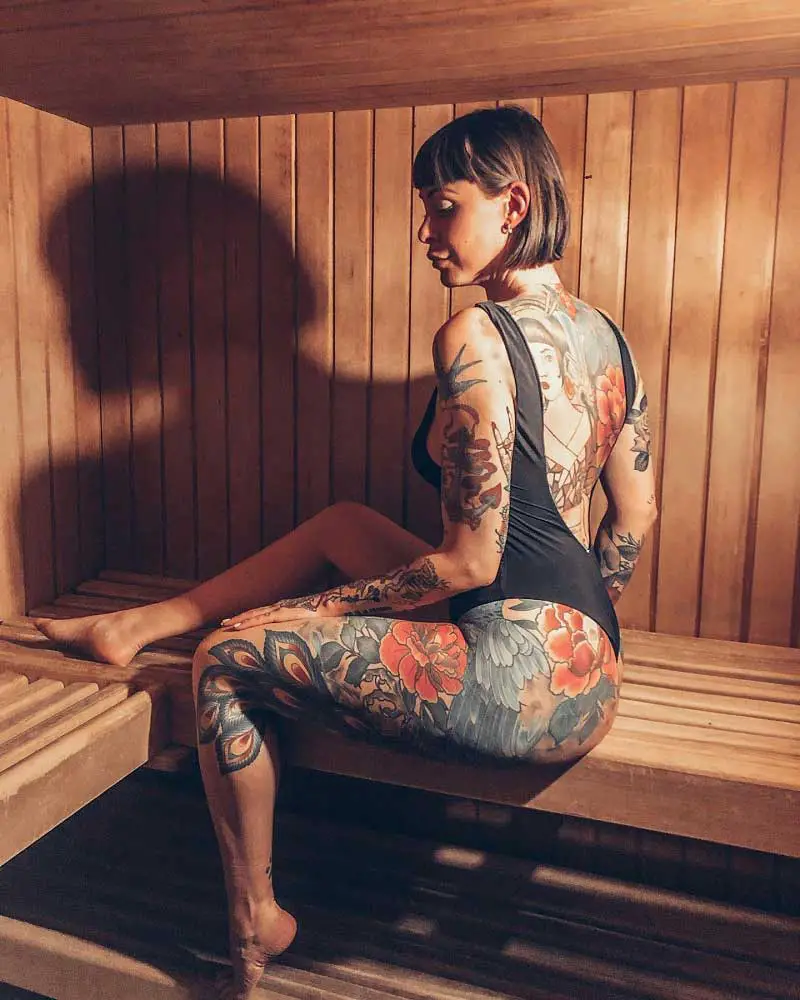 Flowers and peacocks go hand in hand as integral parts of the mysteriously pretty world we live in. This peacock tattoo is a representation of delicacy, innocence, and softness in life.
Shoulder Peacock Tattoo
One of the most prominent places for getting peacock art is the shoulder. The placement is suitable for both men and women and allows the artists to work with a creative canvas. Here, we will see a few attractive examples of shoulder peacock tattoos.
10. Shades of Blue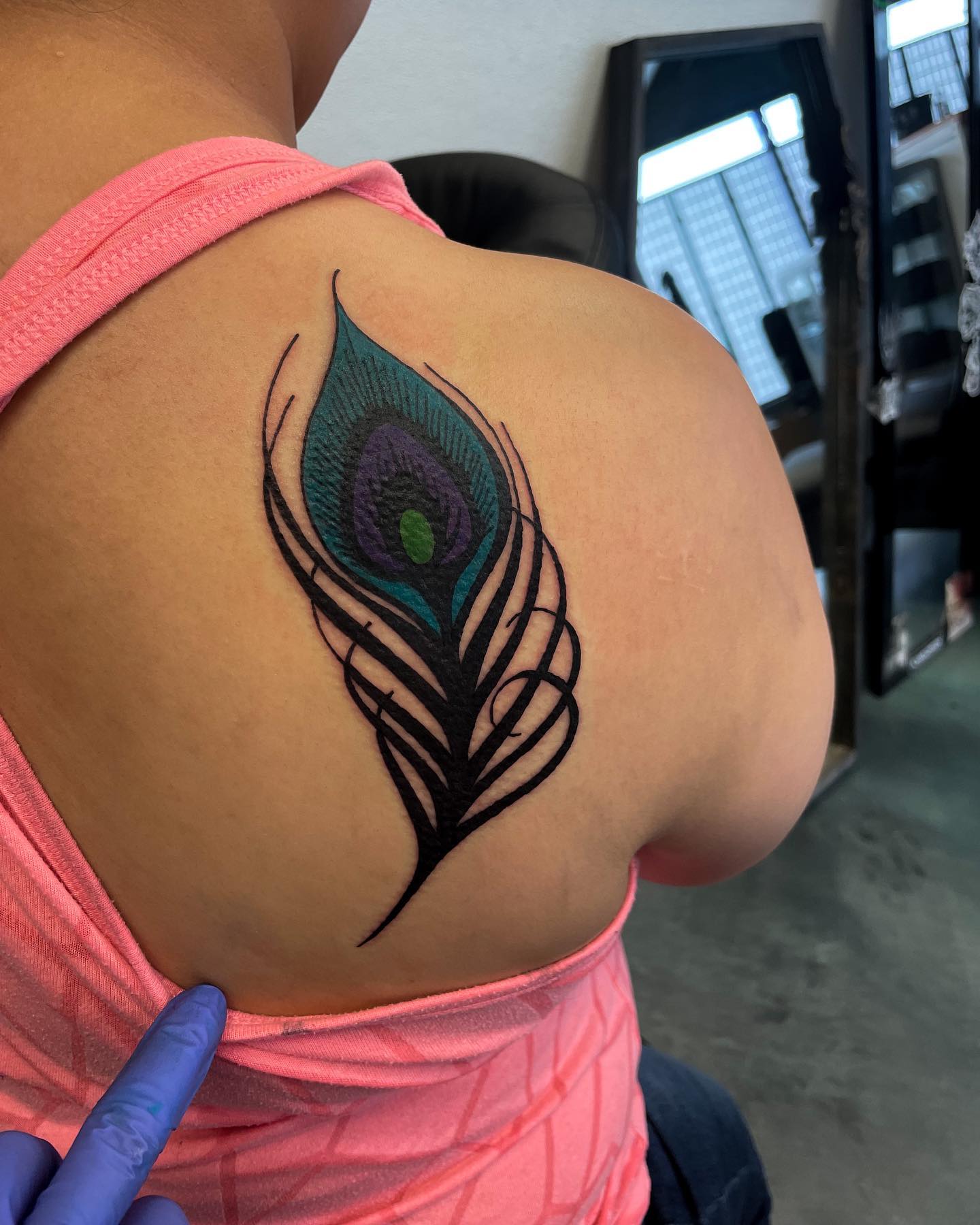 The color blue spreads a sense of kindness, calm, and serenity in this world. The peacock tattoo with the alluring blue ink portrays calmness, peace, stability, and balance in life.
11. Peacock Snake Chronicles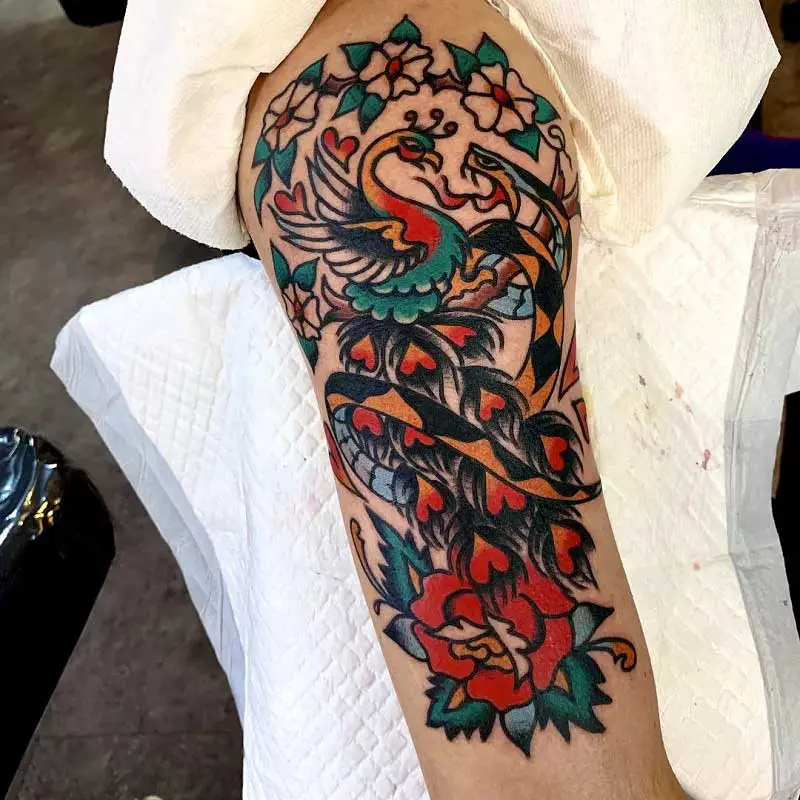 Turn heads wherever you go with this unique peacock and snake tattoo design with a deep meaning. It displays love, rebirth, new beginnings, and the uniqueness of life.
12. The Vibrant Feather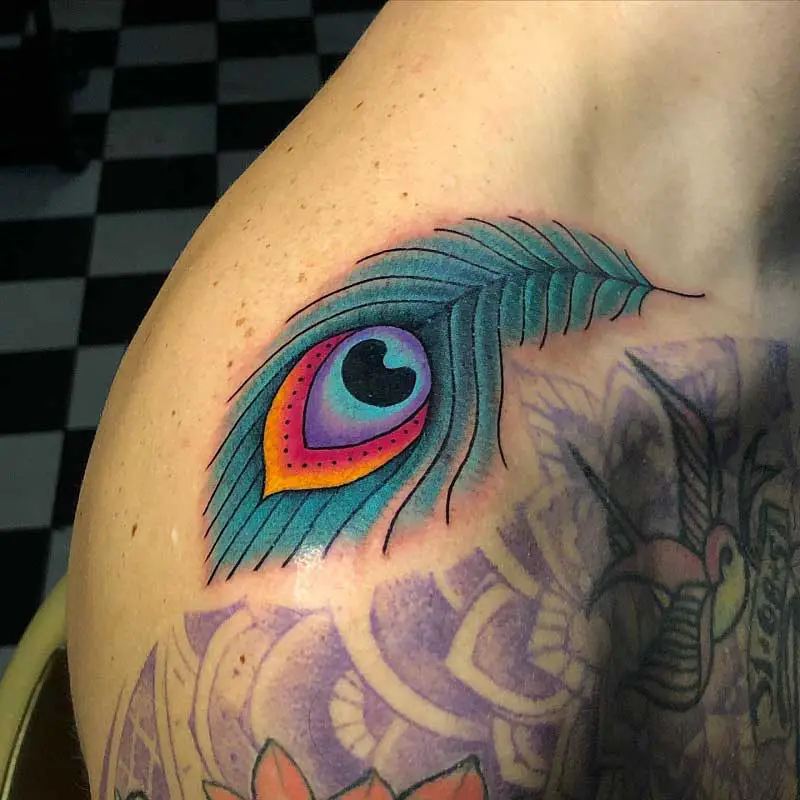 While the basic black ink of tattoos looks great, the vibrant colored tattoos gain all the attraction. This peacock feather tattoo is a symbolization of compassion, luxury, protection, and vision.
Simple Peacock Tattoo
Simple designs for tattoos are both innovative and attractive. The simple peacock tattoo styles are hard to beat and their simplicity speaks volumes. Let us see some of the top simple tattoo ideas with peacocks.
13. Geometric Peacock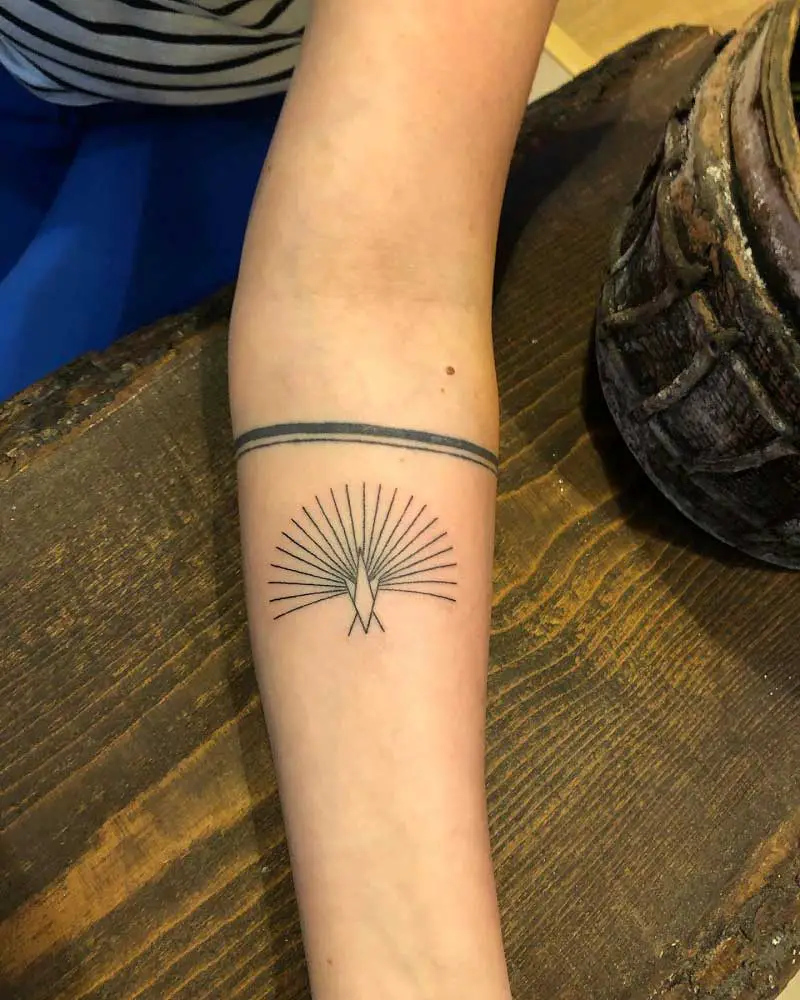 Give yourself a smooth and simple line peacock tattoo as a representation of protection and beauty. It is a reminder that simple things in life are indeed pretty.
14. The Dance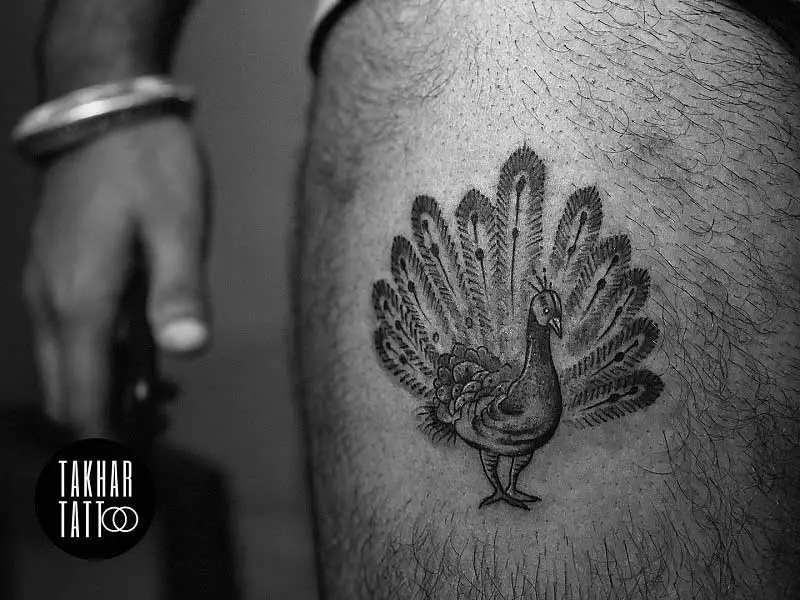 A peacock's glory is revealed fully when it spreads all its feathers while dancing. This tattoo design is a symbol of hope, positivity, belief, and nobility.
15. Simplicity Of Nature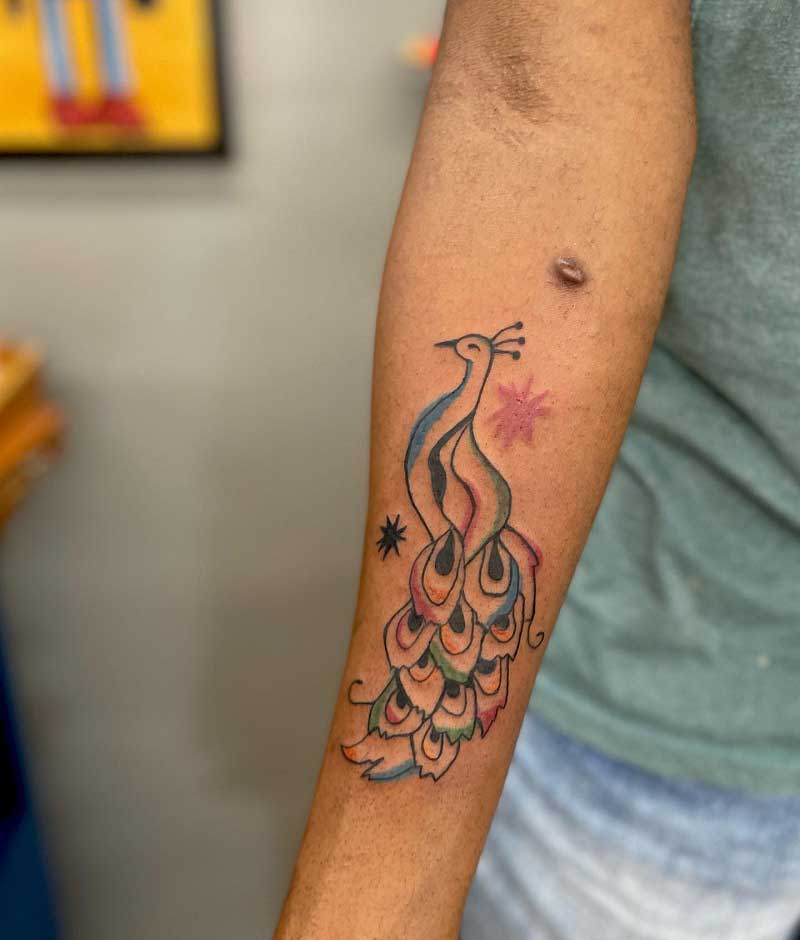 The beauty of peacocks is unmatchable even if the designs are simple, all thanks to their pretty colors and features. It is a cute representation of love, royalty, desire, and compassion.
Arm tattoos are extremely common for both males and females. The placement of the tattoo allows you to showcase or hide your tattoo whenever you want. So, let us dive in and see the examples of peacock tattoos on the arm.
16. The Soulful Gaze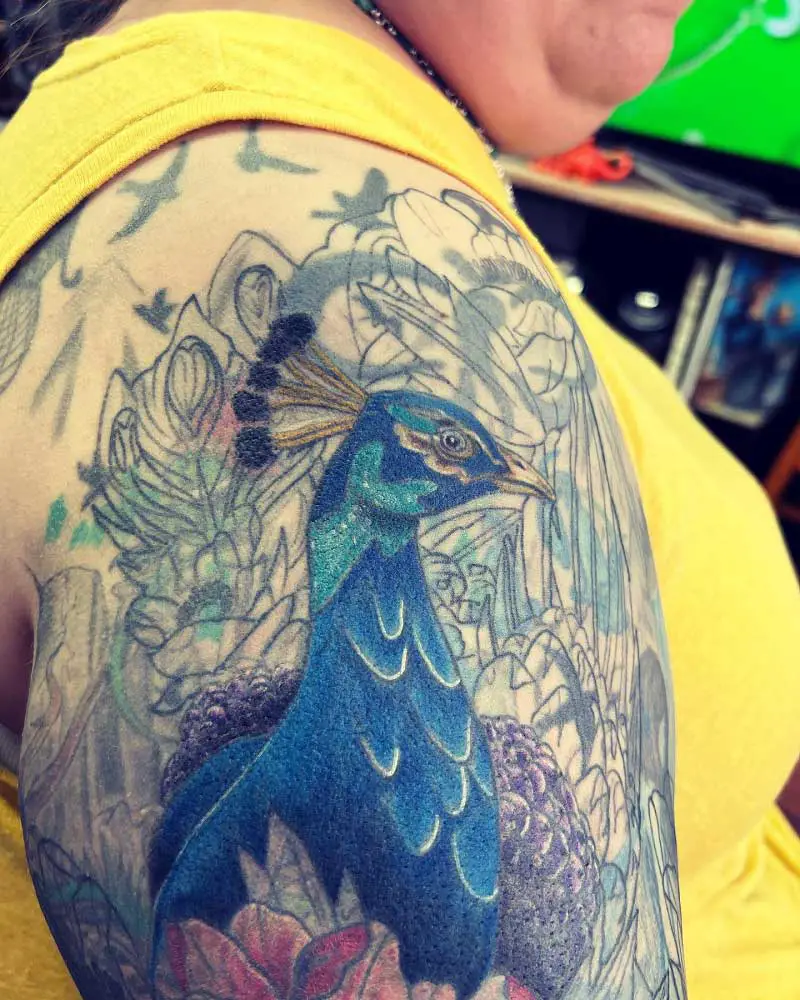 Attract eyes to your arm with this cute peacock tattoo in its colorful world. It is a symbolization of attraction, sensuality, desire, and power.
17. Beauty In The Dark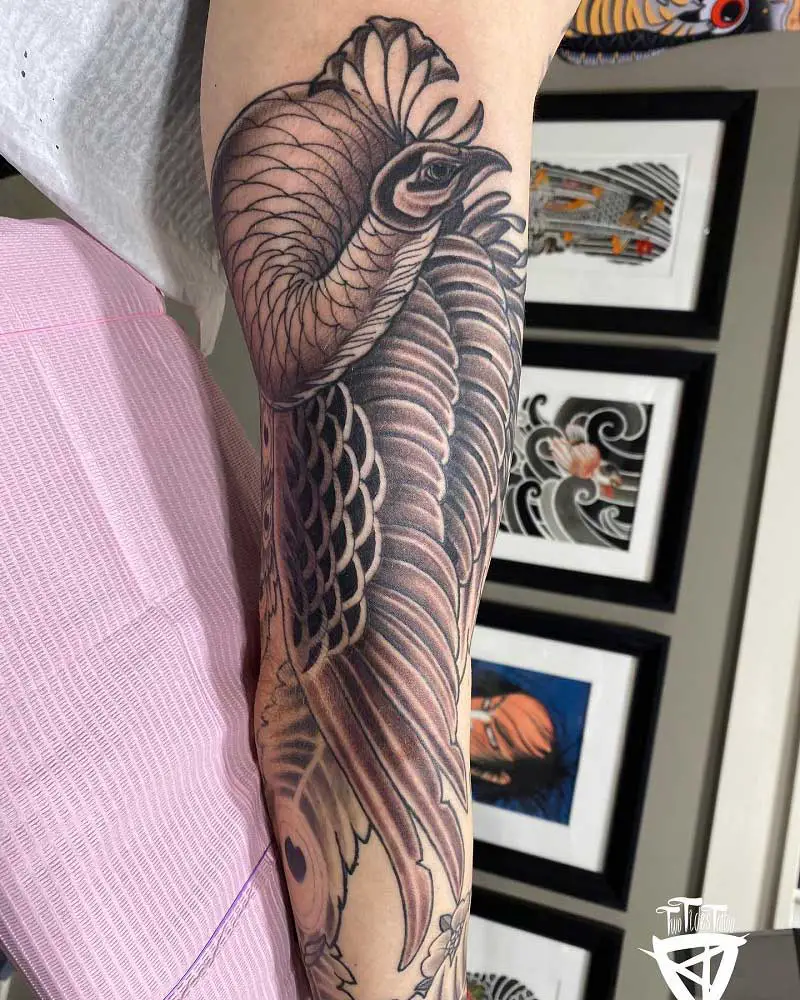 Peacocks do not need colors to depict their beauty on tattoos. This great tattoo design done in black ink makes the arm look beautiful and neat with a deep meaning behind it.
18. Baby Peacock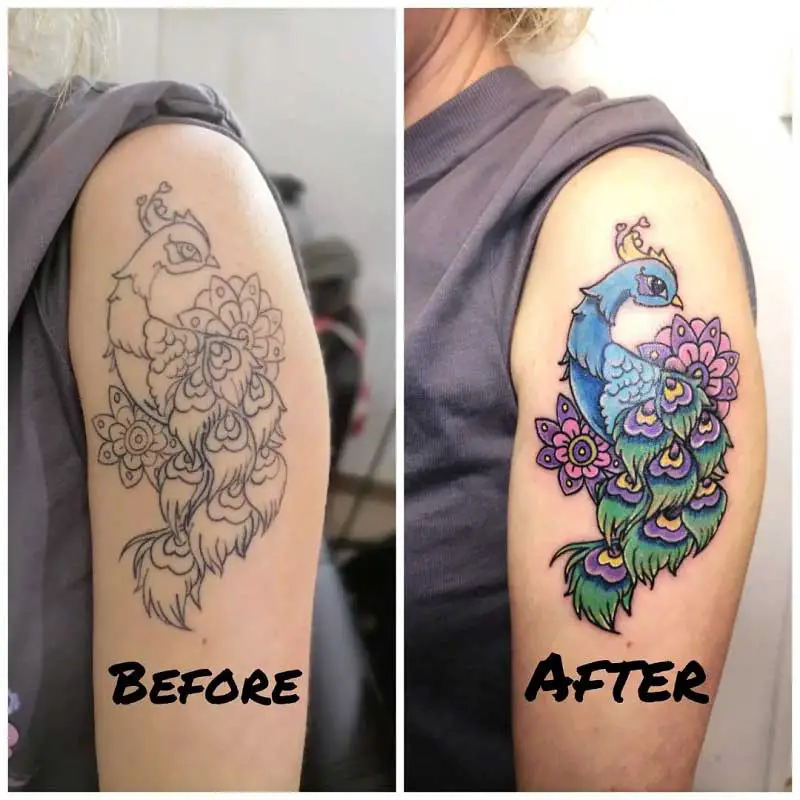 Peacocks look stunning in all shapes and sizes, and this small peacock is proof of that. Give yourself a powerful look with this eye-catching peacock tattoo on your hand.
Peacock Butterfly Tattoo
Peacock butterflies are praised for their striking beauty and highly colorful wings. Not only do these tattoo designs look stunning, but there is also a deep meaning in these styles. Let us see a few examples of attractive peacock butterfly tattoos.
19. The Beauty In Garden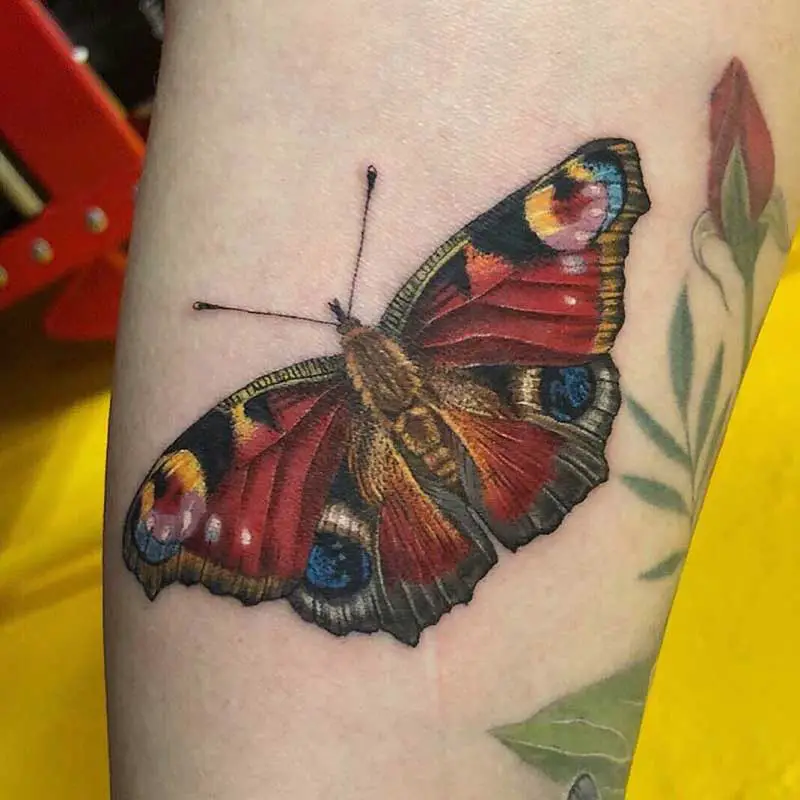 Express gratitude and love by getting this peacock butterfly inked on your body. The beauty of this tattoo style is a representation of all the good things in life.
20. Butterfly and Flowers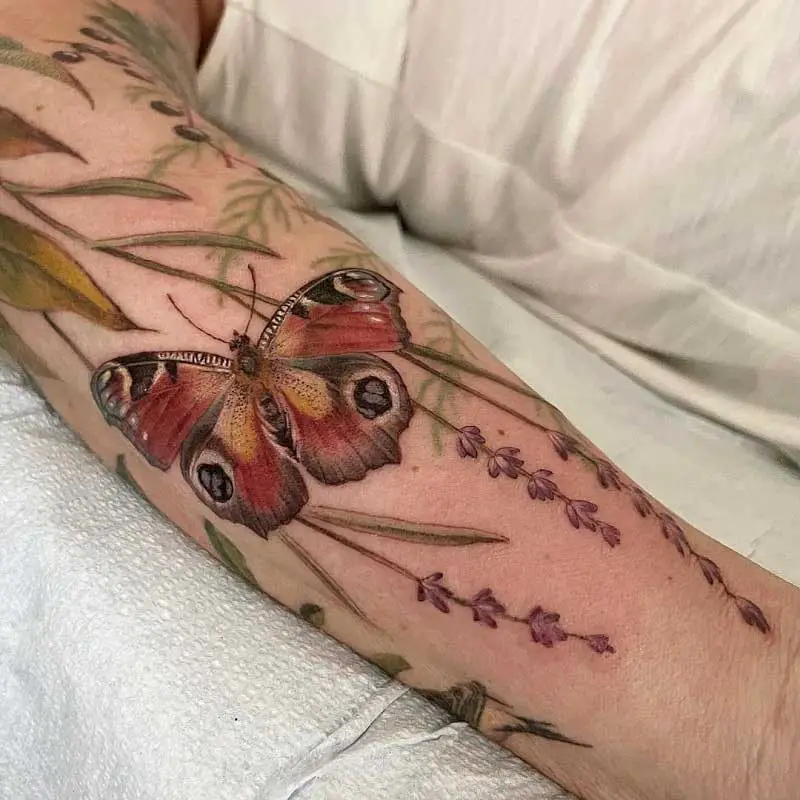 Get this mesmerizing peacock butterfly tattoo with flowers inked as a reminder of growth and progress. It symbolizes freedom, protection, patience, and the balance of life.
21. The Undeniable Beauty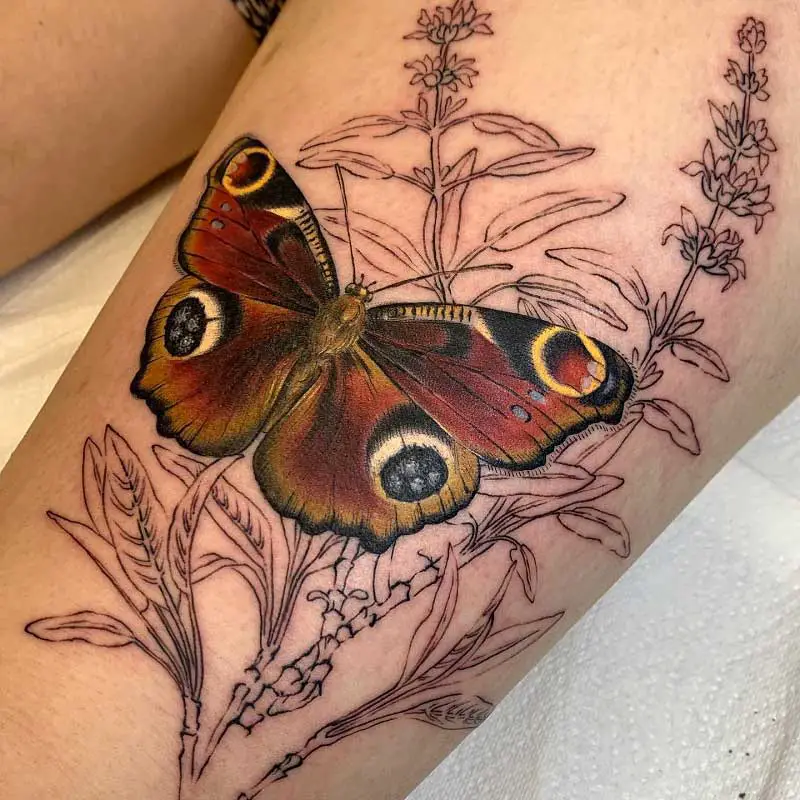 The grace and beauty of the colorful peacock butterfly is hard to match. By bringing this beautiful creature to life, the artist displays freedom, power, and desire.
There is no doubt that peacock tattoos look amazing on the leg. With a large canvas to work on, the artists get the opportunity to do justice to the intricate design and style of peacock. So, let us take a look at the top peacock leg tattoos.
22. Striking and Stunning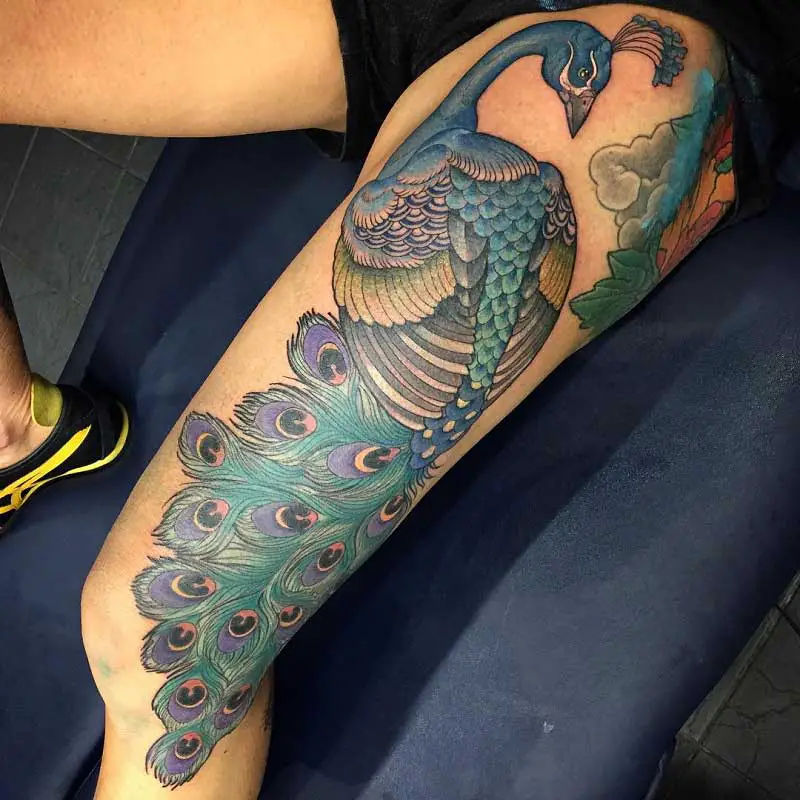 Accepting yourself with all your flaws and qualities is a successful step in life. This stunning peacock tattoo is a striking reminder of life and its aspects.
23. Quirky Peacock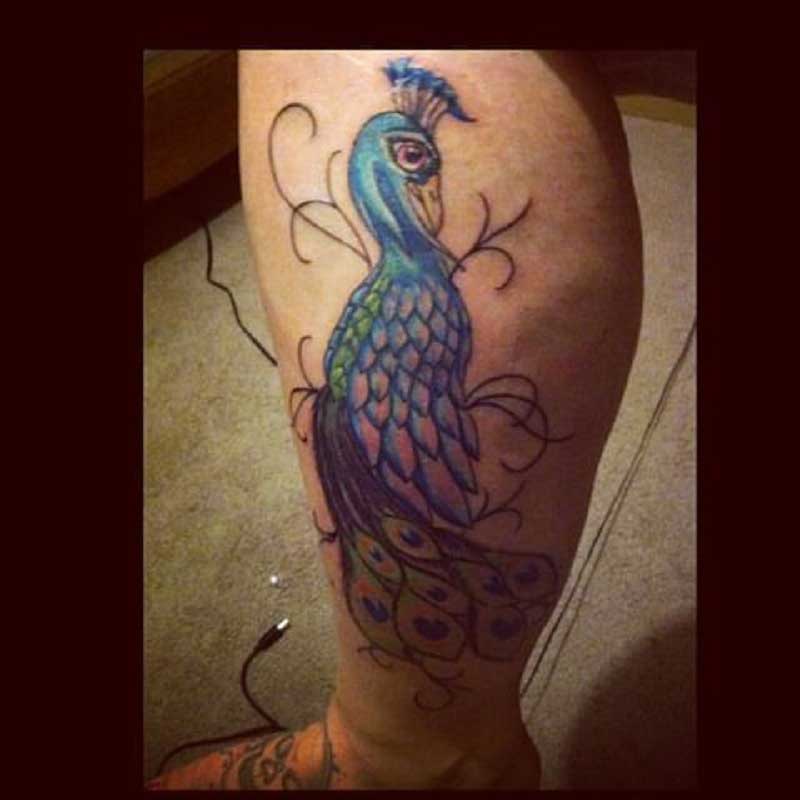 Get this peacock tattoo as a quirky reminder that life is not always perfect. It is a representation of patience, sensitivity, and beauty even on the darkest days.
24. The Minimalistic Attraction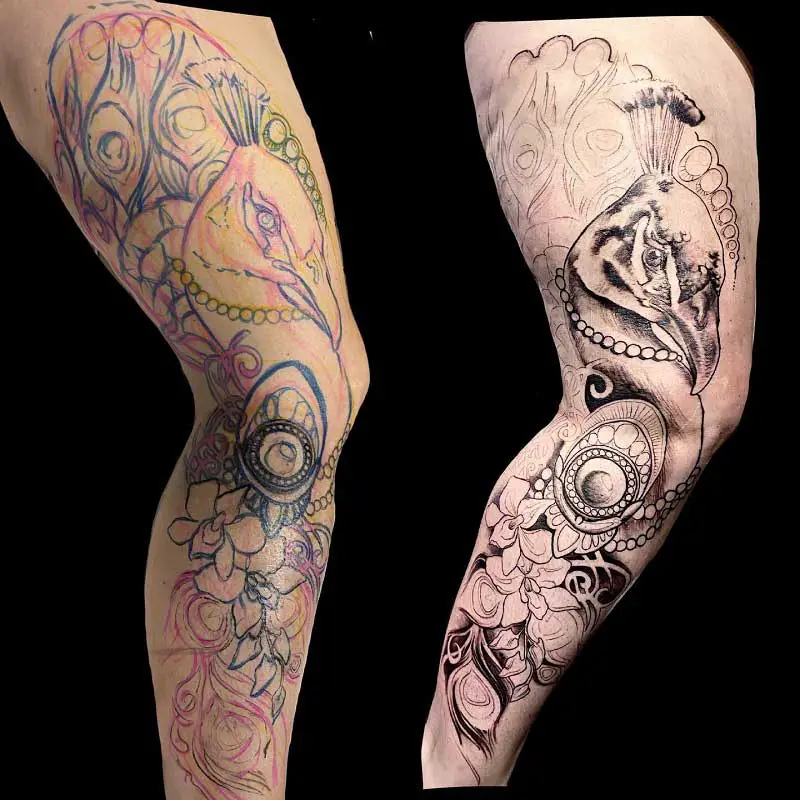 Peacock tattoos do not always have to be intricate to portray their attractiveness and beauty. This tattoo design is a representation of art, creativity, vision, and talent.
Japanese Peacock Tattoo
Peacocks are known for their eye-catching style and look all over the world. But in Japan, the peacock is seen as a sign of longevity, love, success, and prosperity. So, let us see some ideas about the Japanese peacock tattoo.
25. Peacock Tribute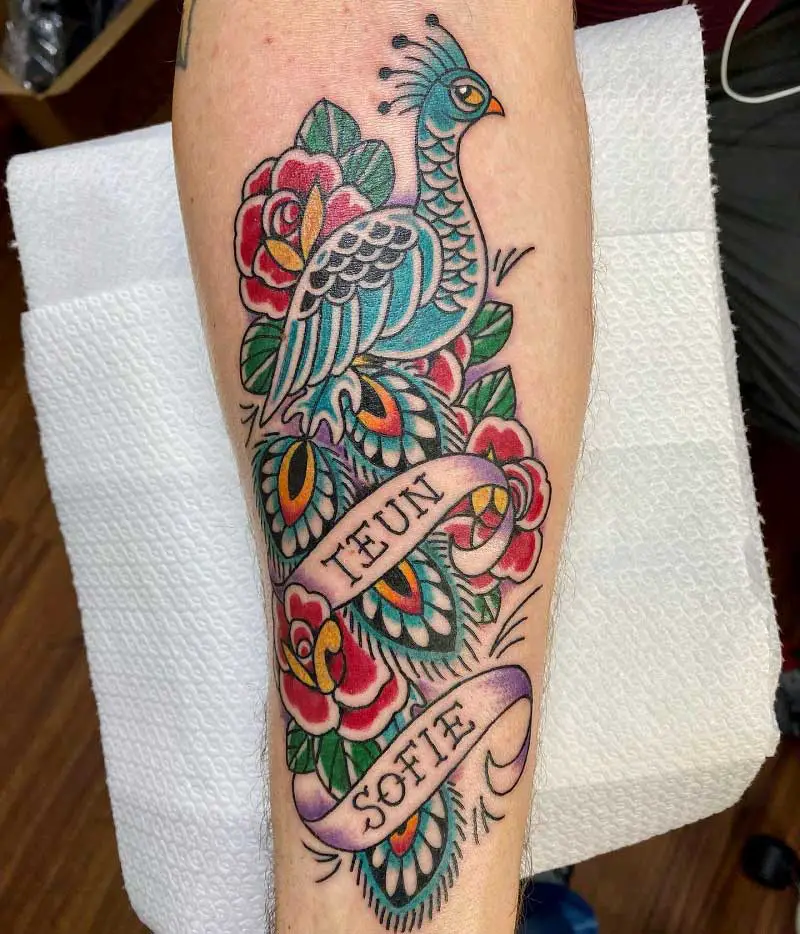 Show love or respect to your beloved or loved ones with this pretty peacock tattoo. It is a portrayal of love, longevity, and care.
26. The Shaded Train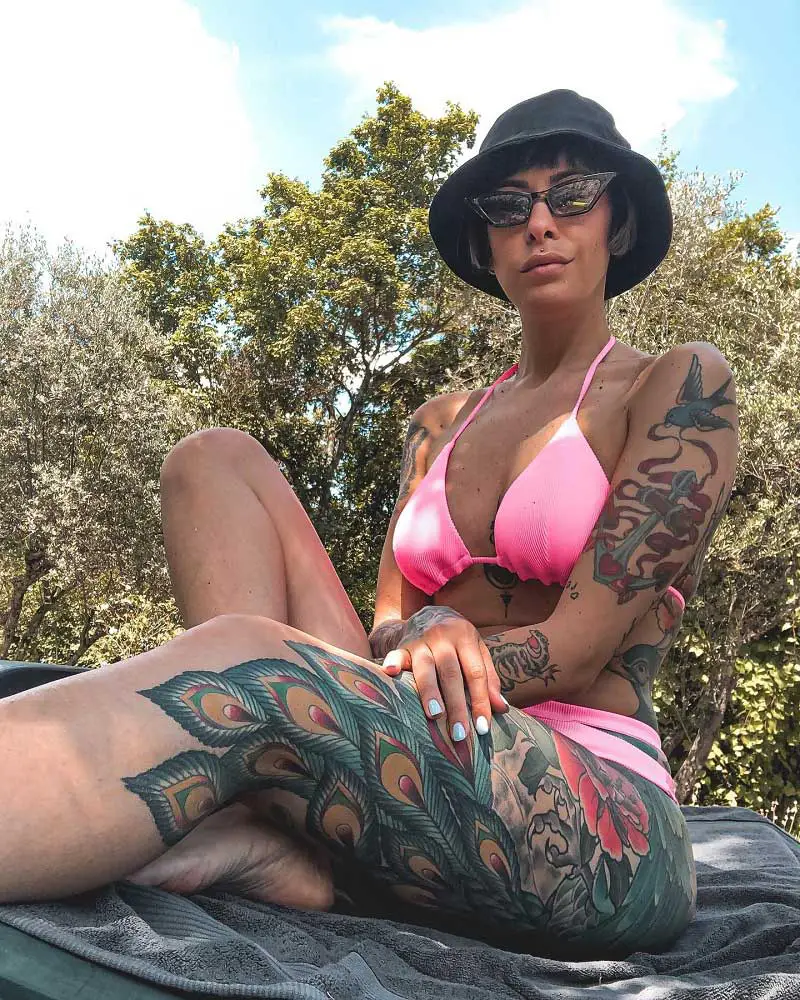 Indulge in the beauty of the peacock train in shades of green, red, and yellow. This unique design symbolizes the divine attraction and power of the peacock.
27. Peacock – Evil Chronicles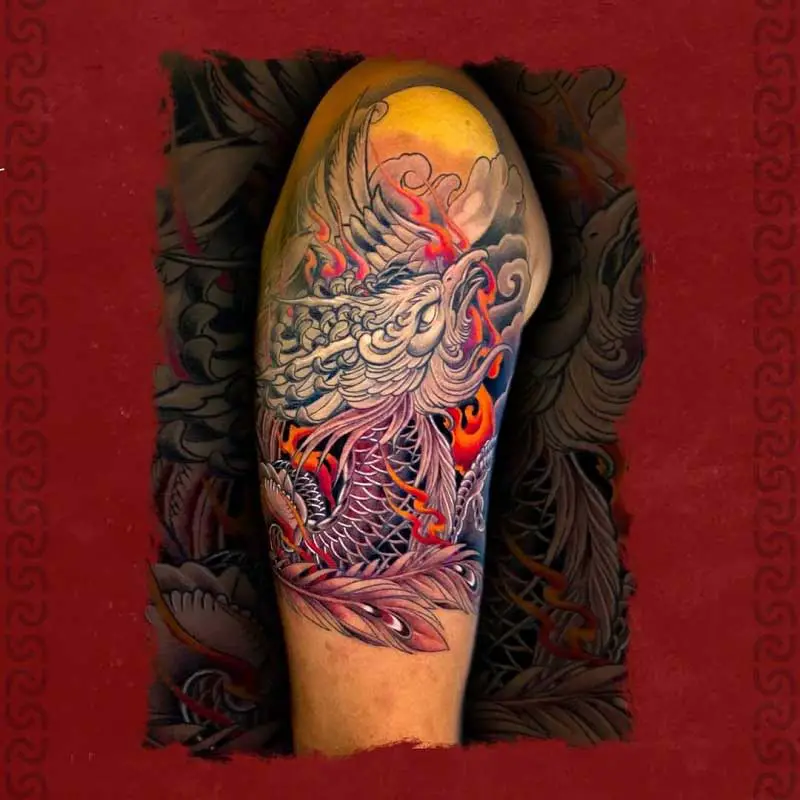 Peacocks are always associated with the positive and happy things in life. This beautiful tattoo is a unique take on the concept of peacock and art.
Peacock Cover Up Tattoo
Due to the big size and intricate details of the peacock tattoo, these designs are a great idea for a cover-up tattoo. So, let us dive into the world of peacock cover-up tattoos.
28. The Floral Peacock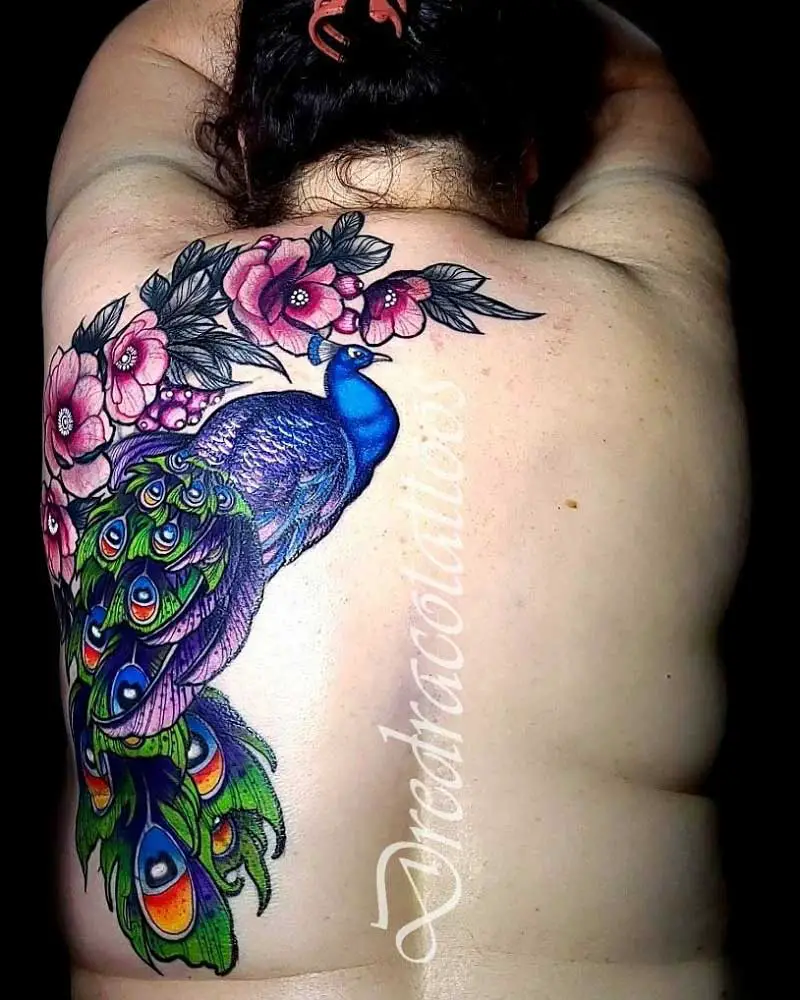 Get this intricate tattoo combination of peacock and flowers to cover up the old tattoos on the back. The peacock tattoo also represents freedom, love, pride, and desires.
29. Peacock Intrication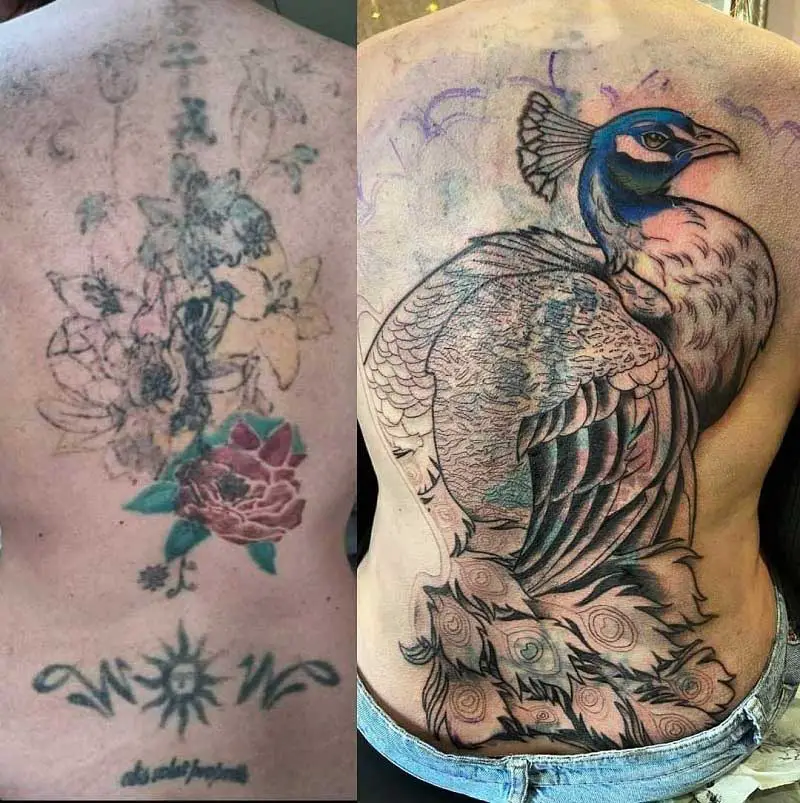 Cover up your old tattoos with a beautiful and detailed tattoo. This giant peacock is also a symbolization of art, creativity, prosperity, and positivity in life.
30. The Gazing Peacock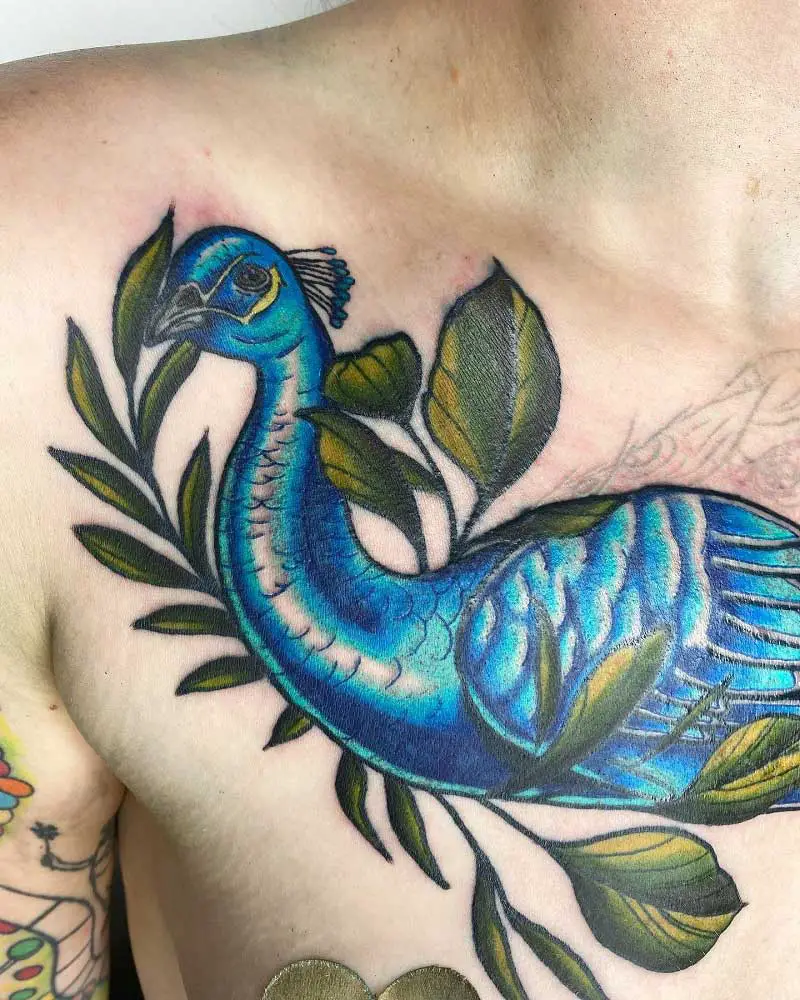 Peacocks are one of the mighty creatures found in nature. This elegant tattoo is a depiction of delicacy, positivity, growth, love, and innocence.
Peacock Foot Tattoo
31.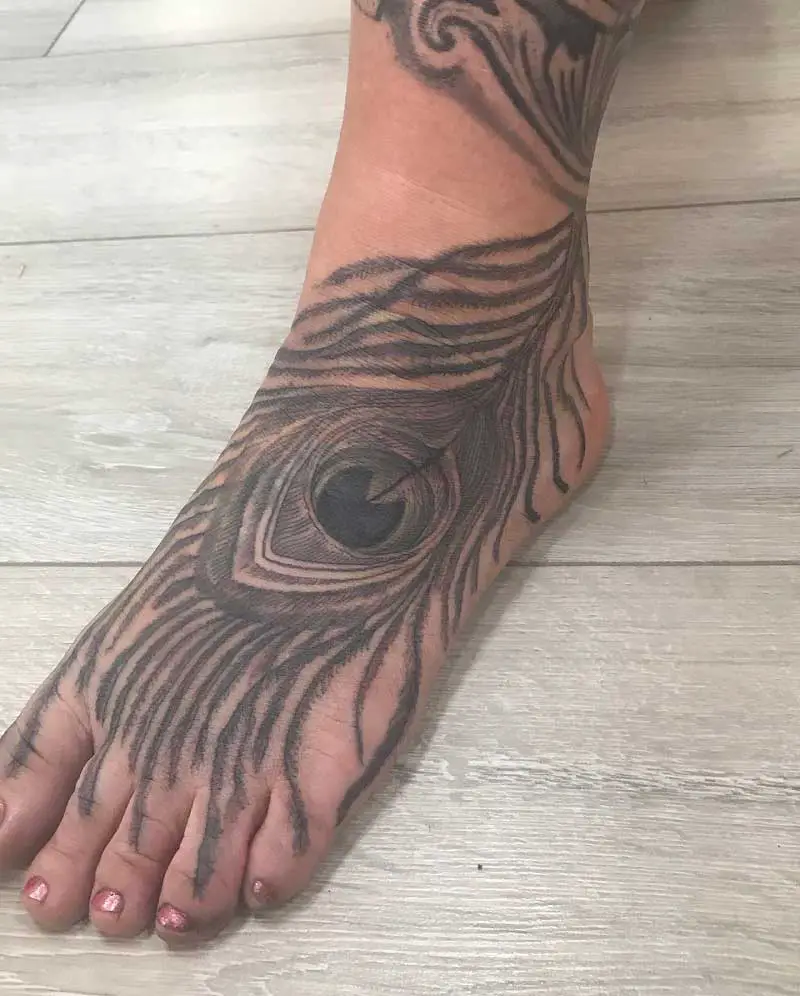 32.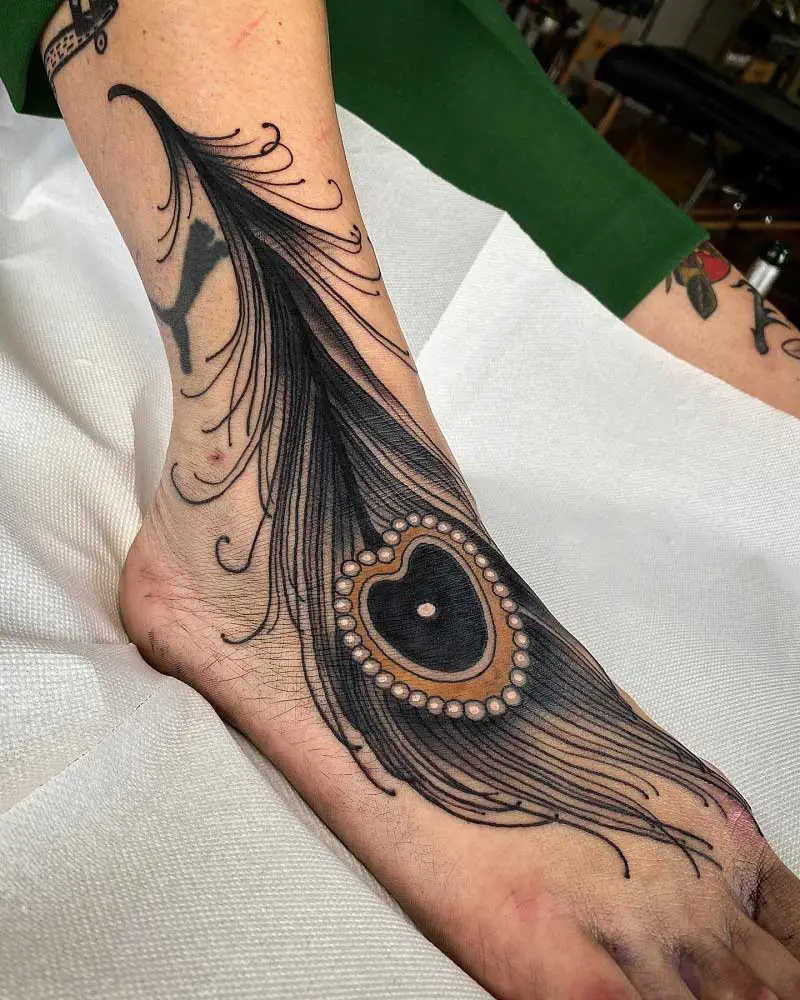 33.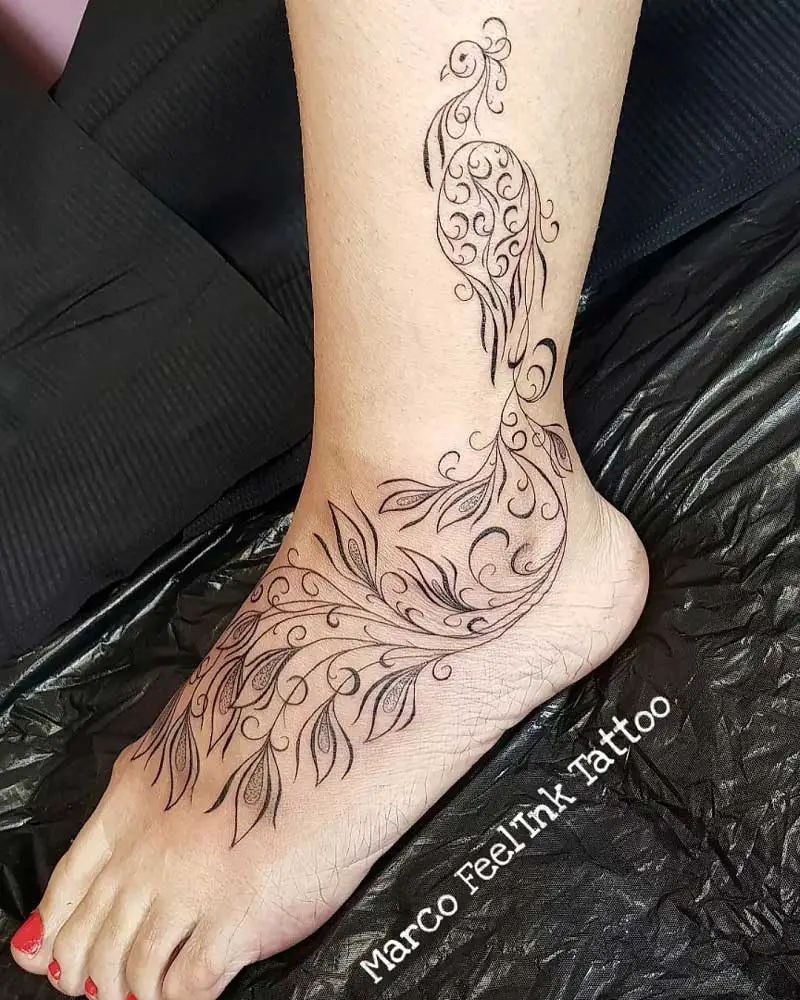 Peacock Hip Tattoo
34.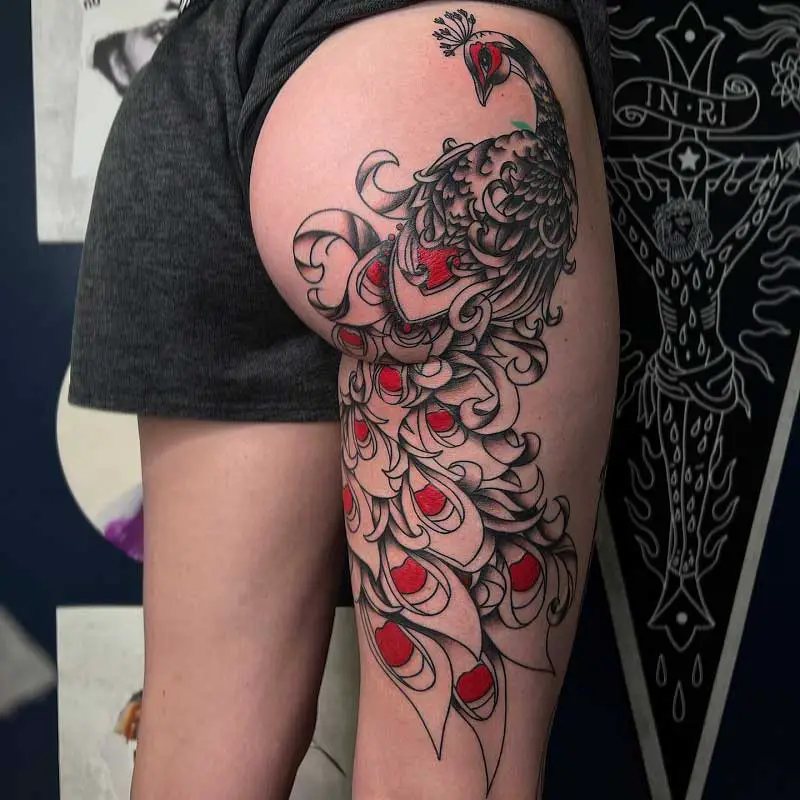 35.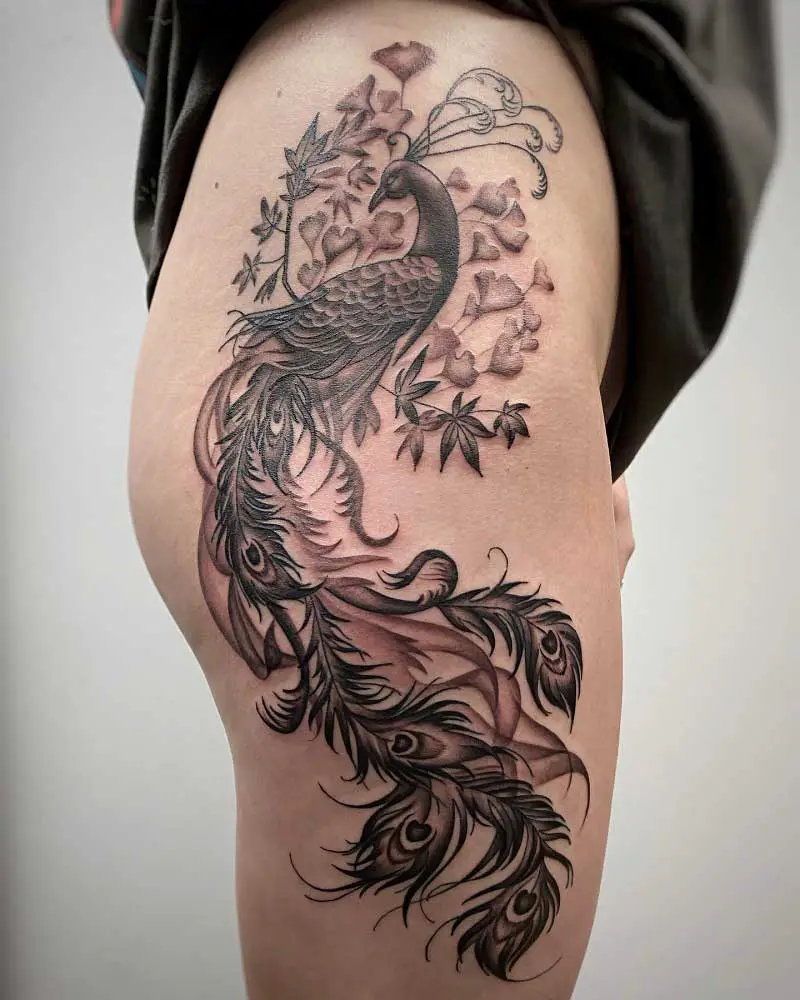 36.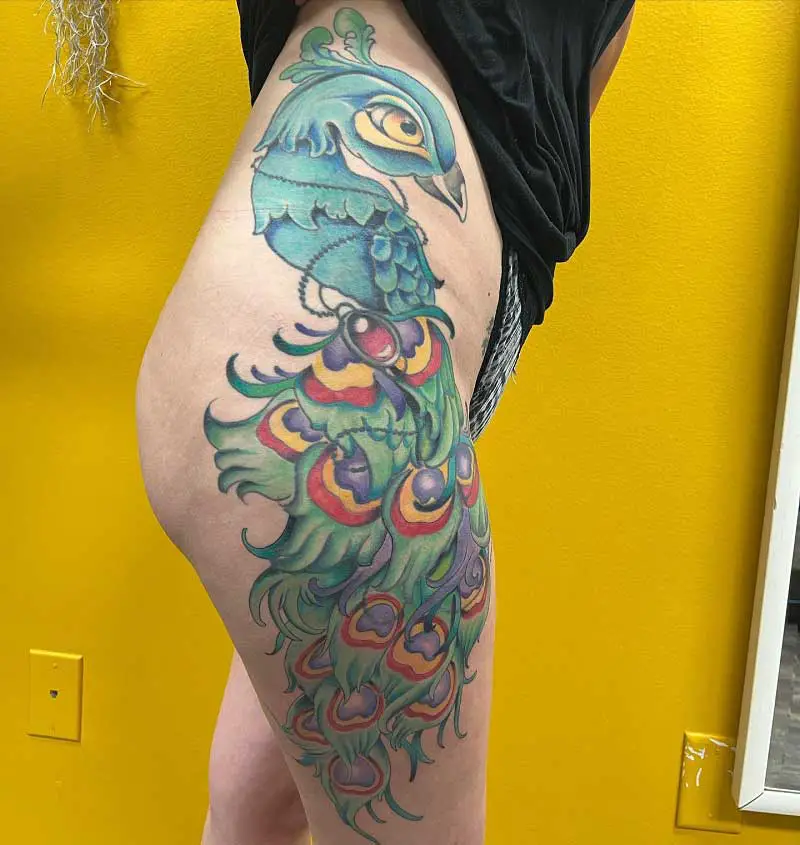 Peacock Stomach Tattoo
37.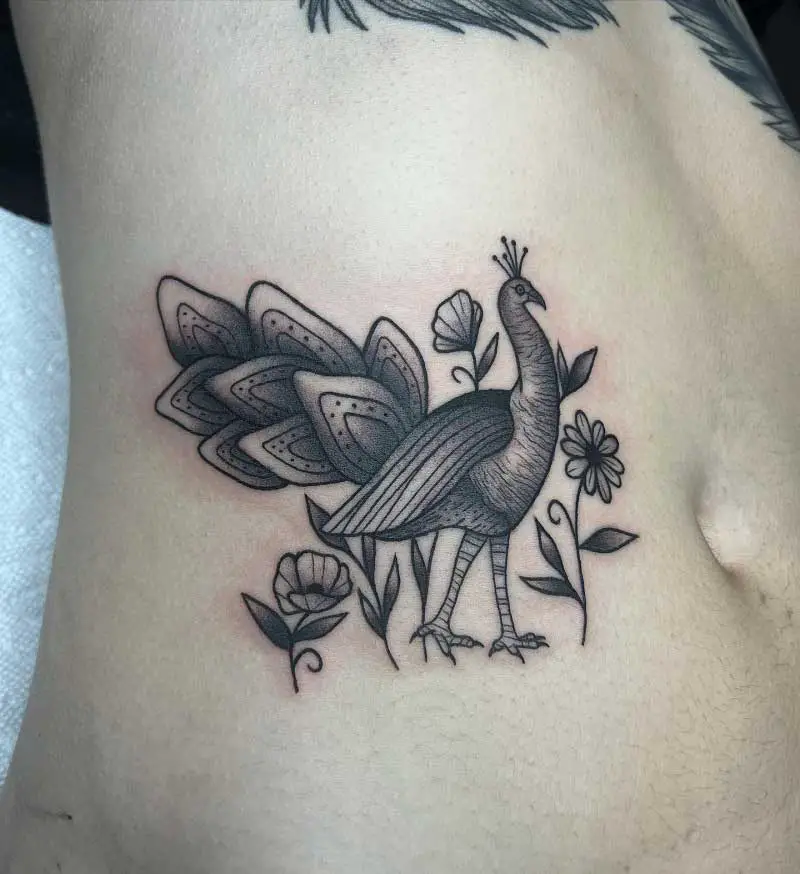 38.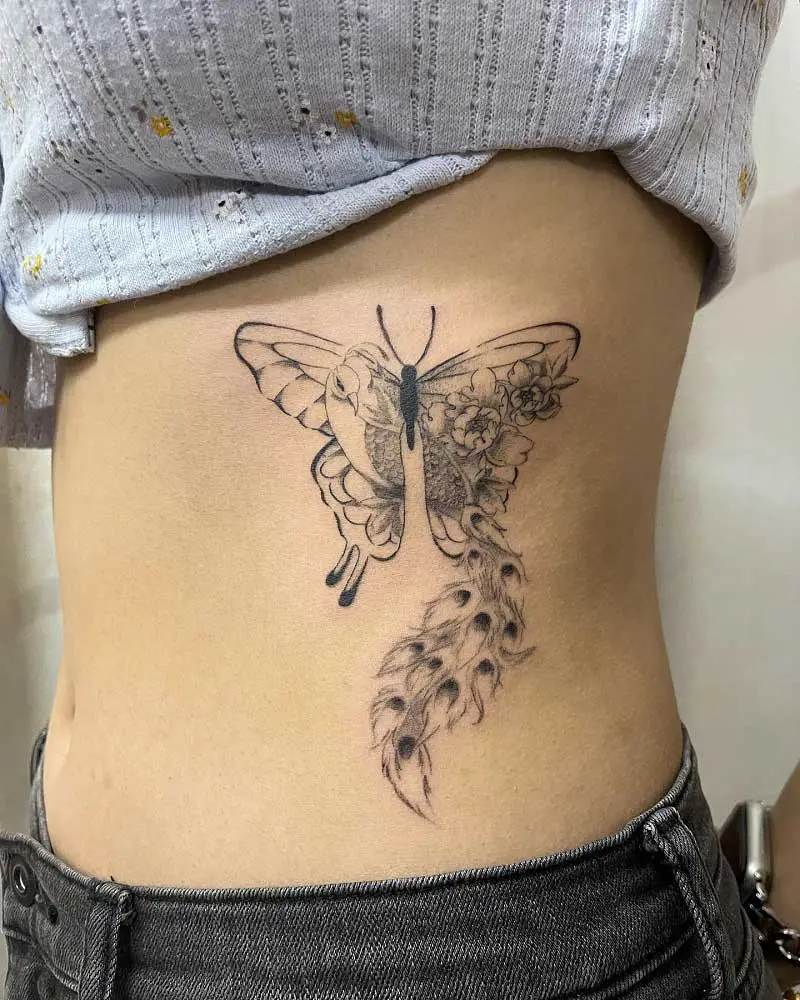 39.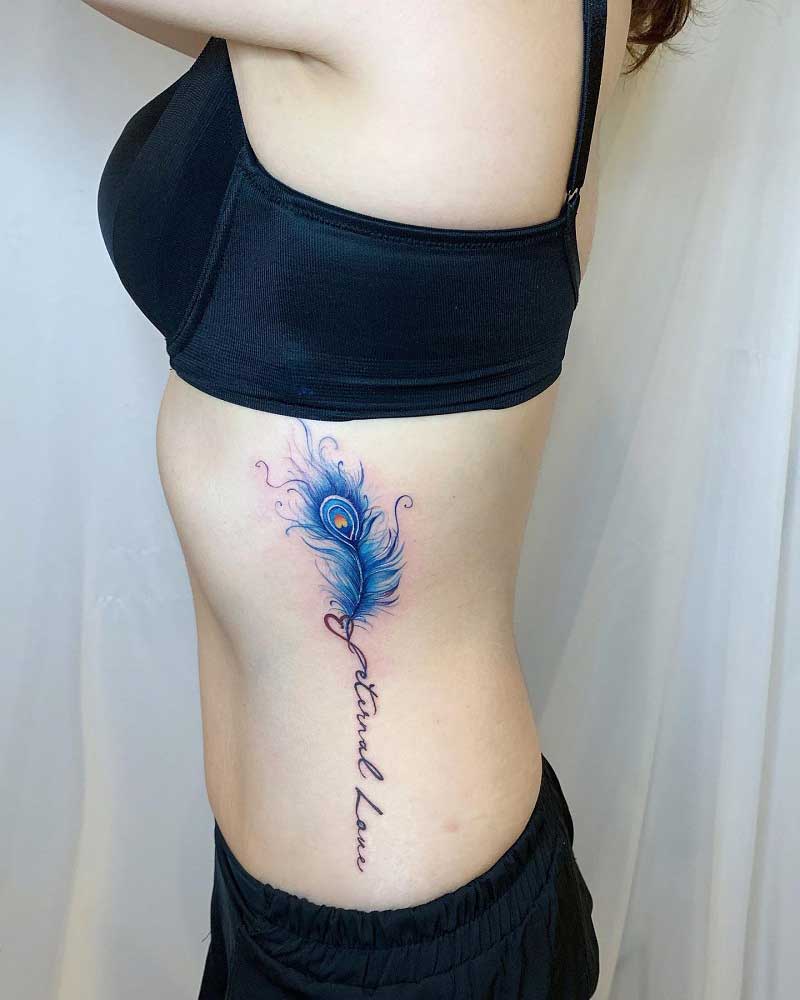 Large Peacock Tattoo
40.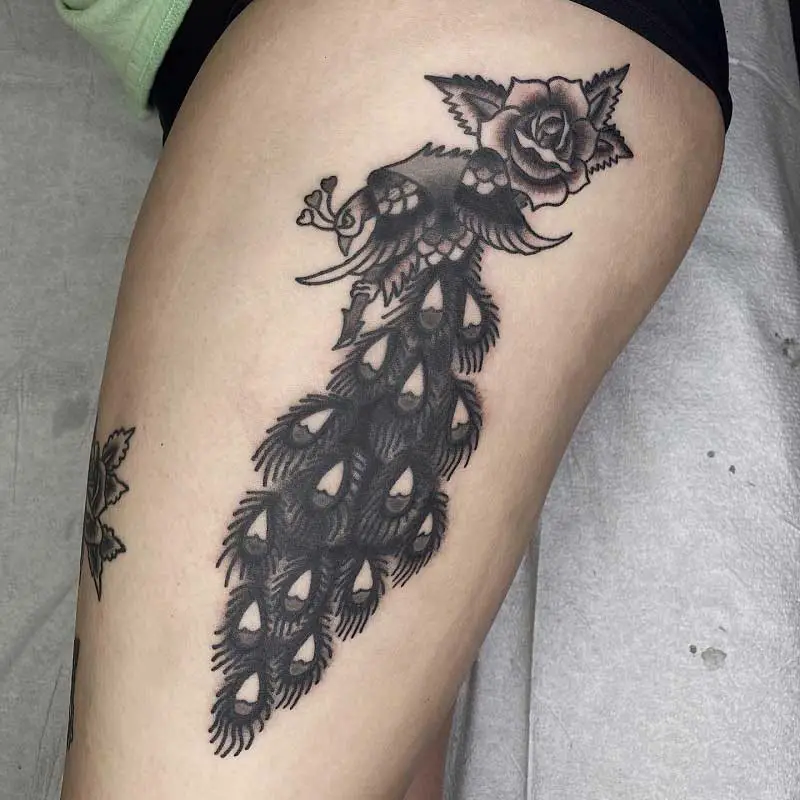 41.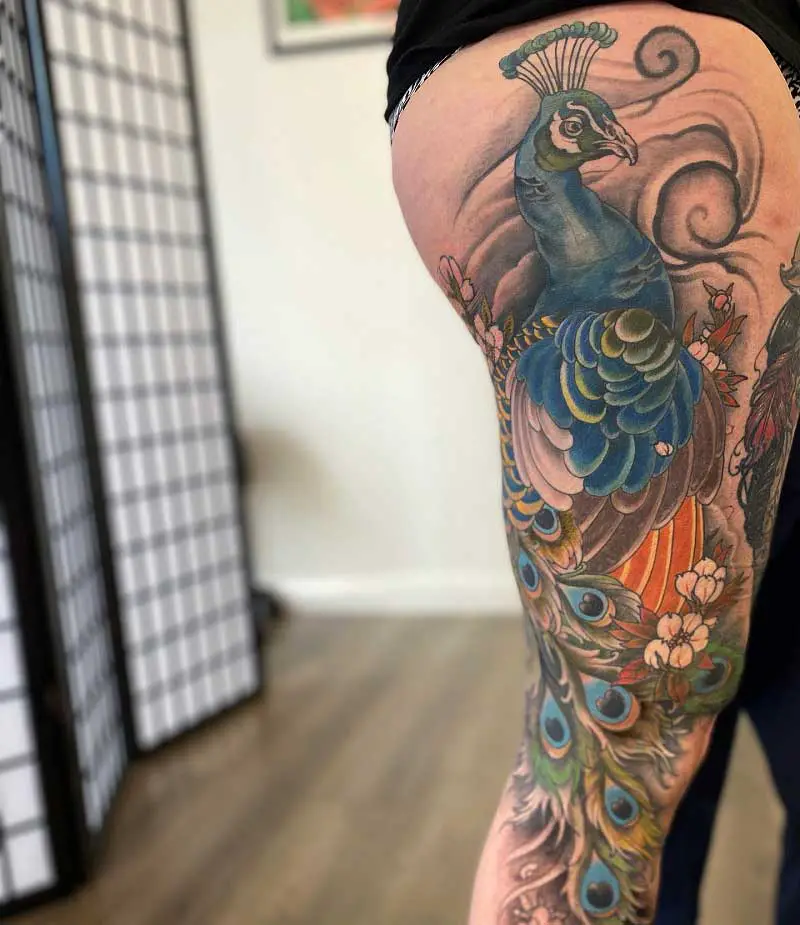 42.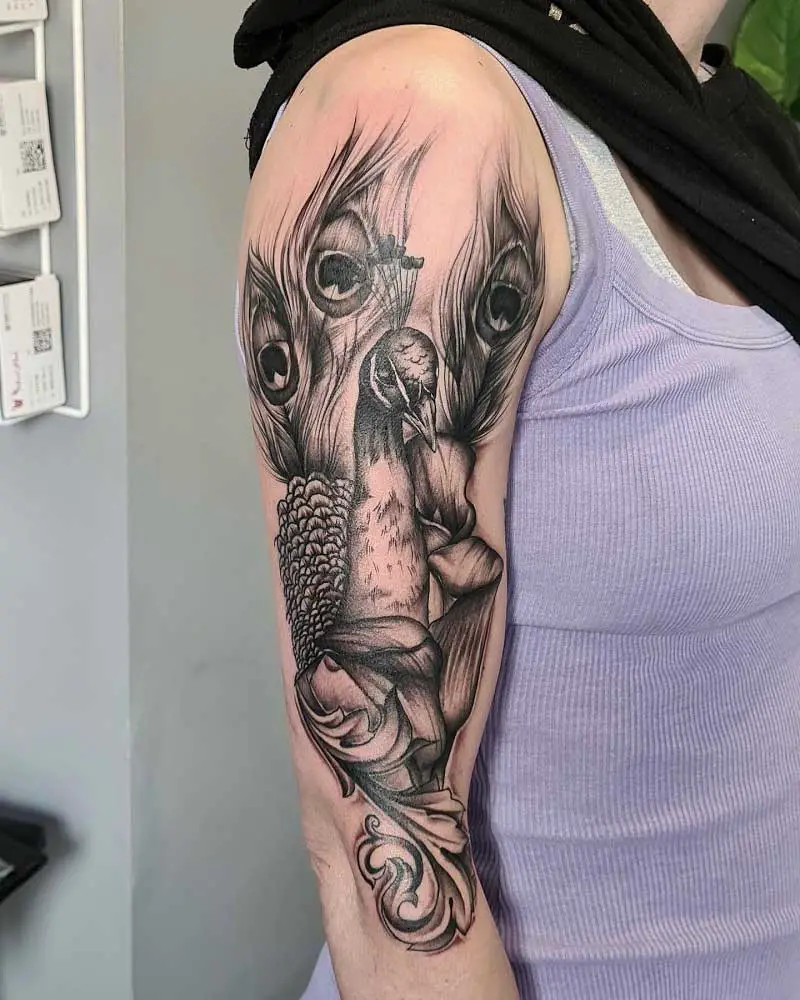 Peacock Flower Tattoo
43.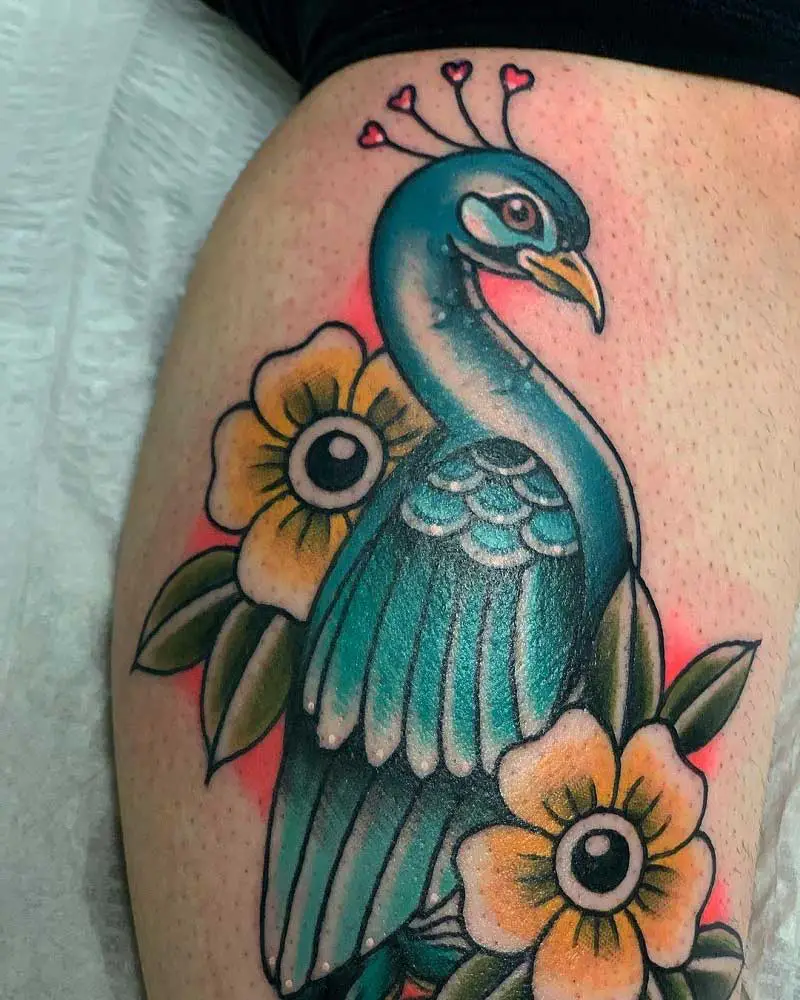 44.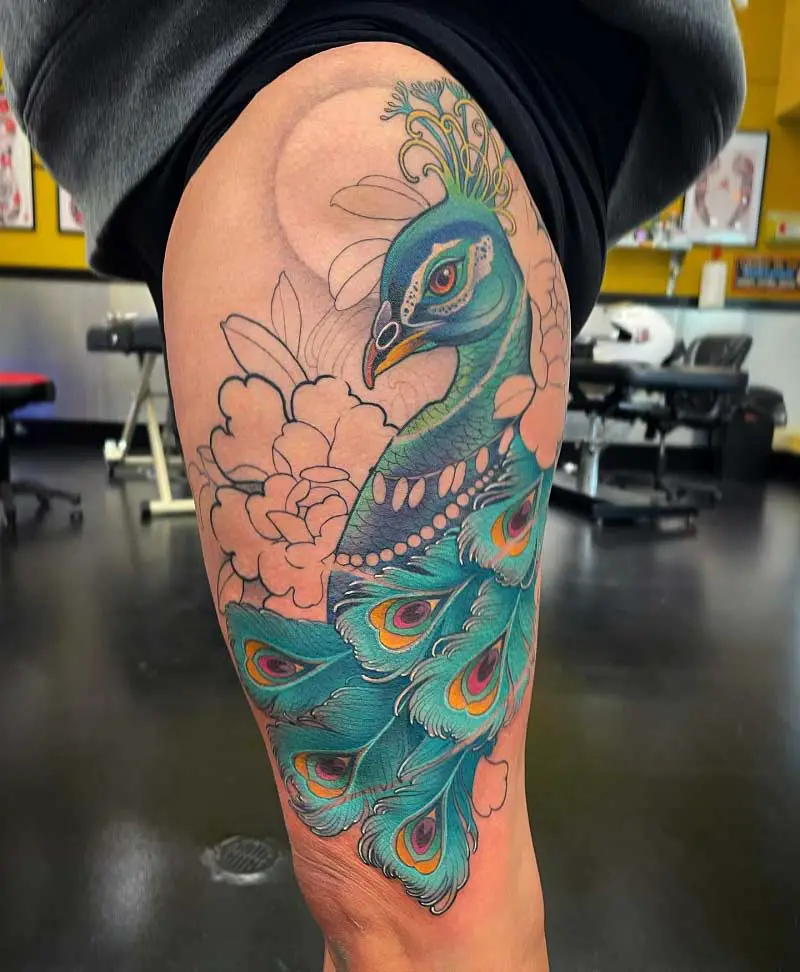 45.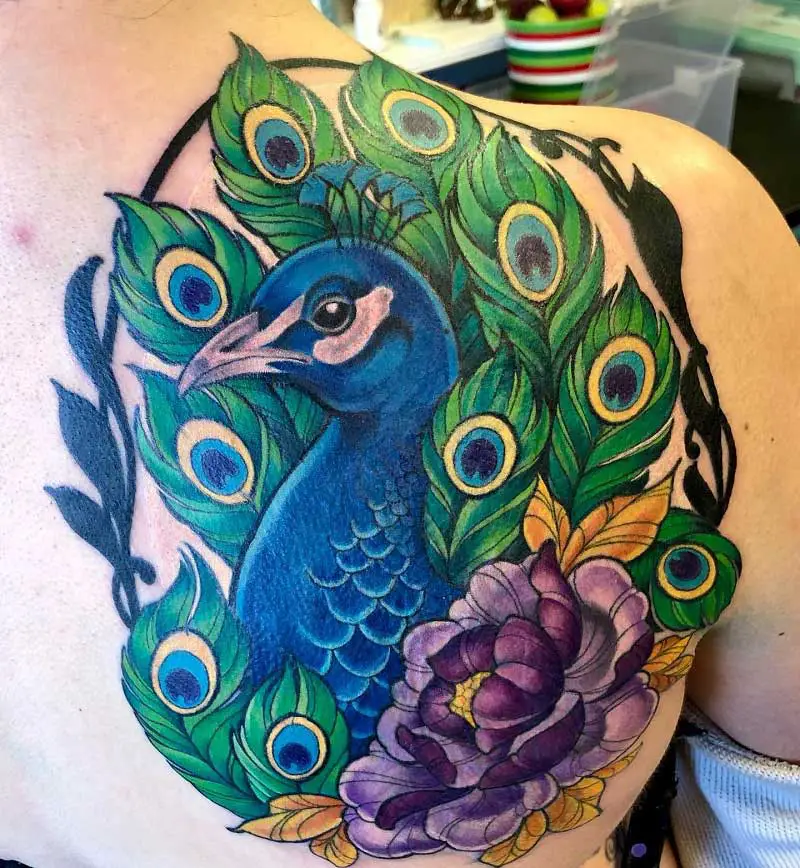 Peacock Neck Tattoo
46.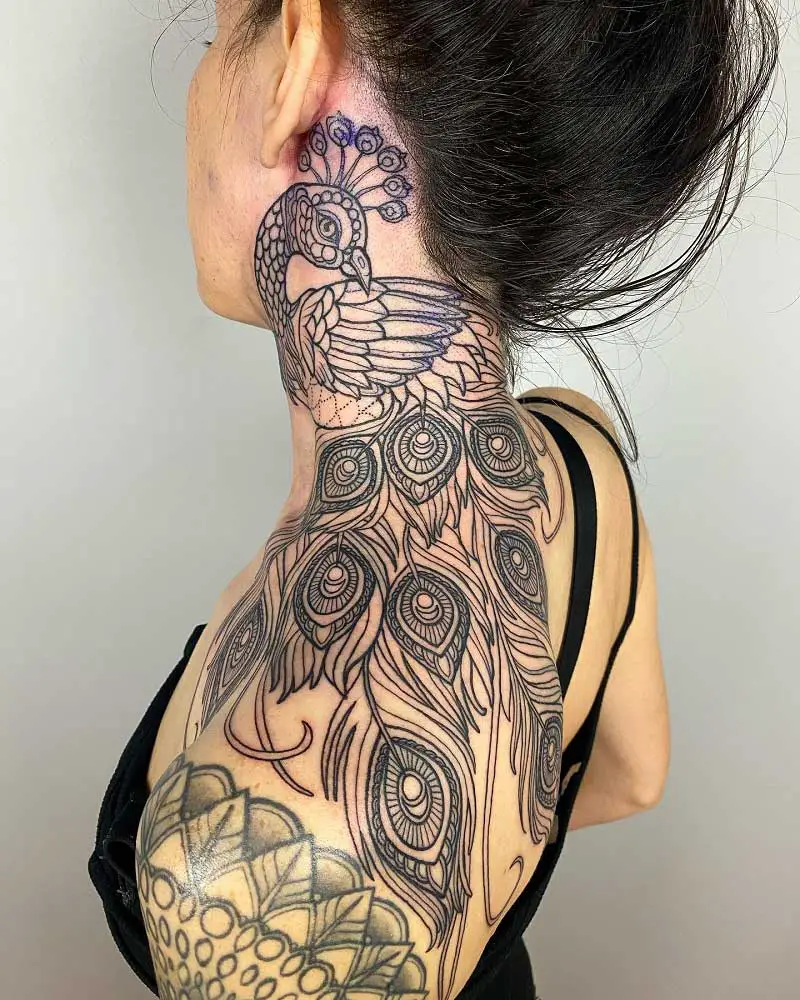 47.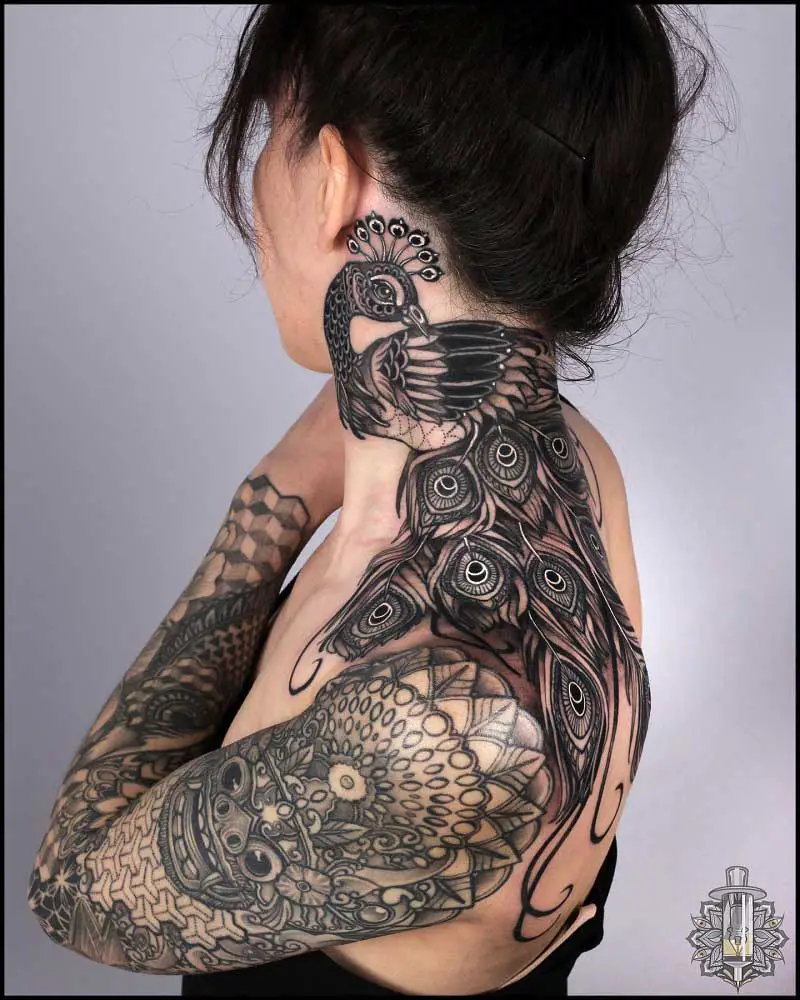 48.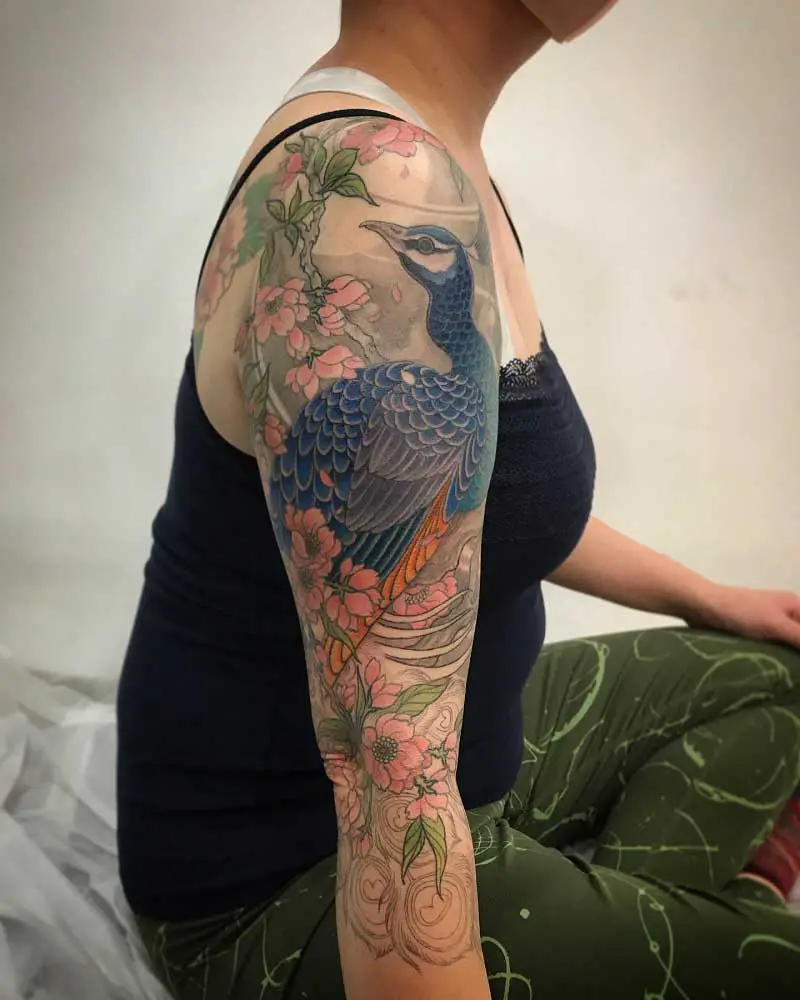 Peacock Phoenix Tattoo
49.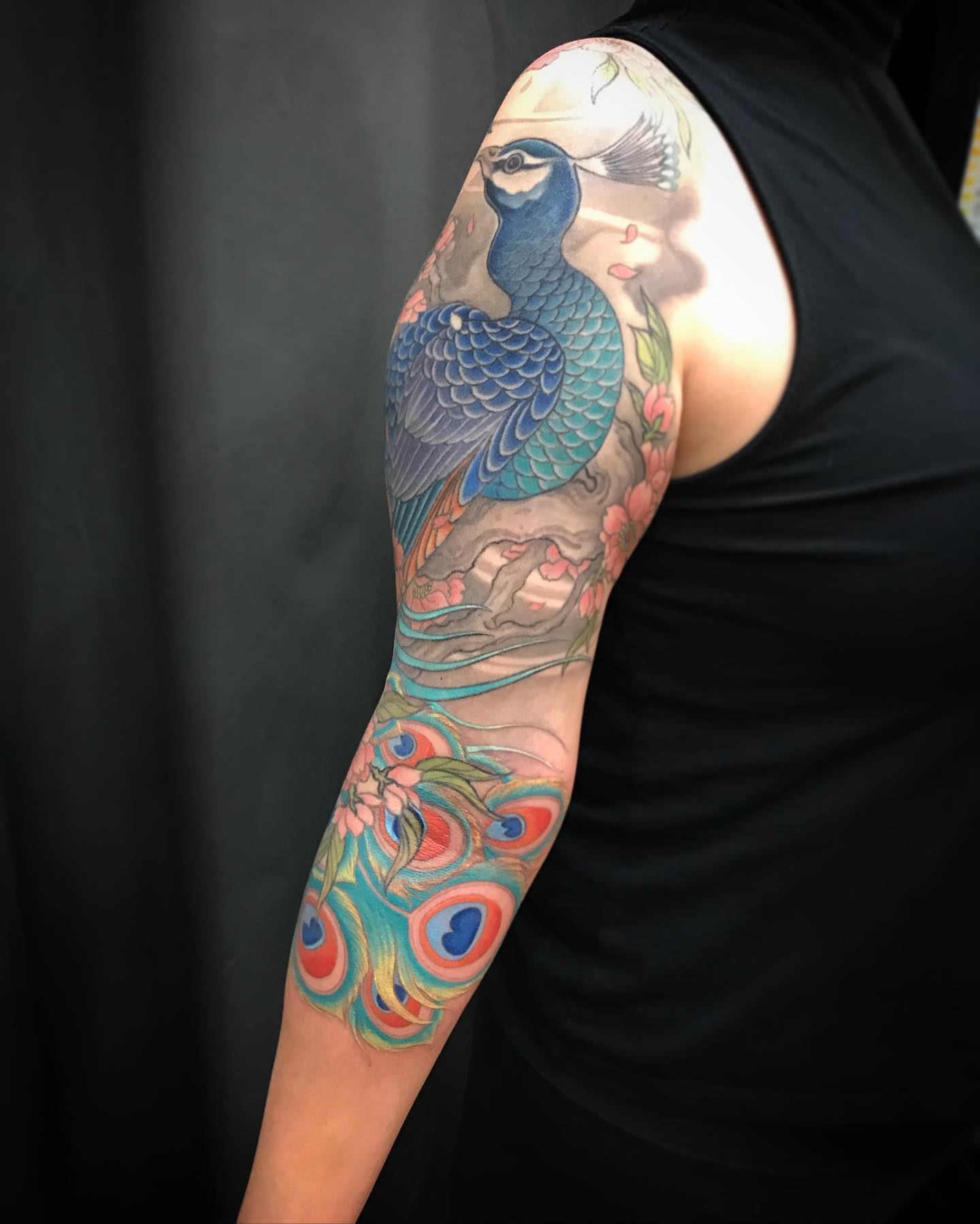 50.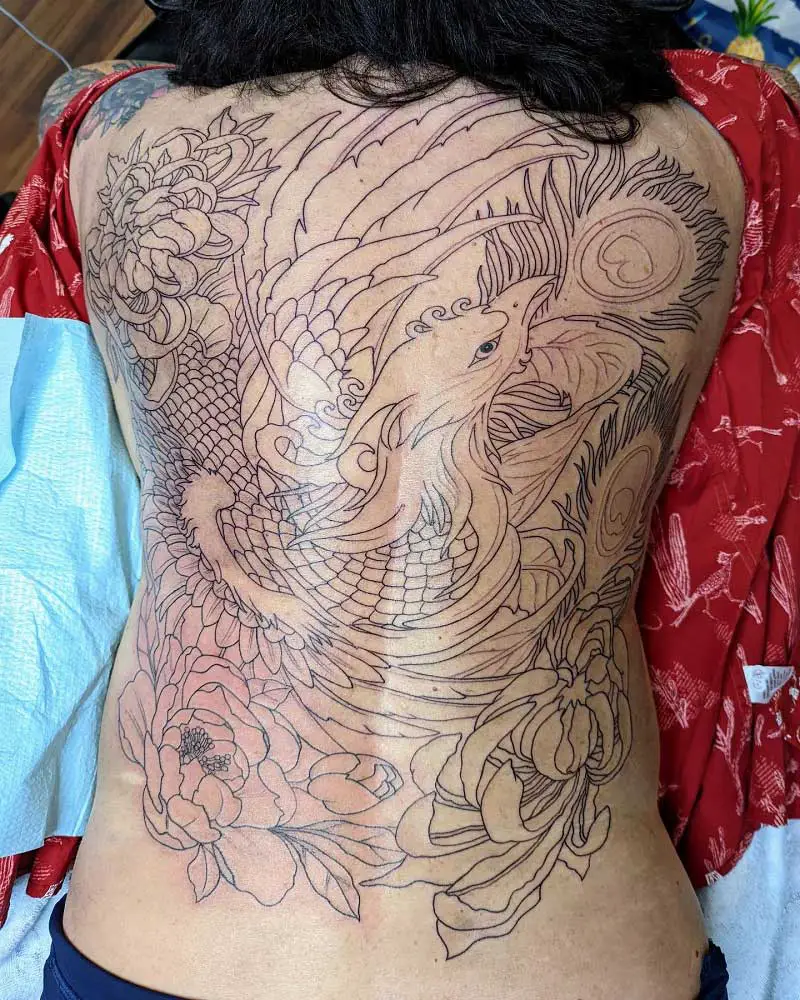 51.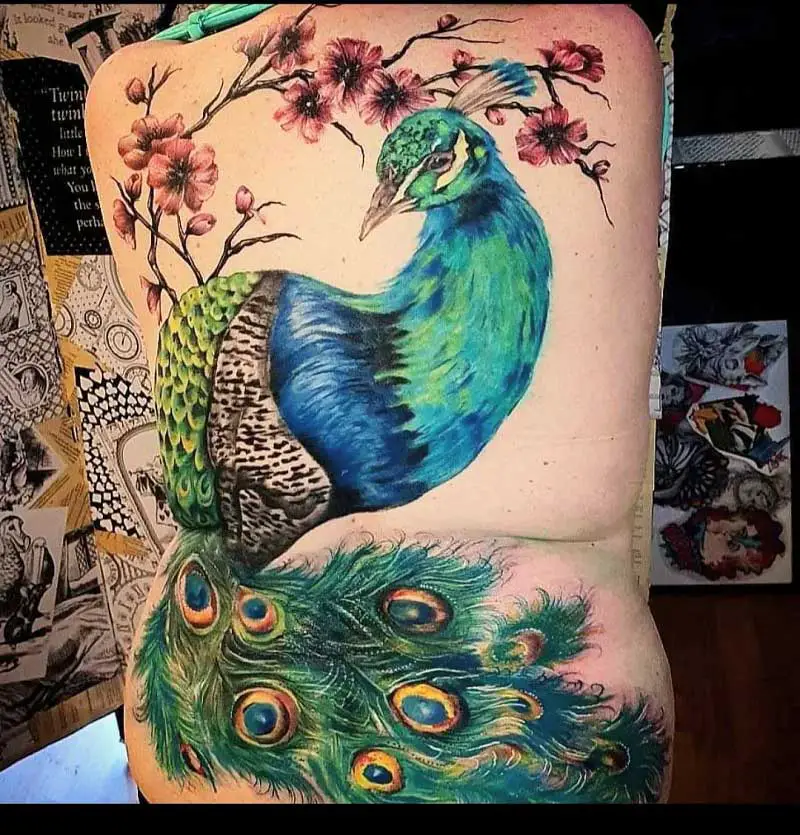 Realistic Peacock Tattoo
52.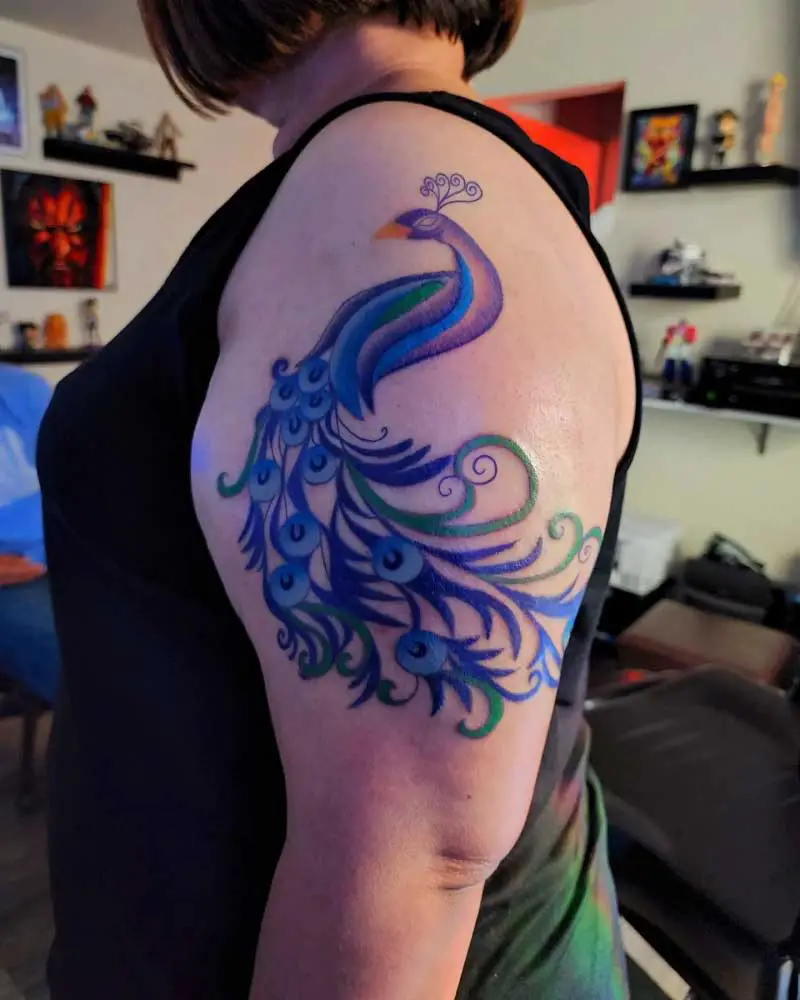 53.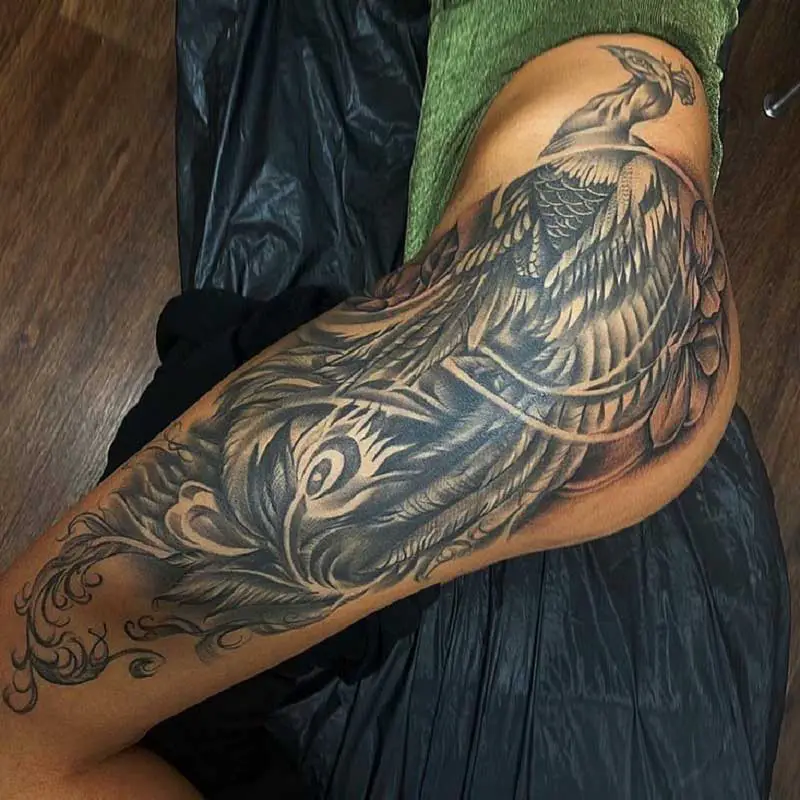 54.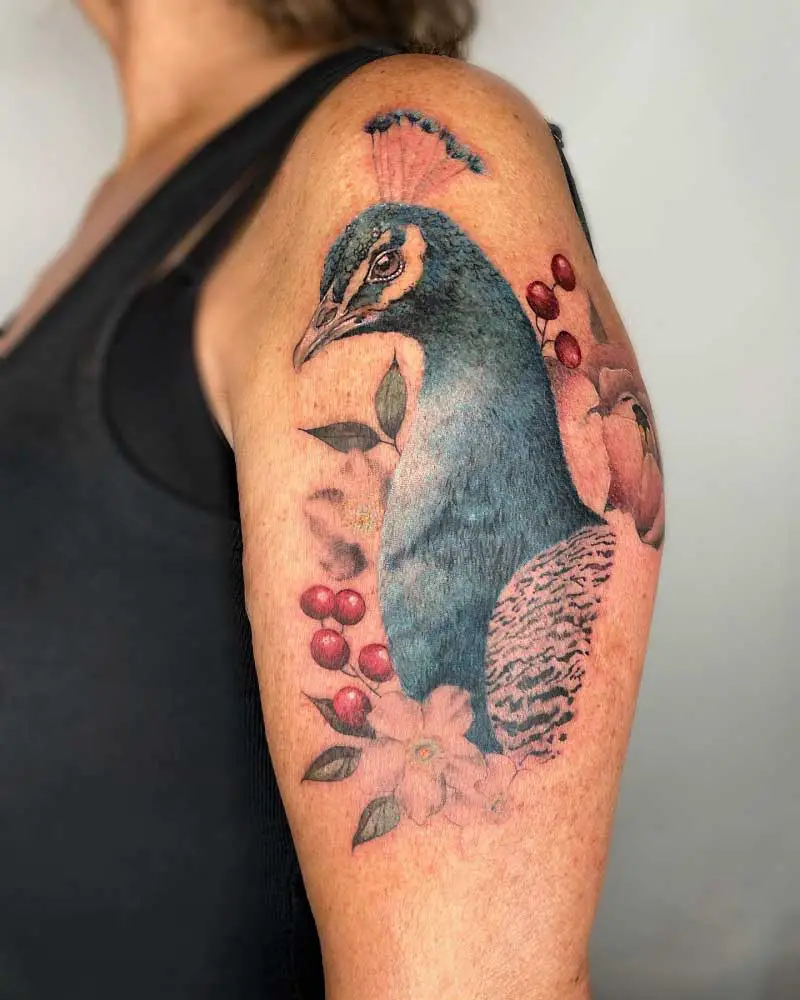 Sailor Jerry Peacock Tattoo
55.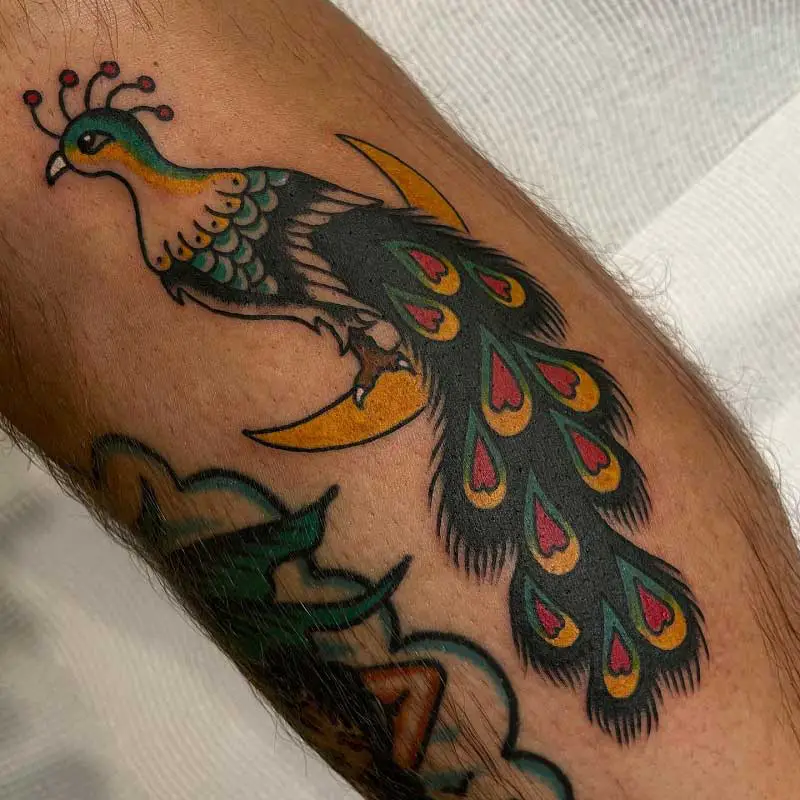 56.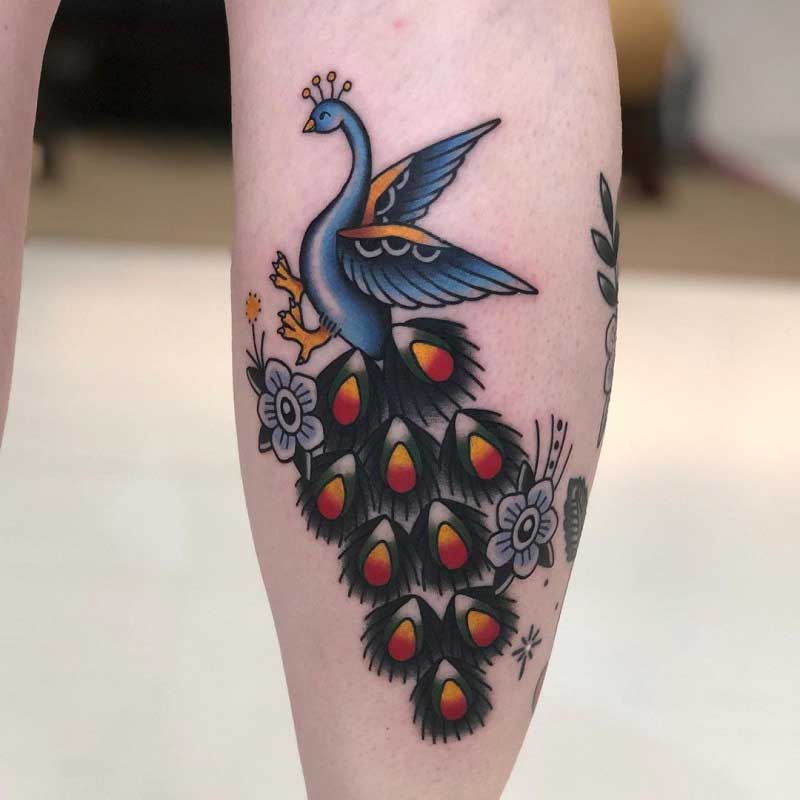 57.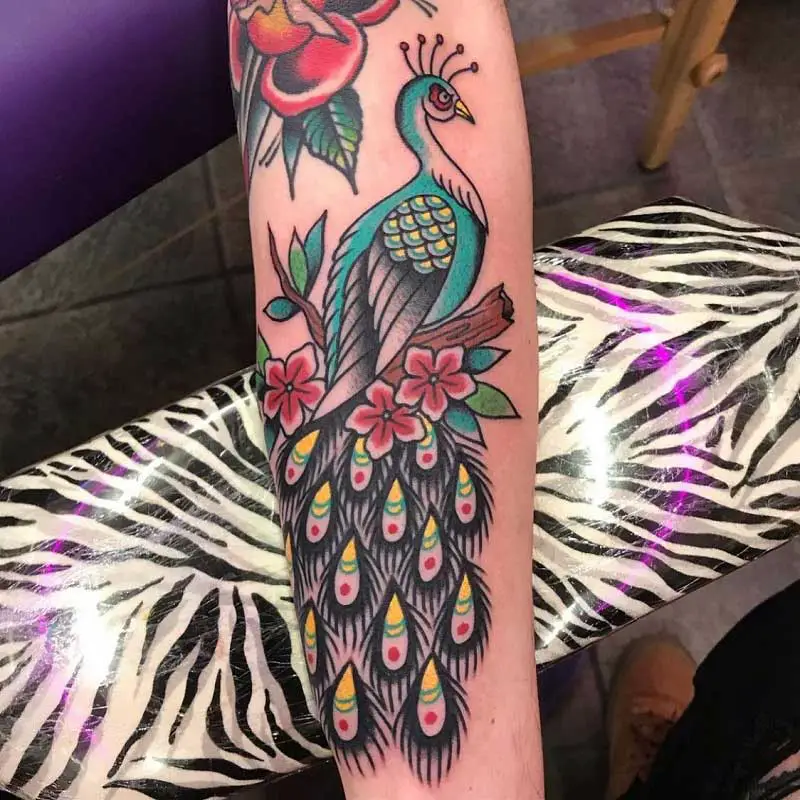 Flute Peacock Feather Tattoo
58.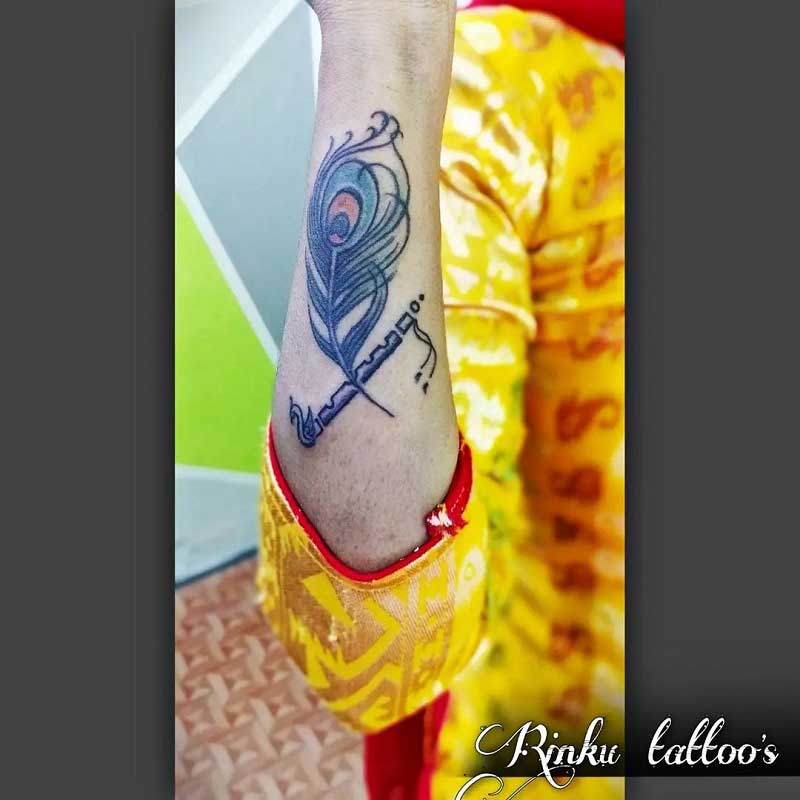 59.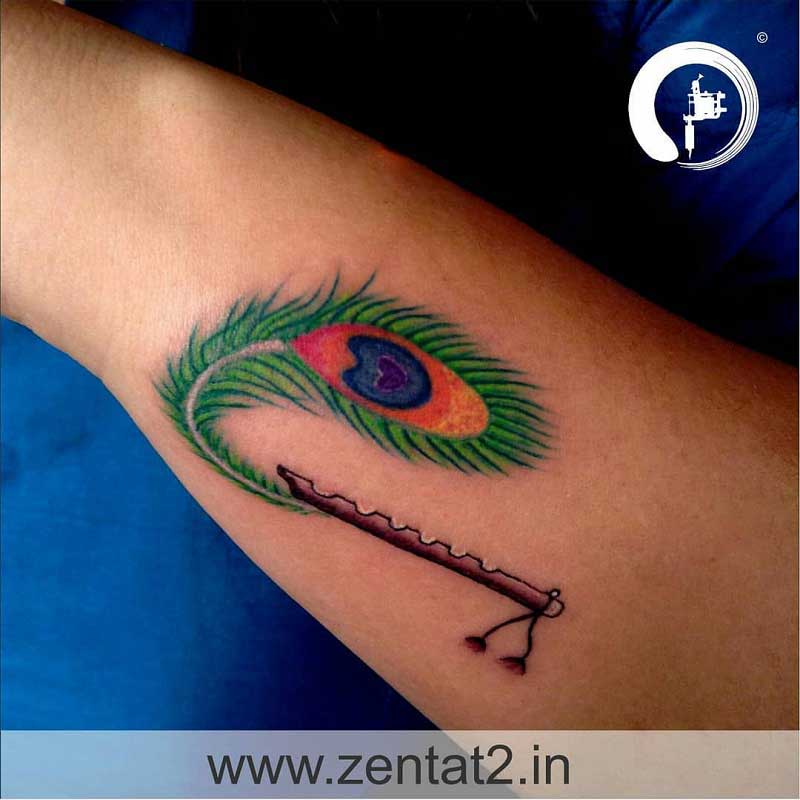 60.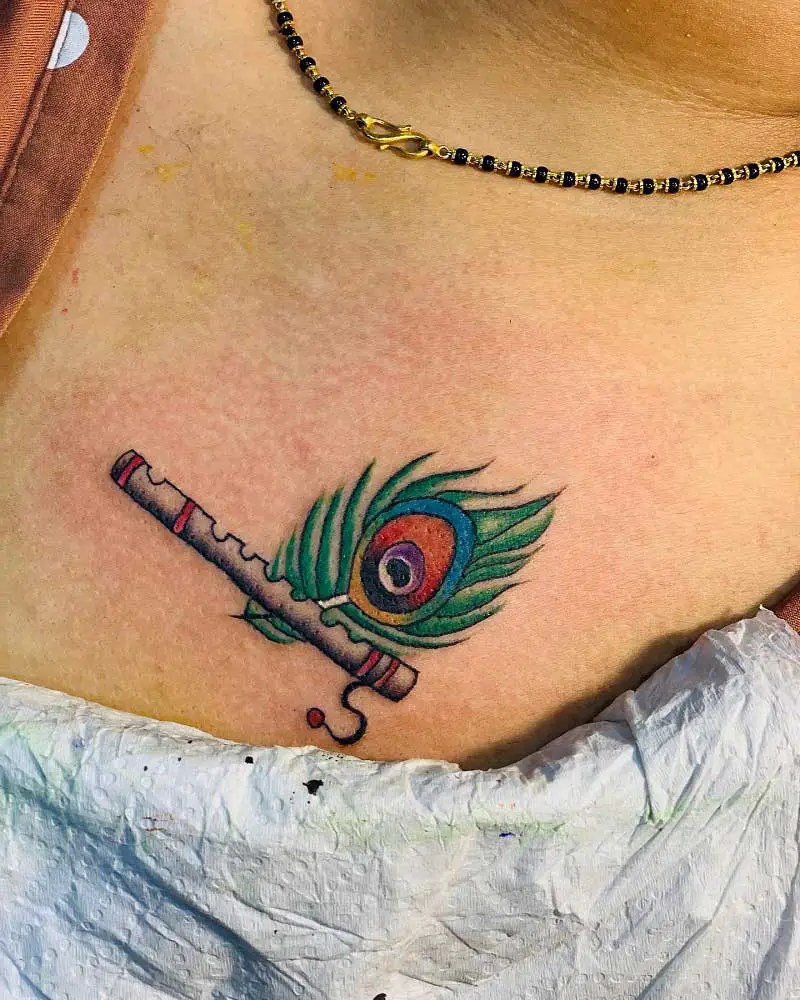 Lace Peacock Tattoo
61.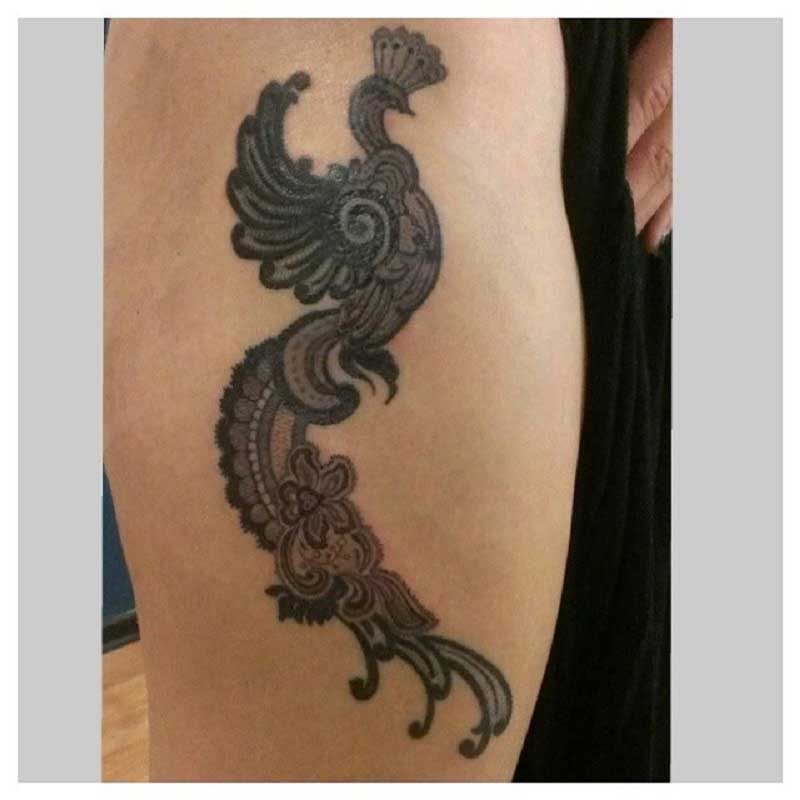 62.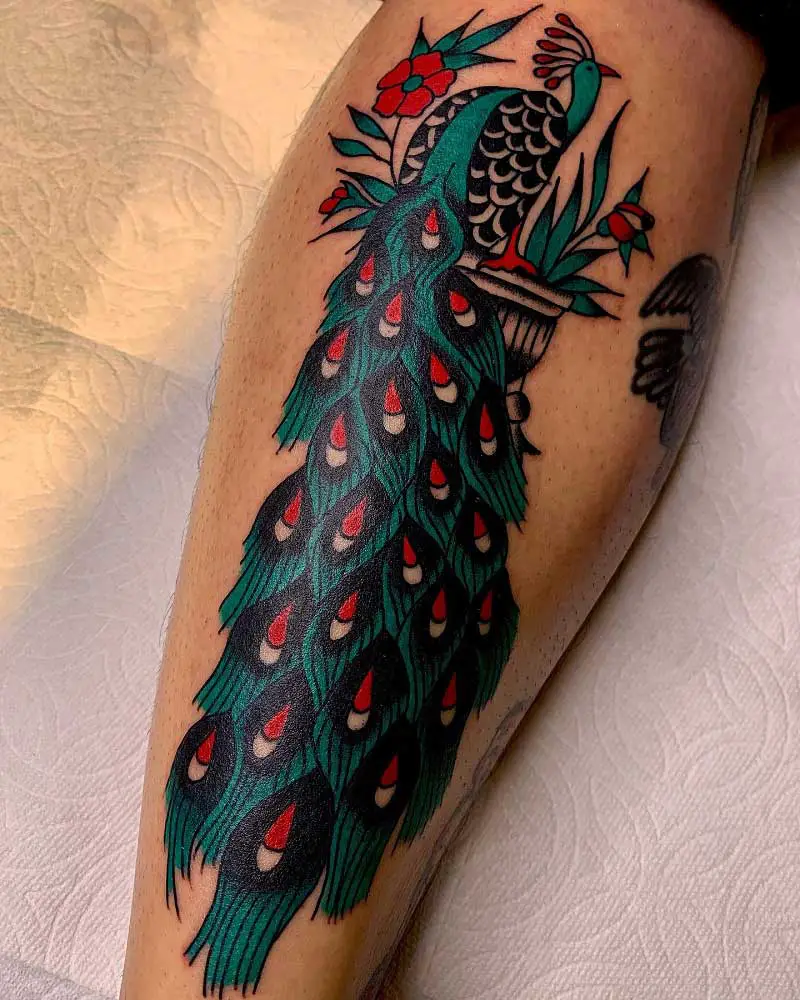 63.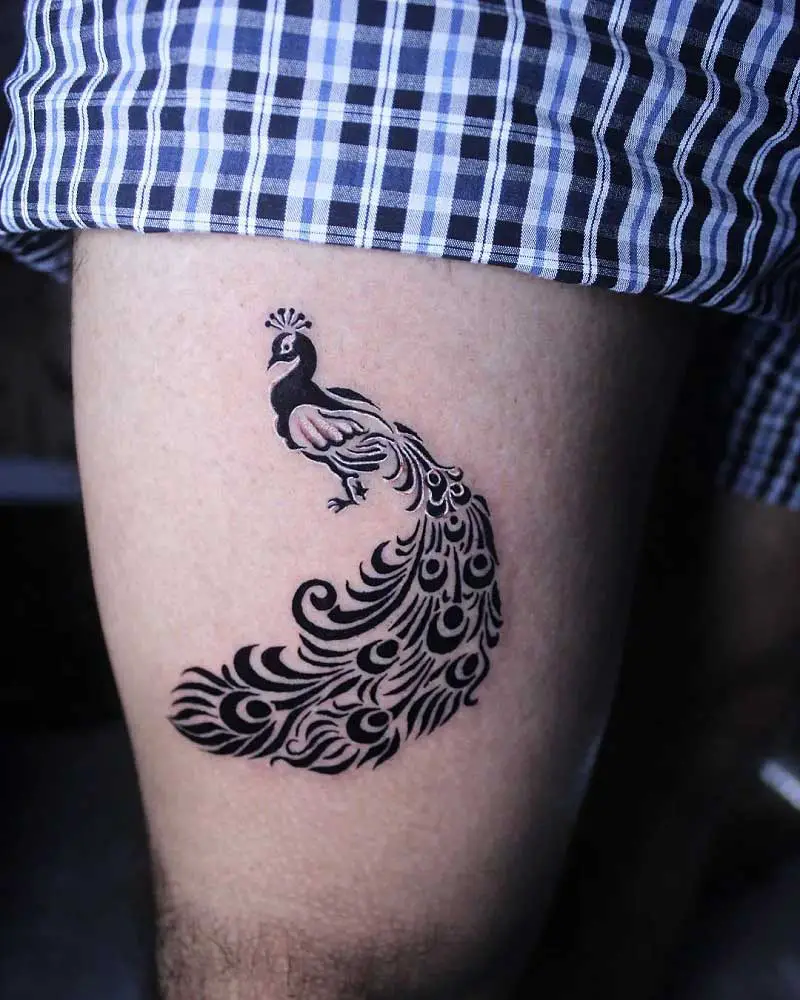 Mandala Peacock Feather Tattoo
64.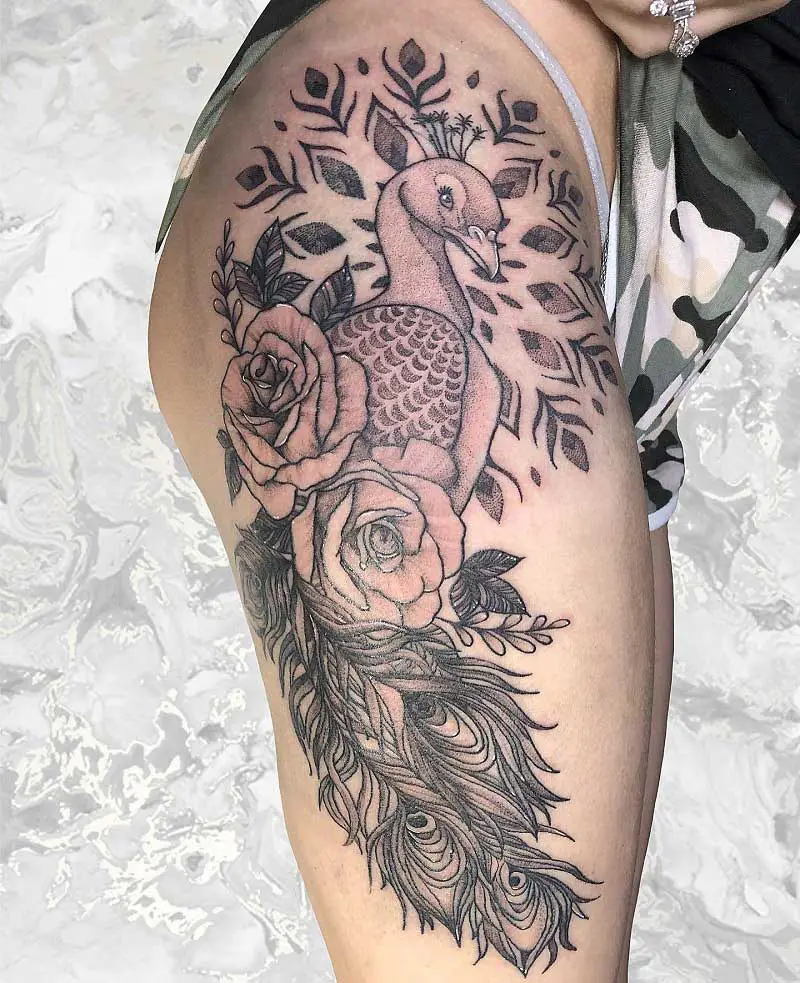 65.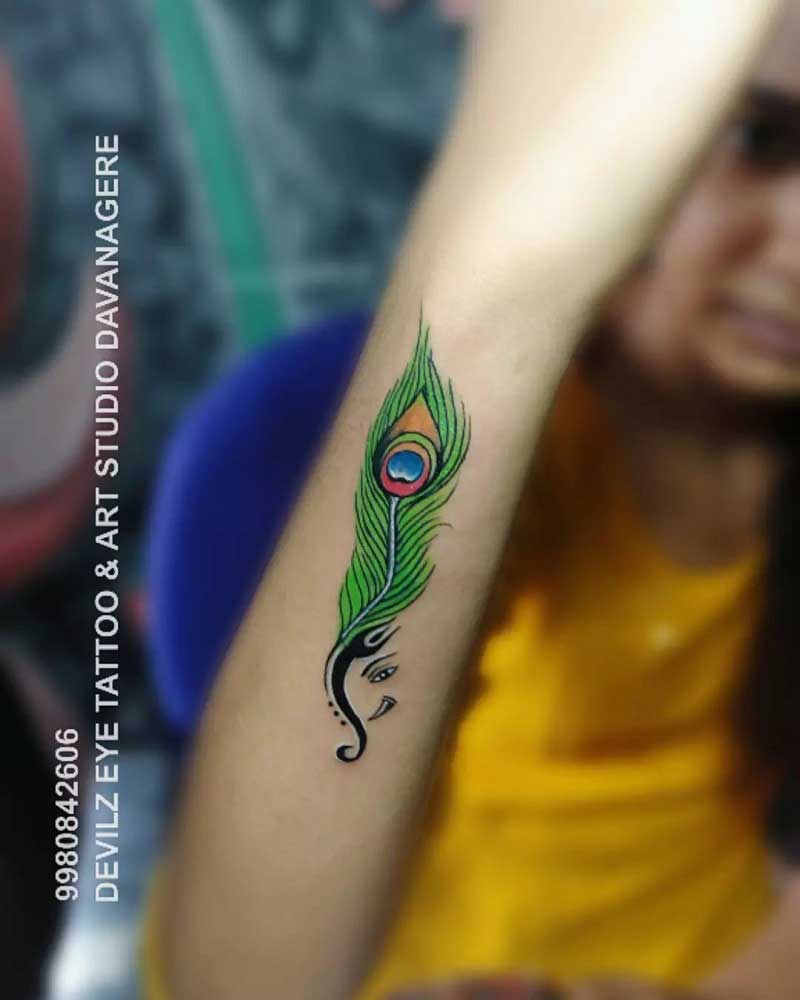 66.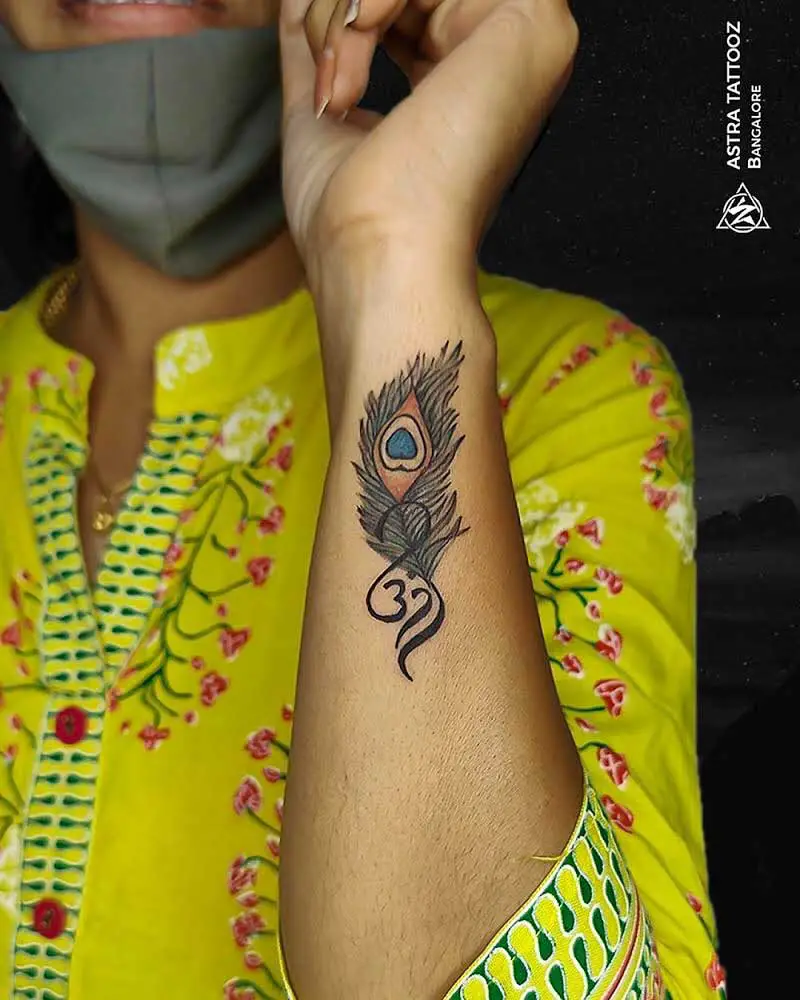 Peacock Quill Tattoo
67.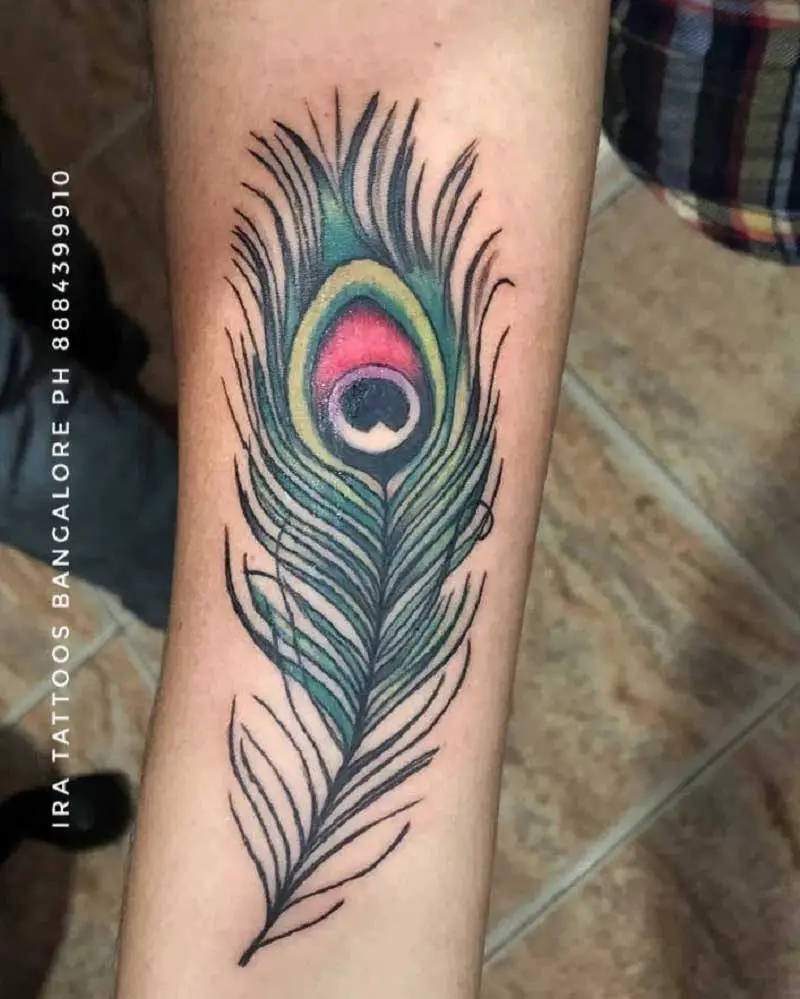 68.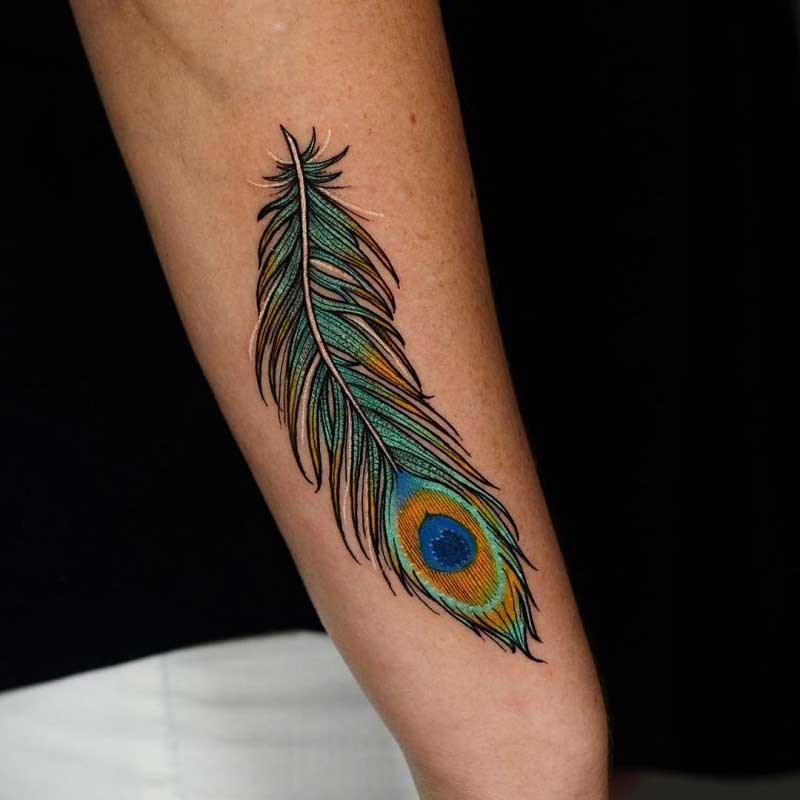 69.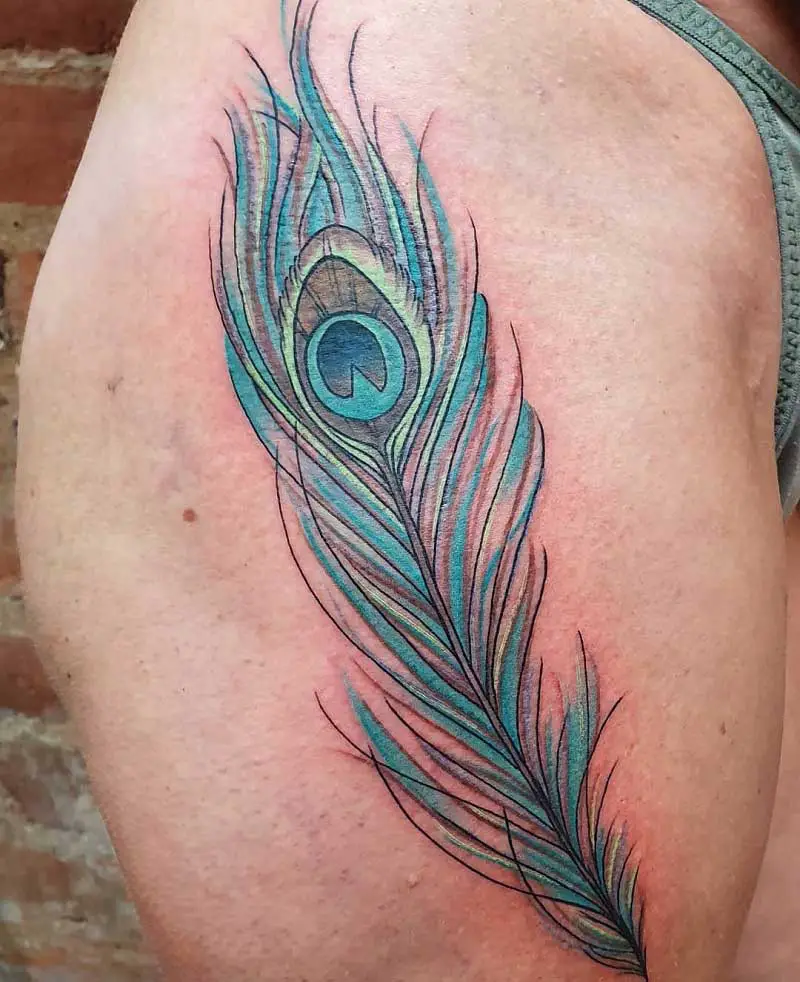 Chinese Peacock Tattoo
70.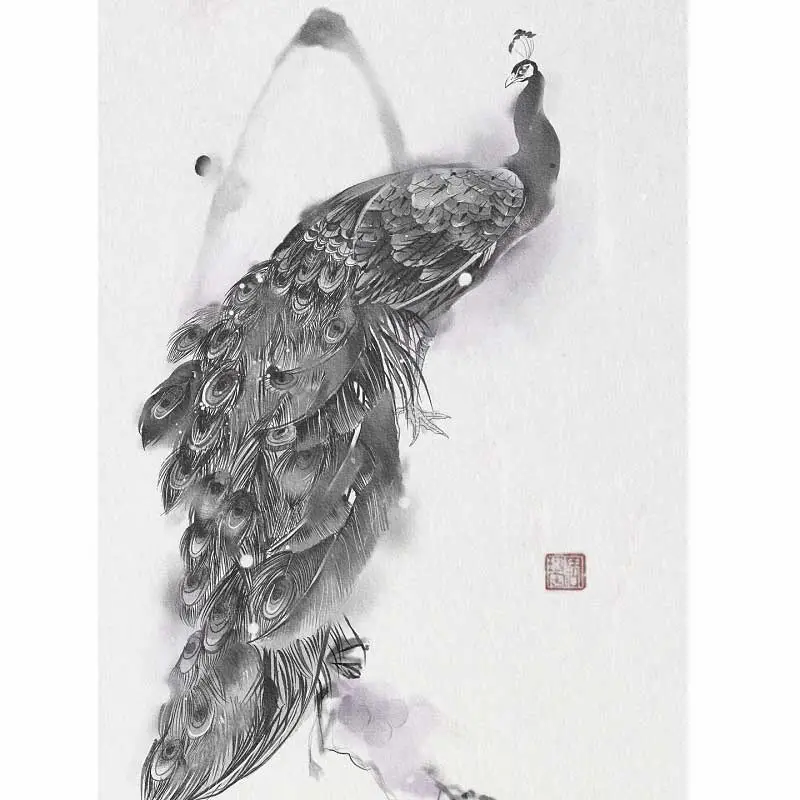 71.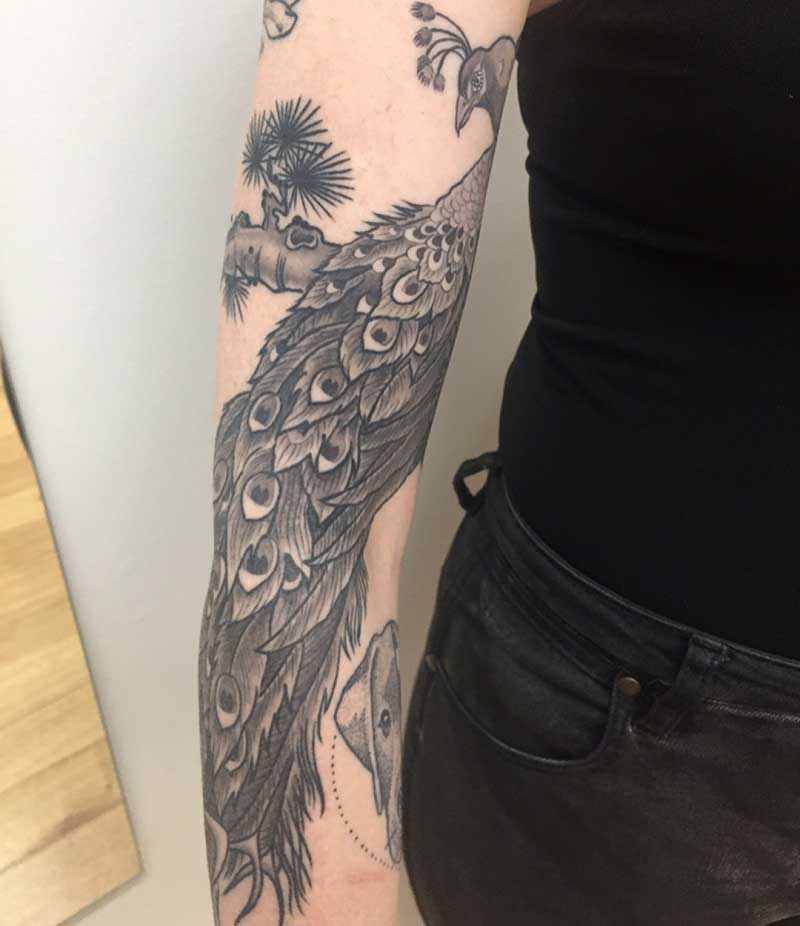 72.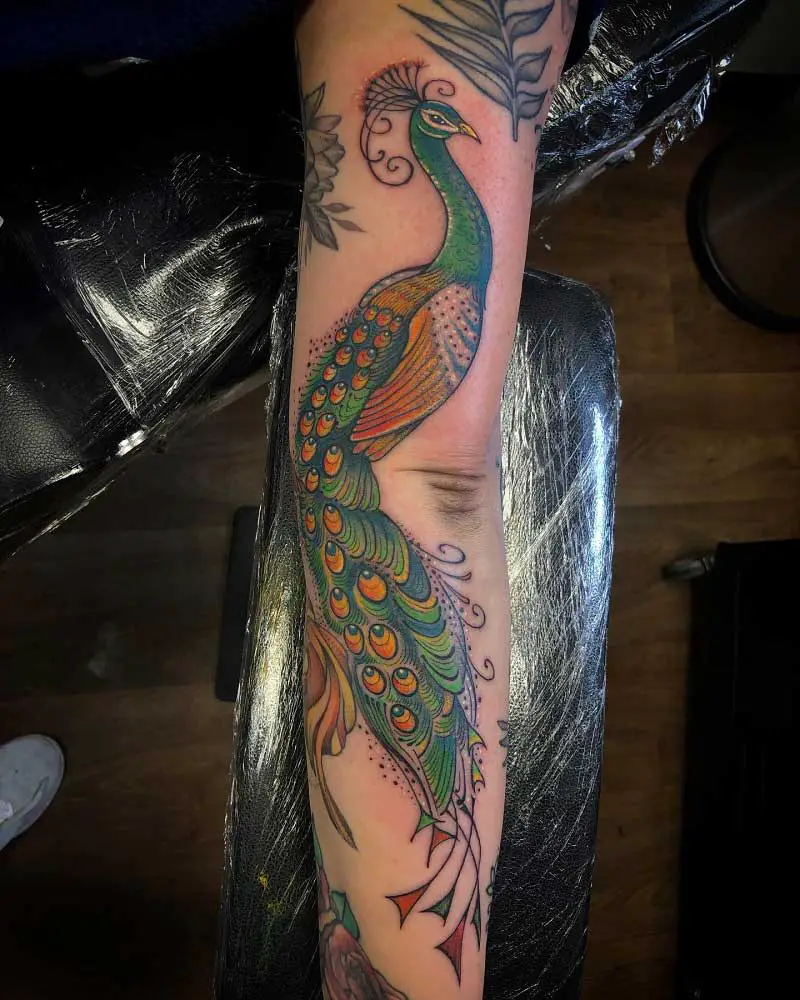 Flying Peacock Tattoo
73.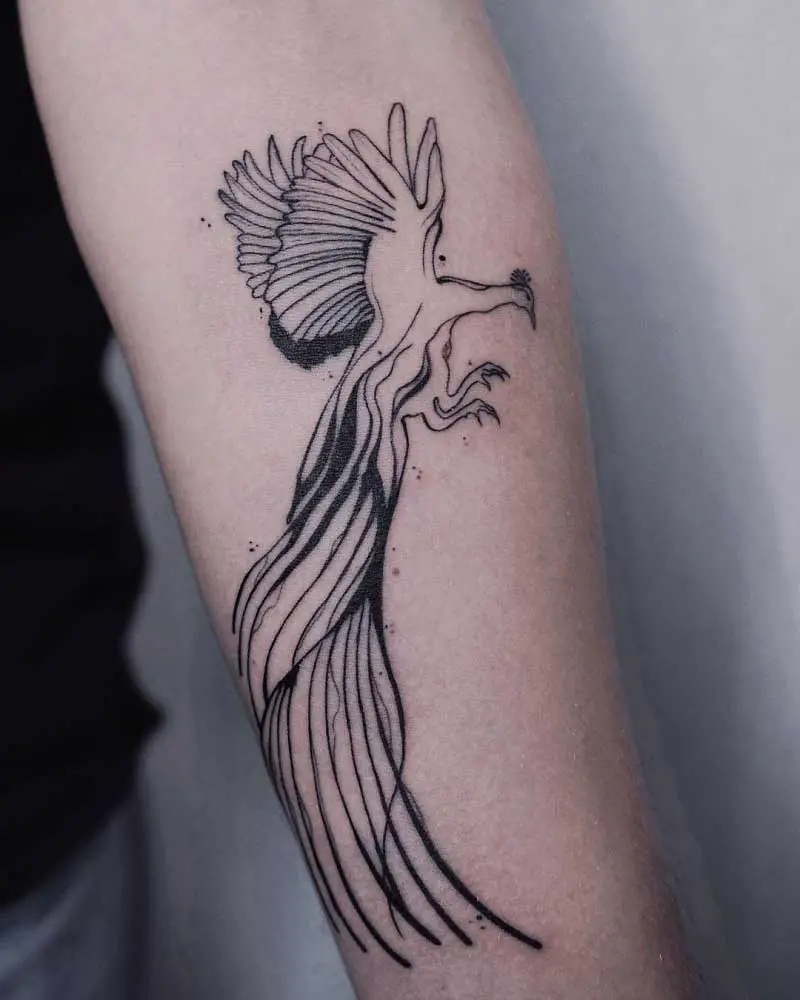 74.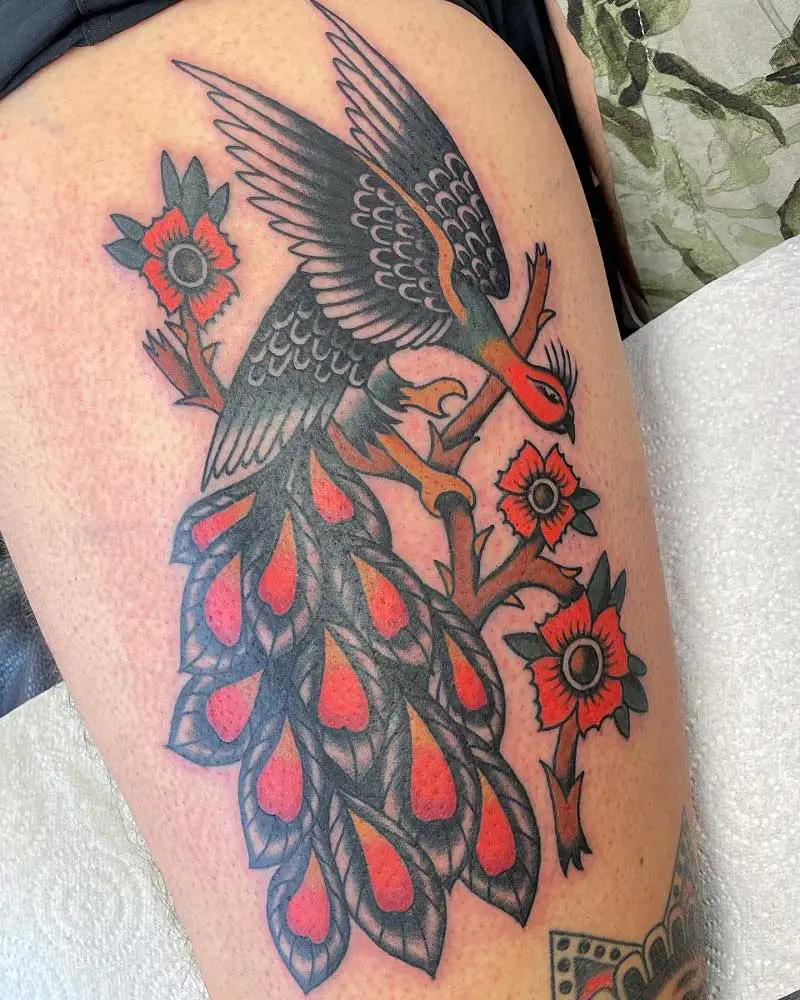 75.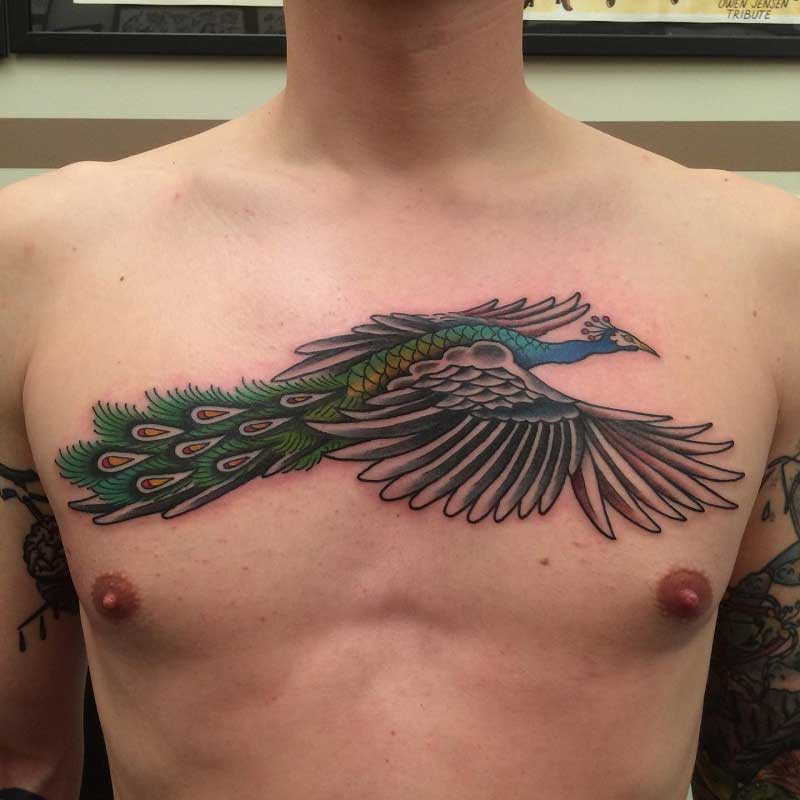 Full Body Peacock Tattoo
76.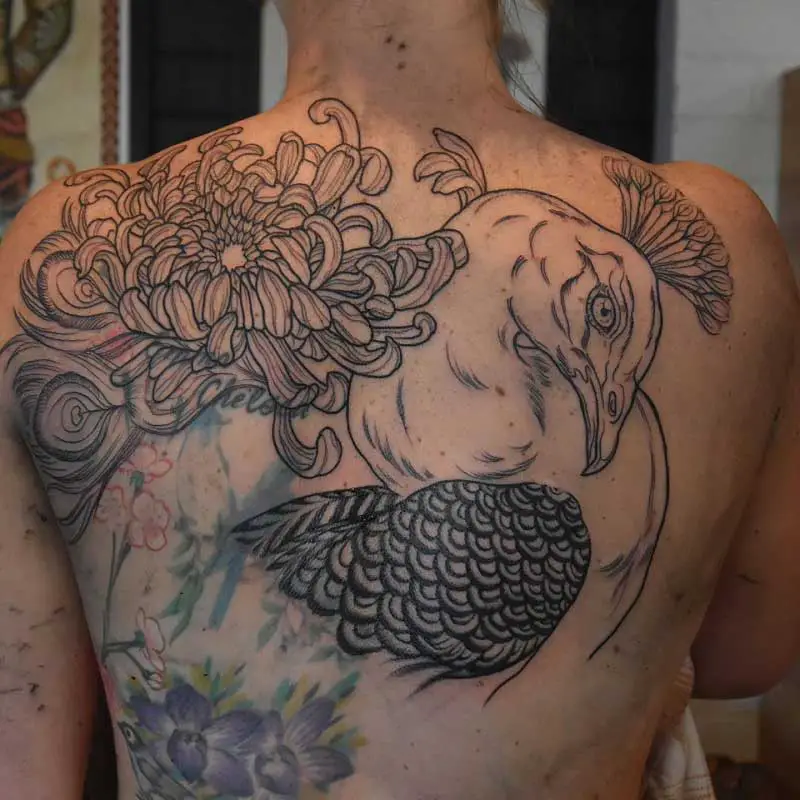 77.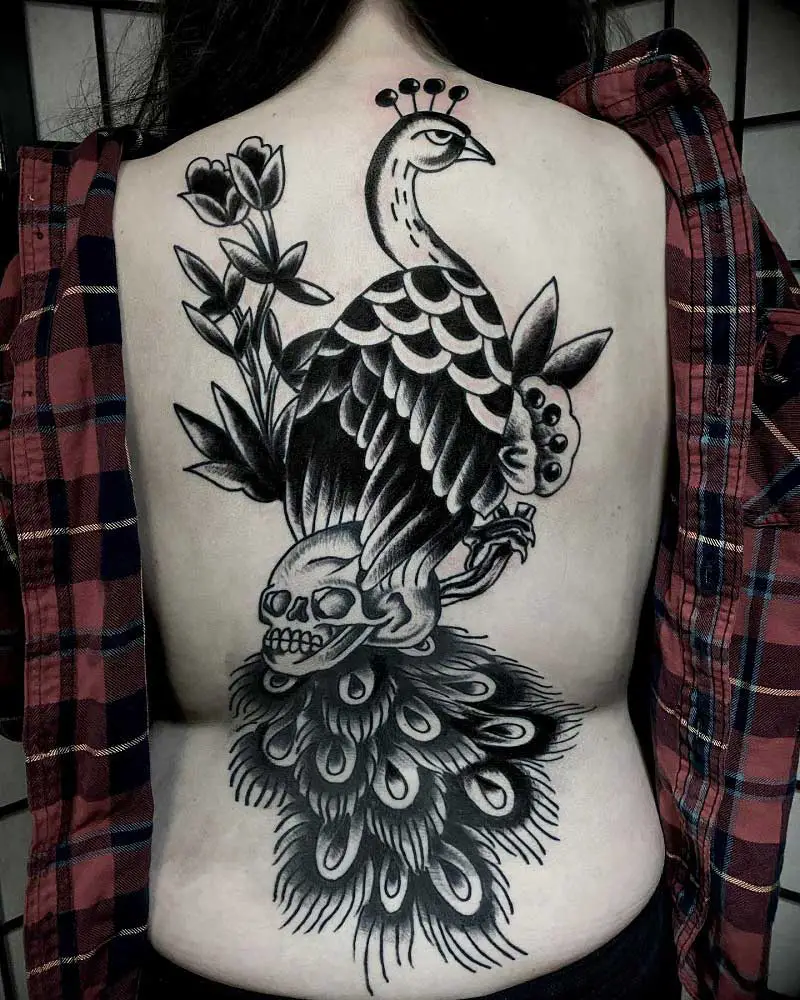 78.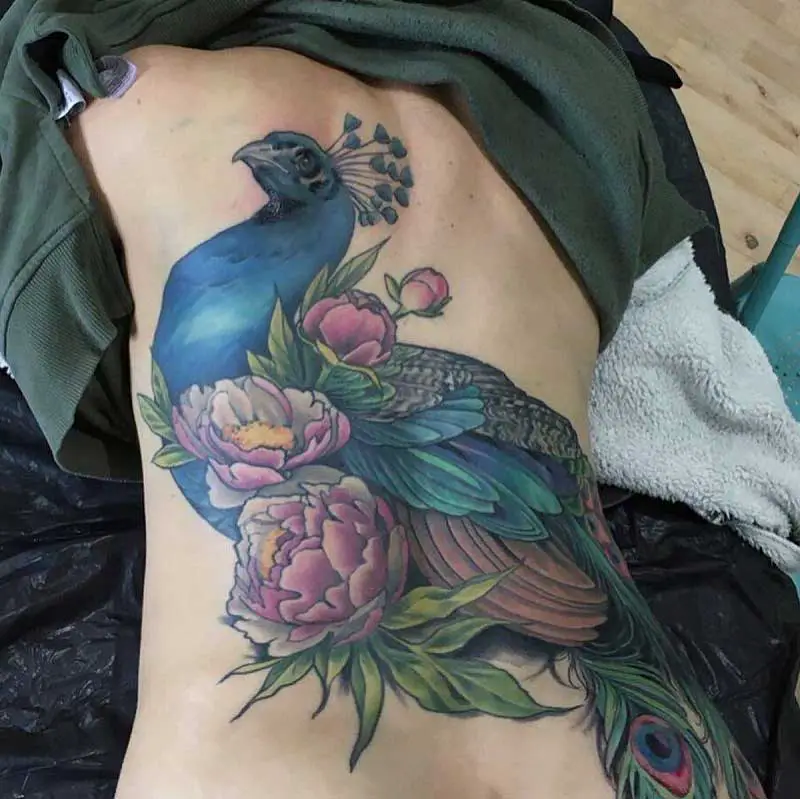 Geometric Peacock Tattoo
79.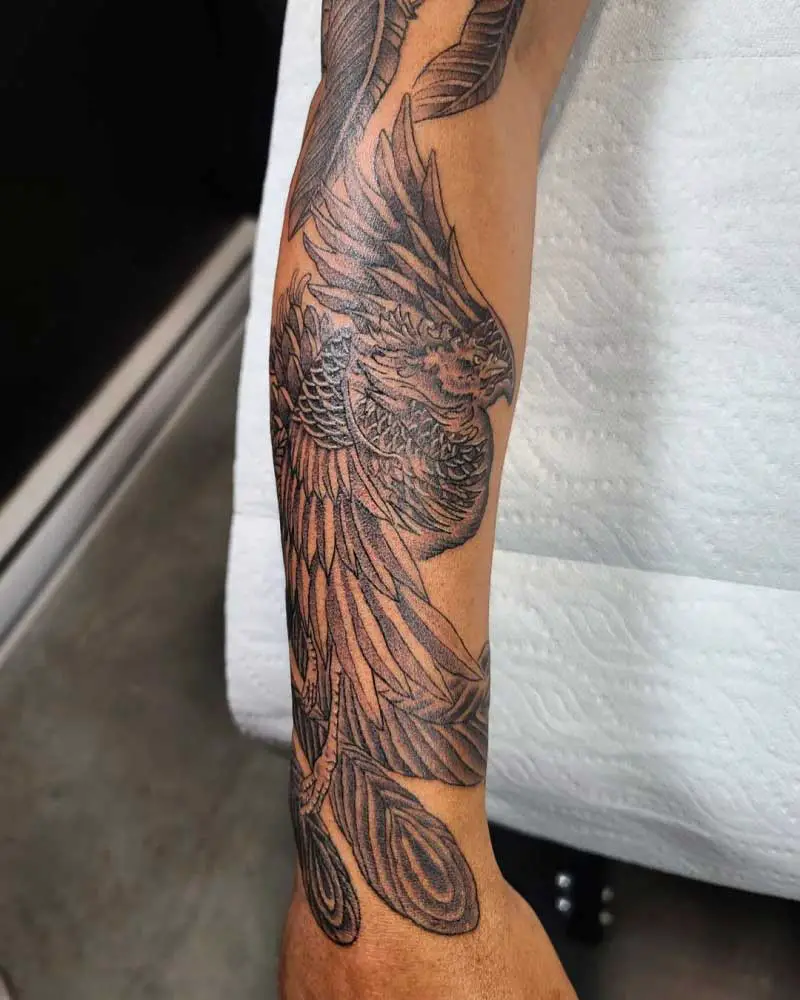 80.
81.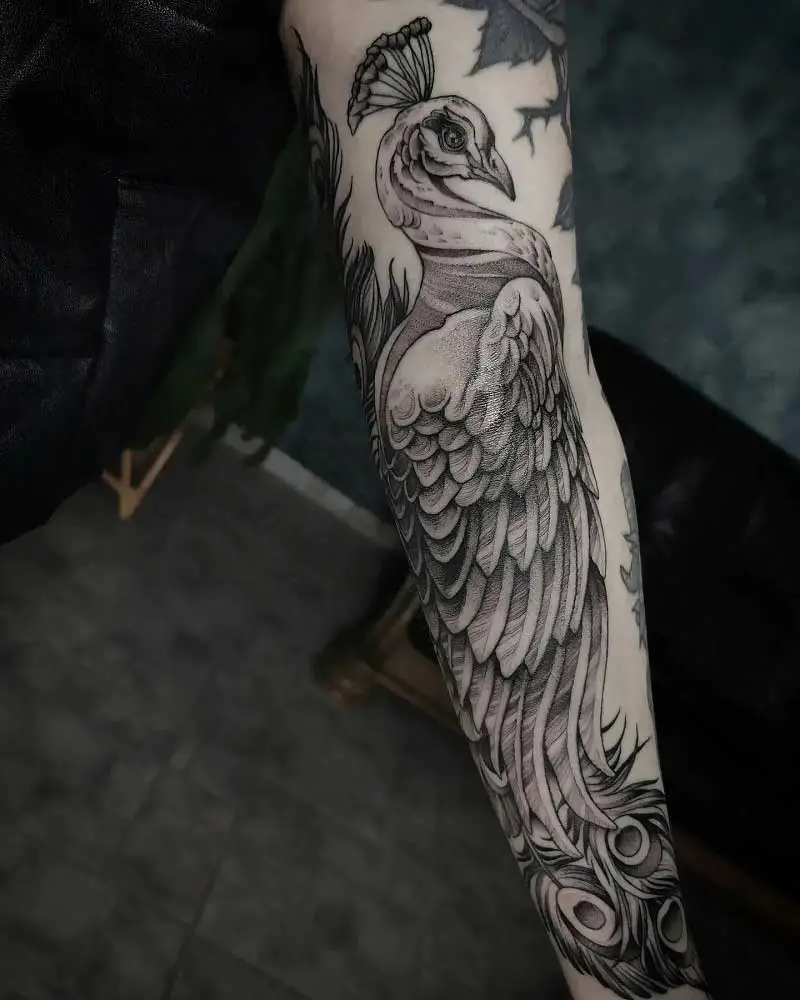 Gypsy Peacock Tattoo
82.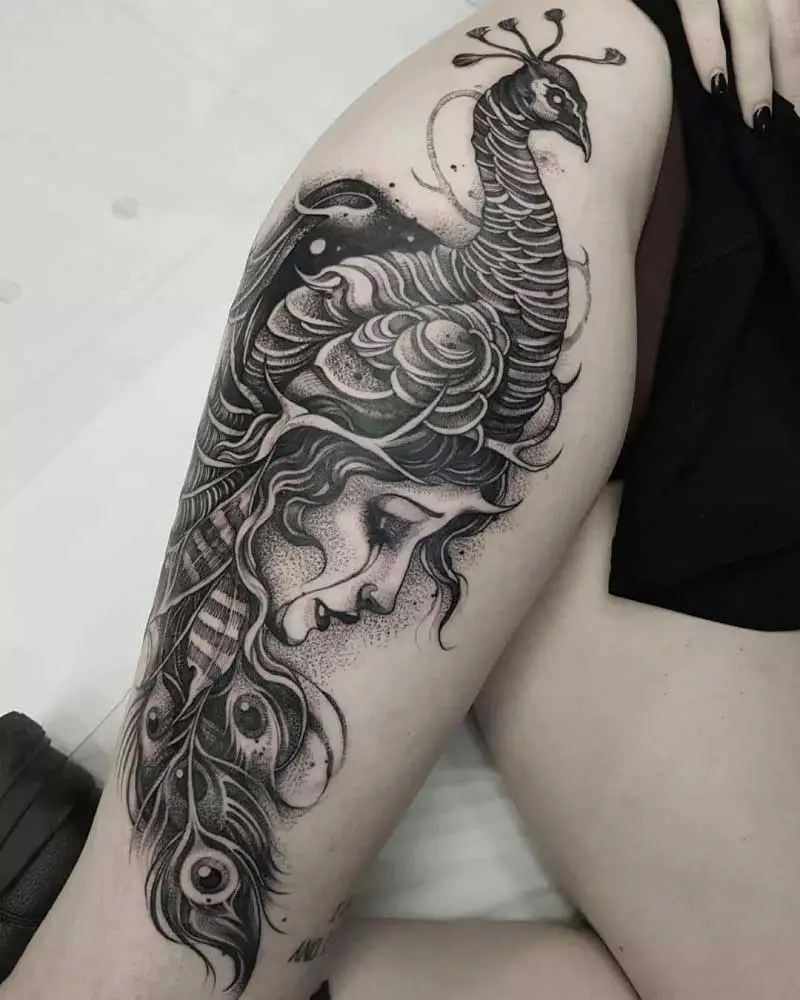 83.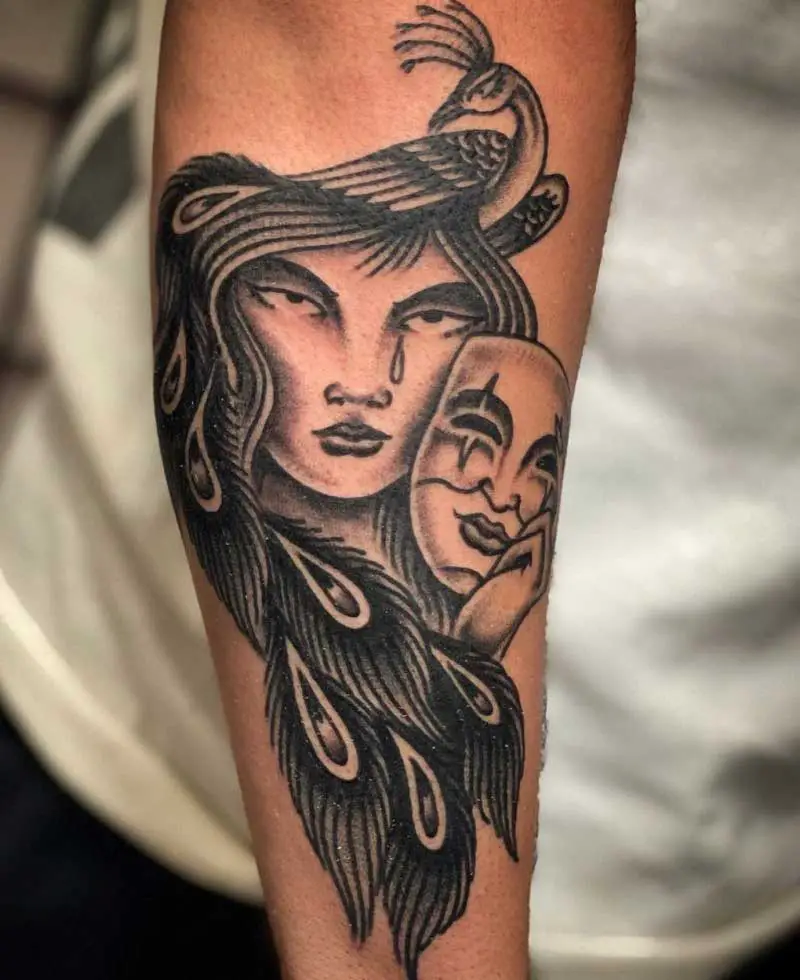 84.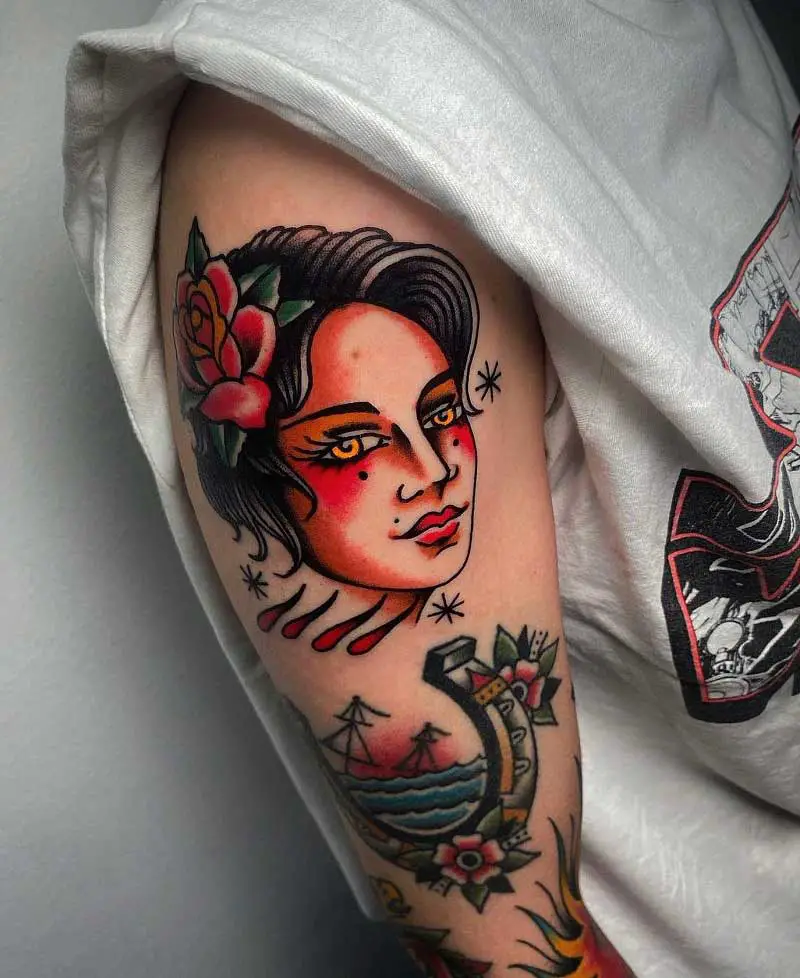 Indian Peacock Tattoo
85.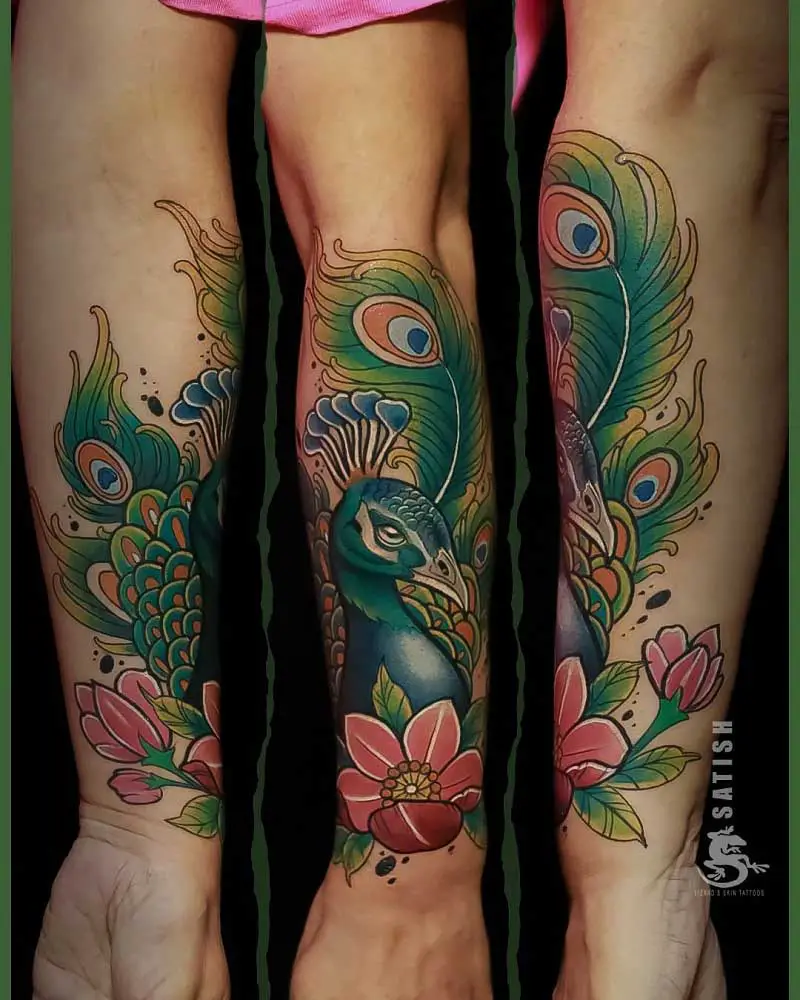 86.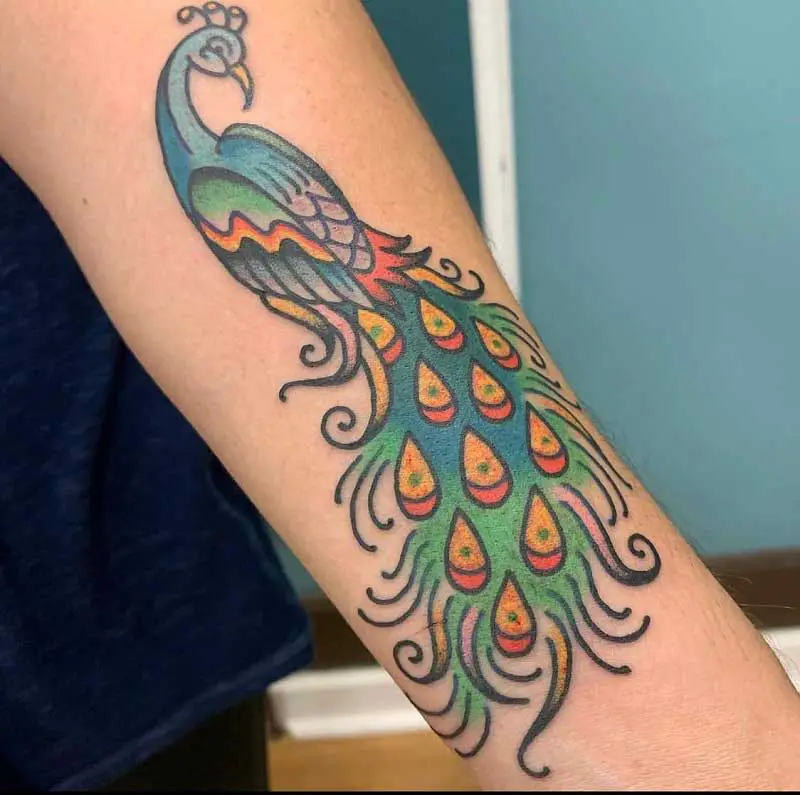 87.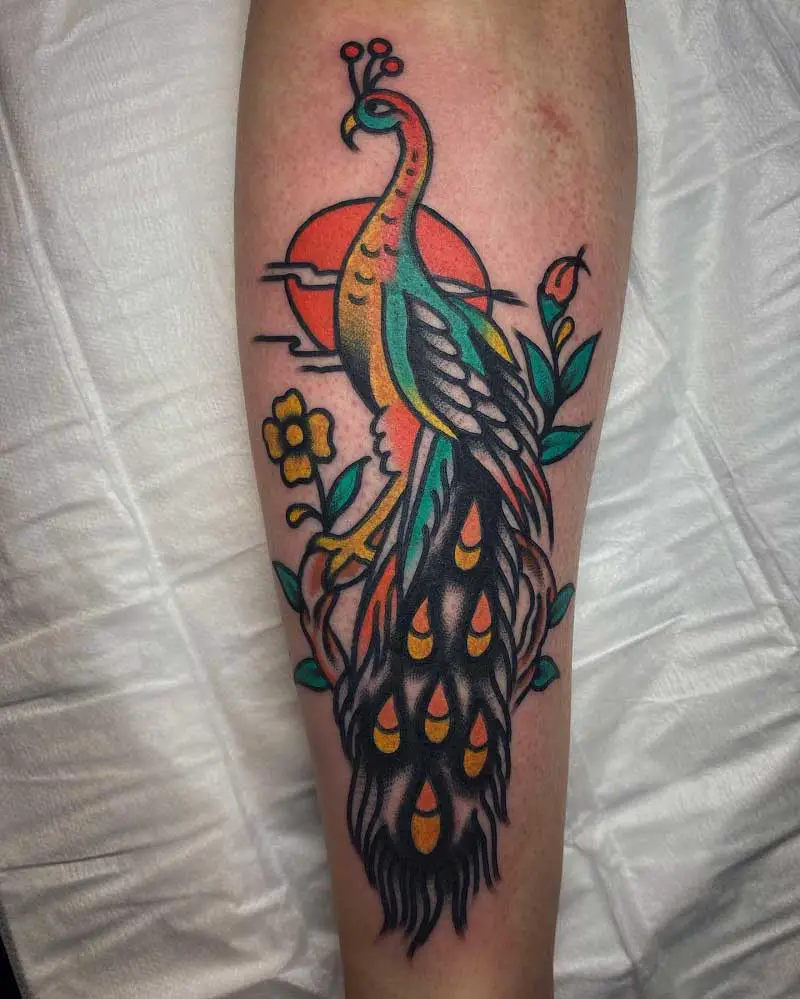 Conclusion
When it comes to peacock tattoos, choosing one design from all the drool-worthy ideas is not easy. With outstanding designs and deep meanings, these tattoos are worth all the hype. We hope that you have found the perfect peacock design for yourself from the ideas we discussed above.
Before you get a tattoo done, do not forget to consider the credibility, experience, and creativity of the artist. Now, go ahead and get the peacock tattoo you picked inked on yourself.