Buffalo tattoos will link your body to revered creatures who are known for their sovereignty. The tattoo can evolve your body mind and soul to a new spiritual illumination.  These tattoos come in bold designs. They symbolise survival, strength, endurance and rage.
On the following list, you'll have various kinds of buffalo tattoos with their meanings. The most amazing tattoos you will see in the water and native buffalo tattoo section. So, what are you waiting for? Let's plunge into the list of the most prolific tattoos in the modern era.
70 Buffalo Tattoo Designs
Most of the buffalo tattoos come with a bull face in bold ink. They are highly capable of taking attention from people. In Hinduism, Buffalo is referred to as a deity who controls death and morality. The tattoos also reflect these myths and are designed in iconic ways.
Below are 70 blistering buffalo tattoos that can have your attention as you see them.
Traditional Buffalo Tattoo
Buffalo has been worshipped in many traditions. Even most of the ancient tribes worship them. The following traditional buffalo tattoos will have a bit to reflect these traditions.
1. Tribal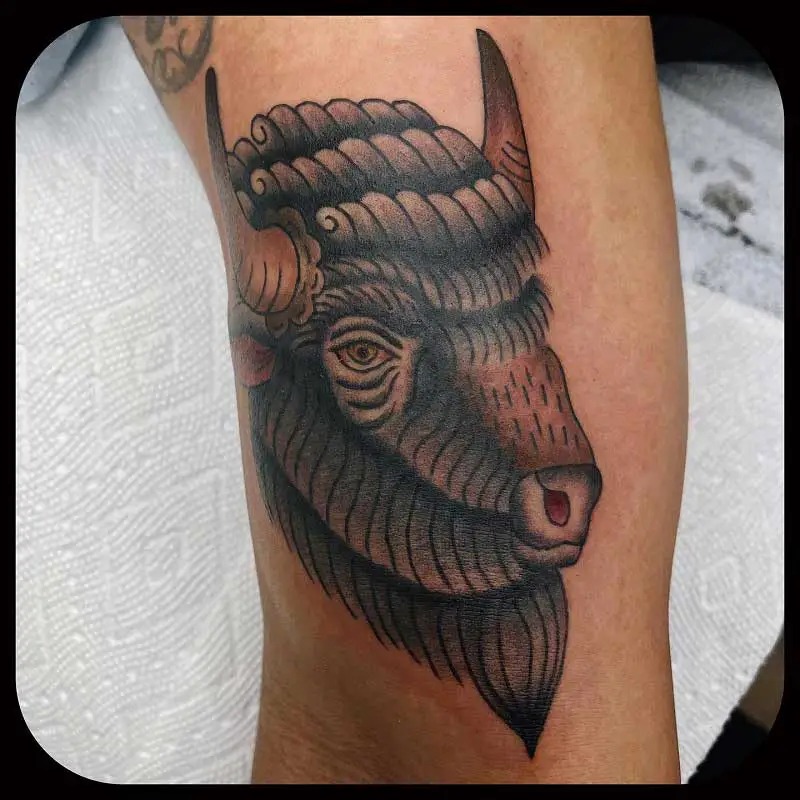 The tribal tattoo illustrates a grave face of a buffalo. The bull's expression is as common as most of the tribal members. The appearance of this bull's face also indicates its herd's outlook.
2. Tribal chief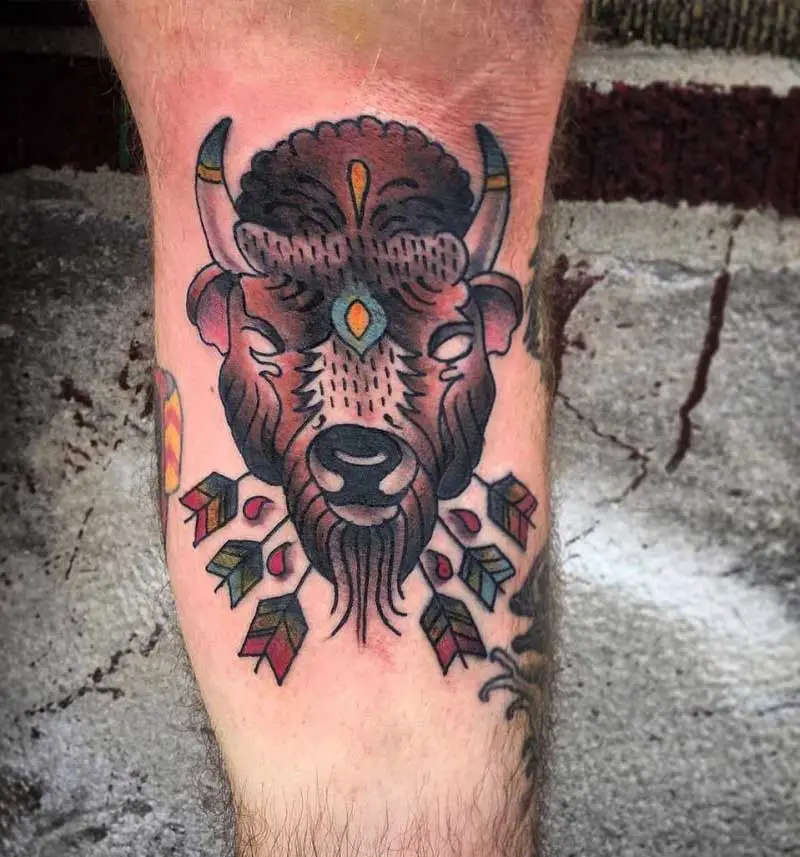 Here we get the chief of the tribal. This buffalo has reddish eyes, sun on its head, and six arrows on its face. This is like it's saving its herd by taking the arrows.
3. Herd queen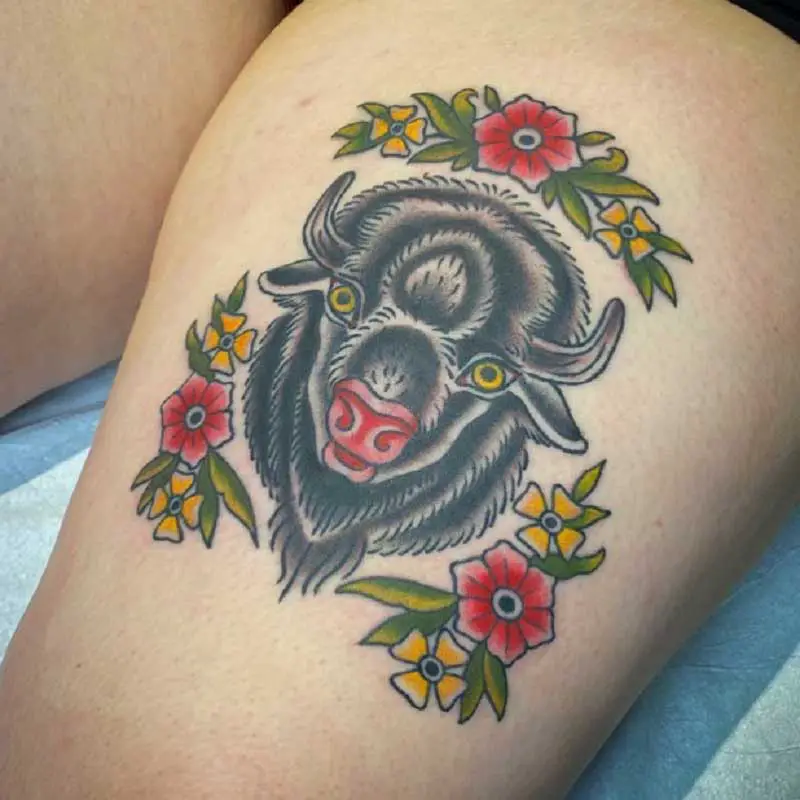 With flowers around its face, we get the herd queen, happy as always. It's like she is happy by providing many cubs ensuring the reign of her king for many years.
4. Rage bull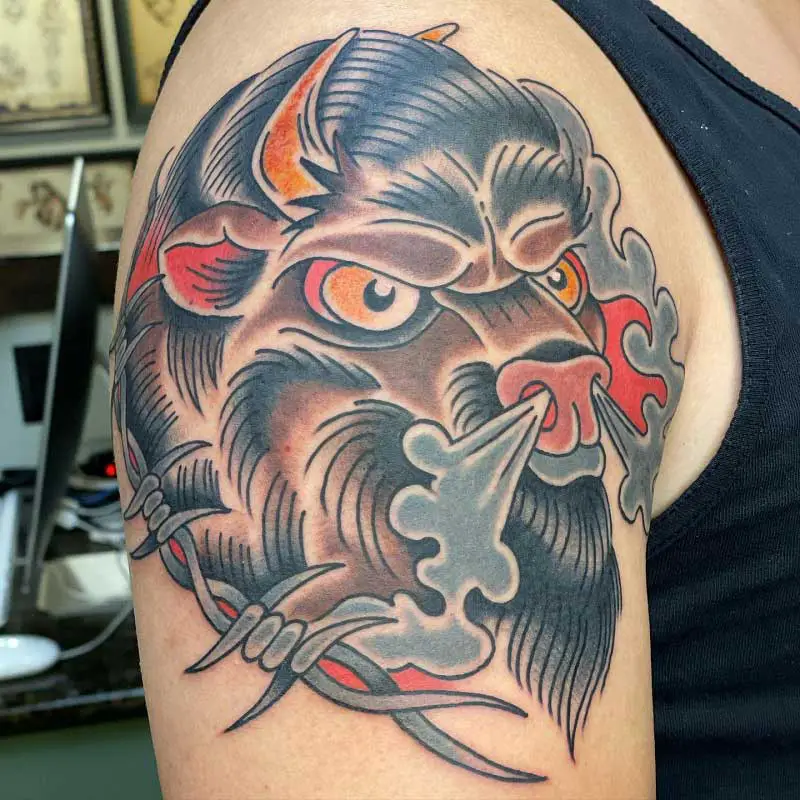 The smoke through its nose surely reflects the rage of this bull in this tattoo. Its anger is soaring like an erupting volcano. If you are a man of a hot temper, the tattoo is for you.
5. Shy bull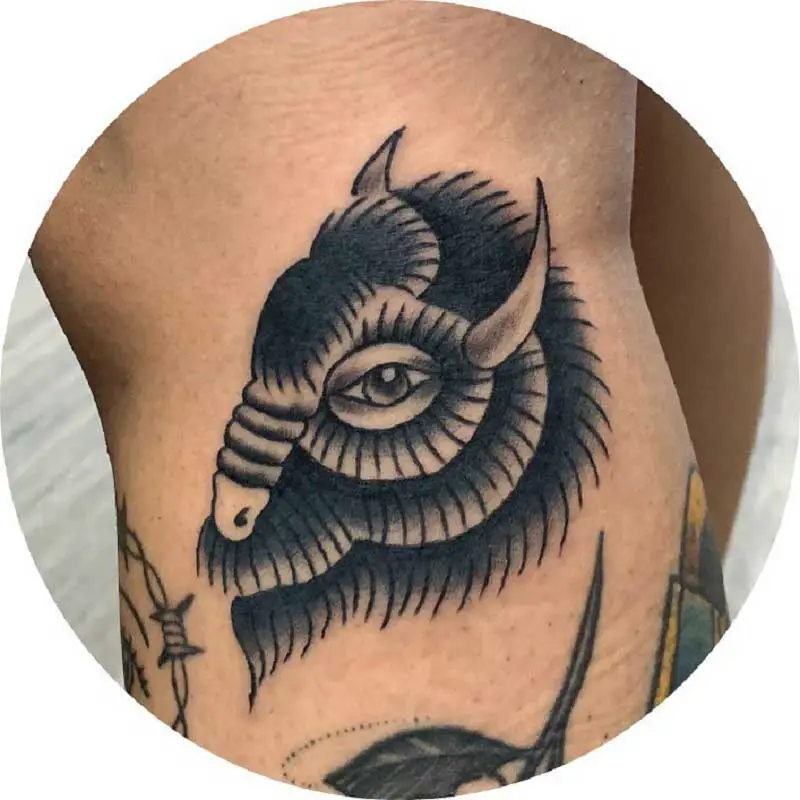 Unlike the previous bull, this black buffalo comes with a bit shy appearance. It has two small horns and an unusually innocent face. A person who relates to his shyness with this can wear this tattoo on his chest.
Water Buffalo Tattoo
Most of the tattoos in this section come in watery colors. That means, they'll reveal your real complexion through their illustration of them. Interesting isn't it? Below you'll have a much more interesting water buffalo tattoo with unique designs. 
6. Aged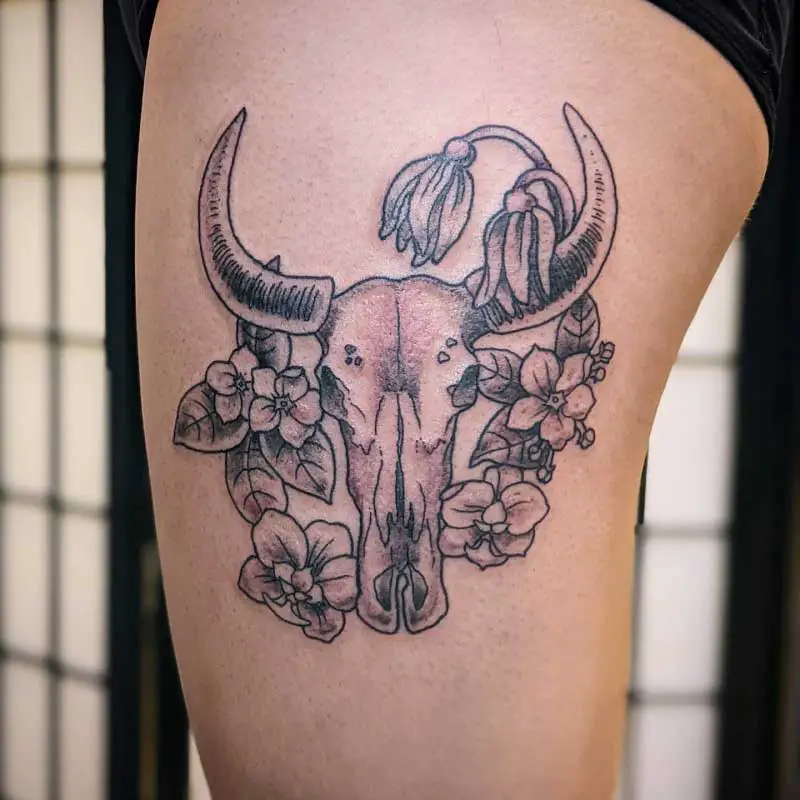 You may think it's a skeleton but it's not. This buffalo is so old that it has lost the gleam of its life. There are a few branches of a tree around its shoulder and it'll eat the leaves till its last breath.
7. Gazing bull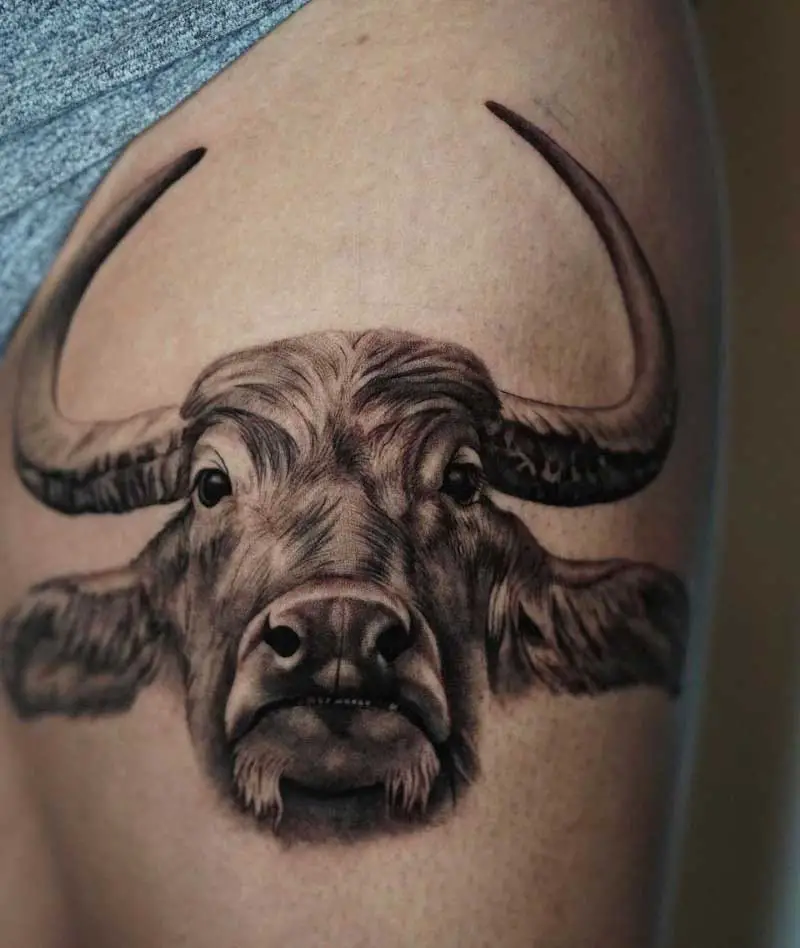 Bull gazing is always dangerous, not only for humans but for other animals as well. Here we see a buffalo looking straight at you. The look is scary yet a bit confusing as well.
8. Thug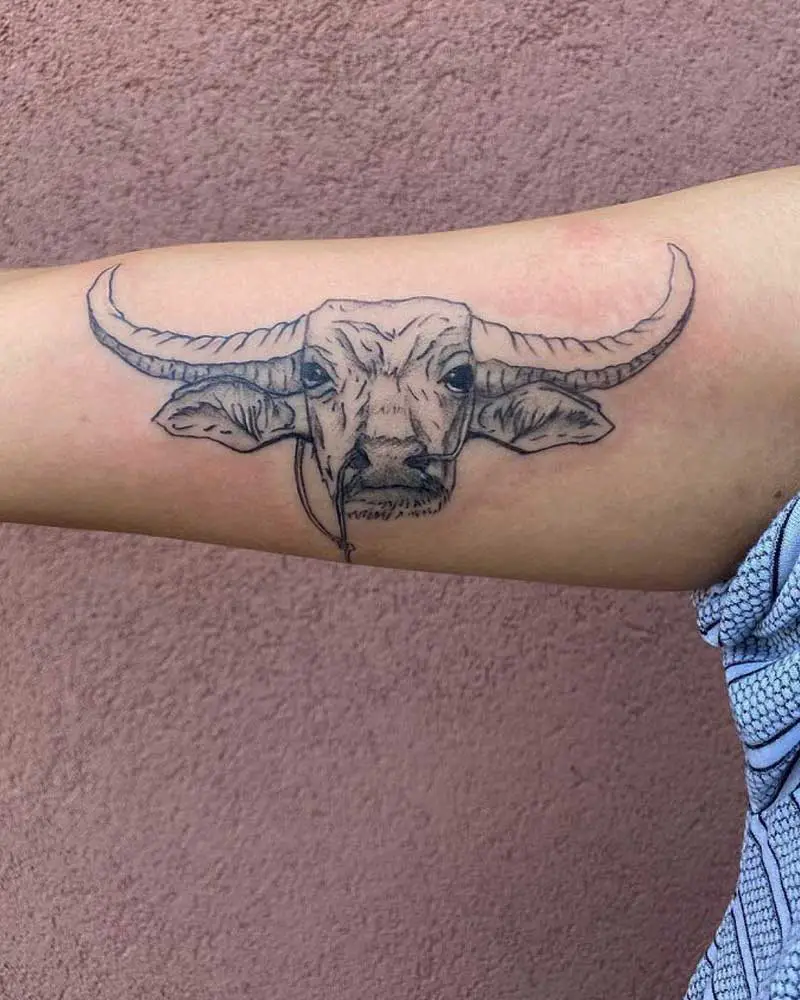 The thugness will be shown through this tattoo as it appears with a thug bull face. The way the buffalo looks in this tattoo is simply savage. Your bicep would be the best place for this tattoo.
9. Untamed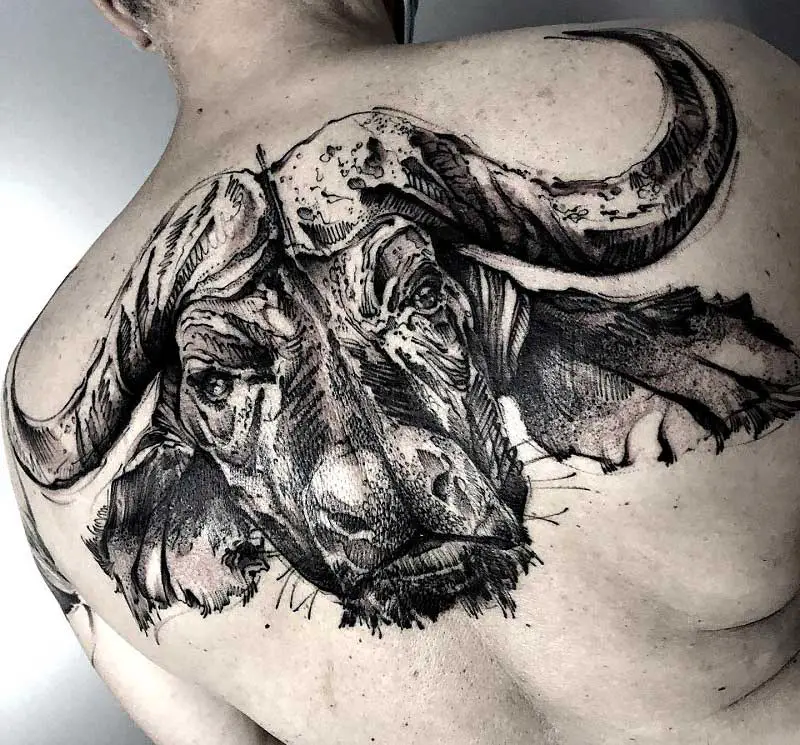 This untamed tattoo is literally so big that it covers all the space wherever you put it on your back. The buffalo that comes with this tattoo looks hard to take control of. The scary face of this bull makes this tattoo gorgeous.
10. Calm heart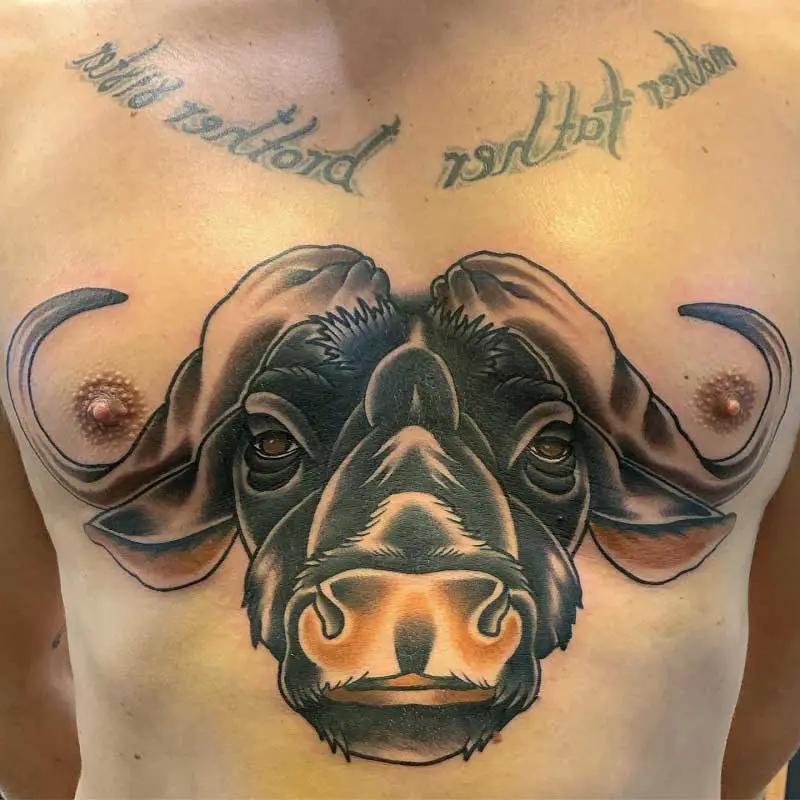 There is probably no buffalo with a calm heart. But you can see such buffalo in this tattoo. With its soothed eyes and cool gesture, the buffalo has something eye-pleasing.
Native Buffalo Tattoo
Buffalos are native to Africa and Asia. These are ancient in their species. You'll have a glimpse of them in this section most charmingly. The tattoos mostly appear in dark colors. 
11. Fury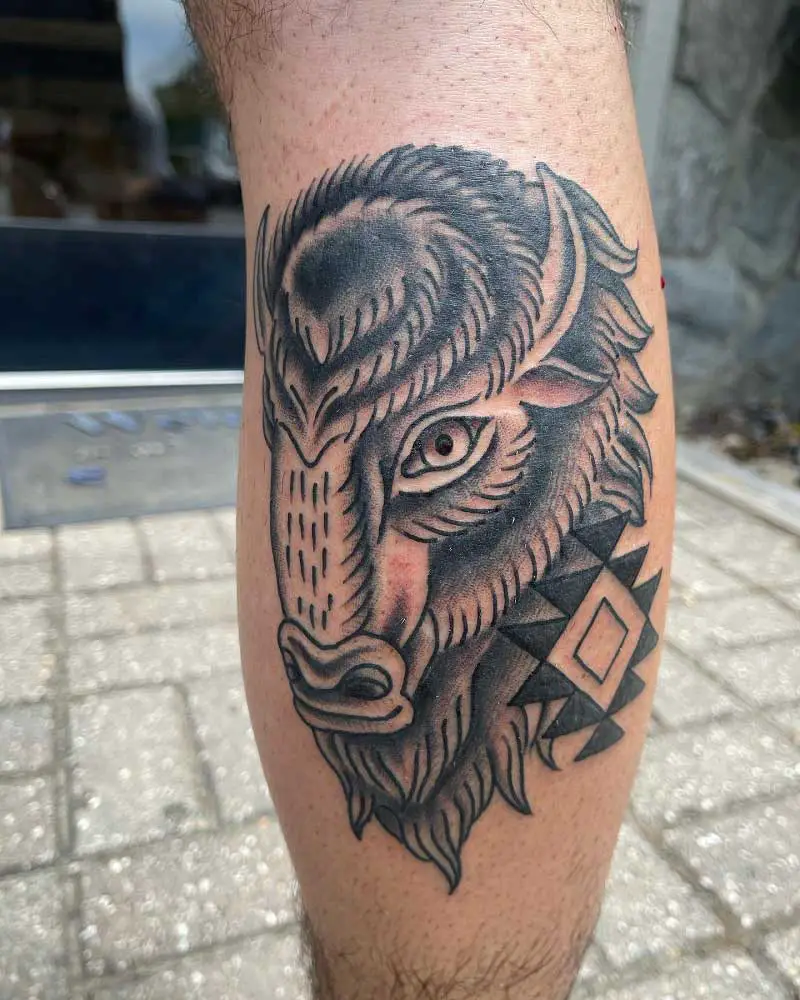 The anger of a bull reflects through this fury tattoo. It is black and suits nicely with white people. The bull that appears has a tad similarity with a horse face.
12. Festival bull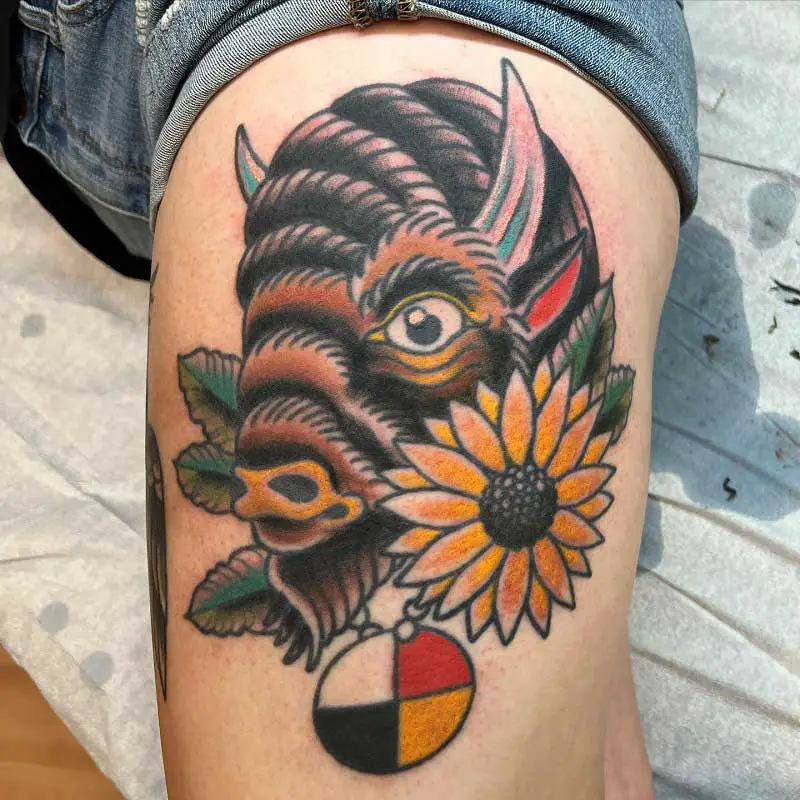 A bull with a sunflower simply illustrates a festival. This buffalo looks cute and adorable. Though most buffalo tattoos are manly, you can wear this if you're a female.
13. The bull of medusa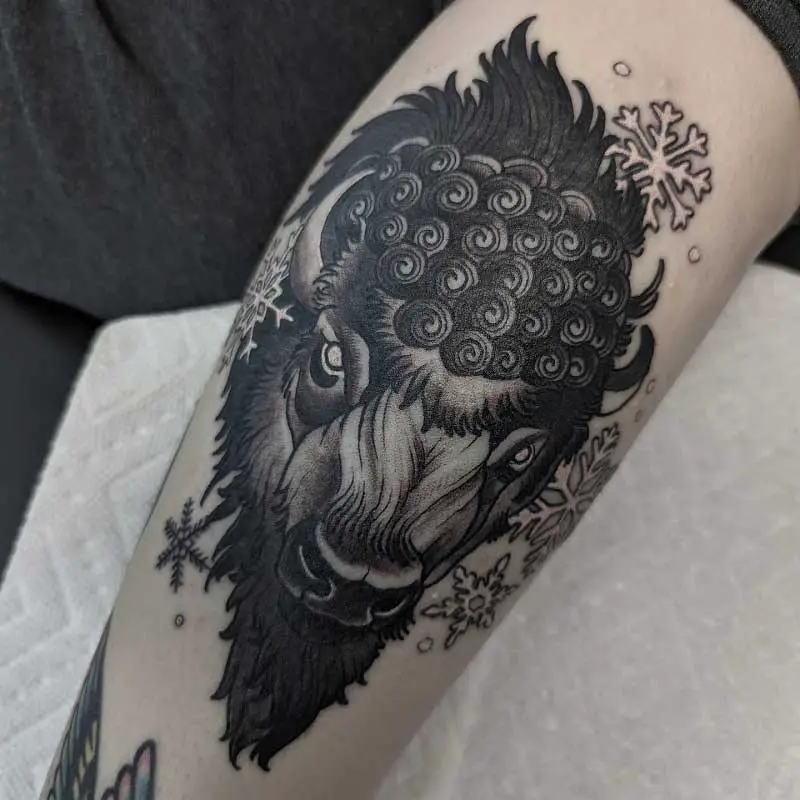 We know the snake-haired medusa from Greek mythology. Here we see a bull of snake-haired. The tattoo is simply iconic and appears in dark colour.
Electric Buffalo Tattoo
Electric buffalo tattoos don't come with electricity though, they consist of great meaning and vibe. Most of these tattoos reflect spiritual illumination with their fascinating designs. Don't miss to take a glance at this part with a bit more attention. 
14. God of mountain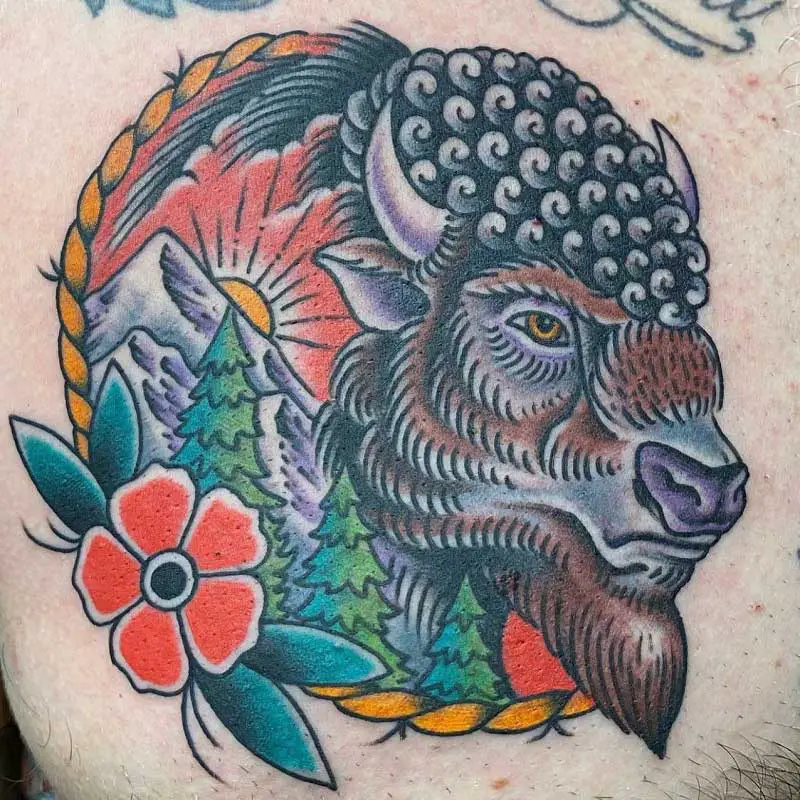 Here you see the most glorious buffalo with snake-haired and a number of flowers surrounding it. You can see a sun illustrated in its body. Apparently, it looks like a god of mountains in this tattoo.
15. Tribal bull
The buffalo we see here is yelling. It probably yelling for its herd to follow their tribe. As the tattoo is so dark, people with white complexion will fit it appropriately.
16. Flaming bull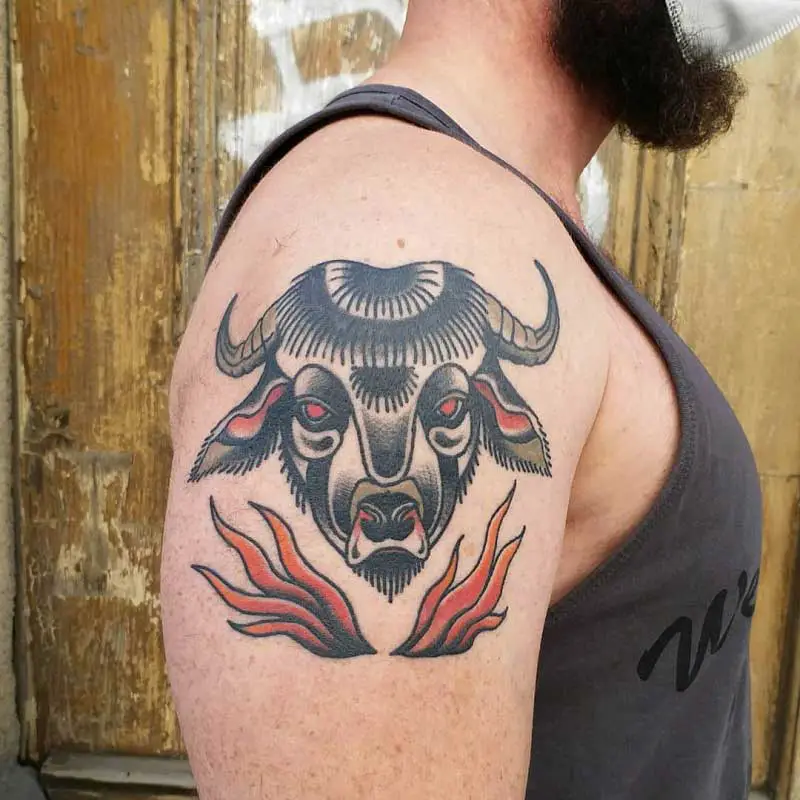 A buffalo face with a flame surely reflects the tribe of a buffalo herd. The buffalo has got a tantric look and appears as some kind of God.
Cape Buffalo Tattoo
African buffalo are referred to as cape buffalo. They have survived a long journey and still exist with great strength. Their gorgeous tattoos will surely please every bit part of your mind. 
17. Enraged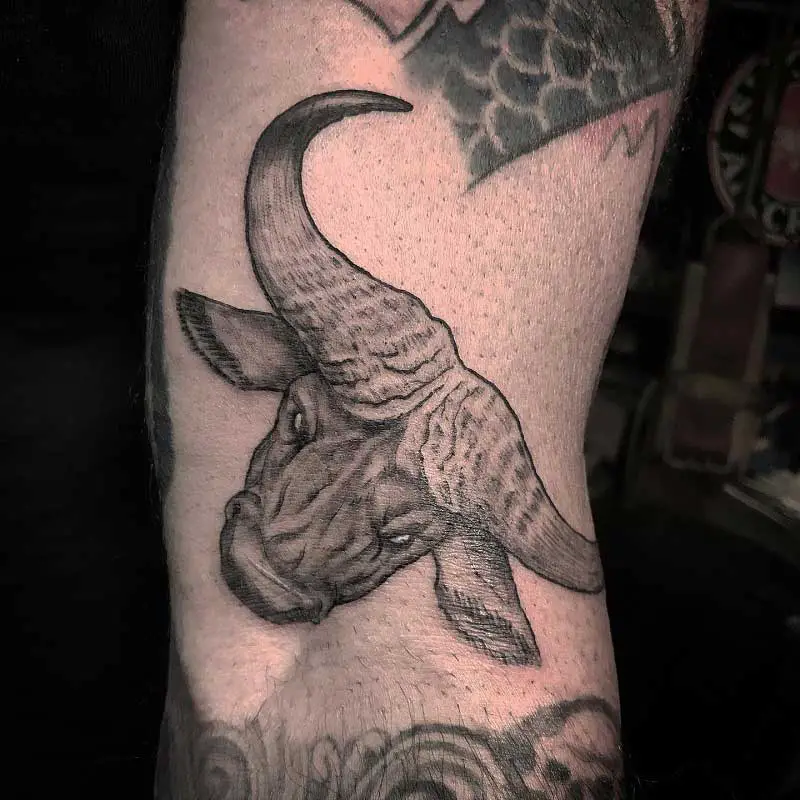 Here we see another angry face of a buffalo. This one is small though, it has two scary large horns. The tattoo is small, so you can wear it on your sleeve.
18. Native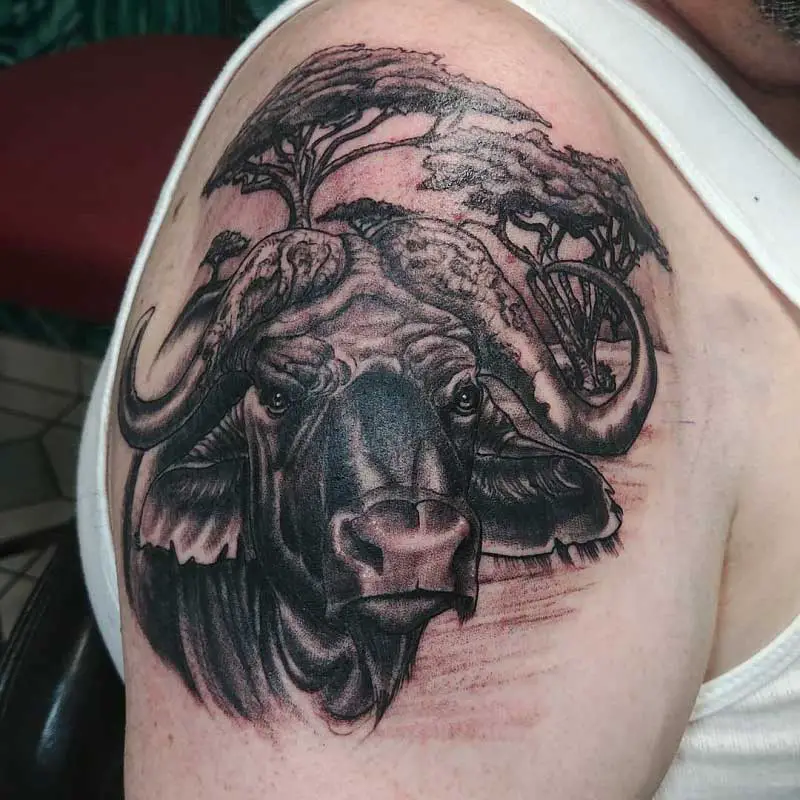 A native buffalo is always from Africa. This one appears with its large face and horns. There is also an illustration of trees in the background. If you have a big arm, it'll suit you best. Even if you are skinny, you can wear it on your chest.
19. Strong but tired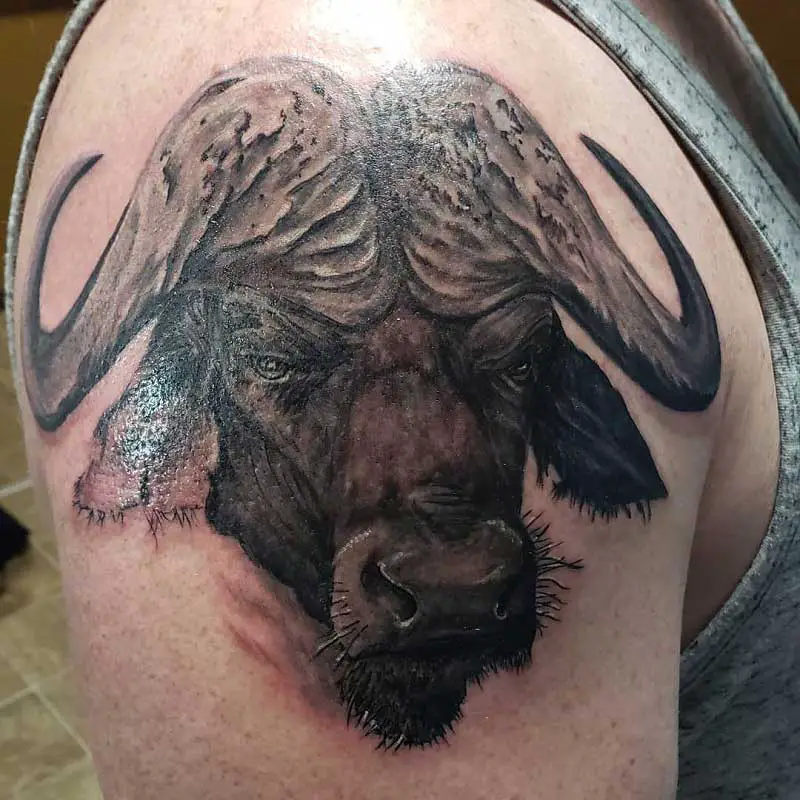 Here we see an old buffalo looks so strong but tired. It looks like it's tired of leading its folk. Two immense horns though indicate its strength massively.
20. The Thumping Crowd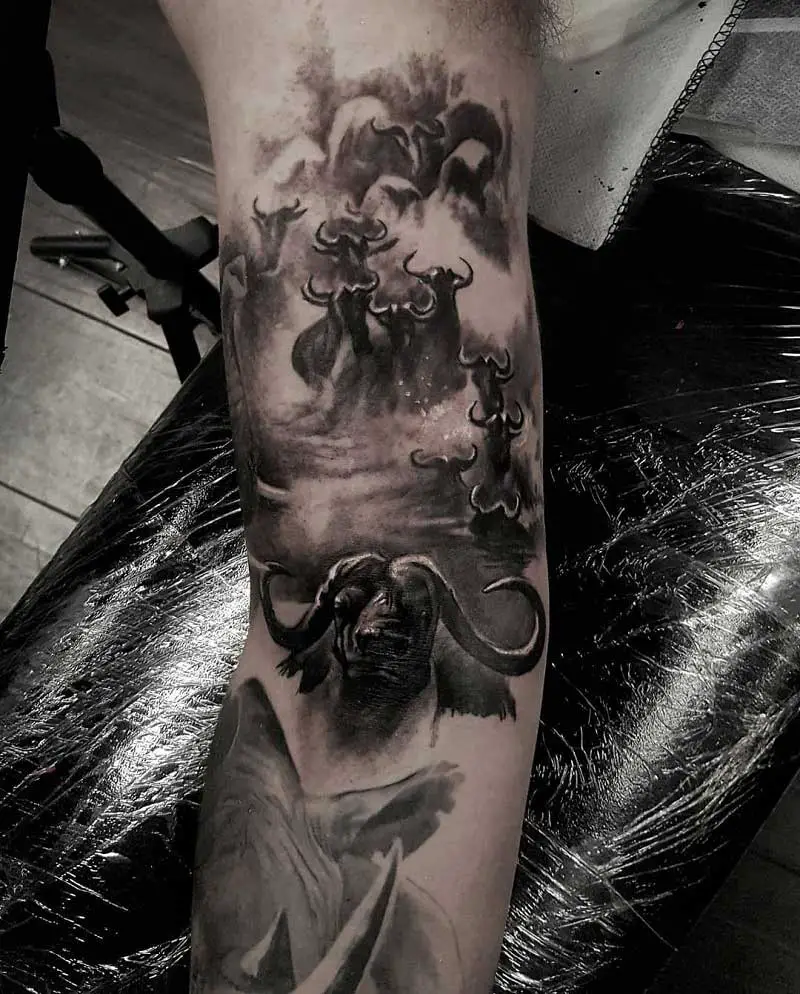 This is the most unique tattoo so far. Why? Because you'll get a group of buffalo running towards you with a thumping speed. Wherever you wear it, the tattoo will reflect a blaze of wildlife.
21. Shadow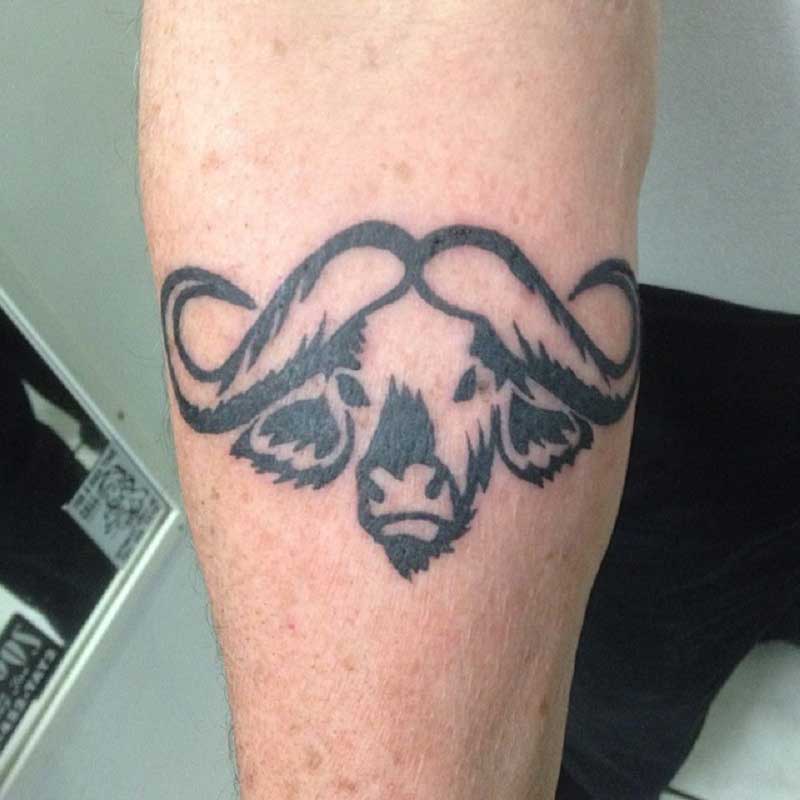 This tattoo doesn't illustrate a buffalo yet a macabre silhouette of it. It looks kind of pencil art. The tattoo is small and easily fitted on any space of your body.
Geometric Buffalo Tattoo
You might not like geometric subjects in your student life but the buffalo tattoos with geometric style will make you thrilled. Here you can have unique ideas and designs as well. 
22. Cubist bull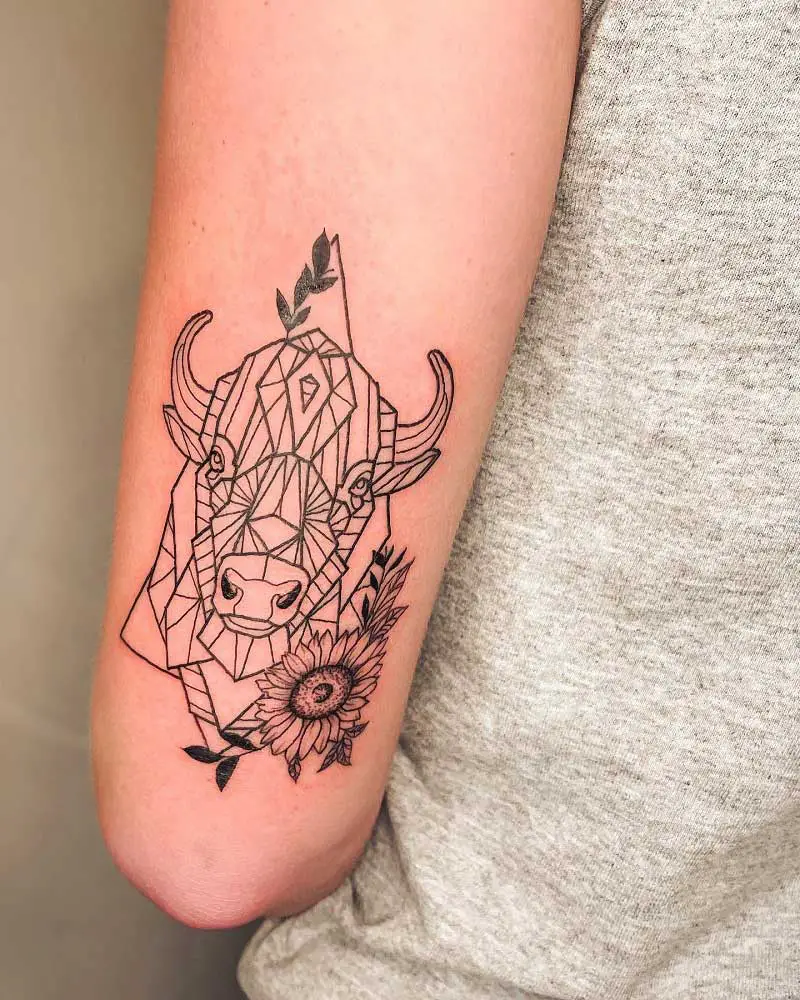 This bull comes in a cubist style with a sunflower underneath it. If you are a fan of cubist art, you will like this tattoo. The tattoo can fit on a woman's sleeve nicely.
23. Bull of gem
The illustration is of diamonds in bull face shape. This is why it is called bull of gem. This buffalo tattoo is suitable for anyone of any complexion.
24. Bull and bull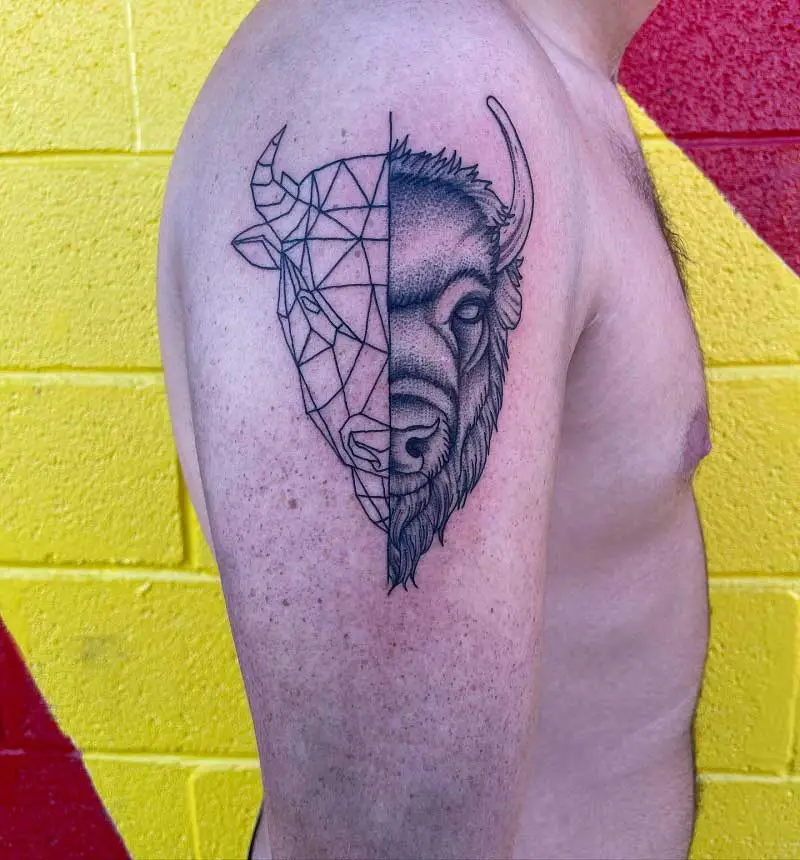 Now you see the diamond art and the real art side by side. Both of the bull faces have an angry expression. If you are a man of two different personalities, you can wear this tattoo.
Simple Buffalo Tattoo
Simple buffalo tattoos come in the simplest design. However, they are eye-catching as well. Wearing these tattoos will give you the simplest yet the most charming look.
25. One-line bull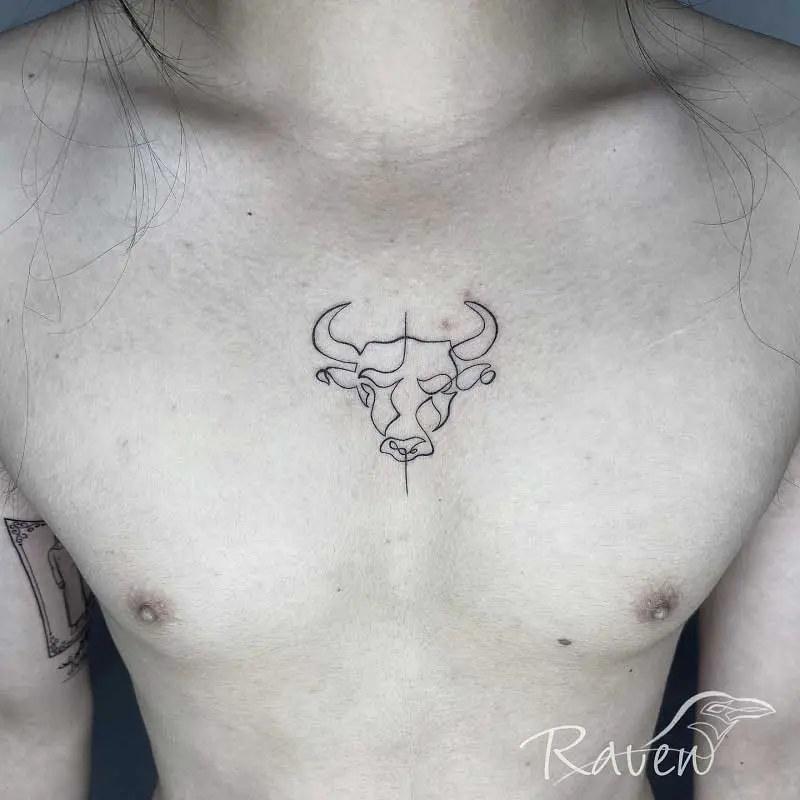 The watery colour of this tattoo makes it unique. It's the simplest tattoo you can have. Just a line scratch can change the entire look of your body significantly.
26.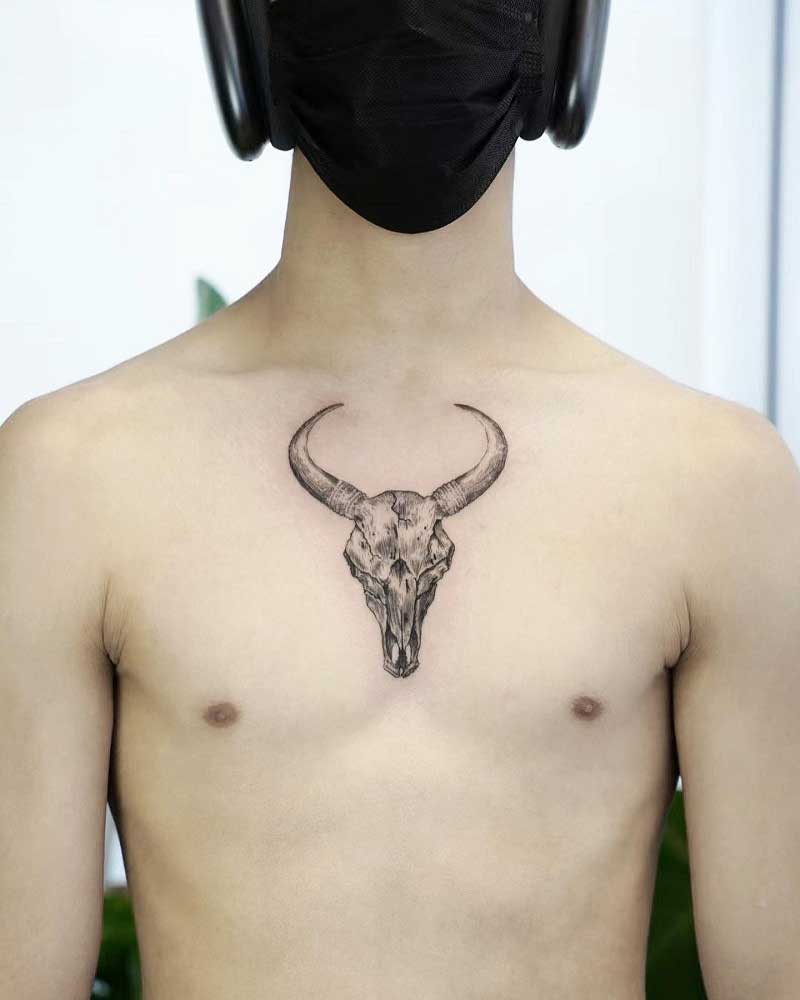 27.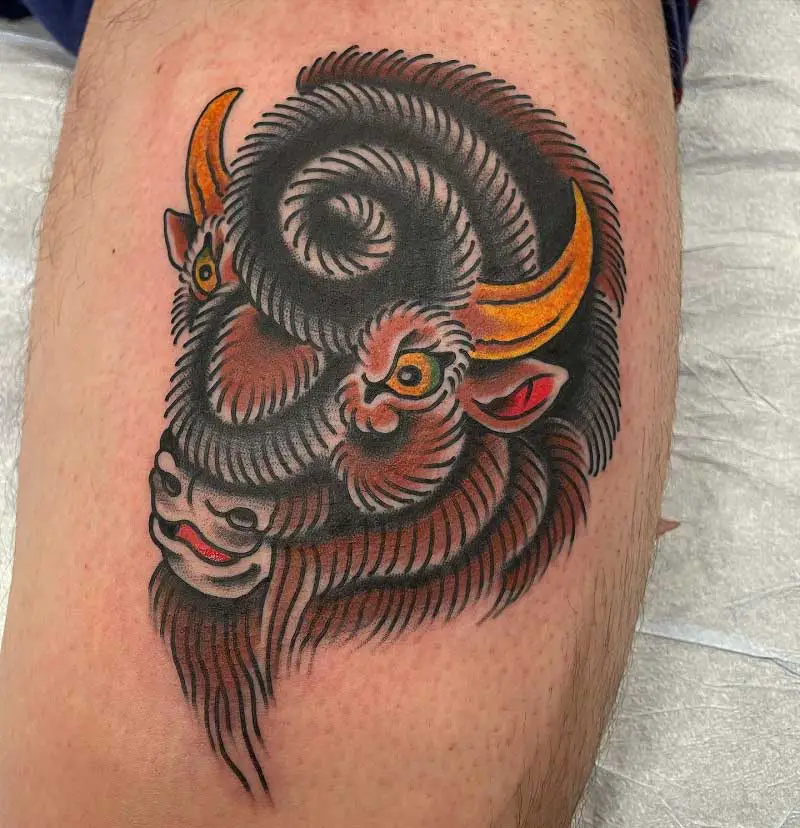 28.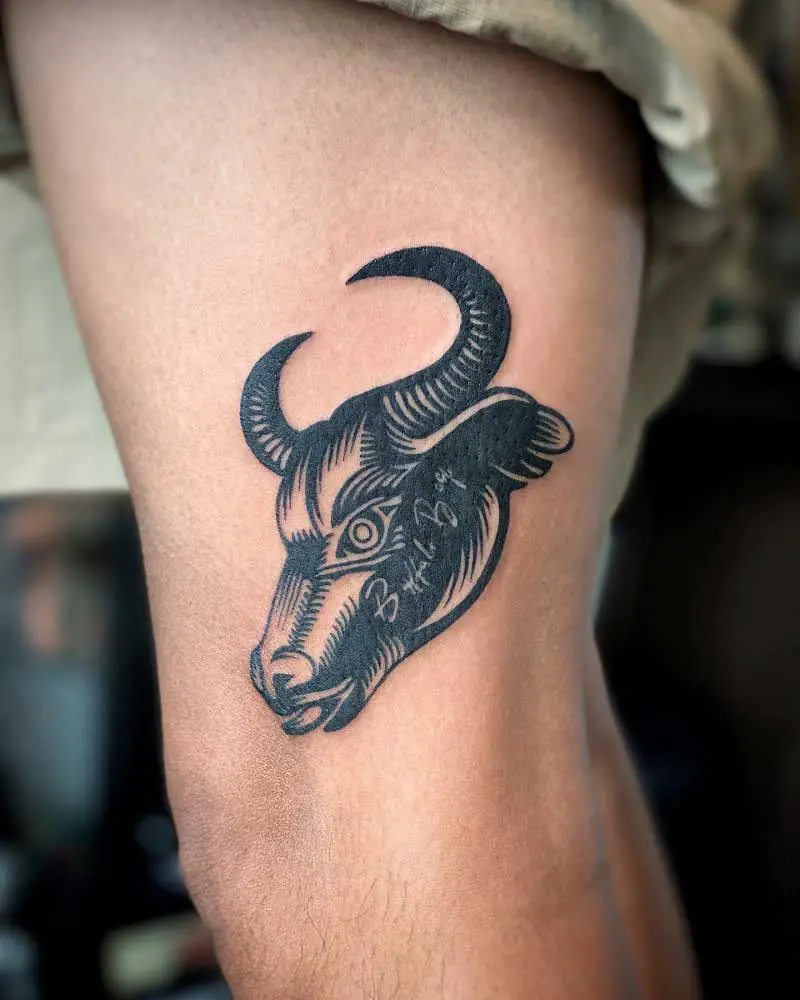 29.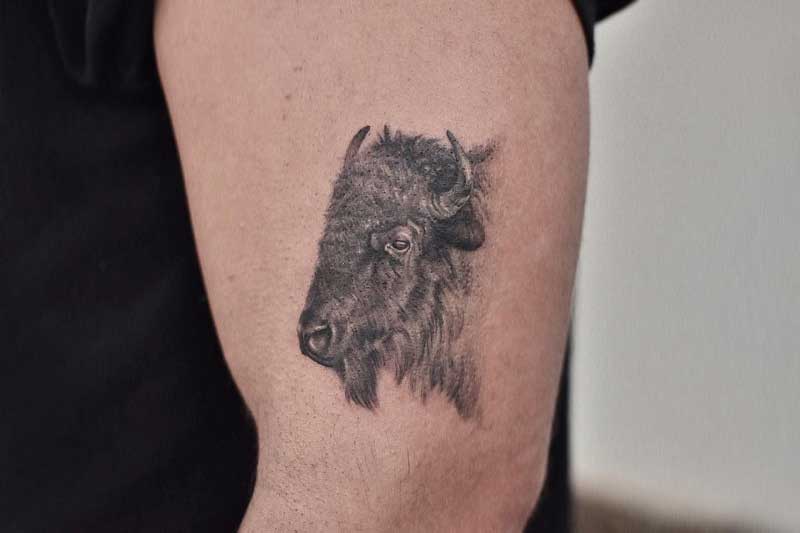 Tribal Buffalo Tattoo
30.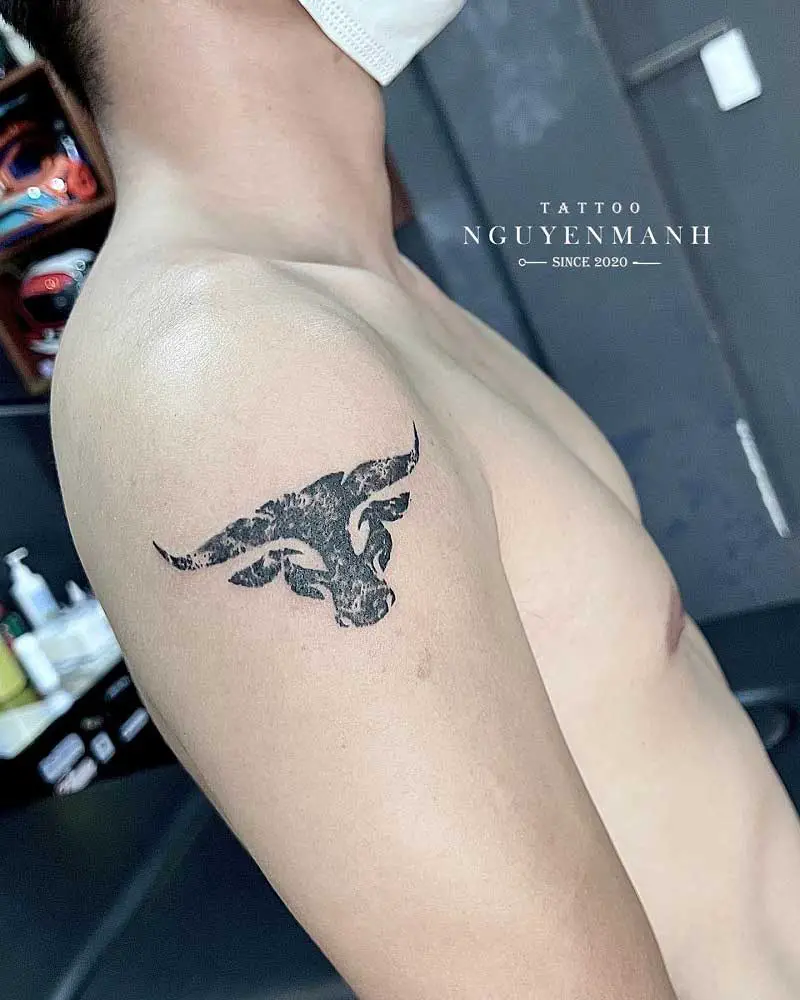 31.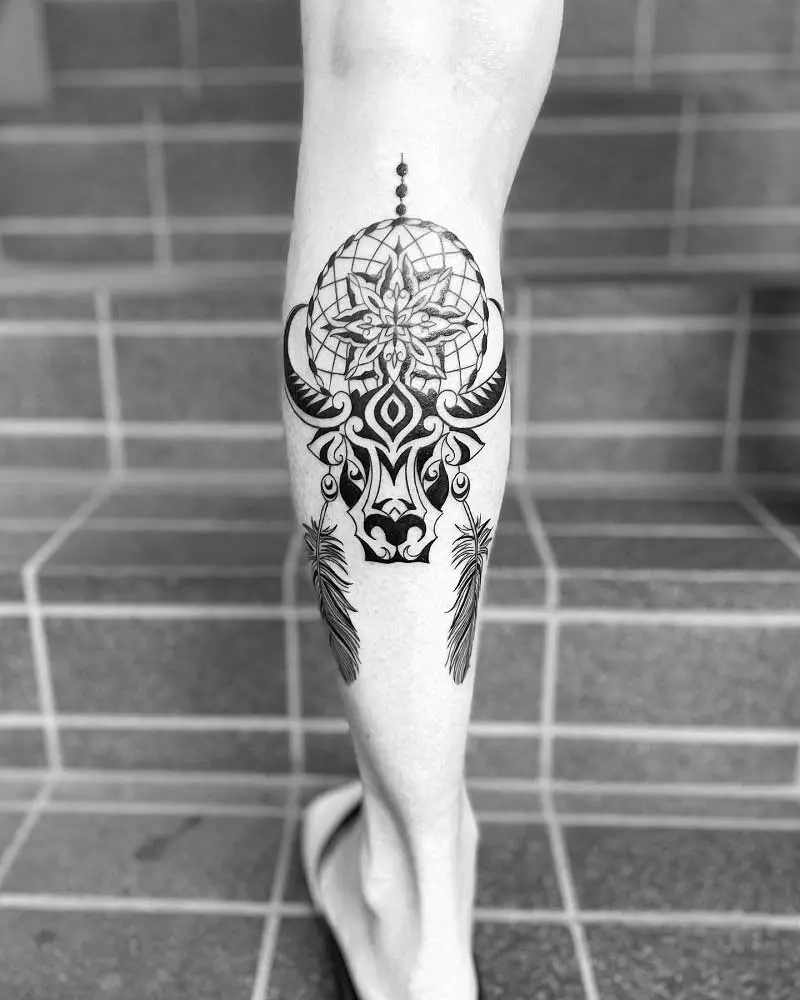 32.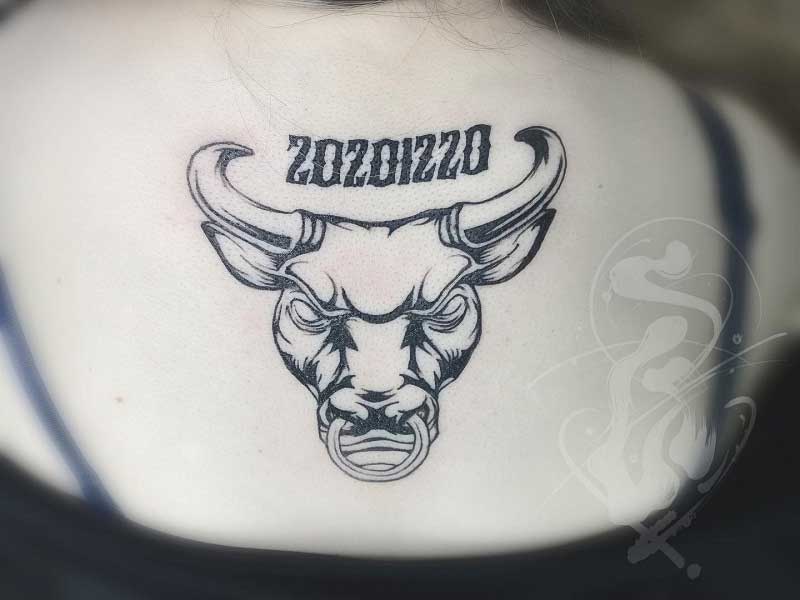 33.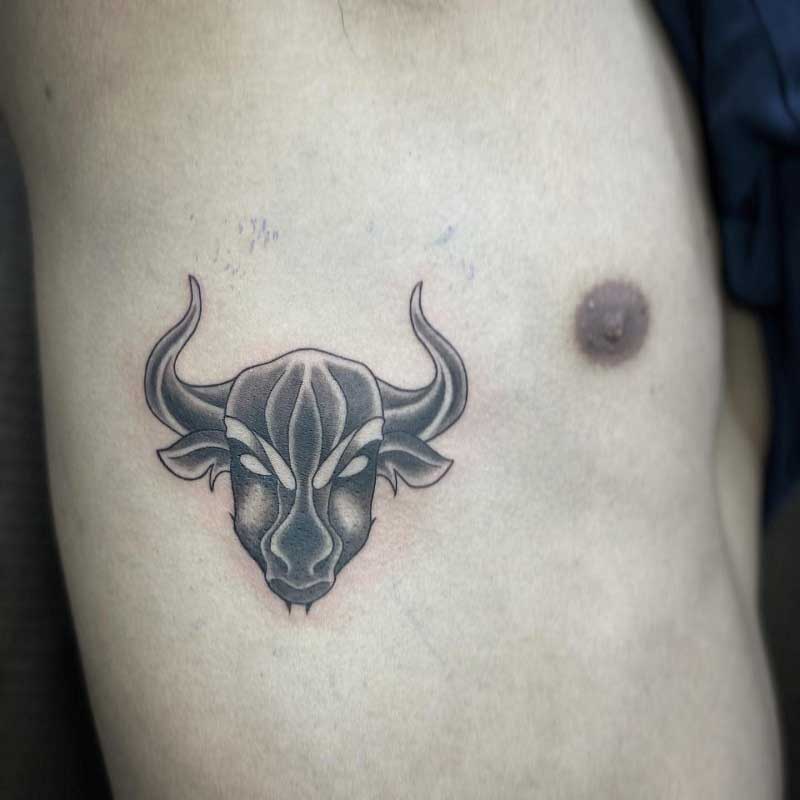 34.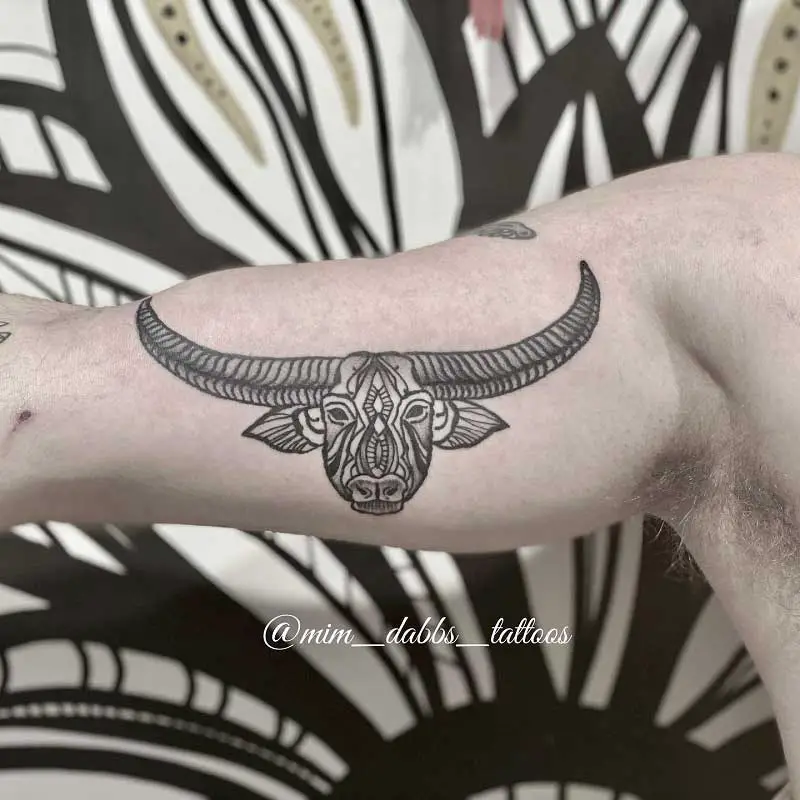 American Buffalo Tattoo
35.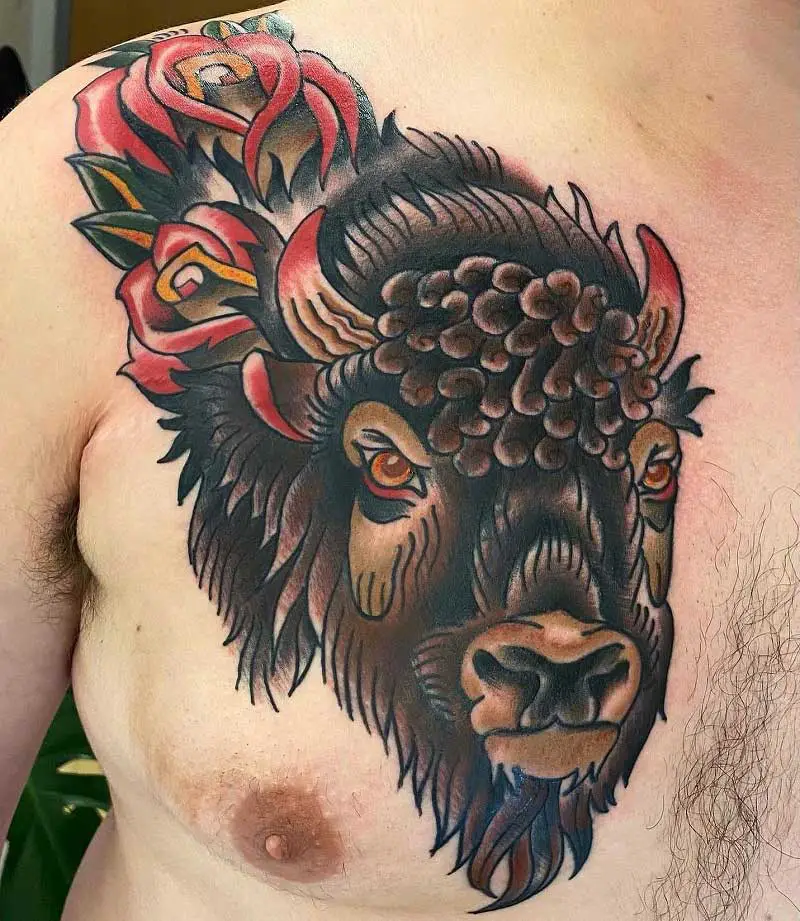 36.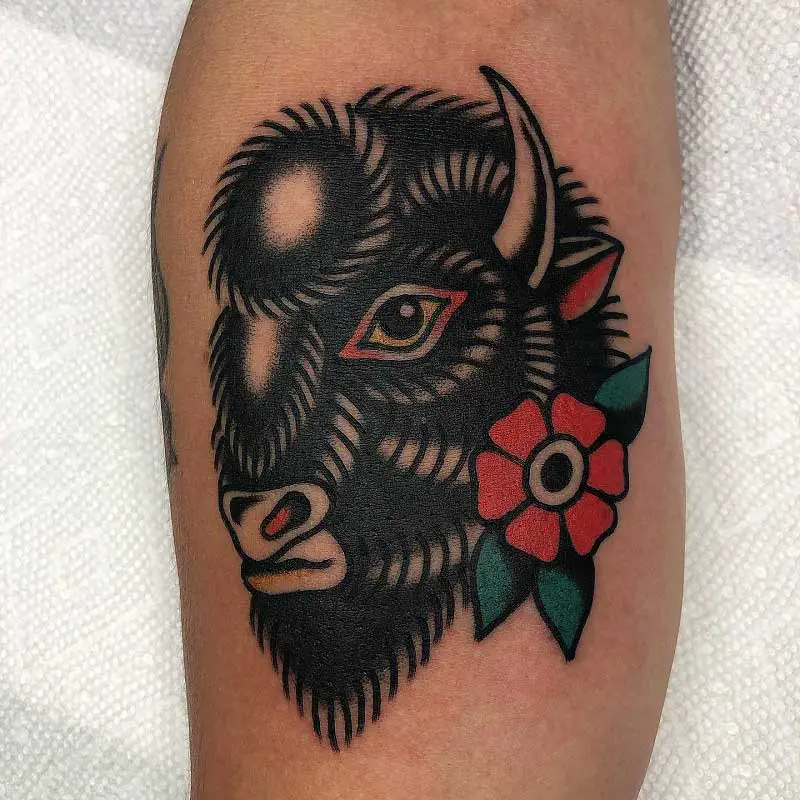 37.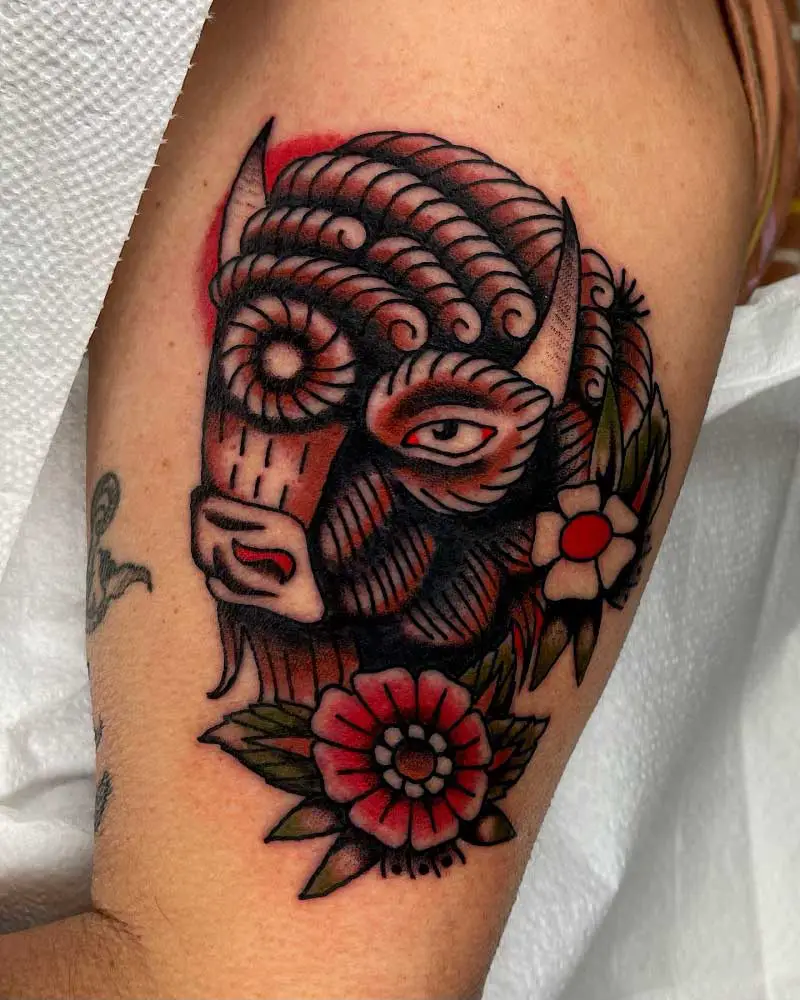 38.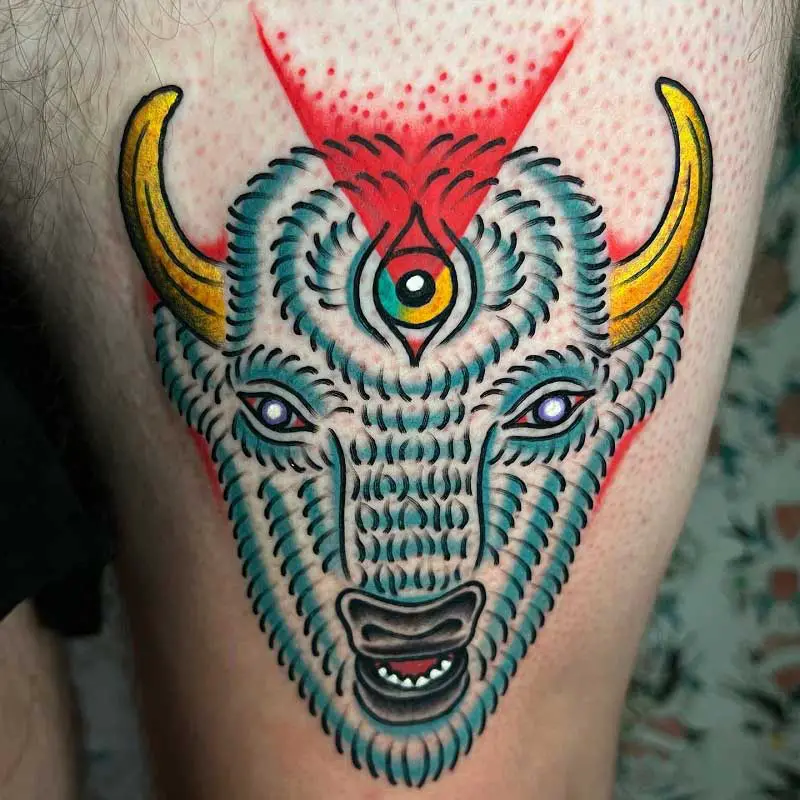 39.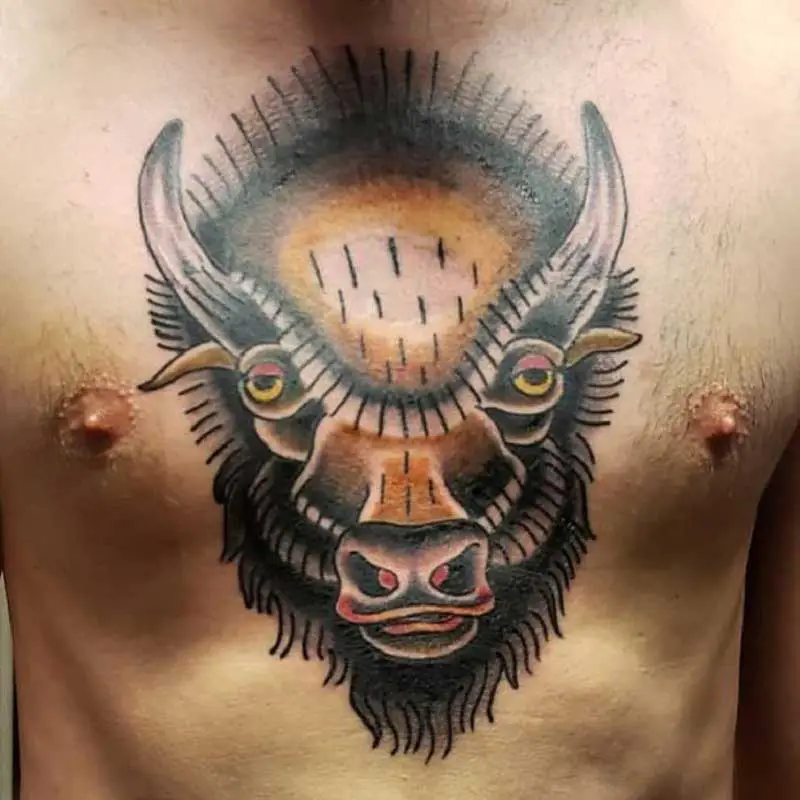 African Buffalo Tattoo
40.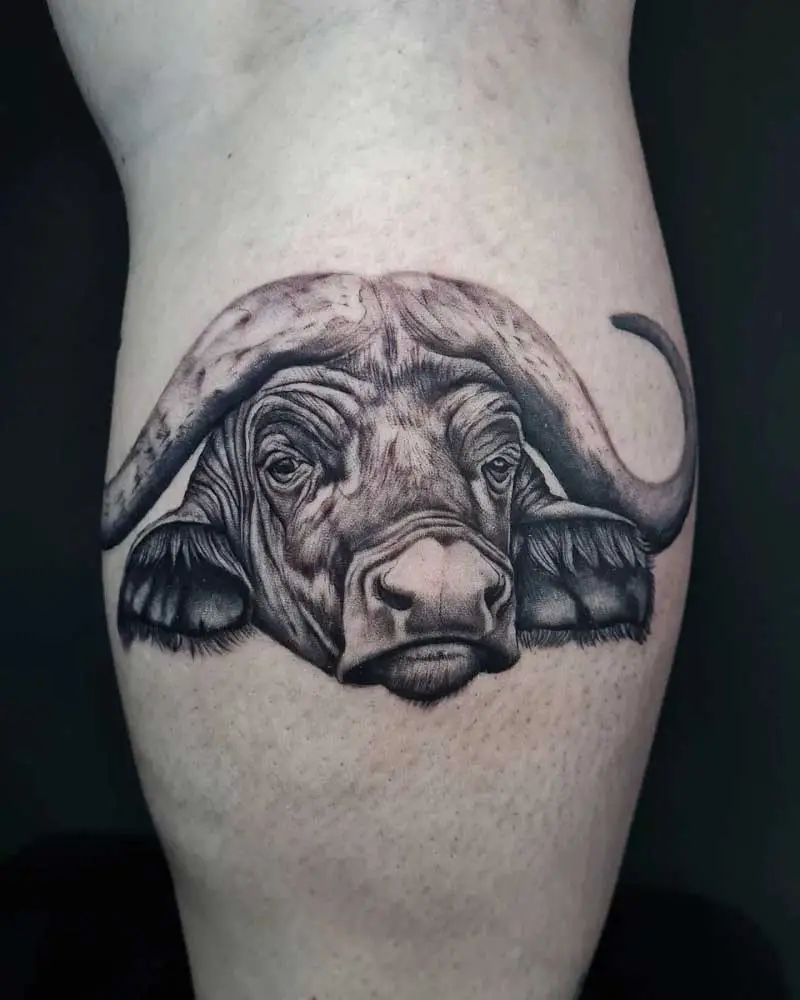 41.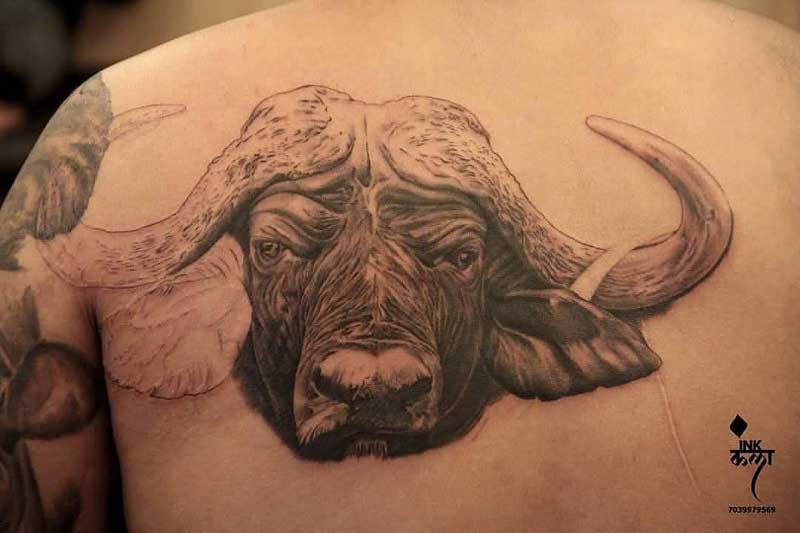 42.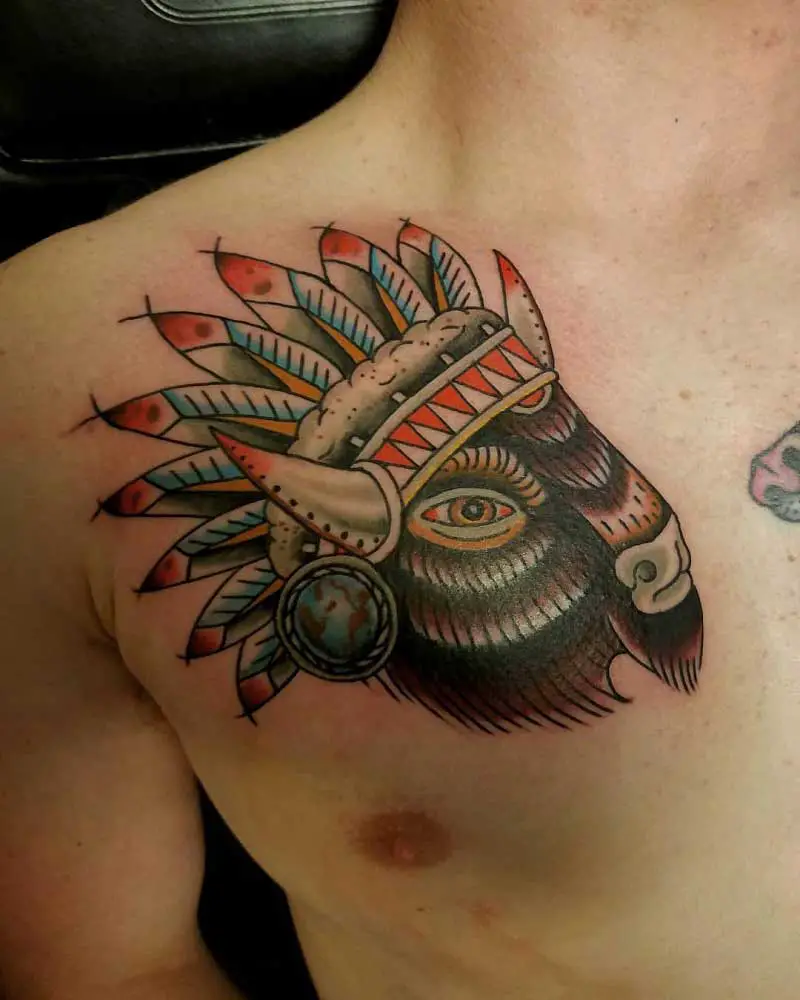 43.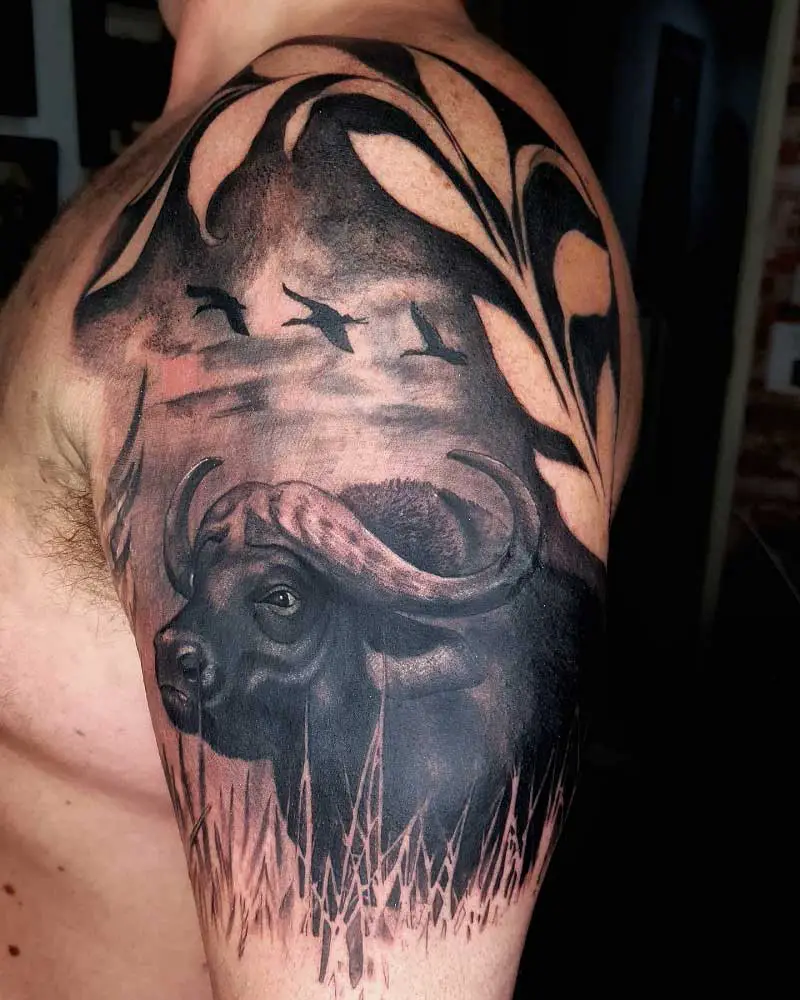 44.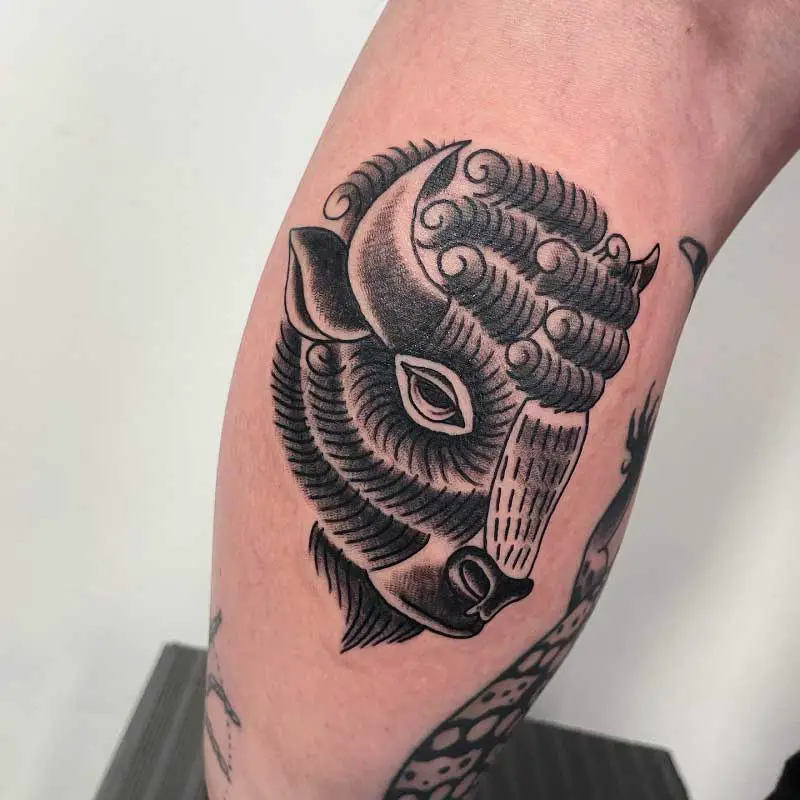 Old Buffalo Tattoo
45.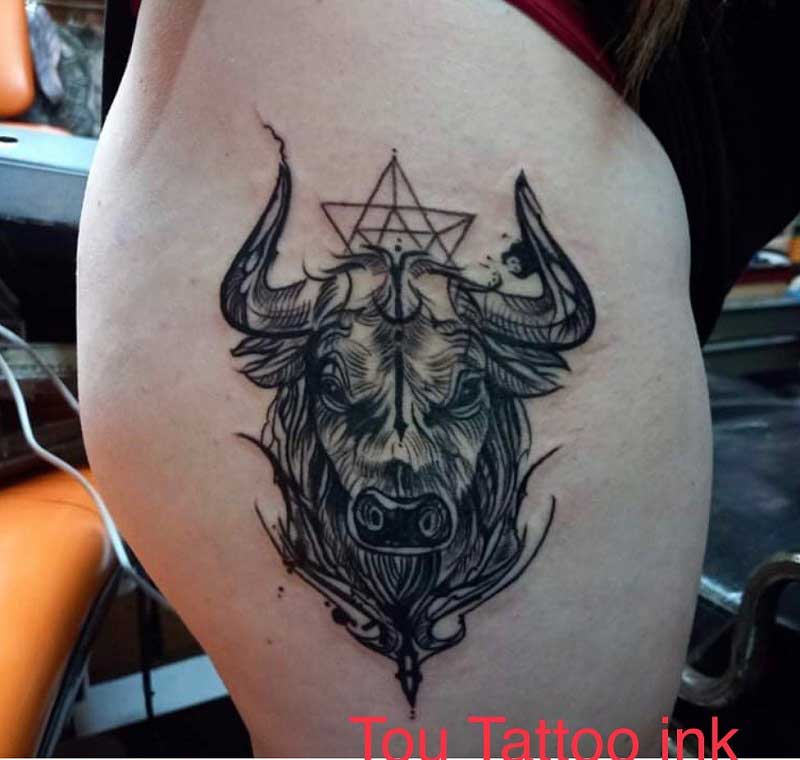 46.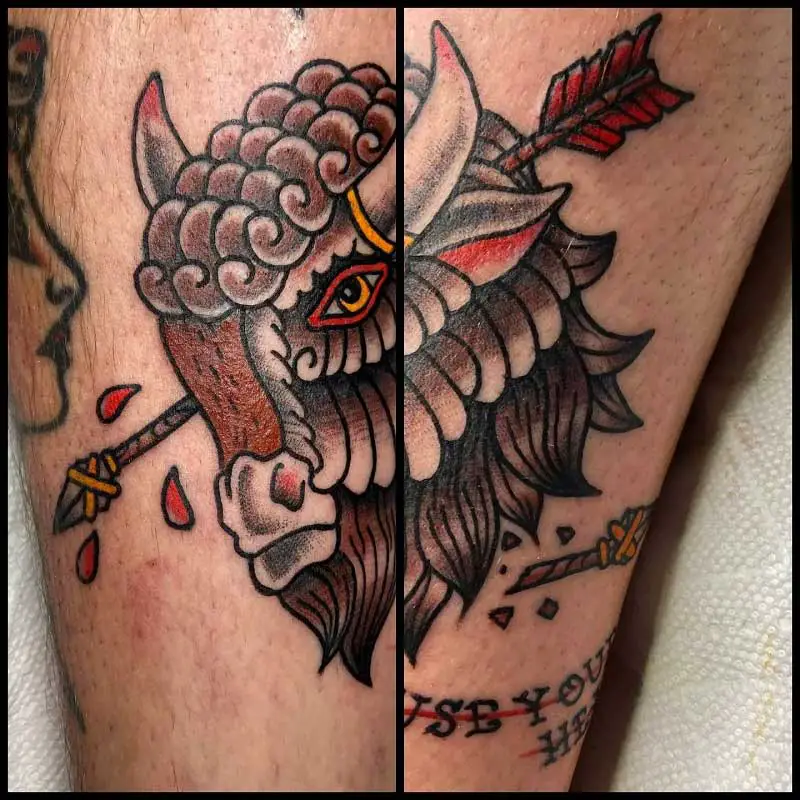 47.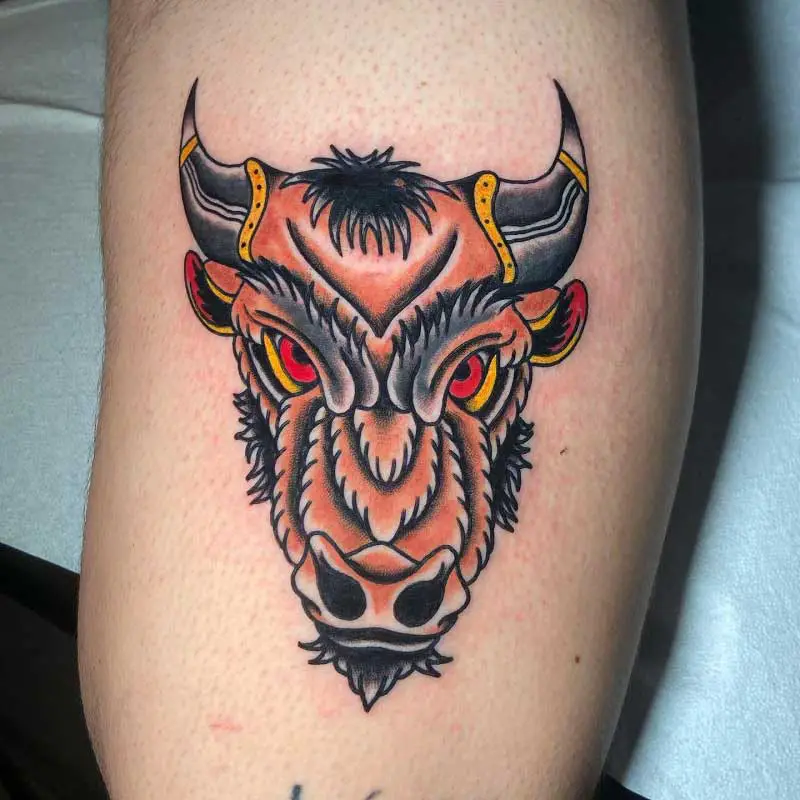 48.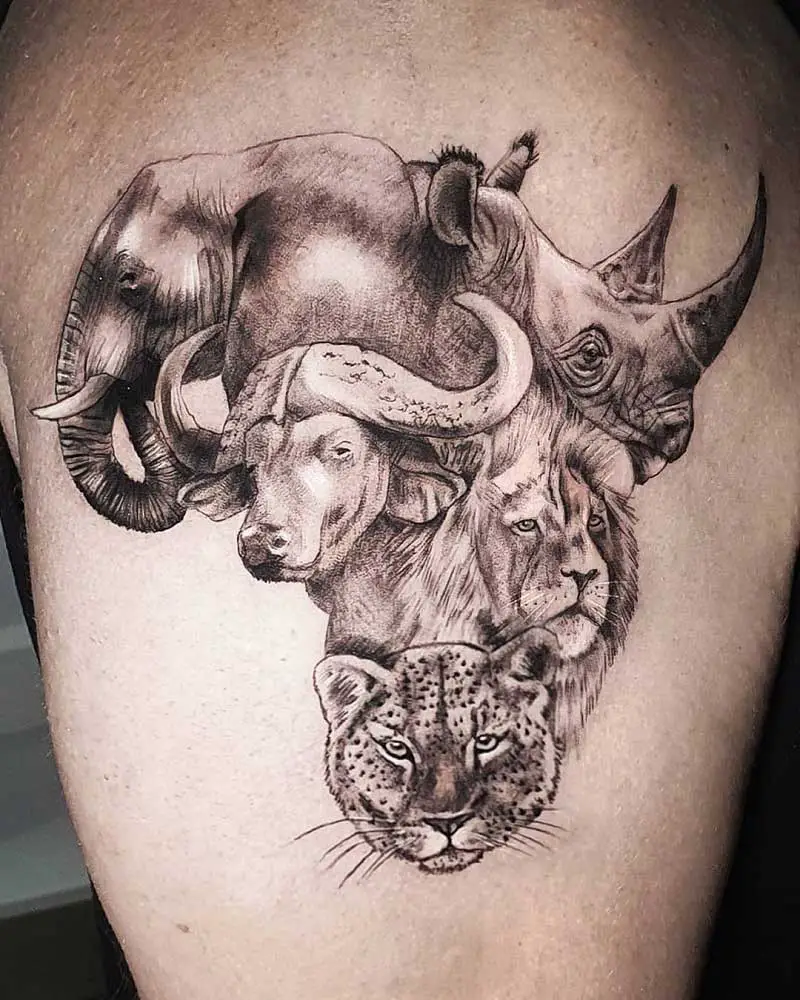 49.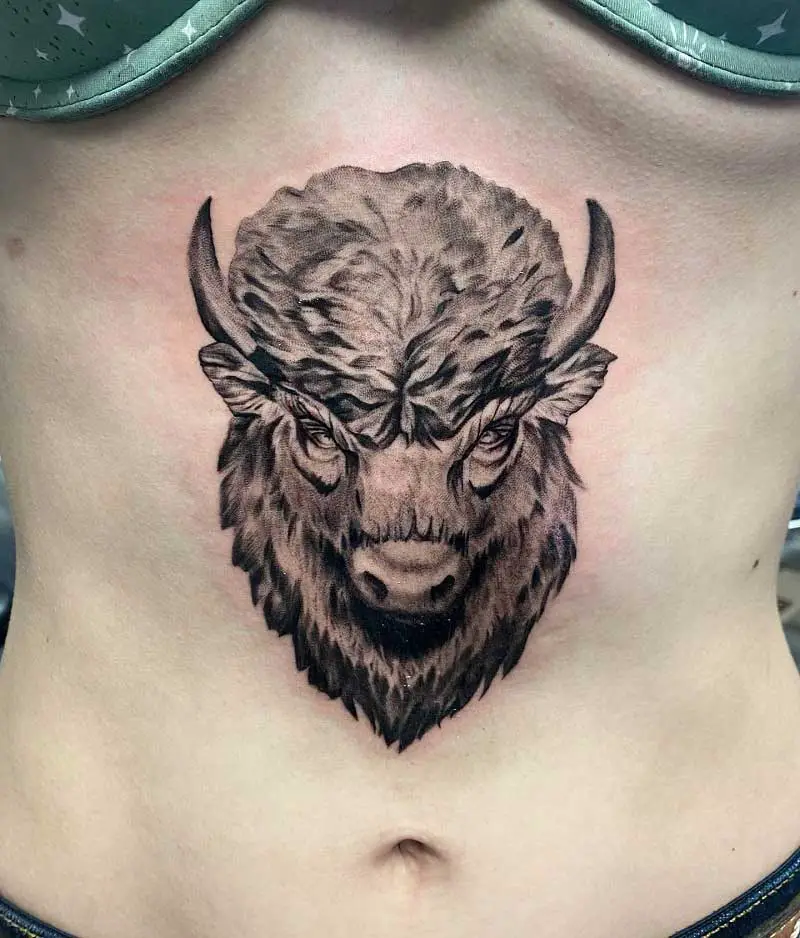 Realistic Buffalo Tattoo
50.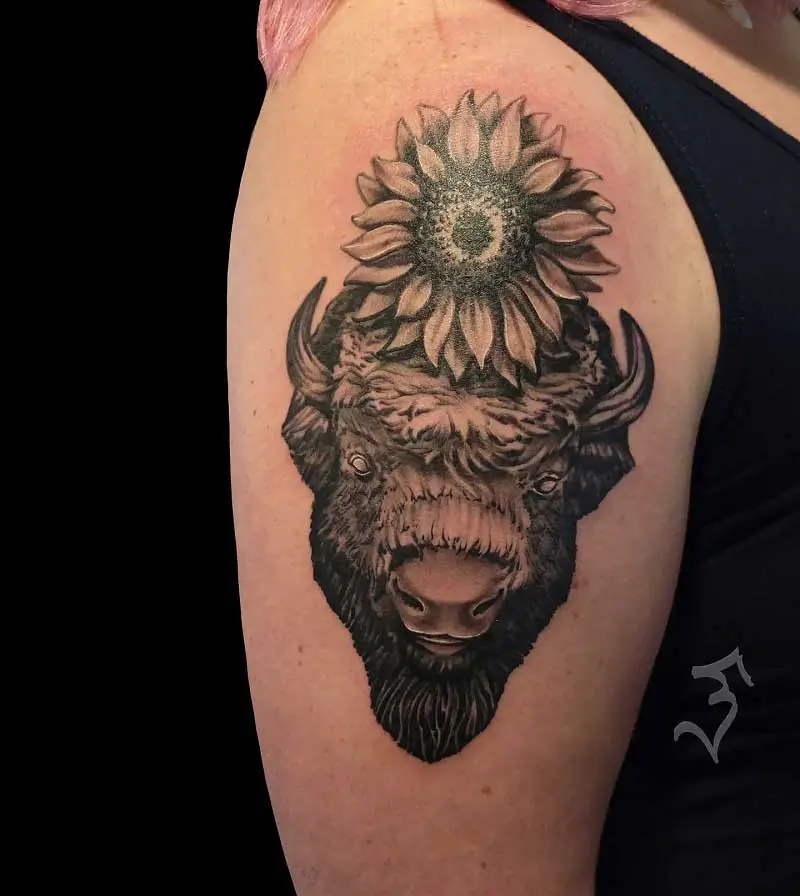 51.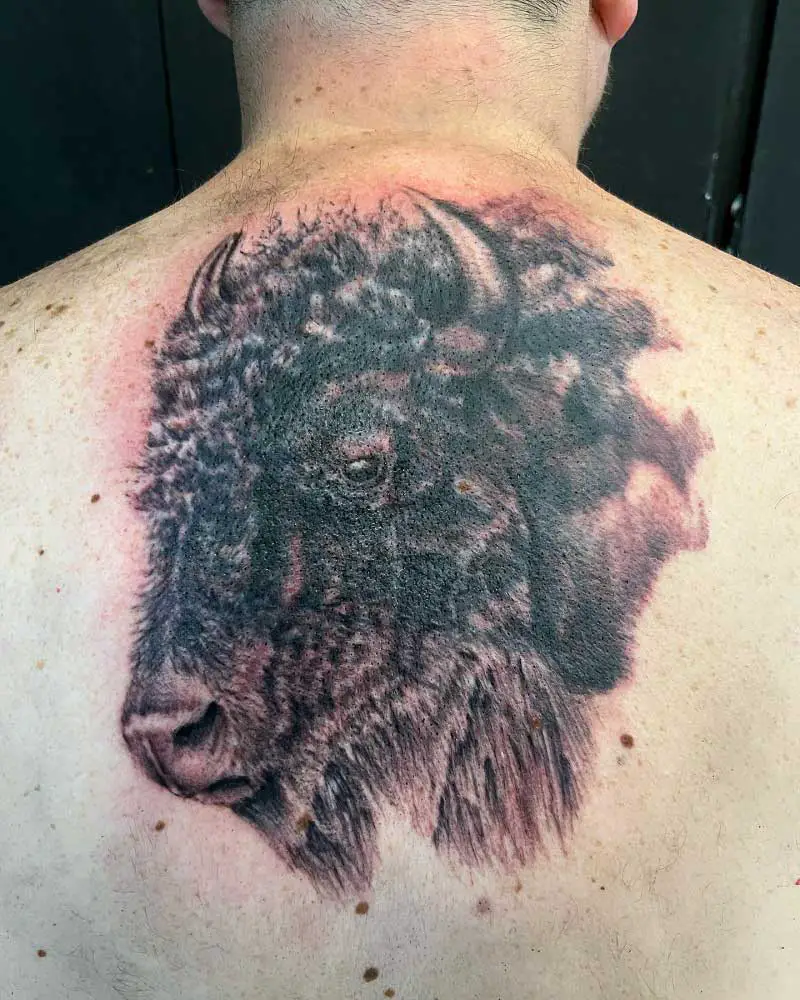 52.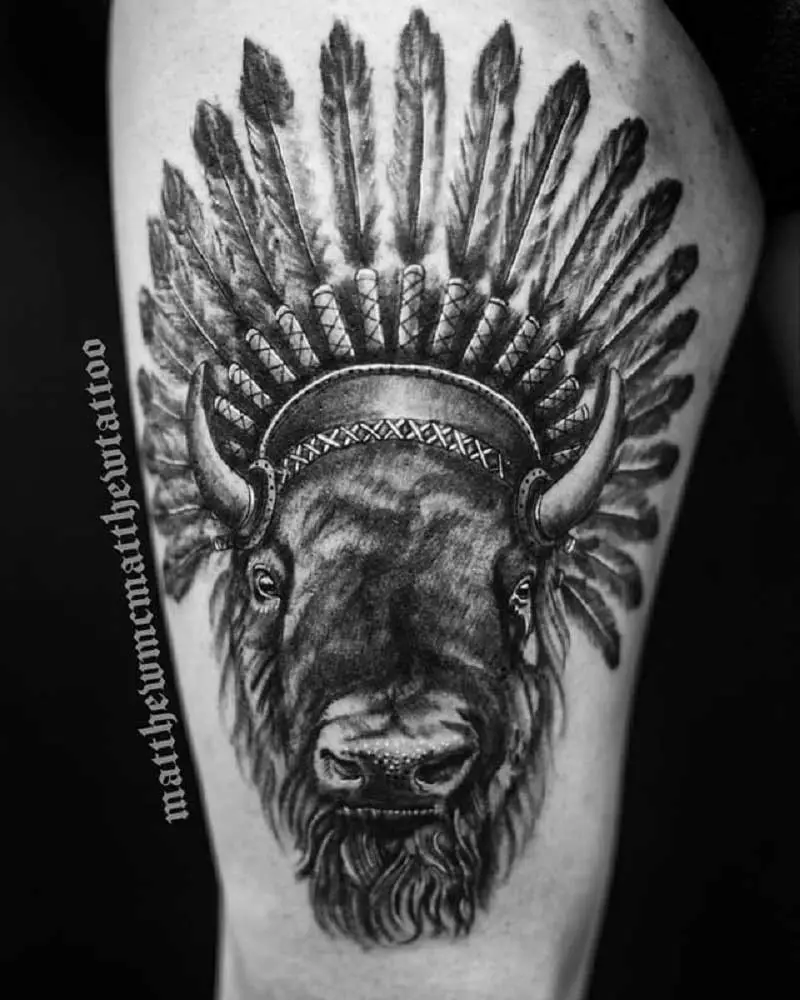 53.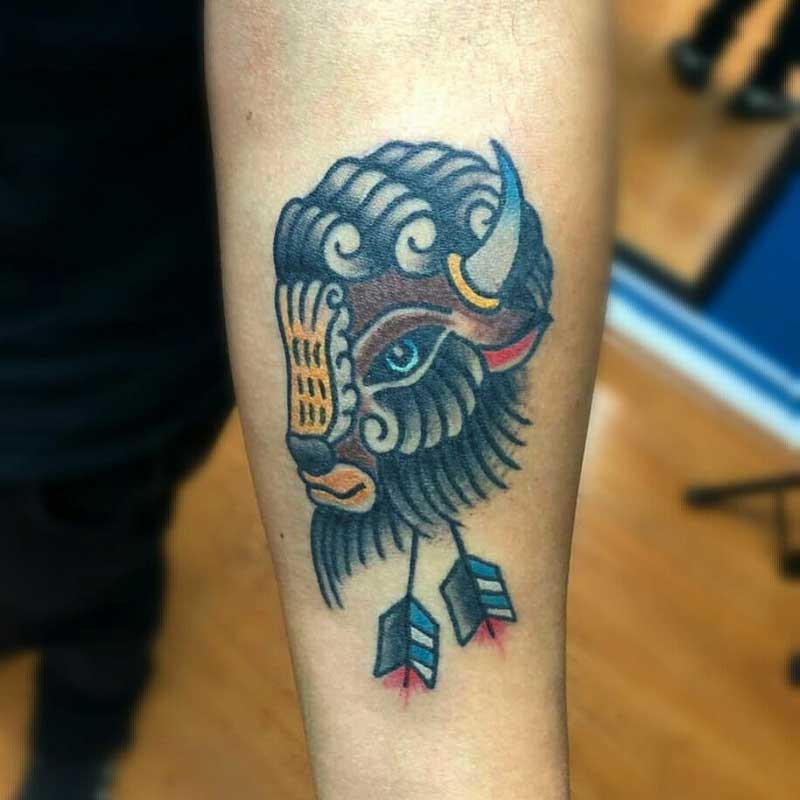 54.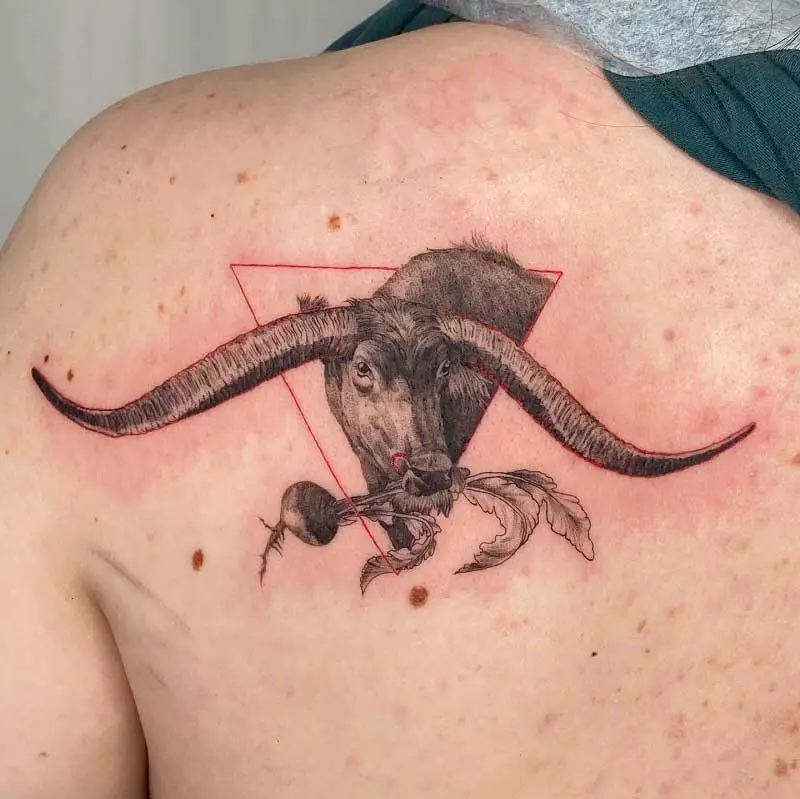 Standing Buffalo Tattoo
55.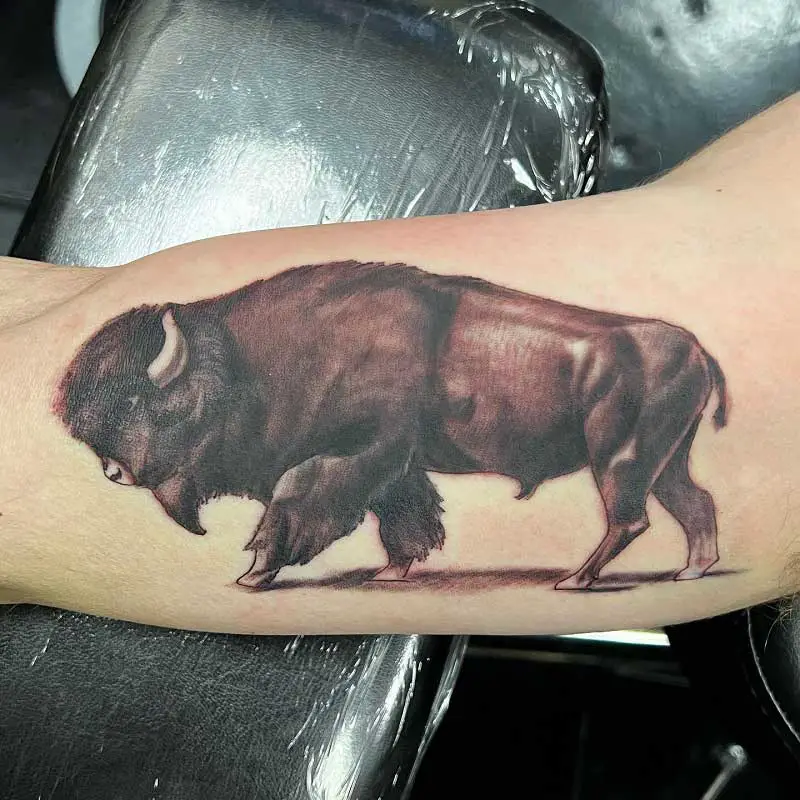 56.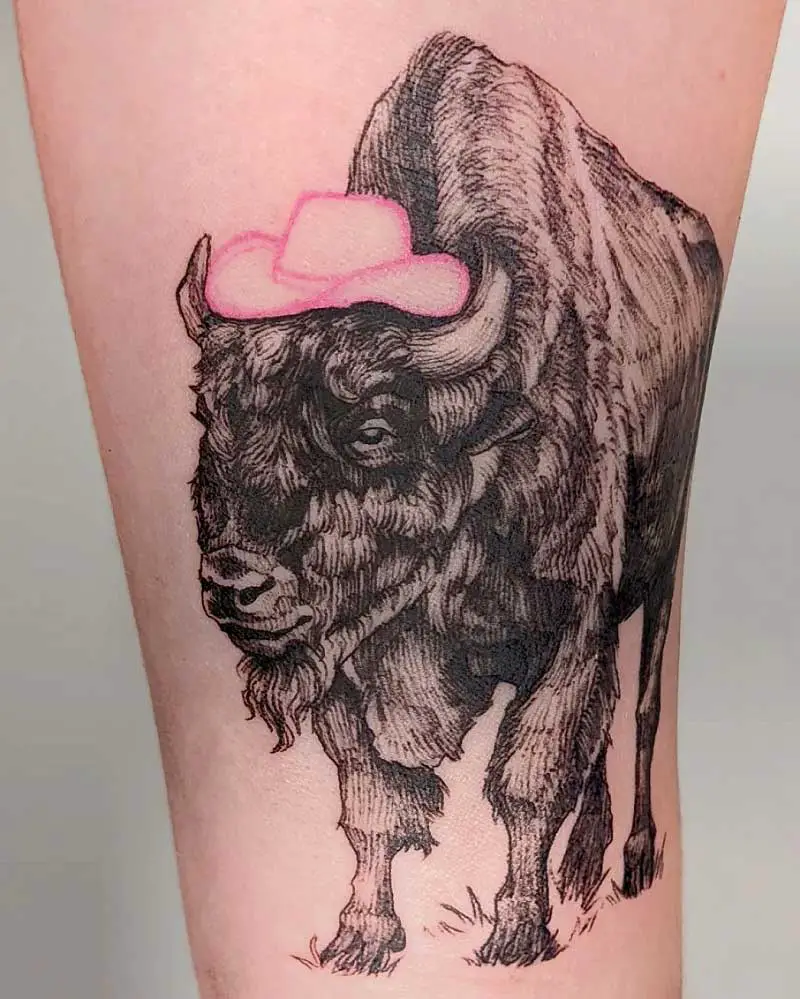 57.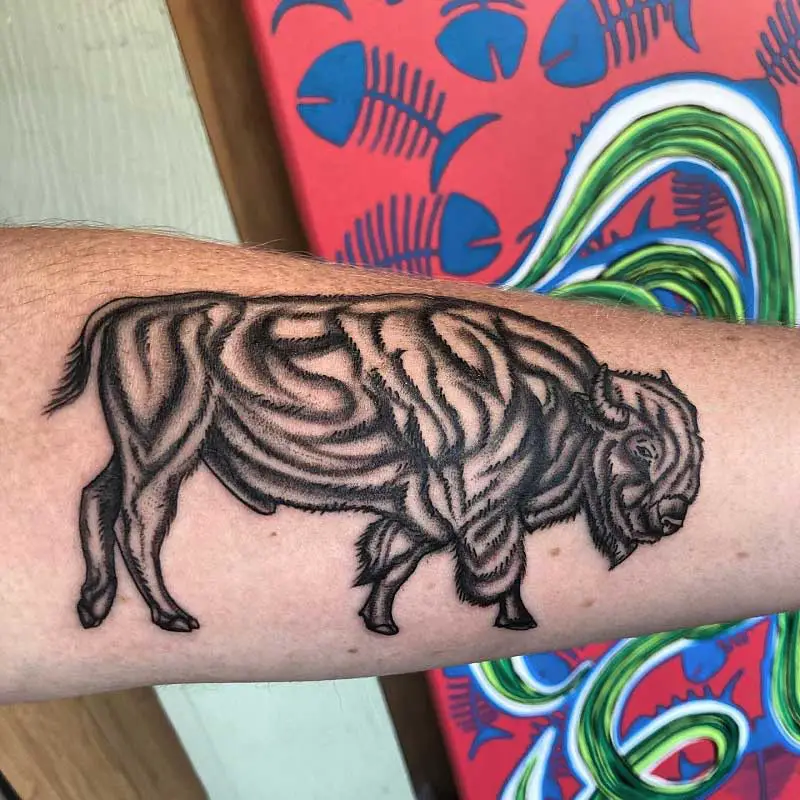 58.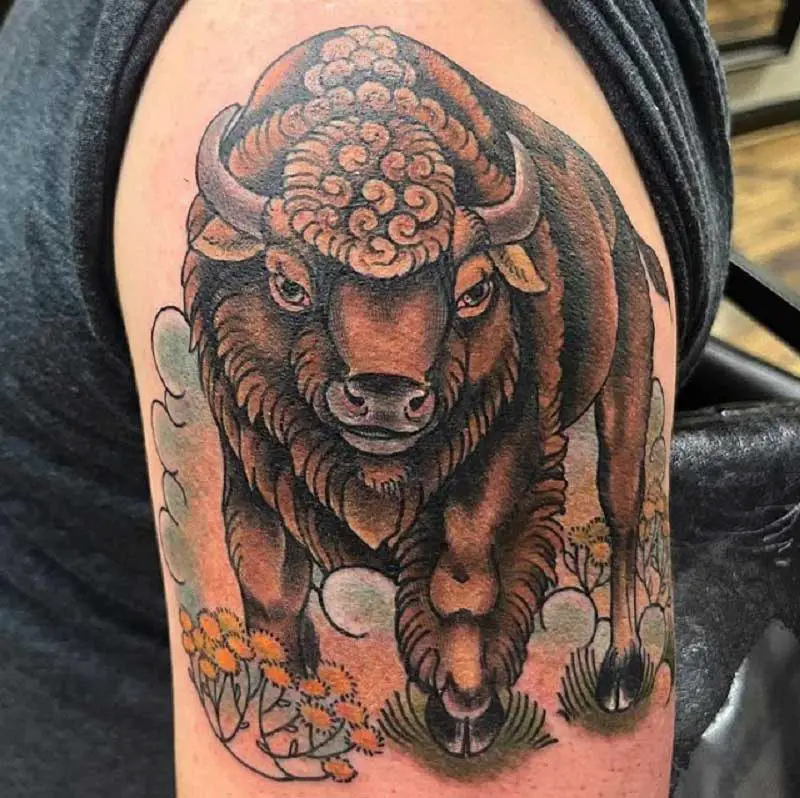 59.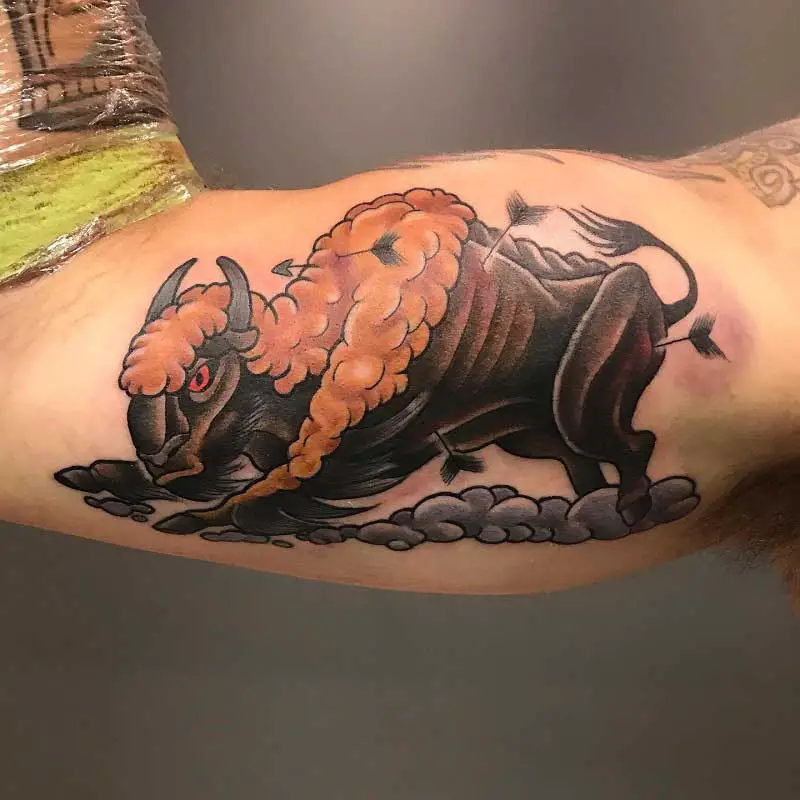 Japanese Buffalo Tattoo
60.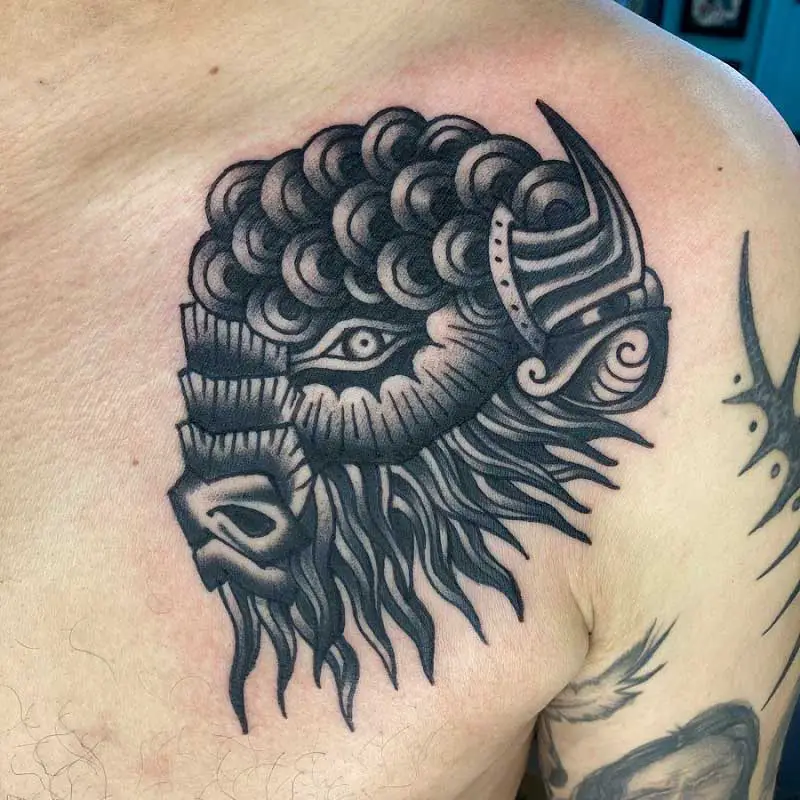 61.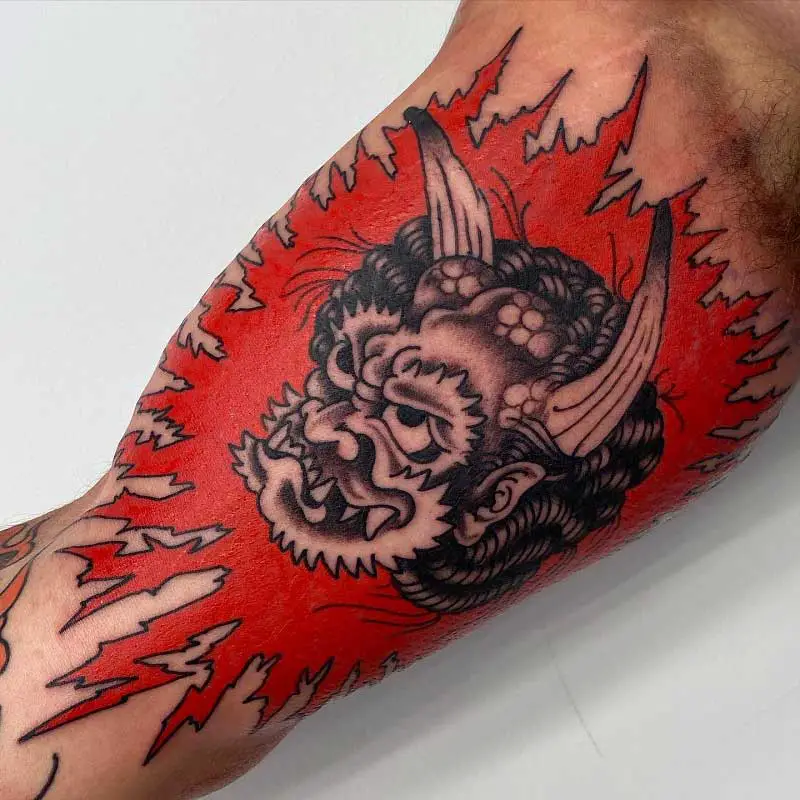 62.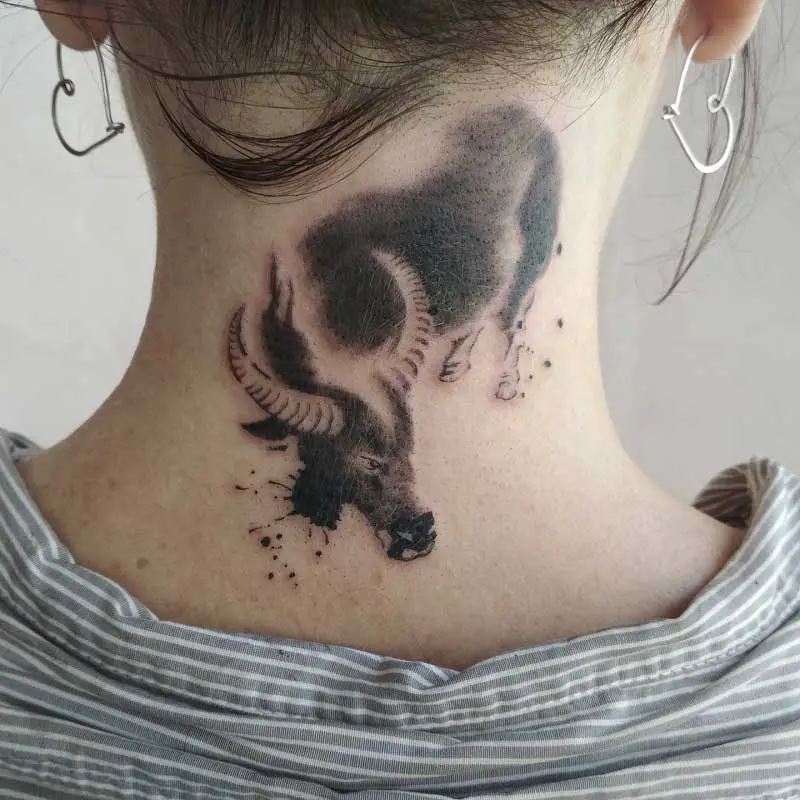 63.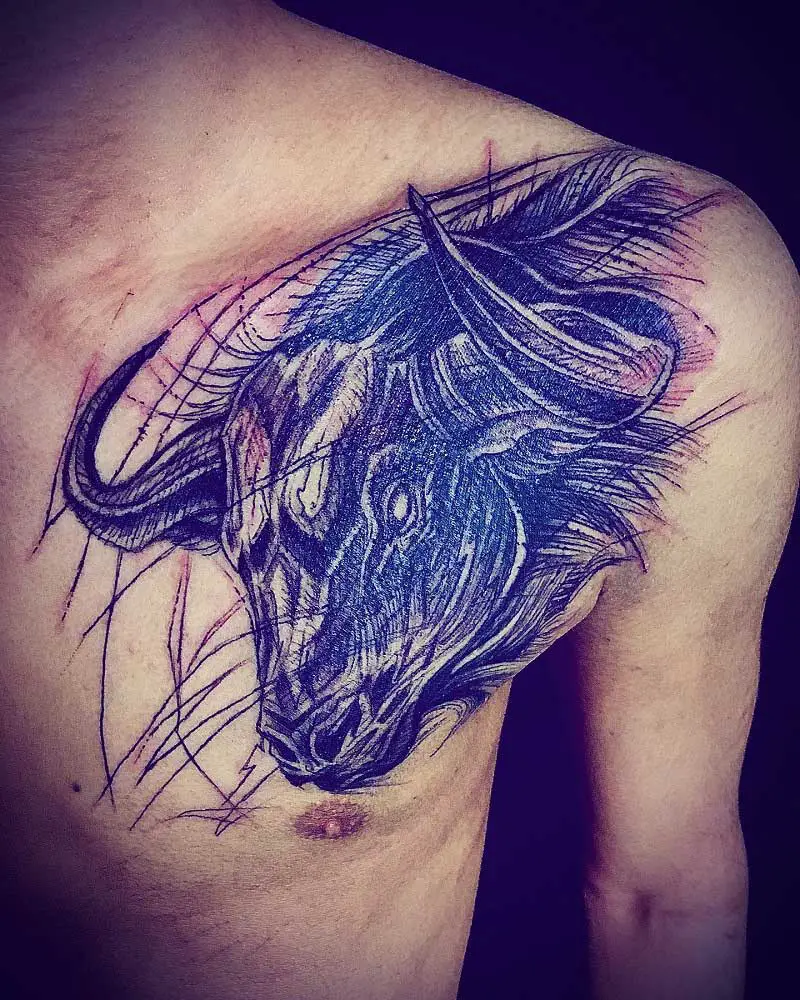 Old School Buffalo Tattoo
64.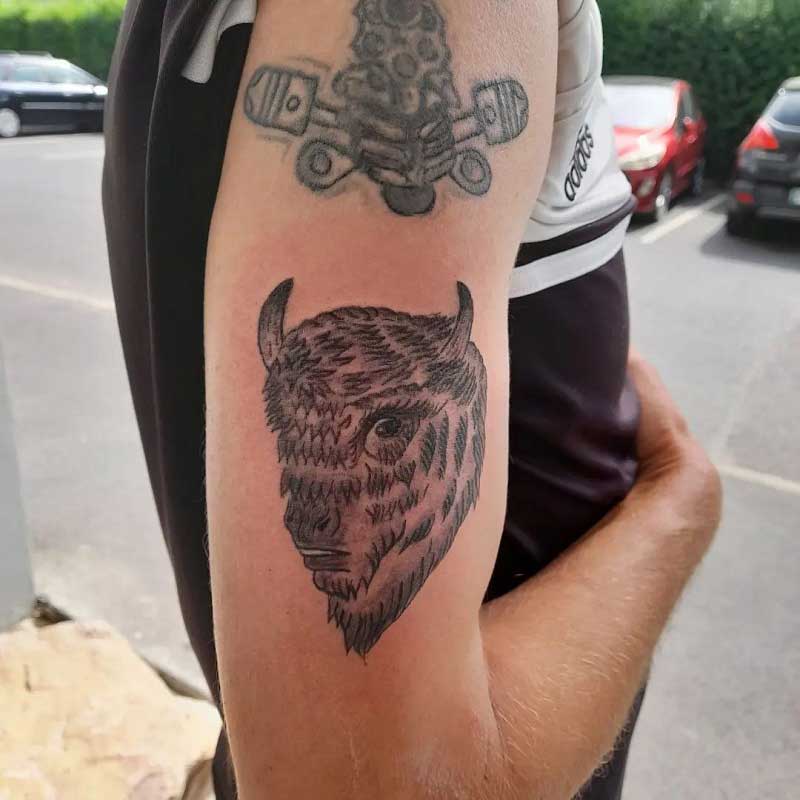 65.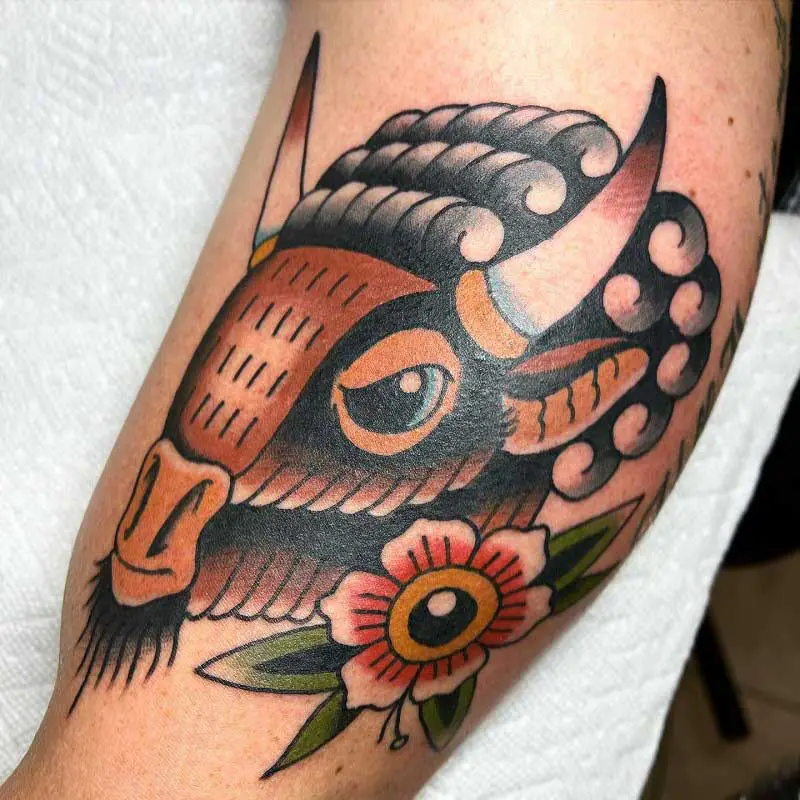 66.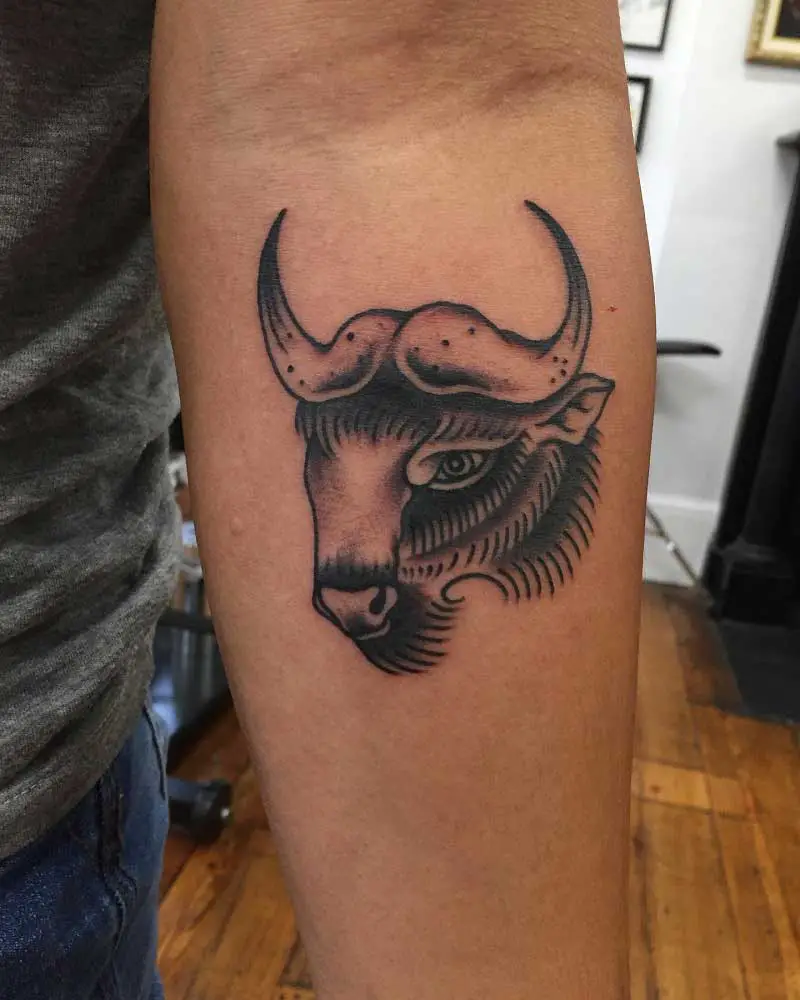 67.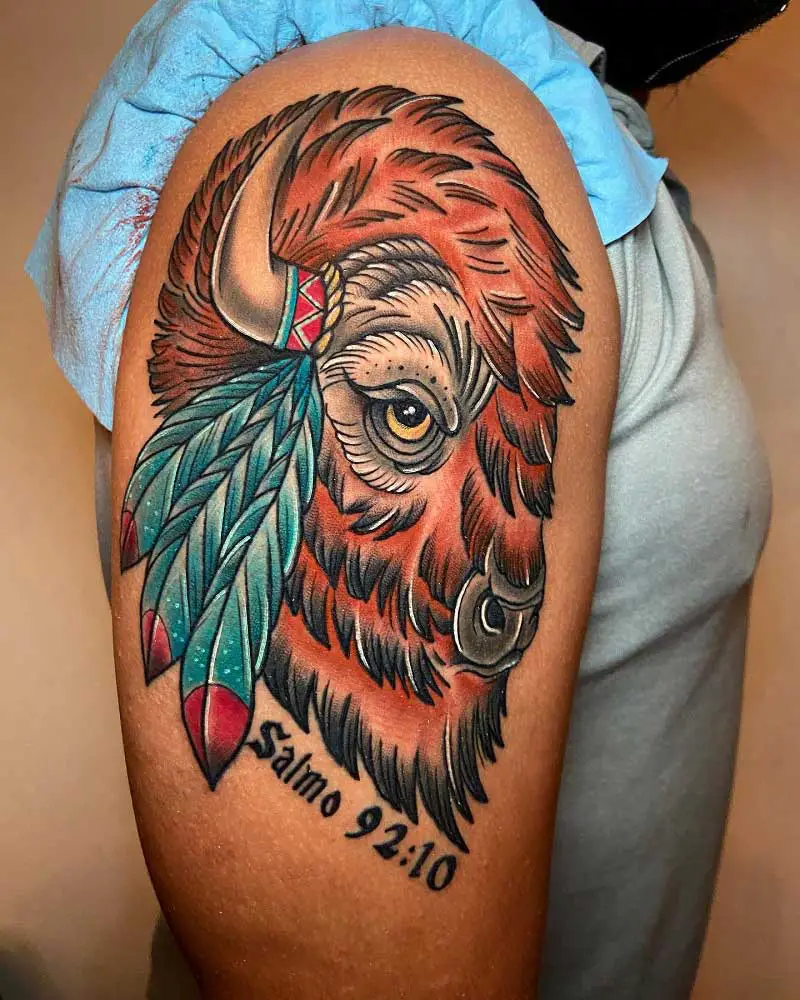 68.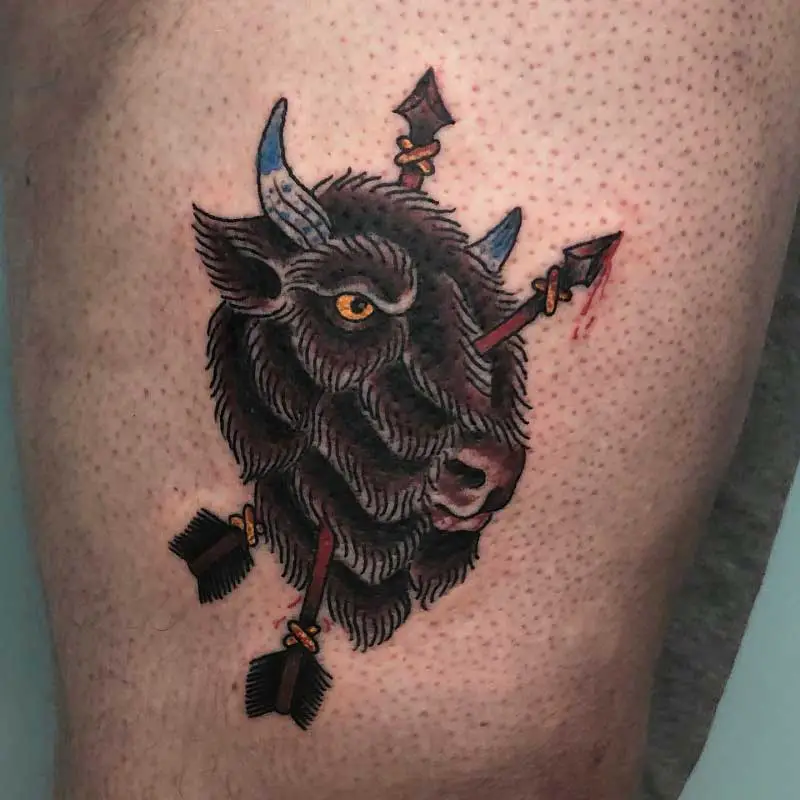 Origami Buffalo Tattoo
69.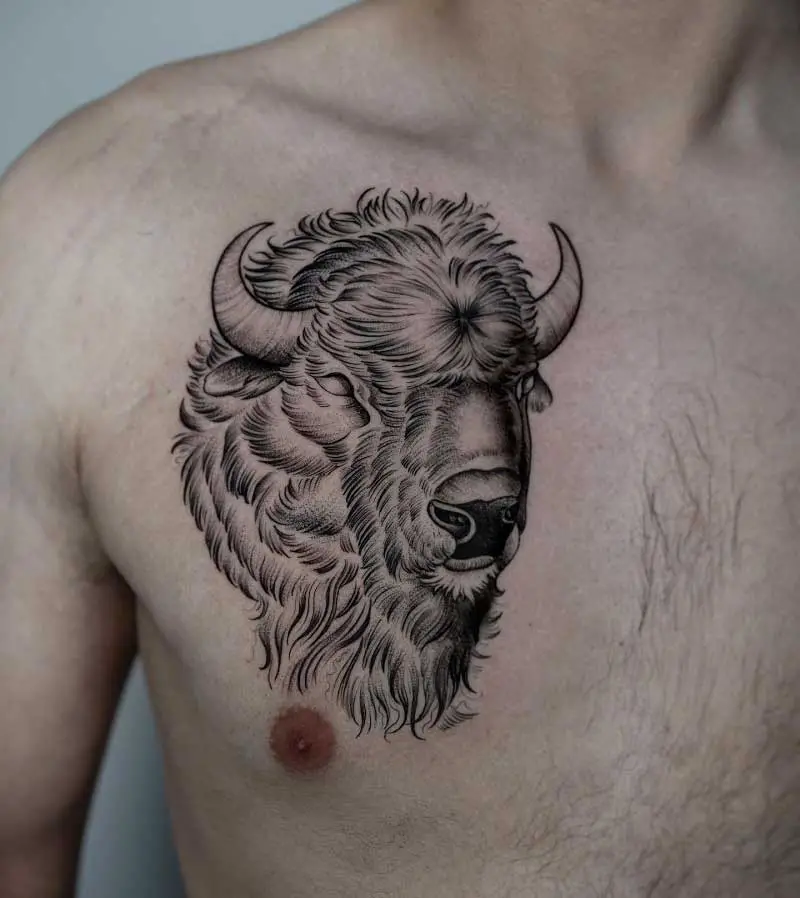 70.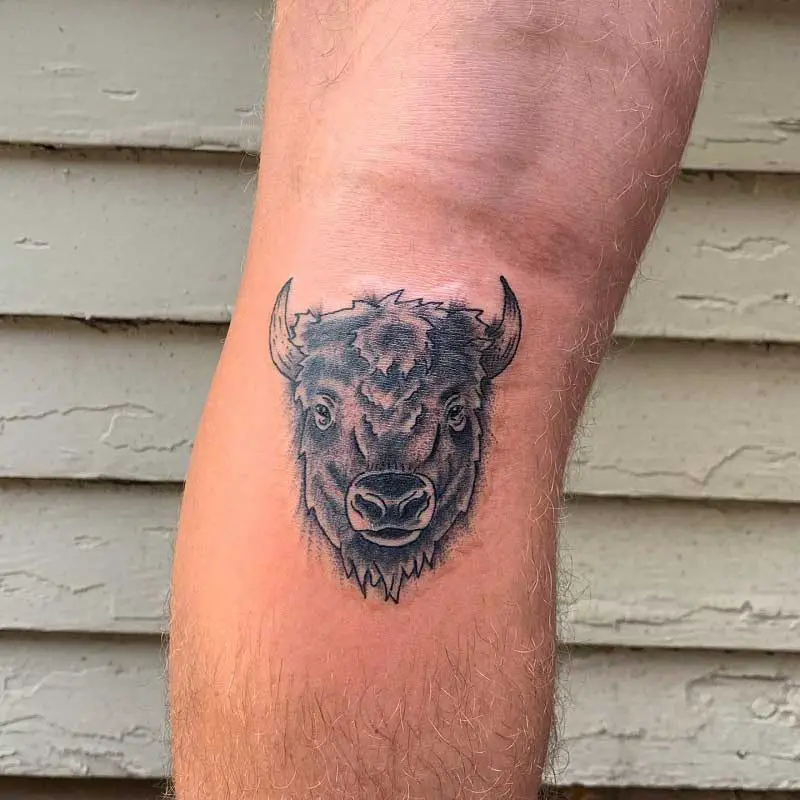 Conclusion
Now that you have explored all the way to this, you've surely got to know how gravest vibe can a buffal0 tattoo can give you. There are lots of myths about buffalo and in many religions, they are treated as deities. Their iconic tattoos are popular amongst a large number of groups. These tattoos are highly suitable for your backspace and chest. So, if you have already picked one, go to your nearest tattoo artist and have the buffalo tattoo on your body only for a couple of bucks.
Frequently Asked Questions
Q: What does a buffalo tattoo mean? 
A: A buffalo tattoo demonstrates endurance and survival. Just like the buffalos themselves. The way they survive the harsh nature in Africa, and sustain their tribe for eternity, is the main aspect of a buffalo tattoo. These creatures are also known for their long walk and freedom of life. If you are a person of free will and proud to be a free person, this buffalo tattoo will clearly reflect that personality of yours.
Q: How much is a buffalo tattoo? 
A: Buffalo tattoo price varies between $10 to $50. There are so many buffalo tattoos to choose from, and if you want, you can make a custom design. For this, you have to go to that tattoo artist who offers custom buffalo tattoo designs. Within an hour or so, you can have your own tattoo and these are less painful as well.